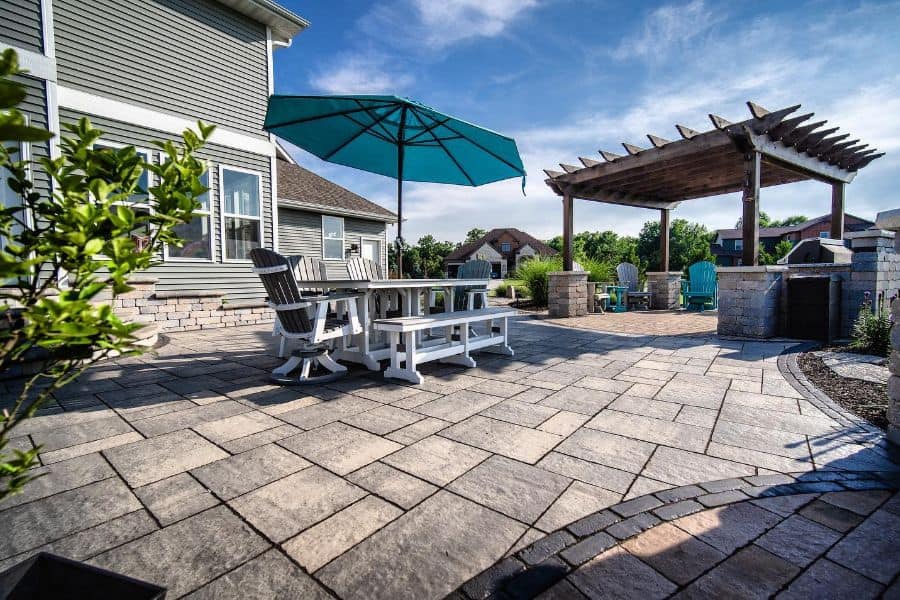 The Top 35 Brick Patio Ideas
A brick patio has a finished and professional-looking design that elevates your backyard space. You can have one in your backyard no matter what your budget and design aesthetic is. So cover your ugly poured concrete patio or build a new patio that adds more usable space in your backyard.
These brick patio ideas will help you design the perfect brick patio for your outdoor living space.
1. Circular Patio
Treat your backyard like an oasis and bring it to life with a bright, circular brick patio. Add a cozy outdoor seating area surrounded by delicate ivy vines and strings of twinkly lights for a relaxing European-style vibe. To add some extra flair, design a mosaic wall of vibrant colors, textures, and patterns within the stone patio.
Your guests will adore gathering around the firepit or cooking with you in a wood-burning oven. Whether you're looking to have an annual dinner party or just relax every evening, you'll never run out of creative ways to turn your clean, classic brick patio into a truly magical space!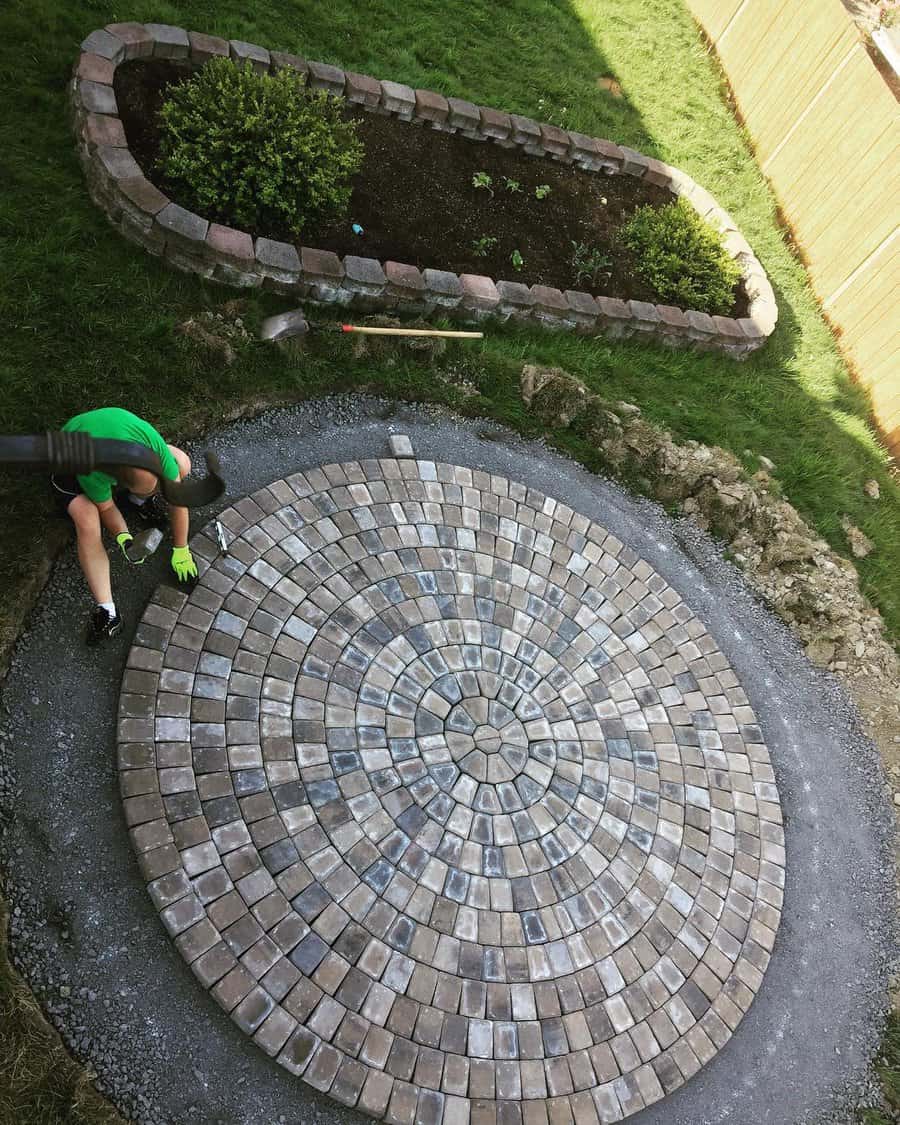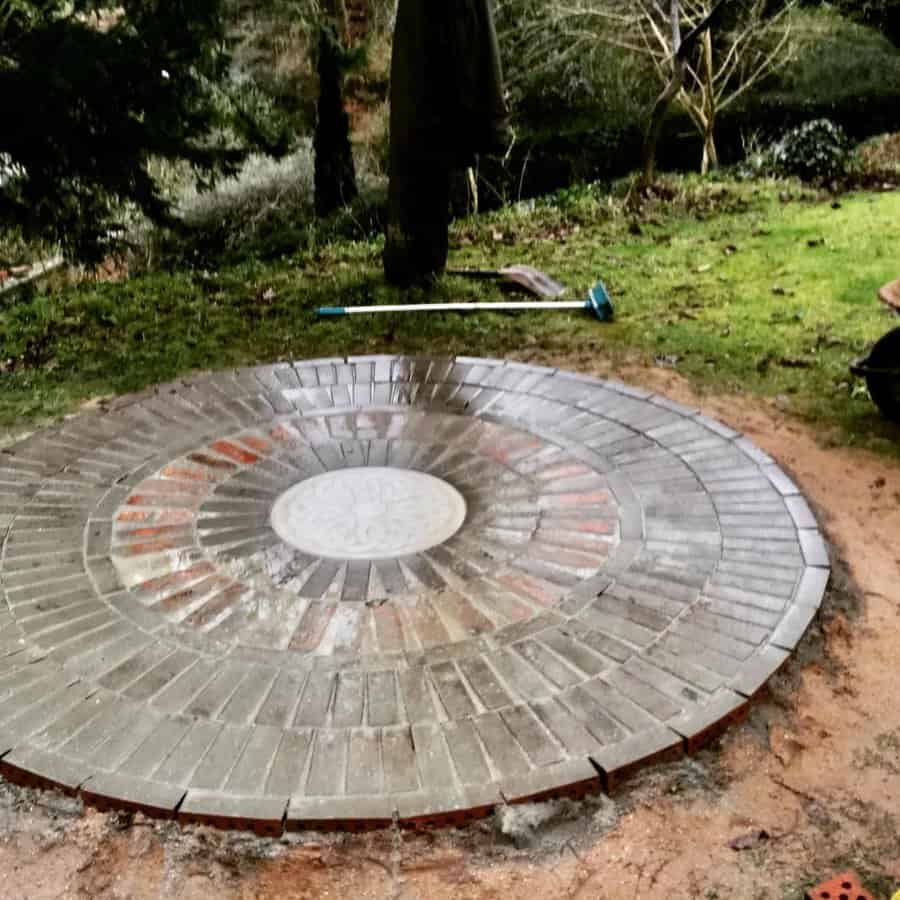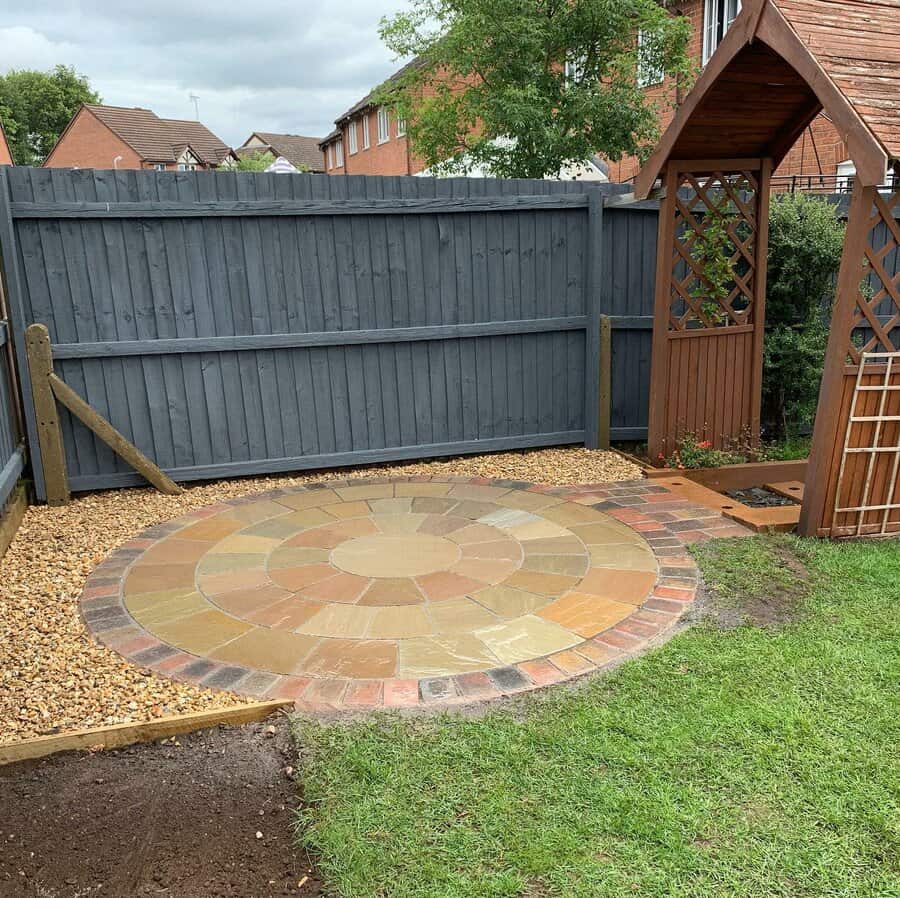 2. Brick Fire Pit
Give your patio a little extra oomph with a brick firepit! Not only will it add a touch of warmth and ambience to outdoor gatherings during the colder months, but this timeless style will also keep your backyard looking stylish no matter the season.
There are lots of creative ways you can utilize bricks to make your patio truly unique. Consider incorporating them into flower boxes, raised garden beds, or even an outdoor bar – whichever way you choose is sure to make an impressive statement!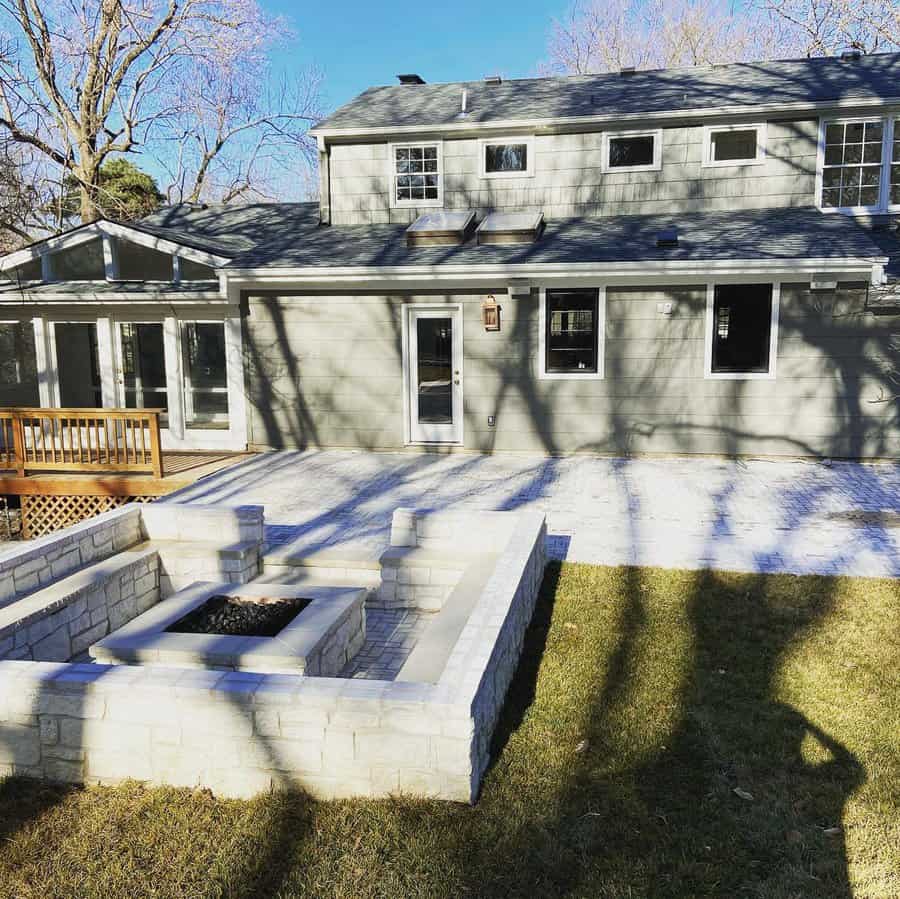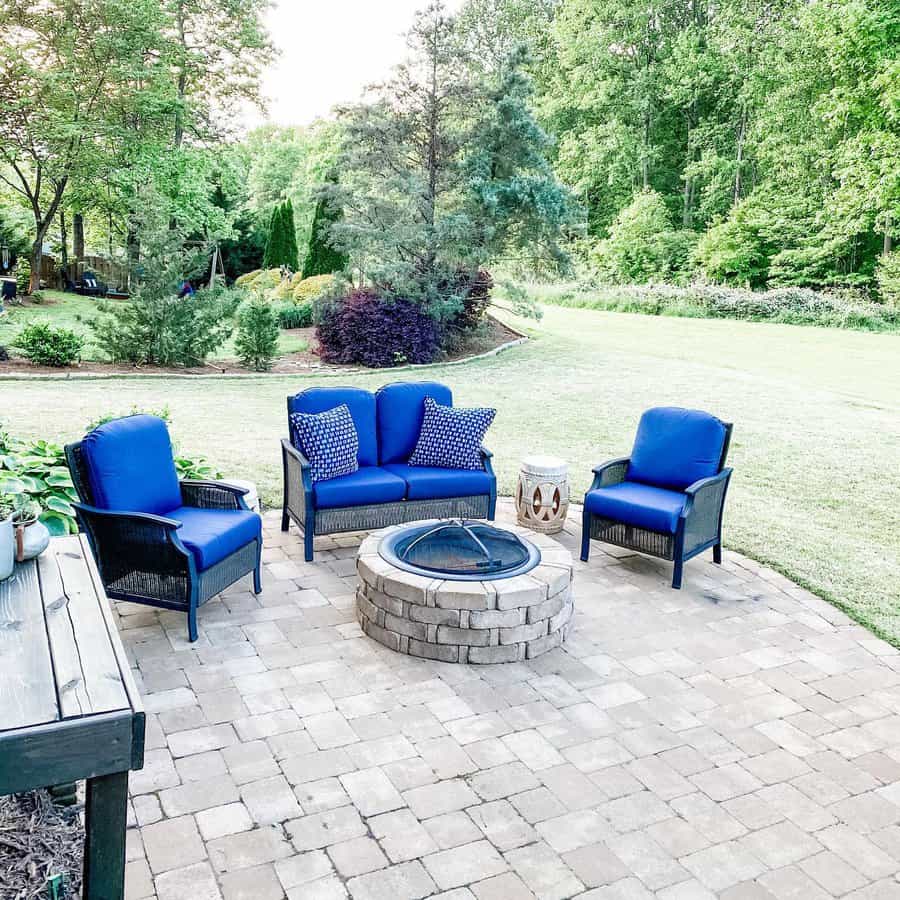 3. Flagstone Walkway
Creating a brick patio is an exciting and creative way to spruce up your backyard. Incorporating a flagstone walkway into the design makes it even more special. Not only does a flagstone walkway give your new space a polished, finished look but the variety of colors and textures of flagstones make it easy to customize your patio to fit with any existing architecture or landscaping.
Plus, when properly sealed, flagstone walkways are durable and low maintenance and will last for years. With all these great brick patio ideas in mind, you're sure to create something unique that will be enjoyed by family and friends alike.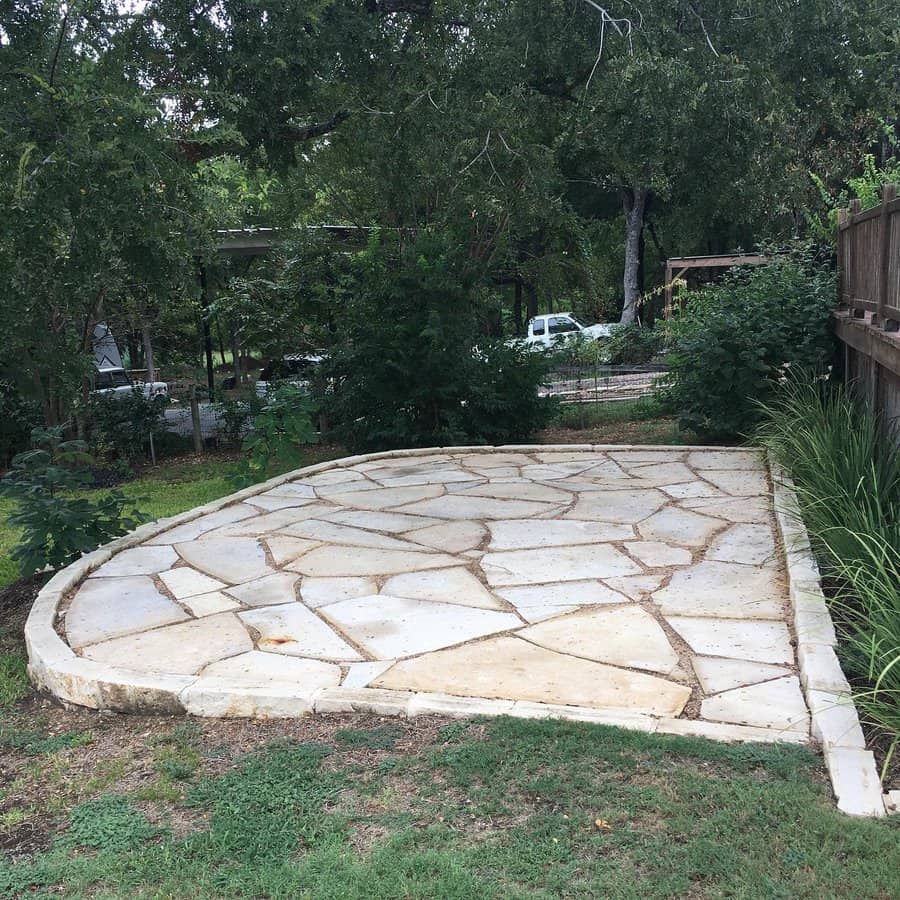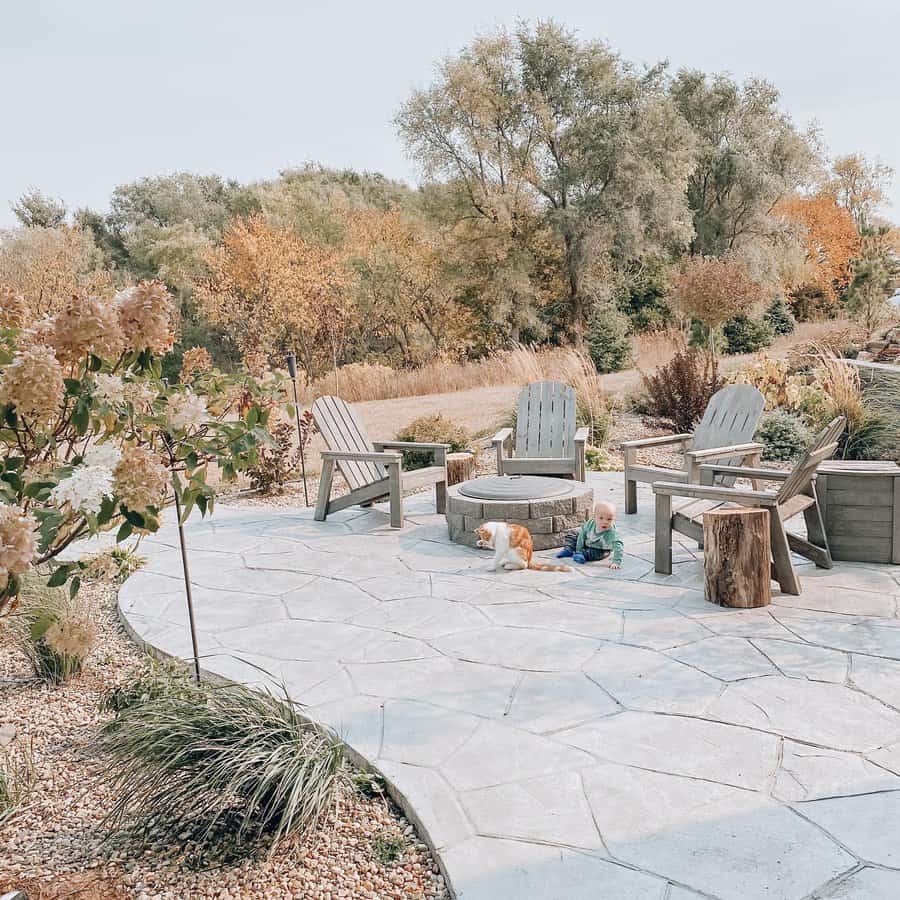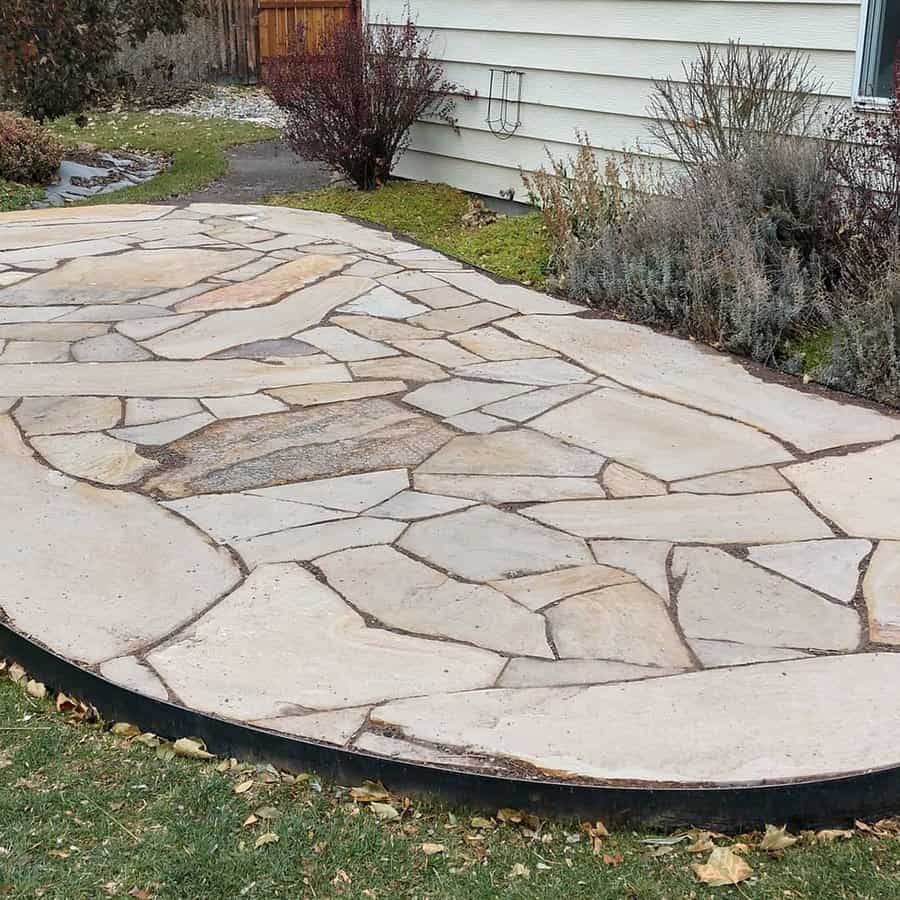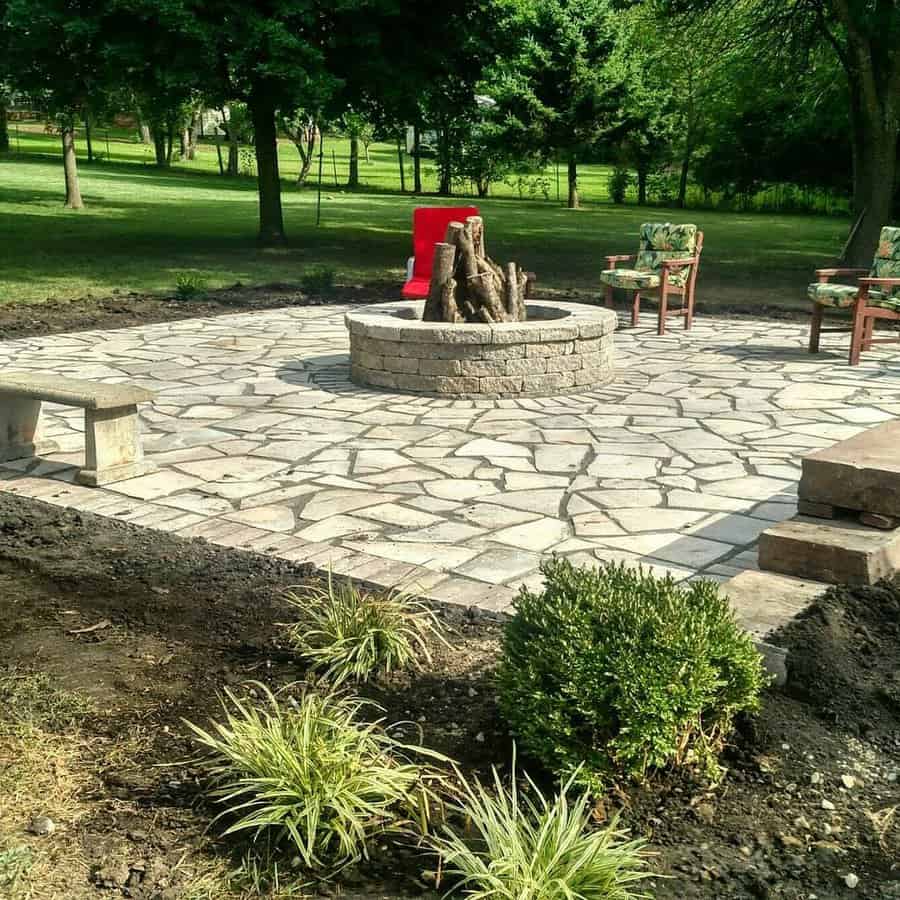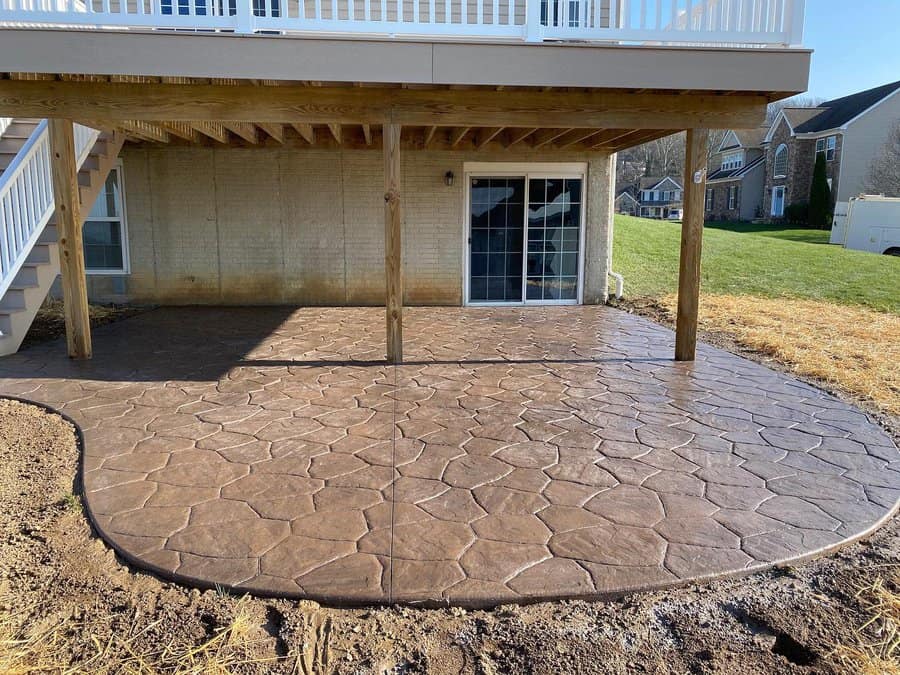 4. Patio Brick Grill
A brick patio is a great way to bring a little bit of style to your outdoor space. Whether you're looking to jazz up the look of your backyard or just want a cozy place to relax and entertain, consider incorporating a brick patio into your design.
For those with an eye for luxury and experience in cooking, why not take it one step further and add an outdoor brick stone grill along with an accompanying kitchen? This will allow you to create some delicious meals in the comfort of your own home – whatever the occasion!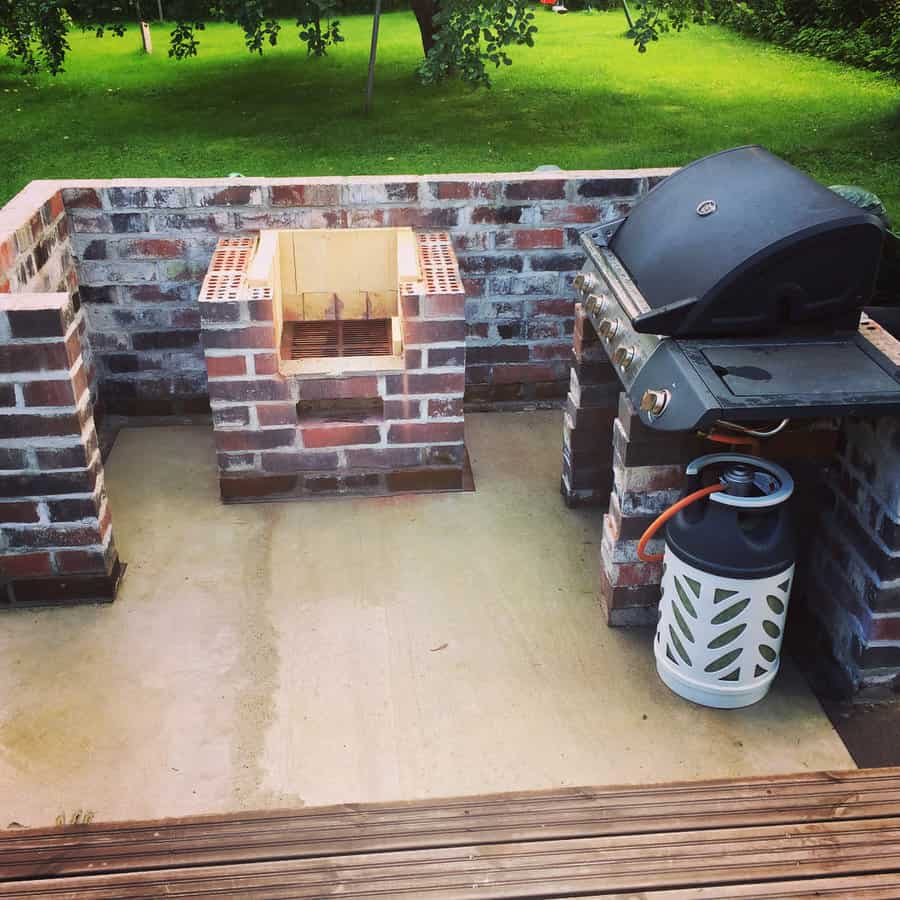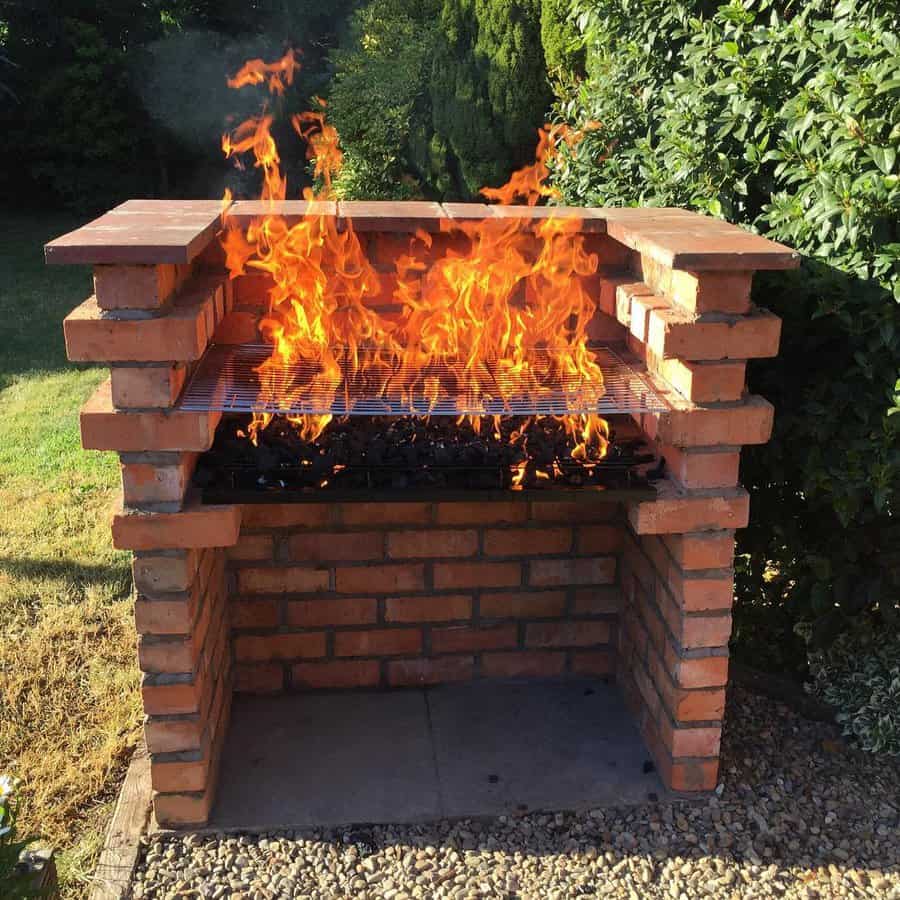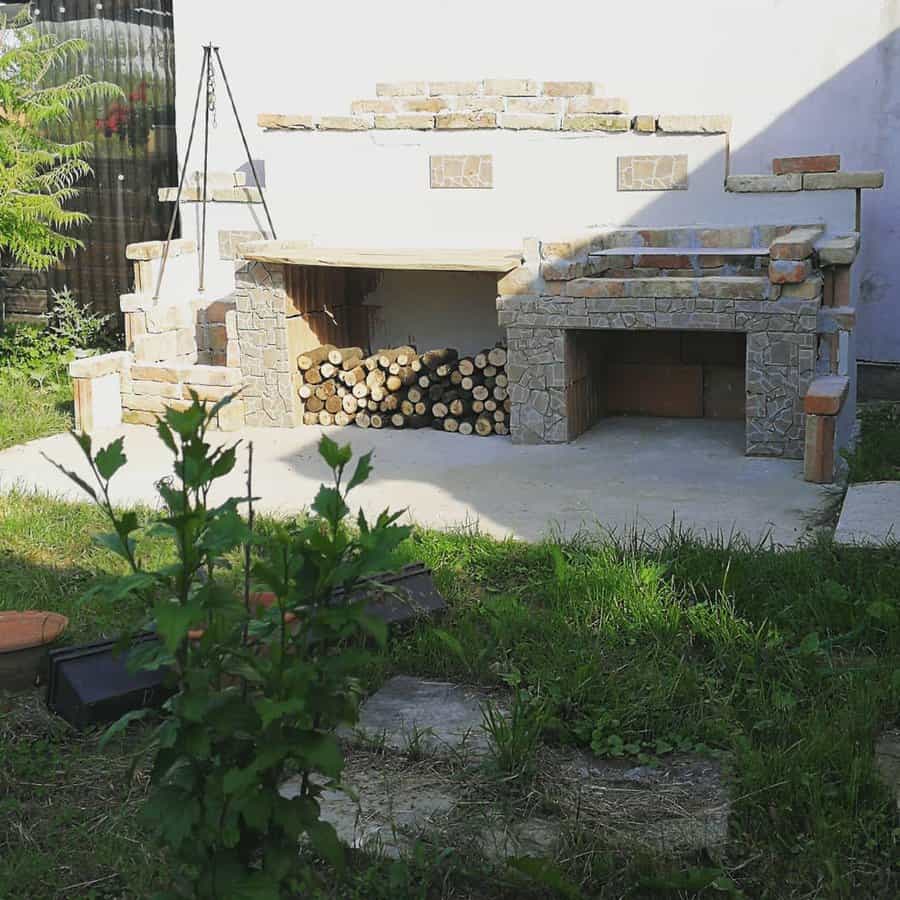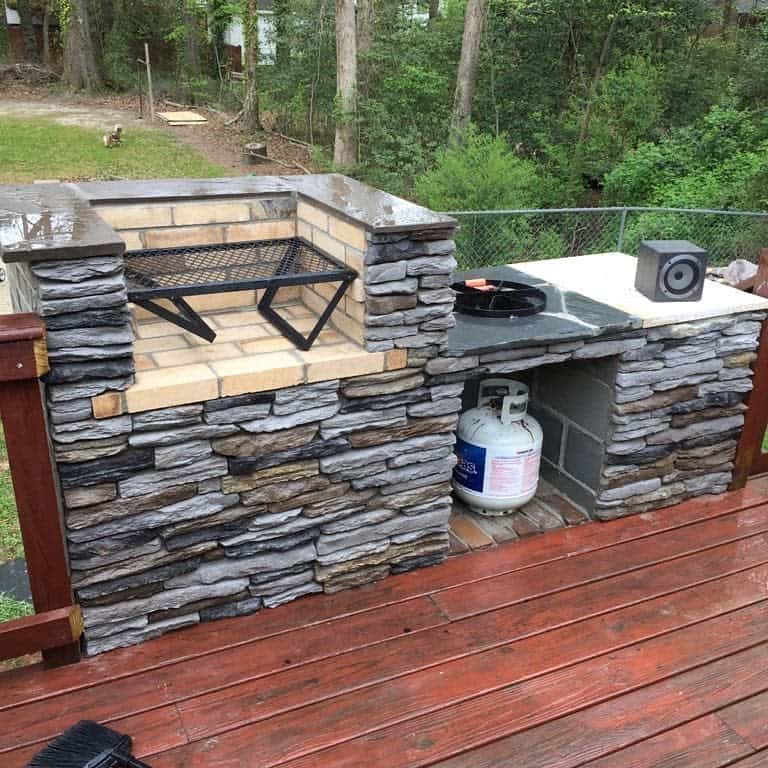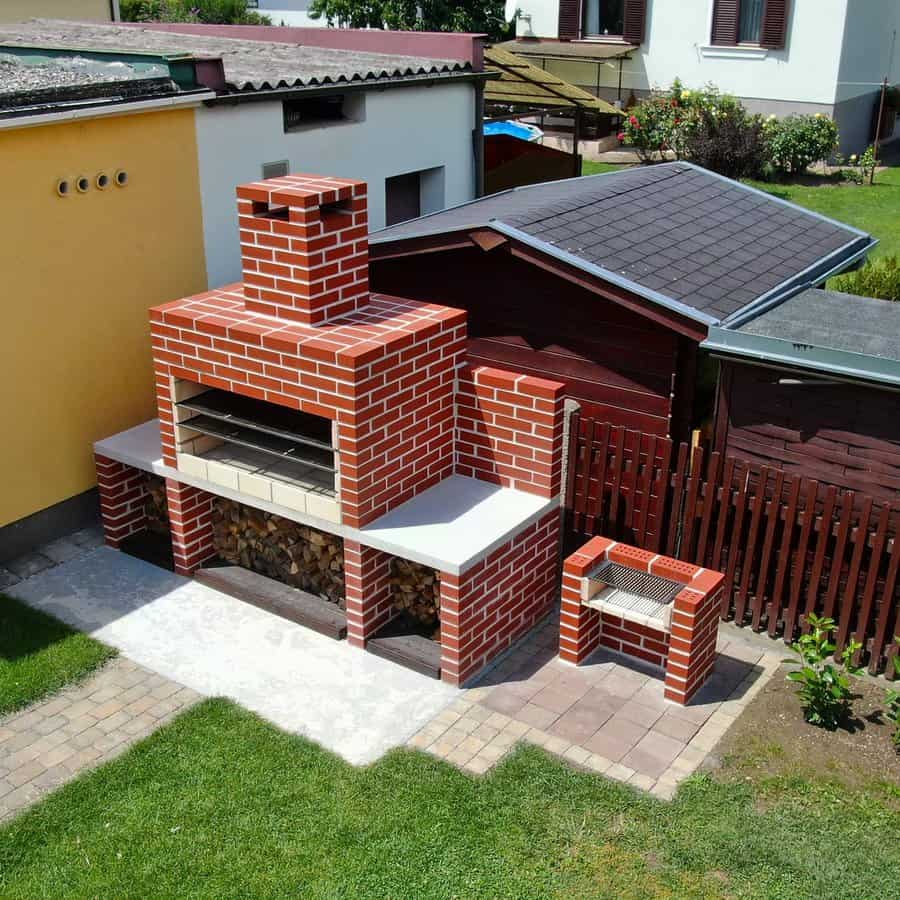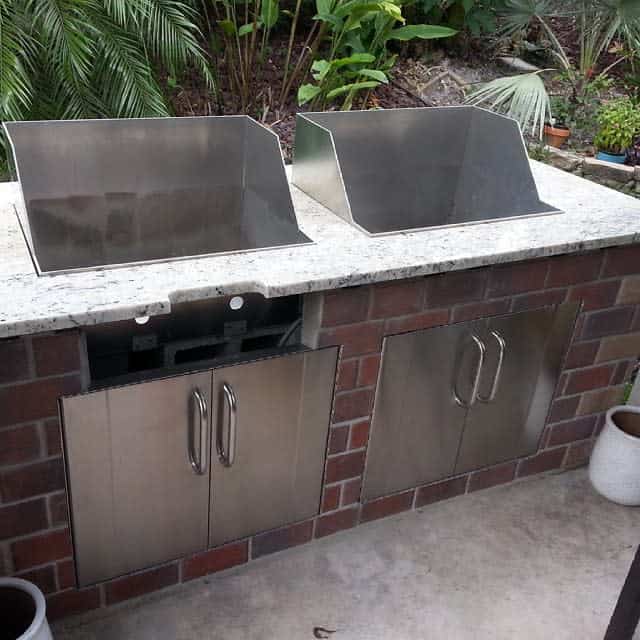 5. Concrete Stone Paver
Transform your backyard with a brick patio! Switch from the traditional timber deck to a modern and stylish patio, designed with concrete stone pavers. Utilize different sizes, textures, and shapes to create an eye-catching pattern of freshness.
The modern design can give you endless possibilities for creating a luxurious edible garden or simply creating the perfect summer oasis. Decorate with planters and furniture, add some lights around, and voila – you are ready to enjoy a unique outdoor experience!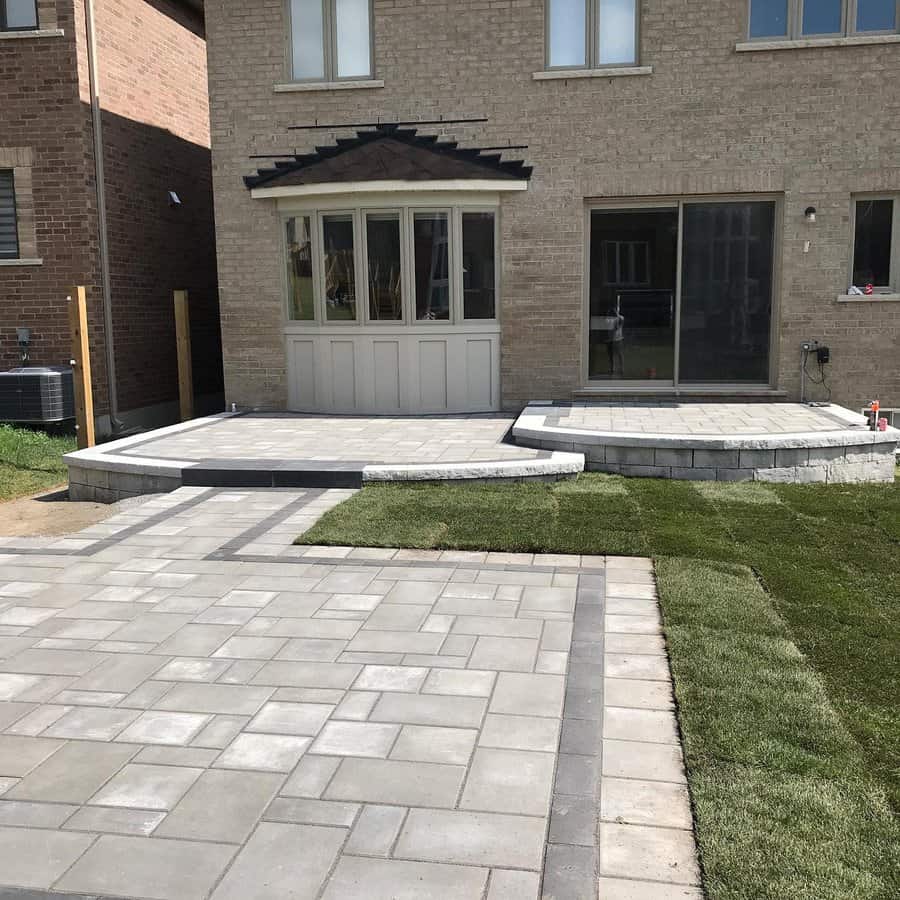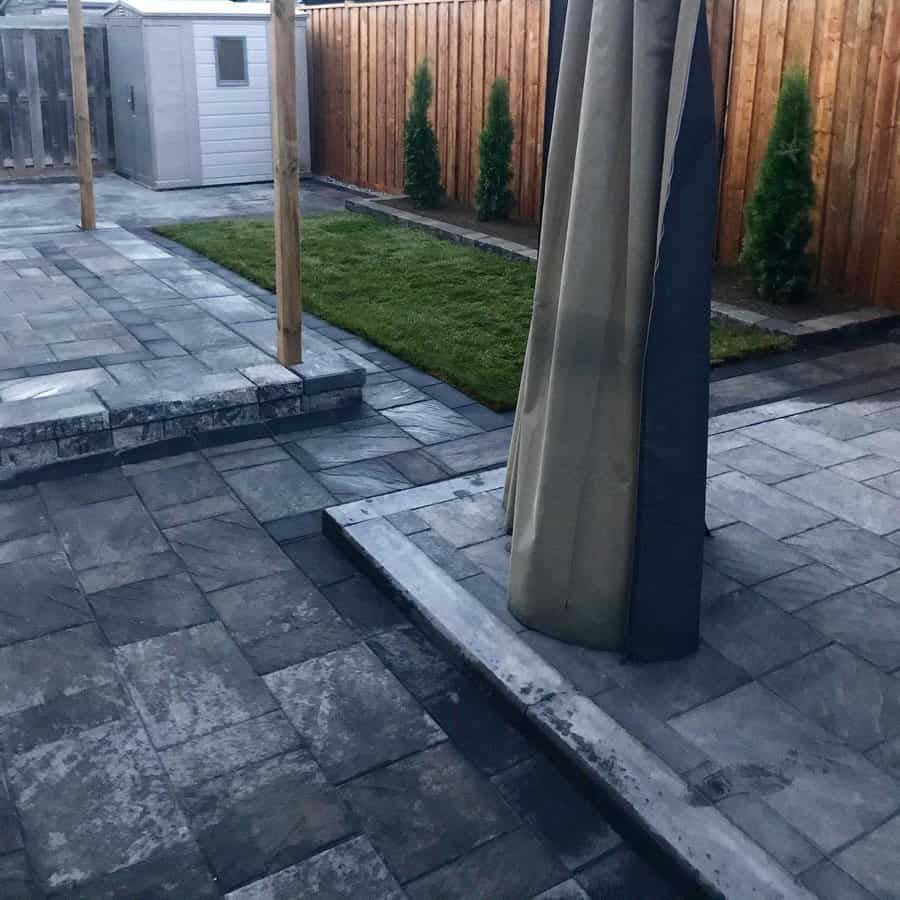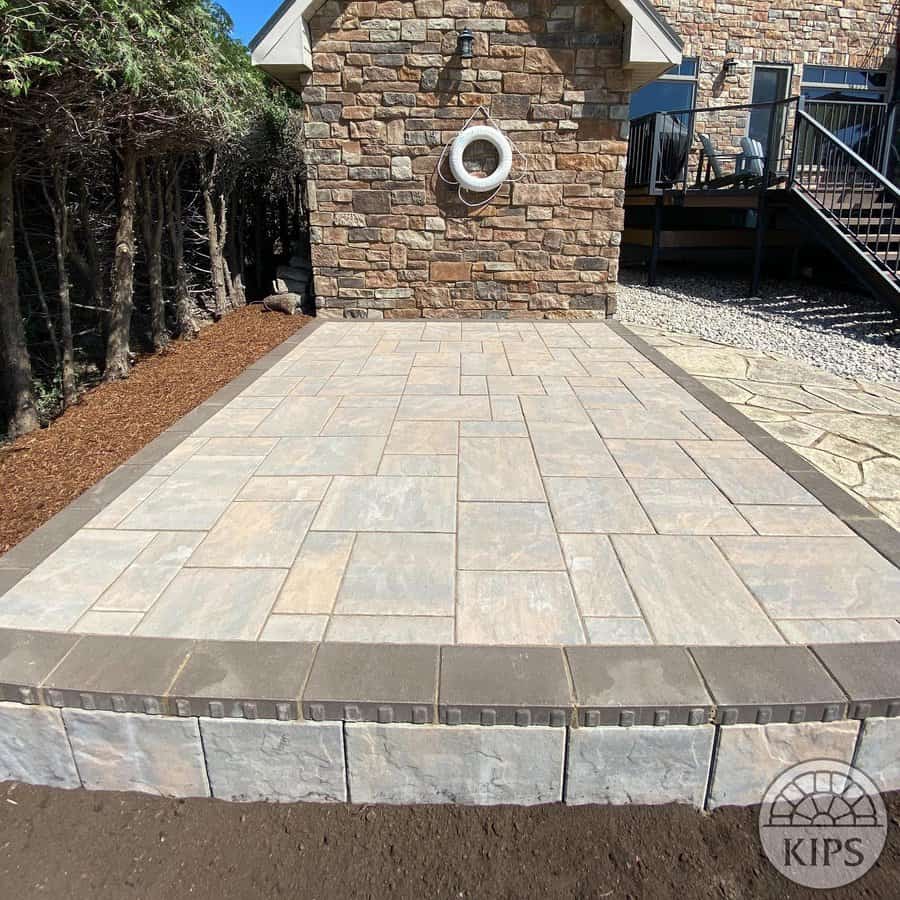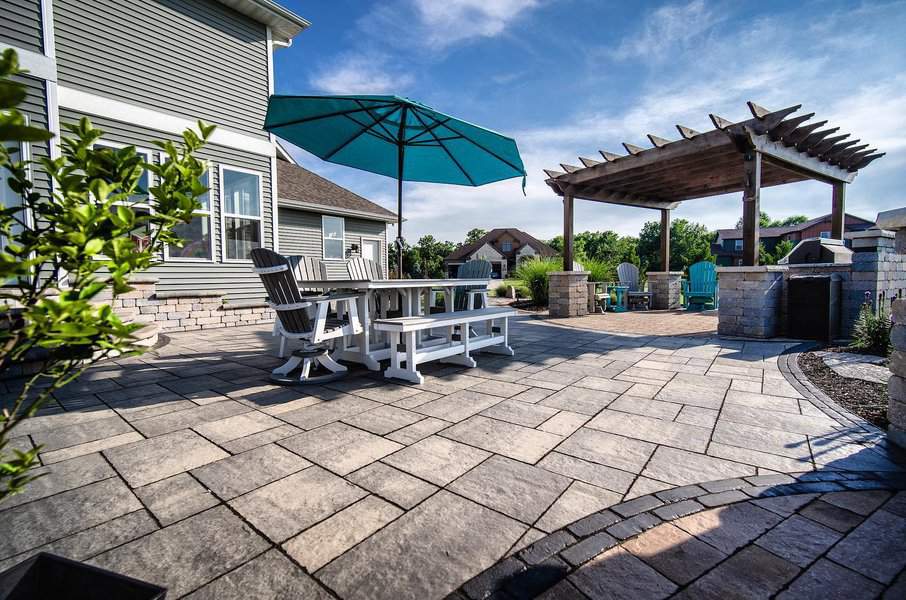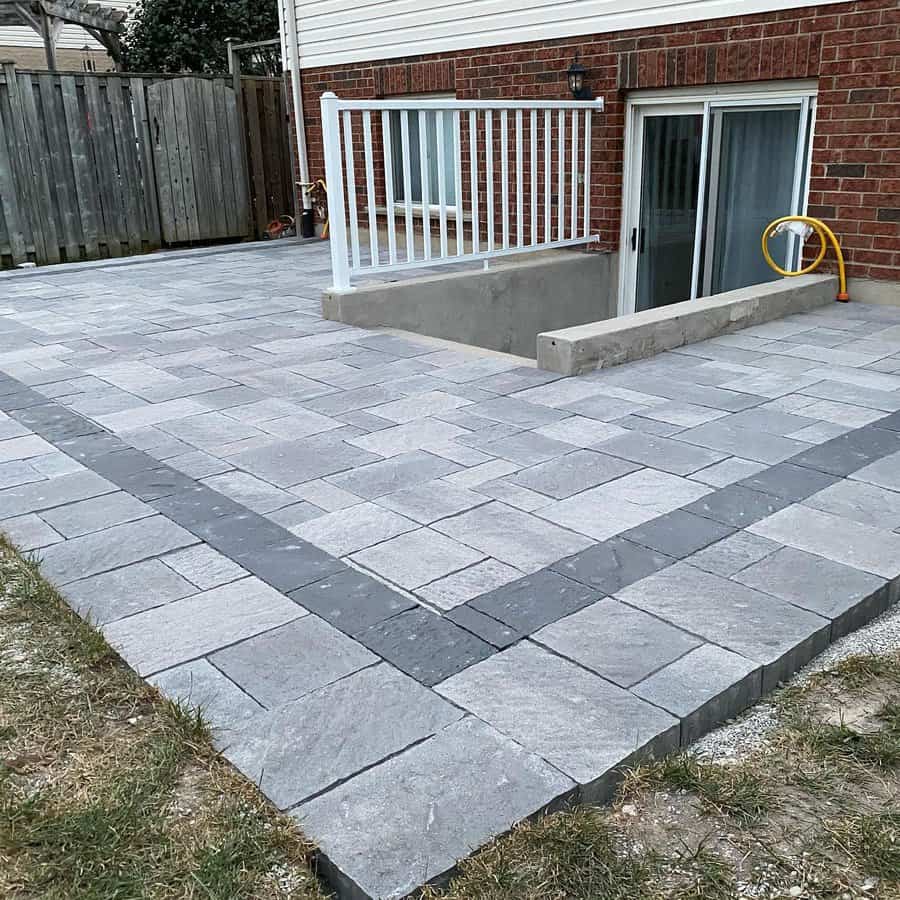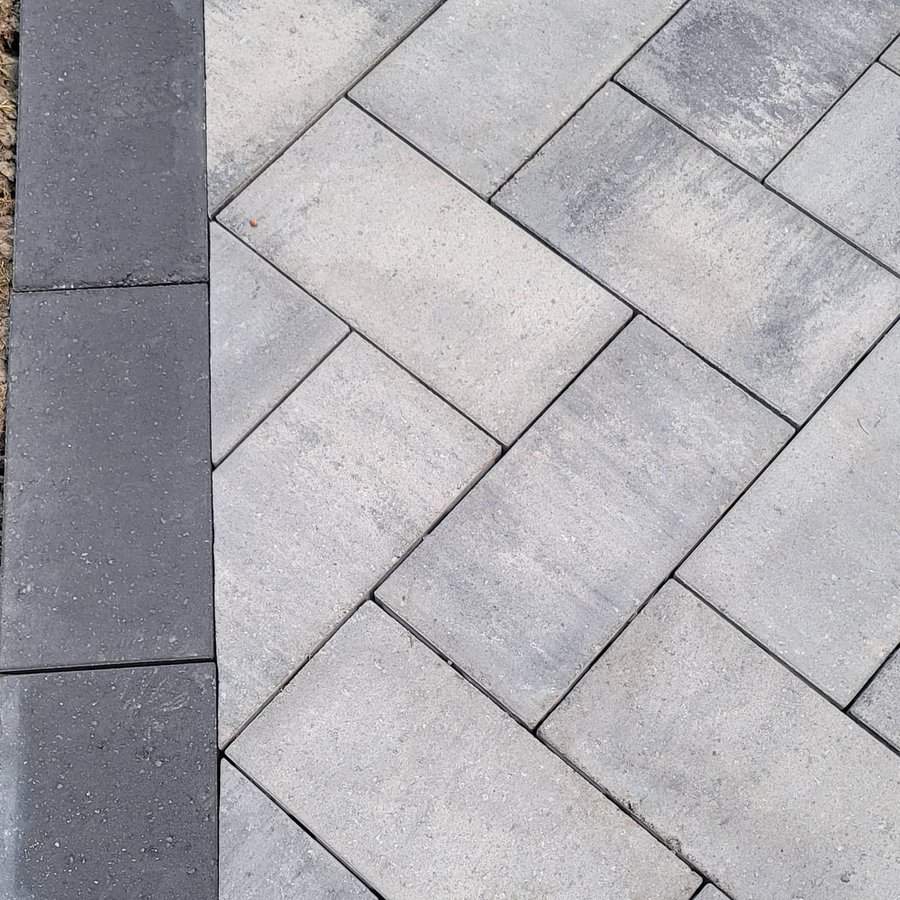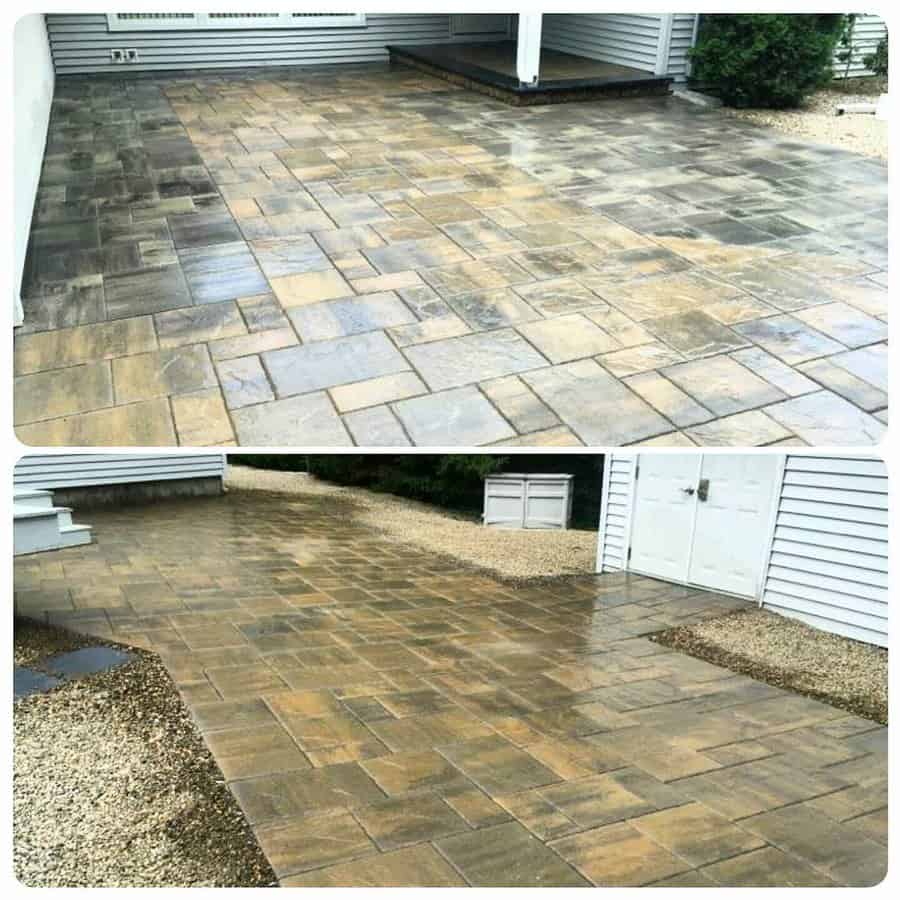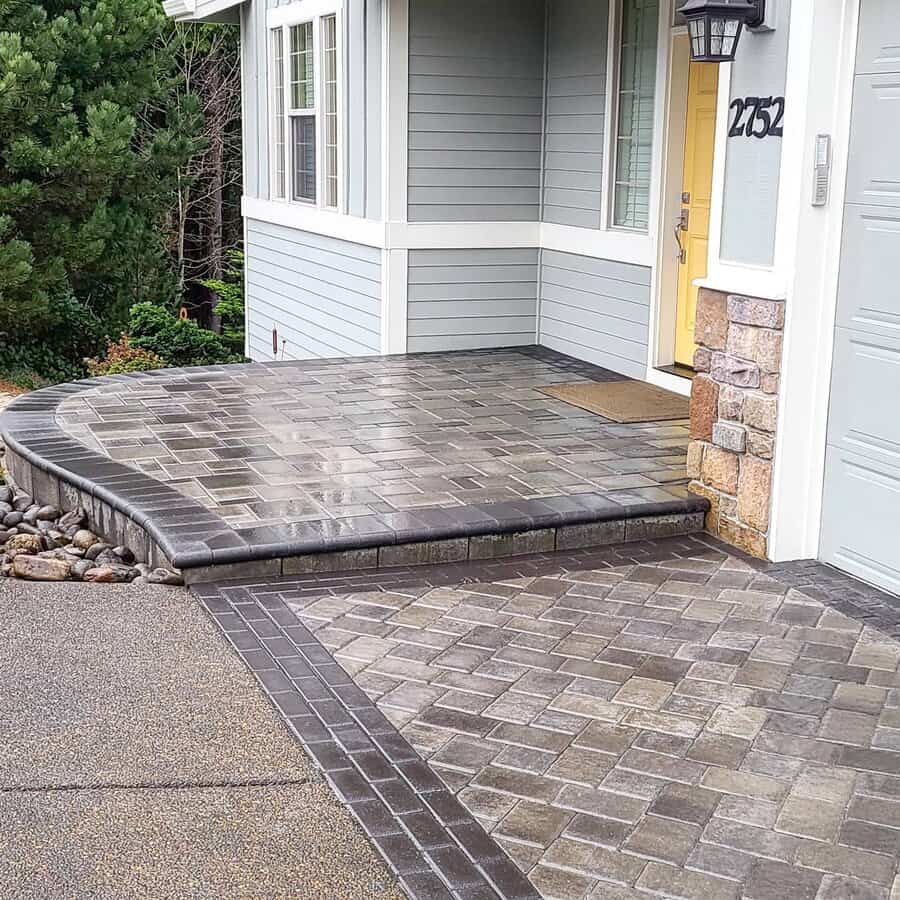 6. Poured Concrete Paver
Breathe life into your outdoor area with a brick patio! Whether you prefer a classic look or something more modern, the possibilities are endless. For the traditionalist, create an exquisite flagstone design with old-world charm.
Use less complicated poured concrete pavers for a modern twist on this classic. Or use patterned bricks to spruce up the space and add eye-catching interest. With a few creative ideas, you'll be able to transform your outdoor living space with ease.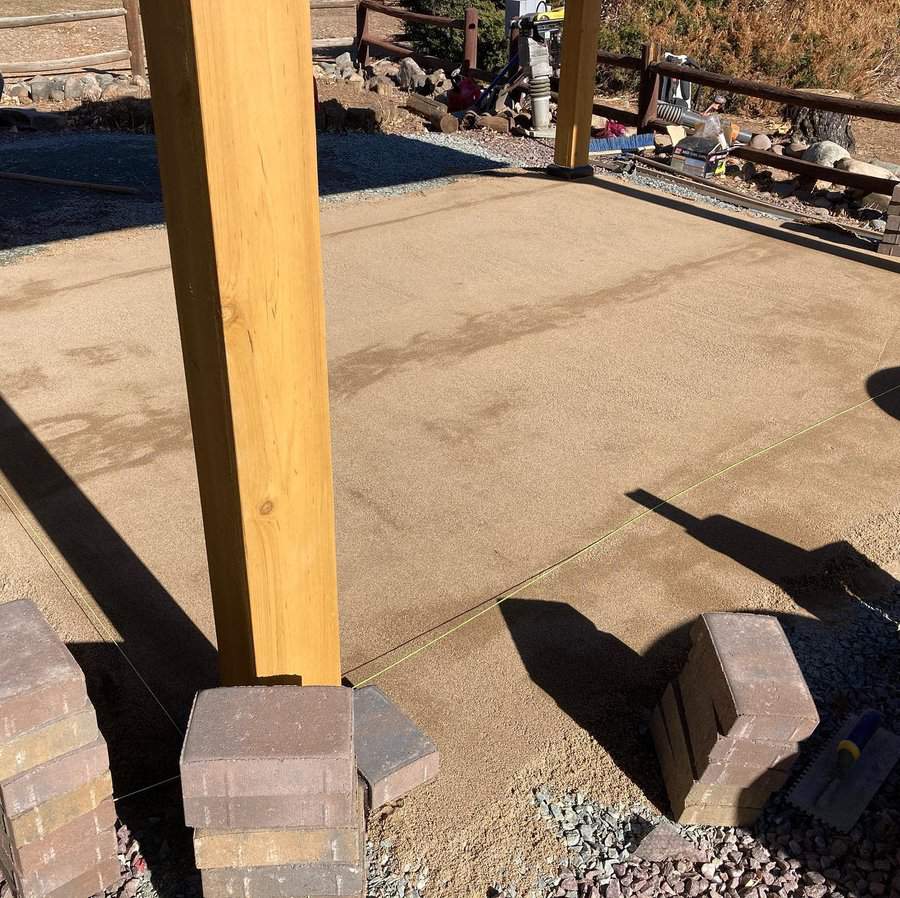 7. Red Brick Pavers
Bring your outdoor space to life with a custom red brick patio! Picking the right pavers is the first step in creating a stunning patio design. Red brick pavers add a classic, timeless feel to any outdoor space while providing an effortless aesthetic that complements any existing garden details.
Your creativity and design ideas can shine when you bring together the perfect mix of red brick and other landscaping elements such as plants, stones, and fire pits. Whether you want to create an inviting seating area or simply define your patio's perimeter, brick patios are sure to upgrade your backyard into a beautiful haven!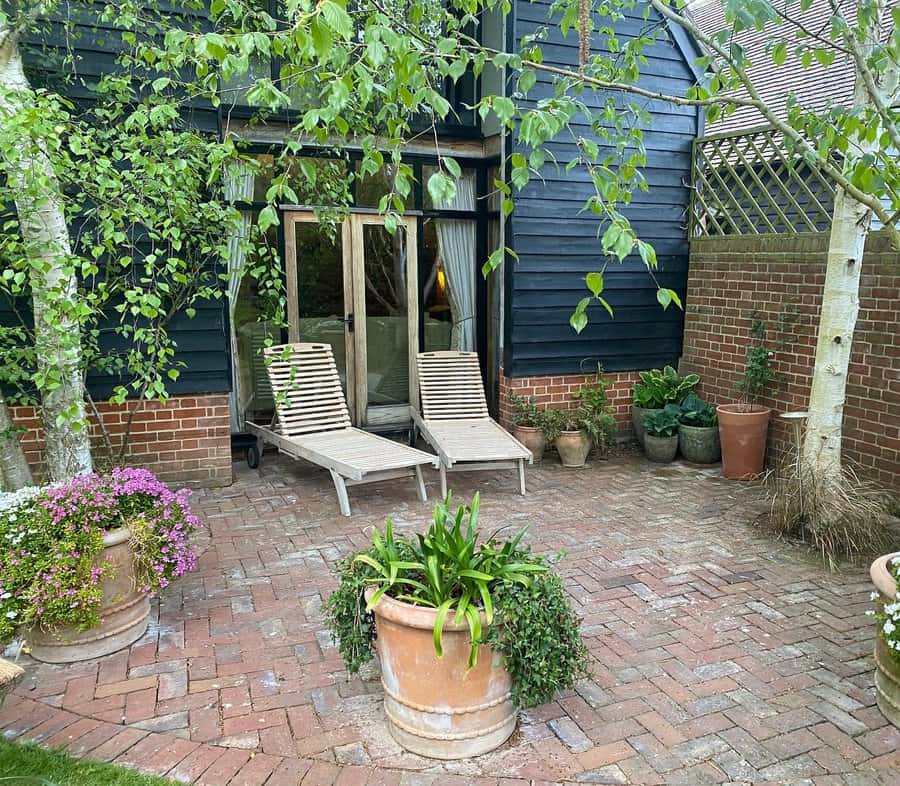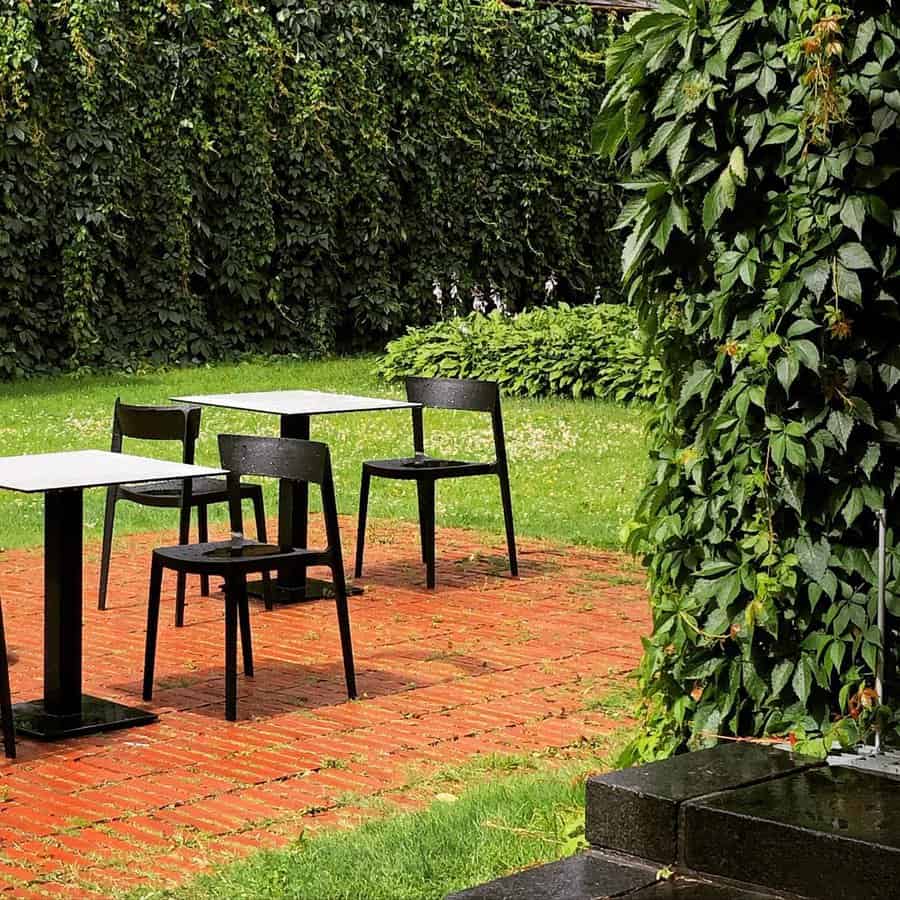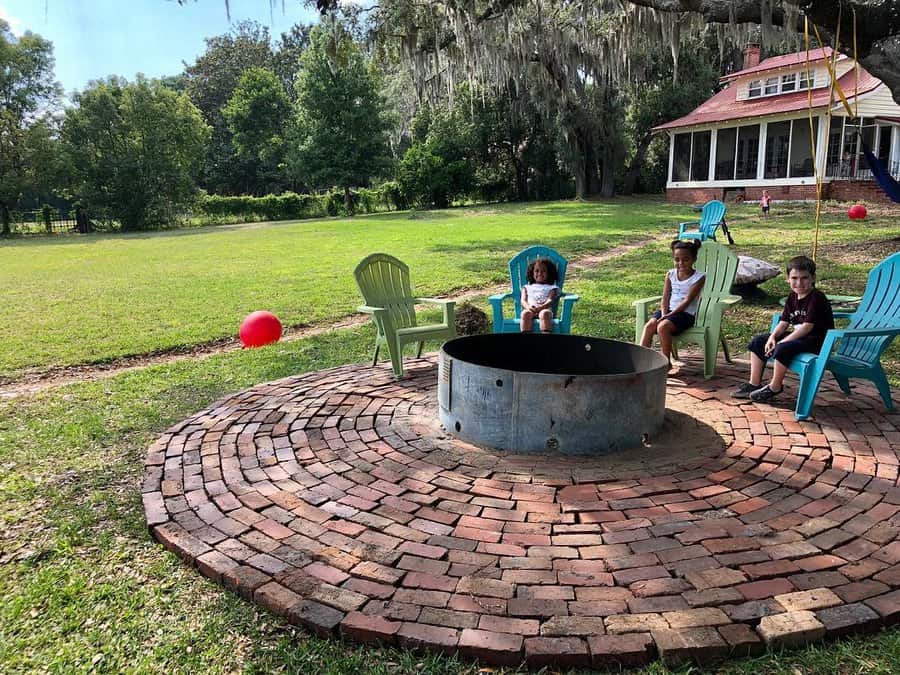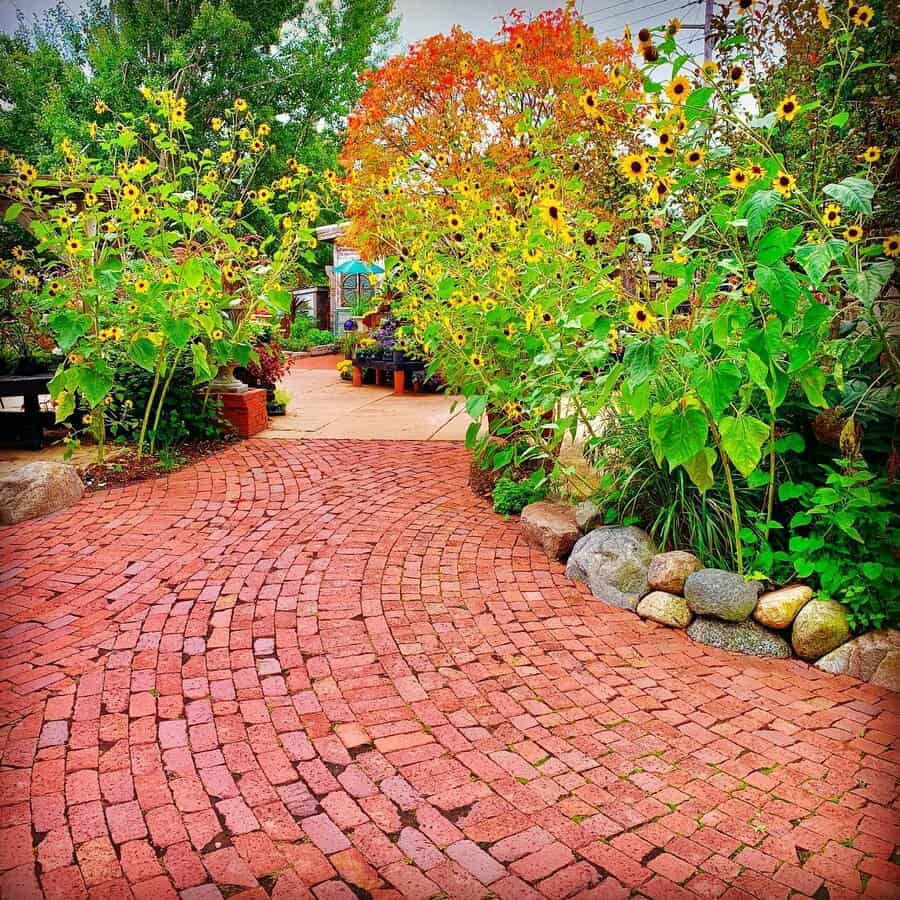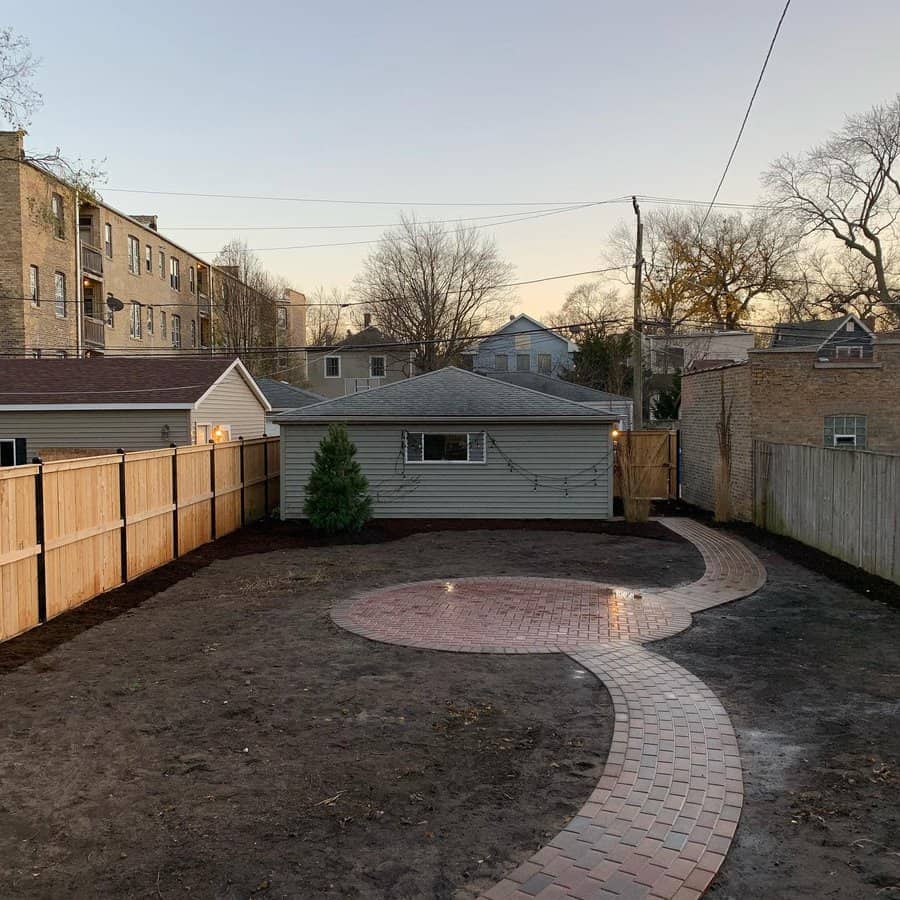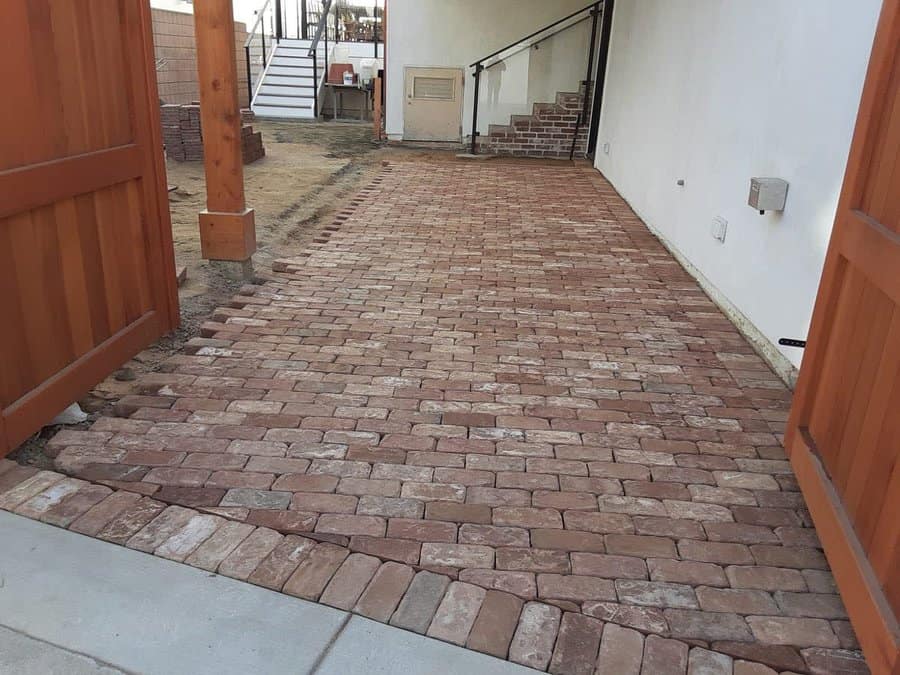 8. Stamped Concrete Pavers
A brick patio can be a great addition to a yard; there are so many options for making it unique and giving it your own personal touch. For example, stamped concrete pavers allow you to create a custom pattern, finish, or texture with minimal effort – perfect for an outdoor living area that reflects your style.
Consider incorporating some of your favorite plants into the design as well; they will add natural beauty and can even provide shade and privacy. With creative use of color, shapes, and materials, you'll be sure to come up with the perfect brick patio idea for your backyard.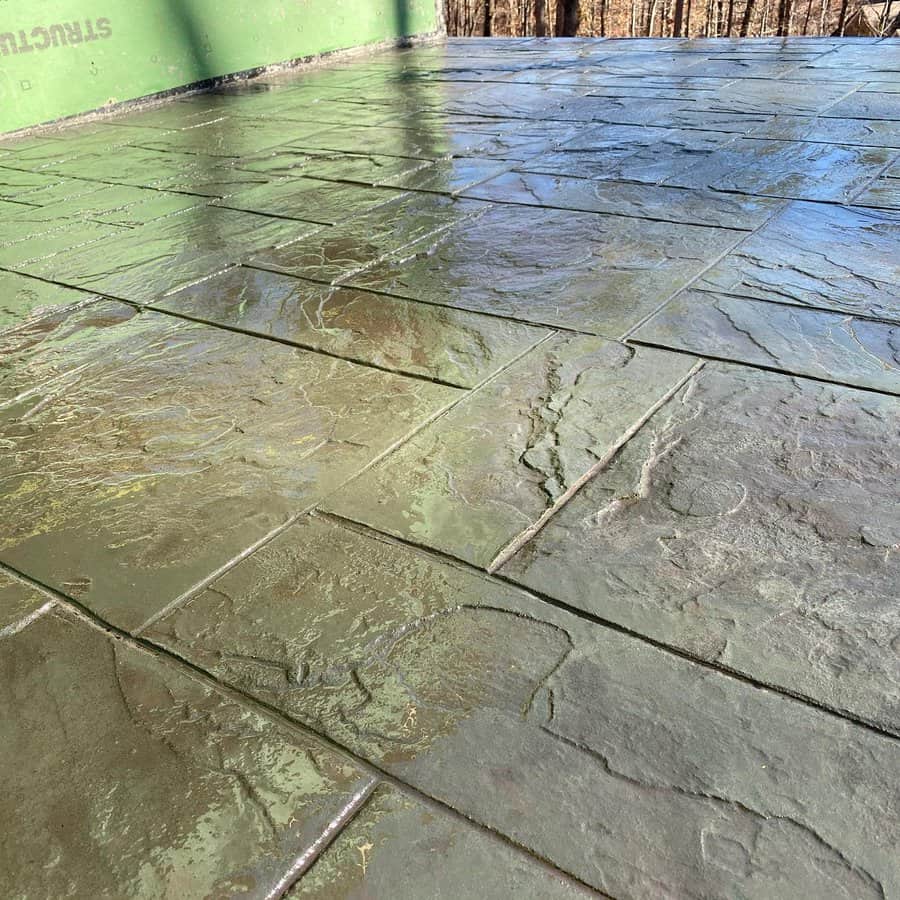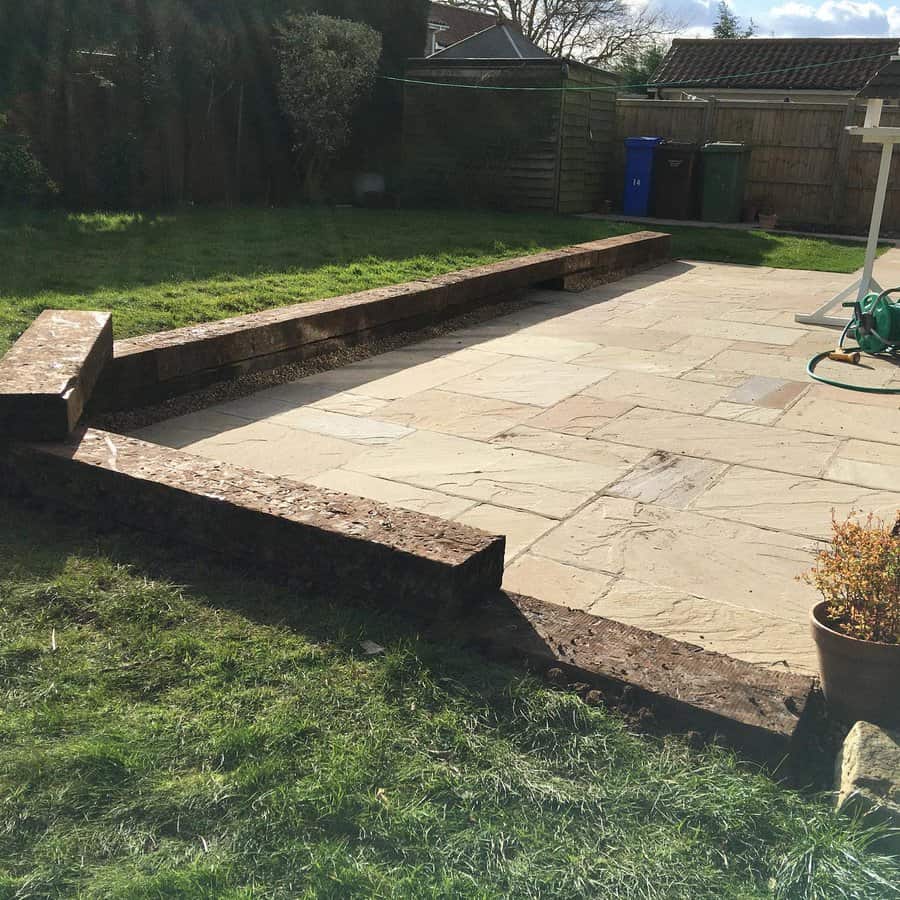 9. Stamped Concrete Privacy Wall
Brick patios can provide an amazing backdrop to any outdoor area, allowing you to create an entire world of possibilities. One popular idea is a stamped concrete privacy wall that adds a homey touch and provides the perfect place to enjoy your morning coffee in peace.
To continue with the brick theme, why not add a subtle brick backsplash near the pool or jacuzzi? It adds beautiful character to the area and ensures your patio remains unique. With these creative ideas and more, your brick patio will be the envy of everyone around!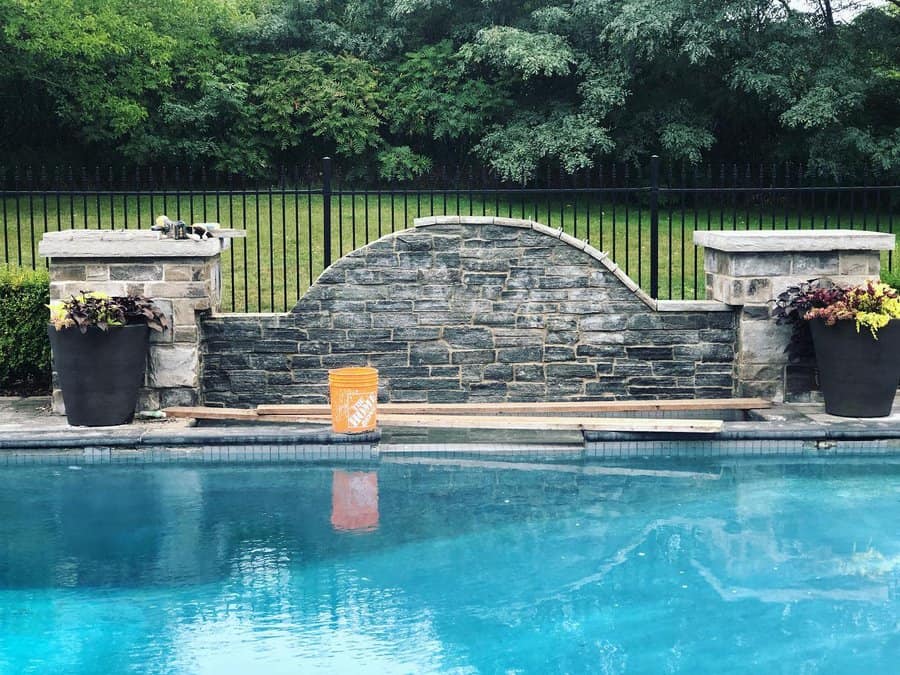 Brick Patio FAQs
Are bricks good for patios?
Bricks are highly adaptable, making them suitable for use as your patio material. You'll need to have a base of sand or mortar to help hold the bricks in place. They will provide a stable and durable base for your patio.
Is a brick patio cheaper than a concrete patio?
Concrete pavers are more affordable than bricks. The raw material used to make the concrete pavers is cheaper than bricks, making the finished product cheaper.
How long do brick patios last?
High-quality bricks that receive regular maintenance can last for up to 25 years, sometimes even longer. Bricks that do not experience a lot of wear and tear will last longer than those that undergo heavy use.