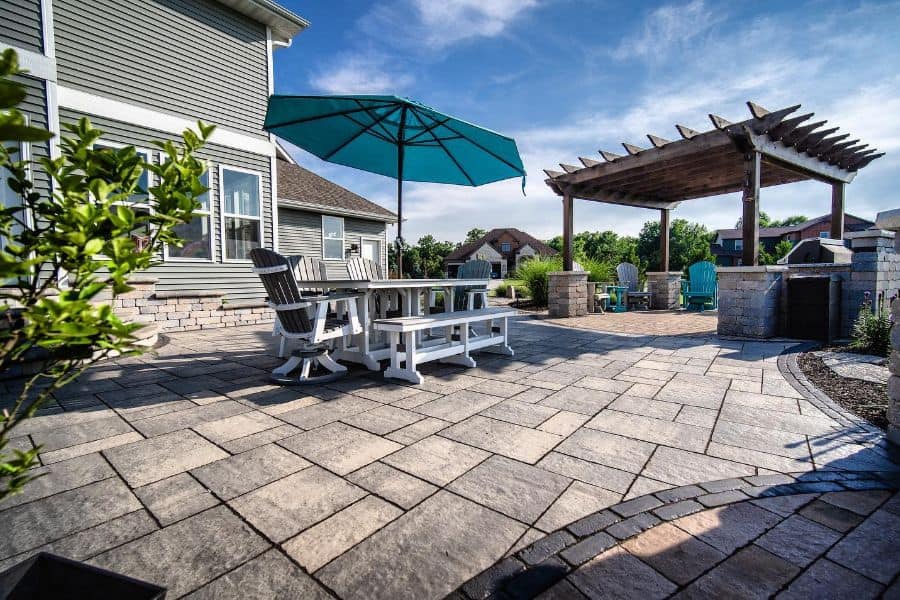 The Top 35 Brick Patio Ideas
A brick patio has a finished and professional-looking design that elevates your backyard space. You can have one in your backyard no matter what your budget and design aesthetic is. So cover your ugly poured concrete patio or build a new patio that adds more usable space in your backyard.
These brick patio ideas will help you design the perfect brick patio for your outdoor living space.
1. Circular
Arranging the bricks in a circular pattern can give your backyard an interesting patio design. However, you'll need more space in your backyard to build your patio because the usable square footage is smaller. You don't have the corners like you would with a square or rectangle patio. For maximum space, consider adding a curved portion to one of the straight sides of your patio.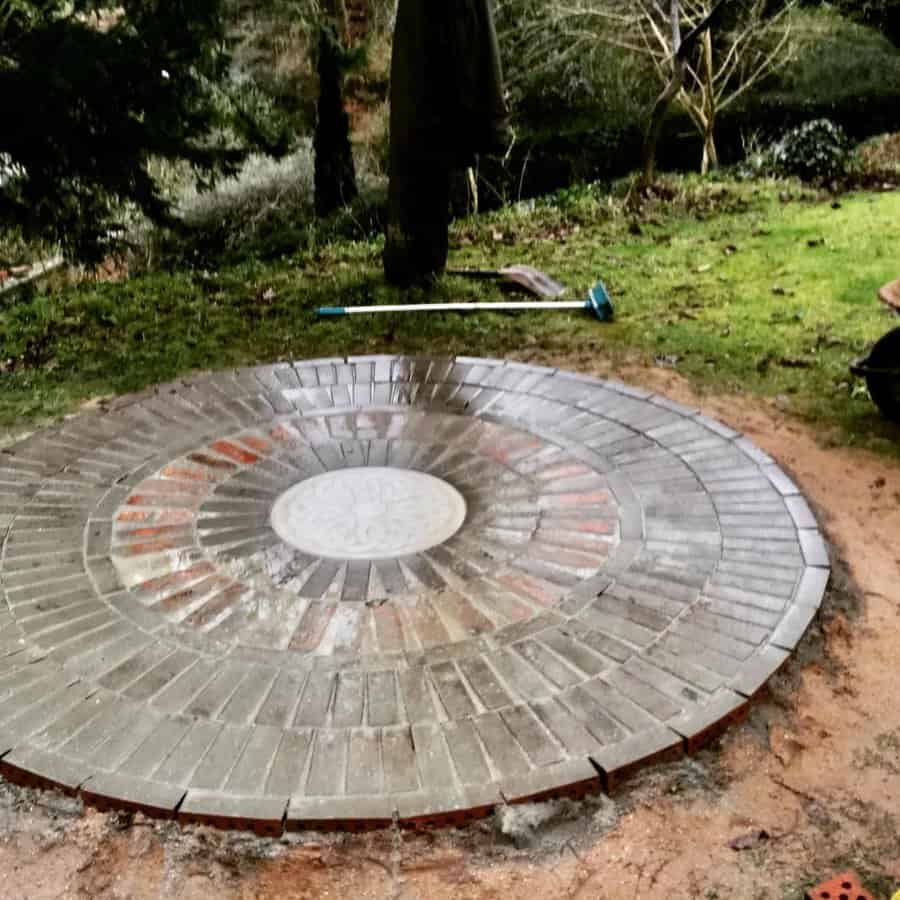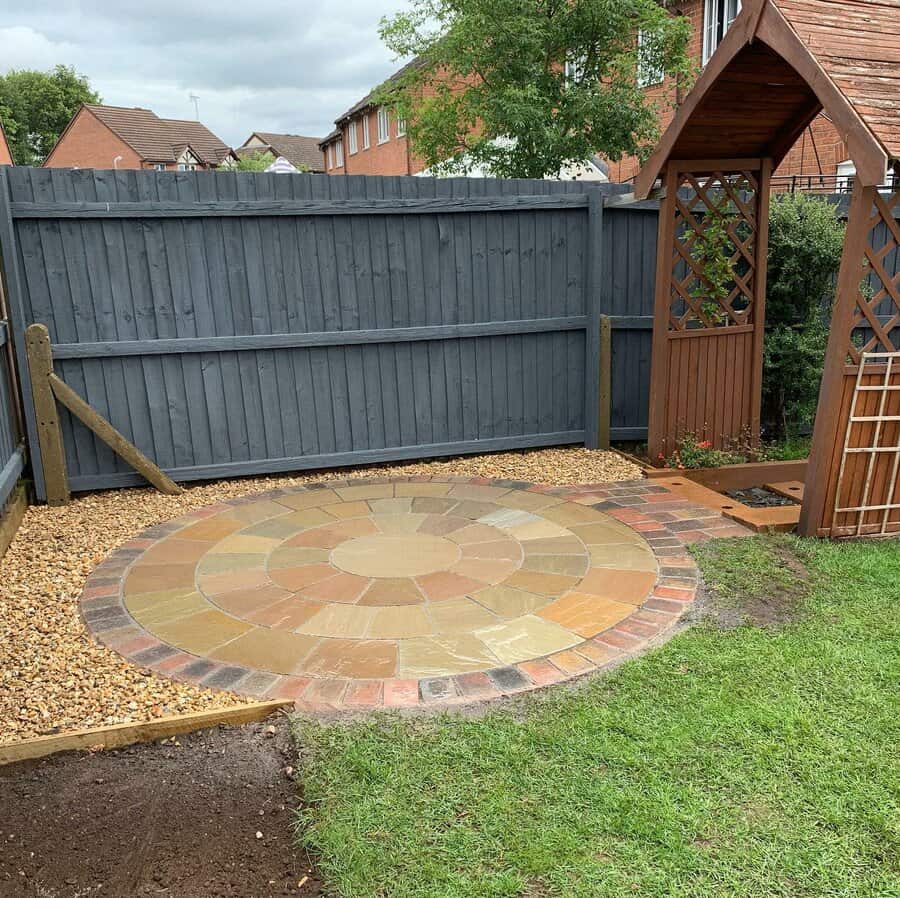 Another great option is to use the bricks as a round patio located in the middle of your backyard. It can be a small patio that joins multiple walkways together. A circular patio is also good as the base for a fire pit because the round patio mirrors the round fire pit. Consider building one in your garden for a small bench or a cafe table and chairs.
2. Fire Pit
Adding a fire pit to your backyard gives you a warm gathering place. The fire adds a gentle glowing light that is perfect for evening entertaining. The warmth from the fire helps keep you comfortable when the temperatures dip. Bricks are heat-resistant and durable, making them perfect for building your fire pit. You can build a pit that's the perfect size for your backyard and budget.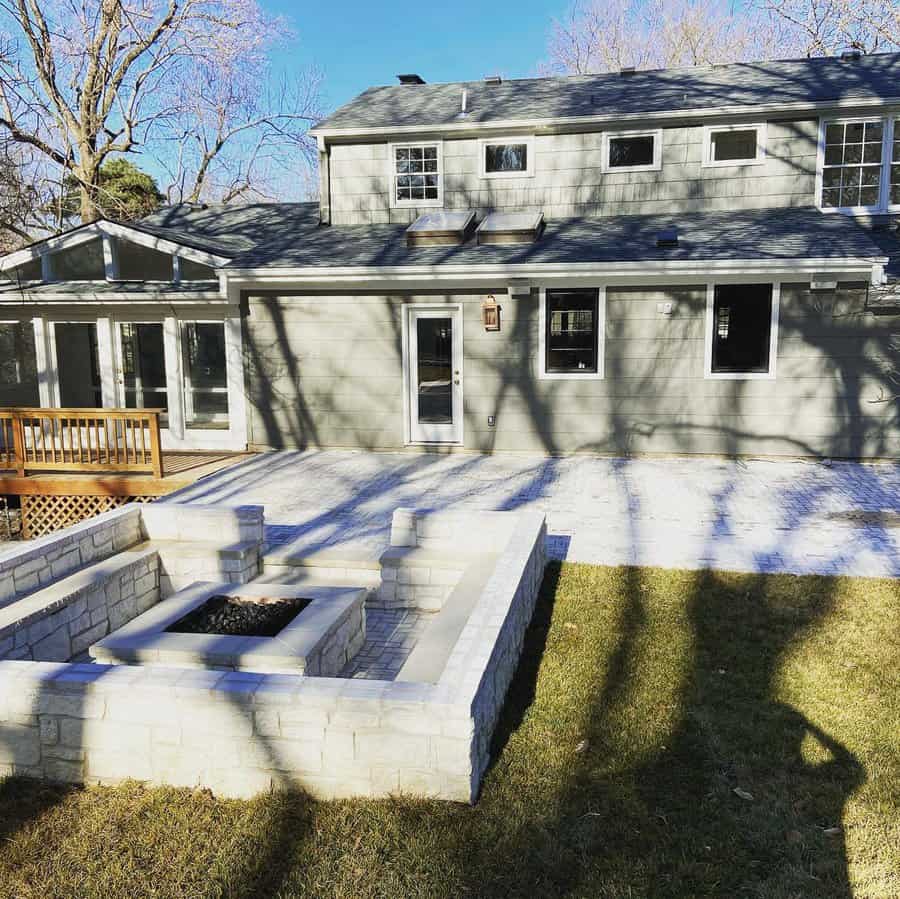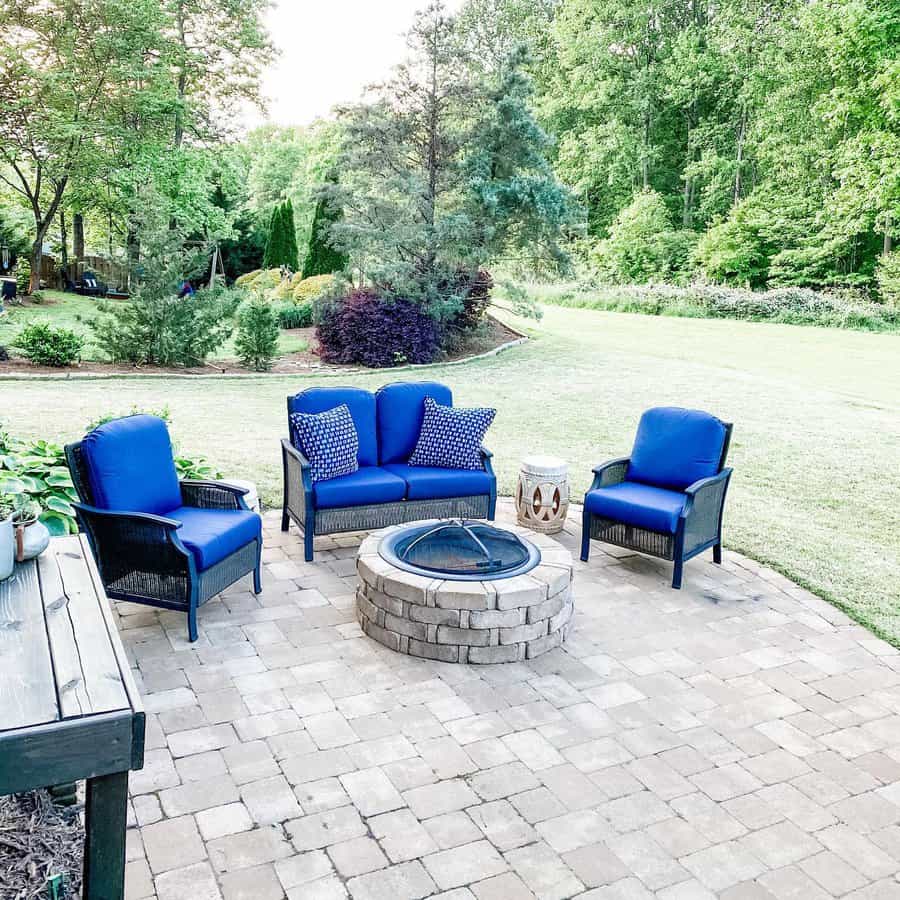 If a fire pit seems a bit too casual for your backyard, then build an outdoor fireplace instead. This patio idea is perfect for turning your patio into an outdoor living room. Instead of Adirondack chairs, arrange living room inspired patio furniture like a sofa and accent chairs. Build a cover over the backyard patio furniture so that you can enjoy the fireplace throughout the year.
3. Flagstone
Instead of using perfectly square red bricks, give your backyard patio a more natural and organic feel by using natural stone. Flagstone is perfect for your outdoor stone because it comes in random and organic shapes. In addition, they have a color variation that gives your patio visual interest and design.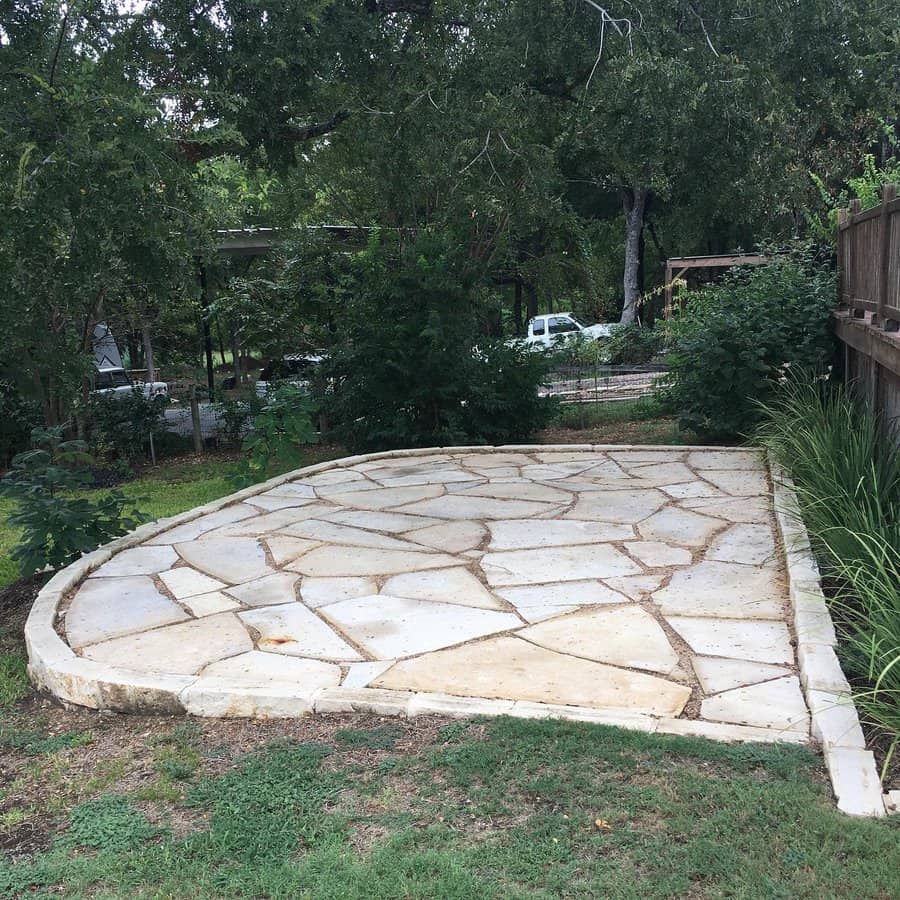 This natural stone takes more time and skill to install because you need to put the stones together to create a smooth and well-designed surface. If this sounds like a lot of work, consider using flagstone to accent your brick paver patio. This helps you define different spaces.
4. Grill
Building a brick patio under your grilling area gives you a solid surface for your outdoor living space. Bricks are a common patio material and are durable to weather and extreme temperatures. This makes them ideal for your patio and building an outdoor kitchen. Consider choosing a nonporous brick or applying a sealant. This makes the bricks easier to clean when you spill food or grease.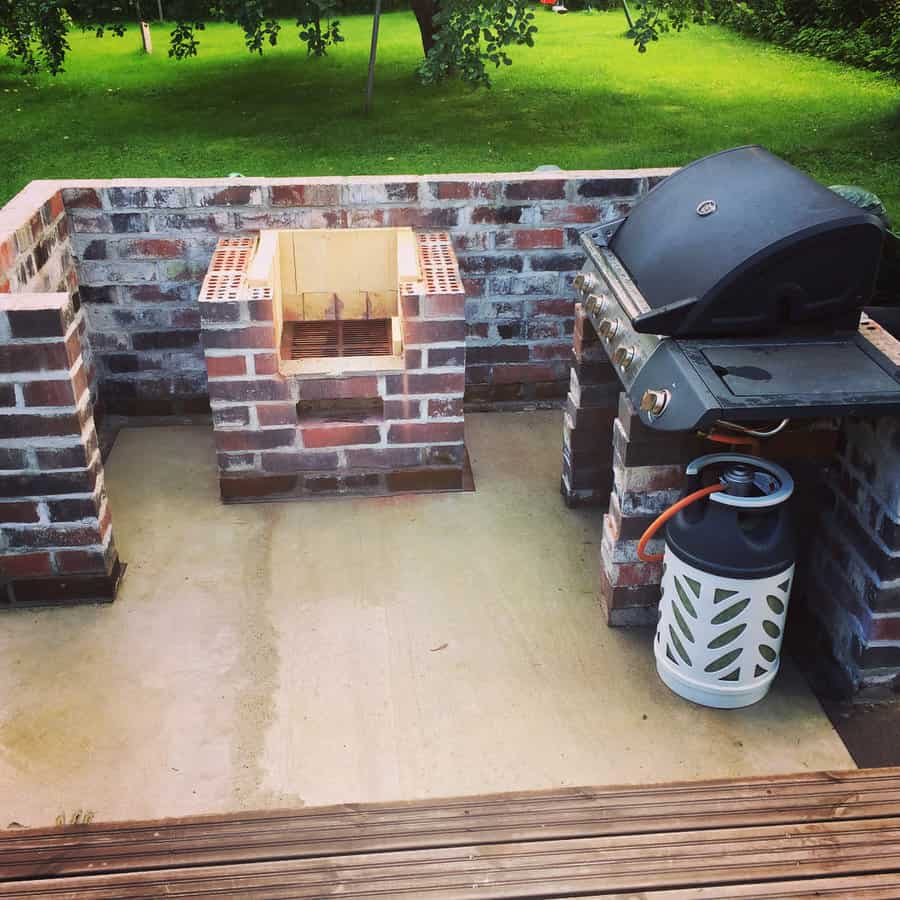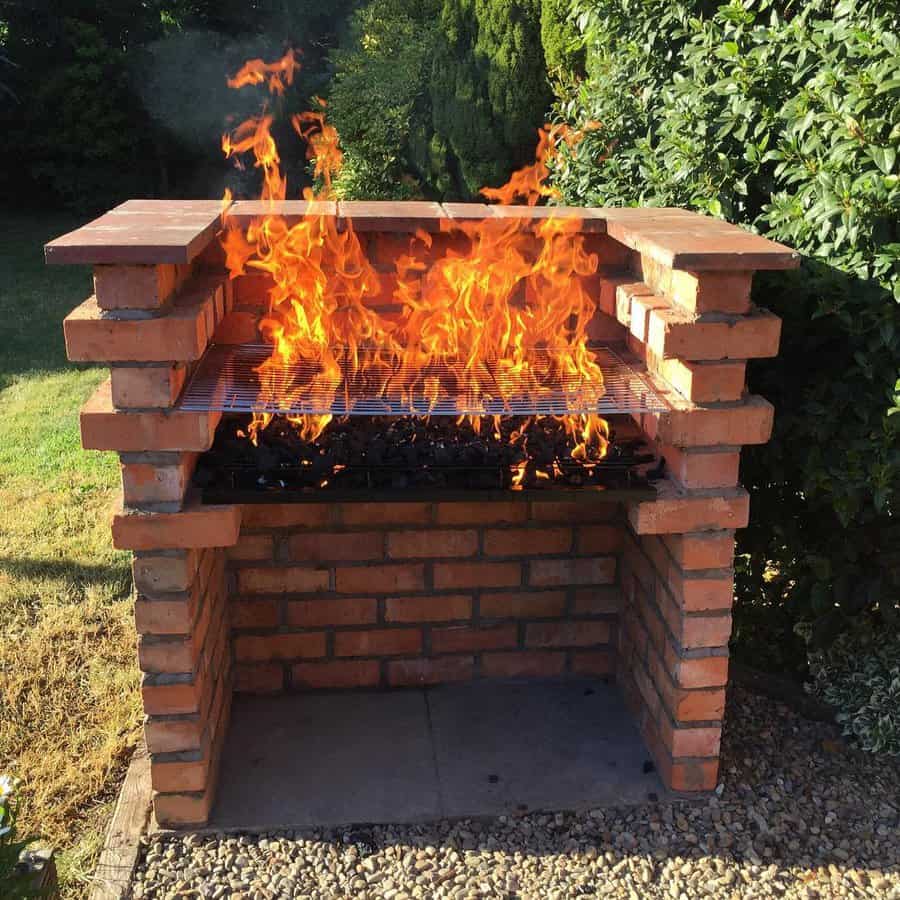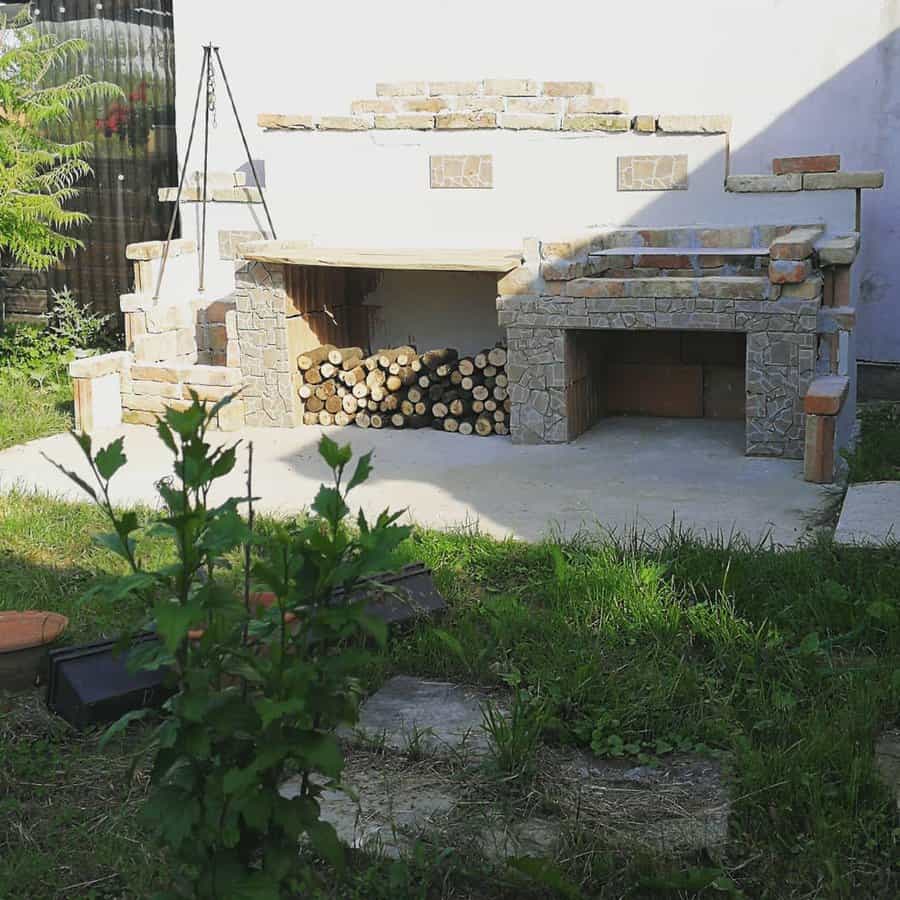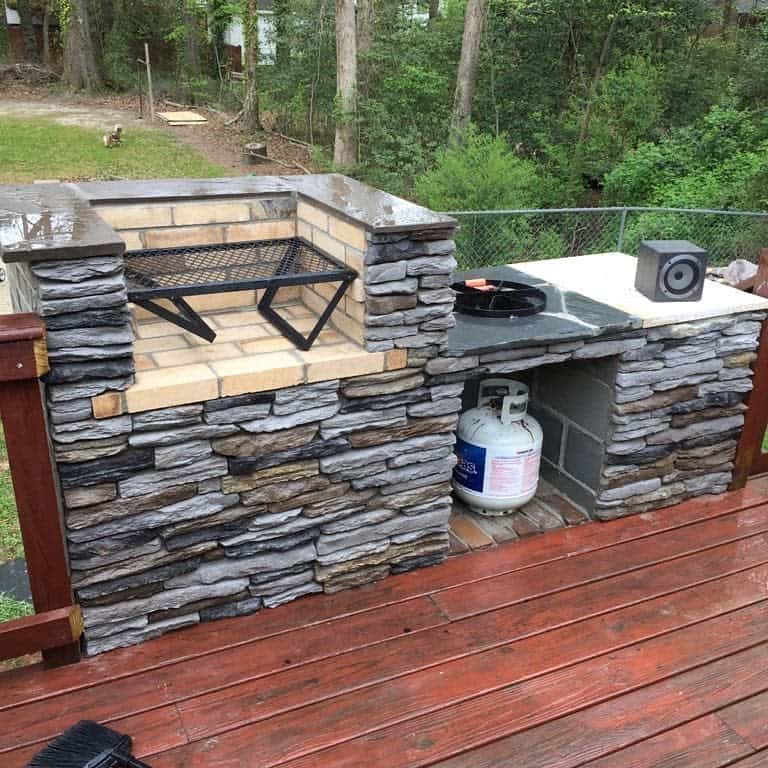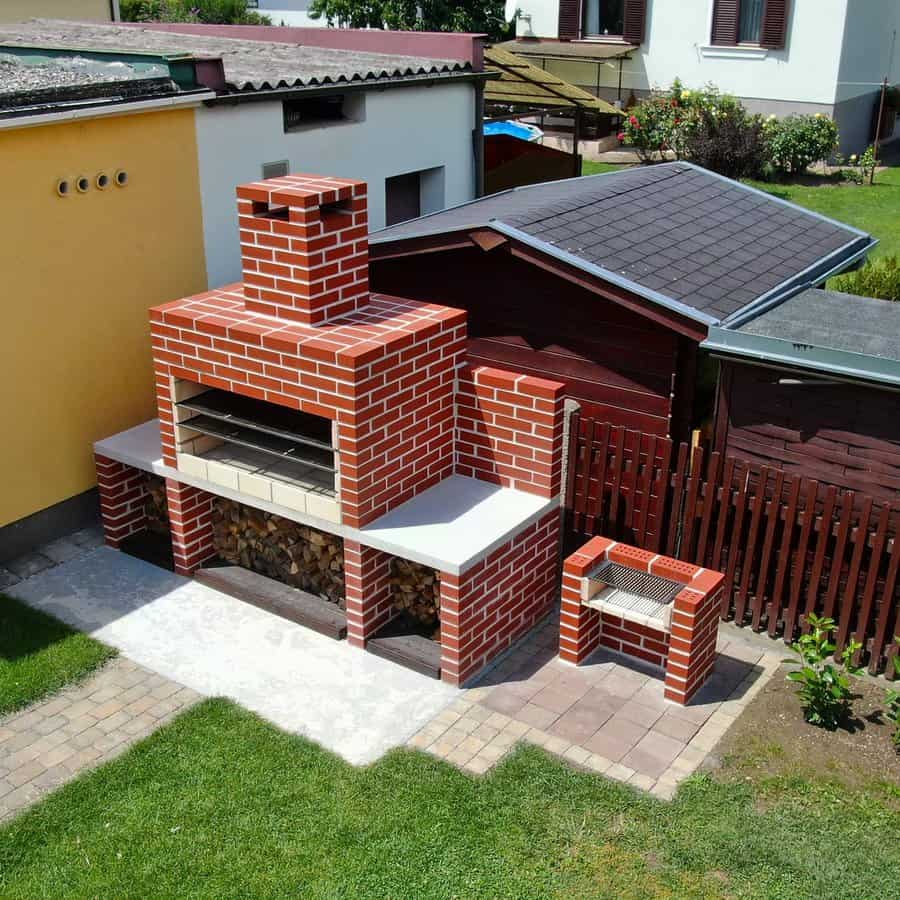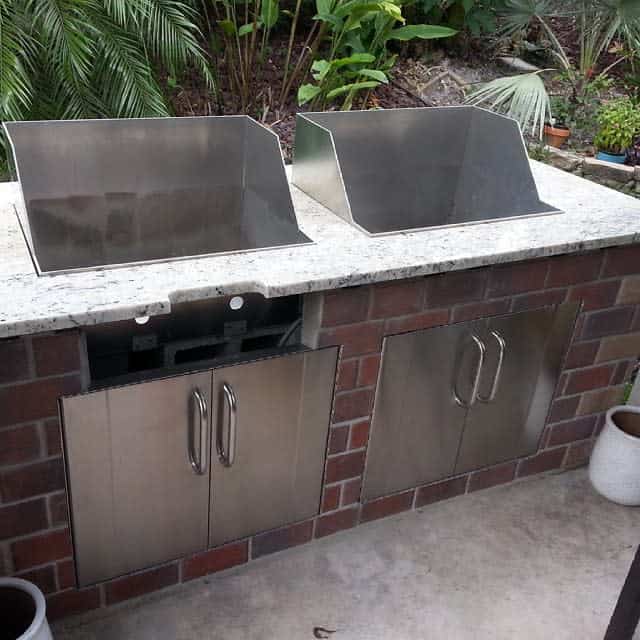 If you already have the patio base, consider turning it into a covered patio. Then you can use it throughout the year, no matter what the weather. It could be a pergola with slats or fabric draped over a frame. Give it a garden feel by letting a vine plant grow overhead to create a filtered light effect.
See more stone patio ideas here.
5. Interlocking
When using rectangular-shaped bricks, you aren't stuck with laying them in rows. While you can use this simple pattern for the walkways, get more creative with the large spaces, like the patio area. Use the paving stones to create an interlocking pattern. For example, a herringbone pattern looks a bit like a chevron pattern, but the angled bricks interlock with each other.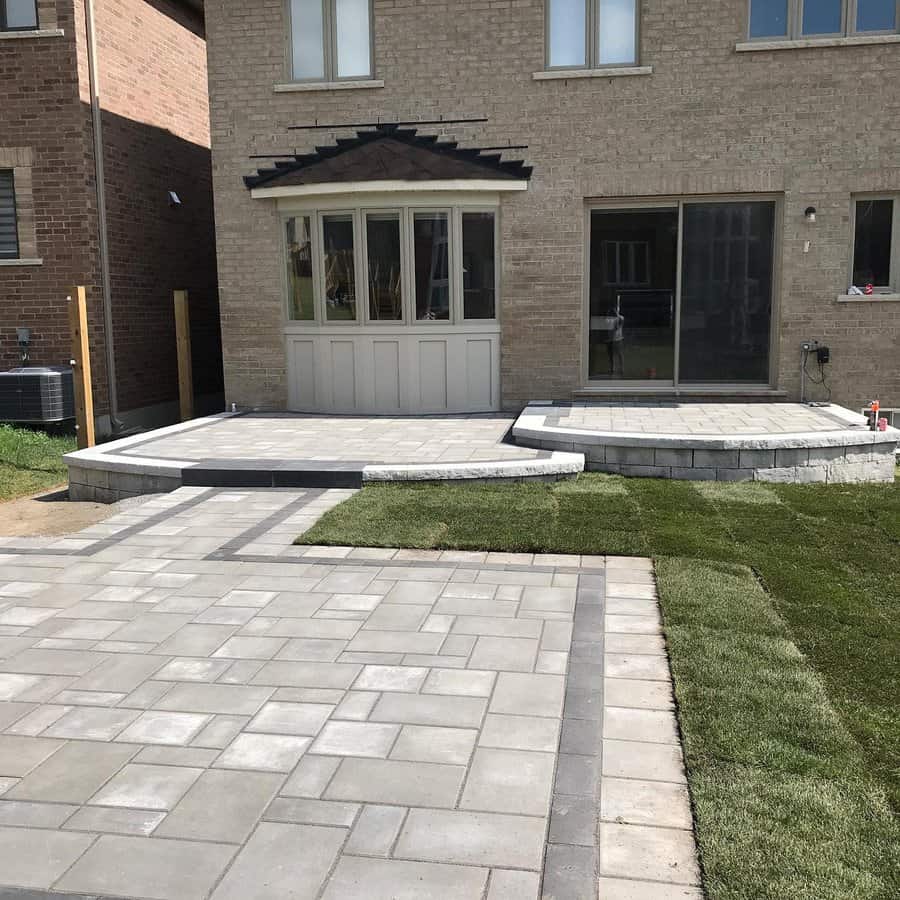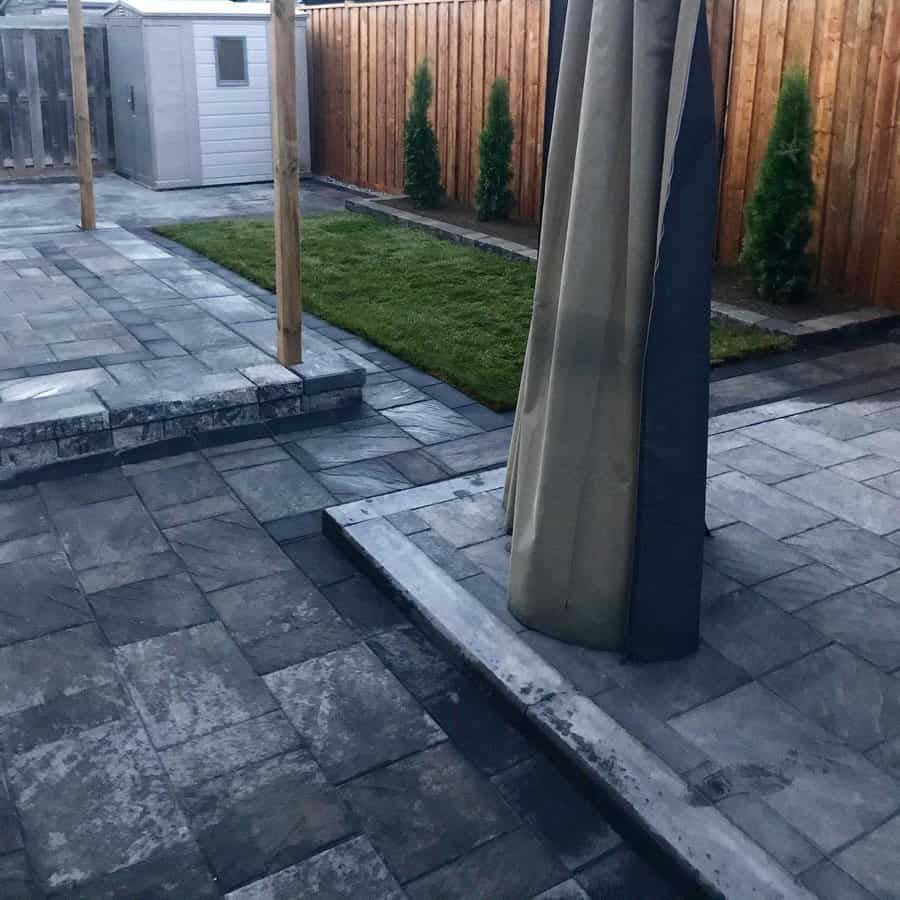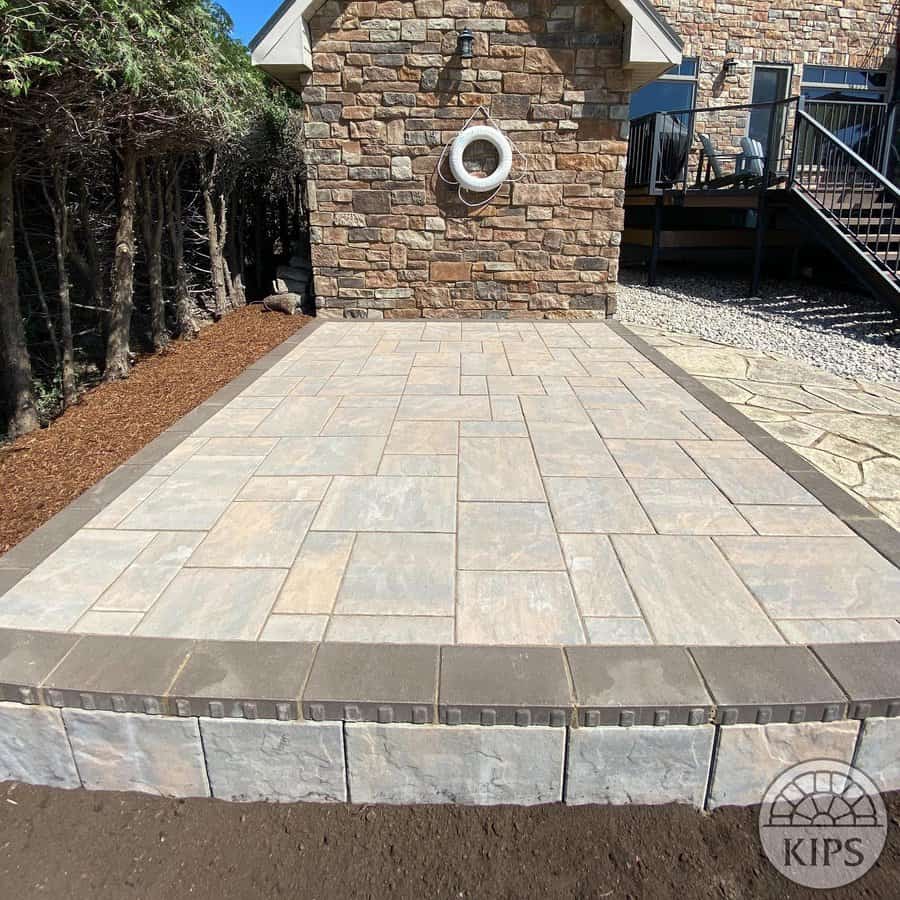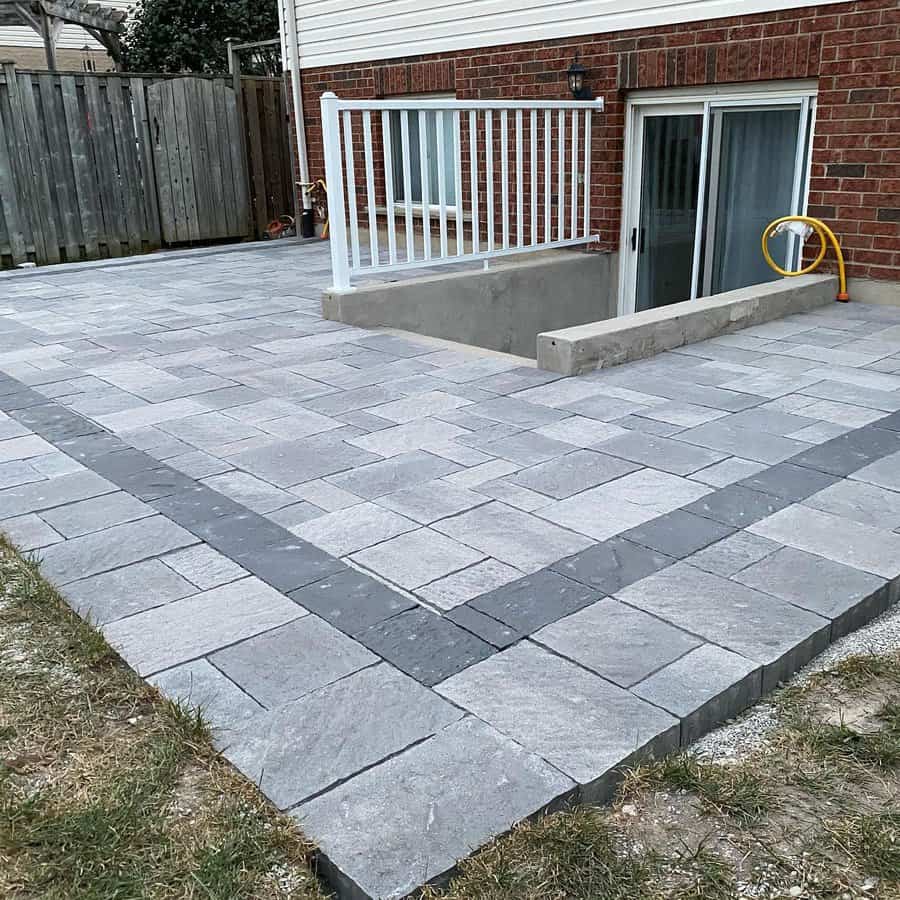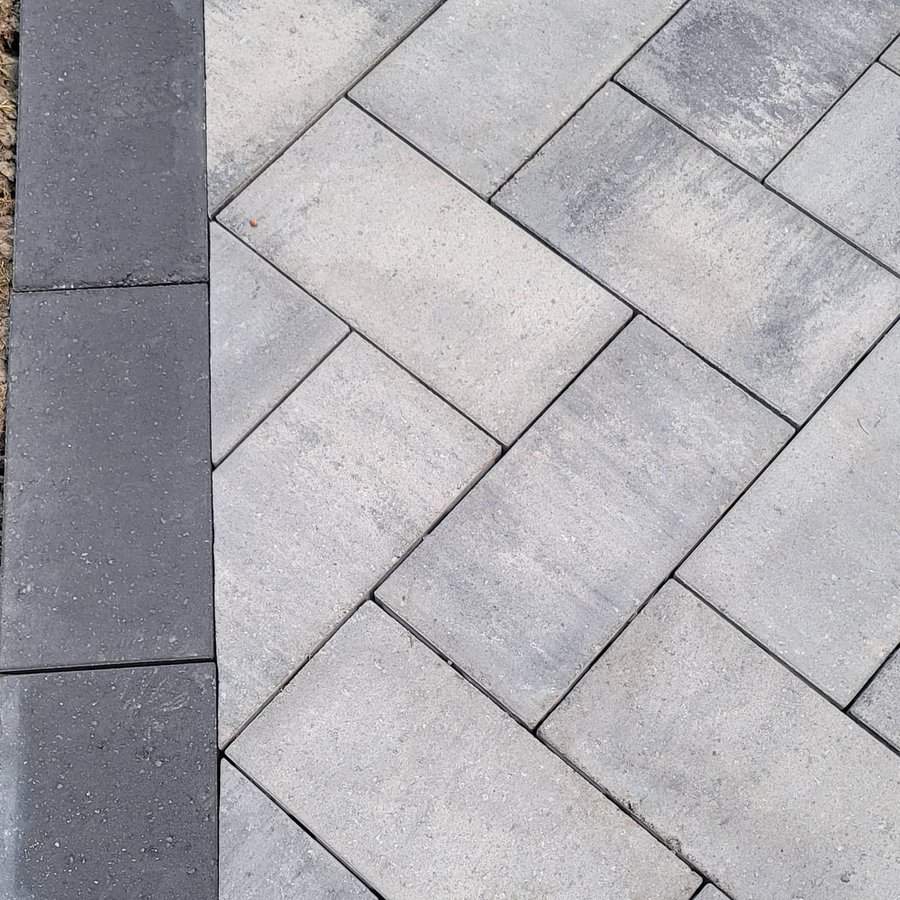 There are also paving stones that come in a specific shape designed for interlocking. When looked at individually, the stones look strange and lopsided. However, once you start placing them, you'll see that they perfectly line up with the stones around them. The finished look is an interlocking pattern that looks intricate.
6. Landscape
Use your concrete pavers to do more than build a stone patio. Start with the patio, then build off of it to create a landscaping design through the rest of your backyard. You could build retaining walls to build multiple levels. This is perfect for adding raised plant beds around the perimeter of the backyard.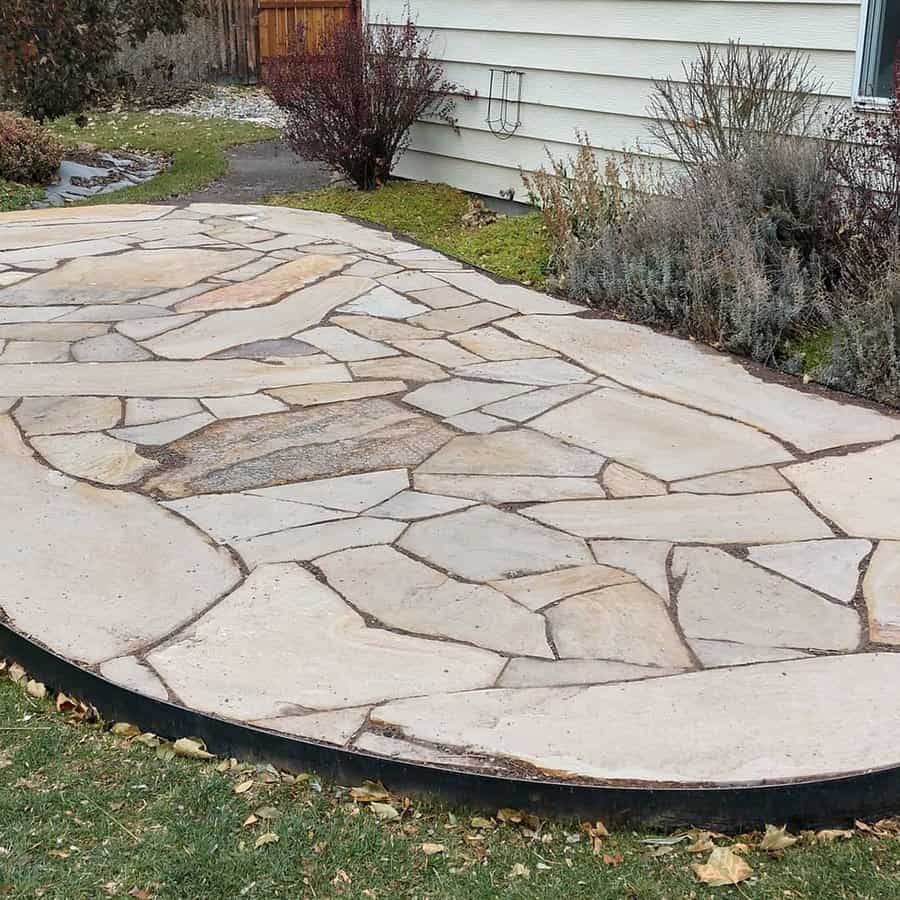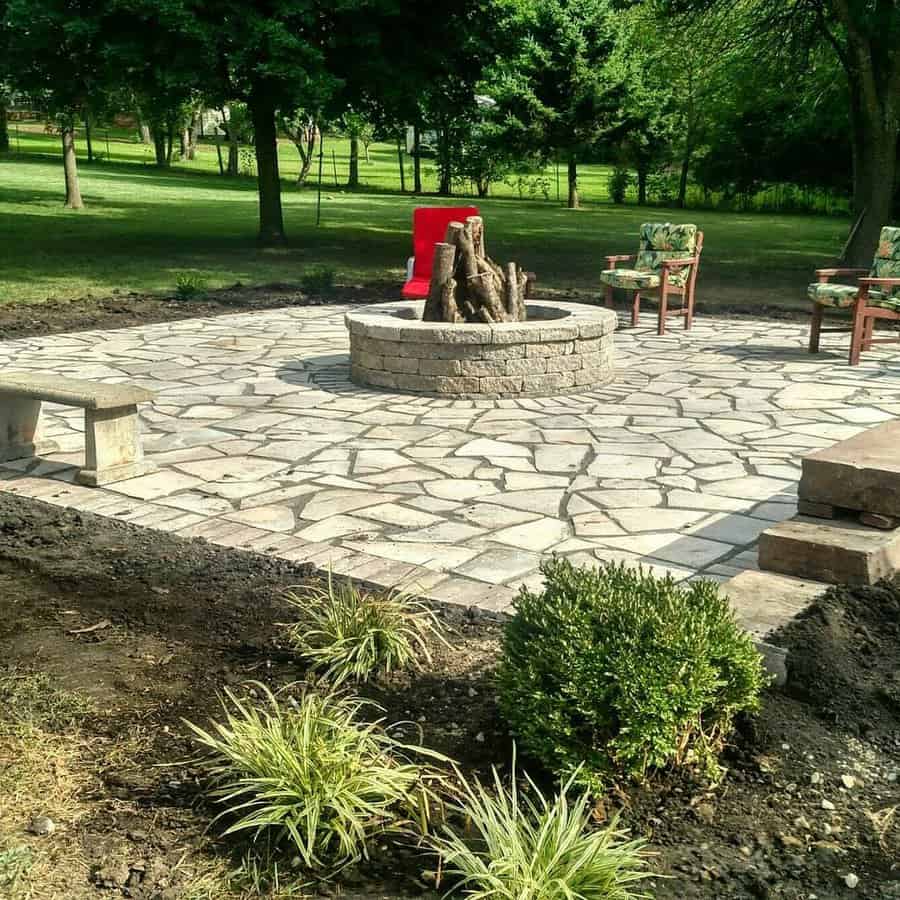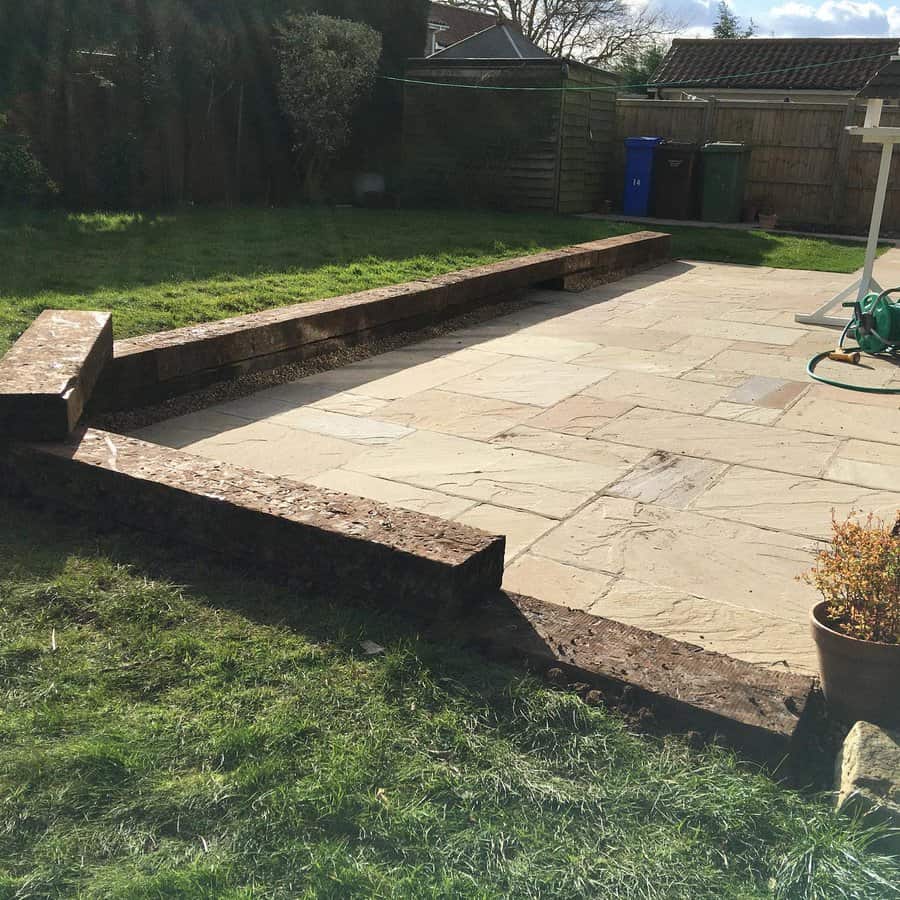 Add walkways around your home and throughout the backyard. This prevents anyone from trampling your grass as they make their way around your property. You could even fully commit to using the brick pavers and eliminate your grass entirely. This eliminates your need to mow and gives you plenty of usable outdoor space. Arrange the stones to visually break up the space and create zones for different uses.
7. Paver
Modern clay pavers are the next generation of red bricks. They come in more colors so that you can choose a custom color for your paver patio. They also come in a wide variety of sizes and shapes. This helps you create a custom design by using more than one type of paver for your patio. Perhaps you use a wedge shape to create a circular pattern. Then add a border and transition into using a square, rectangle, round, or hexagon shape.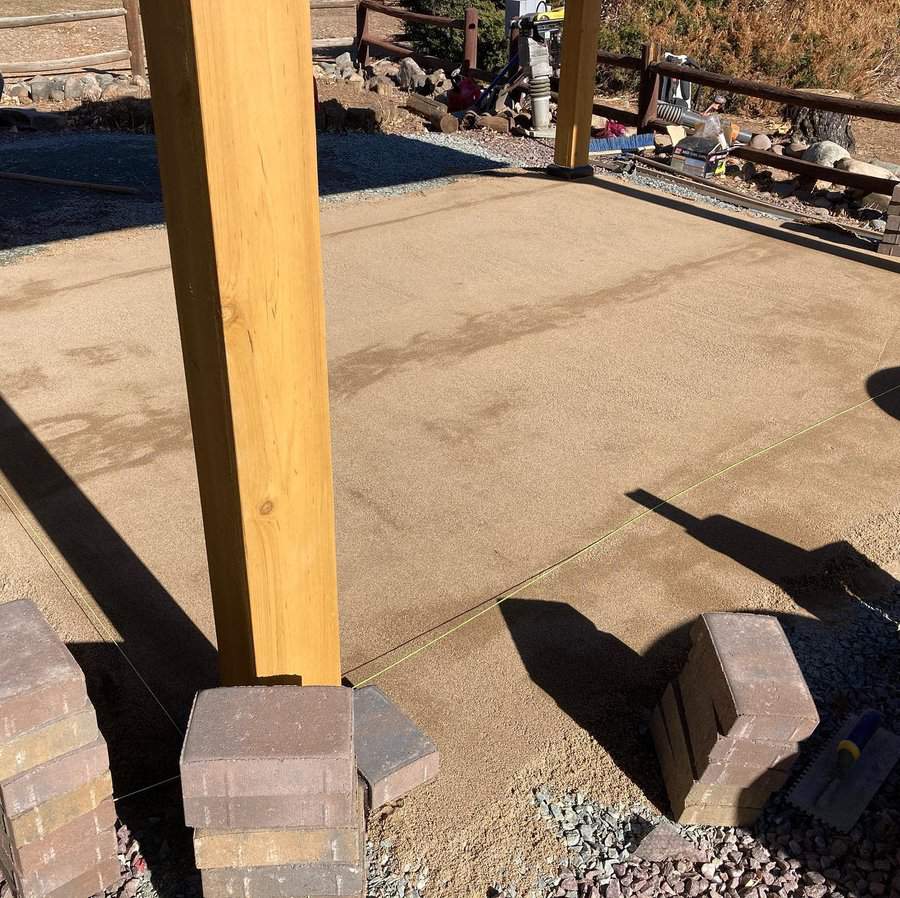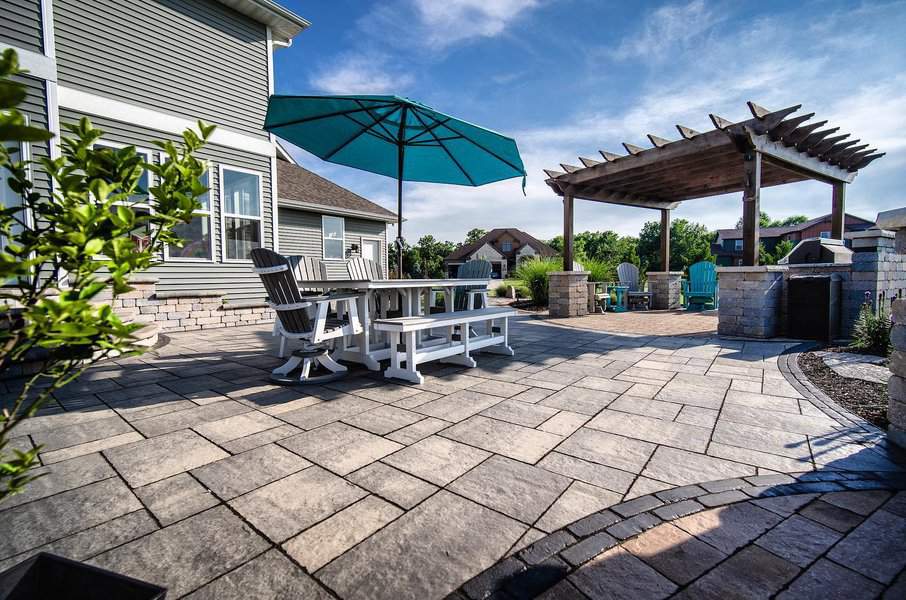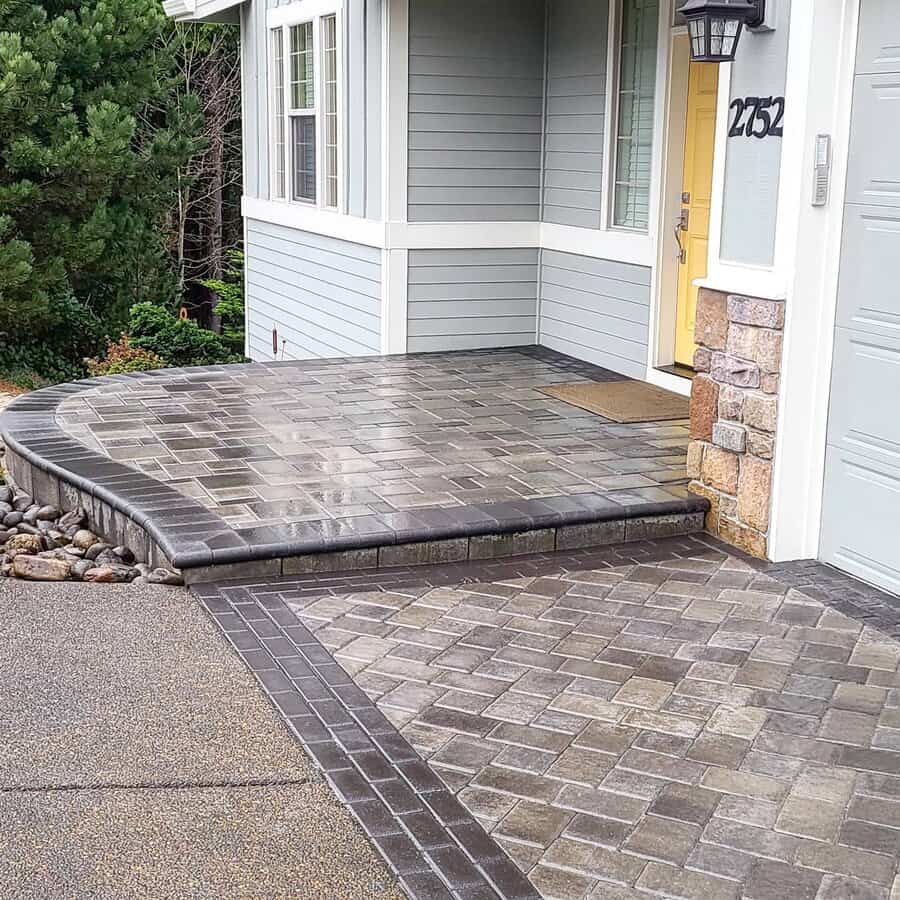 Consider the size, shape, and color when picking out multiple pavers. They need to be different enough to look purposeful and complement each other for a cohesive design. For a modern look, consider using grass as a part of your design. Depending on where you live, you could use moss, dwarf mondo grass, or artificial turf to add natural green accents to your paver design.
8. Red Brick
Red brick pavers give your brick patio design a traditional look. They are perfect for a colonial style or another classically designed home. They can also elevate the look of your home. To keep the traditional feel, stick with the standard brick size and have them professionally laid. This ensures they have the proper base so that they don't shift or sink over time.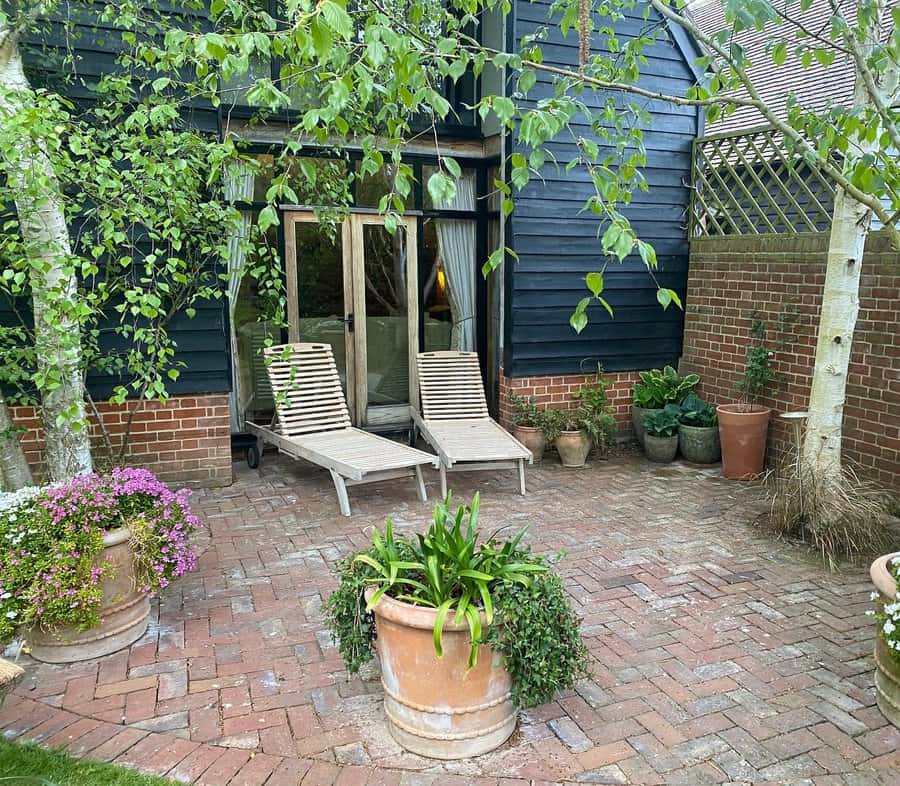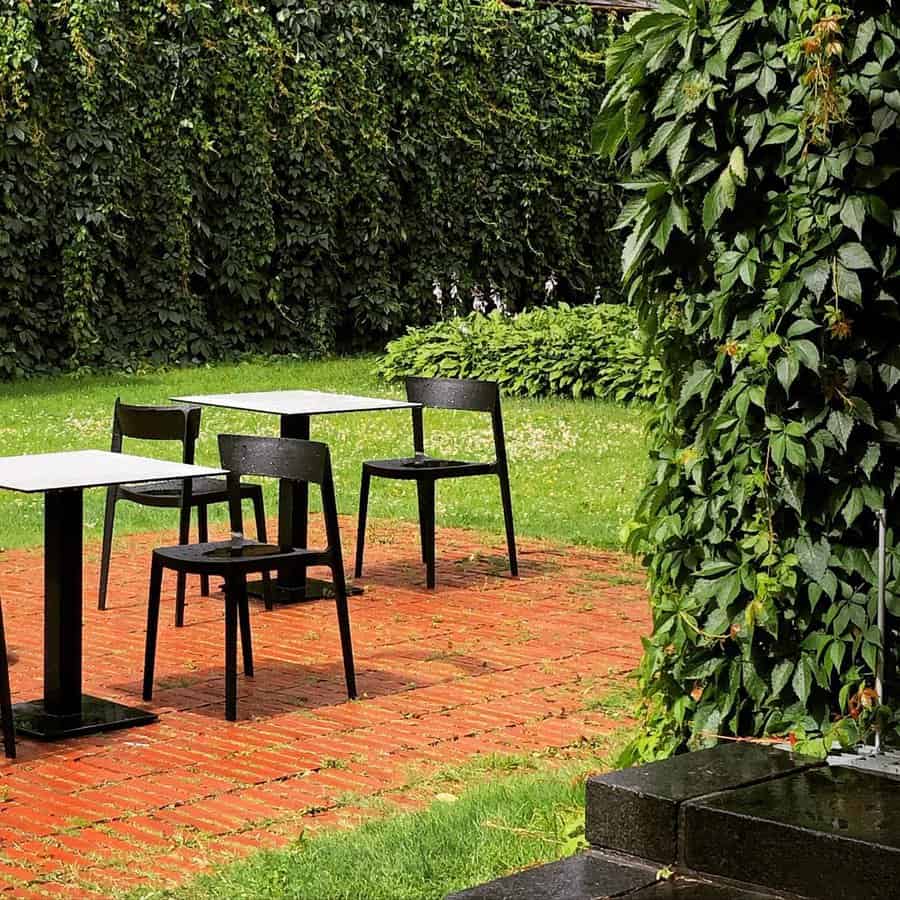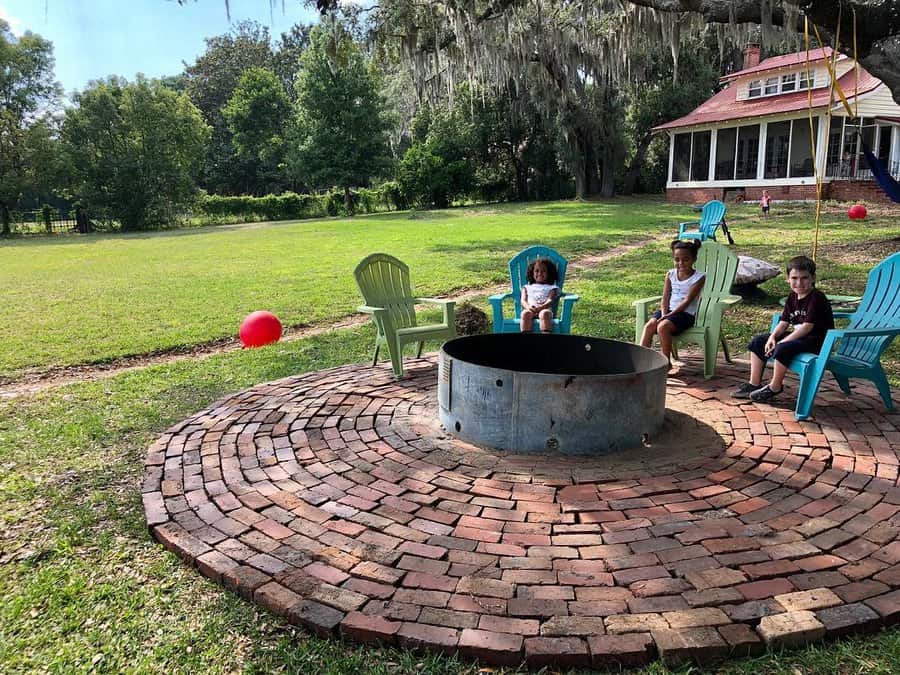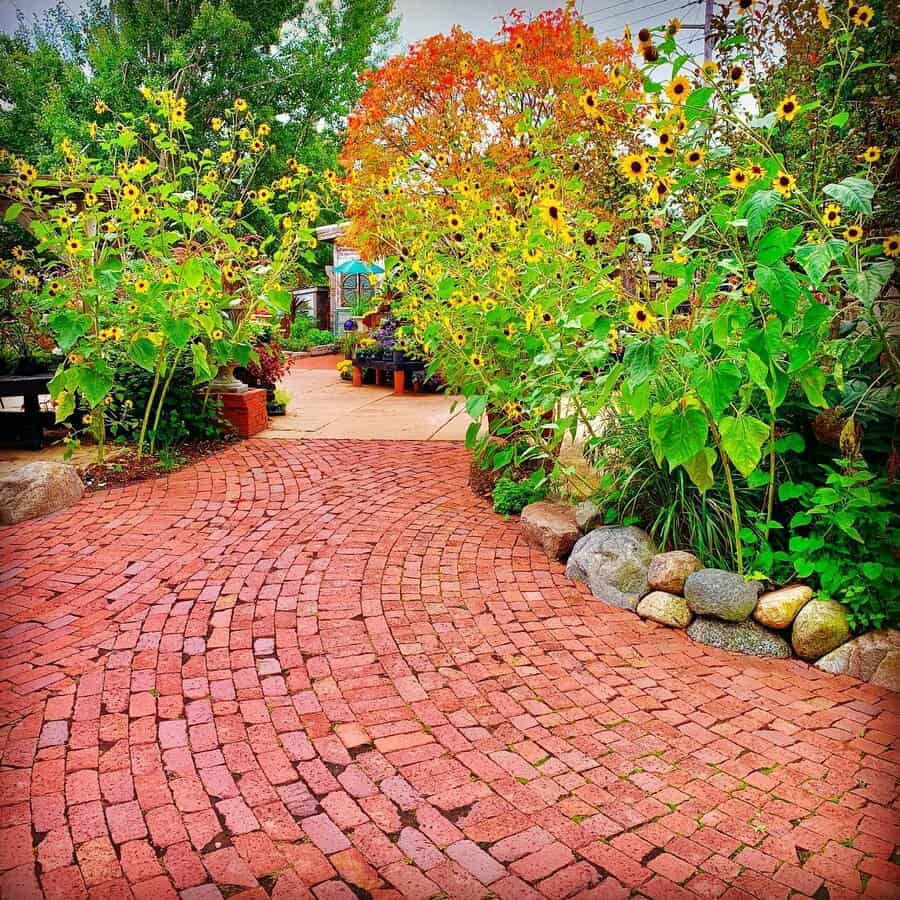 Plan to add a finished edge of larger bricks or pavers to your red brick patio. A metal rail or concrete edge is also strong enough to hold your bricks in place. This gives your patio a polished look that keeps it in line with traditional designs. Simply using more brick isn't enough and won't be strong enough to hold your bricks securely for the long term. You also need to think about the pattern you'll create with your red bricks. Laying them in lines is easy but boring. Place them in a herringbone pattern for an elevated look.
9. Round
Round bricks present a unique challenge because they have gaps between them. They also aren't perfectly smooth because their round shape creates bumps and dips. So while round pavers give your patio a beautiful cobblestone effect, it may not be the best choice if you have children or the elderly at your home. What's nice about round pavers is that you are free to choose any type of brick pattern you want. Place them in lines, randomly, or in a circular pattern.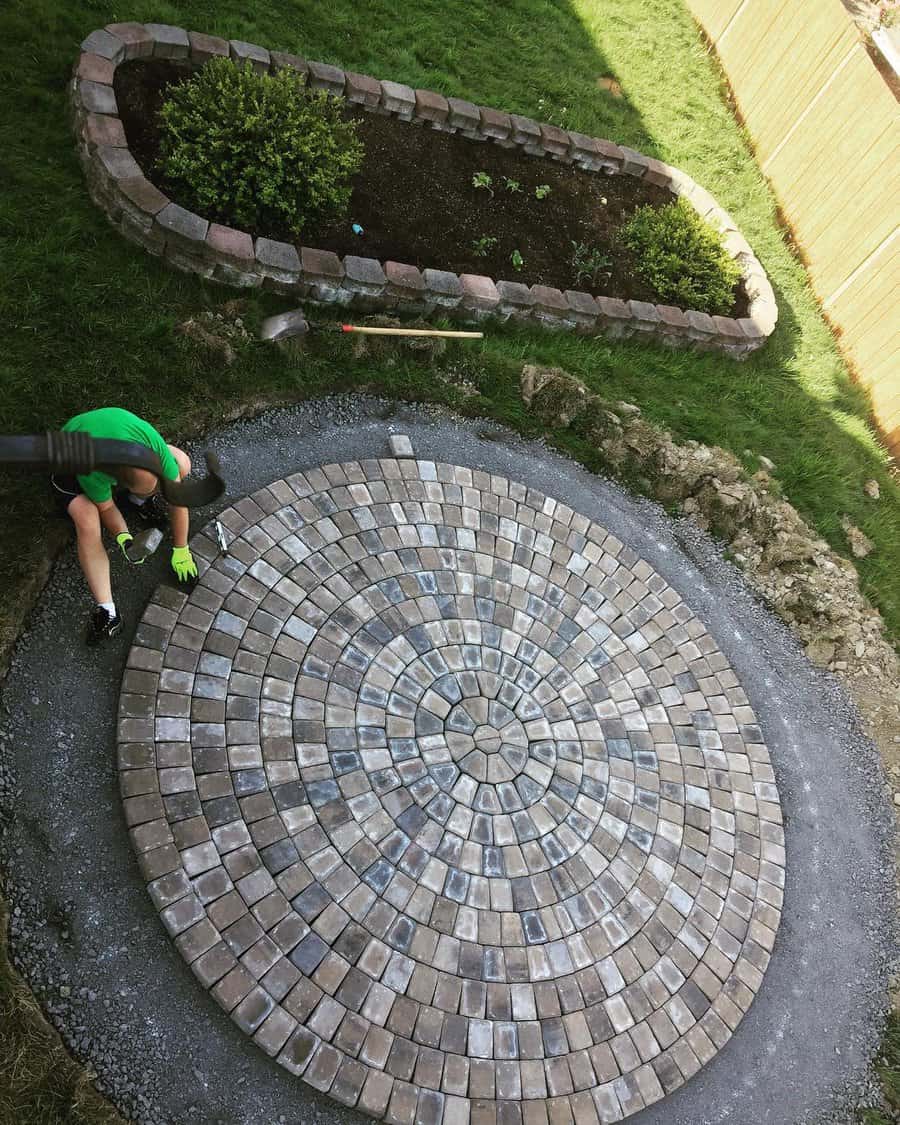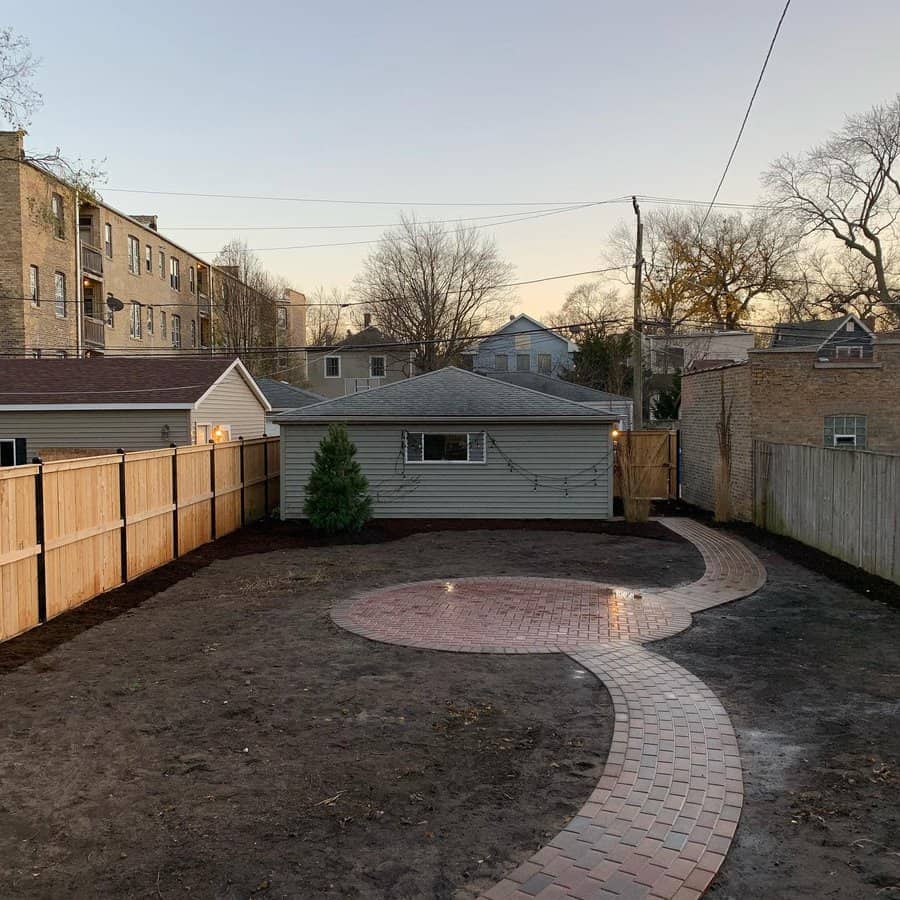 Look at brick patio design ideas to get an idea for the best size and shape of round pavers. Too large, and it can be awkward to walk on. Too small, and it will be expensive and tedious to lay the stones. Just the right size will be the perfect balance of budget, installation ease, and finished functionality.
10. Stamped Concrete
If you are looking for a DIY project that won't break your budget, then build your own stamped concrete patio. You will have a strong and durable outdoor patio because it's made from concrete. However, its look is elevated because it doesn't look like a plain slab of concrete. Instead, it copies the look of brick paving.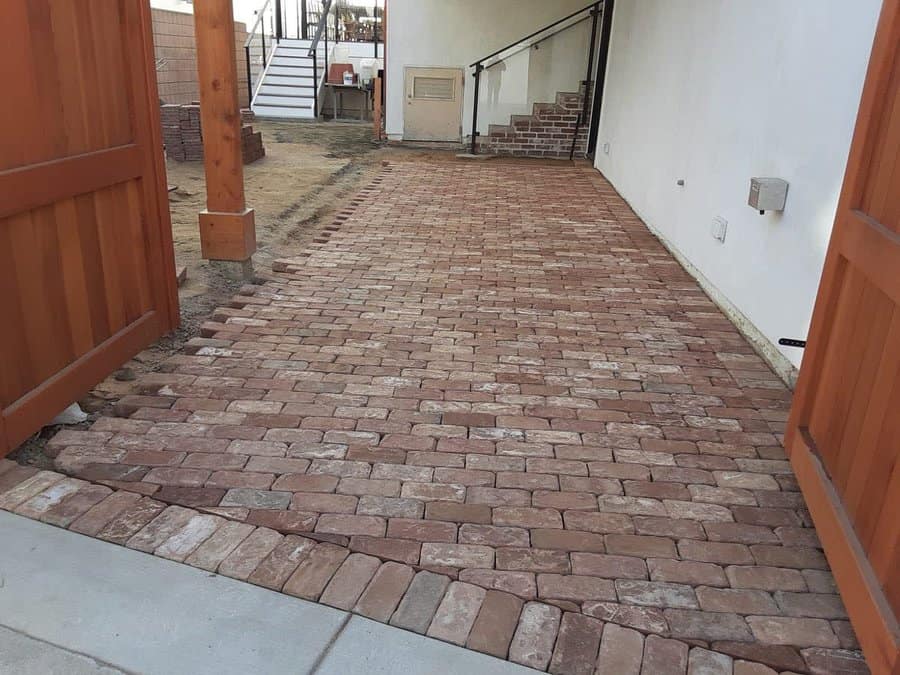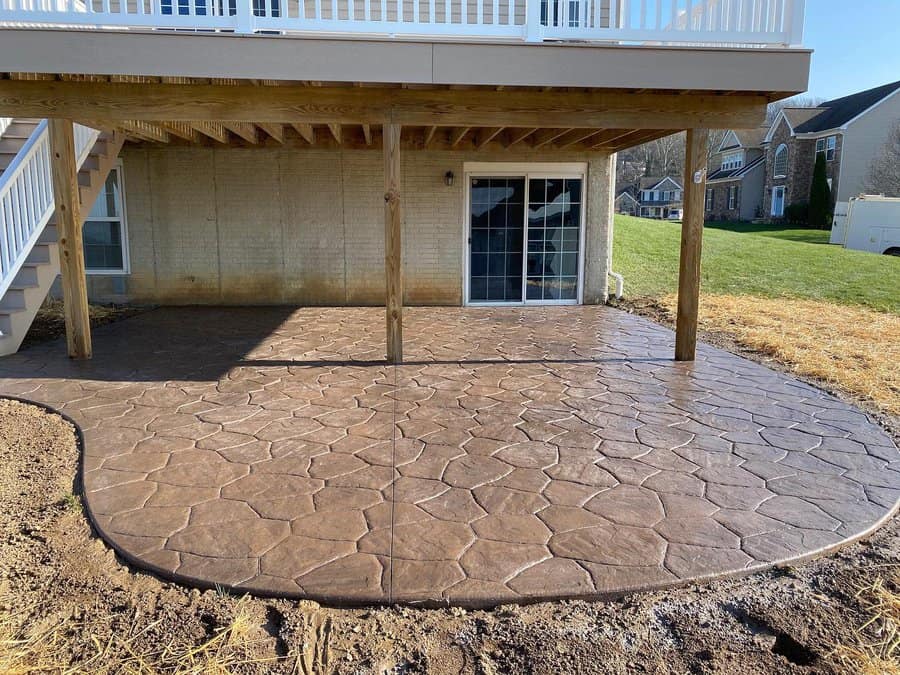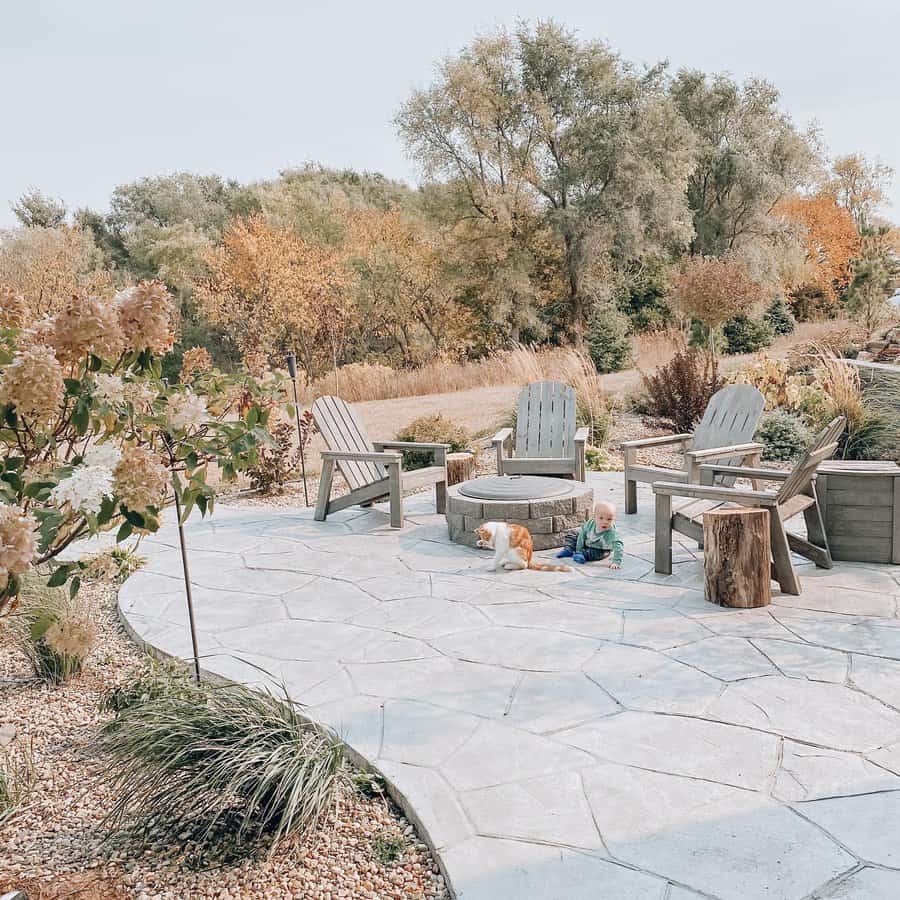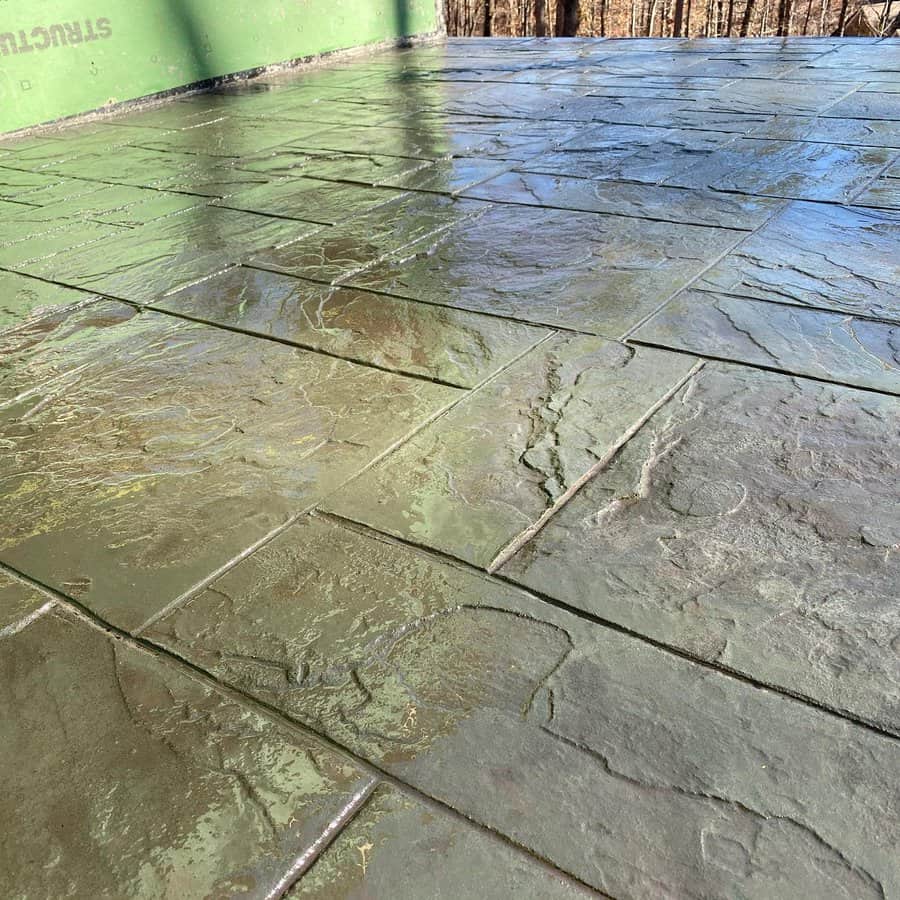 There are many brick flooring template patterns that are available. Choose one that matches the style of your home. Then work quickly with someone else to place and fill the template as you move across your planned-out patio space. There is an easier and faster option, but it doesn't look as expensive. Have your concrete patio poured, and then before it cures, texturize the top surface of your patio.
11. Unique
Create something unique and beautiful in your backyard with a DIY patio. You could give your backyard a vintage look by using recycled brick. These reclaimed bricks were once used for another building project and are now available for you for your home project. The old bricks are nice because they are aged with chips, pits, and scrape marks.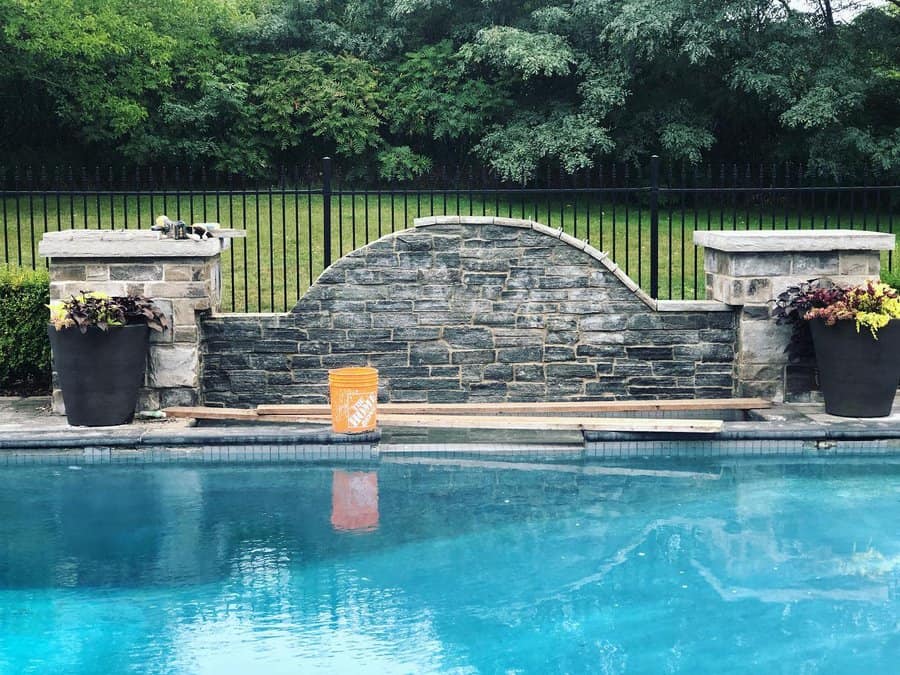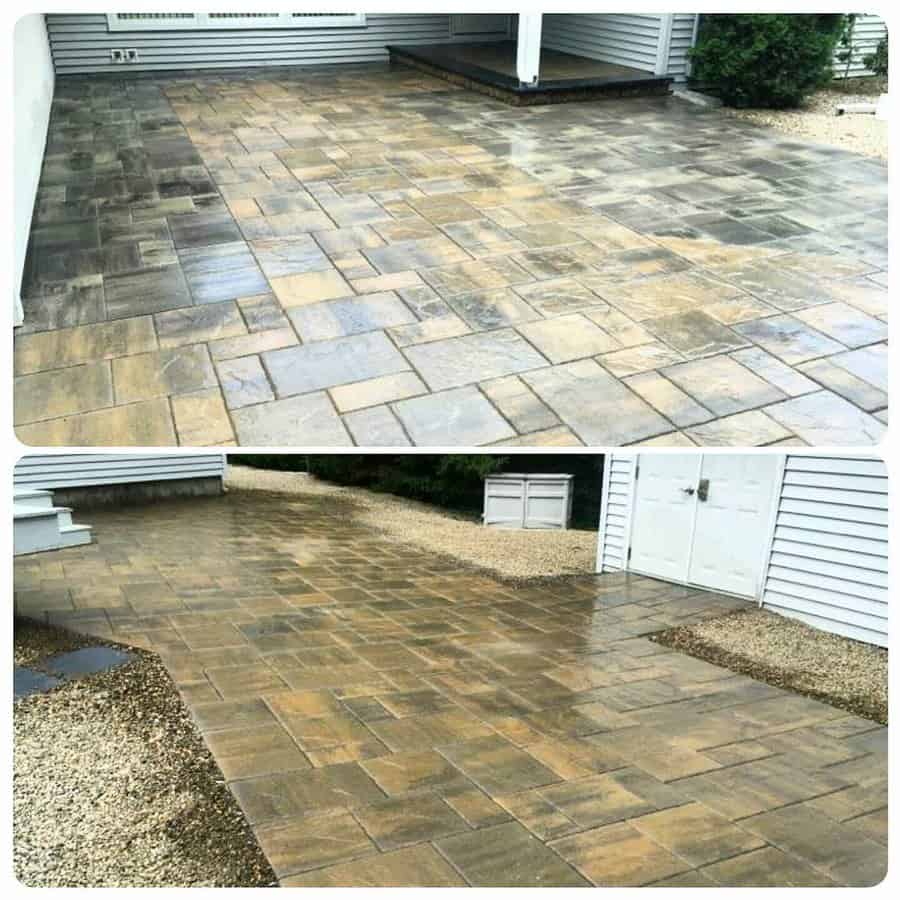 An affordable and fast backyard solution is to use pea gravel. Mark out your patio, pull up any plant life, and smooth out the ground. Next, spread landscaping fabric and then add pea gravel. If you don't like the small gravel pieces, try polymeric sand.
Brick Patio FAQs
Are bricks good for patios?
Bricks are highly adaptable, making them suitable for use as your patio material. You'll need to have a base of sand or mortar to help hold the bricks in place. They will provide a stable and durable base for your patio.
Is a brick patio cheaper than a concrete patio?
Concrete pavers are more affordable than bricks. The raw material used to make the concrete pavers is cheaper than bricks, making the finished product cheaper.
How long do brick patios last?
High-quality bricks that receive regular maintenance can last for up to 25 years, sometimes even longer. Bricks that do not experience a lot of wear and tear will last longer than those that undergo heavy use.