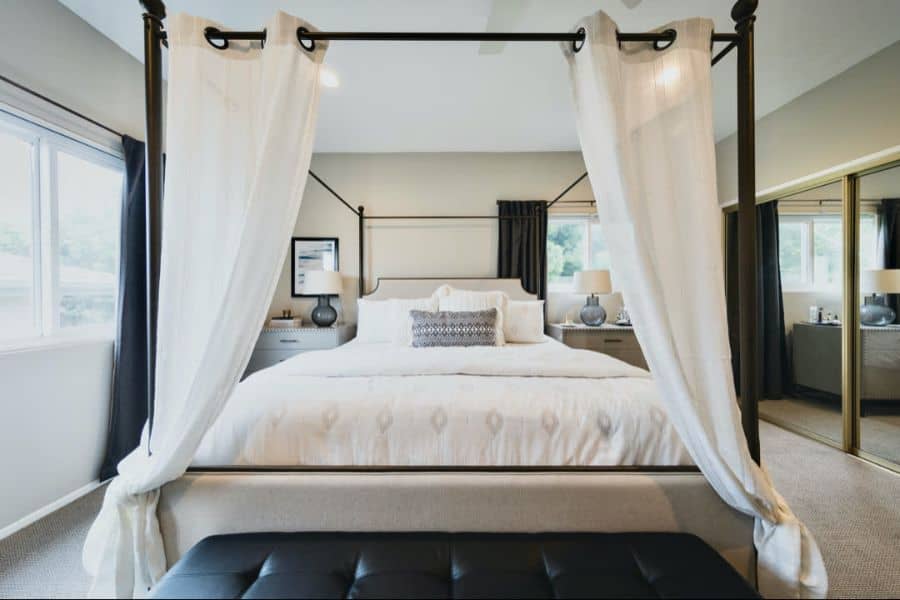 29 Canopy Bed Ideas for a Dreamy Bedroom
"Stars shine in the canopy of eternity." – Joshua L. Liebman
Canopy beds are no longer reserved for royalty. In fact, the modern canopy bed is surprisingly affordable and easy to DIY with your existing bed frame. But is it worth your time to switch to a canopy bed?
Canopy fans agree: nothing is more magical than sleeping under a lush umbrella of stars, trees, or fabric. Canopy bed curtains provide a sense of coziness not attainable in another type of bed.
Still undecided? Take a few minutes to scroll through our gallery of trendy canopy bed ideas. You'll undoubtedly find plenty of ways to transform your ordinary bedroom into a dreamy canopy-draped haven.
1. Distressed Vintage Canopy
Cozy, romantic, and timeless—those are all words that come to mind when describing a distressed white Victorian canopy bed. Starting with the distressed white finish of the canopy itself, the look is reminiscent of a bygone era that still holds its relevance today.
But it's the accessories that really bring this nostalgic style to life. Macrame throw pillows crafted from neutral colors add the perfect amount of texture.
Meanwhile, woven blankets tucked into all four corners generate an inviting atmosphere for anyone who wants to get lost in relaxation amidst a classic design from days past.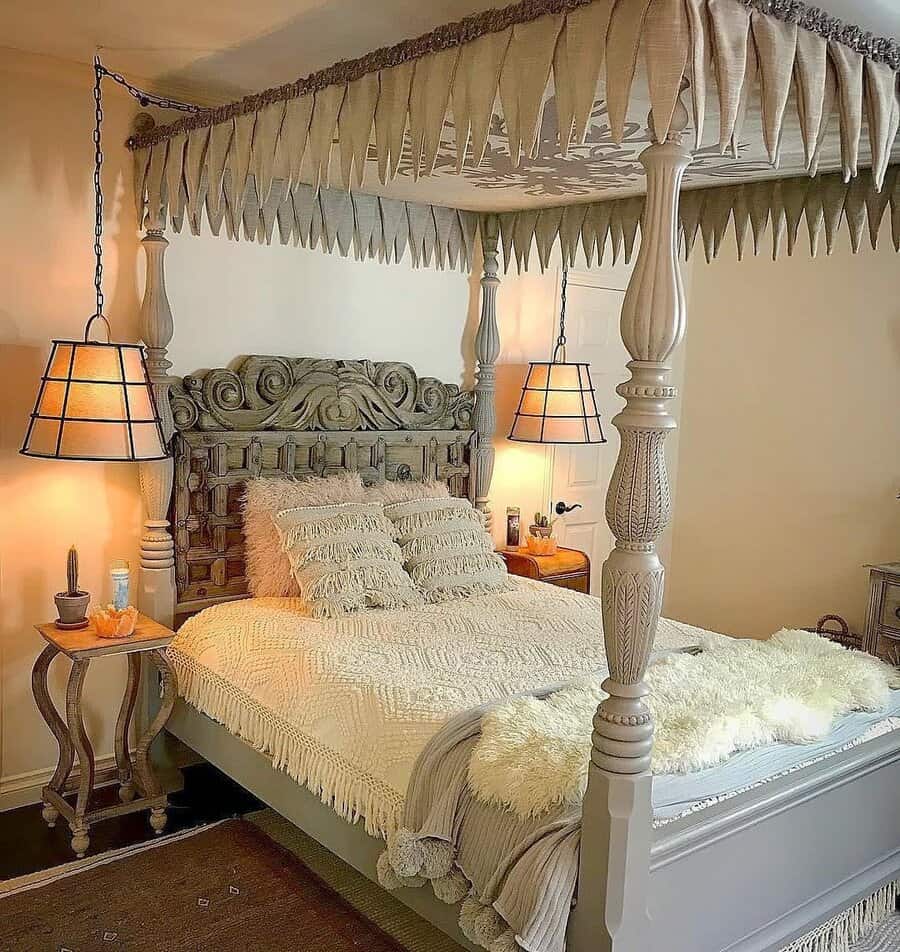 2. Minimal Wood Canopy Bed With String Lights
Imagine yourself nestled blissfully under a wooden canopy bed decked out with string lights and plush toys strewn on the blanket. You can almost feel the warmth emanating from the wooden bed posts as you sit in their comforting embrace. This luxurious abode is mesmerizing to the eye yet inviting for those seeking solace after a long day of work.
With a canopy bed, you can transform any bedroom into a cozy retreat that will have you relaxed and ready for anything the next day has in store before finally drifting off into a peaceful slumber.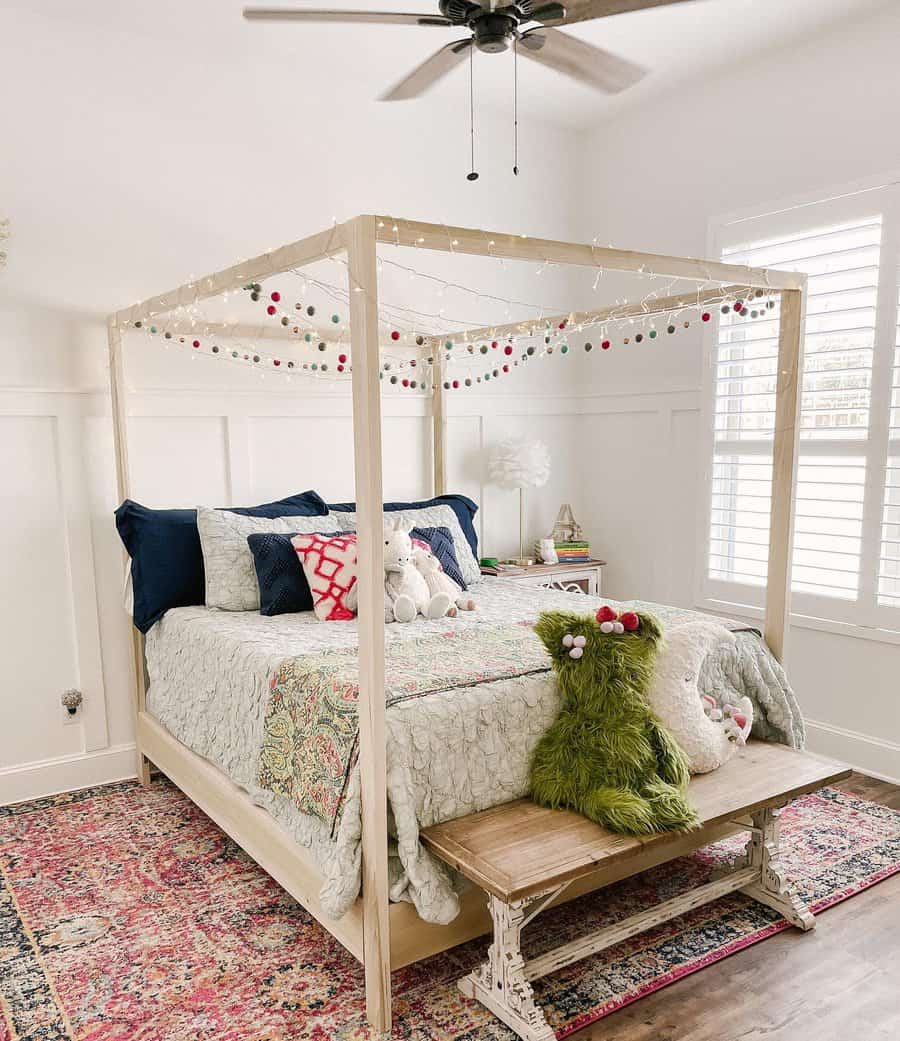 3. DIY Wooden Posts
The raw wooden posts of a canopy bed evoke a dreamy, rustic atmosphere that makes any space feel like an enchanted cottage. The bed's unique vertical shape is framed by trailing rope-hung curtains that give the feeling of being wrapped in a cocoon of security.
A woven knitted blanket covering the bed brings romance and raw texture to the room while providing warmth during cozy nights spent beneath its canopy.
It's no wonder why canopy beds have been a timeless favorite throughout centuries.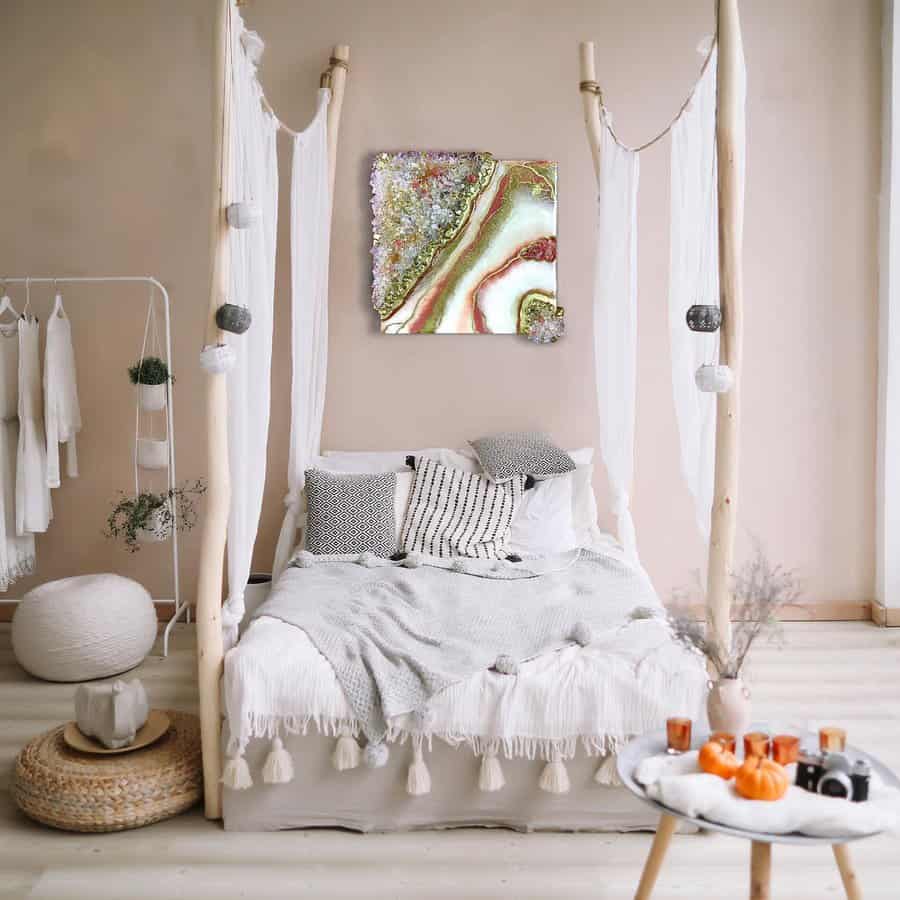 4. Minimal Matte Black Canopy Bed
Have you ever dreamed of taking a restful slumber in a minimal matte black canopy bed? Nestled under the luxurious four-poster fabric and gentle curtains tucked around an inviting mattress, it could be the perfect way to spend a cozy night in.
Imagine this bed draped with cozy white linens as if you were sleeping inside a cloud, with a dark green accent wall behind for contrast and some subtle drama.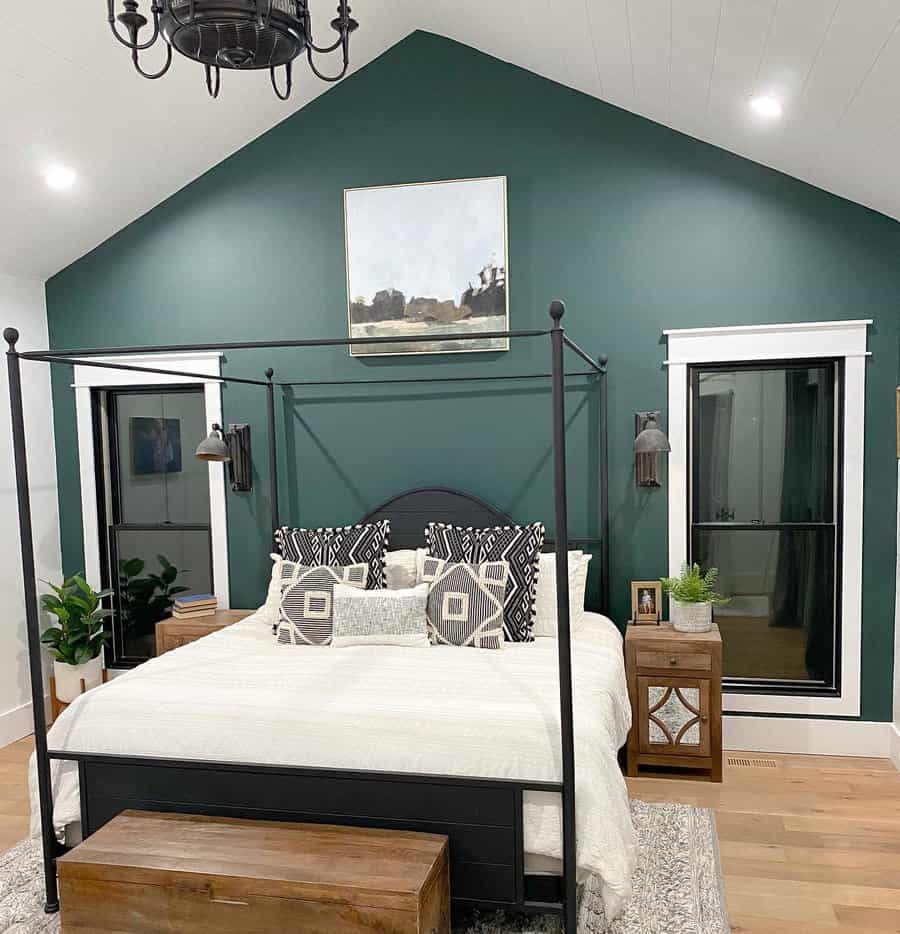 5. Hanging Canopy With Sheer Curtain
A canopy bed is a dreamy way to make your bedroom feel both romantic and cozy. Hang hanging a sheer curtain, draped delicately and beautifully across the top of the bed, to create an impressive and inviting focal point that will transform your interior space.
To further elevate the atmosphere of your room, style it with coastal-inspired items such as art featuring nautical elements, natural wood furniture, and pastel-colored finishes for a look that oozes effortless elegance – perfect for welcoming weekend mornings.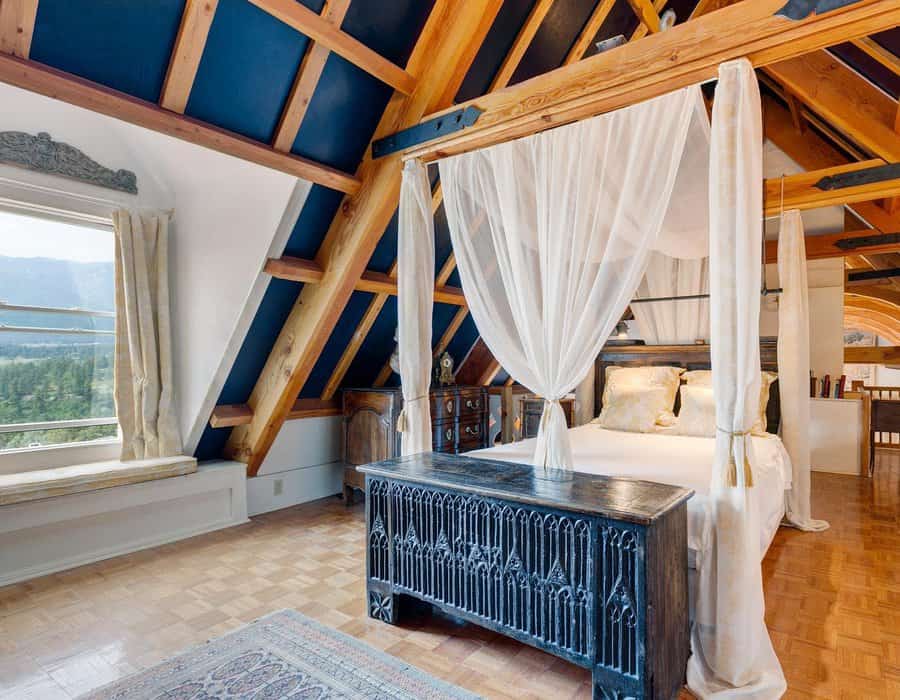 6. Vintage Canopy With Printed Curtains
A vintage canopy bed stands at the center of the room, with printed curtains that hang down from all four sides of its luxuriously thick roof like an enchanted curtain.
By day, this vintage canopy bed gives off a witchy vibe, but by night it is transformed into something much more mysterious and regal.
The air around the bed is suffused with the kind of enchantment often reserved for stories and dreams – adding to the sense that atop this vintage canopy bed, one might experience something truly magical.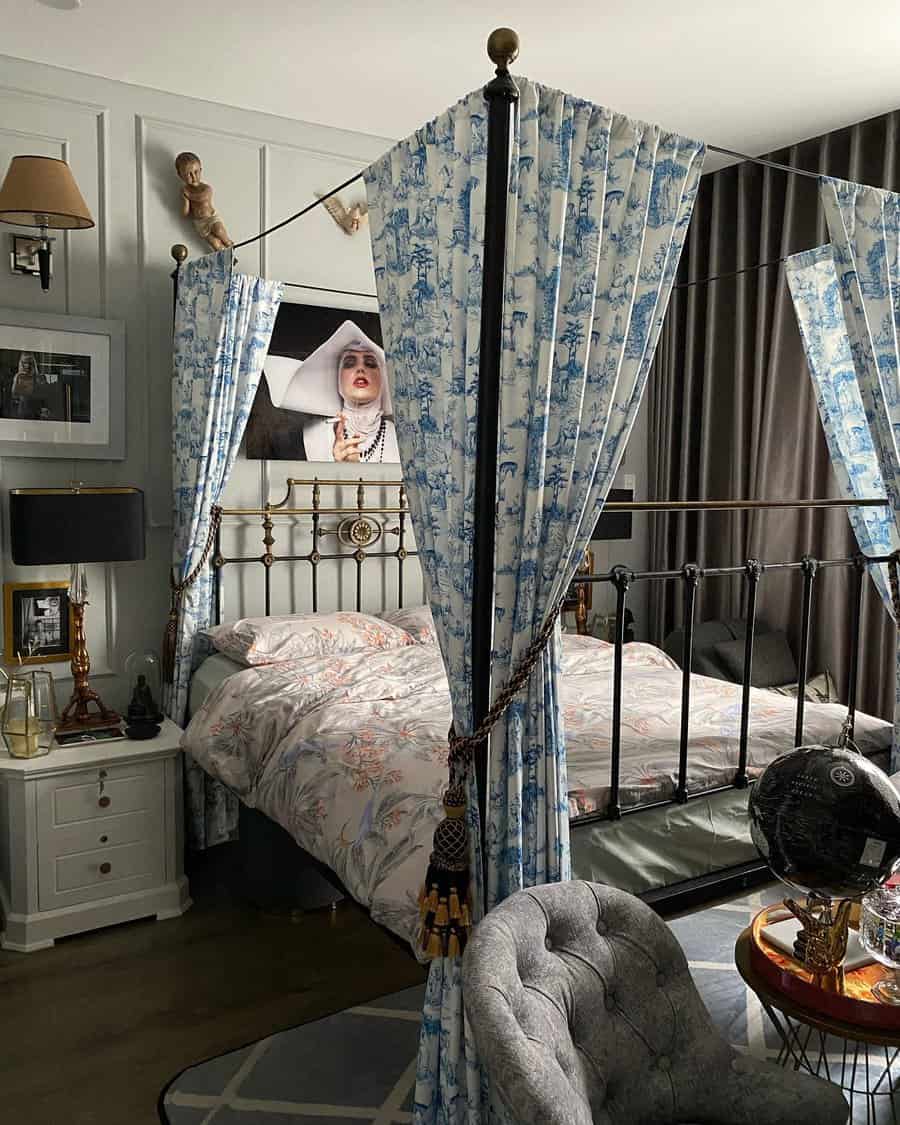 7. Coastal Canopy Bed
The high-ceiling canopy bed is the stuff dreams are made of. Whether you have a traditional four-post design or a more contemporary option, it visually elevates your bedroom for an unmistakably luxurious feel.
But to really create an unforgettable aura in the room, top off your regal high-ceiling canopy bed with a beautiful chandelier on the ceiling, transforming your bedroom into a palace fit for royalty and providing enough light to complete all those late-night reading sessions.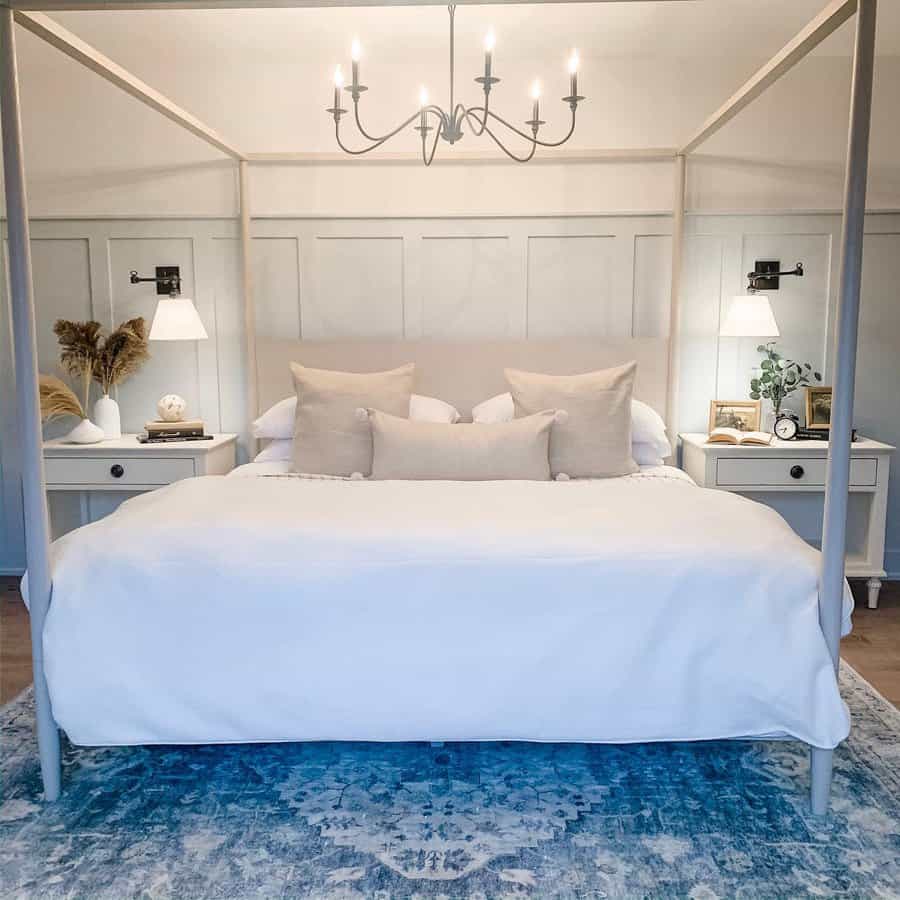 8. Elegant Low Profile Canopy Bed
Nothing says elegant sophistication like an elegant low-profile canopy bed. Picture this: a beautiful queen-sized bed set in the center of the room, gracefully draped with light fabric and ornately carved wooden posts.
To complete the look, two wooden bedside tables with potted plants bring in vibrant shades of green and complete the warm, inviting atmosphere. This gorgeous and comfy haven is sure to be the envy of all your guests!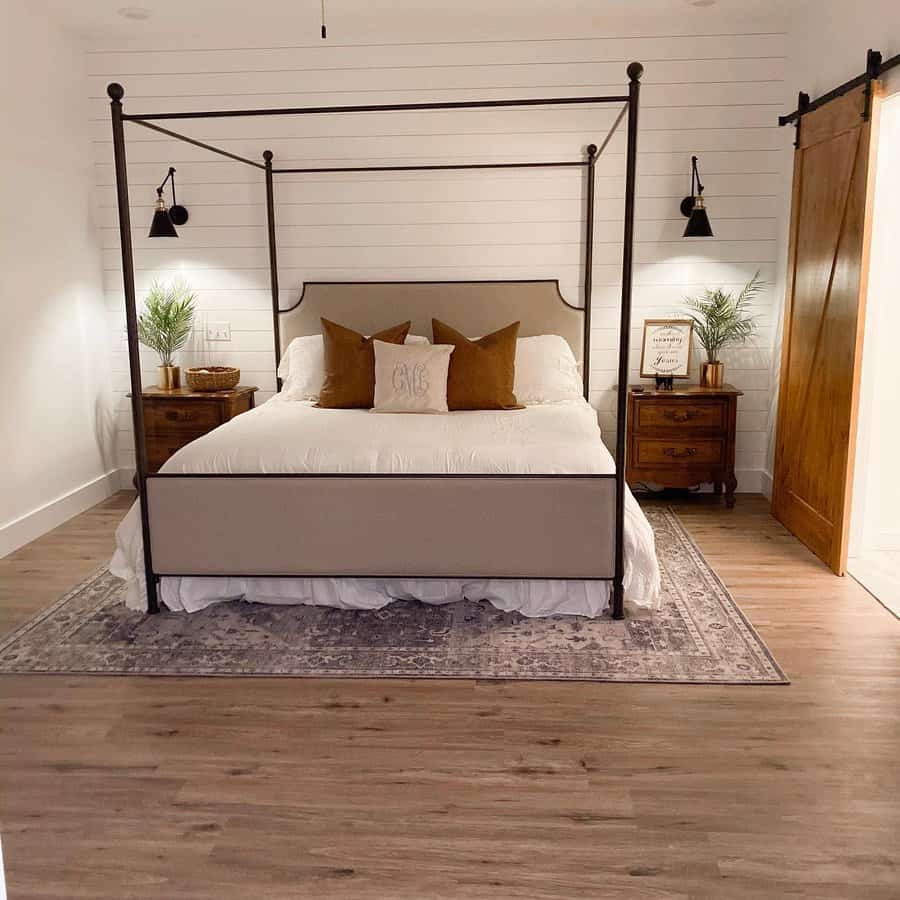 9. Farmhouse-style Canopy Bed
Picture this: A farmhouse-style canopy bed is the centerpiece of your cozy, cottage-inspired bedroom. Natural light is filtering in through the sheer curtains draped around its white frame.
The canopy's soft ethereal fabric creates a special ambiance within the room; one that entices serenity, rest, and dreamy daydreaming by a warm fire.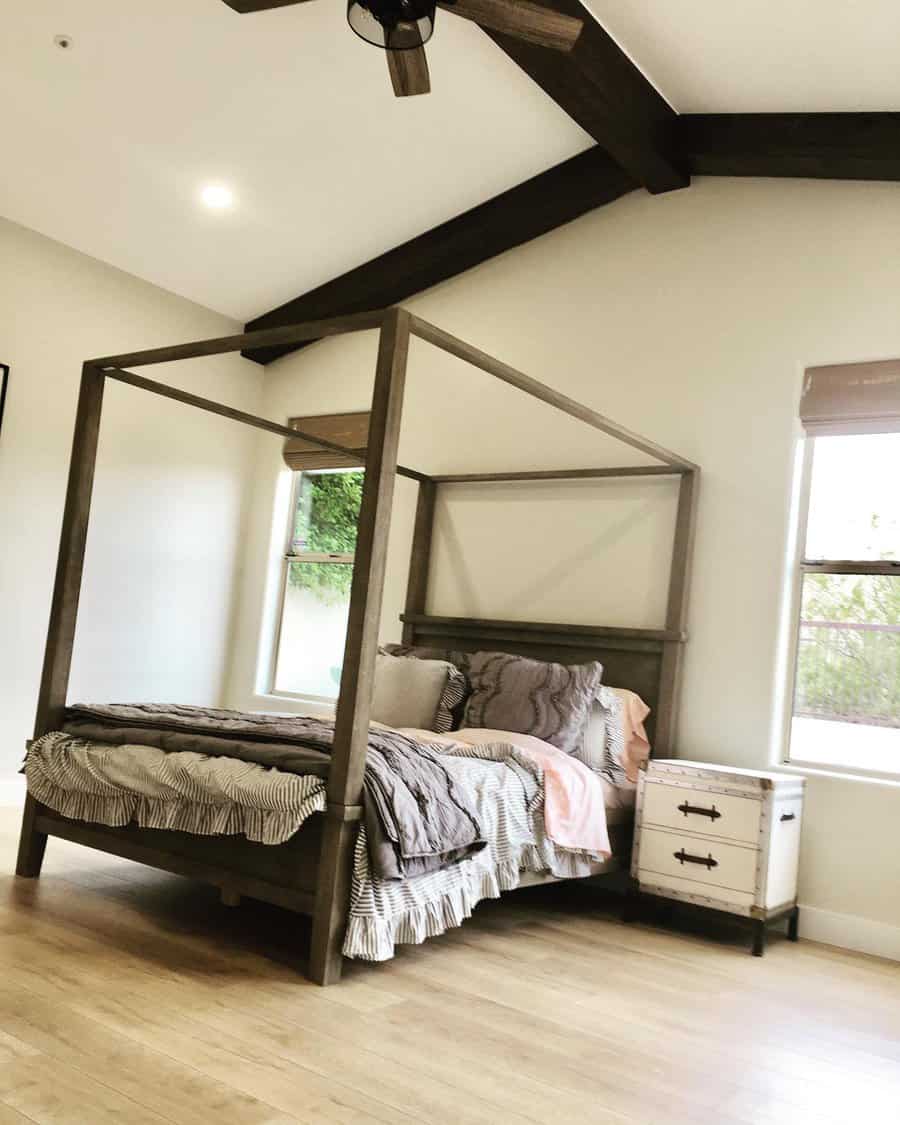 10. Minimal Shabby Chic Canopy Bed
Softly shaded shabby chic canopy beds have the power to transform your bedroom into an oasis of peace and serenity. The ethereal beauty of a shabby chic canopy bed transports you to a distant realm of dreamy fantasies and perfect slumbers. The distressed Persian rug underneath anchors you back to reality, adding patterned scars that enhance its shabby chic style further.
Whether placed in the corner or floating in the center of your bedroom, a shabby chic canopy bed adds a romantic allure and playful elegance to any room.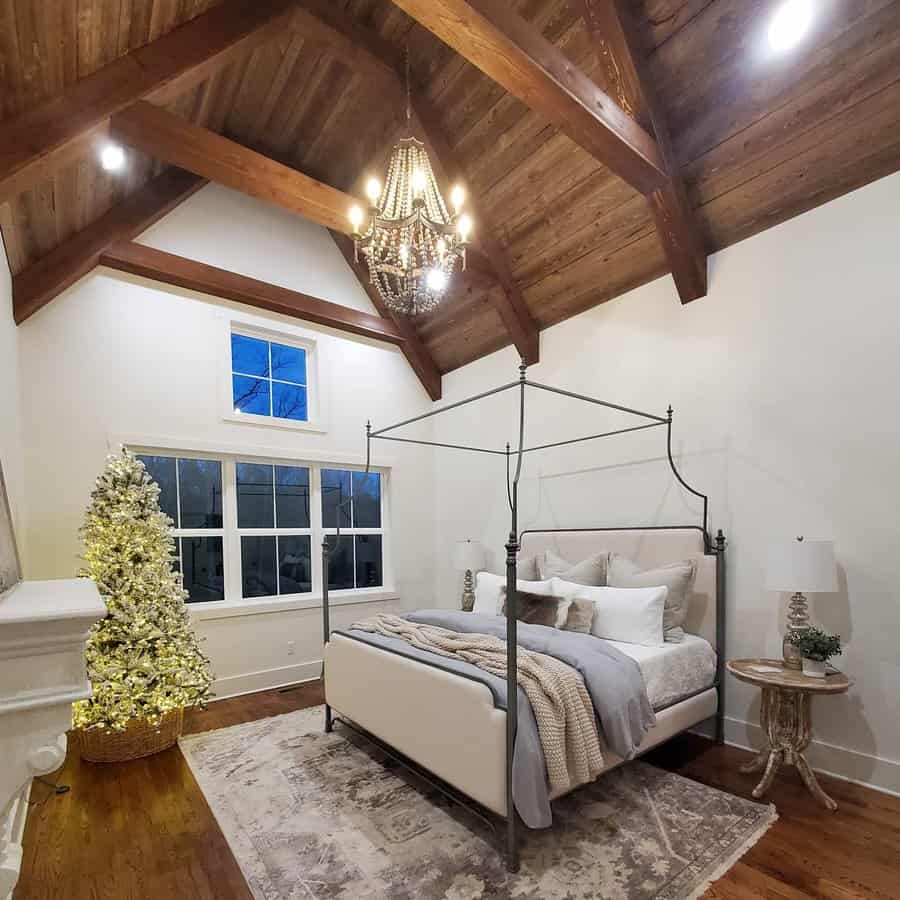 11. Overhead Vintage Canopy Bed
There's something about Victorian-style decor that truly stands the test of time. Take, for example, the Victorian overhead canopy bed – a classic piece that can anchor any room in its grace and refinement. Paying homage to European sofas from centuries past, this bed features an elegantly-curved metal frame with intricate detailing that's both timeless and inviting.
Delicate drapes cascade down like a waterfall adding just enough drama to evoke a romantic atmosphere; it's no wonder why Victorian canopy beds continue to inspire us today – they just never go out of style!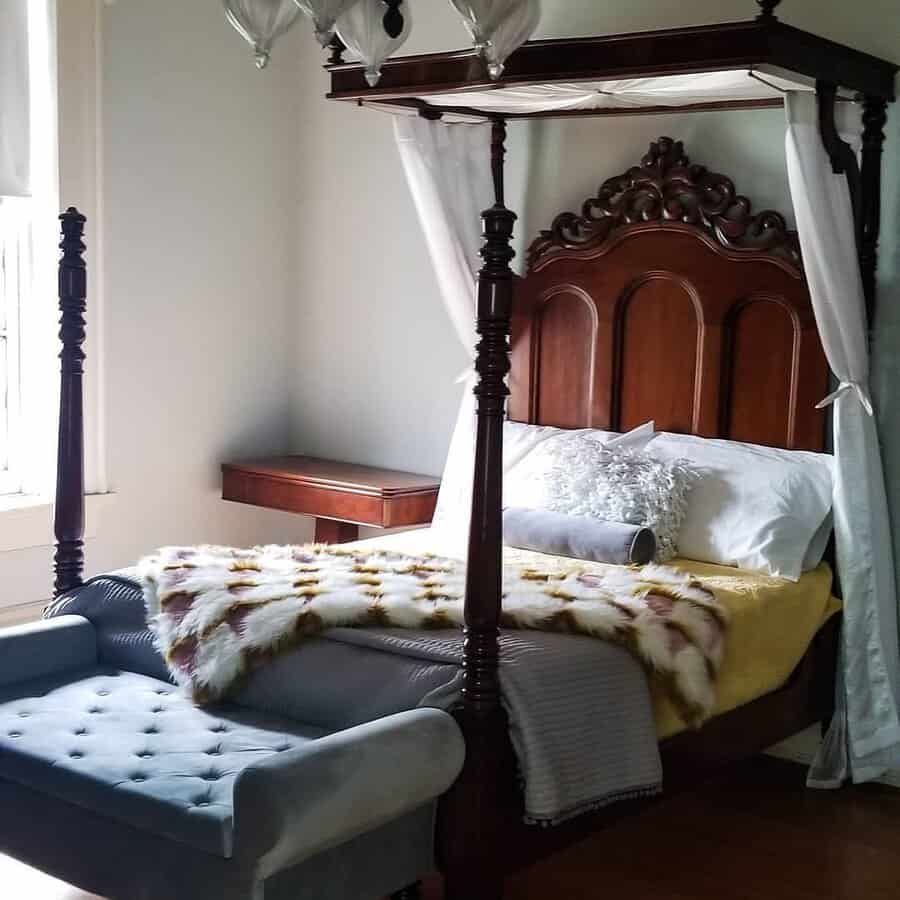 12. Bold & Modern Canopy Bed
For a minimalist-style bedroom, nothing is better than a canopy bed. Its sheer curtains can be hung from an accessible ceiling for a tall, dramatic look.
Add a couple of drop lights above the bed and minimalist-style neutral bedding to complete the simple and elegant style.
With this arrangement, every night will feel like you're staying in a five-star hotel. Make sure to keep the rest of the room minimalist as well, so it won't feel cluttered or busy and distract away from your beautiful canopy bed centerpiece.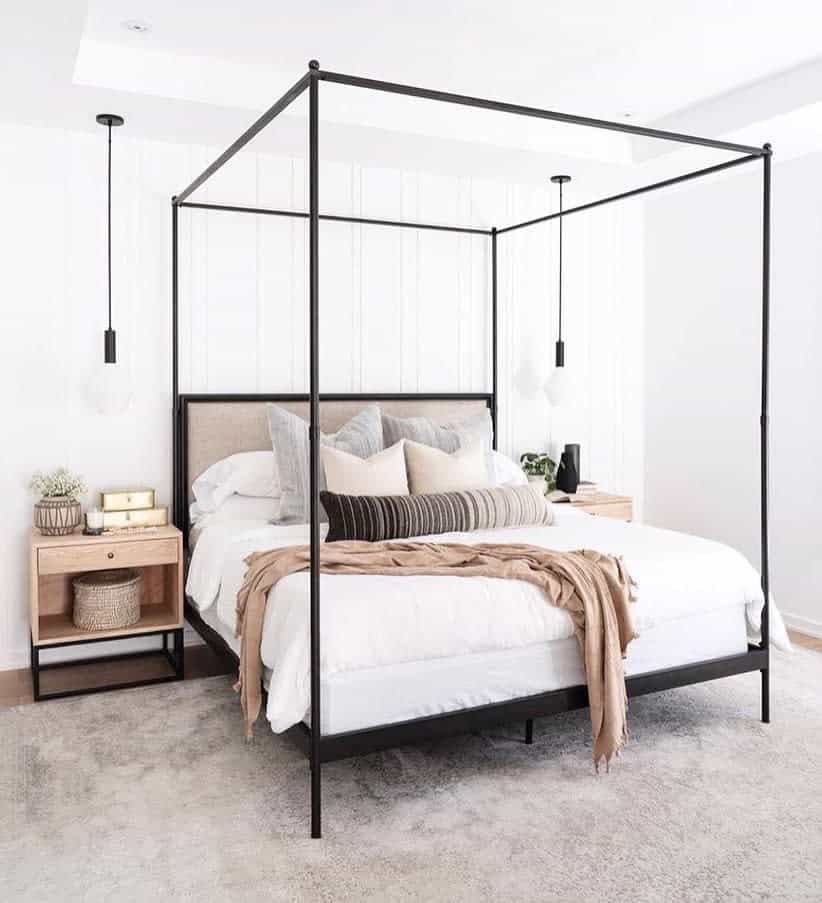 13. High-ceiling Canopy Bed
Sleeping in a high-ceiling canopy bed is like sleeping high up in the clouds. It's an ideal way to bring nature indoors and add a twist of luxury to any bedroom.
An all-white bedroom, complete with a high-ceiling canopy bed, plus dangling faux plants from the ceiling provides an instant spa-like feel.
Imagine lazily laying in your high-ceiling canopy bed surrounded by soft white sheets and cozy throws as you look out into the natural beauty of your hanging plants. Blissful relaxation has never been easier!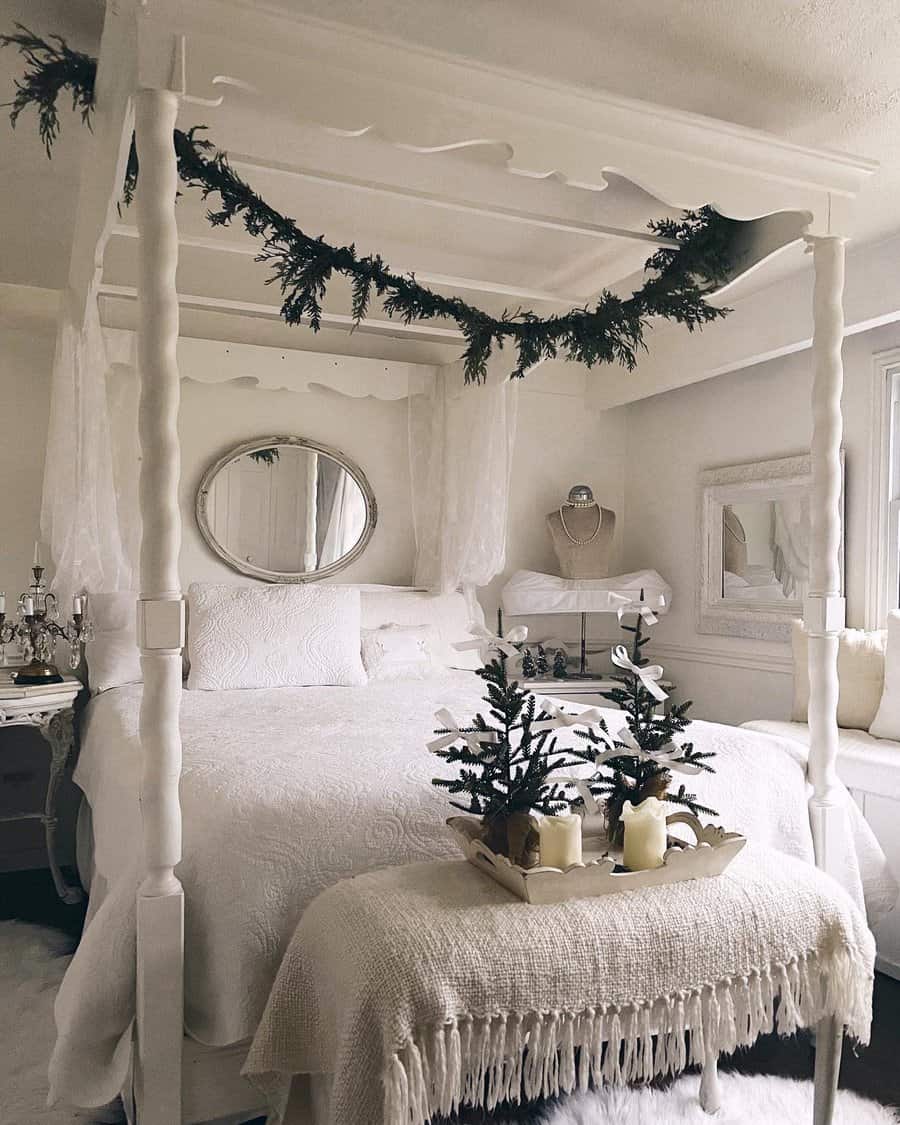 14. All-Metal Canopy Bed
For a bedroom that demands all-out luxury, an all-metal canopy bed is a must. Crafted from ornate metal and fitted with sheer drapes, this bed creates the kind of alluring enclave you can sink into blissfully when the night comes around.
To take your bedroom to the next level, add overhead wall decor for a touch of classic elegance – think ornamental mirrors, dreamy landscape paintings, or a faux deer head – all framed by billowing curtains that are bound to give you sweet dreams all night long.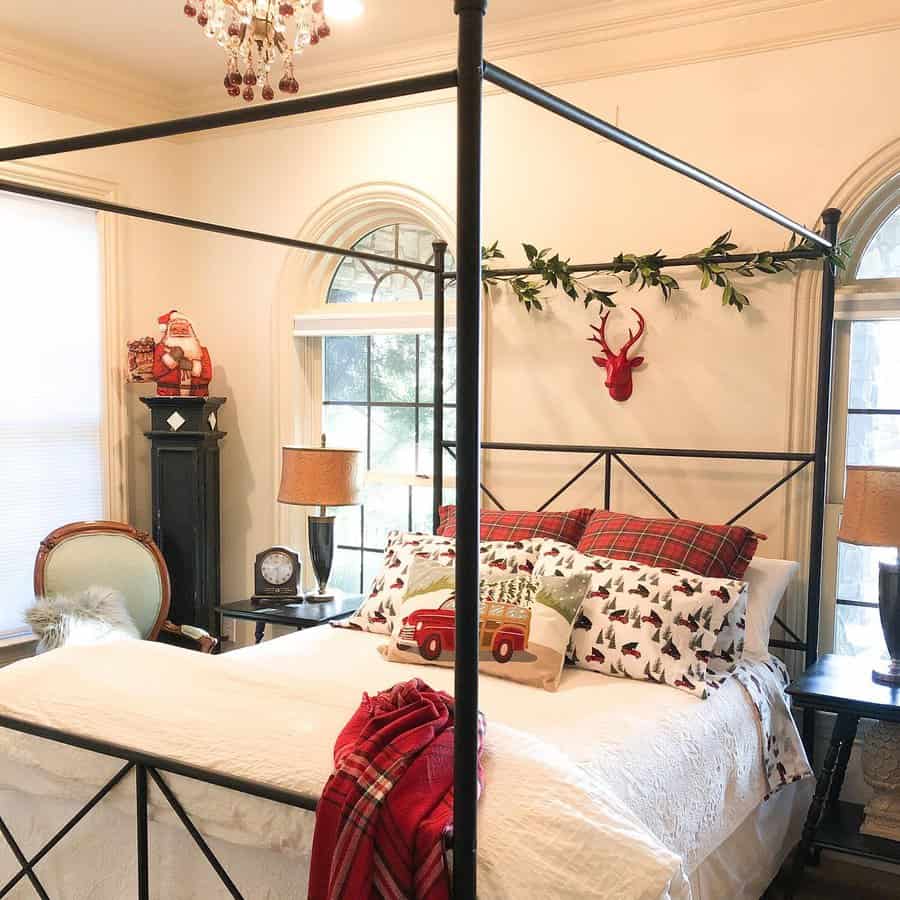 15. Low-ceiling Canopy Bed
Canopy beds have a unique sense of luxury to them and low-ceiling canopy beds are even more so. One can imagine snuggling under the low-hanging cloth and knowing they are in a special place — with no ceiling to contain their dreams.
To complete the look, they can add two chalk-painted bedside tables and a Persian rug tucked neatly beneath the canopy. Beyond creating an inviting oasis, these pieces will transport you to another realm; one of solace and relaxation.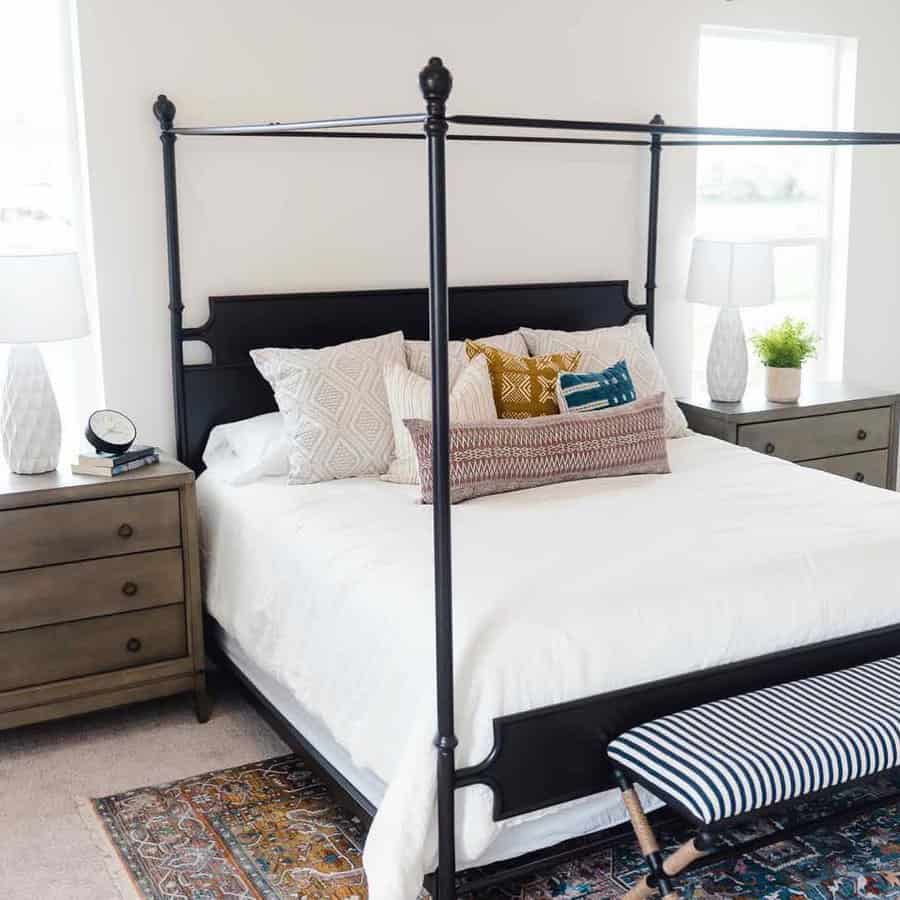 16. Square Tube Canopy Bed
Let your imagination run wild with a square-tube canopy bed! Whether it's for the master bedroom or for the guest room, this iconic bed speaks to the bold and majestic nature of those who choose its square-tube design.
Set it up against black walls for a masculine aesthetic that speaks to sophistication and power, or off-set the dark with lighter walls to elevate the traditional look.
Your unique square-tube canopy bed will become the centerpiece of any attractive sleeping sanctuary!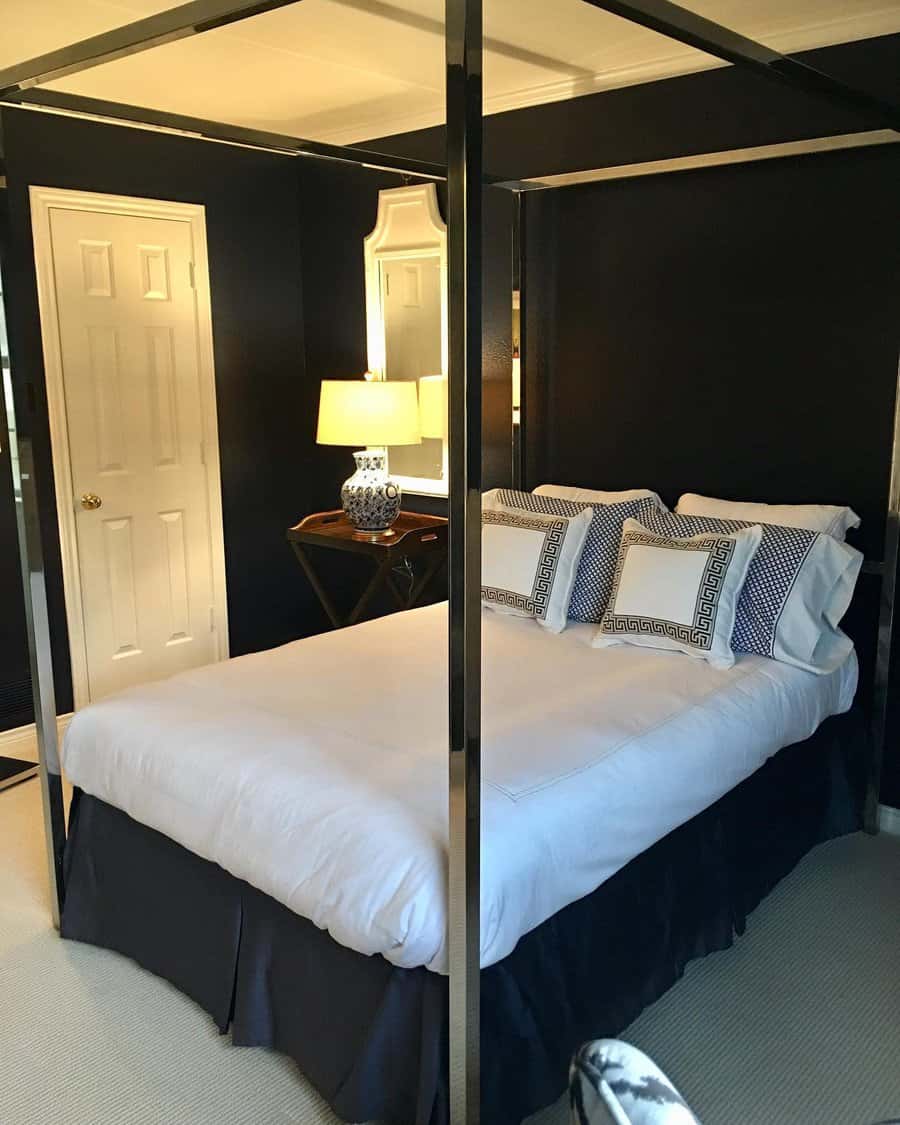 17. Modern & Slim Canopy Bed
Imagine lying in bed – the slim-type metal canopy bed, to be exact – cocooned in nothing but light and airy sheer curtains. You cast your eyes around the bright room, allowing your gaze to drift up and down its slim frame as it silently begs for adoration.
Each brush of a hand sets off a delicate ripple on the fabric above, like gentle birdsong in the distance signaling you to finally let go and surrender into slumber.
A single canopy bed can offer so much more than shelter from pests; this tucked-away haven is the perfect spot to recharge and exhale deeply.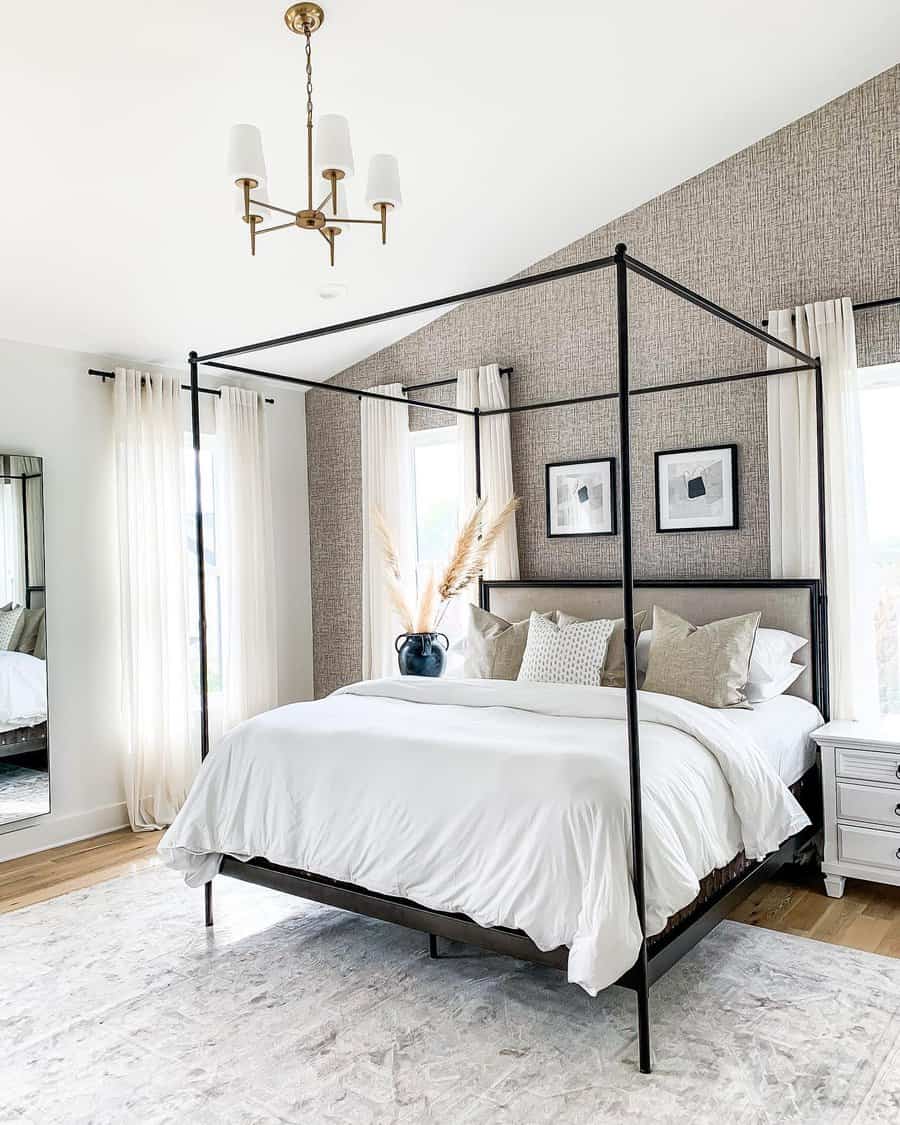 18. Cozy-Chic Wooden Canopy Bed
The cozy-chic canopy bed is the perfect setting for cozy nights and lazy days. Imagine piling fluffy blankets on top of your cozy bed and curling up with a good book. That would be the ultimate comfort!
With curtains draped around for privacy, your canopy bed instantly becomes an intimate reading space – perfect for getting lost in a story or two as you drift away into dreamland.
To make it even more special, choose cozy accents like comfy pillows, delicately hung string lights, and candle scents carefully curated to bring more warmth and calm to the room. Where else could you get cozy blankets, a place for reading, and immense style in one piece?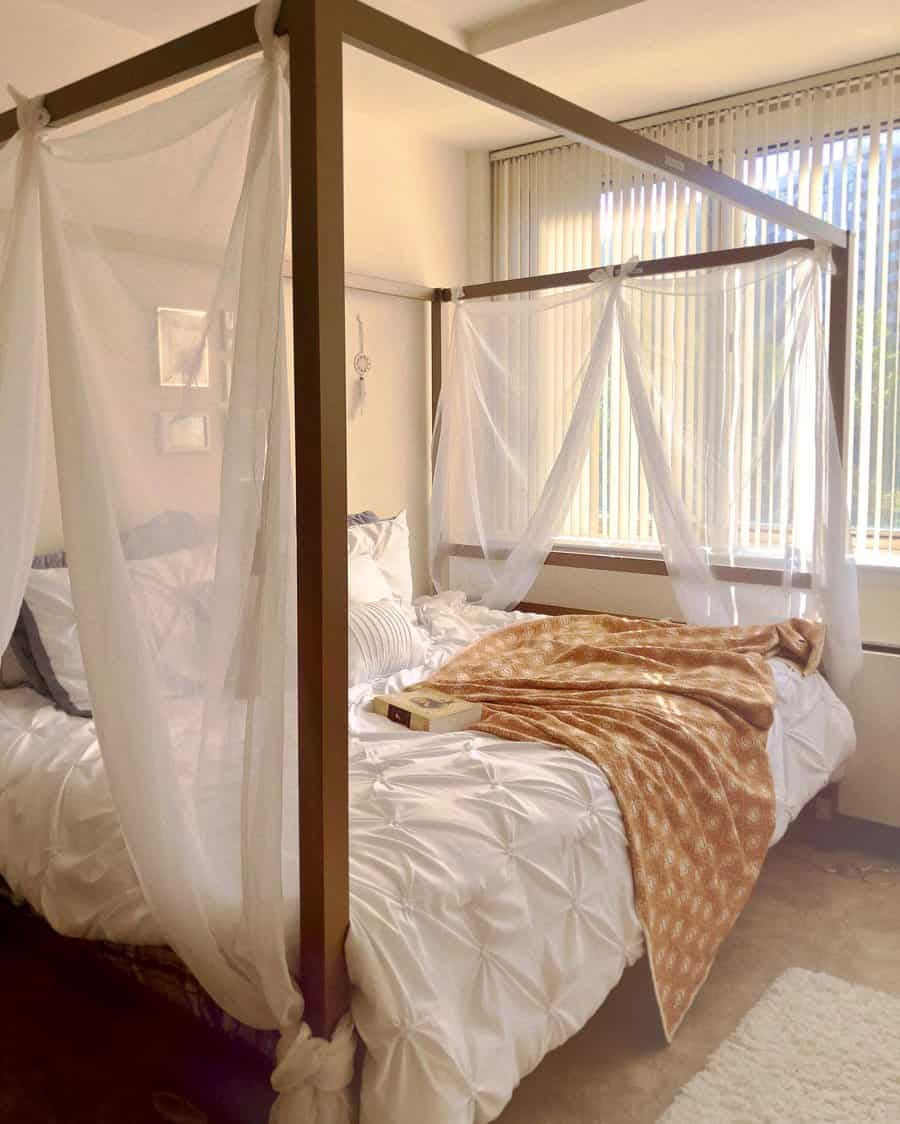 19. Contemporary Style Canopy Bed
A contemporary-style canopy bed can bring a luxurious feeling to any bedroom. Its elegant floor curtains, draping around the bed and extending along the carpeted floor create a truly special experience.
Whether you choose to hang sheer panels or opt for a richer fabric, this design choice is certain to add beauty and uniqueness to your space.
Modern canopy beds often come in sleek materials, like metal and leather, adding an even more contemporary spin to this classic look. No matter what style of decor you pick, they always make an impact in any room.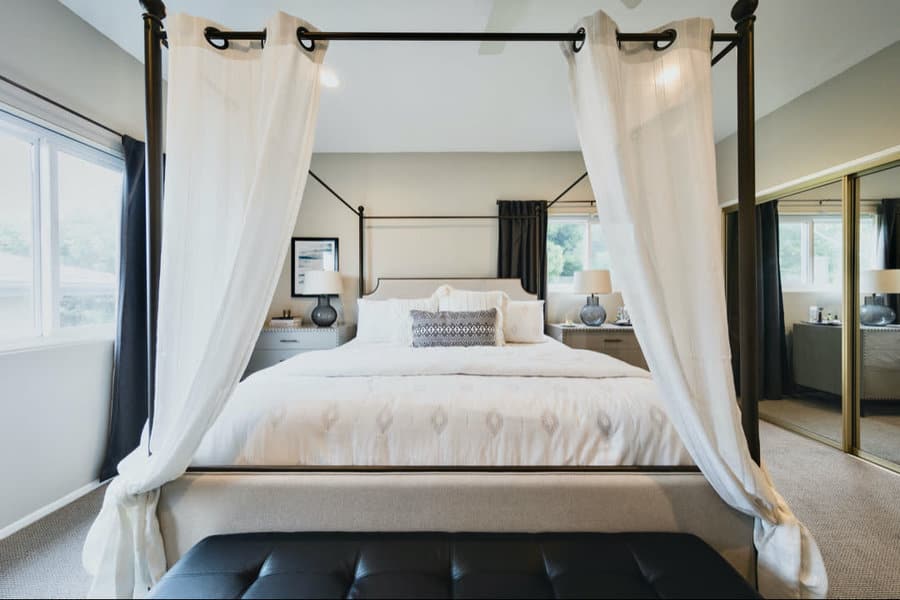 20. Eclectic Style Canopy Bed
A canopy bed has always been a stylish choice for those in search of an eclectic aesthetic. There's something grand about thick canopy posts that draw attention to the bed and make it the centerpiece of any room.
To enhance the look even further, why not opt for dark flooring and ceiling colors that align with the canopy posts? This darker palette creates a strong contrast with the canopy structure, creating an elegant bedroom statement.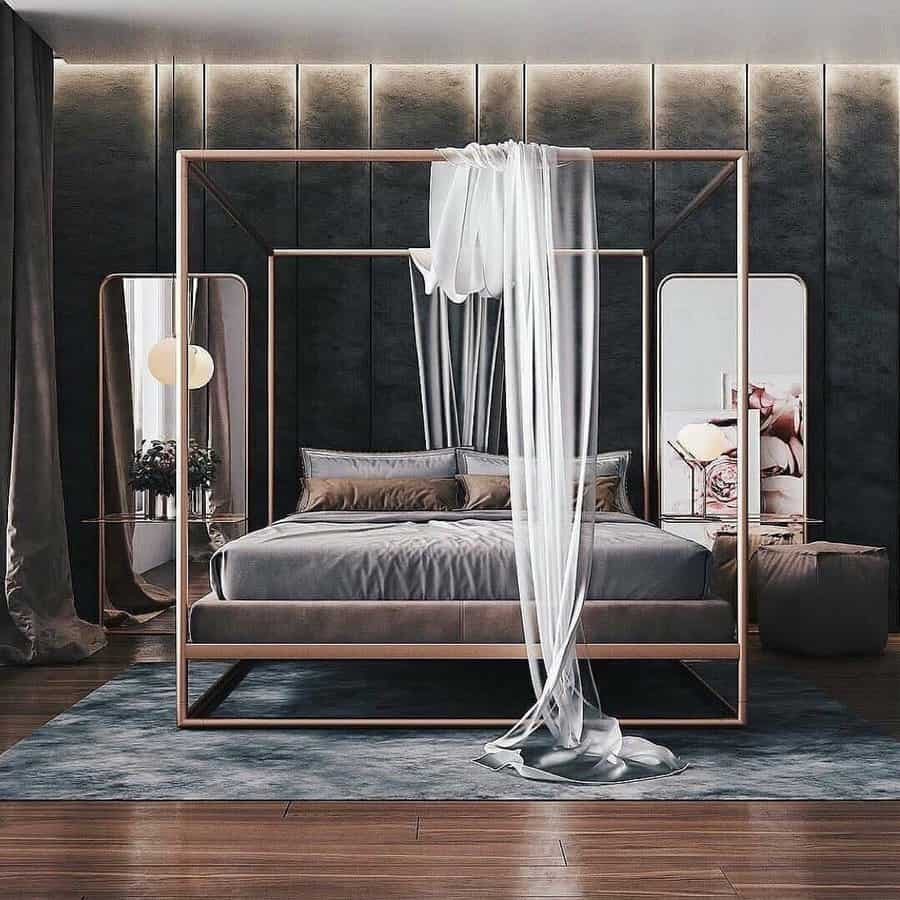 21. Minimalist Zen Canopy Bed
Picture this: snuggled up in your thick and bold canopy bed with draping curtains that soften the faintest morning light. This is a sanctuary for sweet dreams; to enter is to surrender to the serenity of total comfort, secure from the outside world and all its strife.
Your canopy will envelop you like a warm and gentle embrace, cocooning you in moments of slumber where worries drift away into nothingness.
Let the thick curtains become a barrier between reality and your dreams of peace, for it is here that we find a safe haven for our wandering minds.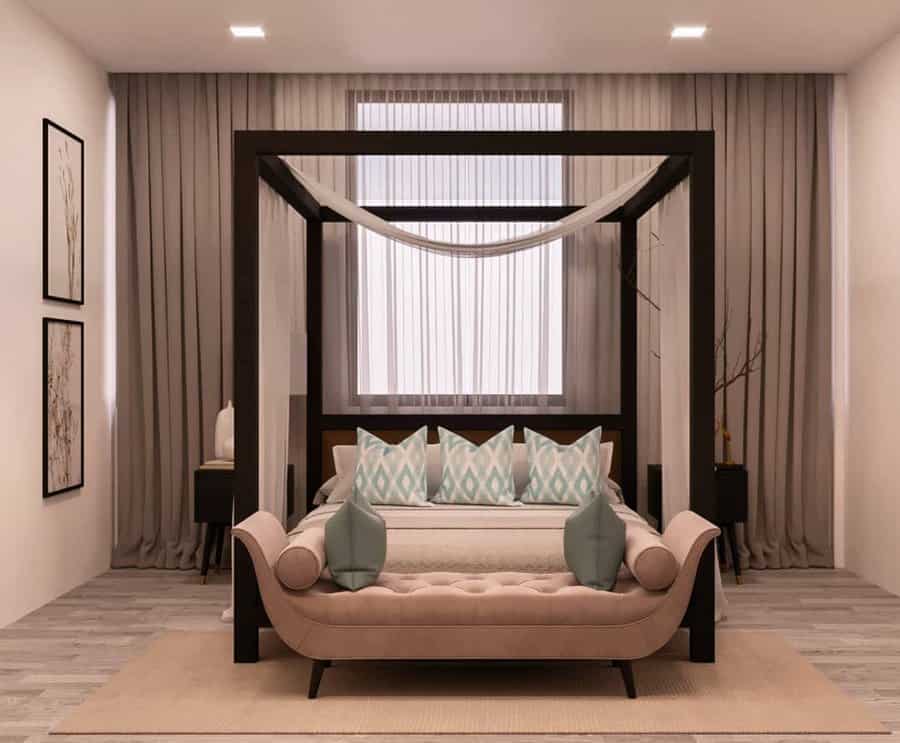 22. Bungalow Canopy Bed
A bungalow canopy bed is a classic design that can make any bedroom feel instantly more romantic. This single bed features a light pastel-colored frame that allows for the perfect backdrop to decorate with fairy lights and other delicate accessories.
Not only does this statement piece draw the eye in, but it also creates the feeling of a safe, inviting space to wind down and relax for the night.
Whether it's for yourself or your child, a bungalow canopy bed can be an attractive feature that adds sunshine and warmth to anyone's life!
23. Art Deco Style Canopy Bed
Step into a world of art deco elegance with an art deco-style canopy bed! With its overhead curtain drape and luxurious burnt orange beddings, this majestic structure can truly bring together the best of classical styling and exquisite materials.
Whether you choose to go for a more traditional approach with four ornate columns, or something contemporary and unexpected, you'll have the perfect backdrop for your colorful dreams.
With just the right statement-making touches, this stunning canopy bed is sure to make all heads turn.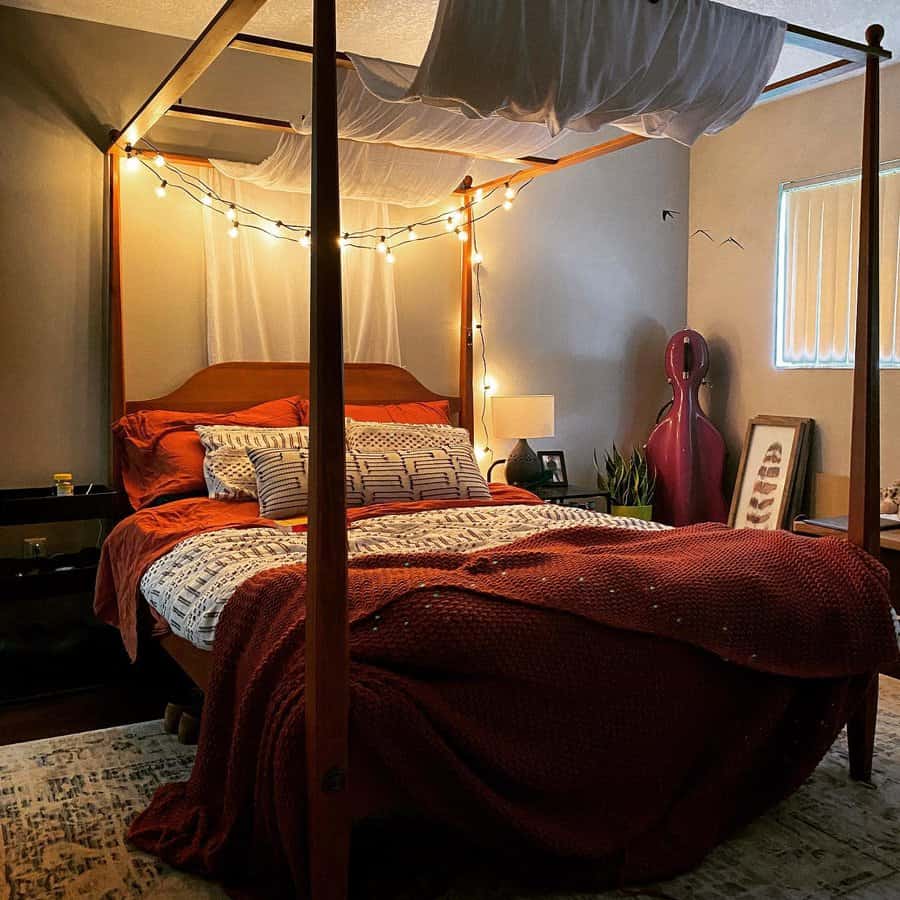 24. Coastal Chic Canopy Bed
A coastal-chic canopy bed will instantly give your bedroom a coastal escape vibe. Imagine the beauty of a crisp white rail, topped with billowy voiles all supported by the teal walls that bring such a feeling of serenity.
Paired with beige beddings, this coastal-chic look would be like a dream come true.
Create a unique ambiance and make for an unbelievable focal point in any coastal chic-inspired room – a canopy bed!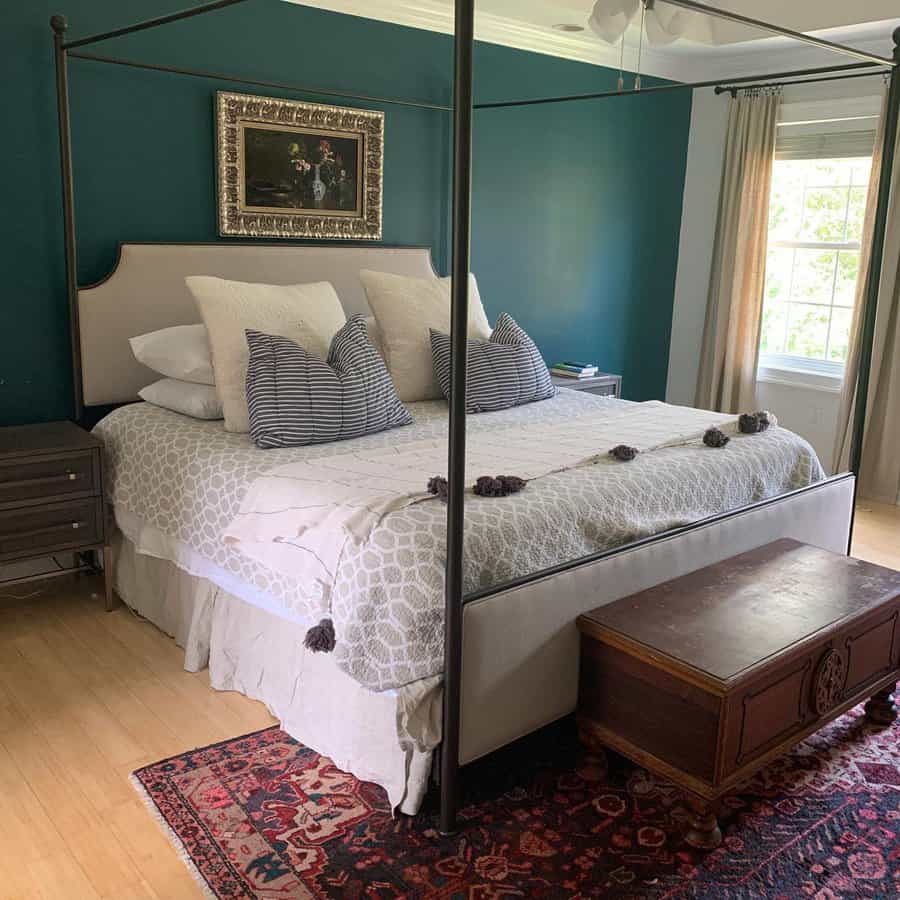 25. French House Canopy Bed
Create an atmosphere of French-style romance with a French House-style canopy bed. White linens and silver accents will match the framed Matisse painting above the headboard, and elegant bedding will blend in perfectly with any bedroom dècor.
The combination of French flair and classic beauty will create a unique piece of furniture that will be the centerpiece of your bedroom.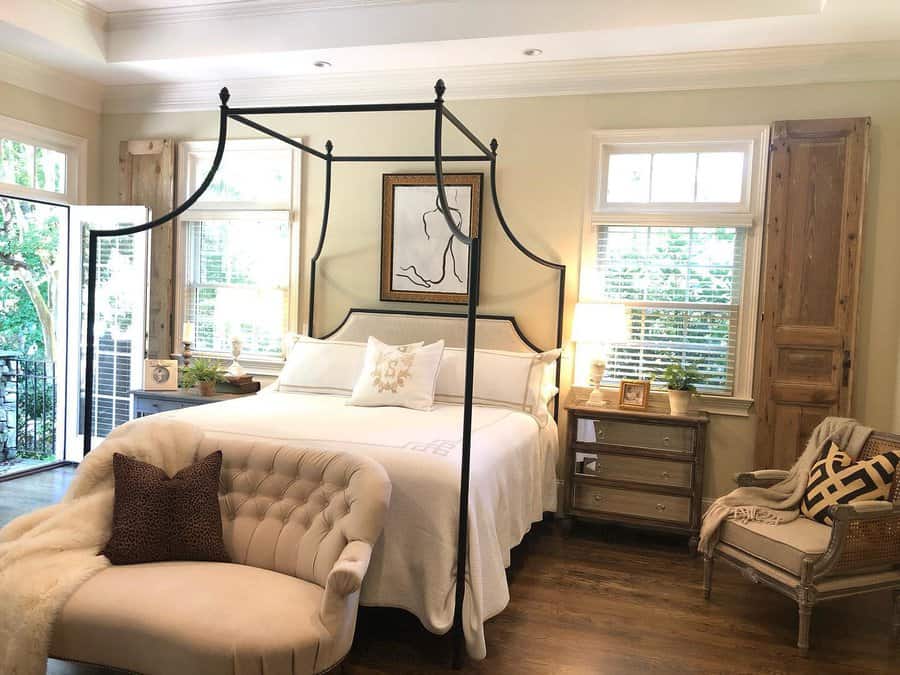 26. Twin Canopy Beds
If your little girl has been asking for a canopy bed, it's easy to transform a simple twin bed into a dreamy canopy. Simply purchase an oversized embroidery hoop and hang yards of tulle from the frame.
Suspend it over the bed with ribbon and add a monogram initial or wreath to secure the material to the wall above the headboard.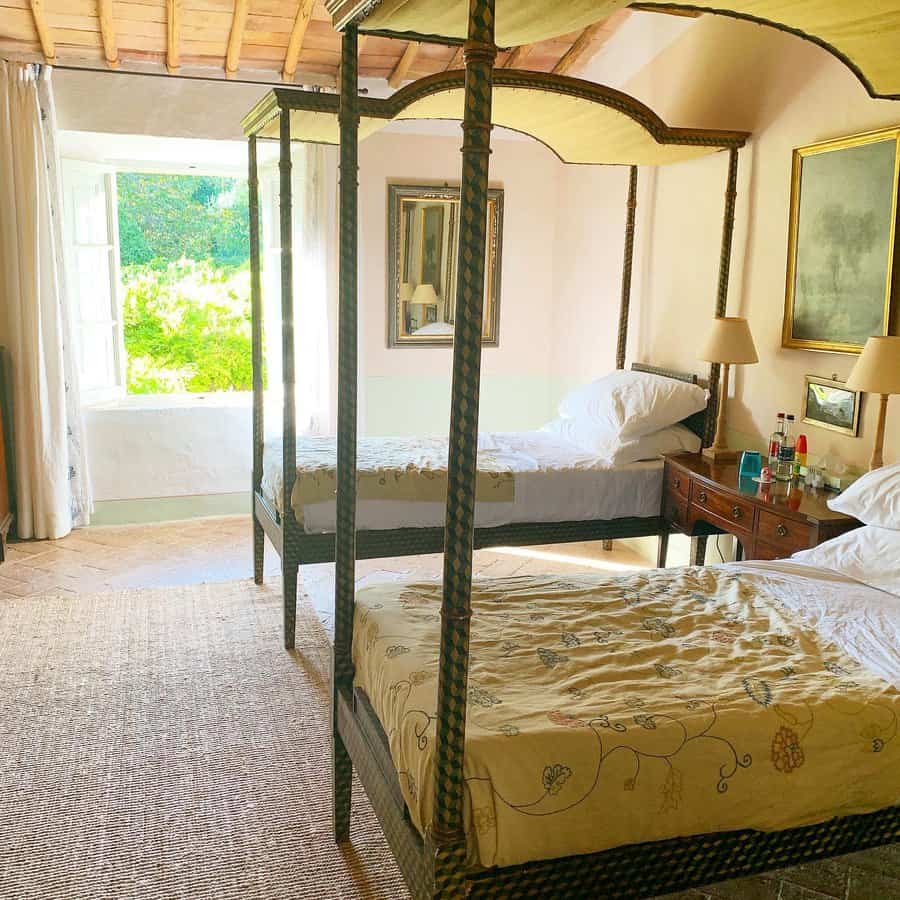 Don't be afraid to add canopies when you have two twin beds in one bedroom. A girl's bedroom is enhanced with the softness dual canopies add to the room. Even if your child's bedroom isn't overly feminine, canopy bed frames open a whole new element of bed design.
27. Wooden Pallet DIY Canopy Bed
A simple wooden pallet canopy bed can be the perfect addition to any bedroom with dark wooden flooring. With its rustic charm and natural aesthetic, this type of bed will instantly add warmth and character to the space.
The simplicity of the design allows for creativity in decorating, whether it's draping fairy lights or adding plush pillows.
The dark wooden flooring provides a stunning contrast to the light wood of the bed and creates a cozy, inviting atmosphere. Transform your bedroom into a peaceful sanctuary with this unique and creative take on the traditional canopy bed.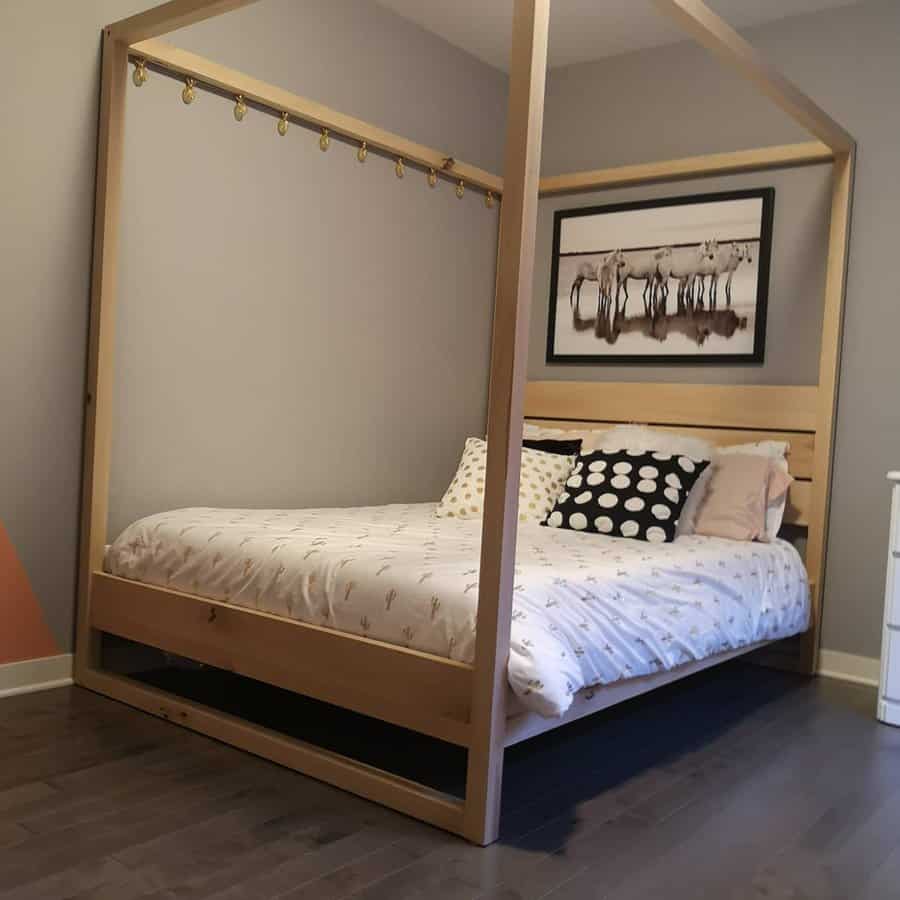 28. 19th Century Style Kid's Canopy Bed
Take a step back in time with a 19th-century-style kid's bed complete with a canopy. This classic design will transport your little one to a world of regal splendor, evocative of the French Provincial aesthetic. The bed's ornate frame is reminiscent of a bygone era, with intricate details that will make your child feel like royalty.
To enhance the vintage feel, hang framed art above the bed and adorn the canopy with sheer fabrics in soft pastel hues.
The result is a room that exudes elegance and imagination, perfect for your little prince or princess. Create a magical, one-of-a-kind space that will inspire your child's creativity and spark their imagination with this unique and creative take on the traditional canopy bed.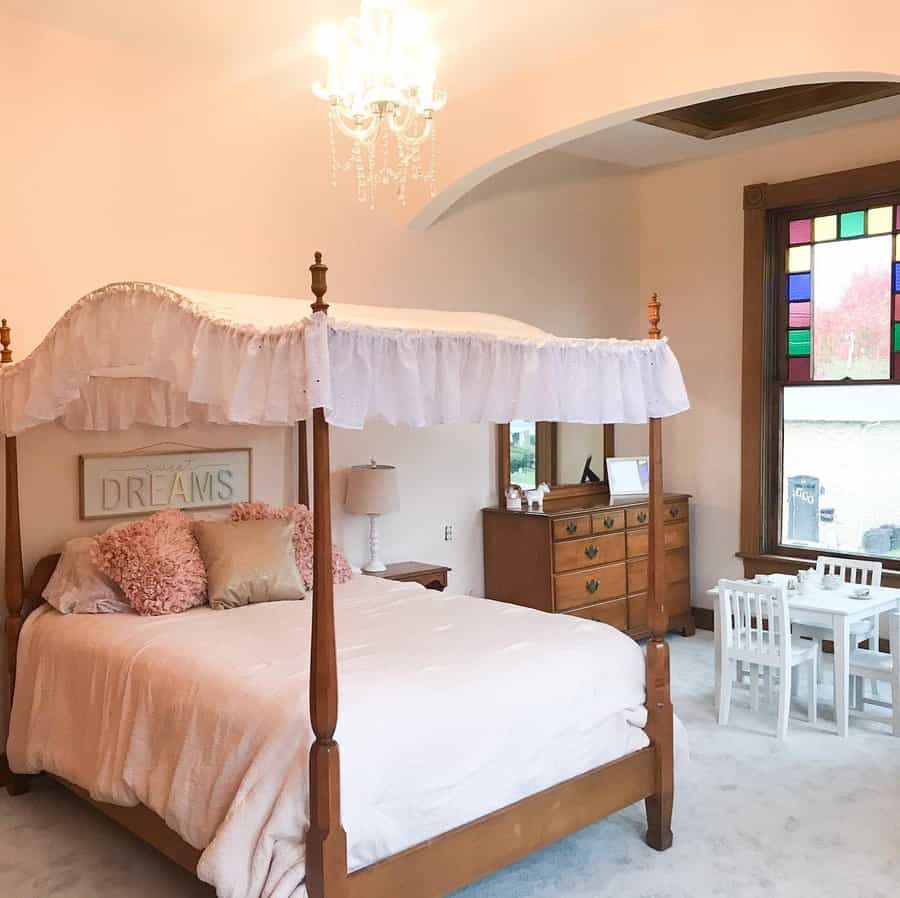 29. Maple Wood Canopy Bed
Imagine a bedroom that exudes a serene, minimalist vibe. A maple wood canopy bed, with its natural beauty and warm hues, is the focal point of the space. The black walls provide a stark contrast, creating a modern and sophisticated atmosphere.
The floating bedside lamps add a touch of elegance and a sense of lightness to the bed, making it look like it's floating in the air. The clean lines and simple design of the bed allow for a clutter-free environment, making it the perfect place for rest and relaxation.
The beauty of this bed lies in its simplicity and versatility, making it the ideal choice for any style of the room.