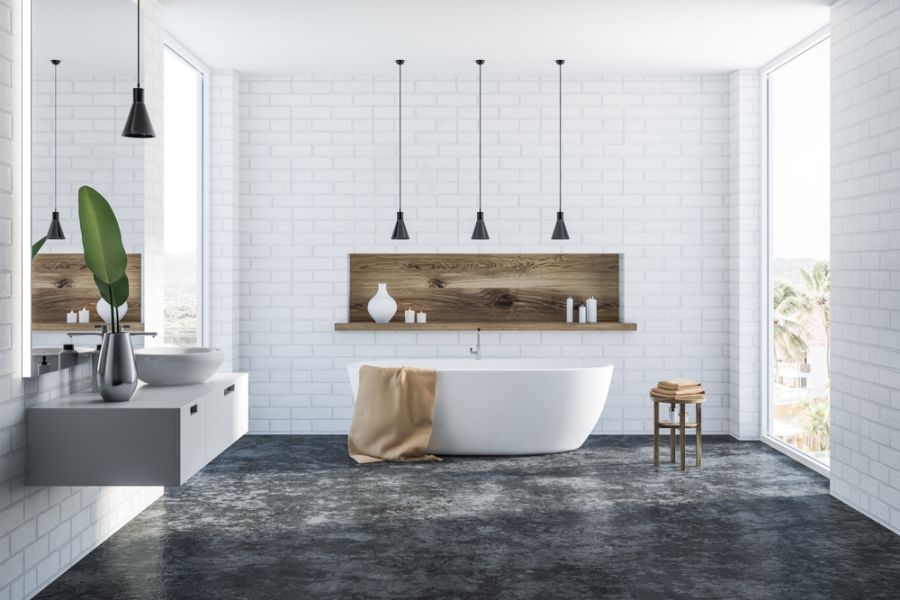 9 Cheap Flooring Ideas That Look Awesome
by — Andra DelMonico

Published on February 1, 2021

Updated on July 12, 2023
You don't need to have a huge budget to have beautiful flooring in your home. If you have a limited budget, focus on finding the best flooring that fits within that budget.
Look for something that's durable, easy to maintain, and capable of DIY installation. Consider the room you plan to install your floor in to ensure the material you pick will last.
These cheap flooring ideas will get you inspired to update the look of your home's floors. Perhaps you replace your old worn out carpet with laminate or vinyl planks. Or you could stain and seal your concrete subfloor and create an ultra-modern look.
1. Vinyl Flooring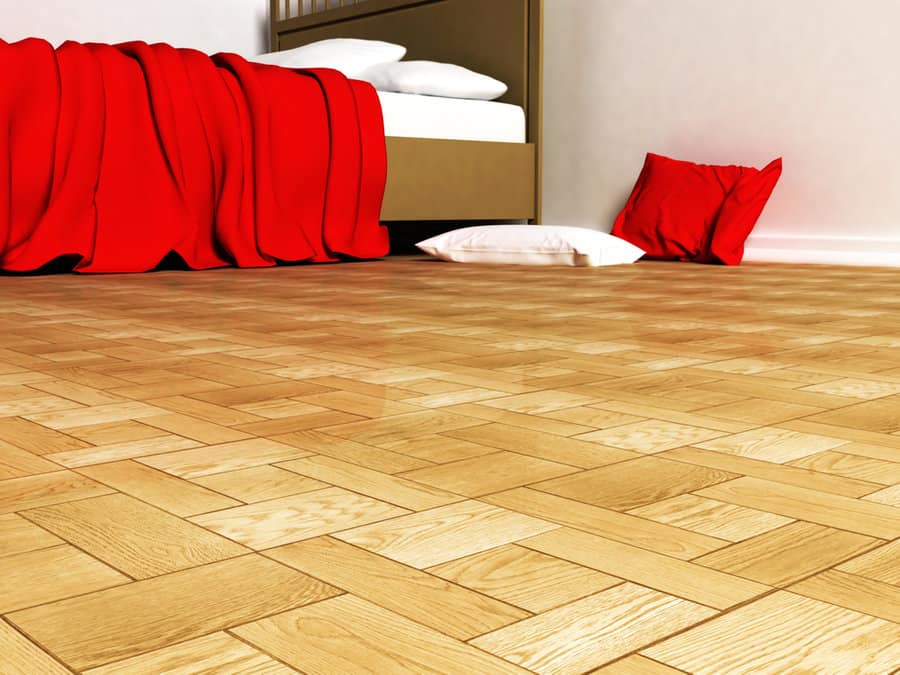 This type of flooring is not only affordable, but also durable and resistant to stains and water. It comes in a variety of designs, including styles that mimic the look of more expensive materials like hardwood or stone. Luxury Vinyl Plank (LVP) or Luxury Vinyl Tile (LVT) are higher-end options that are still affordable compared to hardwood or stone.
Sheet vinyl is the most inexpensive. Simply unroll and adhere to your floor. On the opposite end, there's luxury vinyl tile. These can look hyper-realistic and fool people into thinking you have wood flooring. Choose the color, type of wood, texture, and finish.
On average, vinyl flooring materials can range from $2 to $8 per square foot. Luxury vinyl planks and tiles, which offer more realistic designs and textures, are on the higher end of this price range. The cost of professional installation can add $1 to $3 per square foot.
2. Laminate Flooring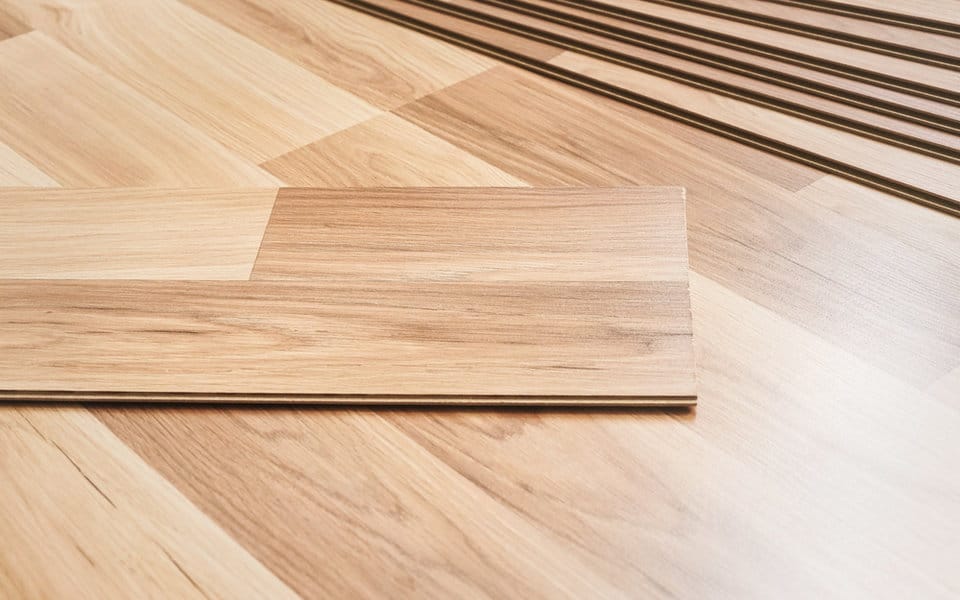 Laminate flooring is an affordable option that mimics the look of wood, stone, or tile using a photographic layer under a clear protective one. Its tongue-and-groove system makes it easy for DIY installations, saving costs. It's durable, resistant to scratches, stains, and easy to clean.
However, it's less suitable for wet areas like bathrooms or kitchens due to its limited moisture resistance. Despite its cost-effectiveness and practicality, it may lack the feel and sound of natural materials, which could be a drawback for some homeowners.
Laminate flooring materials may range from $1 to $5 per square foot, with high-end versions costing more. Professional installation can add $2 to $5 per square foot.
3. Linoleum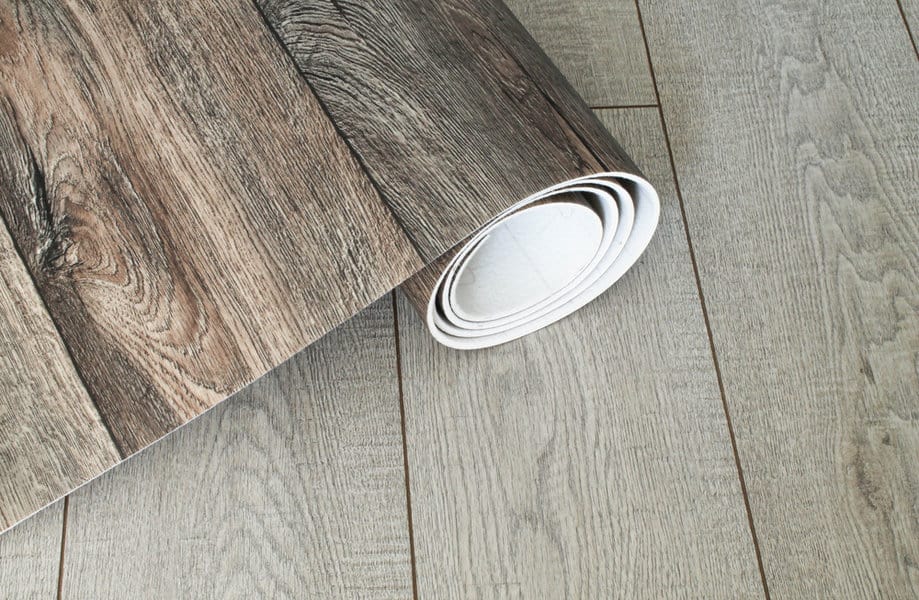 Linoleum is an eco-friendly flooring option, crafted from renewable materials like linseed oil and cork. Its durability surpasses that of vinyl, standing up well to heavy traffic and spills. Available in a broad range of colors and patterns, linoleum offers high customization.
With proper care, including regular sweeping, occasional mopping, and periodic sealing, it can last up to 40 years. While it requires a bit more upkeep than vinyl, its longevity, versatility, and environmental benefits make it an attractive choice for homeowners.
On average, you can expect linoleum material costs to range from around $2 to $5 per square foot for sheet linoleum, and up to $4 to $8 per square foot for linoleum tile. Professional installation can add an additional $3 to $7 per square foot.
4. Cork Flooring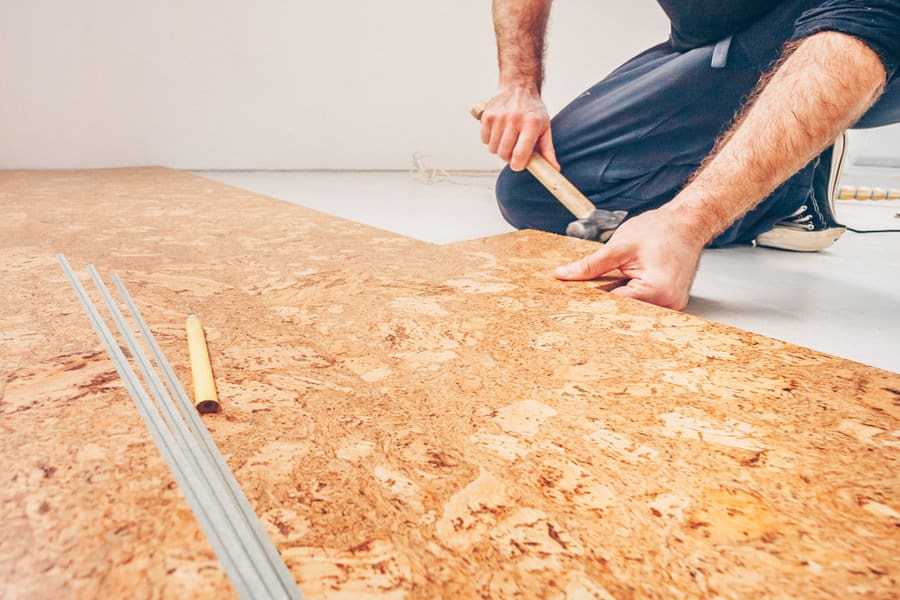 Cork flooring is a sustainable choice as it's made from the bark of the cork oak tree, which regrows over time. Not only is it eco-friendly, but it also provides a comfortable, cushioned feel underfoot and serves as a natural insulator, aiding in temperature regulation and noise reduction.
Despite its benefits, cork does have some downsides. It's softer than many other materials, making it more susceptible to scratches, dents, and damage from heavy furniture. Furthermore, prolonged exposure to sunlight can cause cork to fade, and it may require frequent sealing to maintain its look and durability.
The material cost for cork flooring can range from $2 to $6 per square foot. High-quality or specialty cork products can cost more. The cost for professional installation can add an additional $1 to $3 per square foot.
5. Carpet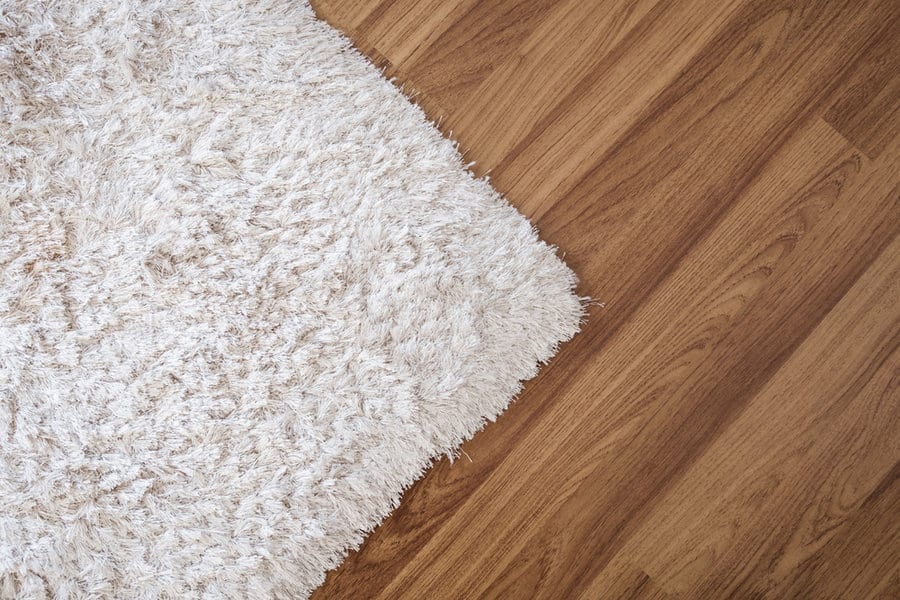 Carpeting is a popular flooring option due to its comfort and warmth. Its soft texture provides a cushioned surface underfoot, making it especially comfortable for walking or standing. It also comes in a wide variety of colors, patterns, and textures, allowing for extensive customization to fit any home decor.
However, carpet isn't as durable as some hard flooring options and can show wear and tear over time, especially in high-traffic areas. Cleaning can also be a challenge, as it can trap dust, stains, and allergens more easily than hard surfaces. While professional cleaning can help, it is an additional expense to consider.
Carpet materials can range from $1 to $5 per square foot for synthetic fibers, with wool and other natural materials often costing more, sometimes upwards of $10 per square foot. Professional installation costs can add $0.50 to $2 per square foot.
6. Tile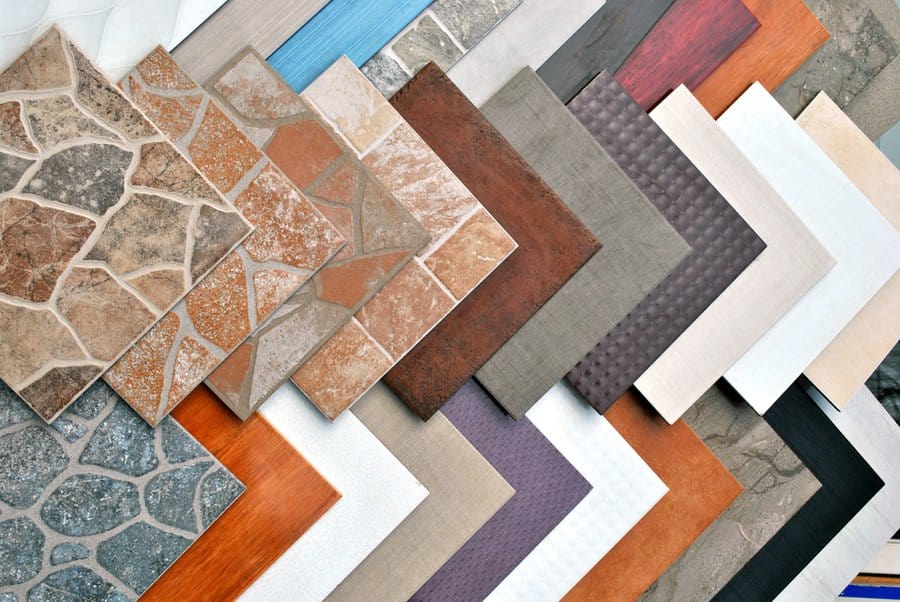 Ceramic or porcelain tiles are versatile flooring options known for their durability and water resistance, making them excellent choices for areas like kitchens and bathrooms. These tiles come in a wide range of styles, colors, and finishes, allowing for significant customization. They can also mimic the look of natural stone or wood at a lower cost, with the final price largely depending on the type and quality of tile chosen.
Tile flooring can be challenging and time-consuming to install, often requiring a professional, which can add to the overall cost. It's also harder underfoot and can be cold, which might not suit all homeowners' preferences. Despite these potential drawbacks, tile's longevity, water resistance, and affordability make it a popular choice in many households.
On average, ceramic and porcelain tile materials can range from $1 to $20 per square foot. Natural stone tiles like marble, granite, or slate can be more expensive, sometimes exceeding $20 per square foot. Professional installation costs can add an additional $5 to $10 per square foot, depending on your location and the complexity of the installation.
7. Engineered Wood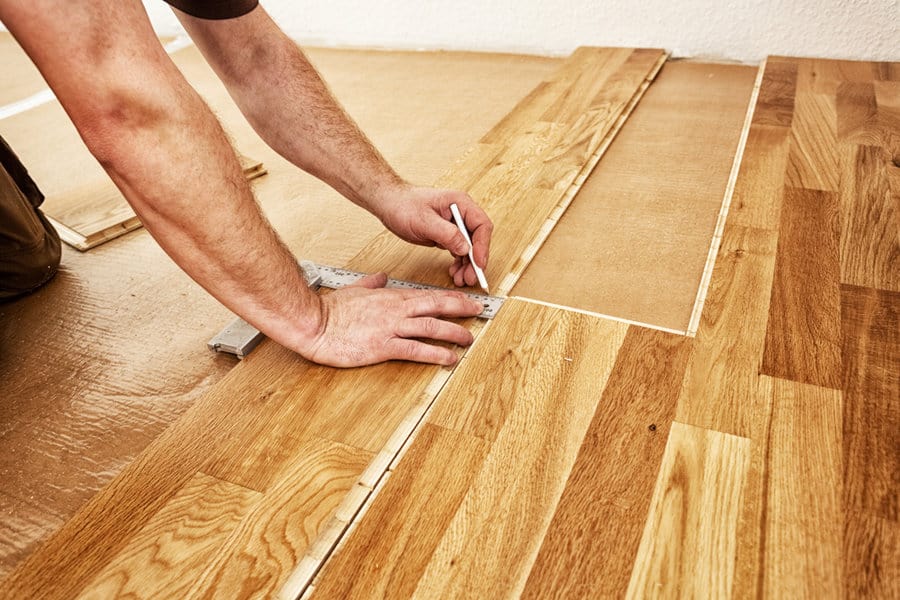 Engineered wood flooring is composed of a thin veneer of real wood on top of several layers of less expensive, high-quality plywood. This construction provides the same aesthetically pleasing look as solid hardwood but at a more affordable price. Its layered design also makes it more stable and less susceptible to warping from humidity or temperature changes than solid hardwood.
However, its lifespan may not be as long as solid hardwood, mainly due to its thin top layer. This layer allows for limited refinishing—typically only once or twice—before the veneer is worn through. So, while engineered wood can be an excellent choice for those seeking the hardwood look without the hefty price tag, its longevity can be somewhat less than that of solid hardwood.
The materials for engineered wood flooring can range from $3 to $13 per square foot. Higher-end versions or exotic wood species can cost more. Professional installation can add an additional $3 to $10 per square foot.
8. Peel-and-Stick Tile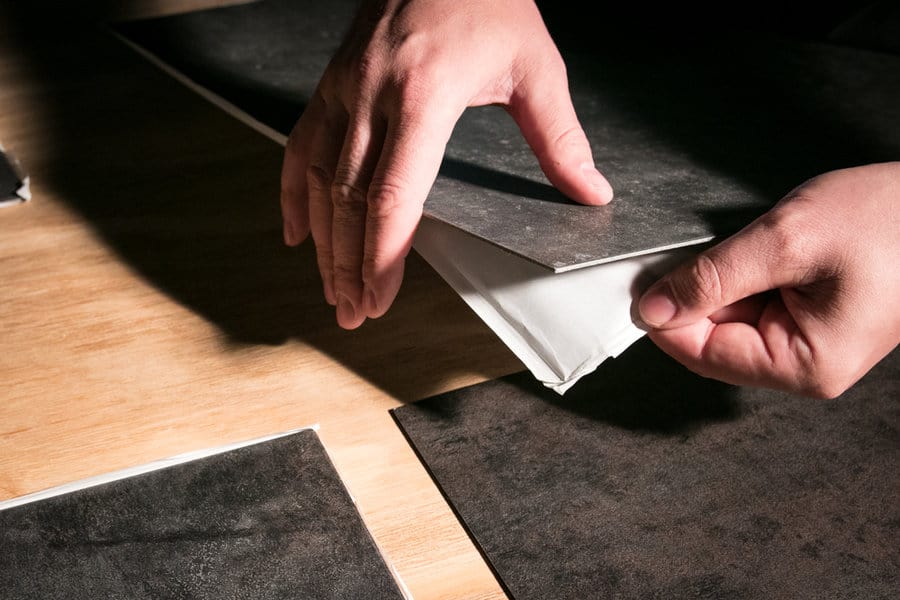 Peel-and-stick tiles are an inexpensive and convenient option for quick home makeovers. They're designed with adhesive backings, making them extremely easy to install without requiring professional help—simply peel off the backing and stick the tile to a clean, flat surface. These tiles come in an array of styles, mimicking materials such as wood, stone, or ceramic, and offering significant room for design flexibility.
However, their durability and longevity may not match traditional tile or wood flooring. They may not adhere well in areas with high moisture or on uneven surfaces, and their wear layer is typically thinner, making them more susceptible to damage over time.
Peel-and-stick vinyl tiles may cost anywhere from $1 to $4 per square foot. Some high-end options or tiles that mimic the look of materials like stone or wood could cost more. One of the main advantages of peel-and-stick tile is that you can often install it yourself, saving on professional installation costs. However, if you do hire a professional, it's typically less expensive than installing traditional tiles because the process is faster and easier.
9. Plywood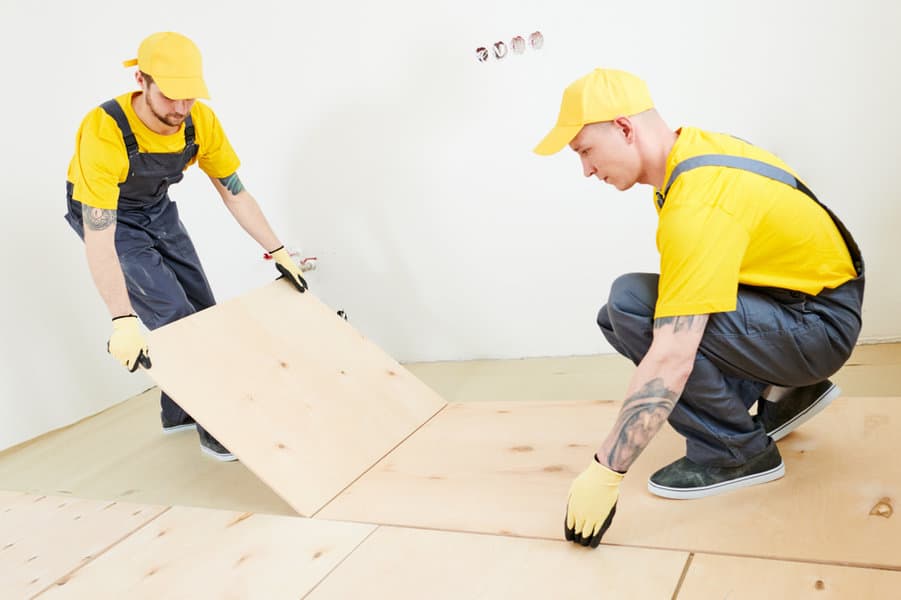 Plywood flooring is a creative, budget-friendly alternative to traditional flooring materials. By painting or staining it, homeowners can achieve a variety of looks that can complement their interior decor. It's also relatively easy to install, particularly compared to some other types of flooring, making it appealing for DIY enthusiasts. The process involves cutting the plywood into planks, squares, or other shapes, installing them onto the subfloor, and then applying the desired finish.
With a bit of effort and creativity, such as using different colors or creating patterns, it can result in an aesthetically pleasing floor. It's essential to note that plywood may not have the same durability or longevity as more traditional flooring options and may require more maintenance, like sealing to protect against moisture and wear.
The cost can depend on the thickness and quality of the plywood, but generally, you can expect to pay between $0.50 to $2 per square foot for the plywood sheets themselves. If you choose to finish the plywood with a stain, paint, or sealant, you will need to factor in these additional costs. This could add another $1 to $3 per square foot, depending on the type of finish you choose and whether you apply it yourself or hire a professional.
Cheap Flooring FAQs
What is the cheapest option for flooring?
The cheapest solution is to seal your concrete floor. You already have the concrete; all you need is to do is buy the sealant. For a more polished look, laminate and vinyl flooring are some of your cheapest options. Peel and stick tiles are also very affordable.
What is the easiest flooring to put down?
The easiest types of flooring to lay down are peel and stick vinyl or carpet tiles. Peel the backing and stick them down. After this, you'll find floating vinyl sheets and laminate planks to be relatively easy. Stained concrete requires a bit of skill and finesse but is another doable DIY flooring project.
Does laminate flooring look cheap?
The short answer is, it depends. Some laminate flooring looks more realistic than others. Some options have more layers to add to the thickness of the flooring. Generally, more expensive laminate flooring looks more realistic and authentic. In this instance, you get what you pay for. Cheap flooring won't look as realistic and have fewer layers, causing it to wear out sooner.