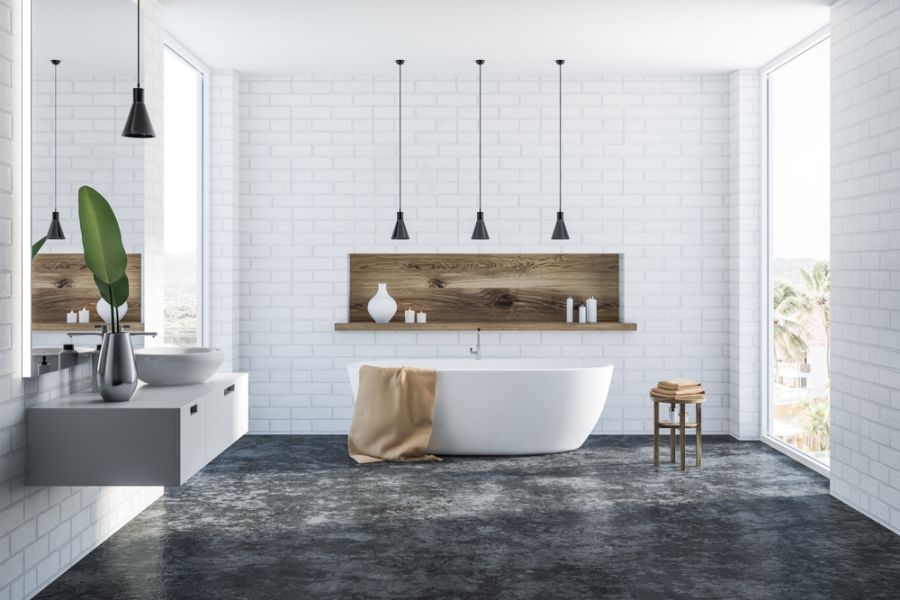 10 Cheap Flooring Ideas That Look Awesome
You don't need to have a huge budget to have beautiful flooring in your home. If you have a limited budget, focus on finding the best flooring that fits within that budget.
Look for something that's durable, easy to maintain, and capable of DIY installation. Consider the room you plan to install your floor in to ensure the material you pick will last.
These cheap flooring ideas will get you inspired to update the look of your home's floors. Perhaps you replace your old worn out carpet with laminate or vinyl planks. Or you could stain and seal your concrete subfloor and create an ultra-modern look.
1. Vinyl Flooring
This type of flooring is not only affordable, but also durable and resistant to stains and water. It comes in a variety of designs, including styles that mimic the look of more expensive materials like hardwood or stone. Luxury Vinyl Plank (LVP) or Luxury Vinyl Tile (LVT) are higher-end options that are still affordable compared to hardwood or stone.
Sheet vinyl is the most inexpensive. Simply unroll and adhere to your floor. On the opposite end, there's luxury vinyl tile. These can look hyper-realistic and fool people into thinking you have wood flooring. Choose the color, type of wood, texture, and finish.
Be careful about where you lay your vinyl flooring. It can puncture from sharp objects. It can also dent from heavy objects resting on it.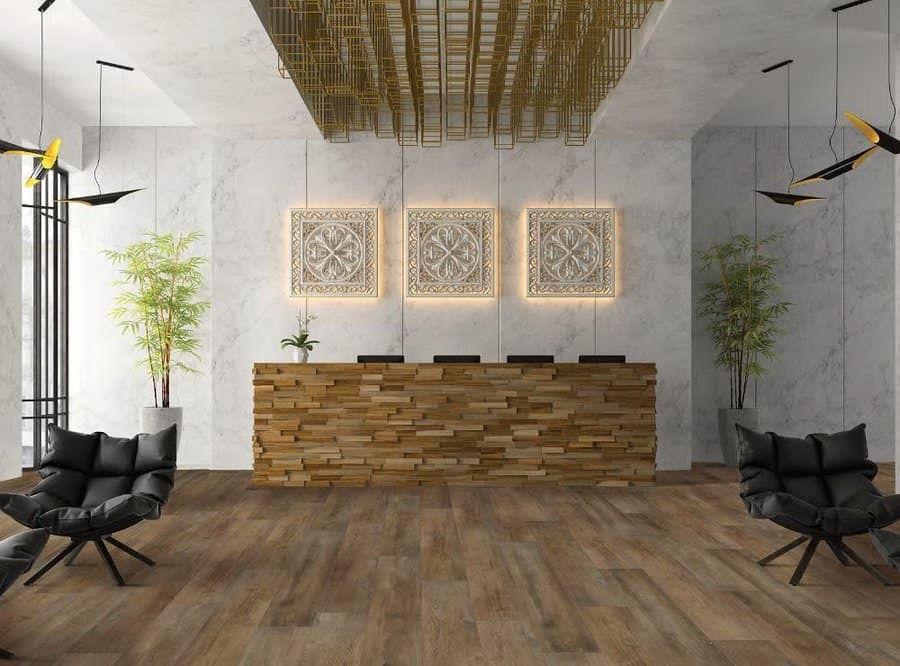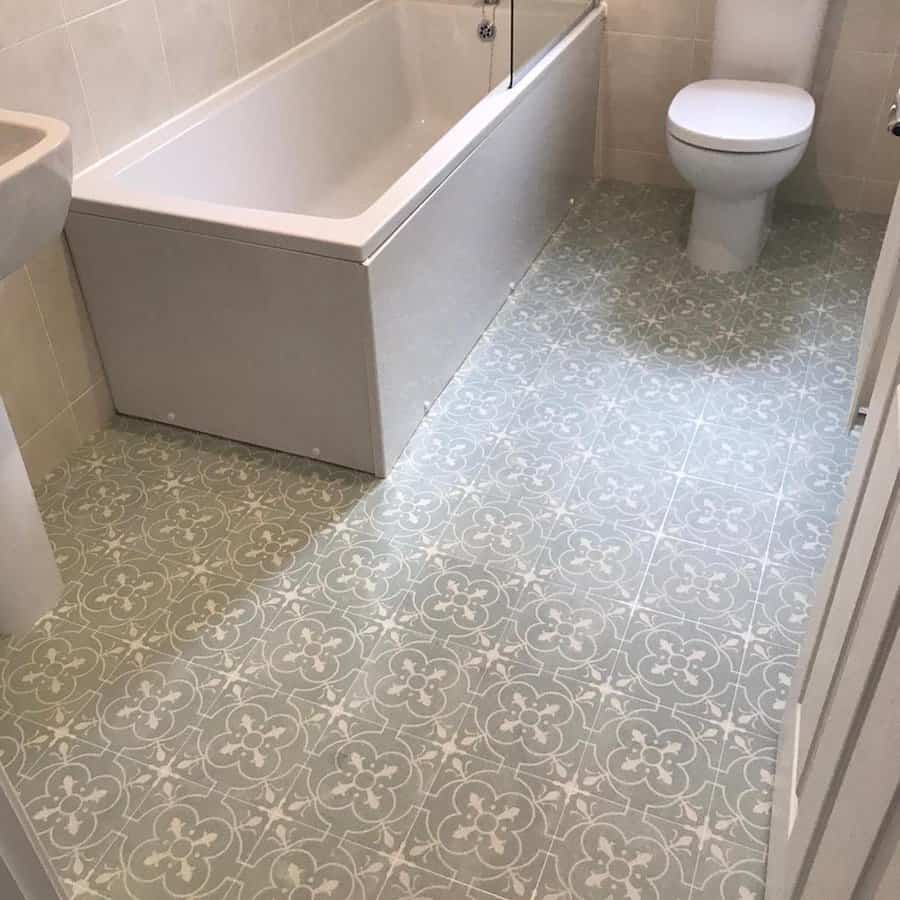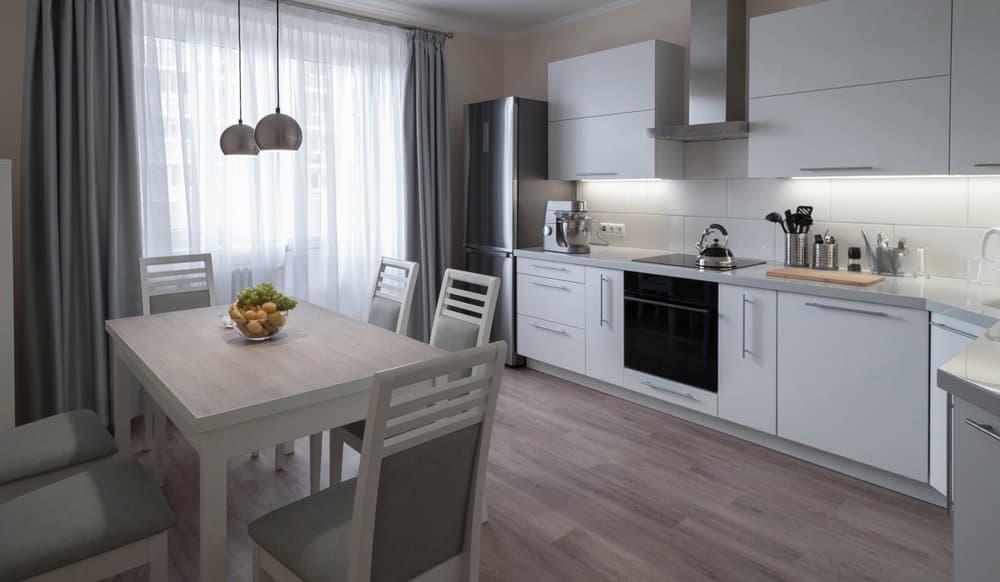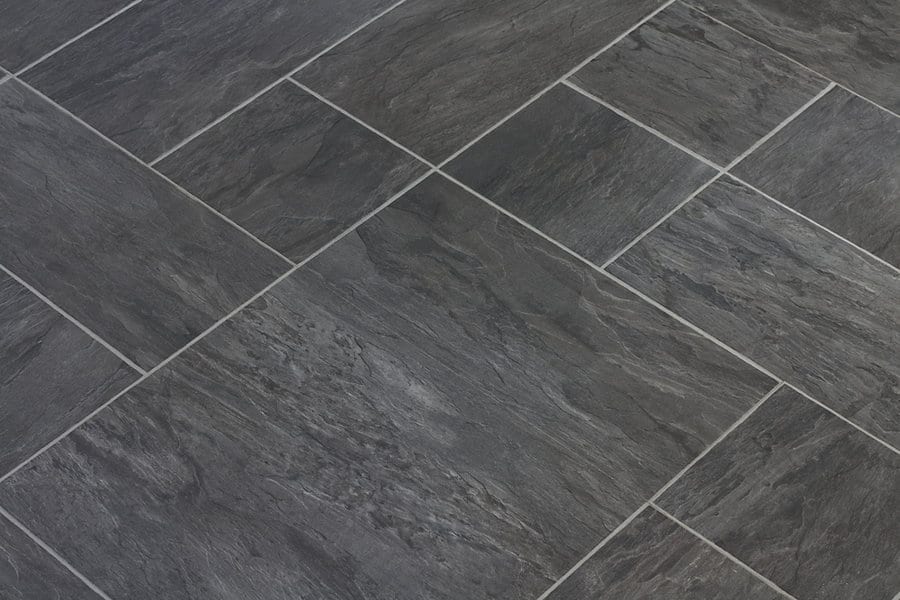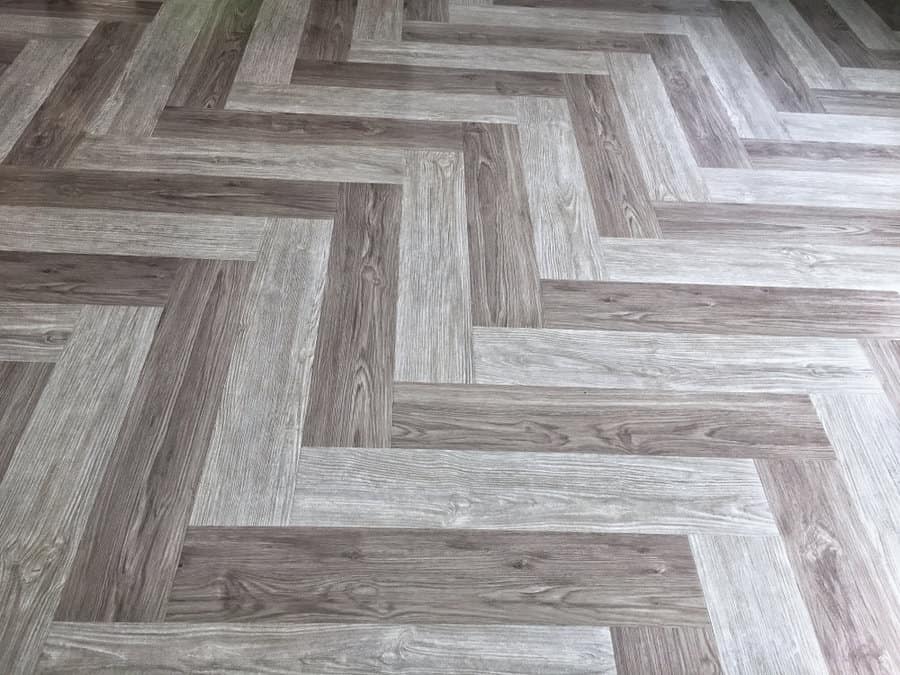 2. Laminate Flooring
Laminate can mimic the look of wood, stone, or tile, but is typically much less expensive. It is also easy to install and maintain. However, it's not as resistant to moisture as some other options, so it may not be the best choice for bathrooms or kitchens.
3. Linoleum
Linoleum is an eco-friendly option that is more durable than vinyl. It comes in a wide range of colors and patterns, and can last for several decades with proper care.
4. Cork Flooring
Cork is another eco-friendly option that is comfortable underfoot and has good insulating properties. However, it can be susceptible to scratches and sunlight can fade its color over time.
5. Carpet
Carpet is comfortable and comes in a vast range of colors and textures. While it's not as durable as hard flooring options and can be harder to clean, there are inexpensive options available.
6. Tile
Ceramic or porcelain tile can be quite affordable, depending on the type you choose. While tile is durable and water-resistant, installation can be more difficult and time-consuming than other options.
7. Concrete
If your home already has a concrete subfloor, you could choose to polish and seal it for a modern, industrial look. While concrete is extremely durable, it's also hard and cold underfoot.
8. Engineered Wood
This type of flooring looks very similar to solid hardwood but is generally less expensive. However, it may not last as long, as it can typically only be refinished once or twice.
9. Peel-and-Stick Tile
These tiles are extremely easy to install and come in a variety of styles. They're a great option for a quick, inexpensive makeover, although they may not last as long as some other options.
10. Plywood
While not a conventional choice, some homeowners choose to paint or stain plywood and use it as a budget-friendly flooring option. It's easy to install and can actually look quite nice with a bit of effort.
1. Bedroom Flooring
You have a lot of freedom with the type of flooring you choose for your bedroom. Since this is your private space, you can choose whatever you can afford and will appeal to your sense of taste. Ceramic tile, vinyl planks, and laminate flooring are inexpensive flooring options.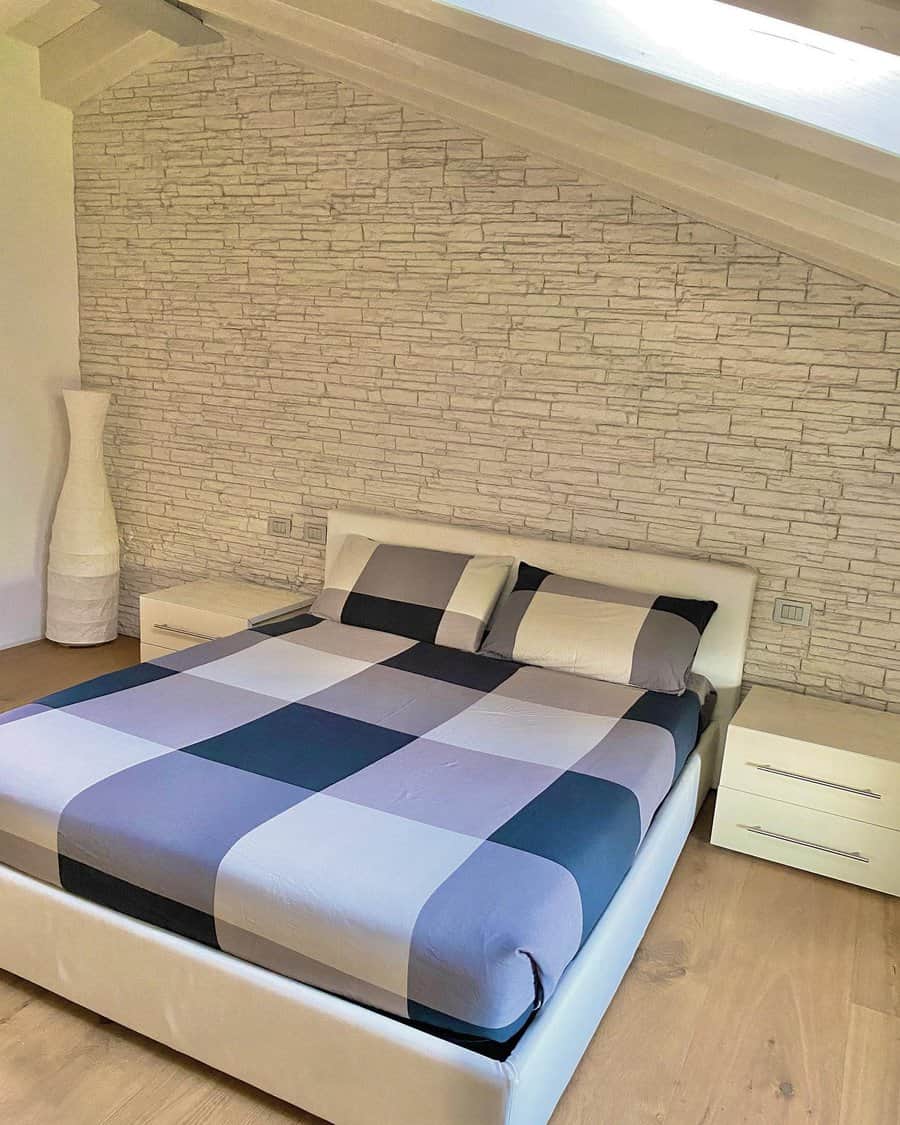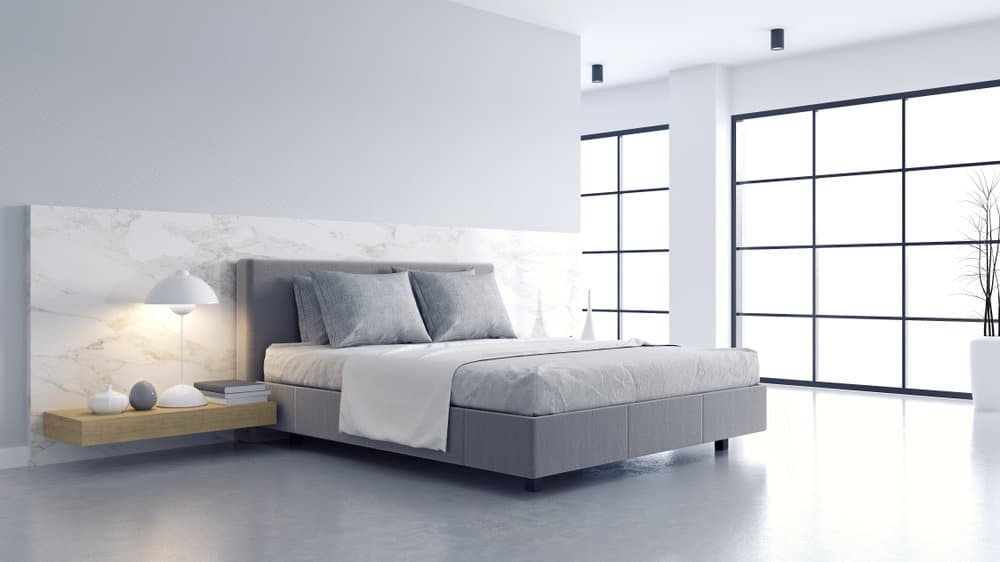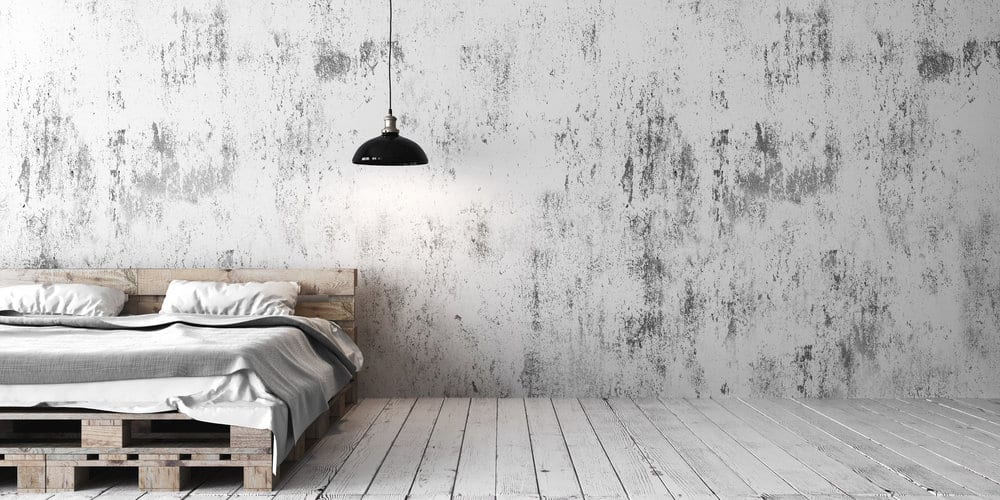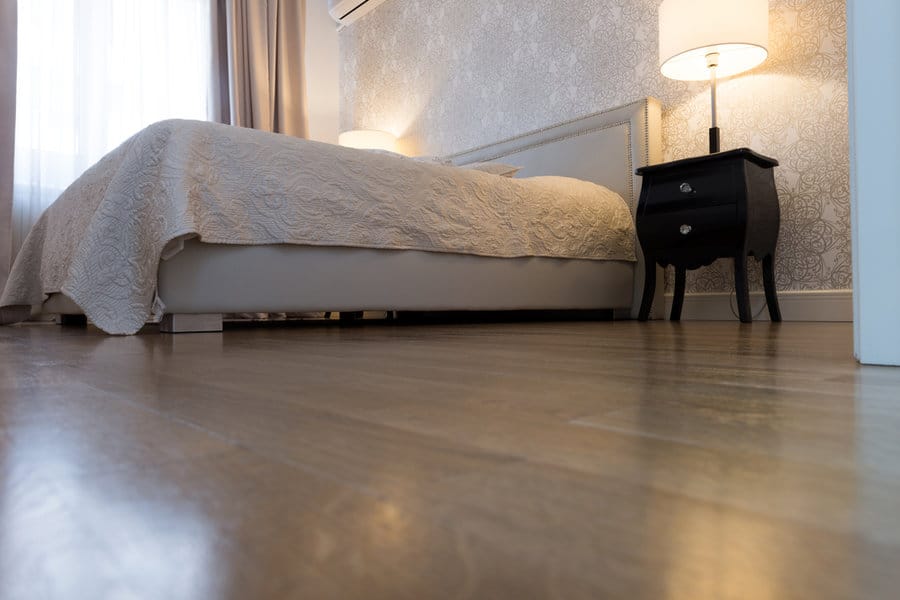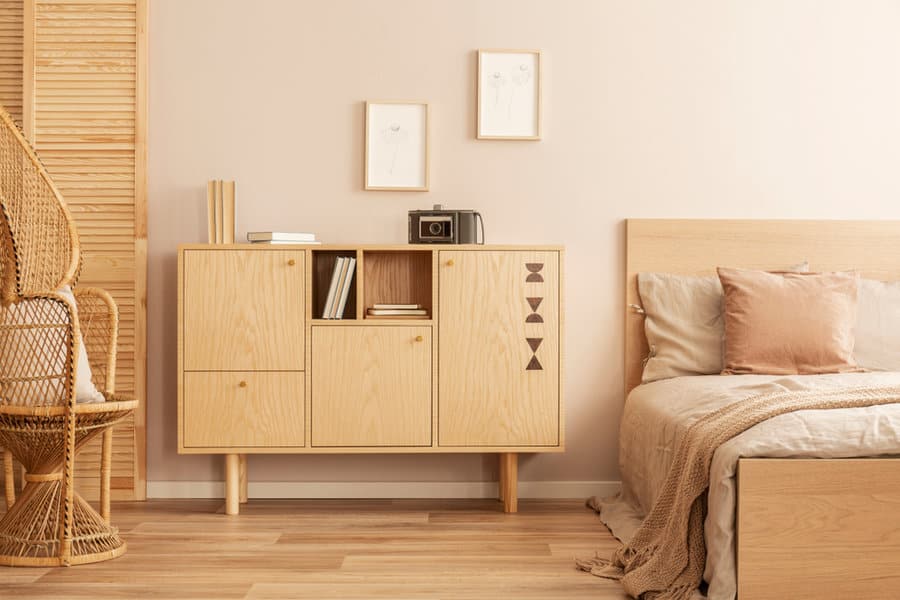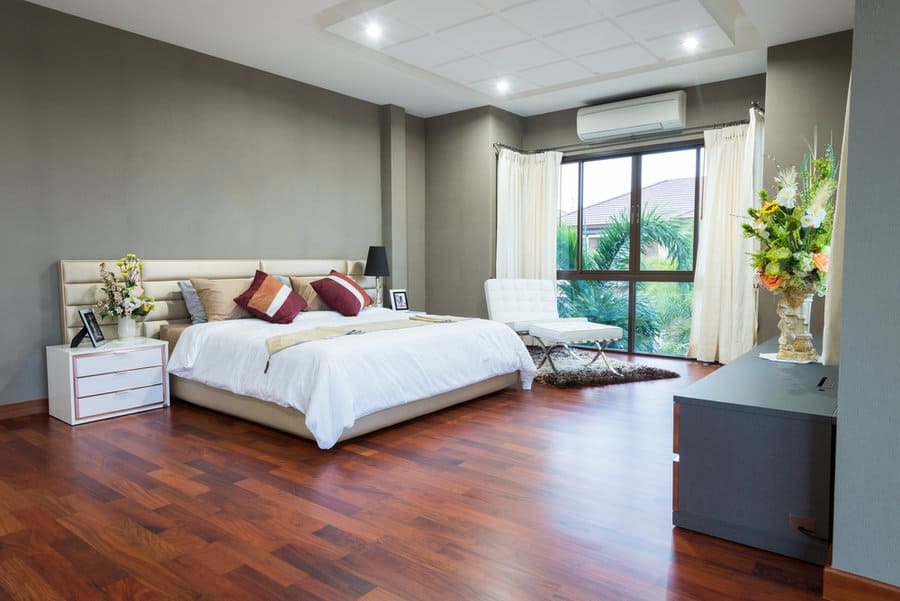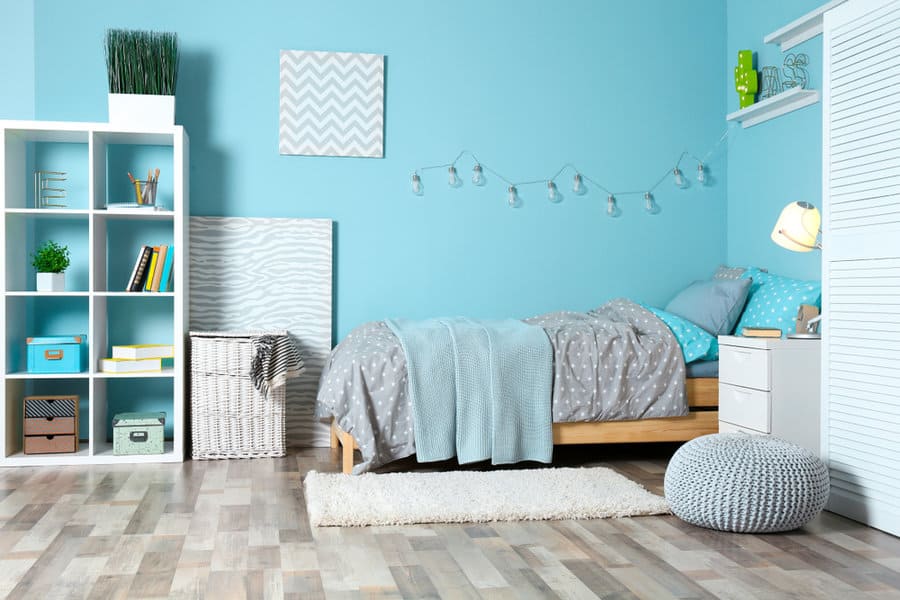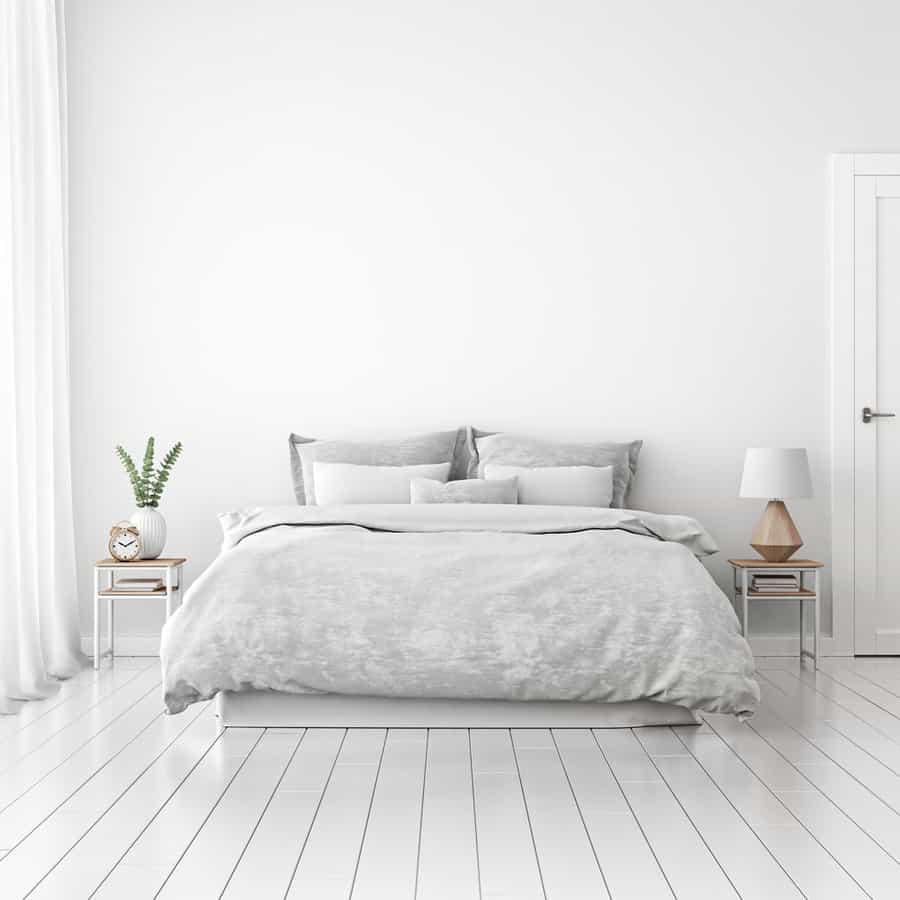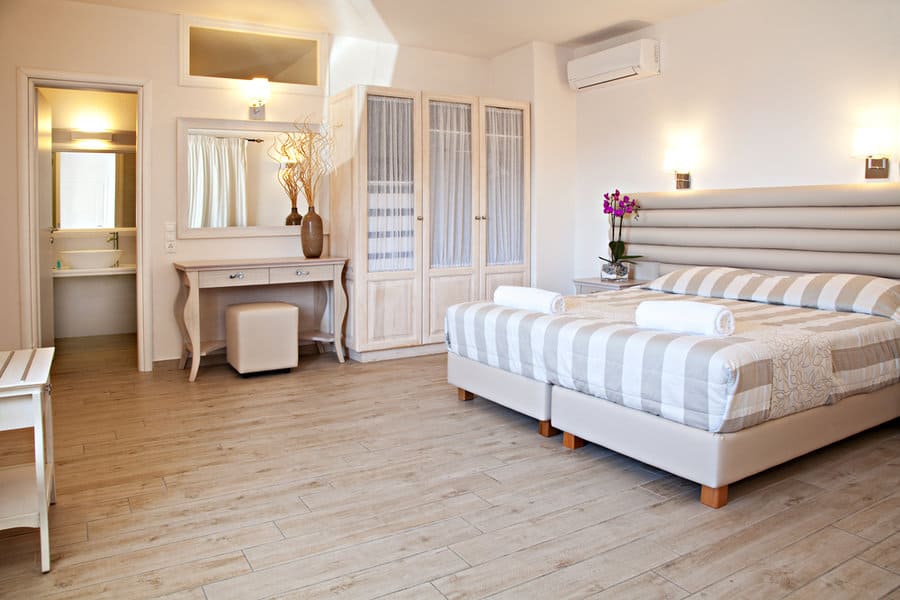 Tile can feel cold, but it comes in endless color, size, and shape options. Vinyl and laminate won't have the same chill factor.
You can affordably mimic the look of hardwood floors. It comes in several wood varieties and finishes. This helps it blend with rustic, modern, Scandinavian, farmhouse, and many other interior design themes.
2. Concrete
Take your preconceived ideas about concrete floors and throw them out. Sure, you could leave the concrete bare and simply polish or seal it. This would give you a utilitarian grey look. This concrete flooring would look fine as your basement floor.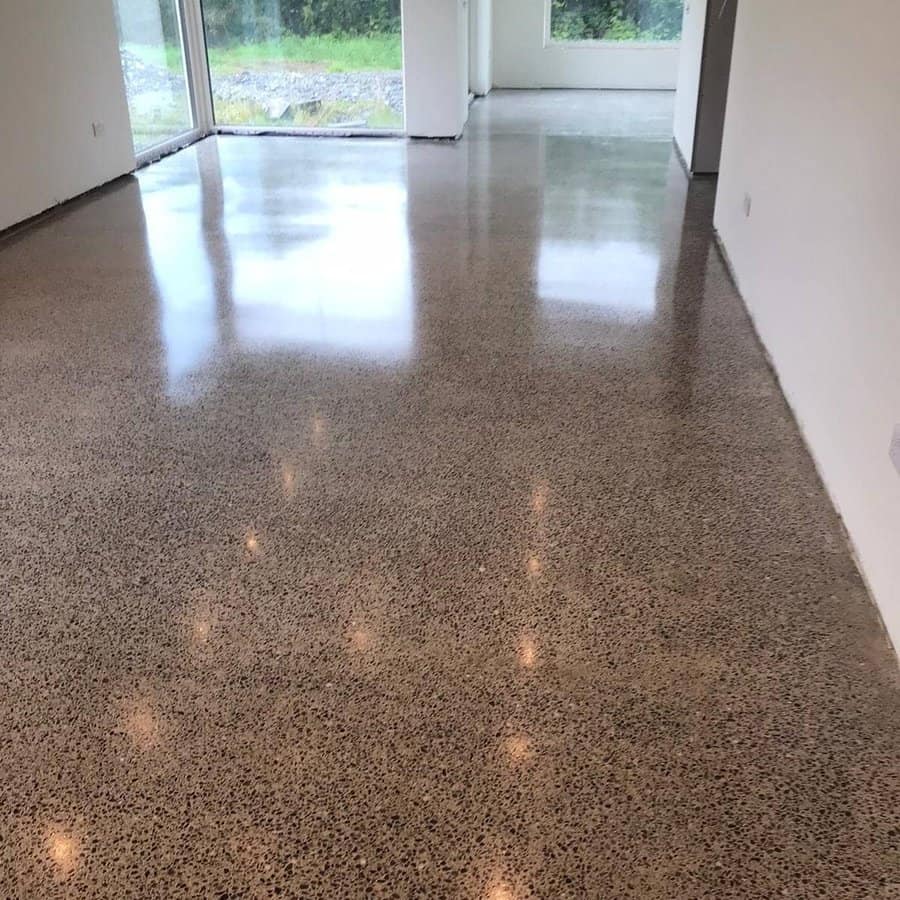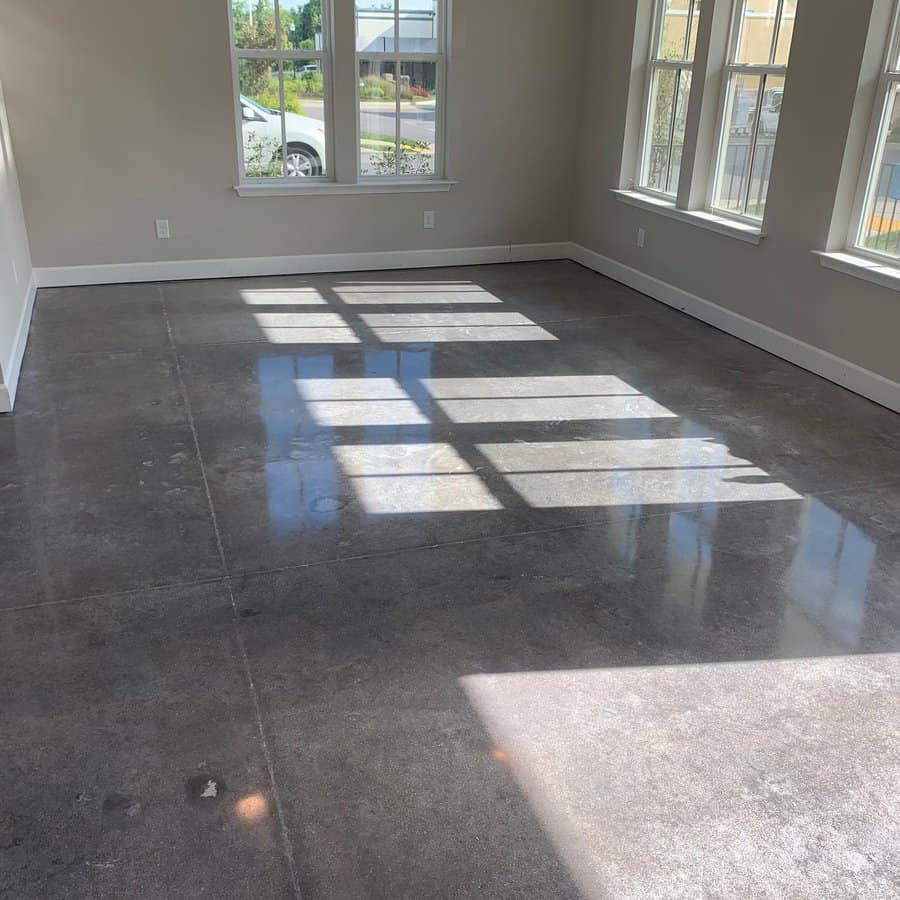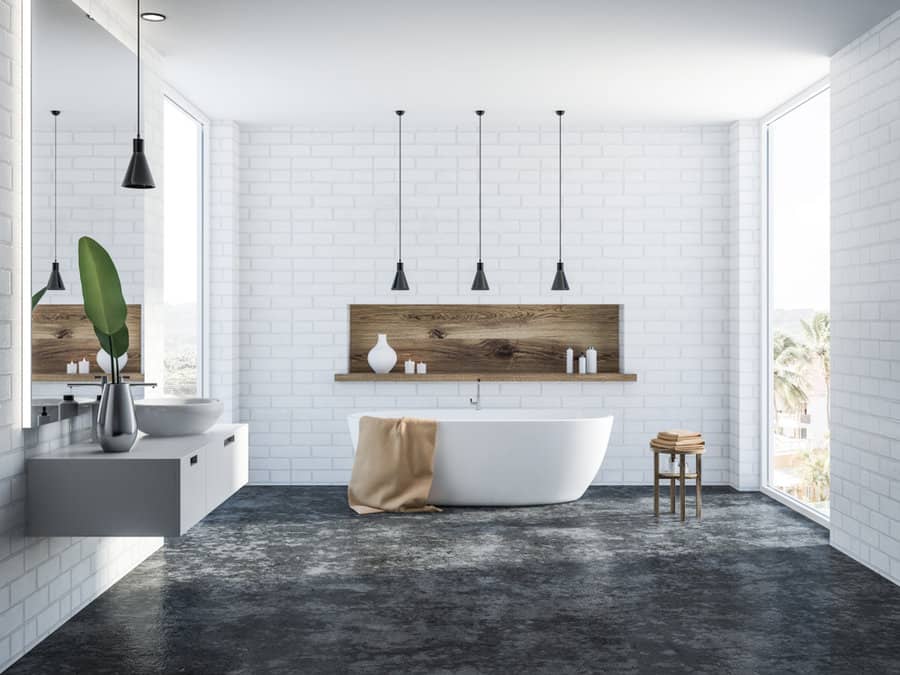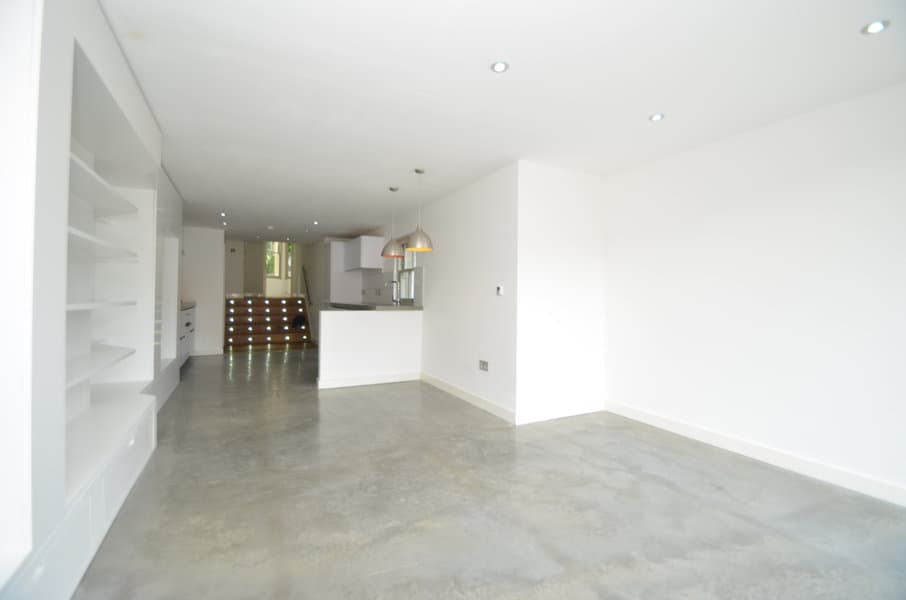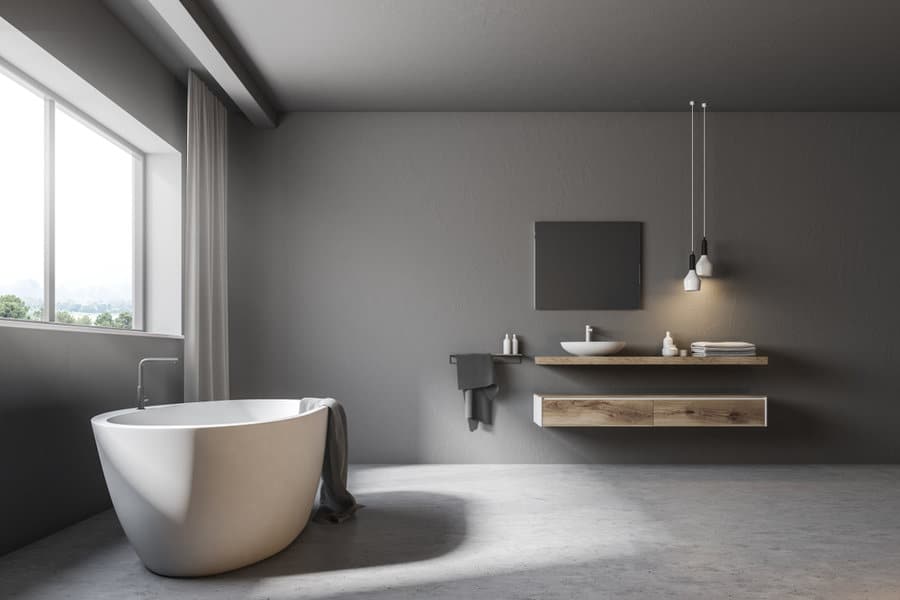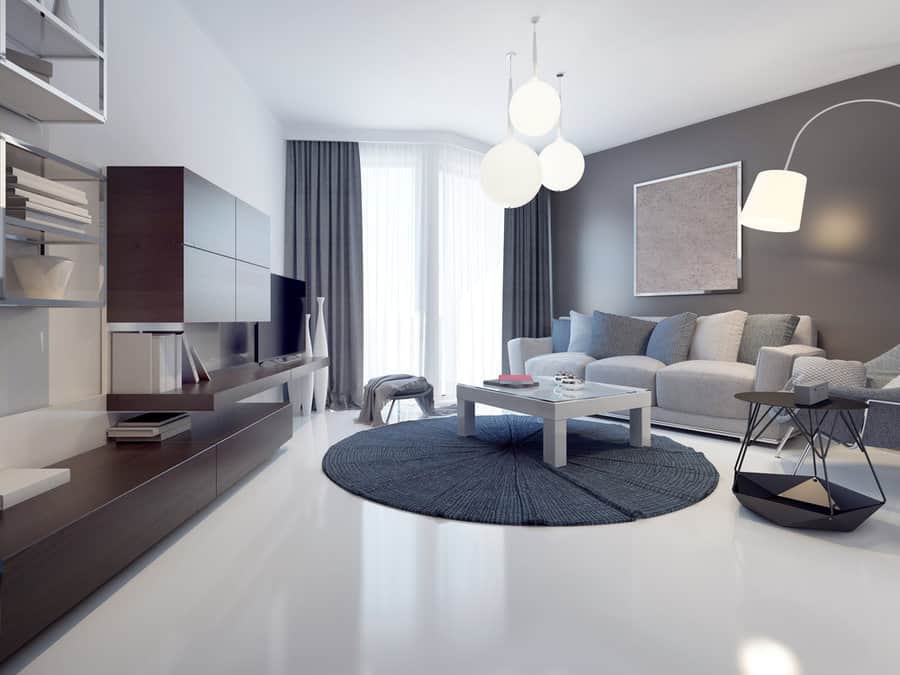 However, you may not want the bare concrete look in your kitchen flooring. This doesn't mean you need to give up concrete floors. Give your concrete a glamorous feel by staining or painting it. These affordable flooring ideas will elevate your concrete's look to the point where people may not even believe that it's actually bare concrete.
3. Plywood
Hardwood floors are expensive; try using plywood instead. This cheap flooring option can be installed anywhere that you would install traditional hardwood floors. However, unlike engineered wood floors, you should use plywood where there's high moisture, such as in the kitchen or bathroom.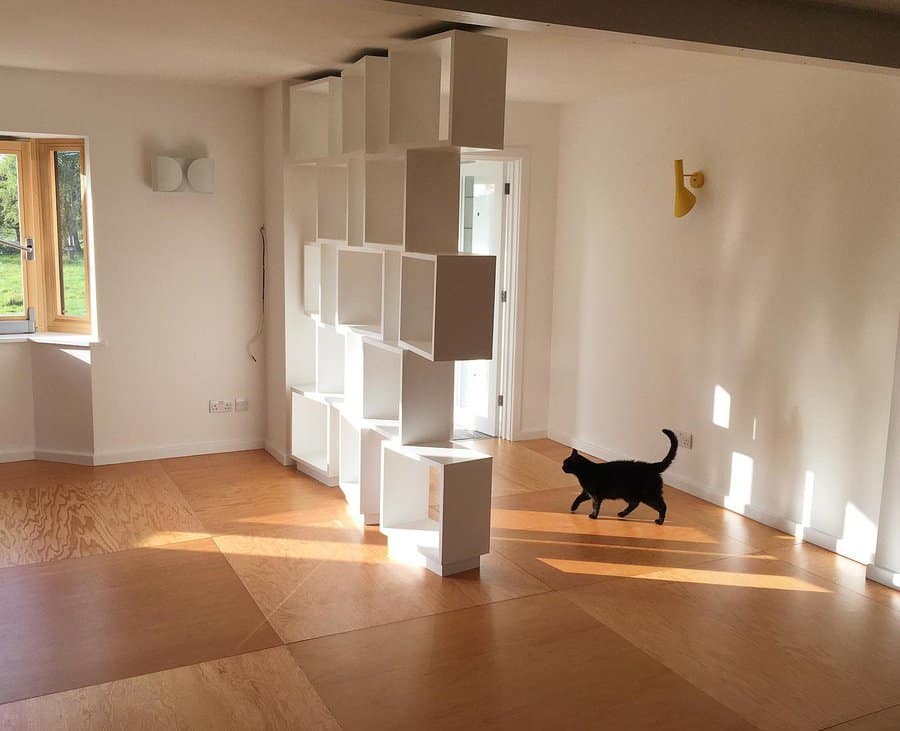 This inexpensive wood floor will give your home a rustic feel. You could lay the sheets of plywood down for a fast solution. However, you can elevate this flooring material's look by cutting it into planks, squares, or geometric shapes. Lay the plywood over your existing subfloor.
4. Tile
Laying down a tile floor can be surprisingly affordable. You can find low-cost ceramic tile that will fit any budget. You can use this floor tile in your kitchen or as your bathroom floor. Just be careful about not exposing your ceramic tile to water for long periods.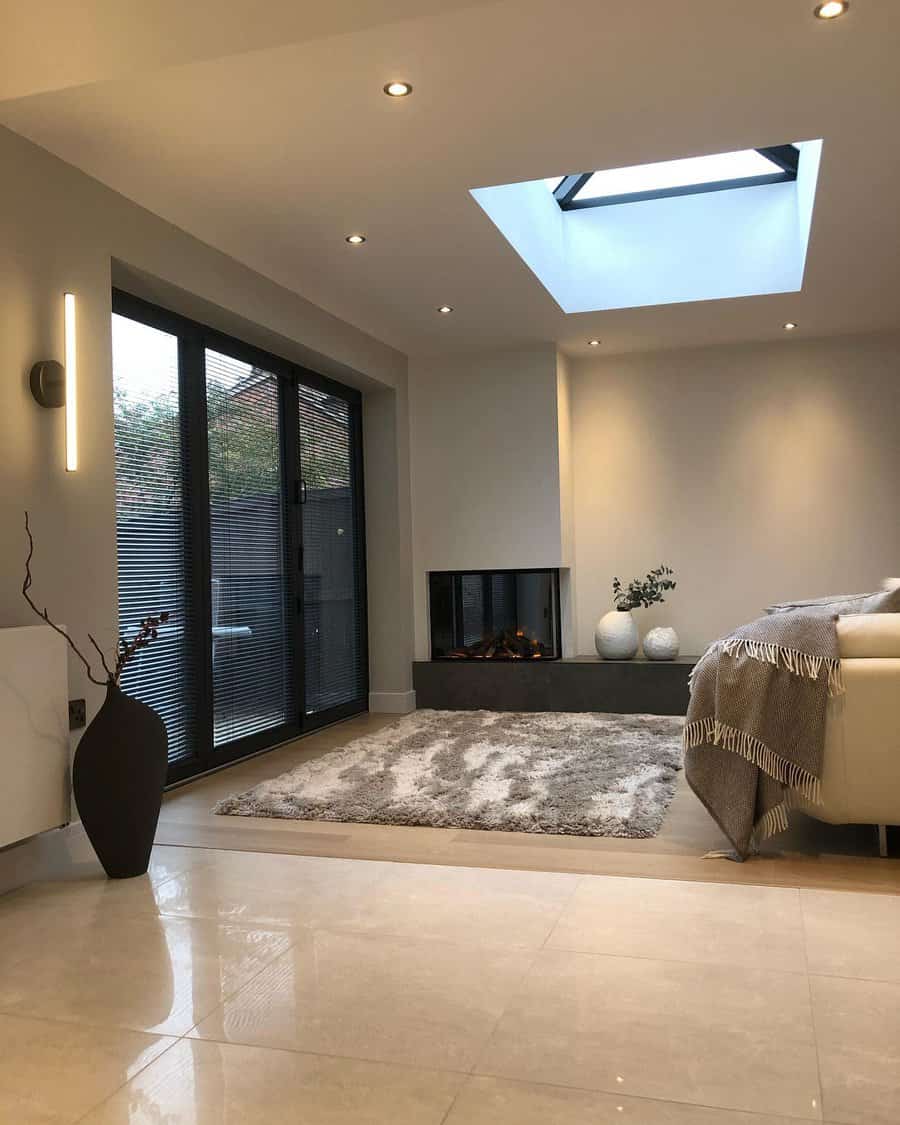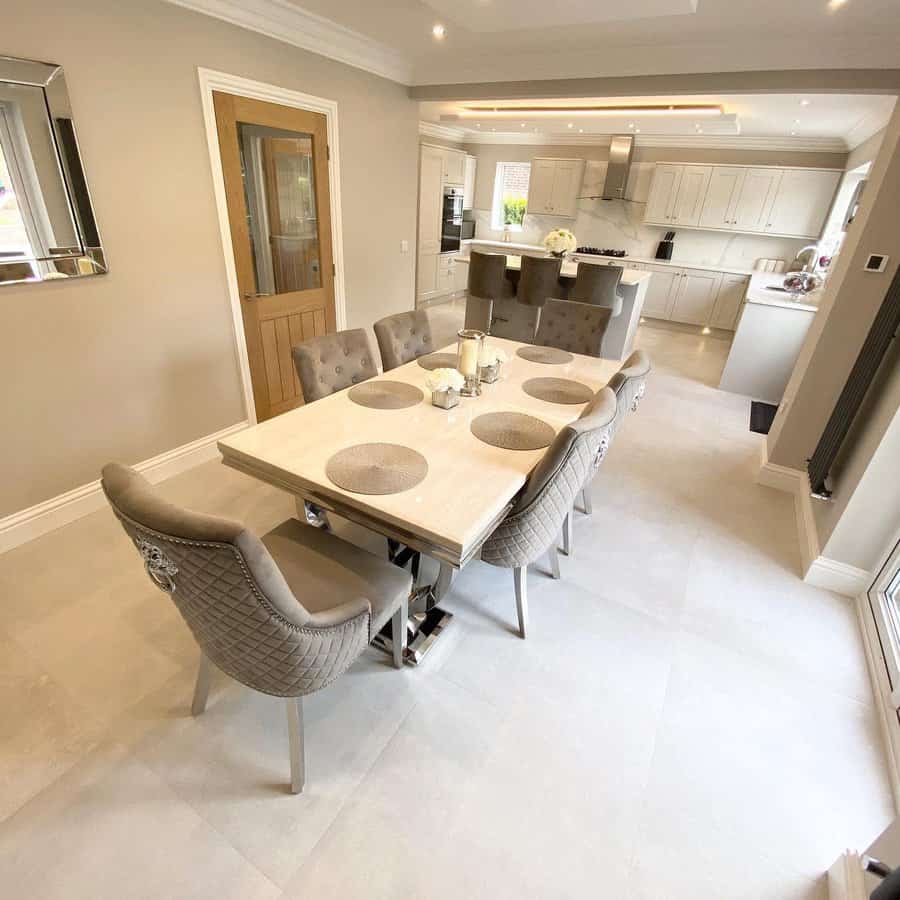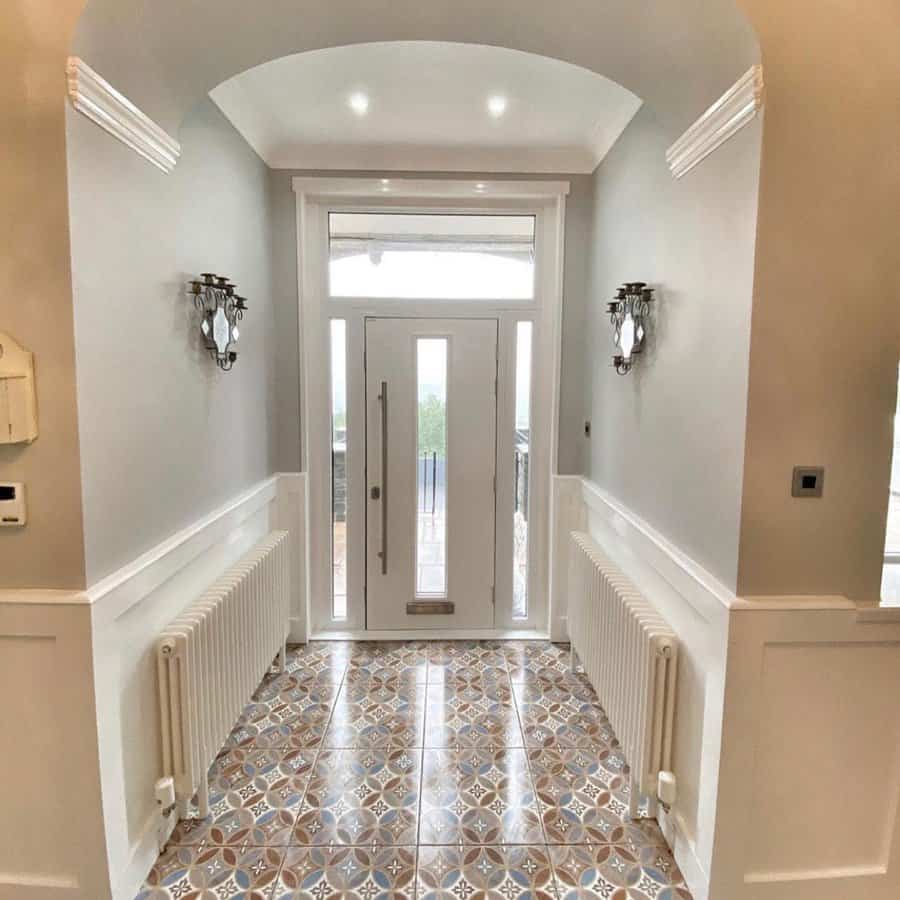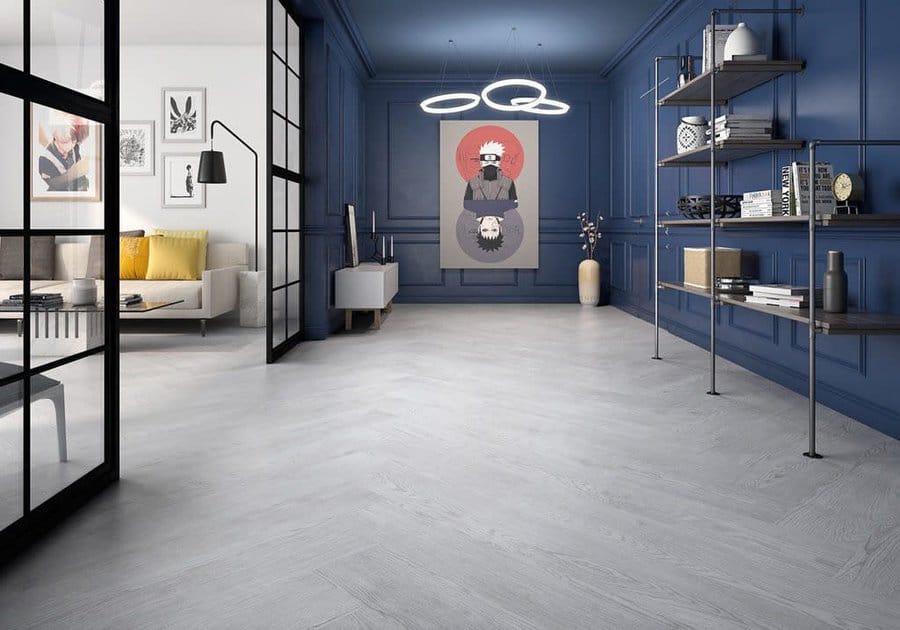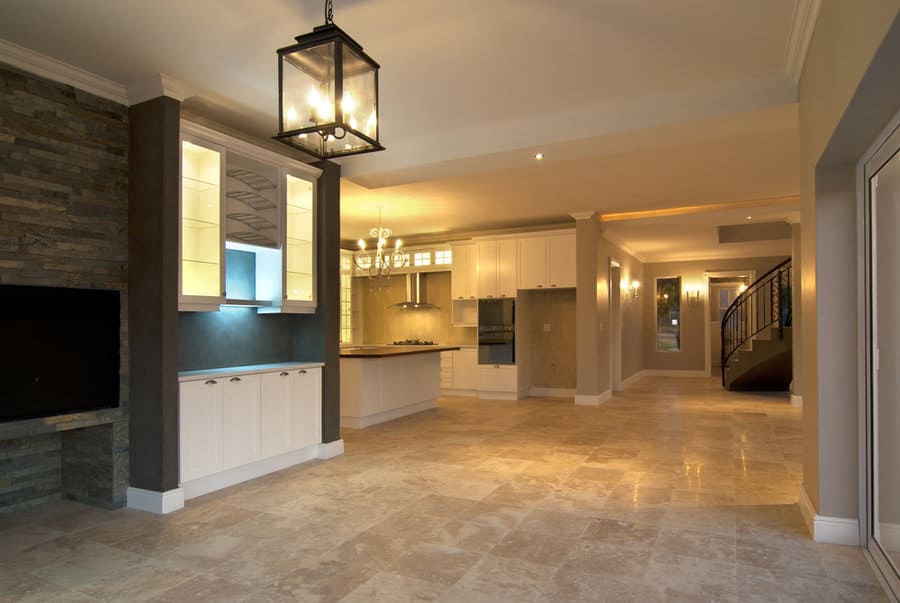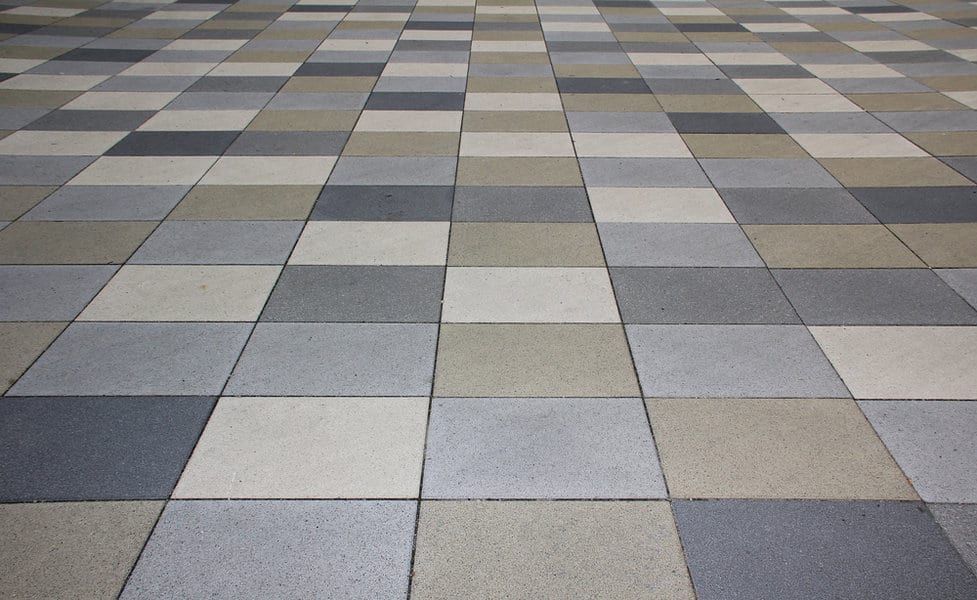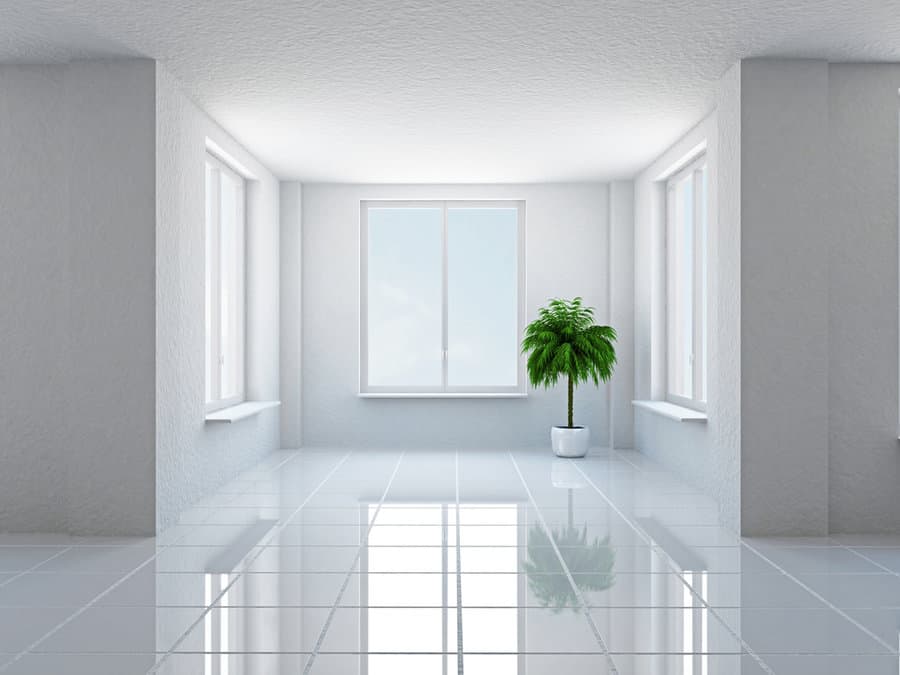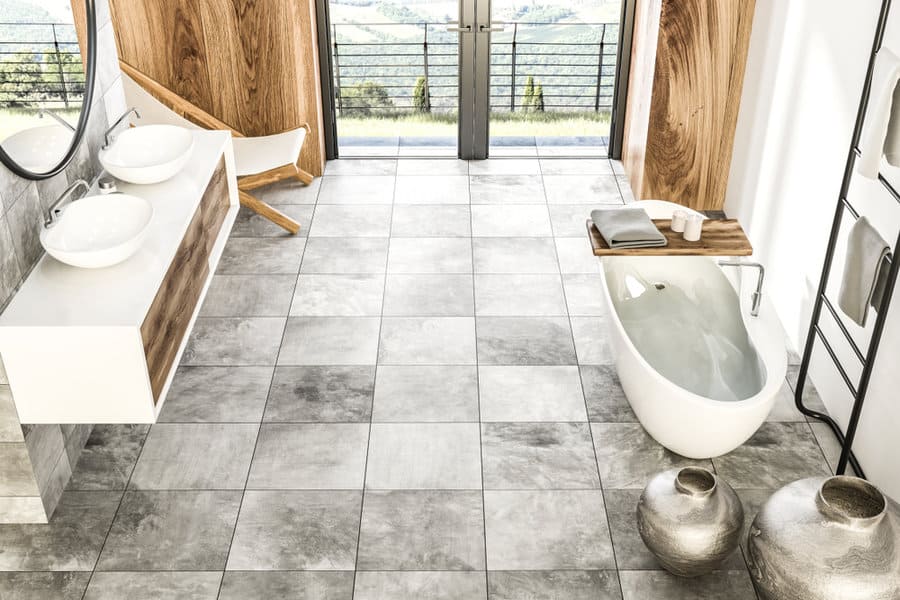 Another tile option is carpet tile flooring. These are square carpet "tiles" that you can easily install on your own. What makes this cheap flooring stand out is that they are extremely durable and easy to maintain. This makes them a great option for high traffic areas.
5. Unique Flooring
You don't have to spend a lot of money to have unique flooring. You could lay down cork flooring for a sustainable and beautiful option. A cork floor is made from tiles or a large sheet that you adhere to the floor with glue.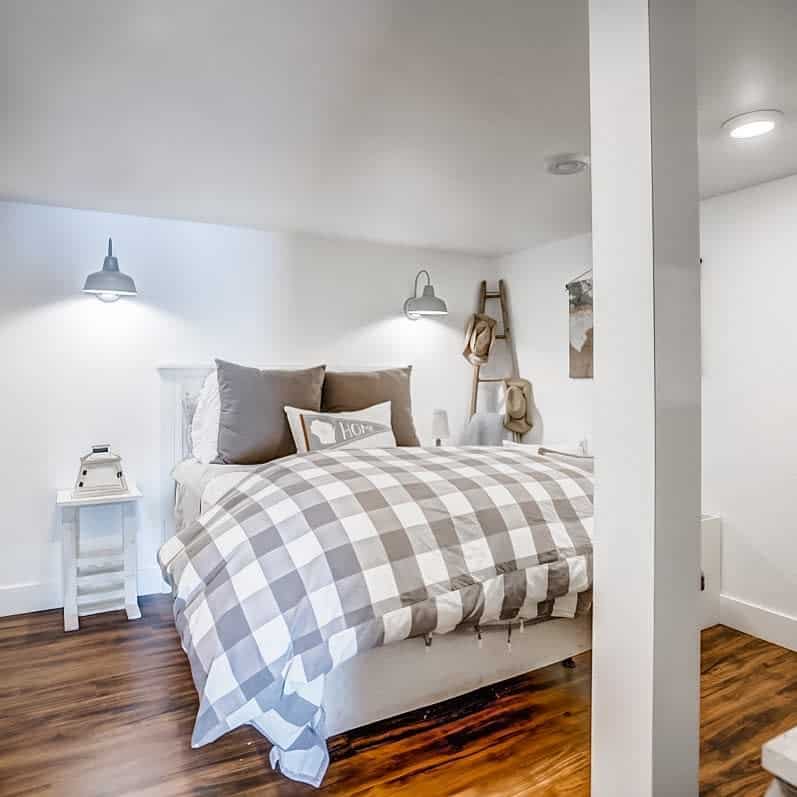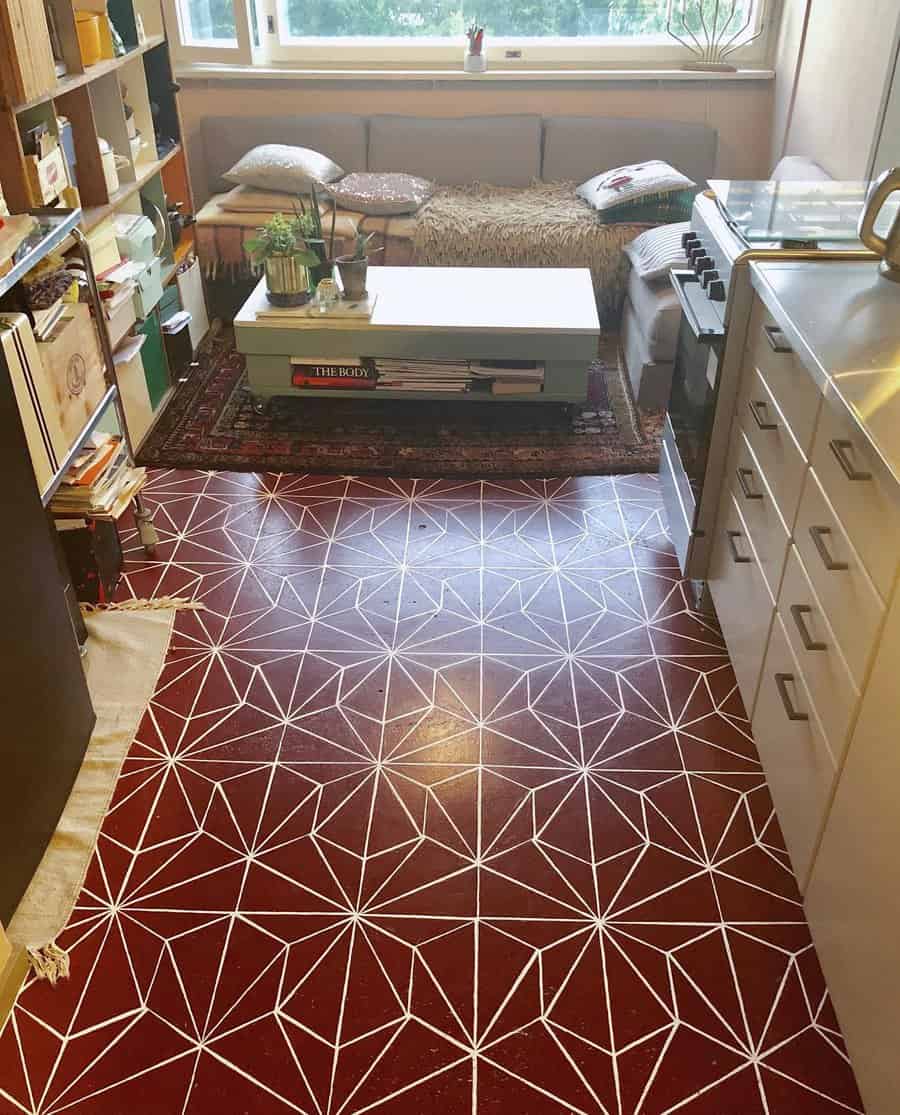 If you're renting, you could consider temporary flooring options. Many kitchen flooring ideas use vinyl or laminate planks, tiles, or sheets. Then you can easily remove them when it's time to move out.
There are also many DIY flooring ideas. Depending on the size of the room, they can also be affordable. Cover a small bathroom floor with pennies. Cover the floor with book pages or newspaper and then use epoxy to seal it. Or simply paint the floor.
6. Vinyl
Vinyl plank flooring is one of the most popular inexpensive flooring options. If you want a floor that's water-resistant, durable, and easy to maintain, then you can't go wrong with vinyl flooring. As with other flooring options, vinyl floors can meet every budget.
7. Wood
Hardwood flooring is stunning but also comes with a hefty price tag. Instead, you could lay a laminate floor or use engineered wood flooring to get the look of wood floors without the price. Laminate planks look like wood, and some versions also have the feel of wood texture and graining.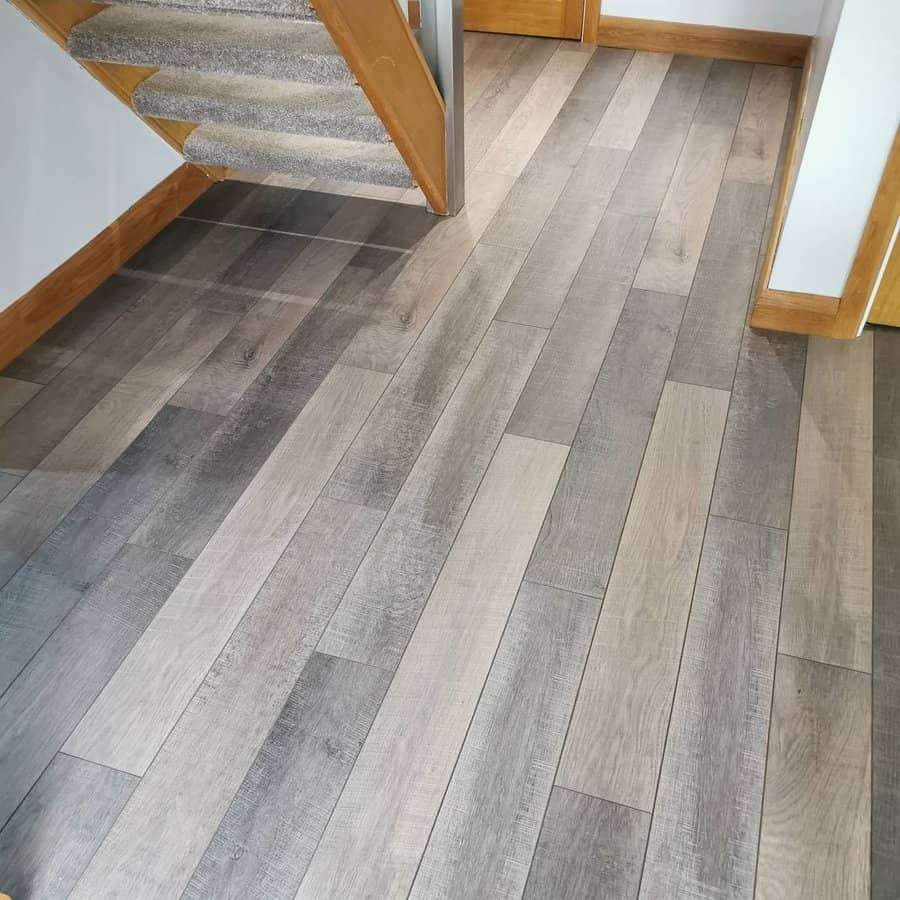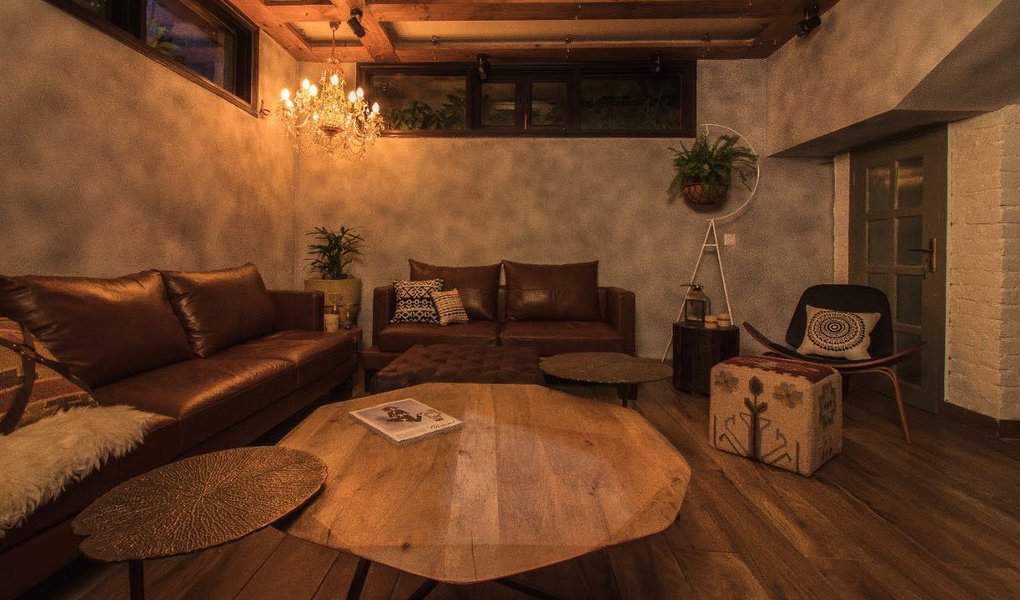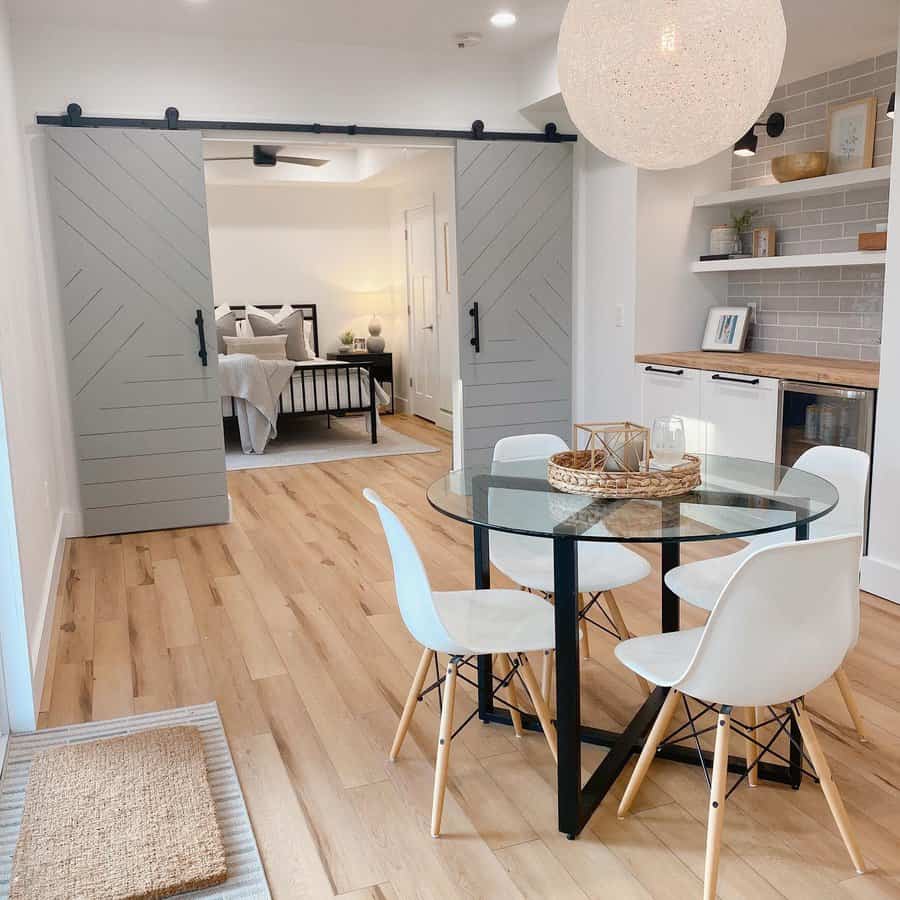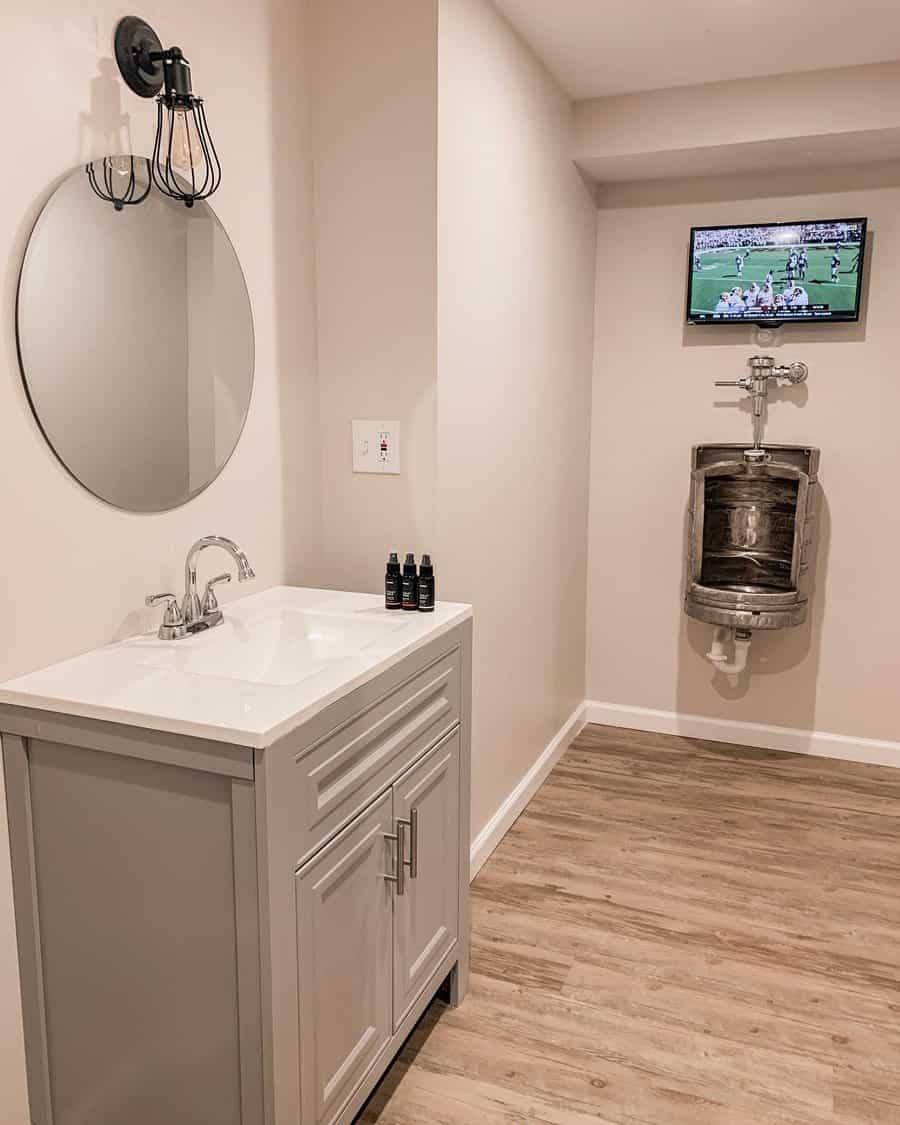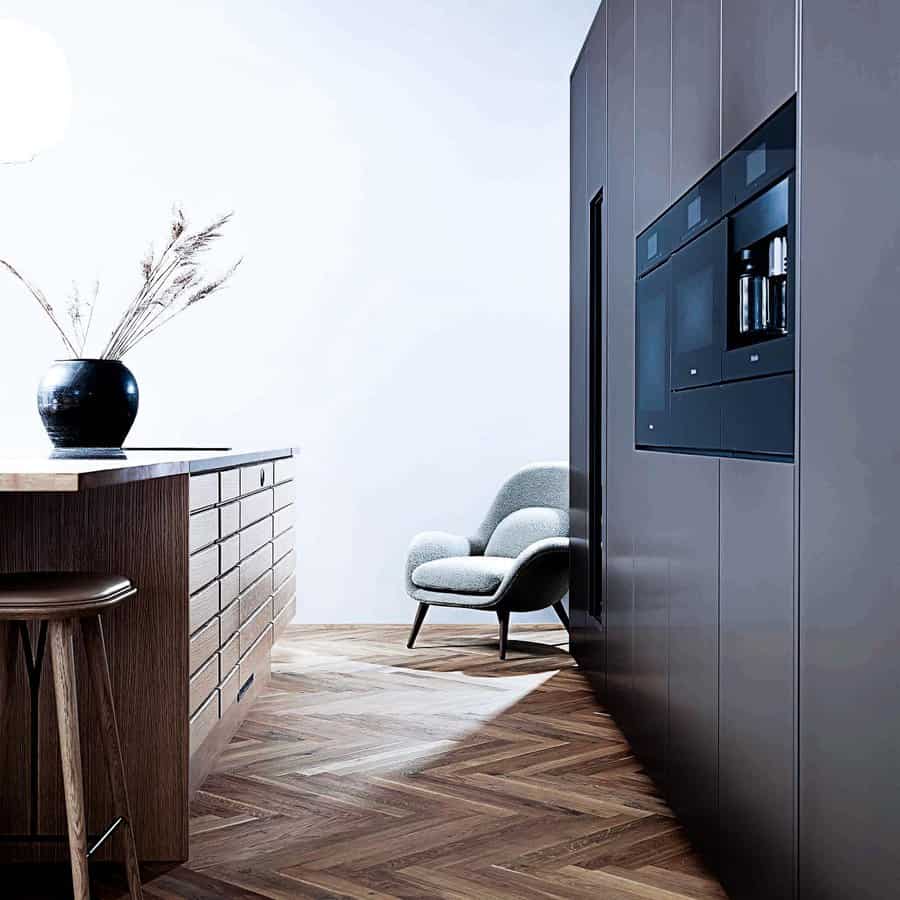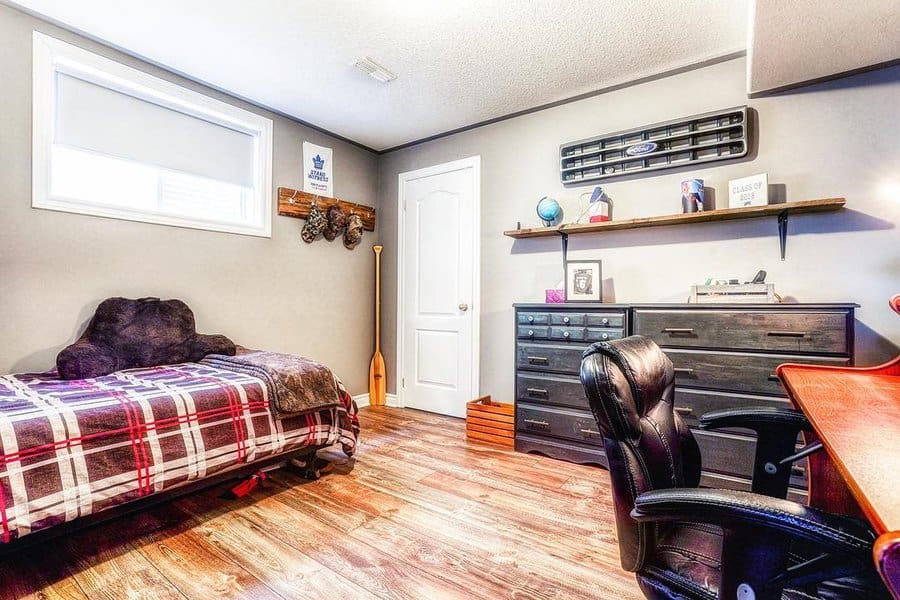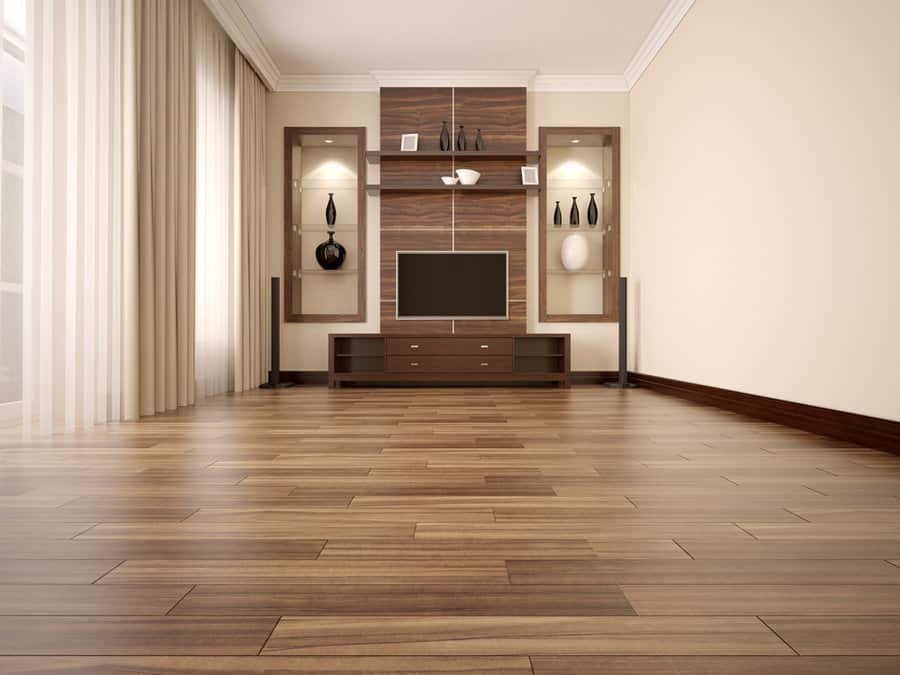 Modern wood floor trends embrace the idea of bamboo flooring. It's durable, sustainable, and affordable. You can lay this wood flooring yourself and save on installation costs. It's a great option for your kitchen floor because it's water-resistant and durable.
Cheap Flooring FAQs
What is the cheapest option for flooring?
The cheapest solution is to seal your concrete floor. You already have the concrete; all you need is to do is buy the sealant. For a more polished look, laminate and vinyl flooring are some of your cheapest options. Peel and stick tiles are also very affordable.
What is the easiest flooring to put down?
The easiest types of flooring to lay down are peel and stick vinyl or carpet tiles. Peel the backing and stick them down. After this, you'll find floating vinyl sheets and laminate planks to be relatively easy. Stained concrete requires a bit of skill and finesse but is another doable DIY flooring project.
Does laminate flooring look cheap?
The short answer is, it depends. Some laminate flooring looks more realistic than others. Some options have more layers to add to the thickness of the flooring. Generally, more expensive laminate flooring looks more realistic and authentic. In this instance, you get what you pay for. Cheap flooring won't look as realistic and have fewer layers, causing it to wear out sooner.