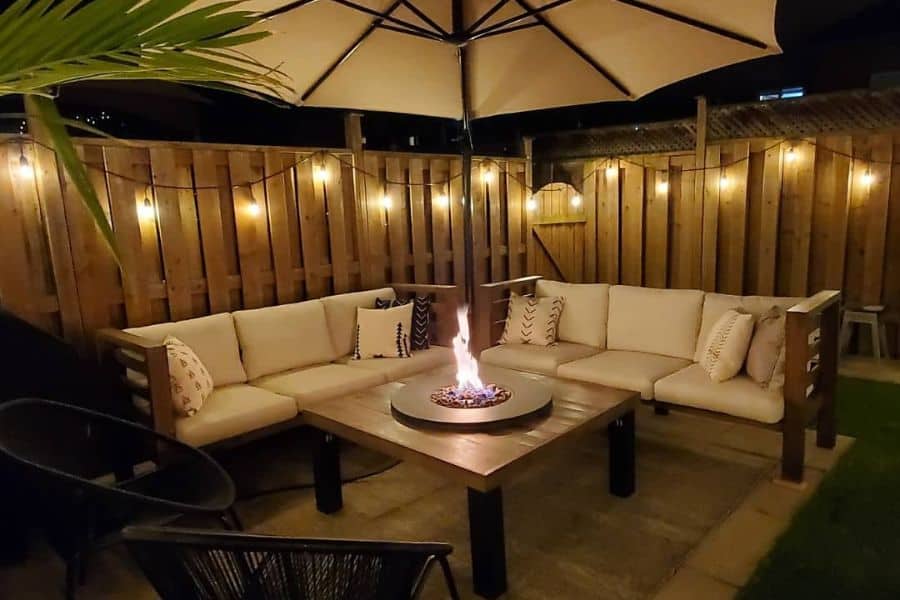 The Top 57 Cheap Patio Ideas
You don't have to spend a fortune to have a great outdoor space. Look for backyard ideas that feature affordable materials and projects you can do yourself. By doing most of the work yourself, you can have an outdoor living space that you can enjoy. Whether your backyard is large or small, you don't have to spend a fortune on your patio.
These cheap patio ideas will help you build a backyard patio that you can be proud of.
1. Outdoor Rug
Outdoor rugs add a pop of color and style to your patio and they're also practical for high-traffic areas that may be prone to dirt and spills. Opt for materials like polypropylene or polyester, which are durable and easy to clean.
Don't be afraid to mix and match patterns or colors to create a playful and inviting atmosphere. With an outdoor rug, you can transform your patio into an outdoor oasis that's both stylish and functional.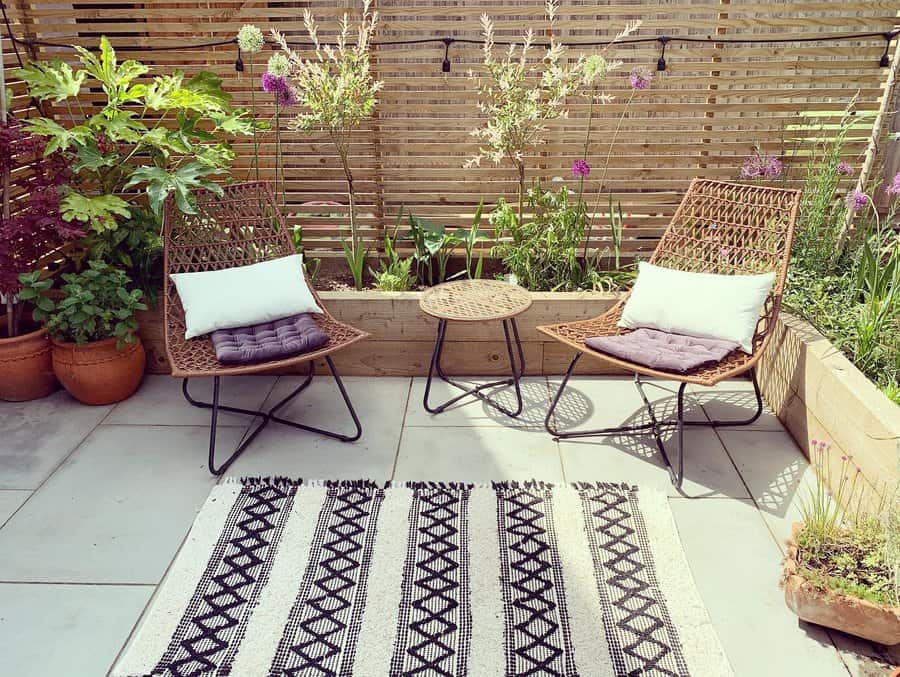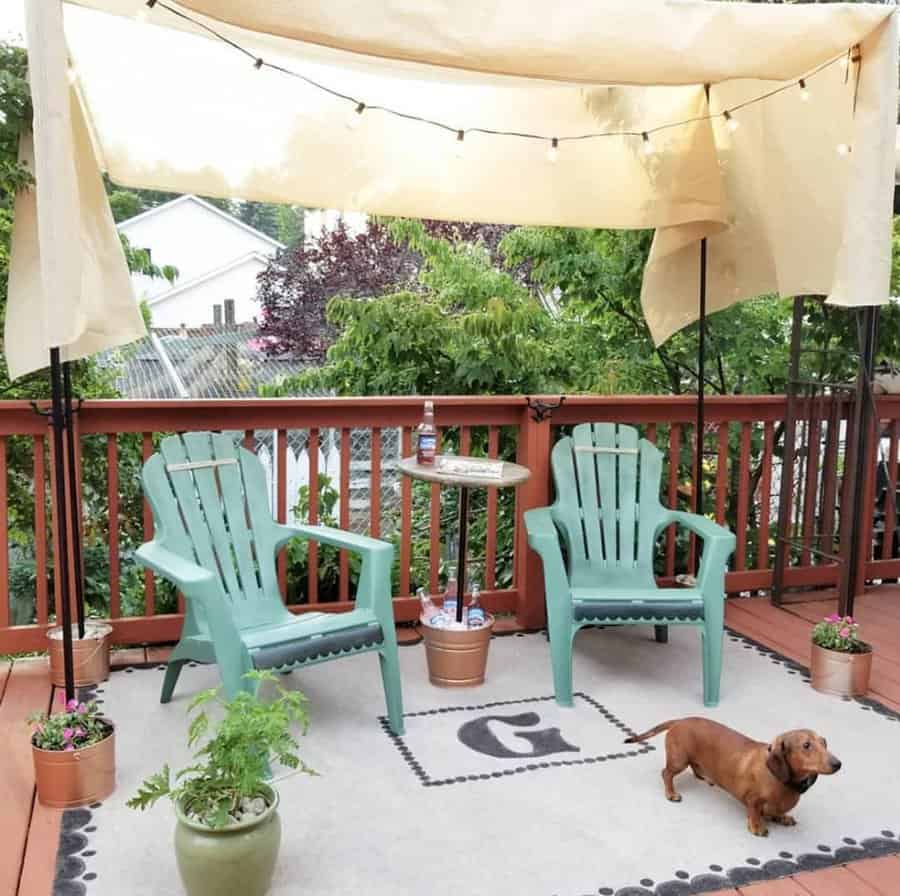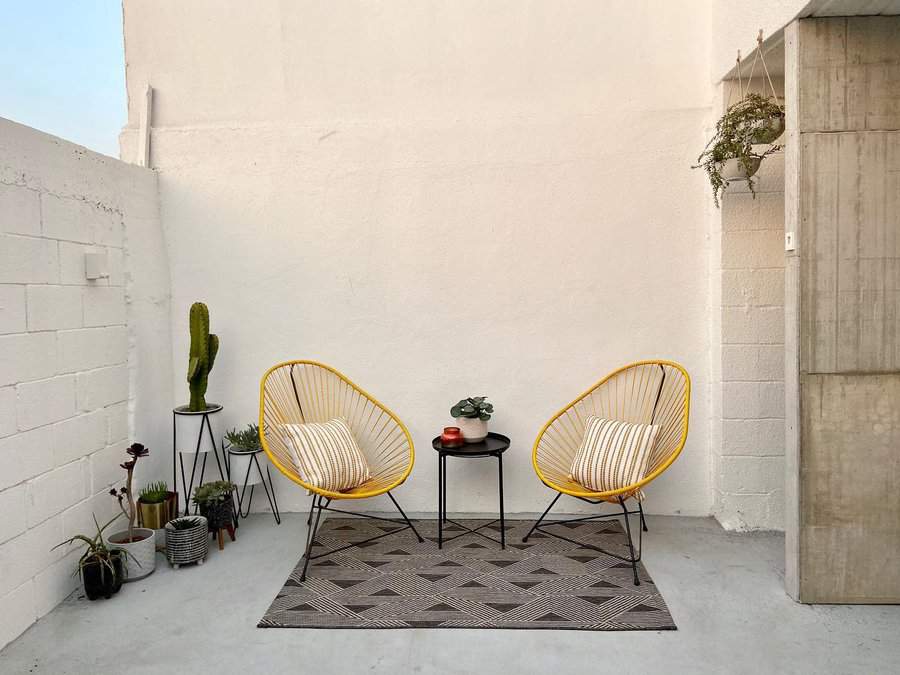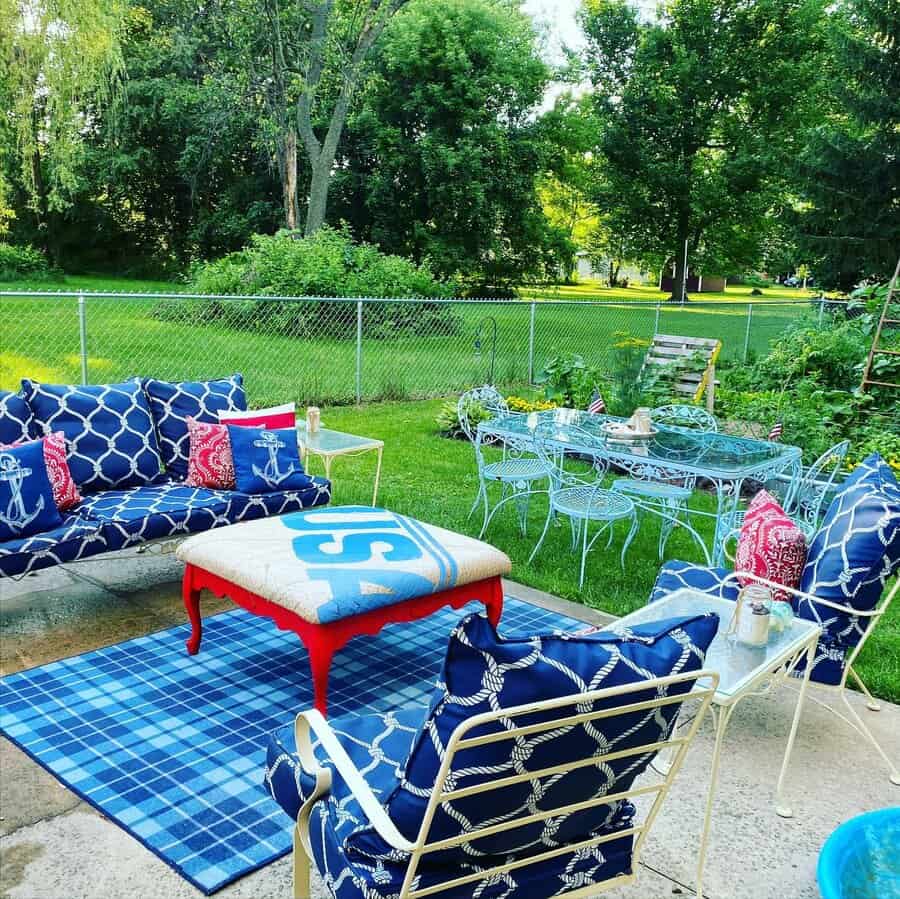 2. Wooden Pallet Planter
Not only does a wooden pallet planter a cost-effective way to bring some rustic charm to your outdoor space, but it also provides the perfect opportunity to add plants for both decoration and function. Imagine growing fresh herbs for cooking or even starting your very own vegetable garden right on your patio!
The possibilities are endless, and with some creative DIY skills, you can transform your patio into a stunning green oasis without breaking the bank. Don't be afraid to experiment with different plants and arrangements to create a unique look that fits your personal style. With a little bit of effort and some creativity, you can create a beautiful outdoor space that is both functional and aesthetically pleasing.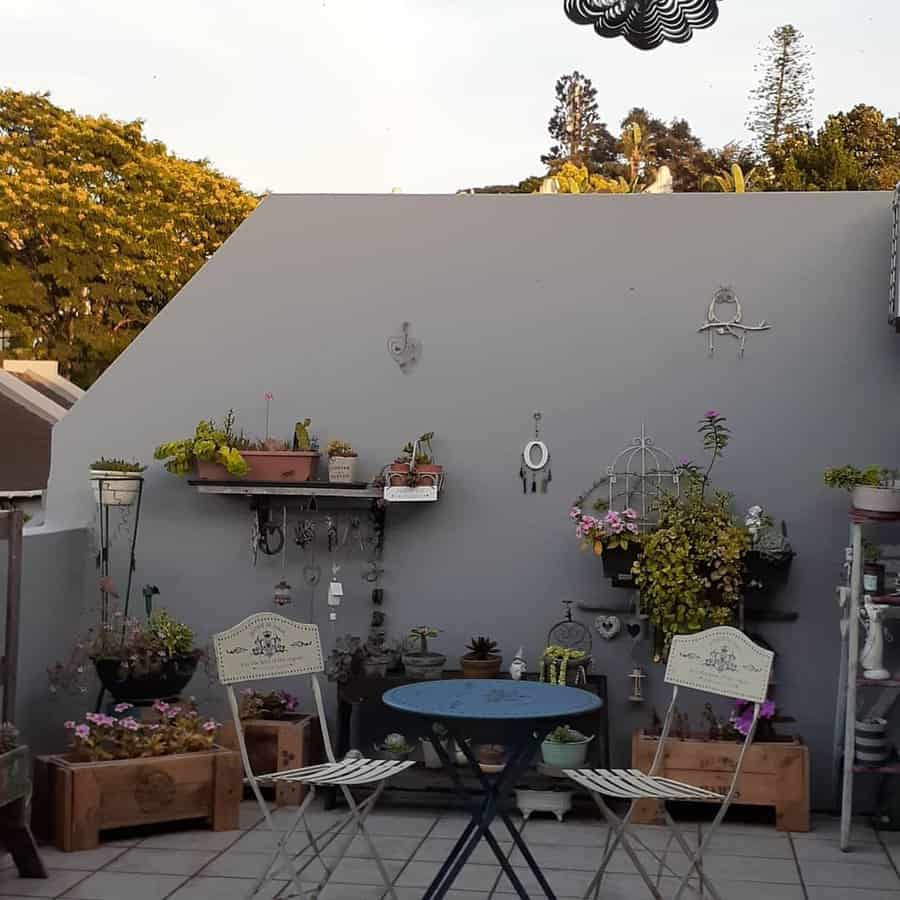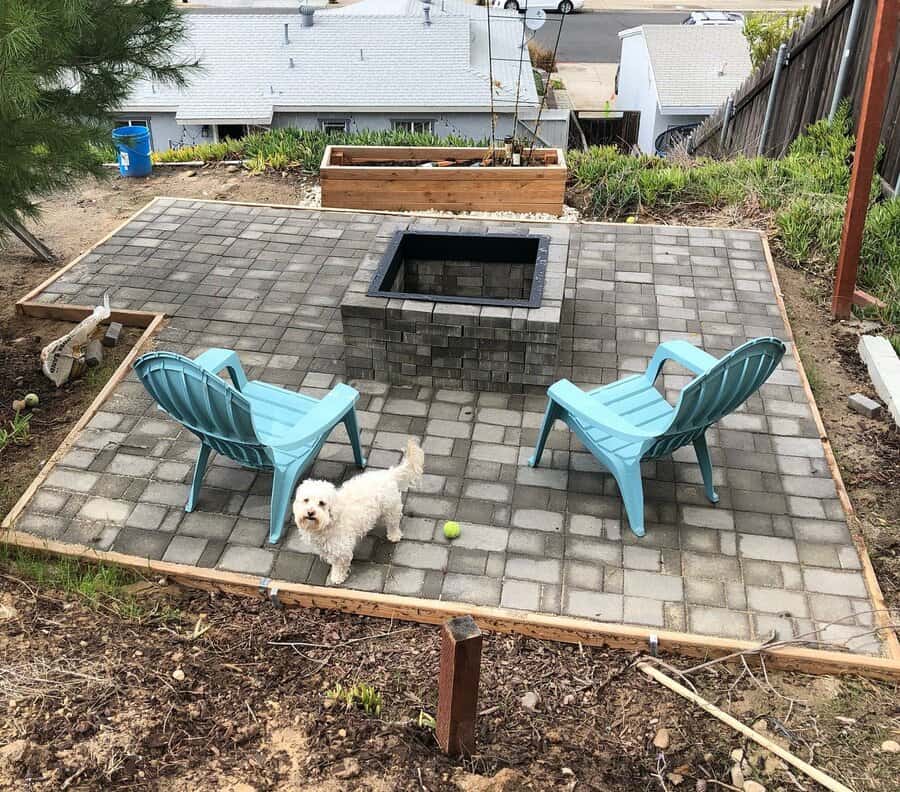 3. String Lights
Looking to transform your patio into a dreamy escape without breaking the bank? String lights are the way to go! These versatile lights not only add a cozy ambiance to your outdoor space but are also affordable. Hang them around the perimeter of your patio or drape them above your seating area to create a magical atmosphere.
For a more dramatic look, try hanging them in a zigzag pattern across your entire patio. Just make sure to have a sturdy support system in place and avoid hanging them too low. With some creativity and a little bit of effort, you can achieve the perfect romantic and whimsical vibe for your outdoor haven with string lights.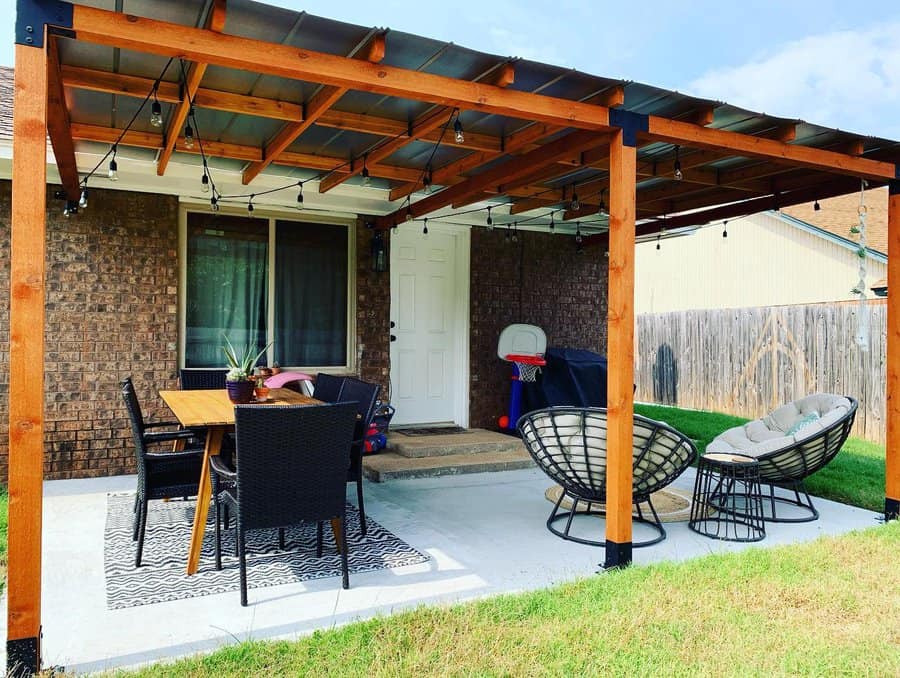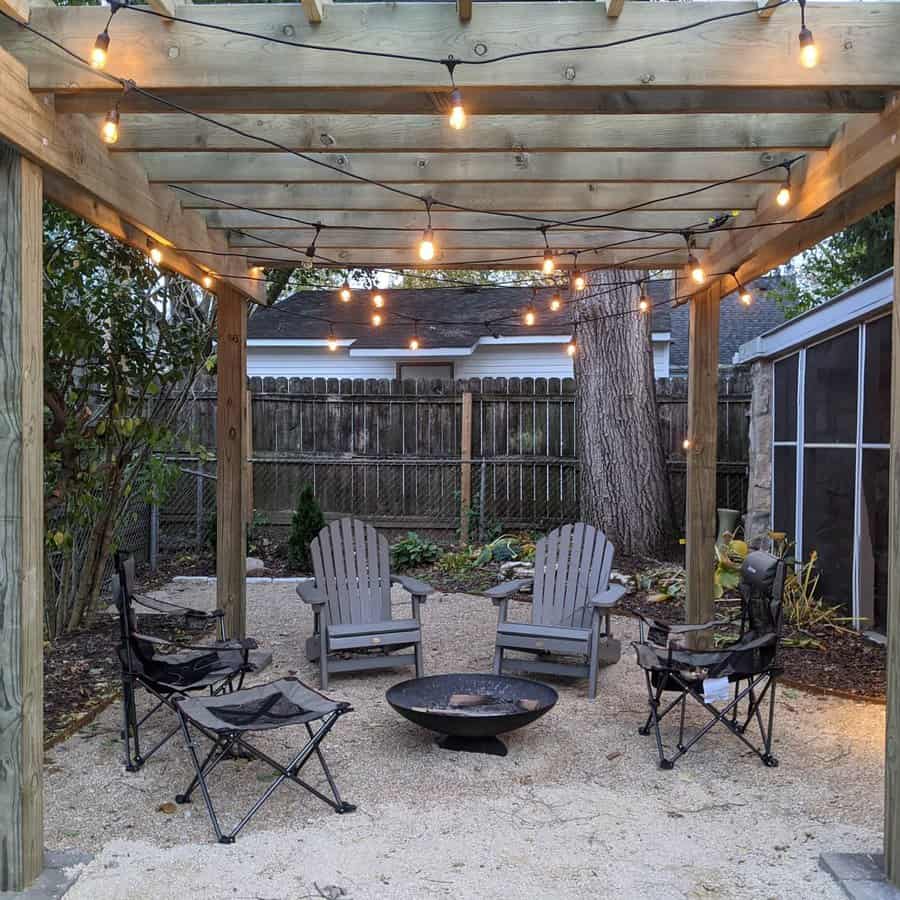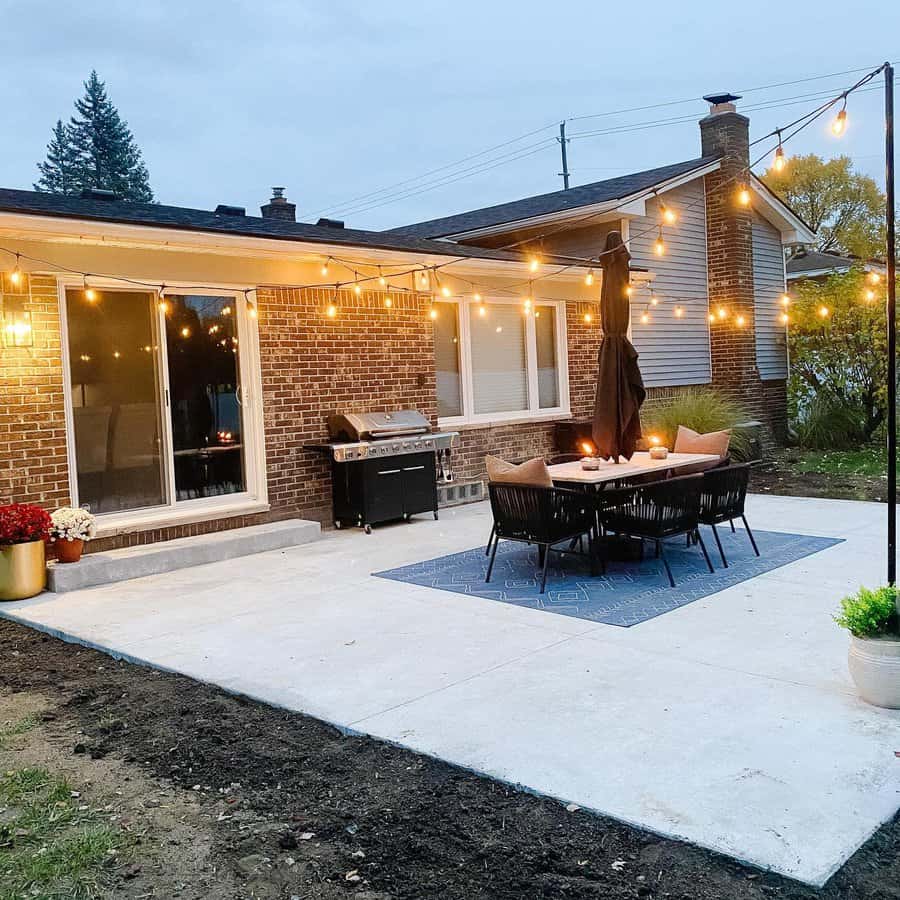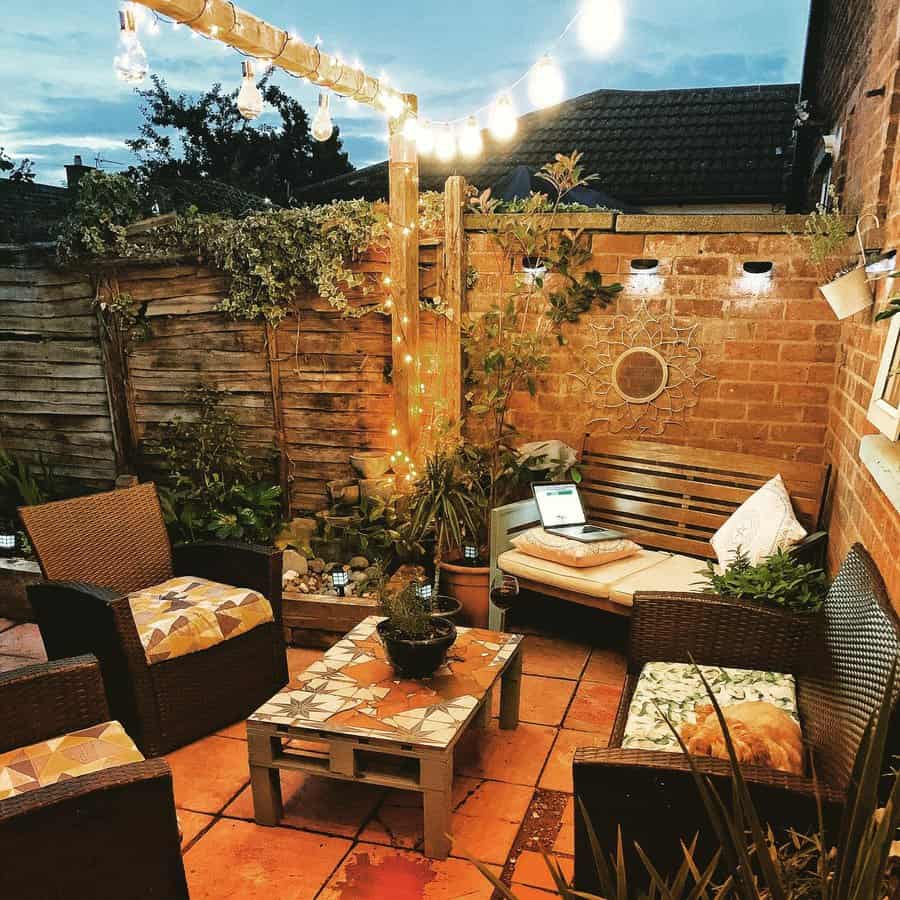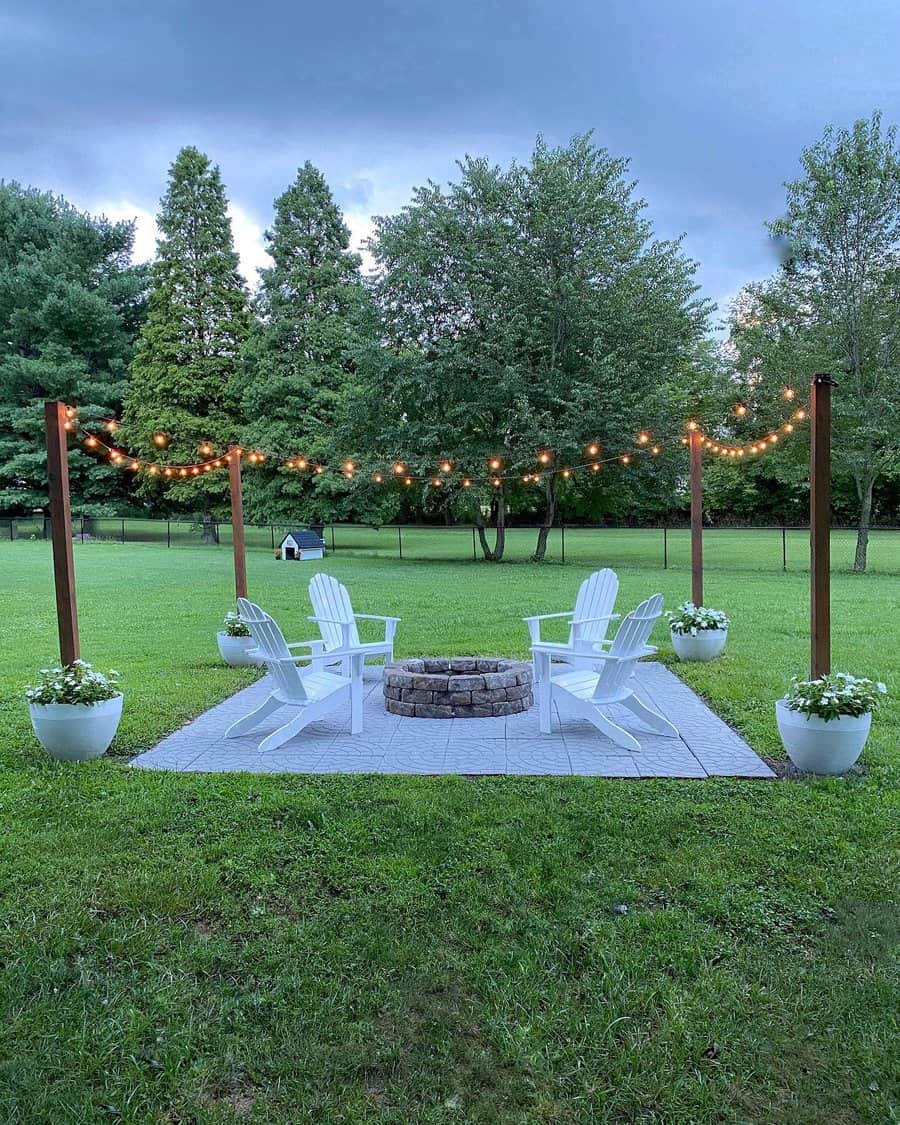 4. DIY Fireplace Pit
Consider adding a DIY fireplace as a focal point! You can use materials such as brick, tin, stones, or poured concrete to create a stunning fireplace that will not only add warmth but also style to your outdoor space.
Start by choosing the location of your fireplace, keeping in mind any local fire codes or regulations. Once you have chosen the spot, start laying out the base using concrete blocks or bricks. Then, build the walls of the fireplace using your chosen materials, keeping in mind the height and width of the firebox. Once you have built the structure, you can add a grate and start enjoying your cozy new addition to your patio.
Don't forget to add comfortable seating around the fireplace, so you can gather with friends and family and enjoy the warmth on a chilly night. With a little bit of DIY know-how, you can create a stunning and affordable patio upgrade with a beautiful fireplace as the centerpiece.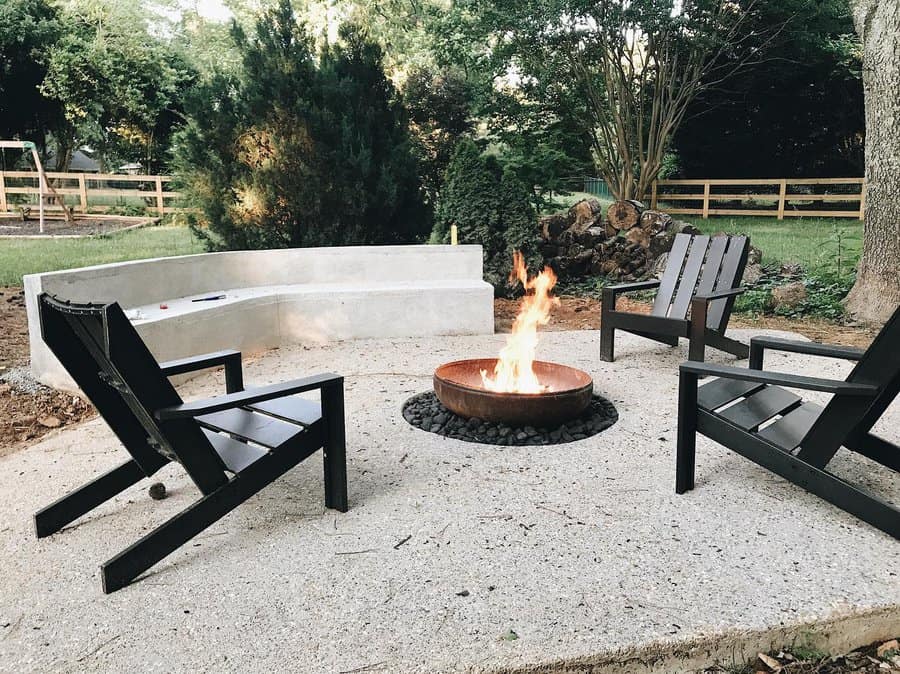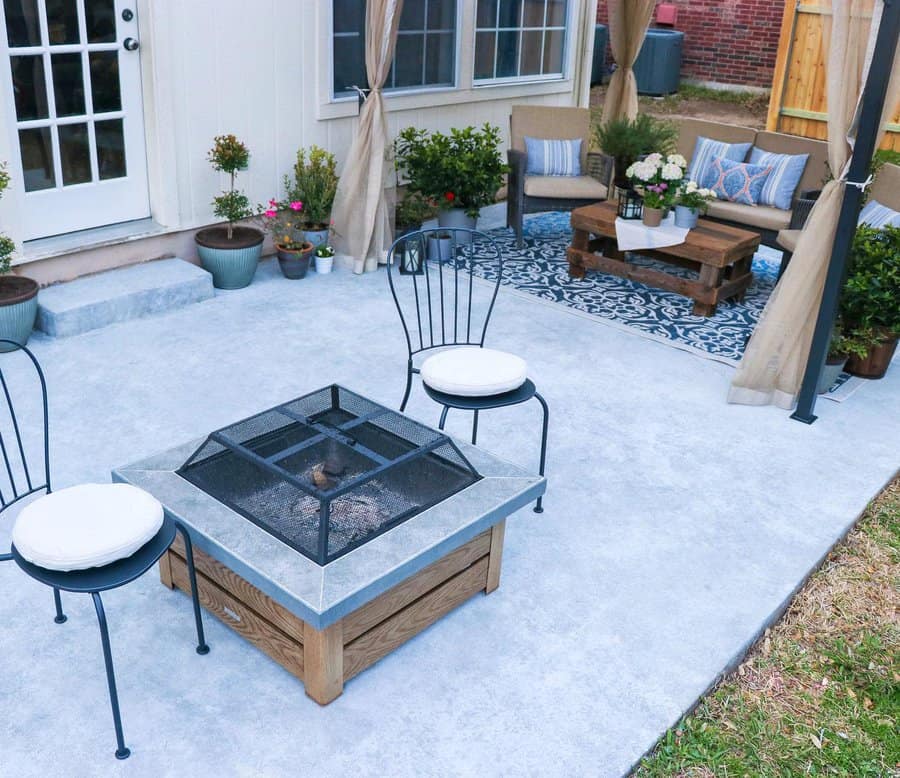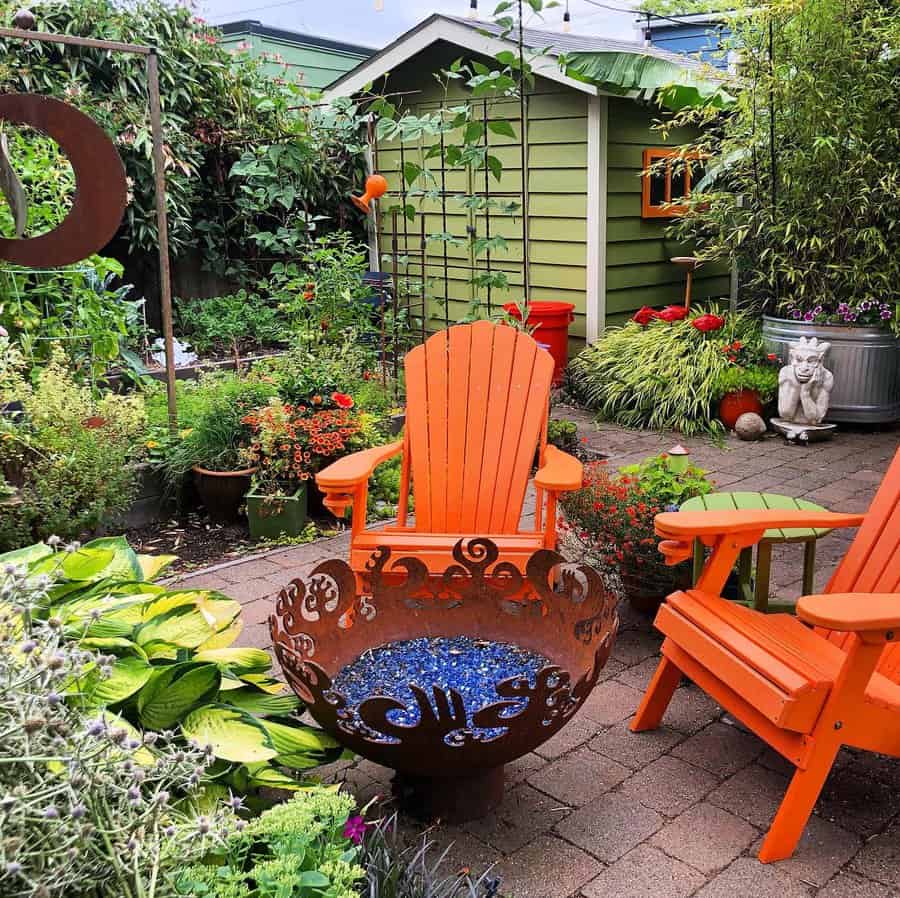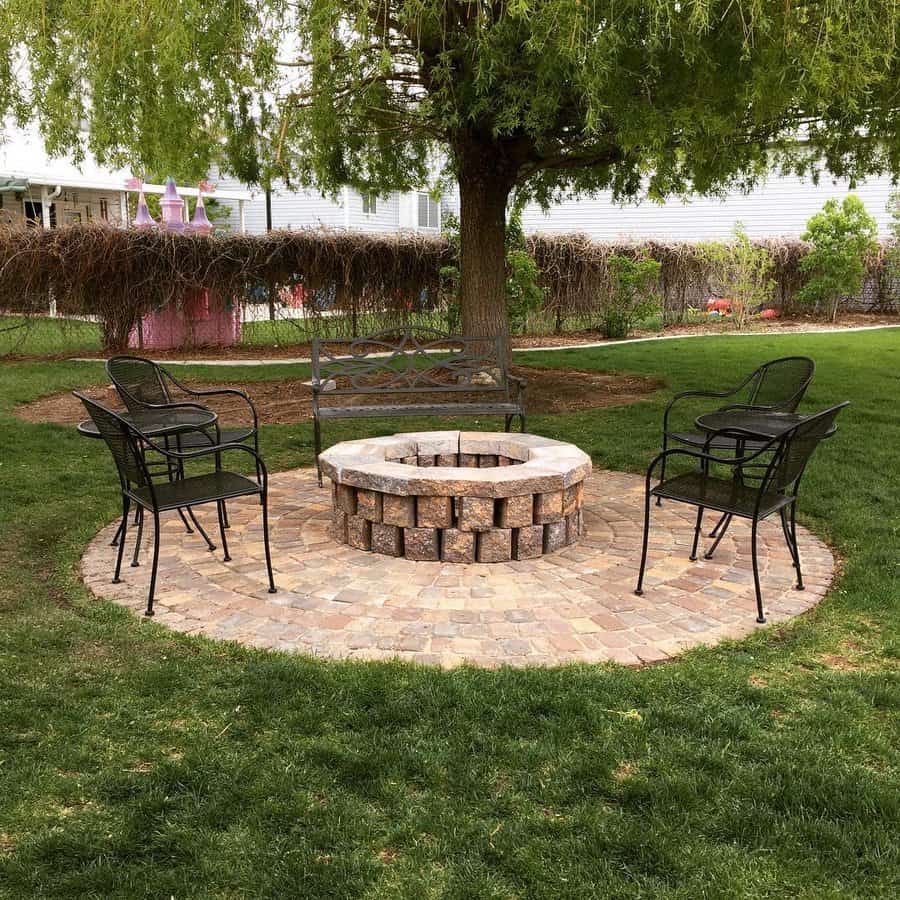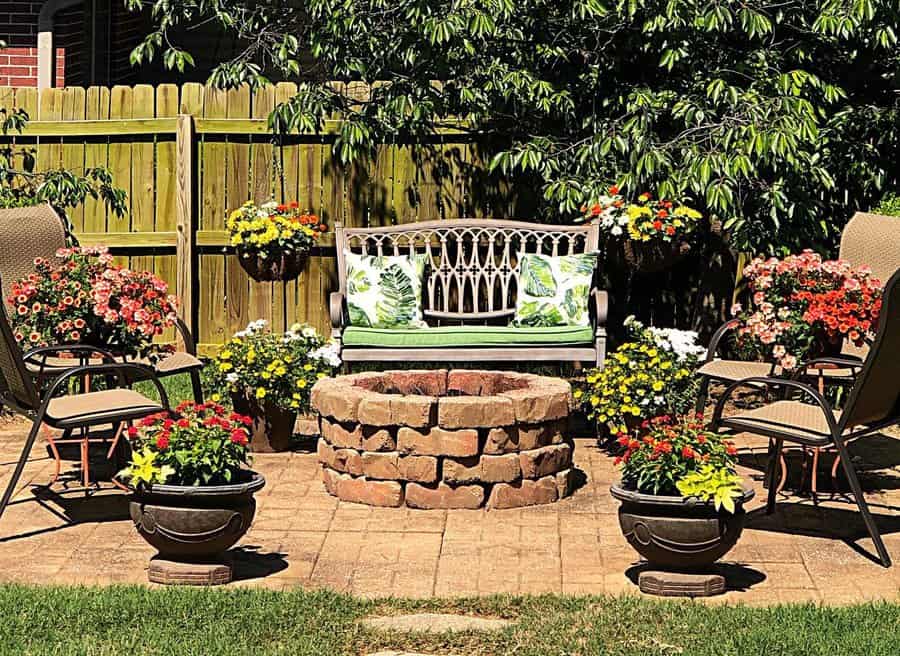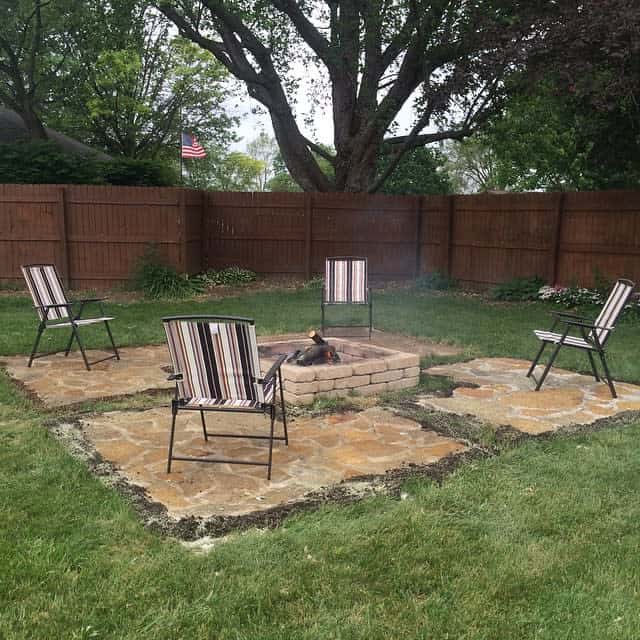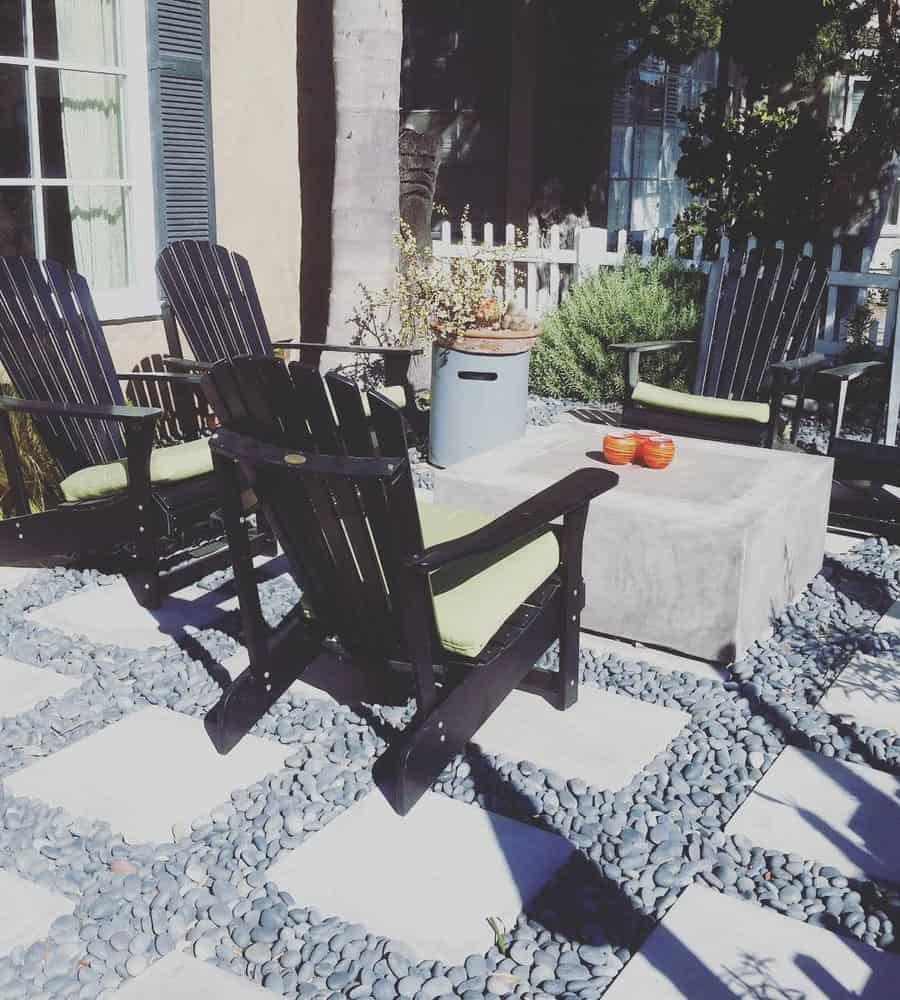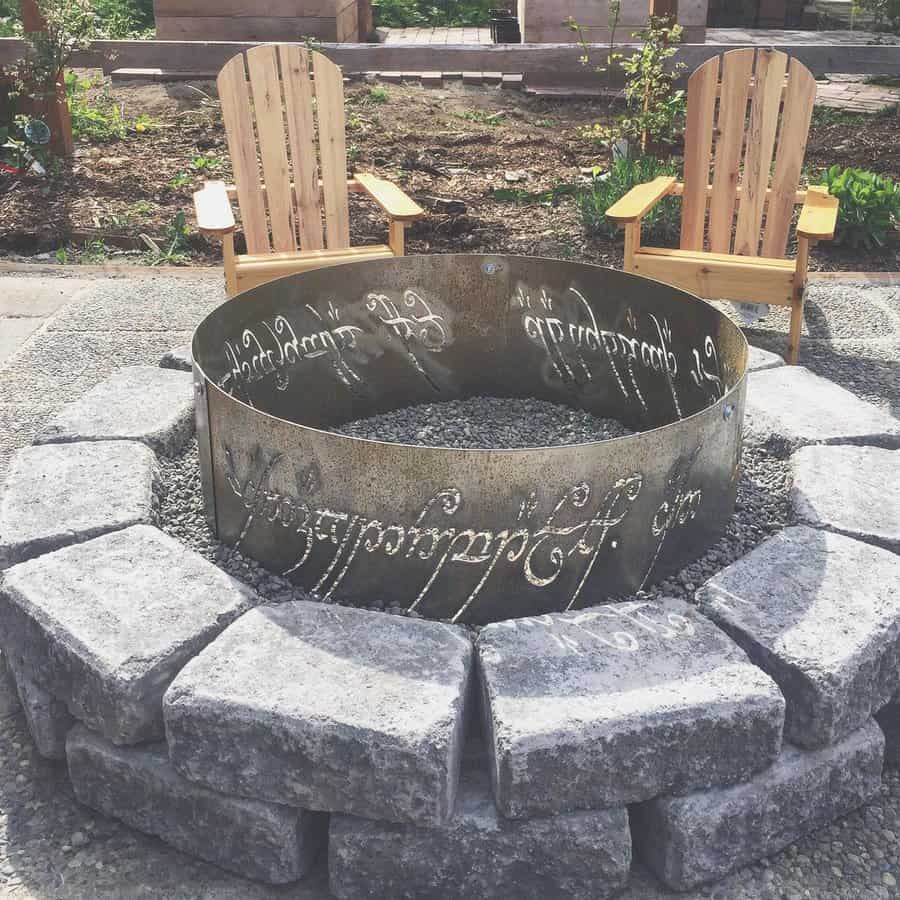 5. Hanging Chair
With a little bit of DIY creativity, you can easily repurpose an old chair and hang it using some sturdy chains. Some great options for a hanging chair include an old wicker chair, a hammock chair, or even a suspended swing chair. Another affordable option is to make your own hanging chair using macrame techniques and some thick rope.
If DIY is not your thing, you can also purchase a trendy egg chair or a hammock to easily move it around the patio. Not only will it add an element of style and comfort to your patio, but it's a budget-friendly way to enhance your outdoor living experience.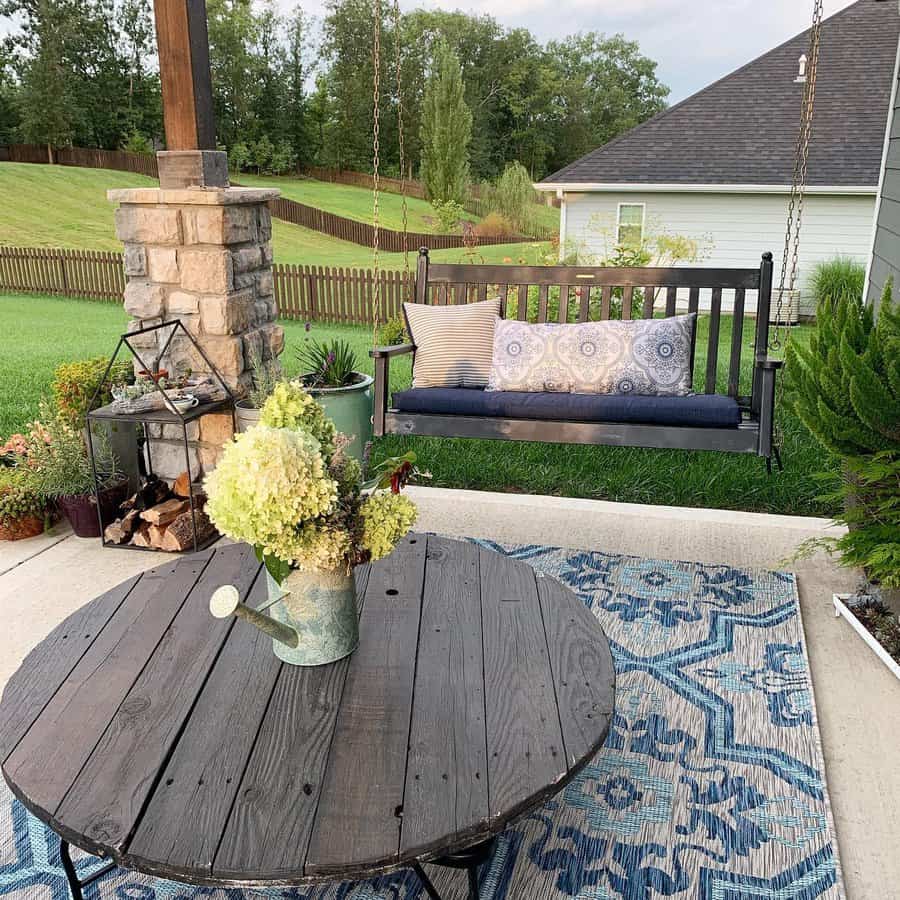 6. Pop-Up Gazebo Tent
Another great cheap patio option is a pop-up gazebo tent, which is not only easy to assemble but also movable. It's an affordable alternative to pre-fabricated roof structures, and you can find them in a range of sizes and designs to fit your specific needs.
When assembling your pop-up tent, make sure to follow the instructions carefully and have a few people to help you. It's also a good idea to secure the tent with weights or stakes to prevent it from toppling over in strong winds. With some creativity and a bit of effort, you can turn your patio into an inviting space where you can relax, entertain, and enjoy the outdoors without worrying about the weather.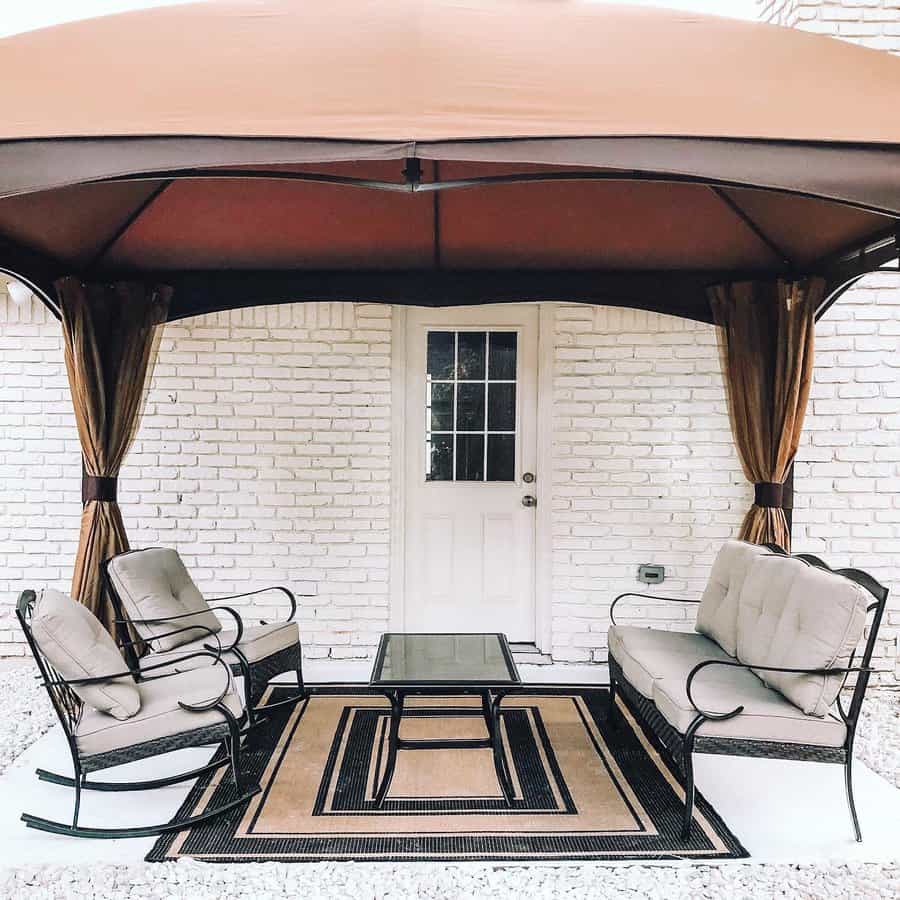 7. Wooden Pallet Furniture
One of the best ways to achieve an affordable outdoor space is by utilizing wooden pallets to make furniture. With some creativity and a little bit of elbow grease, you can transform simple pallets into a comfortable sofas or coffee tables. You can even take it up a notch by using reclaimed wood to give your furniture a unique and rustic look.
When working with wooden pallets, it's essential to handle them carefully and sand them down to prevent splinters. You can also add some cushions and throw pillows to make your seating area cozy and inviting.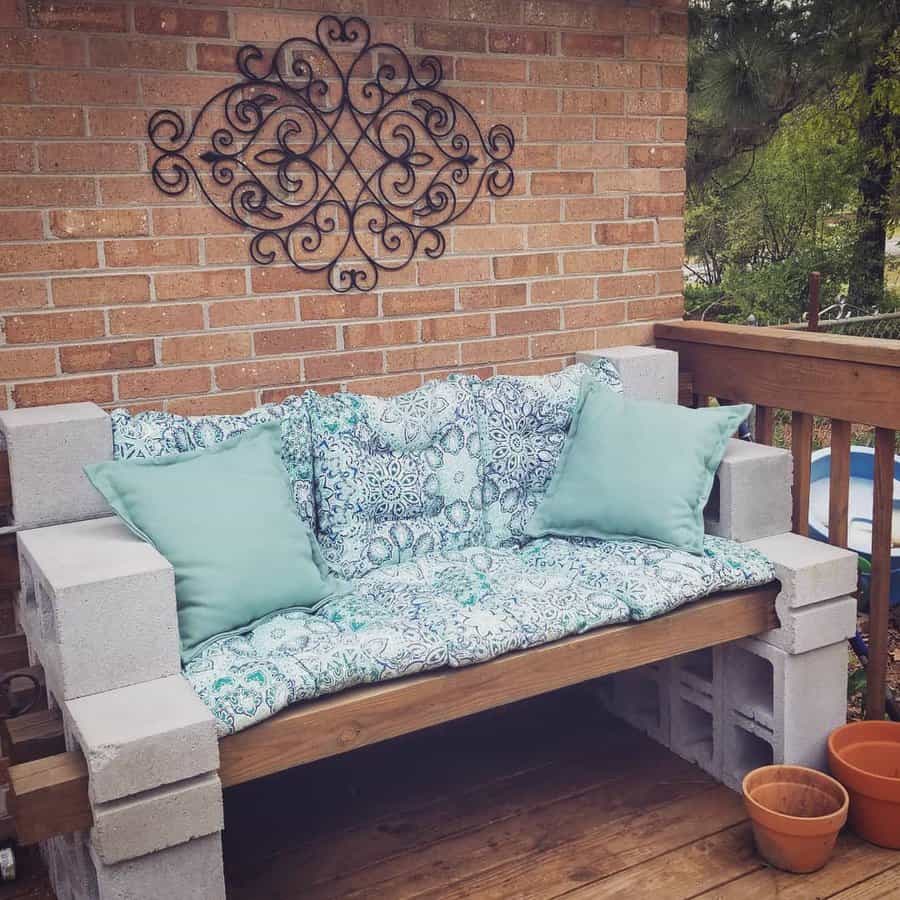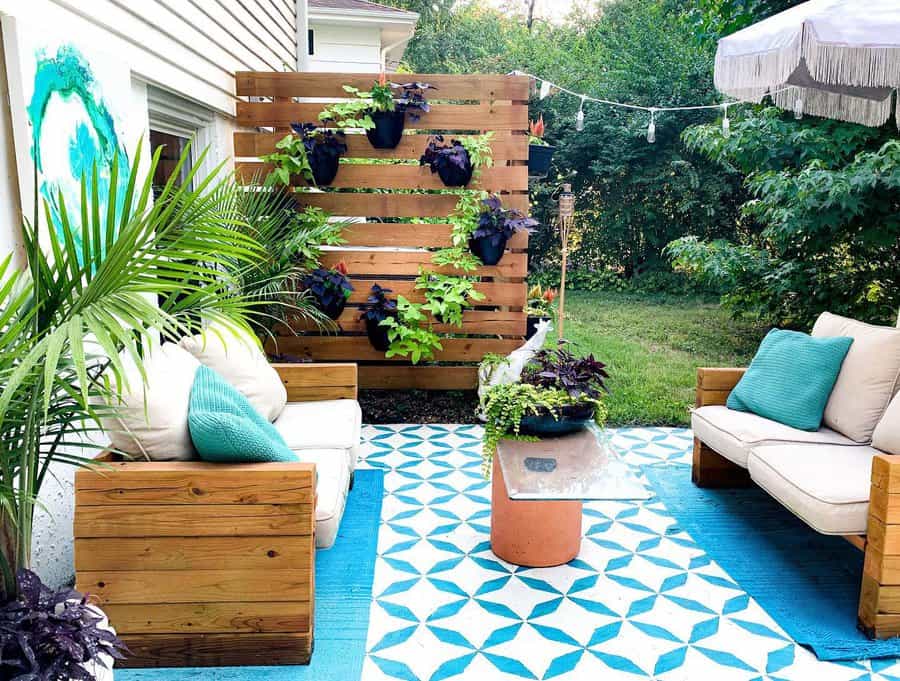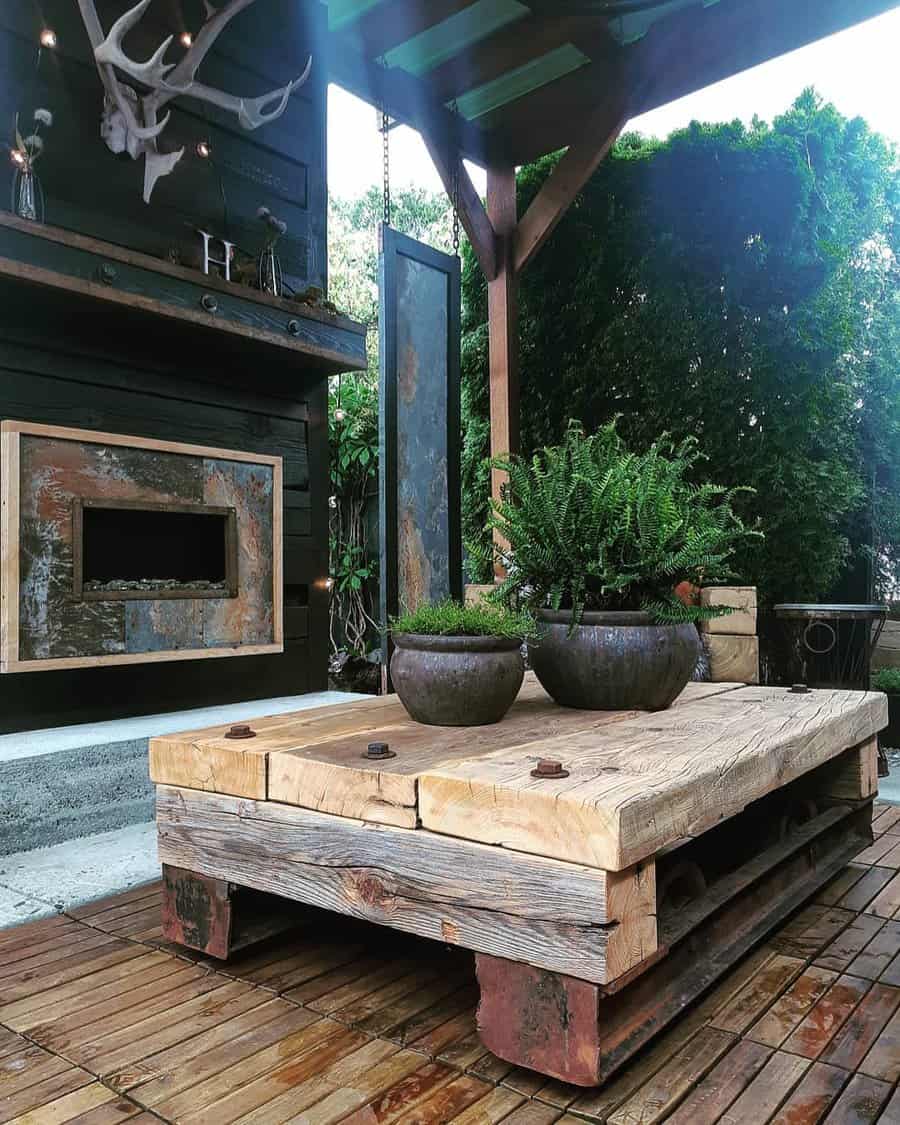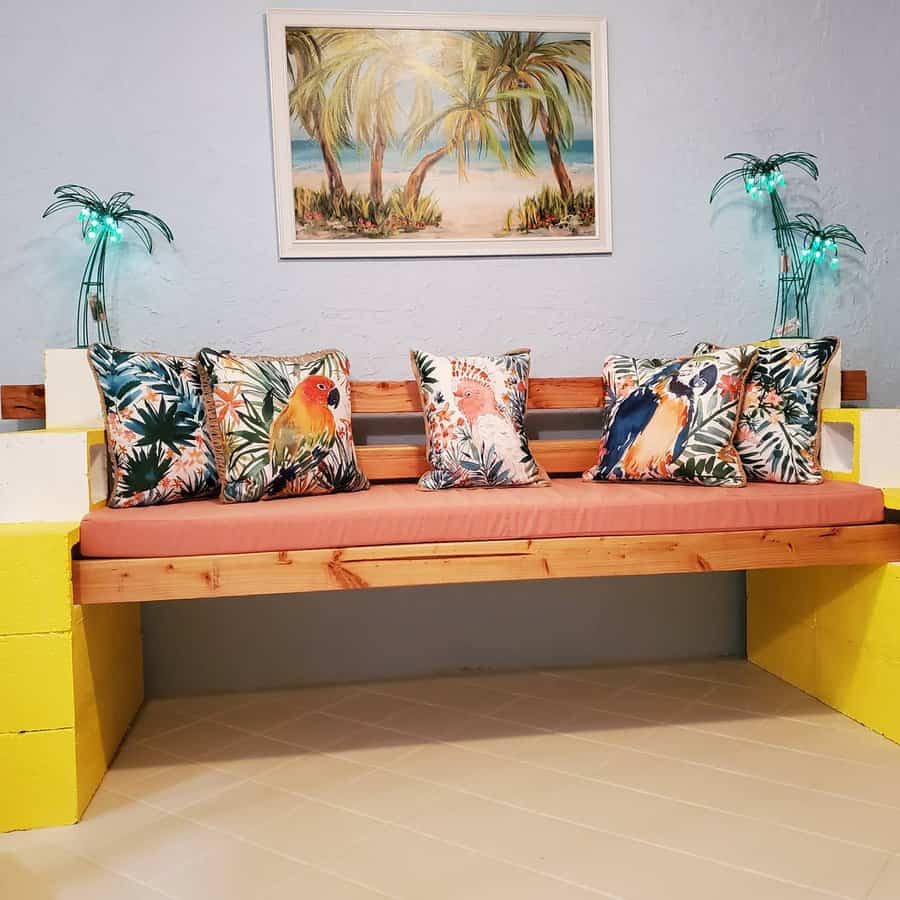 8. Picnic Umbrella
A patio is an excellent spot to spend time with family and friends, especially on sunny days. However, creating a beautiful patio doesn't have to break the bank. One idea for a cheap patio is to add a picnic umbrella. Not only does it provide shade, but it also adds a pop of color and personality to the patio. Plus, it's a great spot for enjoying a picnic or playing games.
You can also add some inexpensive outdoor furniture, such as colorful plastic chairs or a simple wooden bench. For an added touch, decorate the space with string lights or potted plants. With a little creativity, you can turn your patio into an inviting and affordable outdoor oasis.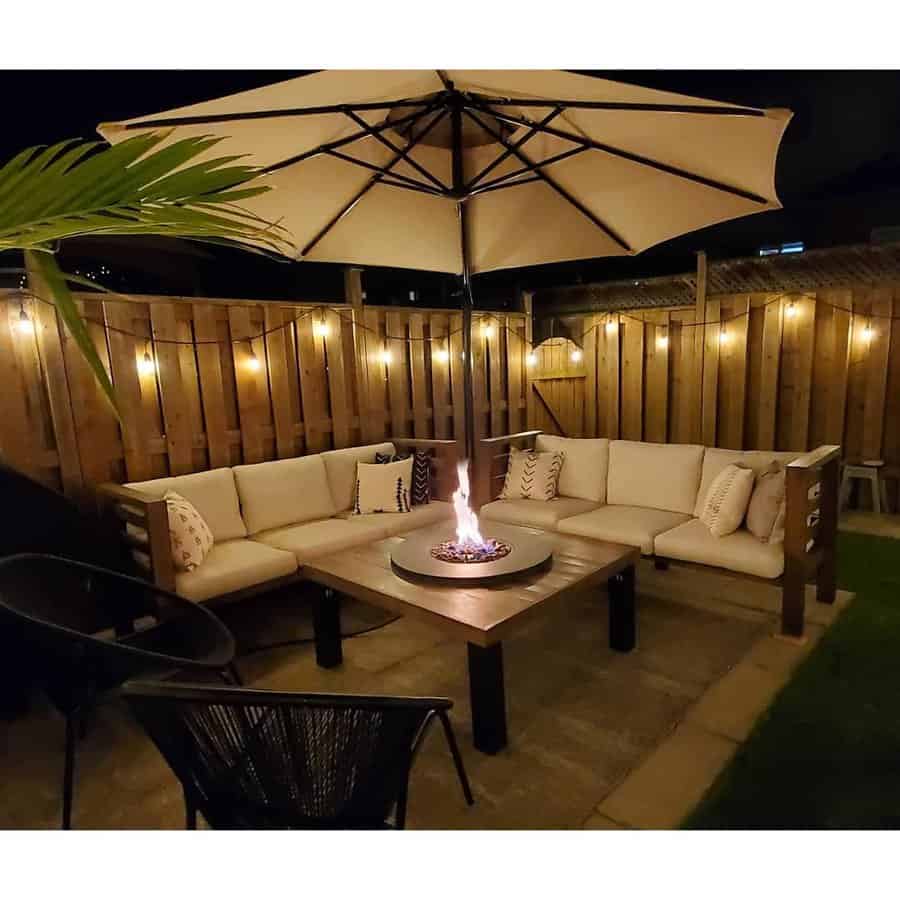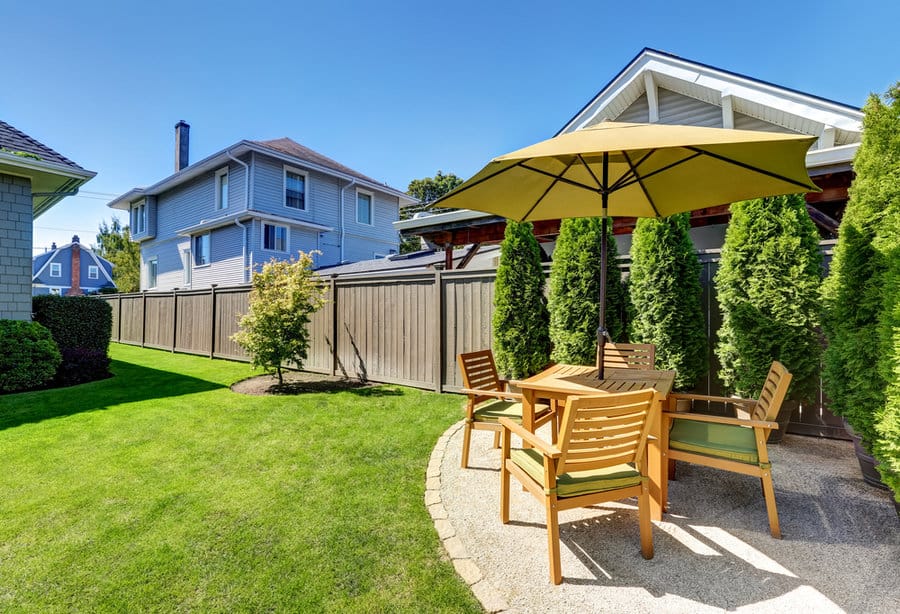 9. Decorative Patio Tiles
Updating the flooring with some colorful, eye-catching tiles can instantly elevate the space and make it feel more inviting. Plus, with minimal furniture, you can let the tiles be the star of the show. Opt for a couple of lounge chairs or a bistro set to keep things simple and chic.
Decorative tiles make a cheap patio because you wouldn't need extravagant furniture to keep things interesting. With these cheap patio ideas, you'll be enjoying your outdoor space in no time!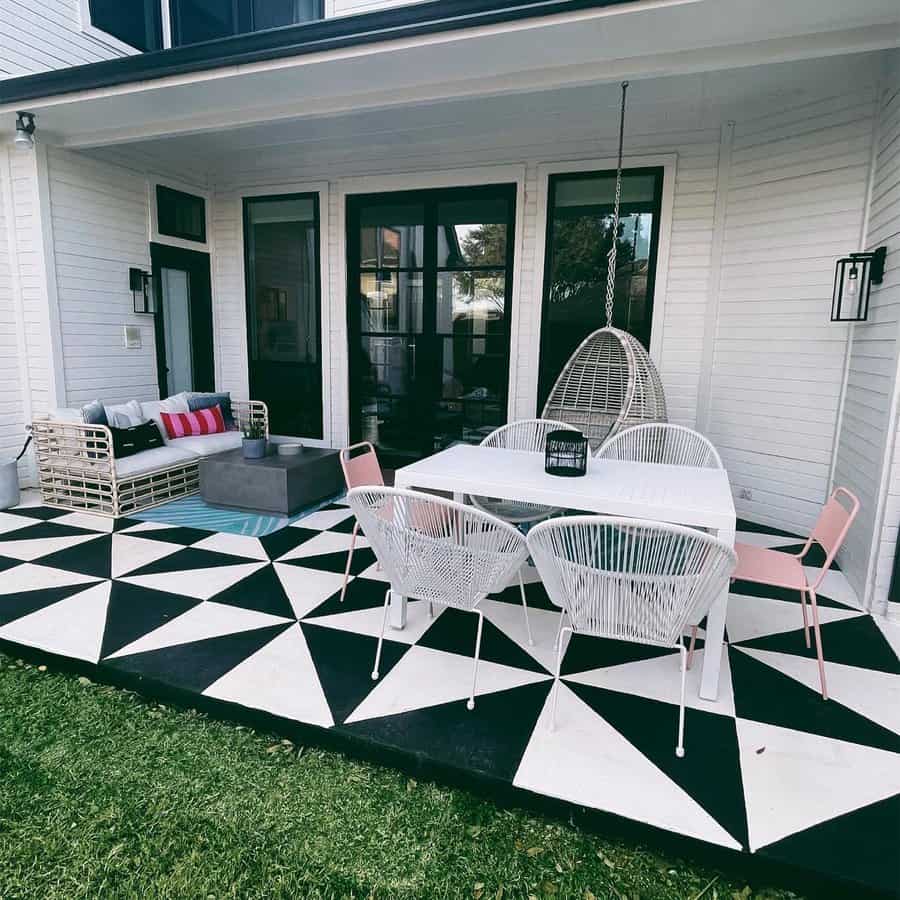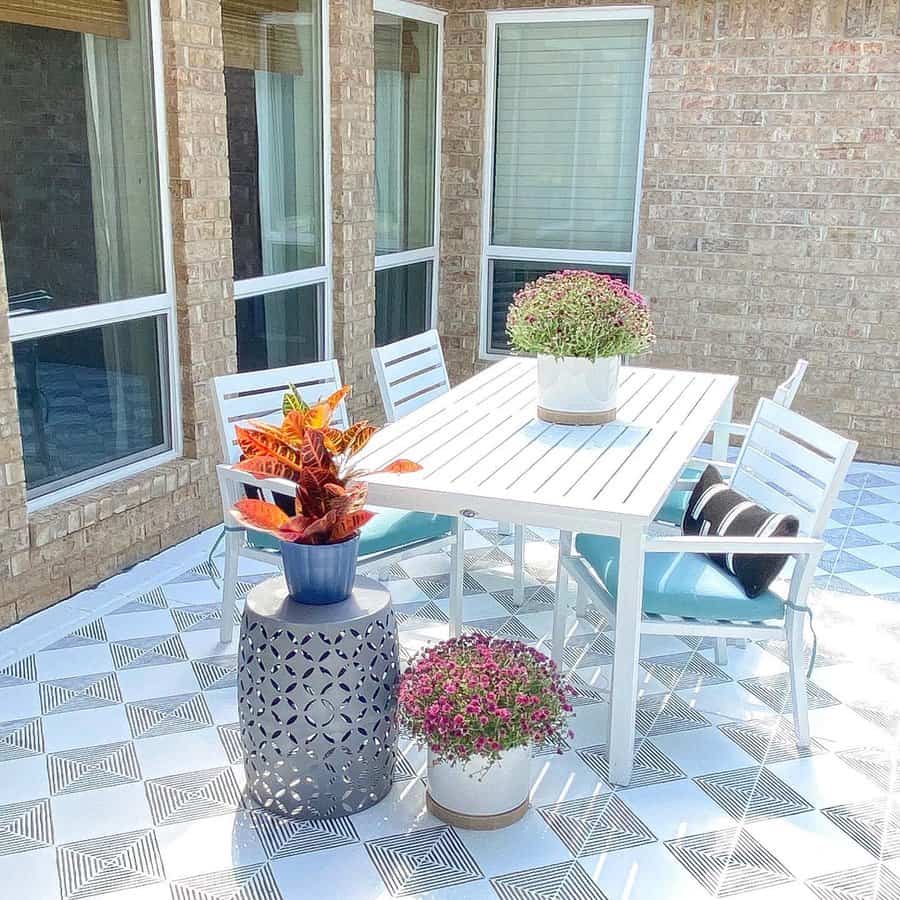 10. Wooden Pallet Deck

Revamp your outdoor space on a budget with a wooden pallet deck! This easy-to-install option is perfect for those seeking a cheap patio idea without compromising style. Pallets can be found at hardware stores or even online, and with a little bit of creativity, they can be transformed into a stunning deck.
Add some colorful outdoor rugs and cozy seating to complete the look. Don't forget to add some potted plants or hanging baskets to bring in some greenery and fresh air.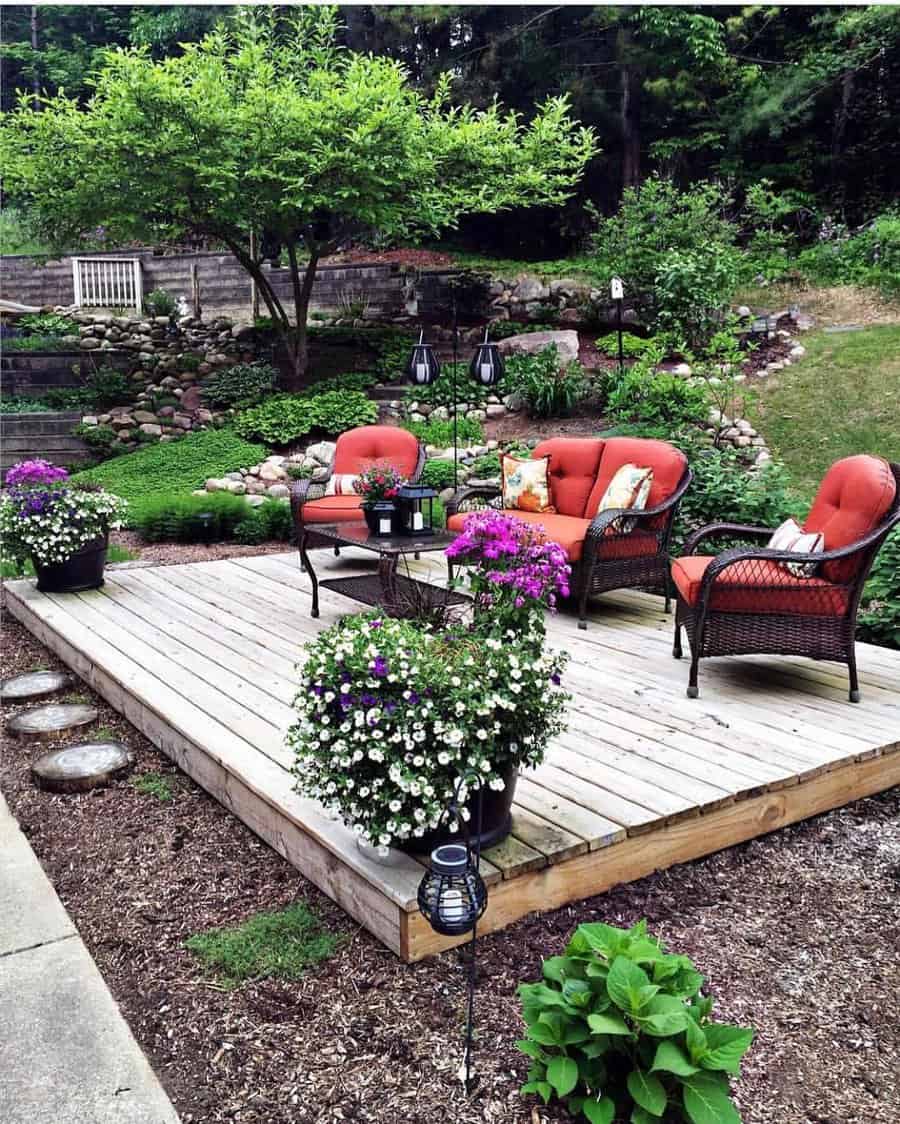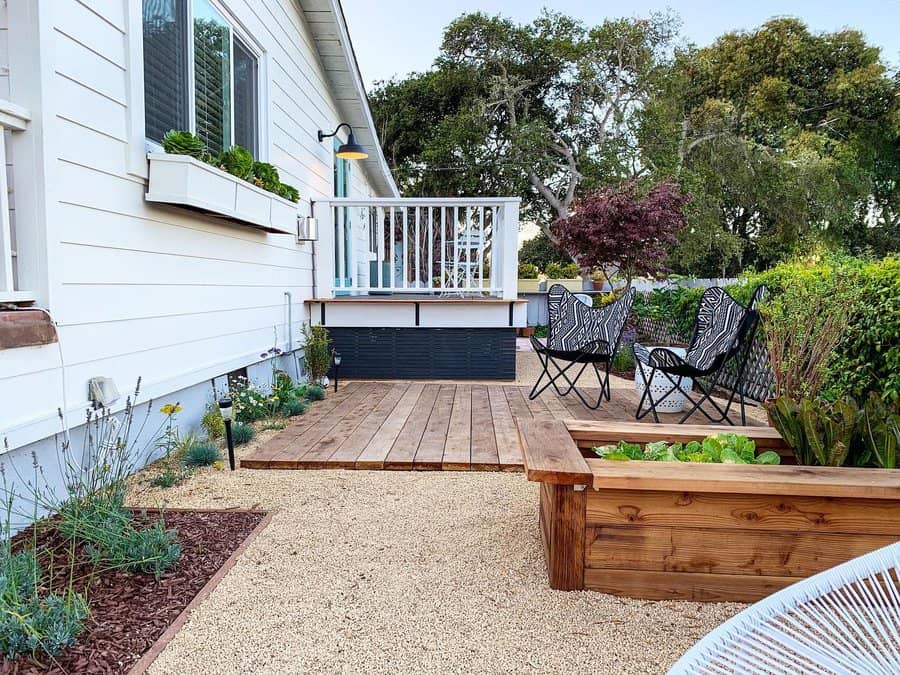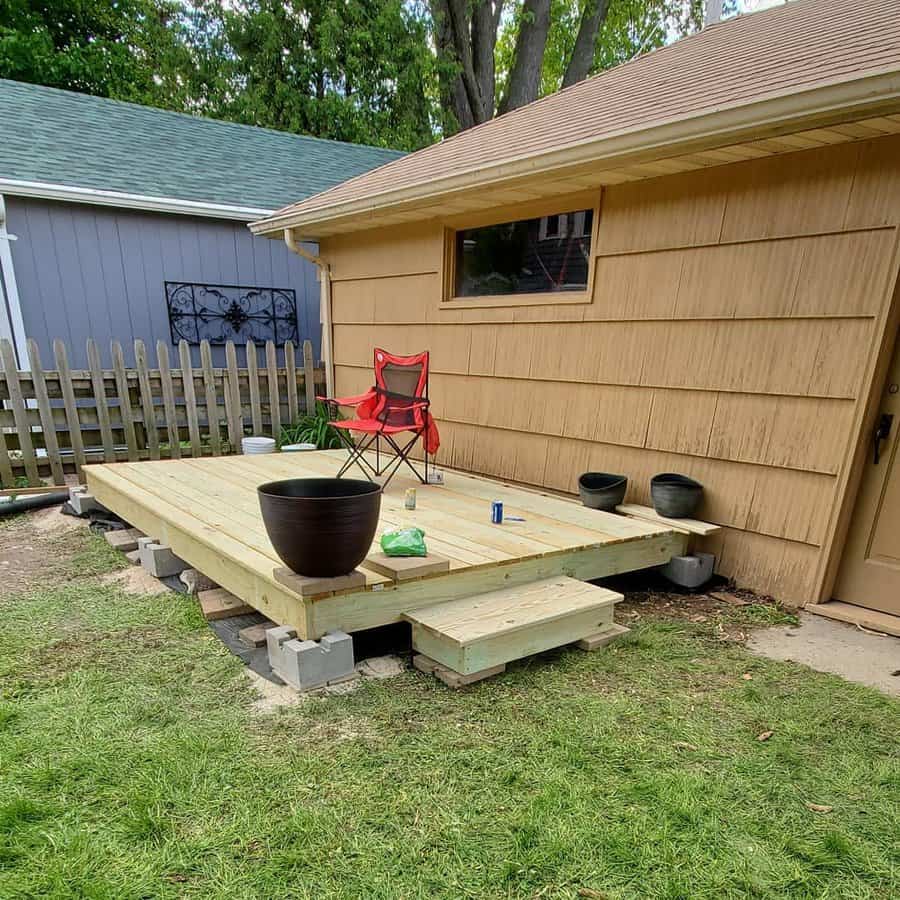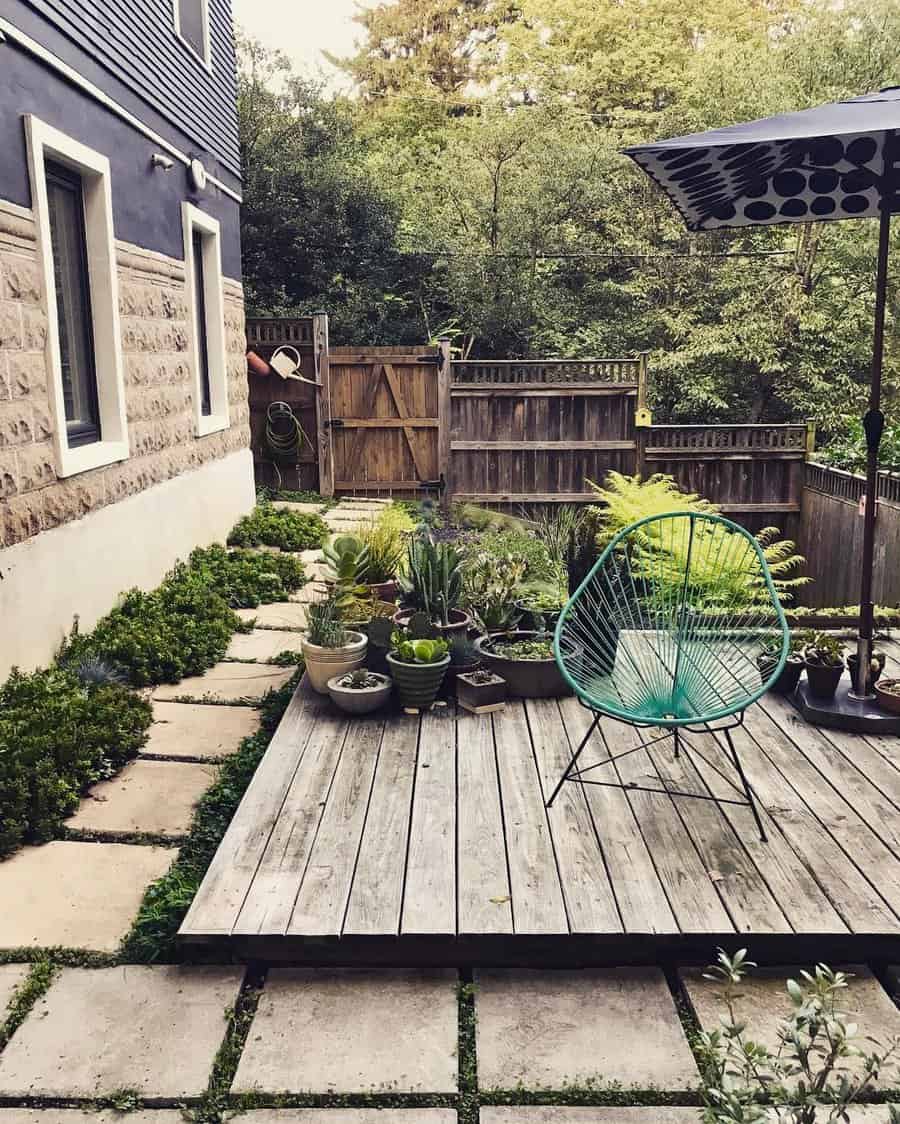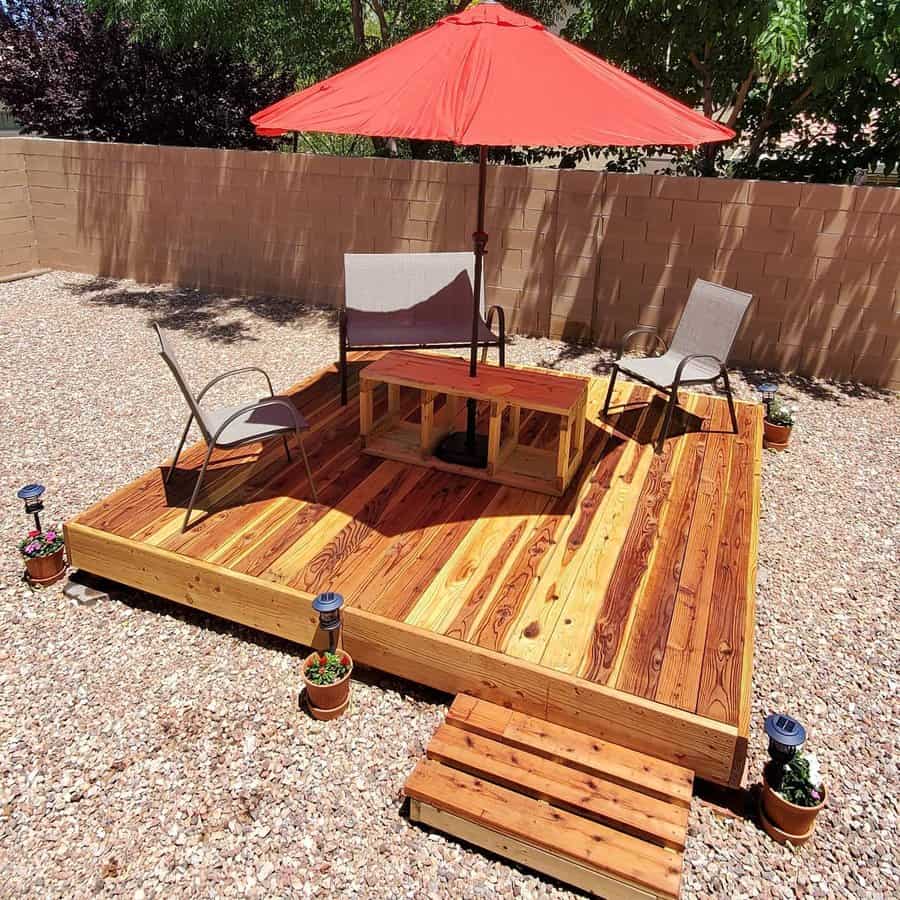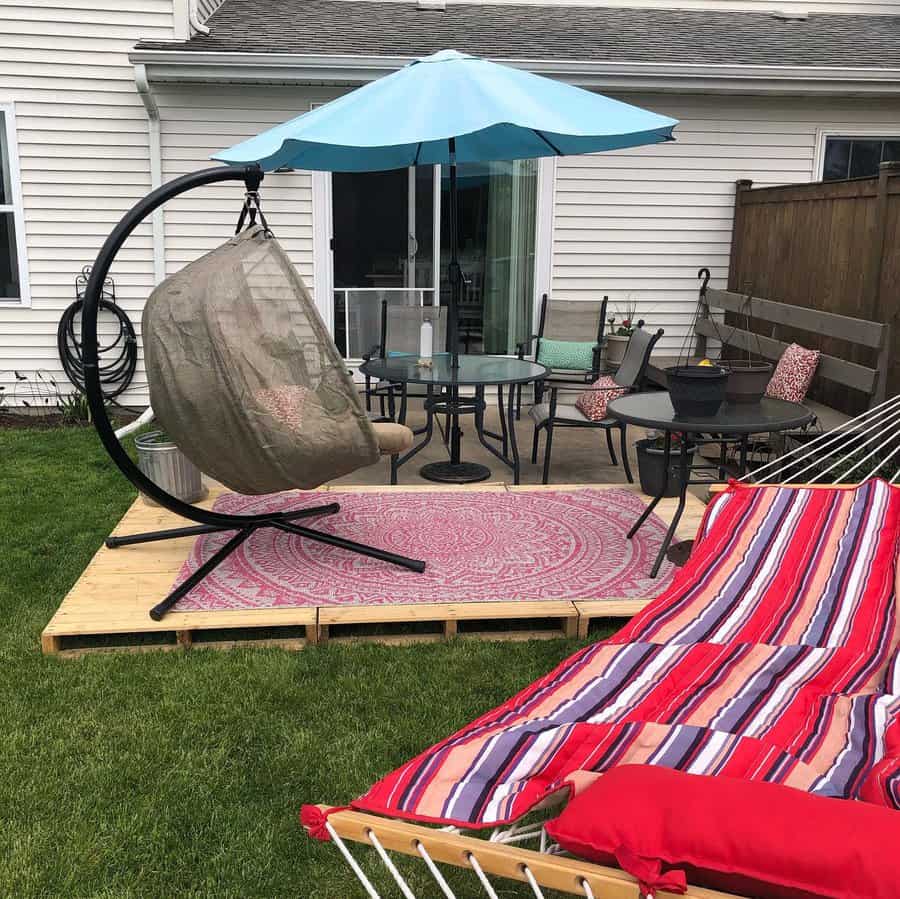 11. Pebble Patio
A pebble patio may be just the answer you're looking for! This inexpensive patio option can transform your outdoor space into a peaceful oasis. By covering your patio with pebble flooring, you can add a zen vibe to the space, making it the perfect place to relax and unwind.
Plus, pebble flooring is easy to install and maintain, making it a cost-effective option for those on a budget. Whether you're looking to create a cozy outdoor dining area or a peaceful retreat for meditation and relaxation, a patio with pebble flooring is sure to impress.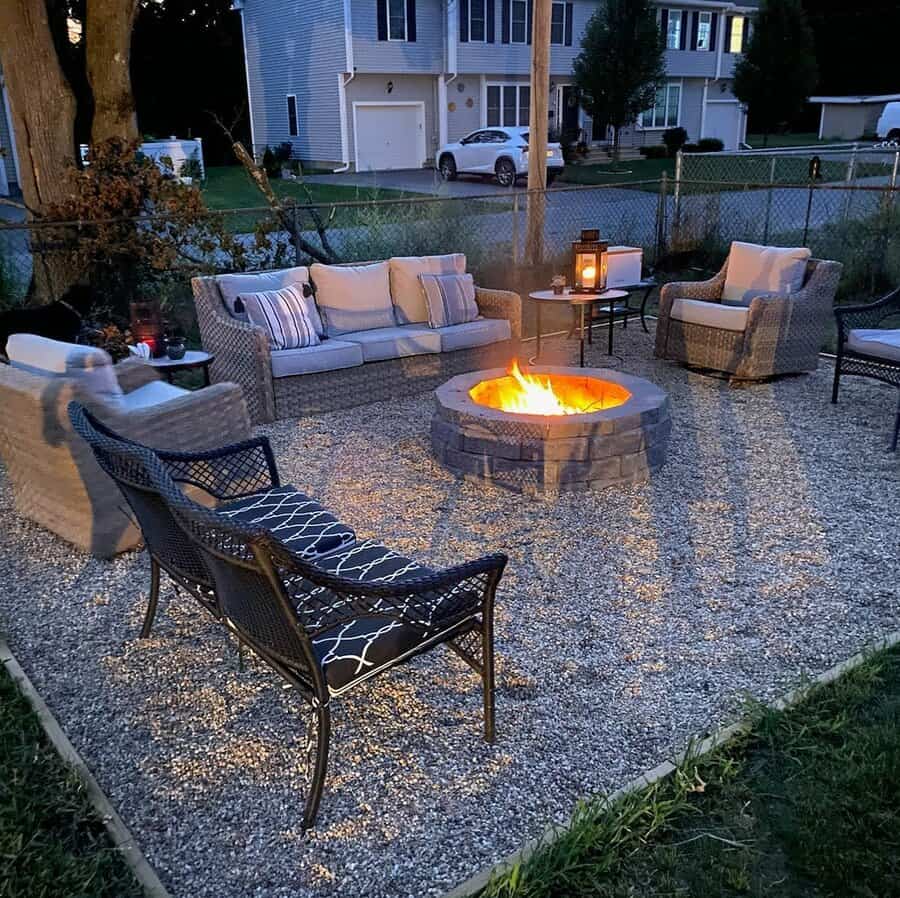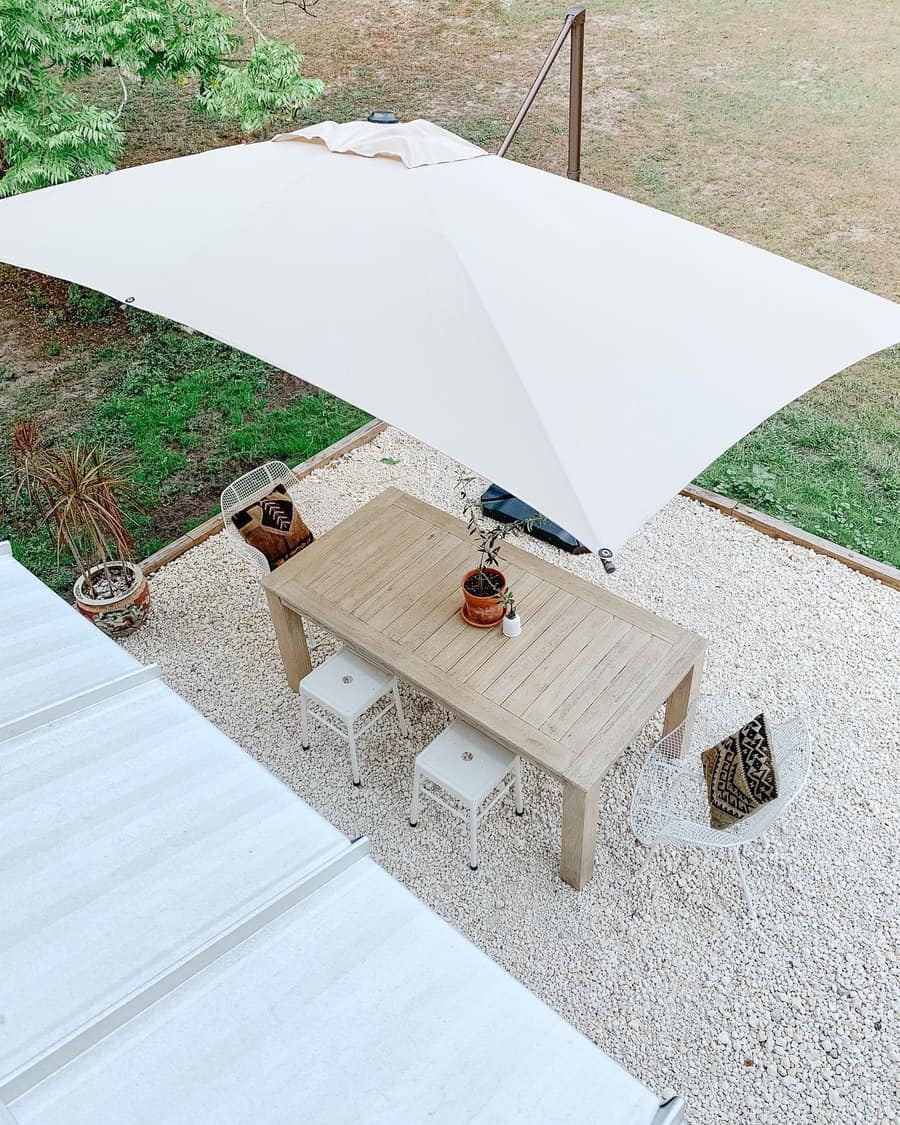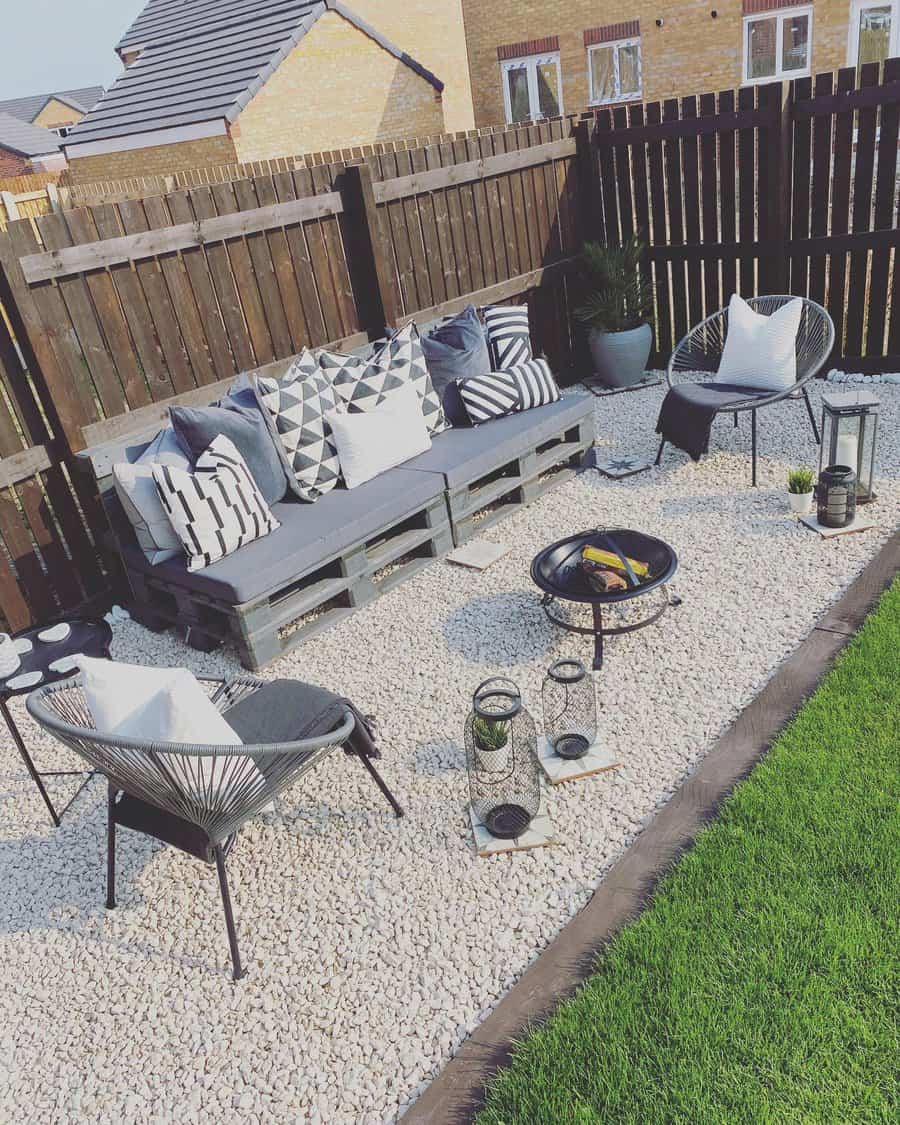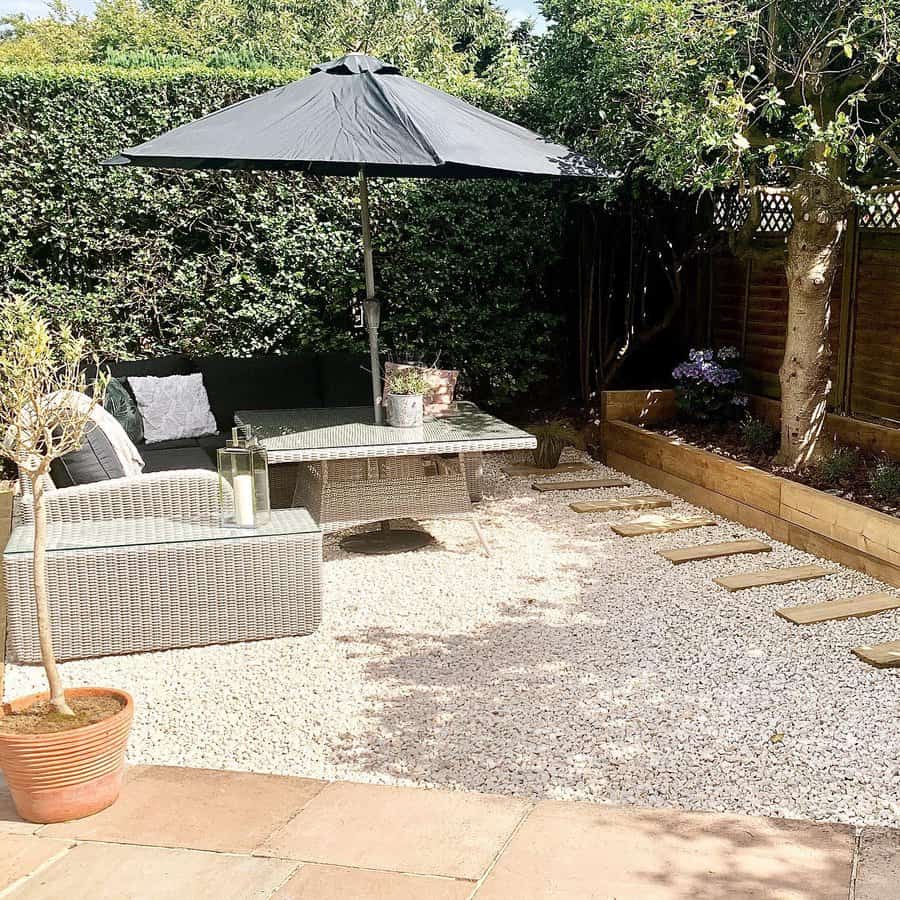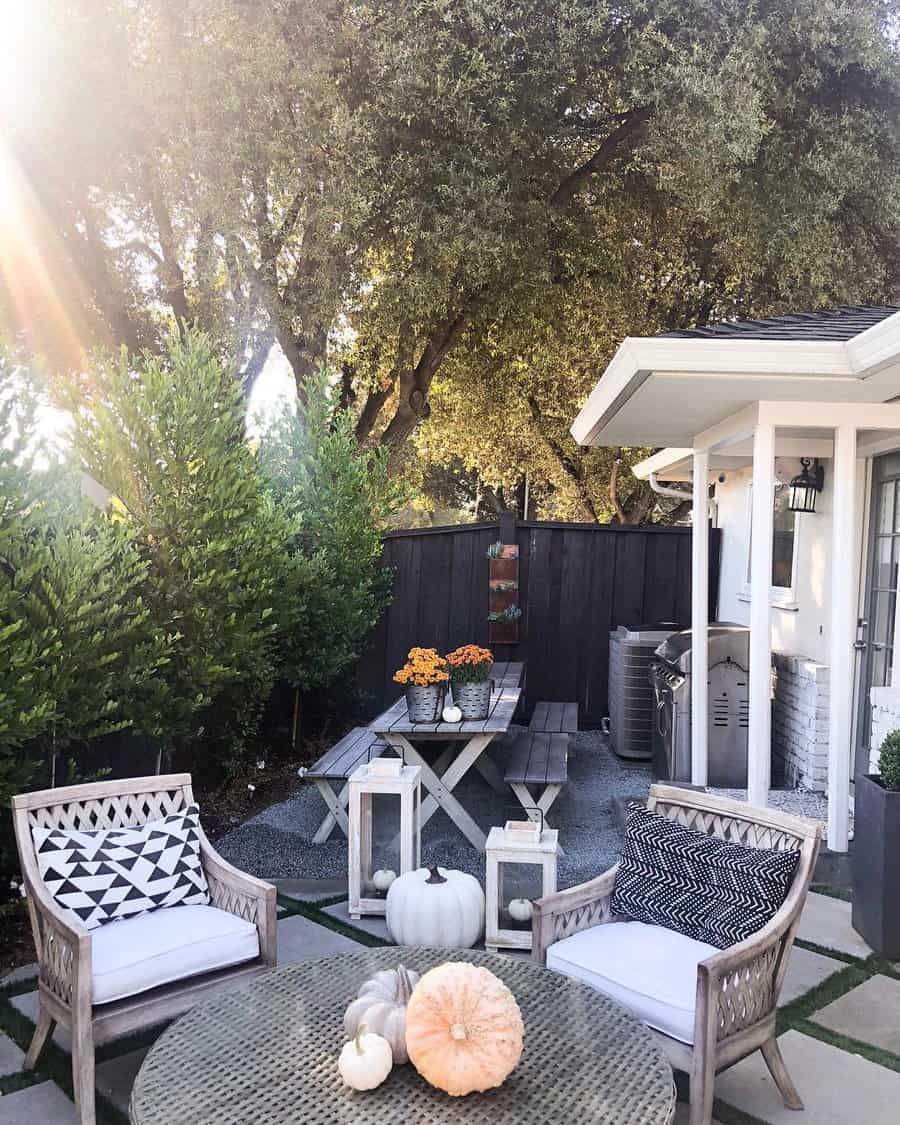 11. Private Fence
You can choose from a variety of materials, such as wood or vinyl fence, to fit your style and budget. Another affordable option is to repurpose wooden pallets to create a unique and rustic backdrop for your patio. You can paint them, add some hanging planters, or even use them as a vertical garden.
A trellis is also a great way to add some privacy and a touch of greenery to your patio. It's perfect for climbing plants like ivy or jasmine. Finally, you can't go wrong with a classic picket fence, which adds charm and character to any outdoor space.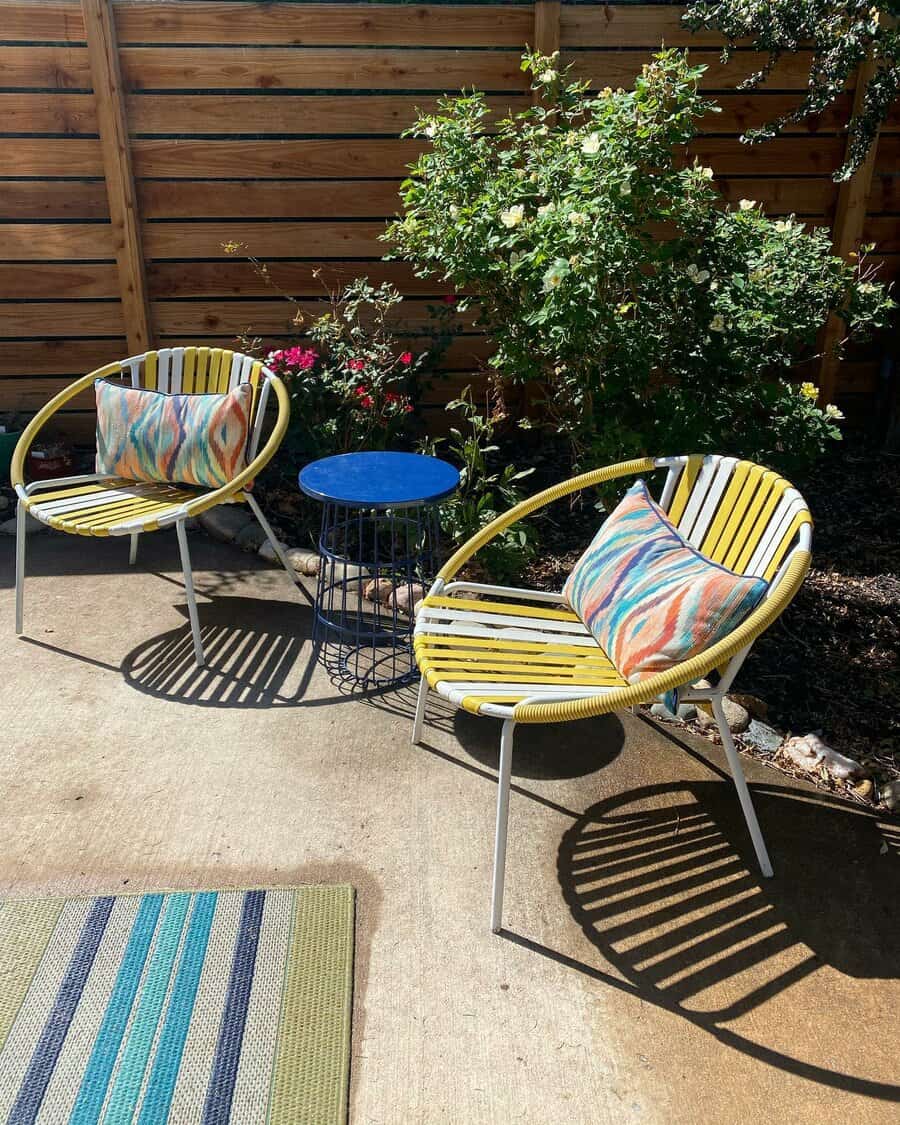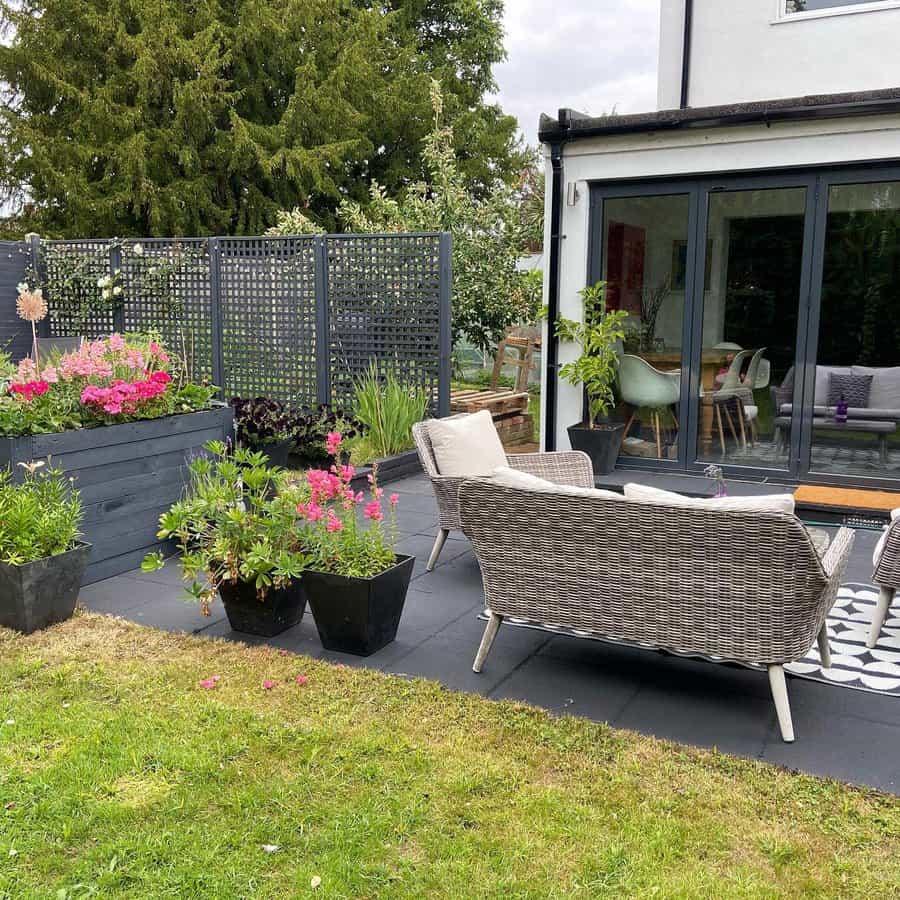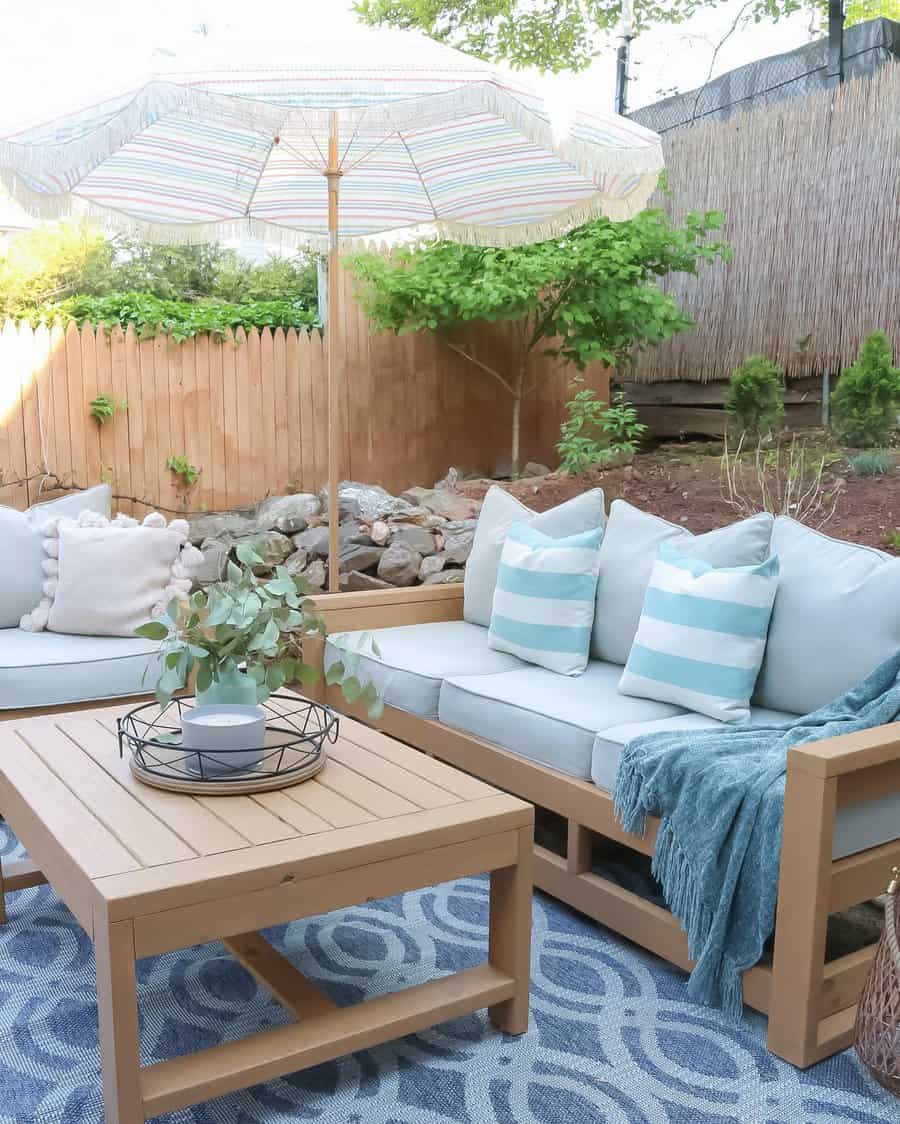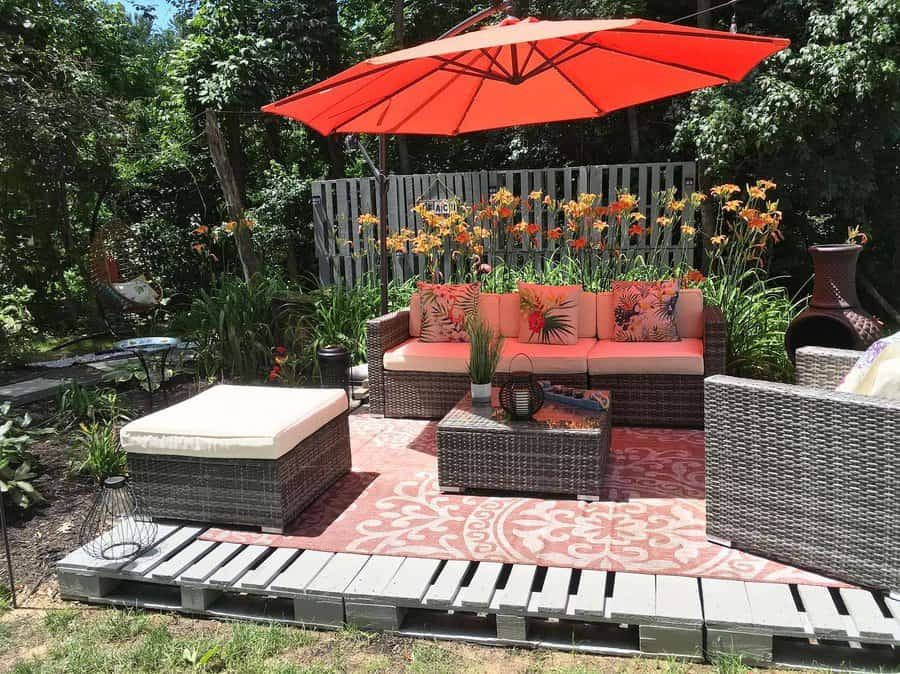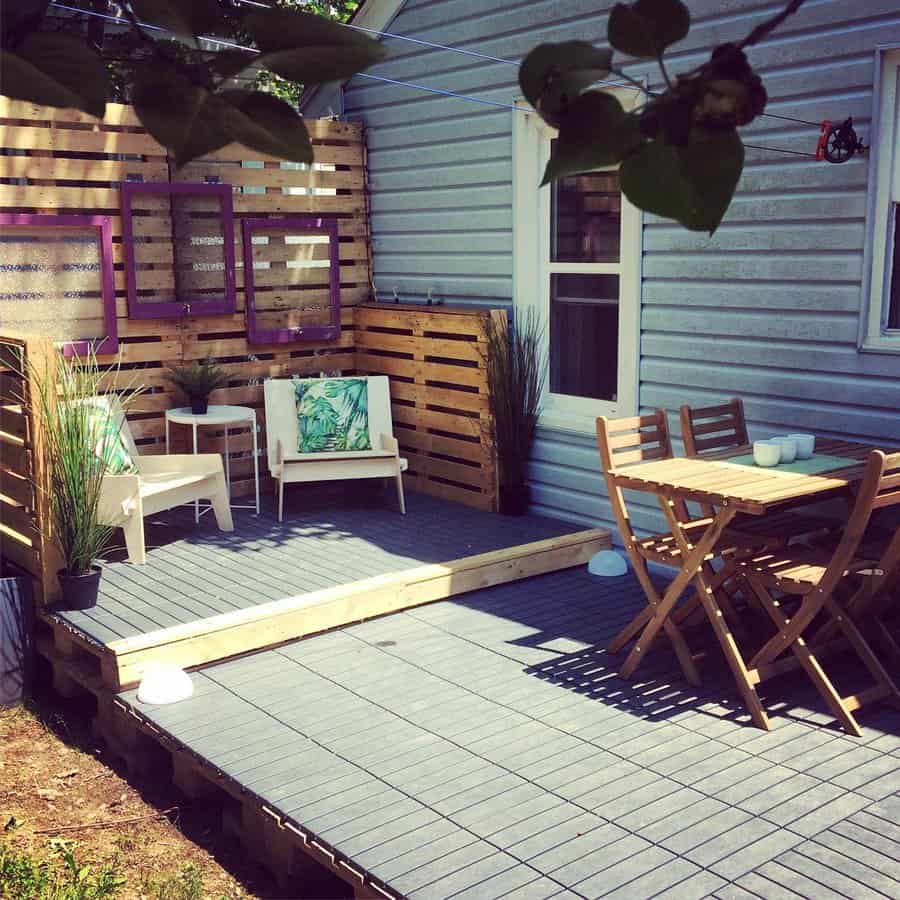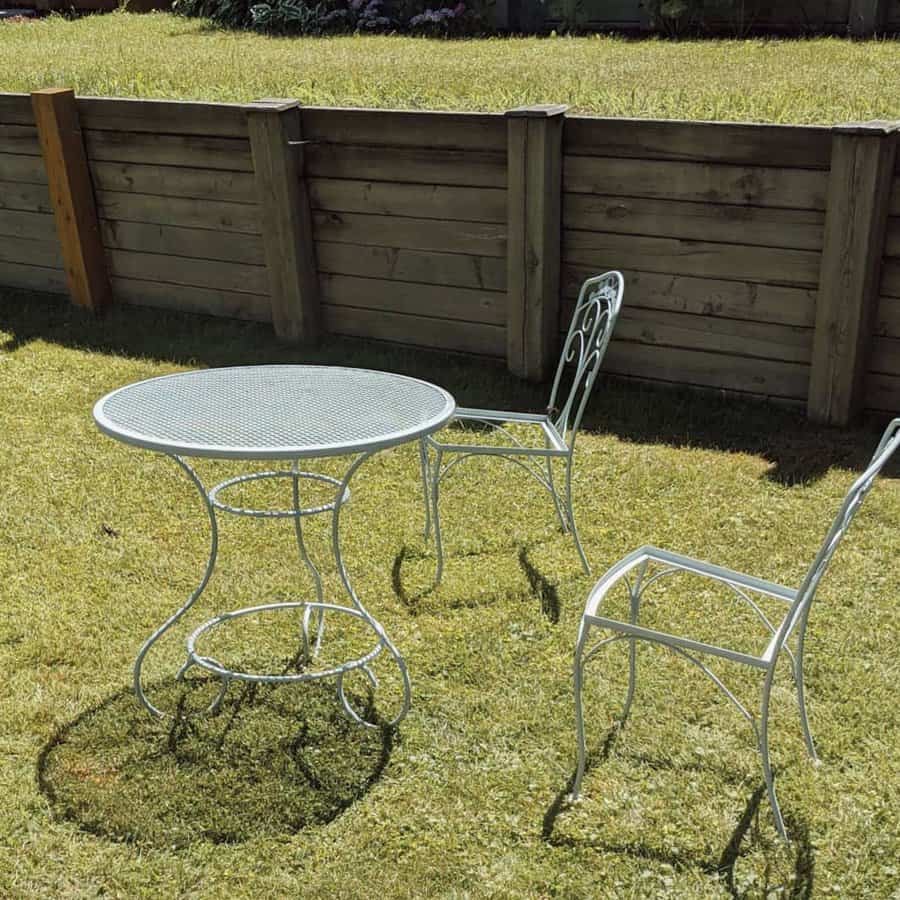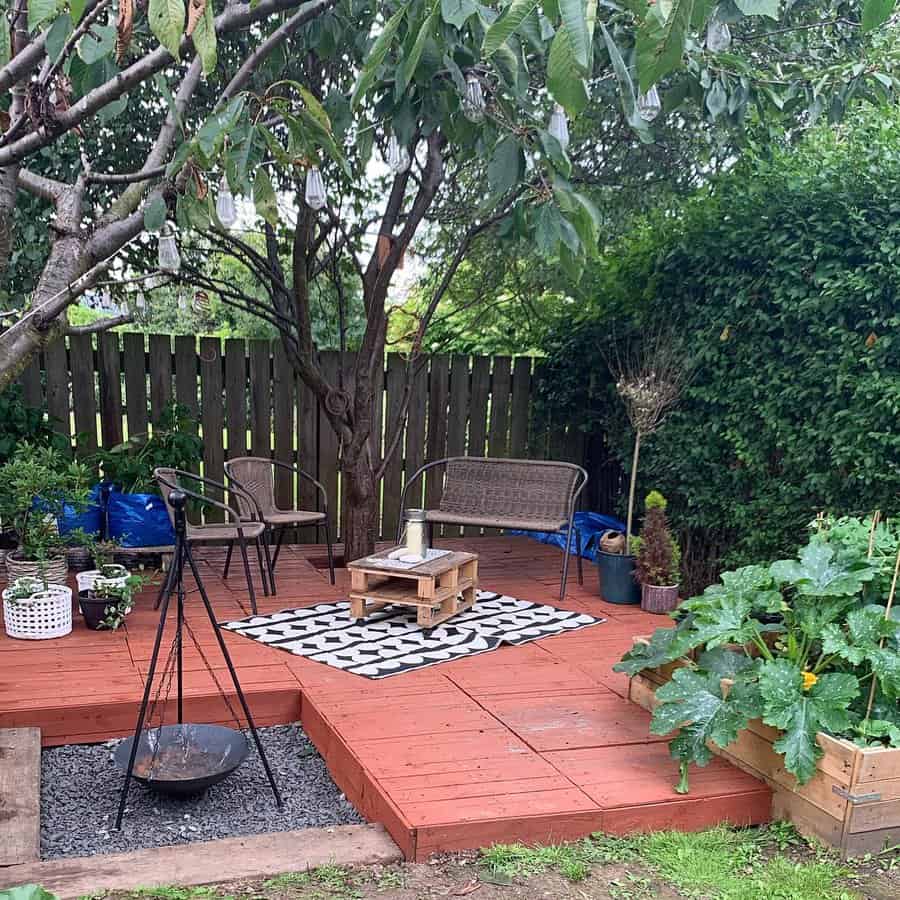 12. Adirondack Chairs
These classic chairs offer a relaxed and rustic vibe that is perfect for lounging in the sun or chatting with friends. You can paint the chairs in bold or muted hues to match your desired color scheme or keep them in their natural wood finish.
To add texture and depth, you can lay down an outdoor rug in a geometric or abstract pattern. You can also string some outdoor lights overhead to create a warm and cozy ambiance. With a little creativity and a focus on comfort, you can transform your patio into a stylish and relaxing retreat.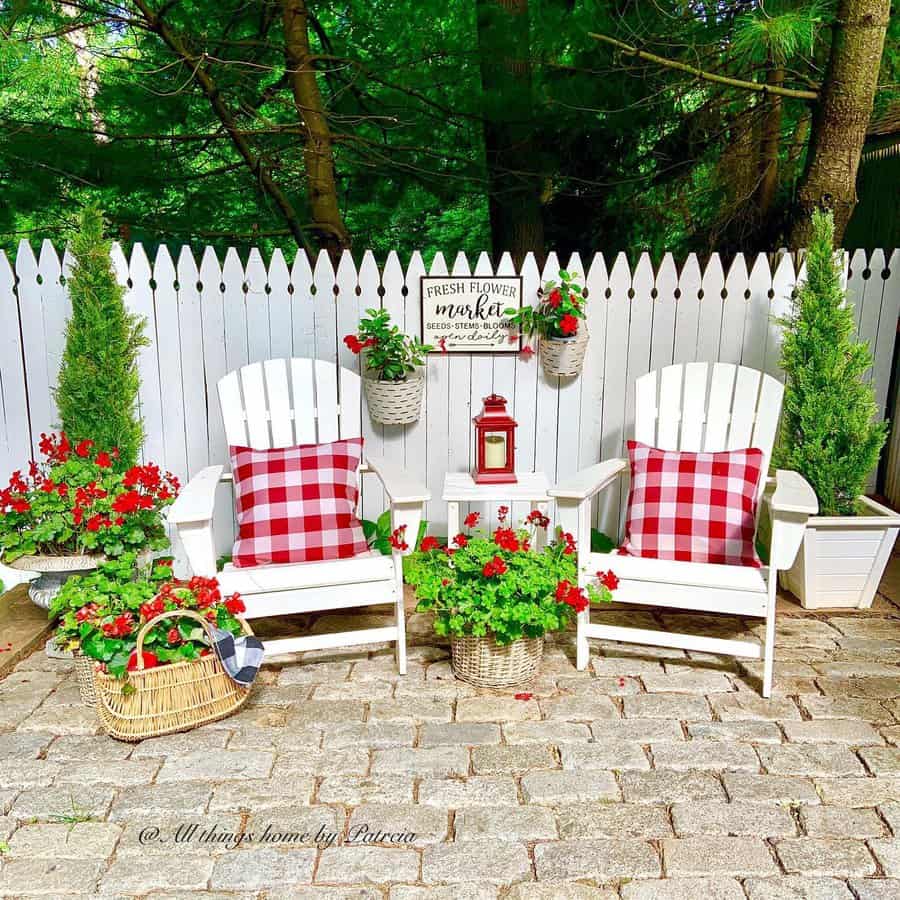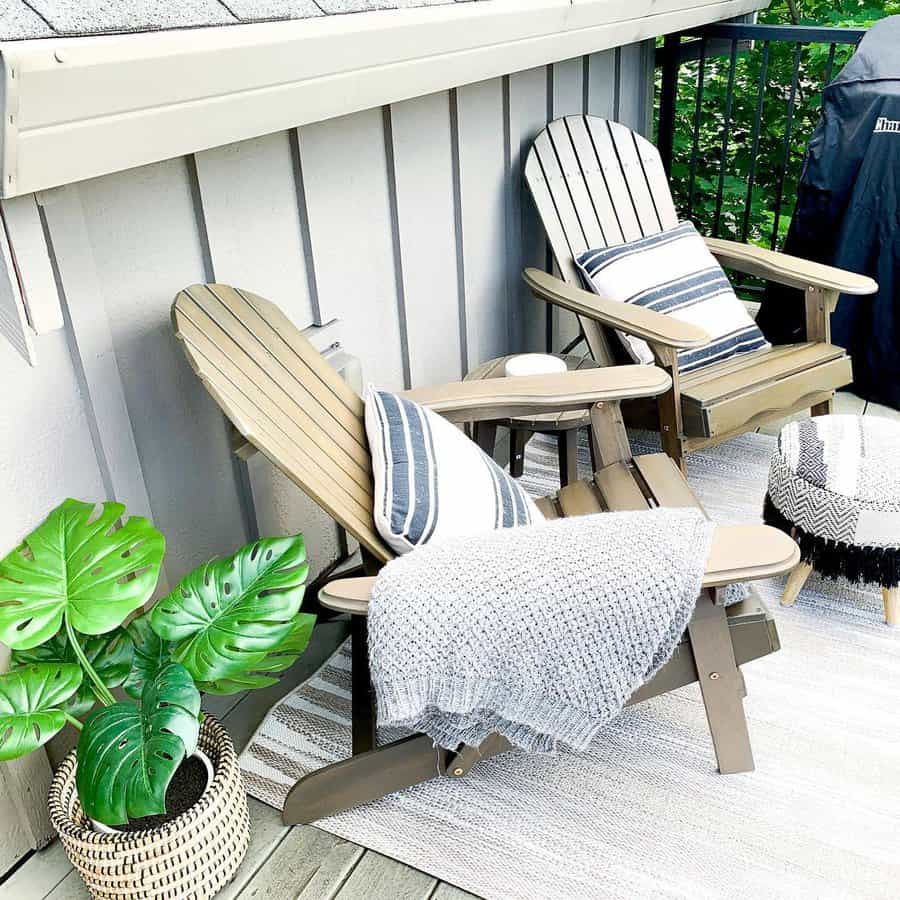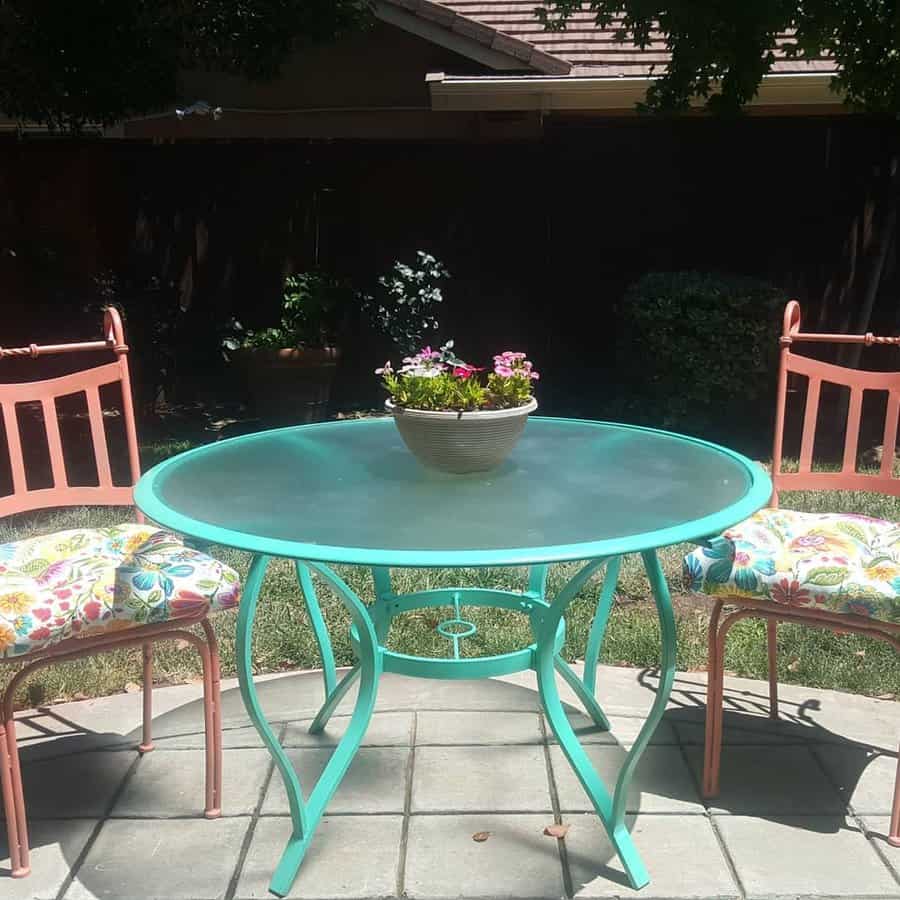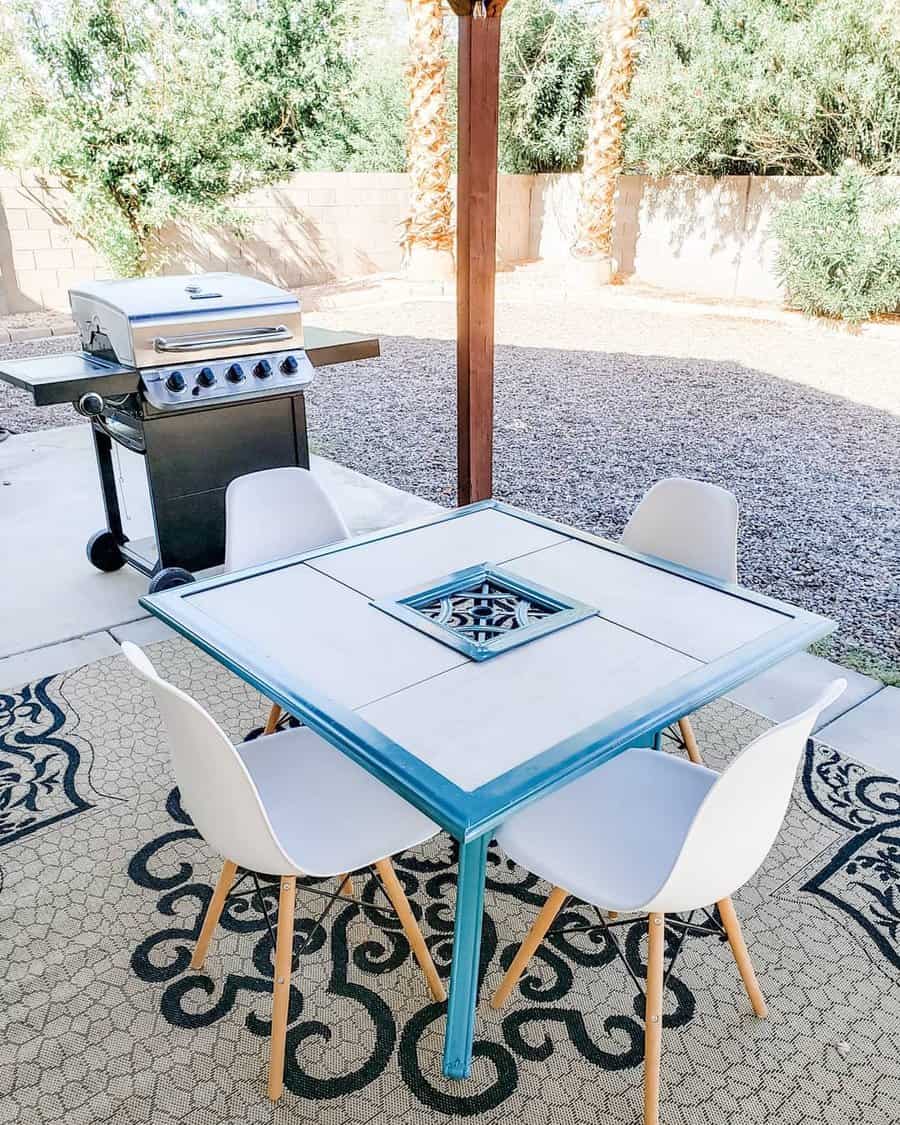 13. Artificial Grass
A budget-friendly option that's gaining popularity is using artificial grass to jazz up your patio. Not only is it a low-maintenance option that eliminates the need for constant mowing and watering, but it also adds a touch of life and greenery to any patio.
The best part? It's easy to install and can be customized to fit any patio size or shape. Simply roll out the grass, secure it in place, and voila! Instantly transform your patio into a relaxing outdoor oasis. Pair with some cozy outdoor furniture and decor to complete the look.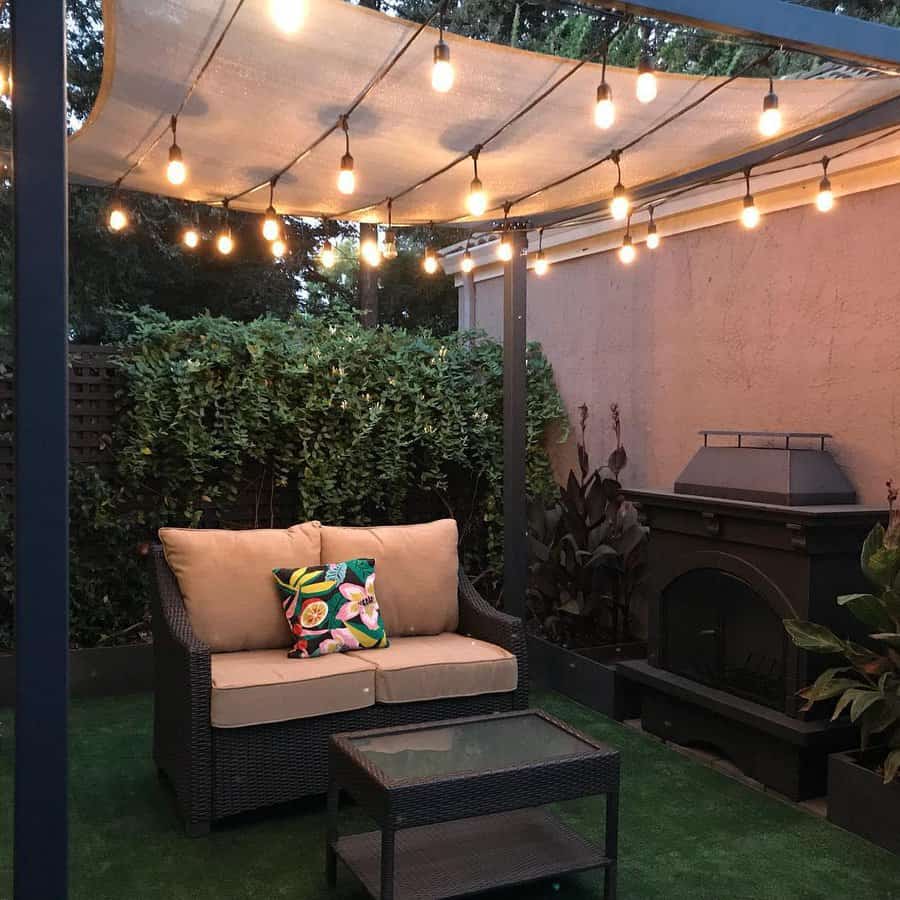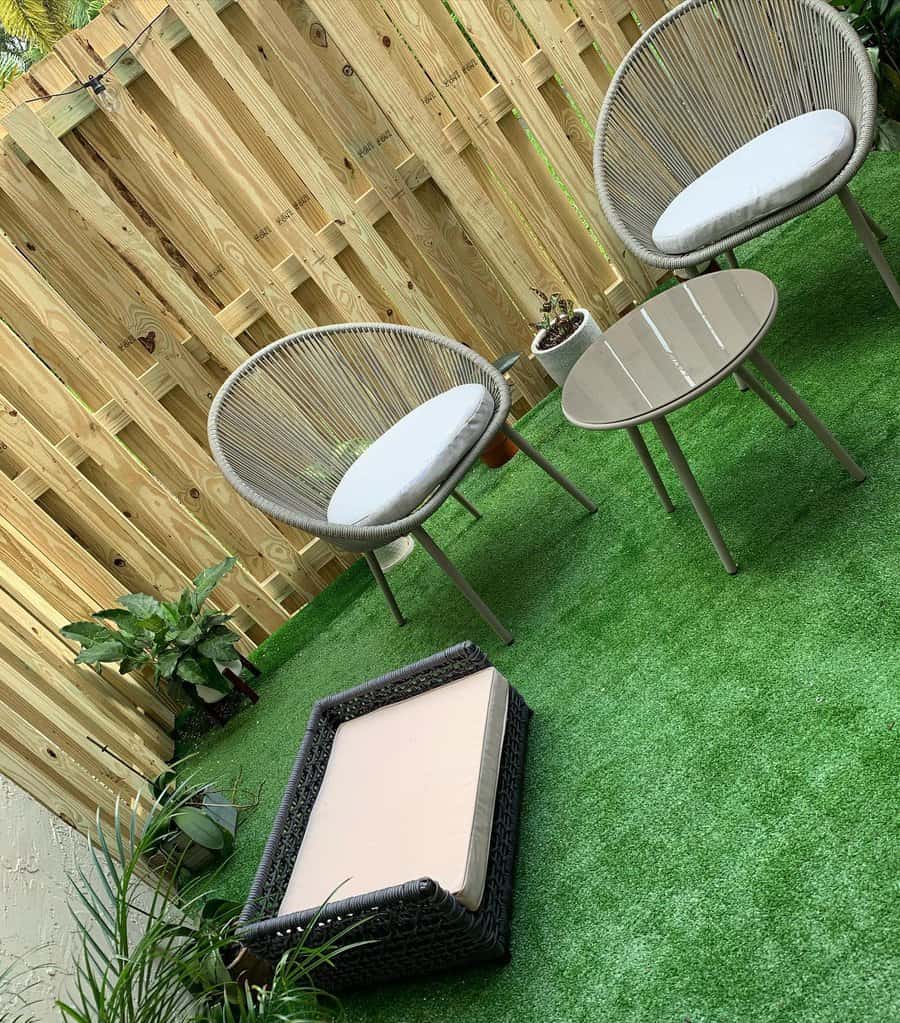 14. Raised Garden Bed
If you're looking for a way to spruce up your outdoor space without breaking the bank, consider incorporating a raised garden bed into your patio design. Not only does it add visual interest and dimension, but it's also a great way to grow your own herbs and vegetables. And the best part? You can create your own raised garden bed using inexpensive bricks.
Simply stack the bricks to form the walls of the bed and fill them with soil. Voila! You have a functional and stylish addition to your patio that won't cost a fortune. Plus, it's a great way to get your hands dirty and enjoy the great outdoors.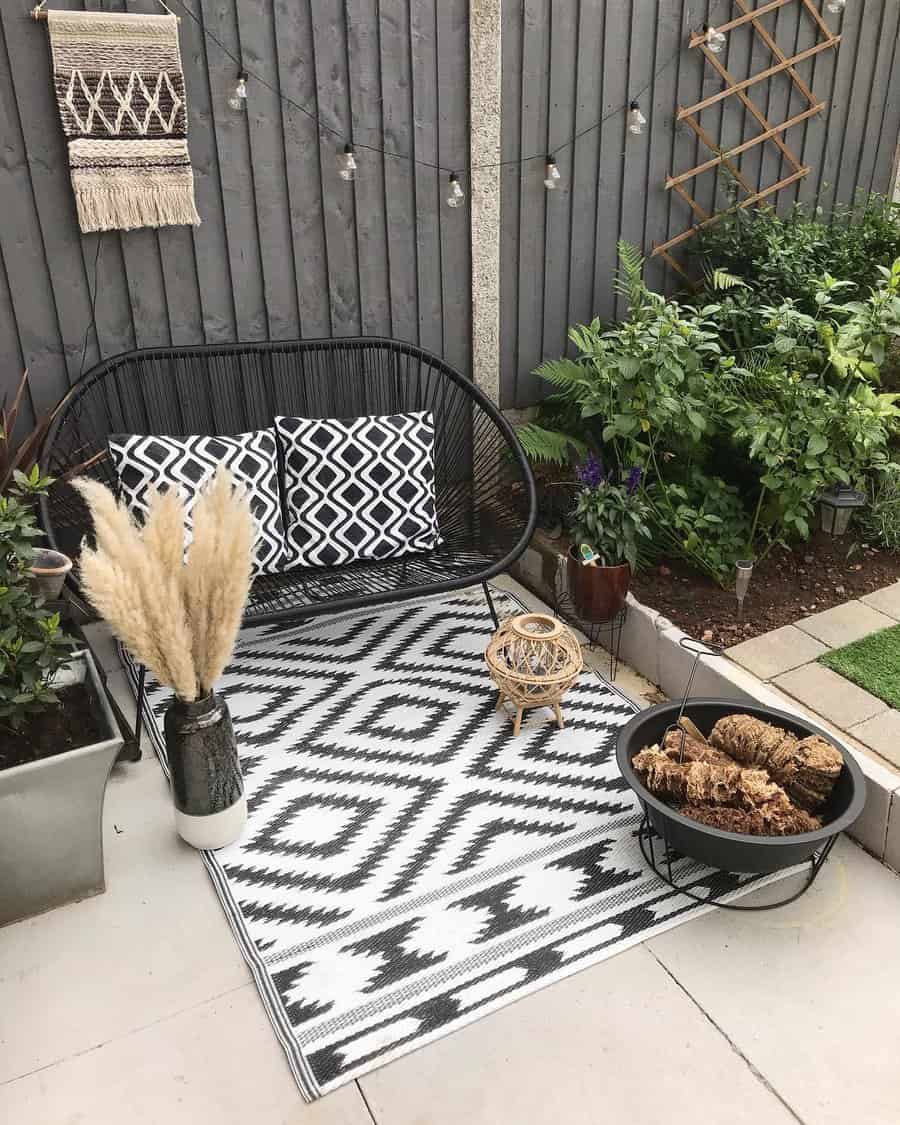 15. Plants
Adding greenery to your outdoor space not only adds a pop of color, but also helps create a relaxing atmosphere. A great way to incorporate potted plants is to place them strategically around your patio – in corners, next to seating areas, and even hanging from the ceiling. You can even create a vertical garden by placing potted plants on a ladder or a repurposed pallet.
Another cheap patio idea is to bring in plants that double as natural insect repellents, such as basil or lavender. Not only will they keep the bugs at bay, but they also add a lovely fragrance to your outdoor space.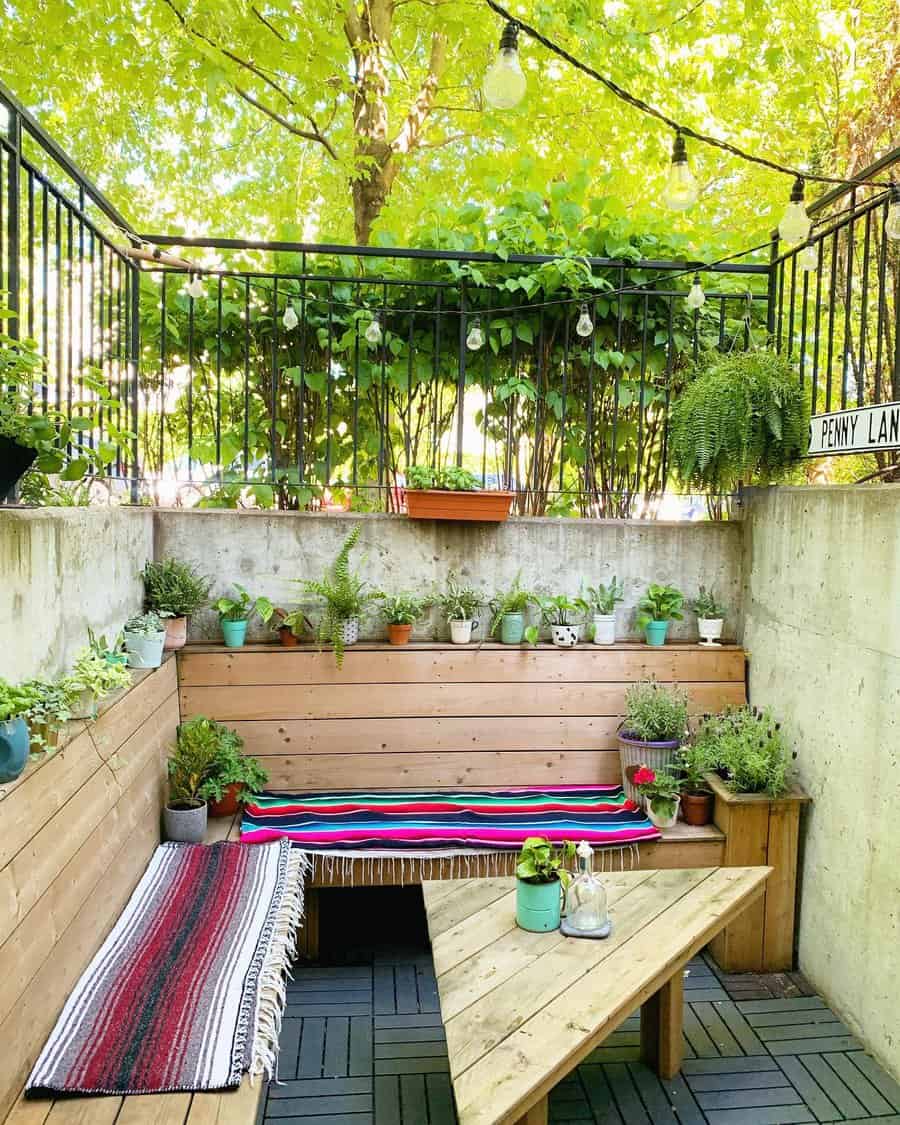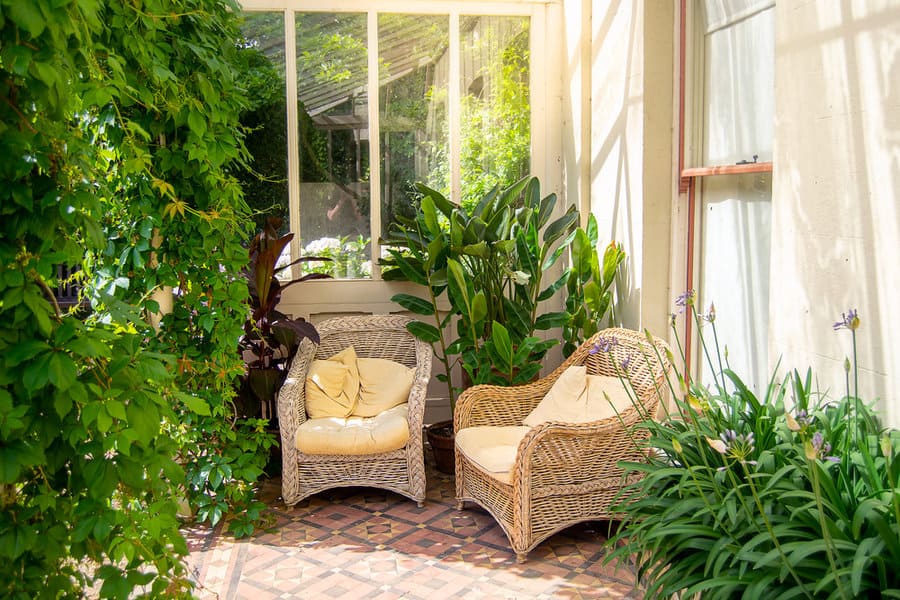 Cheap Patio FAQs
What is the cheapest material to use for a patio?
The cheapest material you can use for your patio is low-grade gravel. You can buy exactly the amount you need and do all of the work yourself. The next most affordable material for a patio is concrete.
What is the easiest DIY patio?
The easiest materials to work with are bricks or pavers. You can have them delivered and arrange them how you want them. The small and workable size of the pavers makes it easier to create custom designs. The multiple shapes, sizes, and colors available make it possible to build a custom design.
How can I make my backyard look beautiful on a low budget?
Start by cleaning up your backyard and creating a dedicated place for all of your designs. A clean and organized backyard looks infinitely better than a neglected one. Add furniture by repurposing reclaimed or salvaged pieces. Use some leftover paint to add a splash of color. Add plants to increase the greenery and natural privacy.