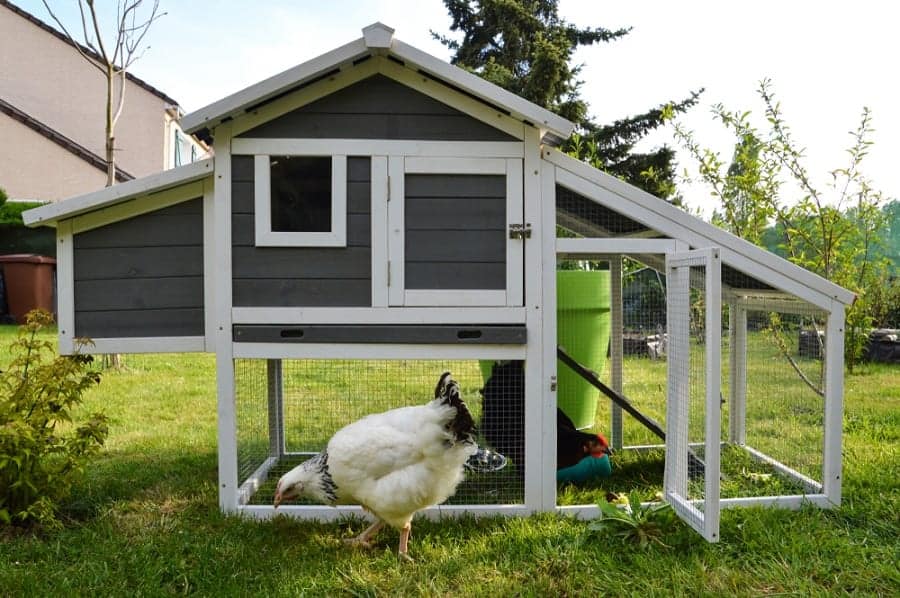 52 DIY Chicken Coop Ideas for Your Yard
You know you own chickens when you watch them play in the backyard more than you watch TV.
Raising chickens used to be a farmer's job, but backyard chicken coops are now a common sight throughout suburbia. In fact, some urban areas now allow people to raise chickens within city limits. If raising chickens has piqued your interest, but you're unsure where to start, this list of backyard chicken coop ideas will inspire you.
Whether you plan to raise a few chickens or a whole flock, creating the perfect hen house is easier than it sounds. Check out our big, small, rustic, and stylish chicken coop ideas and get ready to enjoy fresh eggs every morning.
1. Cottage Style
Building DIY chicken coops to shelter and raise chickens is becoming increasingly popular, and why not? The traditional wooden cottage-style or barn-yard style of chicken coop adds a wonderful accent to rural spaces, creating an atmosphere of serenity as well as providing safety from predators.
Constructing a DIY chicken coop encourages creativity, whether you choose to upcycle materials or build your own designs with modern tools. If you're dreaming of creating your own backyard haven for freshly laid eggs, a cottage-style DIY chicken coop is the perfect place to get started.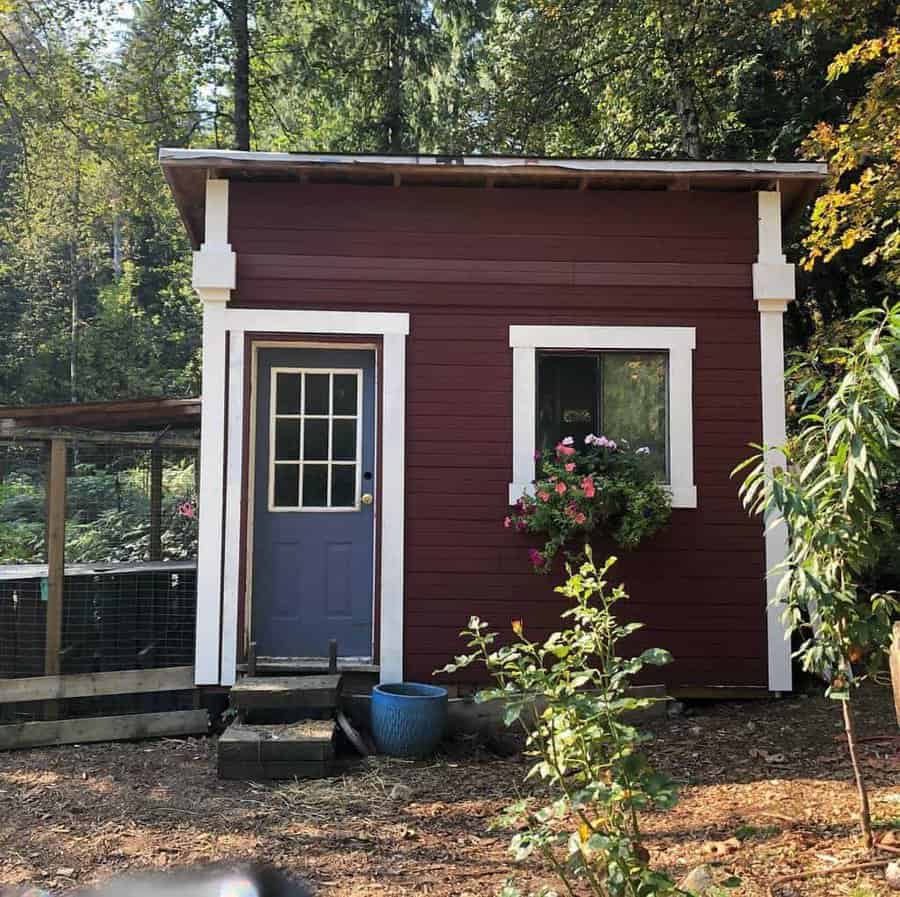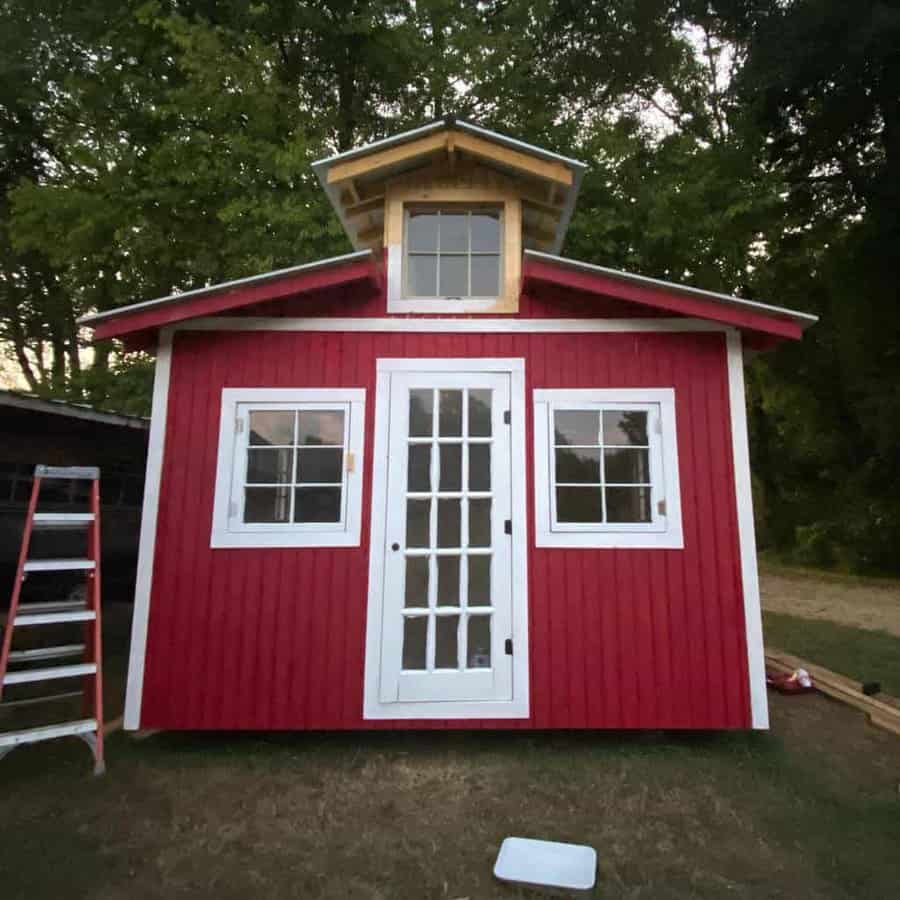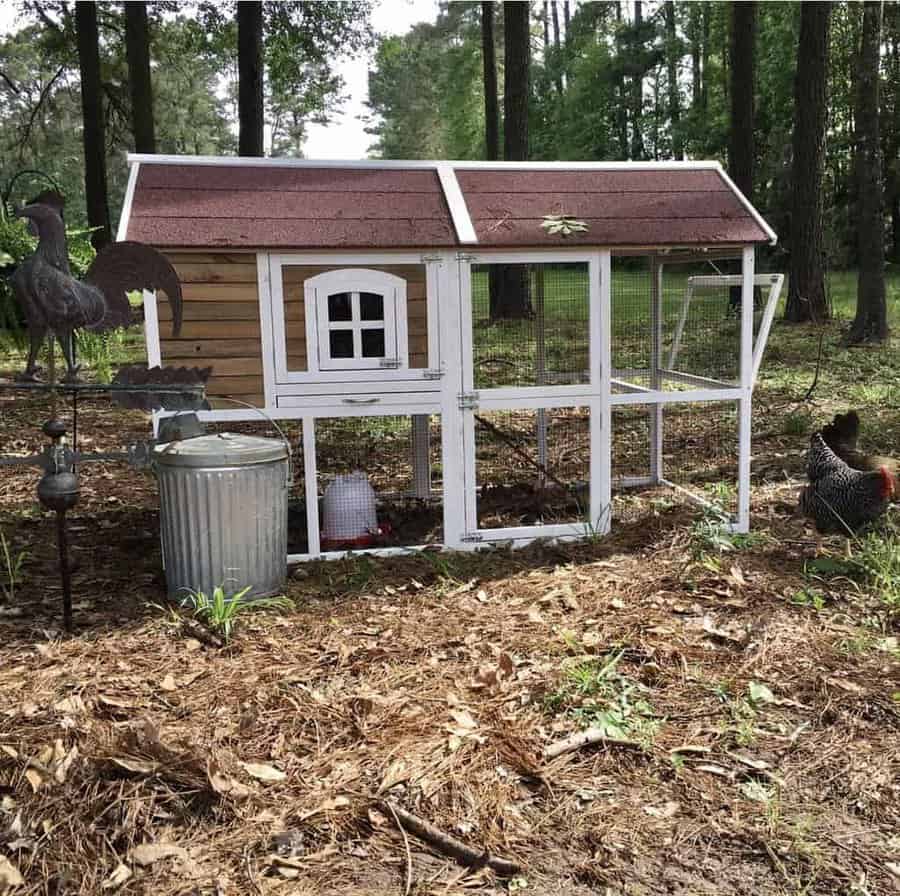 2. Decorative
A decorative chicken coop can be the perfect addition to your home. Not only do you get fresh eggs, but they can also look absolutely stunning! Depending on how creative you get, your decorative chicken coop can even become a showpiece in your backyard.
For example, consider having a chic and decorative door with some fun hanging decorations. You could even add decorative wallpaper to the walls or paint them in vibrant colors that draw attention.
With the right amount of creativity and style, you are sure to have an amazing decorative chicken coop that stands out from the rest!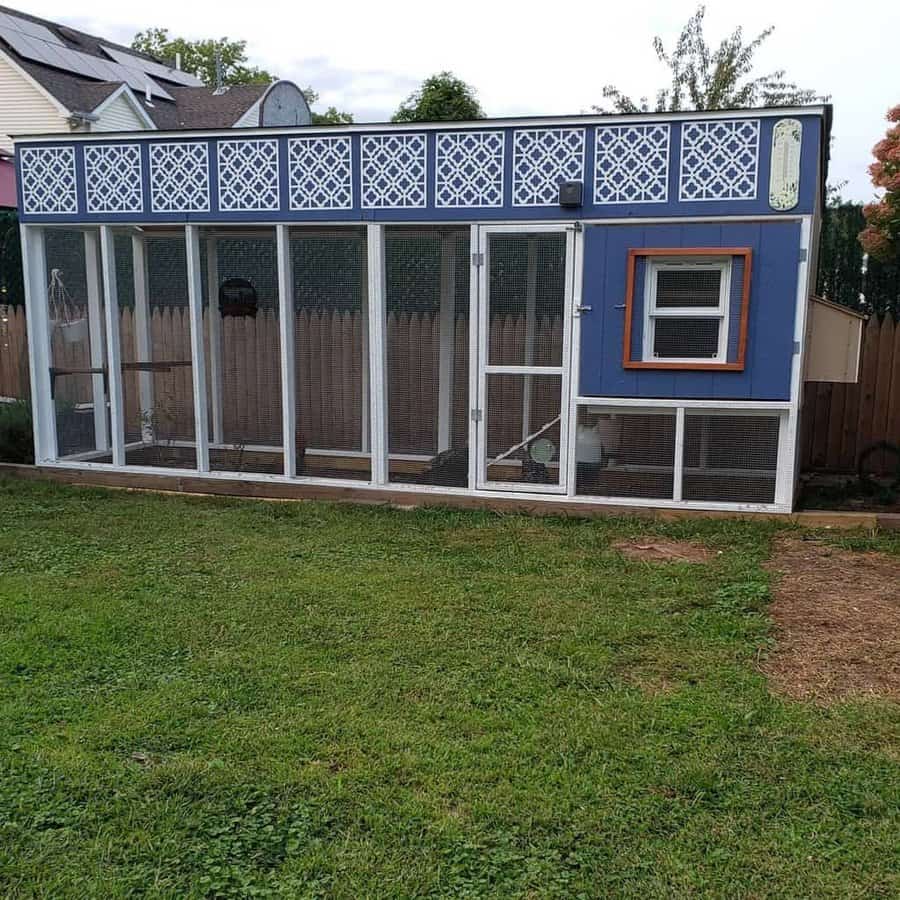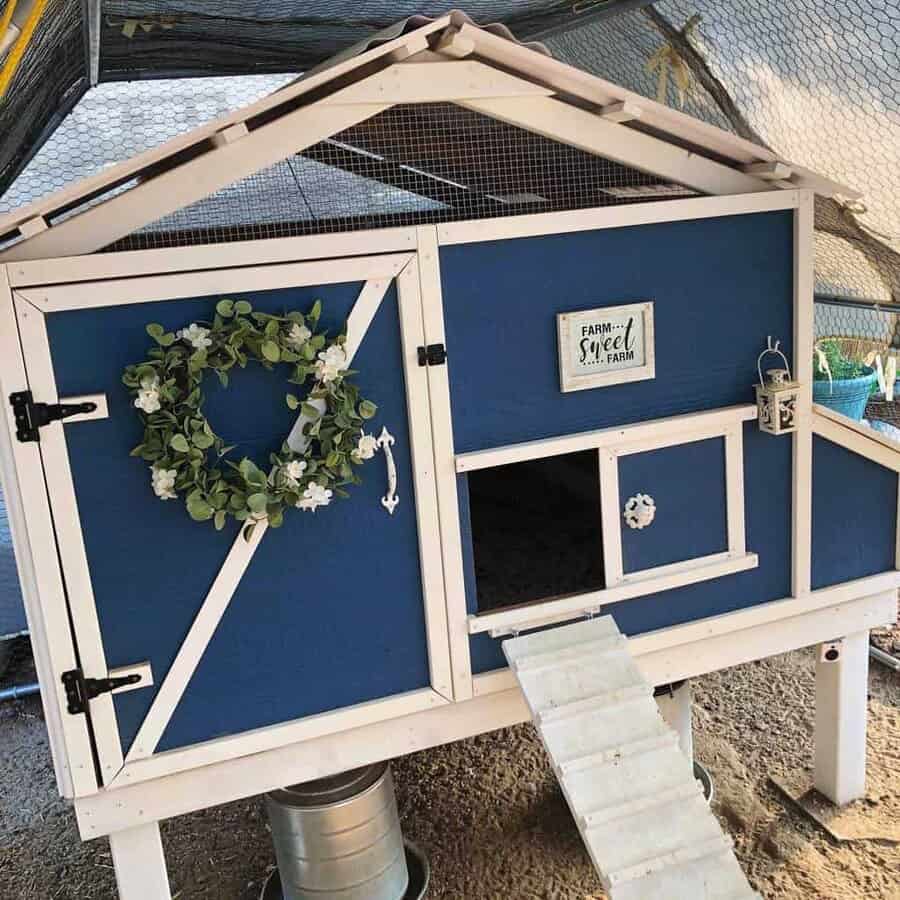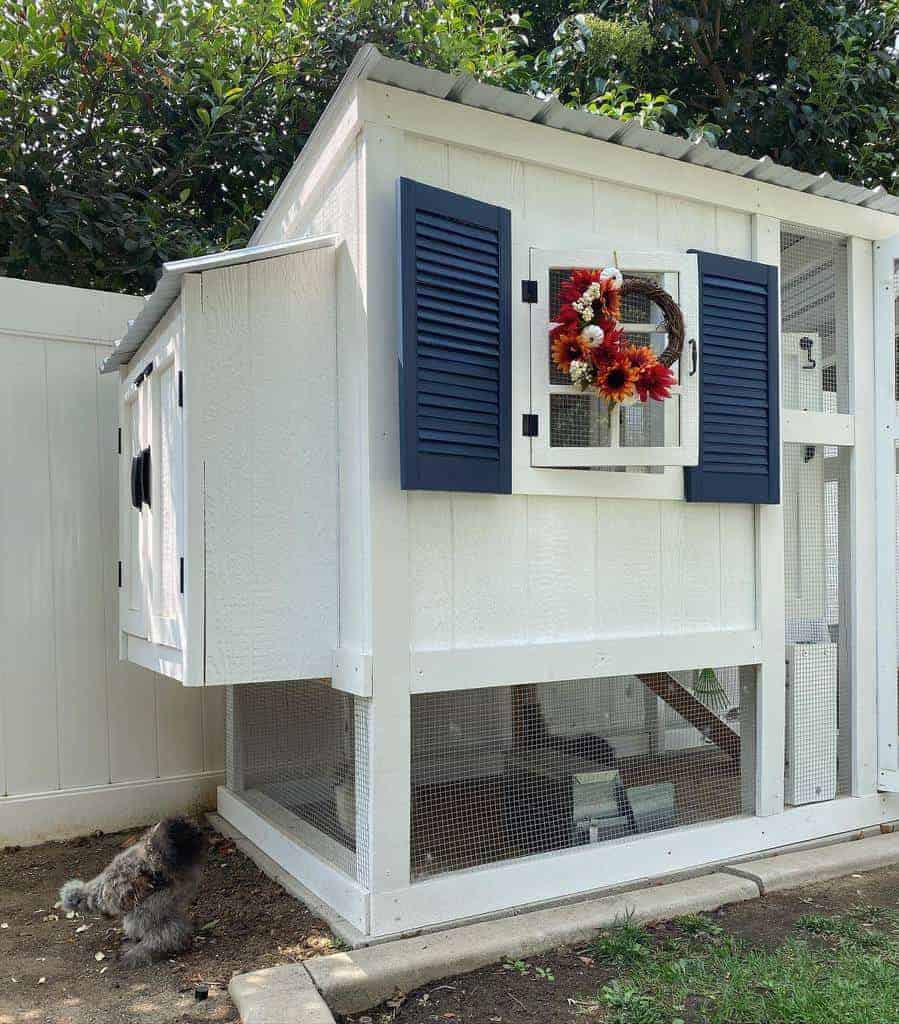 3. Shiplap Walls
Crafting the perfect shabby chic chicken coop has never been easier! With shiplap walls, you can give your chickens a relaxing and stylish atmosphere.
This classic style is defined by tongue-and-groove edges and a smooth finish, perfect for decorative painting accents. Whether you prefer to whitewash the shiplap boards or leave the wood au naturel, these walls will be sure to provide your chickens with an attractive interior to call home.
Cozy up their coop by adding rustic furniture pieces, twine lights, wicker baskets, and whatever else strikes your shabby chic fancy!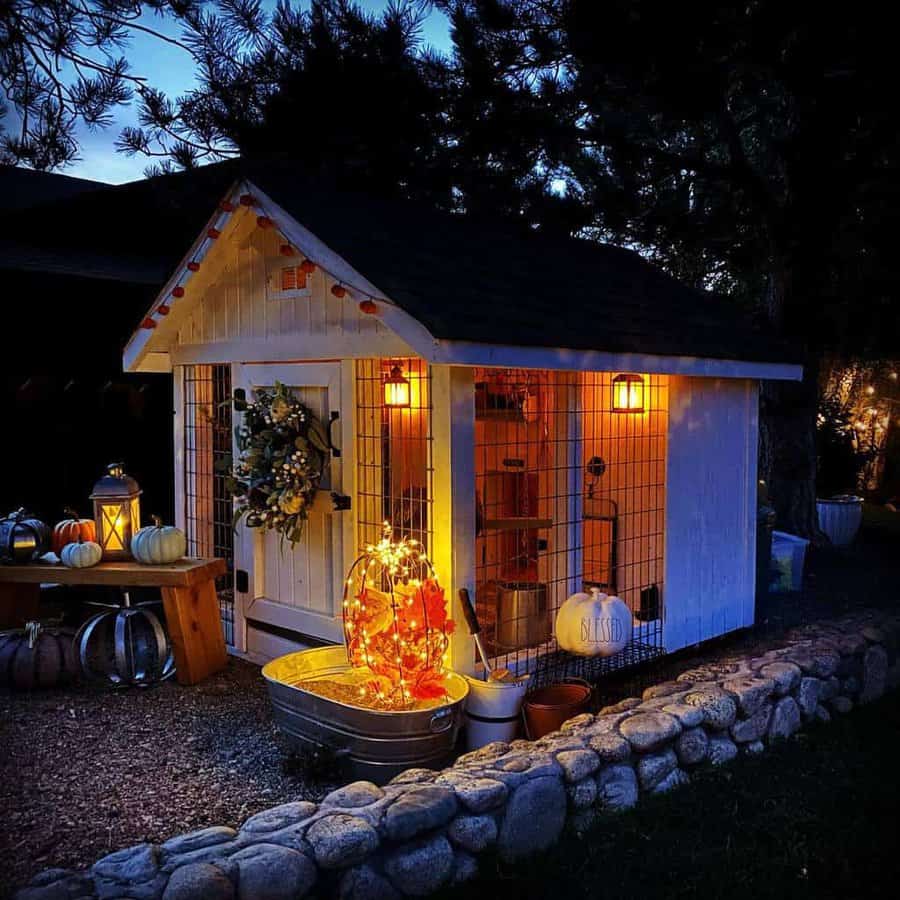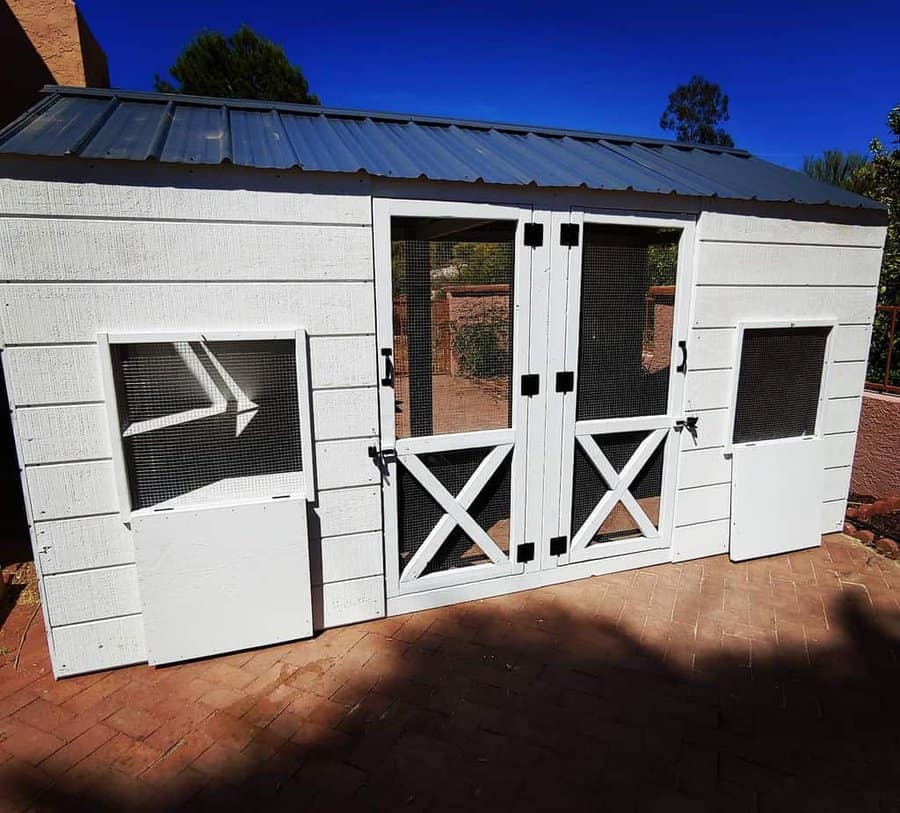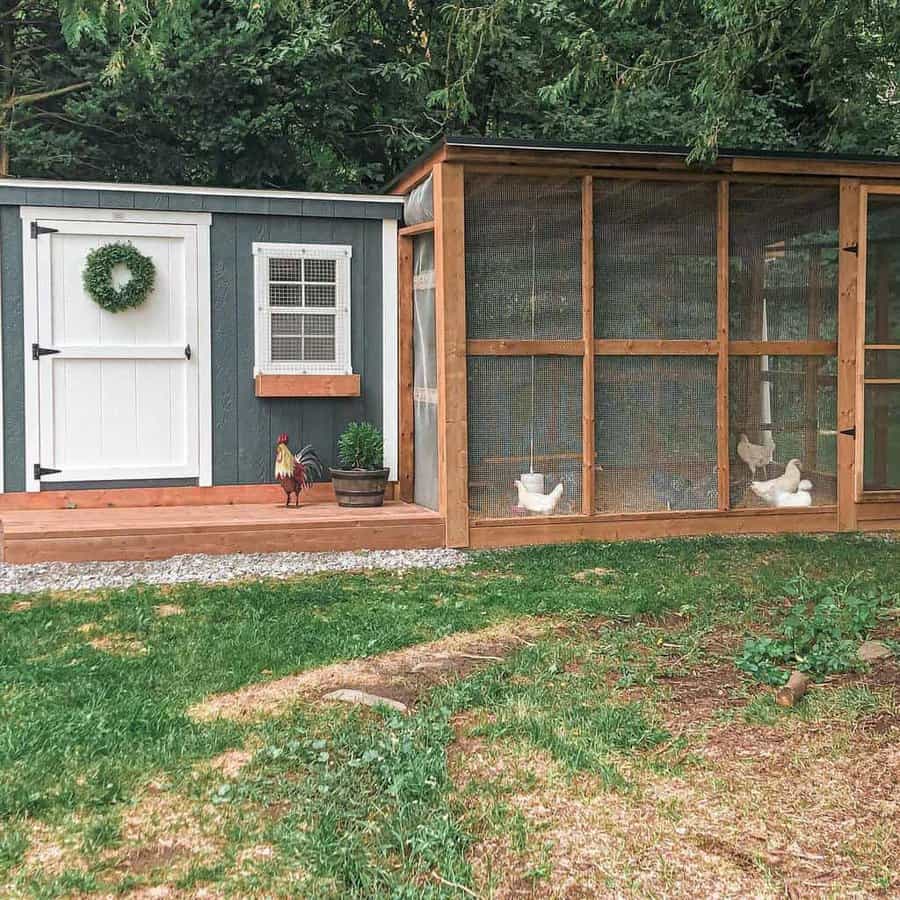 5. Bungalow
A chicken coop with a bungalow-style roof and screen walls is a perfect way to add some rural charm to your garden. The roof provides complete protection for your feathered friends, while the screen walls ensure ample air circulation and are easily accessible in case of inspection or maintenance. This chicken coop will give you an opportunity to admire your chickens from afar, watching them happily scratch and roam until sunset!
What's more, it creates a lovely sheltered space that can then be used by other farm animals like goats or rabbits – they'll appreciate being safe from pesky predators. Bring a taste of countryside living today to your backyard with this traditional yet stylish chicken coop!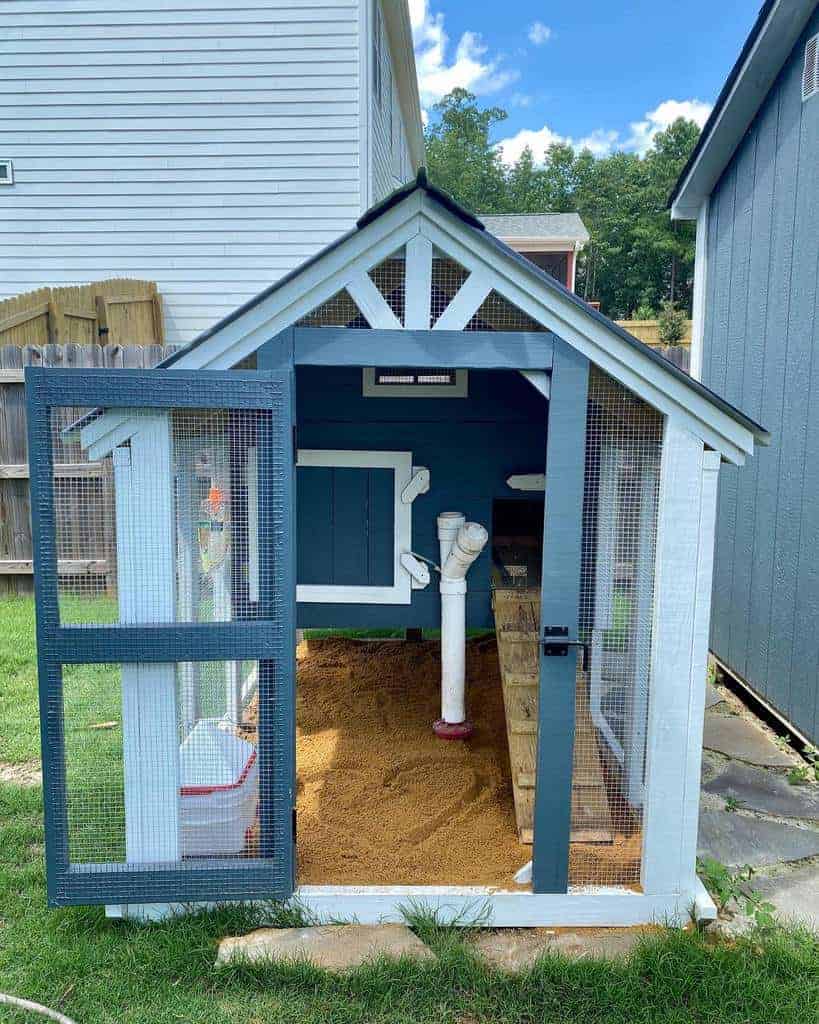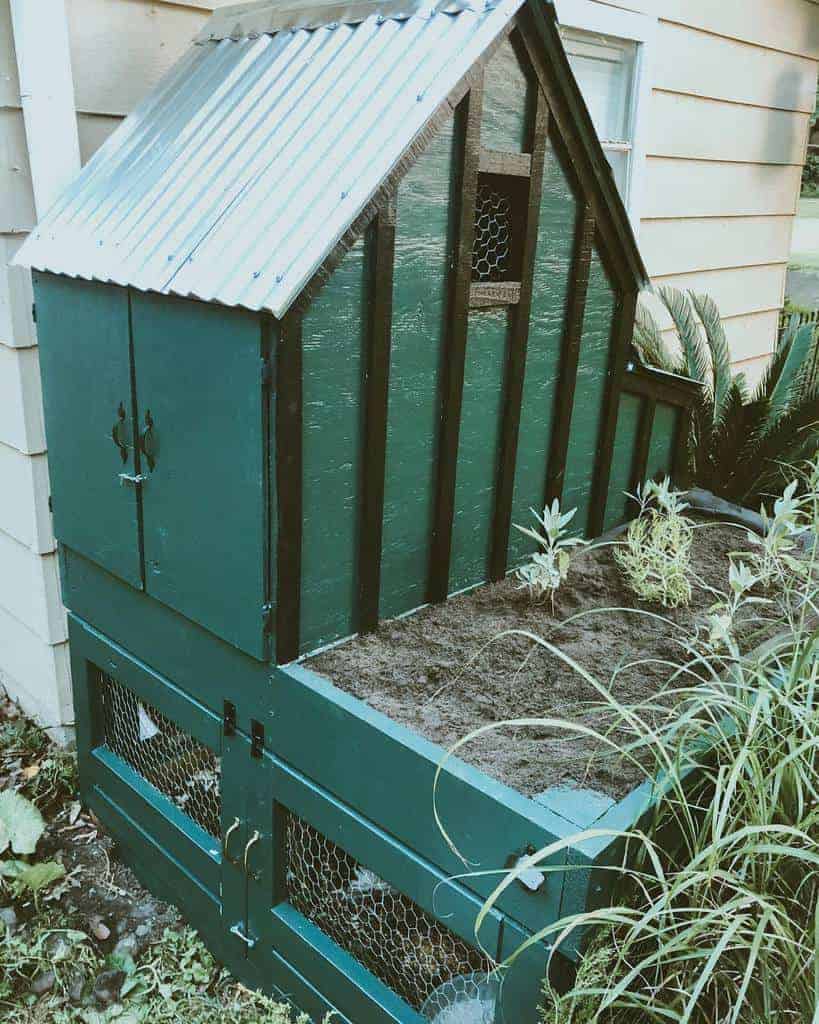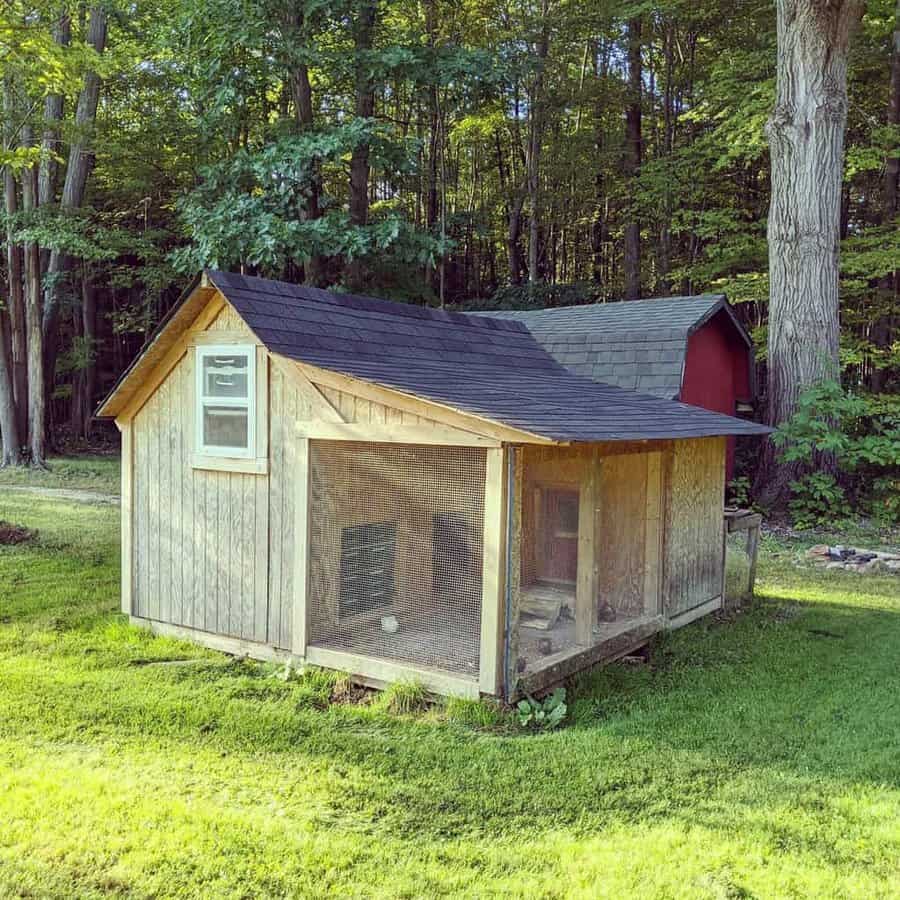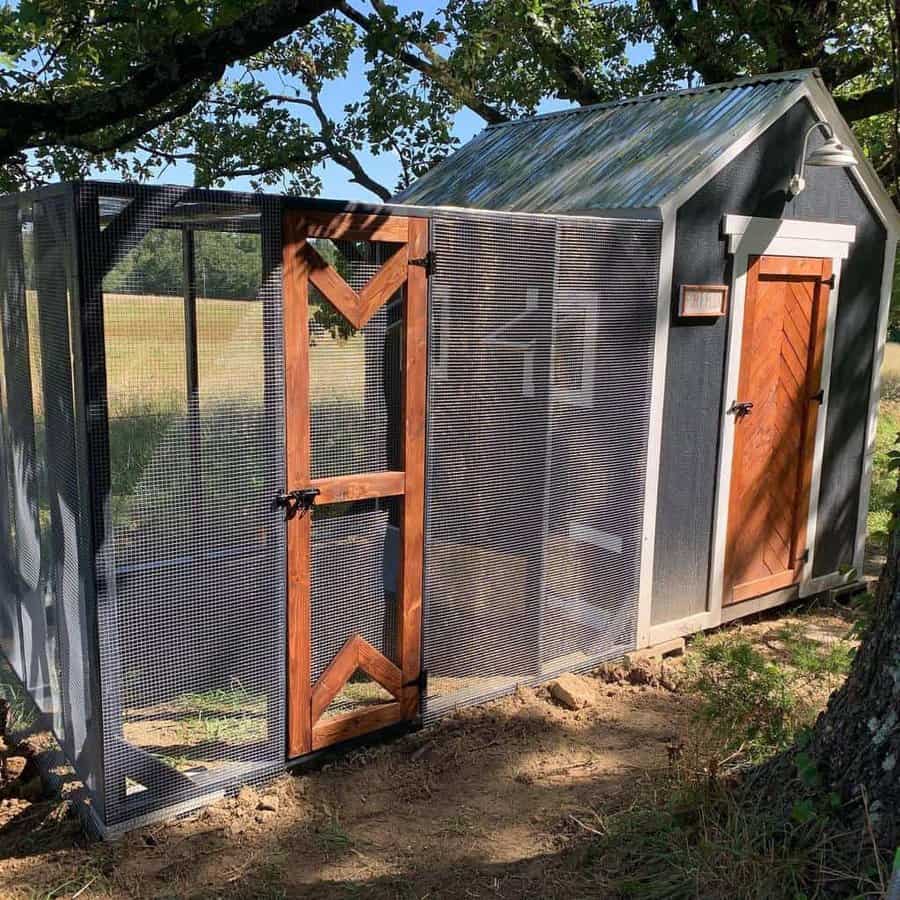 6. Traditional Red
If you're looking for a way to add some old-fashioned charm and character to your backyard, look no further than a red chicken coop!
A traditional red barn may be too large for an urban or suburban homestead, but this red chicken coop will provide the perfect farmhouse feel. Its red walls create an inviting atmosphere whether it's housing hens or simply sitting in your space, just waiting for you to get lost in whatever hobby or activity you choose.
It's a beautiful reminder of simple living and – as they say – the best things really do come in small packages.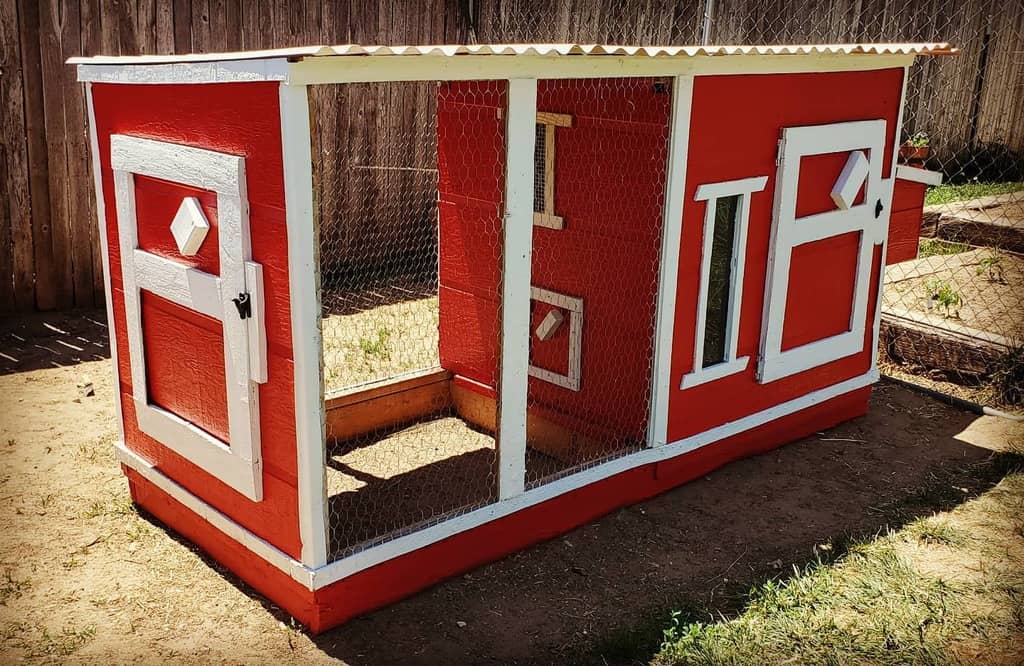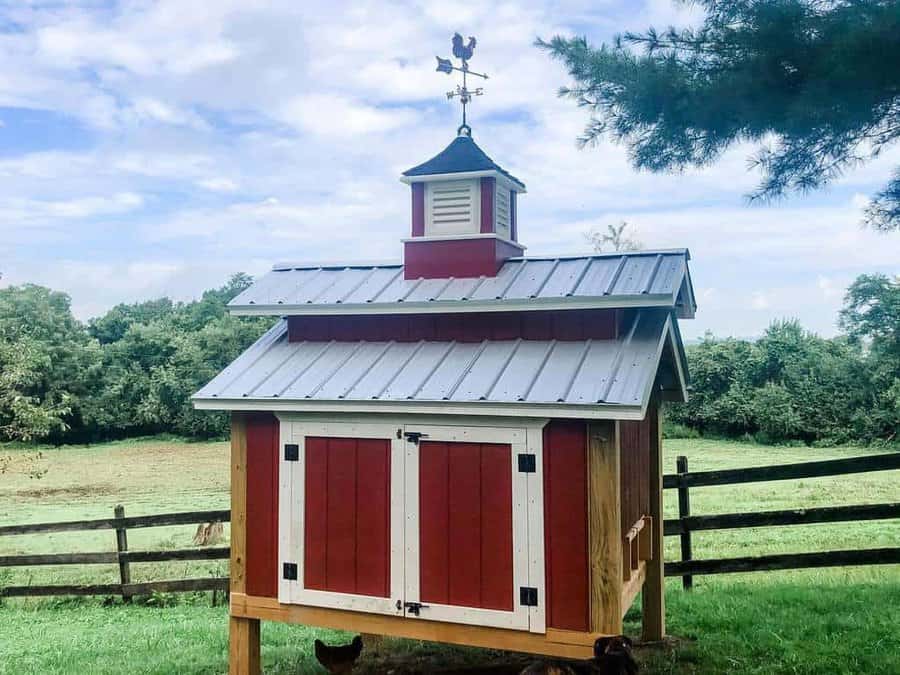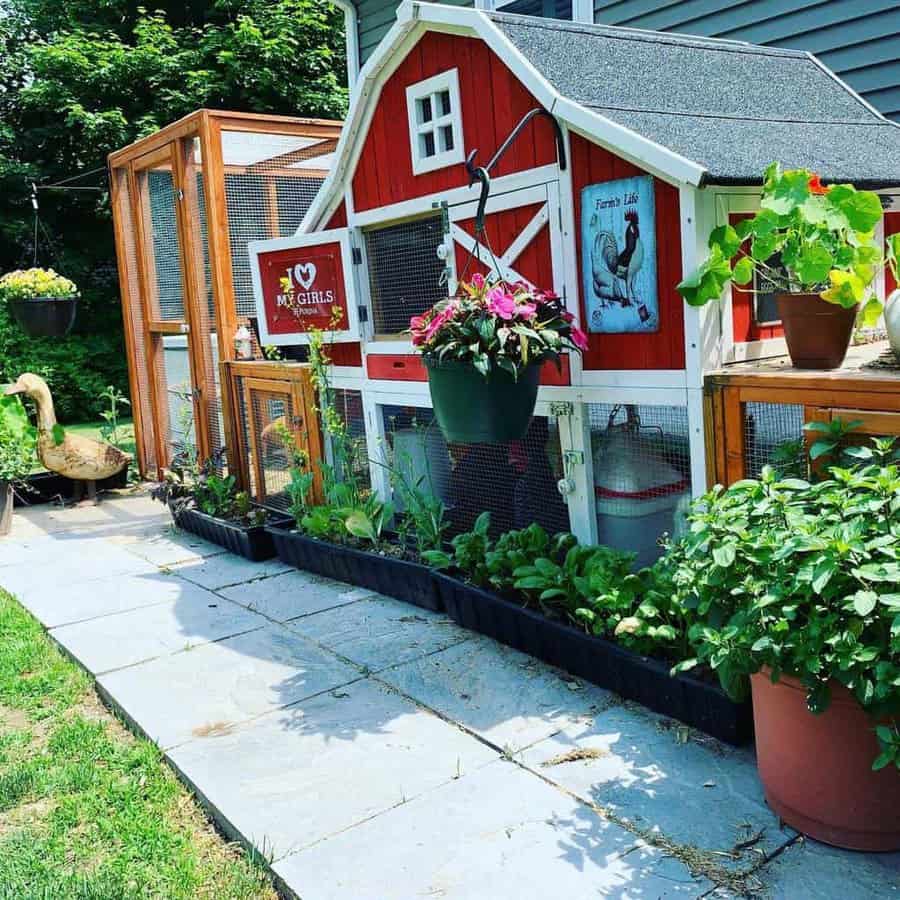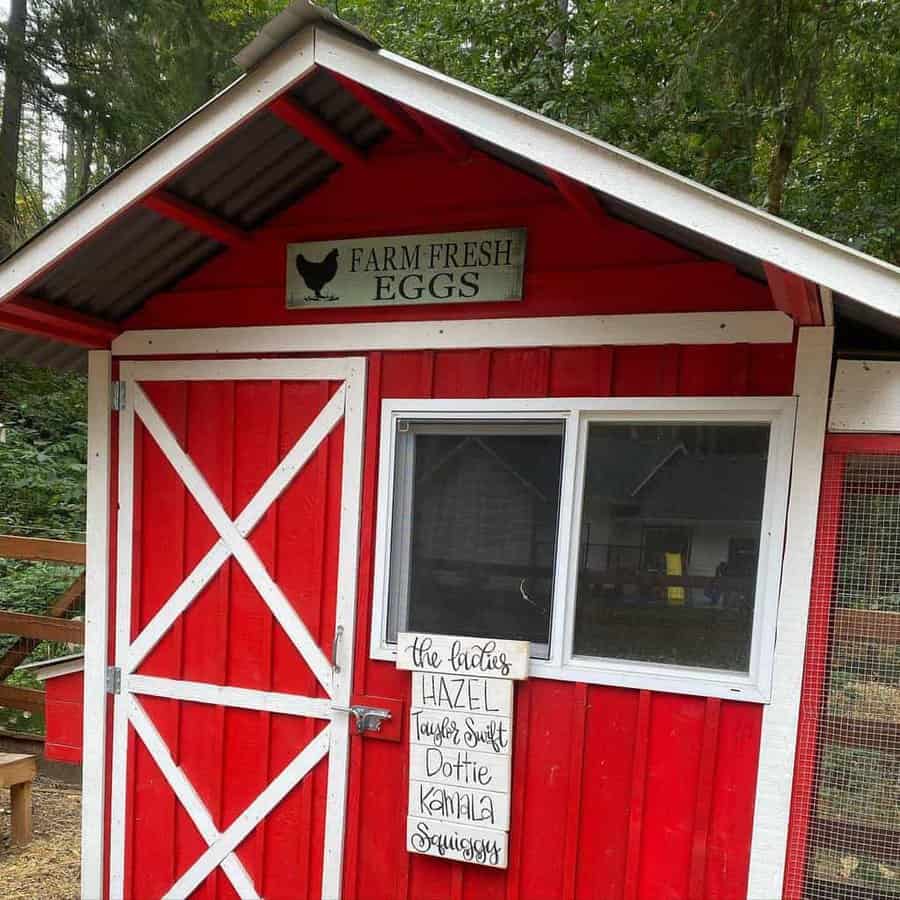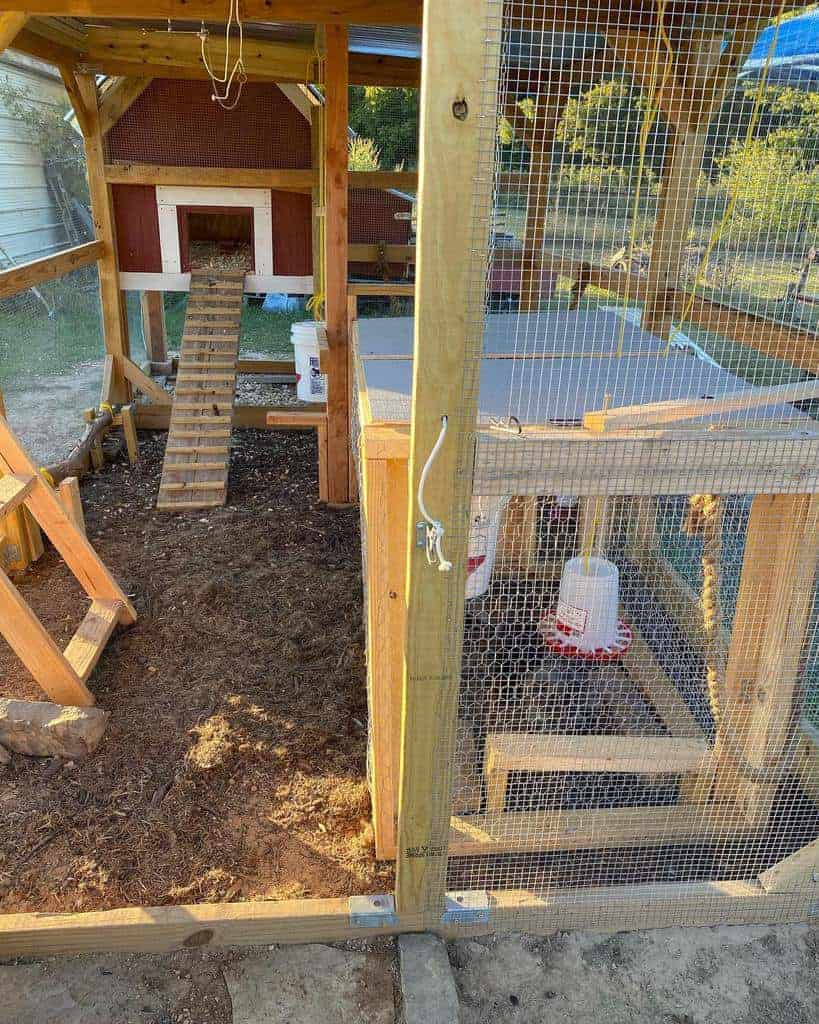 7. Themed
Have you ever thought of giving your chickens a themed living space? With themed chicken coops, they'll literally be living the high-coop life! You can put a positive spin on it and home them into a cluck mansion or give them some bird-pun humor with an eggstraordinary outhouse.
Everywhere they go, their coop will be keeping up with the cluckadoodles in the neighborhood! Wordplay aside, themed chicken coops are great fun for those who keep poultry and can add a unique flair to your yard while giving your feathered friends somewhere safe to live.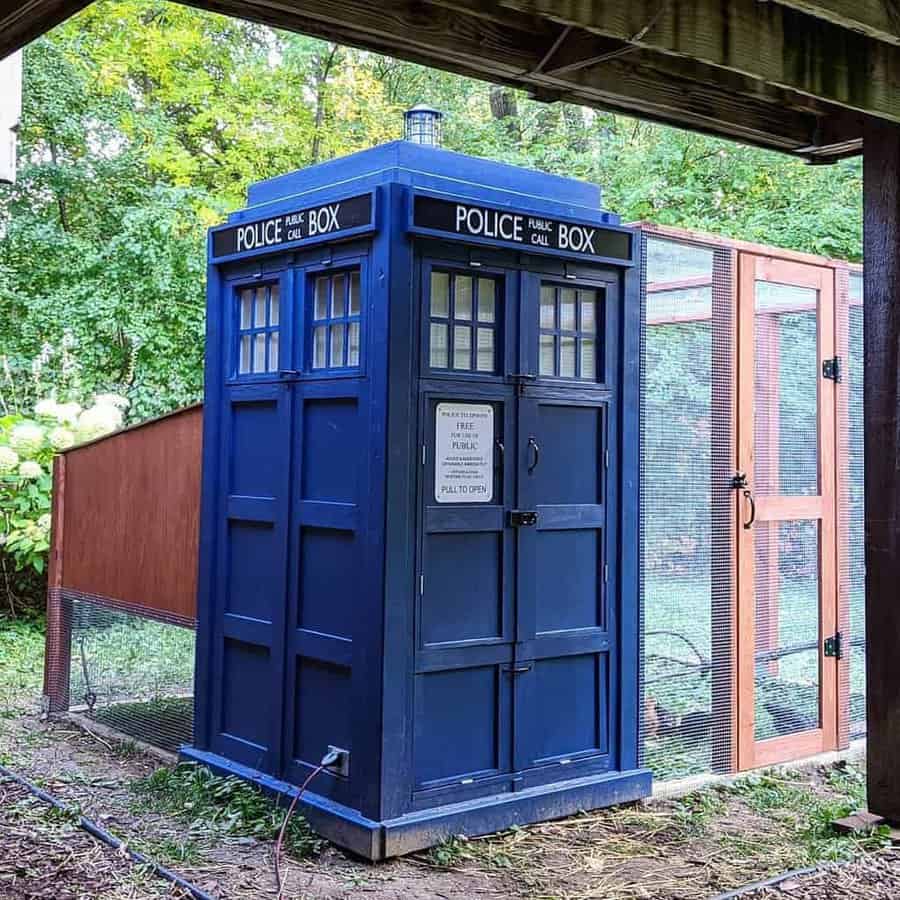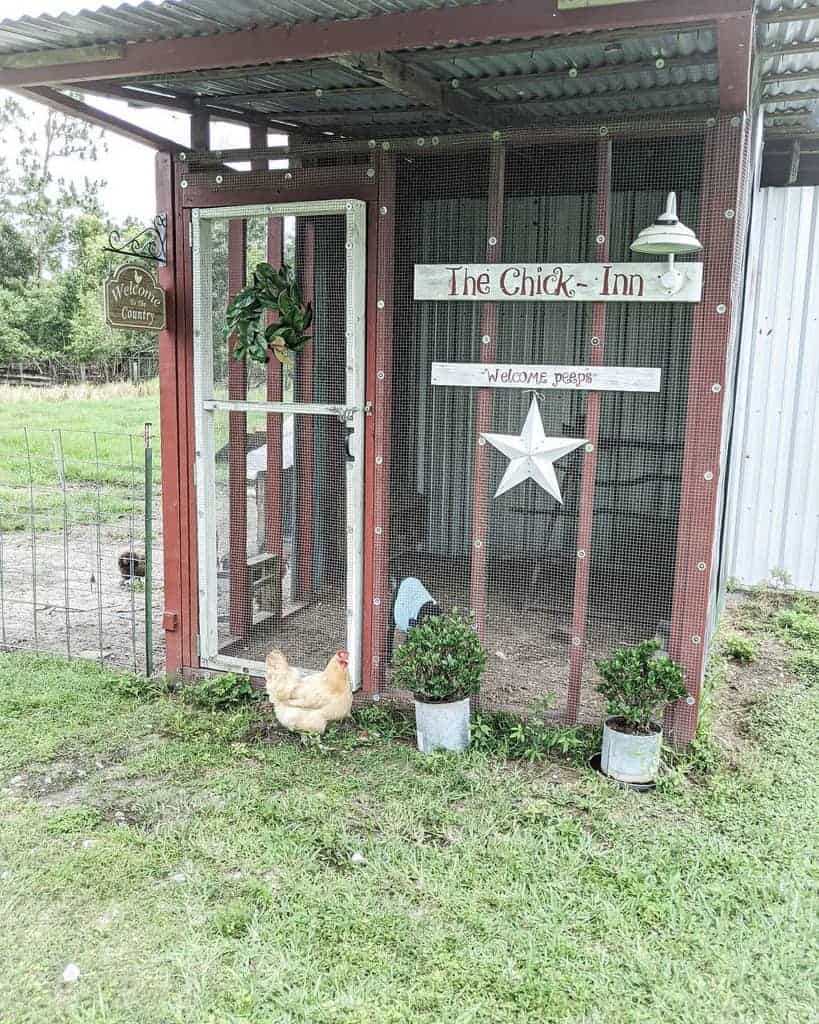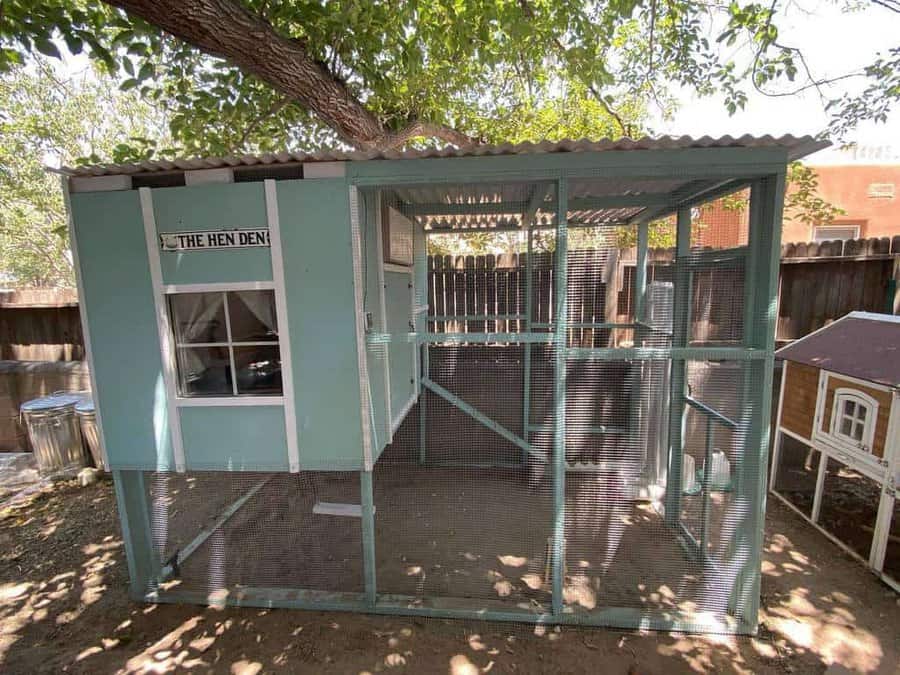 8. Dainty White
Have you ever wanted to create dainty grazing grounds for your feathered friends? An all-white chicken coop could be the answer! It's the perfect solution for a truly idyllic roosting spot – no other color combination can quite replicate its delicate beauty.
Plus, as it's all white, you don't need to spend any time doting over scratches & dents or worried about pesky paint jobs. So if you're looking for an extra special place to raise your chickens in, an all-white chicken coop is the way to go!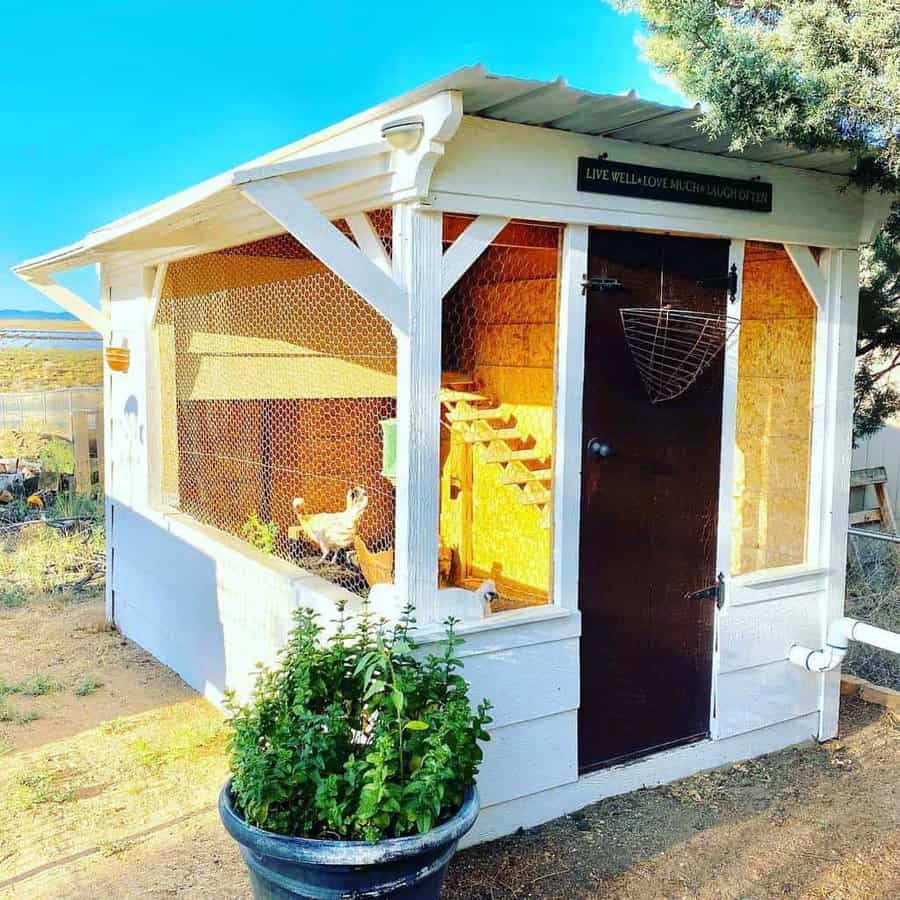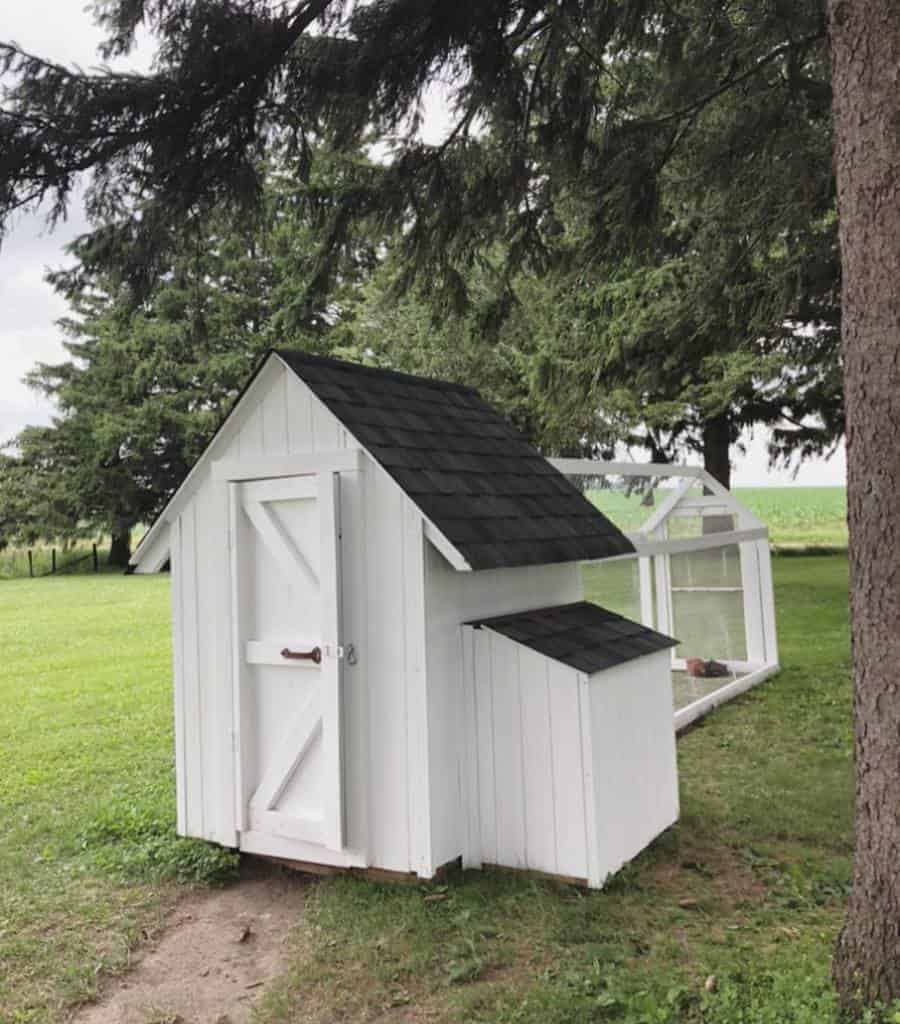 9. Pre-Fabricated
Building a pre-fabricated chicken coop promises to be an exciting project, both for the new chicken farmer and their chickens! Not only will it provide a secure, enclosed environment for the birds, but it allows you complete control over the environment and decoration.
You can customize the size of your pre-fabricated chicken coop and create different rooms depending on what type of birds you have. The pre-fabricated options also make construction quick and easy. Before you know it, your chickens will have a brand new home!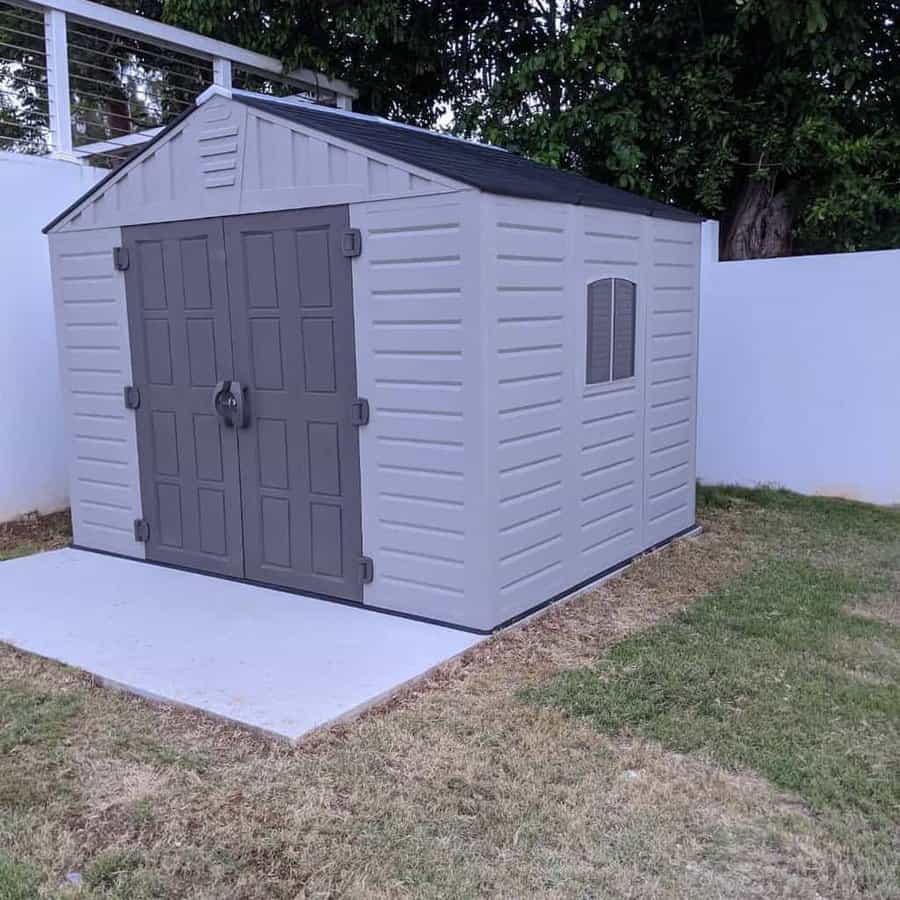 10. All-Screen
Have you ever wanted a chicken coop that was like a walk-in aviary? Well, now you can have just that with an all-screen chicken coop! The all-screen enclosure acts as a playground for your chickens with plenty of space to roam safely within the large structure.
Accessibility is effortless with the wide opening entrance and all sides made from durable mesh material for ventilation and easy viewing of your feathered friends. Plus, with all-weather protection, it's sure to stand up against wind and rain.
With an all-screen chicken coop, you can give your birds the perfect place to run and explore in style!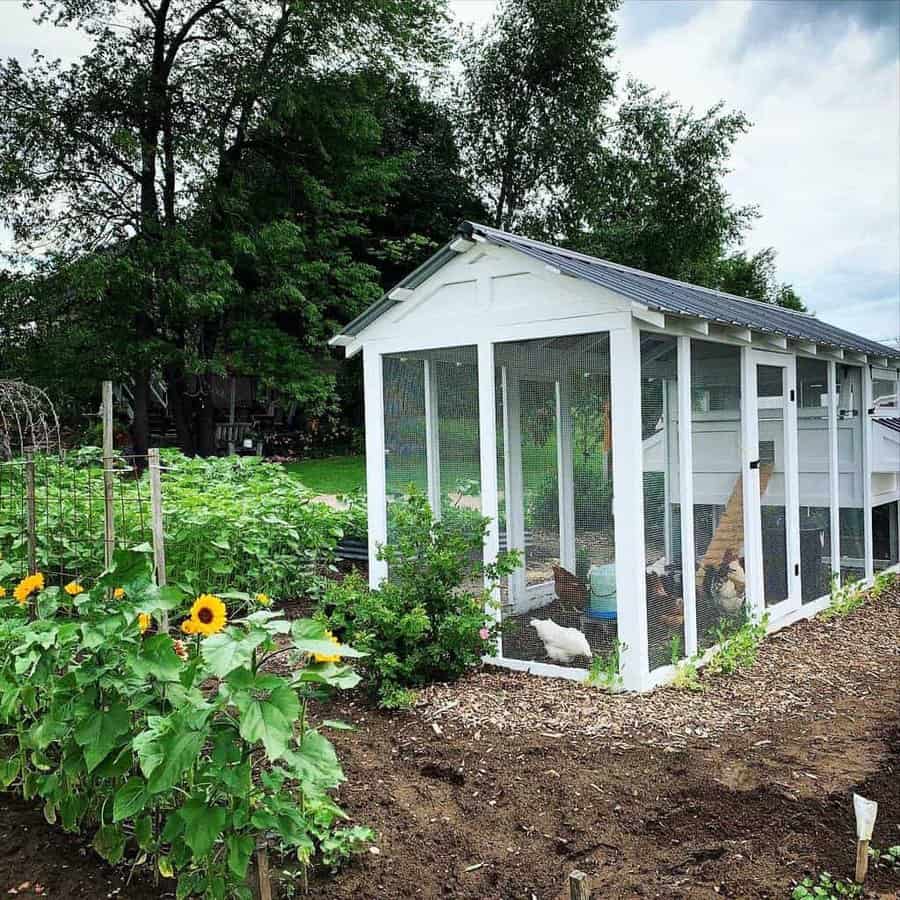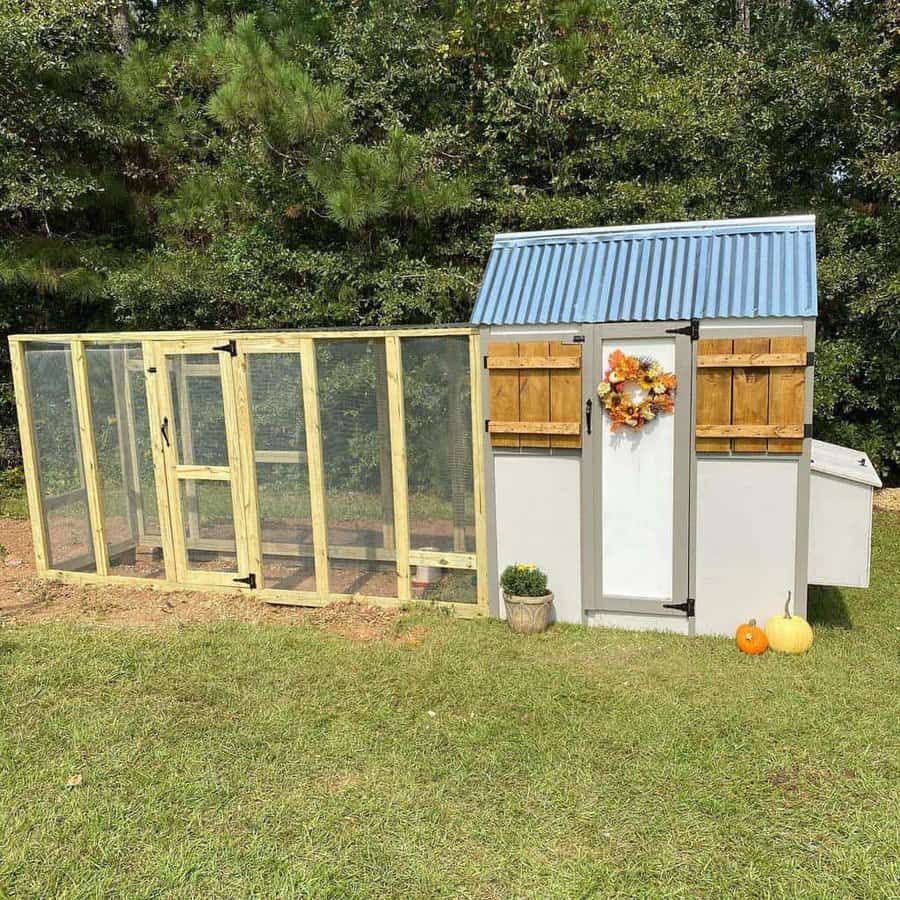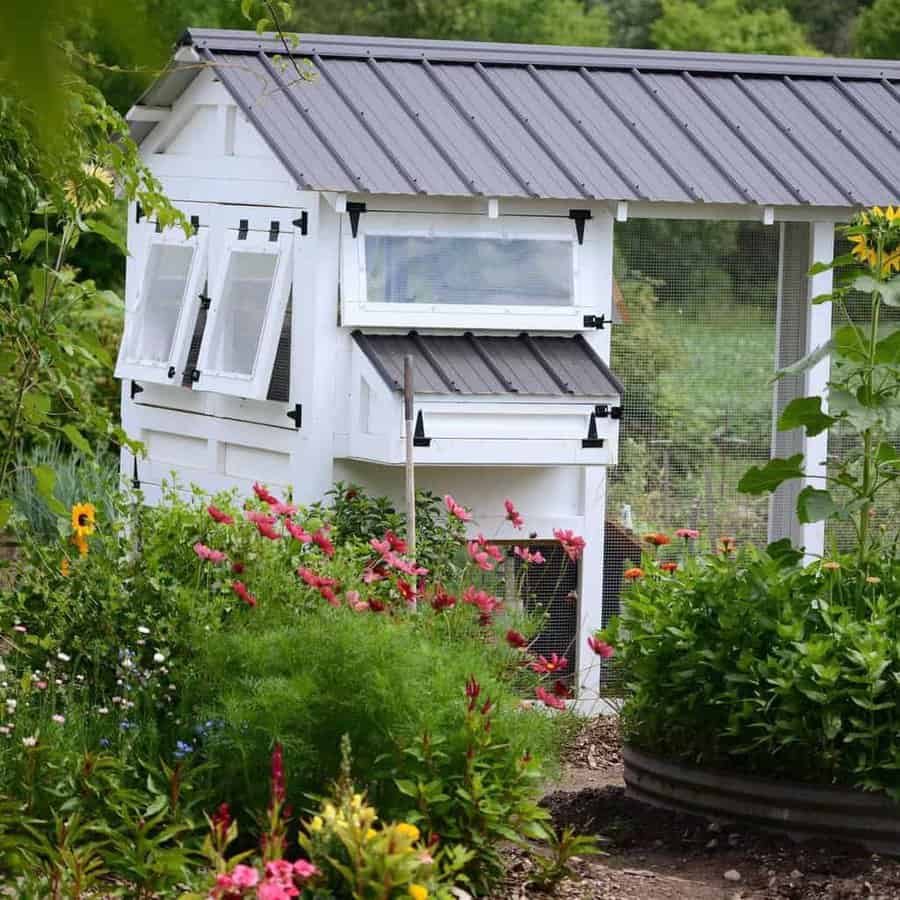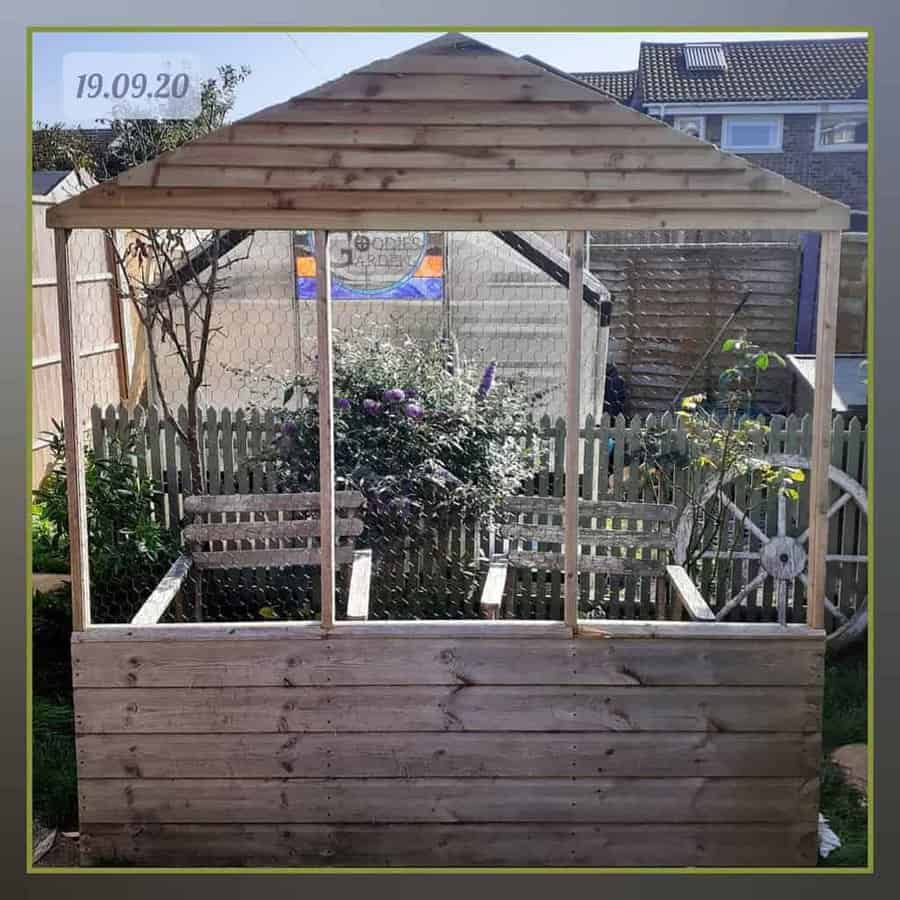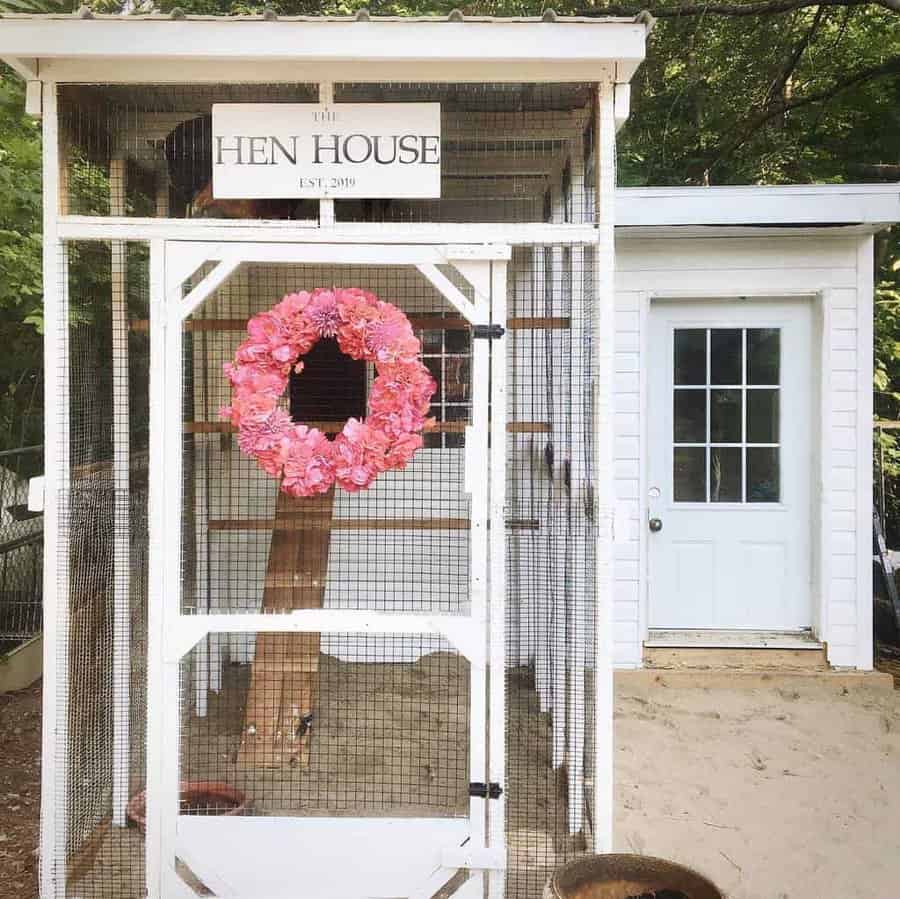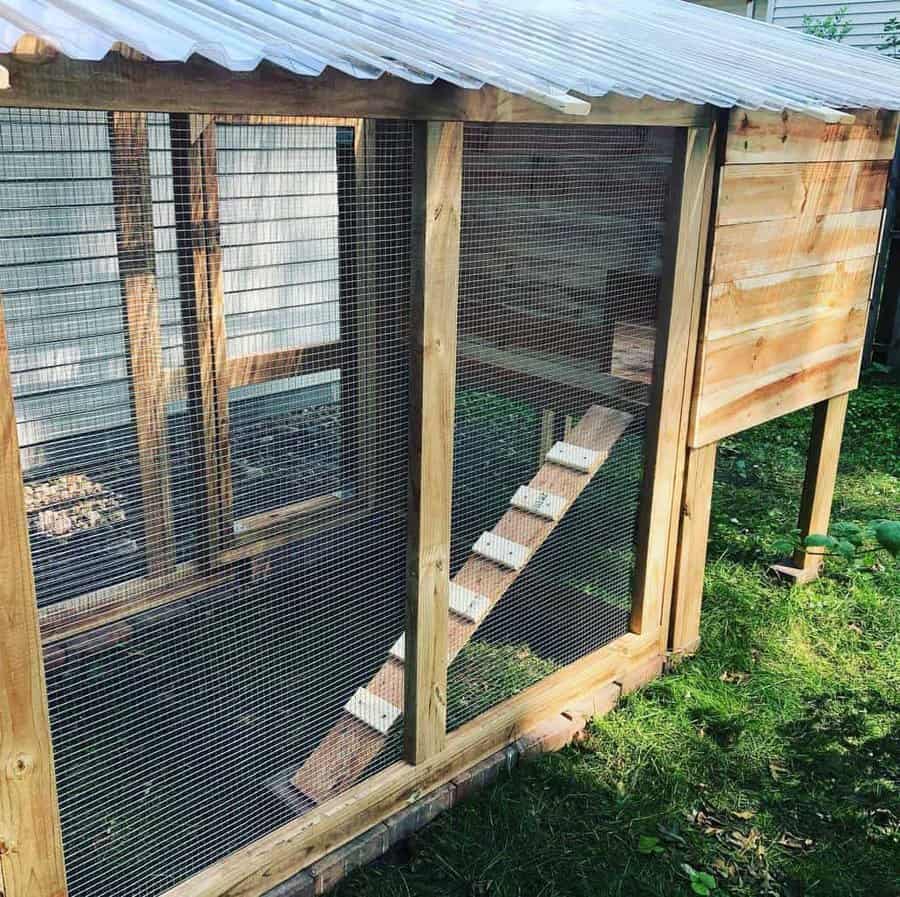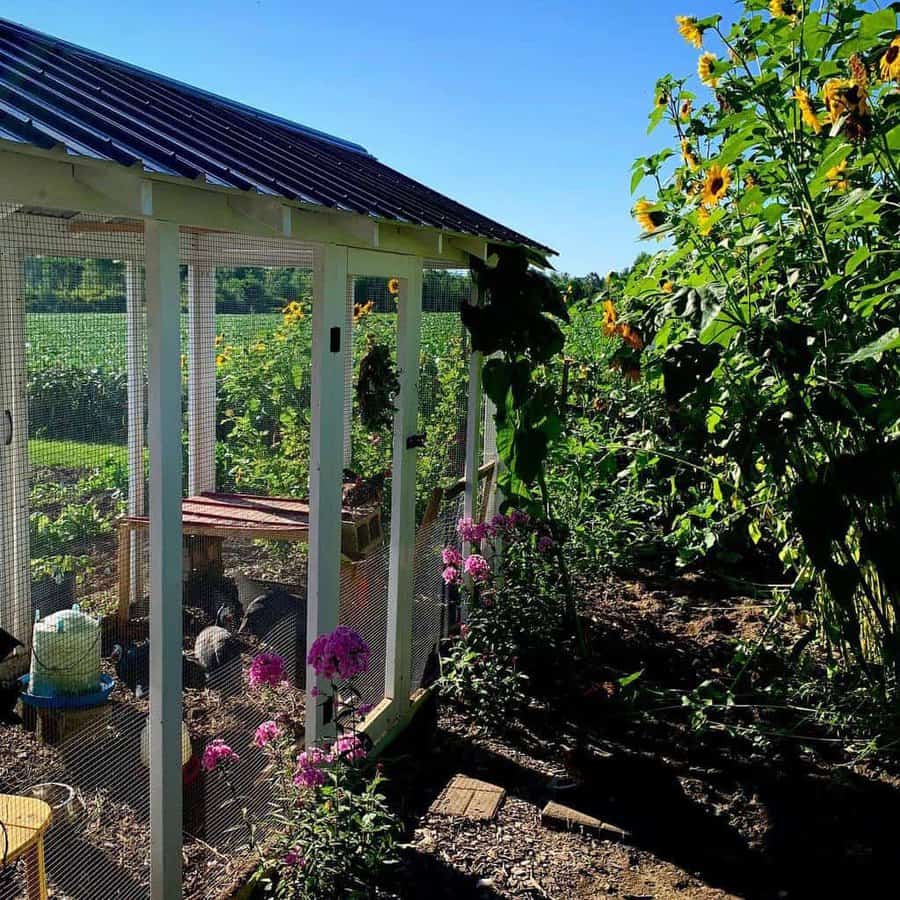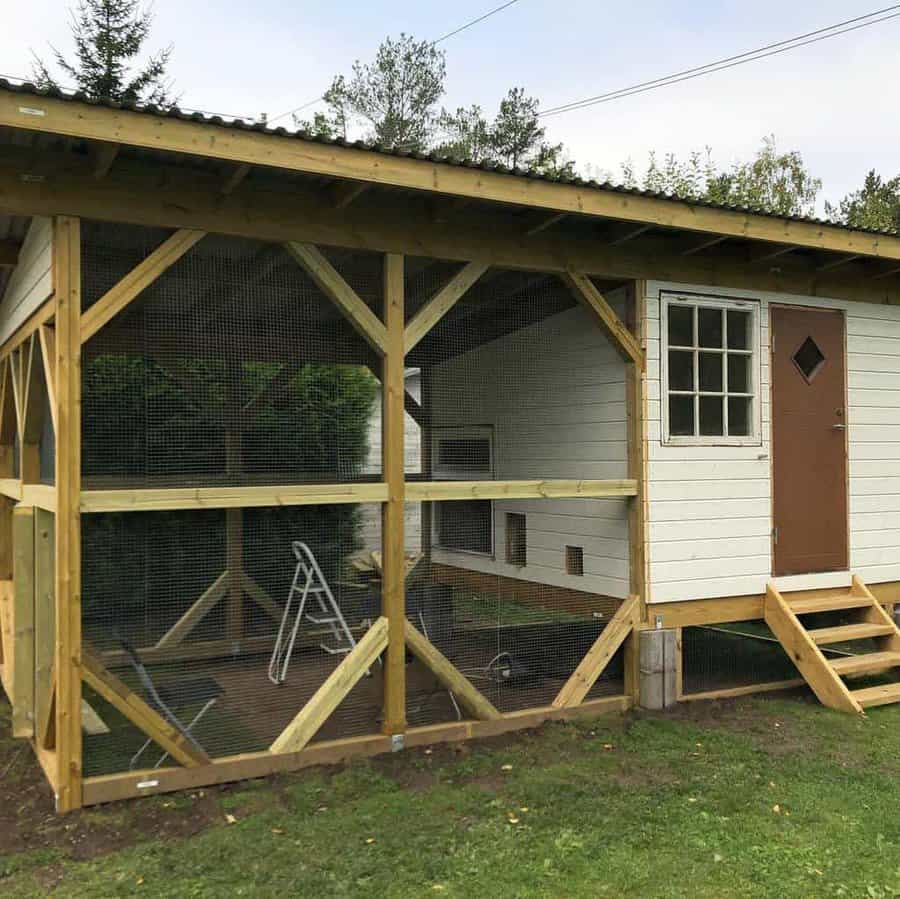 11. Rolling Coop For Free Range Chickens
With a rolling chicken coop, you can now give your chickens the opportunity to live out their free-range dreams while still staying safe and secure. This innovative new contraption not only keeps its feathered occupants inside the protective enclosure, but because it's on wheels, you can move the chicken coop around your yard.
Plus, it gives those curious chickens a chance to explore different parts of your property – think of rolling that chicken coop around like a rolling scone! With this kind of setup, your flock will have all the benefits of being able to roam around freely while at the same time staying close by with an experienced chicken mama keeping an eye out from a nearby window.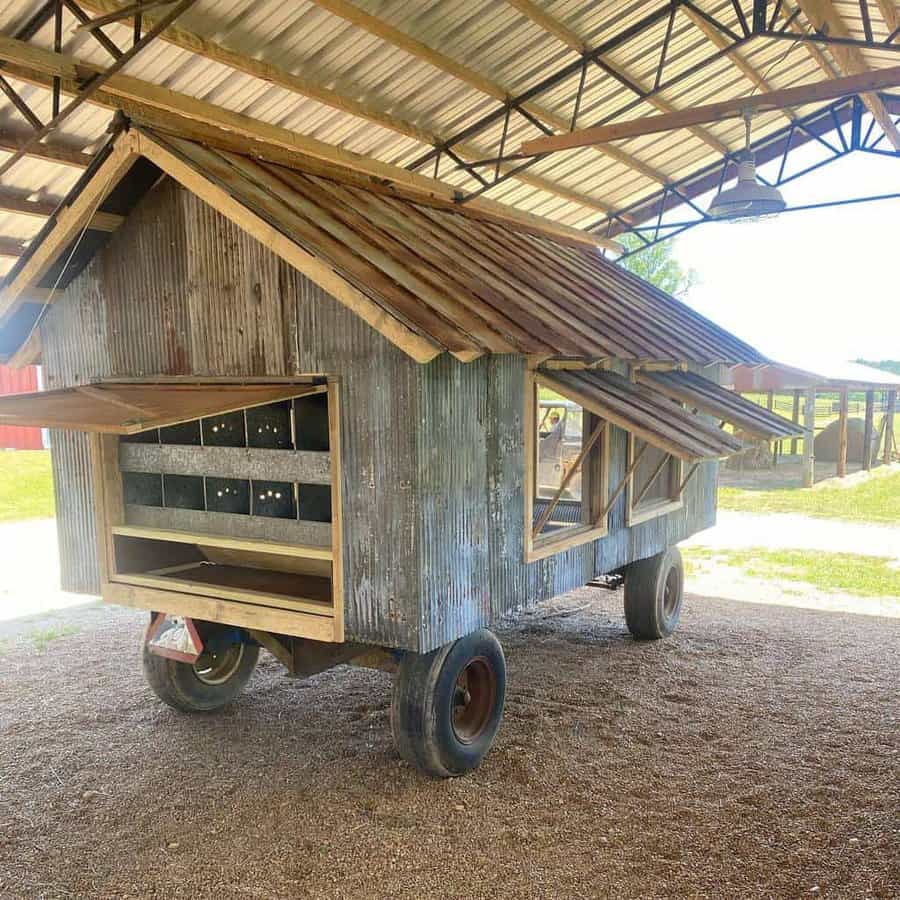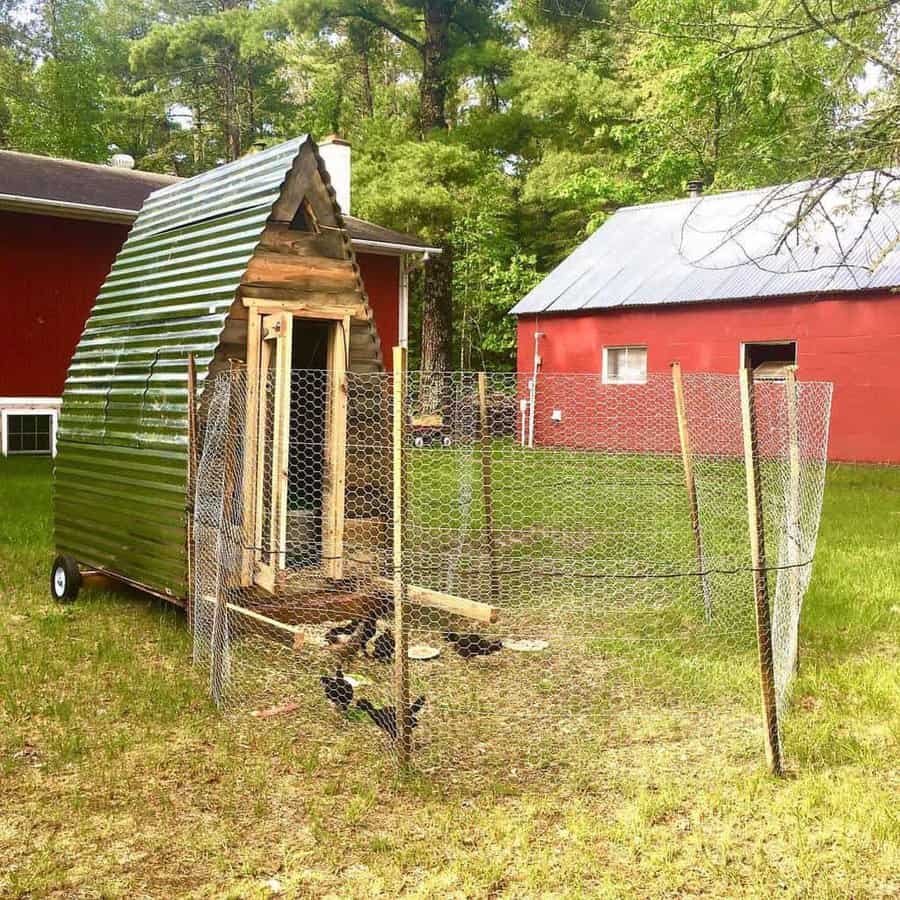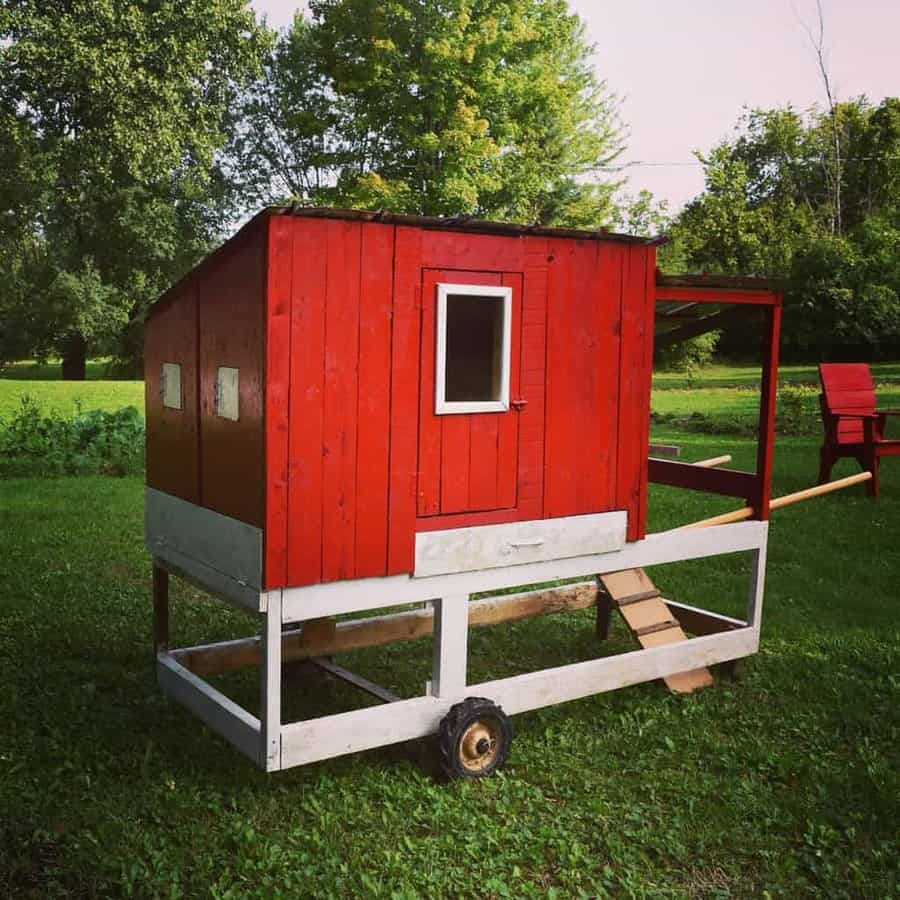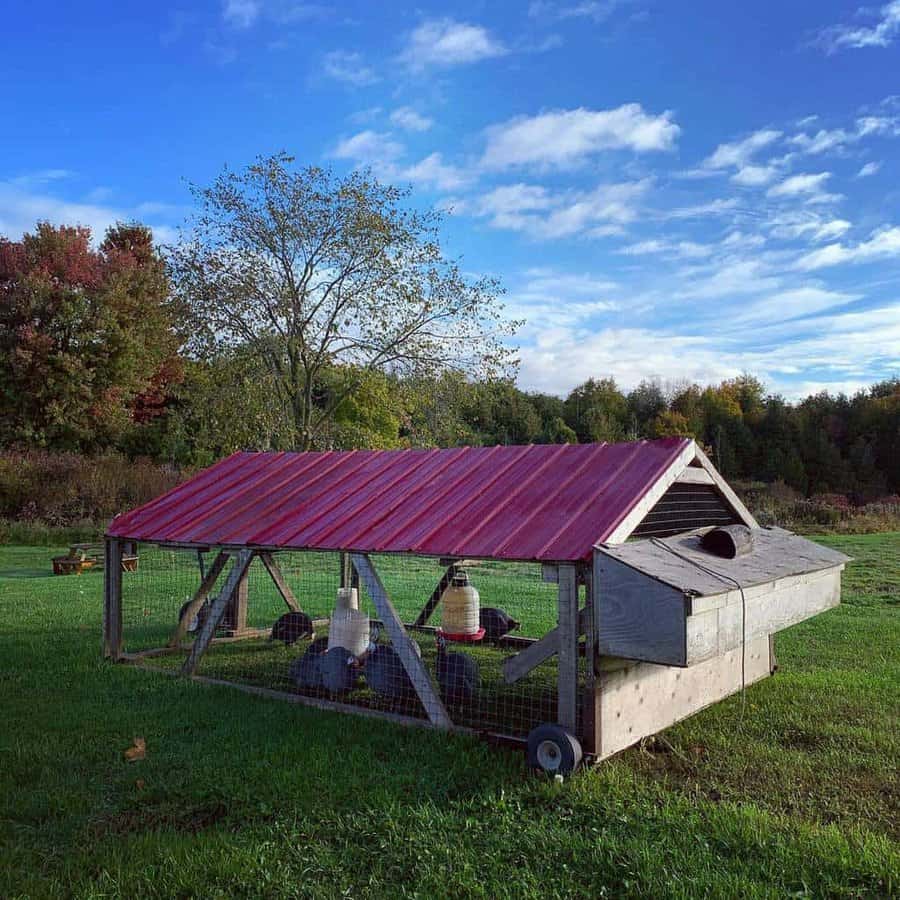 12. Nesting Area
For a truly happy flock of chickens, look no further than a chicken coop complete with a nesting area. This nesting spot can be easily equipped with nesting boxes – the perfect place, warm or cool depending on the season, for hens to lay eggs in peace and safety.
Not only does the nesting box provide protection from predators, but it also helps preserve your eggs since they are less likely to crack when laid in a nesting box as opposed to nesting on the ground.
With the addition of nesting boxes in your chicken coop, you'll be providing your hens with an extra layer of security and comfort for years to come.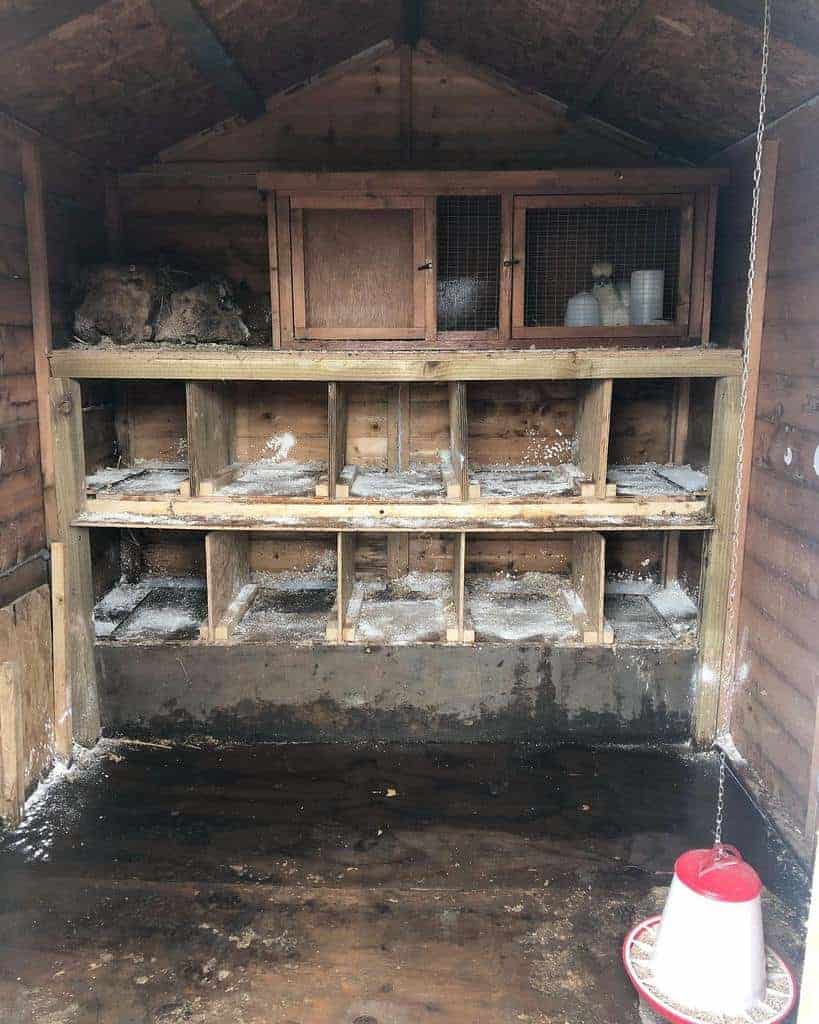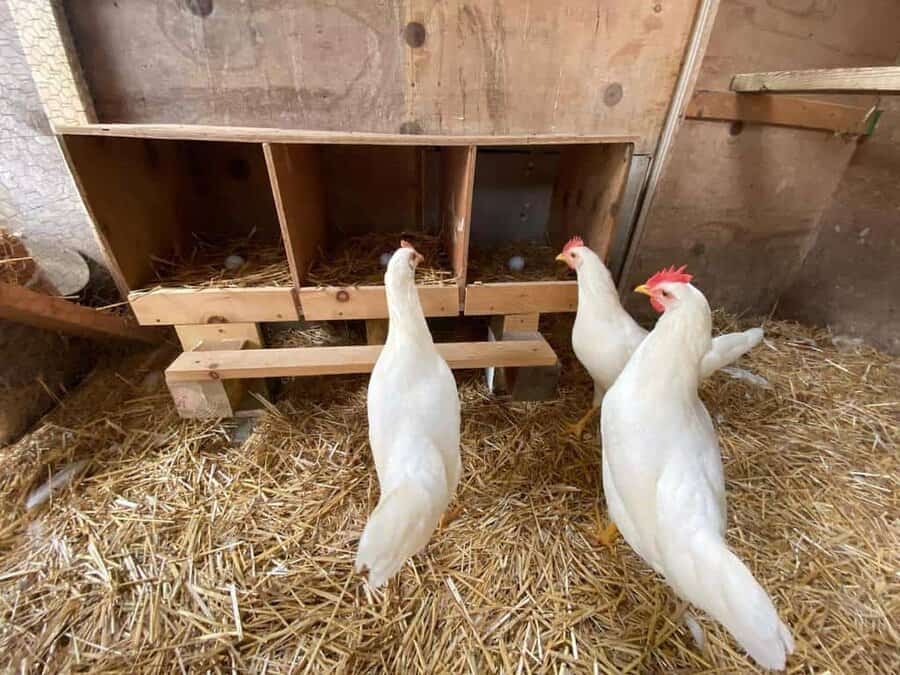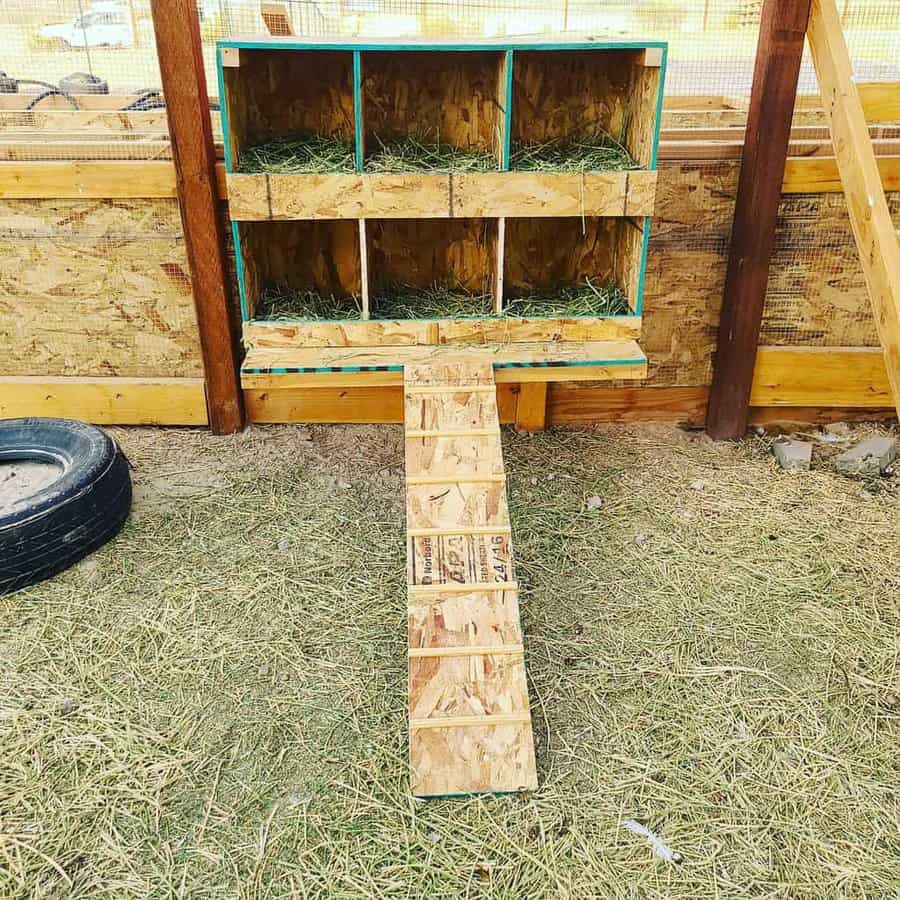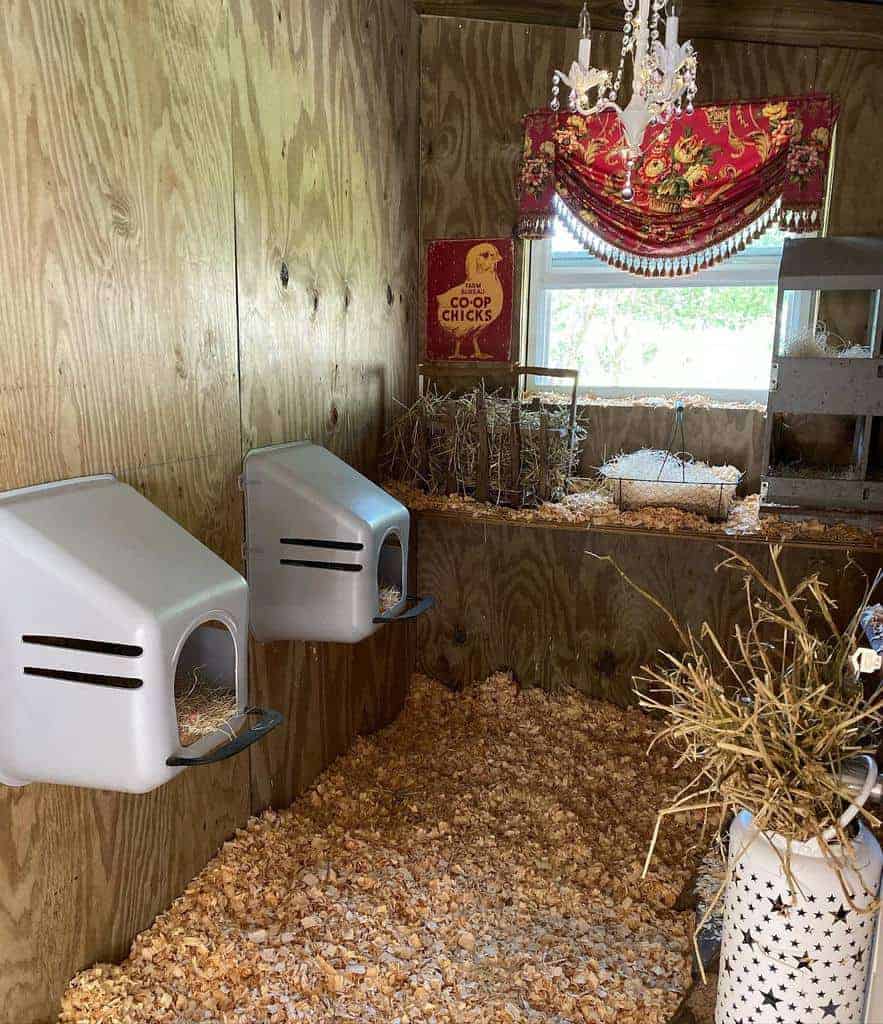 13. DIY Pallet
If you're looking for an eco-friendly and budget-friendly option for your chicken coop, a DIY pallet chicken coop might be just what you need. This type of coop is made using reclaimed wood pallets, which not only saves money but also reduces waste and promotes sustainability.
Building a pallet chicken coop can be a fun and rewarding project that you can do yourself or with the help of friends and family. You'll need to find high-quality pallets and dismantle them to create the walls, roof, and flooring of the coop. Once you've assembled the pallets, you can customize the coop with nesting boxes, roosting bars, and a ramp for your chickens to enter and exit.
Pallet chicken coops are also easy to move around your yard if you want to give your chickens access to fresh grass and soil. With some basic tools and a bit of creativity, you can build a functional and attractive chicken coop that provides a safe and comfortable home for your feathered friends.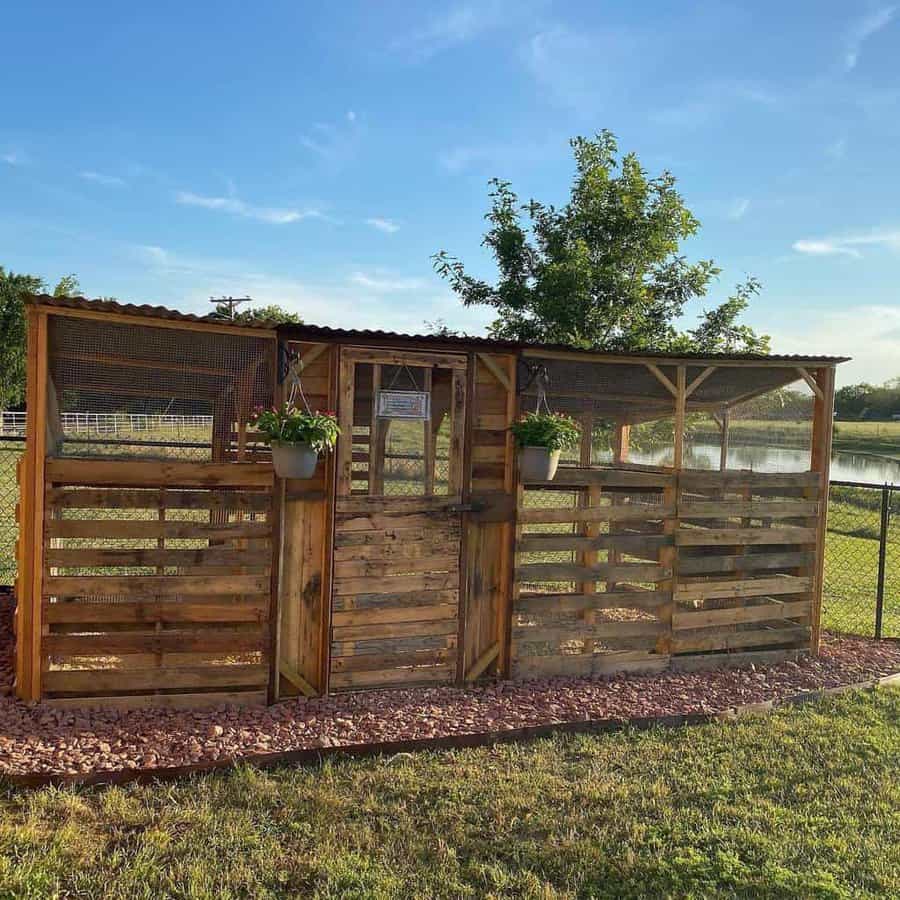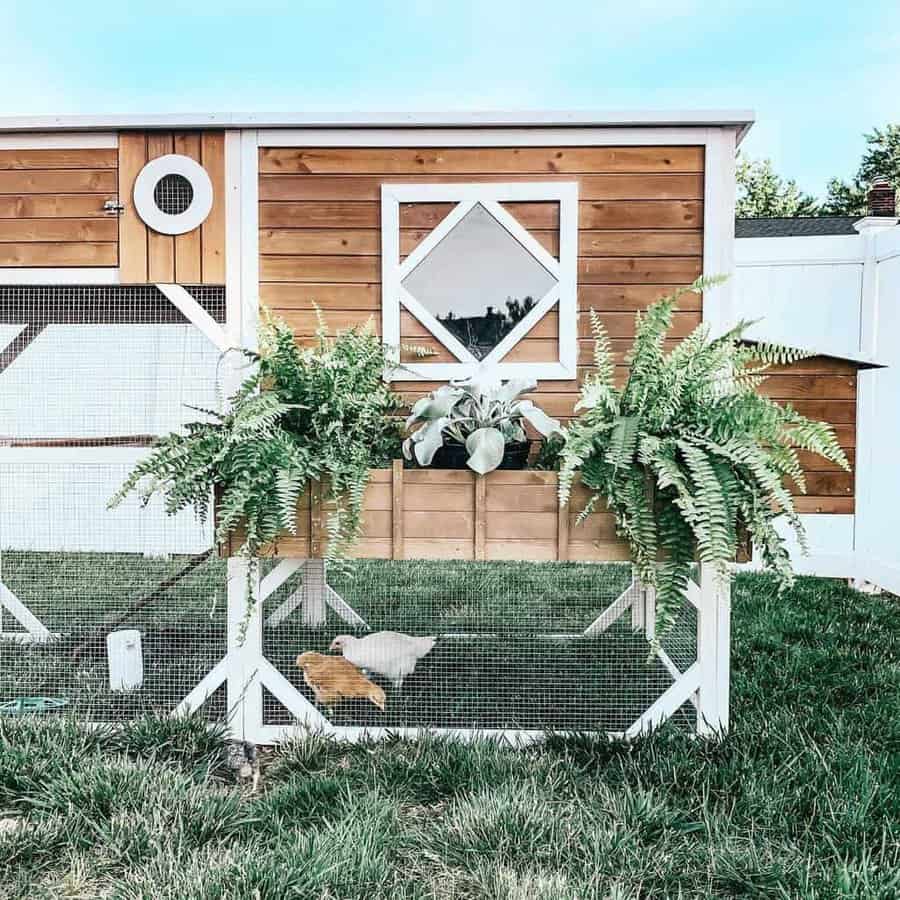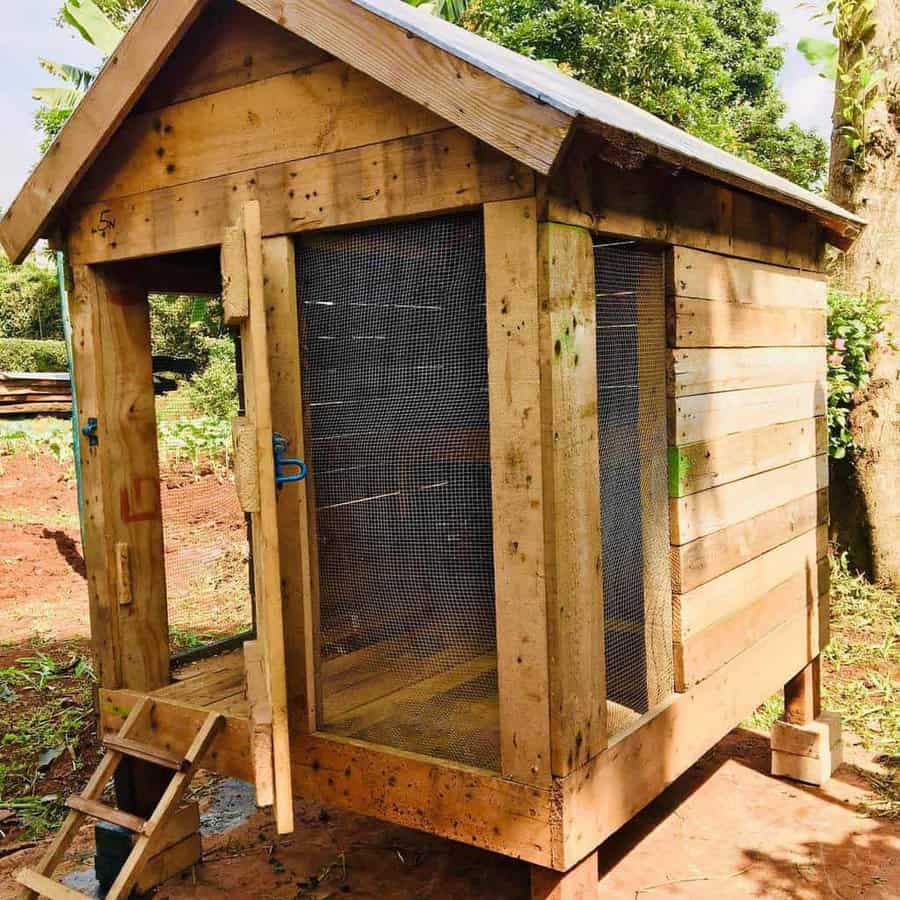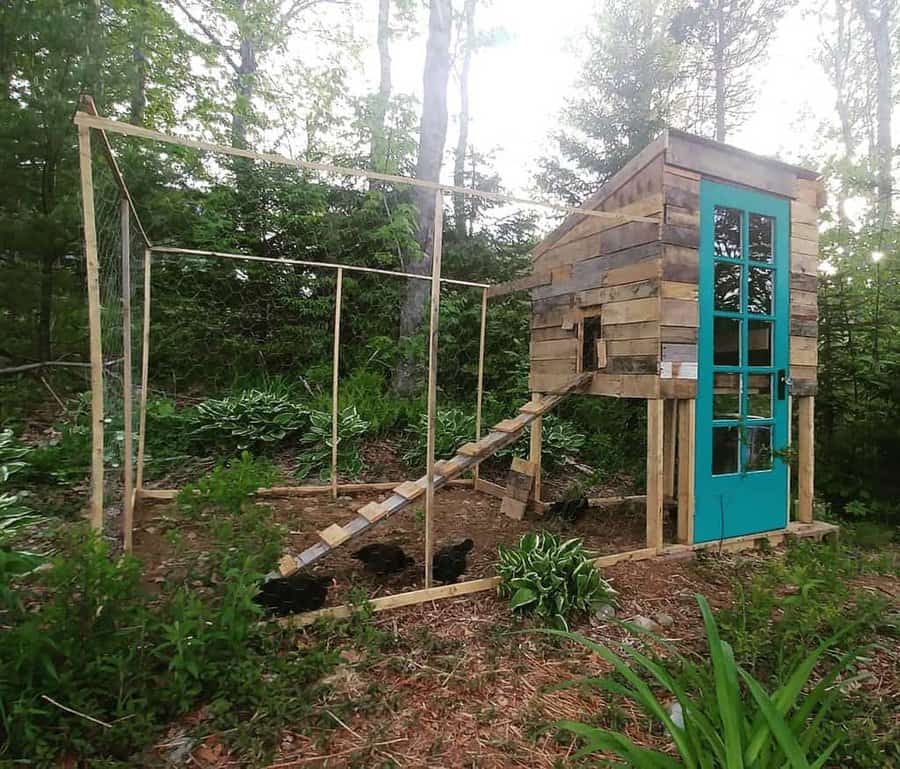 14. Rustic-Style
A rustic wooden chicken coop offers a unique solution for housing chickens. The distressed wood gives the structure an organic and rustic feel, and its construction incorporates functional elements such as ventilation and plenty of room for both hens and roosters.
Easy to assemble, well-ventilated, and offering enough space for your birds to enjoy their area, a rustic wooden chicken coop is the perfect way to bring a touch of rural vibes into your backyard. Not to mention, it also looks great in any outdoor setting!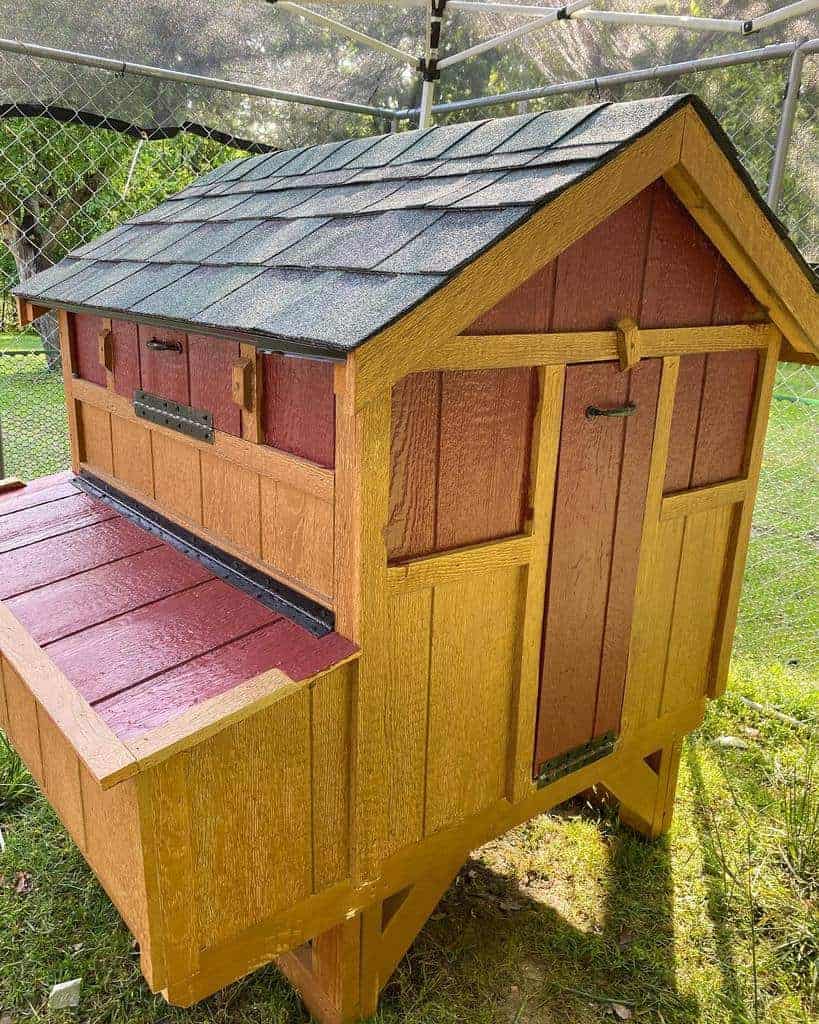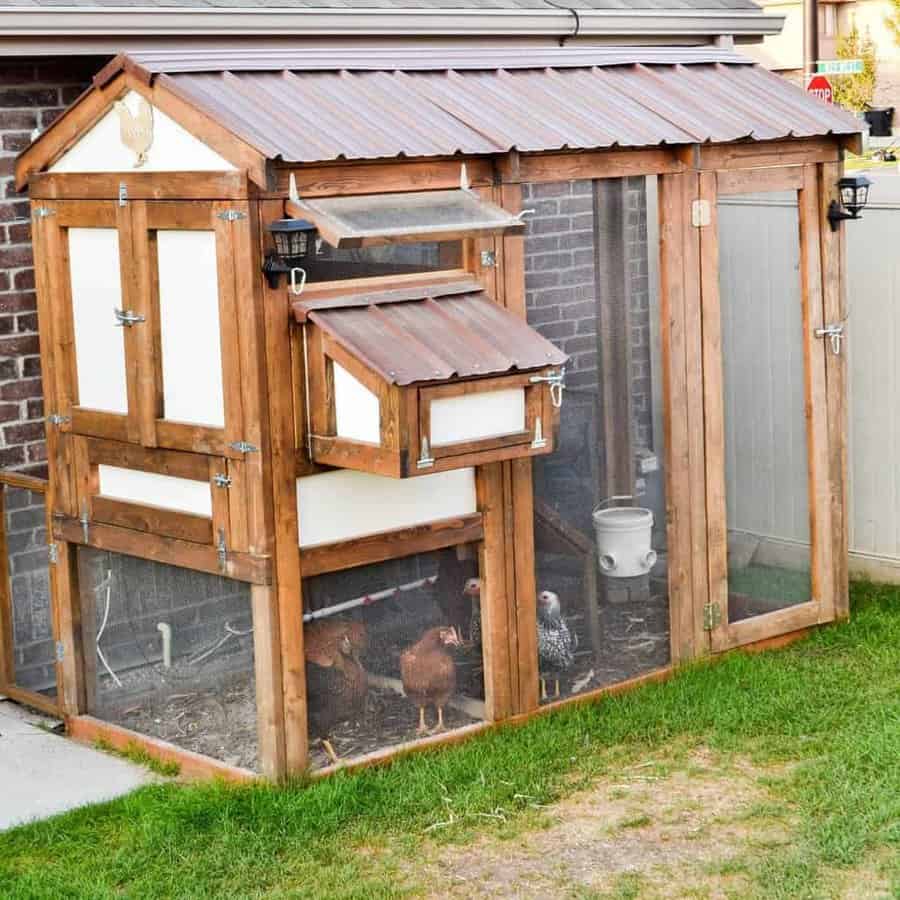 15. Tiny House
The tiny house trend has made its way to backyard chicken coops! A tiny house-styled coop is becoming increasingly popular among poultry owners and anyone who loves showing off their creative side. These tiny house-style coops feature a tiny house layout, tiny windows, and even tiny decorations.
The bungalow roof provides a homey feel, while the exterior resembles any tiny house you'd see on Instagram – complete with window boxes and tiny shutters!
It's all just waiting to be personalized and decorated like your own tiny home, so it almost feels like the chickens have a place that truly represents their owner's unique style.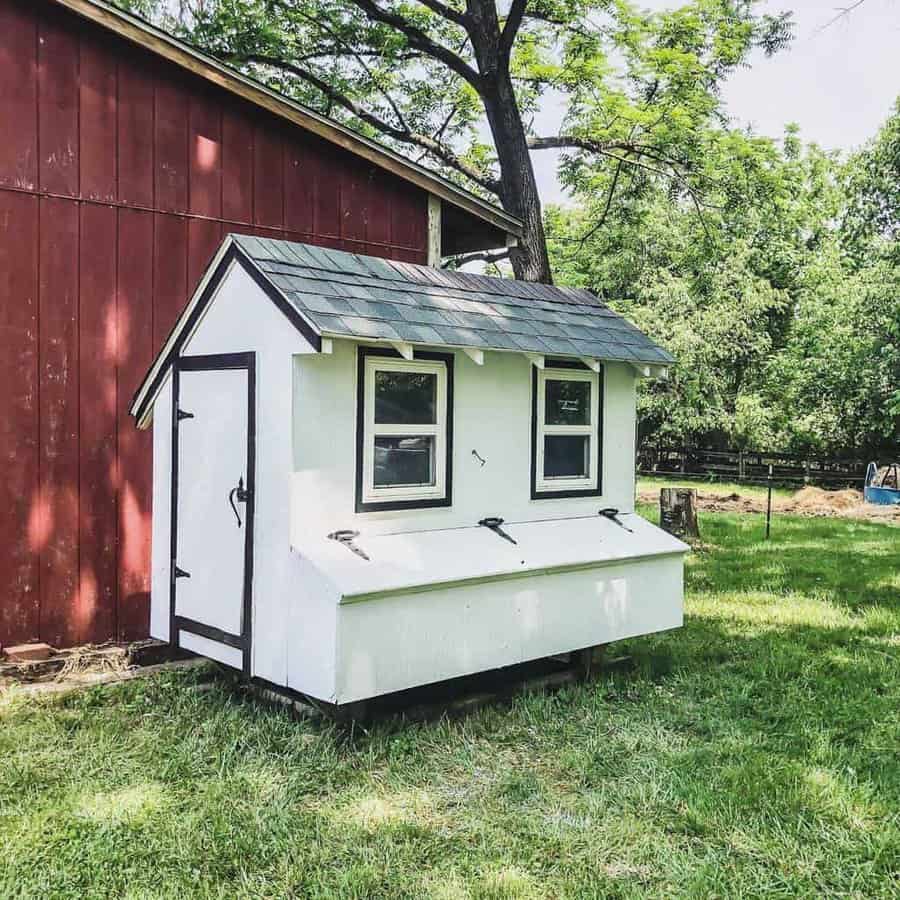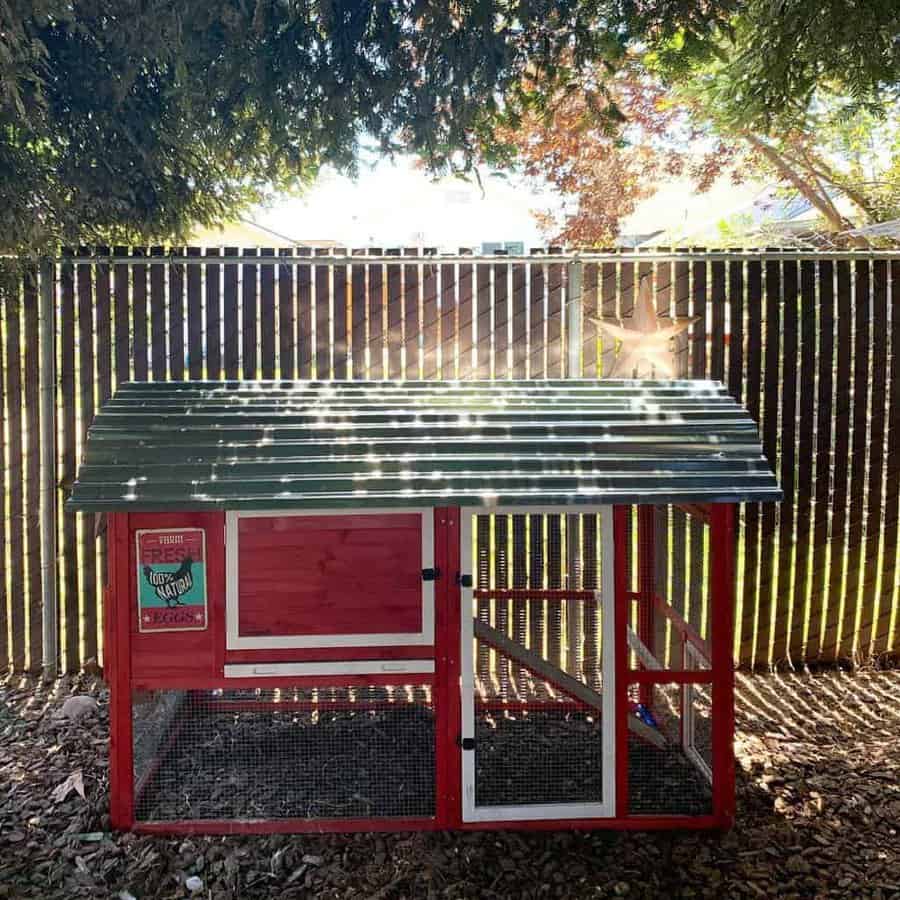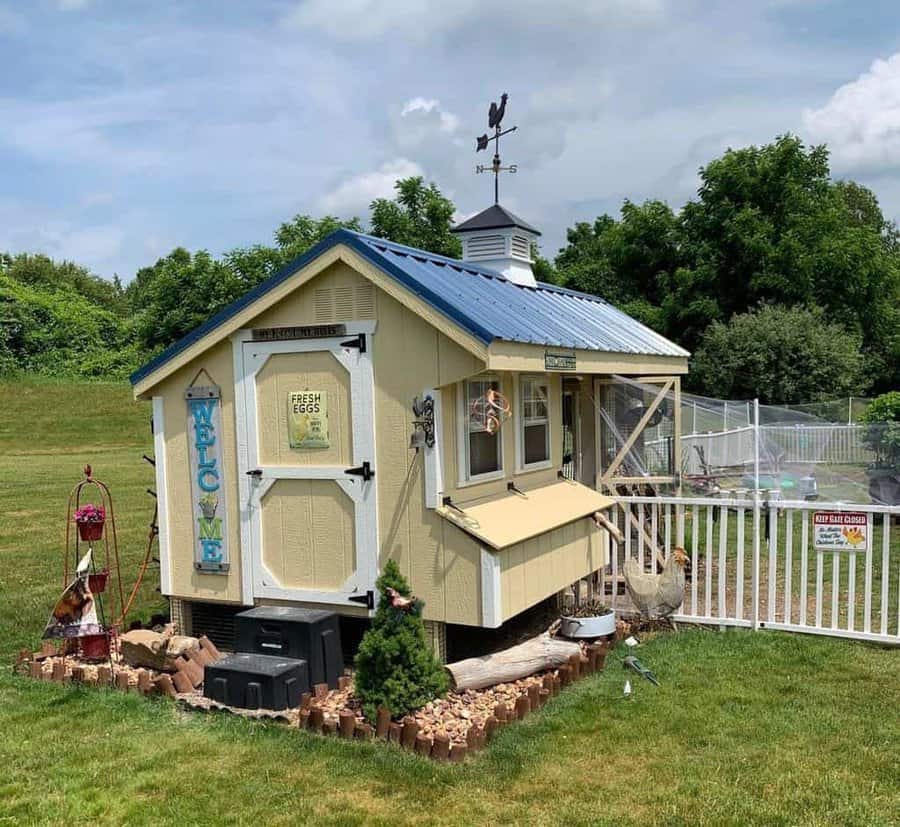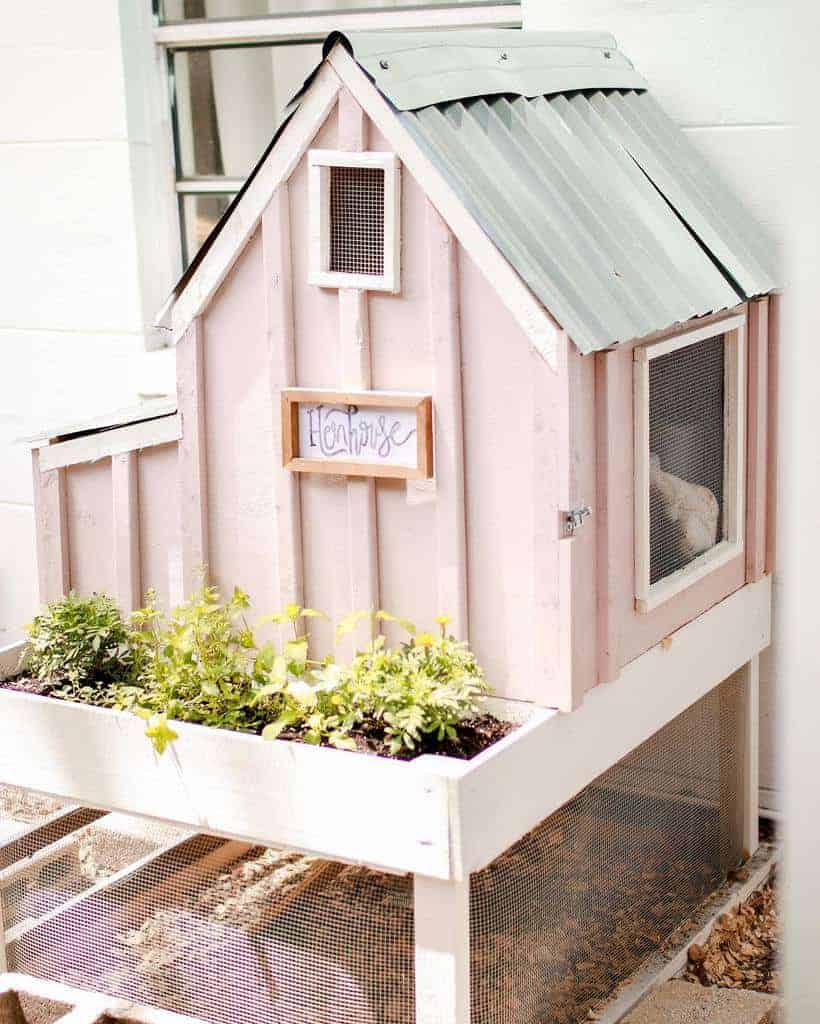 Chicken Coop FAQs
What should be inside a chicken coop?
All chicken coop ideas should include five basic elements: four walls, a roof, chicken nesting boxes, good ventilation, and roosts or perches. Place a plywood board or plastic pan beneath the roosting perch to collect and contain manure.
Is it cheaper to build your own chicken coop?
A DIY chicken coop is almost always cheaper than buying one ready-made. You can expect to save about half when building your own from DIY chicken coop plans. Use recycled materials for even greater savings.
How many chickens can you put in a 4x8 coop?
A coop design that's four by eight feet will accommodate eight standard adult chickens. A good coop plan allows four square feet of floor space per chicken. This chicken coop design allows enough room even if the chickens are inside for several weeks due to inclement weather.