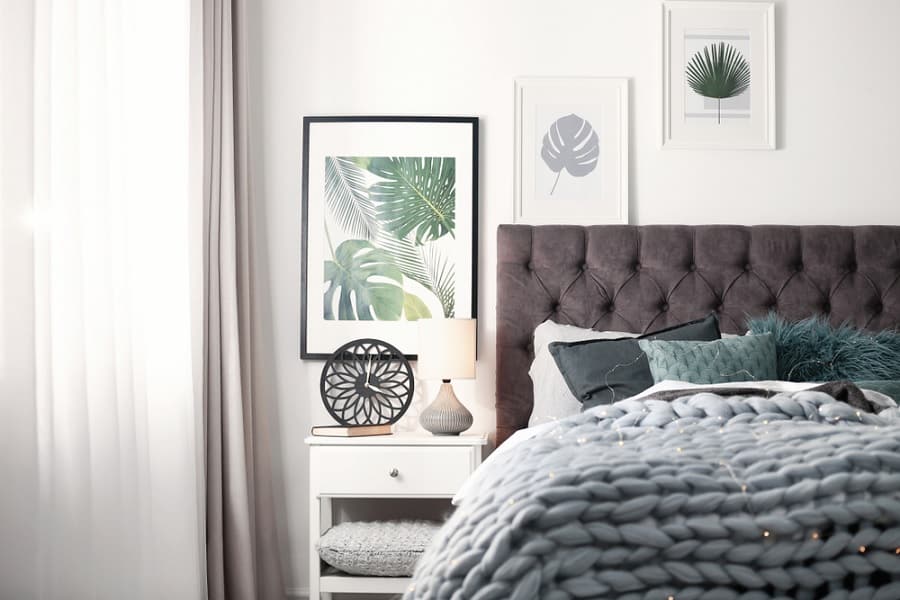 14 Cool Things to Put in Your Bedroom
Your bedroom is your private space to relax and escape the stress of the world. It should be filled with your favorite things and decor that makes you happy.
This isn't like decorating your dorm room with cool stuff in college. You have a master bedroom that needs to fit who you are today.
This could be creating a relaxing and peaceful space, or perhaps it's a shine to your passions. There are plenty of bedroom decor ideas to help you get started.
Check out these cool things to put in your room and get inspired to revamp the decor in your bedroom.
1. Elements From Nature
The easiest way to add warmth and comfort to your bedroom is by adding touches of nature to your home decor. One way to do this is by adding real living plants to your bedroom. This brings in color and life.
Don't worry, if you don't have a green thumb there are plants that look beautiful and require very little care. A snake plant, purple passion plant, Chinese evergreen, spider plant, and pothos are all great options.
Skip the succulent and air plant, these are deceptively harder to grow than you think. Air plants are great for your bathroom, though. The natural moisture is high and this is the perfect environment for them.
If you refuse to have living plants in your bedroom, you can still bring nature into your bedroom. Add wood elements or decor made out of natural materials. You could have wood furniture. Or you could have wall decor that's made from driftwood, dried palms, pampas stems, or baskets woven from dried grasses.
2. Mini Library

If you have a collection of your favorite books, then adding a mini library is a perfect addition to your bedroom and a natural place to keep your book collection. With your mini library in your bedroom, you're more likely to grab a book to read than you would if your library were in the living room or home office.
Depending on how large your book collection is, you could have a single floating shelf or a large freestanding bookcase like this six-tier bookcase.
Even if your book collection is small, consider buying a storage solution that is bigger than you need. Then you can break up the book collection into smaller groups and scatter decorative pieces among them.
If your bedroom is small, consider using multiple shelves mounted on the wall. Doing this keeps your floor space open by utilizing the vertical space in the room.
3. Accent Wall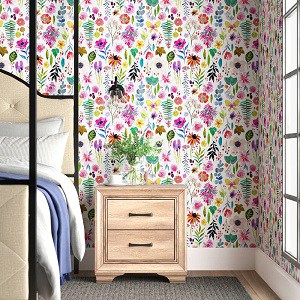 Adding an accent wall is an easy addition to a bedroom. The wall behind the headboard is the perfect bedroom wall to turn into the accent wall. This idea works in both large and small rooms.
To create your accent wall, you could simply paint the wall a different color, but this is a bit boring. Instead, try using removable wallpapers. It comes in sheets with a backing that you will peel off and then adhere the paper to the wall.
Unlike traditional wallpaper, modern versions come in small and large-scale patterns and designs. Some designs look like paintings and photographs. Some have mural designs that create a large-scale scene. You'll even find textured wallpaper that mimics the look of real bricks.
If wallpaper doesn't appeal to you, another option is to use wood trim pieces. These are long, thin wood strips that you can easily cut to size and create a geometric pattern.
You could build squares, chevrons, or a freeform design. Paint your trim pieces to match the color of the wall for a subtle textured effect, or paint it another color for a contrasting design.
4. Decorative Lighting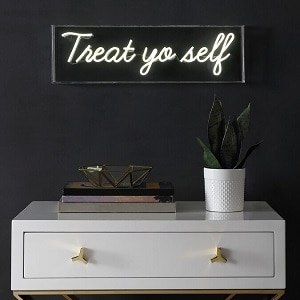 If your bedroom only has one light source, it's time for an upgrade. You need more than a single light in your ceiling fan. Layering light sources is an interior design trick that immediately elevates the look of your bedroom.
Ambient light illuminates your entire bedroom. Your overhead light does this, but you can add a floor lamp to add to it. Task lighting is directed light that's meant to illuminate your workspace. This is the best type of light for your reading chair, desk, vanity, or nightstands.
The third type of light is accent lighting. This is the type of light where you can have the most fun. Fairy lights are popular in teen rooms.
There are more options than just fairy lights, though. Paper lanterns come in various shapes, sizes, and colors. Arrange a couple of these hanging lights in a corner for a decorative element that also adds light.
A custom neon light like this one is also a funky and cool option. You can buy LED strip lights and mount them almost anywhere in the room. Try placing them under your bed frame, under the shelving, behind the headboard, on the crown molding to illuminate the ceiling, or anywhere else in the room you want to add an accent.
5. Hang a Mirror

It doesn't matter if you have a large or small space; a mirror can do wonders for your bedroom.
Hanging a large mirror on the wall or having a floor-length mirror is a great bedroom idea because not only does it make your bedroom seem brighter and larger, but it also gives you a place to get ready.
If you have a large bedroom, embrace the space and purchase a floor-length mirror like this one from NeuType. For the best look, choose a mirror based on height.
Take the tallest person's height that will be using the mirror and subtract six inches. This is the minimum length that your mirror should be to minimize distortion.
However, a mirror needs to be at least half of the tallest person's height to be able to show their entire body. It also needs to be wide enough to see your entire body easily.
When choosing your mirror, there are wall-mounted, leaning, and freestanding mirrors. The one you choose will depend on your budget, taste, and space available. Freestanding mirrors take up the most room, then leaning, and wall-mounted takes up the least.
Pay attention to the frame. A slimline frame will look modern, while a thick wood frame can look more rustic or farmhouse. A metal frame with decoration can look vintage-inspired.
6. Gallery Wall

While most people think about putting a gallery wall in their living room or main hallway, there's no rule that says you can't put one in your bedroom. A gallery wall is a perfect solution for when you have a lot of wall decor.
You could have all photography shots or have a mix of photos, paintings, and other wall art. If you have small figurines, you can even include a shelf for them. This mix of items will create an eclectic mix of items for a lot of variety and visual interest.
If you prefer a more uniform look, aim for a minimalist approach. Frame each piece with the same mat and frame. Then hang the art in a grid pattern where each frame is evenly distanced from the other frames around it.
You don't have to frame your pictures. If you have a large collection of images or like to change them out regularly, then a more mobile display solution is going to work better.
Use a photo clip string light kit like this one from Dopheuor to string wire up in horizontal lines and then space clips out on the wire. You can then use the clips to hold pictures. This makes it easy to switch the pictures out as often as you want.
7. Area Rug
Hide your ugly carpet with a large area rug. If you have tile or wood floors, a rug is a must for making your bedroom feel warm and cozy. No one wants to get out of bed and immediately put their feet on a cold, hard floor.
Area rugs around or under the bed cushion your feet and eliminate the chill. The cool thing about rugs in your bedroom is that you have a lot more freedom in sizing. If you have a decent budget to work with, you can buy a large area rug that starts under the bedside tables and extends down the entire length of the bed.
A smaller and more affordable rug can look just as nice if it starts in front of the nightstands. If your budget is tight, stick with two smaller rugs on either side of the bed.
If your rug is going under the bed, don't worry about the pattern and color too much since the majority of it will be hidden under the rug. If your rug is going to be visible, then look for one that has a pattern that ties all of the room's colors together.
8. Soft Elements
Adding soft textiles is a must for your bedroom. These are the fabrics that create a plush and cozy atmosphere. This is what takes your nice-looking bedroom and turns it into a place that has an inviting interior design.
Choose accent textiles that feel nice. Fabrics like jersey, velvet, silk, some cotton, flannel, faux fur, sateen, and fleece all look and feel soft. Add a couple of throw pillows to your bed and accent chair.
Don't add too many; your furniture shouldn't be drowning in pillows. Next, add a throw blanket to the foot of your bed. Leave it folded, and you never have to actually use it for warmth. It can be there just for visual effect.
Accent the rest of the room with soft fabrics. For example, add an area rug to the floor, hang curtains on the window, and mount a small tapestry on the wall.
Add curtains to the bed if you want to create a whimsical or bohemian feel. You can hang them from a four-poster bed frame. If you don't have this bed style, you can fake it by hanging them from the ceiling and draping them to either side of the bed.
9. Expressive Art
Don't leave your bedroom walls boring and blank unless you are going for the minimalist look. However, even minimalist designs have at least one decor piece. The trick is choosing one and making it the focal piece. For other interior designs, you can easily have more than one decorative item on the walls.
While you could hang a generic piece of art that's massed produced, this is a bit boring and will have no meaning for you. Instead, look for pieces that are handmade and speak to you. This will increase your enjoyment of the room and help your bedroom reflect who you are.
Wall hangings are popular right now. There are even videos showing you how to accomplish this DIY project.
Mount a small curtain rod on the wall and display your handiwork. If you aren't crafty, you can leave the artistry to other people and just buy art that speaks to you. It can be anything from ink prints to paintings or photography. Perhaps you see a weaving that.
10. Extra Seating
Most people have their bed, and that's the only seating that is available in their bedroom. It's time to elevate your bedroom with additional seating. This gives you or someone else somewhere else to sit while in your bedroom.
A bench at the foot of your bed or a small stool are perfect furniture pieces for getting dressed. They are also easy to scale down and fit into a small bedroom. Add a comfy armchair if you have a larger bedroom and more room to work with.
This gives you a place to relax, read a book, or drink a morning cup of coffee. For a more relaxed bohemian or eclectic feel, try more casual extra seating like a large pouf.
11. Bold Color Scheme
Your bedroom is your private space. This is your room to become the interior designer you've always wanted to be. You can freely choose the color scheme and decoration that you love.
Choose a bold color scheme that features your favorite color. You could go for a monochromatic look with several shades of your chosen color. Or you could pair your favorite color with neutrals like white, grey, or black. This creates a beautiful contrast and keeps the focus on your favorite color.
You also don't have to paint just the walls. Instead, you could paint the ceiling. Doing this creates a unique and bold design that showcases your chosen color. Don't be afraid to paint just part of the wall. Try painting just the area on the wall that's behind your headboard.
The best colors for a bedroom are soft neutrals, grey, blue, and green. These are calming and soothing colors that will help your brain and body to release stress and energy. This will help you fall asleep better and wake up well-rested.
Colors that are not ideal for your bedroom are bright red, orange, and intense sunny yellow. These colors are energizing and intense, making them better for the kitchen or living room.
12. Smart Home Technology
It doesn't take a lot to upgrade your bedroom with smart home technology. There are plenty of modern bedroom ideas that will help you upgrade your bedroom. Look for ways you can add technology to make your life easier.
Replace the light switches with ones that are compatible with Amazon Alexa or Google Home. Add smart plugs to the lights that plug into sockets. Now you can control the lights in your bedroom by voice, which is really nice when you don't feel like getting out of bed to turn the lights on or off.
You can also create schedules to have the lights turn on and off on their own. Add a streaming device to your TV or upgrade your TV to a smart TV. Then you have more options for how you watch your favorite shows and movies.
You can also sync your TV to your smart home device for voice control and other convenient features. Add Bluetooth speakers around your room for a surround sound experience.
13. Signature Scent
Take a lesson from some of the best high-end resorts around the world. They have a signature scent that subtly wafts throughout the hotel. You can do this in your bedroom by choosing a signature scent that will evoke the feelings or energy that you want to create.
For a bedroom, you'll want to choose scents that are calming and relaxing. Try rosemary, lavender, vanilla, jasmine, sage, or peppermint. There are all smells that help to relax the body and mind, which will help you fall asleep faster, sleep deeper, and wake up more refreshed.
To add your scent to your bedroom, you can buy a candle and burn it. Or you could have incense, or essential oil diffusers arranged. Turn these items into the decor by choosing beautiful candles or diffusers. Now you have something that delights multiple senses.
14. Wall Decals
Skip the cheesy wall decals that are a cliche quote or are a large image. Instead, look for a kit that has sheets of small decals. You can then individually place them on the wall to create a custom pattern. Try placing them evenly spaced throughout the entire wall.
Or you could place them densely close together at the top and then gradually spread and fade them out as you work your way down the wall. Or you could randomly scatter them.
You could place them on all of the walls or on a single wall to create an accent. There are no rules with decals, so you could mix multiple sets of decals together and make your own pattern or design.