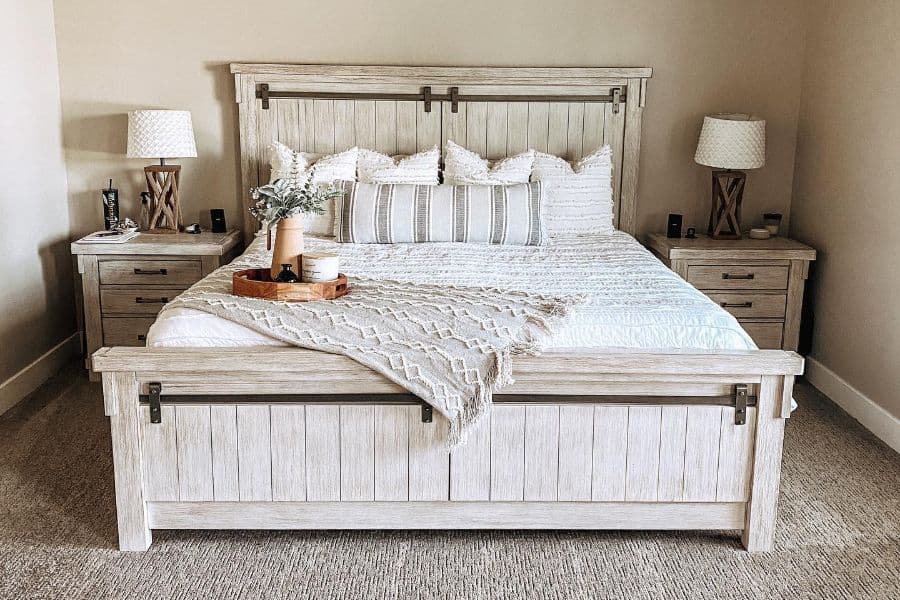 The Top 47 Country Bedroom Ideas
"I long for the countryside. That's where I get my calm and tranquility—from being able to come and find a spot of green." – Emilia Clarke
Capturing the countryside's natural calm and tranquility is what interior designers aim for when designing a country bedroom. Country bedroom decorating ideas should result in a comfortable room that you cannot wait to settle into at the end of a long day.
Country style encompasses many design nuances, from farmhouse style to modern takes on vintage and rustic classics. Pour a tall glass of iced tea and take your time scrolling through our most inspiring country bedroom design ideas. Look for ways you can add some country charm to your bedrooms today.
1. Country Chic
Country chic decor is sometimes called shabby chic. The word "shabby" refers to the weathered and repurposed items that are characteristic of this style.
Country chic decorating ideas incorporate decidedly feminine details onto a background of sturdy basics. A country chic bedroom might include lace throw pillows piled onto toile bedding, an iron bed beside a painted desk, and a crystal chandelier hanging from a beadboard-covered ceiling.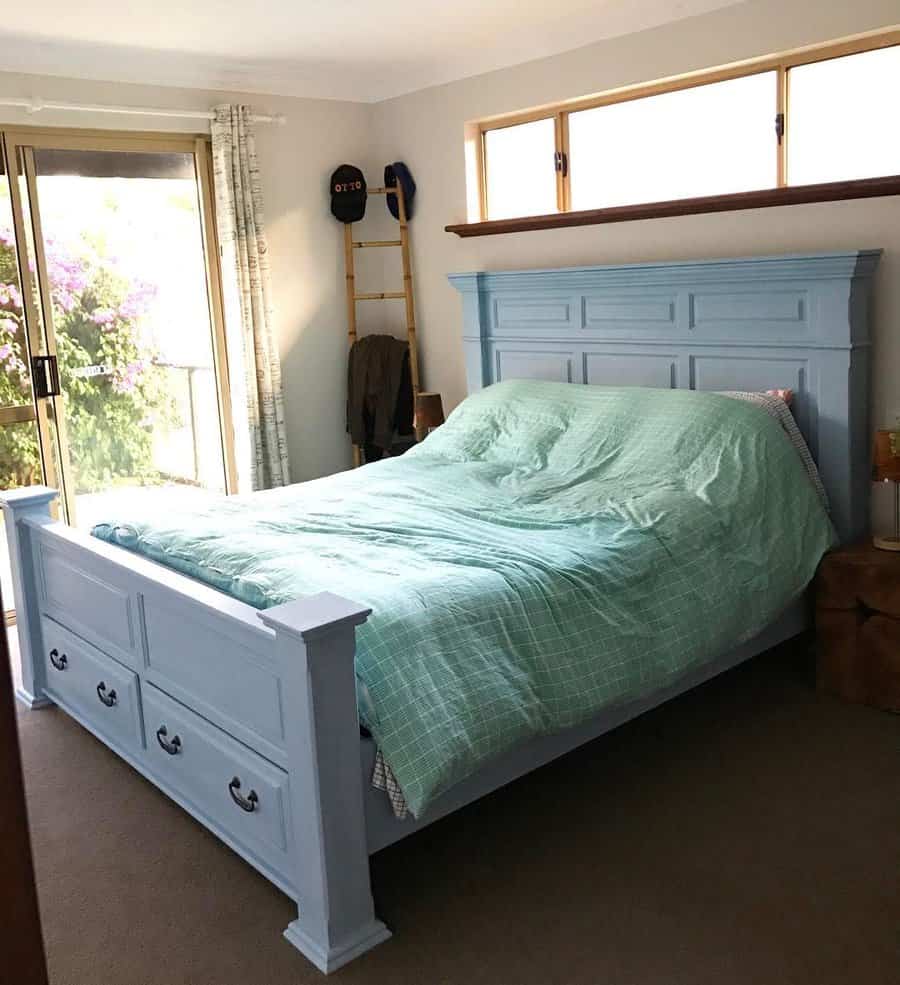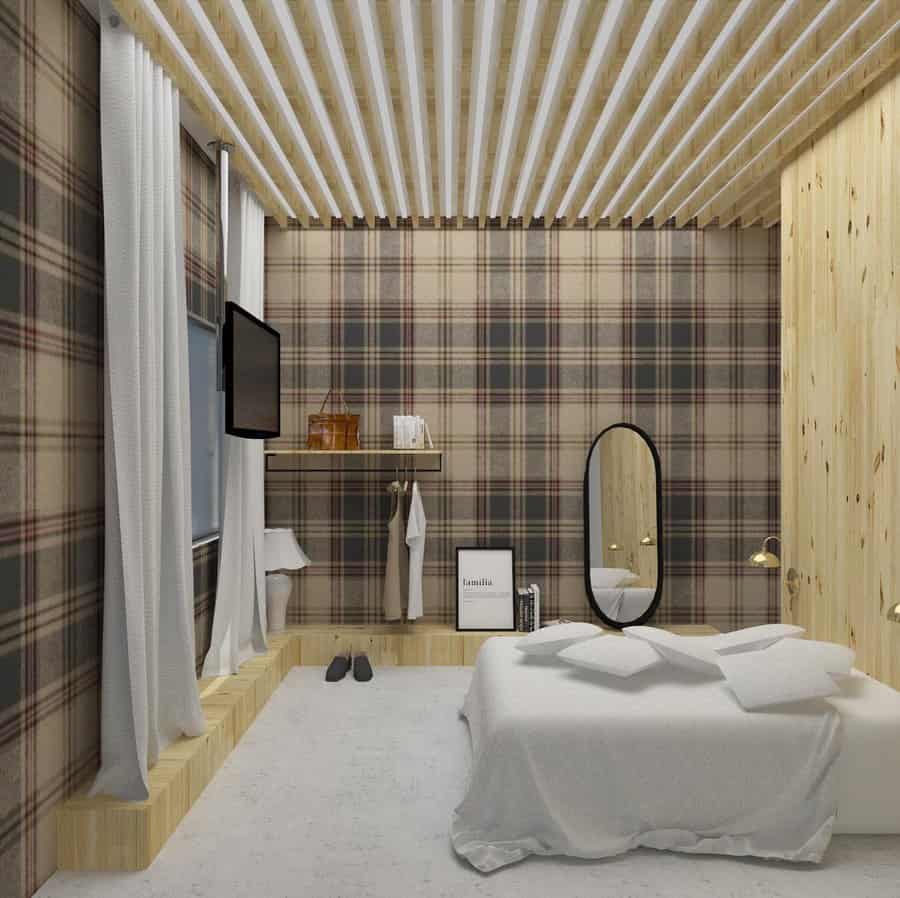 Country chic bedroom wall decor will focus on the same marriage between rustic and more delicate vintage items. Over the bed, hang a rose-covered wreath, an oval vintage mirror, and a brass wall sconce dripping with crystal beads.
Color palettes tend to rely on white, cream, and soft pastels. A chic country style bedroom is the perfect room for reclaimed wood furniture to be featured, painted and distressed.
2. Elegant
Country bedroom ideas are easy to take into a more refined, elegant direction. Instead of using a distressed vintage headboard as-is, sand it and repaint it to a smooth, even finish. Leave antique furniture its original finish and choose solid color bedding with velvet or silk details.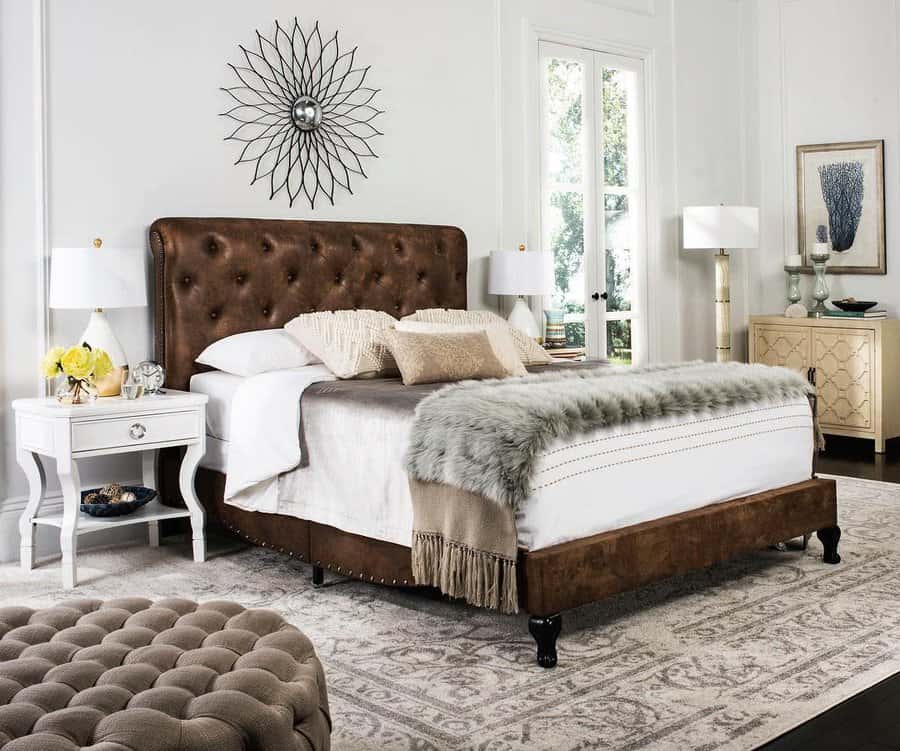 Toile is a traditional fabric for a French country bedroom. These linen or cotton fabrics feature landscape scenes printed in one color on a pale background.
Classic toile prints pair well with other patterned fabrics, including plaid, stripes, checks, and florals. It also stands beautifully alone, especially set against an accent wall painted in the same deep color.
3. Farmhouse
A country-inspired farmhouse bedroom combines rustic and refined elements, and generally relies on a pale or neutral color scheme.
Dark colors, such as black, navy, or charcoal, appear as accents rather than dominant colors. Sliding barn closet doors are common rustic farmhouse decor touches and can be painted or stained as you wish.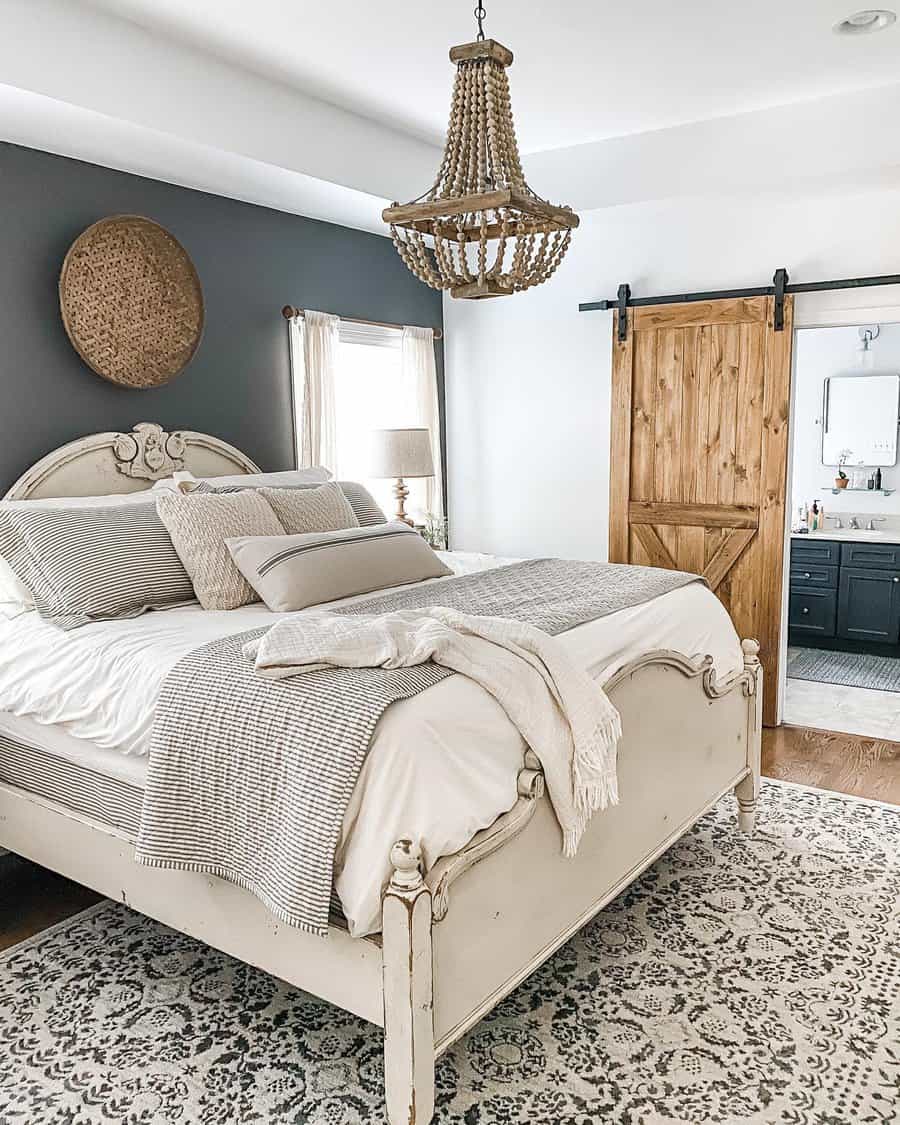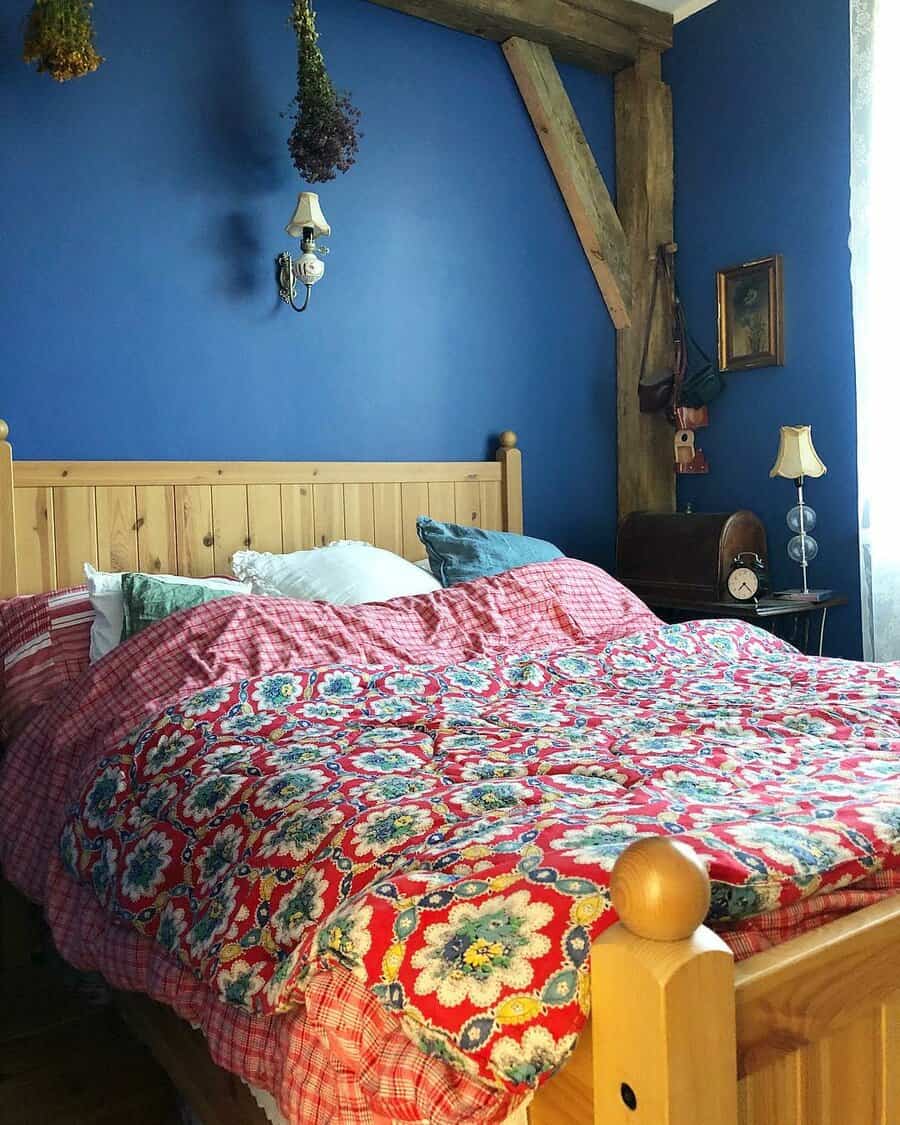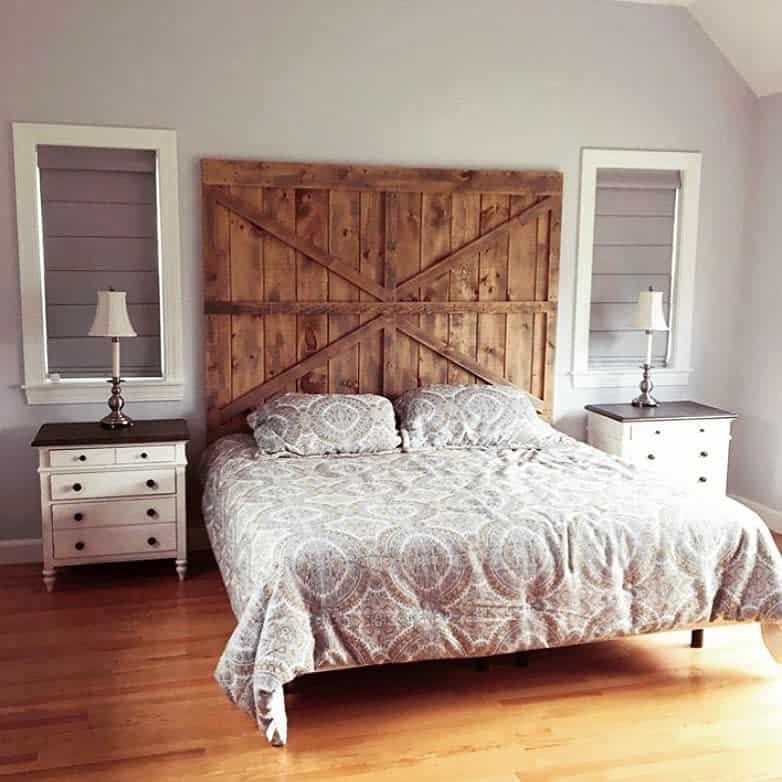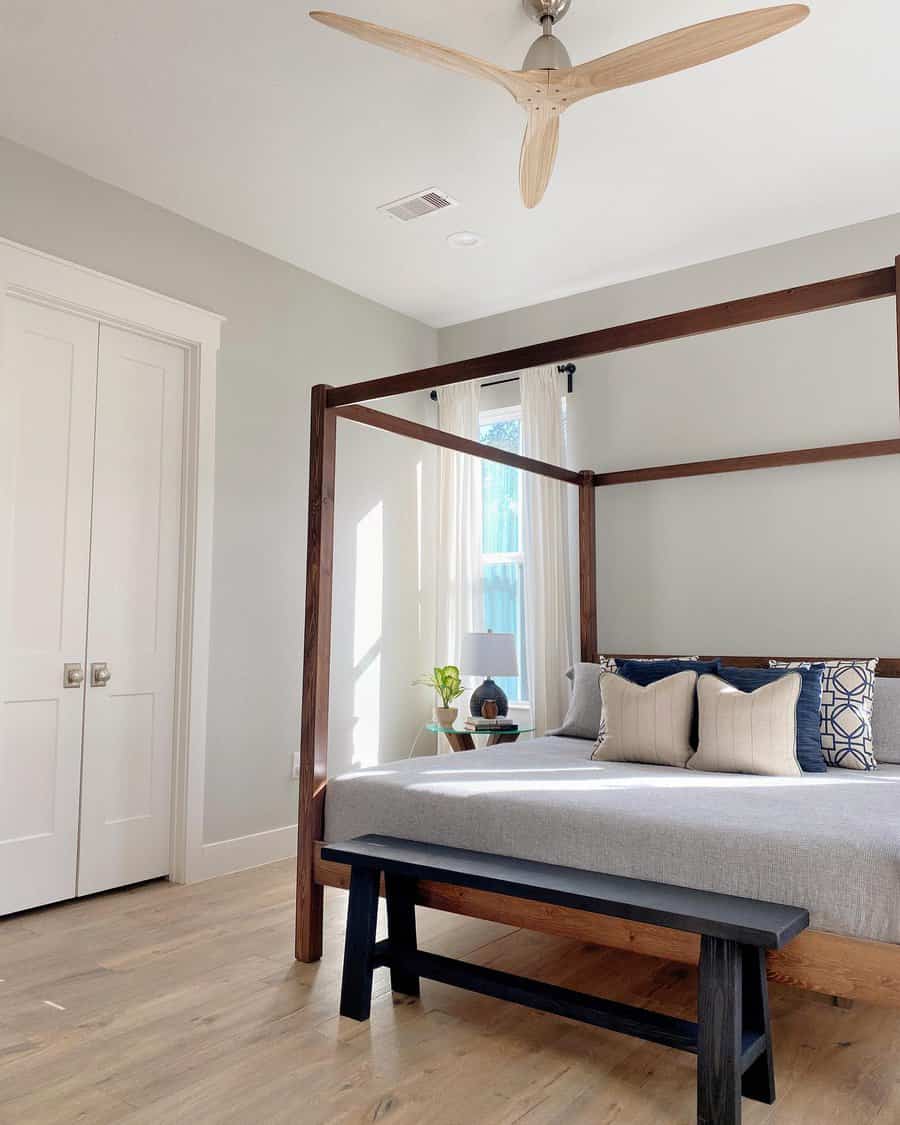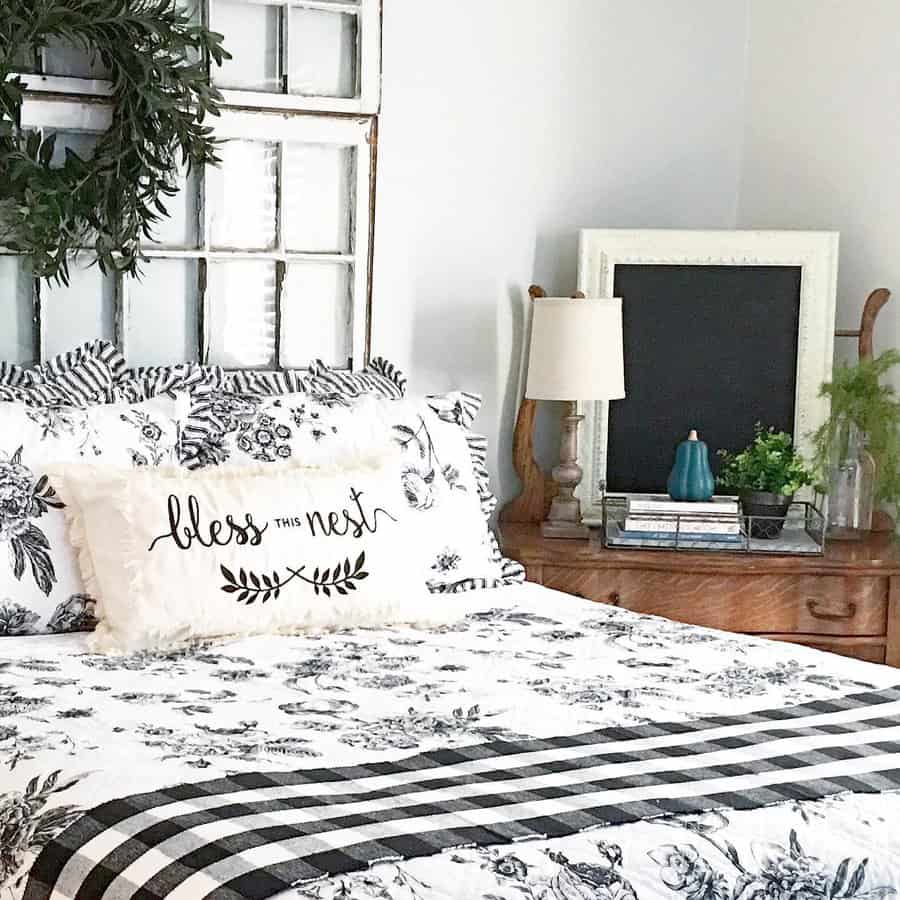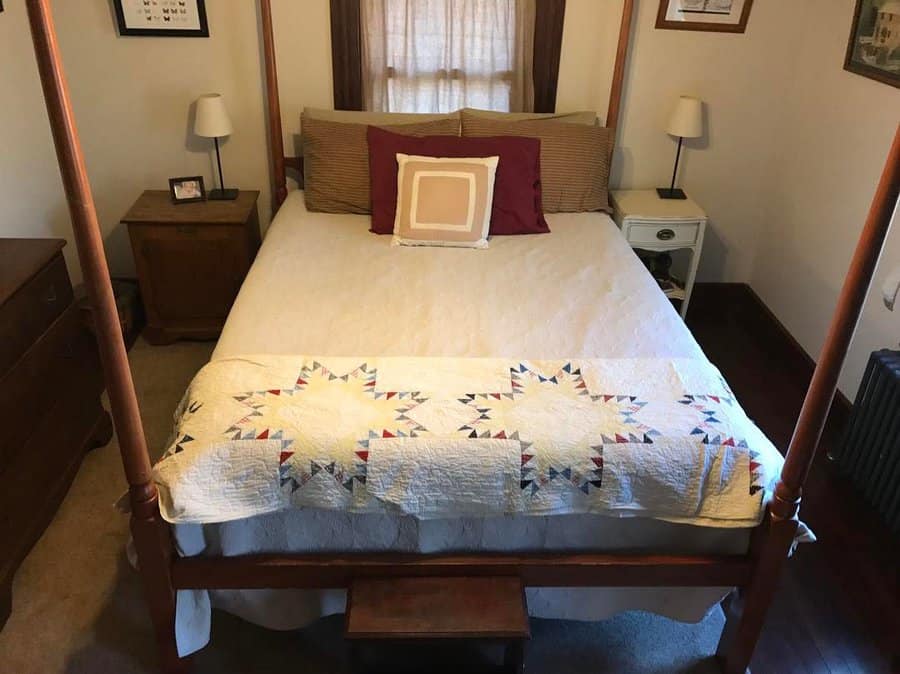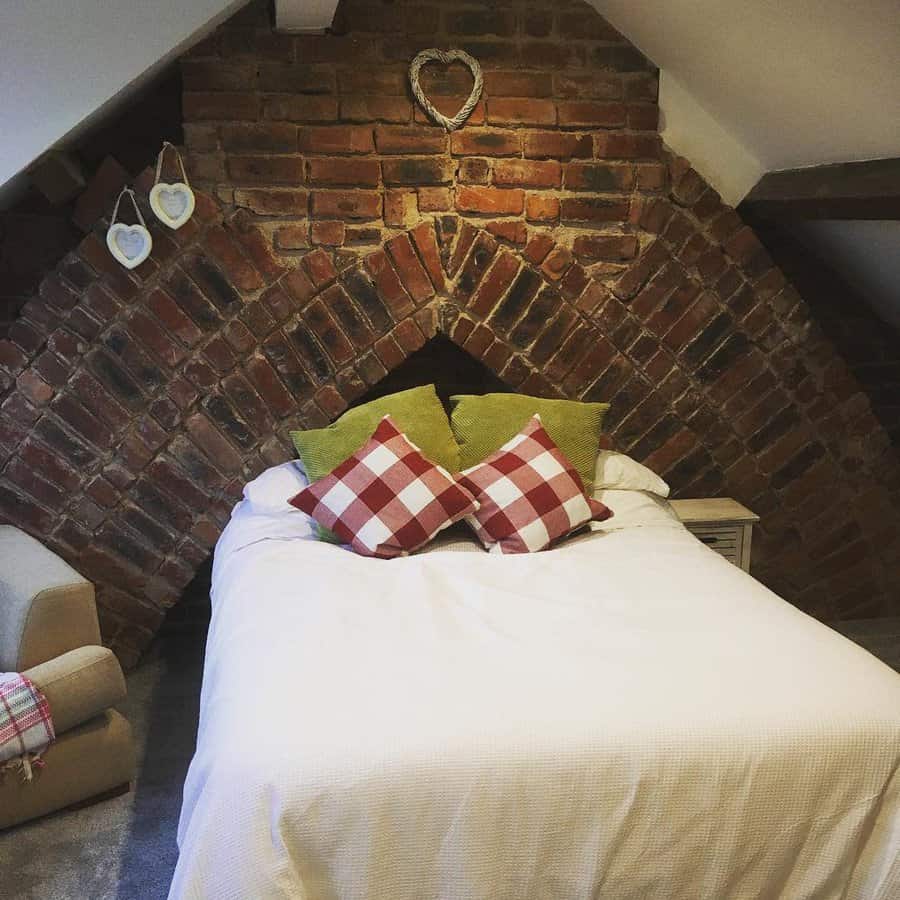 White or light grey walls are ideal in the farmhouse bedroom. Boxwood wreaths and potted plants add a vital splash of living greenery to the farmhouse style's neutral color palette. Farmhouse bedroom decor should include a few metal accents, such as galvanized steel baskets or burnished bronze drawer pulls.
4. Furniture
Aside from the ultra-modern, virtually any piece of furniture can be worked into country decorating ideas. An upholstered headboard works just as well as a full iron bed frame, and a shaker style dining chair can park naturally under a curvy French country desk.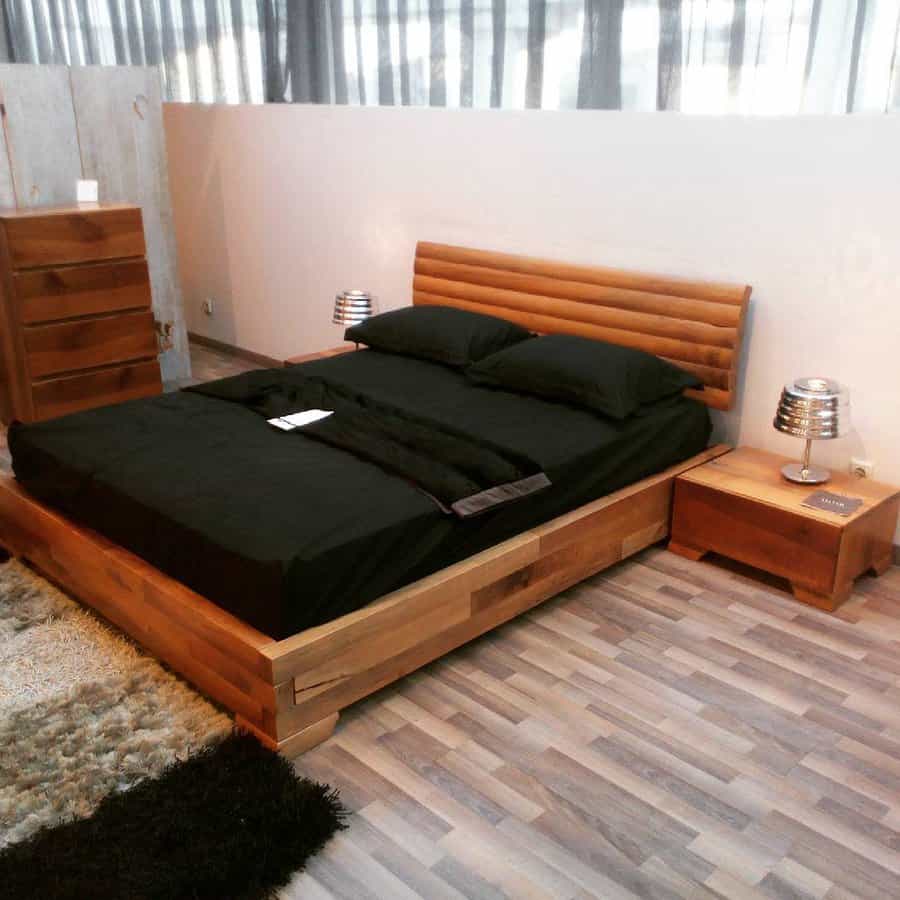 Bedroom furniture with a country flavor may be new or vintage, but it must always be comfortable. Country bedroom furniture is often painted with a distressed or whitewashed finish. Curves are as welcome as straight lines, and pieces do not have to match.
5. Guest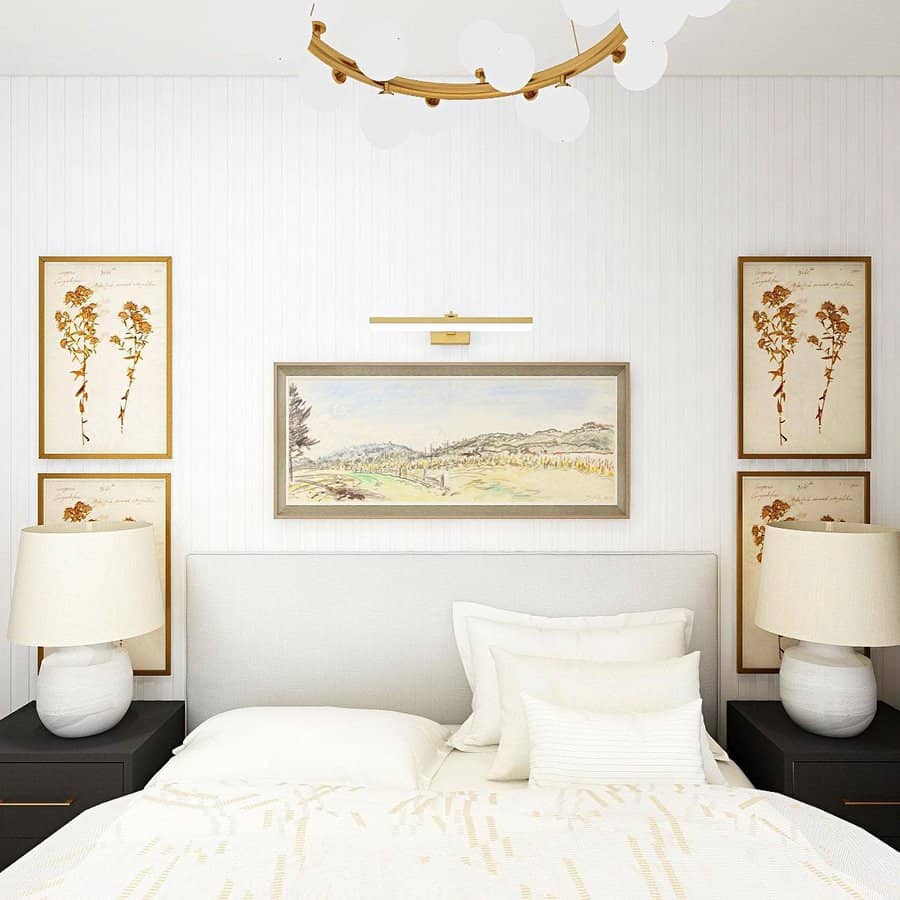 Country bedroom design is perfect for a guest bedroom, as you want your company to be as comfortable as possible during their stay. Since furniture doesn't have to match, and upcycled items are welcome, a country rustic bedroom is the perfect place to use pieces that don't fit into another room.
An upholstered headboard is a comfortable bed option for a room dedicated to guests. Cover the bed in soft bedding and top it with a throw pillow collection so your guests can pile them up for extra comfort while reading or watching TV.
6. Iron Bed
A classic iron bed is an excellent country bedroom decor idea, whether in the master bedroom, guest room, or kids' bedroom. First made popular during the Victorian Era, an original iron bed from that time is a real collector's item.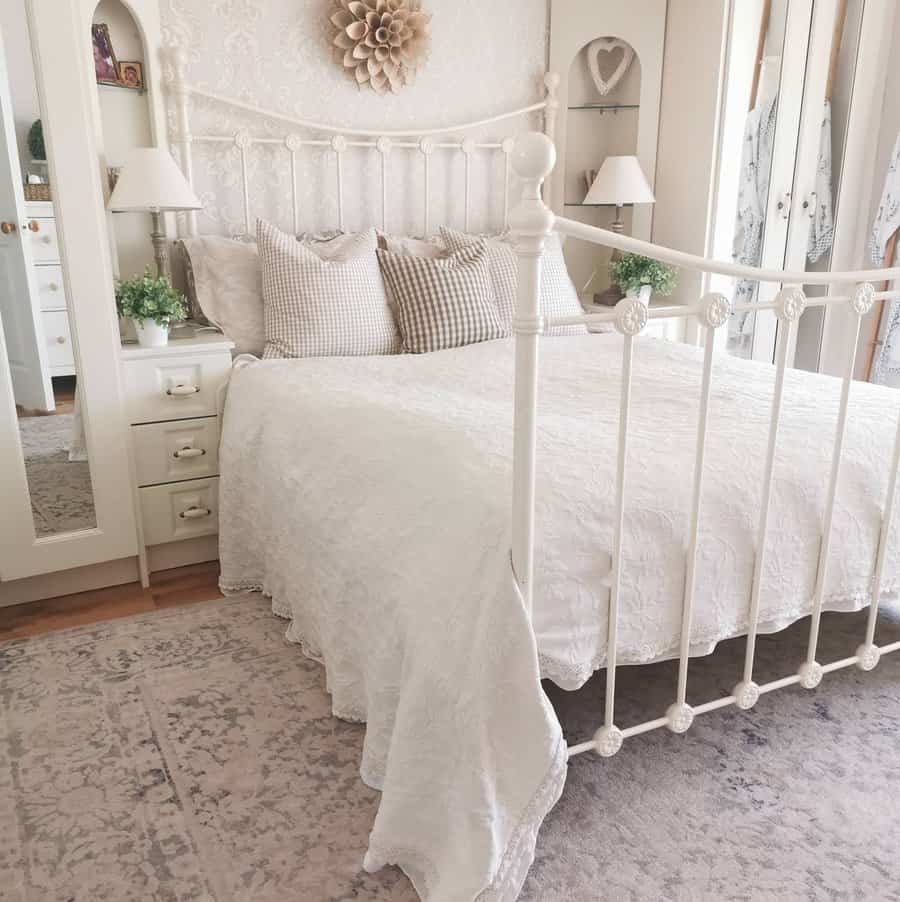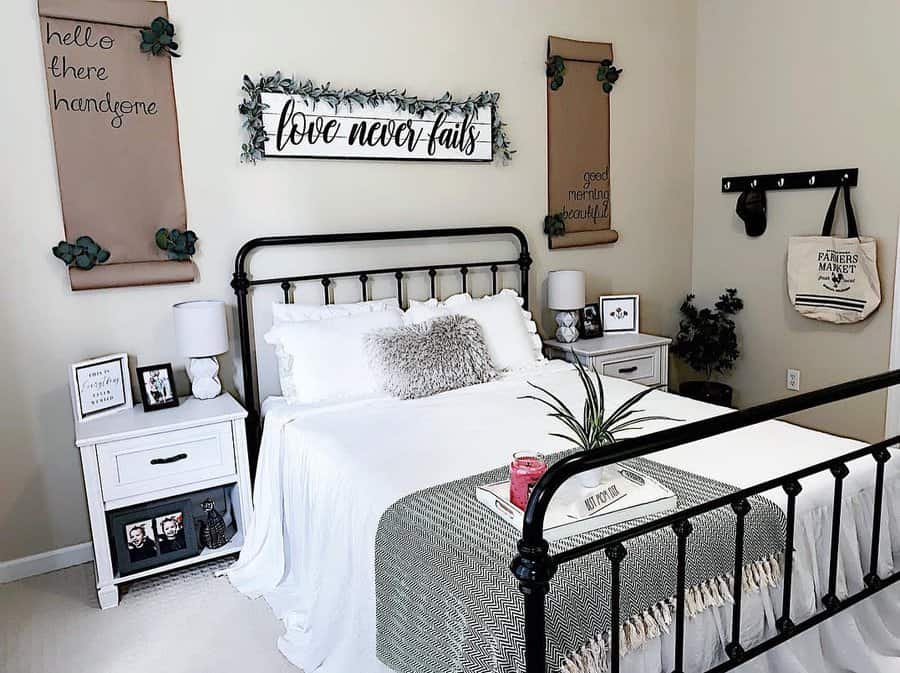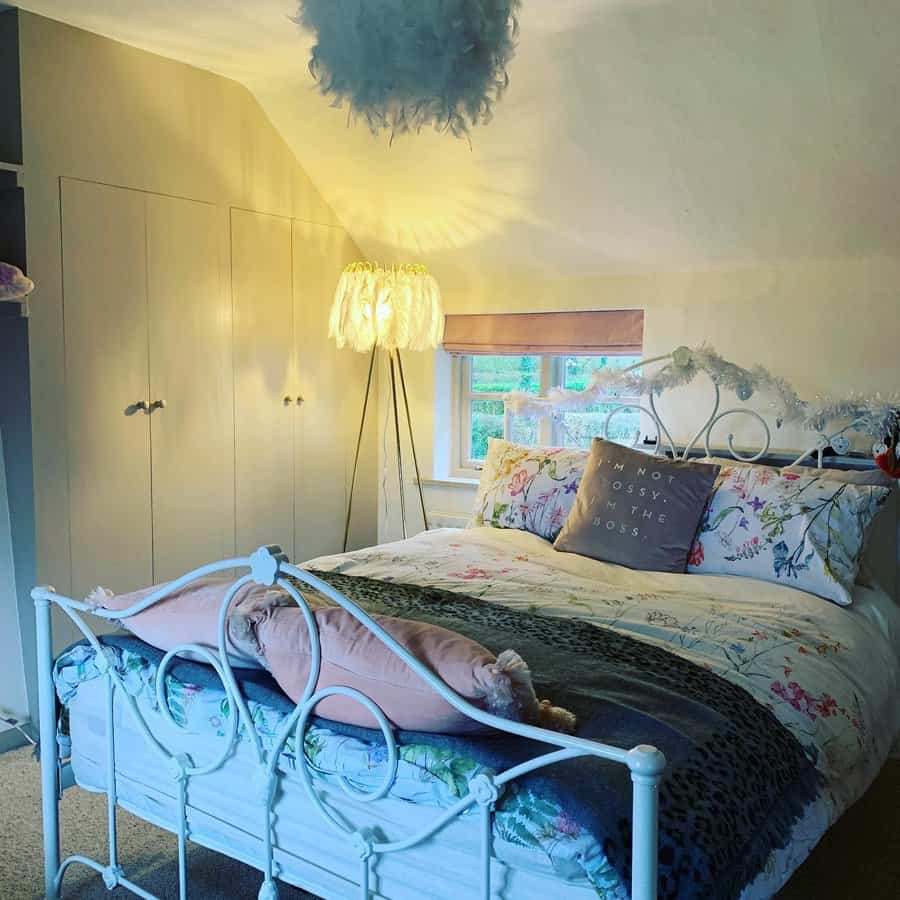 You can find a new wrought iron bed to fit any design style, from classic to rustic. Plain, mission style iron beds merge well with modern or country design. If you prefer more curves and details, look for a bed that includes scrollwork, leaves, and other embellishments.
7. Master Bedroom
A master bedroom usually has more square footage than other bedrooms, giving you more space to use all your favorite country bedroom makeover ideas.
One challenge in master bedroom design is finding a balance between feminine and masculine details so that each partner is happy with the results. Fortunately, country style does a good job of marrying the rustic and the refined.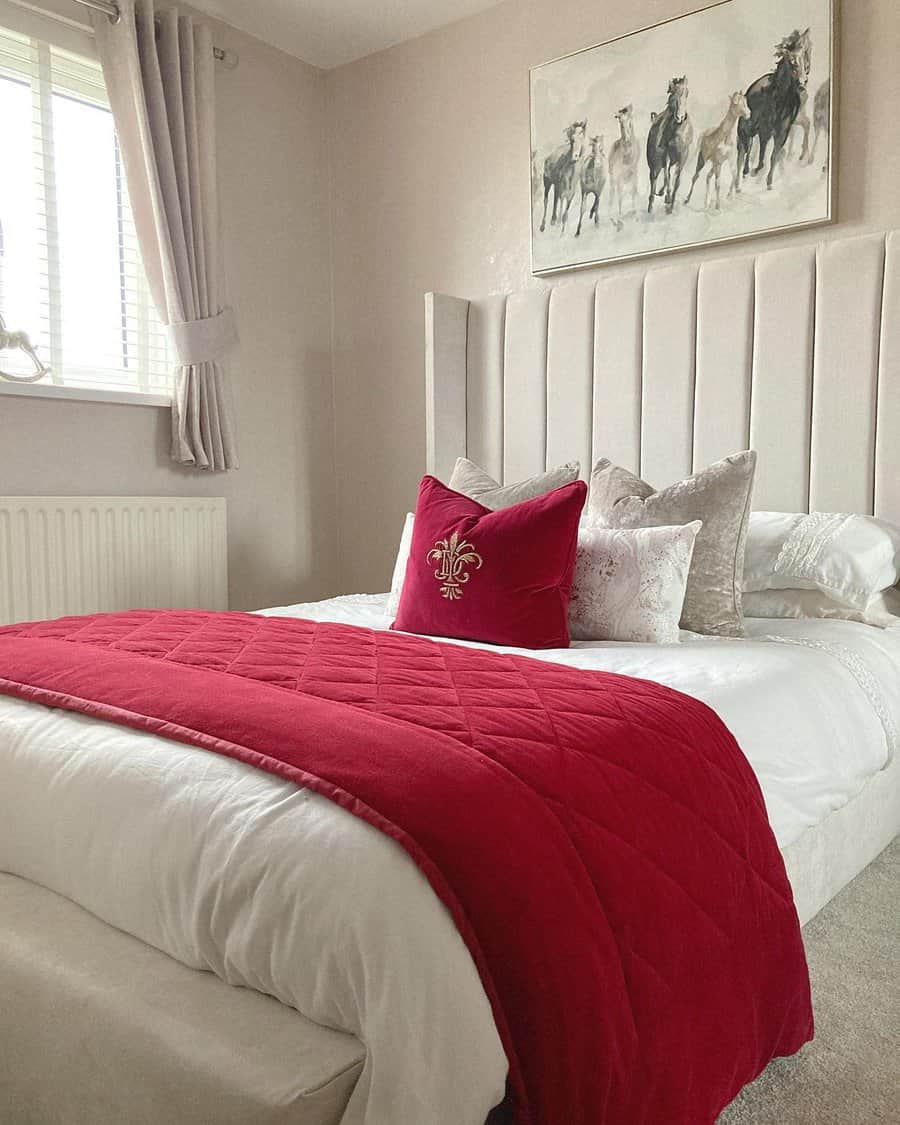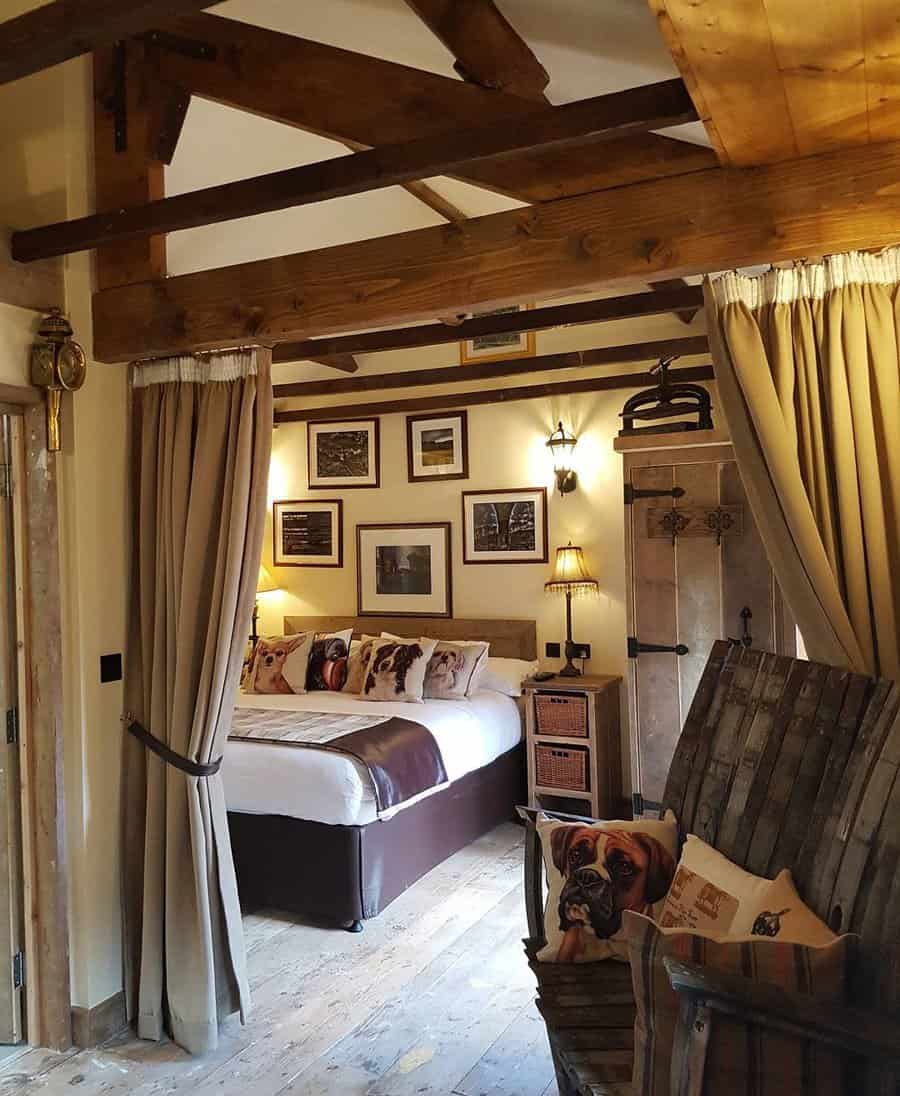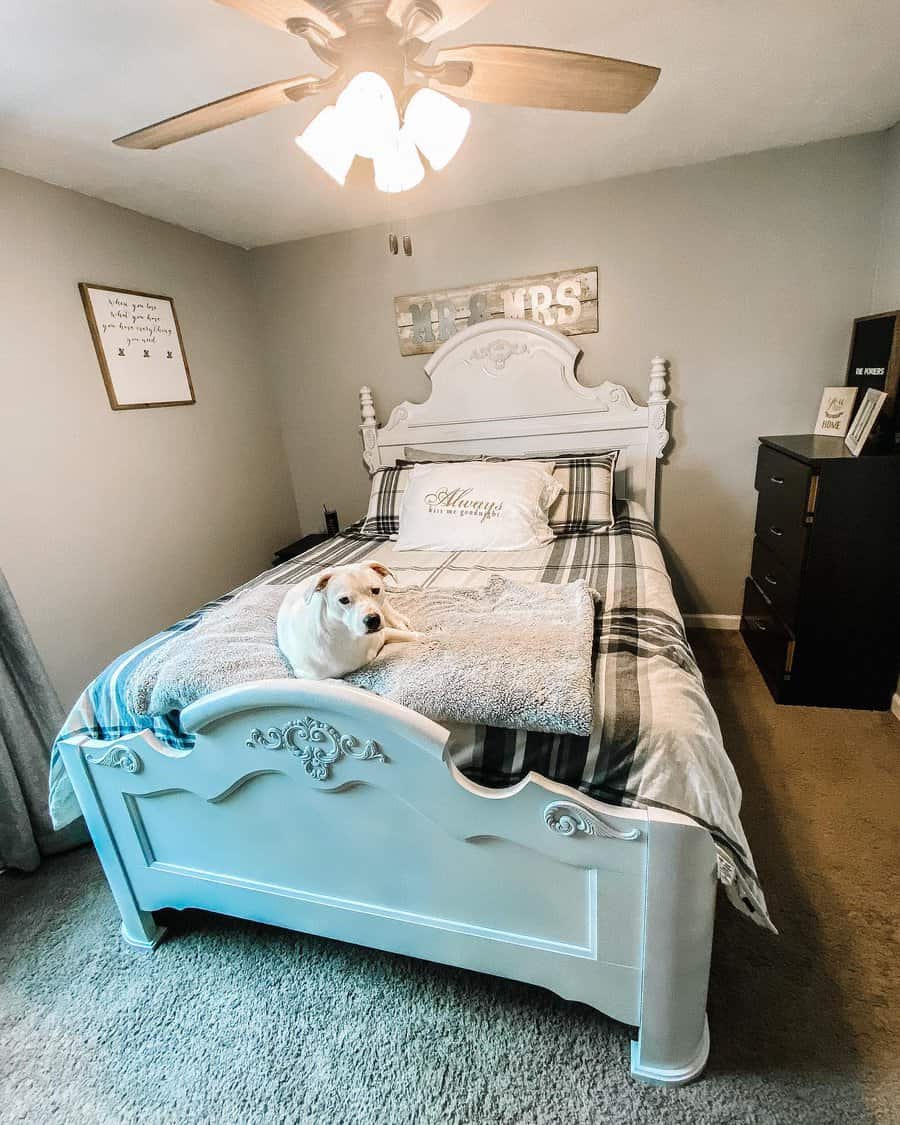 Pair a simple plaid duvet with throw pillows covered in stripes, dots, or a floral pattern. If your bed frame has scrollwork or other details, painting it black helps bring down the frill factor down.
8. Modern
At first, modern bedroom design may not seem to have anything in common with country or rustic bedroom ideas. However, these elements have an "opposites attract" kind of magic that evolves when they come together in one room.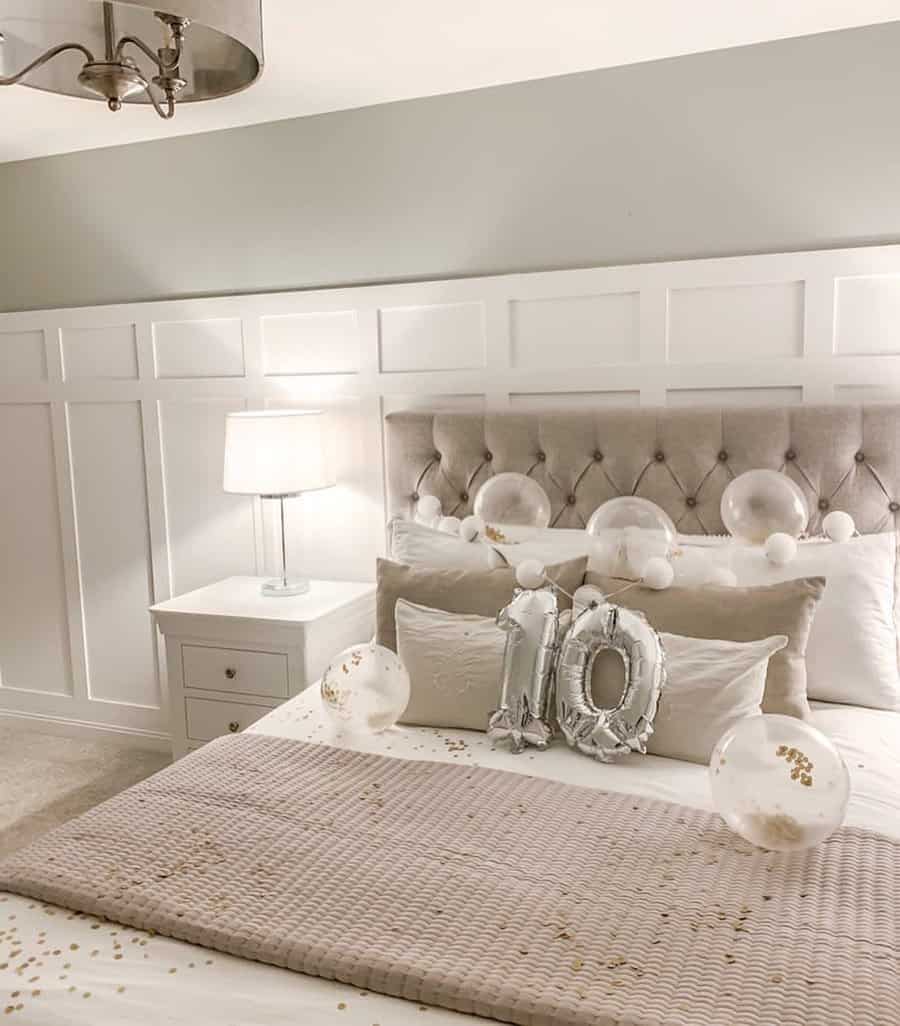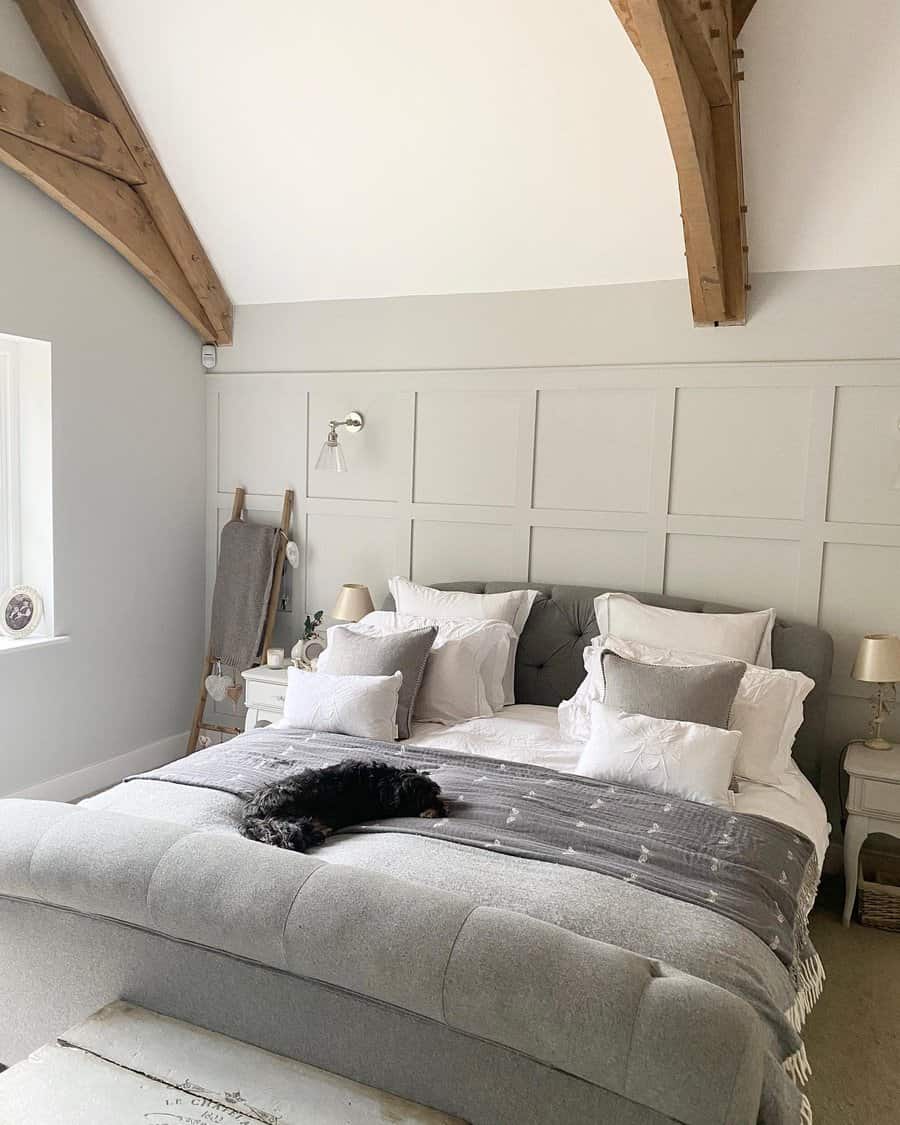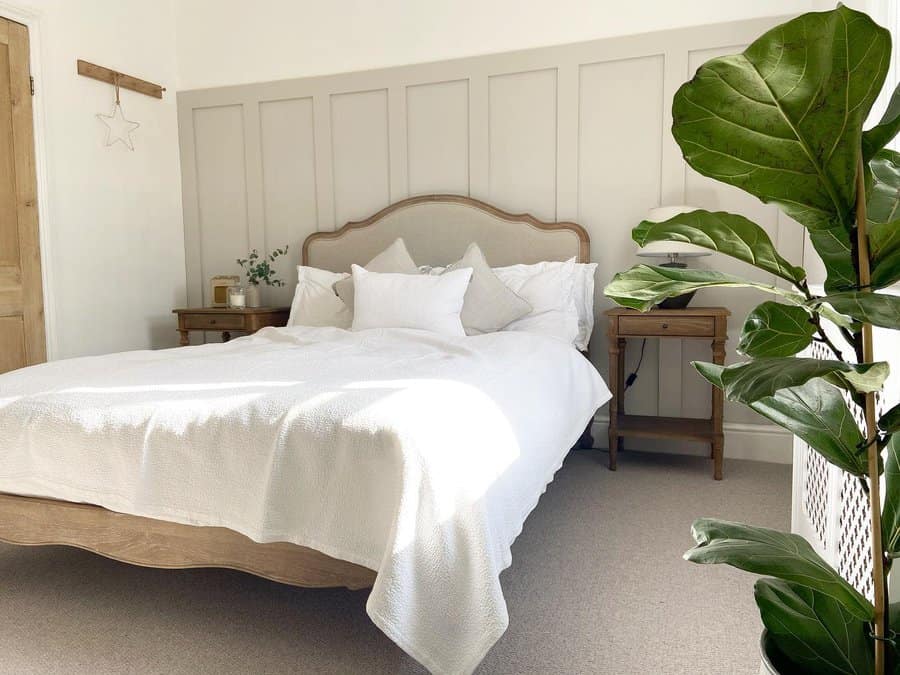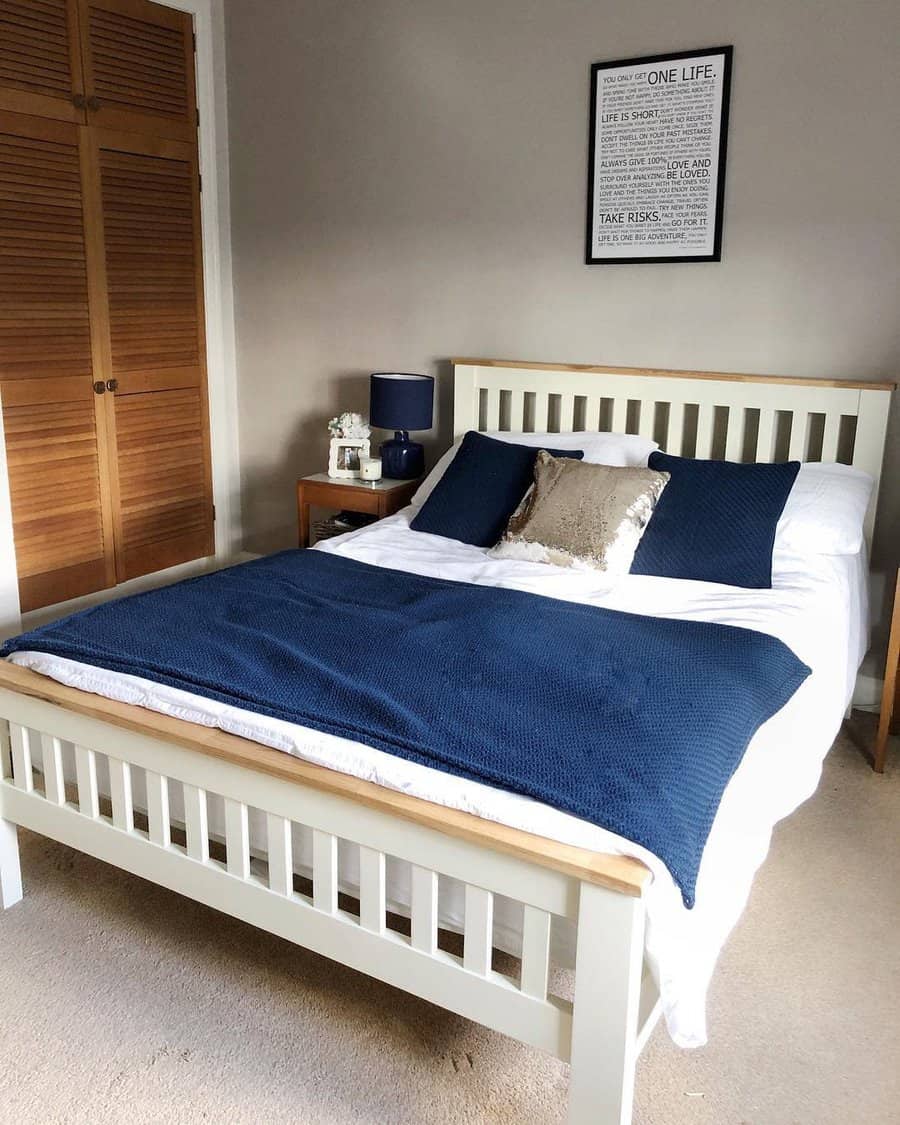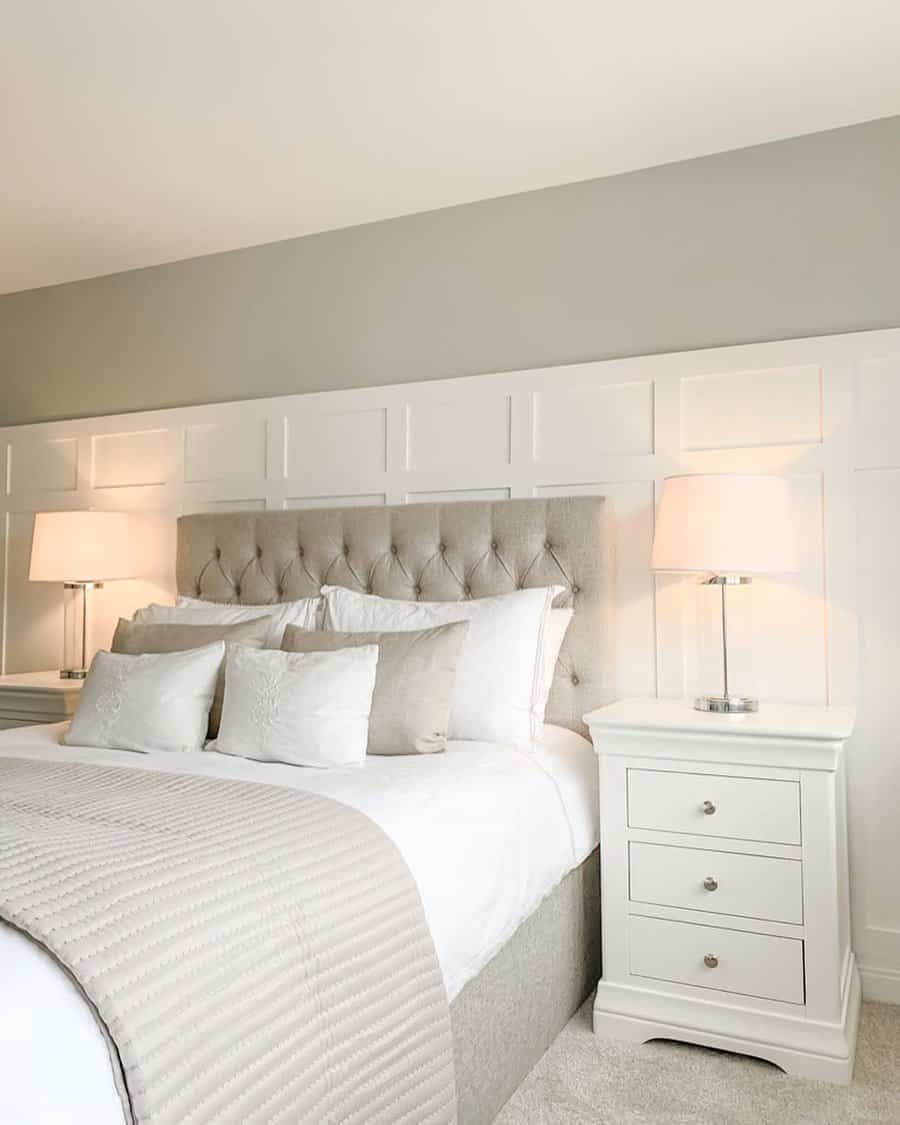 Paint shiplap walls a dark color instead of the usual white or cream and hang plain linen curtains on the windows. Use the same type of modern linen textiles on the bed, but add a warm country twist by placing an animal skin rug beside the bed.
9. Neutral
A farmhouse bedroom idea almost always builds on a neutral color palette. White, beige, cream, black, and various shades of brown are all excellent foundational colors for country bedroom design. If you're building a modern rustic bedroom, neutral colors are a must to keep the room from feeling too busy.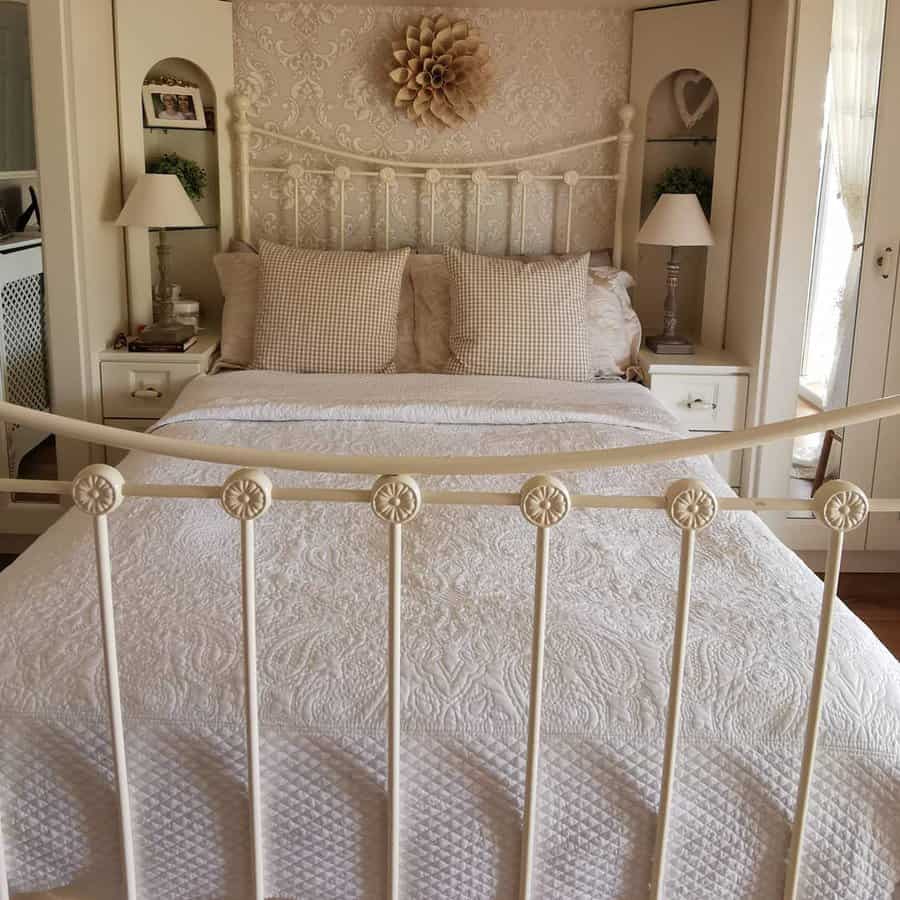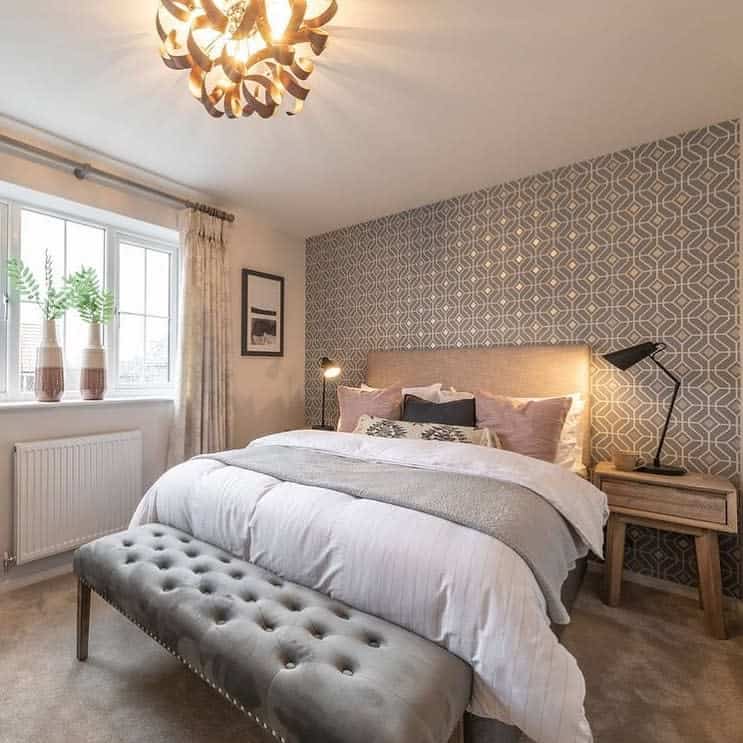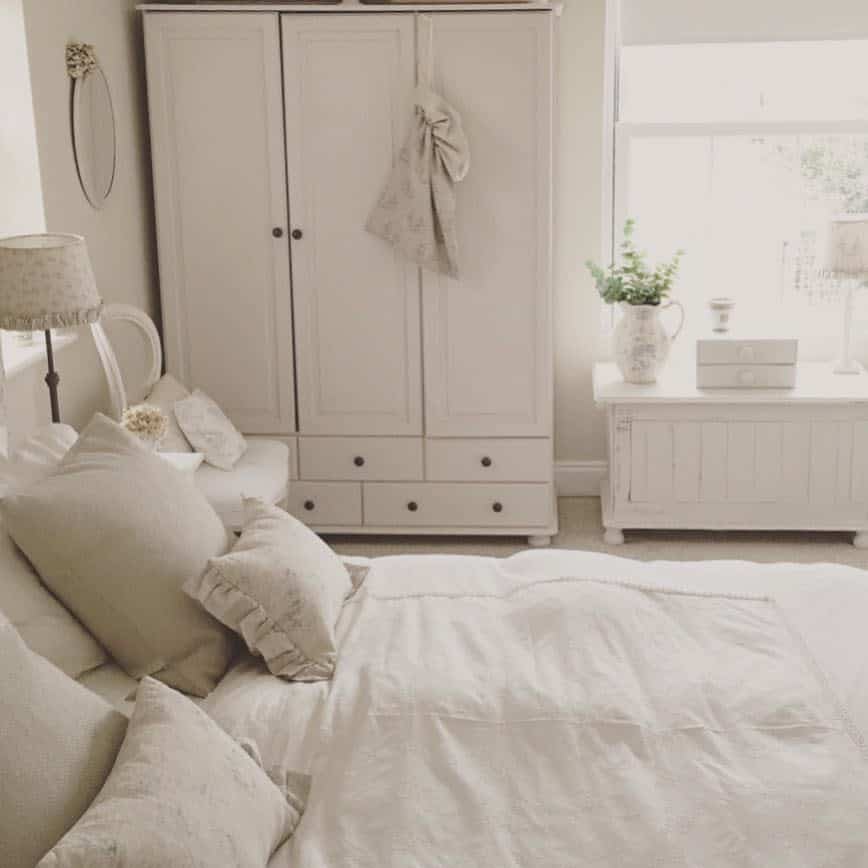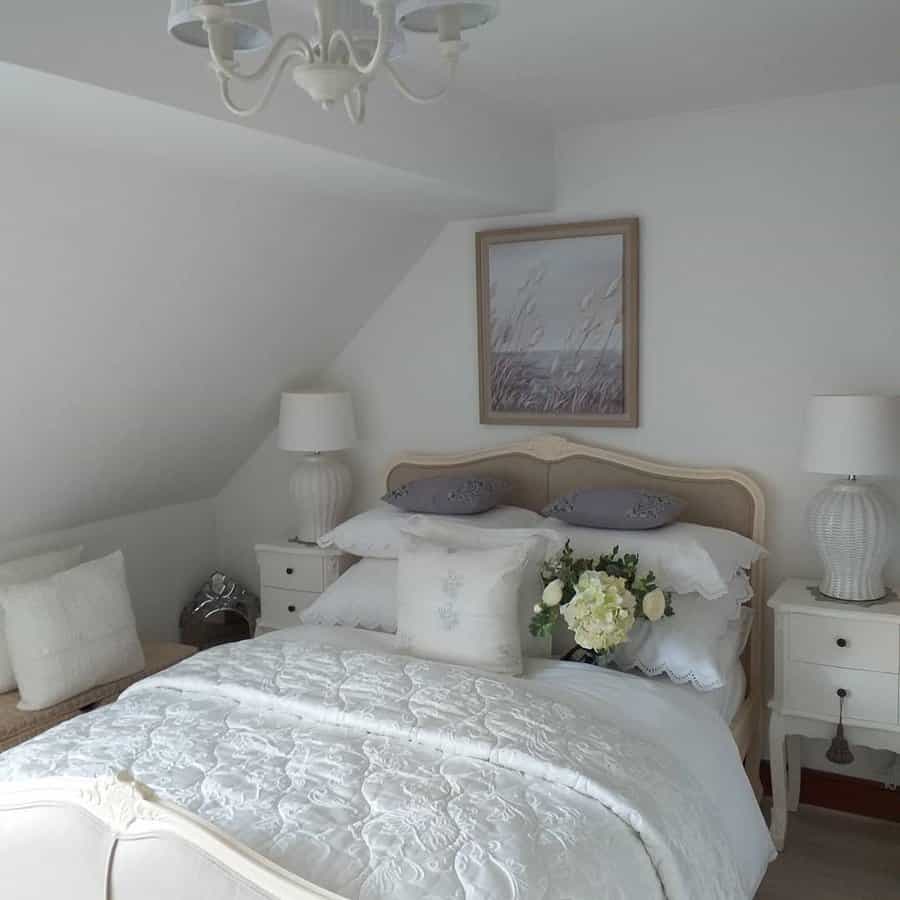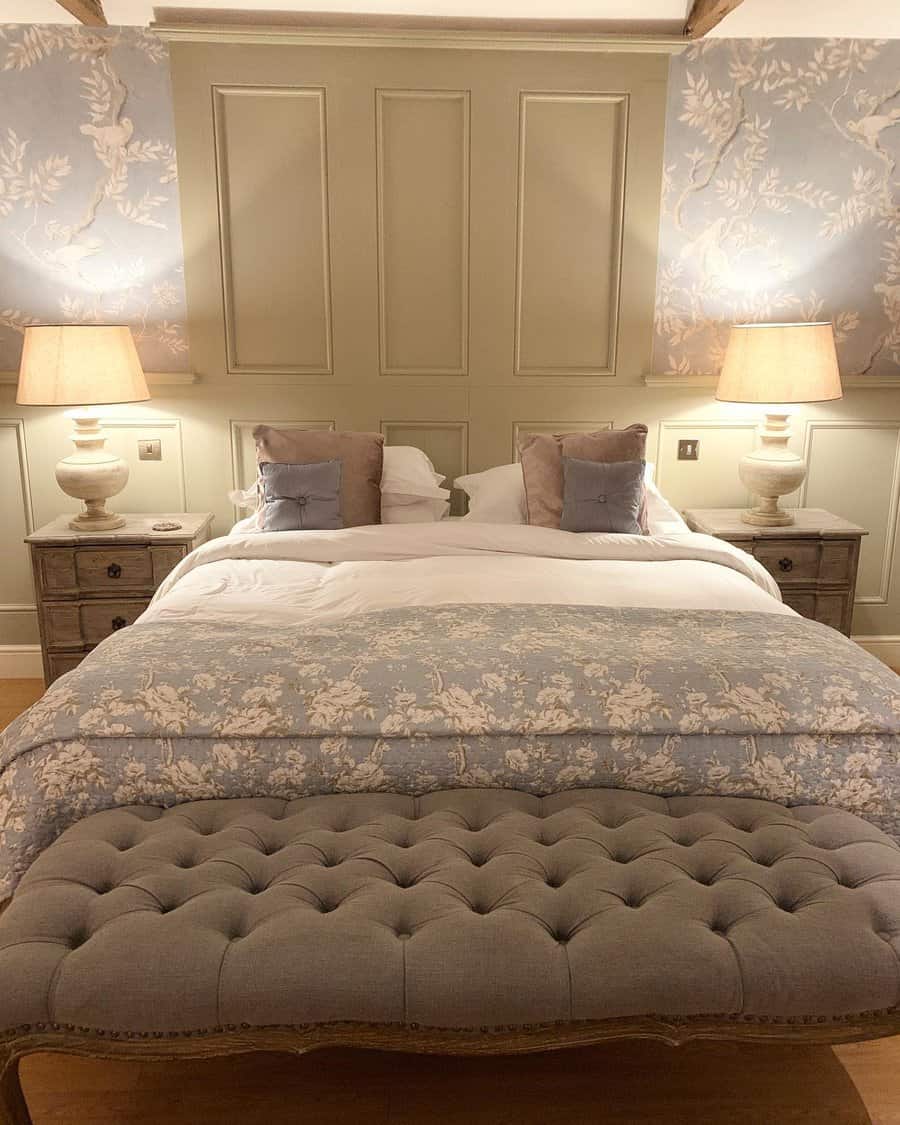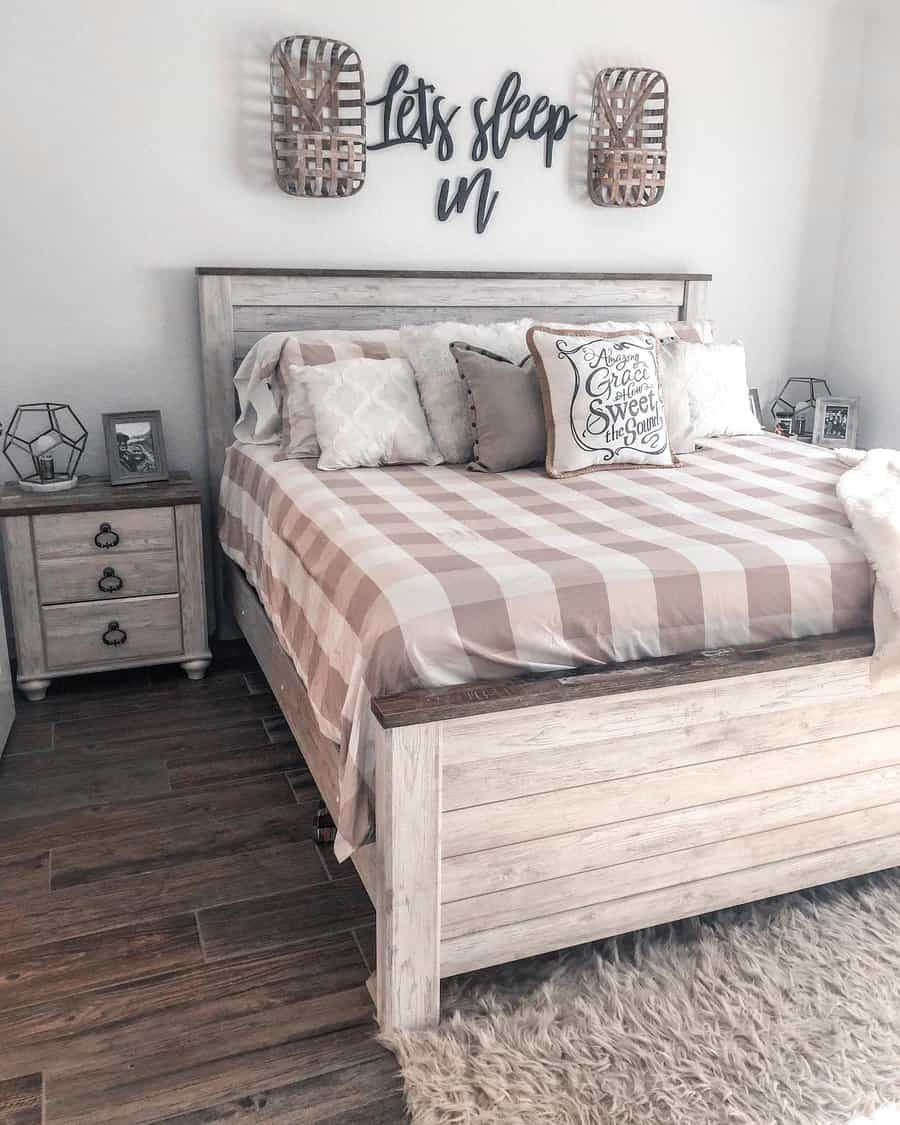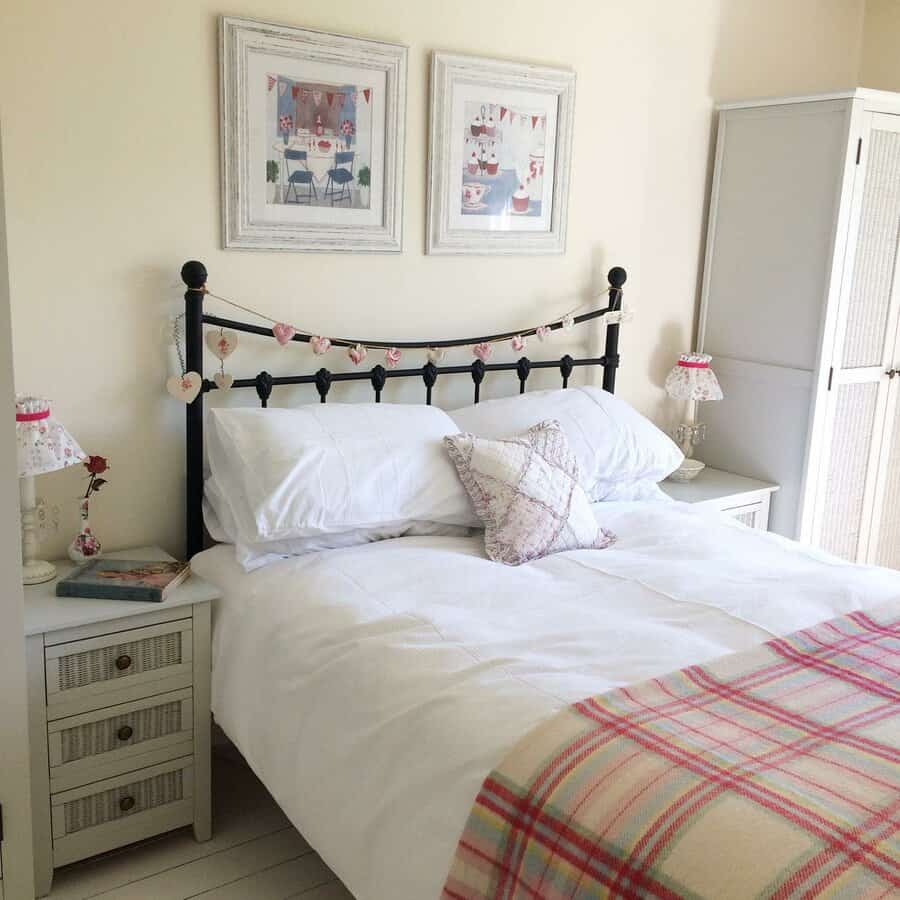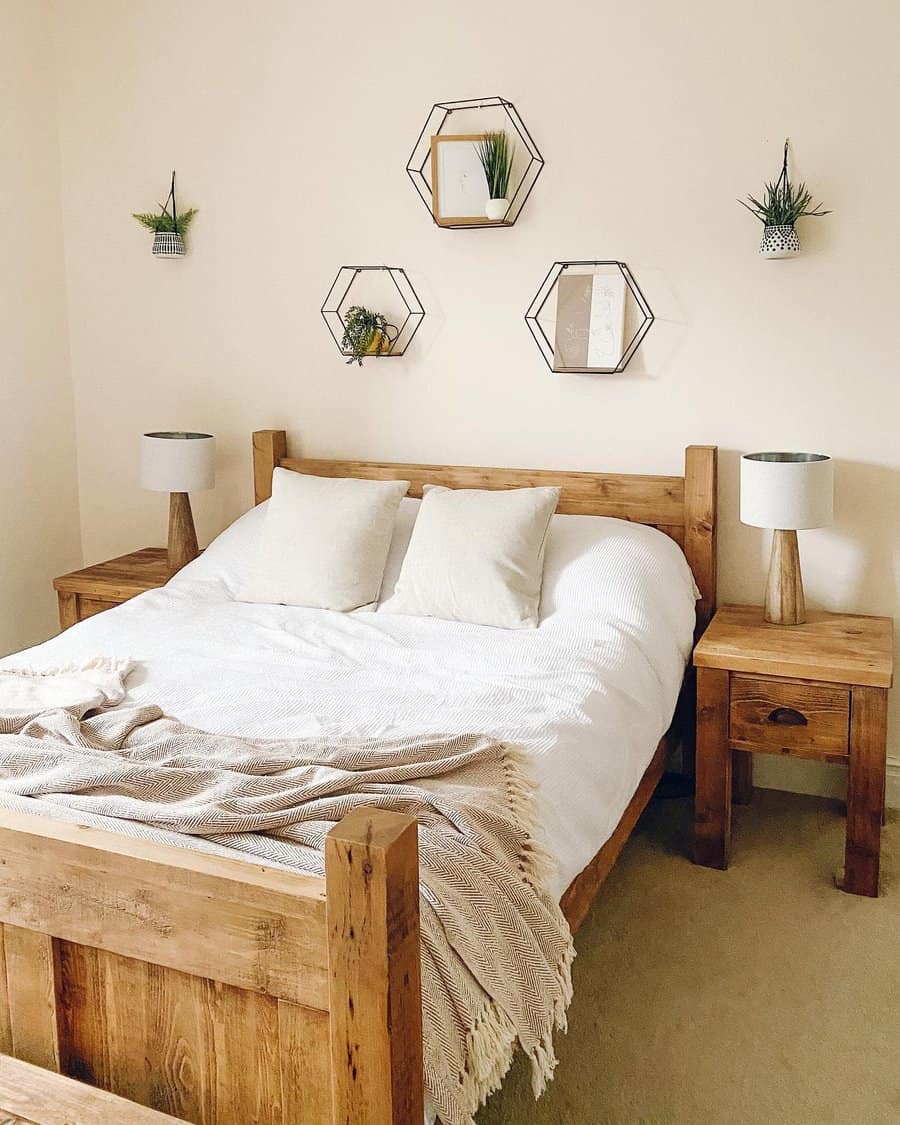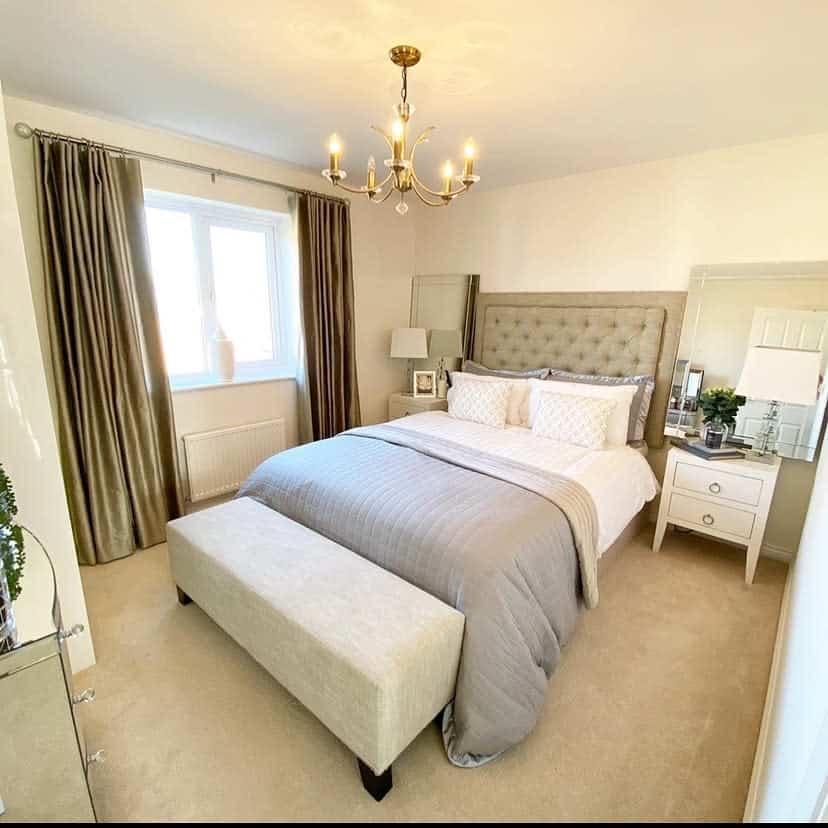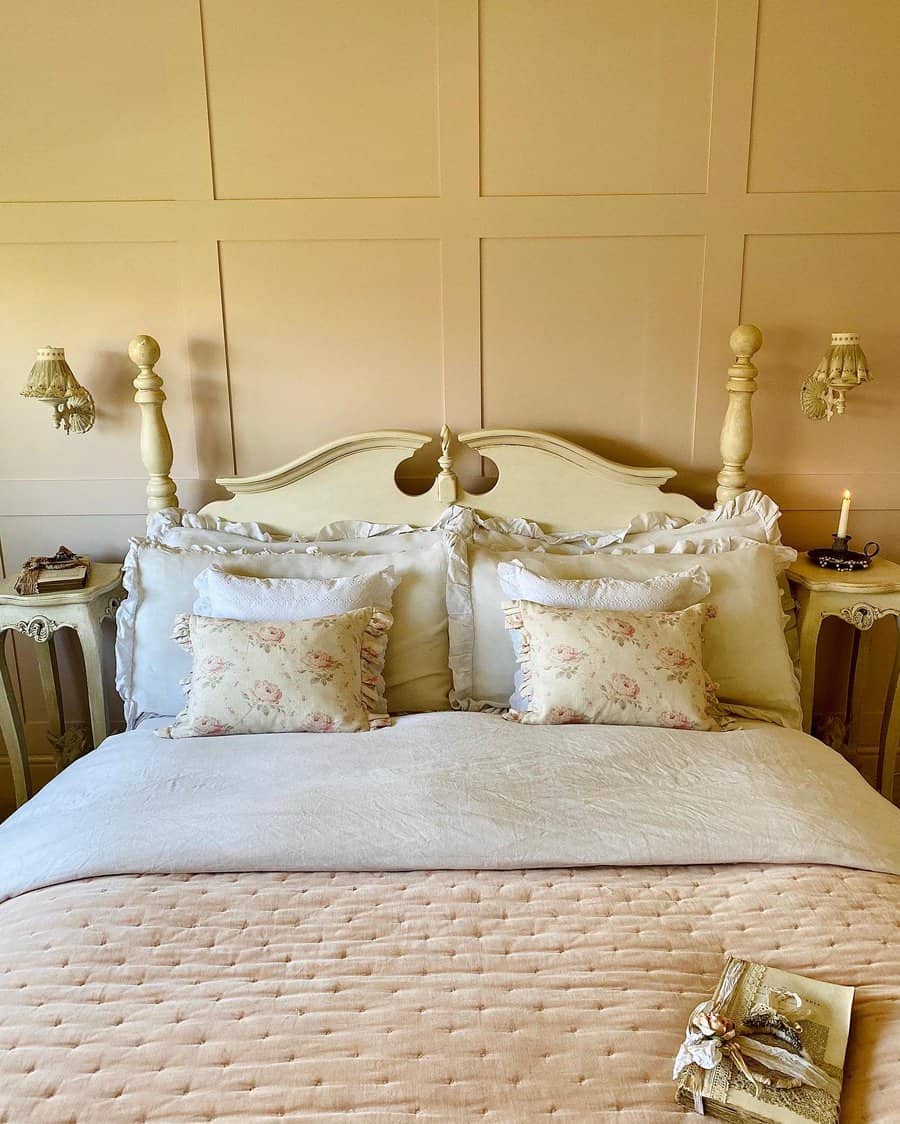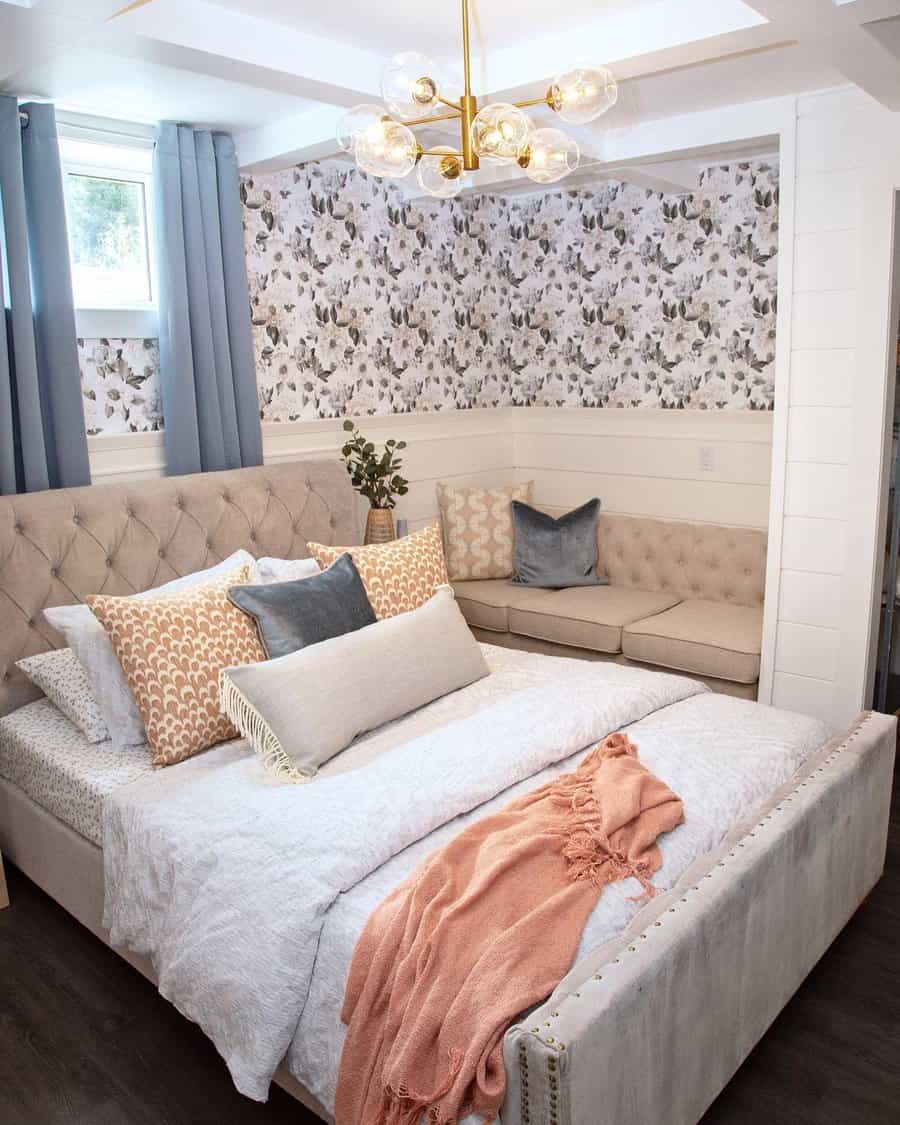 Fortunately, many of the materials used in country design are naturally neutral, such as wood, stone, metal, and burlap. Even toile fabric has a cream or white background, and the print's other color is a great one to use as an accent in a mostly neutral room.
10. Rustic
Exposed wood beams and natural wood, stone, or brick floors are a vital part of country style, especially when they have a weathered patina.
If you're lucky enough to have a vaulted ceiling in your rustic bedroom, it will add to the room's rustic ambience. Cover the vaulted ceiling with wood paneling for an even greater rustic component.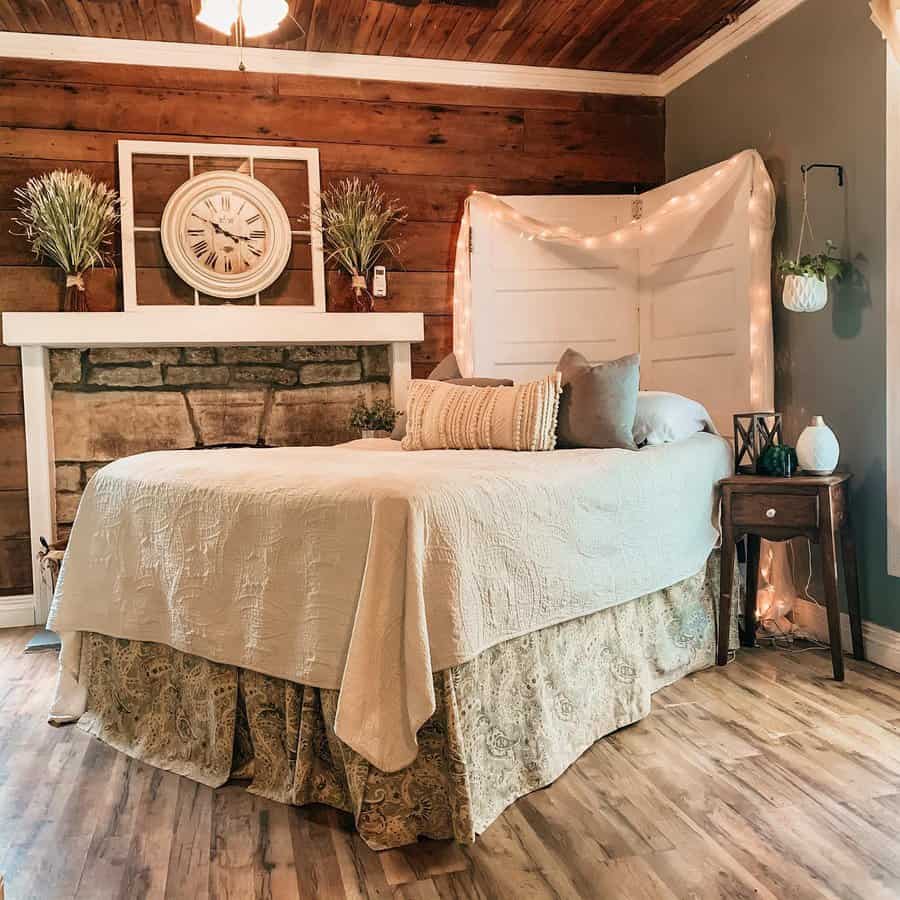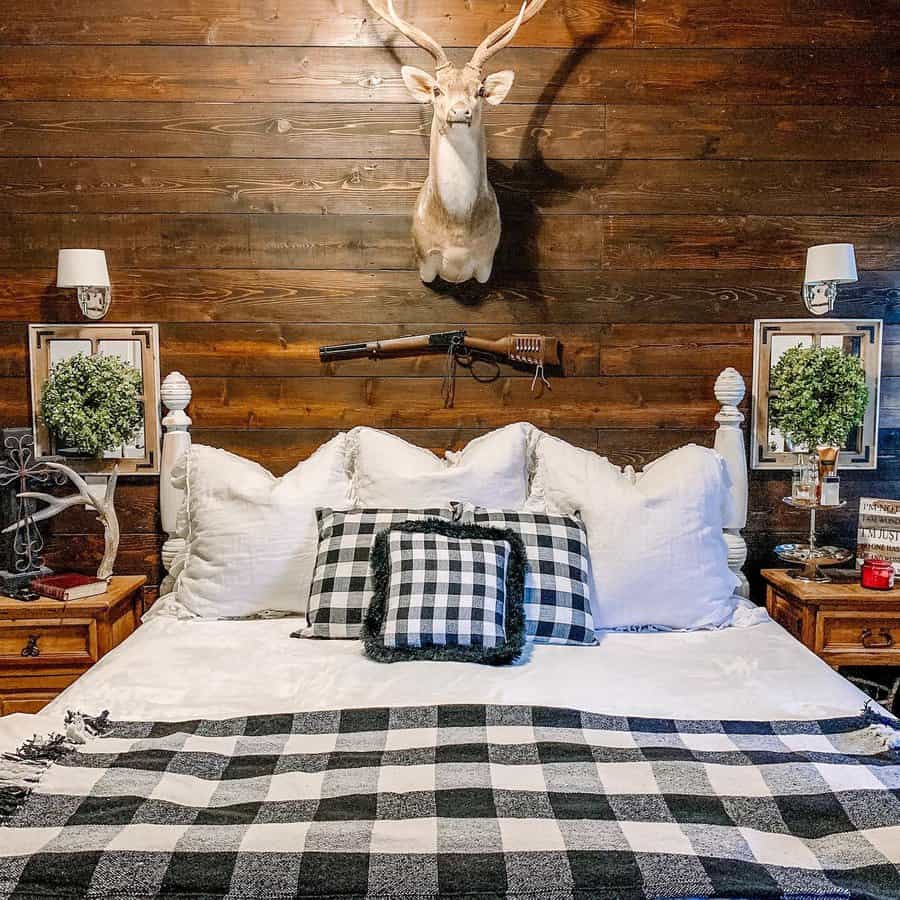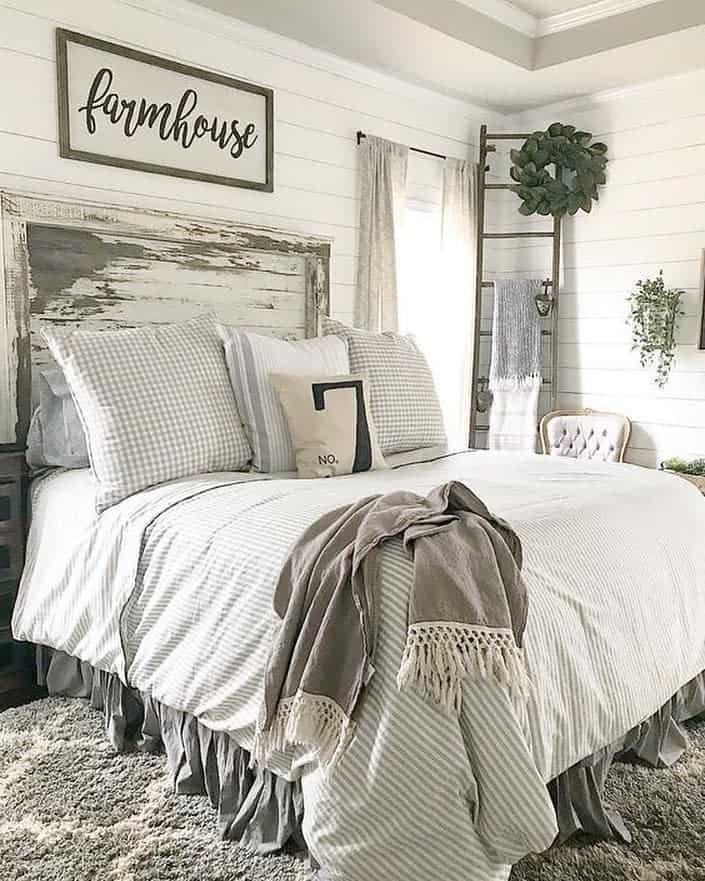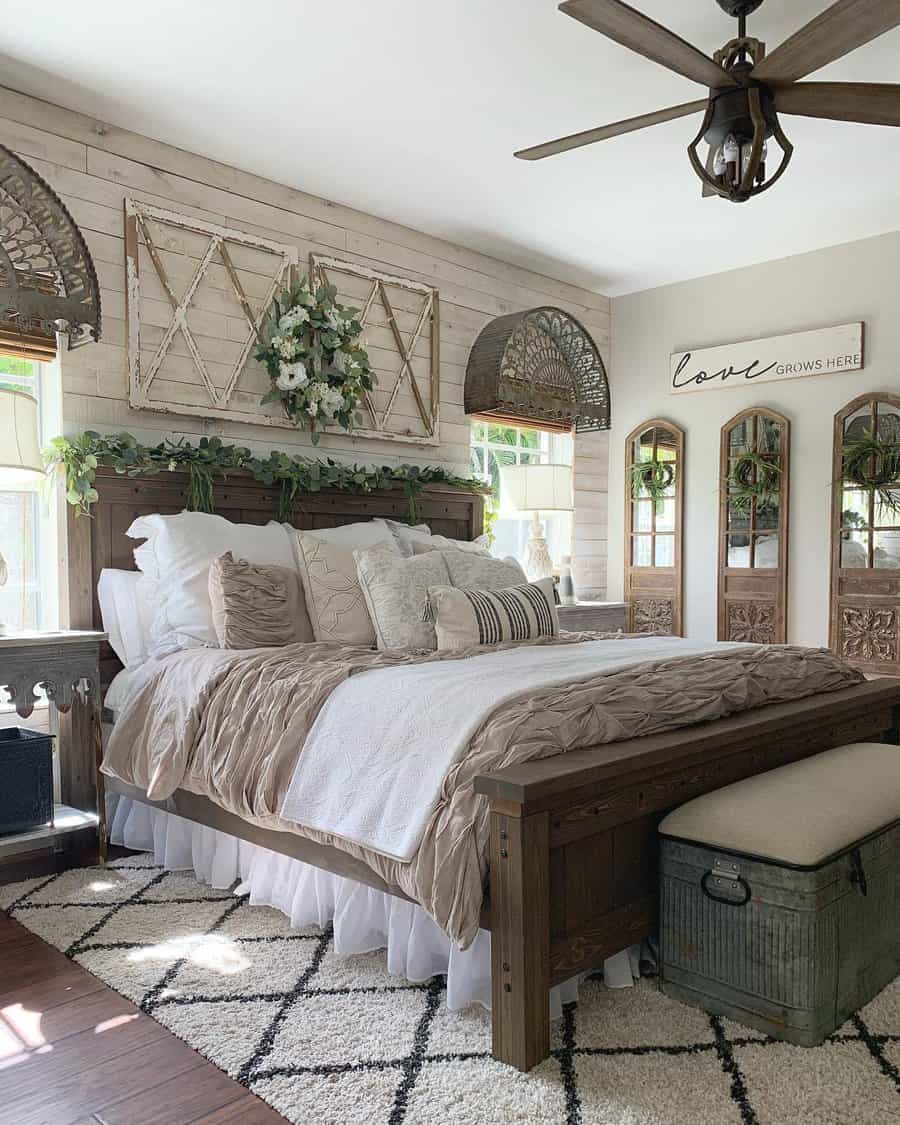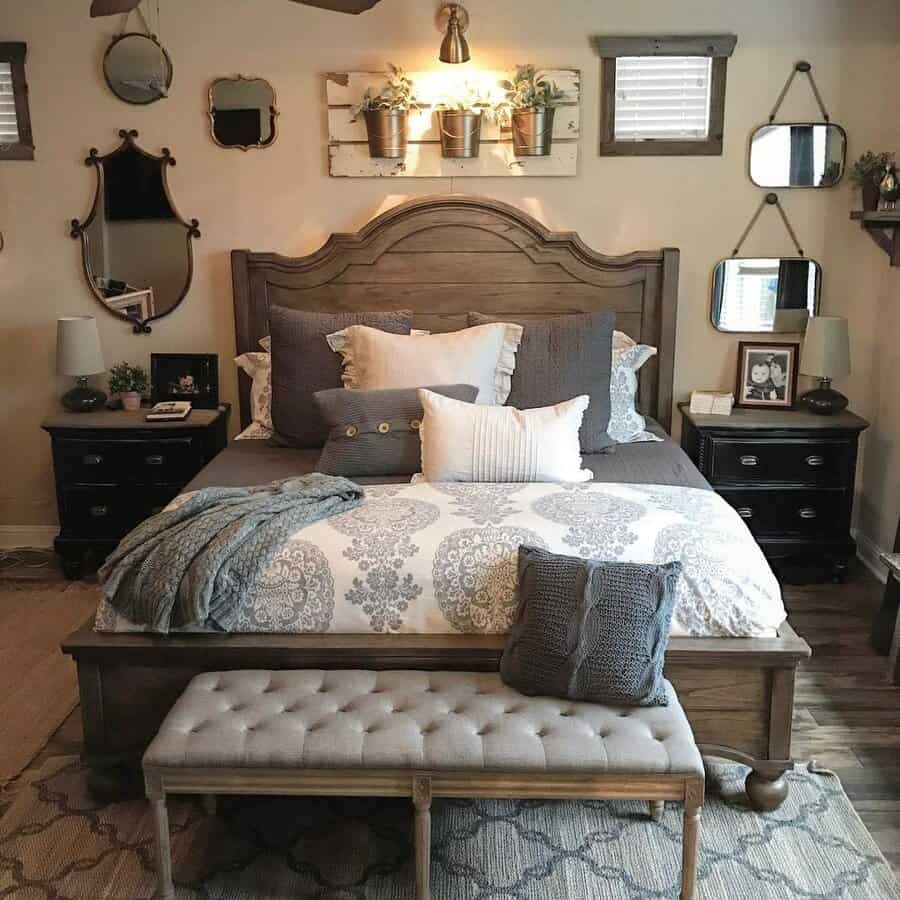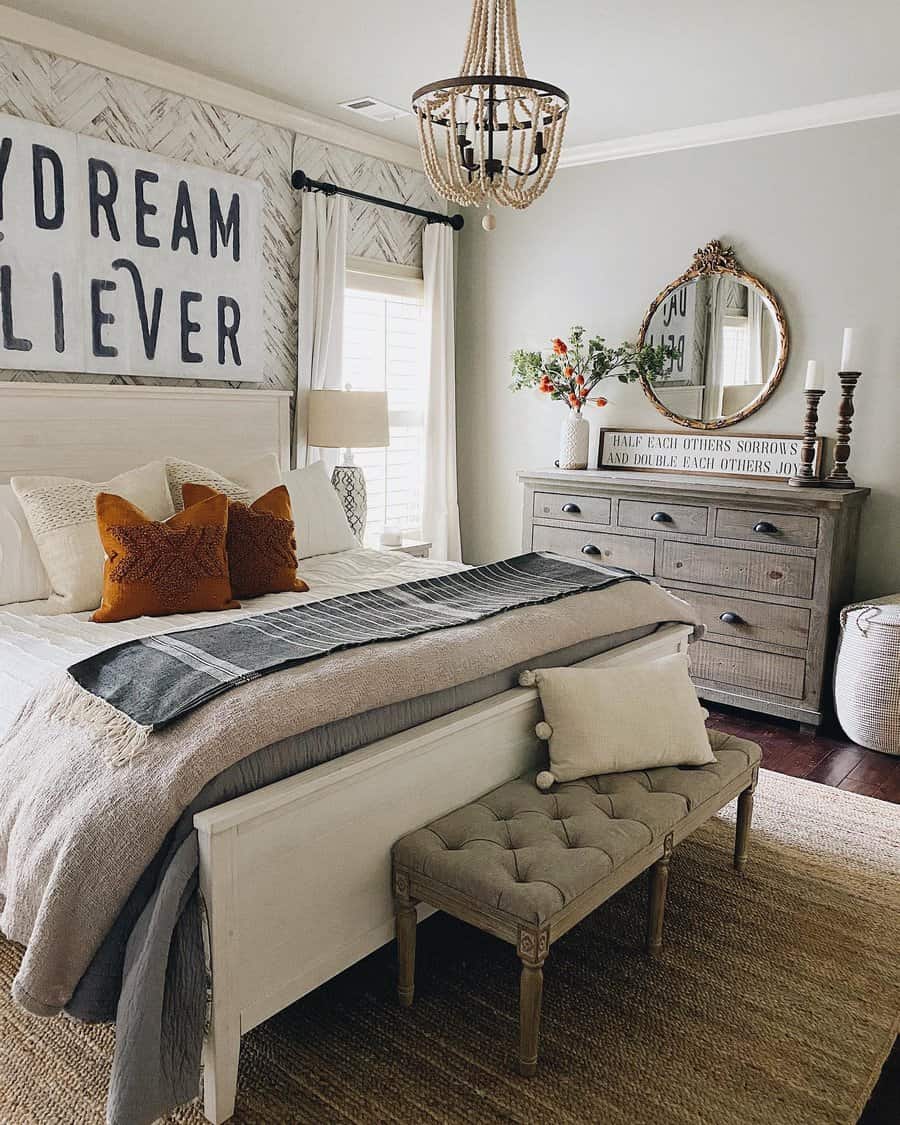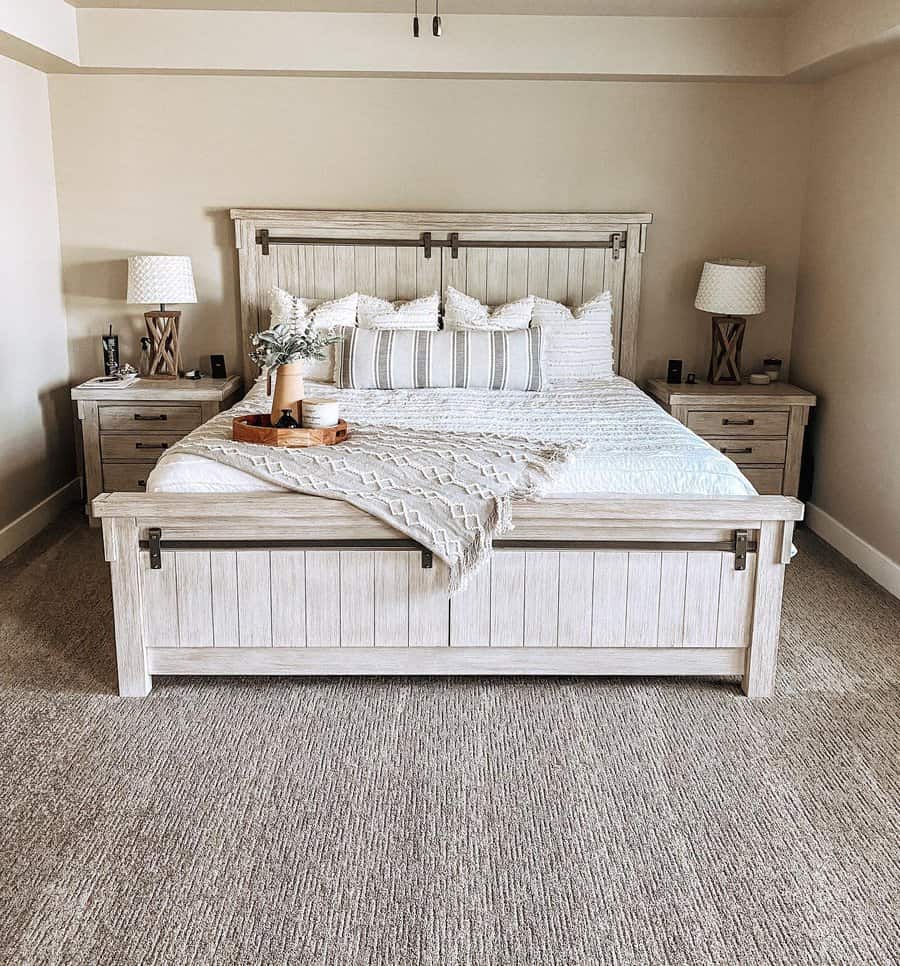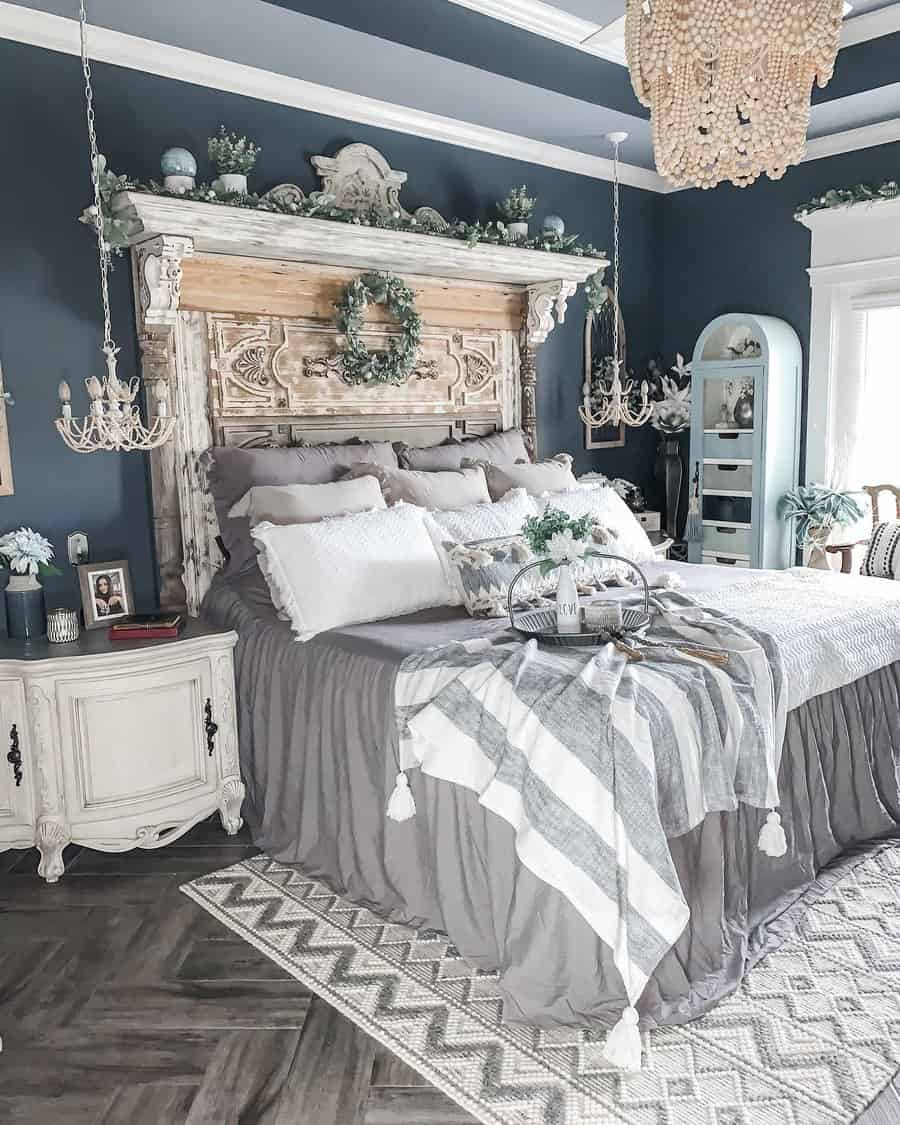 Rustic bed frames are usually chunky or bulky in design, often made of thick timbers lightly sanded and stained. Soften the look of a rustic bed with sheer or lacy fabrics and floral prints. Flower vases, wreaths, and chandeliers are accessory options that also bring country balance to the room.
11. Vintage
A country bedroom is the perfect space to show off your favorite vintage treasures. From a 100-year-old iron bed to your grandmother's hand-crocheted doilies, it's all at home with this design style.
Think outside the box for repurposing vintage pieces in the bedroom. For example, a vintage bar cart can easily become a unique nightstand.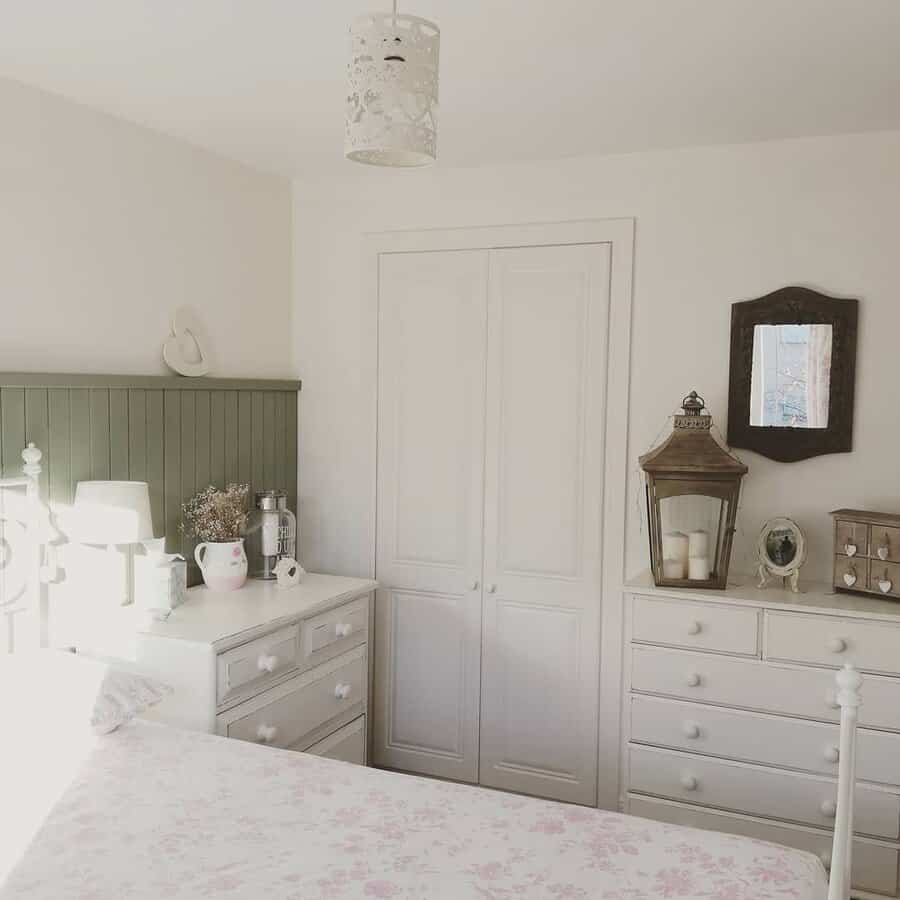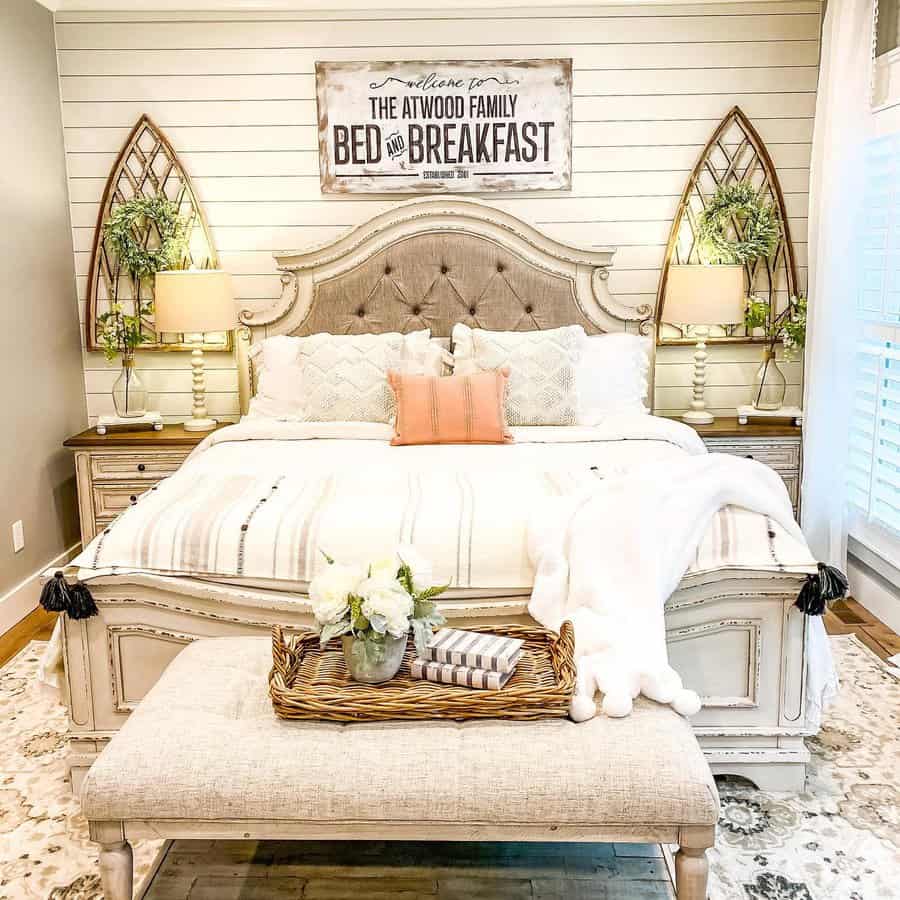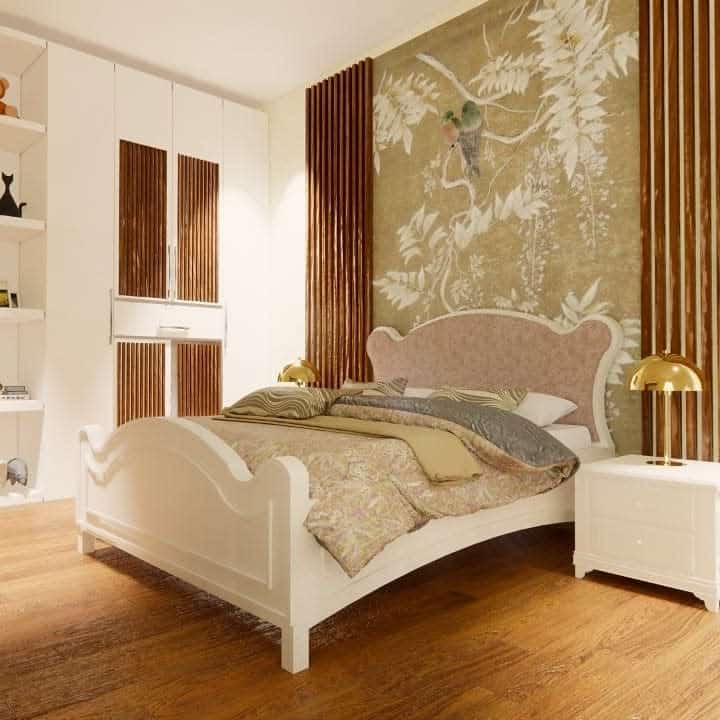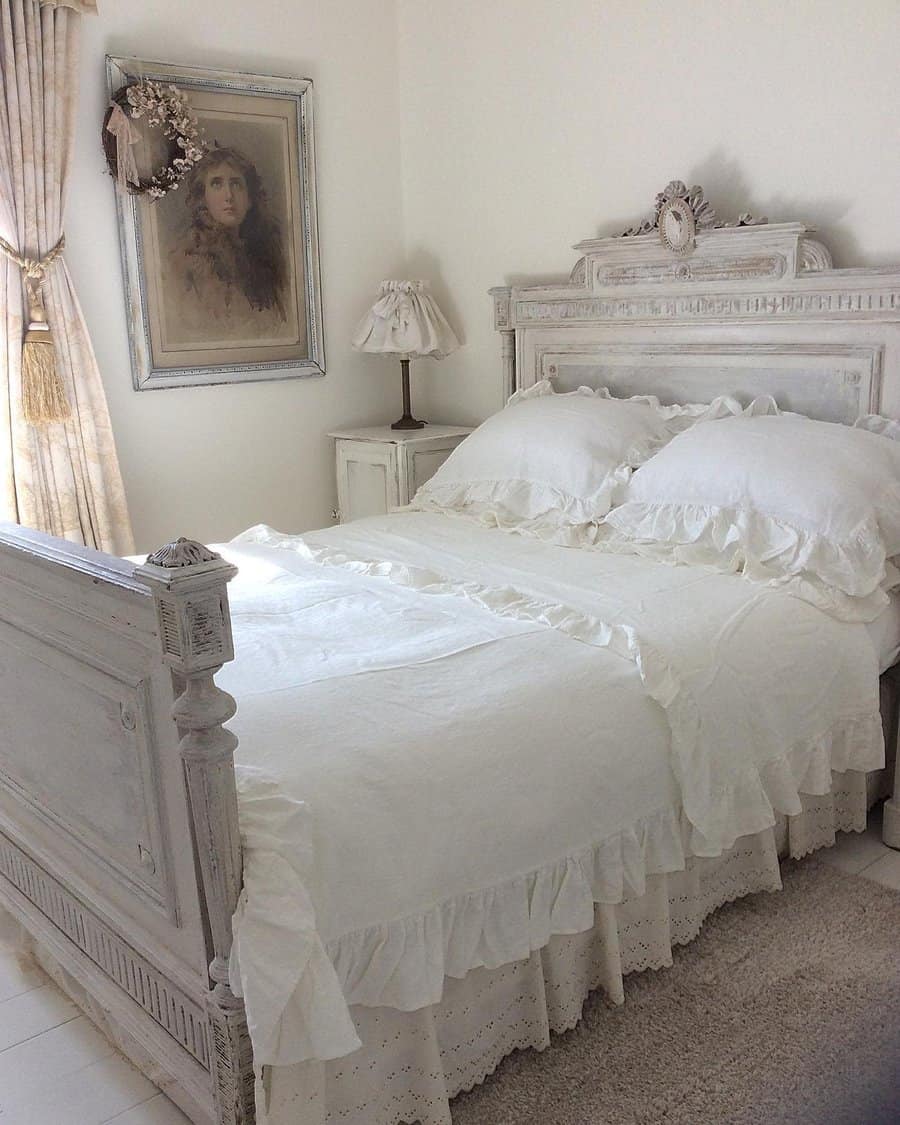 Look for "new" vintage items at flea markets and thrift stores. The patina, dings, and scratches all add character that's essential for vintage bedroom style. Rusted metal and wrought iron accent pieces look amazing alongside vintage French country bedroom furniture.
12. Warm
If country bedrooms are anything, they are warm and welcoming. A real or faux fireplace adds to the warmth factor, as do candles and lampshades that cast light in golden hues. When choosing wooden furniture, go with warmer wood finishes, like maple, instead of pieces with underlying grey tones.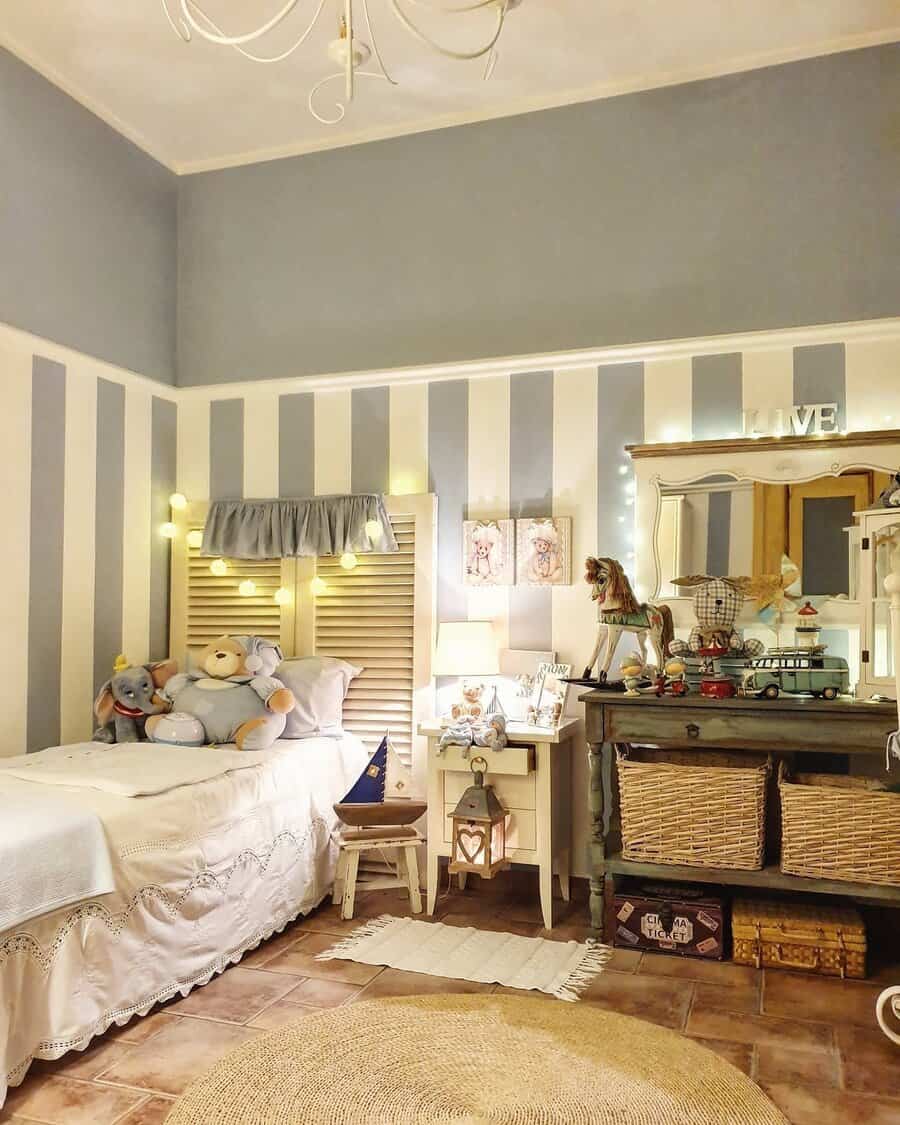 French country bedroom decor is a good choice if you want to elevate the warm feeling in your bedroom. It relies on colors from the warm side of the color wheel. Buttery yellow, pale peach, baby pink, and soft cream are a few of the warmer colors that show up in French country bedding and accessories.
Country Bedroom FAQs
What is French country style?
French country decor is inspired by traditional homes in the countryside of France. It is simultaneously casual and elegant as it combines rustic decor with more refined elements. A French country bedroom includes plenty of warm wood, natural materials, vintage pieces, and softly muted colors. Sometimes, French country style is called "provincial style."
Is rustic style the same as farmhouse style?
Rustic and farmhouse styles are similar, but not exactly the same. Both rely on wood and natural materials and meet the broader definition of country style. Rustic pieces are generally simpler and more masculine, perhaps unfinished. Farmhouse style is lighter and cleaner than rustic style, with painted surfaces appearing more often than exposed wood.