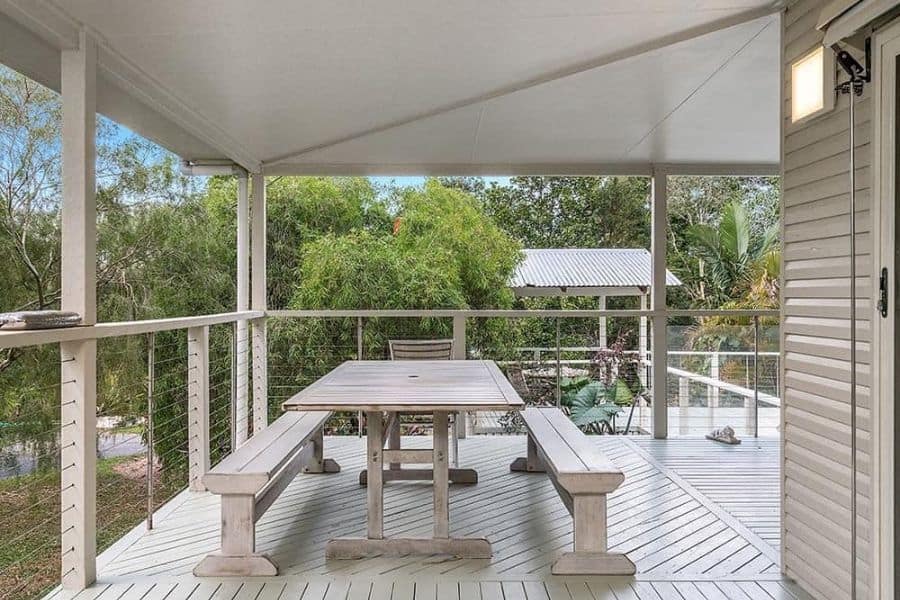 The Top 48 Covered Deck Ideas
Functional and comfortable outdoor living spaces are extremely important to today's homeowners. Yet you might be feeling underwhelmed by your home's existing deck or patio.
A deck cover could be what you're missing. With a simple roof addition or pergola, you can transform your open-air deck into a bonafide outdoor living room. No longer will you need to worry about unexpected rain or excessive UV exposure!
Keep reading for our favorite covered deck ideas that will transform your backyard into your favorite "room" of the entire house.
1. Backyard
If your backyard is one of the most used spaces of your home, then building a covered deck should absolutely be on your to-do list. There's no better way to make your outdoor living space more functional or comfortable.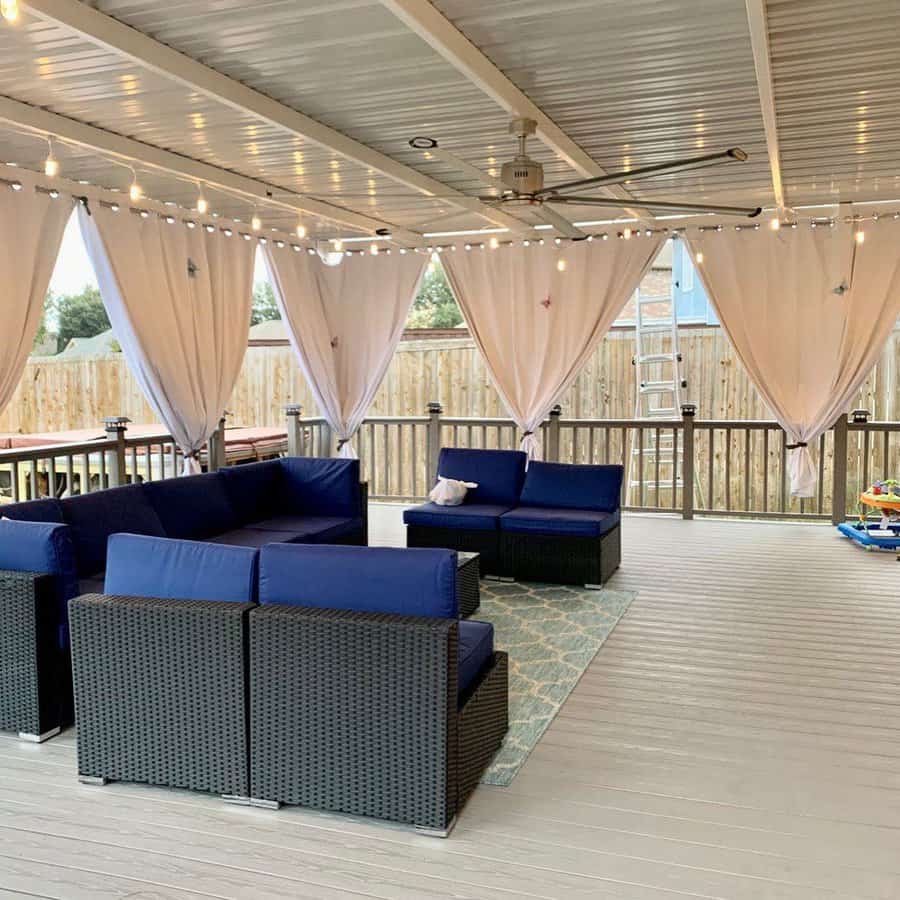 The most obvious benefit of a deck roof is the ability to enjoy your backyard even when it's raining. But you shouldn't overlook the benefits that come with limiting sun exposure while still getting to spend time outdoors!
Investing in a covered deck can be as big or as small of a project as you make it. If a full-scale pergola isn't in the cards right now, consider installing a canvas shade sail or retractable awning.
2. Concrete
Concrete patios tend to be sleek and modern. Whether you decide on a full roof or slatted pergola, opt for a structured deck covering to match this aesthetic.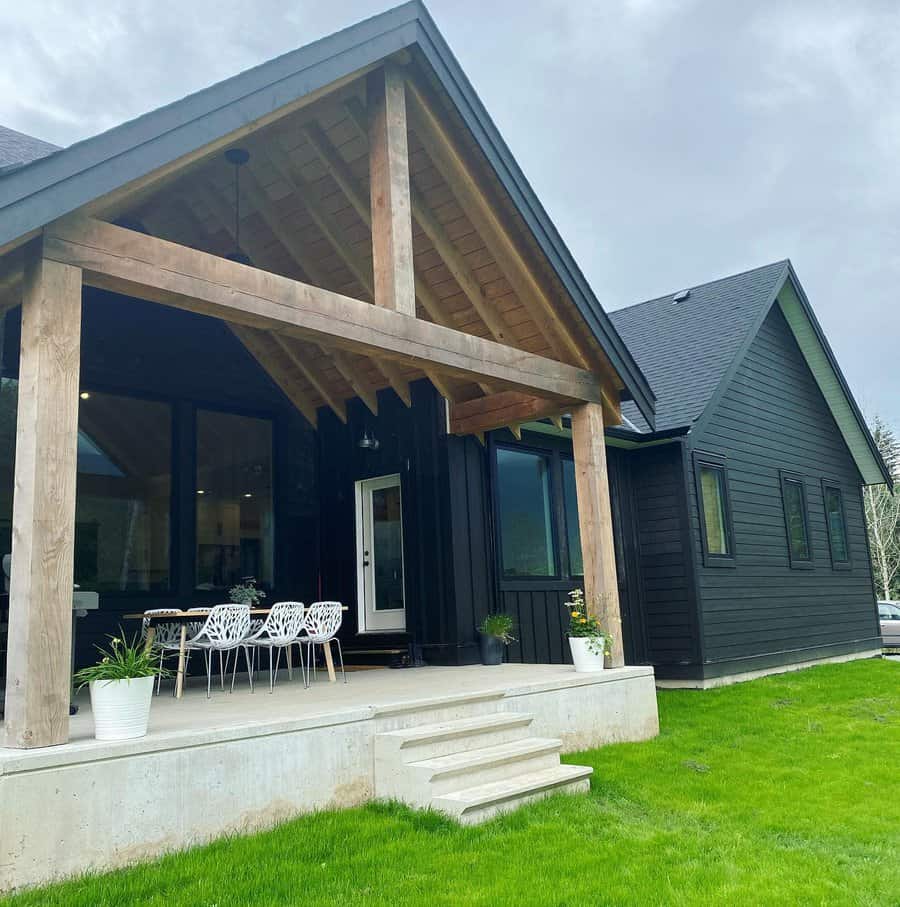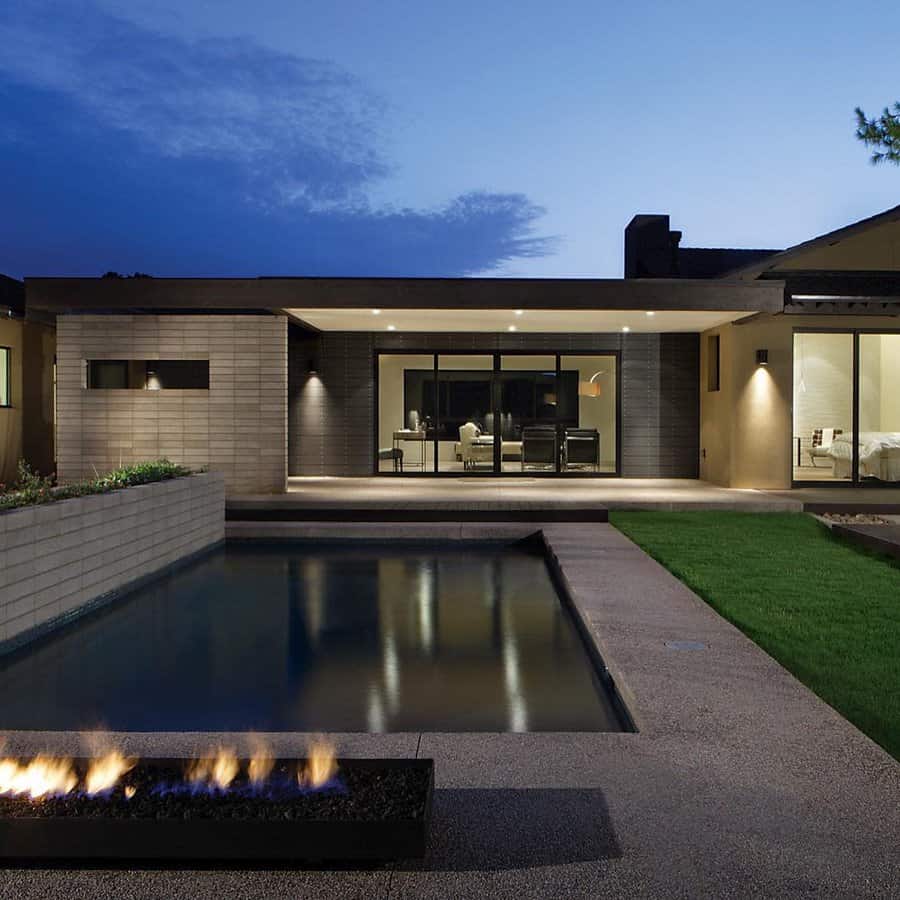 Natural wood pairs well with concrete and can help the space feel warmer and more inviting. Alternatively, you can go for an ultra-contemporary look with stone or concrete supports.
If you plan to use your covered deck for grilling or barbecuing, concrete could be the safest material available! Be sure to research the best way to set up your new outdoor space for the greatest safety and efficiency.
3. DIY
Building a DIY deck cover can save a good bit of money. Even if doing everything yourself isn't feasible, you can still add a personal touch by decorating the finished space!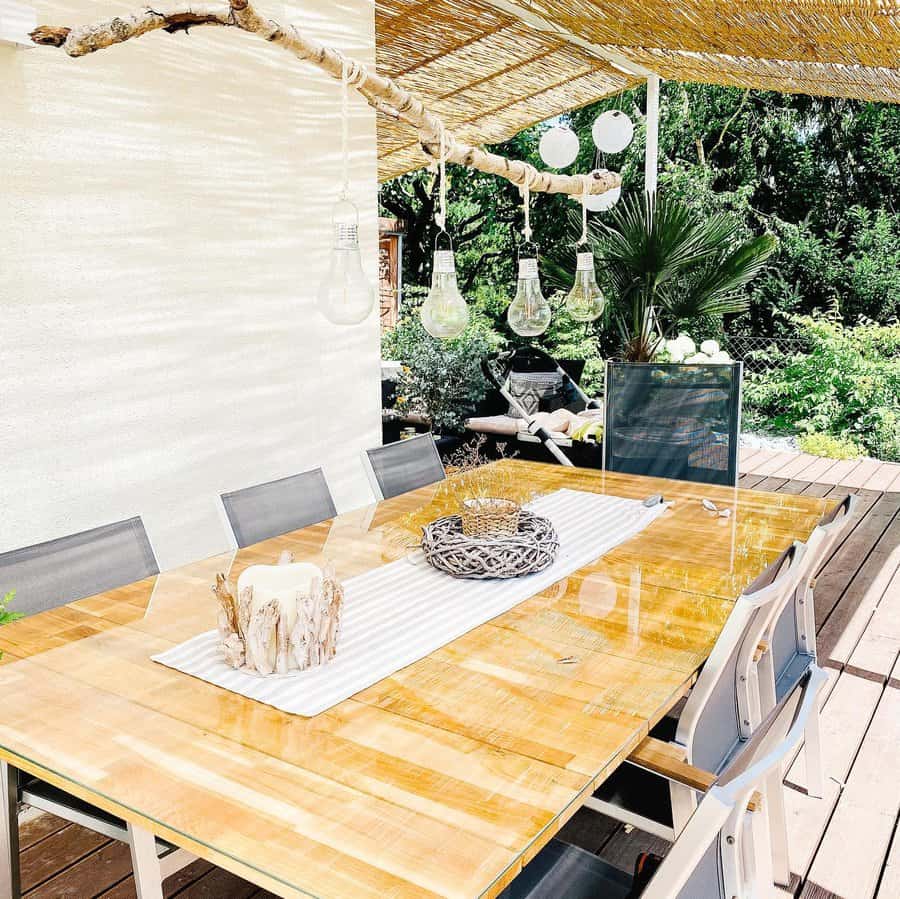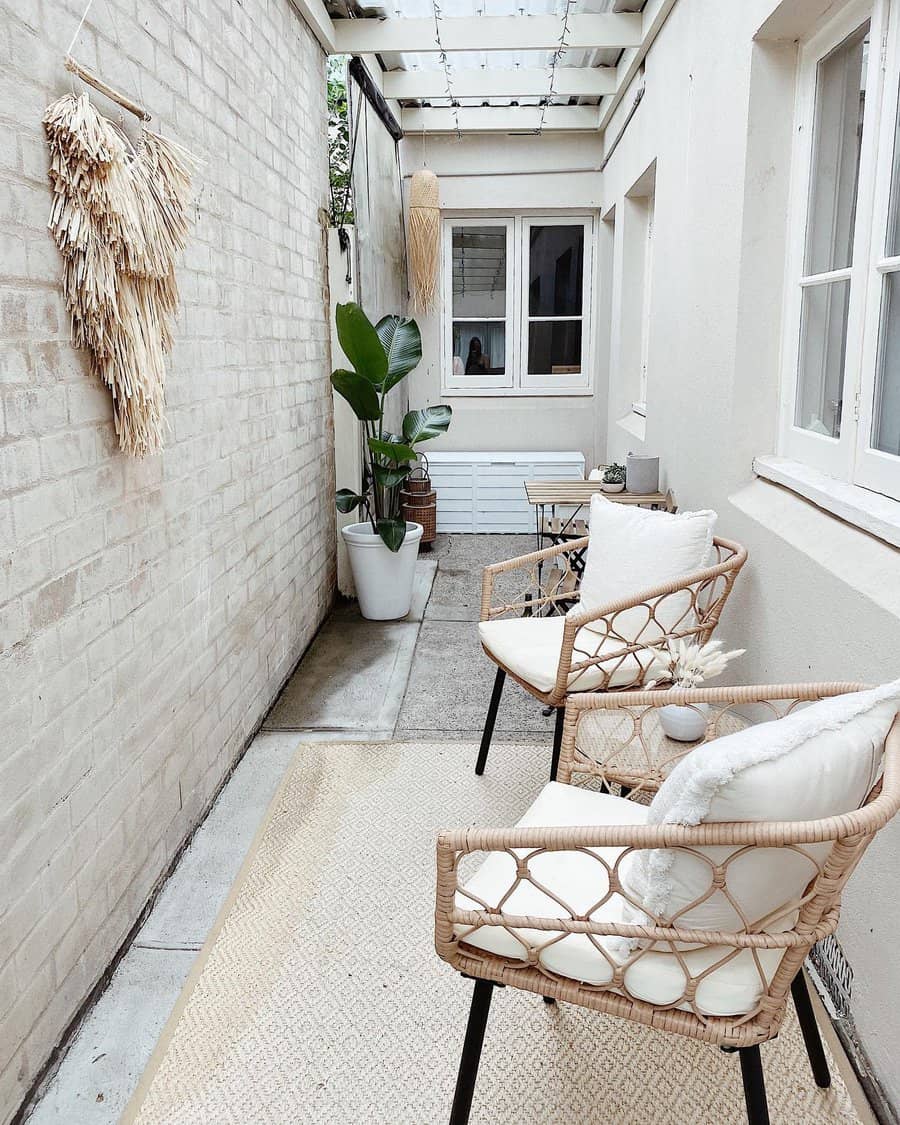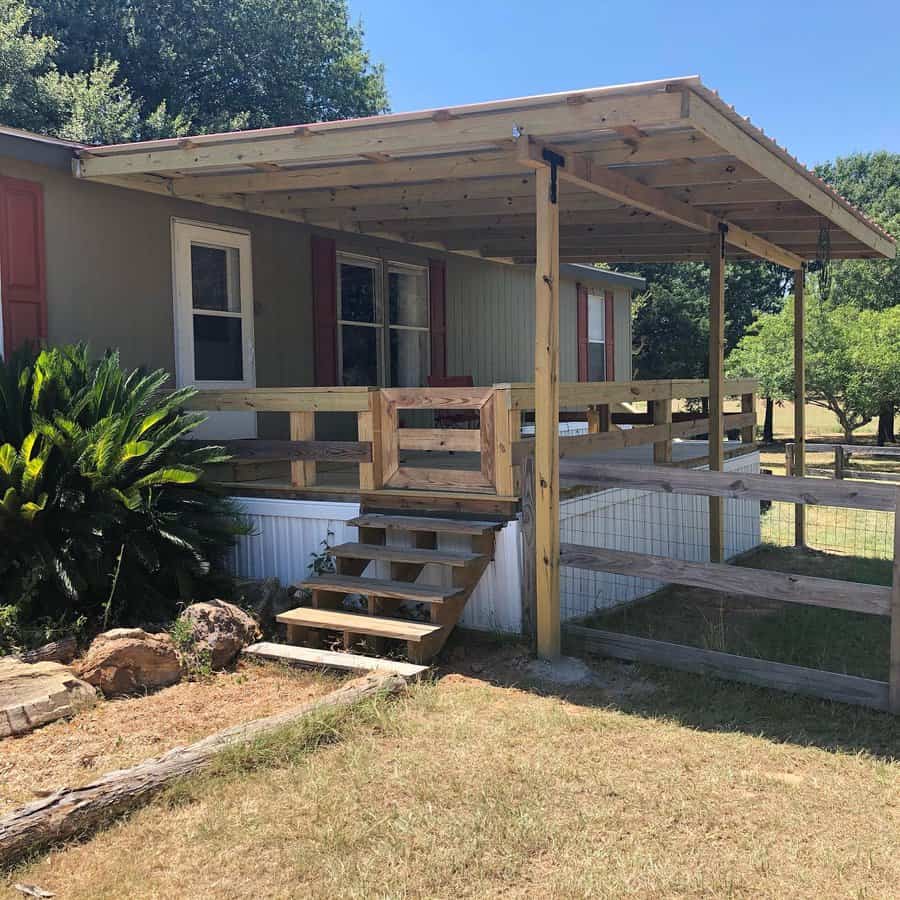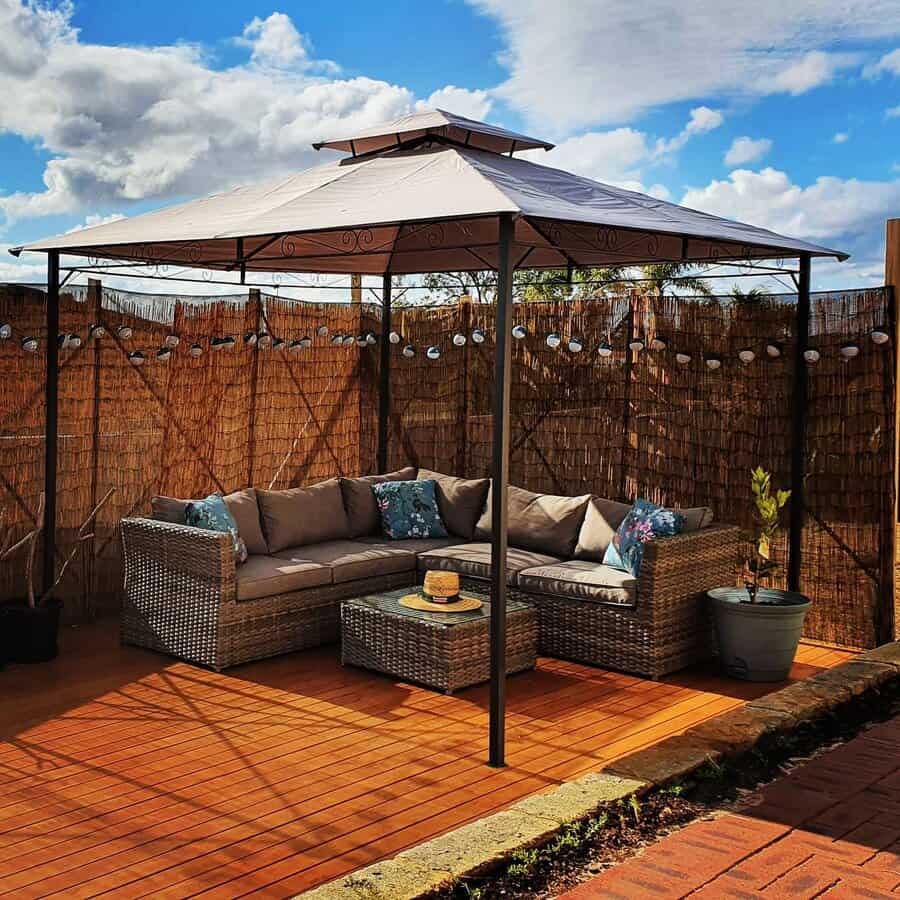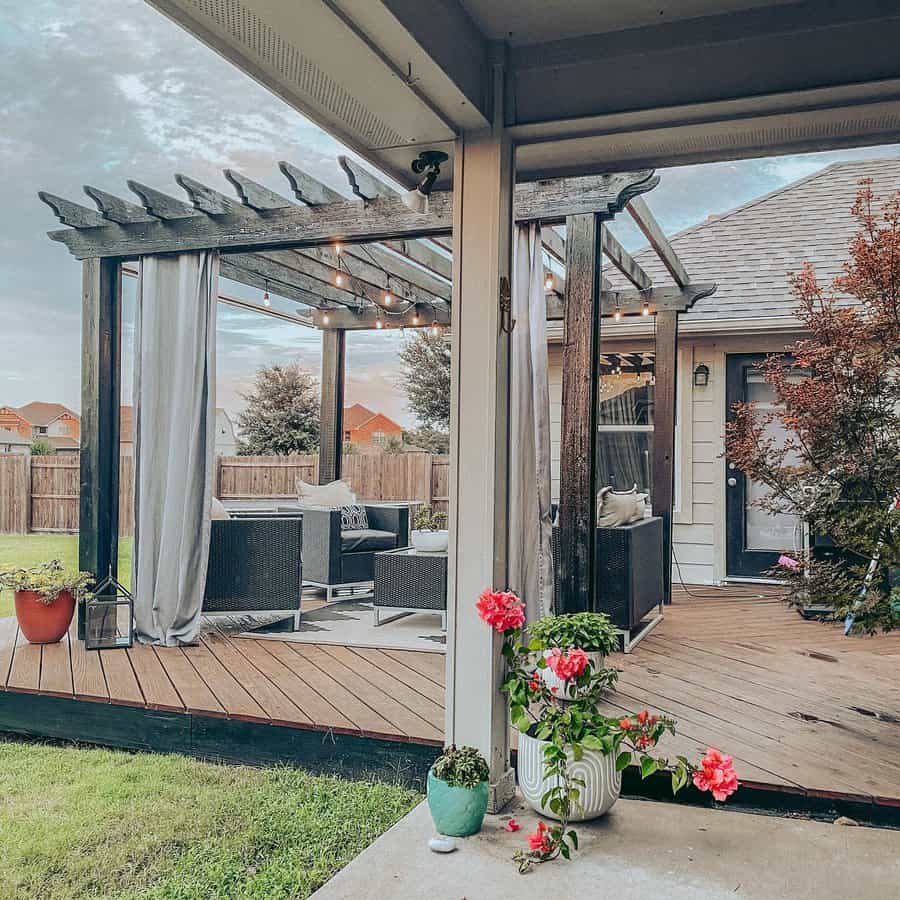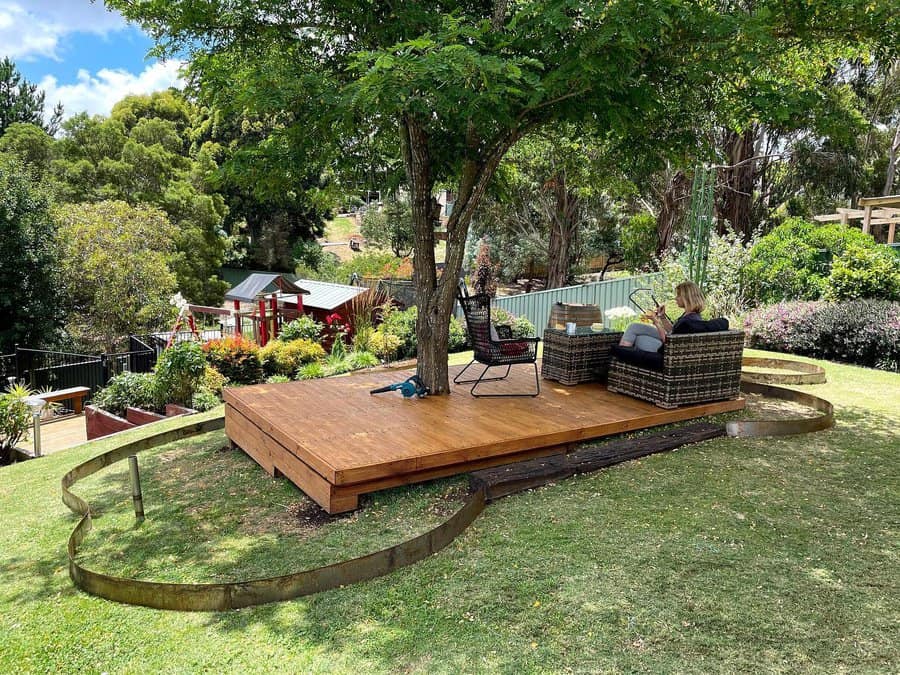 Lighting is an important part of any covered deck. Outdoor-safe string lights offer a charming glow without permanent wiring. Or light up the entire space with a handmade or recycled chandelier.
With thick curtains, you can combine the best of both an open patio and a screened porch. Use sturdy hardware to hang the drapes. Magnetic strips, Velcro, or simple fabric ties can be used to secure the curtains open or closed.
4. Farmhouse
Outdoor living spaces are integral to farmhouse design. Whether your home is located in the countryside or you've adapted this style to suburbia, there's nothing wrong with giving your covered deck a bit of rustic charm.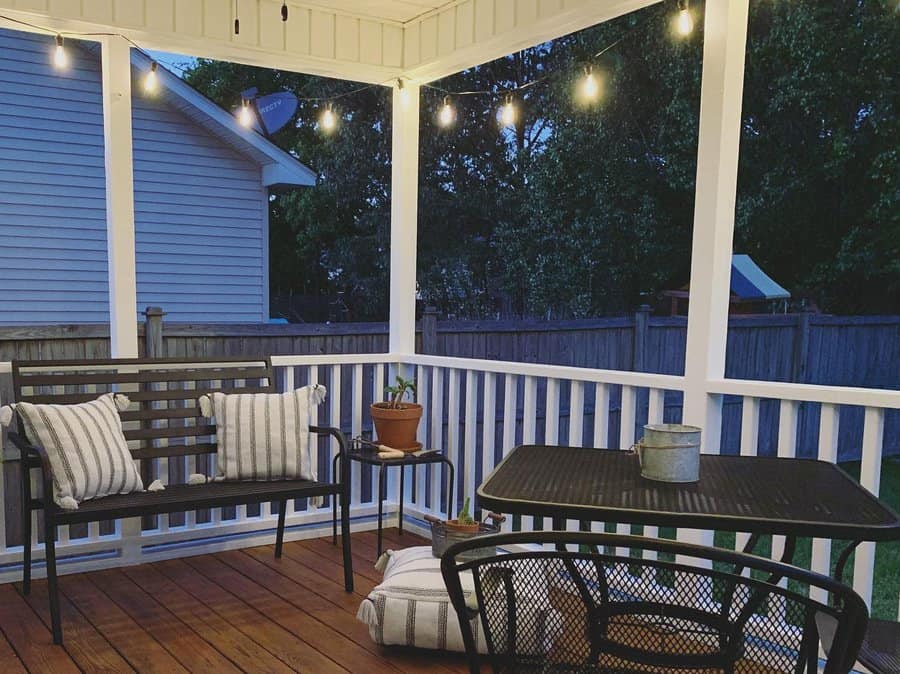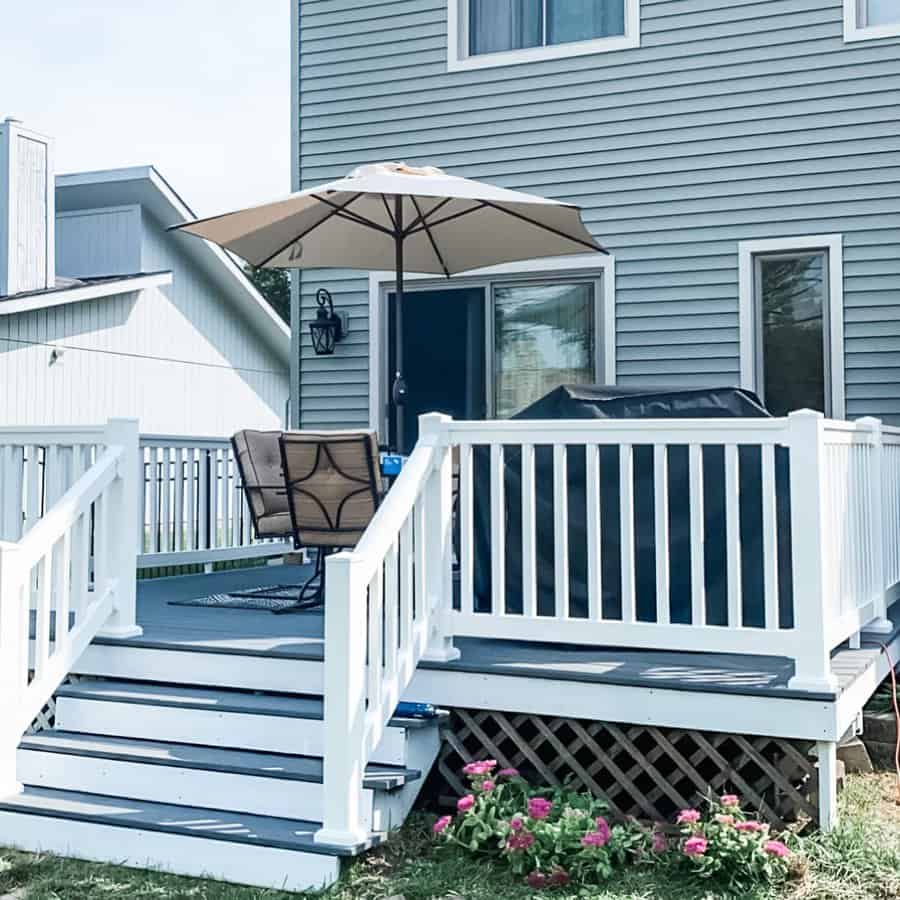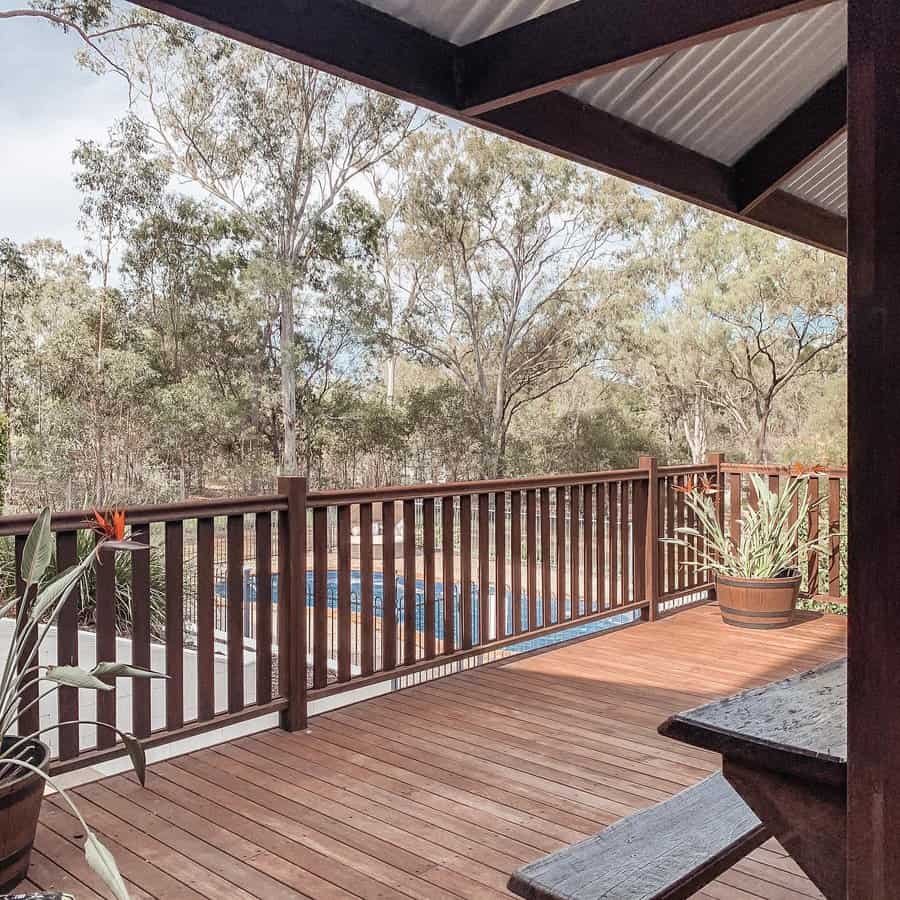 You can accomplish a lot with color. Stick to warm, neutral shades paired with accents of white, robin's egg blue, or grey. Natural wood should be a major component of your design as a whole.
Of course, the most important part of any farmhouse porch is the welcoming atmosphere. Ensure the space is well-lit and comfortable — you can never have too many throw cushions!
5. Large
Go big or go home, right? If your home is equipped with an extra-large backyard deck, adding a roof is one of the best investments you can make.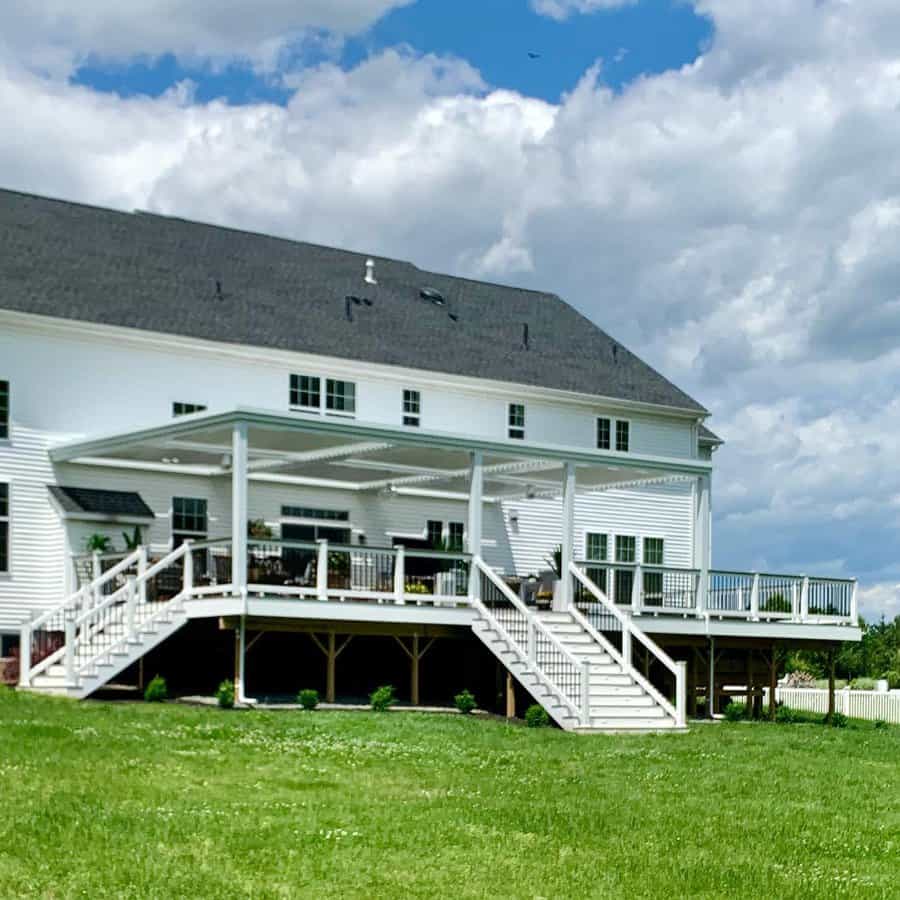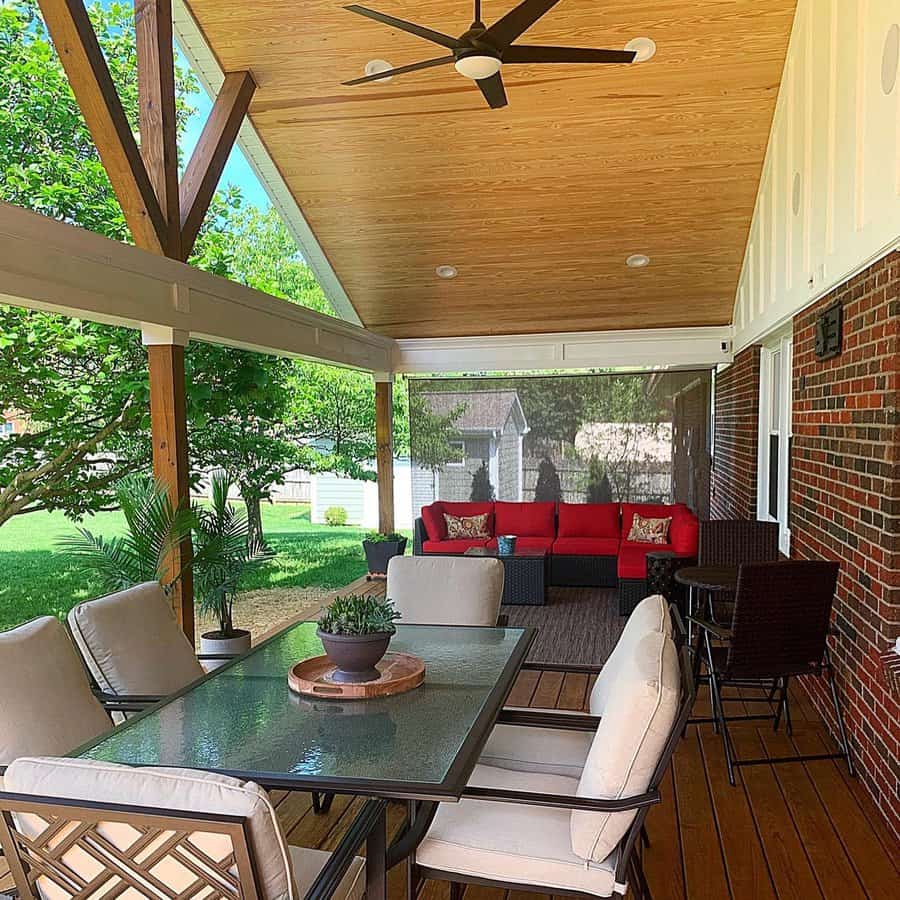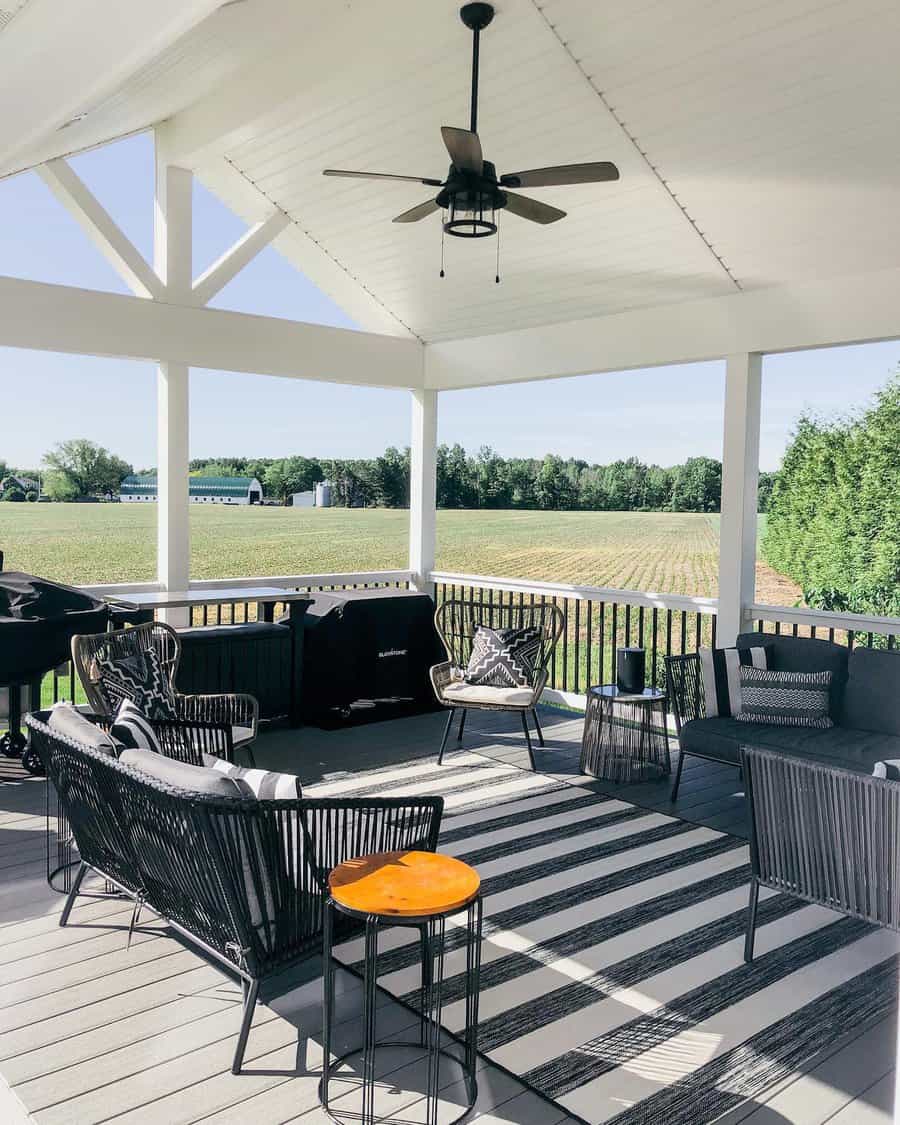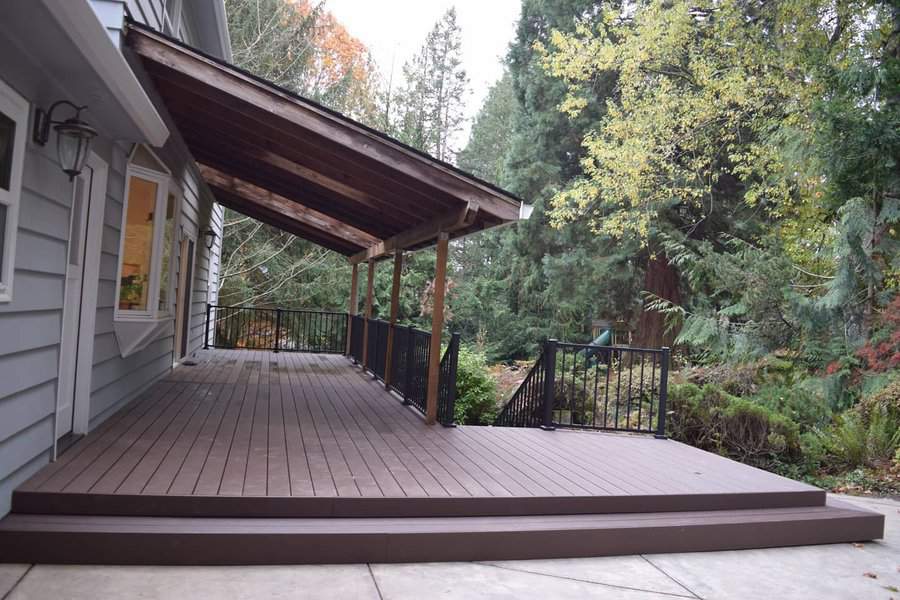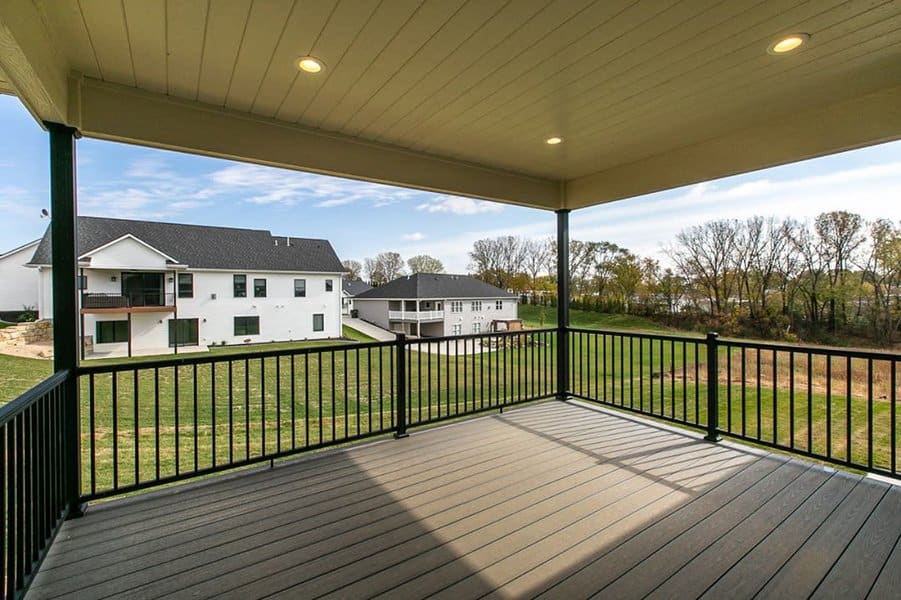 Constructing a deck roof can open up tons of possibilities for your vast outdoor space. The extra protection makes it possible to convert your deck into an outdoor kitchen, living room, or even a formal dining room.
Keep in mind that a roof addition does not need to cover the entire deck or patio. In fact, opting for a partially covered deck is a great way to save time and increase the versatility of your backyard living area.
6. Modern
For a modern-inspired deck design, a structured roofline is extremely important. Look for inspiration in flat or sharply angled ceilings. A slatted pergola roof is also an option.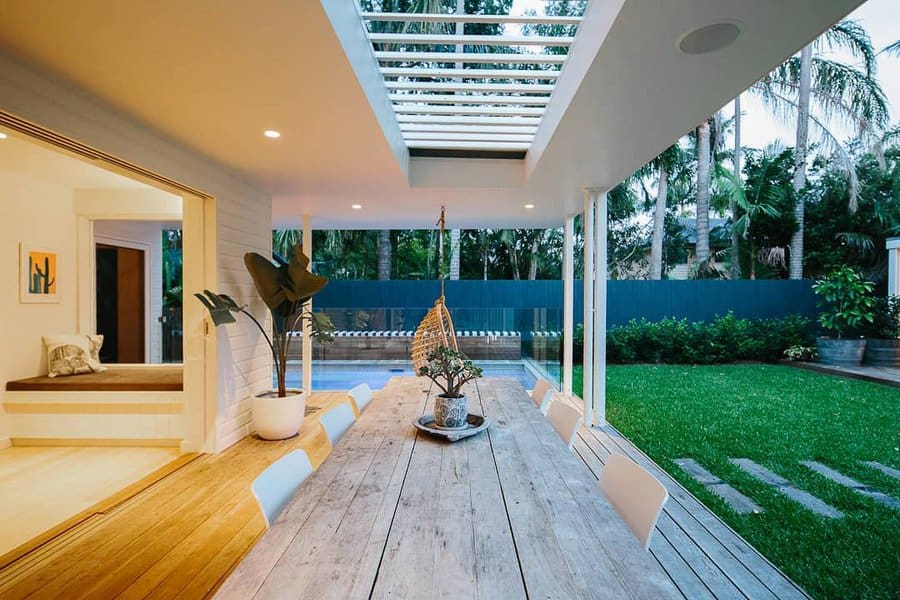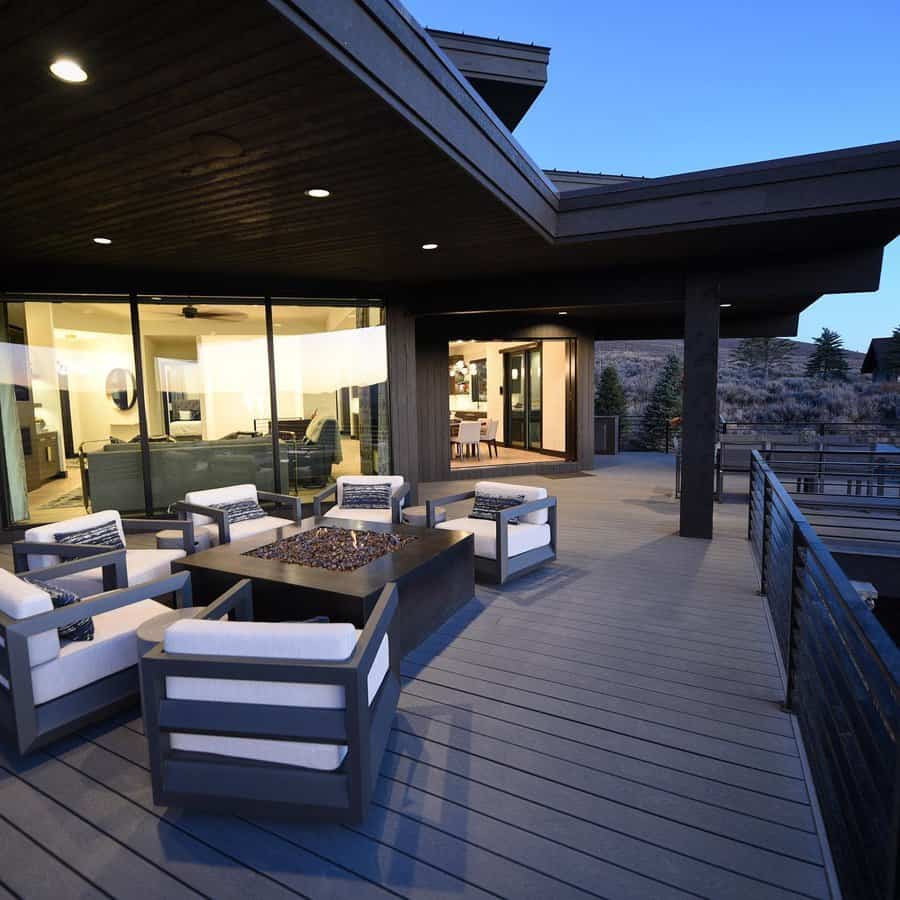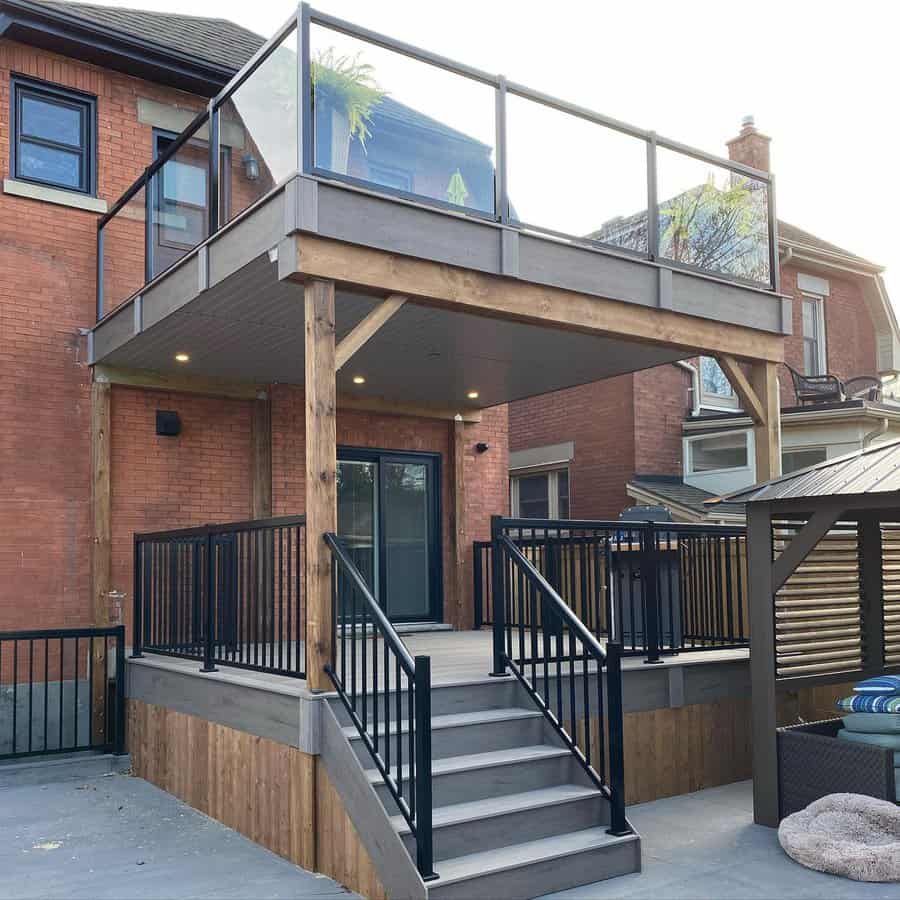 The finishing touches will be what really gives your covered deck a modern look. Select sleek, angular outdoor furniture that's neither too big nor too small for the space. Add some warmth and softness to your modern deck with potted plants.
Don't skimp on lighting! Whether you opt for built-in LED strips, globe lights, or a dramatic chandelier, statement lighting is a must.
7. Partially Covered
Everyone wants the best of both worlds. Well, you can have just that with one of these partially covered deck ideas.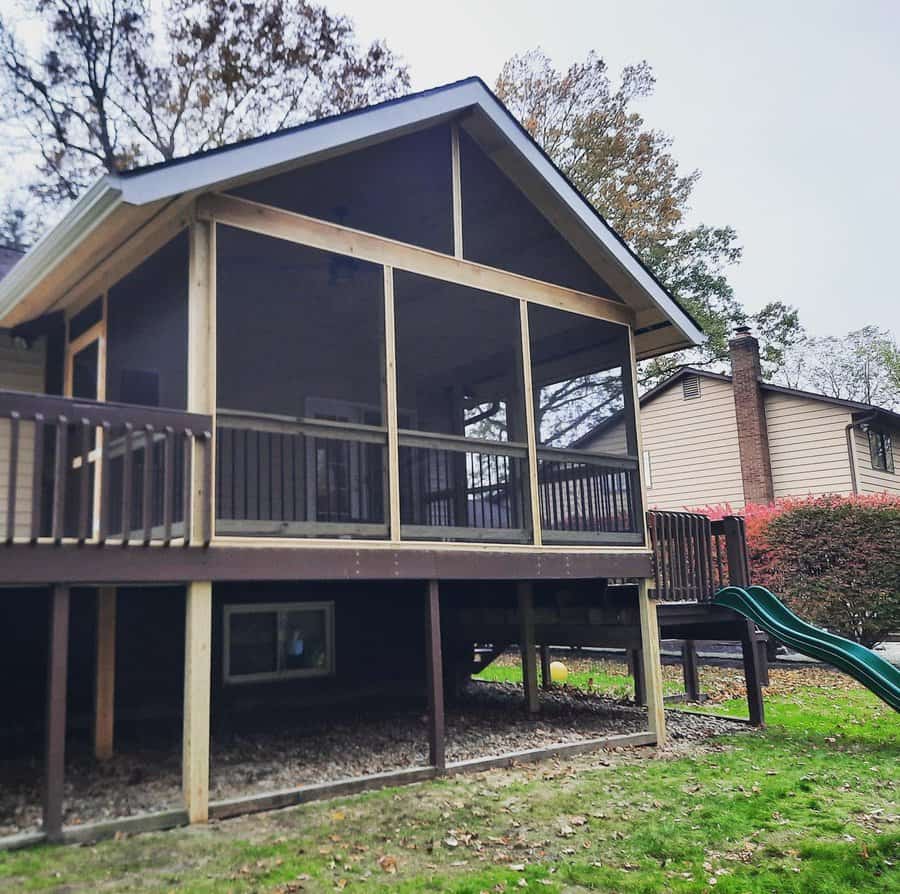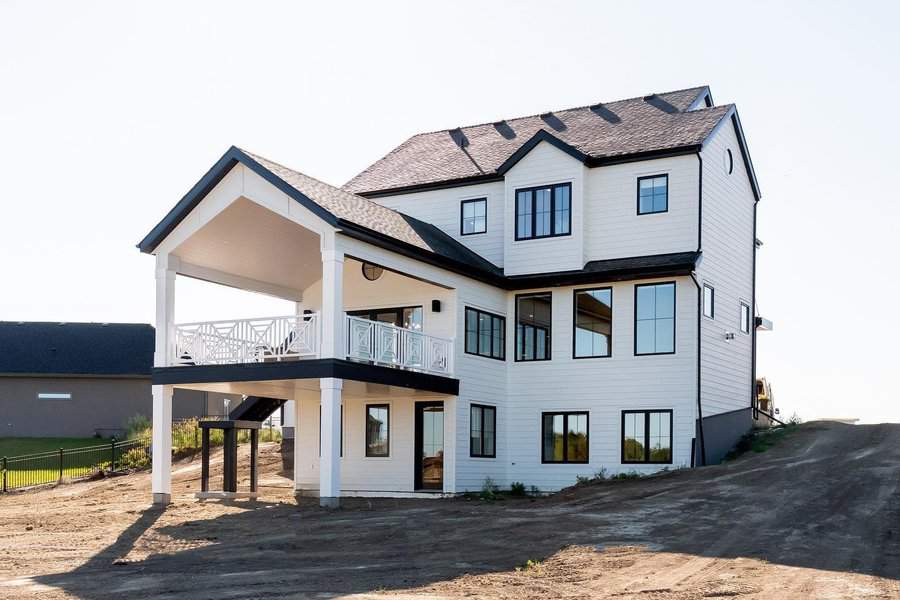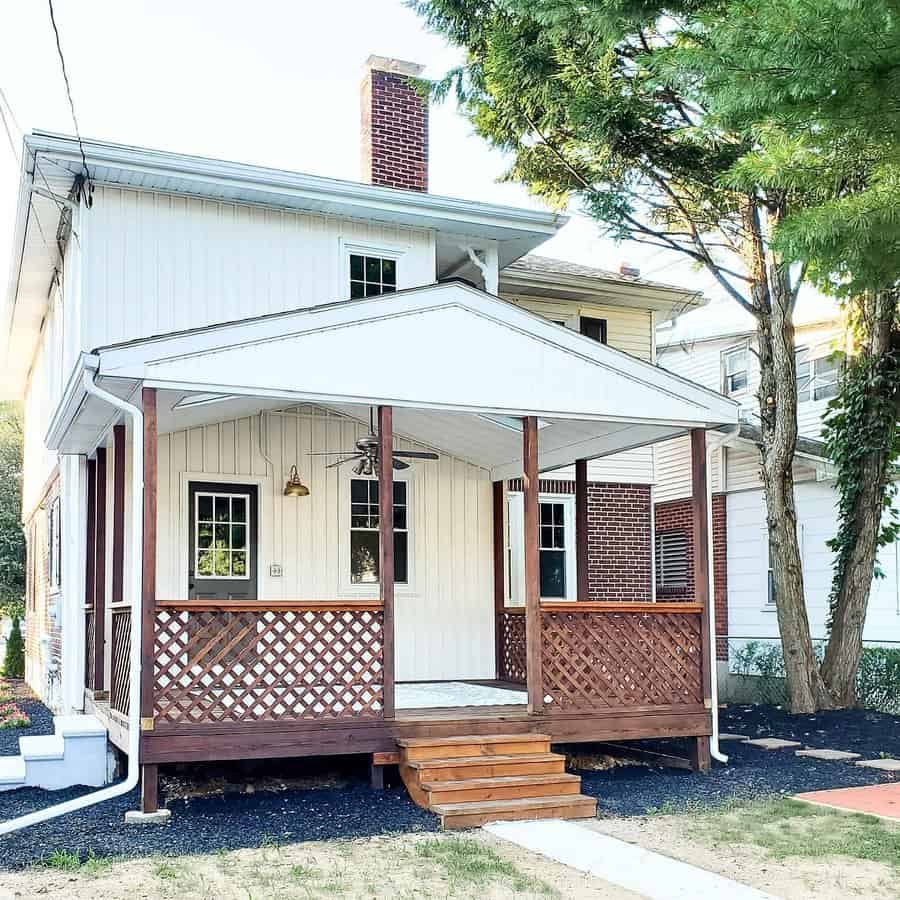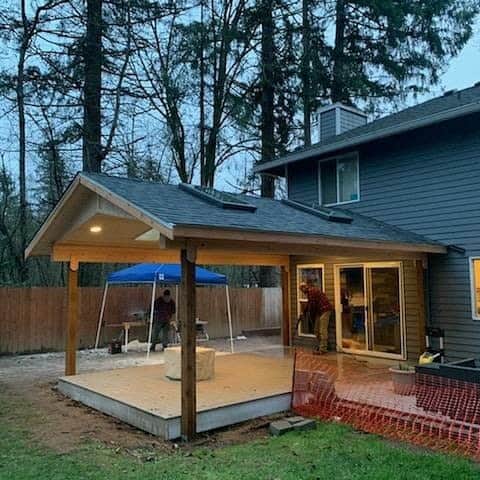 Partially covered decks come in many different forms. But the most functional examples feature a roof over part of the deck — the other half is exposed like normal.
While many partially covered deck designs are built with permanent structures, a convertible shelter is also an option. Installing a retractable canopy over your open porch or existing pergola is a quick and easy way to add flexibility to your home's outdoor area.
8. Pergola
We often think of pergolas as standalone structures. But there's nothing stopping you from constructing a pergola of part or all of your backyard patio.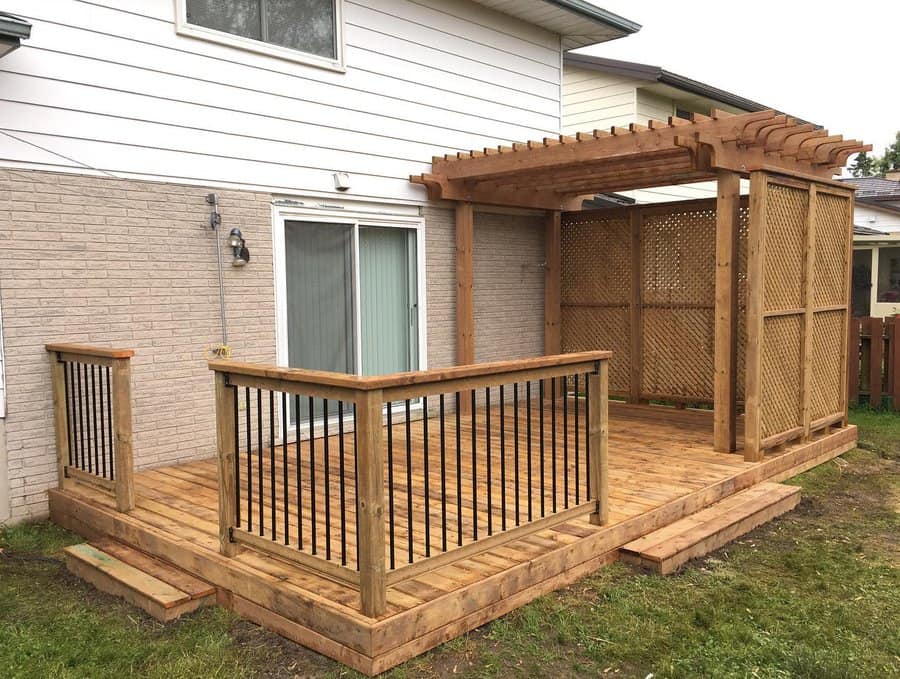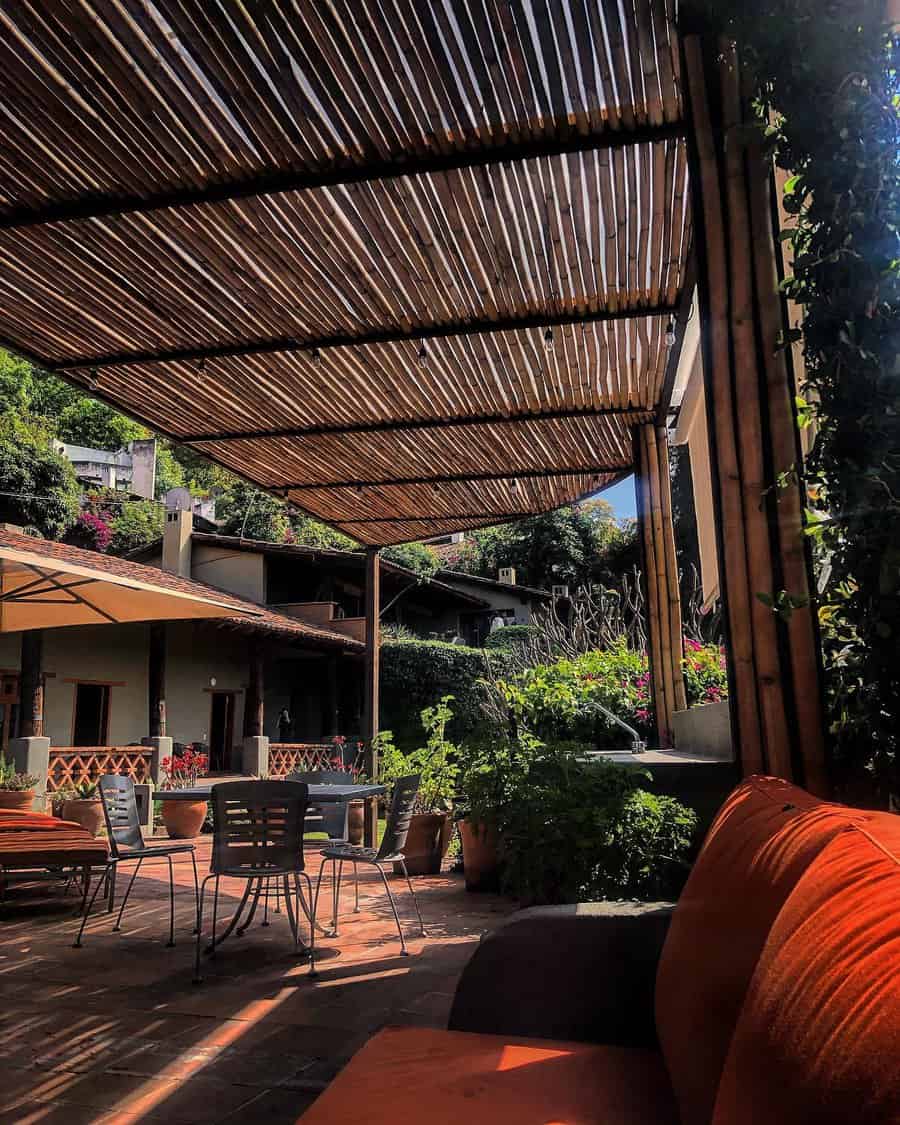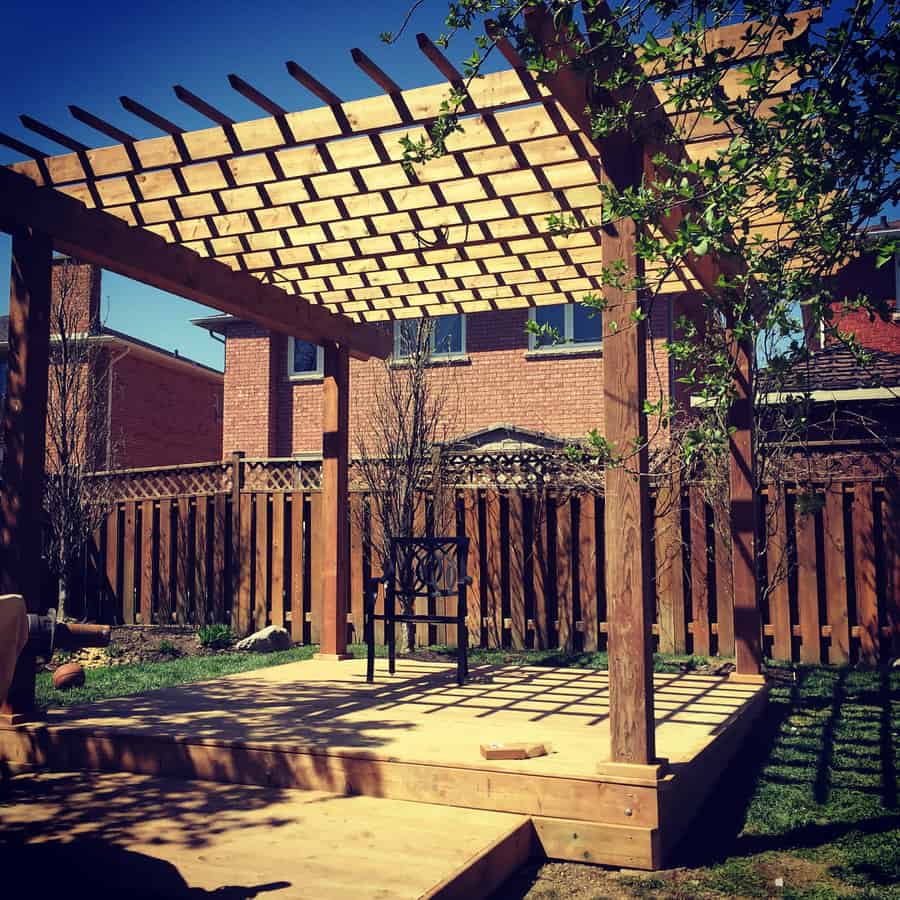 Traditionally, pergolas have slatted roofs that allow in sun and rain. You can create a more versatile outdoor space with a DIY pergola shade sail or retractable canvas cover.
Even if shelter is not your top priority, a pergola covering can add tons of design potential to your existing deck. Install a trellis on the side of your pergola for a living privacy and wind screen. Or use the overhead structure to hang lights throughout the space.
9. Screened
While great, an overhead deck covering will do little to repel mosquitos and other annoying insects. If you want to enjoy your outdoor living space with zero worries, a screened-in porch design is your best option.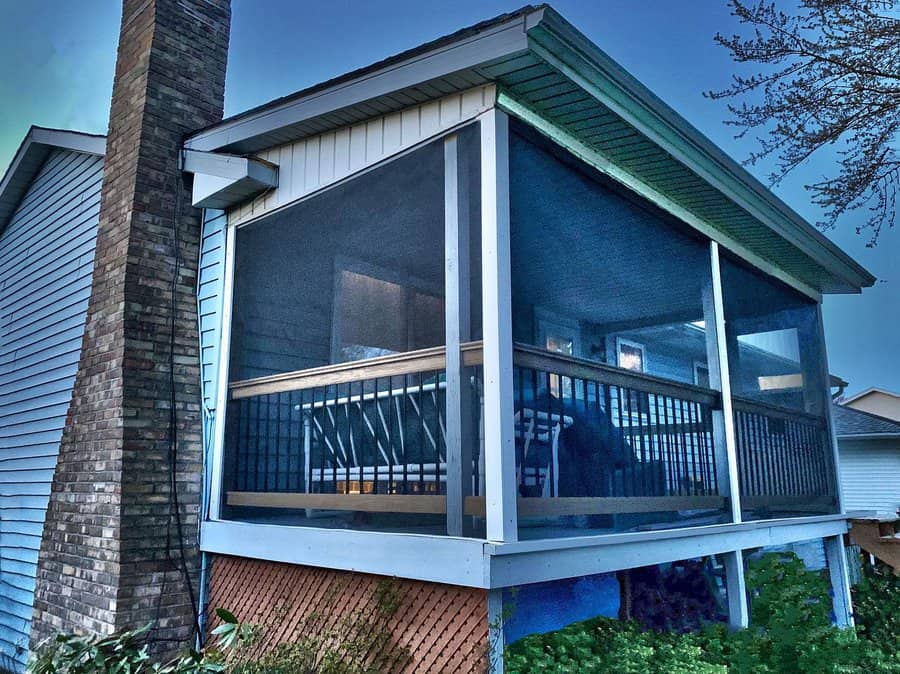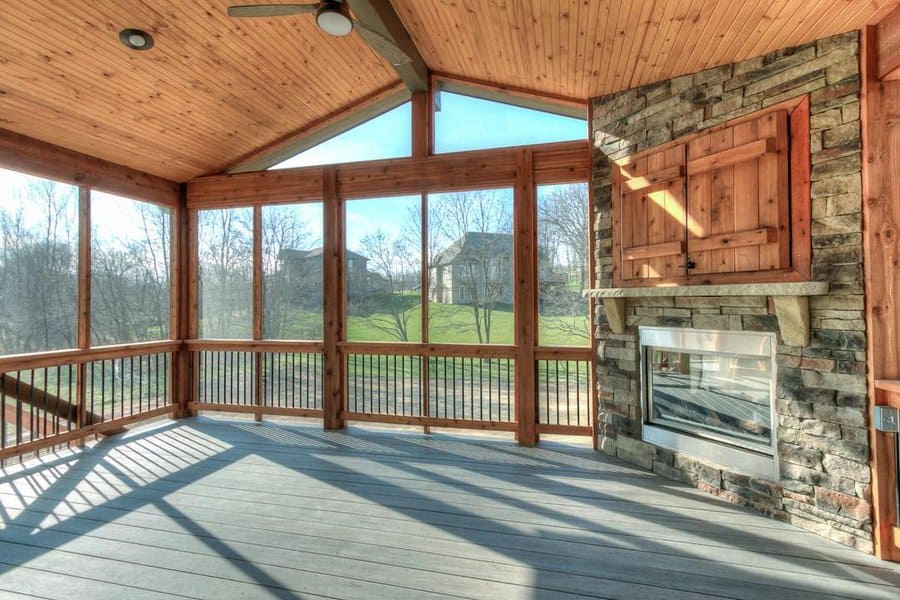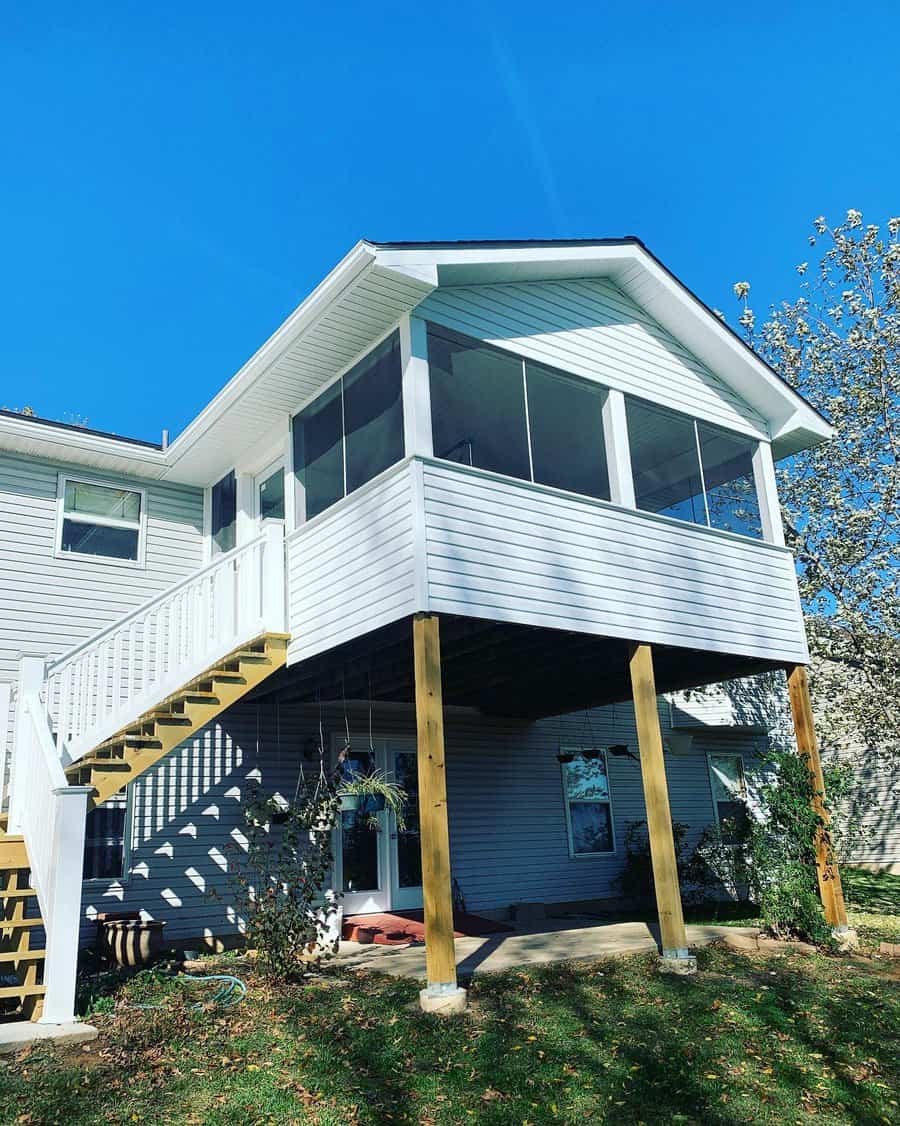 Invest in adequate lighting and air circulation to make your screened deck as comfortable as possible in all weather. Curtains can be installed on the inside of each screen for optional privacy and extra insulation.
Screen in your deck or porch with retractable panels to take advantage of the open air when pests are scarce. You can even add glass panes to transform the space into a multi-season sunroom.
10. Small
It's easy to get swept up in examples of covered decks with more square feet than the average living room. But you shouldn't let these larger-than-life designs dissuade you from making the most of your small deck or patio.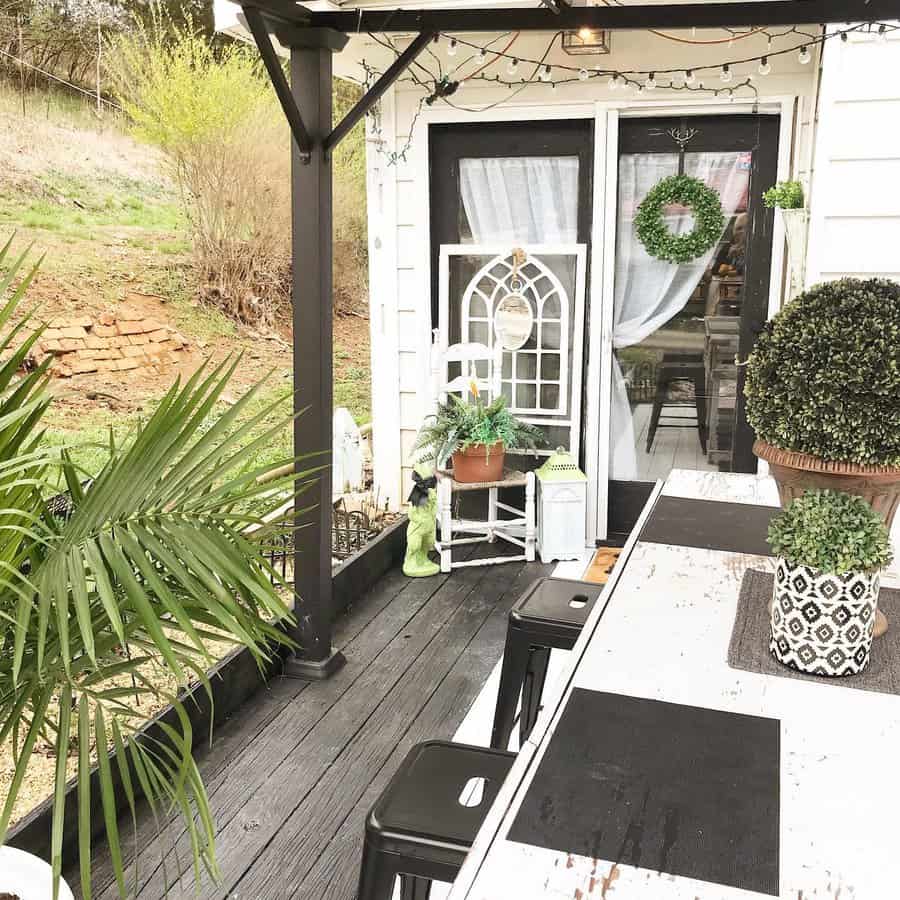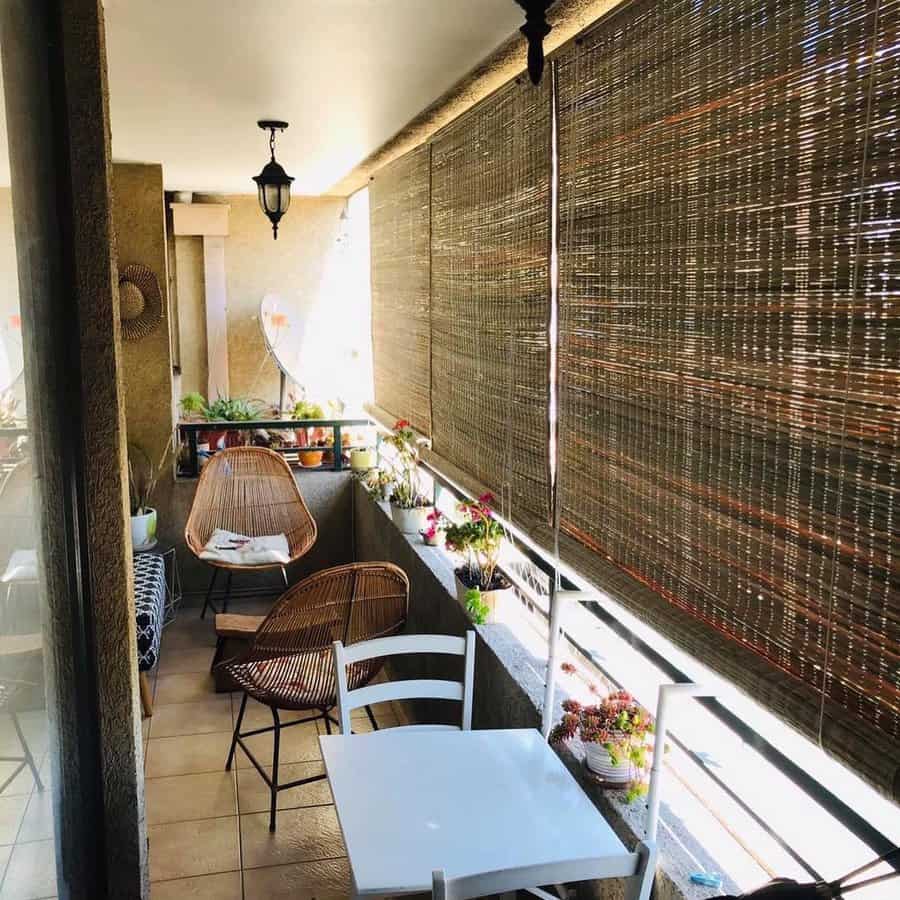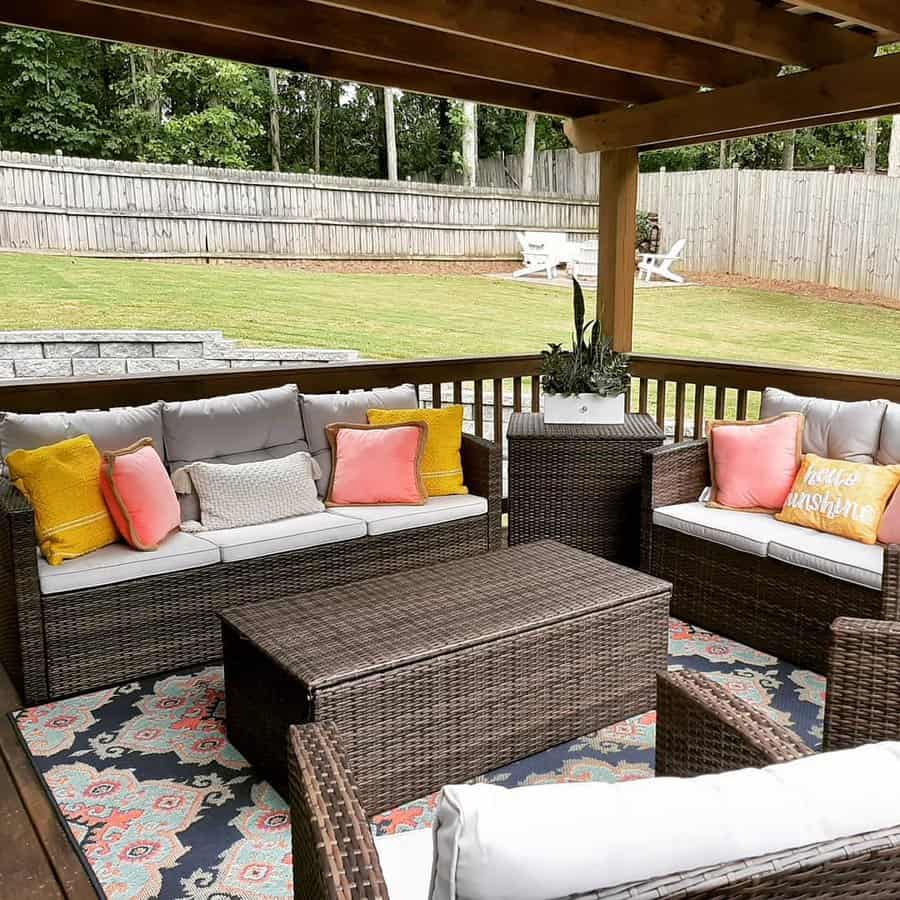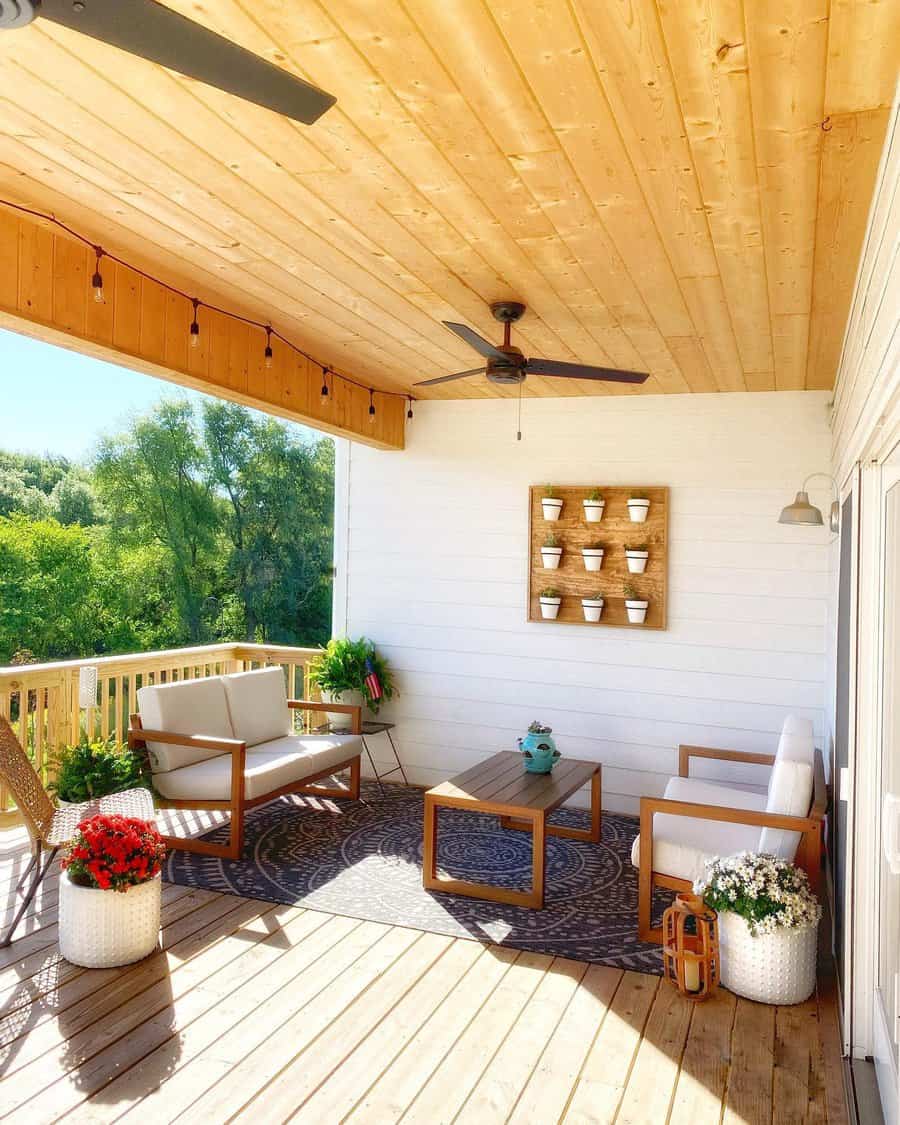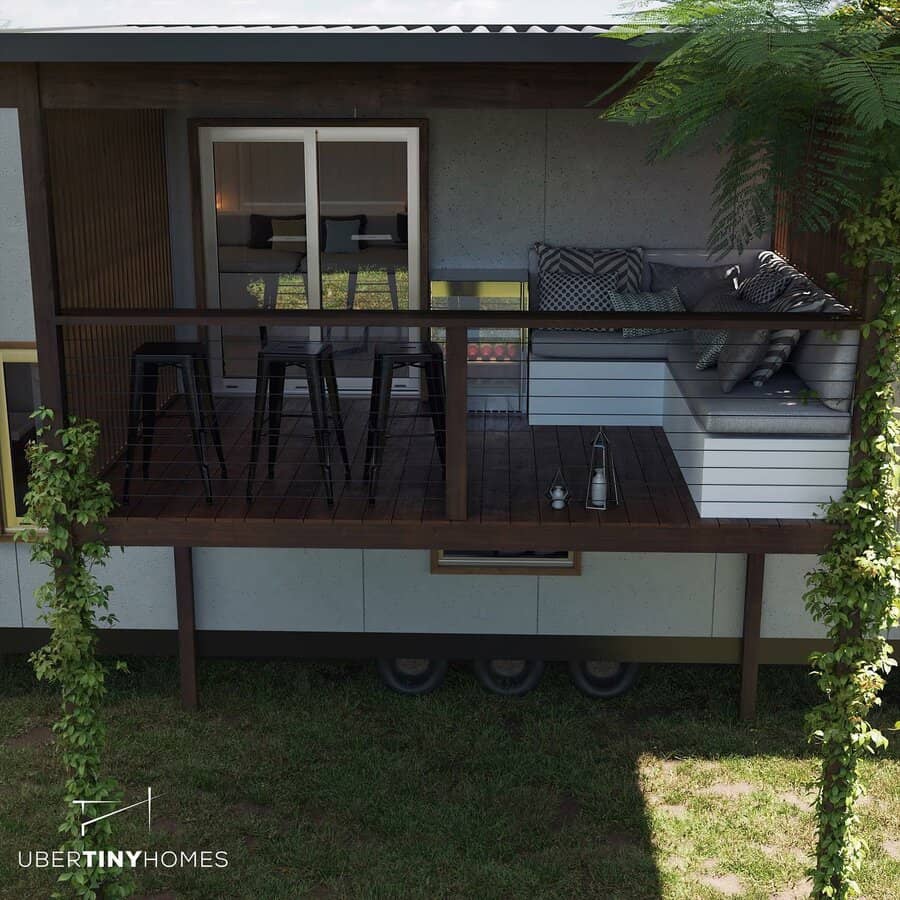 A roof extension can make even the smallest deck more comfortable and inviting. With this simple upgrade, you can really lean into the innate coziness of your tiny outdoor space!
Keep your deck space well-lit by hanging ceiling fixtures, string lights, or arranging battery-powered lanterns throughout the space. Be sure to invest in uber-comfy patio furniture to finish things off strong.
11. White
You might be unsure about covering your existing deck for fear it will make it feel dark and claustrophobic. The best way to counteract these worries is to opt for a bright, airy aesthetic within the space.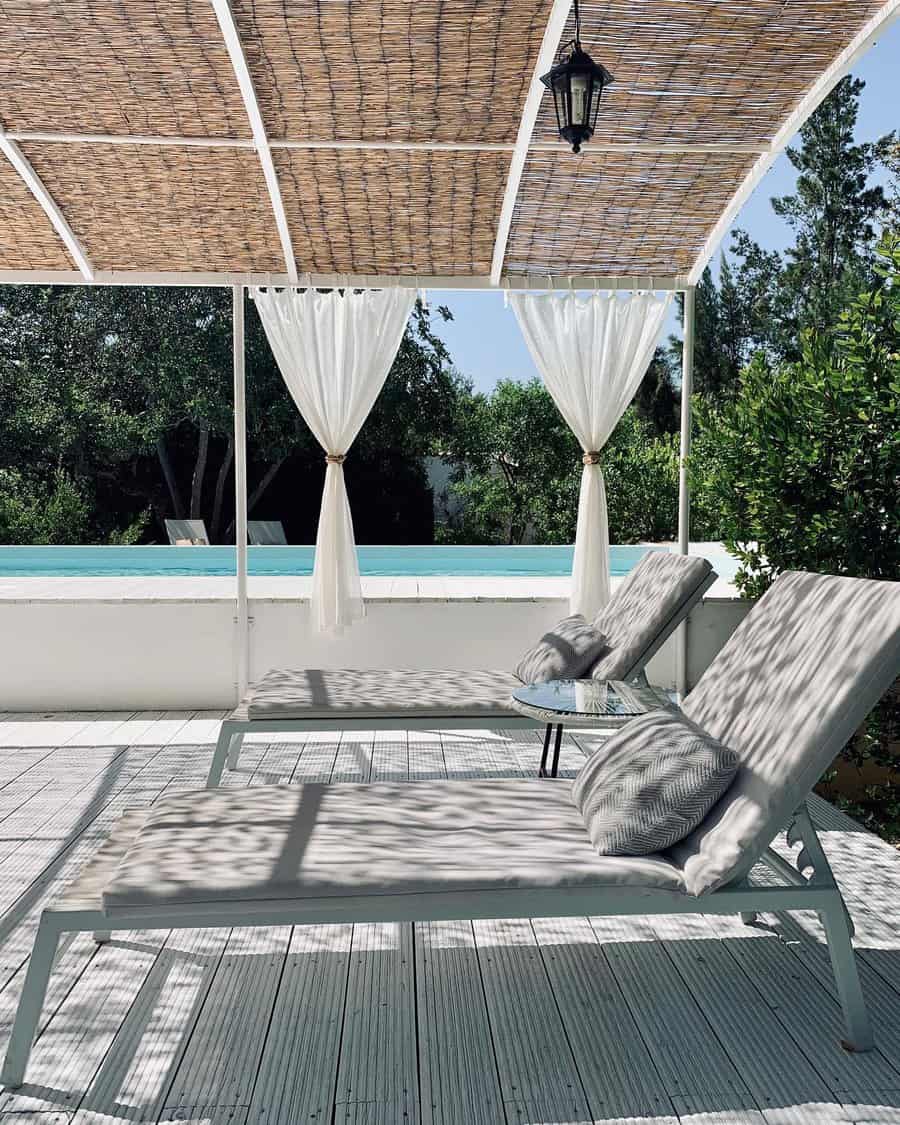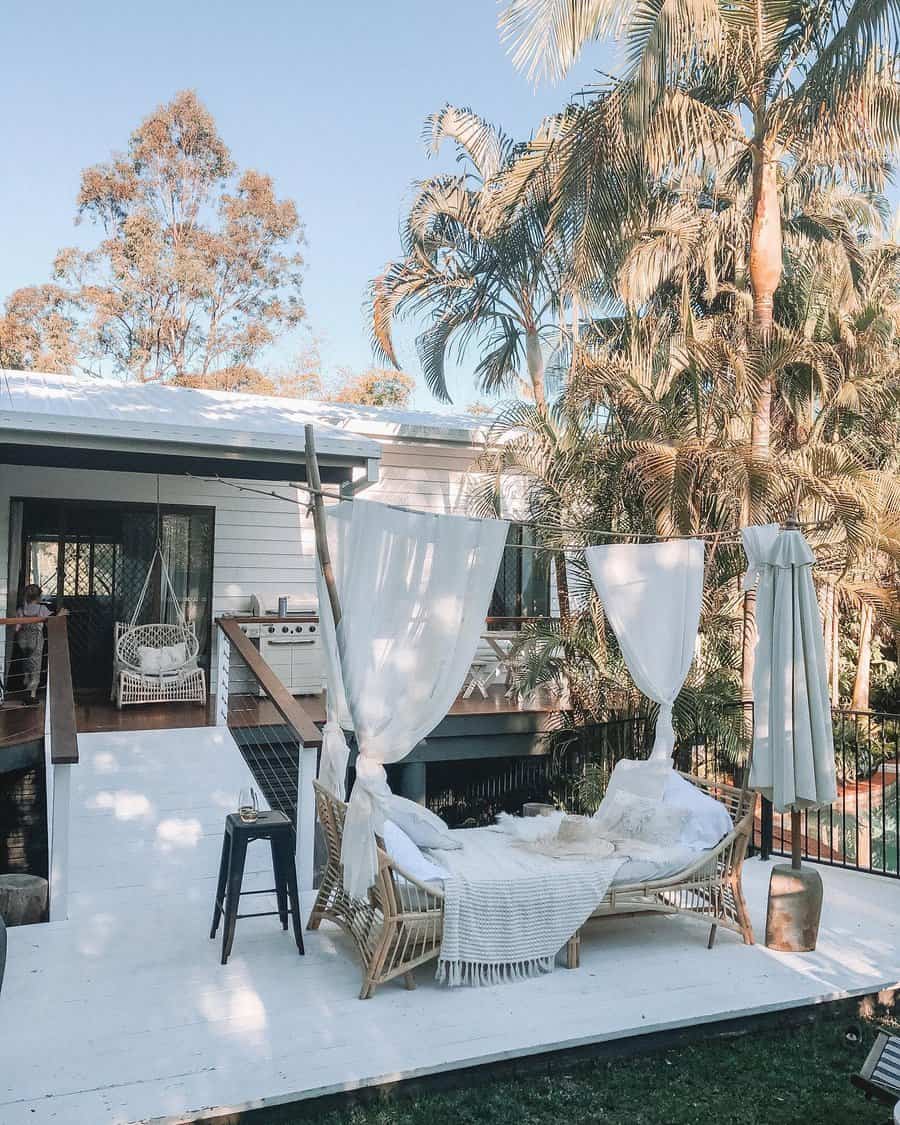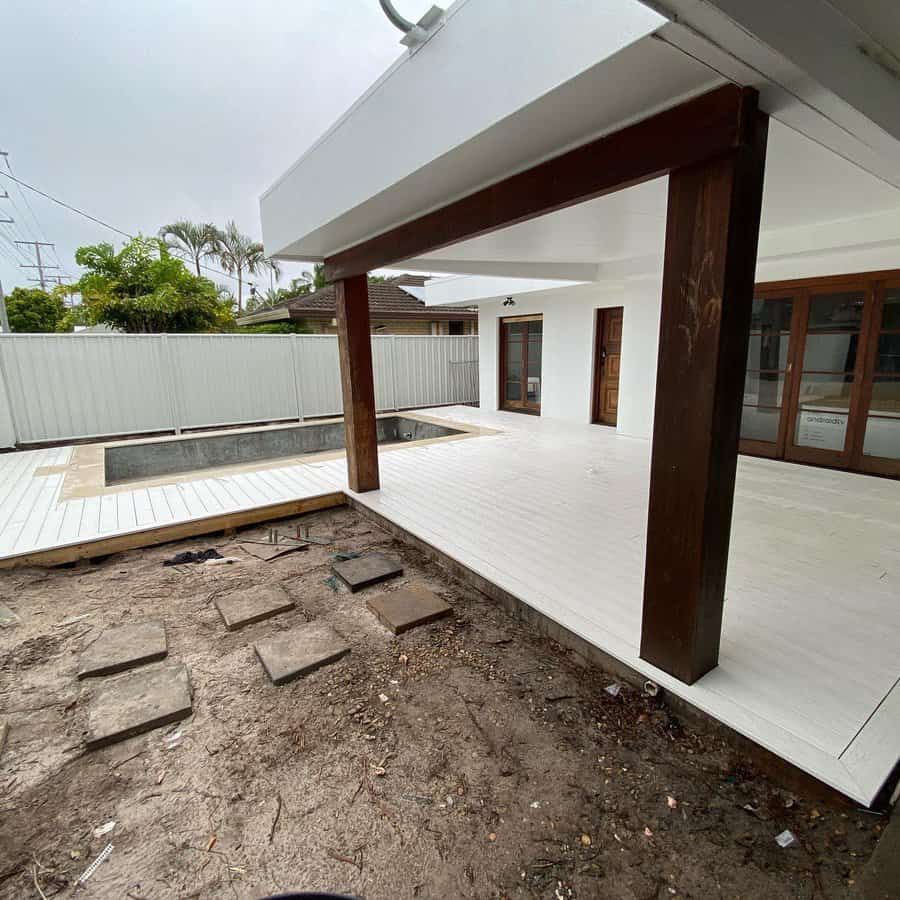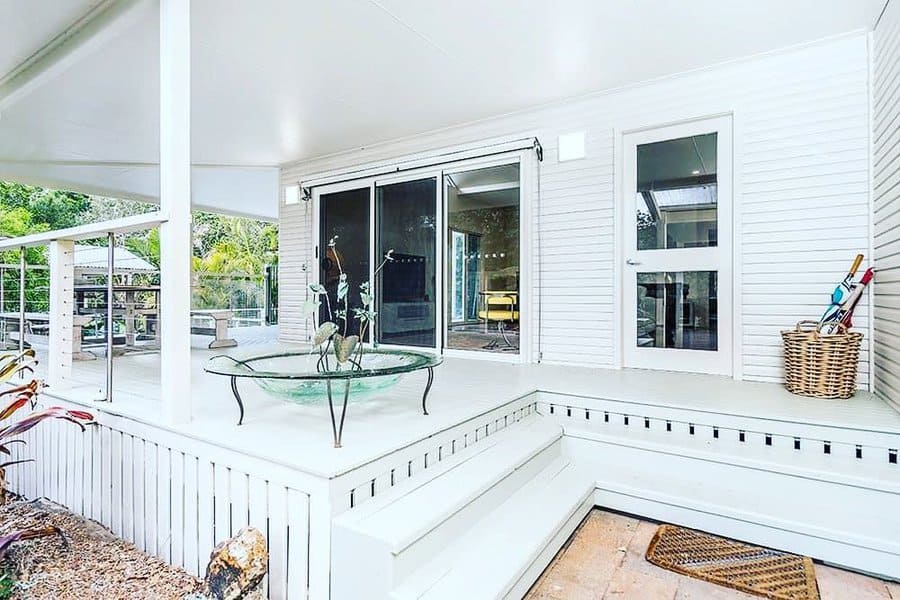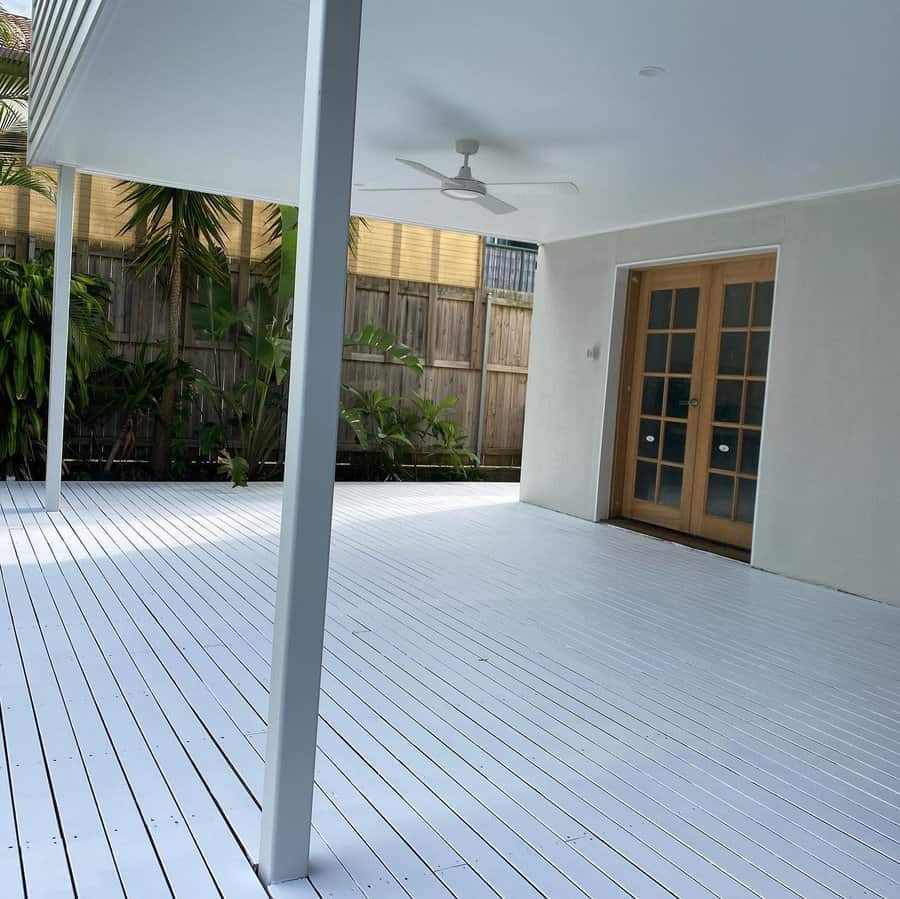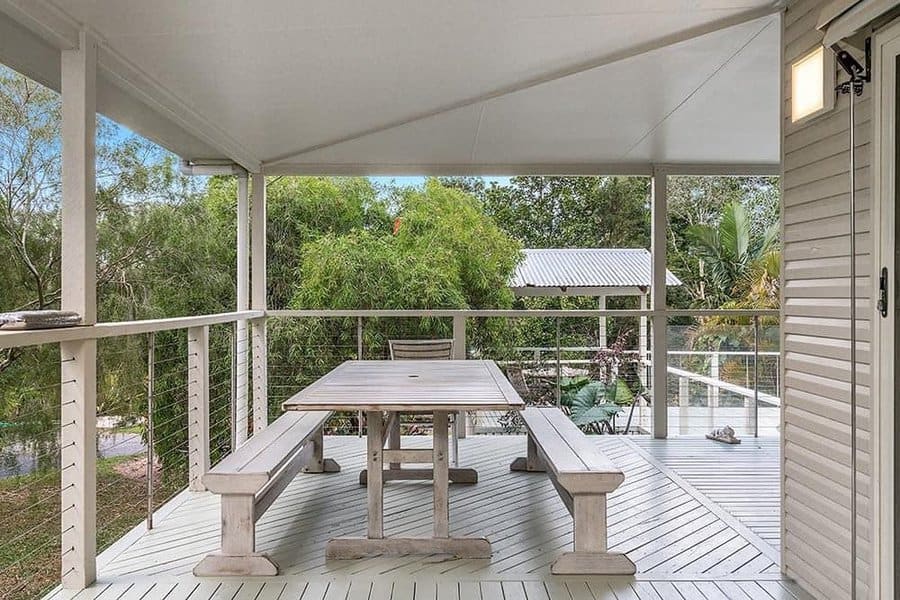 Painting the walls and roof of your covered deck white will instantly open the space up. Go with an all-white look or add contrast with natural wood supports. Stick to a similar color palette when furnishing the space.
Use lush garden containers or cut flowers to bring some life back into your deck area. Lighting is also important — you can't go wrong with classic globe lights!
12. Wood
On the other hand, some homeowners neglect covering their backyard living space because they don't want to interfere with the area's natural aesthetic. If this strikes a chord, you should definitely turn to wood for your new deck cover.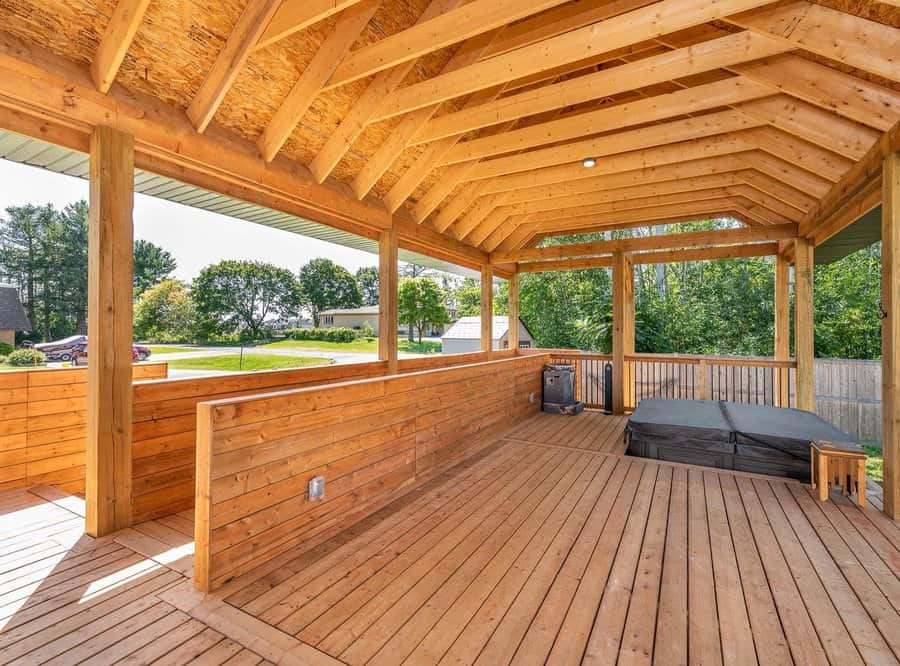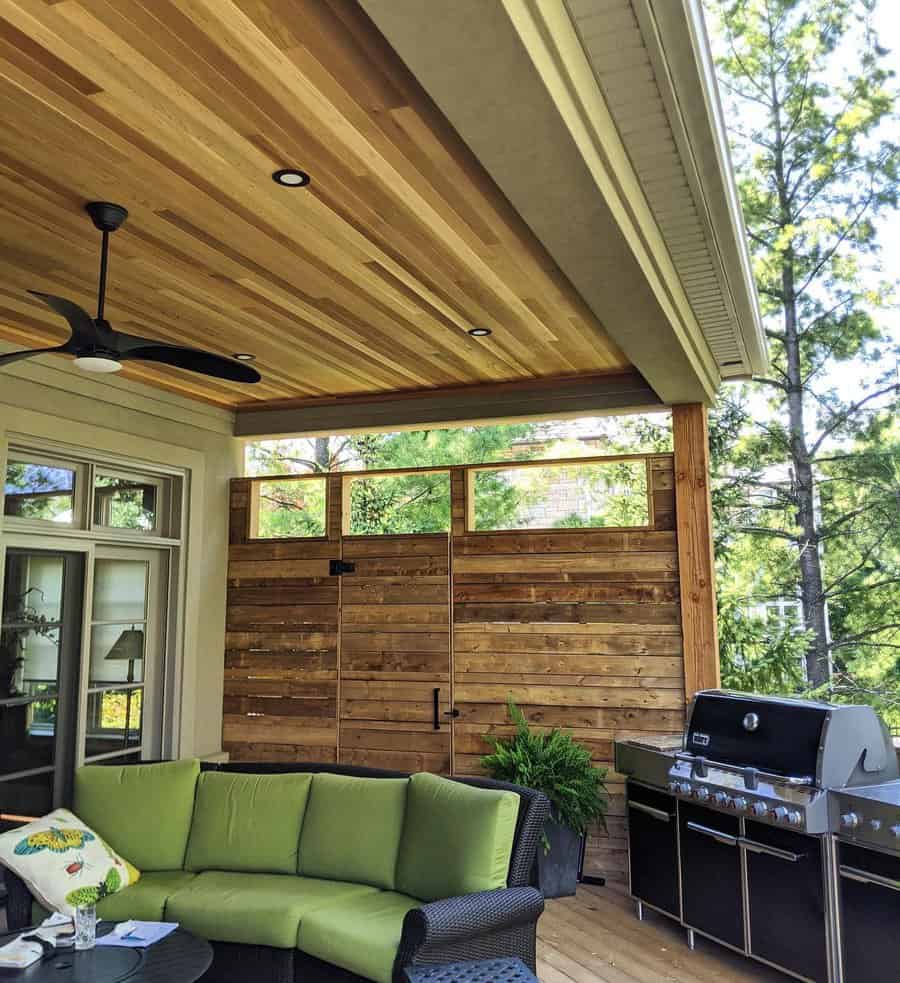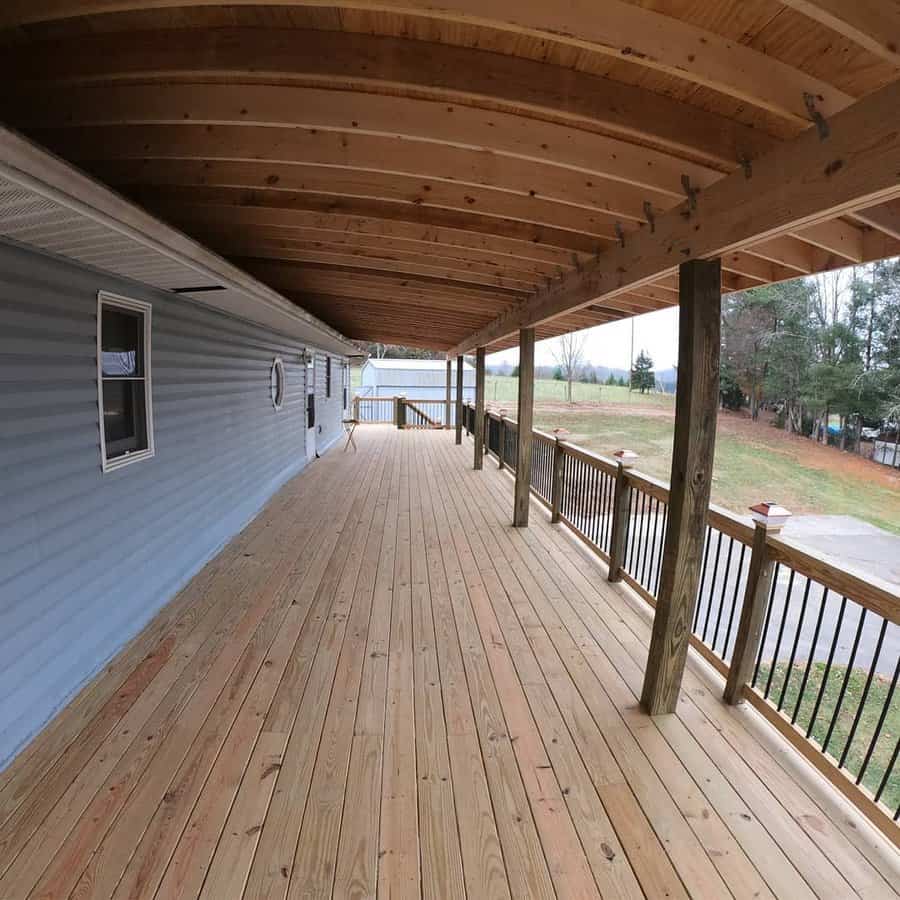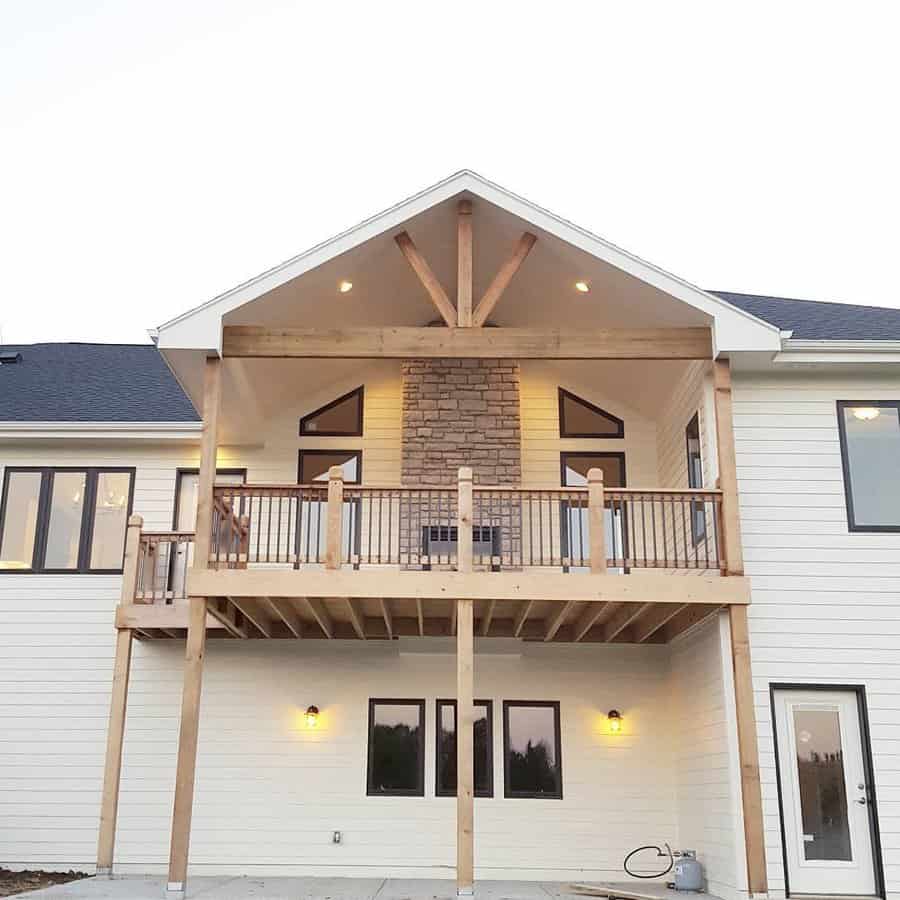 Natural wood grain is warm, neutral, and blends in perfectly with the outside world. There's no need to worry about your deck or patio clashing with the beauty of the surrounding landscaping.
It's possible to construct an attractive deck cover using wood alone. But you can also accent your covered deck design with sheet metal, brick, concrete, and other common materials.
Covered Deck FAQs
Do you need to winterize a covered deck?
To keep your deck in tip-top condition for as long as possible, regular maintenance is a must. Even if you live somewhere with negligible winters, fall is the perfect time to clean and check your deck for needed repairs.
If you live somewhere with regular sleet or snow, it's a good idea to apply a winterizing water-repellent to your deck each year. This is true for covered decks, as well. You should also cover or move patio furniture indoors for the off-season.
How much does it cost to cover a deck?
The average costs of covered deck ideas vary greatly. But the good news is that there are many affordable options for those looking to stick to a smaller budget.
While constructing a permanent roof can cost between $3,000 to $10,000 on average, other solutions cost significantly less. Many pergolas, canvas canopies, and other shade covers cost as little as $1,000.