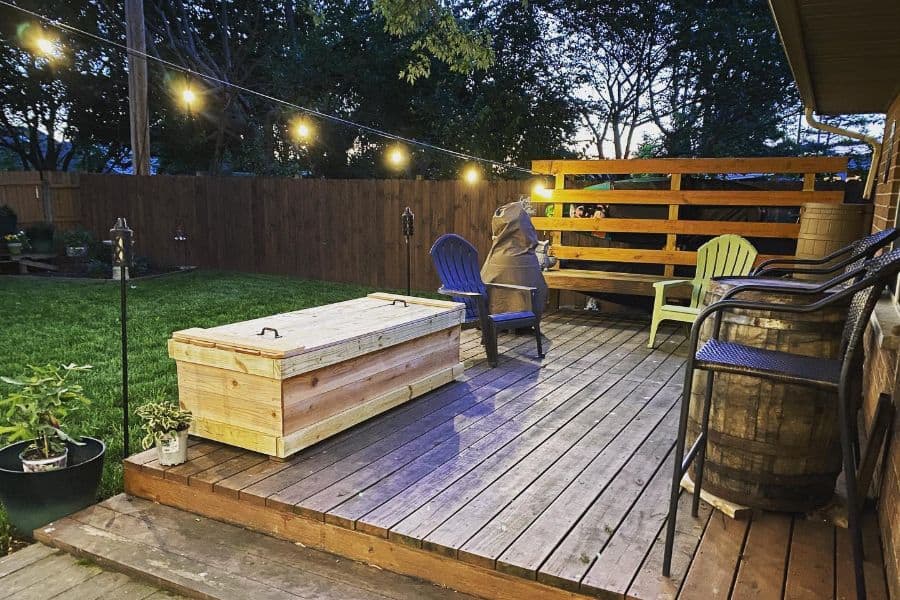 The Top 43 Deck Bench Ideas
by — Kari Apted

Published on October 1, 2021

Updated on October 8, 2023
"Outdoor living rooms are becoming big. People aren't traveling as much anymore, and they want to add another room to have a vacation at home." – Cory Curtis
If it's time to add outdoor living space to your home, bench seating is a great thing to include in your porch or deck design. Bench seating can be freestanding, or built into the deck structure itself. You can also add bench seating to arbors, pergolas, and planters.
Outdoor bench seating adds longstanding value to your home, whether made from wood or composite decking material. Browse our collection of best deck bench ideas and see how much ambiance this extra seating option can add to your new or existing deck.
1. Explore L-Shaped Deck Seating
L-shaped deck benches offer a dual advantage: maximized seating and enhanced aesthetic appeal. Incorporate cushions or throw pillows to elevate comfort and match your outdoor theme. To achieve this design, customize the bench's dimensions and materials, ensuring harmony with your deck's size and overall decor.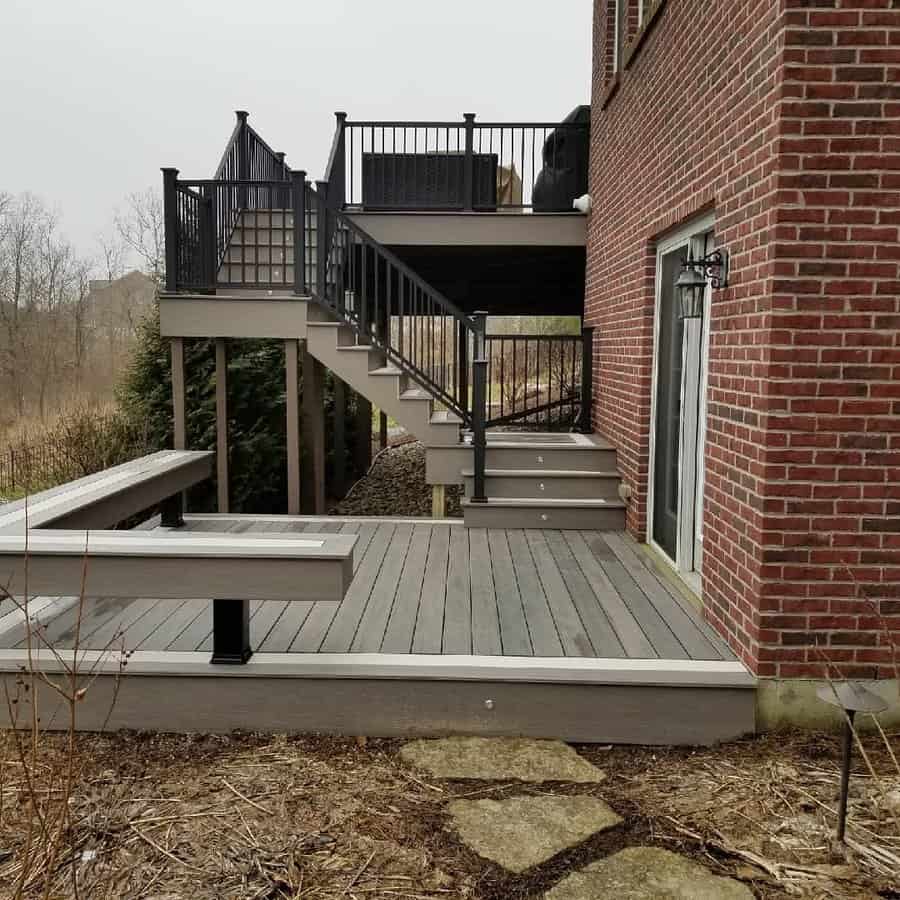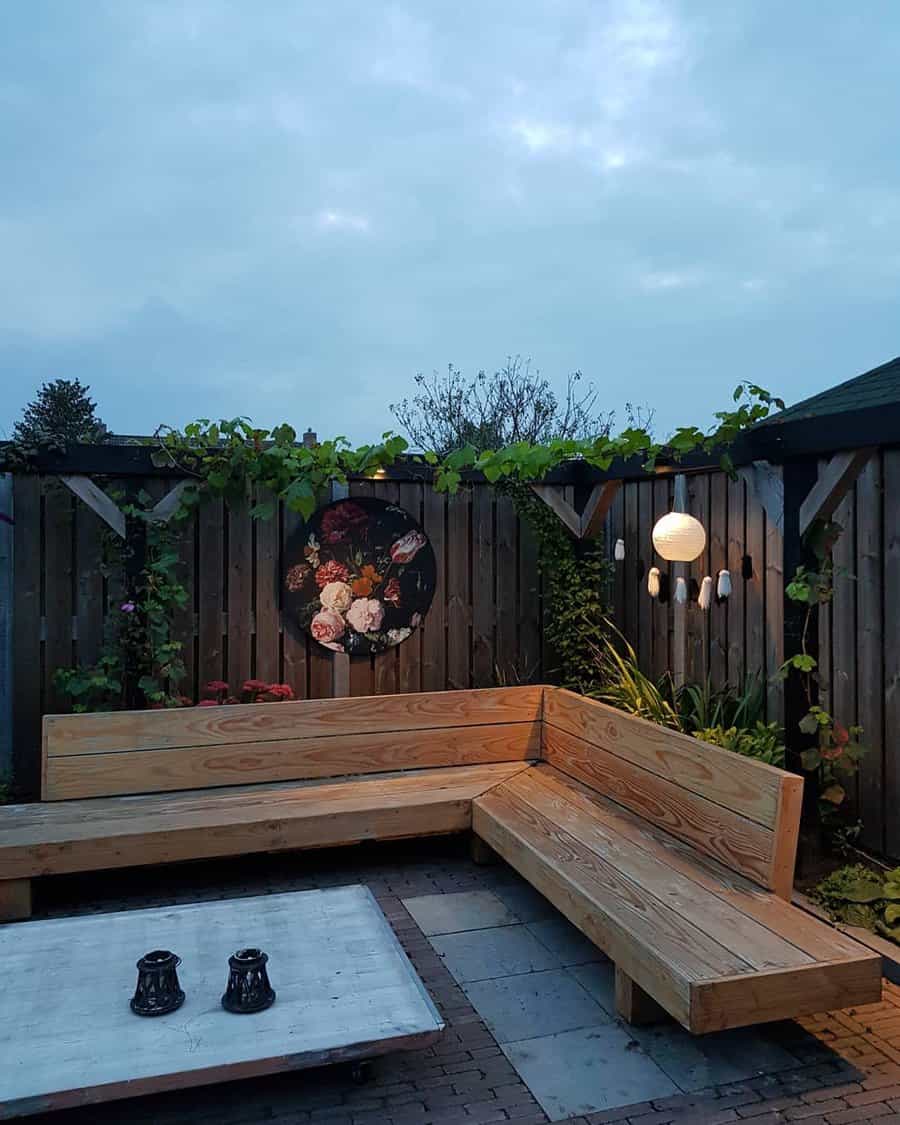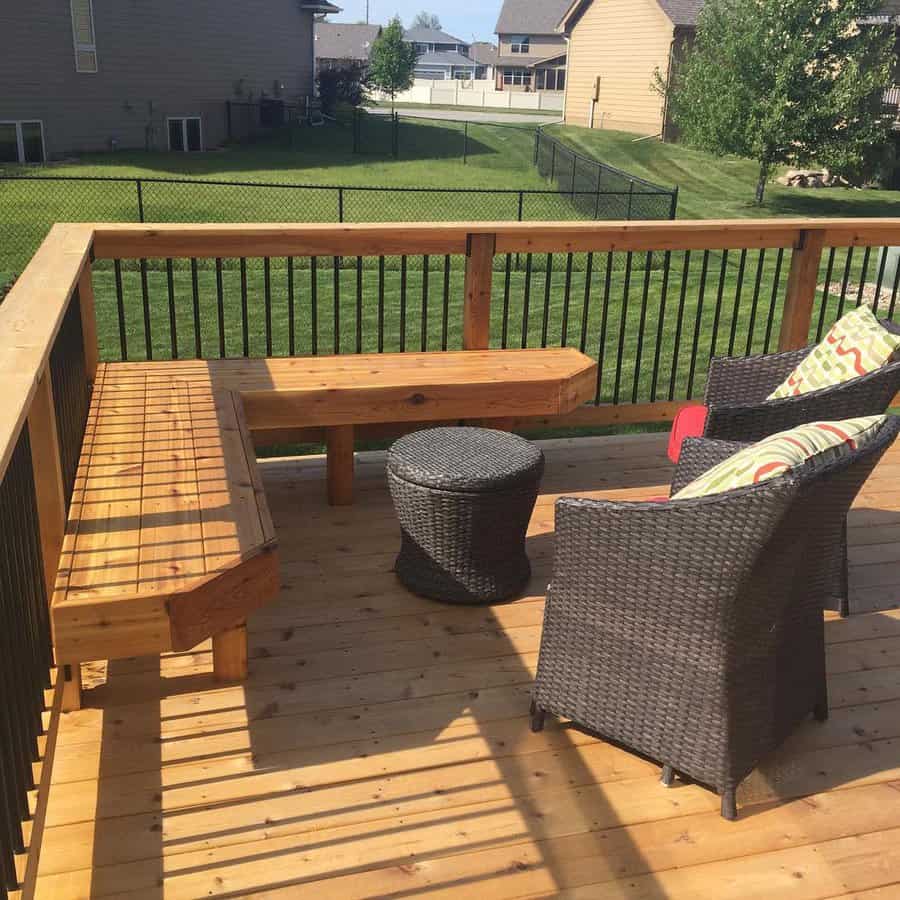 2. Deck Featuring Integral Benches
A deck with a built-in bench is the epitome of outdoor comfort and sophistication. Such designs are ideal for gatherings or solitary moments, providing cozy seating and enhancing the overall appeal of your space. For a seamless look, match the bench material with the deck's flooring, and consider adding accent cushions that complement your outdoor decor.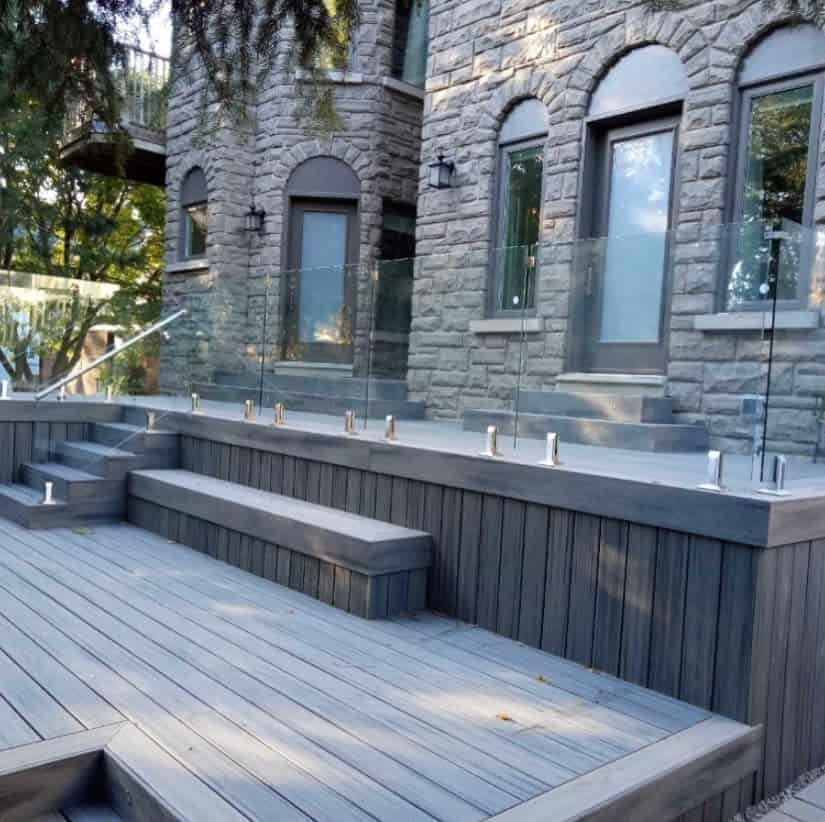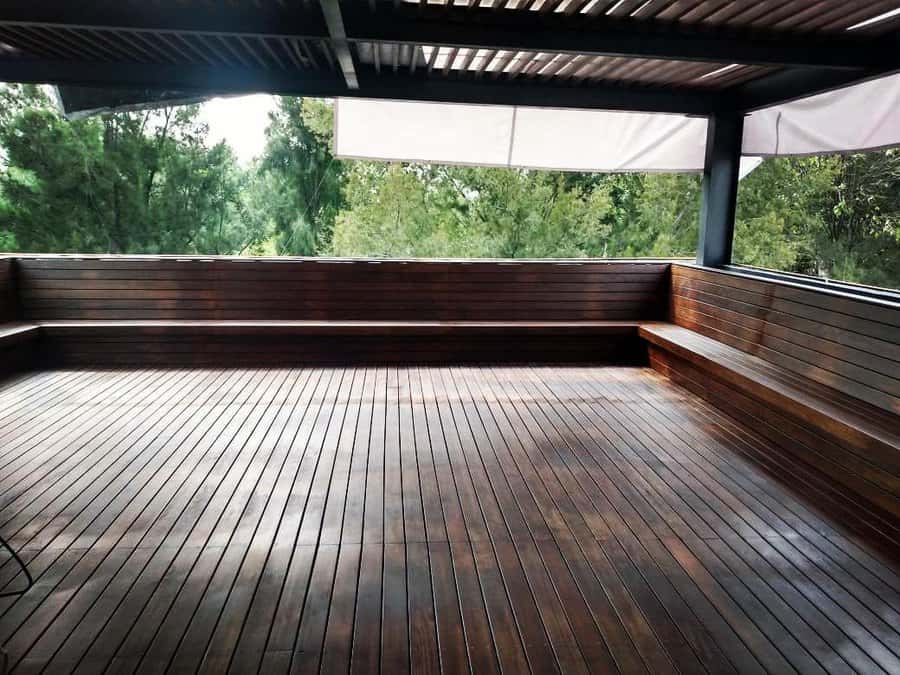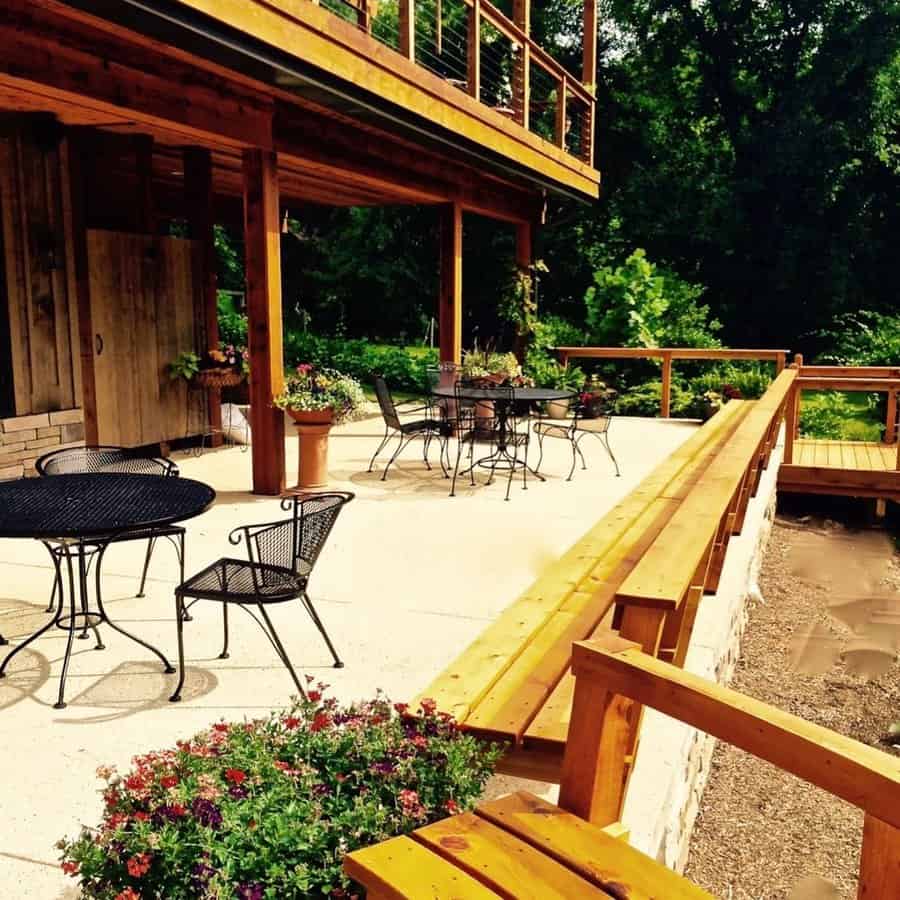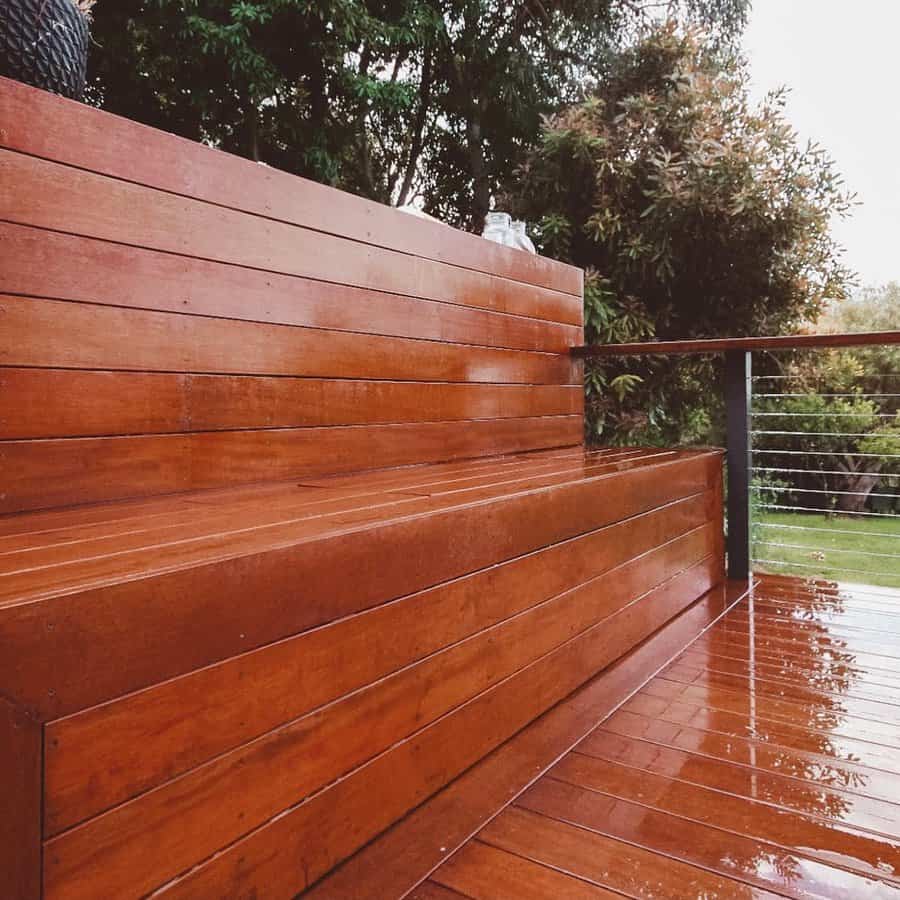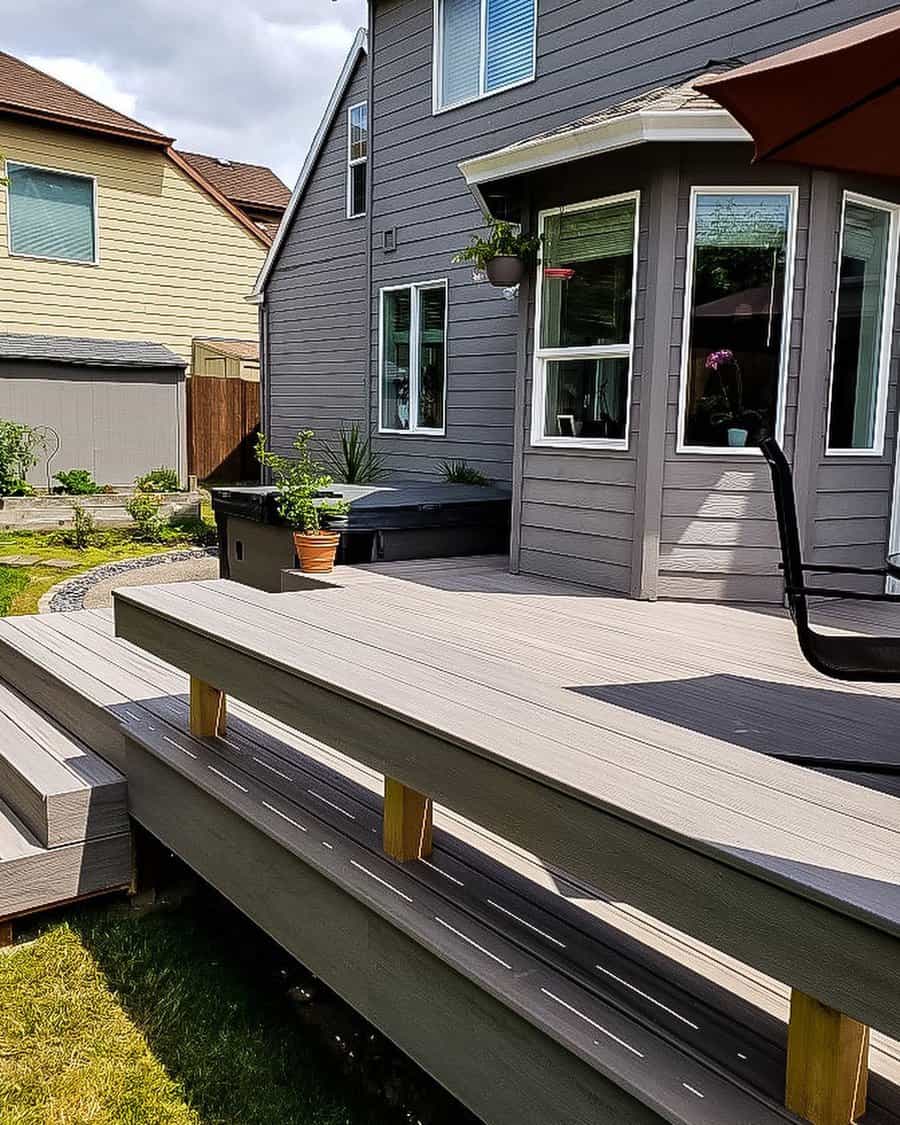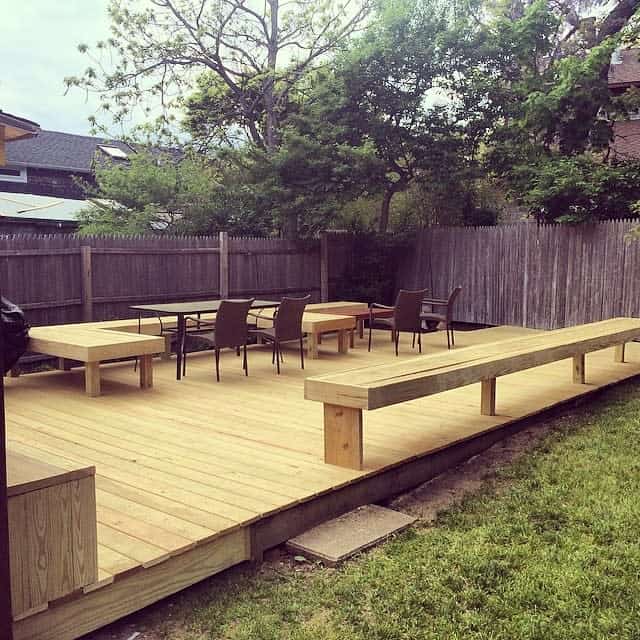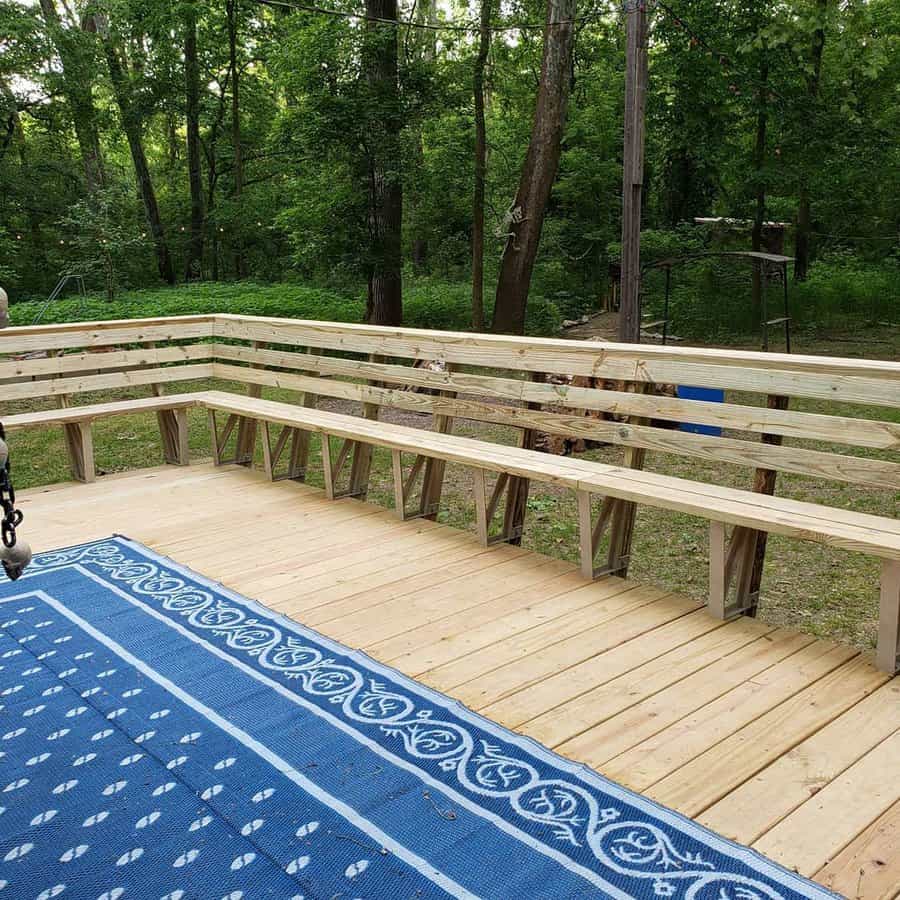 3. Comfortable Benches with Backrests
Benches with backrests merge style and relaxation, ensuring optimum support during outdoor moments. To integrate this design seamlessly into your deck, choose materials and colors that align with the existing aesthetic. Remember, a well-chosen cushion can accentuate the bench's comfort and appearance.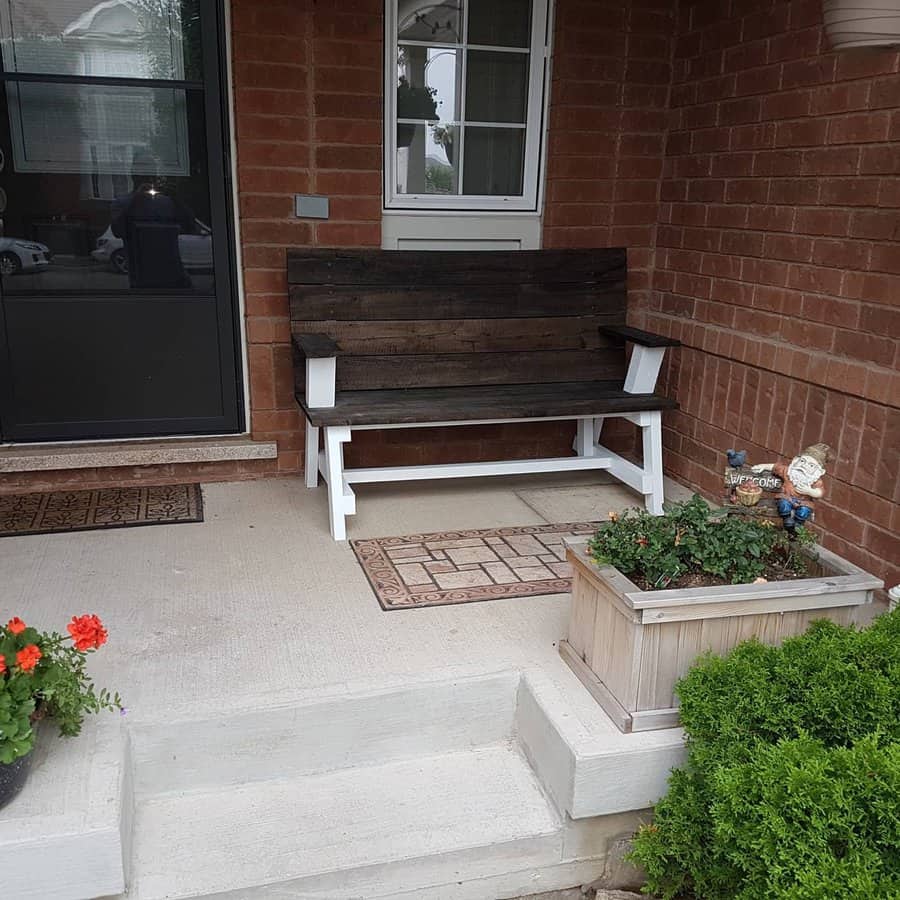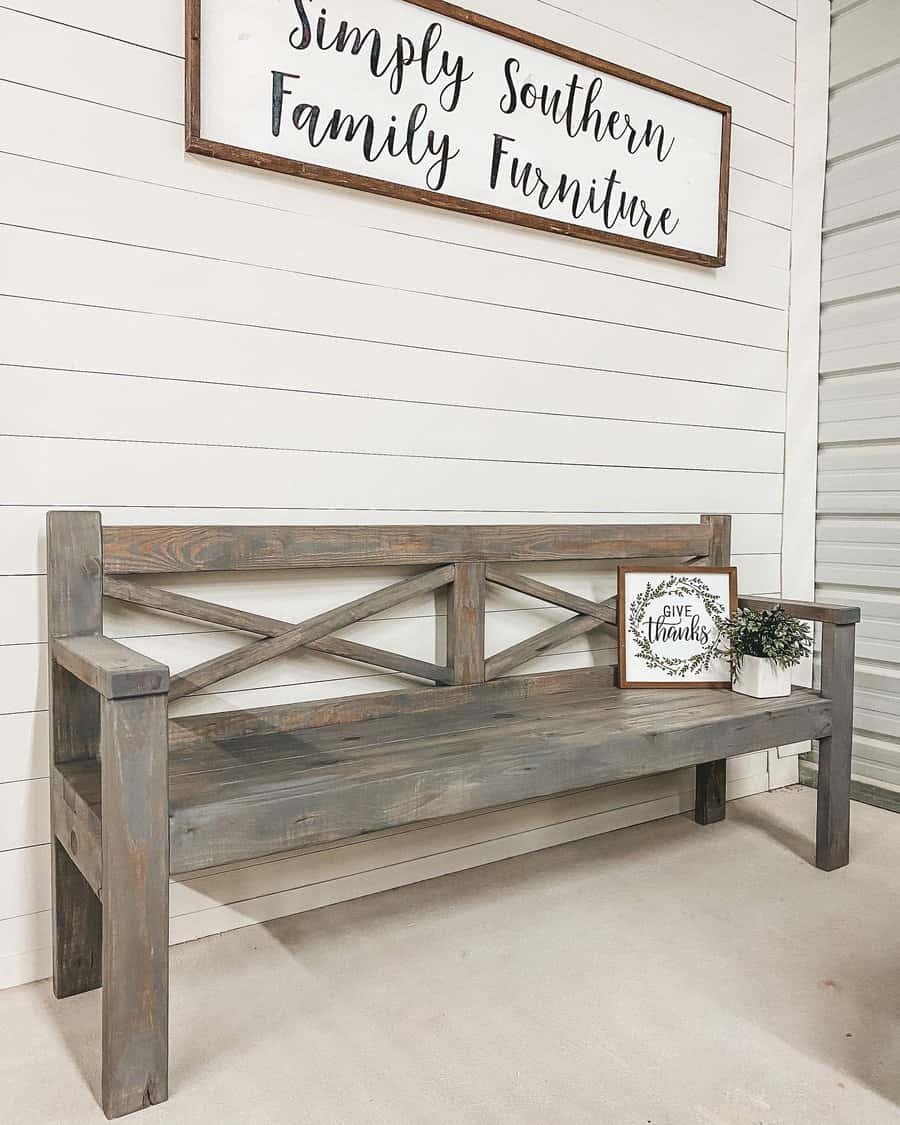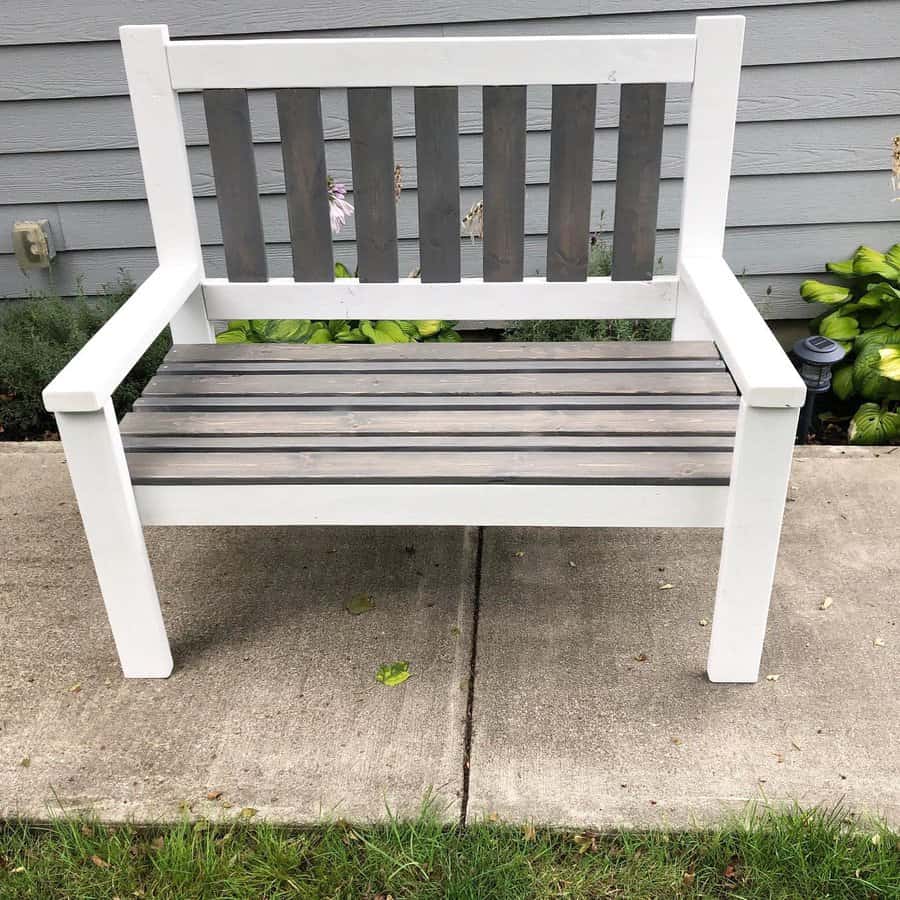 4. Planters Incorporated into Deck Benches
Deck benches integrated with planter boxes combine seating and greenery, enriching your outdoor space. Adding blooming flowers or plants elevates the ambiance and creates a nature-infused retreat. Tailor this concept to any deck size, and consider it a rewarding DIY project to enhance your outdoor sanctuary.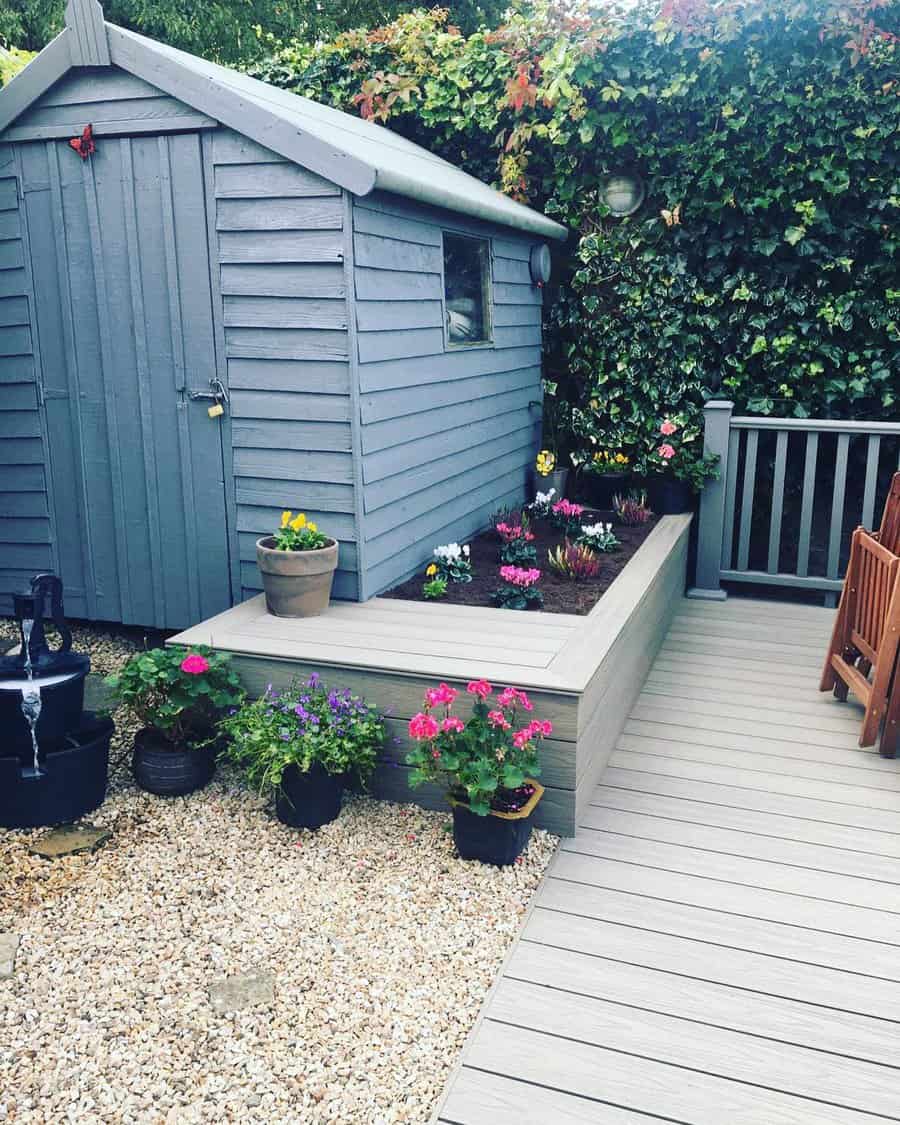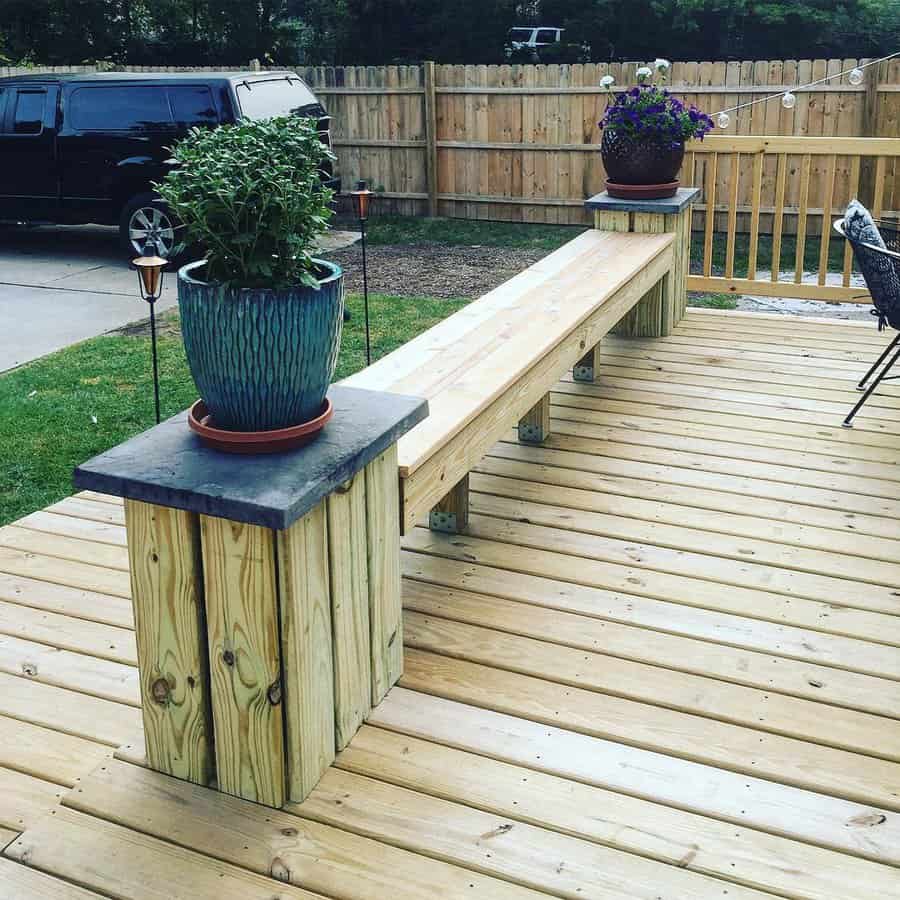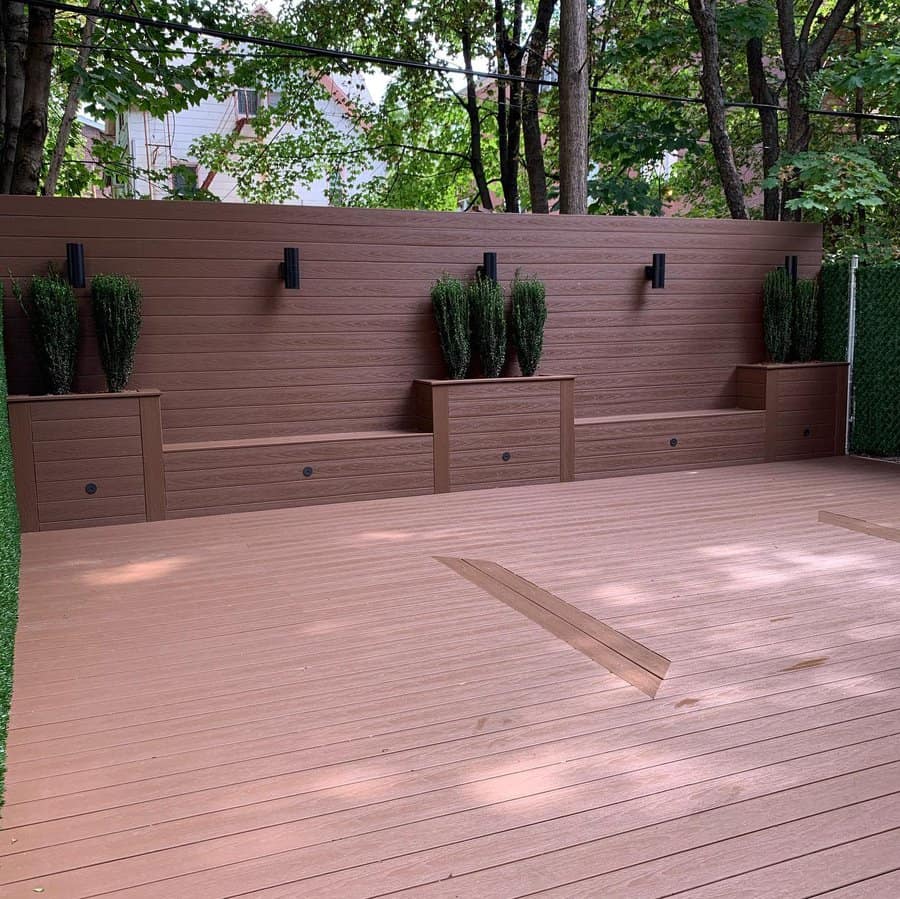 5. Benches Surrounding a Fire Pit
Deck benches paired with a fire pit enhance both seating and ambiance. Choose from a range of styles, be it modern with a gas-powered pit or rustic with wood-burning. Such combinations not only cater to marshmallow roasts but also intimate wine evenings. For a harmonious setup, select bench materials that complement your chosen fire pit.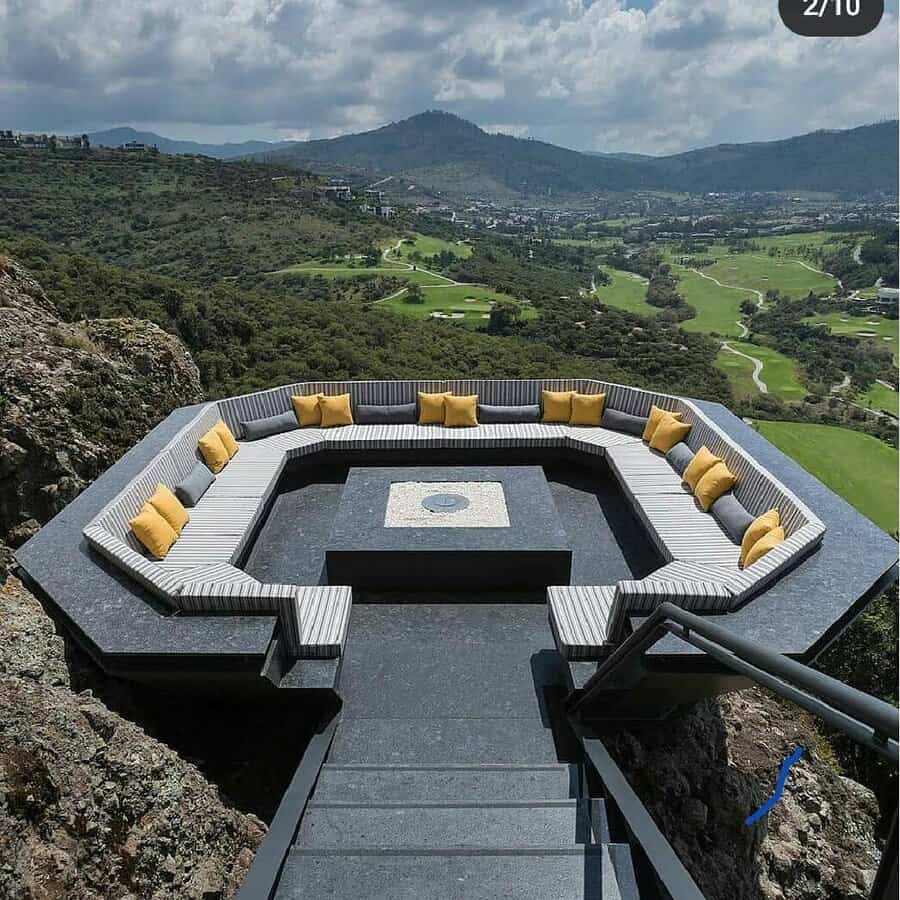 6. Innovative Wood Pallet Seating
Wood pallet deck benches offer a sustainable, DIY seating solution that's both chic and eco-friendly. To enhance its appeal, adorn with colorful outdoor cushions and ensure the wood is sealed for longevity. This repurposed seating is not just functional but also a delightful topic for outdoor gatherings.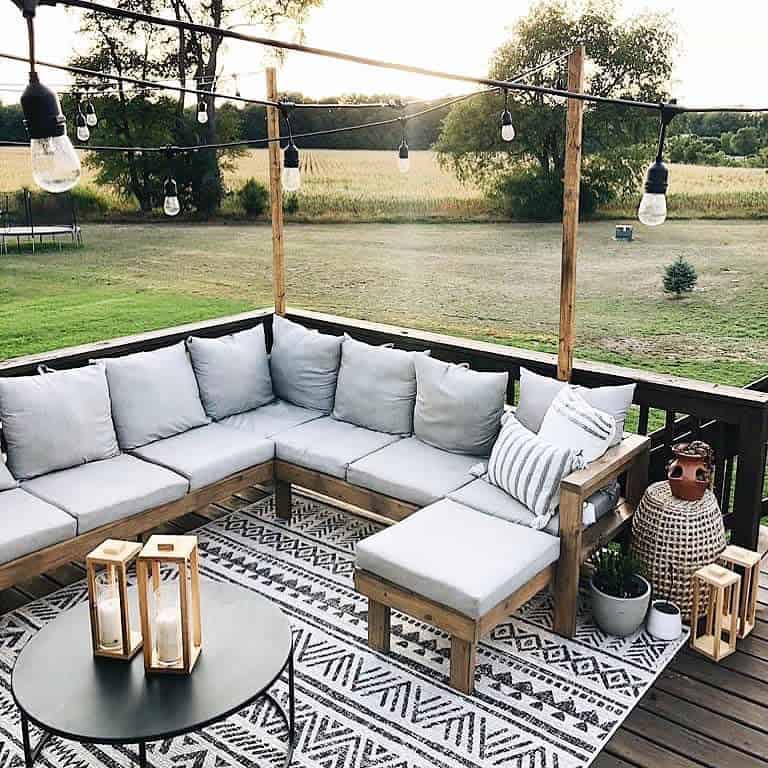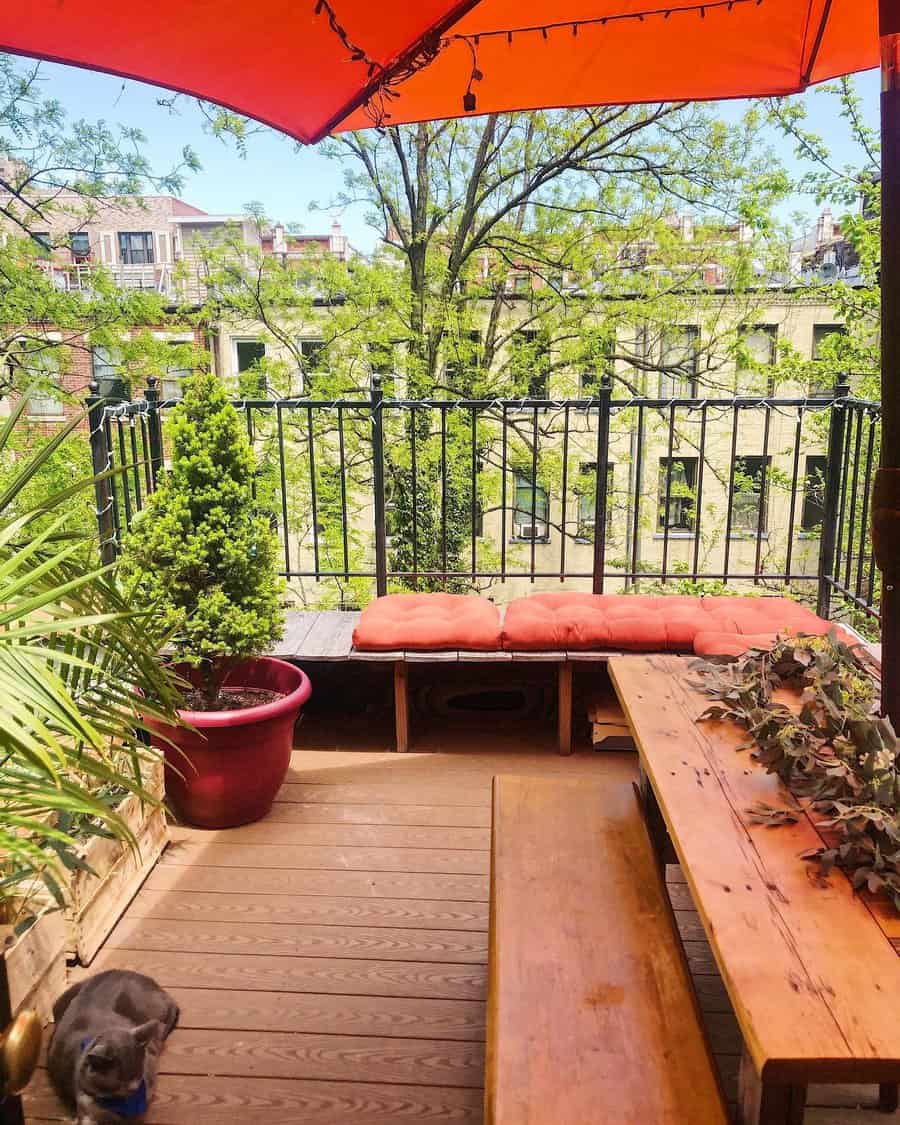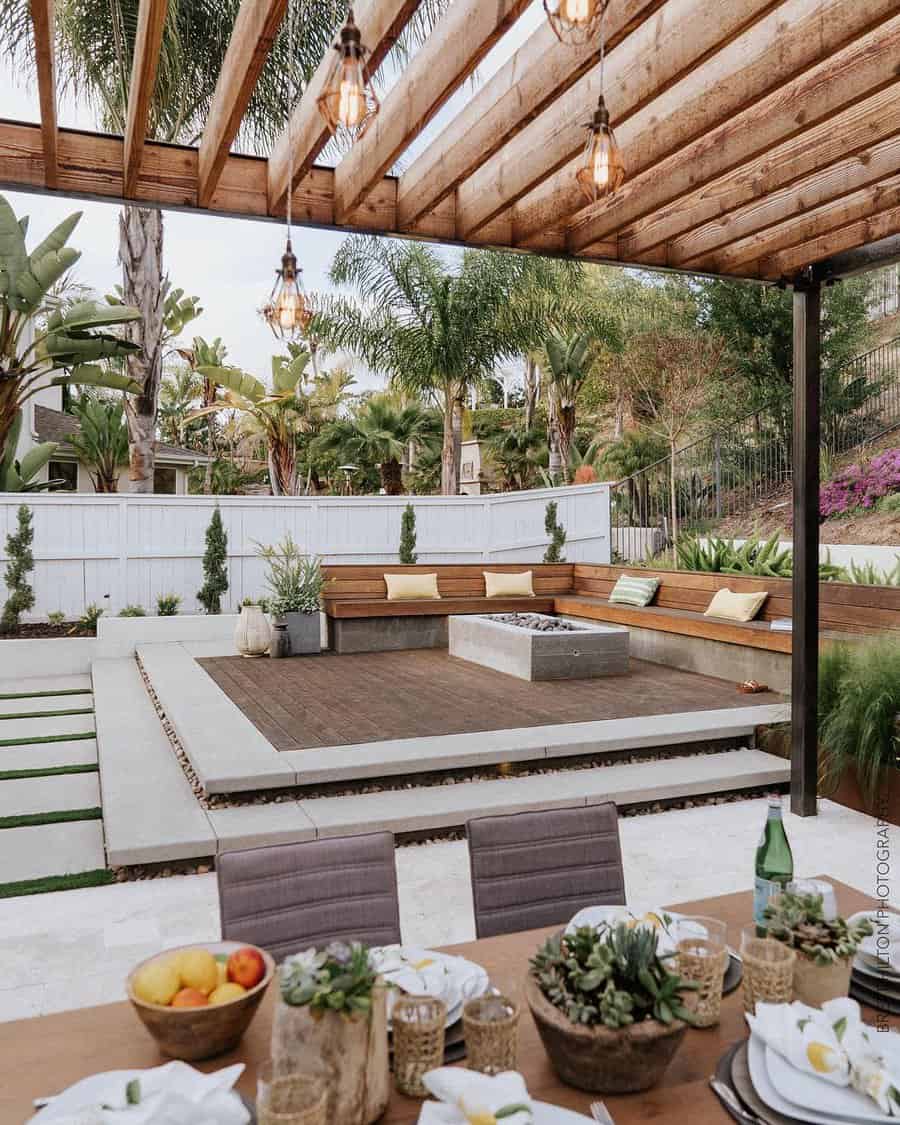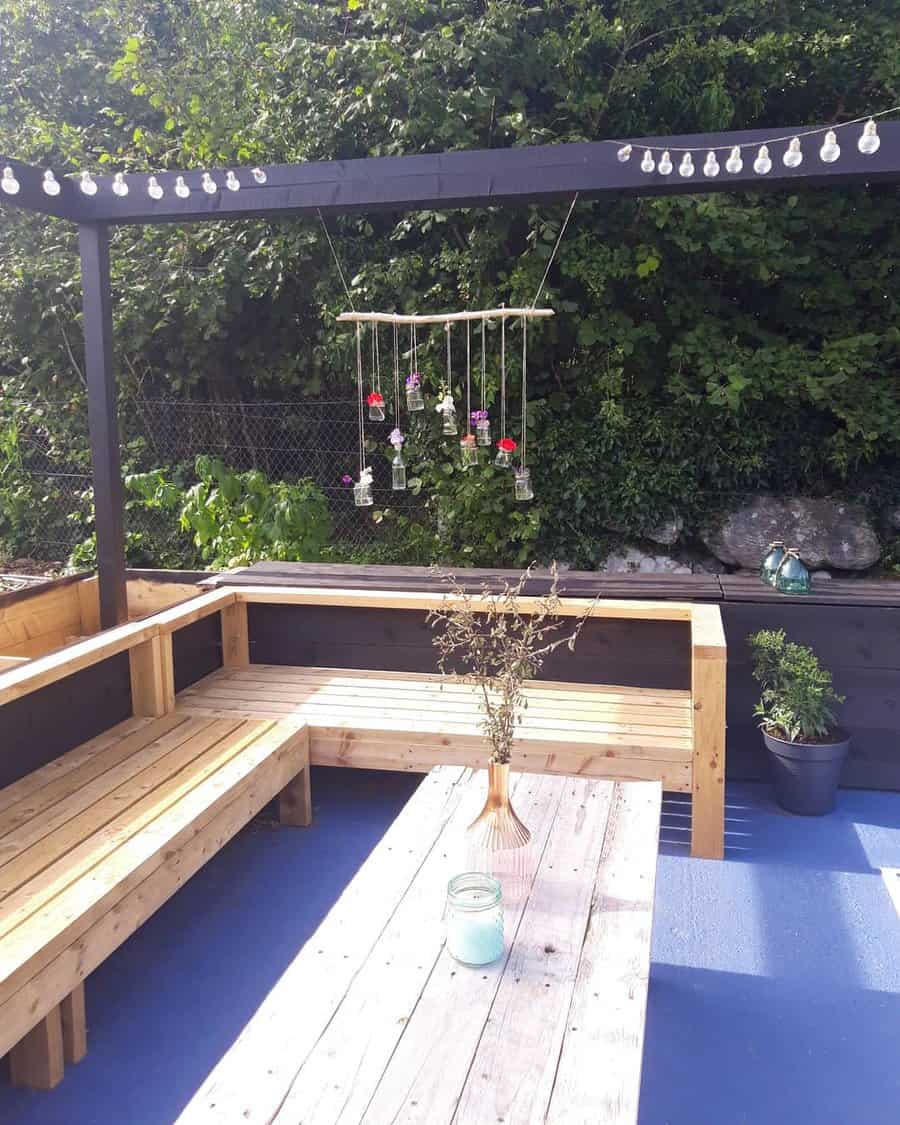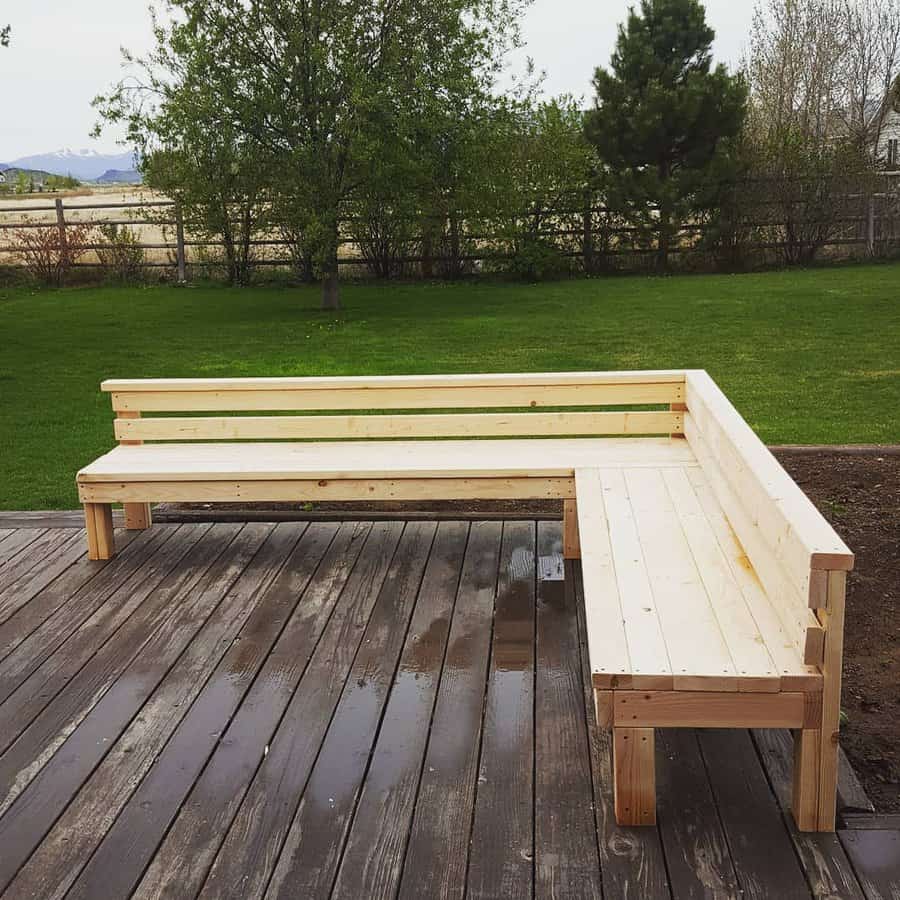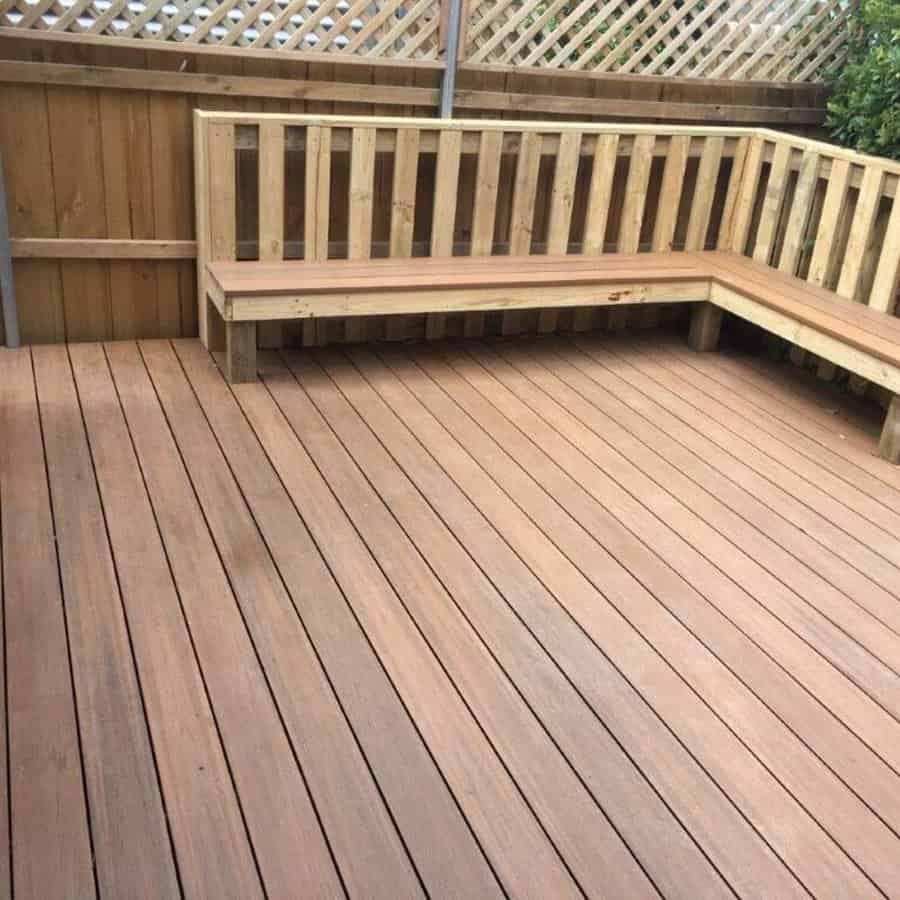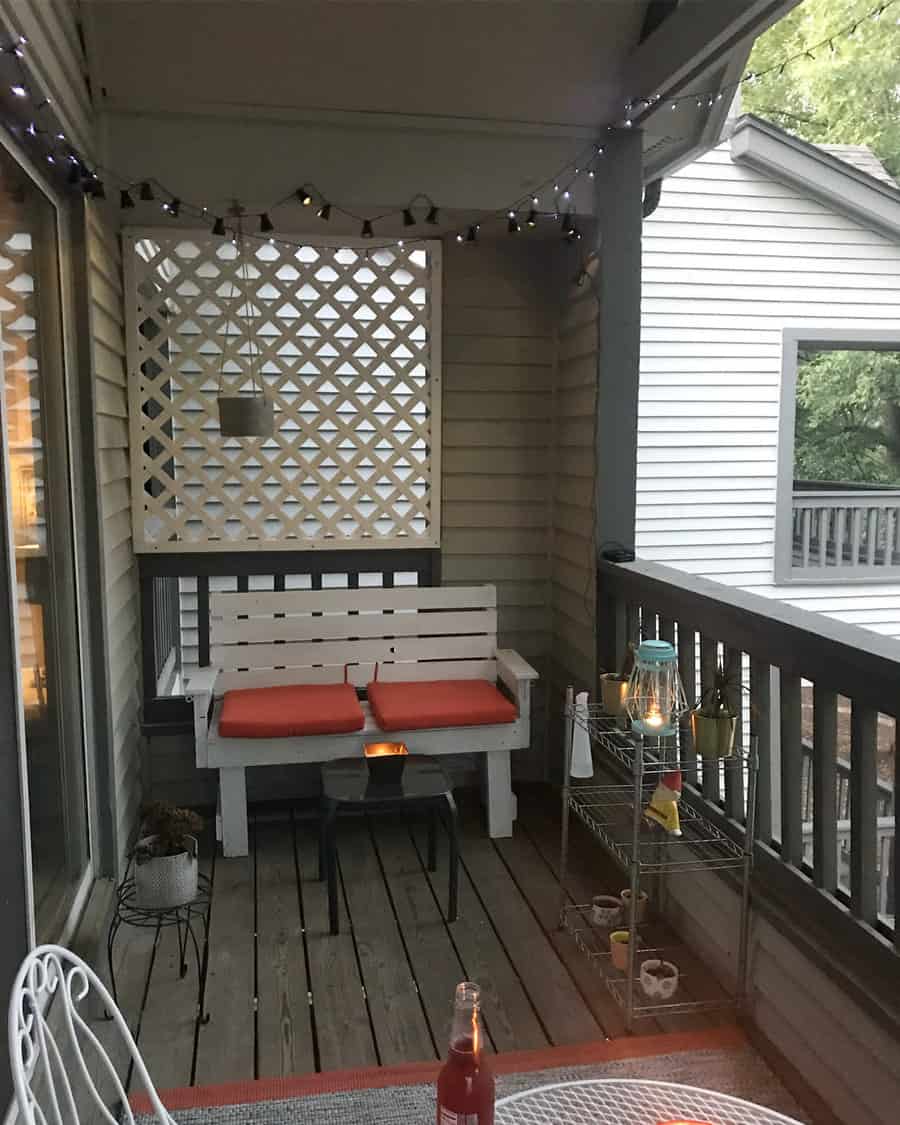 7. Elegant Curved Deck Benches
Curved deck benches introduce intimacy and an artistic touch to outdoor spaces. Their unique shape enhances deck flow and design, making them perfect for both relaxation and entertaining. When selecting materials and styles, consider the existing deck decor to achieve a harmonious ambiance.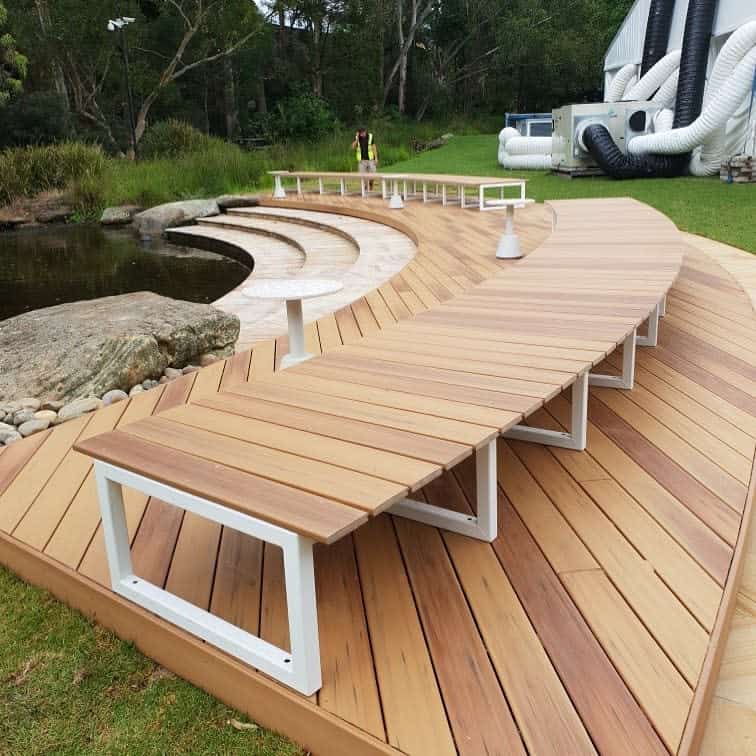 8. Perfect Corner Deck Seating
Corner deck benches maximize space and provide a cozy nook for relaxation. Whether you're inclined towards classic wood or contemporary metal, options abound to fit your personal aesthetic. Designed to sit snugly in deck corners, these benches efficiently utilize space while offering a sunny spot for unwinding.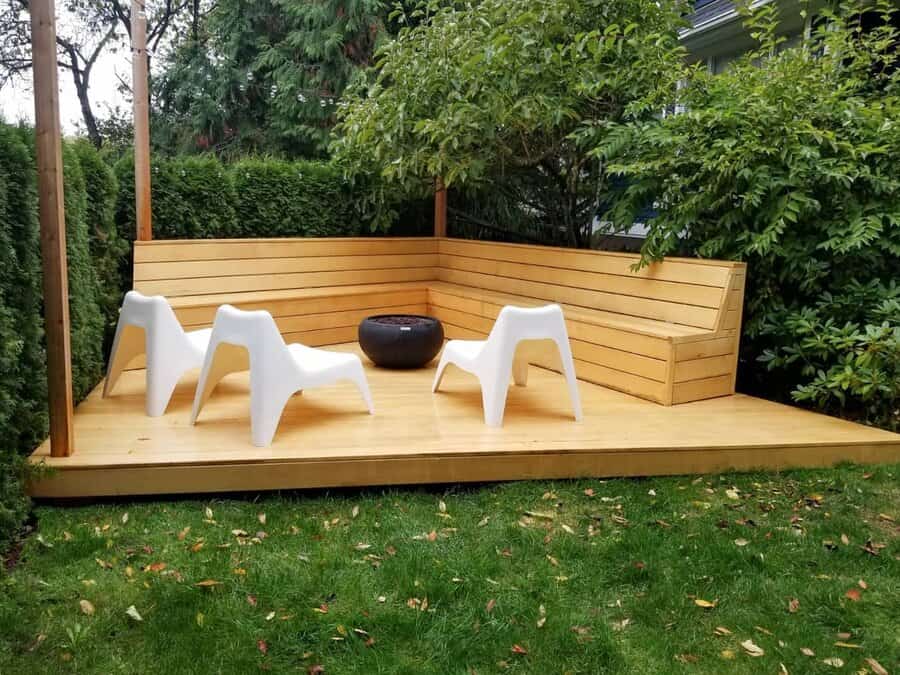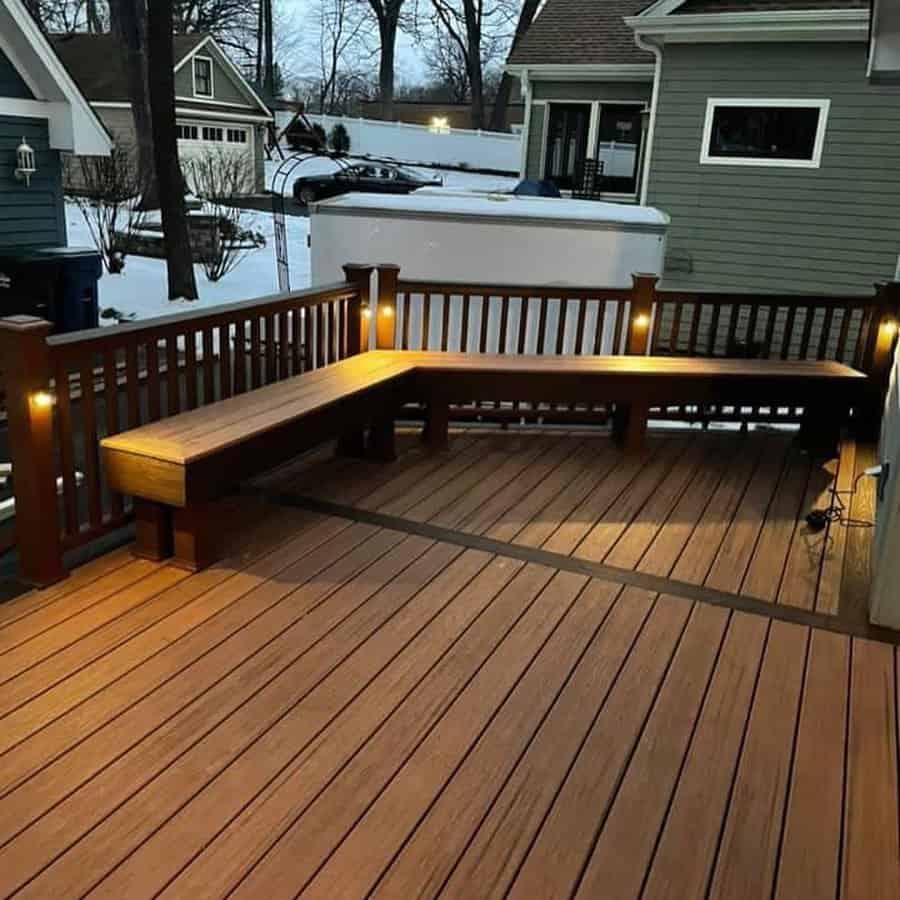 9. Benches Underneath a Pergola
Combining deck benches with a pergola offers comfort, shade, and a unique design flair. The overhead pergola shields from direct sunlight, while climbing plants introduce a refreshing touch of nature. This setup ensures a delightful spot for outdoor moments, whether you're enjoying a drink or diving into a novel.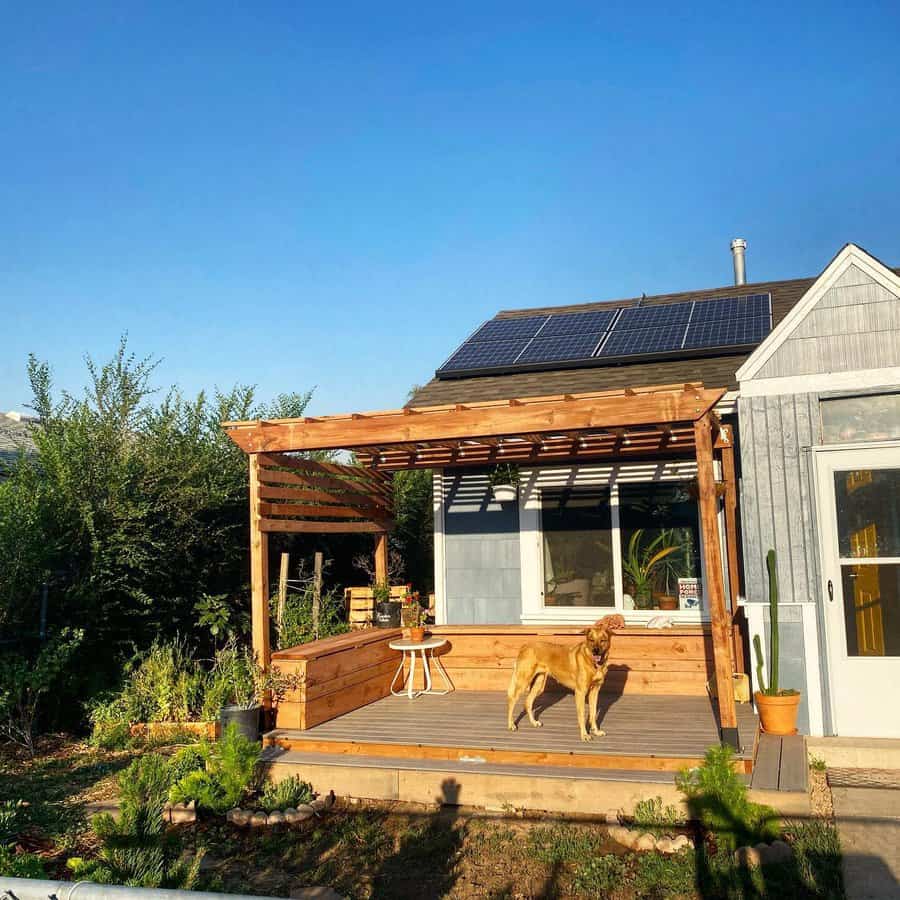 10. Classic Vintage Pew Deck Seating
Repurposing a church pew creates a distinctive vintage deck bench, blending durability with unique design. To adapt it for outdoor use, modify the backrest and append legs. Such seating not only offers comfort but also becomes a conversation piece. Keep an eye on antique sales for this unique seating treasure.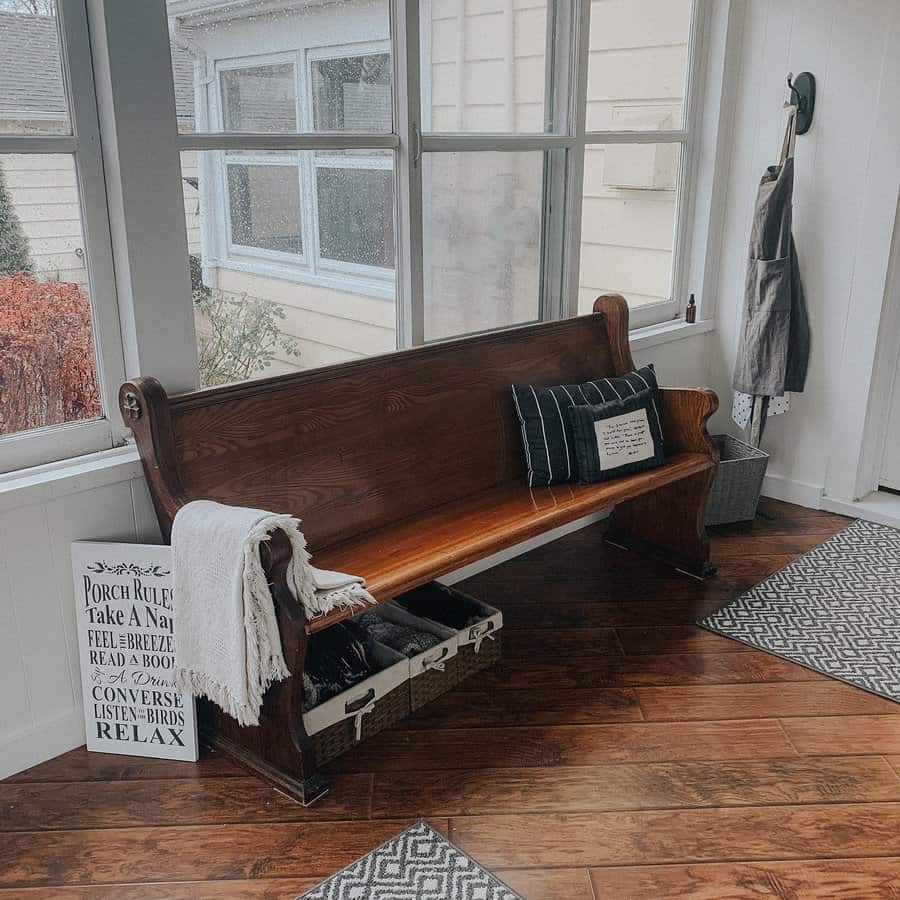 11. Rustic Farmhouse Deck Benches
Farmhouse-style deck benches exude rustic charm, making your outdoor space inviting for all seasons. Ideal for entertaining or solitary relaxation, these benches are both aesthetically pleasing and comfortable. Pair with vintage cushions or throws to enhance the rustic vibe.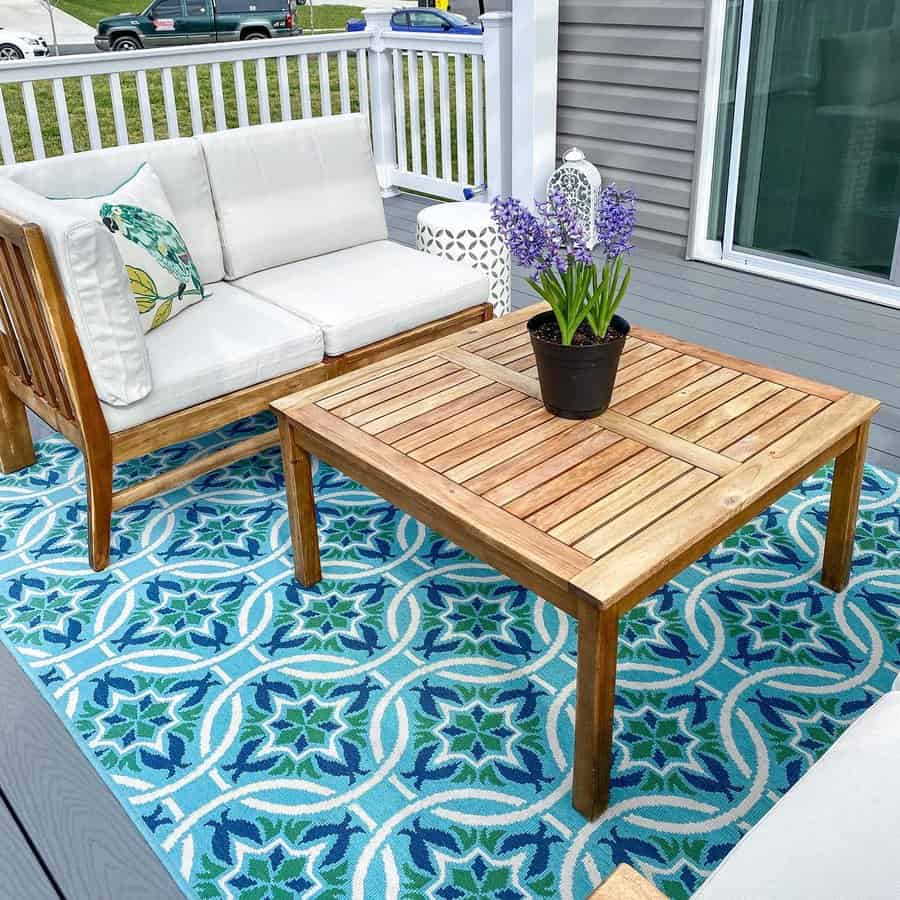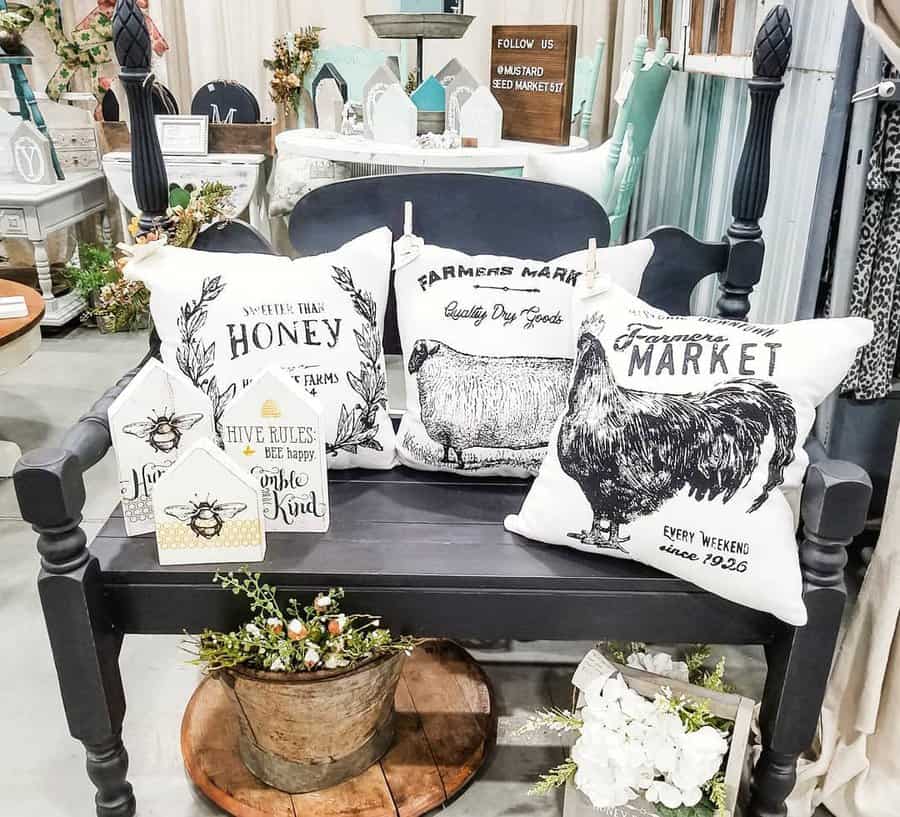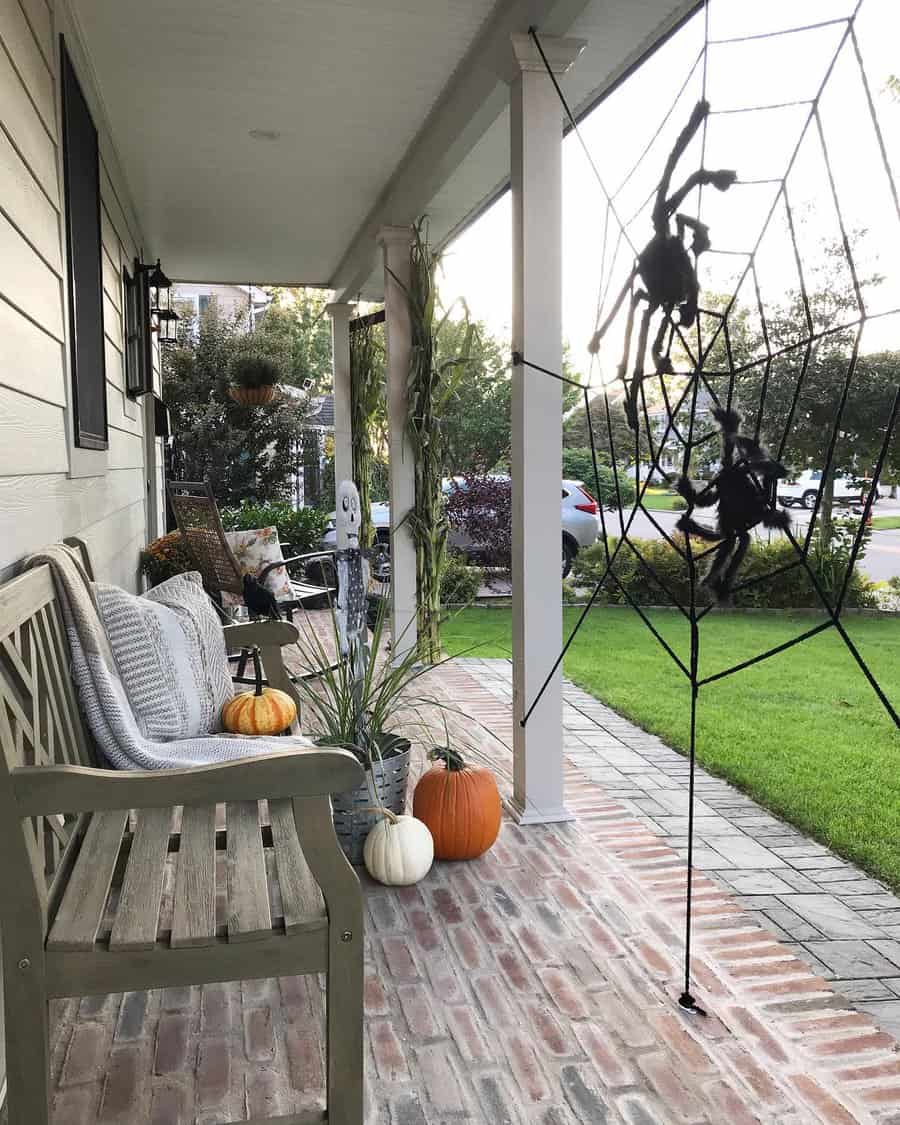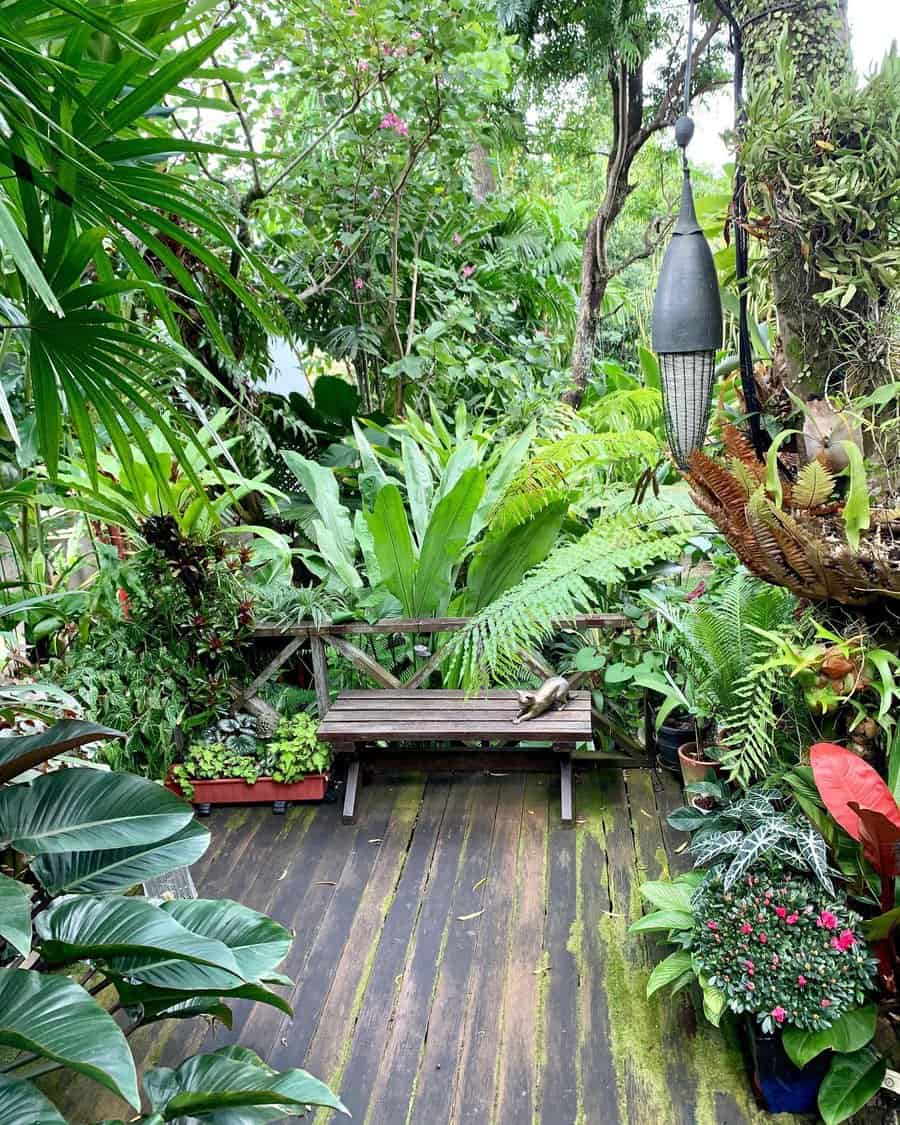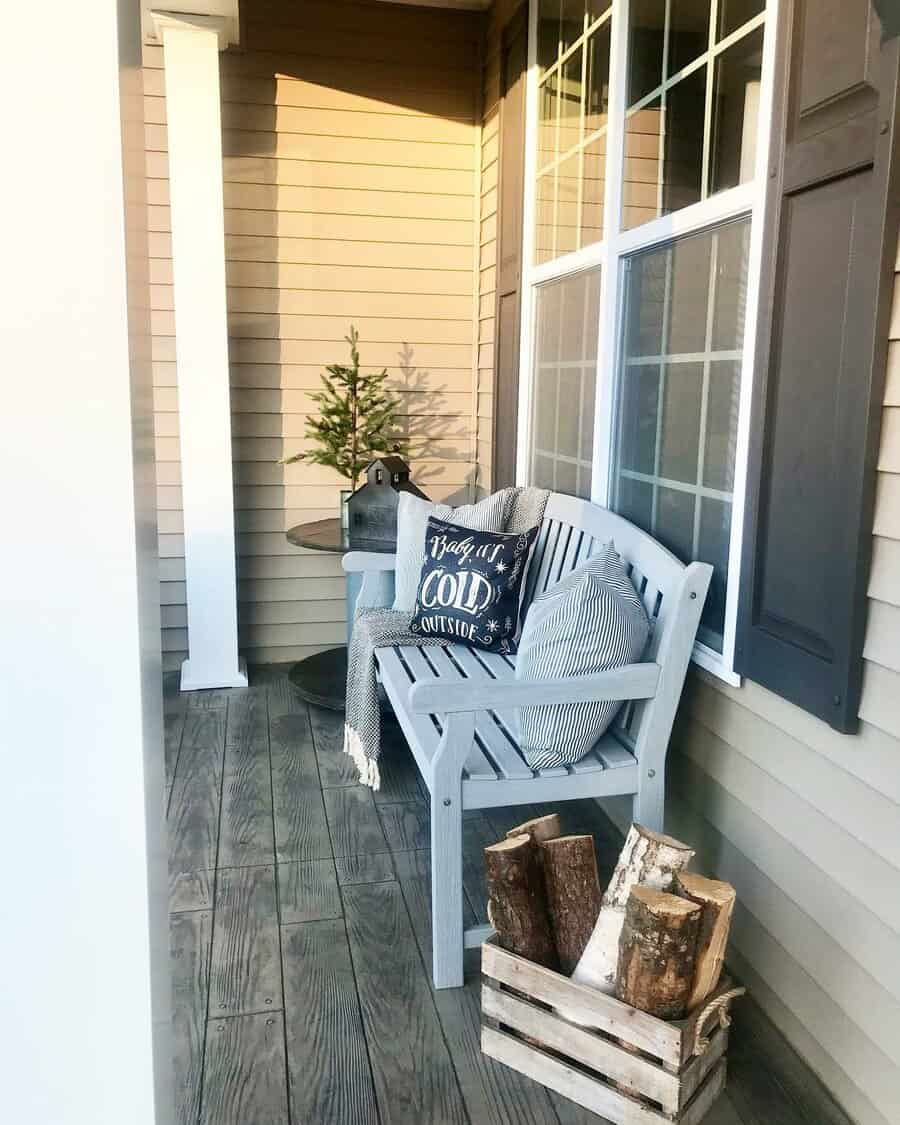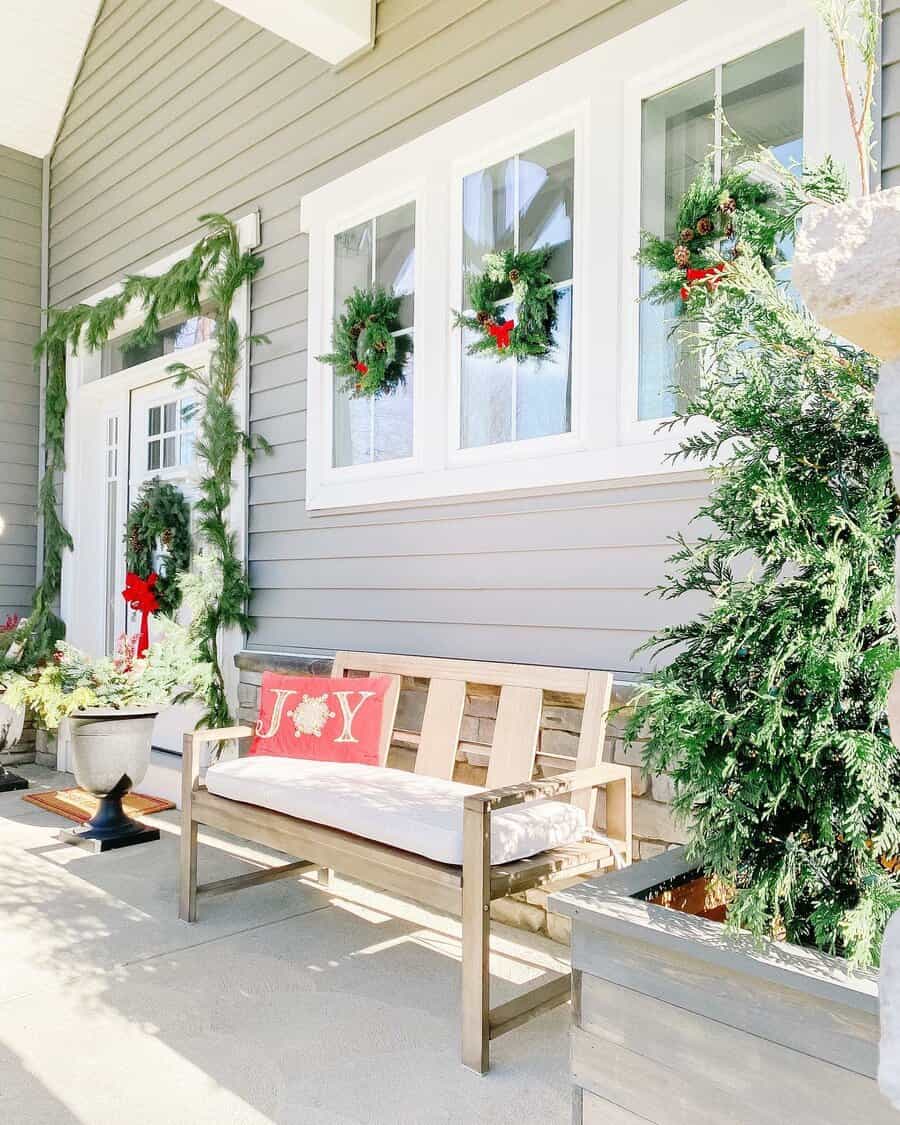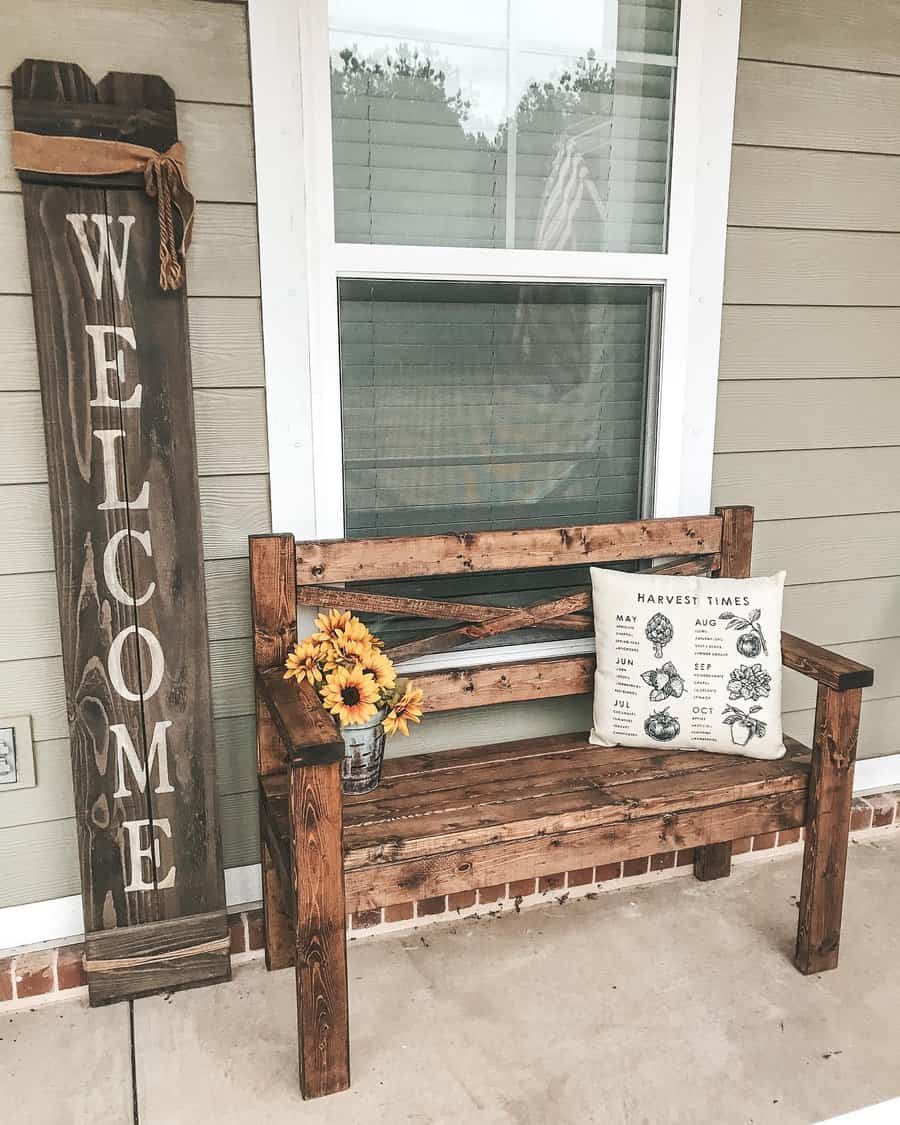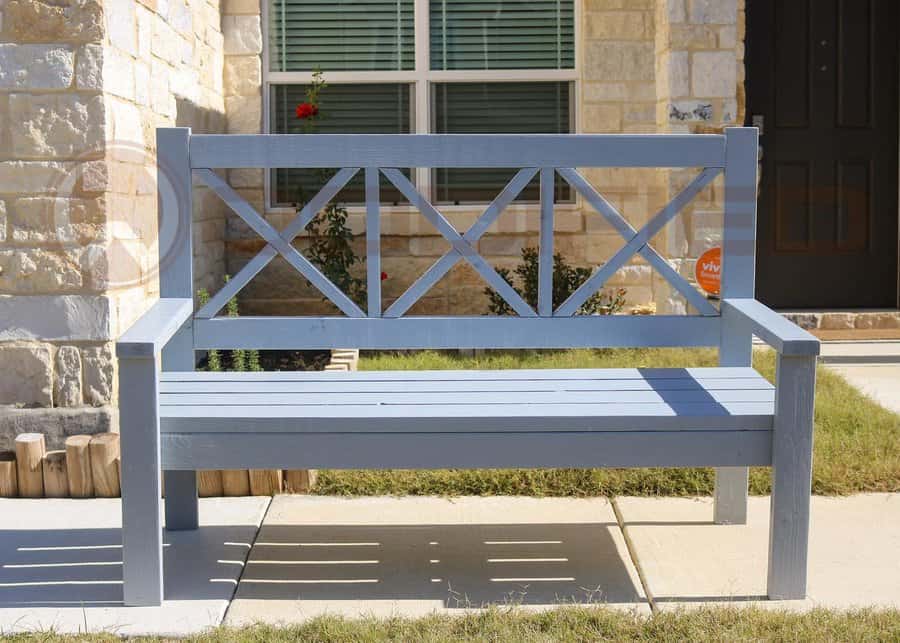 12. Deck Benches with Hidden Storage
Deck benches featuring hidden storage merge functionality with style, offering a clutter-free outdoor setting. These benches are not only cozy seating spots but also stash away items like cushions or tools. Customize its size and materials to mesh with your deck's aesthetic, ensuring a streamlined, organized space throughout the year.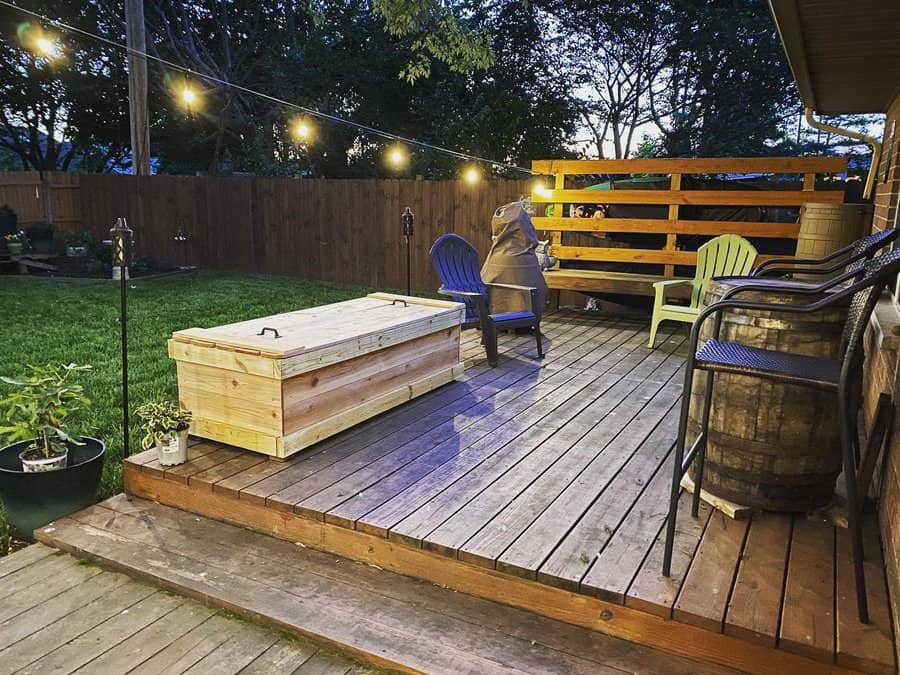 13. Sleek Floating Deck Benches
Floating deck benches introduce a modern touch, giving the illusion of hovering seating. Their legless design conserves space, making them perfect for any backyard size or theme. Tailor them to your desired style, and consider using the bench to demarcate outdoor zones or extend dining spaces. Their unique design surely becomes a backyard conversation starter.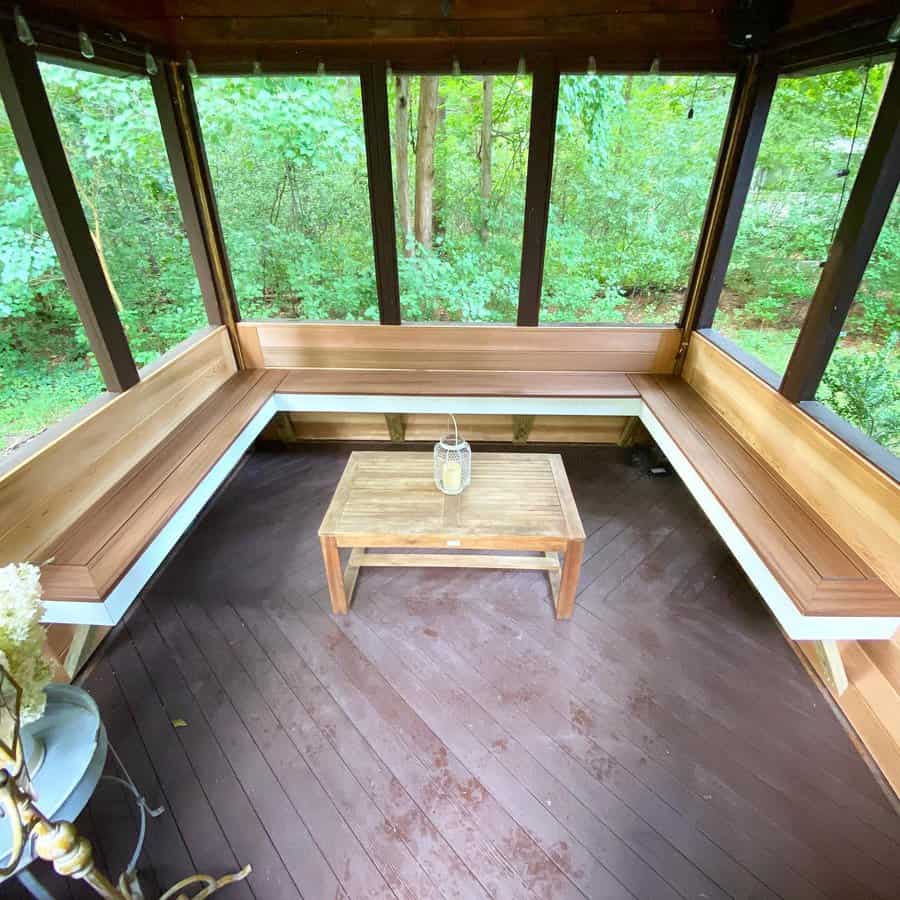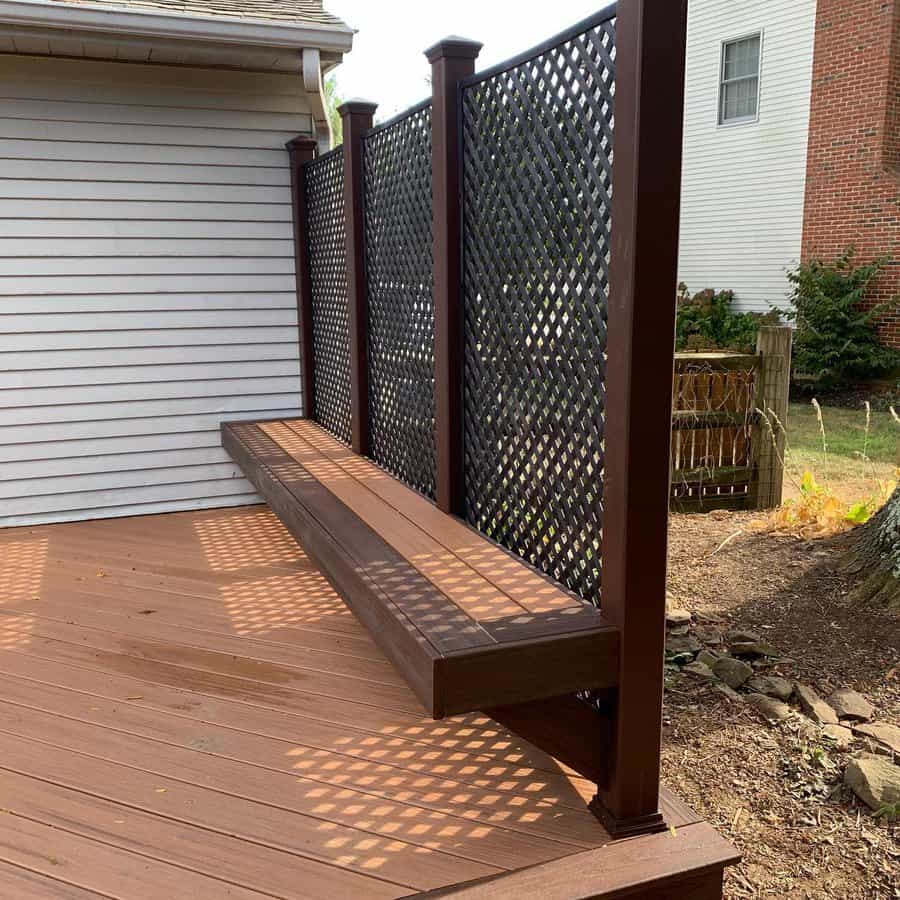 14. Unique High-Low Bench Designs
High-low deck benches introduce dynamic multi-level seating, adding both functionality and visual depth. This design not only facilitates group gatherings but also provides nooks for solitary relaxation. Depending on your deck's style, choose materials that harmonize and enhance. This versatile seating can either blend seamlessly or become your deck's standout feature.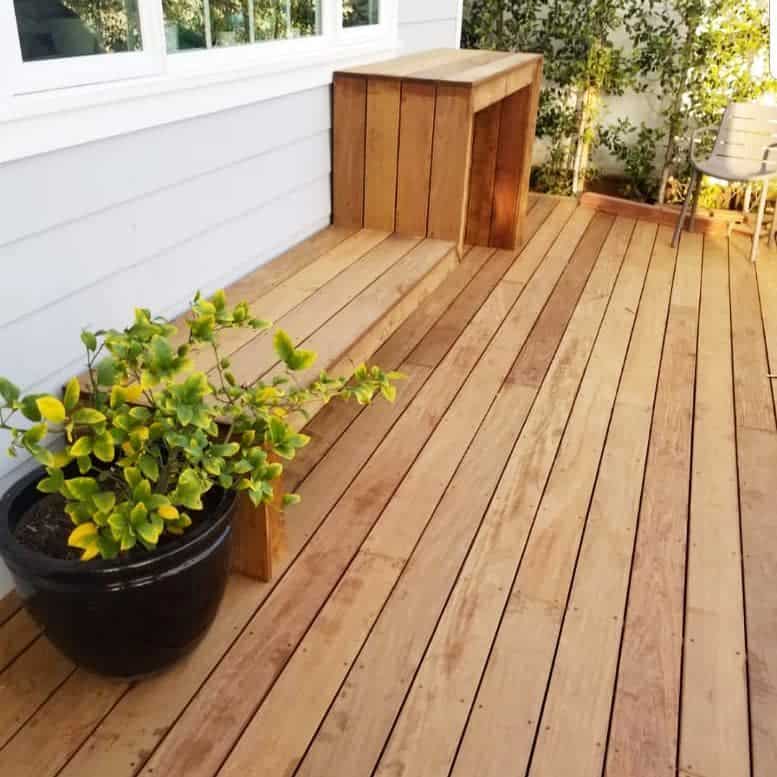 15. Benches with a Touch of Privacy
Deck benches paired with privacy fences offer both comfort and a sense of seclusion. This combination grants a serene nook, perfect for uninterrupted moments with a coffee or a captivating read. Beyond relaxation, it also adds a layer of intimacy, allowing you to savor outdoor tranquility away from prying eyes.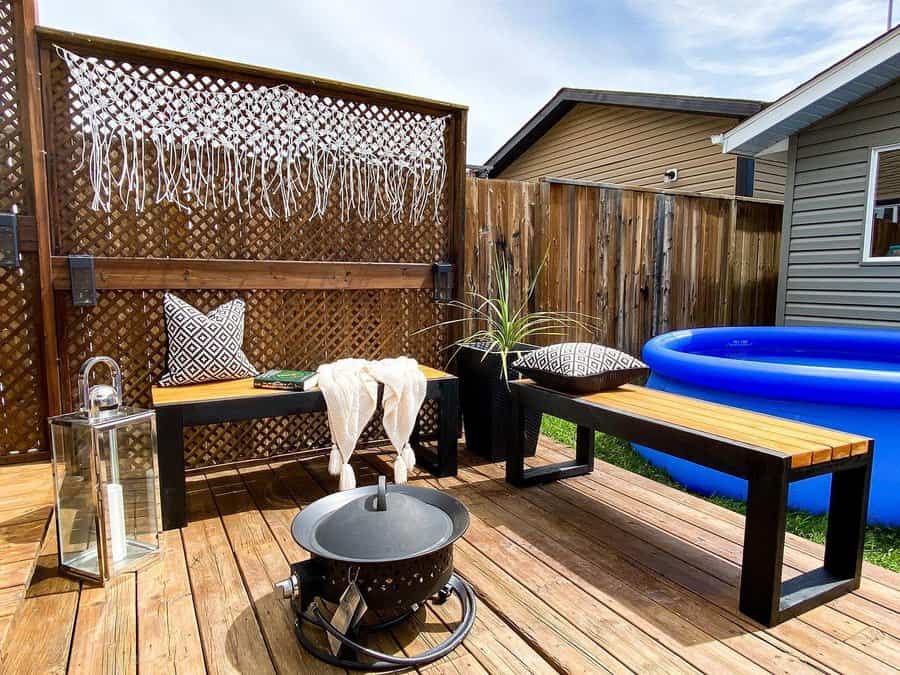 Deck Bench FAQs
How deep should deck benches be?
A deck or patio bench that's too narrow won't be comfortable to sit on for long. Conversely, a too-wide deck bench seat may take up too much room. Ideally, your bench seating should be between 15 and 30 inches deep.
How high is an outdoor bench?
Most outdoor deck bench plans sit around 16 inches high. However, choose a height that's most comfortable for you. Anywhere between 14 and 19 inches above the deck should be comfortable for most people.
How much does it cost to build a deck bench?
As with anything you're building, the materials you use determine the final cost. For a simple deck bench with a back, expect to spend anywhere from $10 to $30 per lineal foot.