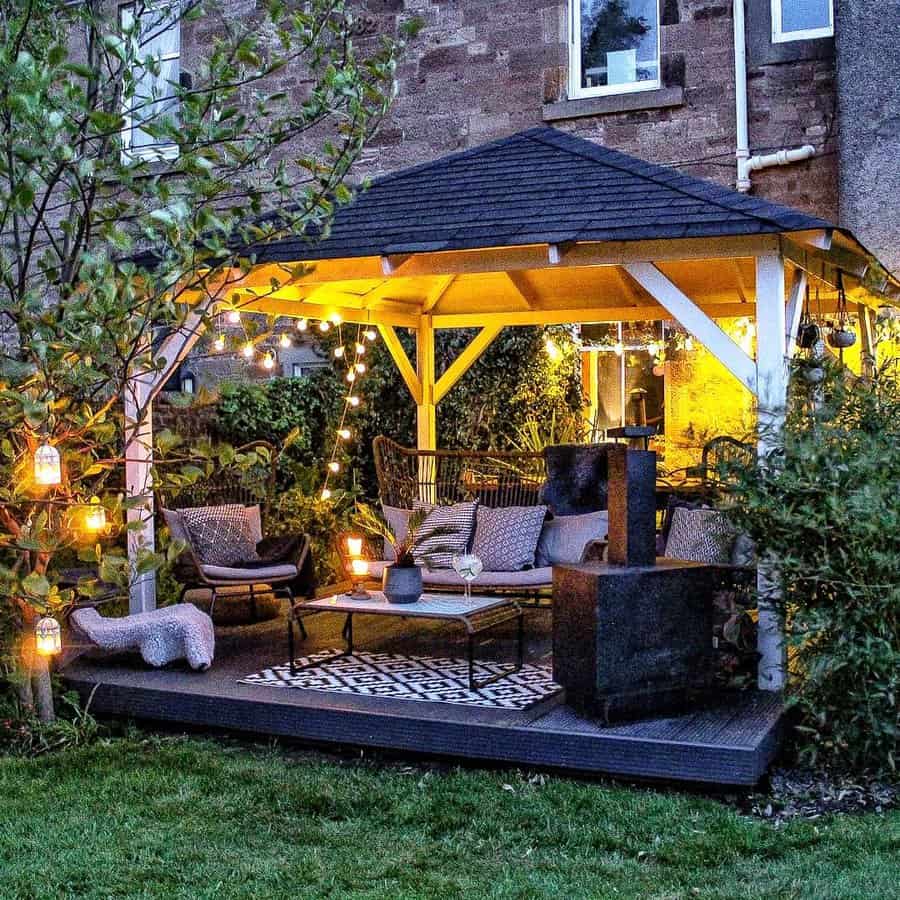 46 Deck Lighting Ideas to Brighten Your Outdoor Space
As the sun sets and the stars take over, imagine your outdoor space coming to life with a soft glow that adds not just illumination but also a unique charm to your deck. The proper lighting can indeed turn your deck into a nocturnal paradise, a magical extension of your home where life, laughter, and leisure coexist. Whether you're hosting an evening soirée, enjoying a quiet dinner with family, or simply relaxing under the moonlit sky, the right deck lighting can create an ambiance of warmth, luxury, and safety.
This article ventures into the world of deck lighting ideas, showcasing a myriad of options that combine functionality with aesthetic appeal. From subtle recessed lights to dramatic lanterns, minimalist LED strips to rustic sconces, we'll shine a light on some of the best and most creative ways to illuminate your deck. We'll explore how lighting can accentuate architectural features, create a mood, and even increase your deck's usability and safety.
Whether you're building a new deck or revamping an existing one, let this guide inspire you. With careful planning and a spark of creativity, you can create an outdoor oasis that transcends the ordinary, transforming your deck into a stunning spectacle as day turns to night. So, get ready to light up your outdoor life like never before and make the darkness a part of your deck's allure.
1. Ambient String Lights
When it comes to creating a captivating outdoor ambiance, string lights are the shining stars. These versatile beauties can transform your deck into a magical oasis that beckons you to unwind and savor the night.
One delightful way to utilize string lights is to wrap them around the sturdy posts of your deck, adding a touch of whimsy and charm to your hardscaping design. Picture yourself enveloped in a warm glow as you gather with loved ones or curl up with a good book.
With string lights delicately entwined around the posts, your deck will become a captivating haven that invites relaxation and creates memories that twinkle forever.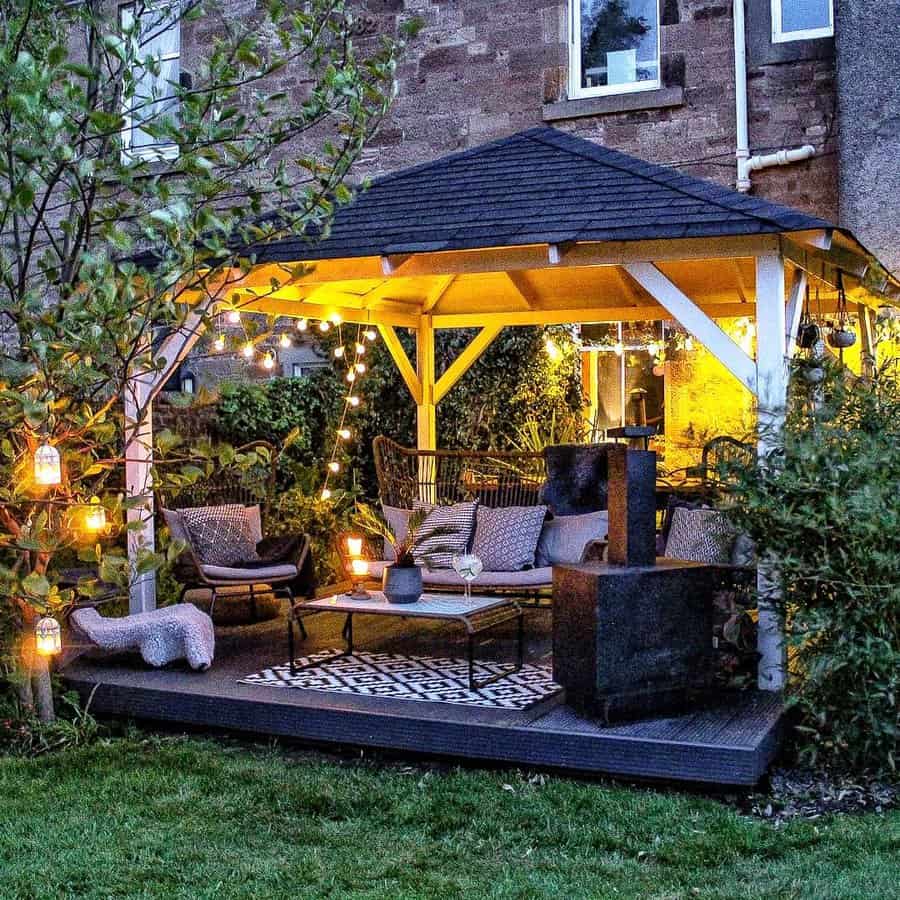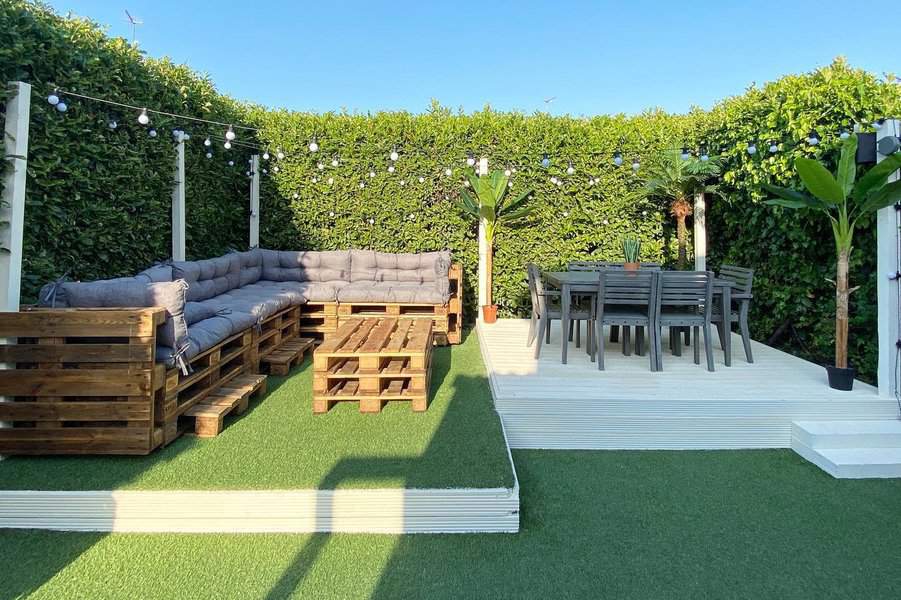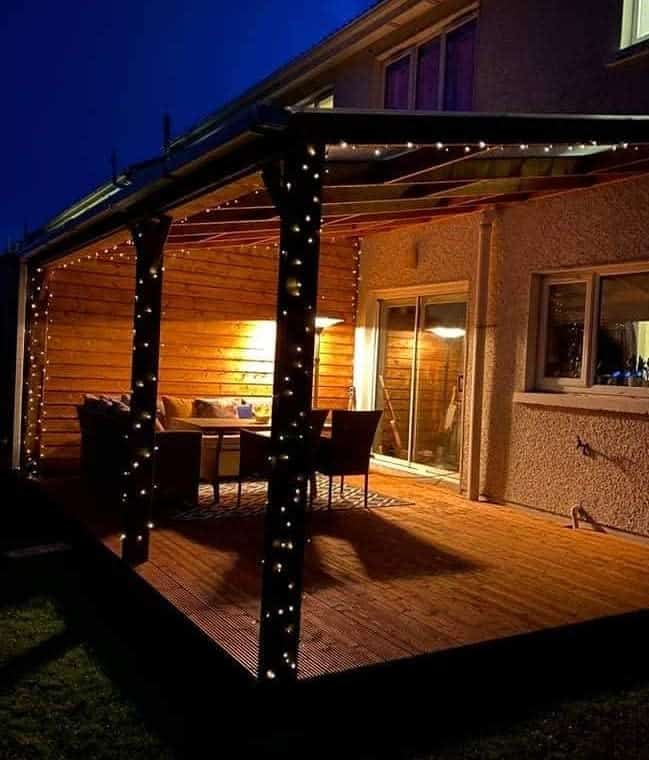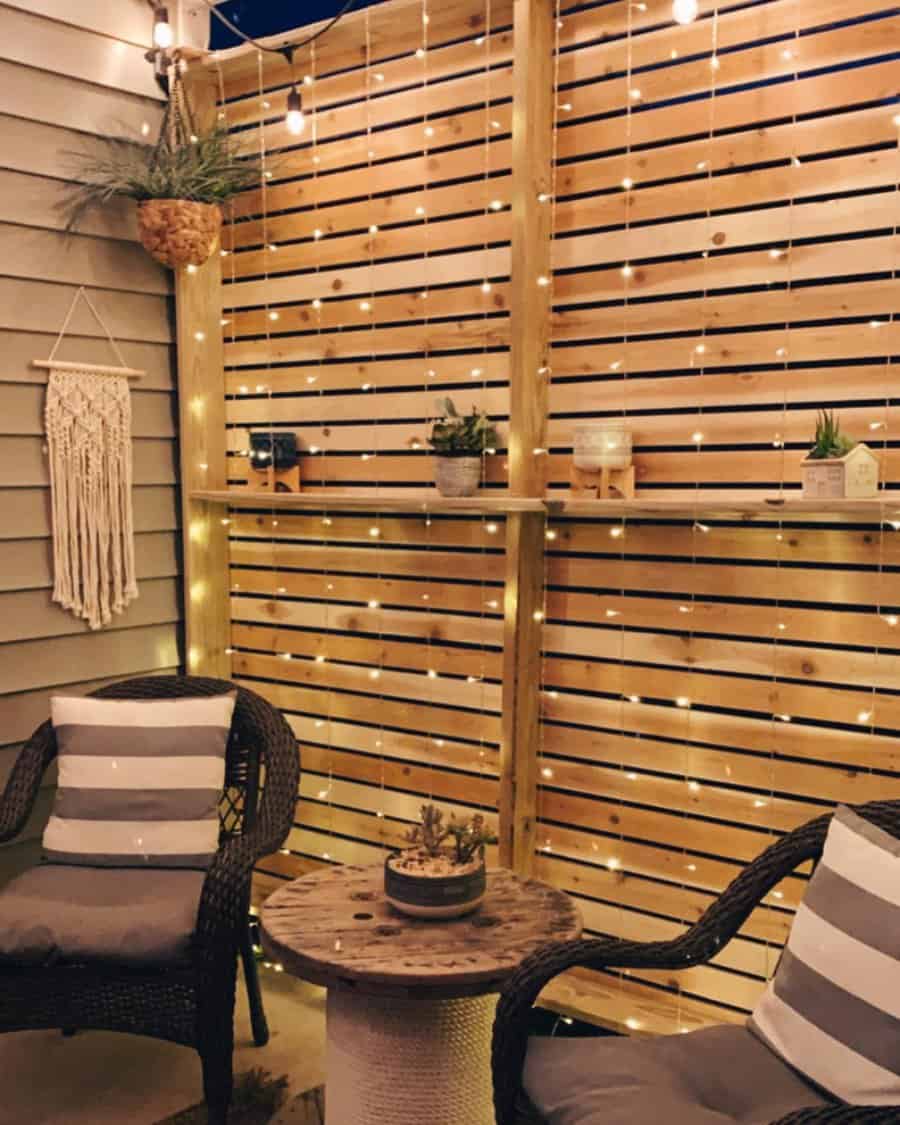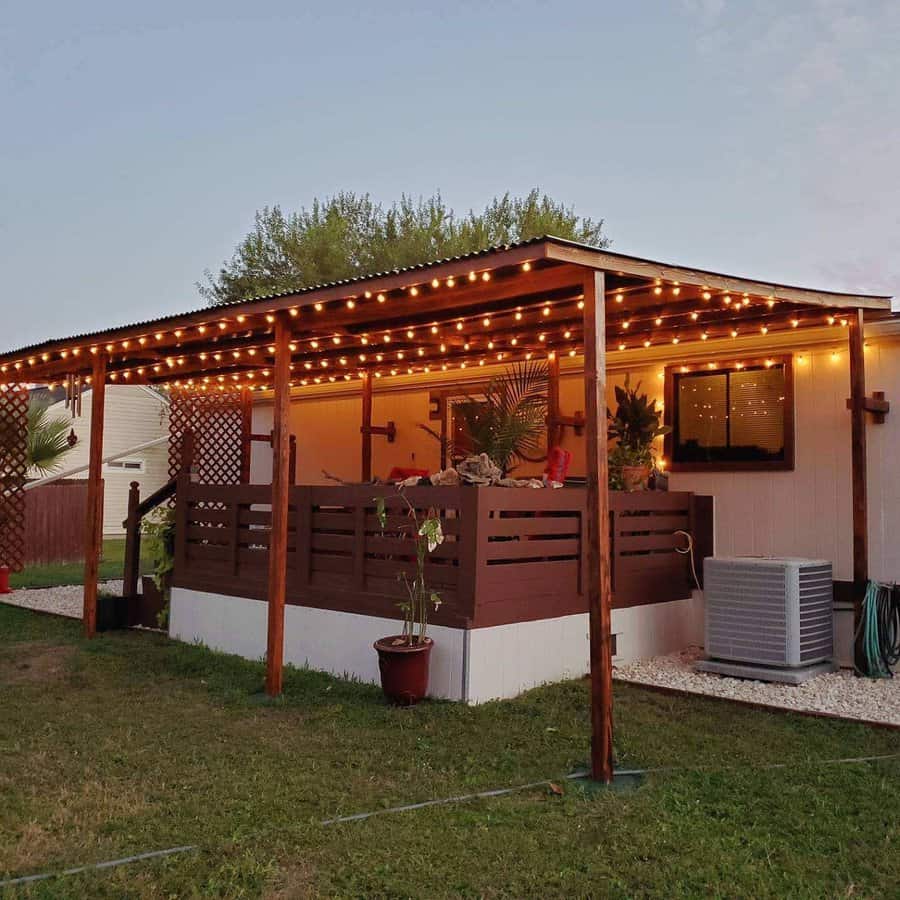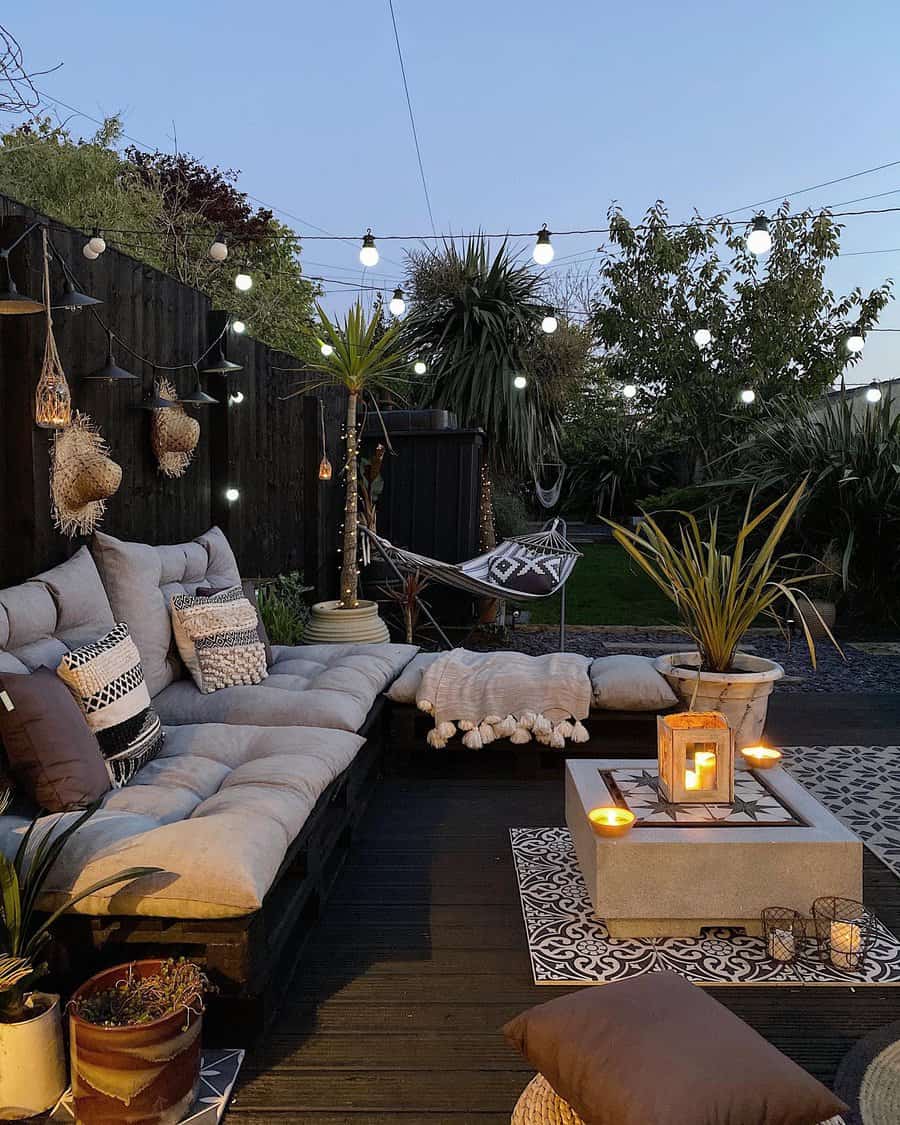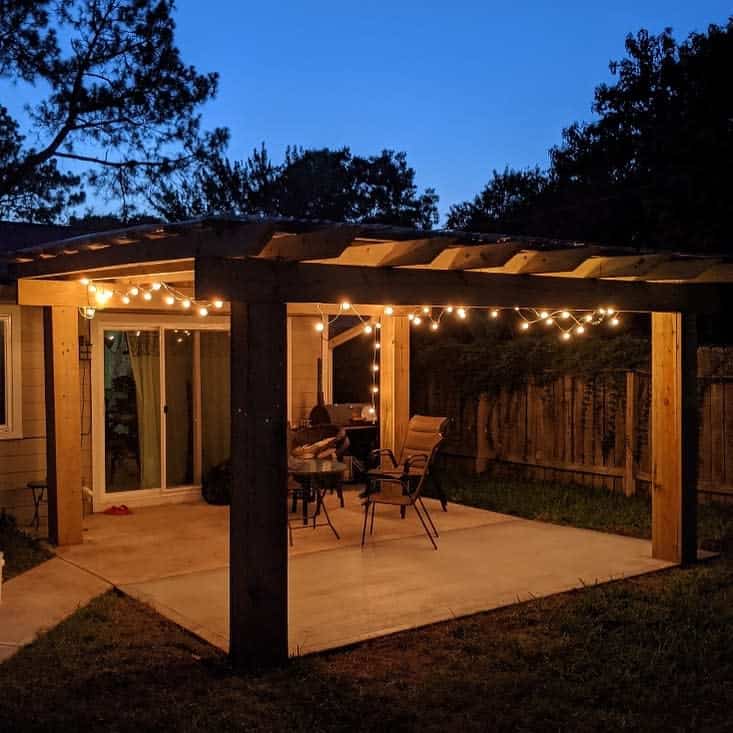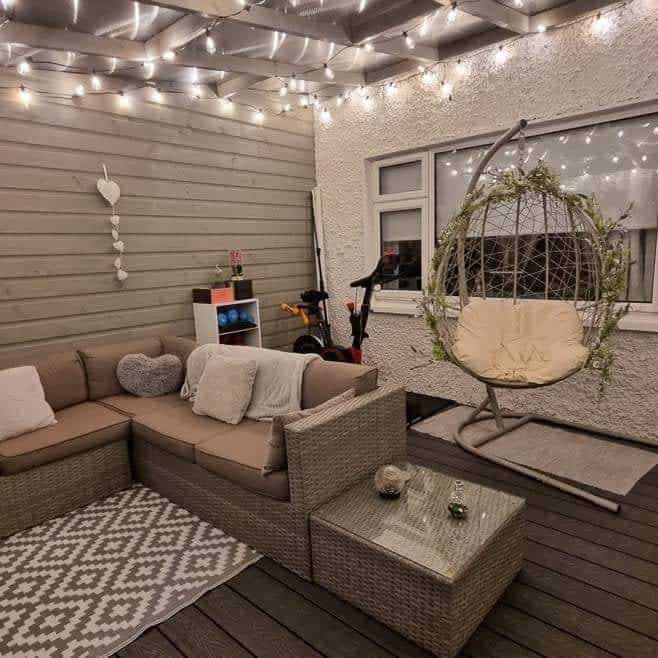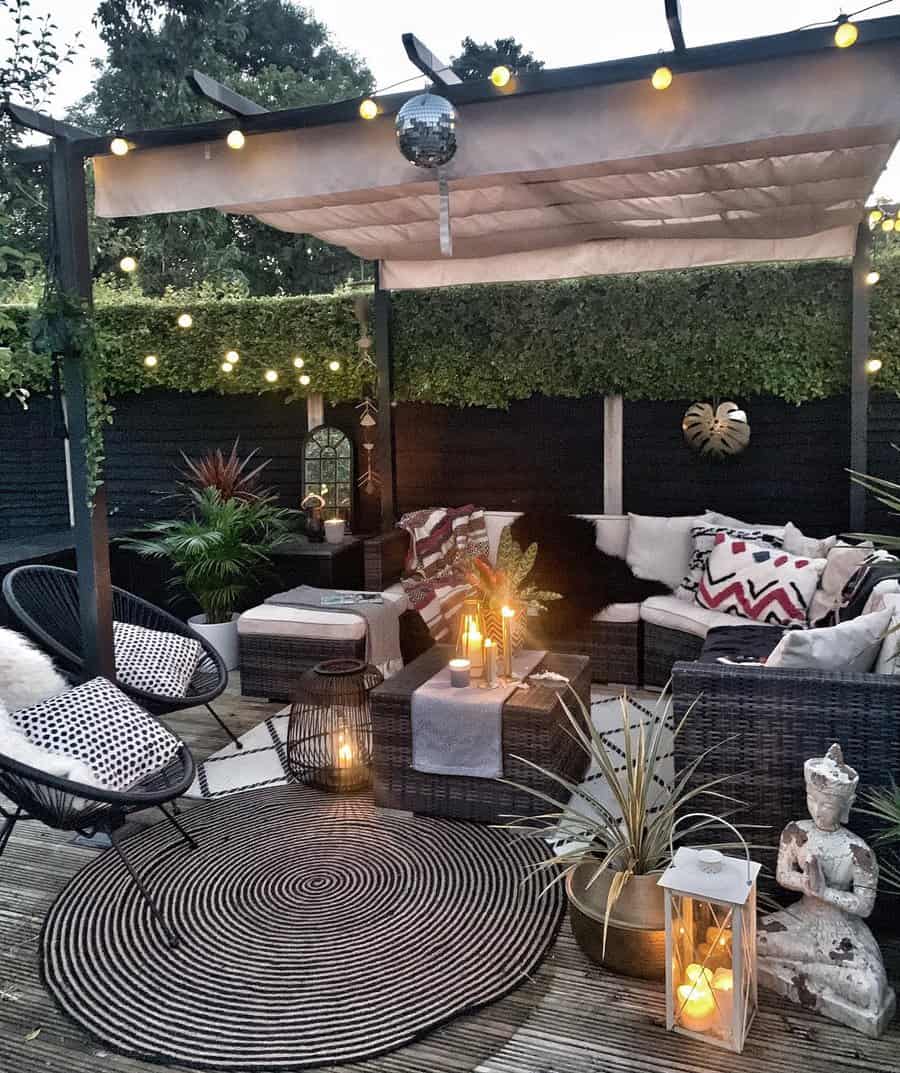 2. Japanese Paper Lanterns
If you're looking for a unique way to infuse visual interest into your deck, consider the alluring charm of Japanese paper lanterns. These delicate and ethereal fixtures create a mesmerizing ambiance, casting a soft and warm glow that instantly transports you to a serene Japanese garden.
Hanging Japanese paper lanterns strategically around your deck not only provides functional lighting but also adds an artistic and whimsical element to your outdoor space. Whether you opt for traditional white lanterns or explore vibrant colors and intricate patterns, these luminous gems are sure to make your deck the focal point of admiration during evening gatherings.
Let the magic of Japanese paper lanterns illuminate your outdoor sanctuary, transforming it into a haven of tranquility and delight.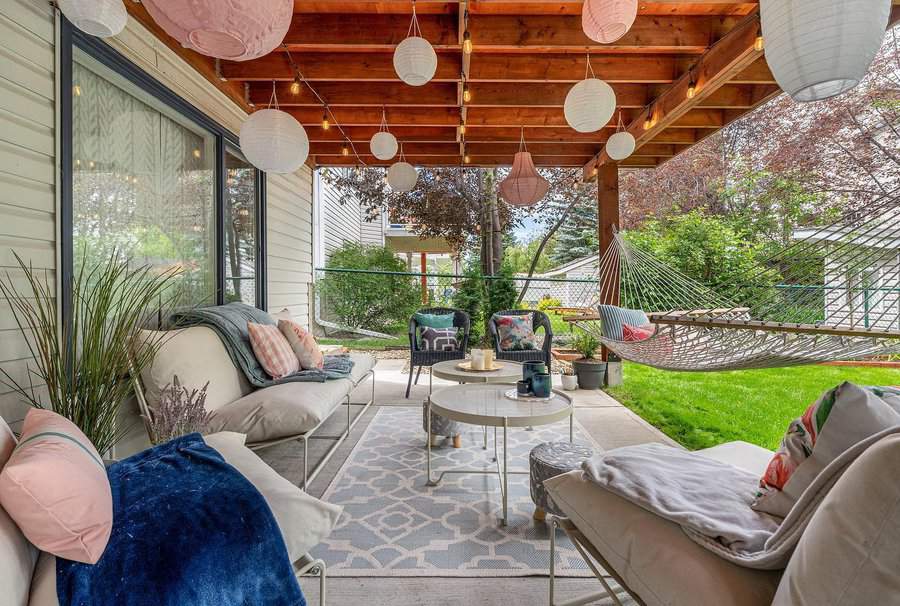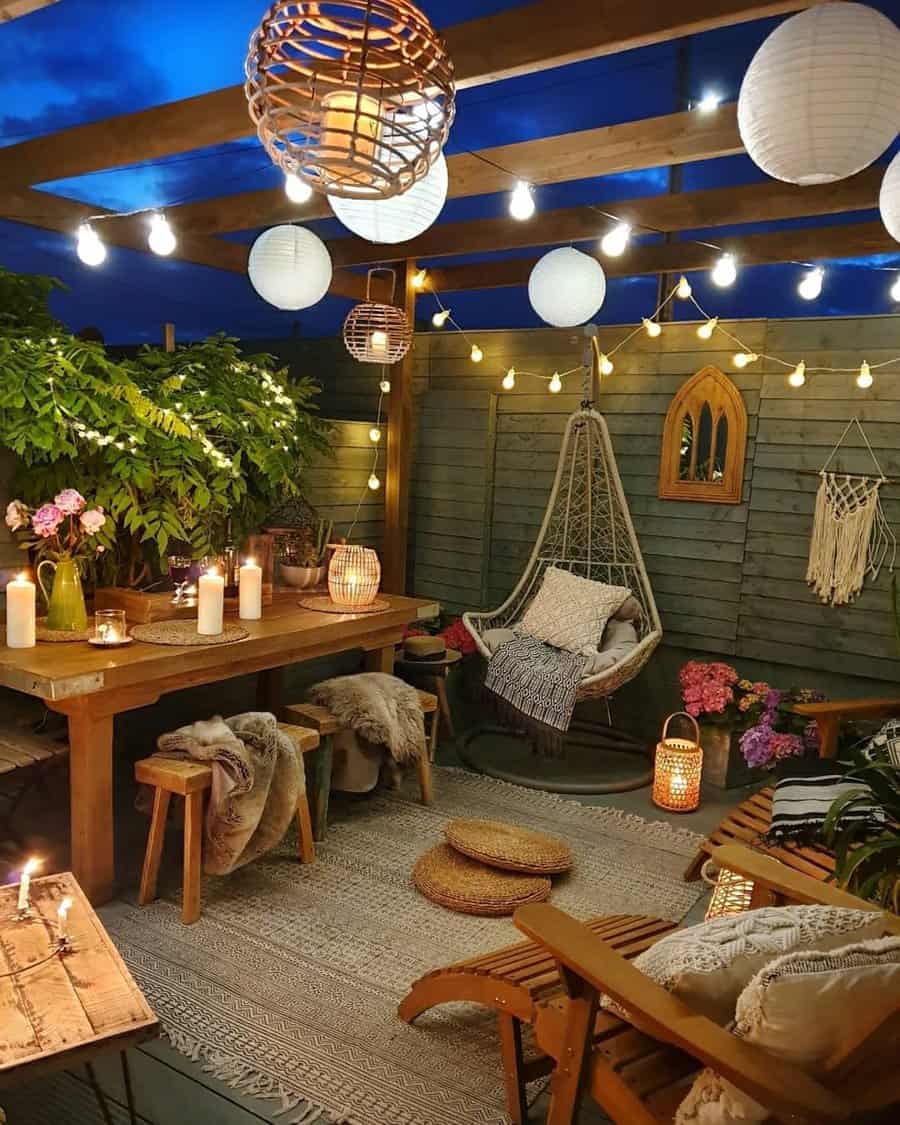 3. Industrial Wrap Lights
While string lights and fairy lights have their charm, why not elevate your deck lighting game with something bigger and bolder? Give industrial wrap lights a try, the ultimate statement-makers that can give your deck a contemporary edge.
These robust and eye-catching lighting fixtures are perfect for those who seek a unique blend of industrial chic and functional brilliance. By wrapping these lights around deck railings or overhead beams, you can create a captivating ambiance that seamlessly merges modern aesthetics with a touch of urban charm.
So, if you're ready to take your deck from ordinary to extraordinary, consider the dramatic impact of industrial wrap lights—they are the secret ingredient for transforming your outdoor space into a captivating nocturnal wonderland.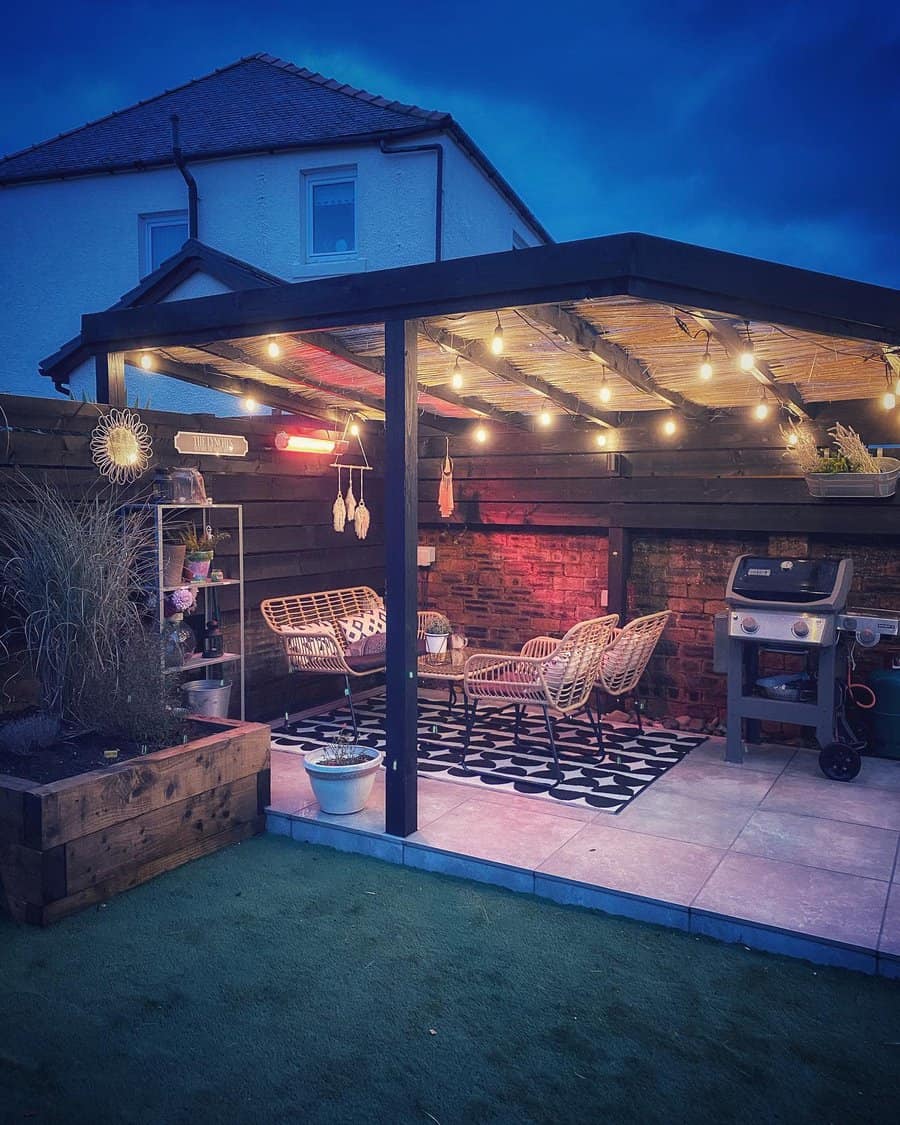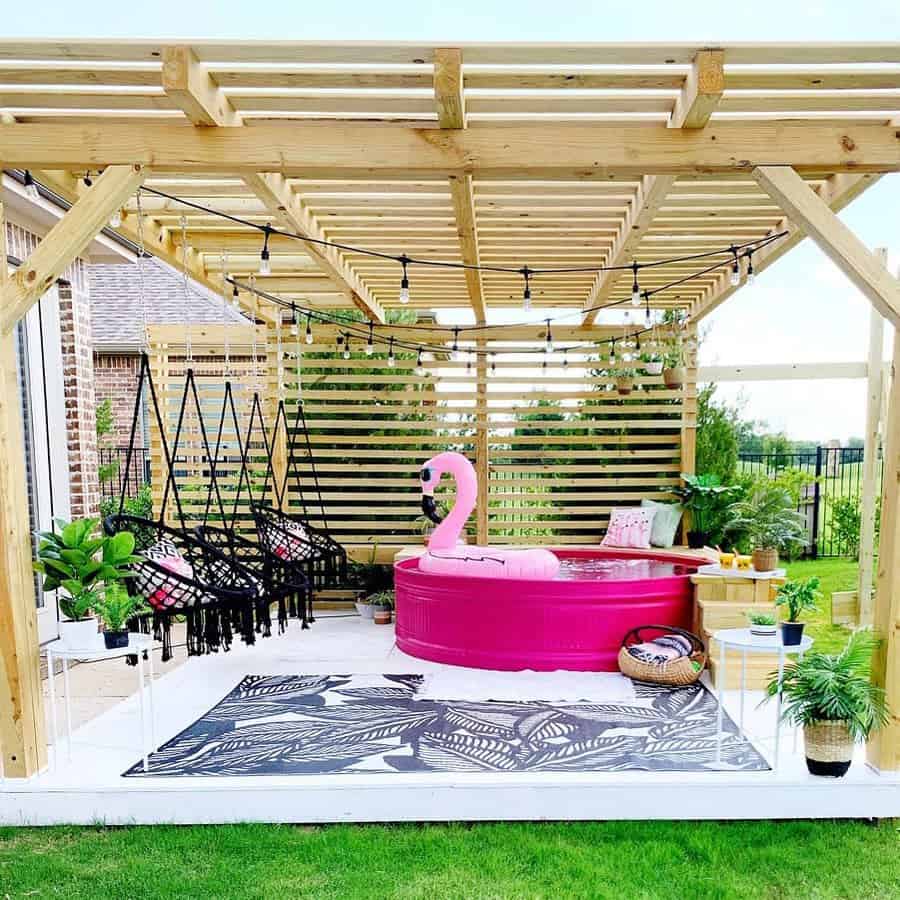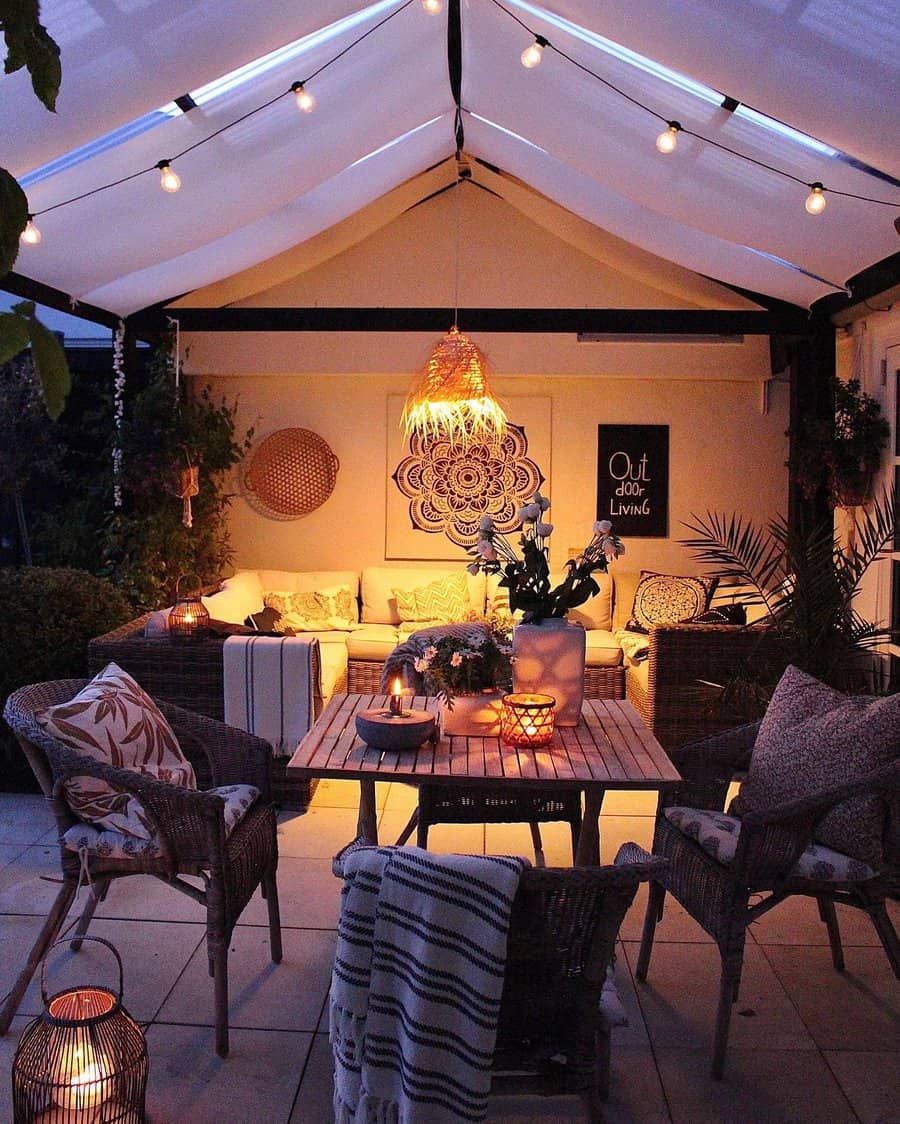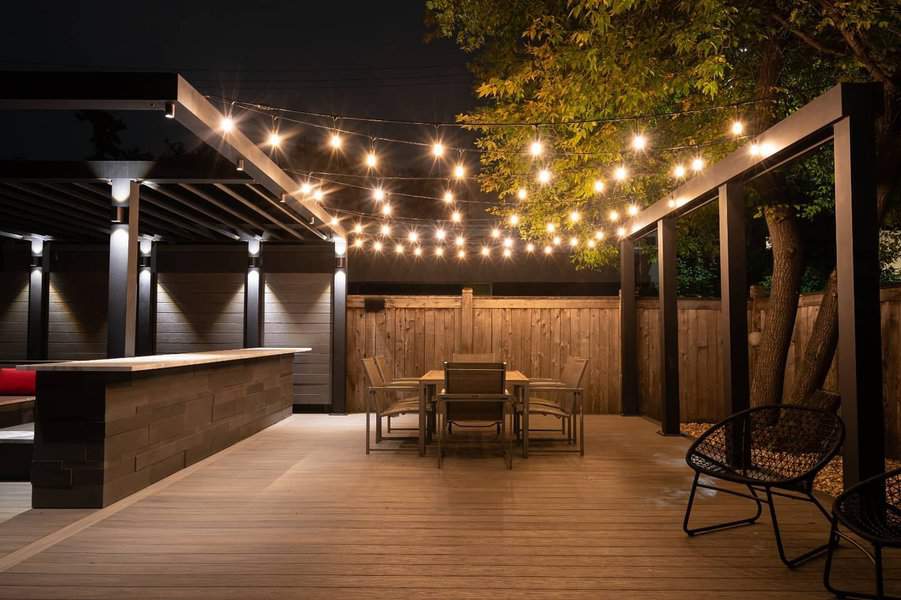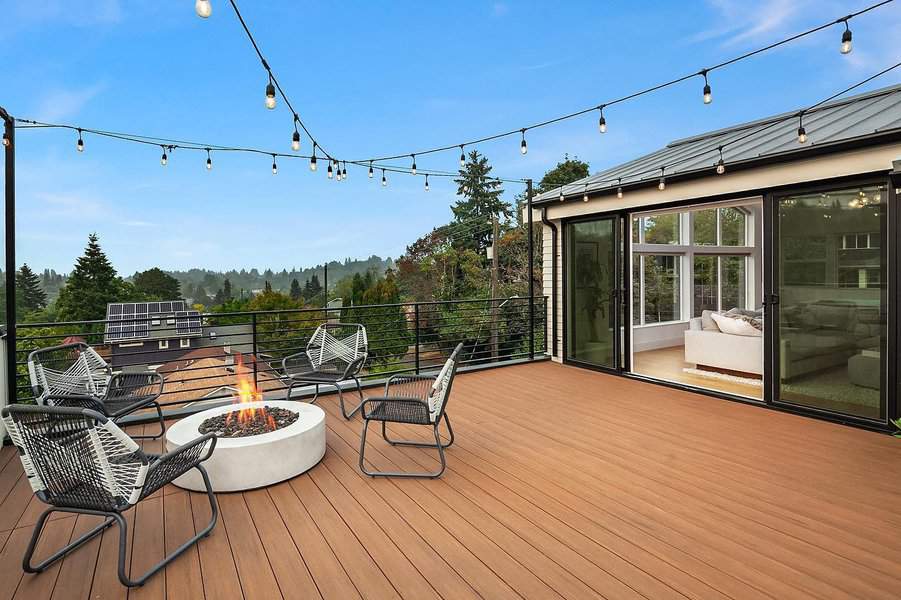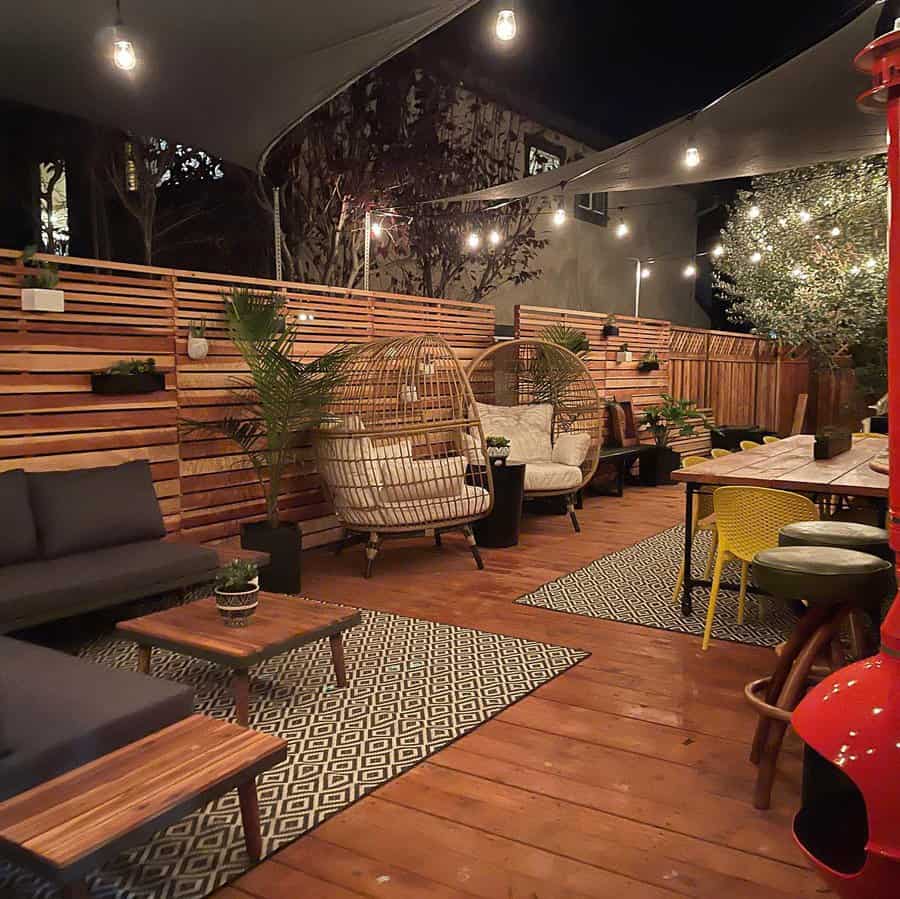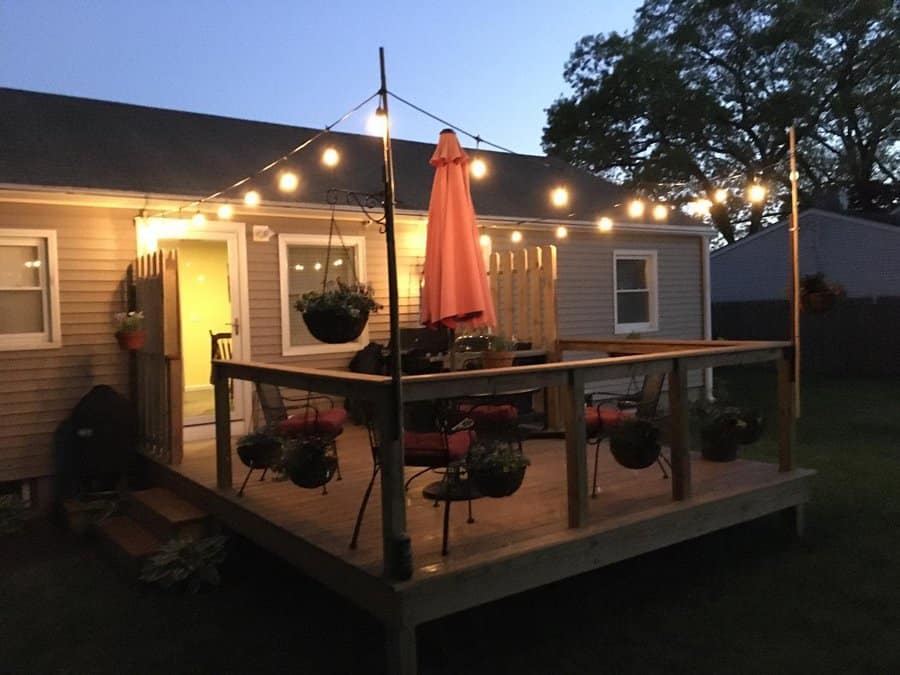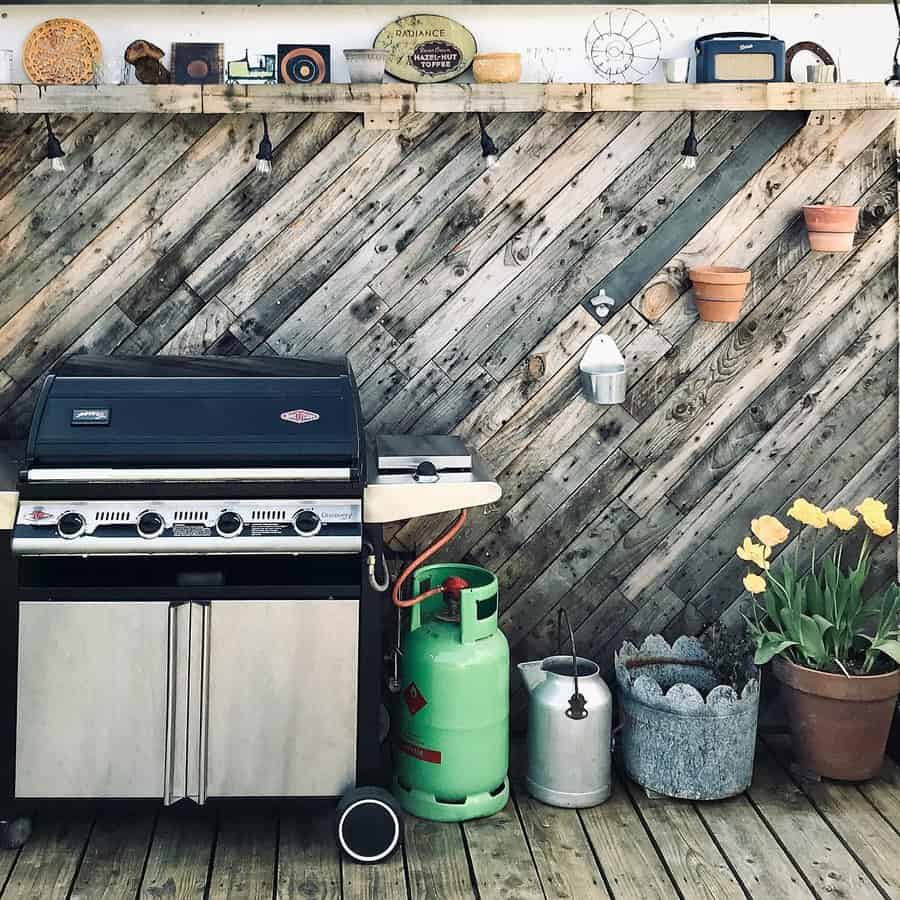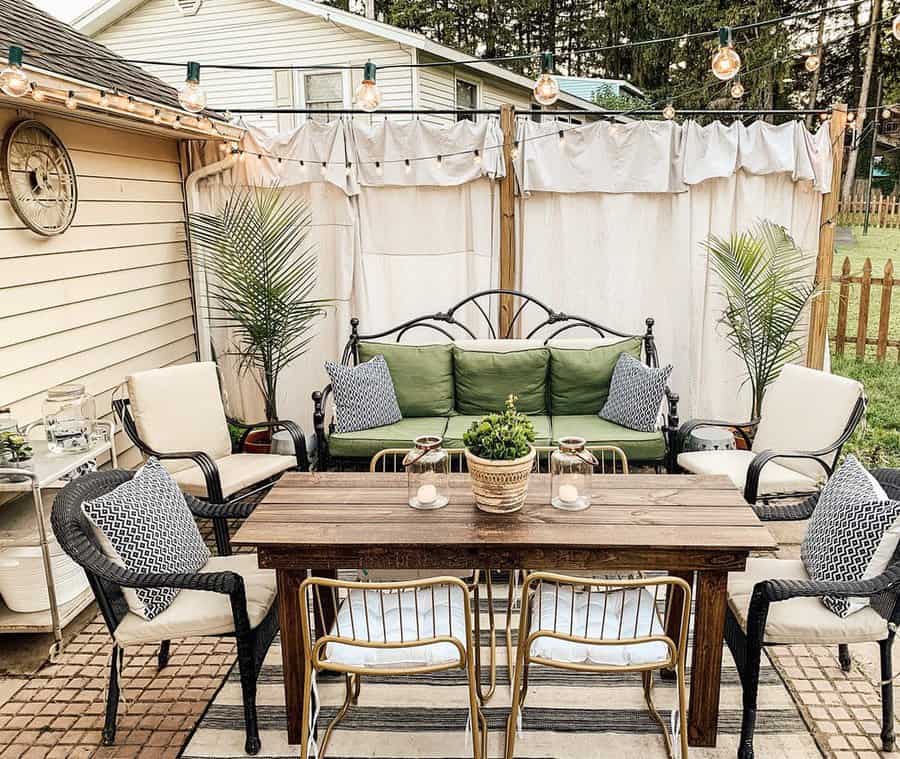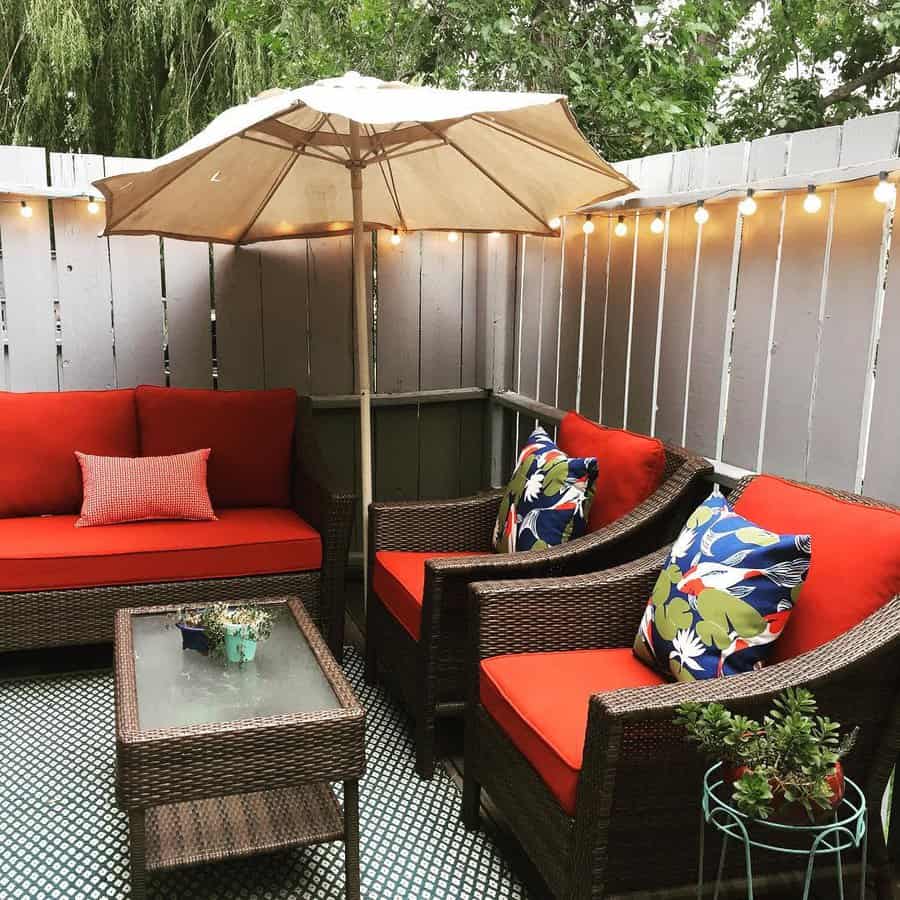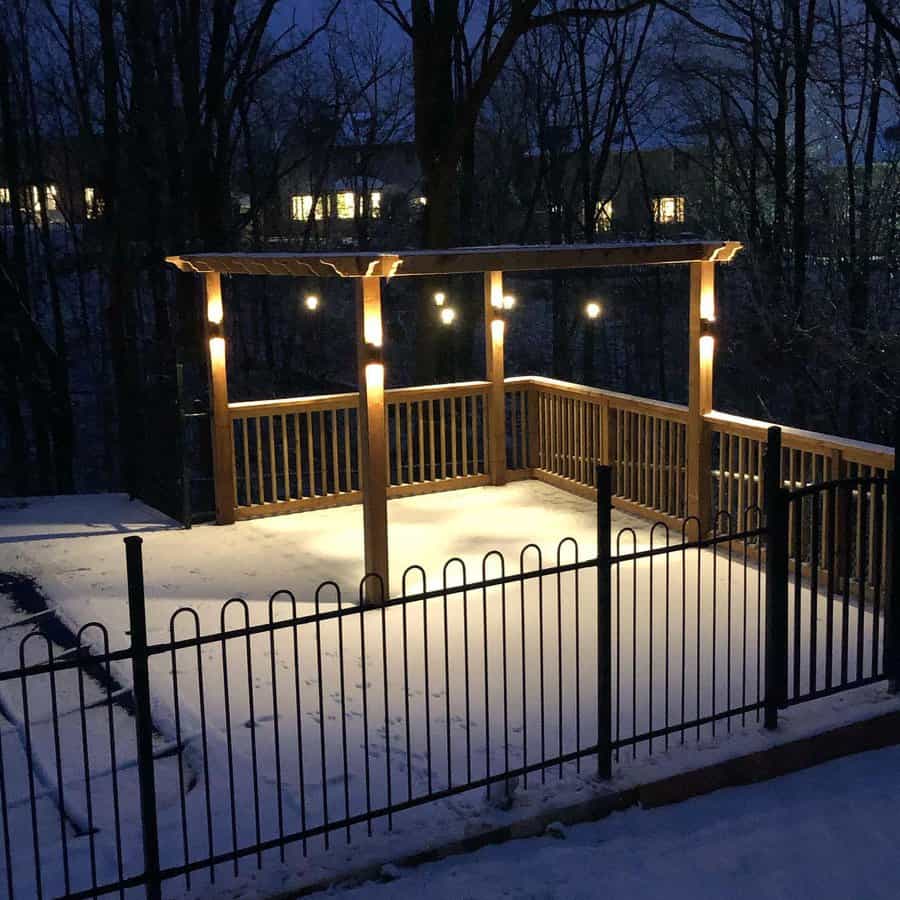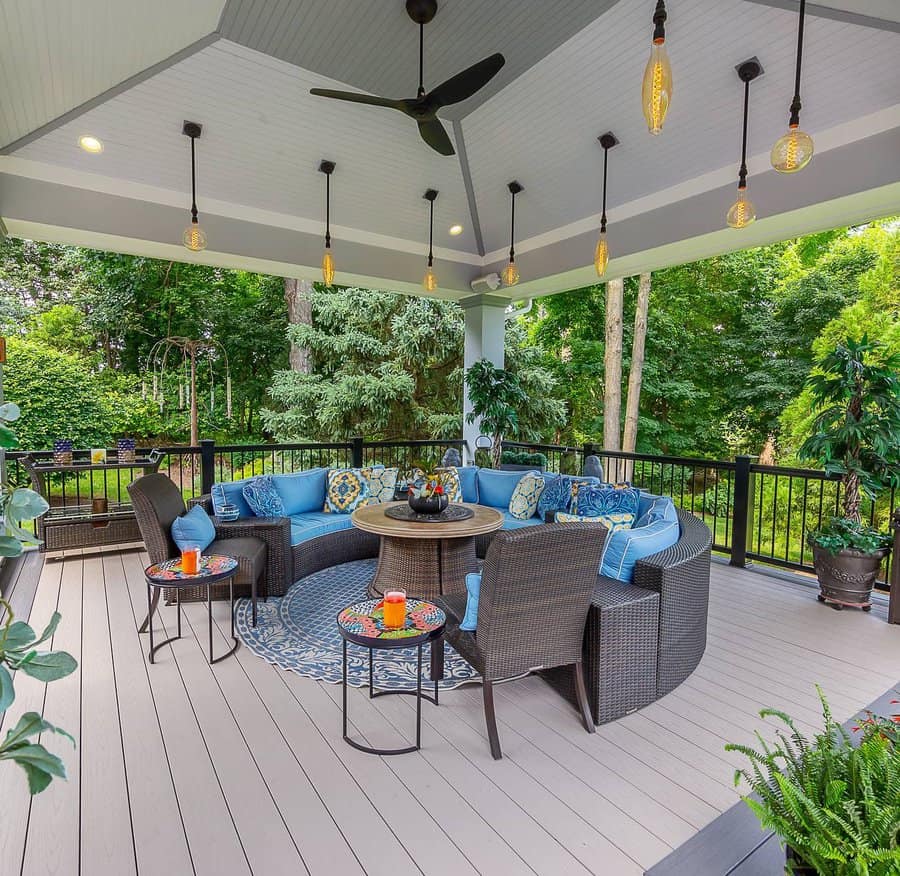 4. Floor Lights
Floor sconces and lamps are the secret ingredients that can transform your deck into a mesmerizing oasis after sunset. Imagine strolling along a pathway illuminated by soft, low-level floor sconces, casting a warm and inviting glow.
Or picture yourself lounging on your deck, basking in the gentle radiance of strategically placed floor lamps, creating an enchanting atmosphere.
With floor lighting, you can unleash your creativity and add a touch of magic to your hardscaping design, ensuring that every moment spent on your deck is nothing short of extraordinary.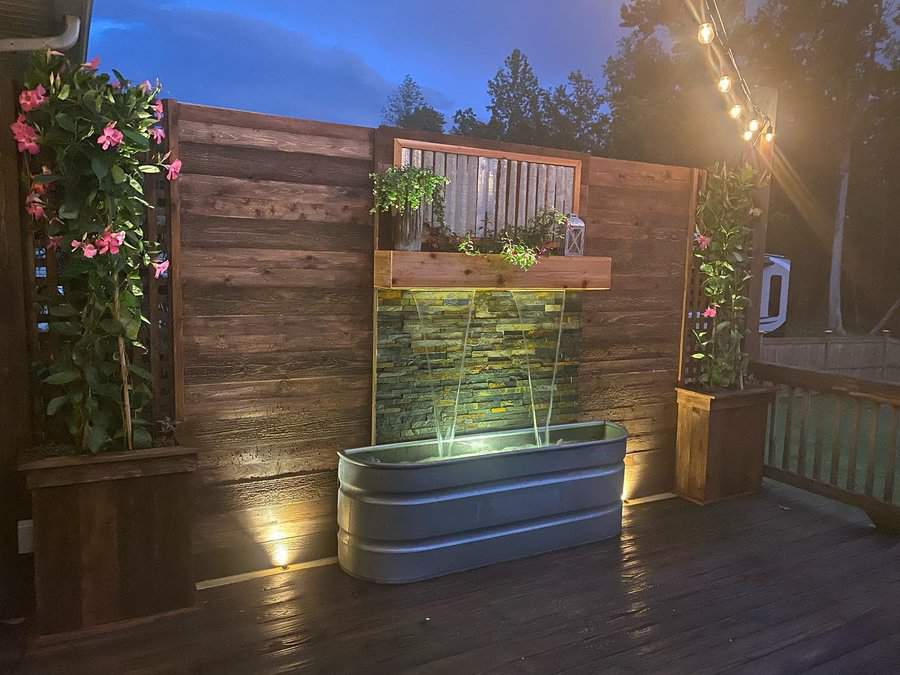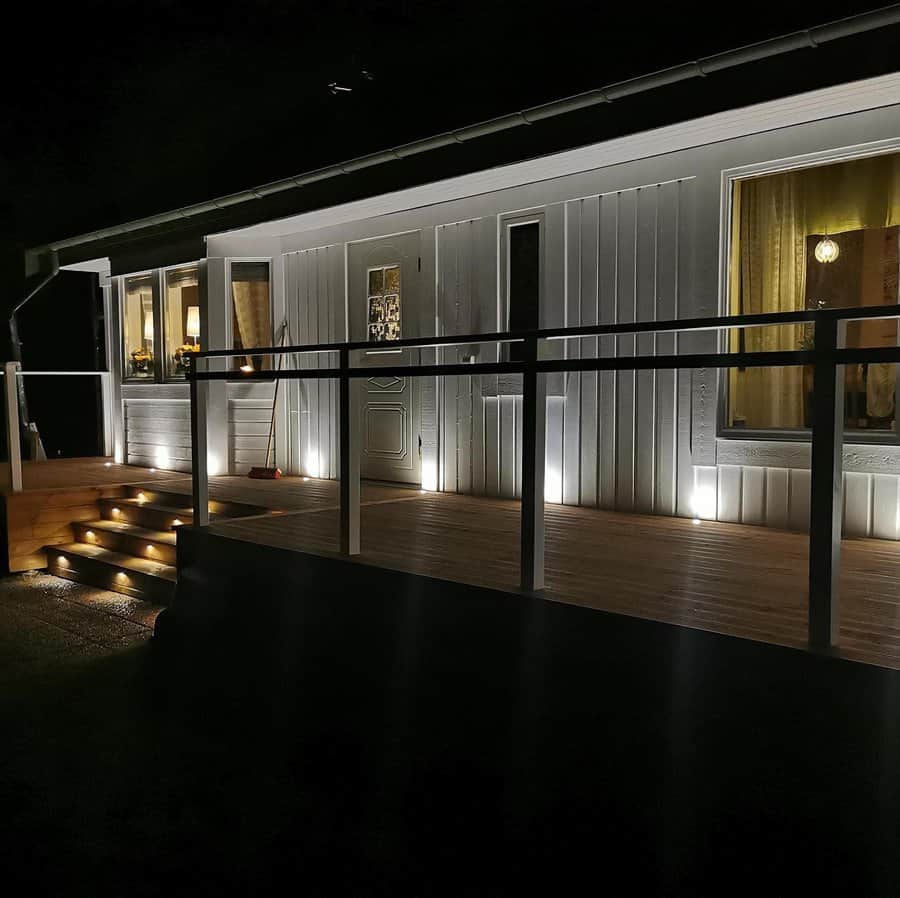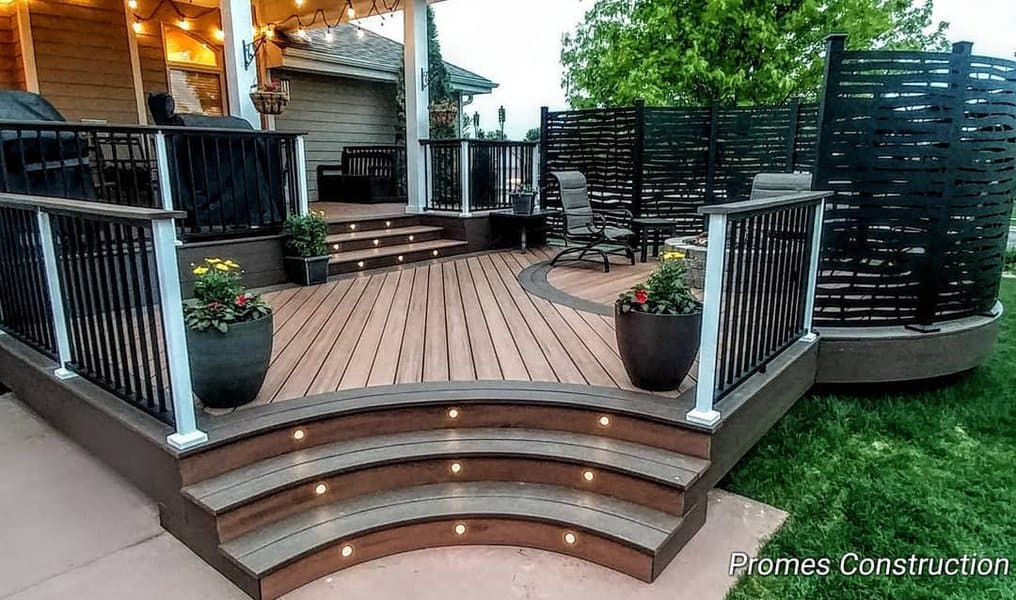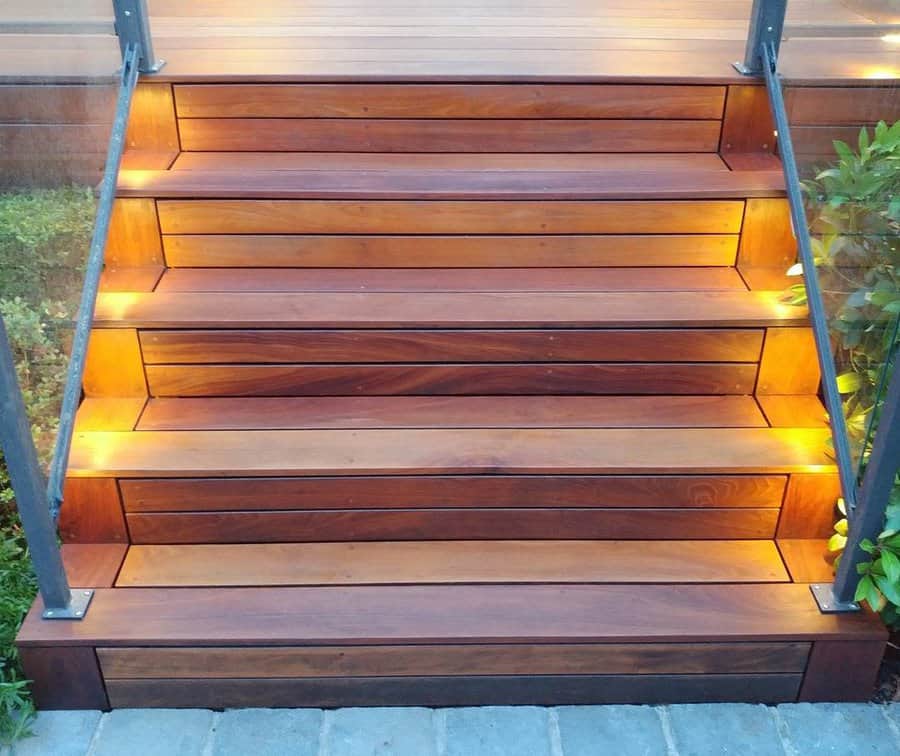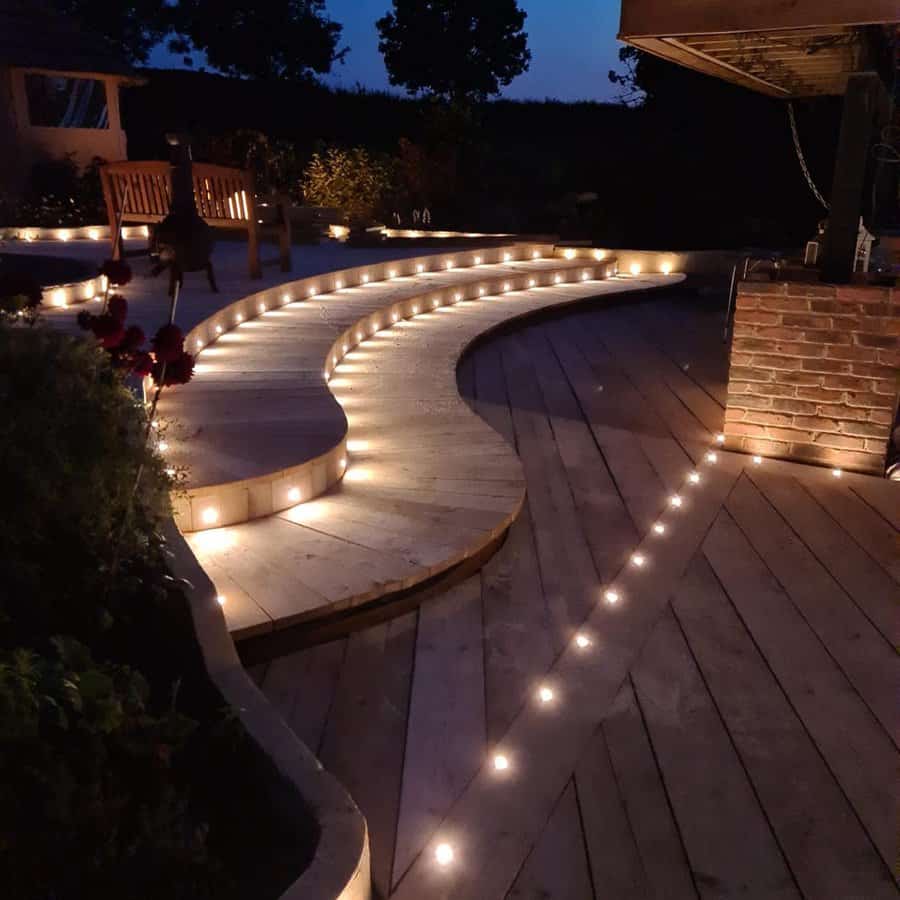 5. Strip LED Lighting
One incredibly versatile option that never fails to impress is LED strip lighting. These enchanting strips of light have the power to transform any deck into a captivating paradise. Imagine the soft glow of cove lighting gracefully outlining the edges of your deck, creating a mesmerizing ambiance that invites you to unwind and relax.
Additionally, placing LED strips on steps can add an element of safety while beautifully highlighting the architectural details of your deck. These versatile light fixtures allow you to get creative with their placement, opening up endless possibilities for personalization and expression.
Whether you opt for warm, inviting hues or vibrant colors that evoke a party atmosphere, LED strip lighting is sure to make your deck the talk of the town.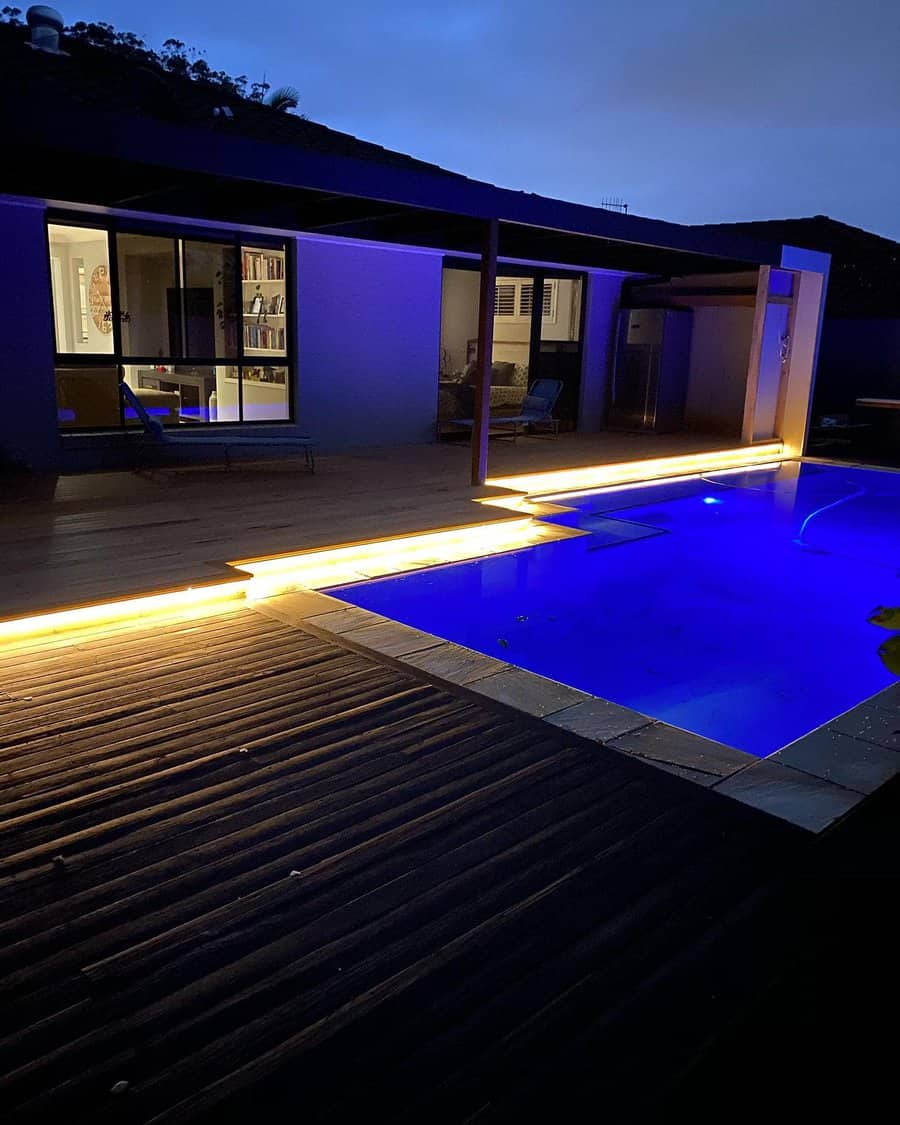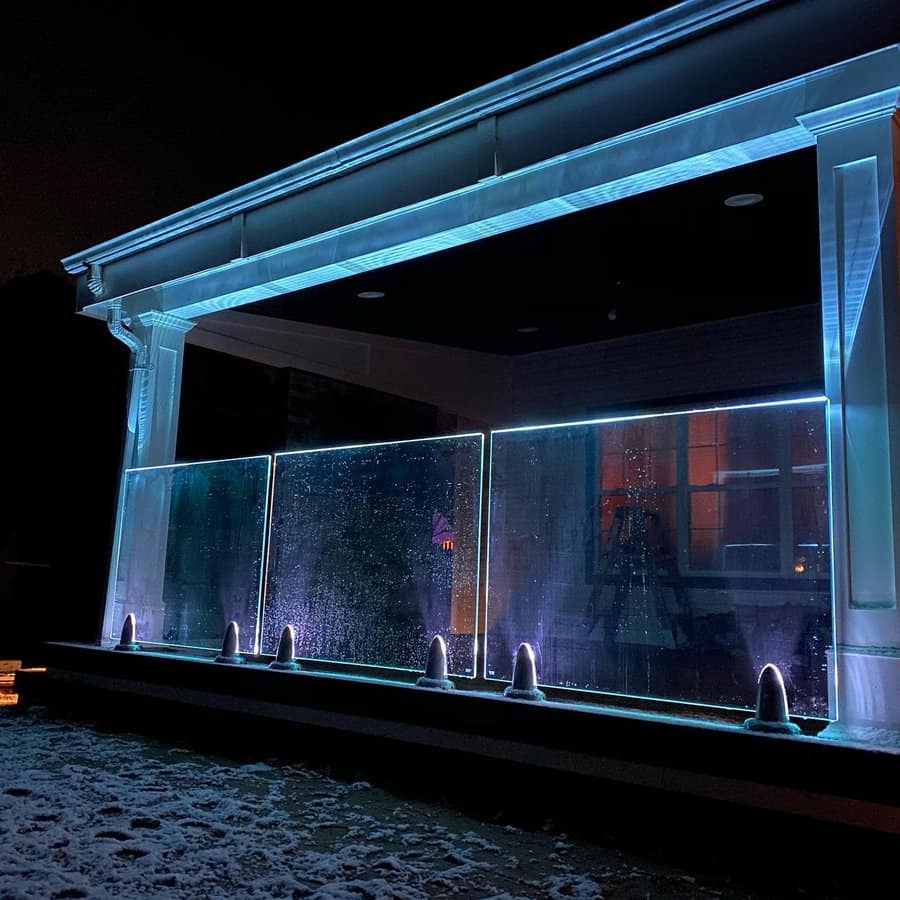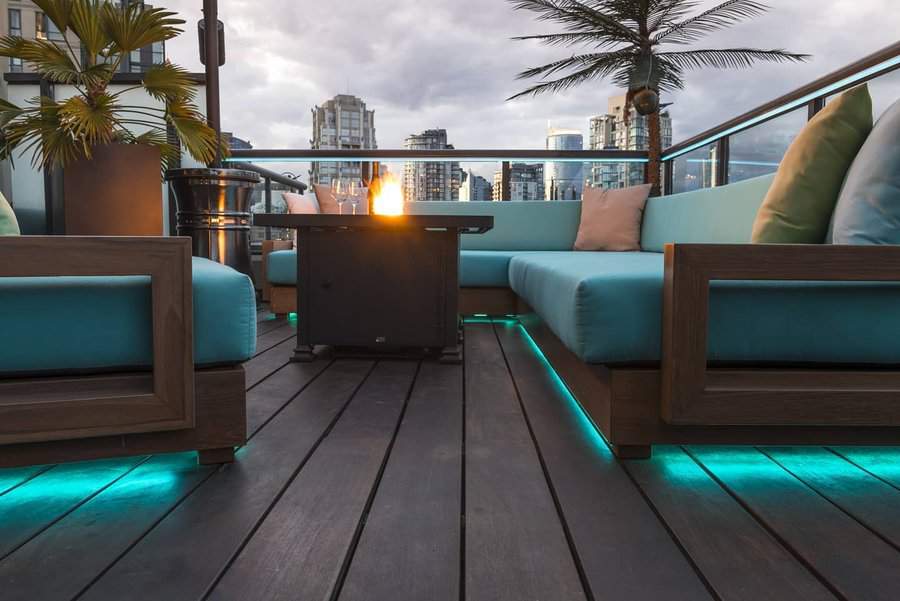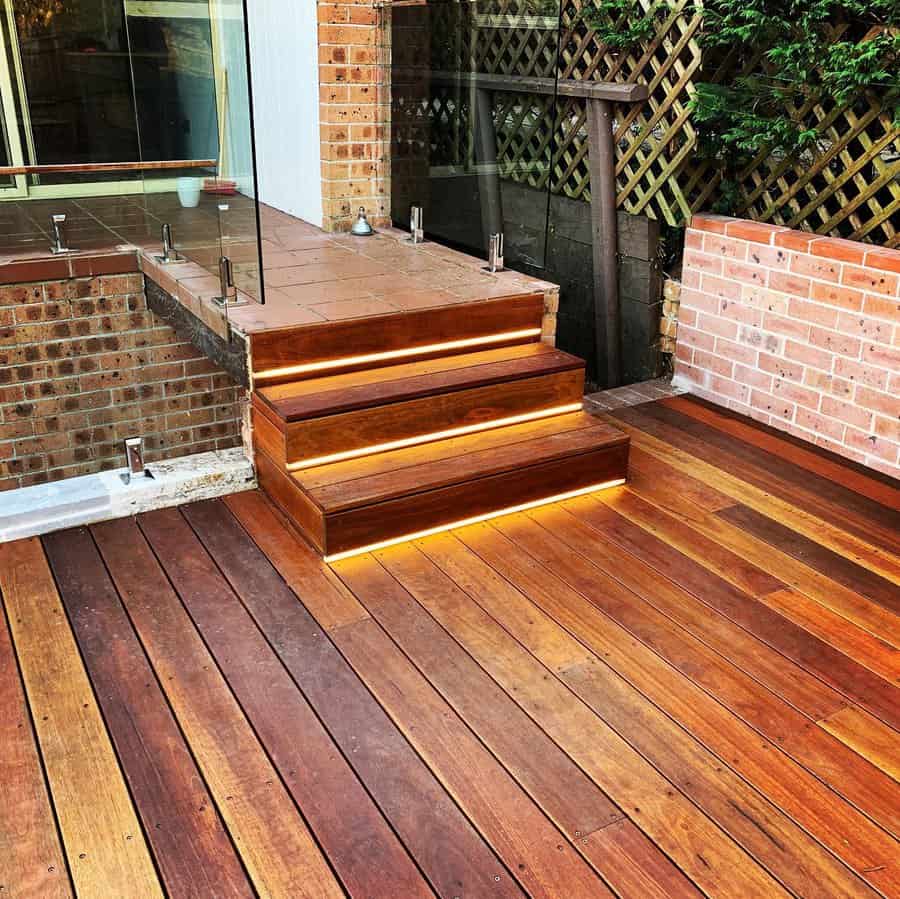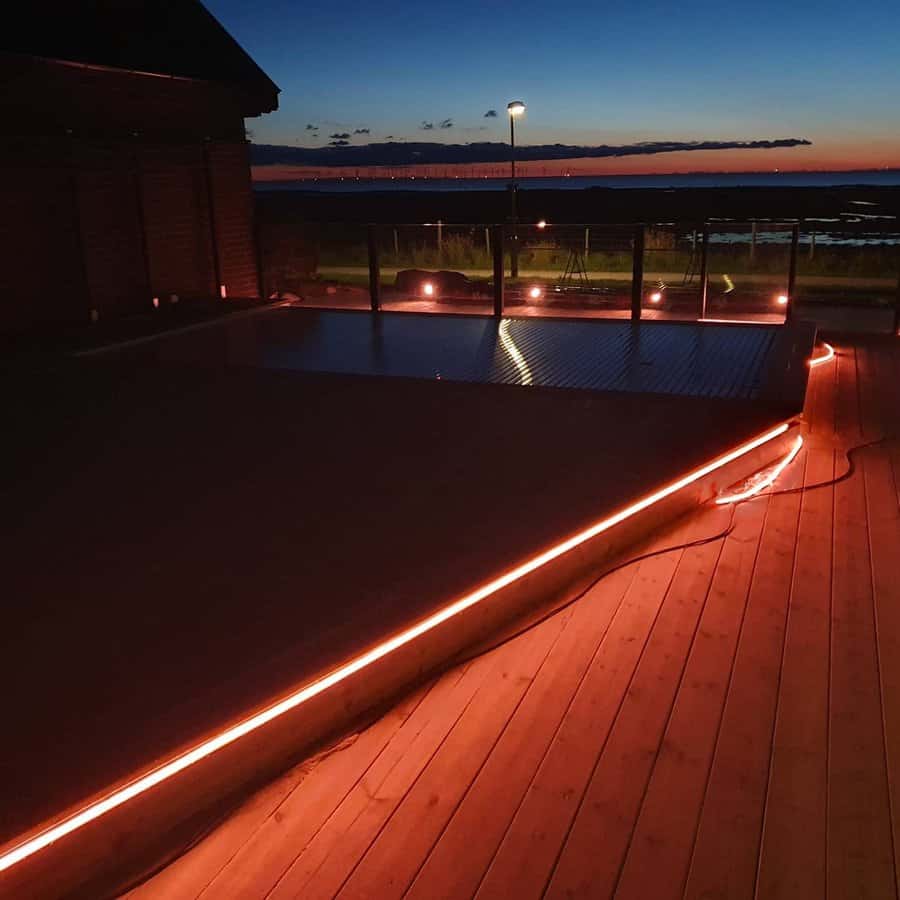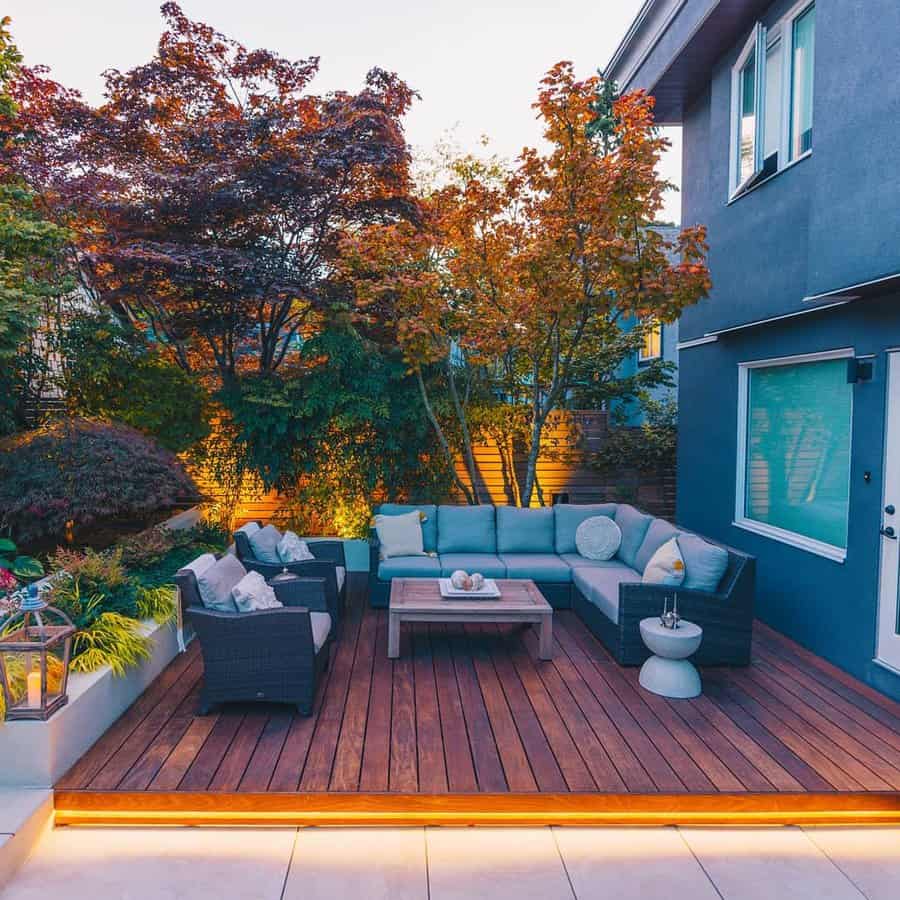 6. Recessed Lighting
Deck lighting can truly elevate your outdoor space, transforming it into a captivating oasis even after the sun has set. And when it comes to creating a minimalist and enchanting ambiance, recessed lighting takes center stage.
With its sleek and subtle design, recessed lighting effortlessly blends into your deck, illuminating it with a soft and mesmerizing glow. Picture this: as dusk settles, the recessed lights embedded into the deck floor create a magical pathway, guiding your footsteps with a gentle radiance.
These discreet fixtures not only add a touch of sophistication to your deck but also ensure a safe and well-lit environment for all your evening gatherings.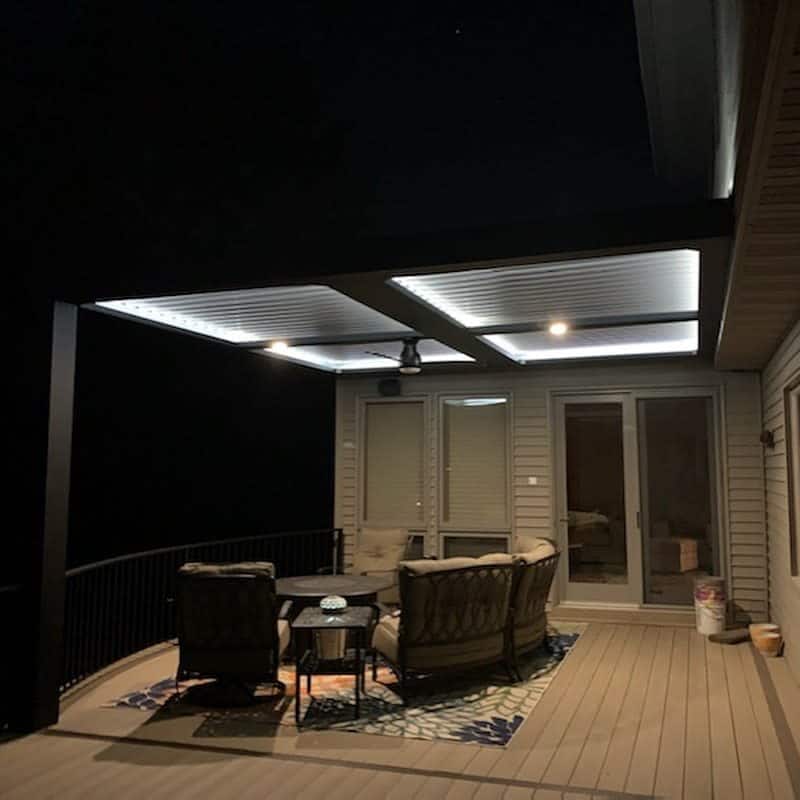 7. Wall Sconces
If you're looking to create an enchanting ambiance for your deck, we have just the solution: wall sconces. These versatile lighting fixtures are not only practical but also add a touch of elegance to your deck.
Picture them gracefully mounted on fences, casting a warm glow that sets the mood for memorable evenings.
With their ability to create ambient lighting, wall sconces will transform your deck into a captivating retreat, where every moment feels magical.