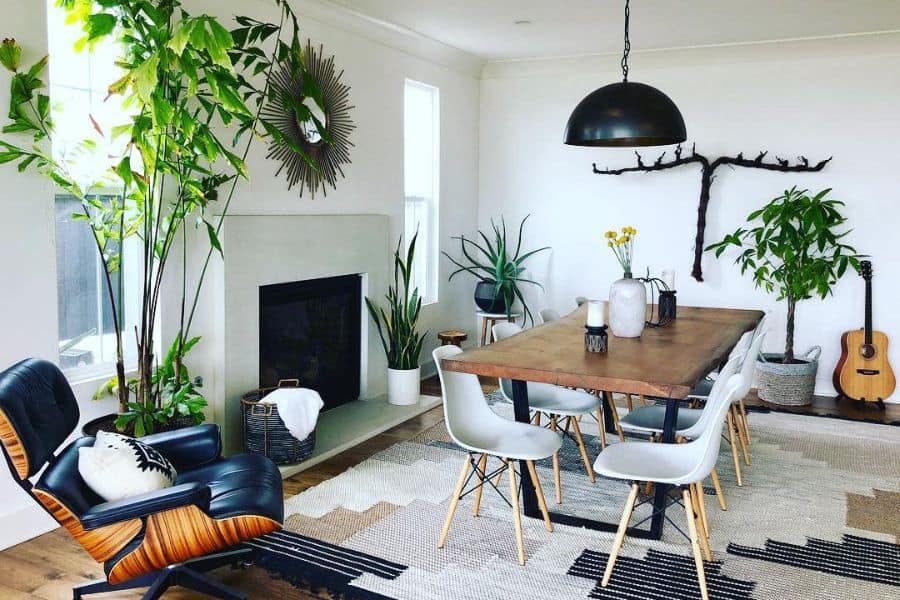 76 Dining Room Decorating Ideas
by — Kendrick Hulse

Published on May 11, 2021

Updated on October 26, 2023
Today's dining room doesn't always get the respect it once earned as a central living space. But you don't need to treat your dining area as a formal space to justify giving it some well-deserved updates.
Dining room design can range from ultra-casual to proper and elegant. While these styles can seem extremely different on the surface, no dining room deviates far from the standard layout of table, chairs, and auxiliary decor.
The dining room ideas below will give you everything you need to reimagine your dining space for the upcoming era of homeownership.
1. Embrace Coastal Vibes with Boho Touches
Create a relaxing ambiance with a Coastal Boho dining room theme, intertwining laid-back vibes and natural materials. Opt for rattan dining sets and complement the space with macramé wall art or bohemian pendant lights for a striking visual impact. Introduce greenery through indoor plants to inject vibrancy and freshness. For an extra touch of coastal charm, incorporate woven baskets, serving as both stylish storage and decorative elements. This setup ensures a warm, inviting atmosphere for memorable gatherings.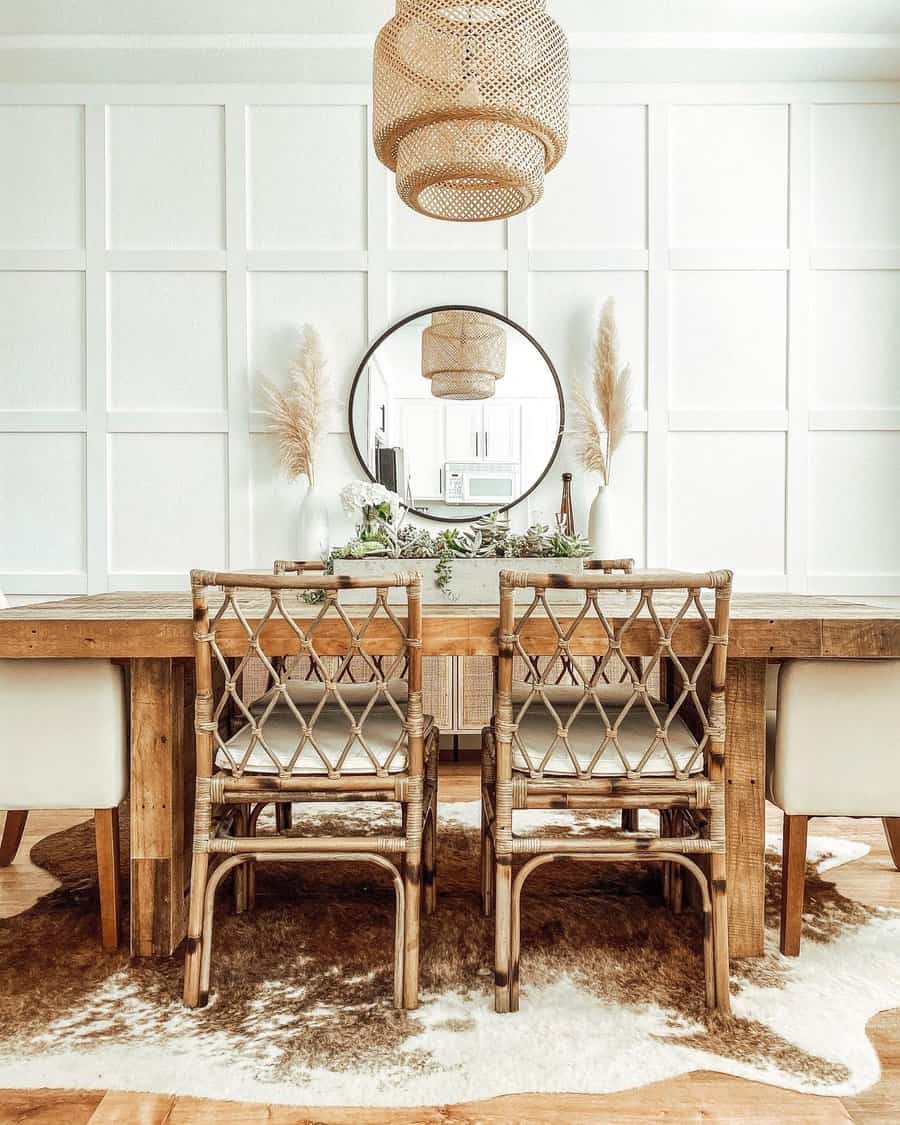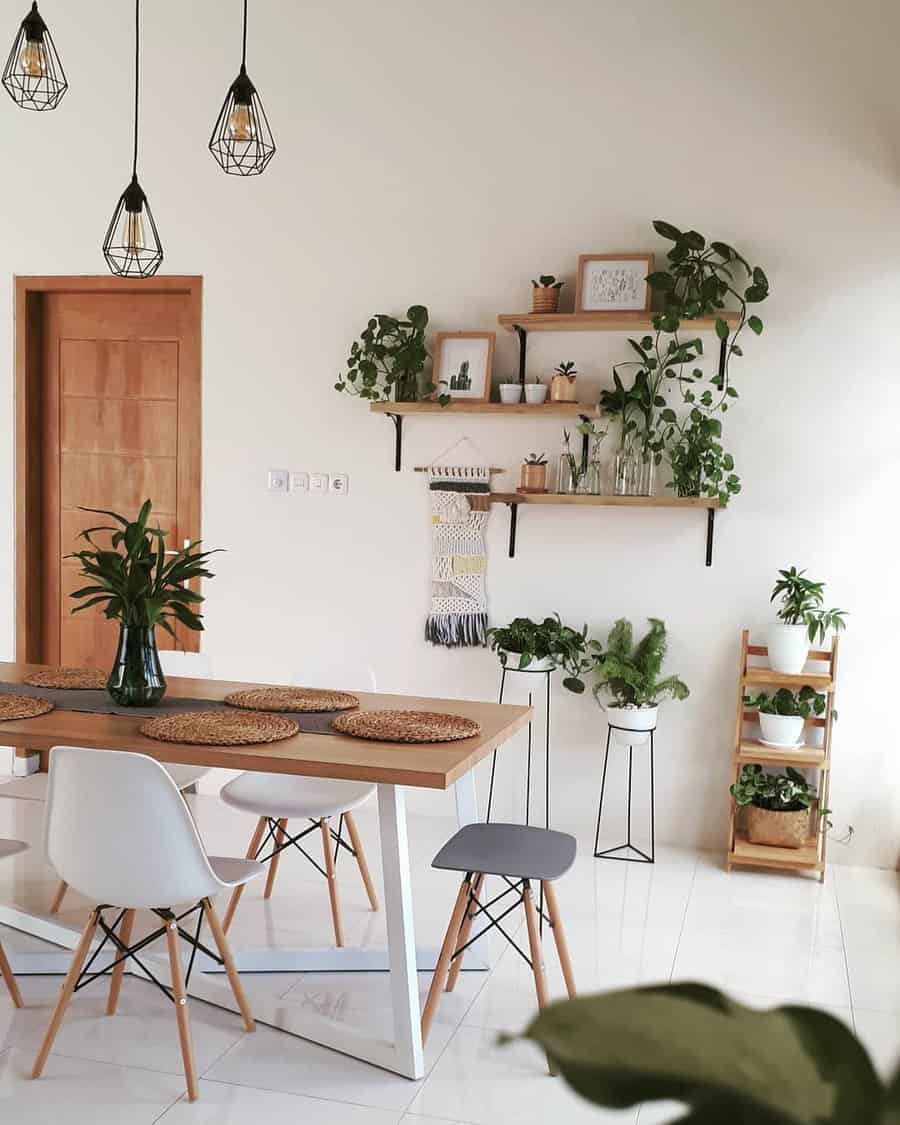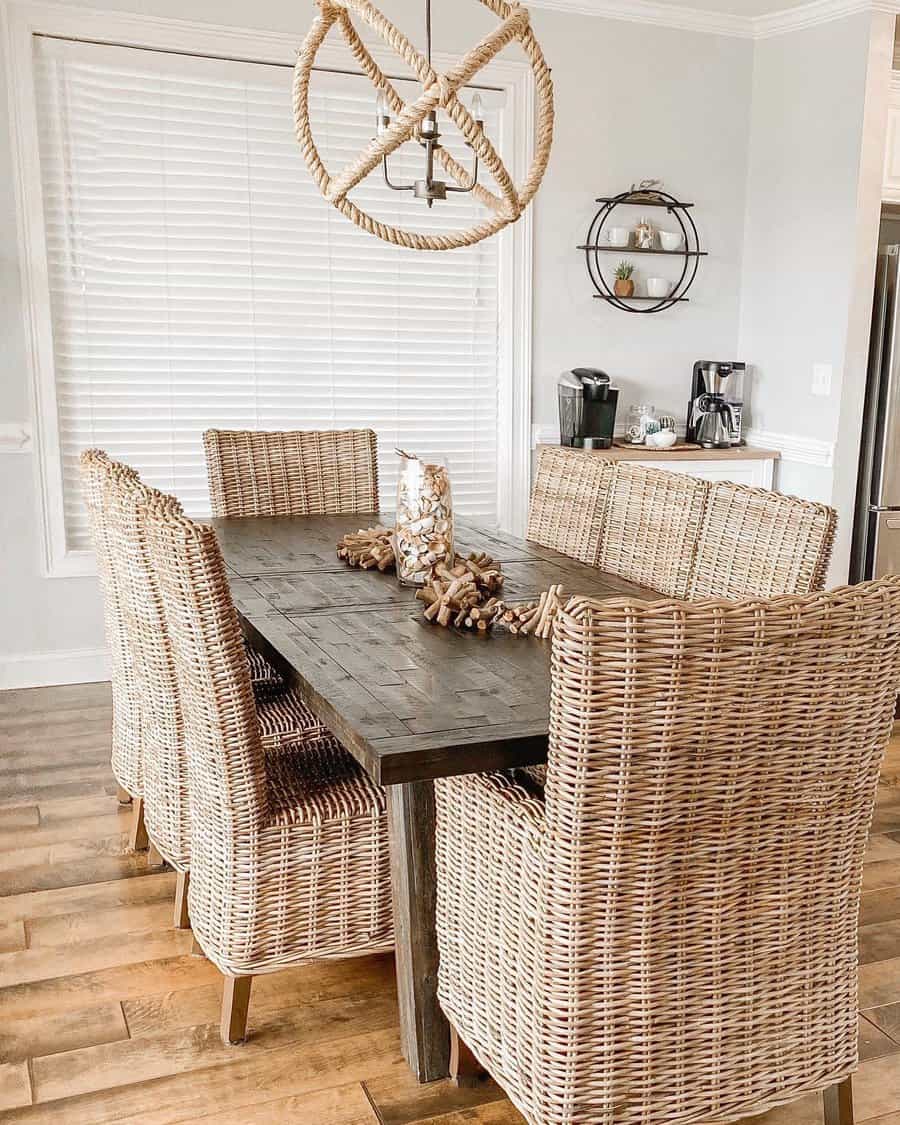 2. Elevate Your Space with an Artwork Gallery
Transform your dining room with a gallery wall that showcases cherished memories and artistic pieces, turning meals into experiences. Curate a collection of family photographs, artistic prints, and memorabilia, arranging them in an eclectic mix of frames to create a visual feast on your walls. Enhance the display's appeal with vintage frames or artwork for a touch of nostalgia. This gallery wall will not just be a feast for the eyes but will also spark engaging conversations and create a unique, personalized ambiance in your dining space.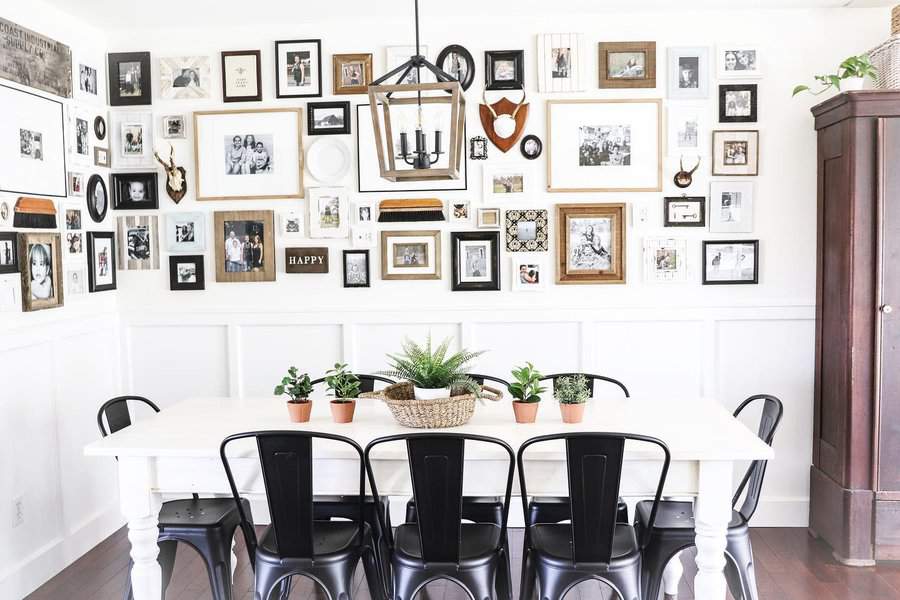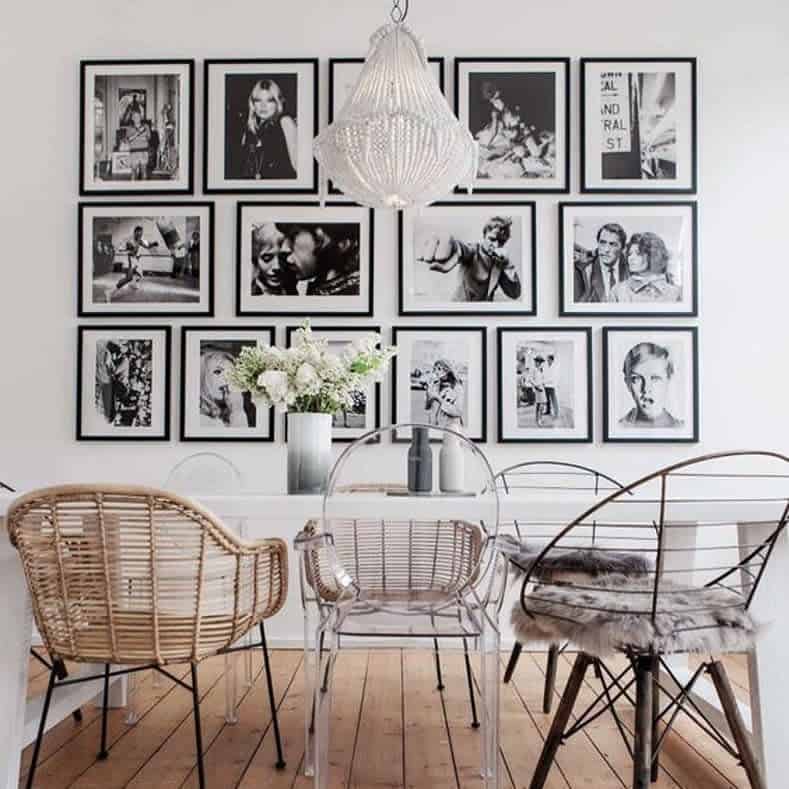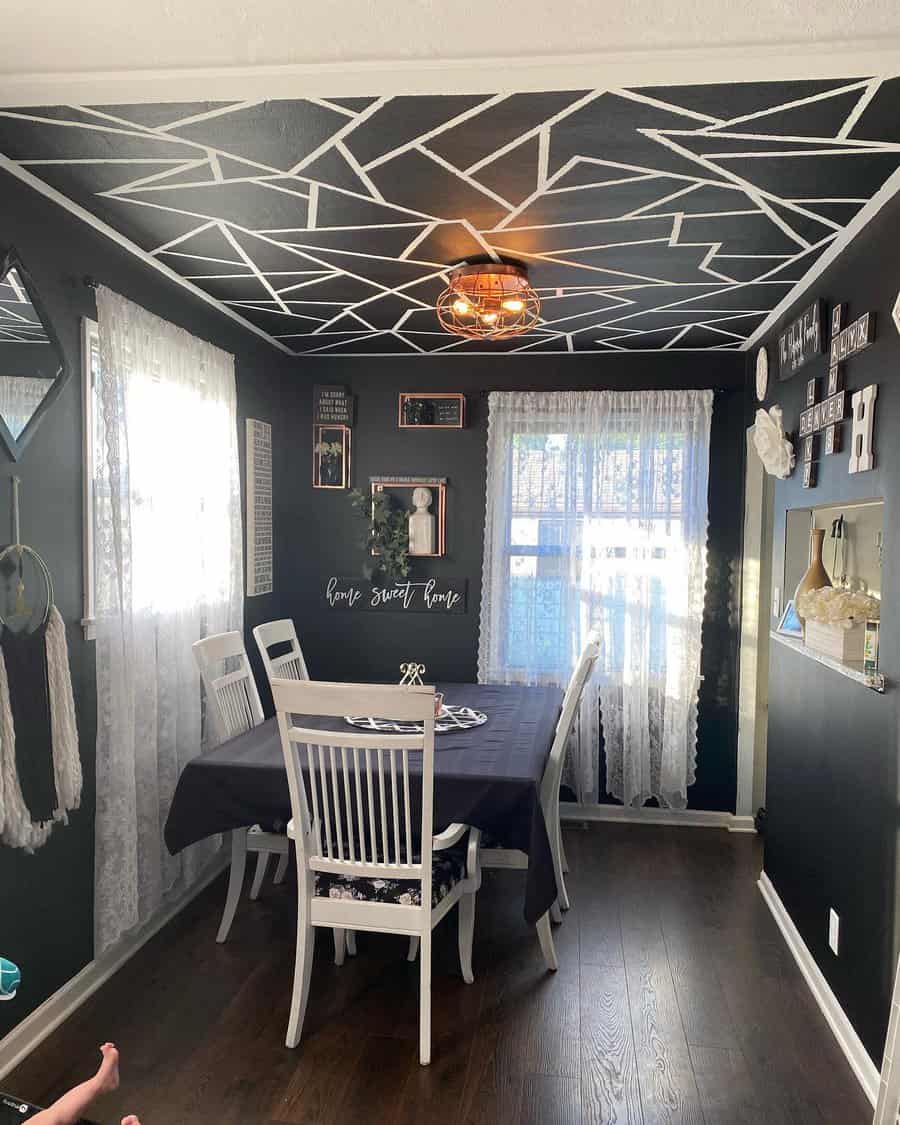 3. Illuminate Your Dining Room with Pendant Lights
Elevate your dining space's ambiance with a carefully selected pendant lighting fixture, seamlessly blending functionality with aesthetic appeal. Choose from a diverse array of styles, from sleek, contemporary designs to charming, vintage pieces, ensuring a perfect match for your decor. The right pendant light not only illuminates your dining area but also serves as a striking visual centerpiece, guiding the eyes upward and setting a welcoming tone for gatherings. Ensure to position the fixture at the right height to create an intimate yet well-lit space, enhancing both your dining experience and your room's overall appeal.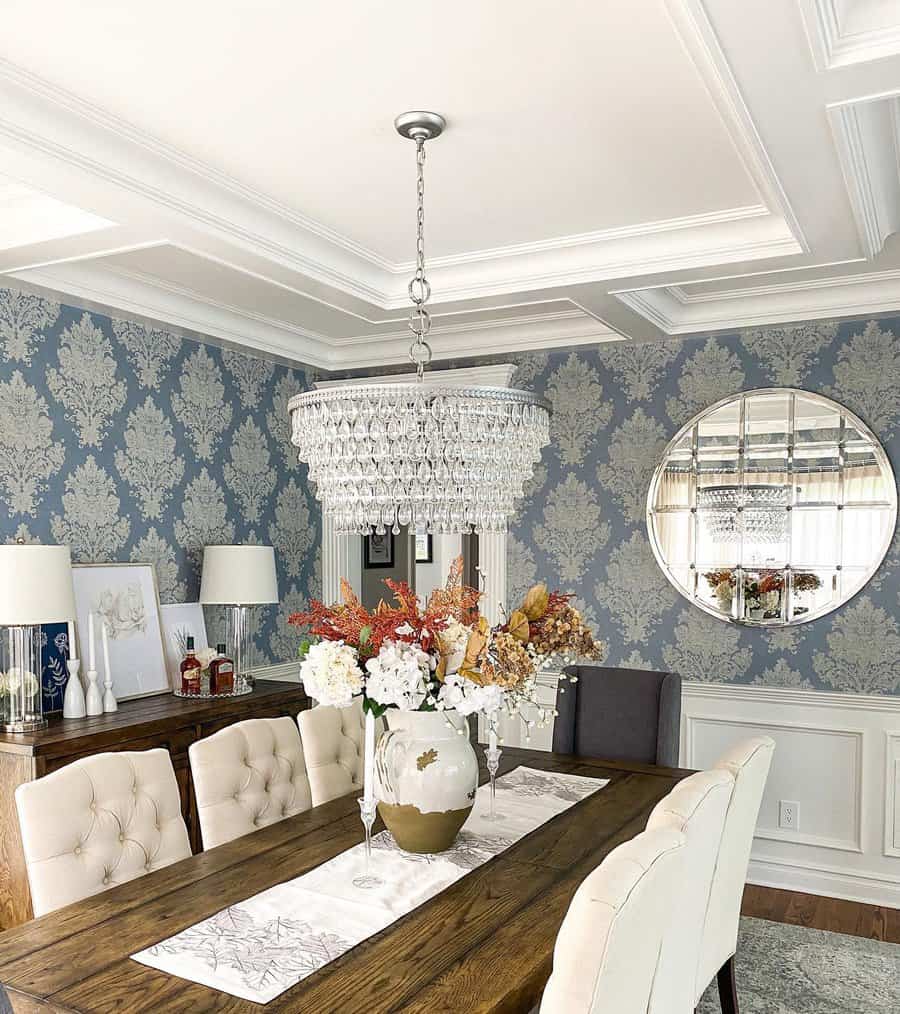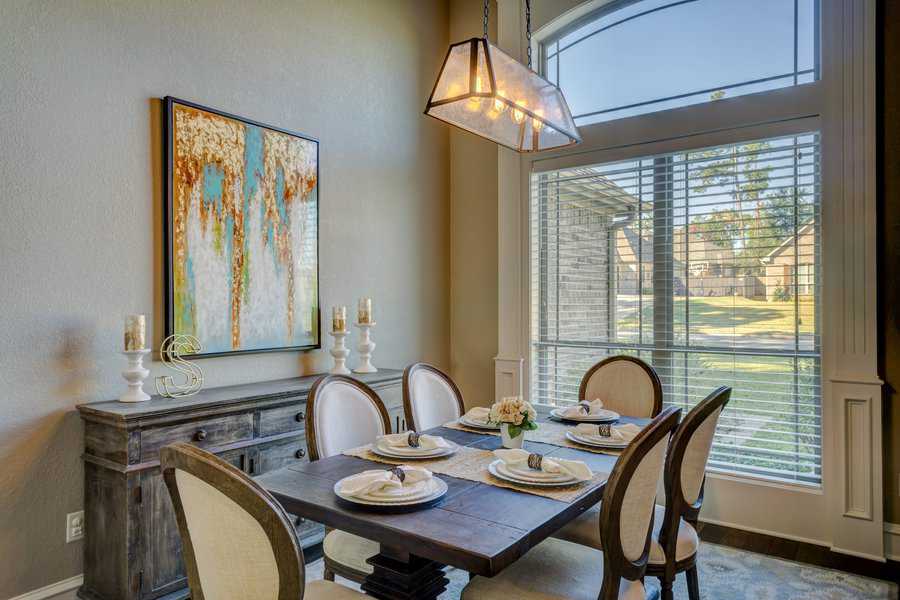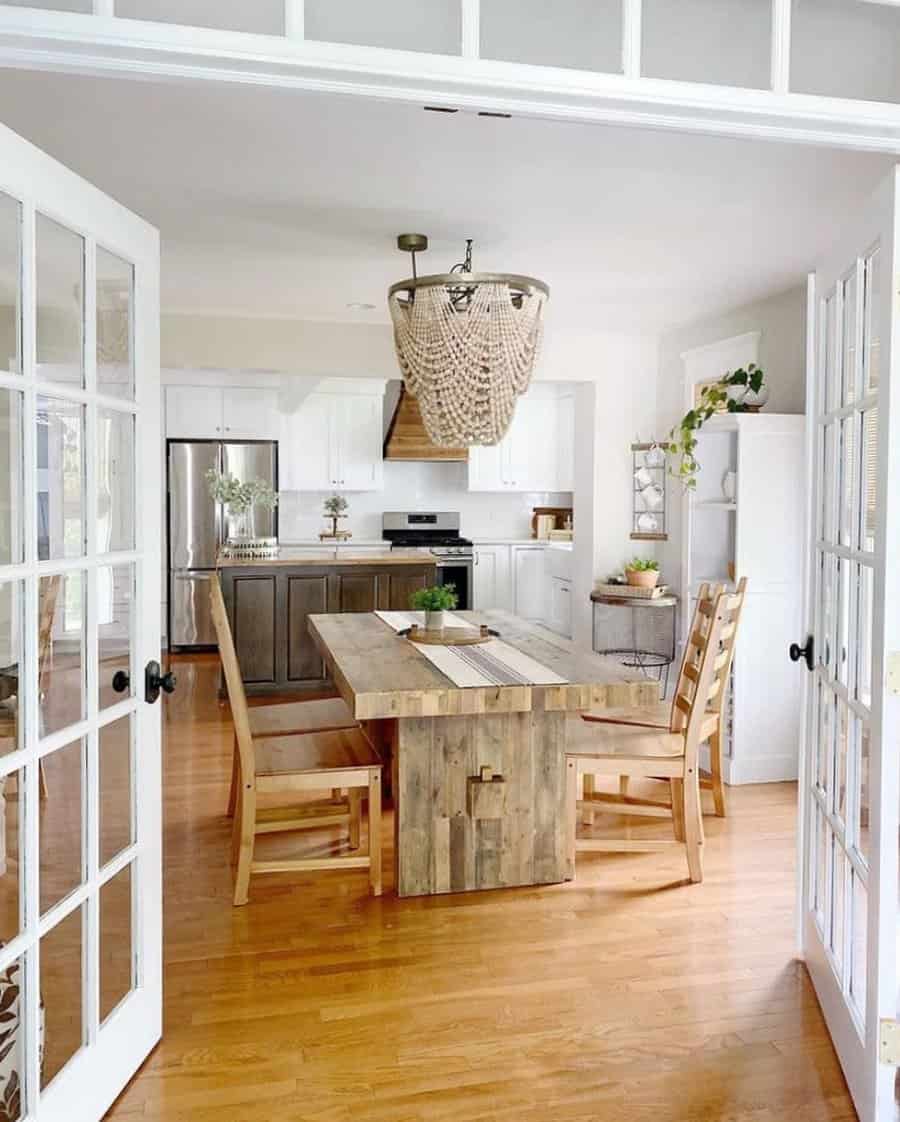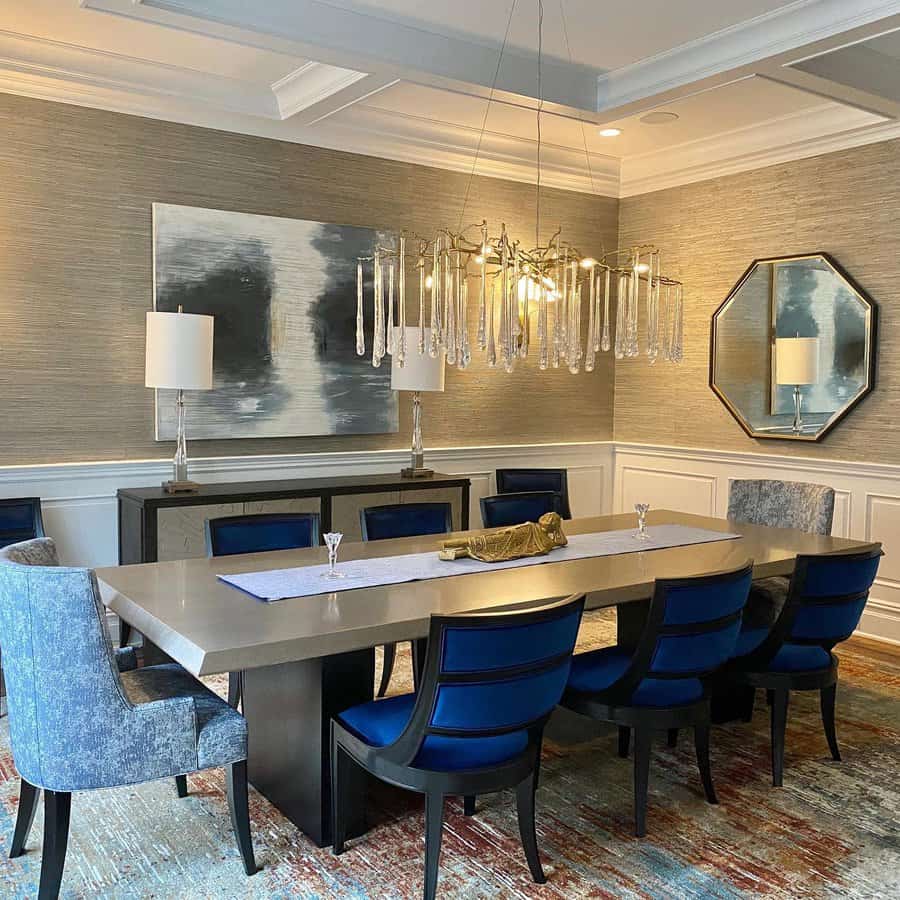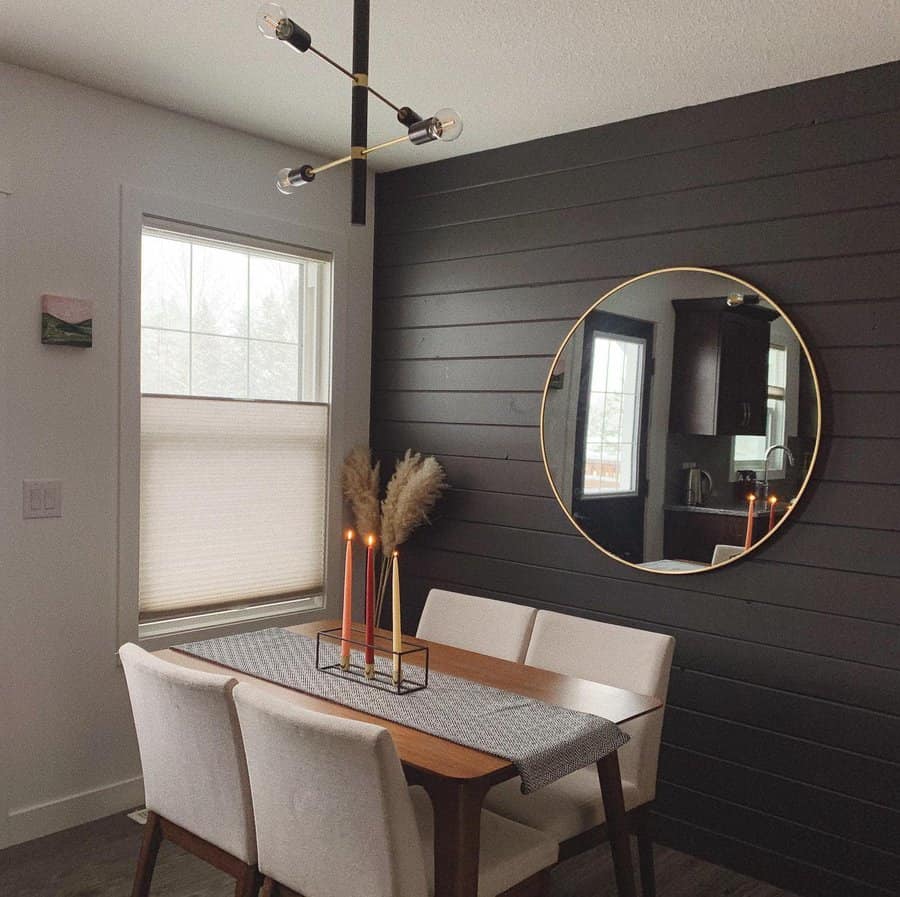 4. Add Elegance with a Floral Centerpiece
Enhance your dining table with a vibrant floral centerpiece, infusing color and natural elegance into your meals. Opt for fresh flowers to create a lively ambiance or experiment with dried blooms and potted plants for a unique and textured appeal. Ensure the arrangement complements the scale of your table and the overall room decor, establishing a balanced and inviting setting. This botanical touch transforms everyday dining into a celebratory experience, adding beauty and charm to your space.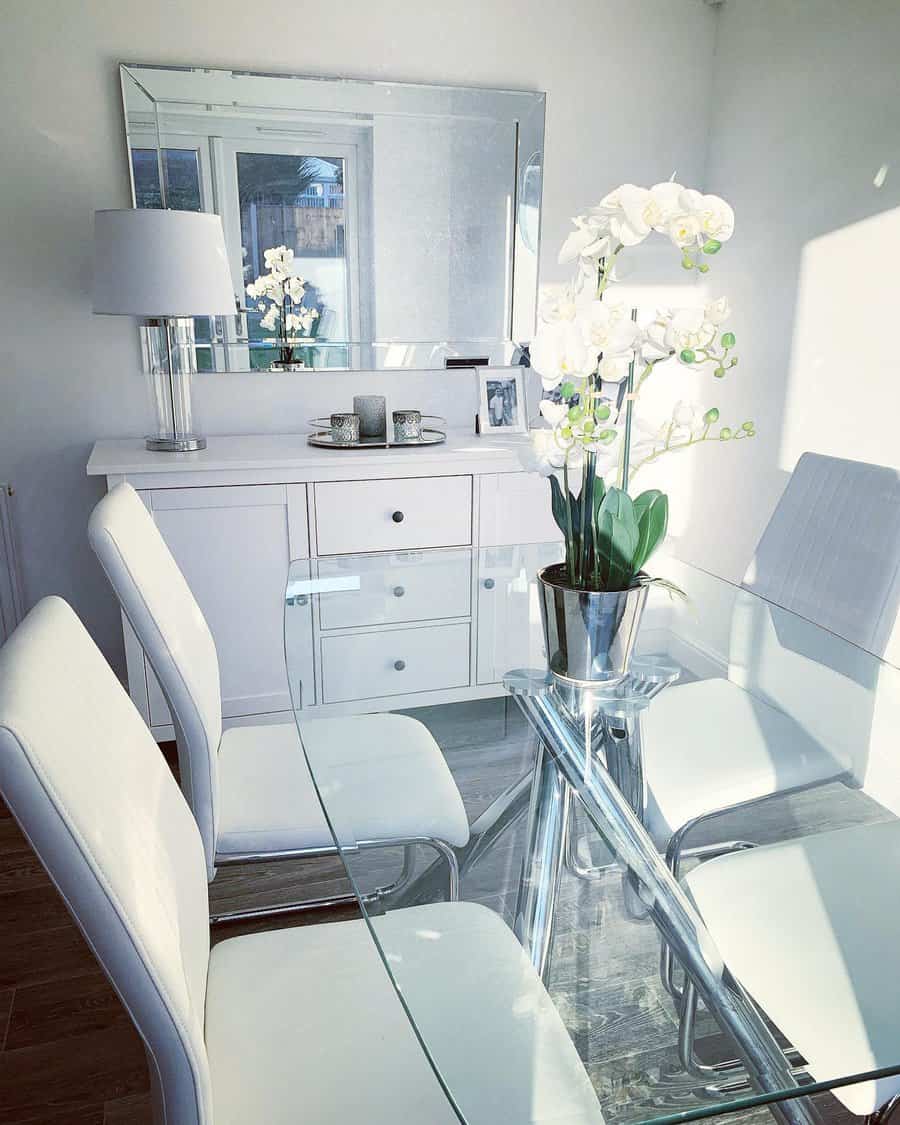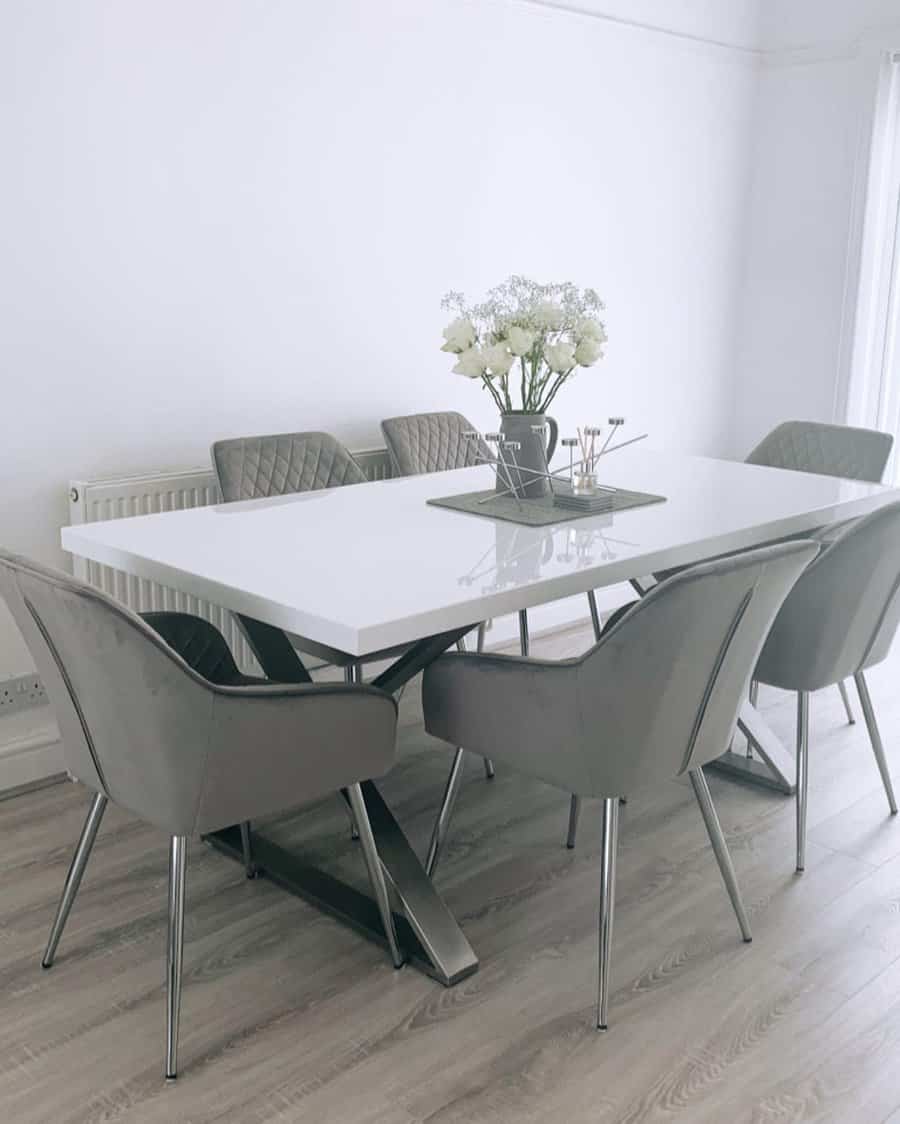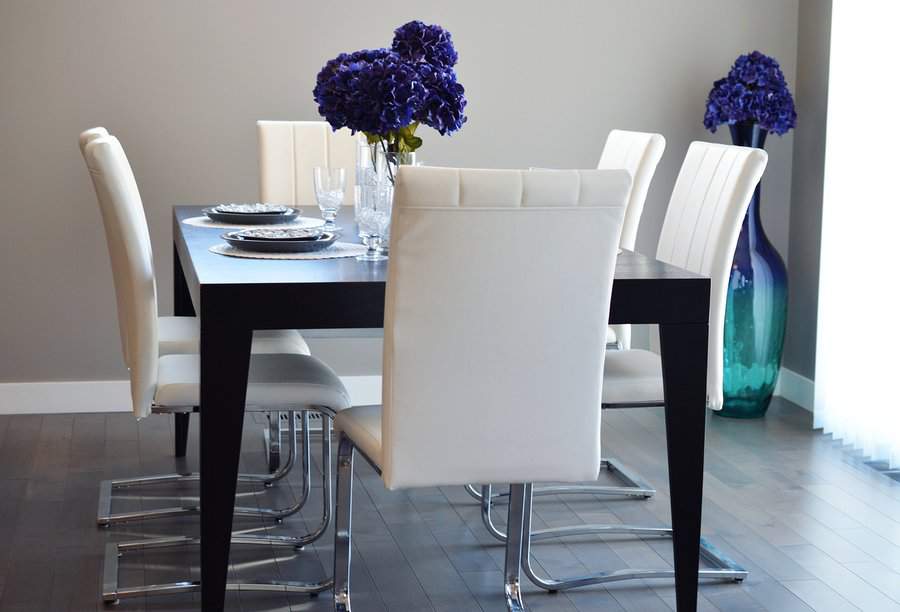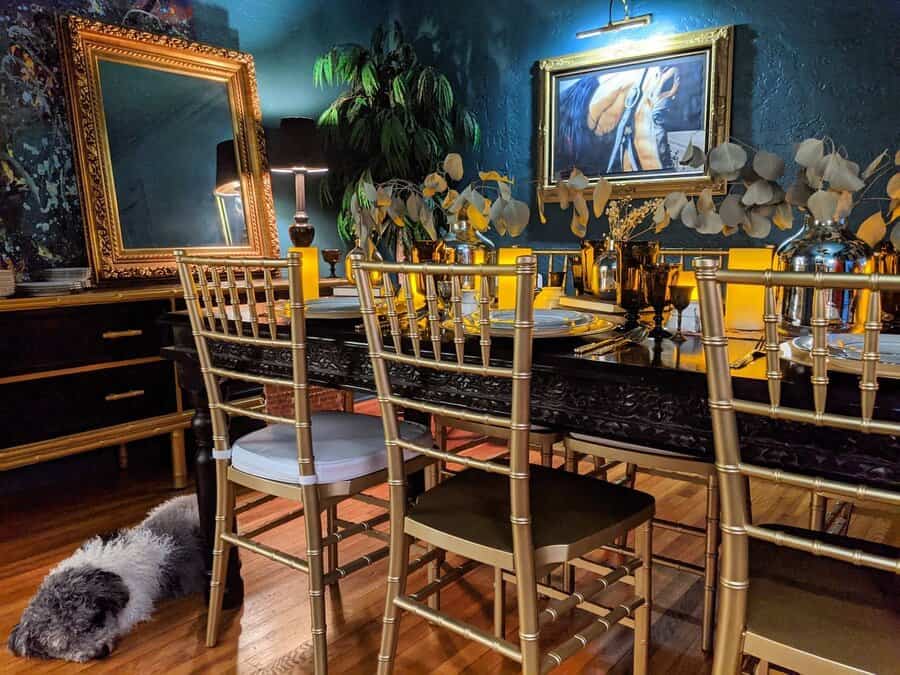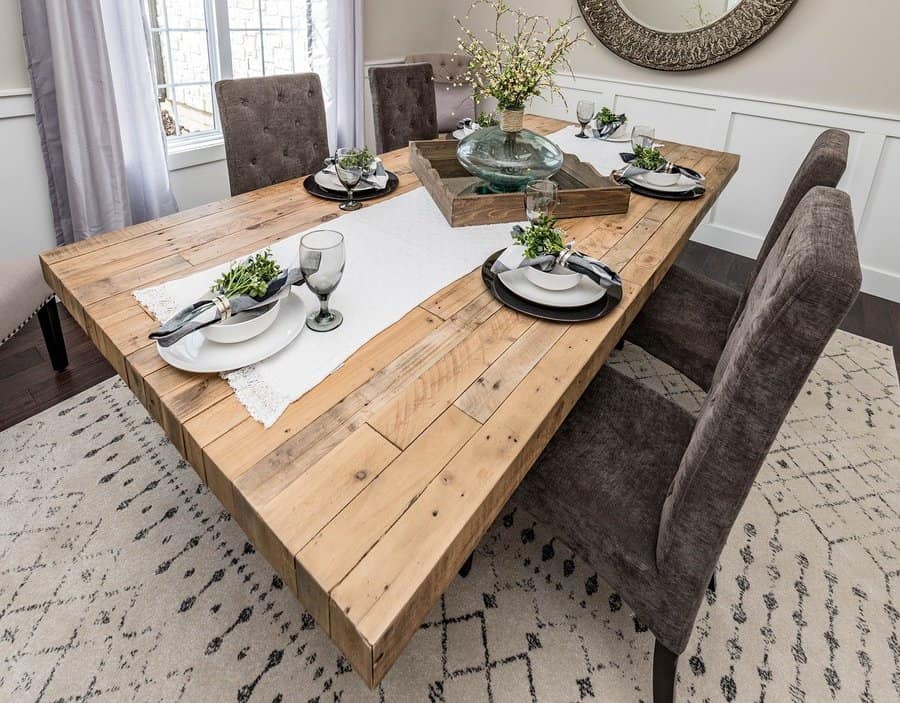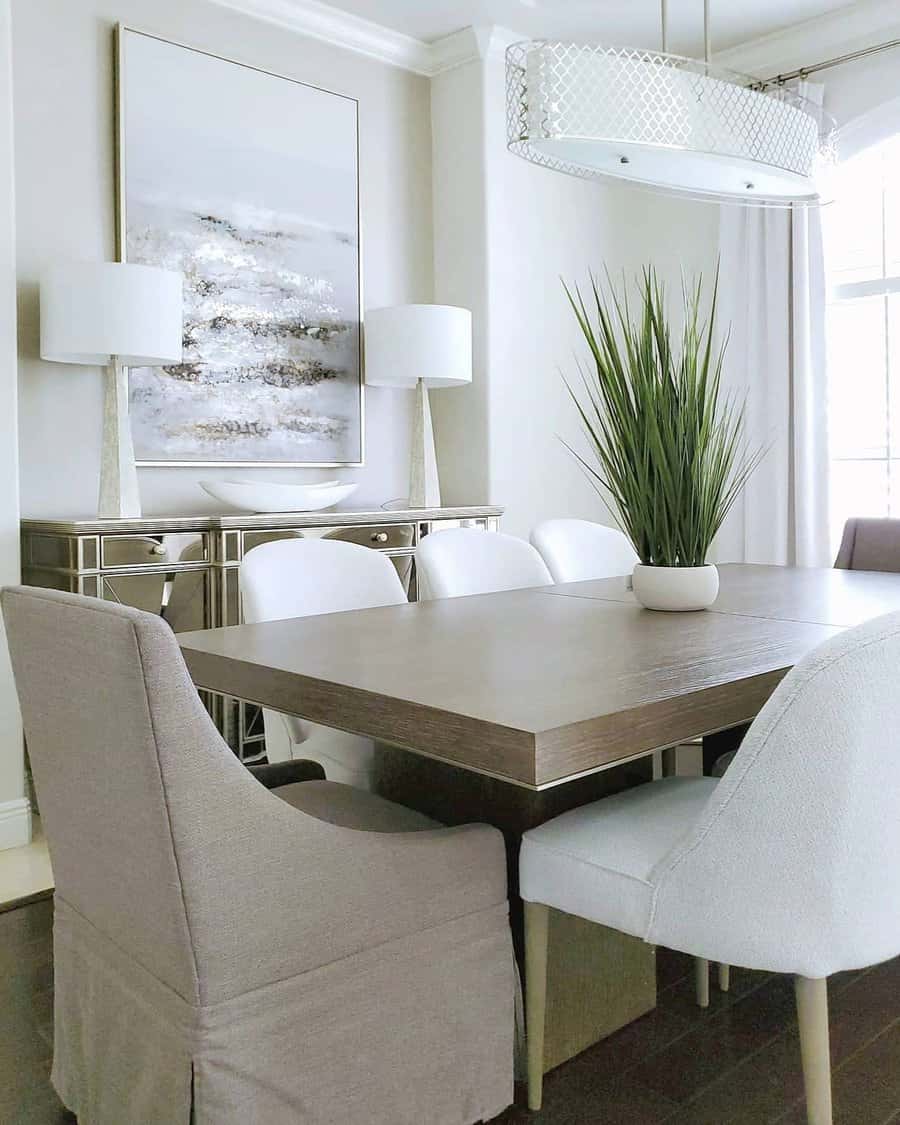 5. Choose the Perfect Rug for Your Dining Area
Transform your dining space with a carefully chosen rug, adding comfort underfoot and enhancing the room's aesthetic. Select a rug that complements your dining room's theme and color scheme, opting for bold patterns to inject personality or neutral tones for a sophisticated touch. Ensure the rug is proportionate to your dining set, providing ample space for chairs to be pulled out without catching the edges. A rug not only unifies the room's decor but also contributes to a warm, inviting atmosphere, perfect for memorable dining experiences.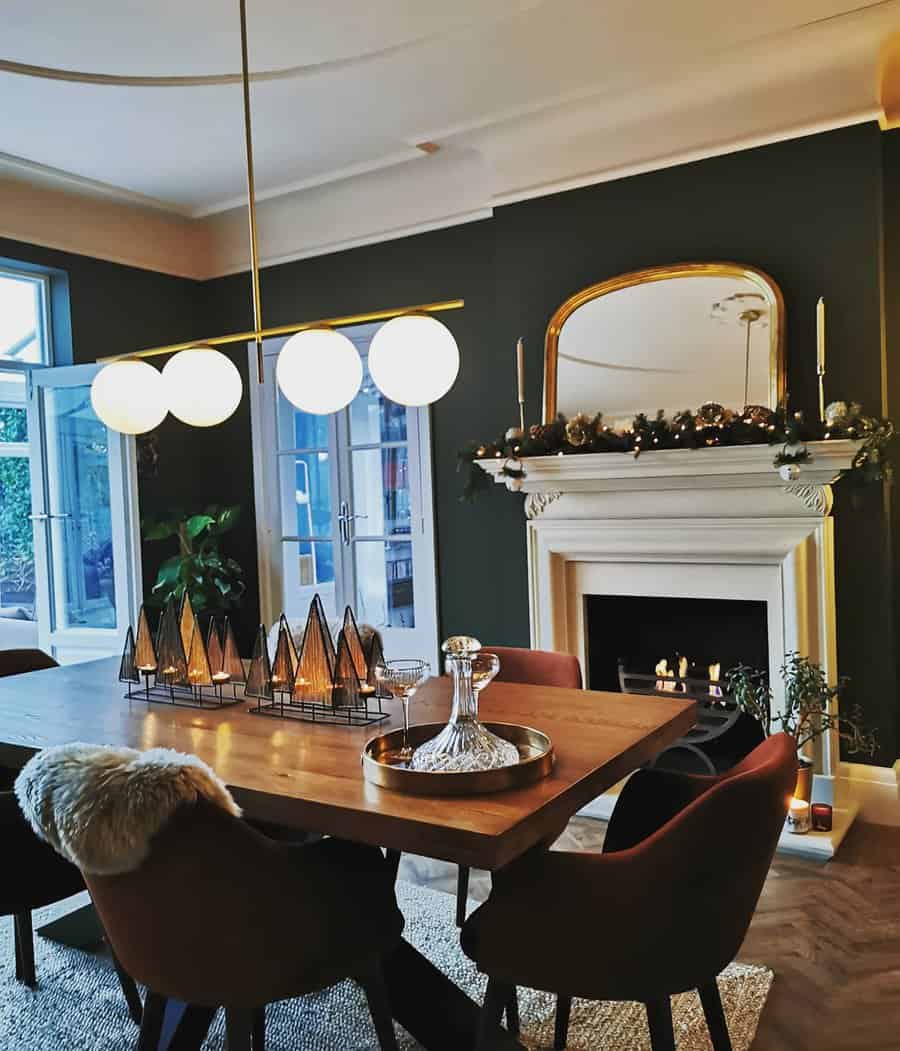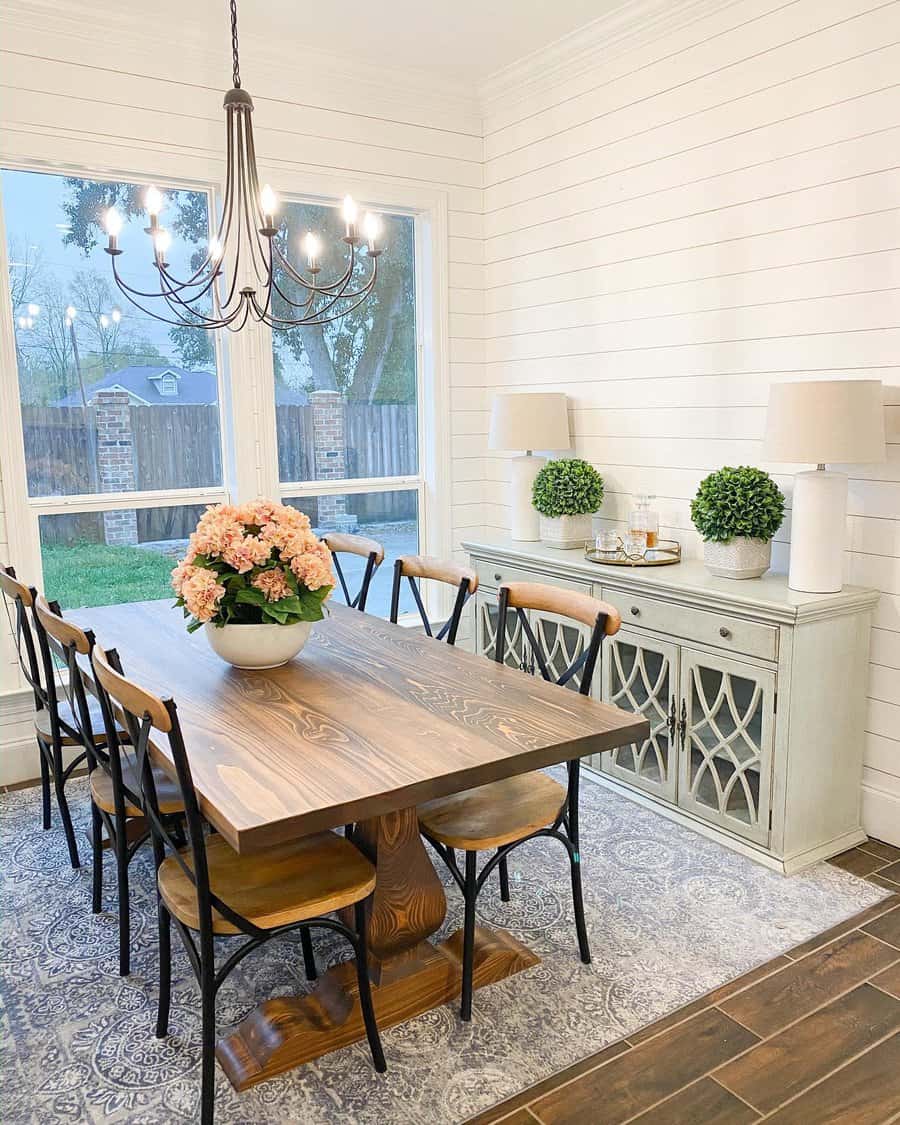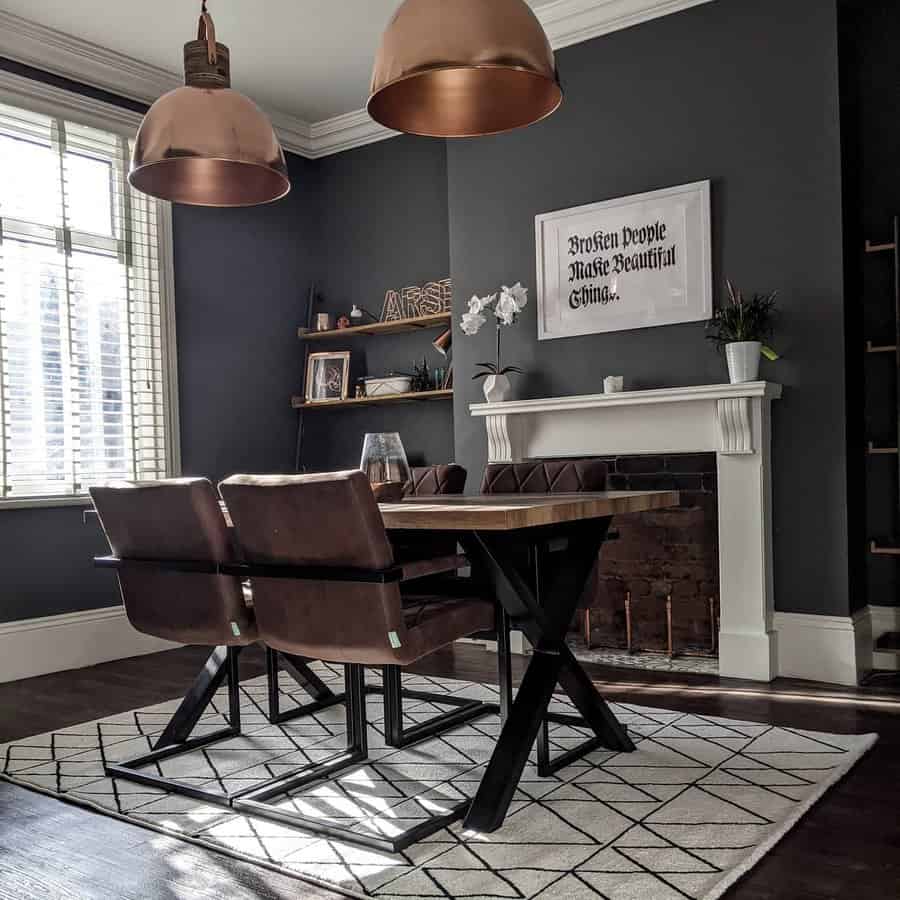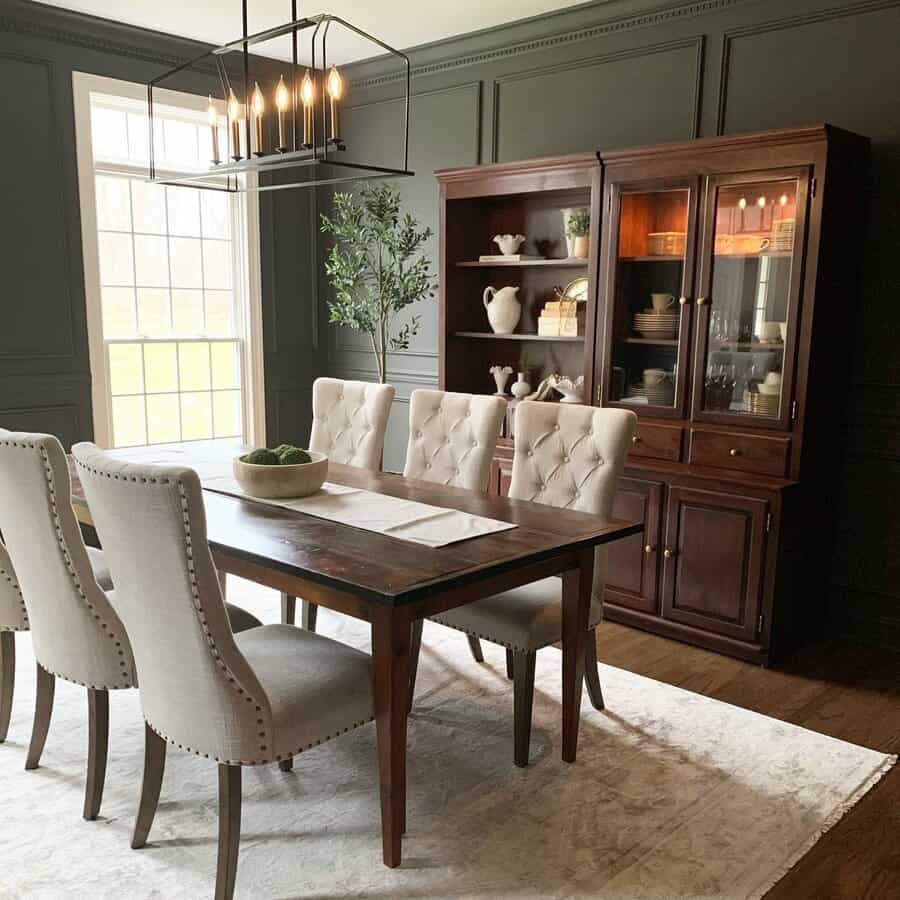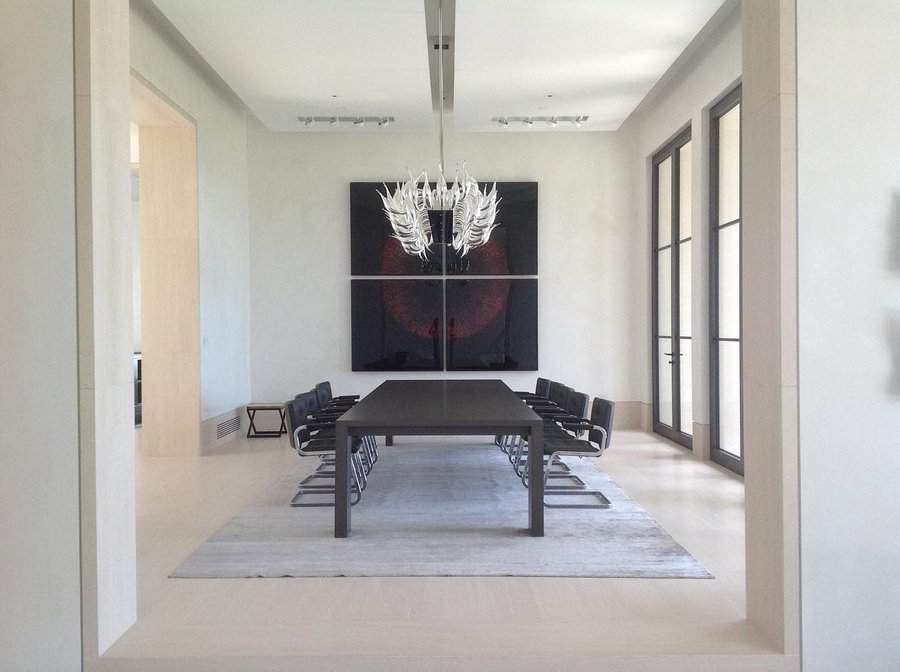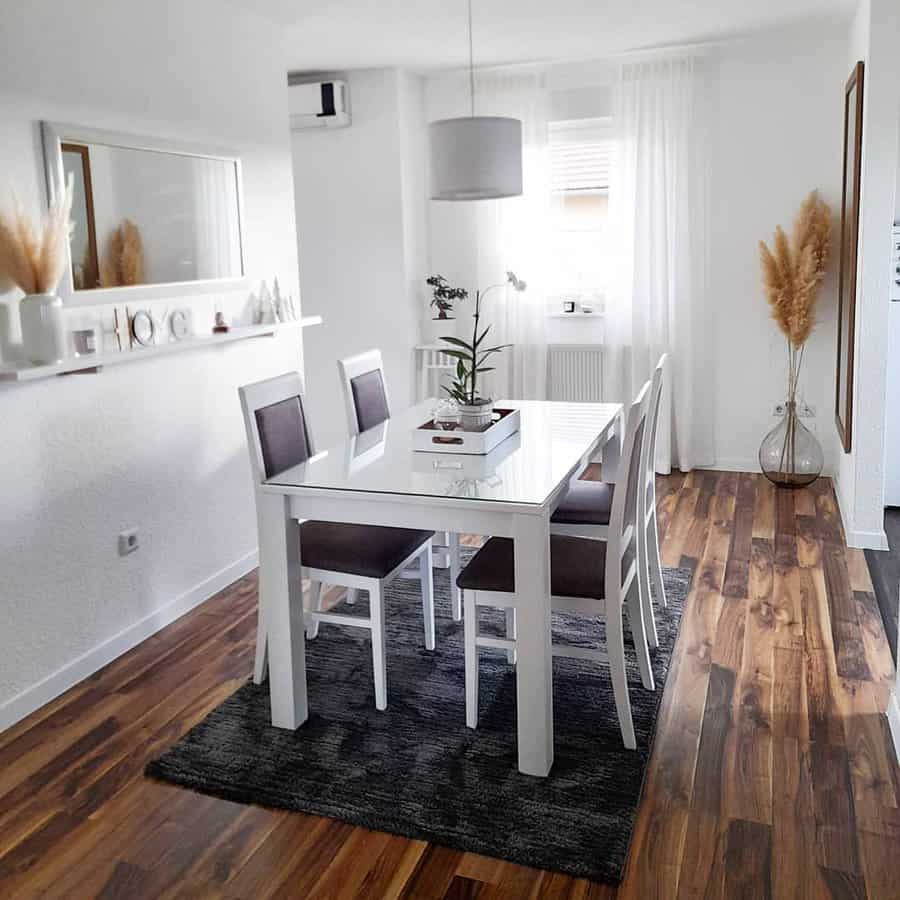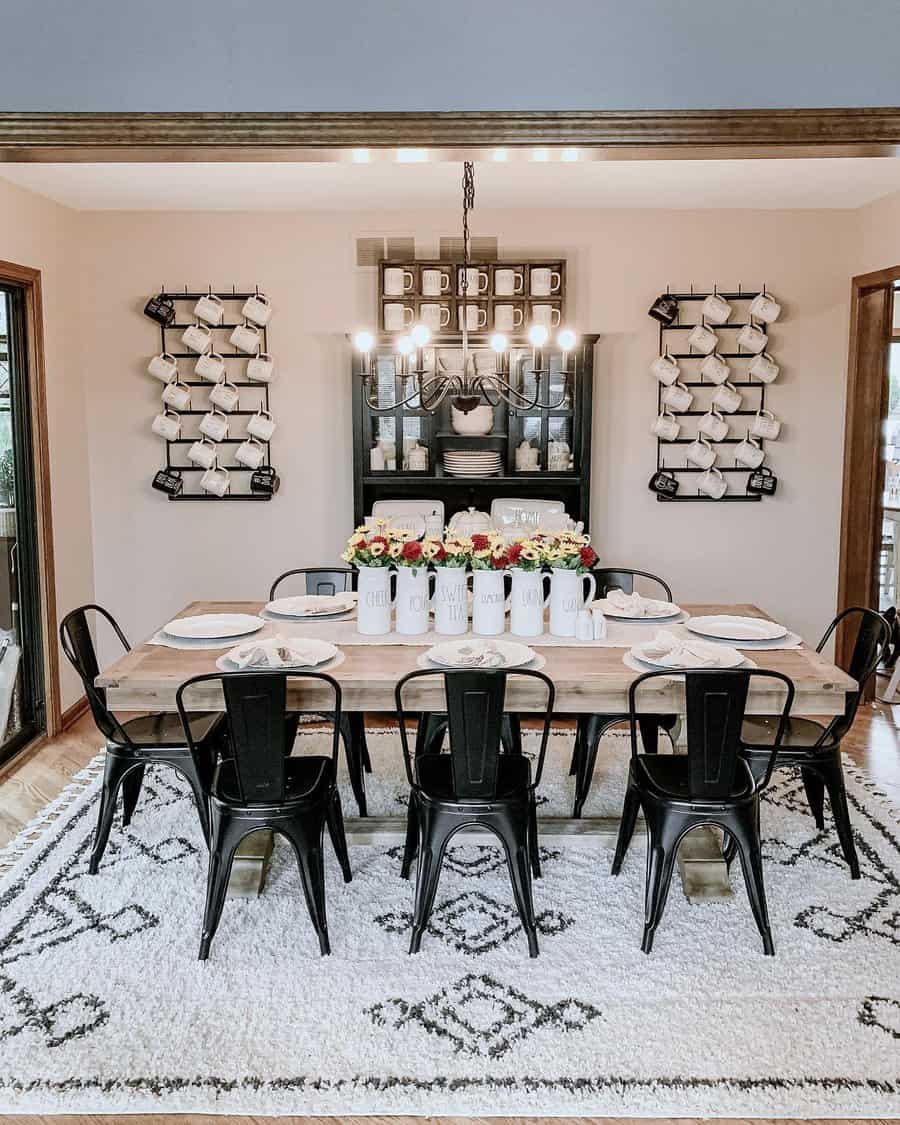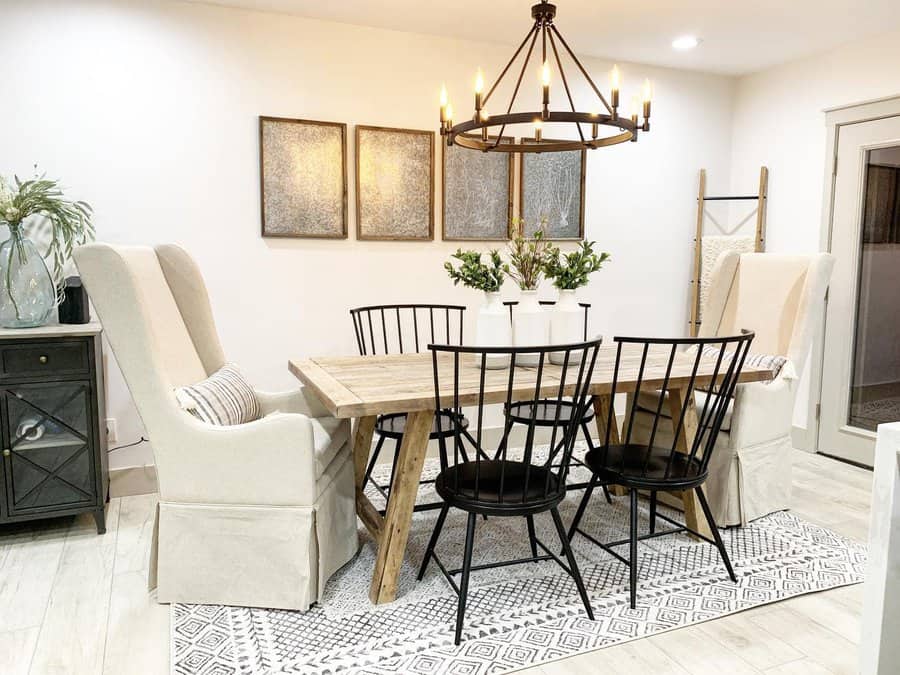 6. Enhance Your Table Setting with a Runner
Enhance your dining table's aesthetic with a stylish table runner, effortlessly introducing style and sophistication. Select a design that harmonizes with your dining room's color scheme and theme, opting for bold patterns for a vibrant touch or textured fabrics for refined elegance. A table runner not only serves as an eye-catching centerpiece but also offers the flexibility to alter your dining space's mood and style for various occasions and seasons, ensuring a fresh and inviting atmosphere year-round.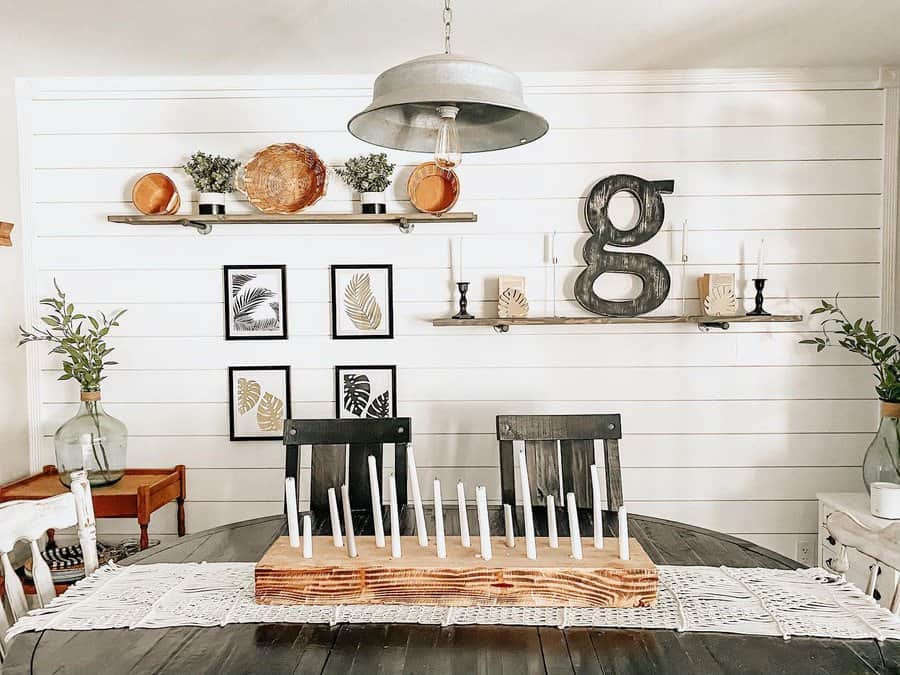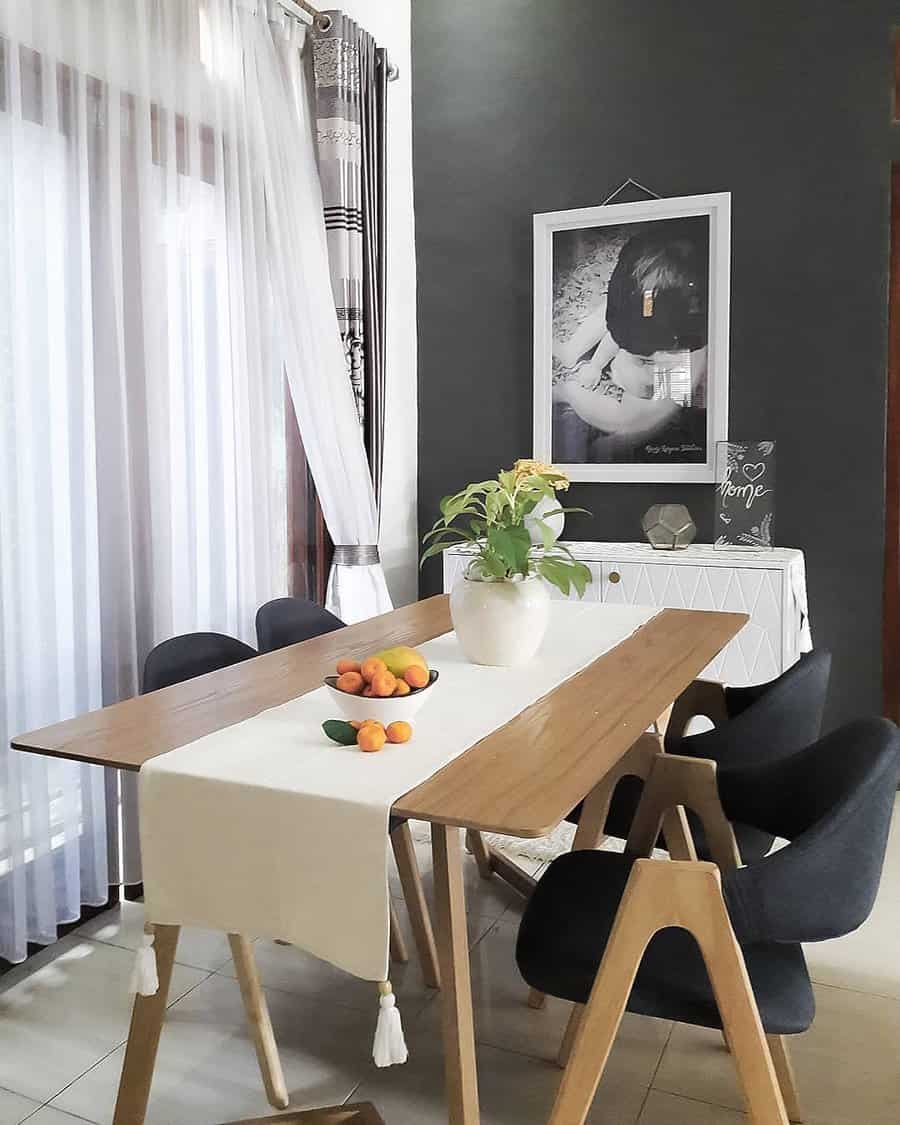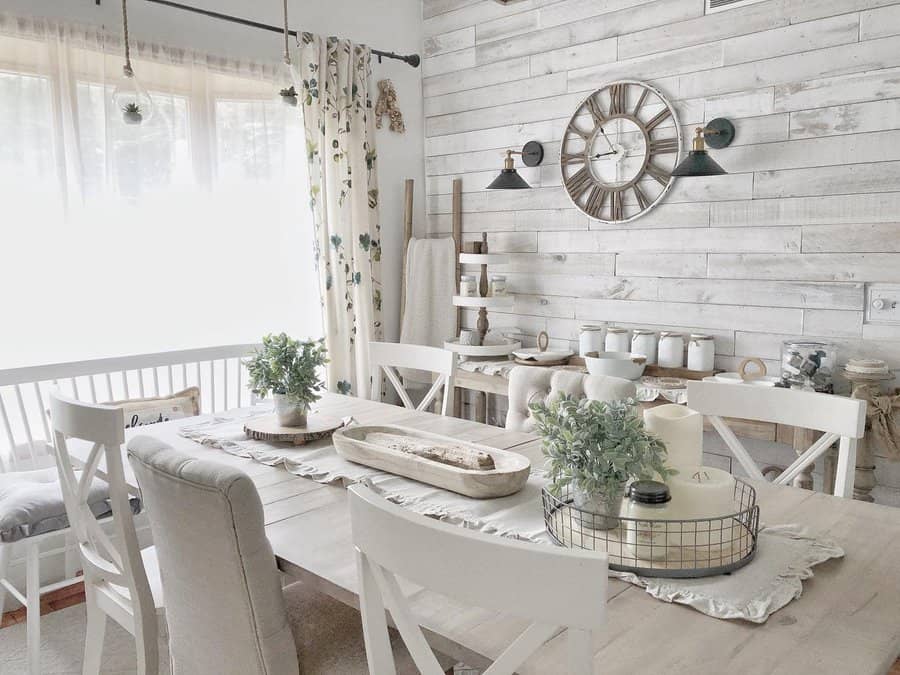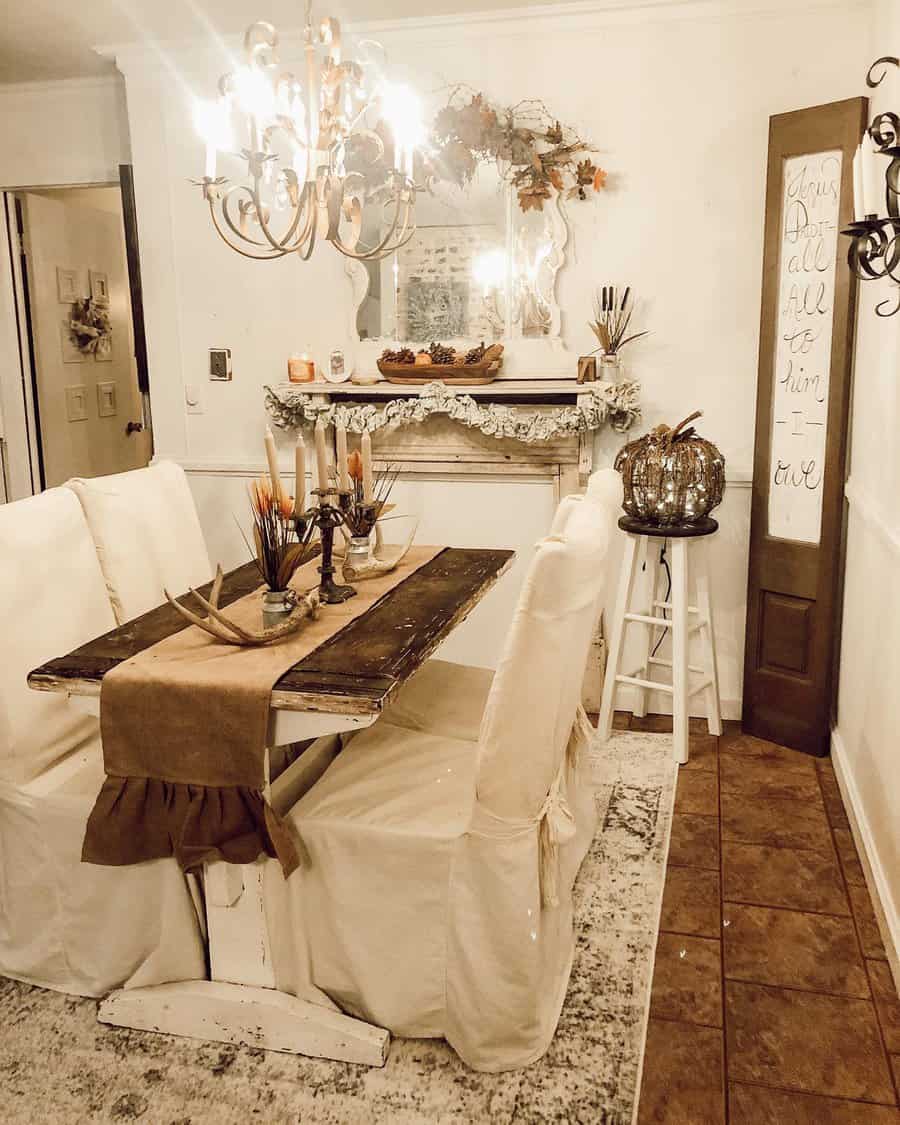 7. Create a Warm Ambiance with a Farmhouse Table
Create a warm and welcoming dining space with a farmhouse dining table, embodying rustic charm and simplicity. Choose a table with a white-washed wood finish for a subtle elegance and a vintage vibe. Elevate the room's character with repurposed furniture pieces, adding history and personality to your space. For a unique touch, pair your table with a variety of chairs, creating an eclectic and personalized setting. Complete the cozy atmosphere with candles, casting a soft, inviting glow, perfect for intimate gatherings and shared meals. This setting ensures a space full of memories and charm, centered around your stunning farmhouse dining table.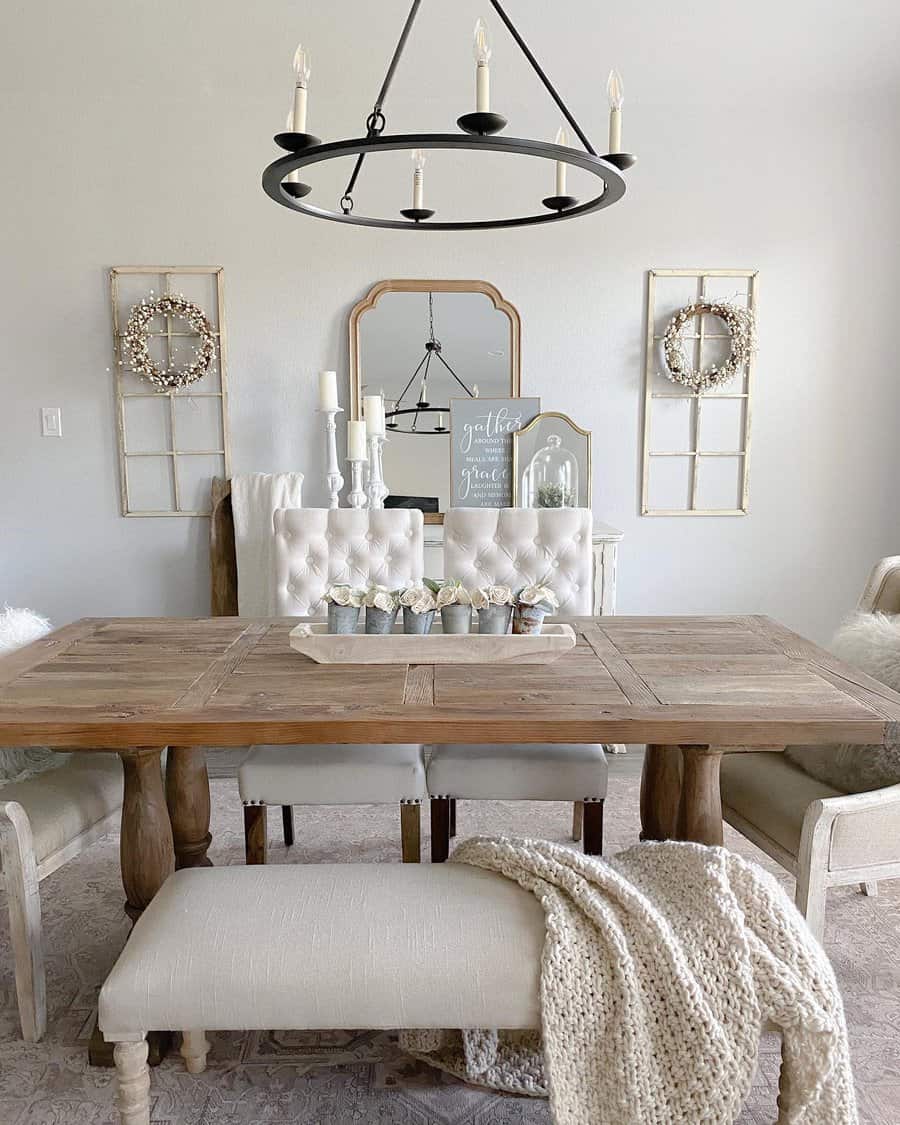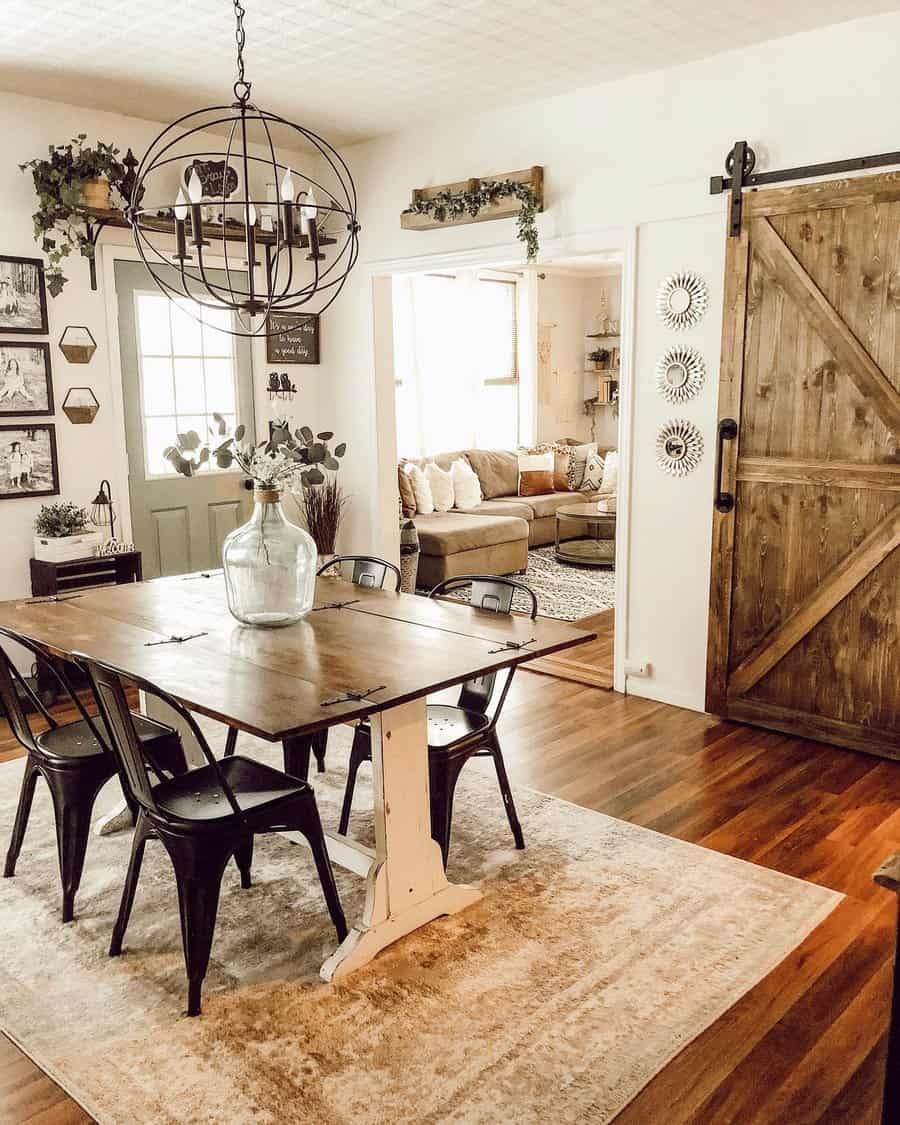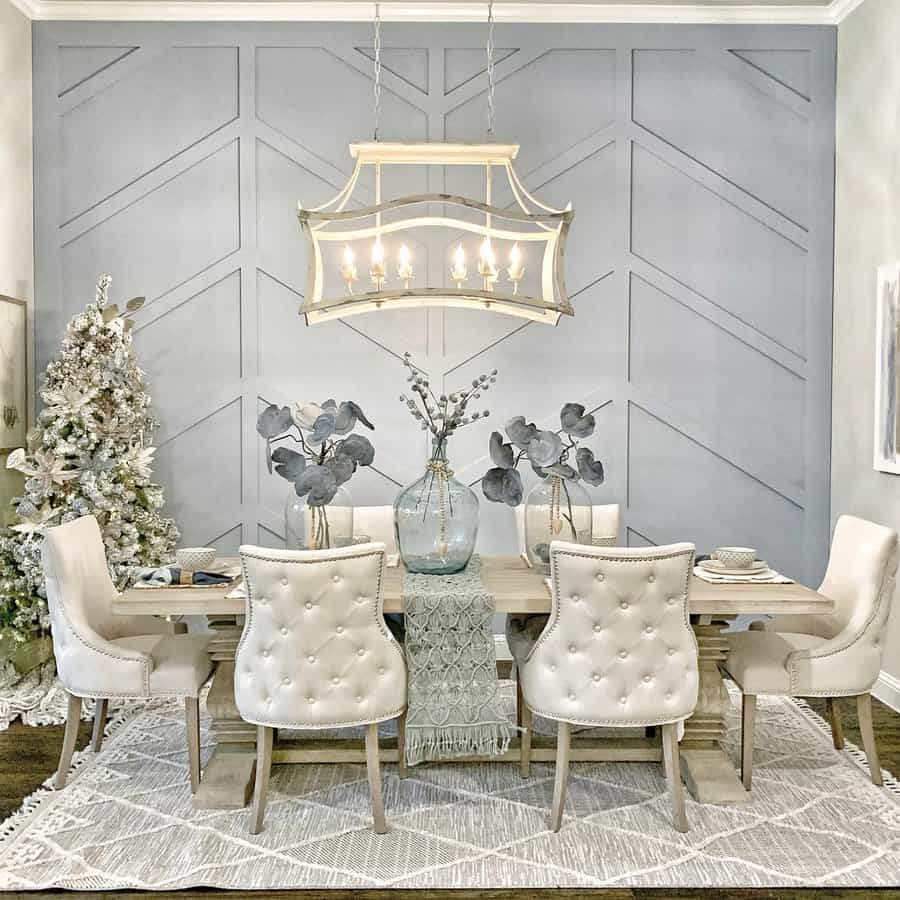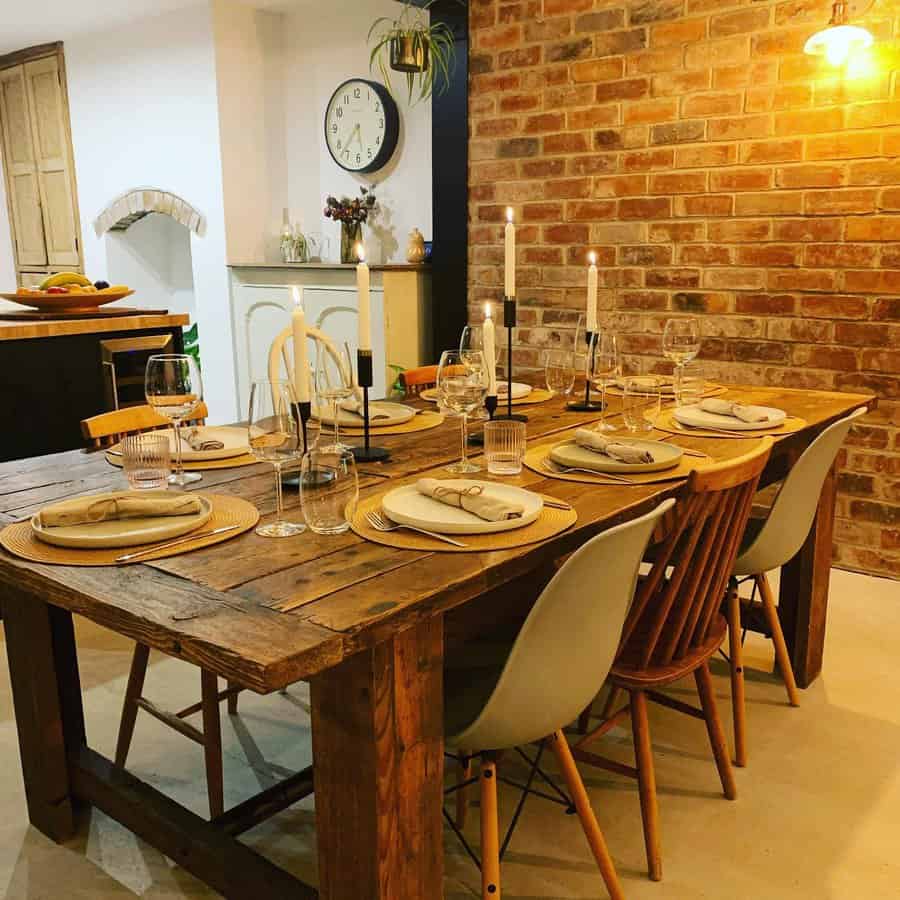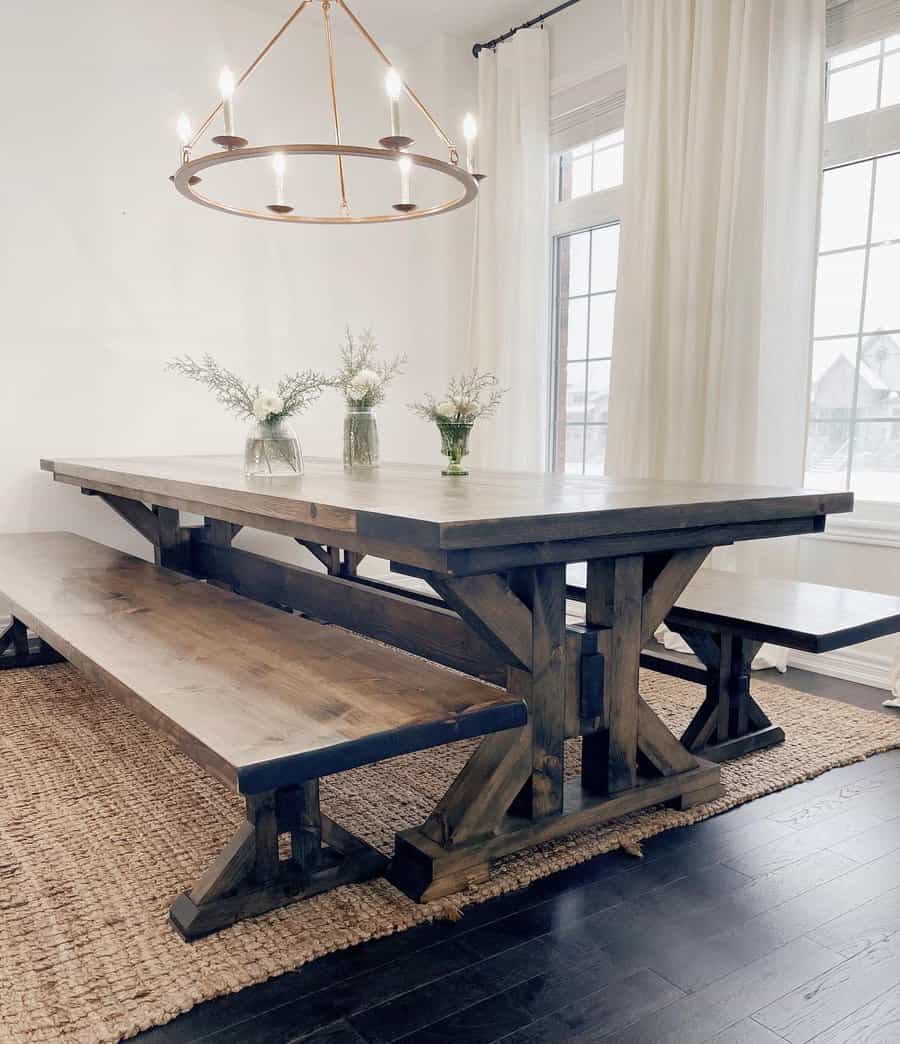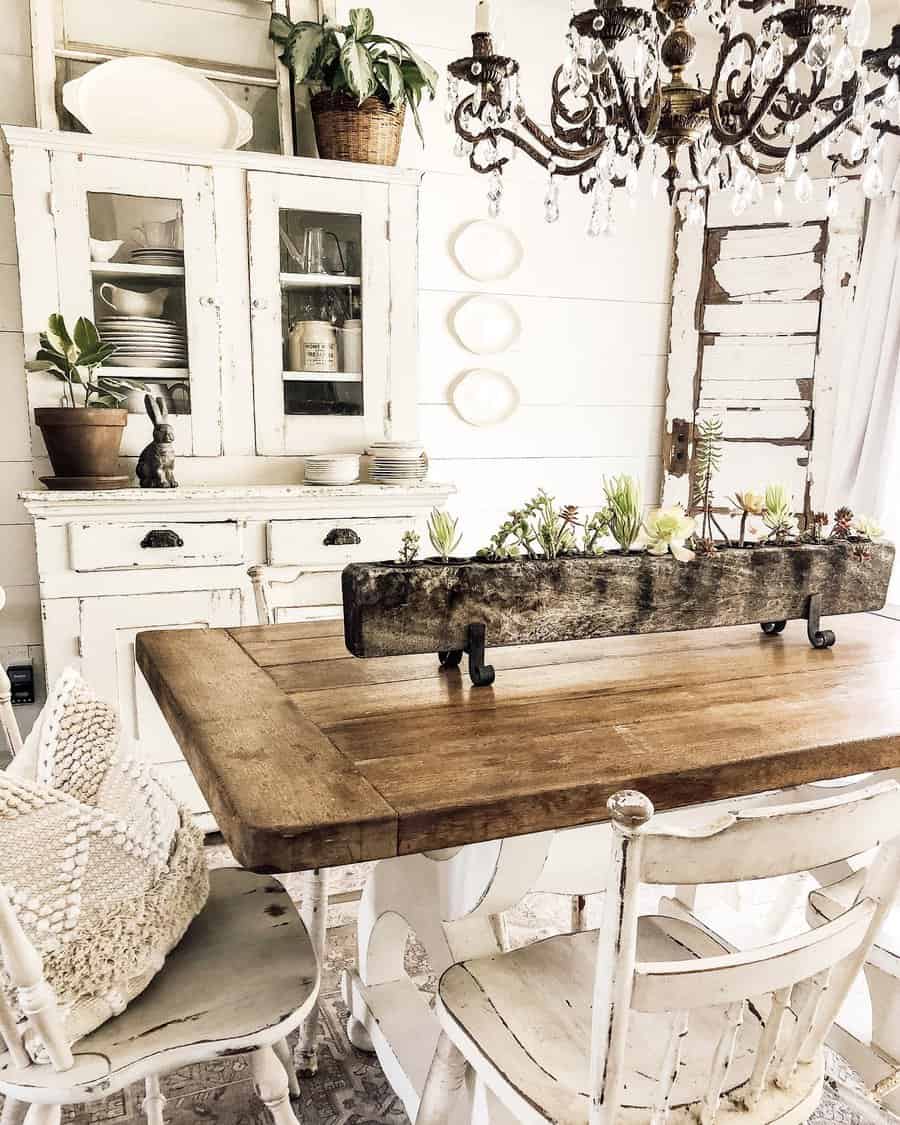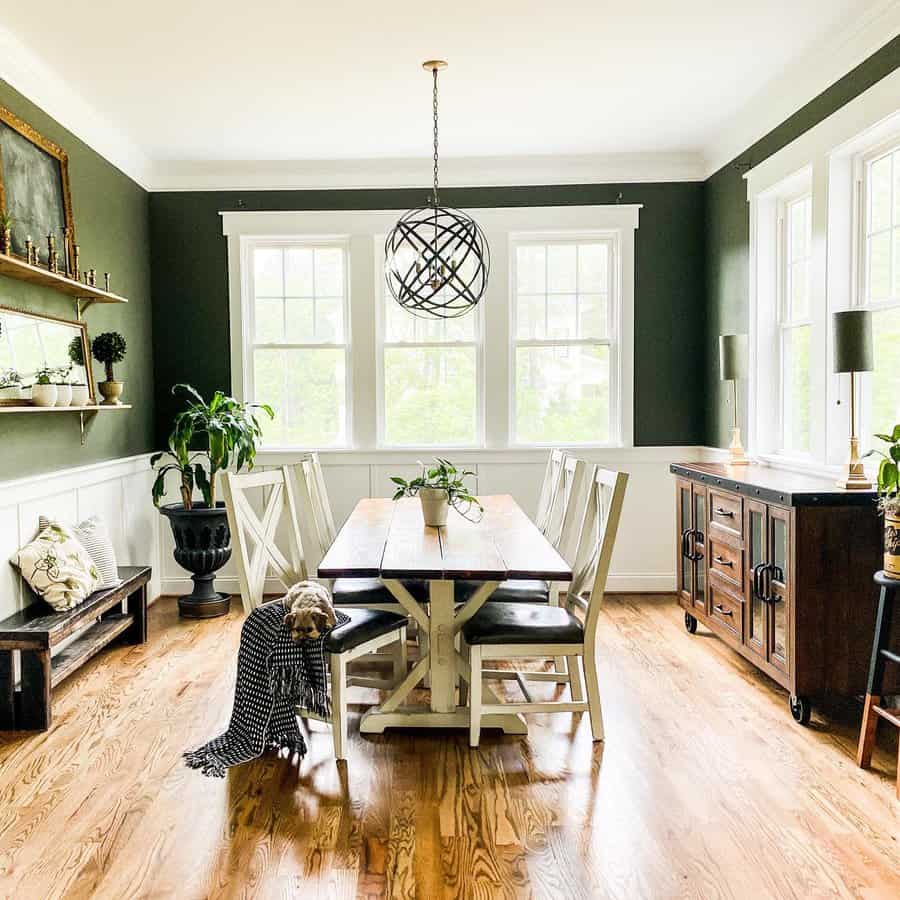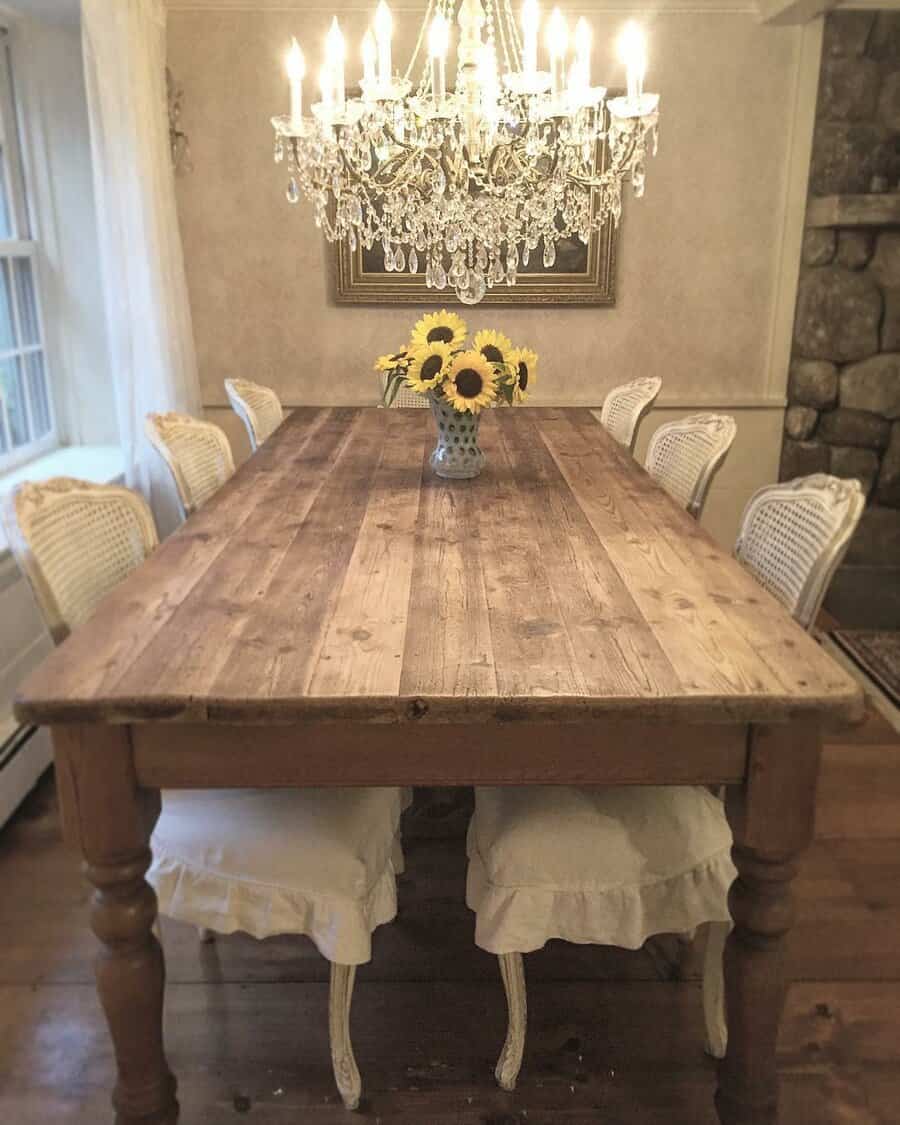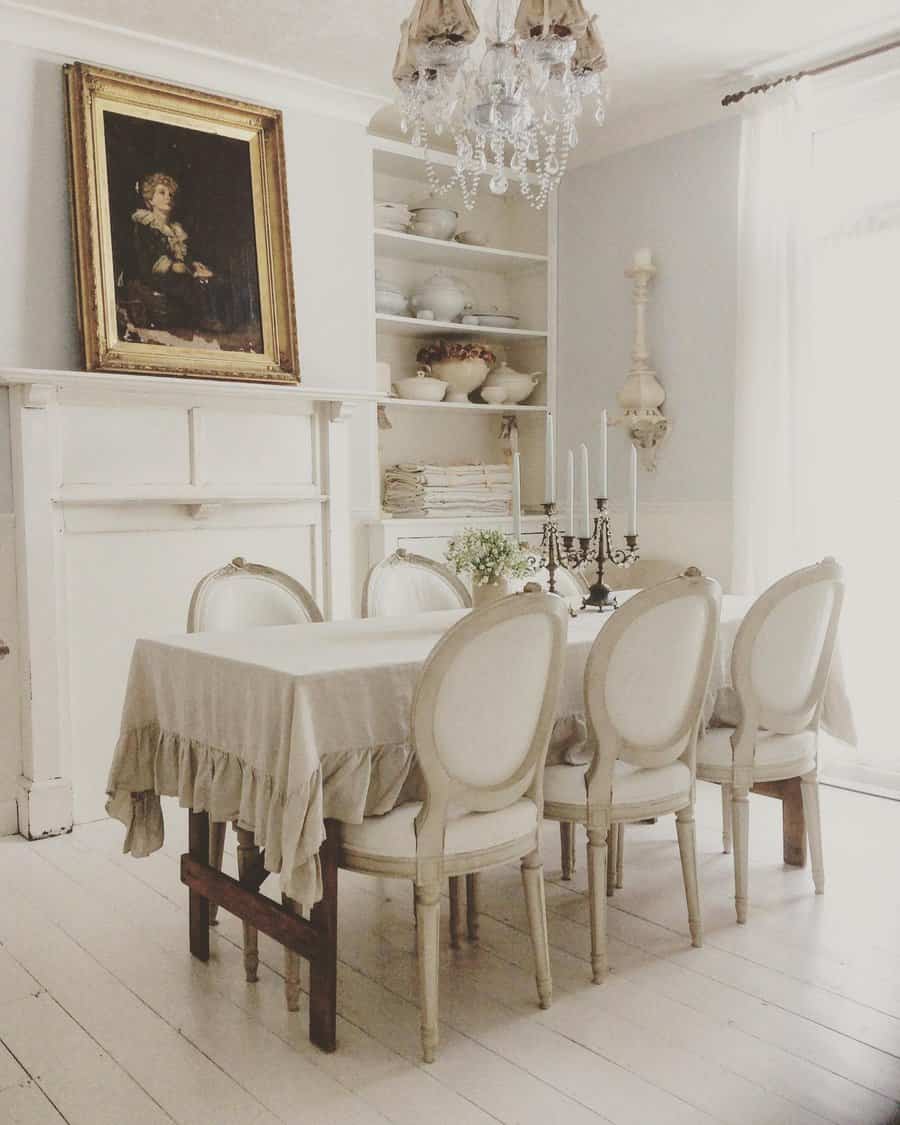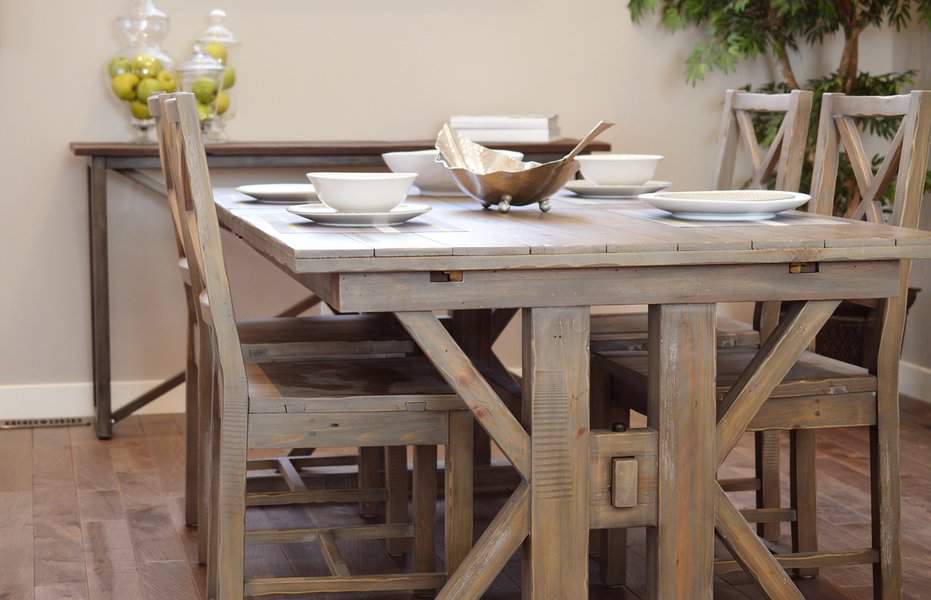 8. Achieve Minimalism in a Scandinavian Dining Room
Achieve a serene and inviting atmosphere in your dining area with a Scandinavian design, celebrating simplicity and functionality. Choose minimalist furniture with clean lines and light wood finishes to amplify the space's brightness and openness. Ensure comfort meets style with ergonomic chairs, paired with plush cushions. Introduce natural elements like potted plants and woven textiles to infuse warmth and texture. This approach to Scandinavian elegance transforms your dining space into a contemporary haven, perfect for making memories over sumptuous meals.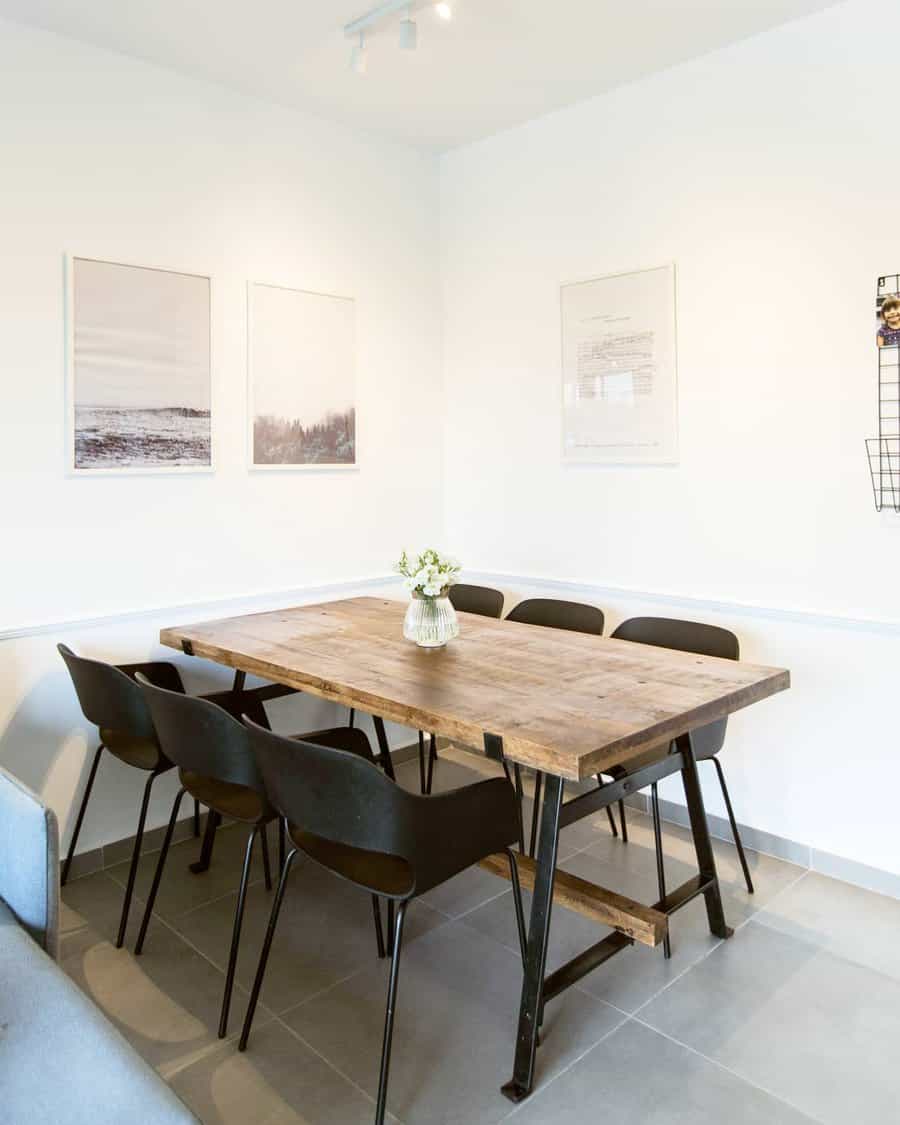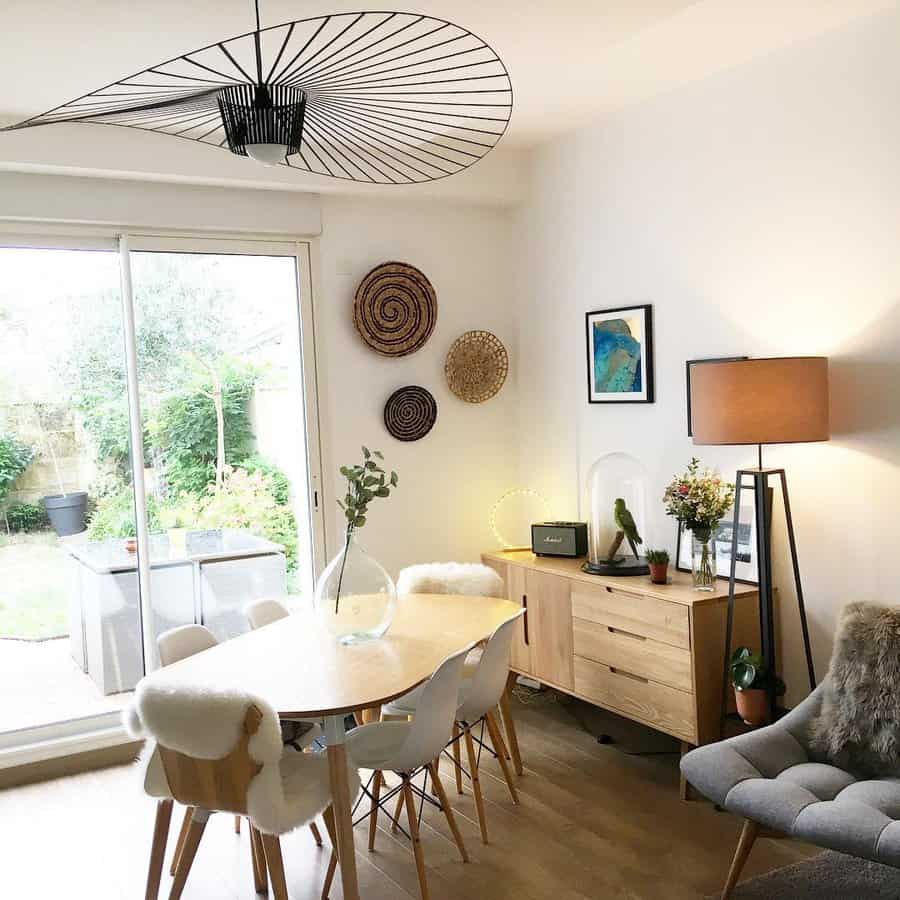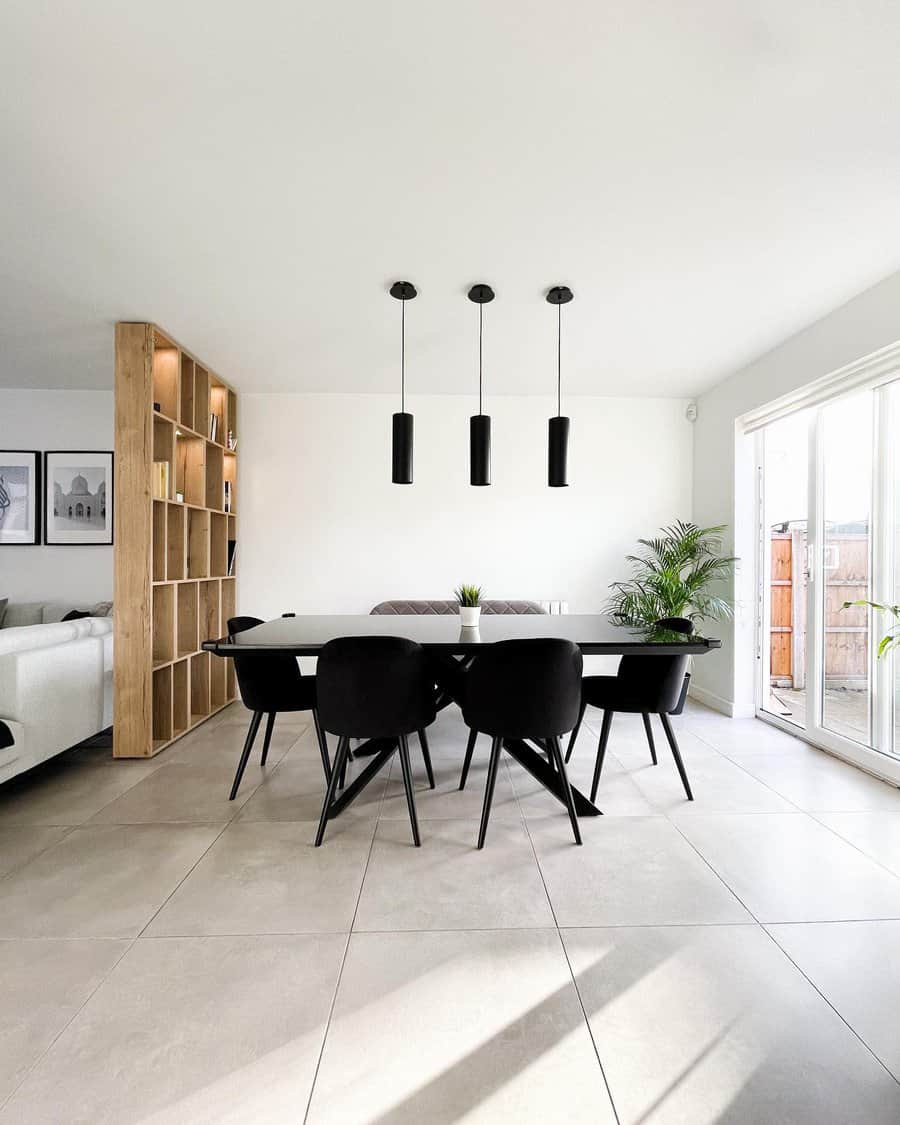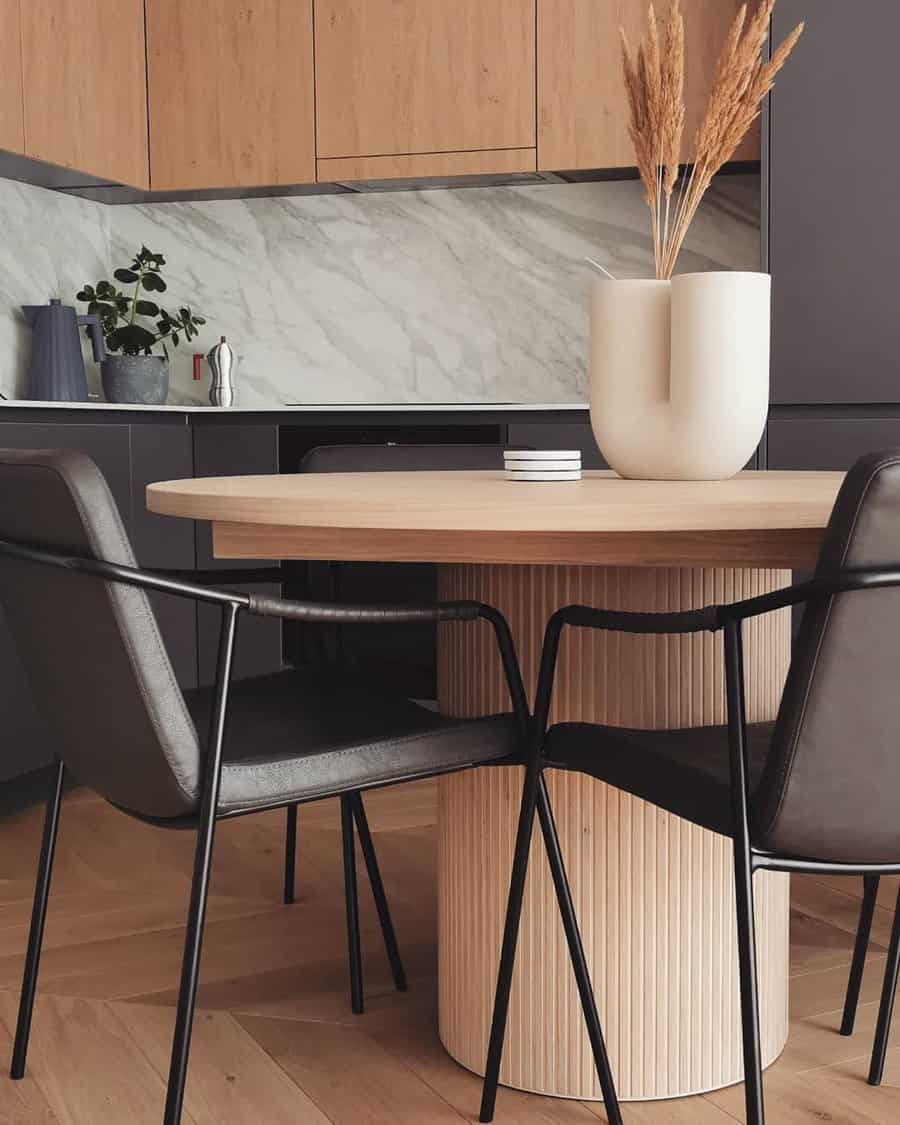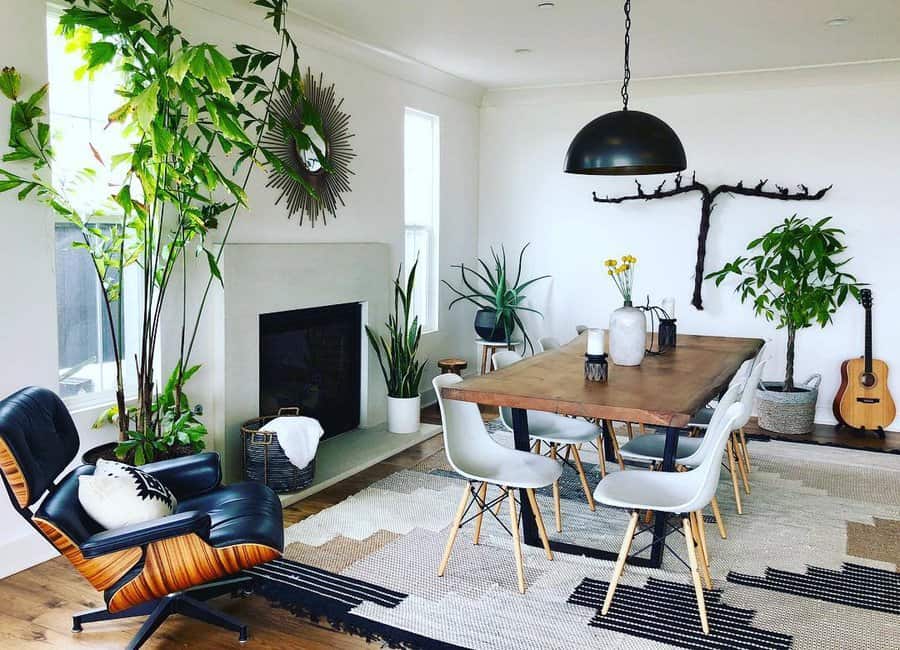 9. Bring an Edgy Look with Industrial Elements
Create a unique and captivating dining experience by embracing the raw, industrial aesthetic. Opt for exposed brick walls to add character and warmth, instantly transforming your space. Above, delicately suspended wrap lights set a relaxed and inviting ambiance, illuminating your gatherings with a soft, radiant glow. Introduce elements of rustic elegance through distressed wood, selecting a reclaimed dining table or weathered chairs to complete the look. This stylish blend of industrial and rustic decor creates a harmonious atmosphere, perfect for making memories and enjoying sumptuous meals with loved ones.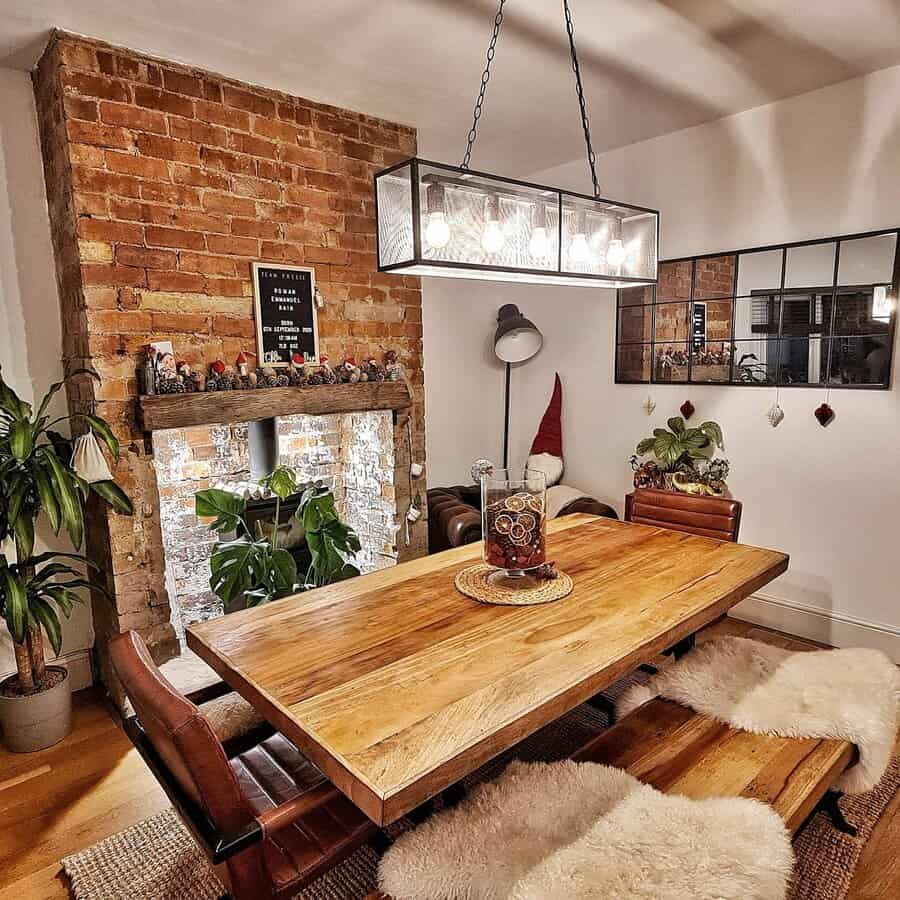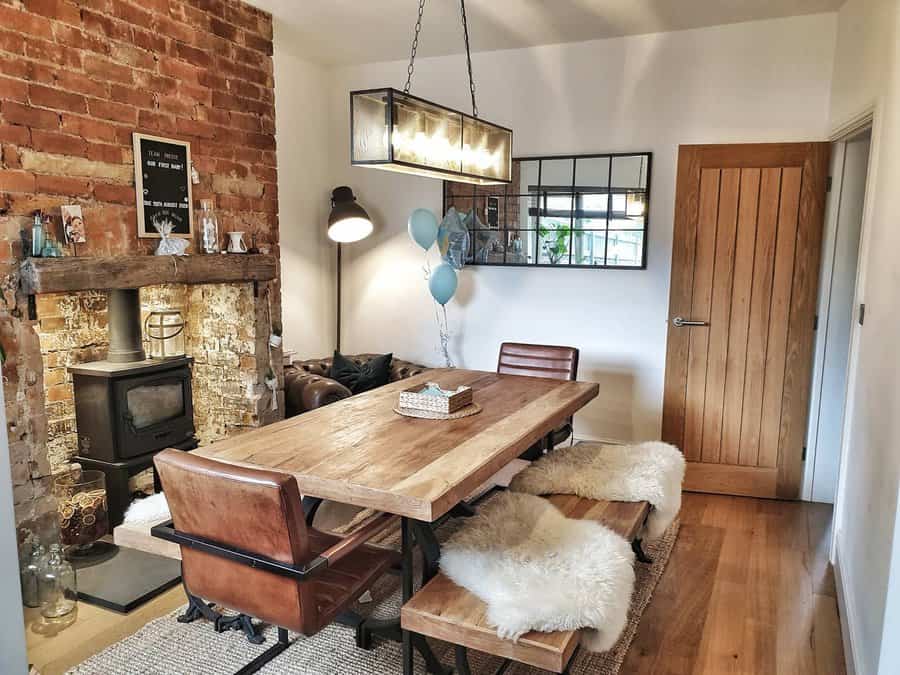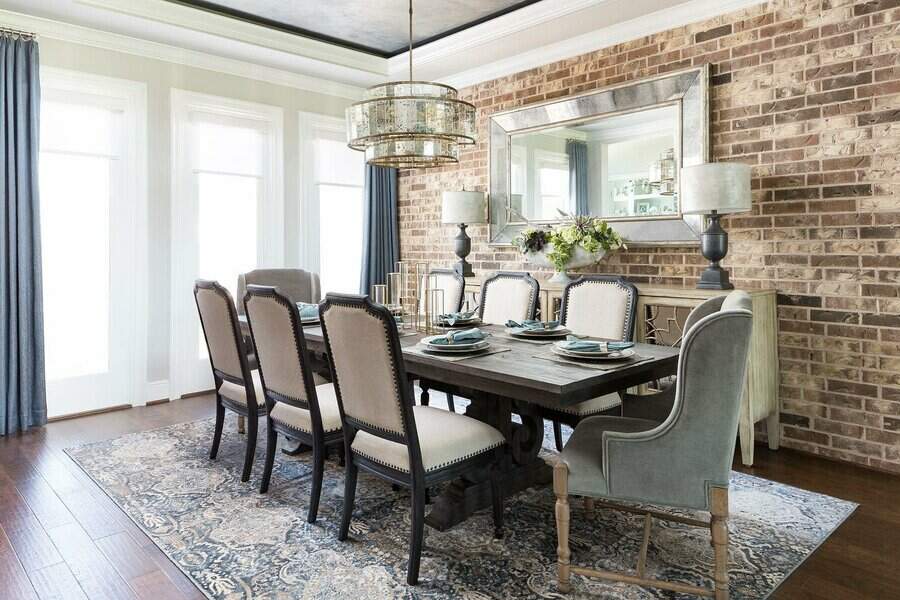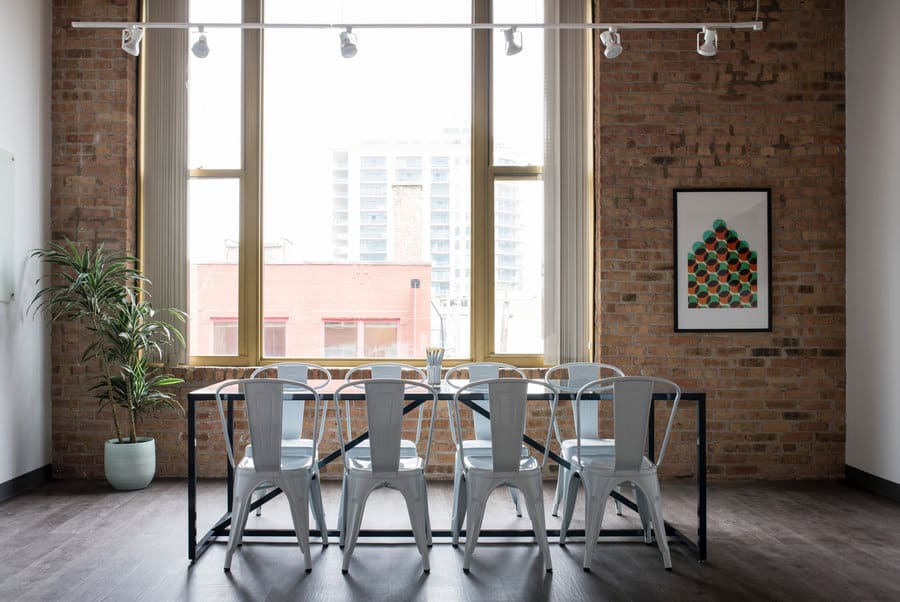 10. Maximize Space Using a Cozy Dining Banquette
Transform your dining area with the elegant addition of a dining banquette, combining chic style with practical comfort. This versatile seating solution not only enhances the aesthetic of your space but also optimizes it, proving especially beneficial for smaller rooms. Imagine a snug bench adorned with plush cushions, creating an inviting nook for enjoyable meal times. A banquette adapts effortlessly to various seating needs, accommodating everything from cozy family meals to larger gatherings with friends. Transition seamlessly from traditional seating to a more integrated, welcoming dining experience with a stylish banquette in your home.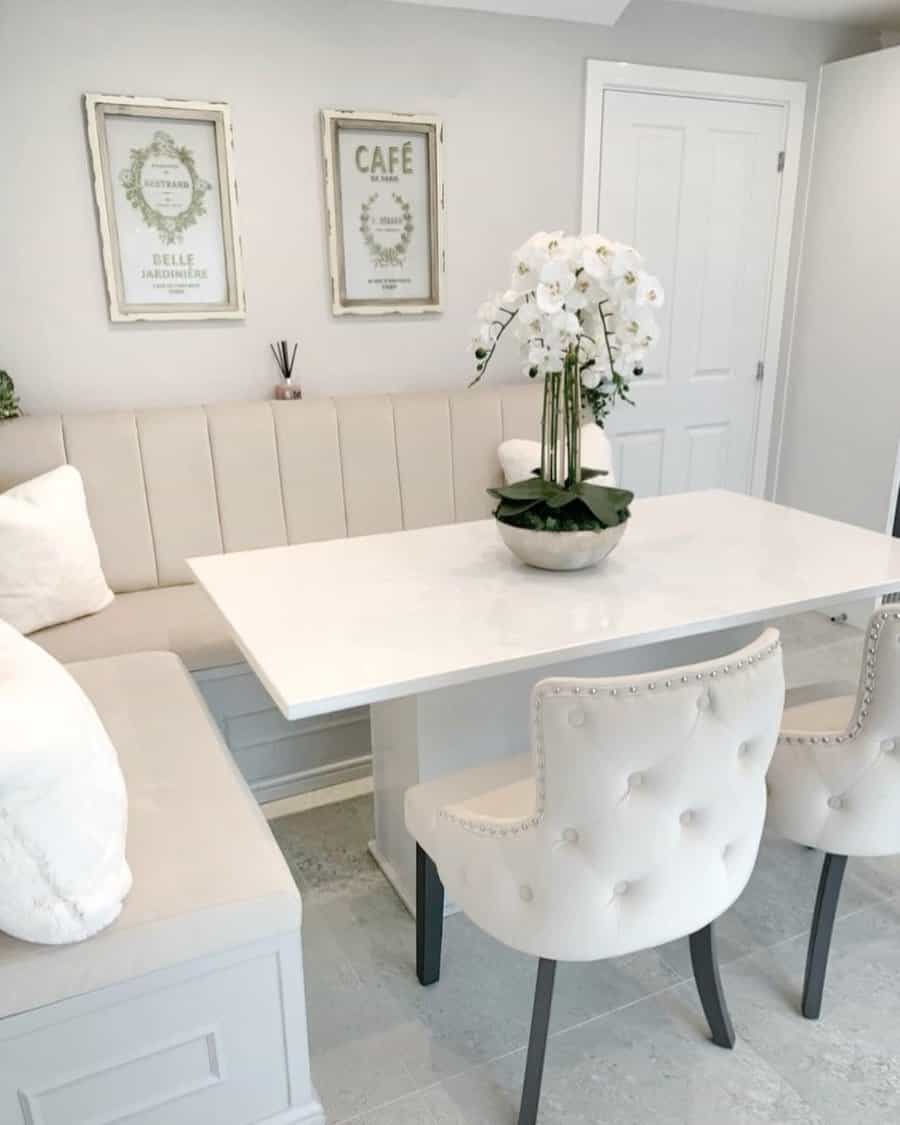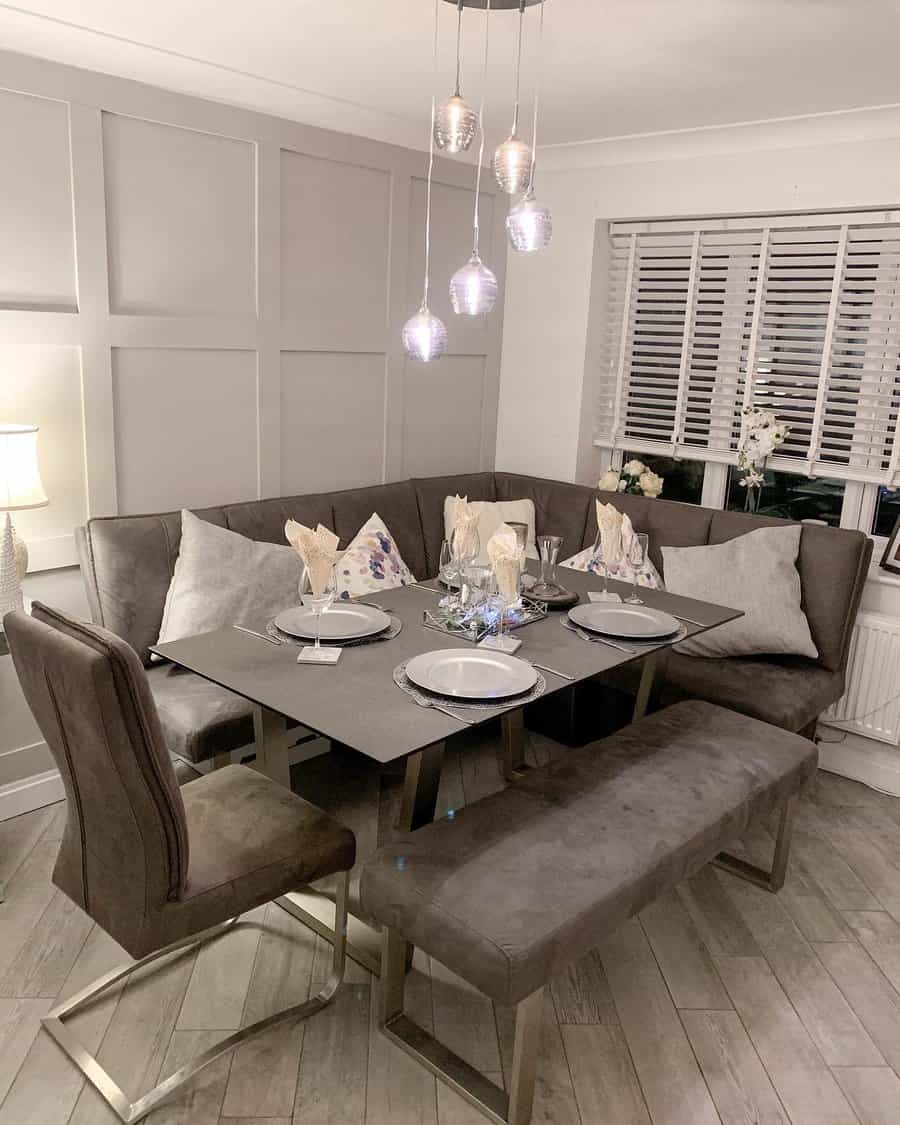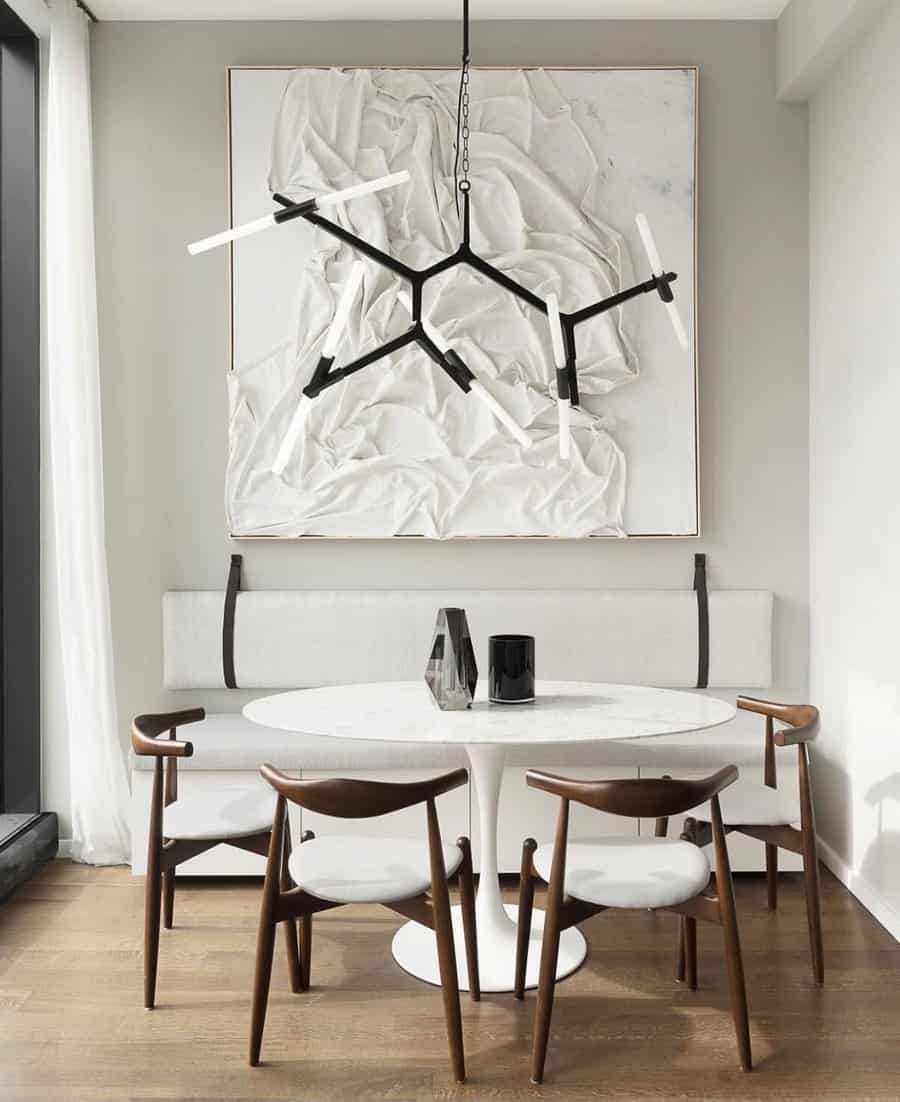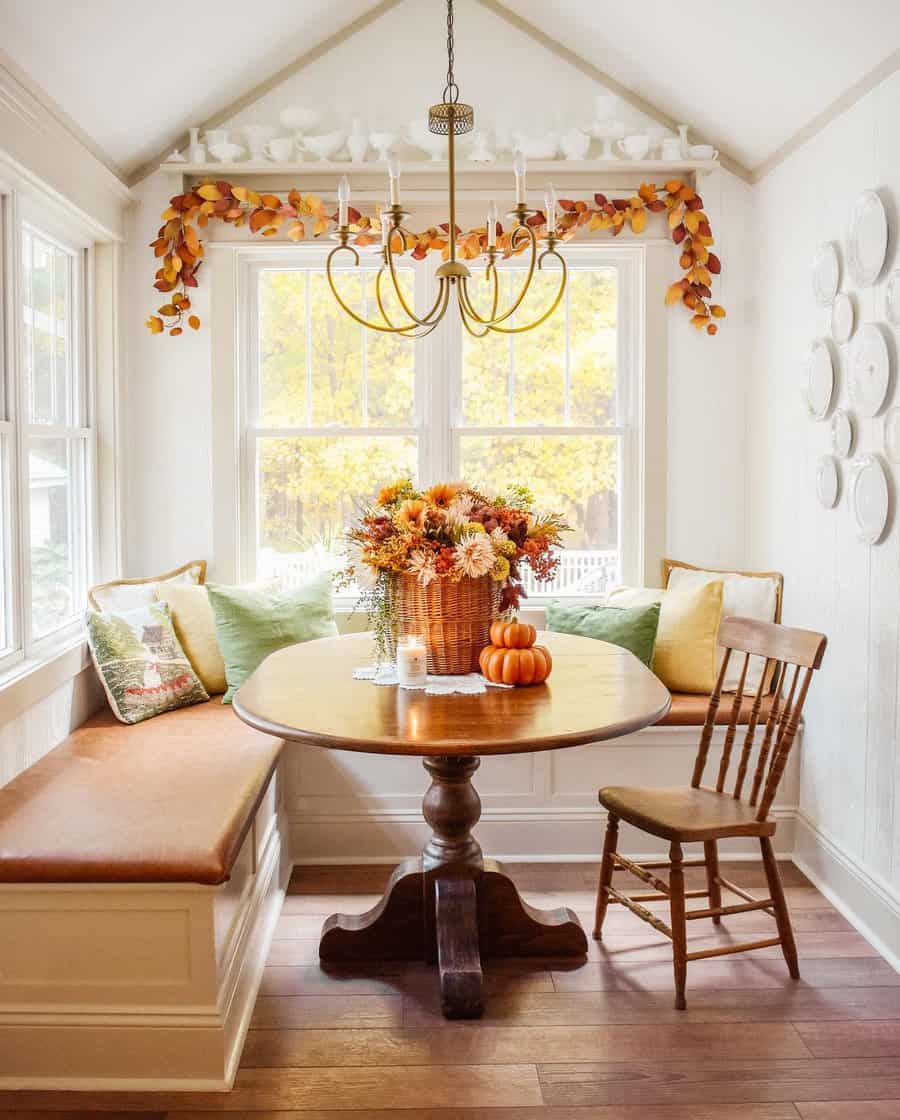 11. Indulge in Luxury with Velvet Dining Chairs
Experience the luxury and warmth of velvet seating in your dining room, blending both sophistication and unparalleled comfort. Envision plush velvet chairs in either vibrant jewel tones or subtle elegant neutrals, inviting you to sit back and indulge in delightful meals. Elevate your dining experience with this sumptuous choice, transforming your dining area into a sanctuary of opulence and stylish comfort. Whether for everyday dining or special occasions, velvet seating promises a touch of grandeur and a lasting impression.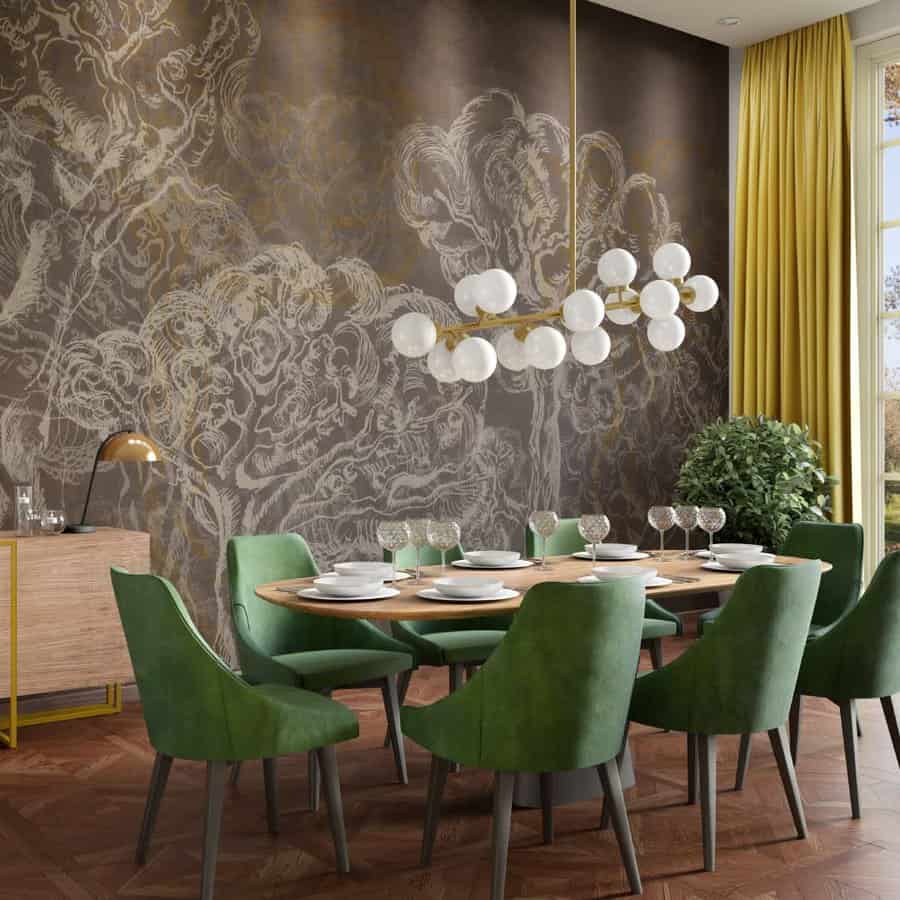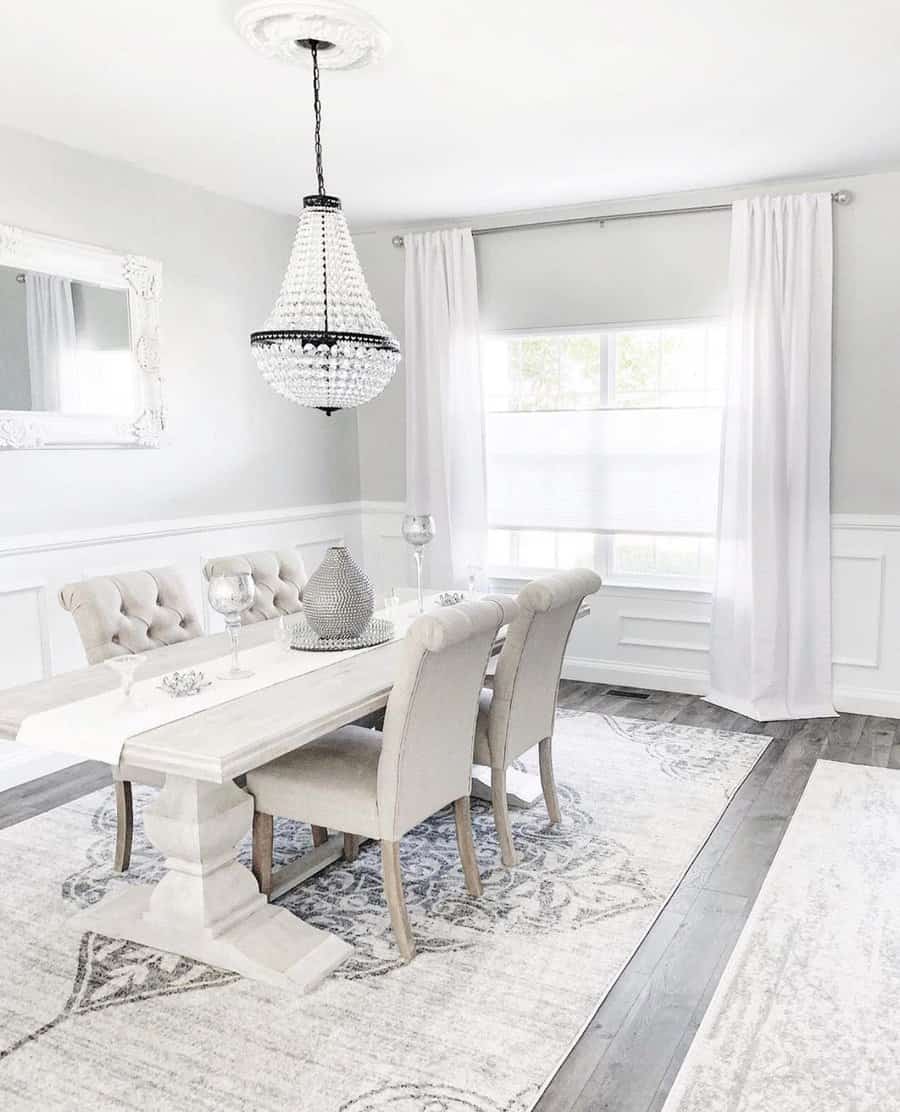 12. Foster Intimacy Around a Round Dining Table
Foster a sense of intimacy and connection in your dining space with a stylish round dining table, perfect for family gatherings and friendly get-togethers. Whether your taste leans towards sleek, contemporary designs or rustic, farmhouse charm, a round table seamlessly complements any dining room aesthetic. Its shape not only facilitates easier conversation among guests but also offers flexibility in seating, accommodating more people than a traditional rectangular table. Make your dining experiences more memorable and inclusive, inviting everyone to join in the laughter and conversations around your chic, round dining table centerpiece.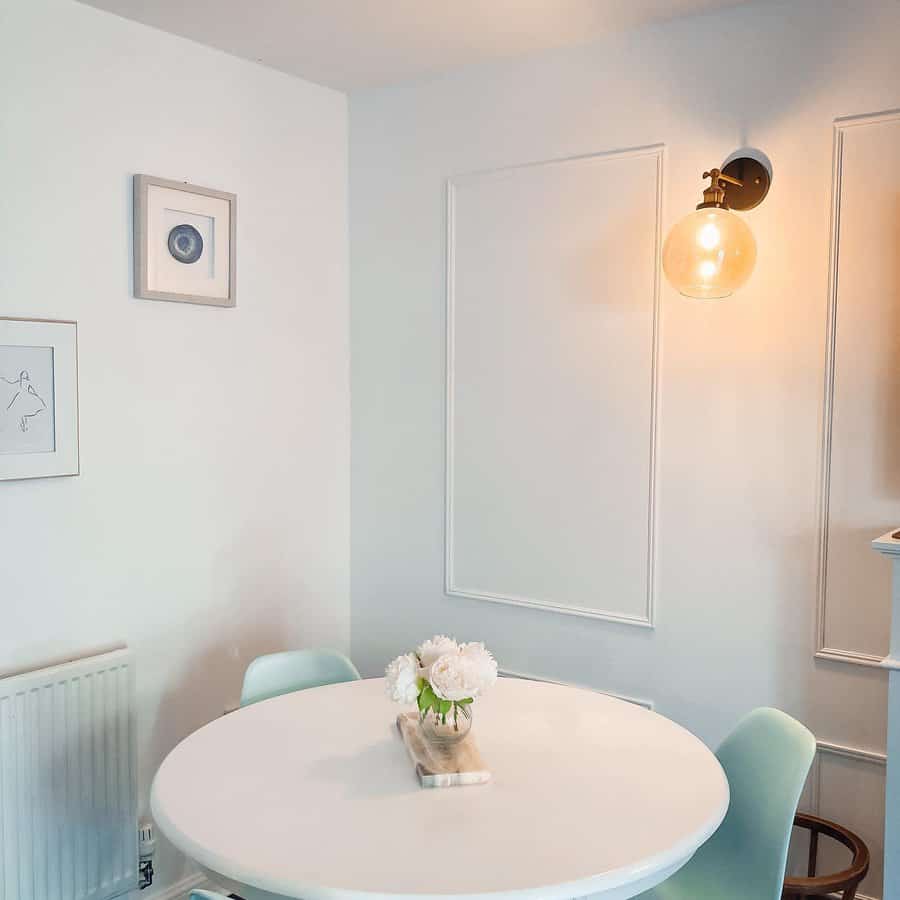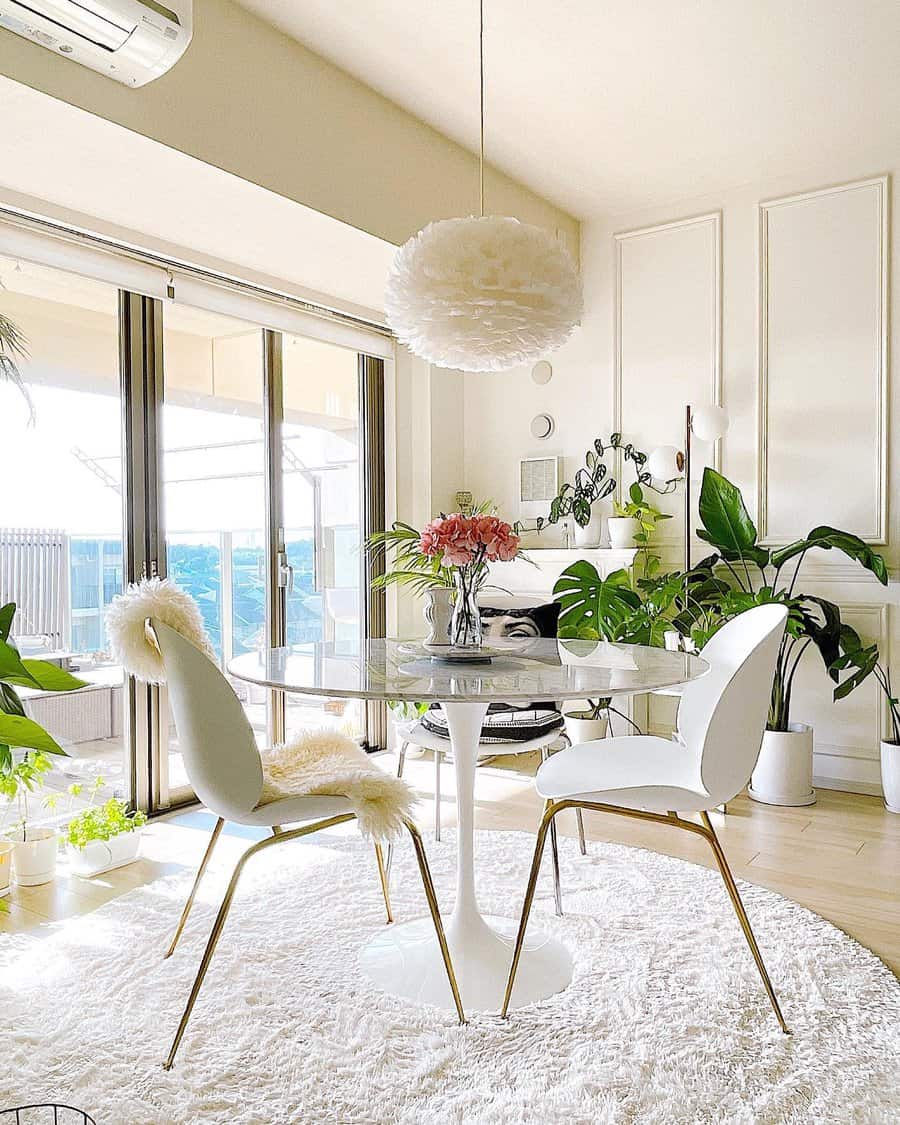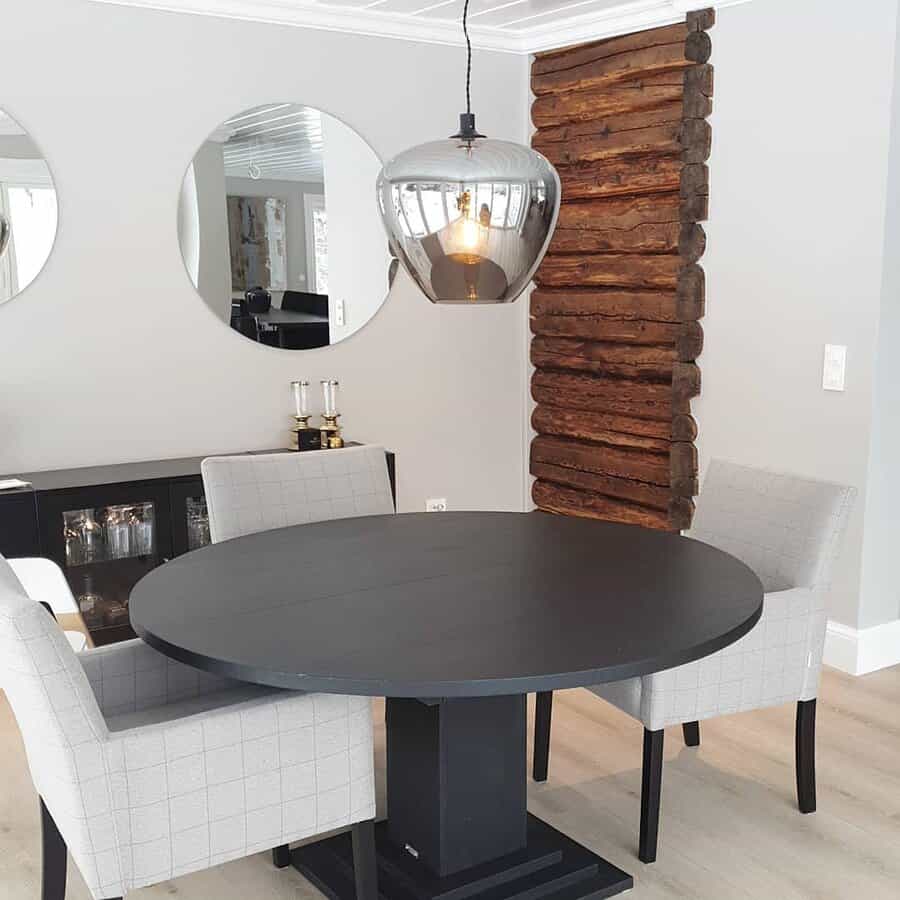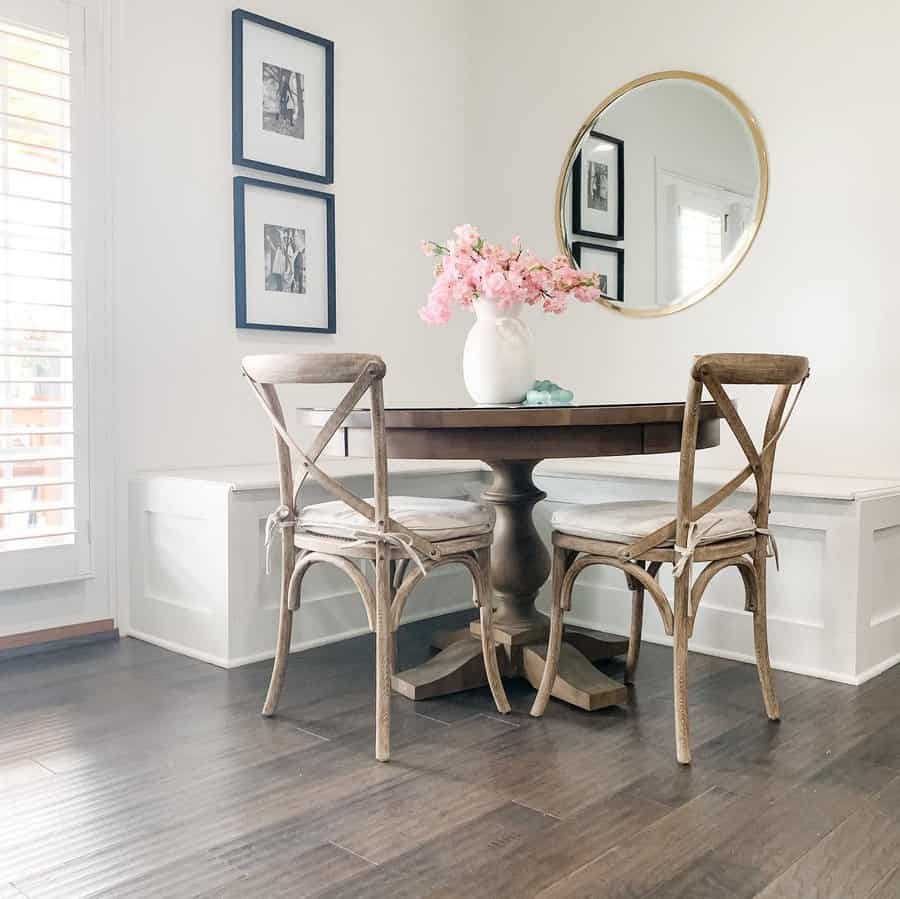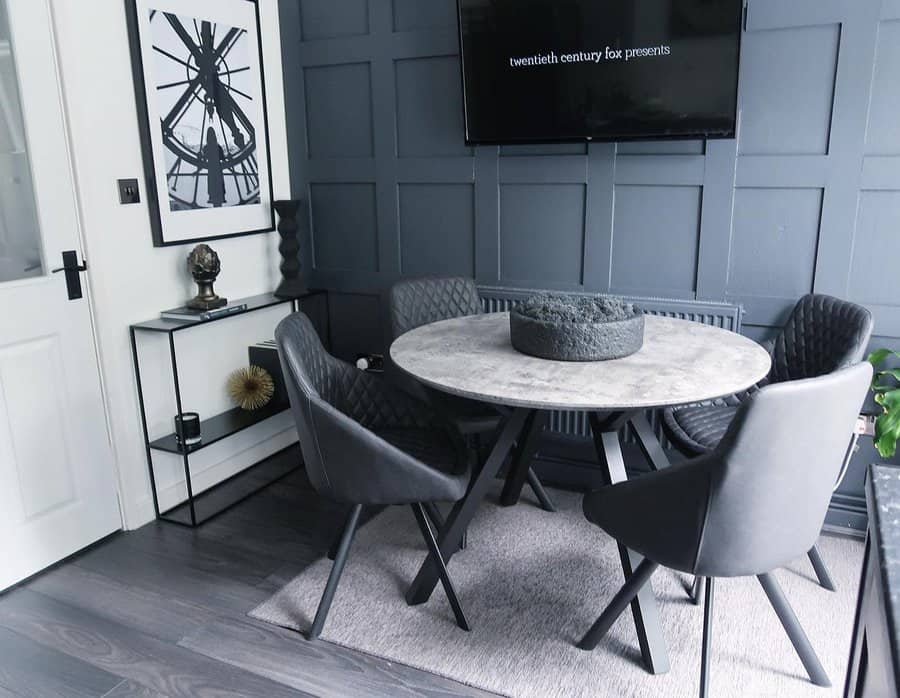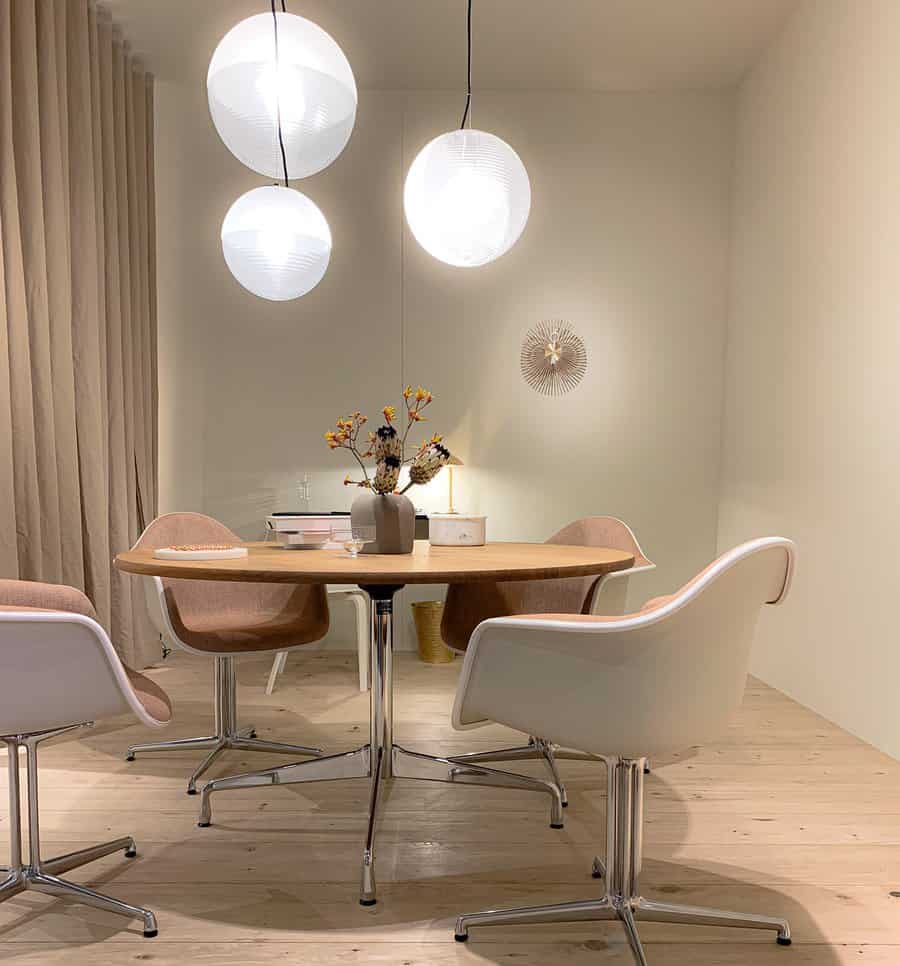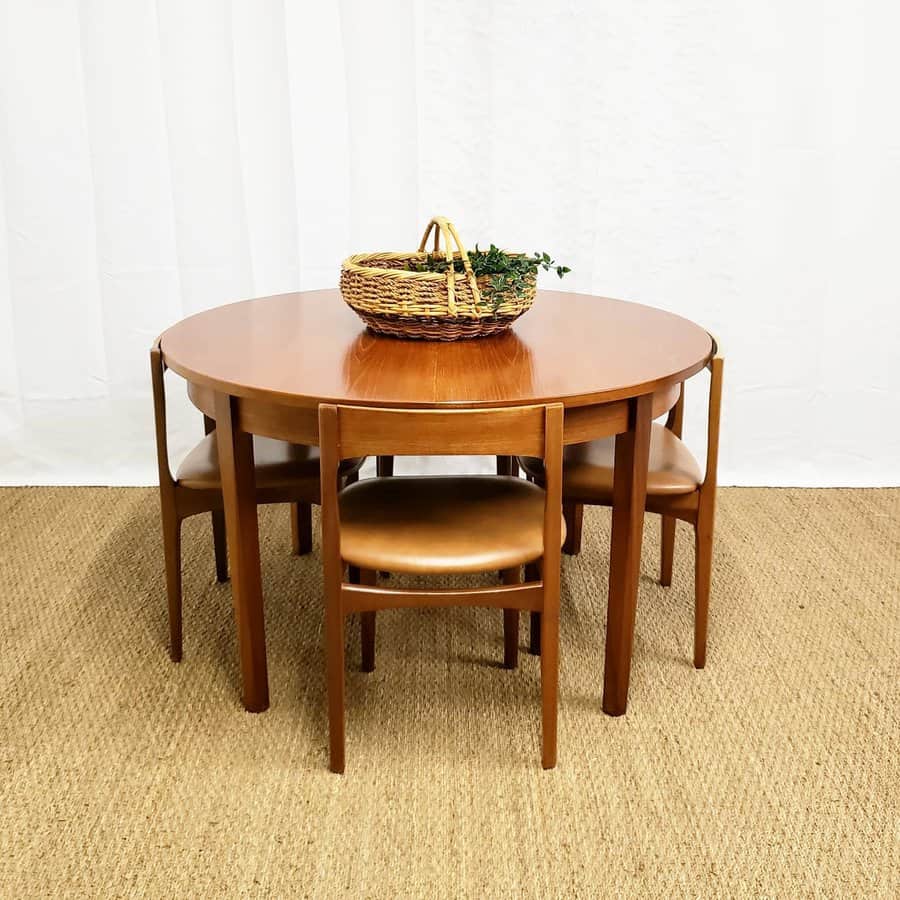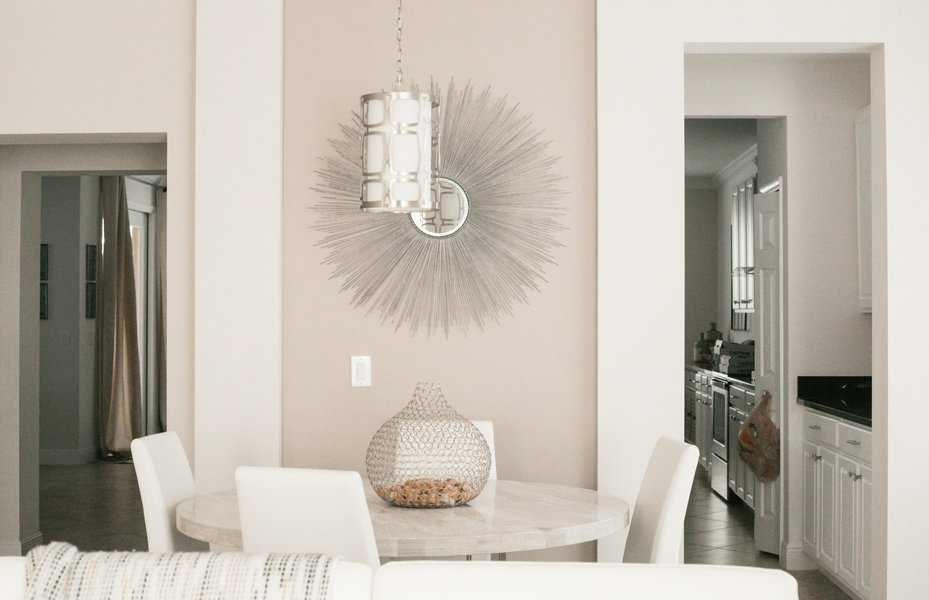 13. Merge Sleek and Sophisticated in a Modern Room
Revamp your dining space with sleek, modern contemporary elements, ensuring a stylish and impressive setting. Initiate the transformation with a striking crystal chandelier, serving as a dazzling focal point while casting an enchanting glow across the room. Enhance the sparkle with subtle silver accents, ranging from metallic chairs to gleaming tableware, creating a cohesive and luxurious feel. Introduce floor-length curtains in a sumptuous fabric to add drama and depth, elevating the room's sophistication. These elements work together to establish an elegant ambiance, perfect for hosting memorable gatherings and enjoying exquisite meals.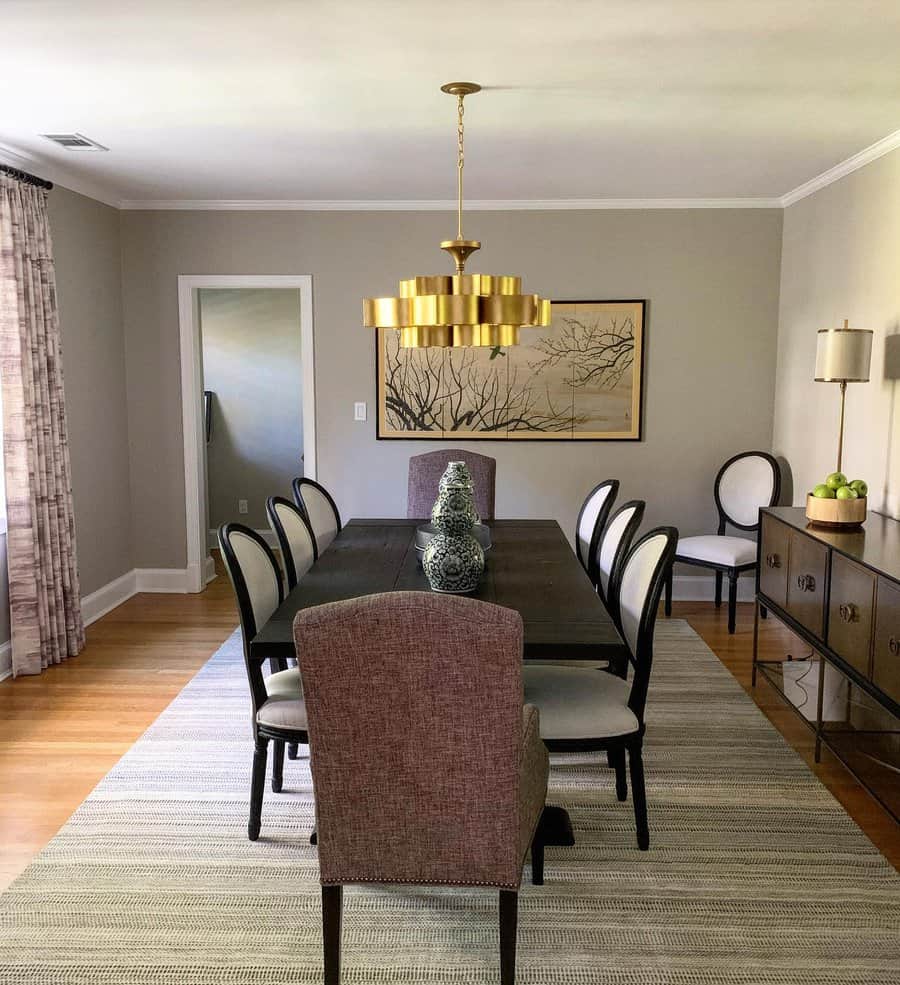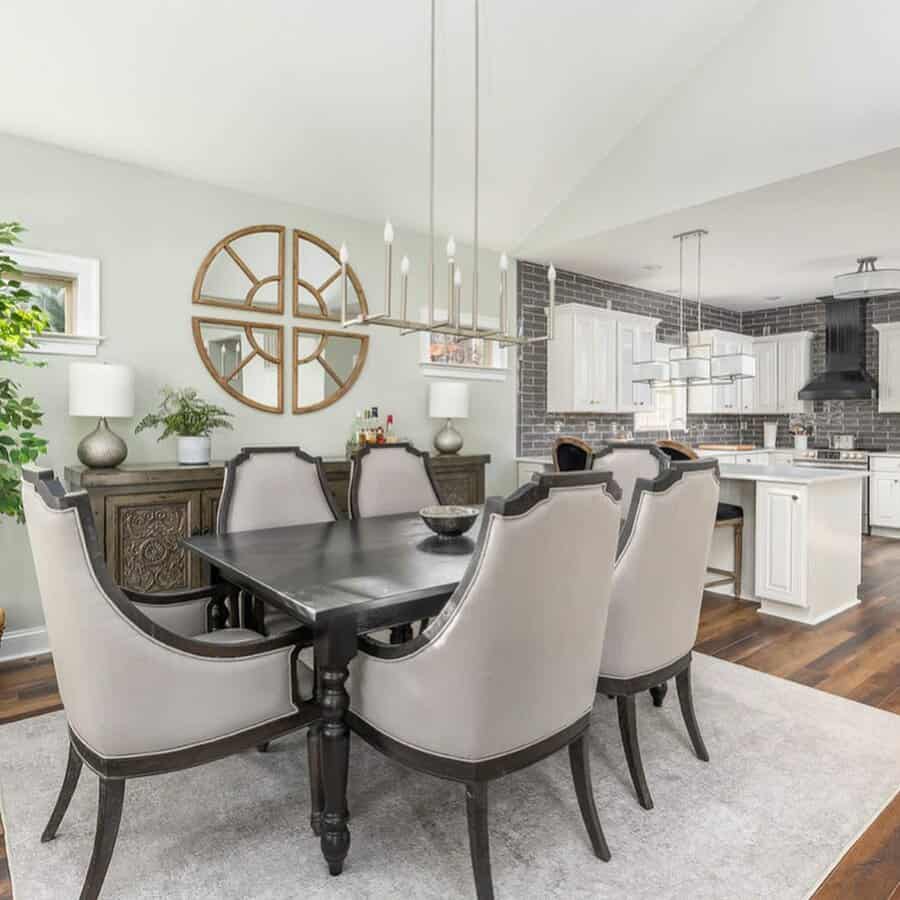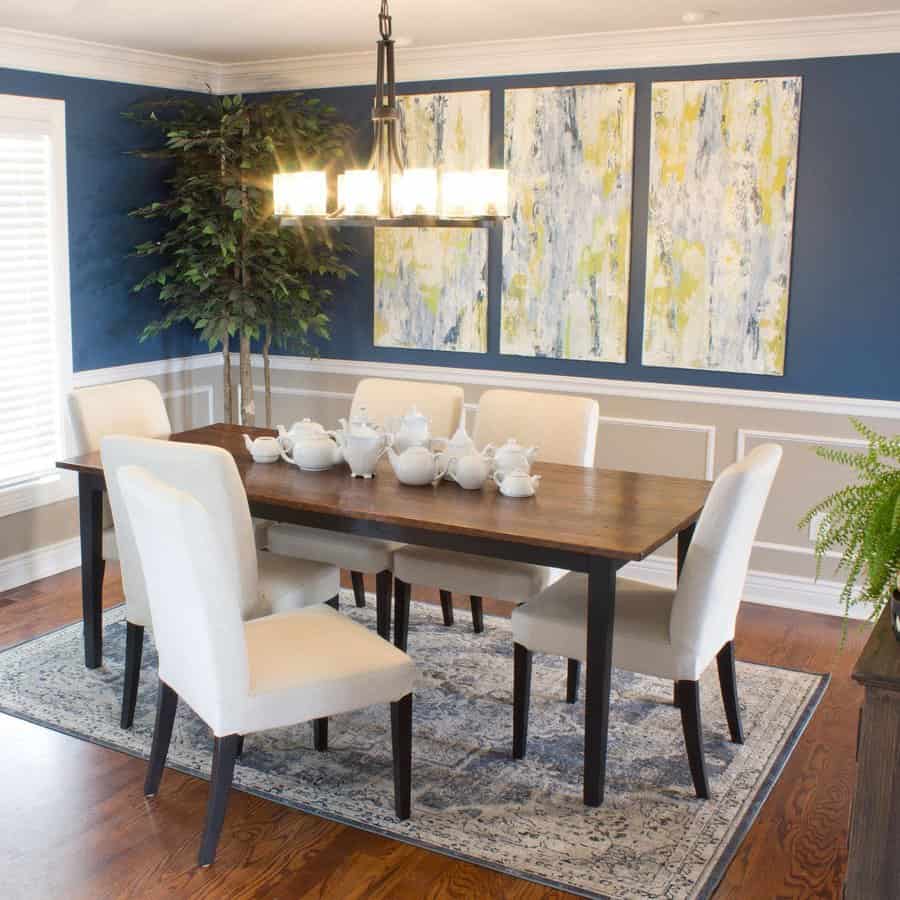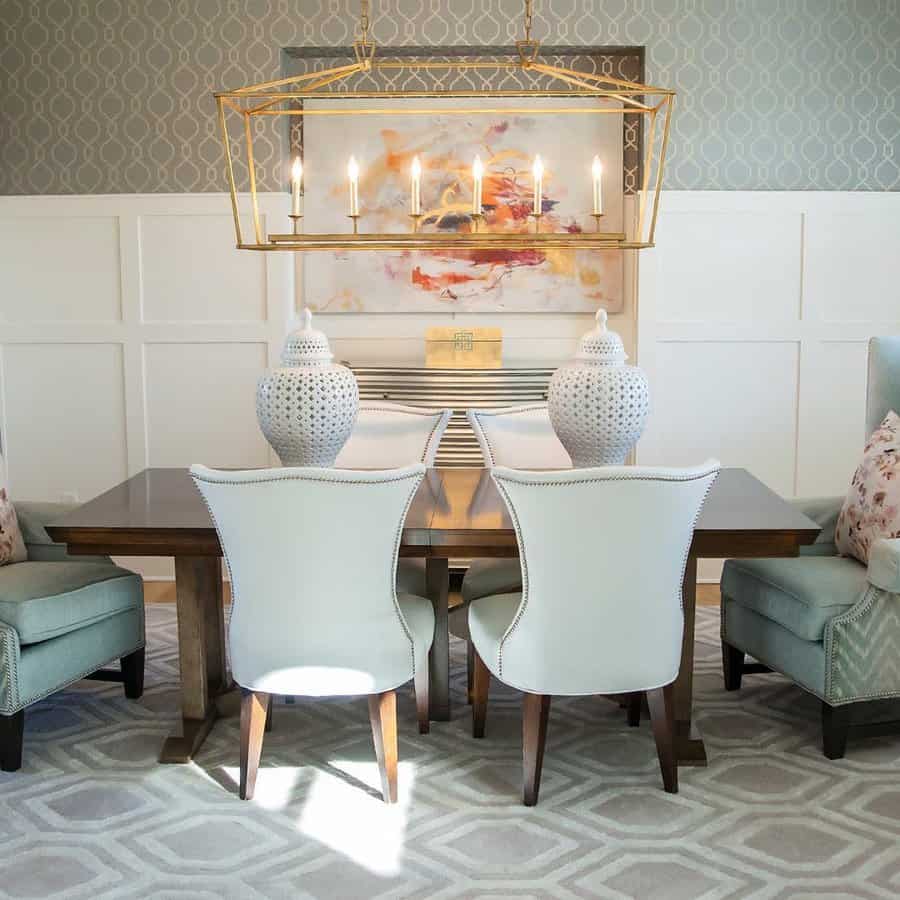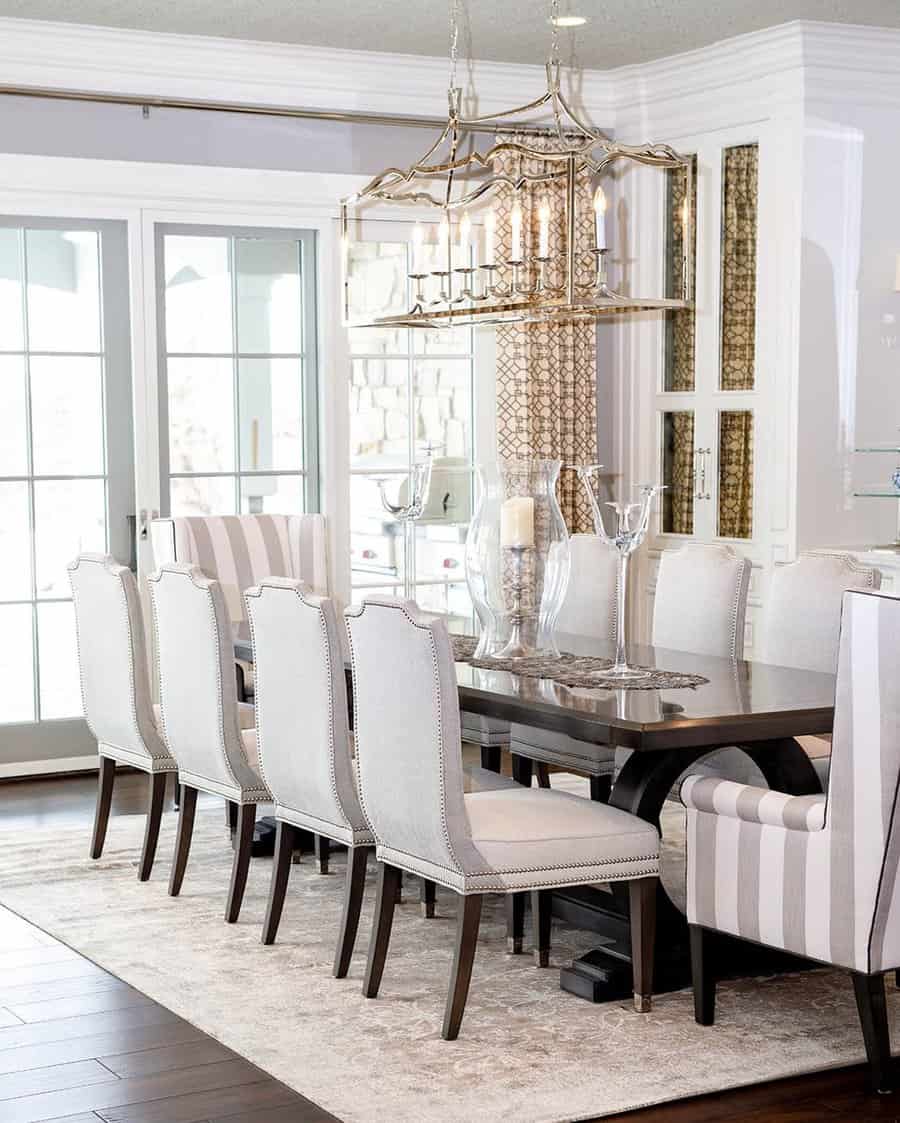 14. Go Retro with Midcentury Modern Dining Decor
Immerse yourself in the timeless charm and modern flair of a midcentury modern dining room, where sleek lines and warm hues converge. Envision a beautifully crafted wooden dining table taking center stage, encircled by plush leather seats offering both comfort and elegance. The blend of natural materials and minimalist design fosters a welcoming ambiance, perfect for lively discussions and intimate gatherings. Allow the captivating allure of midcentury modern style to transform your dining experiences, turning every meal into a celebration of exquisite design and cherished moments.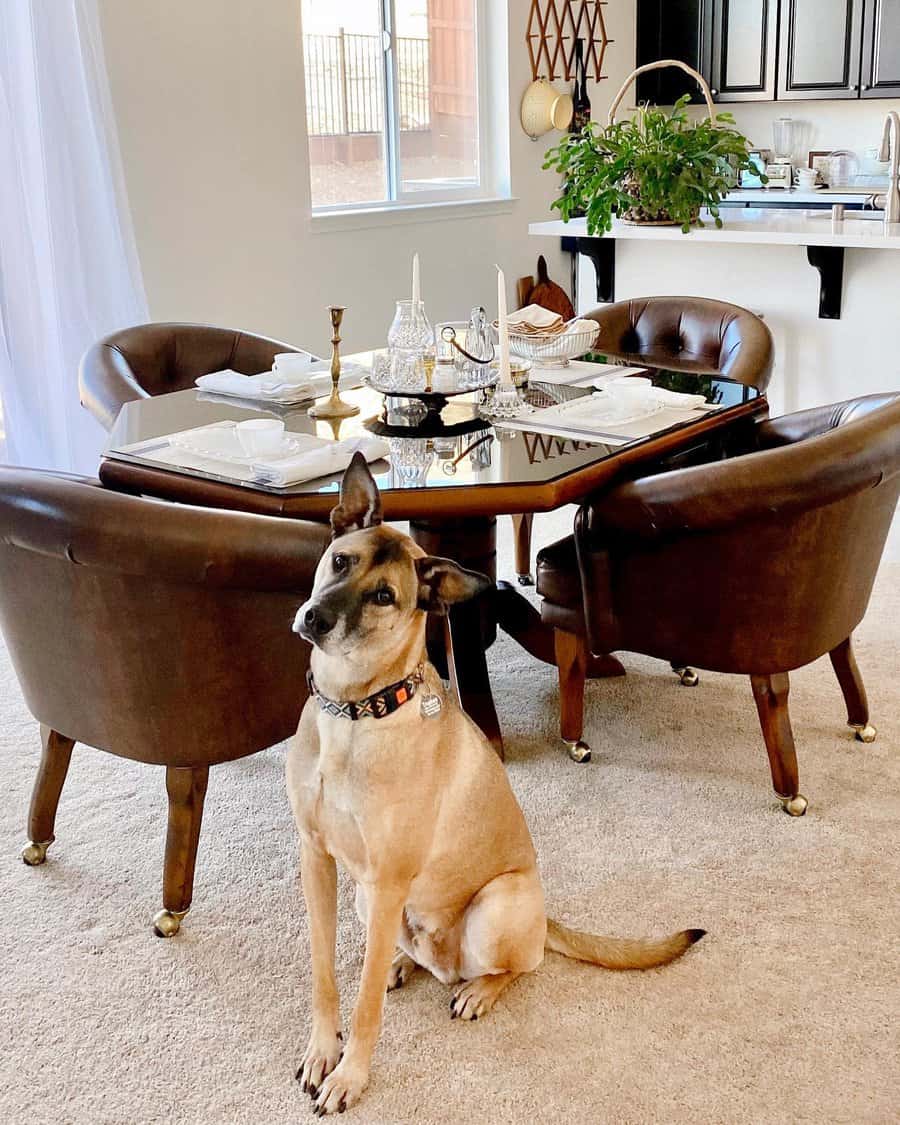 15. Transform Your Space with Decorative Wallpaper
Elevate your dining room's ambiance with the exquisite allure of decorative wallpaper, introducing a floral motif to create a blooming oasis right in your home. Choose a pattern with delicate blossoms in vibrant hues, infusing your space with natural elegance and a touch of whimsy. The intricate design and playful elements are bound to spark conversations, setting a delightful backdrop for your meals. Whether you decide on a striking feature wall or choose to envelop the entire room, floral wallpaper adds life, style, and a timeless beauty to your dining area, creating an environment that's as memorable as the gatherings it hosts.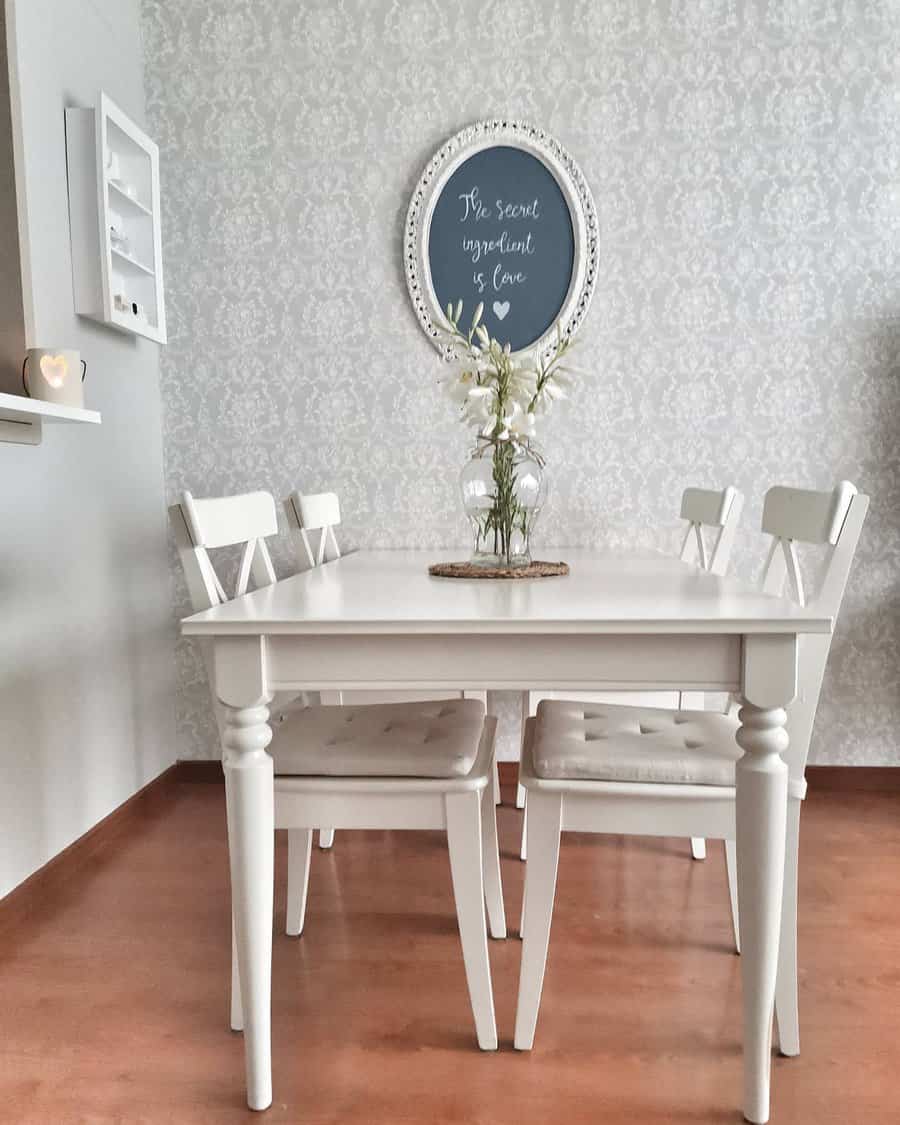 16. Add a Classic Touch with Chair Railing Moulding
Introduce an element of classic sophistication to your dining room with chair railing moulding, a decorative trim that effortlessly blends protection and style. Positioned typically at chair height along the walls, it not only guards against scuffs and damage but also serves as an elegant design feature. Select from a wide array of styles and finishes to seamlessly align with your dining room's unique aesthetic, be it traditional, modern, or eclectic. For a bold statement, consider painting the moulding in a contrasting hue, or opt for a subtler elegance with a color matching the walls. This versatile addition infuses character and definition, ensuring your dining room is both protected and polished for every meal and gathering.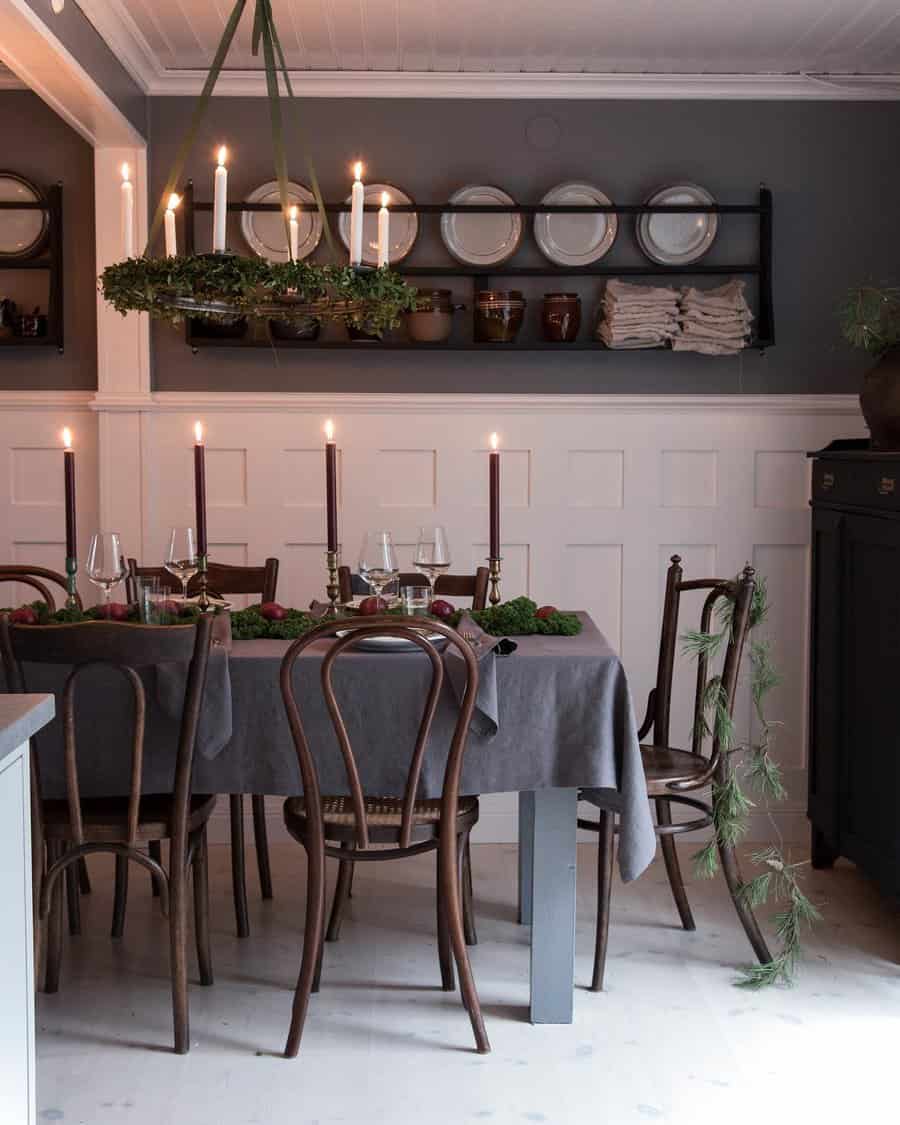 Dining Room FAQs
Should your kitchen and dining room decor match?
If the rooms are separated by a doorway or other divider, then matching decor isn't necessary. In the case of an open floor plan, it's best to include similar design elements throughout your kitchen and dining space.
Keep in mind that many things you use in your kitchen — serving trays, dishes, etc. — will also be used in your dining room. So it makes sense for the two spaces to at least share a common color scheme.
How do you choose a dining room rug?
Placing an area rug underneath your dining room table is a great way to protect the original flooring. It can also give your dining room decor a more finished appearance.
Select a rug large enough for your entire dining table and accompanying chairs — don't forget to account for extra table leaves when measuring your furniture. The rug should extend far enough out that your dining room chair legs stay on it even when pulled away from the table.