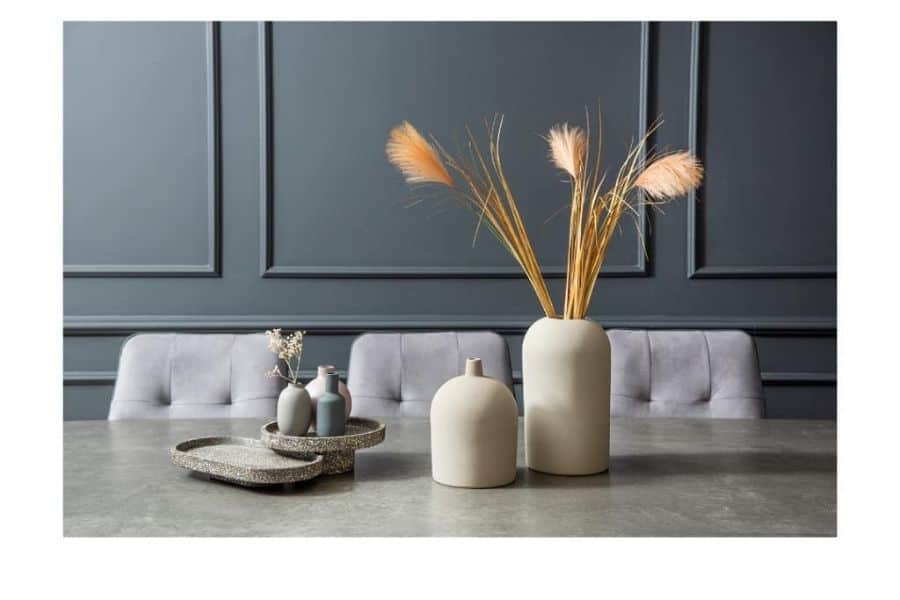 58 Dining Table Centerpiece Ideas for Everyday
by — Kari Apted

Published on July 12, 2021

Updated on October 24, 2023
"Be faithful to your own taste, because nothing you really like is ever out of style." — Billy Baldwin
Many of us only decorate our dining room table during the holidays or when we're entertaining. However, a beautiful dining room centerpiece makes any night of the year feel special.
No matter your decorating style, there are countless table décor ideas perfect for every season. And like all fabulous touches in your home, they should reflect your tastes and personality.
Dining table centerpiece ideas range from long, detailed tablescapes to the simplest jar of wildflowers. Our gallery of ideas showcases dining table ideas to suit every decorating style and budget. Scroll through and discover how easy it is to brighten up your dining room table today!
1. Elevate Style with a Bowl or Tray as Your Foundation
Elevate your dining table style with a carefully chosen bowl or tray as the foundation of your centerpiece. Opt for materials that match your room's theme, such as natural wood or rustic metal. Fill it with seashells, dried flowers, fruit, or seasonal items to enhance the ambiance. To add depth, consider placing the bowl or a candle on top of the books. Ensure your centerpiece complements your room's overall design, striking a balance between style and functionality.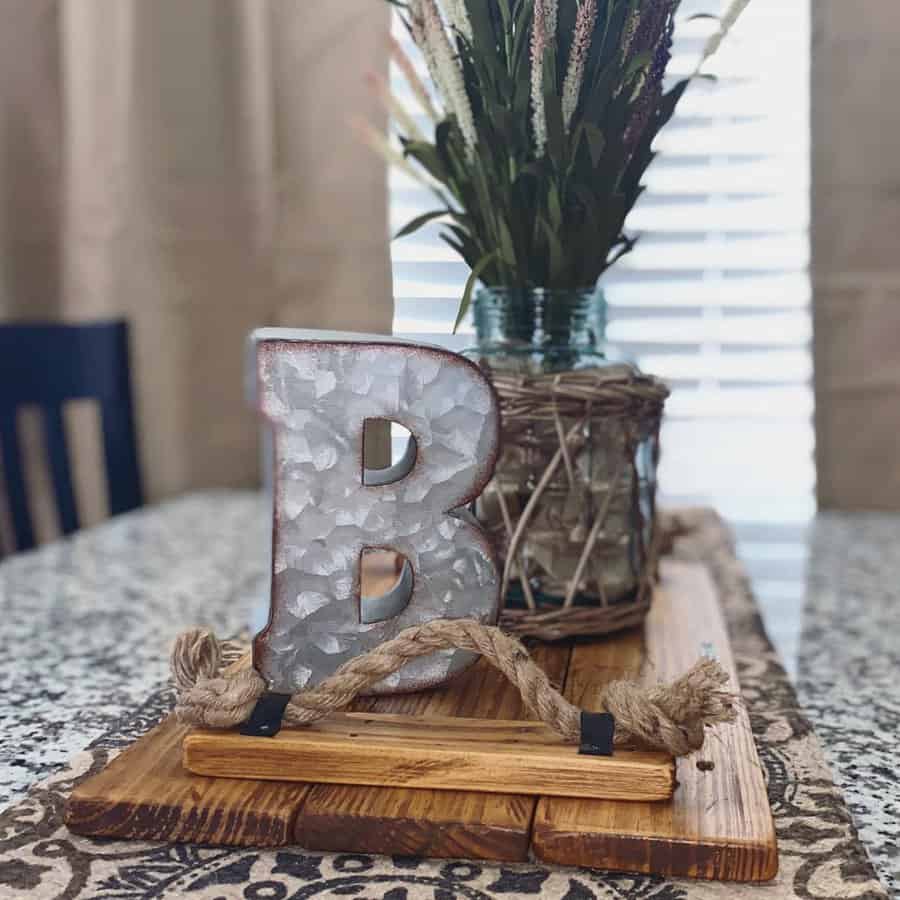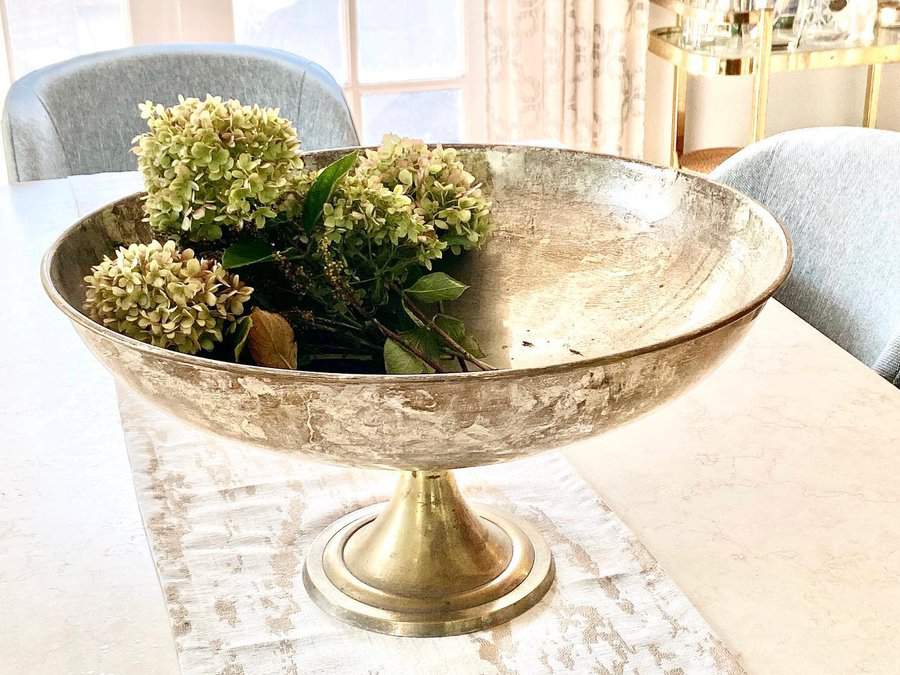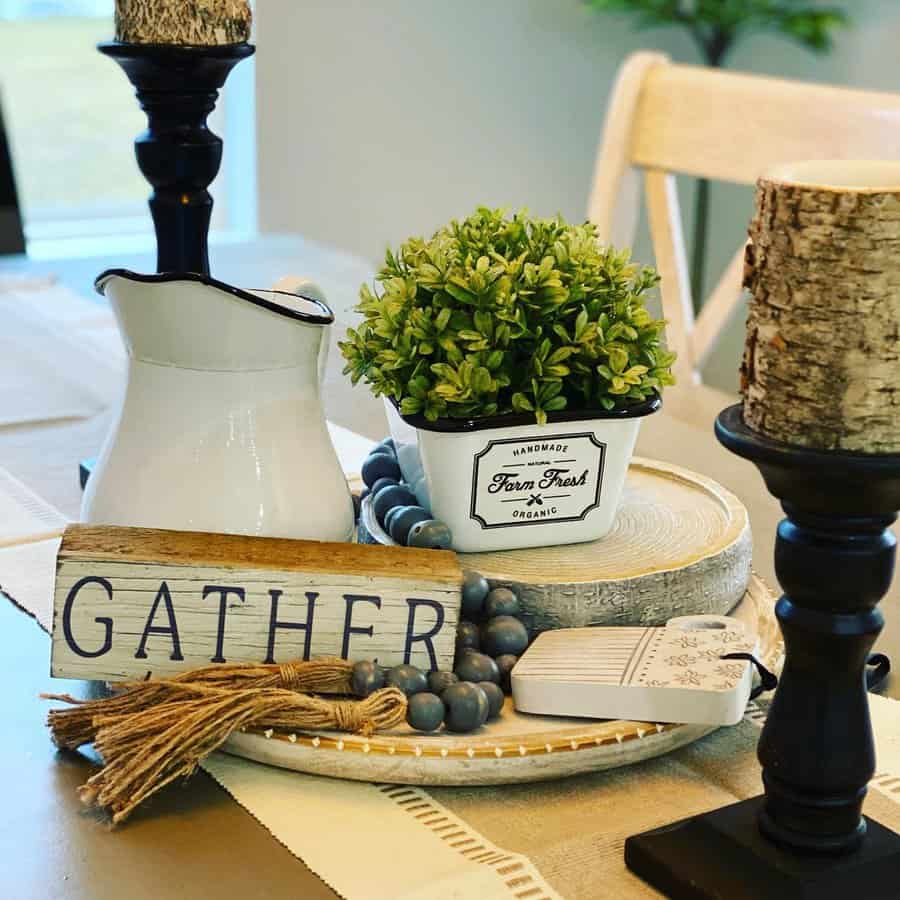 2. Create the Perfect Ambiance with the Magic of Candles
Crafting the perfect dining table ambiance can be effortlessly achieved with the magic of candles. To create a captivating centerpiece, opt for candles of varying heights to introduce visual interest. Consider scented candles for an added touch of luxury and relaxation. Arrange them thoughtfully at the table's center, and you'll have a visually pleasing and inviting centerpiece that enhances your dining experience.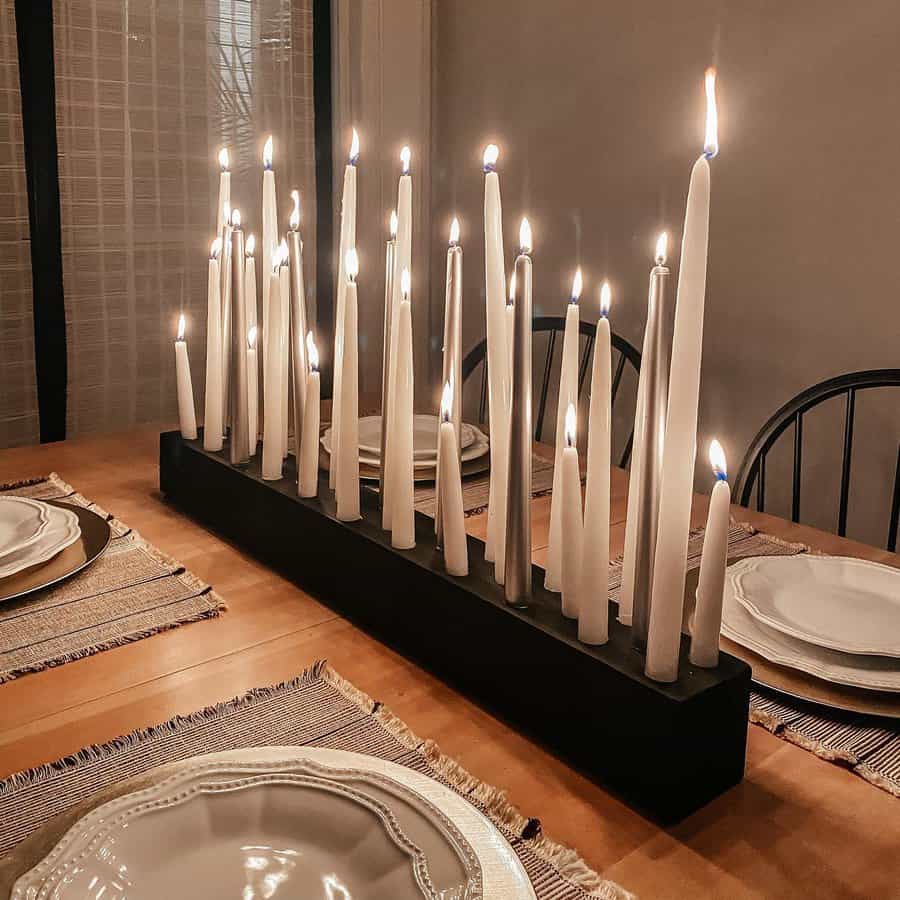 3. Embrace Nature: Transforming Your Table with Driftwood
Embrace nature by incorporating treated driftwood into your dining table centerpiece. This simple addition brings a touch of the beach to your daily dining experience. Arrange two or three treated driftwood pieces on a classic white runner for a clean and natural look. Enhance the display with fresh or dried flowers and candles for a romantic atmosphere. Whether it's for everyday dining or special occasions, treated driftwood offers an effortless way to infuse natural charm into your dining space.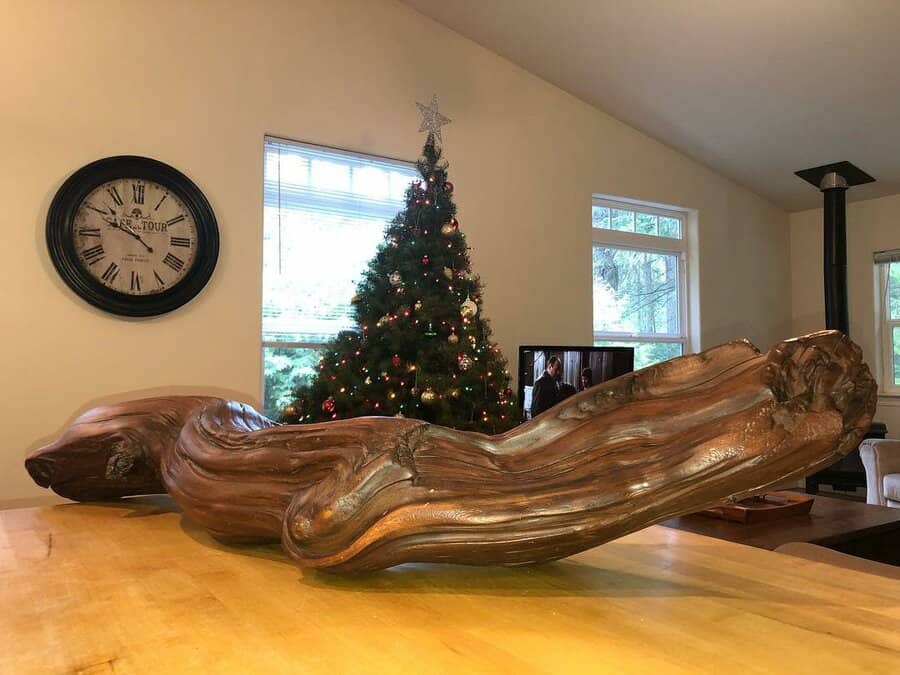 4. Make a Bold Statement: Incorporating Oversized Sculptural Pieces
Create a bold and contemporary statement by introducing oversized sculptural pieces to your dining table. Opt for large, elegant, and unique pieces, whether crafted from ceramic, marble, or another material, to infuse sophistication and visual impact into your space.
Pair these sculptural centerpieces with clusters of seasonal flowers to add an organic touch and draw attention to your statement piece. Alternatively, embrace minimalism by featuring the sculpture on its own. Taking these creative design risks can elevate your interior decor and make a lasting impression.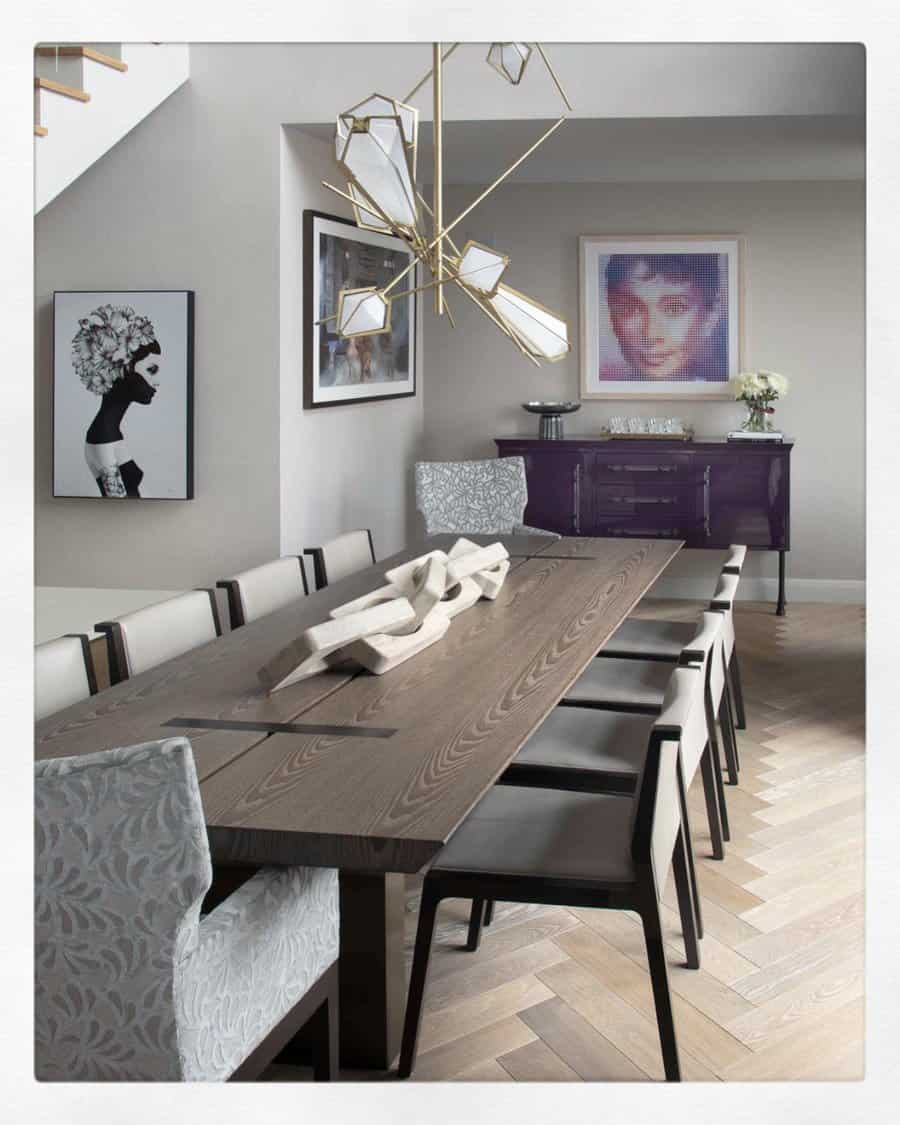 5. Autumn's Bounty: Decorating with the Harvest
Celebrate the bounty of autumn by incorporating fall decor into your dining table centerpiece. Arrange pumpkins of various shapes and sizes in the center of your table to infuse a warm, seasonal atmosphere. Enhance the autumnal feel by painting pumpkins in burnt orange hues or adding fall-themed stickers for a playful touch. These simple touches make it easy to add a vibrant and welcoming ambiance to your dining room.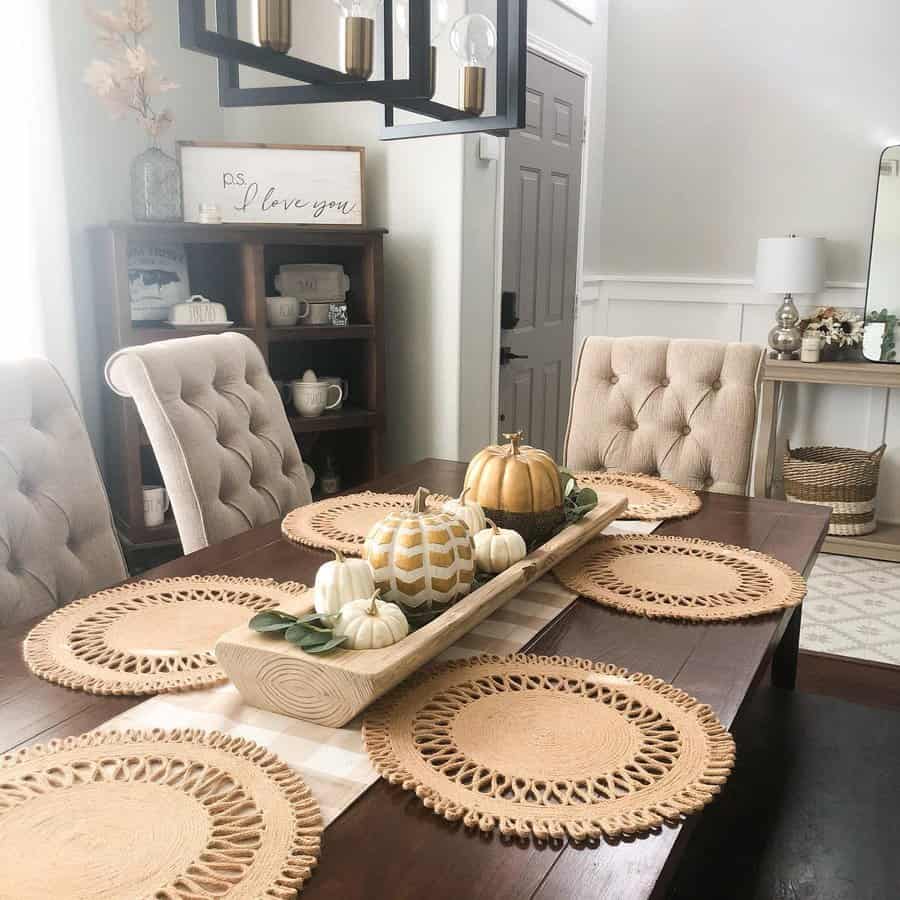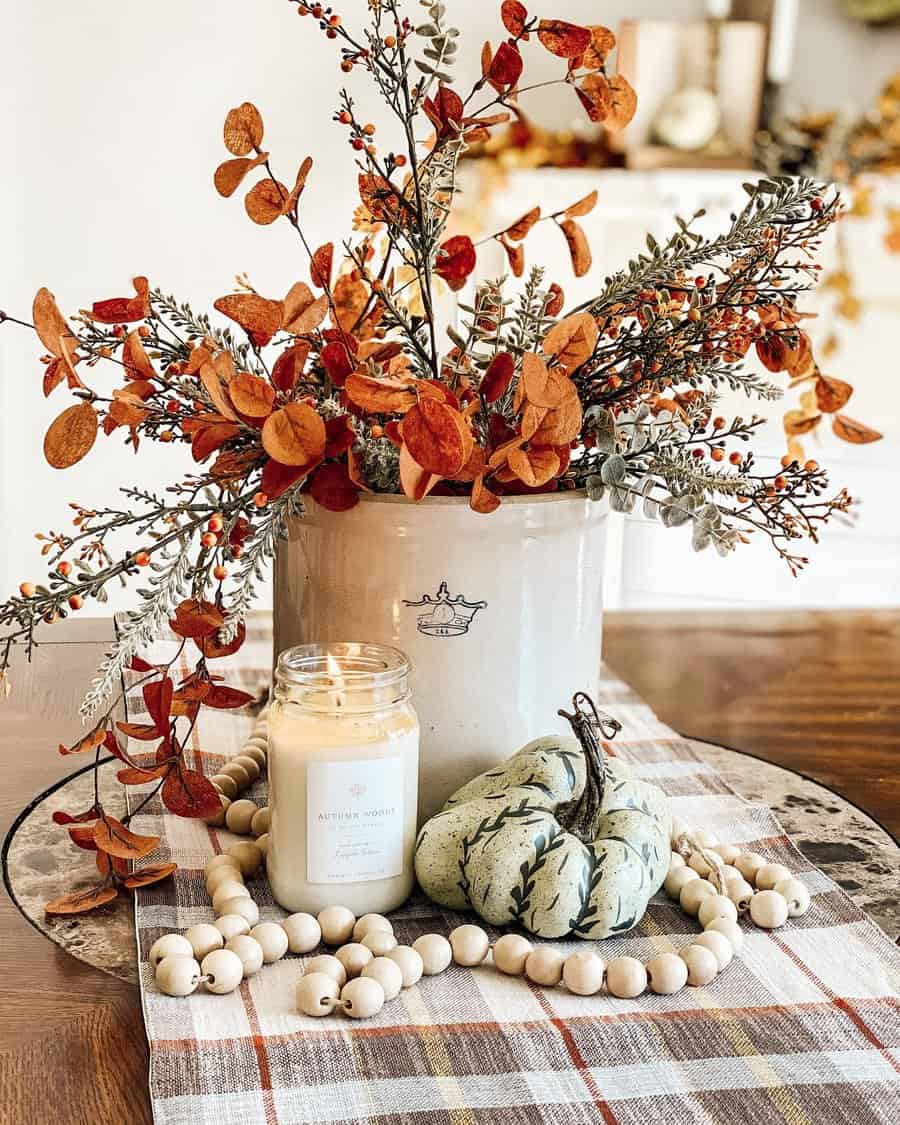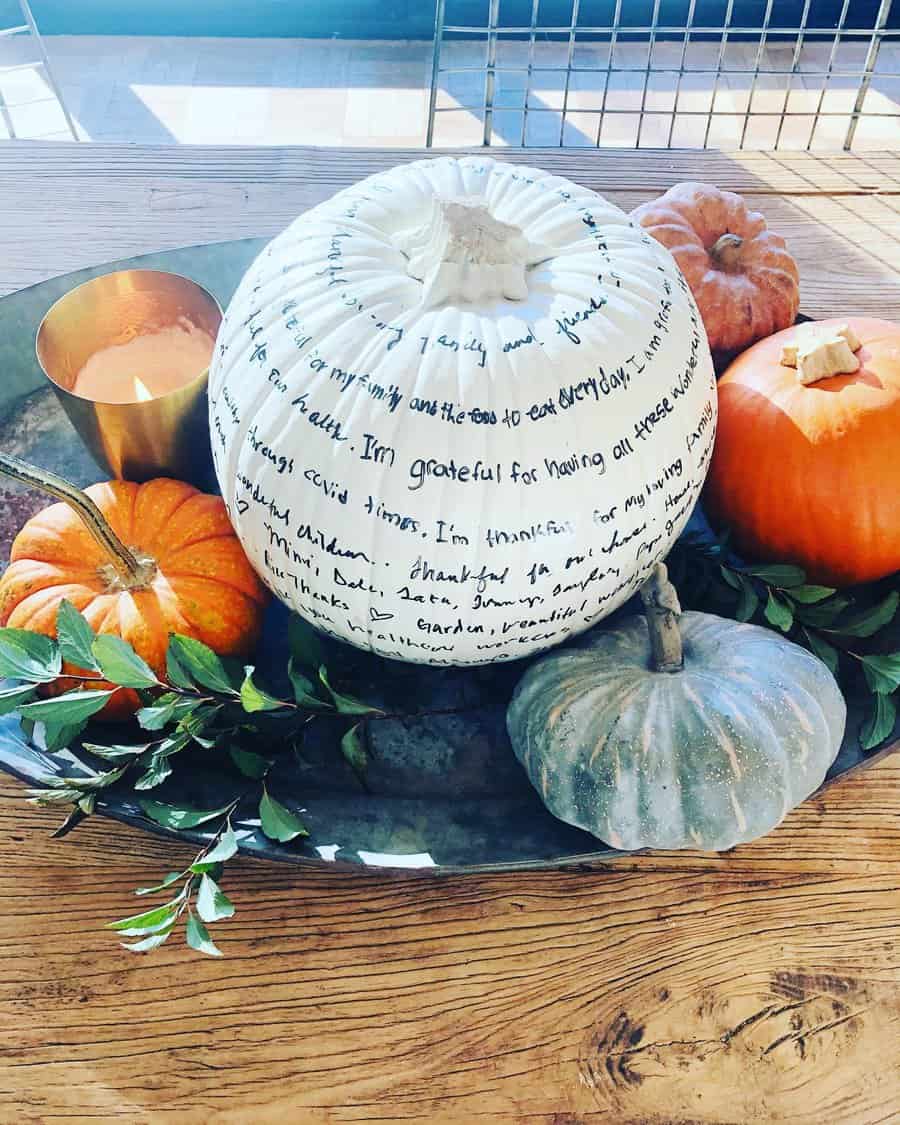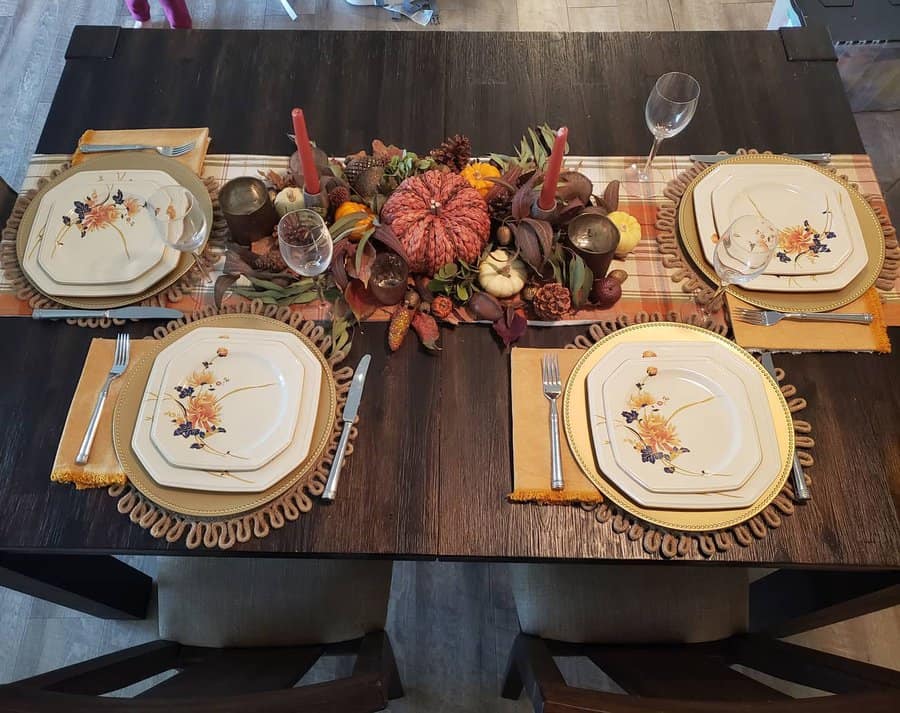 6. Table Runner Elegance: Elevating Your Table Setting
Achieve table runner elegance to elevate your table setting. Table runners offer a versatile and stylish foundation for your centerpiece. Experiment with various colors, sizes, and materials, incorporating textures like burlap, lace, sequins, or vibrant fabrics to suit your decor theme.
Consider layering an area runner for added design depth or choose a long table runner that can serve as a captivating statement piece on its own. Utilize a table runner as the starting point to create a striking and personalized table focal point that complements your overall dining space.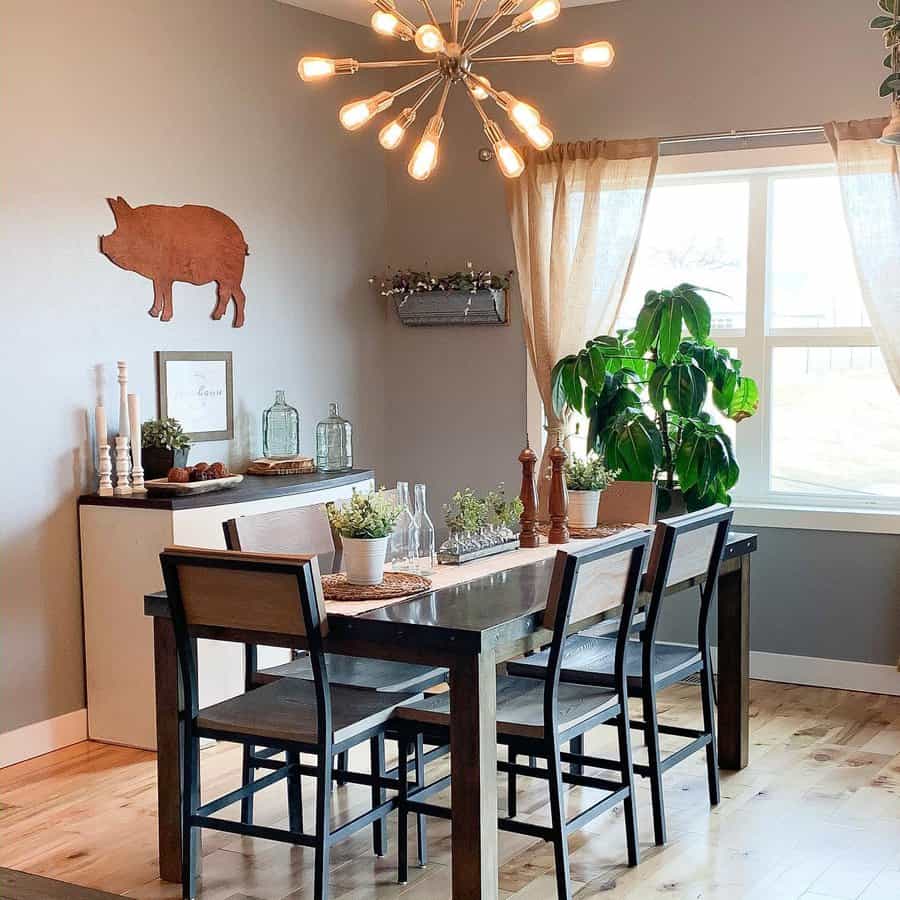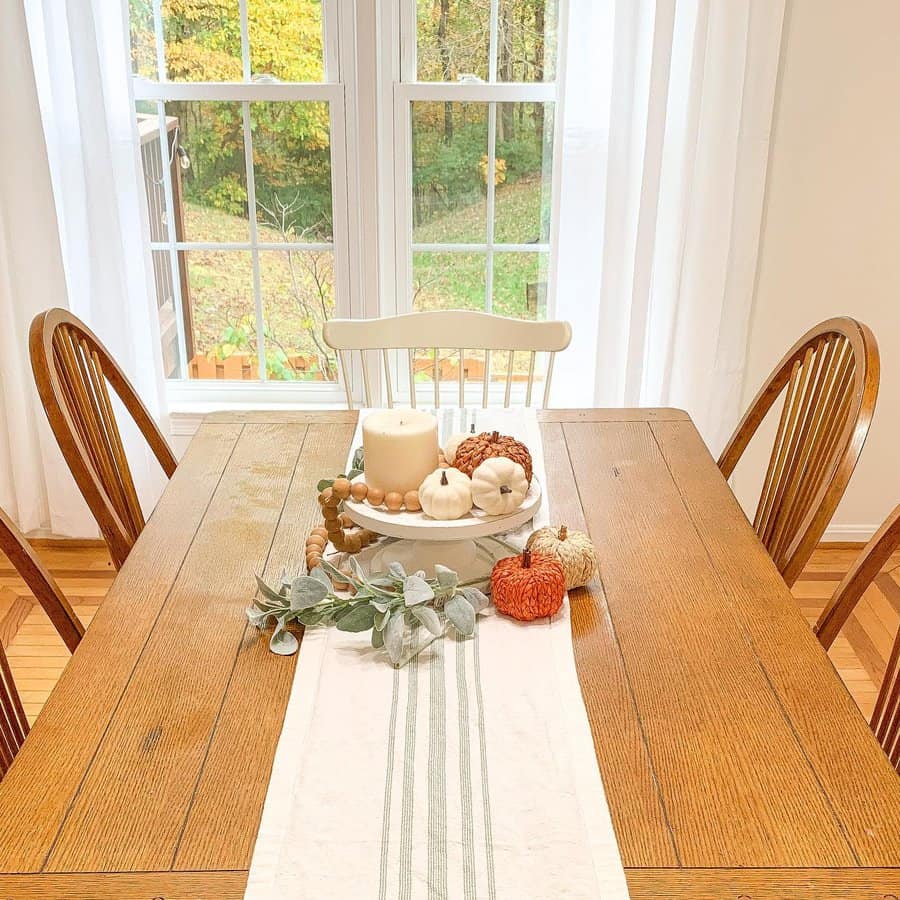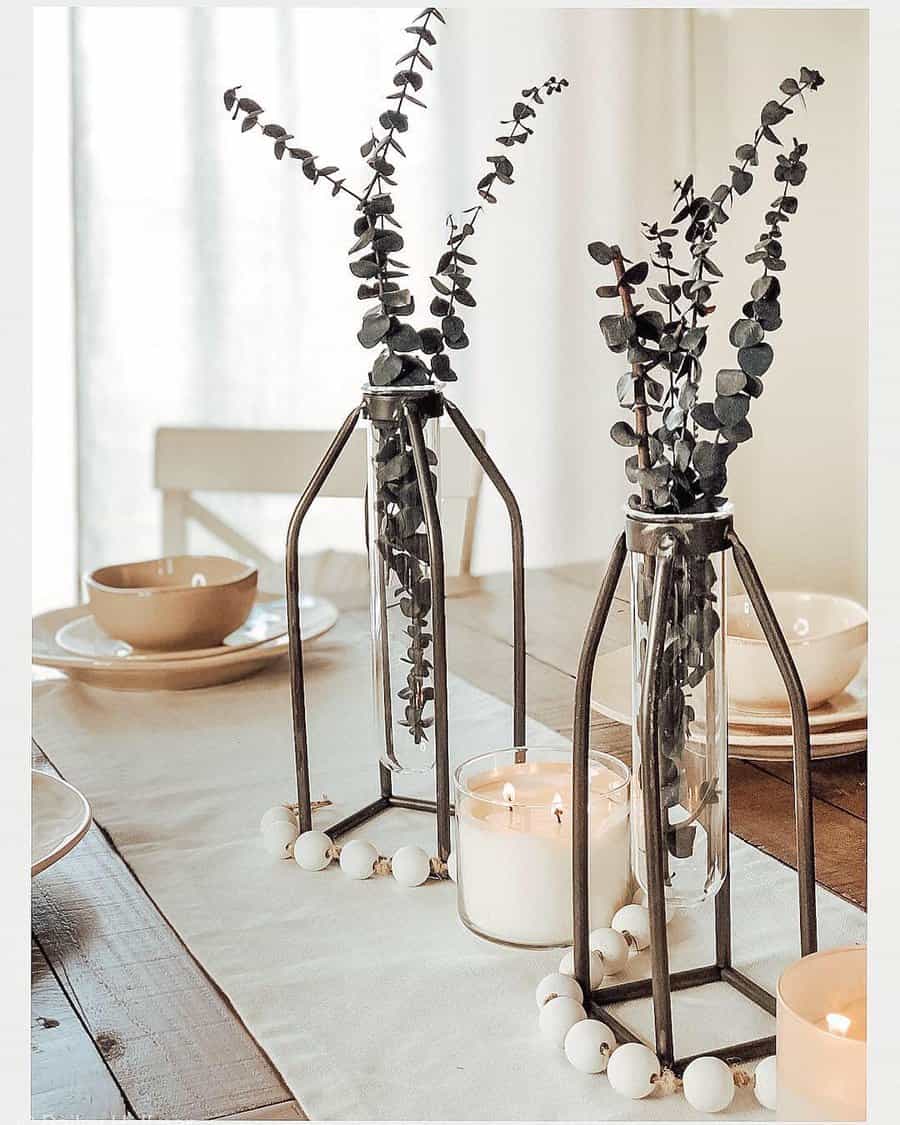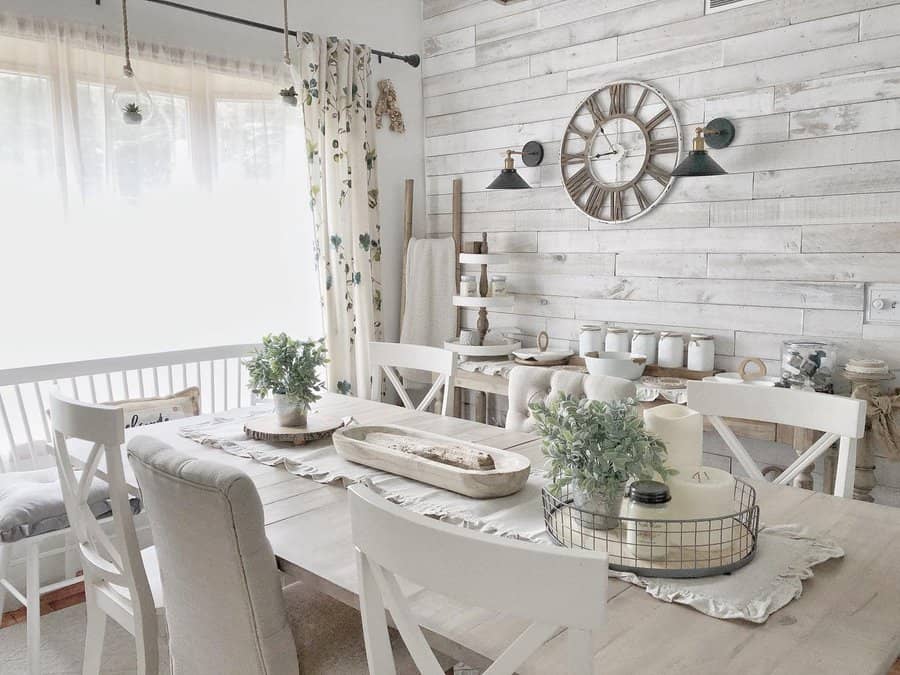 7. Fresh Greenery: Bringing the Outdoors Inside
Bring the refreshing outdoors inside your dining space by incorporating plant arrangements or terrariums as centerpieces. For plant arrangements, strategically place small to medium-sized potted plants in various heights and colors at the table's center, creating a captivating focal point. Alternatively, opt for terrariums by showcasing cacti, succulents, or mosses within glass bowls or jars.
If you have additional table space to work with, consider designing a potted garden with larger plants such as ferns, ivies, and other lush foliage varieties. These imaginative centerpieces will leave a lasting impression on your dinner guests, adding a touch of natural charm to your everyday dining experience.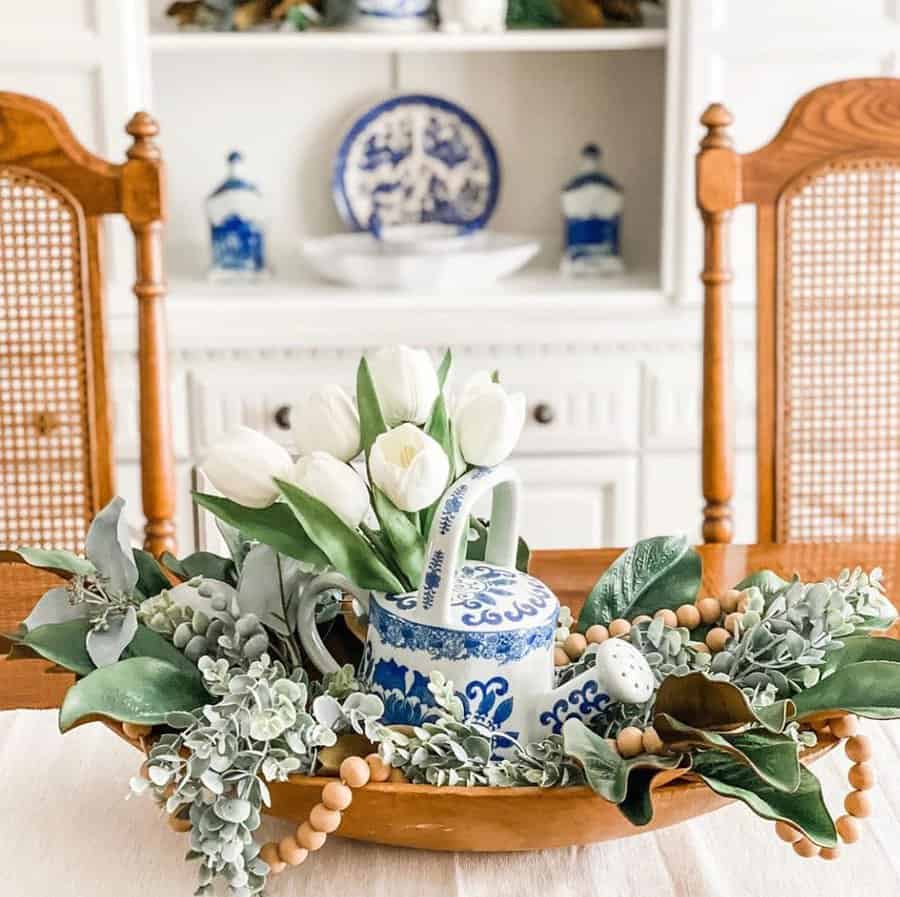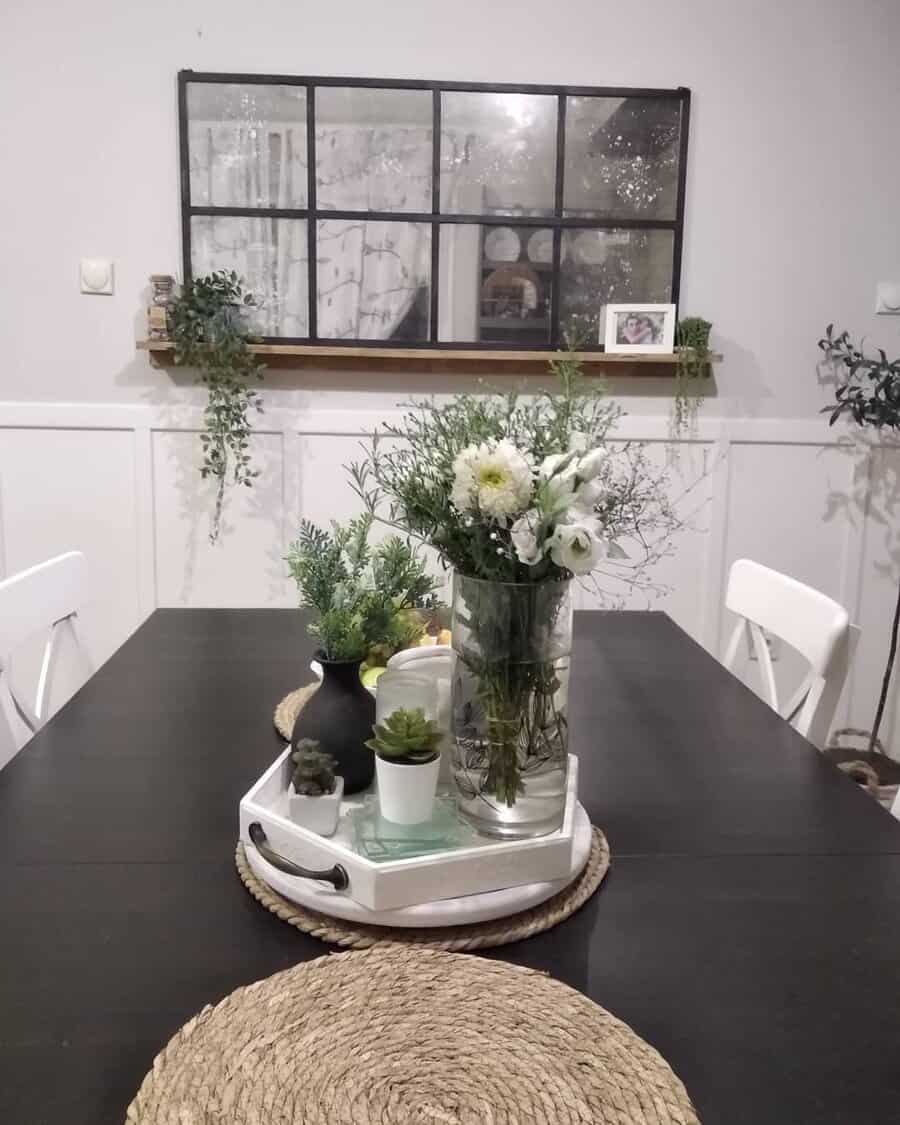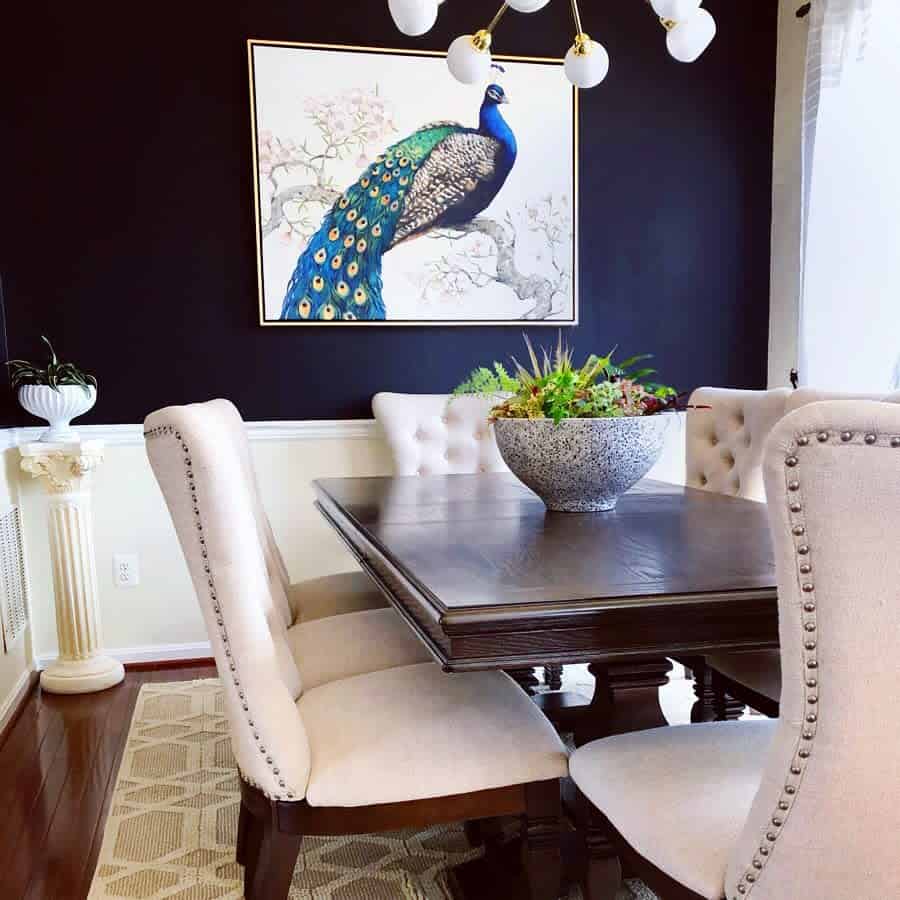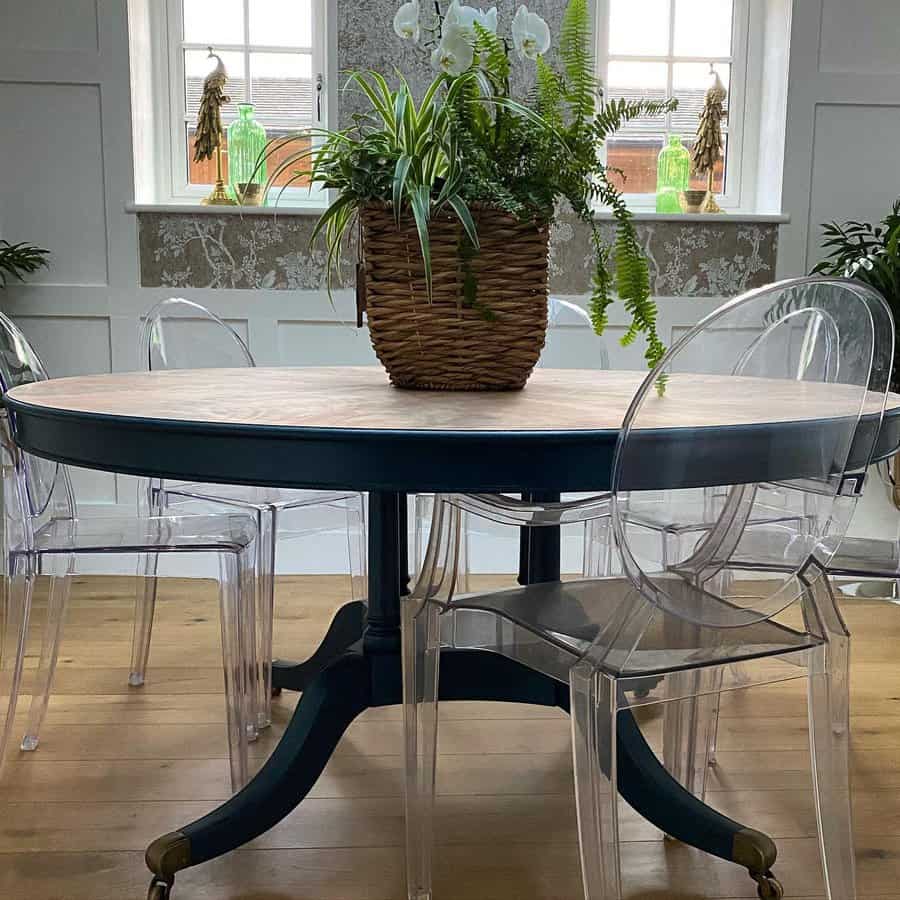 8. Romantic Flourish: Fresh Flowers at the Center
Infuse a touch of romance and freshness into your dining table by opting for a fresh flower arrangement as your centerpiece. Draw inspiration from nature's vibrant palette, using warm-toned daisies, bold roses, or delicate tulips for a unique and inviting design. If fresh flowers aren't readily available, consider using dried or artificial blooms as alternatives.
However, the effort put into incorporating fresh flowers, when possible, will reward you with a room filled with positive energy and a captivating focal point. To complement this centerpiece, coordinate your tableware and accessories with the floral color scheme for a cohesive and welcoming dining ambiance.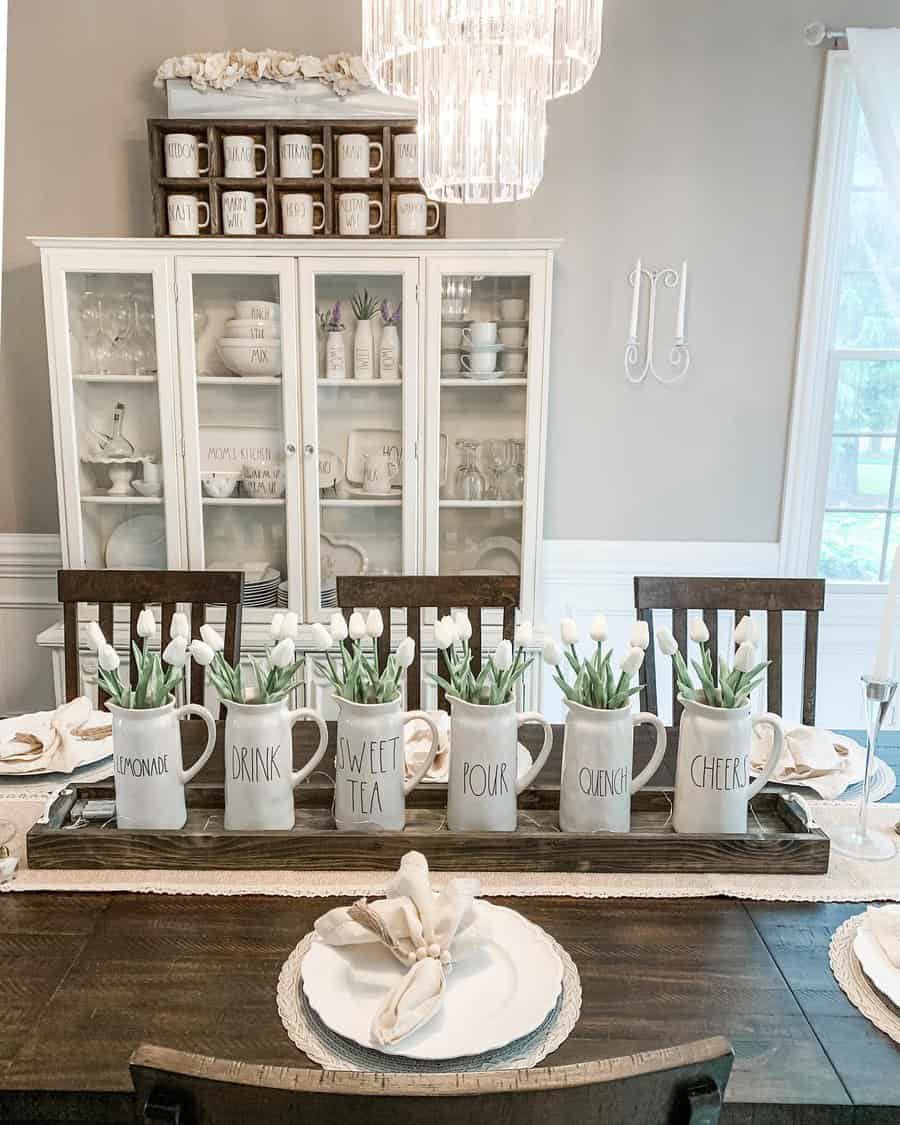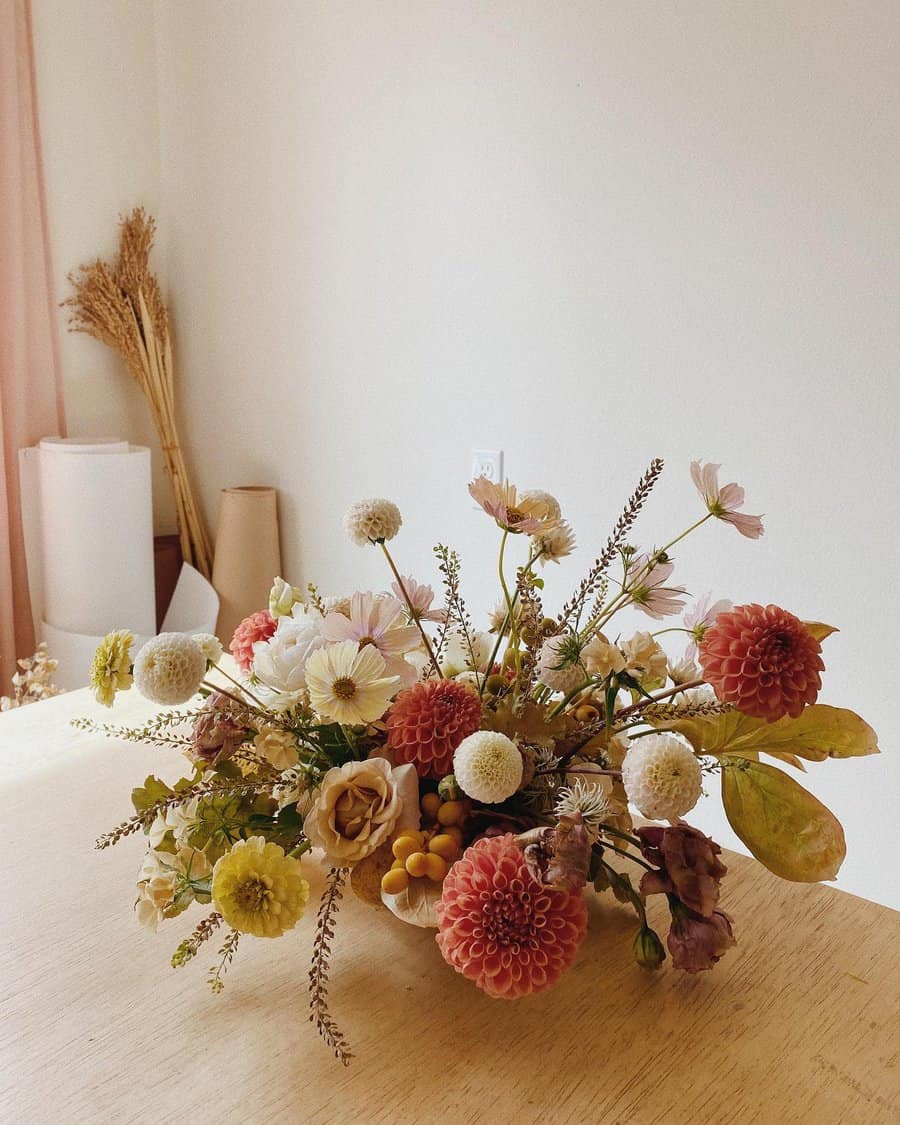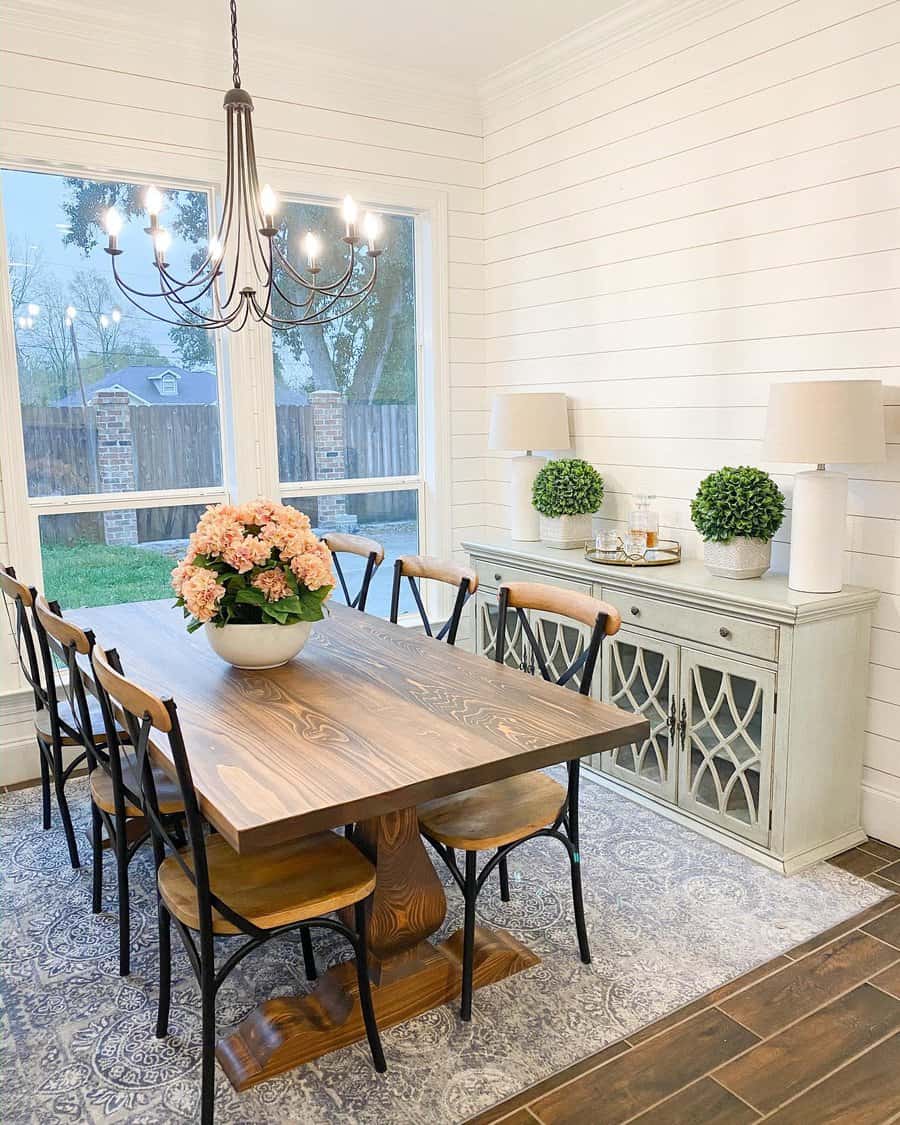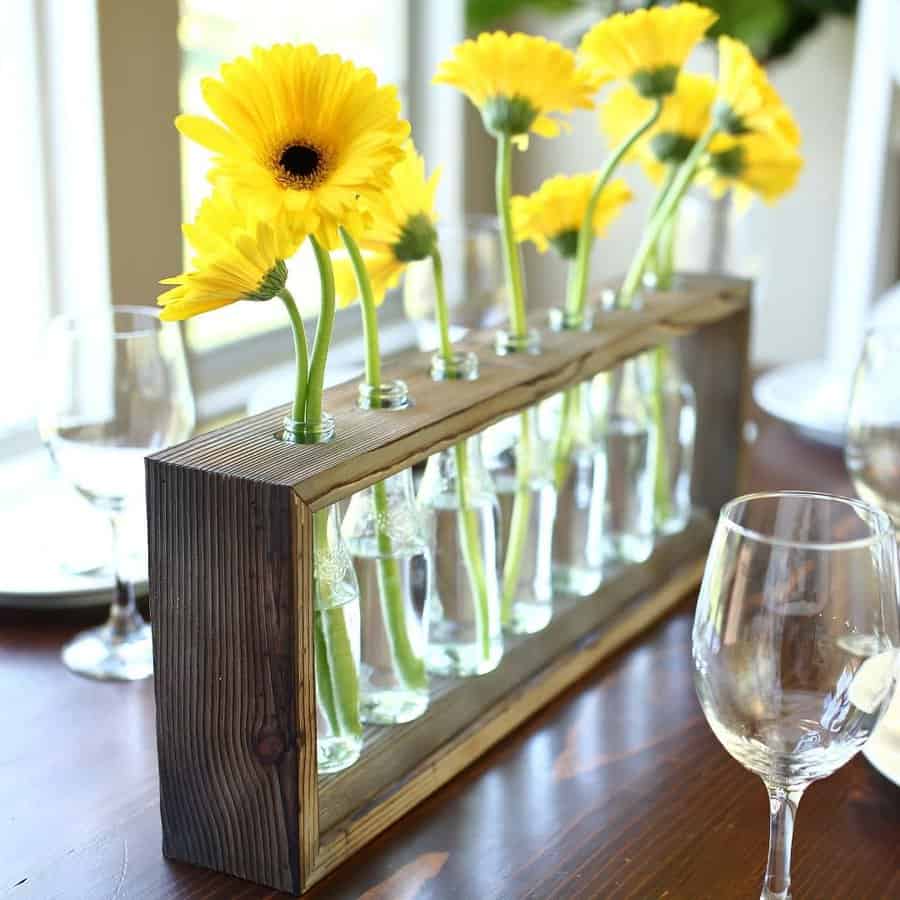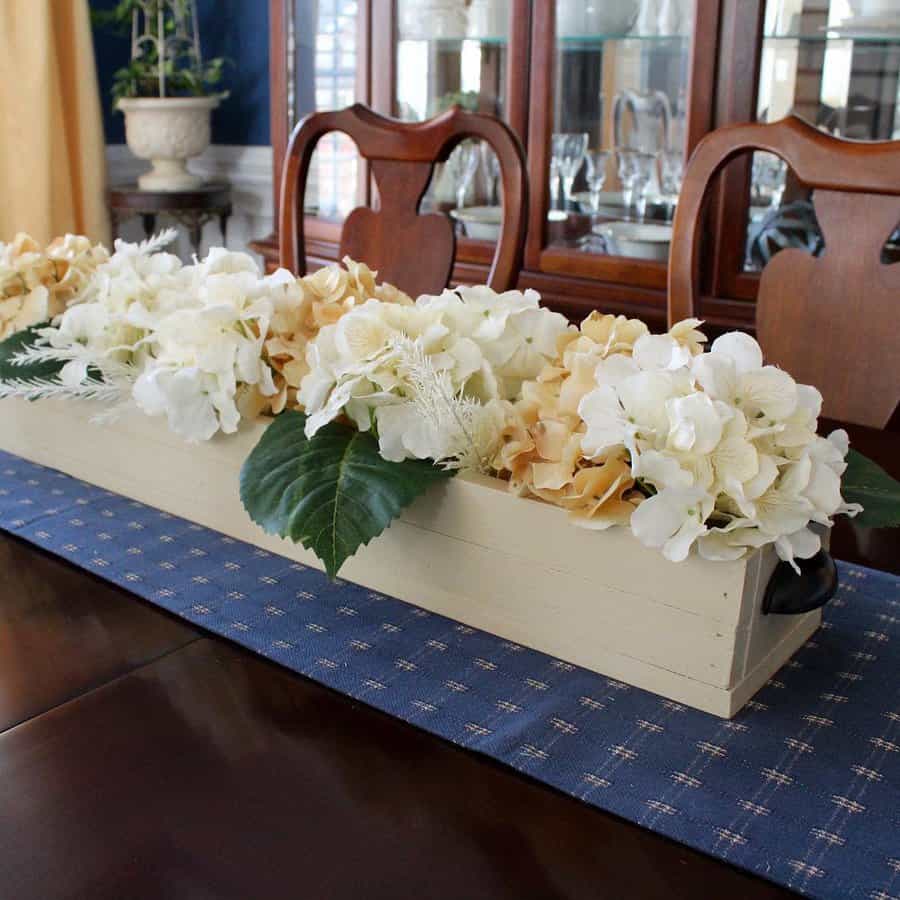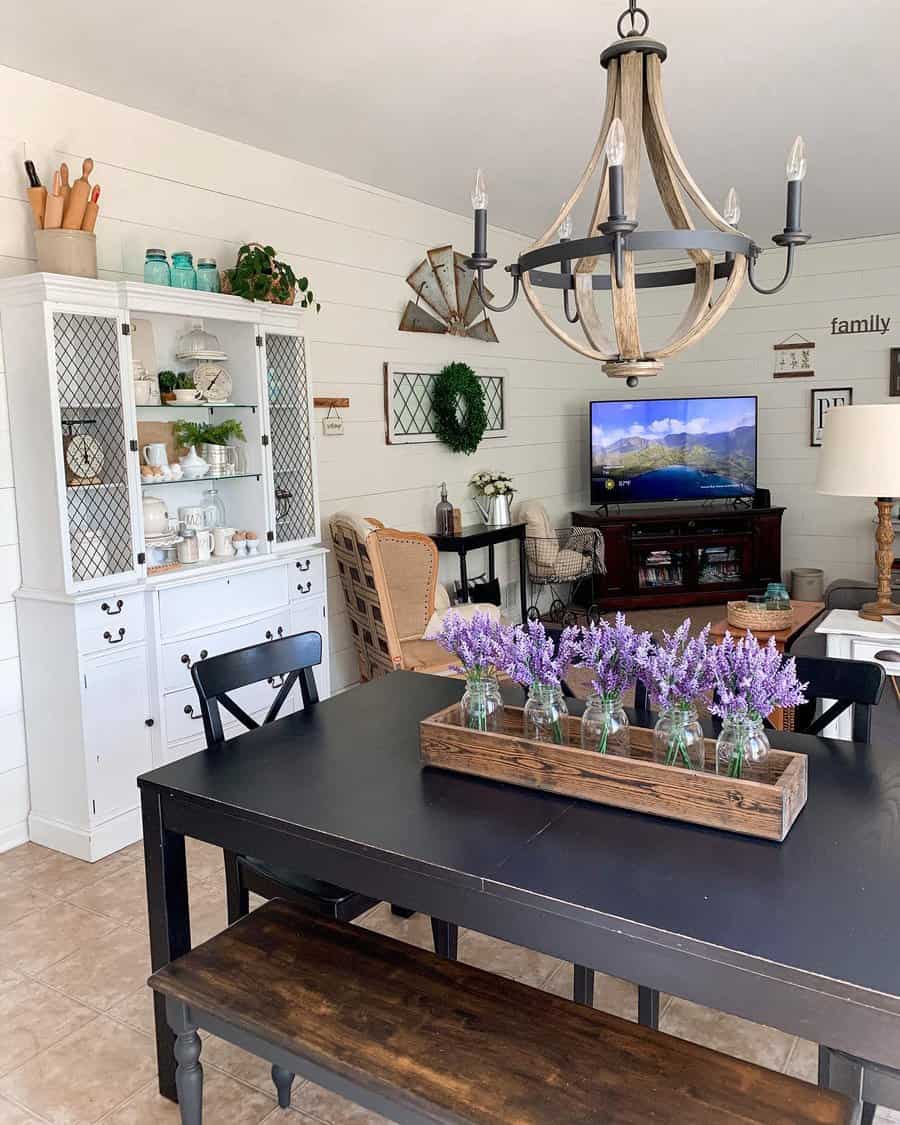 9. Elegance in Transparency: The Glass Vase Investment
Add an elegant touch to your dining table with a glass vase centerpiece. To enhance your space, consider a budget-friendly glass vase and personalize it with ribbons and paint for a DIY touch. Fill the vase with existing items like old candles, pebbles, or stones for a unique look. Alternatively, use it to display a striking flower arrangement or succulents to introduce the beauty of nature.
The beauty of this idea lies in its versatility – effortlessly refresh your dining table by swapping out the flowers or plants while retaining the same vase. To complete the look, choose vase contents that harmonize with your overall dining room decor, ensuring a cohesive and stylish ambiance.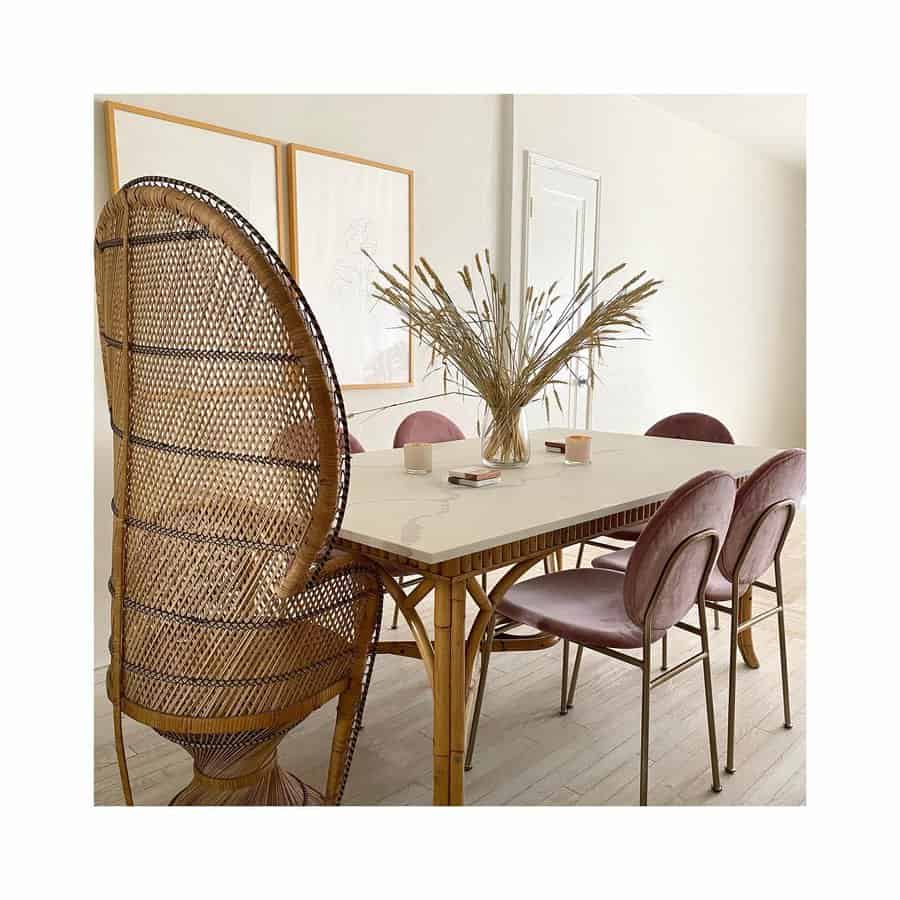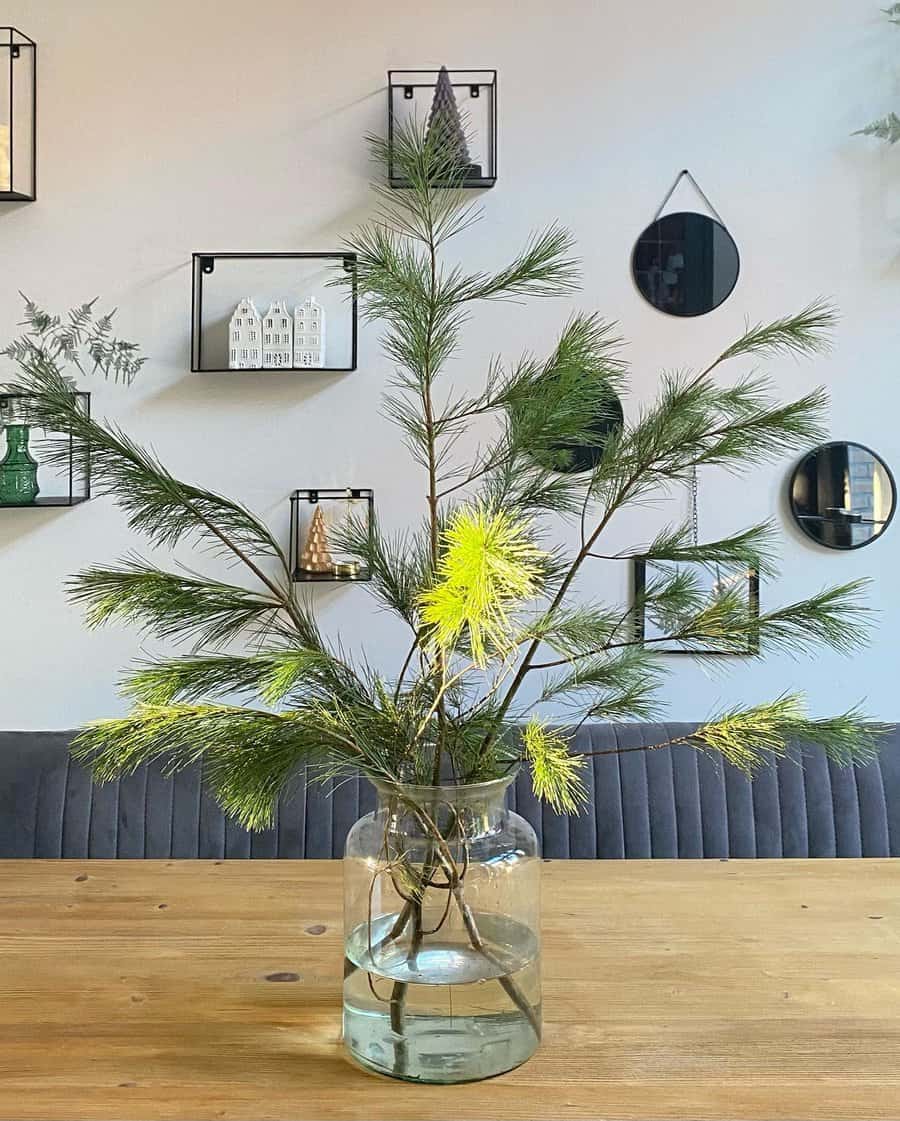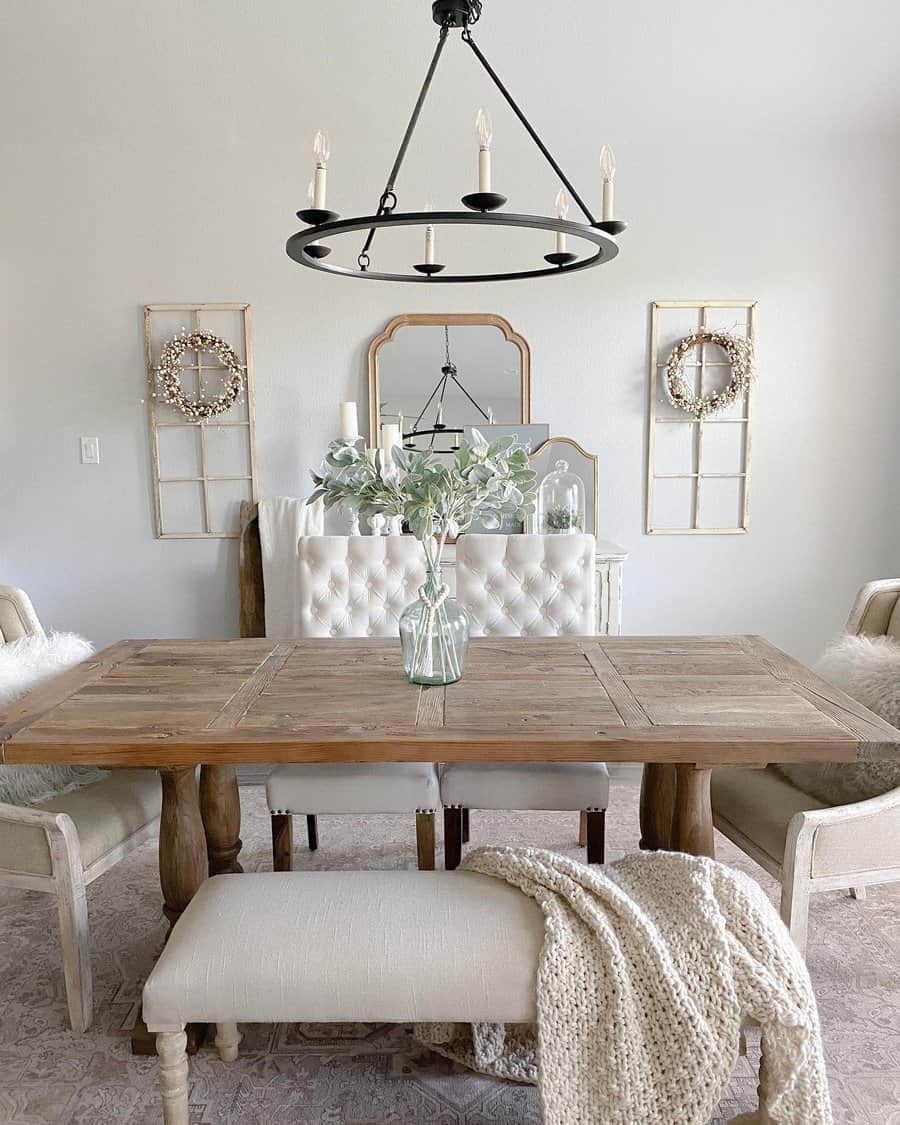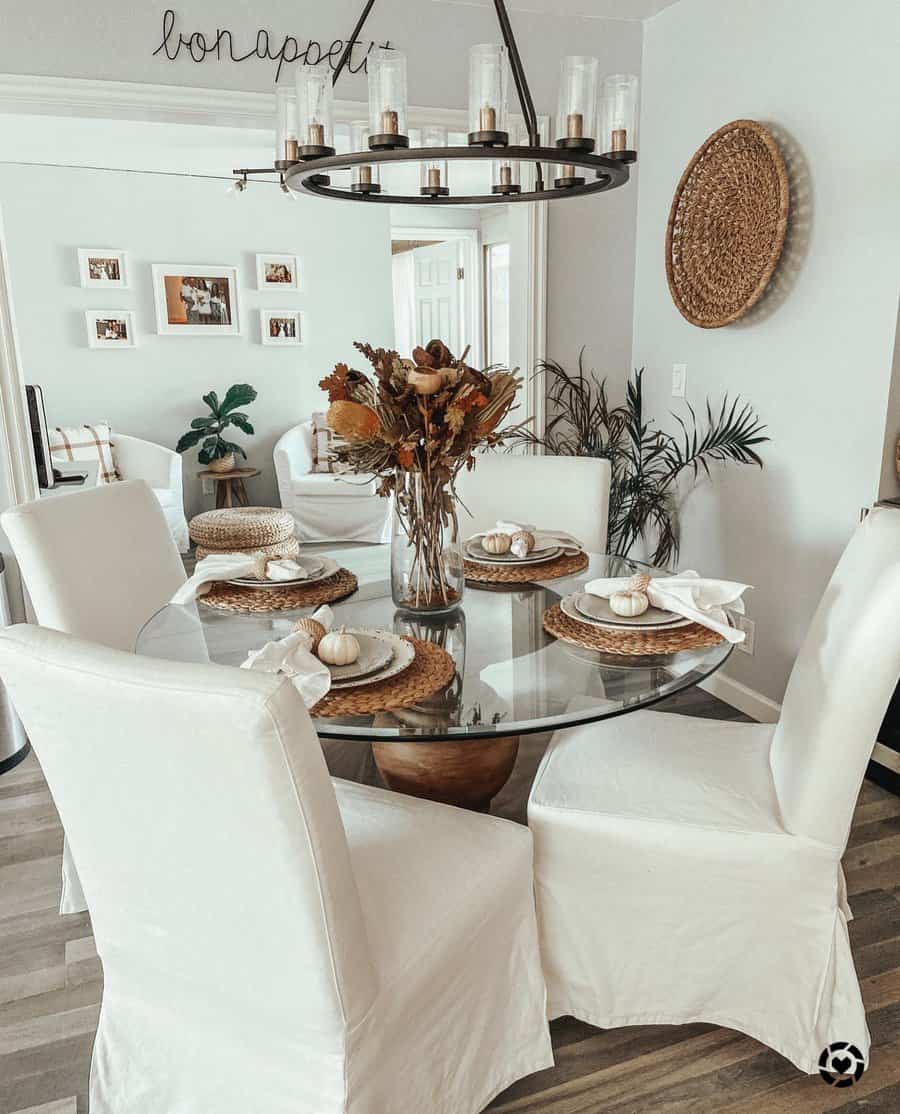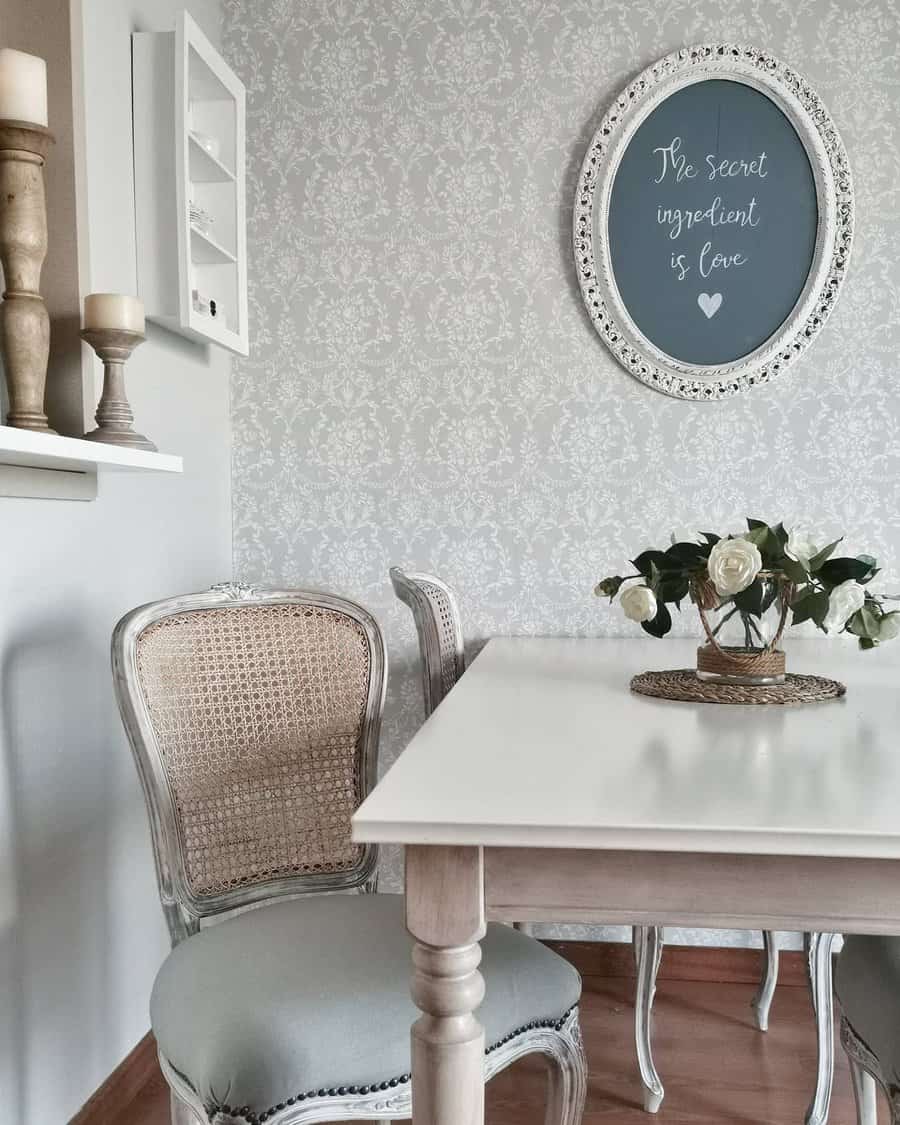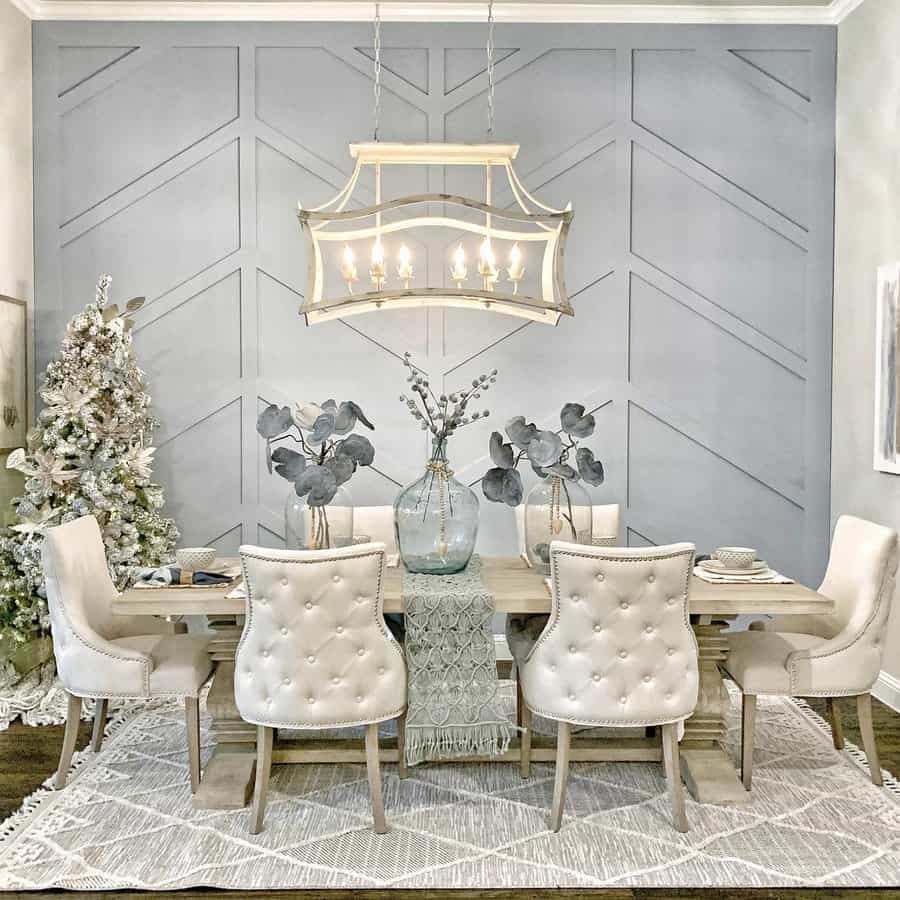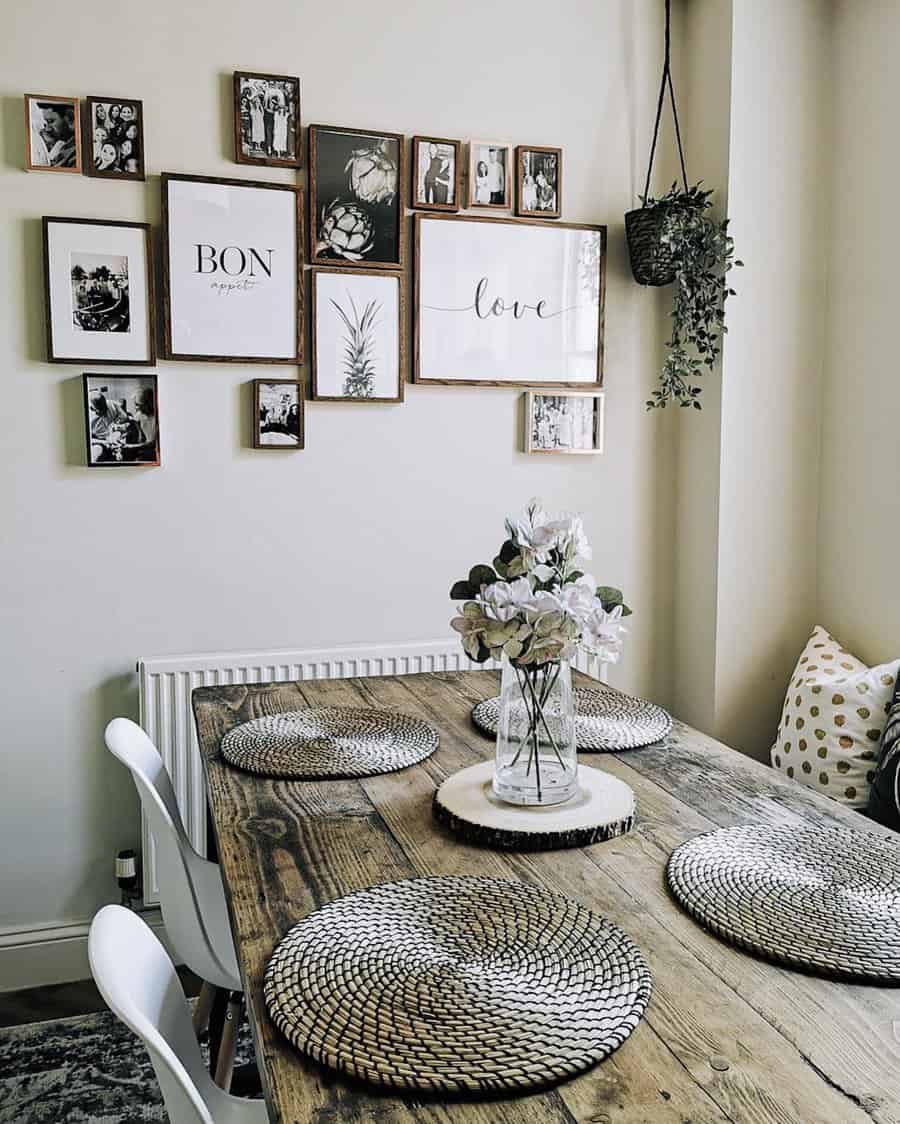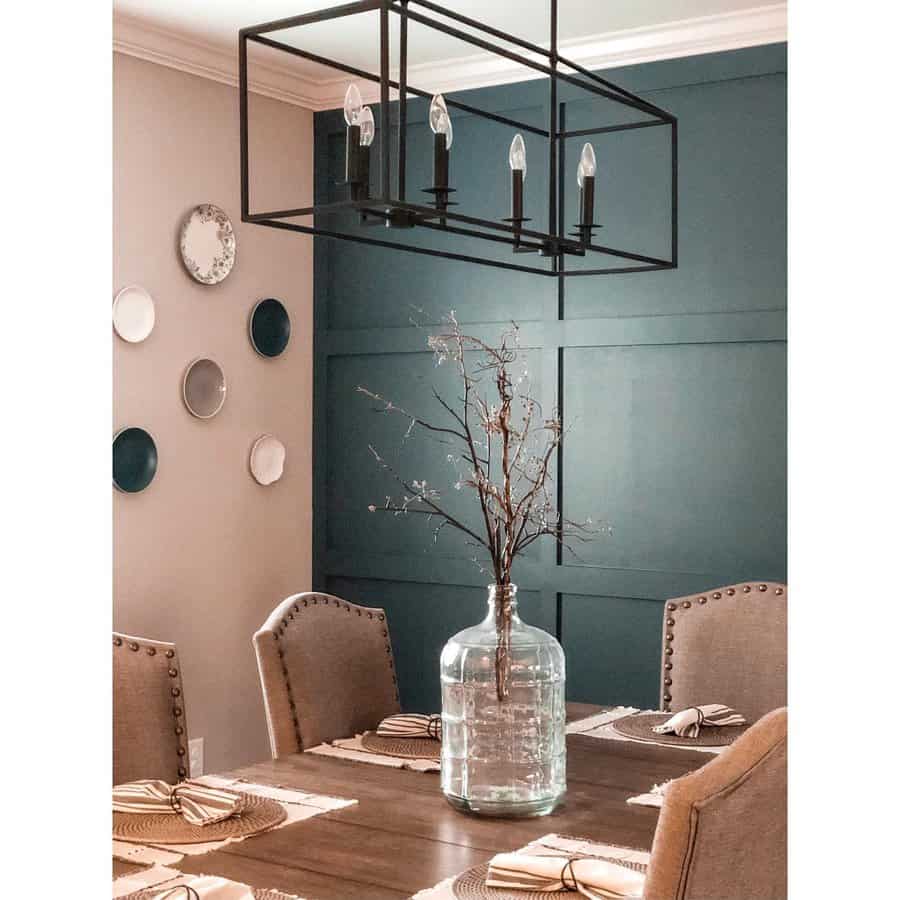 10. Modern Appeal: Sleek Geometric Lines
Transform your dining table with a modern appeal through the use of sleek geometric lines. Experiment with shapes such as circles, squares, stars, and triangles to craft a contemporary centerpiece. Consider filling a tall glass vase with vibrant stones or metallic accents to capture attention.
Play with a mix of contrasting colors, textures, and varying heights to add depth and visual interest. Whether you hang geometric pieces from the ceiling, suspend them above the table, or feature them as individual centerpieces, creating a visually pleasing geometric display will make for an attention-grabbing focal point. To complete the look, ensure your tableware and dining accessories align with the chosen geometric theme, providing a cohesive and stylish dining atmosphere.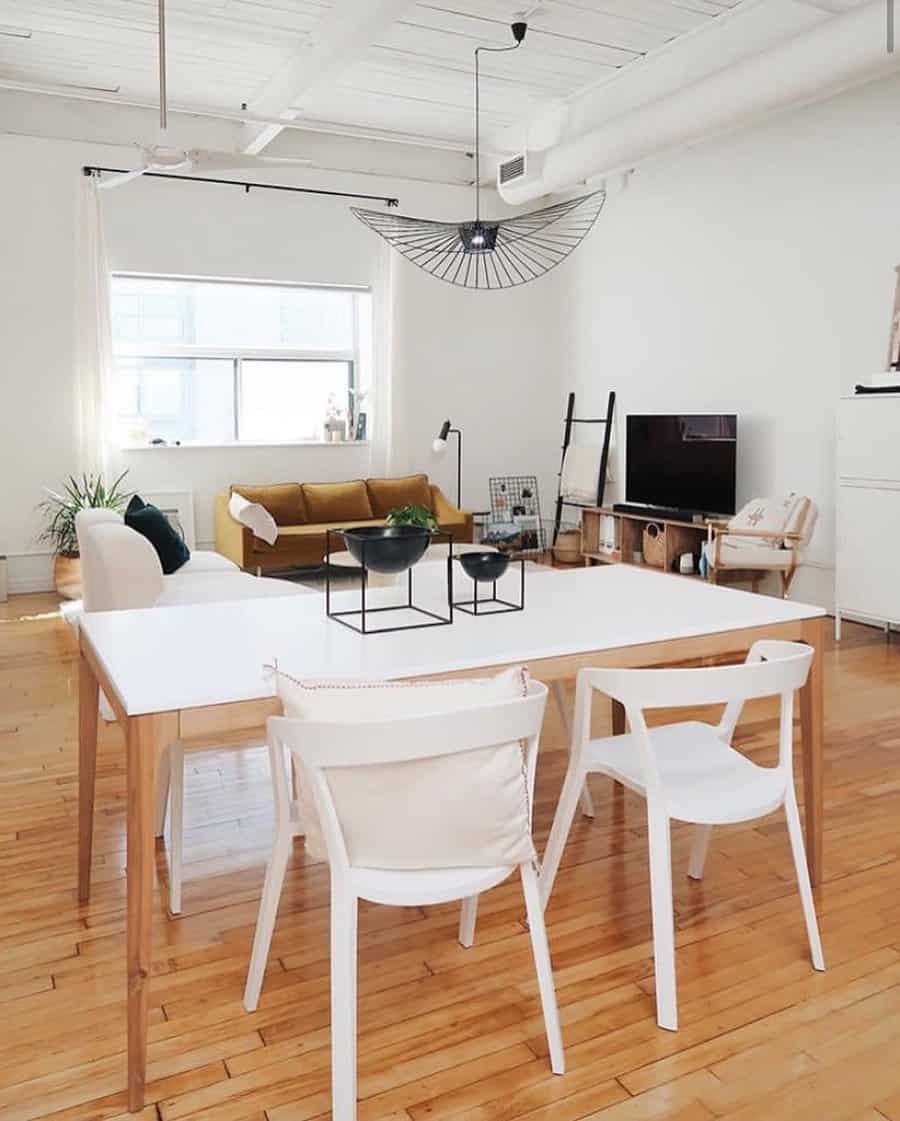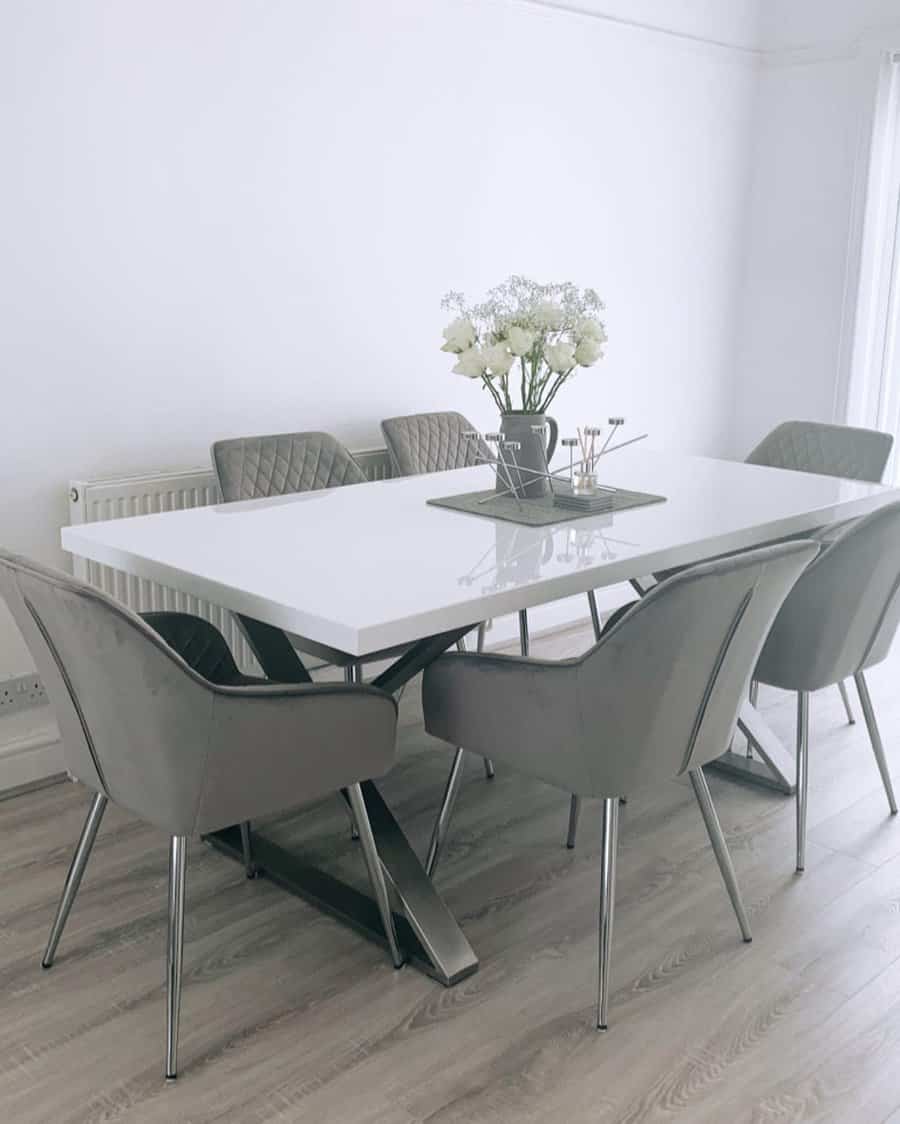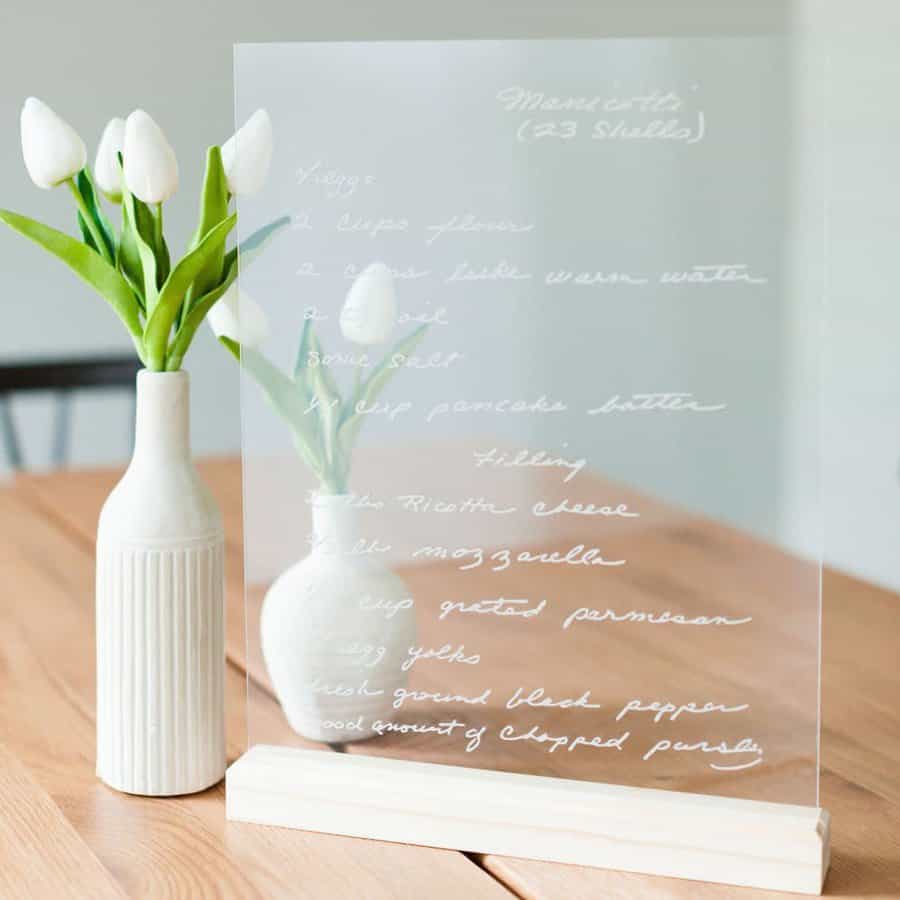 11. Showcasing Treasured Potted Plants
Highlight your cherished potted plants as a centerpiece to infuse a fresh and lively atmosphere into your dining space. Whether you're aiming for a regular table update or hosting a special occasion, geometric centerpieces offer a modern and sophisticated aesthetic. Consider using geometric terrariums housing succulents, geometric vases filled with woodland blooms, geometric candles, or a mix of these elements to create an intriguing focal point.
The versatility of geometric centerpieces makes them a cost-efficient choice, as they can stand alone or harmonize seamlessly with traditional decor components. To further enhance the appeal, coordinate the colors and materials of your geometric centerpiece with your overall dining room decor, ensuring a cohesive and inviting ambiance.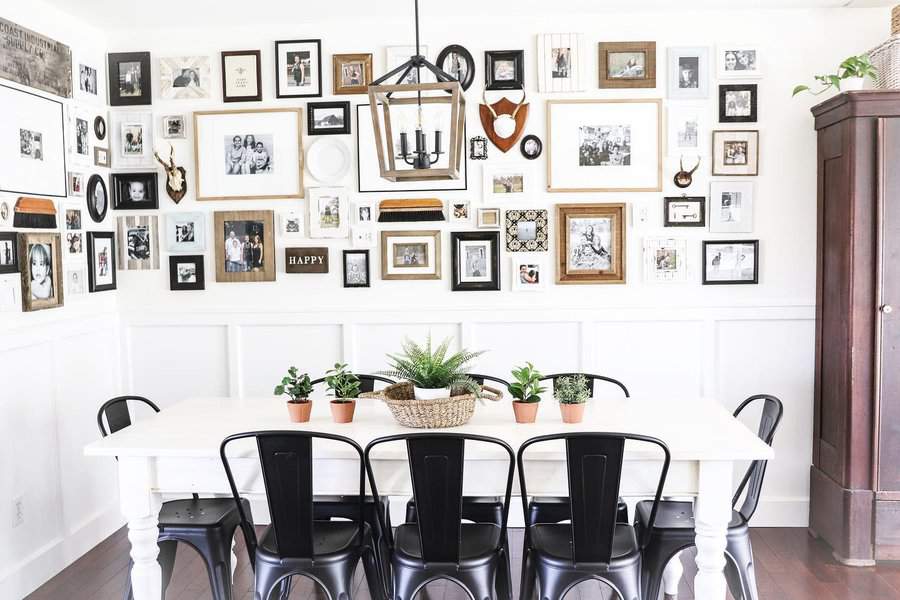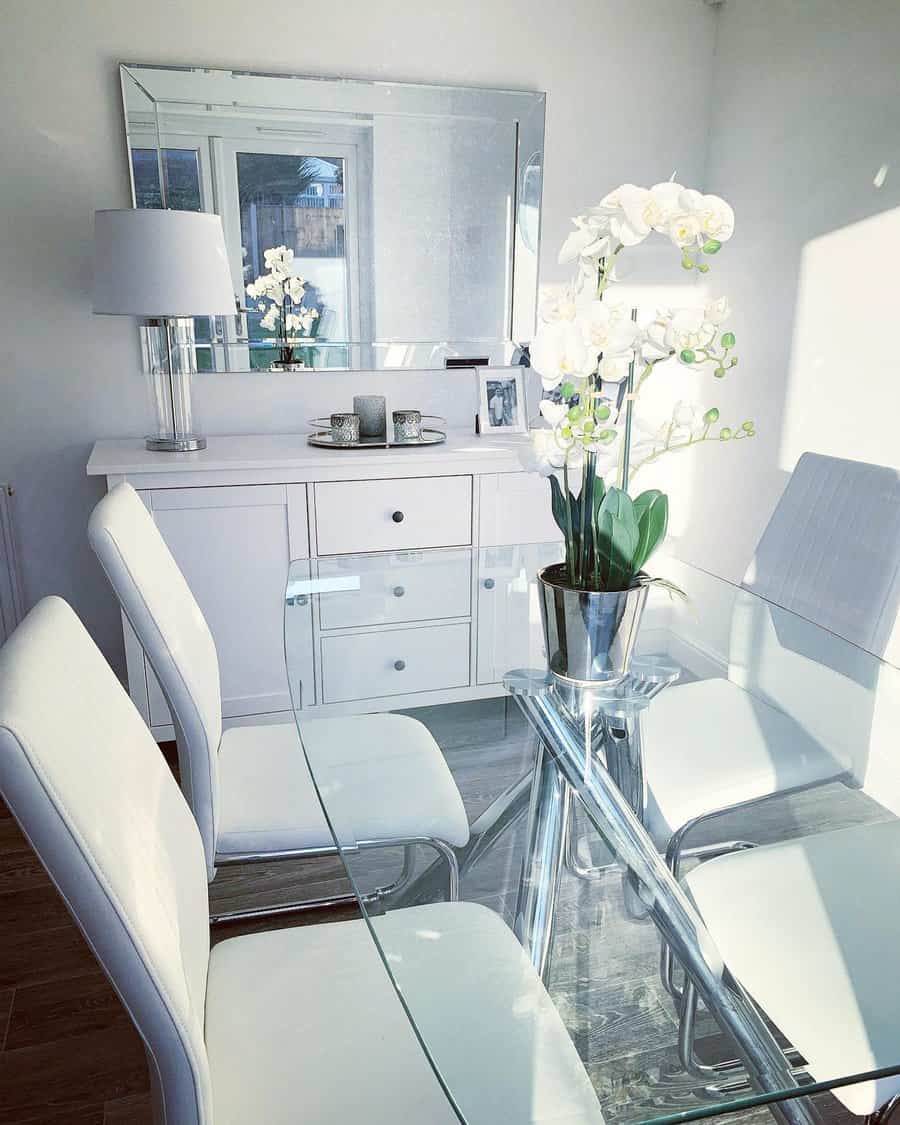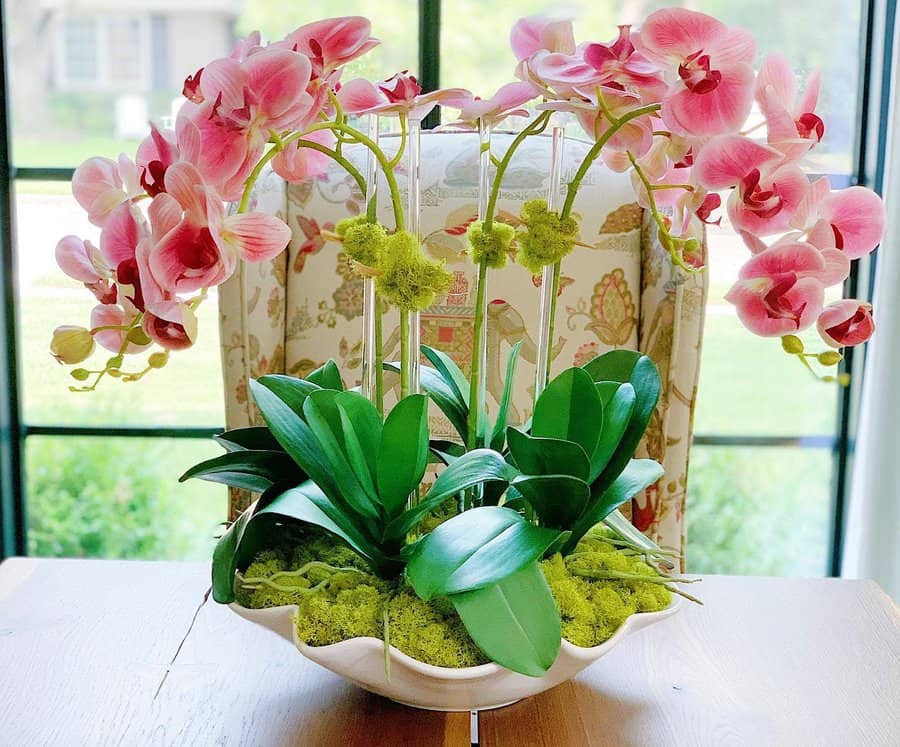 12. Rustic Charm: Vintage and Distressed Finds
Bring rustic charm to your dining table with vintage and distressed finds, an affordable way to create a cozy ambiance. Shop within your own home for vintage items like baskets, vases, and jars to serve as unique centerpieces. Consider mismatched vintage plates or platters, which can be arranged together for an eclectic look.
Antique stores can be a goldmine for discovering timeless pieces that add character to your table. Curate an eclectic mix of vintage finds to transform your dining table from ordinary to charming. To complete the rustic vibe, integrate other design elements like wooden place settings and natural textiles in your dining room decor.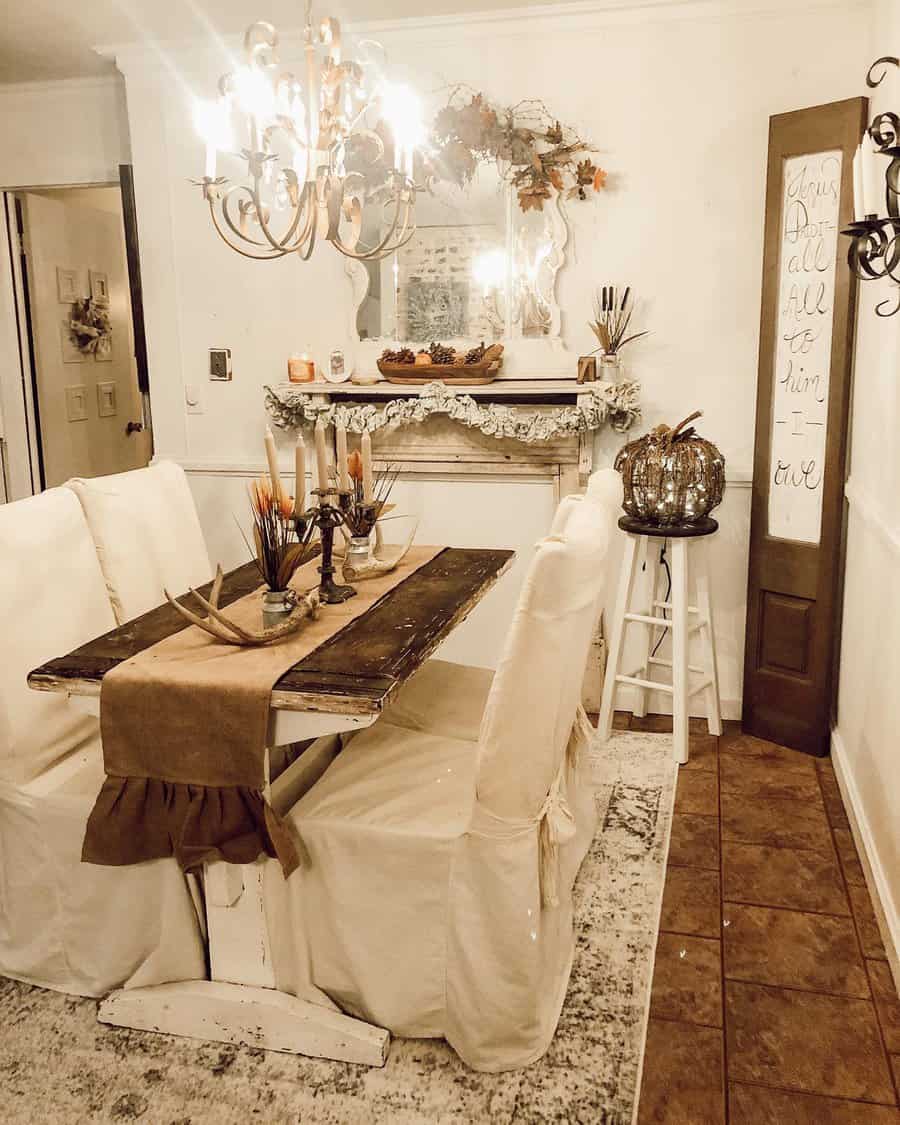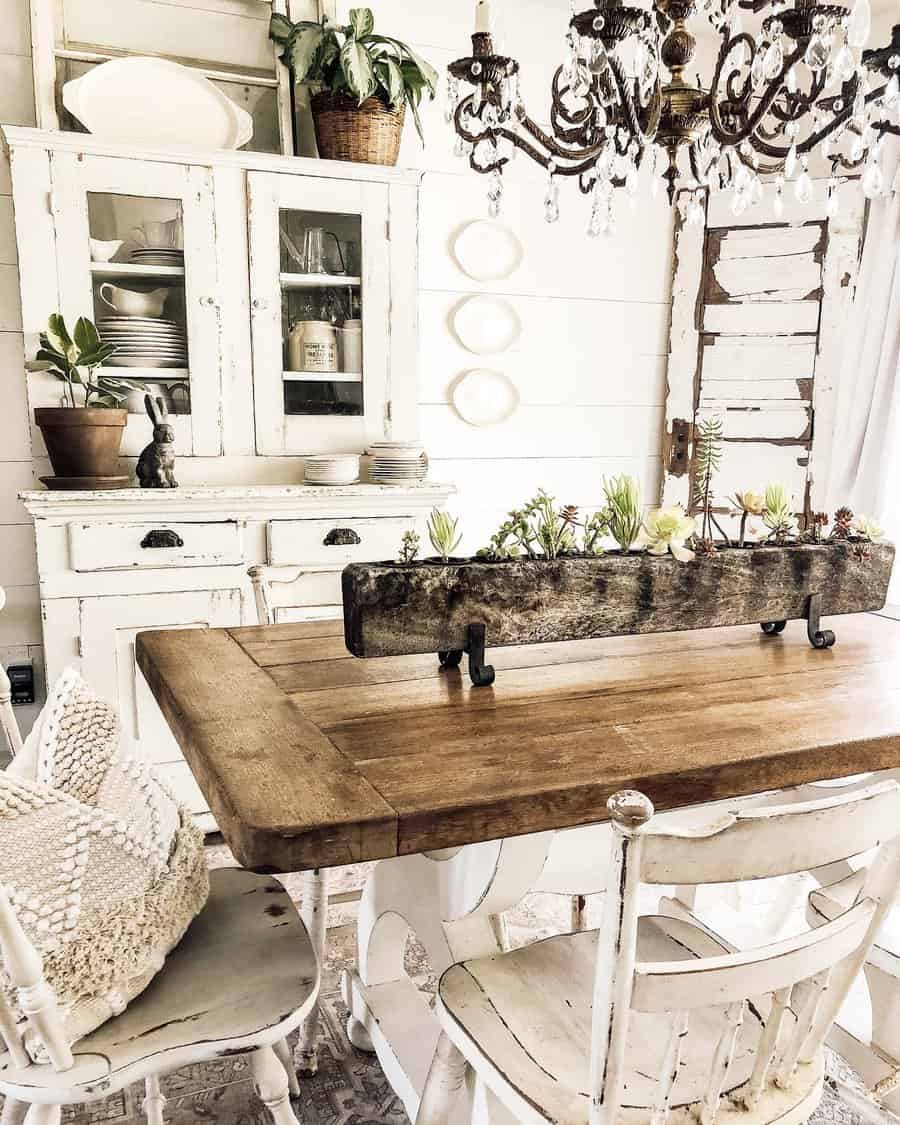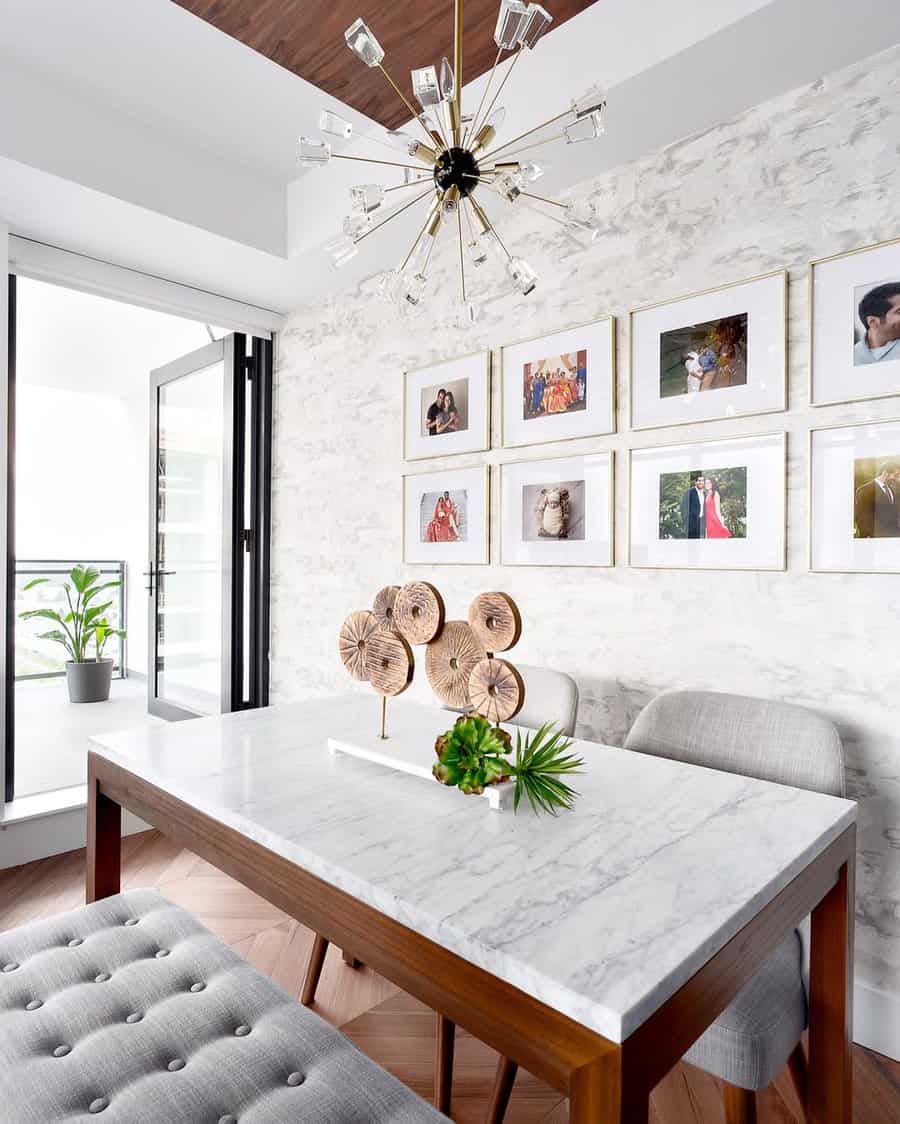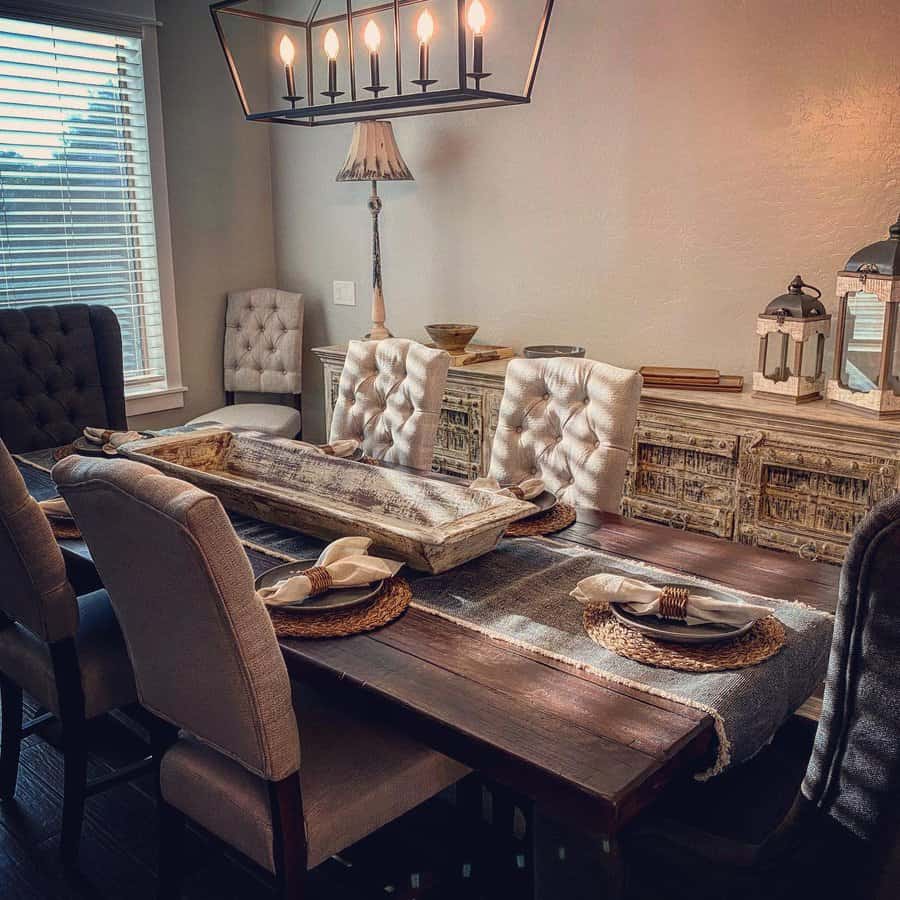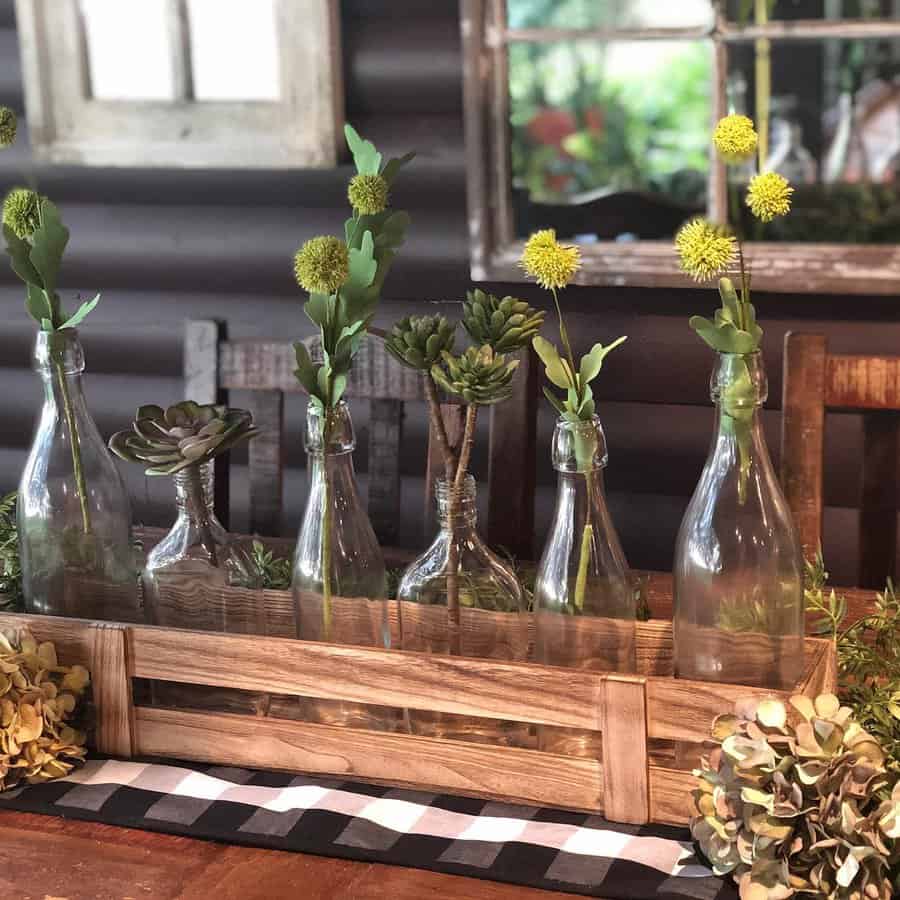 13. Delectable Decor: Dried Fruits for Allure
Elevate your dining table with an eye-catching centerpiece featuring dried fruits. Arrange dried peaches, pears, and oranges to create a visually appealing display that adds charm to your dining experience. For added depth and uniqueness, dehydrate slices of oranges and layer them among the dried fruits.
Complete the look with eucalyptus greenery, which not only ties the display together but also infuses a rustic feel into your space. To complement this centerpiece, opt for earthy and warm-toned tableware and textiles to create a cohesive and inviting dining ambiance.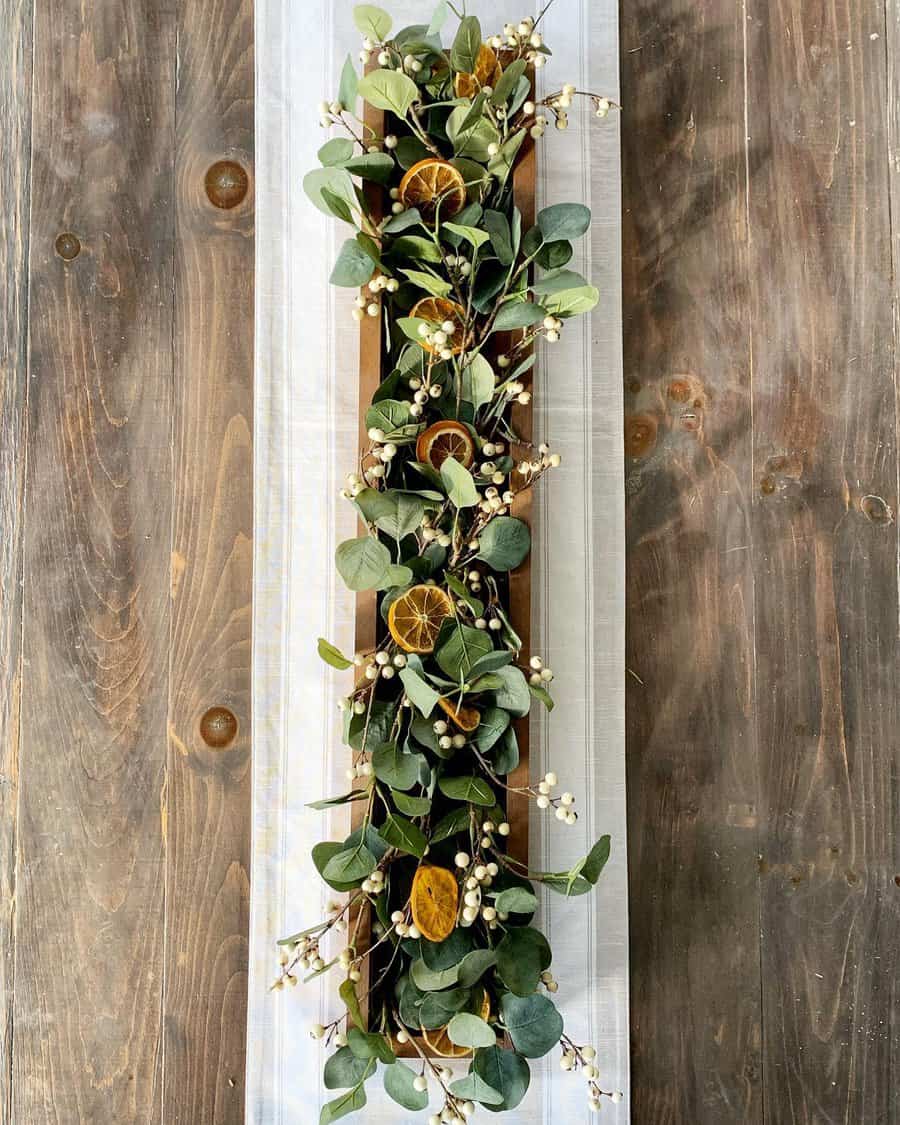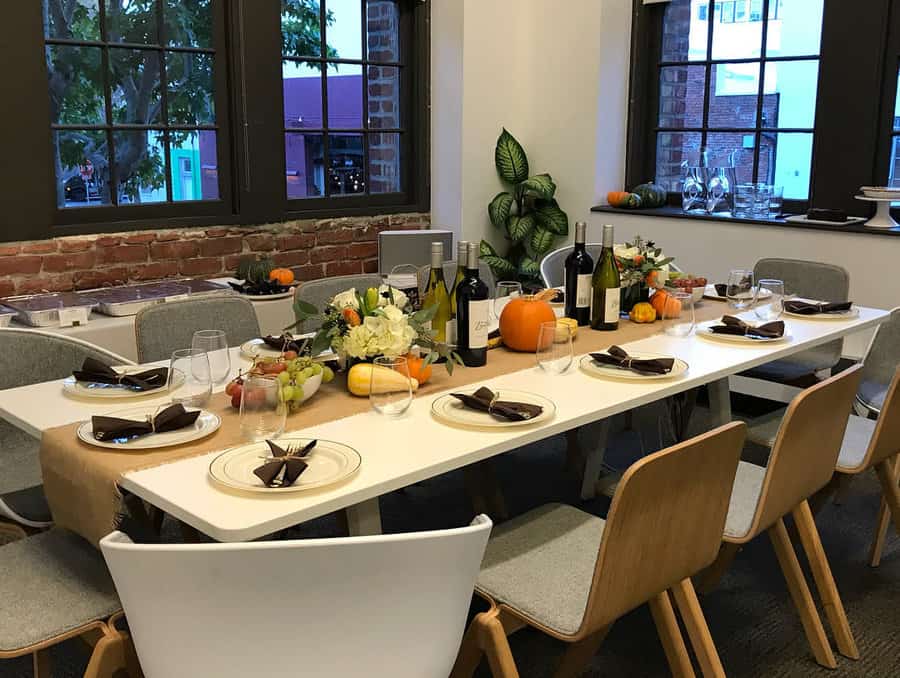 14. Shape, Height, and Texture: Vase Play
Enhance the visual appeal of your dining table by introducing a range of vases with unique shapes, heights, and textures. Explore flea markets for charming vintage vase finds or peruse your local garden shop for options inspired by nature.
Arrange a classic jug filled with dried flowers at one end, and strategically position small, delicate vases around the table. Experiment with an array of colors and textures to create a one-of-a-kind ambiance that's certain to leave a memorable impression on your dinner guests.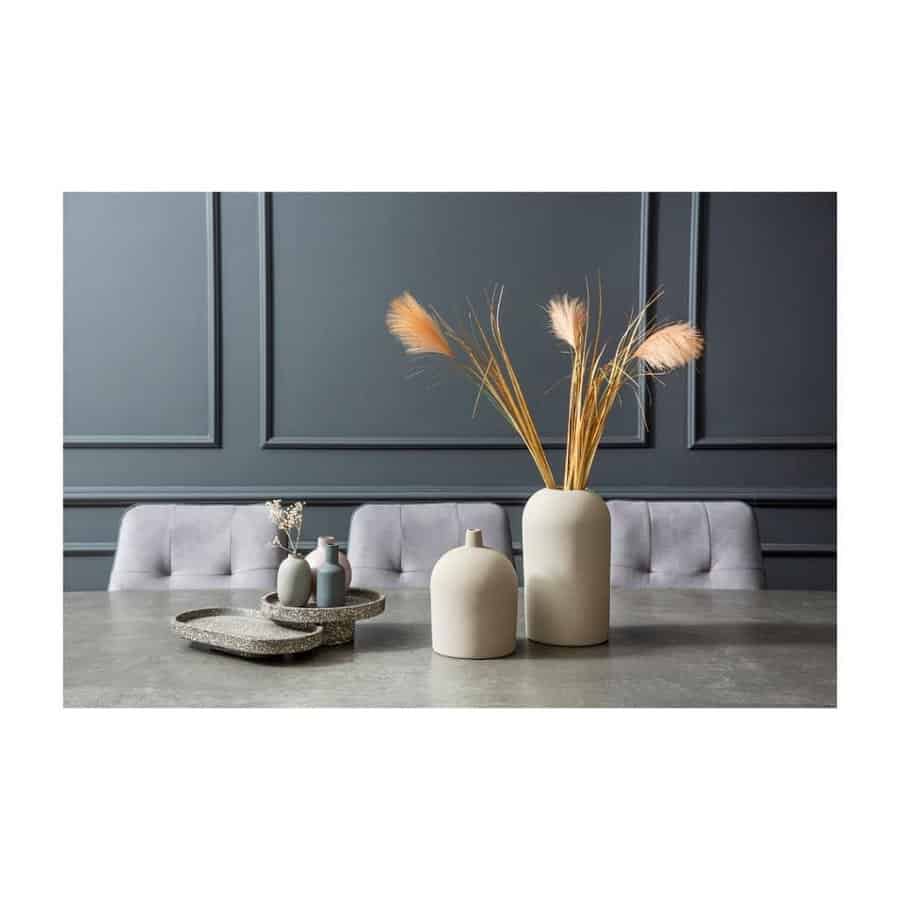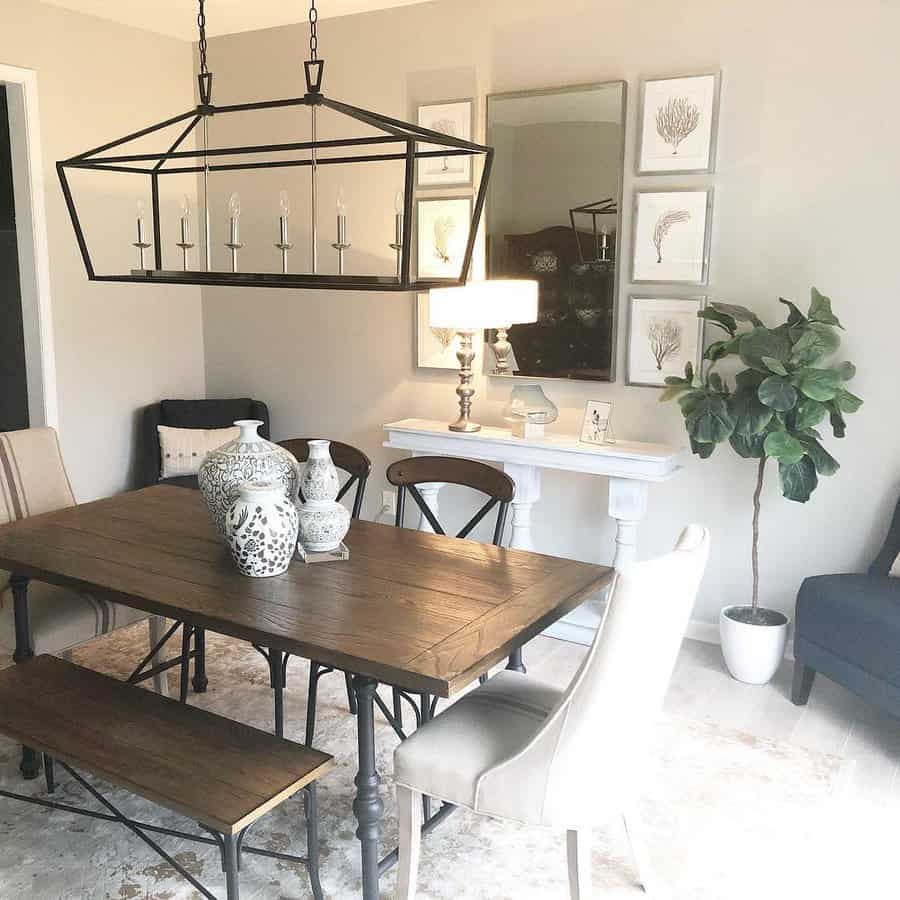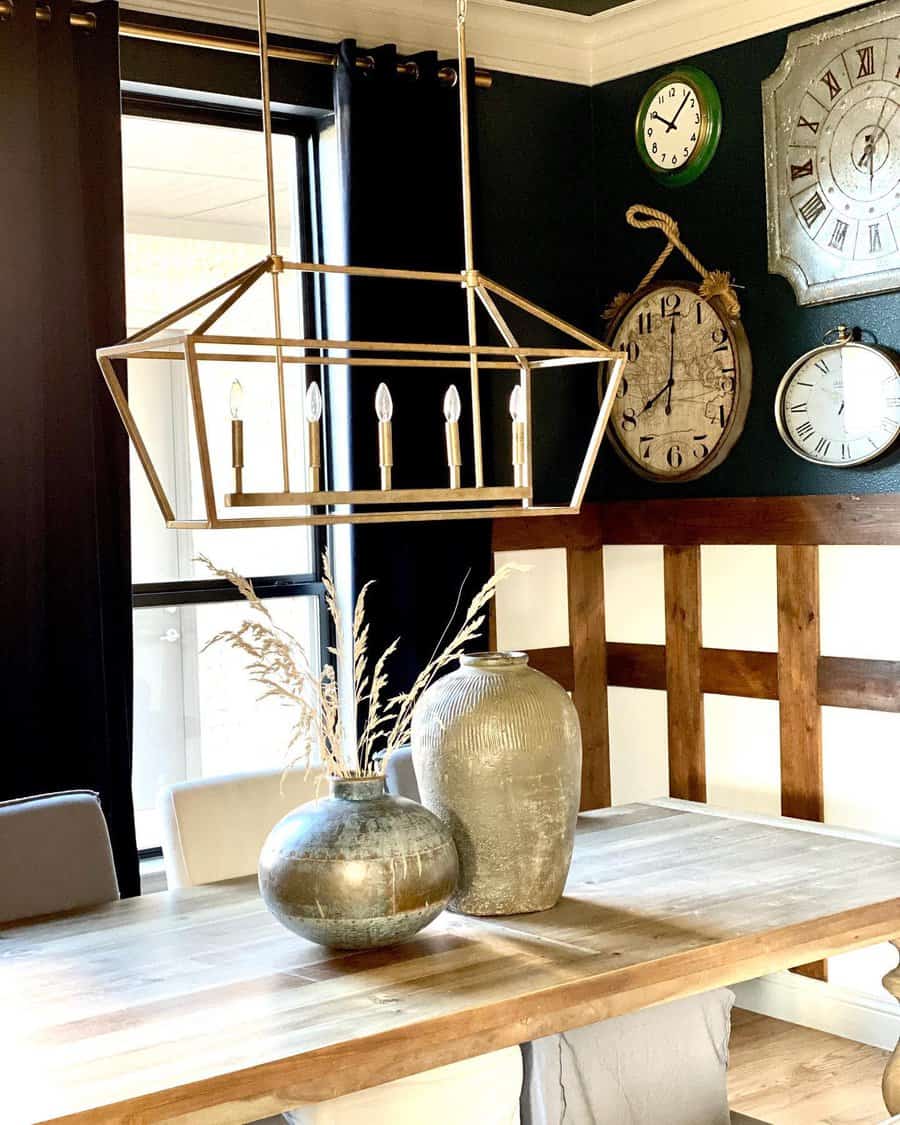 15. Dining with Elegance: The Art Deco Influence
For a touch of art deco elegance on your everyday dining table, consider investing in tall polished silver candlesticks and crystal vases. These timeless pieces instantly add a sense of sophistication to your space. To create a stunning ambiance, let candlelight cast a soft, flickering glow.
For a twist, introduce polished copper accents to your centerpiece. Enhance the overall look by artfully arranging fresh sprigs of eucalyptus, or get creative with a mix of blush pink roses, ivy tendrils, and vibrant fruits like pomegranates and apples. The design possibilities are endless, allowing you to personalize your dining experience.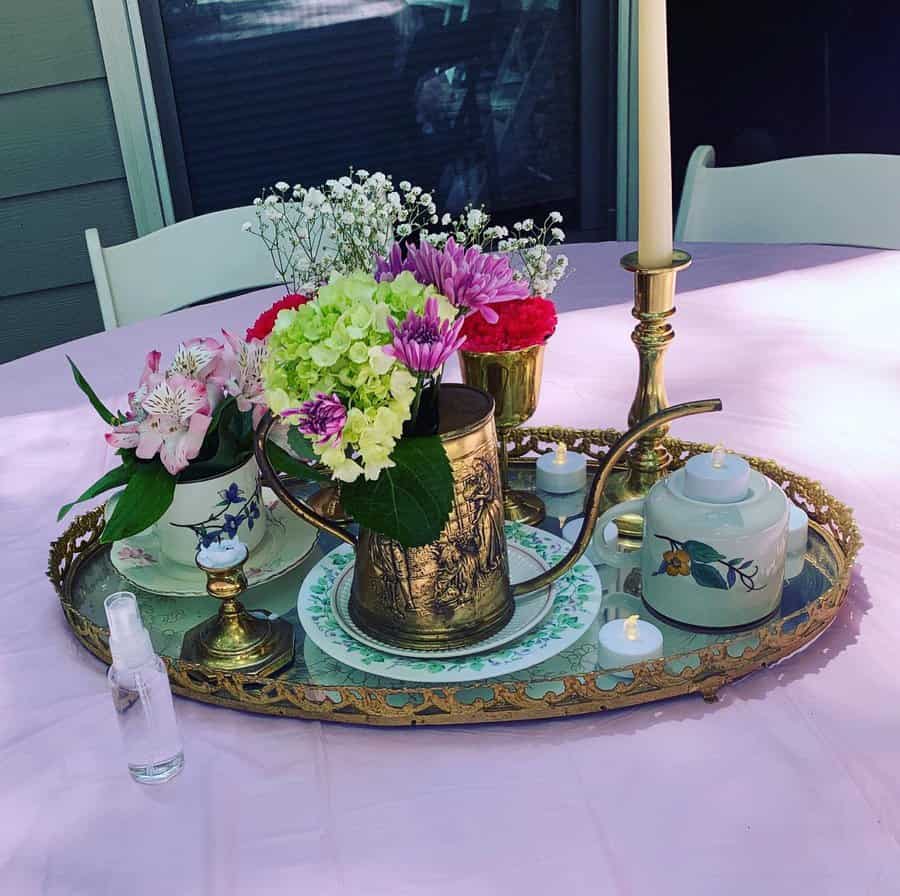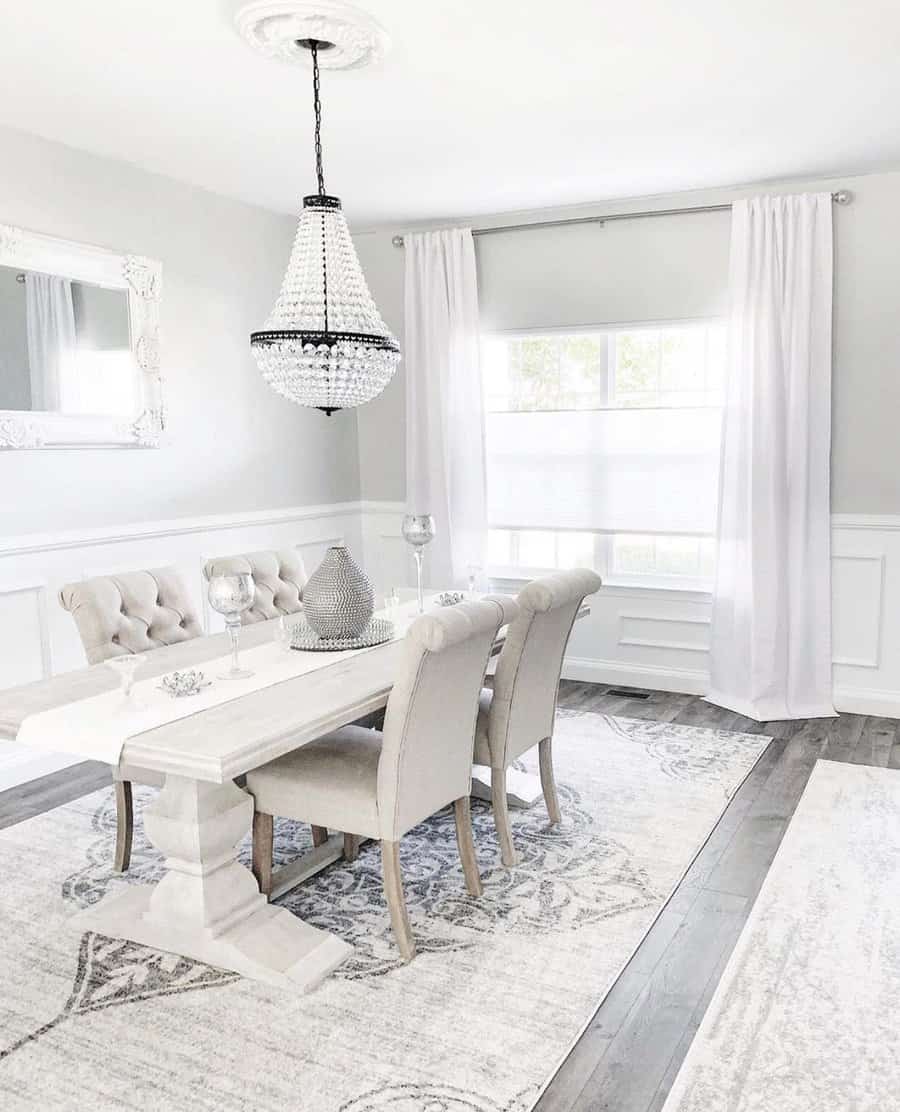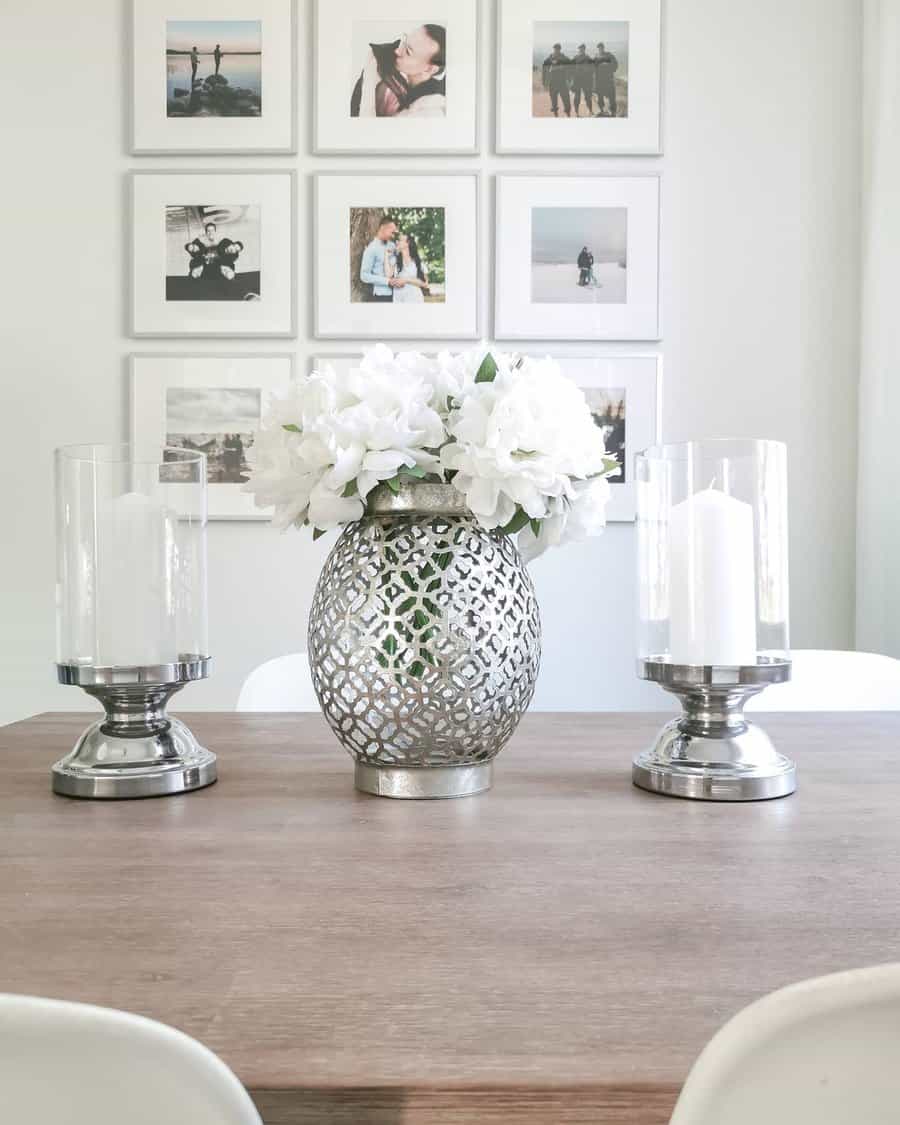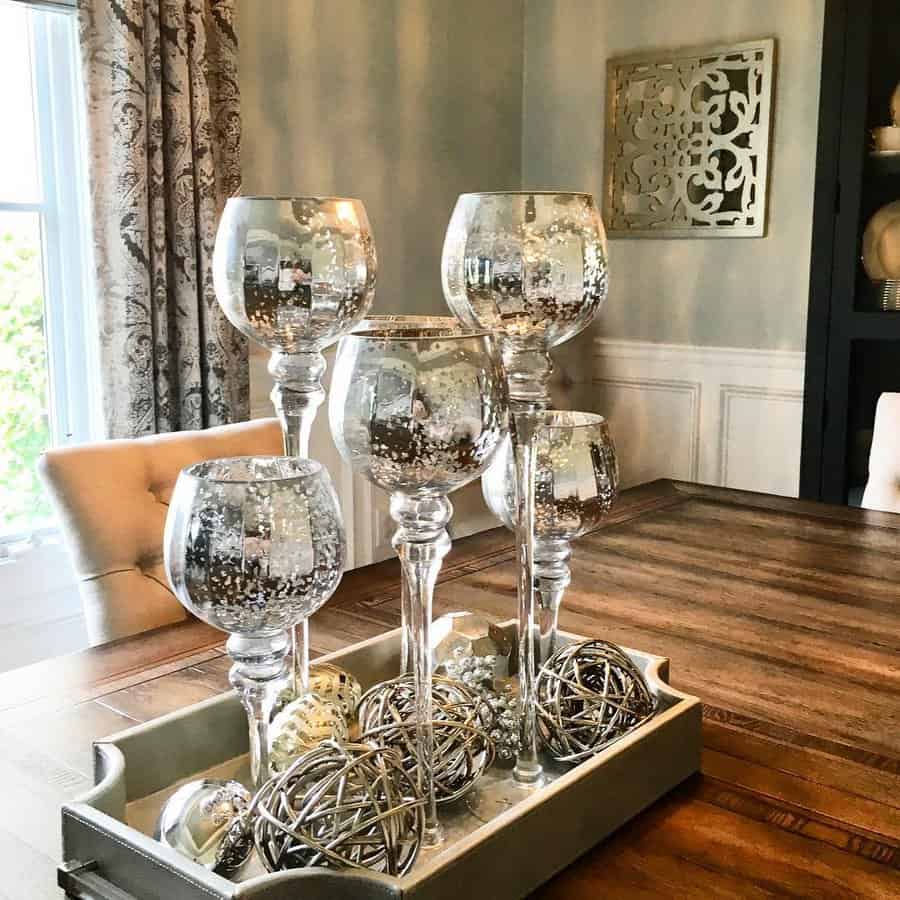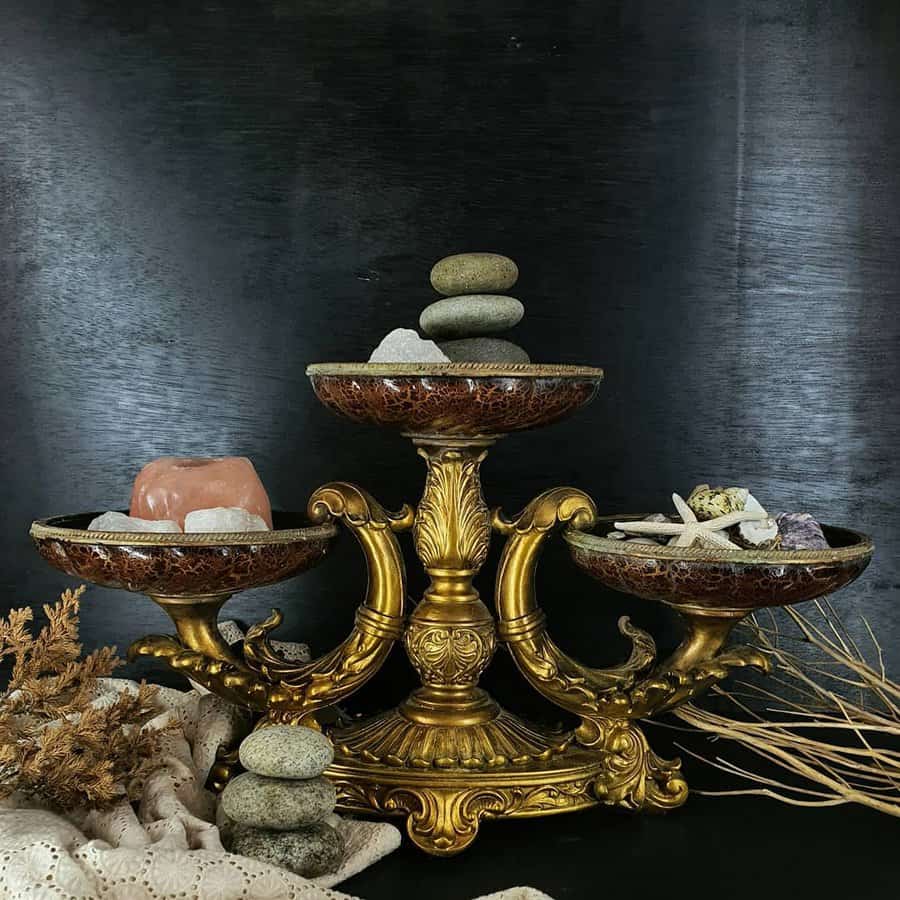 16. Winter's Embrace: Frosted Ornaments and More
To bring the magic of winter to your dining table this holiday season, consider crafting a frosted pine centerpiece. Begin by collecting long evergreen branches or smaller twigs to arrange around your table's focal point. Adorn this natural base with vibrant red ribbons for a touch of holiday cheer. The striking contrast between the wintery white frost and the rich red ribbons will create a captivating and eye-catching seasonal accent in your home.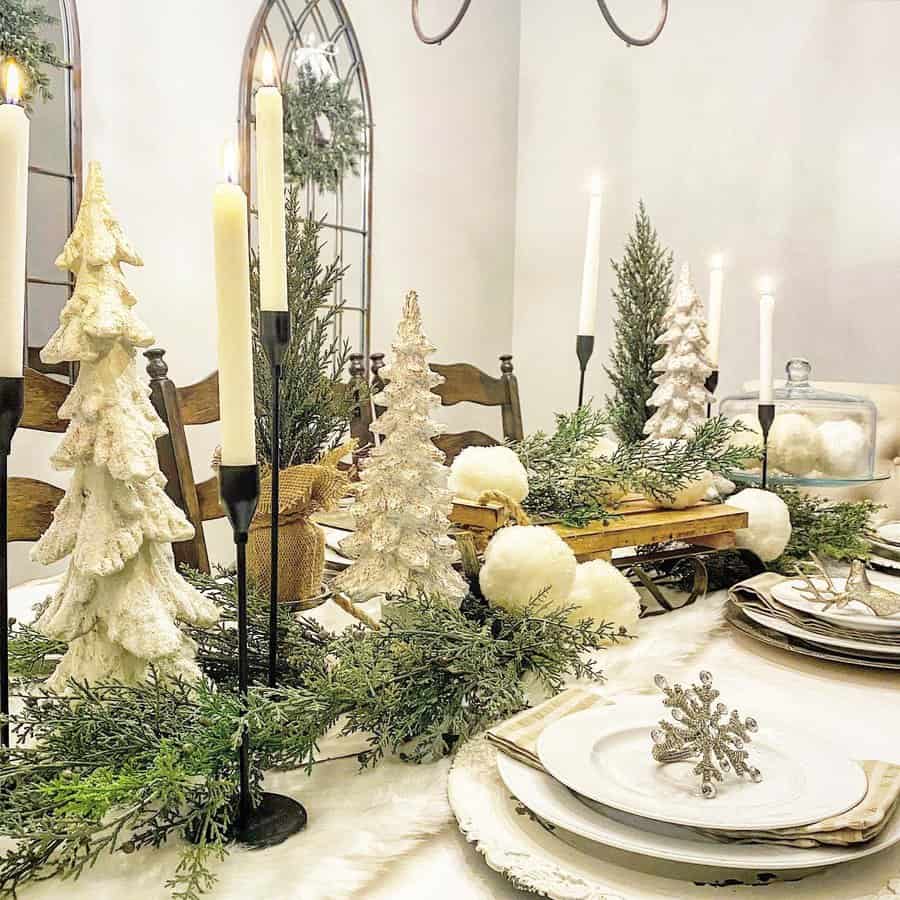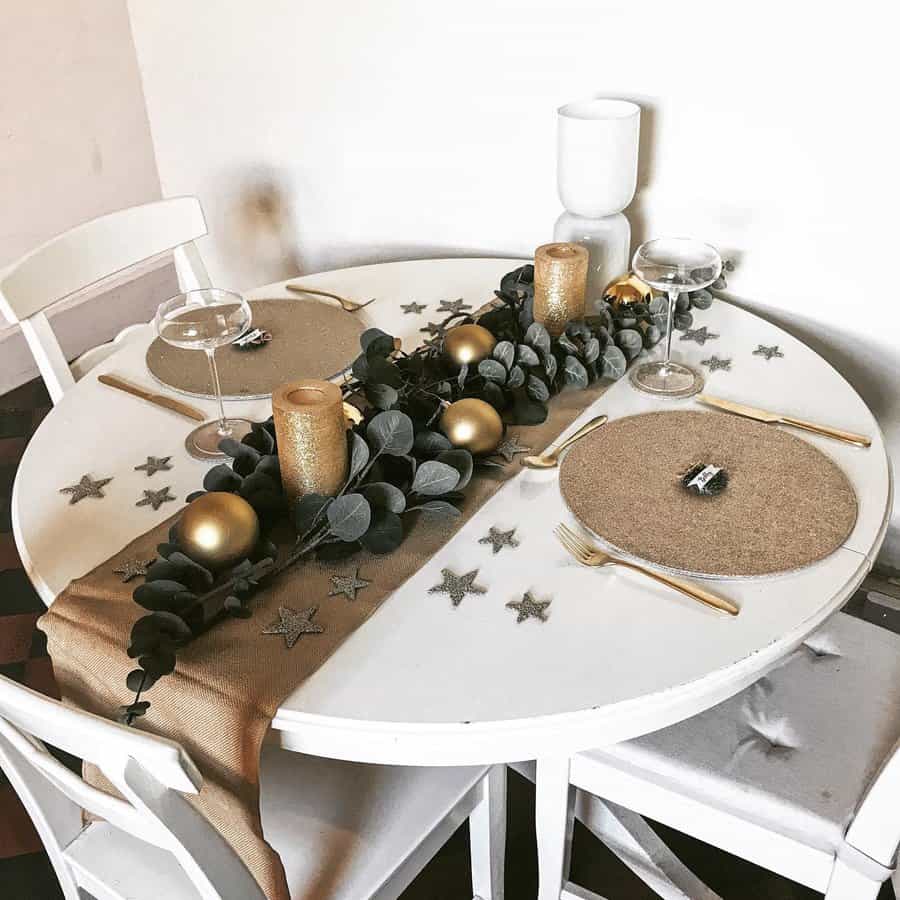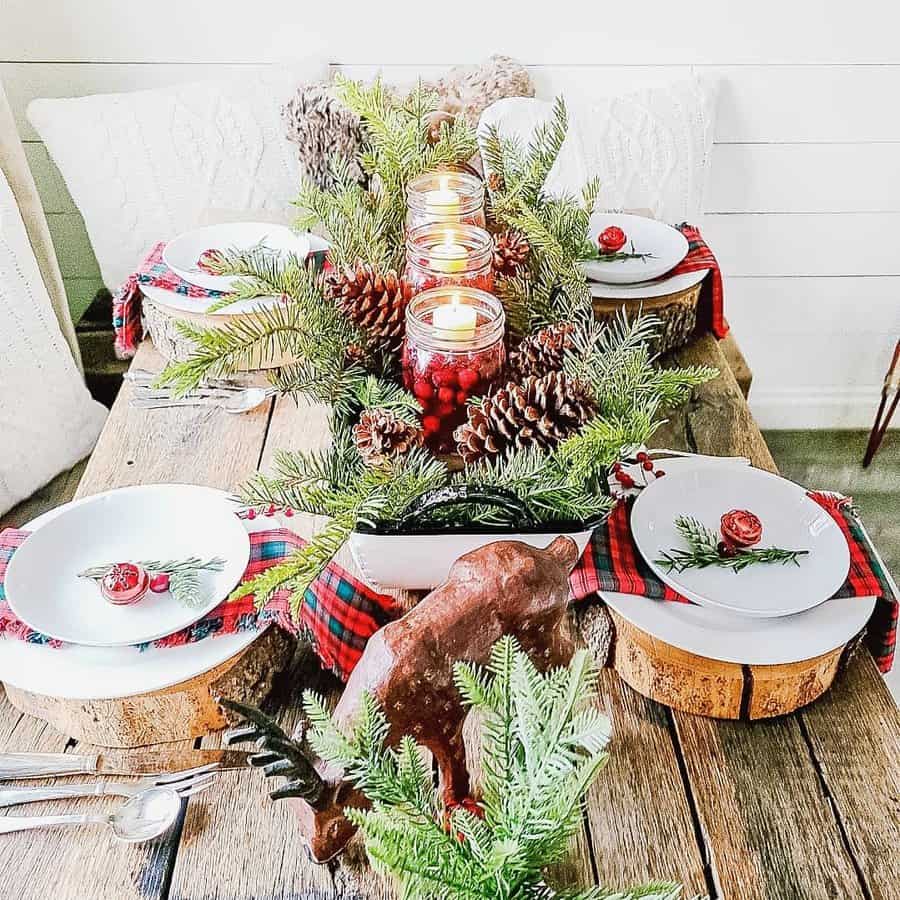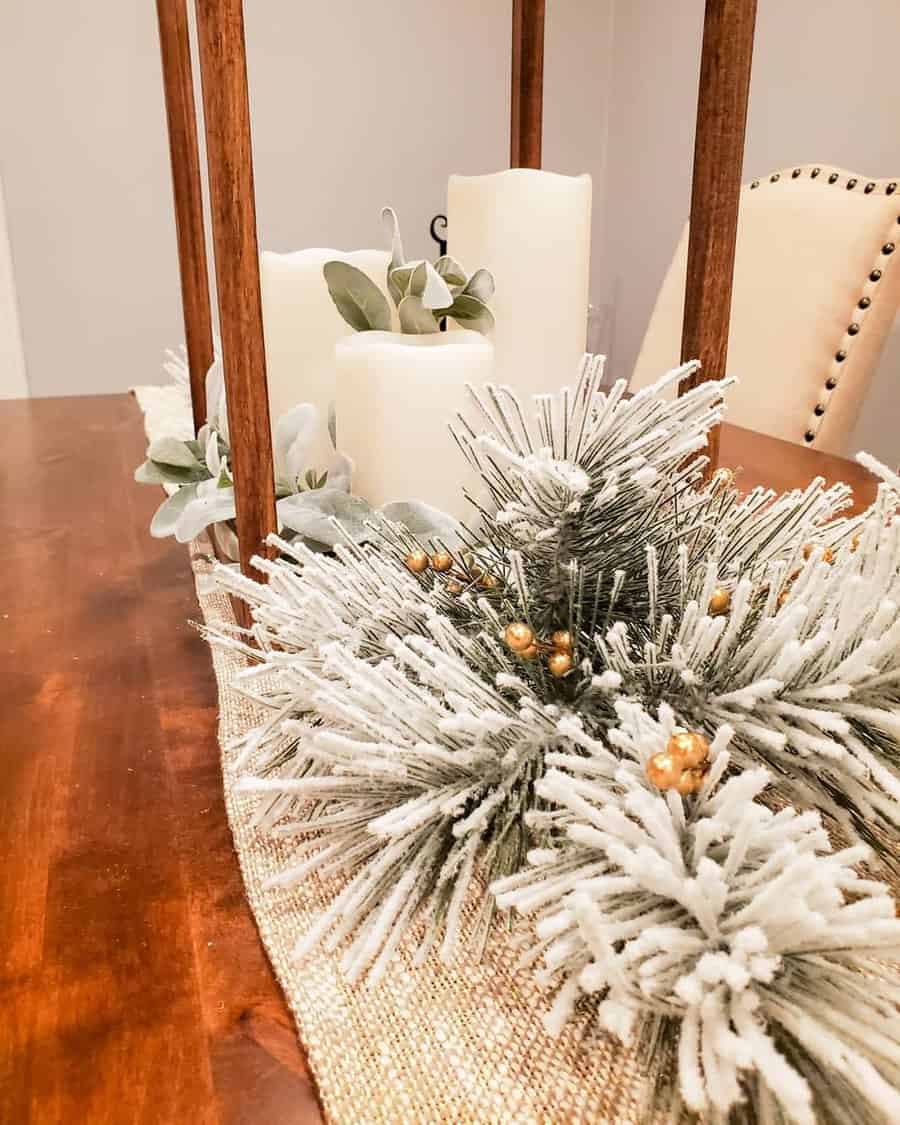 Dining Table Centerpiece FAQs
What is the appropriate height for a dining table centerpiece?
Choose a low dining room table centerpiece to maximize eye contact across the table. Ideally, a table centrepiece should be no taller than 12 inches. If your event requires taller centerpieces, use narrow pedestal vases at least 18 inches tall so that the arrangement itself is above eye level.
What makes a good centerpiece for a farmhouse table?
Since farmhouse décor combines rustic, natural, and vintage elements, anything that fits into those categories can work well on a farmhouse dining room table. Antique mason jars or milk pitchers filled with flowers from your garden are a classic farmhouse centerpiece idea. Wooden crates, rustic baskets, and metal trays are excellent bases for displaying vintage books or pottery.