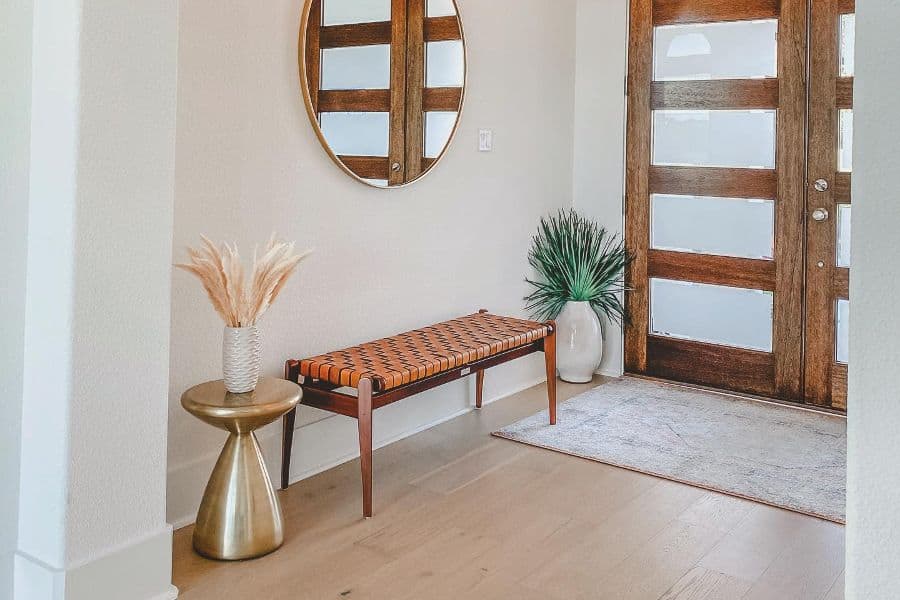 Leave your shoes and your worries at the door!
An entryway bench is the anchor of a home's "drop zone." Who wouldn't love having a convenient place to sit down while taking off their shoes at the end of a long day?
An entryway storage bench is also a great way to add extra storage to a small space. Parents of school-age kids find them invaluable for keeping footwear, coats, and backpacks in one easy-to-find location. Take a look at our best entryway bench ideas and choose one for your entryway makeover.
1. Coat Rack
A coat rack is an ideal entryway addition. Whether it's part of your entryway bench or simply a set of coat hooks hung above, coat storage is necessary in all but the hottest climates.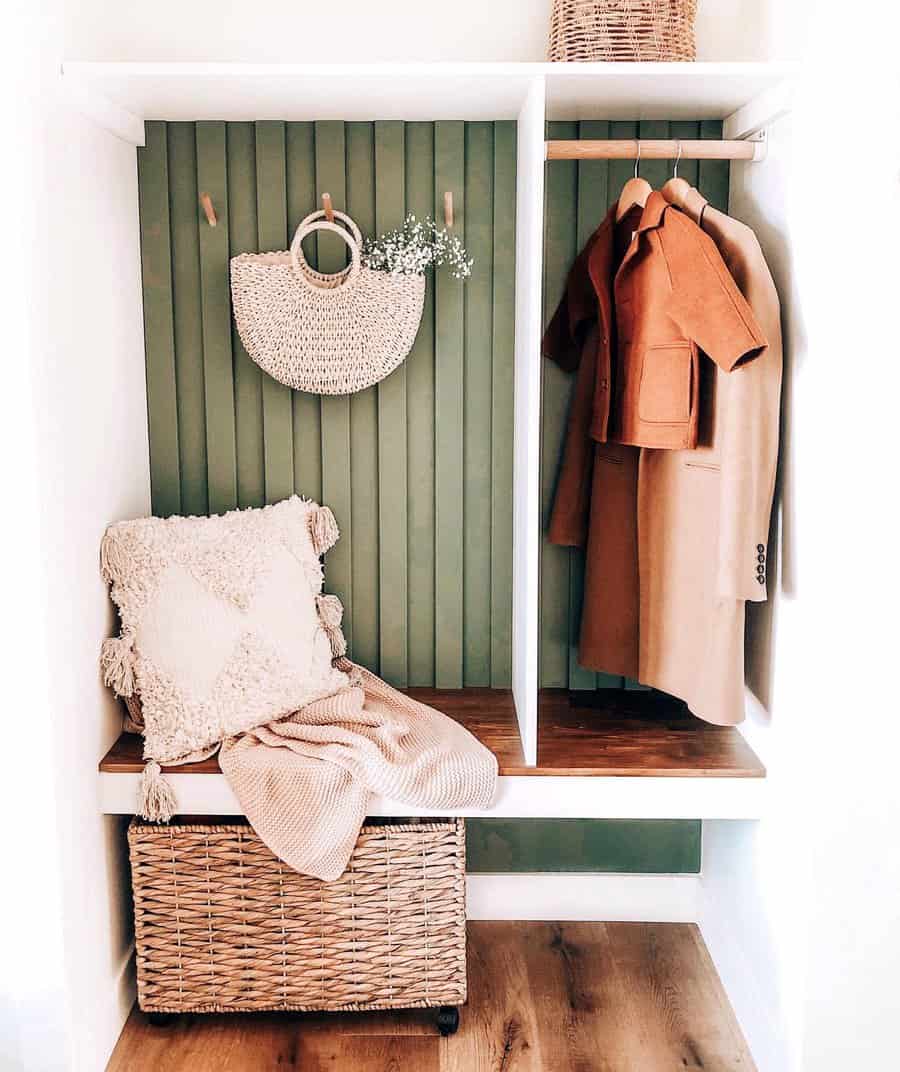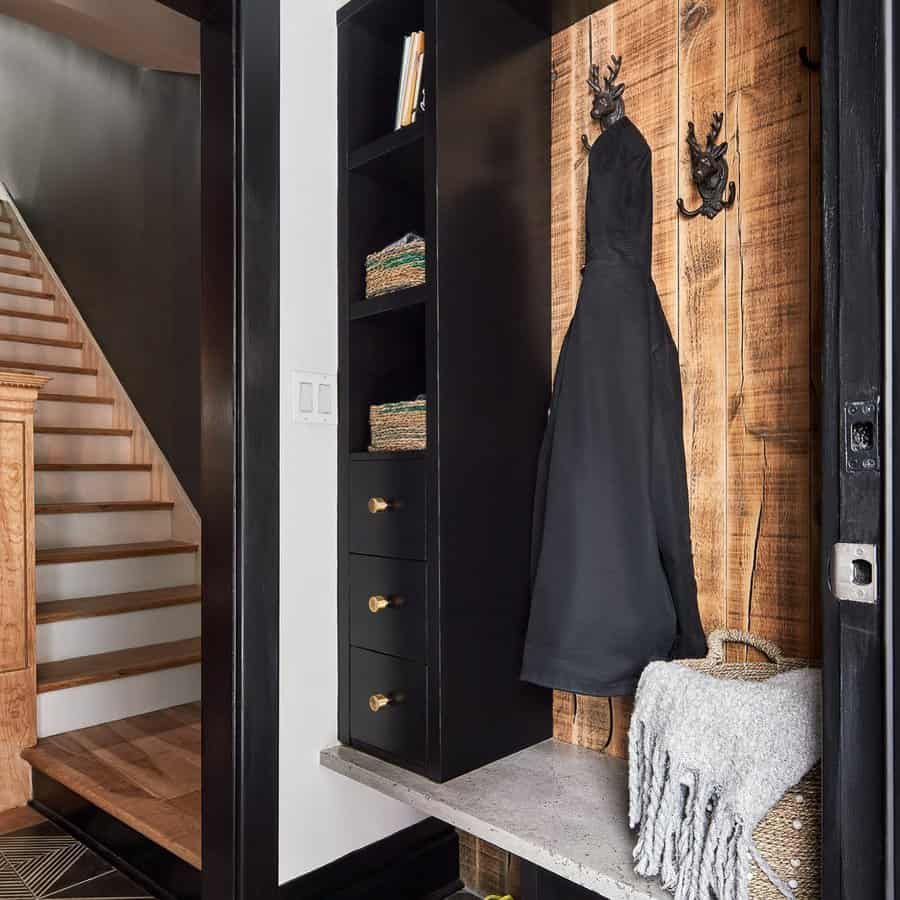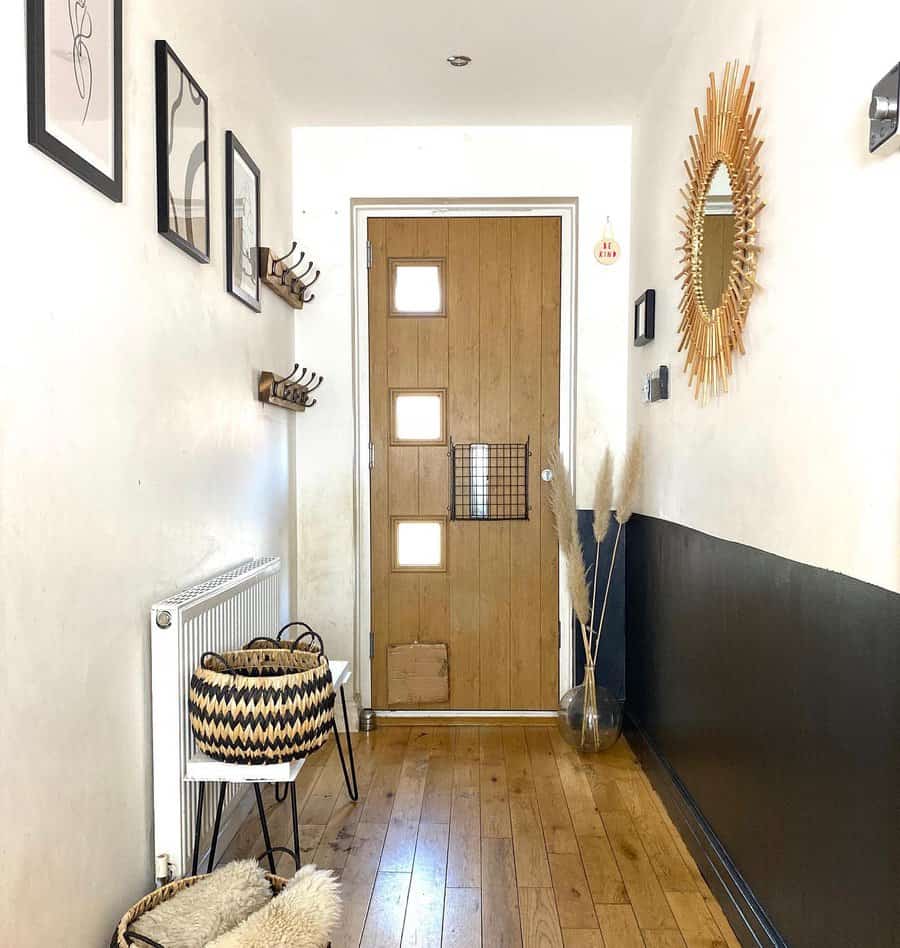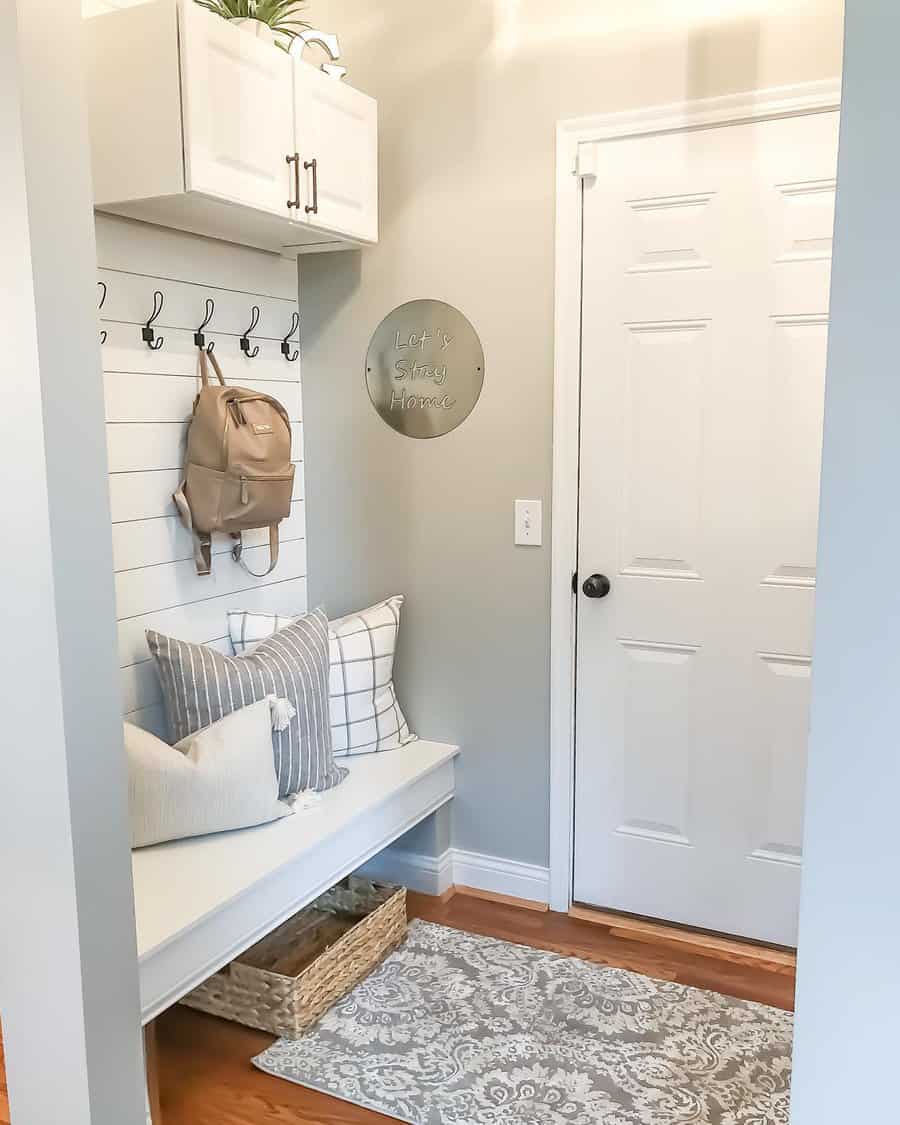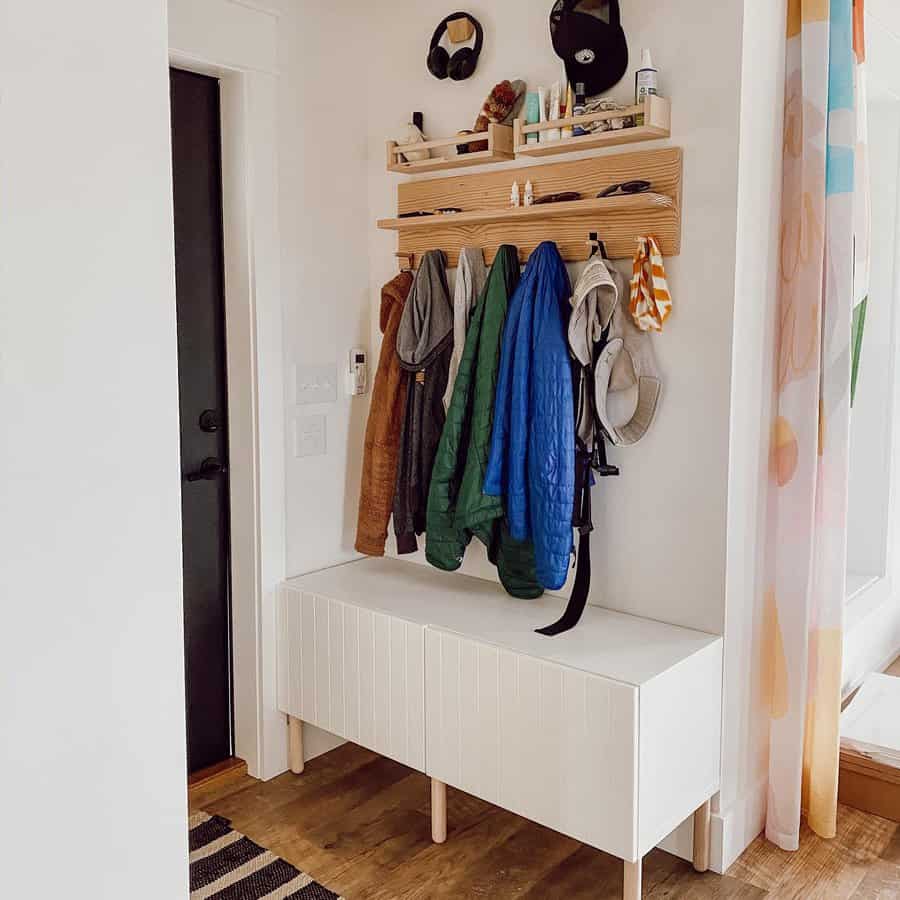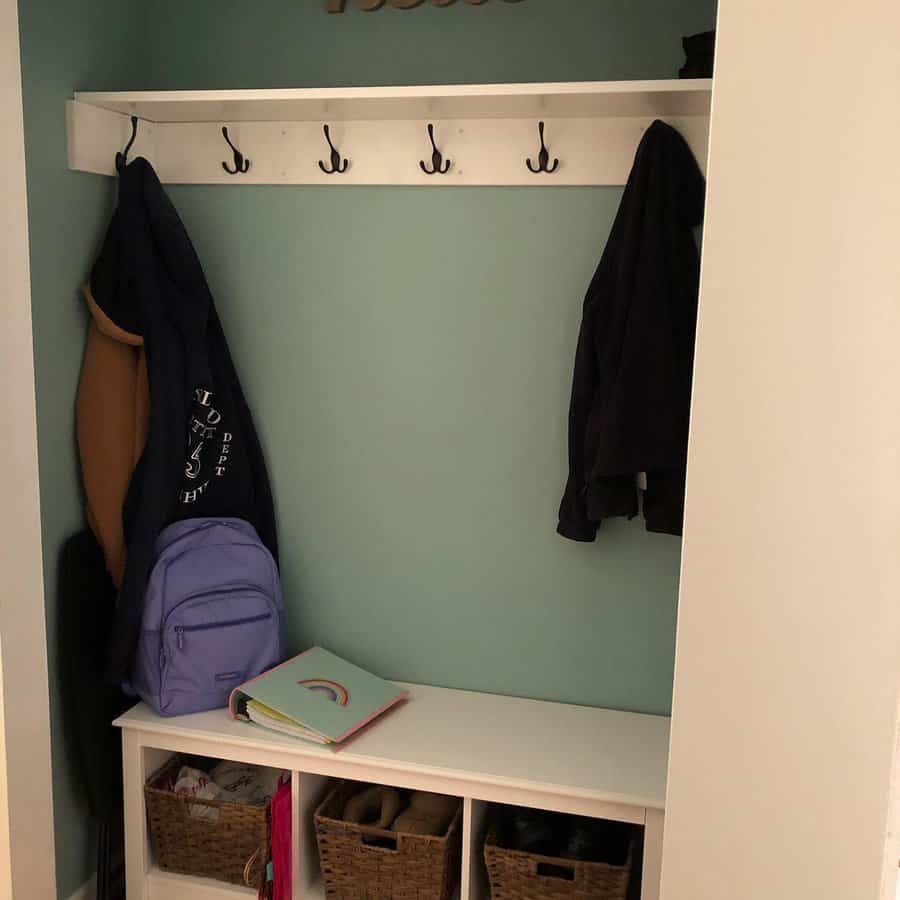 If you have a spacious entryway or mudroom, a hallway tree bench may be the best way to use the space. These all-in-one units creatively integrate coat, bag, and shoe storage. However, because they are a large piece of furniture, make sure your wall is big enough for it to fit comfortably.
2. Cottage
In cottage décor, anything goes. This eclectic style is a warm, casual way to welcome guests into your home. Whether you opt for a repurposed storage bench or a rustic solid wood piece, an entryway bench is a great accessory inside your cottage front door.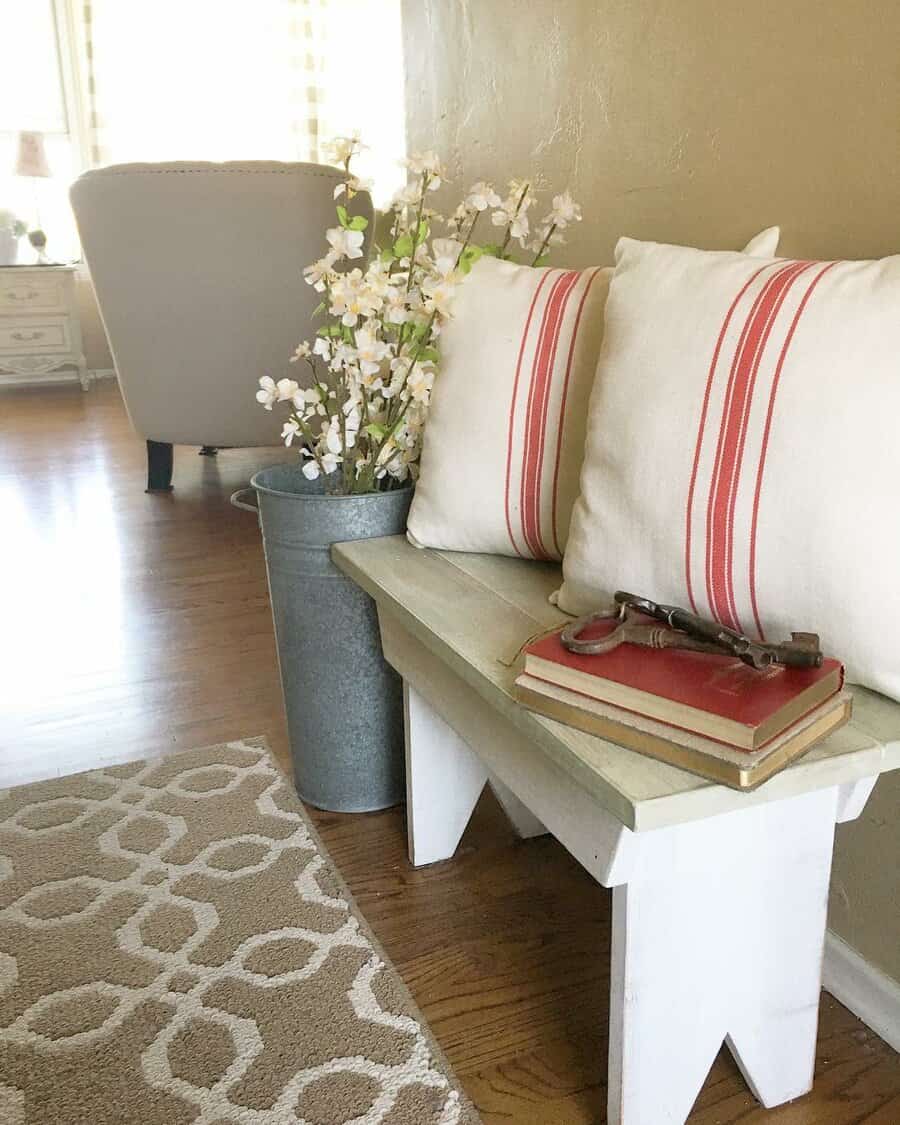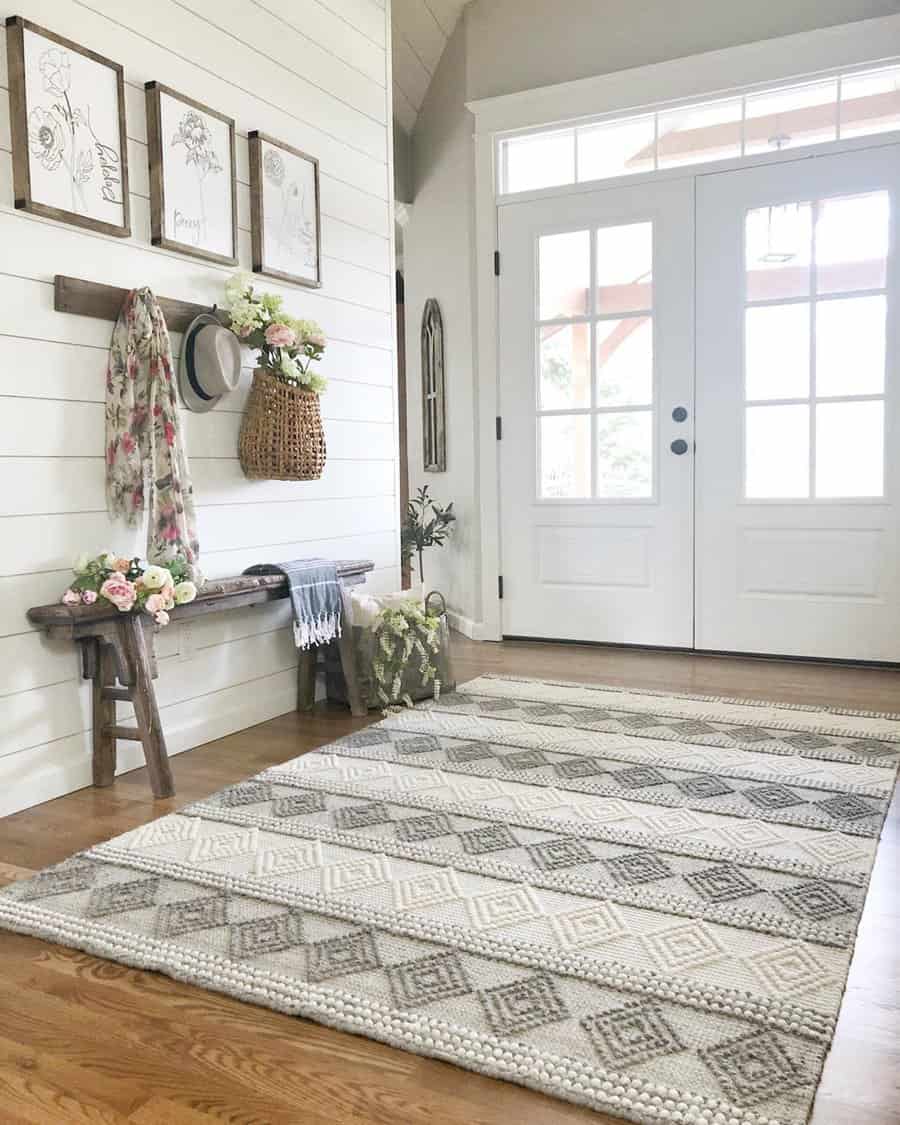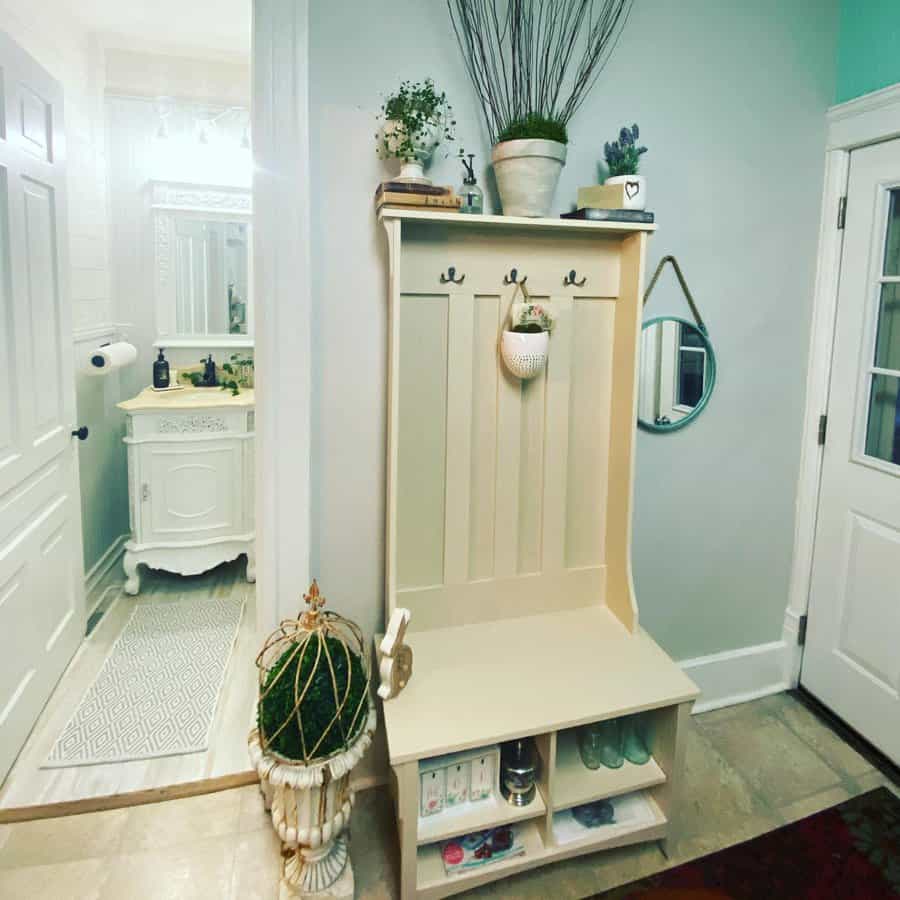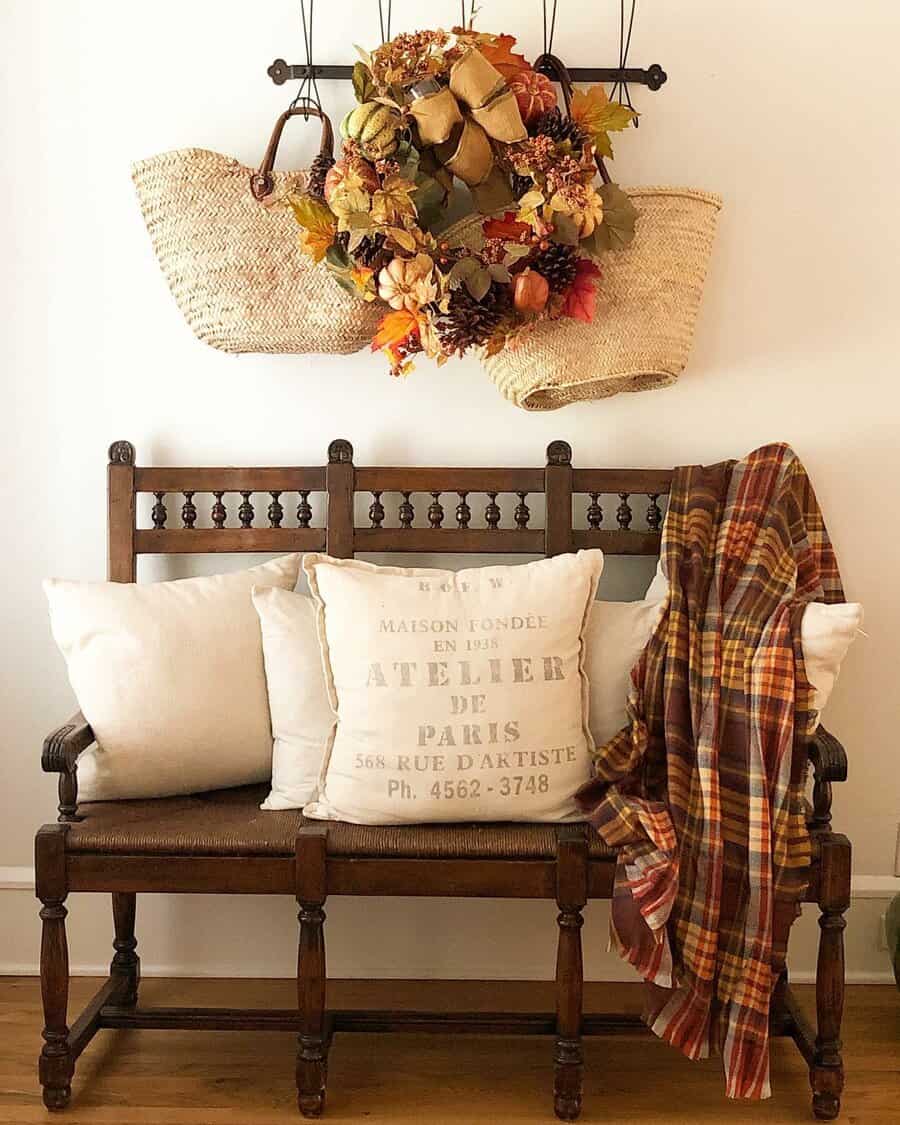 Because nothing needs to match in cottage style—in fact, it shouldn't—repurposing a plain or upholstered bench is ideal. Just add a new coat of paint and recover the existing fabric with plaid, striped, or floral fabric.
Add a few throw pillows and be sure to hang a wreath, a mirror and other wall décor above the bench.
3. Custom
Customizing your entryway furniture is simply a matter of adding your own personality and style. The right paint colors and wood finishes can turn an ordinary entryway into a designer entrance.
If you have a small foyer, a narrow console table might make more sense than a full entryway bench.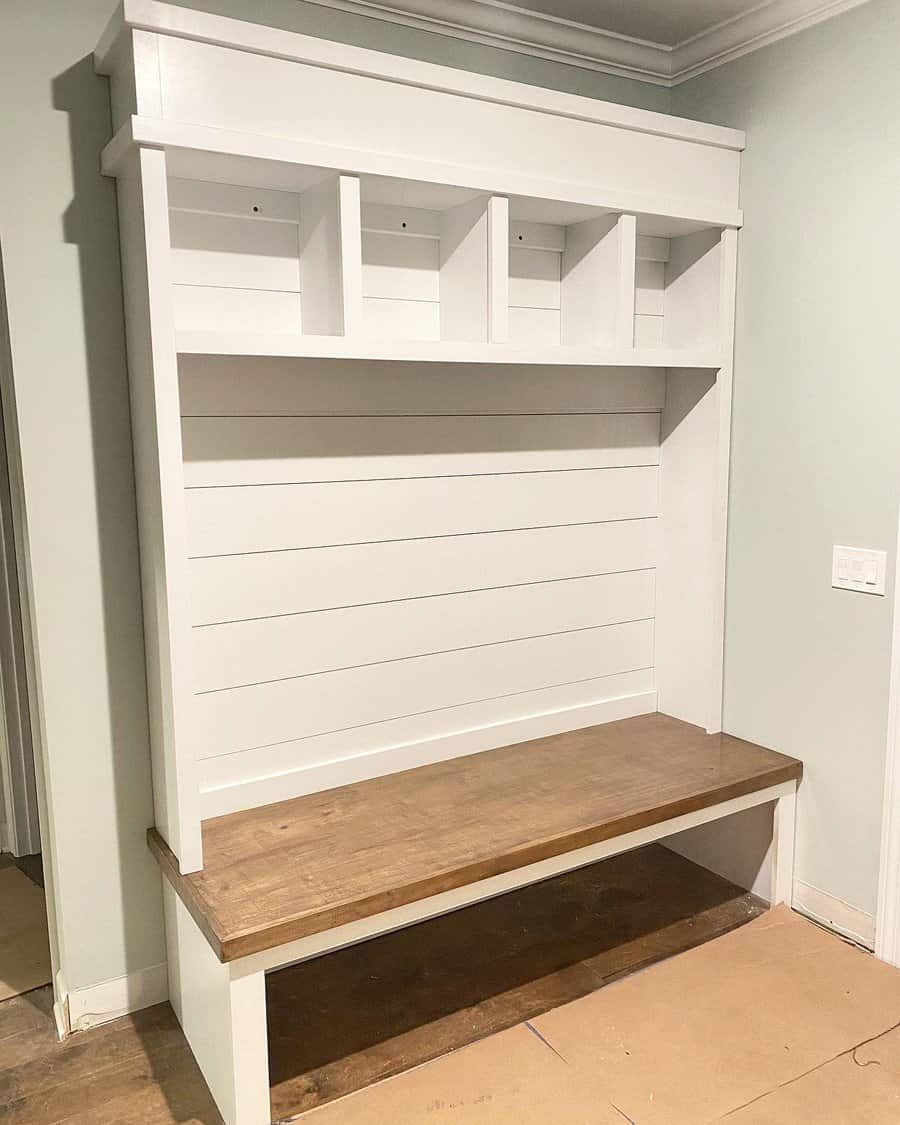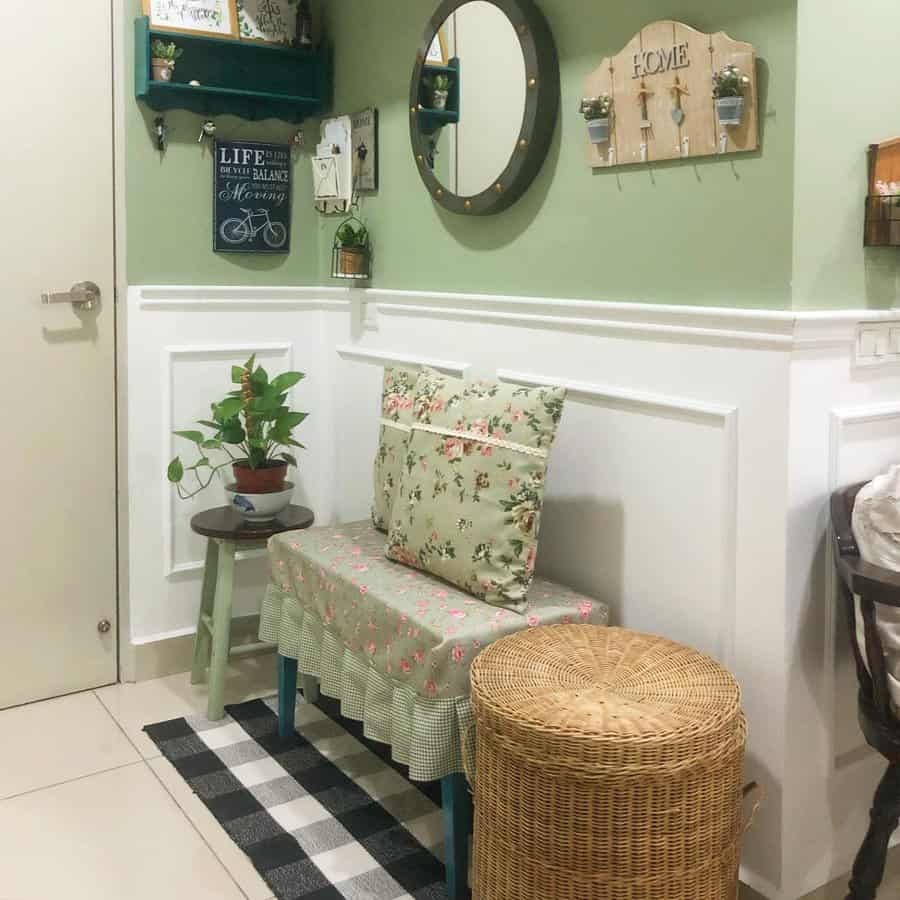 If your home remodel includes custom cabinetry, a built-in bench adds a lot of functional charm to your mudroom or other entryway. Install cabinet doors above the bench for extra storage space and visual continuity with the other custom cabinetry in your home.
4. DIY
Most people with basic DIY skills and a circular saw can make a wooden bench for the mudroom or entryway. A DIY bench can be just as beautiful as a ready-made entryway bench and is far more affordable.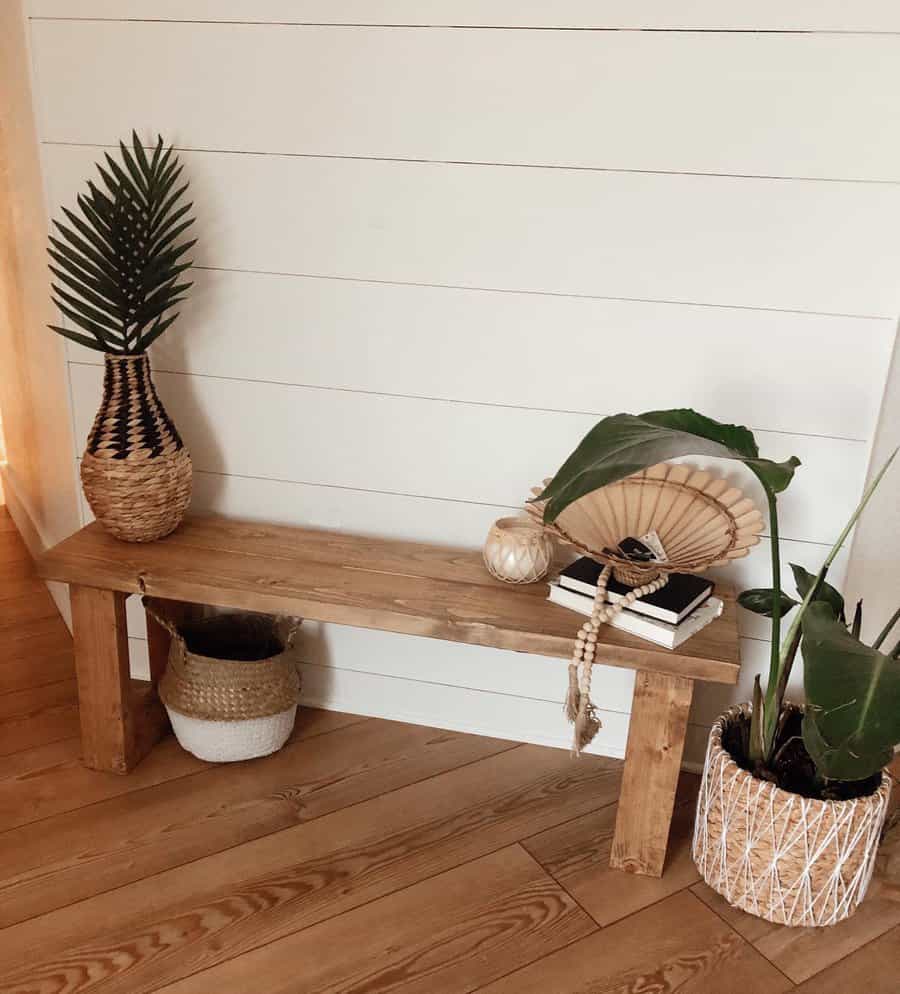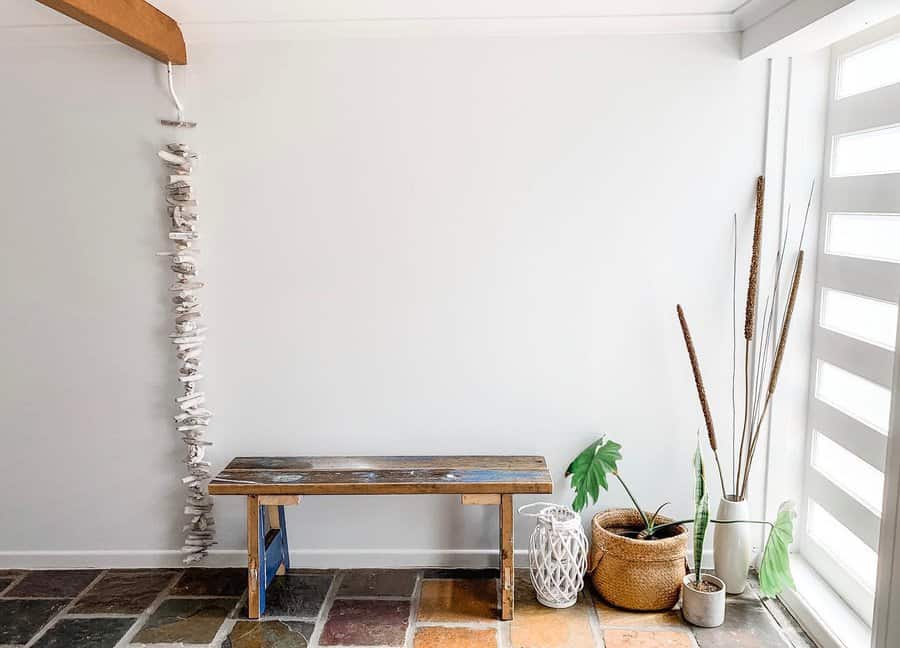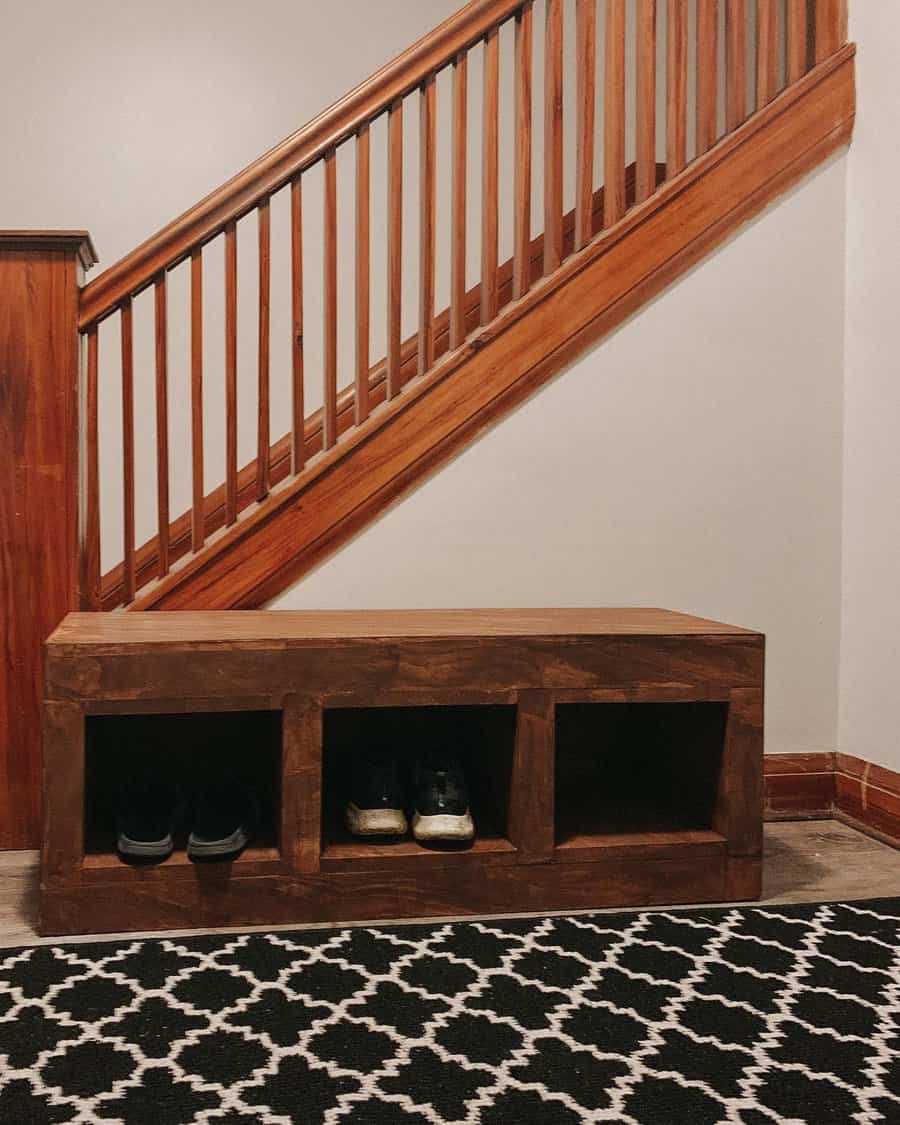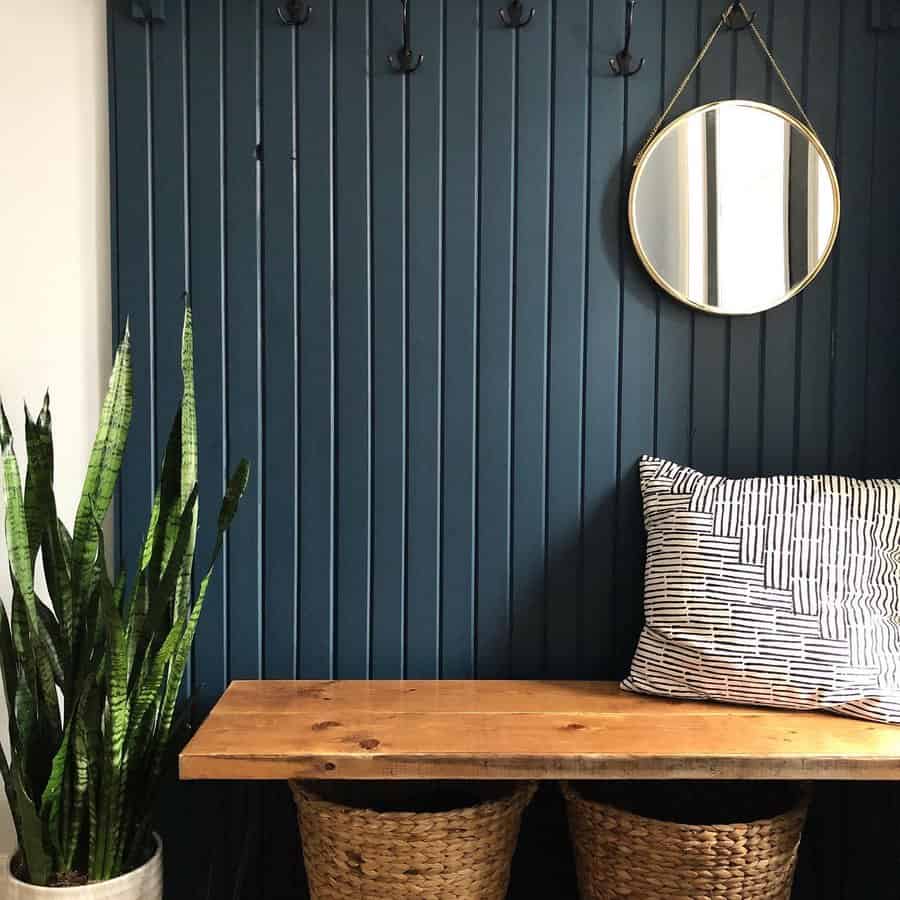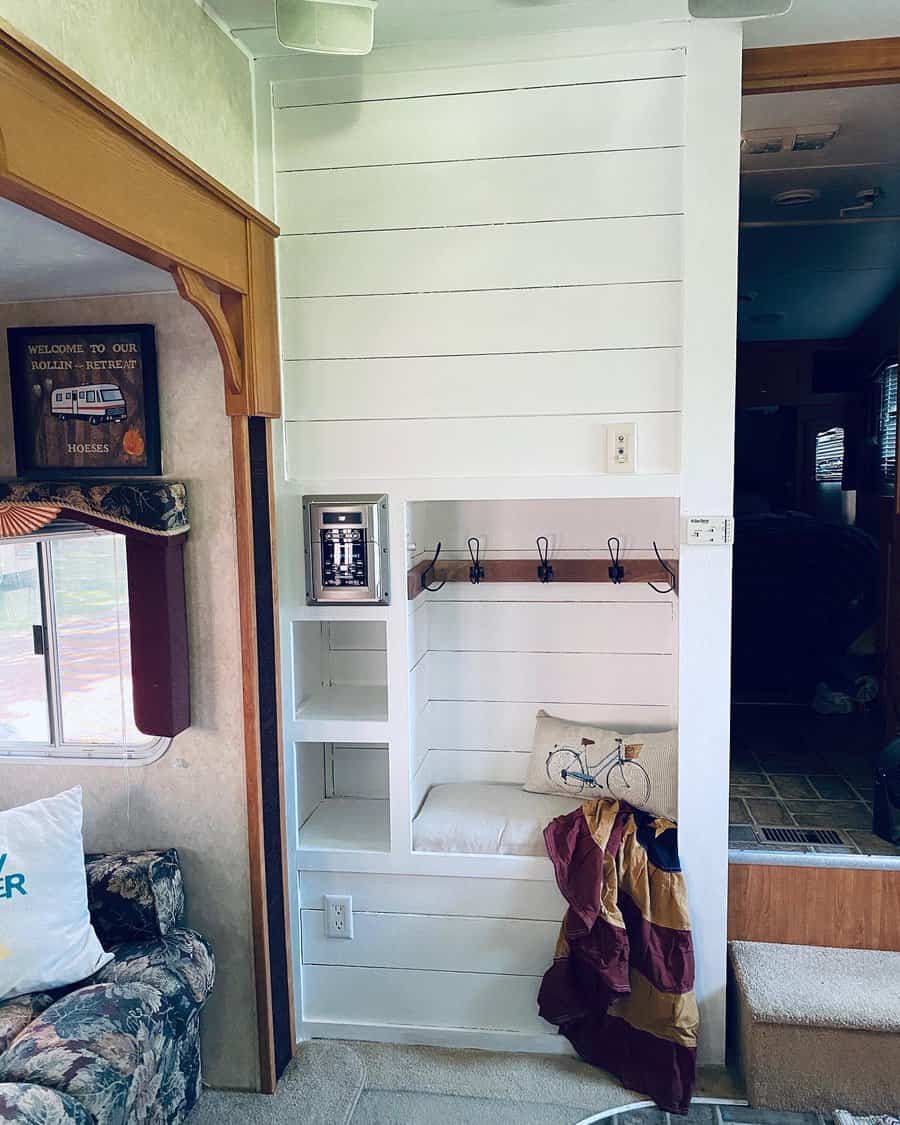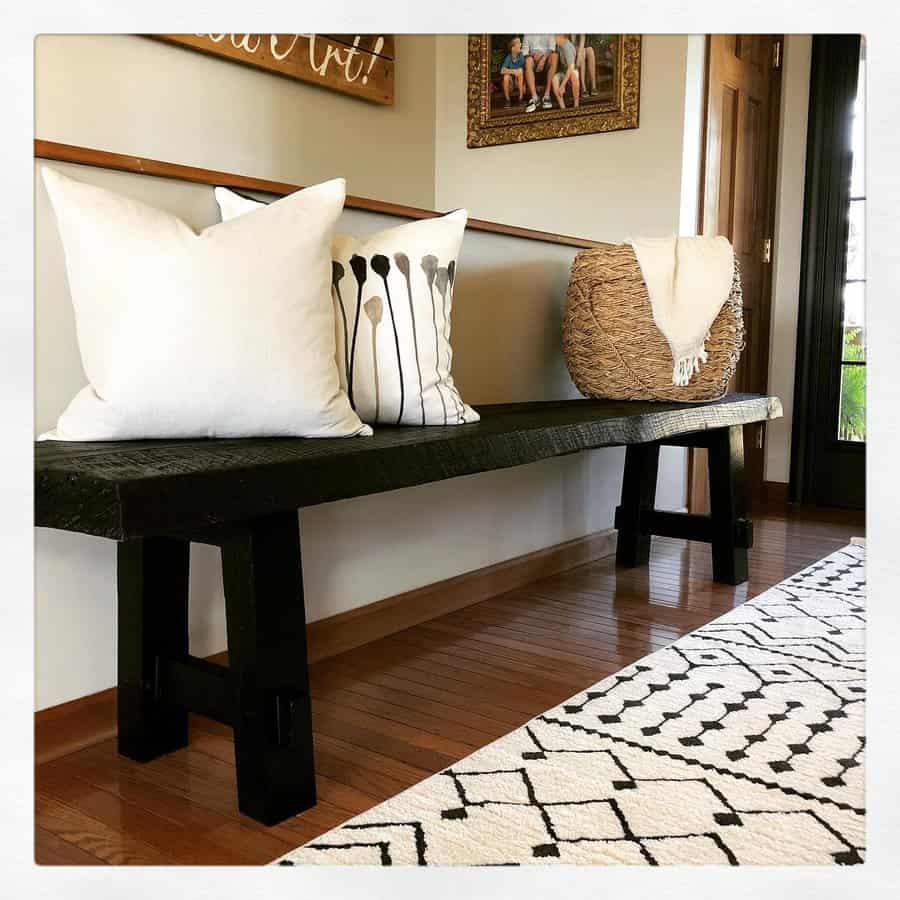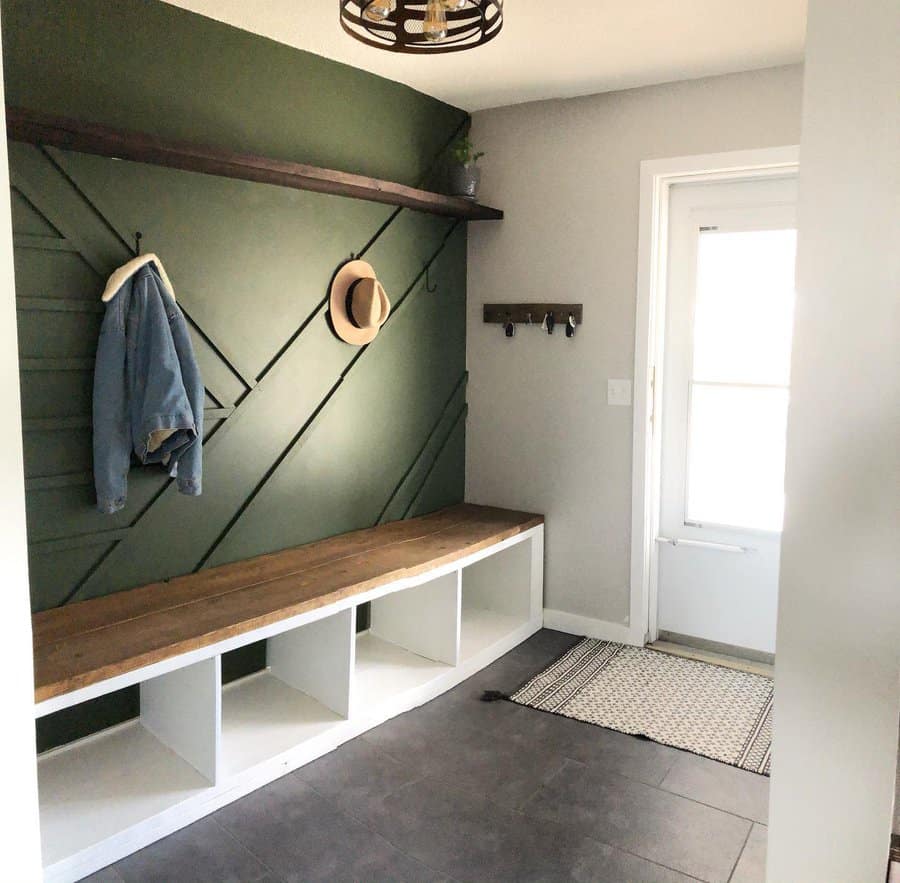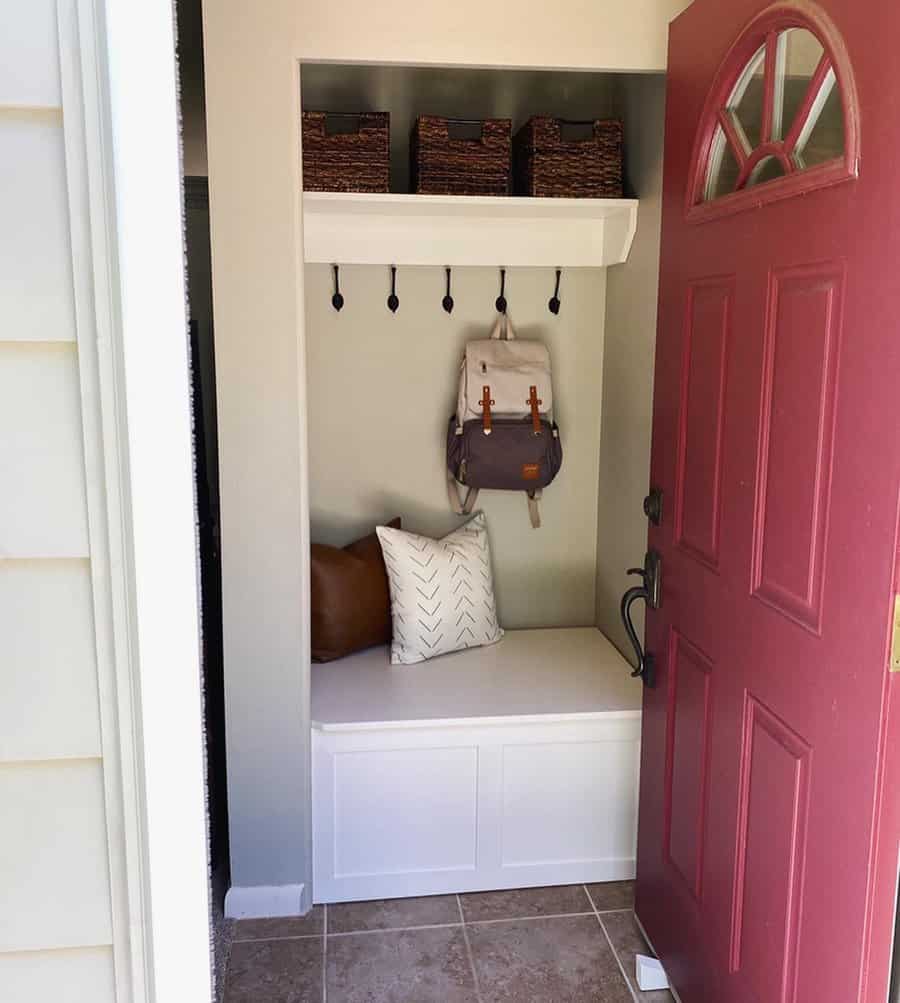 The diagonal hole mentioned in the video is called a pocket hole. They are ideal for wood bench construction because they tightly join the corners together, creating greater stability. Apply wood glue to further strengthen the bond.
Special pocket hole drill bits exist, but you can drill pocket holes without them, as shown in this video:
5. Farmhouse
Adding a touch of farmhouse flair to your entryway is a great way to try out this design style. Cover one wall in horizontal paneling—painted white—to create a classic farmhouse shiplap wall. It's a perfect background for a wooden entryway bench, coat hooks, vintage signs, and a boxwood wreath.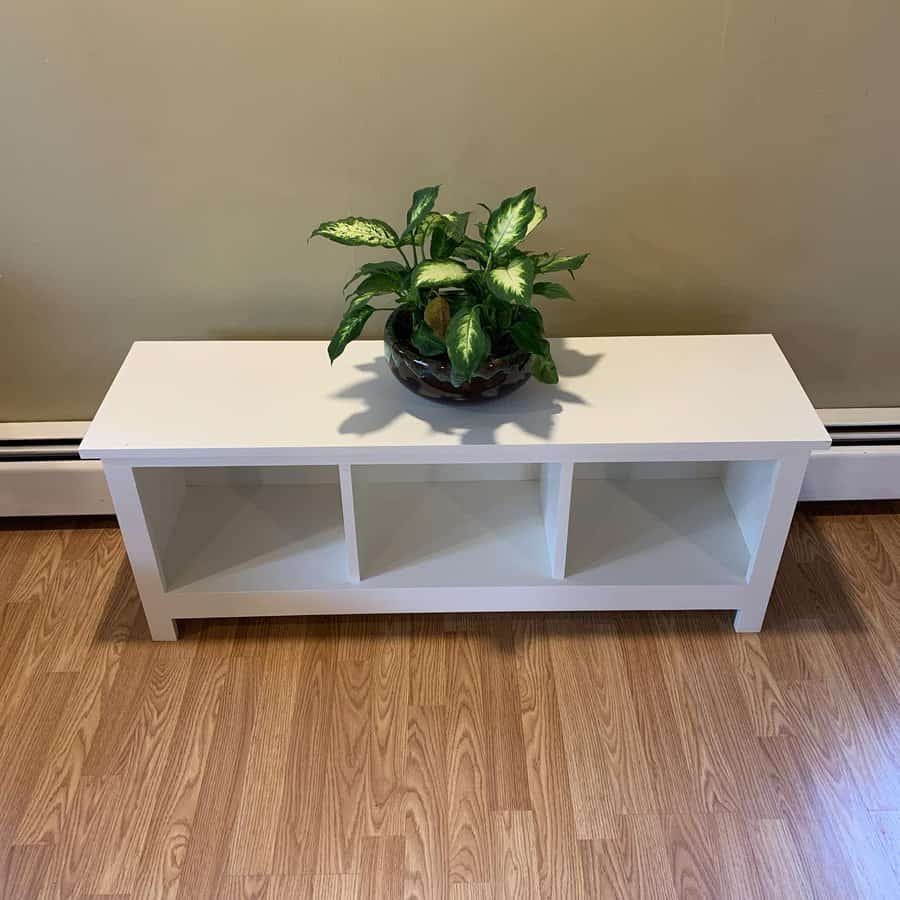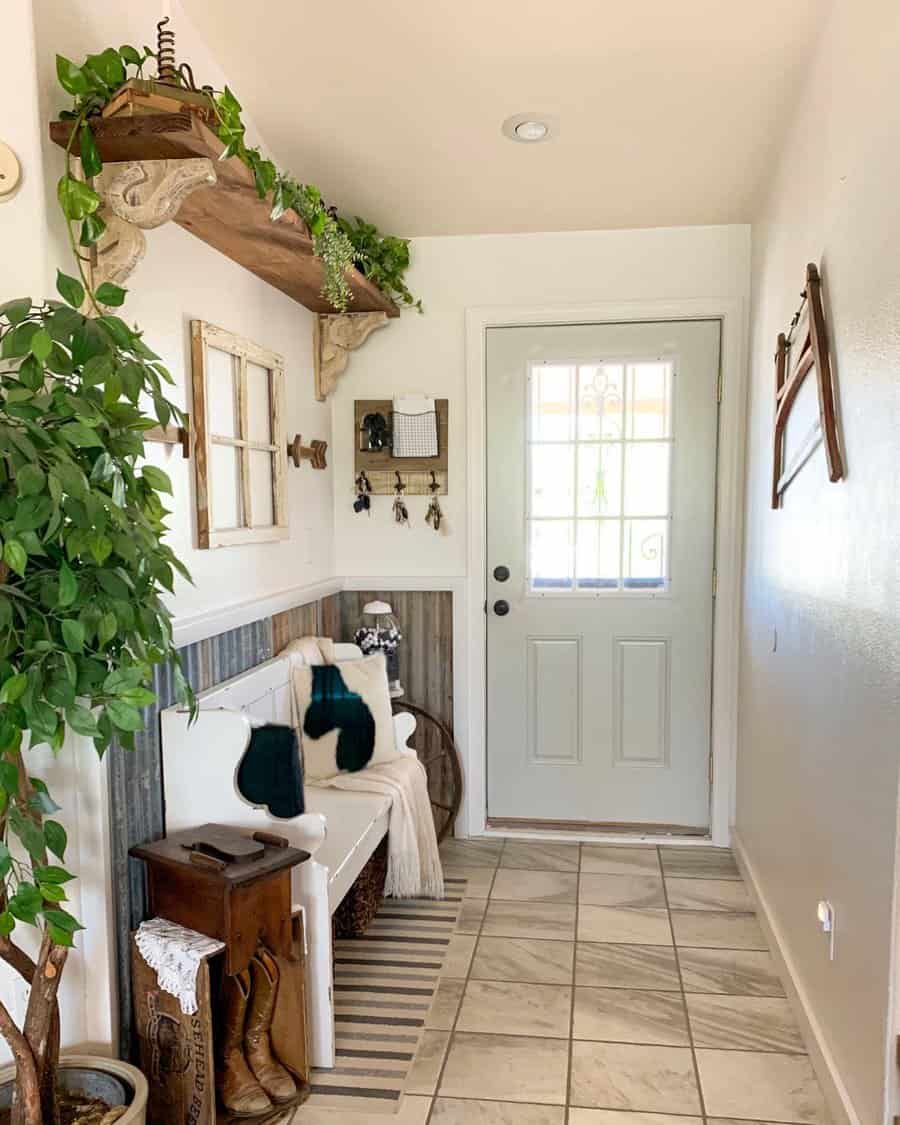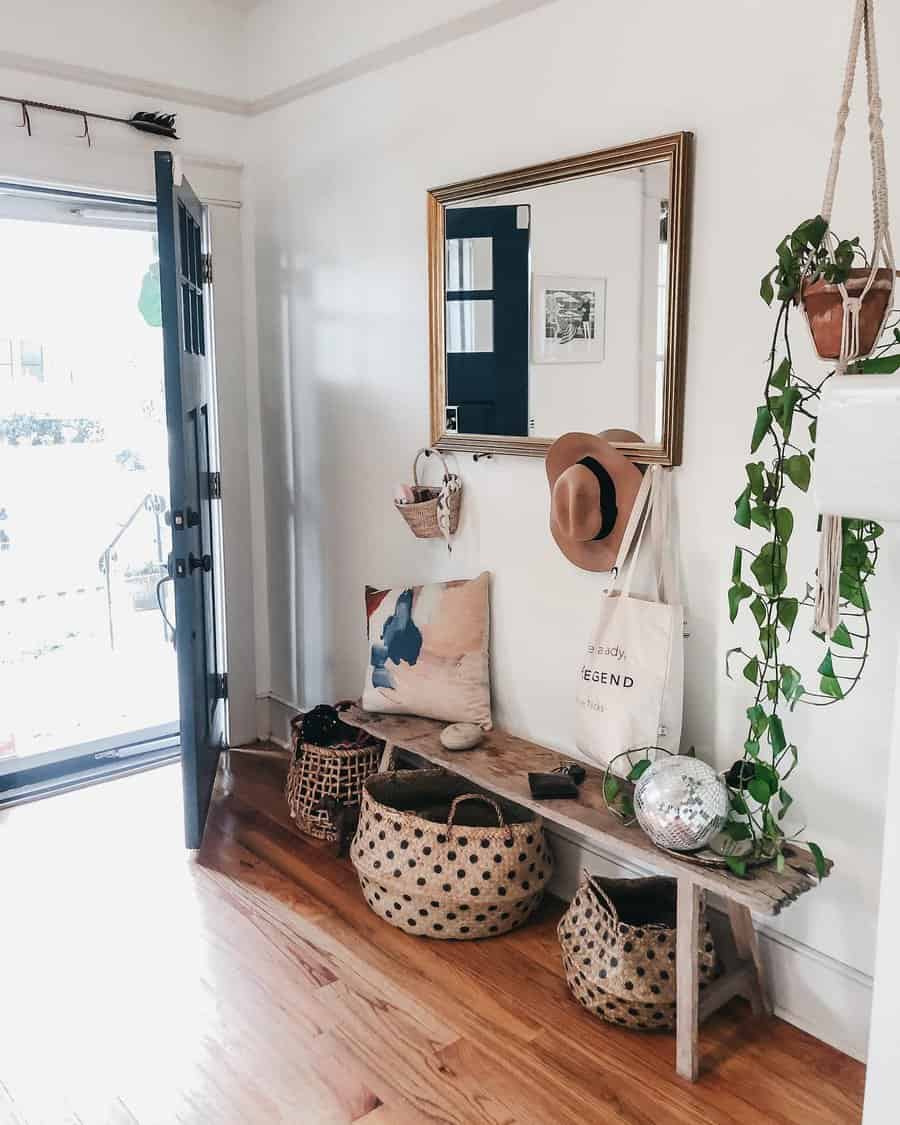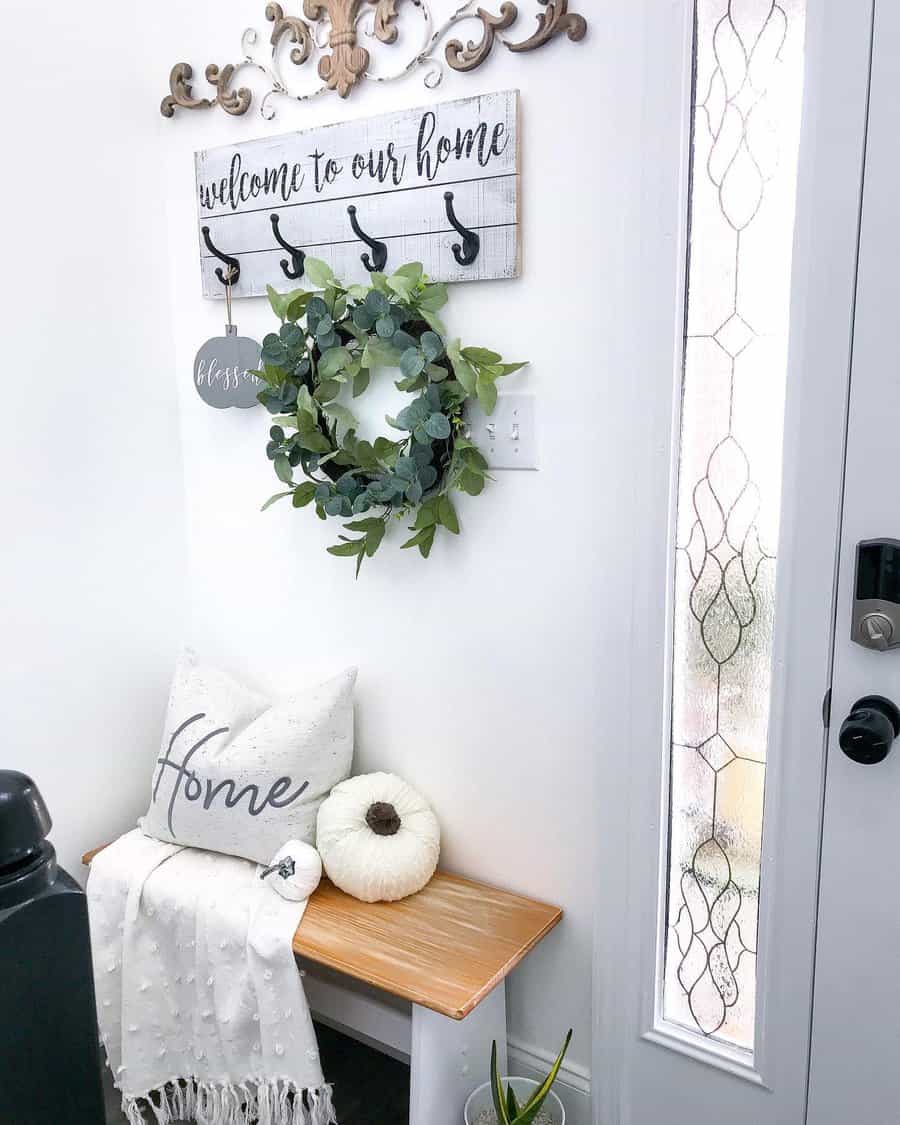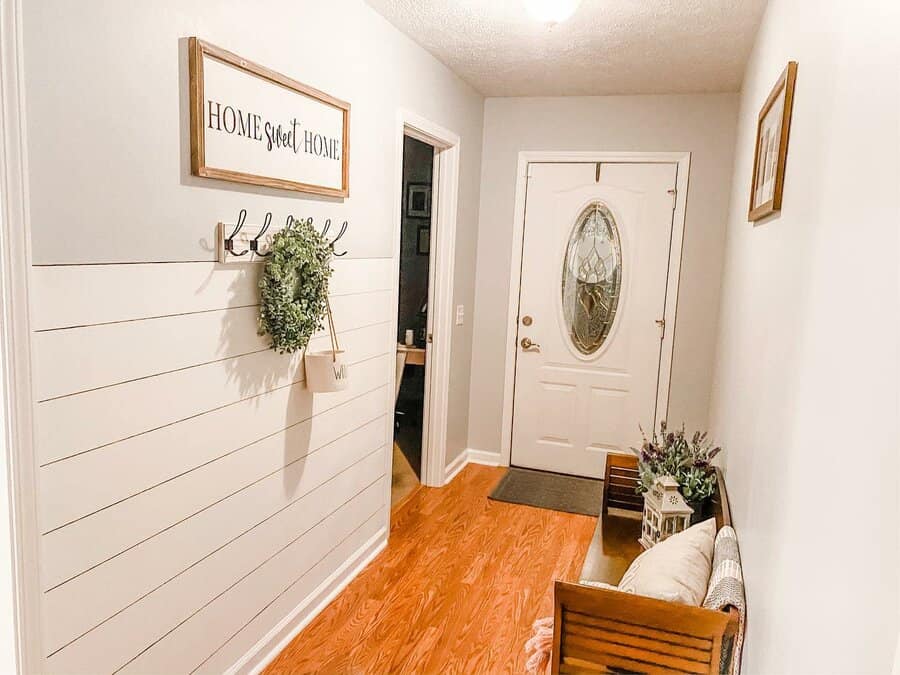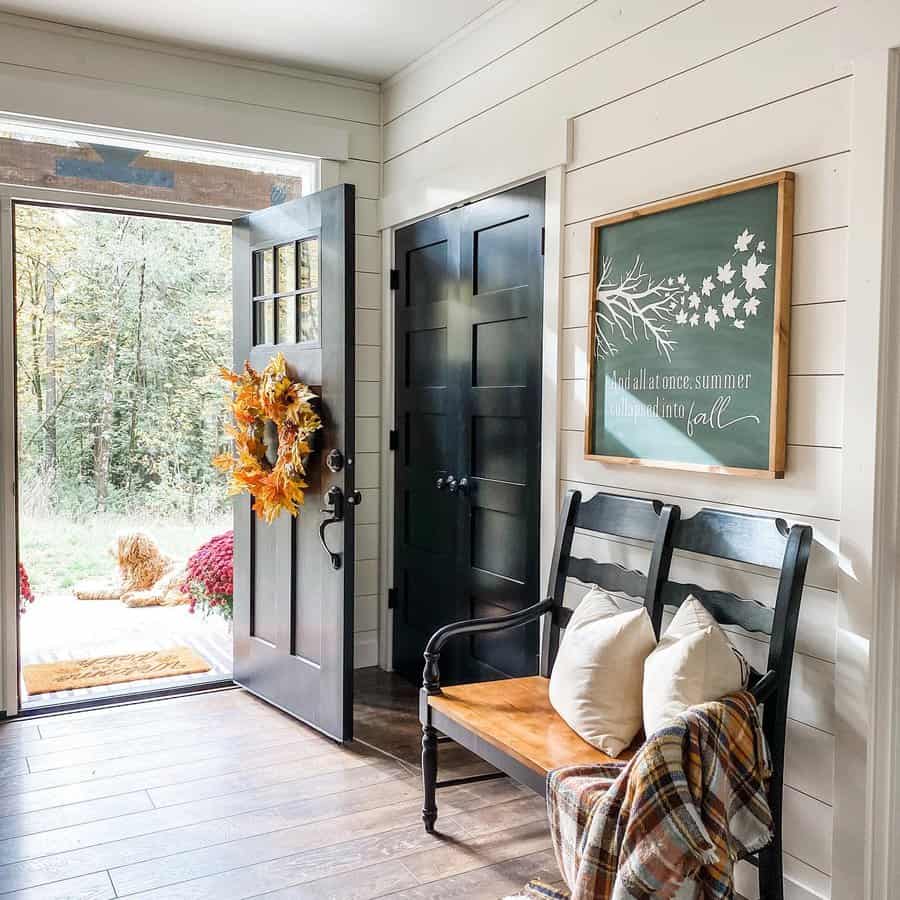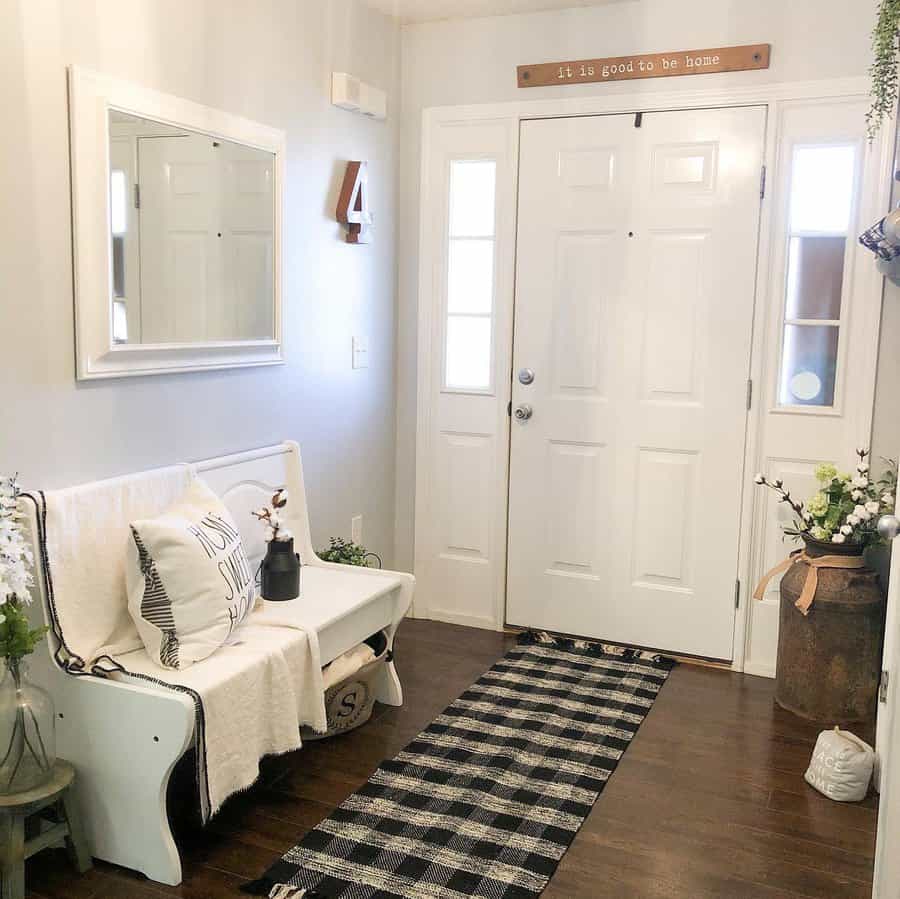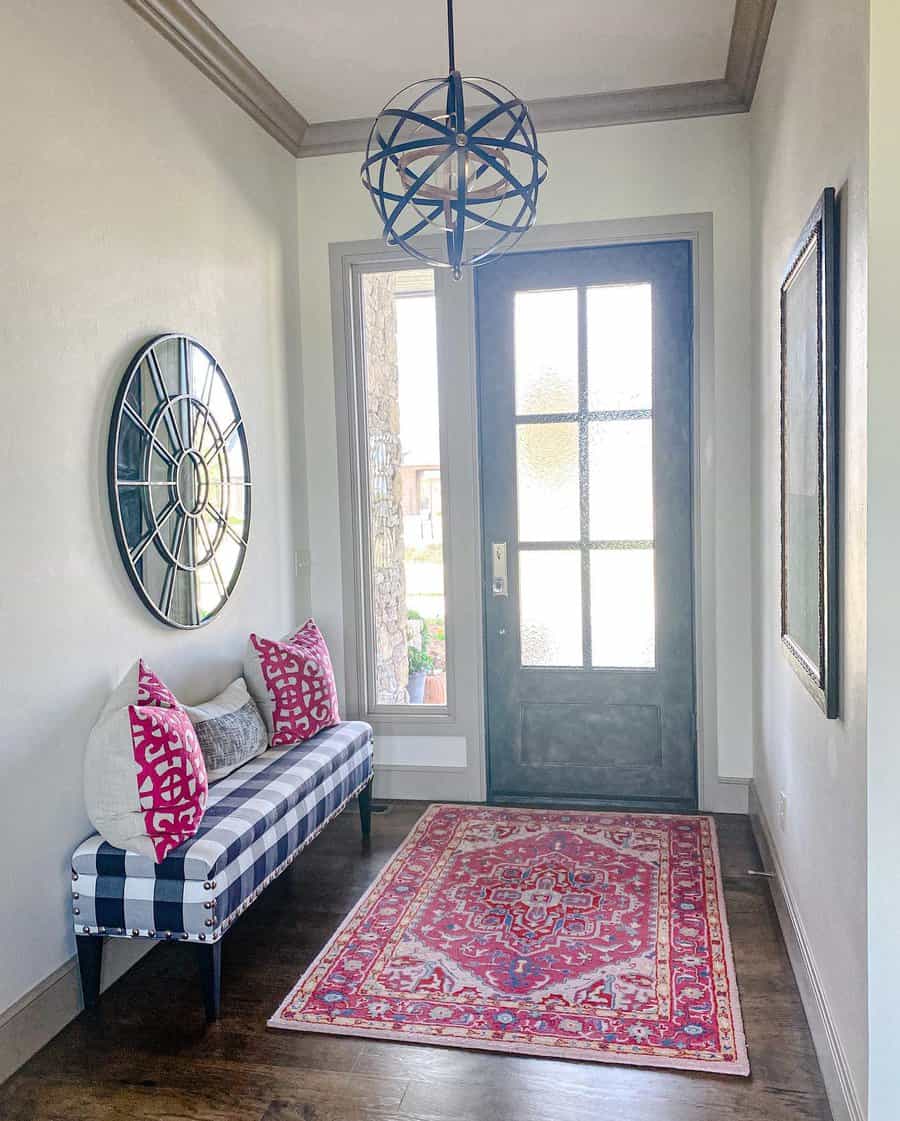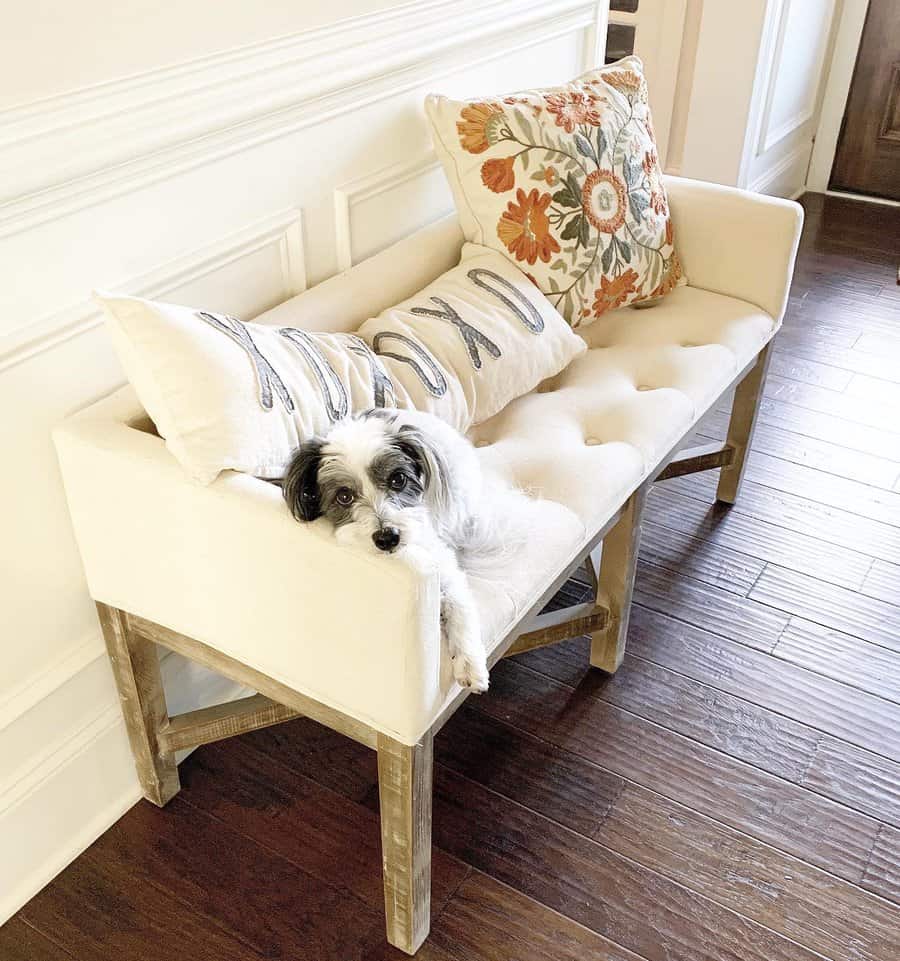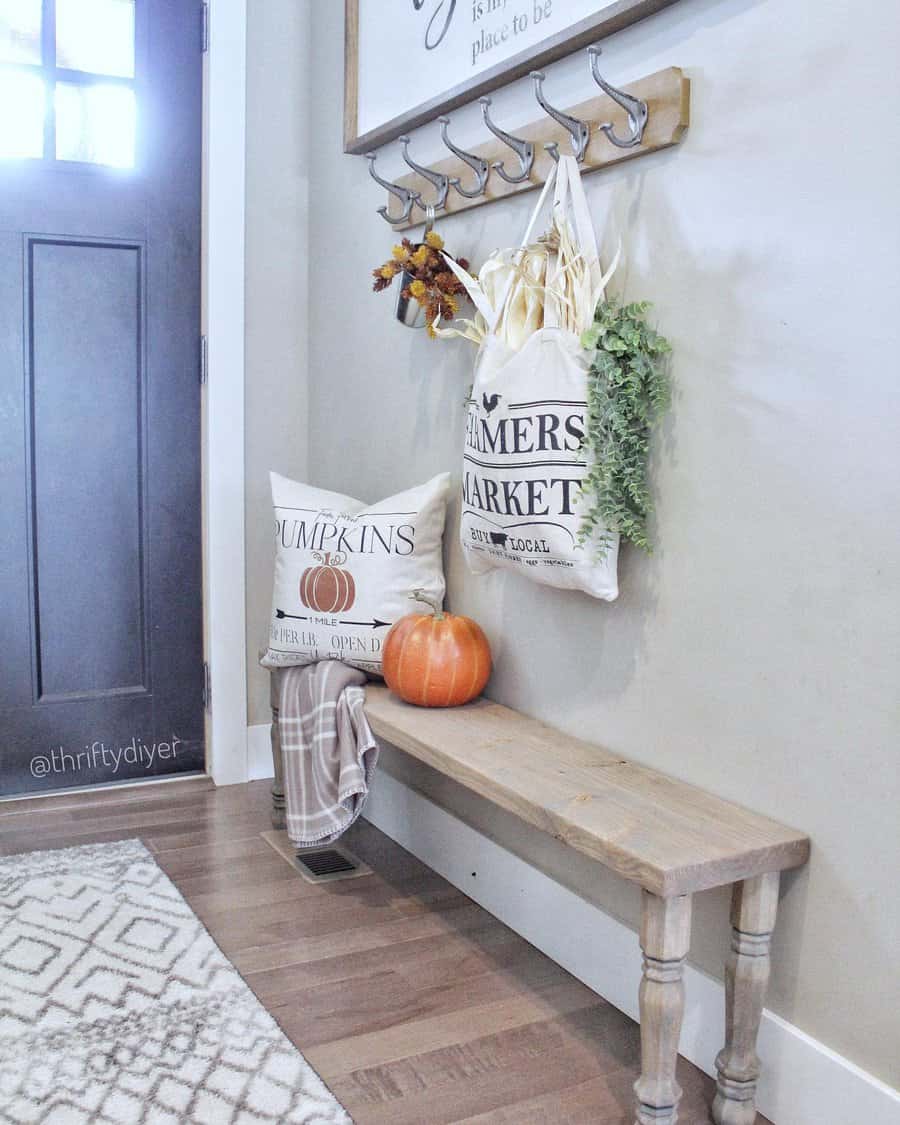 Since farmhouse style embraces repurposing vintage items, use a gorgeous piece of reclaimed wood for your entry bench seat. Use wood filler to fill any knotholes or gaps and stain it to coordinate with your décor. If you have additional scrap wood, make a simple floating shelf to hang over the bench.
6. Furniture
Entryway furniture isn't limited to benches, though they are the most useful entryway piece. Some entryway benches include shoe shelves and a drawer to hold gloves, keys, and other small objects.
Others integrate a coat tree and umbrella stand for all-in-one space saving capabilities.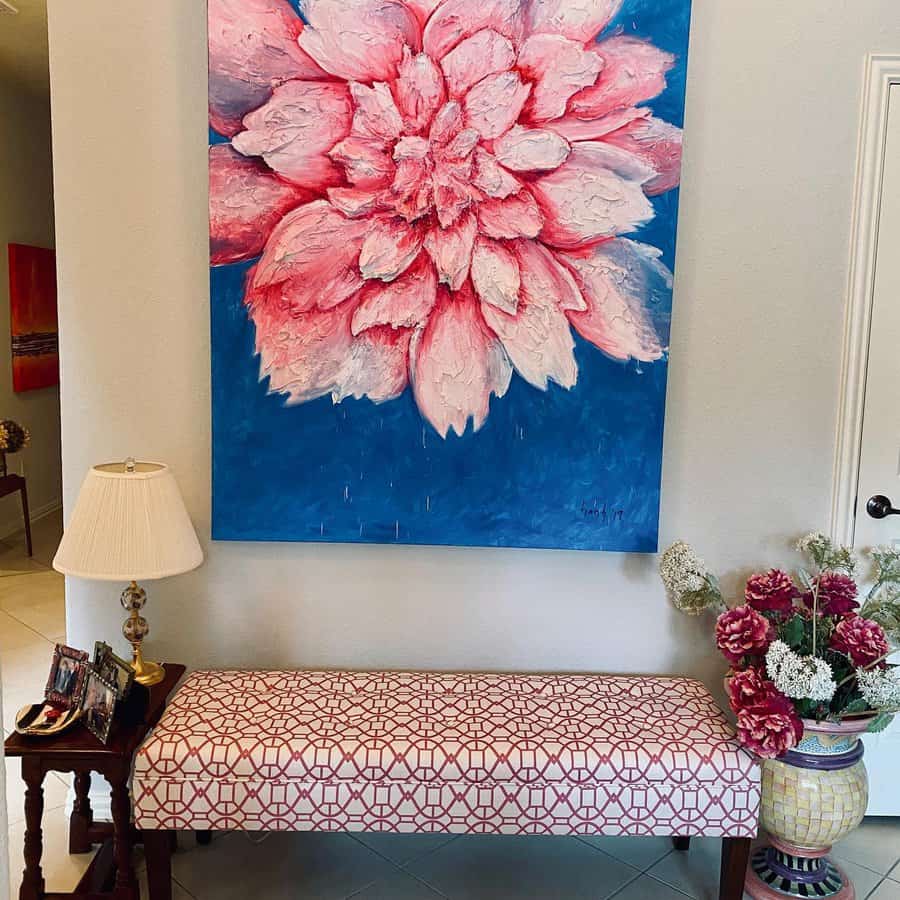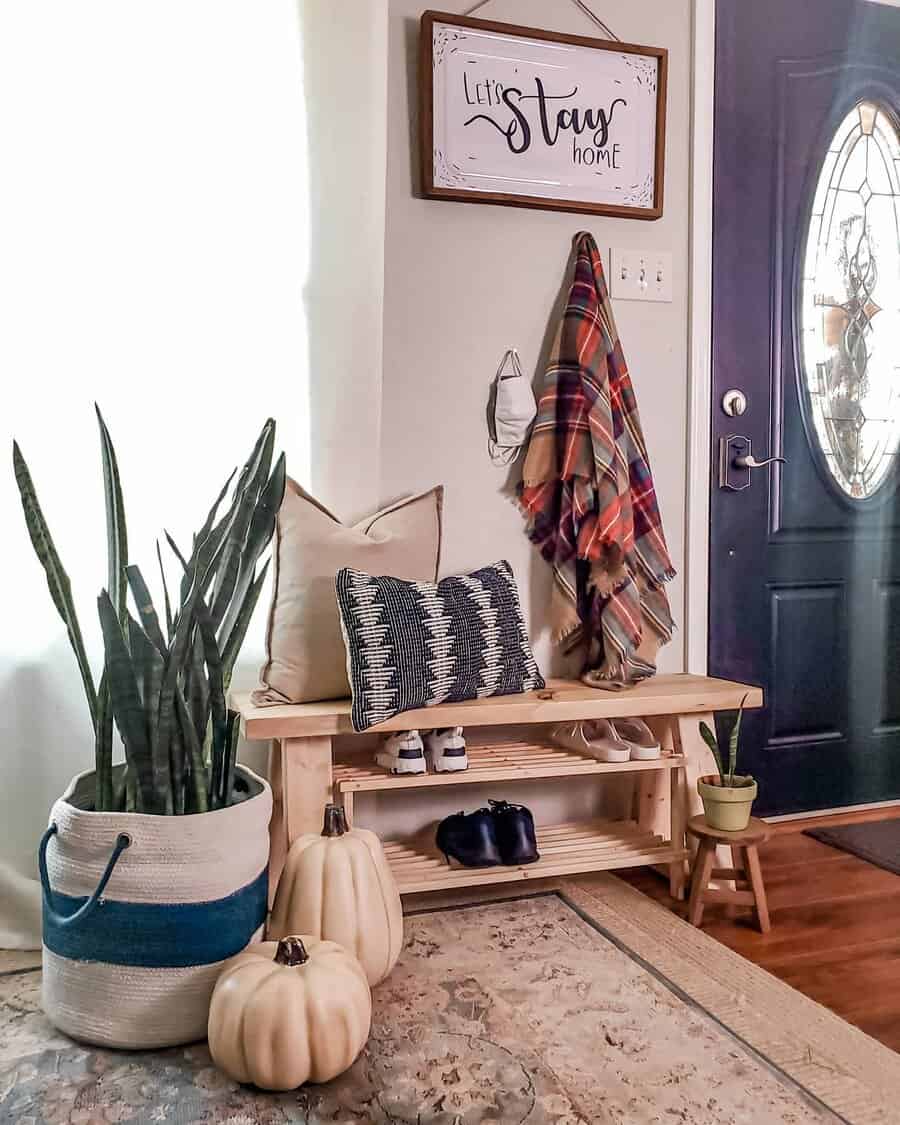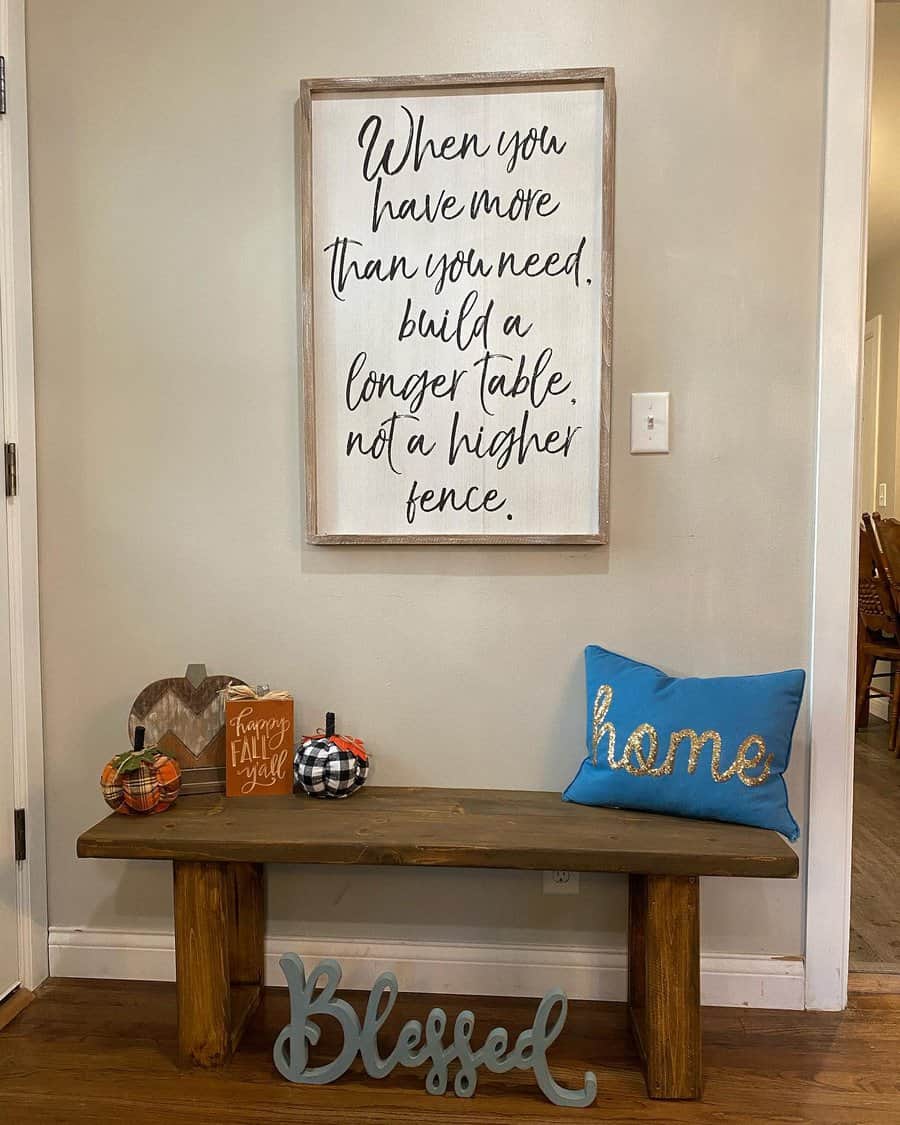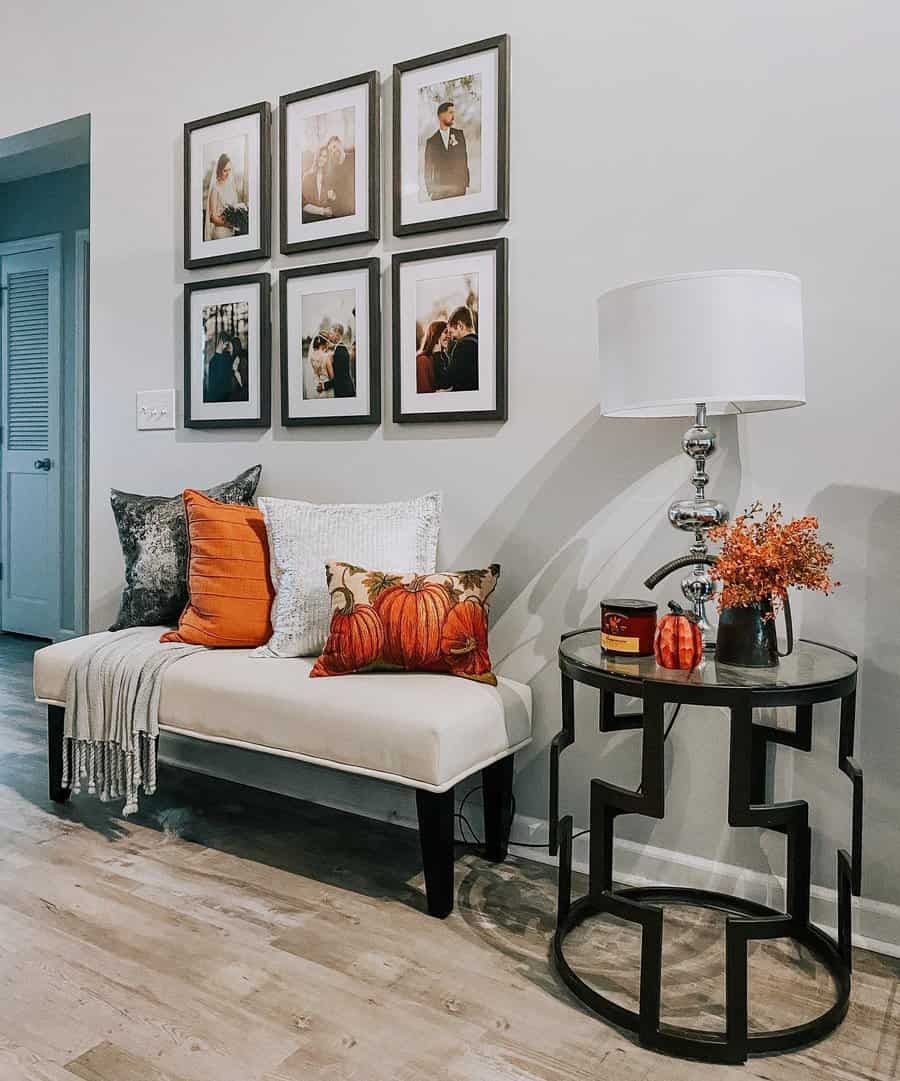 If you have a roomy foyer, additional furniture can help fill the space. A console table, small dresser, or lamp-topped side table adds to the welcoming vibe. Extra seating, in the form of a second bench or a beautiful chair, is helpful when you have multiple people coming and going at the same times each day.
7. Luxury
A luxurious home requires an impressive entranceway. Look for high-end entryway furniture that goes with the rest of your décor.
Heavy pieces richly upholstered in velvet or silk are appropriate, as are benches made from expensive wood, such as mahogany or rosewood.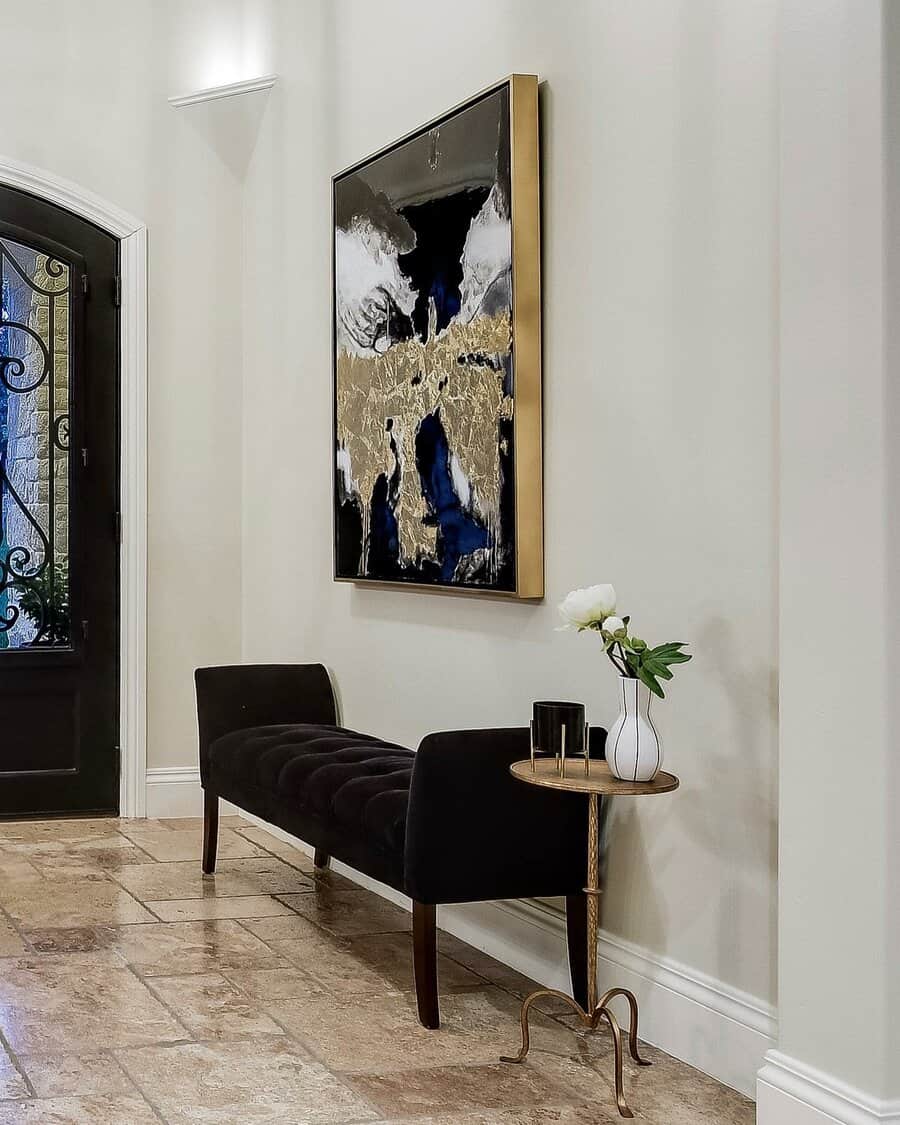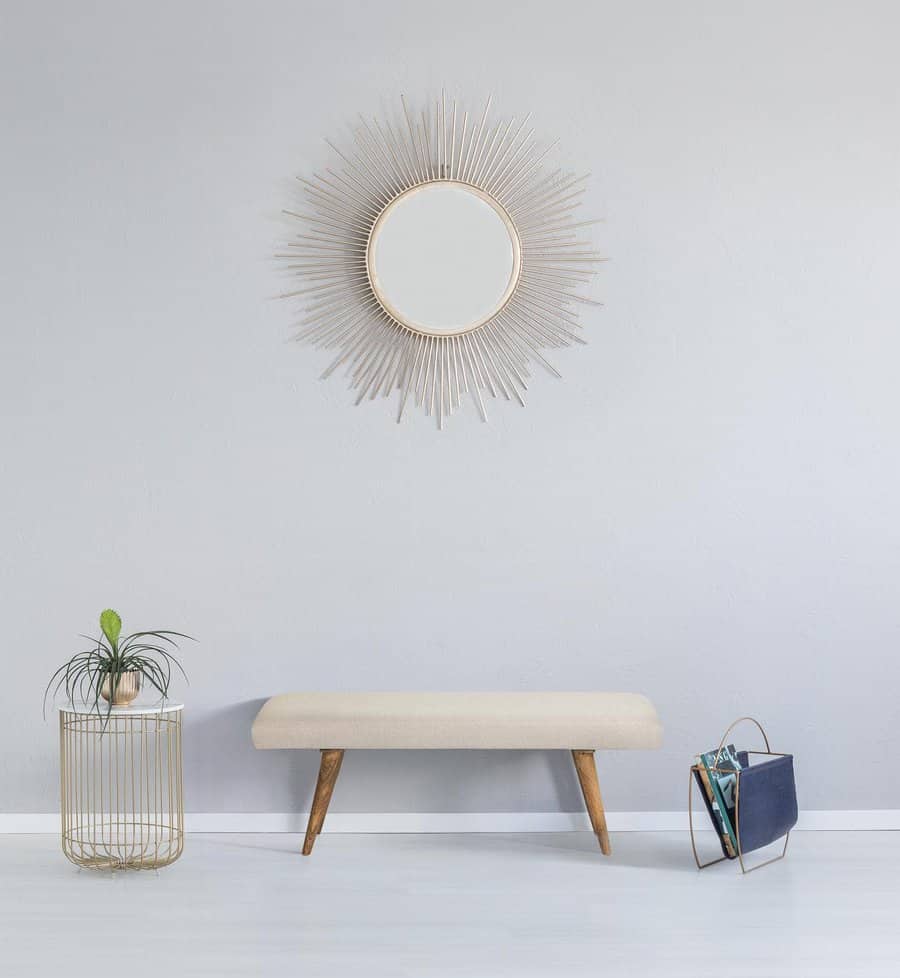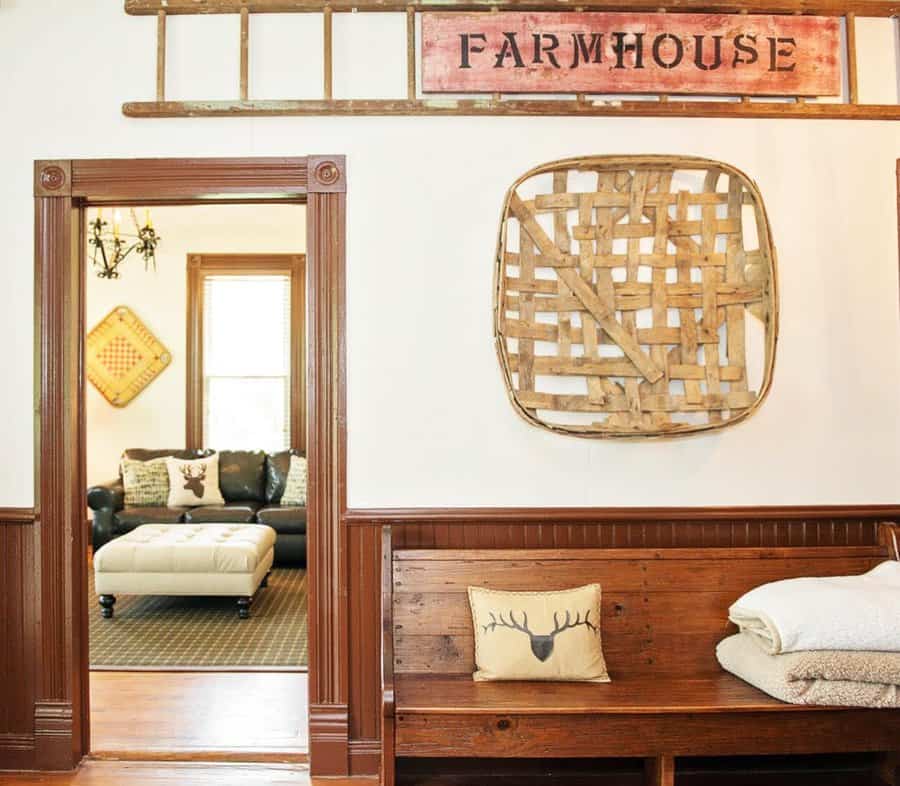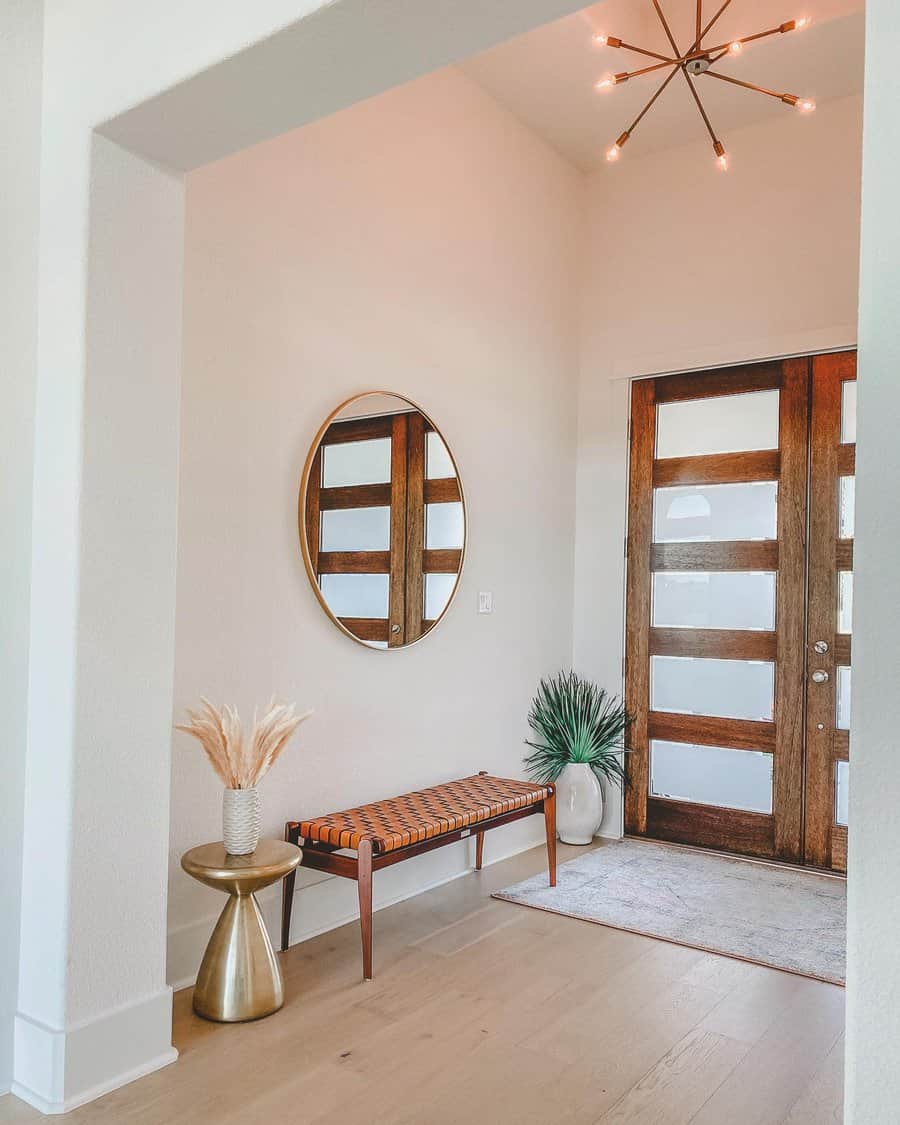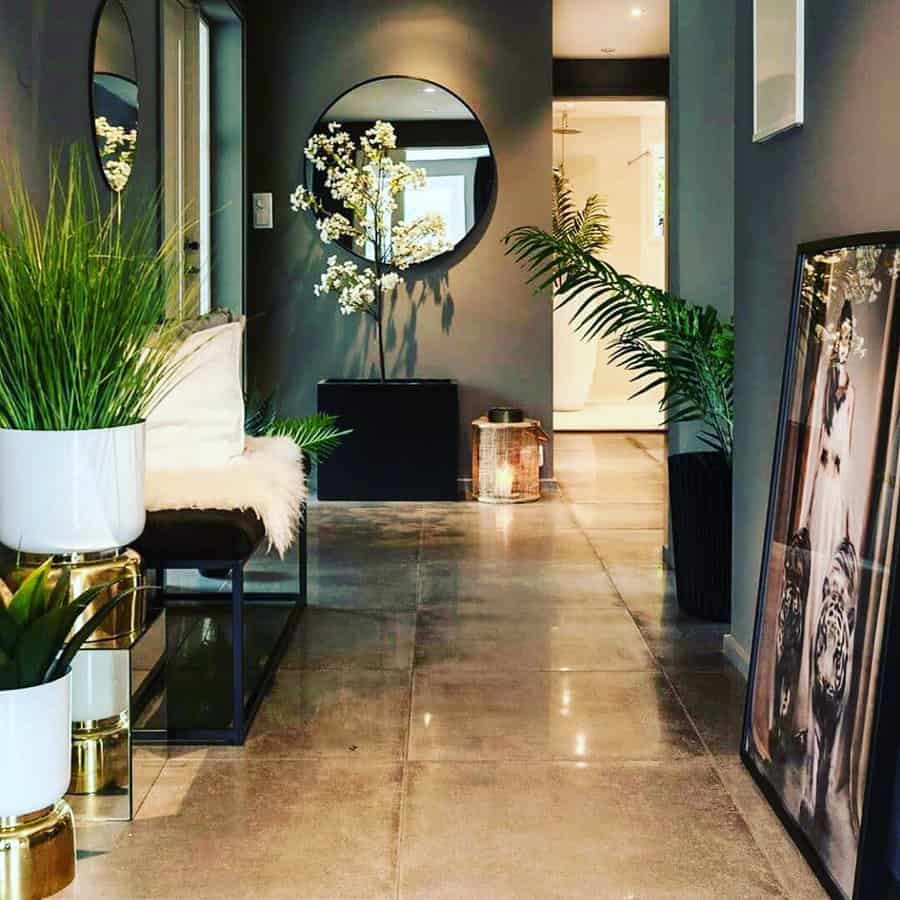 Shiny metals are another entryway idea to incorporate if you are going for a luxurious decor style. An ornate brass or chrome bench topped with a thick, tufted velvet seat turns an ordinary entryway into a glamourous foyer.
Hang an oversized framed mirror over the bench to maximize its impact.
8. Metal
Durable, beautiful metal adds dramatic detail to your entryway bench ideas. Whether you go for rustic wrought iron or shiny silver, add other metal touches around the foyer.
For example, assign a coordinating metal wall hook to each family member and use the same metal for any mudroom bench drawer pulls.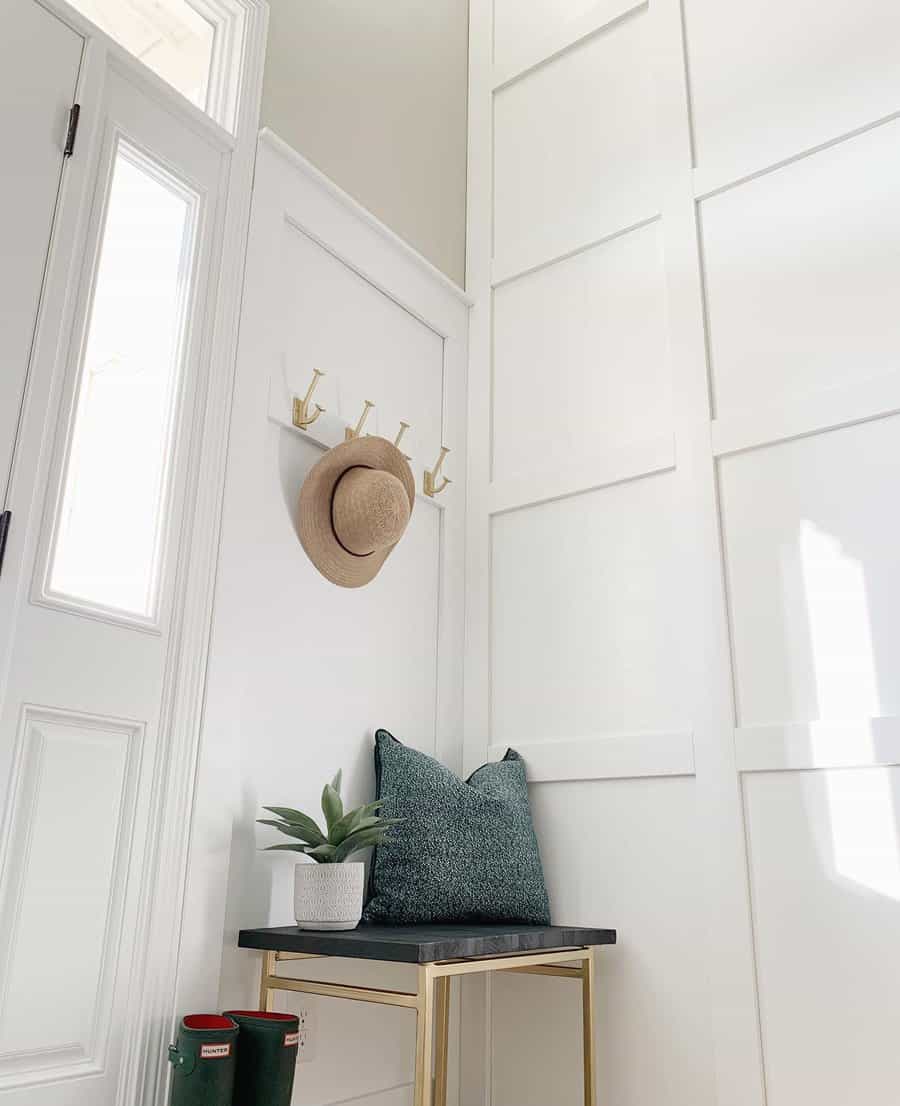 Consider the charm of placing a vintage metal park bench in your entryway. Drape a lap blanket over one end and add a couple of throw pillows to soften its appearance.
9. Modern
Less is more with modern design, so if that's your style, look for an uncomplicated metal or wooden entryway bench. A simple mid century-style wood bench is great, or shop for a metal bench designed with clean lines and angles.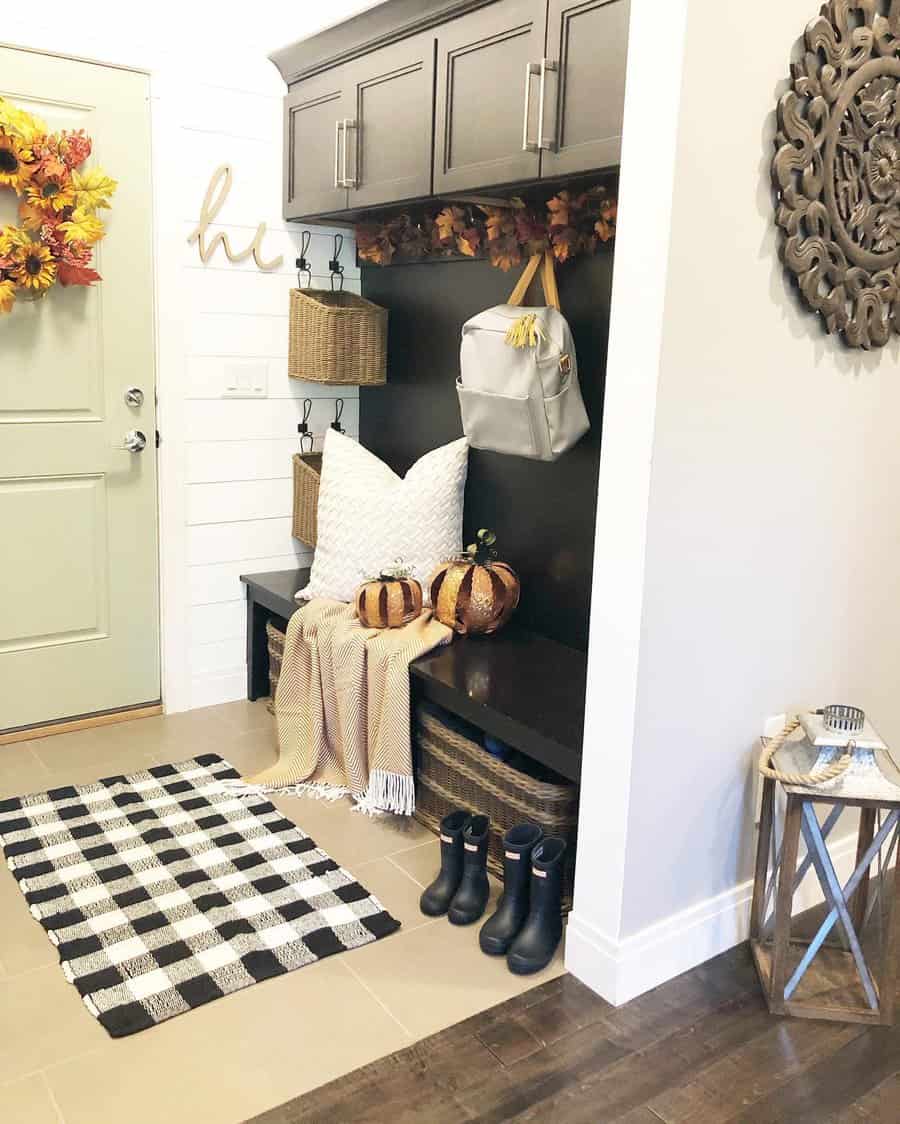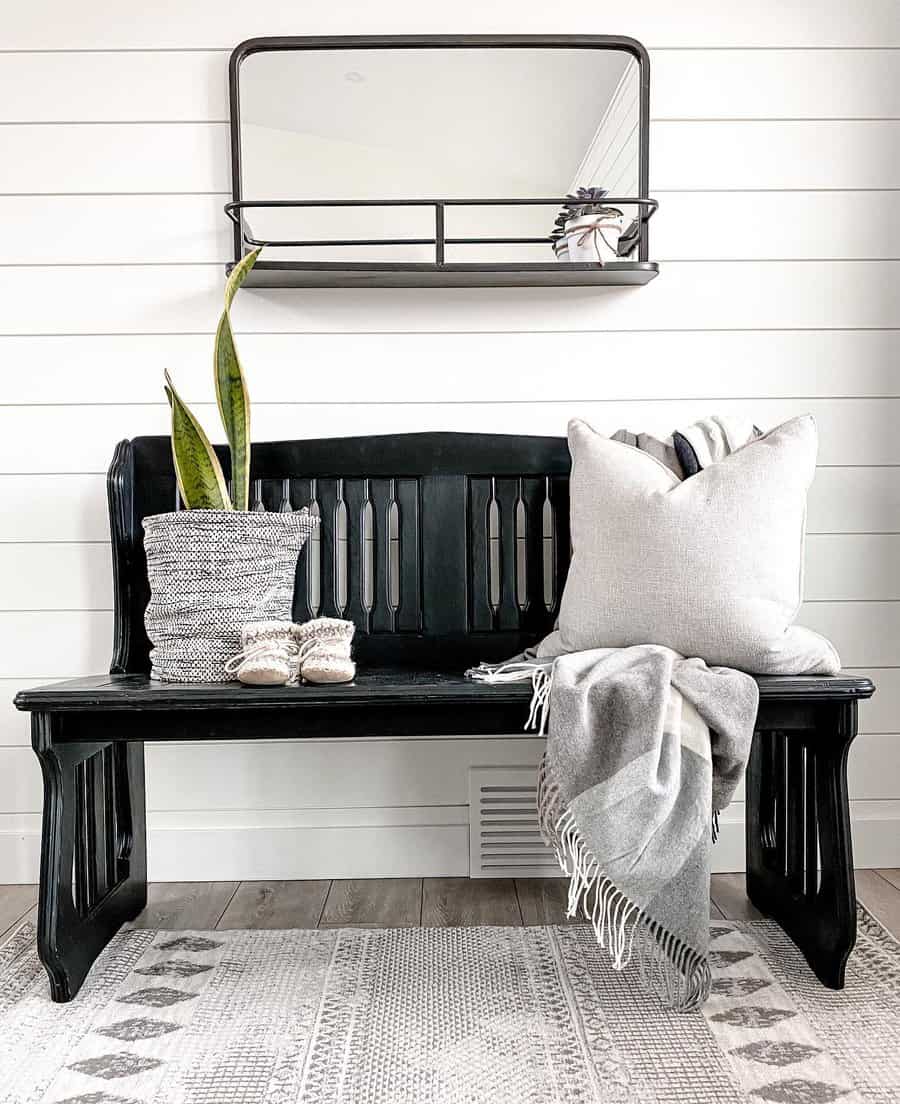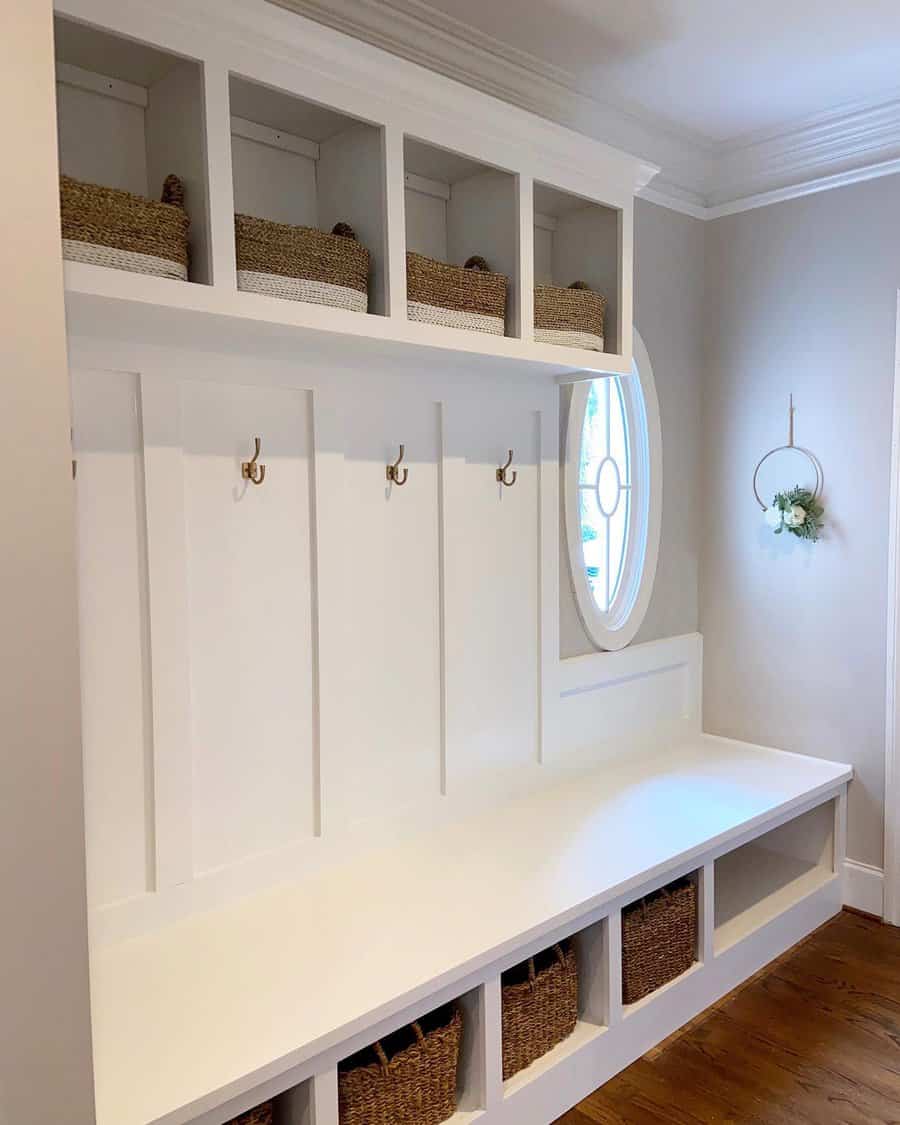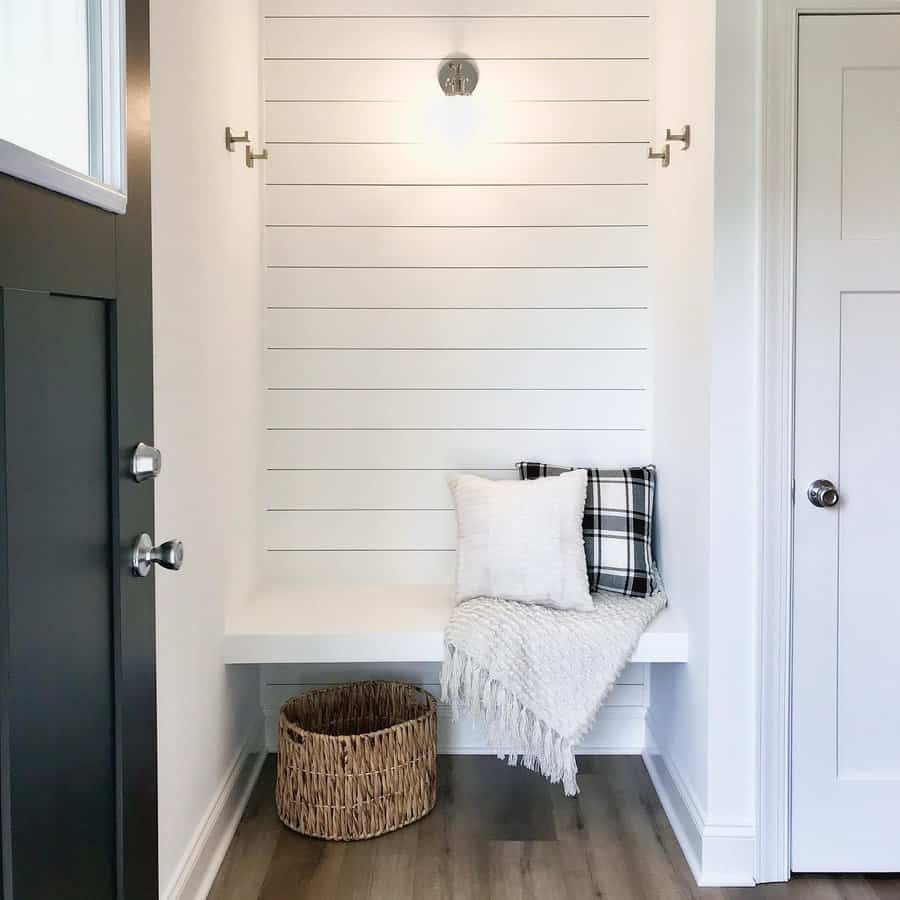 A modern entryway bench can have a cushion but keep it simple as well. Ideally, use a color palette dominated by black, white, or grey. Add pops of color in your artwork and accessories.
10. Rustic
Rustic décor embraces raw, natural materials. Therefore, thick and chunky wood is ideal if you want to DIY a rustic mudroom bench. Stained or left in its natural state, a log-shaped wood bench is a perfect organic addition to a lodge or cabin style home.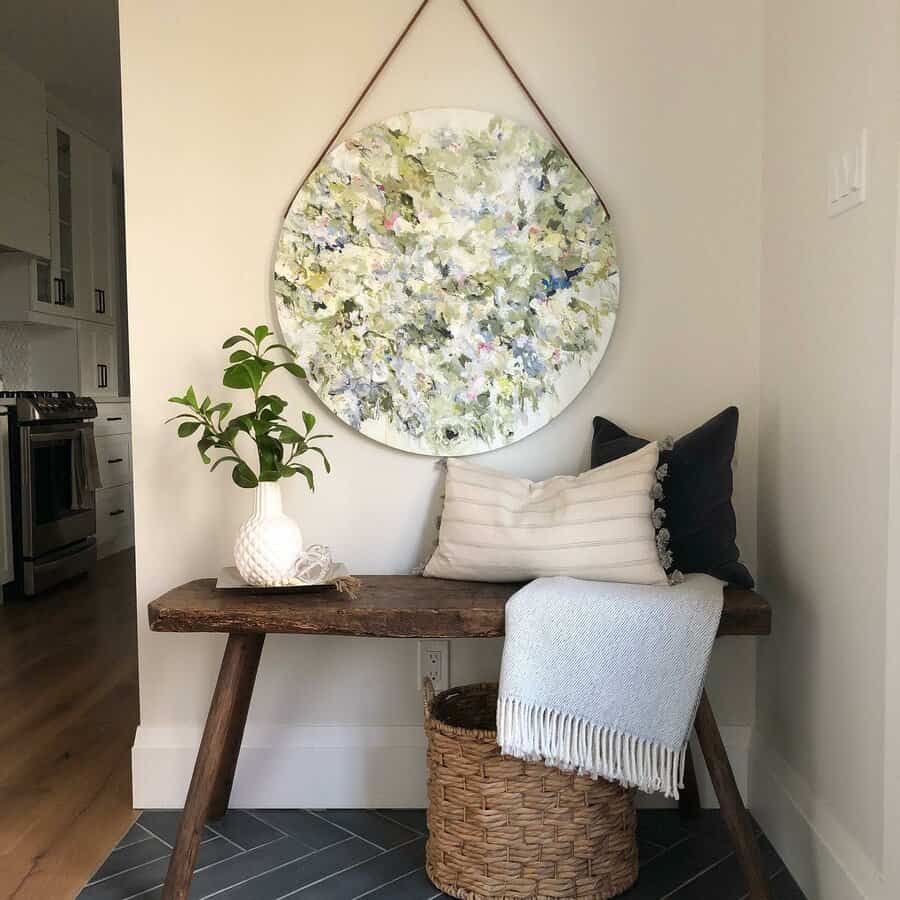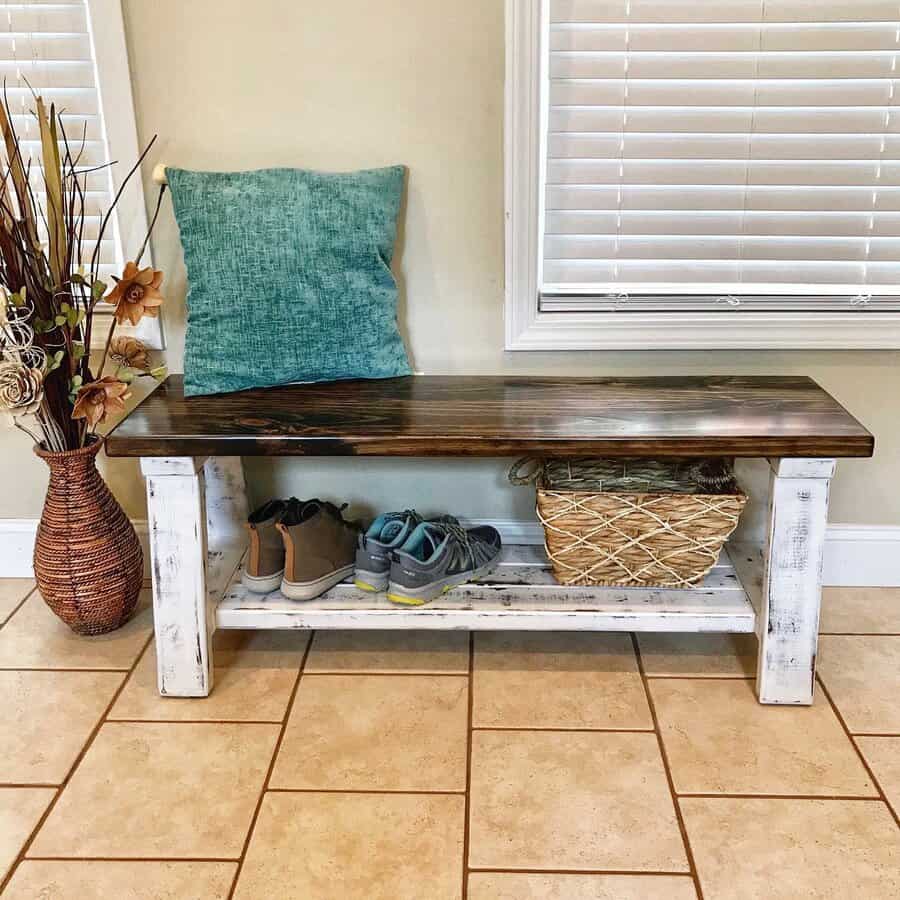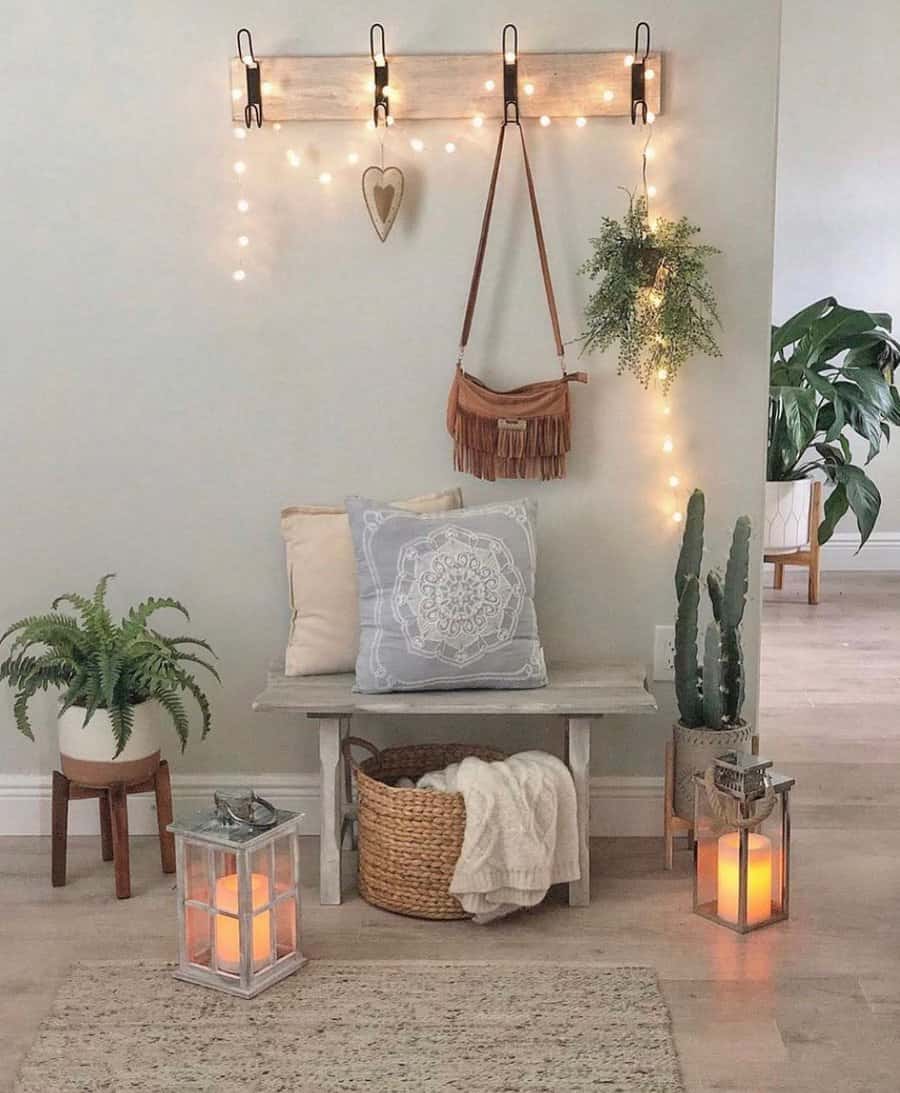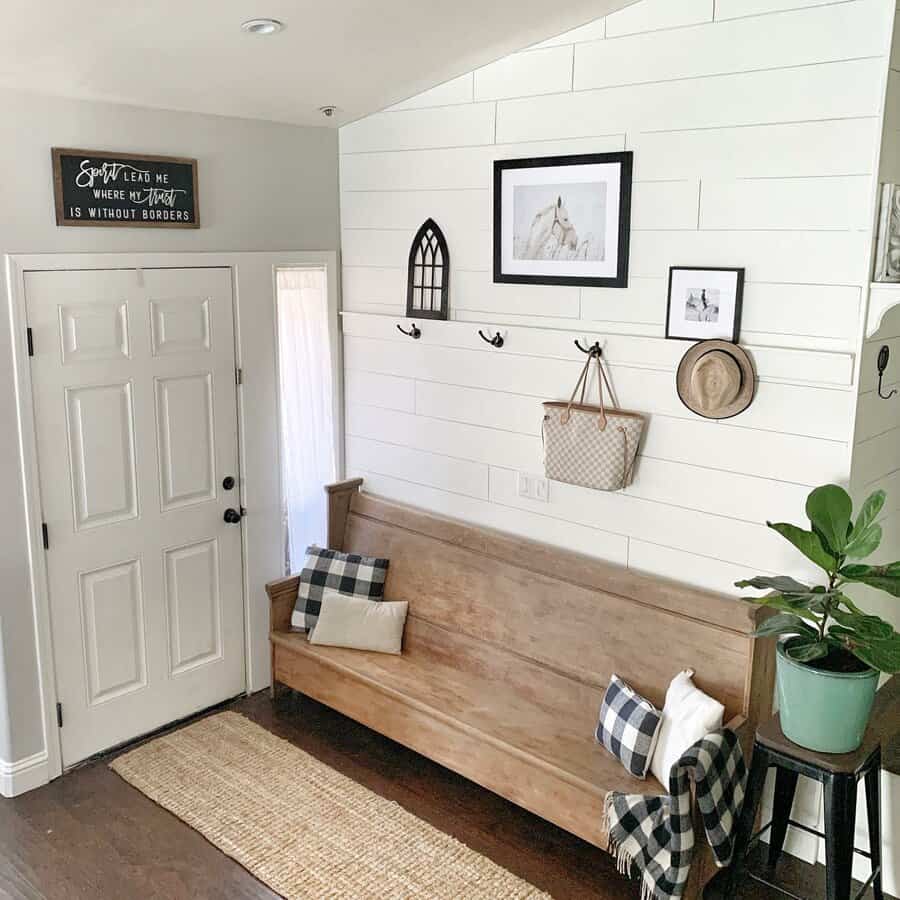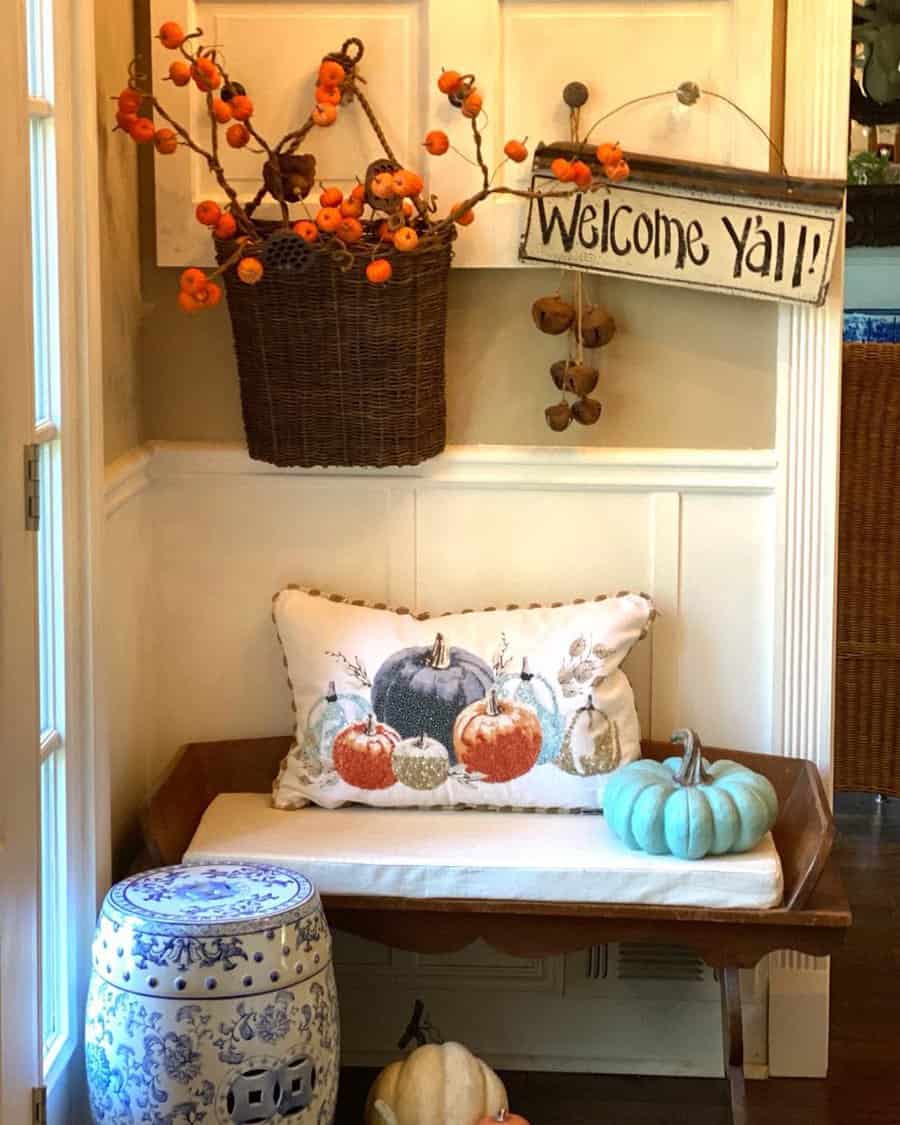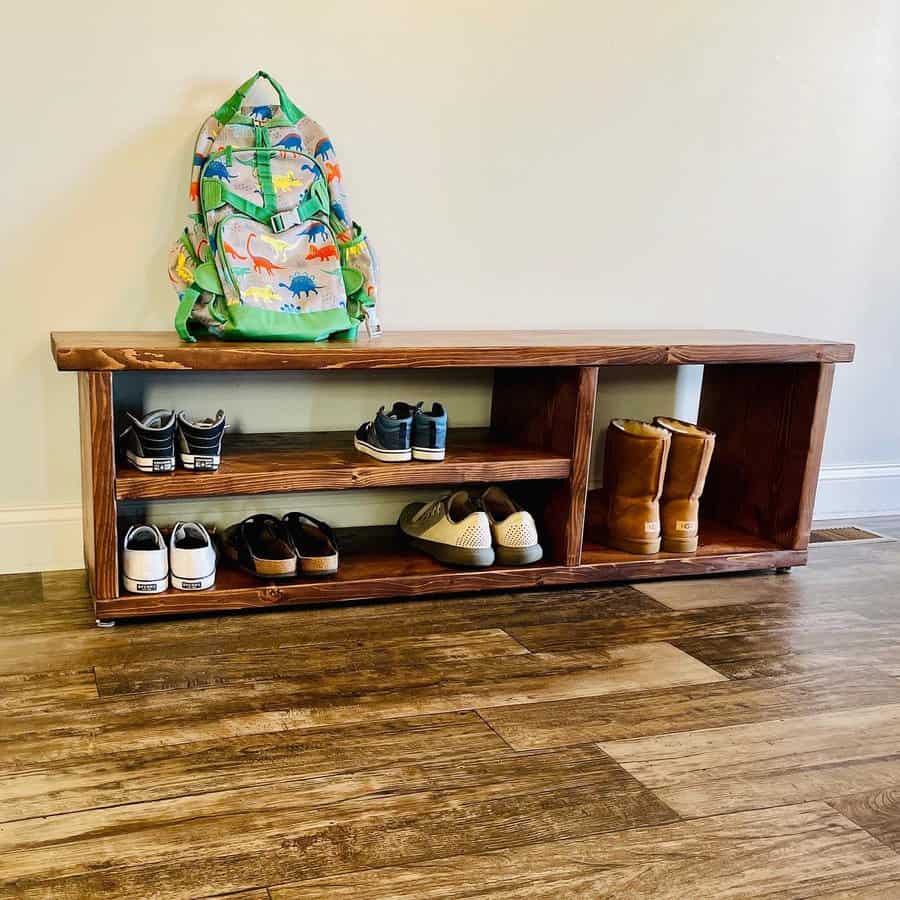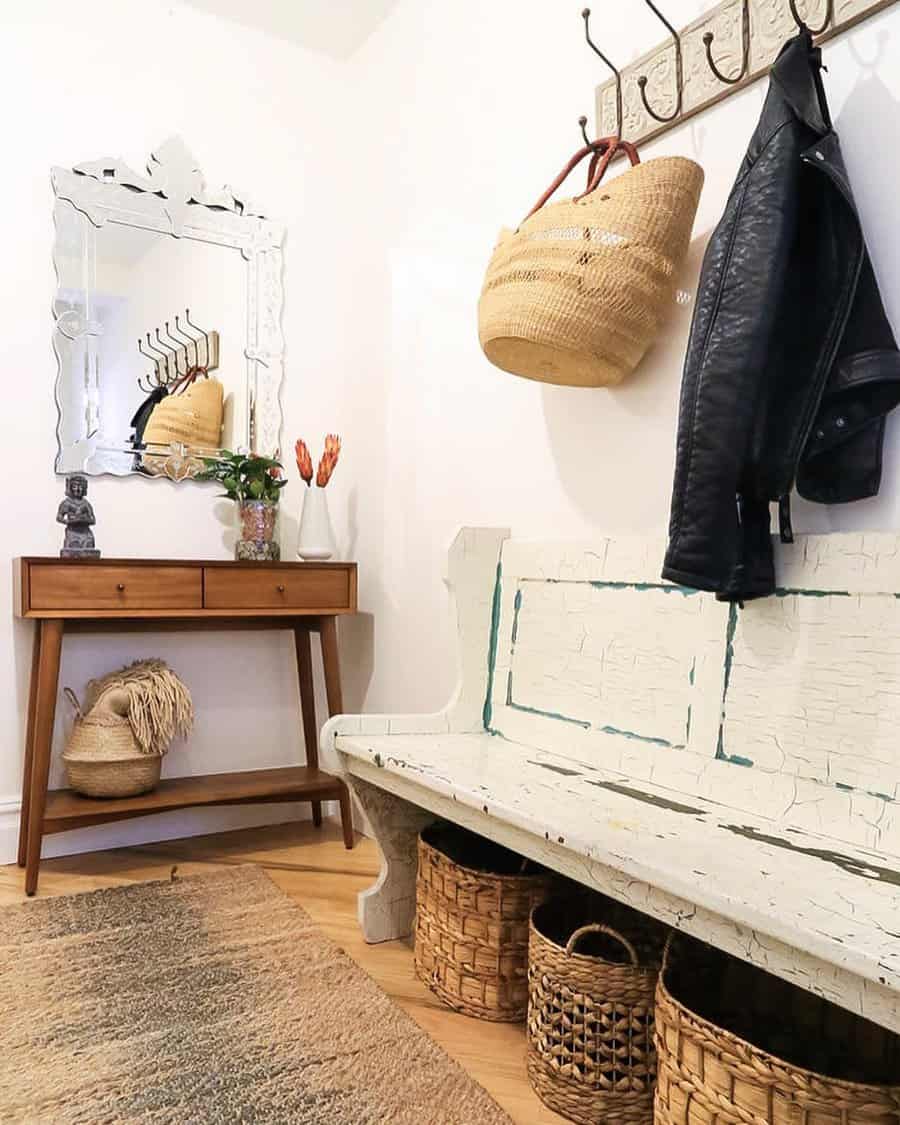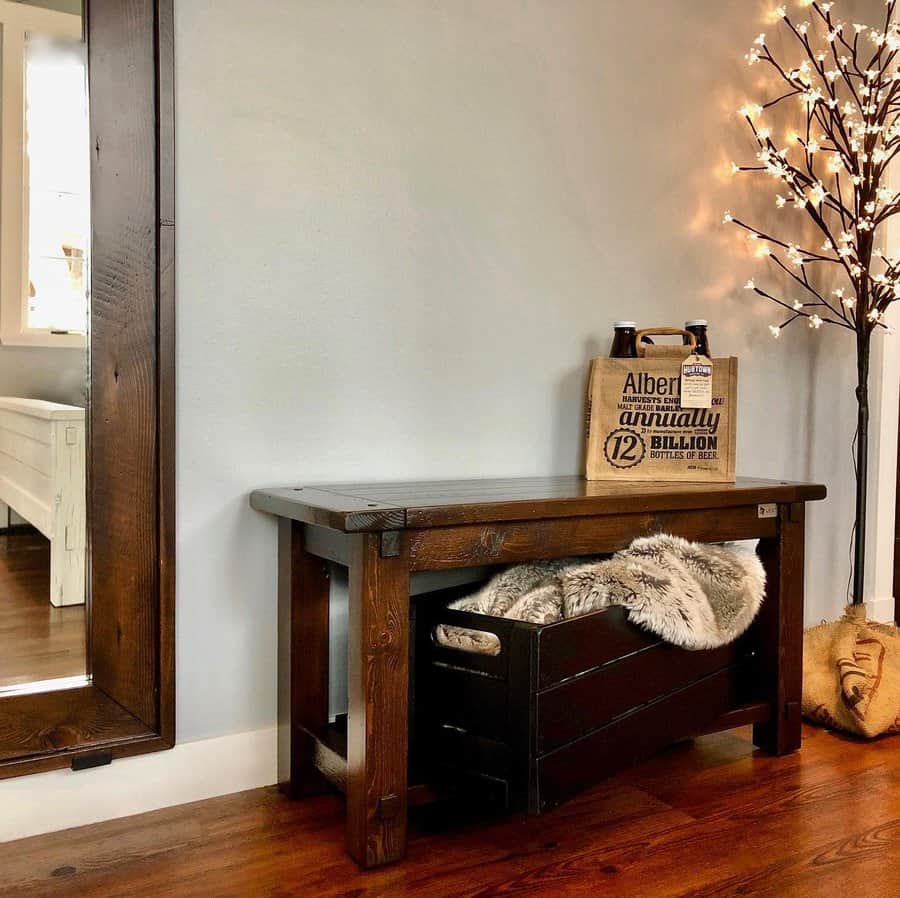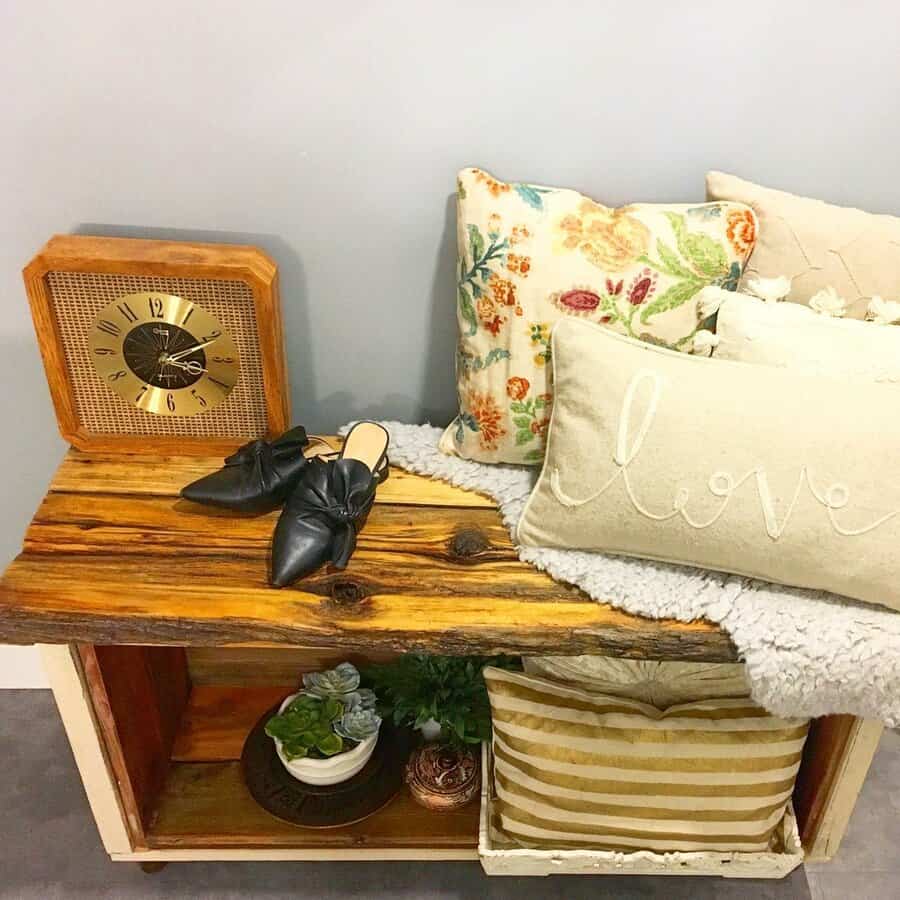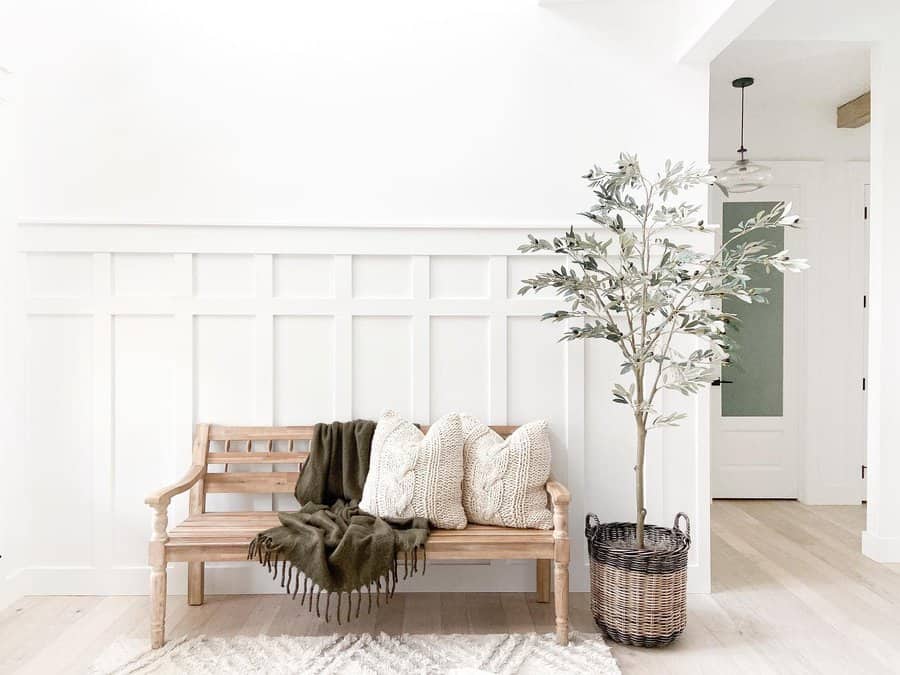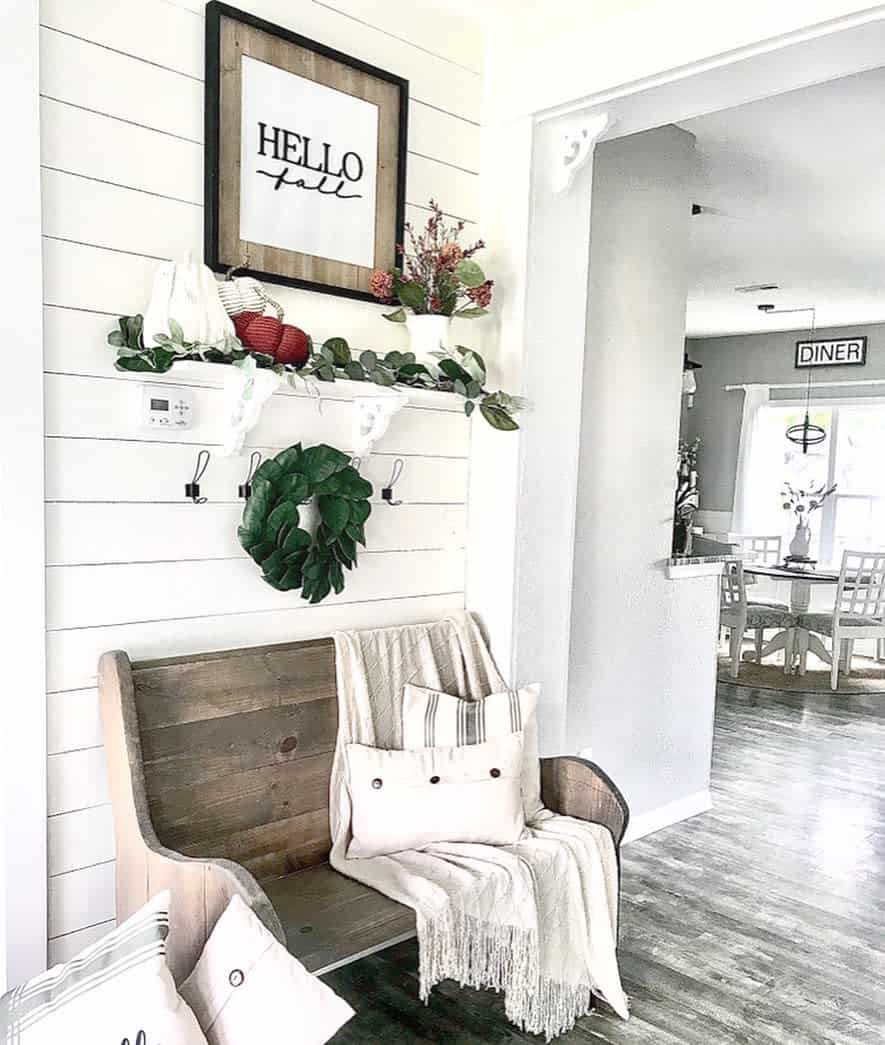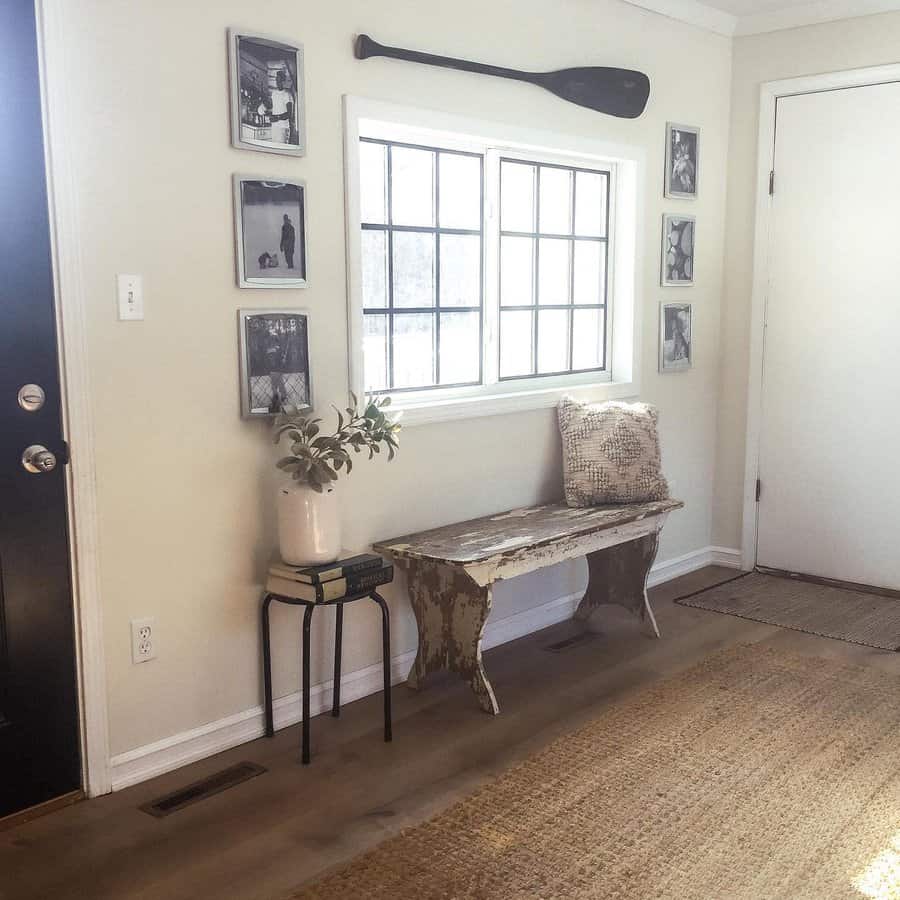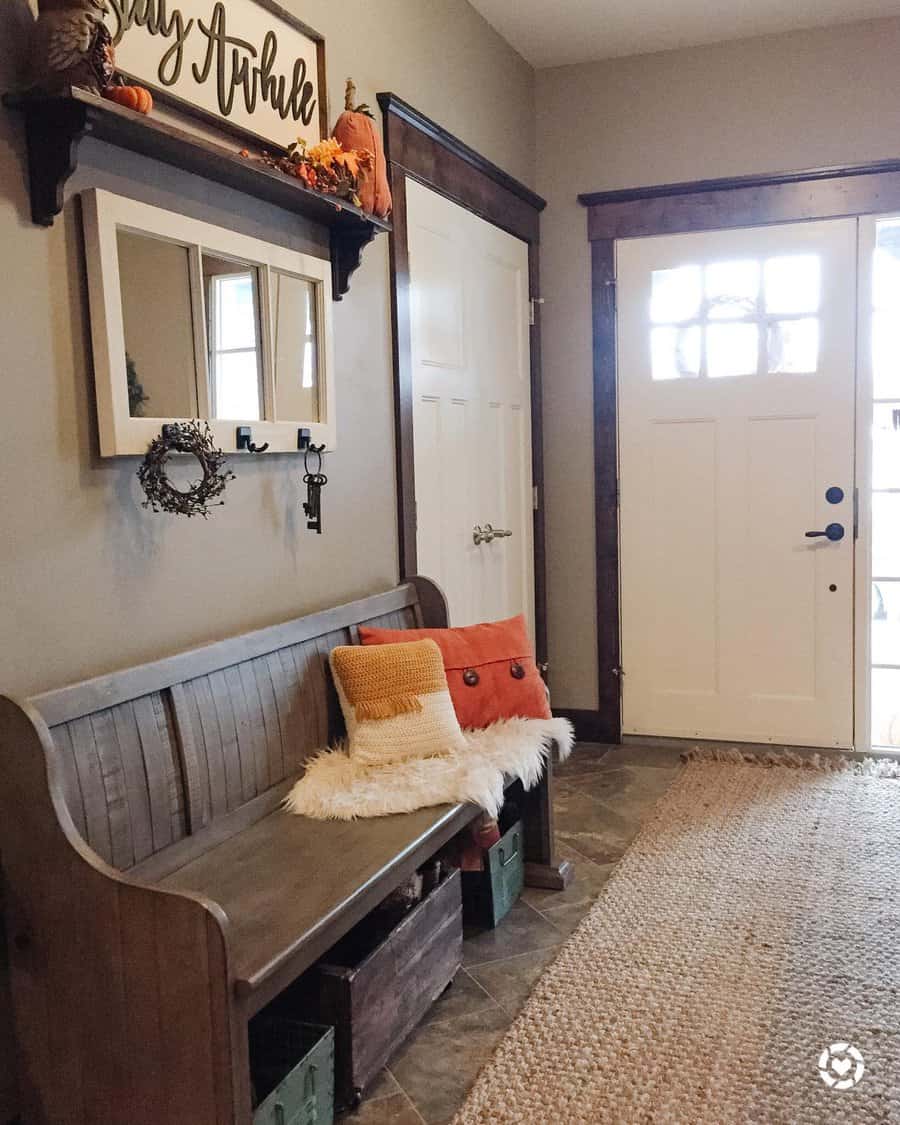 A rustic entryway bench can also be made of metal or have metal accents. Metals used in rustic décor are not shiny, but have a flat, industrial finish. Rustic metals include corrugated tin, galvanized steel, and anything dark or weathered.
11. Storage
An organized entryway can be the glue that holds your mornings together. When coats, shoes, and backpacks are stored in the same place, getting off to work or school is easier for everyone.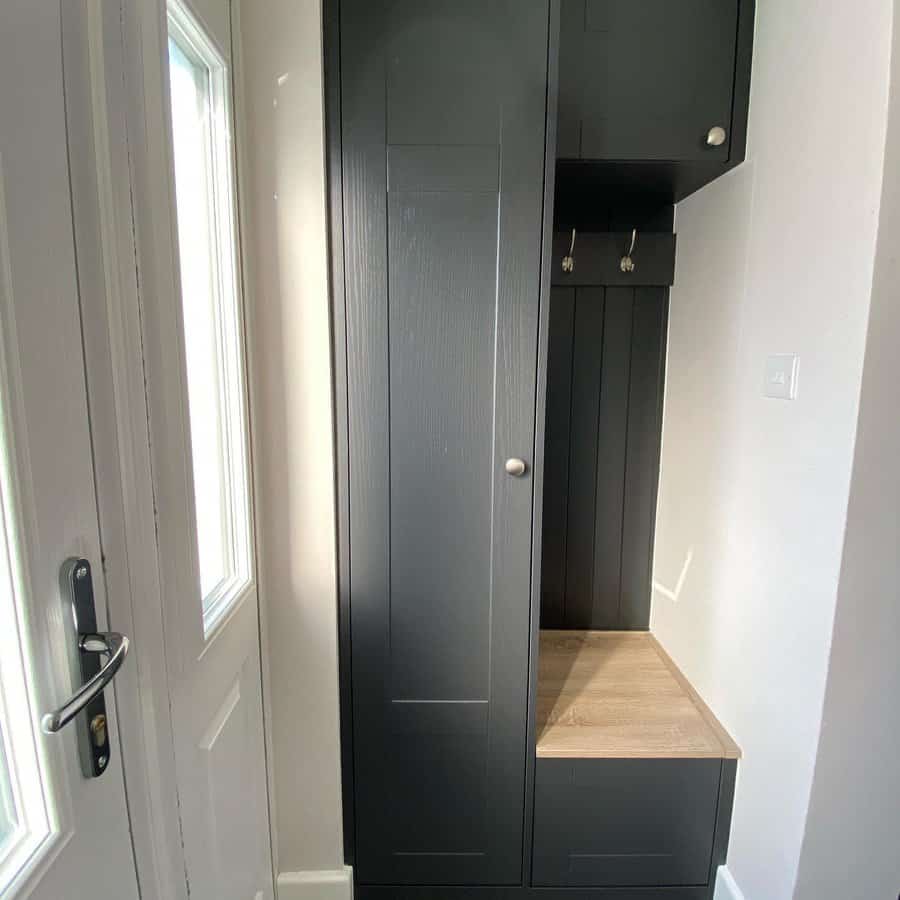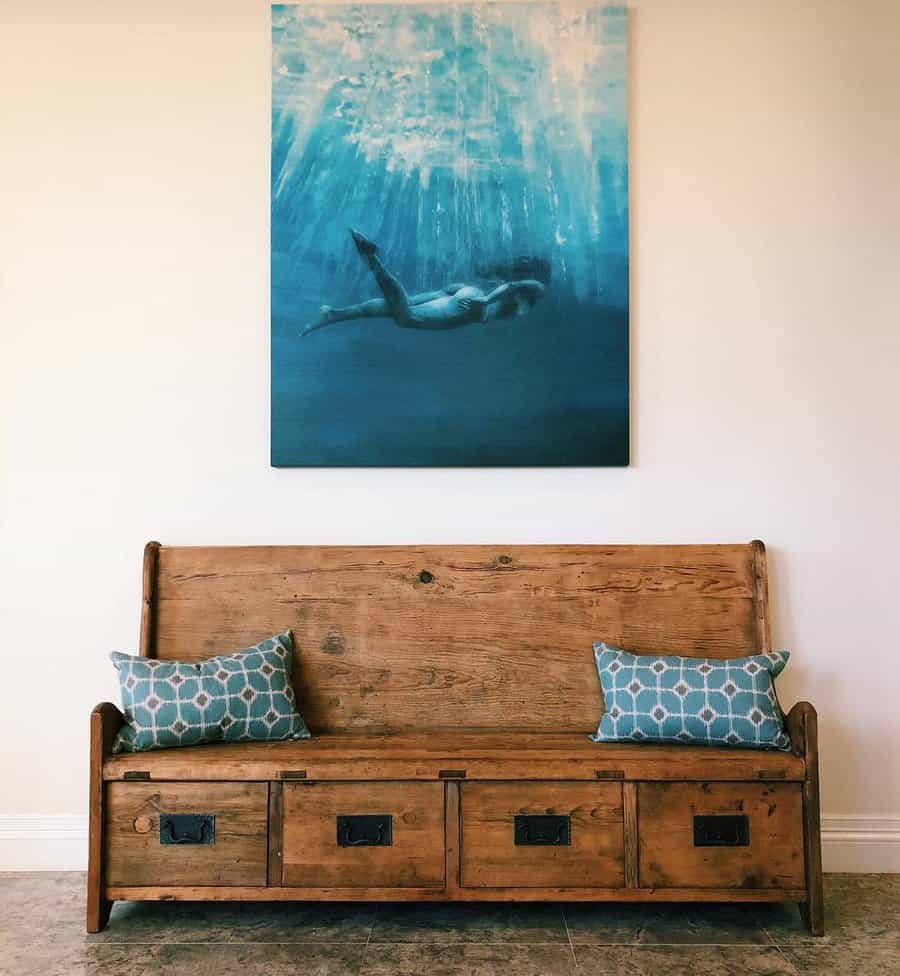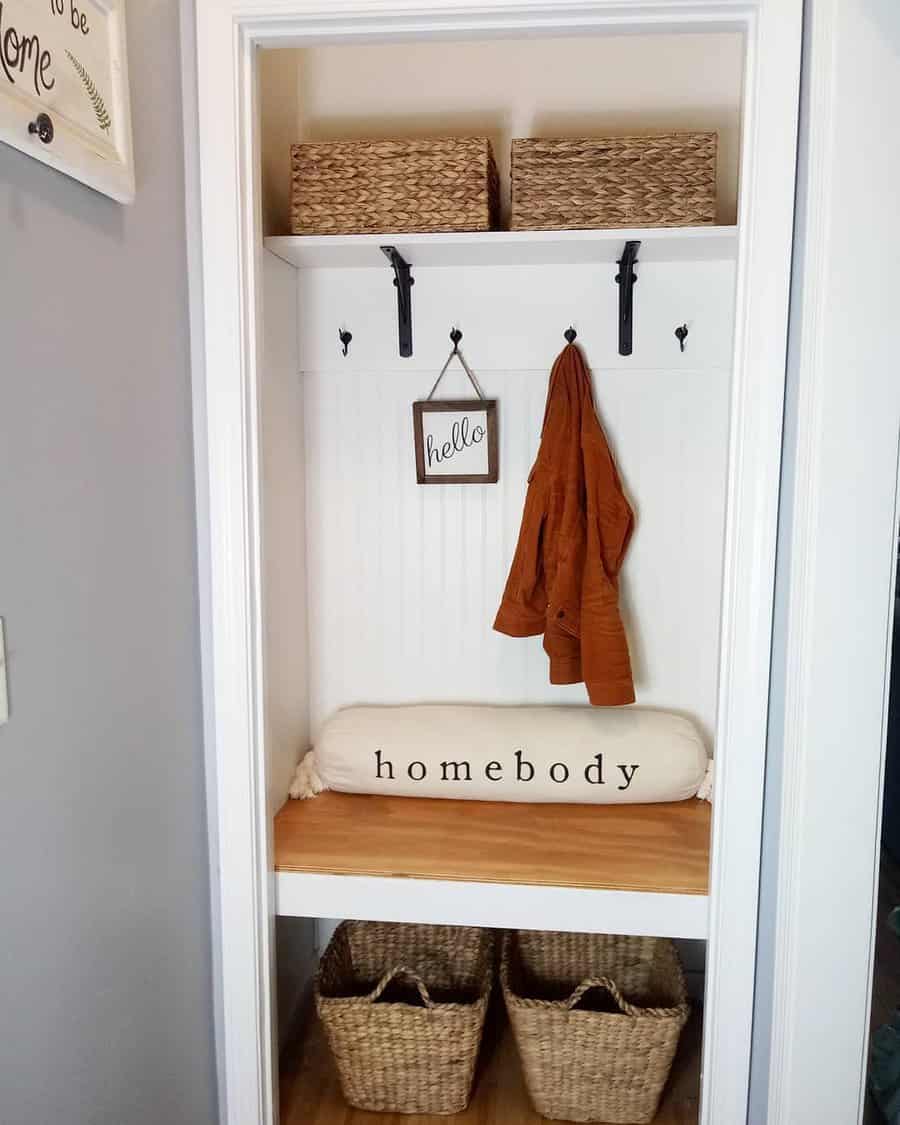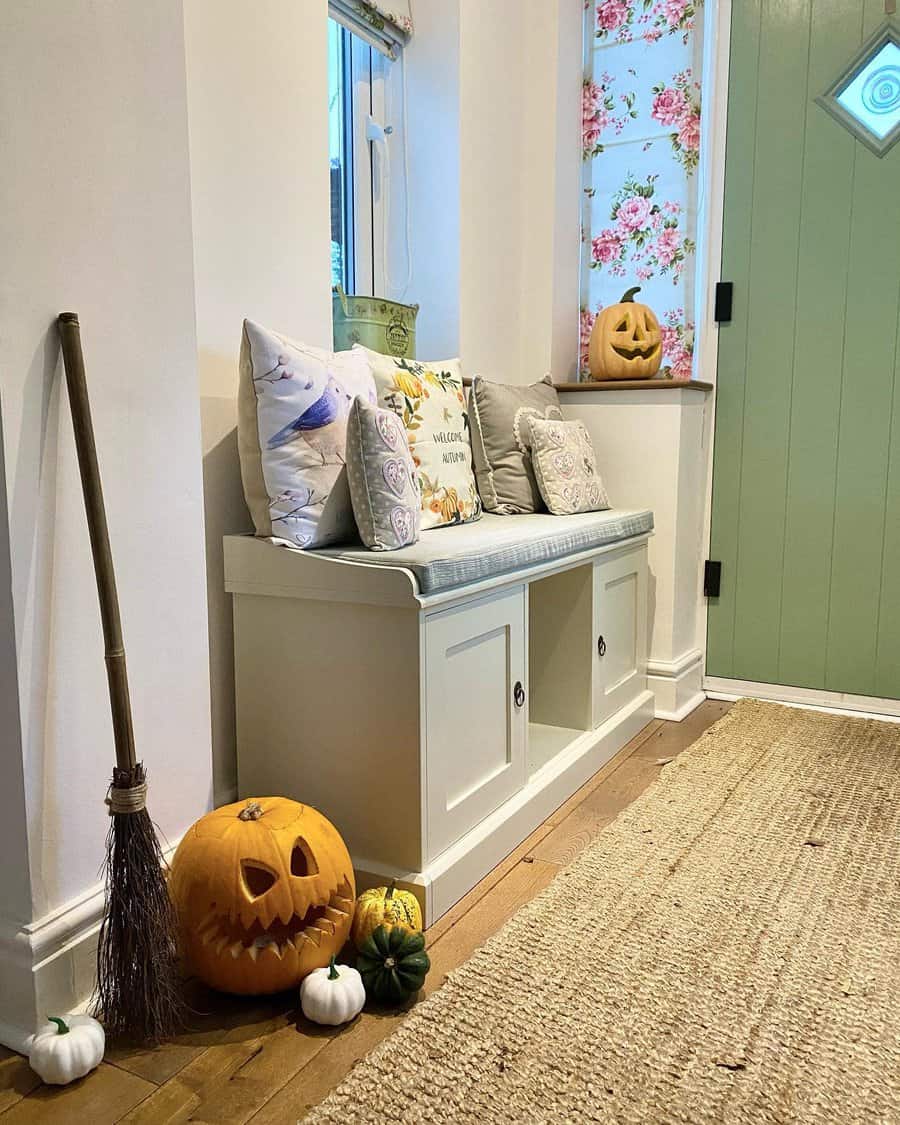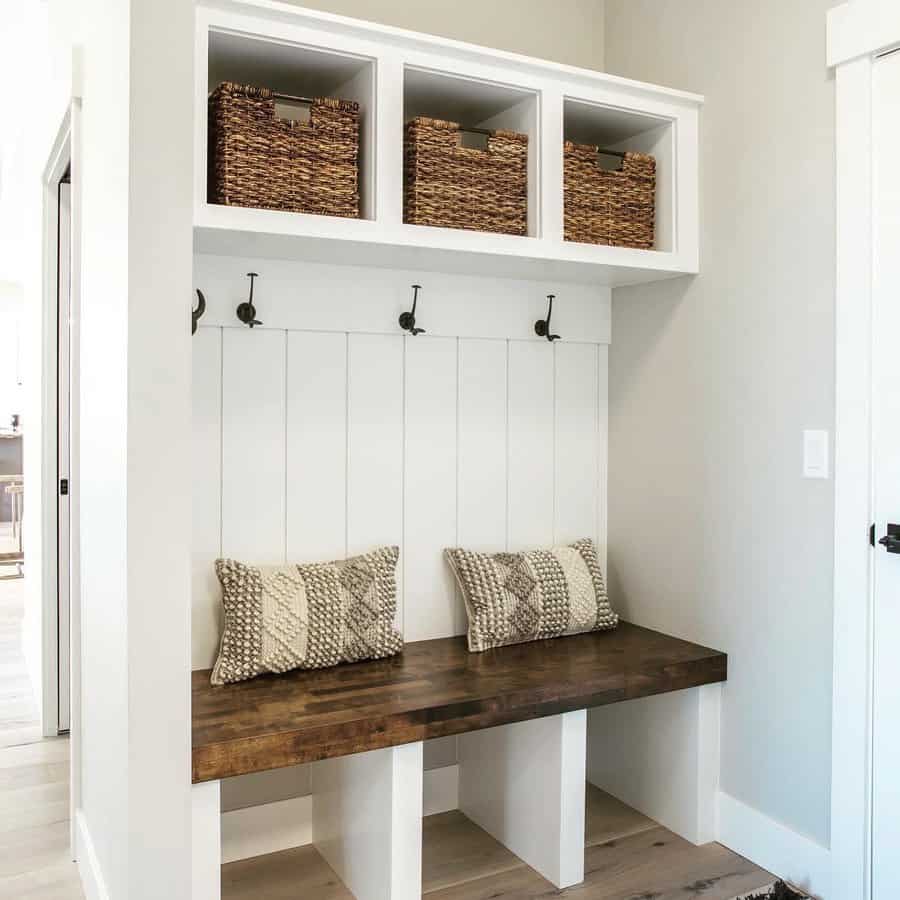 Look for a shoe storage bench designed specifically for that purpose. You can also expand the storage capacity of a small entryway bench by sliding baskets or bins beneath it.
12. Traditional
Shaker, Queen Anne, and other classic furniture styles are perfect if traditional décor is your thing. These pieces are timeless for a reason—they simply never go out of style.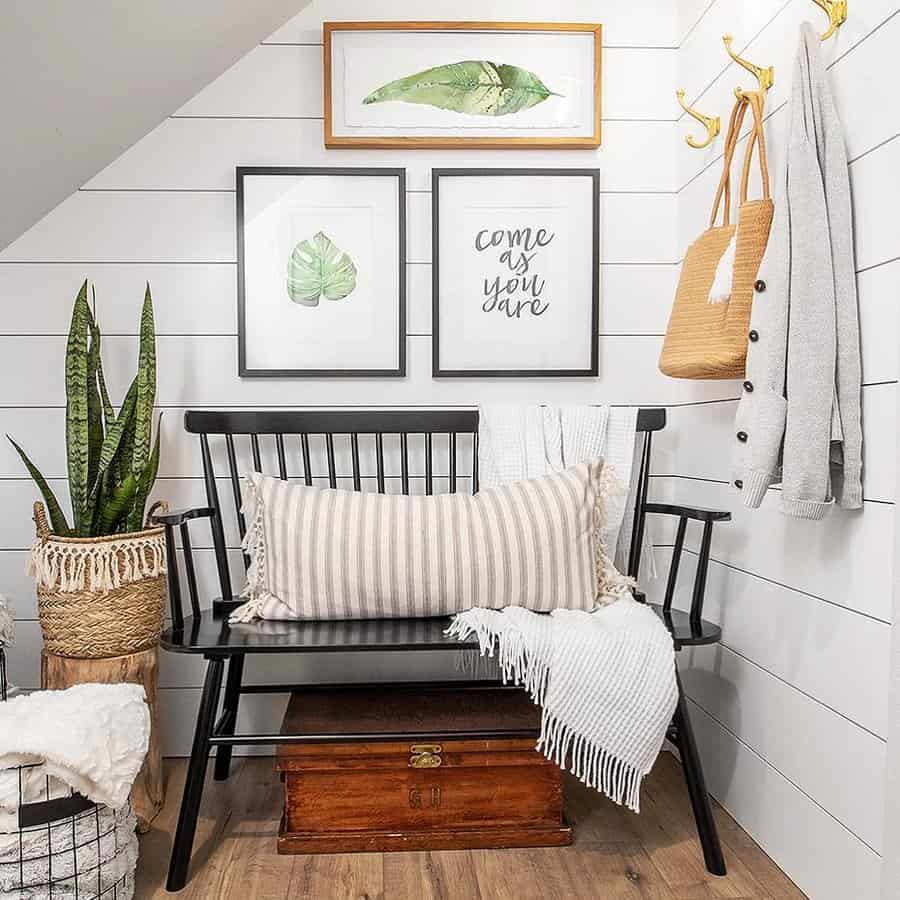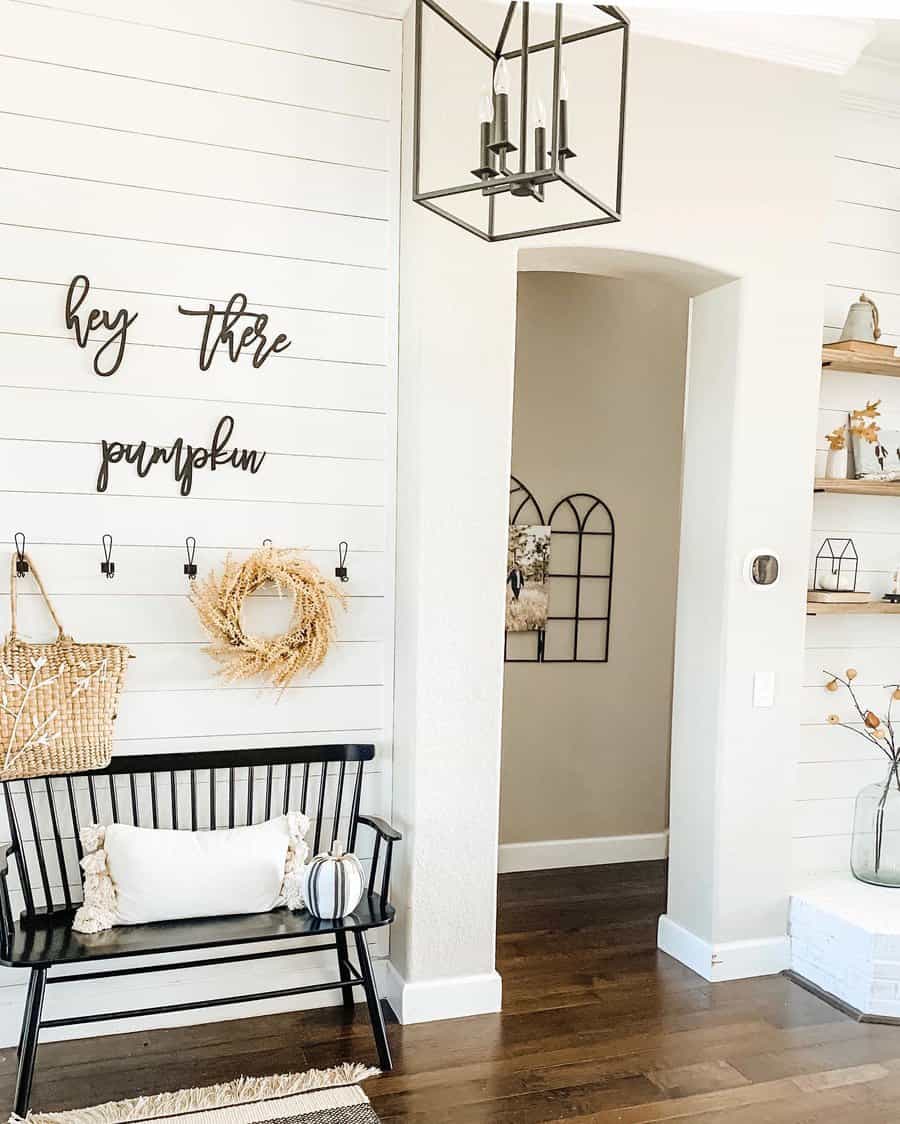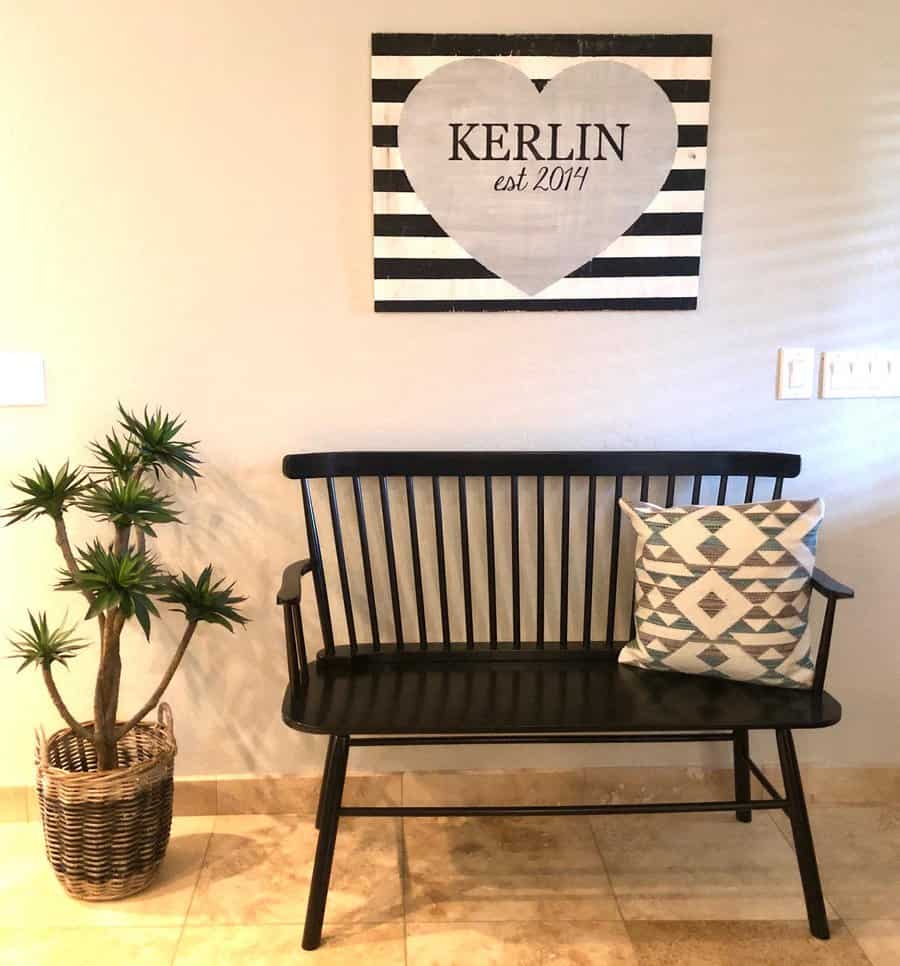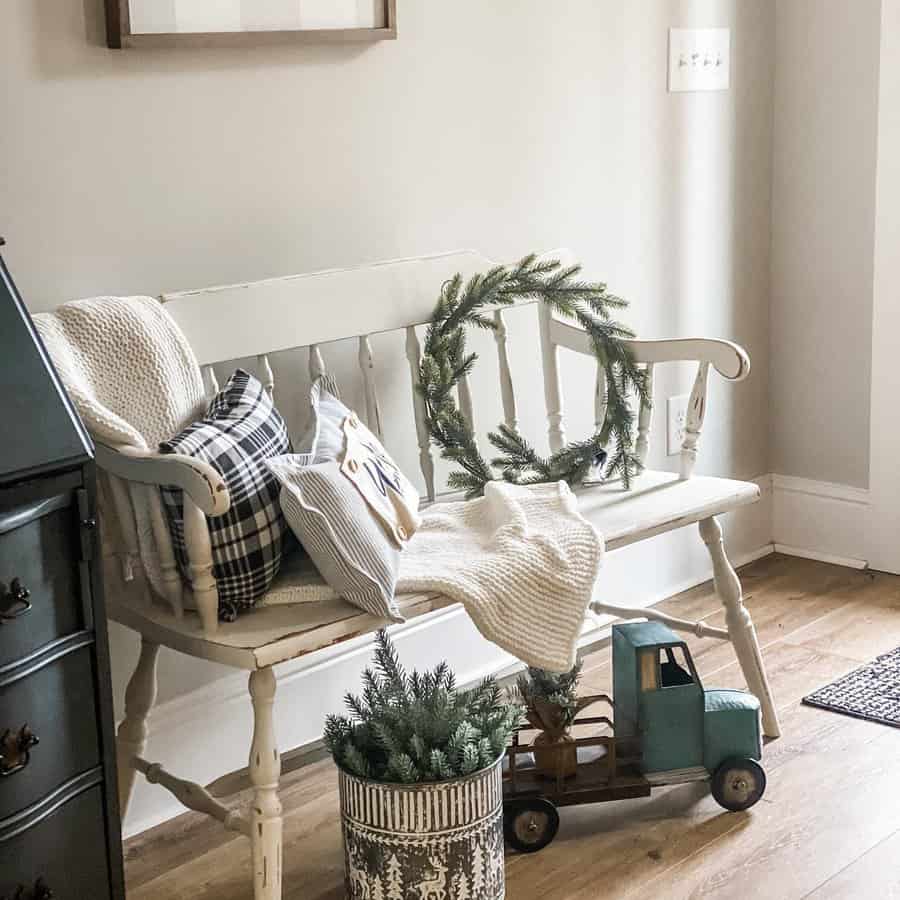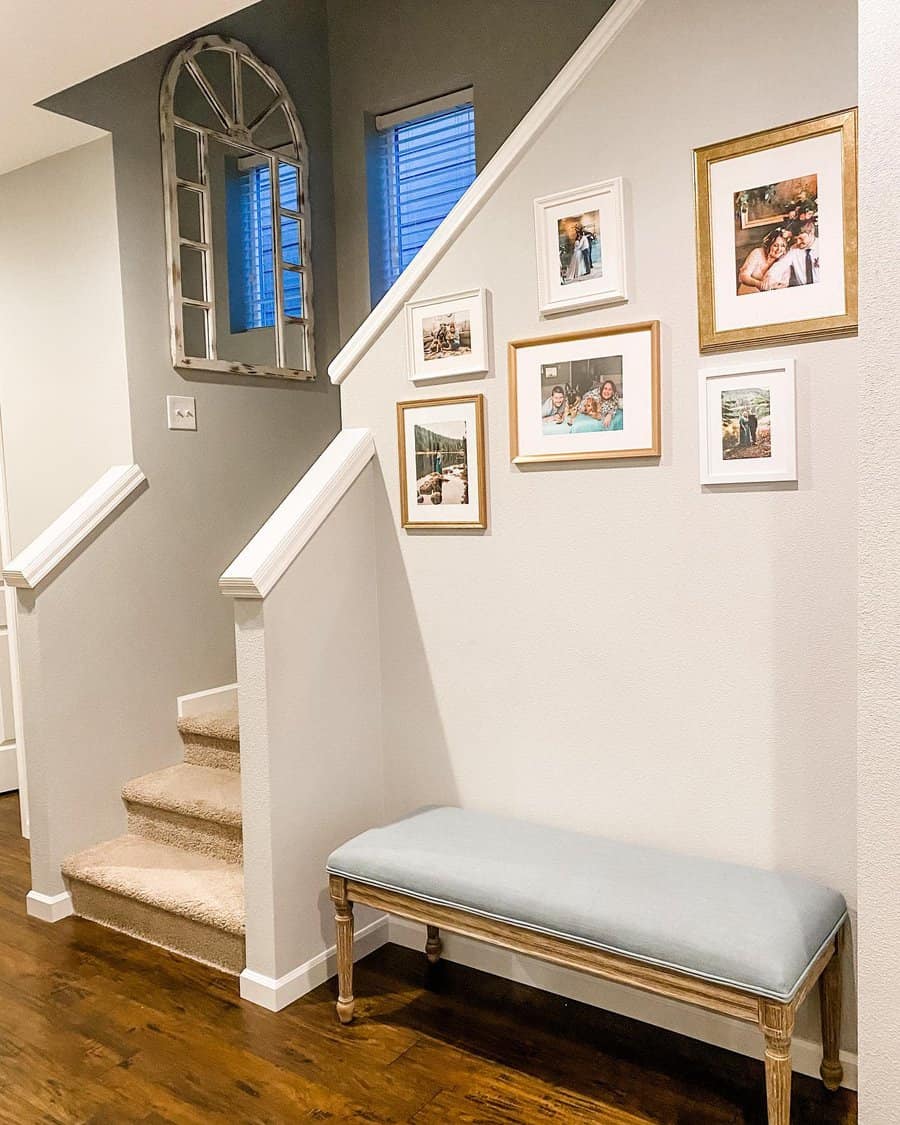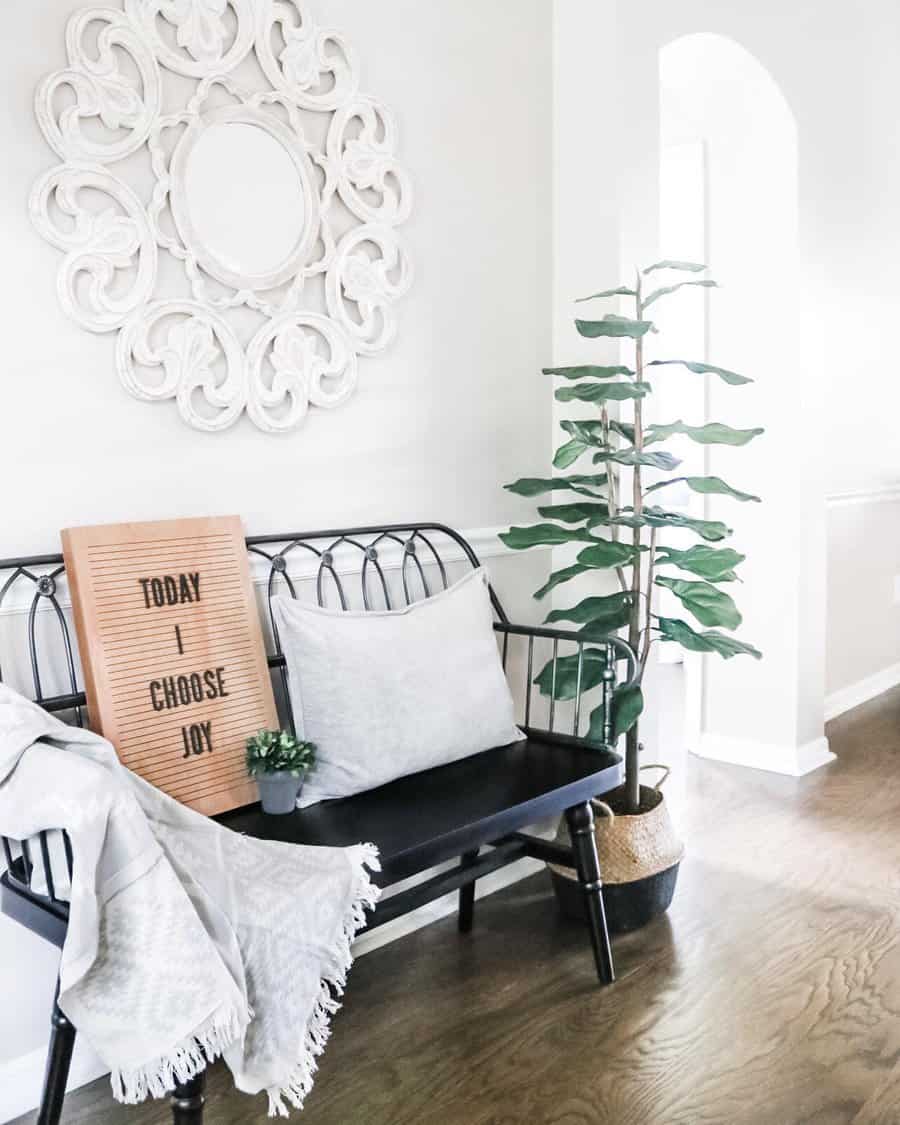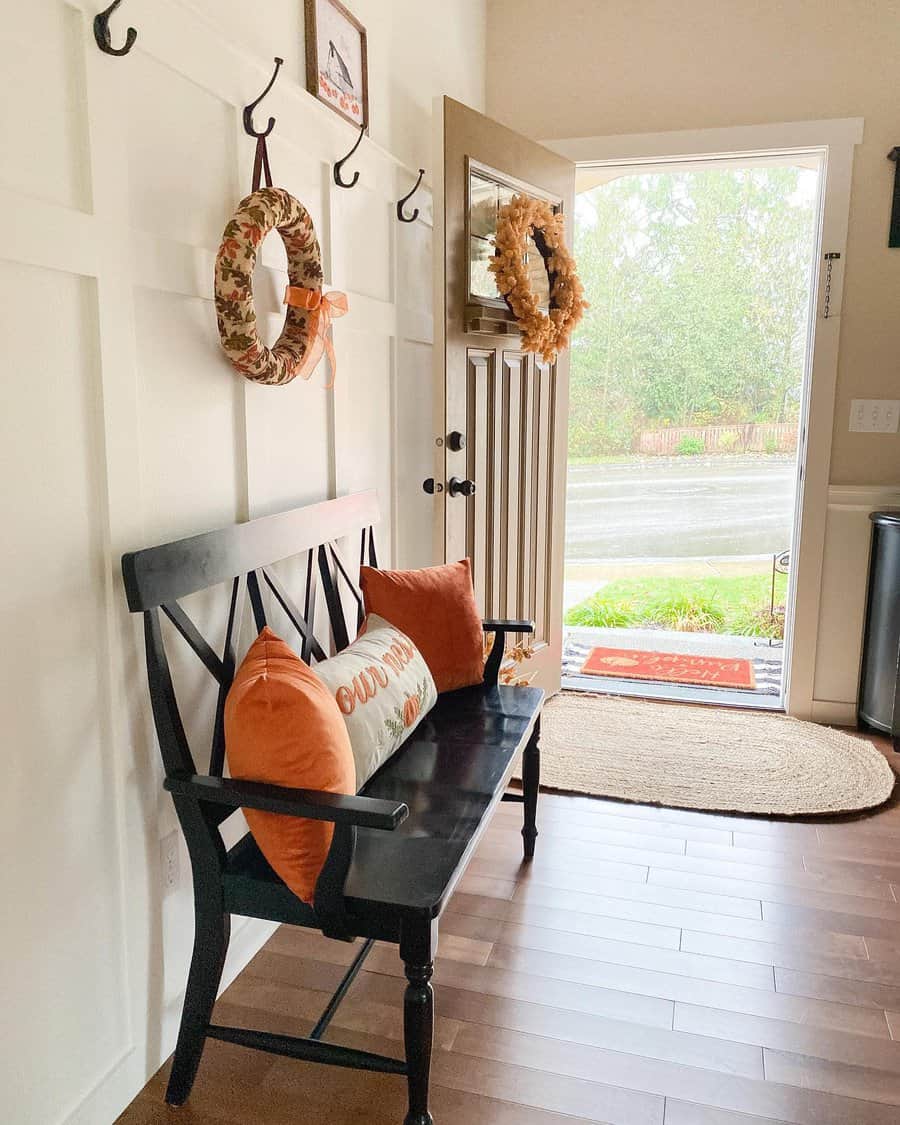 If you find a great traditional style bench, you can leave it as-is or restore it to its original appearance. For variety, get creative with paint and fabric choices. For example, paint a classic bench red and reupholster it with houndstooth fabric for an eclectic piece with traditional bones.
13. Wood
Wood is always a great choice for benches and can be shaped and finished to fit any type of home décor. From inexpensive pine to luxurious black walnut, wood comes in a surprisingly wide variety of colors and textures.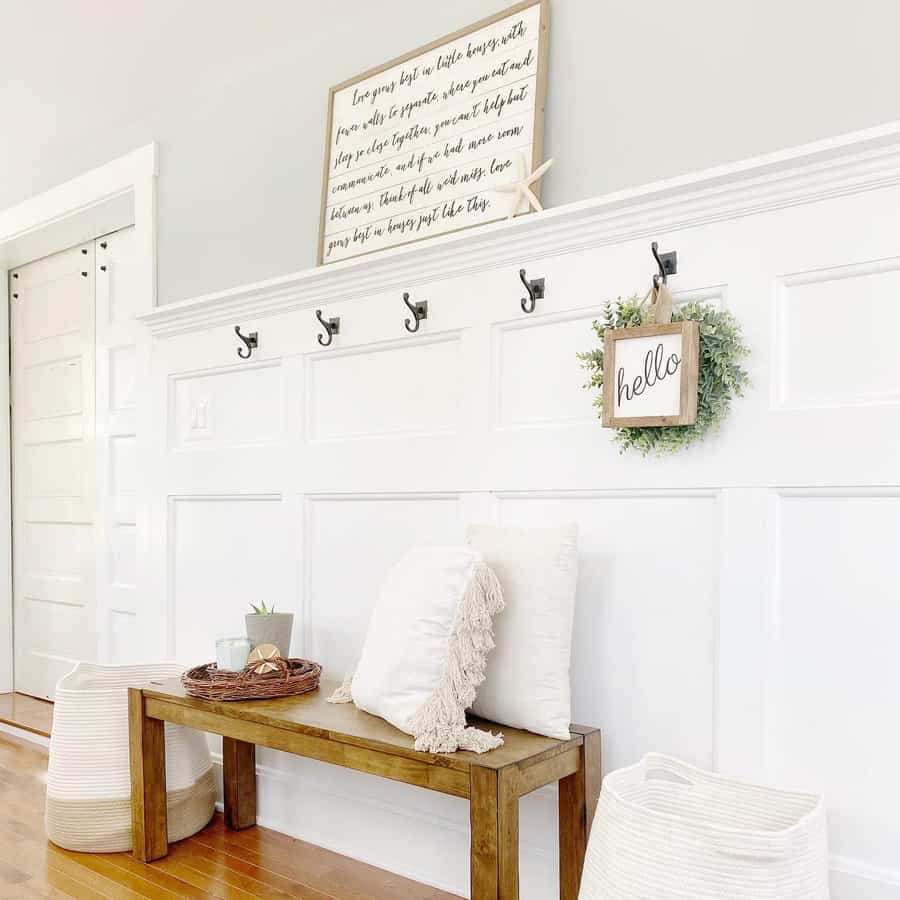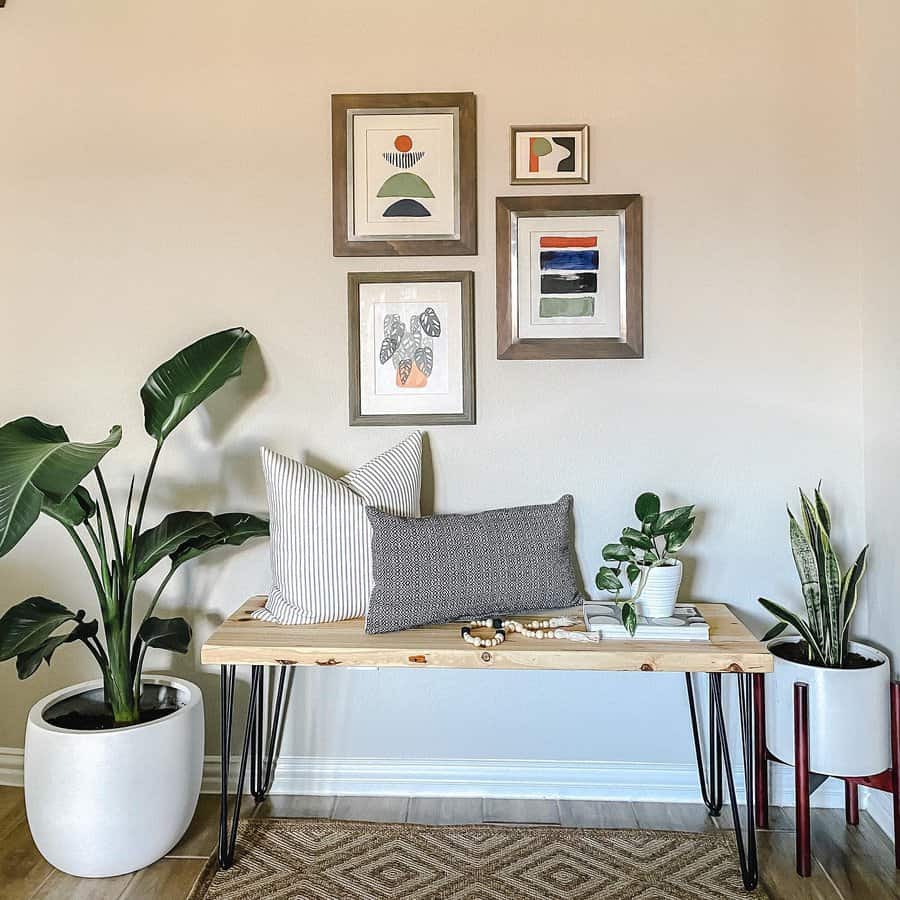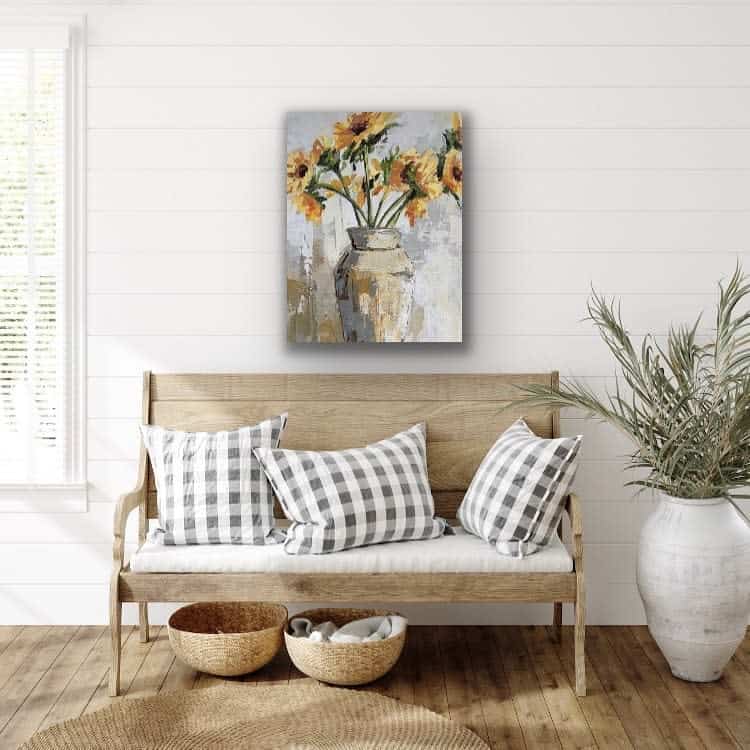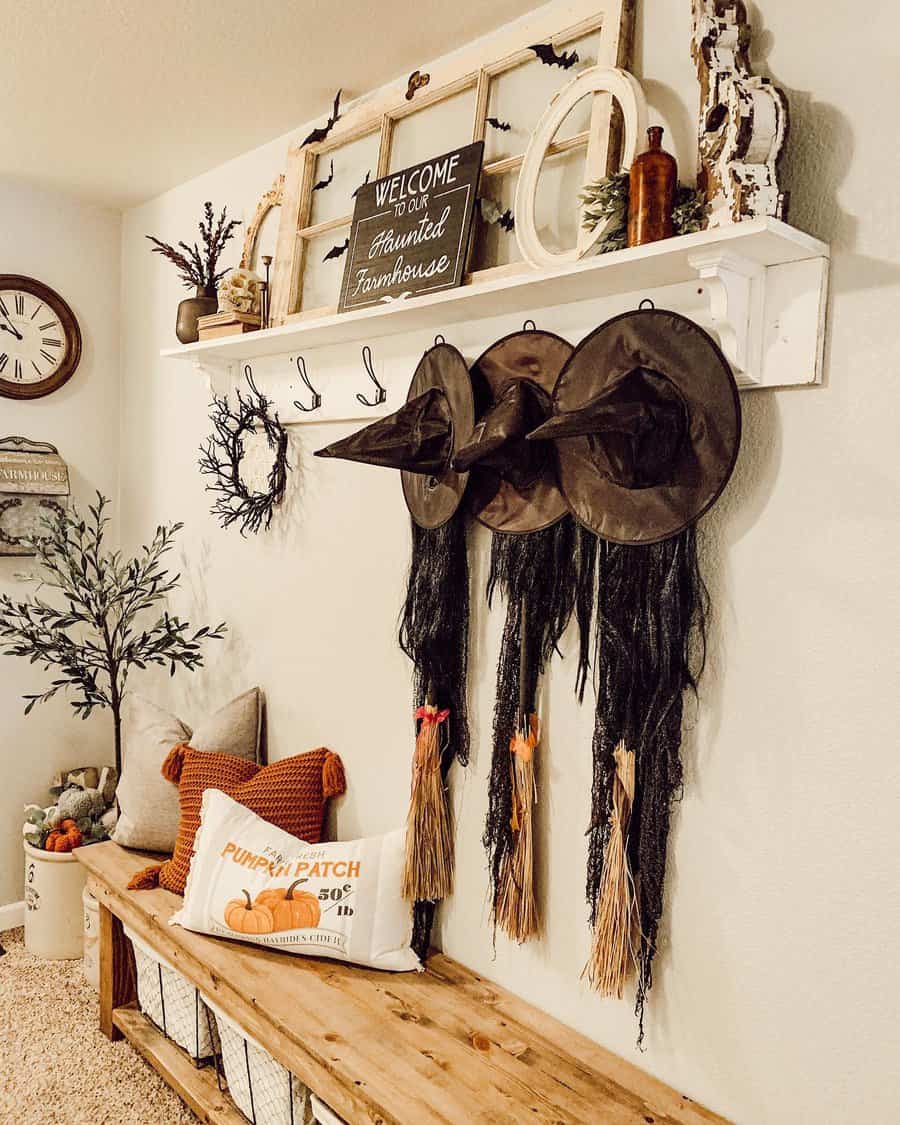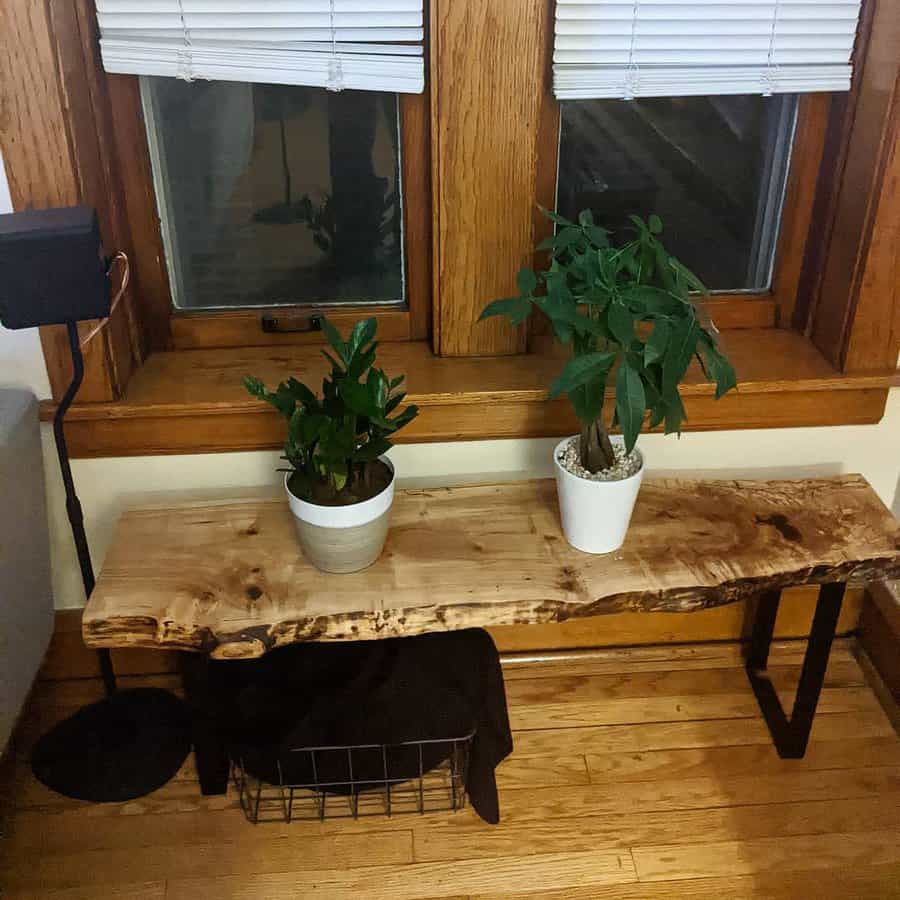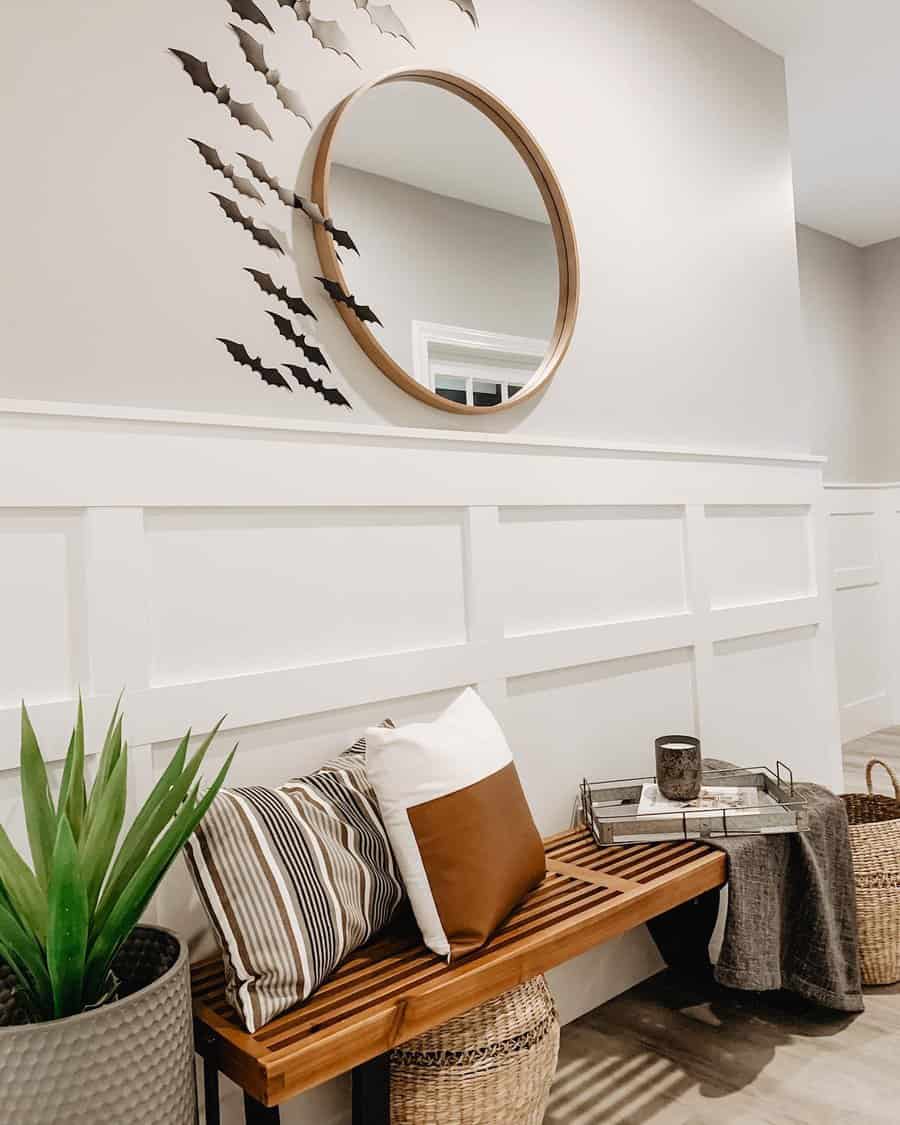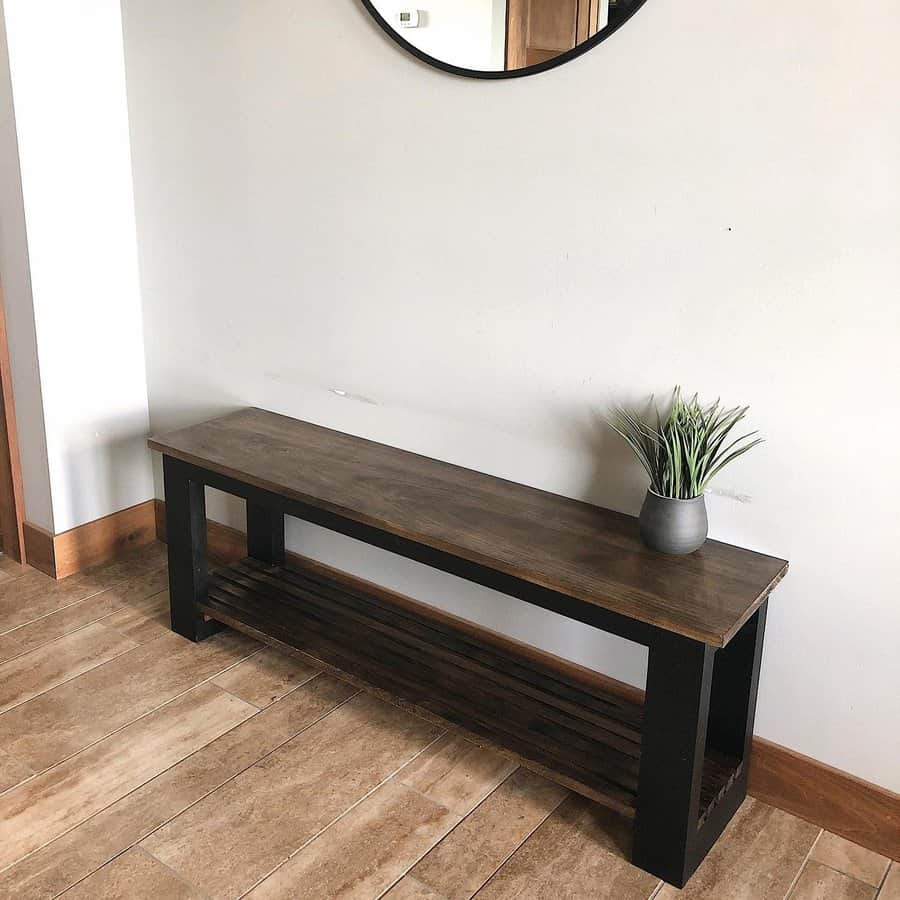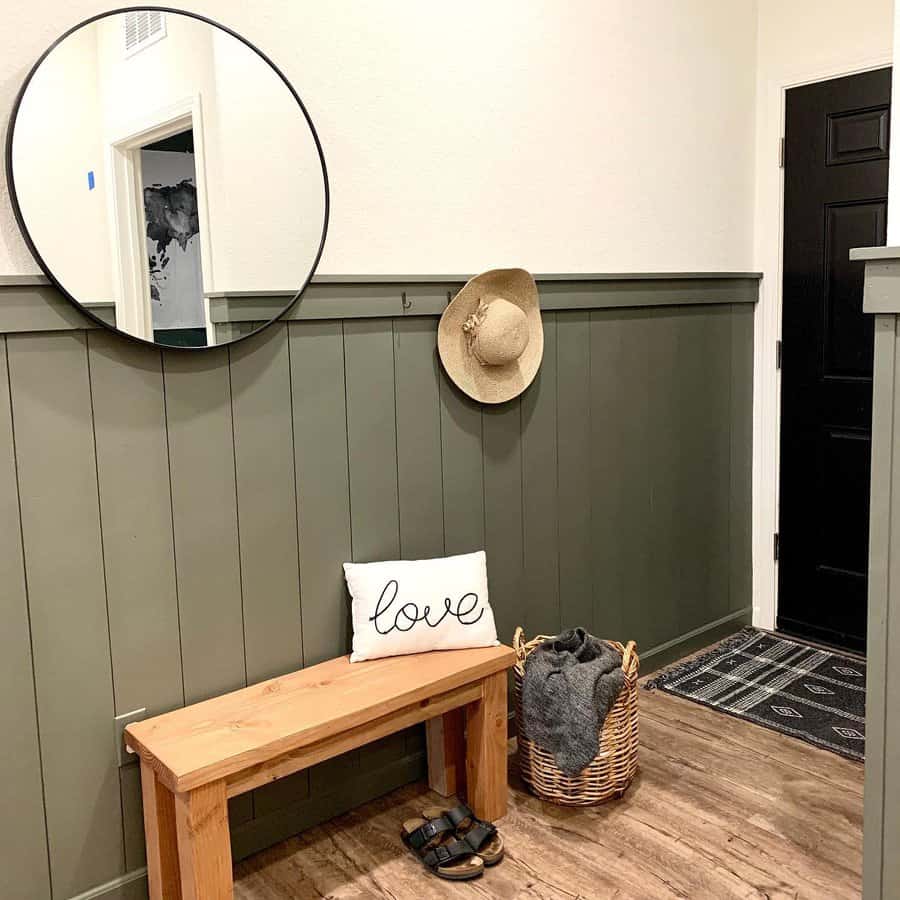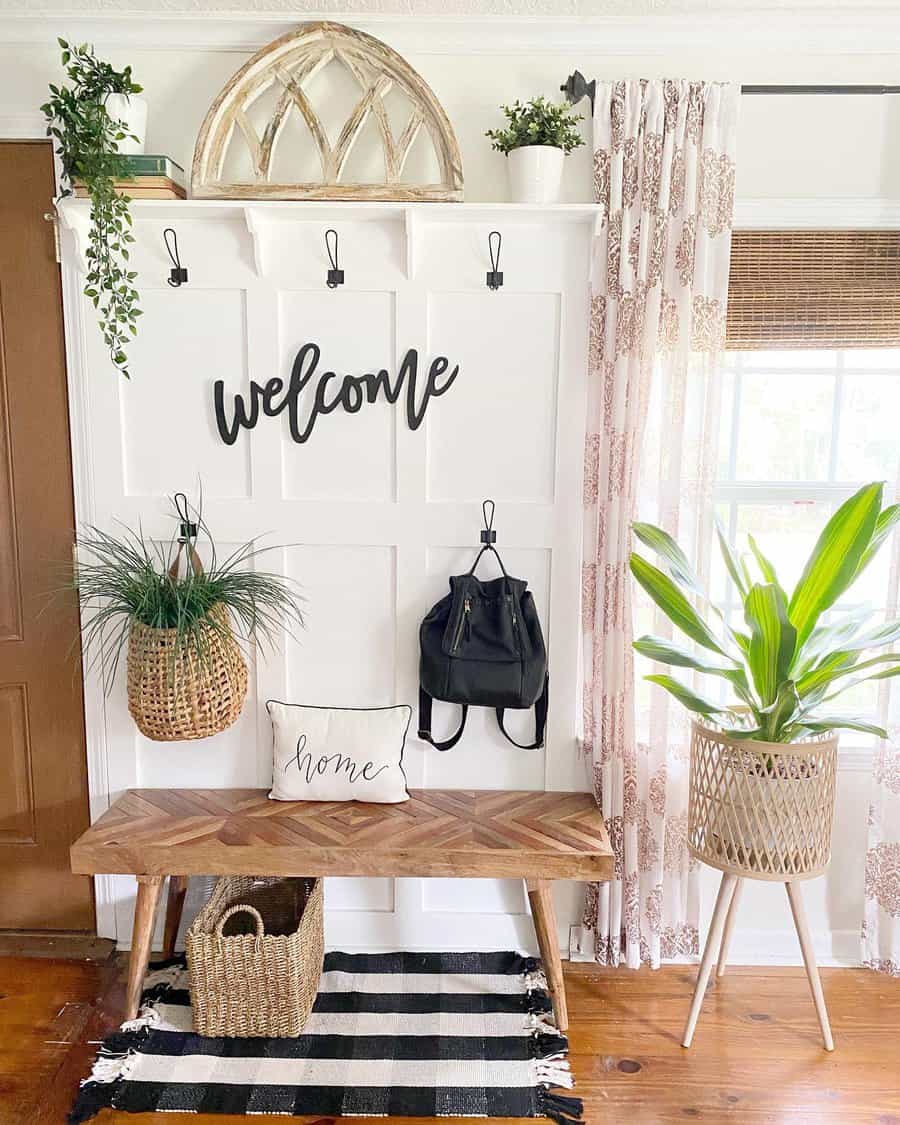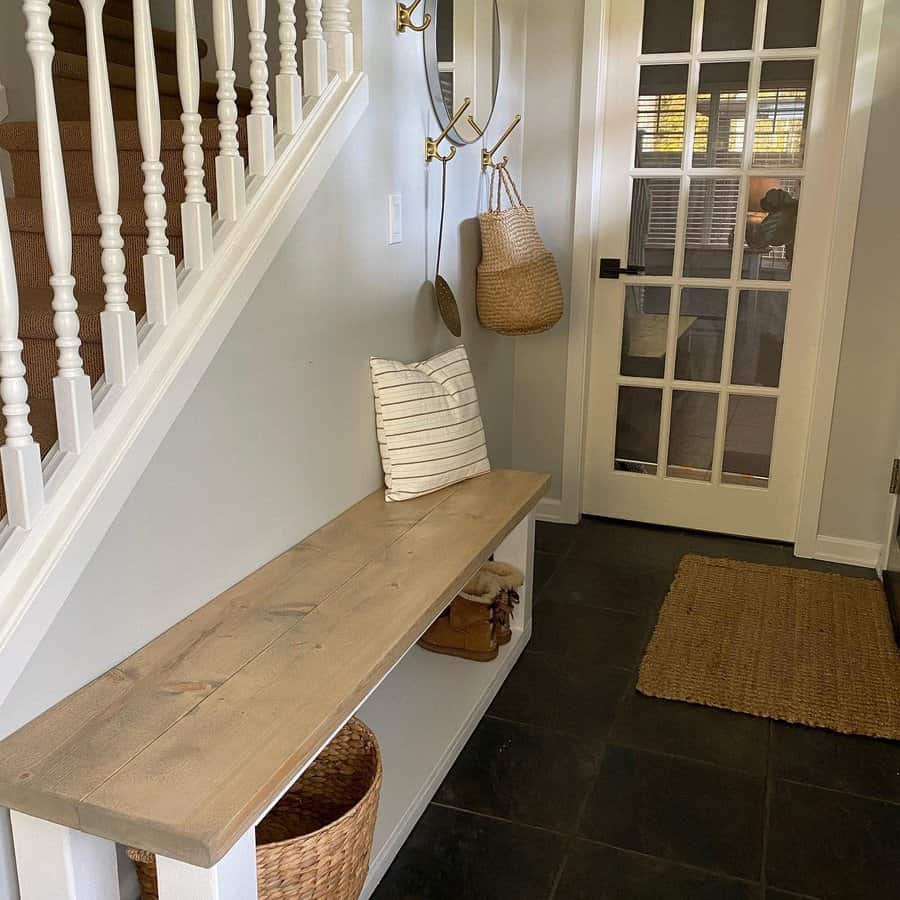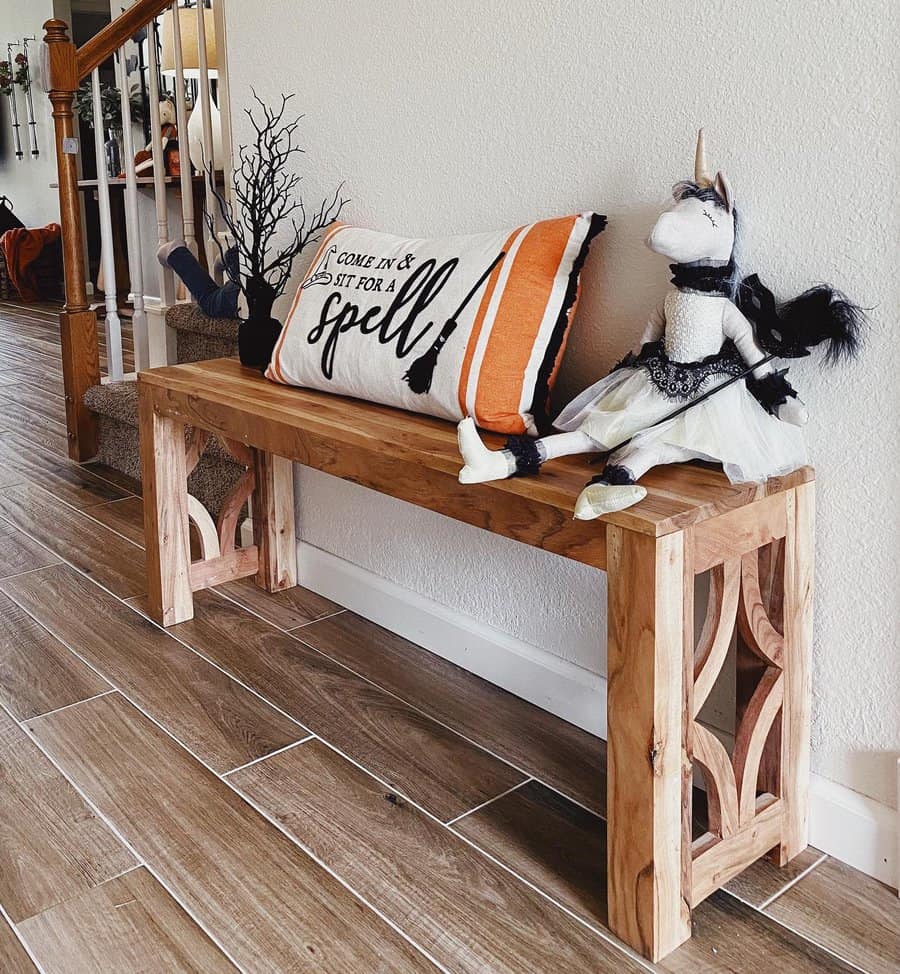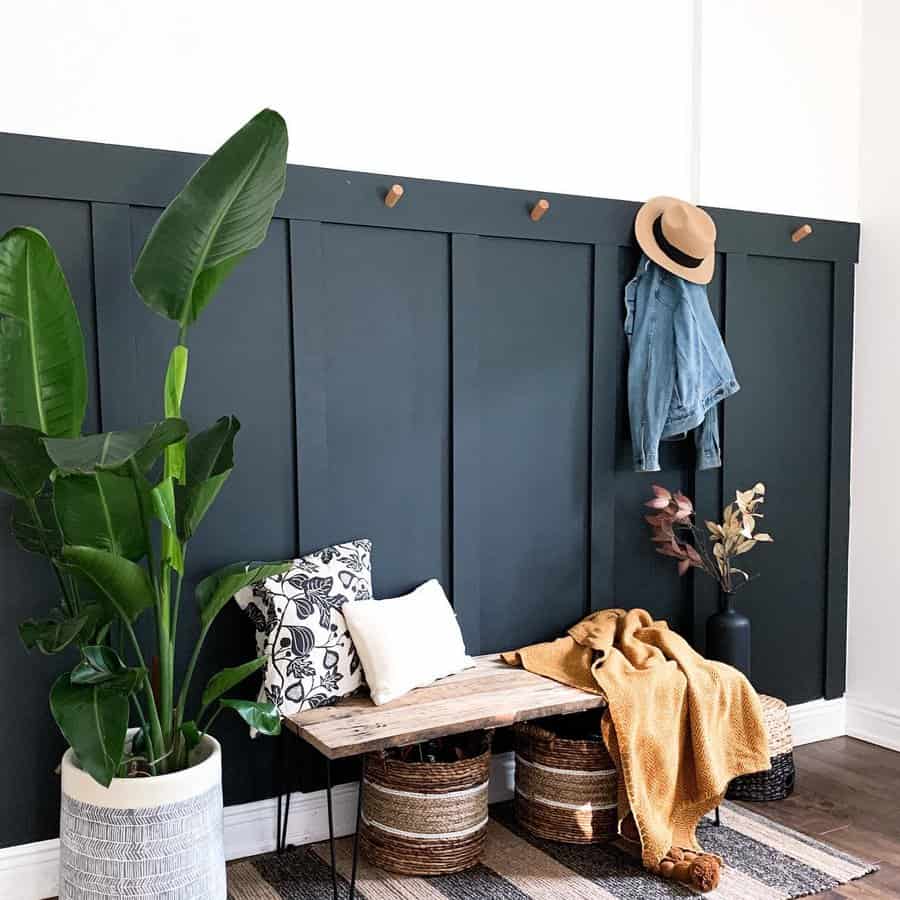 If you have a narrow entryway, you may have to limit the depth of your entryway bench. If you need to use it for storage, make it as long as the space allows, so you can store plenty of baskets or bins underneath.
Entryway Bench FAQs
What is a storage bench?
A storage bench is exactly what it sounds like: a bench that includes some form of hidden storage. Many have a seat built on a lid that opens for a hidden storage chest. Others may have a shelf below the bench with cubbies or baskets to store shoes or outdoor gear.
What is a hallway tree bench?
A hallway tree bench has a tall back that incorporates a high shelf, coat hooks, and/or a mirror. It usually includes under bench storage as well. They may be too large for a small entryway, but are convenient for storing footwear, coats, hats, and bags in one convenient place.