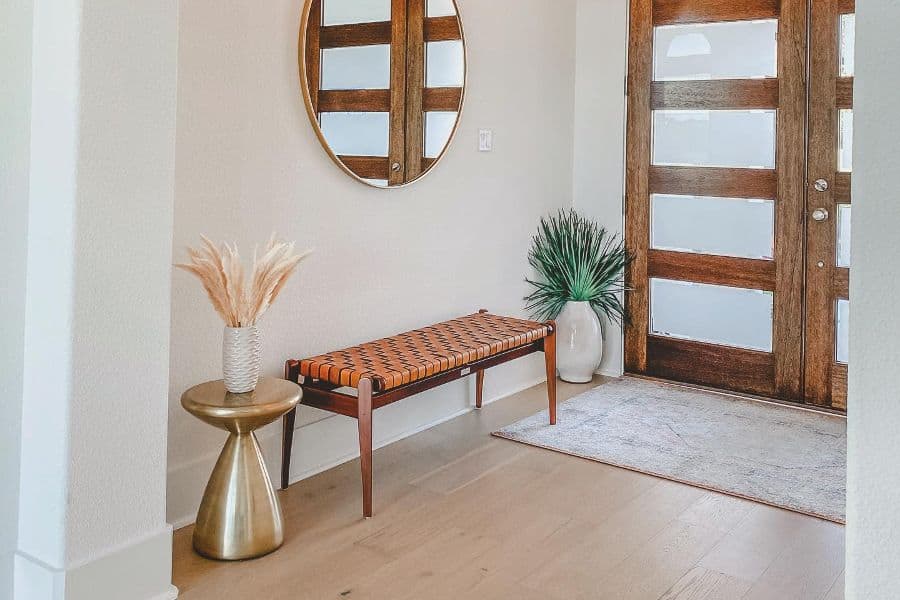 Leave your shoes and your worries at the door!
An entryway bench is the anchor of a home's "drop zone." Who wouldn't love having a convenient place to sit down while taking off their shoes at the end of a long day?
An entryway storage bench is also a great way to add extra storage to a small space. Parents of school-age kids find them invaluable for keeping footwear, coats, and backpacks in one easy-to-find location. Take a look at our best entryway bench ideas and choose one for your entryway makeover.
1. Mount Multi-Purpose Hooks
If you're looking for a creative and highly functional entryway bench idea, you should consider combining a bench with wall hooks. This great combination provides your entryway with an extra seat to use when you need it. Plus, the wall hooks will help you keep your everyday items neatly organized if you don't have much space for storage.
Not to mention, this look adds style and character to your home! The best part is that its versatility means that you can customize it in any way to suit your specific needs. Whether it's adding additional wall hooks or swapping out the color of the bench, transforming your entryway has never been easier!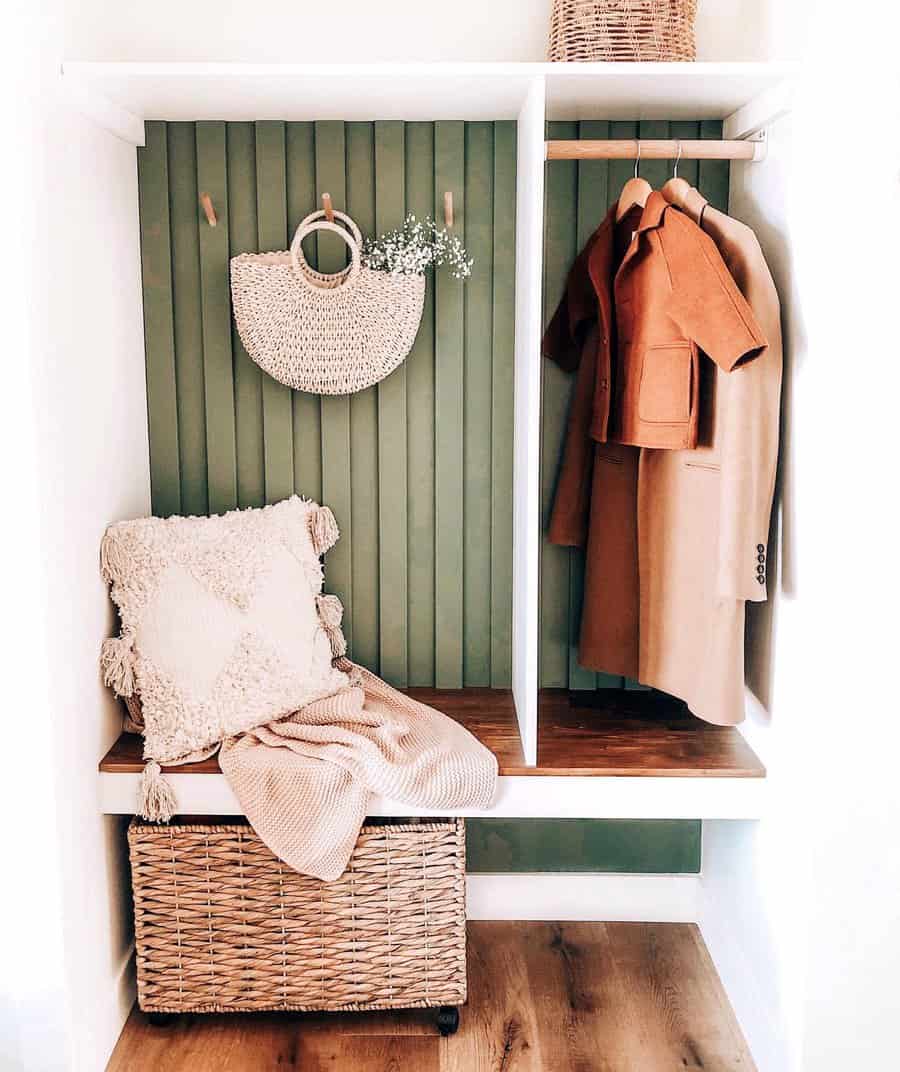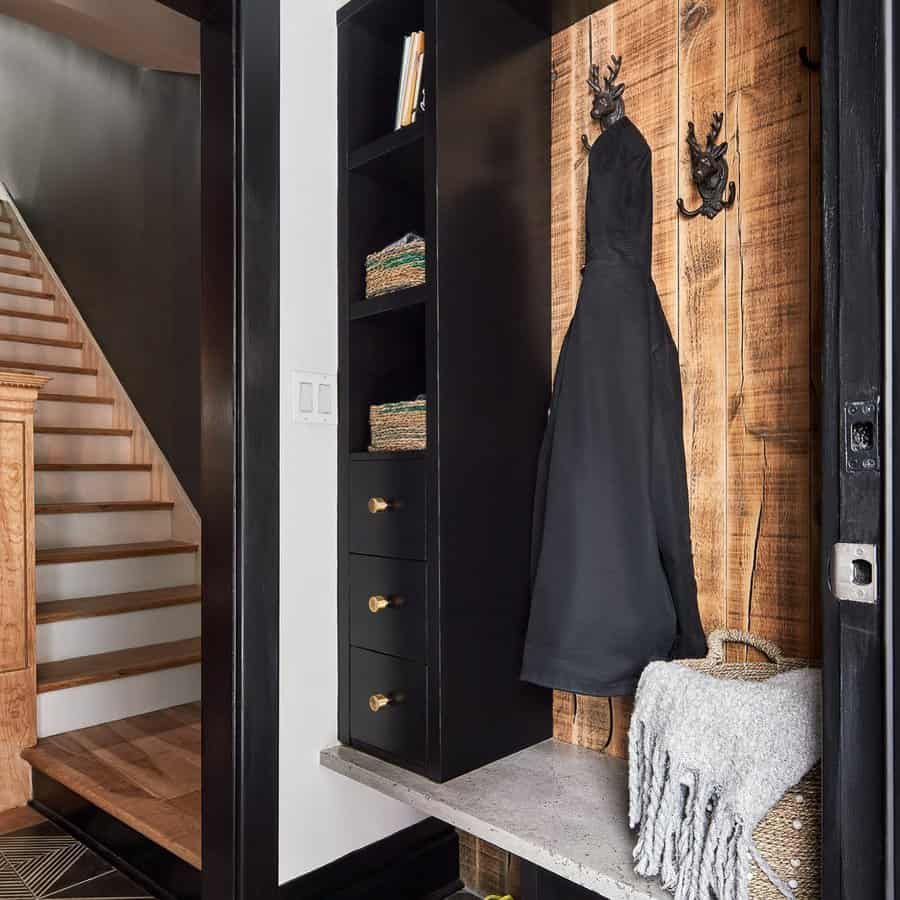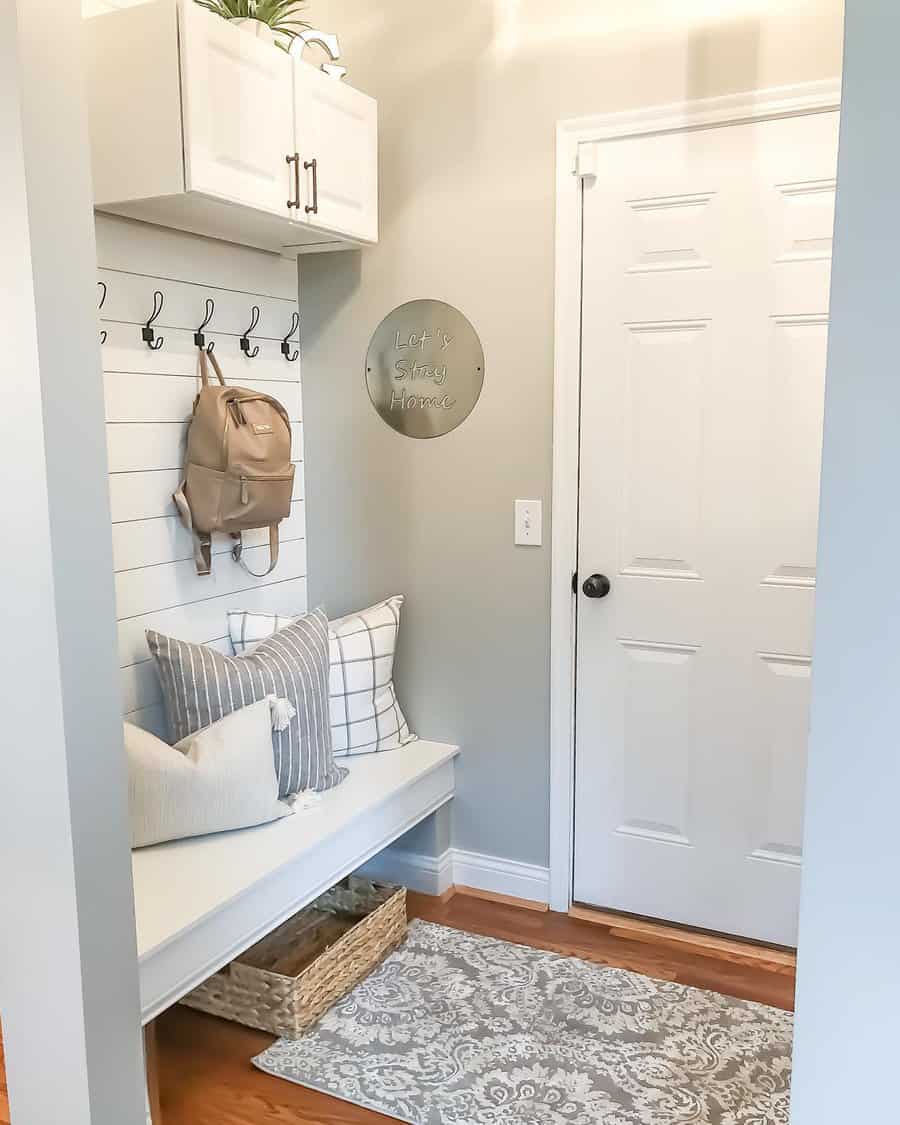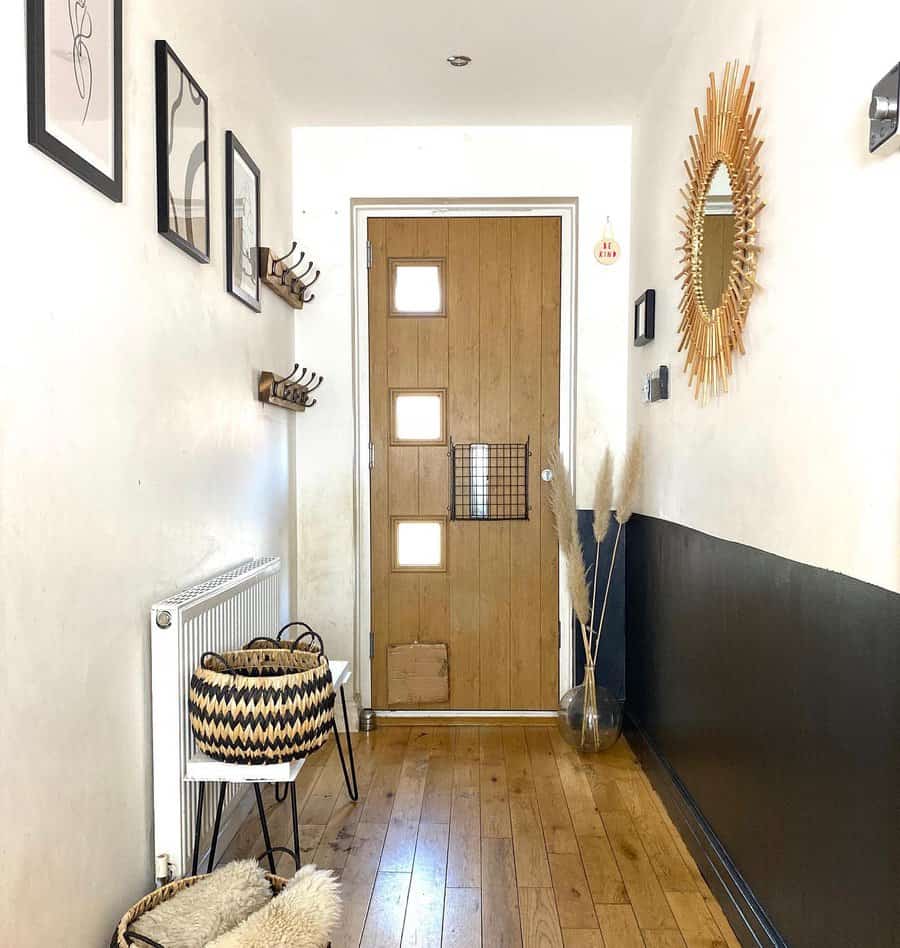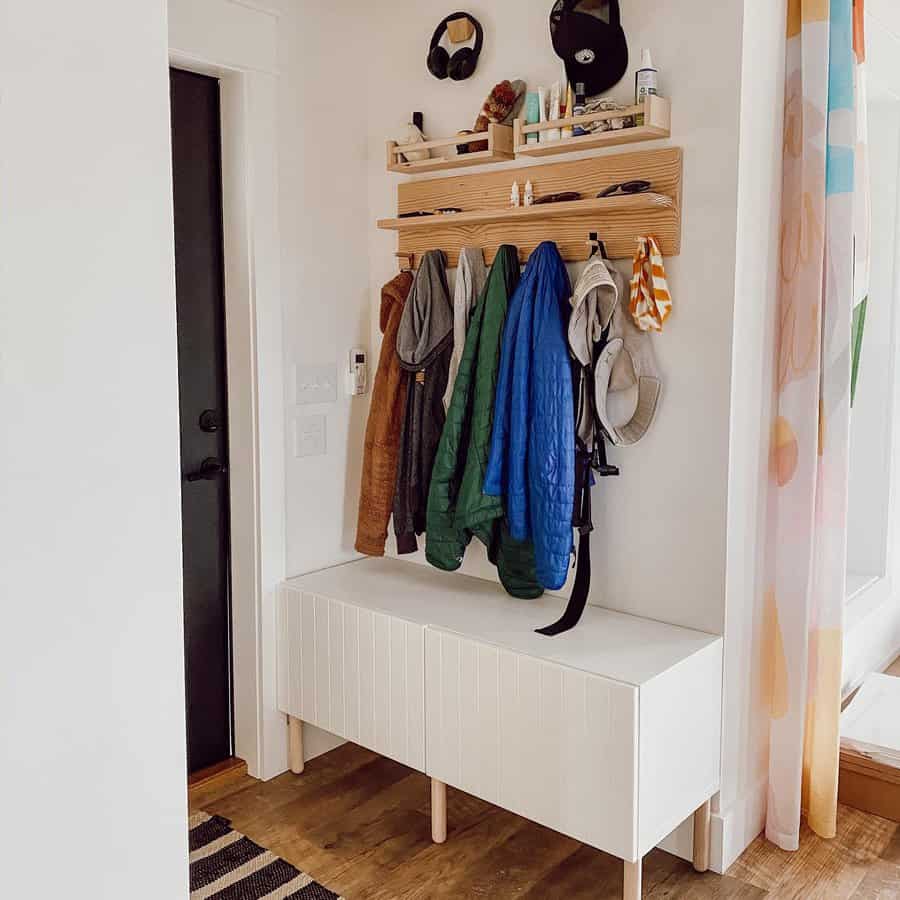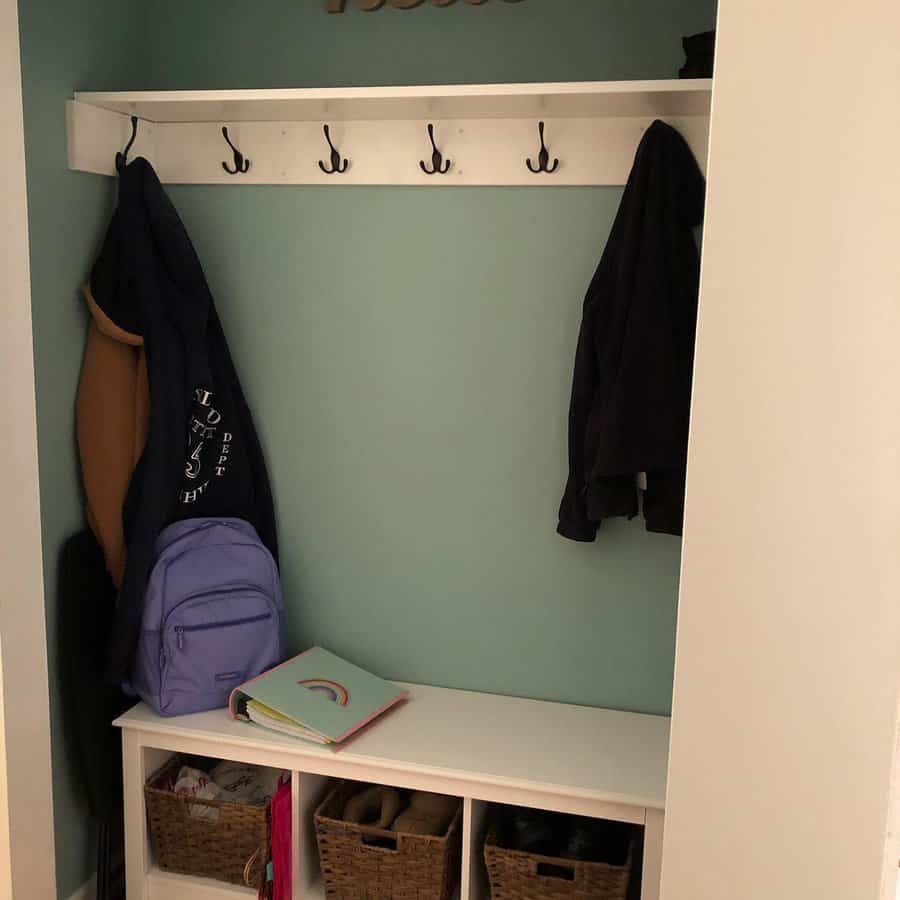 2. Style With Pillows
Sprucing up your entryway doesn't have to be a daunting task! With a stylish entryway bench and some pillows, you can transform any space into an inviting environment. Make it comfortable with some pillows and soft textures to create a cozy spot where guests can sit while they put on their shoes.
Not only will this add a personal touch to your home, but the pillows and cozy materials can also double as wonderful decorative pieces that tell the story of you and your décor.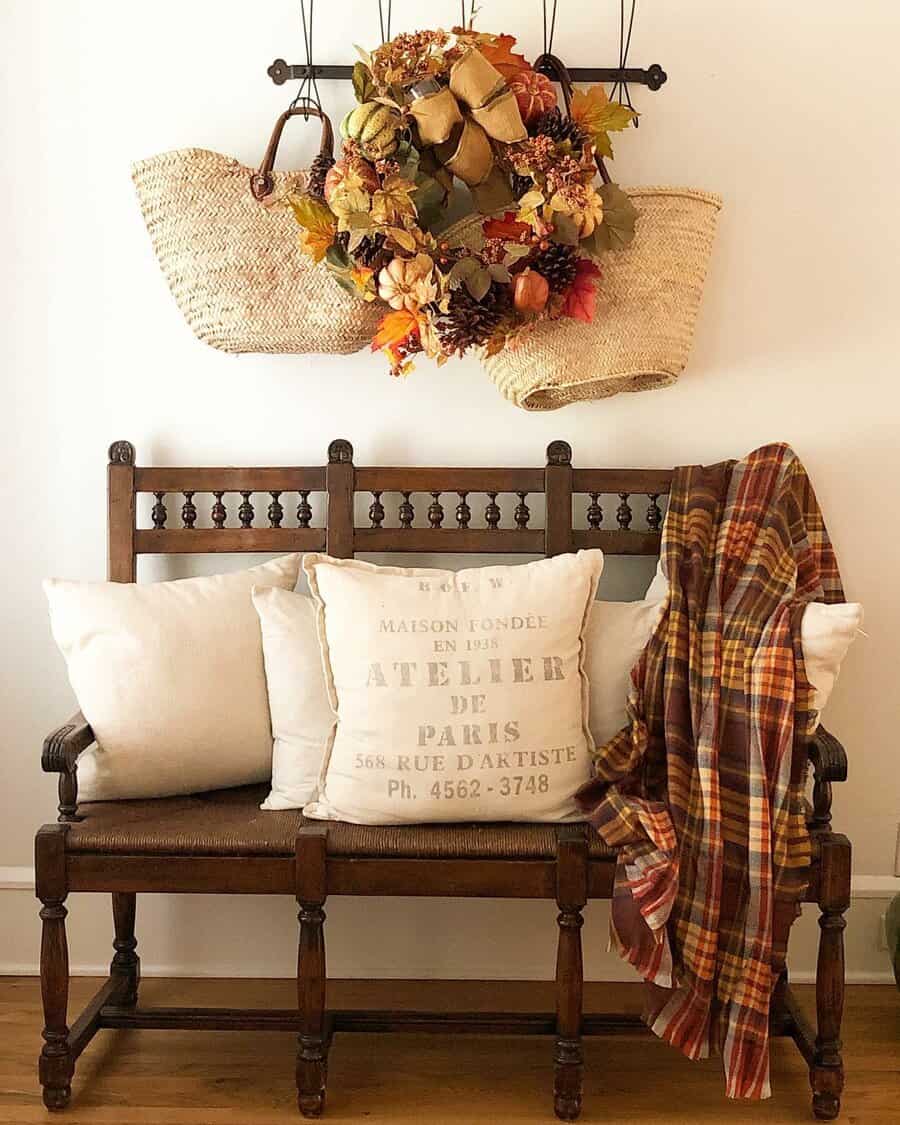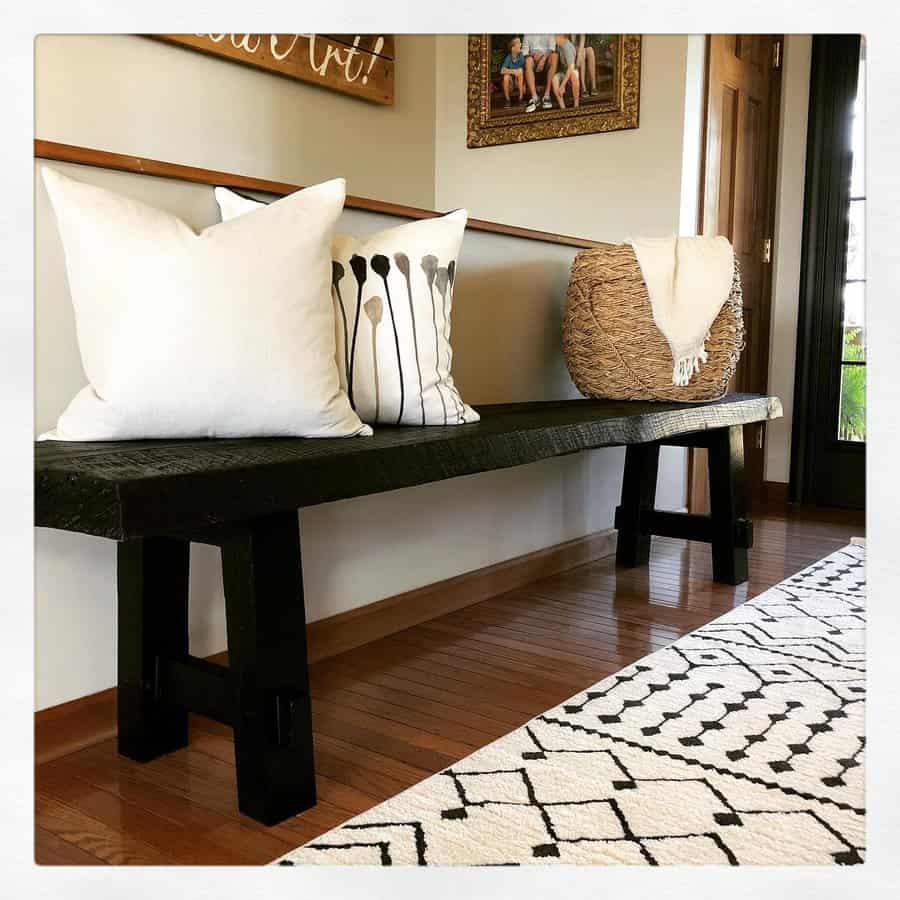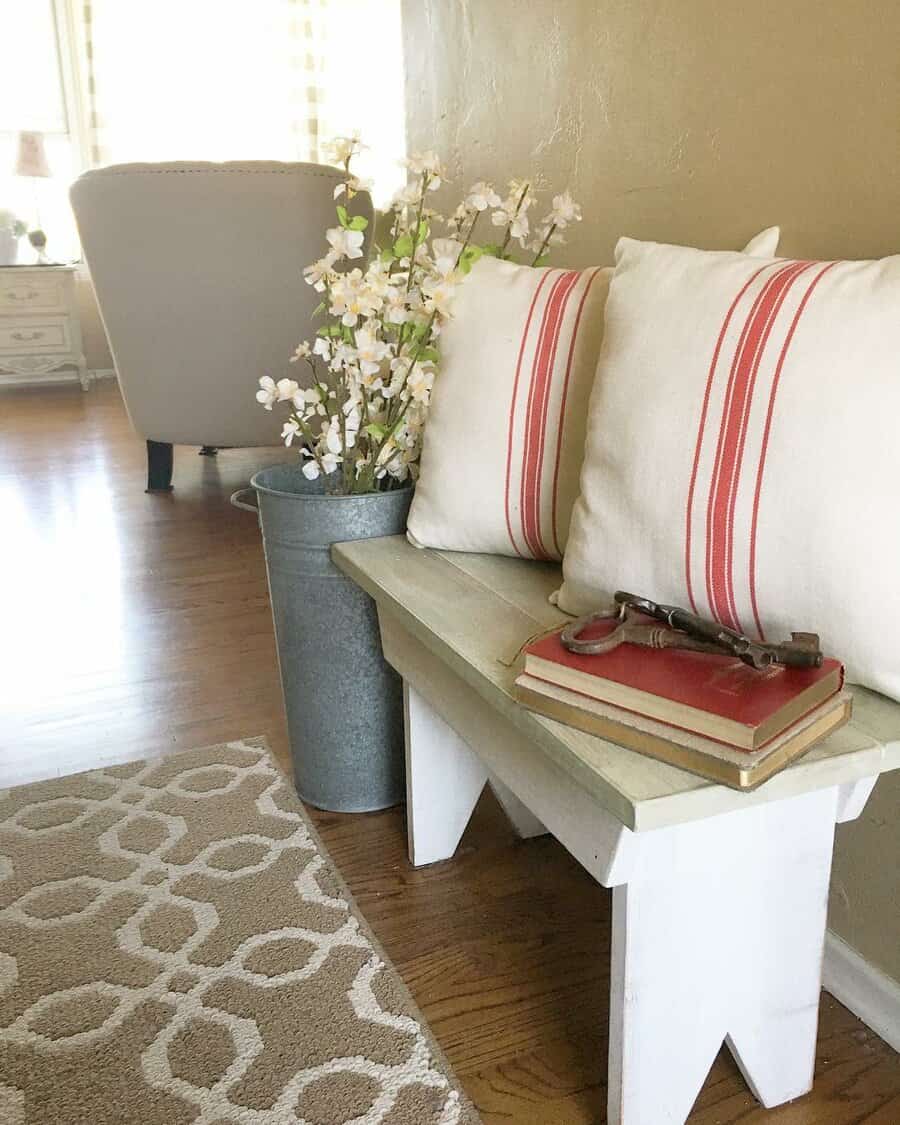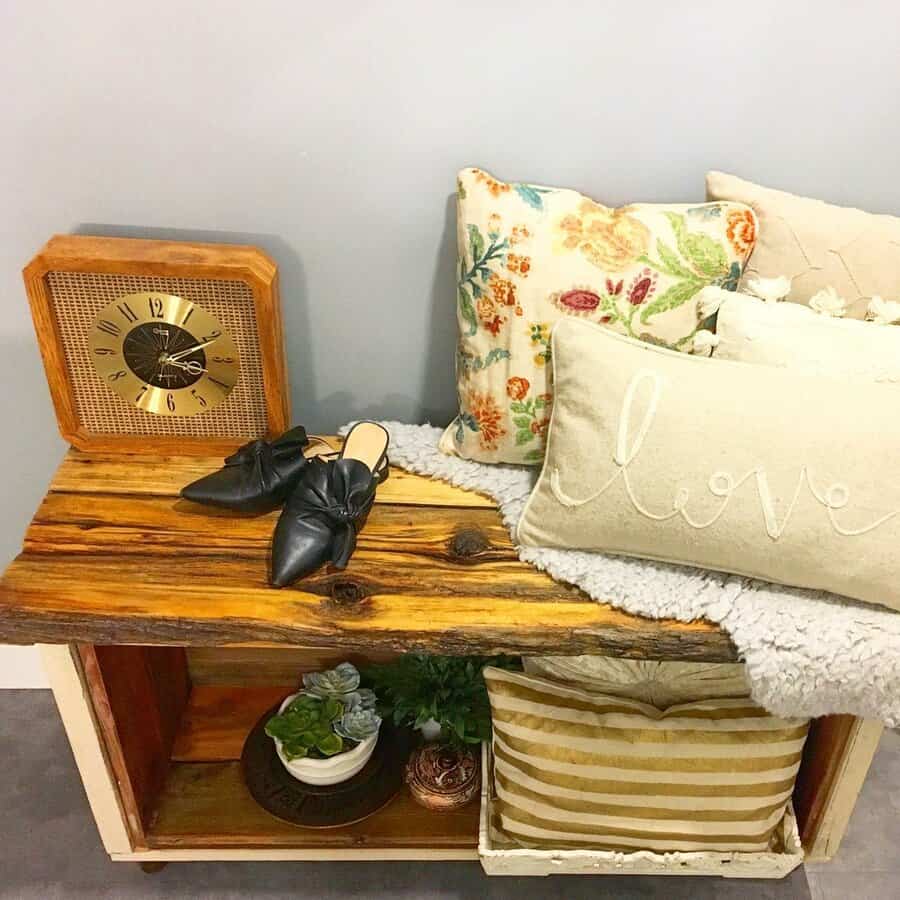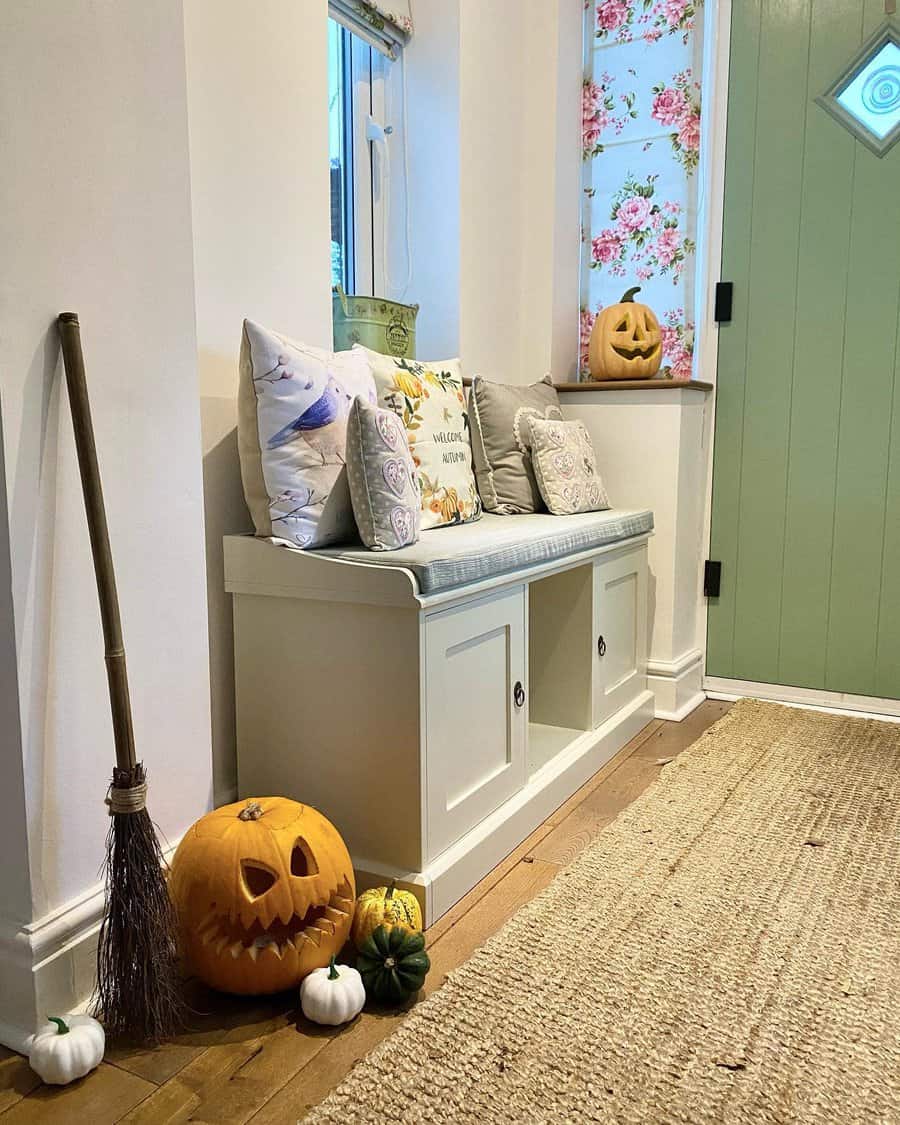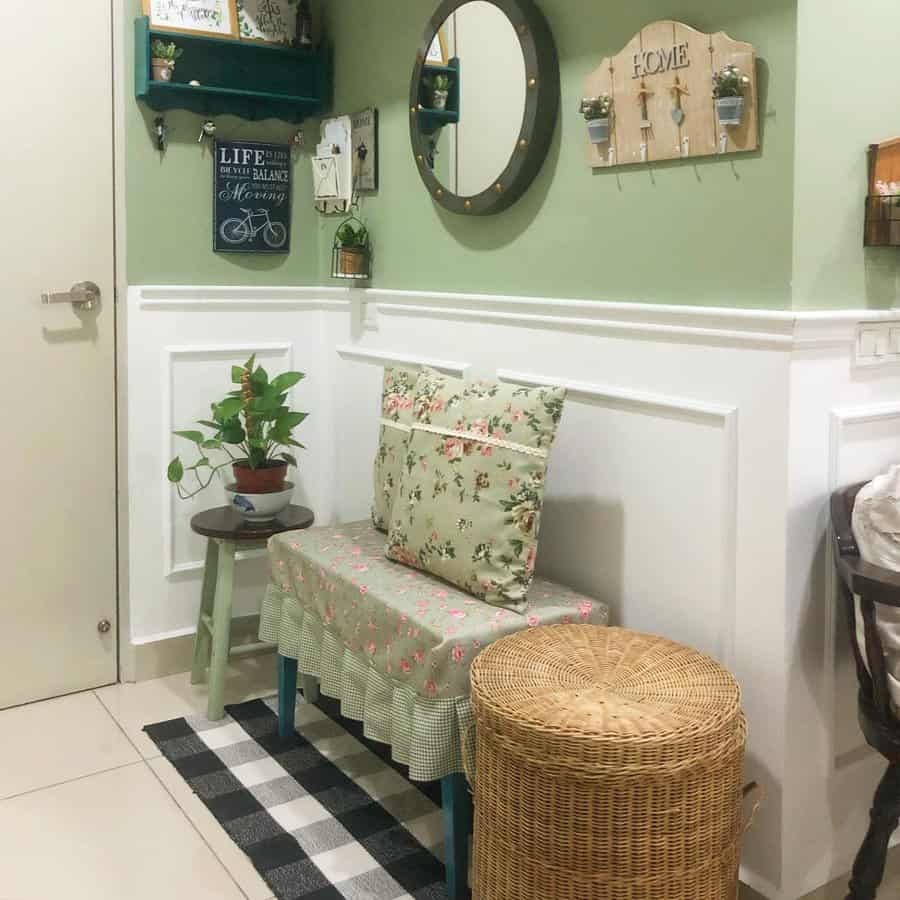 3. Repurpose An Old Bench
An easy way to bring a charming, rustic vibe to your entryway is with a repurposed entryway bench
Try repurposing an existing piece of furniture or salvaging building materials to create something full of character and charm. If you're willing to put in the work, you can even craft an entryway bench that mimics the look of a carpenter's bench – perfect for evoking a rustic vibe in any home.
No matter how you decide to customize it, an entryway bench is sure to be the perfect solution for your home needs.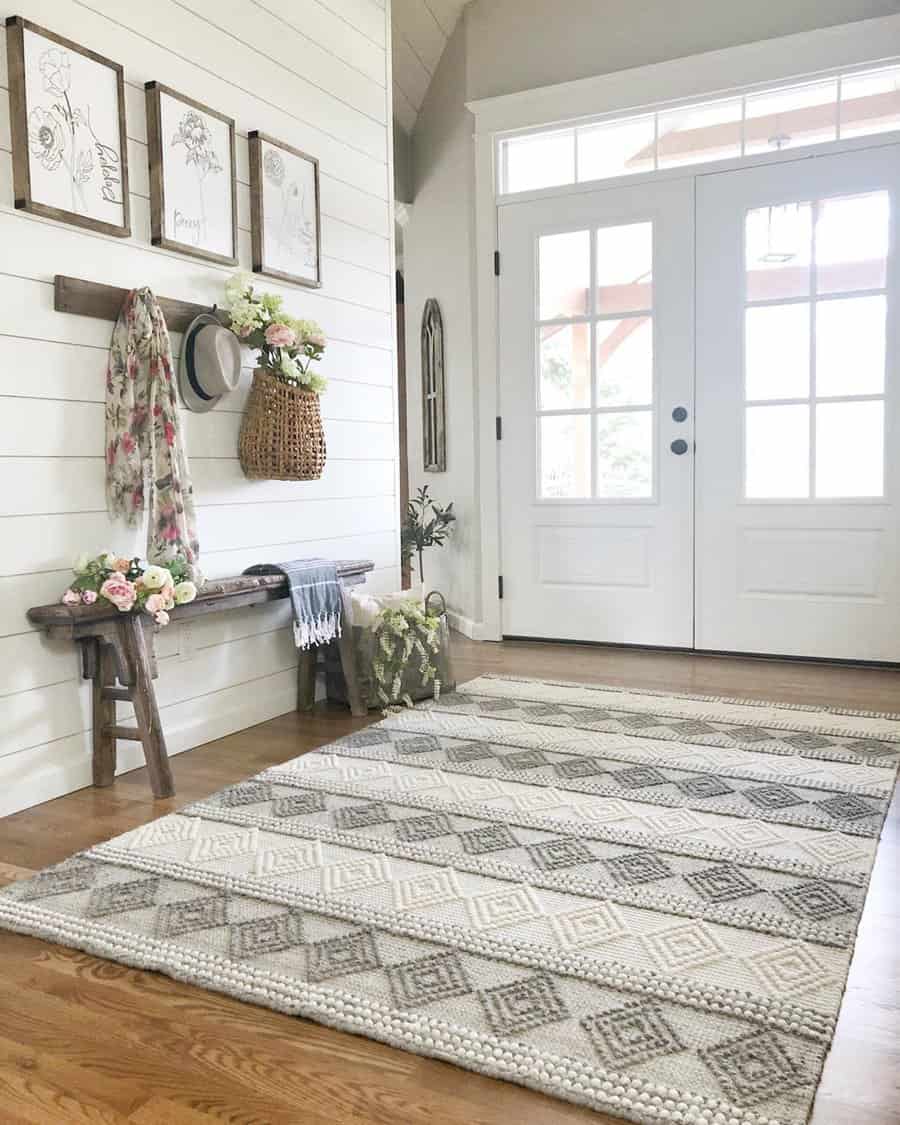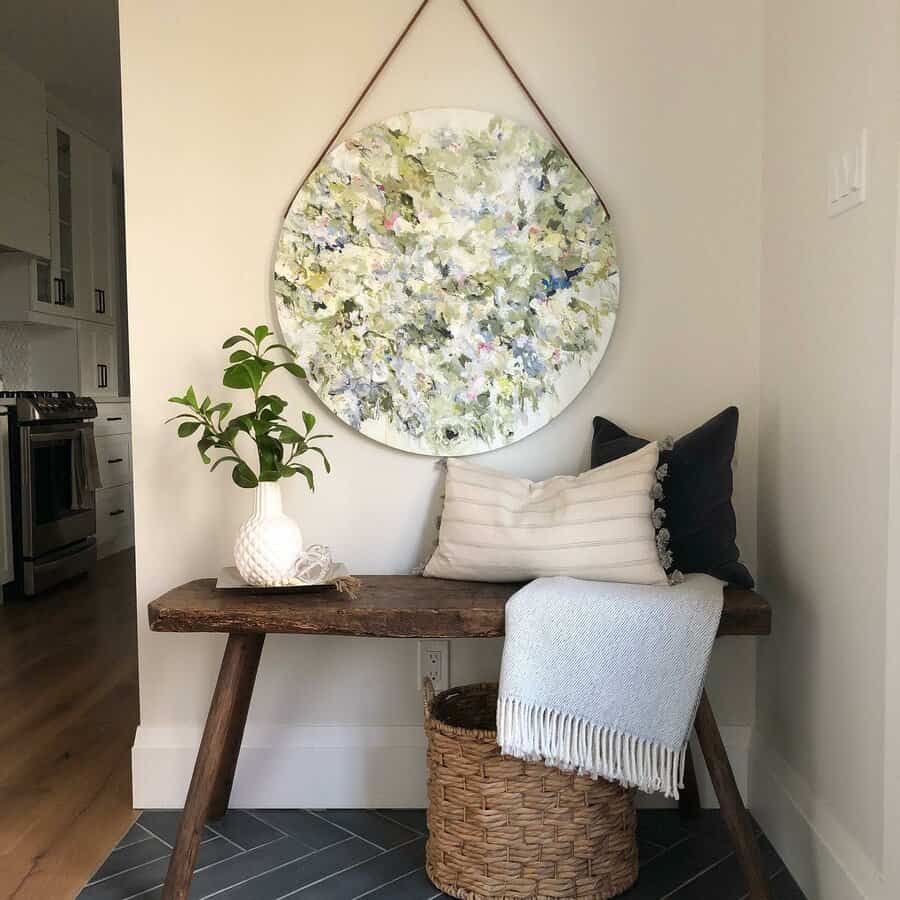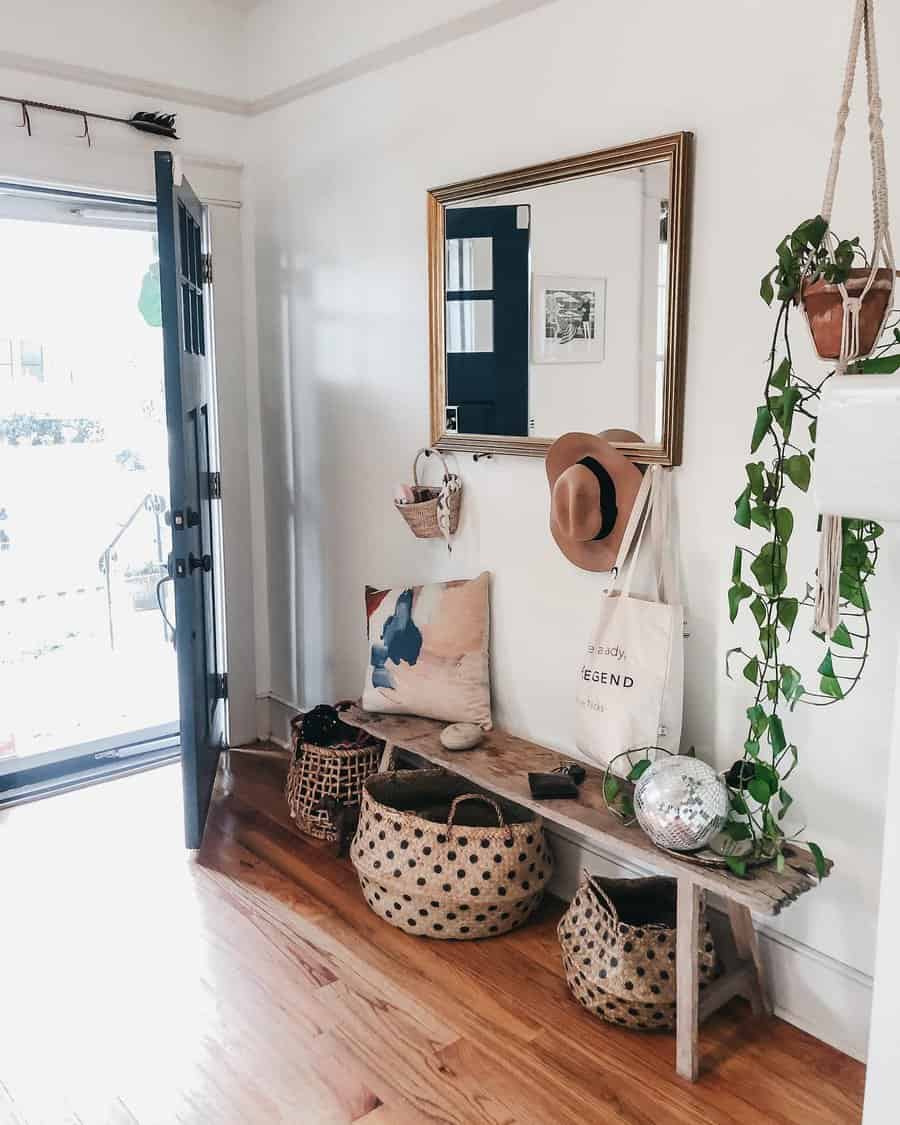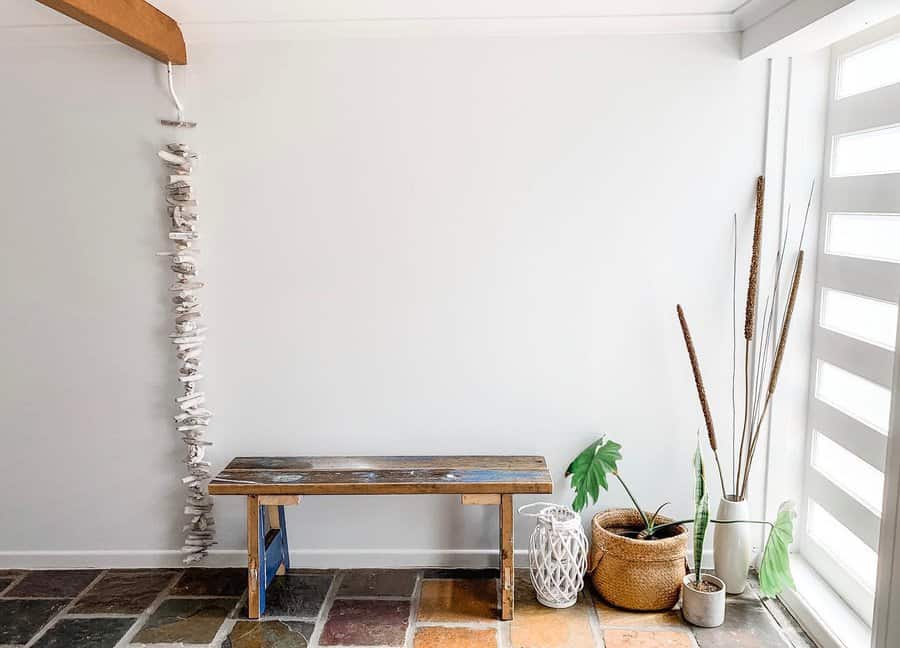 4. Mudroom Unit
If you're looking to spruce up your entryway with an extra seating option, then an entryway bench is a perfect choice. Whether it's the mudroom or by the door, a bench can be a great spot for putting on shoes or getting ready for the day.
Plus, many of today's models come with creative extras like cubbies and drawers, making them even more valuable to store items (like keys or mail). If you prefer something more movable, you could choose styles that are designed on wheels. That way, if you ever wanted to change the location of your bench, it would be easy to do so!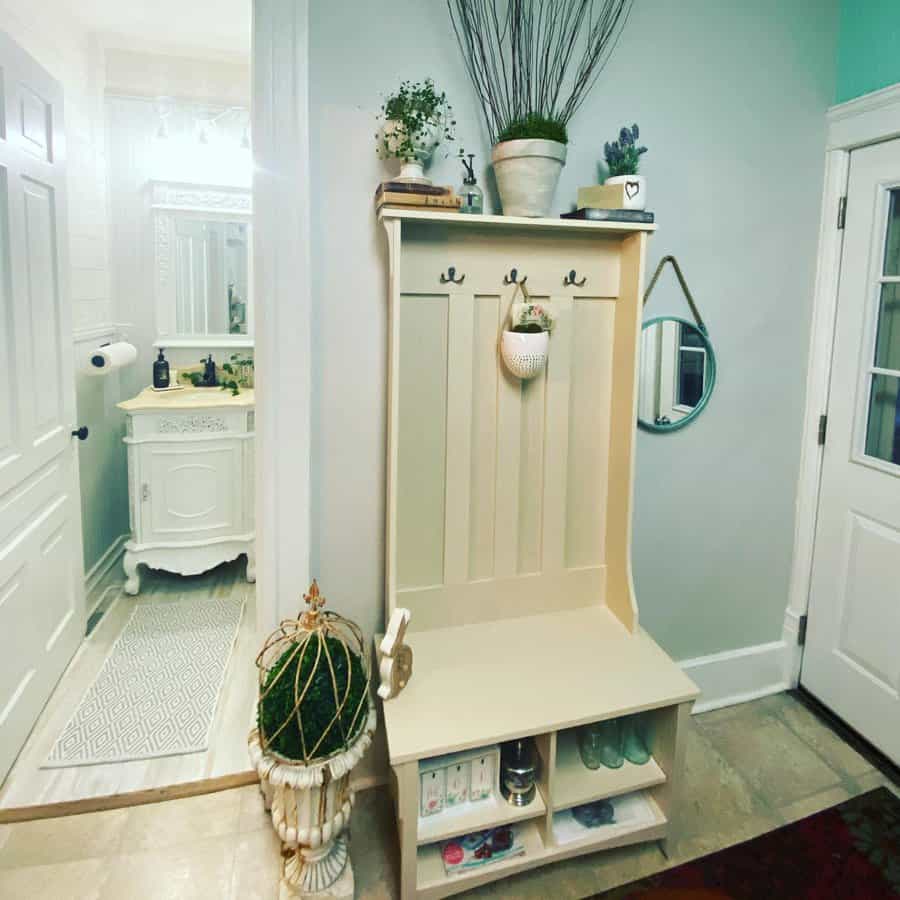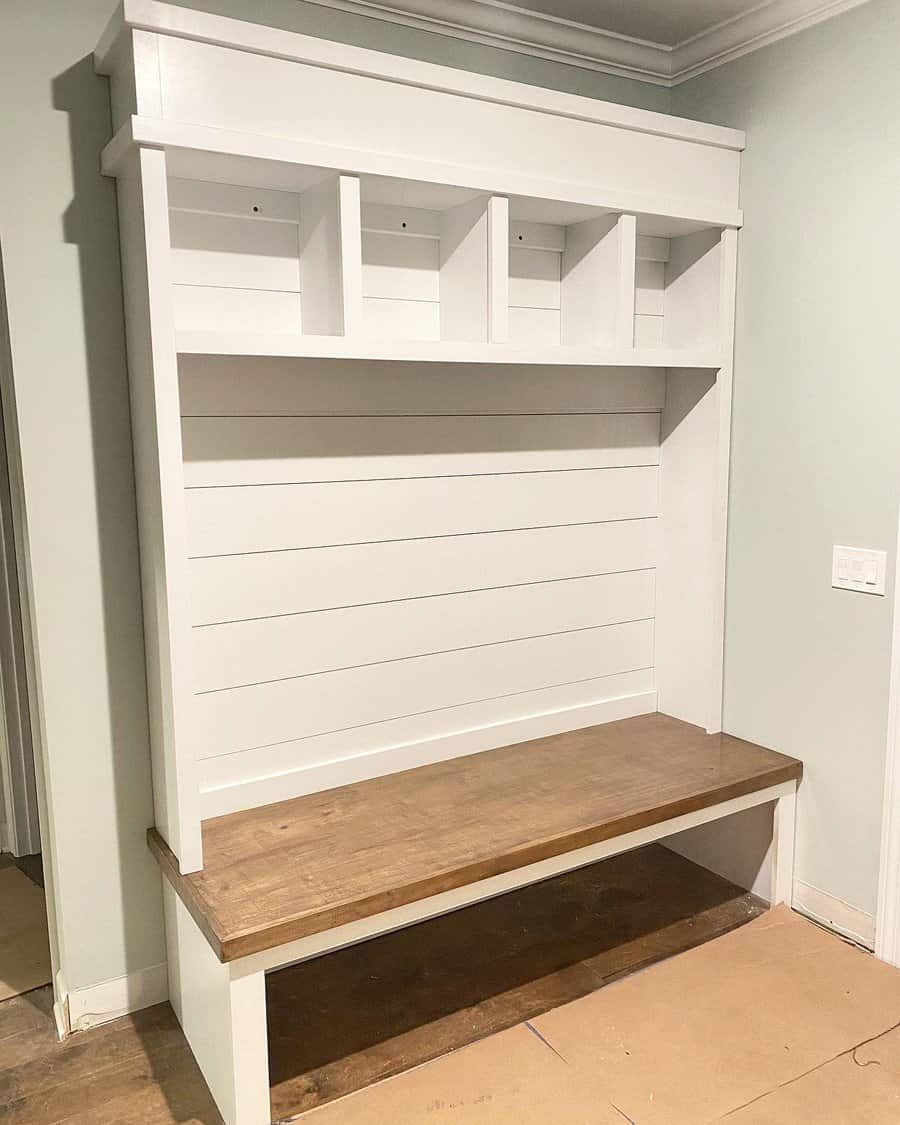 5. Add Plants
Consider adding some personality and warmth with an entryway bench with plants! Potted plants or succulents on the bench will make your entryway look lively and interesting, while also being functional as opposed to just ornamental.
Be creative and experiment with the colors, heights, and textures of plants – you'll be surprised at how much of a difference it makes. Not only is it aesthetic, but having houseplants in your entryway will help clean the air naturally, too!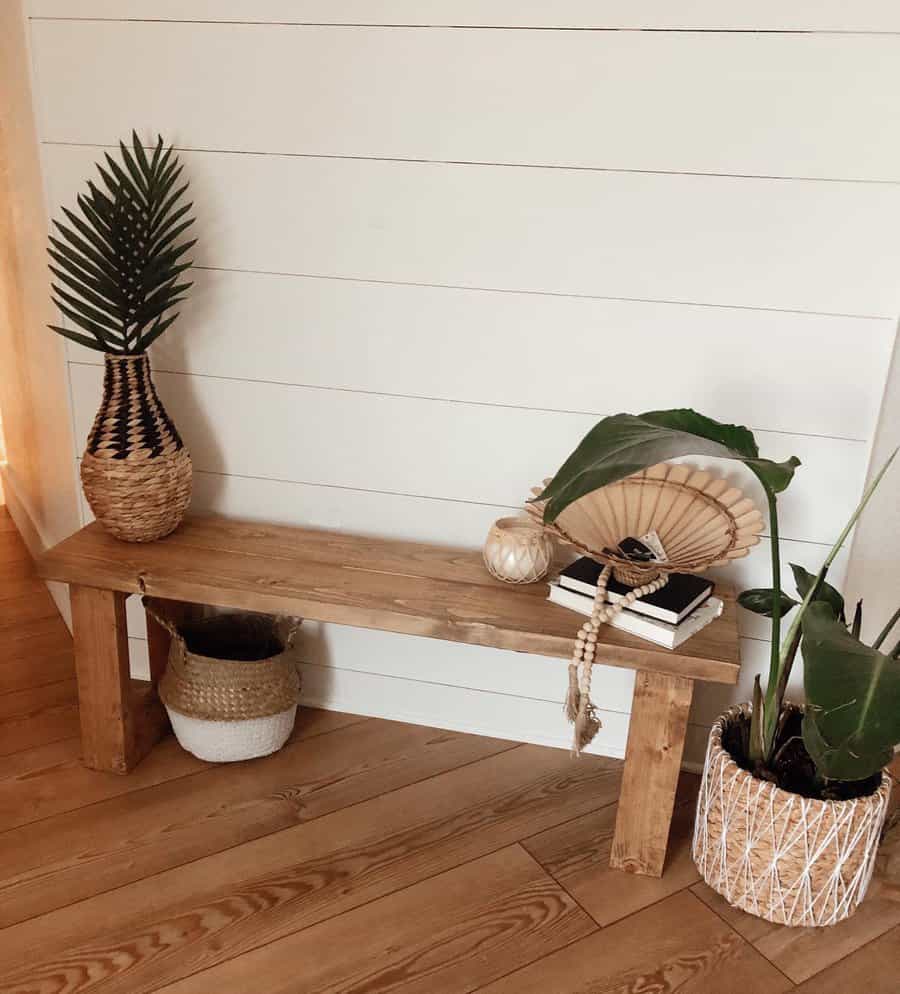 6. Double It As A Shoe Rack
One of the best entryway bench ideas for any size home is an entryway bench with a built-in shoe rack. Not only does this provide a seating area by the door, but it also keeps your shoes organized and off the floor. You can find a variety of options, either made out of metal or wooden materials that provide ample space and adequate storage.
To really add some creativity to your entryway bench idea, try to upcycle something you already have or look for stylish yet functional pieces like reclaimed wood benches with baskets attached beneath the seat.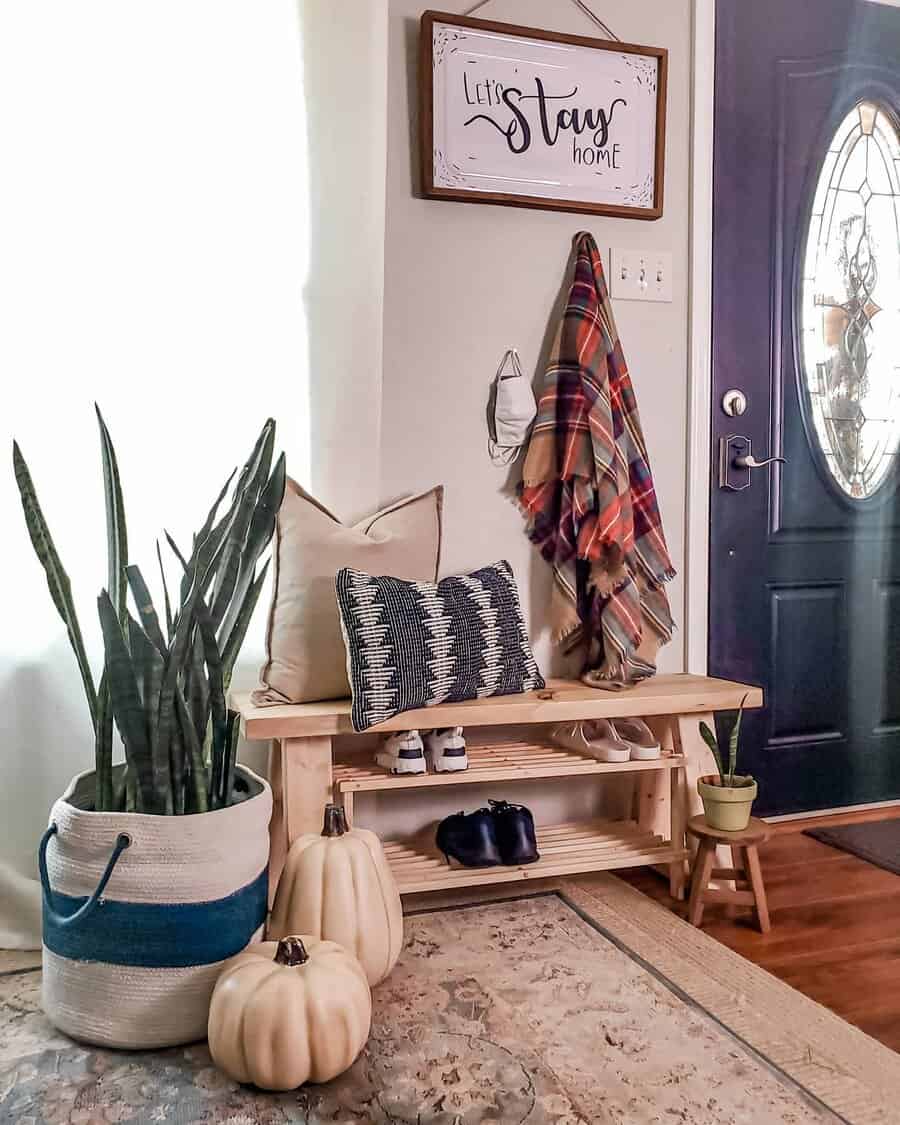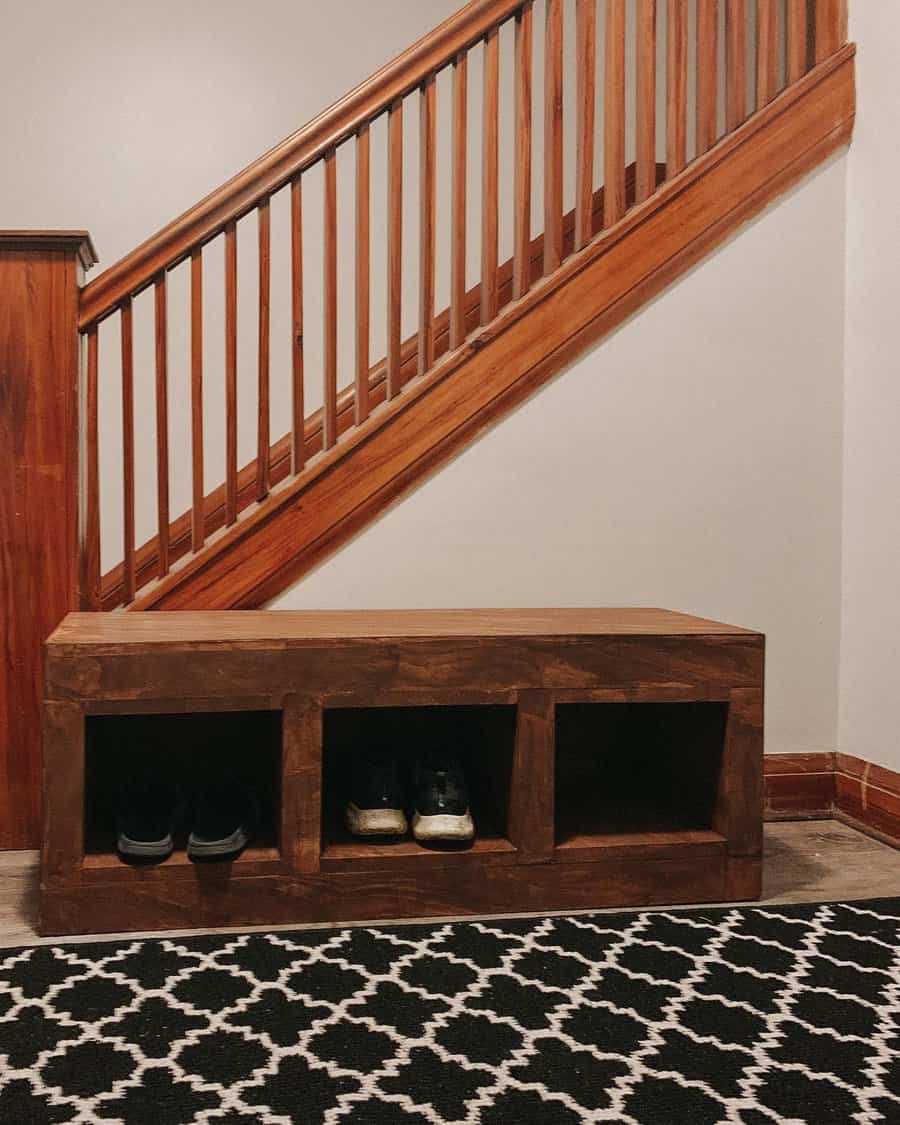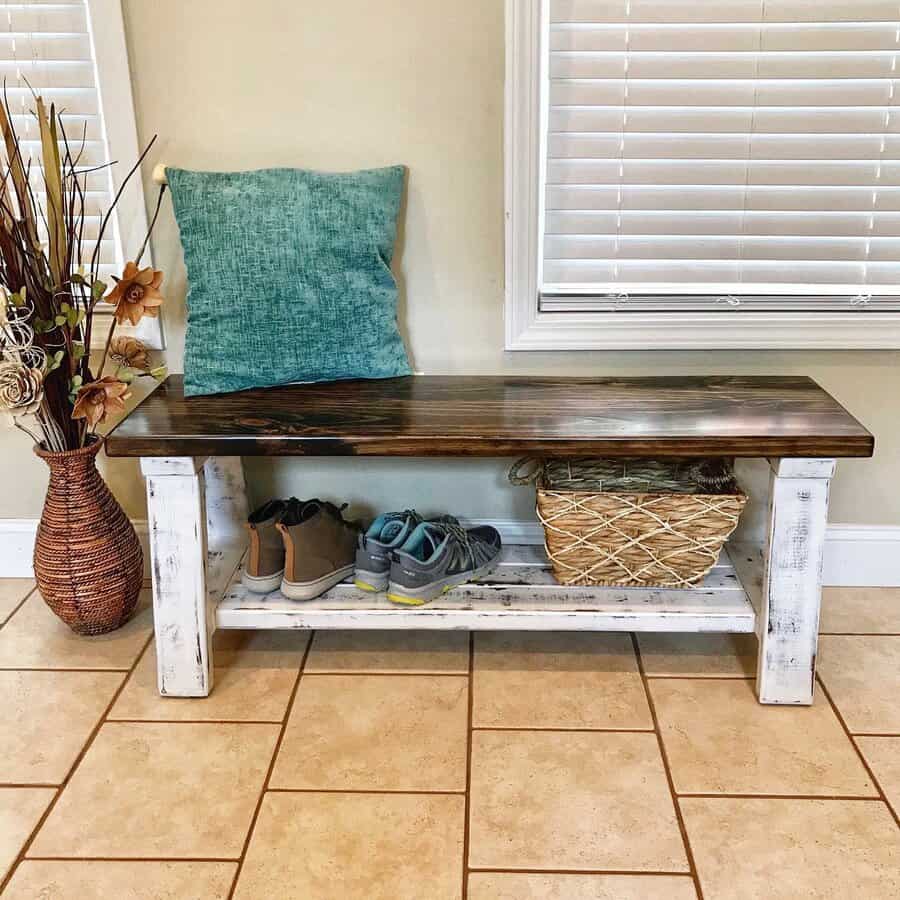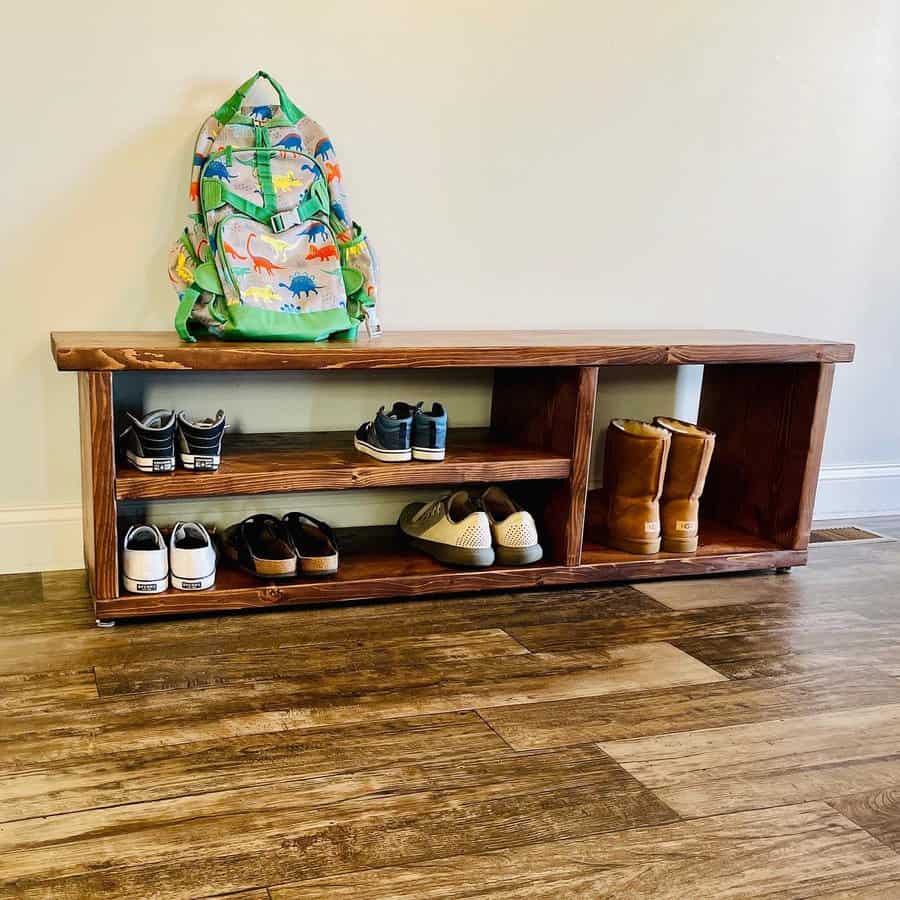 7. Wall-Mounted Bench
Are you looking for an easy and budget-friendly entryway bench idea? Consider a wall-mounted bench! Not only does it free up square footage in the entryway, but it also doubles as modern art. Install a contemporary rail underneath your feature wall along with wall hooks to hang coats and bags.
To complete the look, top the railing with wood or faux leather-upholstered bench – this creates a cozy seating area while making even the smallest entryways appear larger and more inviting.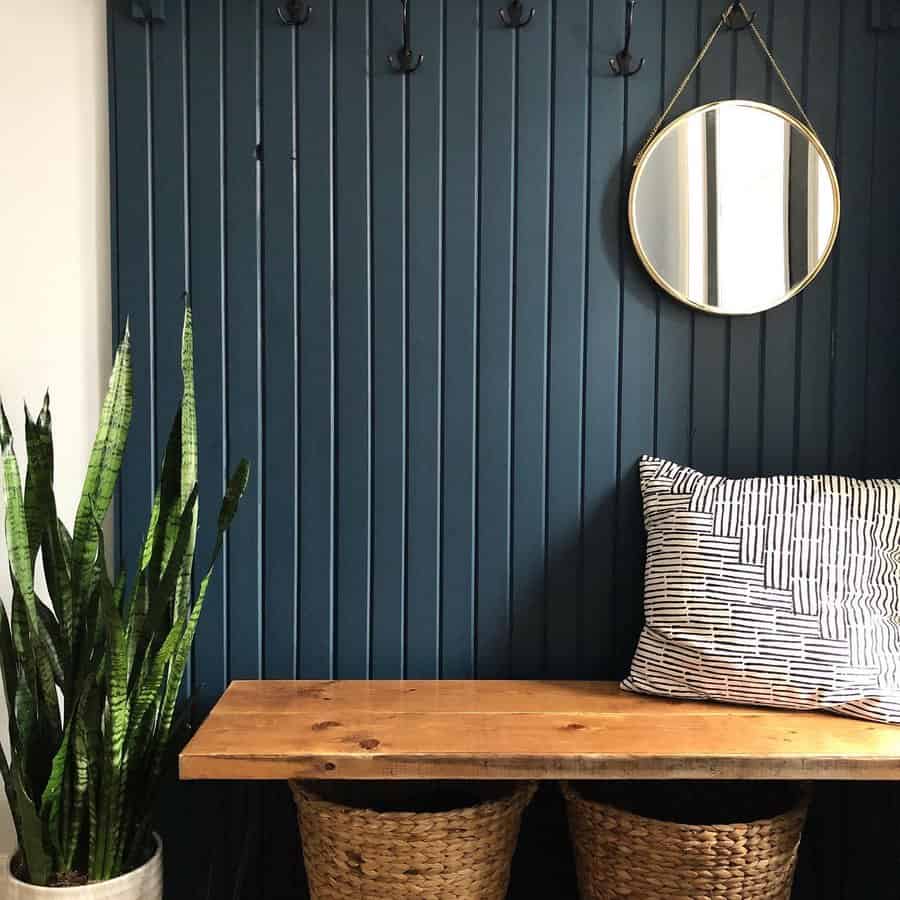 8. Install Under-The-Bench Storage
An entryway bench is a great way to liven up your entrance and create a welcoming vibe. To get the most out of your new furniture piece, consider getting an entryway bench with under-the-bench storage that can keep shoes and other items tidied away.
This is not only a practical item for keeping the mess at bay but can also be used as a decorative element with stylish trunks or baskets adding texture and interest. A coat rack above the bench looks classic and creates a perfect place to hang any extra layers while you come in from outside.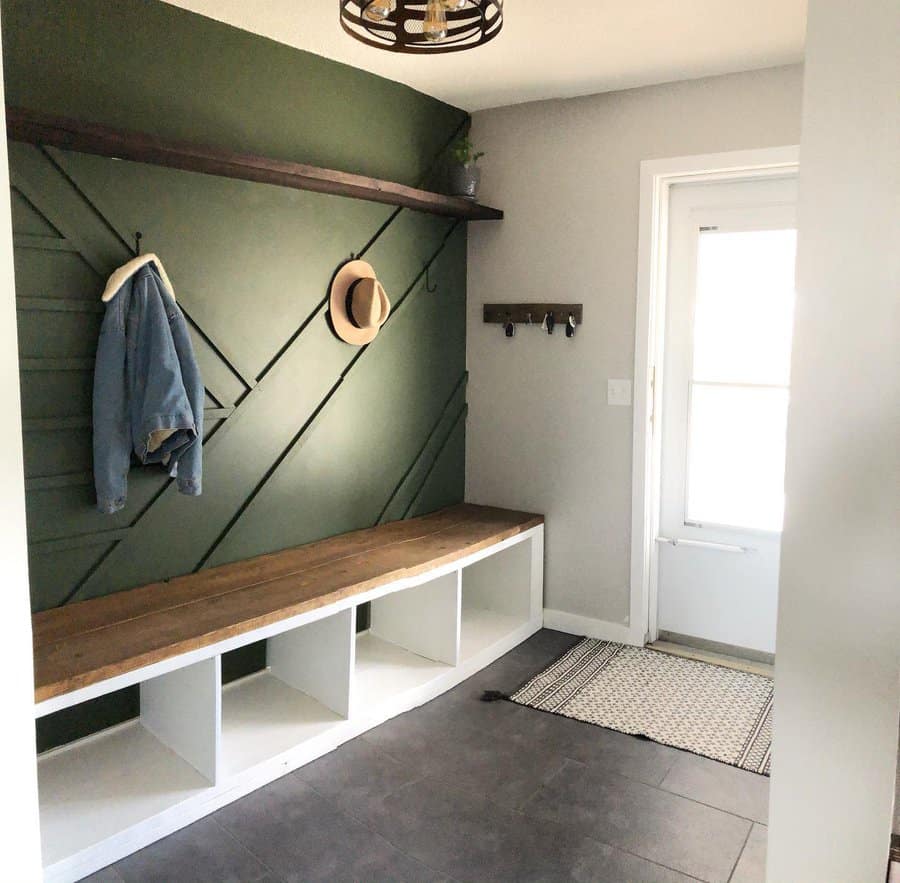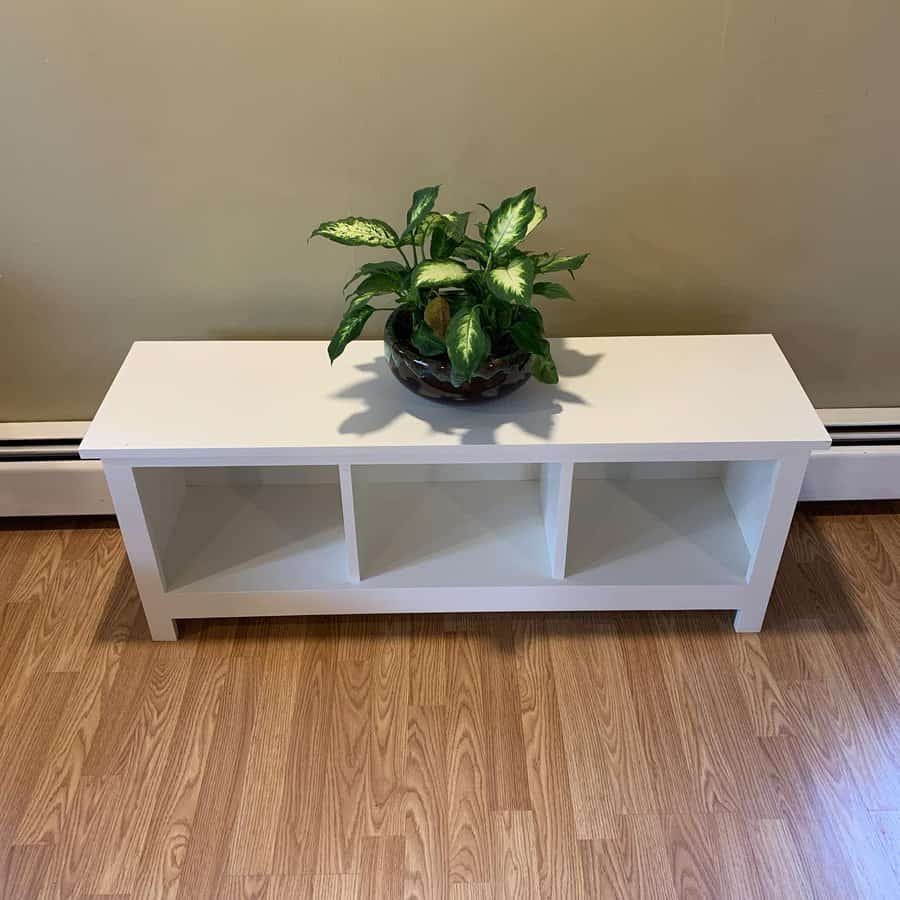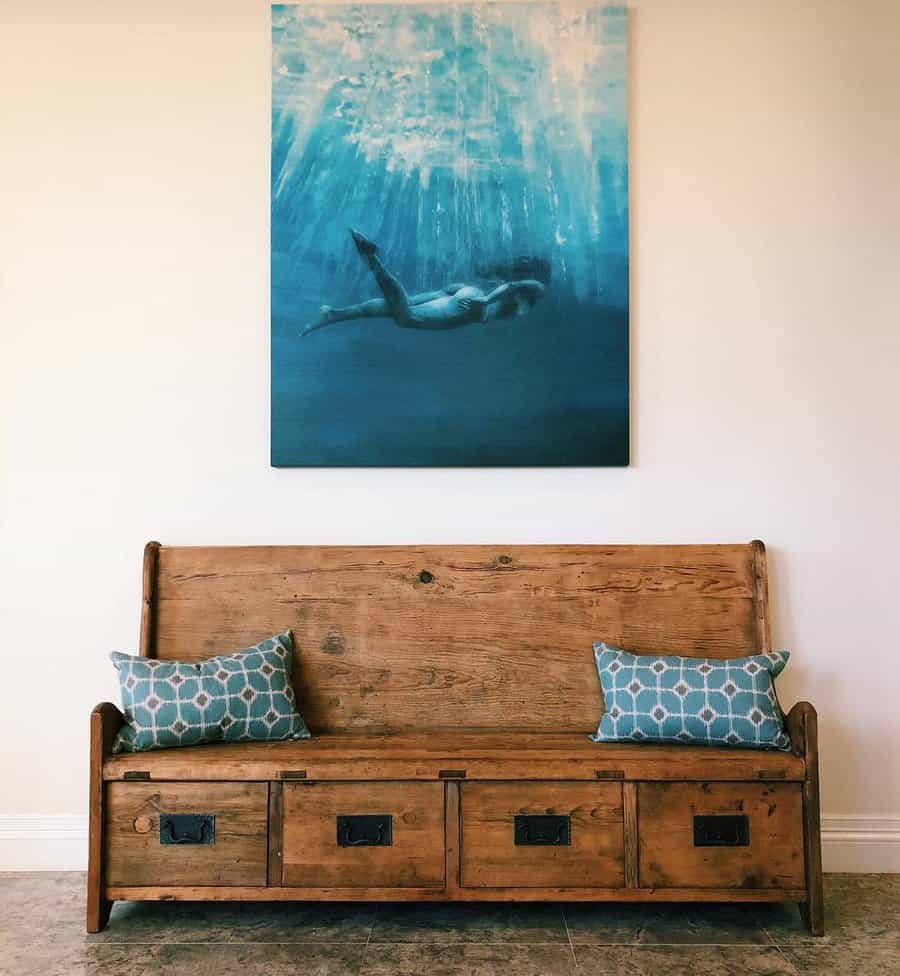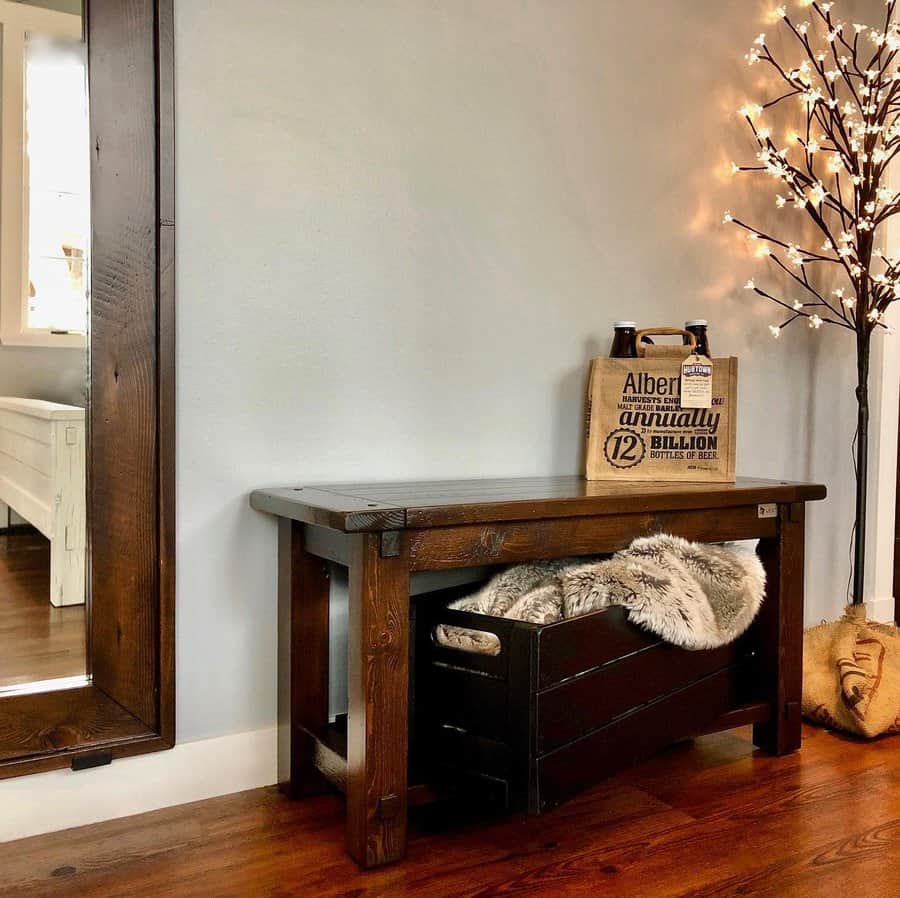 9. Recessed Mudroom Bench
For a versatile entryway bench that maximizes space, consider adding a recessed mudroom bench to your entryway. This unique design option allows you to utilize the walls and create multiple storage zones while also providing functional seating at the same time.
You could adorn the seating area with decorative pillows and blankets to create a cozy atmosphere in the entryway while also providing storage for items such as umbrellas, hats, and other accessories. Plus, you'll be able to take advantage of wall space on either side of the recessed bench by installing hooks or baskets for added convenience.
With this idea, you'll have everything organized and readily accessible as soon as you walk through the door!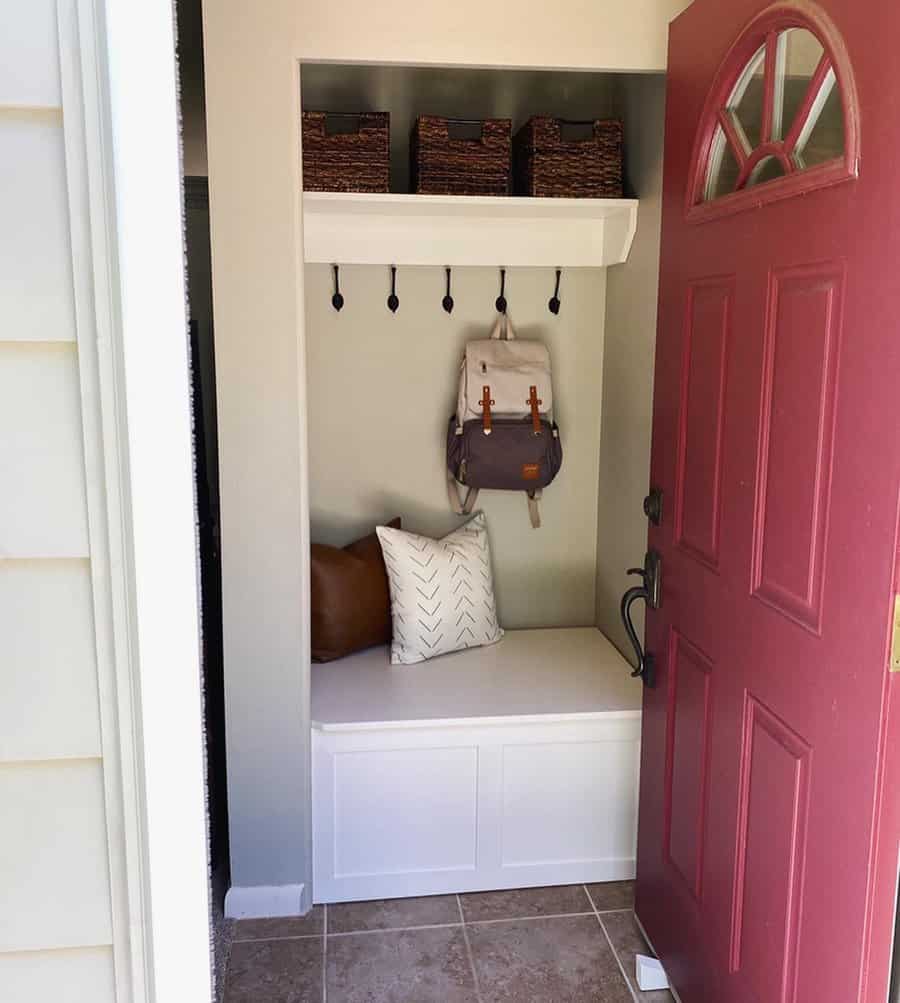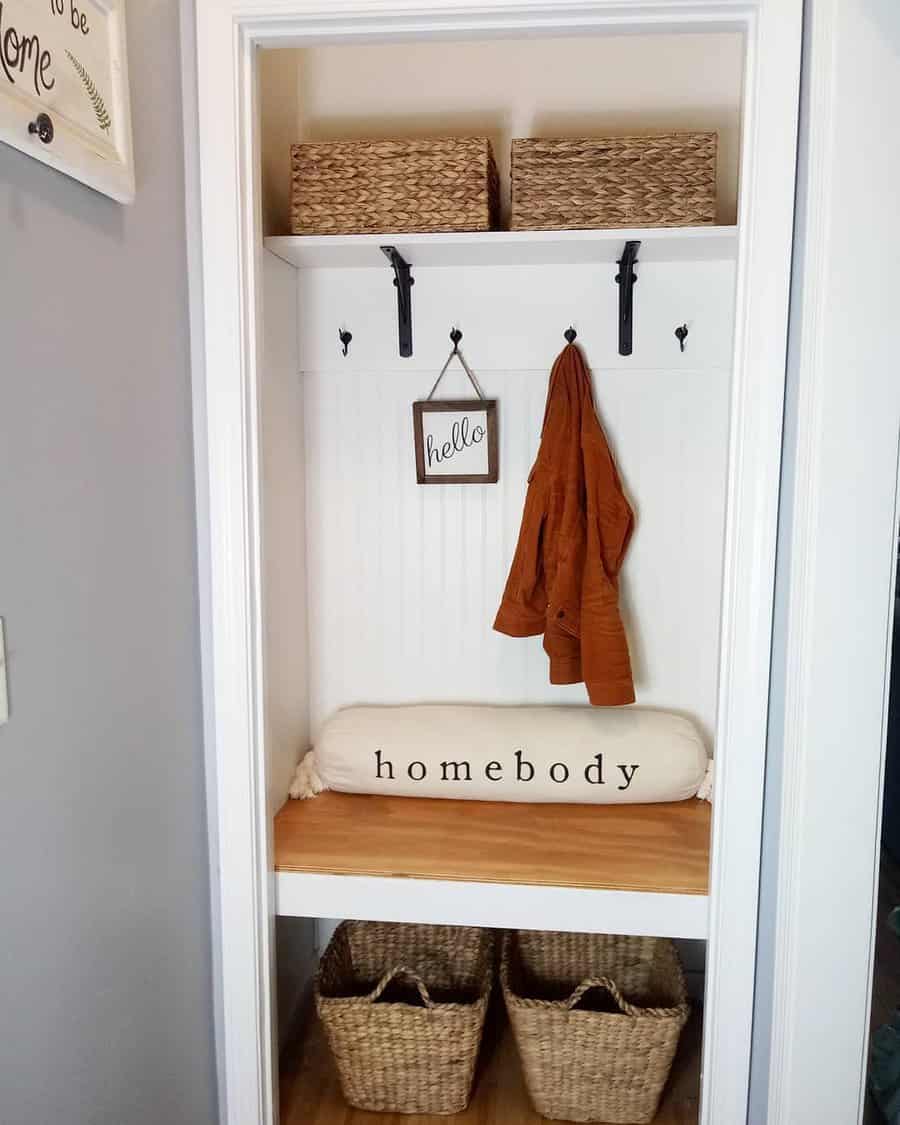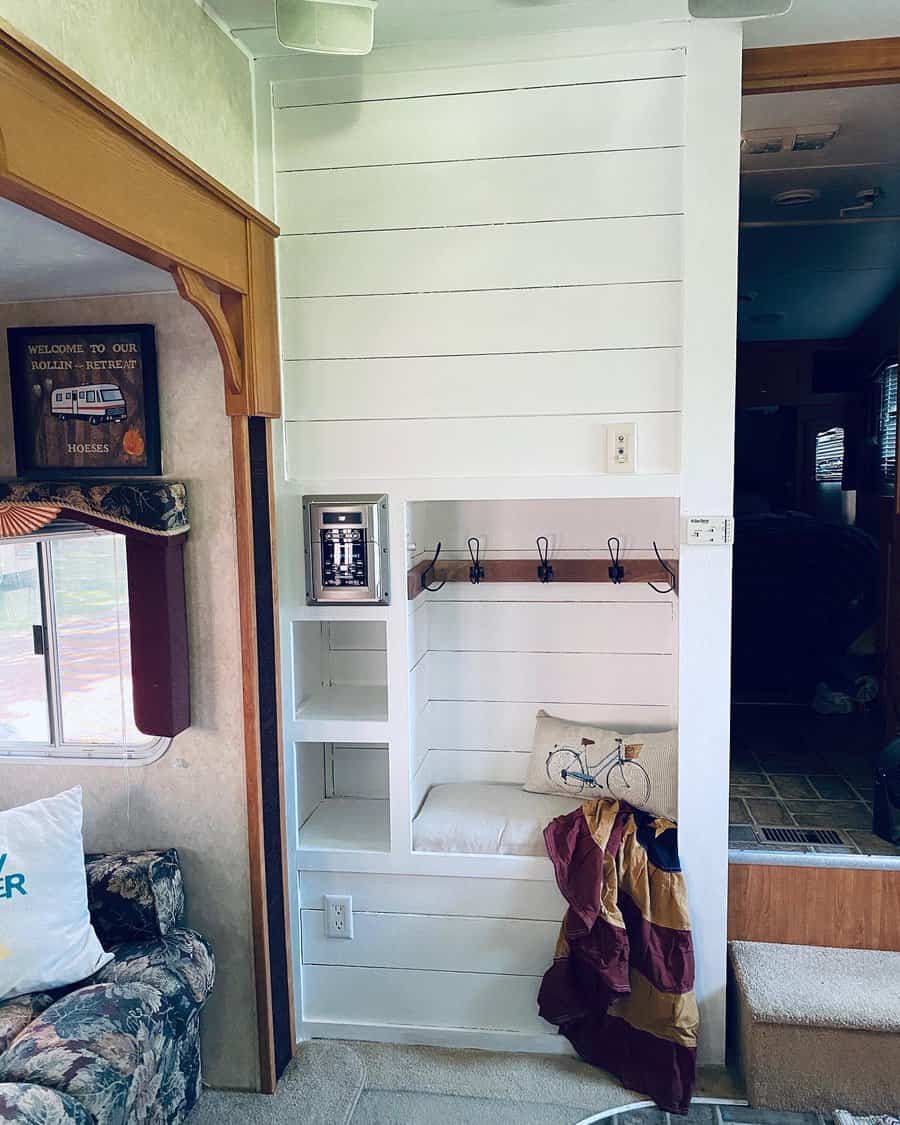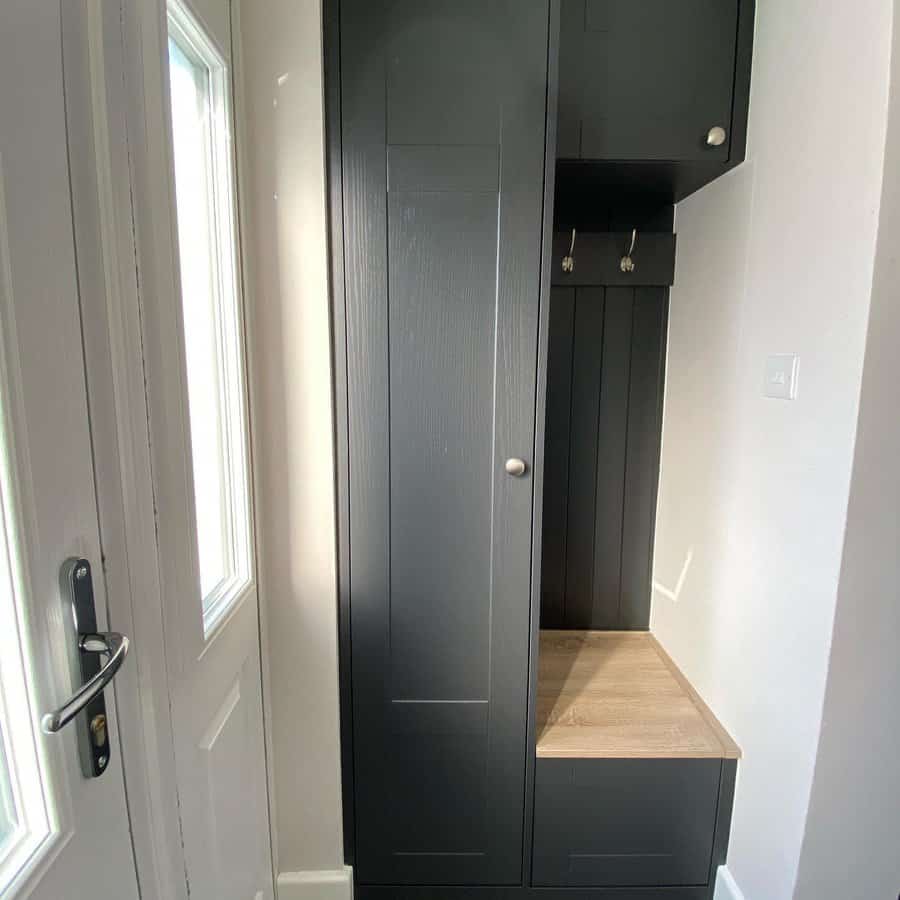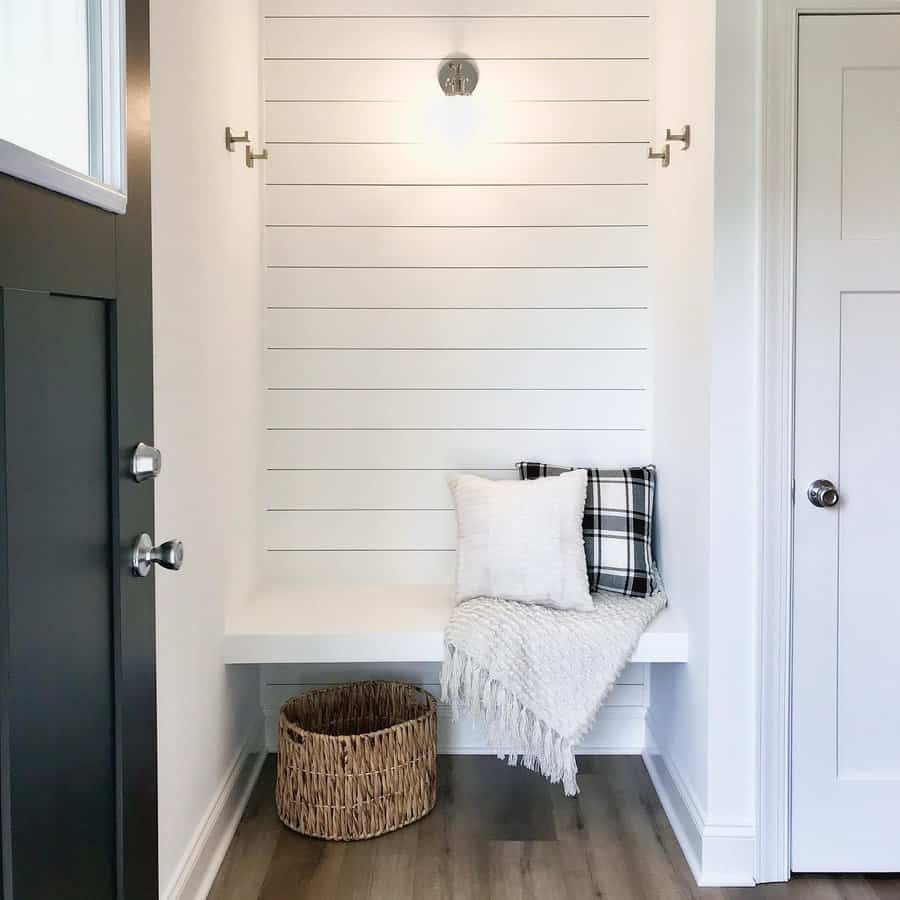 10. Bench With Backrest
Give your entryway the royal welcome it deserves with a wooden bench with a backrest. Whether you opt for a classic style that makes your entryway appear inviting and cozy, or select a more modern design to accentuate its style. Despite the type of bench you choose, make sure its materials are top of the line; real wood is always a great choice.
Not only will guarantee long-term durability but can also instantly elevate your home's overall aesthetic. An entryway bench with a backrest is an excellent addition to any home–the perfect solution for those seeking extra seating and storage in one beautiful package.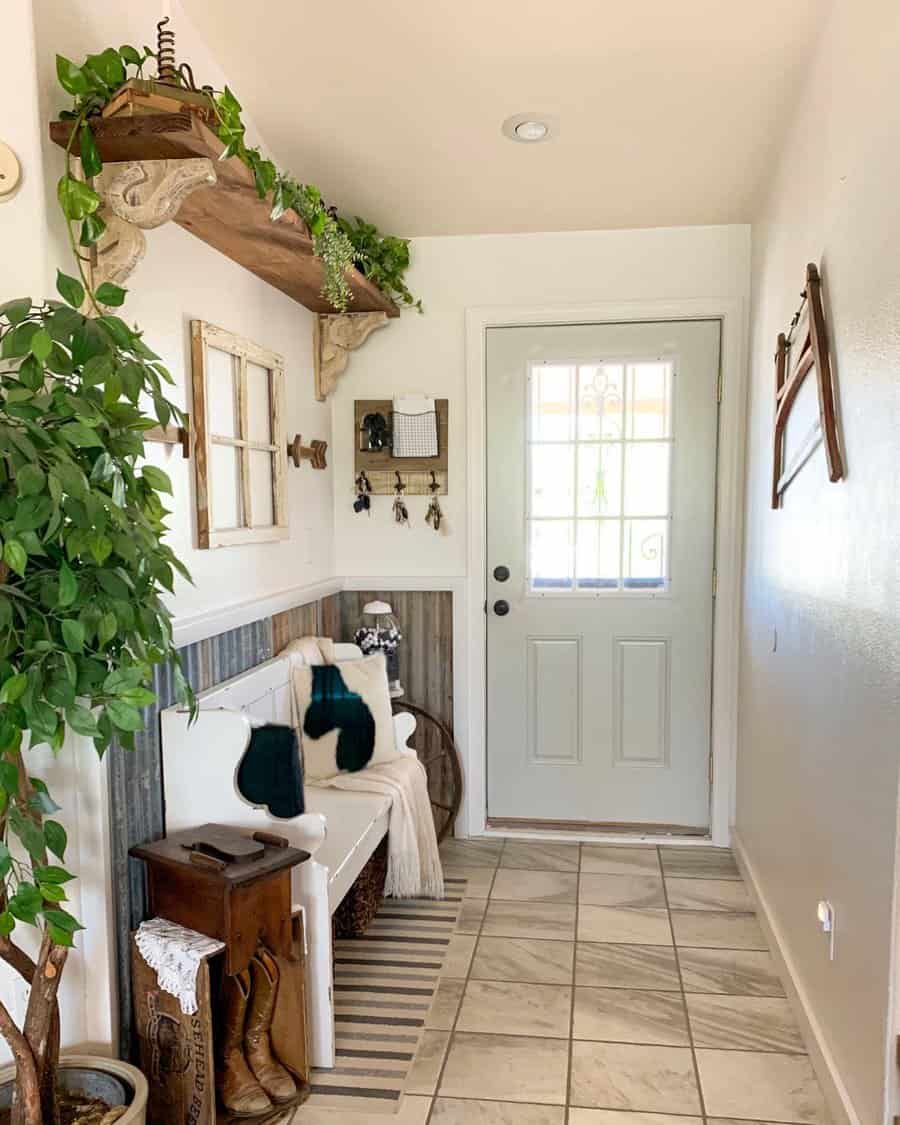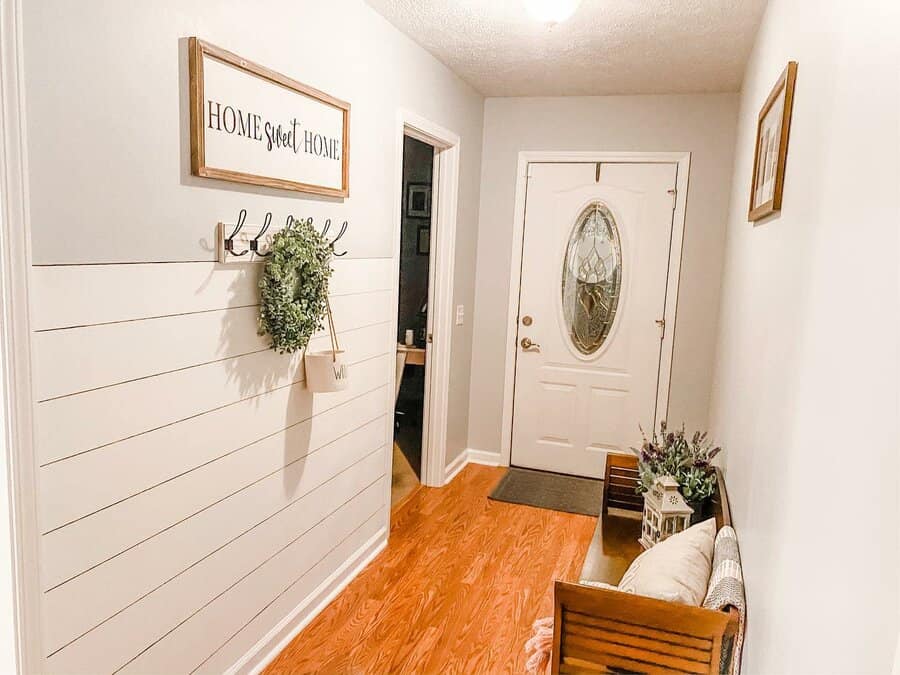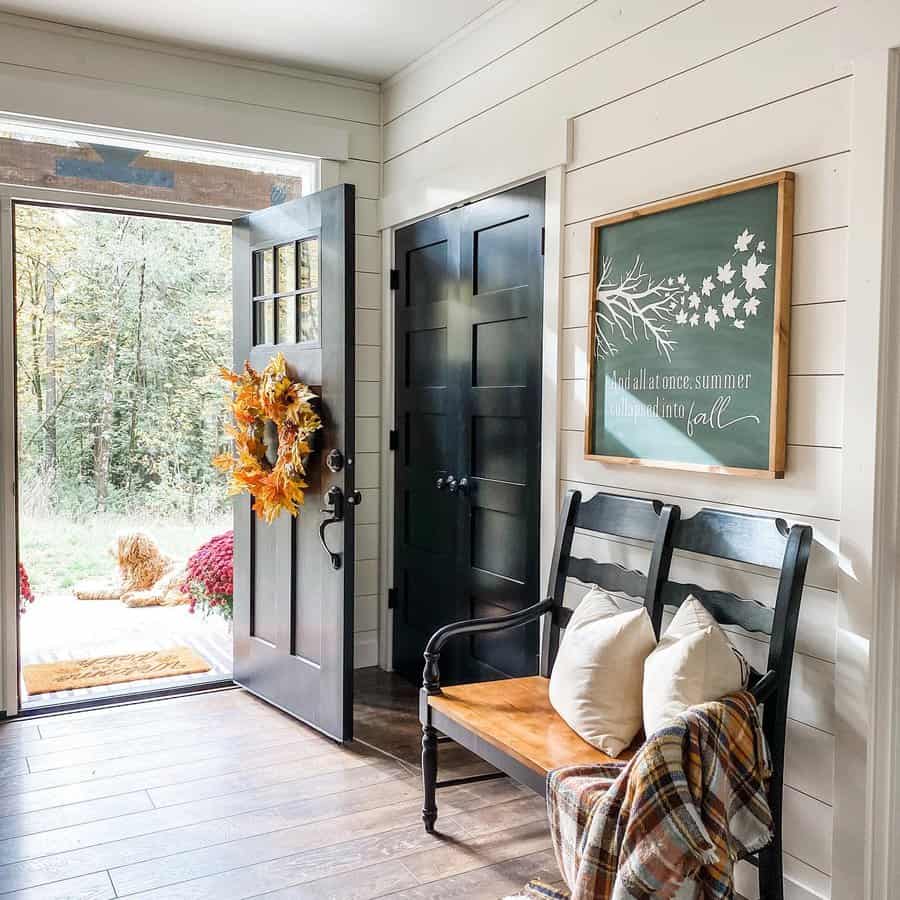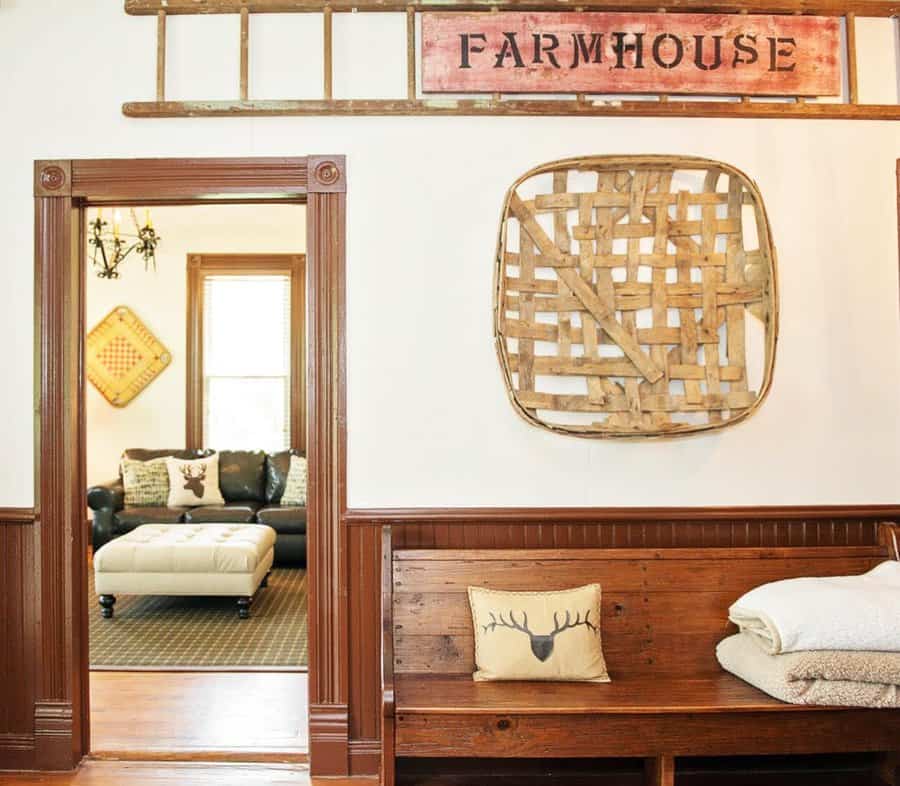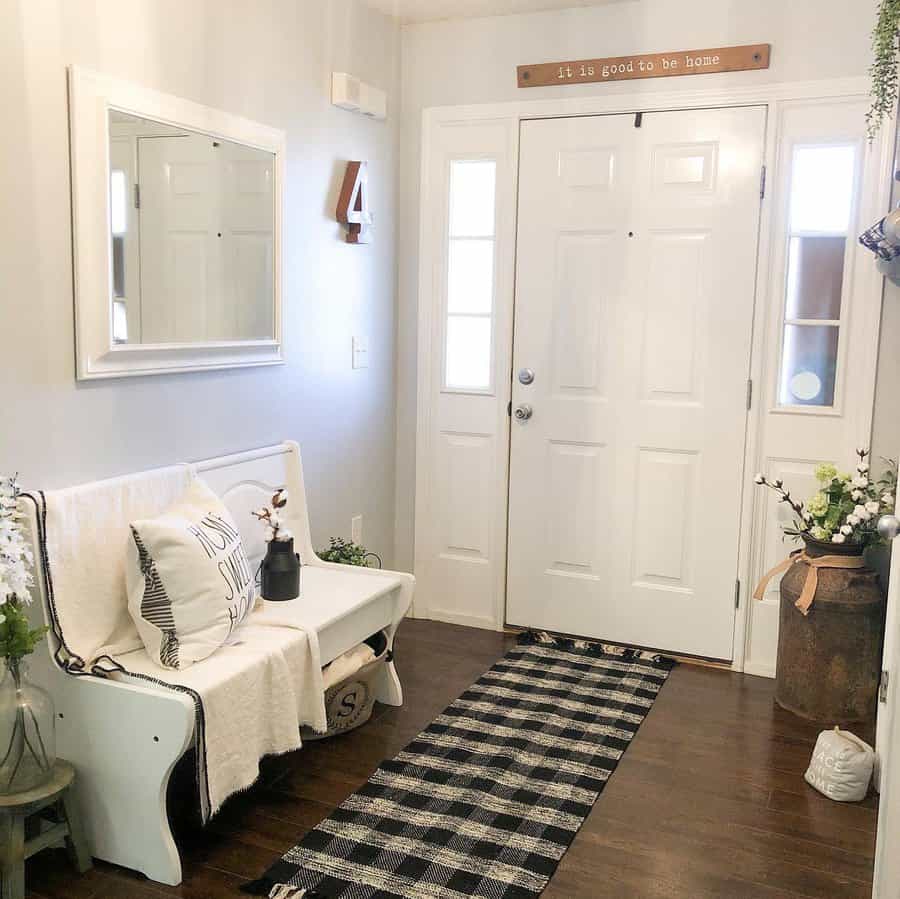 11. Add Upholstery
For a touch of luxury in your entryway, opt for an upholstered bench. A good quality velvet is perfect for providing a soft seating experience and can be versatile enough to transition from more formal occasions to everyday life. Depending upon the space you have available, an upholstered entryway bench with higher arms or low cushioning at the back can add sophistication to the décor.
Alternatively, you could use multiple benches of varying sizes and colors to create a statement piece that will be sure to be noticed. With many choices available, there's sure to be an entryway bench idea that will ensure a polished first impression!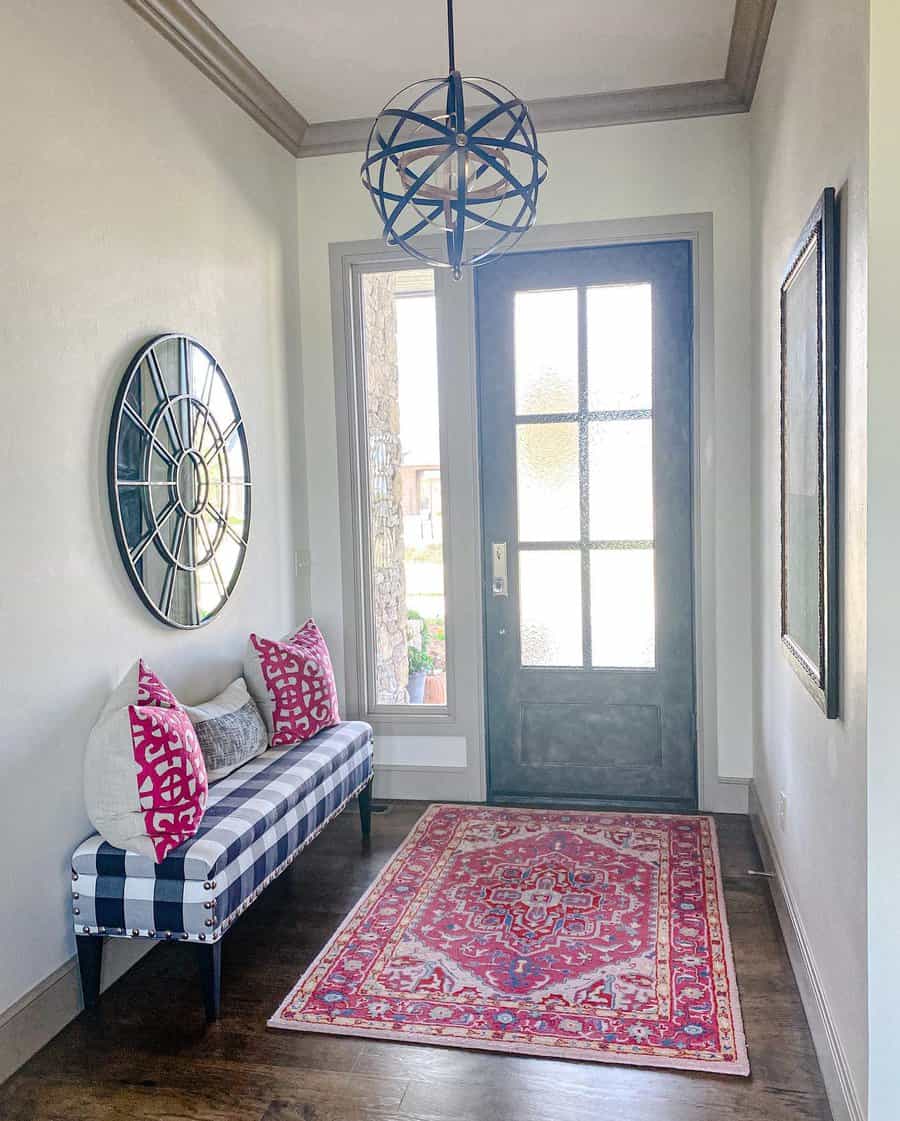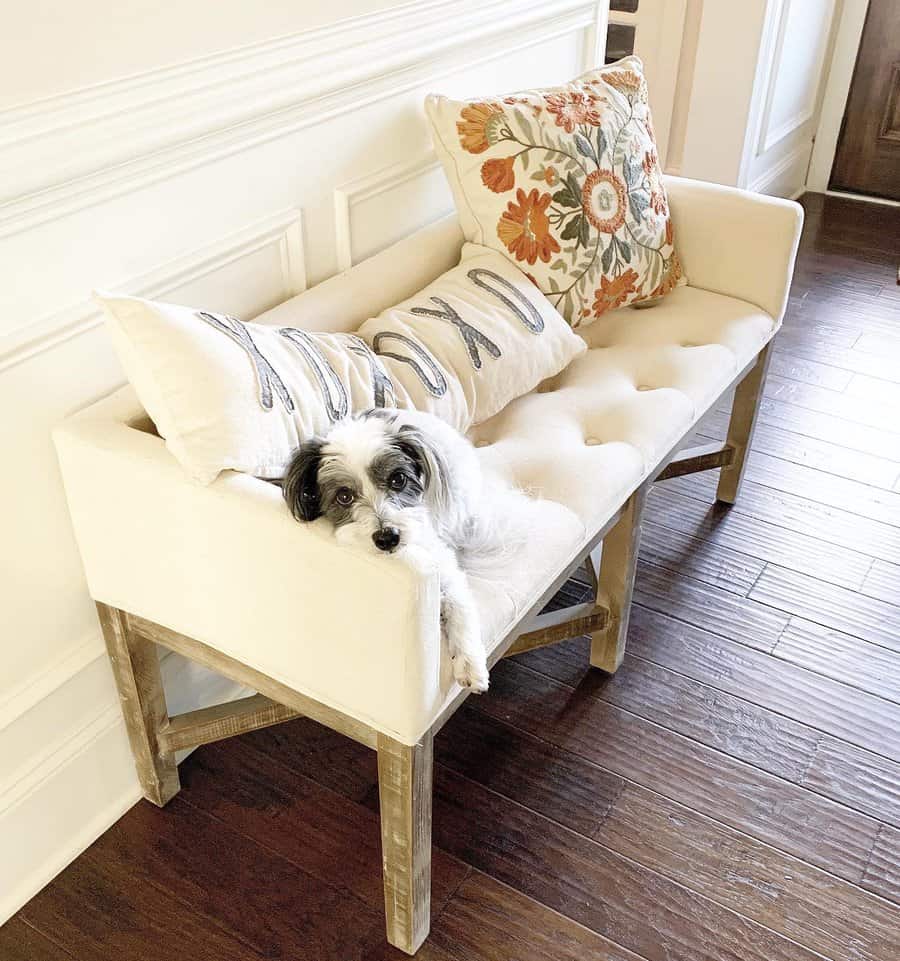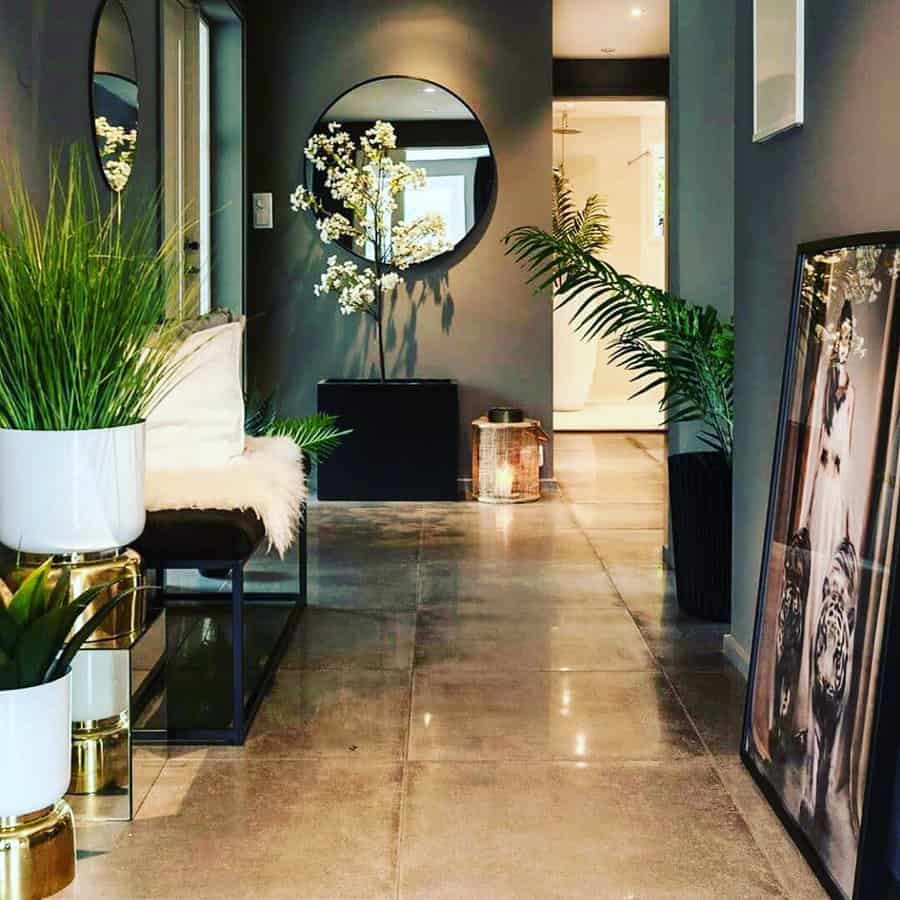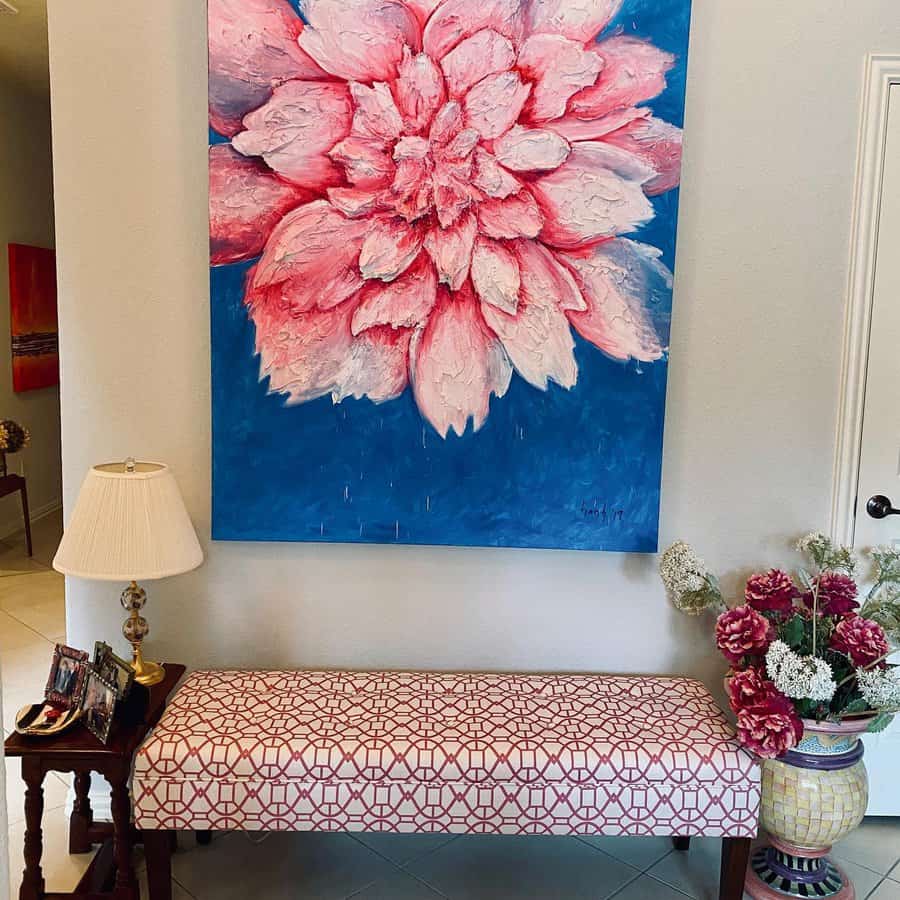 12. Jazz Up With Seasonal Decor
Try to think of your entryway as an opportunity to showcase furniture that works with seasonal décor. Invest in an entryway bench that has hidden storage space and can easily accumulate life's necessities like extra shoes and winter accessories.
Look for benches with cushions or built-in backs that come with the option to add throw pillows and other decorative accents. When it comes to long-lasting style, choose lightweight fittings and materials that are both durable and designed to stand out among the rest.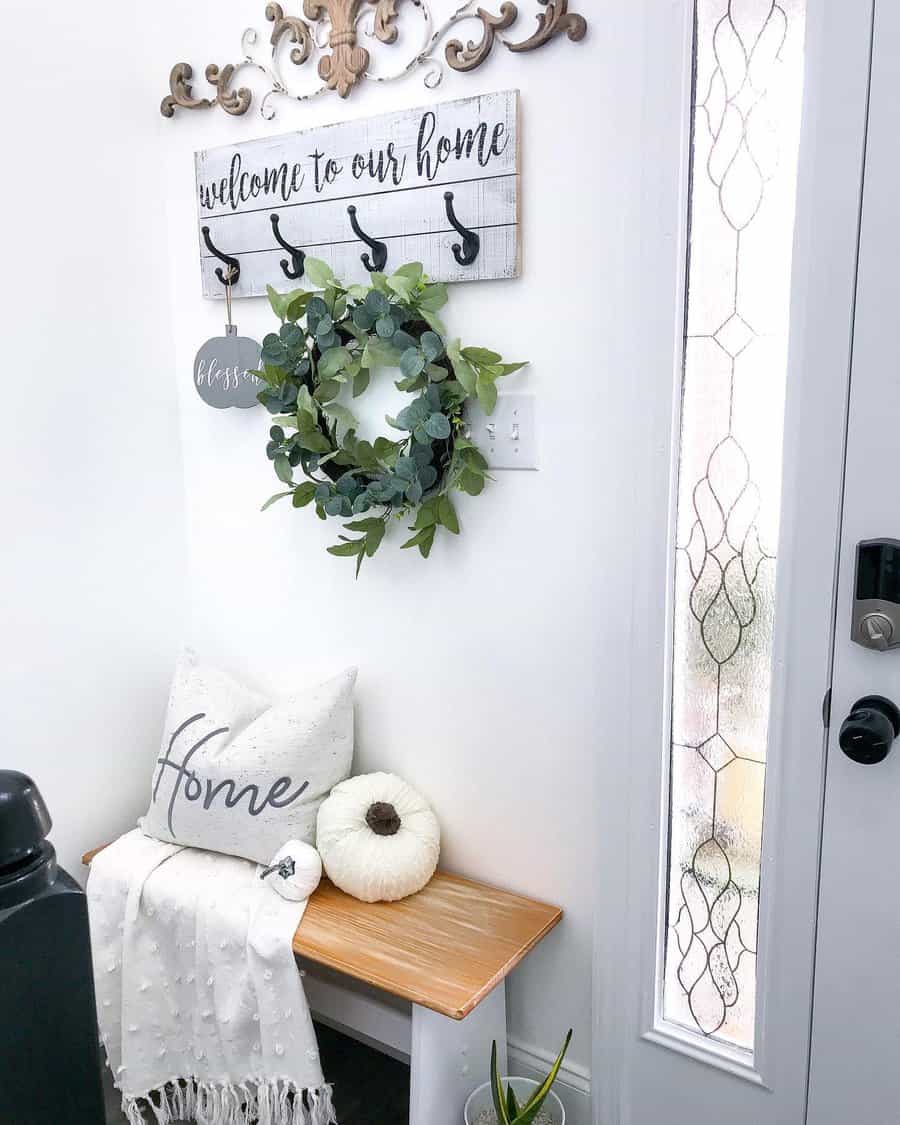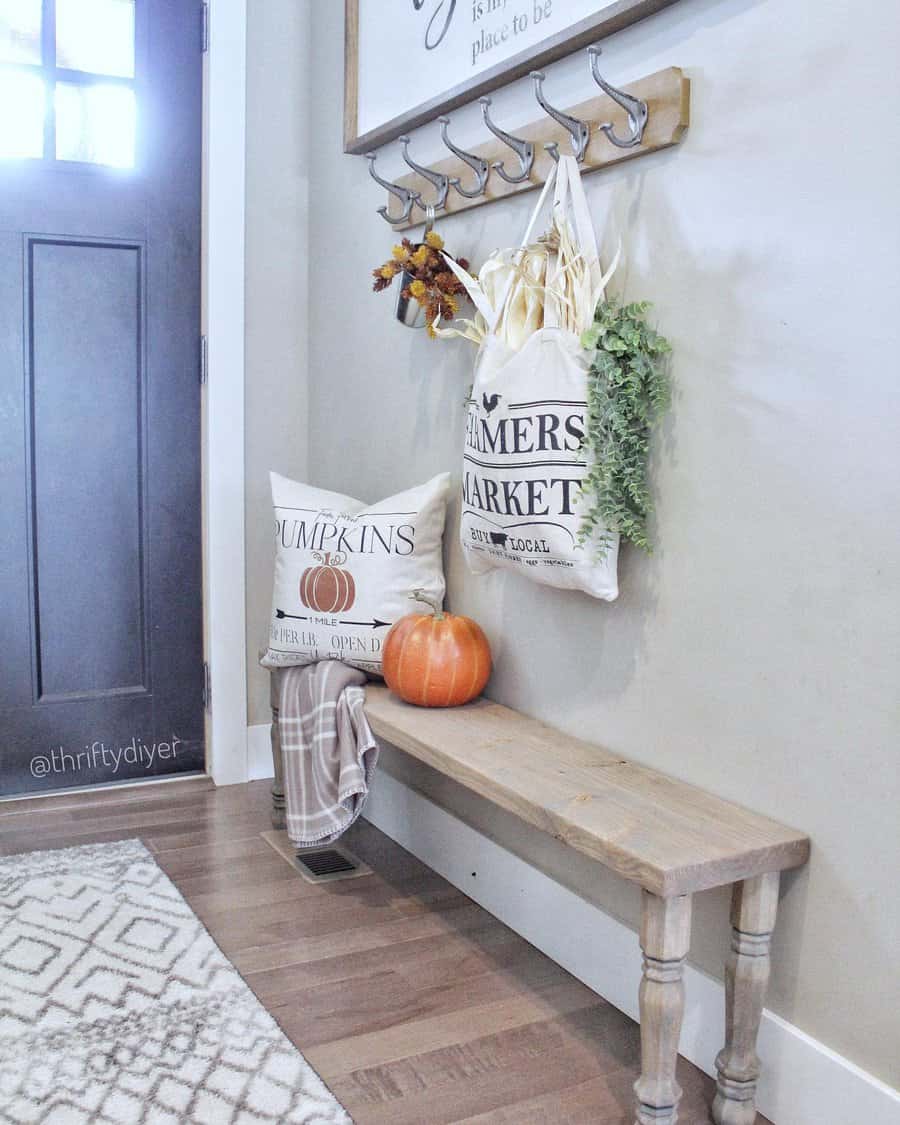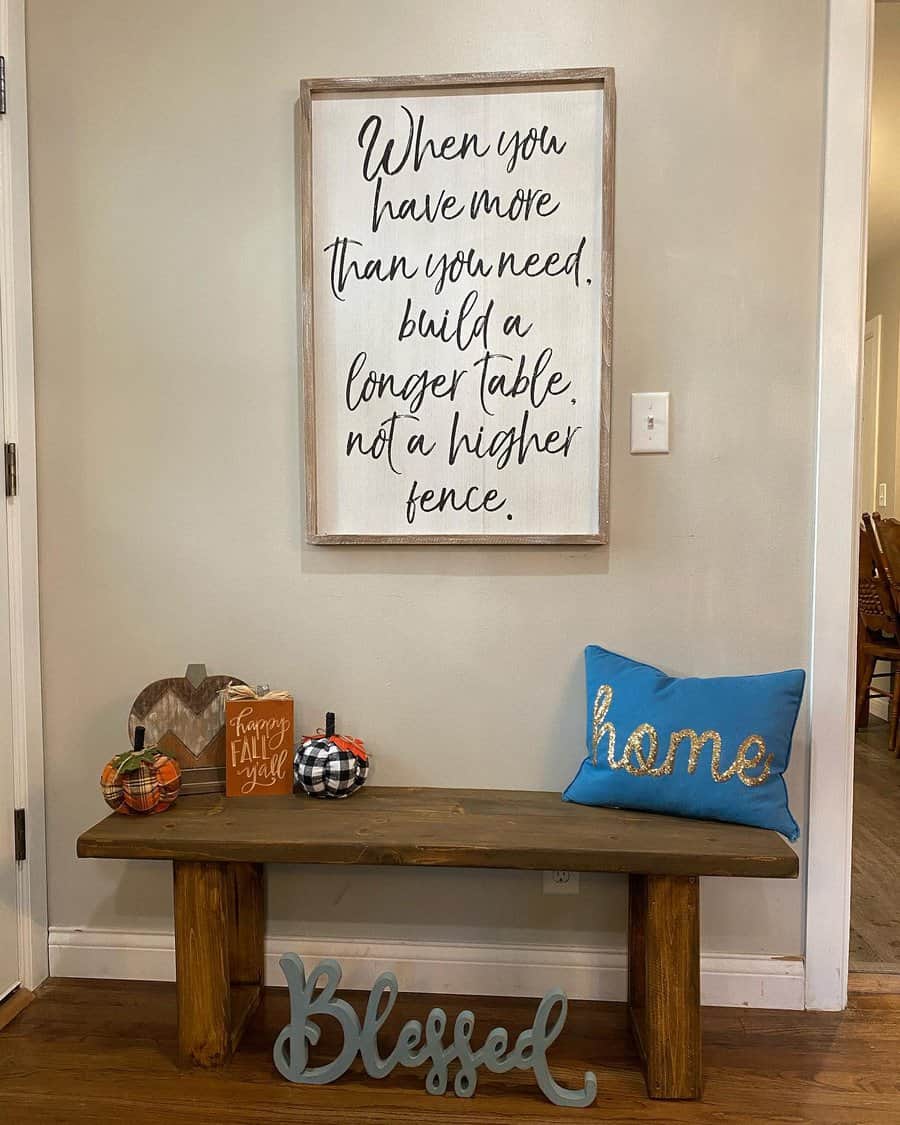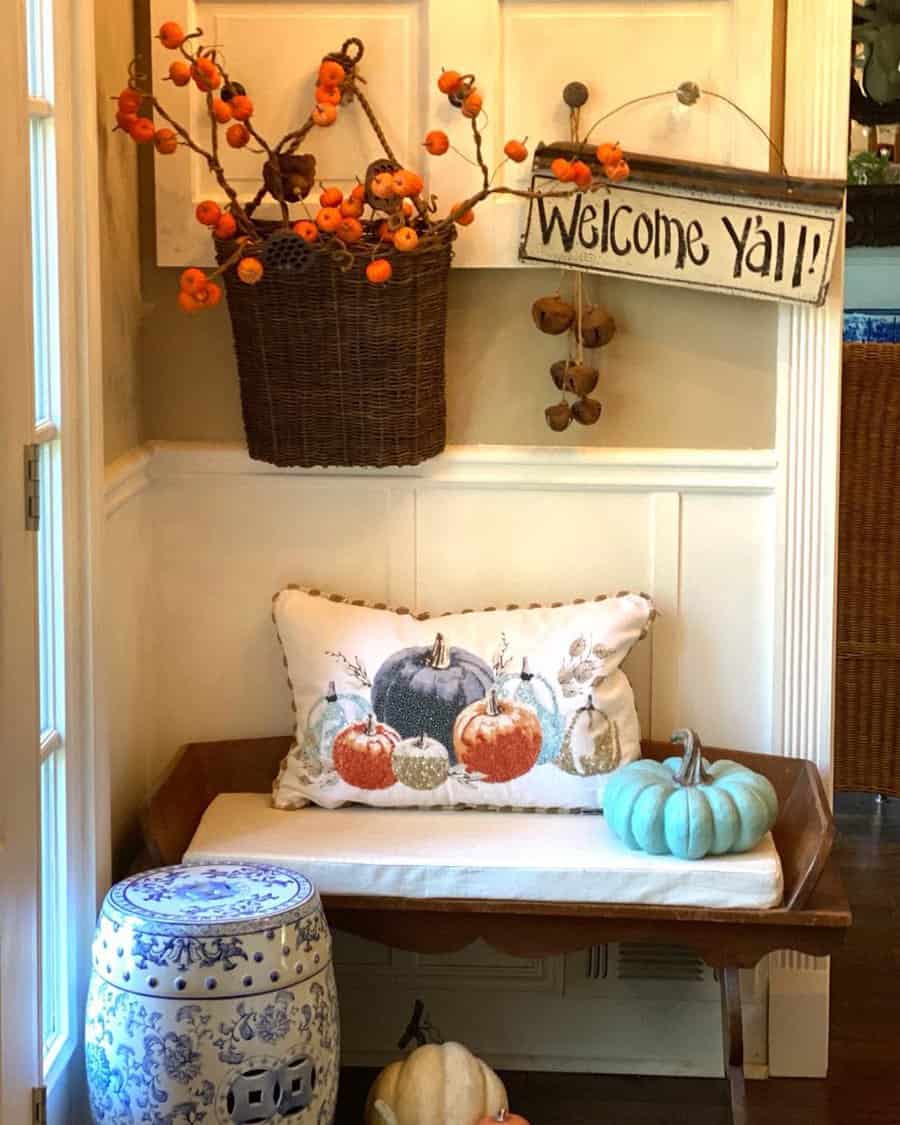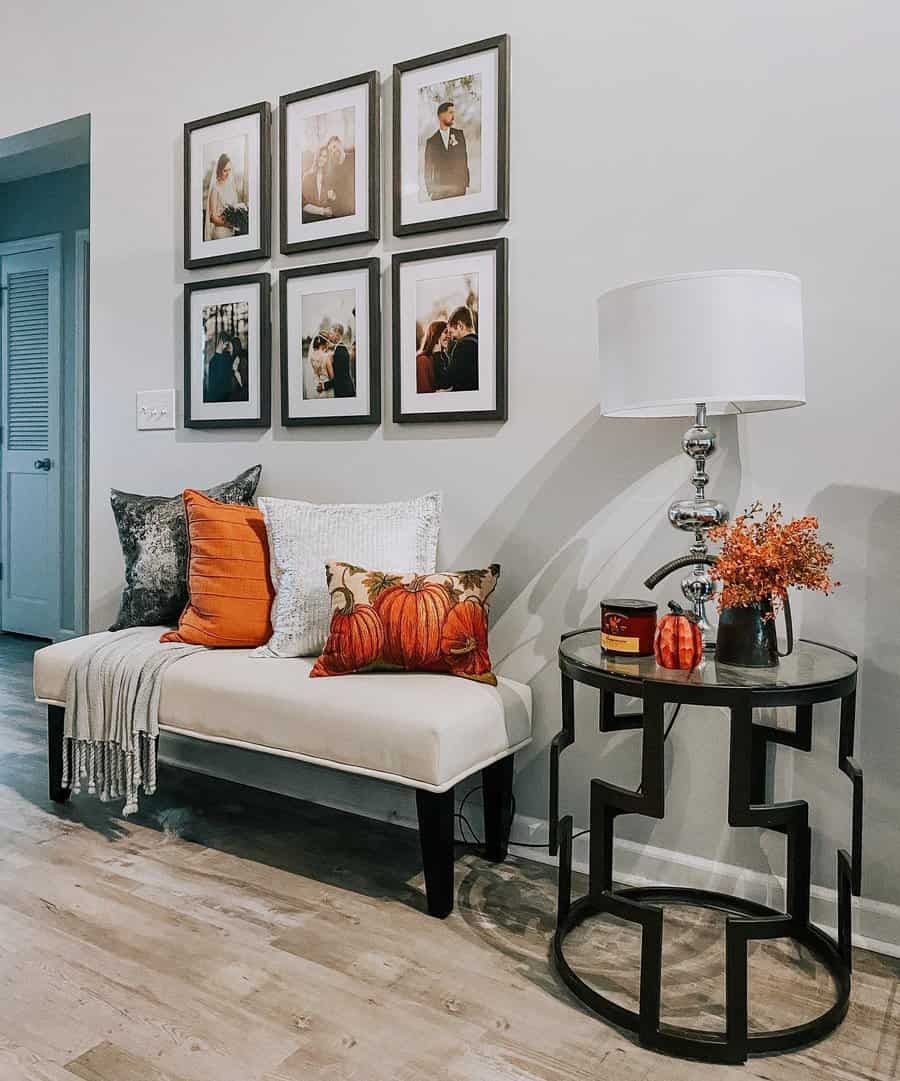 13. Small Cleopatra Bench
If you're looking for show-stopping entryway bench ideas, the Cleopatra entryway bench certainly does the trick. This gorgeous mid-century modern piece offers a luxurious, yet simple take on traditional designs, with its organic wood frame and velvety upholstery. Its splayed legs let you display your favorite accent pieces below, while its slender back adds both visual interest and extra seating space.
Not to mention it's stylish enough to work in any contemporary space, from traditional farmhouse to urban loft. Whether you're going for a bold style statement or a simple conversation starter — this entryway bench is sure to hit the mark!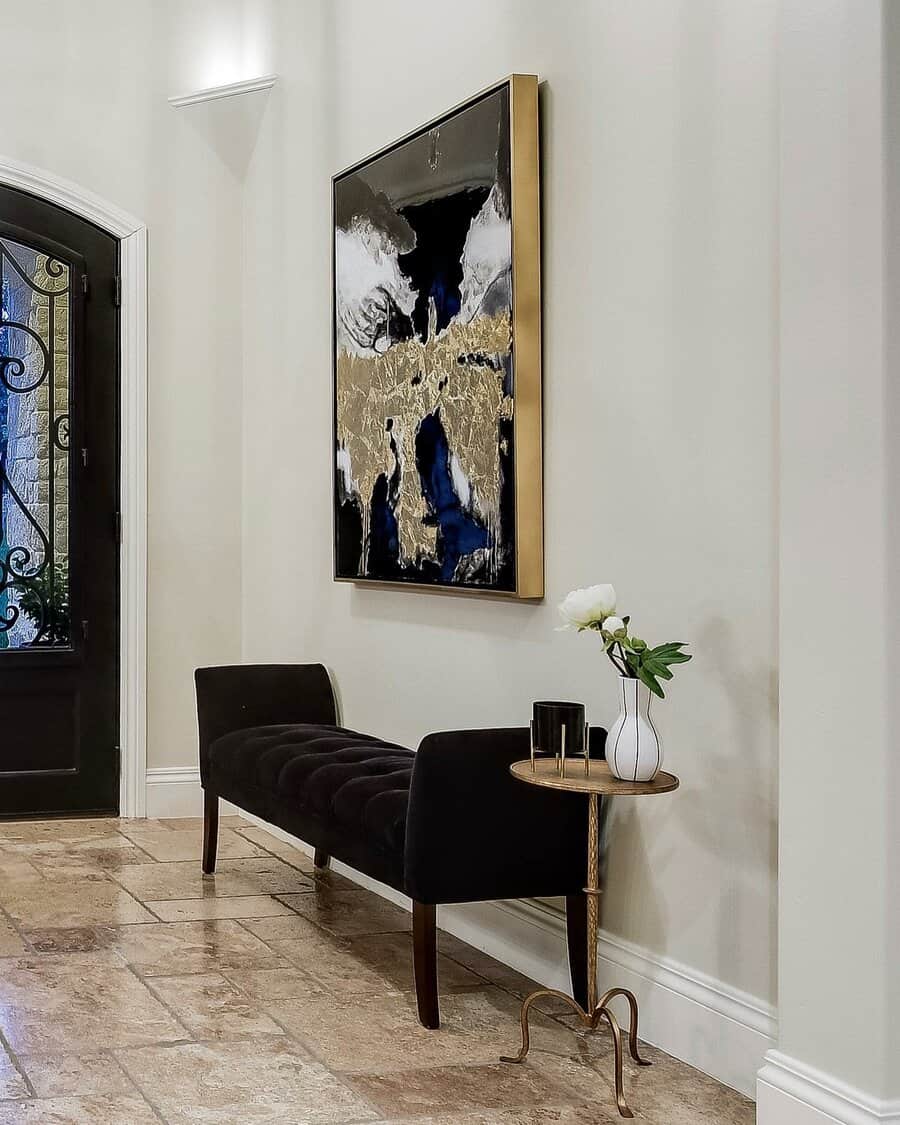 14. Standalone Bench
One great way to add function and style to your entryway is with a standalone entryway bench! Whether you prefer a simple and understated design, or you'd like something eye-catching with bold colors, an entryway bench can be a great way to bring charm and practicality to the area. If space is limited, consider a movable bench that can easily fit in any corner.
You can also use the movable bench for other areas of your house when needed; it's truly a multi-purpose item that will look beautiful in any home.
Whatever kind of entryway bench you choose, always make sure it meets all your needs — whether you need extra seating for guests or for yourself, there is no shortage of fantastic ideas when it comes to sprucing up your entryway.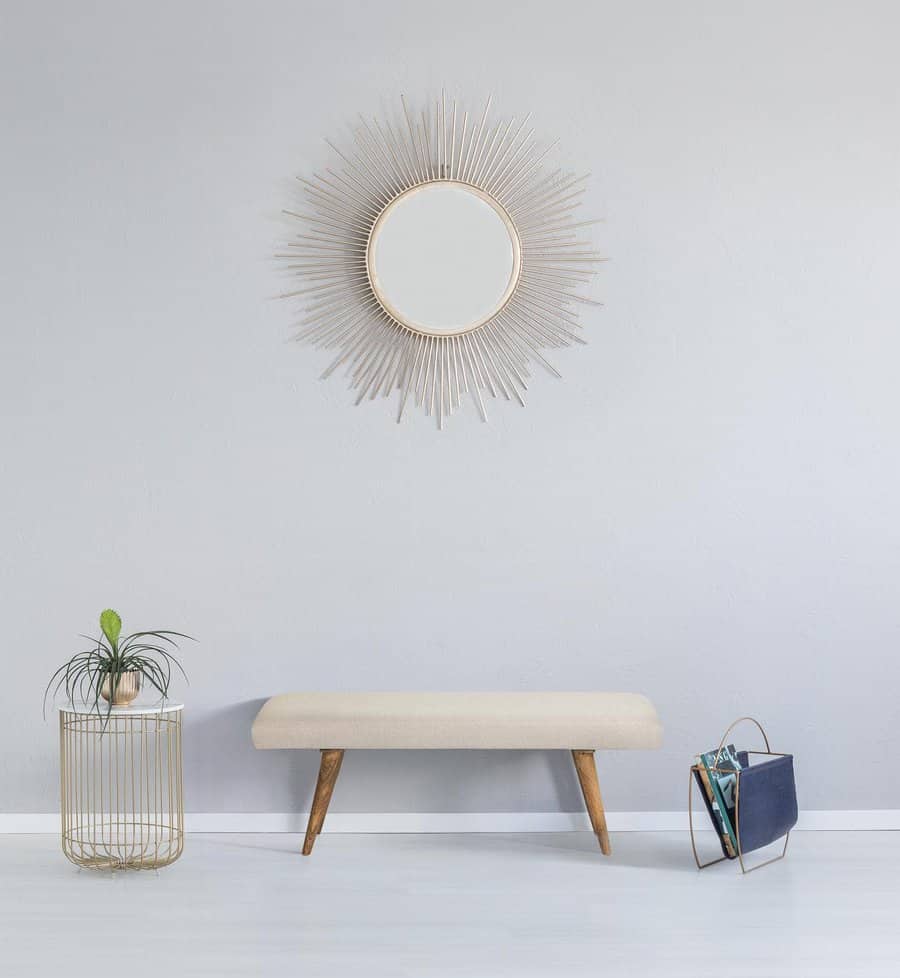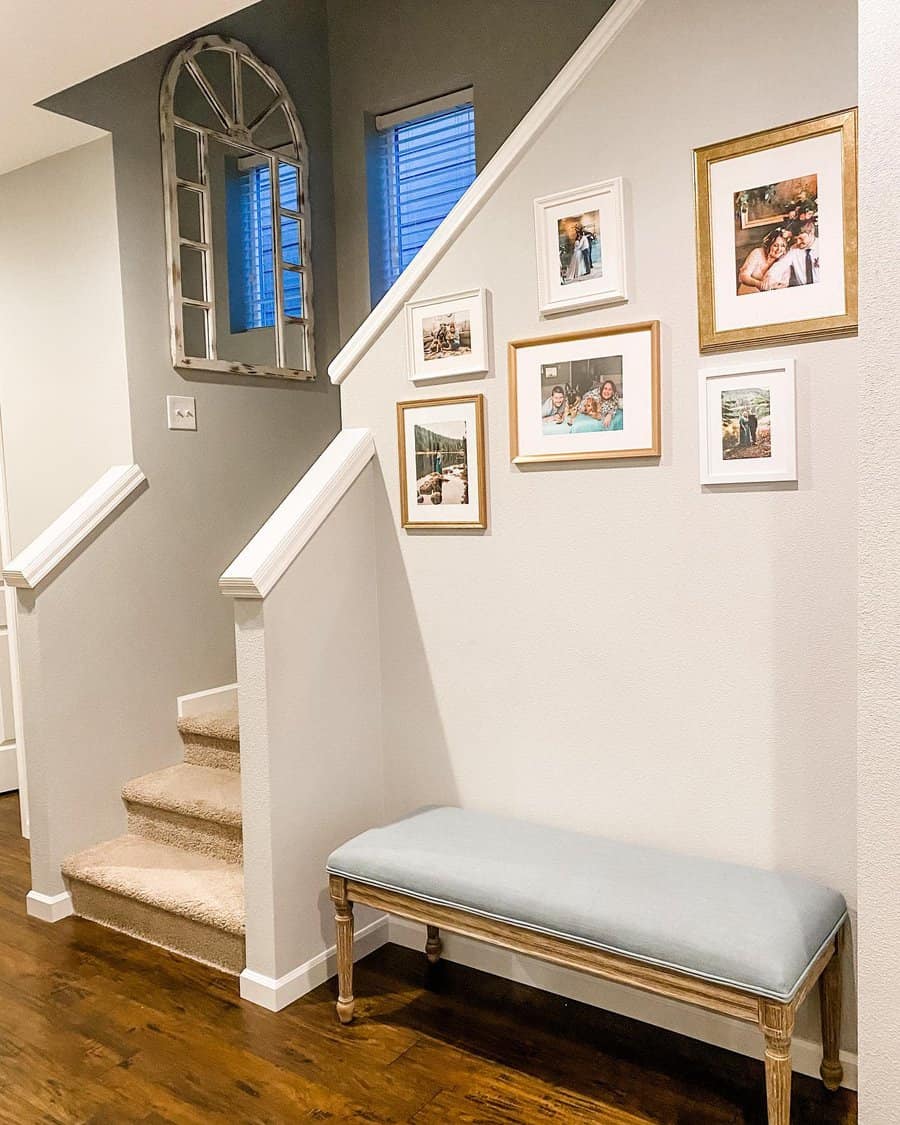 15. Woven Bench
For a cozy, rustic-chic feel in your entryway, consider a woven bench. This creative way to store your belongings while maintaining a neat and inviting foyer will bring a new character to your home.
Choose an array of wicker or wood benches with plenty of storage space for shoes and bag organizers, as well as add some optional seat cushions and pillows to provide guests with a comfortable reprieve while taking off their coats or on the way in or out of your home.
With minimal effort, you can create the perfect entrance to set the tone for all visitors to experience upon entering your home.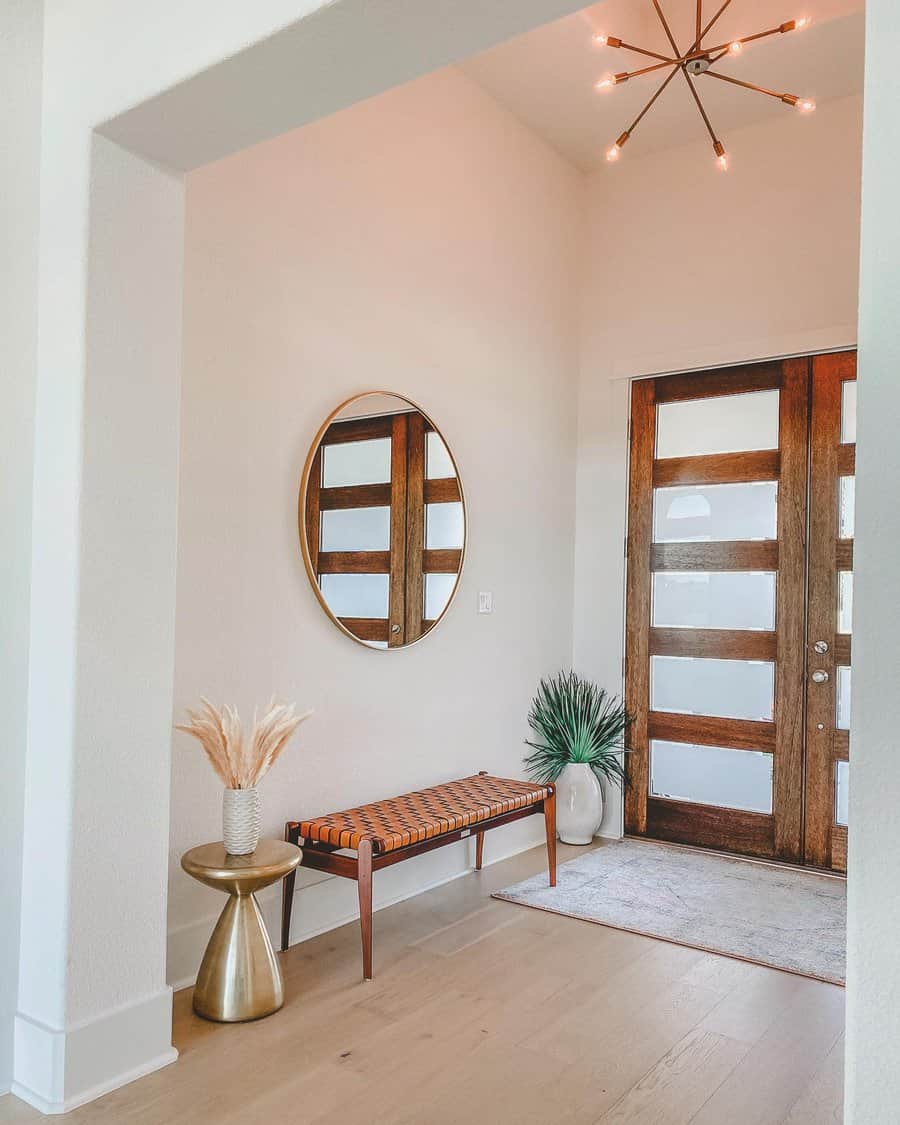 16. Corner Bench
Adding an entryway bench to a small space can be a creative way to add seating and storage. When selecting the perfect bench for your small space, look for a corner bench that is designed to fit perpendicularly in the corner of the wall. This can make great use of your limited floor space while also providing somewhere to store shoes and other miscellaneous items.
Many designs even include overhead hooks allowing you to take advantage of vertical storage too! With so many options including patterned fabric, leather, metal, or wood – it's easy to find something that perfectly suits your style from modern to rustic.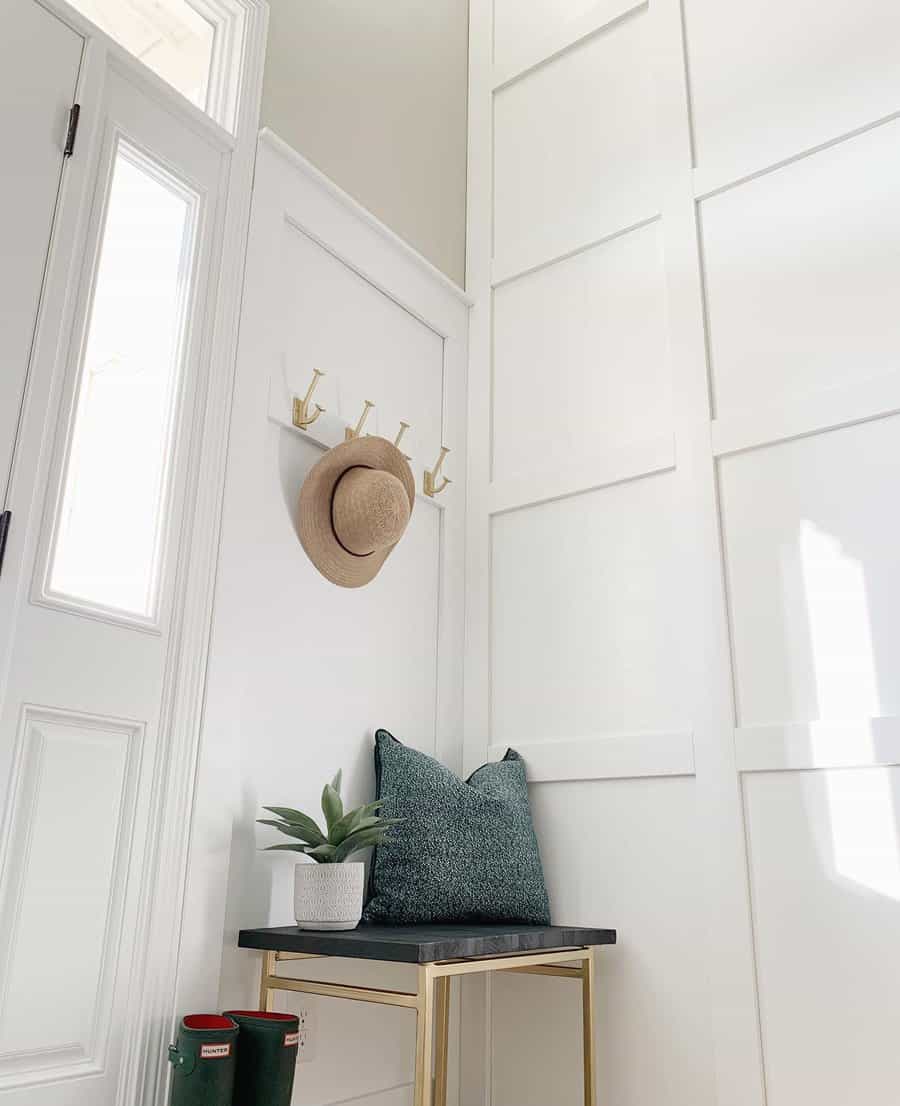 17. Add Overhead Cabinets & Shelves
If you have a small entryway and often feel cramped or overwhelmed, consider adding overhead cabinets and shelves for extra storage. Not only will these cabinets and shelves provide space to organize mail, keys, and other items without taking up precious floor space, but they'll also make a chic design statement.
If modernity is your aim, incorporate sleek metal finishes to give the area an updated look; conversely, if you favor a more traditional feel, opt for wood finishes that can be painted to match your decor. Either way, you go, it'll all add up to an entryway that you'll love coming home to every evening!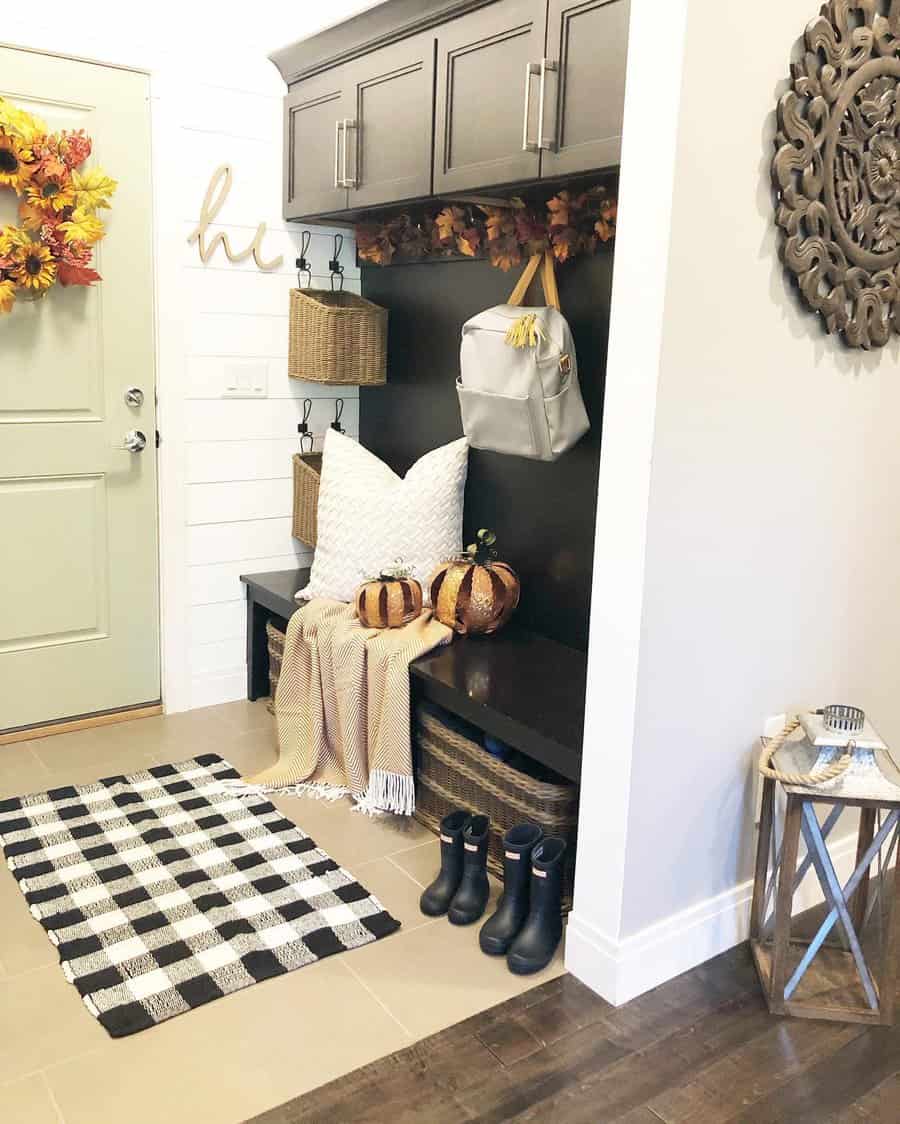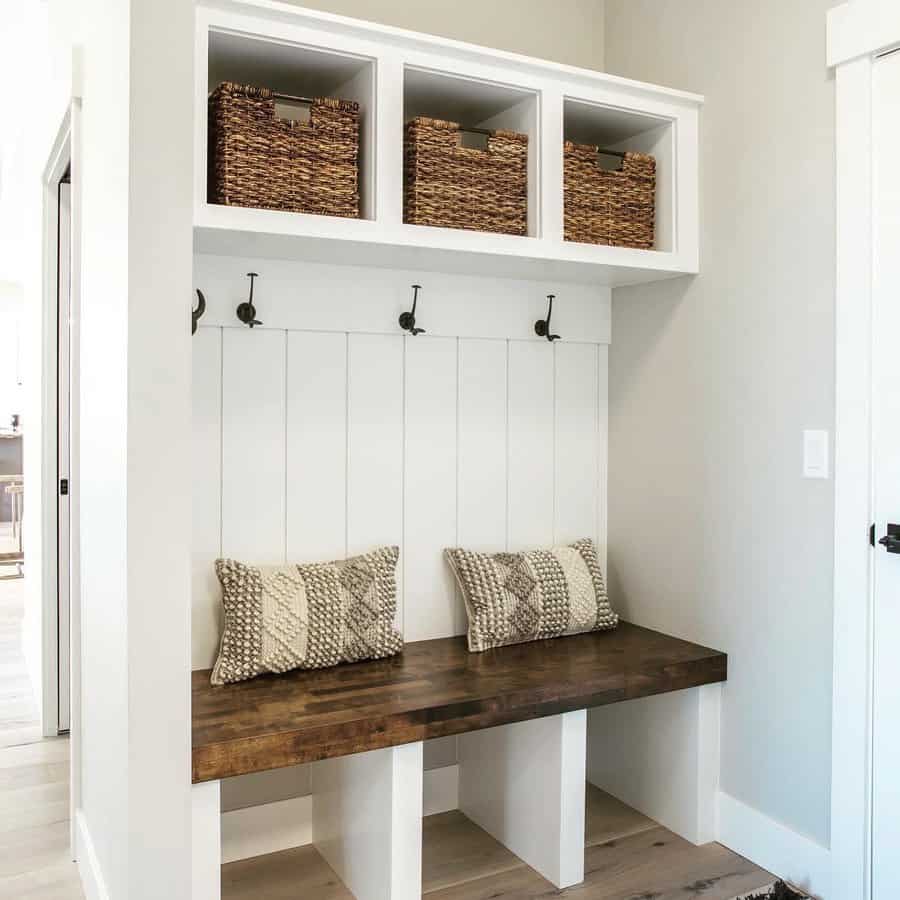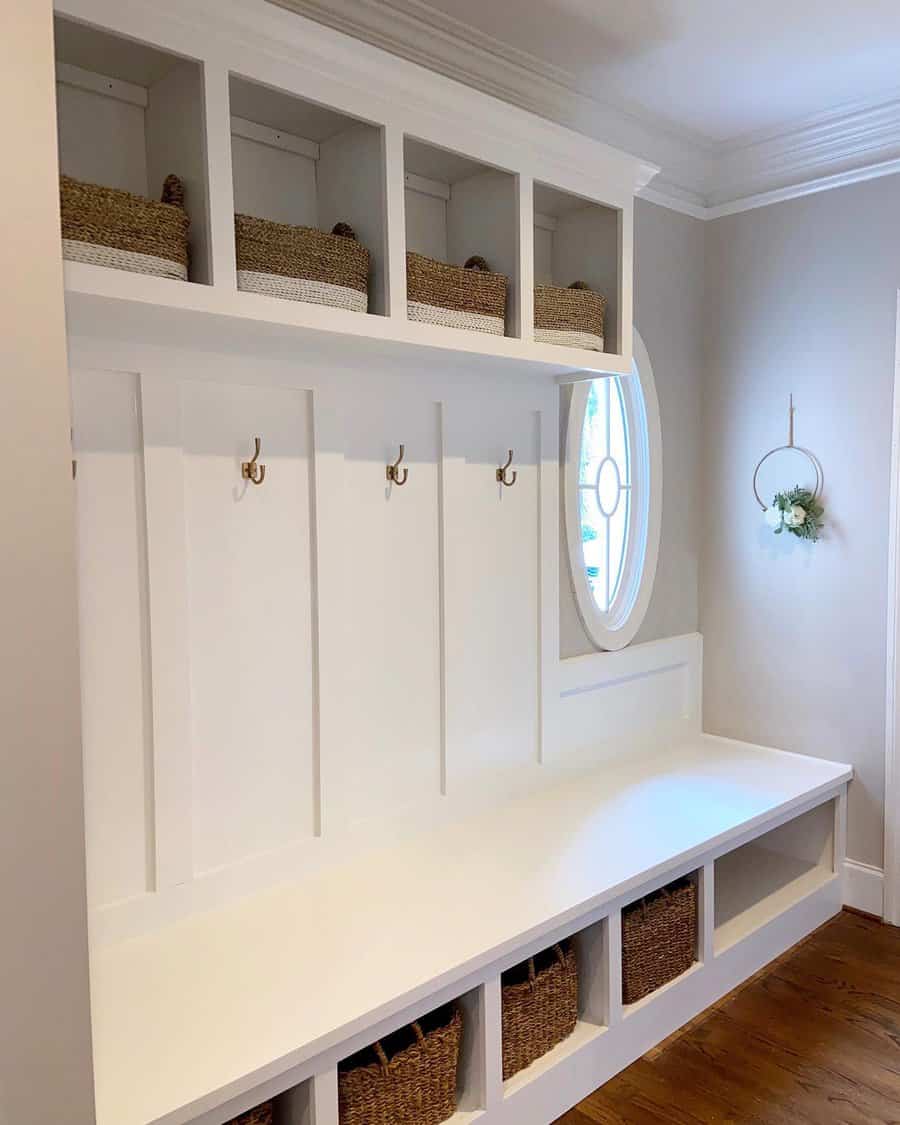 18. Throw An Area Rug
Creating a warm and inviting entryway for guests can make all the difference when it comes to the first impression of your home. One great way to accomplish this is with a bench with a statement area rug.
If you're looking for an extra bold piece, why not try a white-washed entryway bench complete with a neutral area rug? This combination will add texture and visual interest, creating an eye-catching space that's sure to make your visitors feel welcome.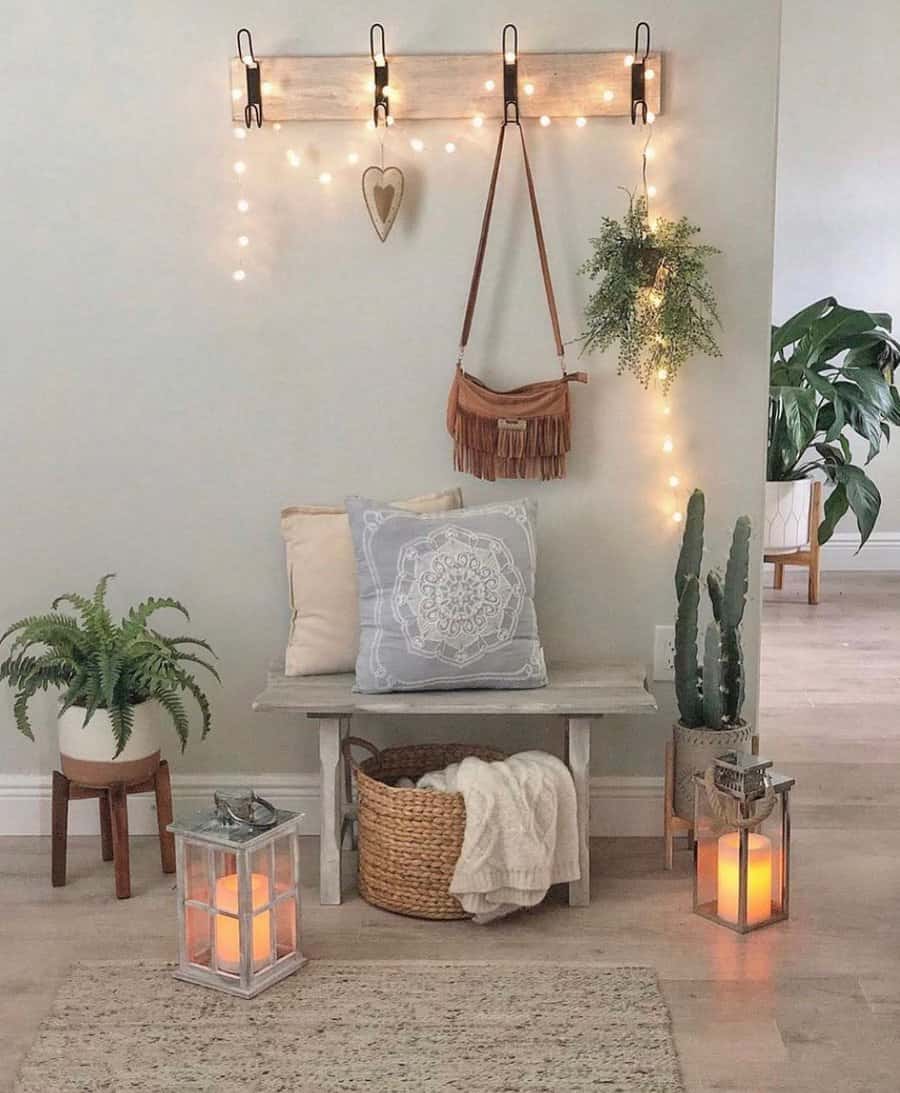 19. White-Washed Bench
If you're looking for a creative and unique way to spruce up your entryway, why not consider installing an entryway bench? White-washed benches offer a stunning contrast to darker-colored walls while providing an extra seating spot. Plus, they offer up a great opportunity to showcase colorful pillows, blankets, or other accents – perfect for instantly transforming the look of any room.
For an even more rustic feel, unfinished wood benches provide a versatile option that you can style with any type of home decor. Furthermore, be sure to consider incorporating natural fibers or colors into the decor scheme in order to achieve a cohesive look. With these tips in mind, there's no limit to how amazing your entryway can look with the right bench!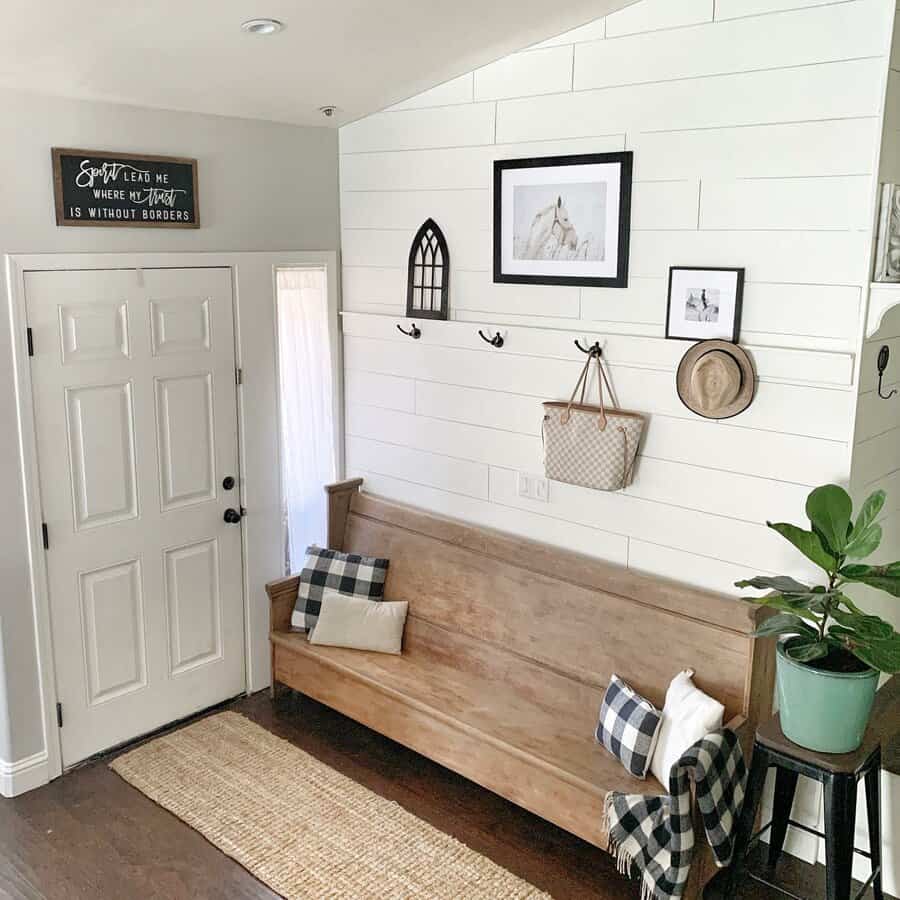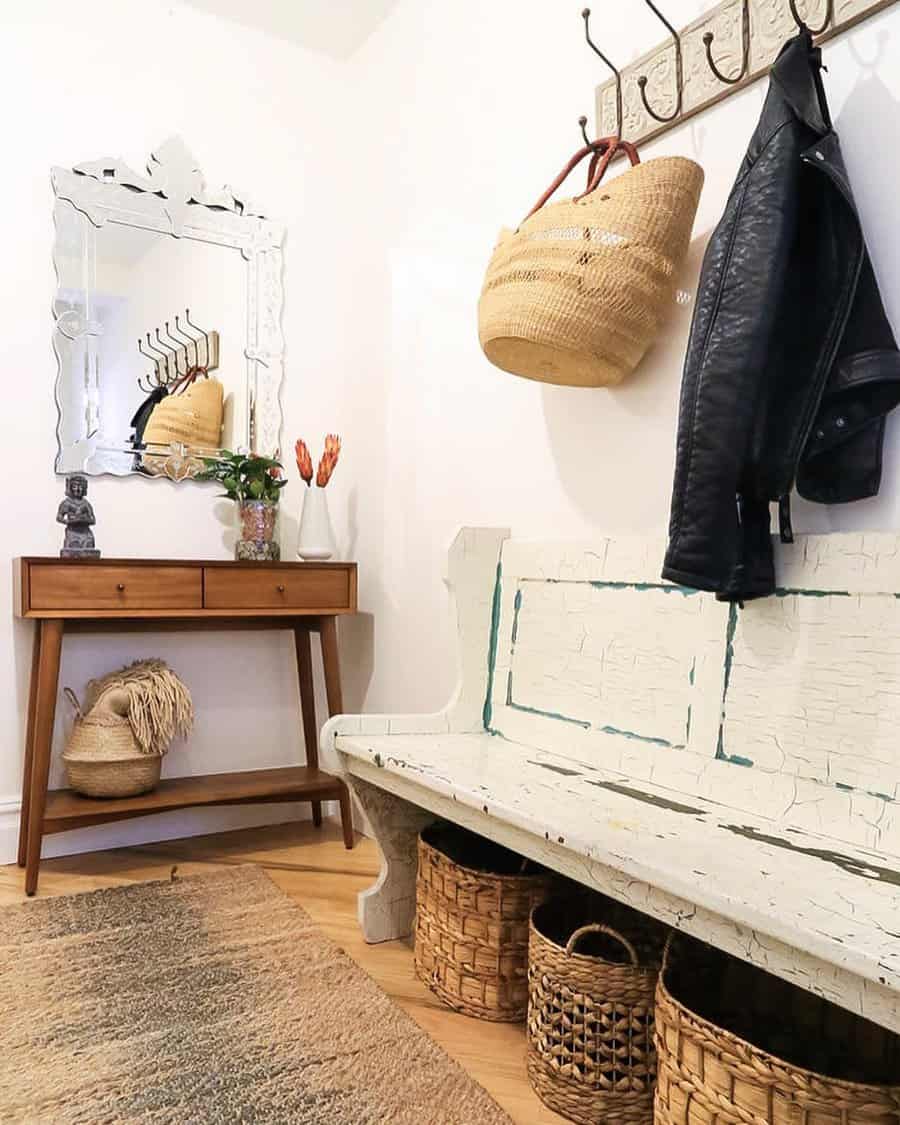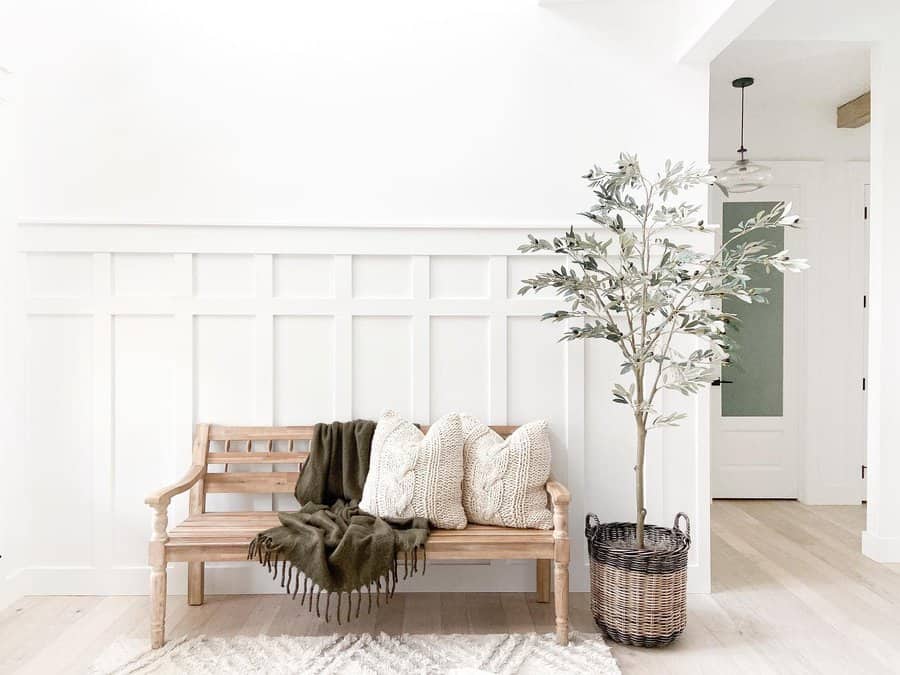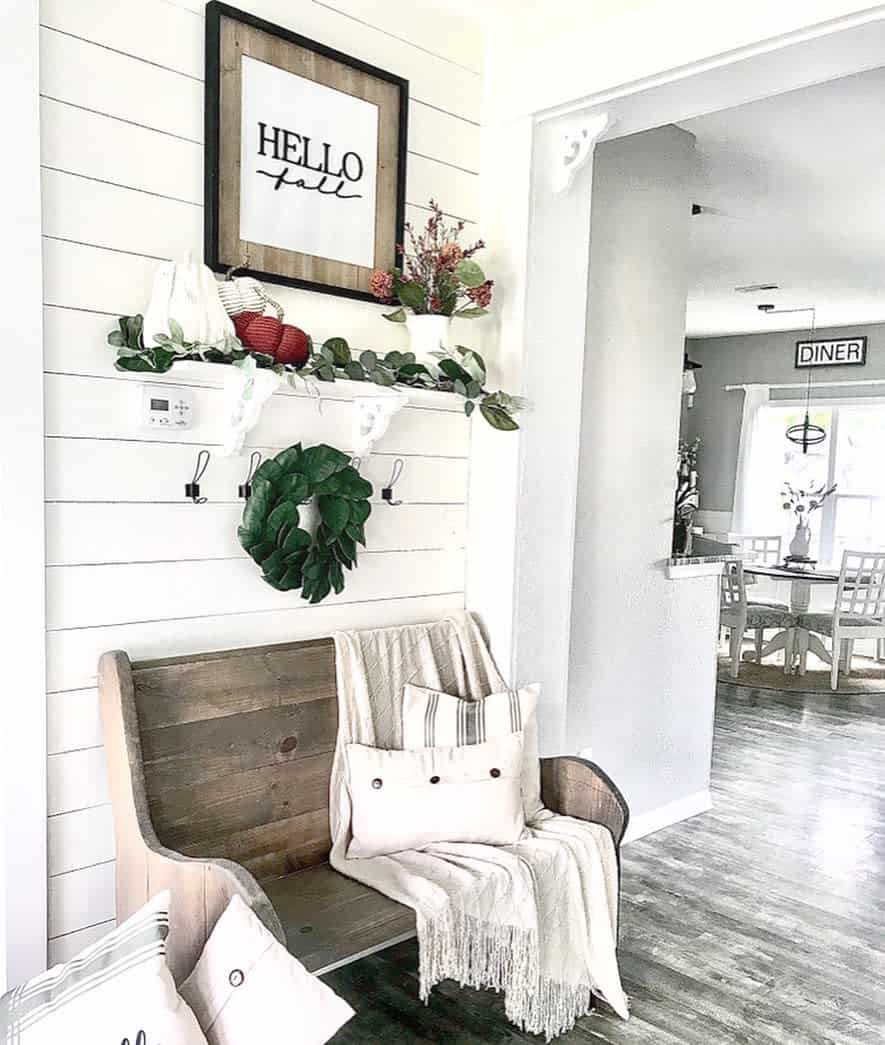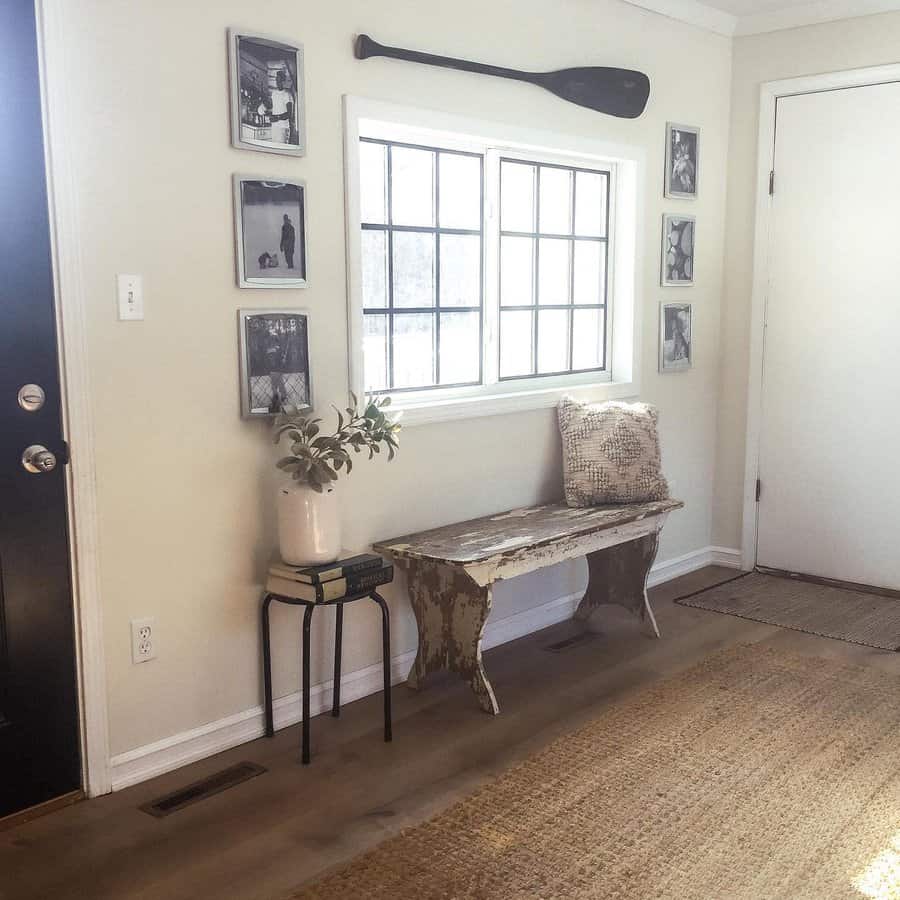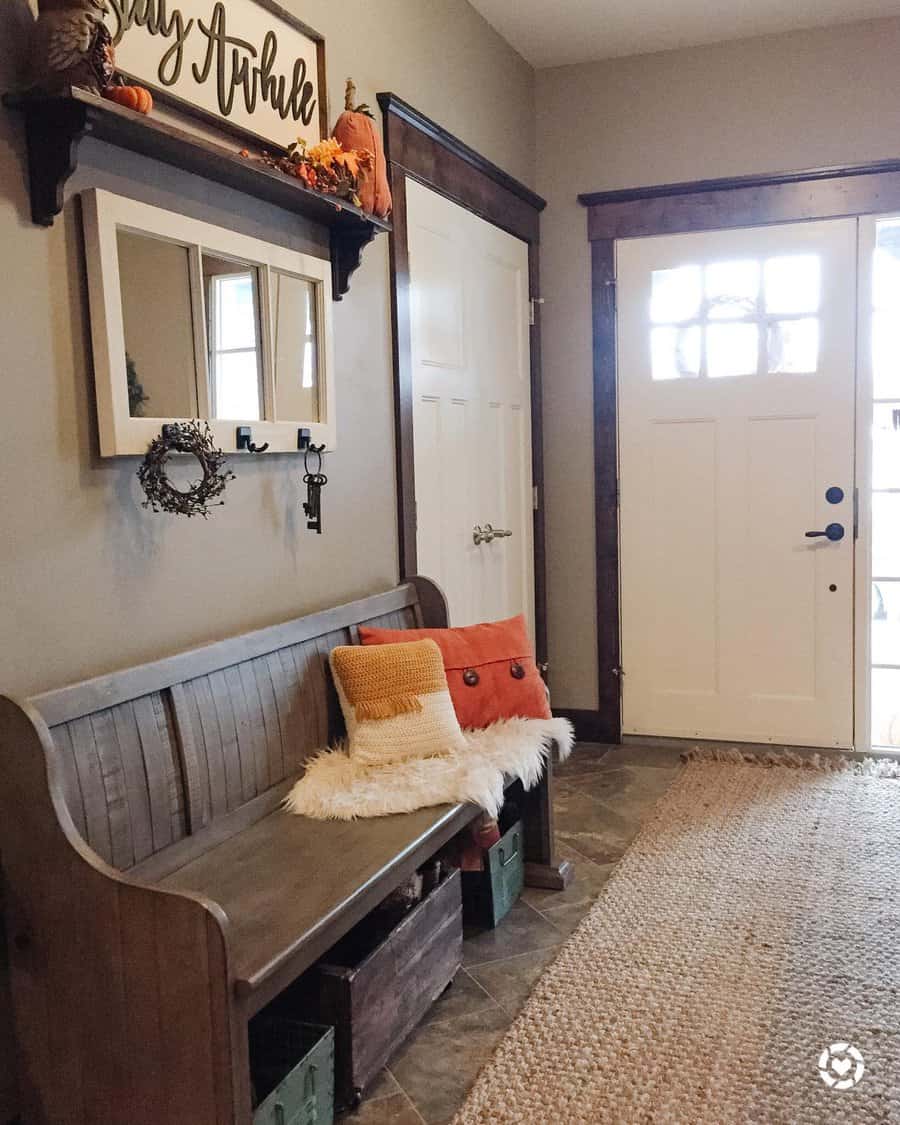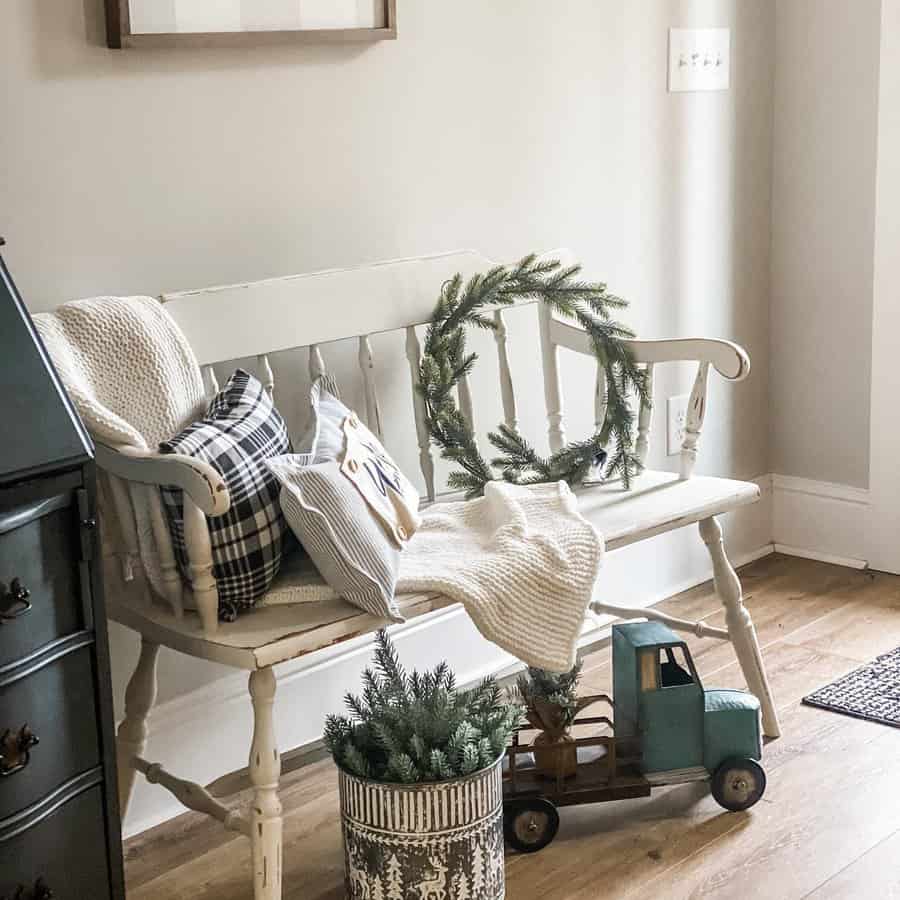 20. Decorative Black Bench With Backrest
A black entryway bench is an attractive and versatile addition to any home's entryway. Not only does it provide extra seating in the foyer or vestibule, it also serves as a great place to put on and take off shoes. To add a bit of texture to your look, consider adding a backrest to your entryway bench!
This creates a more inviting atmosphere for visitors so they'll be welcomed before even stepping foot in your home. The beauty of modern design also means you can customize your black entryway bench with whatever fabrics, colors, and designs you want to create a unique piece of furniture that echoes the decor throughout the rest of your house.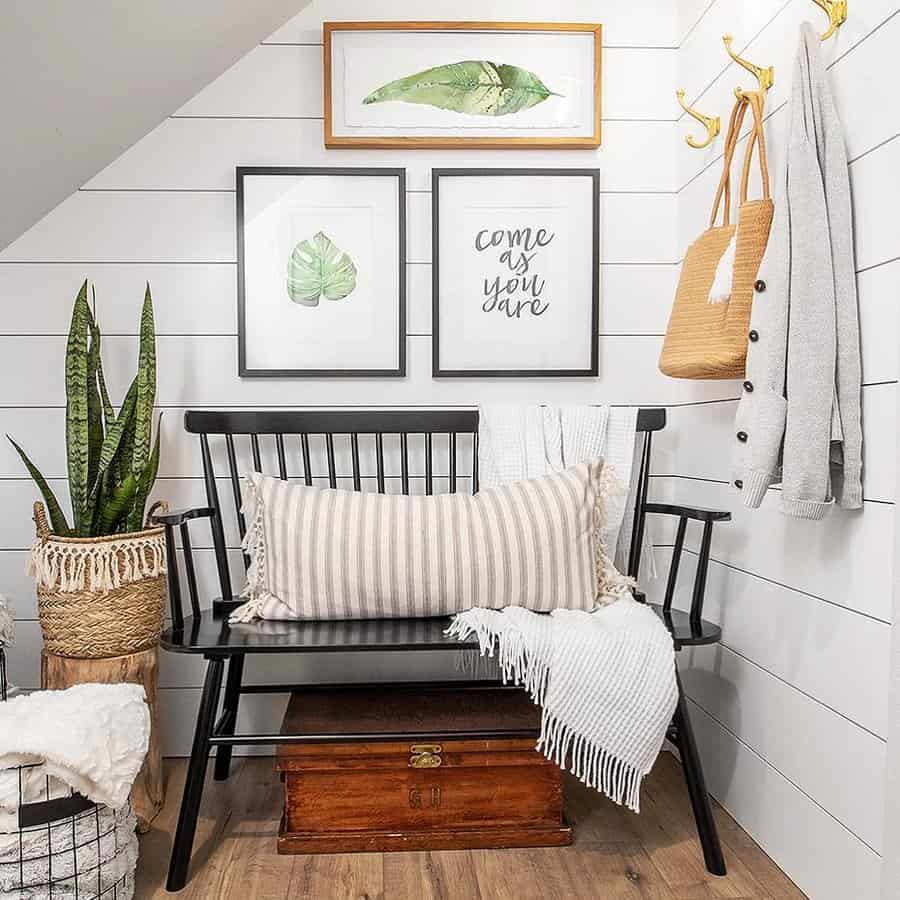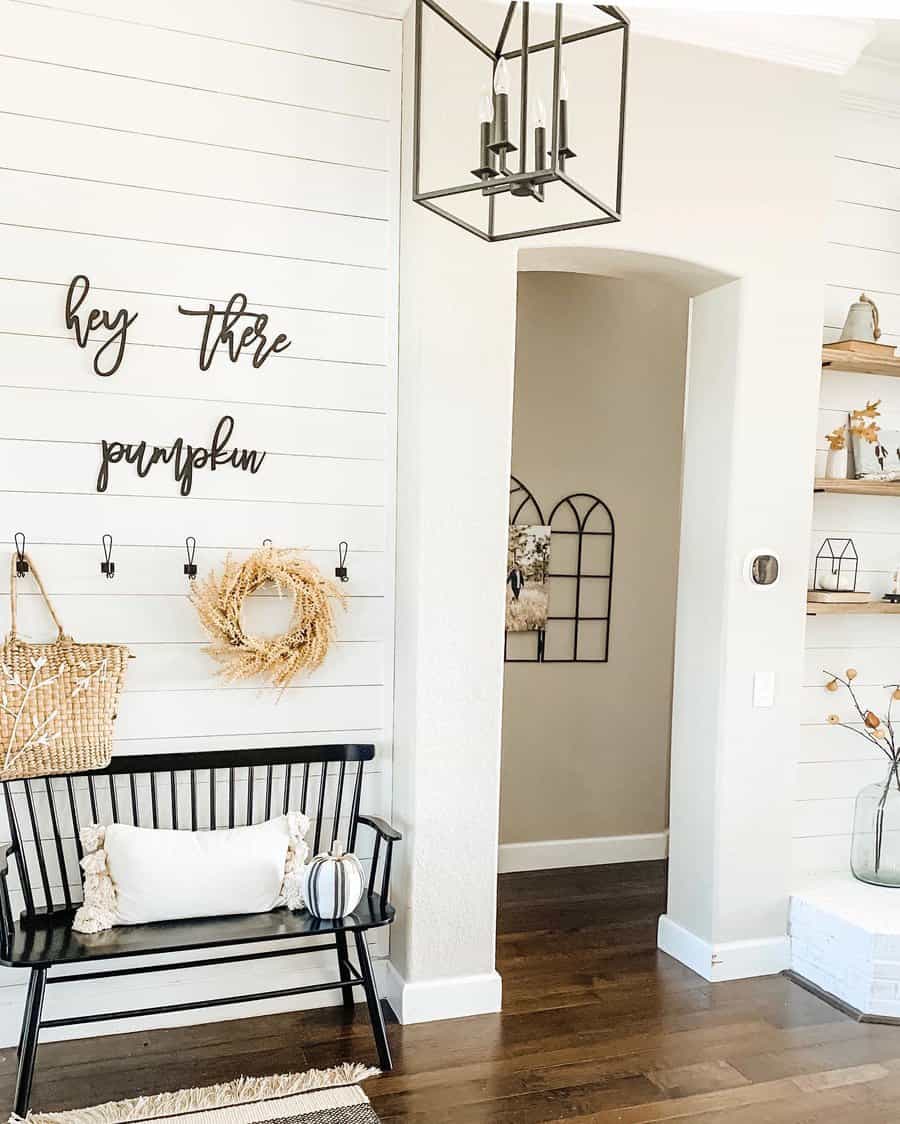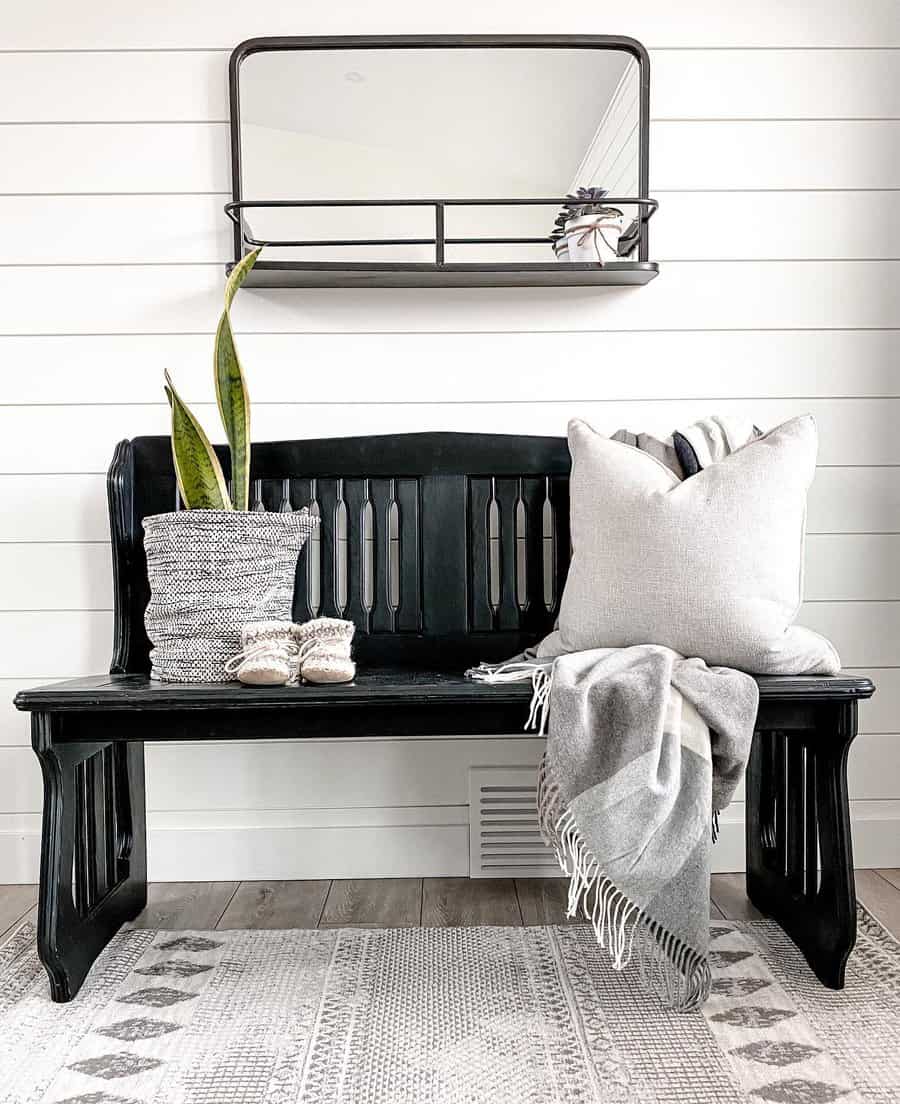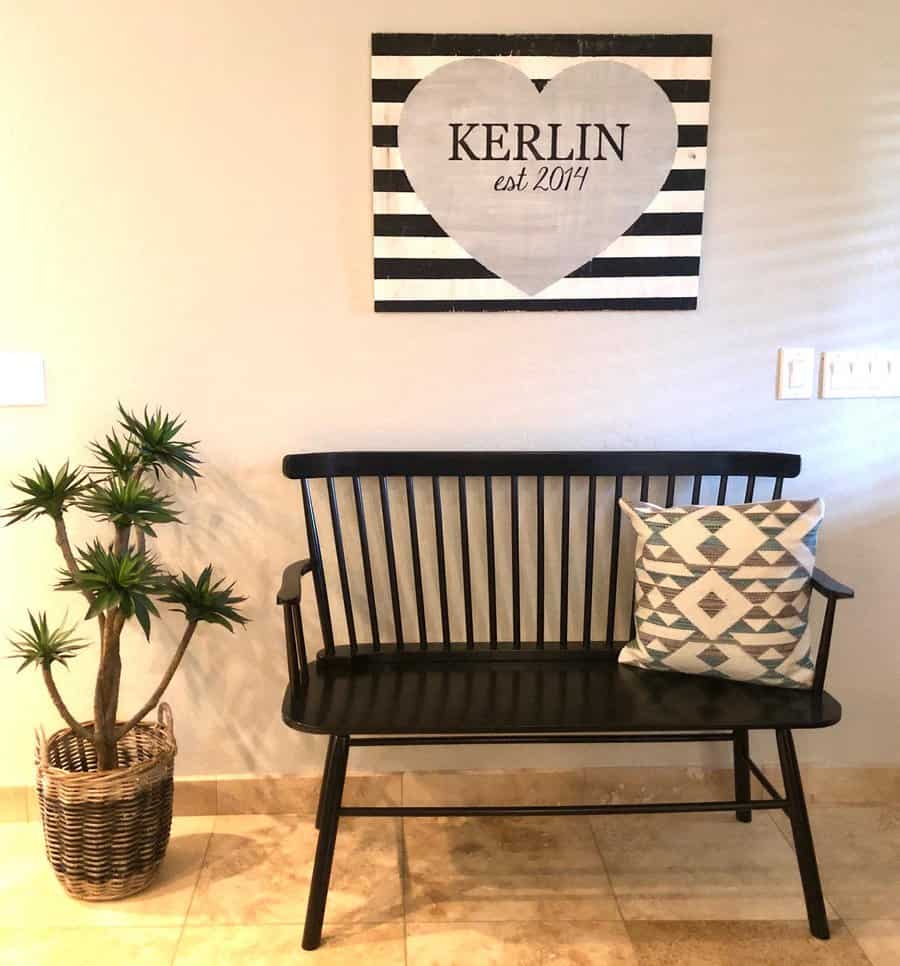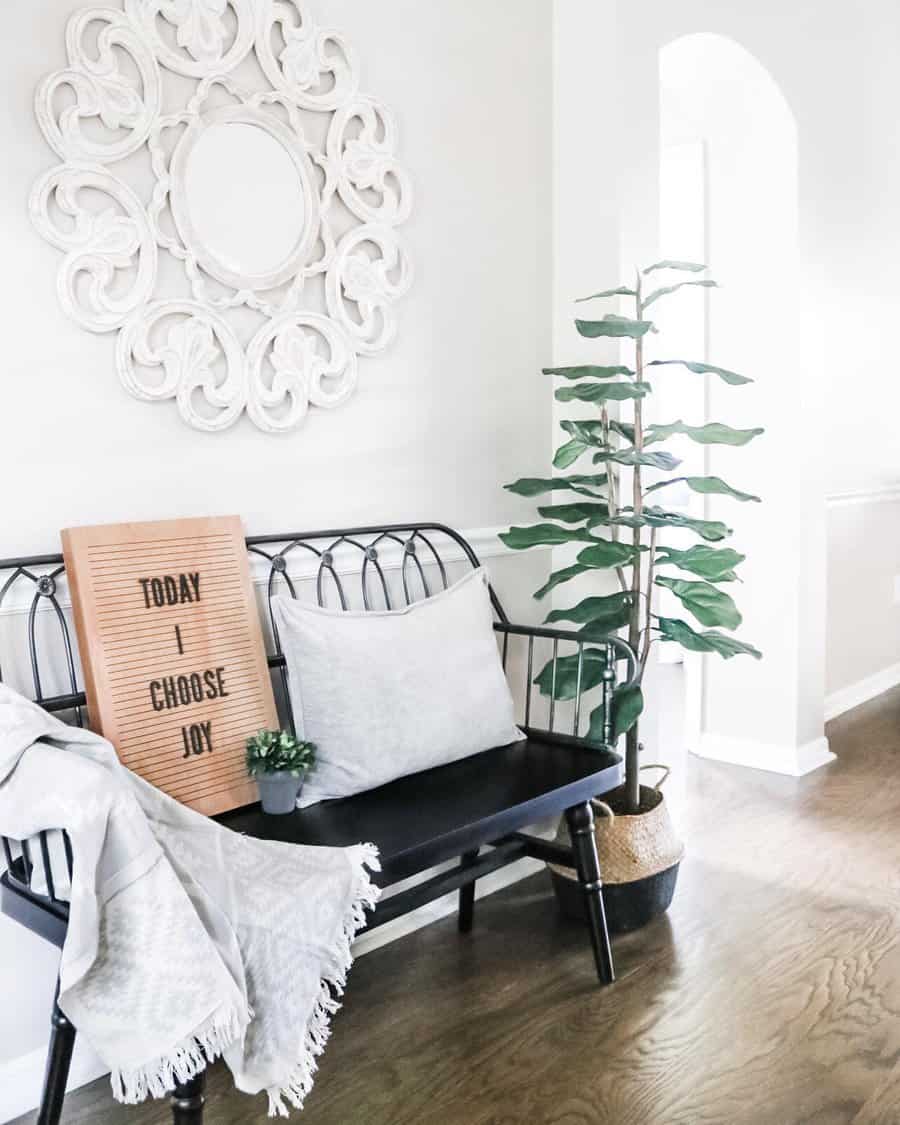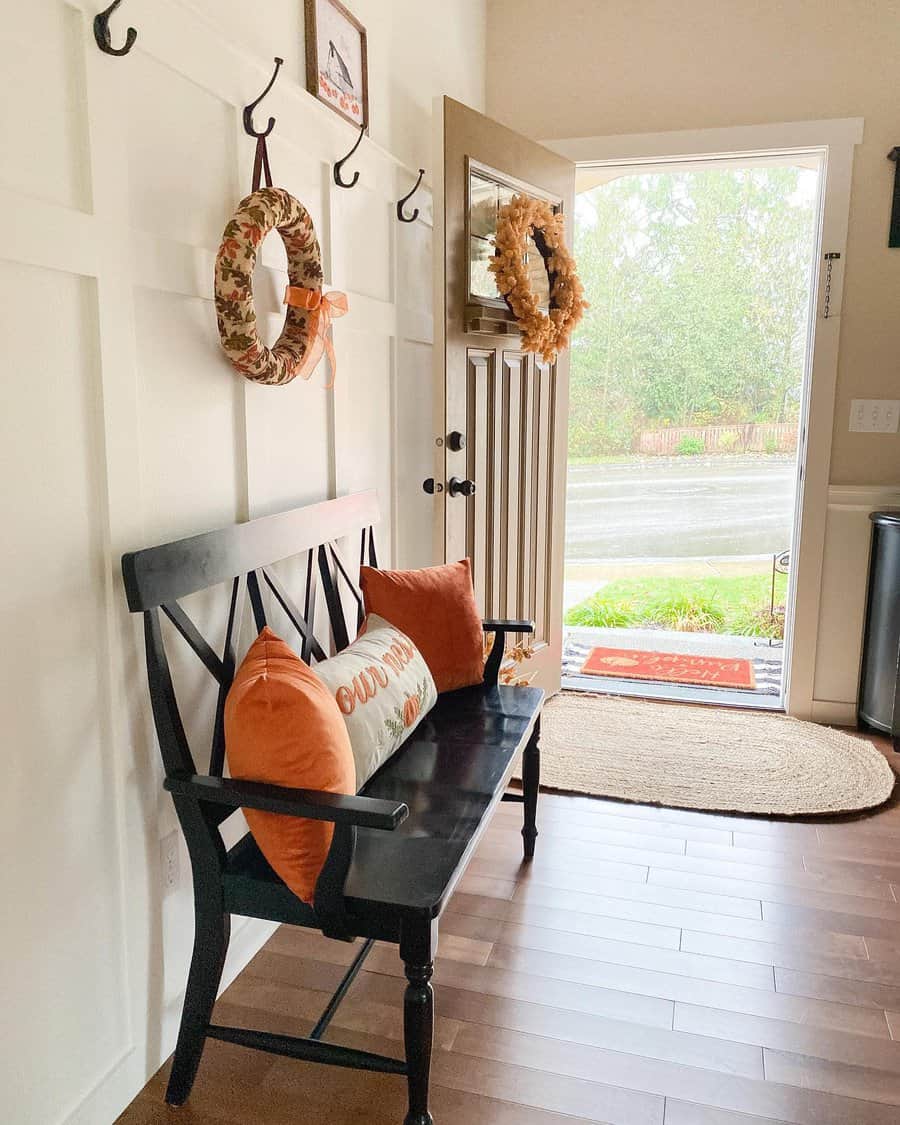 21. Rustic Wooden Bench
Have you been looking for a unique and stylish entryway bench? Why not go for the classic rustic wood bench? It is naturally beautiful, sturdy, and long-lasting, so it can give your home an instant timeless appeal. Plus, you can find plenty of creative options to customize it with colorful cushions and pillows in various sizes and shapes.
Consider adding some decorations on the sides while you're at it – like potted plants, art pieces, or antique mirrors. This will add a charming yet understated touch to your entryway that will be sure to turn heads.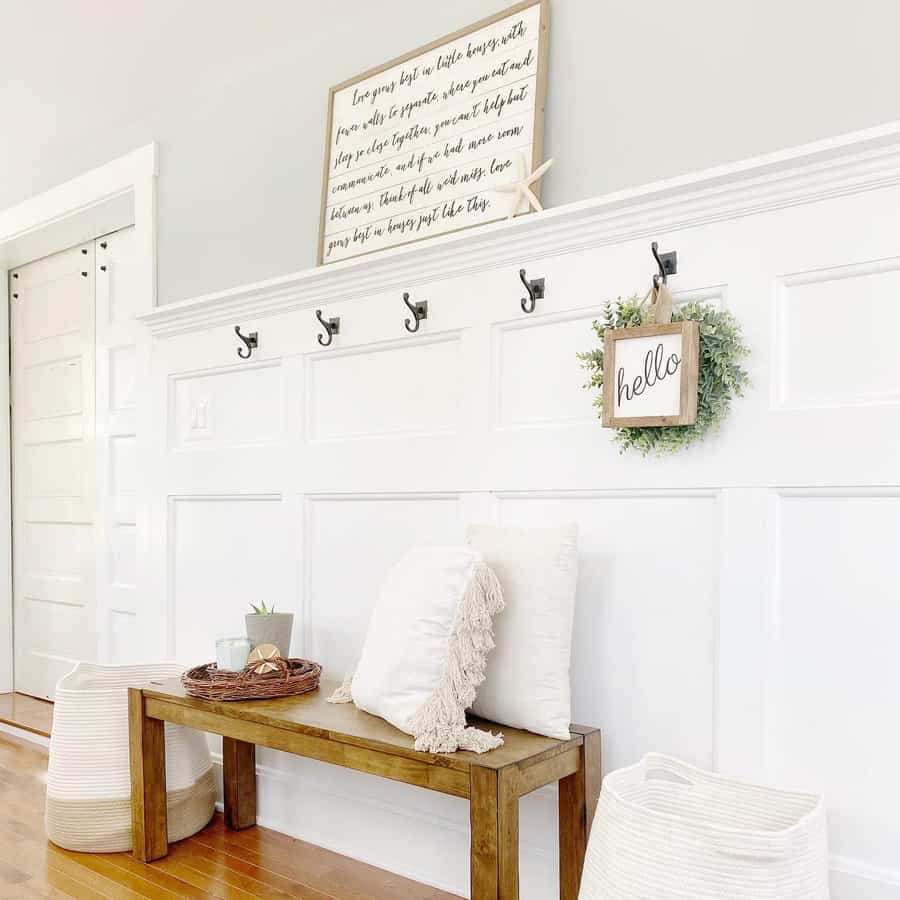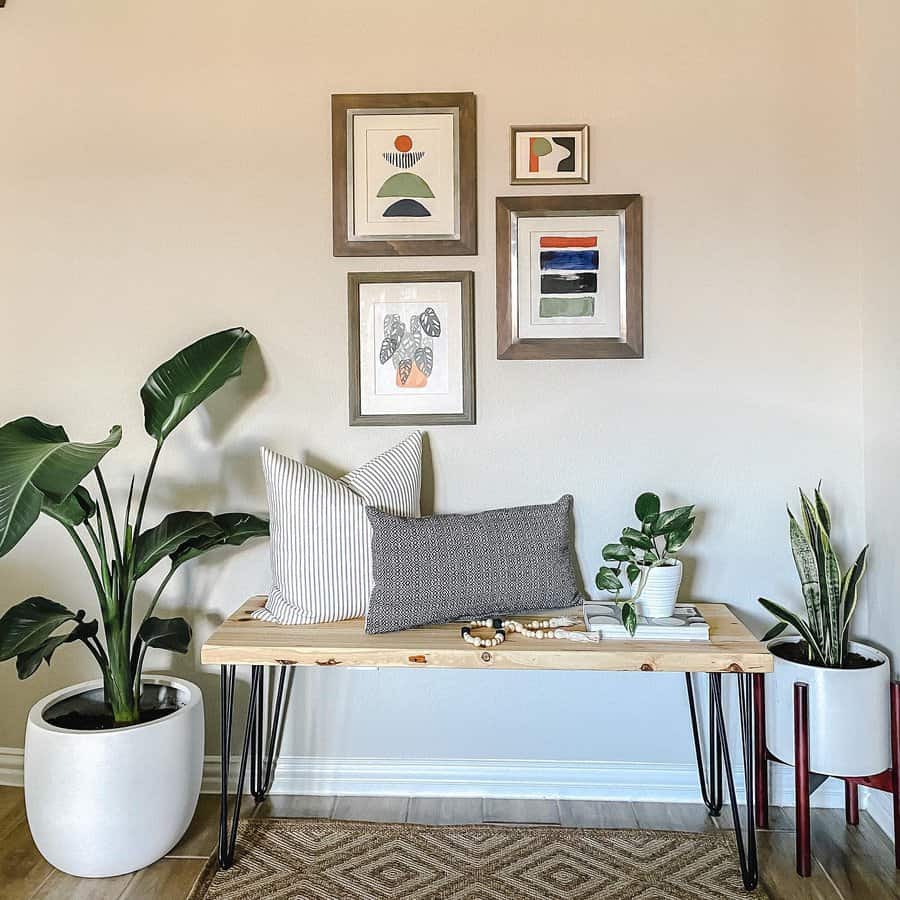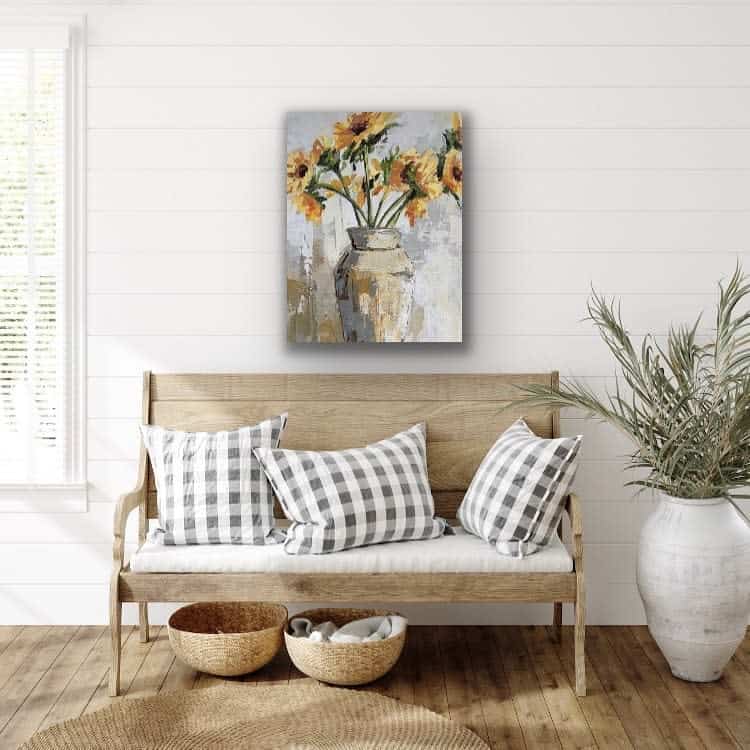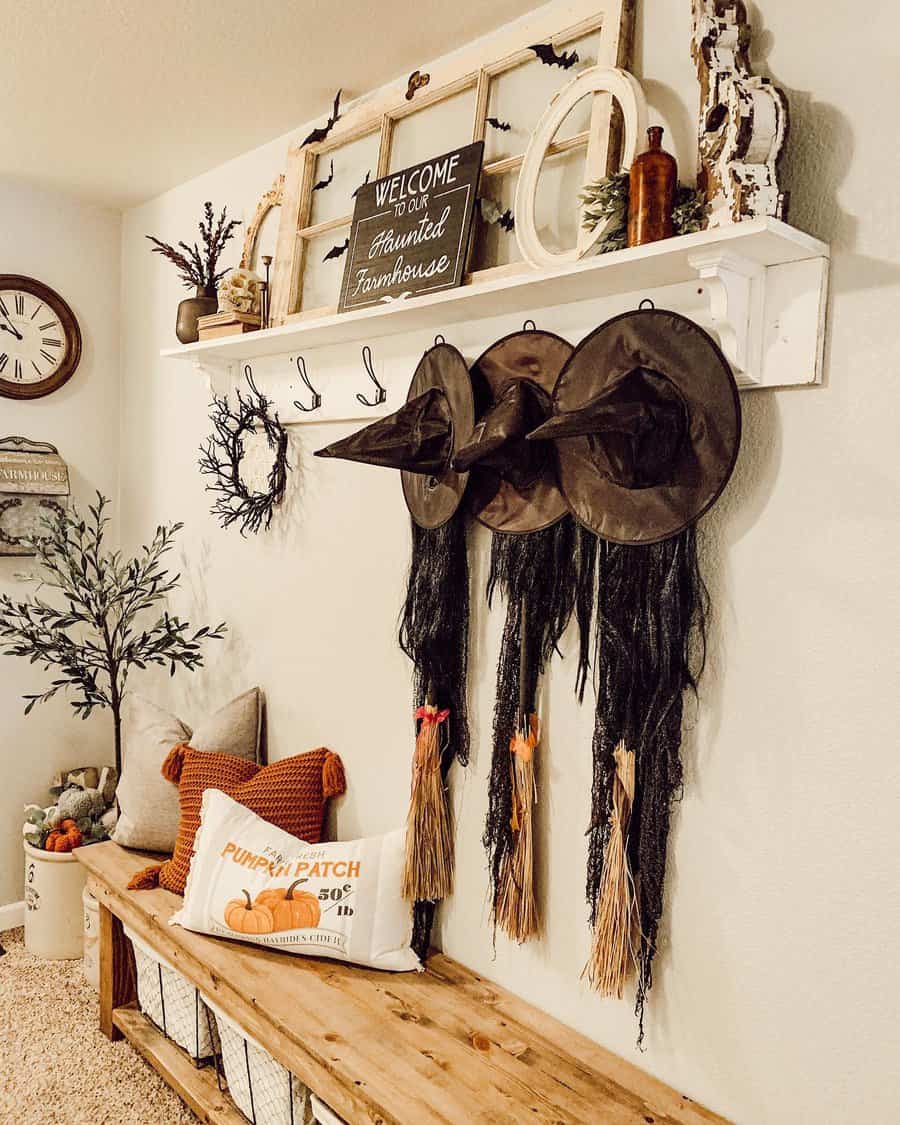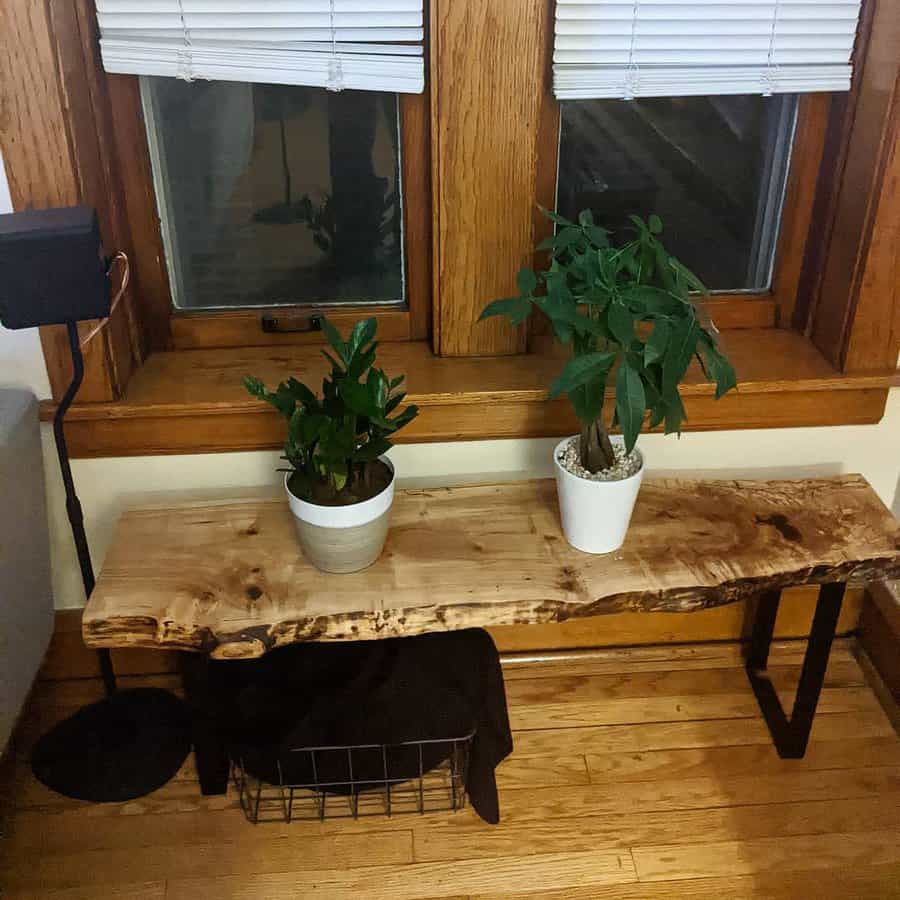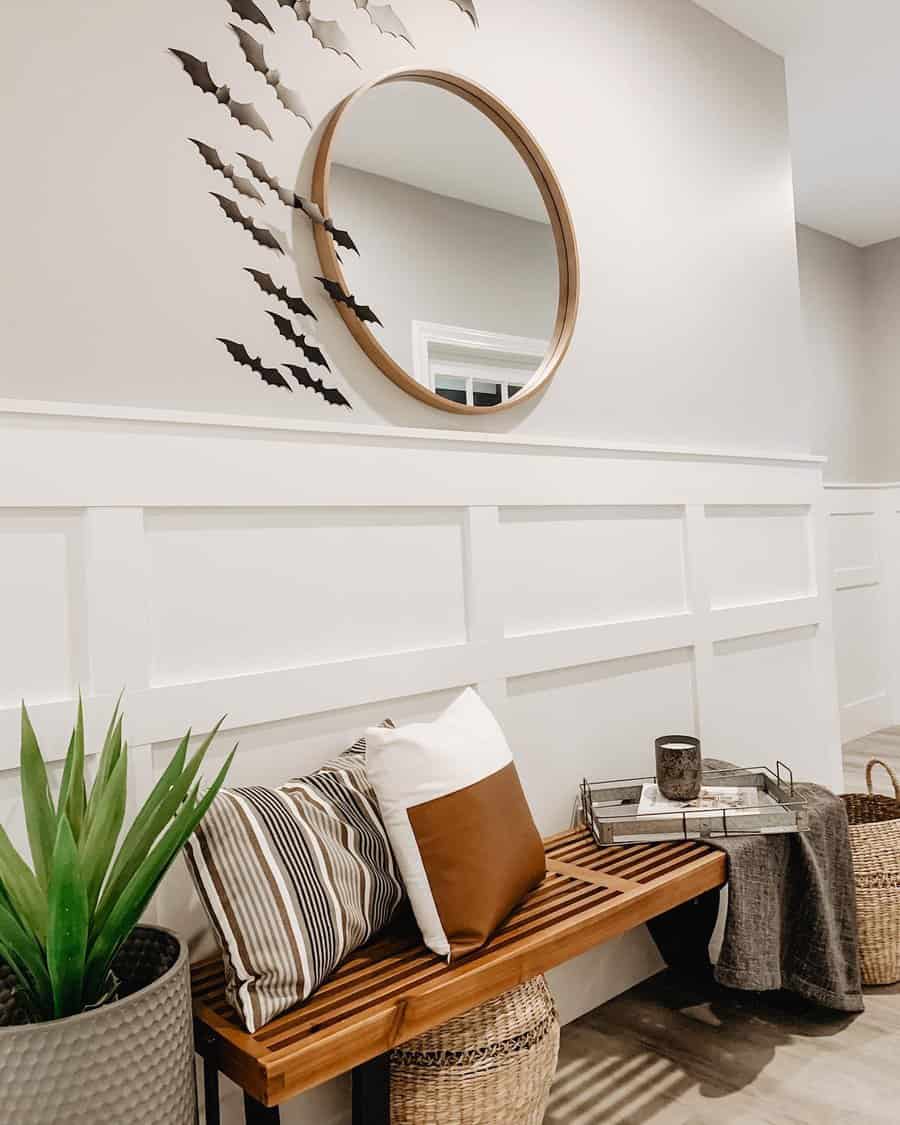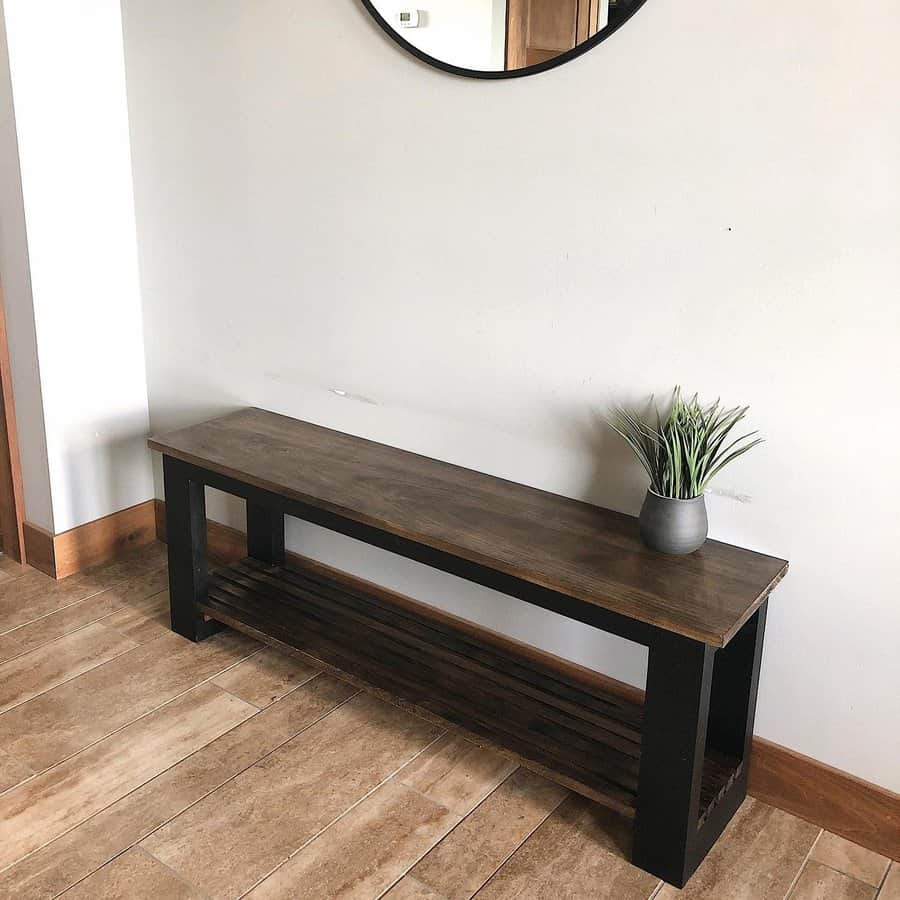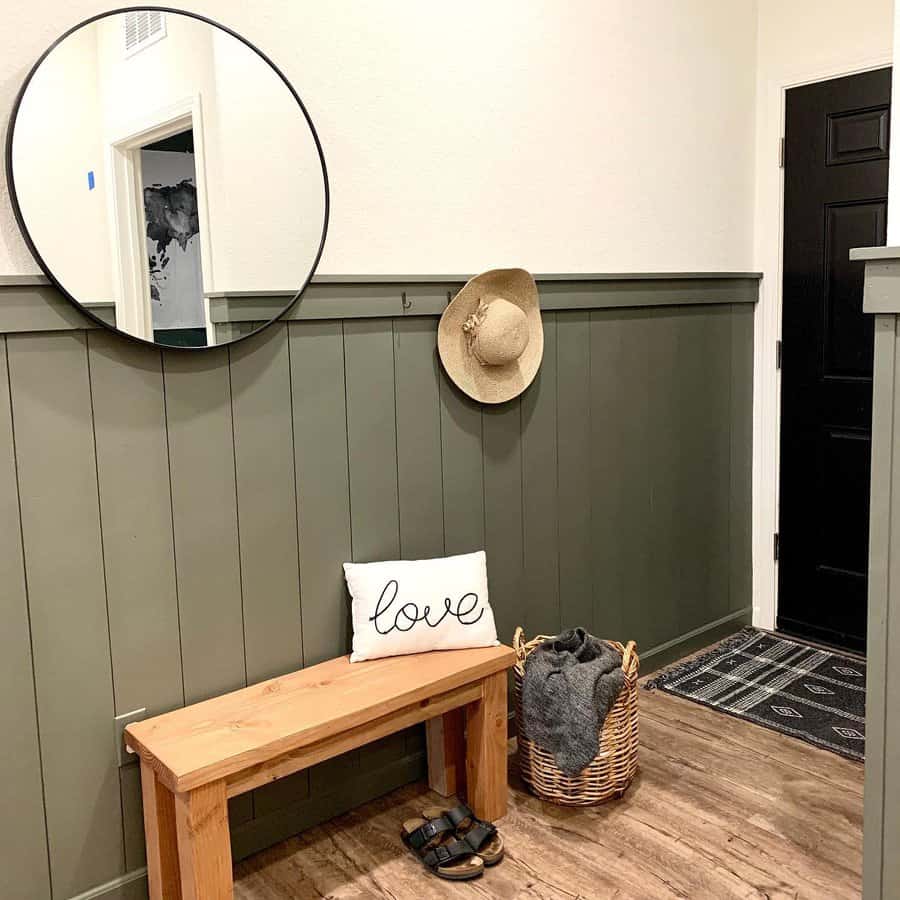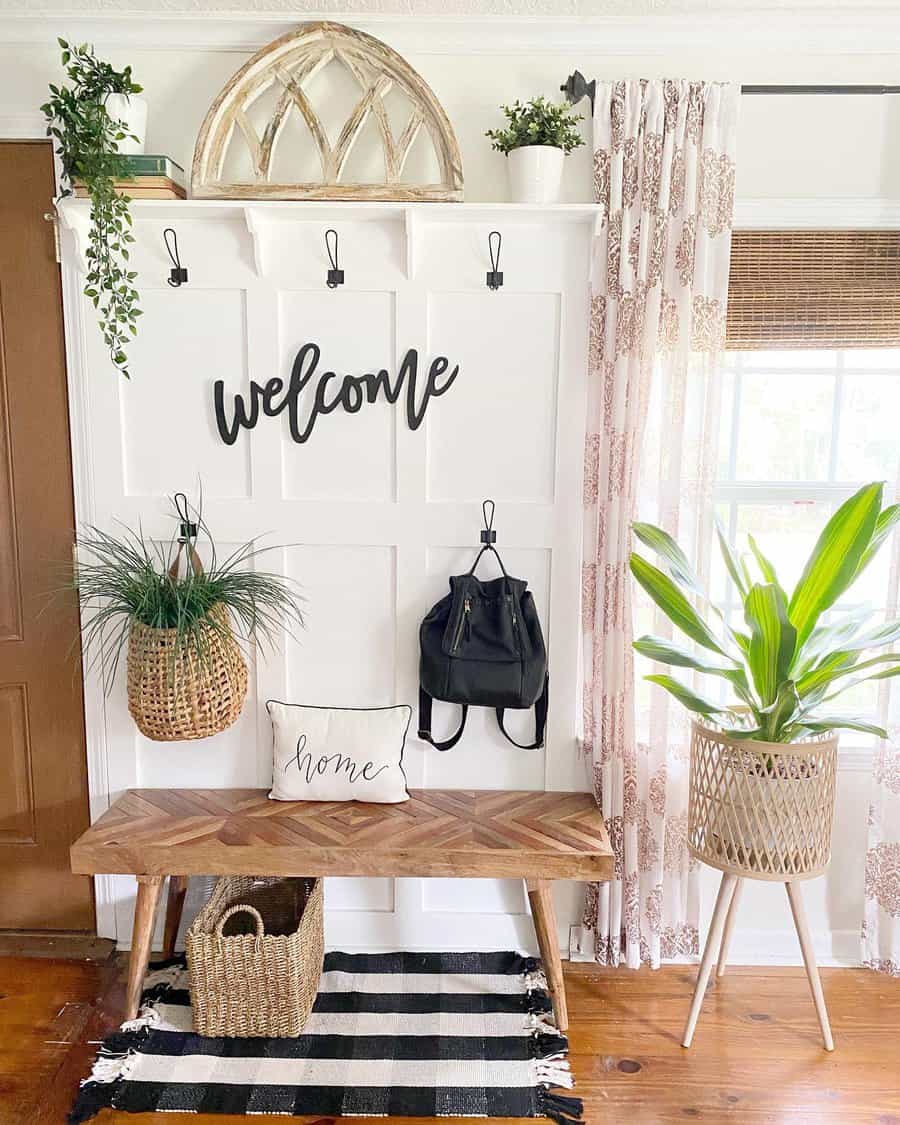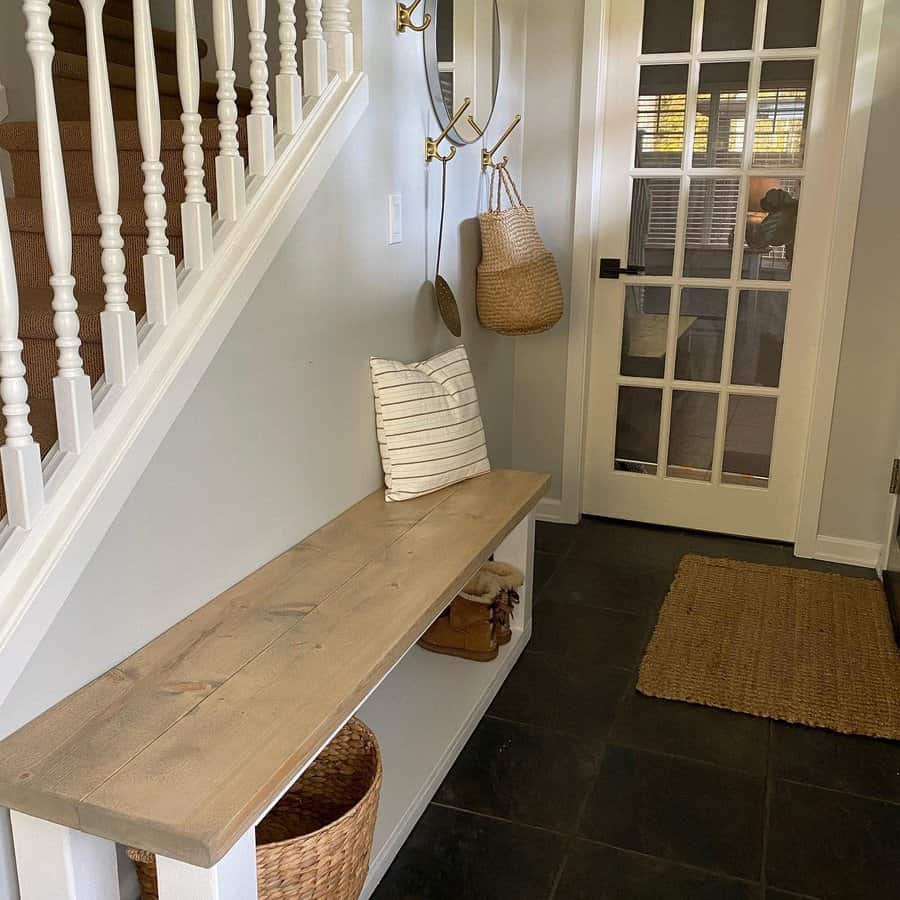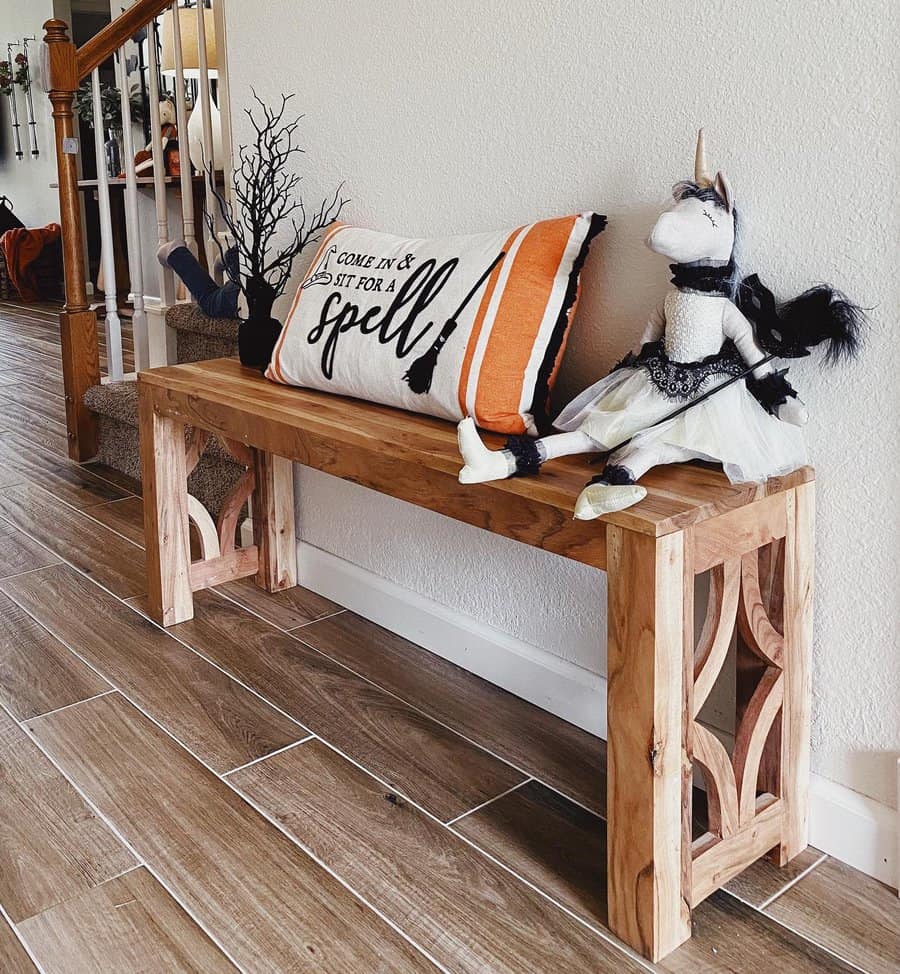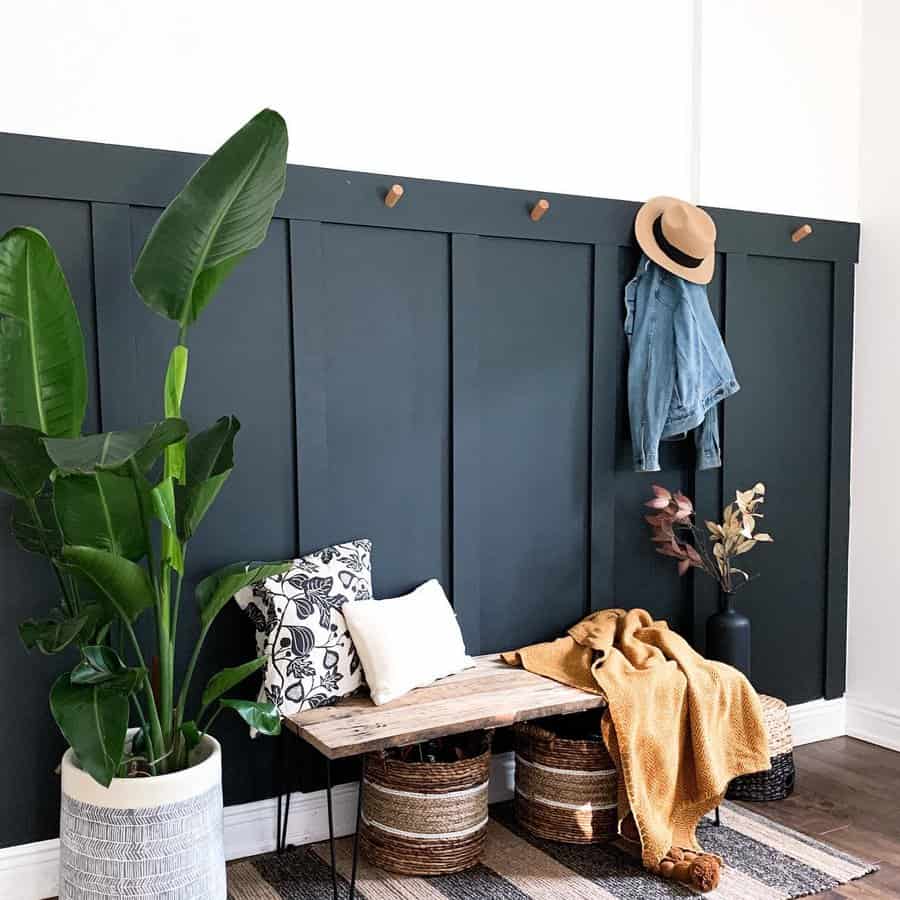 Entryway Bench FAQs
What is a storage bench?
A storage bench is exactly what it sounds like: a bench that includes some form of hidden storage. Many have a seat built on a lid that opens for a hidden storage chest. Others may have a shelf below the bench with cubbies or baskets to store shoes or outdoor gear.
What is a hallway tree bench?
A hallway tree bench has a tall back that incorporates a high shelf, coat hooks, and/or a mirror. It usually includes under bench storage as well. They may be too large for a small entryway, but are convenient for storing footwear, coats, hats, and bags in one convenient place.