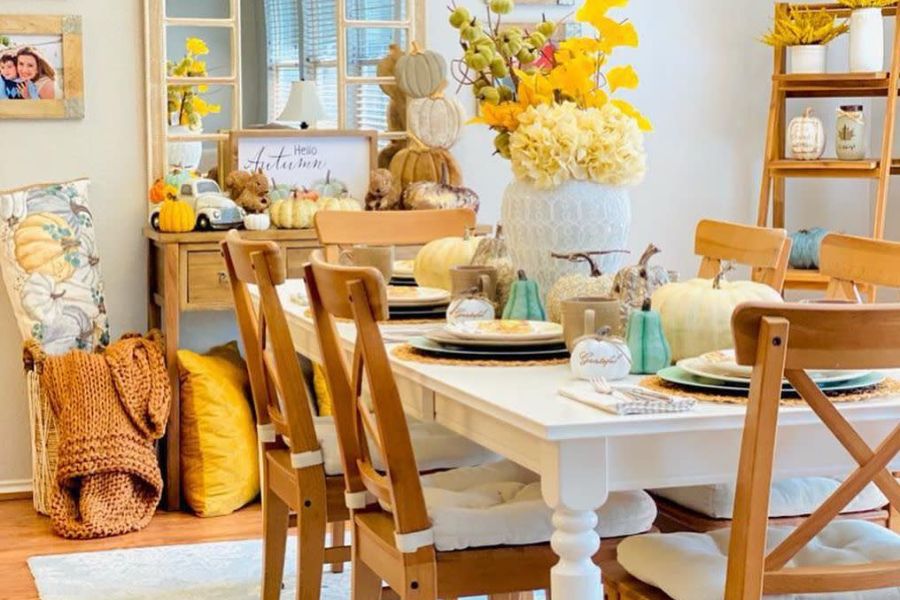 The Top 56 Fall Decorating Ideas
"Autumn is a second spring when every leaf is a flower."– Albert Camus
When the weather cools off, and the leaves begin to change, it's the perfect time to embrace all of the things we love about fall. Break out your sweaters and pumpkin spice. It's also the ideal time to add some fall touches around your home. Make your home feel cozier with additional throw pillows and blankets made from warm fabrics.
Add decorative touches to the outside and interior of your home. These easy fall decorating ideas will help you figure out what seasonal decor will look beautiful in and around your home. Perhaps your dining room table could use a decorative display for your next dinner party. Or you could decorate the entryway to your home with decor around your front door and on your porch.
1. Kitchen Fall Decorating Ideas
The kitchen is the perfect place to decorate for fall because it's a season that's associated with delicious food and baking. The easiest thing to do is use produce to decorate. Use a large woven or wood bowl to display mini pumpkins, gourds, pomegranates, apples, and pears.
You can also hang small wreaths or mini swags around the space. Place them on your pantry door, chair backs, range hood, or even cabinet doors. You can place mini pumpkins and gourds around the kitchen, such as on top of the cabinets, the open shelves, the back of the range, or anywhere else where there's a flat surface.
2. Interior Fall Decorating Ideas
Leave the corn stalks, hay bales, and other mess decorating items outside. These are more hassle than they are worth for inside decorating. Unless, of course, you enjoy cleaning. Instead, consider some of the favorite fall decorating ideas.
Focus on decor that creates a cozier atmosphere in the home to invoke feelings of cooler weather outside. You can do this with throw pillows that are made of warm materials like flannel, wool, or fur.
Instead of using fresh plants and flowers, look for dried blooms and foliage. Not only are they affordable, but they last significantly longer and require zero maintenance. The only thing they may lack is a scent. This is easily addressed with potpourri or candles. Look for apple cinnamon, pecan pie, pumpkin spice, sandalwood, bonfire, cinnamon pumpkin, or apple cider.
3. Elegant Fall Decorating Ideas
Give your home a touch of elegance with elevated fall decor. Instead of orange pumpkins, you can have white pumpkins arranged in a minimalist display. Or you could also use pumpkins with texture, such as velvet pumpkins or ones made of leather. Cover a white pumpkin in black lace.
Add expensive elements to your display. Use gold candlestick holders. Use pieces that are silver or gold for an expensive feel. Leave worn out wood or vintage metal treatments. These are too rustic for your elegant display.
When setting your table, give your arrangement an elegant touch with high-end accents. Use chargers under the plates. Have napkin rings on the cloth napkins. Your cloth napkins could have fall theme embroidery.
4. Centerpiece Fall Decorating Ideas
Your dining room table is a large flat surface that's perfect for decorating. If you like to host dinner parties, then decorating with a fall-themed centerpiece is a perfect way to get in the mood. Another place you can arrange a centerpiece is on your living room coffee table. To create your centerpiece, use mini pumpkins, small gourds, and candles.
Get creative with the materials that are used for making the pumpkins. Skip the real thing; they'll rot and get gross. You could have ones made out of fabric, styrofoam, porcelain, ceramic, glass, metal, or even formed sticks. This elevates the look of your fall display and gives it a fancier feel.
Porch Fall Decorating Ideas
Decorating your porch for fall is a perfect way to express your love of the season. Add decorative elements around your entryway, and anywhere else you have space. You could have large corn stalks on either side of your front door. Place a hay bale or two around your front entry. Arrange pumpkins in front of and on top of them.
Use apple baskets to act as planters for your fall blooms. Don't repot your plants; place the pots in a basket that's big enough to cover them. Place a few vintage lanterns among the pumpkins and planters for the illusion of light.
5. Living Area Fall Decorating Ideas
Add fall colors around your living areas. If you have a fireplace, you can scatter fall leaves on the mantel. Place other decorative items around the hearth. Place a centerpiece on your coffee table. Add throw pillows and blankets to the sofa and accent chairs.
Look for other unexpected places where you can add decor. A shelf or bookcase is a perfect place to add small accents. You could place a large lantern with a couple of pumpkins on the floor next to your sofa or chair. Try changing out the art you have on the walls. Look for pieces that use fall colors or invoke feelings of fall and coziness.
Add decor to your foyer by placing a floor vase with fall grasses or foliage arranged in it. For a rustic look, replace the floor vase with a canvas bin or deep woven basket.
6. Autumn Decor Ideas
There's a difference between decorating for Halloween and decorating for fall. While there's some overlap, creating a fall touch is about embracing all of the things we love about the season. Use colorful leaves, pumpkins, gourds, grasses, and warm colors. This is the time to embrace reds, orange, browns, and burgundy.
Candles are perfect for creating a softer look. It also harkens back to a simpler time when people depended on candlelight. Real candles can pose a fire risk, making them not the best choice. You can replace them with faux candles that create the glow without the flame.
7. Creative Fall Decorating Ideas
Modern fall decorating ideas embrace the idea of getting creative with fall decor. The most popular idea is to use mini pumpkins or pumpkins that are painted another color. Make your decor stand out by adding lighting. Fairy or twinkle lights are perfect for creating an ambiance without being too bright.
Another way to get creative with your fall decor is with where you place your decor. Everyone puts decor around their front door. You can place decor on your mantel, in your bedroom, bathroom, or kitchen. Don't forget about your backyard area.
8. Rustic Fall Decorating Ideas
The rustic design aesthetic and fall decor go hand in hand. It makes for a simple fall decorating idea. Use the mason jars you already have around your home. Place fall foliage in them. Turn them into fall candles. Fill them with mini pine cones.
The fall season is when you start gathering wood for use in your fireplace during winter. Use some of those pieces to place your pumpkins on around your front door. This creates height and visual interest to your display.
When the leaves change and fall, gather several, and create your own fall garland. You can drape your autumn leaf garland on a banister, fireplace mantel, or above your kitchen cabinets.
9. Dining Area Fall Decorating Ideas
Bring life to your dining area with a colorful display of fall flowers. Hydrangeas are beautiful and come in several colors. This makes them perfect for creating a colorful arrangement that will also complement the colors in your interior design.
Let your dining area decor do double duty. Plan to use it during Thanksgiving. You could have a centerpiece on your dining table, small decor on a shelf, or hang fall-themed art on the wall. Use ribbon and small bouquets to make chair swags for the back of each chair arranged around your dining room table.
10. Table Fall Decorating Ideas
Your tables are flat surfaces that are perfect for creating beautiful fall-themed displays. You can scale the display to fit the size of the tabletop. Use fake leaves and faux pumpkins with candles and ribbon. Faux decorative pieces are a smarter choice than real ones for this decorating task.
Faux pumpkins, fruit, and gourds won't rot or go bad. You can also pack them away and use them again next year. This makes it easy to decorate year after year.
Faux pumpkins also make it easy to give your decor an update. If you grow tired of the natural look, you can paint them white for an elegant feel. Or paint them gold for a touch of glamour.
11. Vintage Fall Decorating Ideas
Give your home an old school theme with vintage fall decor. Give your centerpieces a vintage touch with a farmhouse water bucket or metal basin. You could place a few fall blooms in a vintage milk jug. If you're lucky, you may find actual vintage Halloween decorations. They'll give your home an authentic and truly spooky feel.
Use a vintage wood bowl or bread-making basin to fill with mini pumpkins and gourds. Another beautiful option is fall themed china. Look in vintage shops for ceramic or porcelain dishes and serving pieces that have a fall theme to their decoration. You can put them on display, use them, or use them as a part of your decorations.
12. Front Door Fall Decorating Ideas
One of the most common places to decorate is your front door. Hang a fall wreath for a simple touch of fall decor. Another option is to use a swag instead of a wreath. This is a bundled display that starts wide at the top and gradually grows slender to its skinniest at the bottom.
If you love garland, you can drape a garland around the front door. For something colorful, use a spray made of fall leaves. A rustic and natural option is a garland made of dried grasses. Whatever you use, add decorative touches like pine cones, berries, fall foliage, and faux mini pumpkins.
Another popular idea is to place corn or grain stalks around your door. Look for ones that are thick and are five to six feet tall. This adds height to your display and a natural earthiness with color and texture.
13. Outdoor Fall Decorating Ideas
One of the biggest trends in home design is creating outdoor living spaces. You don't have to give up using these areas when summer is over, and fall arrives. Replace the lush summer greenery that has died with ornamental grass. You can use bundles of corn or bales of hay to create the same level of privacy and feel of nature.
Scatter several pumpkins of various sizes and create your own pumpkin patch. Don't just use orange pumpkins. There are lighter, almost white pumpkins and green gourds to give your arrangement color variety. Don't limit your decorating to the front door area. You can also decorate your backyard, fire pit, or patio area.