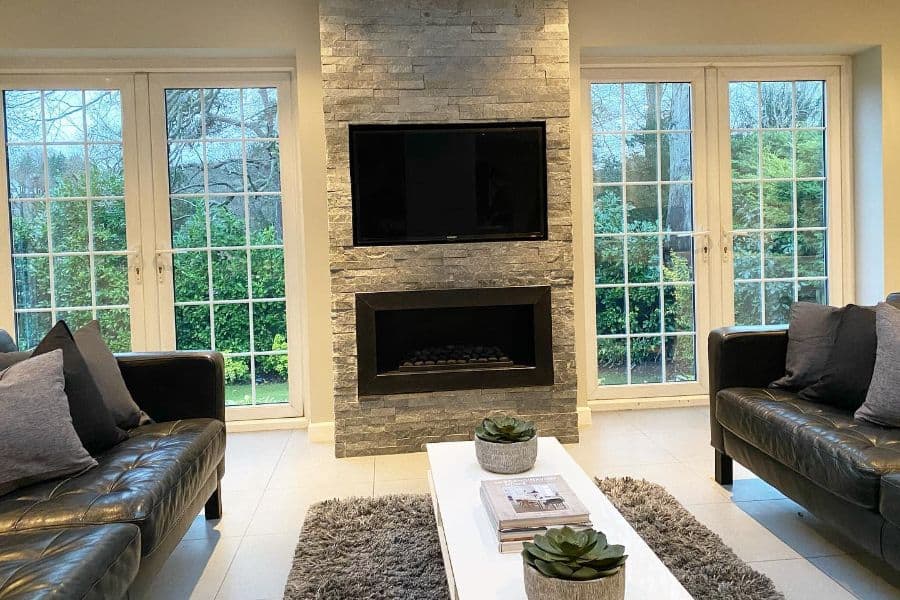 The Top 59 Fireplace Mantel Ideas
"I say to myself that I shall try to make my life like an open fireplace, so that people may be warmed and cheered by it and so go out themselves to warm and cheer." – George Matthew Adams
Having a fireplace in your home is a blessing and a curse. It's a blessing because it's a natural focal point and centerpiece to your decorating. It's a curse because everyone will look at it when they enter the room.
Have the wrong mantle decor, and you bring down the style and vibe of the entire room. If you don't have a fireplace, you can fake it by building a faux fireplace with a mantle.
Fireplace mantel ideas will help you figure out what you like and what will look best in your home. Look for decor that will enhance the look and feel of the room where the mantle is located. Don't resort to the standard generic lineup of family picture frames.
1. Decorative
You could leave your mantle empty, but that would look plain and boring. It would look like you forgot or never bothered to decorate it. If you're struggling to get started, you can look at fireplace mantel decorating ideas to help you get started.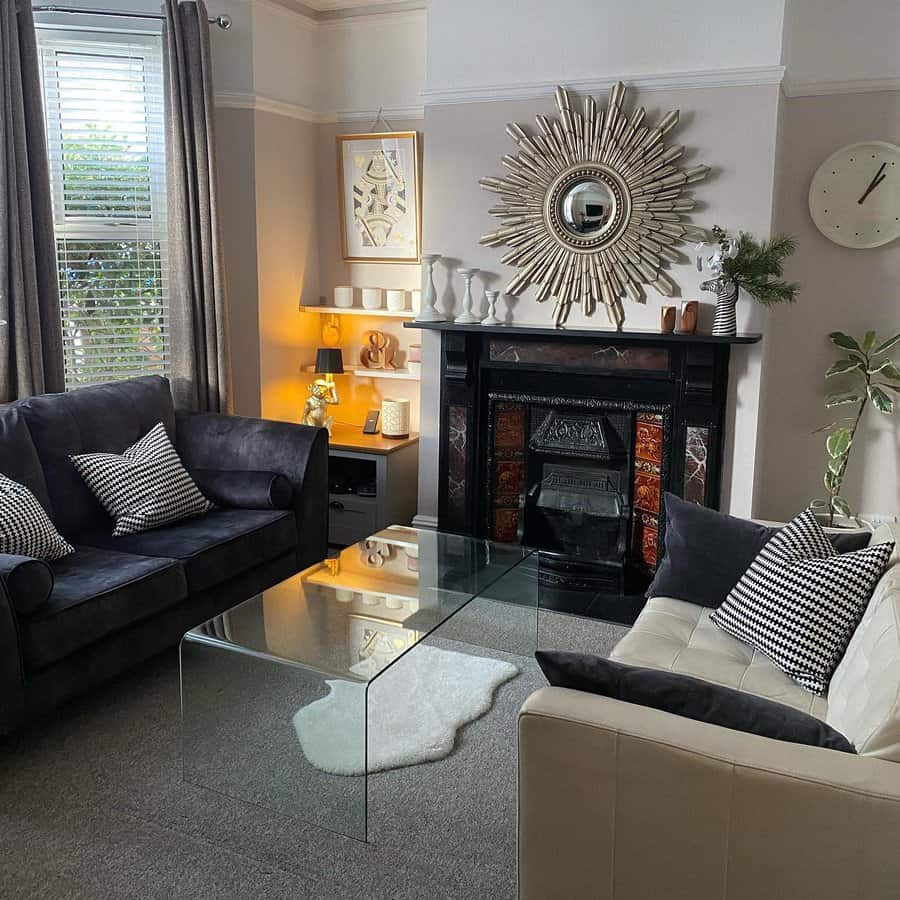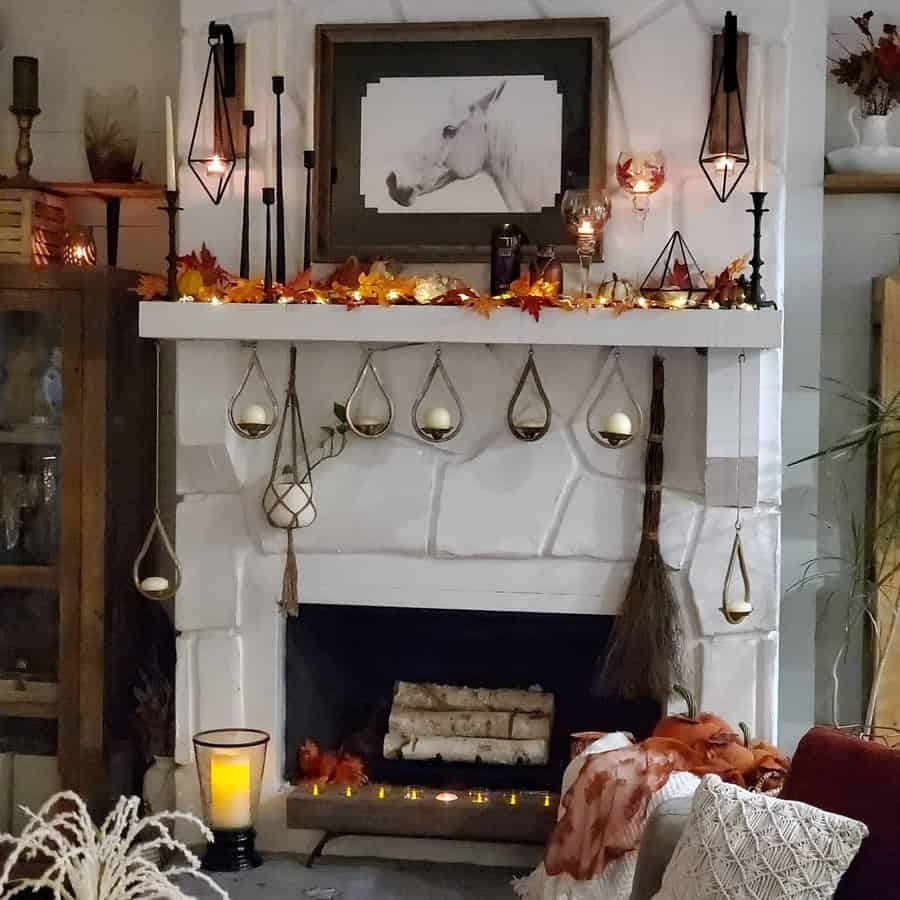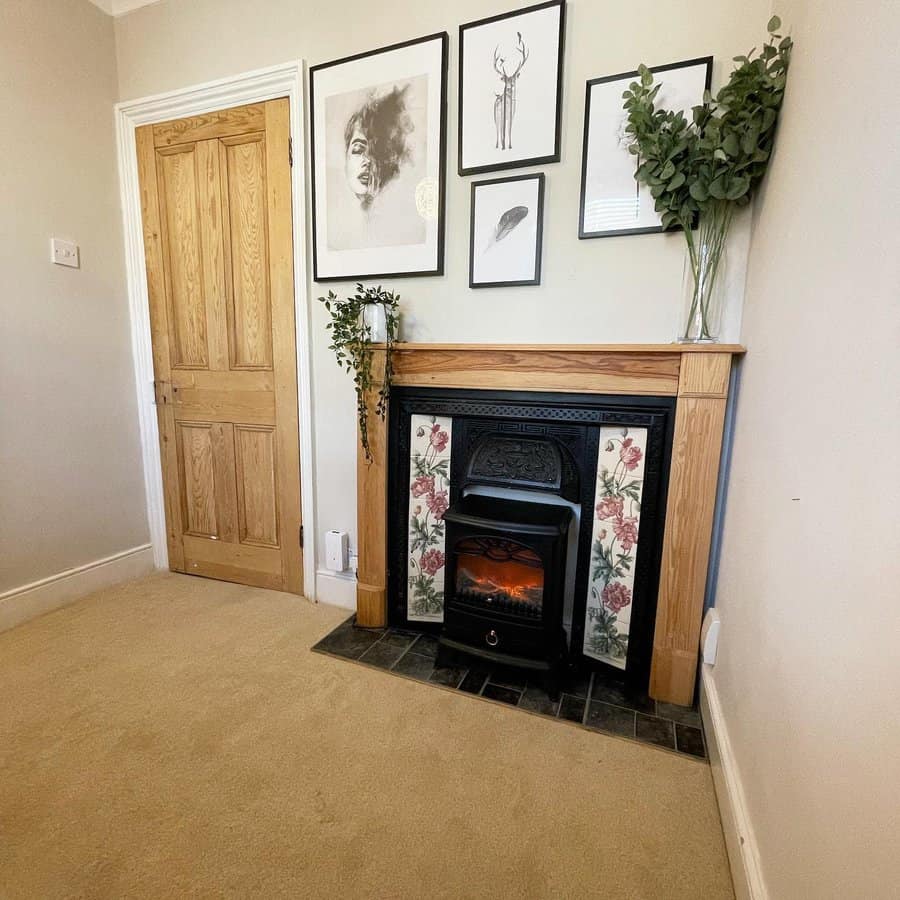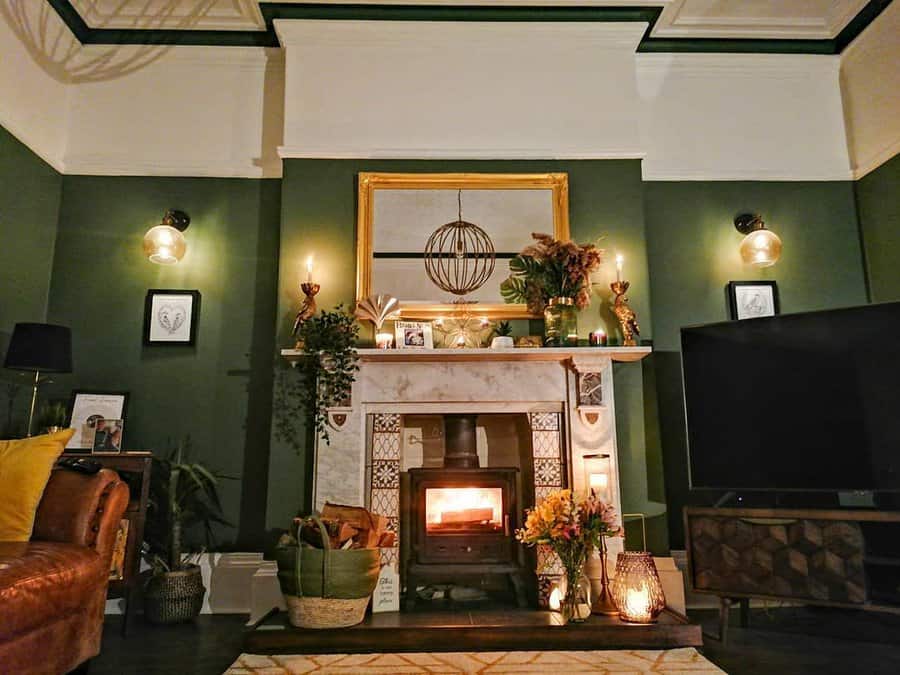 Start by looking for decorating ideas that have a style you like. Then narrow down your options to ideas that make sense in your home and with the rest of your decor.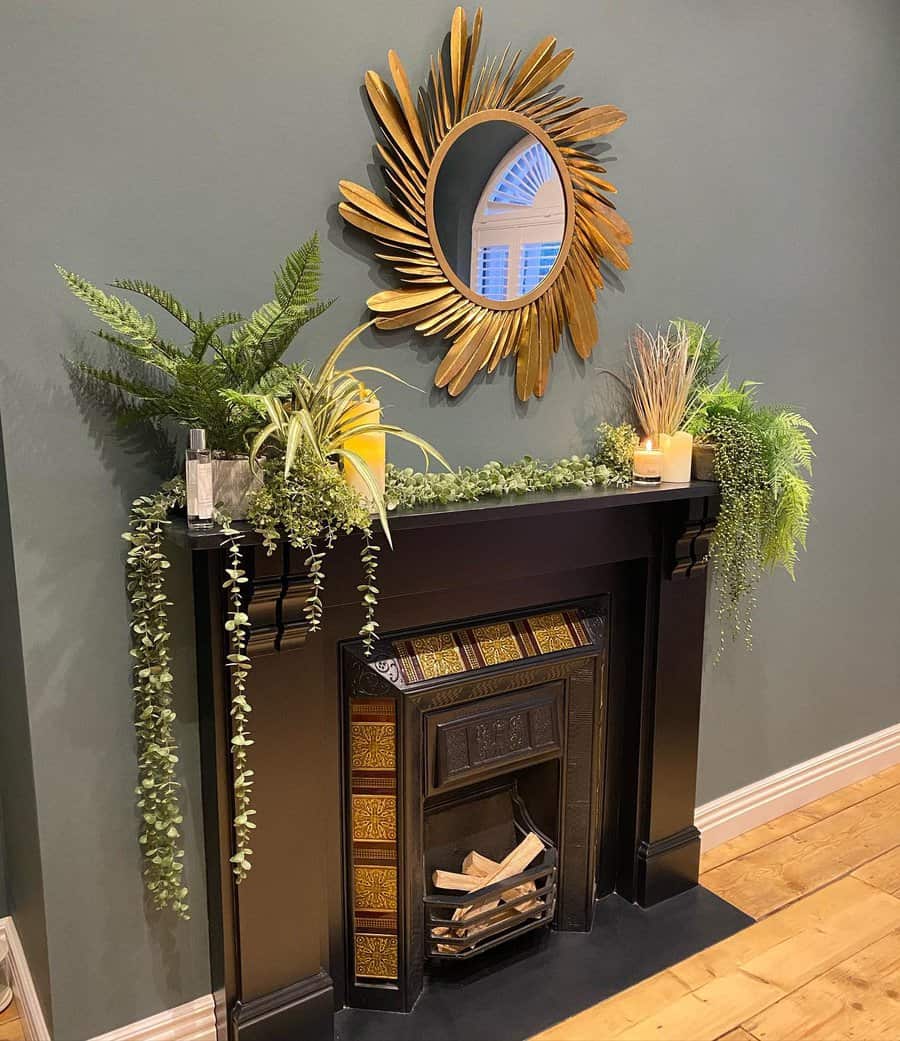 A rustic decorative display would look out of place in a modern or contemporary home. An overly elegant display would look out of place in a home where everything else is more unassuming and homey.
2. Elegant
Creating an elegant display on your fireplace mantle can set the tone for the rest of the room. The key to elegance is restraint. Choose a few pieces that are coordinated and curated without being overly matched.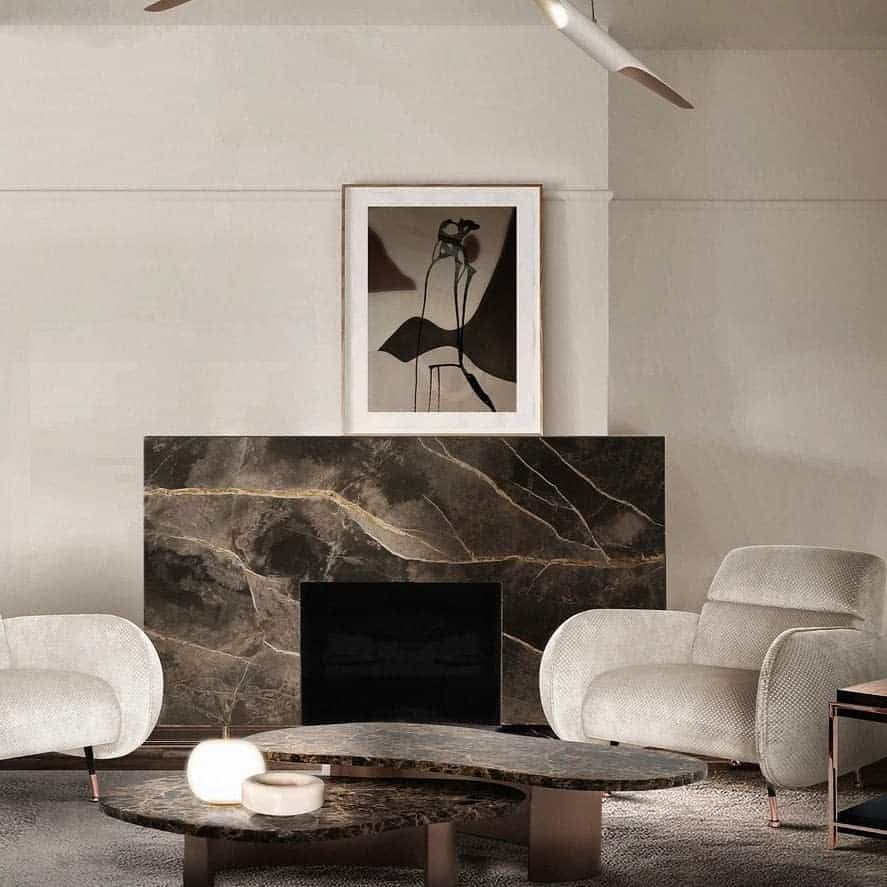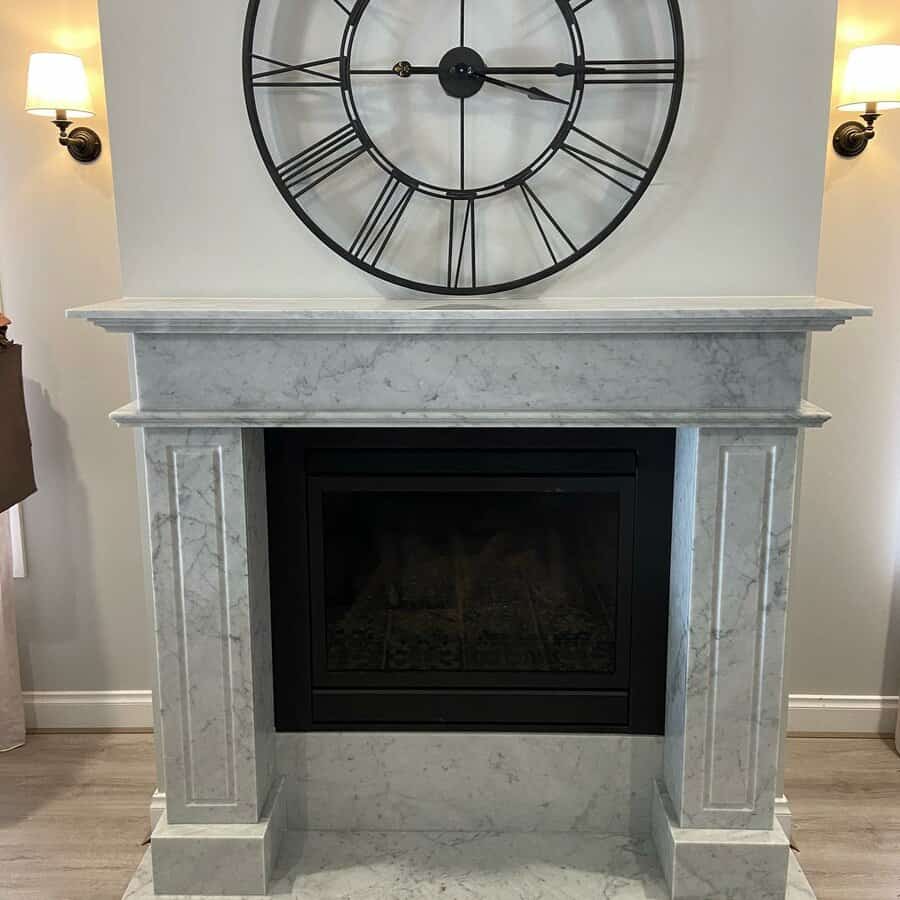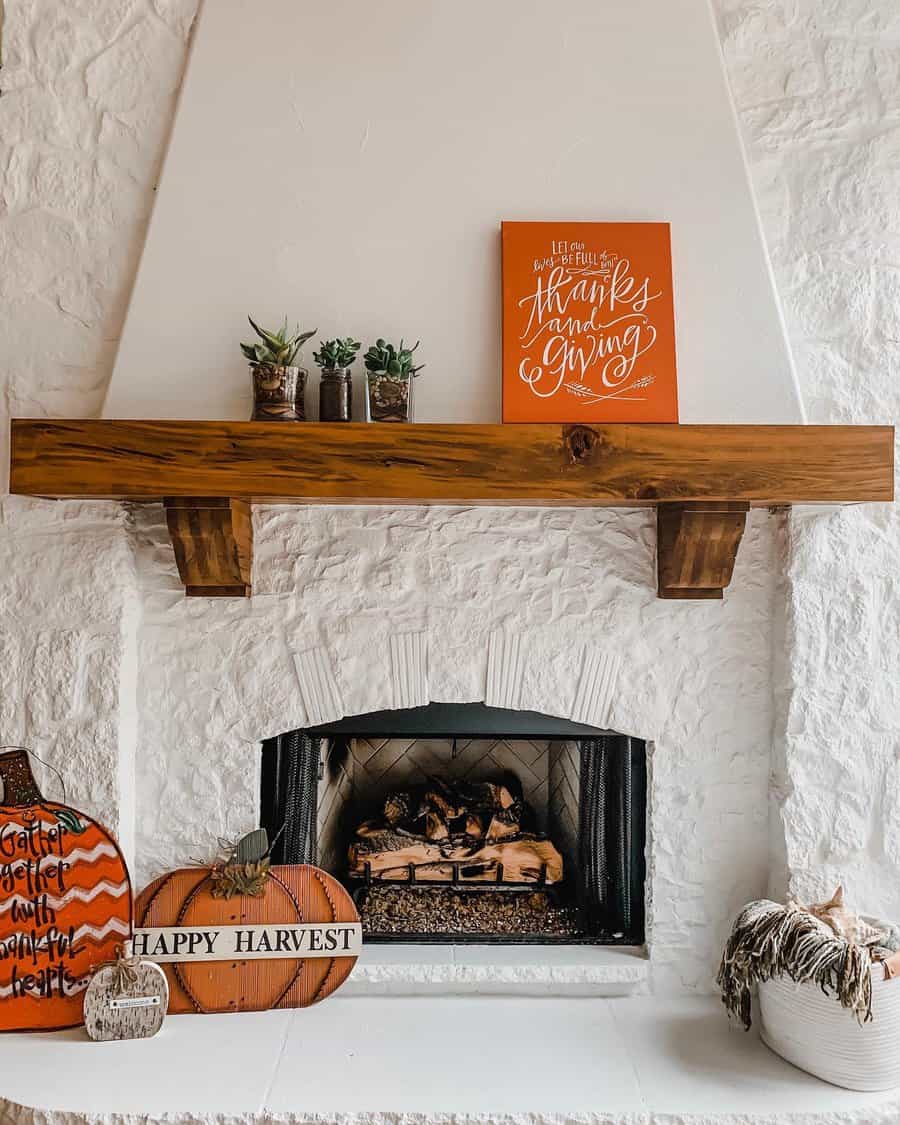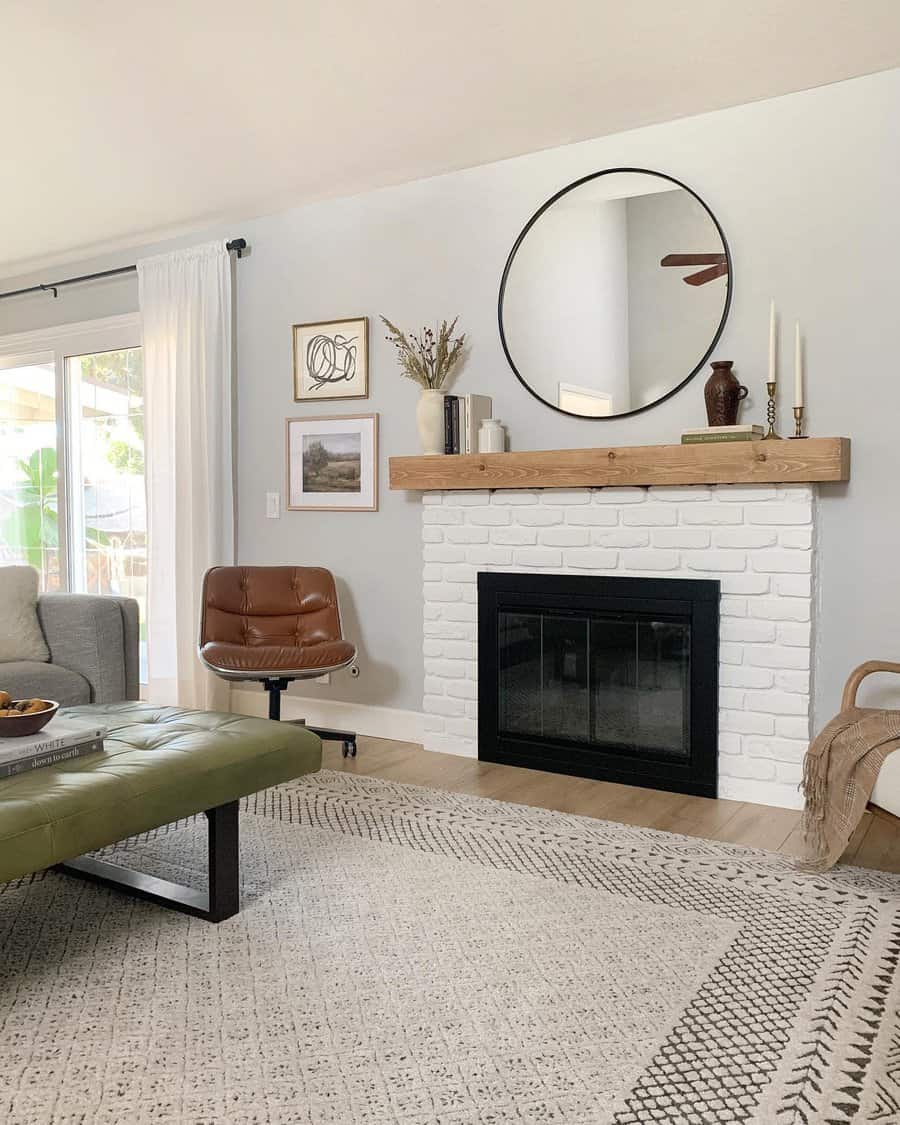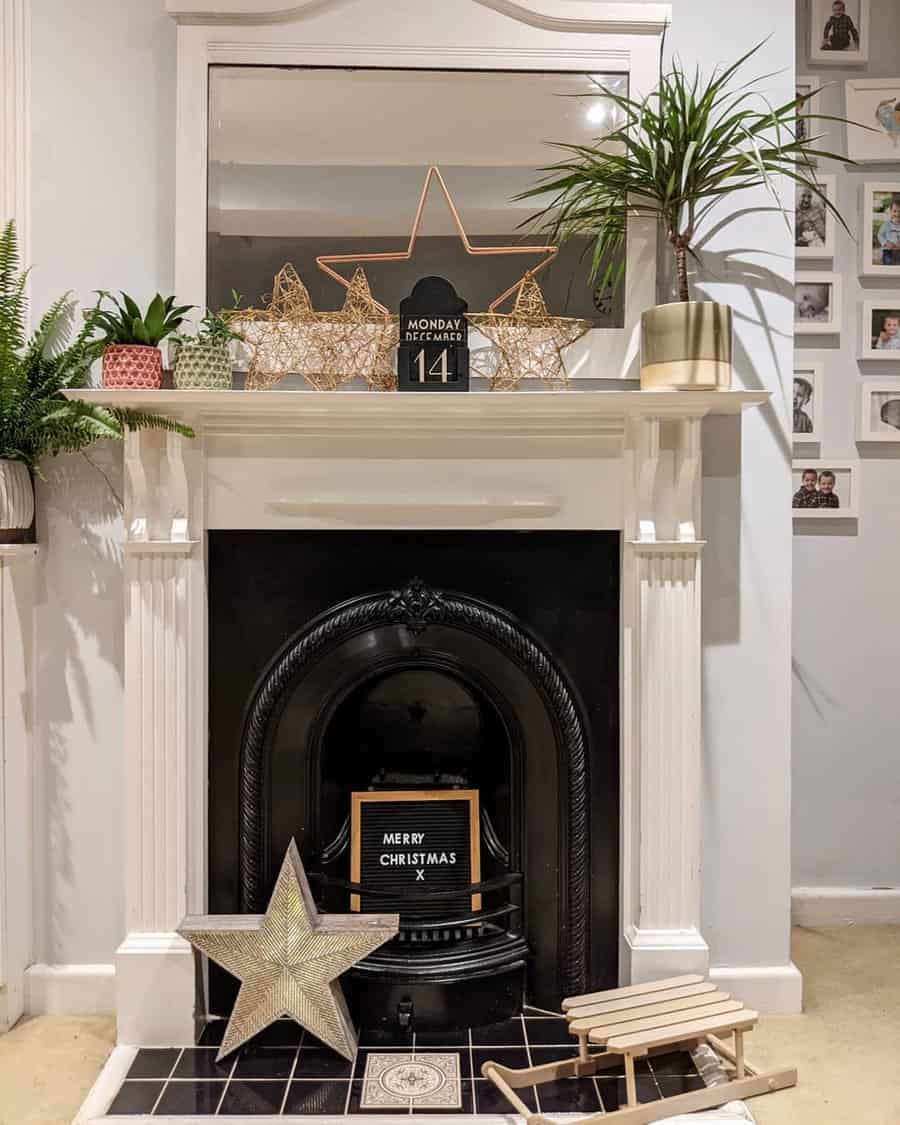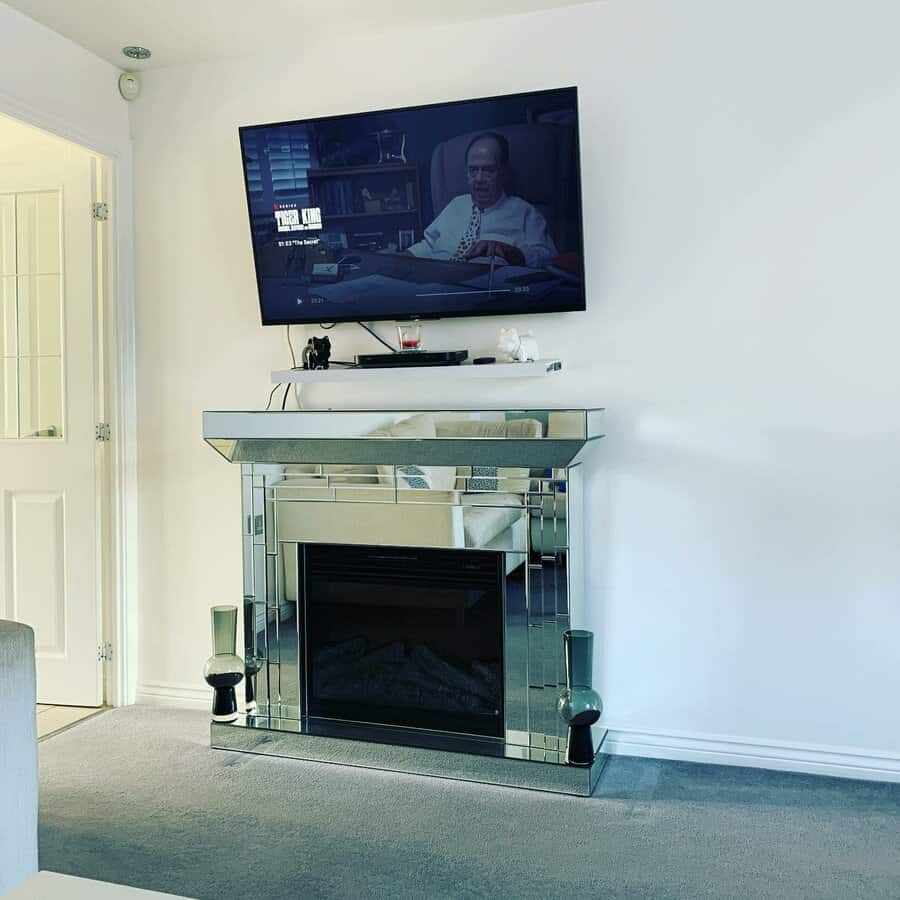 Floral arrangements of fresh blooms are a beautiful option. It can also keep your decor seasonal if you choose local flowers or those that make sense for the time of the year.
Keep the vase simple in design and proportional to the size of the mantle. Continue this greenery trend with a wreath hung on the wall above the mantle.
You could keep it simple with a wreath made of greens or grasses, or you could choose a more intricate design with blooms, ribbon, and decorative items.
3. Mirror
Hanging a mirror in your living room helps to make the space feel bigger and brighter. The reflective nature of the mirror tricks the eye into thinking the room is bigger while also bouncing the light back into the room.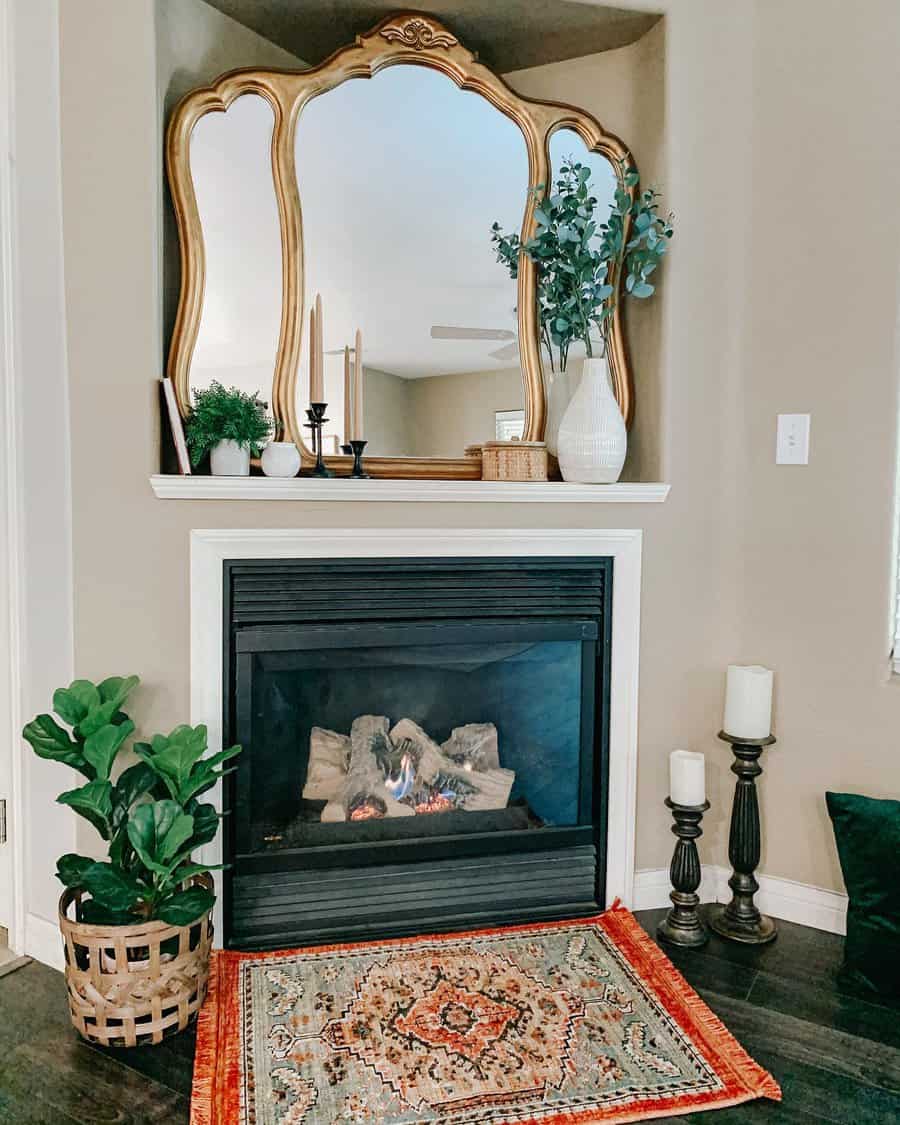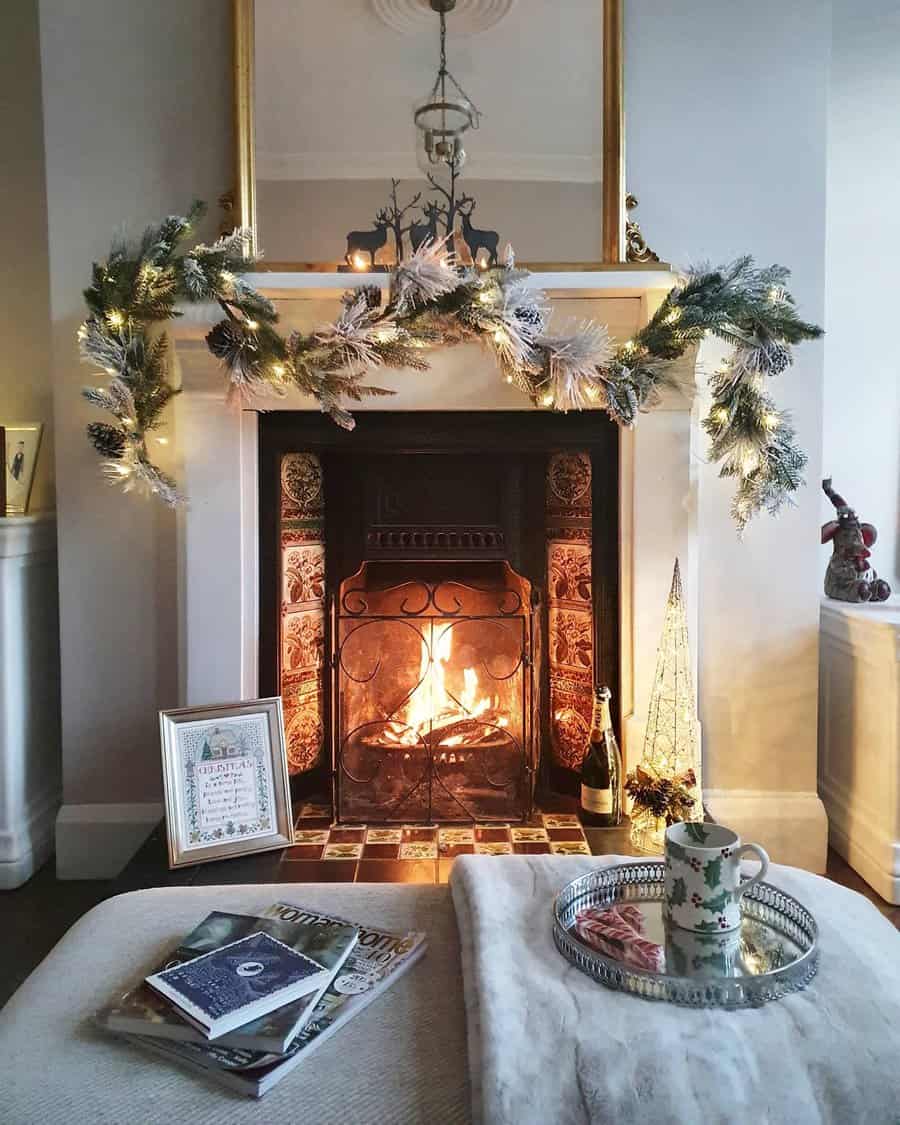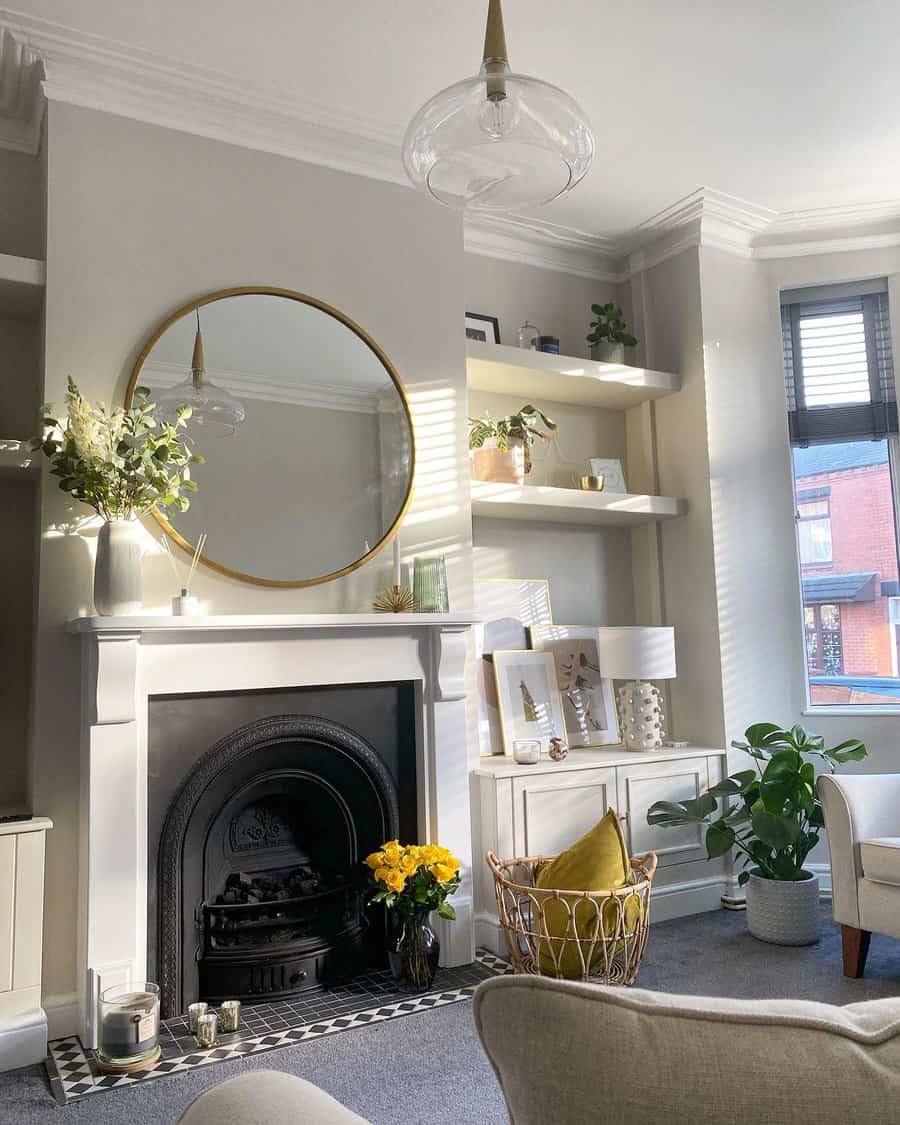 Instead of hanging a mirror on the wall, you can place it on your mantle. If one large mirror would overpower the room, look for mantel decorating ideas that use multiple mirrors.
Layer mirrors of different heights, widths, and sizes. Arrange them on one side of the mantle or across its entire length.
4. Modern
A traditional fireplace requires wood to build a fire. This is messy and requires regular cleaning. A modern fireplace is a much cleaner functioning design.
A gas fireplace is one that you can turn on and off at the touch of a button. This lets you enjoy a roaring fire whenever you want.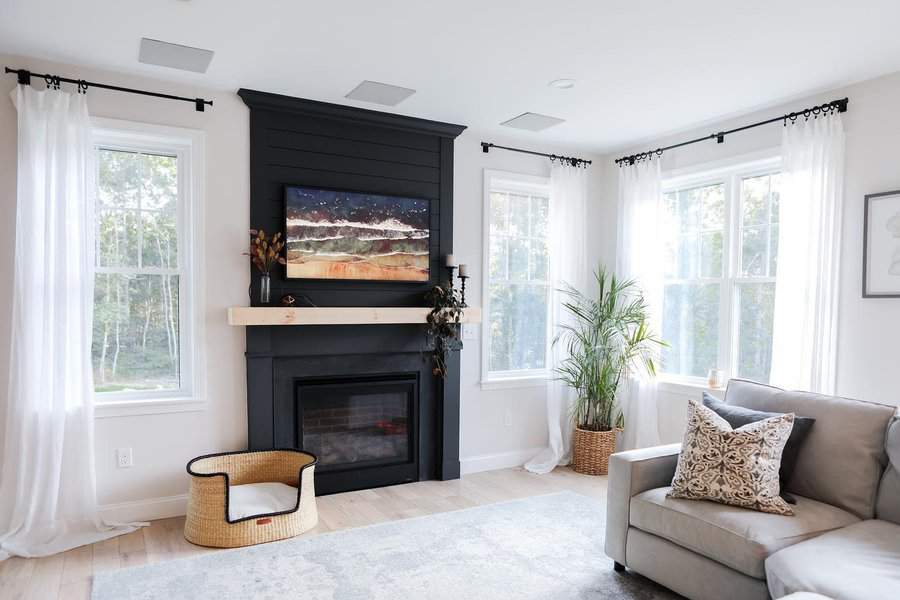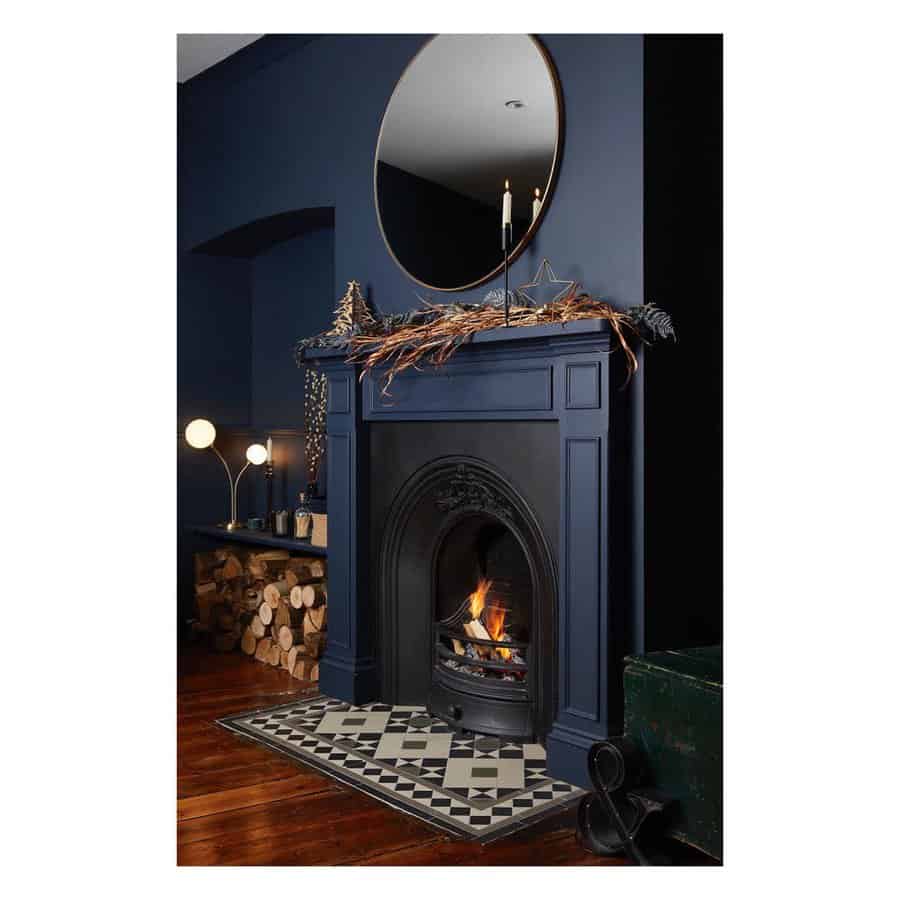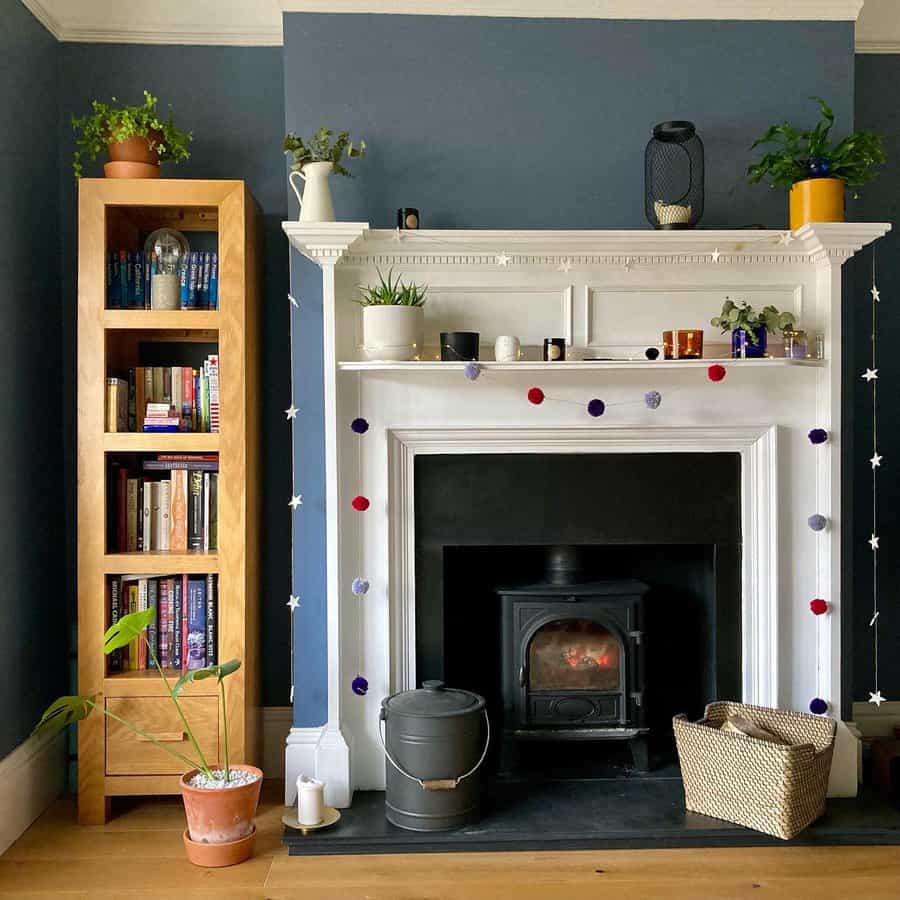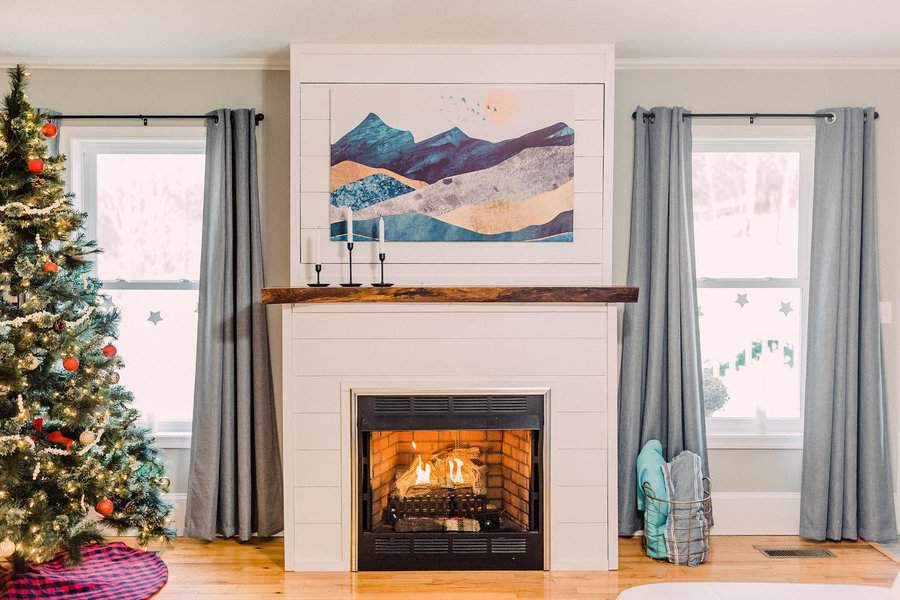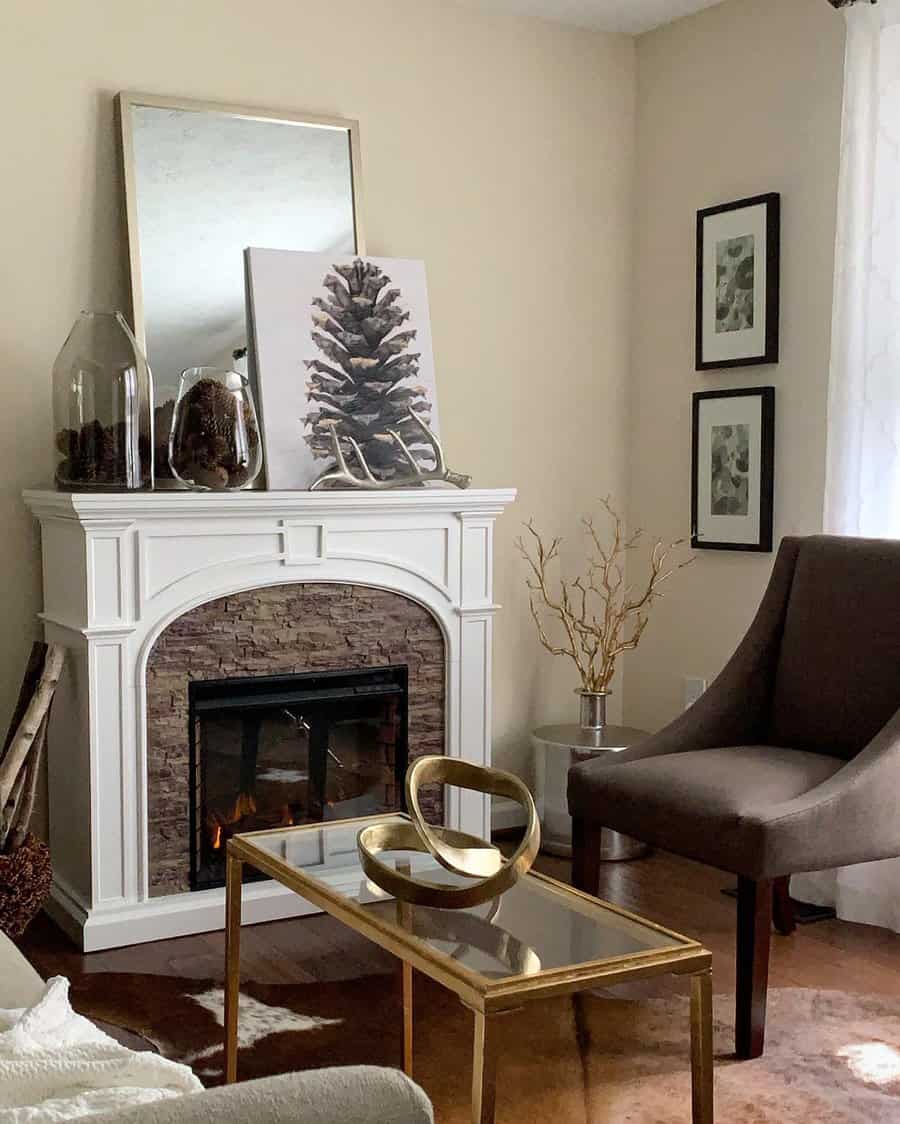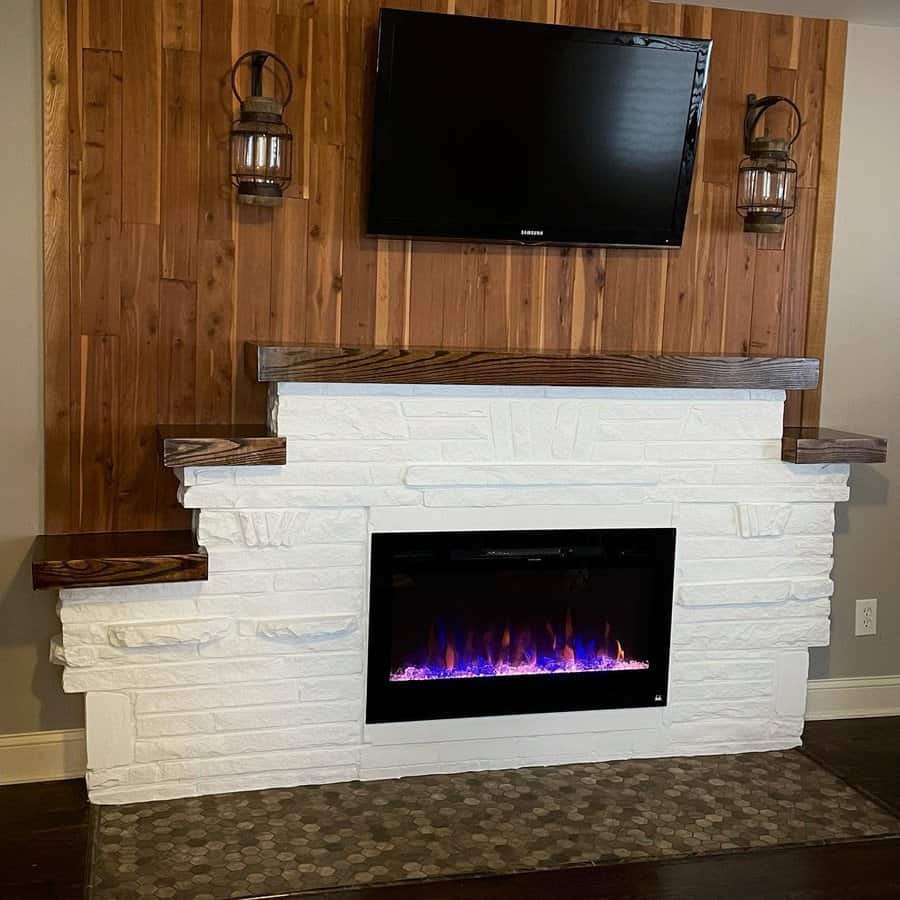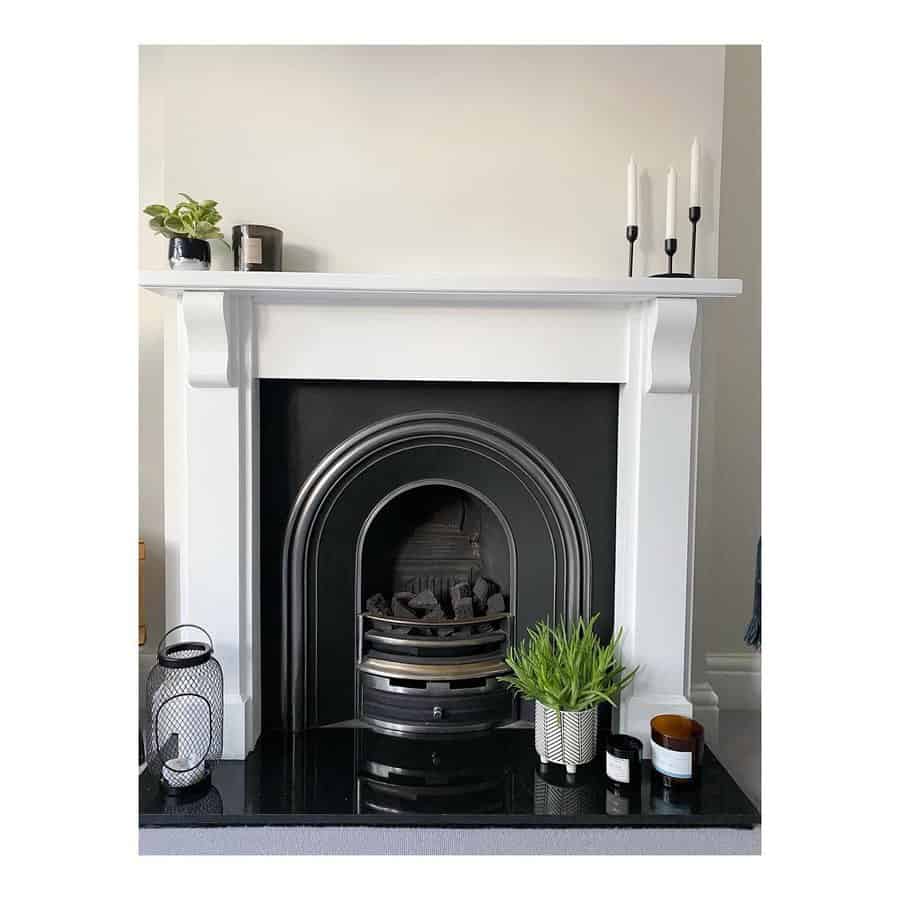 Modern fireplaces don't need a mantle, but having one will give it structure. Keep the design of the mantel sleek and straight. Embrace the modern look of your fireplace and mantle by choosing decor that also has a modern feel.
5. Rustic
A fireplace creates a warm, cozy, and comfortable place to be. Embrace this by using farmhouse decor on the mantle.
Start by adding shiplap to the wall around and above the fireplace. Create a rustic mantle by replacing your current one with reclaimed wood or aging the one you have.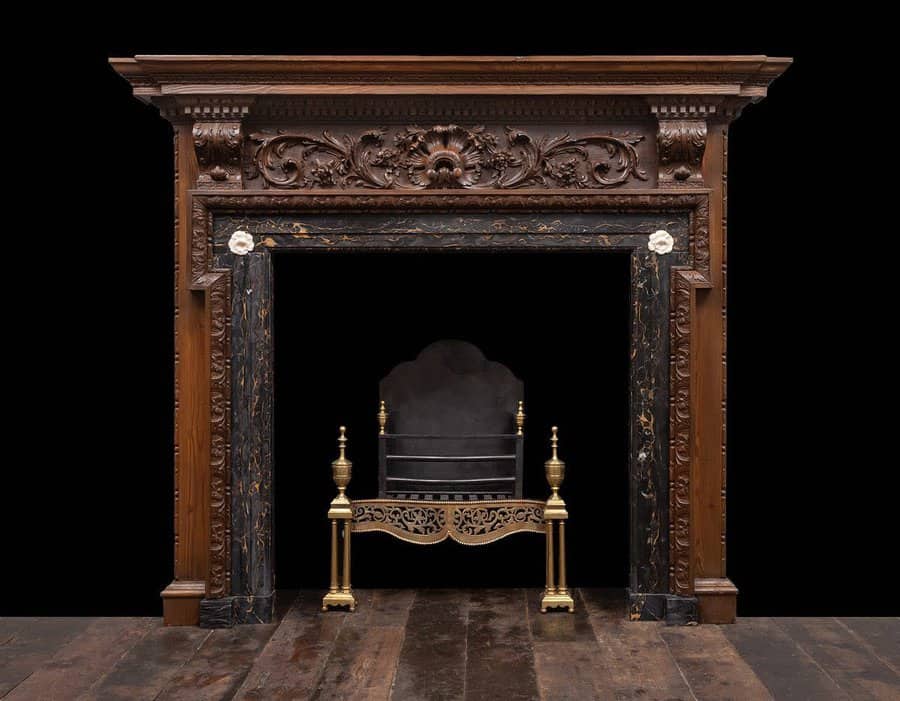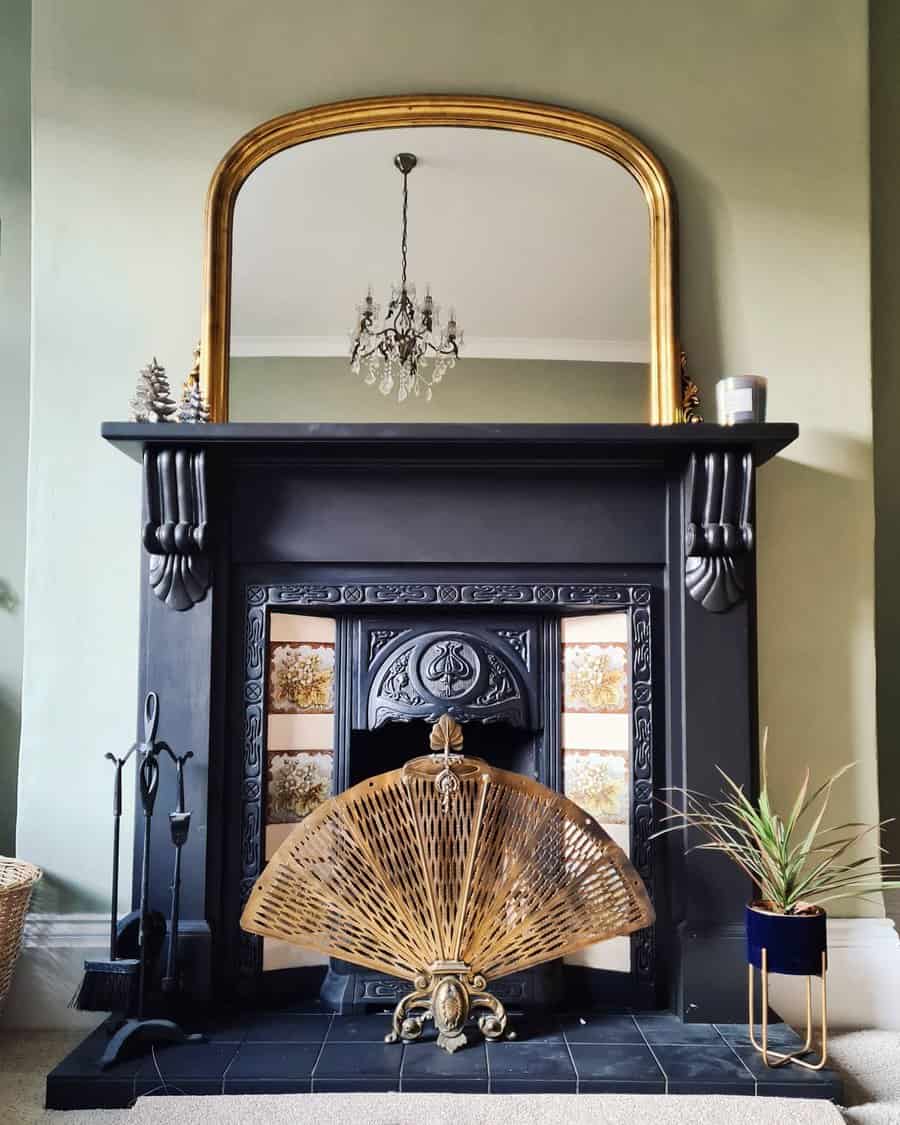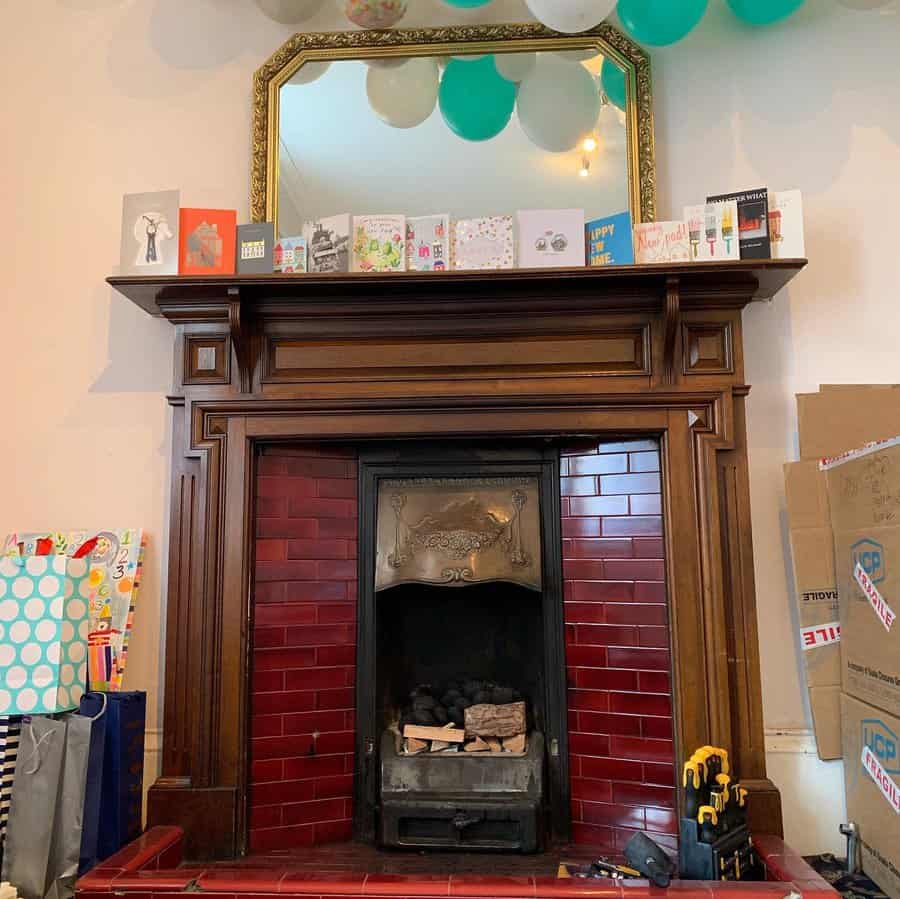 During the fall season, you can arrange white pumpkins around the hearth. Look at fall decorating ideas for what else you can add to the pumpkins. Then you can easily transition them into a winter display for the holidays.
6. Stone
A carved piece of stone as your fireplace mantle can be the perfect accent to your stone fireplace. It can also provide an elegant accent to a brick fireplace.
How rustic or elegant your stone mantle looks depends on how finished it is. A raw piece of stone roughly carved into shape will give your home a rustic look. A stone that's perfectly smooth and highly polished will look elegant and sophisticated.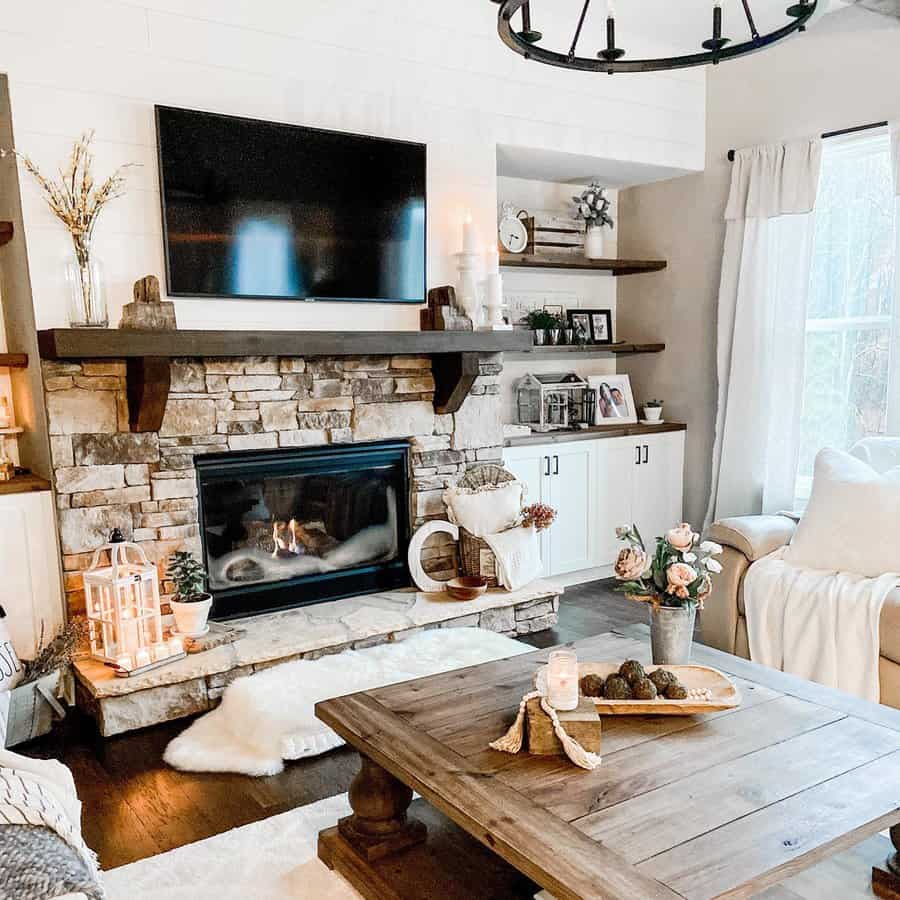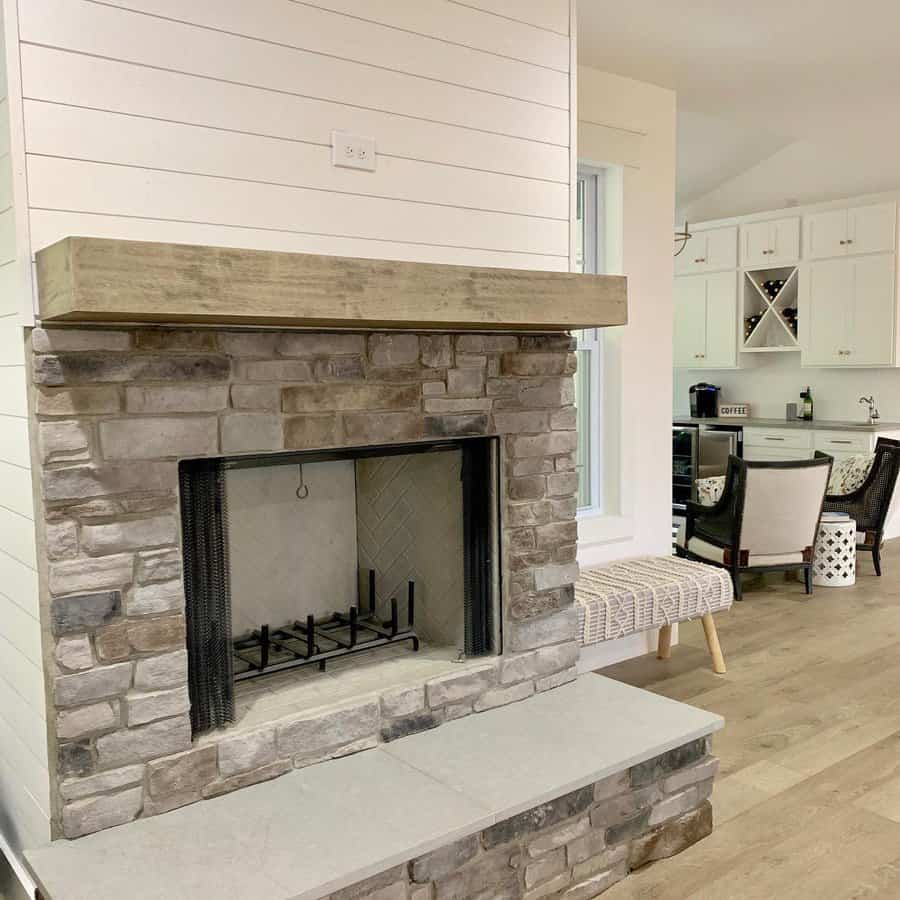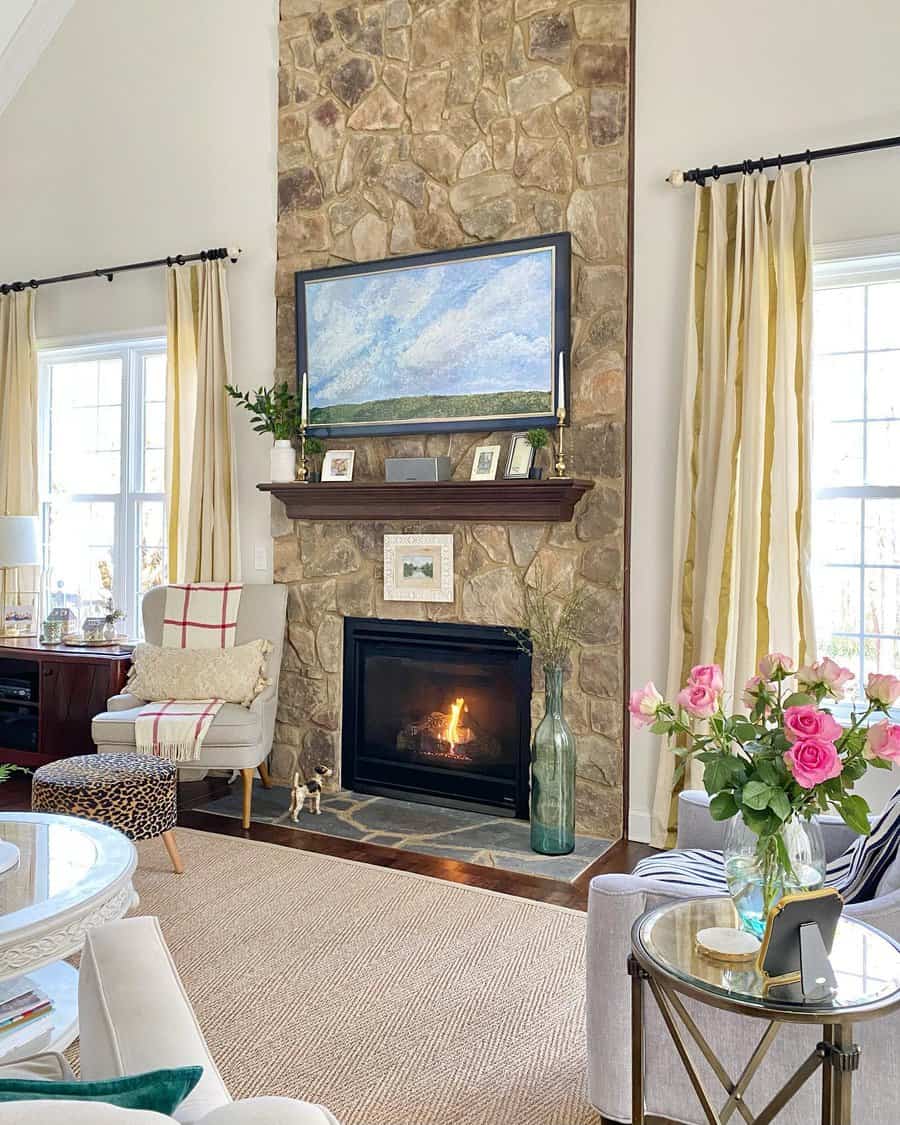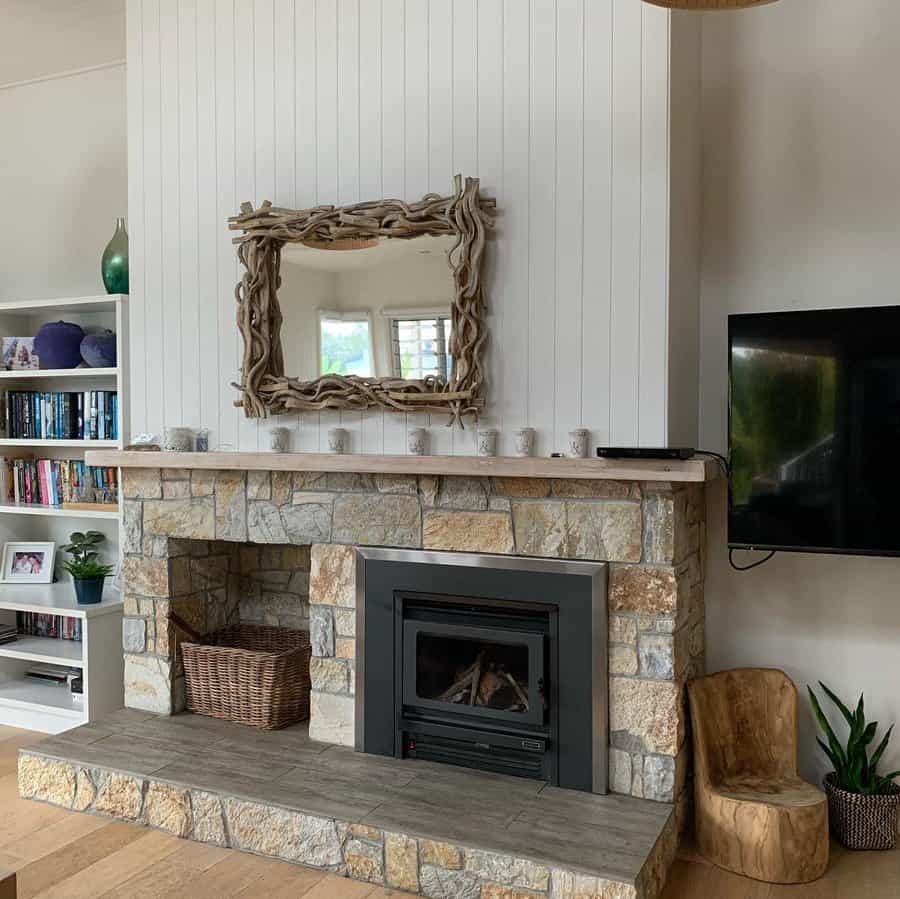 Carved stone that has detailing throughout will give the stone a traditional look. It could have elegant curved or classic columns. If you prefer a modern look, then the stone should be perfectly smooth, have minimal details, and have crisp square corners.
7. Wall-Mounted TV
A large statement fireplace is beautiful in your living room or bedroom. The problem with it is that it doesn't work well with modern technology.
You can fix this by mounting your flat-screen TV on the wall over your fireplace. Unfortunately, most mantles are not large enough to support a large TV sitting on them.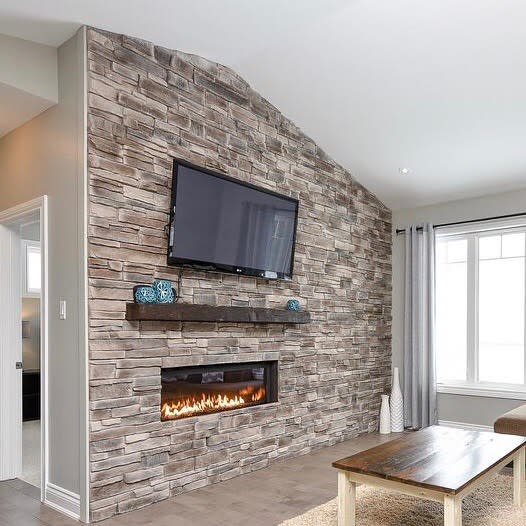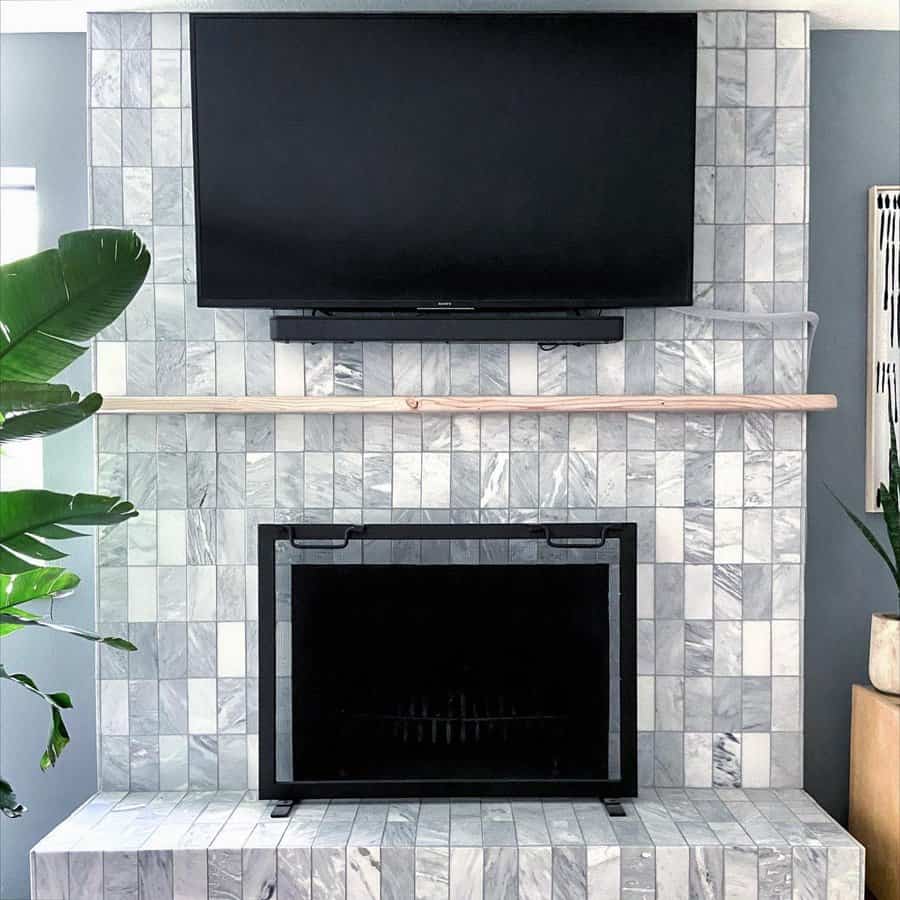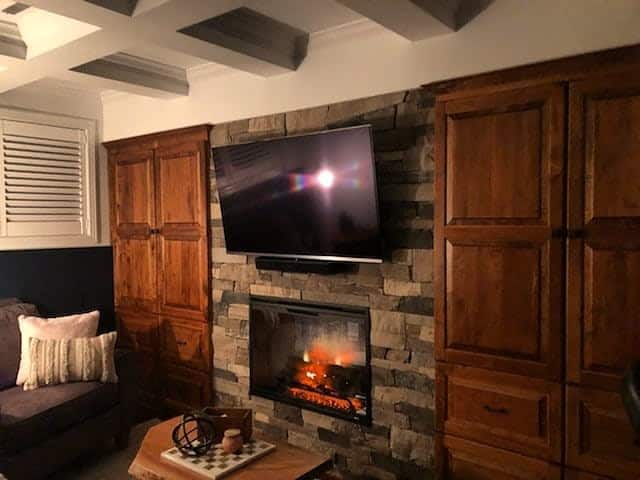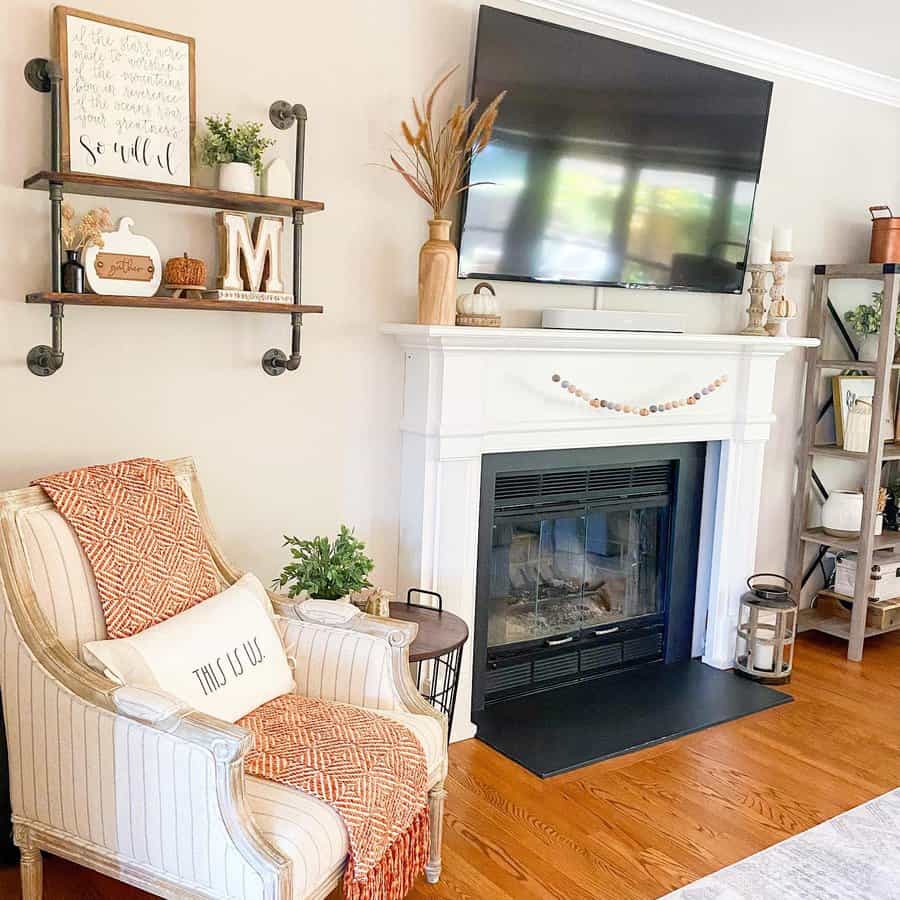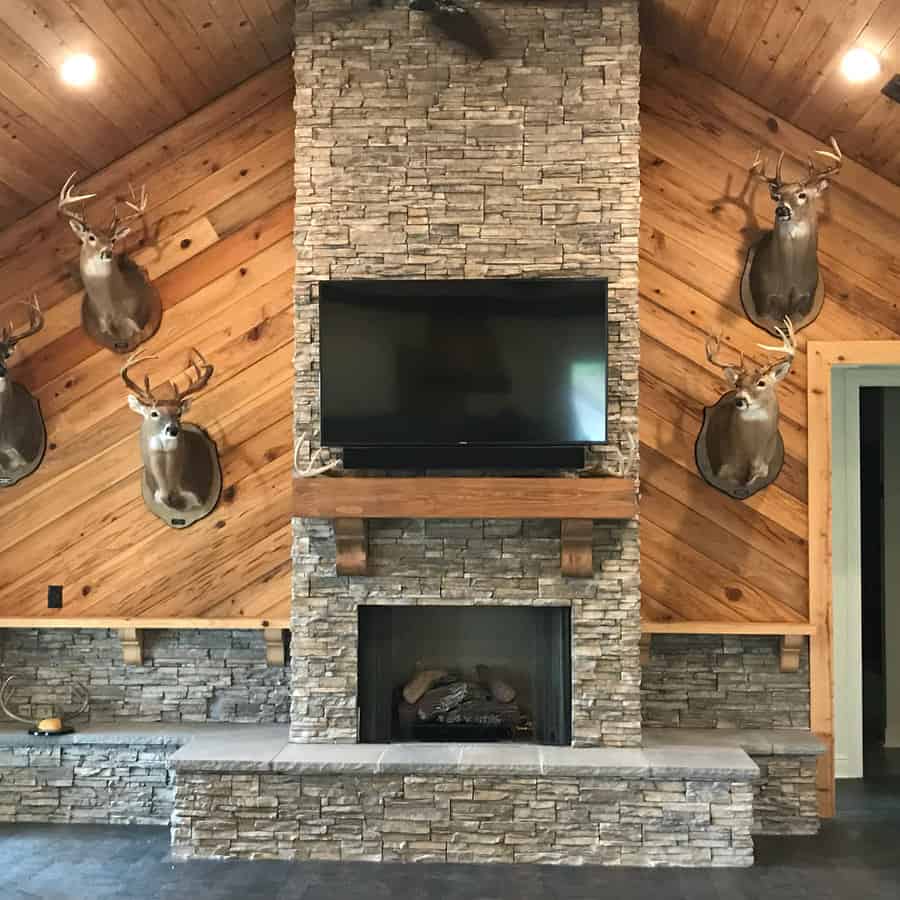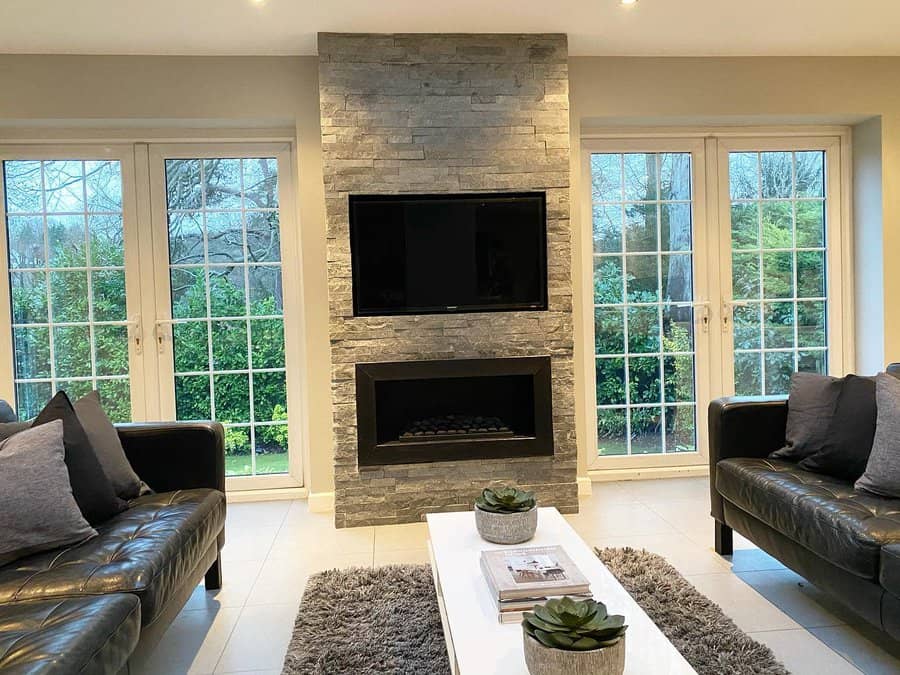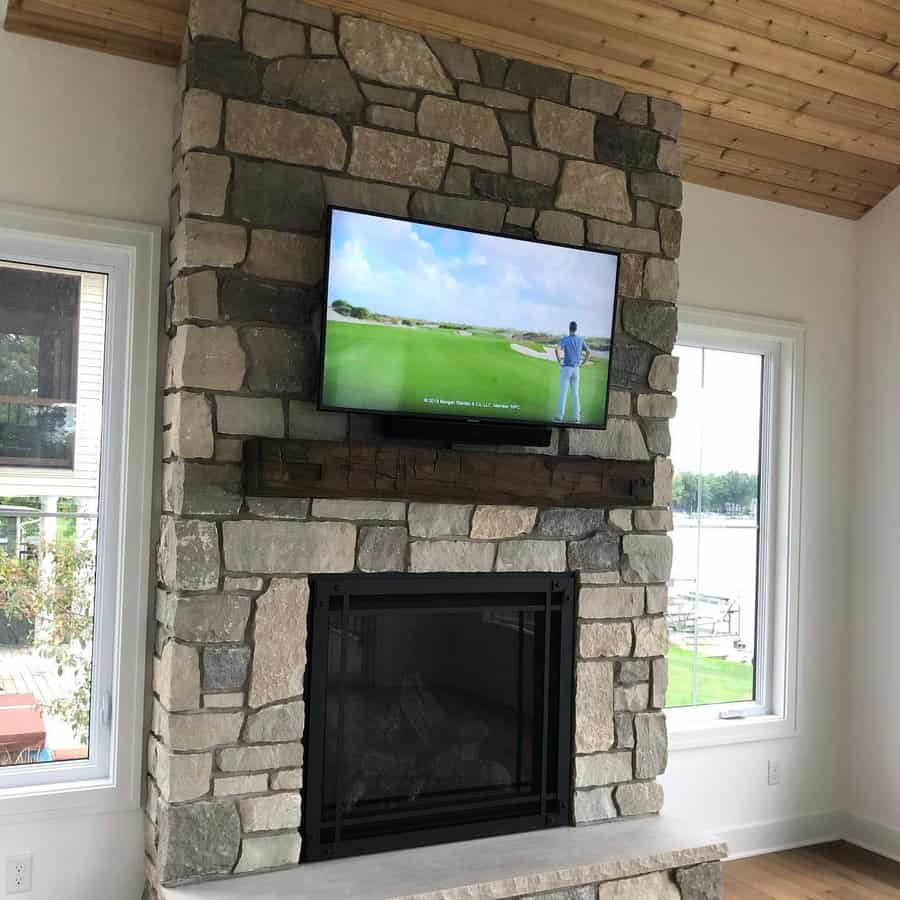 If you decide to mount your TV on the wall, be sure to buy a durable one. There's a surprising amount of heat generated in your fireplace, and this heat rises through the chimney, heating the wall from behind. A TV that is not durable to the heat will have a shortened useful life.
8. Traditional
Create a traditional look with the decor on your mantle. Add sconces to the wall above the mantle. Place one on either side as accents. Look for fireplace decorating ideas that use classic decor.
Place matching vases with floral arrangements on either end of the mantle. Hang a piece of art on the wall over the mantle.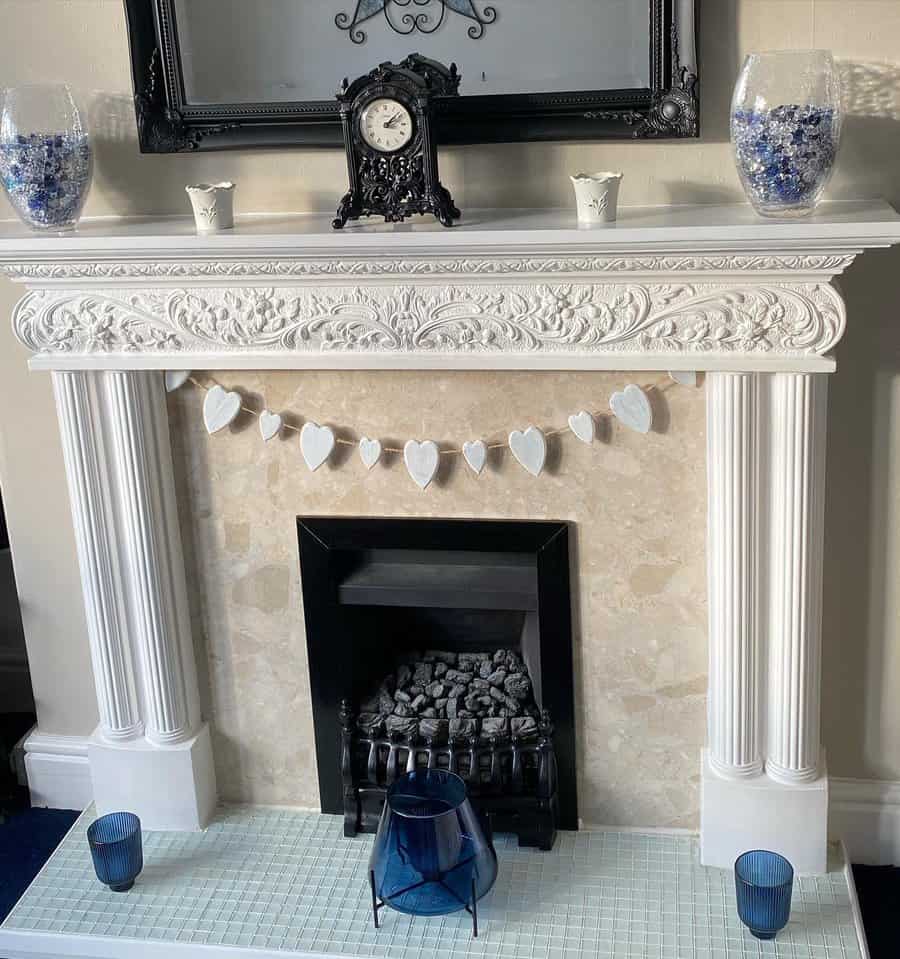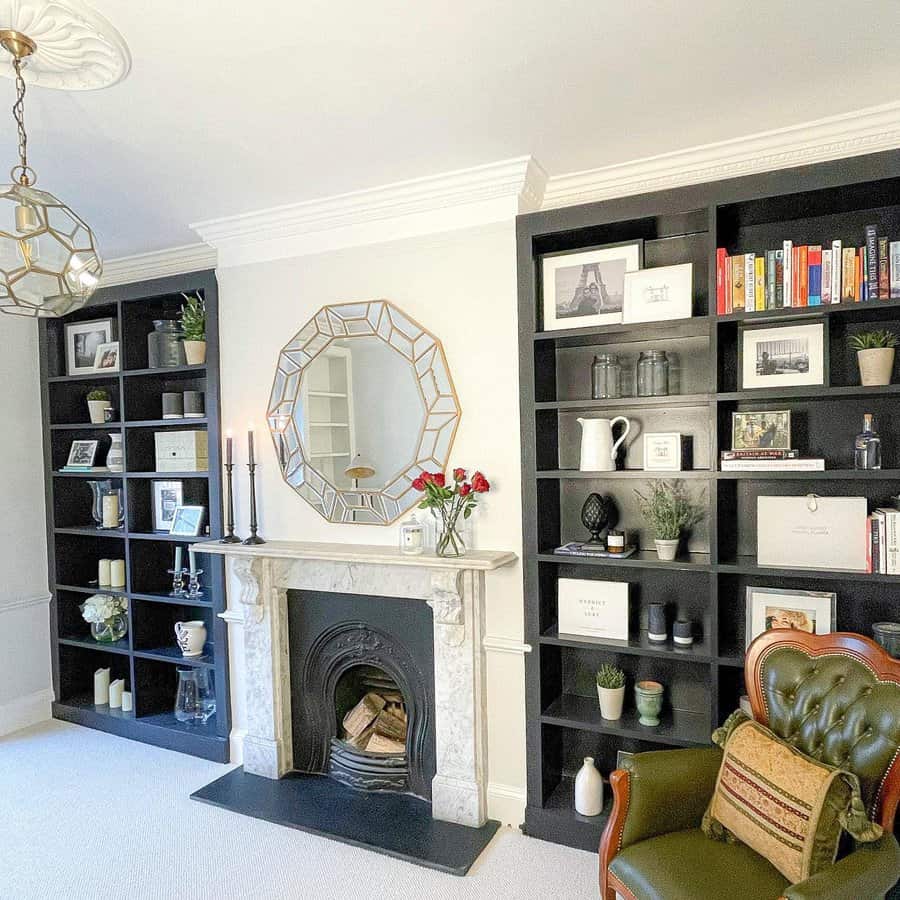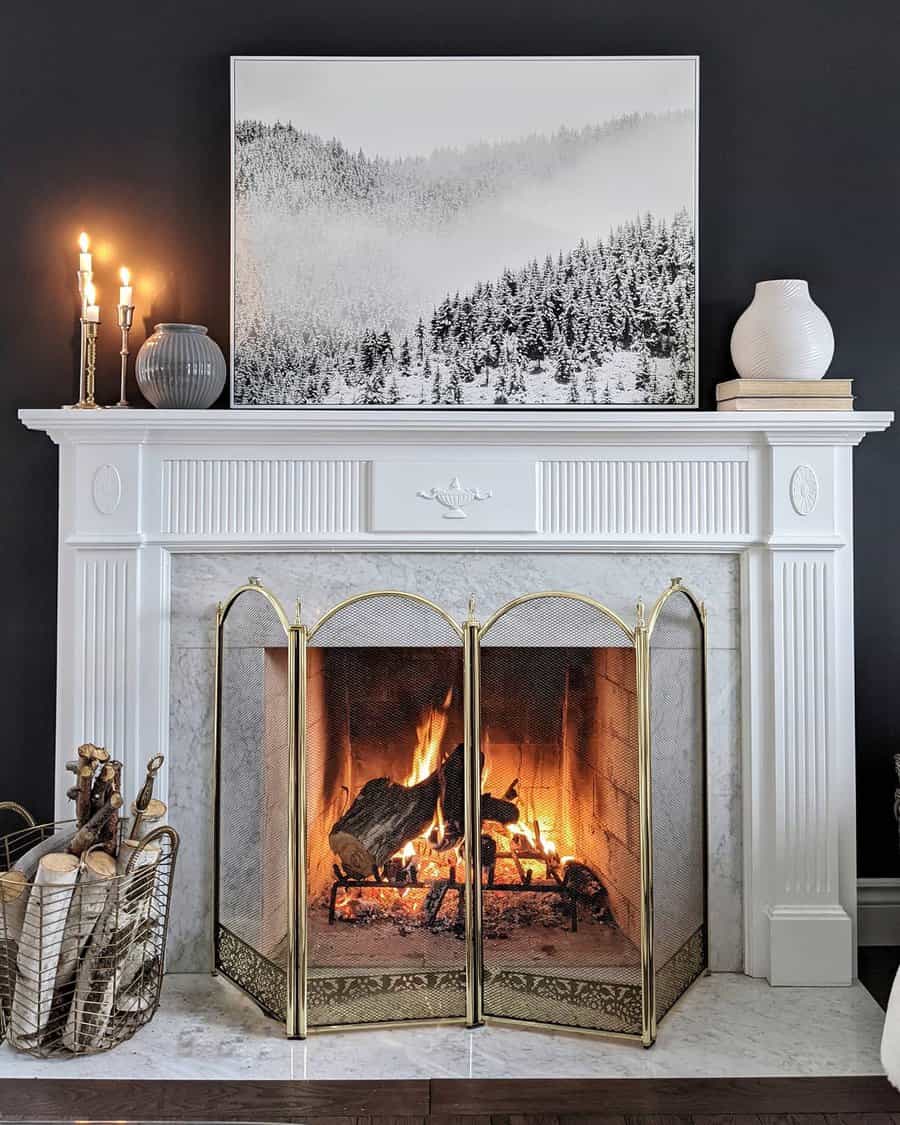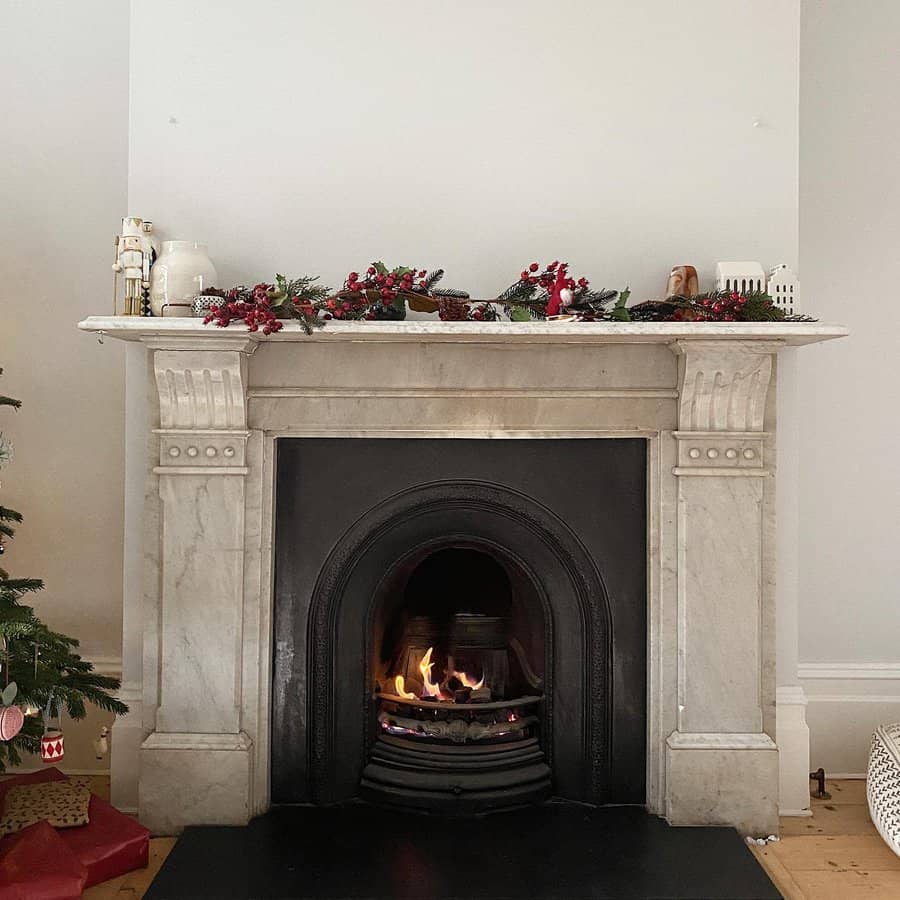 Add vintage and antique pieces to the mantle as decor. This could include heirloom candlesticks, a piece of fine china, or framed pictures of the family. Stick with darker woods that are stained and polished or varnished.
9. Victorian
If you don't have a fireplace but want one, you can easily create the look without doing major remodeling on your home.
Add a faux fireplace by mounting a vintage Victorian fireplace mantle on the wall. You can find these salvaged from homes for an authentic look.
You'll appreciate the intricate carvings and scrollwork.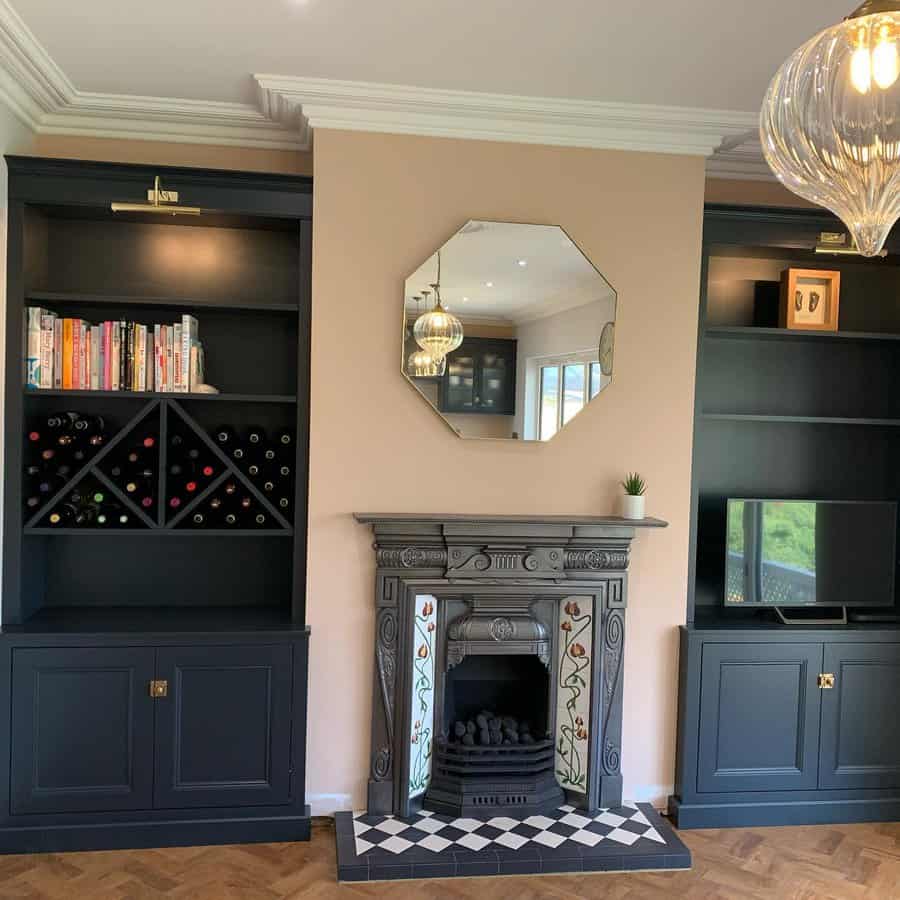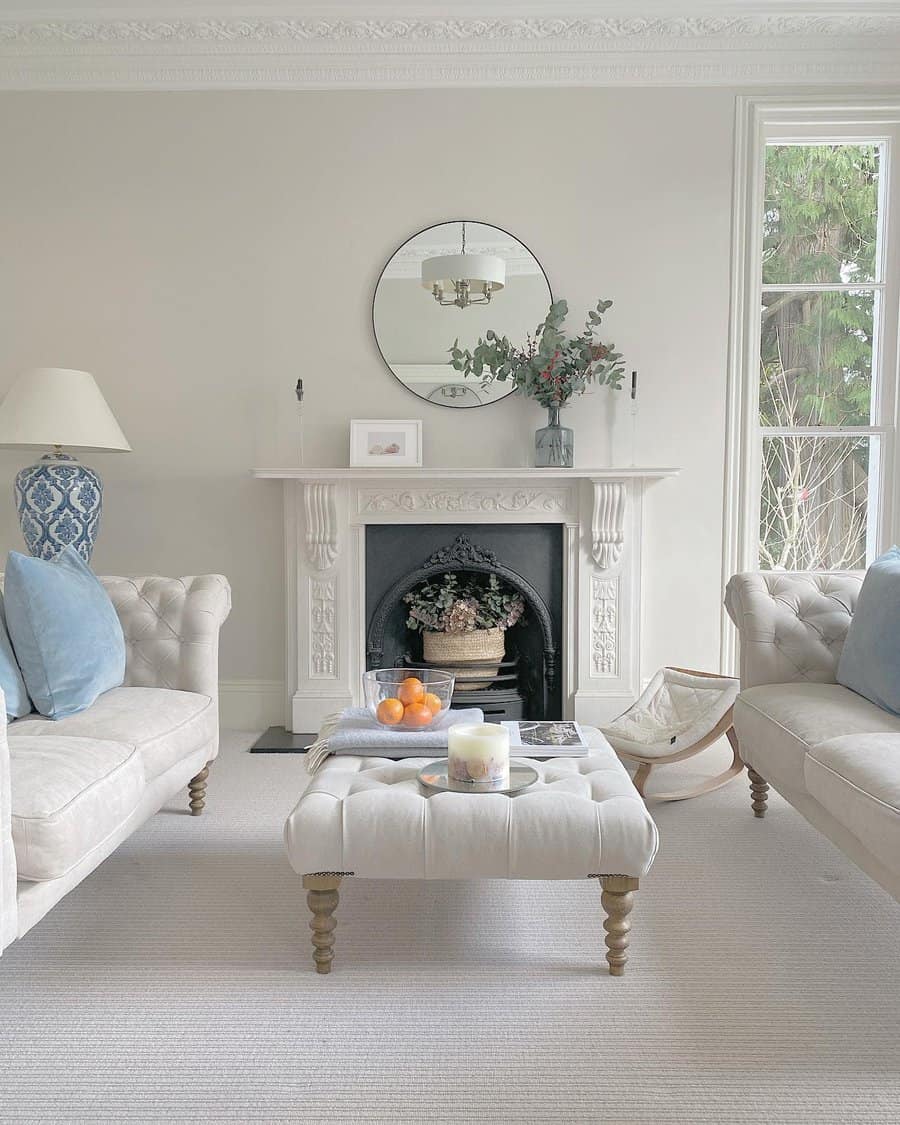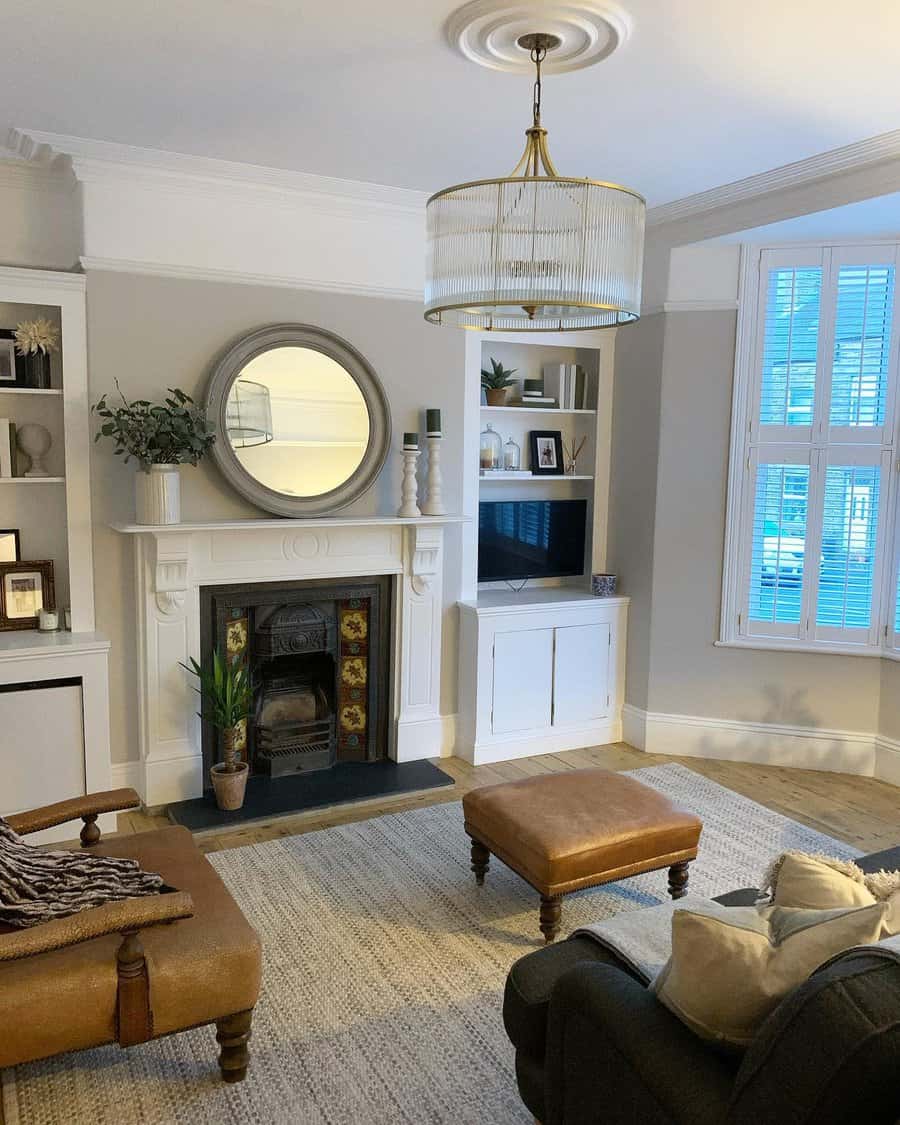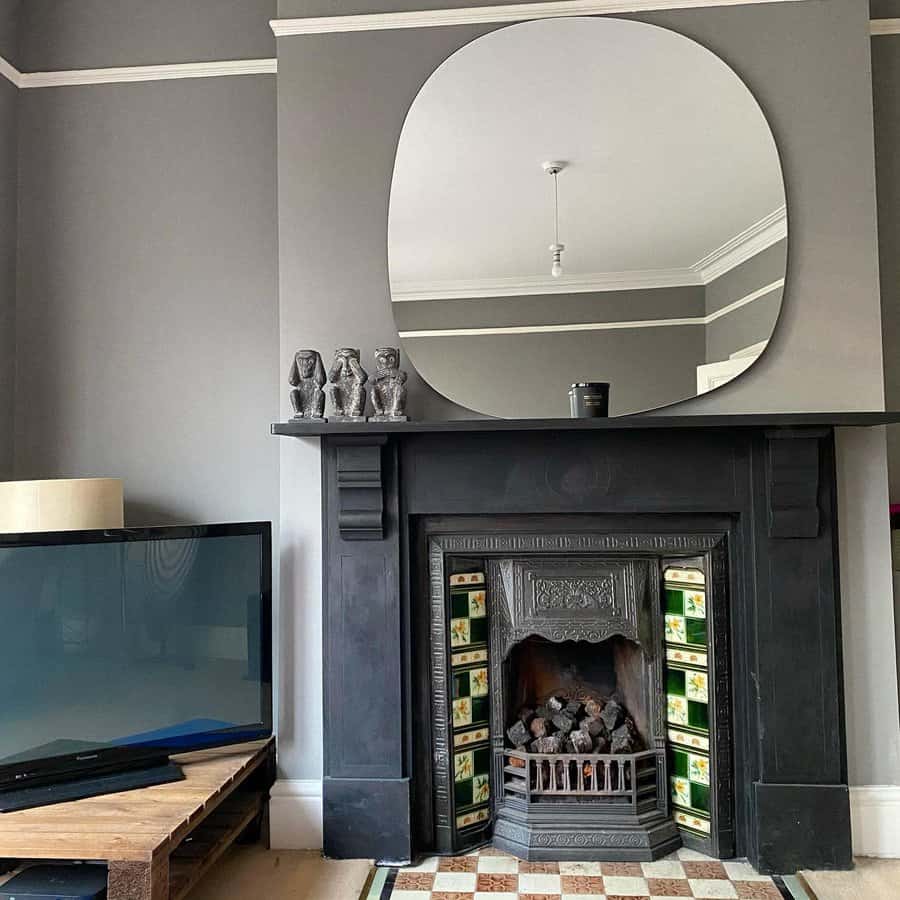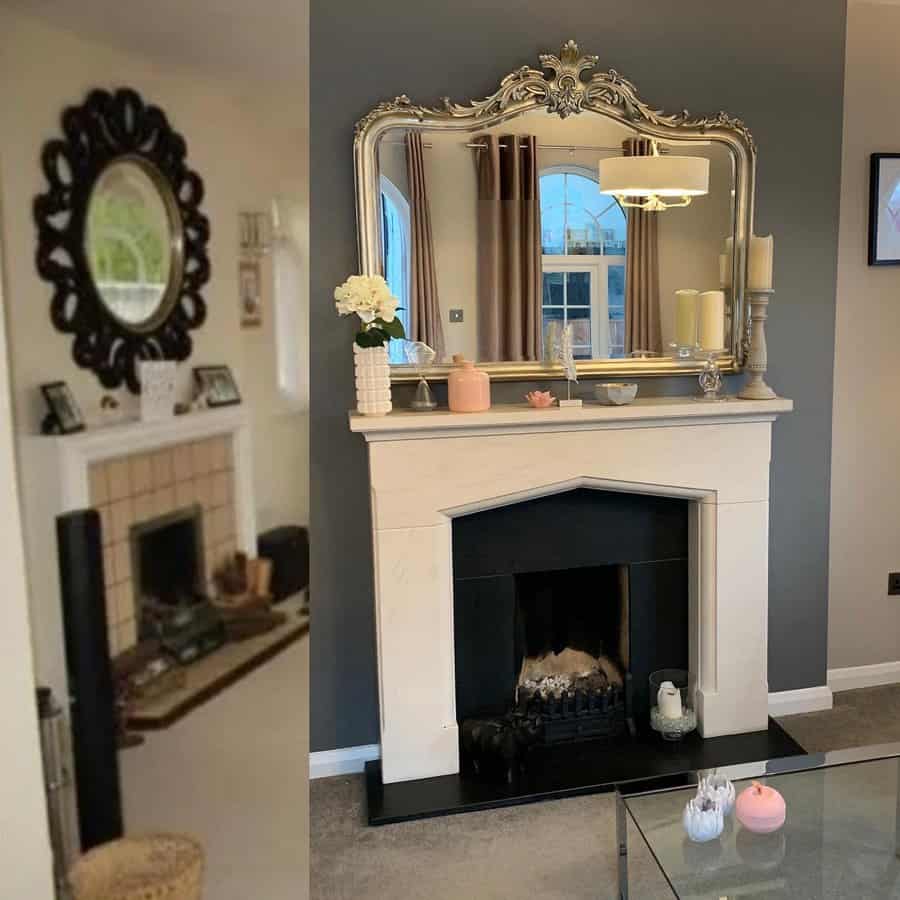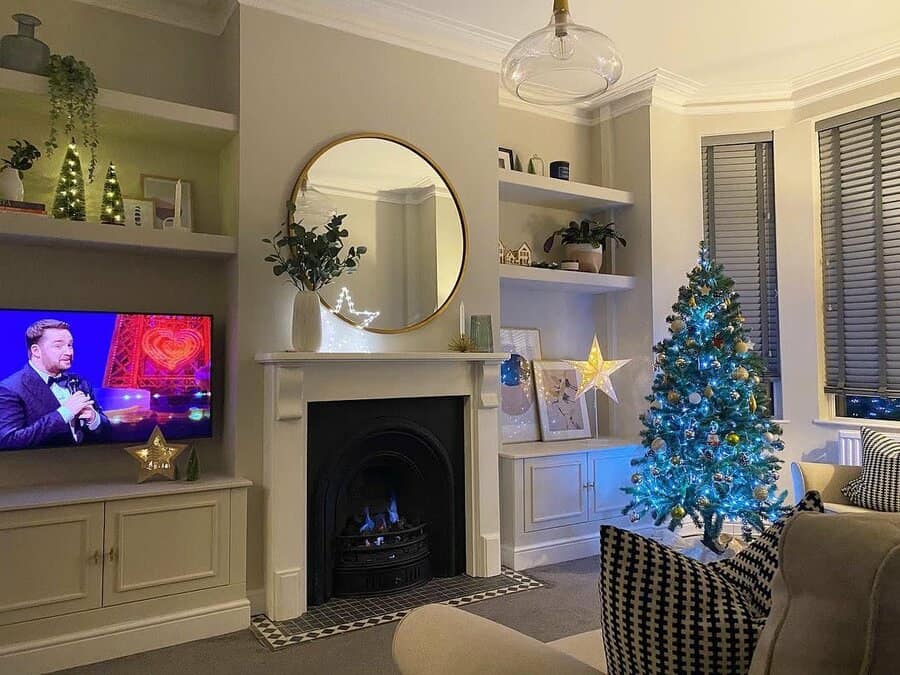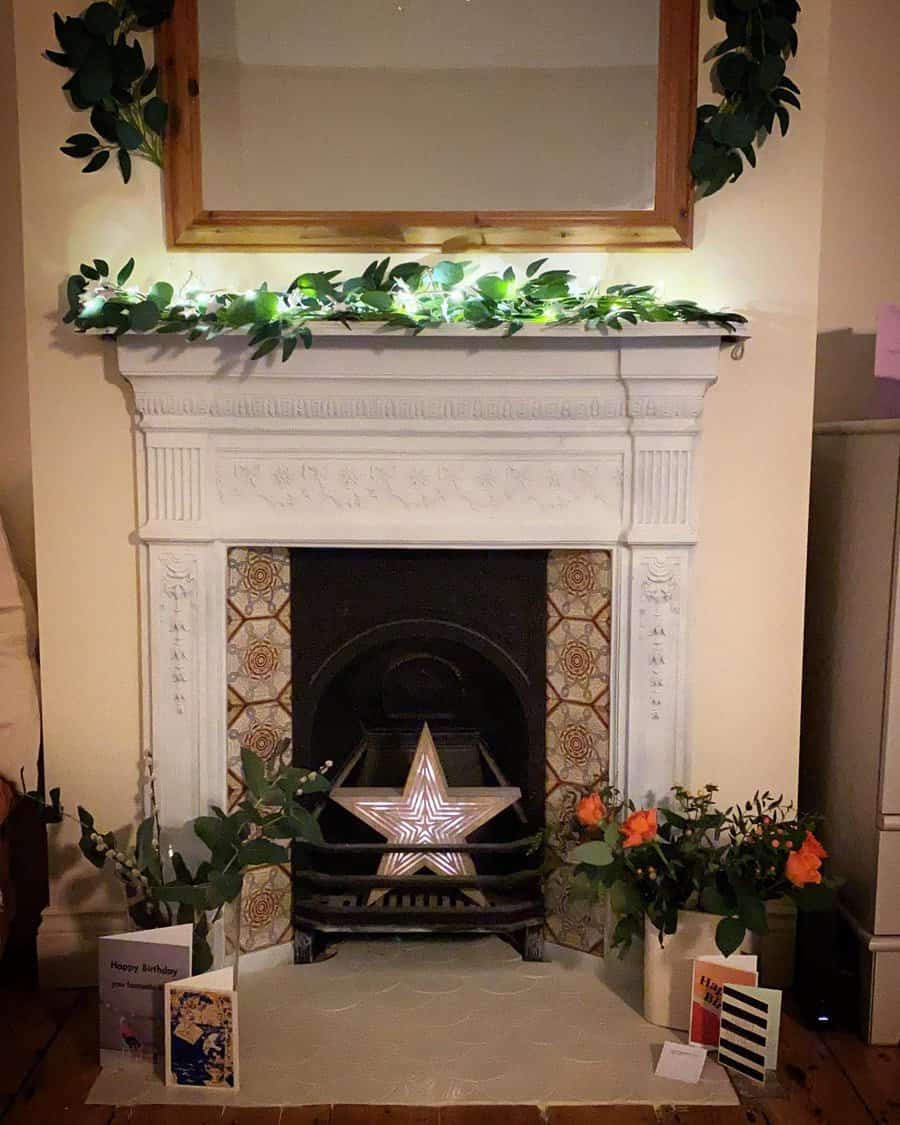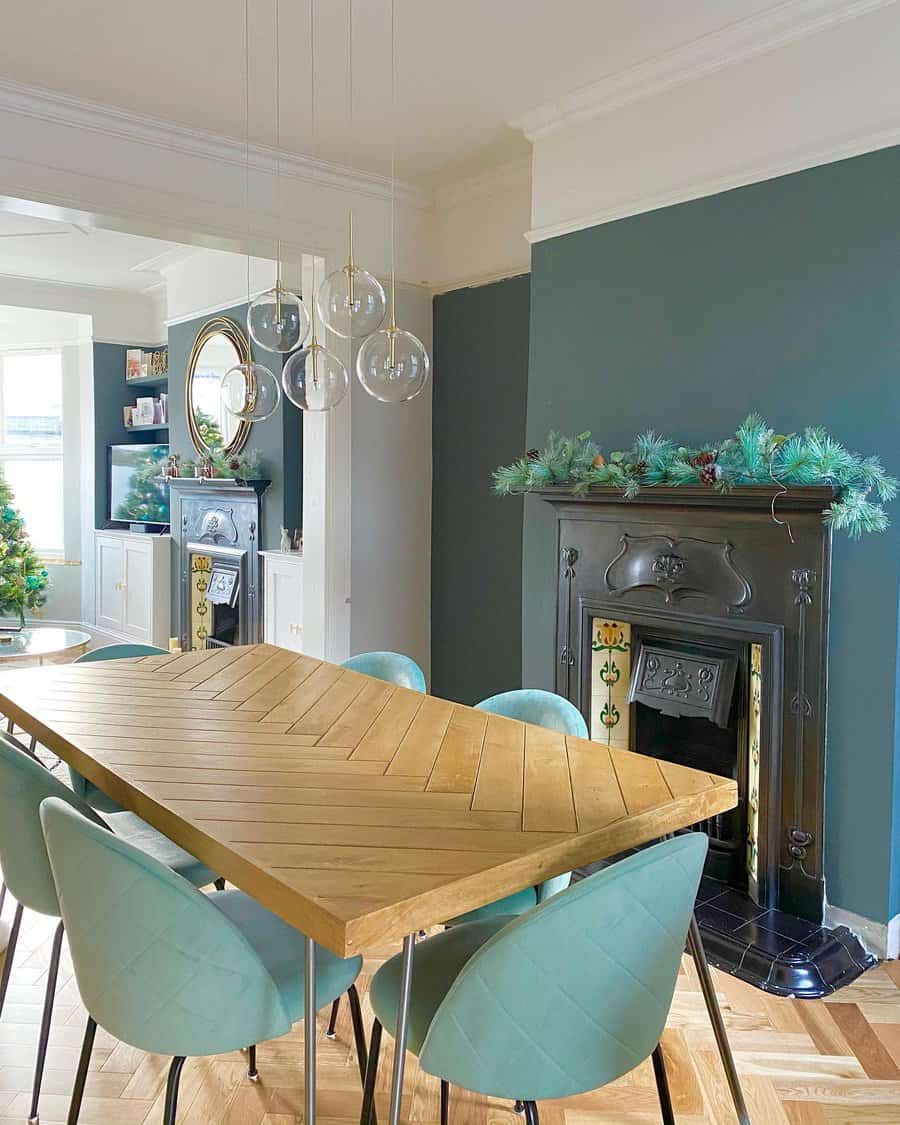 You can also add one of these elegant fireplaces to your current fireplace. Position it around the hearth and over the existing surround. Look for one that compliments the rest of your home. Some are overly ornate, while others have a more subtle design.
10. Wall
Instead of committing to an entire fireplace or faux fireplace, you could have just the mantle. This lets you have all of the fireplace decor and a classic Christmas mantle without having to maintain the entire fireplace.
Install a mantel shelf on your wall at a low height. It will look like an oversized floating shelf. It should be thicker than a standard floating shelf, giving it some heft. It should also be deeper than the standard floating shelf.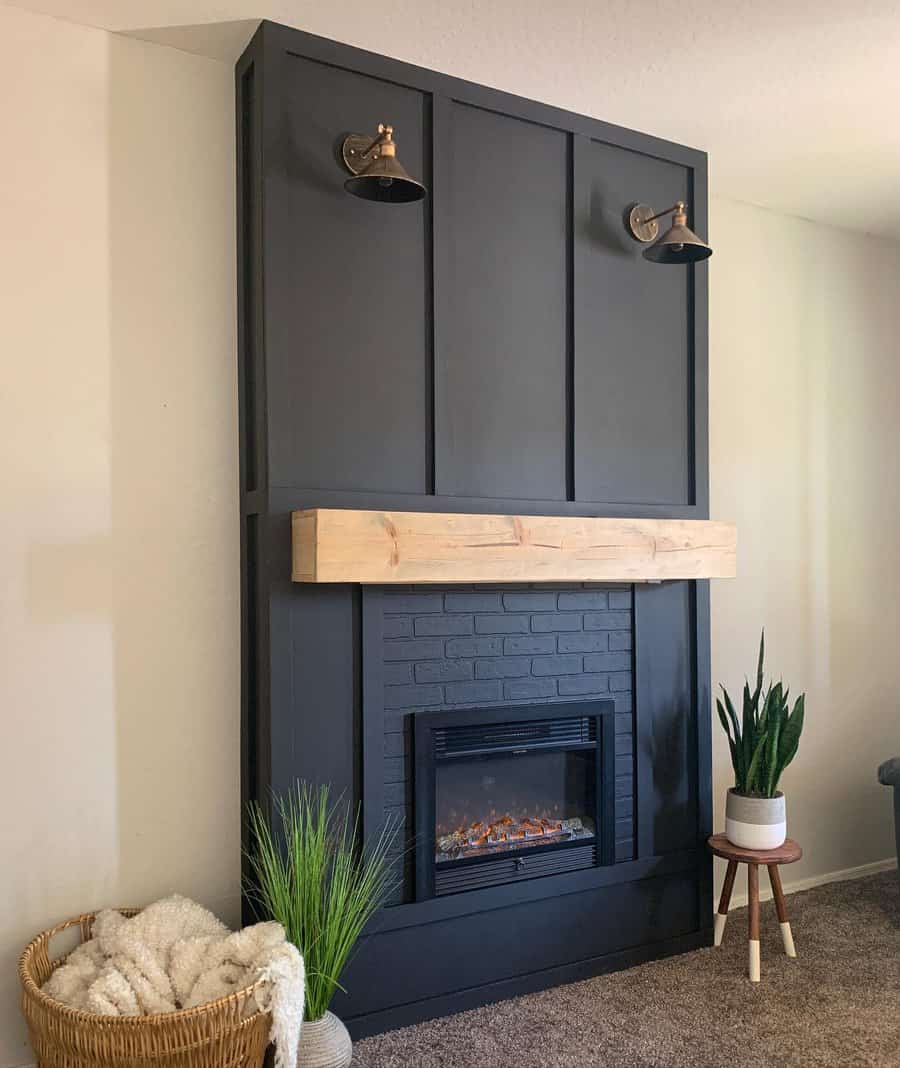 You can try out different decorating ideas to figure out what looks best. You may find that you have one set of decor for year-round and seasonal decor that you bring out for your favorite holidays.
Read more fireplace wall ideas here.
11. White
If you love the all-white aesthetic, then you can continue this look with the decor on and around your fireplace mantle. Arrange a few pillar candles of varying heights and thicknesses. For a refined look, use candlesticks and candle holders that can hold several candles.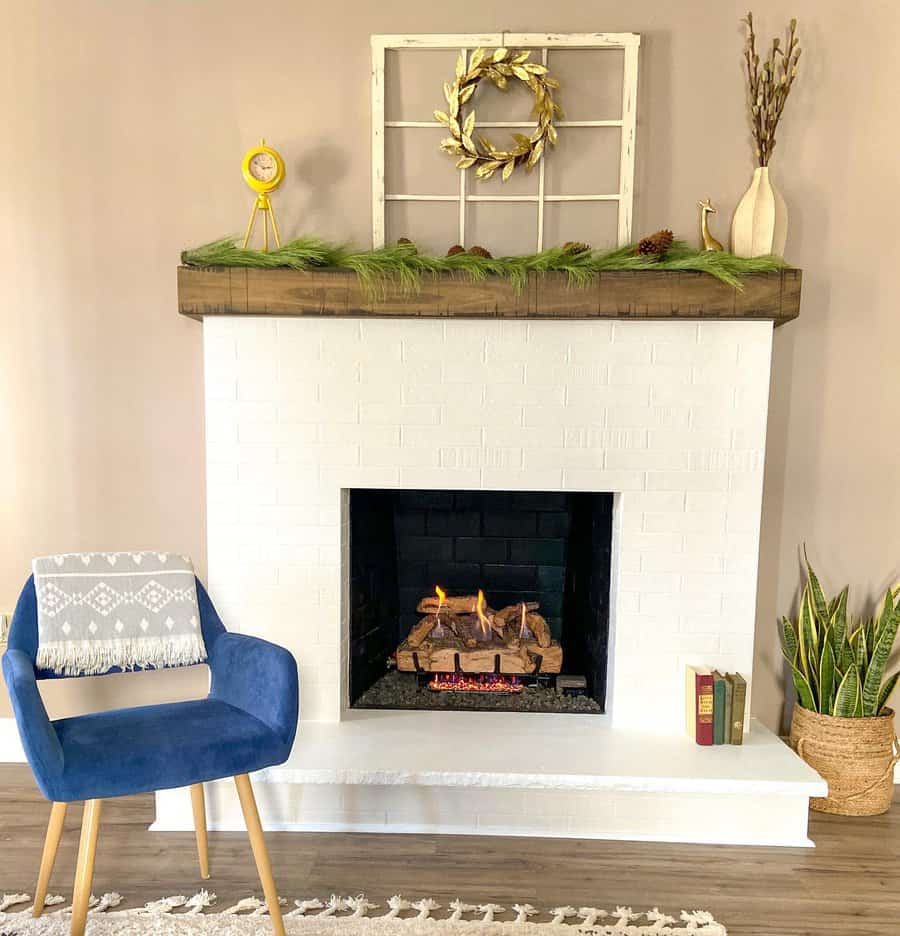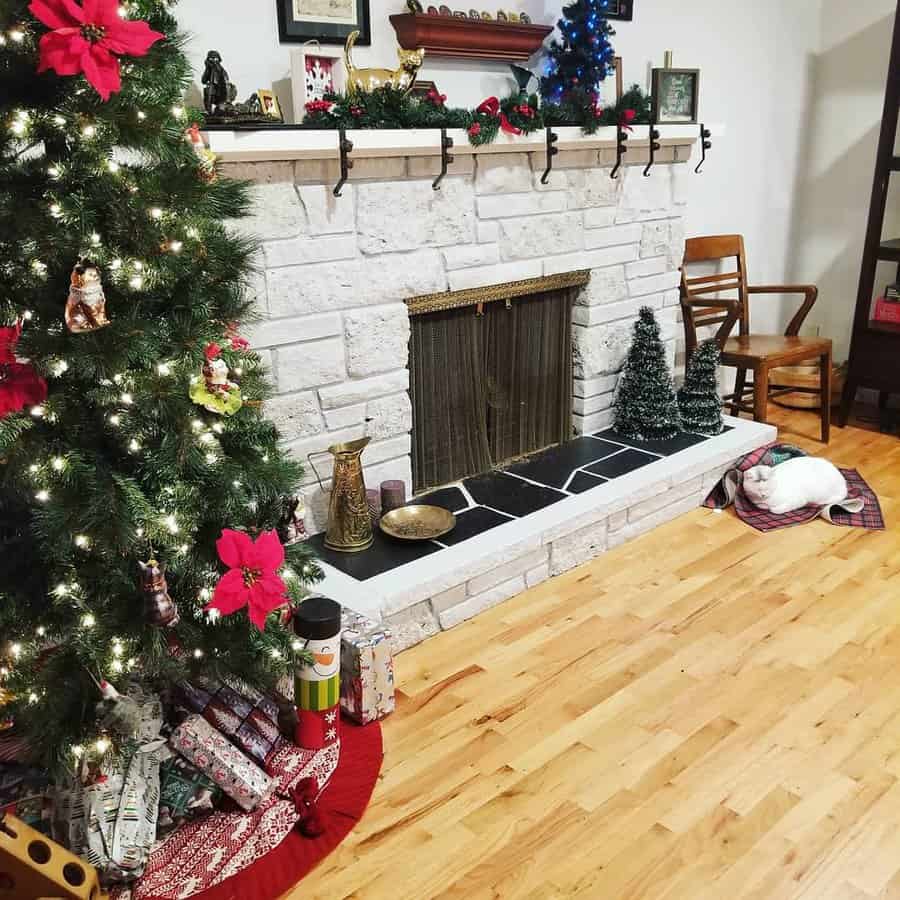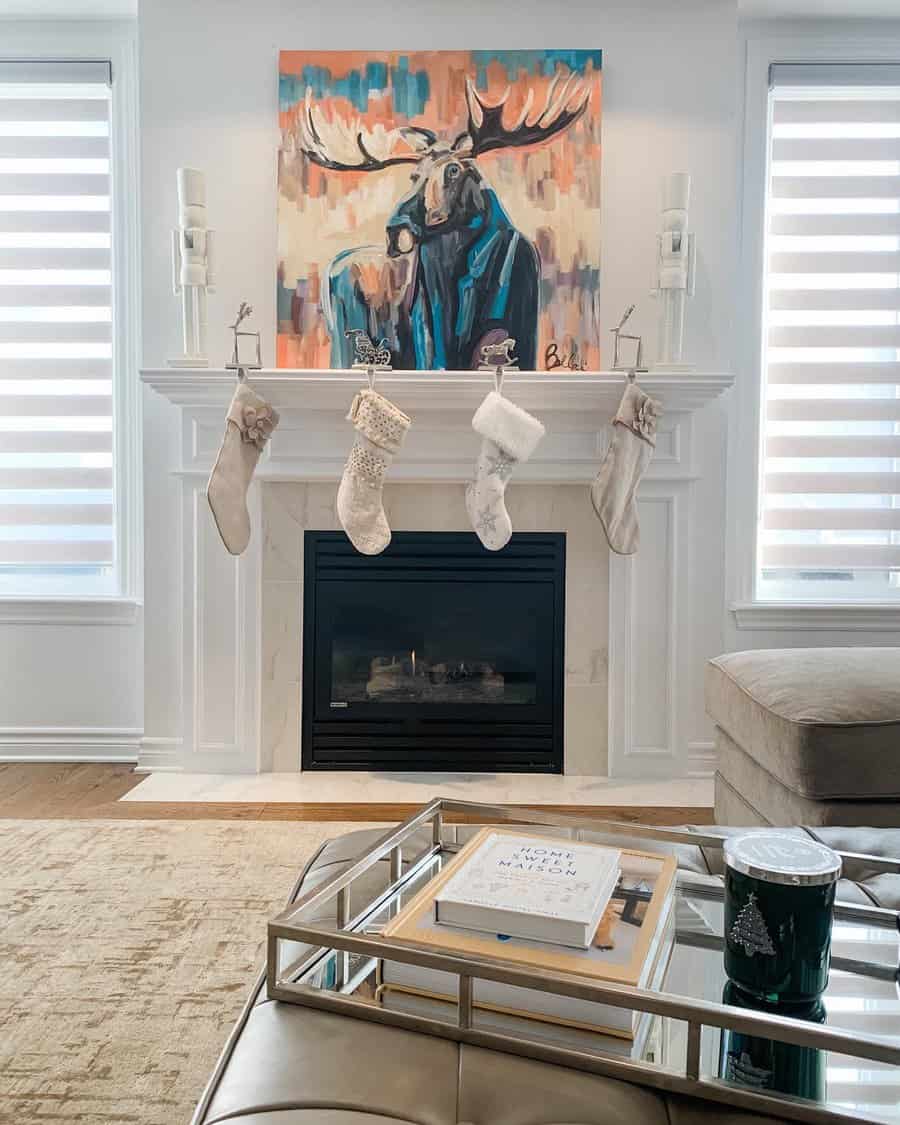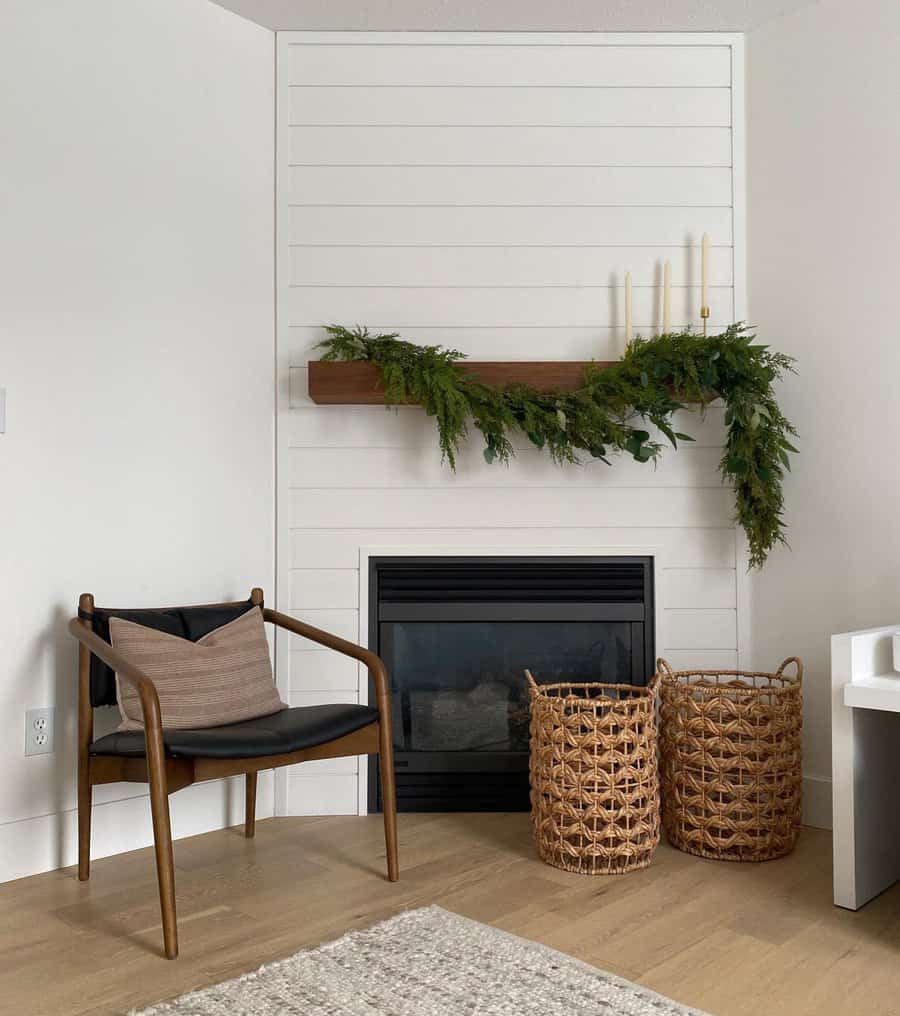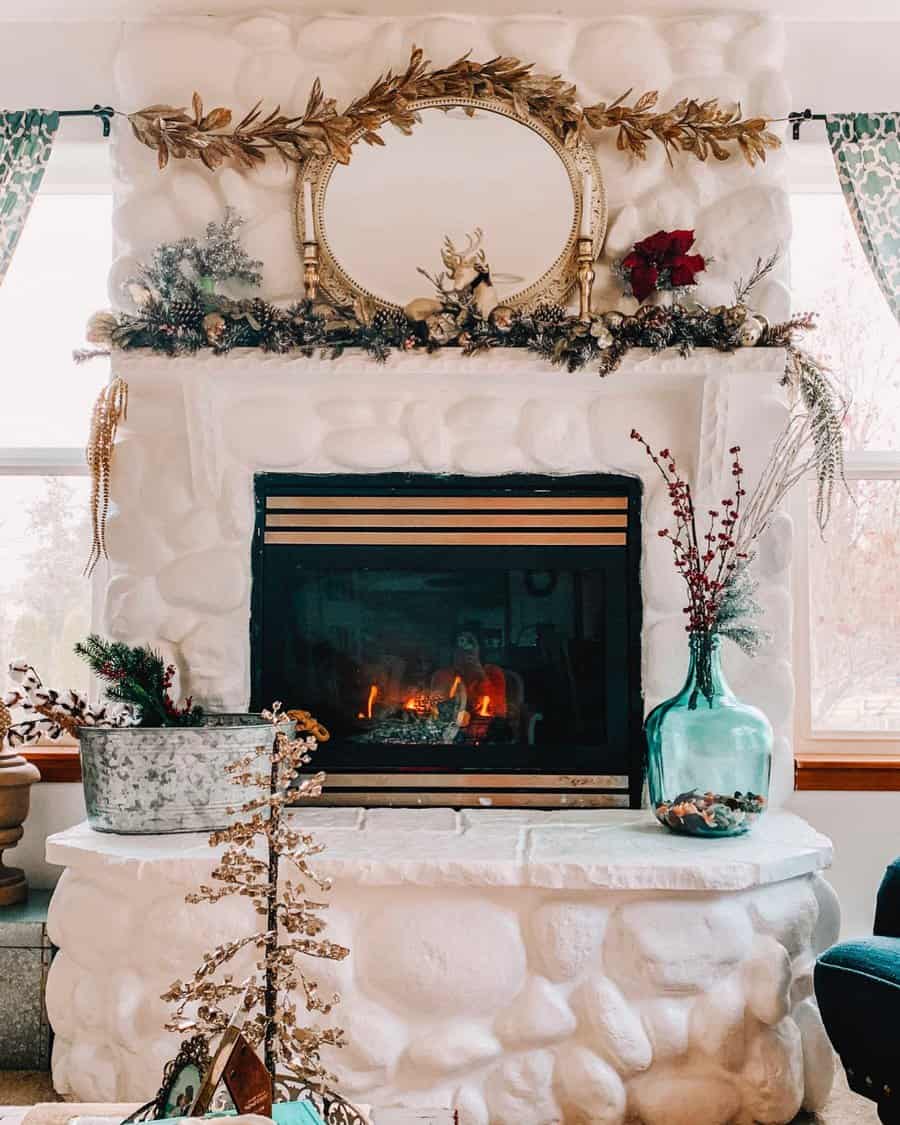 Add other white decor to the arrangement. White blooms in a vase will be your living element. Use white frames for your pictures and art.
Add a figurine or statue for a three-dimensional element. If blooms aren't to your taste, then you could use dried grains that are a pale beige or tan. Or you could have plush white feathers.
12. Wooden
A wood mantel is a classic fireplace look and the perfect natural backdrop for your mantle design. A minimalist wooden mantle will be a simple beam that extends over the fireplace.
A vintage design will also include the fireplace surround. You can find authentic vintage versions that you can then mount on your wall. They work well for both actual fireplaces and faux versions.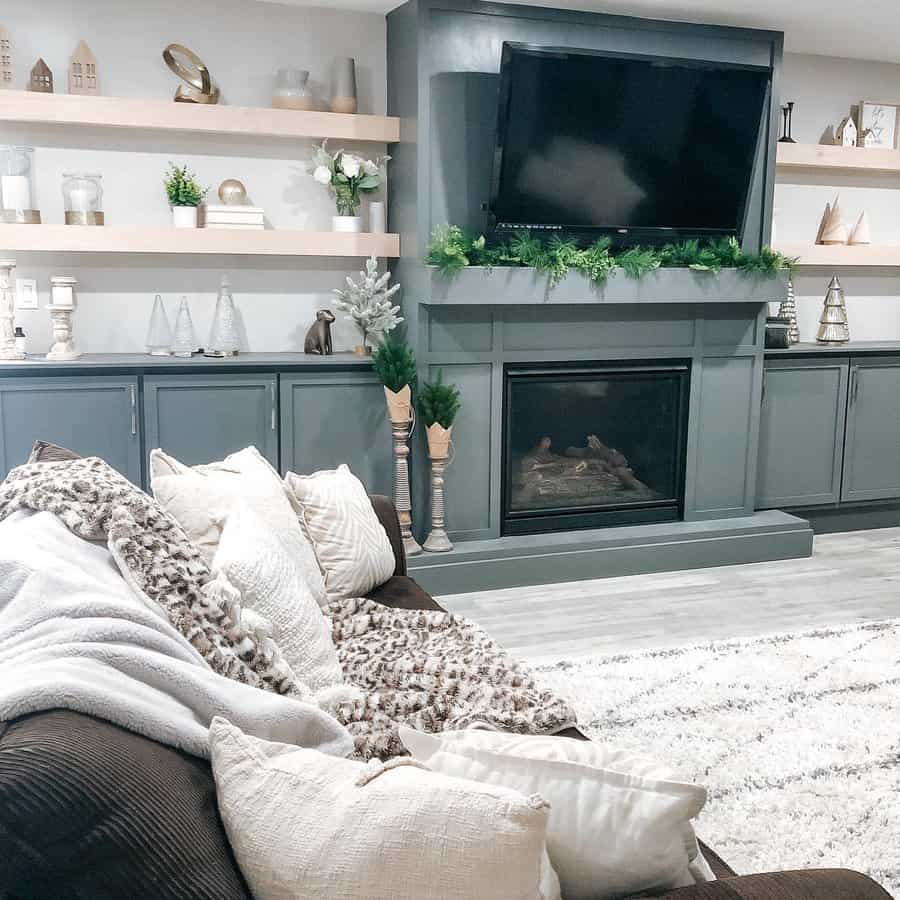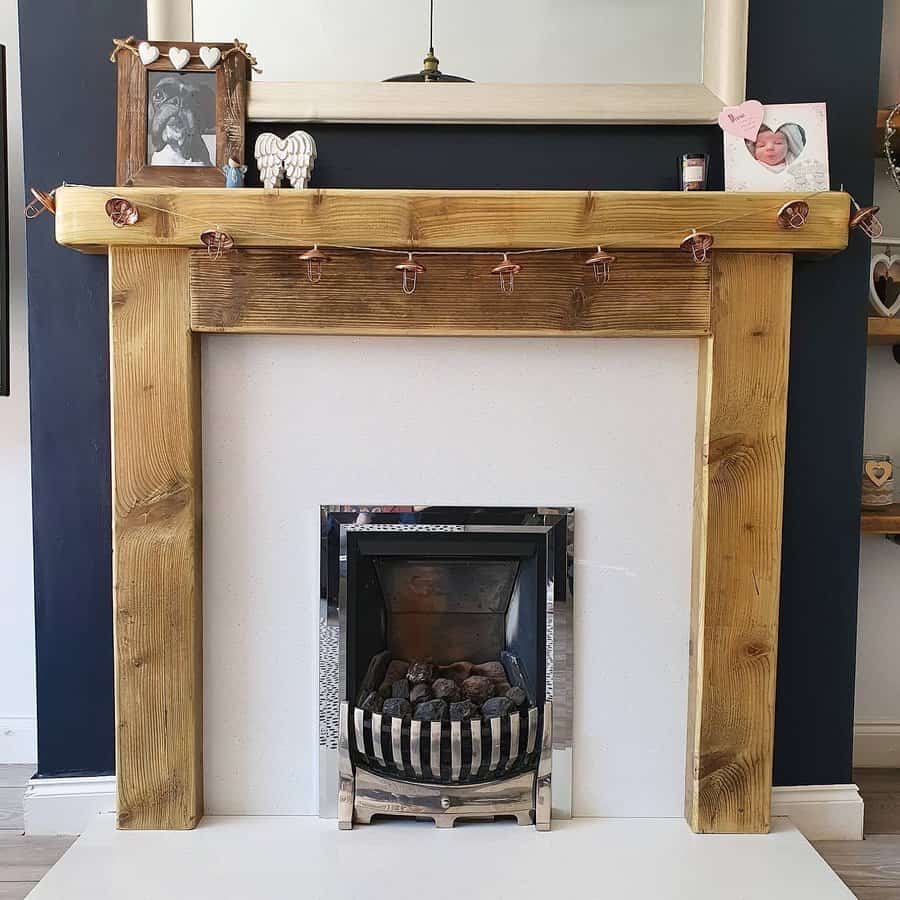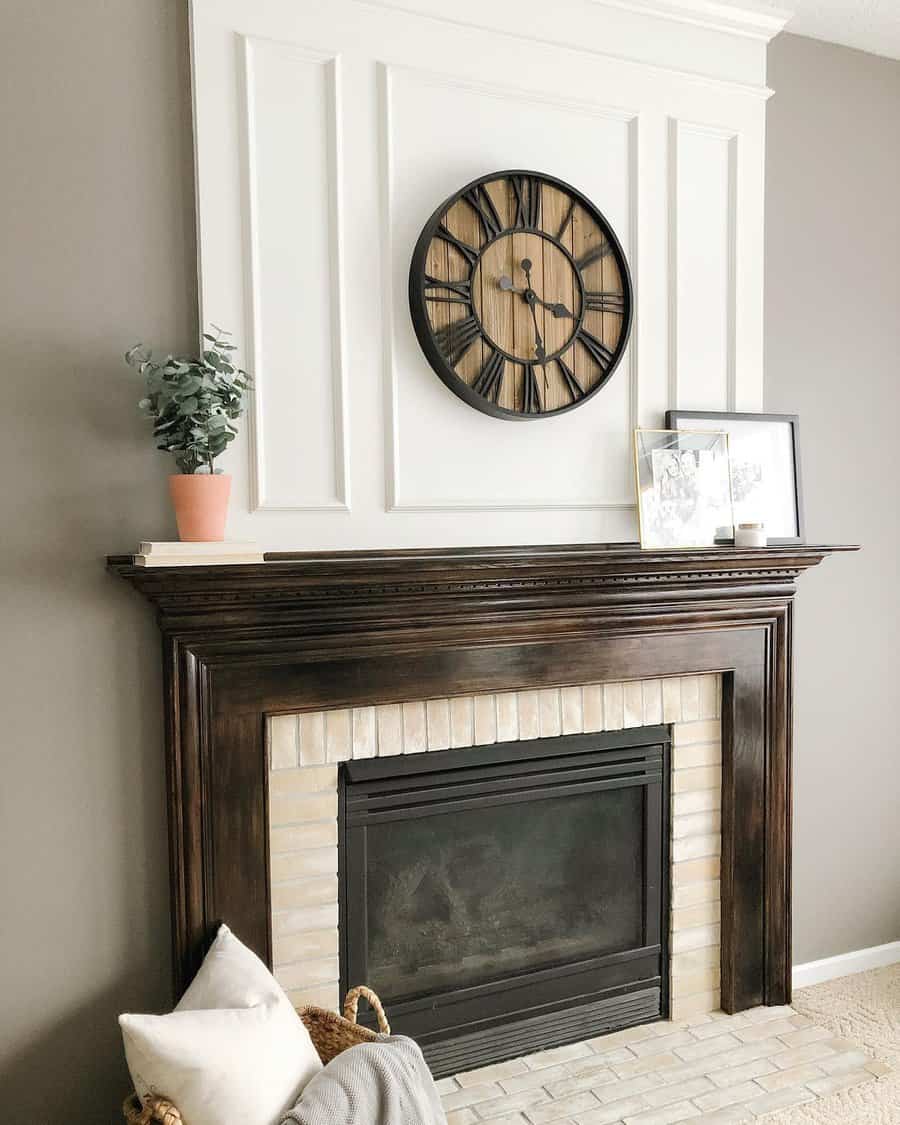 For a unique fireplace mantle idea, you could build a corner mantle. This would position your fireplace and hearth out of the way and in the corner of the room.
It's a perfect solution for a dead corner that you haven't figured out what else to do with it. When you have a corner mantle, you have more mantel decor ideas open to you.
There's more mantle length to work with and can have different decor on either side of the corner.
Fireplace Mantel FAQs
What should I put on my fireplace mantel?
You can put anything you want on your mantle. Mirrors and candles are popular because they increase the light in the room. Pictures and art are popular because they add color and visual interest. Try to pick up the colors that are in the rest of the room for a cohesive look.
What kind of wood should I use for a fireplace mantel?
Walnut is a popular wood for fireplace mantles because it's heavy, hard, and incredibly durable. The rich and dark color makes it stand out and look beautiful. Hickory is another wood that will be durable and look beautiful.
How do I style my mantel?
Create balance with your display so that it has the same amount of visual weight on the left and right sides. This does not mean making the left and right sides exactly the same; this is too symmetrical and will look overly styled and dated. It's better to have a few larger pieces of the decor than many small pieces. It's also good to add at least one living element to the design.