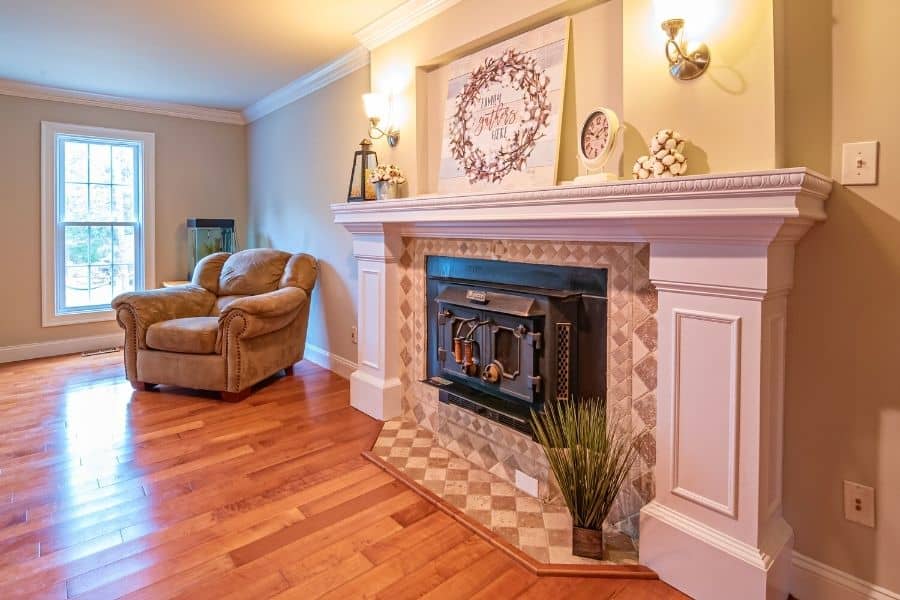 60 Must-See Fireplace Wall Ideas
"A house with no fireplace is a house without a heart." – Gladys Taber
A fireplace is definitely the heart of any room, but without a beautiful fireplace wall, it's simply a heat source. The materials and decorations you place around your fireplace can turn it from a boring feature to the room's gorgeous centerpiece.
Brick, tile, marble, or stone—all are excellent fireplace wall ideas and can be designed to coordinate with any style of home decor. Look through our gallery of stunning fireplace wall ideas for inspiration on updating the heart of your home.
1. Apply Exposed Bricks
Transform your fireplace wall into a statement piece in any room! Exposed brick is a classic option that will give your home a touch of rustic elegance. If exposed brick isn't for you, consider giving the wall a fresh coat of white paint to create a brighter, more airy atmosphere.
You can also opt for whitewashing; this method gives the bricks an aged look while still letting them remain visible. Whichever you decide, your fireplace wall will be sure to stand out!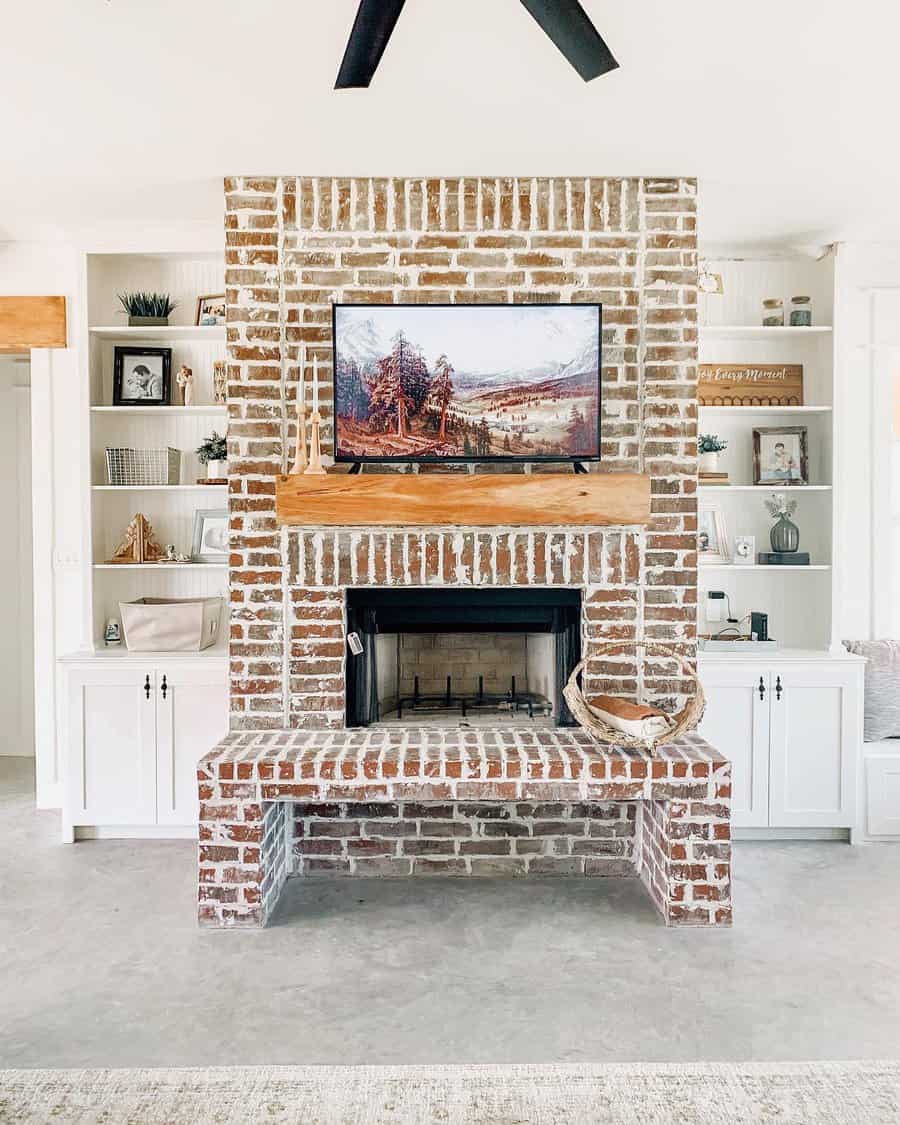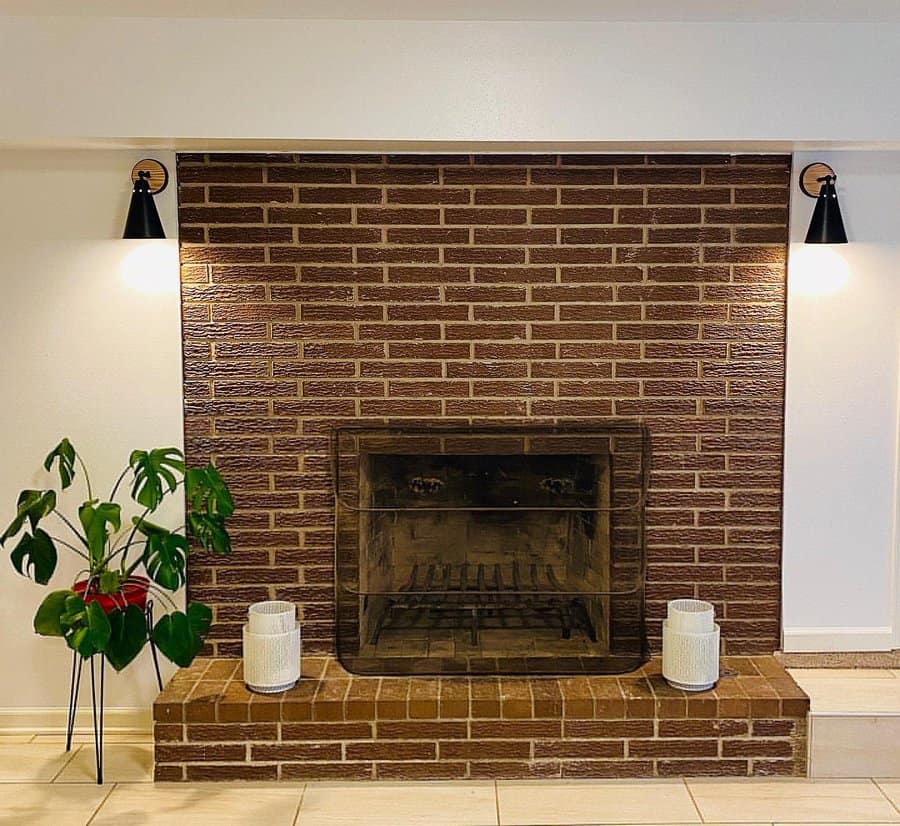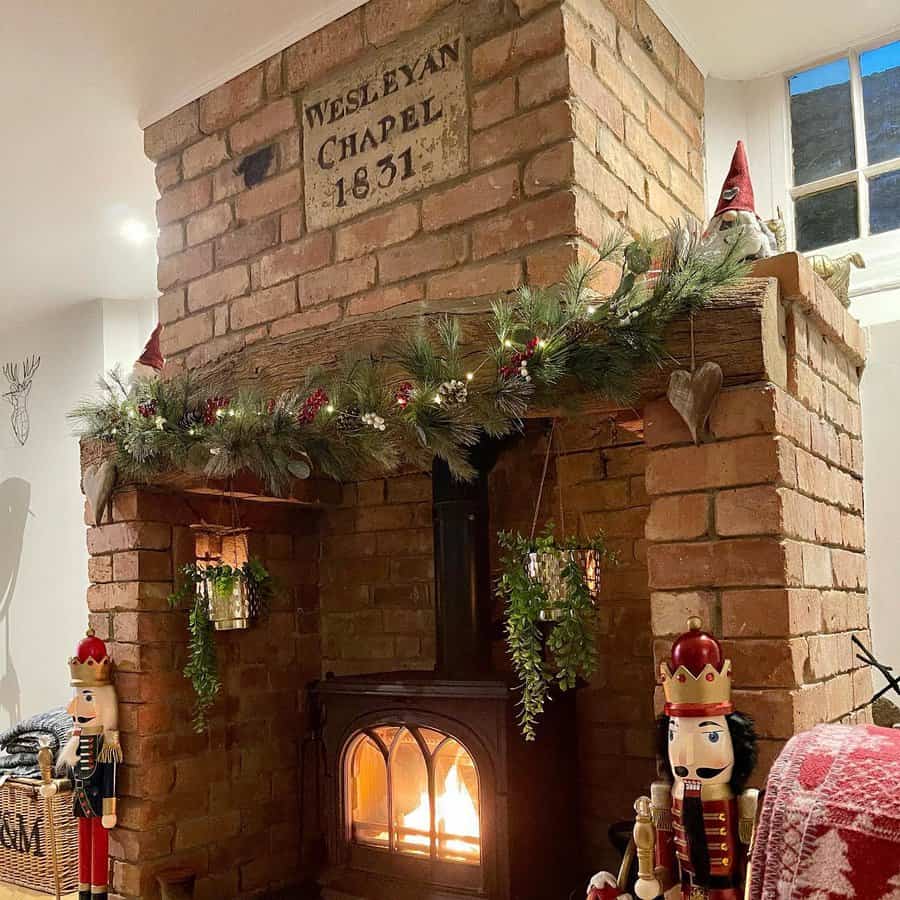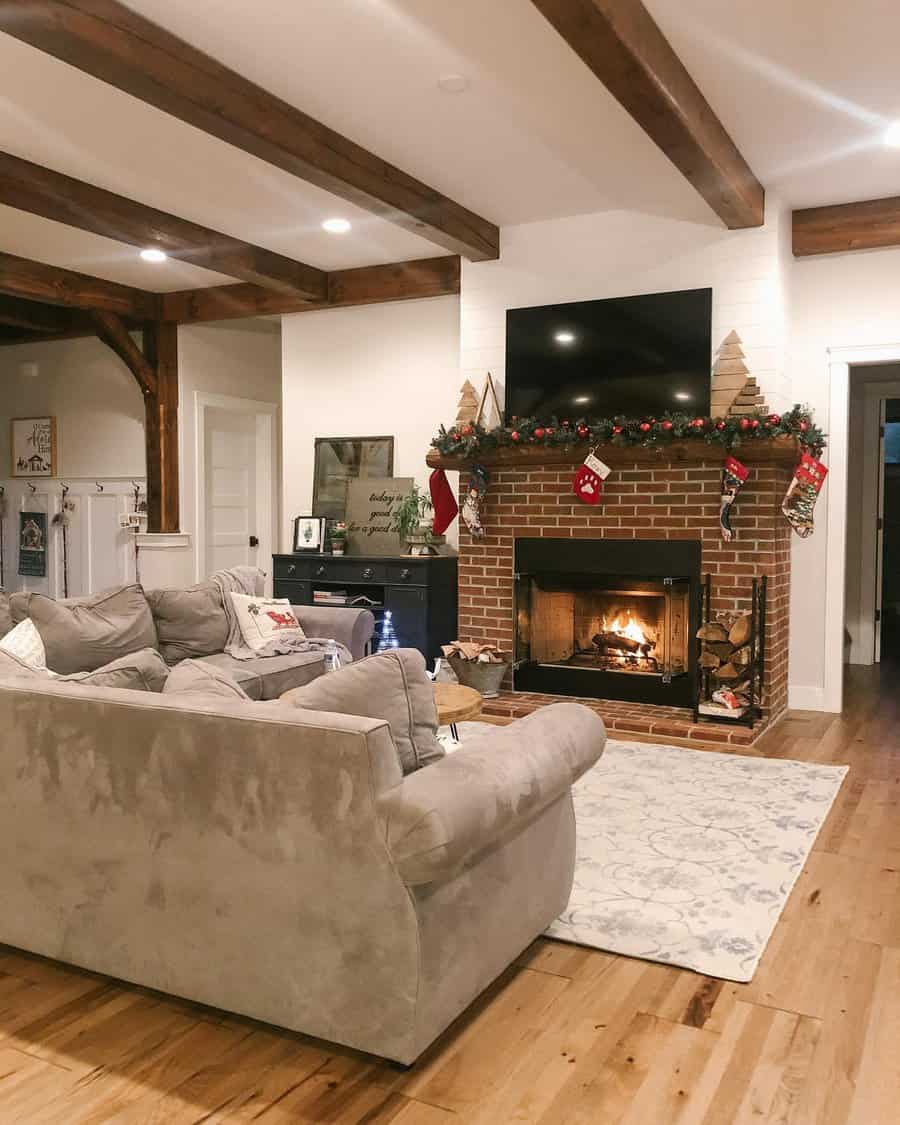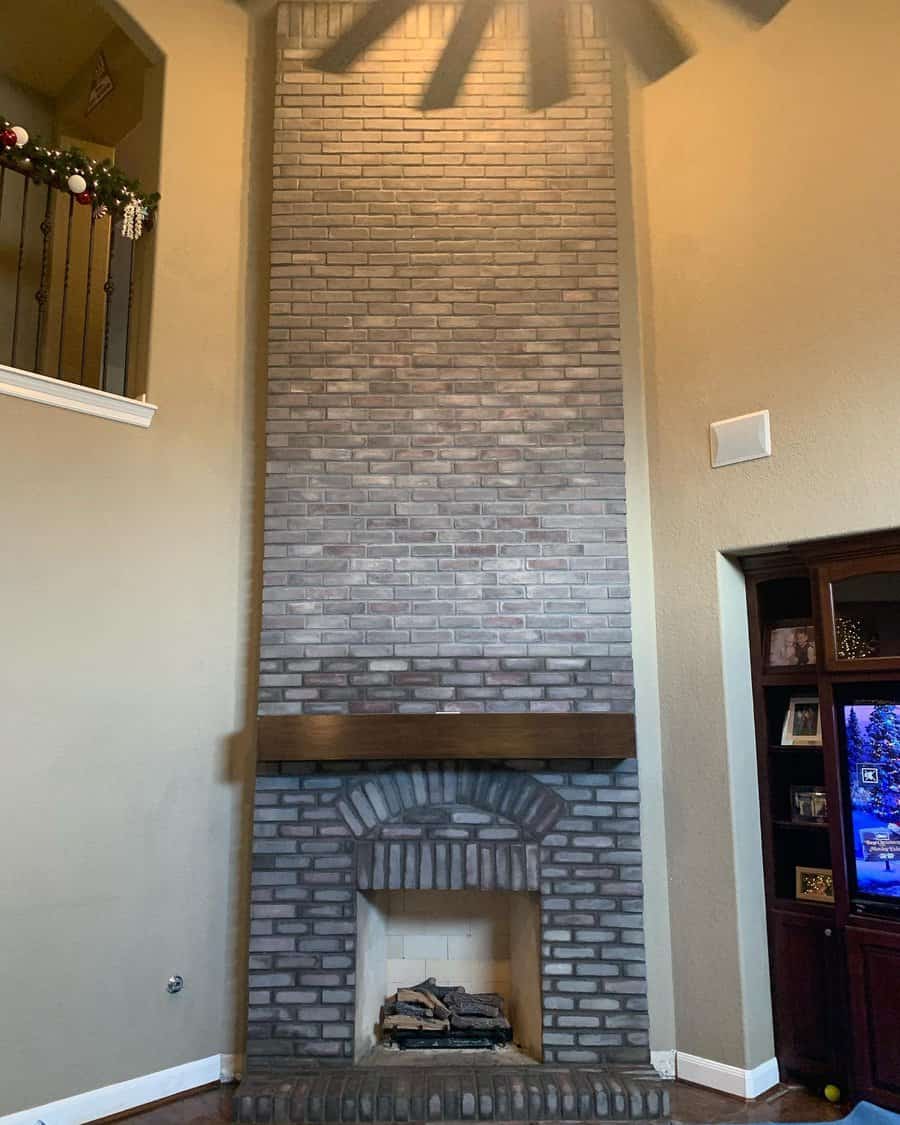 2. Concrete For An Industrial-Modern Look
Giving a concrete fireplace wall an industrial-modern touch can be the perfect addition to any transitional home. Whether you're looking to revamp the interior of your living space with a new look, or just want to spruce up an old concrete wall, consider adding sleek concrete lining around the perimeter of the wall and equip it with industrial-style sconces on its sides.
Not only is this style trend a great way to appreciate the existing design of concrete walls, but you'll also achieve an aesthetically sophisticated, yet cozy atmosphere in your home.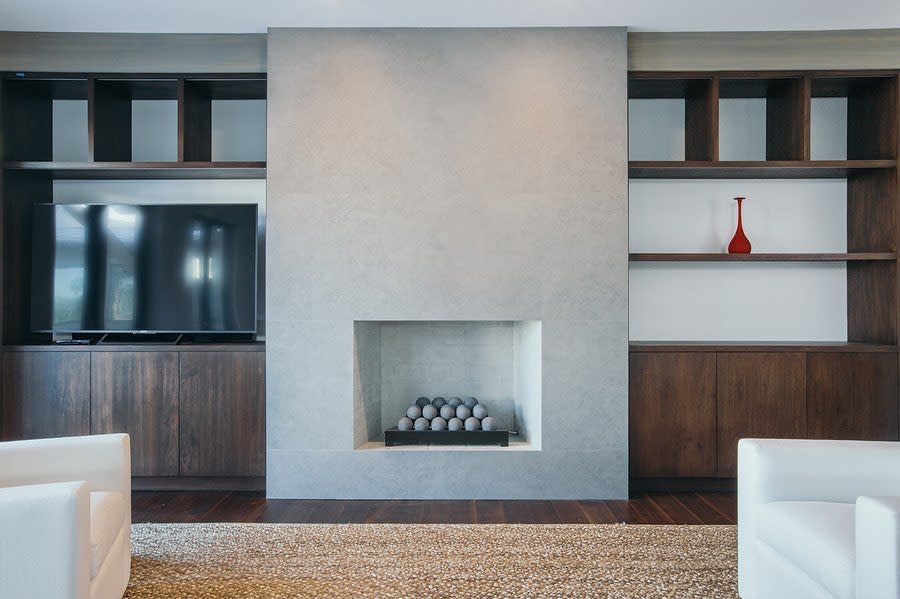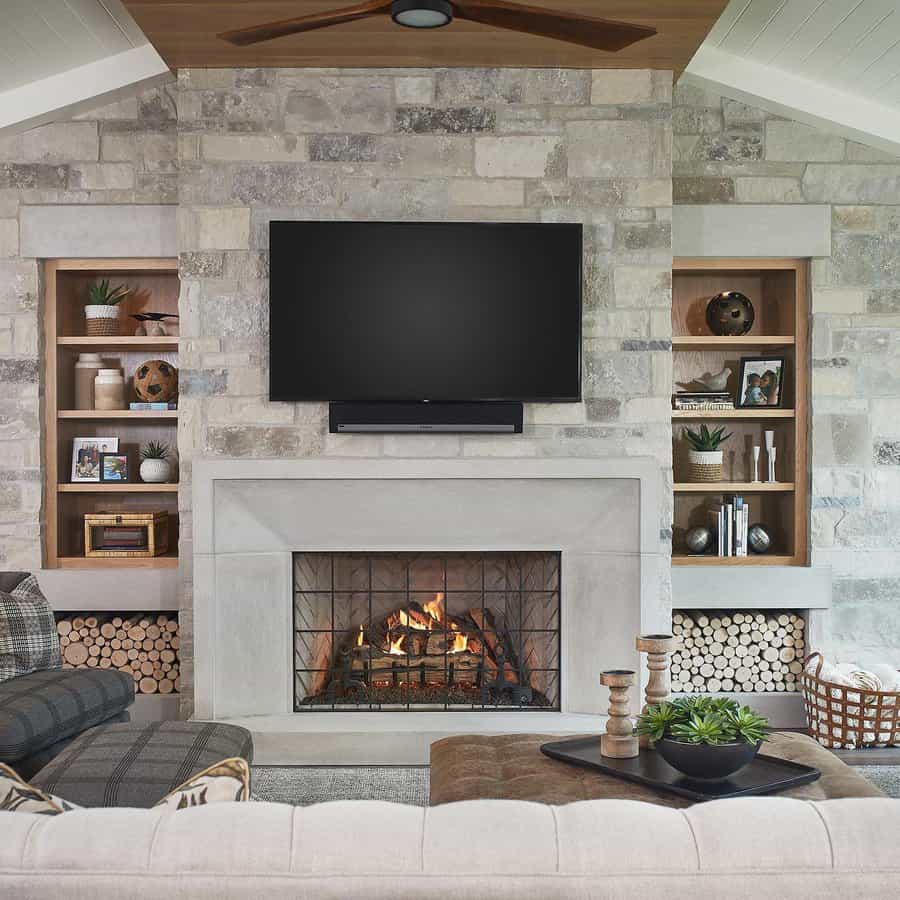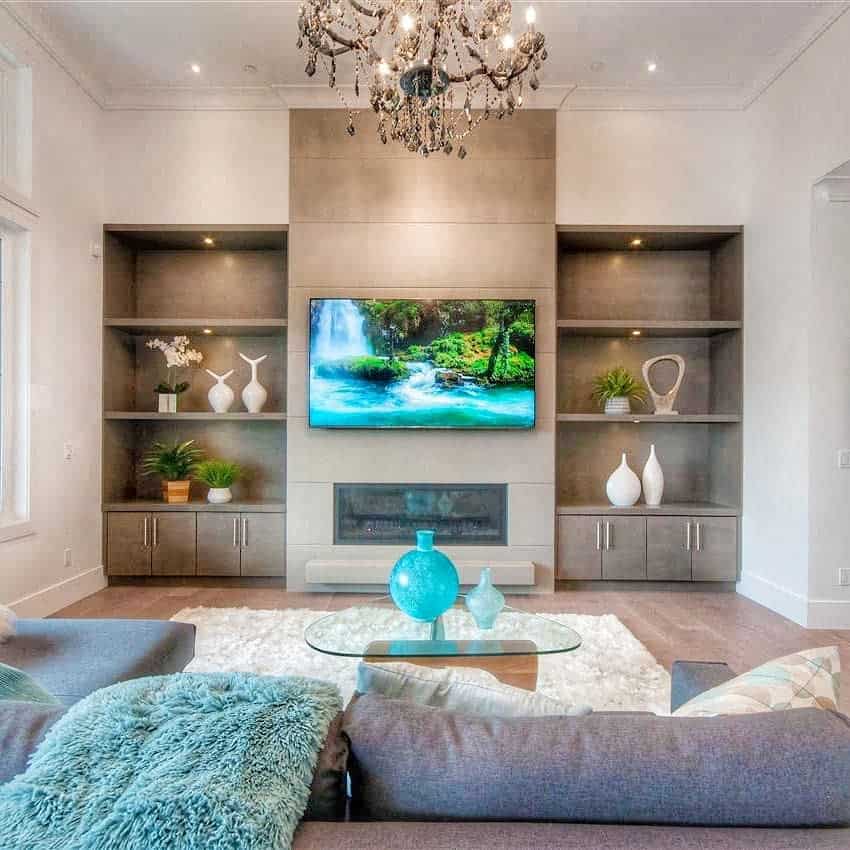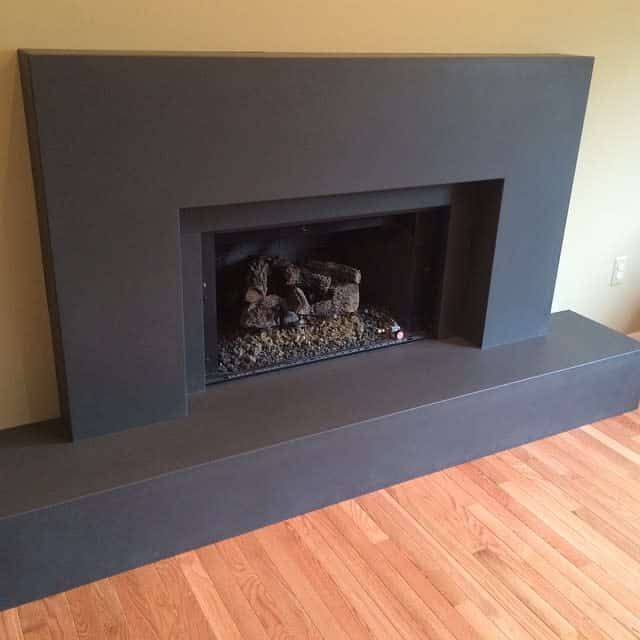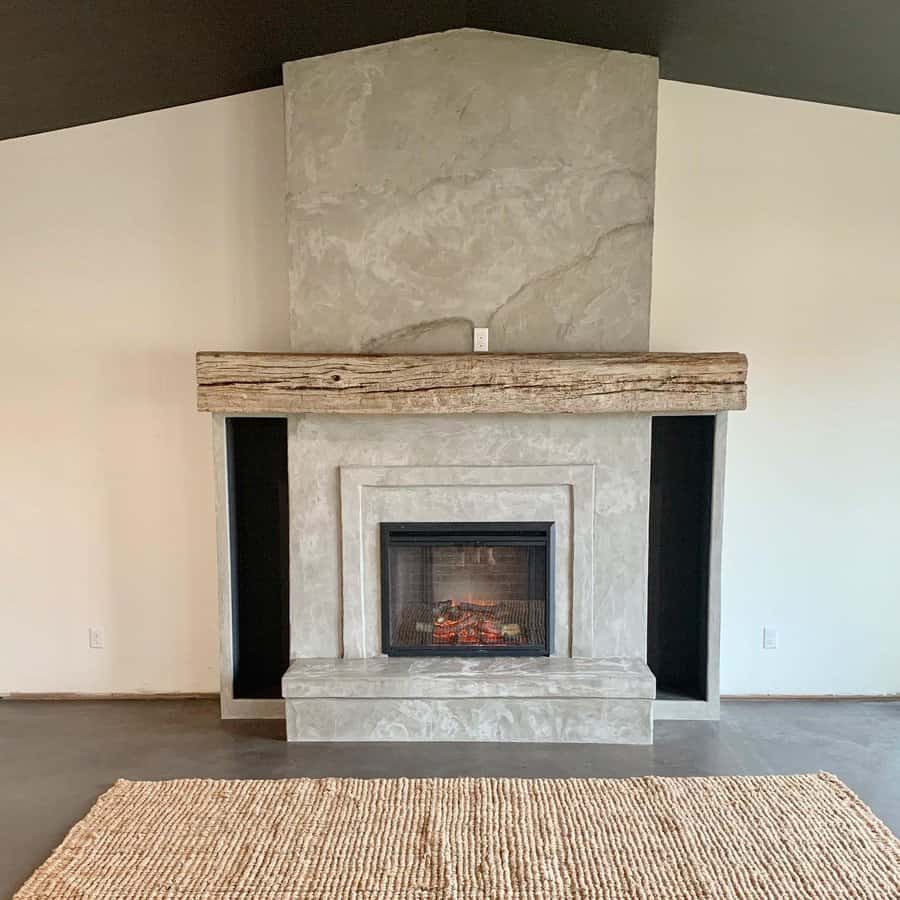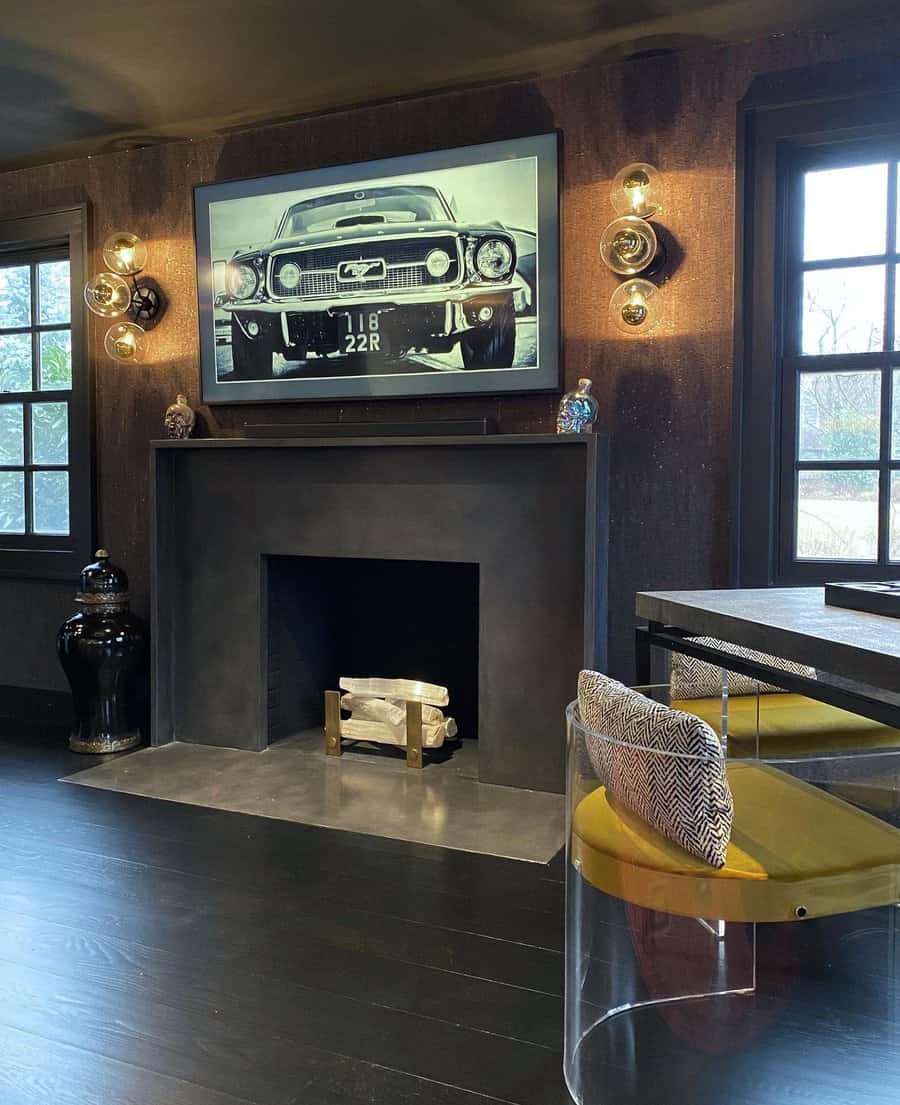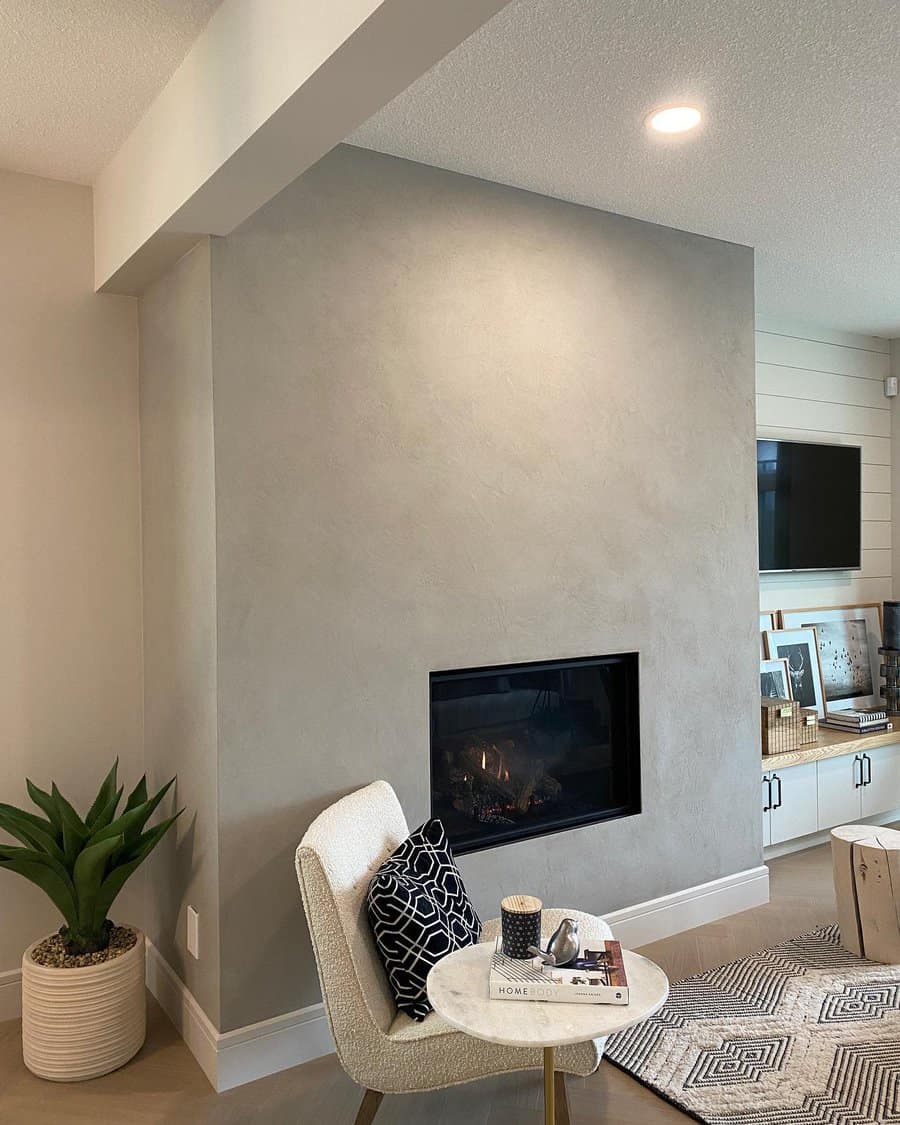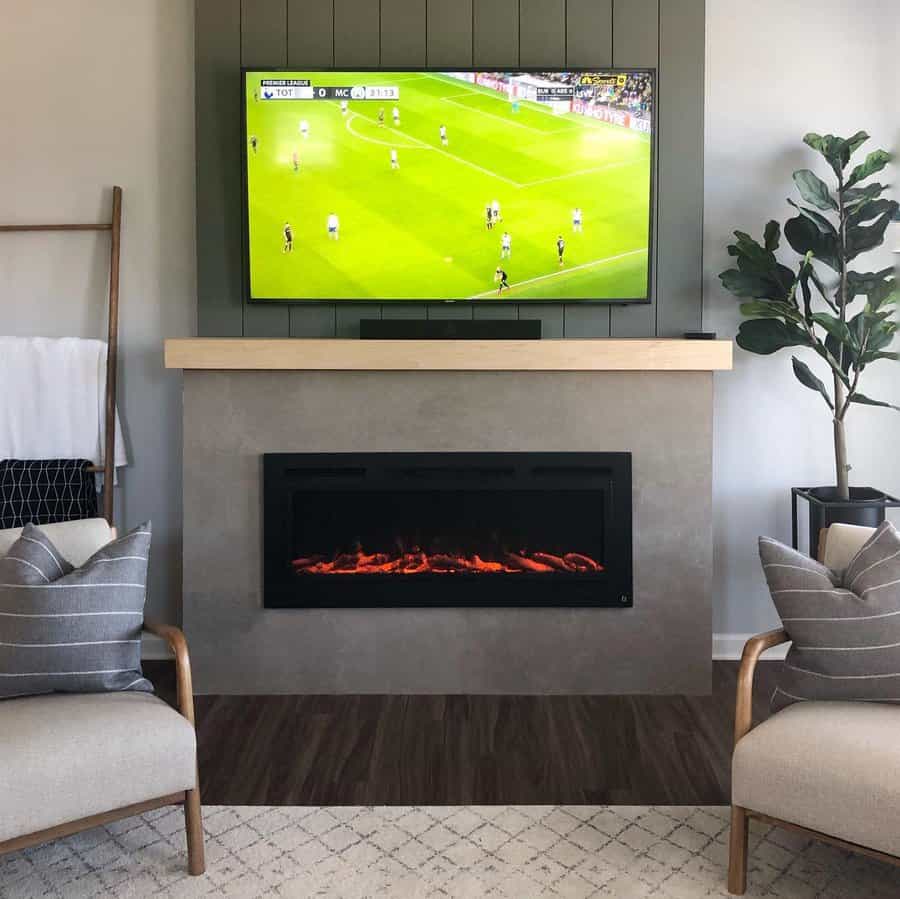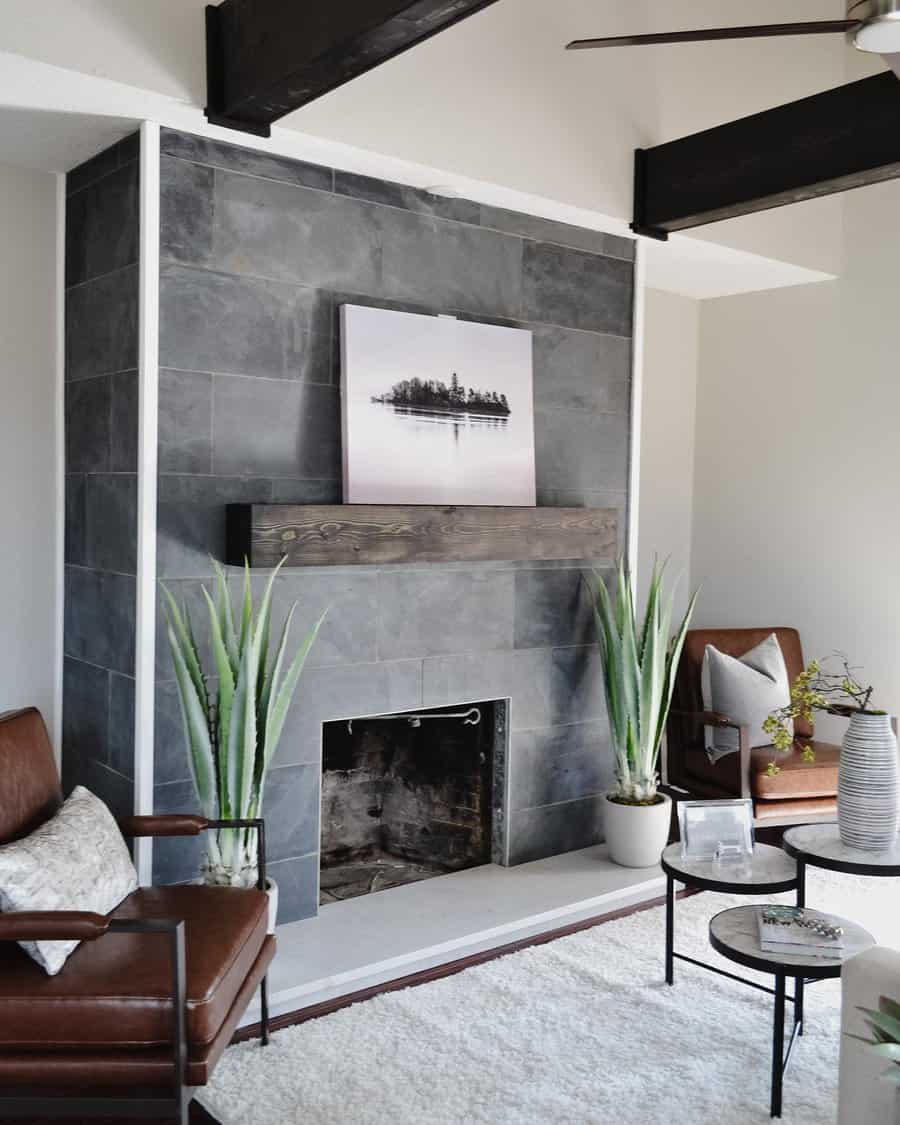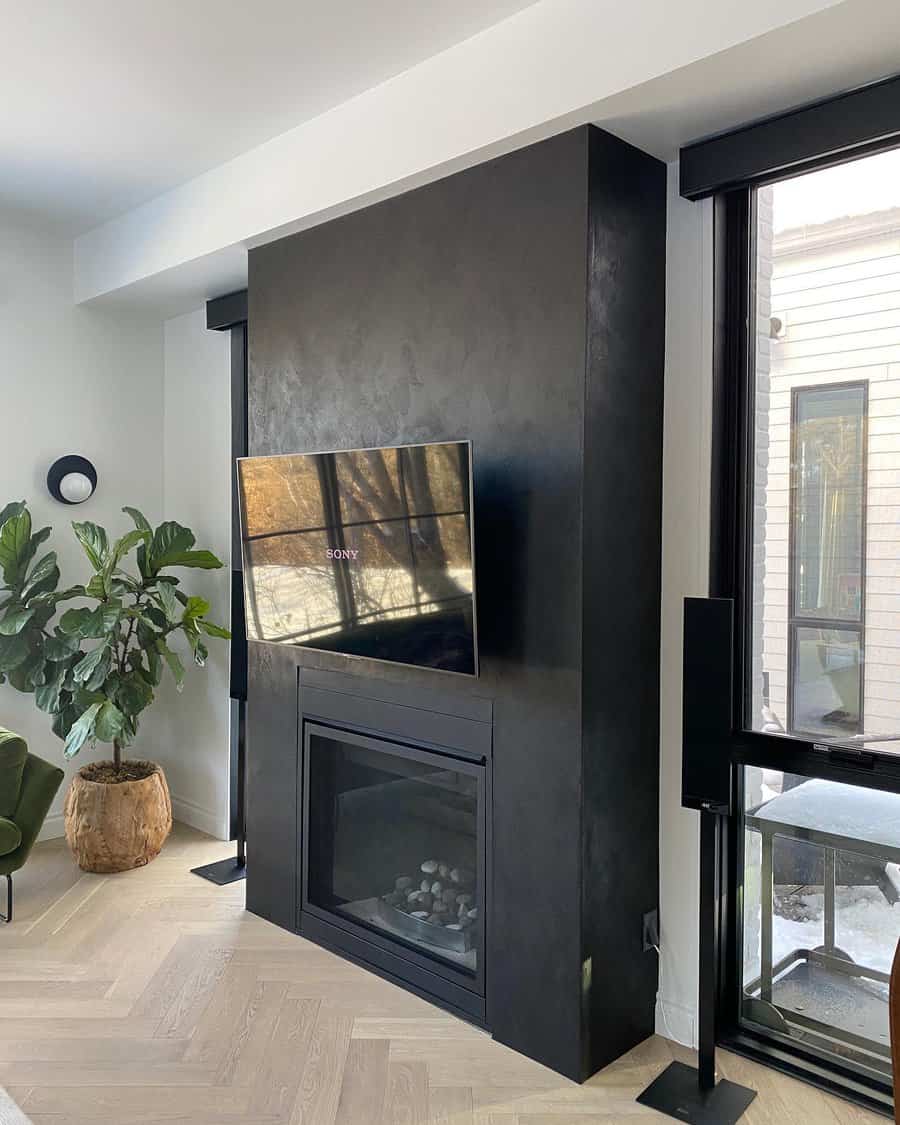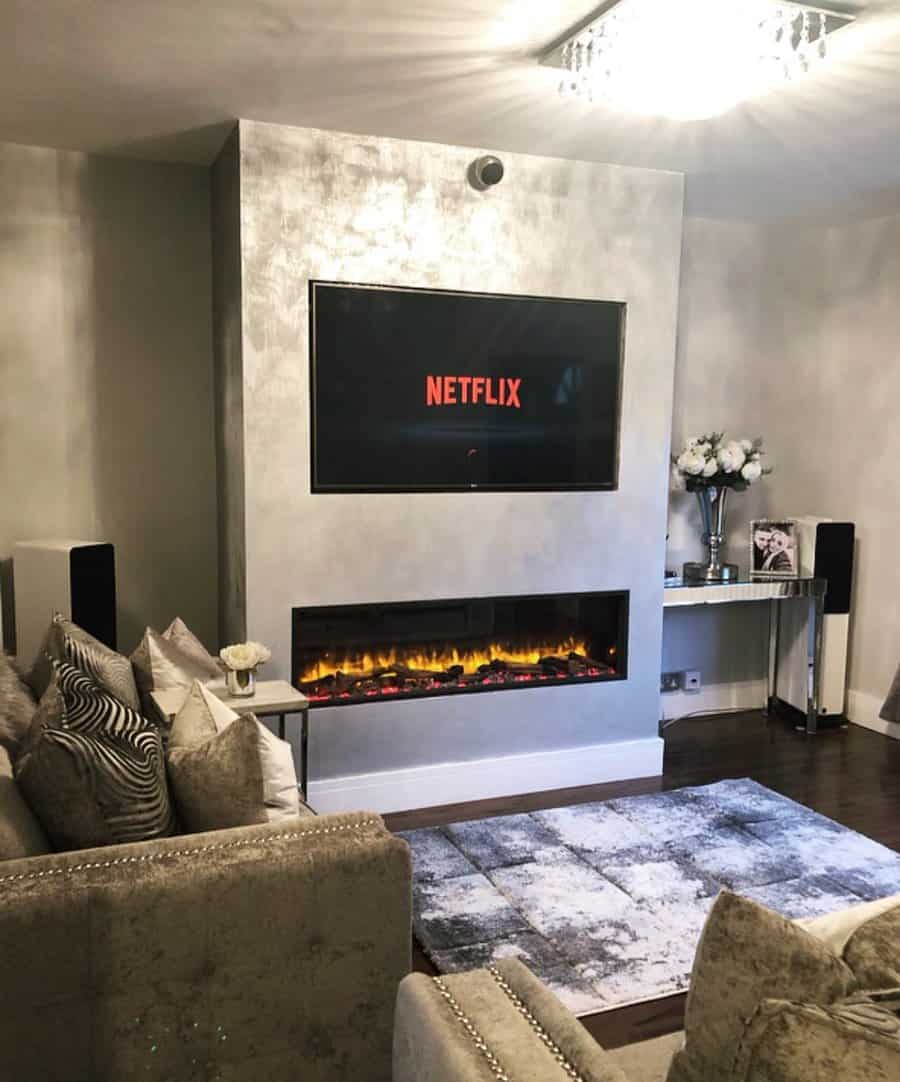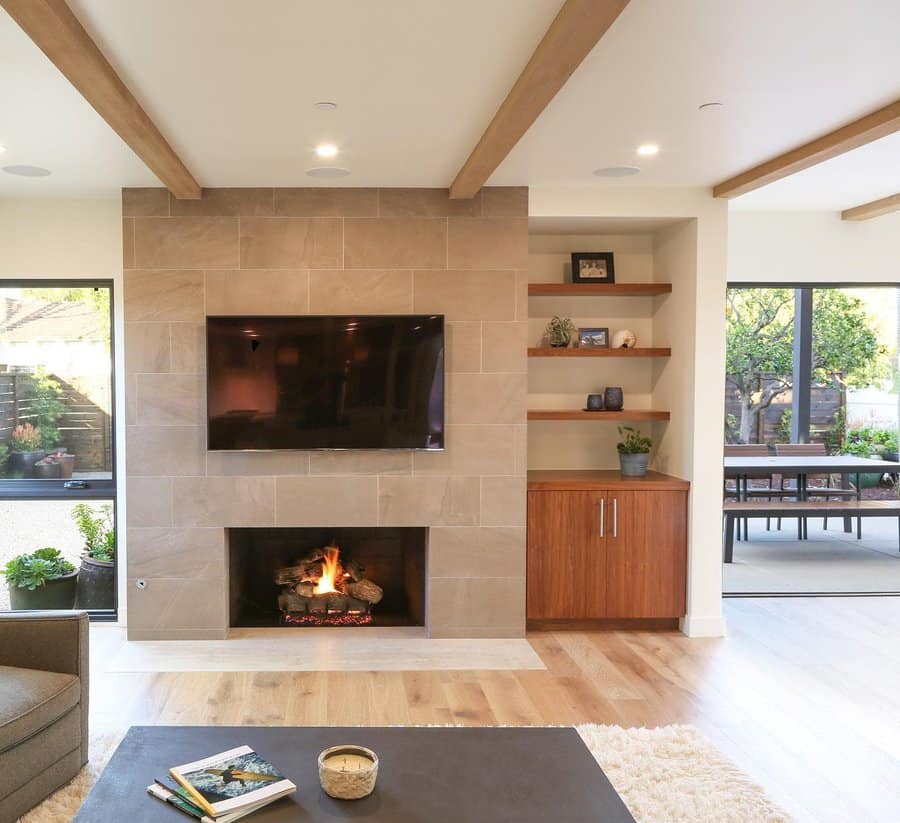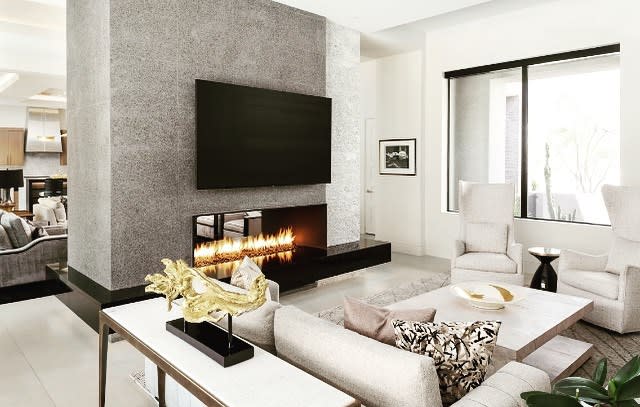 3. Shiplap Walls For A Farmhouse Look
A shiplap fireplace wall is a perfect way to bring a farmhouse-style vibe into your home. It is both timeless and modern and creates a cozy, inviting atmosphere that will make you never want to leave the room. Shiplap fireplace walls can be installed easily with a few tools, making them accessible even for homeowners not experienced in do-it-yourself projects.
To really take it up a notch, consider adding colored paint or stain to the shiplap wall to give your space its own unique character. With a shiplap around your fireplace, you can achieve that classic farmhouse look quickly!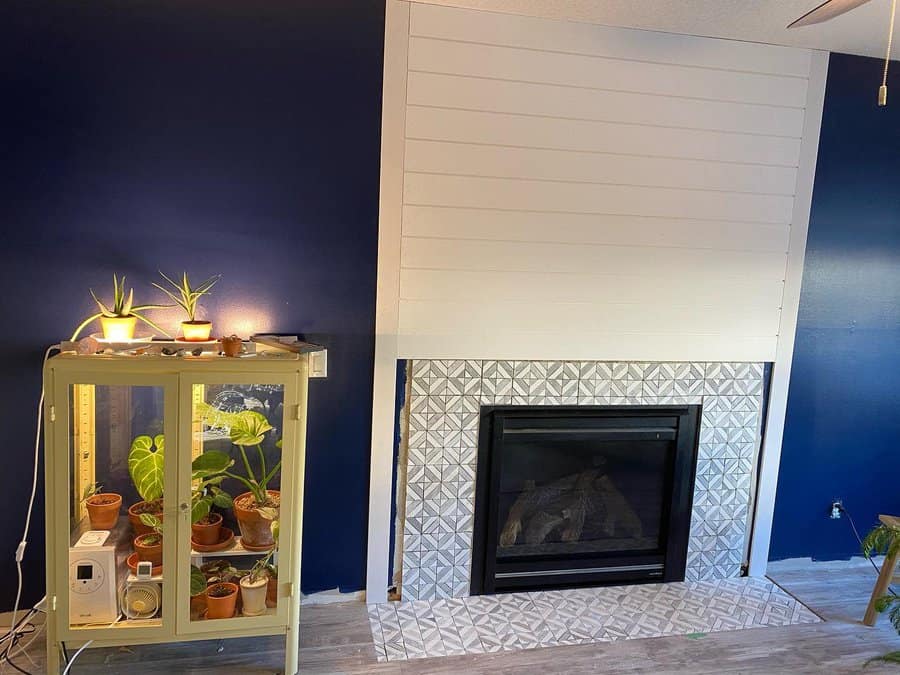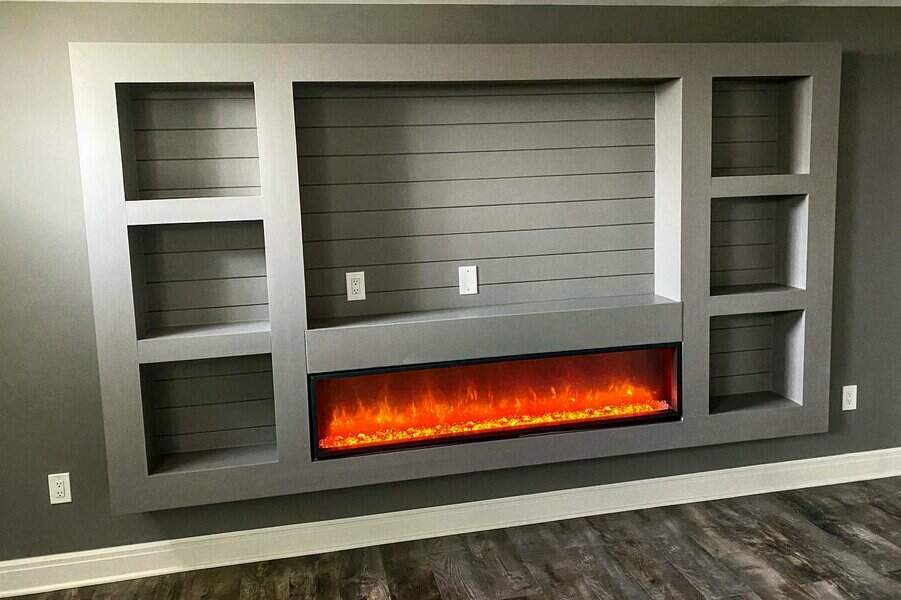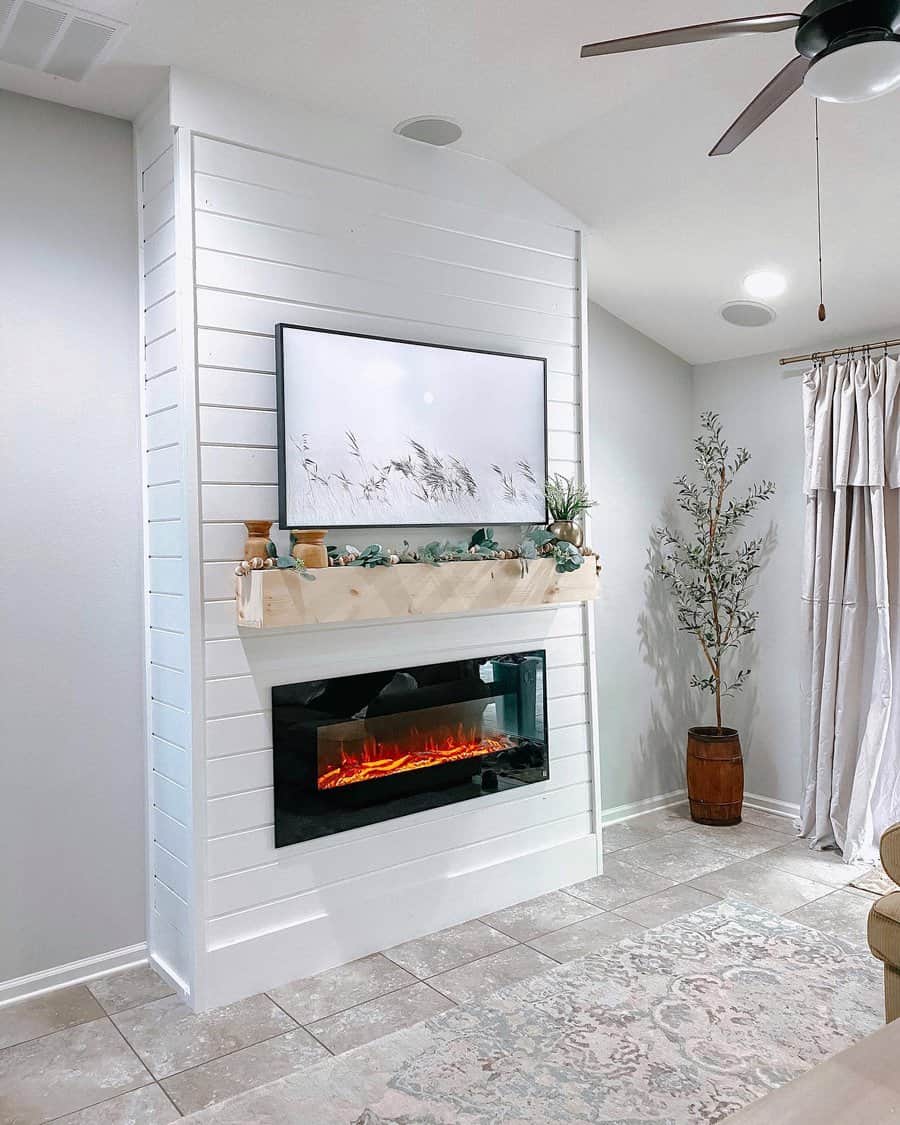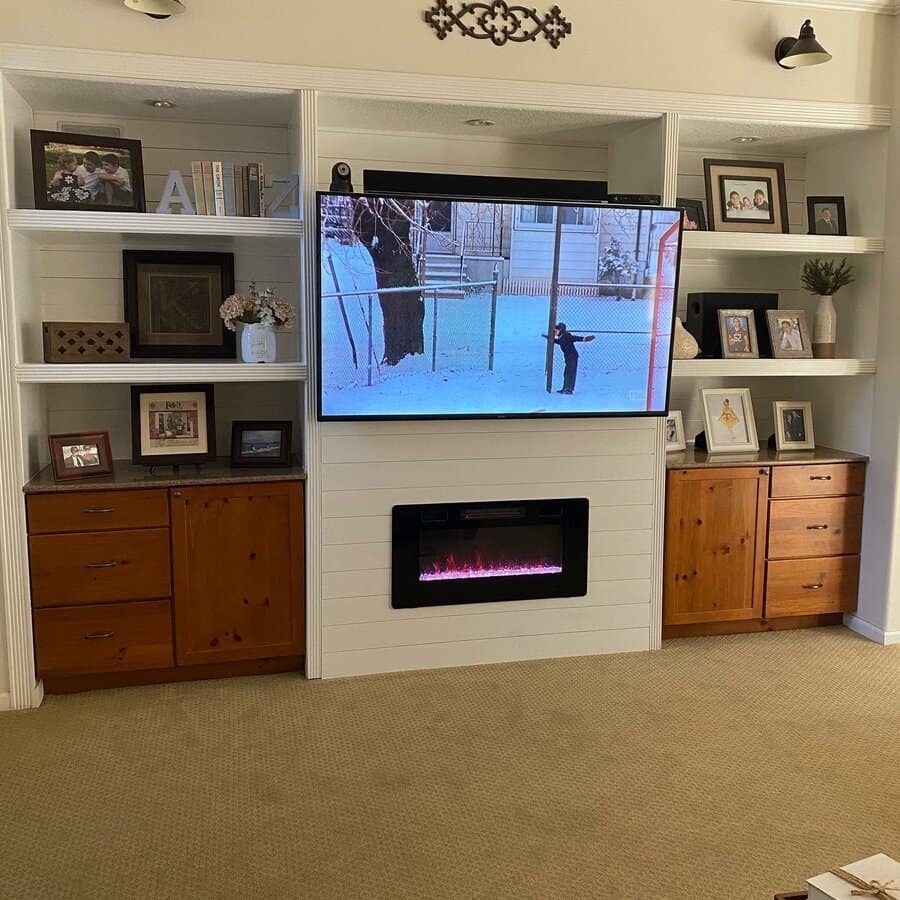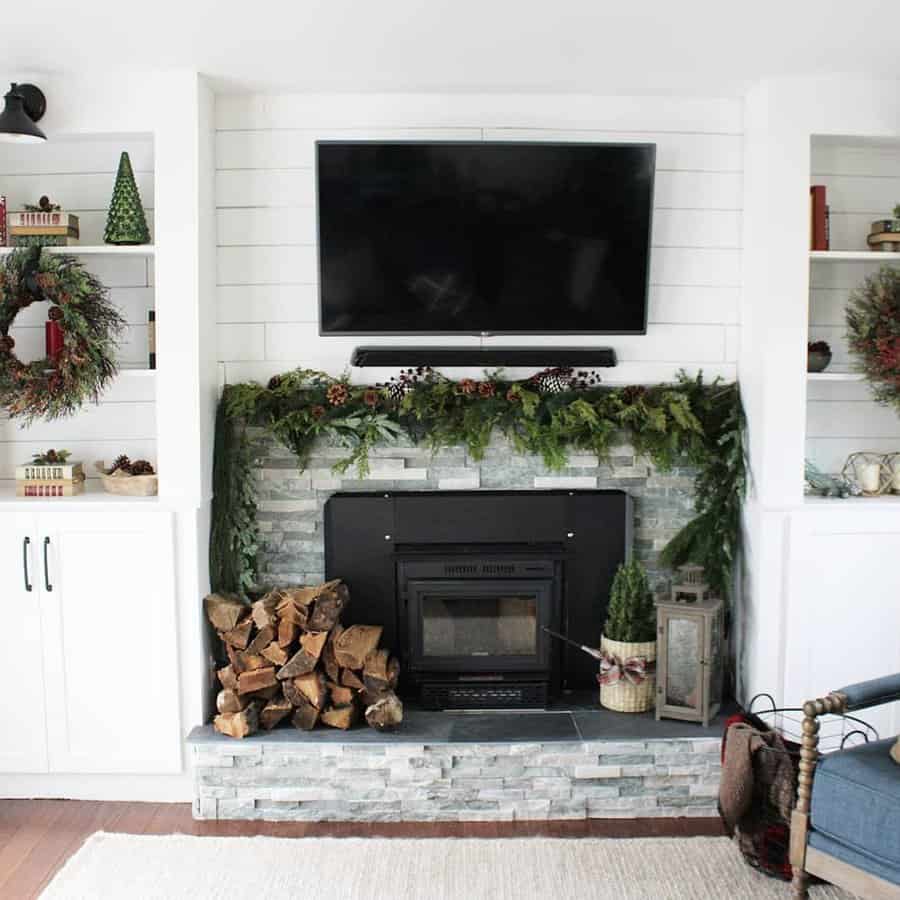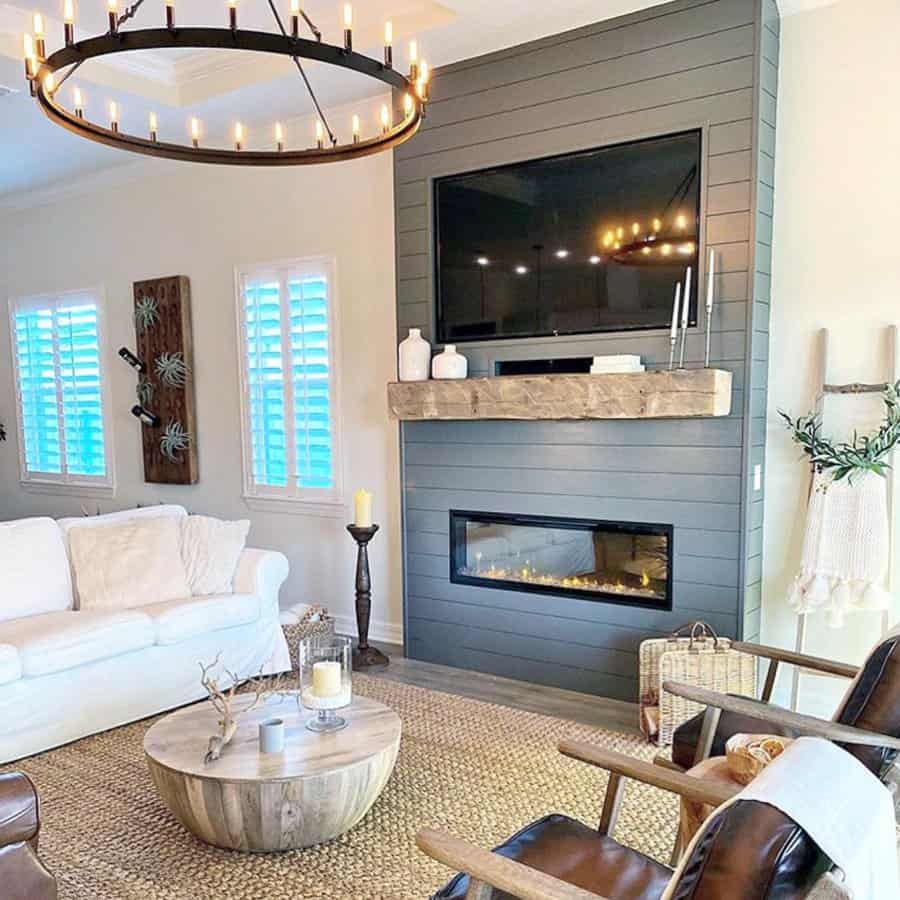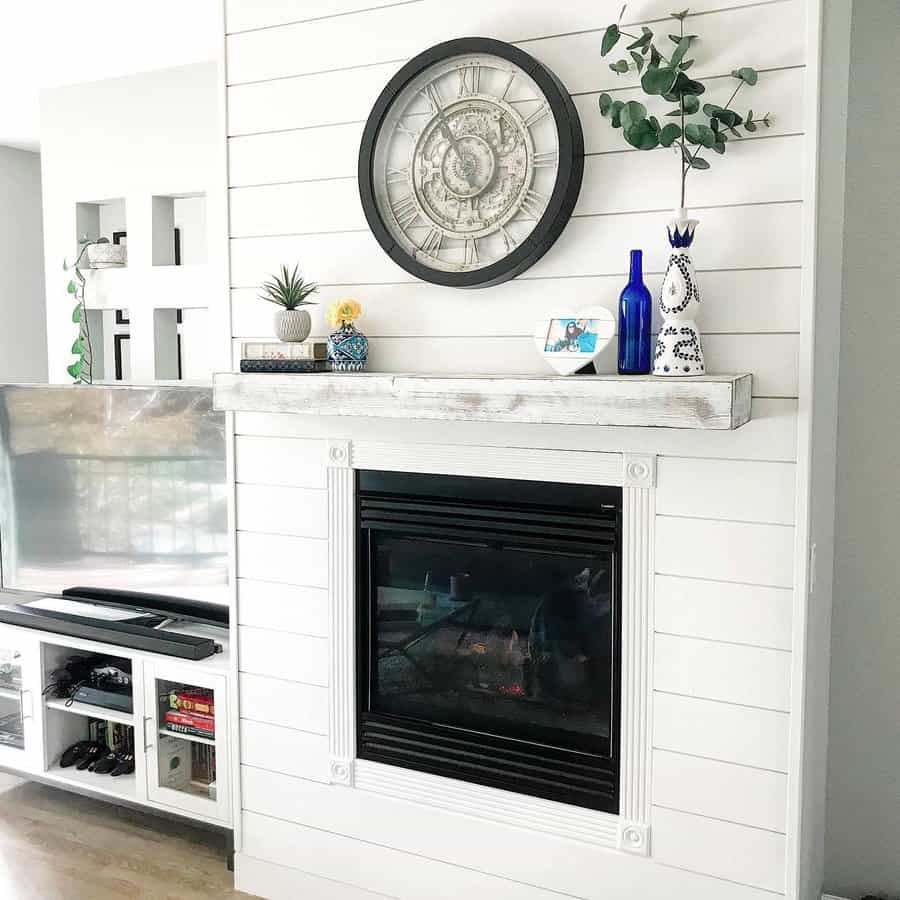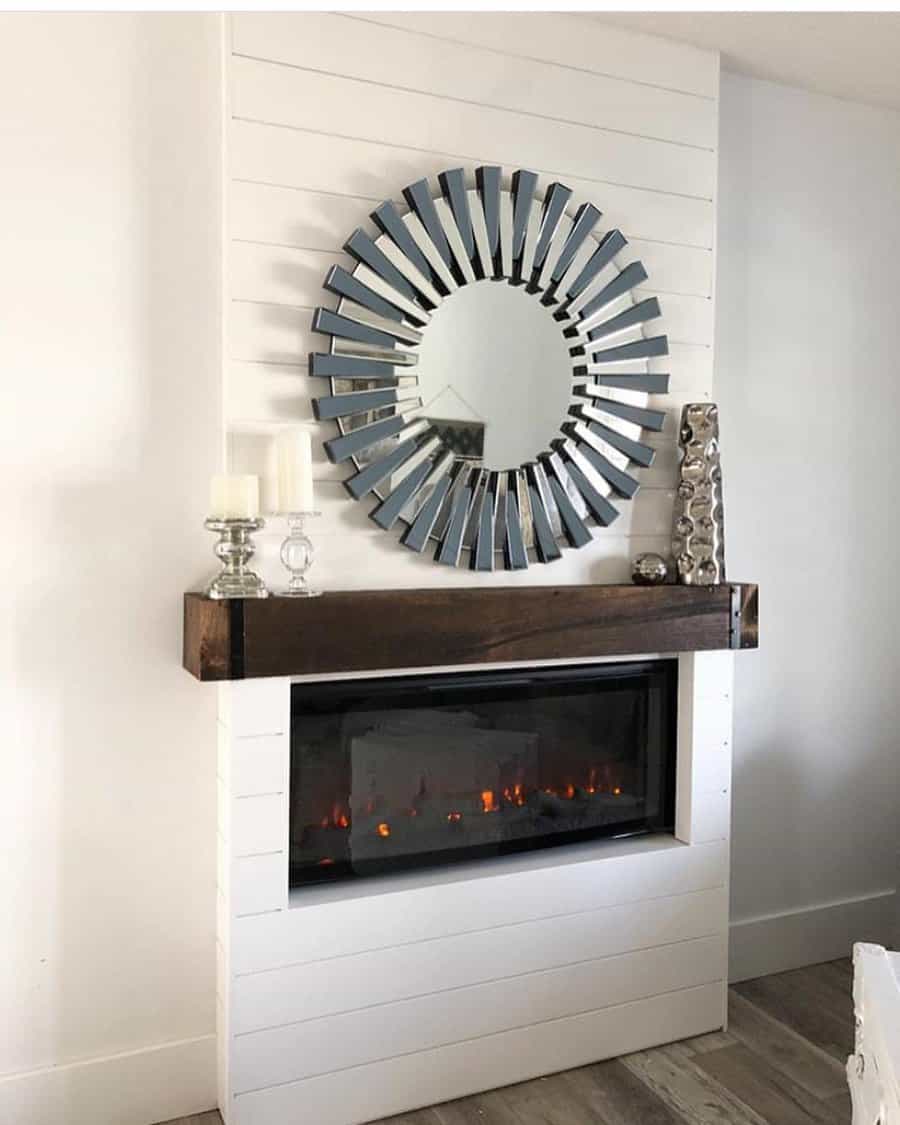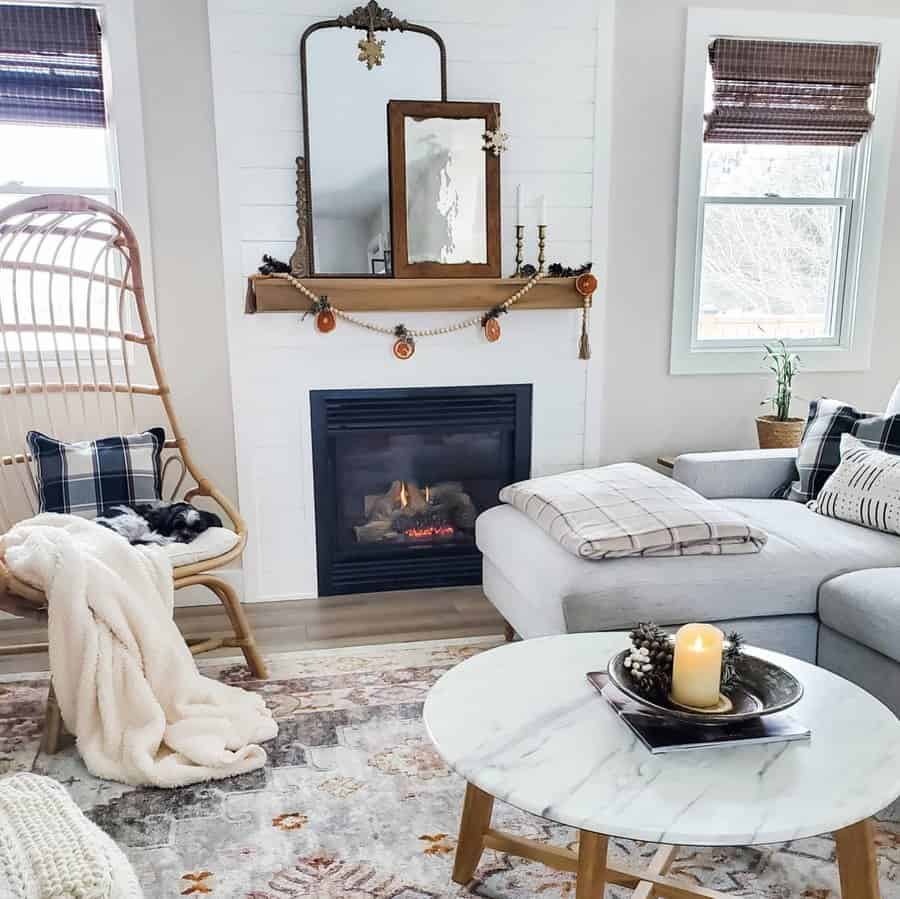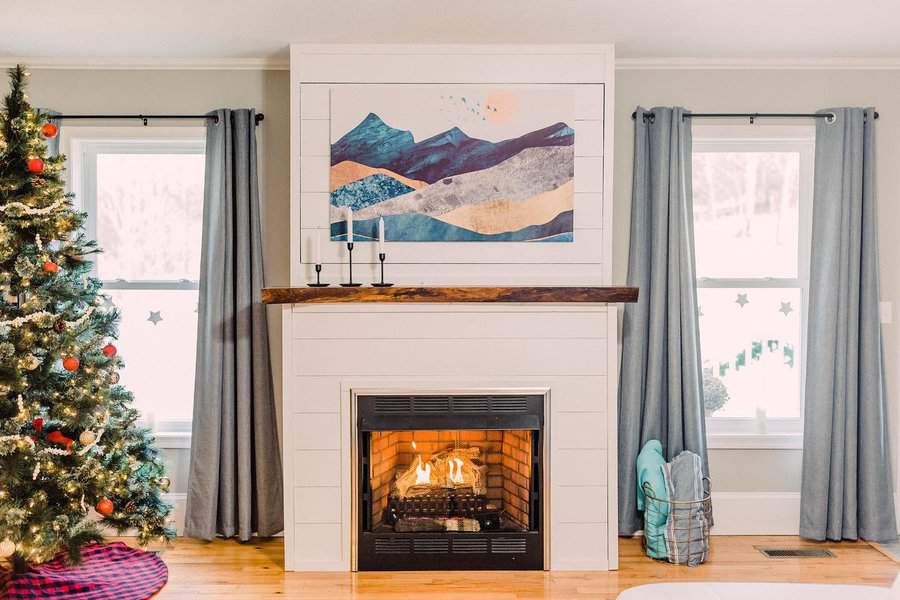 4. Recessed Log Storage
A fireplace wall with recessed log storage is an attractive, practical solution for keeping logs neatly at the ready. If you have a recessed shelf but no log storage, you should consider adding logs to your fireplace wall décor. Choose from lots of styles to suit your taste – from rustic wooden crates to more modern baskets.
Keep in mind that whatever option you choose must be able to withstand the heat from the fire, so consider a material such as metal or stone for this purpose. Finally, try adding some greenery nearby to soften the room and bring it a little bit of life.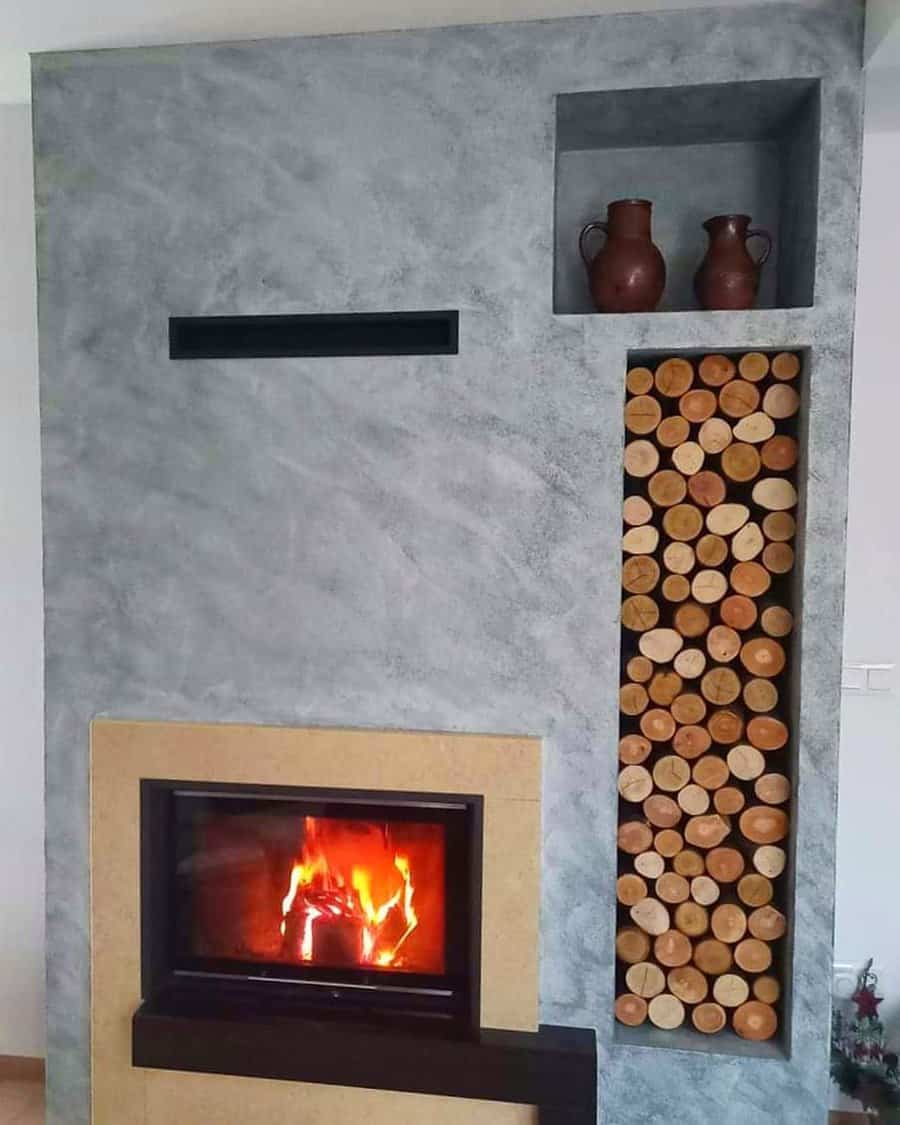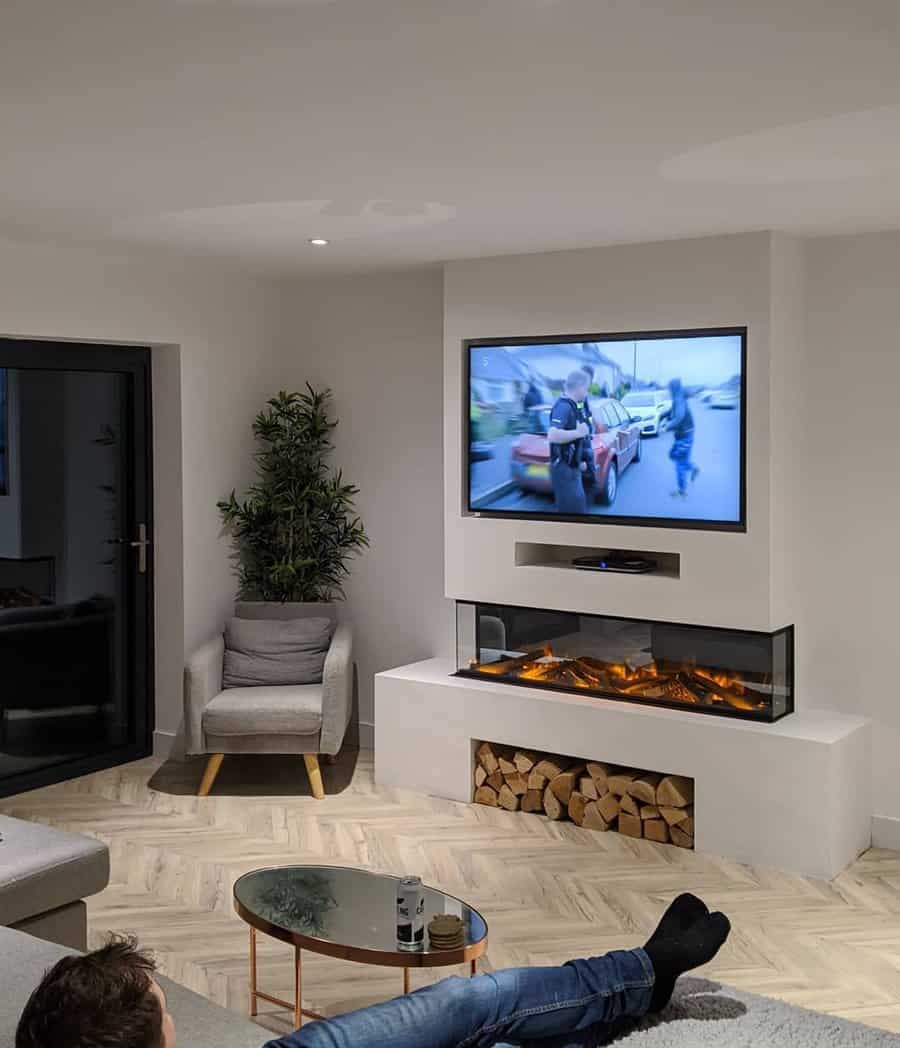 5. Keep It Minimal
Creating a cozy ambiance with a minimal fireplace wall doesn't have to be difficult. If you are going for an understated look, seamless wood panels or concrete walls make fun choices. Consider using patterned panels with carved lines and geometric shapes to achieve the desired effect.
Alternatively, stick to basic materials like ceramic tiles layered over the concrete blocks – this approach is simple yet timeless. Finish off the look by incorporating soft lighting and furniture in warm hues to give your space a sense of warmth without crowding it.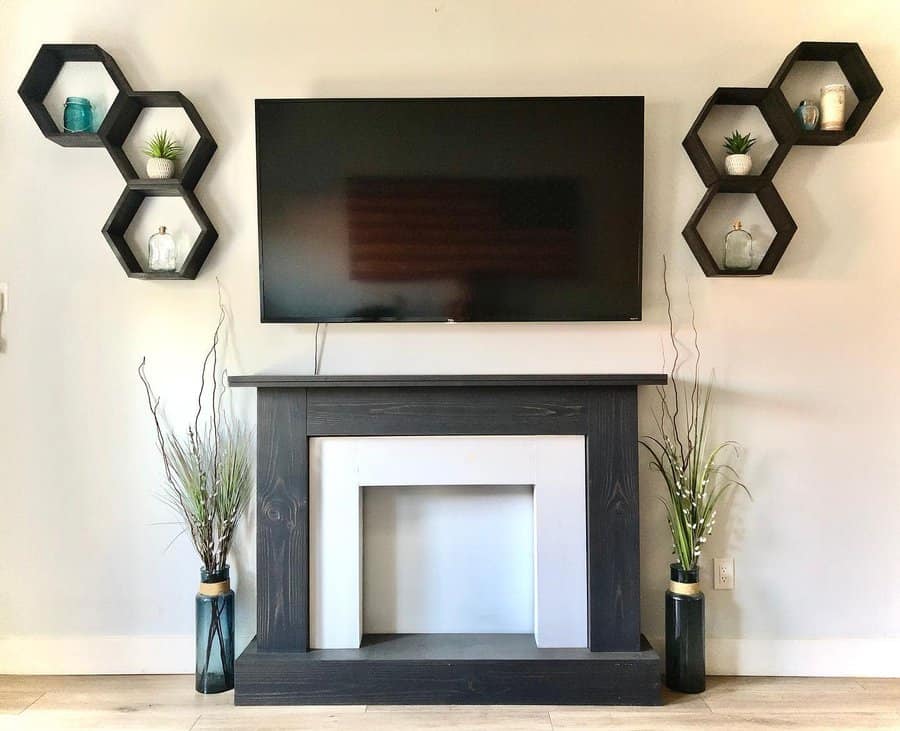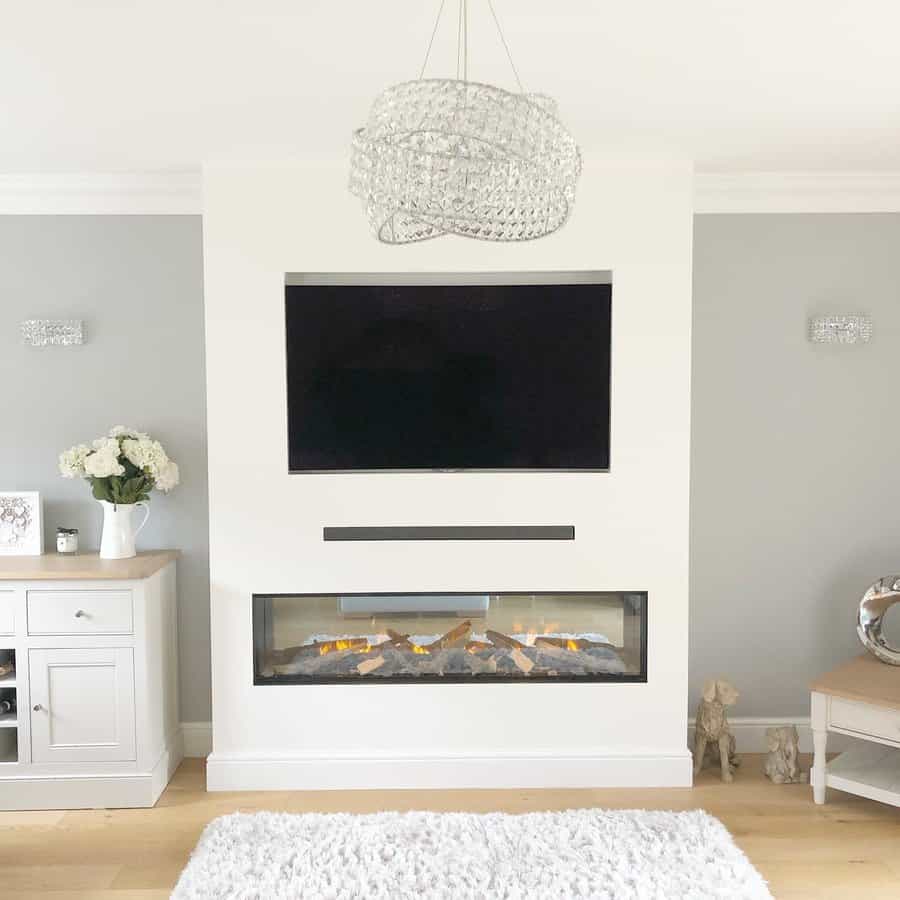 6. Tidy White Fireplace Wall
Creating a white fireplace wall is a great way to add a cozy, welcoming feel to any living room. You may find that white paint works brilliantly as a neutral backdrop for any colorful ornaments and furniture you choose to display in the room.
If you want to keep the white glowing and pristine, make sure you dust regularly – it's an easy task but will be worth it when your white fireplace wall continues to look fresh and tidy.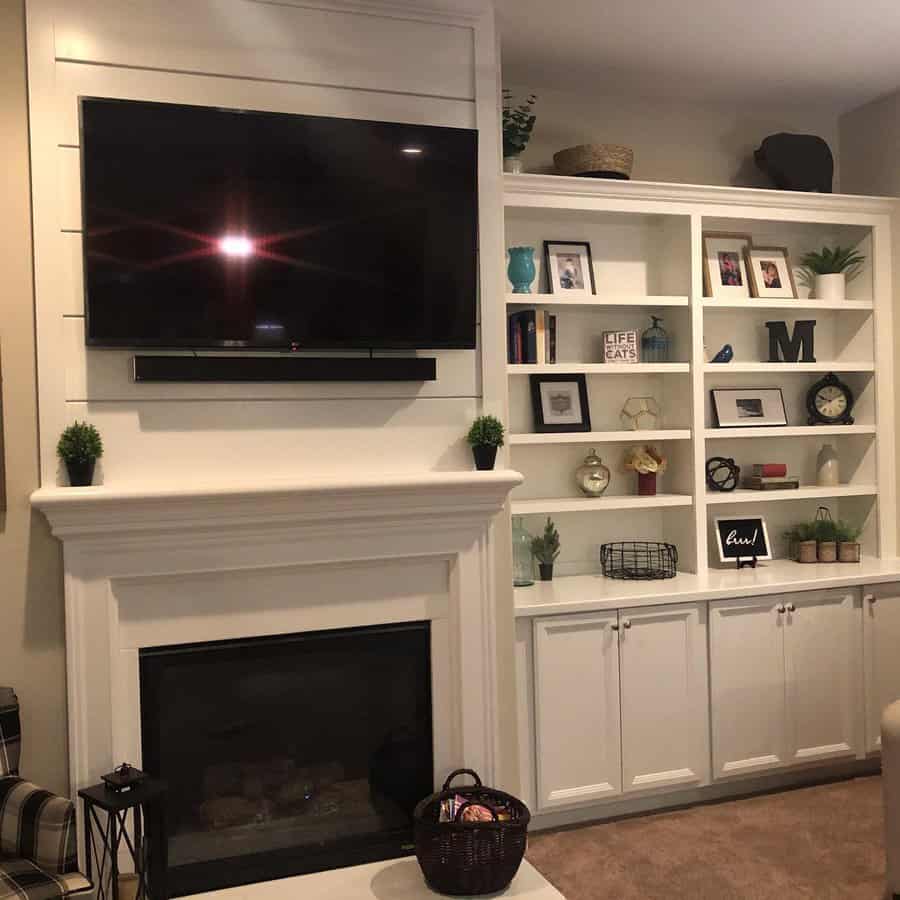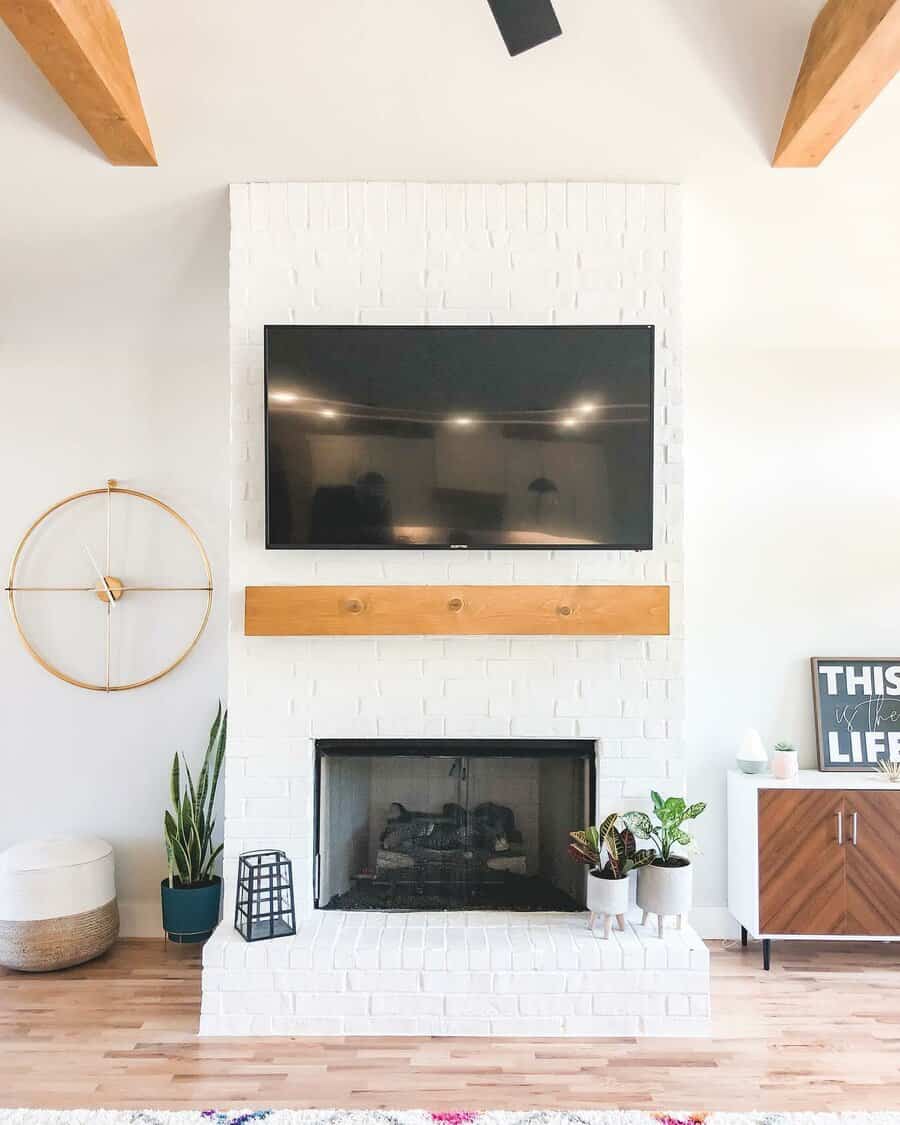 6. Play With Herringbone Pattern
If you're looking for a way to spruce up your fireplace wall, why not consider a herringbone pattern? This classic design is sure to add a touch of elegant charm to any room. Incorporate modern graphic tiles for a timeless look, or exposed bricks for an industrial-chic look.
Still want to make a bold statement? Opt for herringbone graphic tiles or lay exposed bricks in herringbone formations. Either way, make a lasting impression with this timeless pattern! Whatever you choose, your herringbone pattern will be sure to make your fireplace the centerpiece of the room.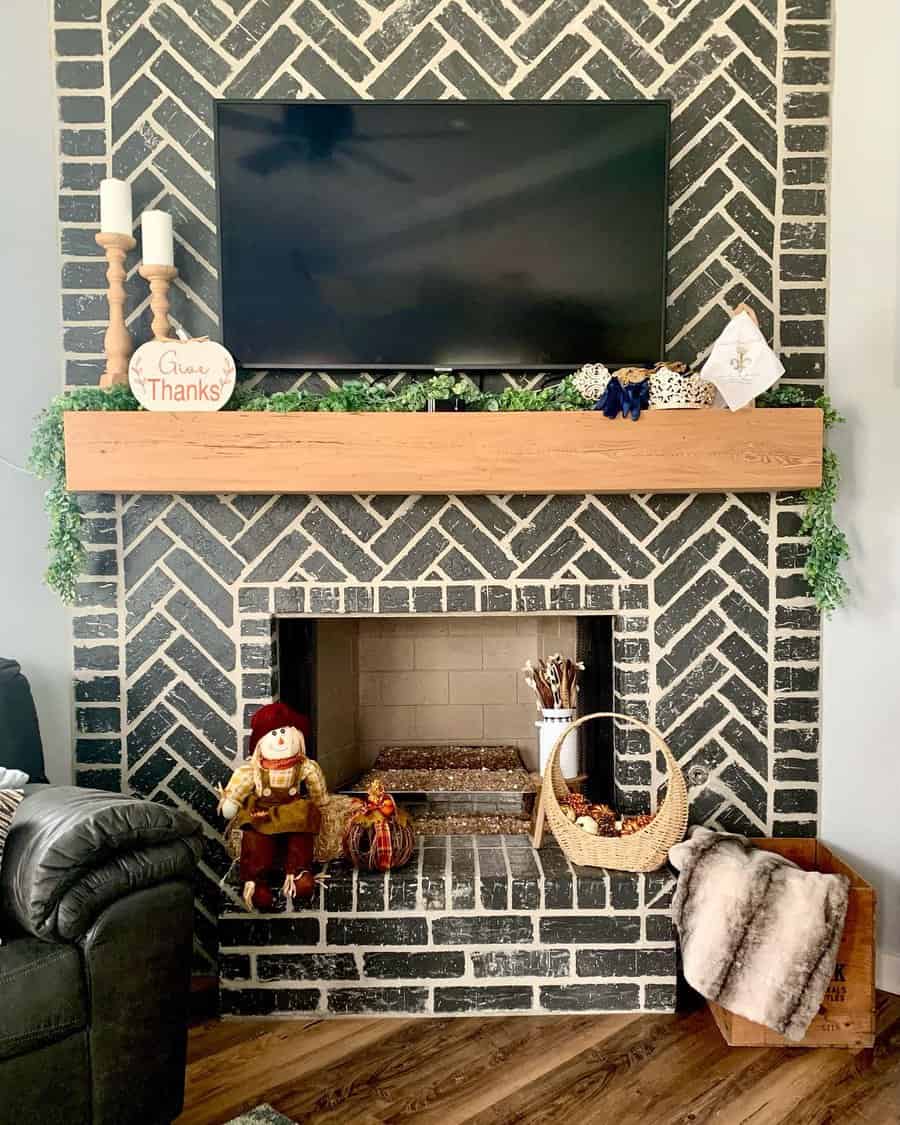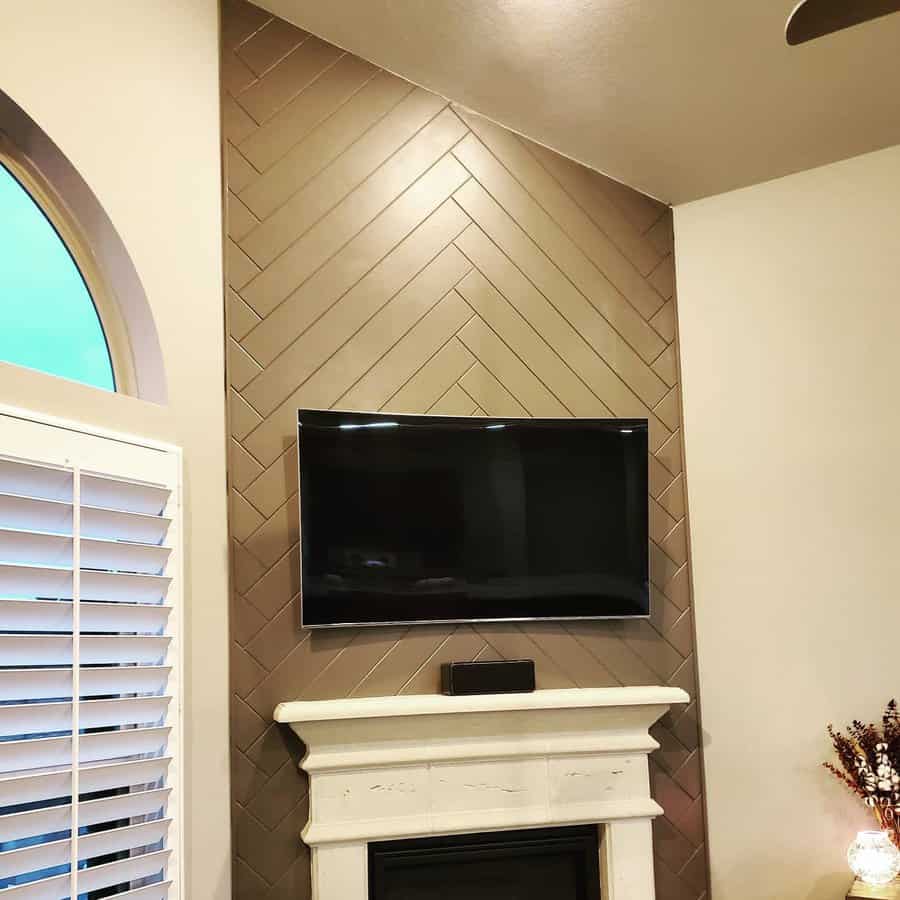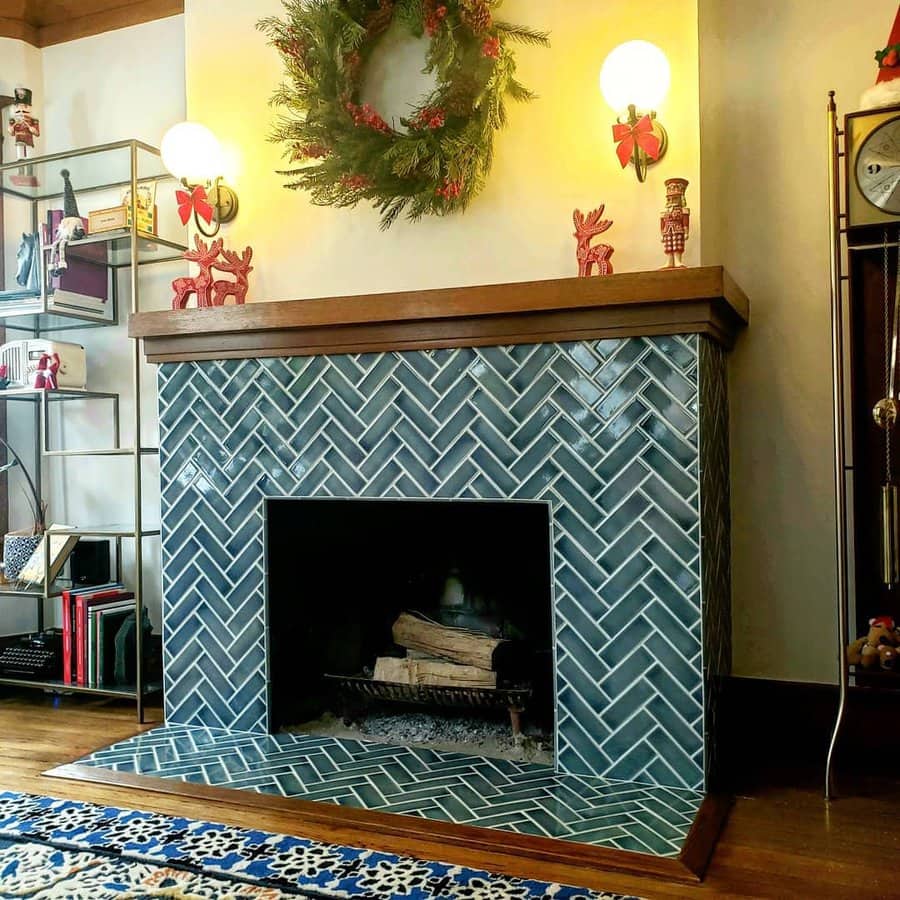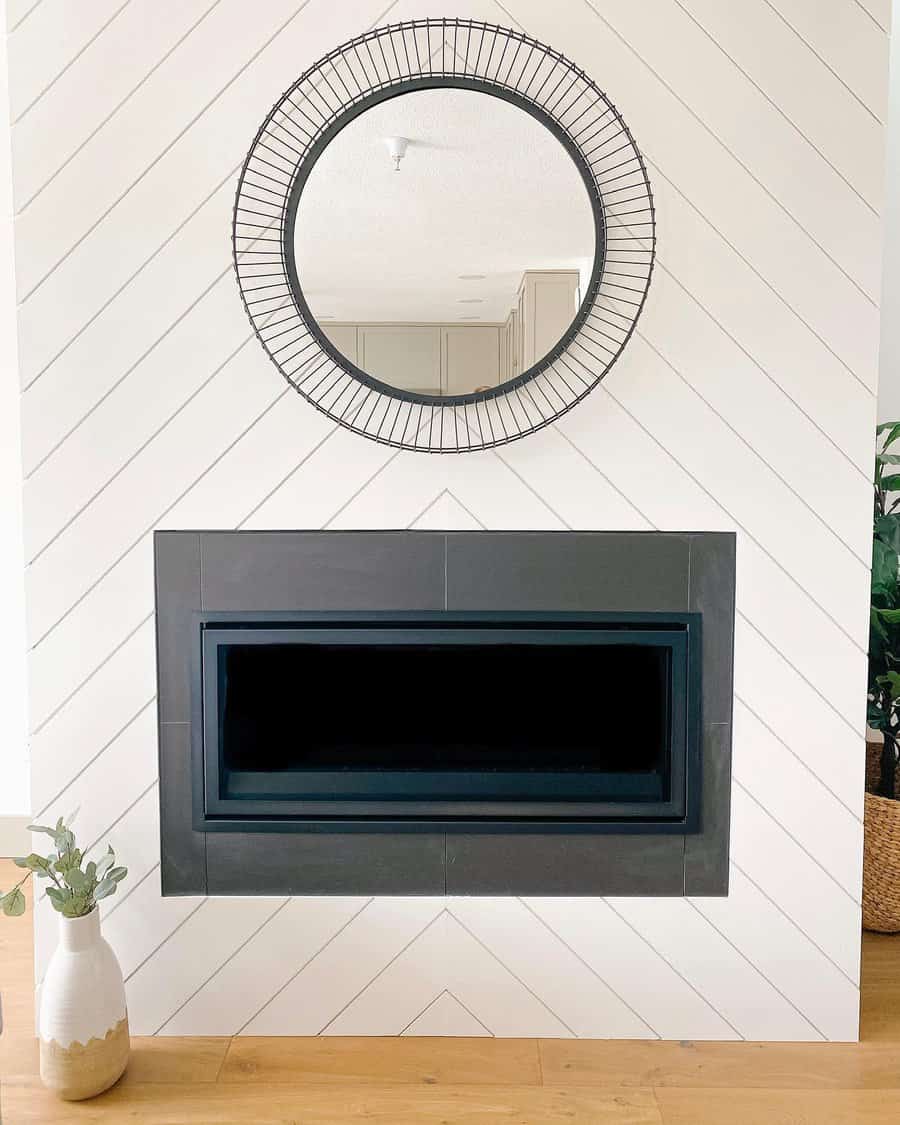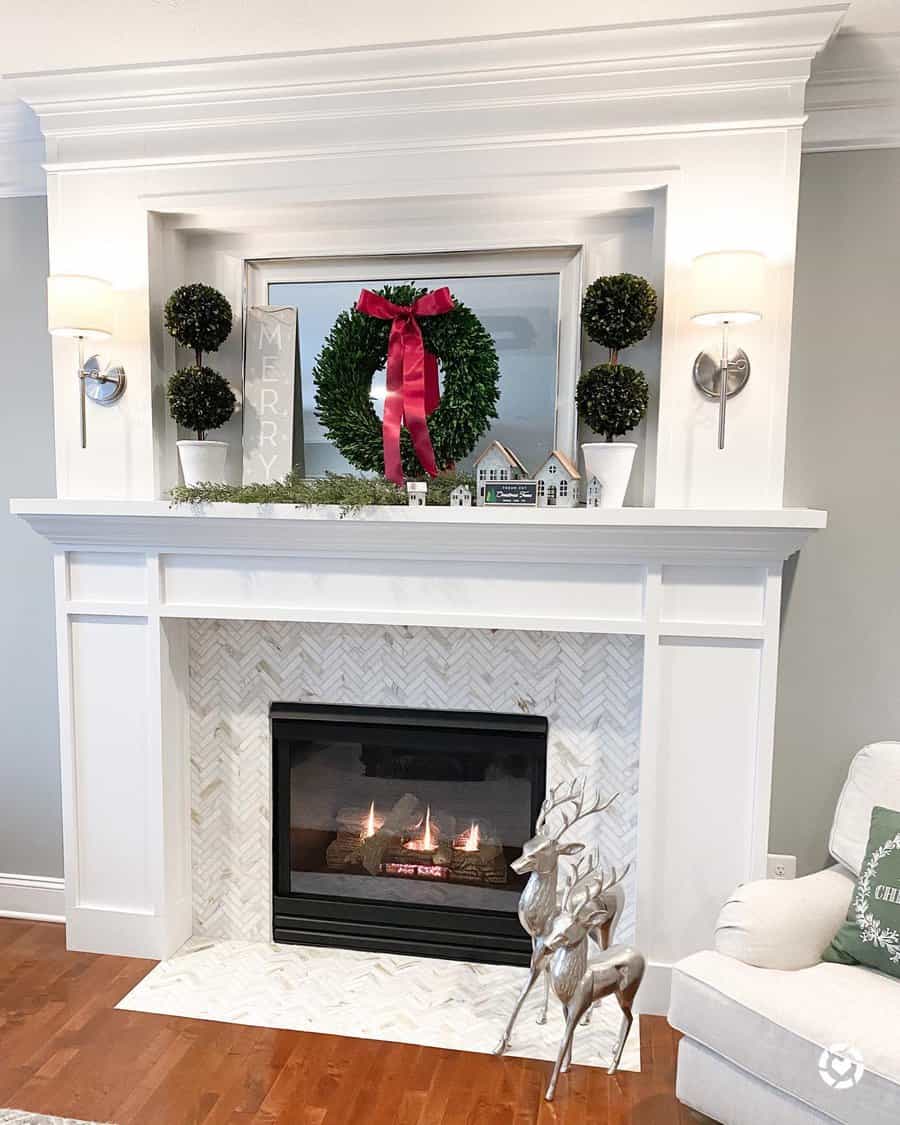 7. Opt For A Mantel With Columns
A mantel fireplace wall can be an excellent way to add a focal point to your living space. It's one of the most dramatic home design elements around and its decorative potential is endless. You can go wild with mantel styling options, experimenting with bolder accents or maybe tapping into some clever mantel lighting that casts a soft glow in the evening time.
Experiment away – you never know what creative ideas you may come up with to transform your mantel fireplace wall into the perfect centerpiece for the room!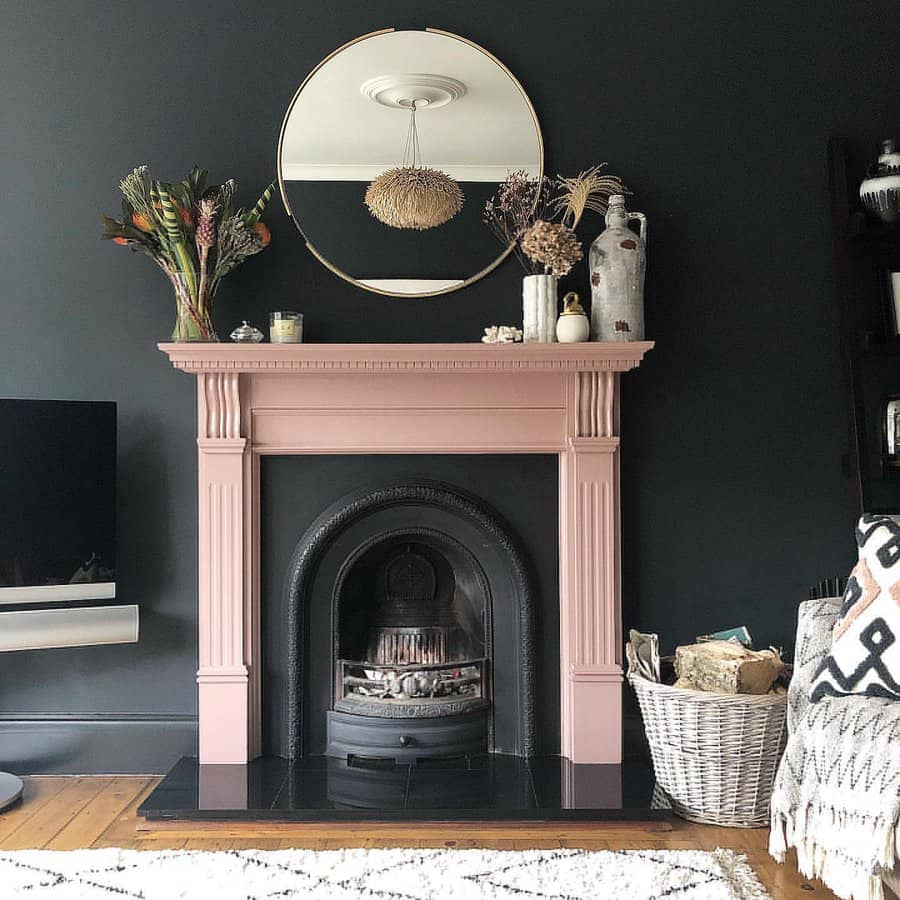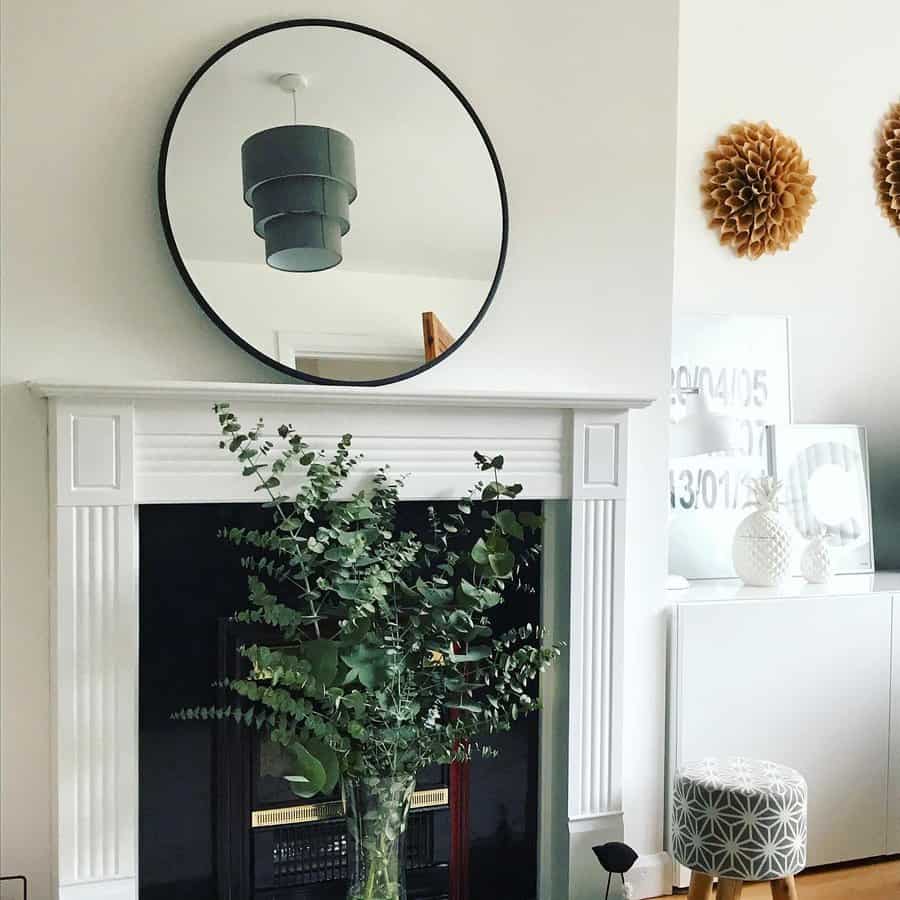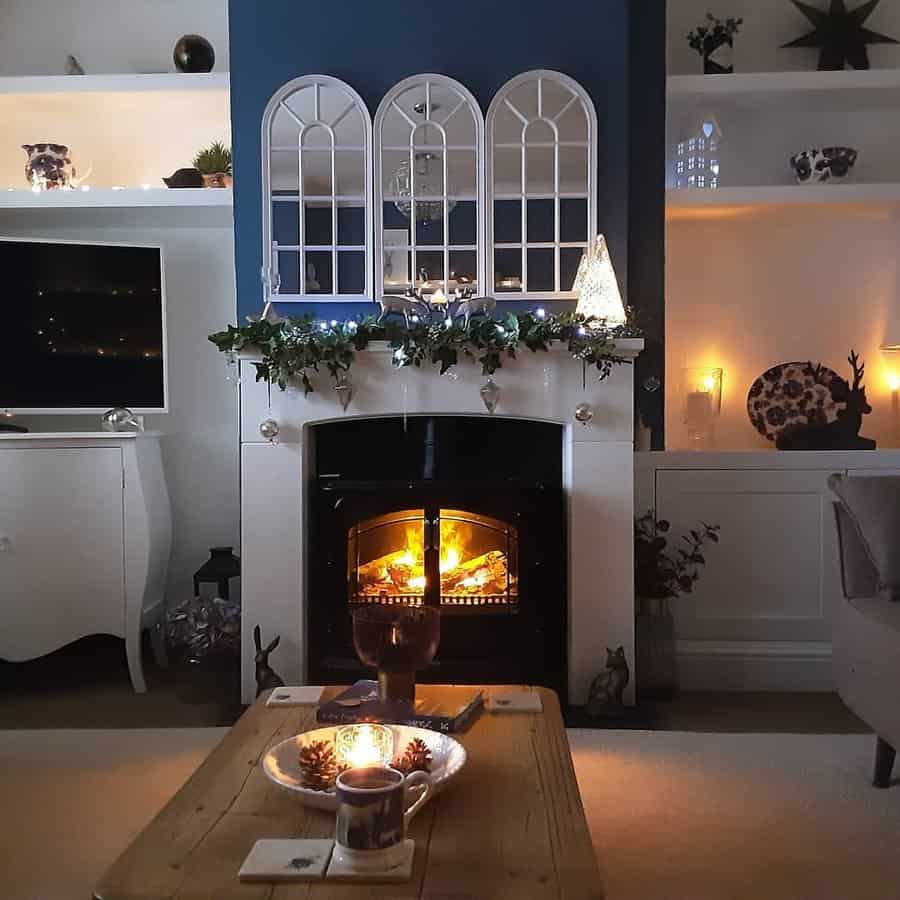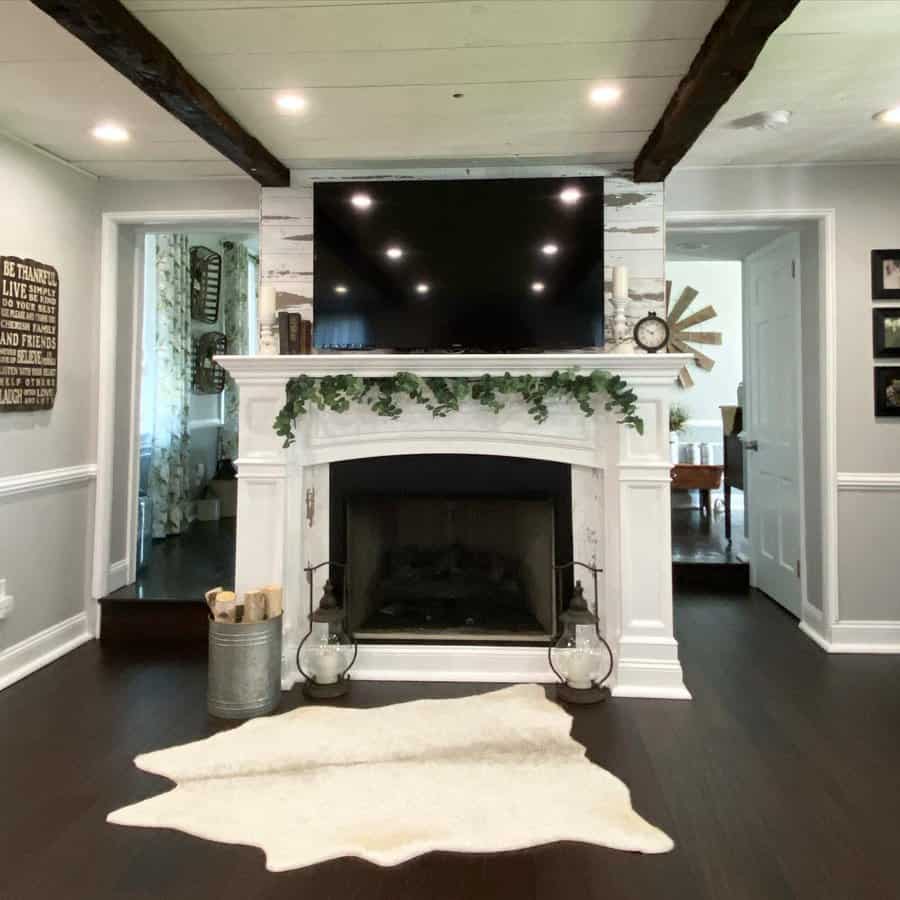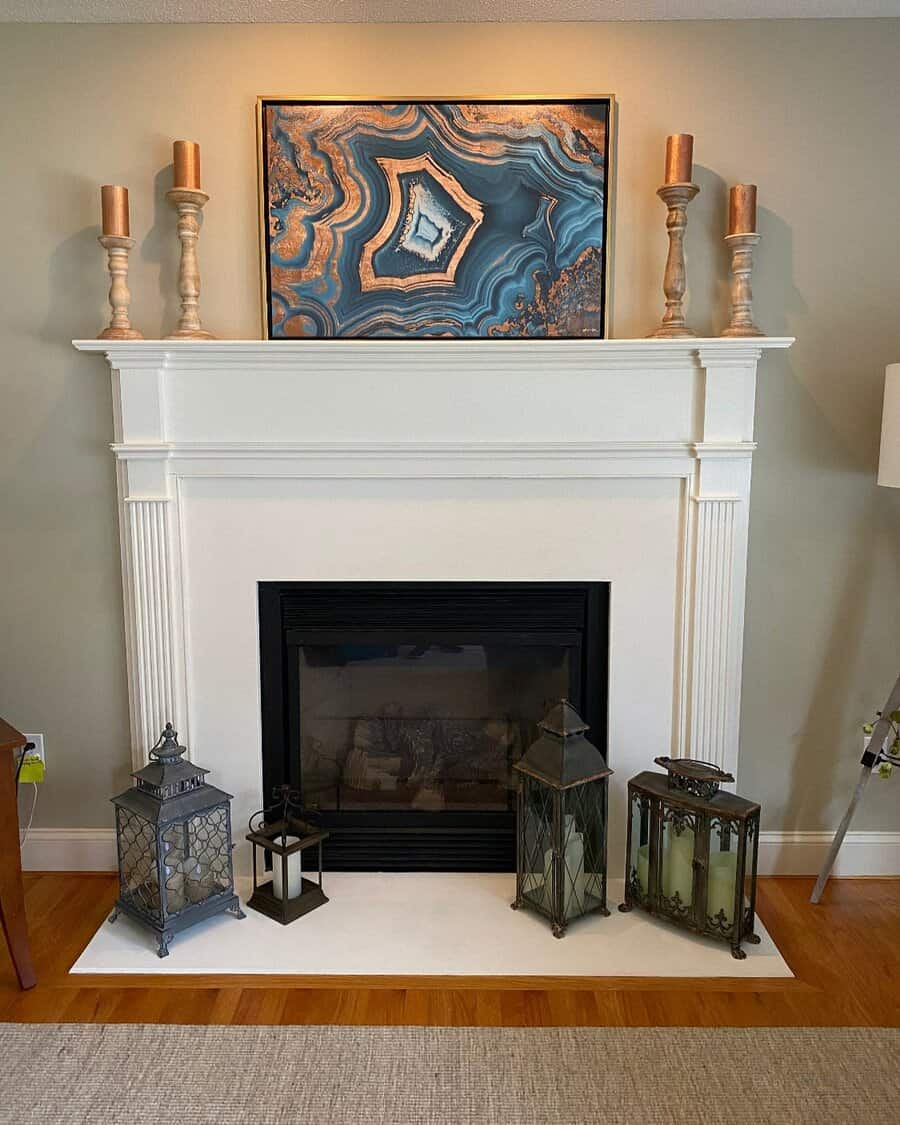 8. Marble For Modern Gas Fireplace Systems
A marble fireplace wall adds a timeless elegance to any room. Whether you're modernizing or seeking a classic look, marble's natural hues and veins make it the perfect material to show off your fabulous style. Although beautiful, marble is a porous stone, so if you install a marble fireplace wall it needs to be protected with proper maintenance and care.
Ensure you've got a working gas fireplace system installed, as wood-burning fireplaces may damage marble surfaces through heat and smoke discoloration.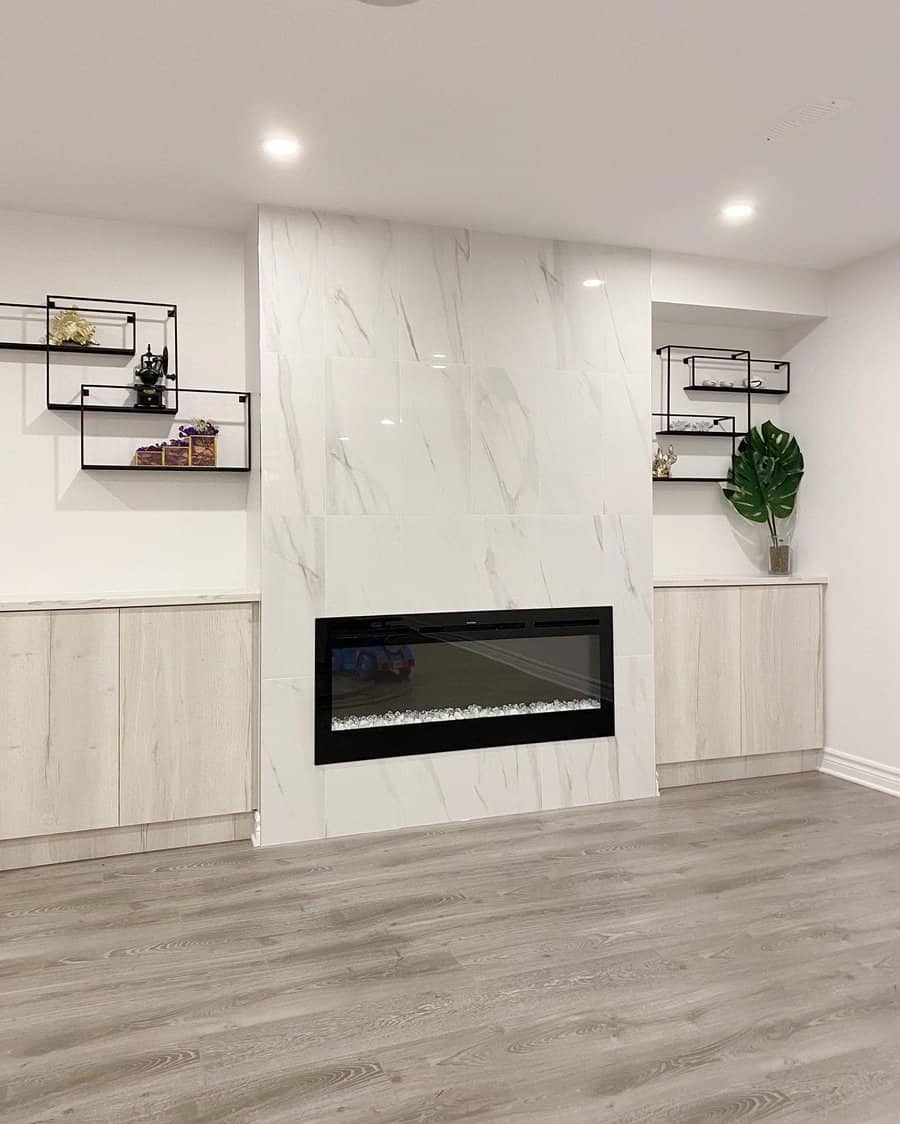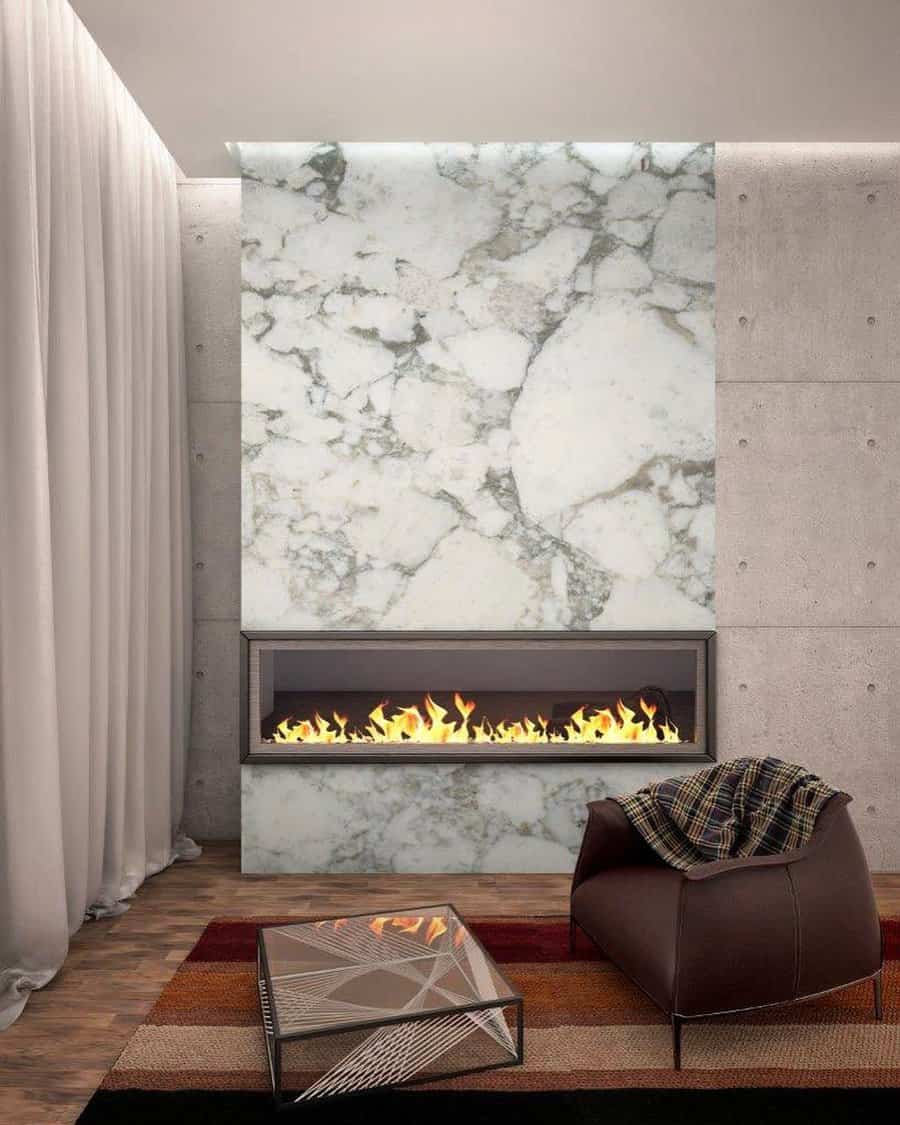 9. Stamped Stone Tiles For Added Texture
A fireplace wall can be transformed with stamped stone tiles. While stone is profoundly durable and almost impervious to fire, stamped stone tiles will give your wall added texture.
The stamped stones come in a variety of colors and styles, allowing you to create a unique design that fits into the overall architectural context of your home. Installing stamped stones is straightforward, making this an easy yet visually appealing way to transform your fireplace walls.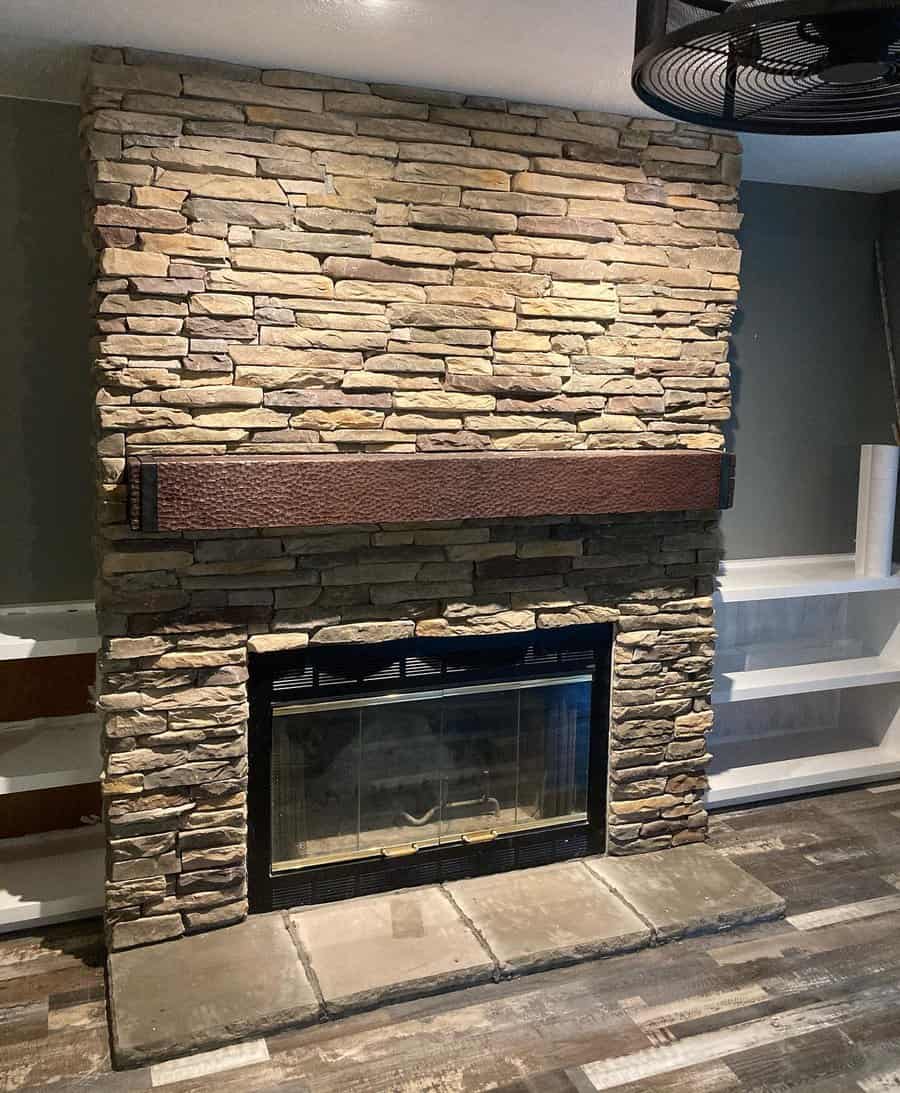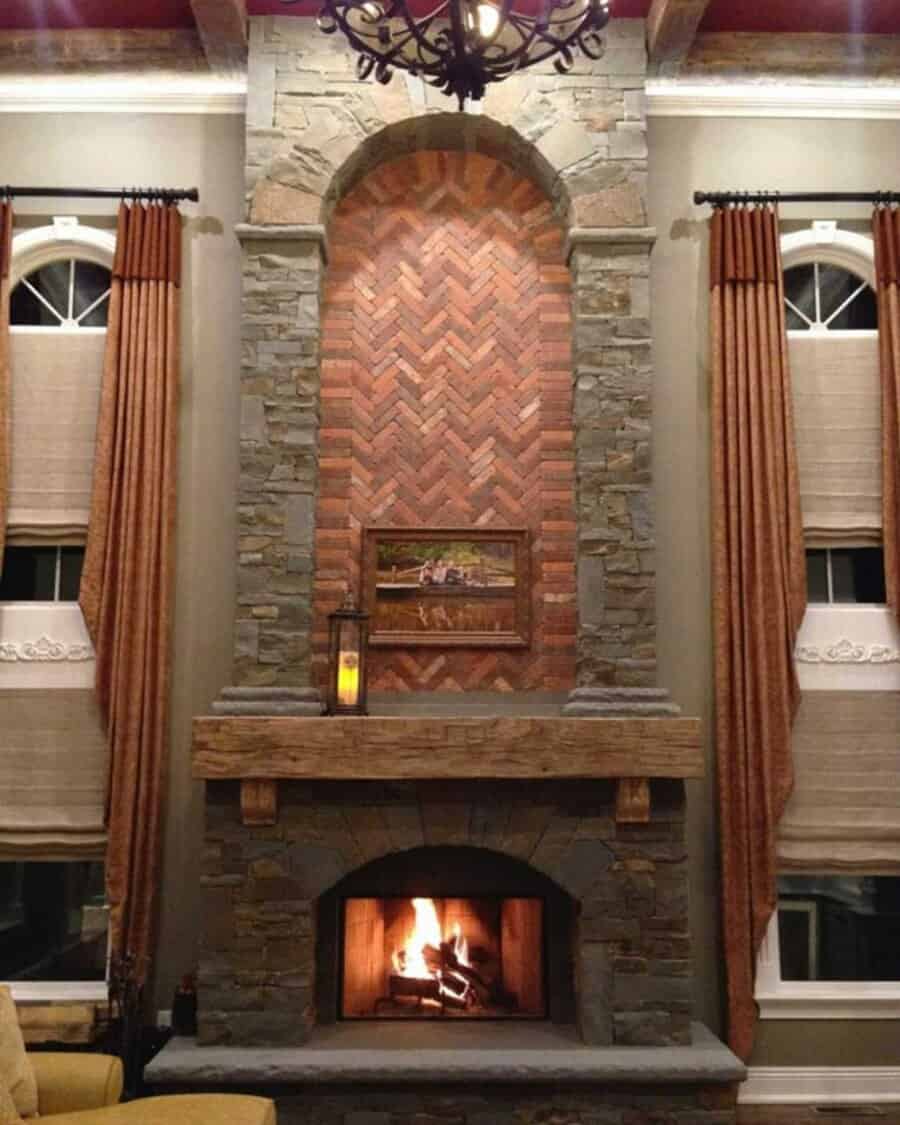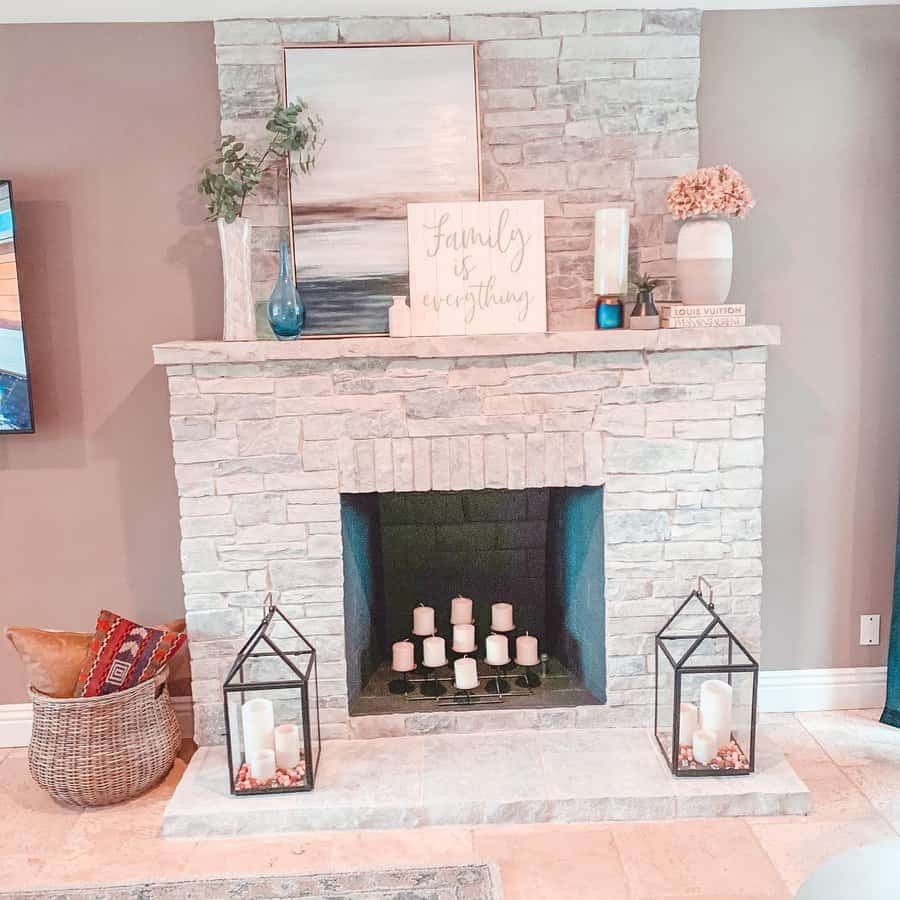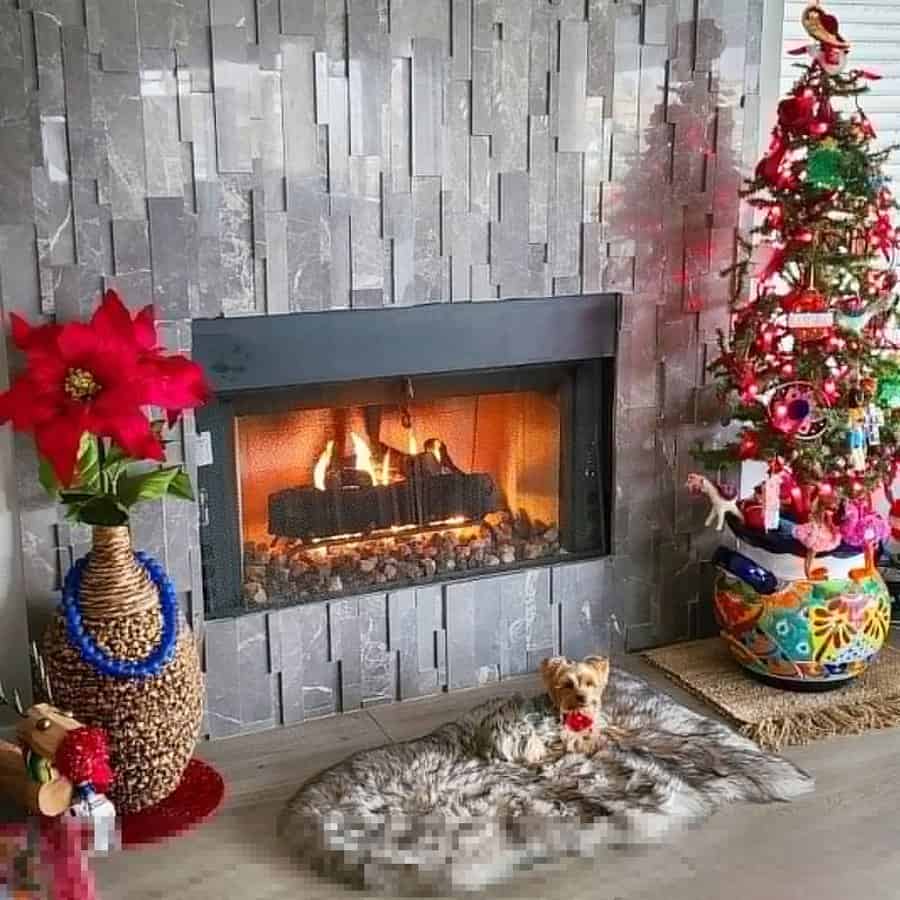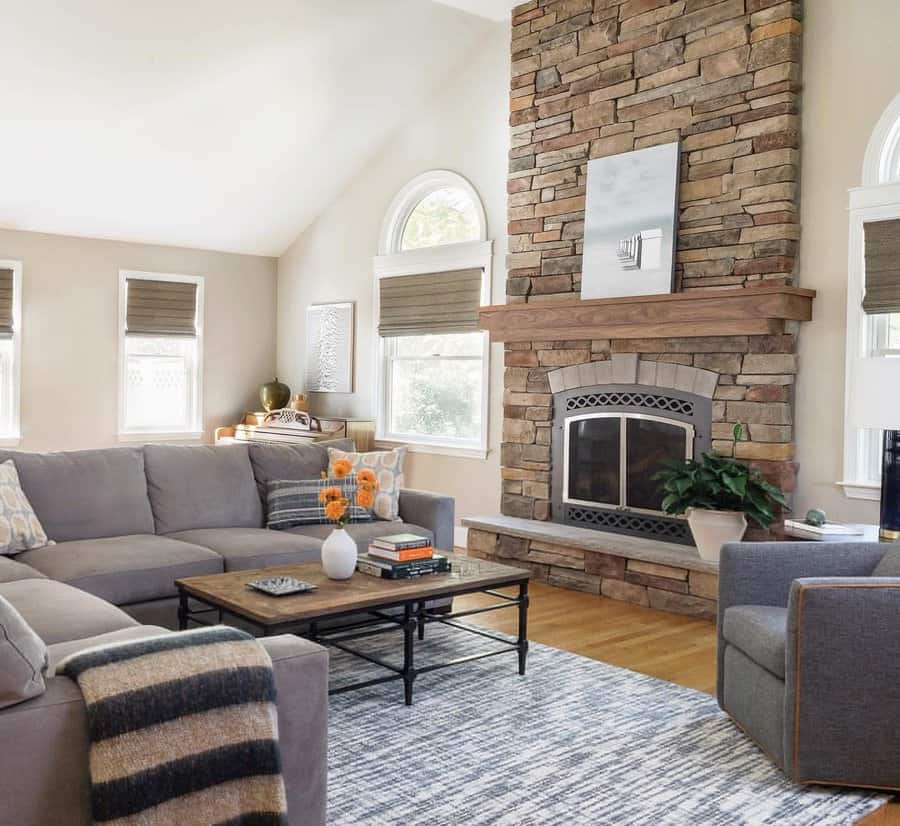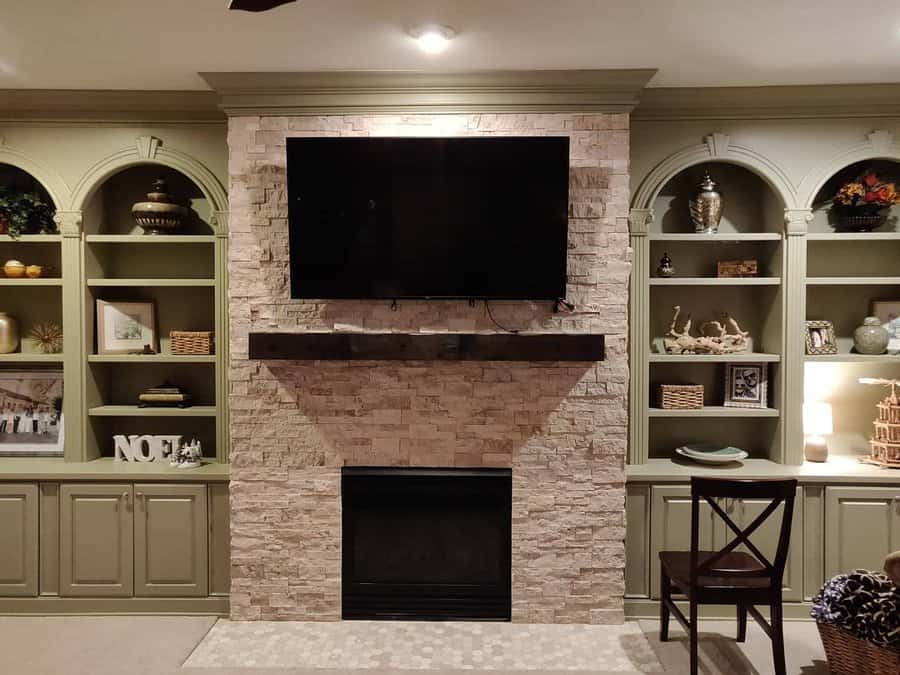 10. Build A Tuscan-Style Fireplace With Tiles
If you're considering adding a classic, Tuscan-style fireplace wall to your home, there are plenty of options available. Consider classic tiles that encompass classic Italian design elements like terracotta, soft greys and whites, and classic patterns. Furthermore, consider adding robust wooden details that will help to accentuate the Tuscan design of your fireplace wall; these small touches can really bring an authentic Italian-style look to your home.
Whether you're aiming for traditional Italian flare or something more modern, with a classic Tuscan-style fireplace wall you'll be sure to have just the look that you imagined in mind.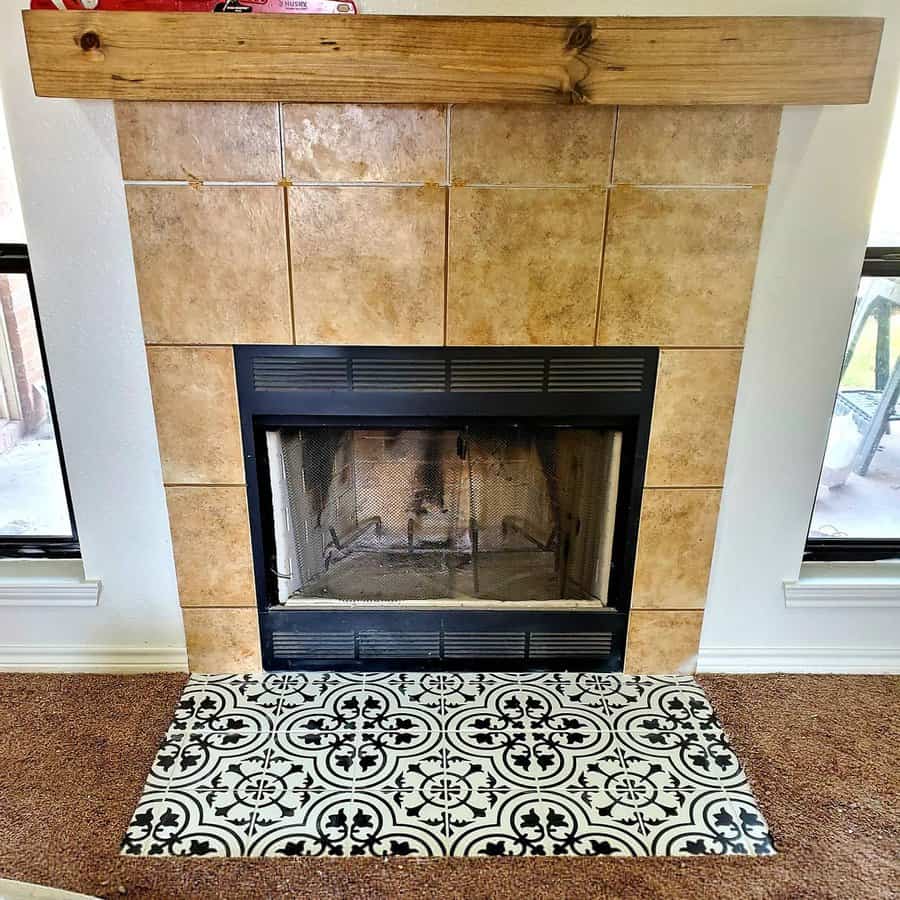 11. Stick To A Monochrome Palette
For an original and timeless aesthetic, a grey marble or grey tile fireplace wall would be the perfect addition to any living space. You could introduce some interesting nuances by mixing different shades and tones of grey – creating a unique monochrome look that is sure to catch anyone's eye.
By thinking carefully about the grey tiles you're including and making sure each contributes in its own way to this classic yet modern color pallet, you'll have a fireplace wall that will stay beautiful for years to come.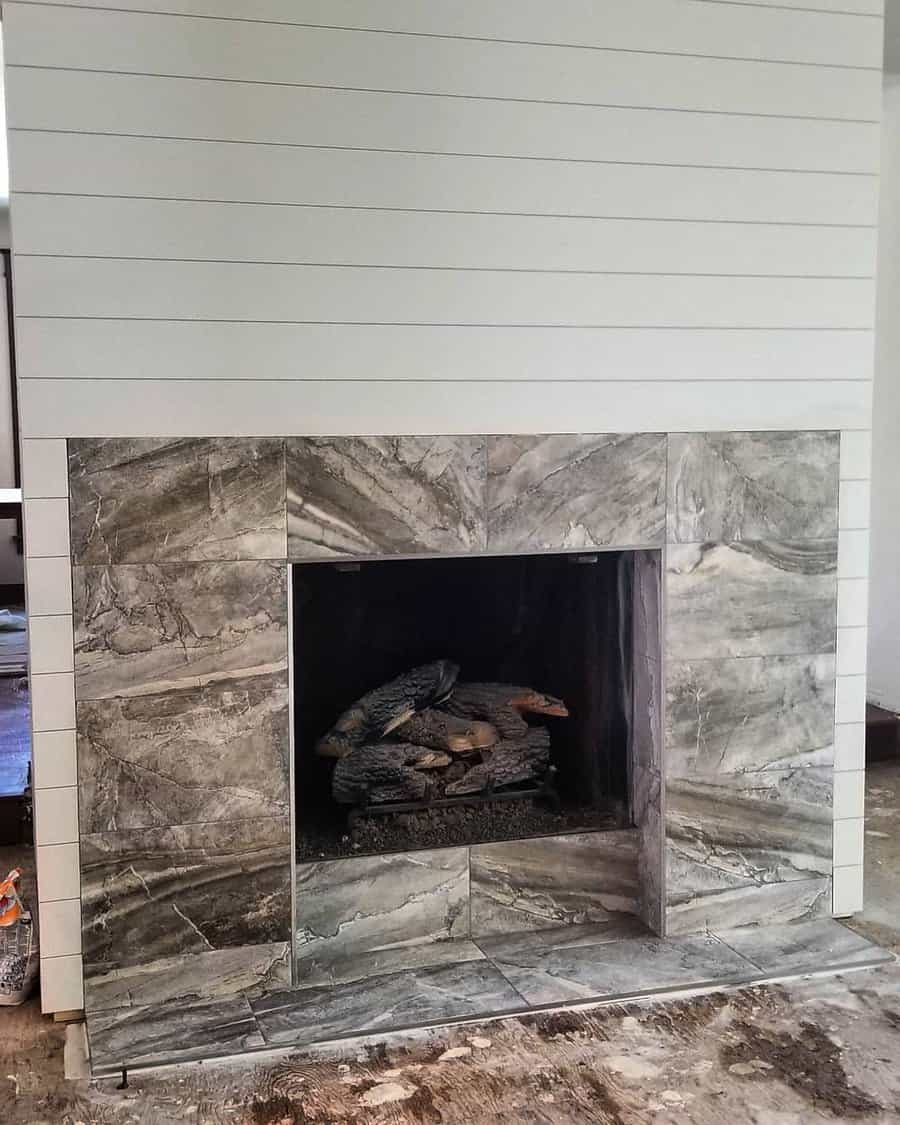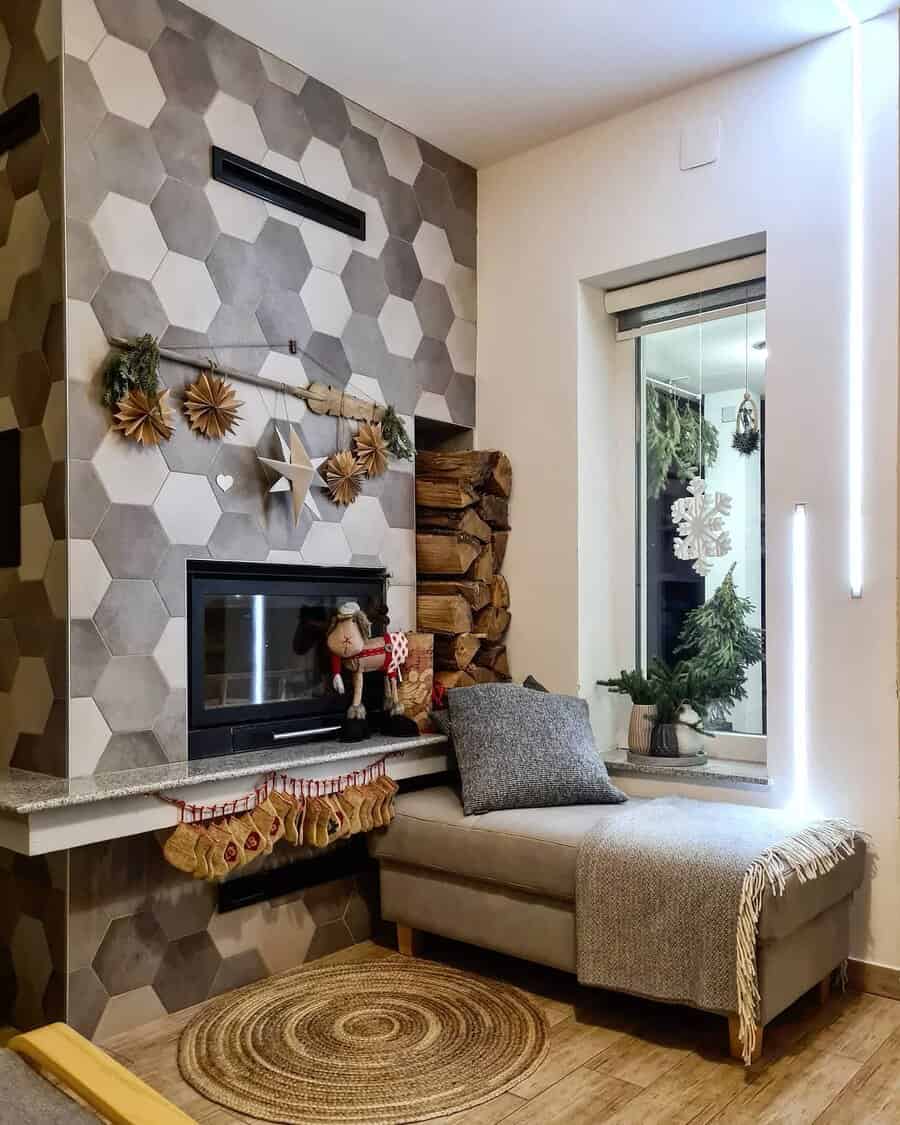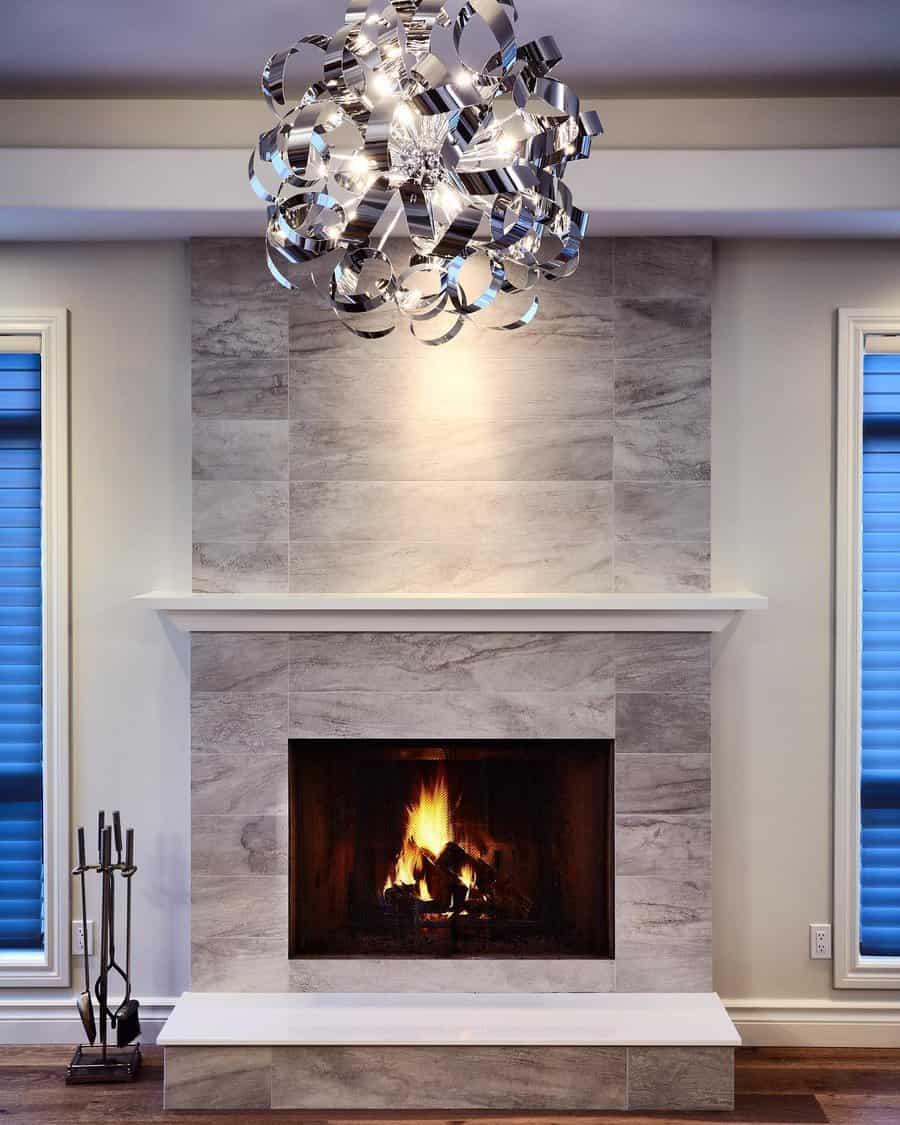 12. Distressed Wood For A Rustic Look
For a beautiful rustic fireplace wall, distressed wood panels are a perfect choice. Choose from a variety of distressed wood styles to find the one that best matches the aesthetic in your home. For an added effect, combine distressed wood with other natural elements such as stones or mirror frames.
By using distressed wood panels and combining them with subtle accents, you will have an unforgettable focal point for any room in your home.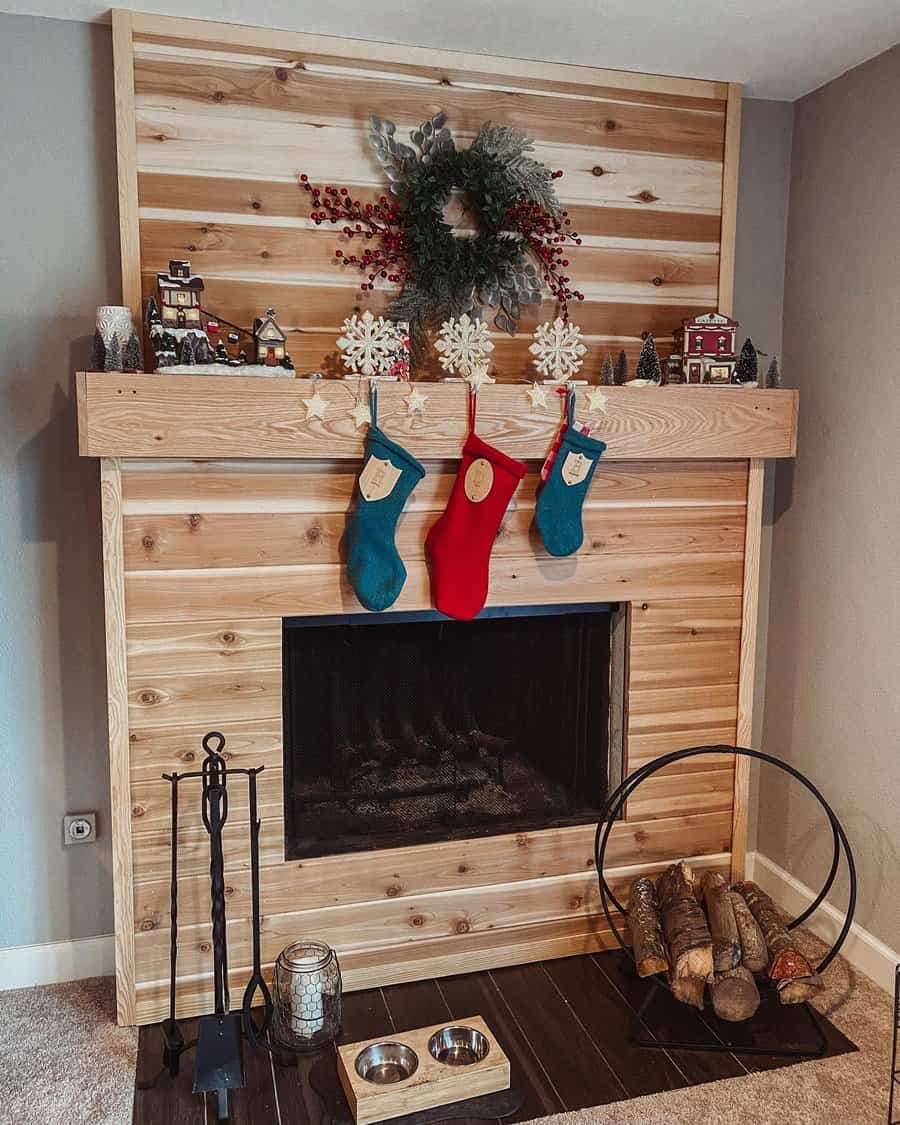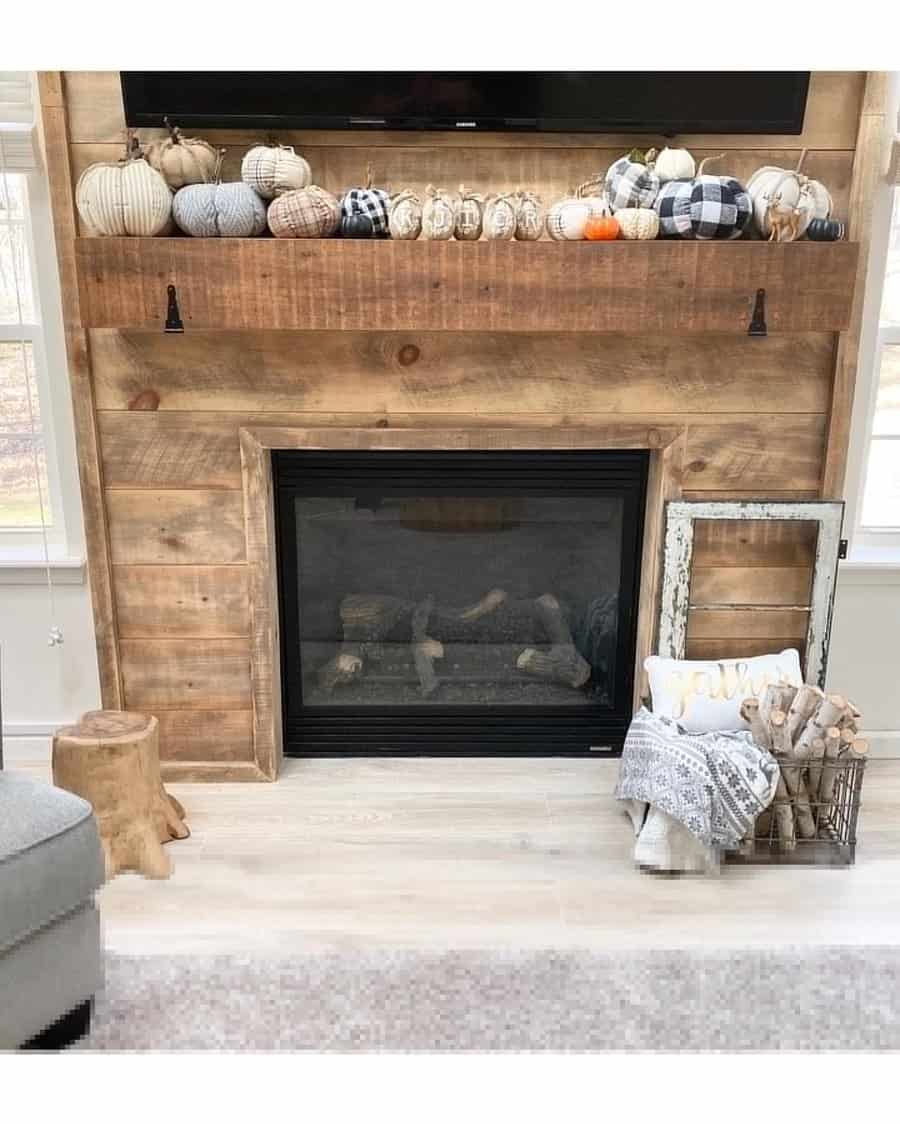 Fireplace Wall FAQs
Can you put a TV on the wall above an open fire?
Yes, although it may seem questionable given the amount of heat a fireplace radiates. Protect your TV by directing the heat away from it. There are three primary ways to achieve this:
Build a recessed alcove for the TV.

Install a wide, thick mantel.

Purchase a fireplace insert with a fan to blow heat out into the room.
What can I put on my fireplace walls?
If you don't hang a TV over your fireplace, any number of decorative accents will do. A large mirror can make your room appear brighter and larger, while a wreath adds a botanical accent. Use the walls surrounding your fireplace to showcase favorite artwork or family photos.