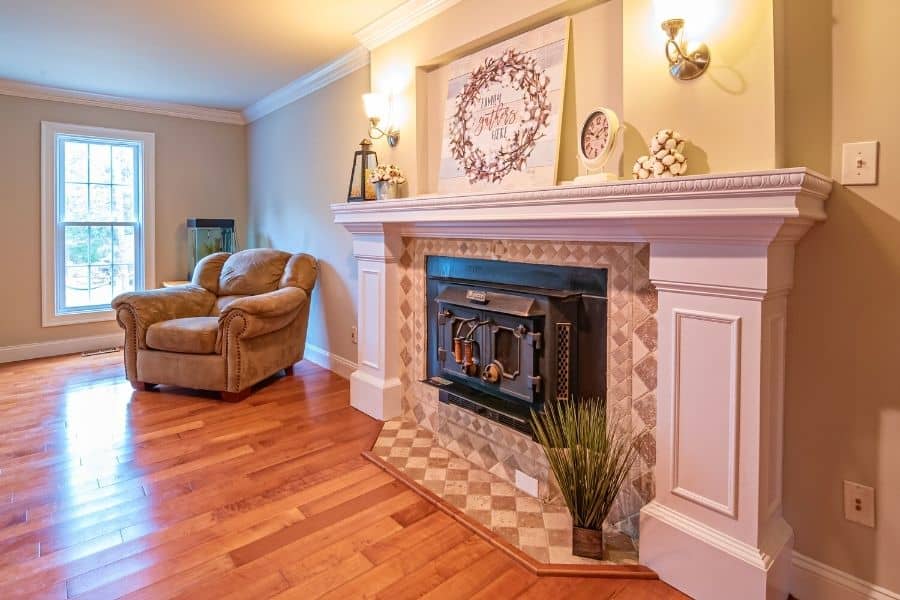 60 Must-See Fireplace Wall Ideas
"A house with no fireplace is a house without a heart." – Gladys Taber
A fireplace is definitely the heart of any room, but without a beautiful fireplace wall, it's simply a heat source. The materials and decorations you place around your fireplace can turn it from a boring feature to the room's gorgeous centerpiece.
Brick, tile, marble, or stone—all are excellent fireplace wall ideas and can be designed to coordinate with any style of home decor. Look through our gallery of stunning fireplace wall ideas for inspiration on updating the heart of your home.
1. Brick
A classic brick fireplace heats millions of homes around the world. What can you do if you tire of looking at your existing fireplace brick? Paint is one of the easiest ways to update a brick fireplace surround. Thin the paint with water and whitewash the bricks if you prefer a more subtle application.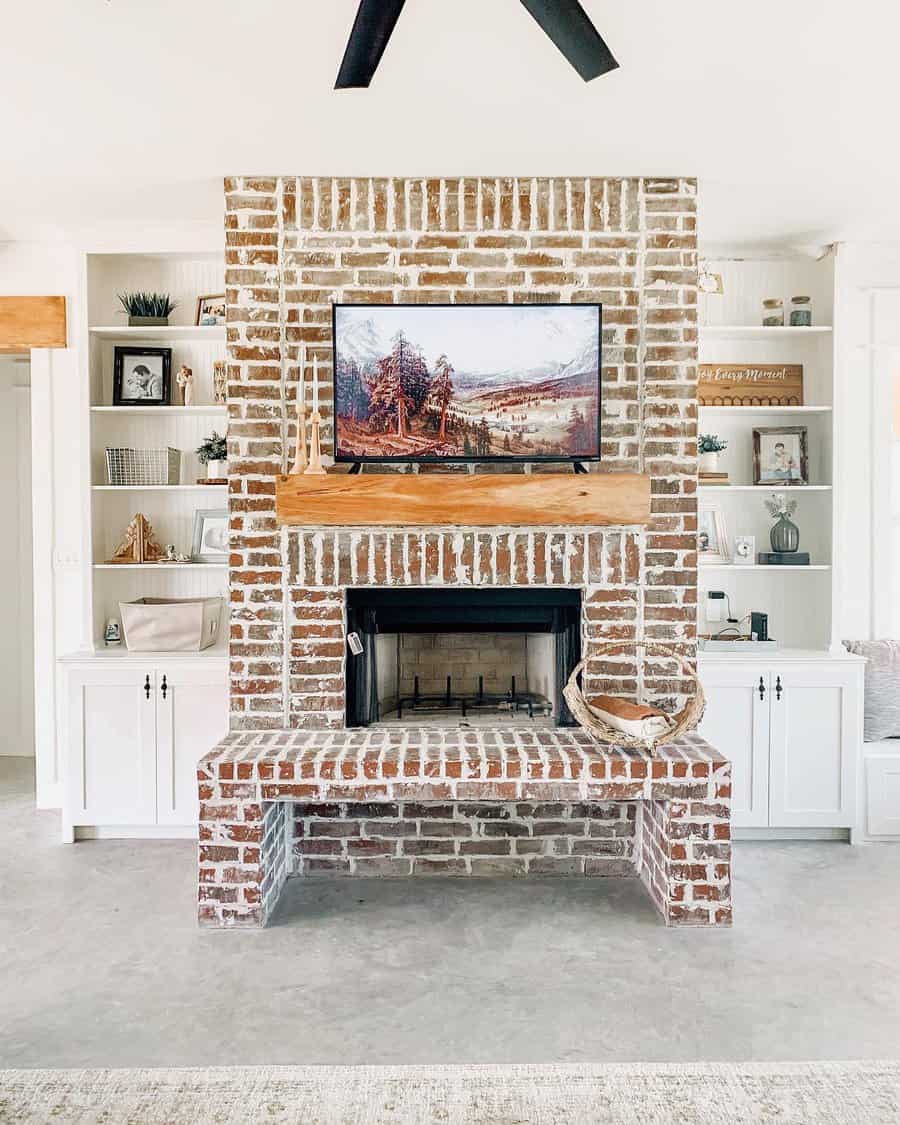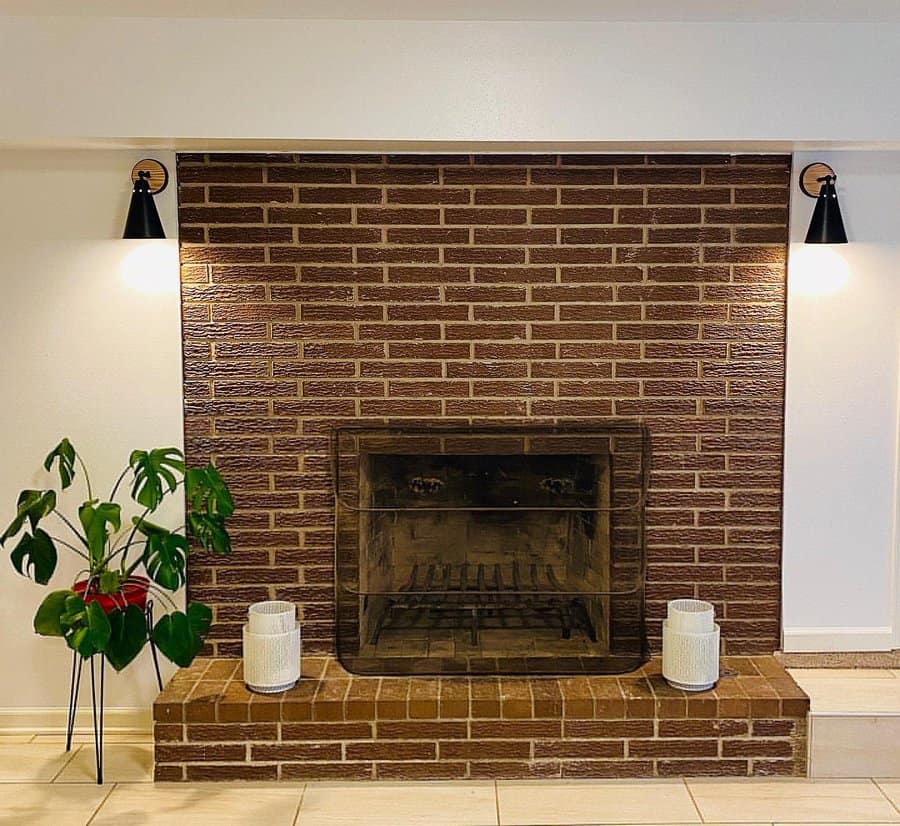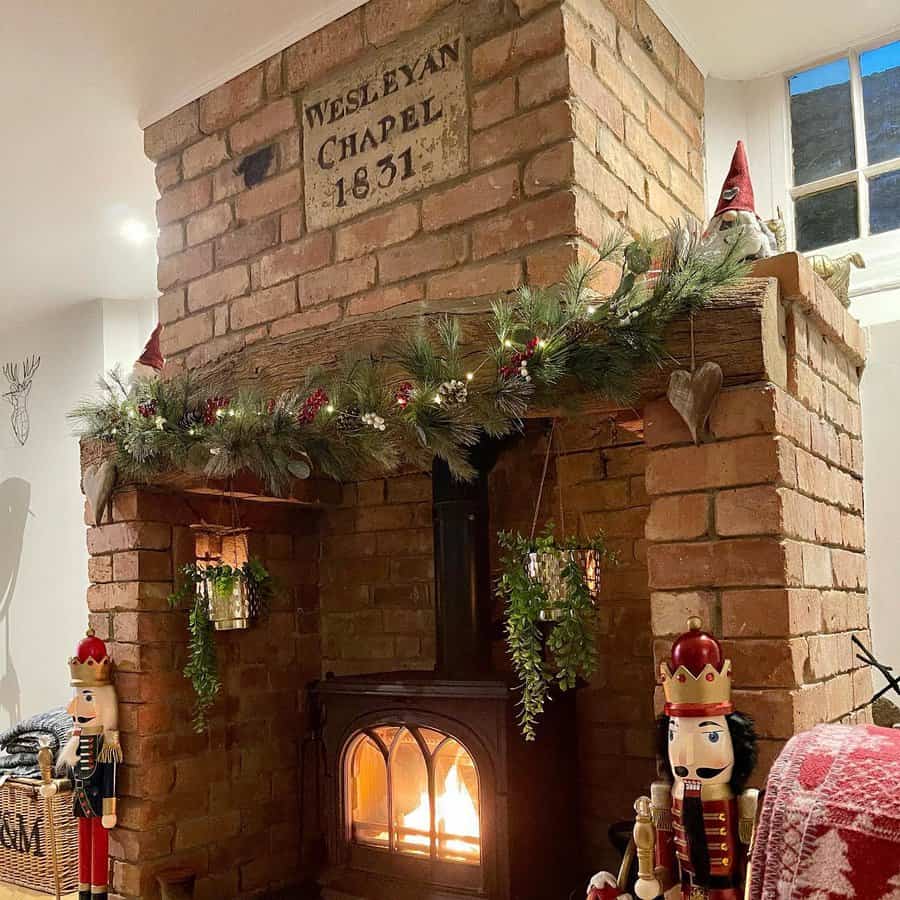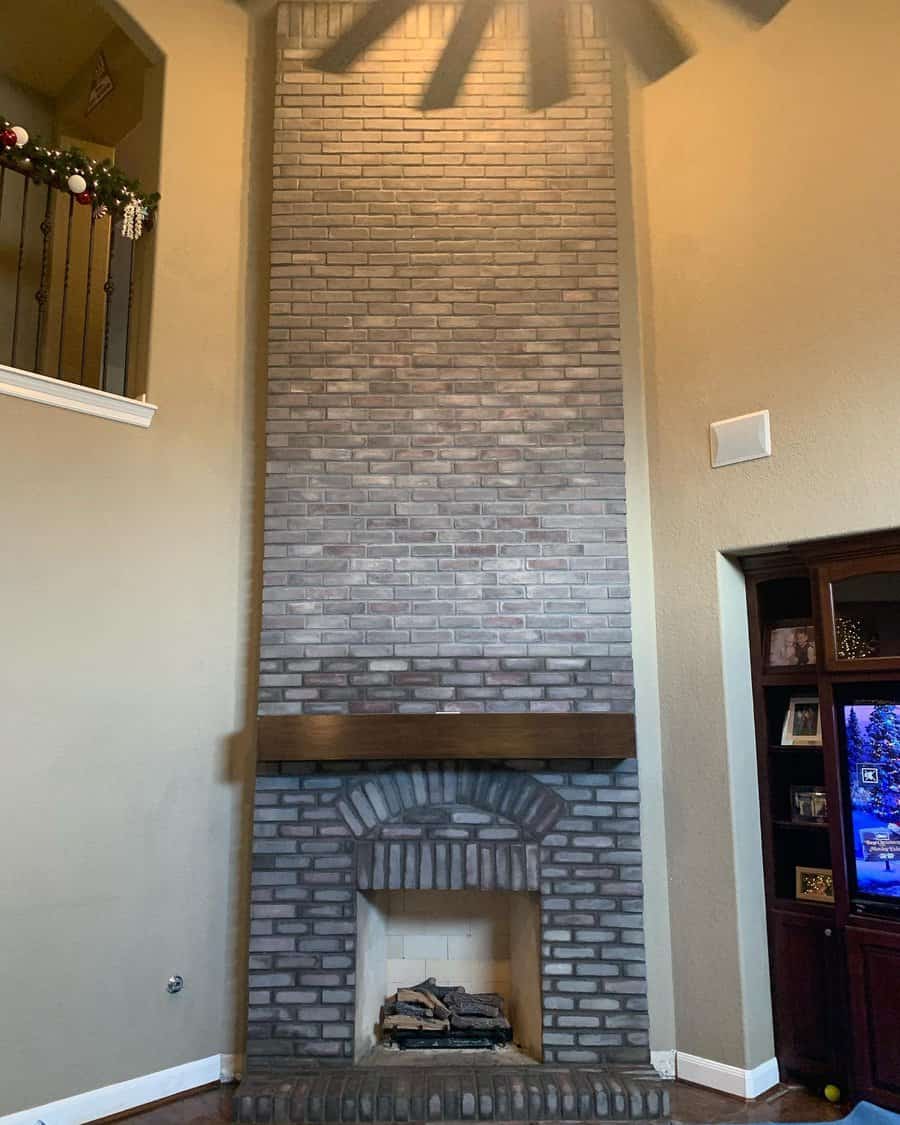 Virtually any type of mantel will work in front of a brick fireplace surround. A thick, reclaimed wood beam is a classic mantel idea, especially with rustic or cottage decor. Update your fireplace screen to further enhance your brick fireplace's appearance.
2. Concrete
Concrete is a fireplace idea whose time has come. Perfectly subtle paired with minimalist decor, smooth grey concrete makes a fabulous modern fireplace surround. It is possible to DIY a concrete fireplace wall, but if you're new to working with concrete, it's probably best to hire a contractor.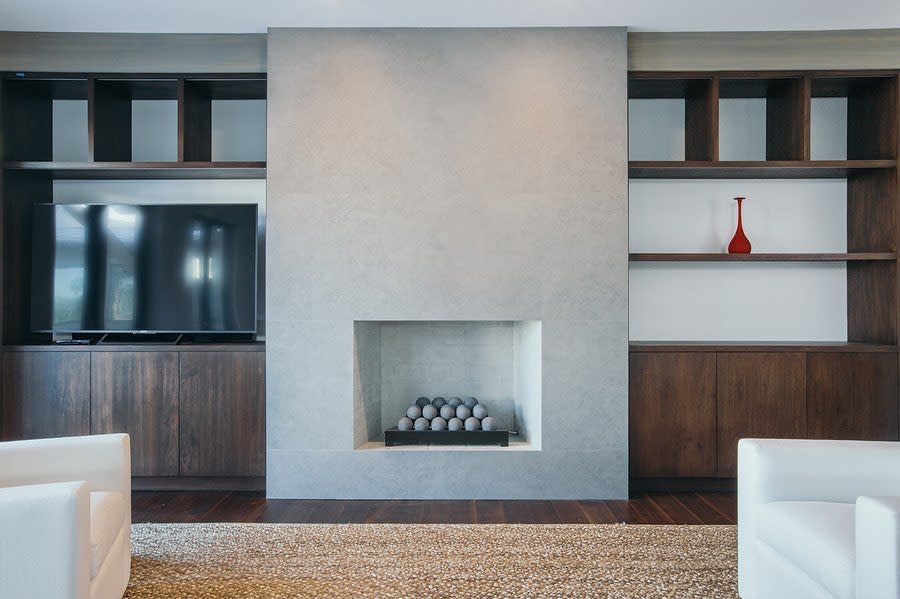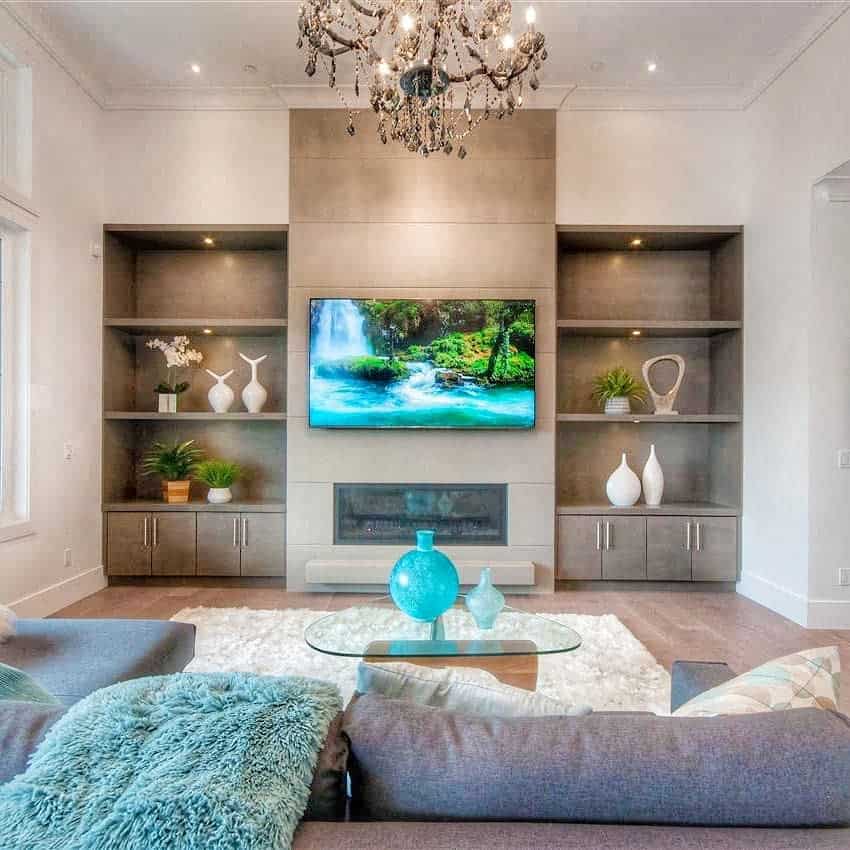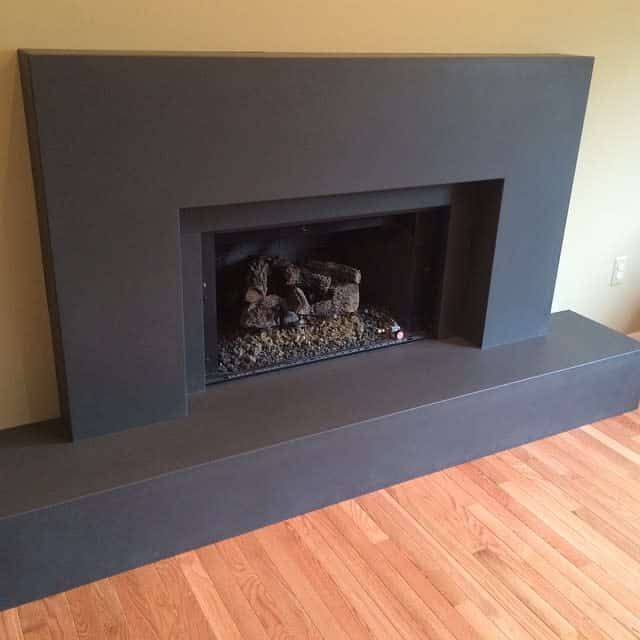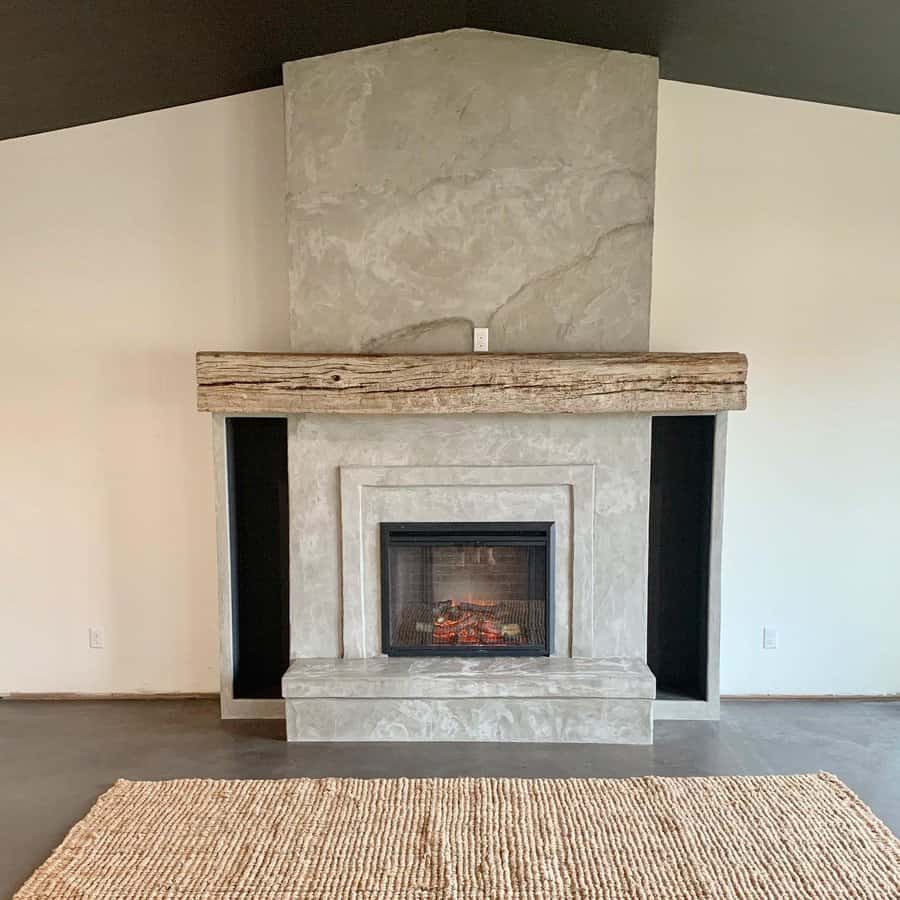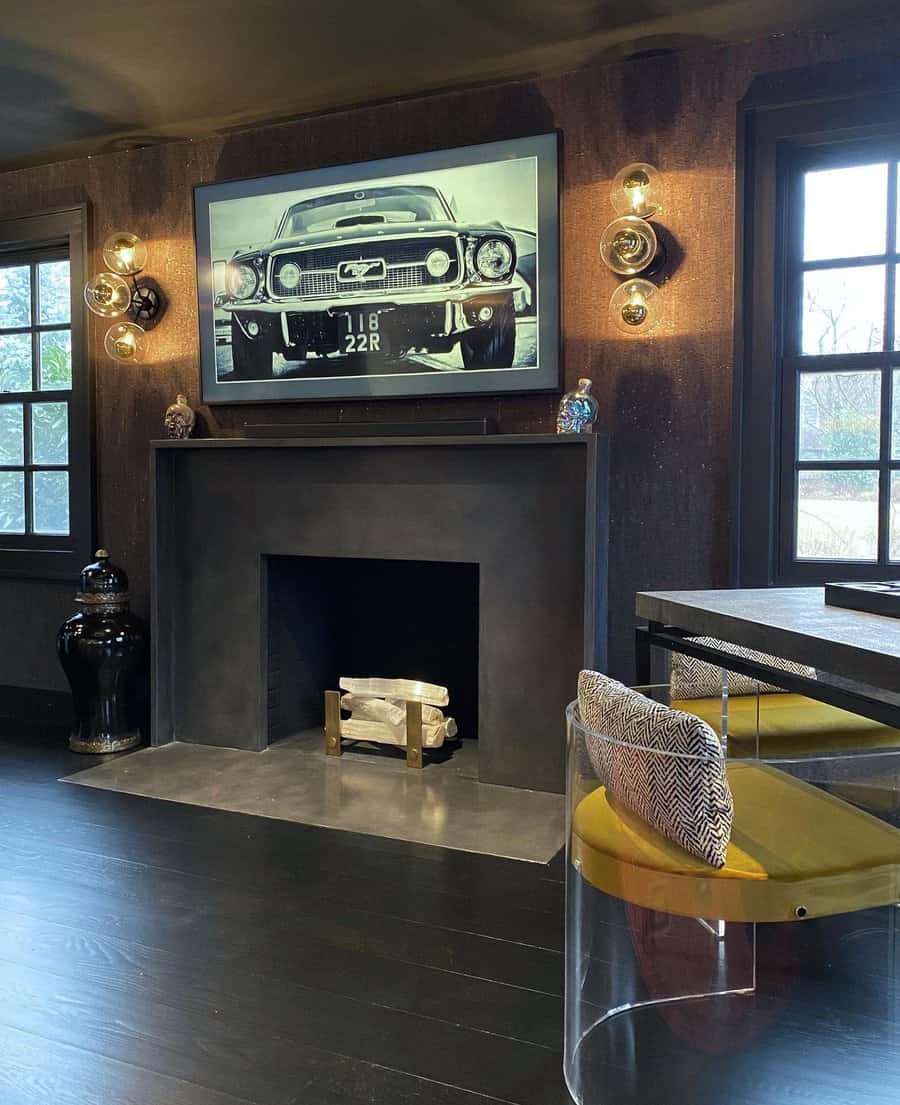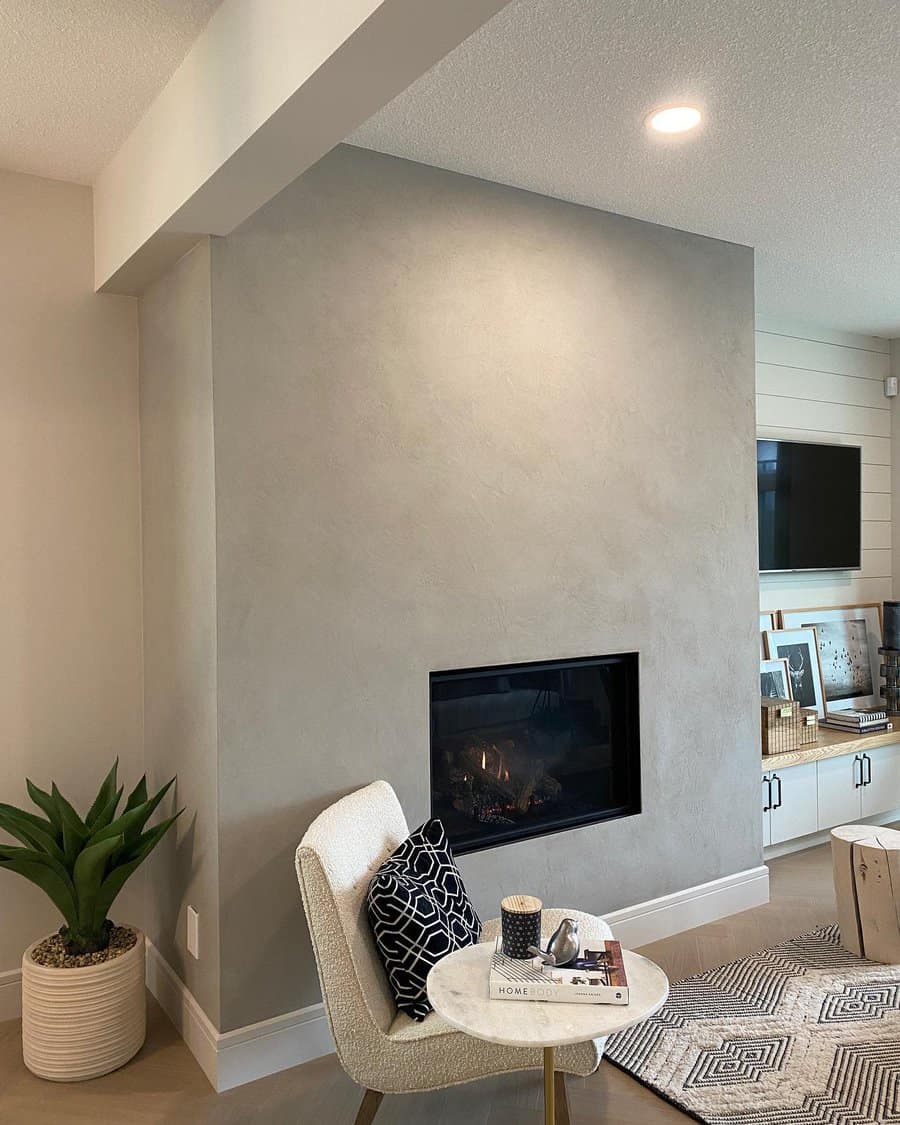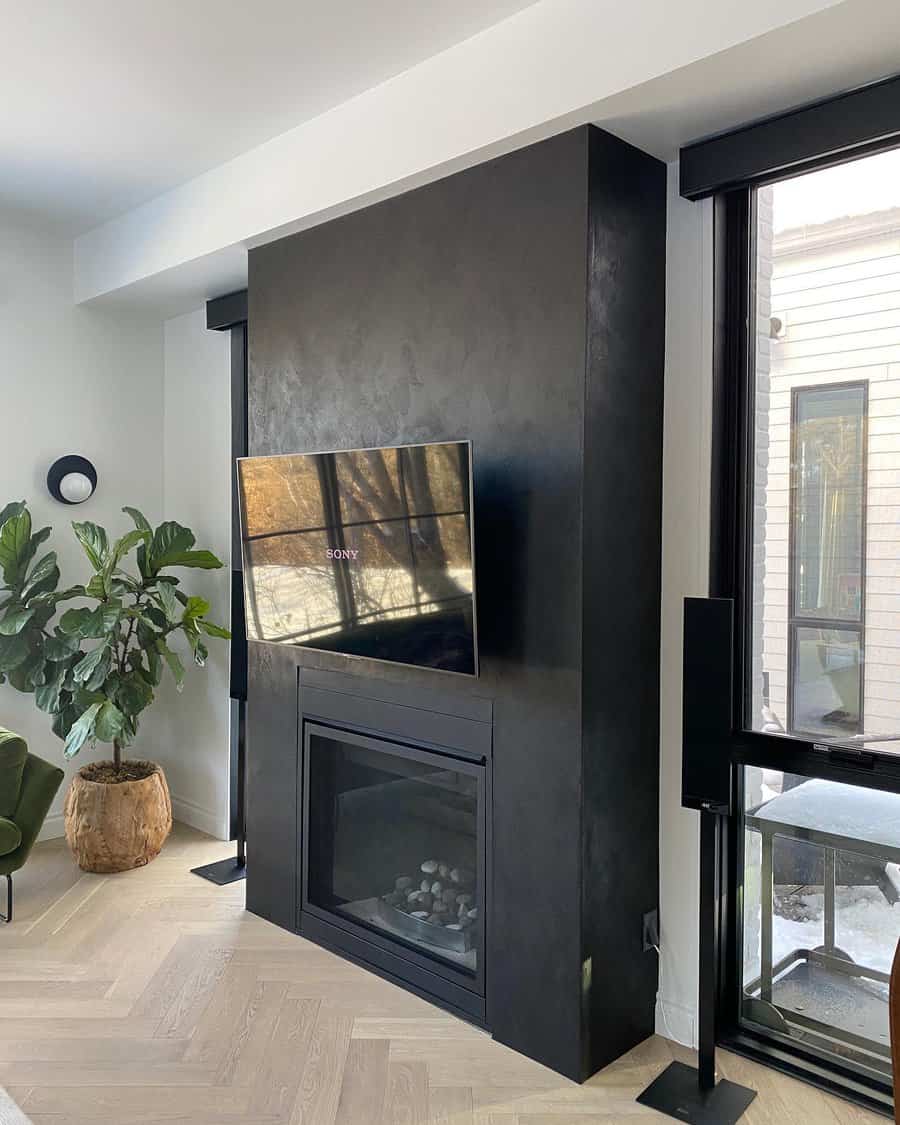 Concrete fireplace walls can be tinted practically any color and finished with different types of glazes for a unique room accent. Make sure your contractor uses a heat-resistant type of concrete for the walls and hearth.
Concrete blocks and panels are also great materials for building an outdoor fireplace. Whether you want a basic fire pit or a full exterior fireplace wall, concrete is an excellent choice.
3. Contemporary
Contemporary fireplace ideas are currently trending, focusing on bold and modern designs. Clean, frameless openings and smooth finishes fit the contemporary definition whether they're used on traditional or linear fireplace models.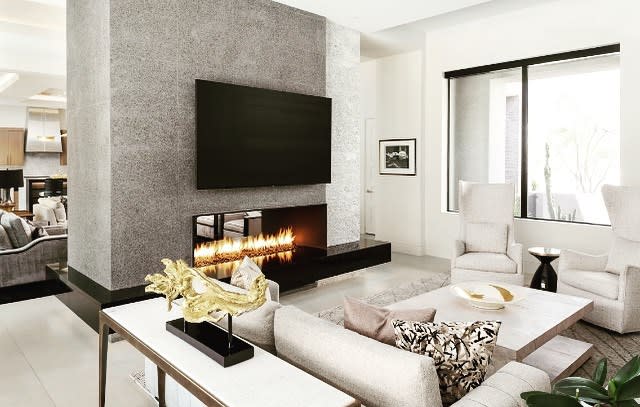 The linear fireplace represents contemporary trends in both living areas and bedrooms. As the name suggests, linear fireplaces have an elongated shape that can range from 3 feet to over 20 feet in length. Because they are fueled by natural gas, they can be installed without a chimney. Many contemporary fireplace inserts have two sides so they can be viewed from adjoining rooms.
4. DIY
A DIY fireplace makeover may be easier than you think. Update a brick or stone veneer with a layer of paint or stain, cover it with stucco for an all-new texture on your hearth and walls. Replacing the fireplace mantel is usually simple for someone with intermediate DIY skills. If your home includes farmhouse decor, build a fireplace surround out of wood planks.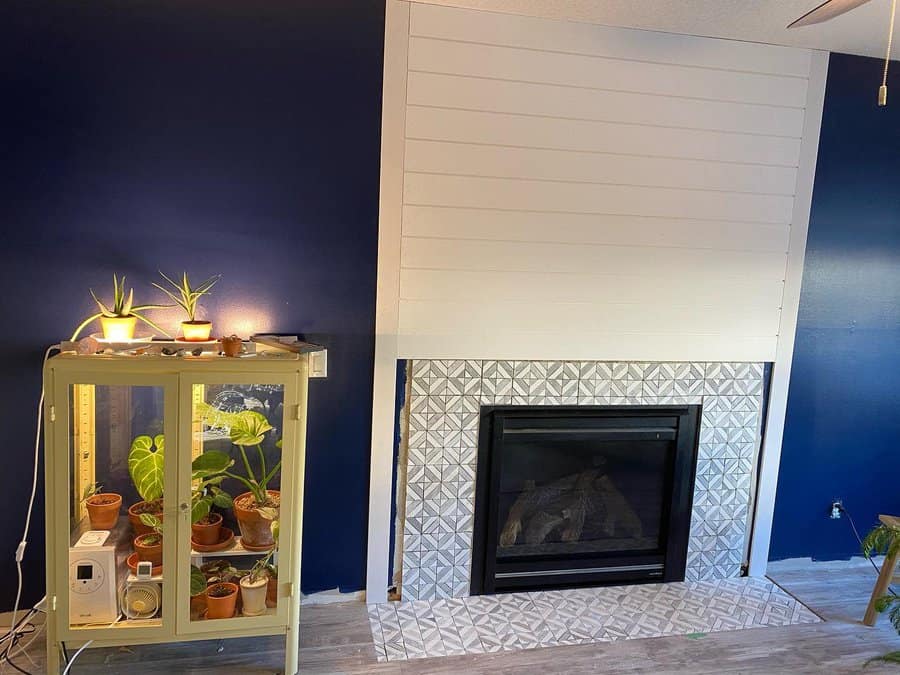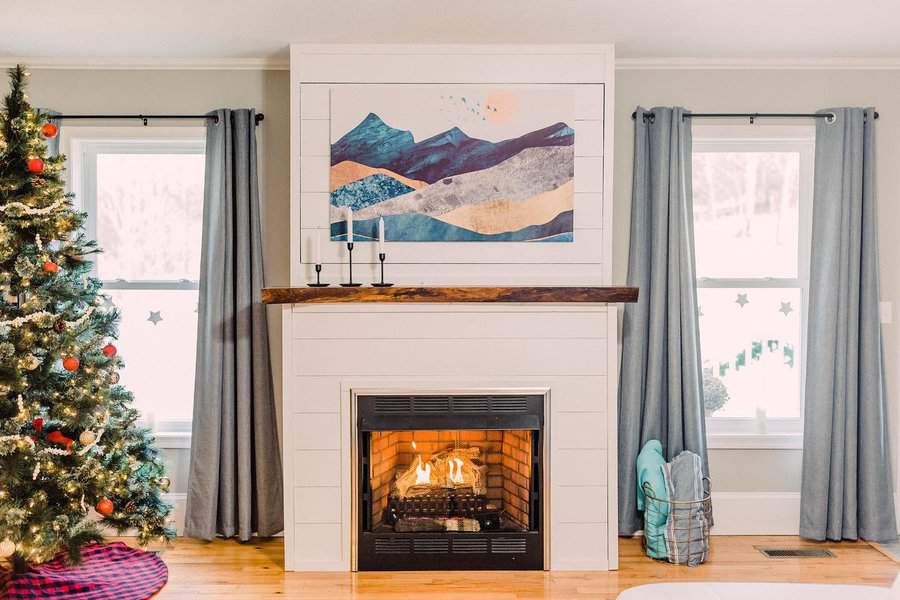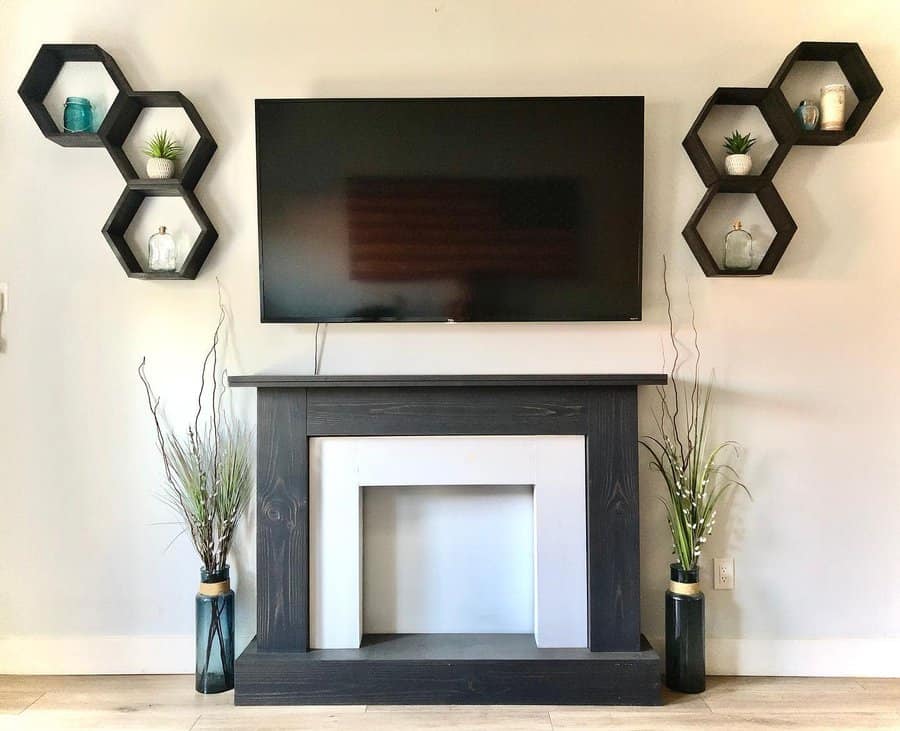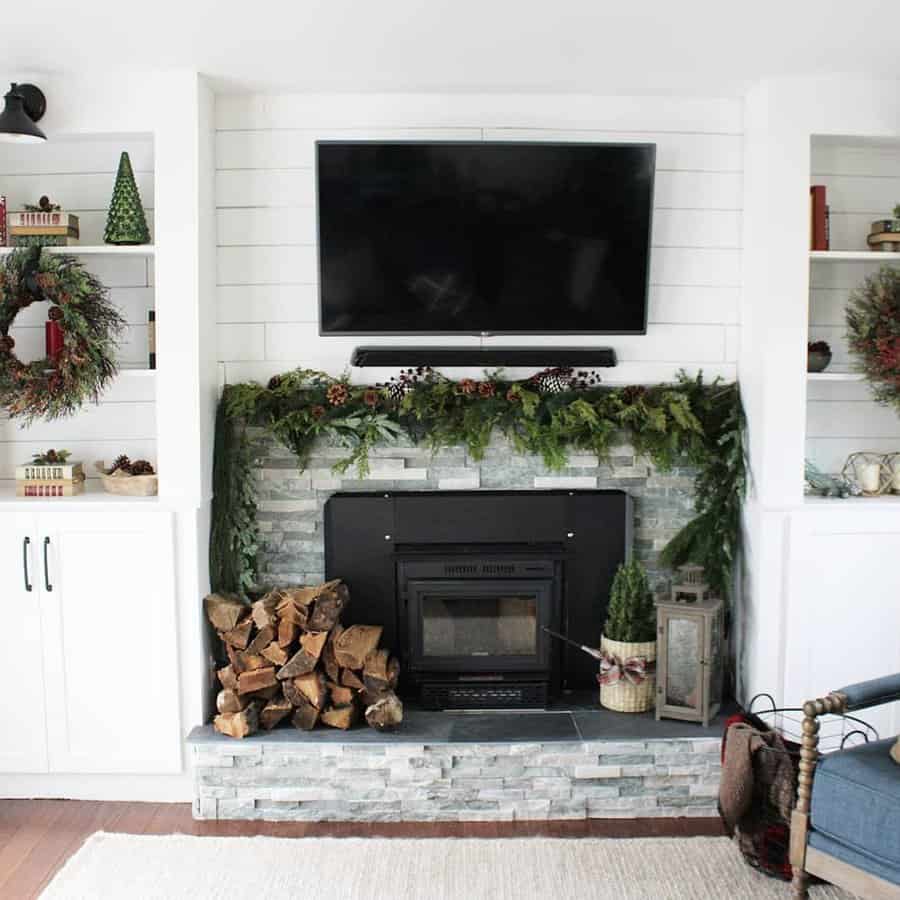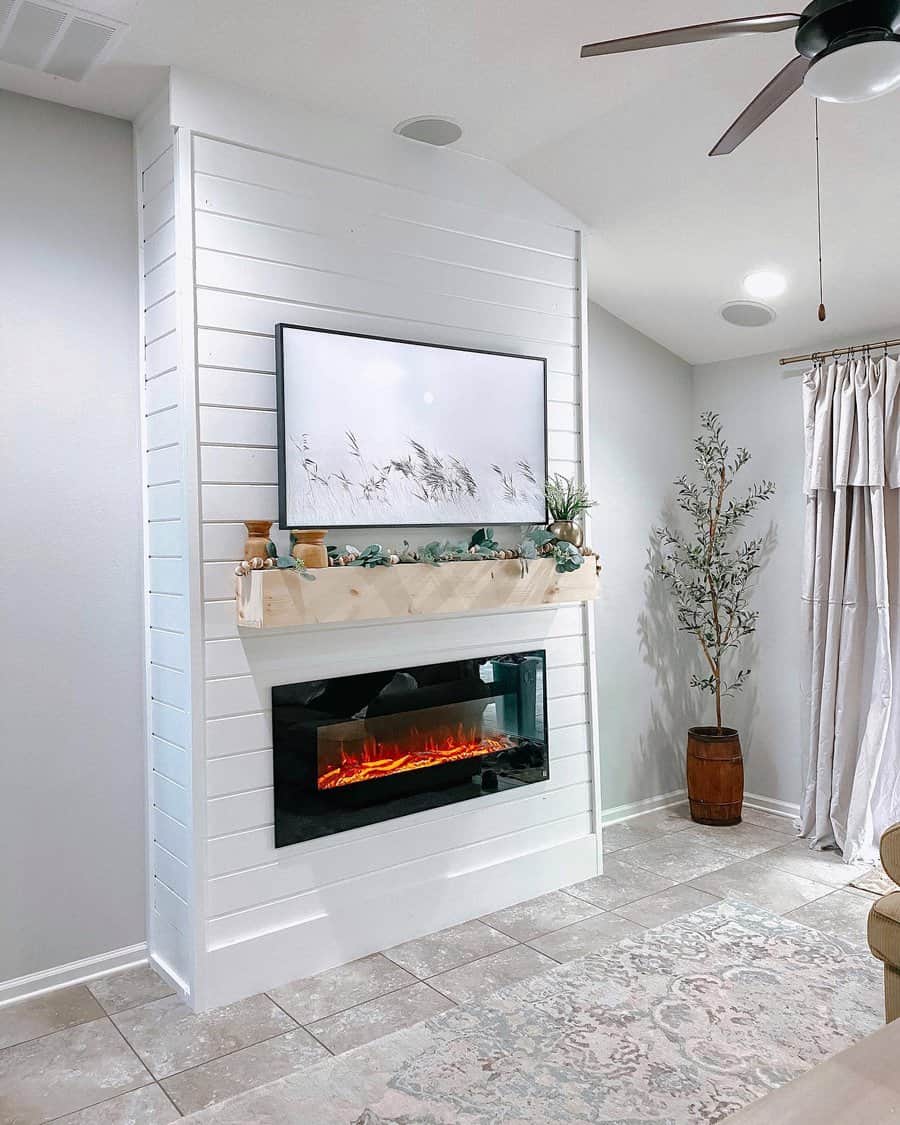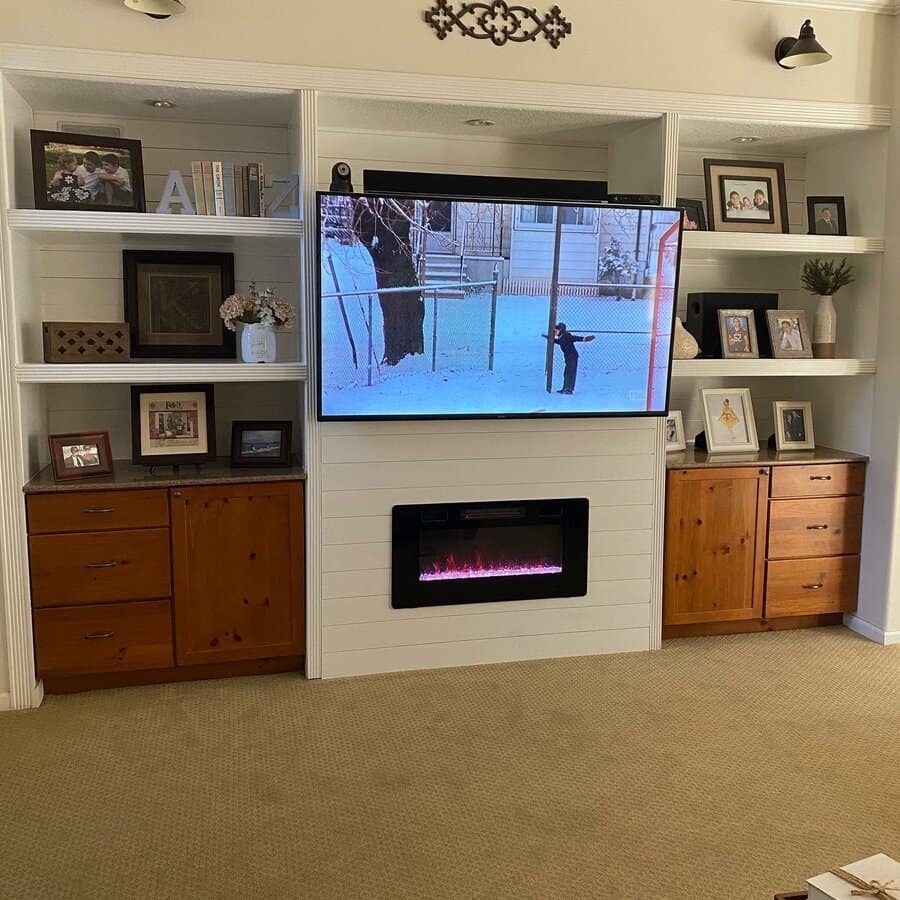 What if you really want a fireplace feature wall, but your home doesn't have a fireplace? One option is to build a faux fireplace in the middle of your longest wall. Watch this video to see what one couple did to create an amazing electric fireplace wall in their living room:
5. With TV
Many homeowners choose to install a TV above the fireplace. It makes sense as it creates a singular focal point for the room. You must follow the directions in your fireplace manual to protect your TV from heat damage.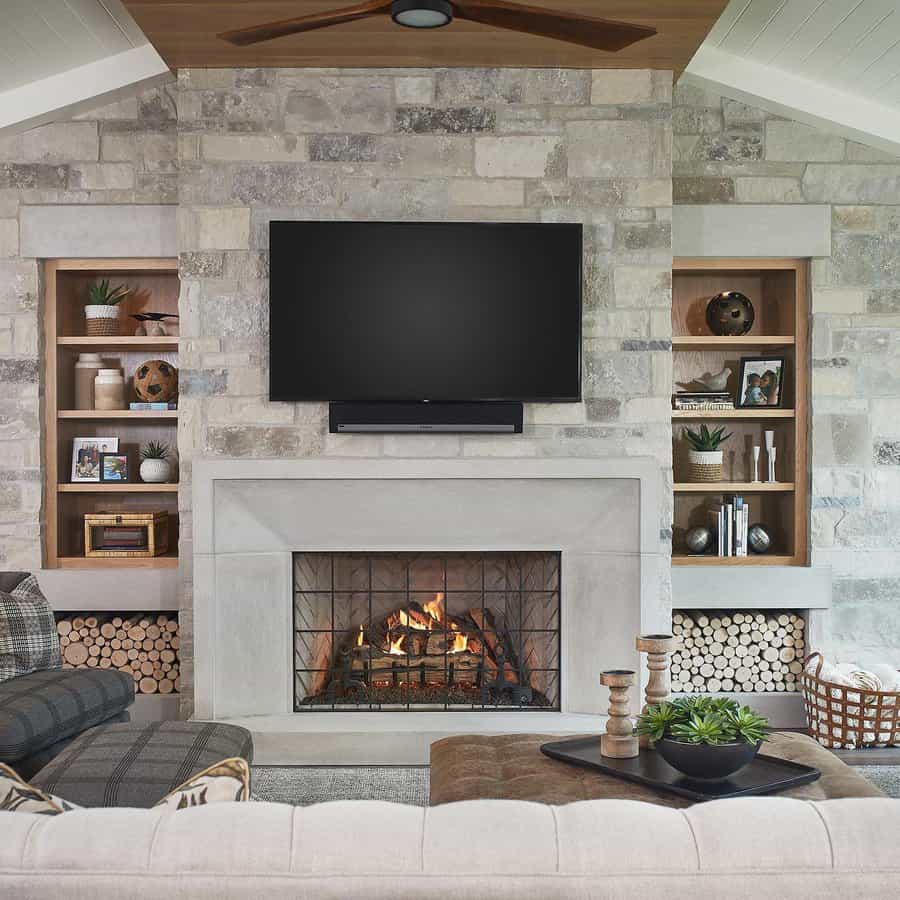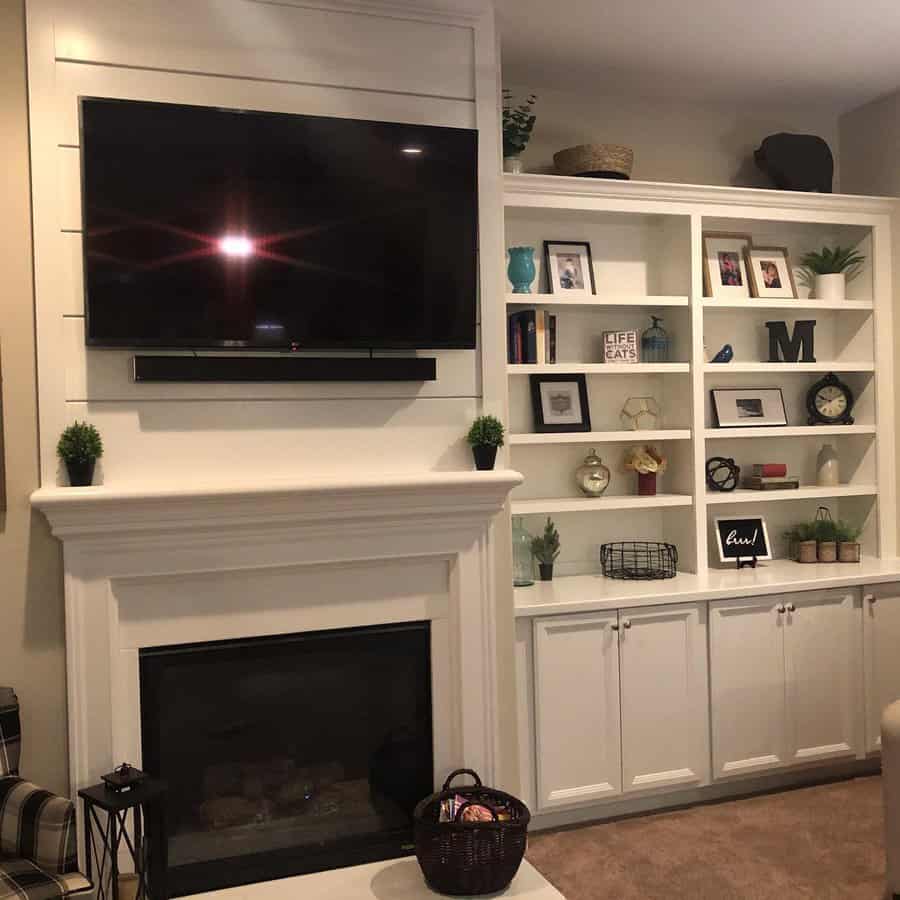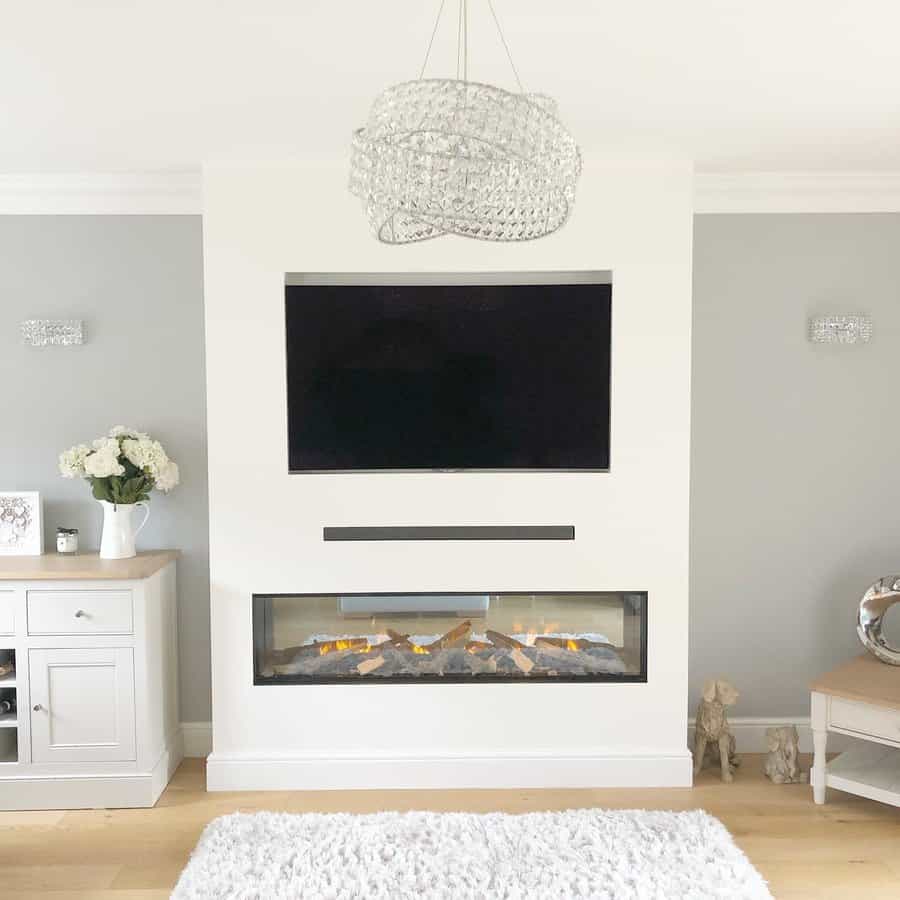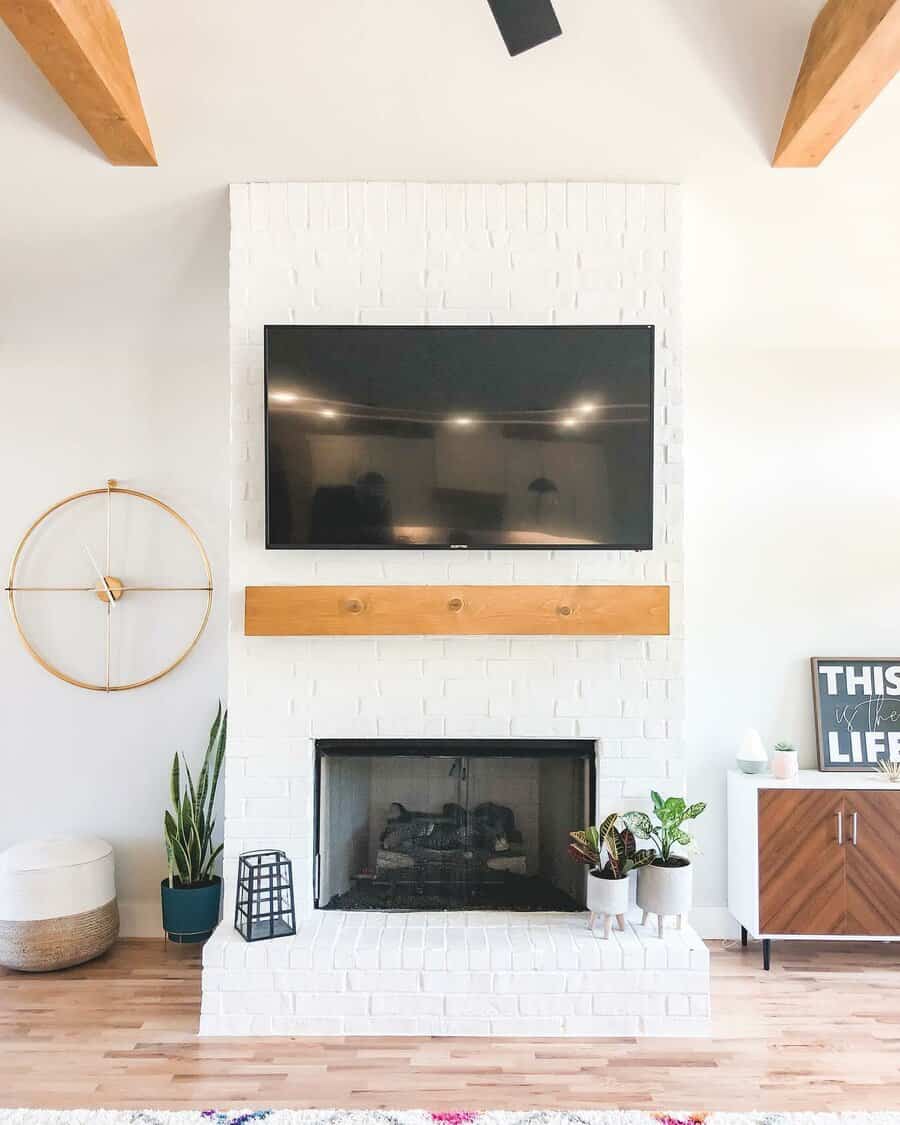 Pay attention to scale when choosing a TV to hang over the living room or bedroom fireplace. A screen that's too large may dwarf the fireplace itself, while a small screen may look completely out of balance.
6. Herringbone
Named after the look of a herring fish skeleton, a herringbone pattern is one that is made up of V-shaped parallel lines. Unlike a chevron pattern, where each "v" ends in a point, the ends of herringbone planks are cut at a 90 degree angle.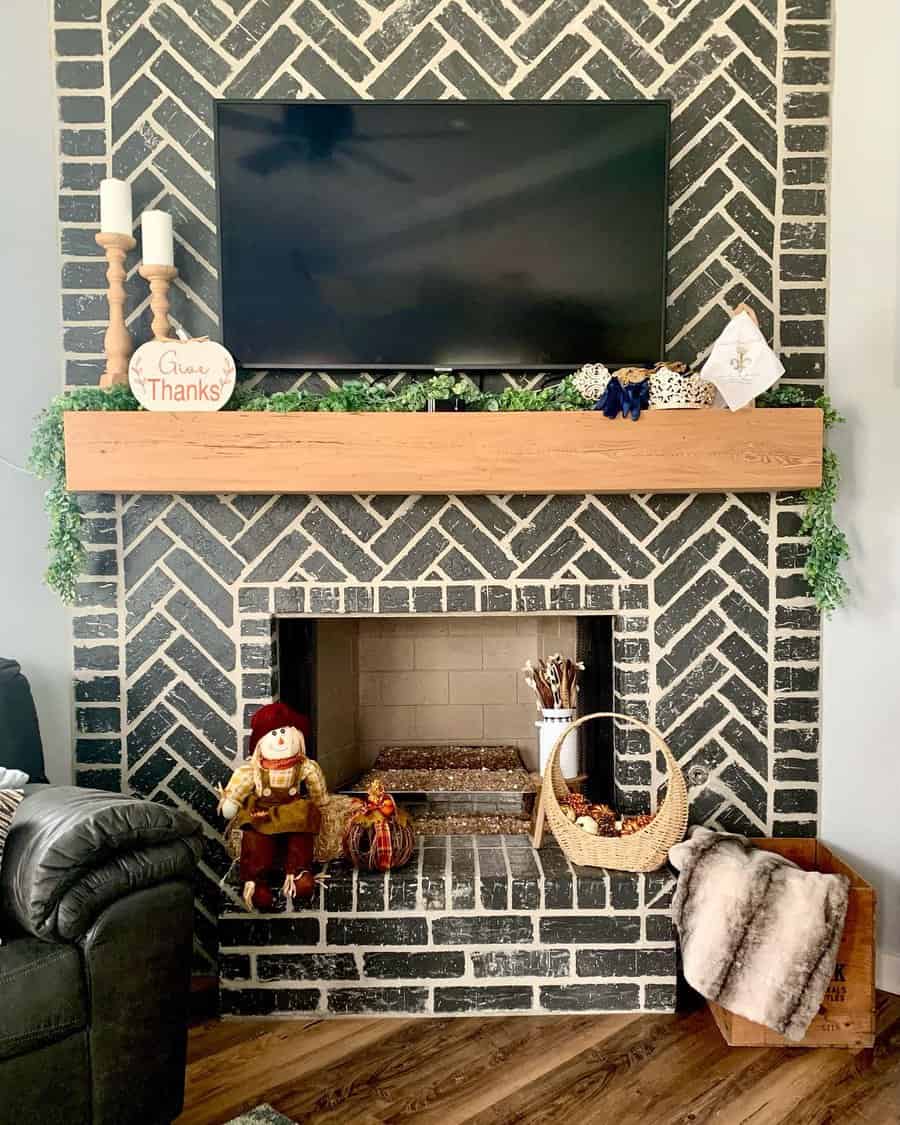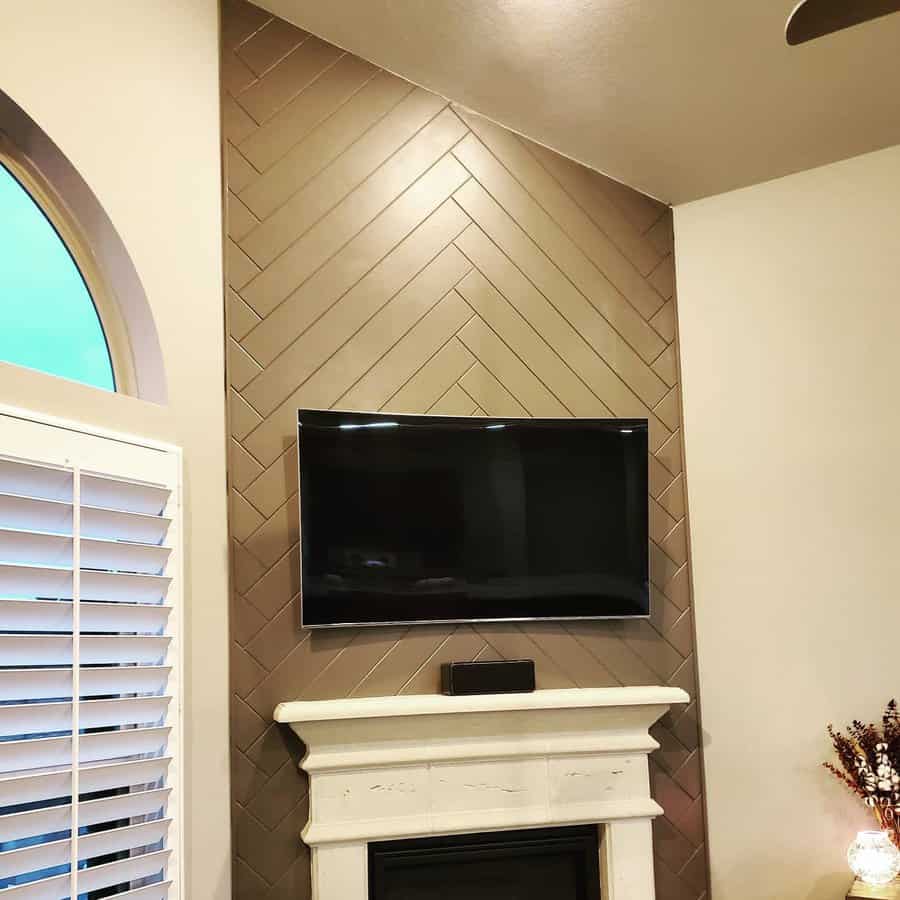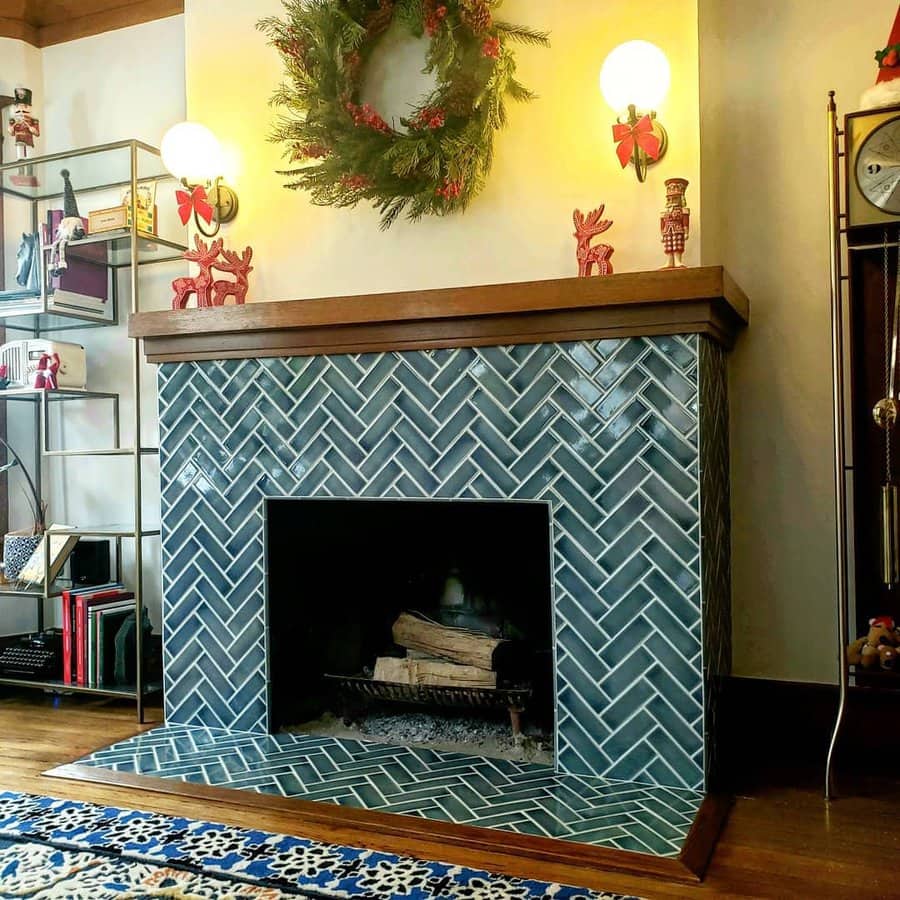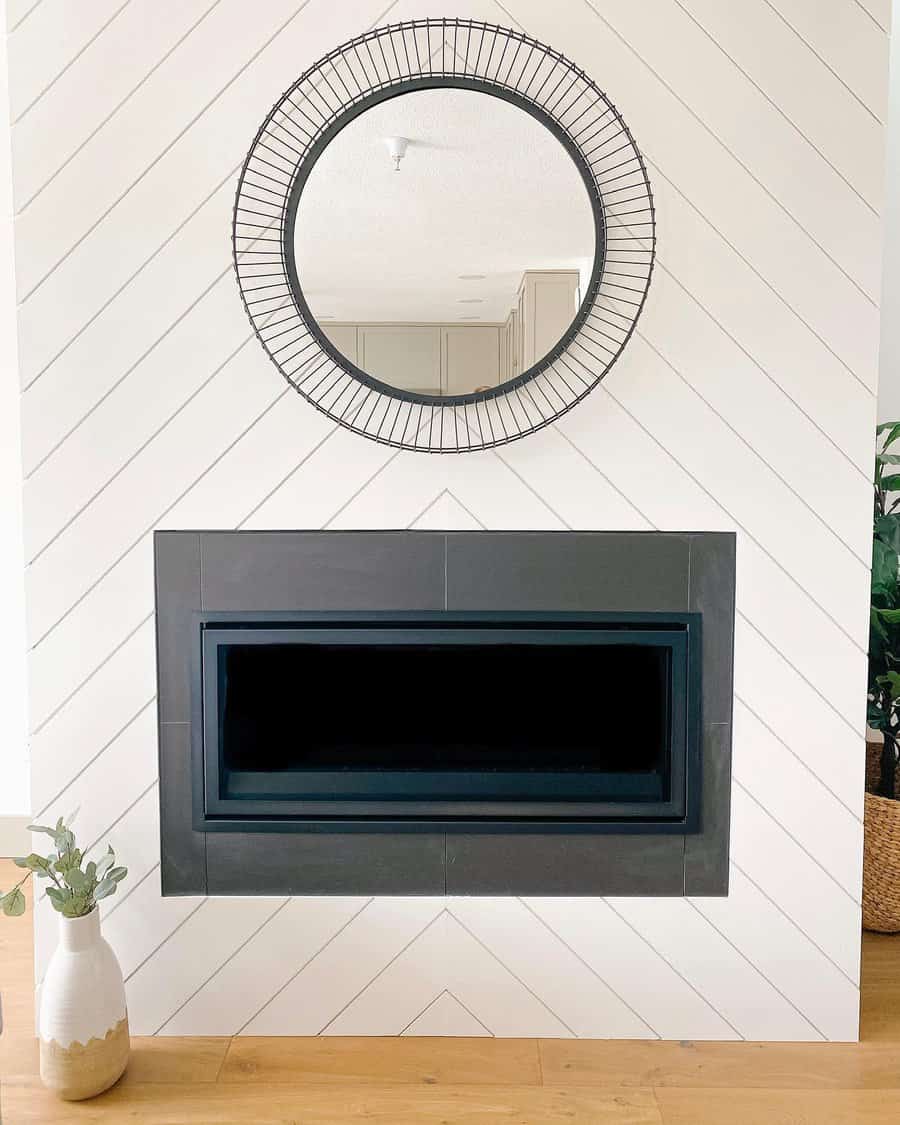 Both herringbone and chevron patterns are great fireplace tile ideas when you want something a little outside the norm. Rectangular marble tile, painted shiplap planks, and bricks are all traditional fireplace materials to arrange in a herringbone pattern.
7. Mantel
A great fireplace mantel adds to your fireplace design and provides a shelf to hold candles, matches, framed photos, and holiday garlands. Plan how grand or how basic your mantel design will be based on which room it's in and your plans to use it. A simple wooden mantel shelf may be enough in the kitchen or dining room, but a living room fireplace may call for a large mantel with columns.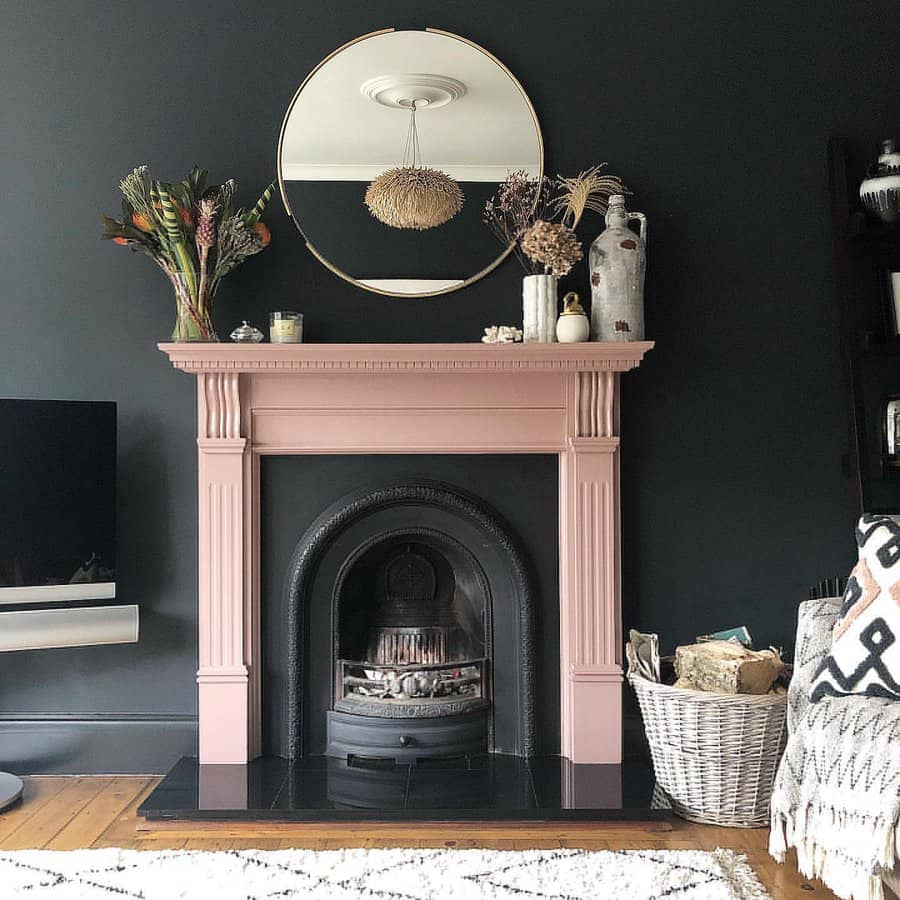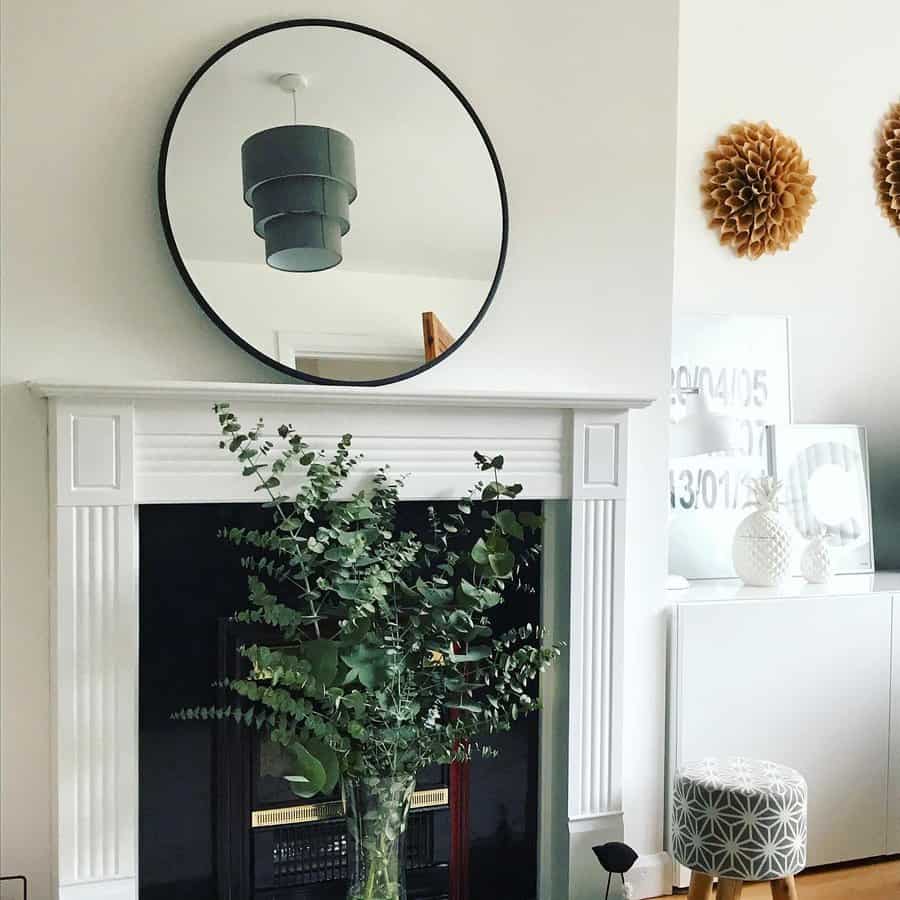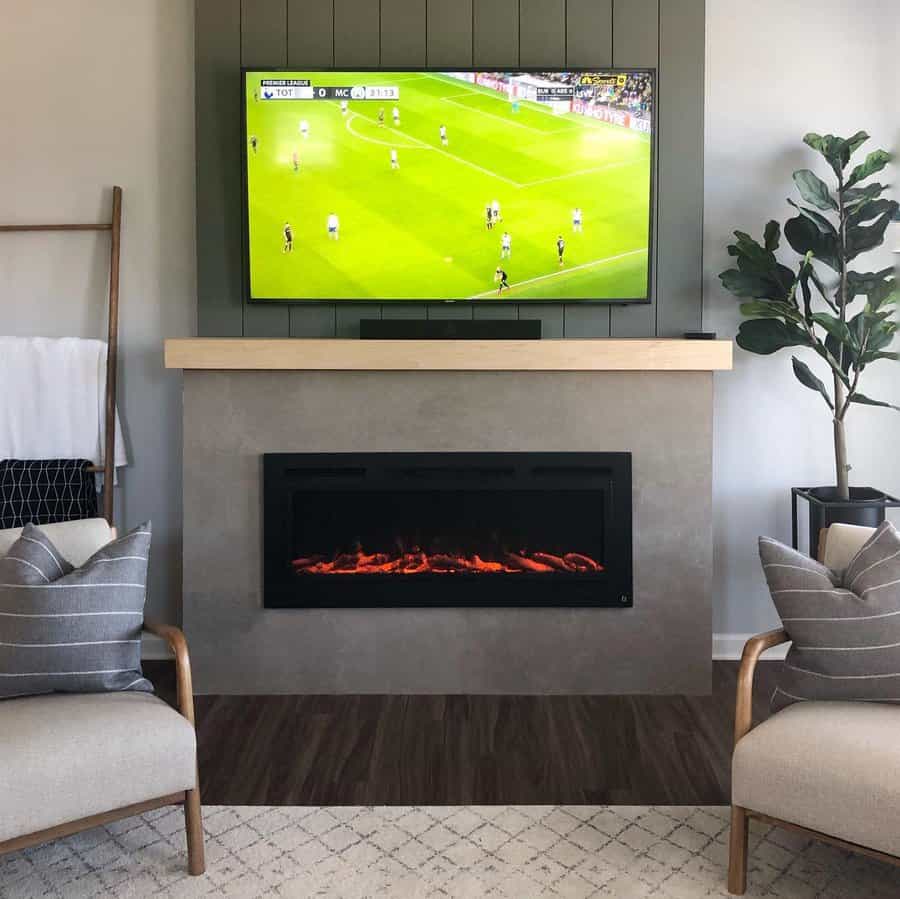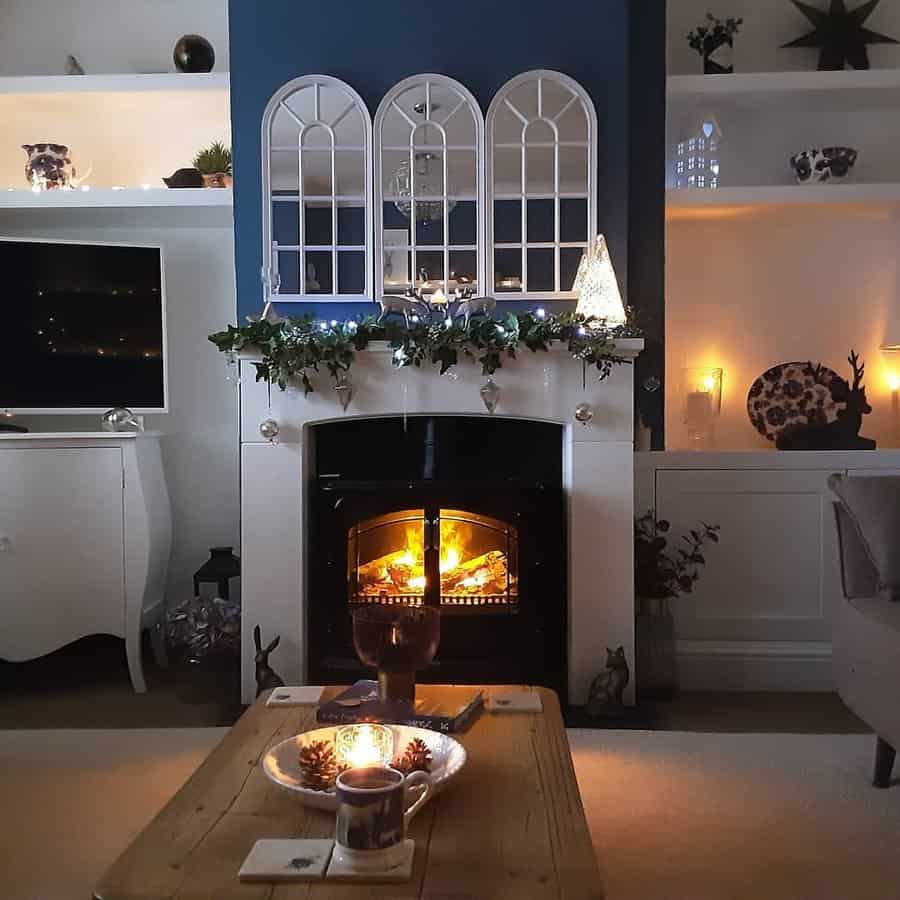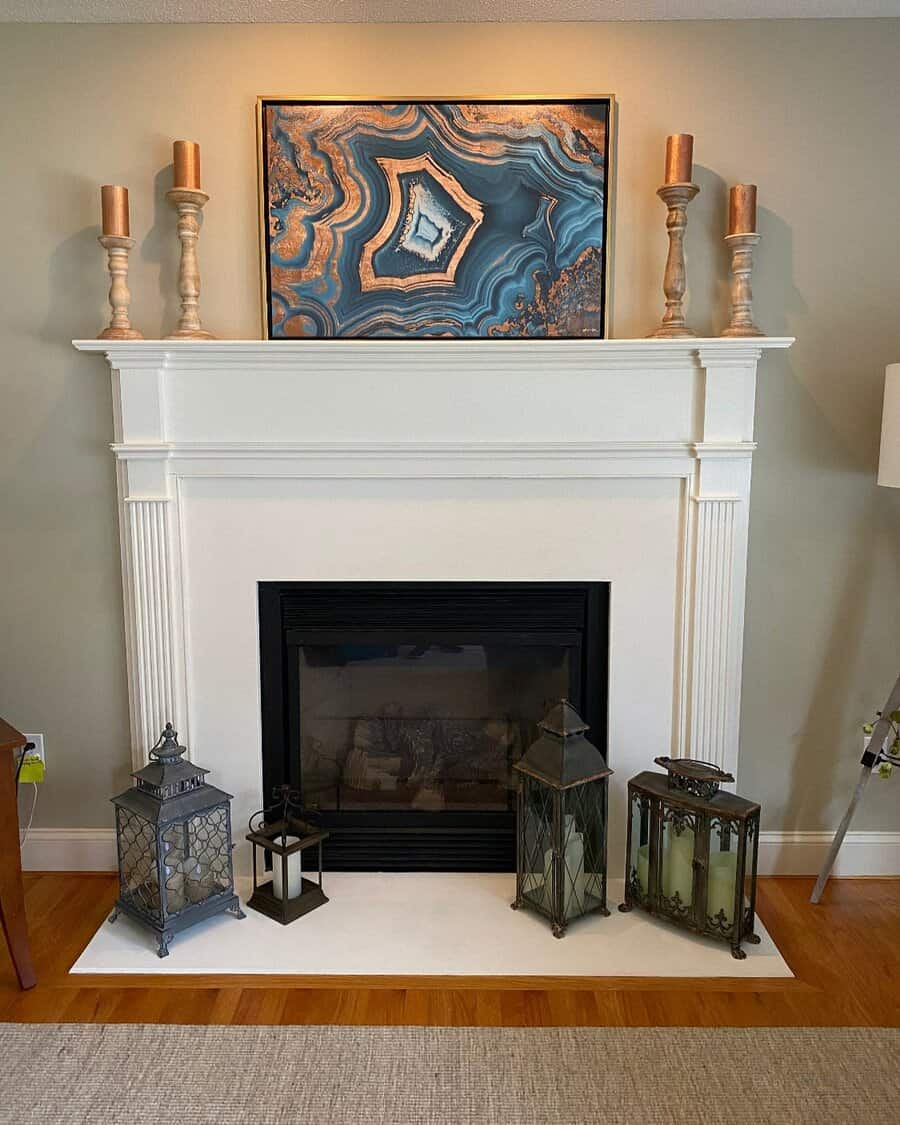 Contemporary fireplace ideas may eliminate the mantel altogether. Since modern decor is focused on minimalism, a decorated fireplace mantel may be too much for a modern styled room. However, if you have a TV mounted over the fireplace, you'll want a mantel to help shield the screen from excessive heat exposure.
Read more: 59 Fireplace Mantel Ideas
8. Marble
Go with timeless marble if you want to create a truly elegant fireplace statement. A white fireplace with a marble surround will need frequent cleaning if it's wood burning, therefore a gas fireplace might be more suitable for a light color scheme.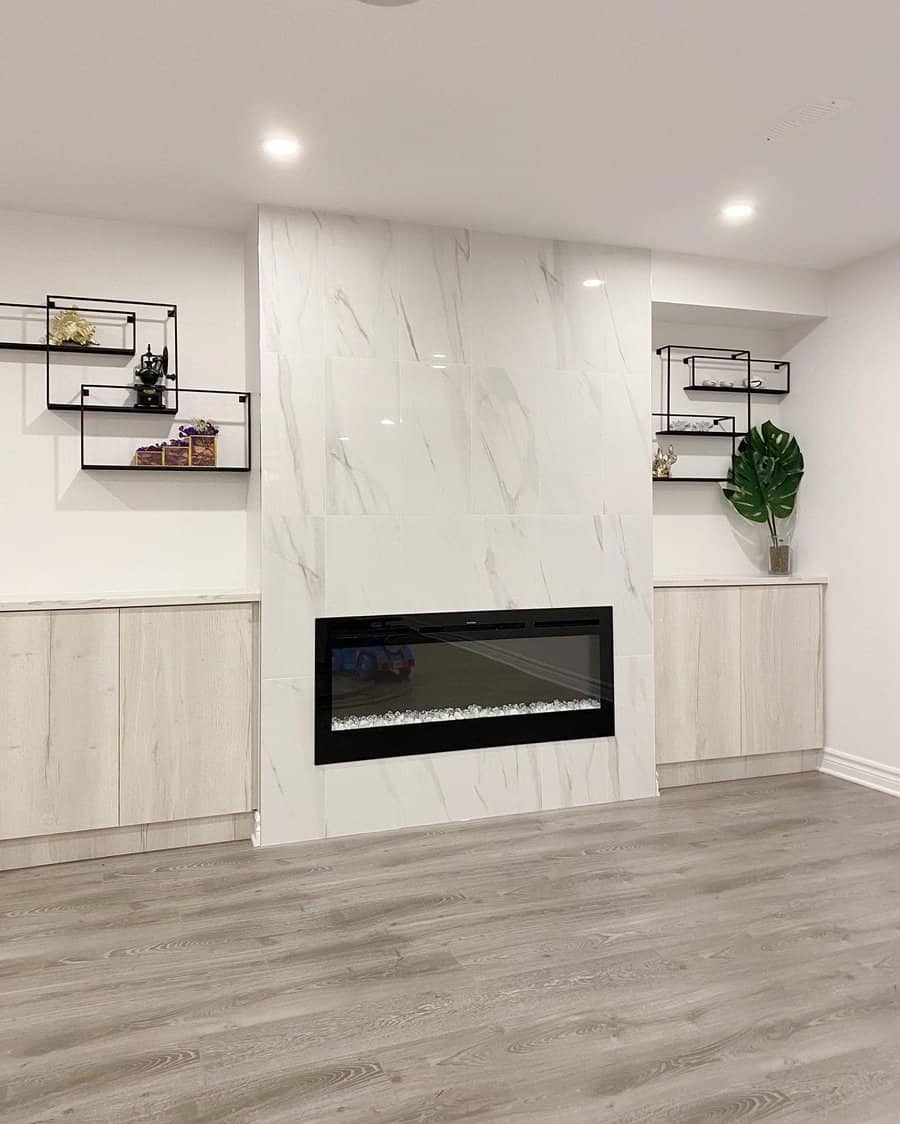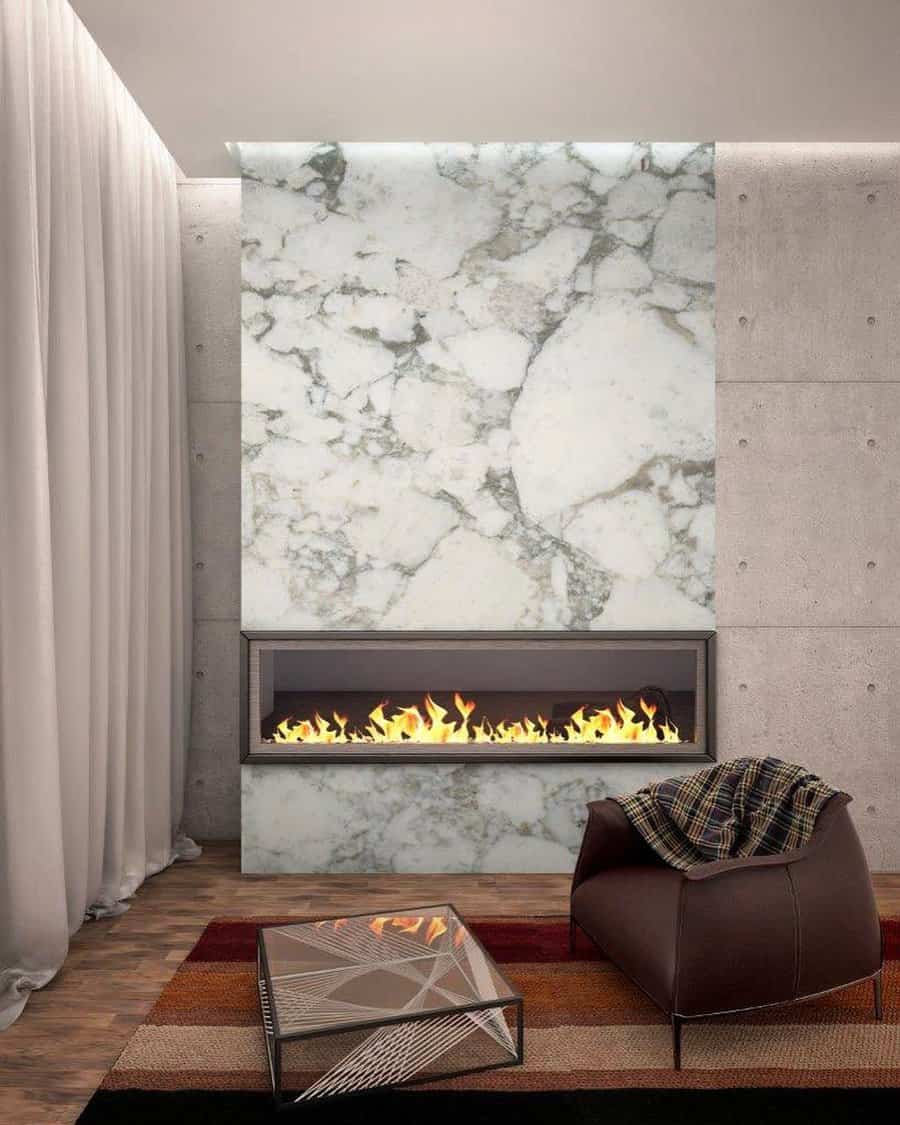 Black marble makes a dramatic statement and is a suitable material around a wood burning fireplace. Marble is available in a wide range of colors and with great variations in its veining sizes and patterns. If you love the look of marble, but a real marble stone fireplace is beyond your budget, marble tiles or even faux marble panels may provide a similar look.
9. Modern
Modern design is clean and linear with an uncluttered minimalist vibe. These are the goals you should have when deciding what kind of wall fireplace and hearth to include in a modern interior.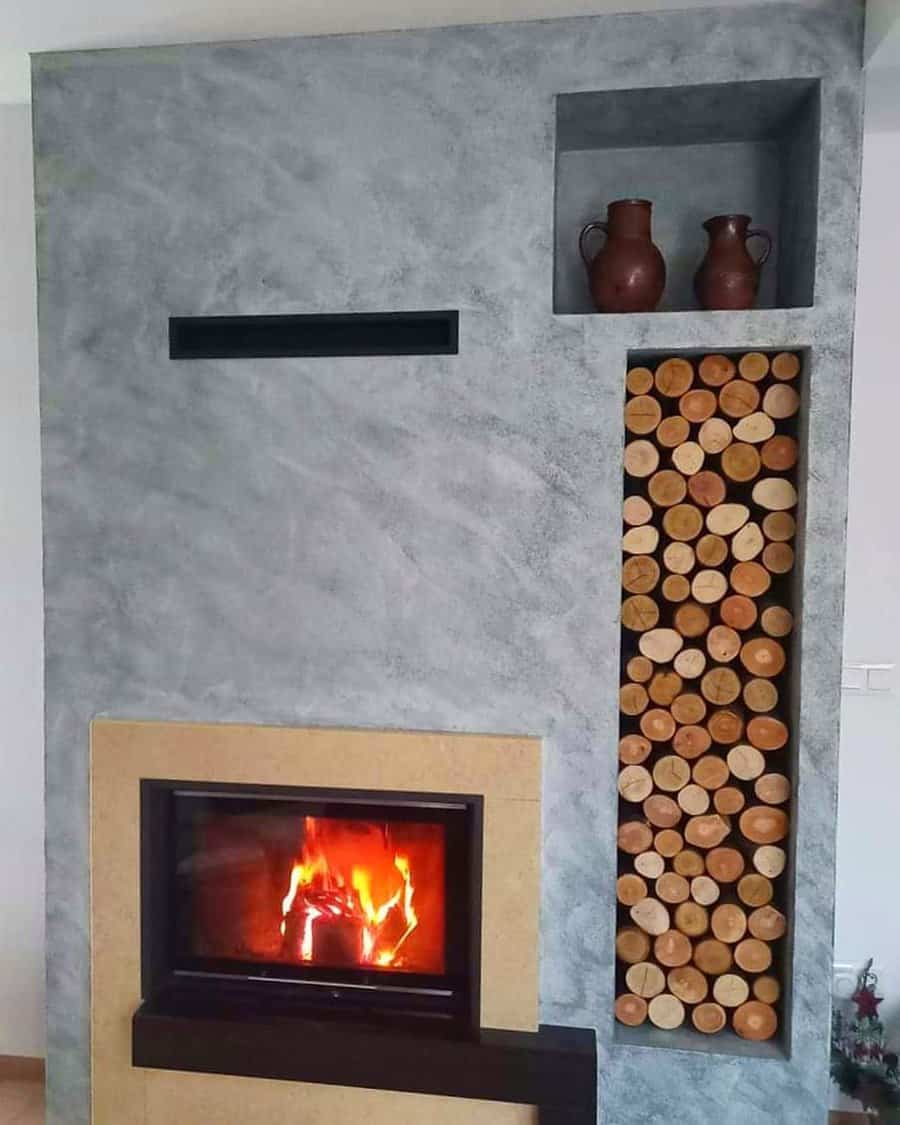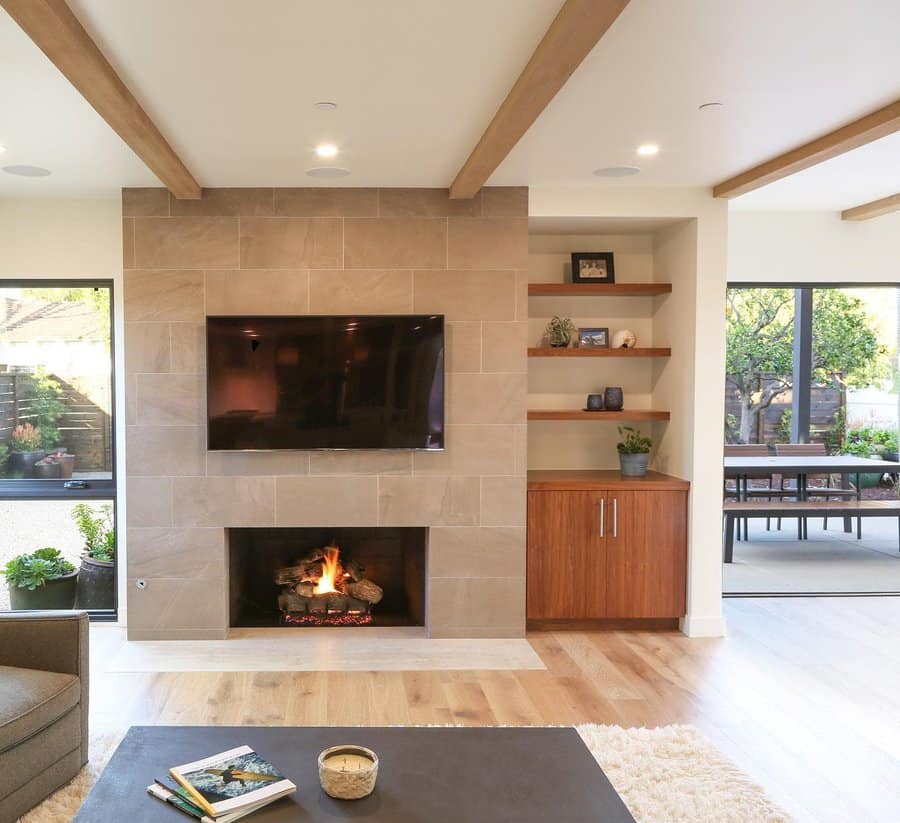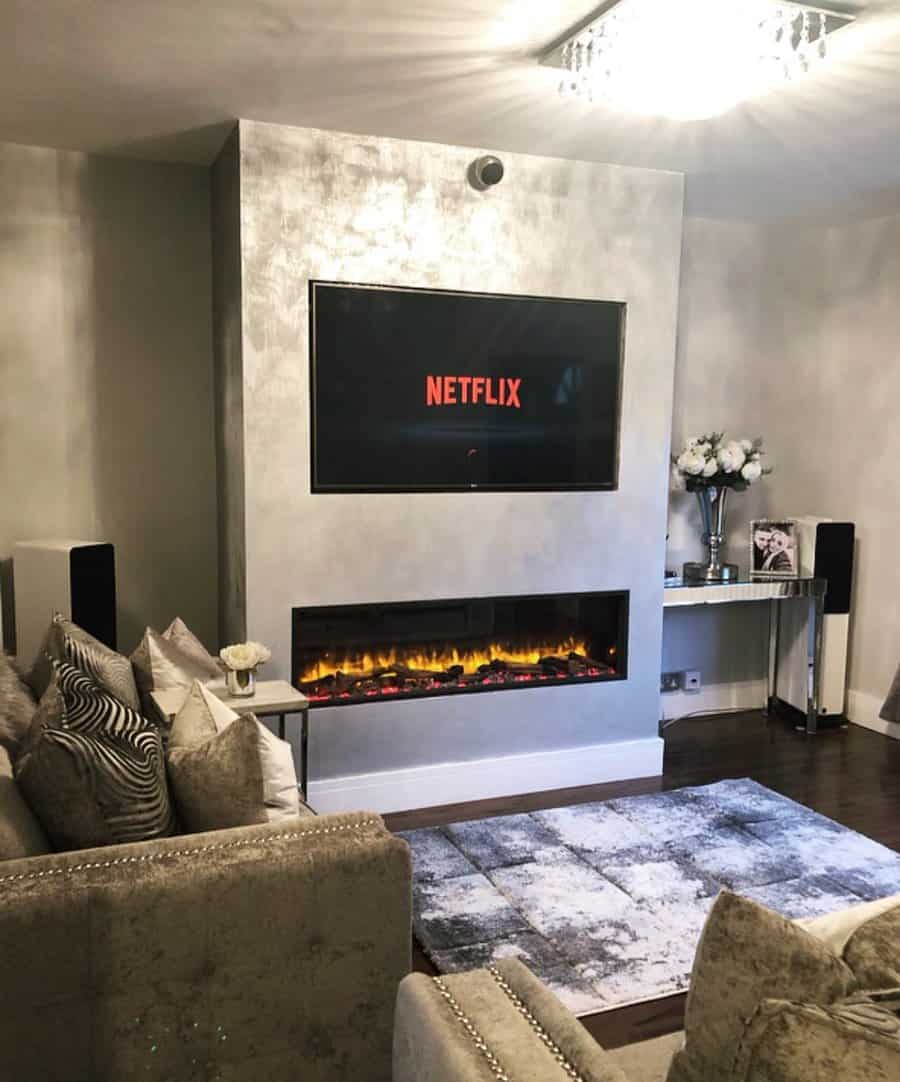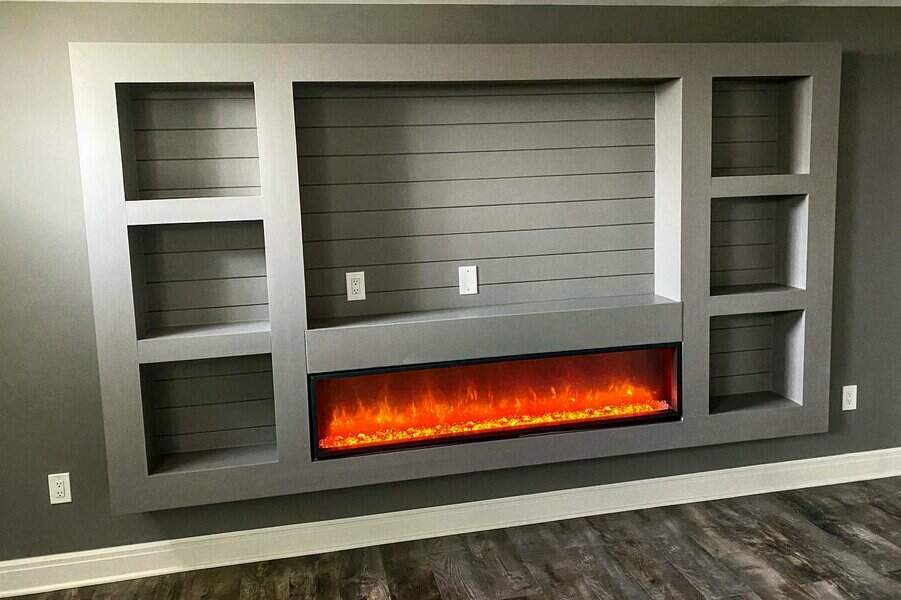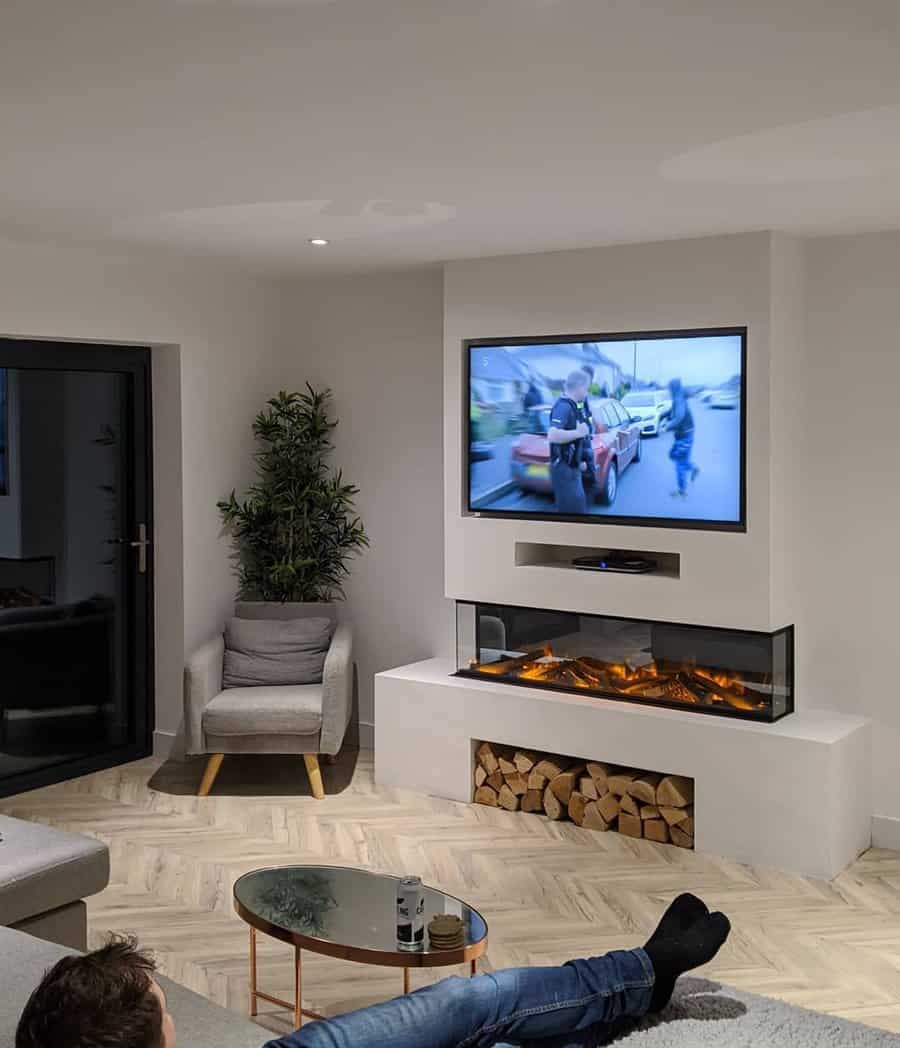 If your home already has a fireplace that isn't modern enough for your taste, consider the following modern fireplace remodel ideas:
Use paint to make a black or white brick fireplace out of an old red one.

Replace rustic stone veneer with smooth concrete panels.

Remove the traditional fireplace and replace it with a linear gas fireplace.
10. Rustic
Every rustic lodge has a fireplace and your rustic-styled home should follow the lead. An organic quarry stone fireplace warms up a rustic room while bringing outdoor elements inside. Brick and stacked stone are great materials to surround a rustic fireplace, extending it into an entire accent wall feature.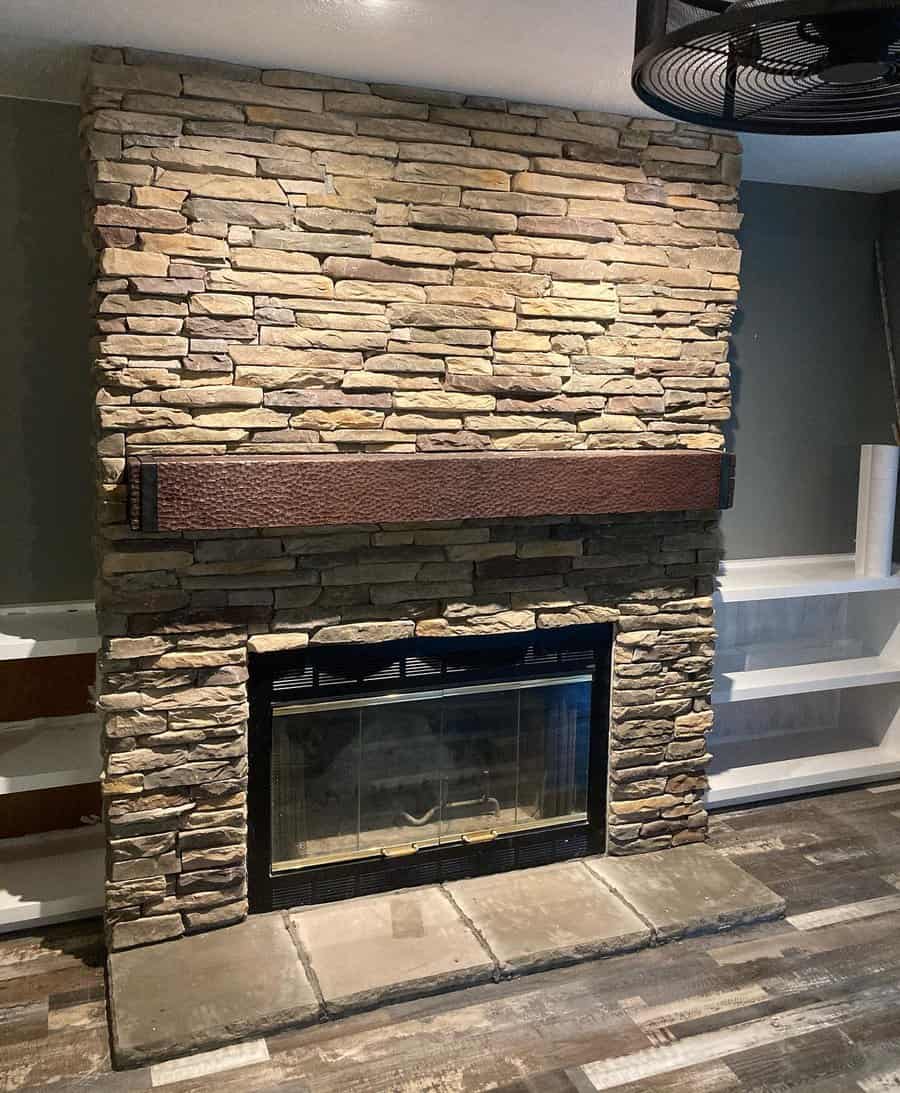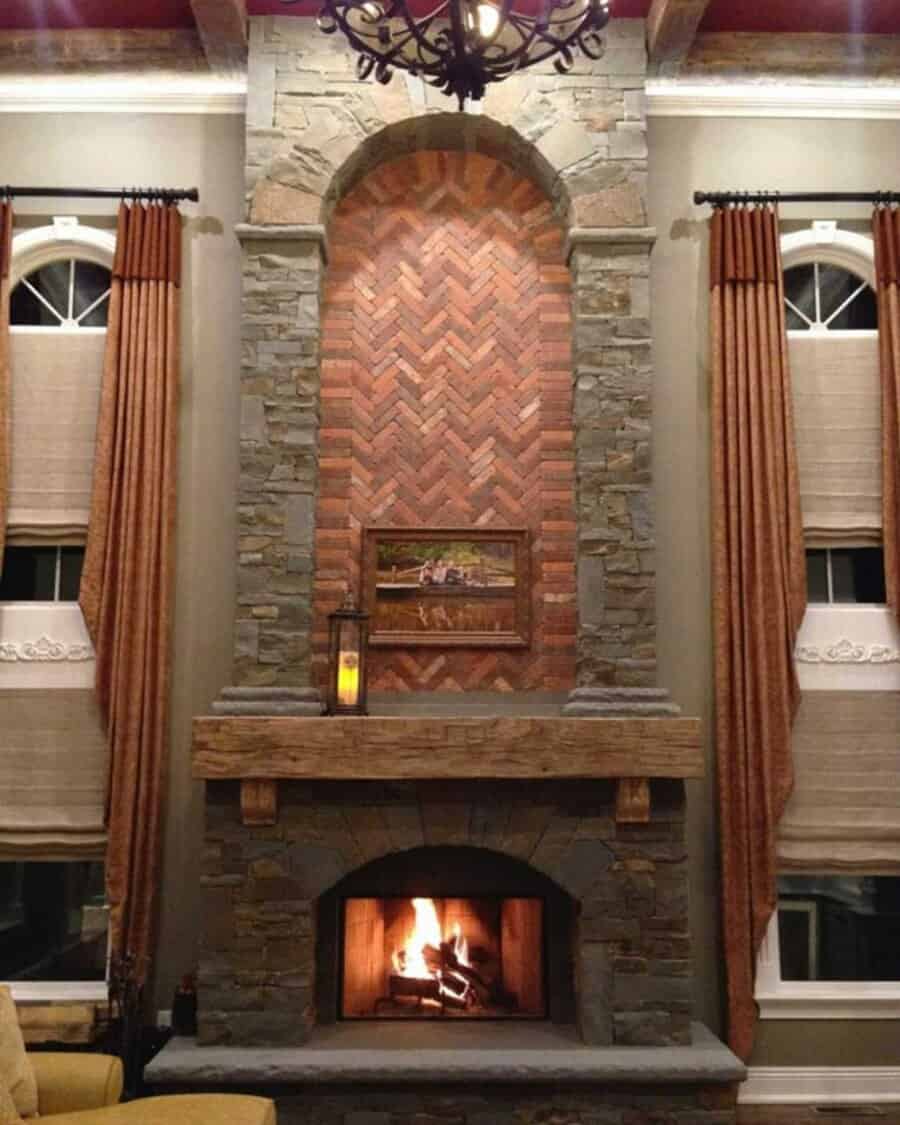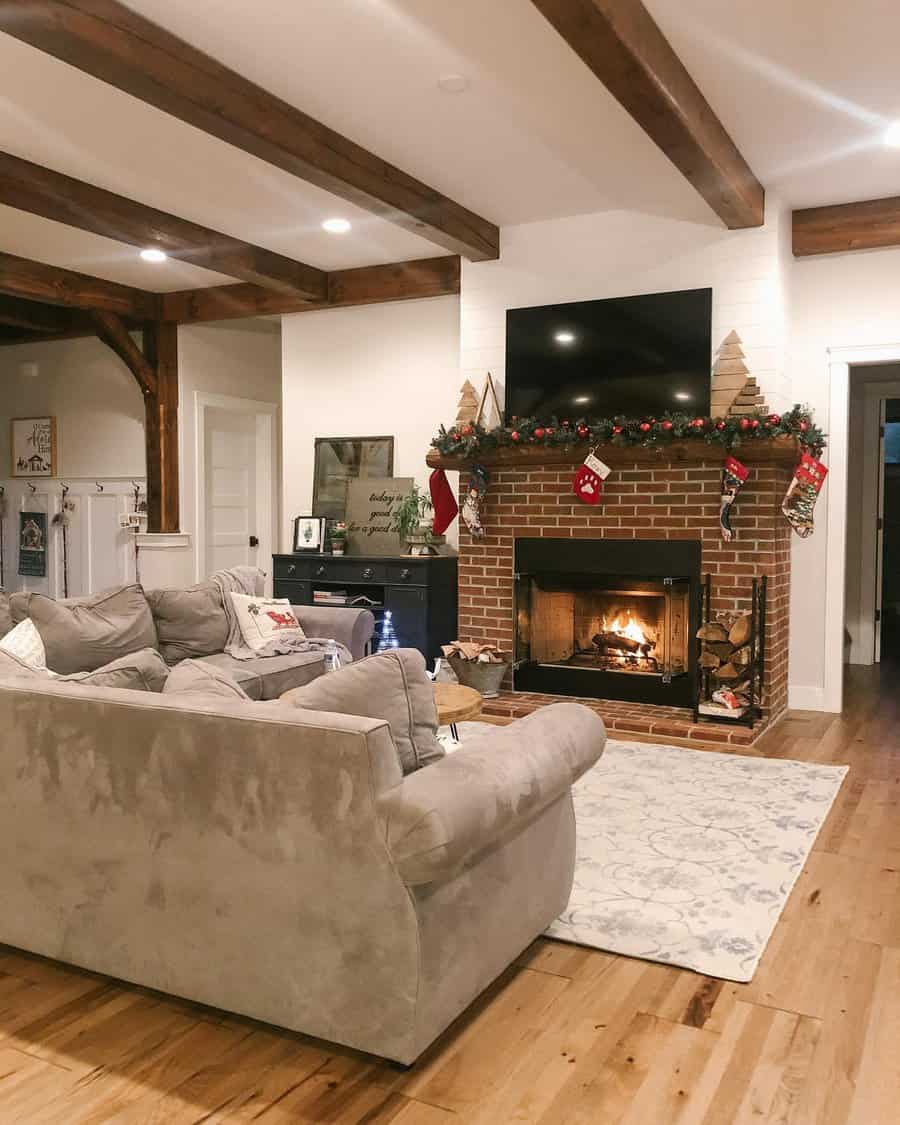 A simple wood mantel is probably the best choice in a rustic cottage or cabin. Stained wood paneling around the fireplace is another good way to turn a basic wall or corner fireplace into a lodge-worthy rustic accent.
11. Shiplap
Shiplap is everywhere these days, and fireplace walls are no exception. Made popular through the explosion of farmhouse style, these horizontal wood planks add a lot of texture and charm to any room.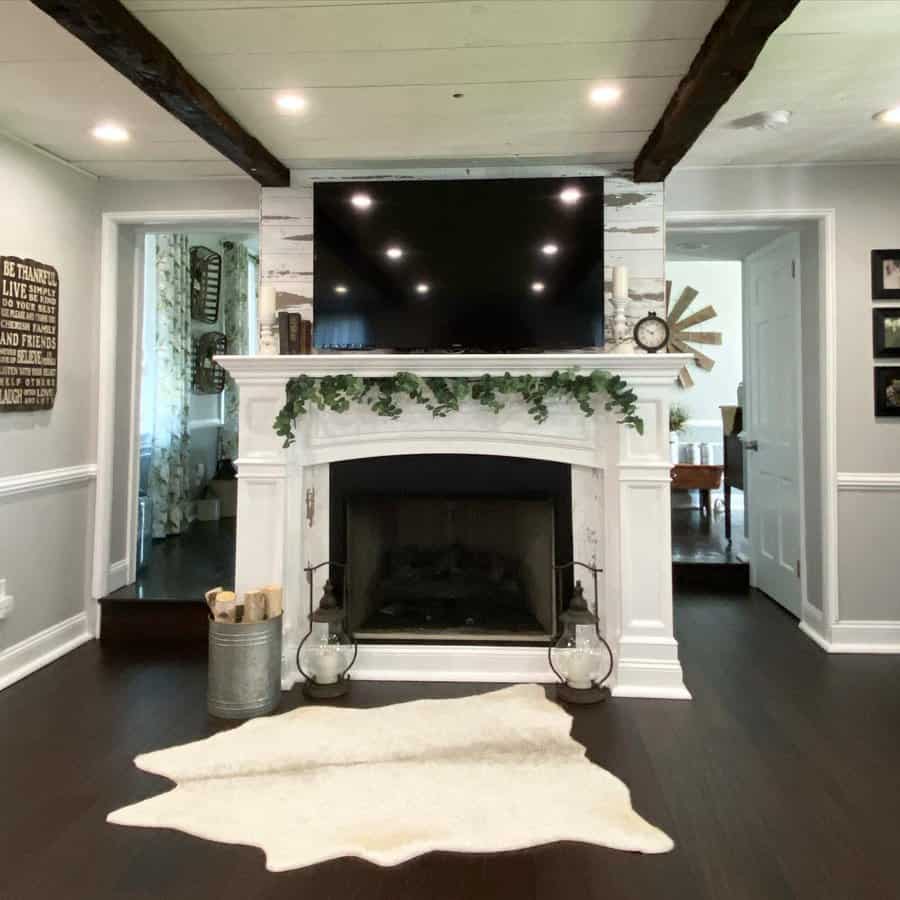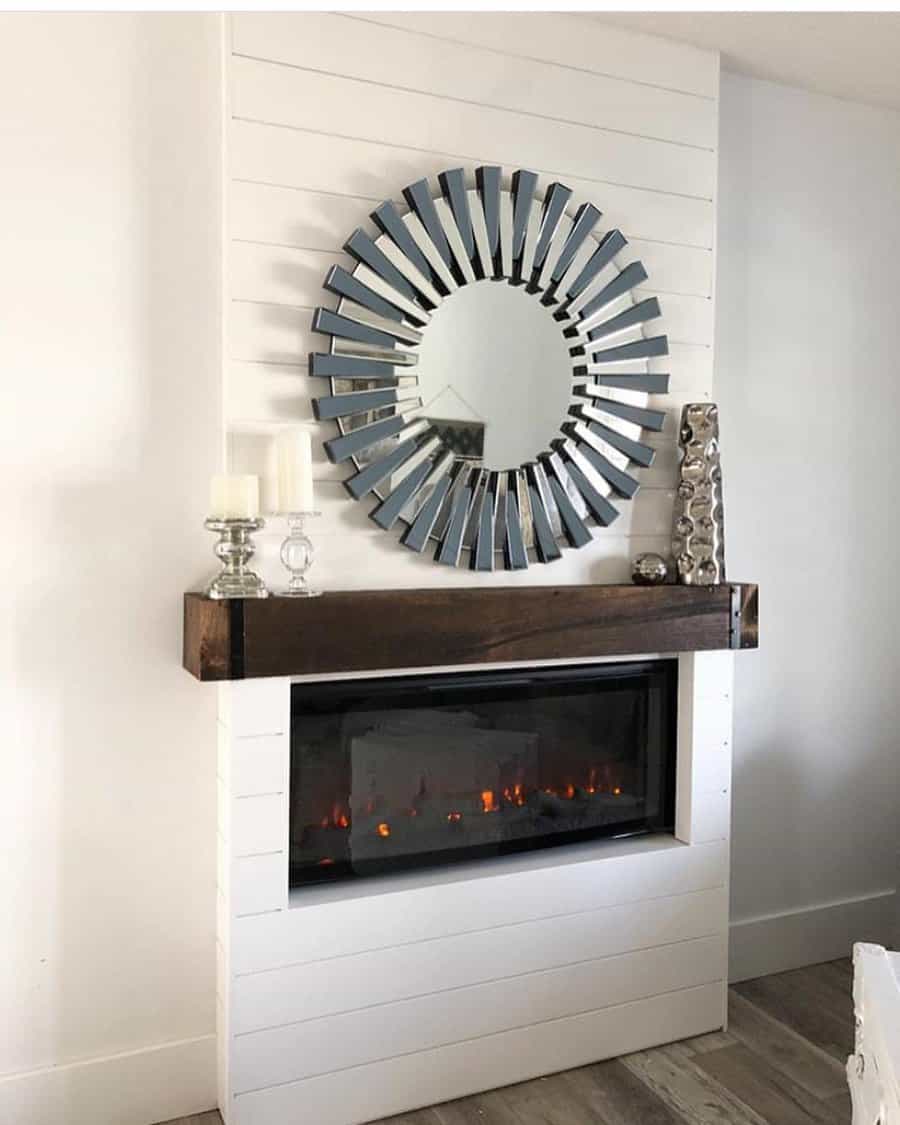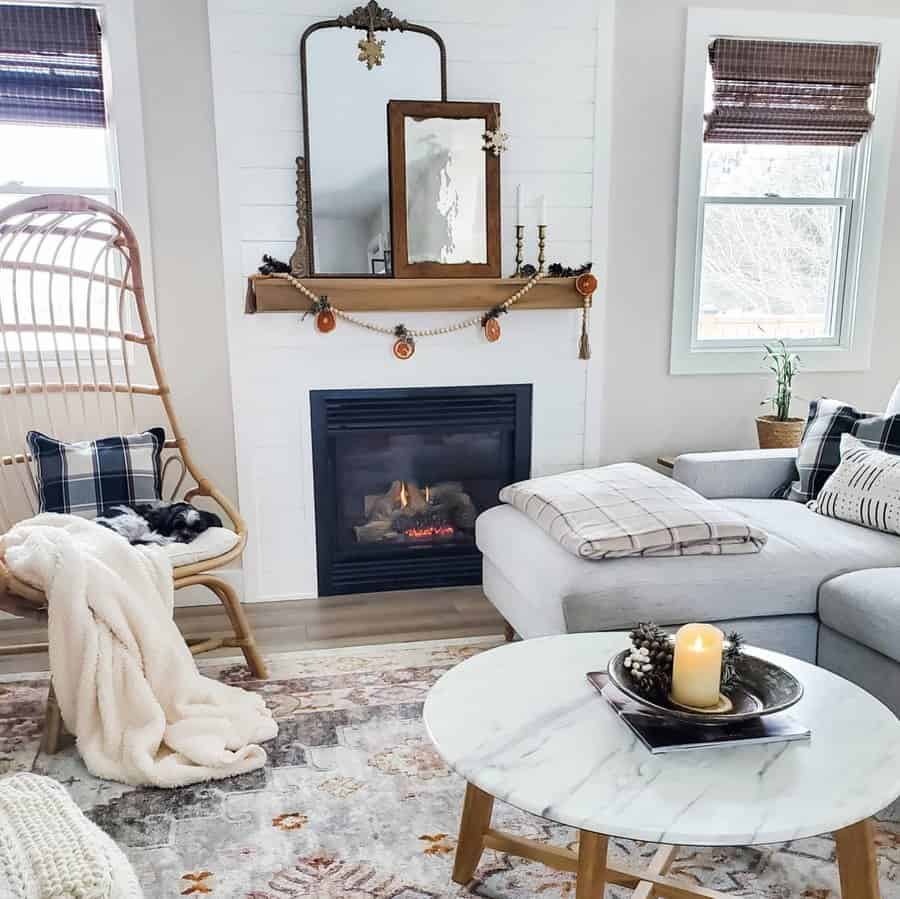 Shiplap is usually painted white, but may be intentionally distressed or even left bare. Completely veer beyond expectations by painting your fireplace shiplap walls deep navy blue or even black. These dark colors add a modern twist to traditional farmhouse style.
12. Stone
Stone fireplaces are just as popular as brick and can be designed to meld with any type of interior design. Natural stone comes in a huge range of colors, from light to dark, and you can find fireplace stone finishes in nearly any hue.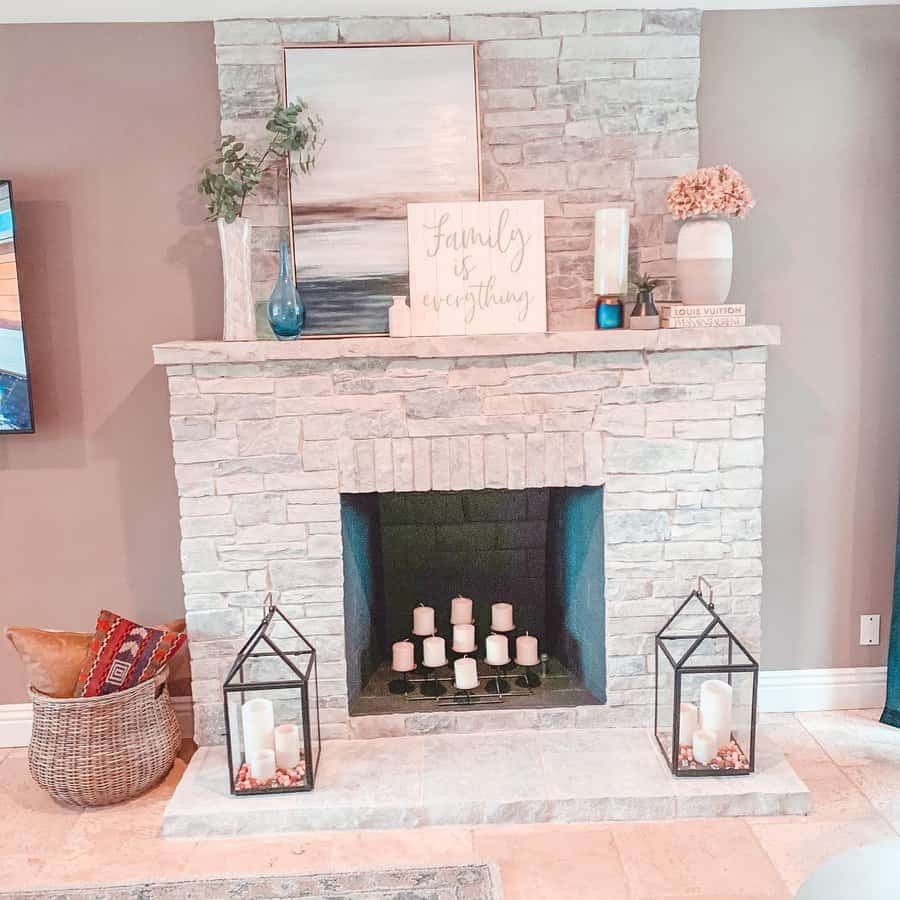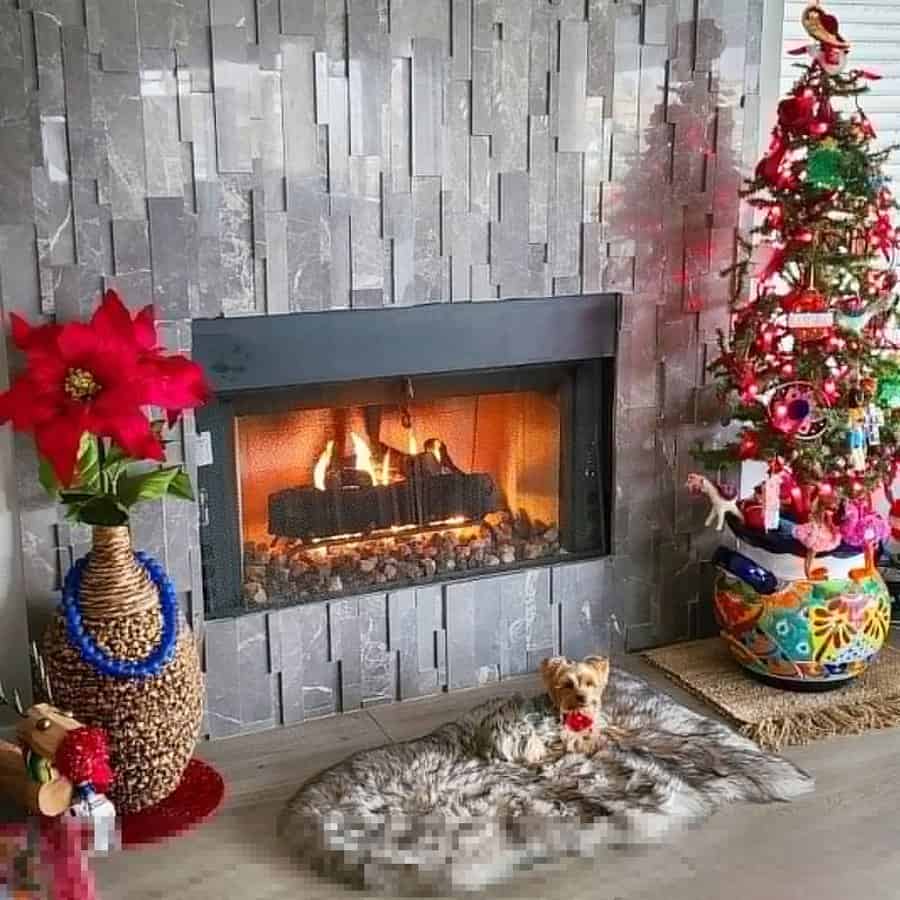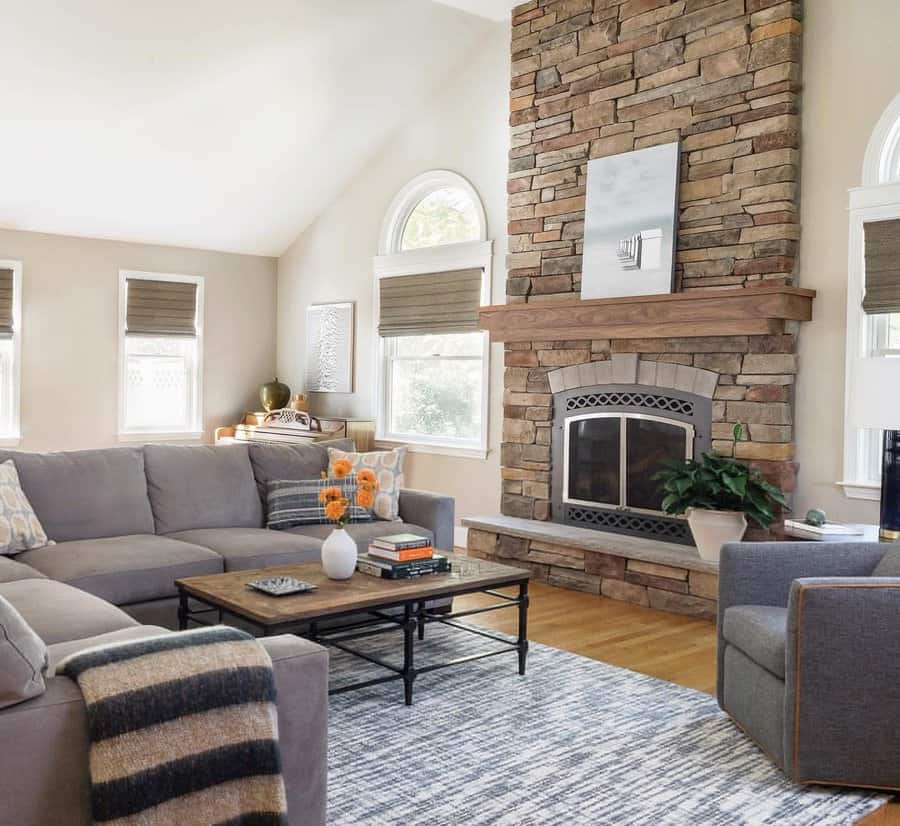 Stone also provides multiple options for texture and sheen. Matte finish stone tiles, such as travertine, are great outdoor fireplace ideas. Inside, you may prefer glass-like polished granite or even a vertical arrangement of rectangular-cut flagstone.
13. Tile
Tile fireplace walls are common in Tuscan, Spanish, and other Mediterranean-style homes. Hand-painted tile is a colorful accent when applied around the fireplace opening and on the hearth.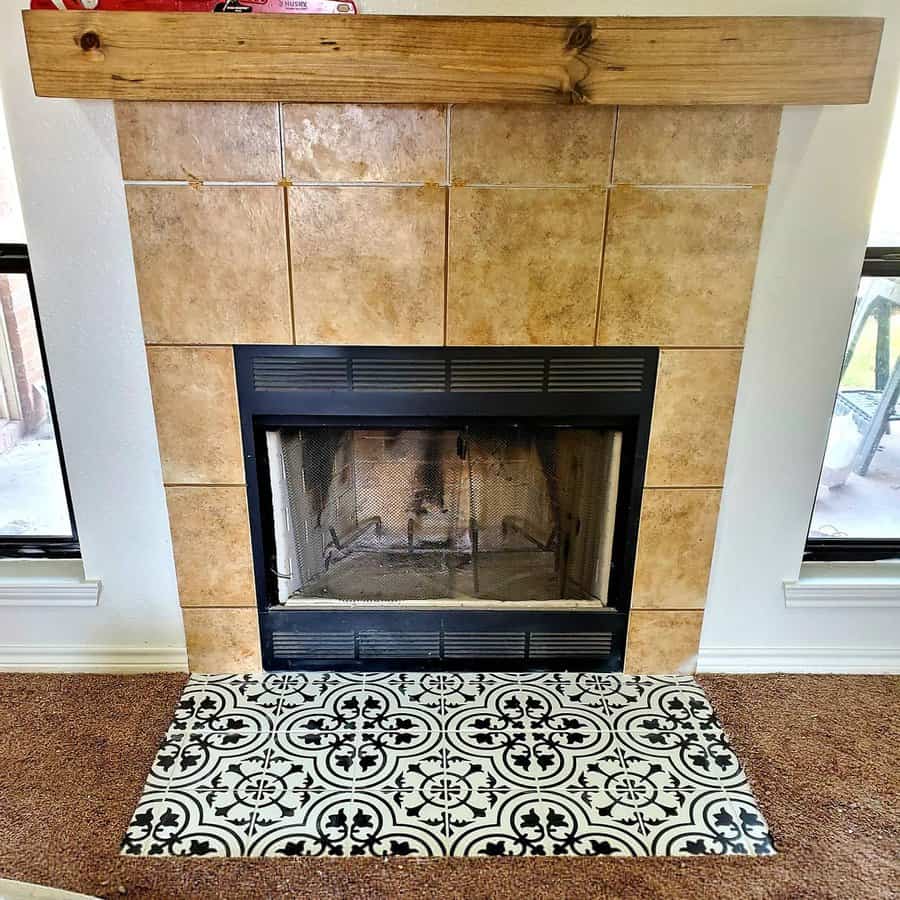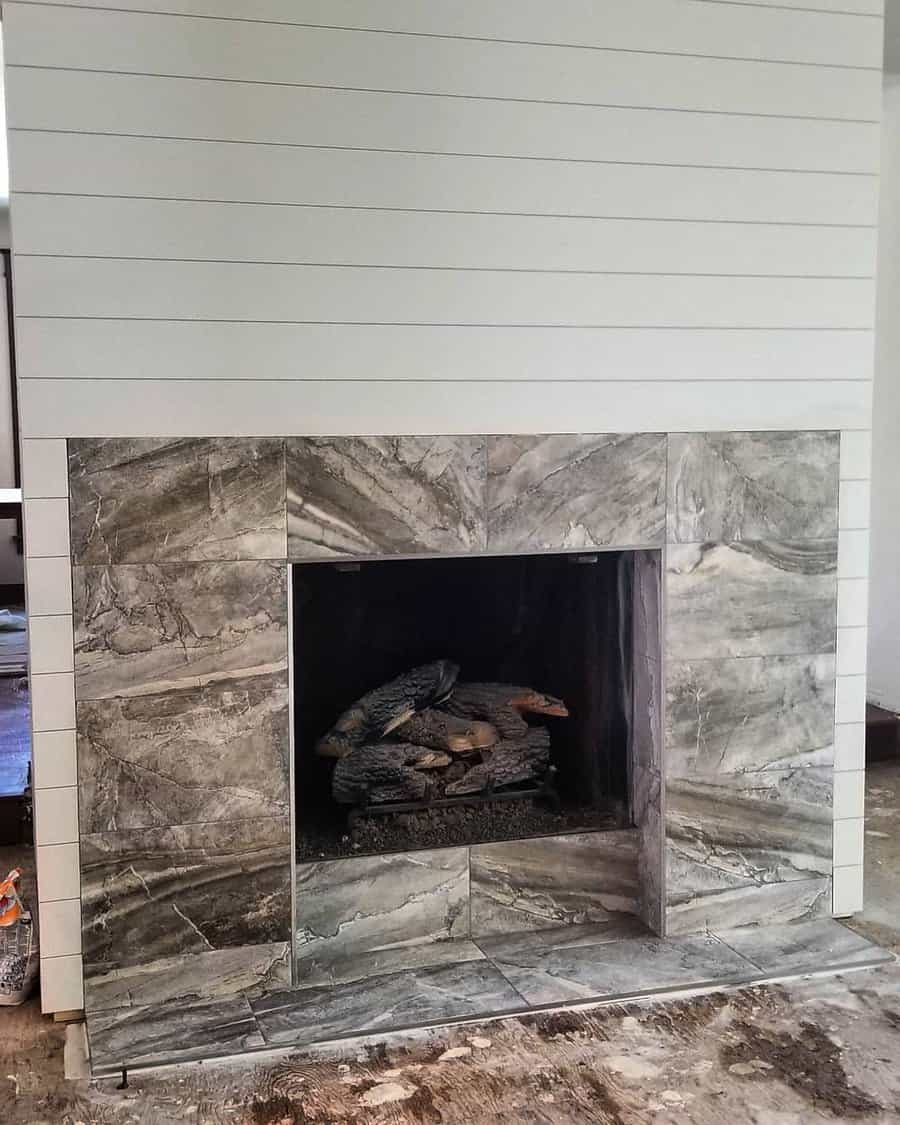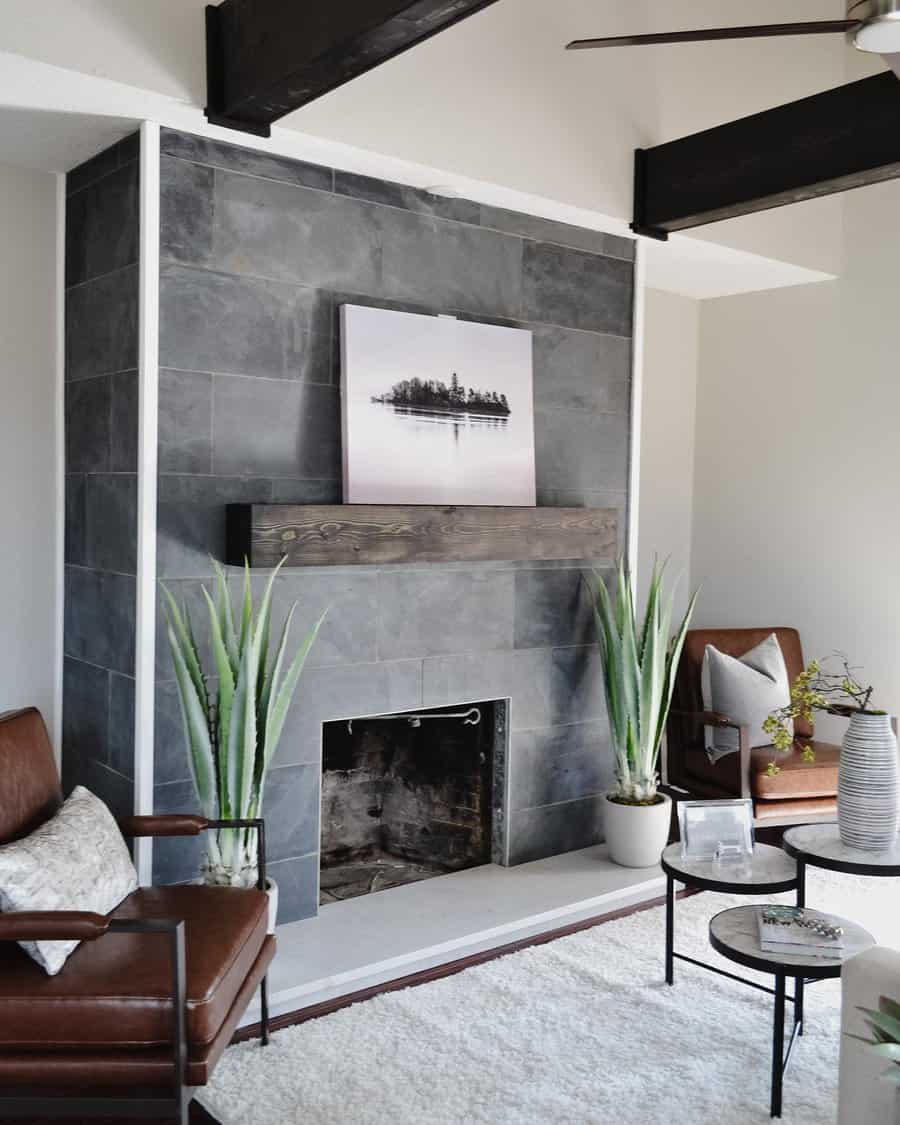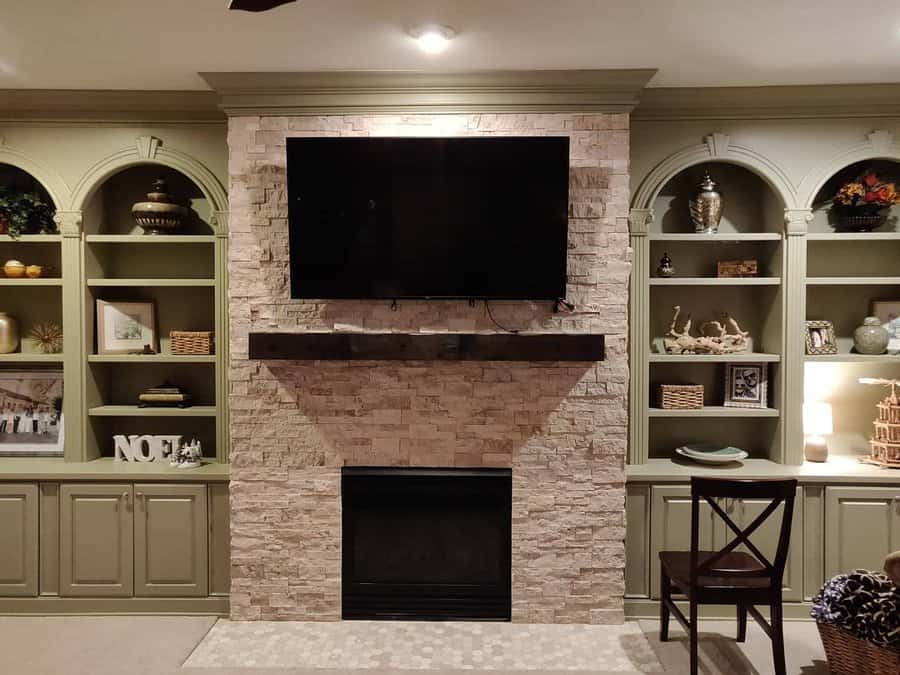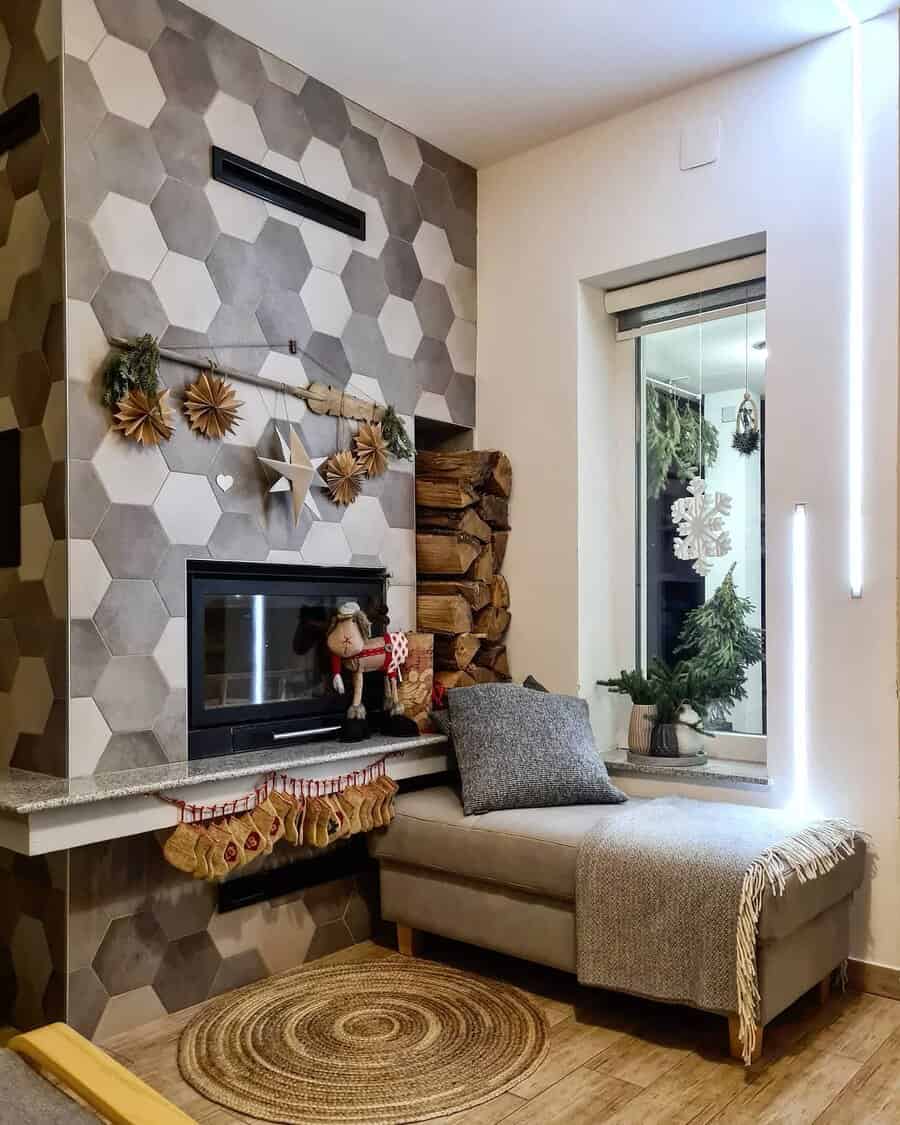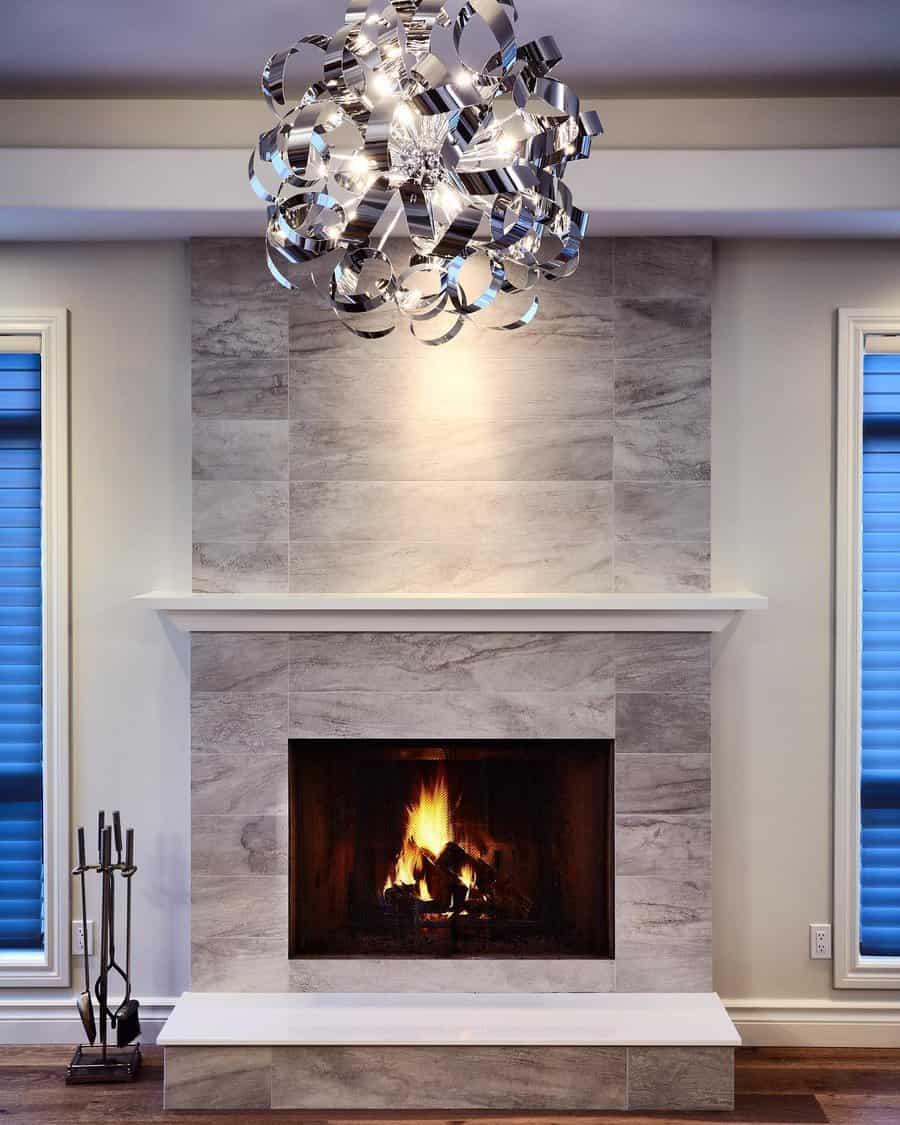 Solid color architectural tiles are a great fireproof choice for all kinds of fireplace surrounds. Get creative with tile shapes, considering everything from squares, to hexagons, to arabesque configurations.
14. Wood
Wood is an economical alternative to stone and tile, and an easy way to update the walls surrounding your fireplace. Horizontal shiplap is a trendy way to add texture and interest to your fireplace, and you can mix it up by nailing the planks in a vertical or herringbone pattern.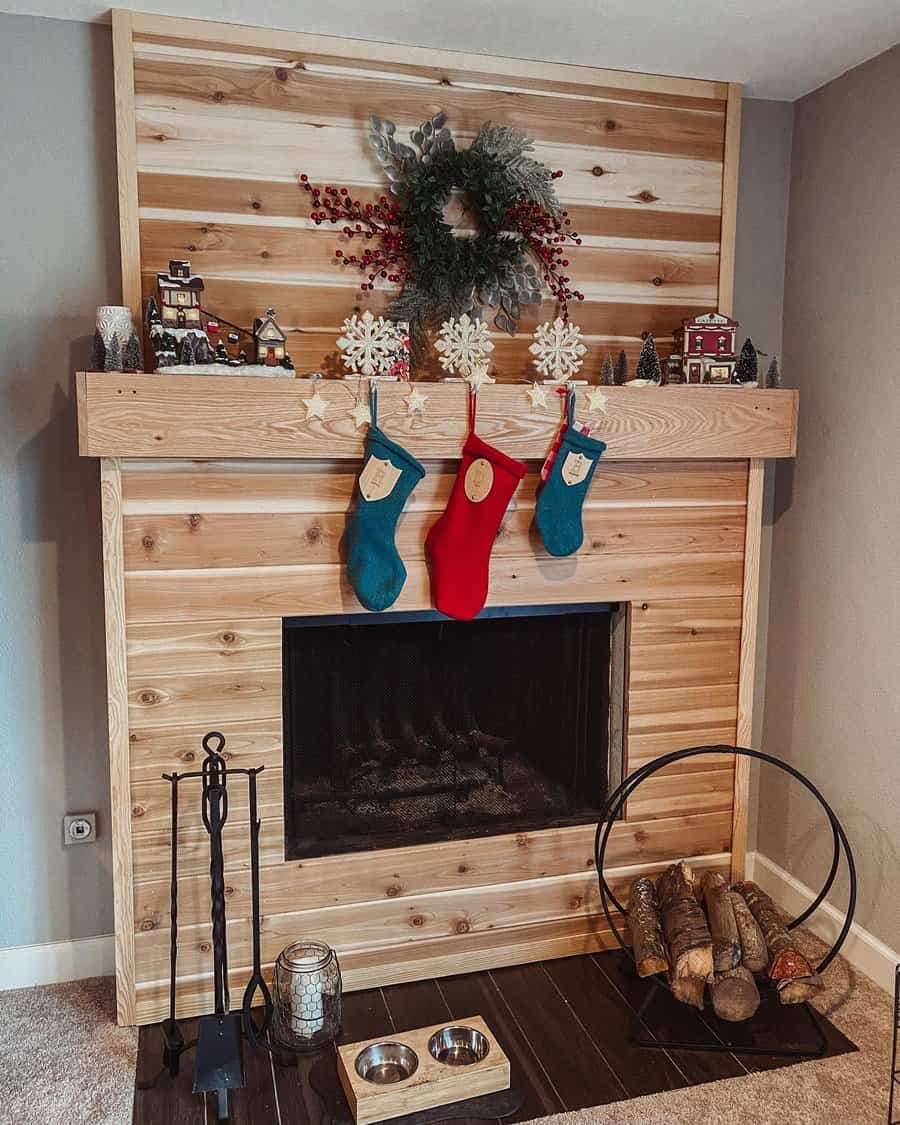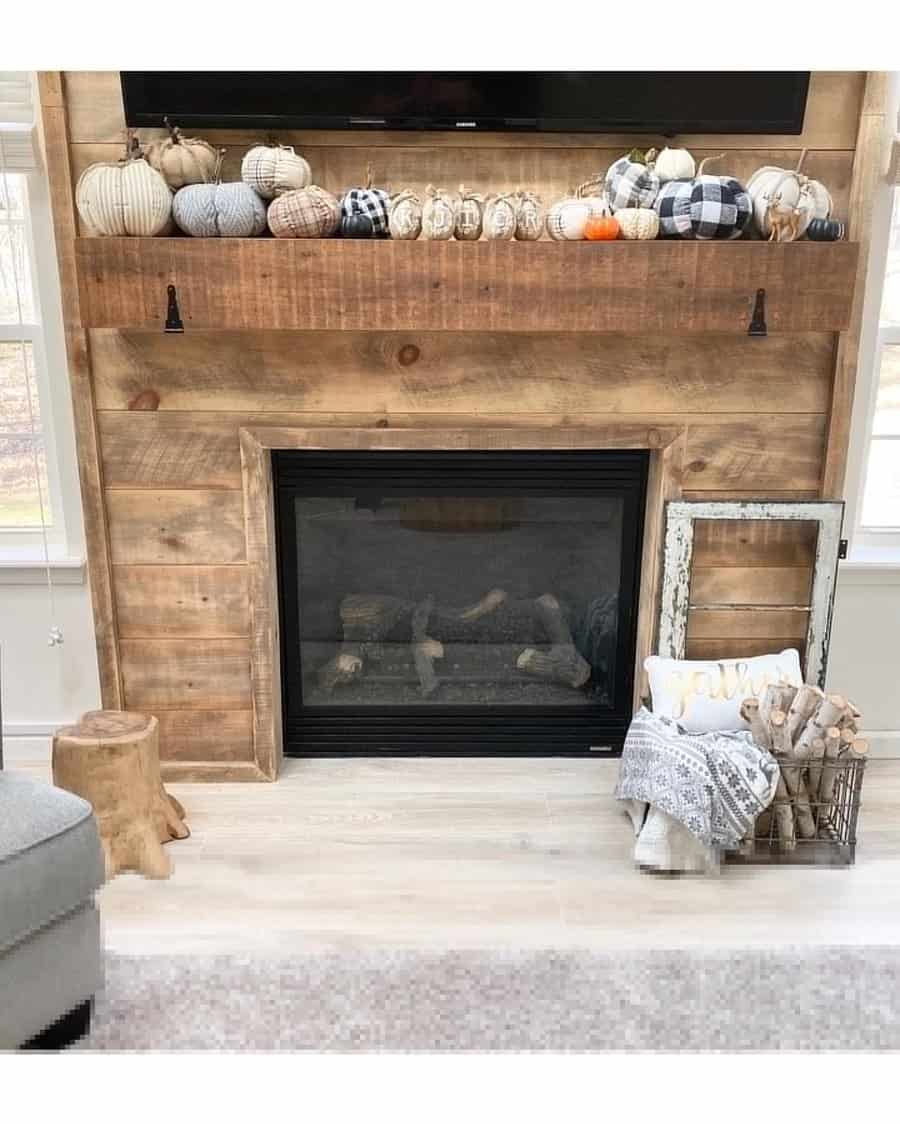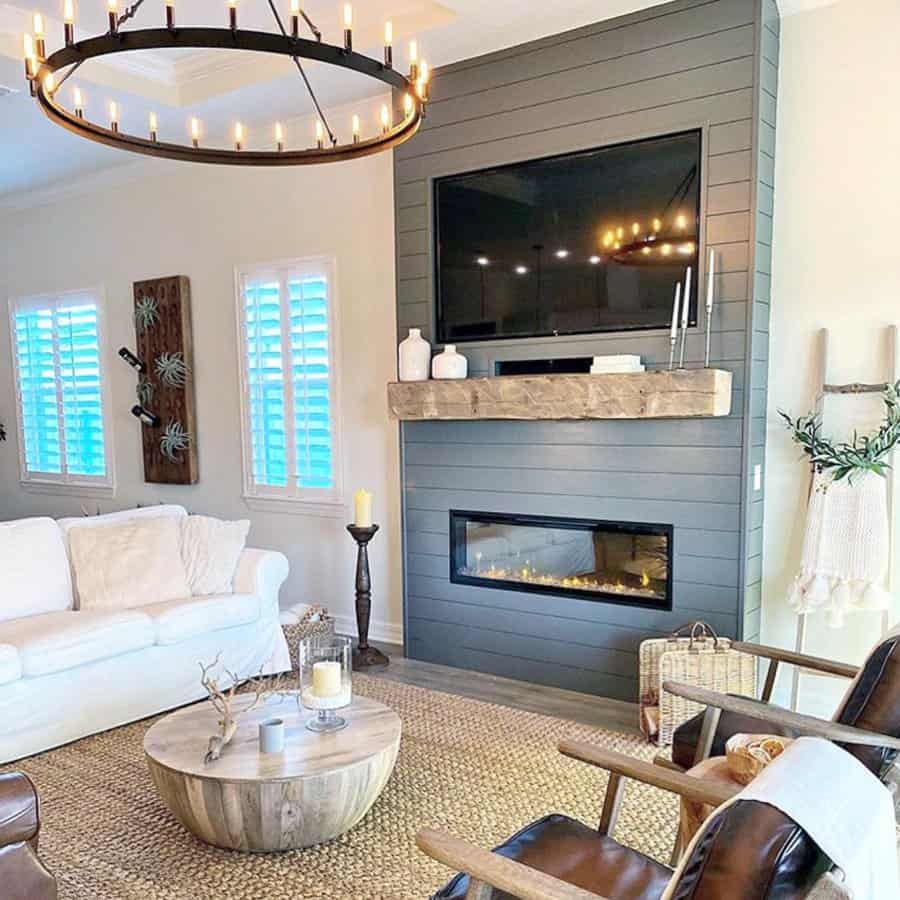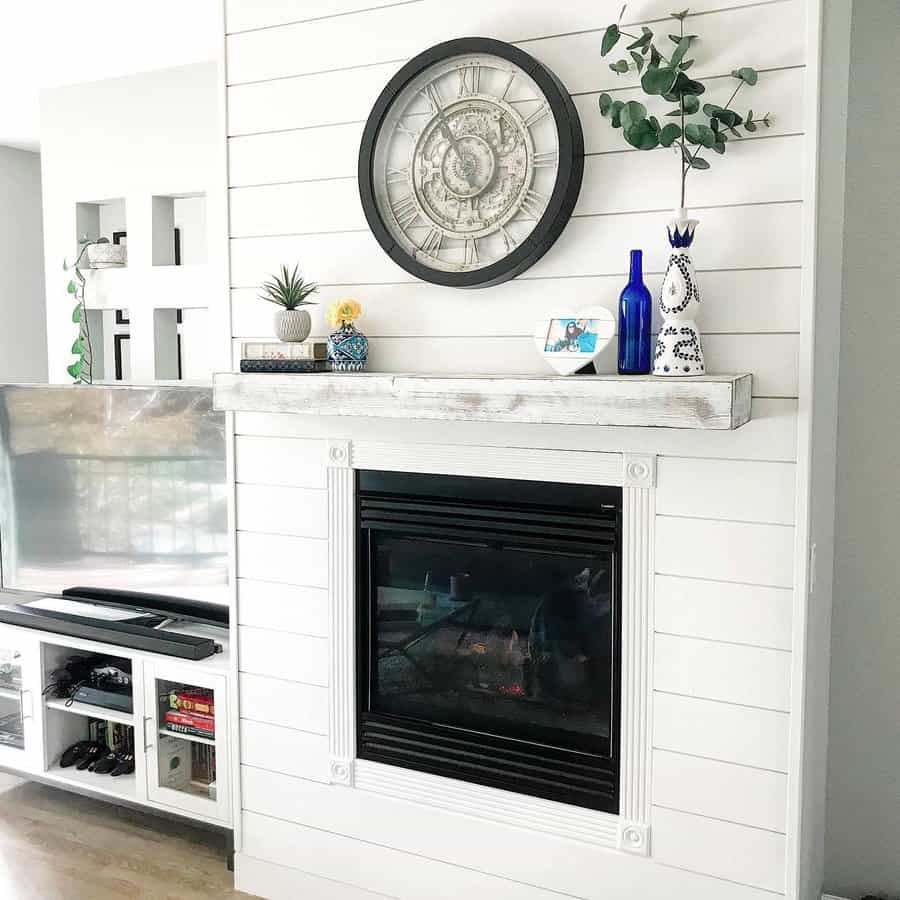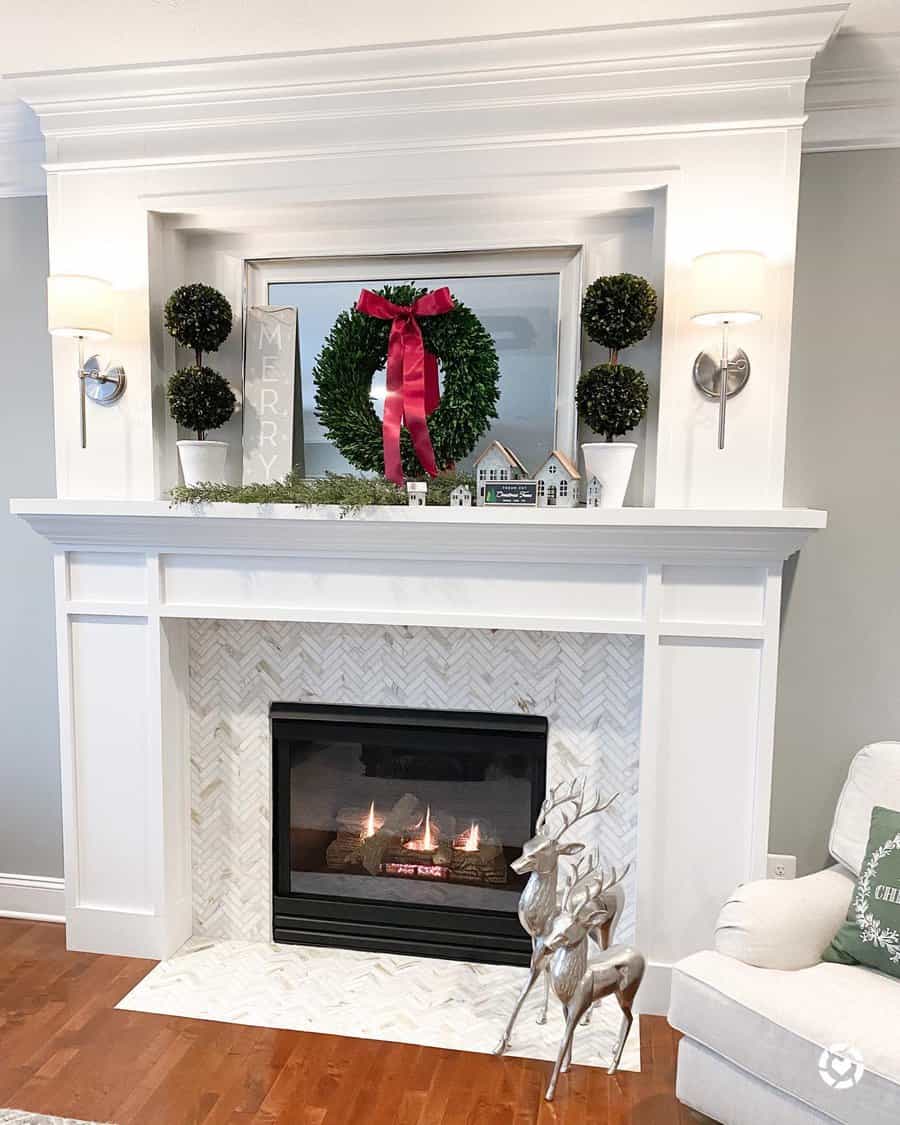 Wood panels, columns, and coffered walls are all beautiful ways to draw attention to the fireplace in a room with traditional decor. Rough wood planks or logs are excellent accents in a rustic home.
Fireplace Wall FAQs
Can you put a TV on the wall above an open fire?
Yes, although it may seem questionable given the amount of heat a fireplace radiates. Protect your TV by directing the heat away from it. There are three primary ways to achieve this:
Build a recessed alcove for the TV.

Install a wide, thick mantel.

Purchase a fireplace insert with a fan to blow heat out into the room.
What can I put on my fireplace walls?
If you don't hang a TV over your fireplace, any number of decorative accents will do. A large mirror can make your room appear brighter and larger, while a wreath adds a botanical accent. Use the walls surrounding your fireplace to showcase favorite artwork or family photos.