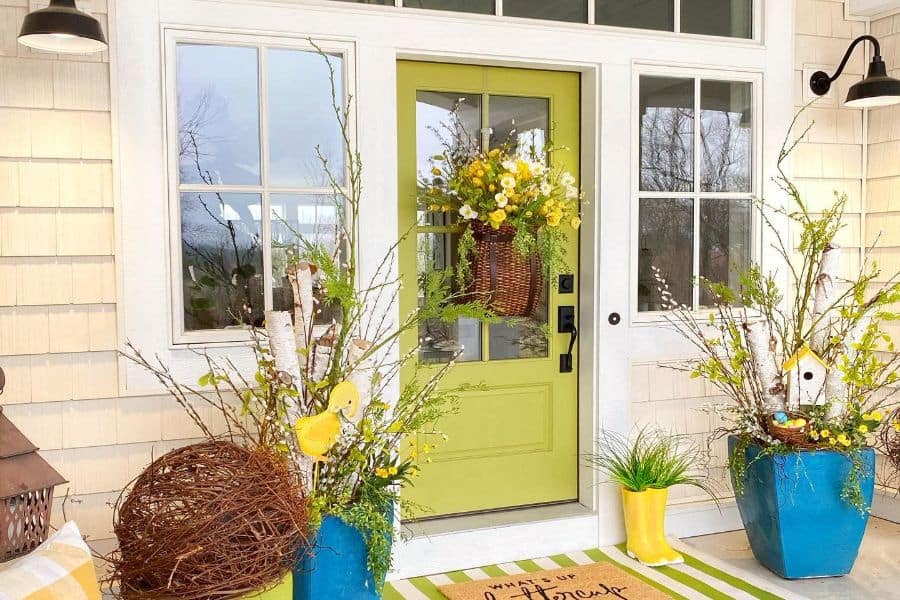 The Top 41 Front Door Color Ideas
by — Kendrick Hulse

Published on May 31, 2021

Updated on October 7, 2023
With the thriving housing market, curb appeal is at the forefront of many people's minds. Even if you have no intention of selling your home anytime soon, updating the facade can be a quick, affordable way to make your house feel brand new.
Just like in interior design, the details are what really make or break a home exterior. Changing something as seemingly small as your front door color can feel like a total transformation.
If you're ready to breathe new life into your home's front entry, check out the trend-forward front door color ideas featured below!
1. Elevate Moods with Sunny Yellow Doors
A sunny yellow door isn't just eye-catching; it's a mood lifter. To best complement this bold choice, use neutral exterior paint colors or landscaped greens. Opt for matte black or brushed nickel hardware to ground the look. Remember, a bright door, like yellow, not only showcases your individuality but also welcomes visitors with its radiant positivity.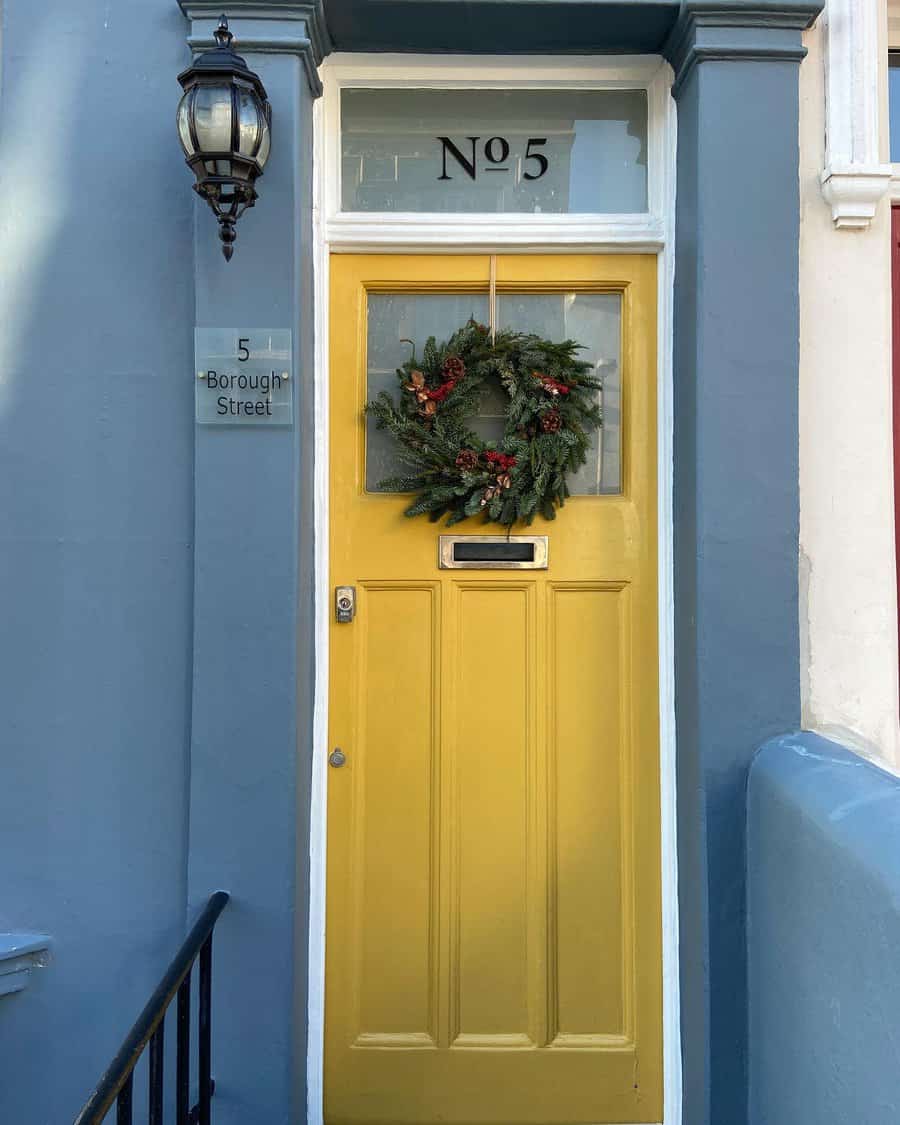 2. Dive into Calm with Santorini Blue
A Santorini blue door evokes tranquility and coastal vibes. To enhance its appeal, pair it with crisp white trim or soft sandy tones. Consider brass or silver hardware to accentuate its serene quality. Whether you opt for a deep navy or vibrant turquoise, this shade seamlessly blends elegance with playful charm, elevating your home's curb appeal.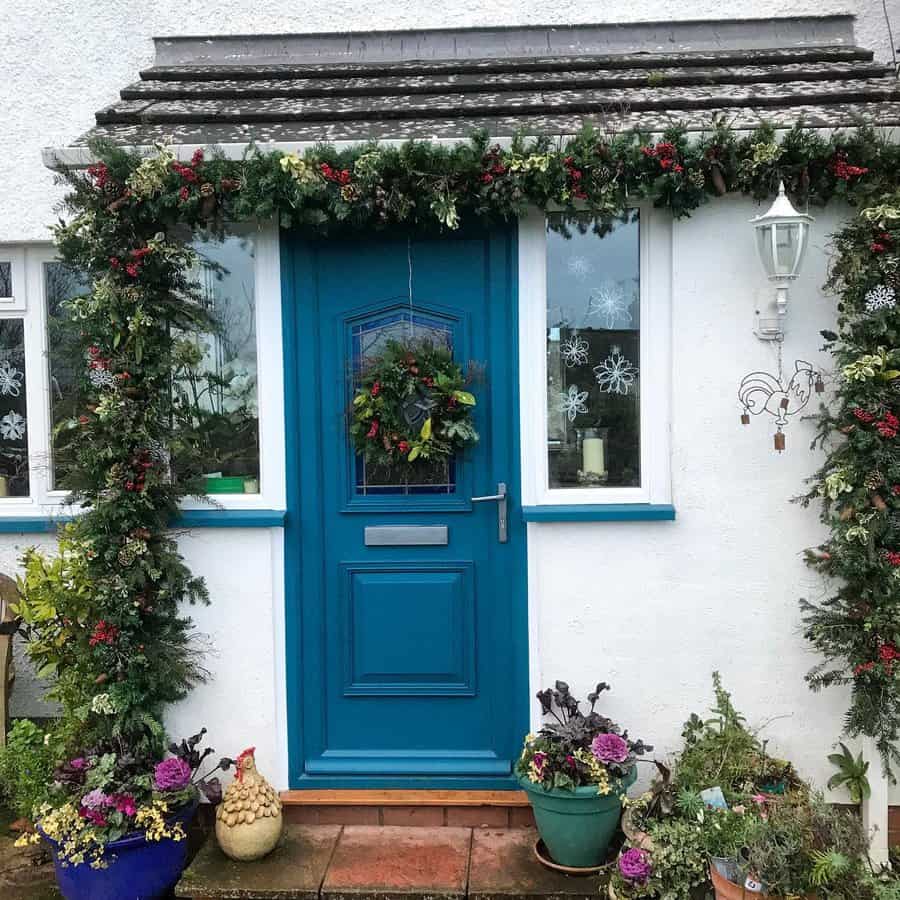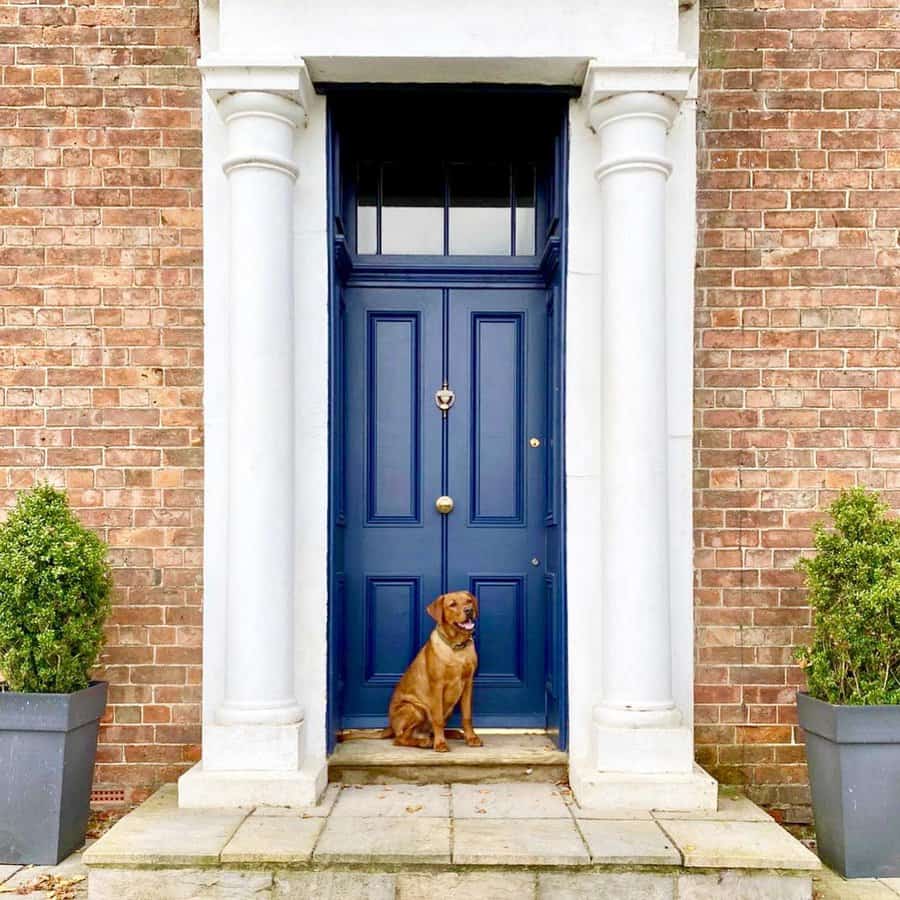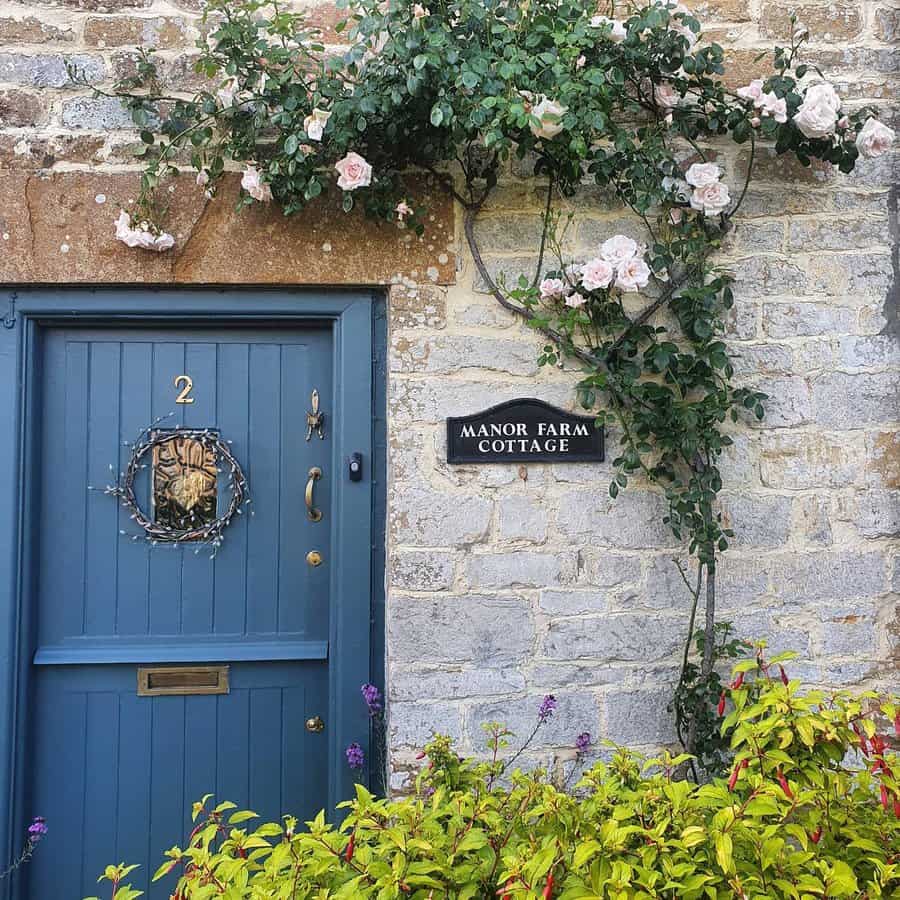 3. Refresh Entrances with Tiffany Green
Tiffany green offers both elegance and a refreshing burst to your entrance. This shade, reminiscent of serene botanical gardens, pairs beautifully with light neutrals or earthy tones on your exterior. To amplify its effect, choose bronze or matte black door hardware. Not only will your home stand out, but this calming hue also provides a warm and inviting ambiance for guests.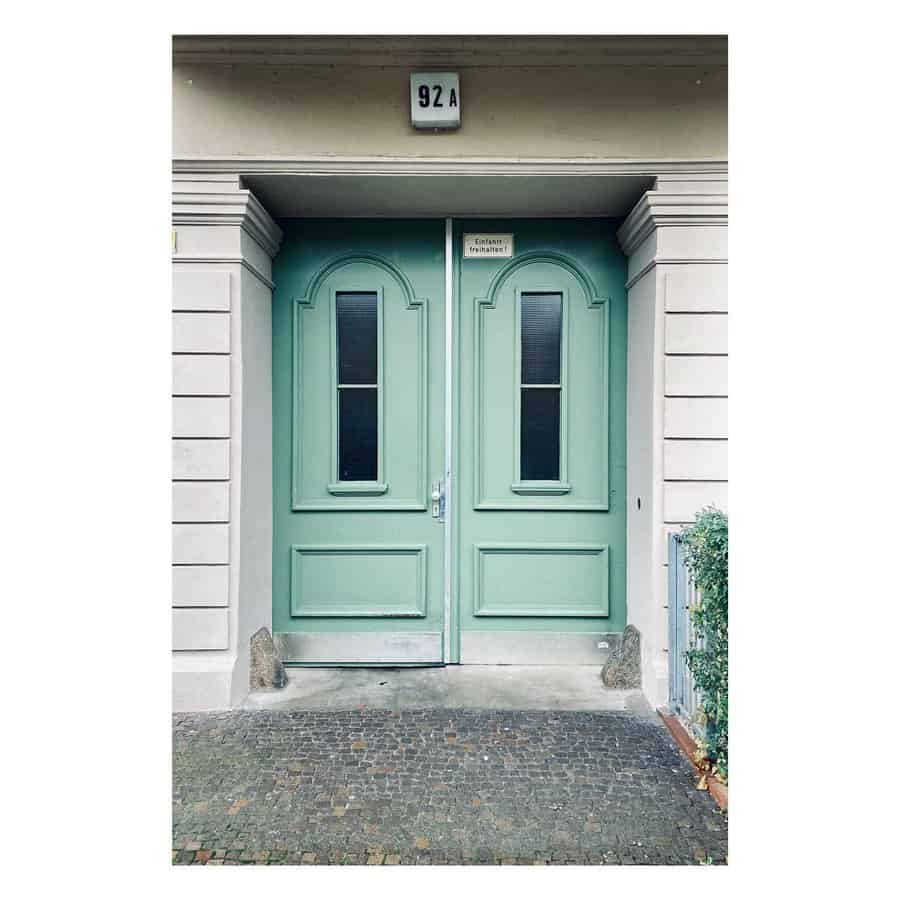 4. Make a Statement with Vibrant Purple
Opting for a vibrant purple door can transform your entrance into a showstopper. Whether you're drawn to a regal royal shade, soothing lavender, deep eggplant, or lively magenta, it's essential to coordinate with your home's exterior palette. Complement the boldness with neutral sidings or white trims. And, for a harmonious finish, select brushed silver or gold hardware, ensuring your home radiates charm and individuality.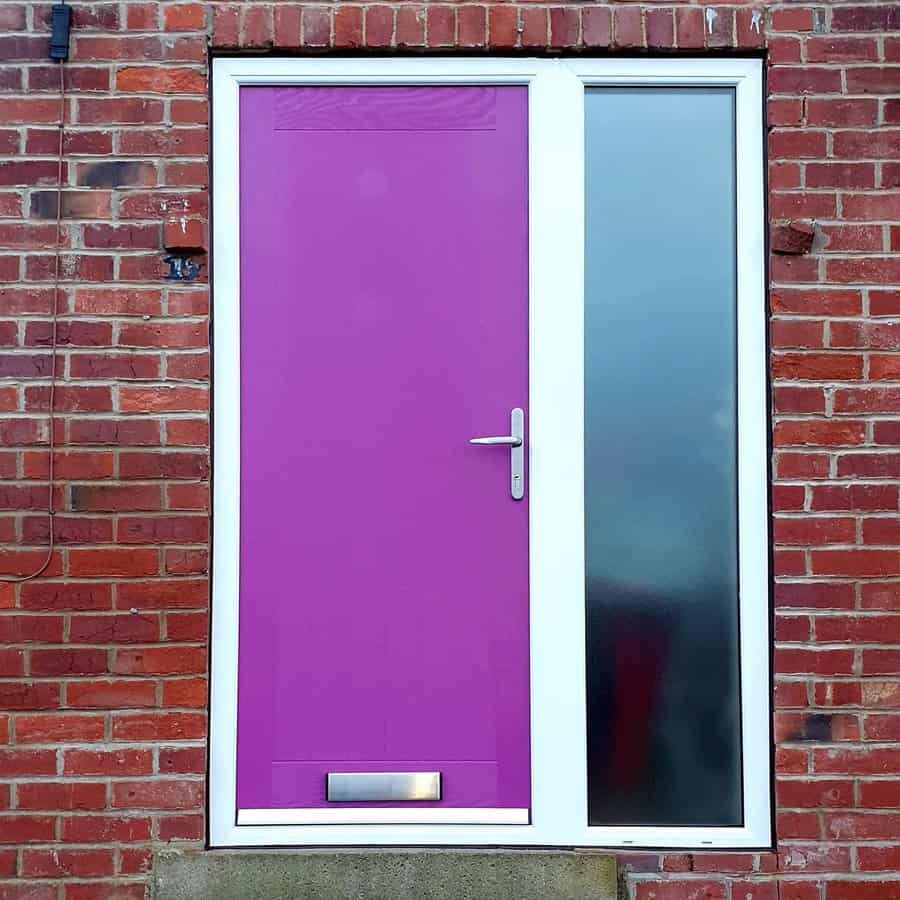 5. Blend Nature with Earthy Greens
An earthy green door not only creates a warm, inviting entrance but also harmonizes with the natural surroundings. This hue pairs seamlessly with wooden or stone accents, enhancing its organic essence. To highlight its calming aura, accessorize with potted plants and rustic hardware. An earthy green door ensures your home is both distinct and seamlessly connected to nature's beauty.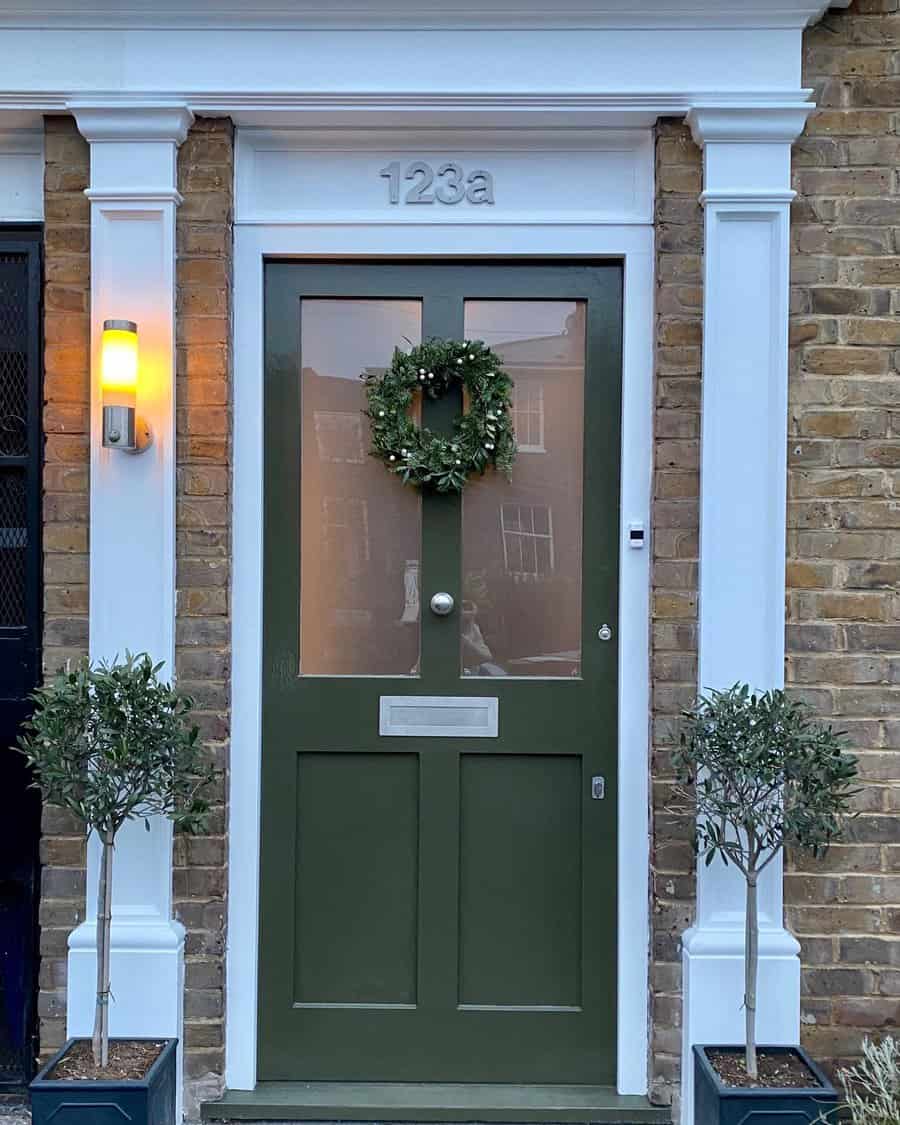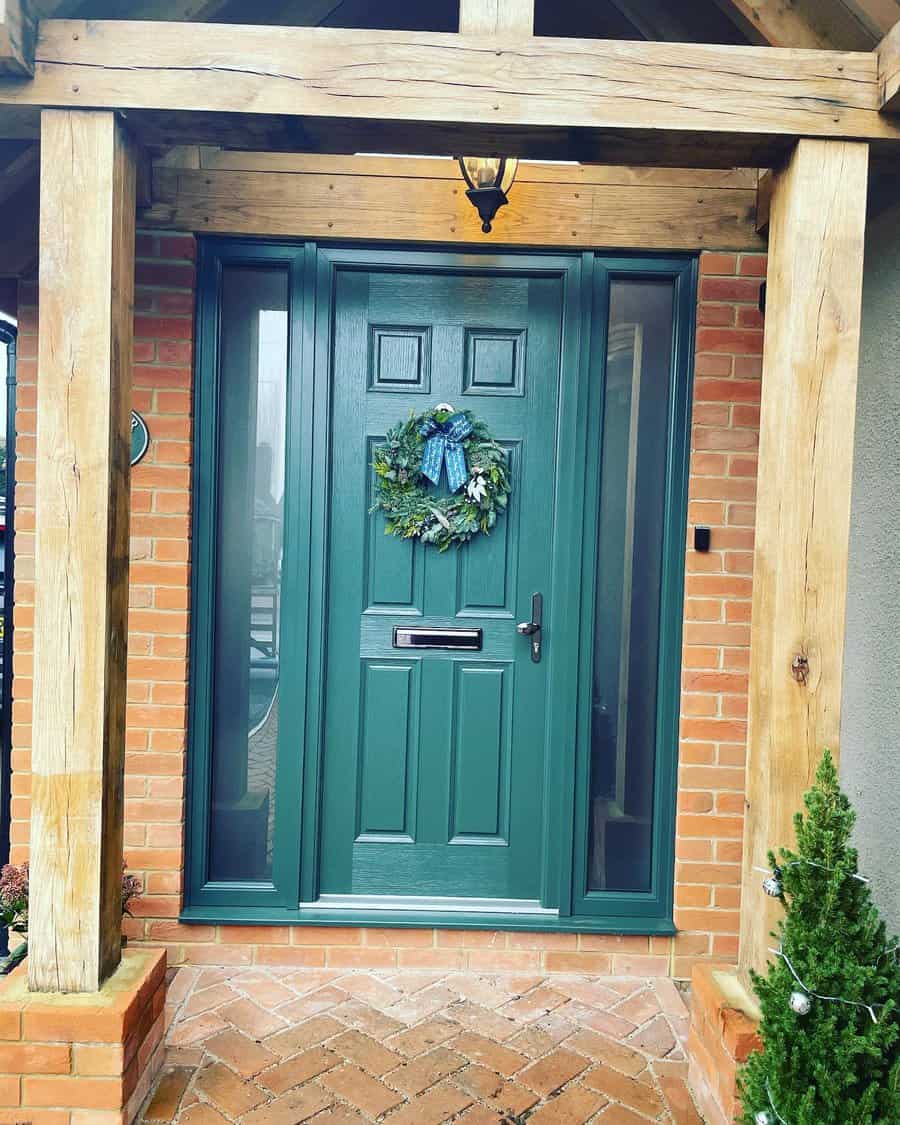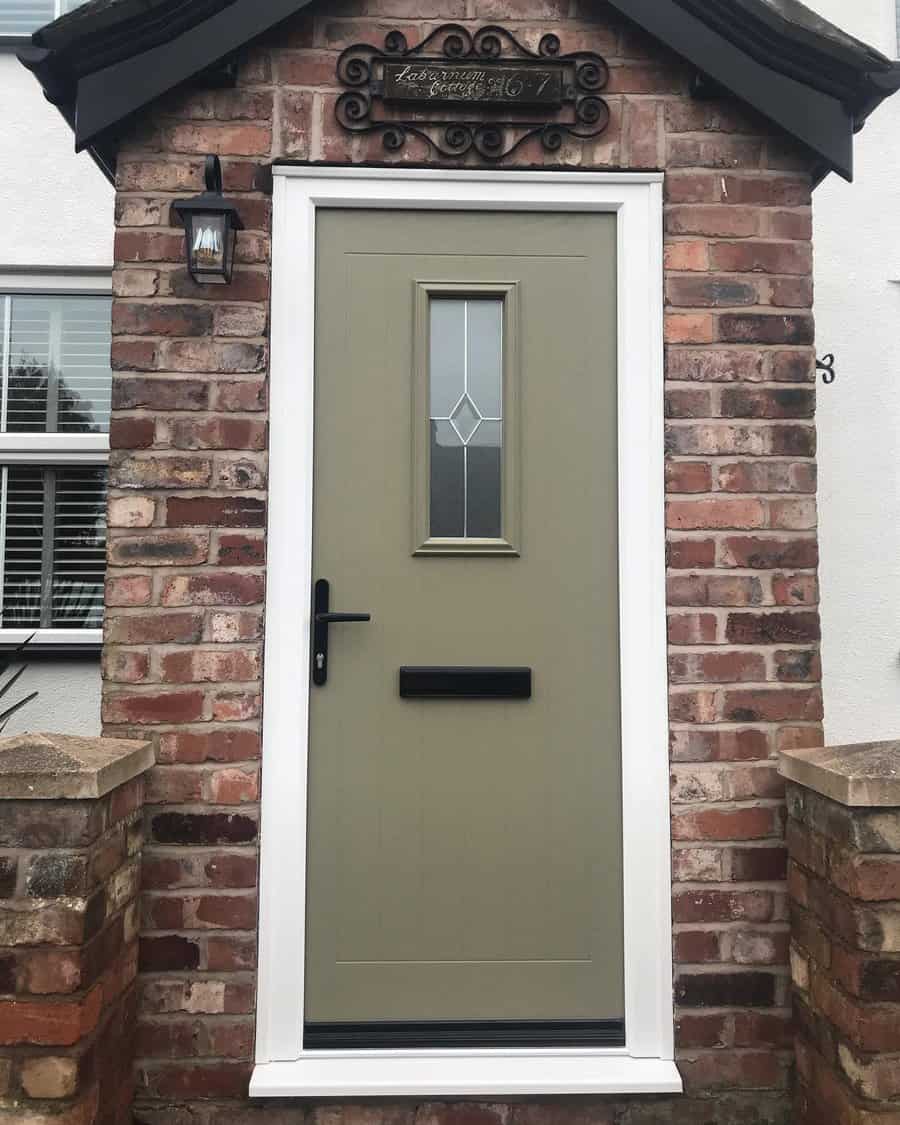 6. Exude Elegance with Muted Tones
Muted door tones, ranging from soft greys to warm creams, offer an understated yet sophisticated welcome. These colors bridge the gap between modern elegance and timeless charm. To elevate the look, consider pairing with dark trims or metallic accents. Opting for a muted palette can transform your entrance into a refined, impactful focal point.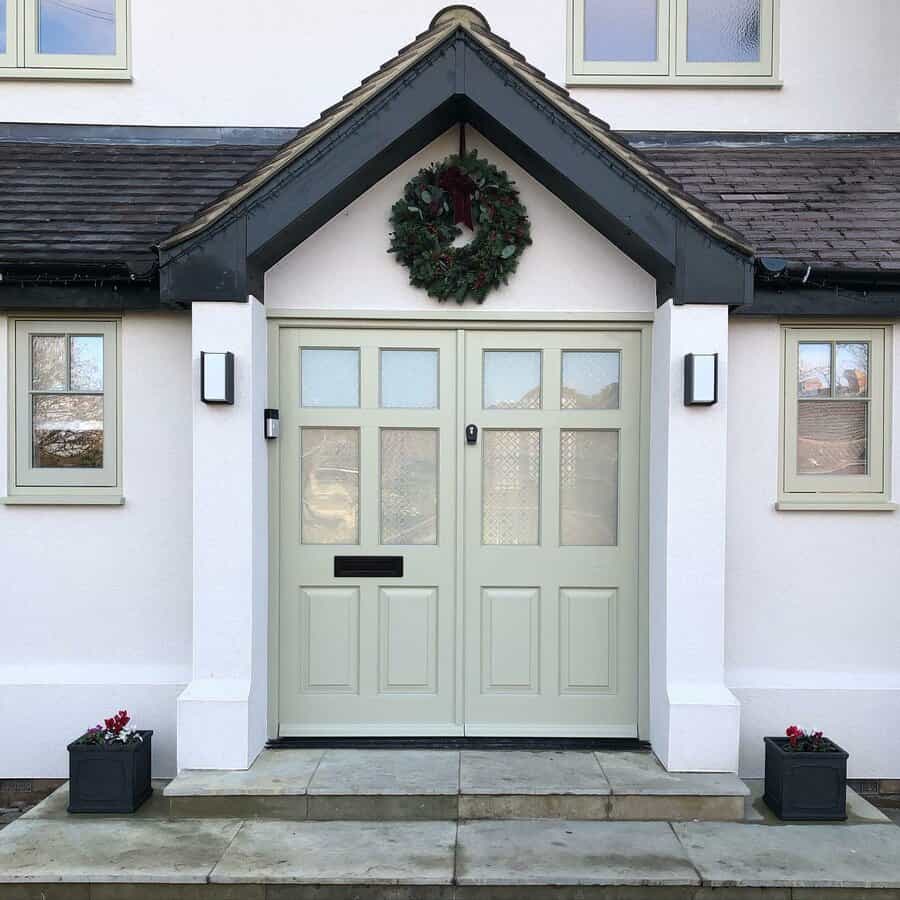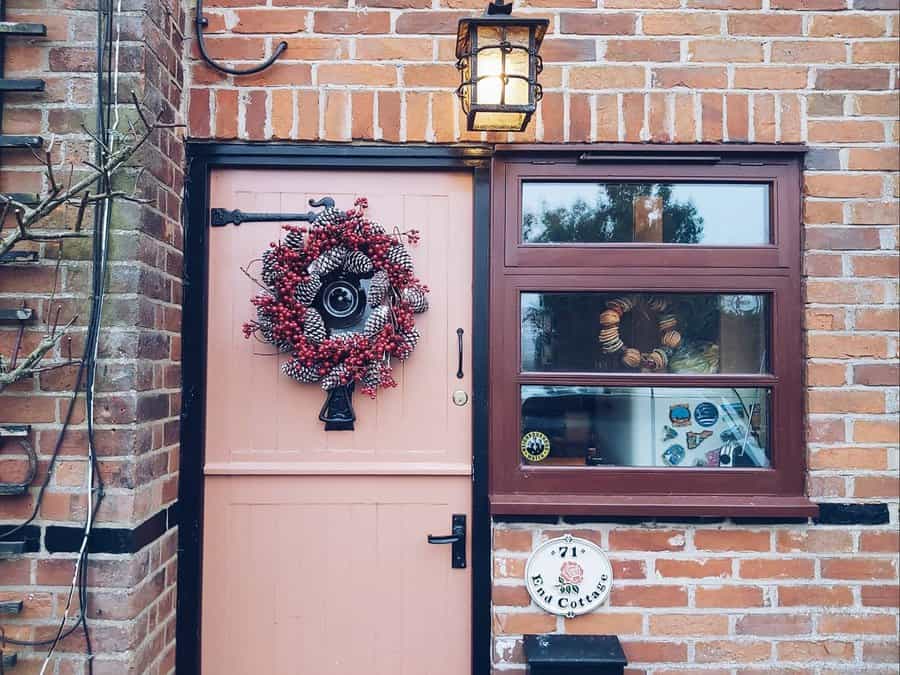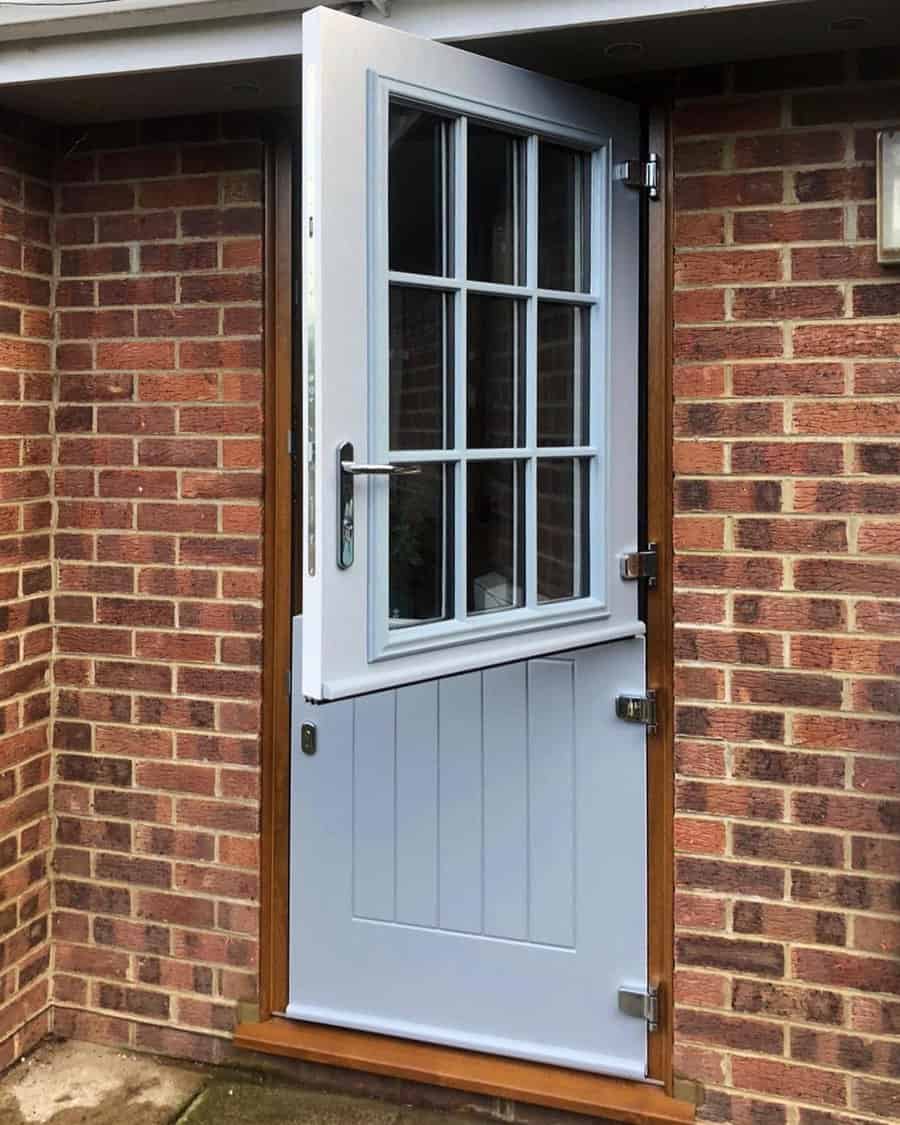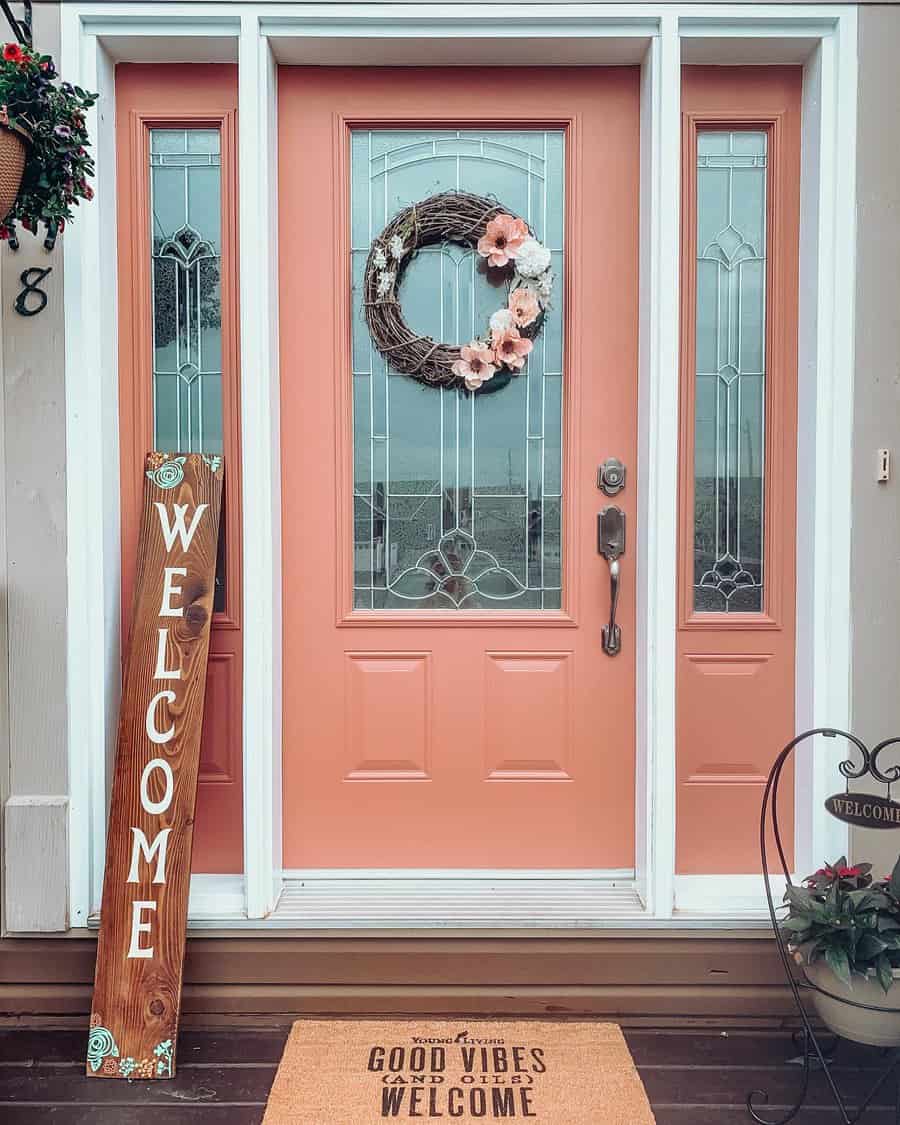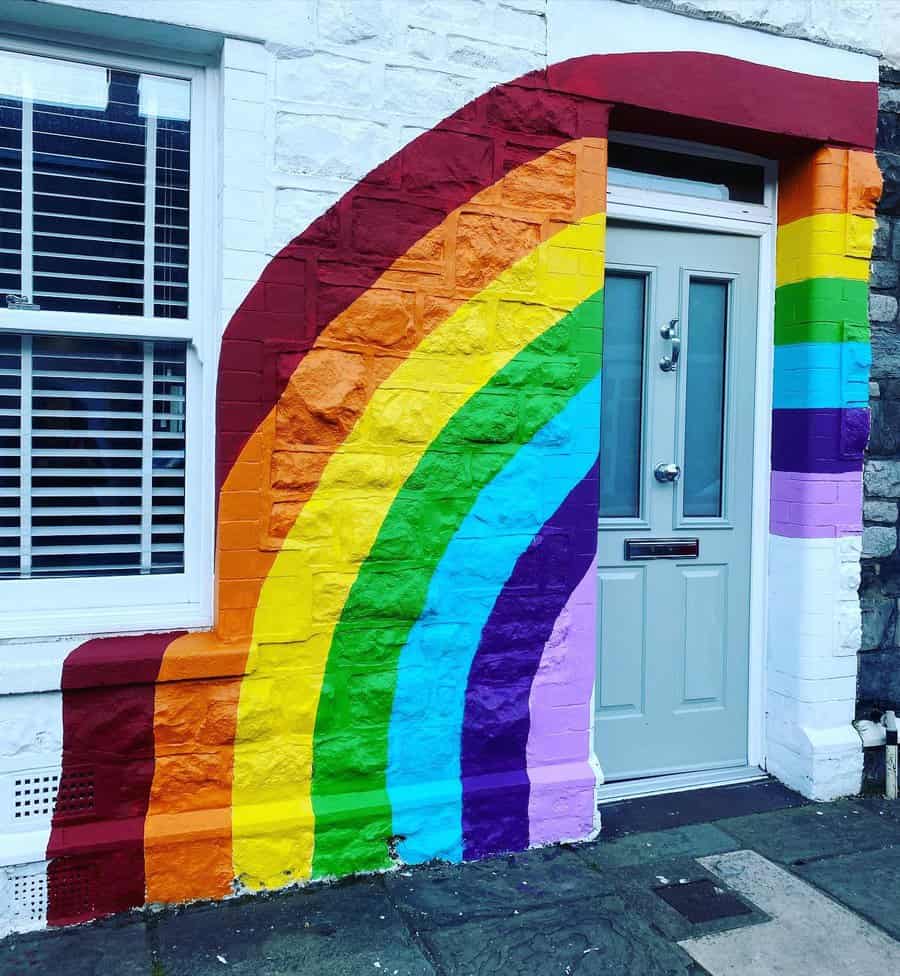 7. Stand Out with Popping Orange
A popping orange door effortlessly combines vibrancy with warmth. Perfect for those wanting to break away from neutrals, this shade exudes energy and enthusiasm. To balance the boldness, pair with neutral exteriors or deep green landscaping. As you approach such a lively entrance, you'll undoubtedly feel an uplifting surge after any tiring day. Embrace the zest; let your door be the conversation starter.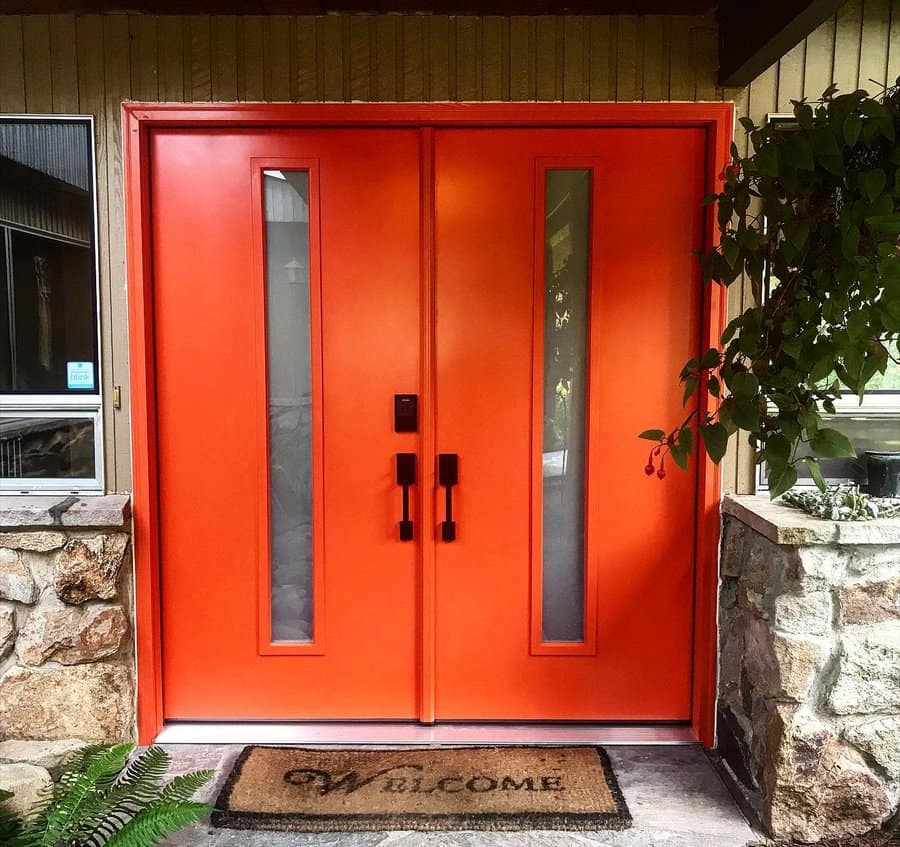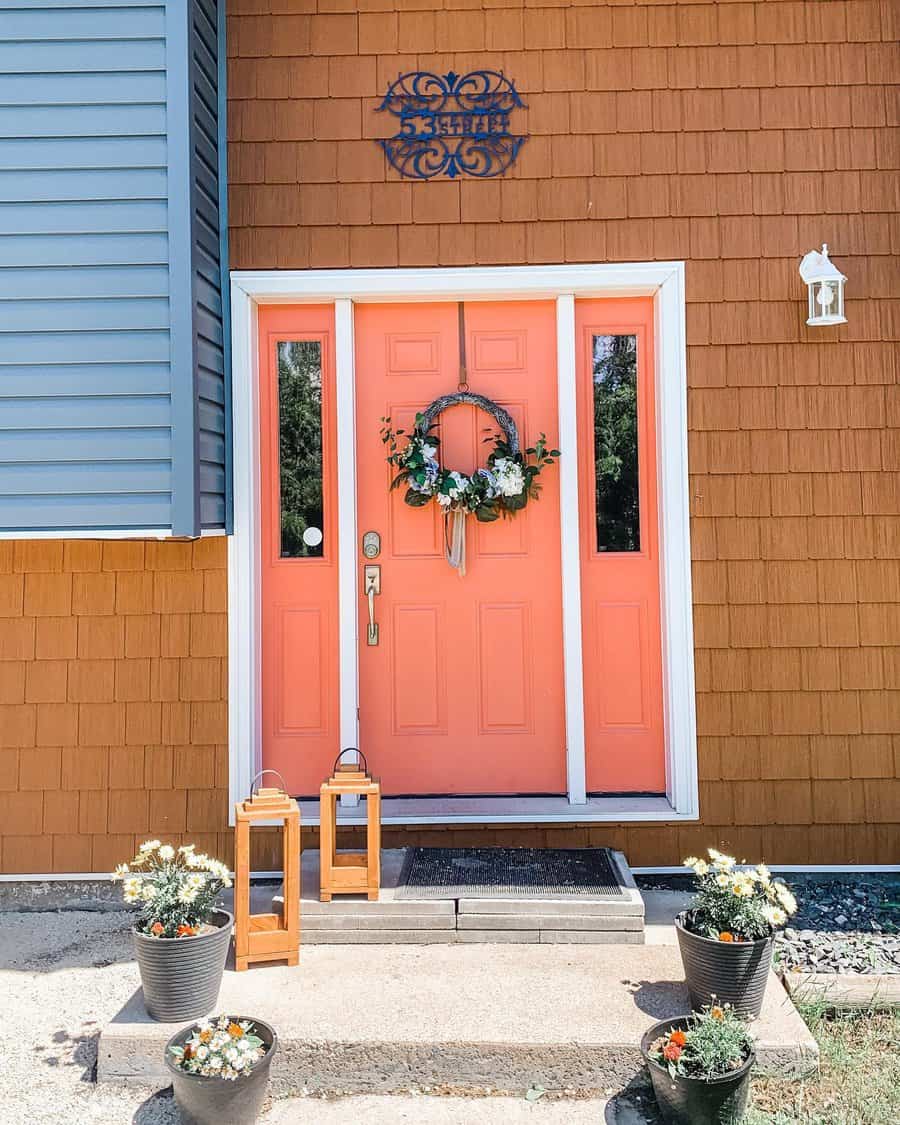 8. Welcome Softly with Pastel Pink
A pastel pink door beautifully balances charm with subtlety. This whimsical hue provides a soft welcome, evoking feelings of ease and coziness. To accentuate its gentle allure, consider pairing it with muted grays or deep green plants. By choosing pastel pink, you're effortlessly blending a statement with warmth, inviting admiration without overwhelming.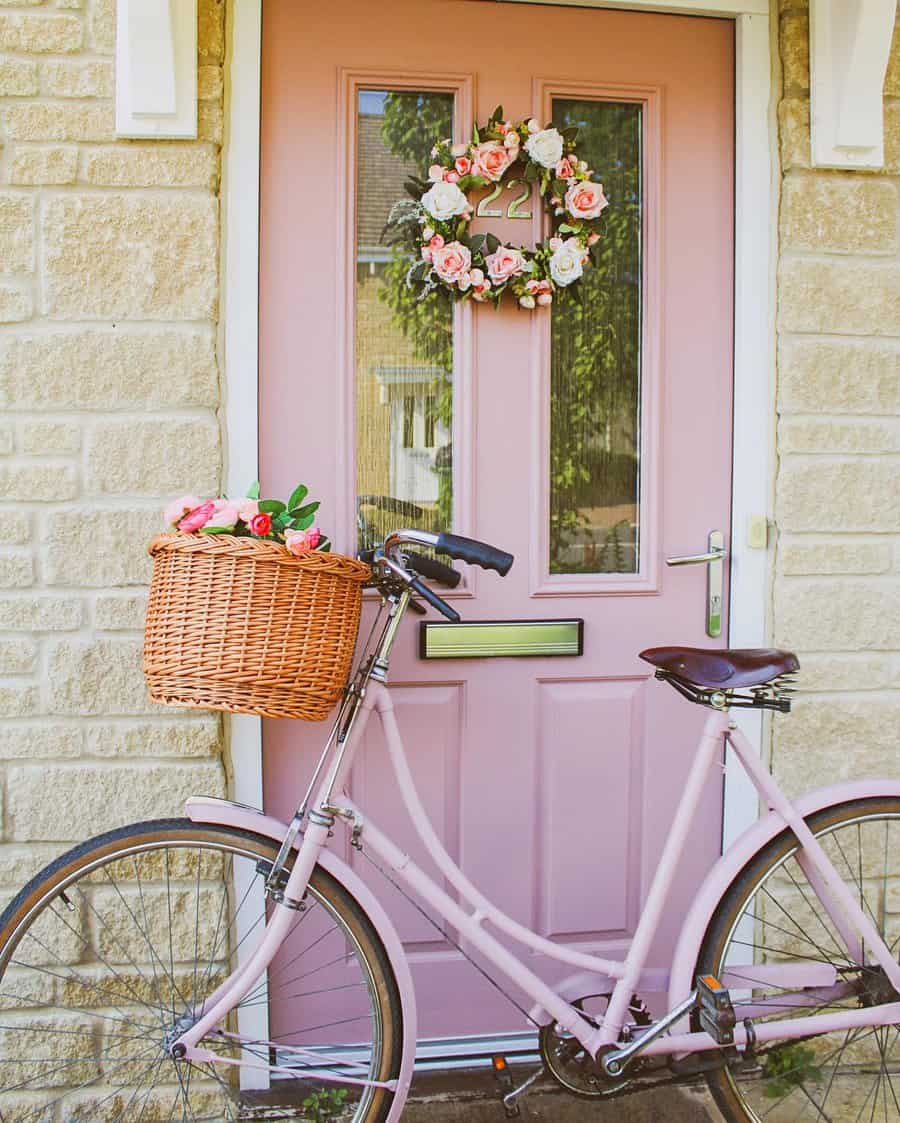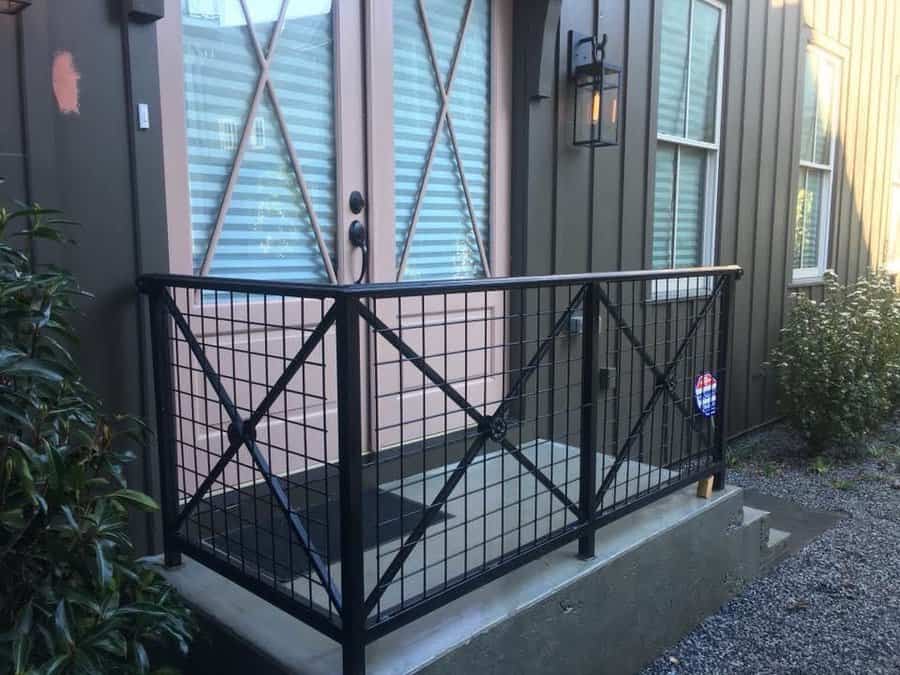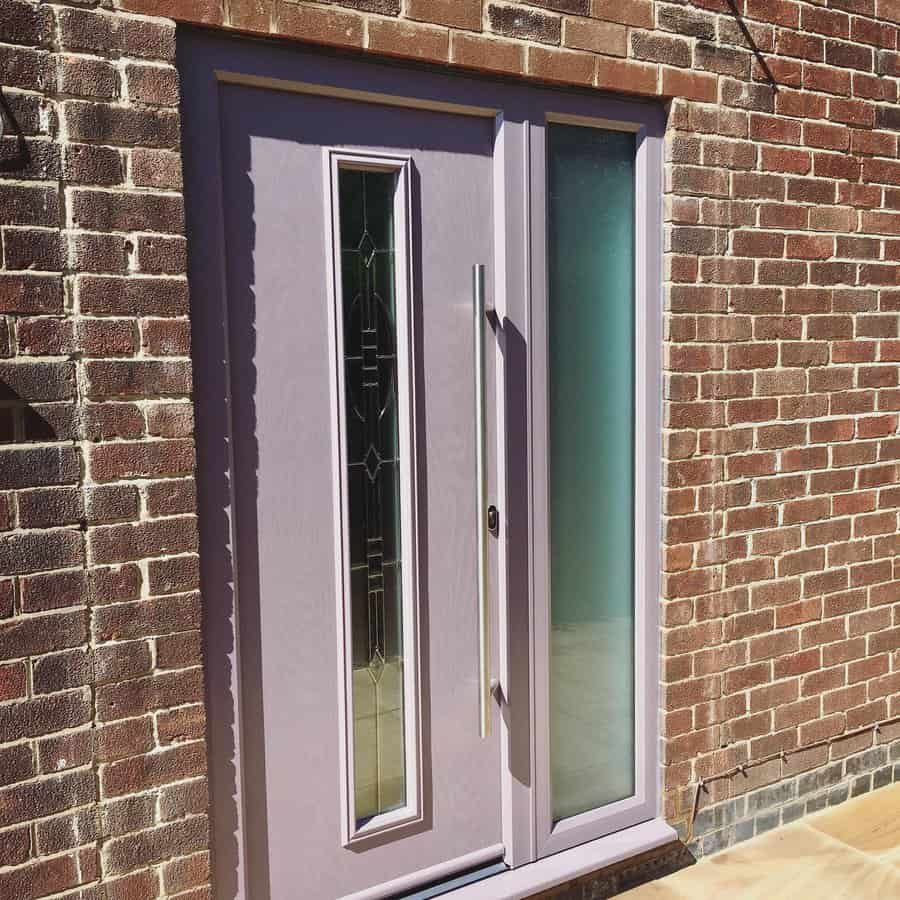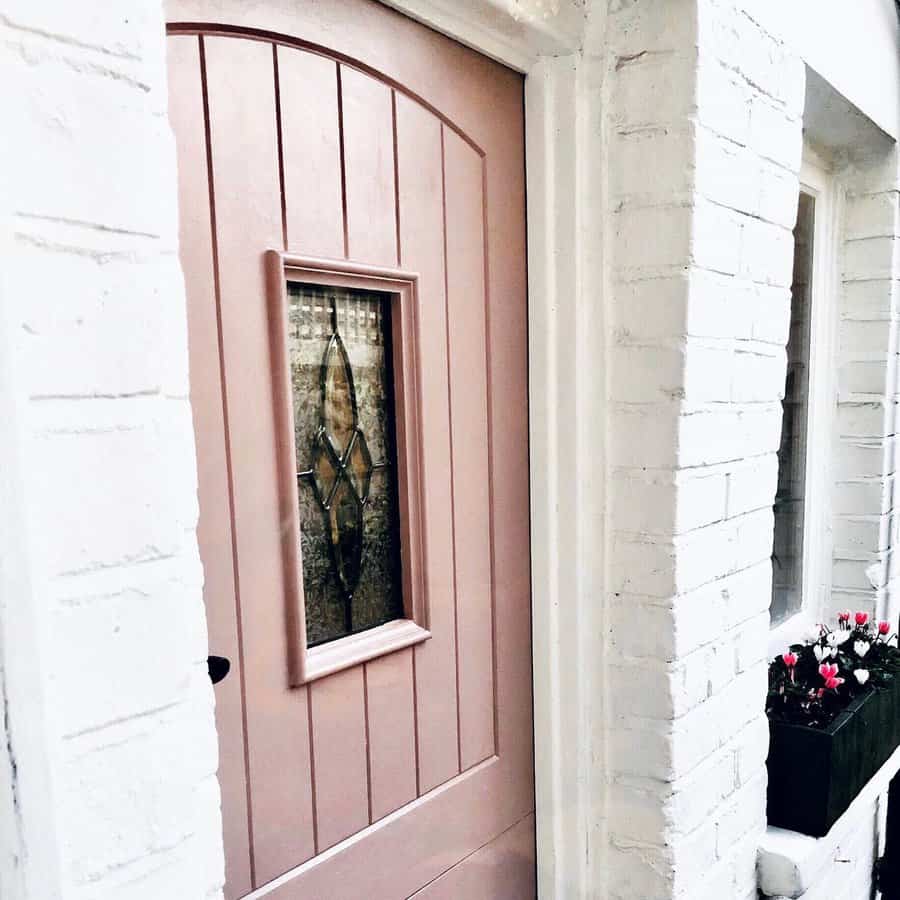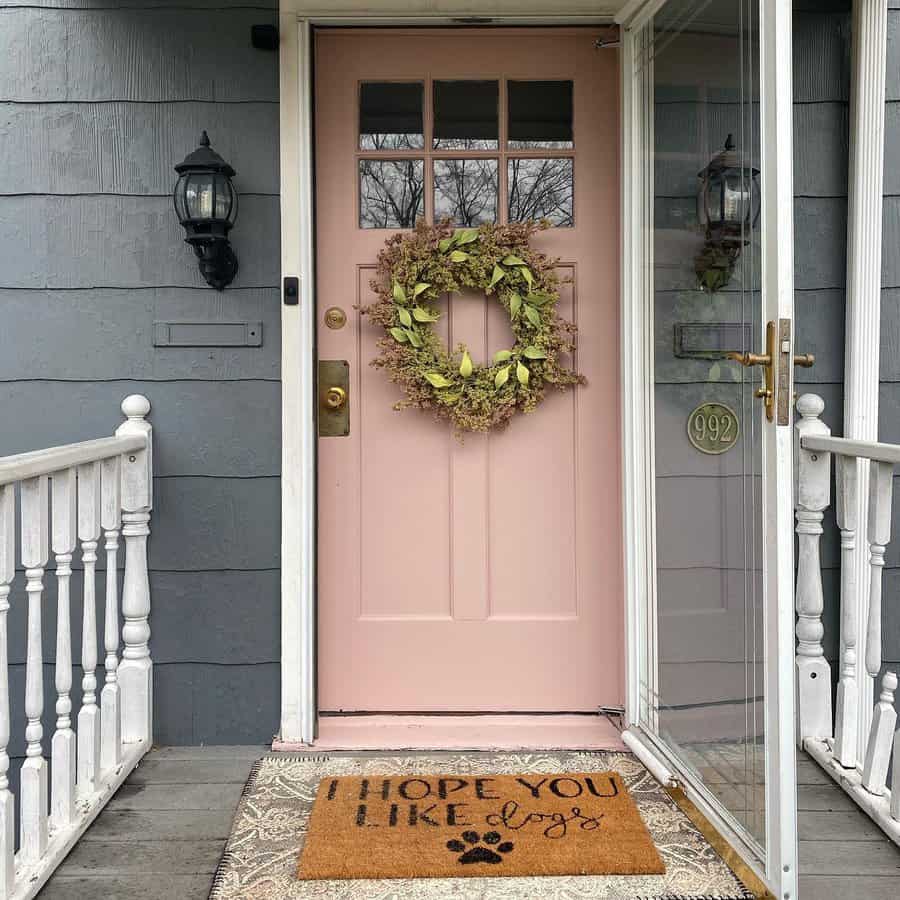 9. Define Clarity with Bright White
A bright white door serves as a timeless beacon of elegance and clarity. Beyond its classic appeal, its neutral facade offers versatility—adaptable to festive adornments or minimalist aesthetics with modern hardware. Much like a tailored suit, a white front door exudes refined style, ensuring your home's entrance always feels inviting and perpetually in vogue.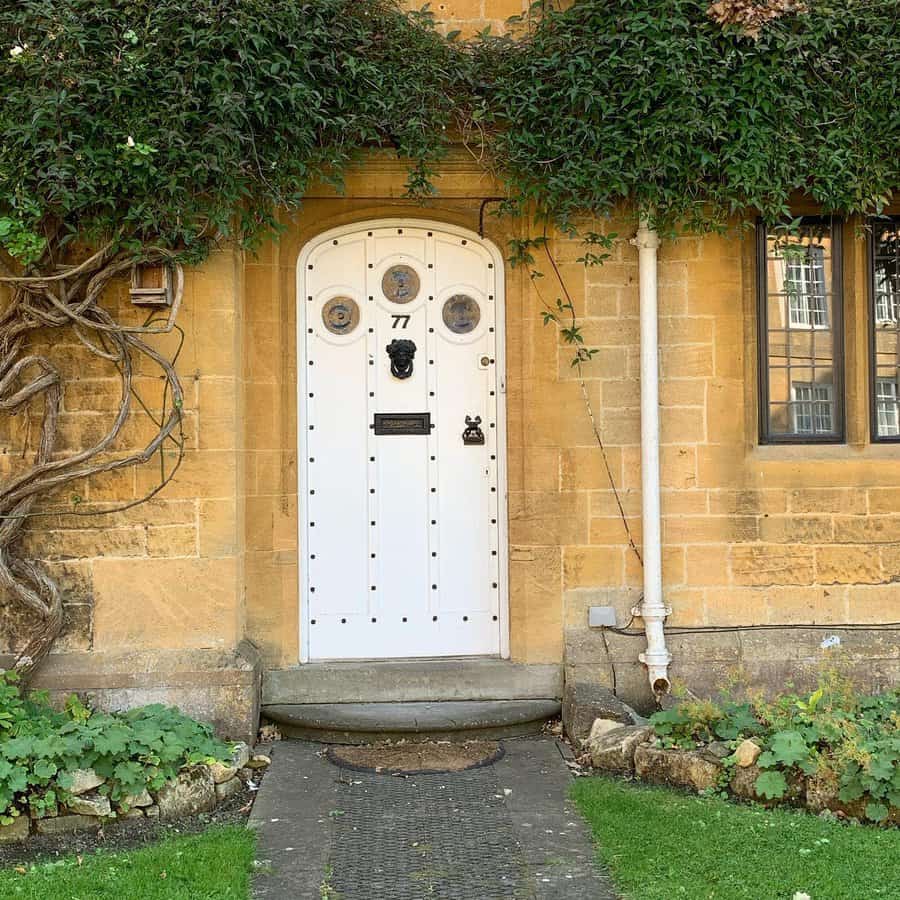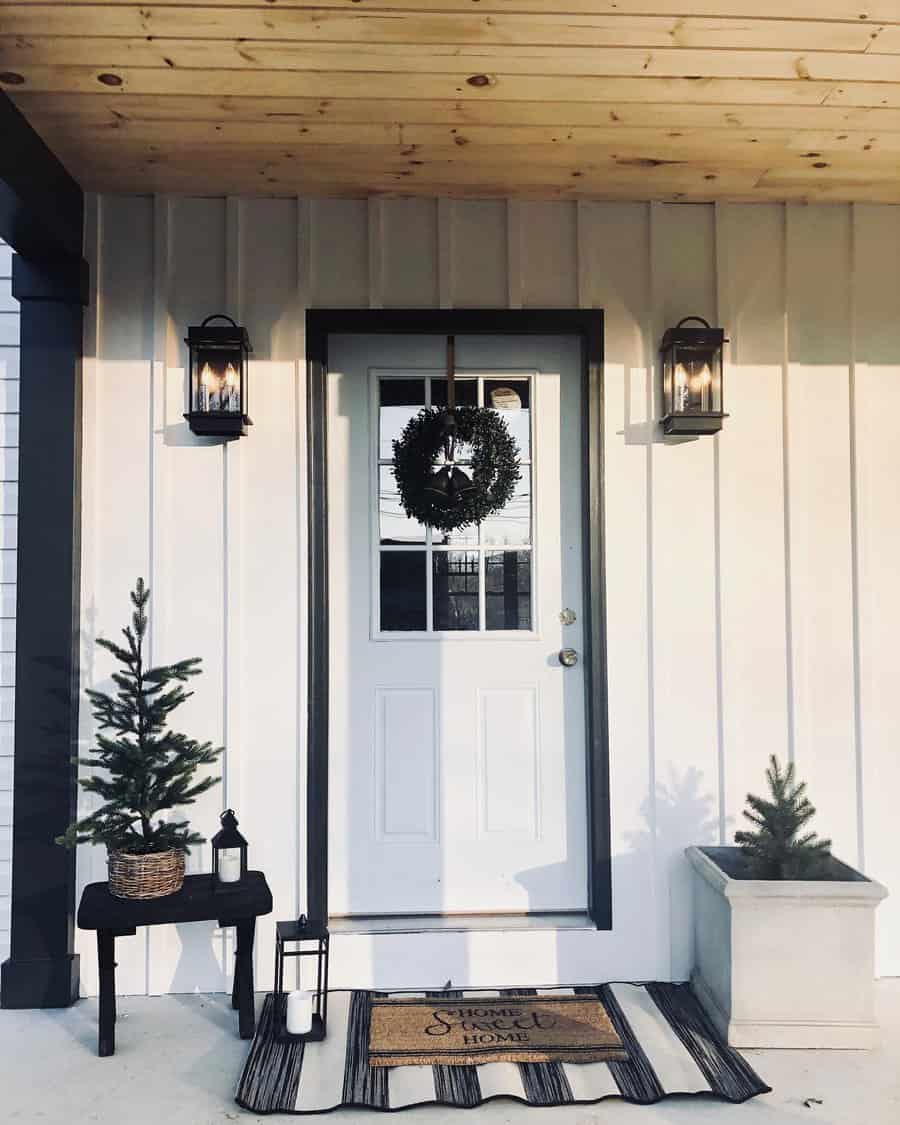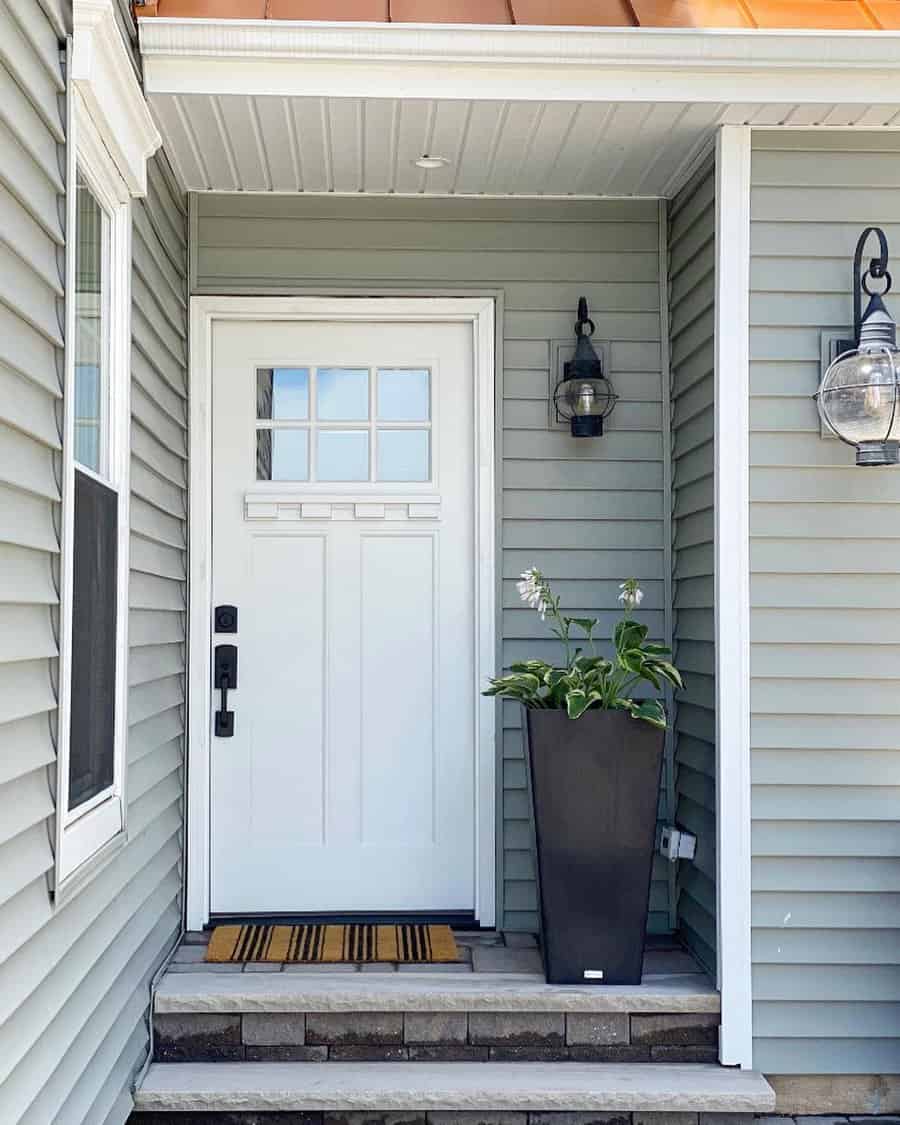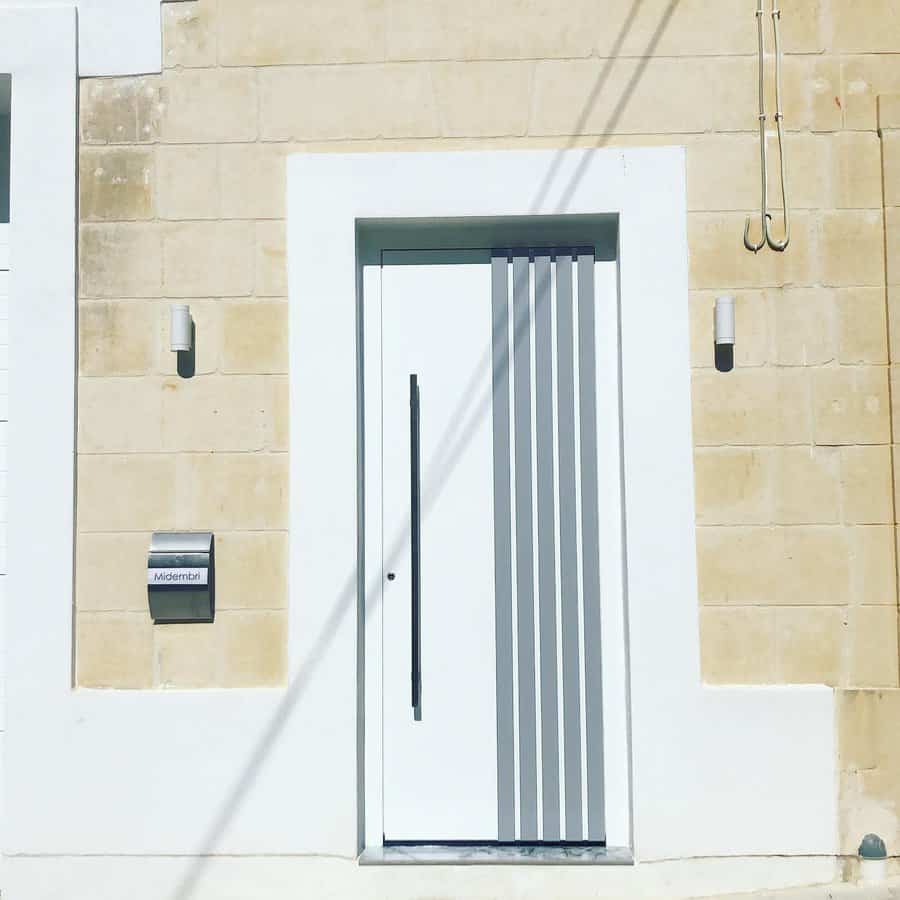 10. Embrace Sophistication in Grey Hues
Grey doors encapsulate a world of sophistication and mystery. This versatile shade, neither too bold nor too subtle, perfectly bridges modern design with classic charm. Pair with brass or silver hardware to heighten its elegance. When you choose a grey hue, you're not just selecting a color; you're opting for an entrance that invites curiosity and timeless appeal.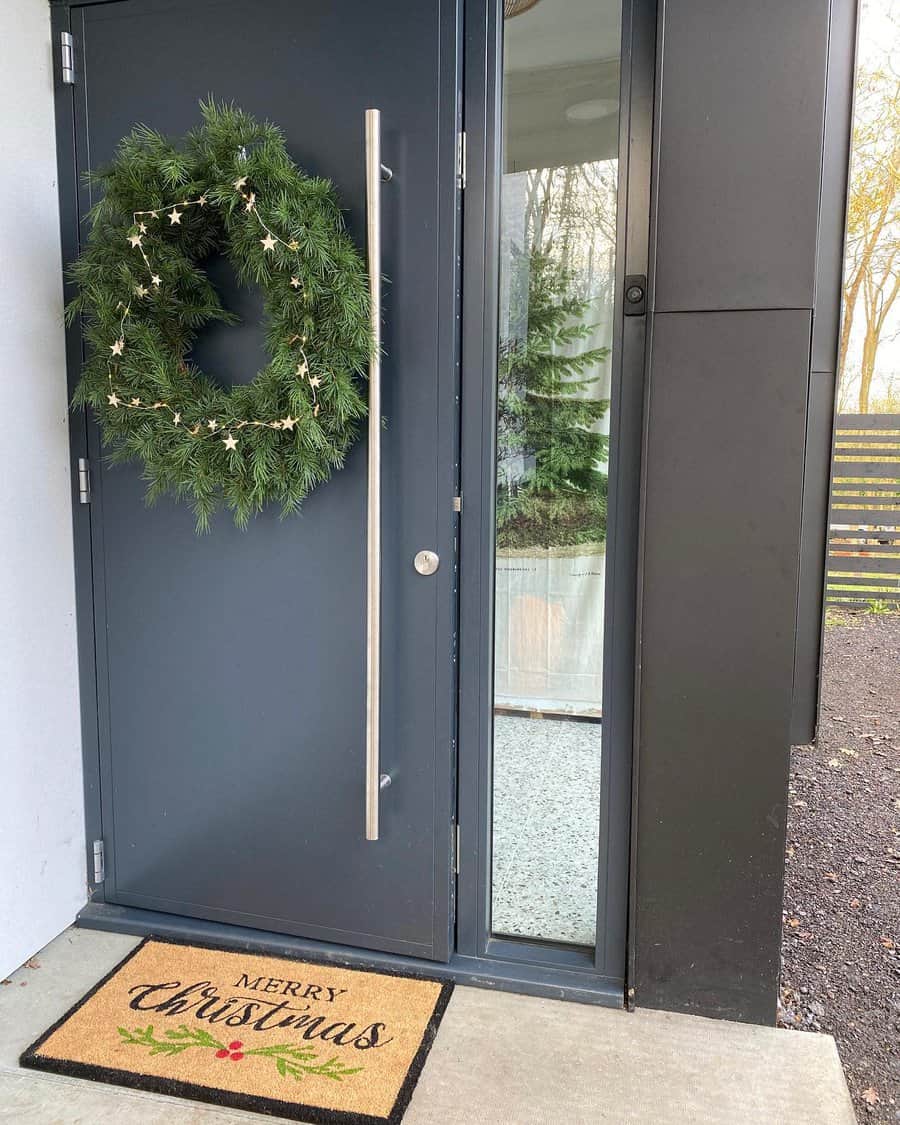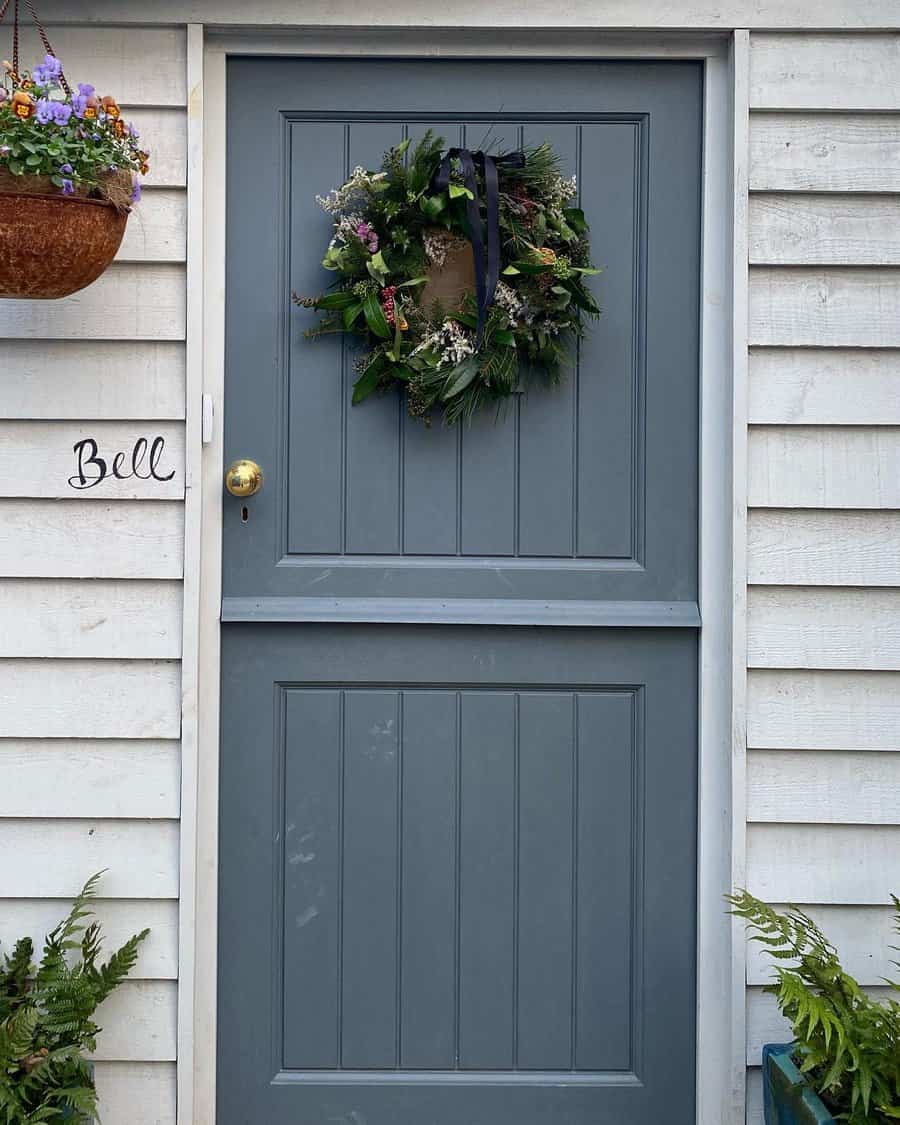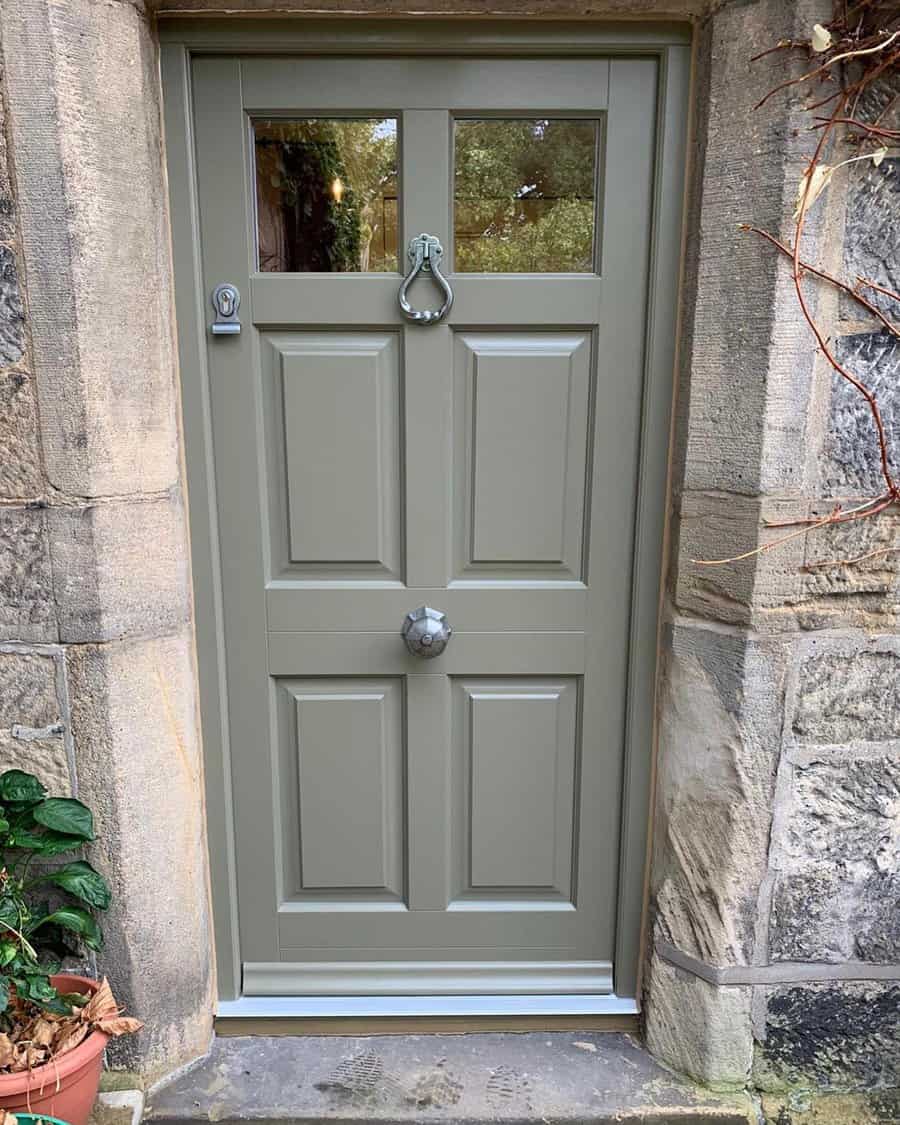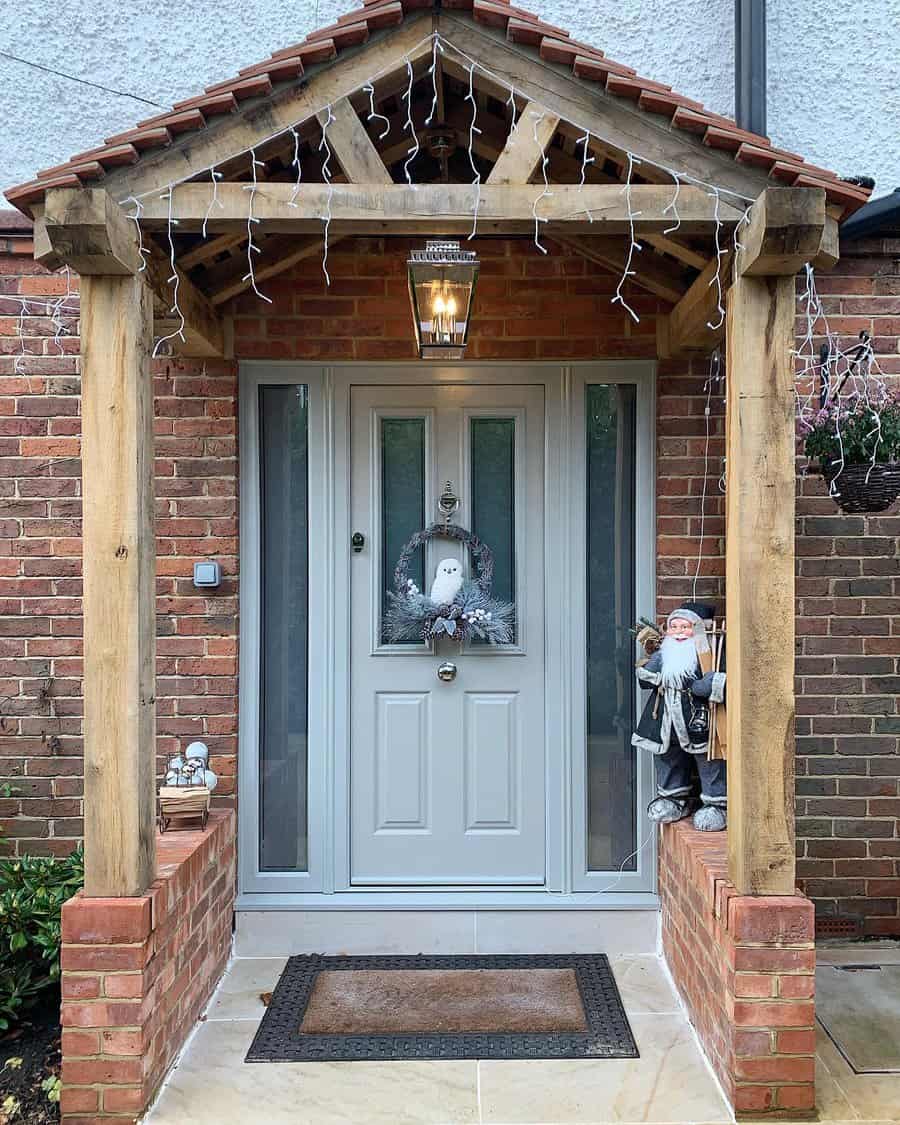 11. Add Zest with Lime Green Entrances
A lime green door radiates vibrancy, confidence, and a touch of playfulness. This hue, often symbolizing growth and renewal, can rejuvenate your home's facade. To complement its zest, pair with muted exteriors or darker trims. Choosing lime green not only punctuates your entrance with character but also signifies an embracing of fresh starts and bold statements.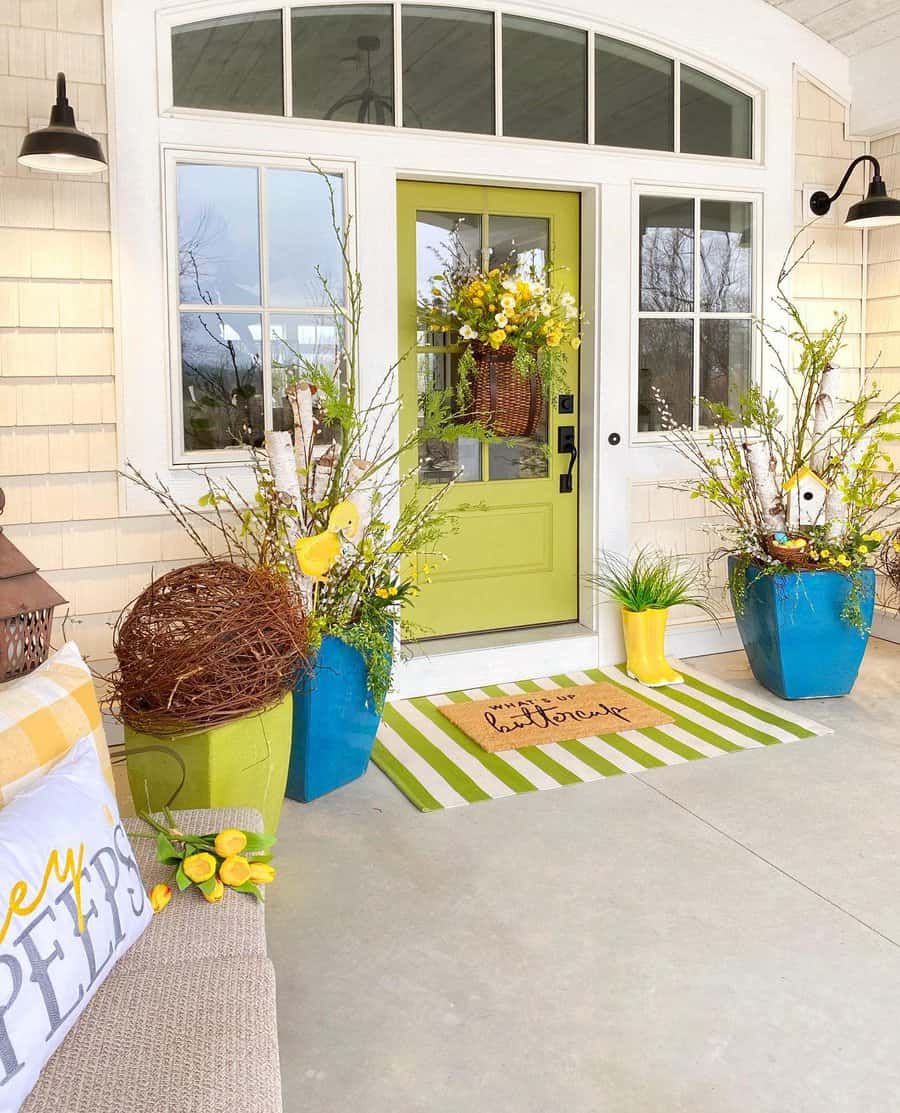 12. Inspire Fun with Playhouse Colors
Dive into a world of whimsy with playhouse colors on your front door. These vibrant hues, be it striking pink or cheerful yellow, infuse an air of joy and imagination. Enhancing curb appeal, such bold choices can also uplift property value. For a front door that's both delightful and memorable, venture beyond the ordinary and embrace colors that encapsulate your vivacity.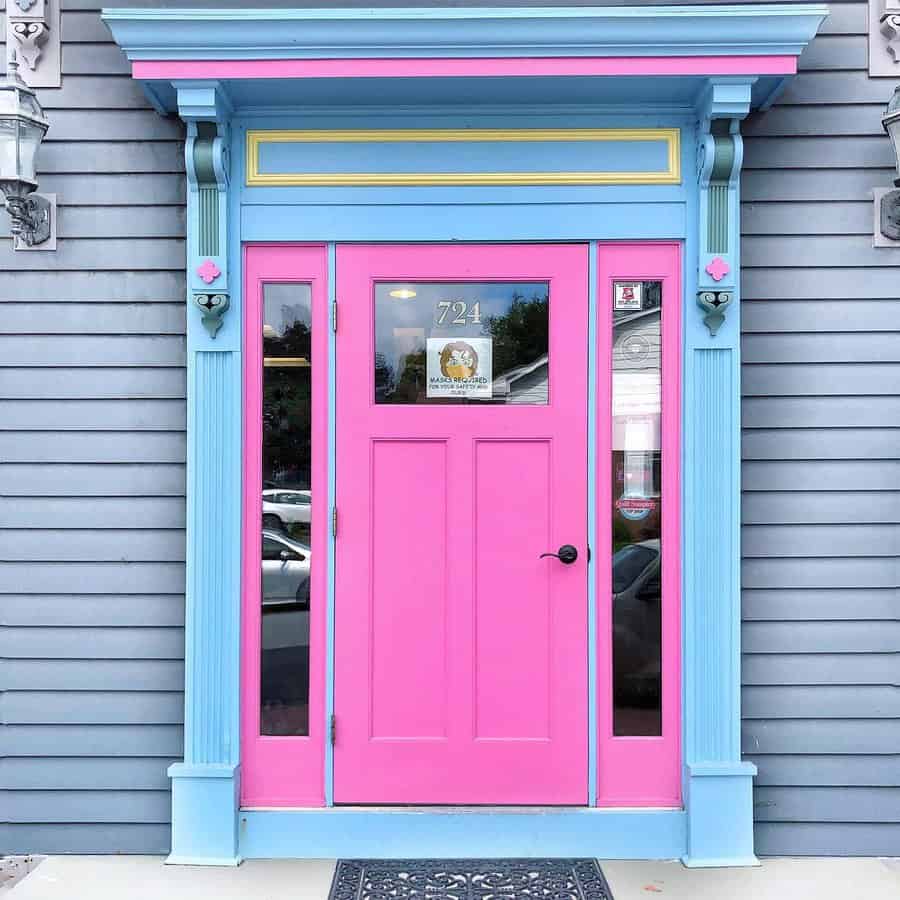 13. Warm Up with Homey Beige Tones
A beige front door serves as a versatile canvas, ripe for customization. Infuse character with hand-painted designs, geometric patterns, or subtle stencils that add depth. Complement this neutrality with distinctive hardware, such as a quirky doorknob. While beige may be understated, it offers ample opportunity to craft an entrance both warm and uniquely reflective of your style.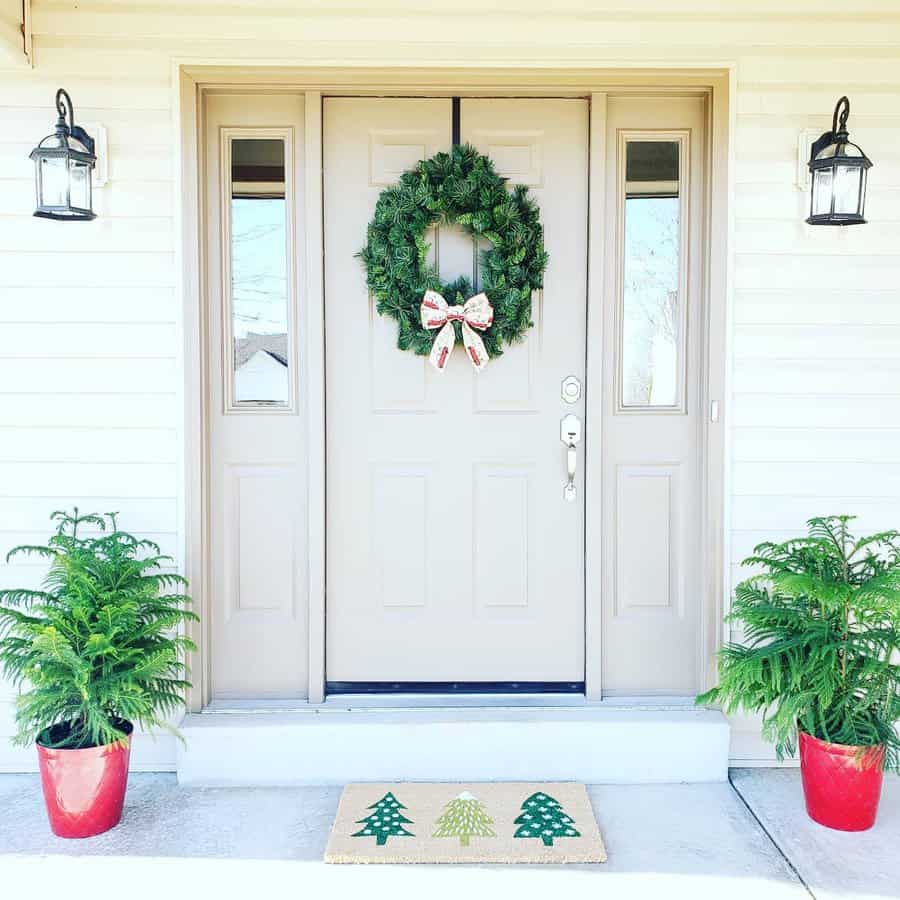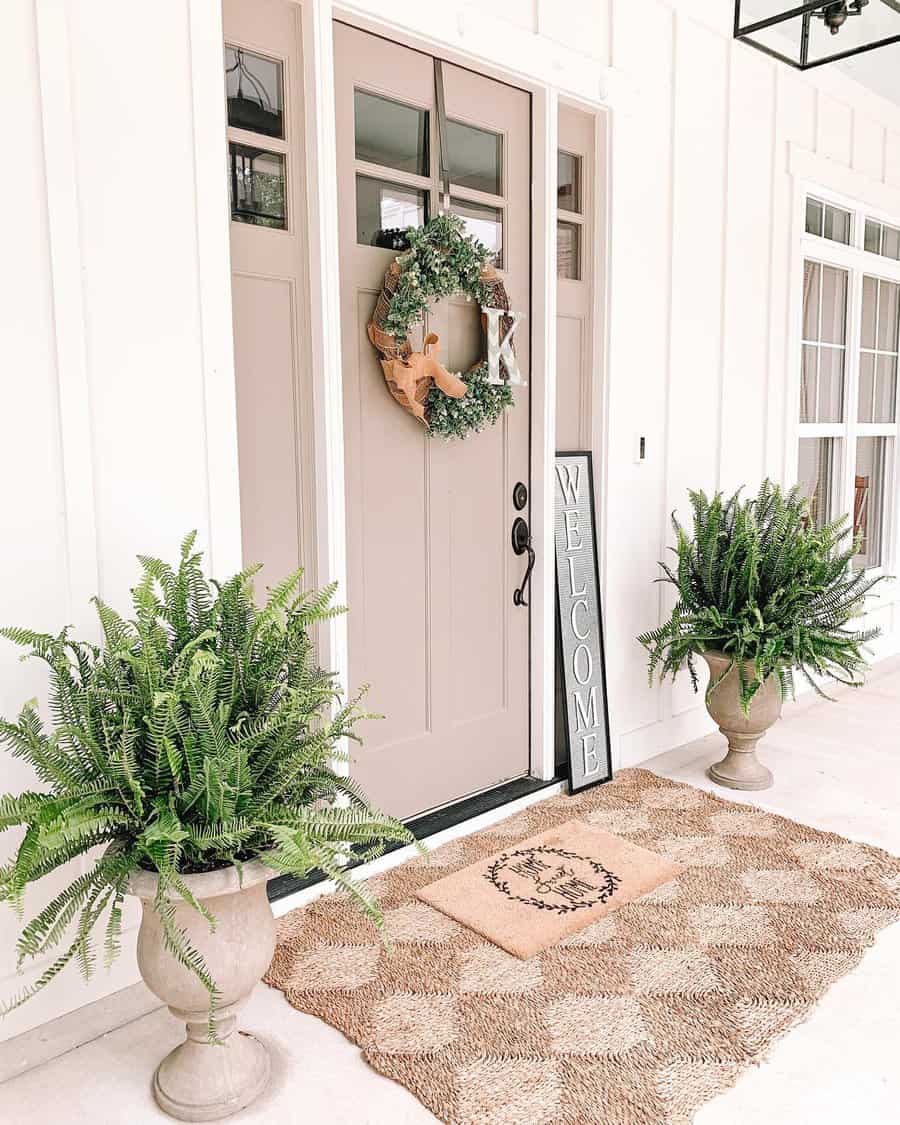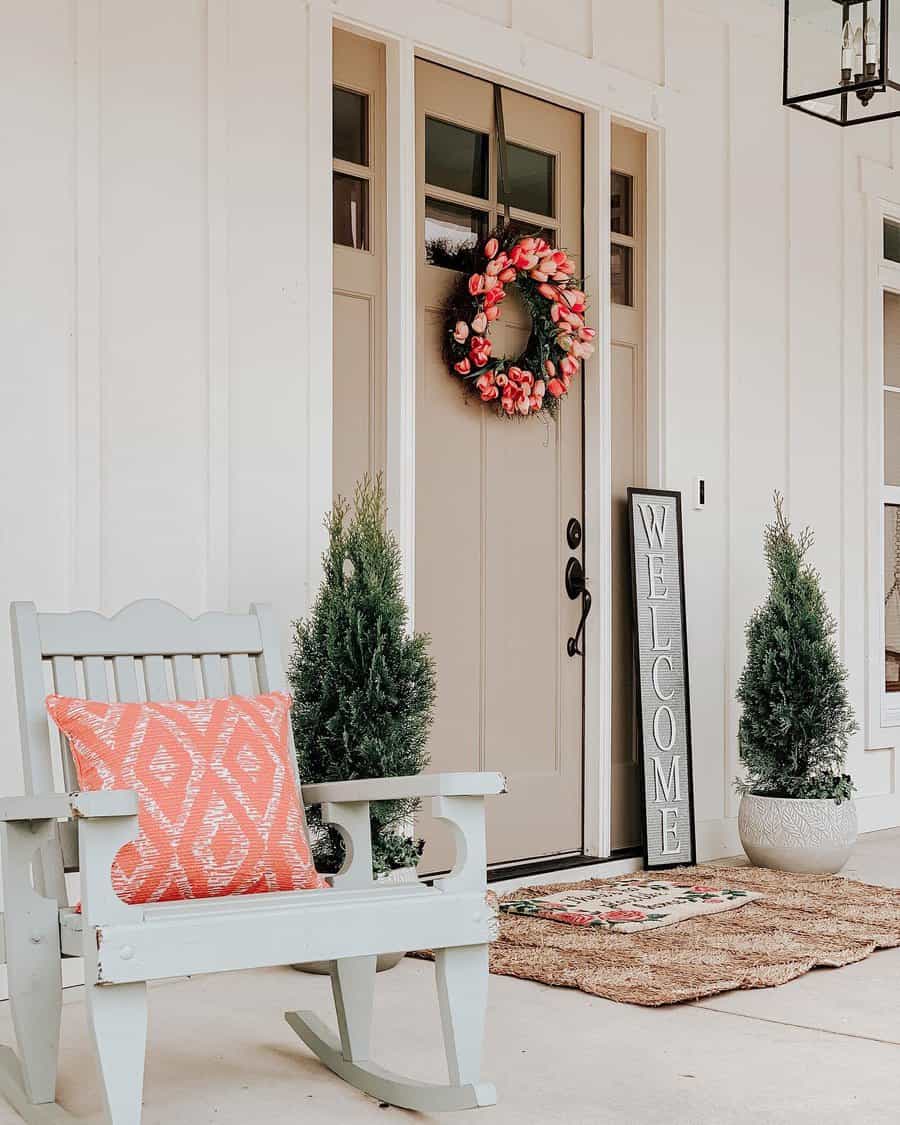 14. Channel the Shore with Coastal Blue
A coastal blue front door captures the serene essence of ocean waves and clear skies. This rich, tranquil hue not only elevates your home's aesthetics but also imparts a soothing beachside ambiance. Pair it with sandy beige or white trims to enhance the shoreline vibe. Whether you're near the coast or in the heart of the city, a coastal blue entrance effortlessly infuses your space with a hint of seaside allure.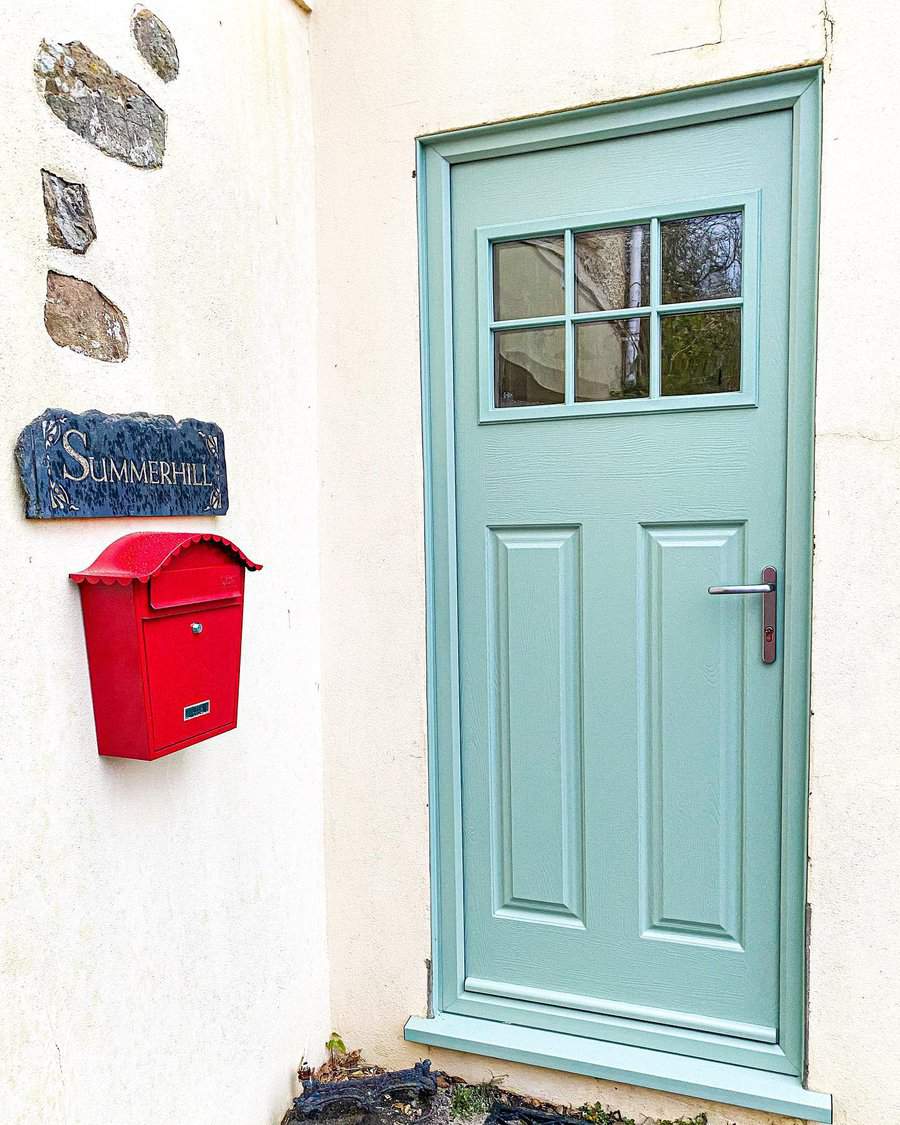 15. Go Classic with Wooden Finishes
Wooden front doors exude timeless elegance and warmth. Their natural grain and texture can be accentuated with stains or personalized with paint, allowing for versatility in design. Pairing them with complementary hardware can further boost their aesthetic appeal. Embracing a wooden finish showcases a nod to tradition while offering ample room for personal style, ensuring your home radiates both charm and individuality.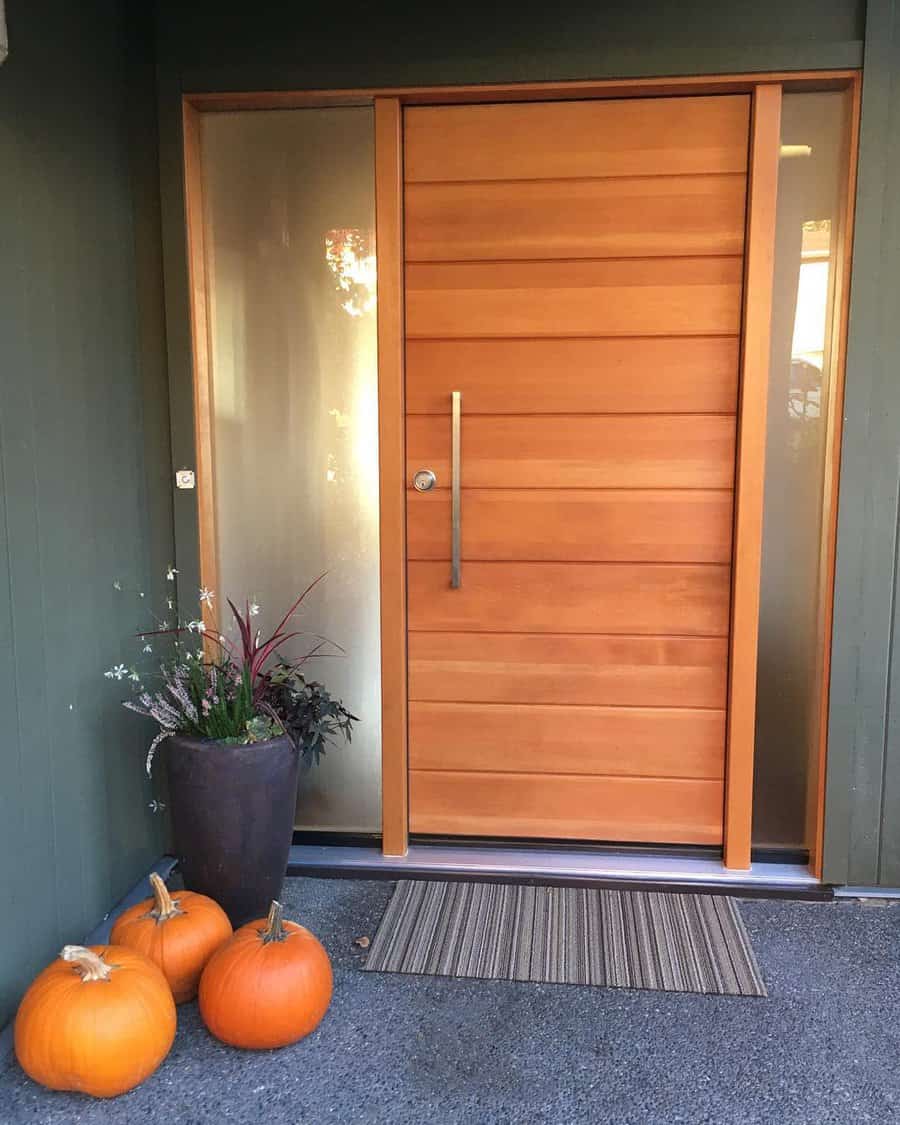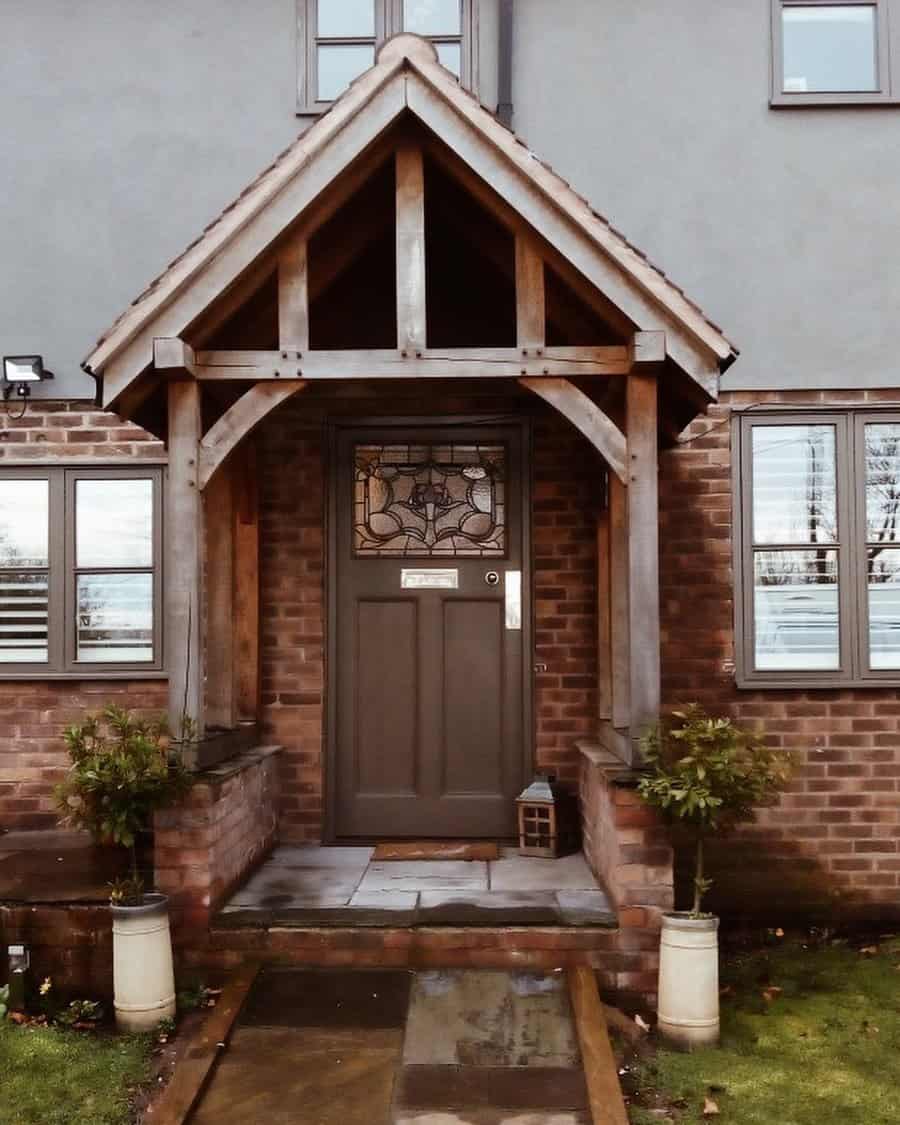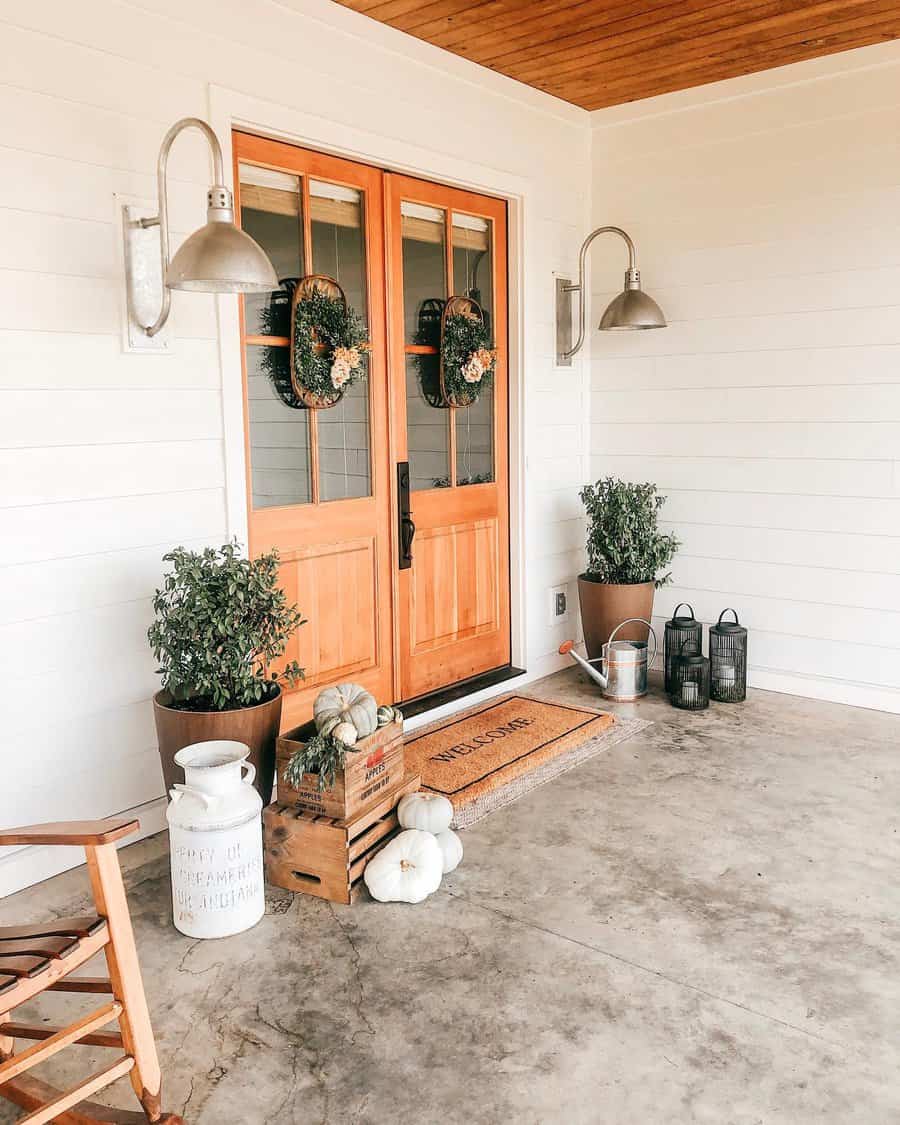 Front Door Color FAQs
Do you need your neighbors' permission to paint your front door?
In most cases, no. However, some people consider it polite to ask your neighbors' opinion before painting any part of your home's exterior a bright or "outlandish" color.
If you live somewhere with curb appeal guidelines, such as in an area with a homeowners' association (HOA), then there might be rules about which colors you can paint your front door. These guidelines will vary greatly, so check with your HOA before changing your front door color.
What type of paint is best for a front door?
For long-lasting results, be sure to use an exterior paint formula for your front door. This formula will stand up to the elements, including extended sun exposure and rain.
You may be able to use interior paint if your front door is protected by a separate storm door. However, exterior paint will almost always give the most durable finish.
Can you paint a door without removing it?
Yes. Keep in mind that while removing your front door will make the process much easier it will also leave your home exposed to the outdoors until the job is done.