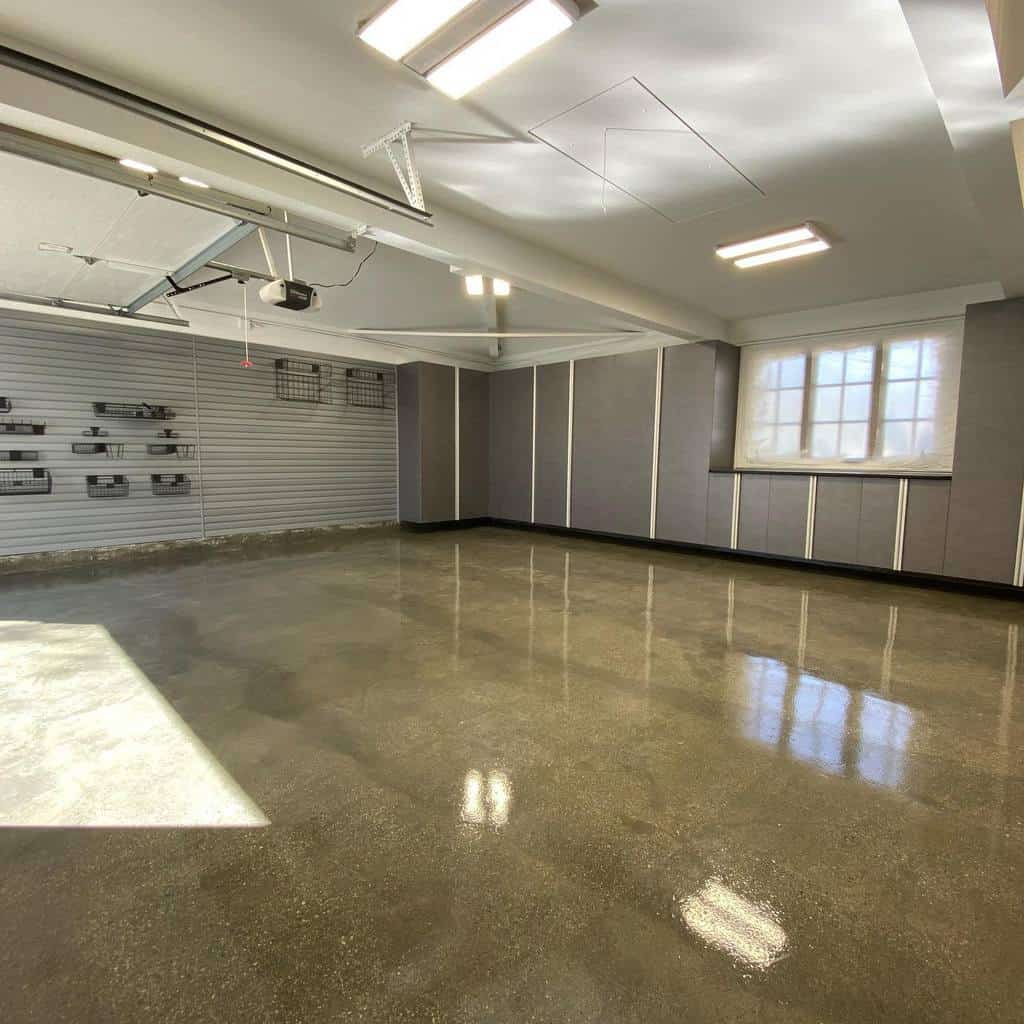 10 Garage Paint Ideas to Consider
by — Kari Apted

Published on February 16, 2022

Updated on September 24, 2023
"The garage is the space for the hacker, the tinkerer, the maker. The garage is not defined by a single field or industry; instead, it is defined by the eclectic interests of its inhabitants. It is a space where intellectual networks converge." -Steven Johnson
It doesn't matter what you enjoy most about your garage—it only matters that this essential room suits your specific needs and interests. While some people don't give a lot of thought to garage interior design, your style ideas and color choices can really impact how good you feel in this most productive of all spaces.
Garage paint ideas are nearly limitless. Whether you're sprucing up your garage floor, garage cabinets, or the walls, choosing the right color is essential. Scroll through our favorite garage paint ideas and get inspiration for creating your own dream garage.
1. Multi Color Garage Wall
Combining the fiery energy of red with the tranquil depth of blue creates a dynamic balance in a garage setting. Such a design radiates a sense of power and calm simultaneously. When opting for this multi-color approach, it's key to ensure one color doesn't overpower the other. Using one color as a primary base and the other as an accent or feature wall can strike that balance.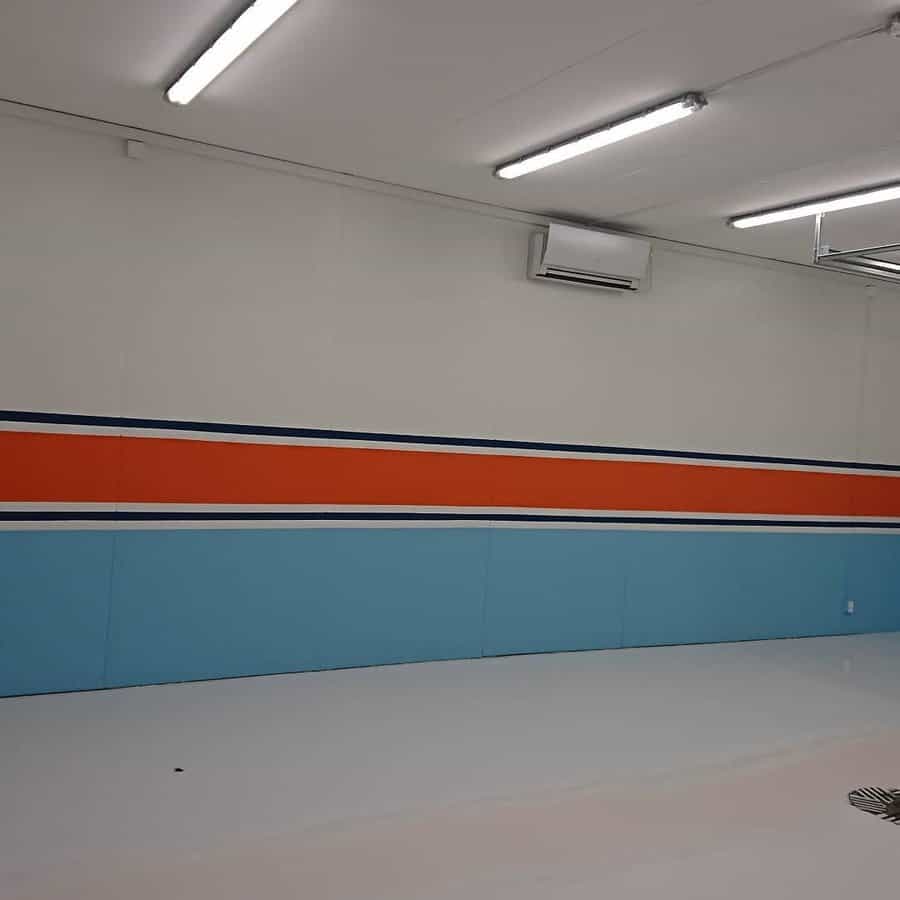 2. Refresh with Blue Floor, White Wall
Introducing a blue floor against the backdrop of white-colored bricks brings about an airy, coastal vibe reminiscent of white sandy beaches and deep blue oceans. The blue floor becomes an unexpected focal point, offering a fresh and modern twist to the more traditional garage space. It's reminiscent of the sky reflecting on water, providing a calming yet invigorating environment.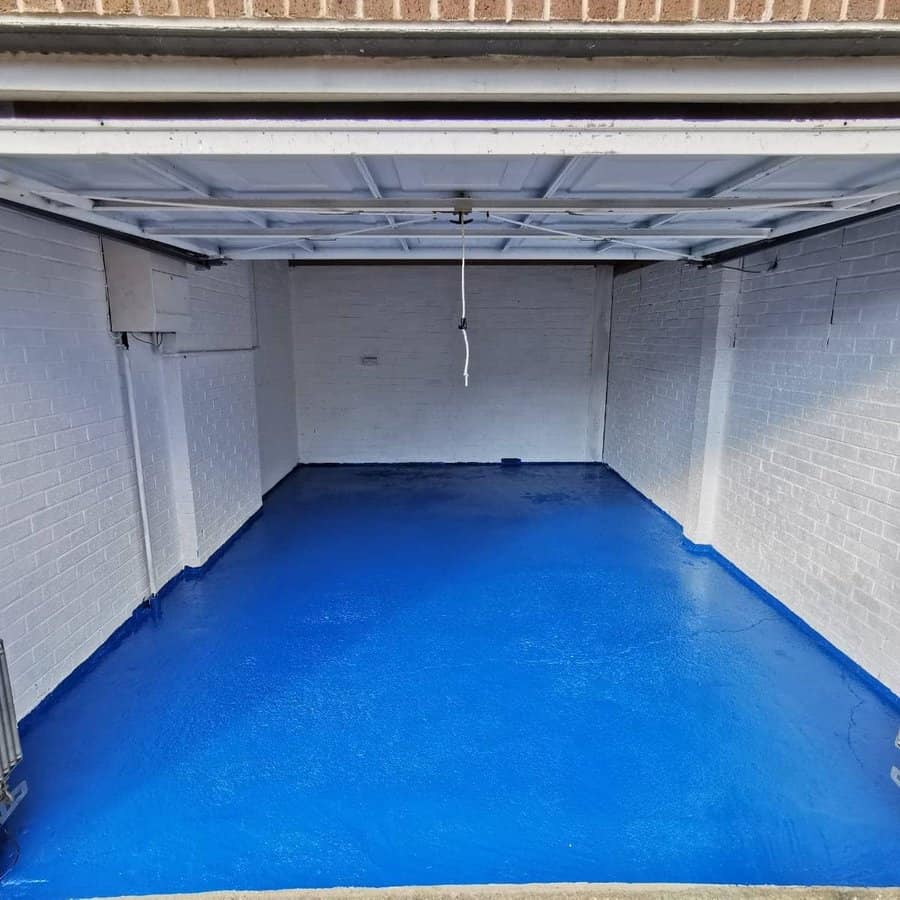 3. Grace Grey-White Walls with Light Blue Floor
Pairing grey-white walls with a light blue floor creates an ambiance of understated elegance and serenity. The muted grey tones infused with the subtle brightness of white provide a sophisticated canvas, while the light blue floor introduces a gentle touch of color that feels both refreshing and calming. This color combination is reminiscent of a cloudy sky meeting the horizon of a calm sea, embodying tranquility and space.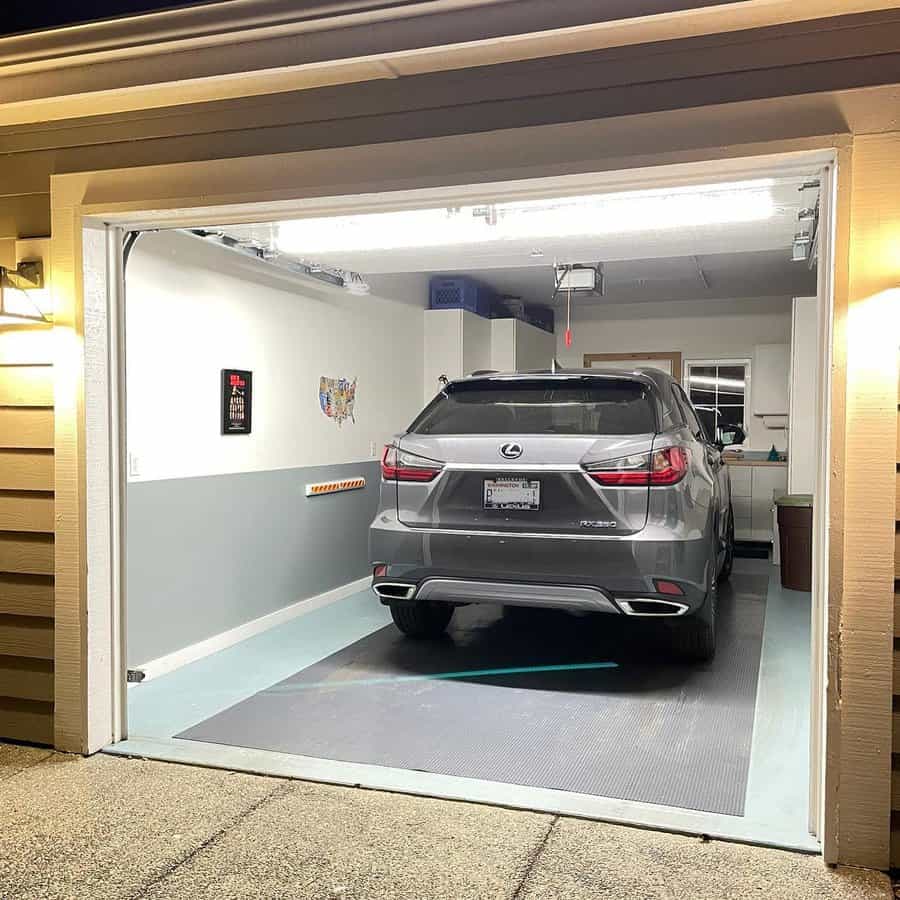 4. Ignite Warmth with Red Epoxy Floor and Beige Walls
A red epoxy floor combined with beige walls is a bold statement of passion and warmth for any garage. The deep, glossy finish of red epoxy not only adds durability but brings a rich vibrancy that transforms the space into a lively hub. This fiery base, often associated with energy and motivation, can spark creativity, making it an ideal choice for those who use their garage as a workspace or hobby area.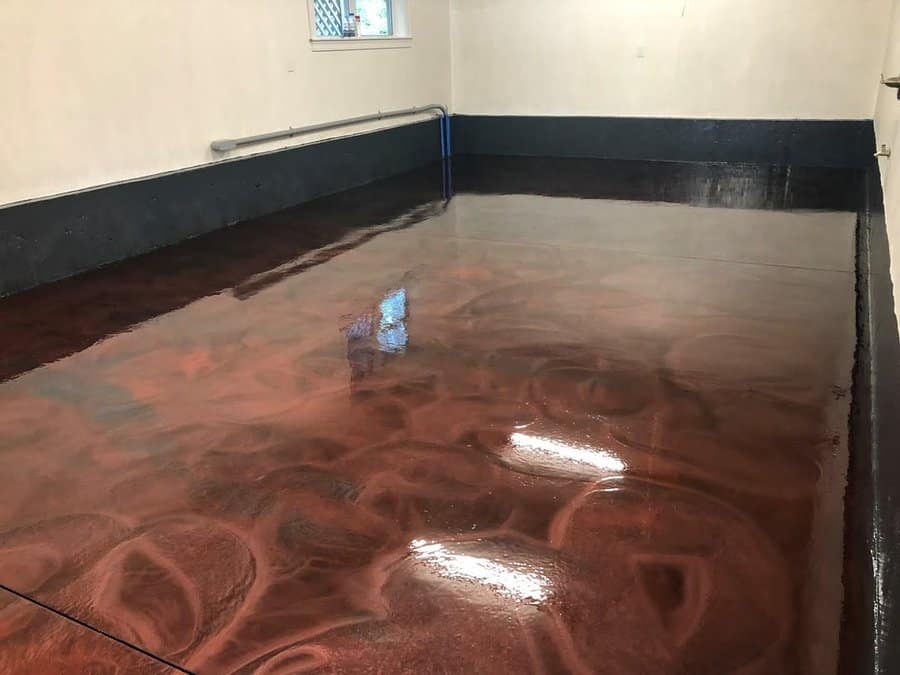 5. Beige Walls with Brown Vinyl Floor
Opting for beige walls paired with a brown vinyl floor envelops a garage in a palette of earthy warmth and timeless sophistication. The beige, with its neutral and calming attributes, offers a sense of spaciousness and flexibility, making the room feel open and inviting. Its soft undertone serves as a versatile background, seamlessly matching various garage tools, shelves, and decor.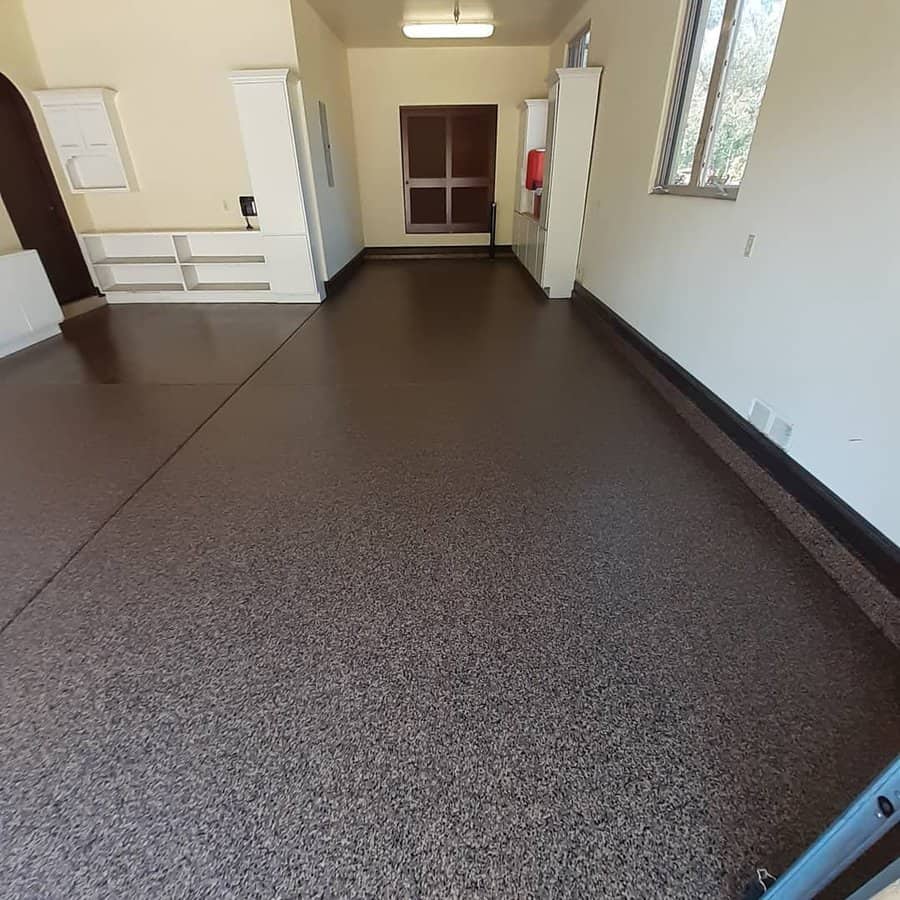 6. Unwind Amidst Cool Grey Serenity
Everyone's new favorite neutral, grey is a natural hue for garage paint and flooring. It fades into the background, allowing your vehicle collection or hobby areas to be the focal point of the garage.
A dark color like charcoal grey is a dramatic color choice next to a bright pop of red or orange. A lighter shade of grey provides a more neutral color palette, perfect if you enjoy more monochromatic interiors. However, light colors show dirt and grime more than mid-tone color ideas.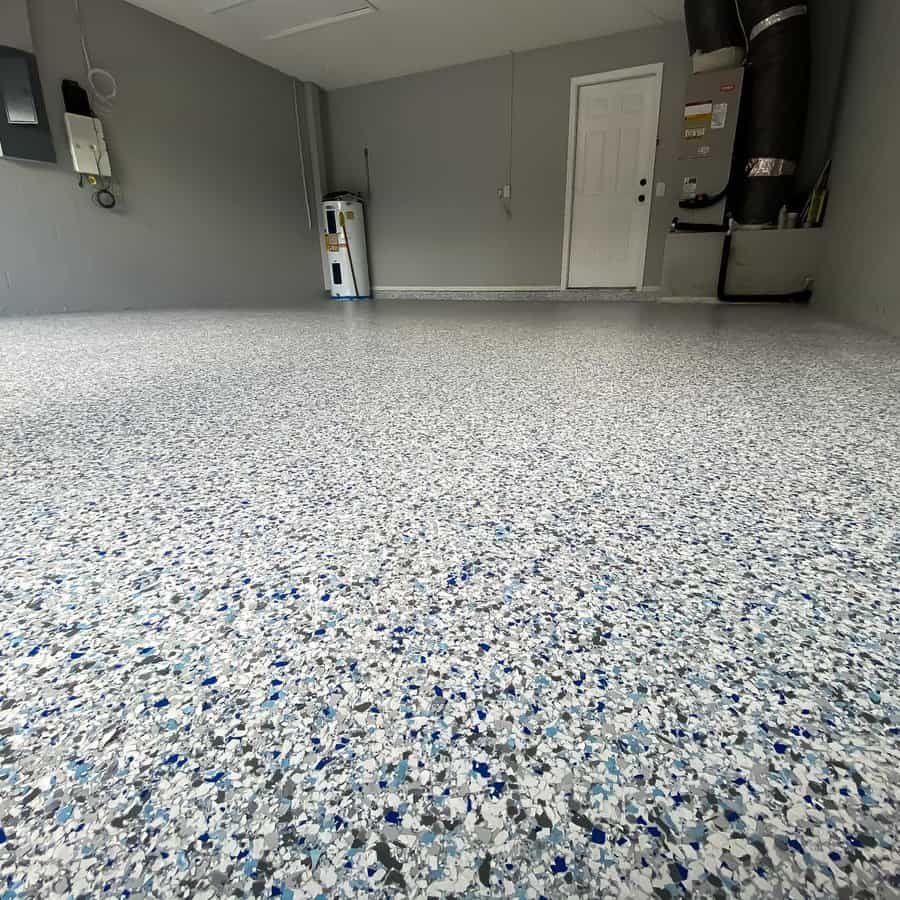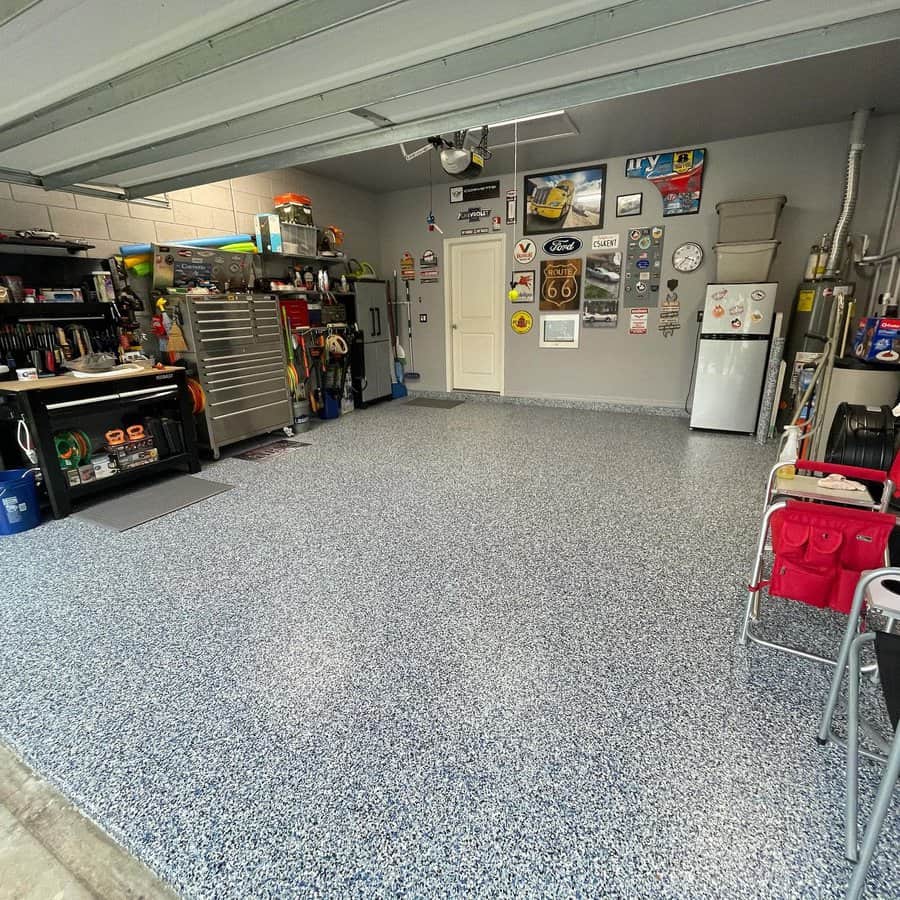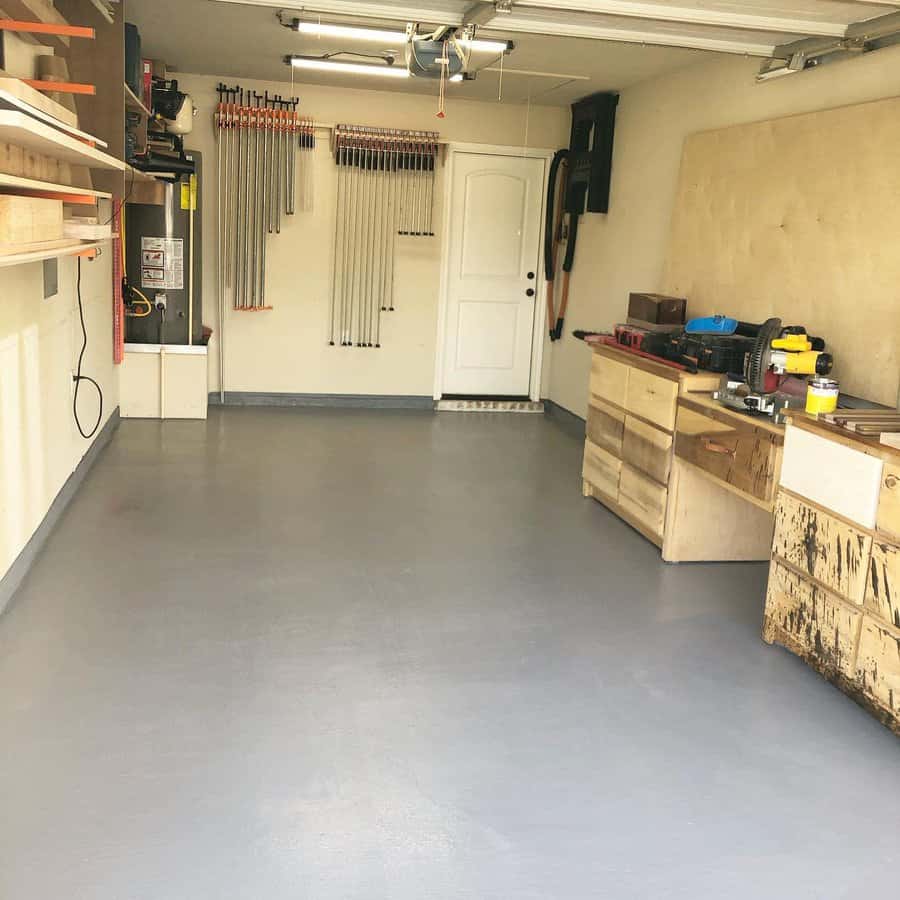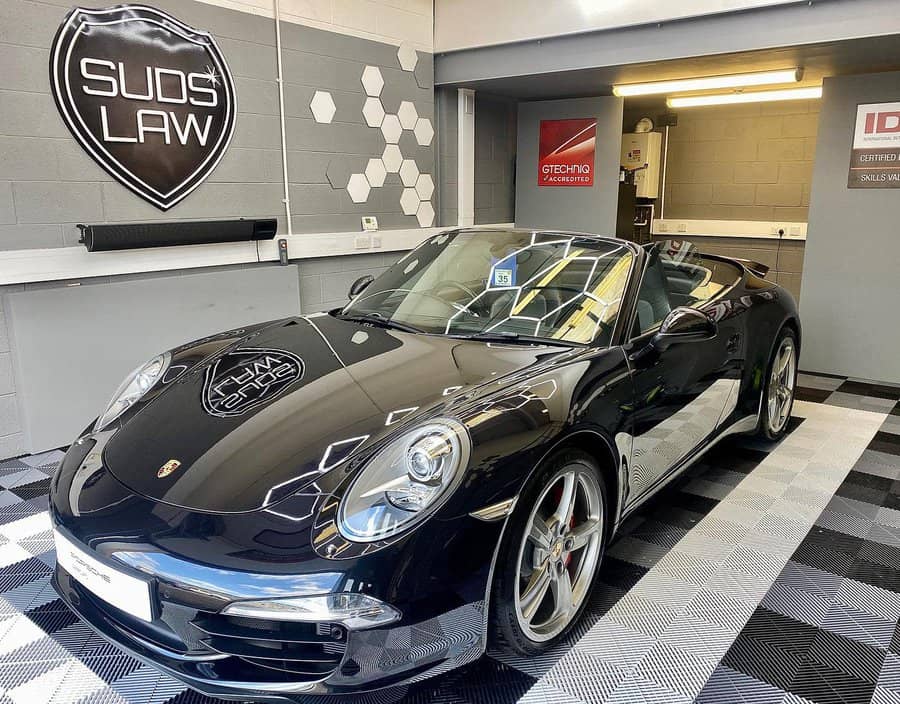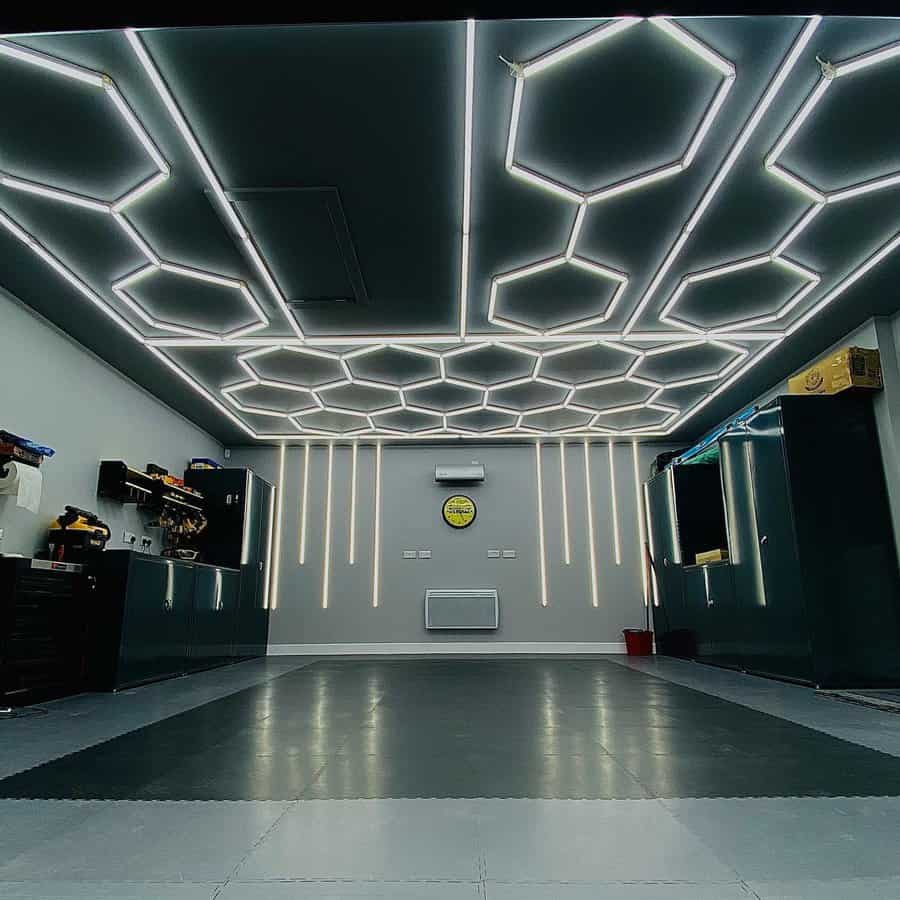 See more garage flooring ideas here.
7. Embrace Vibrant Red Vibes
Because red is such a powerful color option, it's ideal as a strong main color or accent color in the garage. The ubiquitous red mechanic tool boxes provide a dash of red in your garage decor as well.
Add more red on your cabinet doors, or paint a wide candy apple red accent stripe around the room. A glossy red painted floor is another dramatic way to inject this favorite color.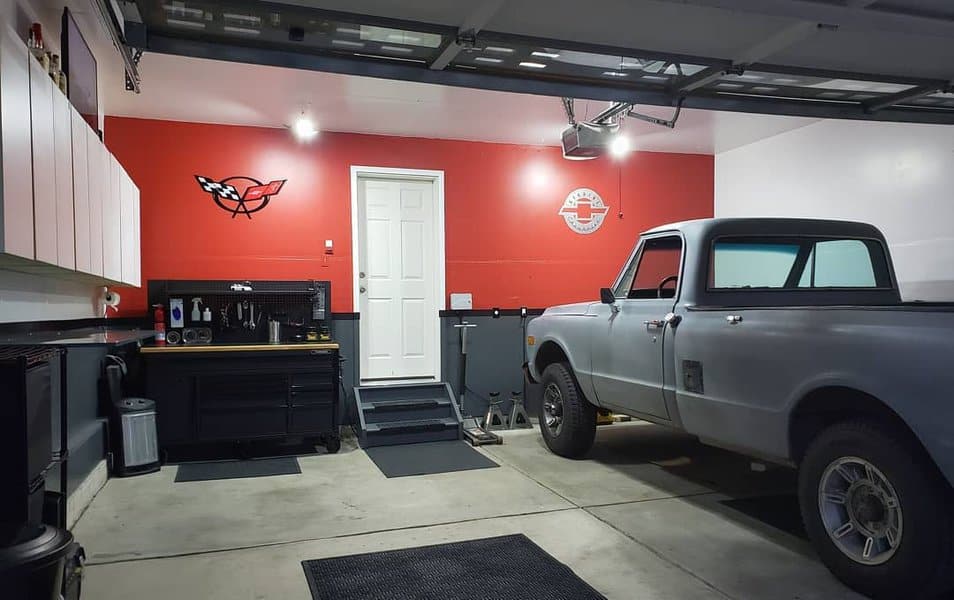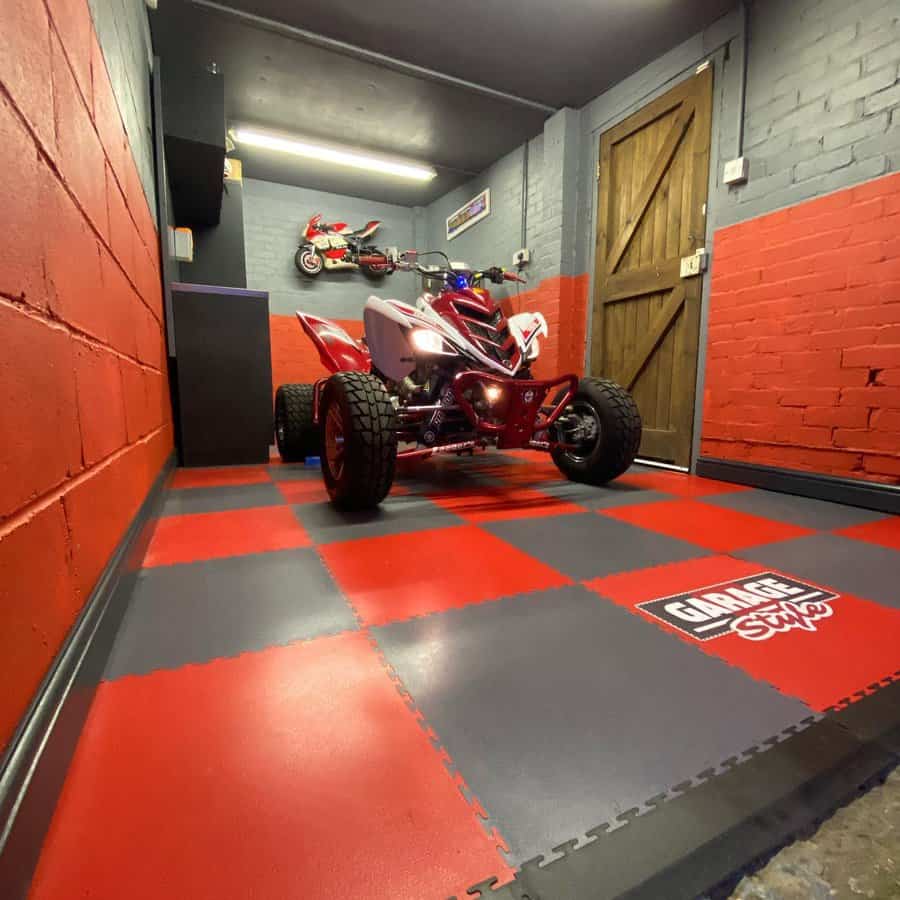 8. Elevate Style with White & Brown Accents
Spruce up your garage to get the most out of it – a white accent wall and a brown tile wall can provide the perfect finishing touch. Imagine how much brighter the space would look with white walls, emphasizing toys and decorations while making sure to keep them in check.
Refresh the atmosphere again with contrast by introducing a brown tile wall that adds texture and depth, grounding the energy so that you can enjoy spending time in your newly decorated garage.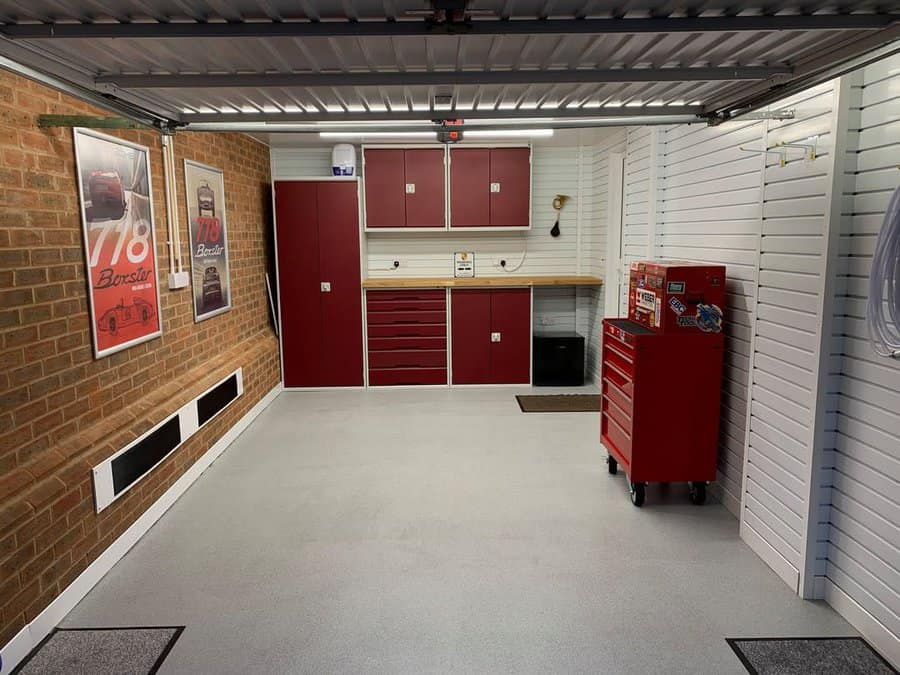 9. Keep it Classic with Pure White Elegance
When it comes to painting the garage, white is often the go-to color. With white walls and white floor, it creates an airy atmosphere and a crisp look.
However, if you're feeling creative, don't be afraid to kick it up a notch! Paint an accent wall with an unexpected shade or use one bright color as a unifying element throughout your space.
Whether bold or neutral tones make you happiest, adding paint to your garage can dramatically elevate its style while keeping it functional.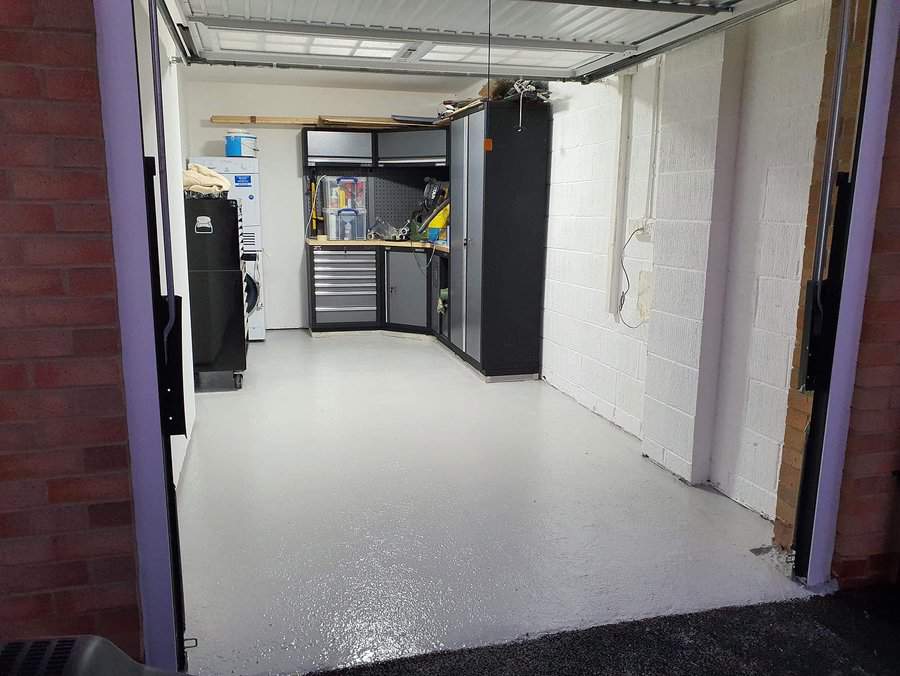 10. Lighten Up with Neutralizing Wall Hues
Revamp your garage with a light grey wall and some racing decor! Upgrading your tired old garage doesn't have to be expensive.
Add some light grey paint and accents of racing decor to get the perfect aesthetic.
To really complete the look, upgrade your flooring with swisstrax tiles – they'll transform your everyday garage into a sophisticated space, while also giving you superior comfort underfoot!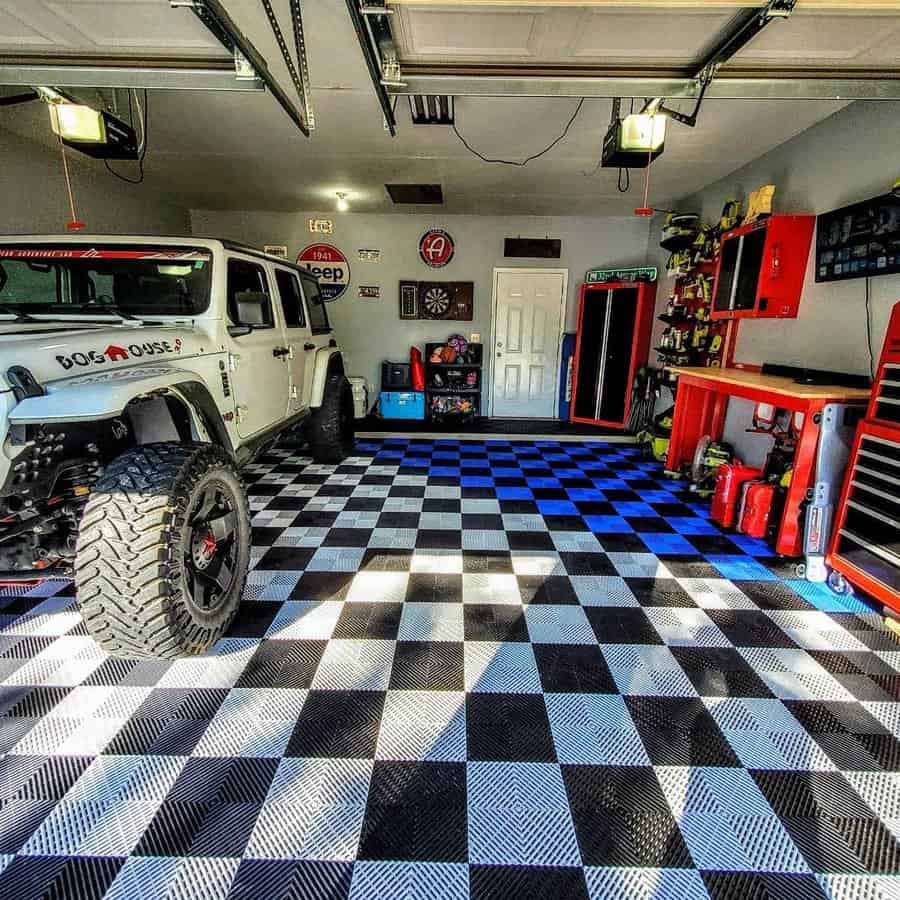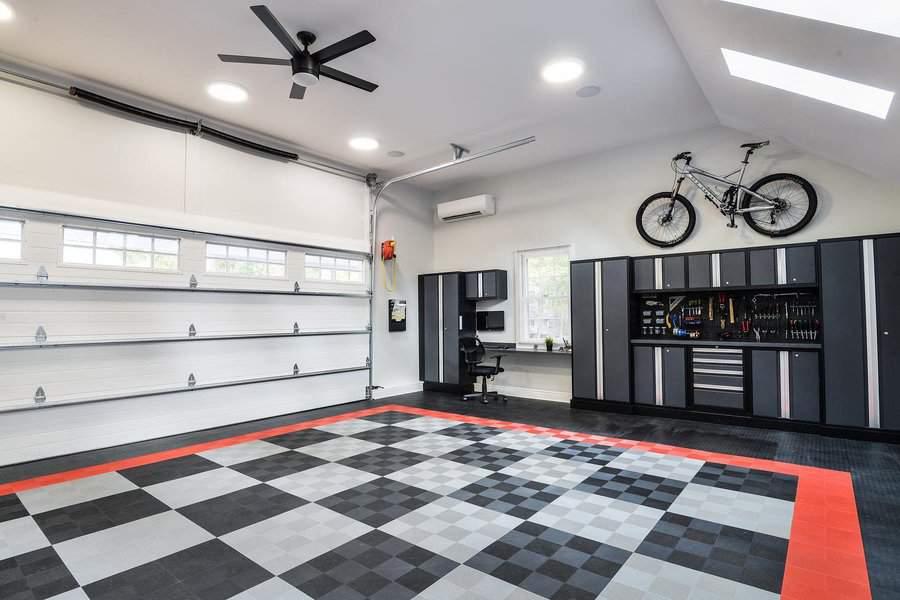 Garage Paint Types
How do you know which type of paint to use for your garage paint ideas? Use this mini-glossary as a guideline.
Acrylic paint:

Made from acrylic resins suspended in a water base. Offers easy clean-up. Good for murals and decorative purposes.

Exterior paint: Includes additives that allow it to withstand extreme weather conditions. It also protects against UV fading, mold, and mildew.
Epoxy paint: Originally designed for industrial purposes, epoxy paint has excellent water resistance and durability. Great for garage floor upgrades.
Floor paint: Super durable paint that can withstand foot and vehicle traffic without scratching or chipping. A must when repainting a garage floor.
Interior paint: More delicate than exterior paint, but can be easily wiped clean. Made with chemicals that are safer for breathing in enclosed spaces.
Latex paint: Water based paint that usually has vinyl or acrylic resins instead of actual latex. The most common type of paint.
Oil paint: Has an oil base instead of water. Oil based paint is more durable than latex acrylic paint but requires chemicals for clean-up. Great for doors, trim, and furniture.
Primer: Not technically a paint, but an important foundation for most painting projects. Primer binds paint to the surface and extends its life.
Stain: A transparent or semi-transparent finish applied to wood that enhances its grain and protects it from damage.