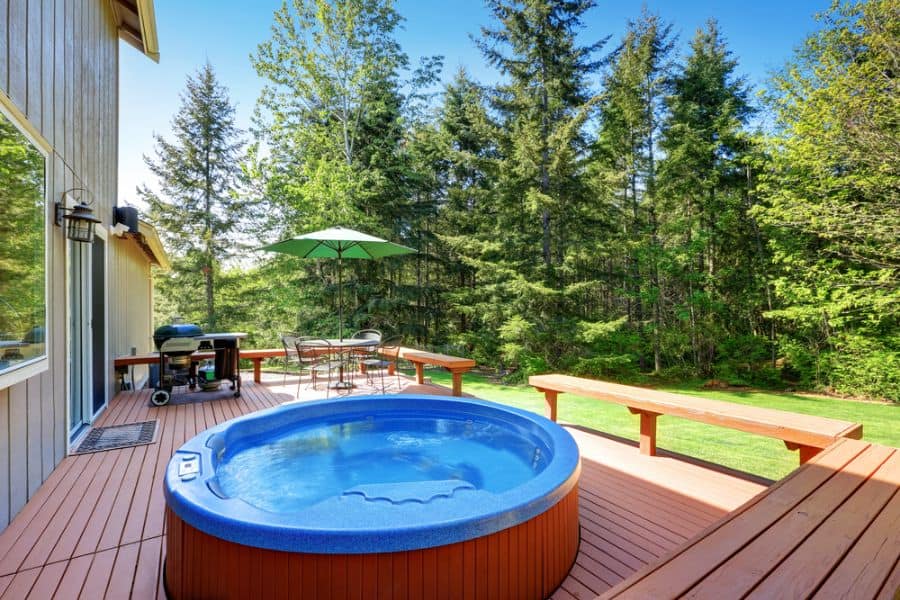 The Top 64 Hot Tub Deck Ideas
Having an outdoor living room or kitchen is great for the outdoor living lifestyle. However, if you want to take your outdoor enjoyment up a notch, what you need is a hot tub. They are better than a swimming pool because their small size makes them easier to fill and maintain.
They also don't take up as much room, so you can fit them in places where a pool wouldn't normally fit. Once you have your hot tub location chosen, you need to think about the deck you'll have around it. This will make using your new backyard addition more enjoyable.
These hot tub deck ideas will help you design a backyard that will be the envy of your neighborhood.
1. Elevated Hot Tub Deck
Imagine soaking in the warm, bubbling water while enjoying panoramic views from an elevated platform. The elevated hot tub deck adds a touch of luxury and sophistication to your outdoor oasis. You can choose from various deck materials, such as natural wood or composite, to create the perfect look that suits your style.
Incorporate built-in seating, planters, or even a mini bar to elevate the entertainment factor and create a cohesive outdoor experience. With careful design and thoughtful planning, an elevated hot tub deck becomes a harmonious extension of your home, seamlessly blending with the surrounding landscape.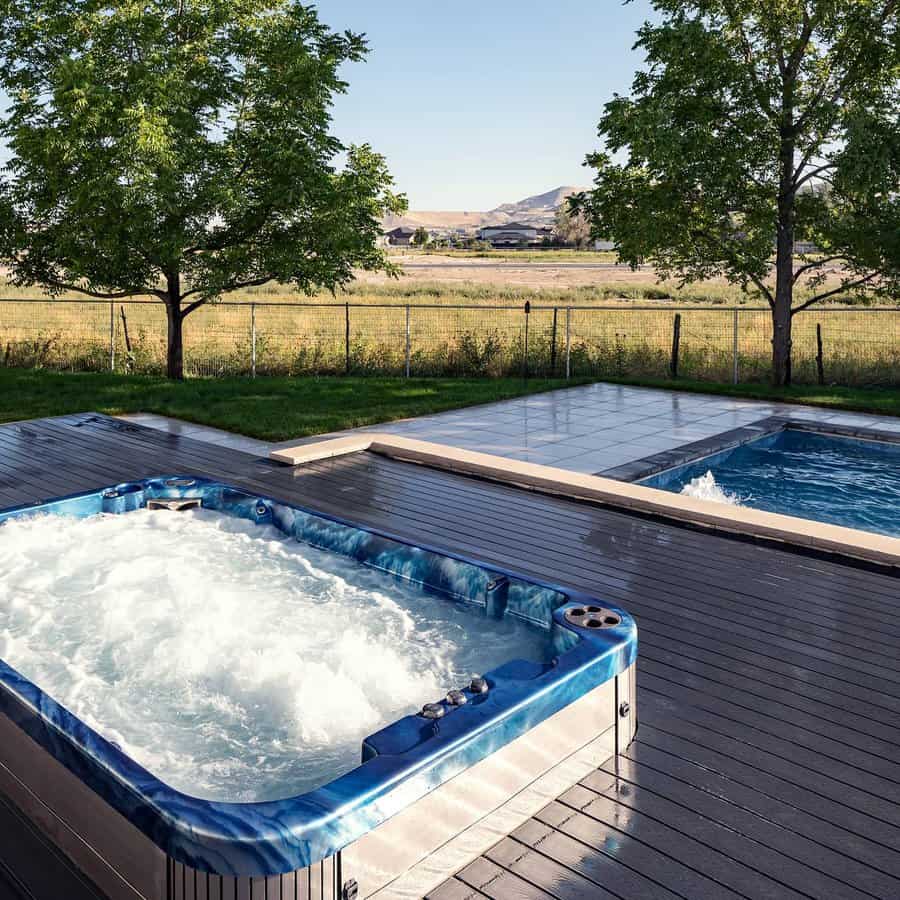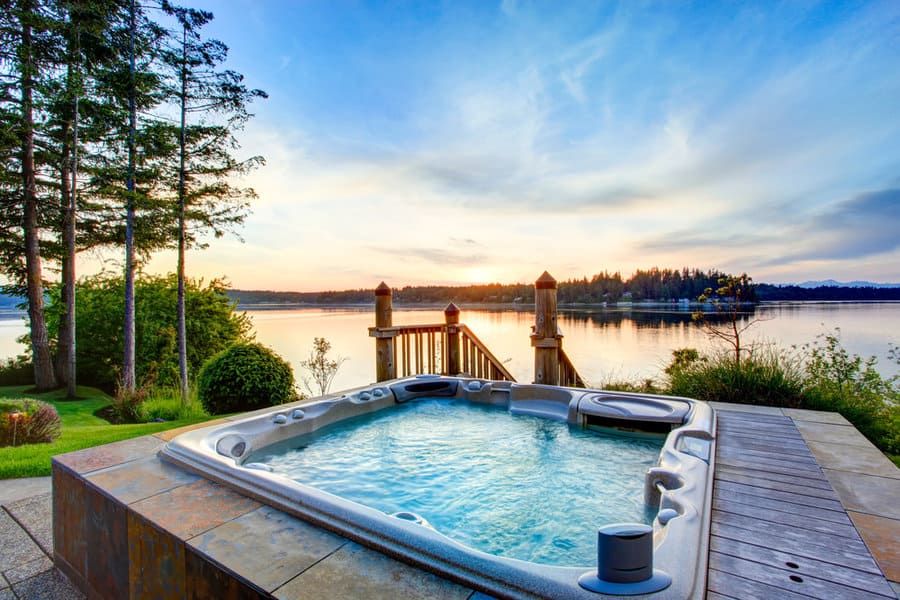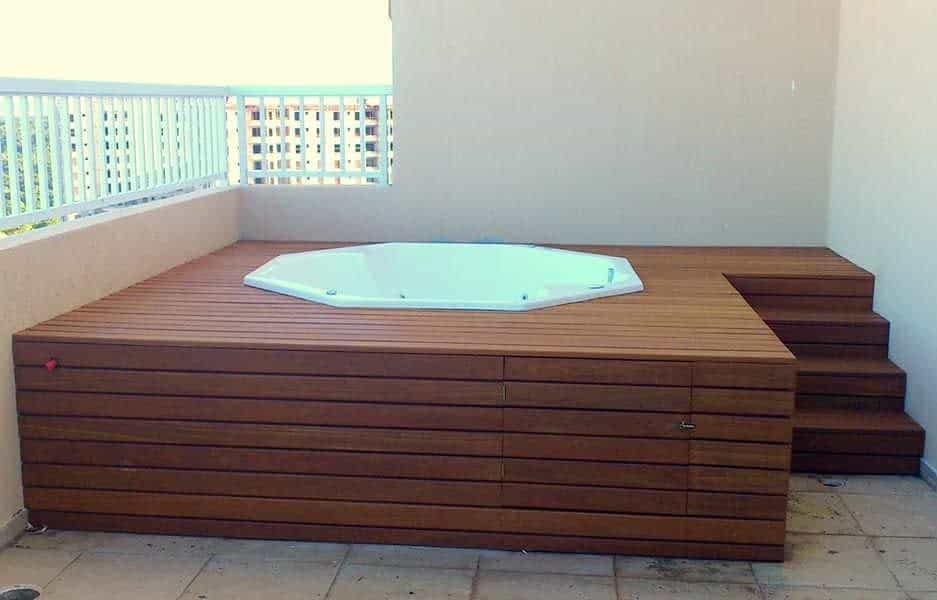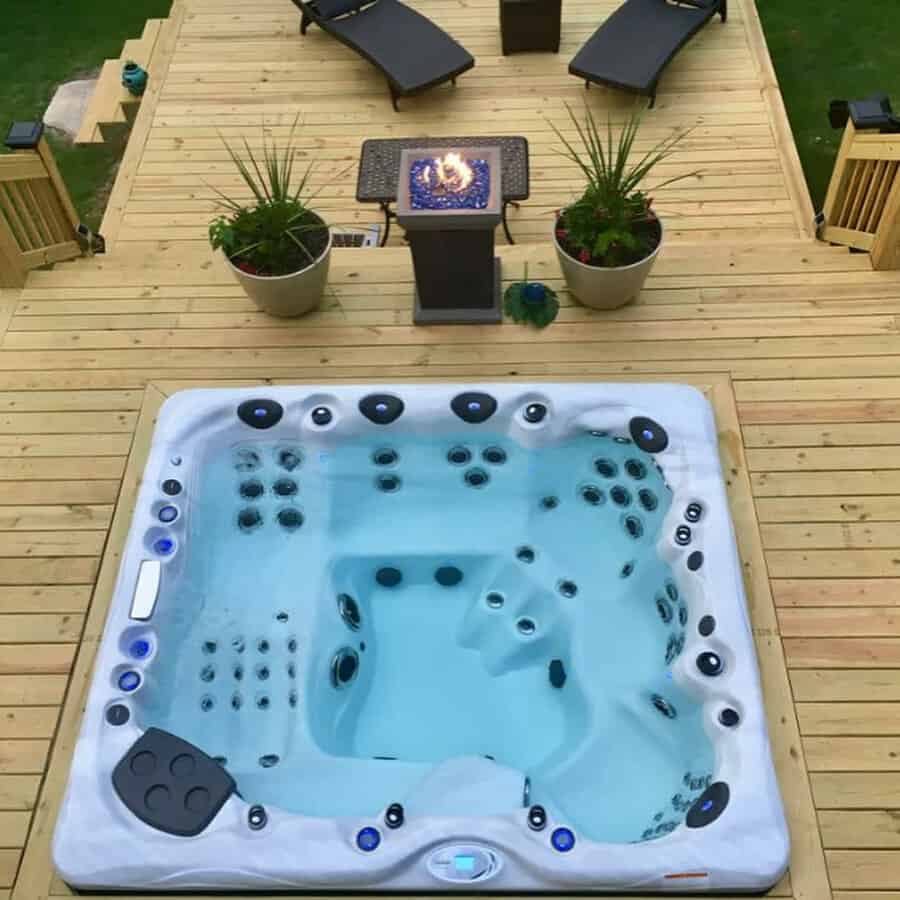 2. Standalone Hot Tub
Consider incorporating a standalone hot tub into your deck design for a luxurious and spa-like experience. By opting for a movable hot tub, you have the flexibility to position it in the most desirable spot on your deck, whether it's nestled in a corner or strategically placed to take advantage of stunning views. Create a visually captivating and functional space by designing a deck that seamlessly integrates the hot tub.
A protruding deck design allows for easy access to the hot tub from all sides, while also providing additional seating or lounging areas. Incorporate built-in benches, planters, or even a pergola to enhance the overall aesthetic and functionality of your hot tub deck. With the right combination of materials, lighting, and landscaping, you can create a private oasis that exudes relaxation and style.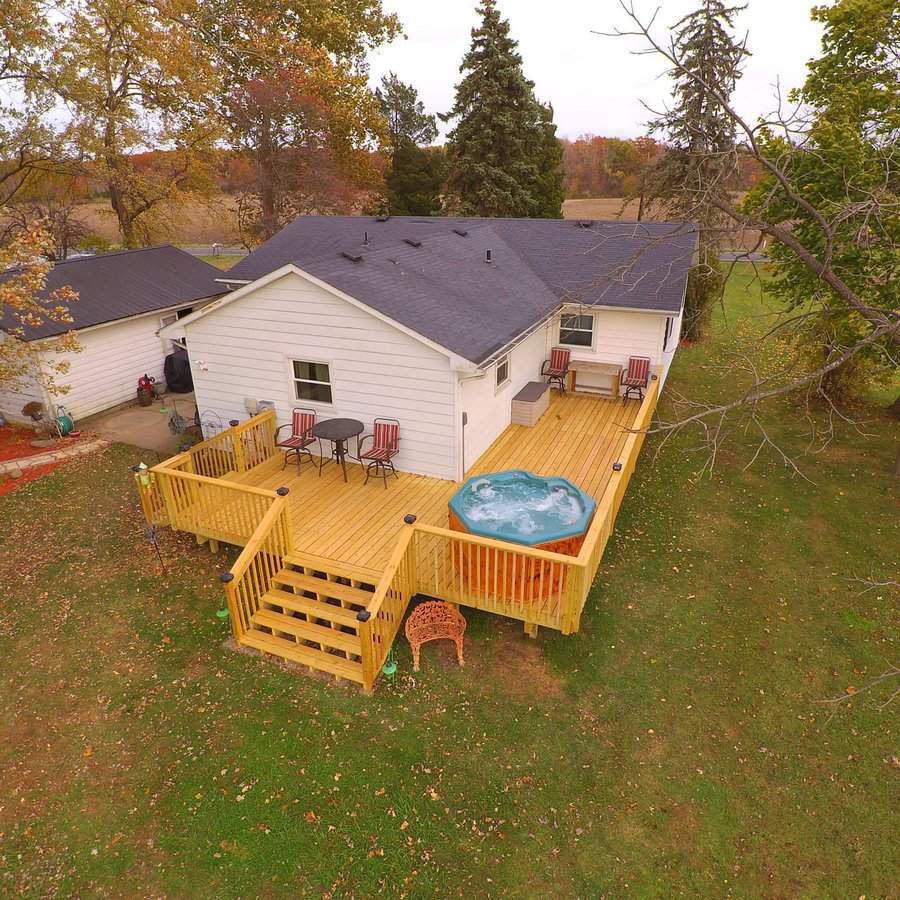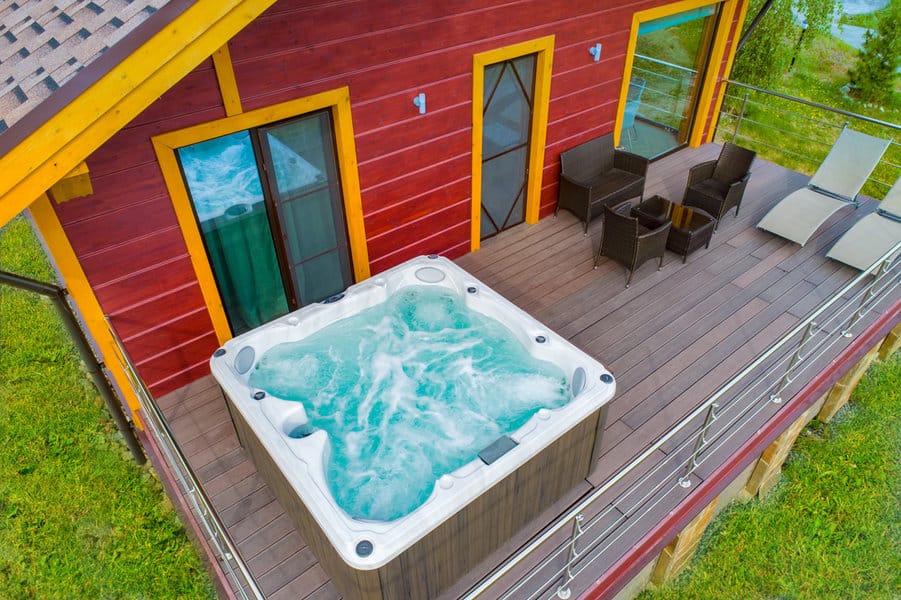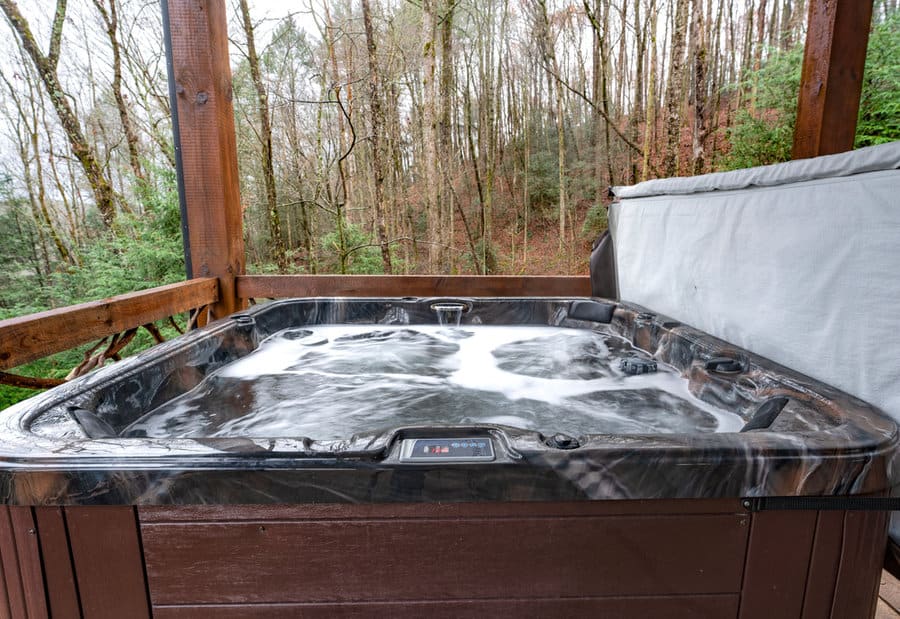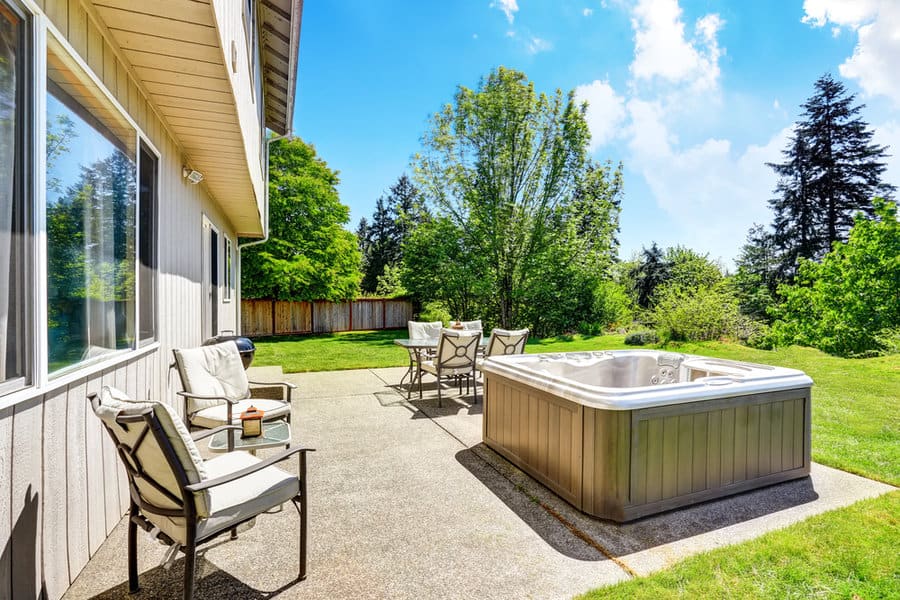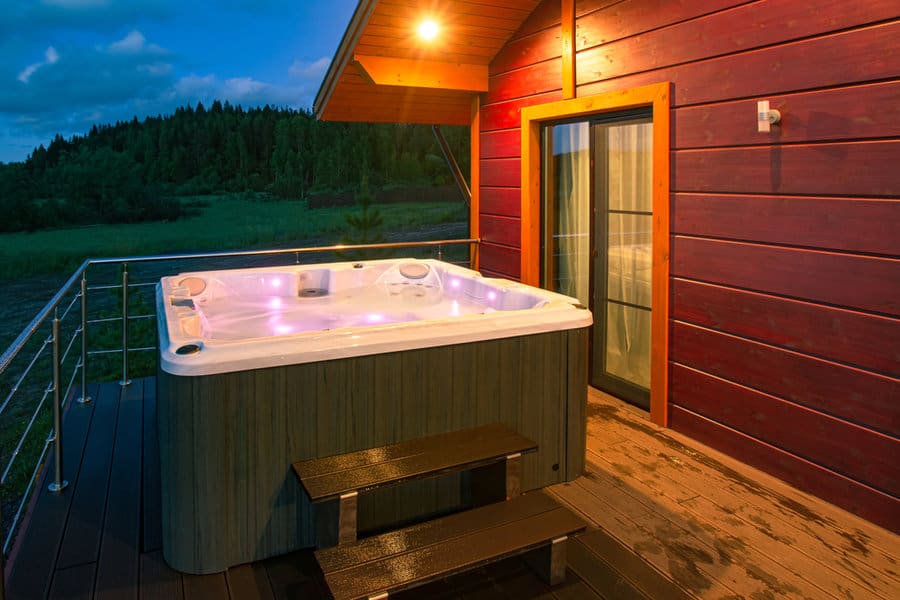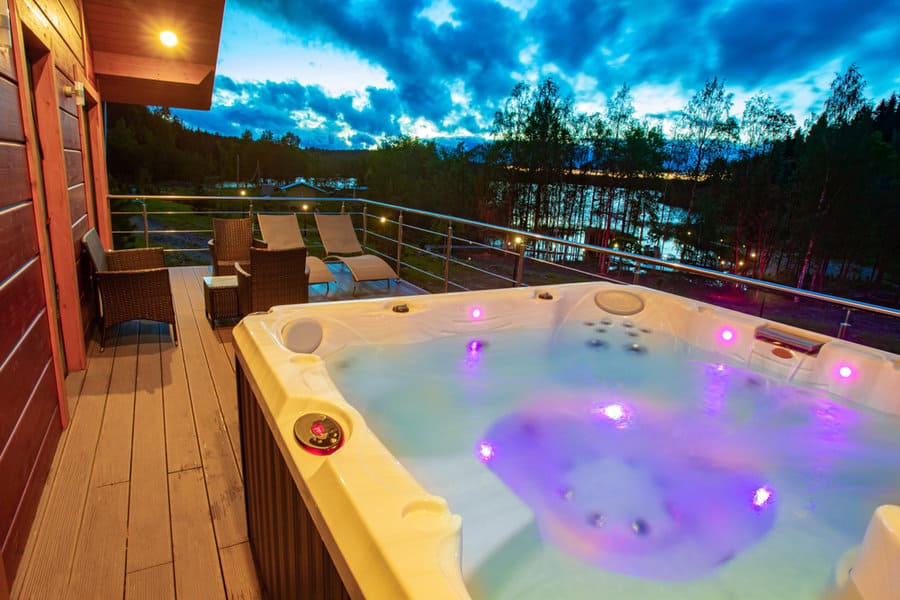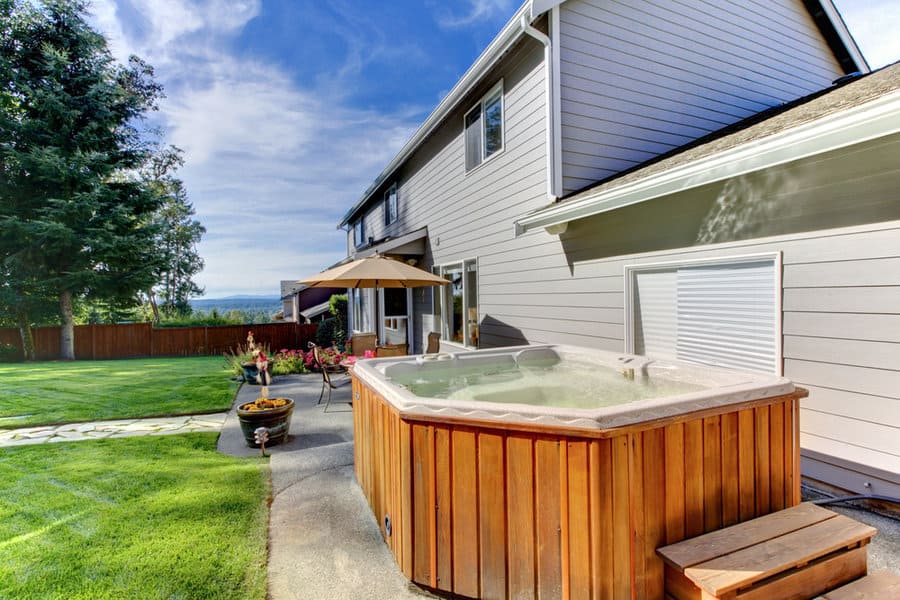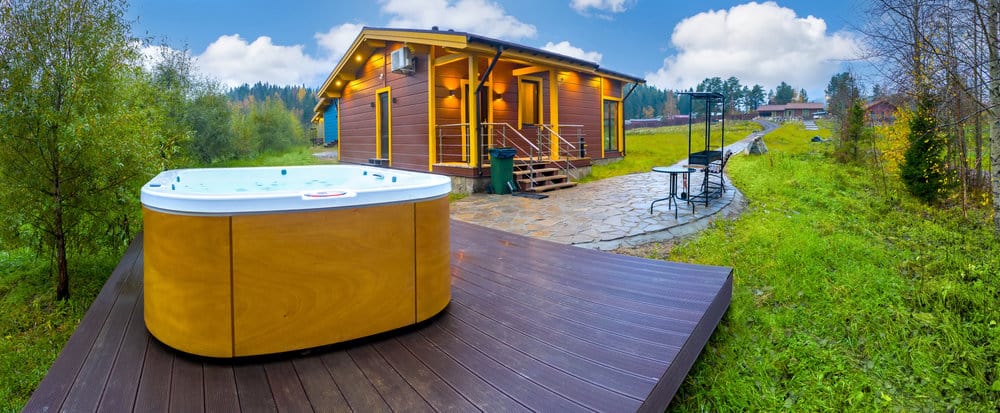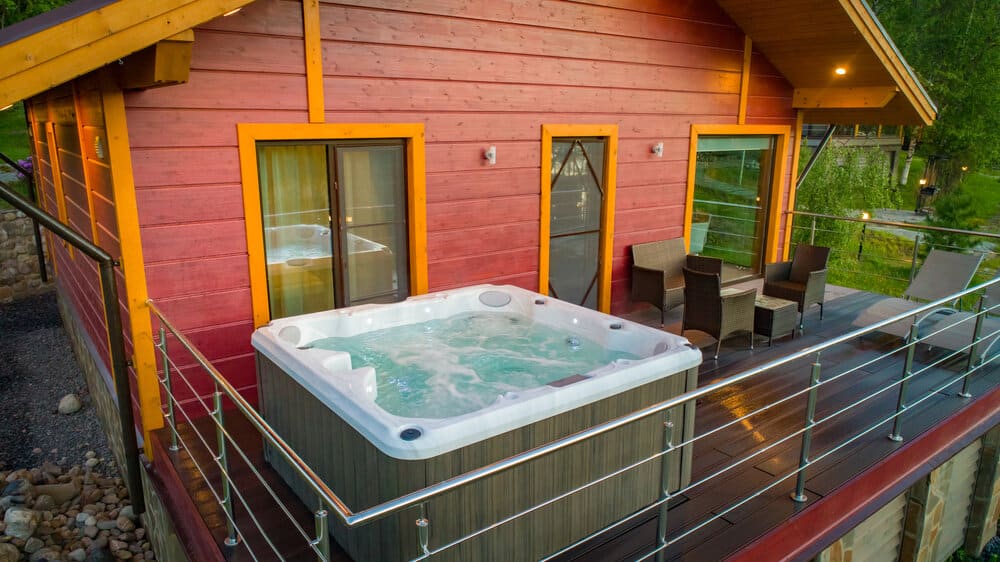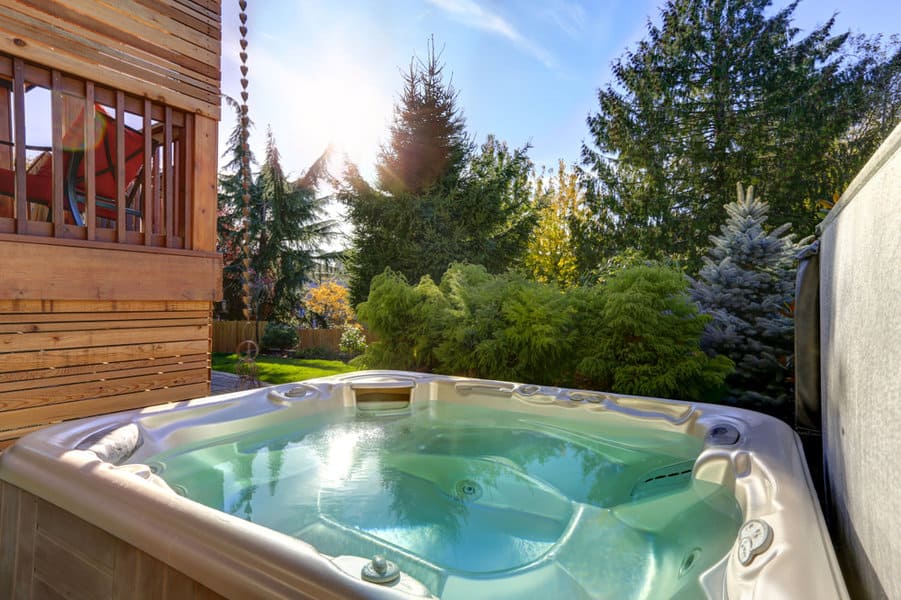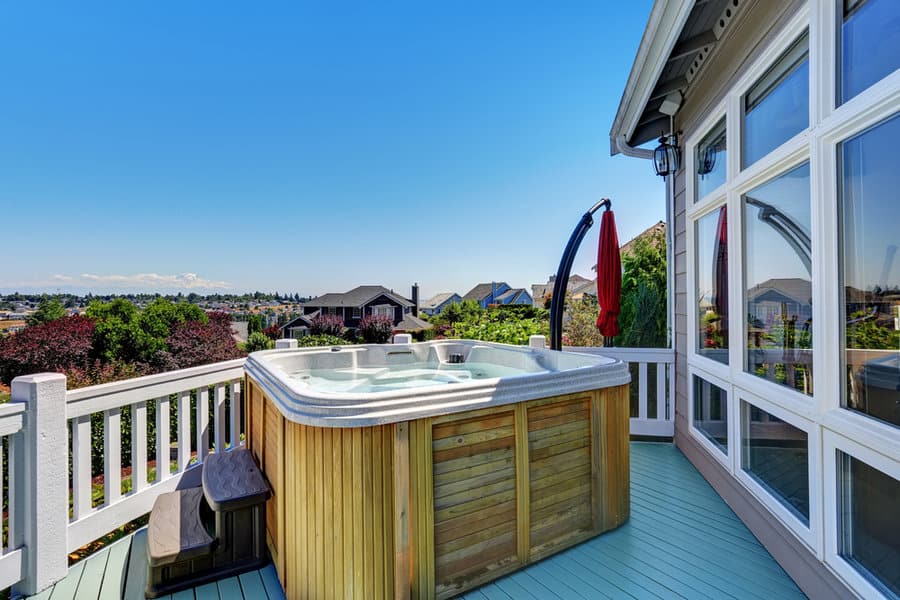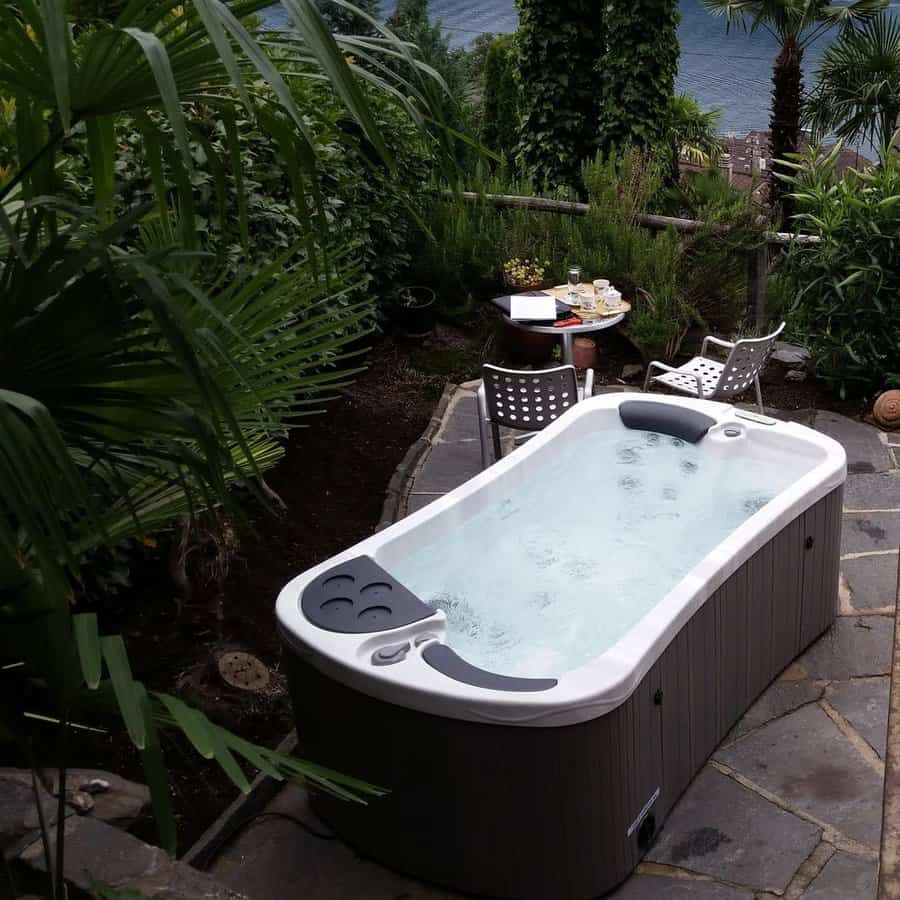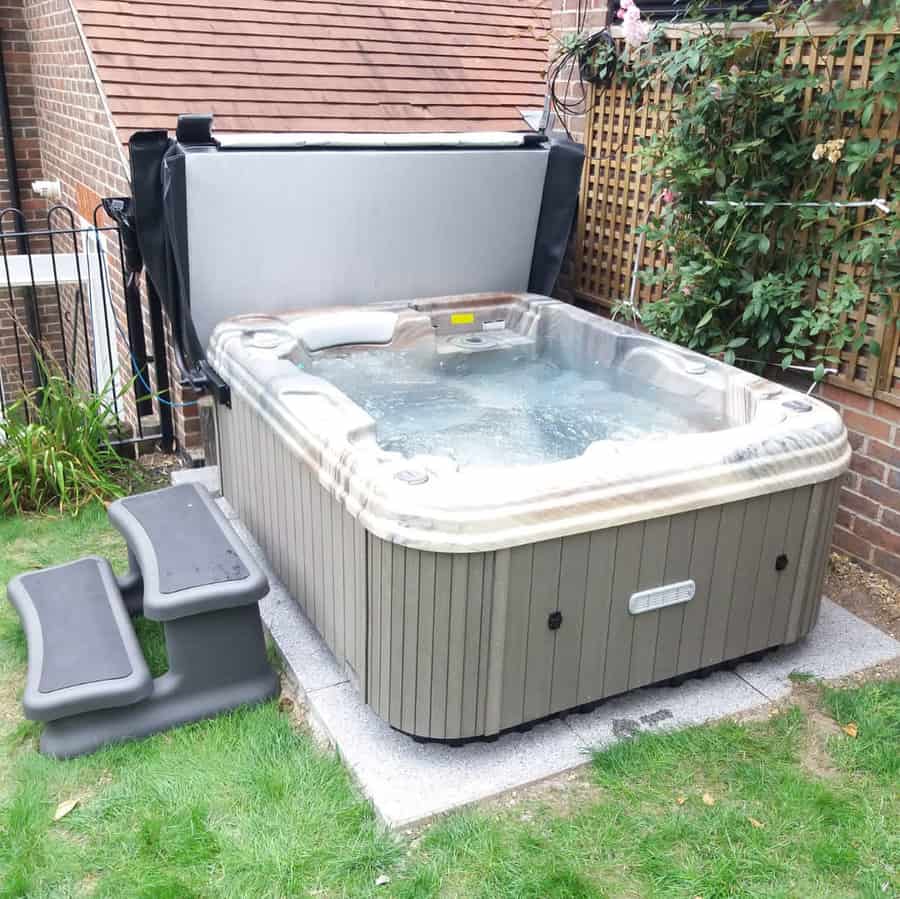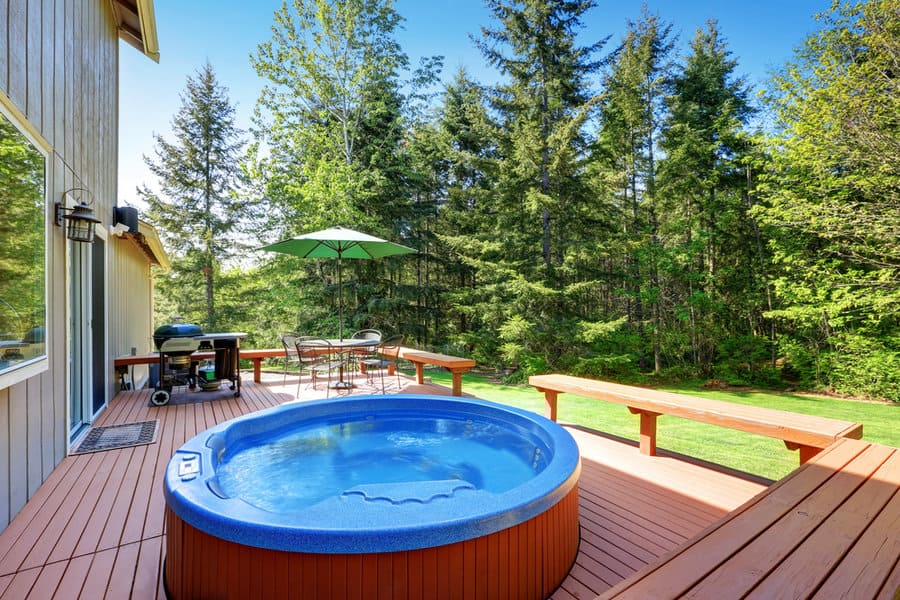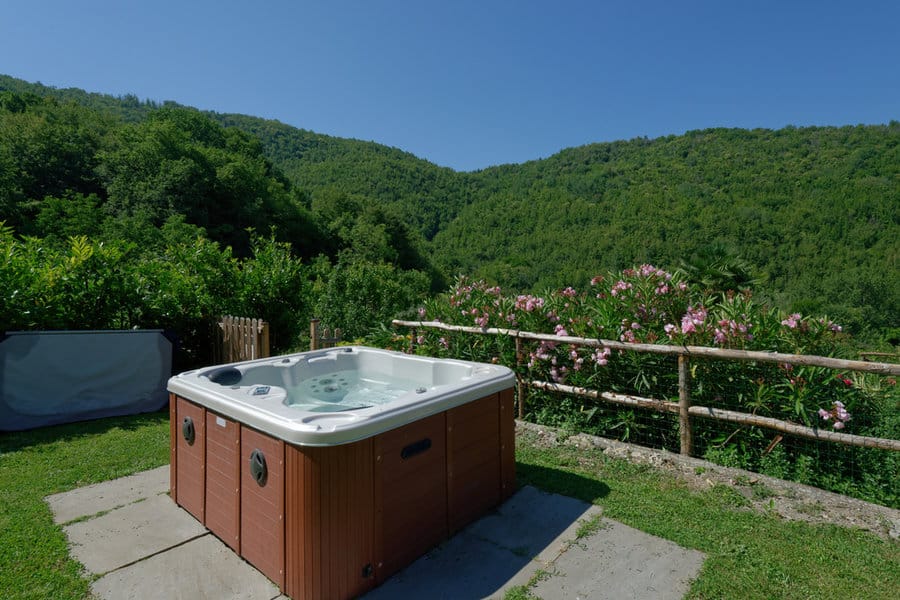 3. DIY Hot Tub
One unique and budget-friendly option to consider is a DIY wooden pallet hot tub. This innovative idea combines the rustic charm of reclaimed wood pallets with the relaxation and comfort of a hot tub. By repurposing wooden pallets, you can create a stylish and eco-friendly deck around your hot tub, adding a touch of warmth and character to your outdoor space.
Not only is this project cost-effective, but it also allows for customization and creativity. You can stain or paint the pallets to match your desired color scheme and add comfortable cushions or seating around the hot tub for a cozy and inviting atmosphere. Additionally, the DIY nature of this project gives you the opportunity to personalize the design to fit your specific needs and preferences.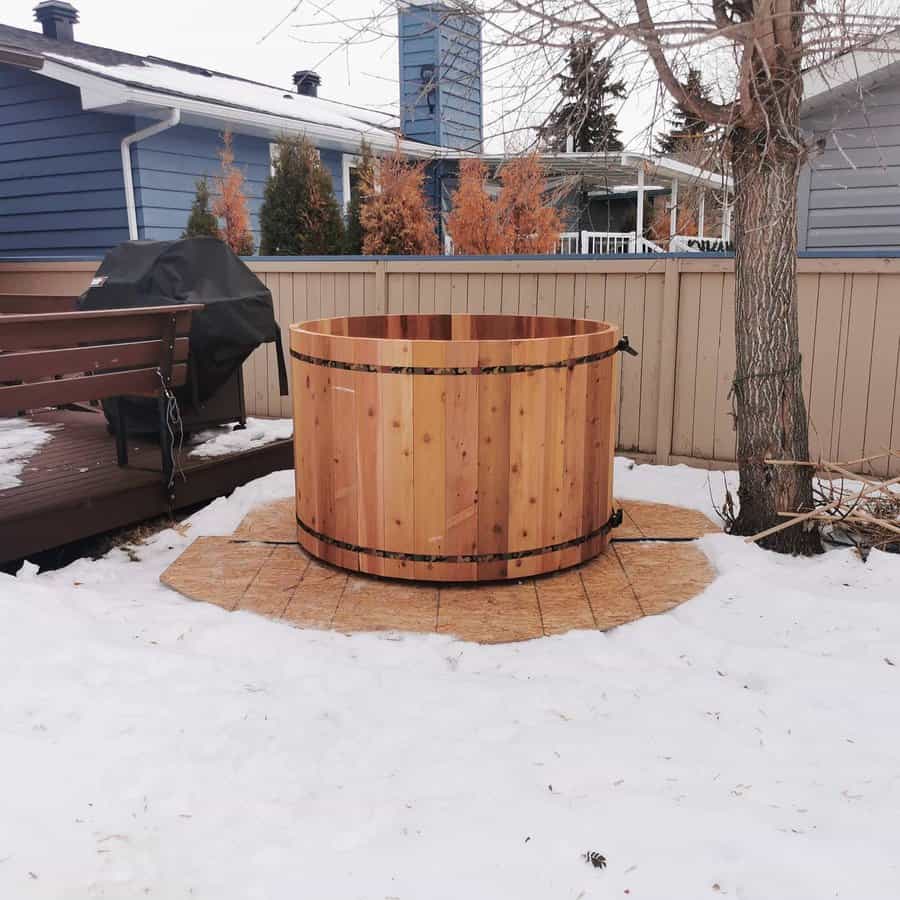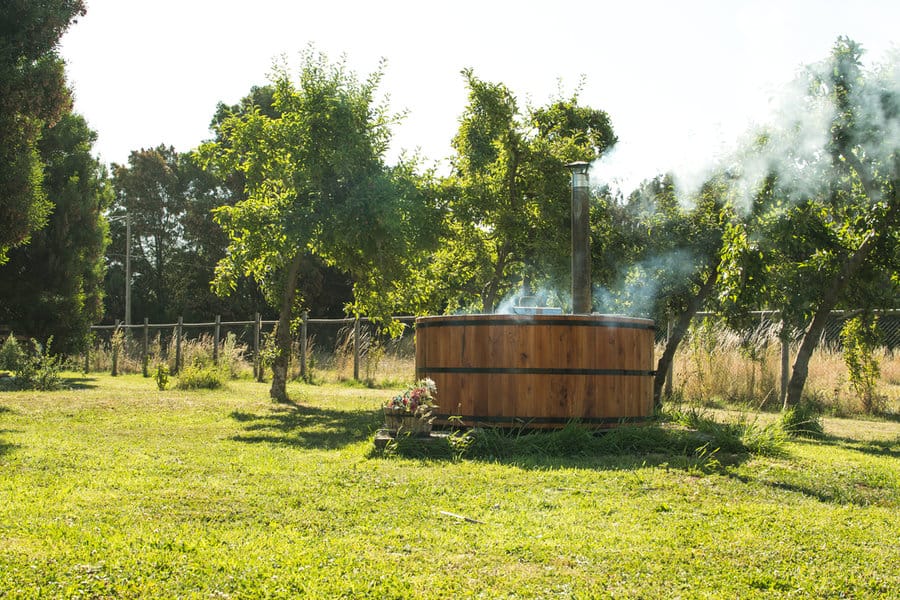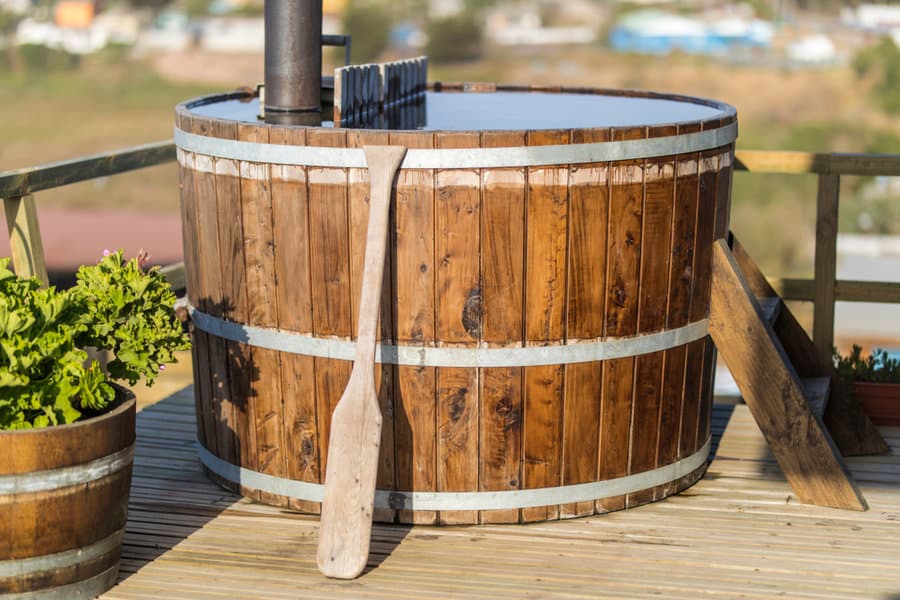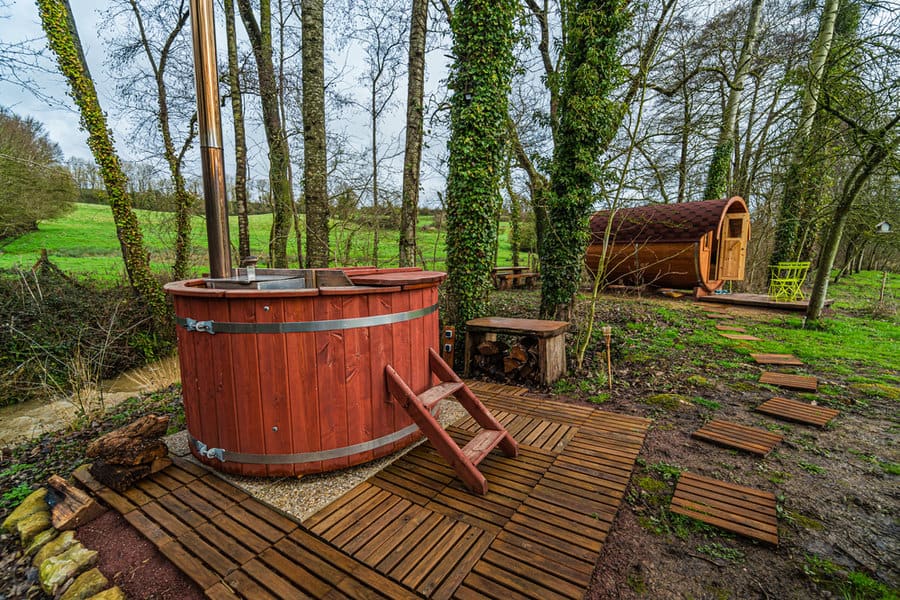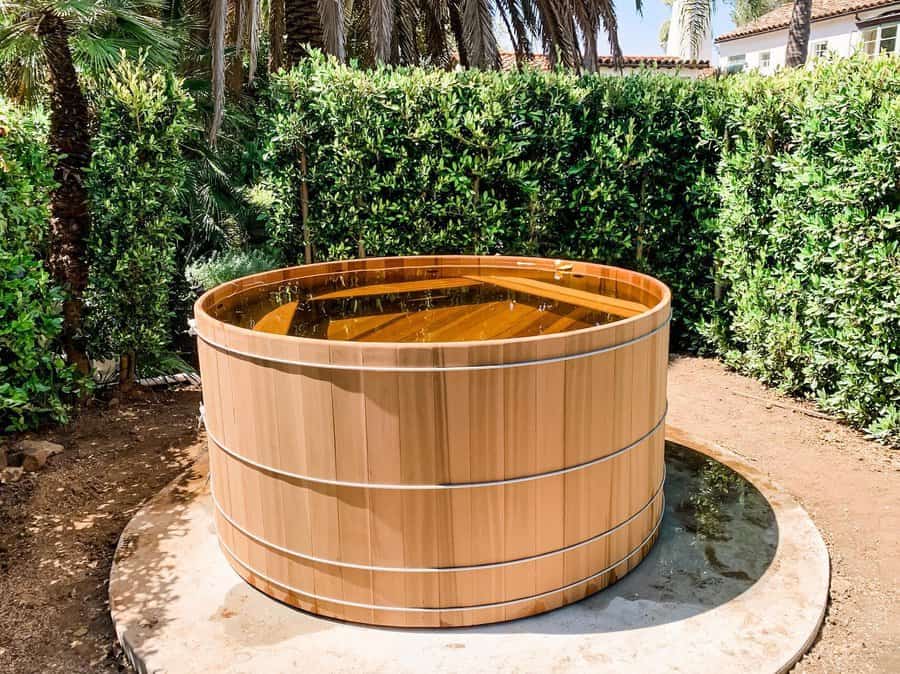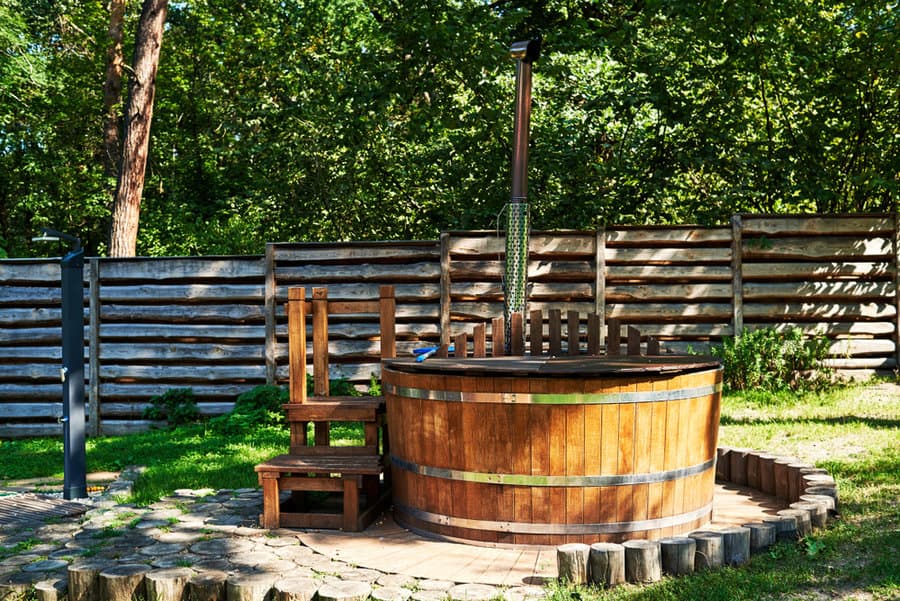 4. Repurposed Bath Tub
By repurposing an old vintage bathtub, you can create a charming and nostalgic atmosphere while enjoying the luxurious comfort of a hot tub. Imagine soaking in warm bubbling water surrounded by the rustic beauty of a repurposed bathtub, nestled within your deck. This unexpected element adds a touch of whimsy and character to your outdoor space.
Choose a bathtub that suits your style, whether it's a clawfoot tub for a vintage-inspired look or a sleek modern design for a contemporary twist. Enhance the ambiance with strategic lighting, such as string lights or lanterns, to create a cozy and inviting atmosphere. Pair it with comfortable seating and lush greenery to complete the oasis-like feel.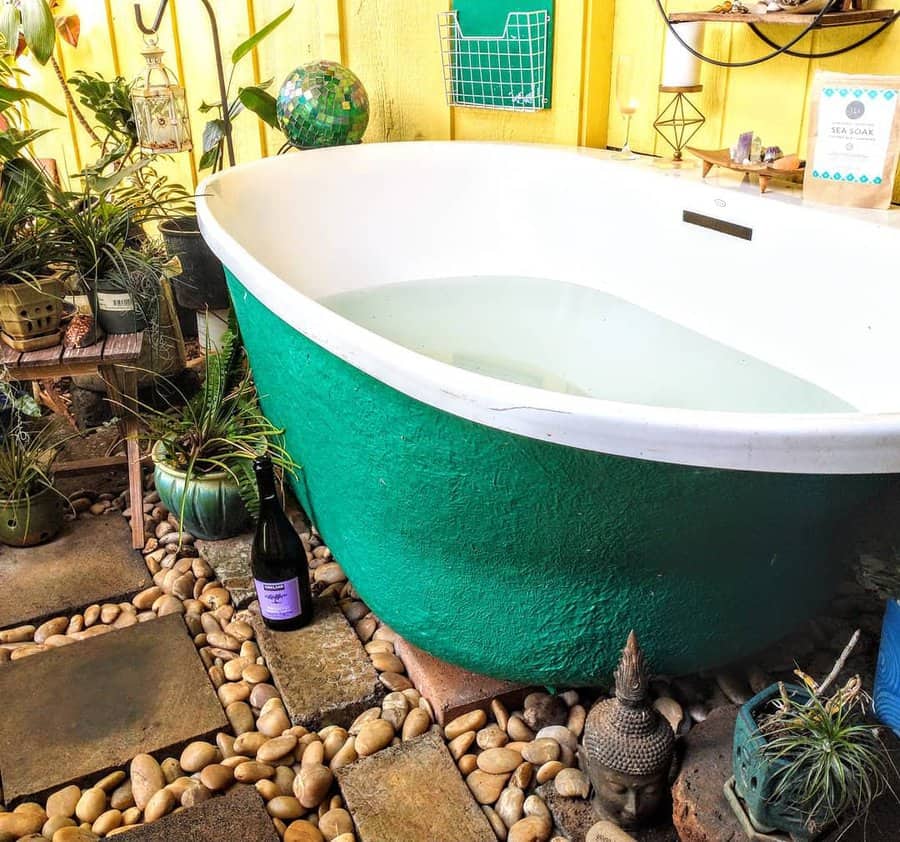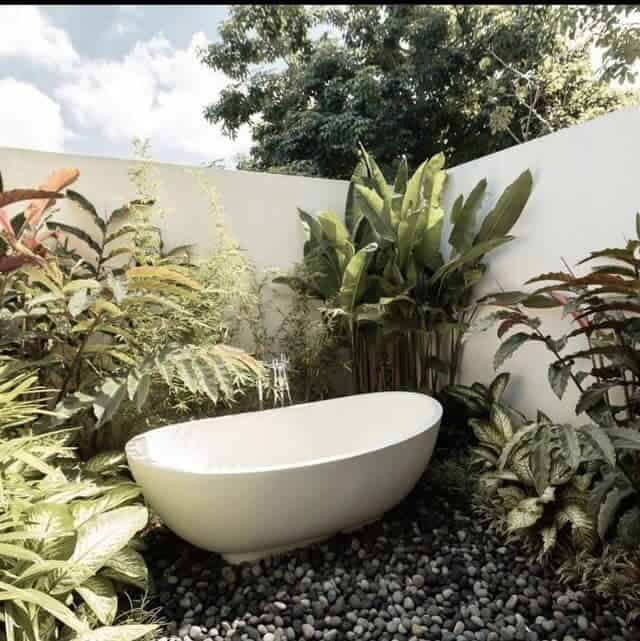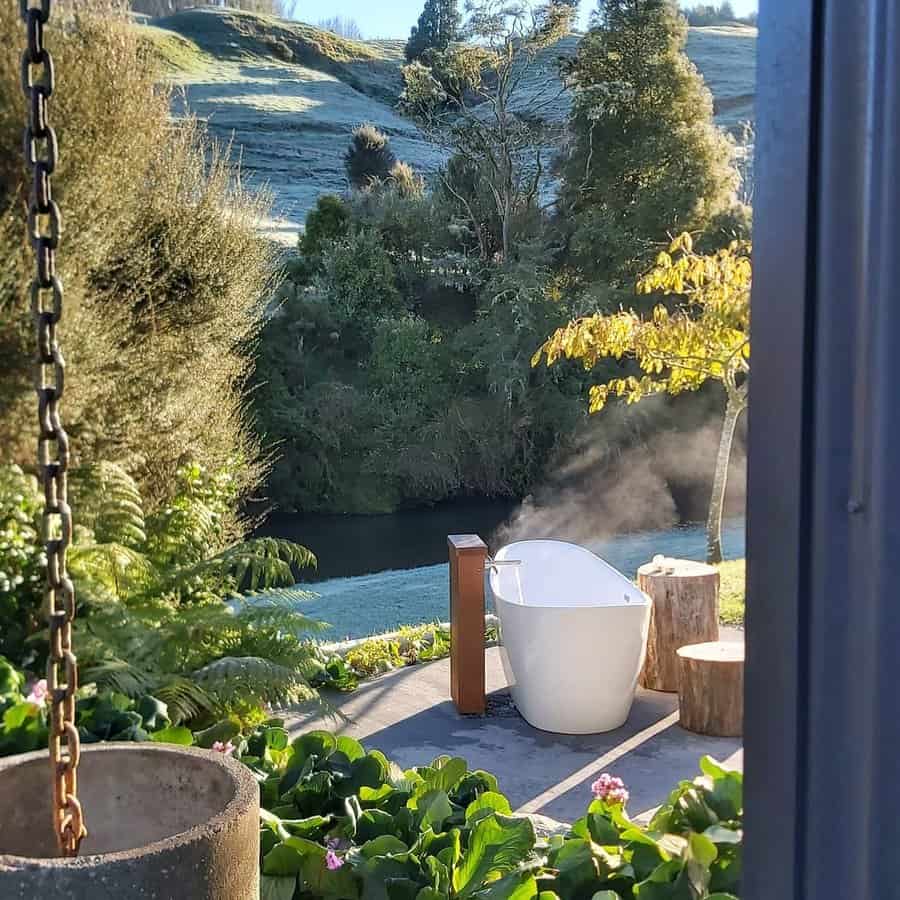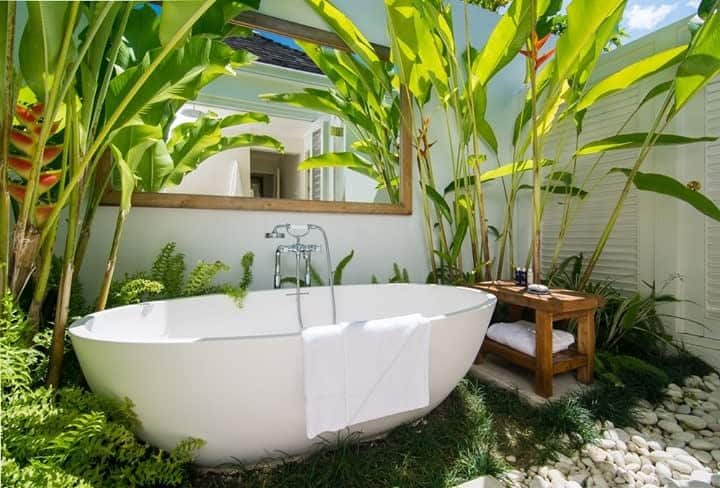 5. Hot Tub Deck with Pergola
Picture this: a beautifully crafted deck that surrounds your hot tub, providing a stylish and functional space for you to unwind. But that's not all! The addition of a pergola brings an element of sophistication and charm to the setting. Imagine lounging in your hot tub while being partially shaded by a pergola adorned with climbing vines or draped with billowing curtains.
It creates a cozy and intimate atmosphere, perfect for both daytime and evening soaks. The pergola also provides a touch of privacy, shielding you from prying eyes while still allowing you to enjoy the surrounding nature. Consider adding comfortable seating, such as plush outdoor cushions or even a built-in bench, to complete the scene.
Don't forget to incorporate lighting options, like string lights or lanterns, to create a warm and inviting ambiance during the evenings.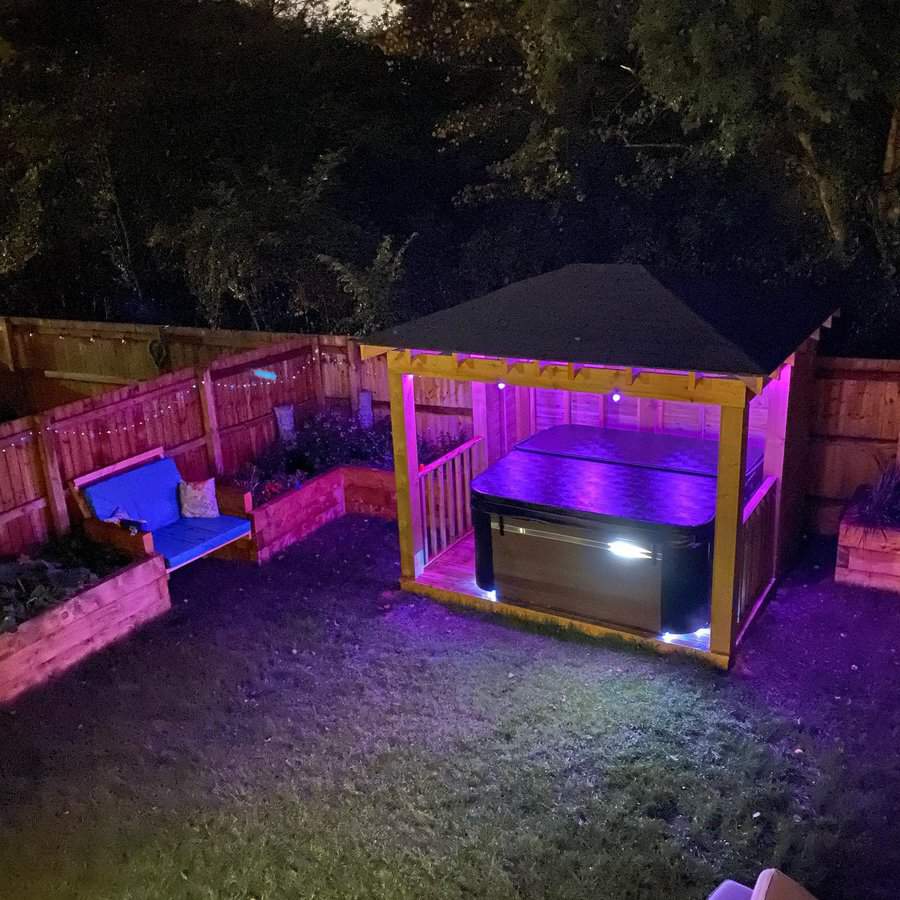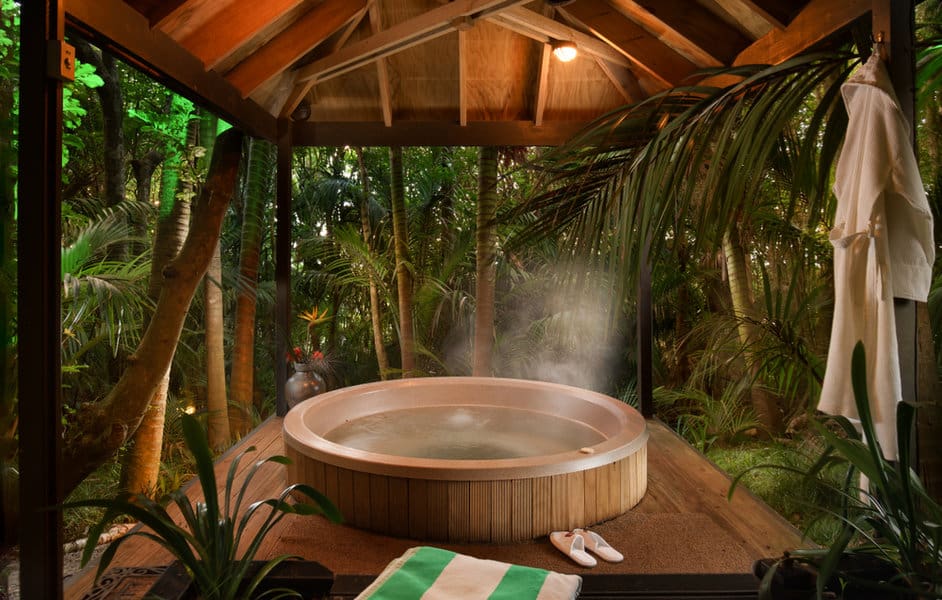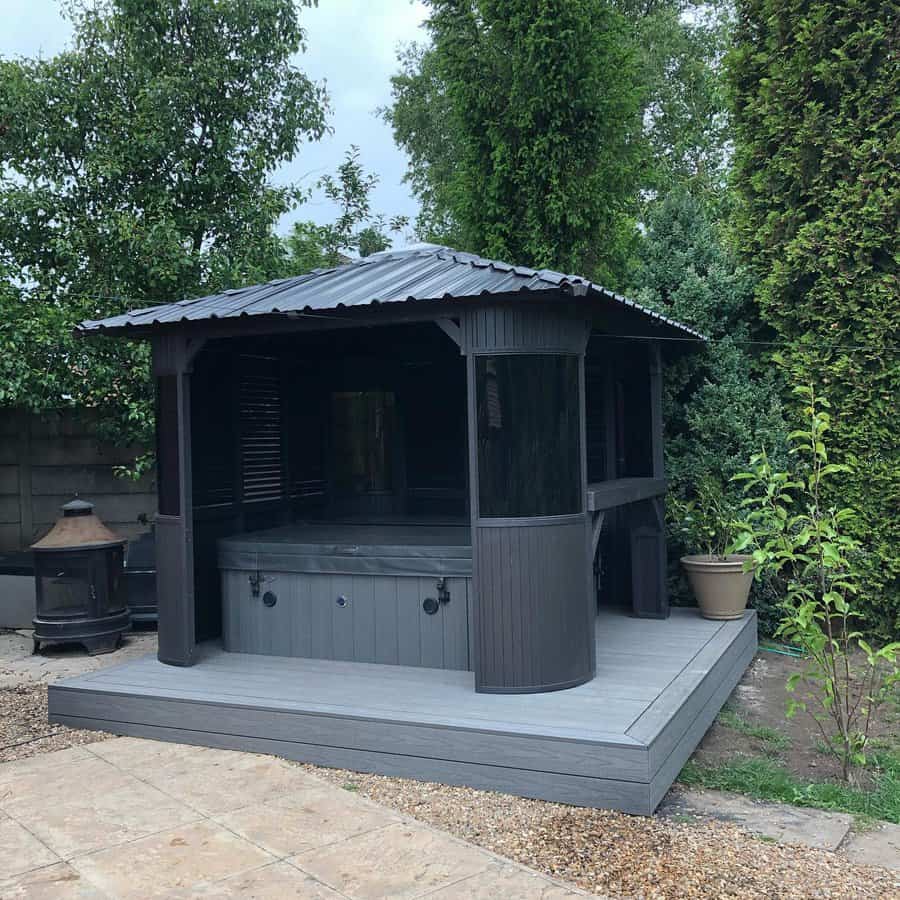 6. Poolside Hot Tub Deck
By strategically placing the hot tub adjacent to your pool, you create a seamless transition between the two, enhancing the overall aesthetic appeal of your outdoor space. Incorporate a deck around the hot tub, using materials that complement the pool area, such as natural stone or wood. This not only adds a touch of elegance but also provides a functional space for lounging and socializing.
Consider adding built-in seating or lounge chairs for ultimate relaxation. To create a cozy and inviting atmosphere, incorporate ambient lightings, such as string lights or outdoor lanterns, and add potted plants or greenery to bring a fresh and natural element to the space.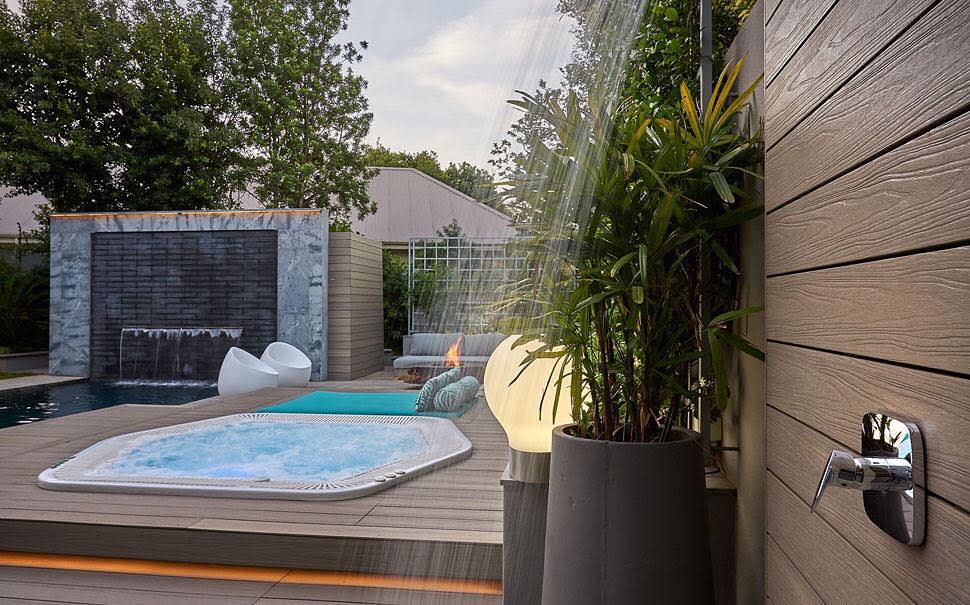 7. Hot Tub Deck With Cover
A great idea that can take your hot tub experience to the next level is a deck with a retractable cover. This ingenious addition allows you to enjoy your hot tub in any weather while providing privacy and protection. On sunny days, you can easily slide the cover back to soak up the rays and enjoy an open-air experience.
When the weather turns less favorable, simply extend the cover to shield yourself from rain or snow, allowing you to indulge in a luxurious hot tub session all year round. The retractable cover not only offers practical benefits but also adds an element of style to your outdoor space.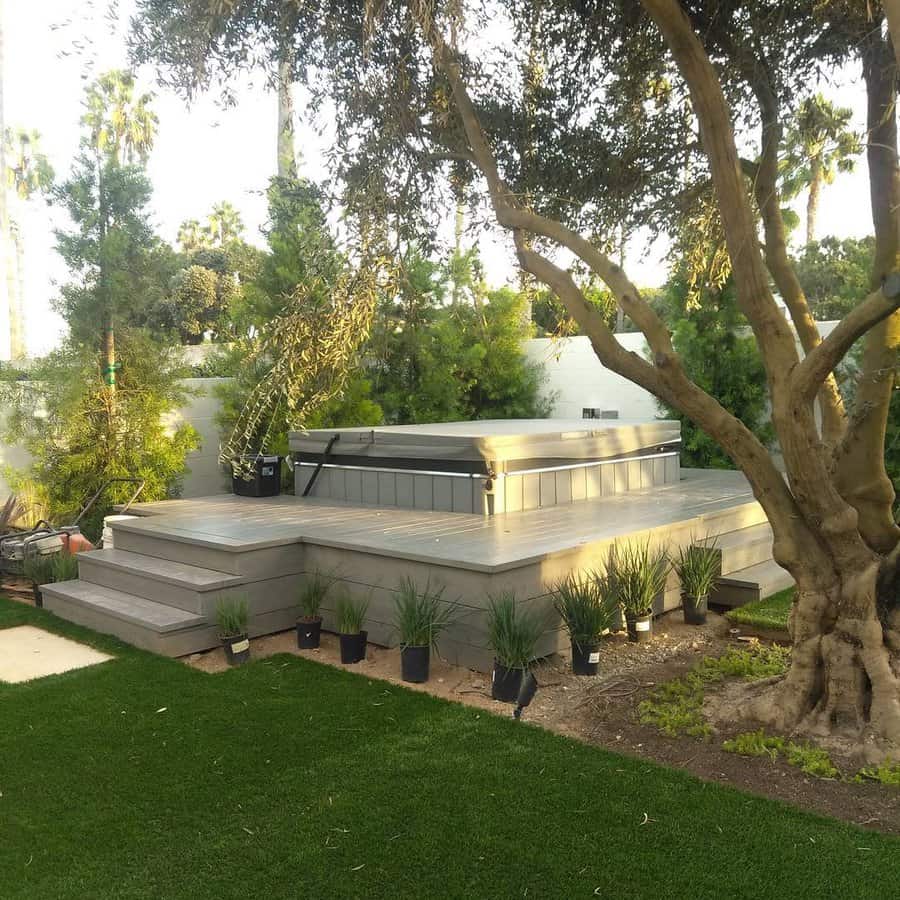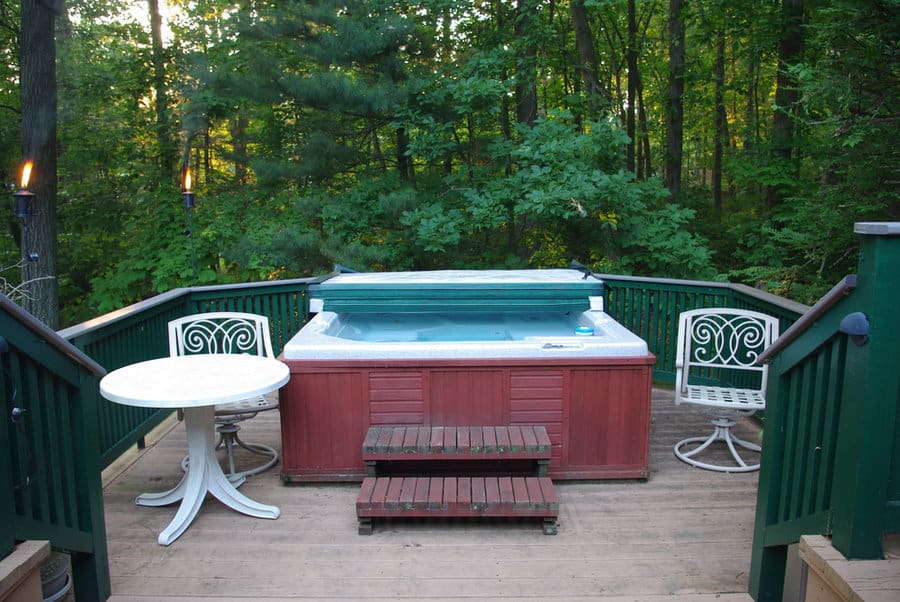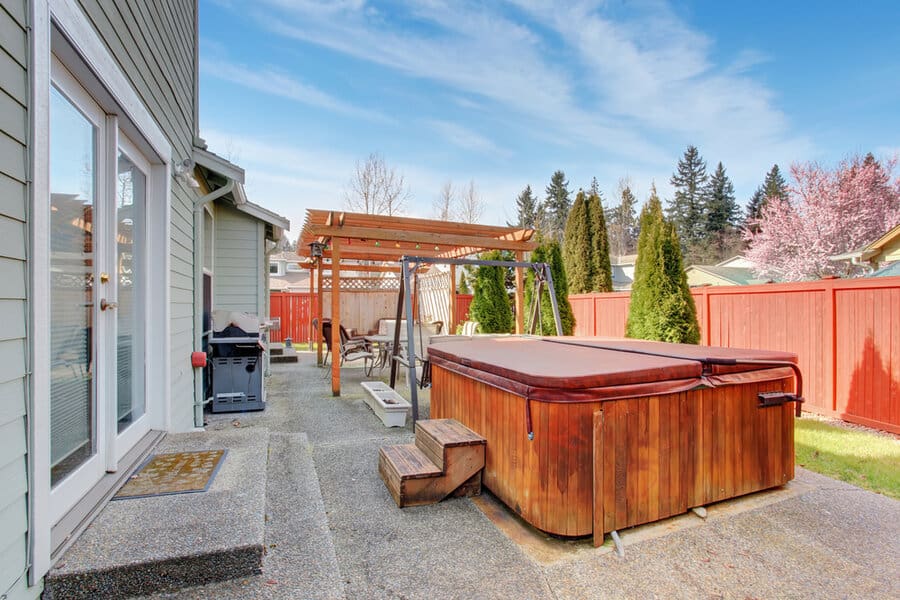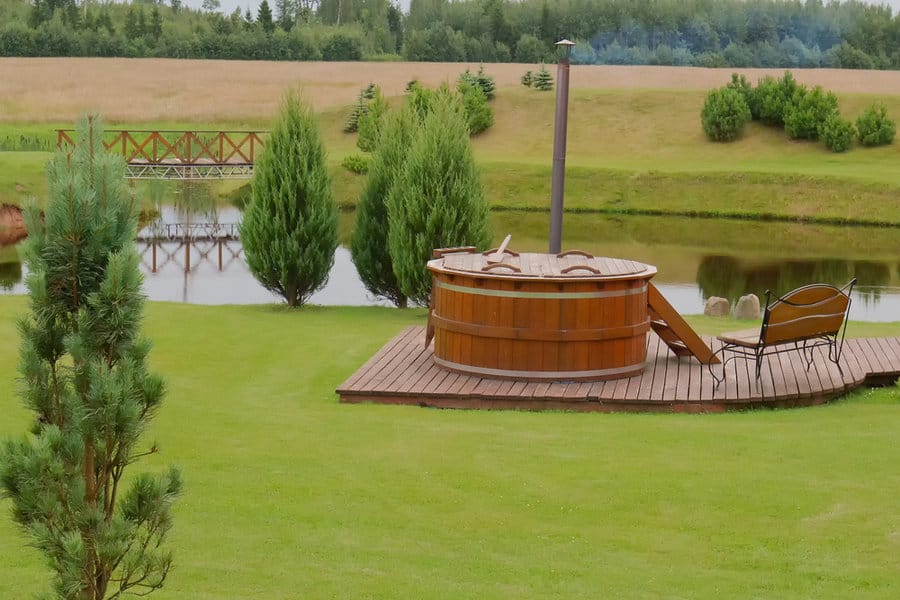 8. Hot Tub Deck With Landscaping
One captivating idea is to create a hot tub deck with integrated landscaping, featuring a stunning pebble deck. This unique combination not only adds visual interest and texture to your deck but also creates a natural and serene ambiance. Imagine stepping onto a soft and smooth pebble surface as you make your way to your hot tub oasis.
The contrast between the sleek lines of the hot tub and the organic texture of the pebbles creates a captivating visual harmony that will impress both you and your guests. Additionally, the landscaping around the deck can further enhance the overall aesthetic and create a seamless connection between your hot tub and the surrounding environment.
Consider incorporating lush greenery, vibrant flowers, or even a soothing water feature to complete the tranquil oasis. With a hot tub deck featuring a mesmerizing pebble surface and thoughtfully integrated landscaping, you'll have a captivating outdoor retreat that combines relaxation and natural beauty.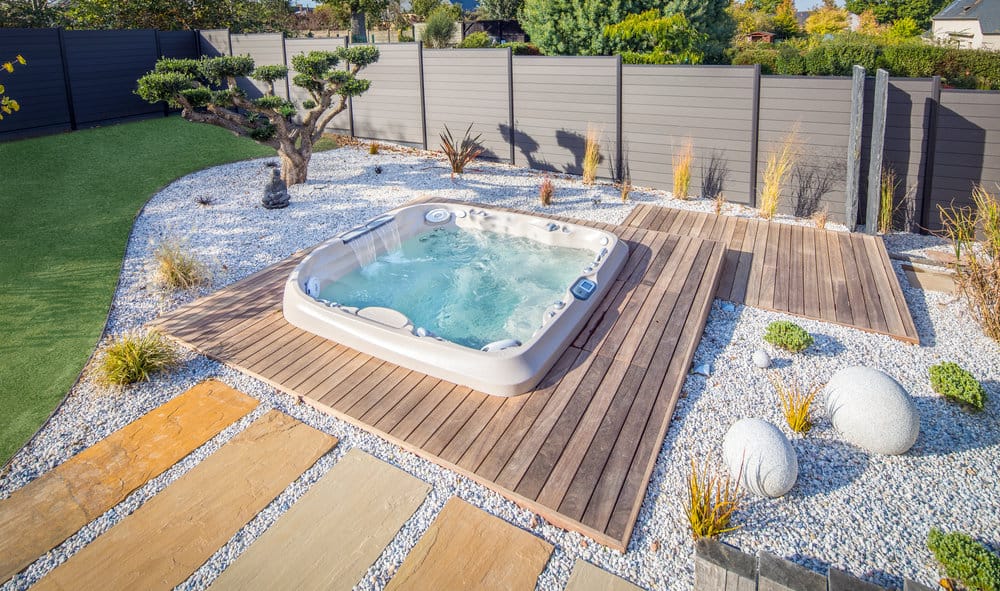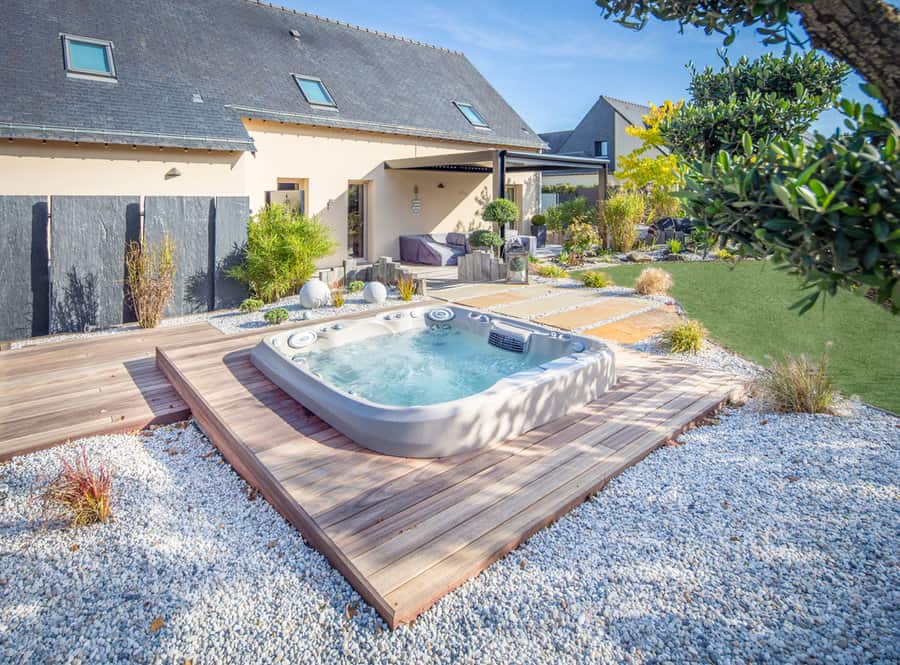 9. Tiled Hot Tub Deck
Picture yourself stepping onto a deck adorned with beautiful, carefully selected tiles, each one showcasing intricate patterns or sleek minimalist designs. The tiles not only create a visually stunning focal point but also offer a practical and durable surface for your hot tub area. Whether you opt for bold and vibrant tiles that make a statement or prefer a more serene and neutral palette, the choice is yours to create a space that reflects your unique style.
The tiled deck provides a seamless transition from your outdoor living area to the hot tub, elevating the overall aesthetic of your space. As you soak in the warm water, surrounded by the exquisite tilework, you'll feel like you're indulging in a spa-like experience right in the comfort of your own backyard.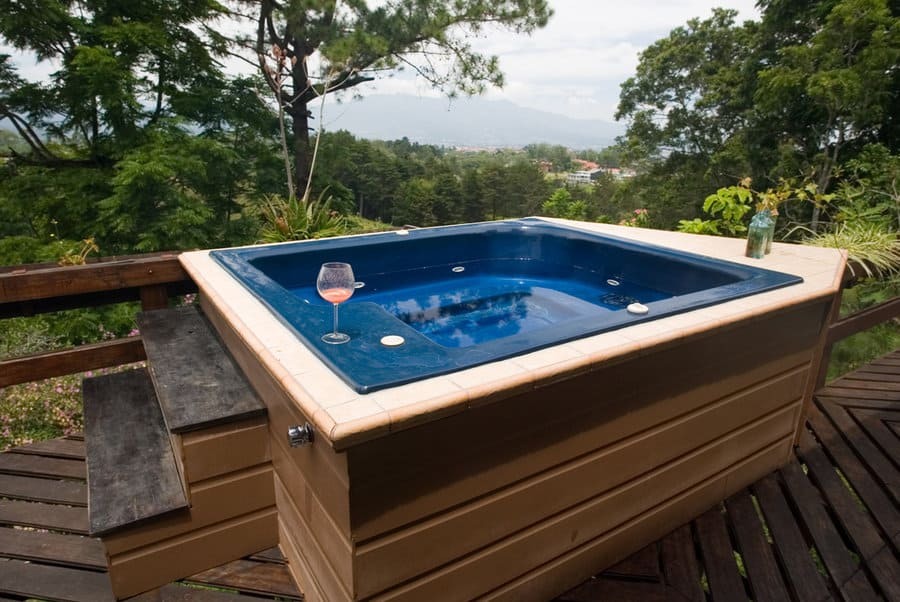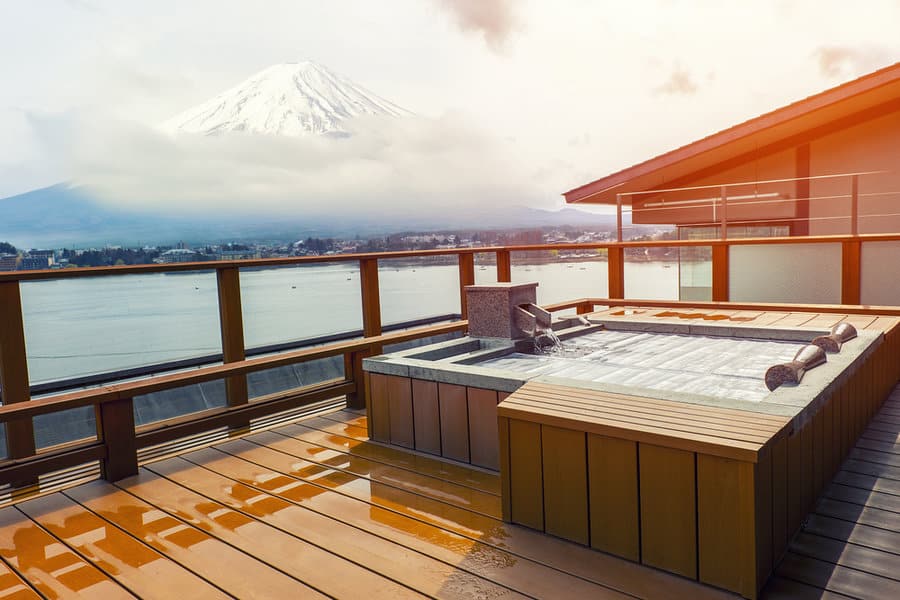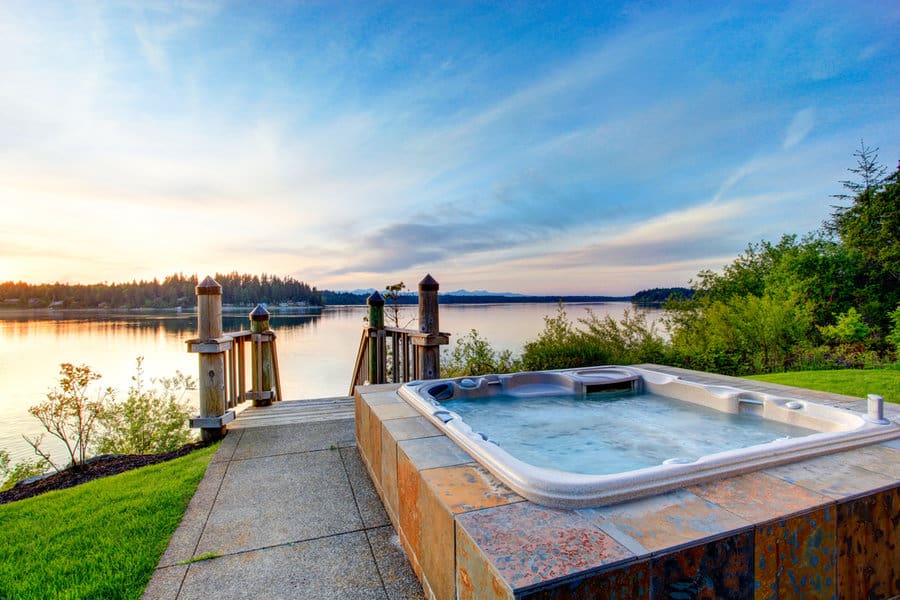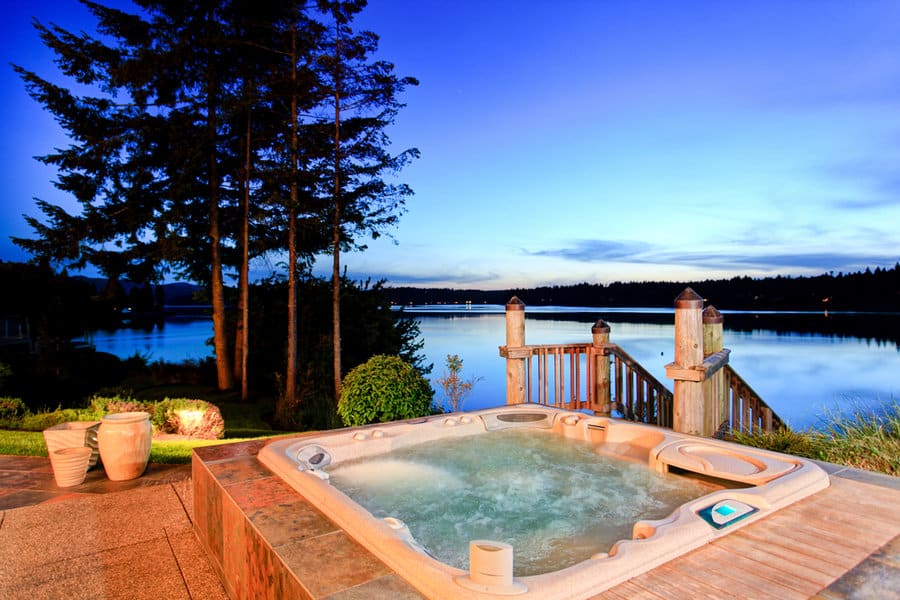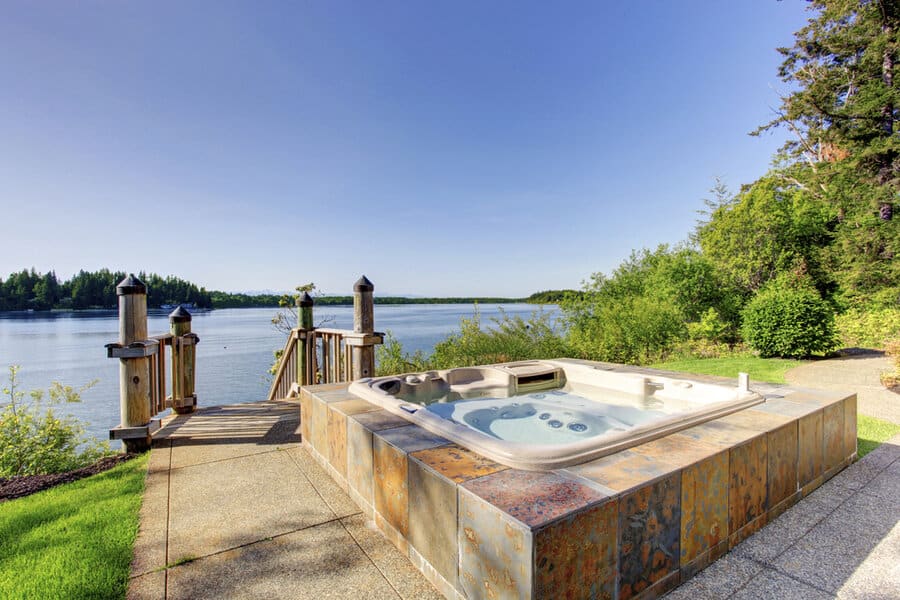 10. Inflatable Hot Tub Deck
The inflatable hot tub deck offers a flexible and portable alternative to traditional built-in hot tubs. You can easily set it up on your existing deck or patio, or even in your backyard. The inflatable design ensures easy installation and storage, making it perfect for those who want the option to move or pack away their hot tub when not in use.
The deck surrounding the inflatable hot tub provides a dedicated space for lounging, entertaining, and enjoying the therapeutic benefits of the hot tub experience. You can enhance the ambiance by incorporating comfortable seating, mood lighting, and even some lush greenery.
Whether you have a small urban balcony or a spacious backyard, an inflatable hot tub deck allows you to transform any space into a personal oasis of relaxation.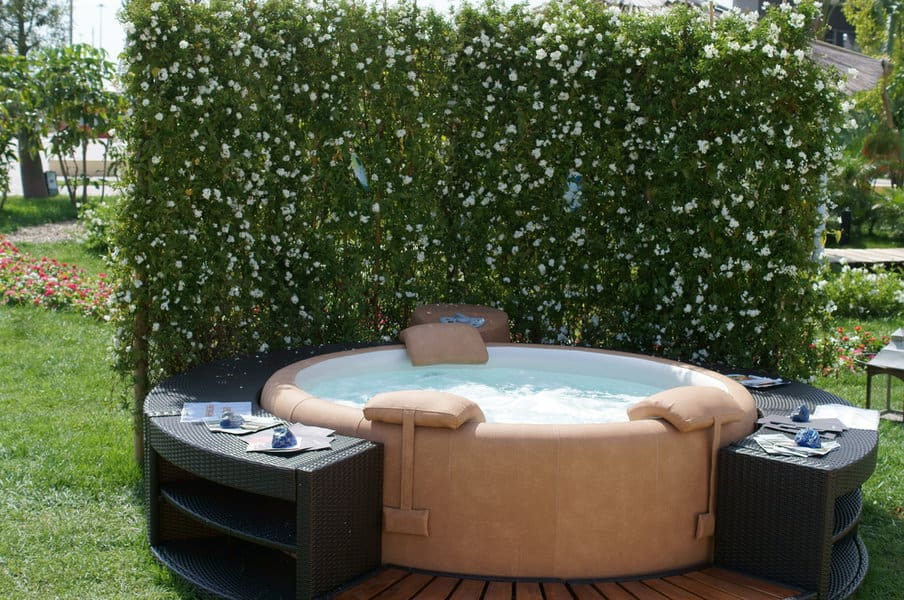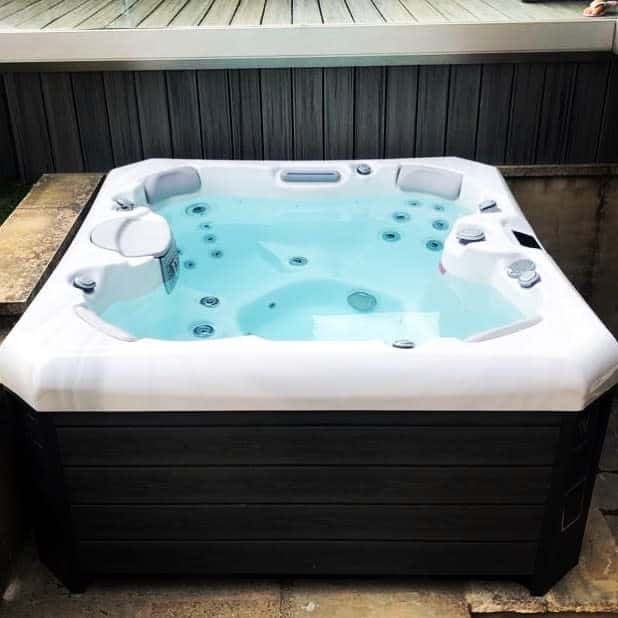 11. Built-In Hot Tub Deck
The built-in design creates a seamless and cohesive look, blending the hot tub with the deck and the natural surroundings. You can choose from various materials like wood, composite decking, or even stone to create the perfect ambiance for your outdoor space.
To add extra flair, consider incorporating built-in seating or lounge areas around the deck, allowing you and your guests to relax and unwind in style. Whether you prefer a modern, sleek design or a rustic, natural look, a built-in hot tub deck offers endless possibilities to create an outdoor haven that is both functional and visually stunning.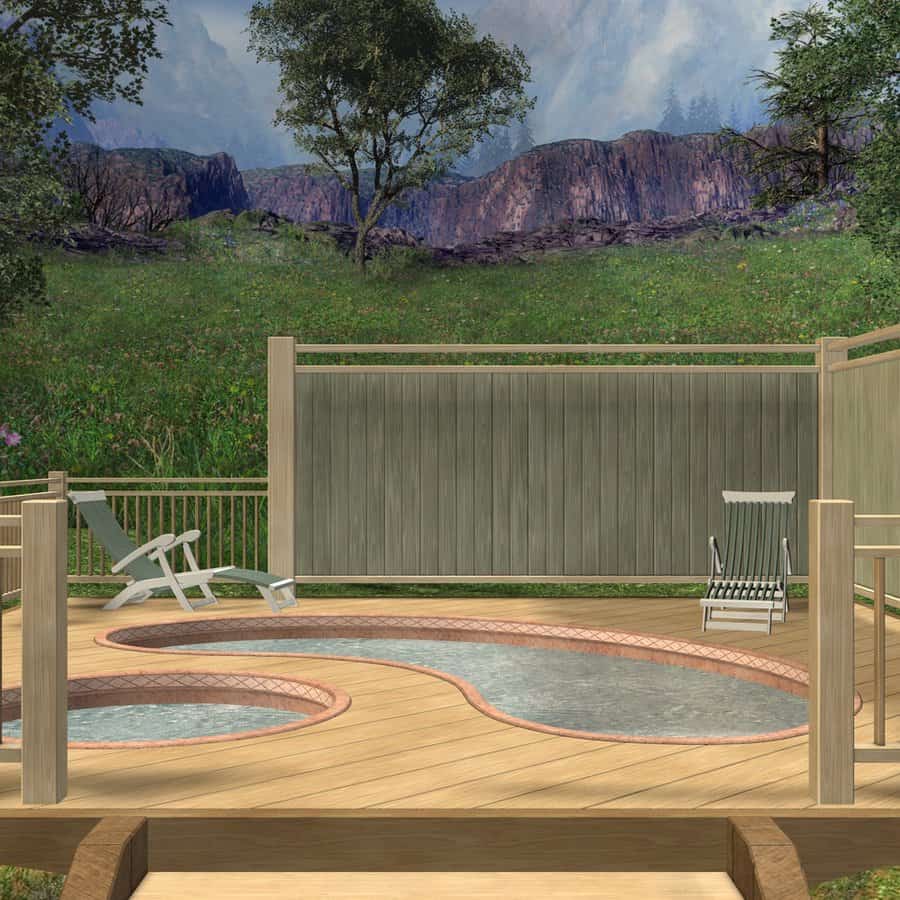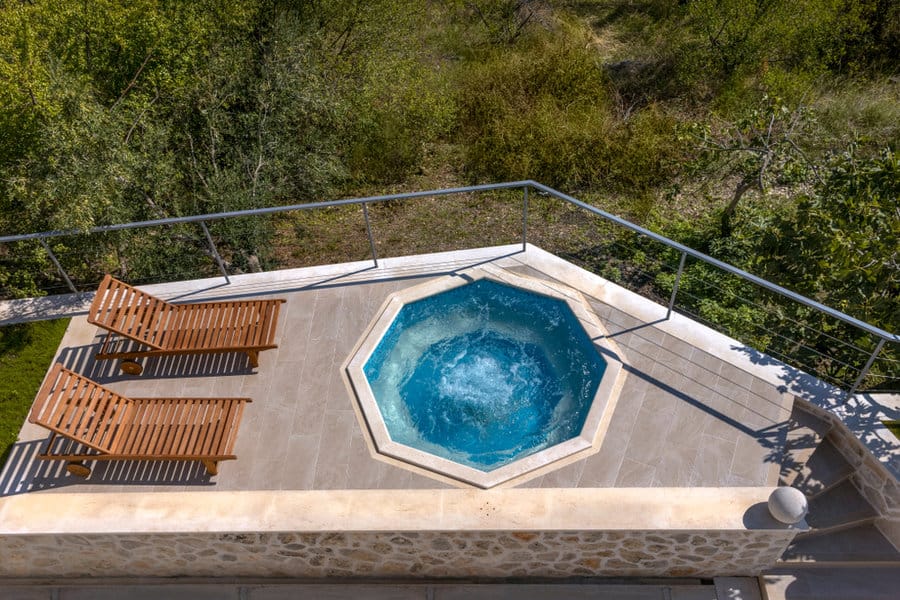 12. Rooftop Hot Tub Deck
A rooftop hot tub deck is a perfect blend of style and serenity, offering an unparalleled escape from the hustle and bustle of everyday life. Embrace the beauty of your surroundings and create a private retreat that transports you to a tranquil paradise. Opt for sleek and contemporary deck materials that enhance the modern aesthetic and create a seamless flow between the hot tub and the deck.
Incorporate comfortable seating areas, cozy loungers, and ambient lighting to set the mood for ultimate relaxation. Don't forget to add some greenery with potted plants or even a living green wall to infuse a touch of nature into your rooftop sanctuary. With a rooftop hot tub deck, you can indulge in luxurious soakings while enjoying breathtaking views and creating unforgettable memories.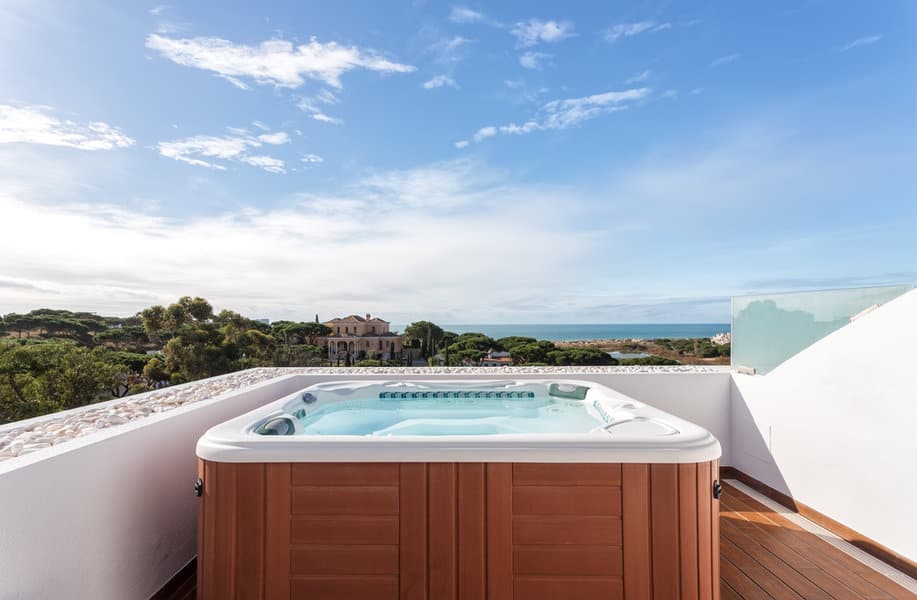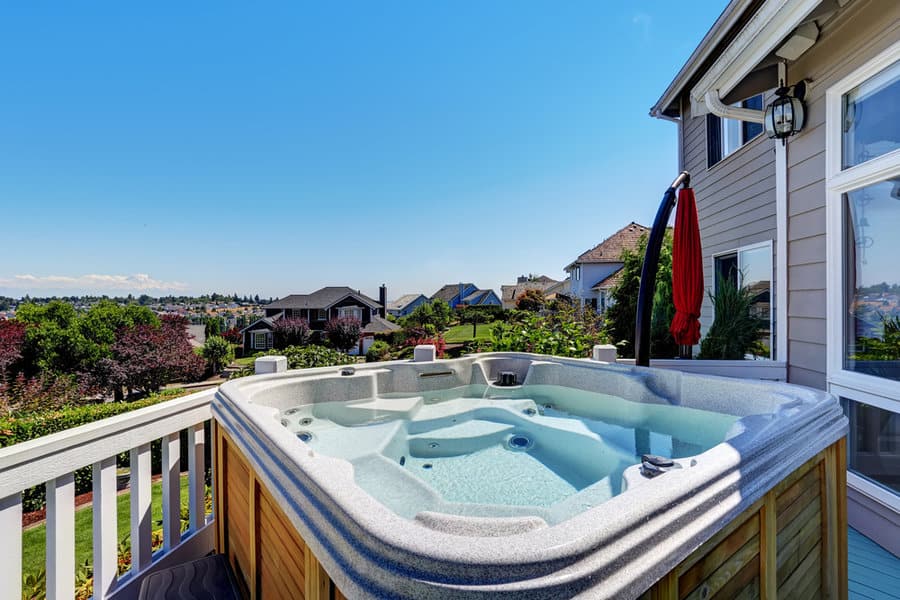 13. Gazebo Hot Tub Deck
A gazebo provides the perfect structure to house your hot tub, adding an elegant touch to your outdoor space. You can choose from various designs, such as a classic wooden gazebo for a rustic charm or a modern and sleek structure for a contemporary vibe.
With a gazebo hot tub deck, you can create a private retreat where you can unwind and relax with ease. Enhance the ambiance with string lights, cozy seating, and lush greenery to create a serene and inviting atmosphere.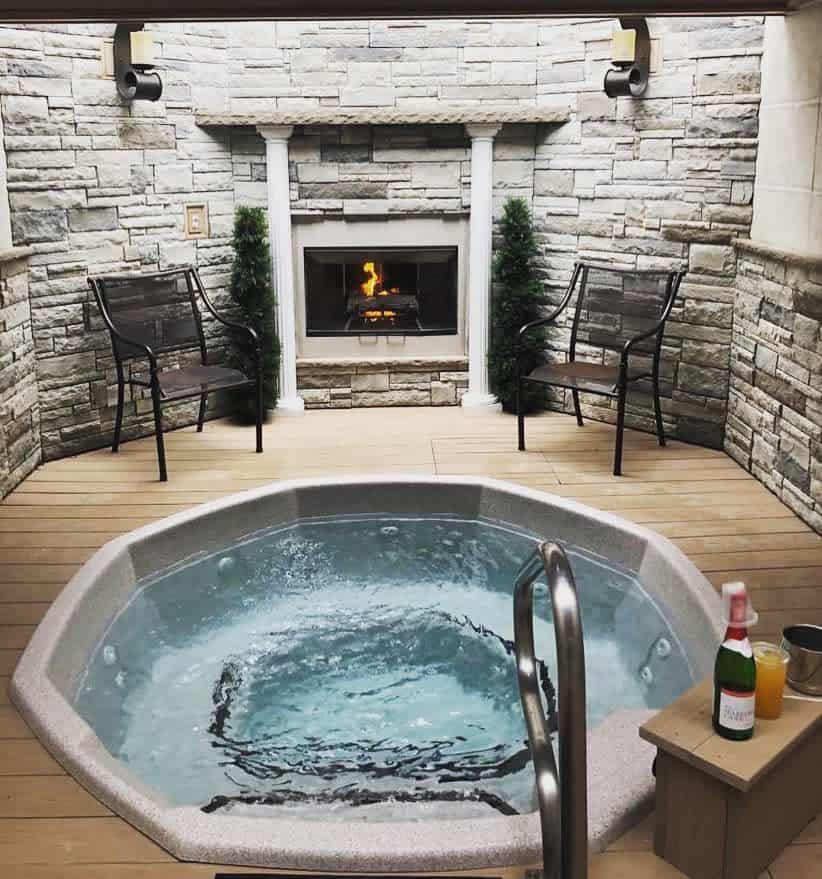 14. Wooden Hot Tub Deck
Imagine a luxurious wooden hot tub deck, seamlessly integrated into your outdoor space. This built-in feature not only adds a touch of sophistication but also creates a harmonious connection between your hot tub and the surrounding environment. Imagine stepping onto a beautiful wooden deck, with the warm water of your hot tub invitingly waiting for you.
The natural texture and warmth of the wood create a cozy and inviting atmosphere, perfect for unwinding after a long day. The built-in design ensures a seamless transition from the deck to the hot tub, providing a clean and polished look.
You can customize the deck to fit your specific needs, adding seating areas, planters, or even a pergola for added shade and privacy. Enhance the ambiance further with soft outdoor lighting and surrounding greenery.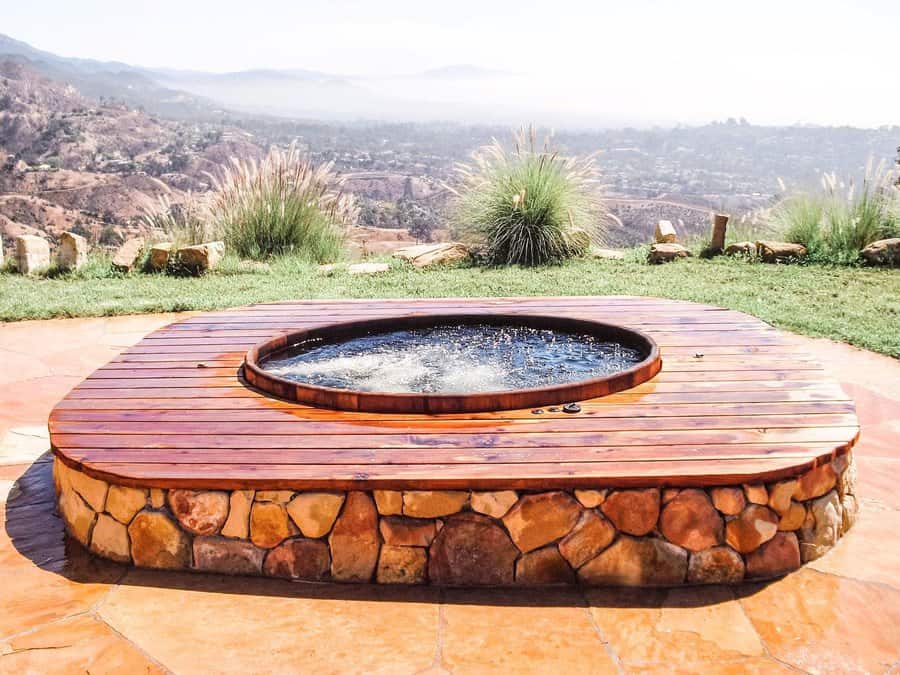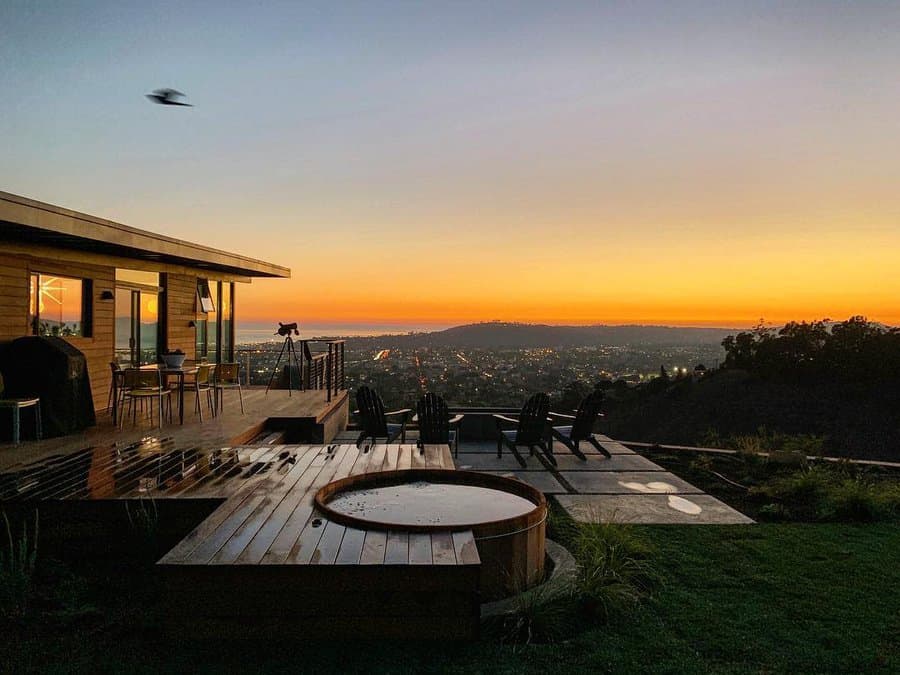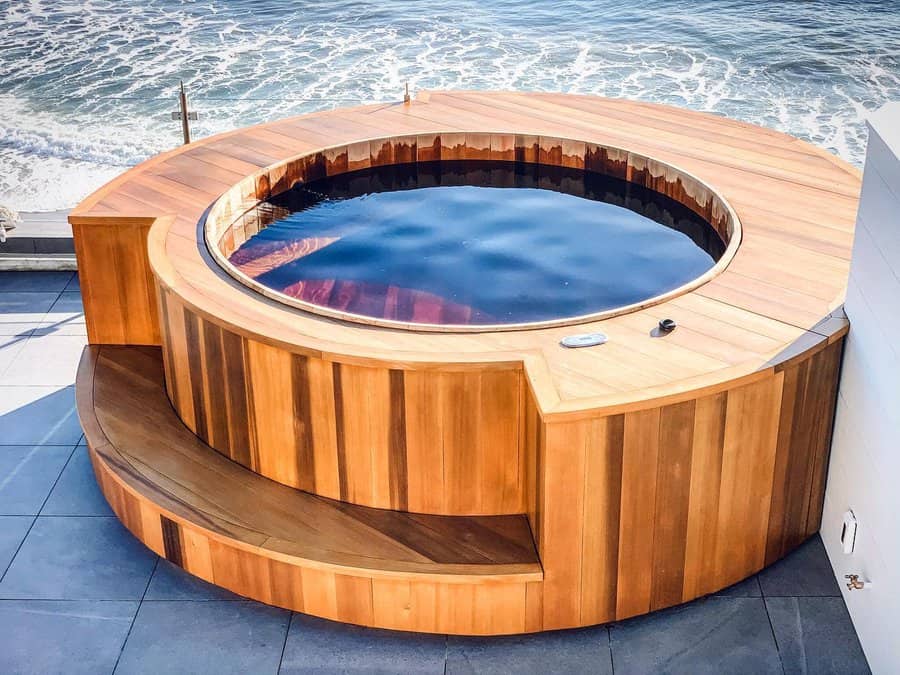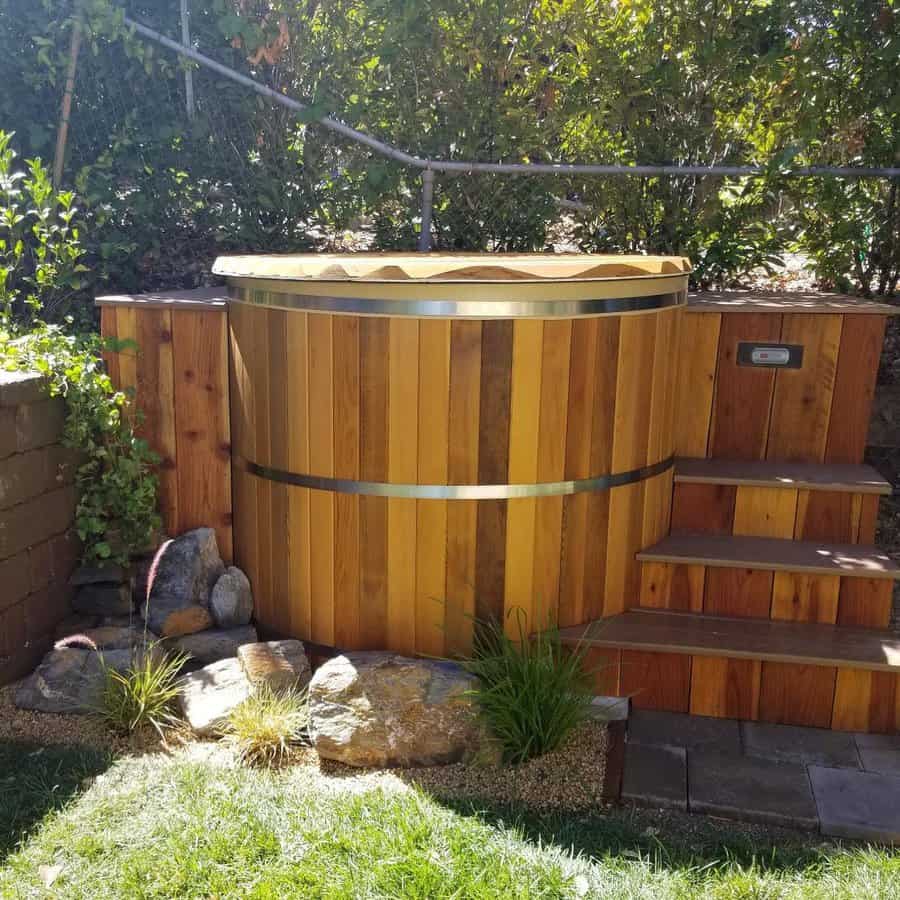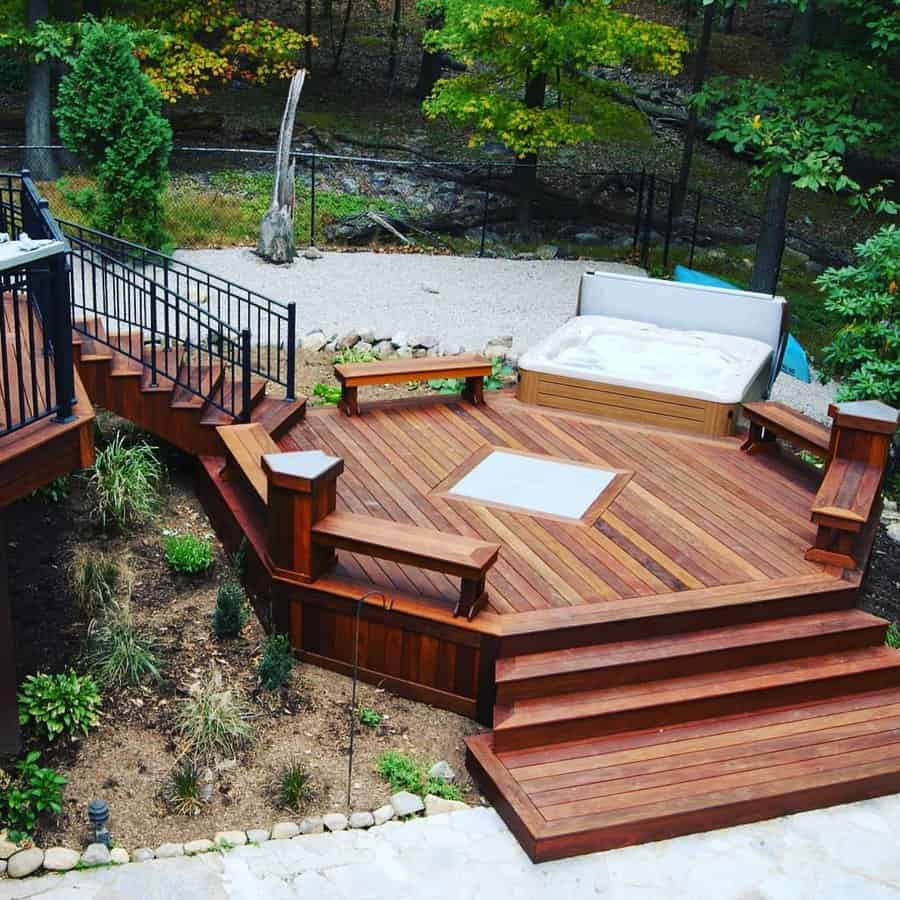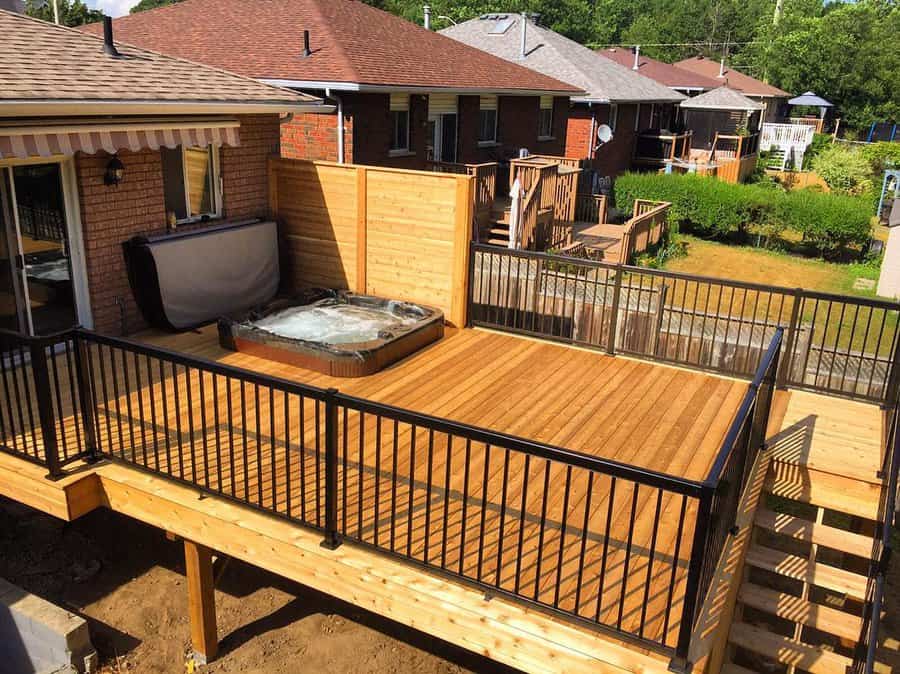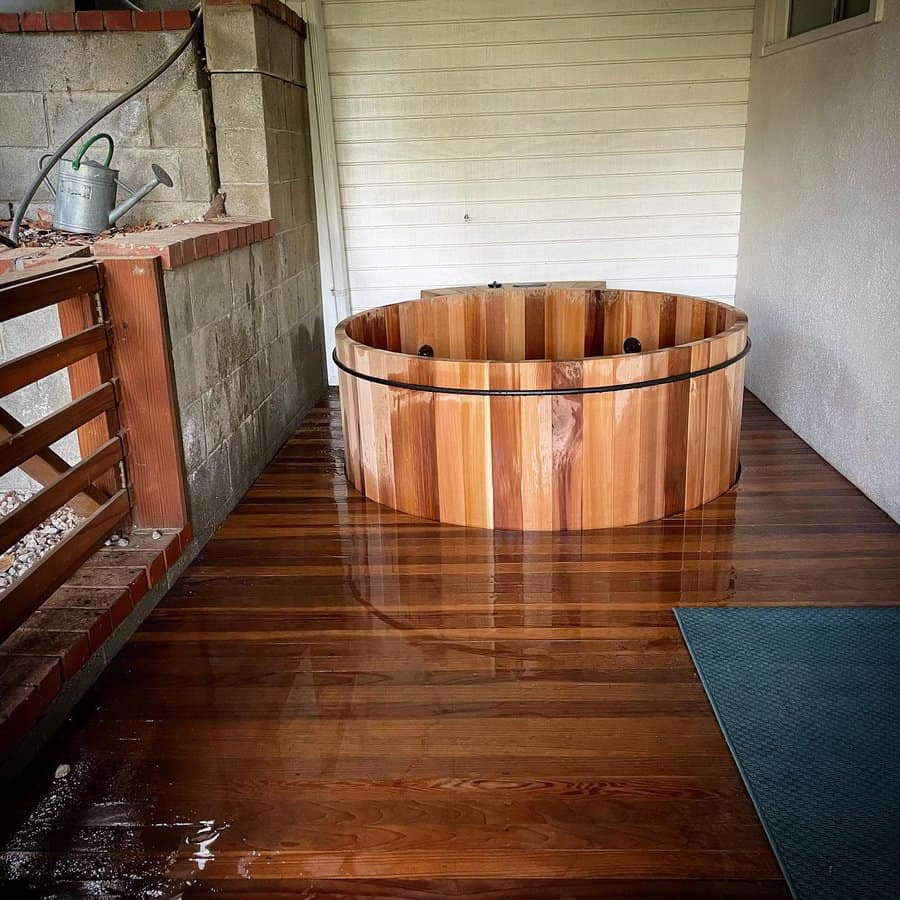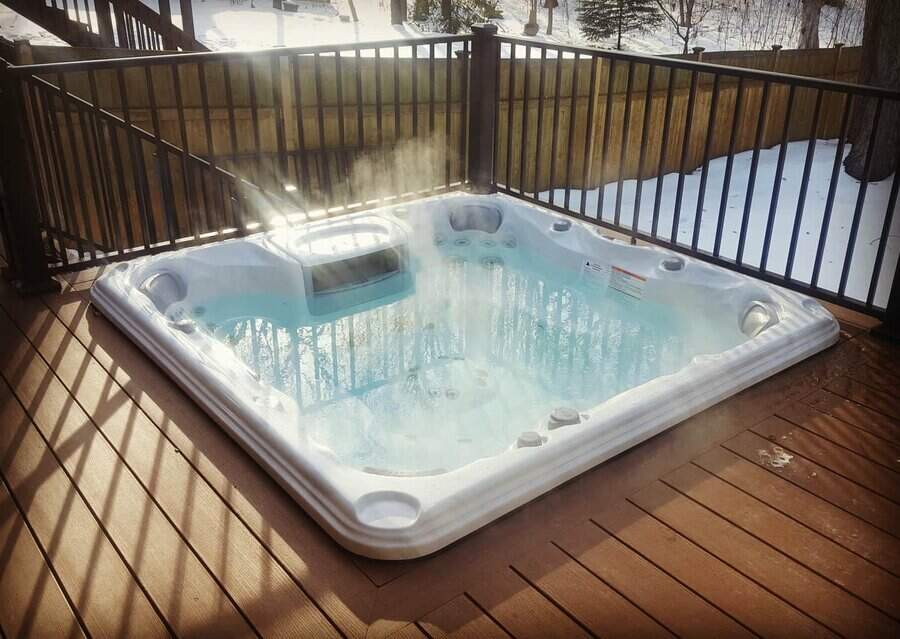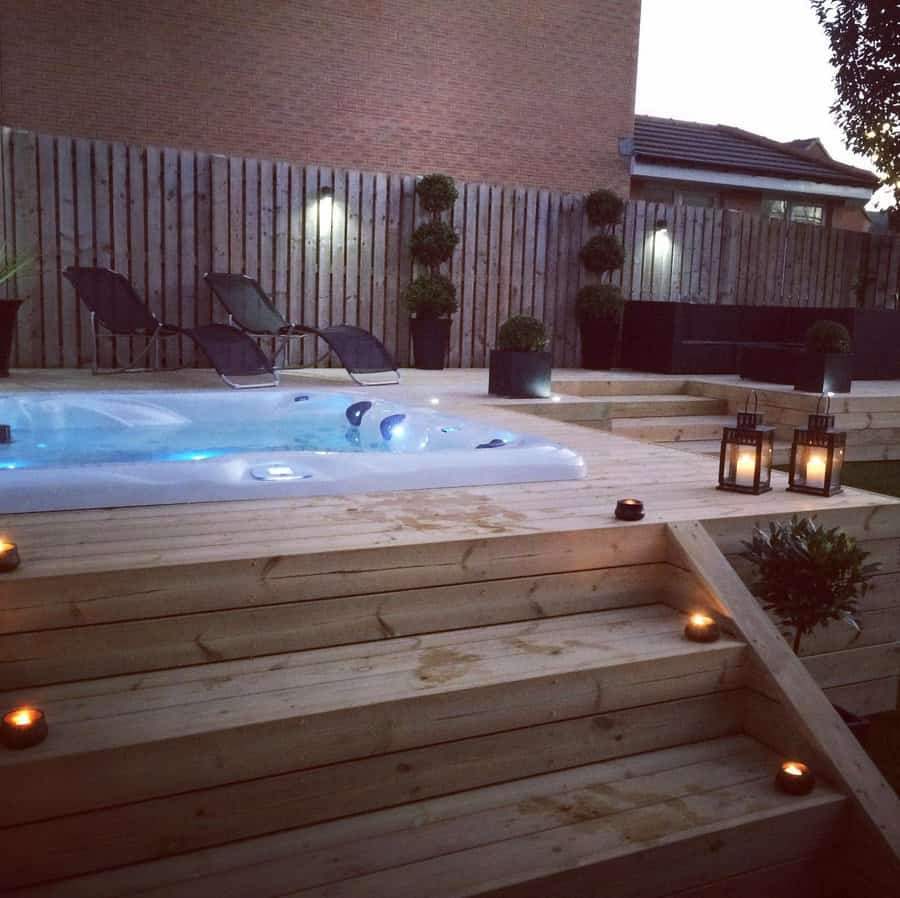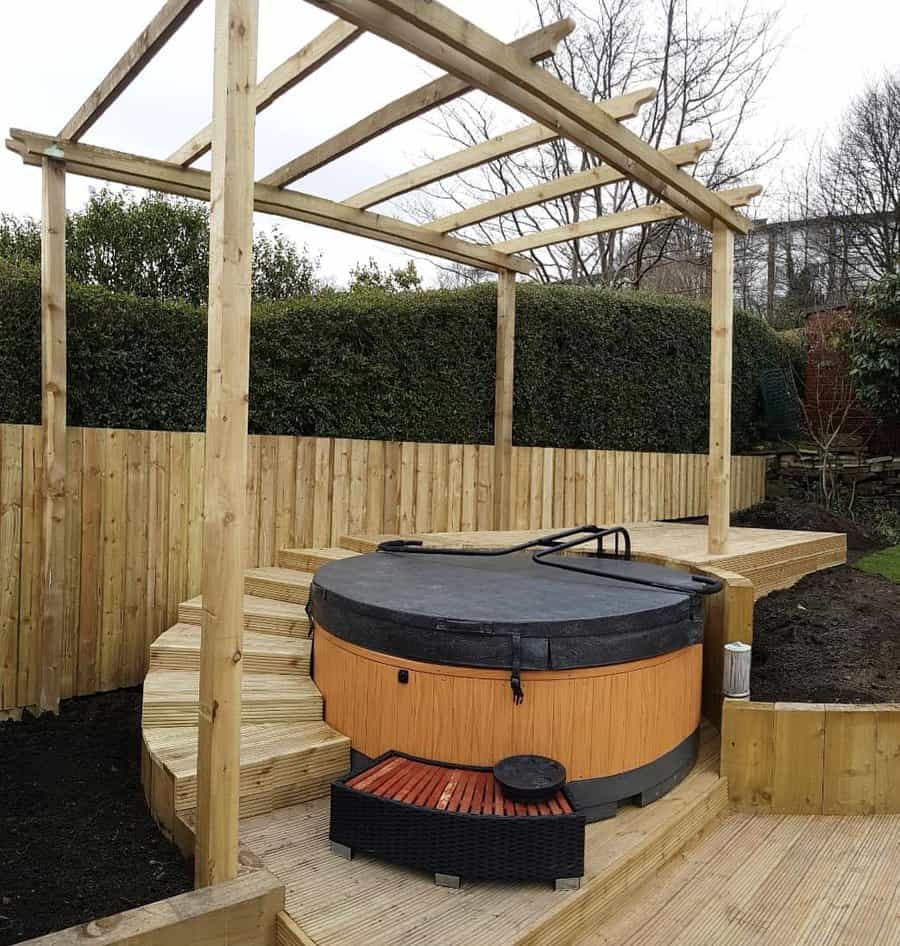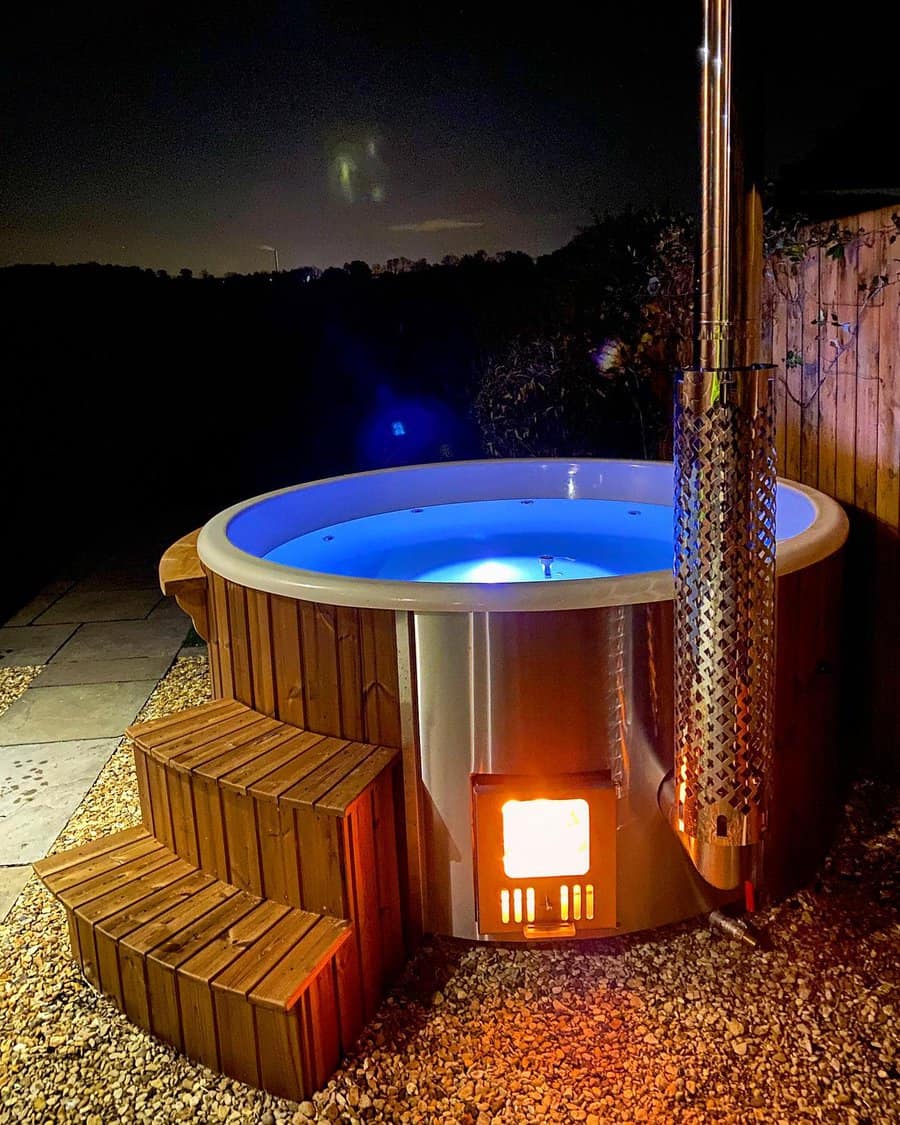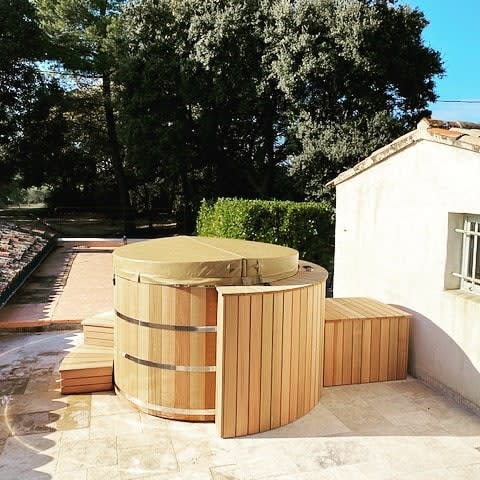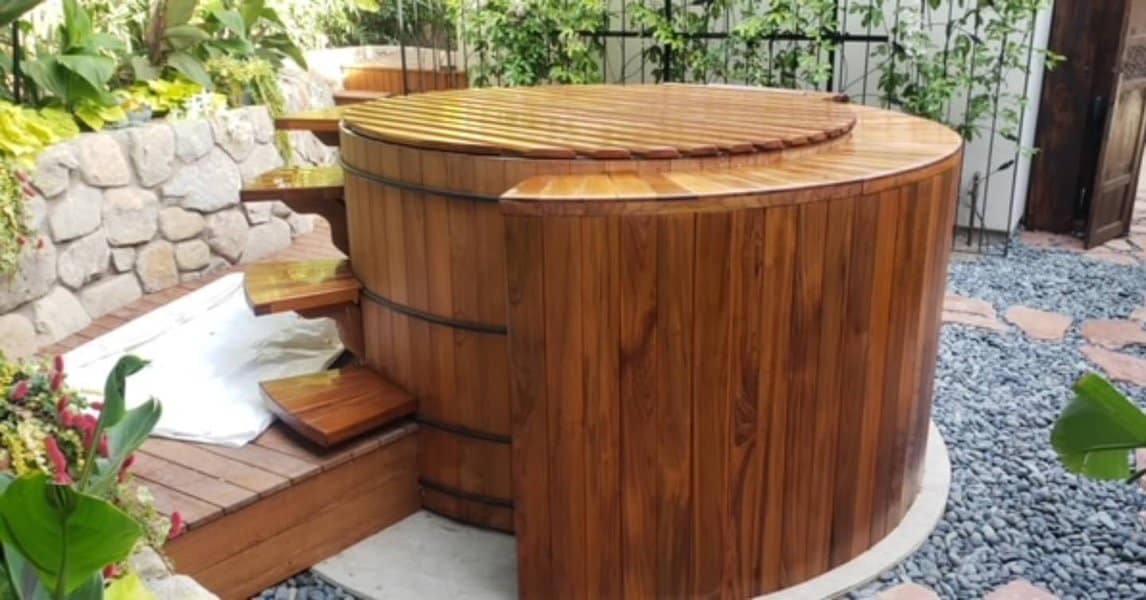 Hot Tub Deck FAQs
How much does it cost to build a deck with a hot tub?
The cost of your hot tub deck installation will depend on your budget. An entry-level installation could cost less than $5,000. A mid-level installation will cost $5,000-$8,000. High-end installations cost $8,000-$12,000. Luxury and custom installations start at $13,000 and can go up to an unlimited cost.
How far should a hot tub be from the house?
Technically, you don't have to place your hot tub a minimum distance from the home. However, you need to think about safety. To reduce your risk of electrocution, place your hot tub at least 16 feet from any overhead power lines. To reduce the risk of flooding your home, place your hot tub at least five feet from your home.
Is a hot tub a good investment?
Don't worry about whether your hot tub will add value to your home. If you will use it regularly and get enjoyment out of it, then a hot tub is well worth the investment. You can use it to relax, enjoy better health, and entertain.