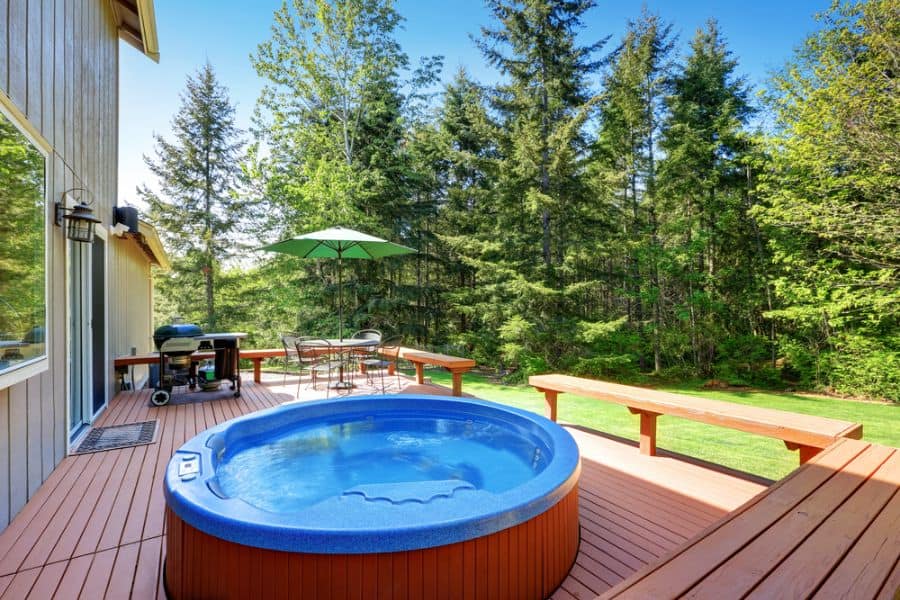 The Top 64 Hot Tub Deck Ideas
Having an outdoor living room or kitchen is great for the outdoor living lifestyle. However, if you want to take your outdoor enjoyment up a notch, what you need is a hot tub. They are better than a swimming pool because their small size makes them easier to fill and maintain.
They also don't take up as much room, so you can fit them in places where a pool wouldn't normally fit. Once you have your hot tub location chosen, you need to think about the deck you'll have around it. This will make using your new backyard addition more enjoyable.
These hot tub deck ideas will help you design a backyard that will be the envy of your neighborhood.
1. Backyard
Having a hot tub in your backyard means you have a natural focal point. The sheer bulky size and shape of your hot tub mean it will draw attention.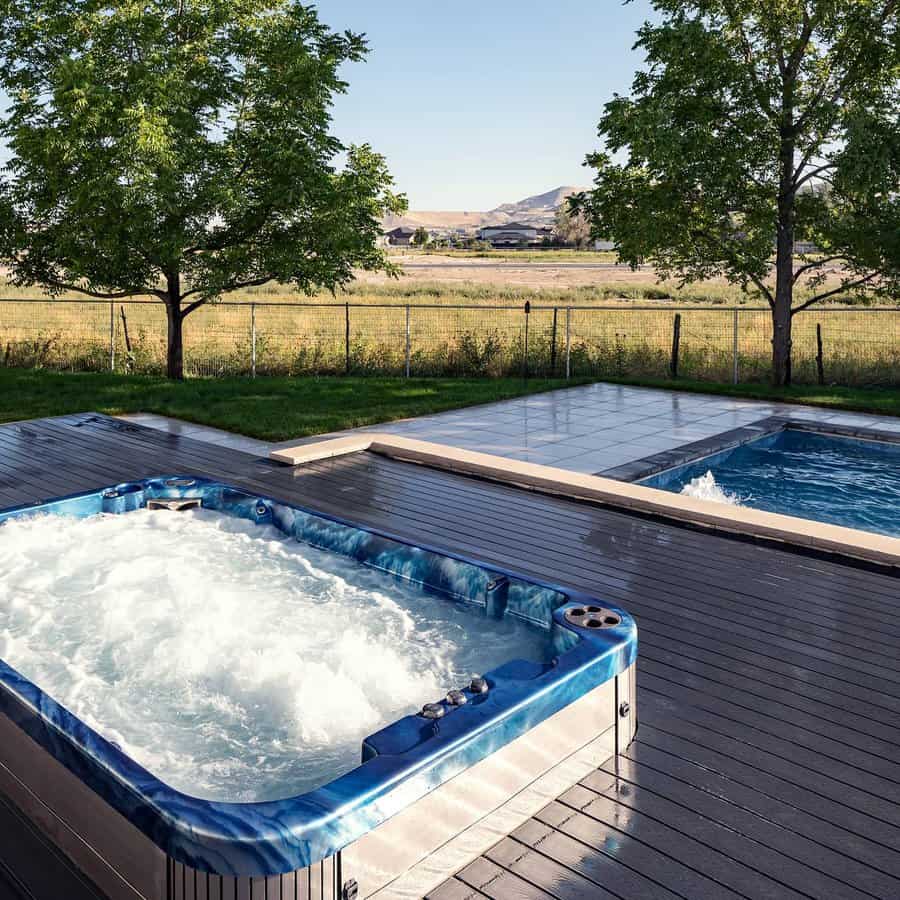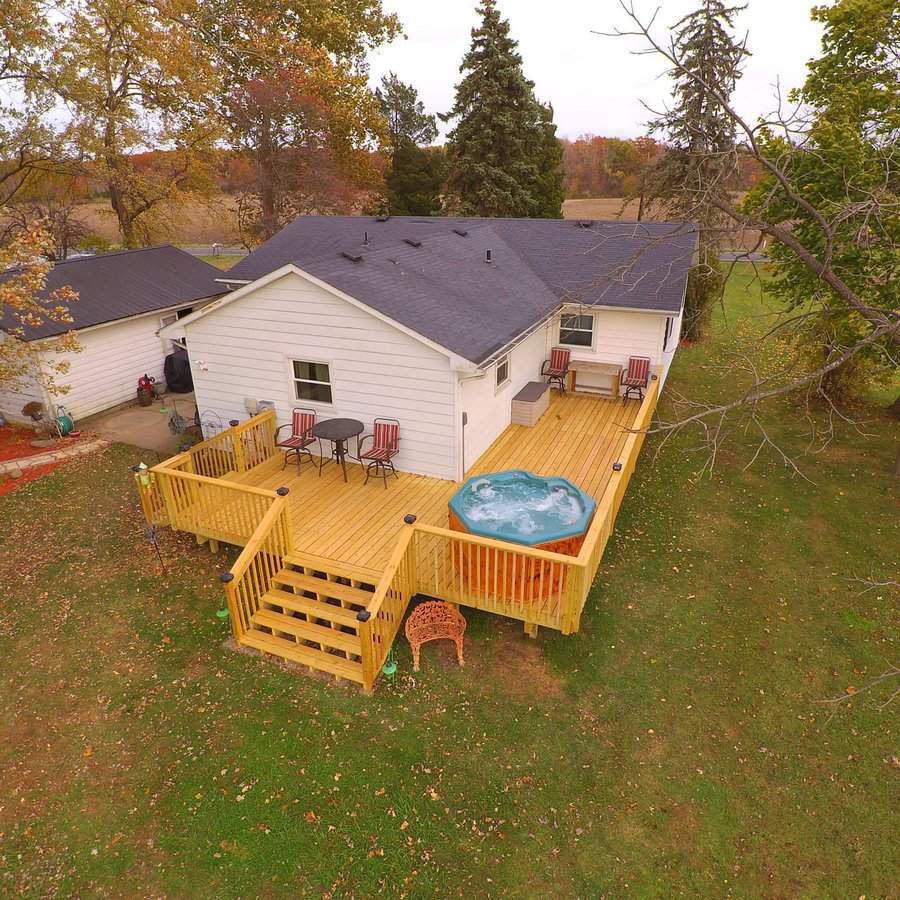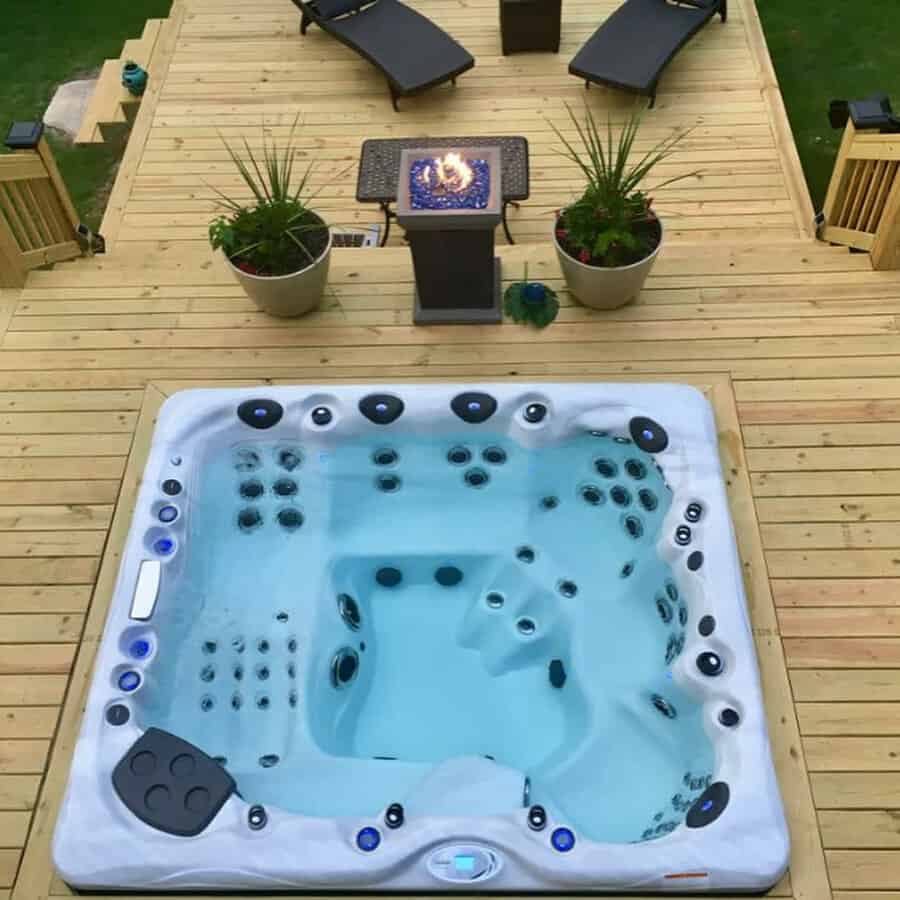 You have two options. You can embrace this and make the hot tub the shining star of your backyard design. String lights over it, have a path leading to it and add benches around the outside for setting towels on.
Your other option is to use your backyard design to hide the hot tub. Build a deck around your hot tub to be flush with the top of it. Plant trees or place large potted plants around it. Camouflage the hot tub so that it isn't immediately obvious.
2. Cedar
If your hot tub deck design involves a deck, then consider using cedar. It will create a gorgeous deck that has deep red and orange hues. It also has impressive useful longevity with high durability and resistance to moisture.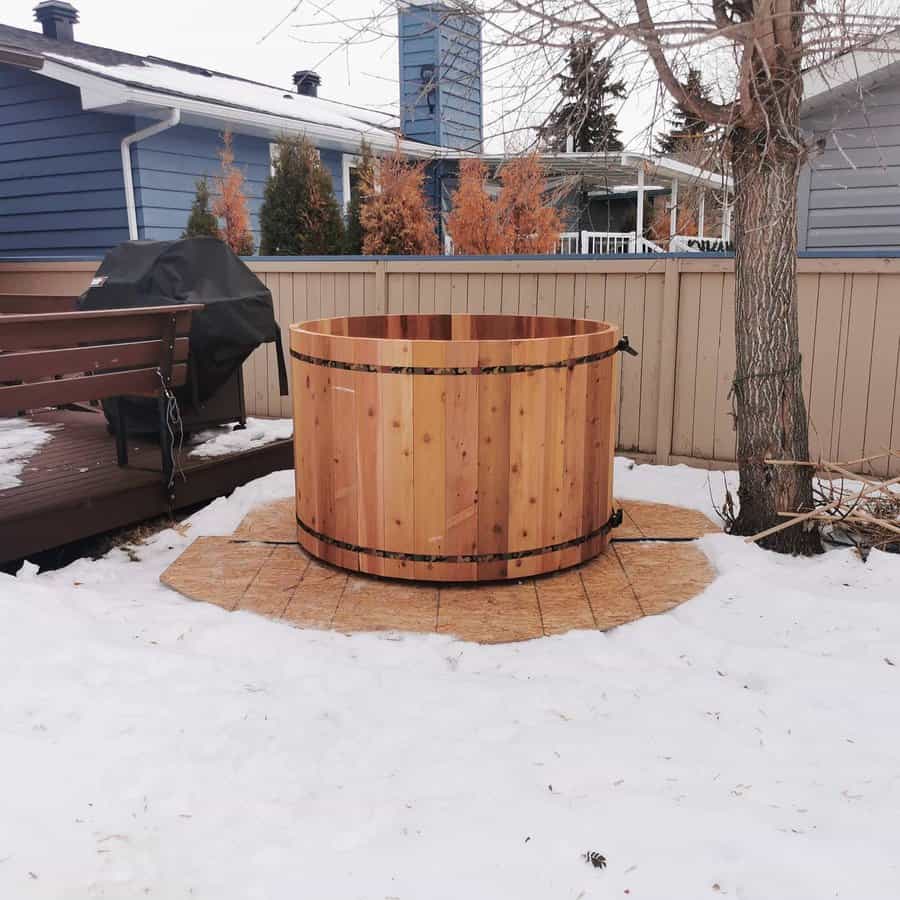 Despite it being a softwood, it's better than most woods at resisting insect infestation, rot, warping, and cracking. This makes it an all-around solid choice for your decking material. You can expect your cedar deck to easily last 15 to 20 years.
3. Concrete
If you have a concrete patio, then you have a solid base for your hot tub. Remember, once your hot tub is filled and you are sitting in it, your hot tub will be very heavy. This means you need to have a solid base for the hot tub to sit on. Concrete is a smart choice for this.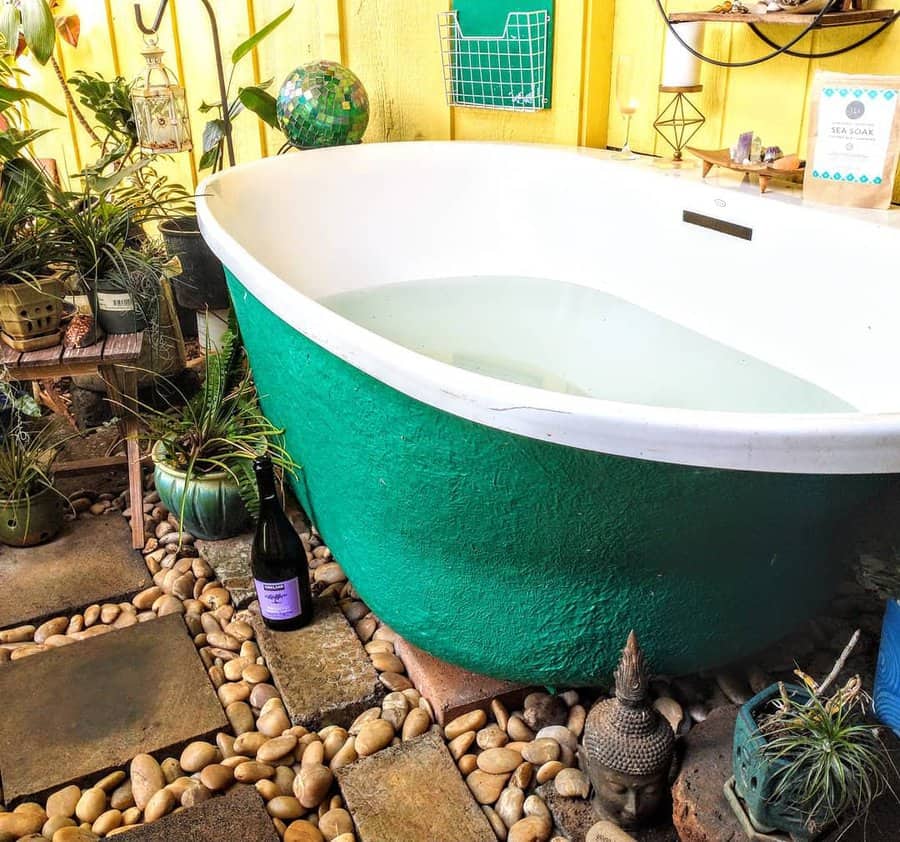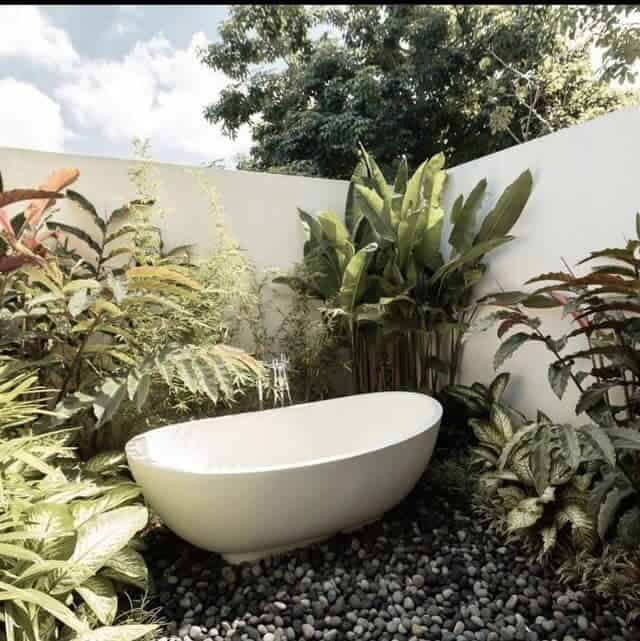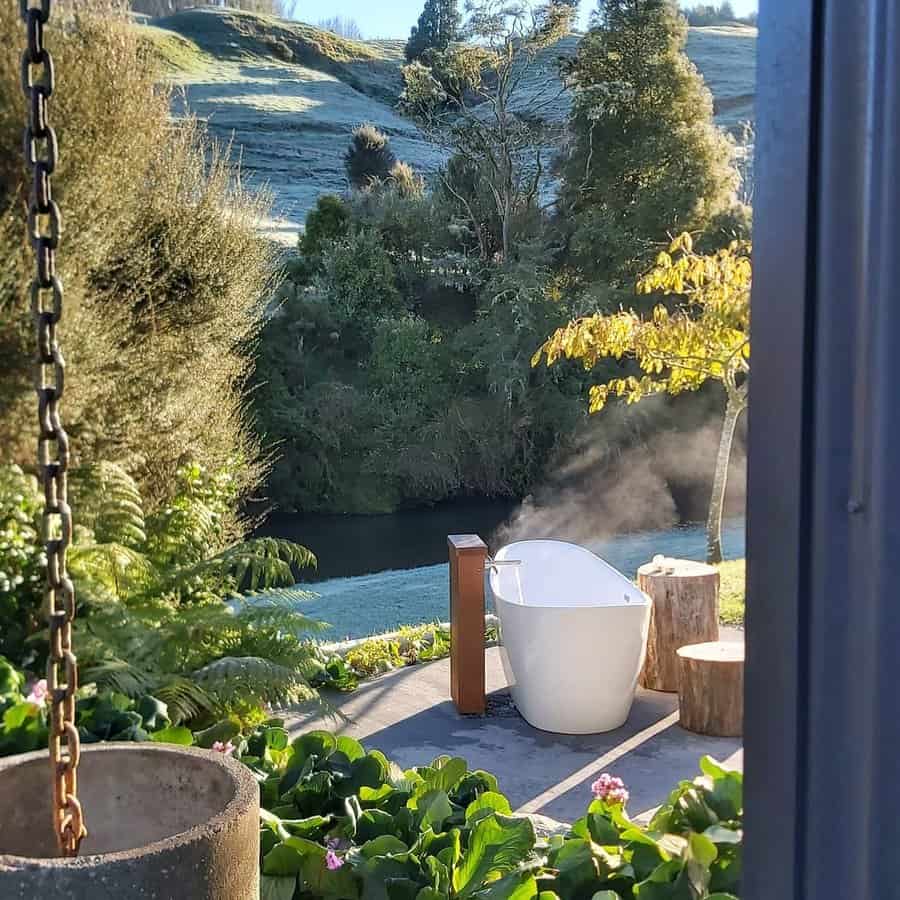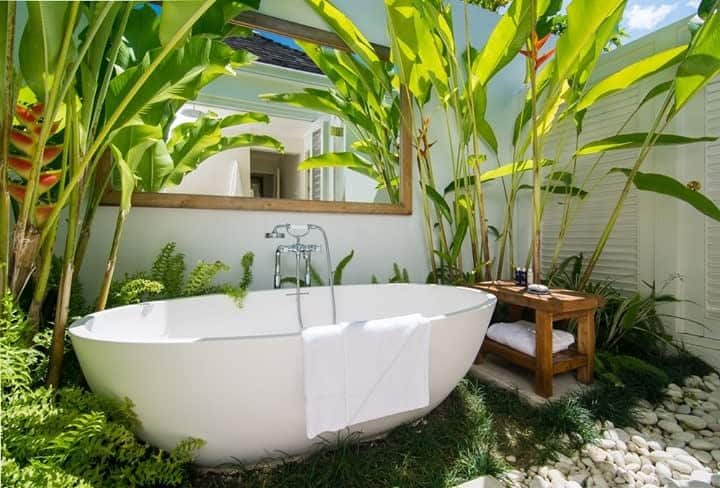 You can also use concrete to build an elevated deck. Use concrete to build up the base for your hot tub. Or use concrete to create a seating pit around the hot tub. You could even build a concrete wall around the hot tub for more privacy.
4. Gazebo
Building a gazebo or pergola over your hot tub can add privacy and give you some protection. If you already have an existing deck, then adding a large gazebo can give you space to create a seating area next to the hot tub.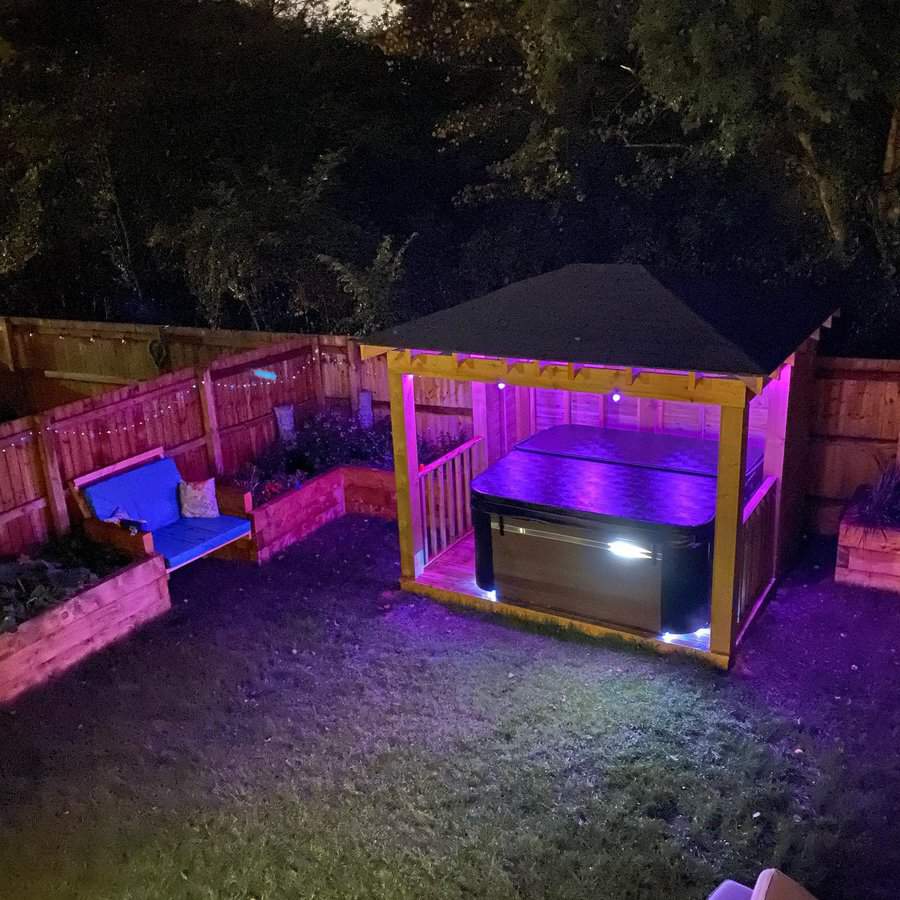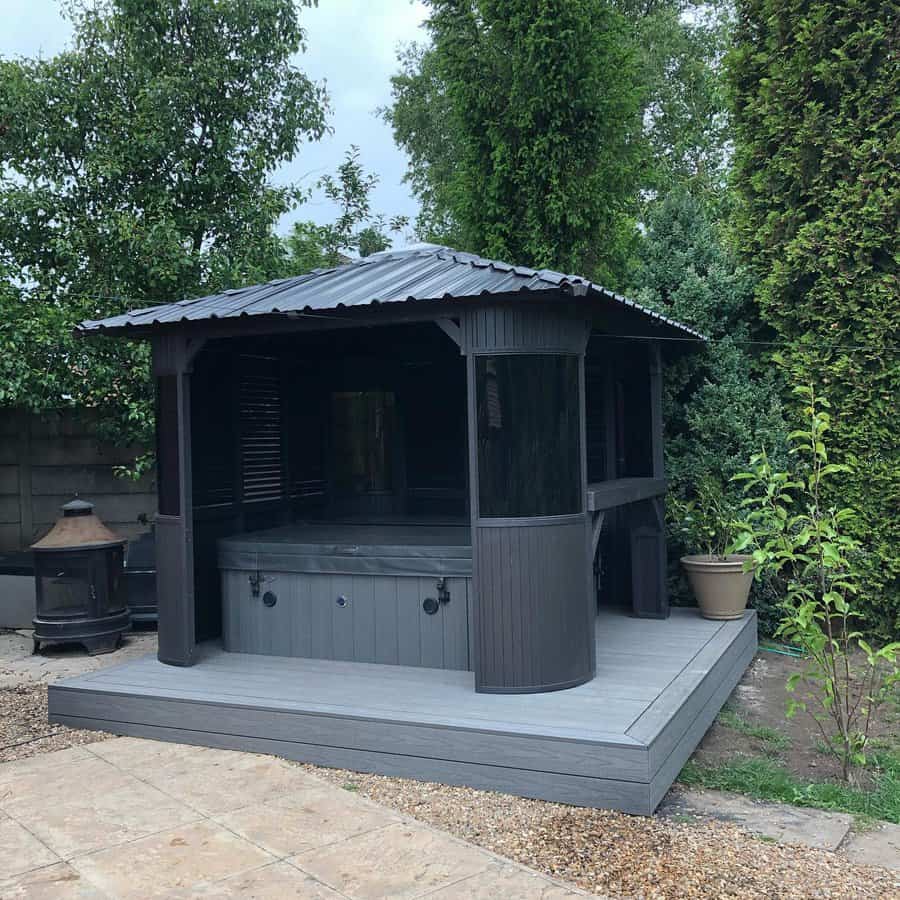 The gazebo gives you a framework to work with when adding decor. String cafe lights from the top for a soft, mood-setting glow. Hang plants from pots or allow a vine plant to grow over the gazebo.
The plants will create a natural barrier that's perfect for filtering the sunlight or creating more privacy.
5. Jacuzzi
While the majority of these ideas are focused on hot tubs, they aren't limited to just traditional tub designs. You can also use them with a jacuzzi, swim spa, or inflatable hot tub.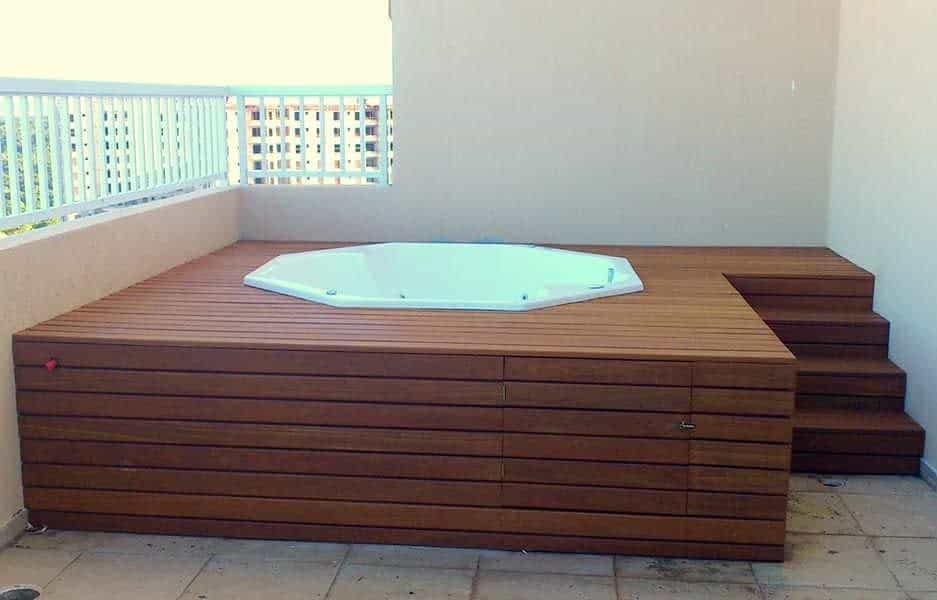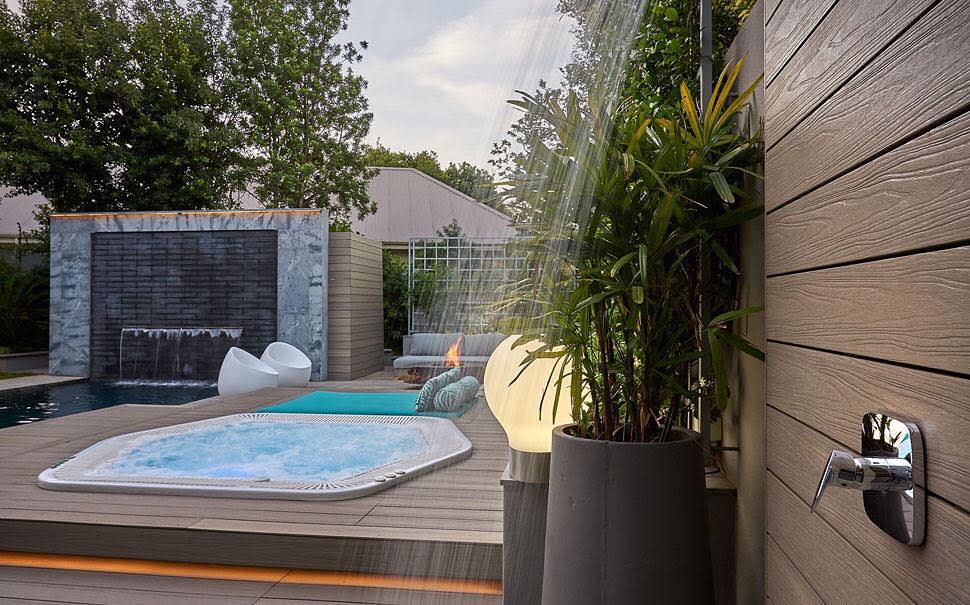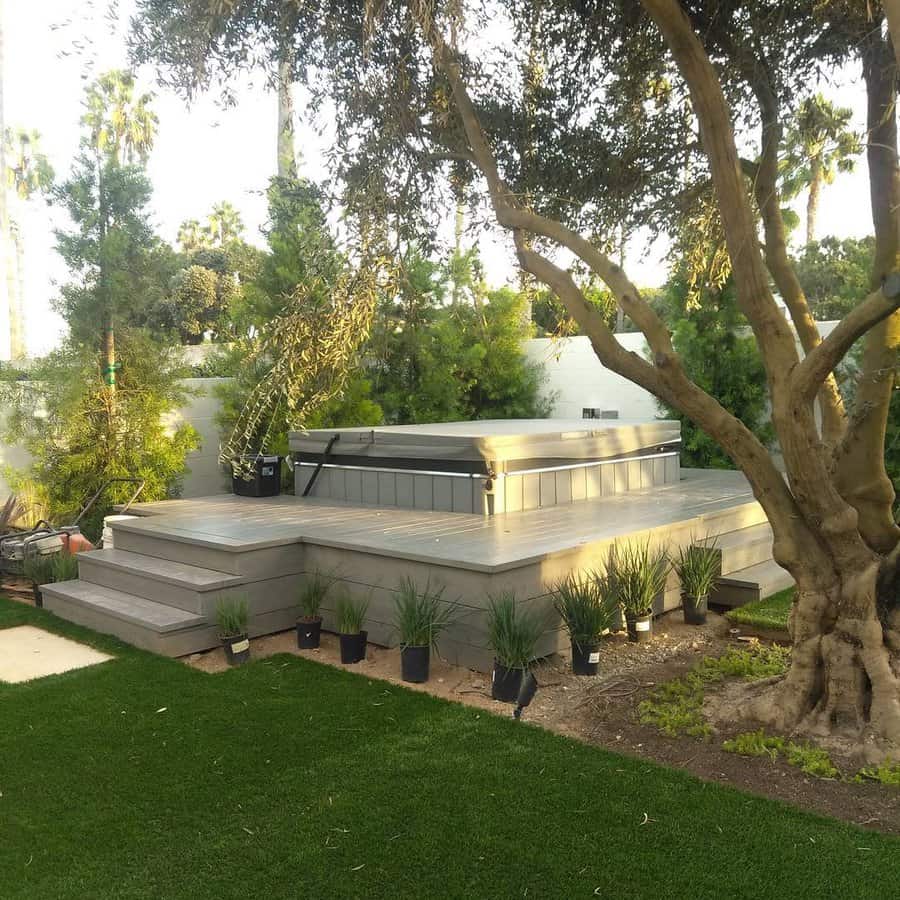 Create a personalized backyard spa by doing more than just placing your new jacuzzi or swim spa in your backyard. Think about how you'll get to and from your new addition.
You don't want to leave your home's backdoor only to step outside and have to work through dirt or grass. You also need to have somewhere to place your towel while you are in the water.
6. Minimalist
The minimalist works well with your hot tub. Use composite decking to build the pool deck. Make it a separate space from your immediate patio by creating an outdoor extension.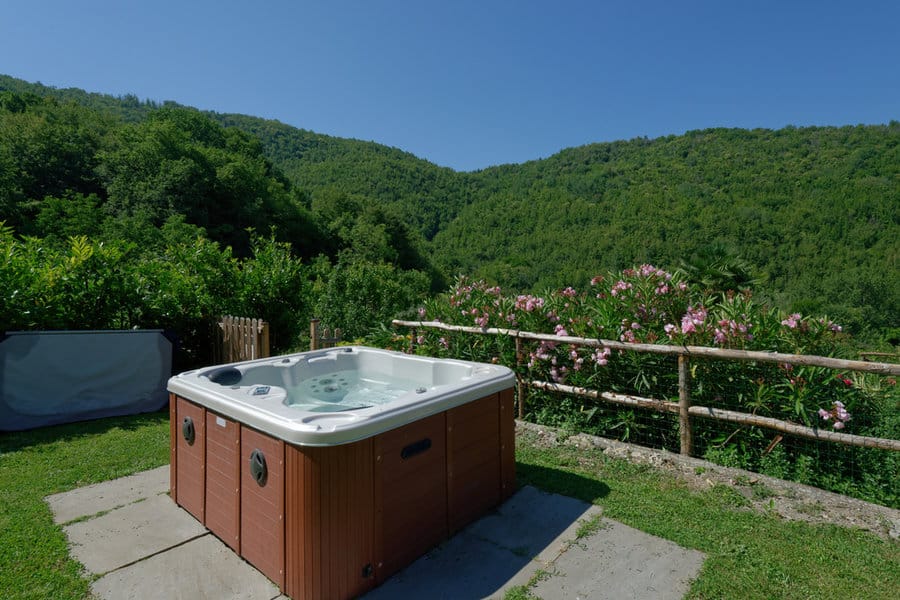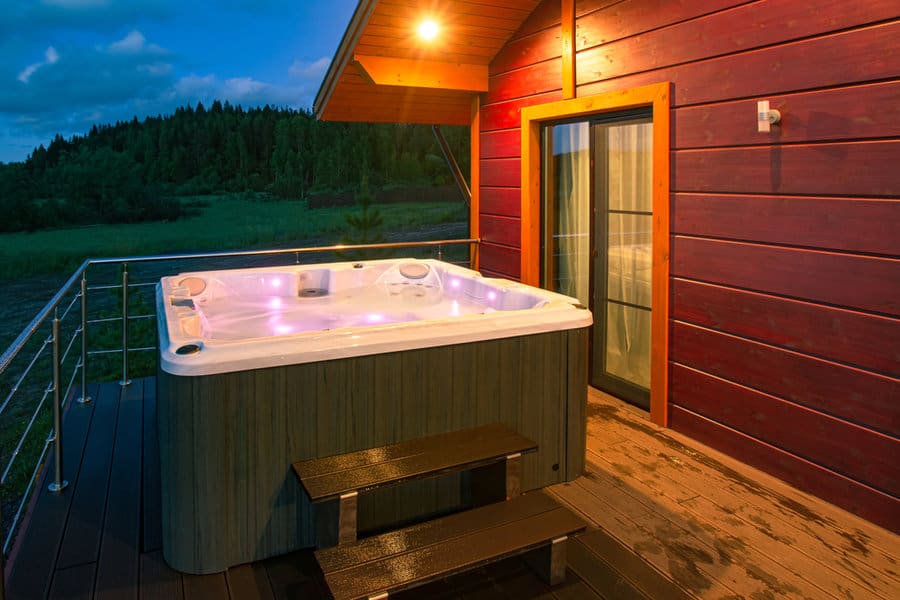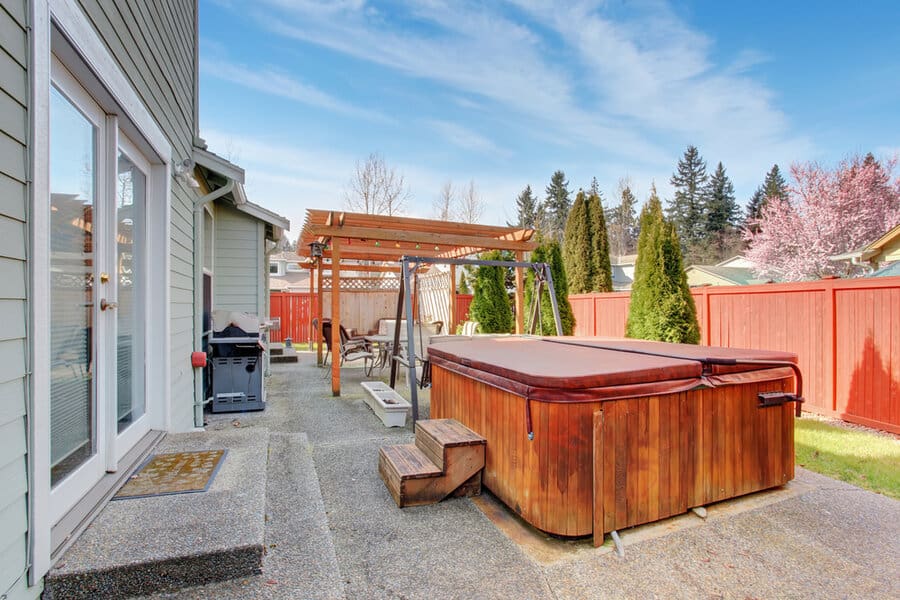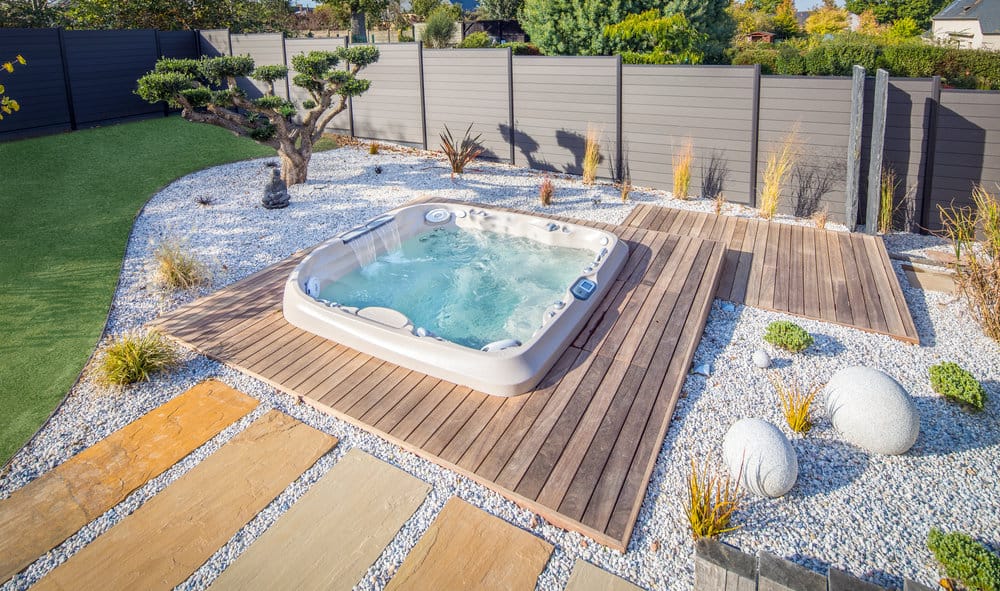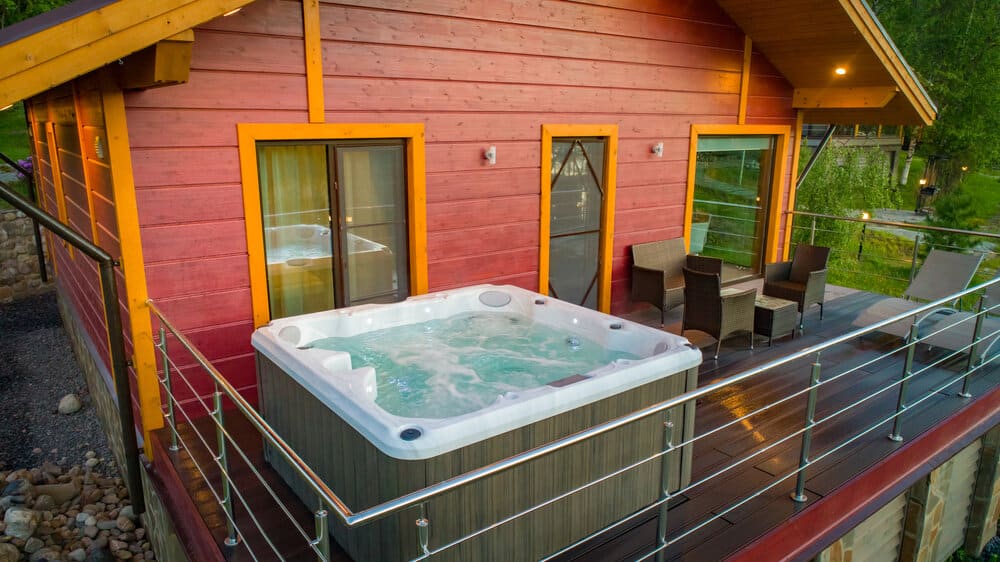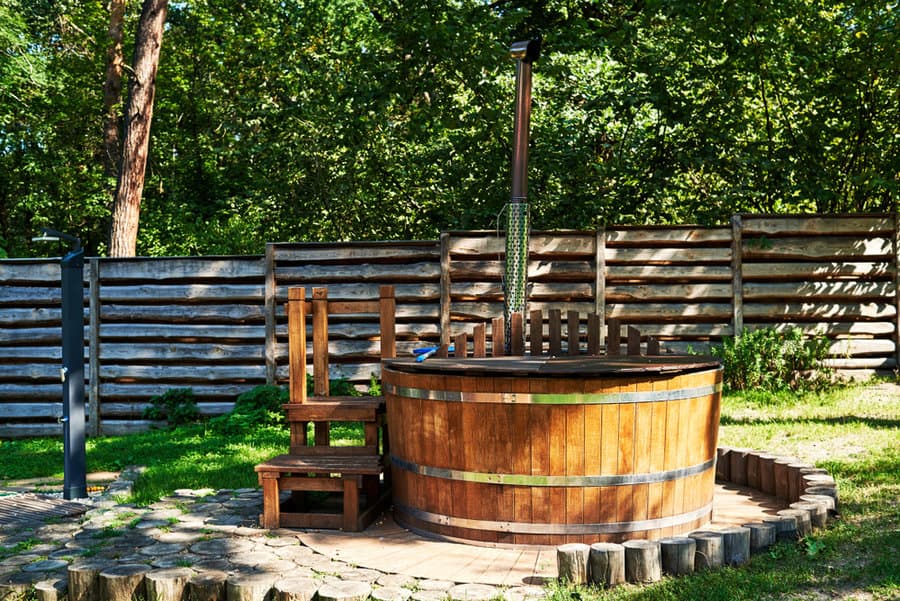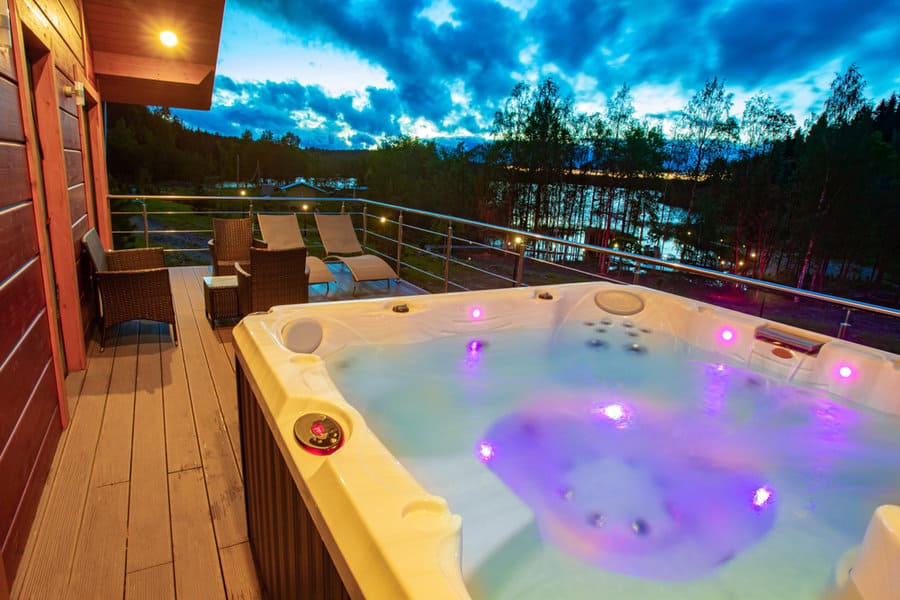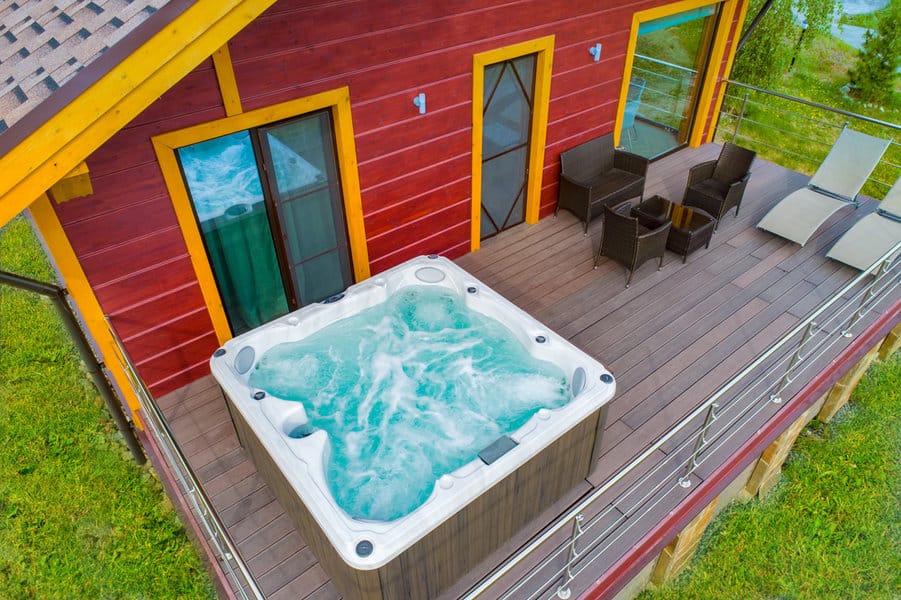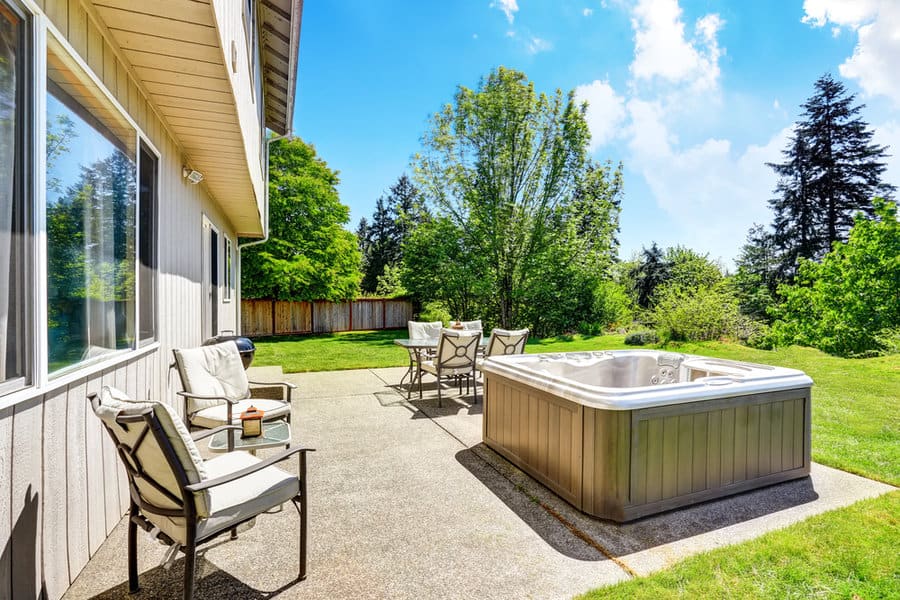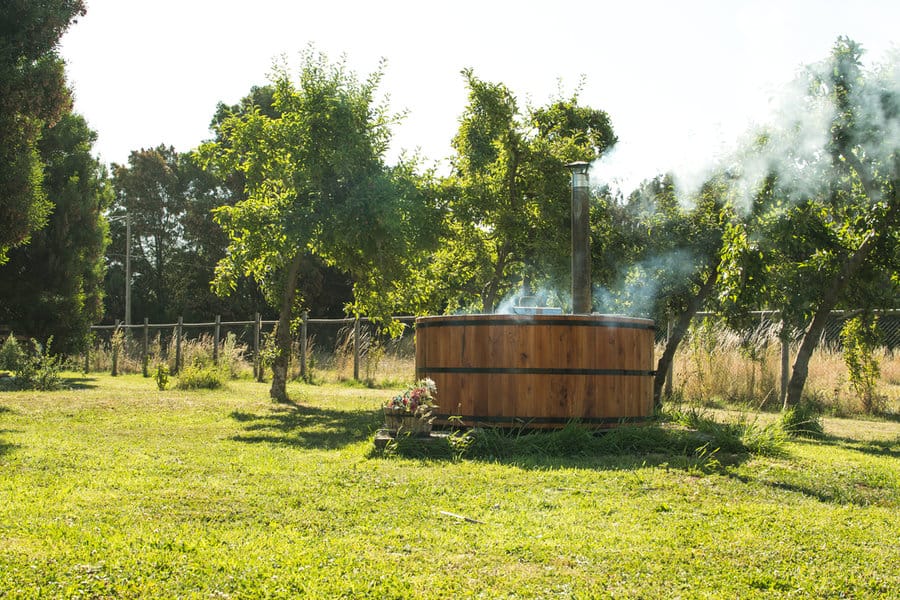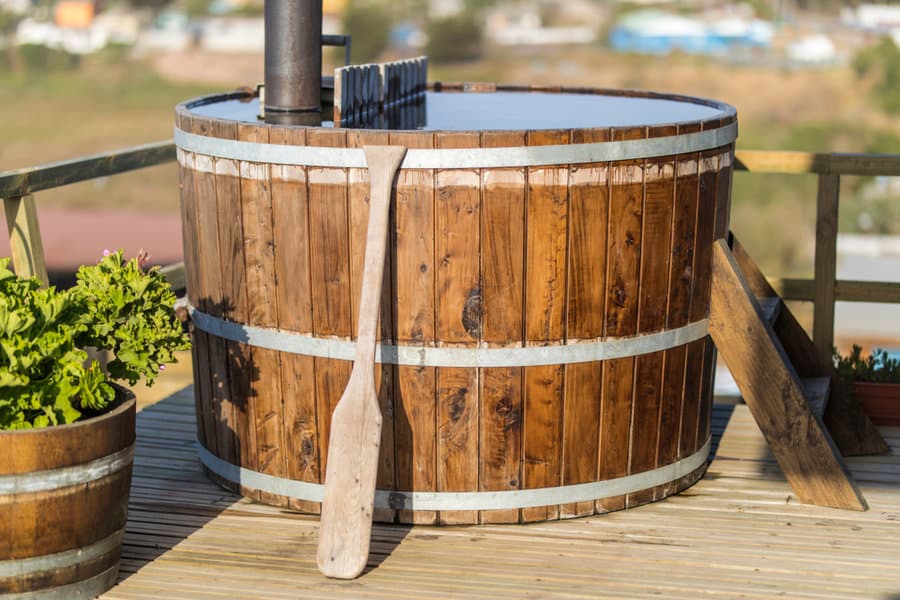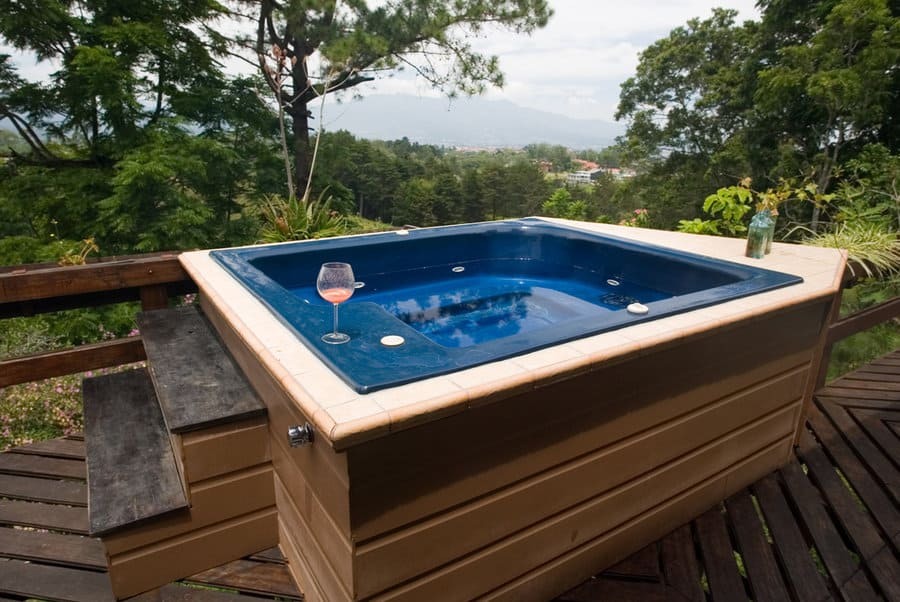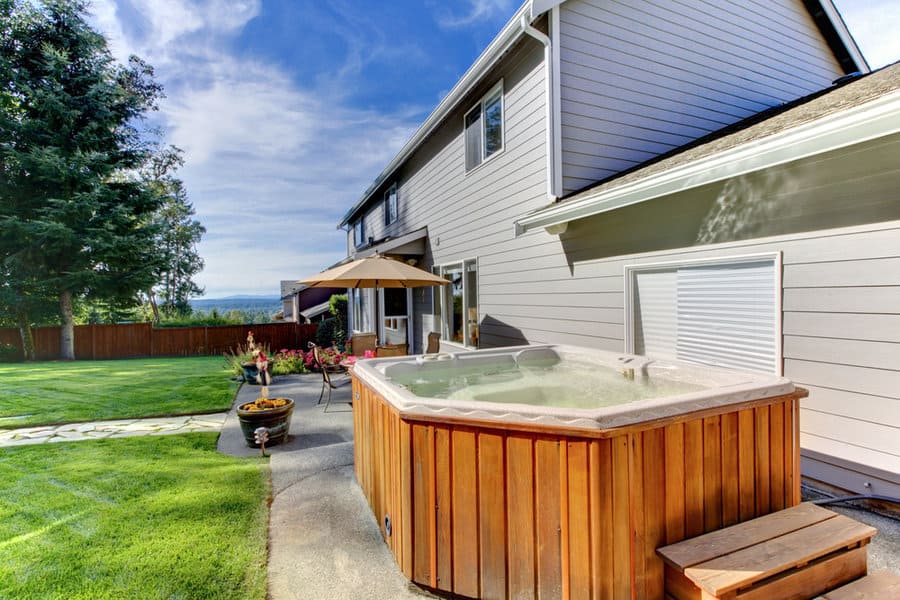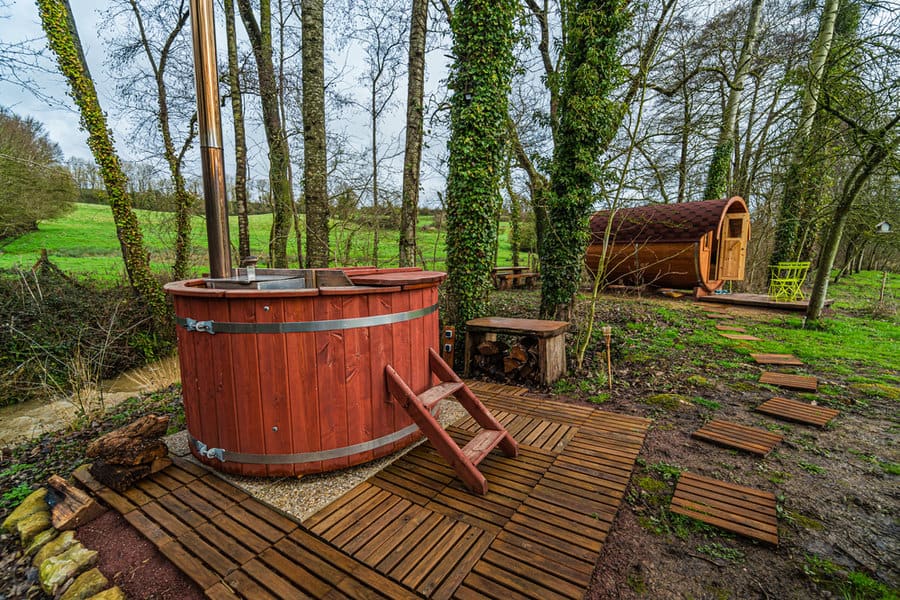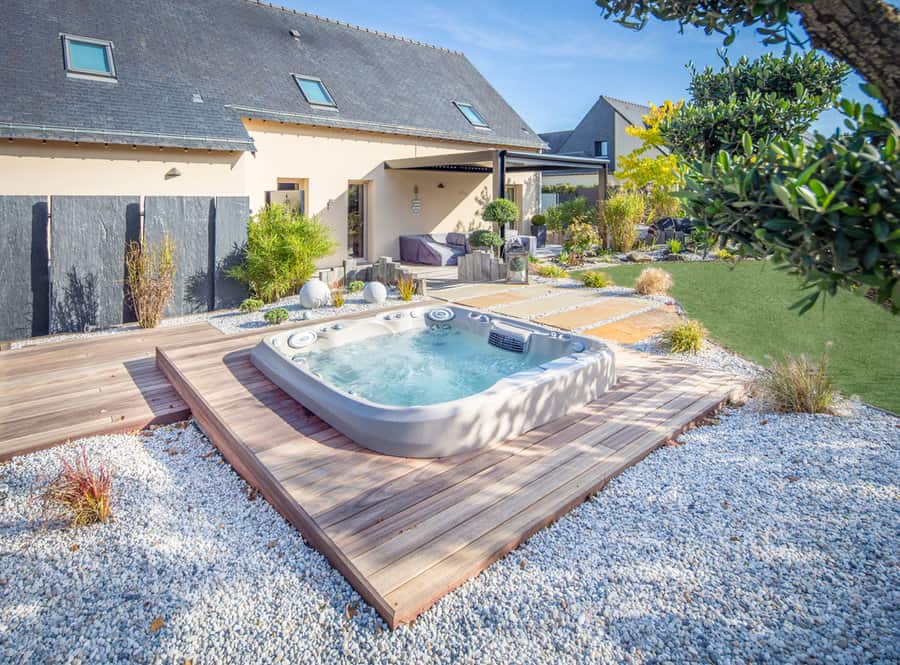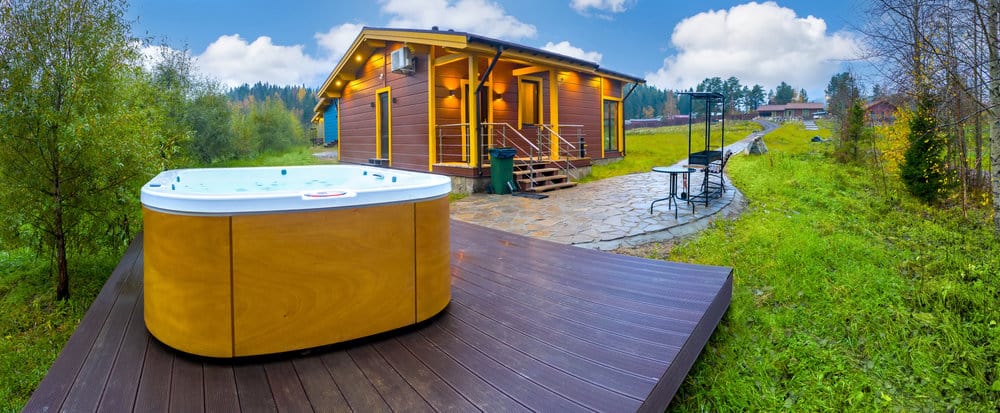 Keep the design clean and simple. Then limit the amount of decor and furniture you place on your patio and deck. When you do add furniture, keep it simple with long straight lines.
Sink the hot tub into the deck so that it has a low-profile design. This will minimize the visual breaks and keep the minimalist feel.
7. Nature View
If you plan to spend some serious time soaking in your outdoor hot tub, then you'll want something interesting to look at while you sit. If you have a decent view, then consider this when placing your hot tub. You don't want to position the tub in such a way so that the view is behind you.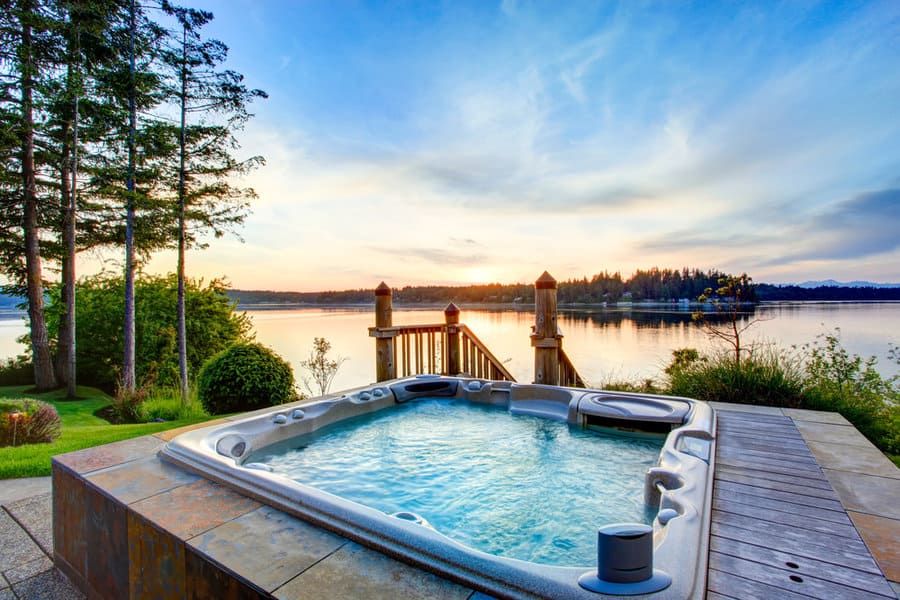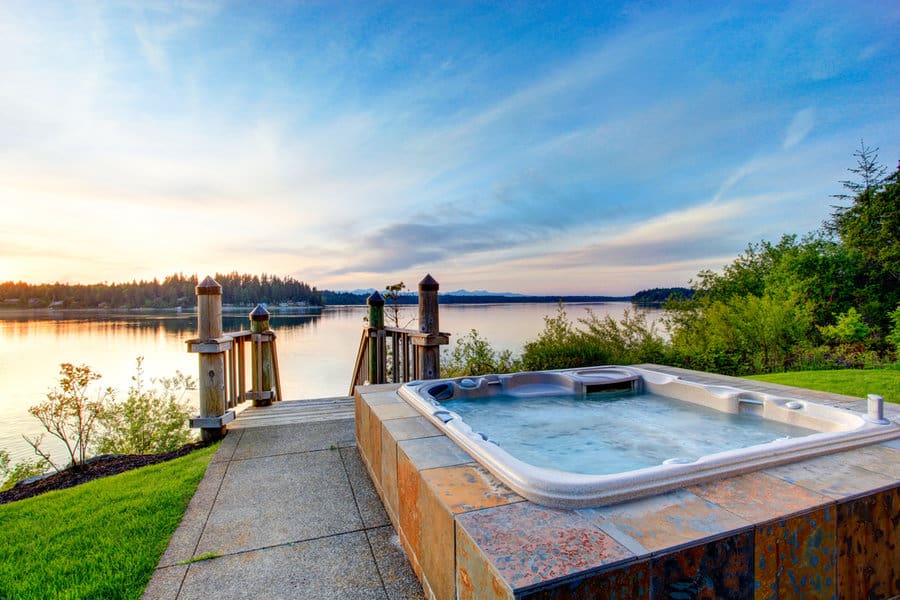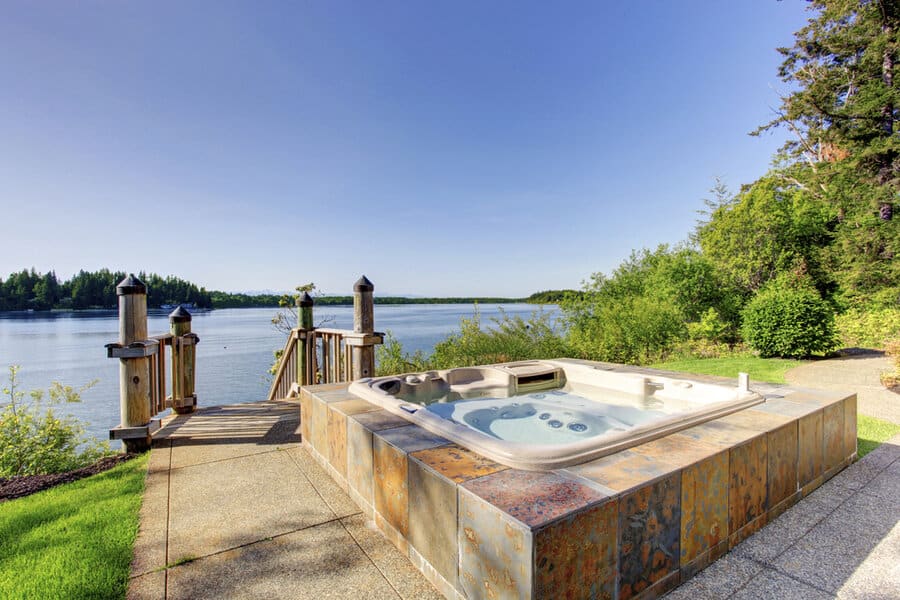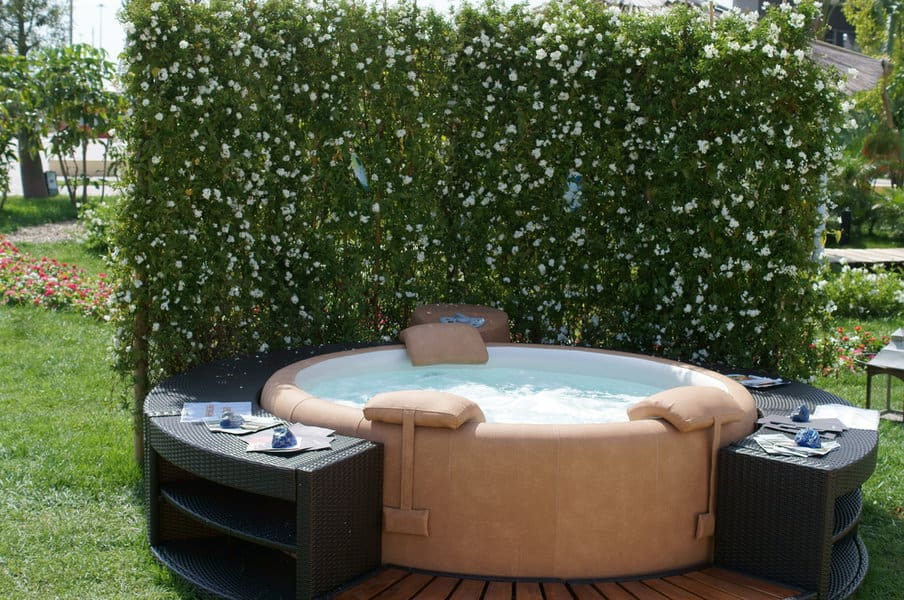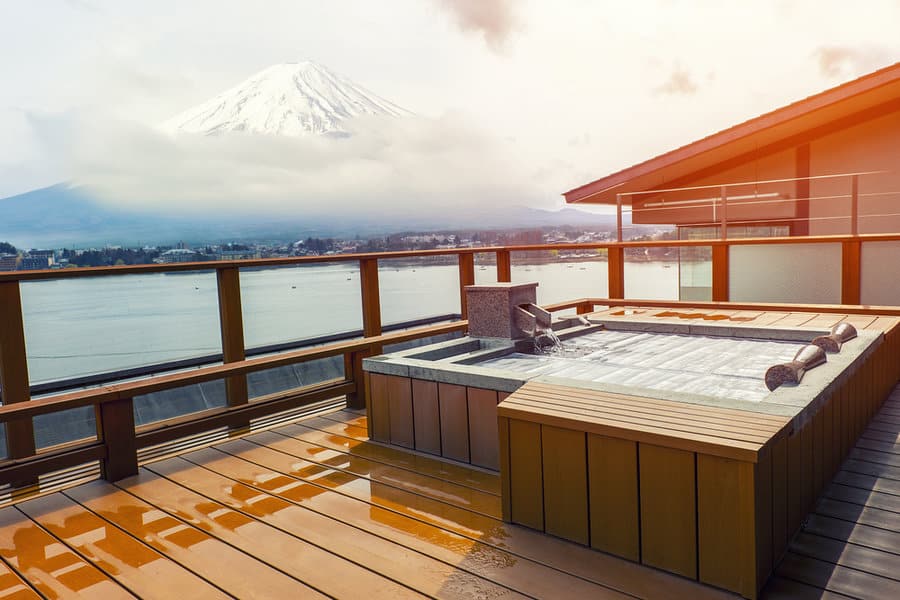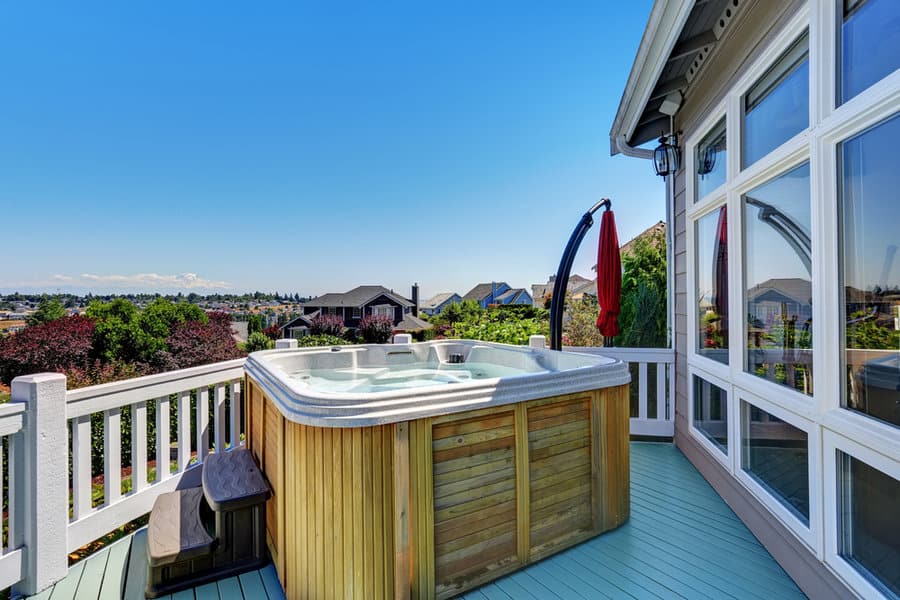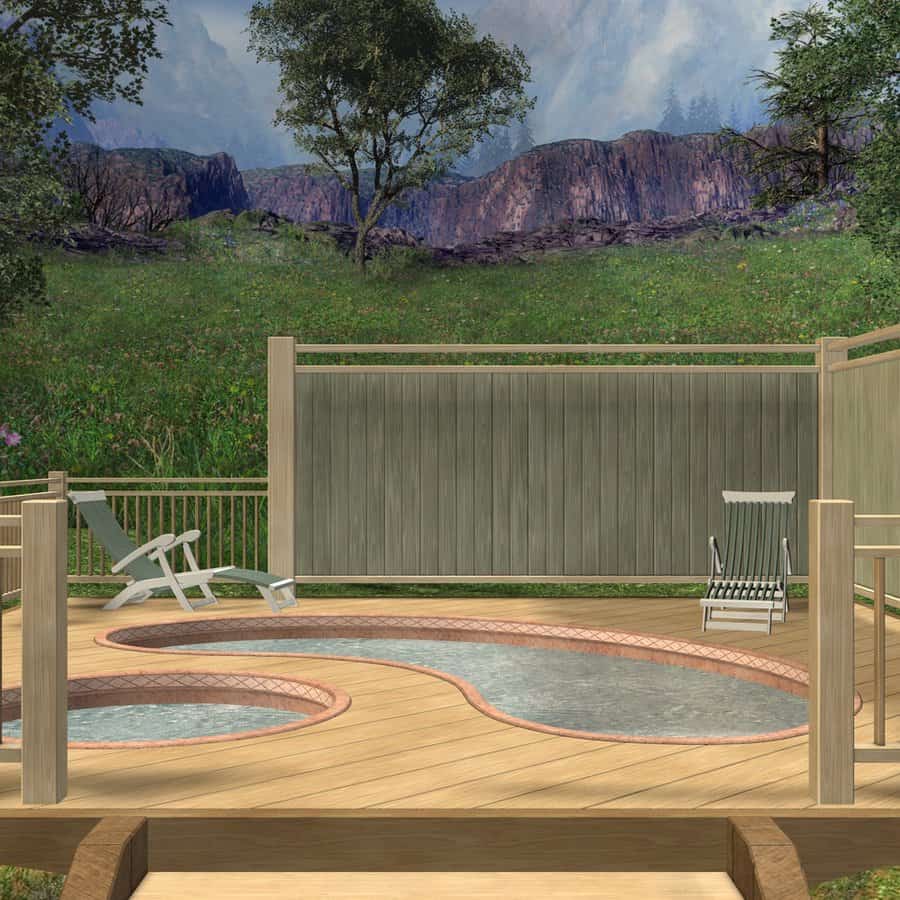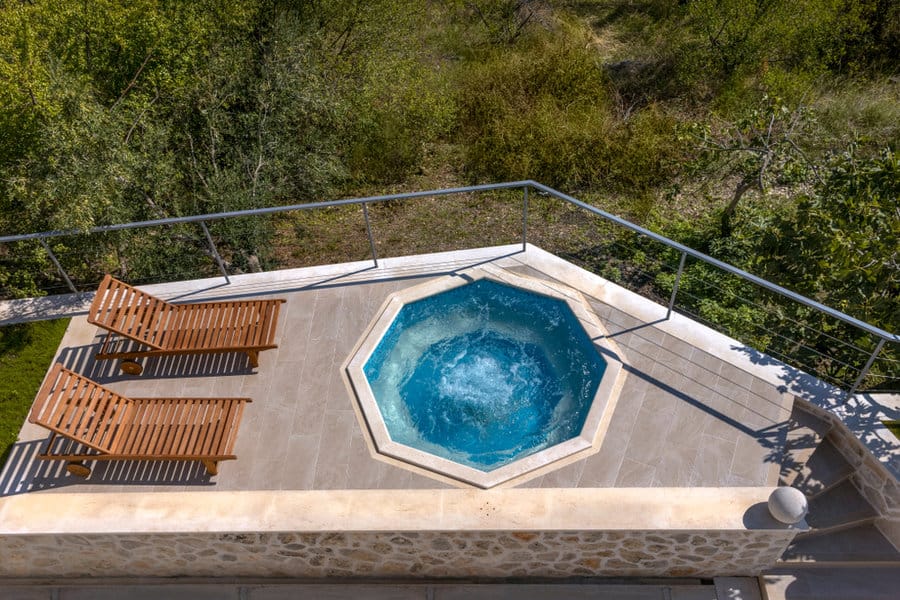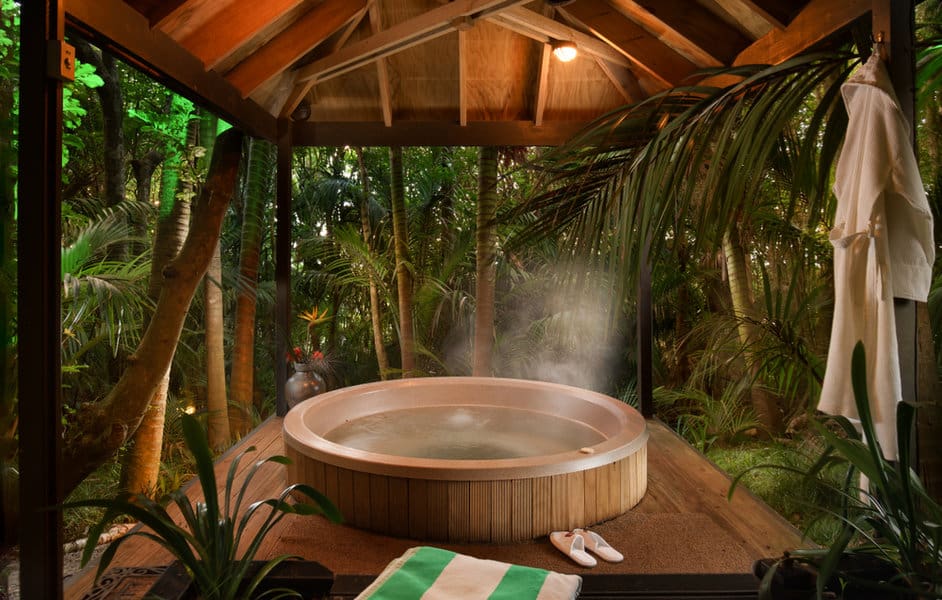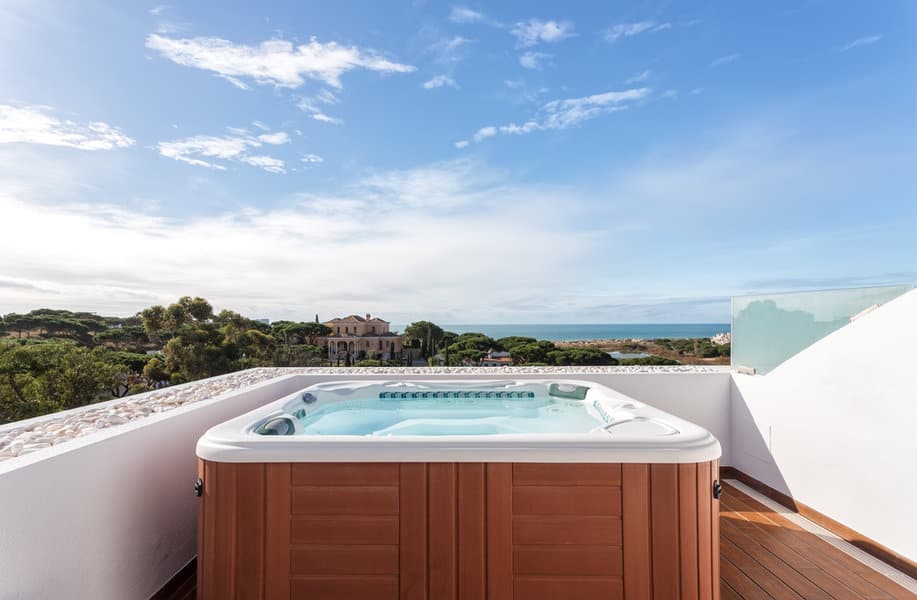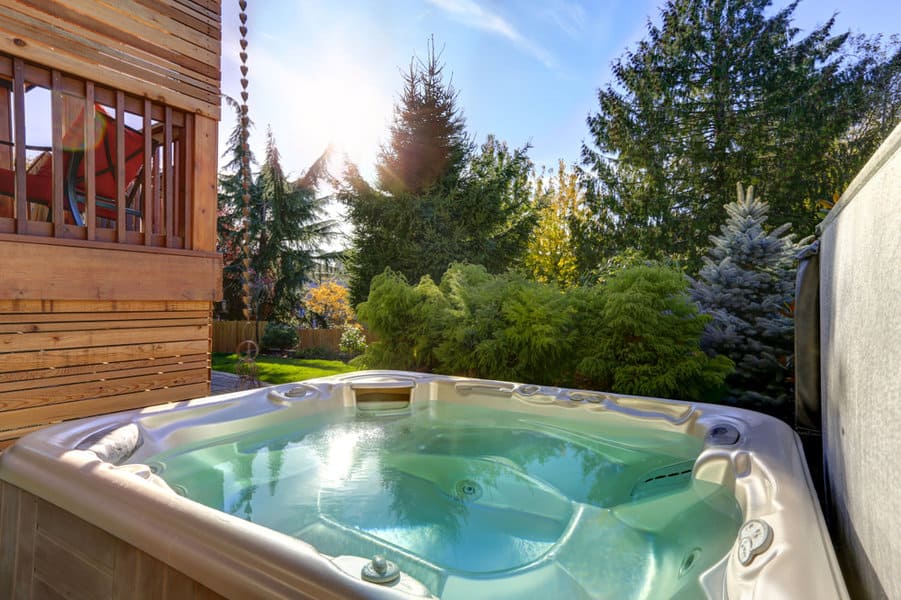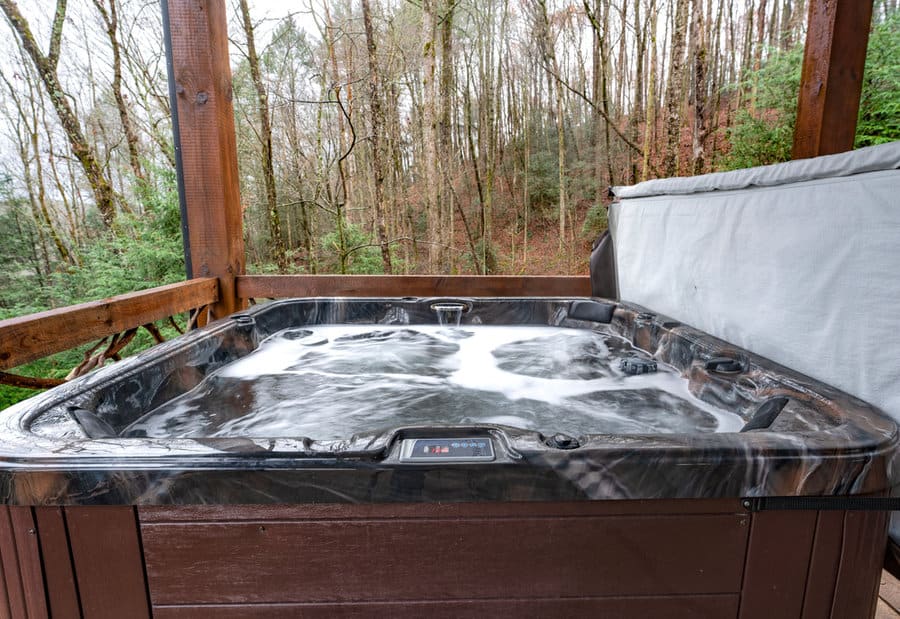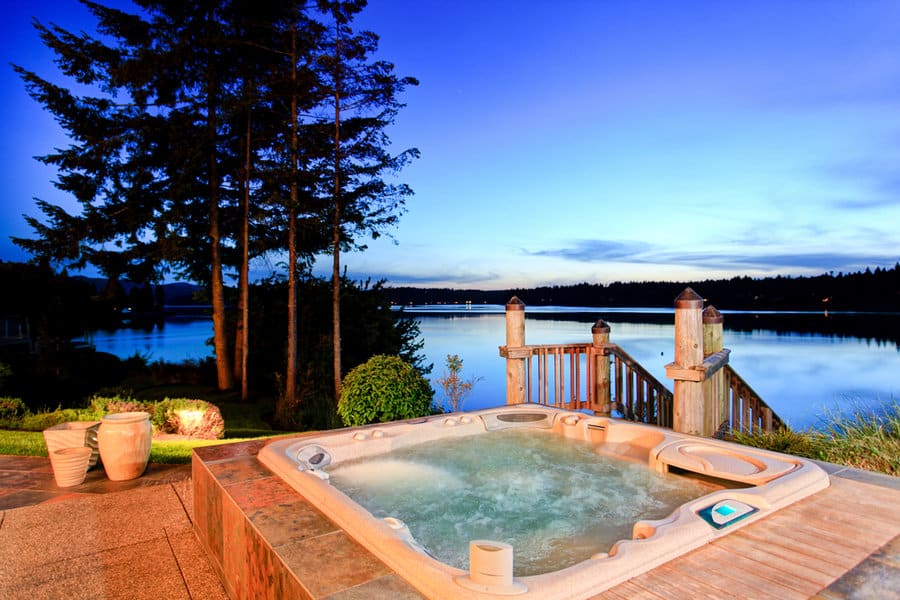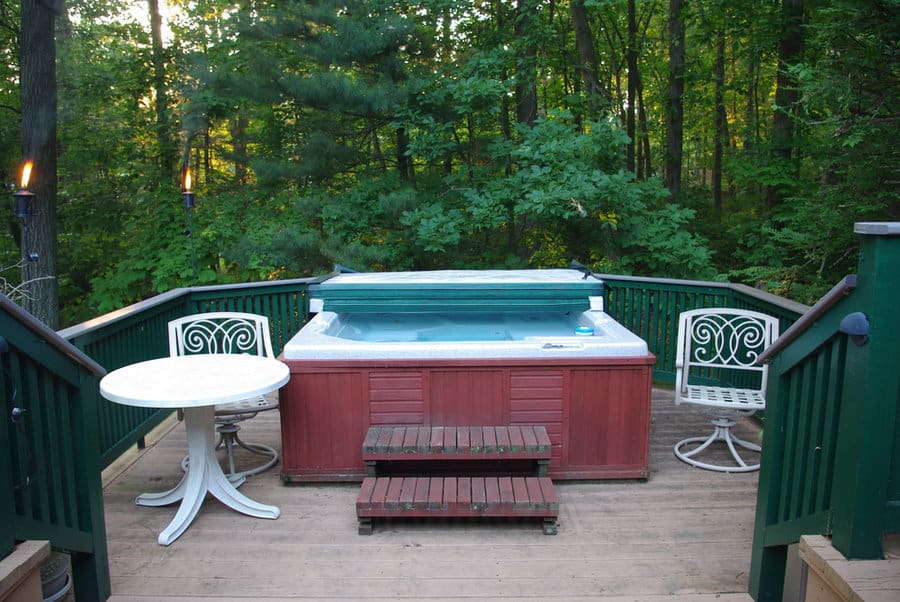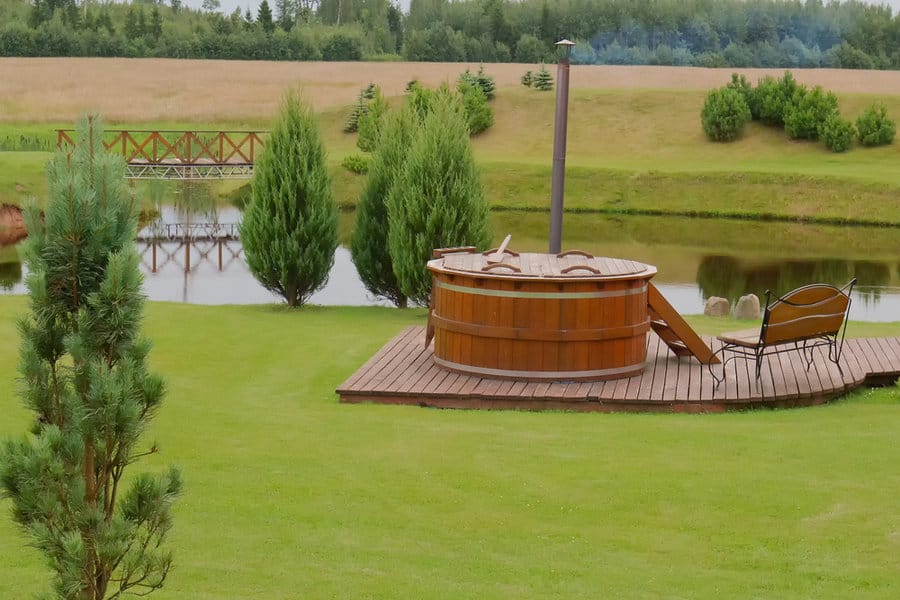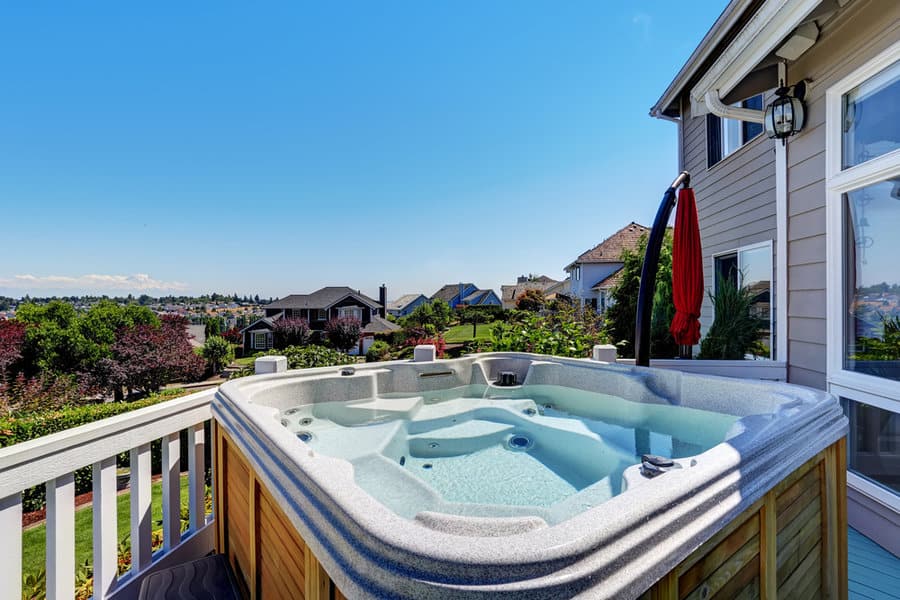 If you don't have the luxury of a stunning view, then it's time to get creative. Mount an outdoor TV on a protected wall. Then you can enjoy a show or music while soaking in the tub.
8. Oasis
Your hot tub can be just one element of your backyard oasis. Build out an entire deck design that includes outdoor space for your hot tub, fire pit, and even an outdoor kitchen. Explore backyard designs that work with the space and budget you have available.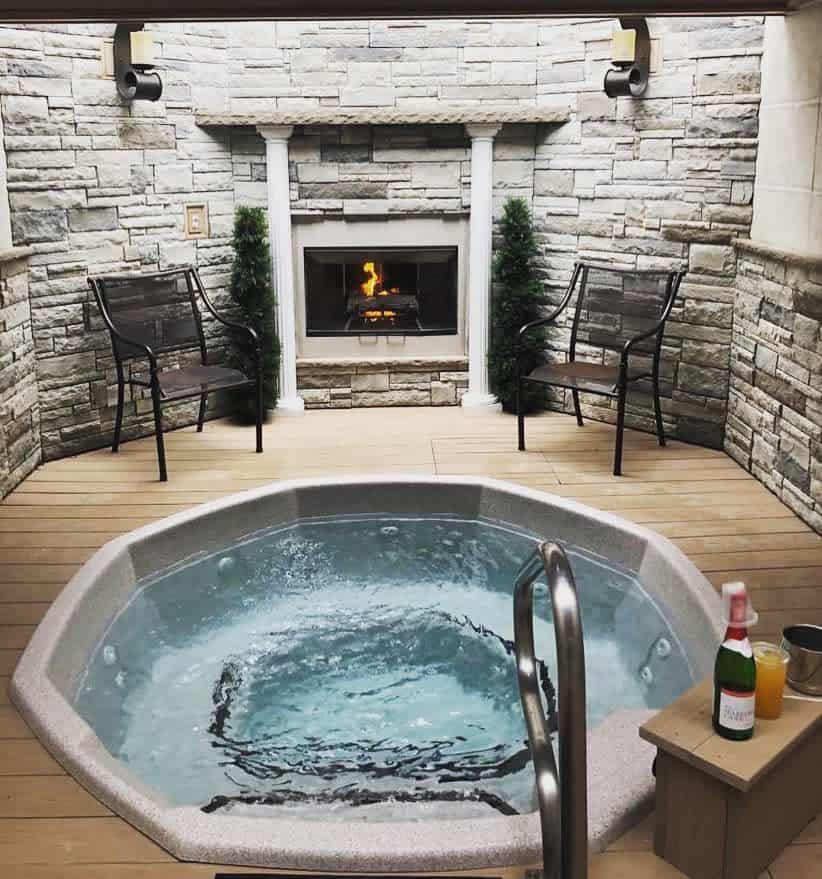 Add plenty of greenery to give your backyard a lush feel. If you can plant thick greenery to separate each space, even better. Add a winding walkway from one area to another to mimic the setup of a tropical resort.
9. Redwood
If you have a sizable budget, then you can use exotic hardwood or premium hardwood like redwood. This stunning wood is perfect for use as decking material in almost every way. It has a natural resistance to weathering and insects. It's also the most fire-resistant decking there is.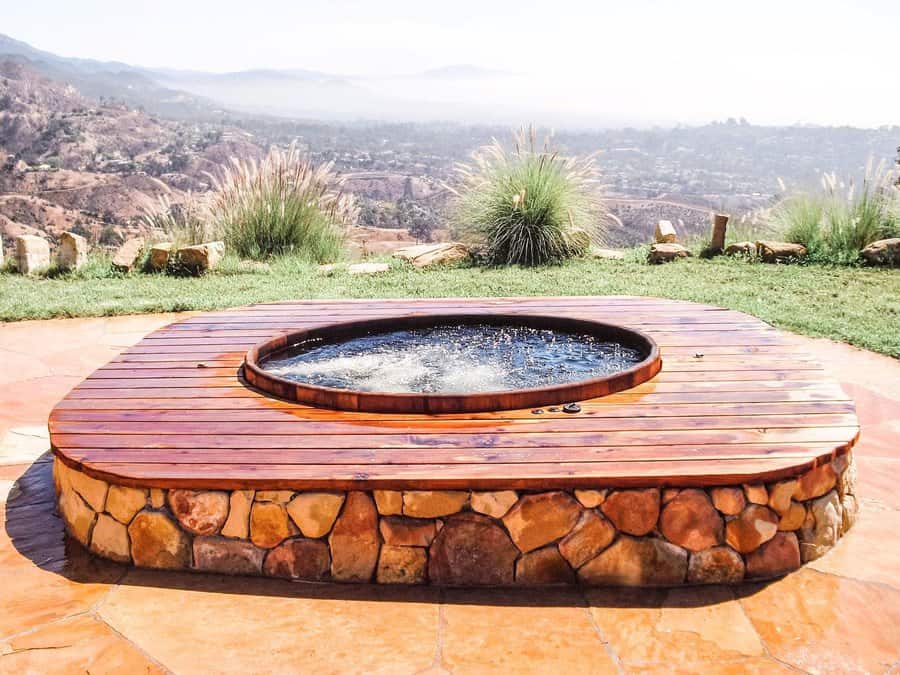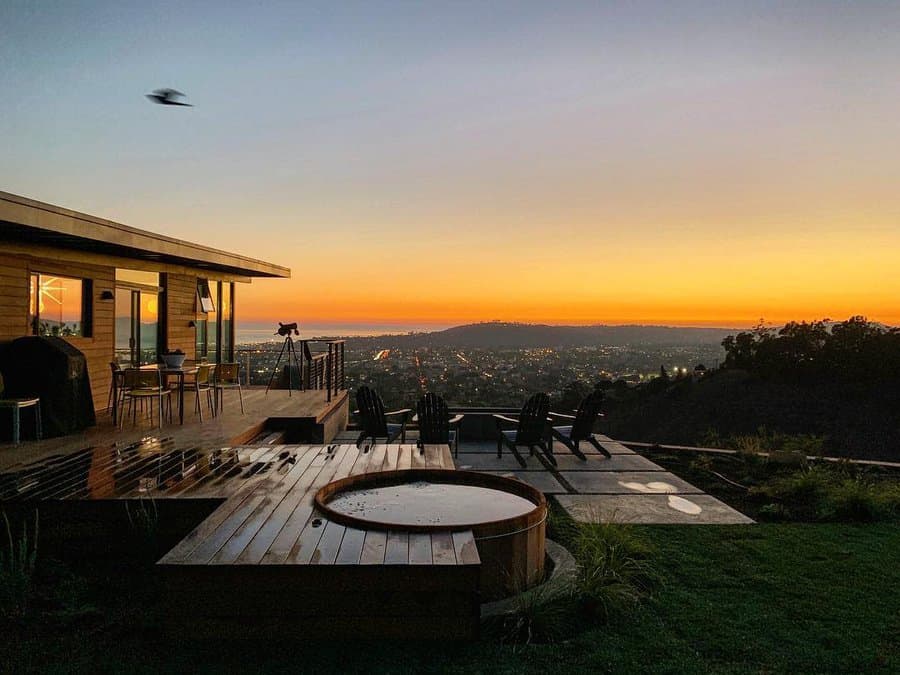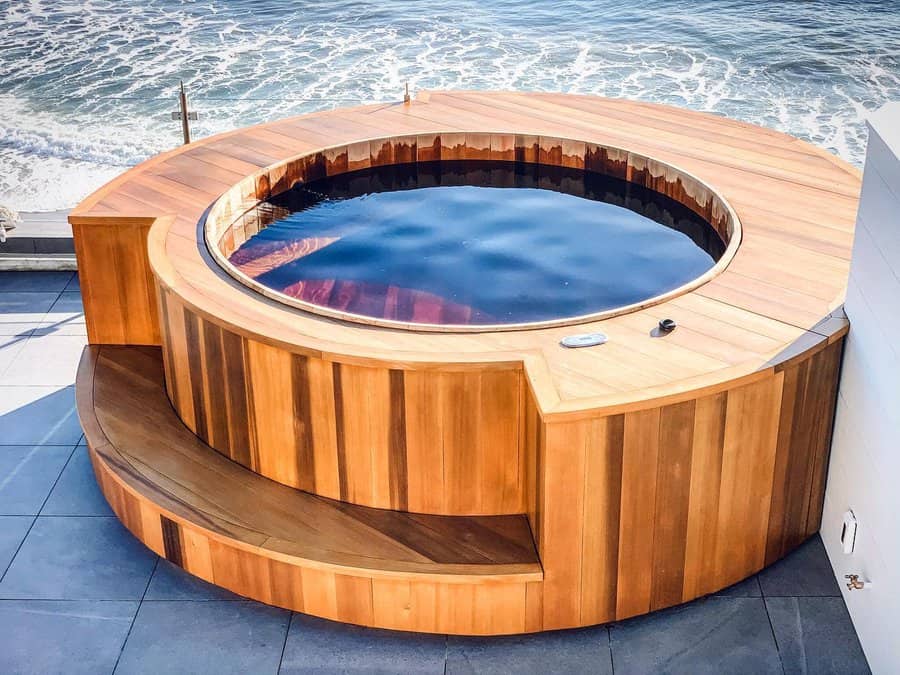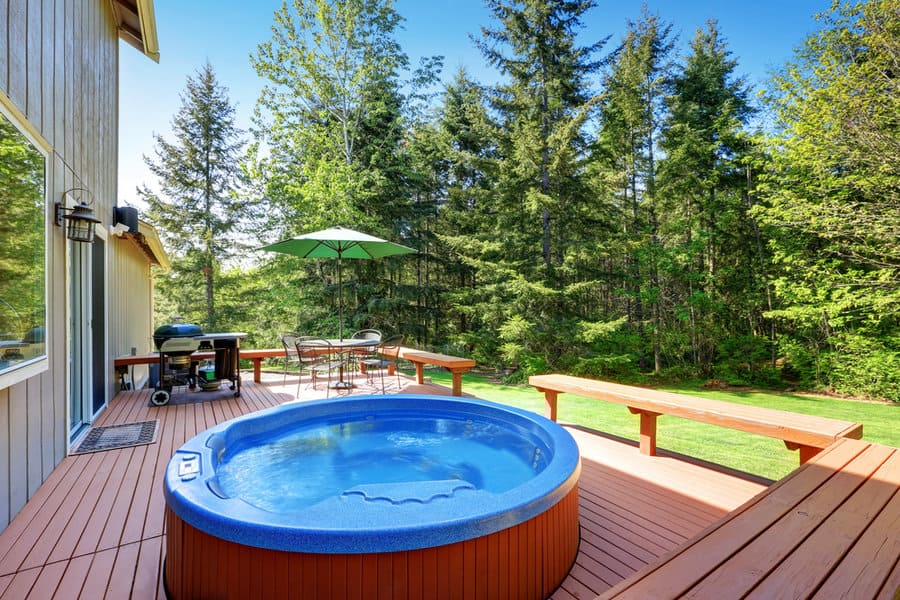 If you want to create a spa deck that's worthy of the top spas and resorts in the world, then choose redwood. When choosing between cedar and redwood, keep in mind that redwood is stronger than cedar, making it more durable.
10. Round
If your hot tub is round, then follow this line with your deck. Build a curved deck around the outside of the hot tub, creating a platform that makes it easy to walk around the outside. The curved line creates an elegant and custom look to your decking.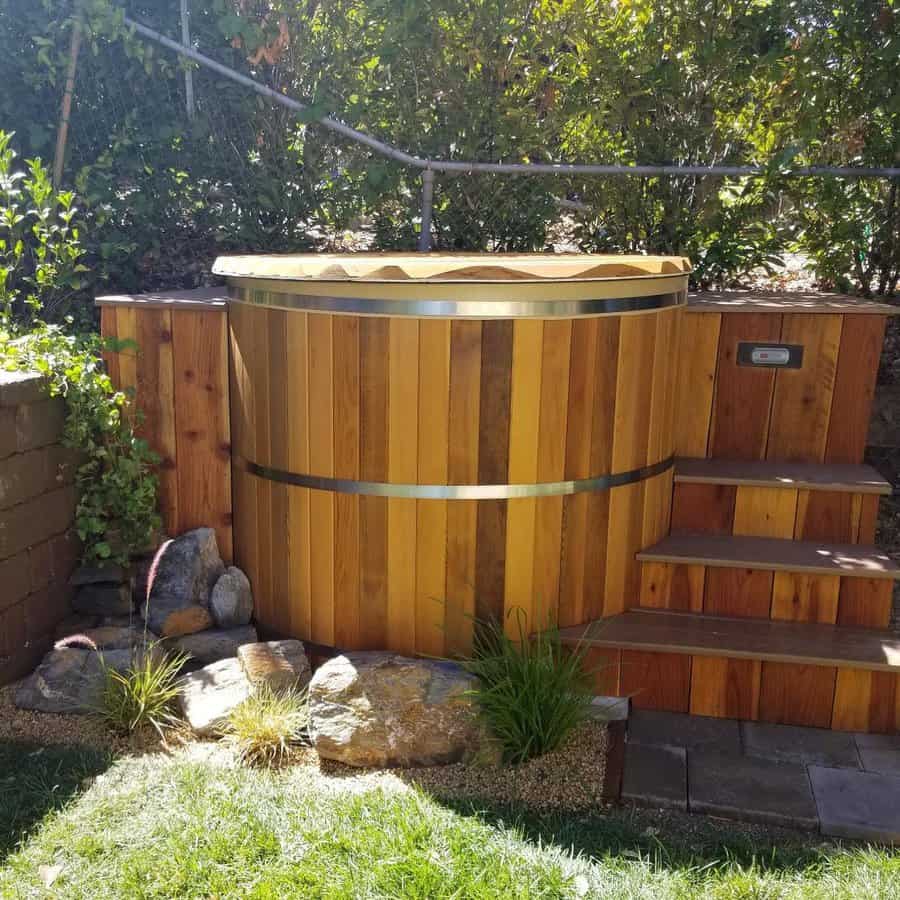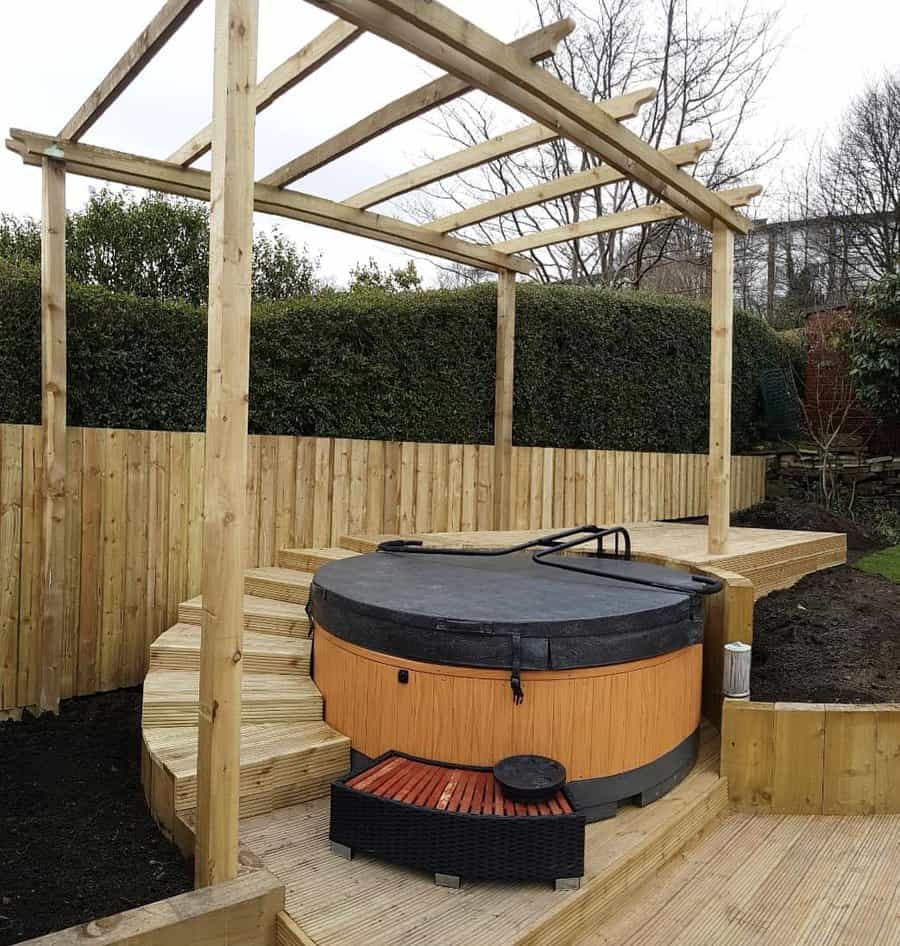 It's easier and more affordable to build in straight lines, so by having a curved deck, you are elevating the look of your backyard. The curved lines also add visual interest to your backyard. You can have multiple curves throughout for an entire design theme.
11. Small
Similar to swimming pools, hot tubs come in a range of sizes. There are some that are so small they only hold one person.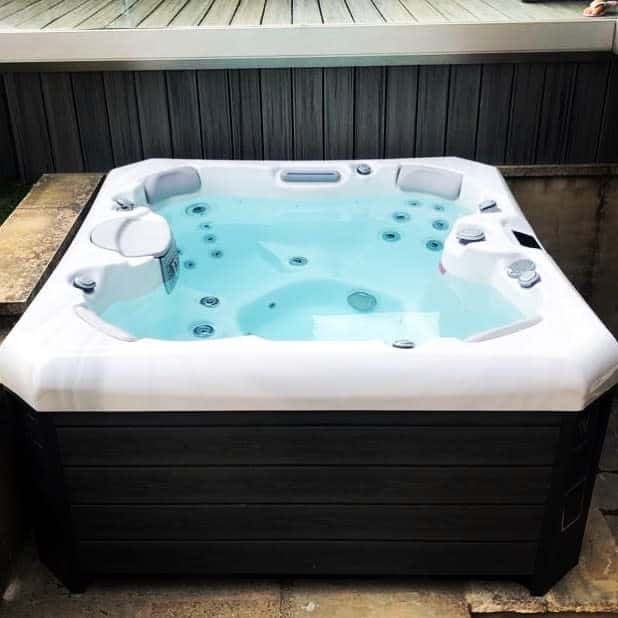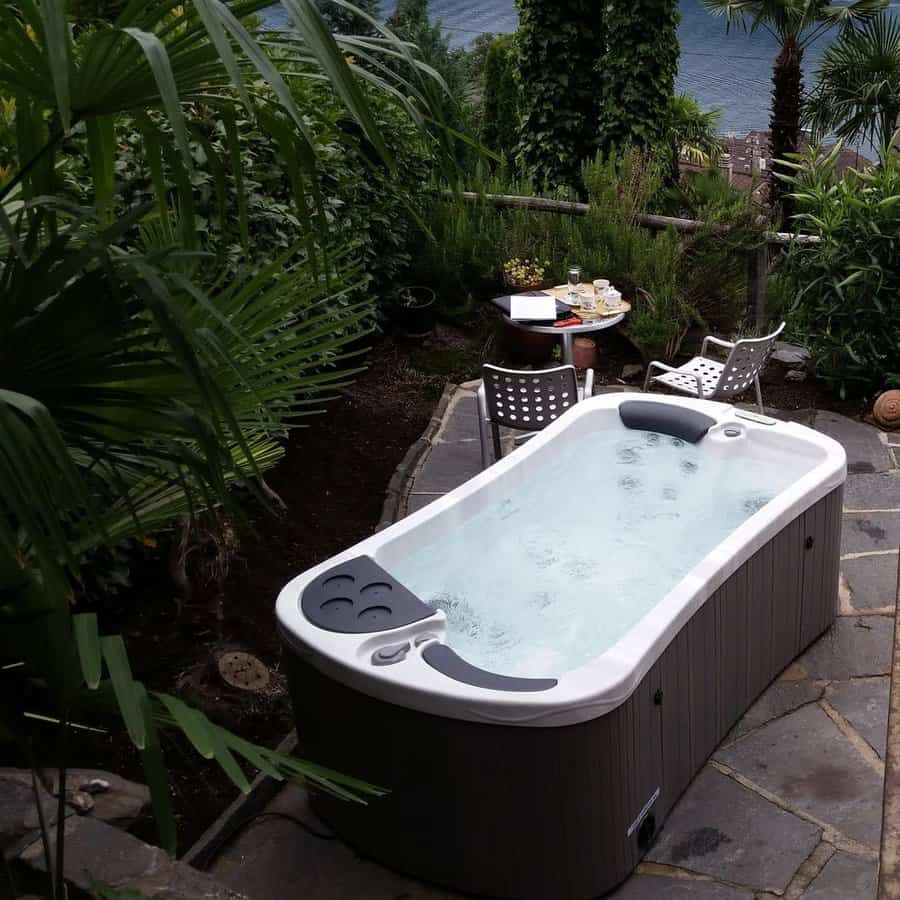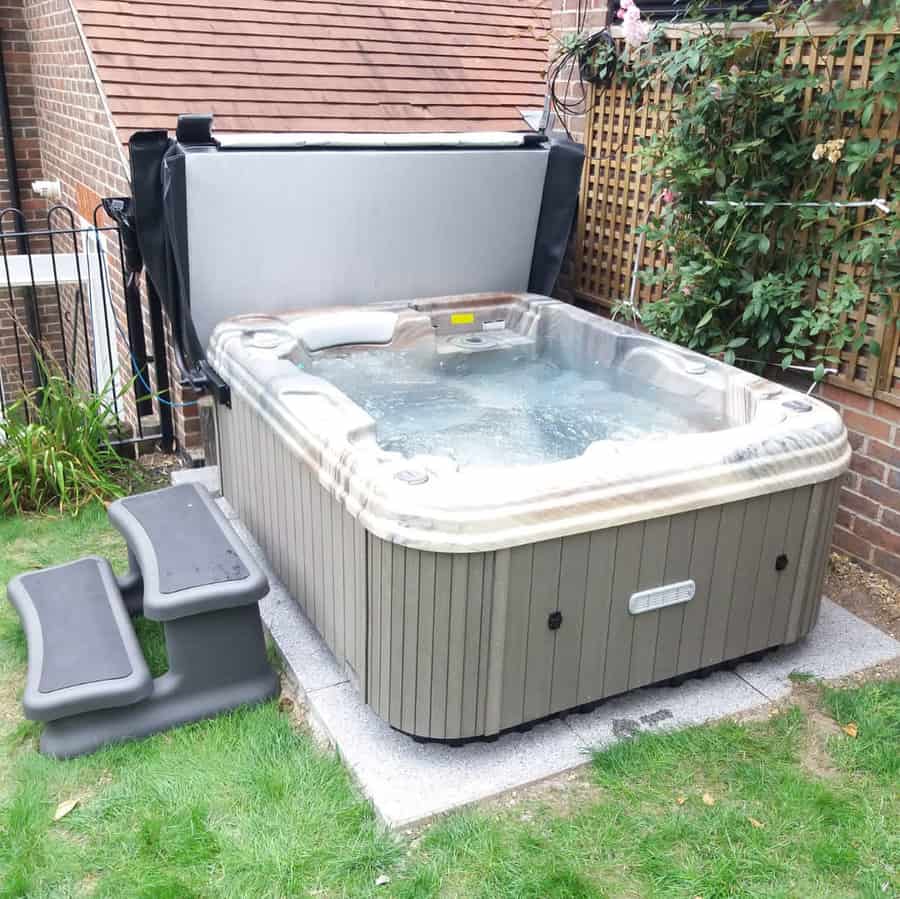 If you plan to have a rooftop deck, you may not have very much space to work with. In this case, you need a hot tub with a small square footage footprint. That way, you can add the hot tub and still have space to move around it.
Additionally, consider the depth of your hot tub. Some have shaped seating that puts your body into an ergonomic position that's entirely under the water.
Others simply have bench-style seating that leaves your upper body out of the water. Your entire deck doesn't have to be one level, though.
You could have one area that's higher or lower and then have a couple of steps that take you up or down to the hot tub level. This creates visual zones.
12. Sunken
Doing a hot tub deck integration elevates the look of your backyard and gives it a custom build design. This turns a generic hot tub into an outdoor spa.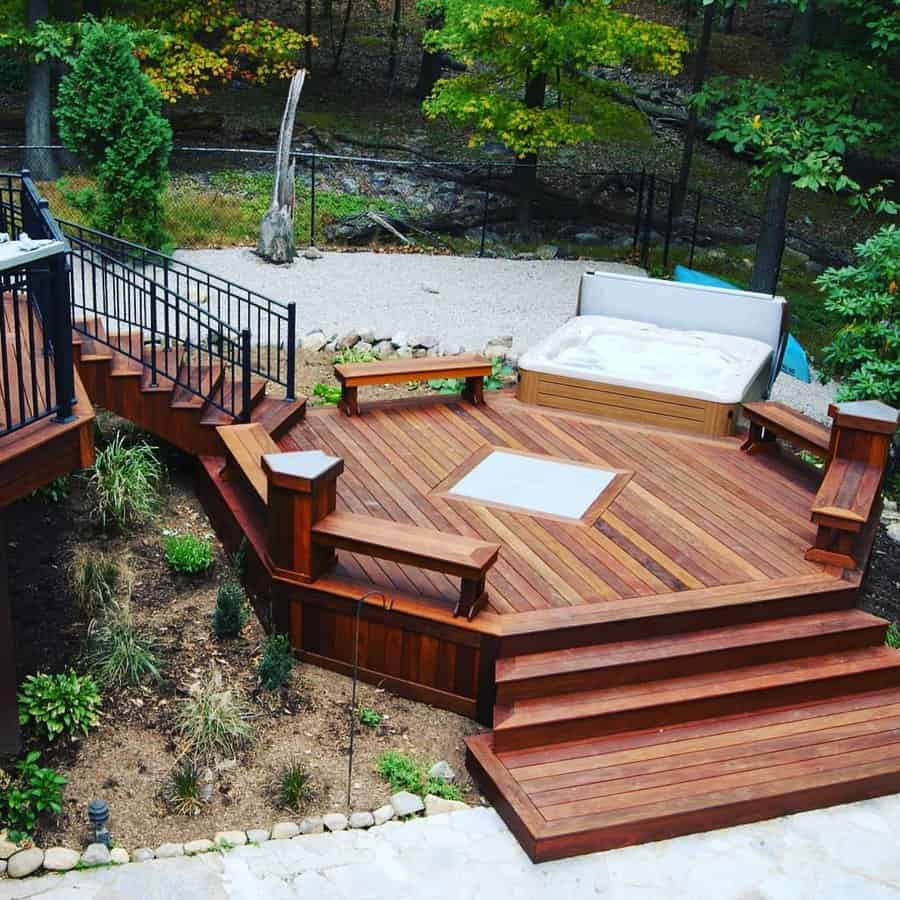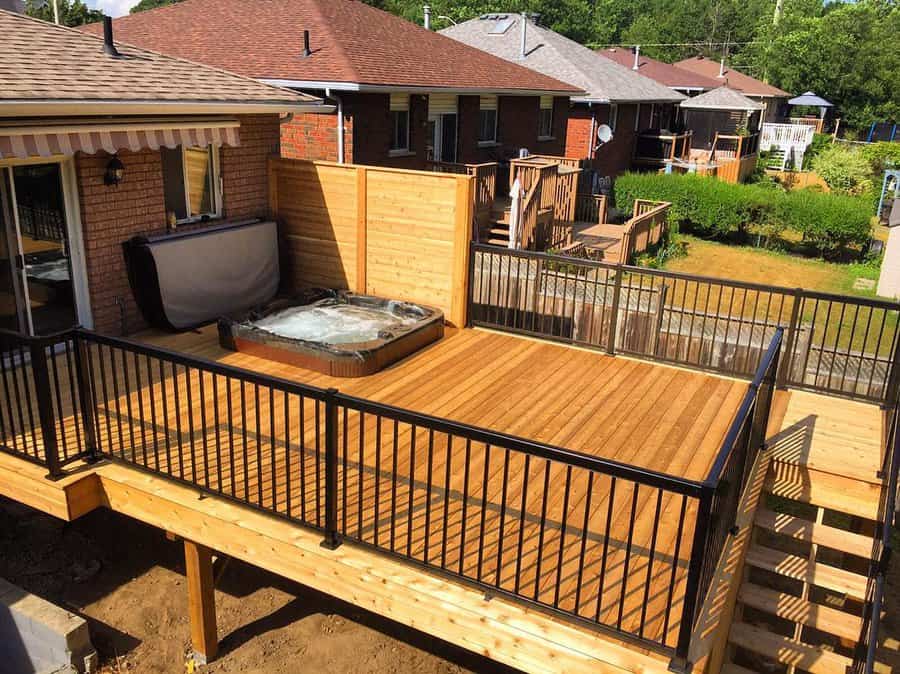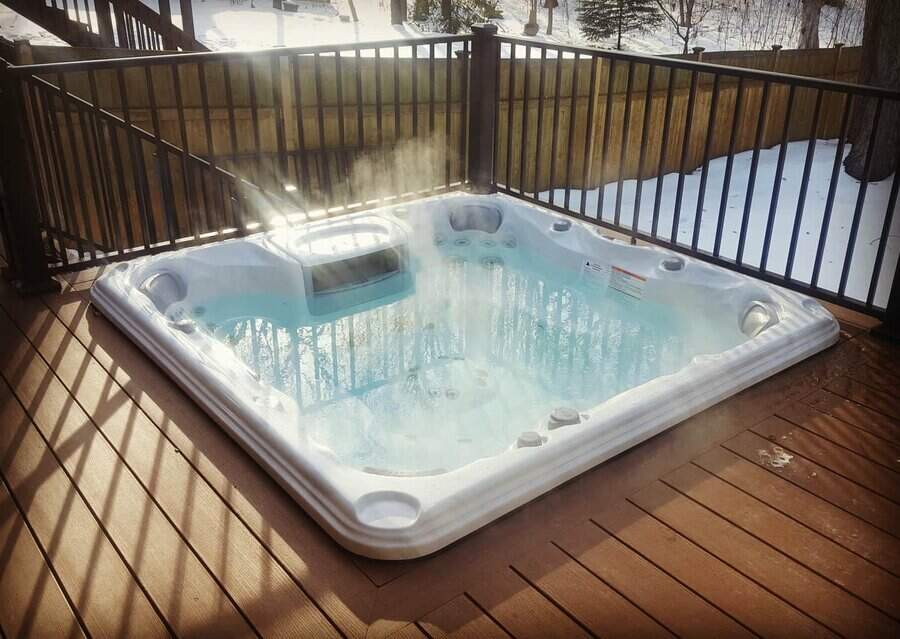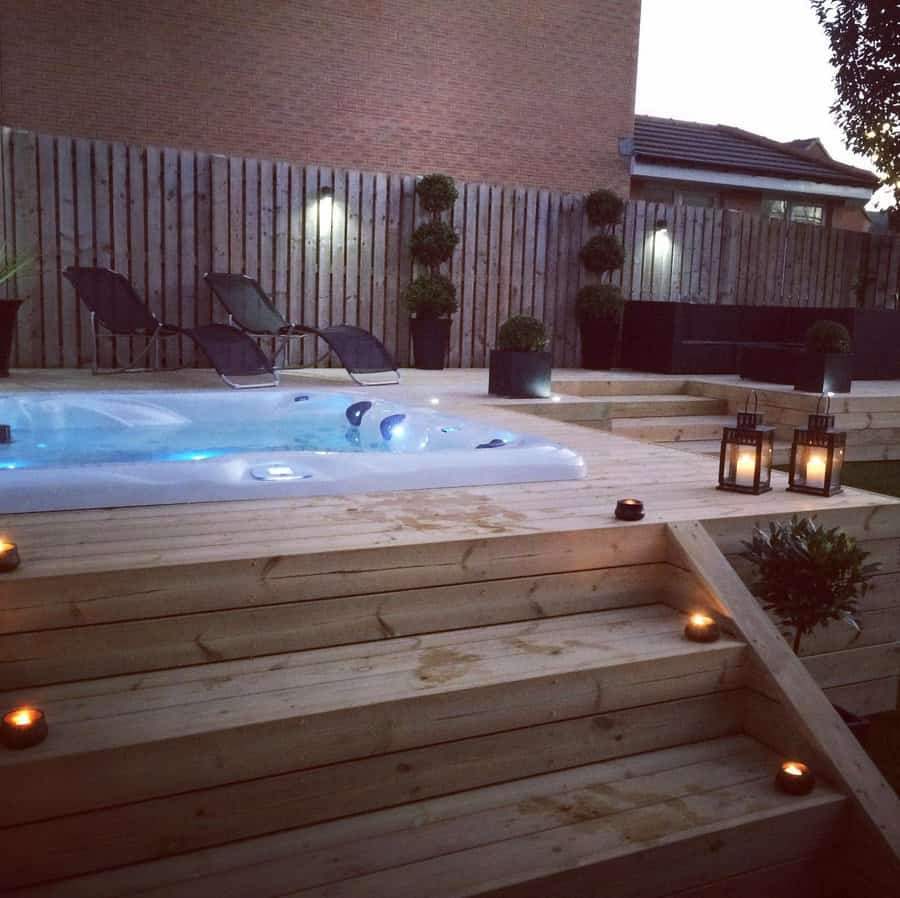 Build the deck around the hot tub so that it sits just under the top edge of the hot tub. That way, you don't see the sides of your hot spring spa and won't need stairs to get in and out of the spa. You would step down into it instead.
13. Wooden
You have a couple of options when pairing your hot tub with a wood deck. Your first option is to build your wooden deck and then place the hot tub on top of it. Another option is to place the hot tub and then build a raised deck around the hot tub. This creates an inground effect where the hot tub is sunk down to the level of the hot tub.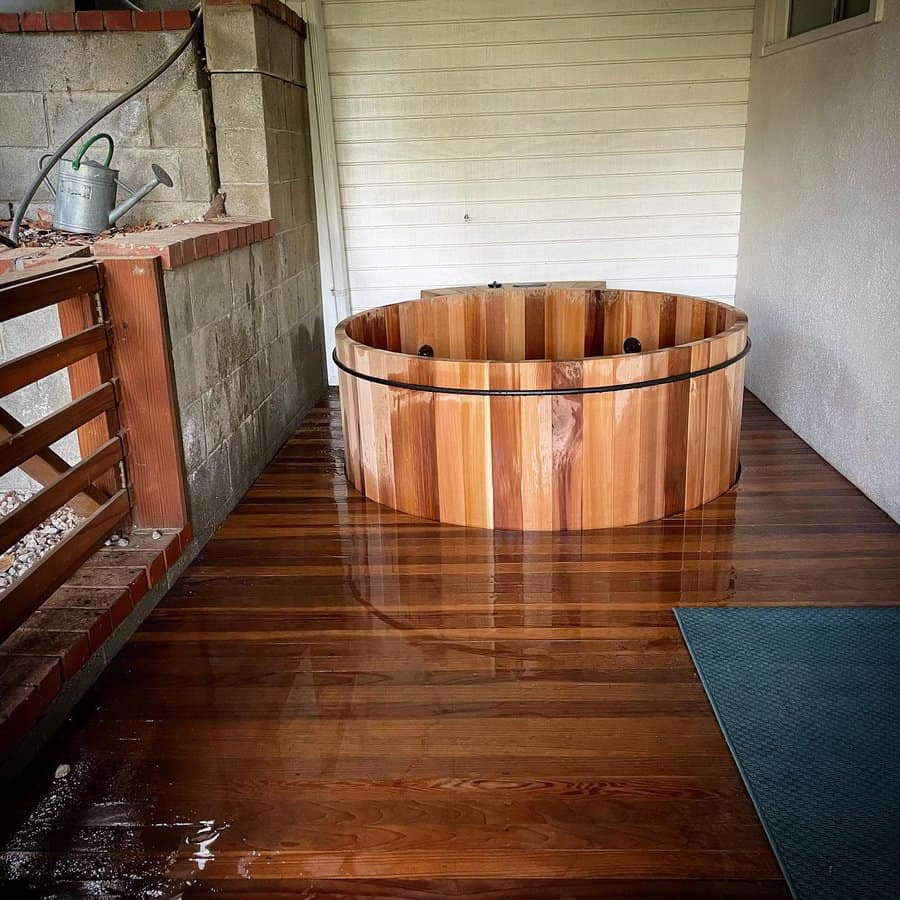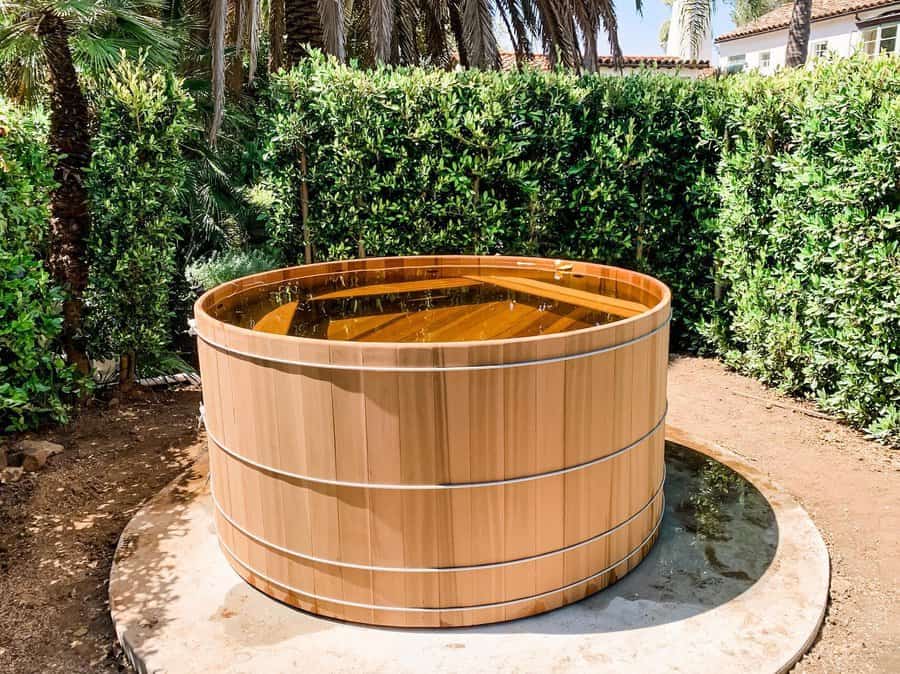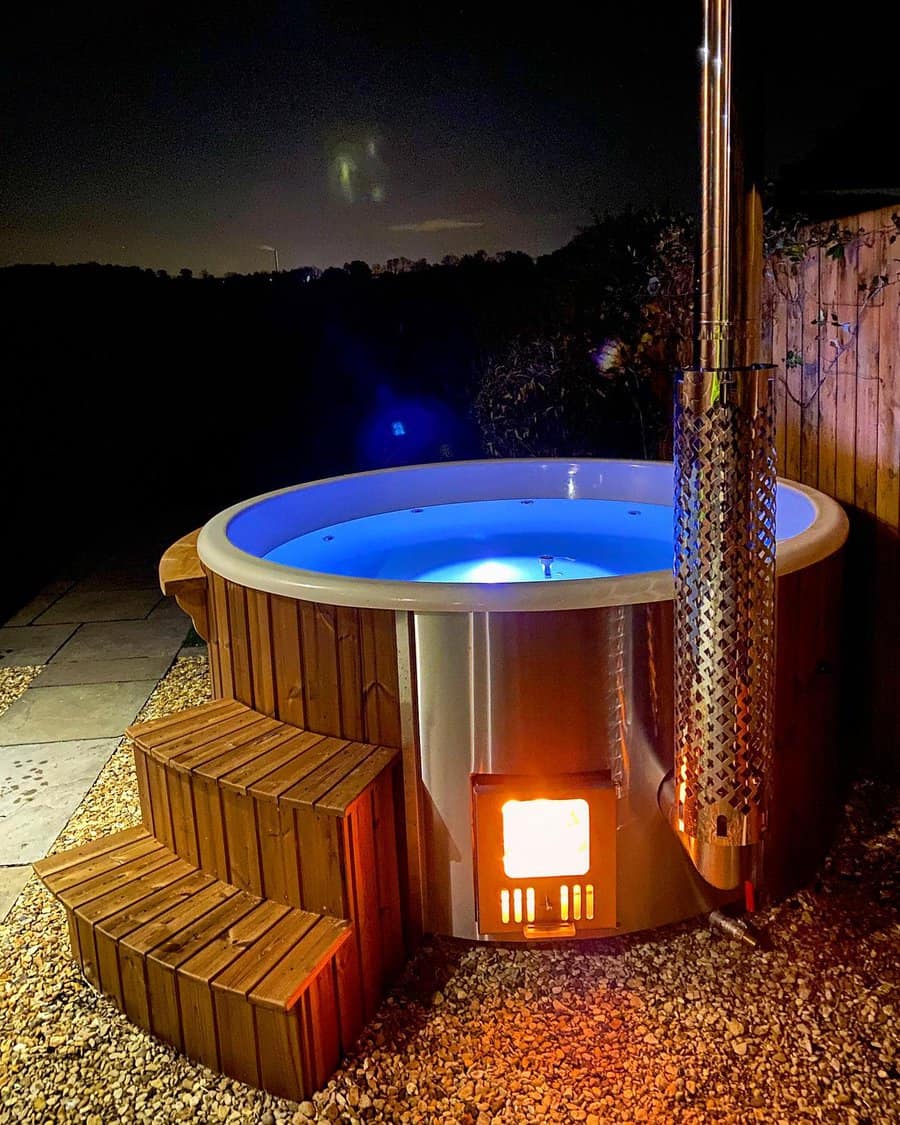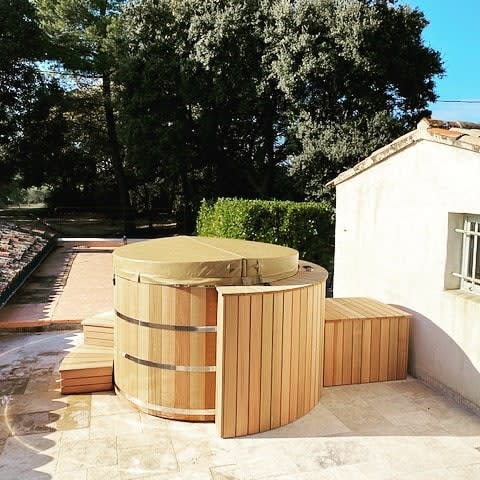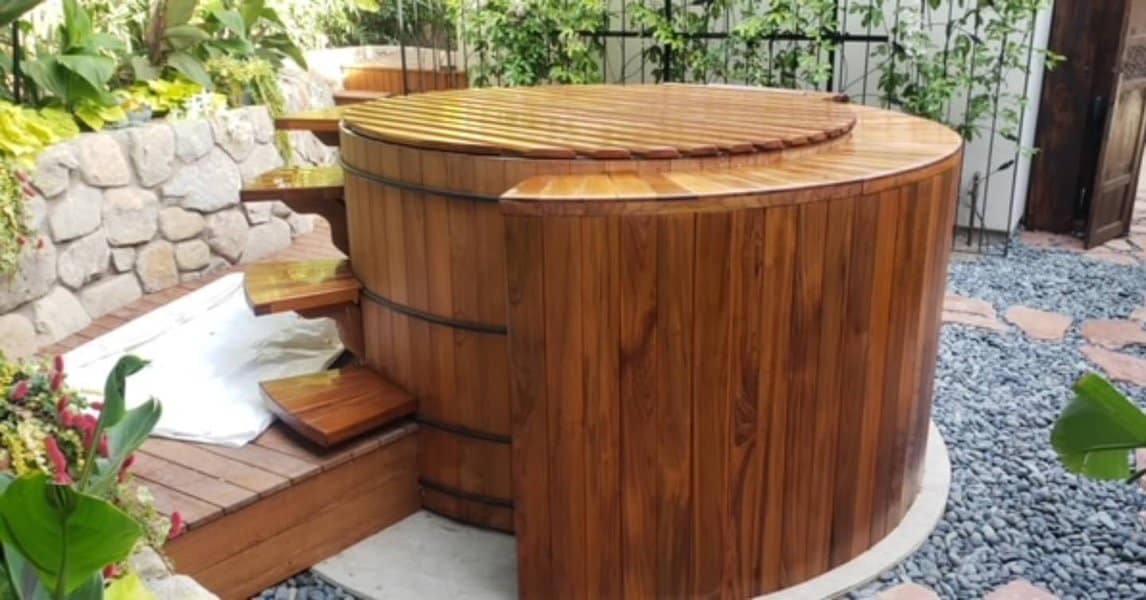 With either of these options, consider building the deck out to create additional outdoor living space. You can then hang out on your backyard deck or use the hot tub spa.
Hot Tub Deck FAQs
How much does it cost to build a deck with a hot tub?
The cost of your hot tub deck installation will depend on your budget. An entry-level installation could cost less than $5,000. A mid-level installation will cost $5,000-$8,000. High-end installations cost $8,000-$12,000. Luxury and custom installations start at $13,000 and can go up to an unlimited cost.
How far should a hot tub be from the house?
Technically, you don't have to place your hot tub a minimum distance from the home. However, you need to think about safety. To reduce your risk of electrocution, place your hot tub at least 16 feet from any overhead power lines. To reduce the risk of flooding your home, place your hot tub at least five feet from your home.
Is a hot tub a good investment?
Don't worry about whether your hot tub will add value to your home. If you will use it regularly and get enjoyment out of it, then a hot tub is well worth the investment. You can use it to relax, enjoy better health, and entertain.