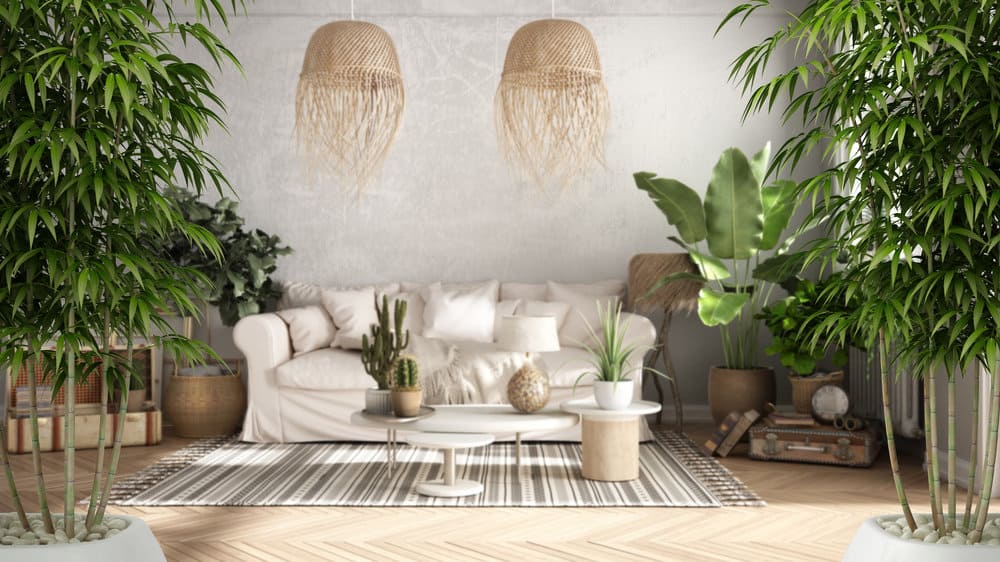 How to Feng Shui Your Living Room
by — Andra DelMonico

Published on September 21, 2023

Updated on October 13, 2023
The ancient Chinese art of Feng Shui suggests that the arrangement of objects and spaces can deeply affect our well-being, mood, and even our prosperity. This age-old practice emphasizes harmony between humans and their environment, and the living room, where we spend a significant amount of our time, is no exception.
In this article, we'll delve into practical steps and insightful tips to Feng Shui your living room, ensuring it not only looks aesthetically pleasing but also resonates with positive energy and balance.
1. Clear the Clutter
In Feng Shui, stagnant energy is often associated with clutter. A cluttered living room can disrupt the flow of chi (energy), leading to feelings of stagnation, confusion, and stress. Maintaining a clear, organized space promotes positivity, clarity, and a refreshing ambiance, essential for harmonious living.
To effectively declutter, start by systematically going through each item in your living room. Separate items into categories: keep, donate, recycle, or throw away. Once you've streamlined your belongings, invest in storage solutions that keep essentials accessible but out of sight. This could include decorative baskets, cabinets, or shelves. Committing to regular decluttering sessions—say, once every few months—ensures your living room remains an oasis of calm and balanced energy.
2. Prioritize Natural Light
In the realm of Feng Shui, natural light is a powerhouse. Sunlight not only revitalizes living spaces but also infuses them with positive energy. A well-lit room exudes warmth, optimism, and encourages an upbeat mood. It's essential, then, to make the most of the daylight pouring into your living room.
To harness the full potential of natural light, consider sheer curtains or blinds that filter rather than block the sunlight. They provide privacy without creating a barrier to the sun's nurturing rays. Additionally, positioning mirrors directly across from windows can reflect and amplify light throughout the room, making spaces seem brighter and larger. Regularly clean windows and mirrors to ensure they're letting in and reflecting as much light as possible.
3. Position Your Furniture Thoughtfully
The arrangement of furniture plays a pivotal role in Feng Shui. A well-thought-out layout ensures the seamless circulation of chi, promoting a feeling of balance and relaxation. Conversely, haphazardly placed furniture can create blockages, causing energy to stagnate, which can lead to feelings of unease or restlessness.
The "command position" is a fundamental Feng Shui principle. In your living room, the main seating, like sofas, should ideally face the door but not be directly in line with it. This position offers a sense of security and control, allowing one to easily see the entrance. It's also crucial to avoid creating barriers with furniture. For instance, don't place a large sofa in the middle of the room, blocking the flow from the entrance. Instead, ensure there are clear pathways and open spaces, allowing energy to circulate freely and invitingly.
4. Incorporate the Five Elements
Feng Shui emphasizes the balance of five elements: Wood, Fire, Earth, Metal, and Water. Each brings unique energy, shaping the ambiance of a space.
Wood: Symbolized by wooden furniture or plants, it radiates growth. A simple wooden shelf or potted plant infuses vitality.
Fire: Exemplified by candles or red decor, it denotes warmth. A few red throw pillows or candles can evoke its essence.
Earth: Reflecting stability, it's captured in earth-toned decor or ceramics. A beige rug or clay pot adds grounding energy.
Metal: Representing clarity, it's highlighted with metallic items or white shades. Consider metallic frames or white vases.
Water: Mirrors or blue tones embody its emotional depth. A tabletop fountain or blue decor encapsulates its spirit.
Incorporating these elements is about harmony, ensuring no element overshadows another, resulting in a unified, positive space.
5. Choose Colors Wisely
Colors in Feng Shui are more than mere aesthetic choices; they're channels of energy that can influence mood, well-being, and the ambiance of a space. Each hue resonates with a particular vibration and energy, making it essential to select colors that align with your intentions for the room.
Earth Tones (Beige, Light Yellow, Sandy Browns): These shades instill a sense of grounding, stability, and nurturing. They're ideal for creating a calming environment, making them great choices for main wall colors or large furniture items.
Wood Colors (Green, Teal): Representing growth and vitality, green hues rejuvenate and bring a sense of renewal. Incorporate them through plants, wall art, or cushions to promote healing energy.
Fire Colors (Red, Bright Orange, Purple): Energetic and dynamic, these colors stimulate activity and passion. Use them sparingly, like in accent pieces, to invigorate the space without overwhelming it.
Metal Colors (White, Metallics, Pastels): Signifying clarity and joy, metal-associated colors bring a sharp, clean energy. Think of white walls, metallic fixtures, or pastel decor.
Water Colors (Blue, Black): These colors offer a deep, introspective energy, fostering wisdom and relaxation. Incorporate them in artwork, rugs, or throw blankets.
Remember, balance is key. Your living room should reflect a harmonious blend of colors that not only appeal to your aesthetic sense but also promote the desired energy flow.
6. Balance Yin and Yang
Feng Shui's essence lies in the balance of Yin and Yang—representing life's dualities.
Yin, characterized by softness and coolness, can be enhanced in a living room through plush rugs, muted colors, and ambient lighting. A cozy chair corner encapsulates this calming energy.
On the other hand, Yang, signifying brightness and warmth, shines through in vibrant colors, sharp-edged decor, and materials like glass or polished wood. Bright wall art emphasizes its dynamic nature.
When designing, gauge your room's natural tone. If it's brightly lit with hard surfaces, it may need Yin touches, and vice versa. The goal is a living room that's both rejuvenating and serene.
7. Use Mirrors Strategically
In Feng Shui, mirrors are powerful tools for reflection and amplification. Properly placed, they can magnify positive energy, expand confined spaces, and redirect chi. However, when mispositioned, they might scatter good vibes or even magnify negatives.
To harness their positive potential, mirrors should reflect scenic views or attractive decor, like an indoor plant, thereby enhancing the room's energy. Yet, it's vital they don't capture sources of negativity, such as clutter or bathrooms. Mirrors placed directly opposite each other can cause energy whirlwinds, leading to unease. In compact living rooms, mirrors can open up the space, offering an airy feel.
However, avoid mirrors reflecting the main door; they might push out positive energy. If light is limited, a strategically placed mirror can brighten the ambiance. Lastly, opt for round or oval mirrors, their gentle curves promote a smooth chi flow.
8. Introduce Living Plants
Living plants breathe life into indoor spaces, aligning with Feng Shui principles to radiate vibrant chi, health, and vitality. Beyond beautifying a room, they purify the air, absorbing toxins, and releasing oxygen. This natural filtration fosters tranquility, reduced stress, and a deeper connection to nature.
Among the plants that resonate with Feng Shui, bamboo stands out, symbolizing luck and resilience. The elegant Peace Lily not only purifies the air but exudes serenity. Snake Plant acts as a guardian against negative vibes, while the Rubber Plant's round leaves are associated with wealth. The sturdy Ficus represents growth and prosperity. While integrating these green companions, ensure they get proper light and aren't cramped or obstructing pathways. A flourishing plant, when placed thoughtfully, becomes a beacon of positive energy and aesthetic charm.
9. Avoid Sharp Corners and Edges
In the realm of Feng Shui, sharp corners and edges, dubbed "poison arrows," are seen as conduits of disruptive energy, or sha chi. They can inadvertently introduce unease or even discord in a space. Think of chi as water: when it encounters sharp objects, its flow becomes disturbed, much like a stream hitting jagged rocks.
Addressing these "poison arrows" is about smoothing energy flow. Placing tall plants like bamboo near aggressive corners disperses sharp energy. If a furniture edge is problematic, a decorative screen or room divider can buffer its effect. Flowing drapes can cloak sharp architectural features, and furniture with gentler curves, such as a round coffee table, is preferable to its edgier counterparts. For dangerous corners, especially at head level, decorative or functional covers can be a stylish remedy. The goal isn't an edge-free room but a space where energy flows undisturbed.
10. Incorporate Feng Shui Symbols
Traditional Feng Shui is rich with symbols that carry profound meanings and are believed to attract specific energies into a space. Icons like the laughing Buddha, dragon, or koi fish are not only decorative but also potent reminders of the values, aspirations, and energies they represent.
Laughing Buddha: A symbol of happiness, contentment, and prosperity, the Laughing Buddha is often placed facing the entrance of a home to welcome positive energy. However, in the living room, he can be positioned on a prominent shelf or table, always off the floor, to invite joy and abundance. Rubbing his belly daily is believed to bring good luck!
Dragon: Representing power, strength, and good fortune, the dragon is a powerful Feng Shui enhancer. It's best to place the dragon in the east section of your living room for health or the southeast for wealth. Ensure it's not positioned too high, and it should never face outwards directly from a door or window.
Koi Fish: Symbolizing abundance, perseverance, and success, the koi fish is often depicted in paintings or sculptures. A painting of koi fish in the living room, especially near the entrance, is believed to bring in waves of good luck and prosperity.
When integrating these symbols, it's essential to place them with respect and intention. While they enhance the Feng Shui of a space, their placement should also resonate personally, ensuring that they harmoniously blend with the room's aesthetics and your personal beliefs.