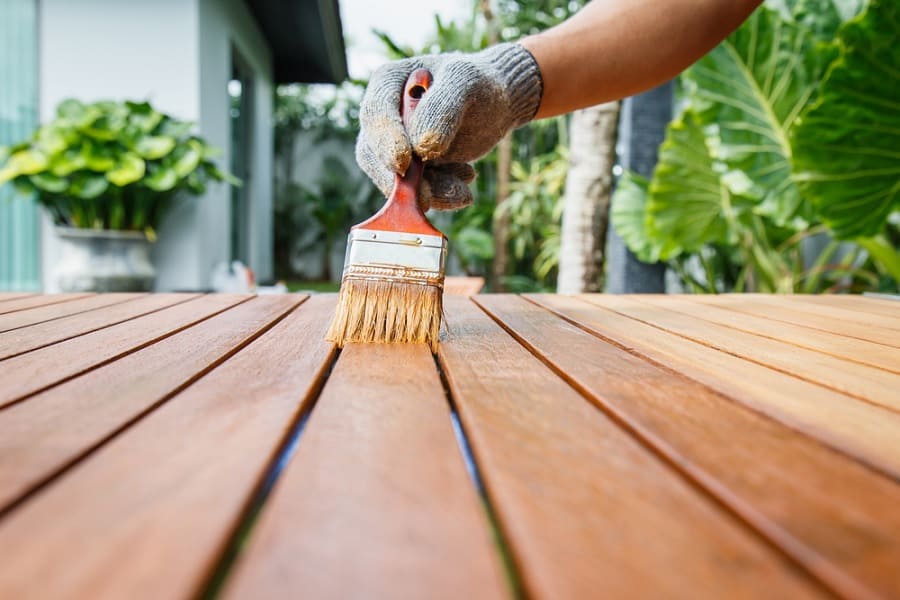 How to Waterproof Wood Furniture for Outdoors
Do you have outdoor wooden furniture? If you have not waterproofed it, you wasted your money. Without the proper protection, your wood furniture is susceptible to water that will cause it to rot, splinter, and crack. This will ruin the wood's look and shorten its useful life.
Follow this guide and learn how to waterproof wood furniture for the outdoors.
Rely on a Hand-Rubbed Oil Finish
There are two types of wood oil that you can use to waterproof your wood furniture, linseed and tung oil. These oils are the least toxic method and do not have VOCs. The oil soaks into the wood to prevent moisture from getting into the wood.
Their downfall is that they are not as protective as synthetic sealants. This makes it a good option for sheltered wood surfaces, such as covered patio furniture or indoor furniture.
If you have light wood furniture like white oak, stick with
tung oil
that will not yellow over time like linseed oil. Some hardwoods, like teak wood, have an abundance of oils naturally, making it unnecessary to oil them.
Darker woods like mahogany and walnut benefit greatly from an oil treatment because they can bring out the deep luster and color of the wood.
Tools Required
To oil your wood, you will need 80-grit sandpaper, a stiff-bristled scrub brush, a natural bristle paintbrush, mineral spirits, cleaning rugs, and your chosen oil.
Process
If your wood already has a finish or is visibly weathered, you will need to start by sandpapering the surface to remove the top layer. Then thoroughly wash the wood to remove the dust and allow it to dry.
Once the wood is dry or if the wood is unfinished, you are ready to apply the oil. Use your paintbrush to apply a thin coat of oil over the entire surface of the wood.
Try to saturate the wood without overapplying. Use your rag to wipe off excess oil. Place your oily rags in a bucket of water to prevent them from spontaneously combusting.
Use the mineral spirits to clean the paintbrush. Leave the furniture to dry overnight. If your furniture needs more than one coat, wait at least 30 minutes between each layer. `
How Often Should You Oil Wood Furniture?
How often you need to apply oil to your wood furniture will depend on the level of abuse the wood experiences. Wood furniture out in the elements needs oiling about twice a year.
Wood that is indoors can go longer with an oil application once a year. However, neither of these are hard-set rules. If you see that your wood furniture looks dry and weathered, then it is time for a coat of oil.
Apply a Sealant
There are three types of wood sealant, varnish, lacquer, and polyurethane. These products create a shiny hard shell on the surface of the wood that protects it from the outdoor elements.
It is great at creating a solid seal for waterproofing wood and can prevent scratches in the wood. If you have Adirondack chairs, the smooth surface that sealants create is good because they prevent your clothes from snagging on the wood.
The downside of sealant is that it will eventually peel up from the wood's surface. You will also need to completely sand it off before applying a fresh coat. Oil-based varnishes will make wood look darker than it really is. Be aware of this if you do not want to change the look of your teak or eucalyptus patio furniture.
Lacquer

Wood lacquer will give you a stunning high gloss shine and will protect your wood from scratches. Unfortunately, it eventually discolors, and you will have to remove it and reapply to restore its beauty. The consistency is thinner than varnish and polyurethane, making it easier to apply with a sprayer than a paintbrush. However, lacquer does contain high levels of VOCs.
Varnish

You cannot beat the protective qualities of varnish. Marine-grade varnish is even more protective because it is specifically meant for high moisture environments and has UV blockers. In addition, the cured varnish is flexible and will not crack when put under stress.
However, its biggest drawback is the incredibly time-consuming application process. It also only lasts two to three years before you will need to lightly sand the surface and reapply a topcoat.
Polyurethane

A polyurethane wood coating is a type of plastic and is not the same as varnish. It comes in both oil and water-based formulas. However, only the oil-based formulas are effective at protecting outdoor furniture. If you are trying to protect light-hued woods, this is a good option.
Once applied, oil-based polyurethanes look similar to varnish. Their big advantage is that you only need two coats, making for a faster application process. However, they will expose you to higher levels of VOCs.
Tools Required
Because sealants contain VOCs, you will need a respirator or N-95 mask. You will also need an orbital sander and 80-grit sandpaper to remove the old sealant. Other required materials include deck cleaner, stiff-bristled brush, oil-based varnish, polyurethane, or lacquer, paintbrush, and mineral spirits.
Process
Start by putting on your mask before you start any work. Use the orbital sander to clean off the old sealant, and then wash and scrub the wood with your cleaner and a stiff-bristled brush.
Let the wood dry completely before trying to apply sealant. While wearing your mask, use the paintbrush to apply thin coats of sealant.
Do not aggressively shake or stir the sealant, or you will create air bubbles that will stick around and ruin the surface of your sealant when applied to the wood. Clean your brush with mineral spirits and let it dry overnight.
You can apply a second coat the following day. You will need two to three coats of lacquer or polyurethane and eight coats of varnish. This makes for a lengthy and time-consuming application process.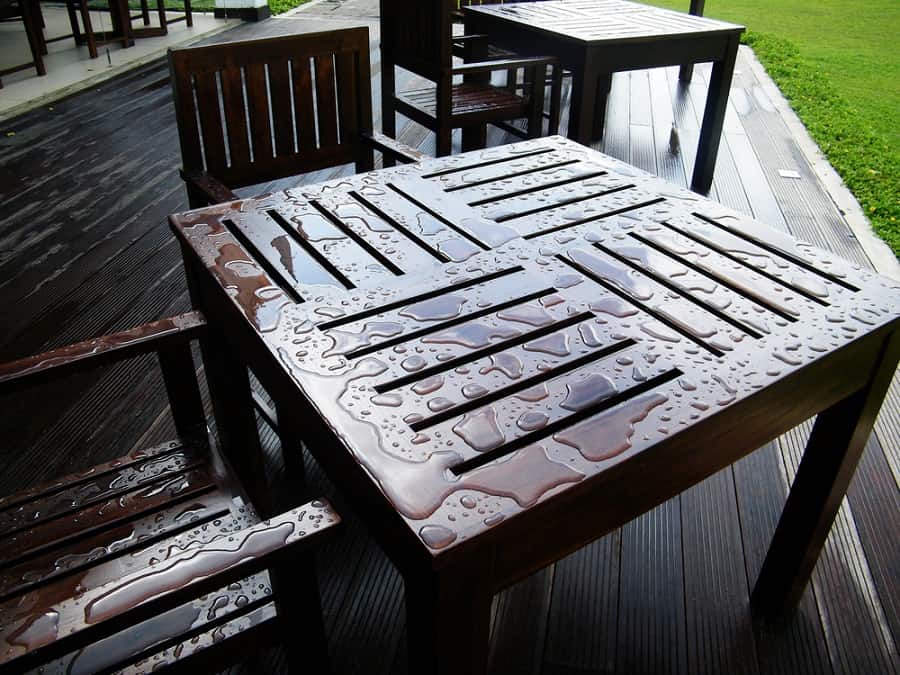 How To Prevent Yellowing and Darkening Sealant
If you want to prevent yellowing or darkening, you will want to use water-based sealants. It will give you the same shiny shell but will not change colors the way oil-based formulas will. Oil-based formulas also tend to bring out the natural colors in the wood. Such light woods like pine tend to look more yellow.
Use a Stain-Sealant Combo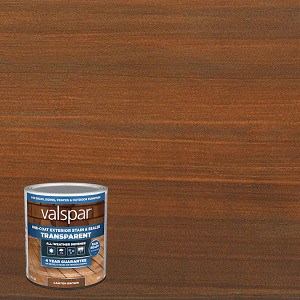 If you want to enhance the color of your wood while protecting it, then a stain and sealant combo is perfect. It is a single liquid that combines wood stain with a polyurethane wood sealer. This gives you a beautiful wood finish that will last.
What is nice about this product is that it comes in a wide variety of color tints and finishes. It could be a rainbow of colors, have a matte, satin, or high gloss finish, or be opaque to transparent or somewhere in between. This lets you customize the look of your garden furniture.
They also have an advantage over sealants because they will not yellow or otherwise discolor over time. In addition, they do not create a hard shell on the surface of the wood like other sealants, so you don't have to worry about it eventually pealing. Unfortunately, they are high in VOCs because the formula contains polyurethane.
Tools Required
To apply your stain and sealant combo, you will need a respirator or N-95 mask, orbital sander, 80–grit sandpaper, cleaner, stiff-bristled brush, paintbrush, all-in-one stain and sealer, and mineral spirits.
Process
As with the other products, you will need to sand off the previous treatment before applying a new coat. Then, when your wood furniture is ready for a new application, put on your mask and get to work painting the furniture with your brush.
Give it 24 hours to dry, and then you can apply another coat. You will need at least two coats to achieve the full desired color and protection level.
How to Waterproof Painted Wood Furniture for Outdoors
If you want to waterproof painted wood furniture, you need to remove the paint first. While latex paint creates a seal, exterior paint can't protect your wood as well as sealants. Use a scraper, sandpaper, or steel wool to remove the paint so that you have bare wood. Then, use one of the above methods to seal the untreated wood.
Can Paint Protect Your Wood?
Some paint can protect your outdoor wood furniture. Paint specifically designed for exterior use protects the wood from moisture. For the best protection, always apply a primer first. Then you can apply two to three layers of exterior paint. You can use latex or oil-based paint for this.
As long as you are using the correct paint, you will not need to treat the wood with another waterproofing product before painting the outdoor wood furniture. However, you should completely cover the wood so that there are no exposed wood areas that moisture could get into.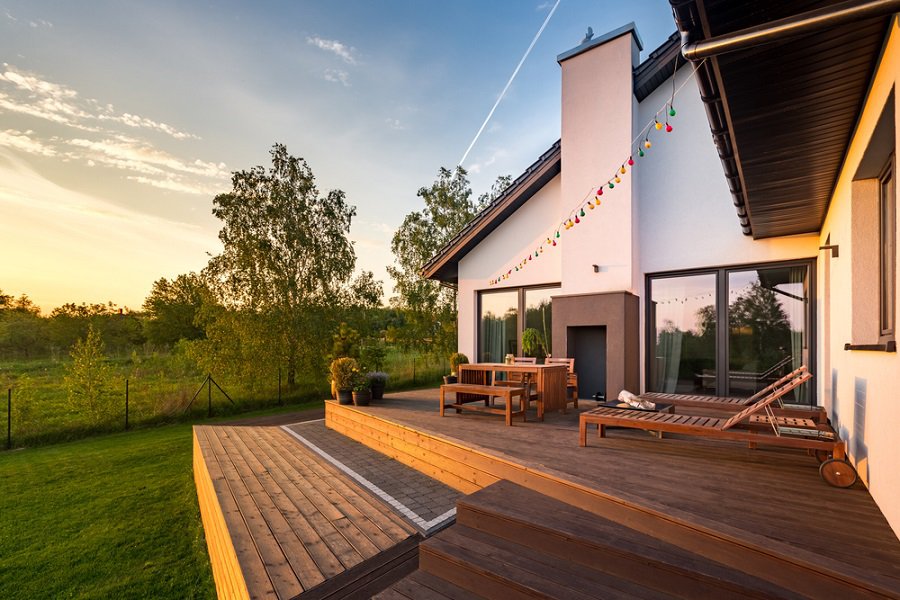 How to Naturally Protect Wood
If you do not want to use chemicals or potentially hazardous formulas, there are some natural options. However, keep in mind that these options will not protect as well as the solutions mentioned above and will not last as long.
For the best protection, create a reapplication schedule so that your wood has routine care. Do not wait until your wood is struggling and desperate for some maintenance.
You could use a damp rag to work coconut oil into the wood. The coconut oil will moisturize and protect the wood. Plus, it will smell wonderfully tropical with the subtle scent of coconut.
Another natural protectant is a mixture of oil and vinegar. Mix three parts canola oil to one part vinegar. Wipe it onto the wood and protect it from water, insects, and wear.
Importance of Waterproofing Your Outdoor Wood Furniture
It is crucial that you weatherproof wood if you plan to leave your outdoor furniture outside throughout the year. Wood is ideal for outdoor use because it looks great and is durable.
However, you need to help protect it from the elements so that it does not swell, warp, discolor, or rot. For example, teak or eucalyptus furniture is extremely durable but will patina over time from a rich wood color to a weathered grey.