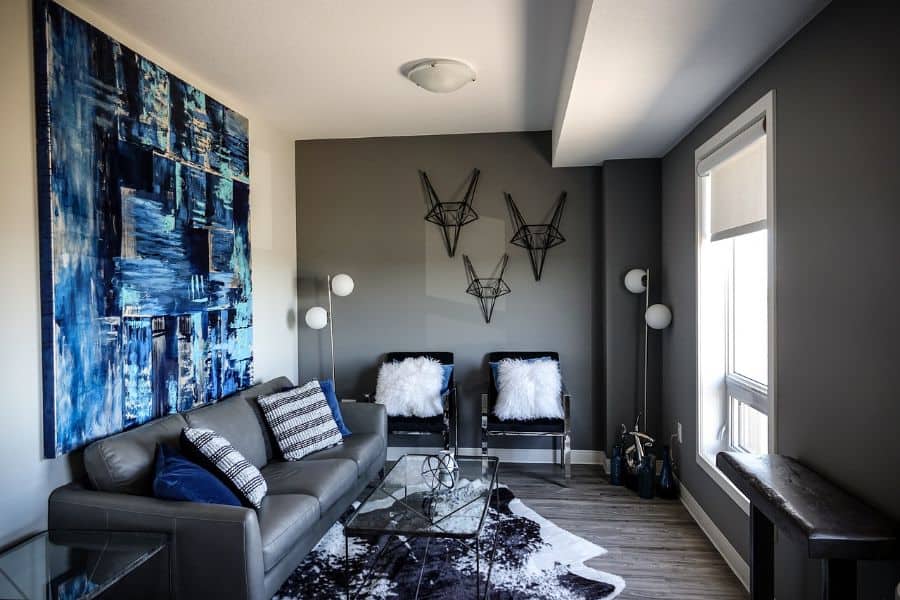 The Top 74 Industrial Living Room Ideas
Do you find yourself attracted to the more eccentric side of interior design? Is it hard to choose an aesthetic that suits your personality?
A beautiful living room is about more than selecting a comfy sofa, functional coffee table, and bright floor lamp. But style is still important.
Industrial decor is a wonderful option for any living space in need of some character. It bucks traditional design in favor of practicality. Yet still manages to be incredibly attractive.
Industrial design encompasses a wide variety of styles and trends. Keep reading for our favorite industrial living room ideas and discover exactly what this design movement has to offer!
1. Industrial Modern Gas Firepit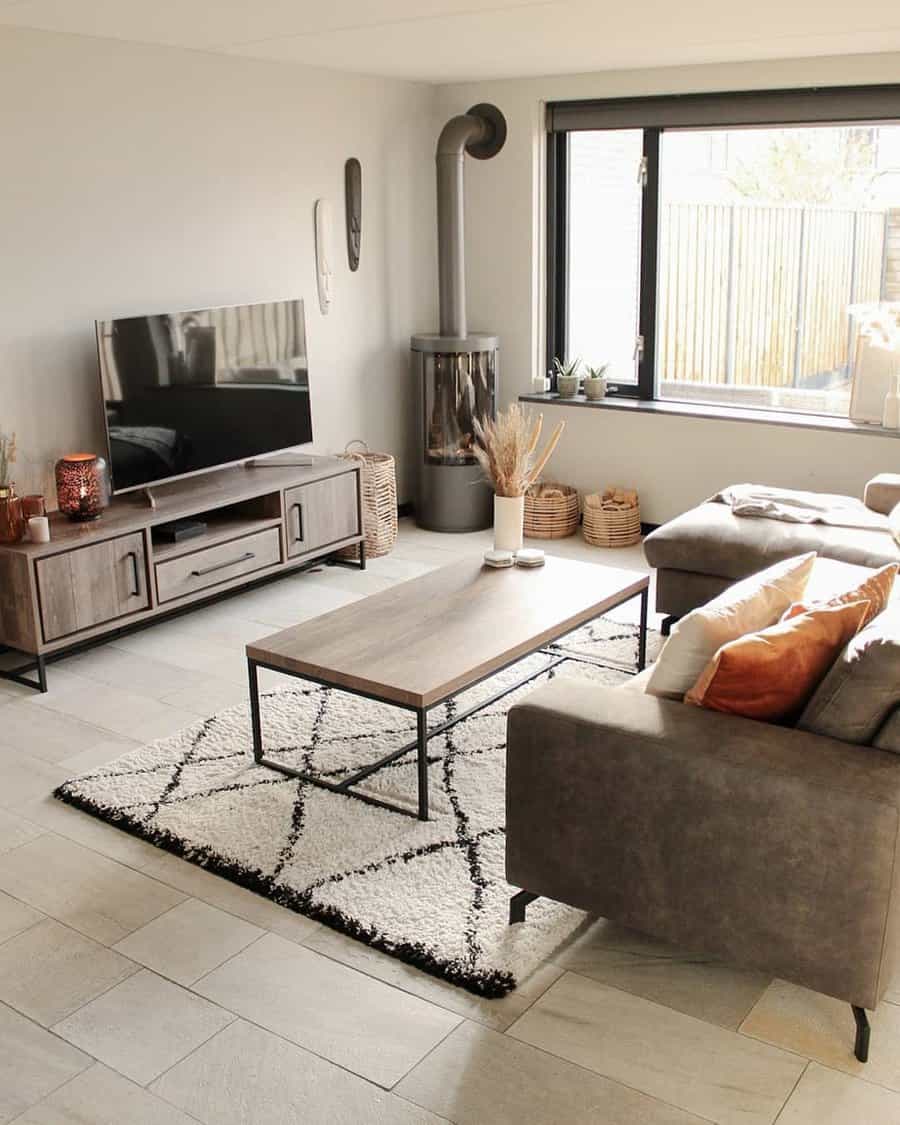 2. Potted Plants
Incorporating potted plants into an industrial space brings a sense of life and vibrancy, softening the ruggedness of the design and adding a breath of fresh air. Imagine exposed brick walls, concrete floors, and metal accents, all enhanced by the presence of lush greenery.
Large potted plants, such as palms or fiddle-leaf figs, make a bold statement in the room, creating a striking contrast against the industrial backdrop. Smaller plants can be placed on shelves, coffee tables, or window sills, adding touches of green throughout the space.
Consider using unconventional planters like metal buckets, concrete pots, or repurposed industrial containers to enhance the industrial aesthetic. The combination of industrial elements and potted plants creates a harmonious balance between urban ruggedness and natural serenity.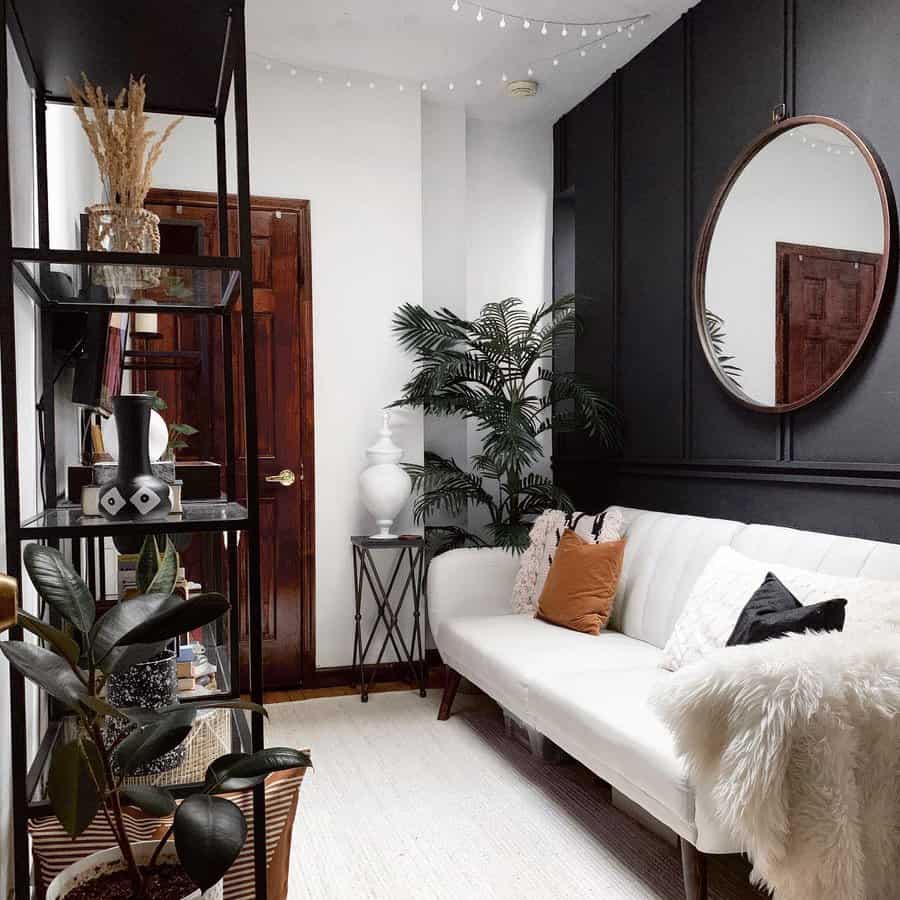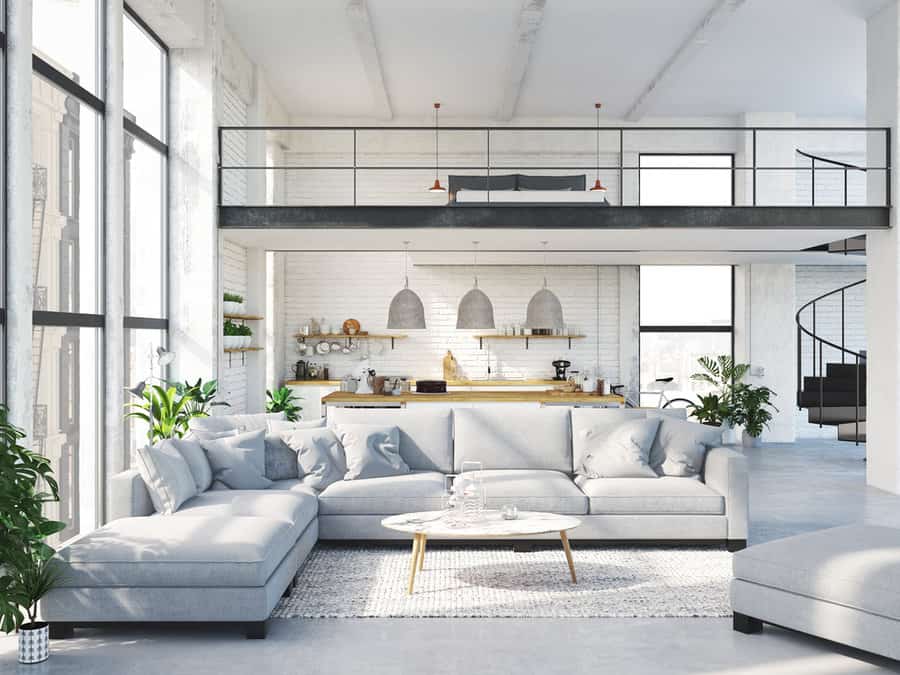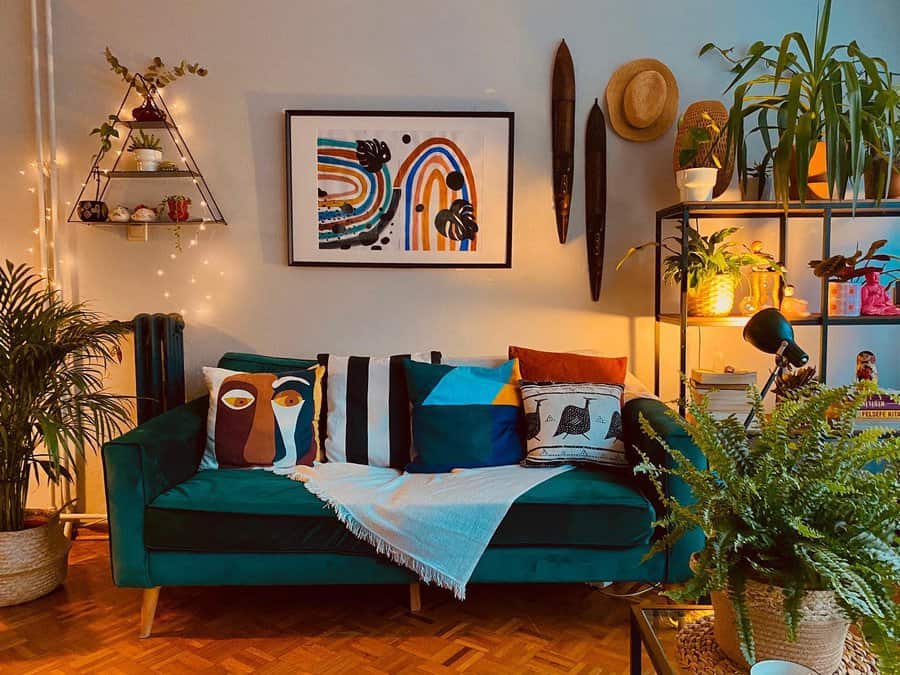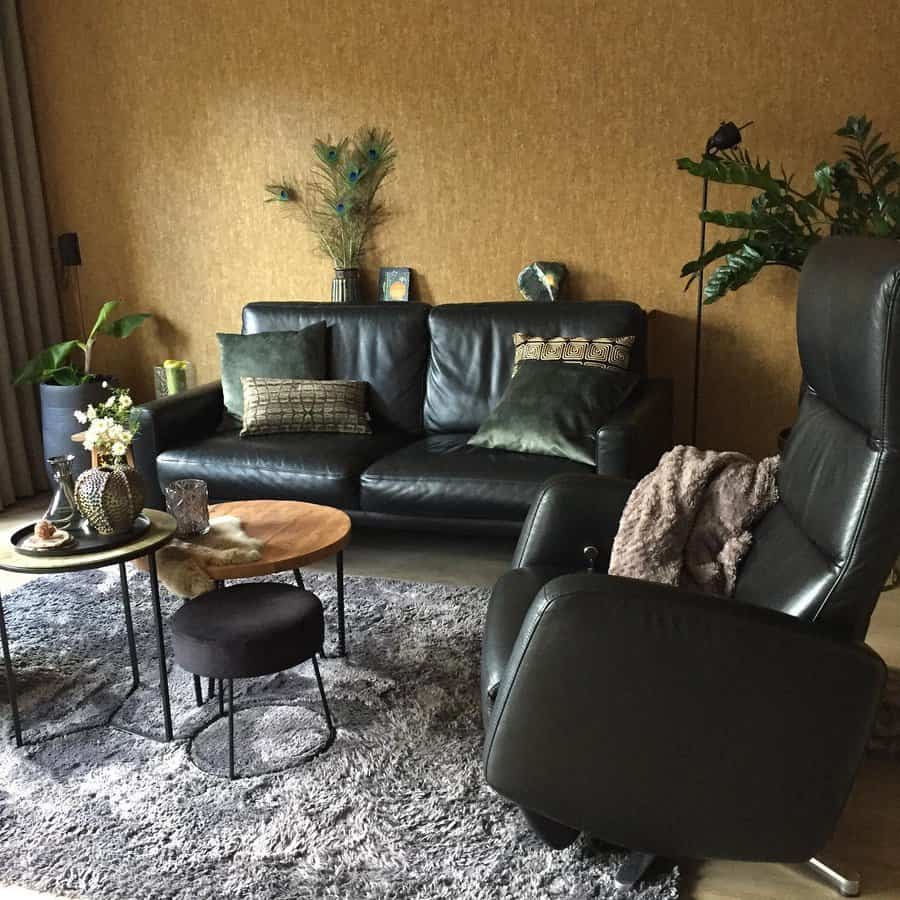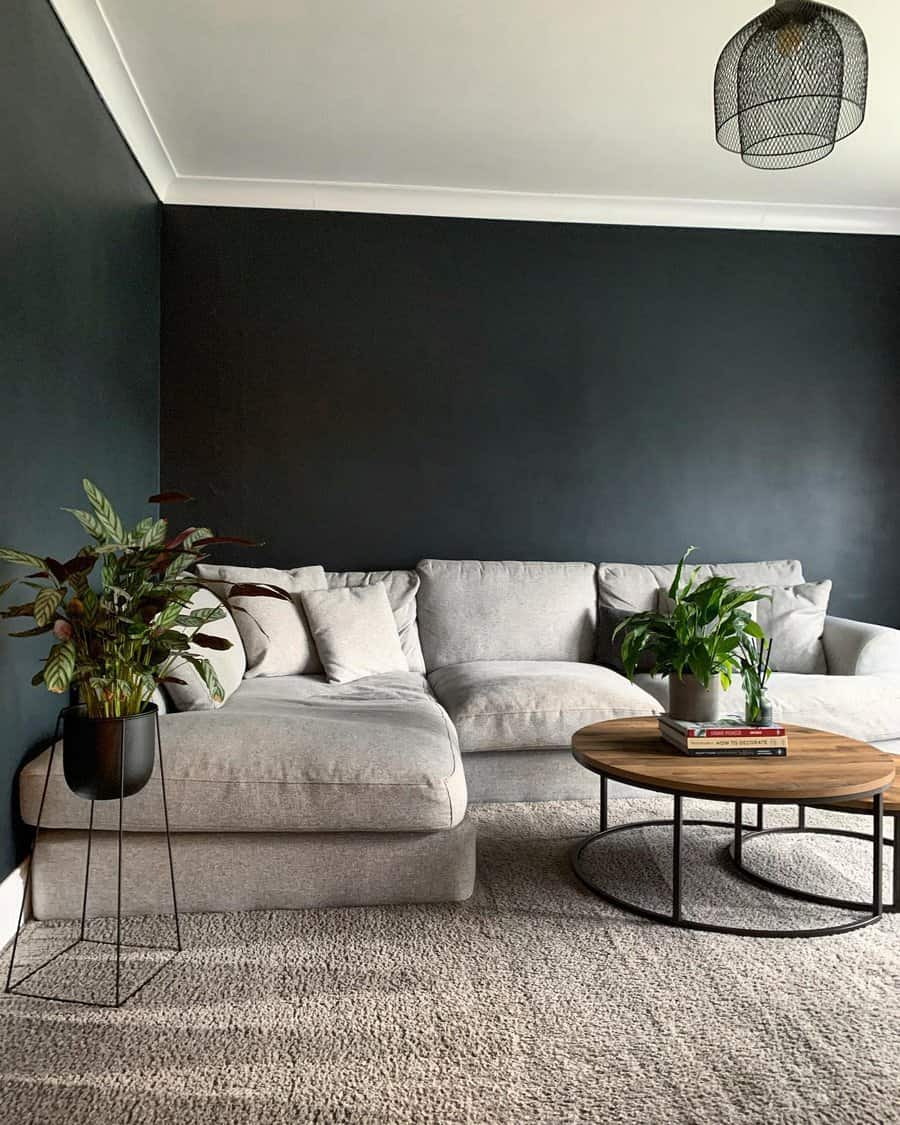 3. Grey Upholstery
Industrial design is all about embracing raw materials, exposed elements, and a touch of rugged elegance. To achieve this aesthetic, consider incorporating furniture upholstered in shades of grey, which effortlessly exudes sophistication and complements the industrial ambiance.
Opt for a plush grey sofa with clean lines and a sturdy frame, or introduce a pair of grey armchairs with metal accents for an edgy twist. To add depth and texture, layer the space with grey-toned cushions and throw blankets in various patterns and fabrics. Consider using distressed leather, weathered metals, and reclaimed wood elements to further enhance the industrial vibe.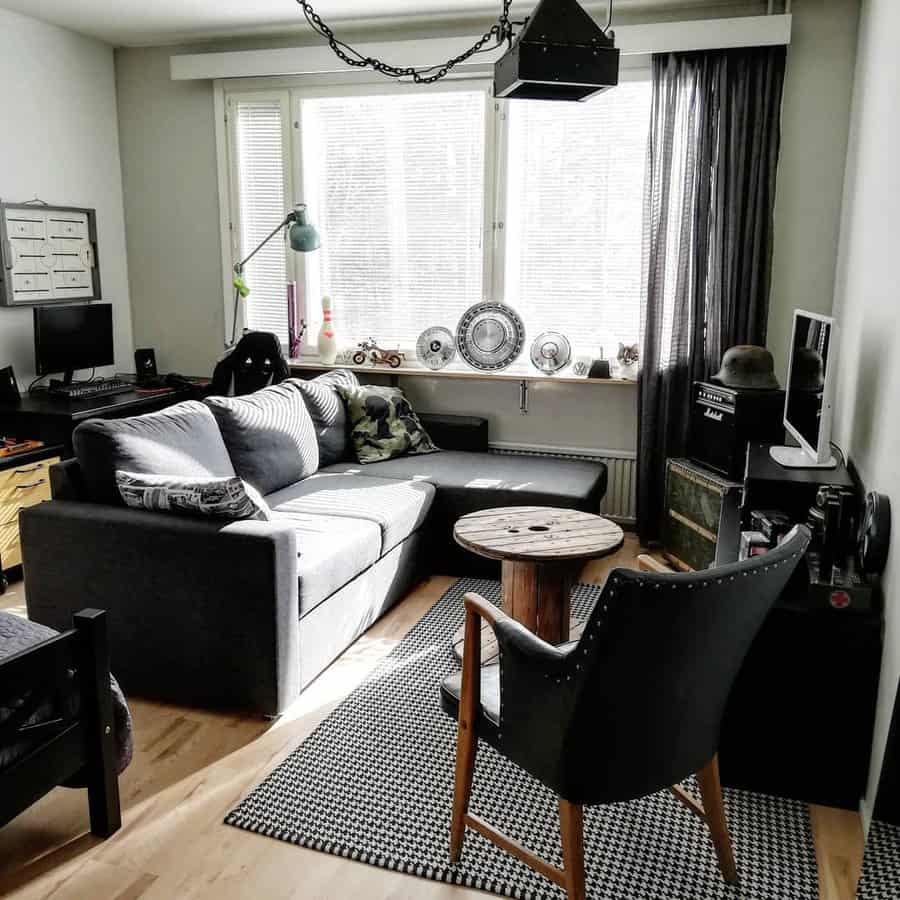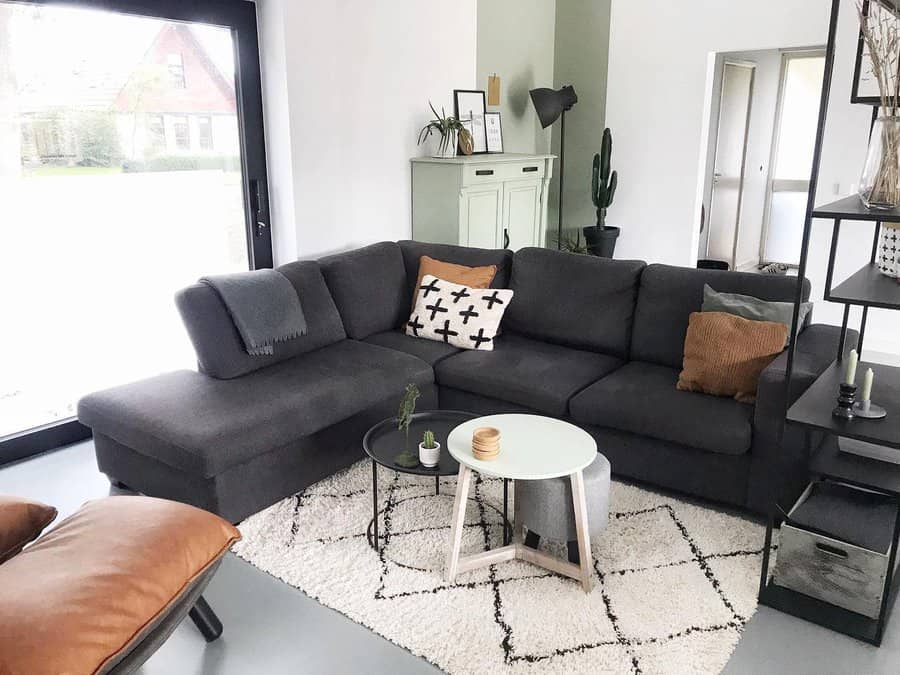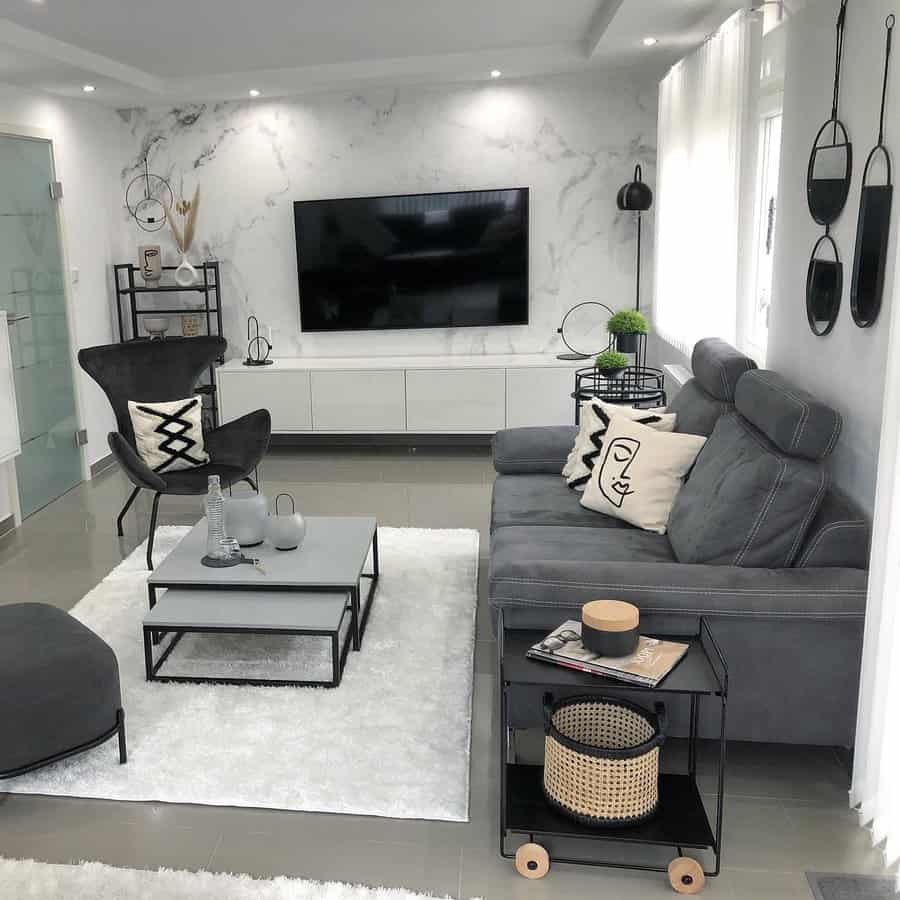 4. Exposed Brick Wall
Balance the roughness of the brick wall with polished concrete or distressed wood flooring to enhance the industrial aesthetic. Integrate a mix of metal and leather furniture pieces, such as a worn leather sofa and metal-framed accent chairs, to further enhance the industrial vibe.
Incorporate bold and eclectic accessories like vintage factory-inspired lighting fixtures, salvaged wood coffee tables, and metal shelving units to add layers of interest and authenticity to the space. Complete the look with pops of rich, deep colors like dark blues, burnt oranges, and deep browns to create a warm and inviting atmosphere amidst the industrial elements.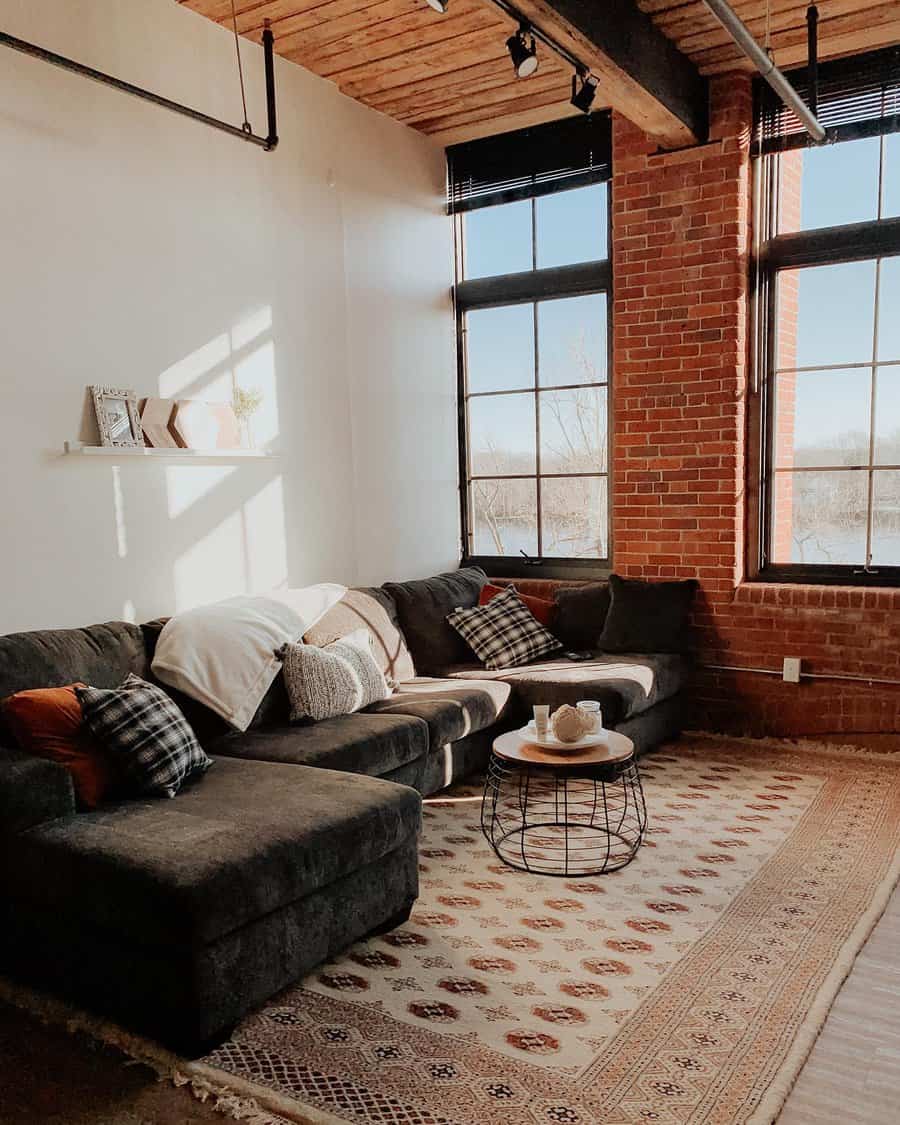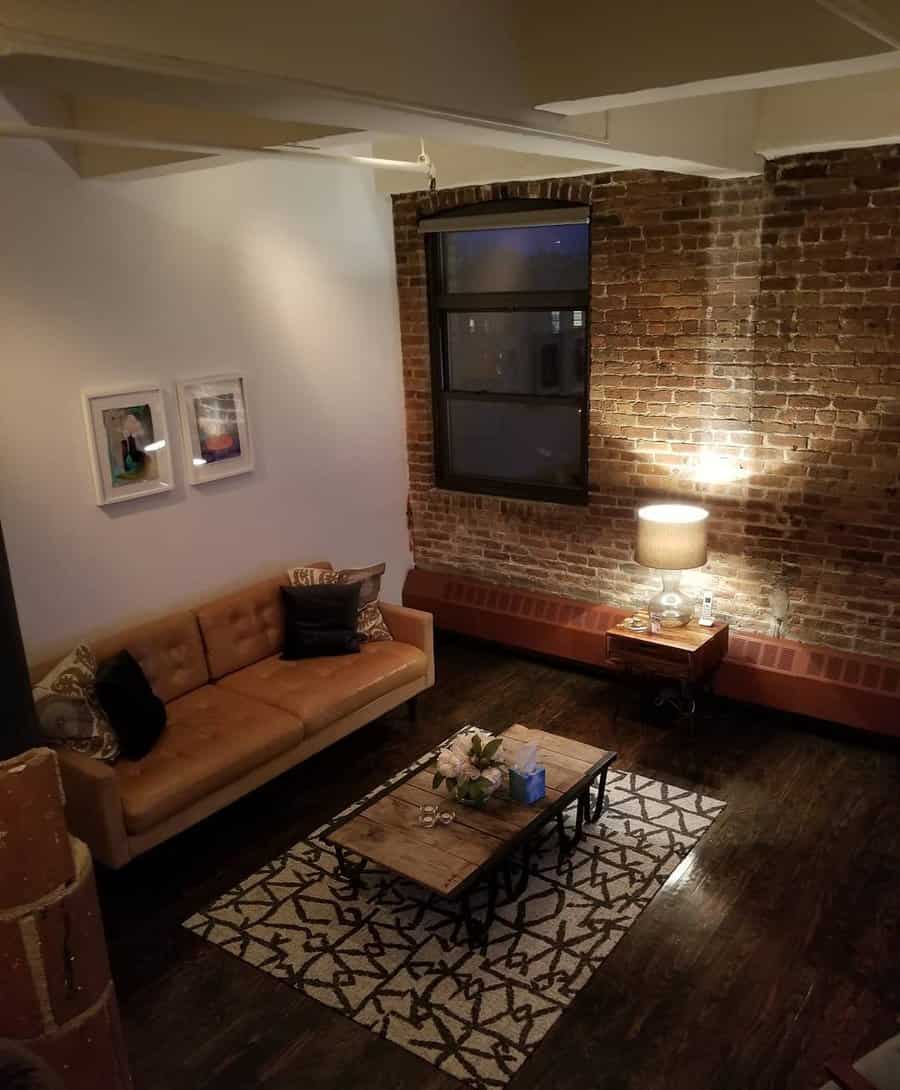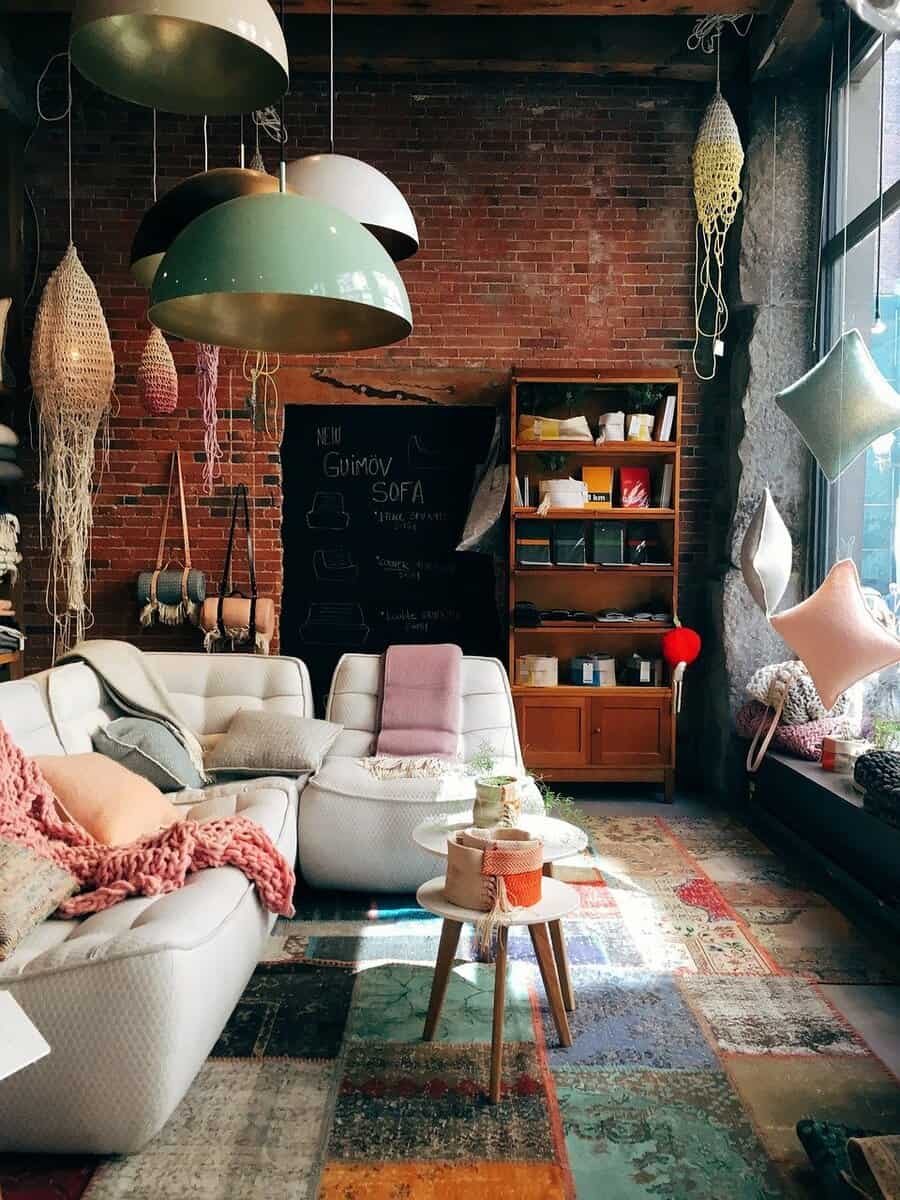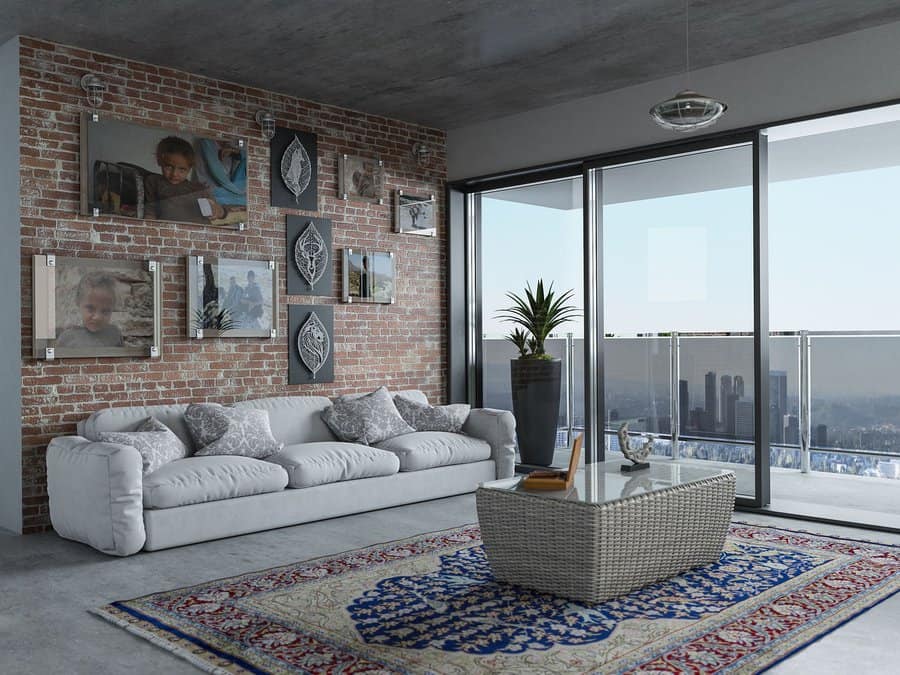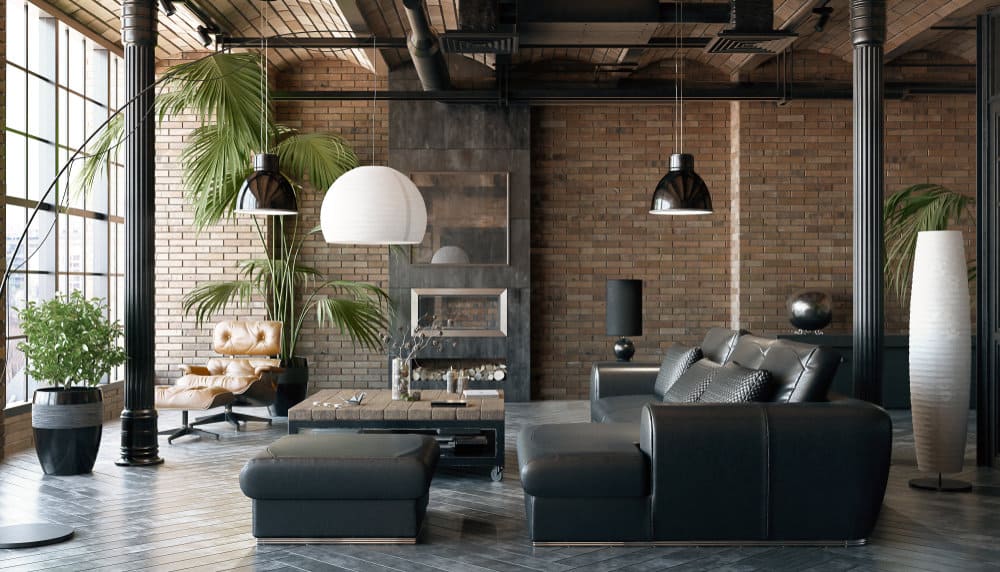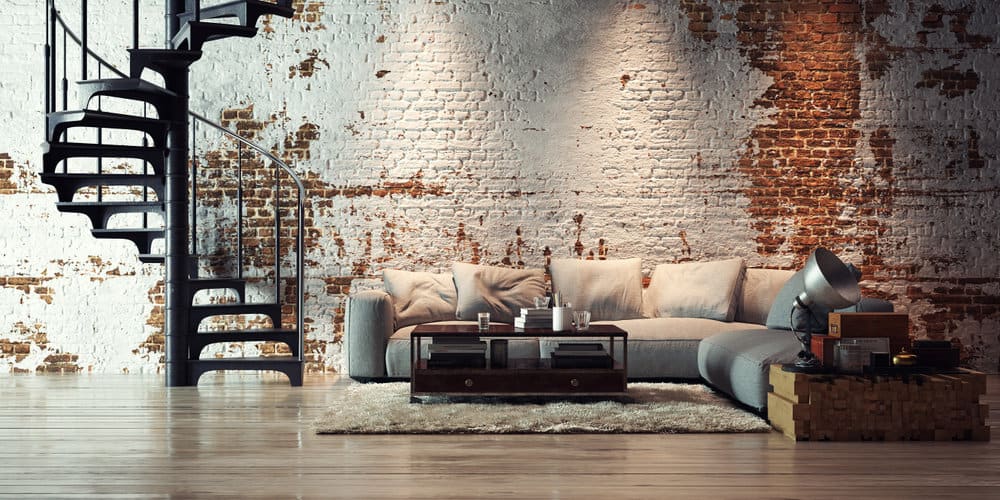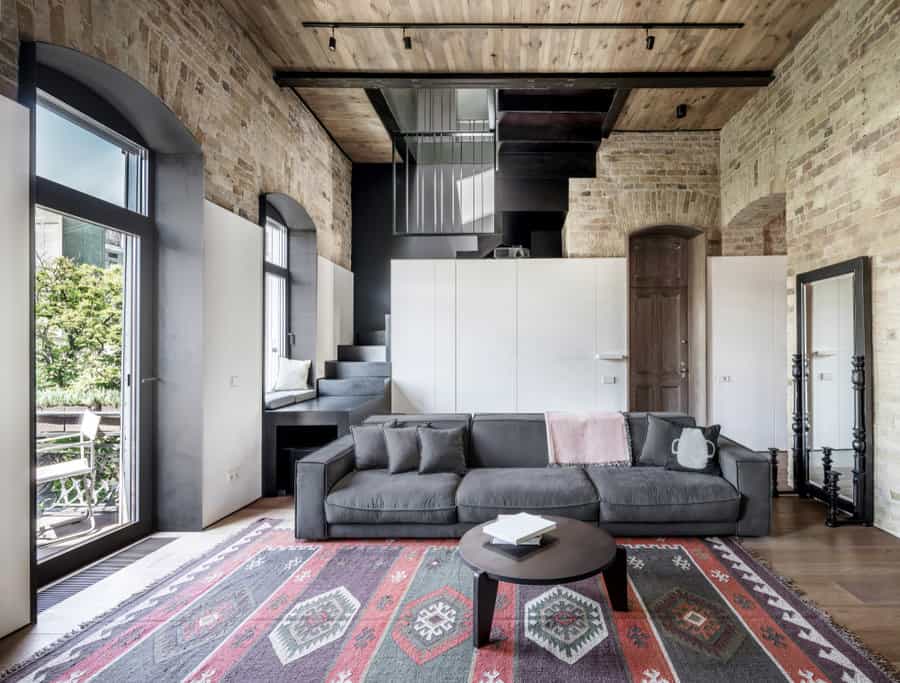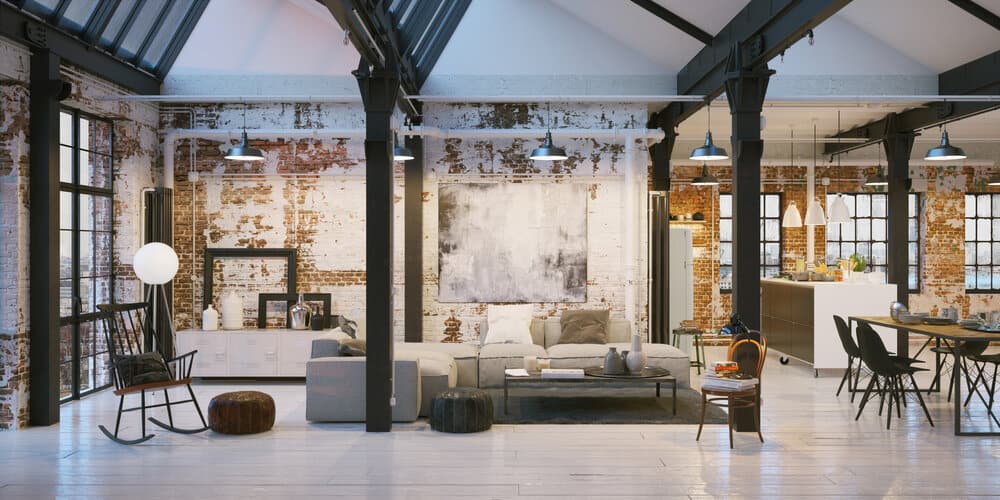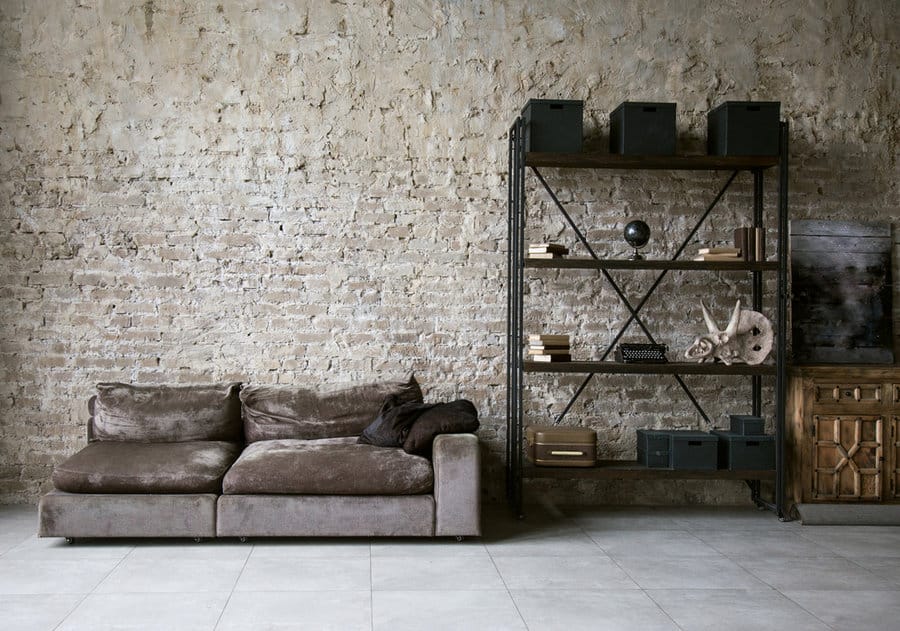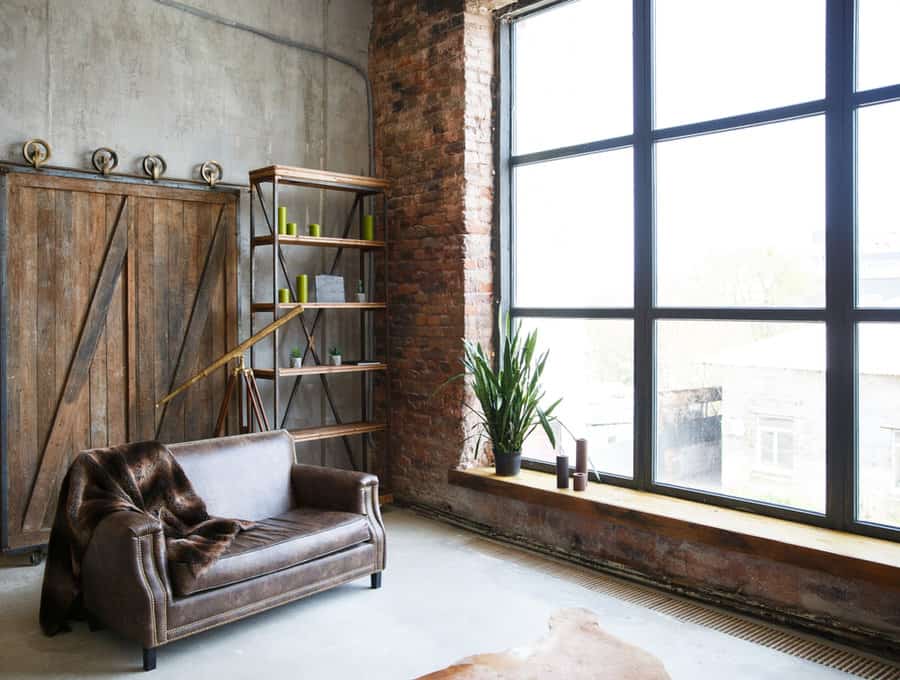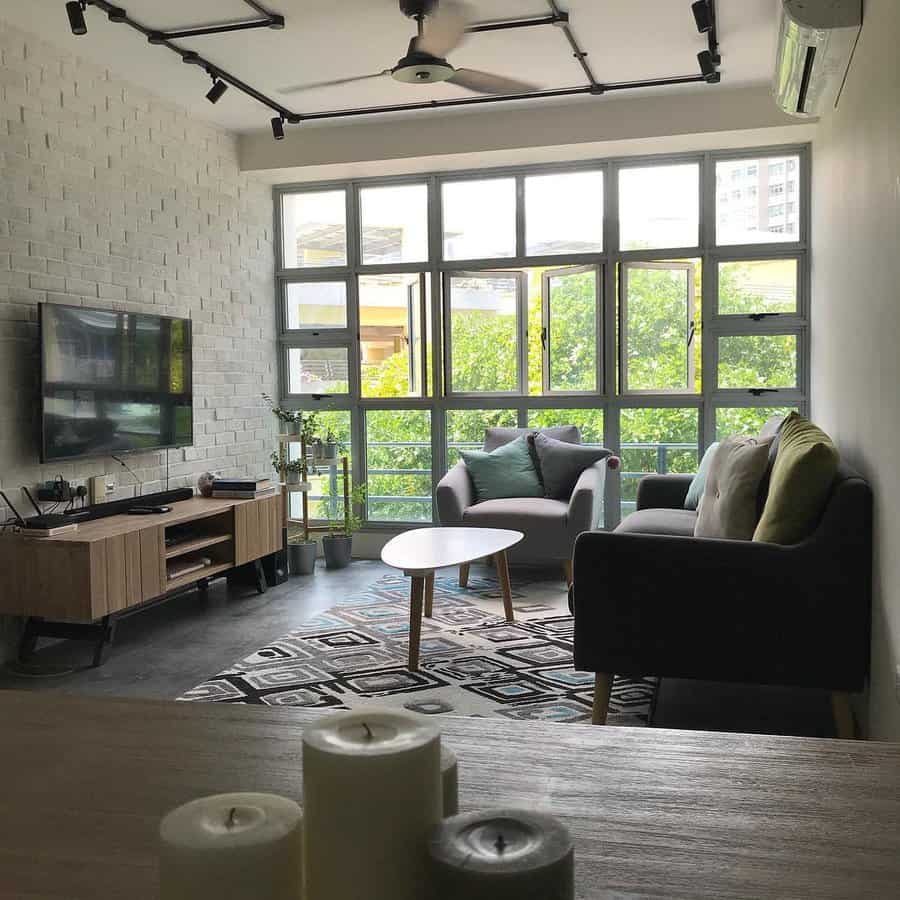 5. Metal Lamps
One striking idea to infuse that industrial charm is to incorporate a metal standalone lamp. This unique lighting fixture not only illuminates your space but also serves as a statement piece that adds character and a touch of edginess to your living room.
Pick a lamp with a sleek metal frame, showcasing exposed bulbs or intricate wire designs, to embody the industrial aesthetic. The contrasting combination of metal and warm lighting creates a captivating visual effect, casting intriguing shadows and highlighting the rugged beauty of industrial materials.
Place the standalone lamp strategically in a corner or next to your favorite reading nook, creating an inviting ambiance and providing a practical lighting solution for your everyday activities.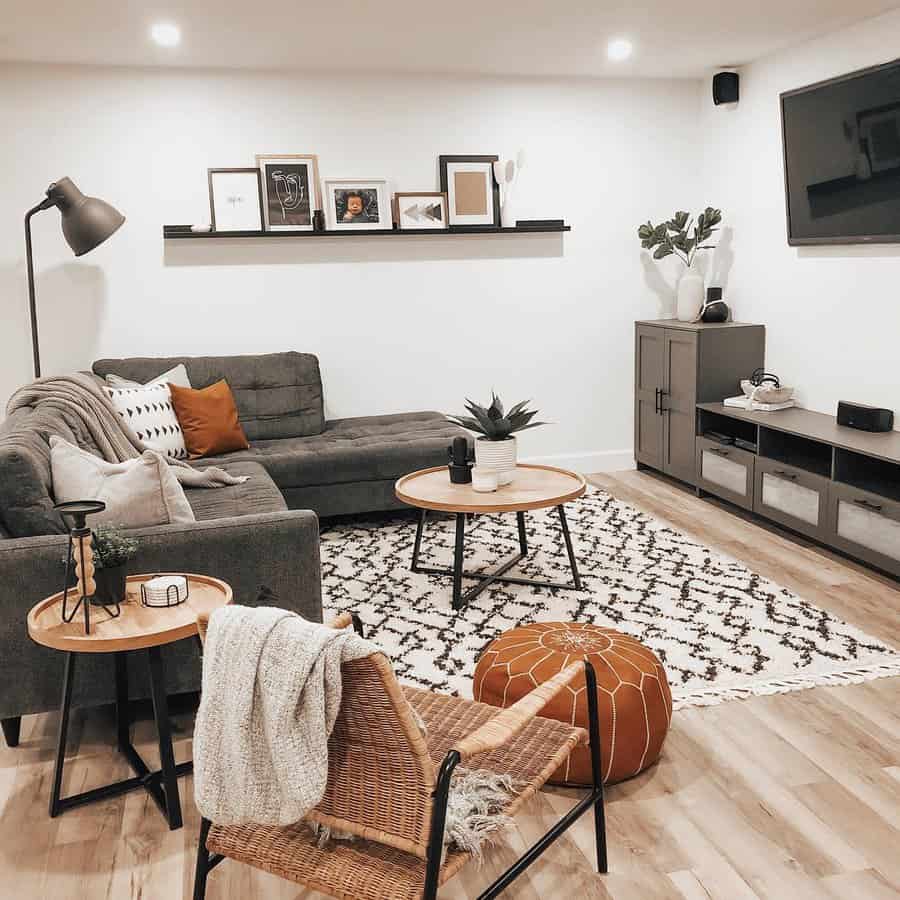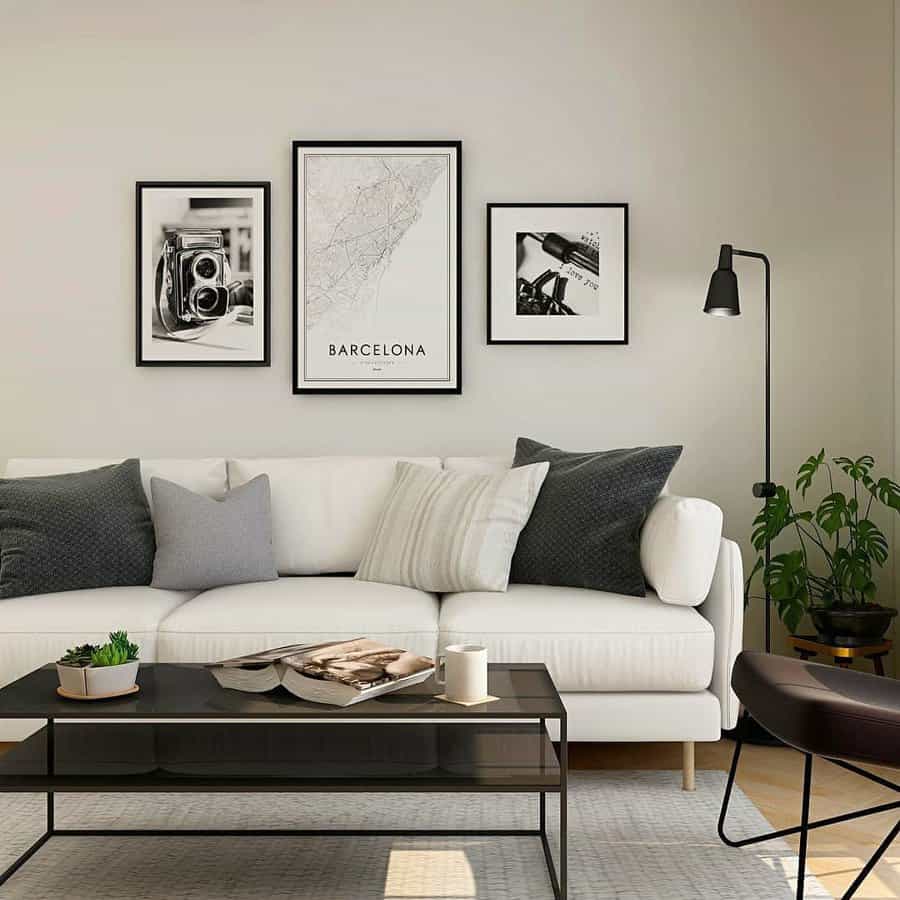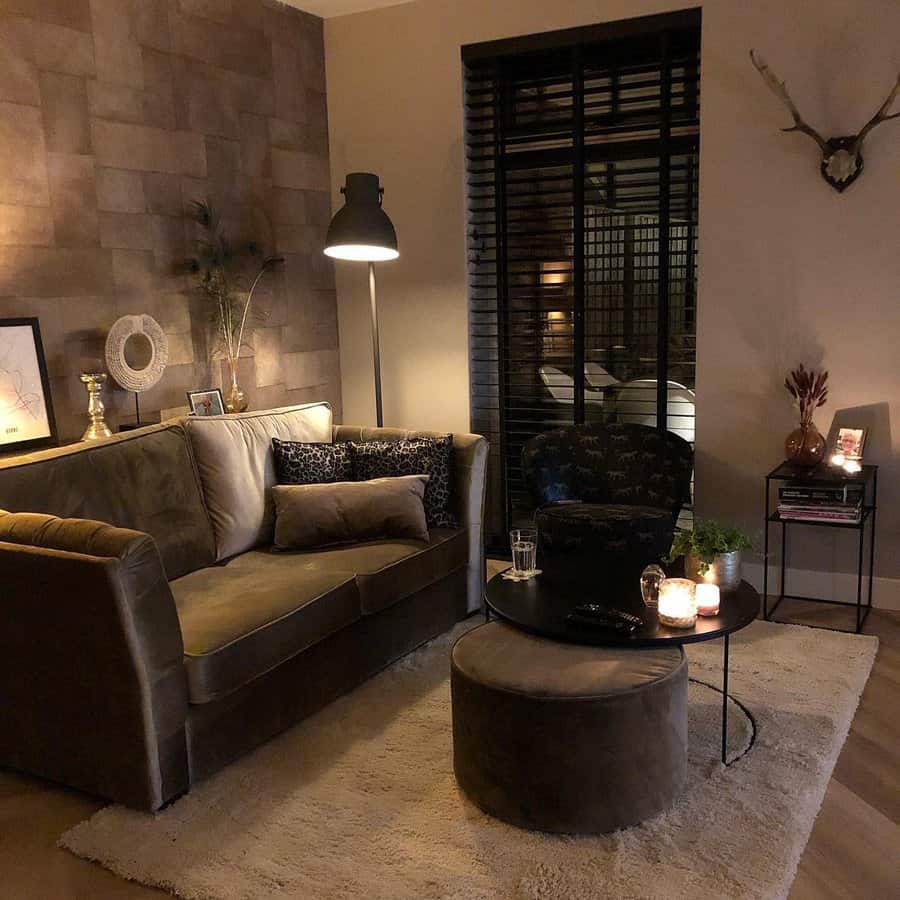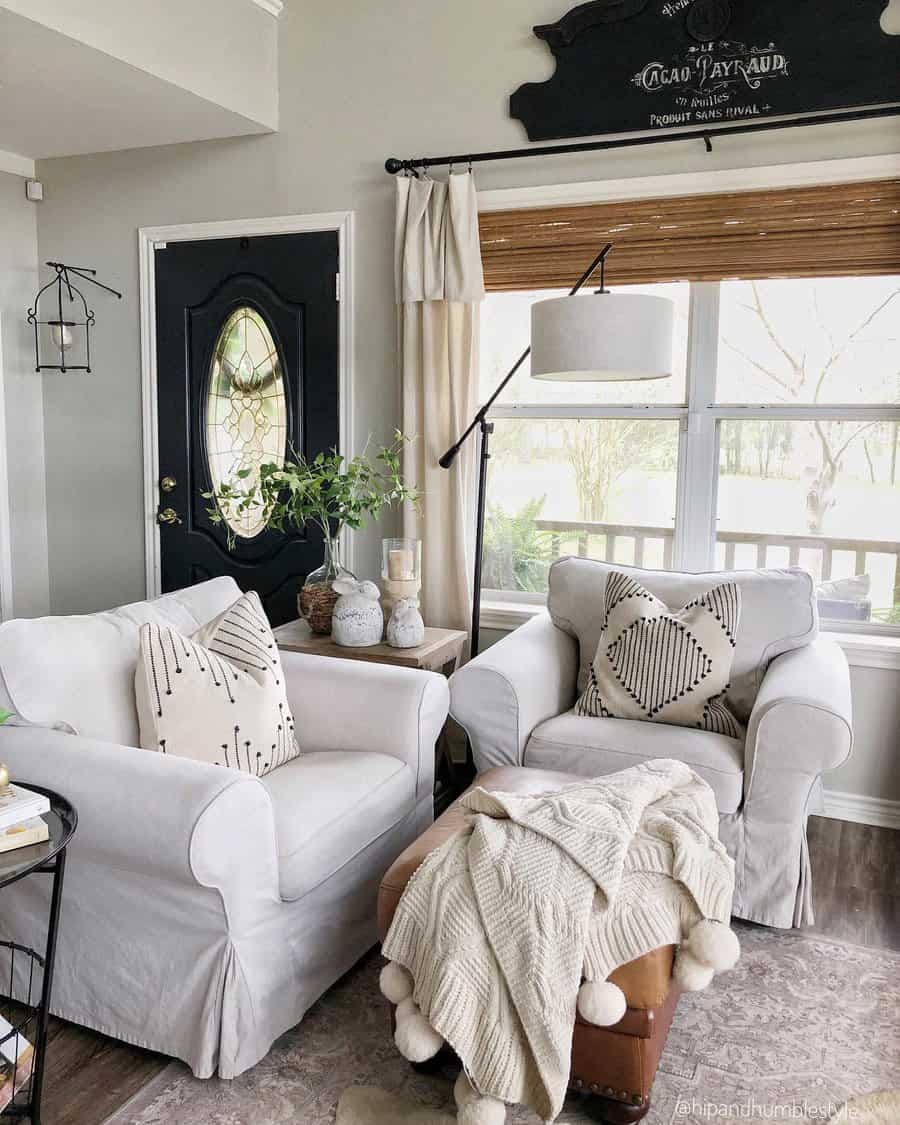 6. Metal Shelving Units
One striking element to incorporate is metal shelving, which adds both functionality and an industrial flair to your living room. With its rugged and utilitarian aesthetic, metal shelving serves as a versatile storage solution while also becoming a design statement.
Opt for open metal shelves with exposed bolts and raw edges for an authentic industrial look. These shelves provide a perfect showcase for displaying your collection of vintage books, industrial decor pieces, and treasured mementos.
Combine the metal shelving with reclaimed wood accents to add warmth and contrast to the space. Embrace the rawness of materials like aged leather, distressed metals, and exposed brick walls to enhance the industrial vibe.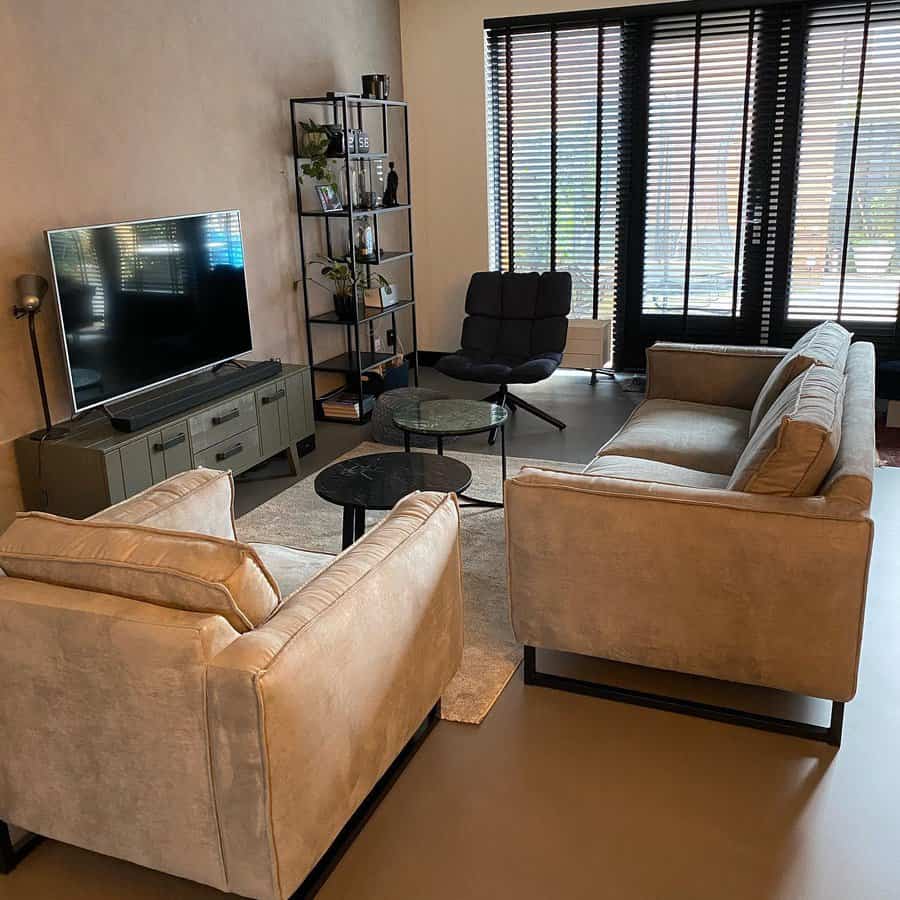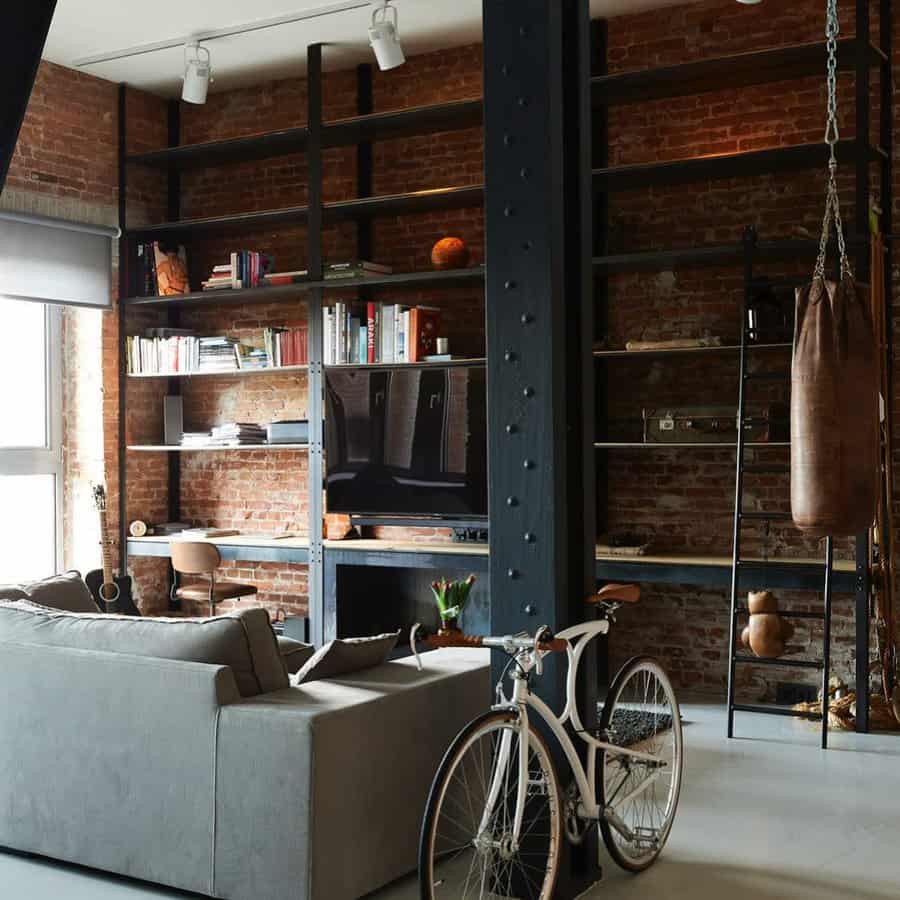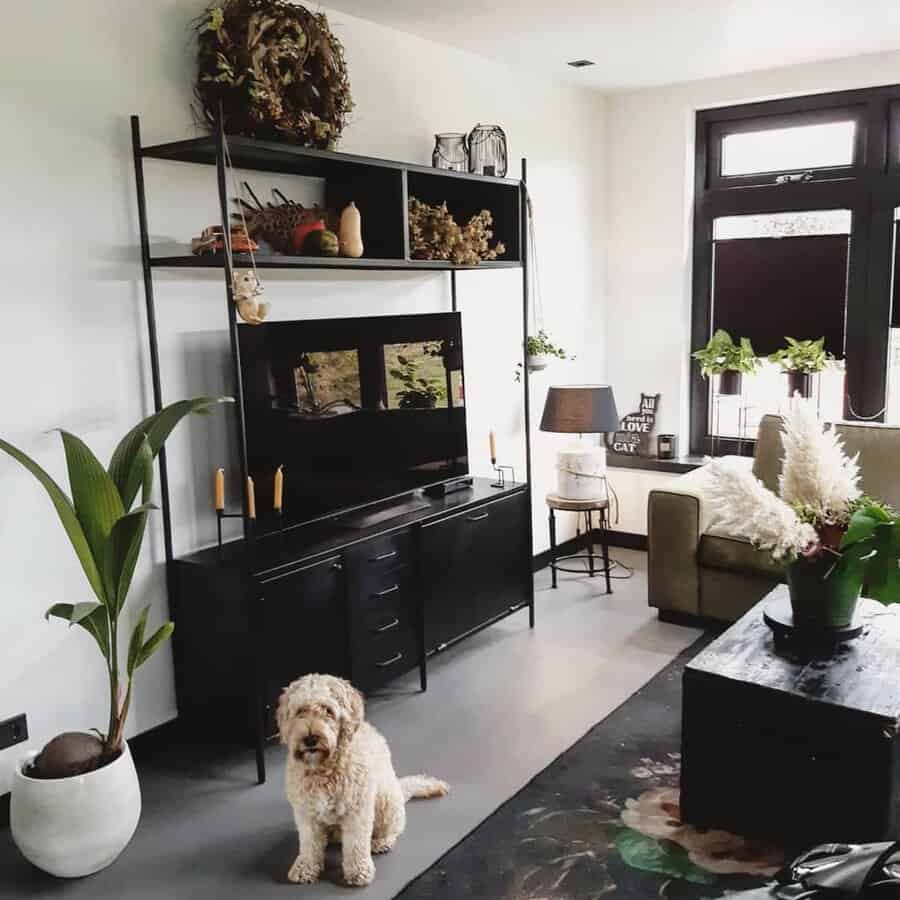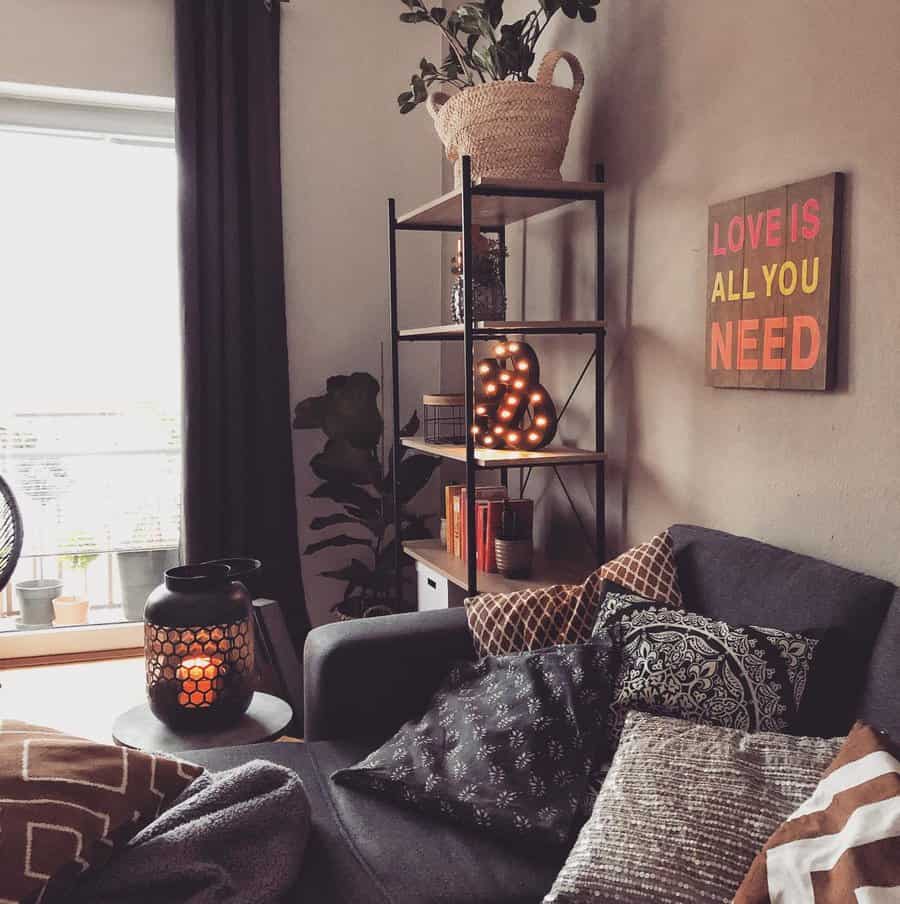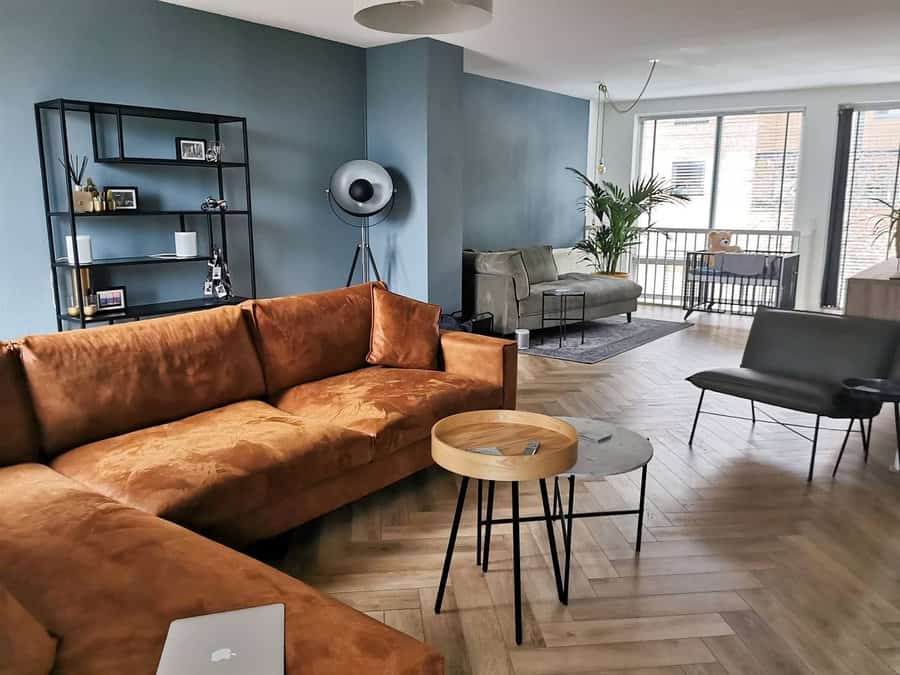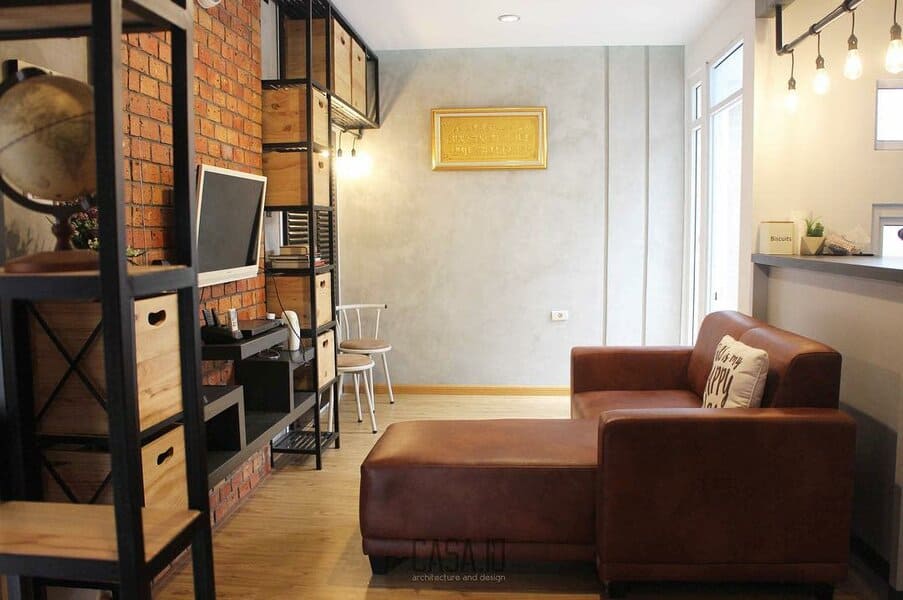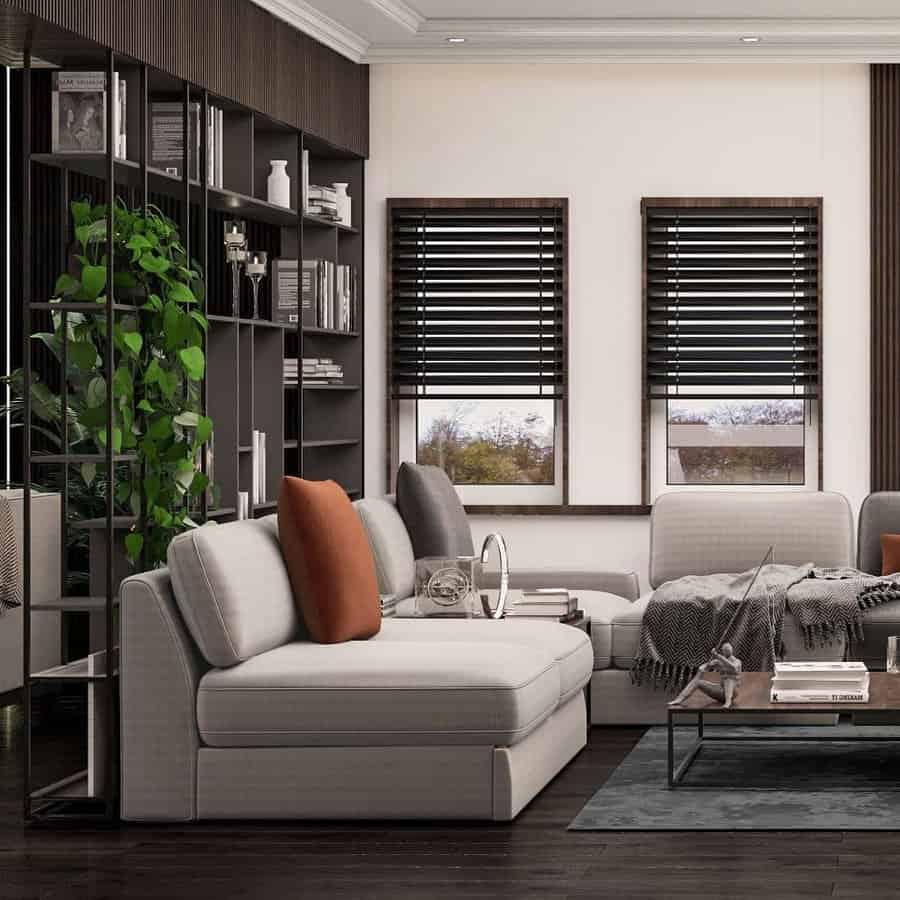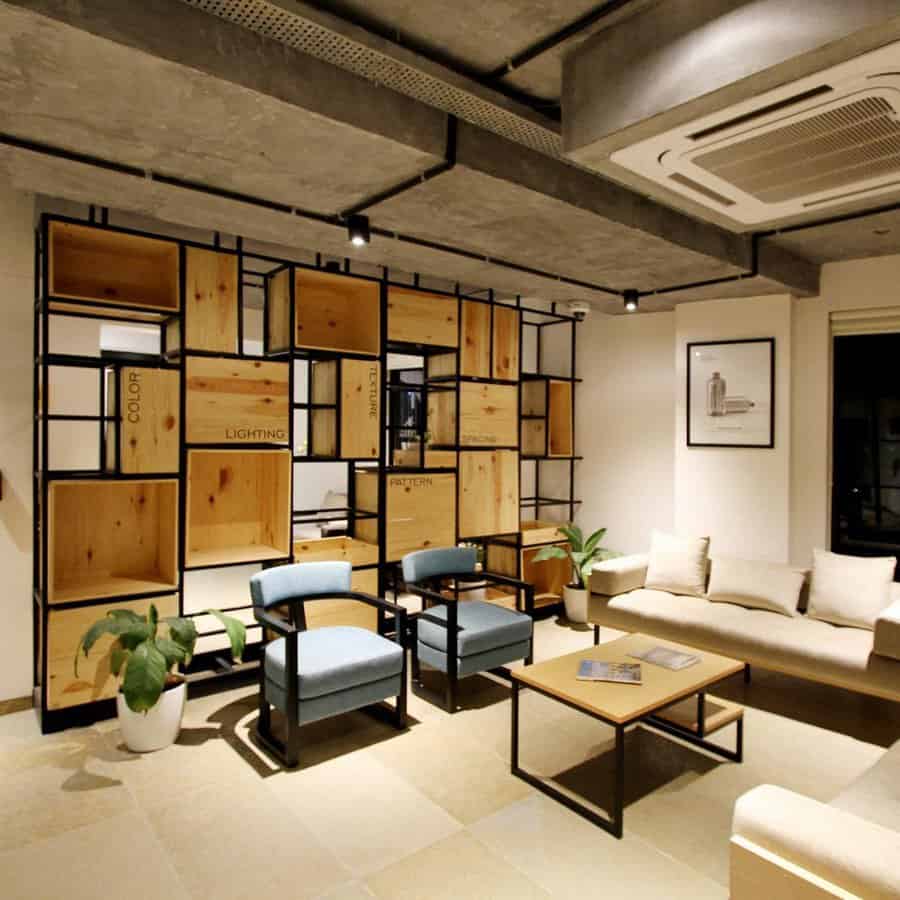 7. Dark Accent Wall
Opt for a rich and deep shade, such as charcoal gray or deep navy, to create a dramatic and moody ambiance. The dark accent wall becomes the focal point of the room, adding depth and dimension to the space. Pair it with complementary elements like exposed brick, weathered wood, and metal accents to enhance the industrial appeal.
Industrial-style lighting fixtures, such as pendant lights with Edison bulbs or sleek metal sconces, can further enhance the atmosphere. To balance the darkness, incorporate lighter furniture pieces and accessories, like distressed leather sofas, reclaimed wood coffee tables, and vintage-inspired rugs. The contrasting textures and materials create an intriguing visual contrast that embodies the essence of industrial design.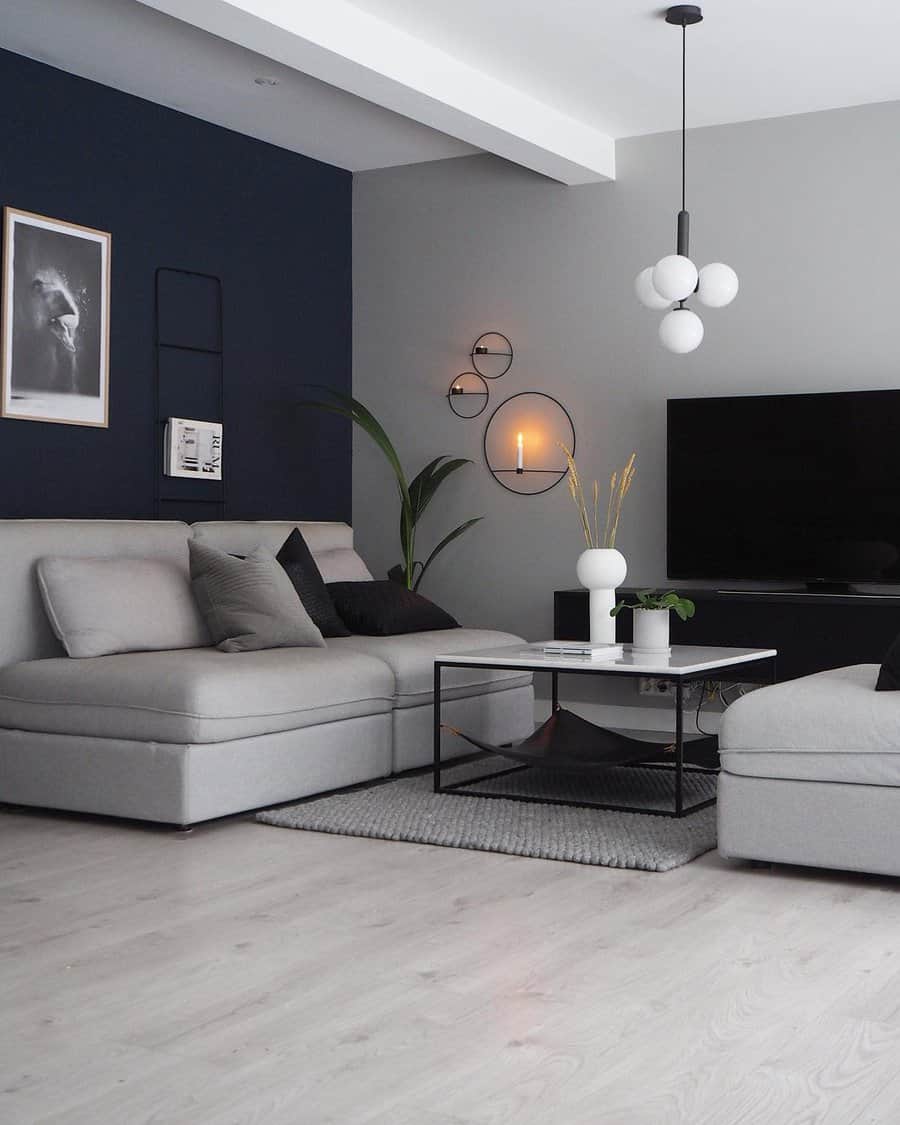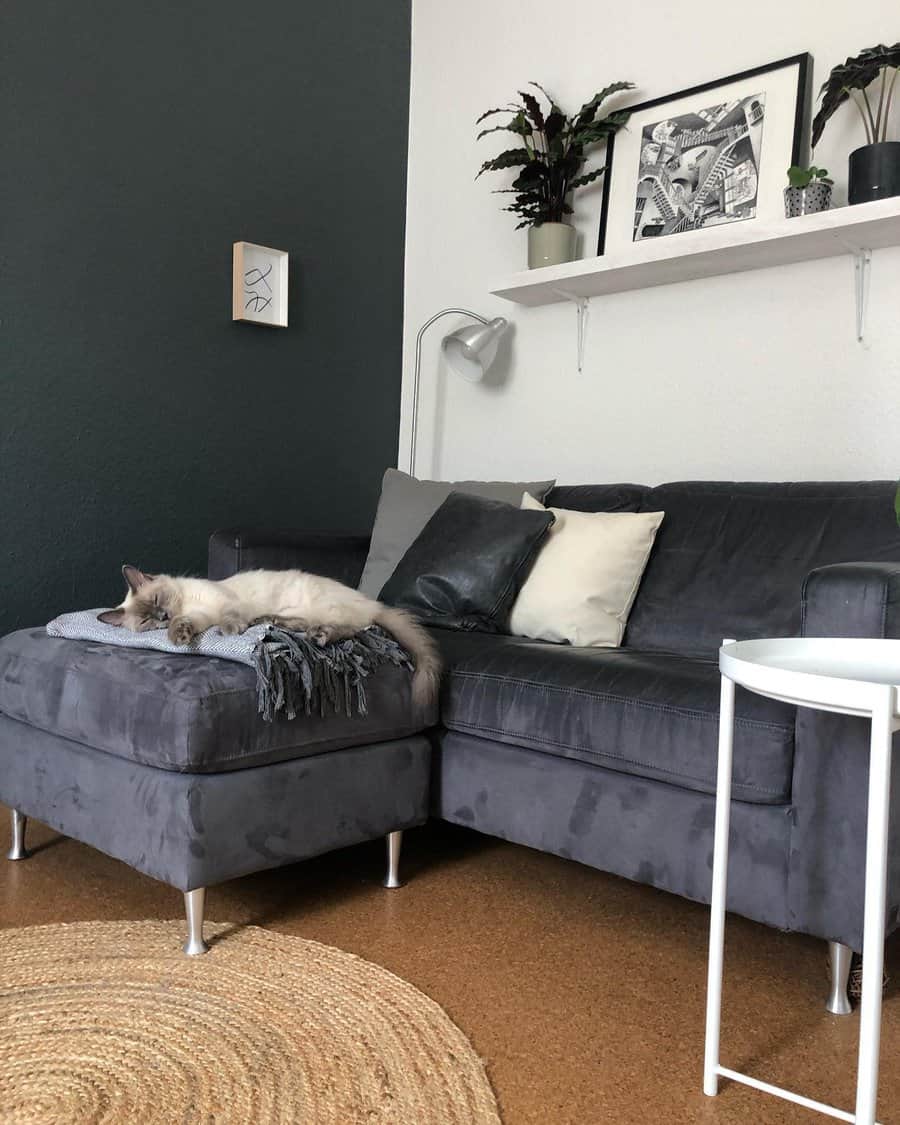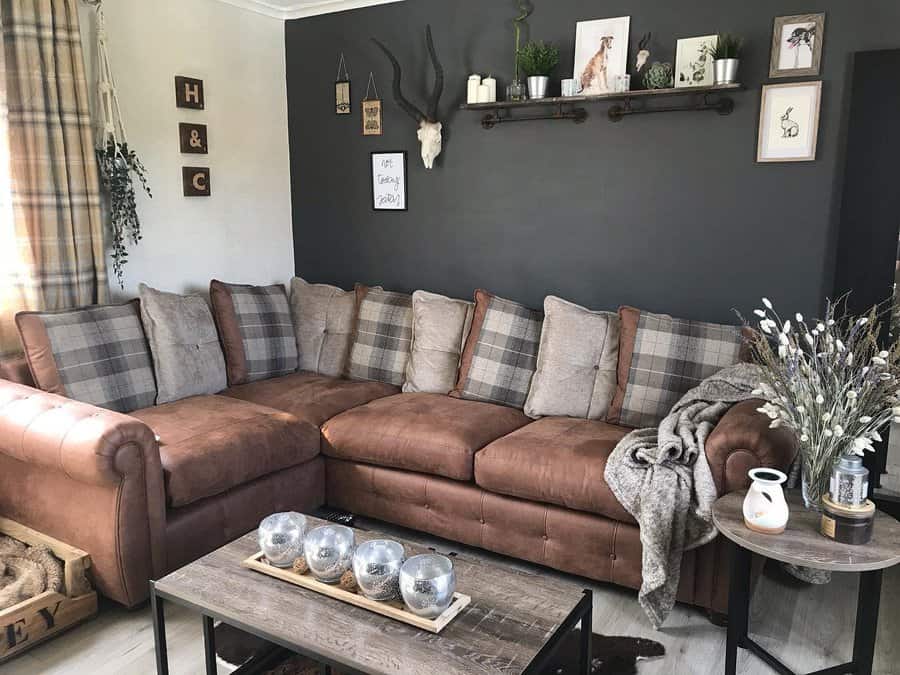 8. Industrial Lighting Fixtures
Embrace the raw beauty of exposed bulbs with wrap bulb pendant lights that effortlessly suspend from the ceiling, casting a warm and ambient glow throughout the space. These fixtures add a touch of industrial flair while showcasing the beauty of vintage-inspired bulbs. Complement the overhead lighting with a vintage lamp on a side table or a floor lamp in a corner, adding an extra layer of character and functionality.
Choose fixtures with metallic finishes, such as brushed brass or matte black, to enhance the industrial vibe. With their distinctive designs and captivating illumination, these industrial lighting fixtures become statement pieces in your living room, creating an inviting atmosphere that blends the old with the new.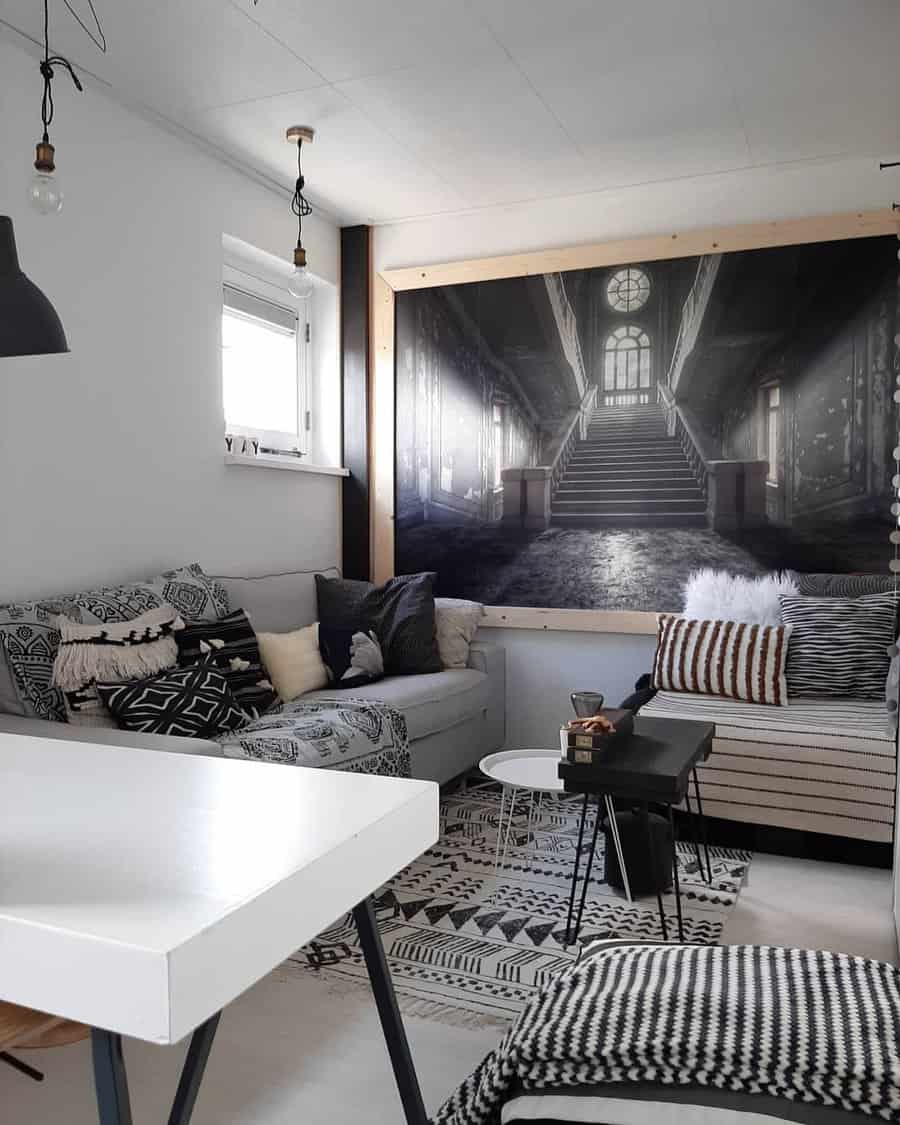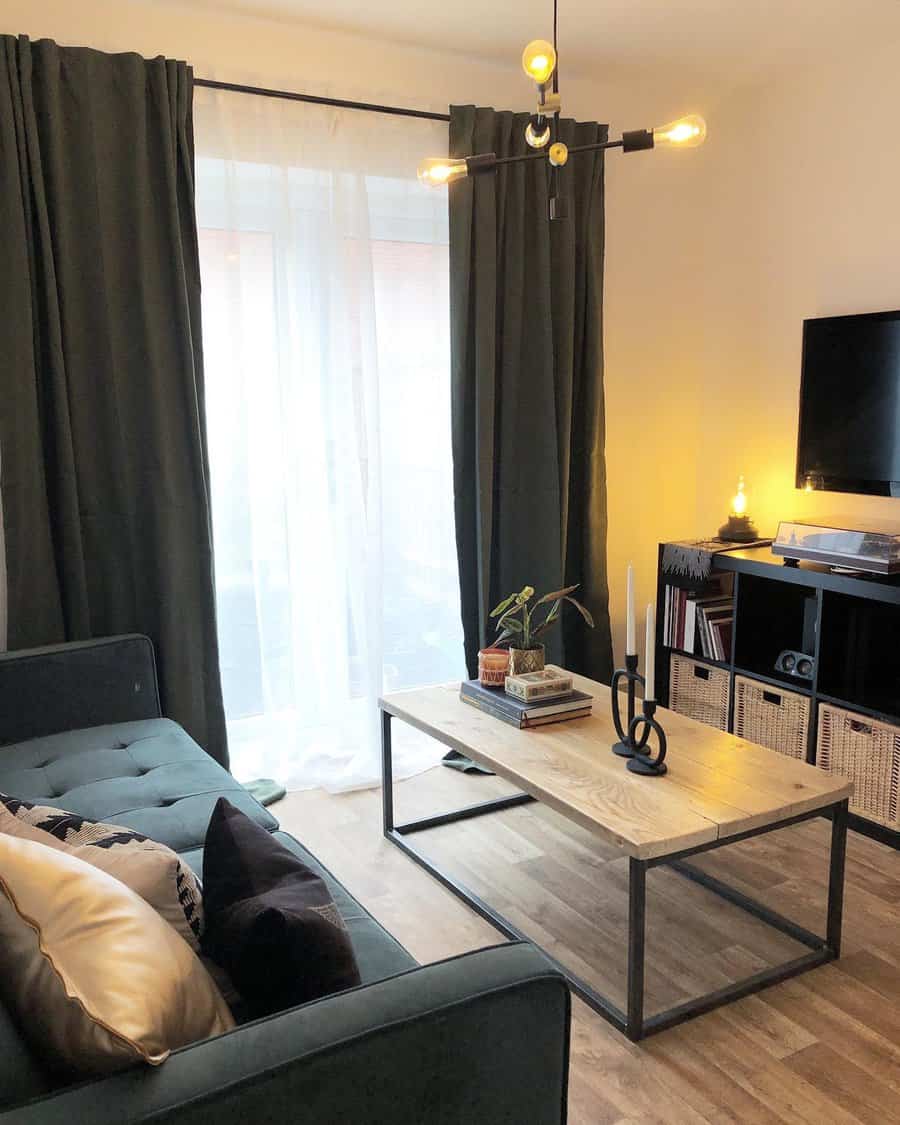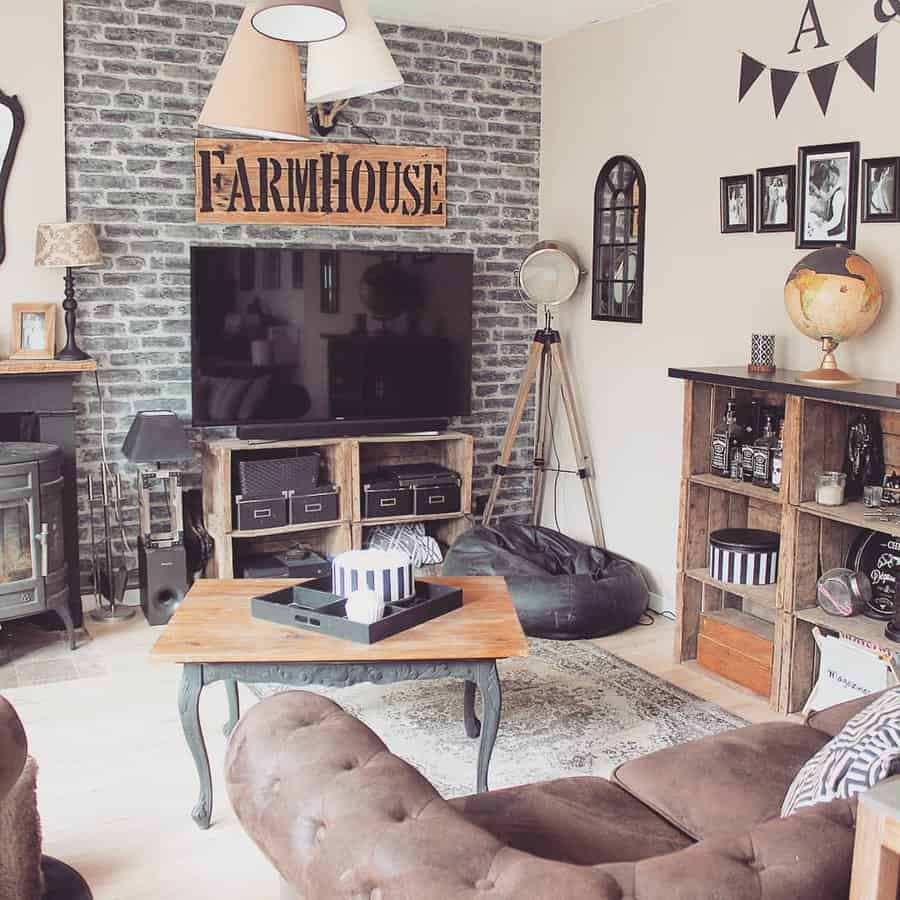 9. Exposed Ceiling Beams
These rugged beams not only add architectural interest but also emphasize the industrial character of the room. Imagine the rustic allure of weathered wooden beams stretching across the ceiling, showcasing their rich texture and history. The contrast between the roughness of the beams and the polished surfaces creates a captivating visual dynamic, giving the room an edgy and eclectic vibe.
Pair the exposed ceiling beams with other industrial elements such as brick walls, metal accents, and concrete floors to further enhance the raw and urban aesthetic. Incorporate vintage-inspired furniture pieces with distressed leather upholstery, sturdy metal frames, and salvaged wood to create a harmonious blend of old and new.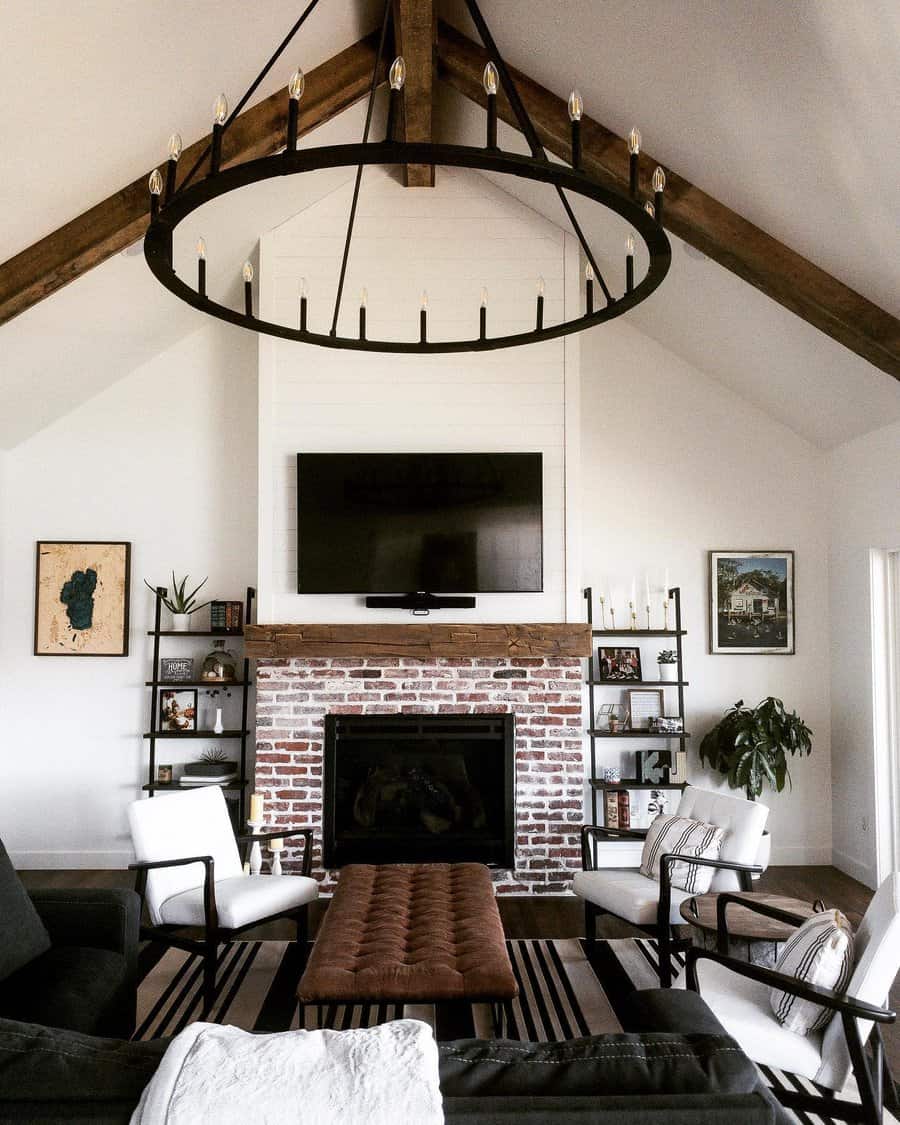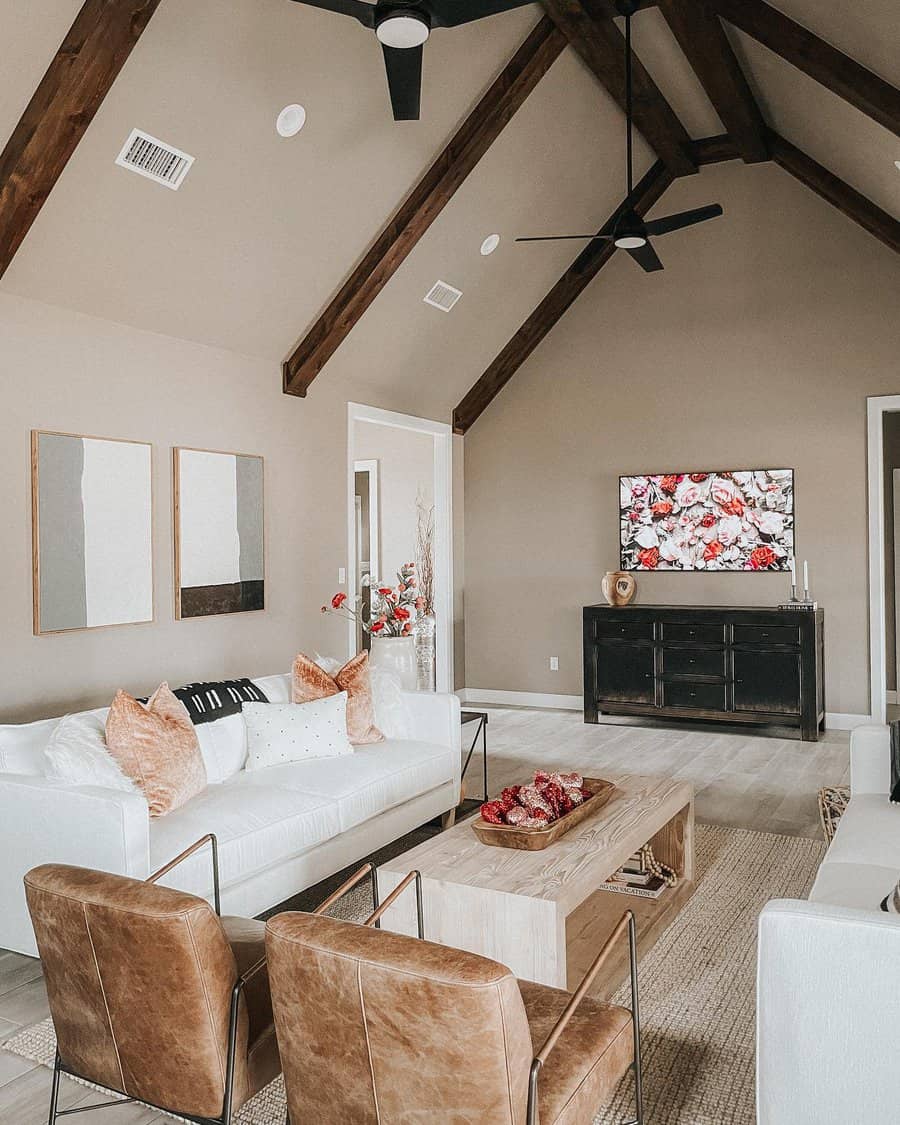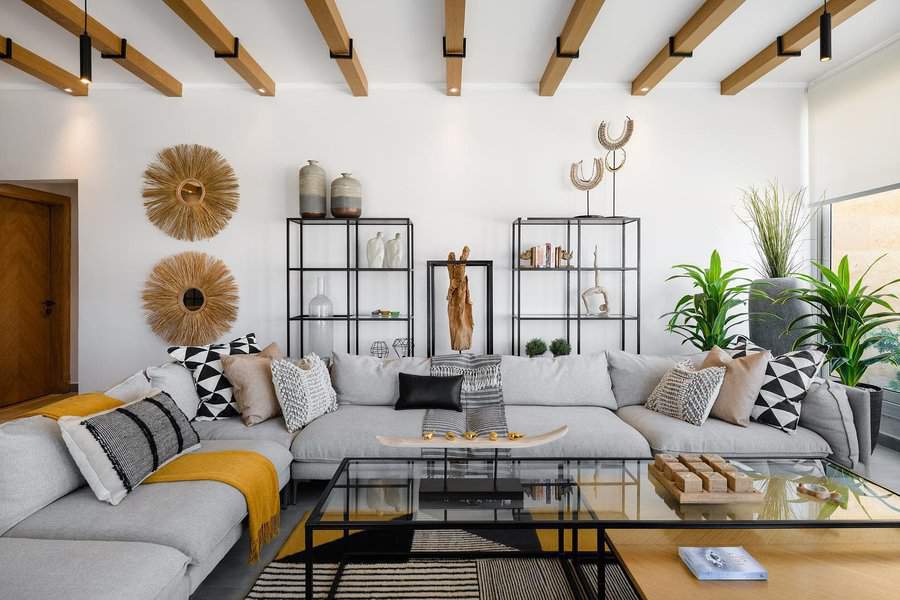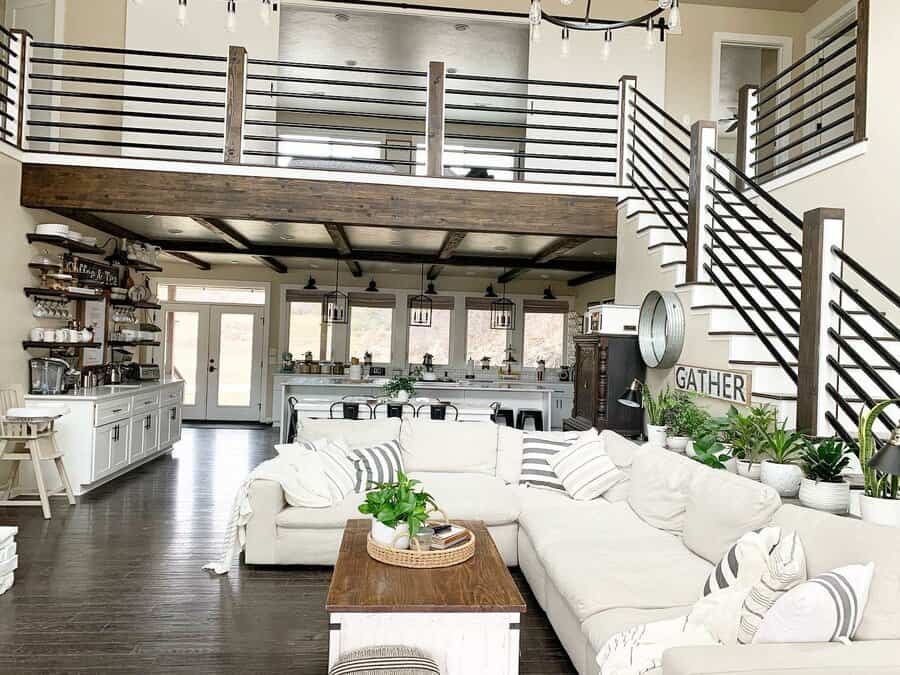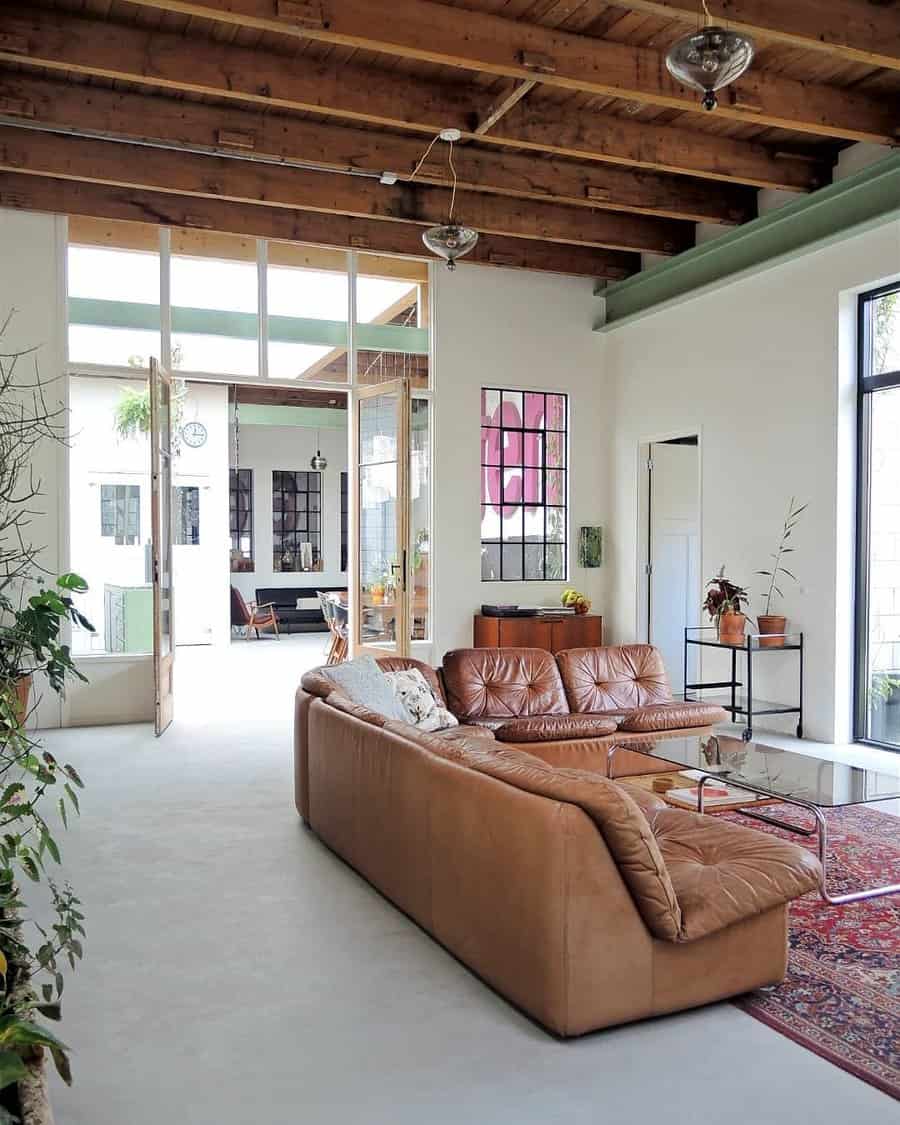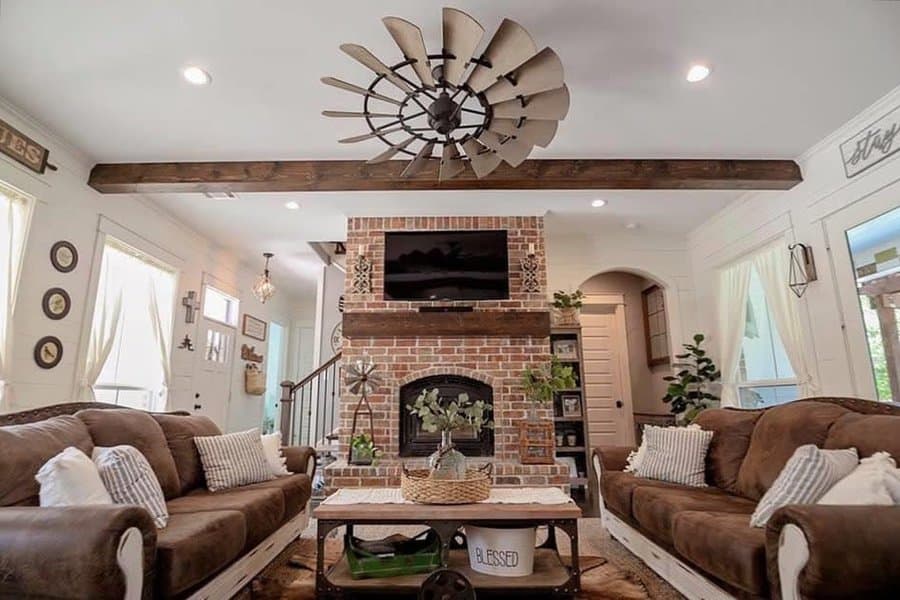 10. Repurposed Furniture
Embrace the raw and edgy aesthetic by incorporating repurposed furniture that tells a story of its own. A vintage shelf, weathered and full of character, becomes a focal point, providing a perfect display for cherished mementos or an eclectic collection of books.
Combine it with distressed decors, such as reclaimed wood coffee tables or metal accent pieces, to amplify the industrial vibe. Expose the brick walls and concrete floors, embracing their inherent textures and imperfections. Industrial lighting fixtures with exposed bulbs and metal finishes add a touch of urban elegance while casting a warm glow throughout the space.
Opt for furniture with a hint of industrial charm, like a leather sofa with metal accents or a vintage-inspired armchair. Complete the look with industrial-inspired artwork and vintage signage that showcase the beauty of the bygone era.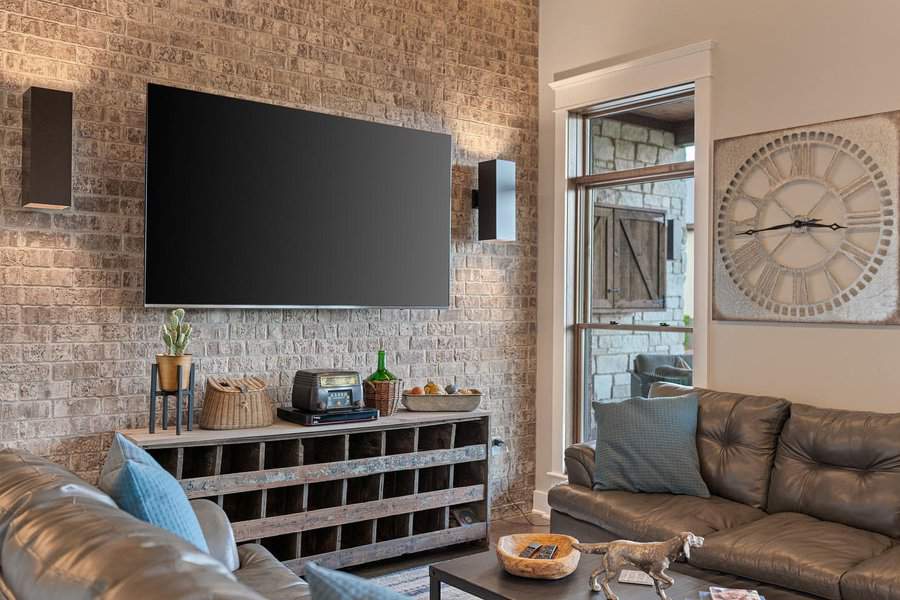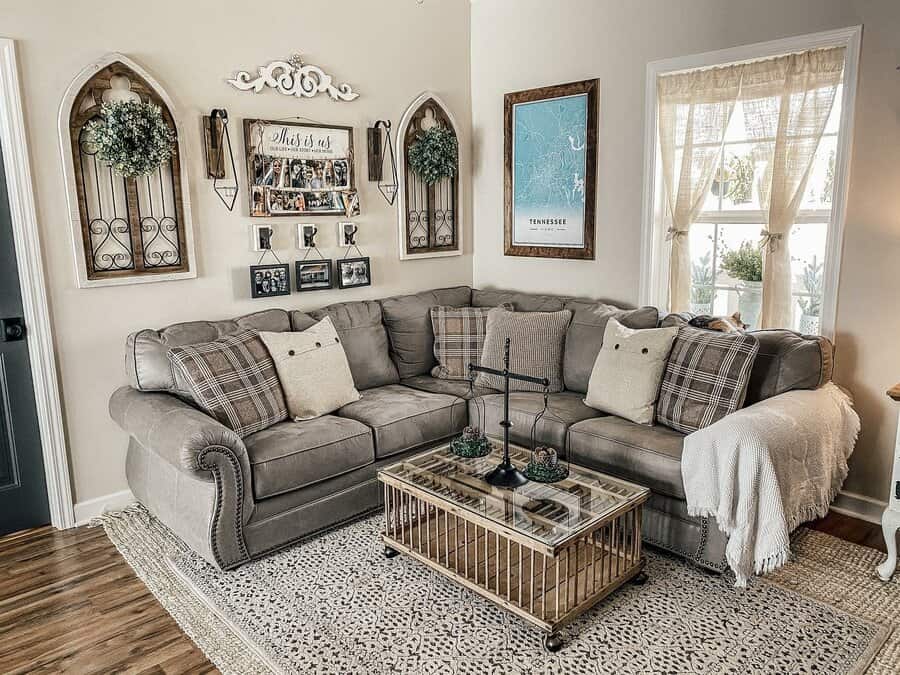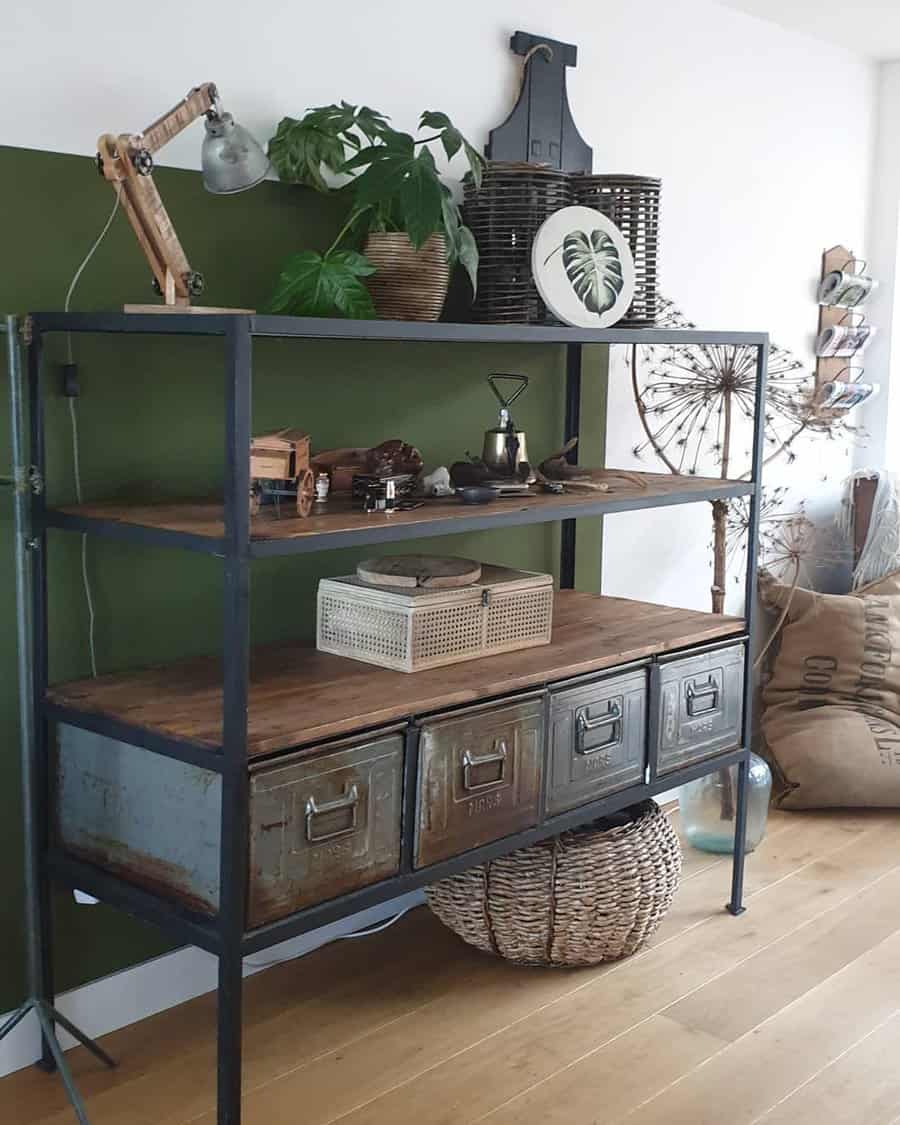 11. Wooden Flooring
The rich, earthy tones and distinct grain patterns of the wood create a warm and inviting atmosphere, balancing the coolness of exposed brick walls, metal fixtures, and concrete surfaces. Choose distressed or reclaimed wood flooring to enhance the industrial aesthetic, embracing imperfections and showcasing the material's unique history.
The warmth and texture of the wooden flooring also create a cozy and comfortable space for relaxation and gathering. Pair the flooring with a mix of vintage and modern furniture, combining sturdy leather sofas, metal coffee tables, and sleek industrial lighting fixtures. Add pops of color through vibrant rugs, throw pillows, or artwork to inject personality and soften the overall look.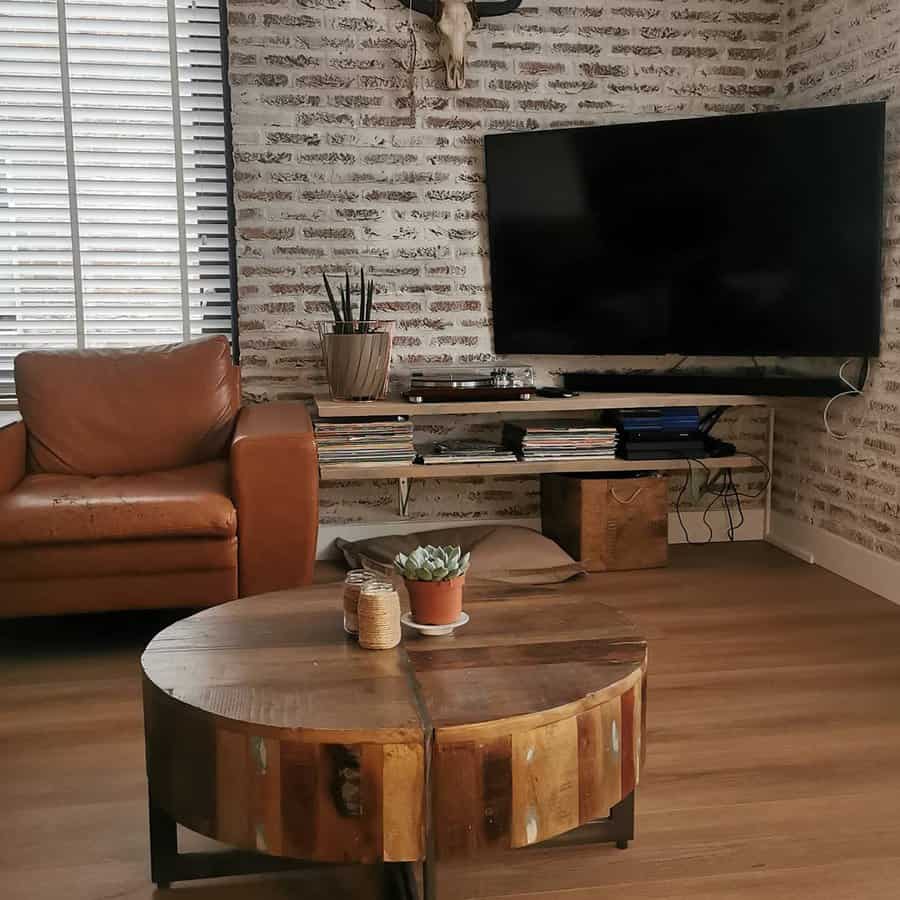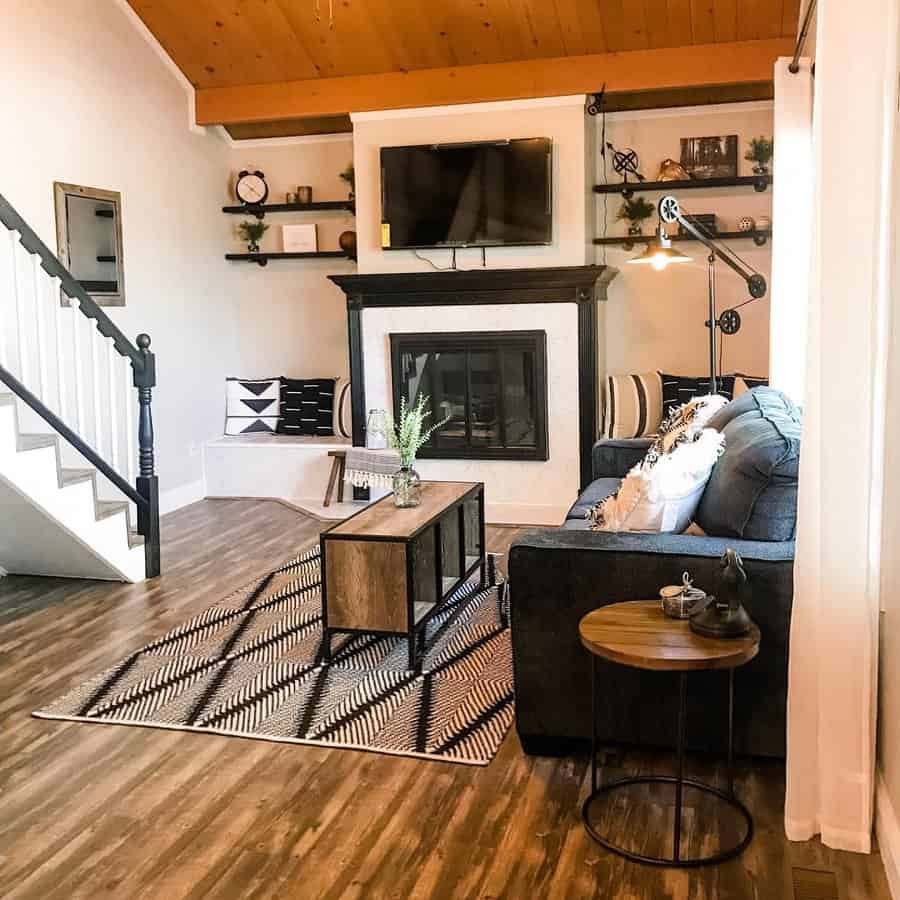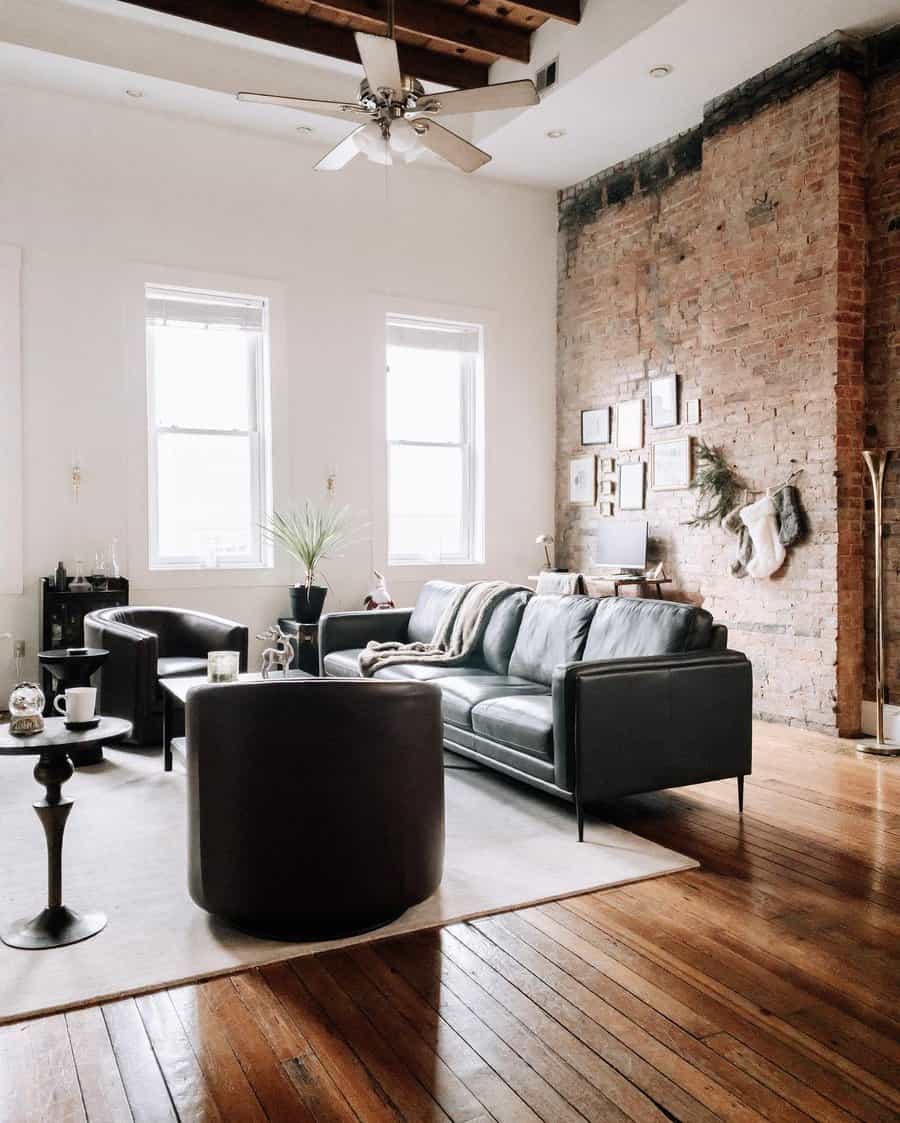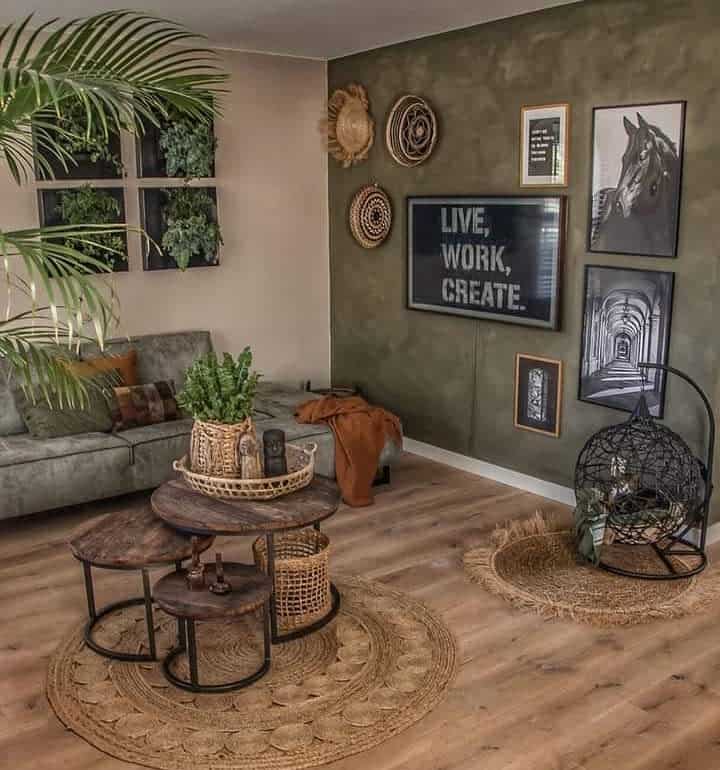 12. Open Stairs
The open staircase design allows for better air circulation, creating a fresh and breezy atmosphere throughout the room. Imagine the sleek metal framework and exposed wooden steps, lending an industrial charm that effortlessly blends with the overall aesthetic.
This design choice not only adds visual interest but also promotes a sense of spaciousness and connectivity between different levels of your home. Enhance the industrial vibe by incorporating other elements such as exposed brick walls, metal accents, and minimalist furnishings.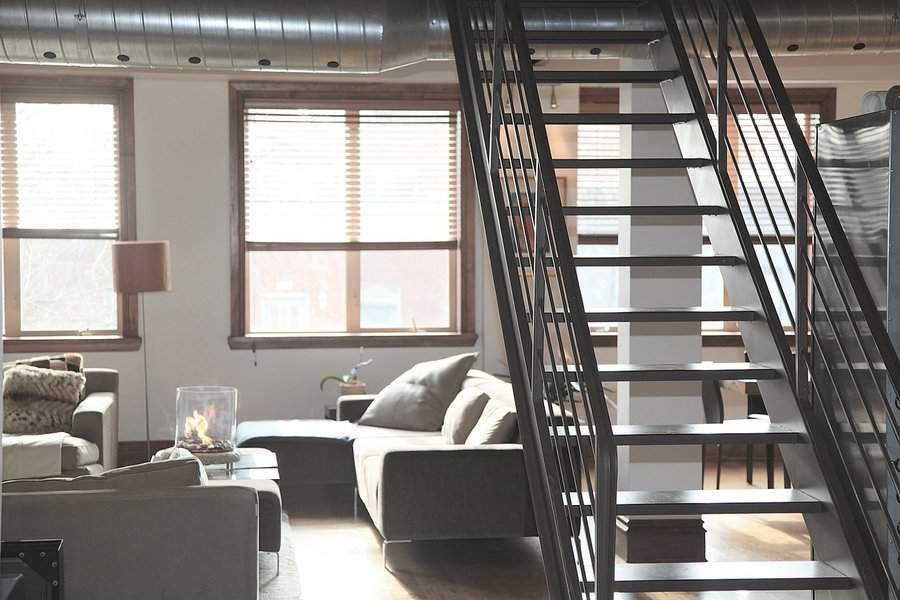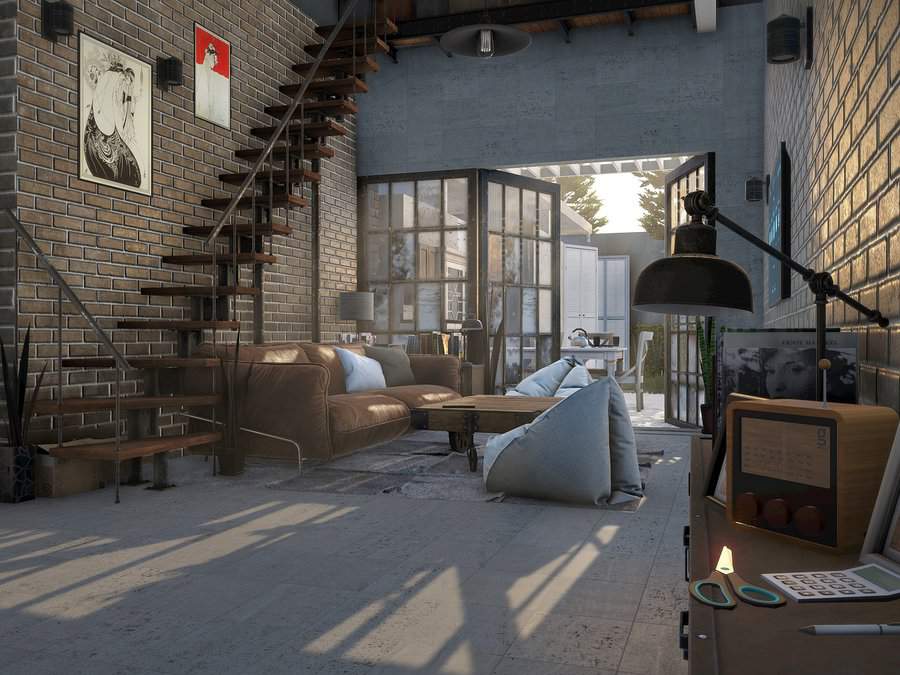 13. Area Rug
Enhance the industrial aesthetic by incorporating a well-chosen area rug that serves as both a functional and decorative piece. Opt for a rug with a distressed or worn-out look to add an authentic touch, evoking the rugged charm of industrial spaces. Consider printed patterns that feature geometric designs or bold motifs, which can inject personality into the room.
Whether you choose a rug with a subtle color palette or one that makes a bold statement, ensure it complements the overall design scheme. The juxtaposition of the rough industrial elements with the plushness of a rug adds a touch of warmth and comfort to the space. It not only provides a soft surface underfoot but also acts as a visual anchor, defining the seating area or adding a pop of color to the room.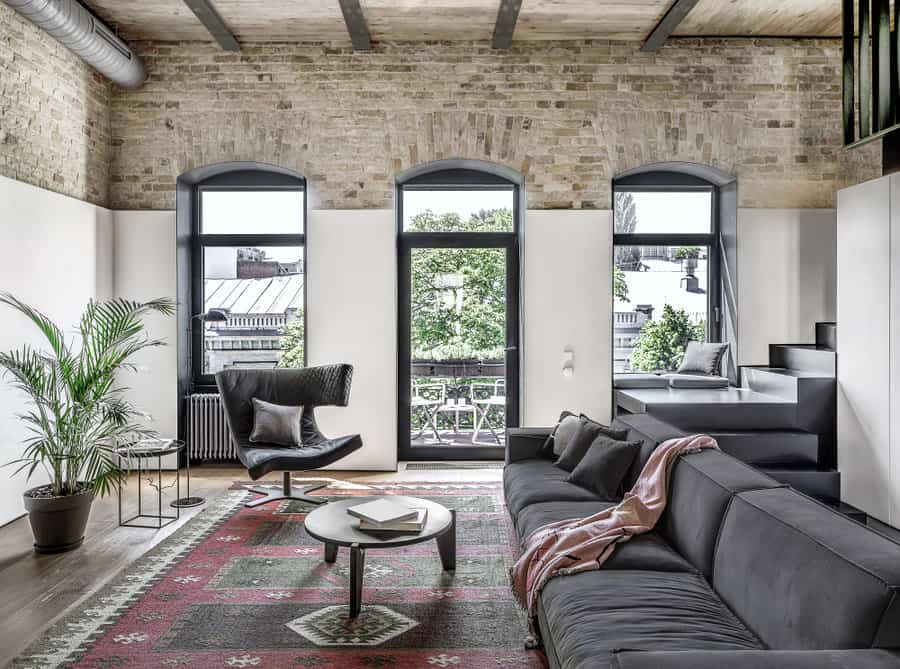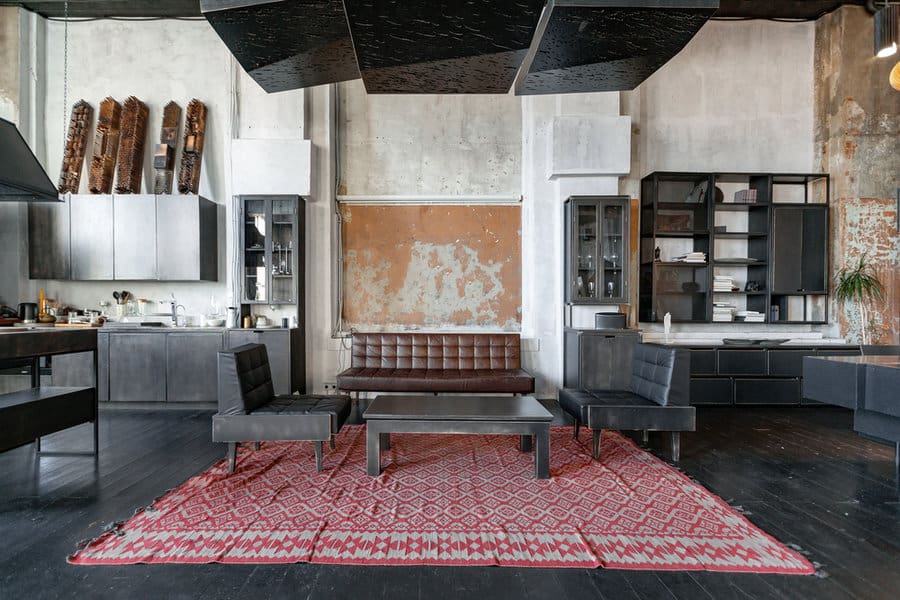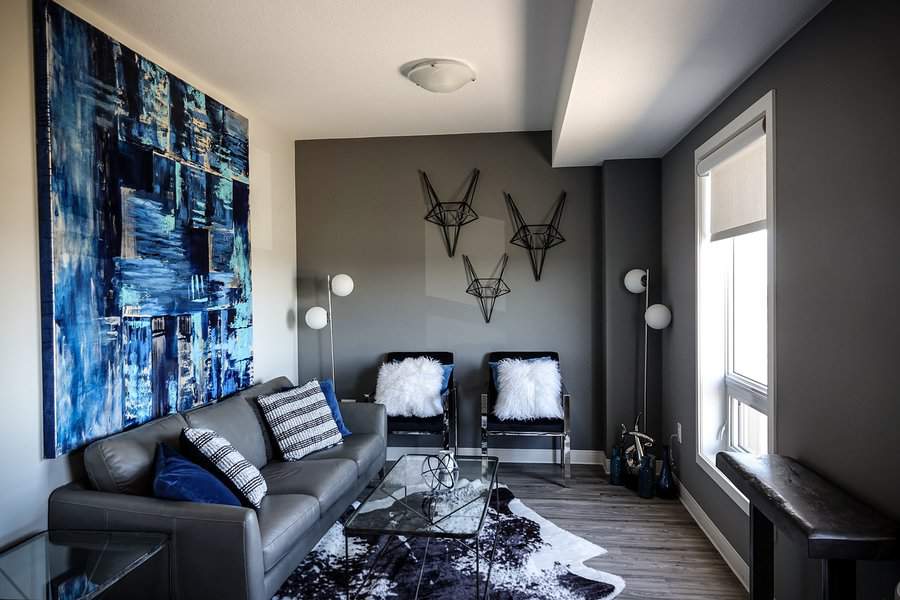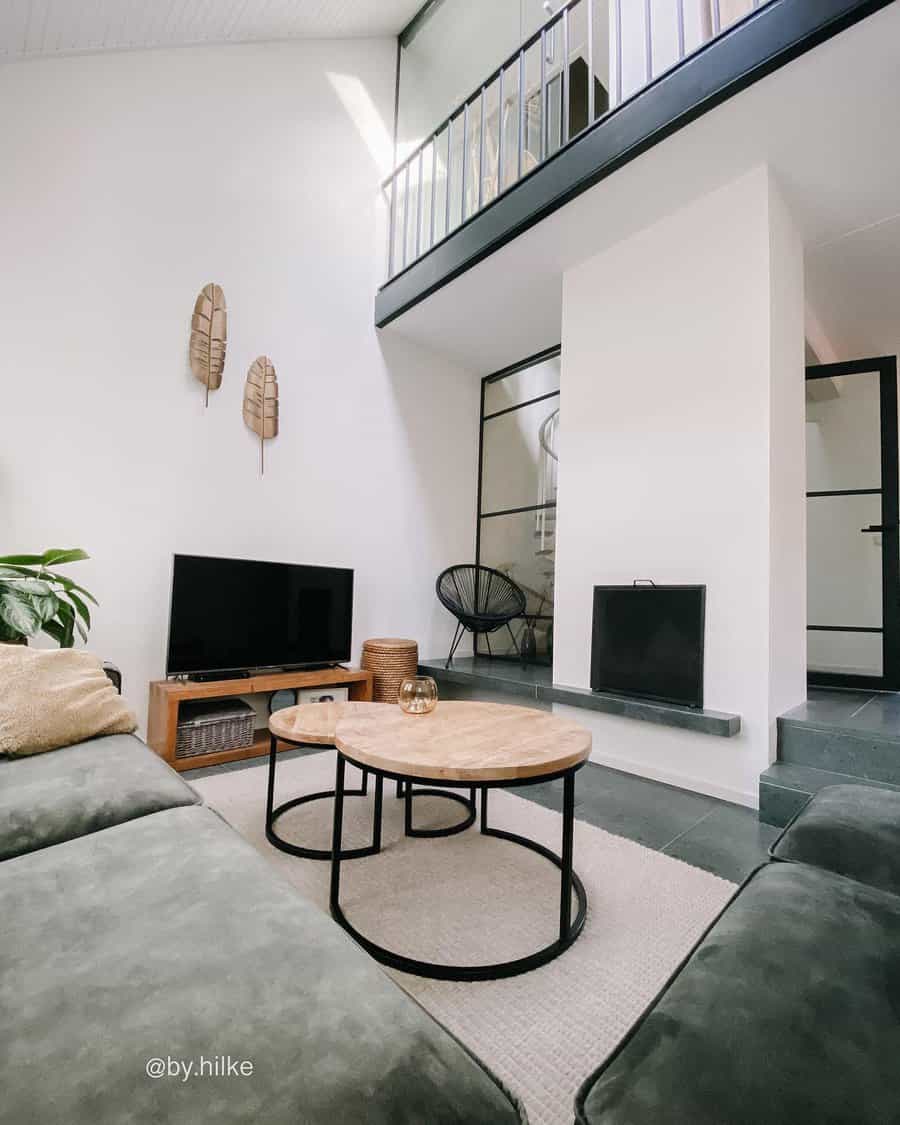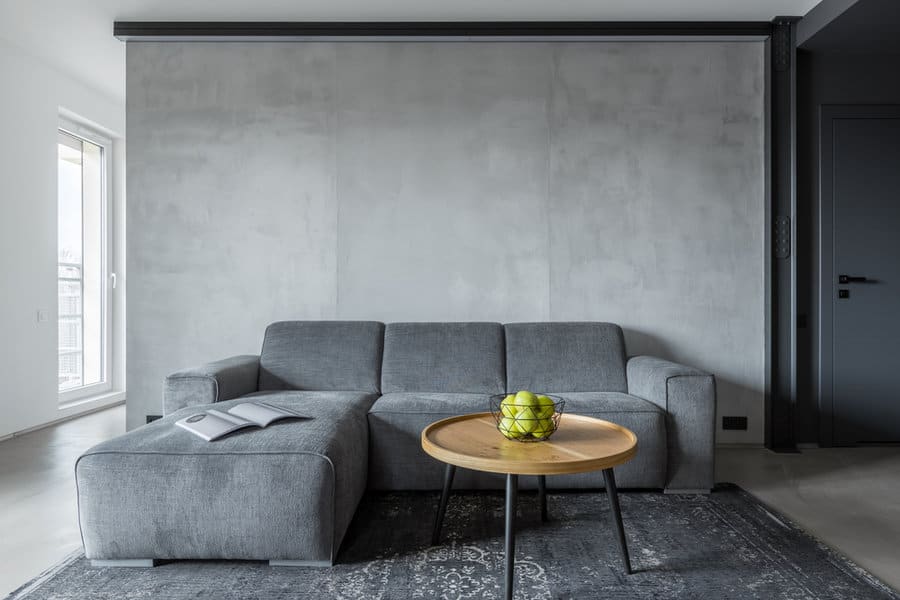 14. Concrete Limewash Walls
One striking idea to bring that authentic industrial vibe to your space is by embracing concrete limewash walls. The textured, weathered look of concrete brings a sense of urban sophistication, while the limewash technique adds a touch of softness and depth to the surface.
The beauty of concrete limewash walls lies in their ability to create a captivating backdrop for your furnishings and decor. Pair them with distressed leather sofas, metal coffee tables, and salvaged wood accents to enhance the industrial appeal.
To balance the coolness of the concrete, incorporate warm and cozy textiles like plush area rugs, chunky knit throw blankets, and soft cushions.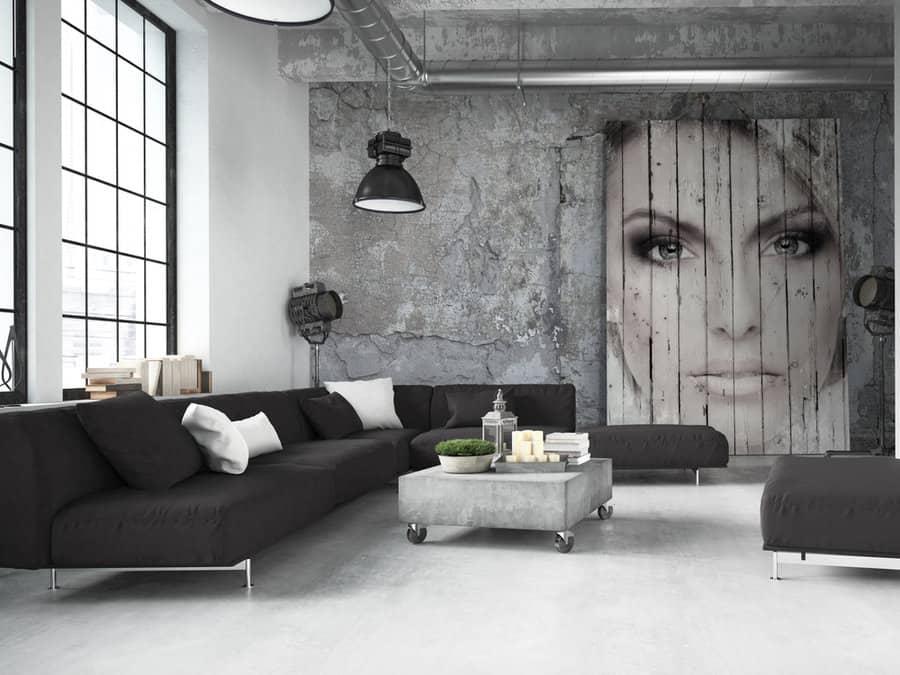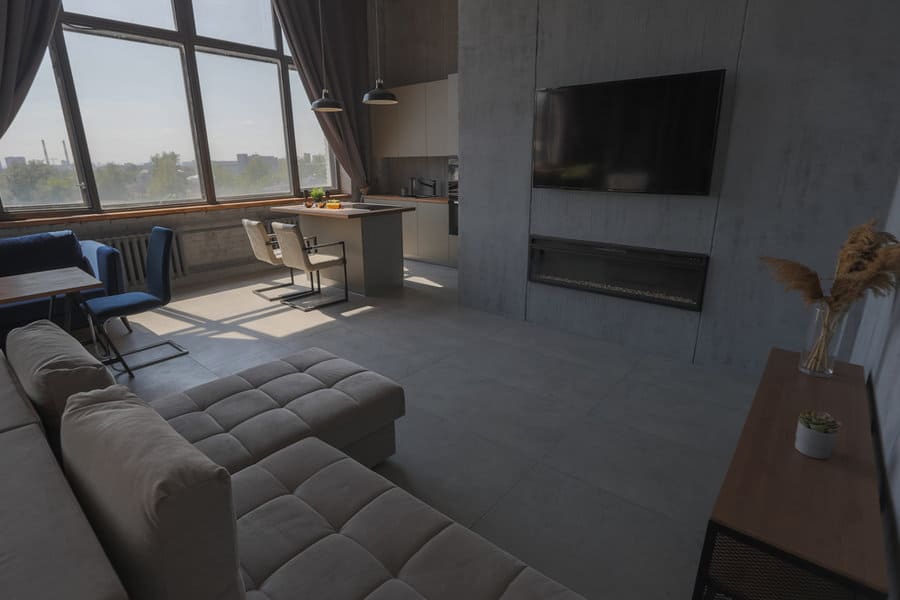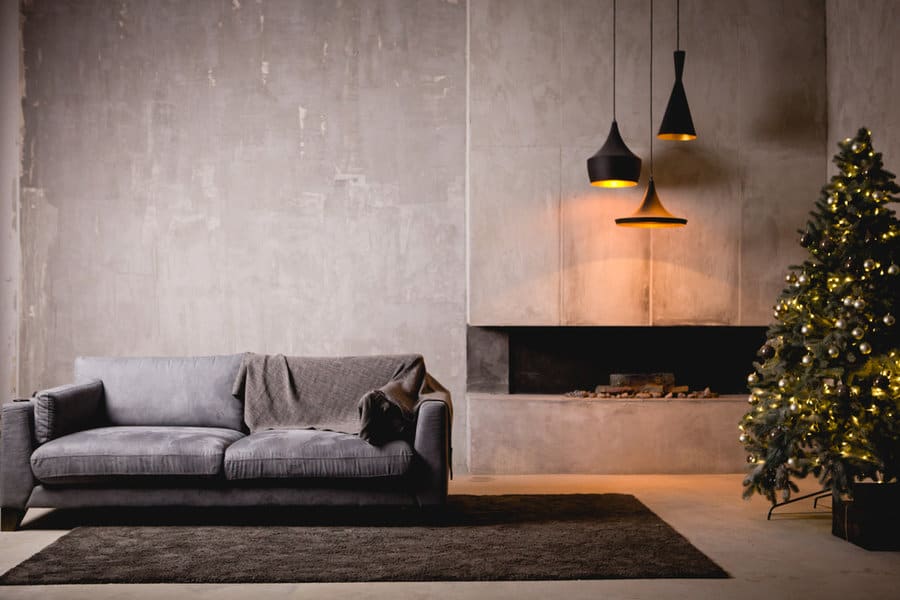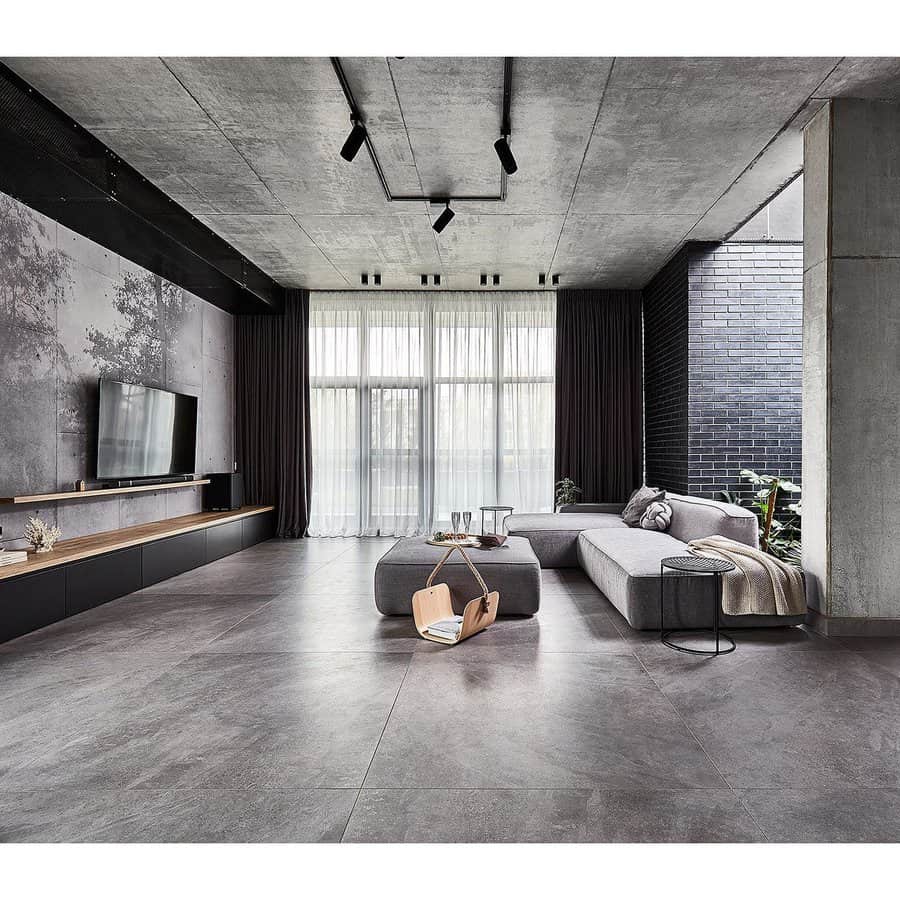 15. Wooden Accent Wall
Create an industrial-inspired living room that exudes urban charm and rustic elegance with the addition of a wooden panel accent wall. This unique design element brings together the warmth of natural wood and the raw, unfinished aesthetic of industrial style. The wooden panel accent wall serves as a striking focal point, adding texture, depth, and character to the space.
Opt for reclaimed wood or distressed panels to enhance the industrial vibe, showcasing the beauty of imperfections and weathered surfaces. The rich tones and unique grain patterns of the wood add visual interest and a touch of organic warmth to the room.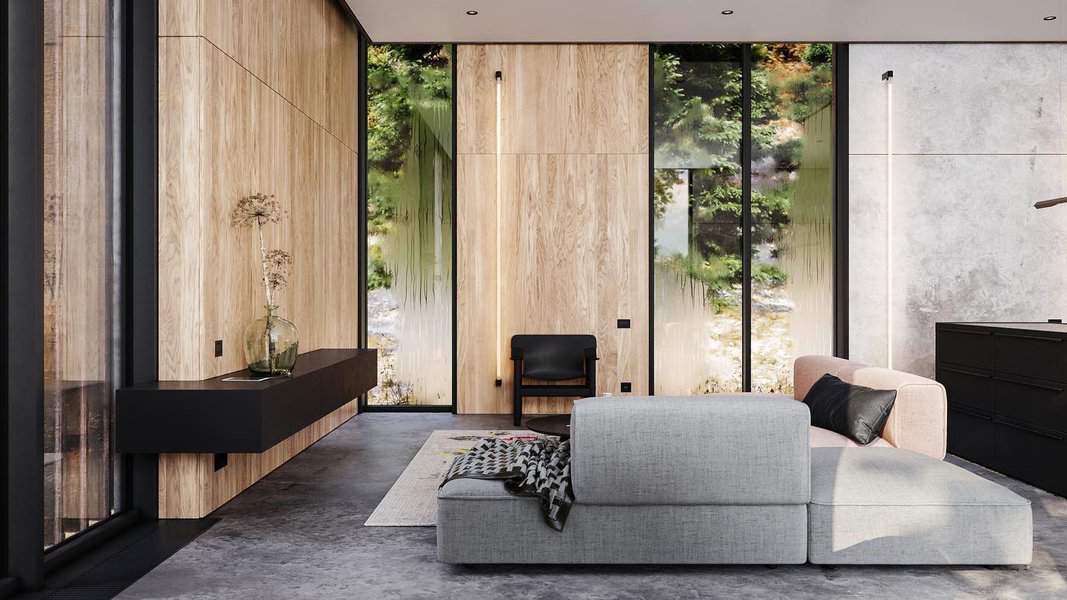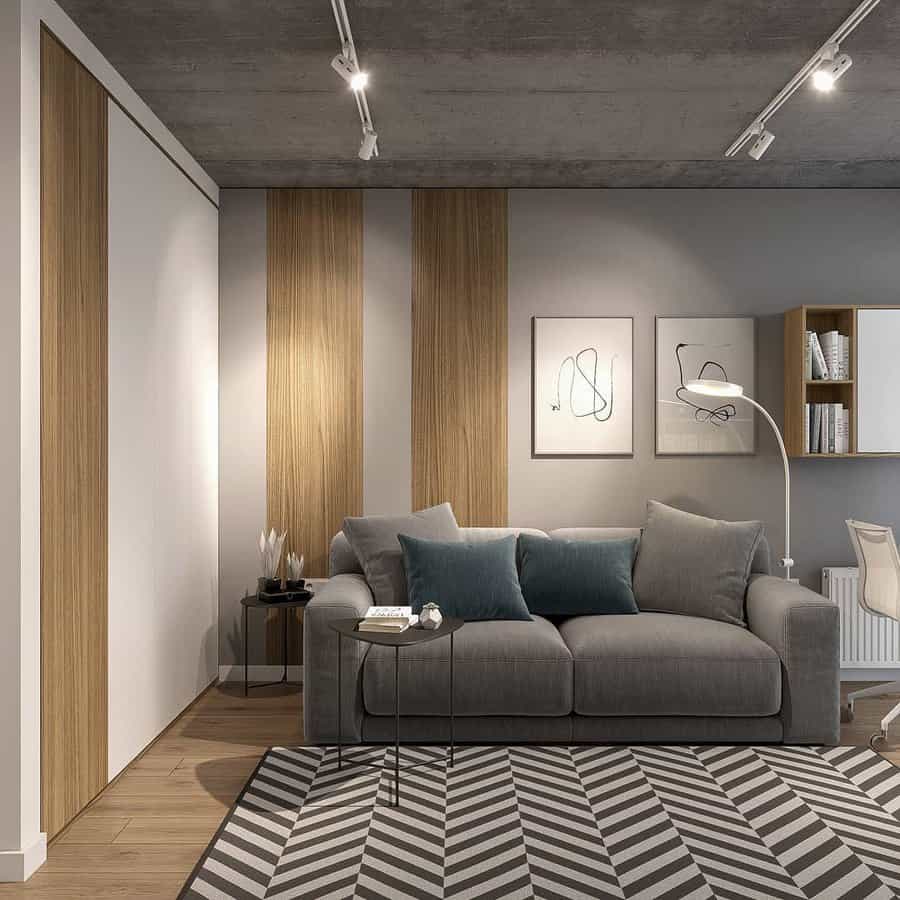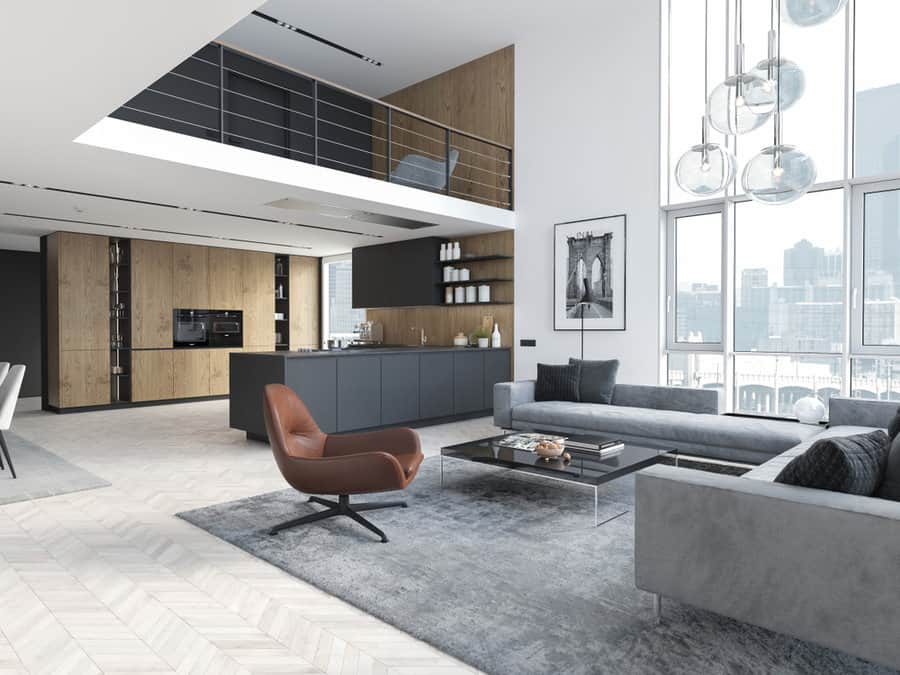 16. Mix & Match Throw Pillows
One creative idea to elevate your industrial living room is to mix and match throw pillows. By incorporating an array of textures, patterns, and colors, you can infuse the space with added depth and visual interest. Consider pairing leather or distressed fabrics with soft knits and woven materials to create a captivating contrast.
Opt for a variety of sizes and shapes, including oversized pillows and lumbar cushions, to create a dynamic composition. Experiment with different patterns such as chevron, herringbone, or geometric prints to add a touch of modernity. The mix and match approach allows you to play with textures and colors, creating a unique and personalized look that exudes both comfort and style.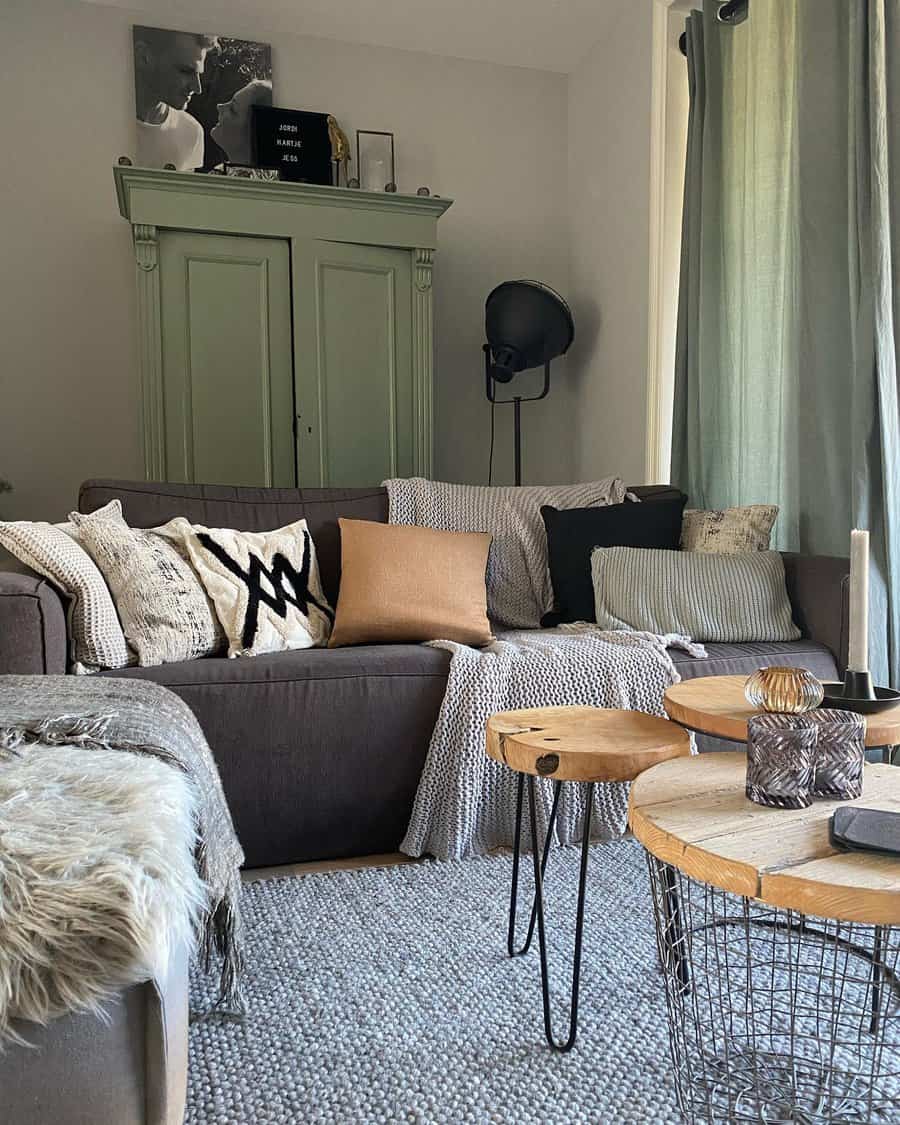 17. Raw and Rough Textures
Start by incorporating wood slab furniture pieces that bring a touch of organic warmth to the space. Consider a reclaimed wood coffee table or a sturdy wooden bookshelf with metal accents to add a rustic element. Complement the wood with other industrial materials like exposed brick walls, concrete flooring, and metal fixtures.
Introduce wooden accents throughout the room, such as wooden beams on the ceiling or a reclaimed wood accent wall, to further enhance the industrial aesthetic. To complete the look, mix and match furnishings with distressed leather upholstery, metal frames, and utilitarian elements like exposed bolts and pipes.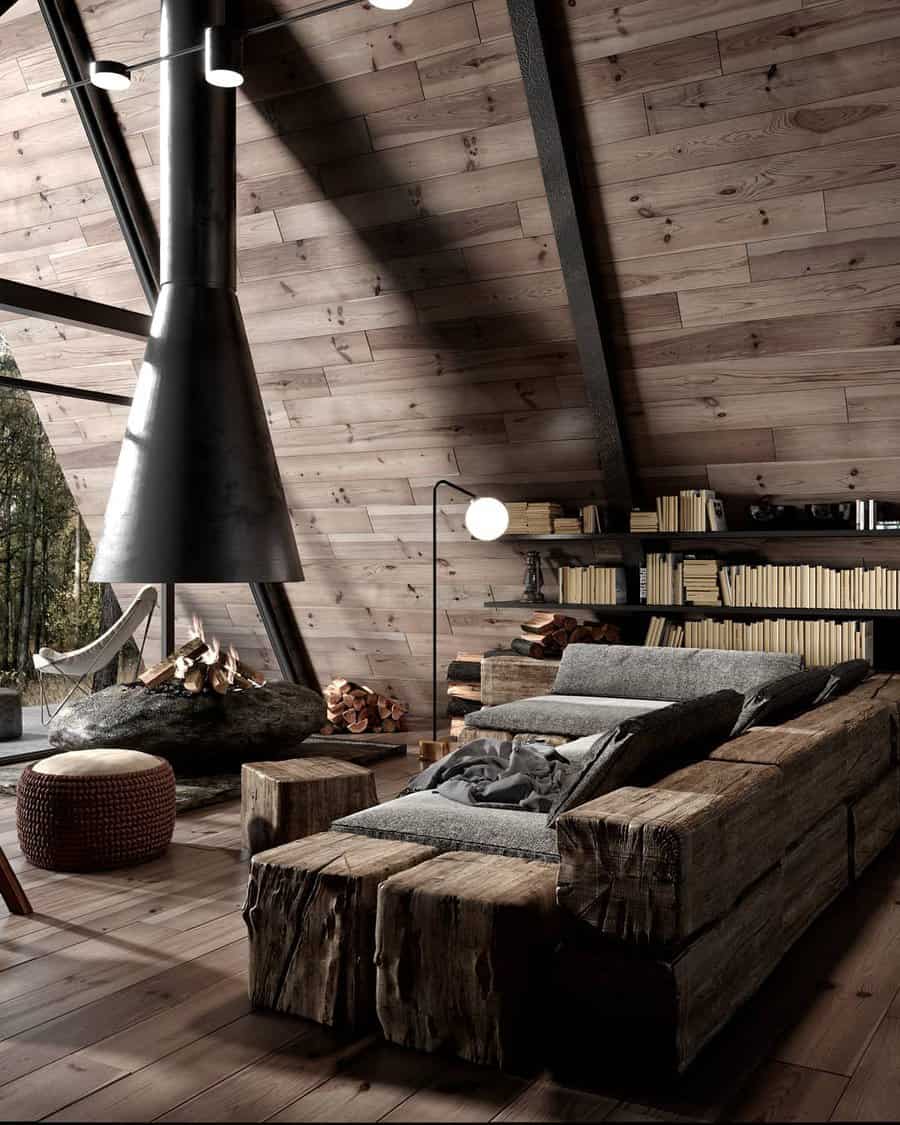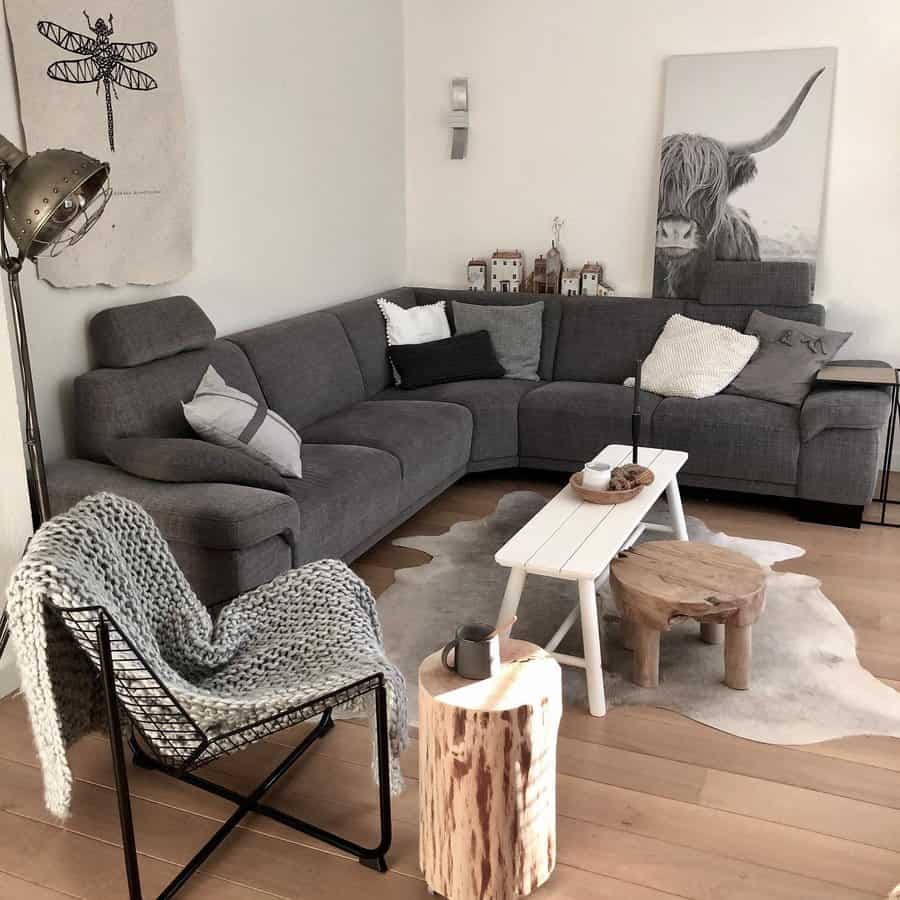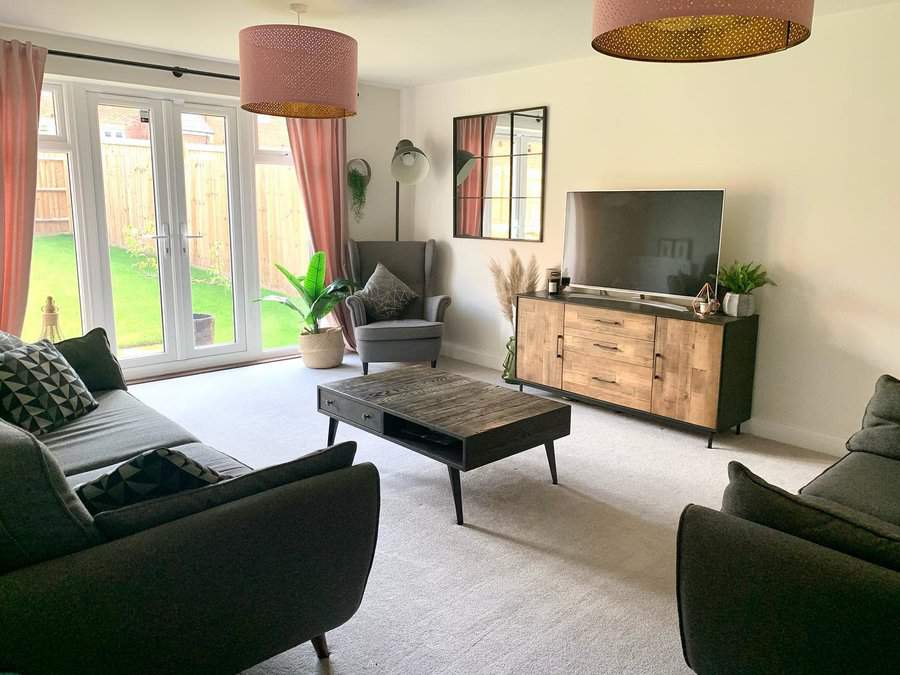 18. Metal Coffee Table
The industrial design aesthetic embraces the raw and unfinished beauty of materials like metal, and a metal coffee table serves as the perfect centerpiece to anchor your space. Its bold and sturdy construction brings a sense of rugged elegance, while its clean lines and minimalist form contribute to the overall industrial vibe.
Choose a coffee table with a distressed or weathered finish to enhance the industrial charm, or opt for a polished and sleek design for a more contemporary twist. Pair it with other metal furnishings, such as a metal-framed sofa or chairs, to create a cohesive look that exudes industrial sophistication. The juxtaposition of cold metal against other elements like exposed brick walls, concrete floors, or reclaimed wood accents adds depth and visual interest to the room.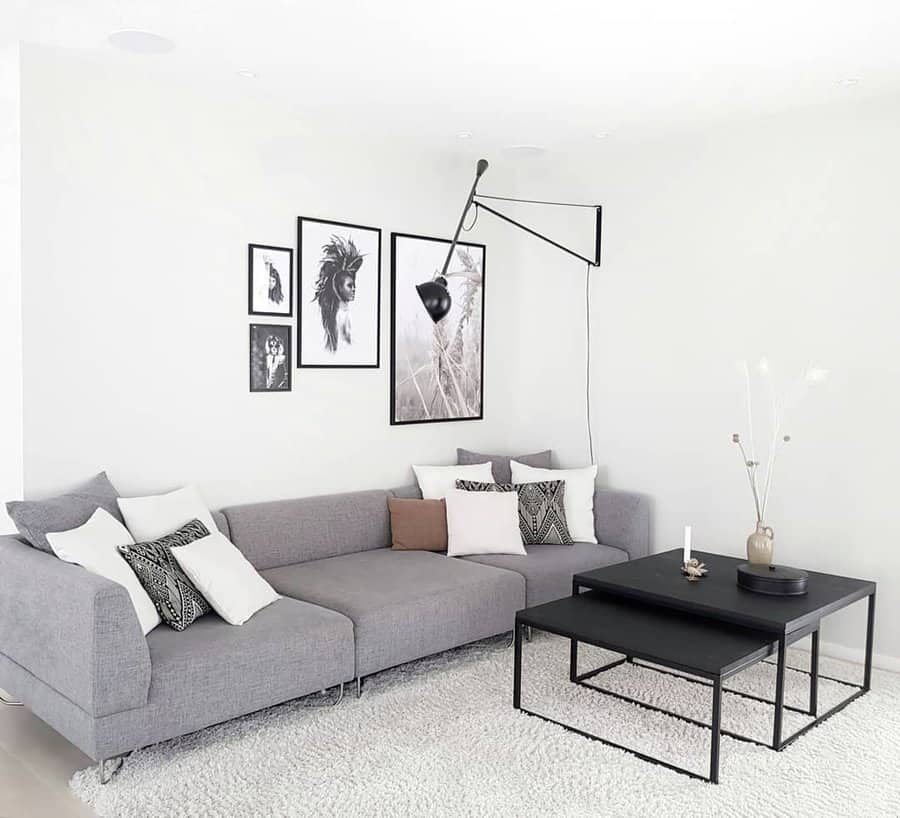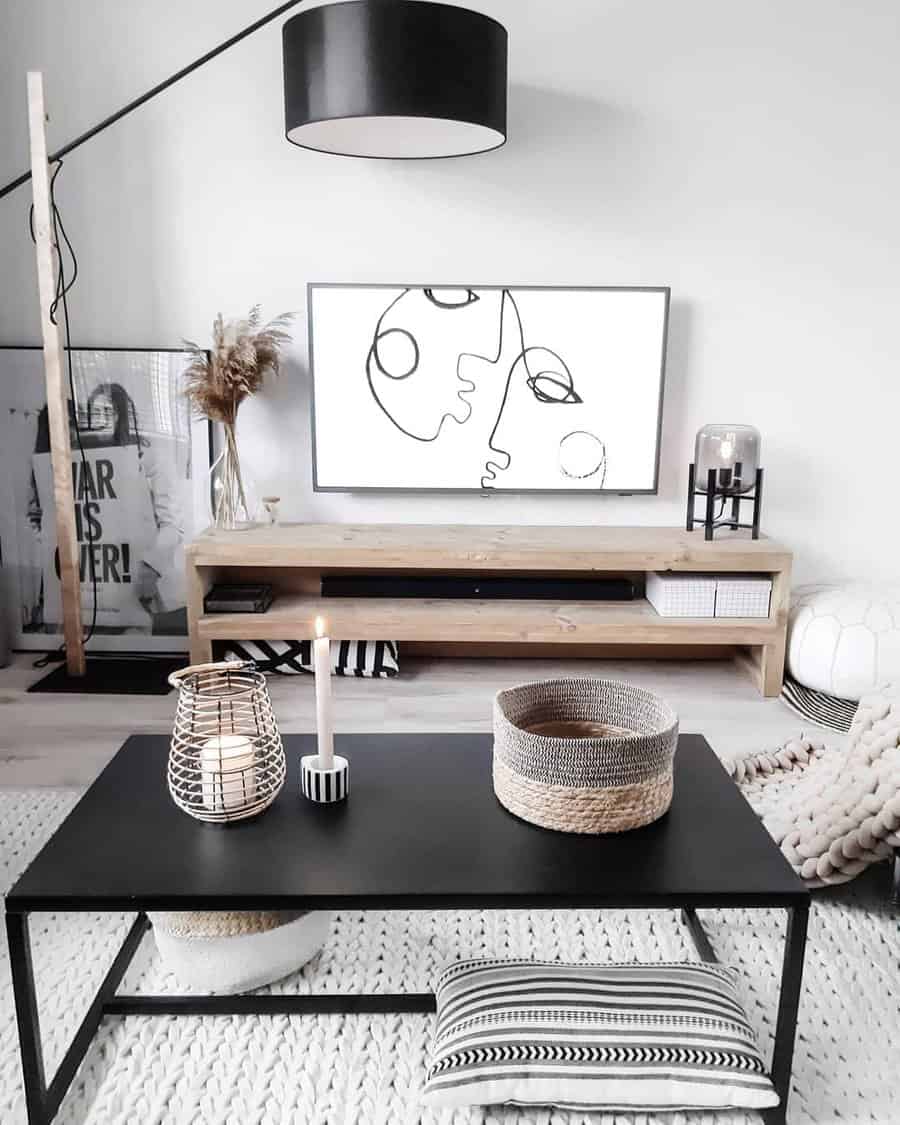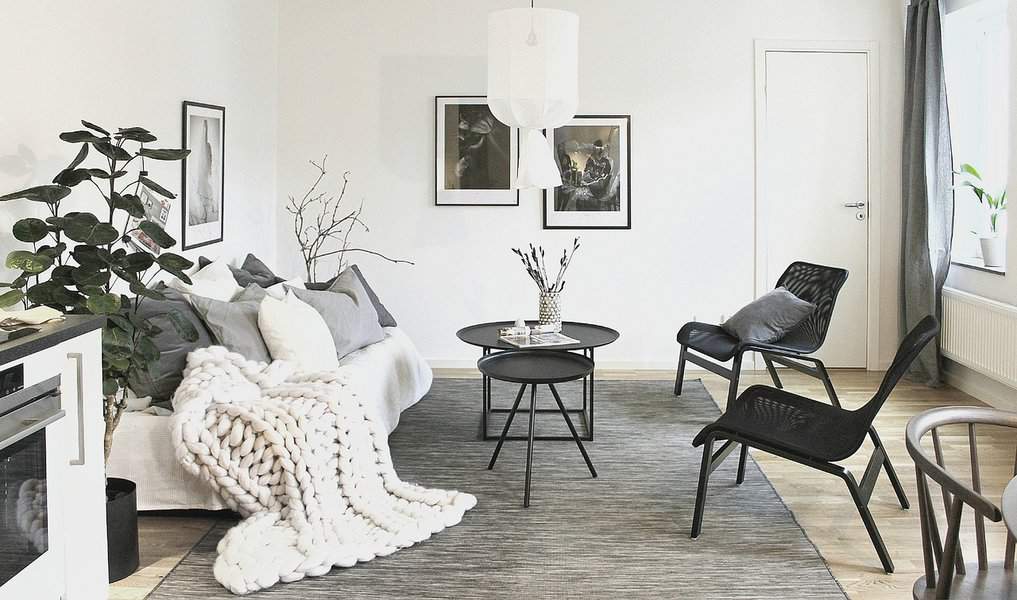 Industrial Living Room FAQs
Is industrial interior design going out of style?
No (at least not any time soon!). Some trends within industrial interior design will come and go. The aesthetic as a whole is timeless.
Give your industrial living room ideas longevity by investing in versatile furniture. You can't go wrong with a classic leather sofa or wooden coffee table. Reserve more eclectic pieces for accent decor that can be updated as trends change.
Can industrial interior design be feminine?
Absolutely! Industrial decor has become synonymous with downtown bachelor pads. Yet there's nothing keeping this design trend from employing a more feminine style.
The basics of industrial design remain the same. For example, exposed brick and ductwork are equally effective in either type of space.
Use industrial living room ideas featuring lighter colors and more ornate details. Plush throw blankets, velvet sofa upholstery, bright light fixtures, and gilded mirrors are all excellent ways to add femininity.