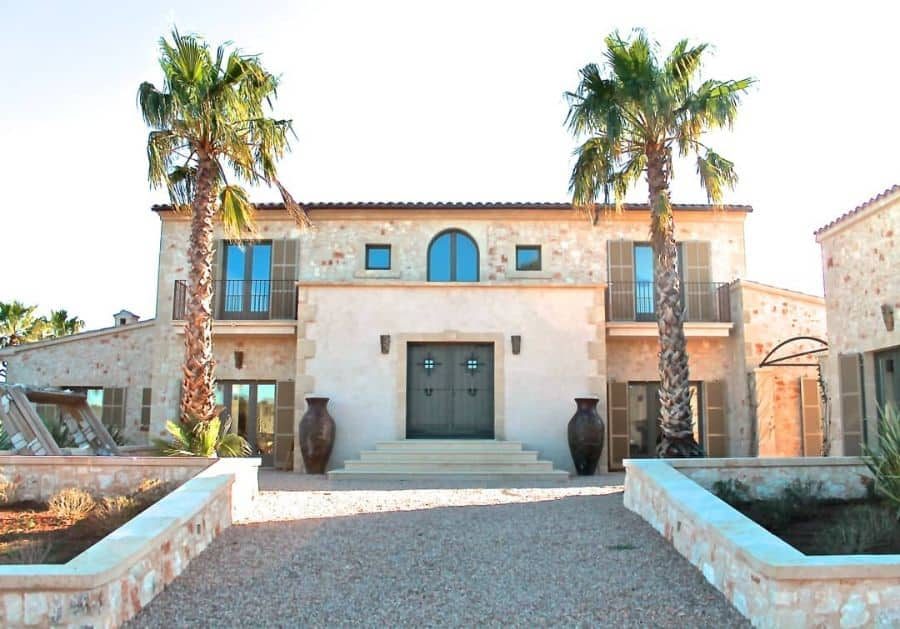 74 Mediterranean House Ideas
"Marseilles, Barcelona, Trieste, Istanbul—each romances the Mediterranean in its own fashion, mostly by embracing the sea in sweeping C-shaped bays that date back to antiquity." – Andre Aciman
The Mediterranean region encompasses all countries that surround the Mediterranean Sea. Regardless of location, many of theses homes share similar architectural characteristics that began emerging in the 10th and 11th centuries.
Mediterranean home design includes rough stucco exterior finishes, tile roofs, central courtyards, and a warm color palette.
Mediterranean architectural style started appearing in the United States in the early 1900s and slowly became a popular house plan in warmer climates.
It continues to be a favorite home style in Florida, California, and throughout the Southwest. Look through this gallery and find out why the warm, welcoming design of a Mediterranean home may be the best for you.
1. Colorful Mediterranean Houses
While the basic color palette of Mediterranean houses is traditionally neutral—with white, off-white, natural wood, and terra cotta finishes—the details are usually colorful.
Neutral toned tile floors are often decorated with colorful tile accents and borders. Cobalt blue, mustard gold, earthy red, and hunter green all appear frequently in Mediterranean inspired textiles and décor.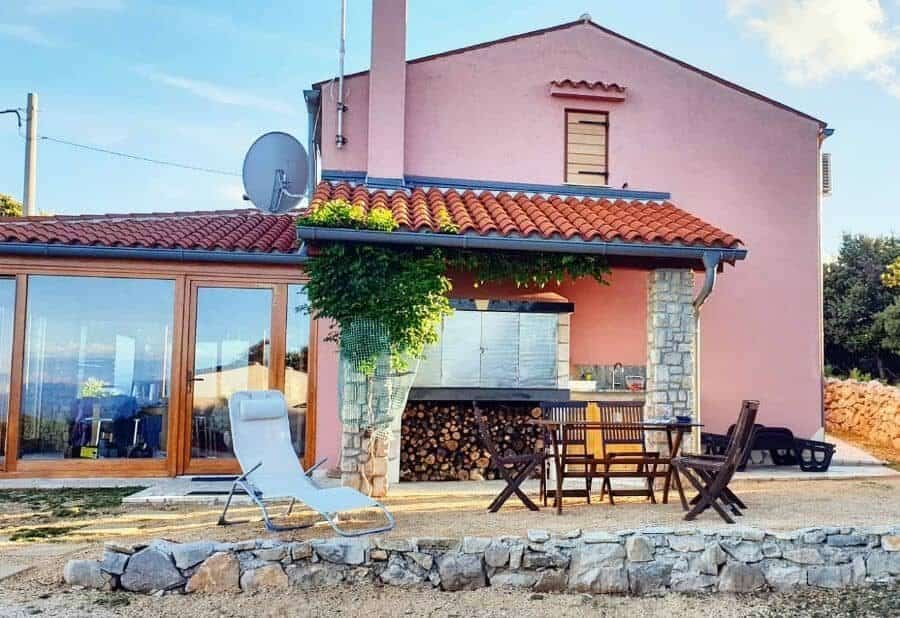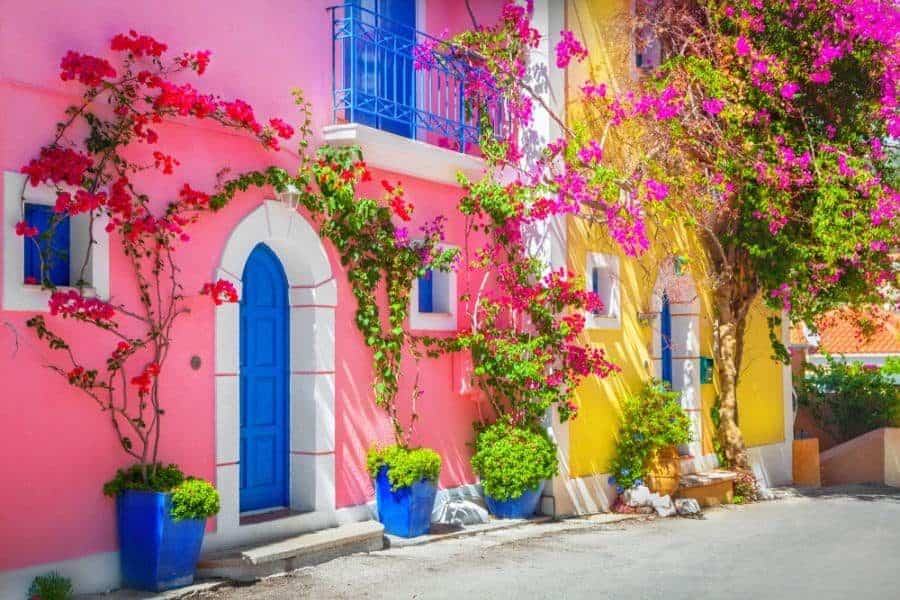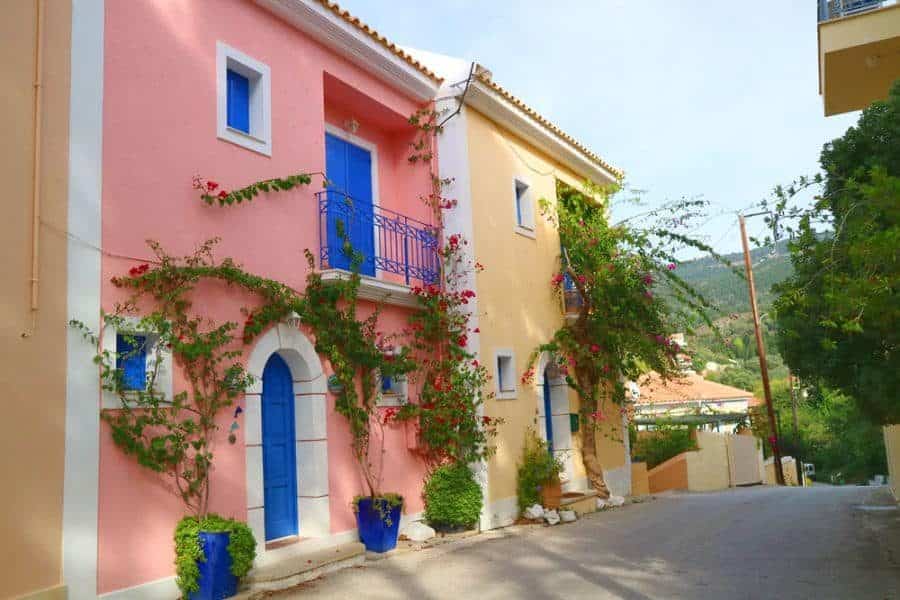 Of course, there are no hard-and-fast rules on colors you can use on your Mediterranean house. Bright yellow, green, or even hot pink can be used to turn a traditional Mediterranean home into a festive hacienda.
If bright colors aren't your thing, pastel colors also work well with the simplicity of a Mediterranean home plan. Muted apricot, soft coral, mint green, and powder blue are all impressive Mediterranean house paint colors.
2. Exterior Mediterranean House Ideas
Columns and rounded arches are hallmarks of Mediterranean style. In addition, detailed metal work adorns balconies, windows, and courtyards.
Each of these Mediterranean architecture features can be tweaked to reflect your own style instead of directly mirroring classic Mediterranean details. Add shutters or stone accents to further personalize your Mediterranean house.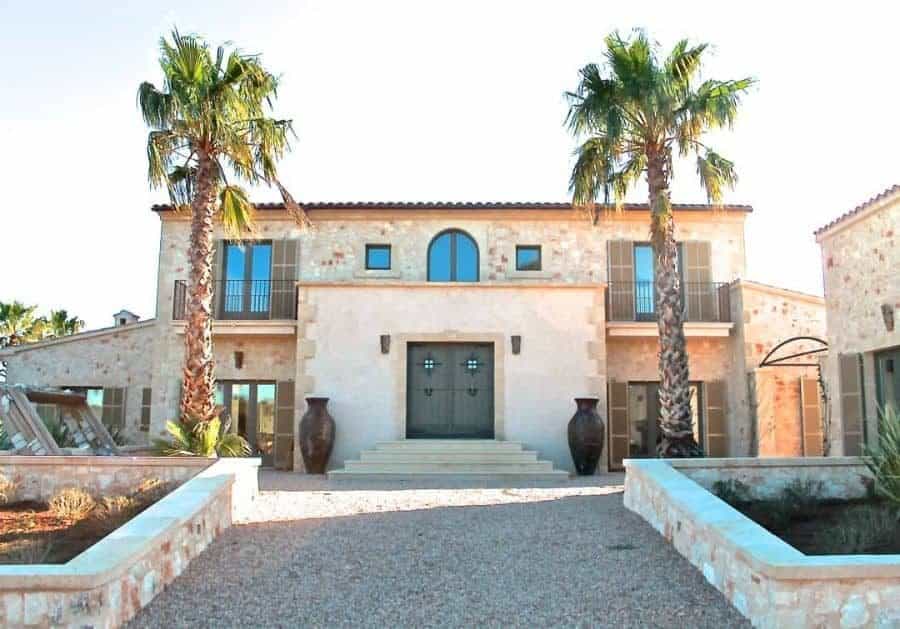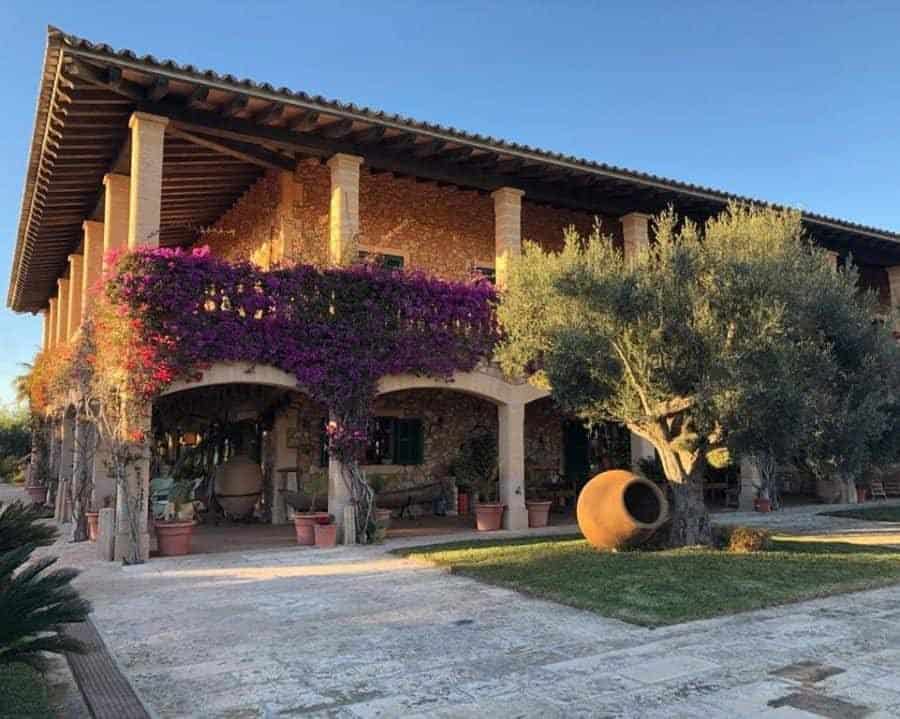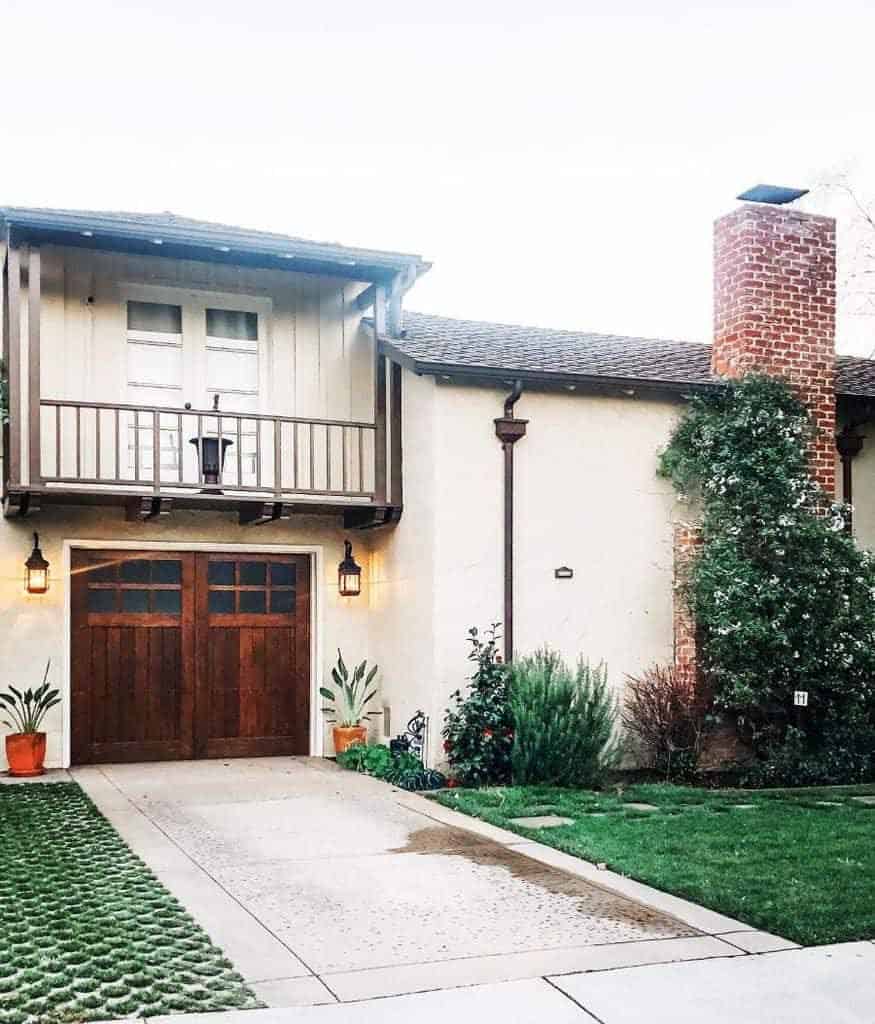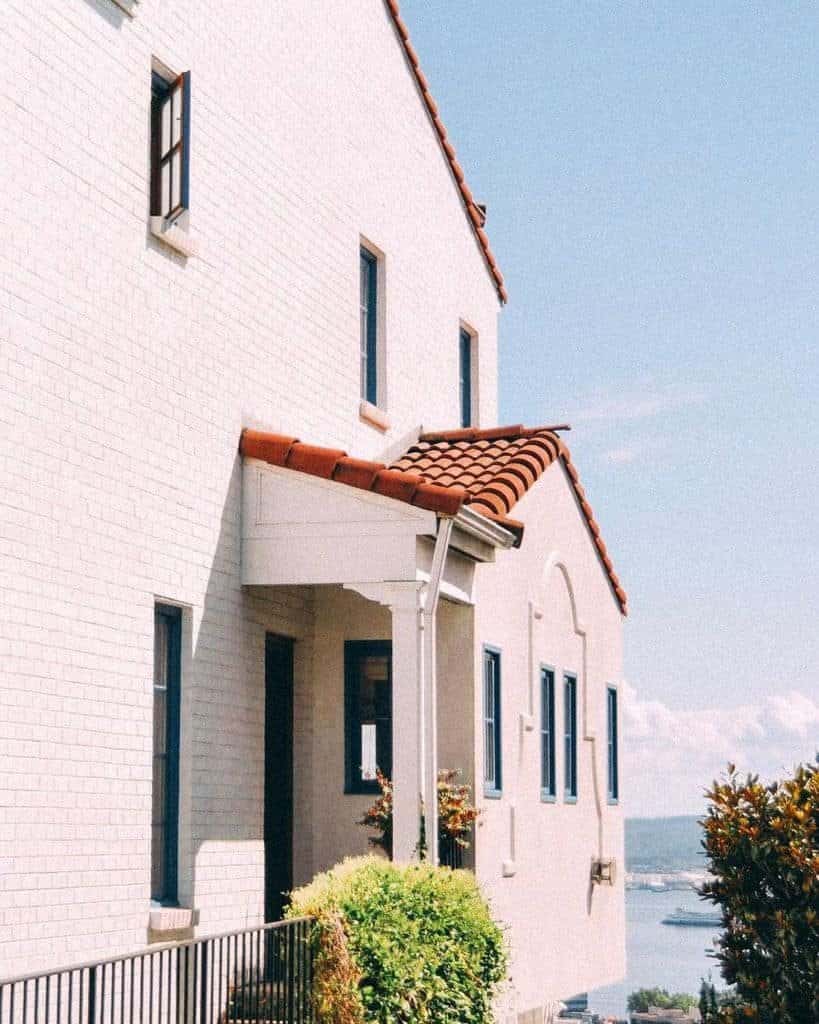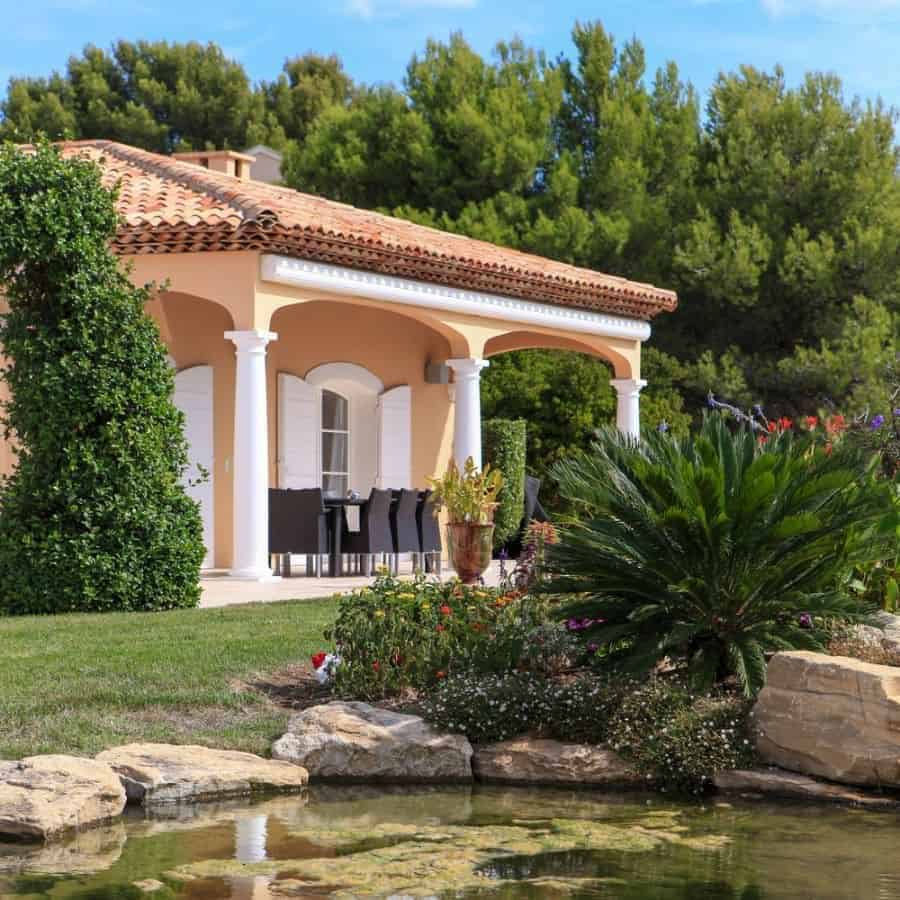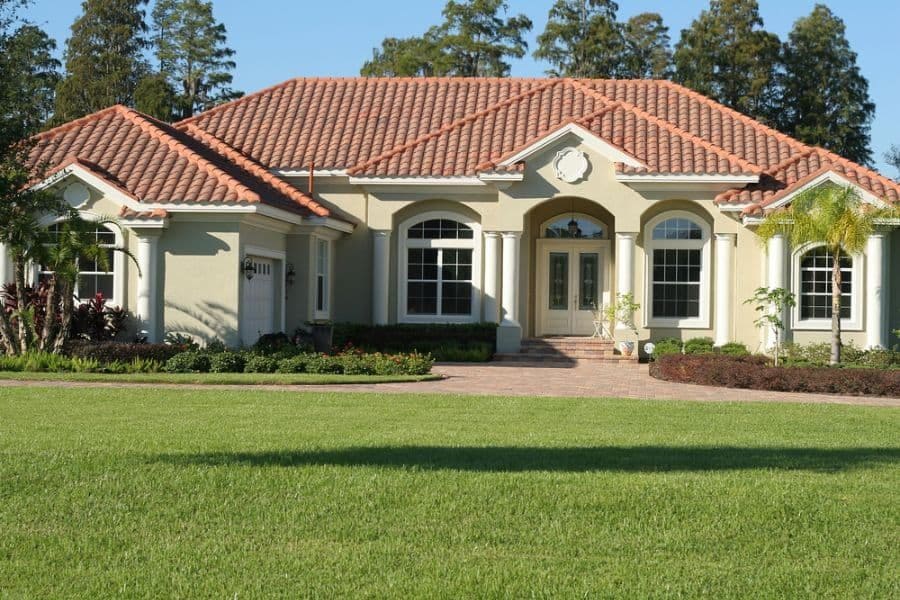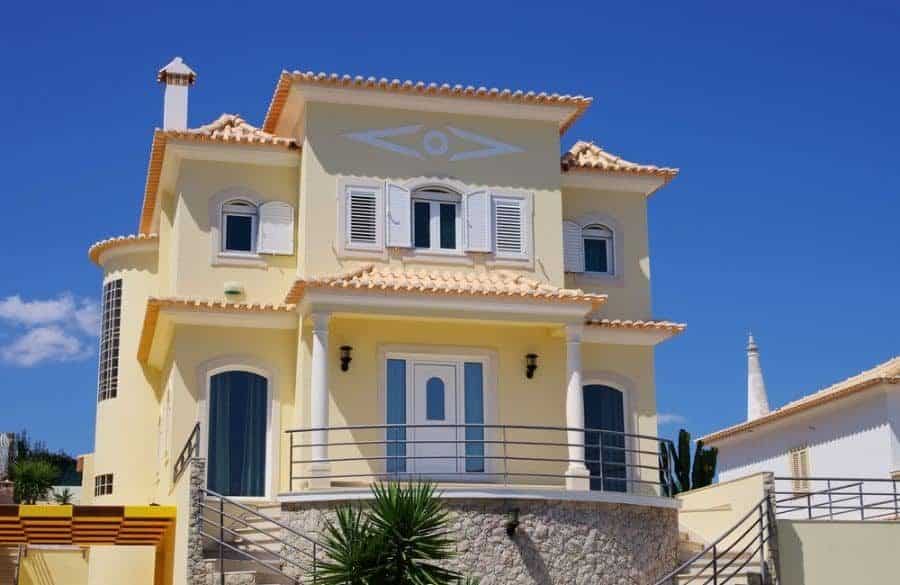 Many people feel that the best part of a Mediterranean home is the outdoor living space.
A strong connection between the indoors and the outdoors is not only valued in warm climates; it is a sought-after feature by many homebuyers. Further increase your outdoor space appeal by adding a fire pit to your patio, a fountain in your courtyard, and a canopy over the outdoor dining table.
Don't skimp on landscaping, as a colorful, healthy garden holds true to the luxury resort feeling of many Mediterranean homes.
Palm trees, flowering shrubs, and manicured hedges also improve the view through your windows as you relax inside. Mediterranean inspired landscaping also greatly enhances your home's curb appeal.
3. Luxury Mediterranean Houses
Mediterranean homes fit well into a luxurious lifestyle. Mimicking the sprawling Mediterranean villas in Europe, Mediterranean homes built in the United States exude a leisurely vibe reminiscent of a seaside holiday.
Warm wood finishes are a must in any Mediterranean design, but in the luxury home they are likely made of mahogany, teak, or other high-end lumber.
Luxury Mediterranean house exteriors often feature turrets, wrap-around first floor porticos, and multiple balconies.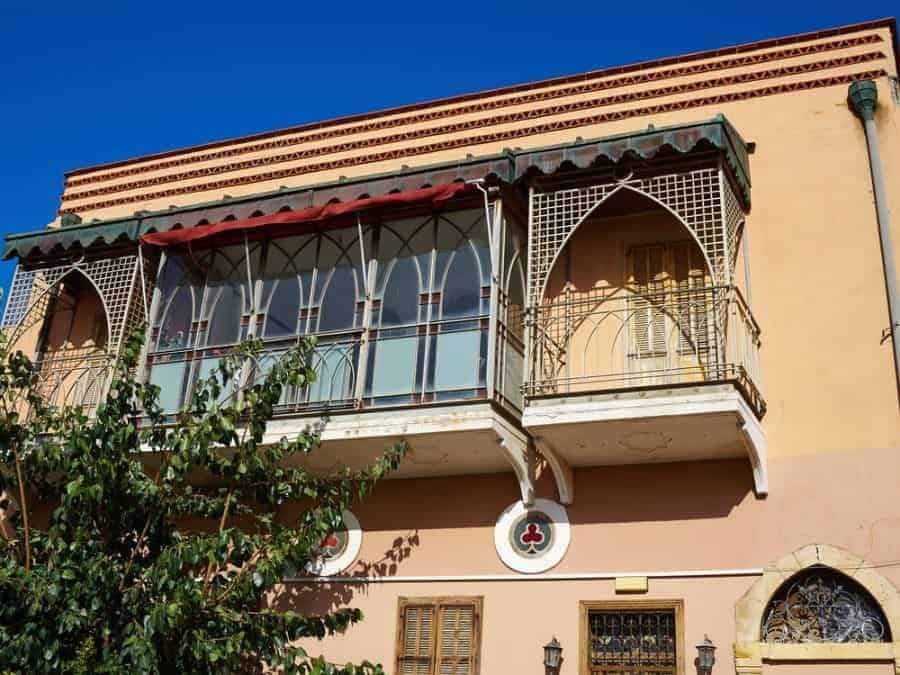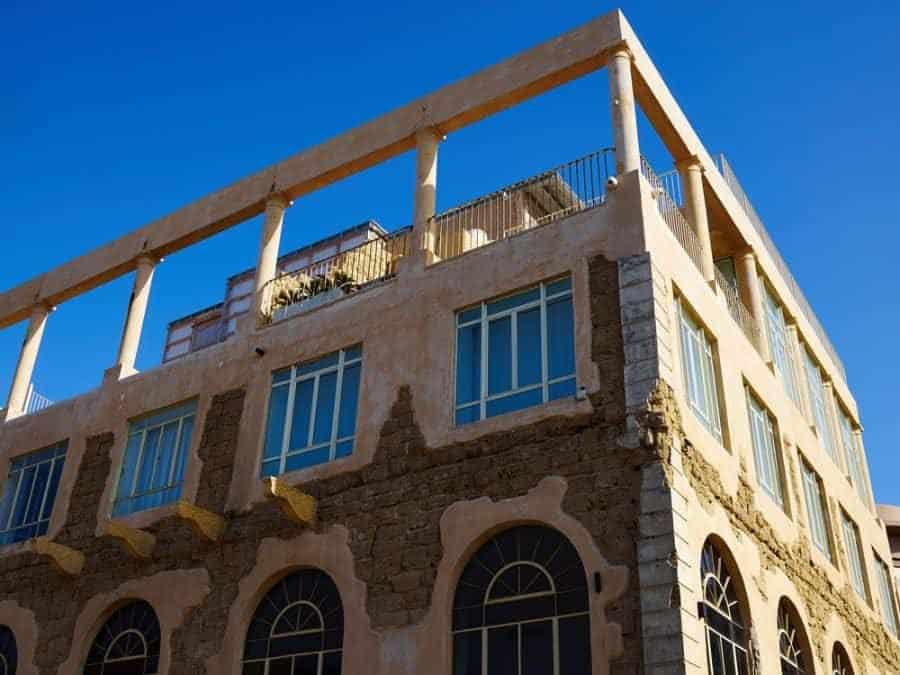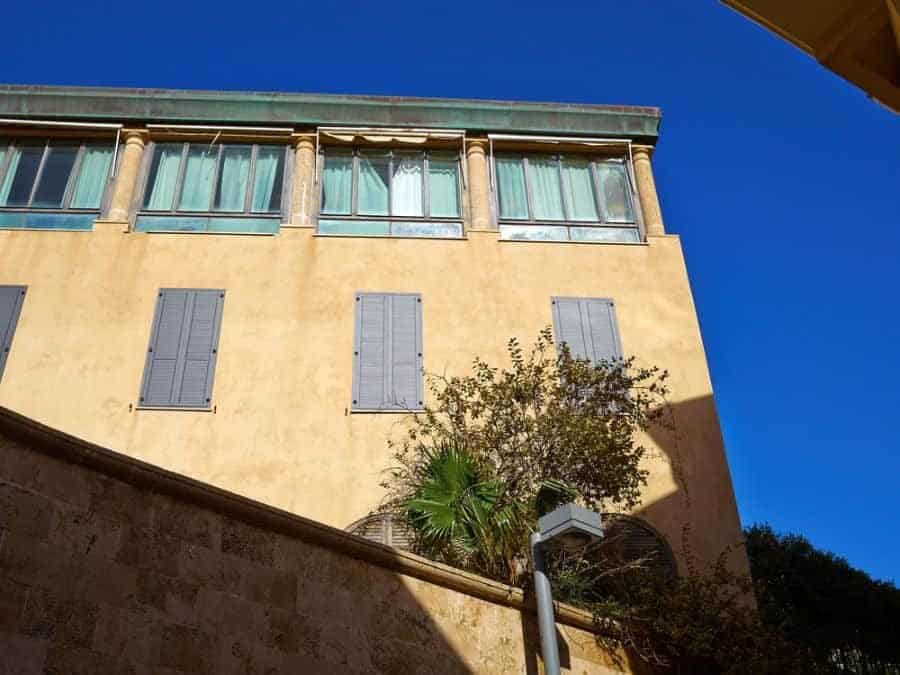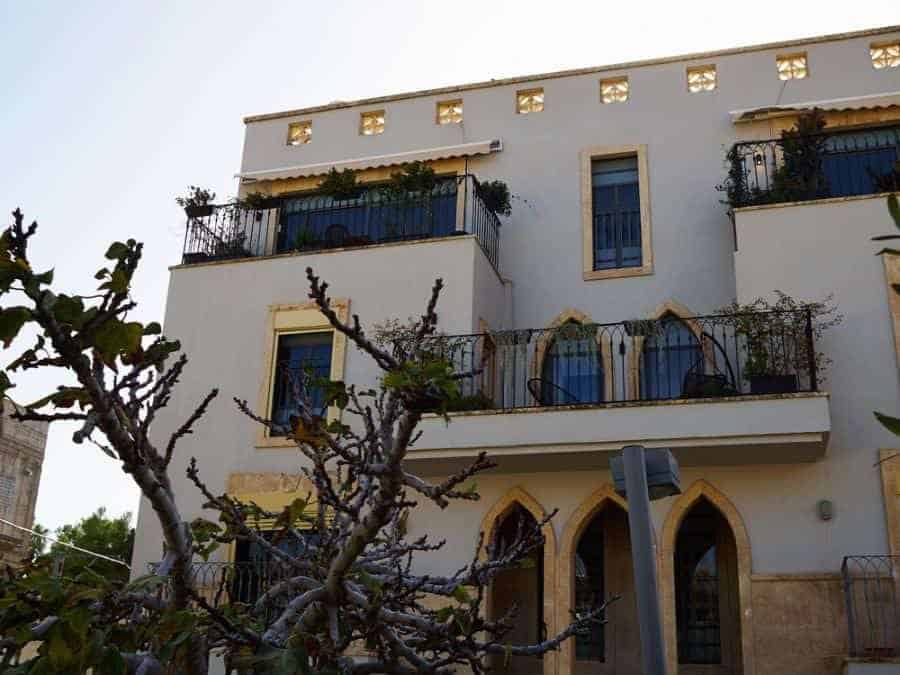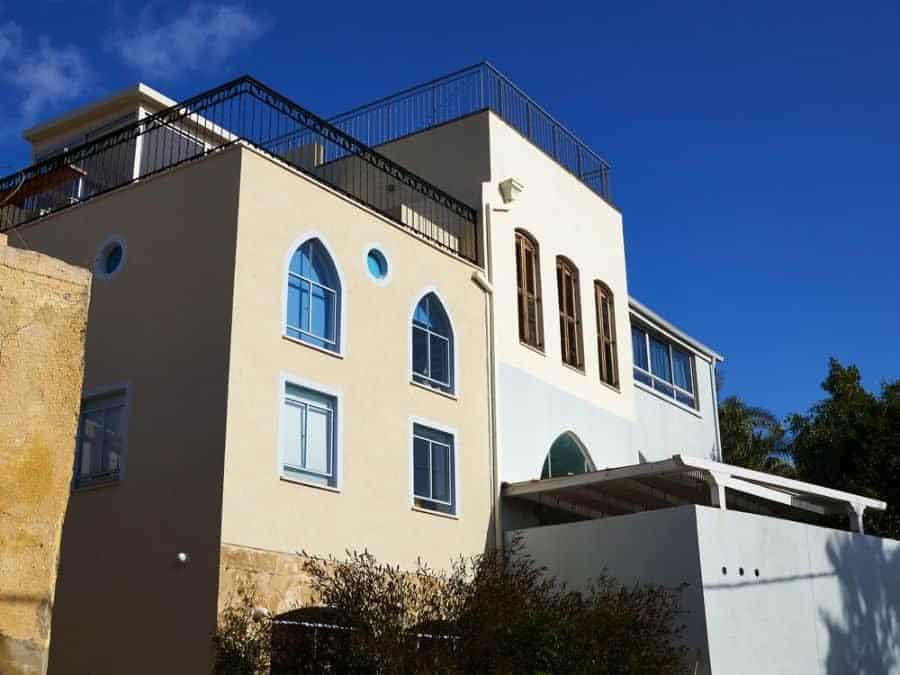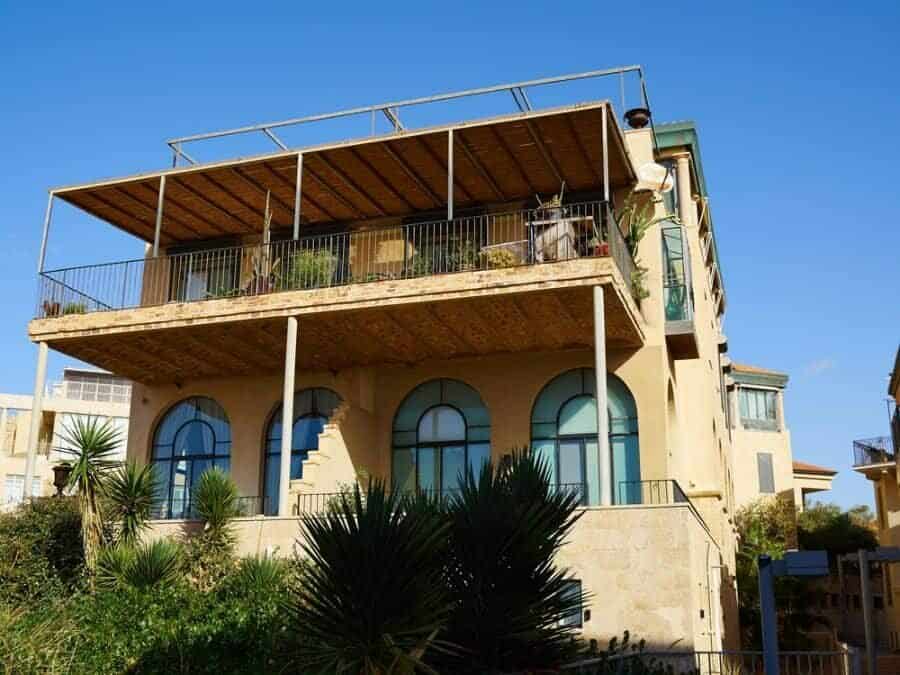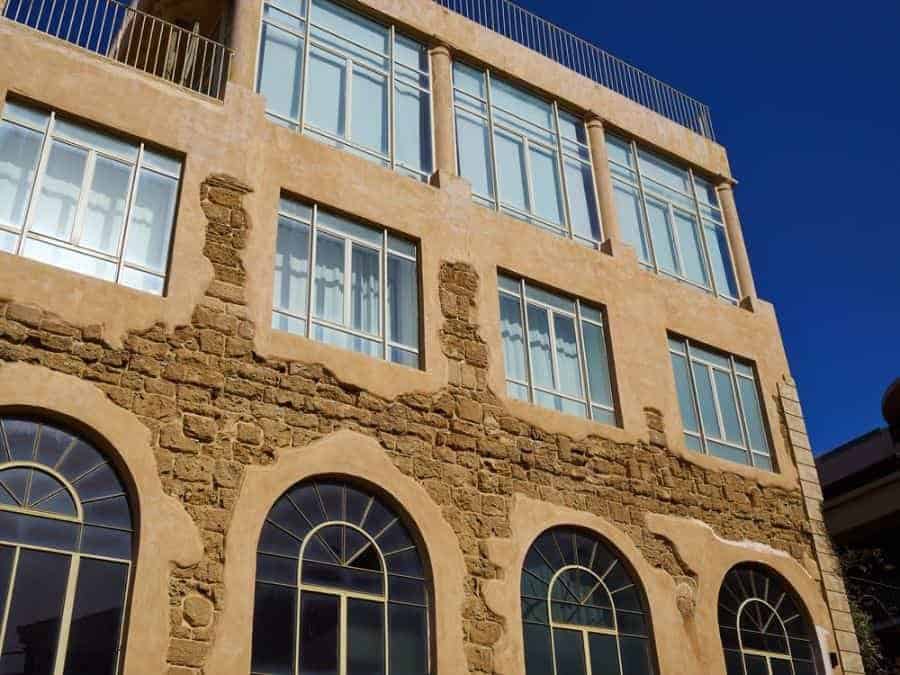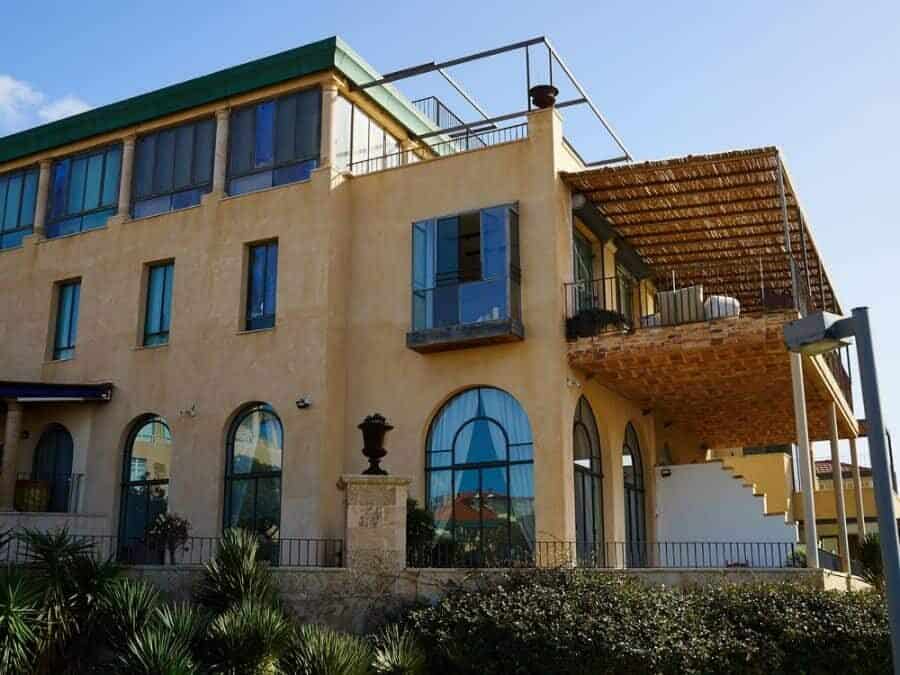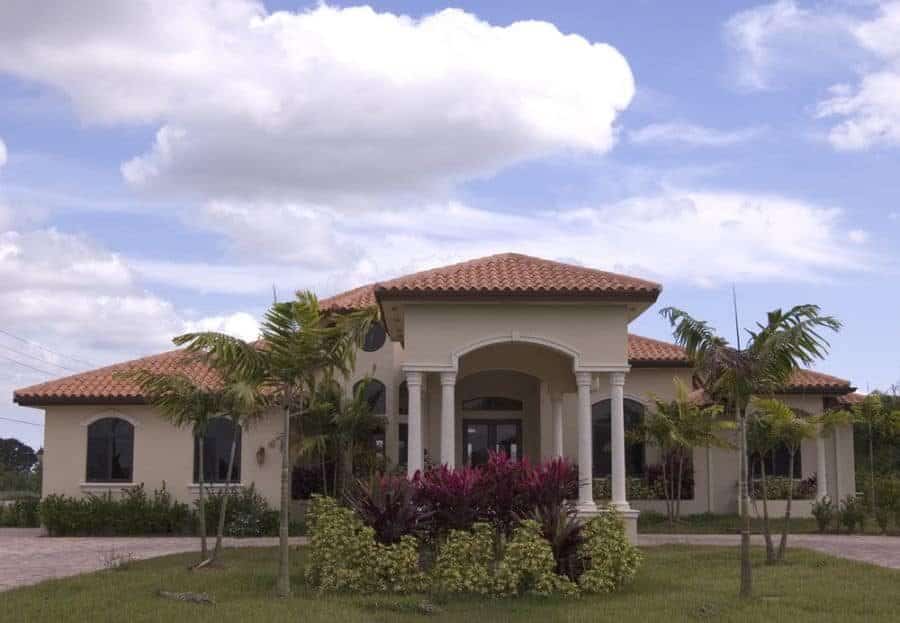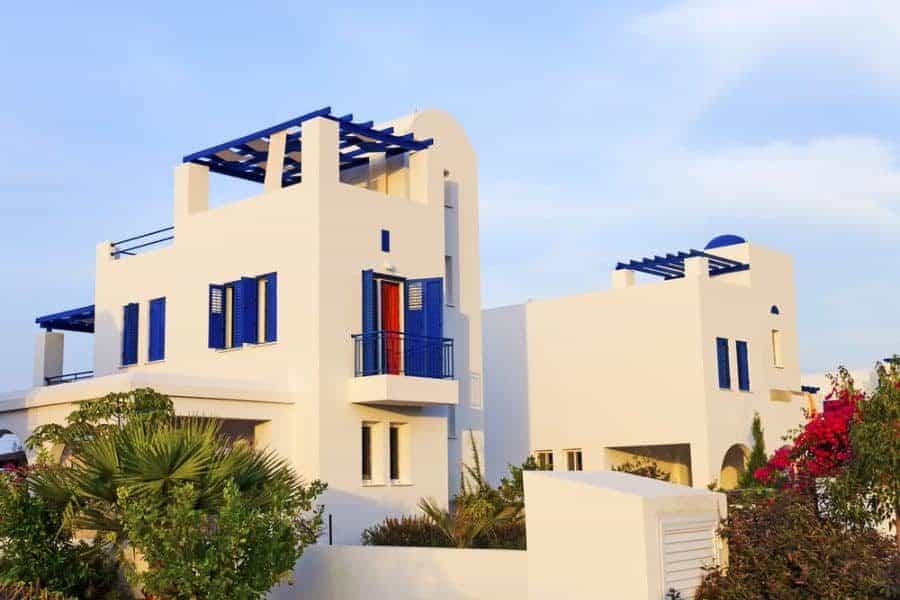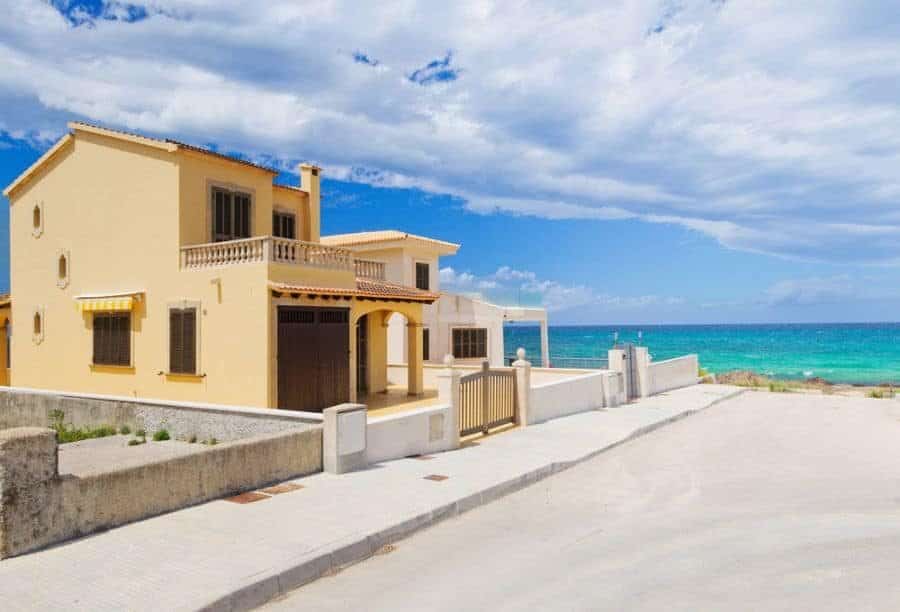 Luxury tile flooring is not usually limited to the kitchen, as travertine and other high-end floor surfaces are durable and beautiful. Bright, colorful tiles are everywhere now, and painted blue-and-white Moroccan tiles are a classic Mediterranean house feature. With a generous budget, these tile accents look amazing used in both your indoor and outdoor space.
4. Mediterranean Architecture Ideas
One of the advantages of a Mediterranean style house plan is that it is timeless, not trendy. Because its features never go out of style, you can trust that you can avoid the expense of frequent remodeling to fit new trends. The warm colors, airy and open floor plan, and extensive outdoor living space will always be relevant.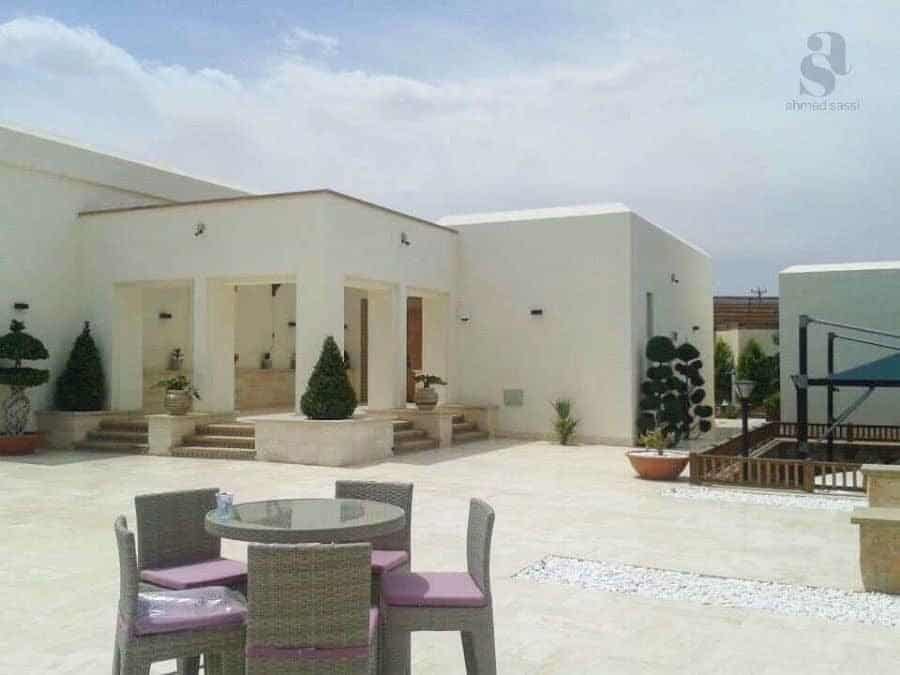 Make the tile roof your own by choosing a color that's darker, lighter, or warmer than the standard terra cotta finish.
Although classic Mediterranean exterior finishes are made of stucco or brick in light colors, you can choose a deeper hue to personalize your home. Make a small Mediterranean house larger by increasing the outdoor space.
Check out this video to learn how to use pavers to extend an existing patio into a larger, Mediterranean style living area:
5. Waterfront Mediterranean Style Homes
Because every original Mediterranean property is located around the sea, the waterfront is the perfect place to build a Mediterranean home. If you are building by a body of water, be sure your home plan includes plenty of large windows to capture the view. Make sure that your landscaping doesn't block the line of sight from any of your windows.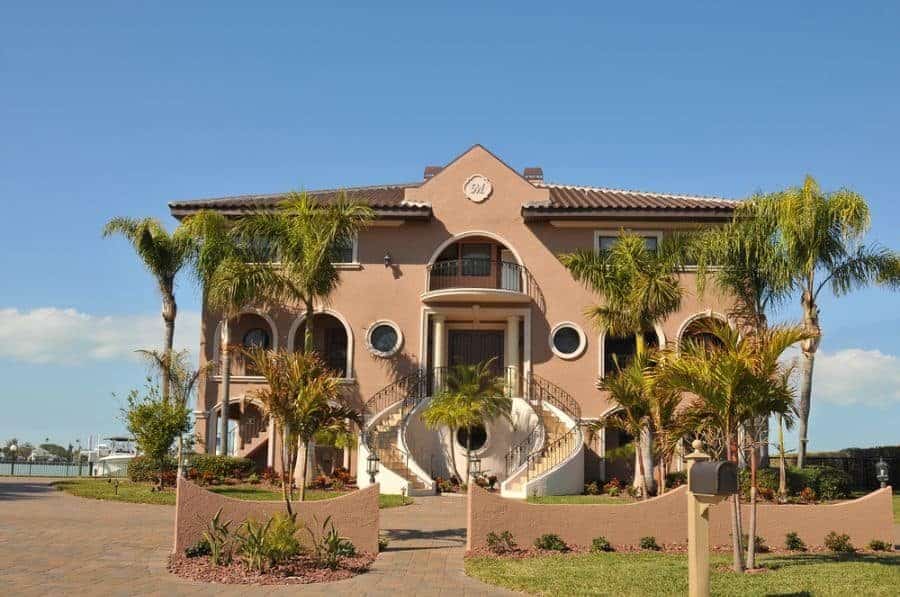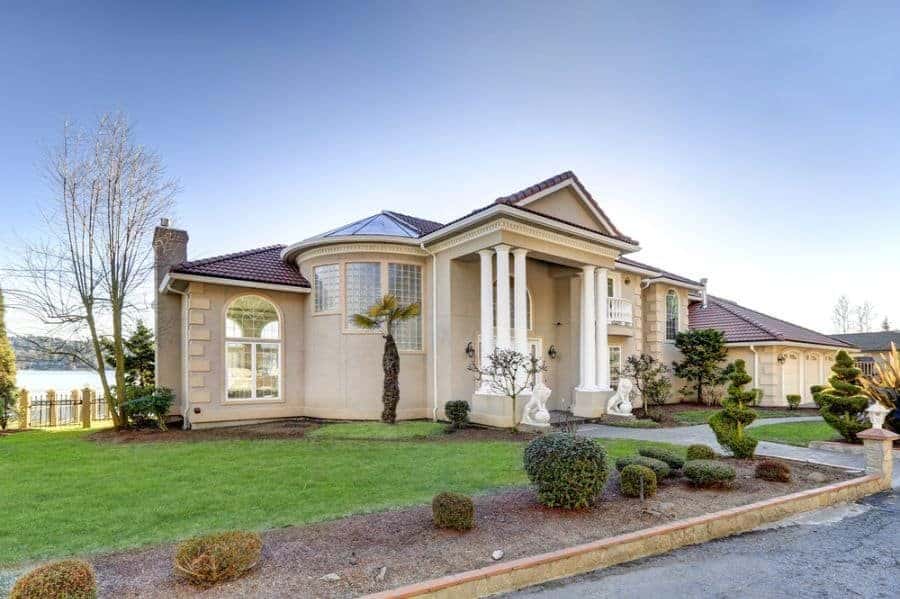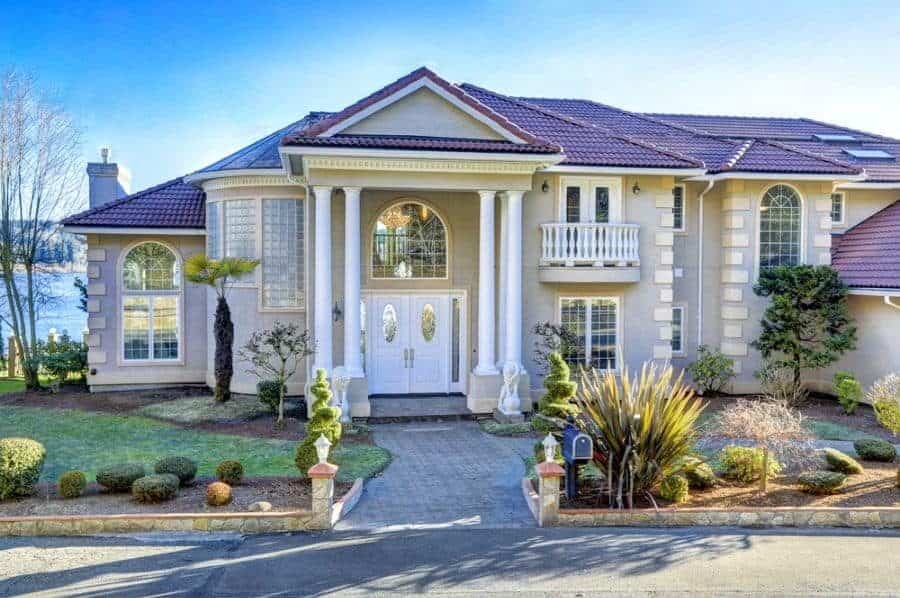 Instead of a traditional interior Mediterranean courtyard, you may prefer a courtyard that turns into a rear patio to make the most of your waterside access. If you build a dock or boathouse, keep to Mediterranean style. Use the same colors and finishes that you use on your home's exterior. Link the structures with a brick or stone pathway if possible.
Don't be alarmed if you see a Mediterranean house gecko in your courtyard or even inside the garage. They are a beneficial species that help keep your beautiful Mediterranean villa free from insects. They are such common creatures in warm climates that you often find wall art, sculptures, or other artistic representations inside Mediterranean homes.
6. Modern Mediterranean Style Houses
At first glance, Mediterranean home design may not seem like it merges well with modern décor. However, because both design styles focus on simplicity, they go well together.
The modern Mediterranean house elevates an open floor plan that works well for families and entertaining. Modern Mediterranean homes magnify outdoor living space into newly inspired indoor-outdoor living areas.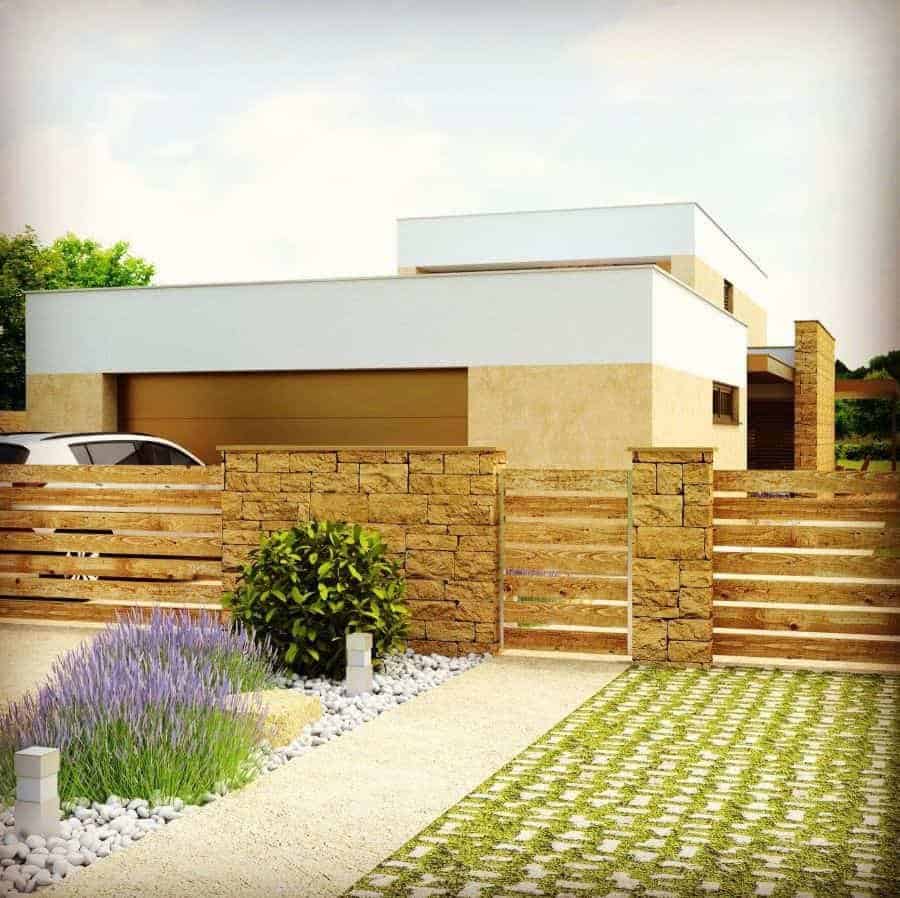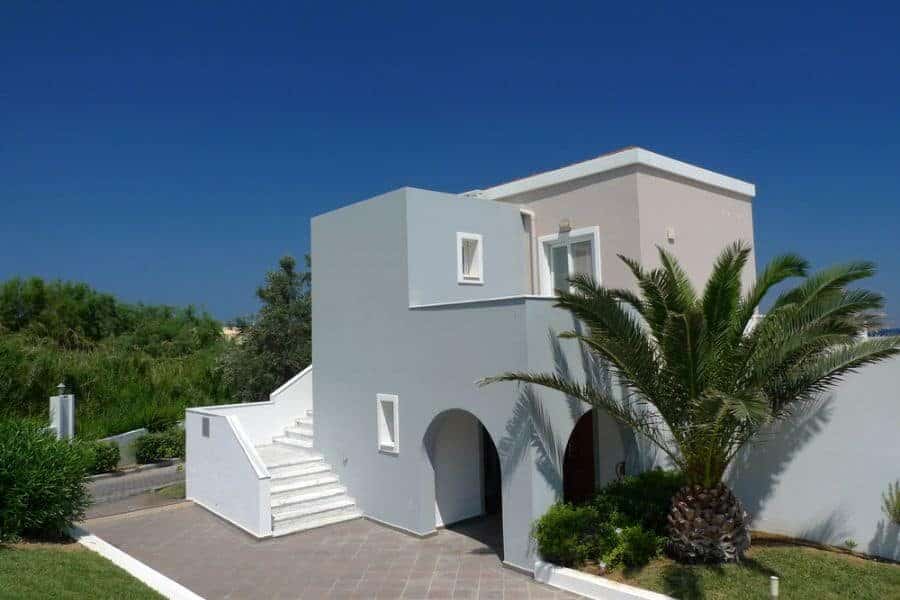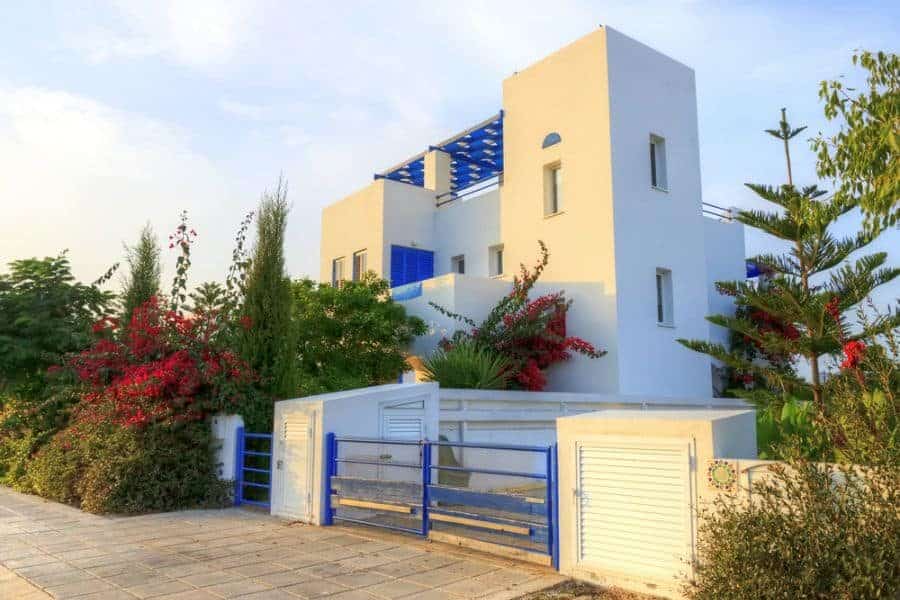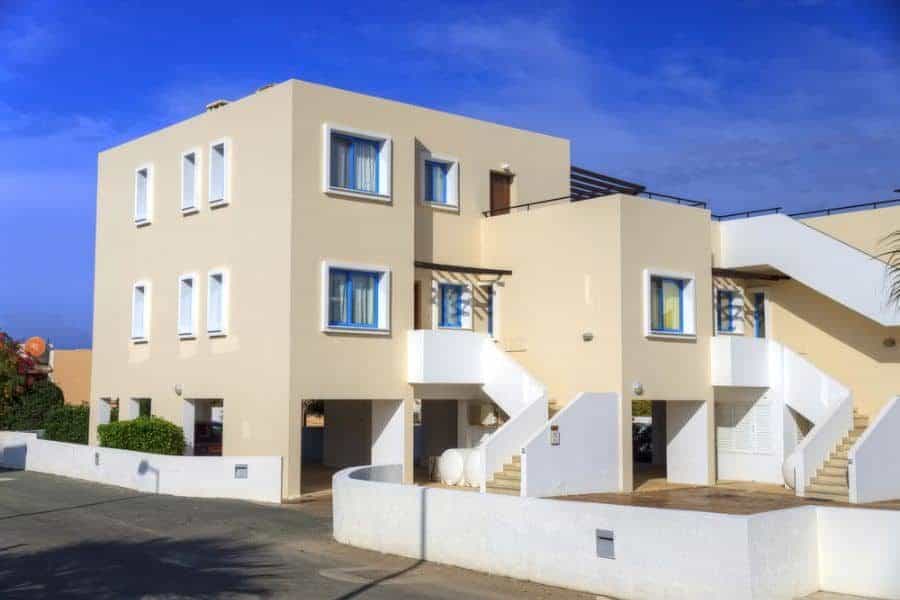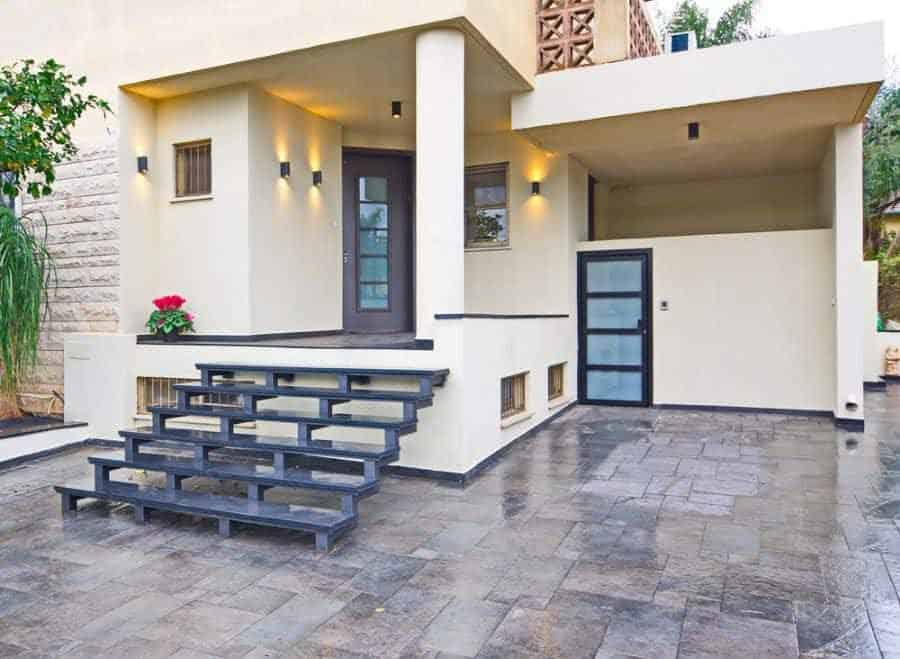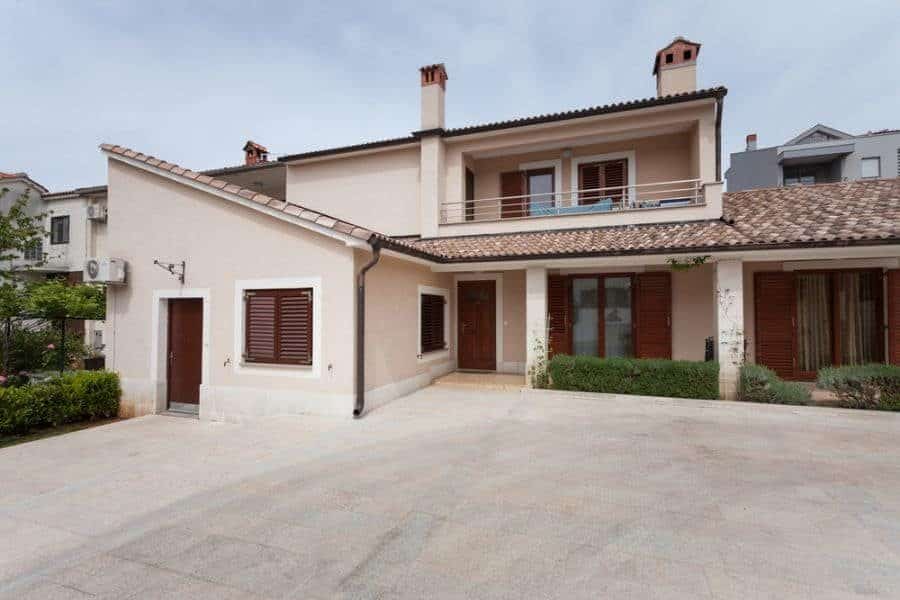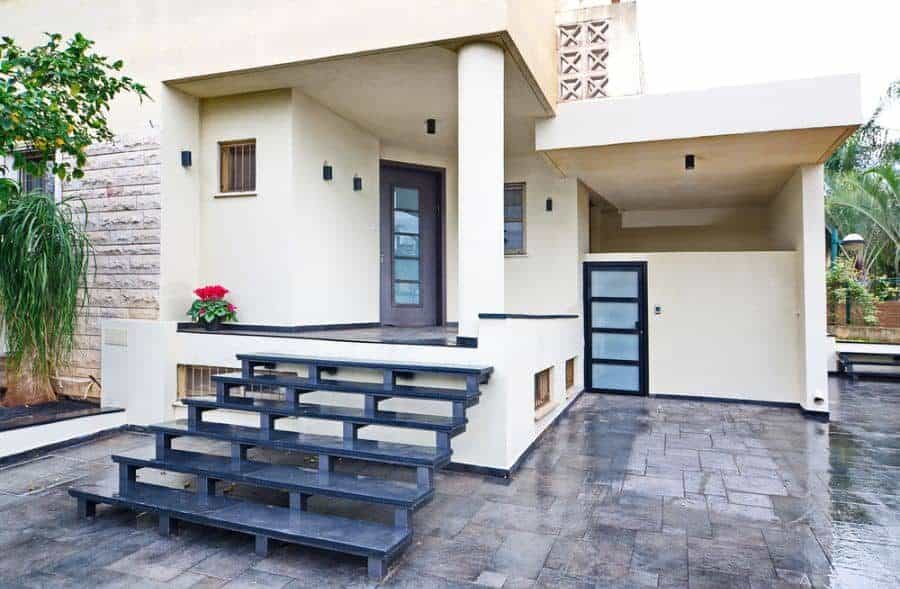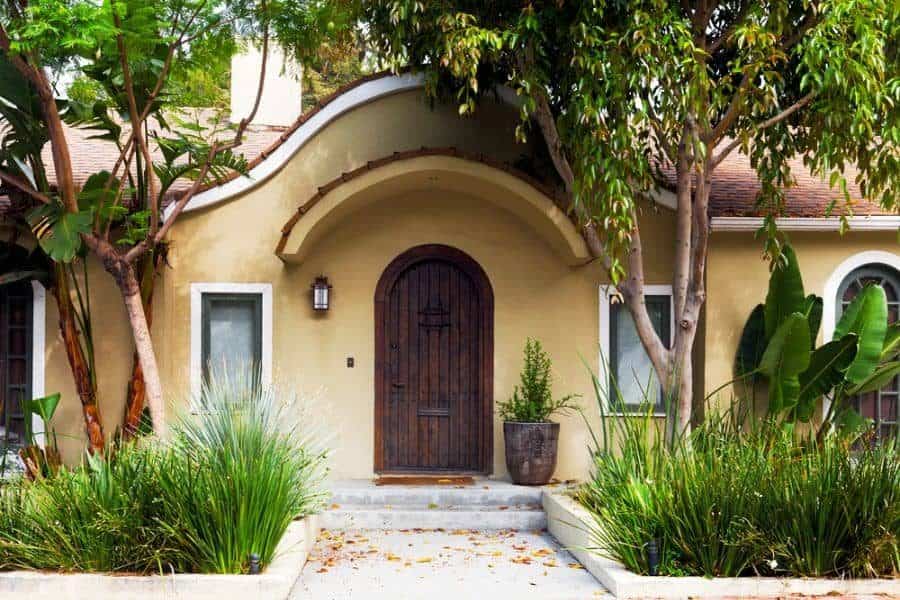 While a modern Mediterranean home plan usually includes balconies with metal railings, they are updated. Instead of traditional metal scrolls and curves, a modern Mediterranean house will have straight, angular railings.
Instead of arched doors and windows, you may see rectangular openings with more subtle Mediterranean touches.
7. White Mediterranean House Ideas
Santorini, Greece is known for its gorgeous white and blue seaside homes. Originally made of dark stones that absorbed the intense Mediterranean sun, they were painted white to help reflect the heat.
Brilliant blue accents were added because of the availability of loulaki, a blue cleaning agent used in every household. This clean, cool color combination is a beautiful way to bring original Mediterranean style to your own home.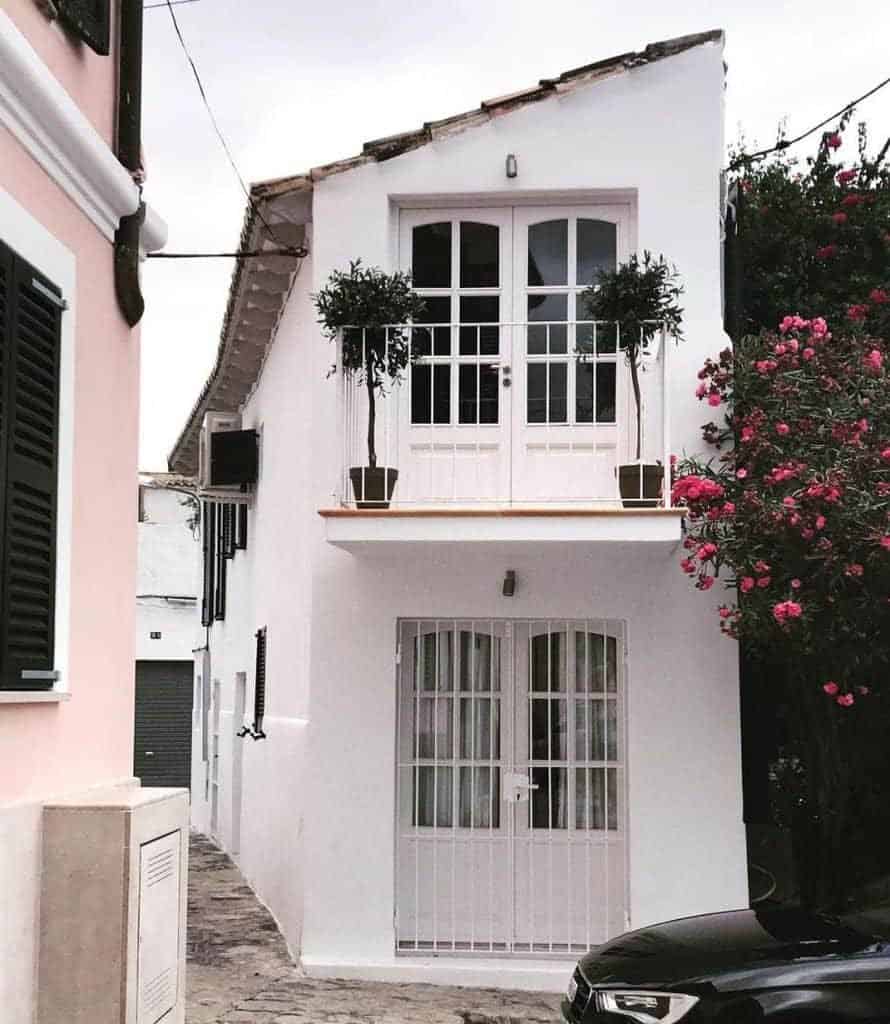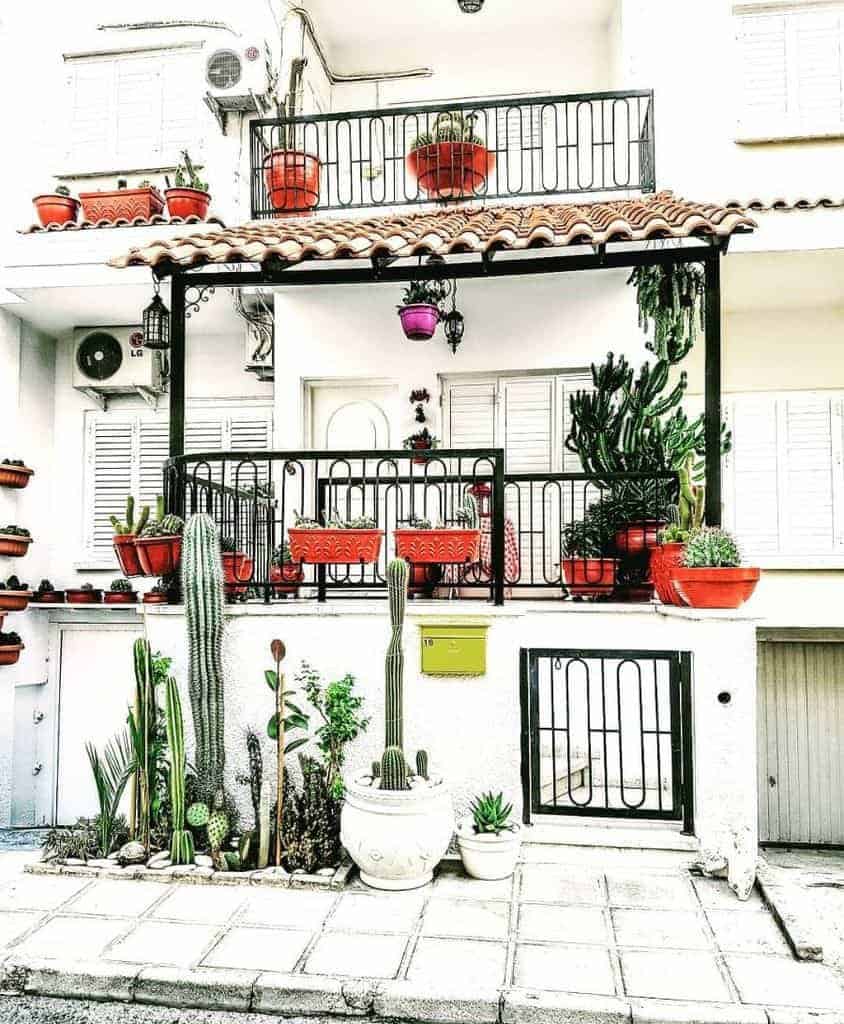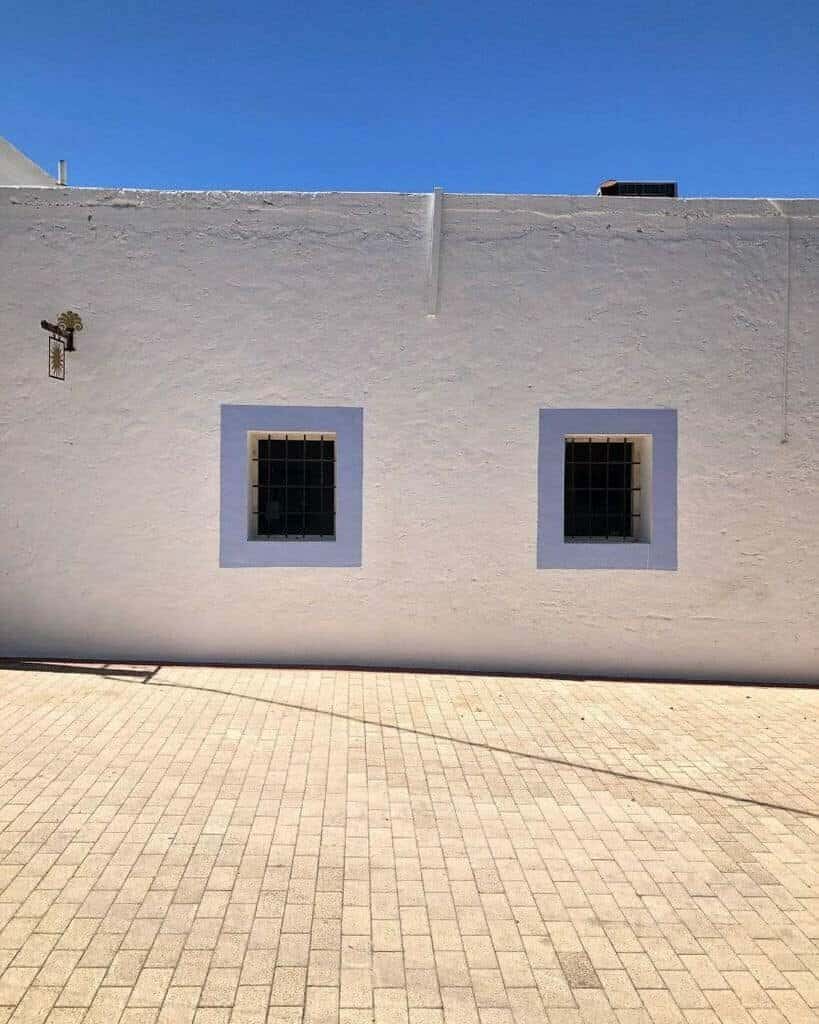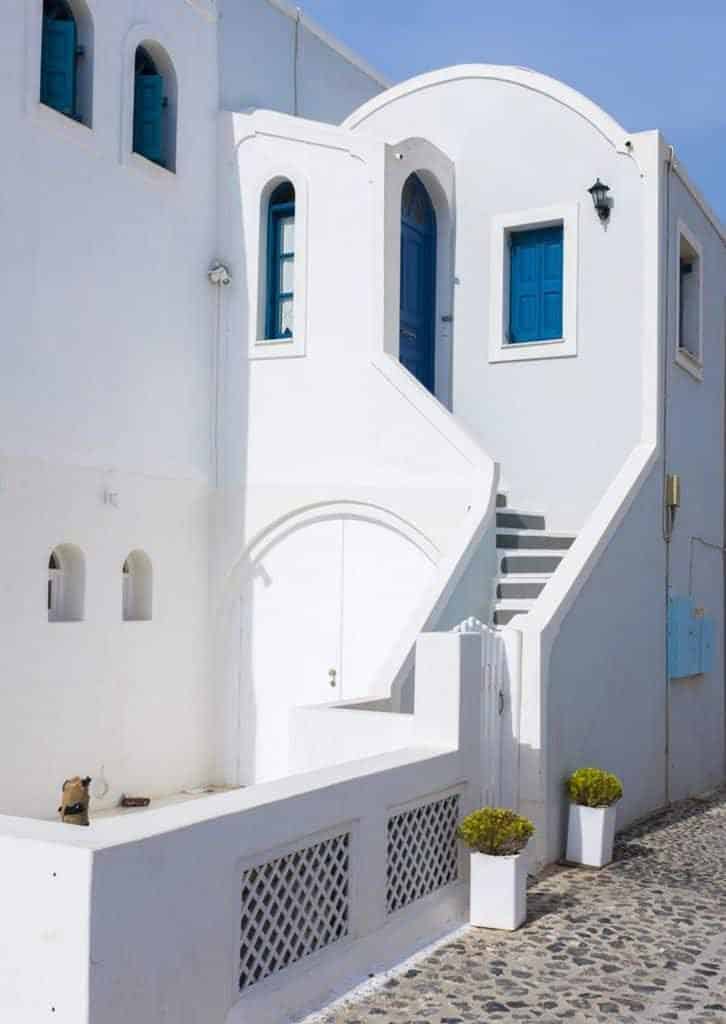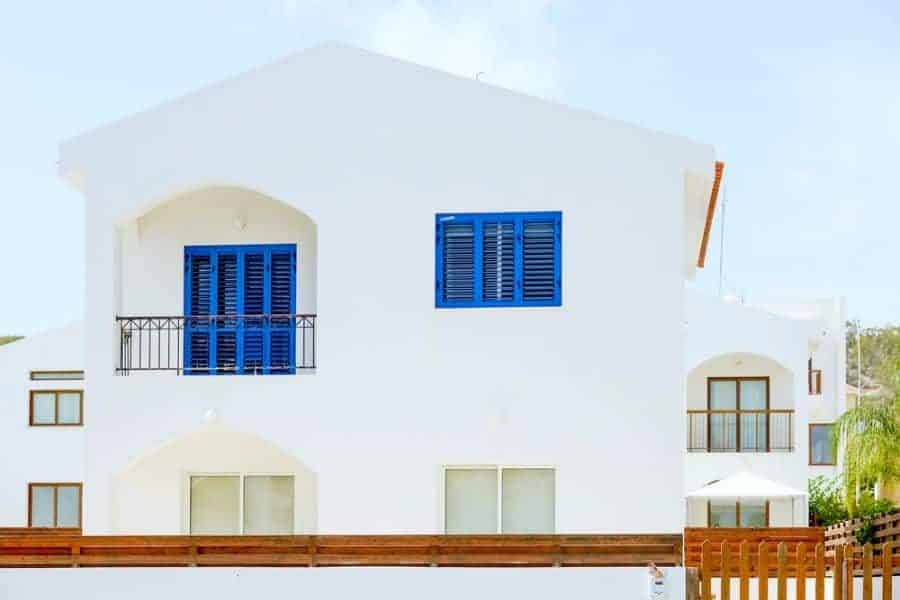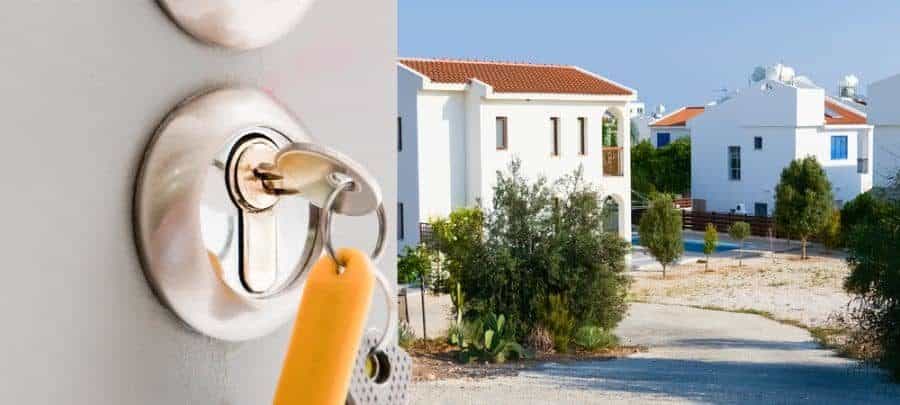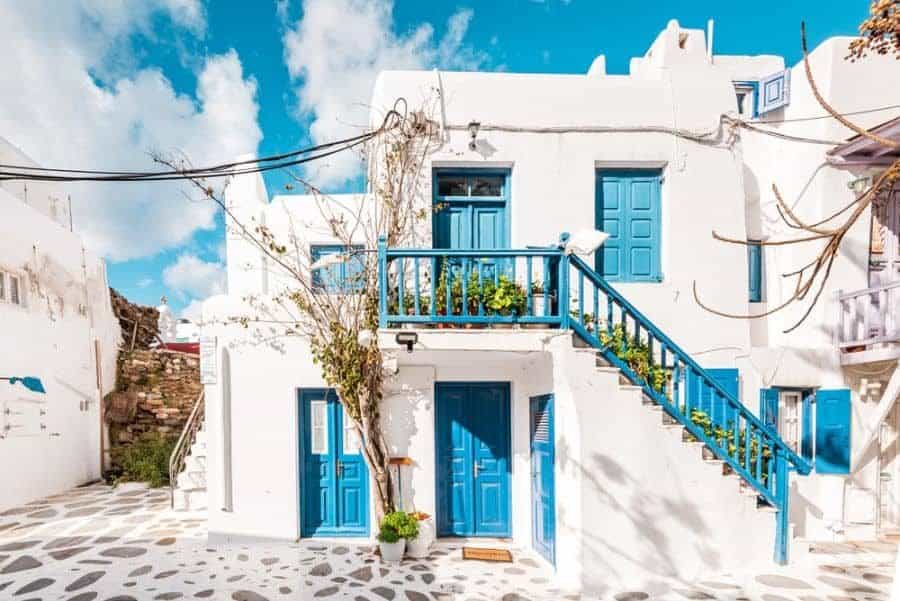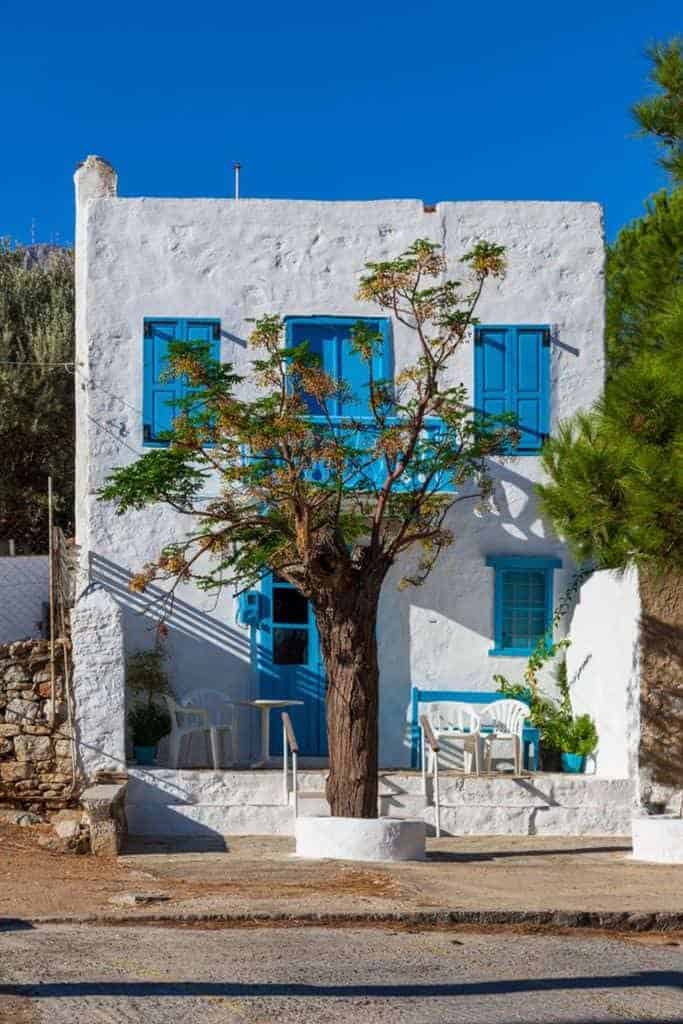 White walls look stunning with Mediterranean architecture, whether paired with blue, terra cotta, or another color palette.
Stucco not only helps keep a warm climate home cool, but its clean simplicity is also a perfect background to show off rich wood and metal accents. White Mediterranean house walls also provide a clean canvas to showcase colorful garden landscaping.
8. Old-Fashioned Mediterranean House Ideas
If you live in an older Mediterranean house, it may seem a little dark for today's lighter aesthetics. Many older Mediterranean homes have lower ceilings and fewer windows than newer houses on the market.
You can hire a builder to add skylights or extra windows to allow more natural light indoors without changing the overall Mediterranean feeling of your home.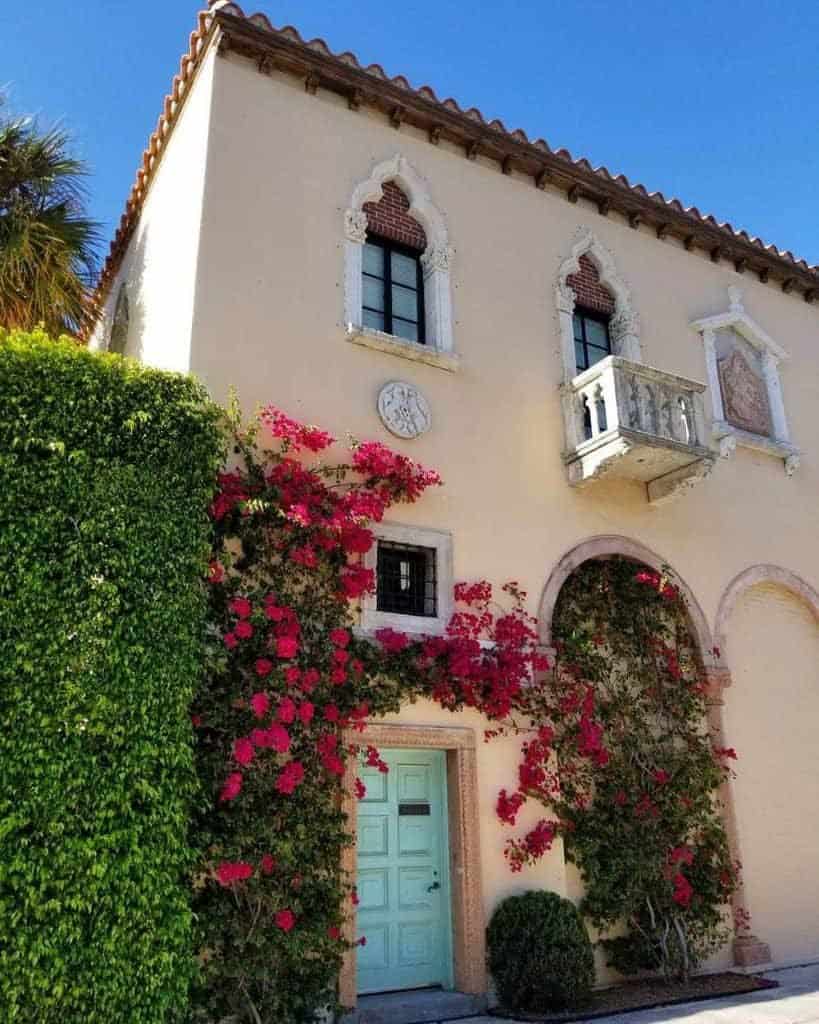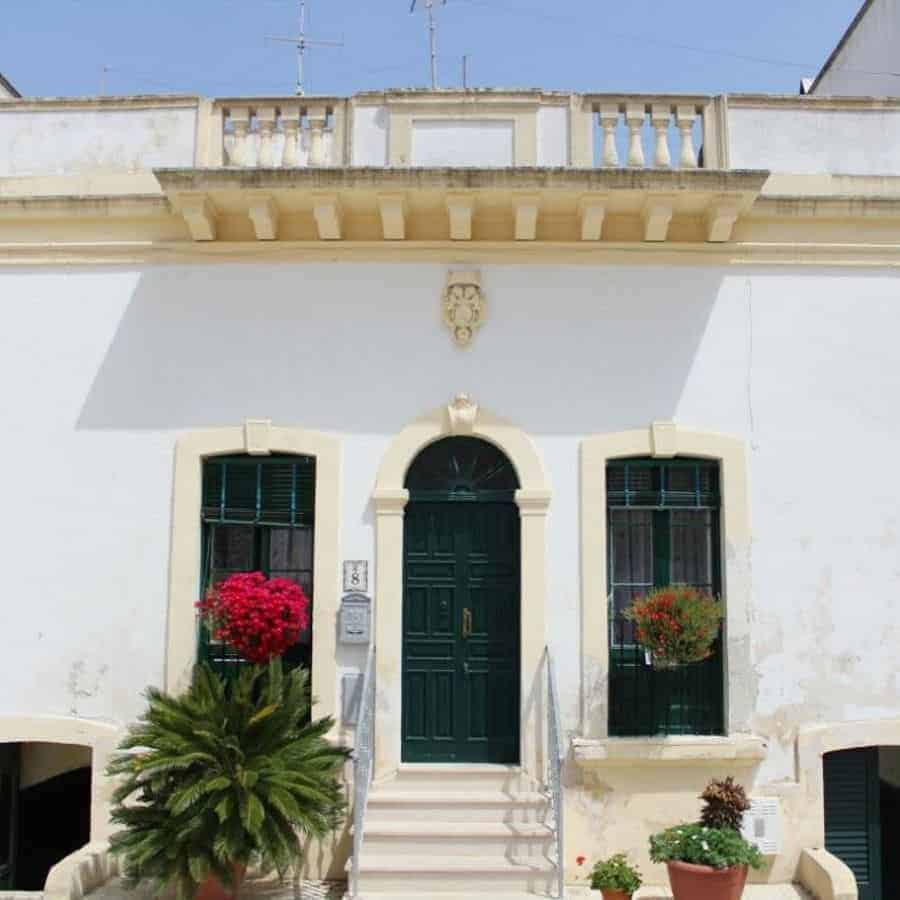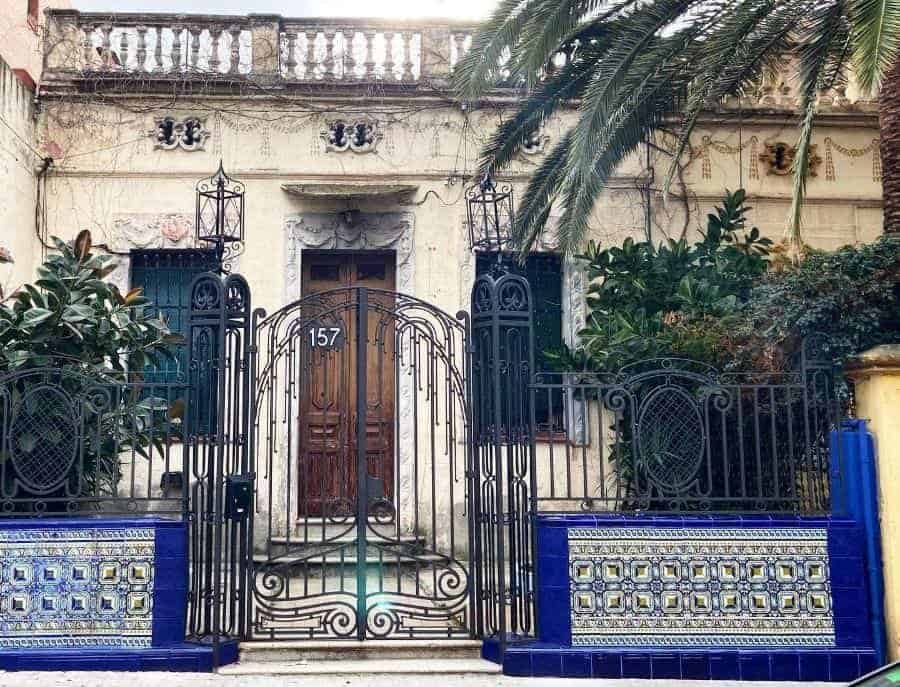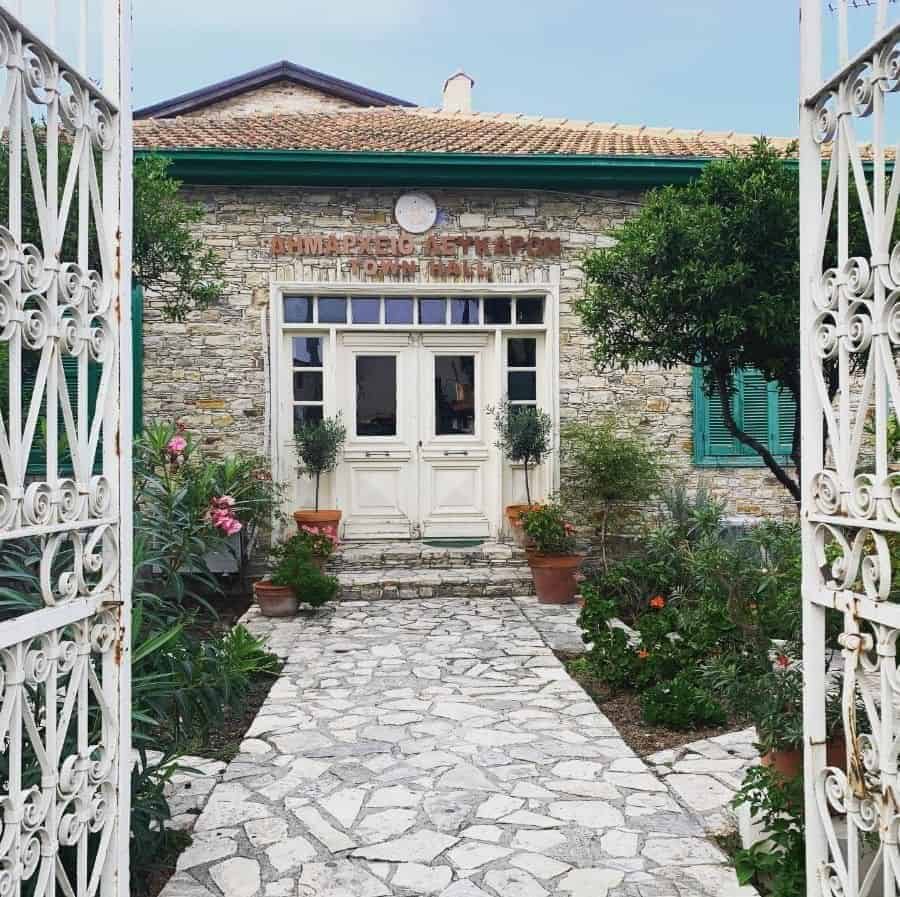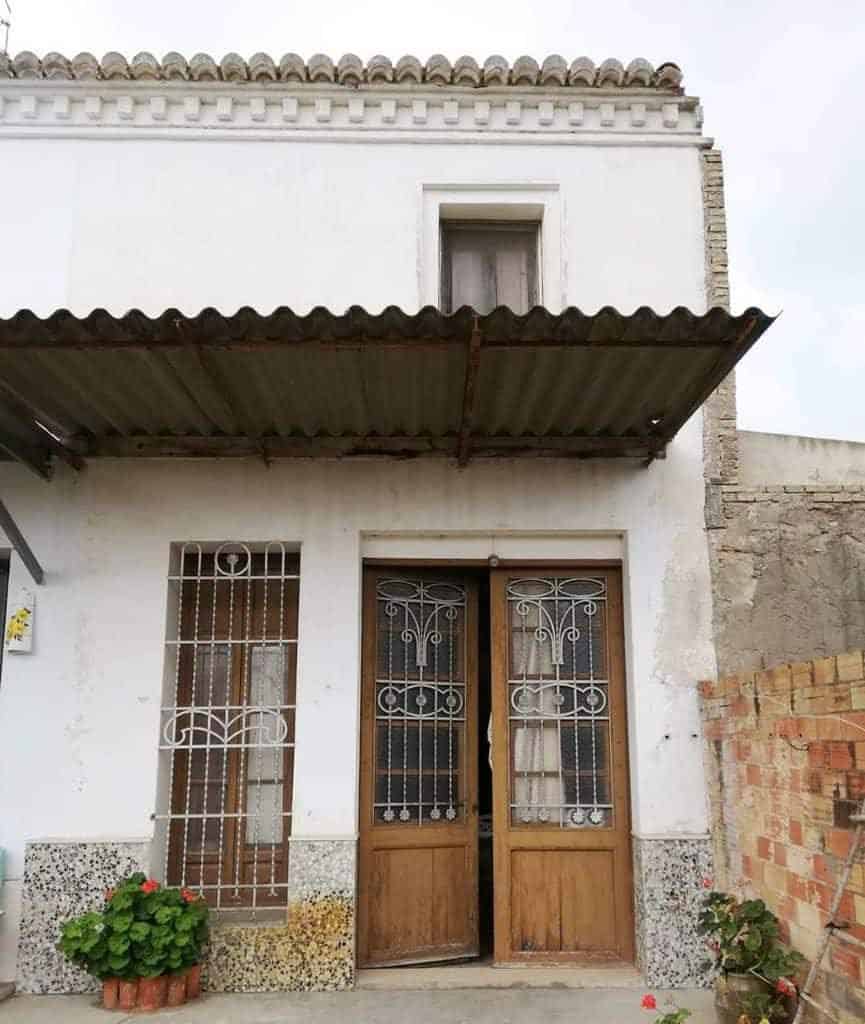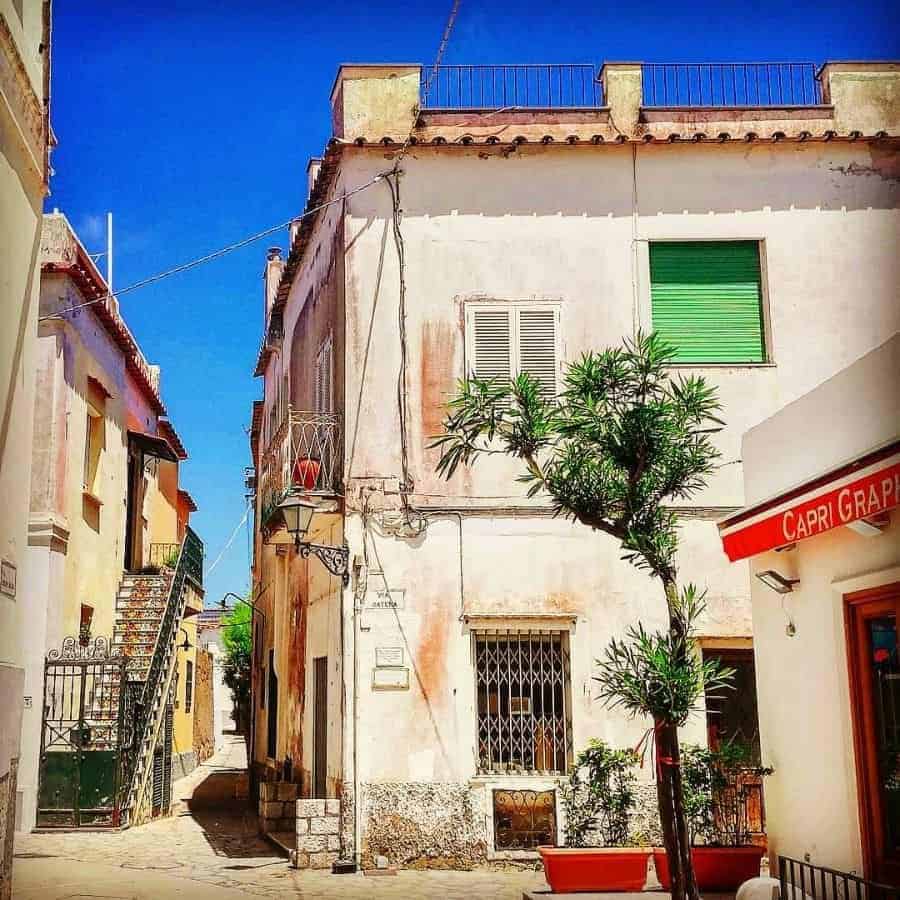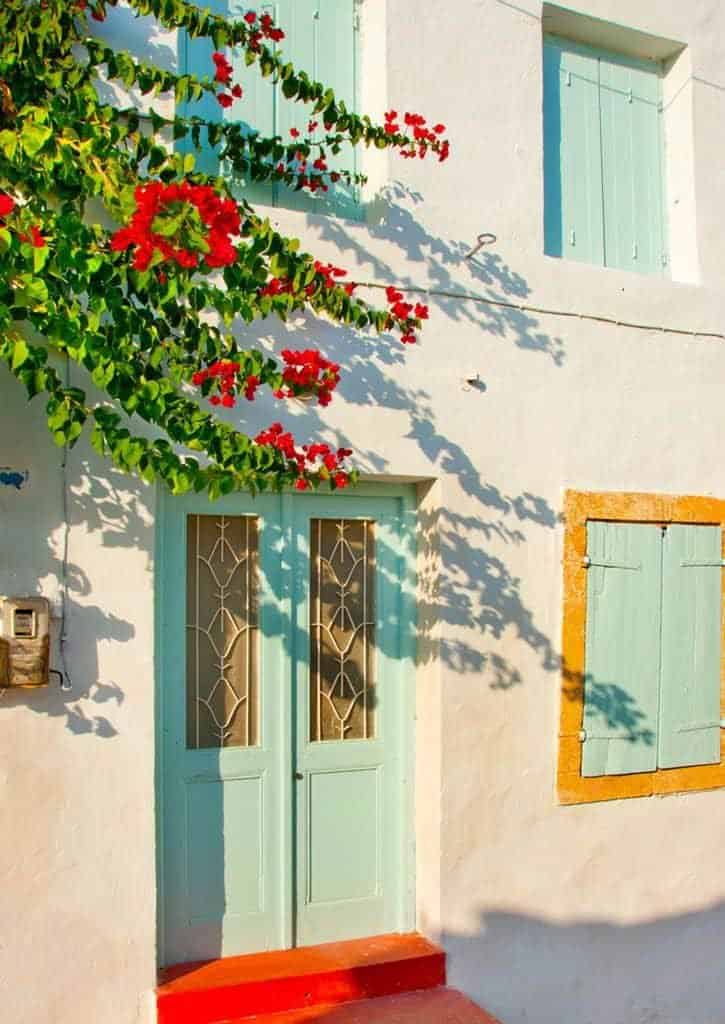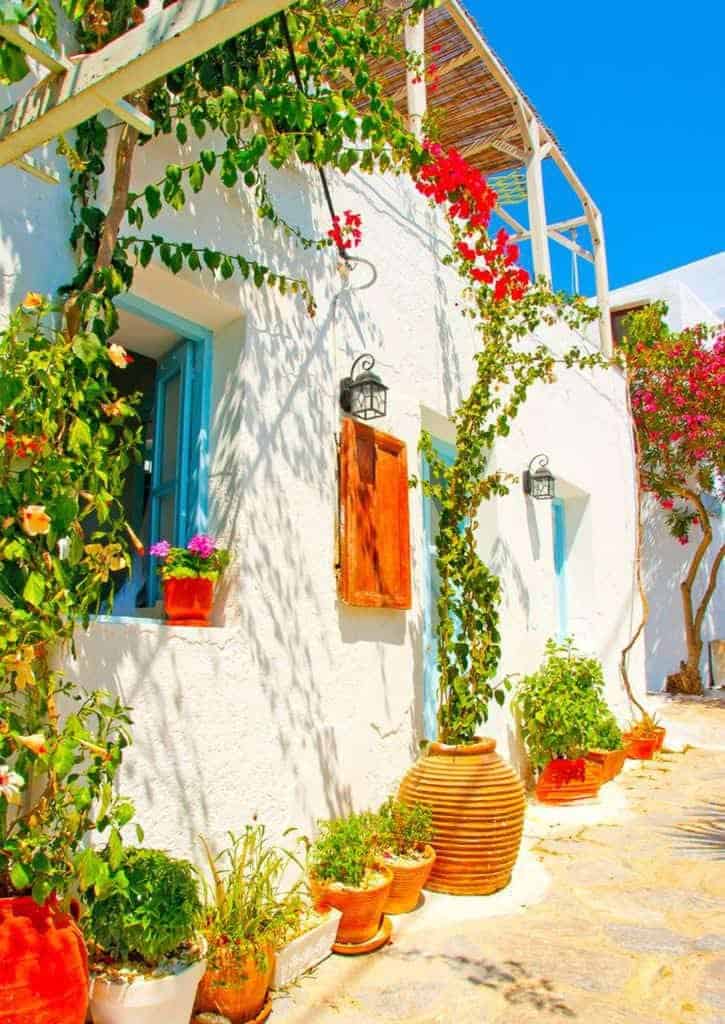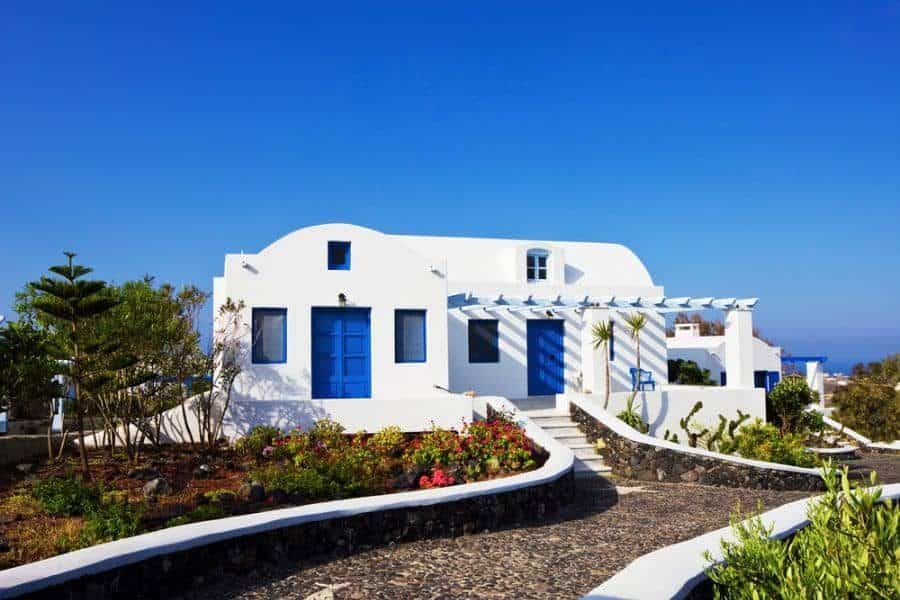 Old Mediterranean style houses also tend to be smaller than many other house plan ideas. If you decide to build on to an older home, be sure to keep a cohesive appearance between the original home and your additions. Repaint the home with white or off-white shades to brighten up the yellow tones used on older homes.
9. Stone Mediterranean Houses
Stone is a popular material that is used in both the interior and exterior of Mediterranean style homes. Stone Mediterranean homes are more common in Europe than in the United States.
While you may sometimes see a Mediterranean home in America with a full stone exterior, stone is more commonly used as an accent material. For example, a staircase or retaining wall may be made of stone while the home's exterior walls are made of stucco.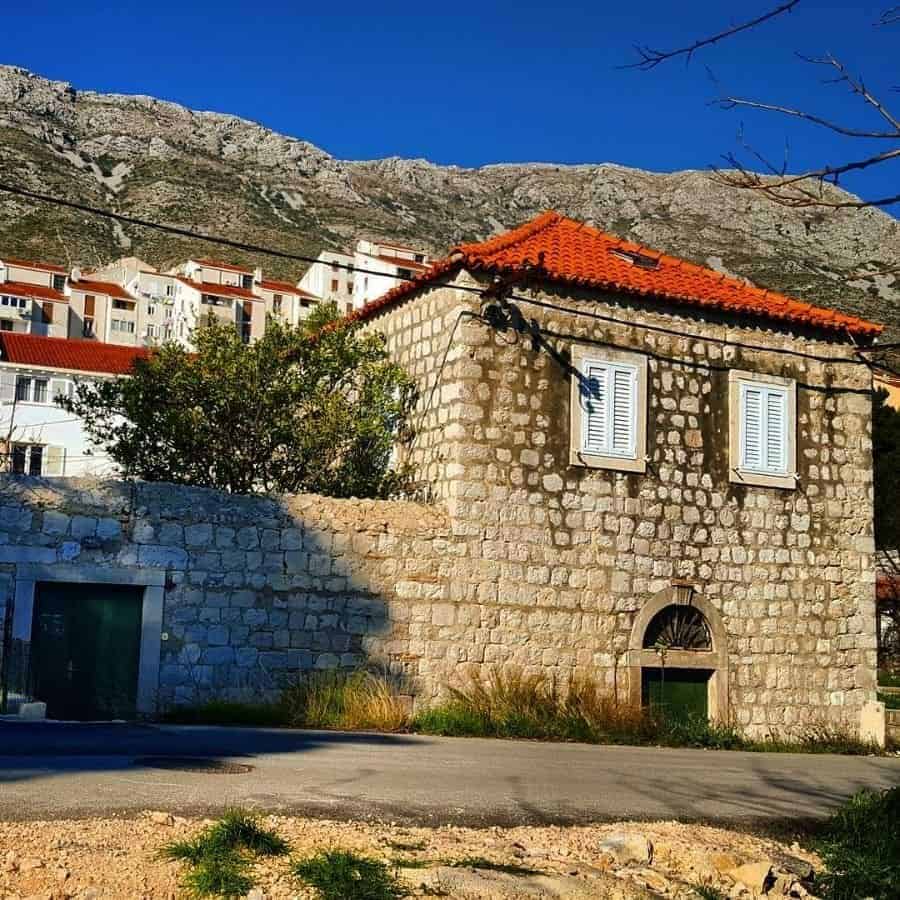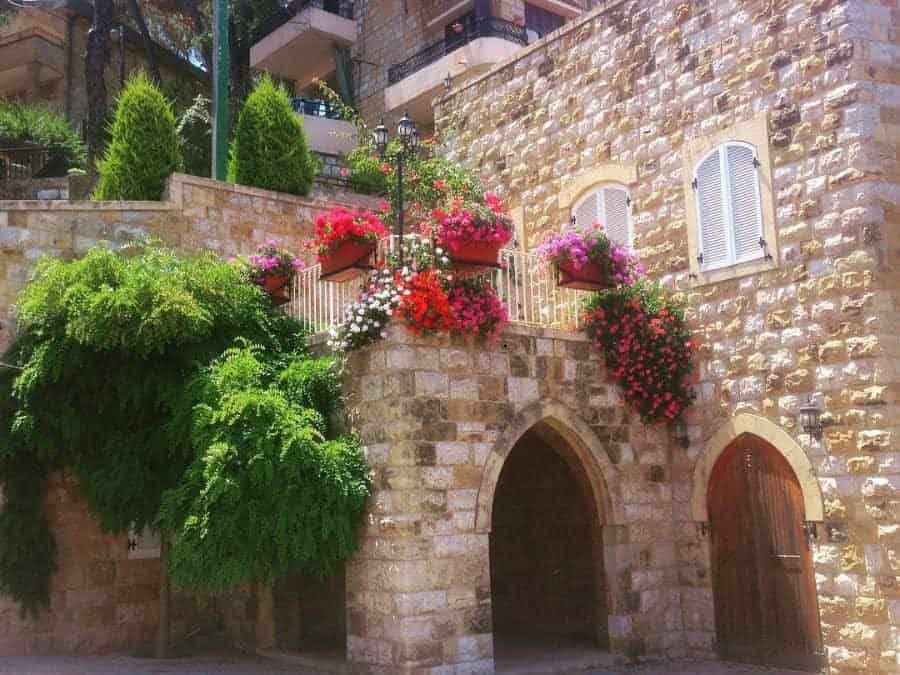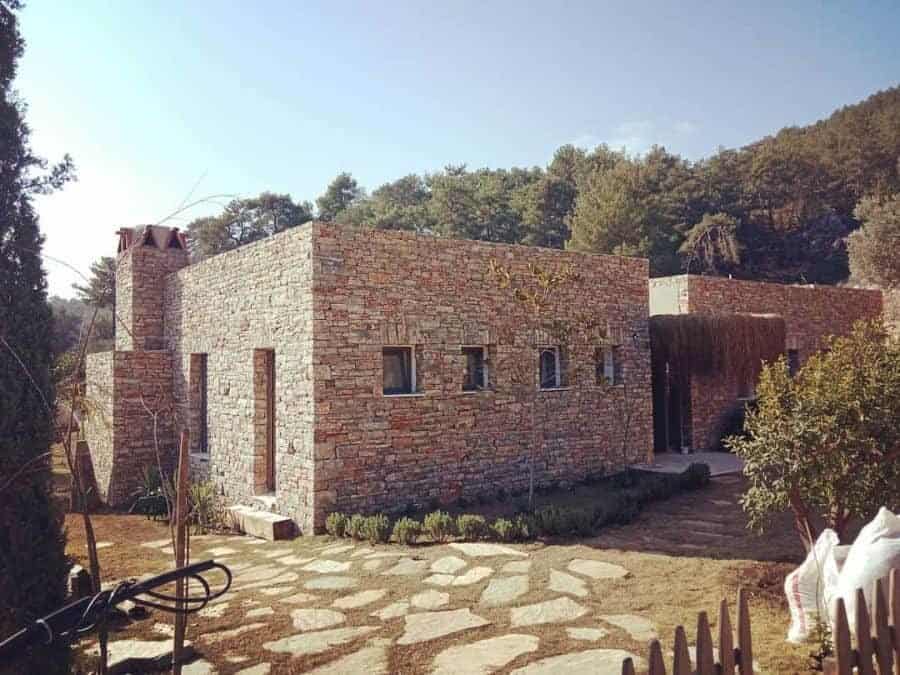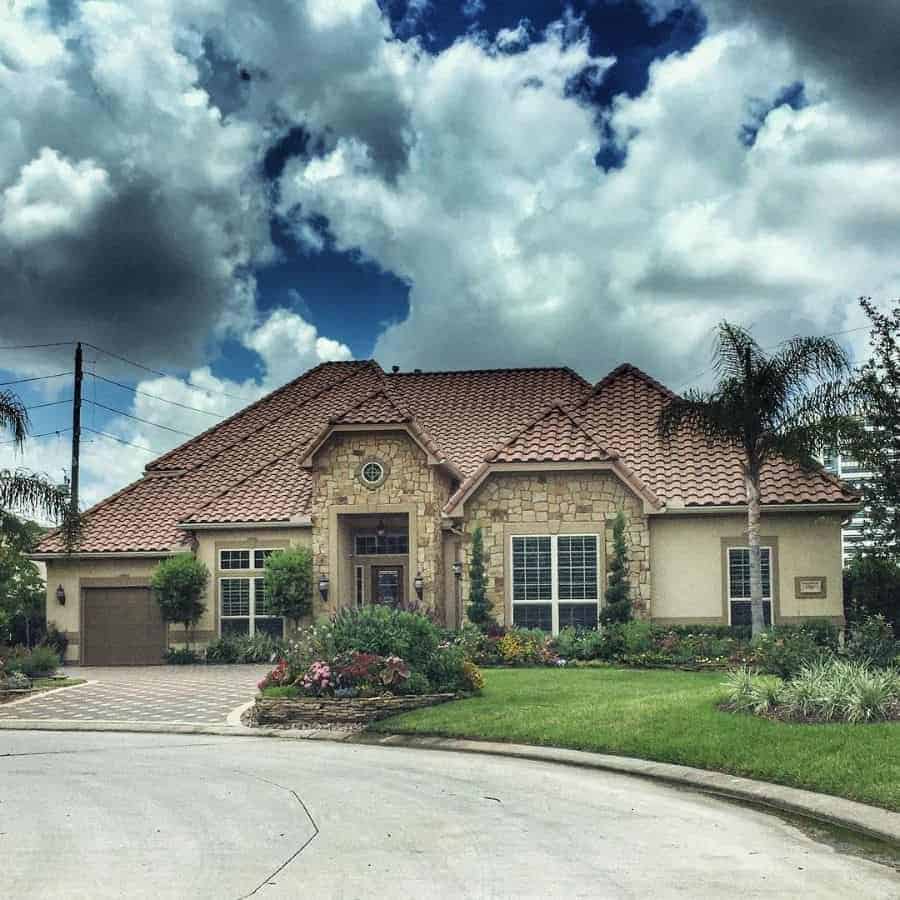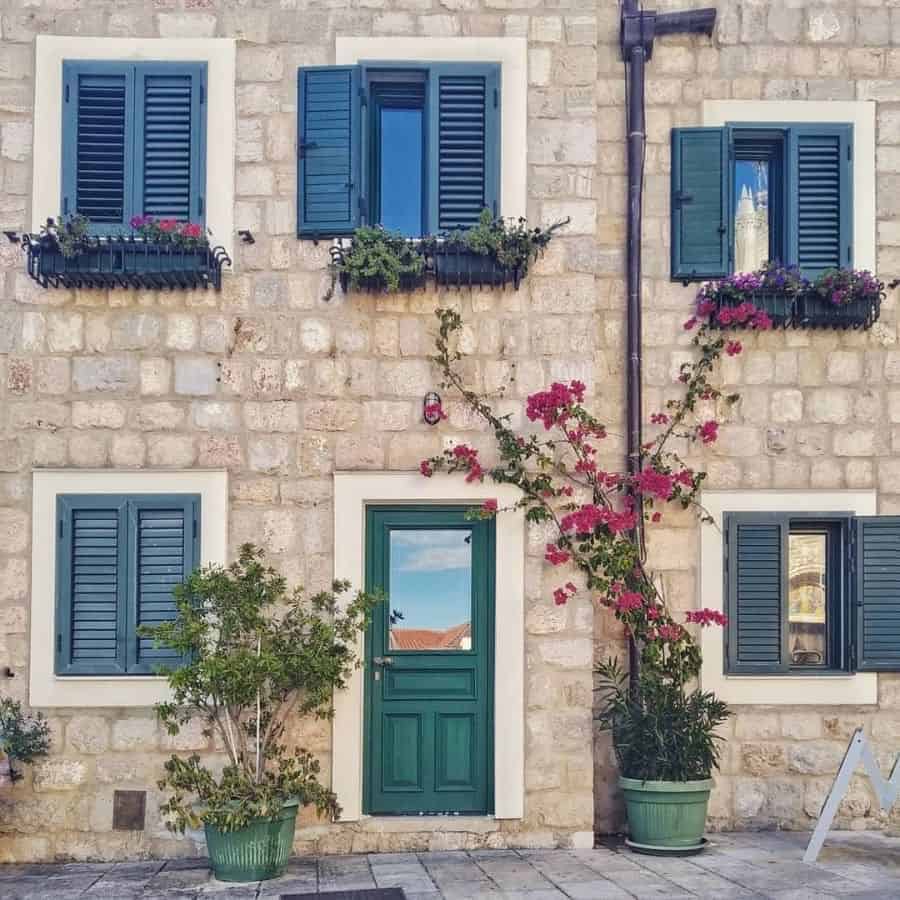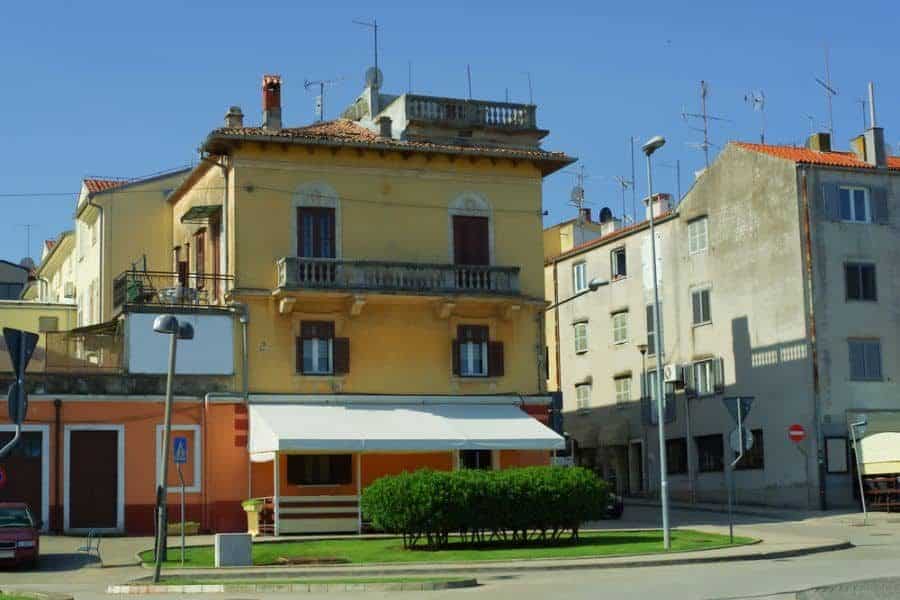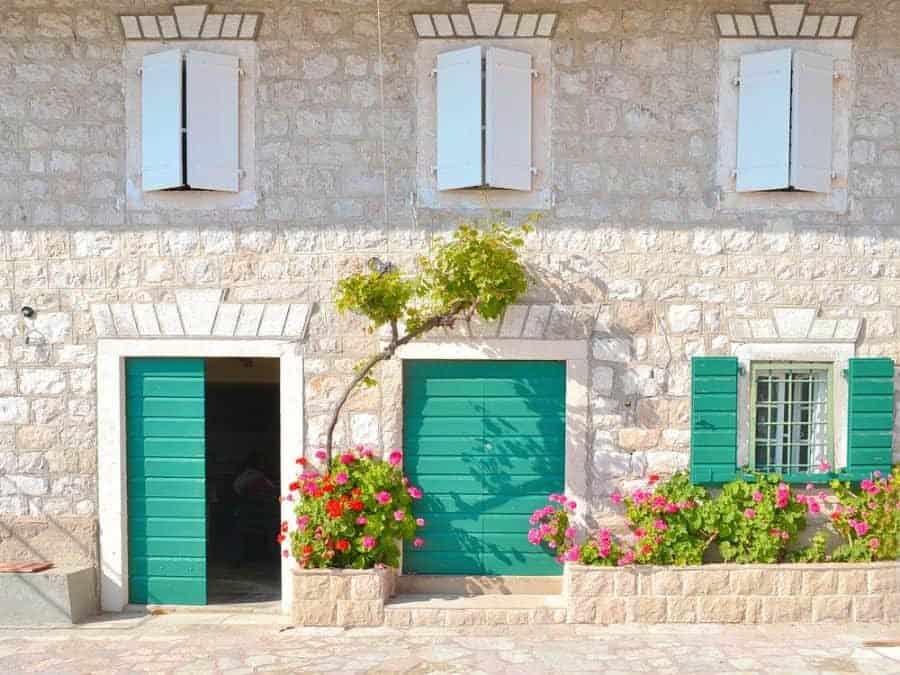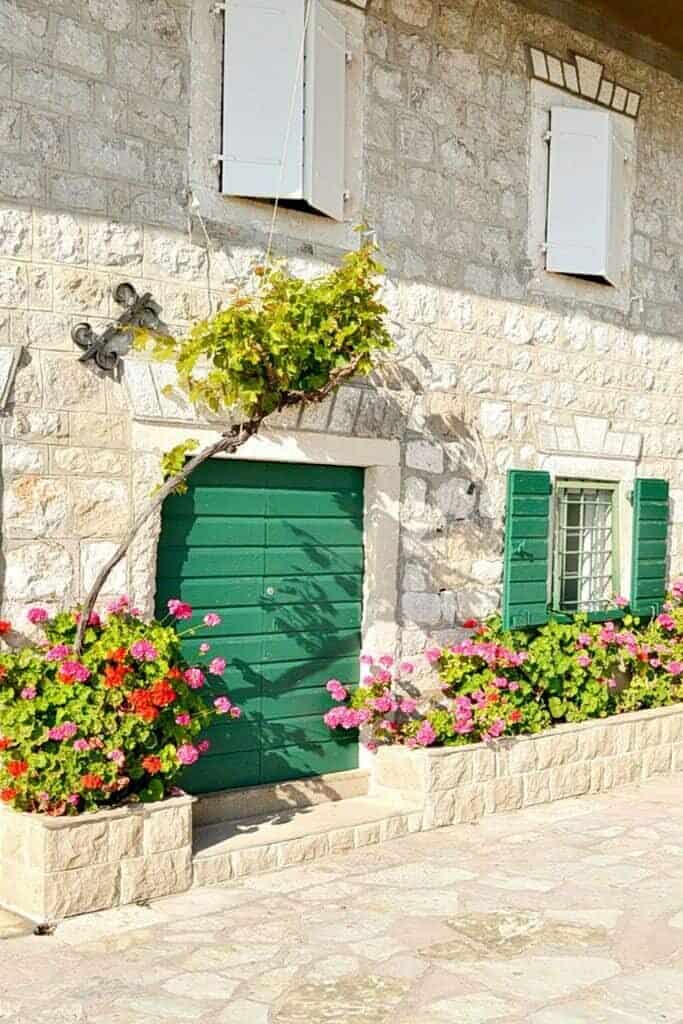 Stone pavers are common worldwide for Mediterranean patios, courtyards, sidewalks, and driveways. Inside the home, stone fireplaces are common in Mediterranean design. Cantera stone, limestone, and manufactured stone veneers are just some of the stone surfaces to use in authentic Mediterranean home design.
10. Simple Mediterranean House Ideas
The very essence of a Mediterranean house plan is simplicity. Each room in the house plan provides a basic foundation to carry your own personal style, whether that is simple or complex. Simple floors, wood accents, and few details allow you to decorate however you please.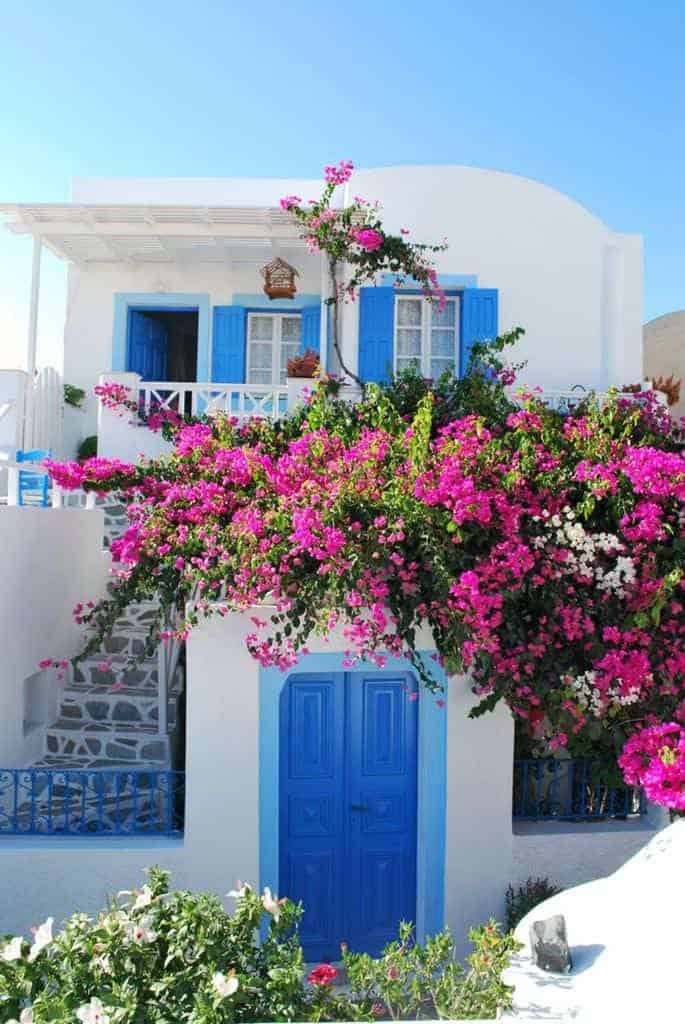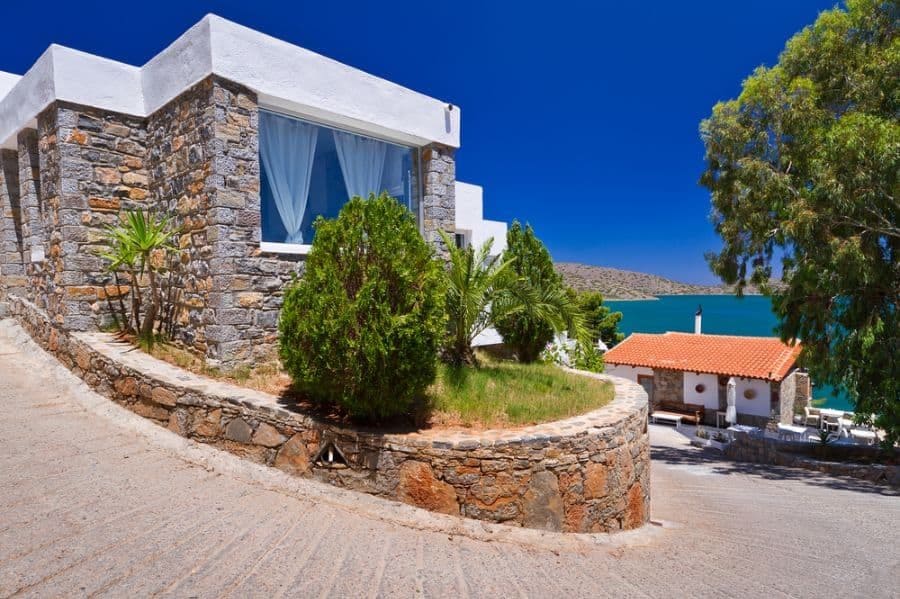 While some Mediterranean homes are large and luxurious, most are smaller examples of simplicity. Mediterranean style works well for small dwellings, such as villas, bungalows, and cottages. Entire neighborhoods in California and Florida are built of small Mediterranean inspired homes with stucco walls and tile roofs.
11. Huge Mediterranean House Ideas
When Mediterranean floor plans come to mind, we tend to think first of the classic, low profile, single-story home. However, some of the most memorable Mediterranean houses are the large, grand haciendas and estates built in Spanish or Tuscan style. With a giant foyer, sprawling central courtyard, and a two-story living room ceiling, these multi-storied Mediterranean house plans make an impressive first impression.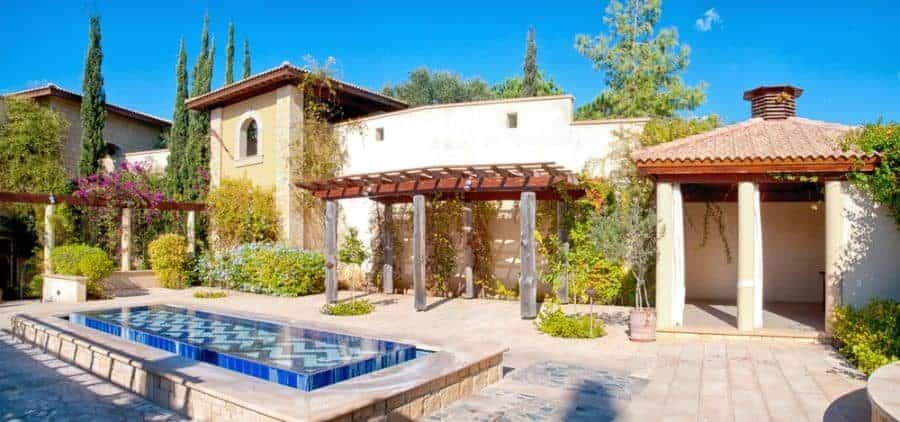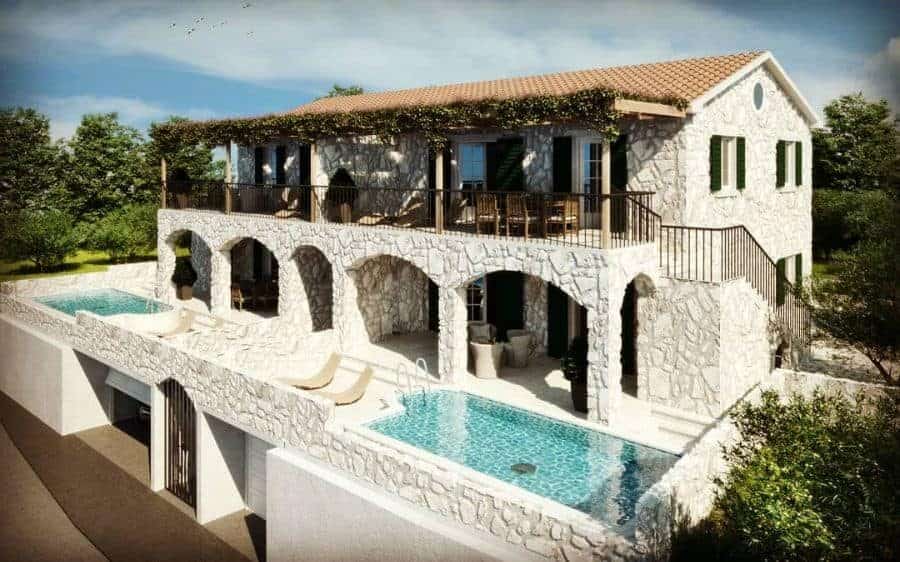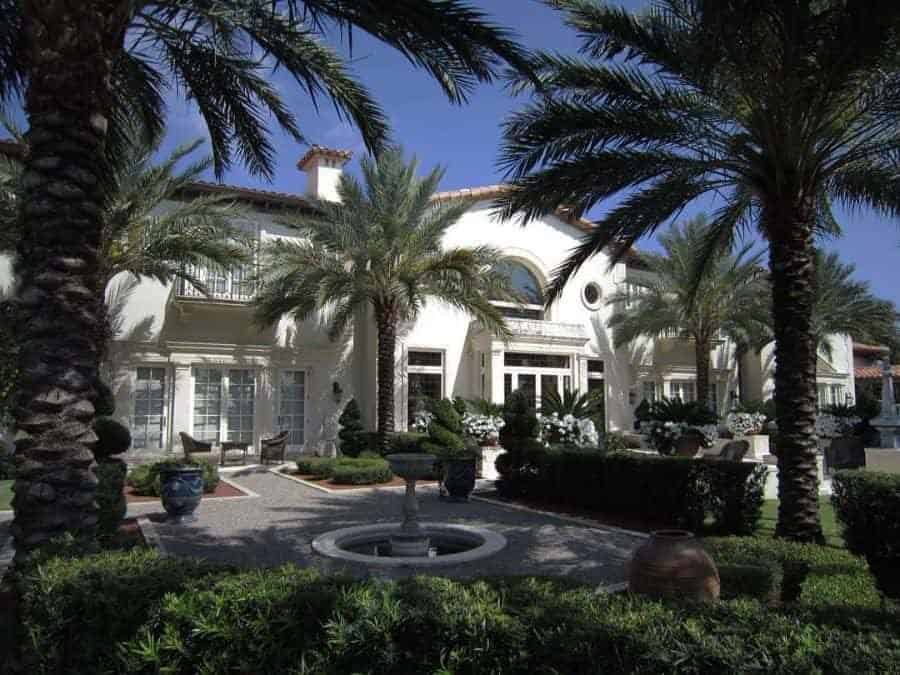 A large Mediterranean house will usually have multiple balconies on the second floor, fenced with wrought iron railings. A double-story arched window may illuminate the foyer or dining room, or there may be tall arched windows beside a floor-to-ceiling fireplace. A guest suite is a must in a huge Mediterranean house. If your guest suite's bathroom or master bathroom needs sprucing up, see how amazing it looks to paint the cabinet in Mediterranean style:
12. More Mediterranean House Ideas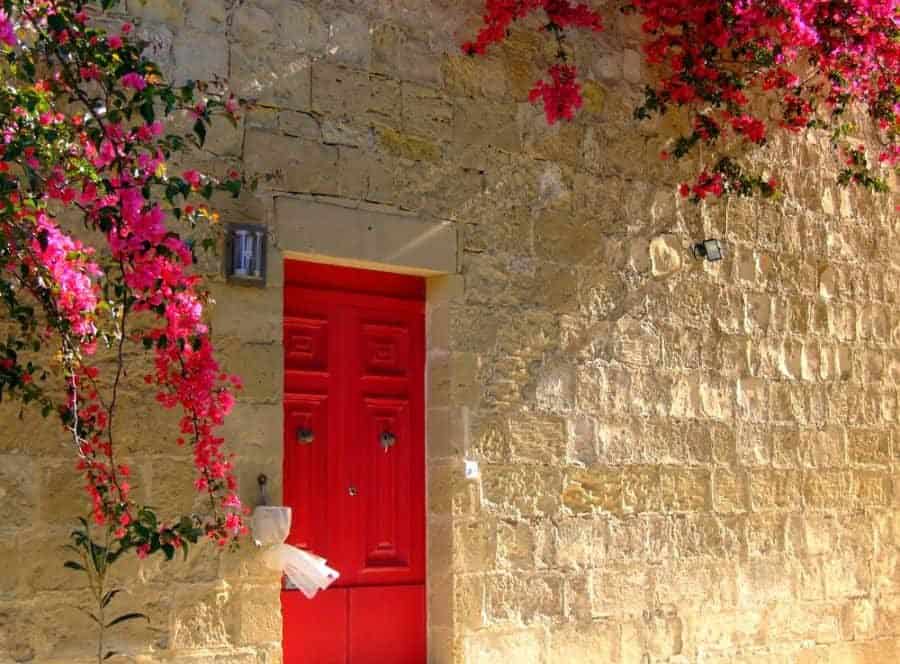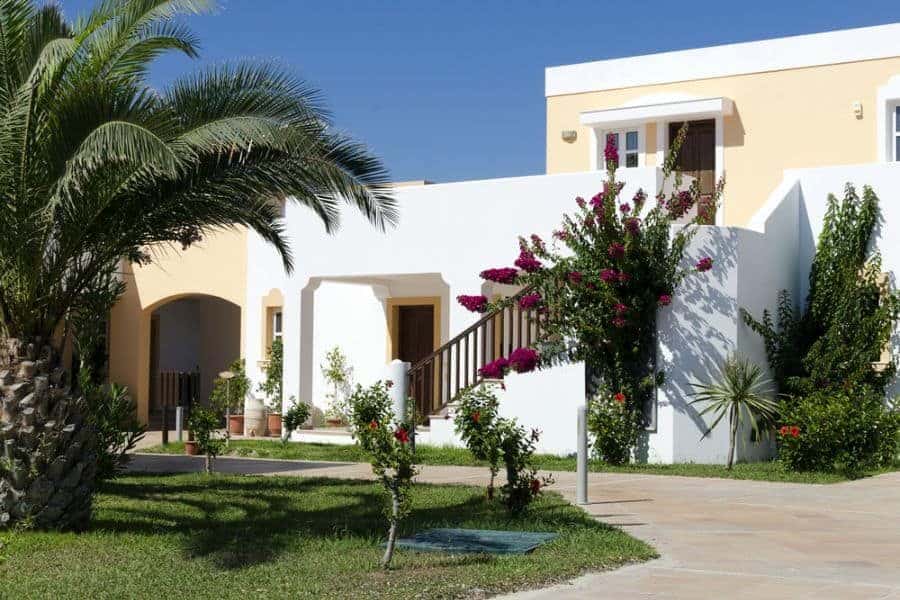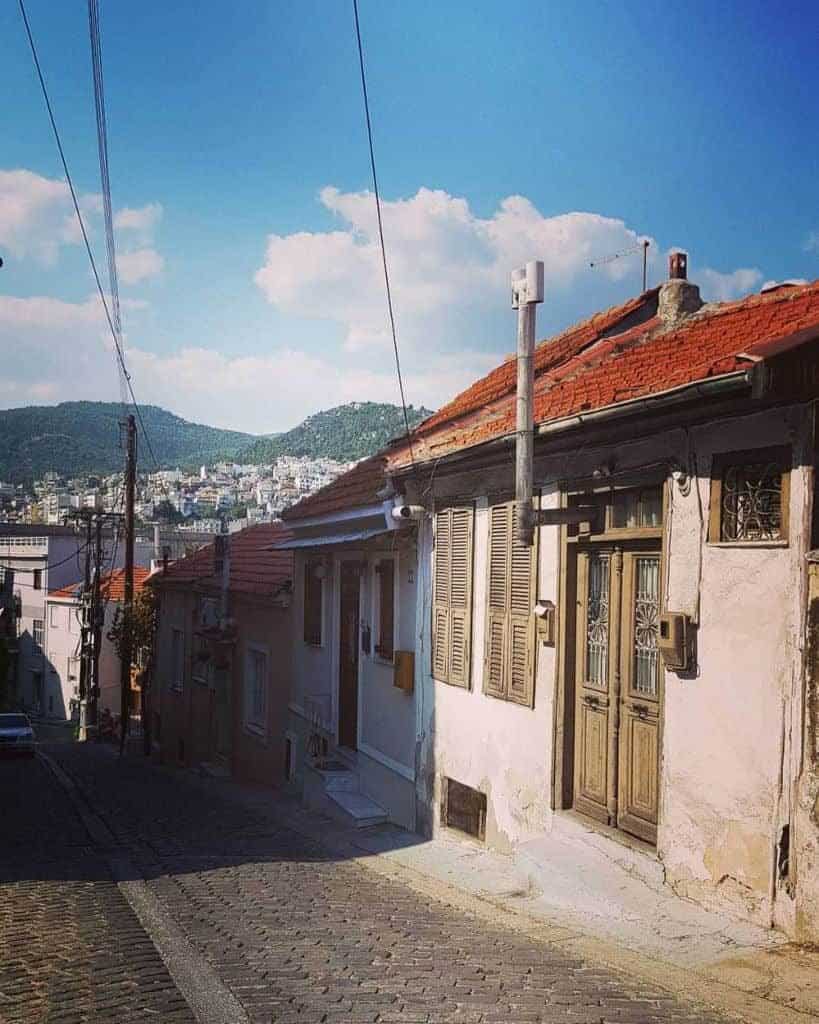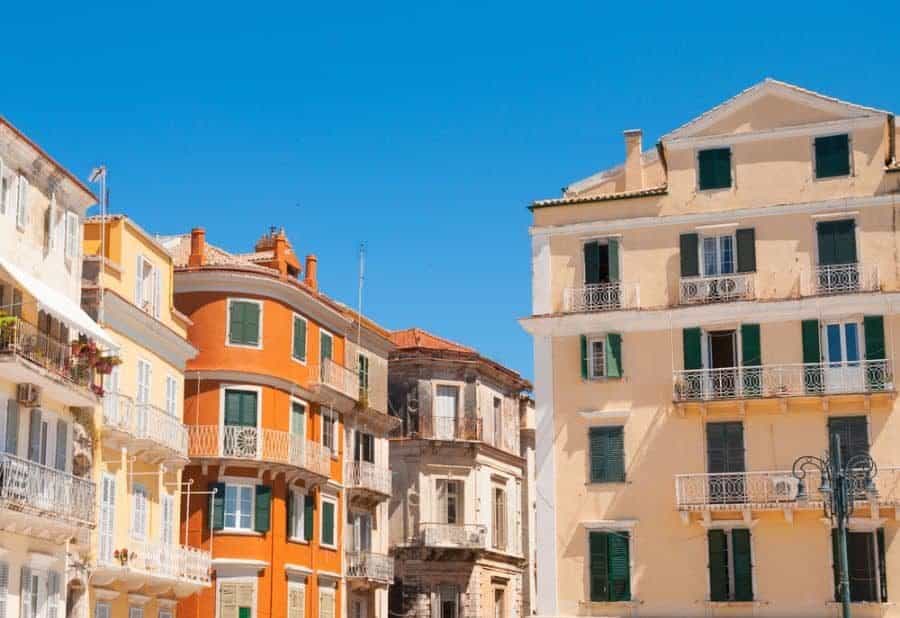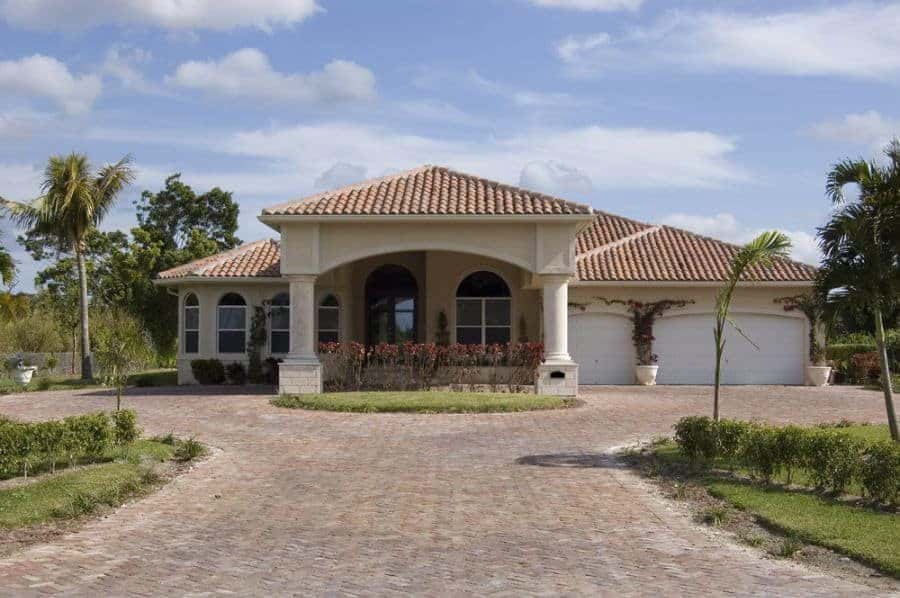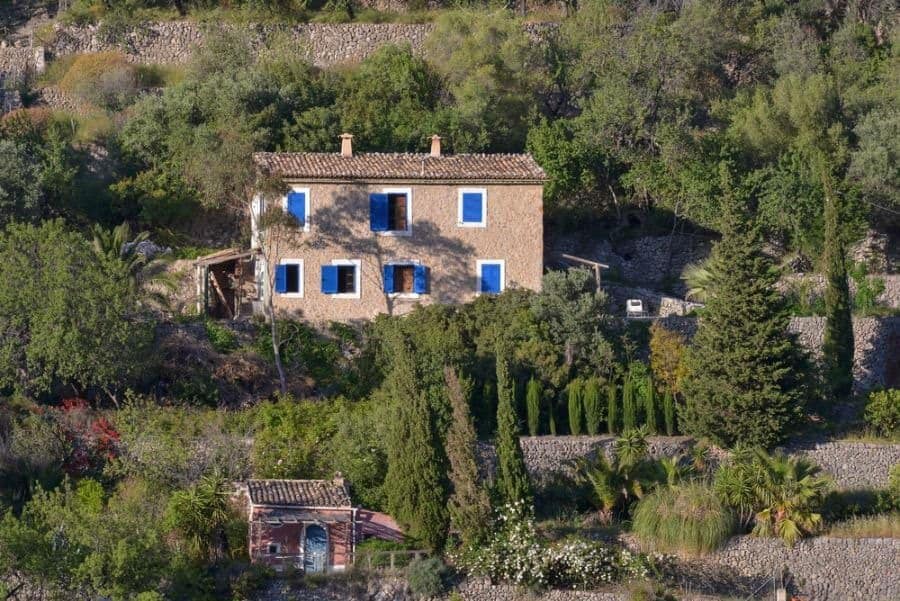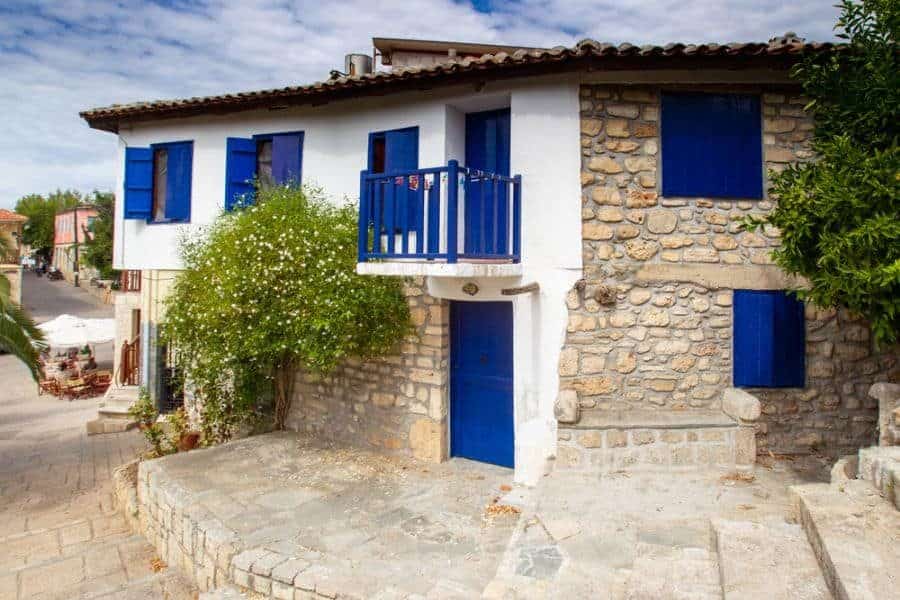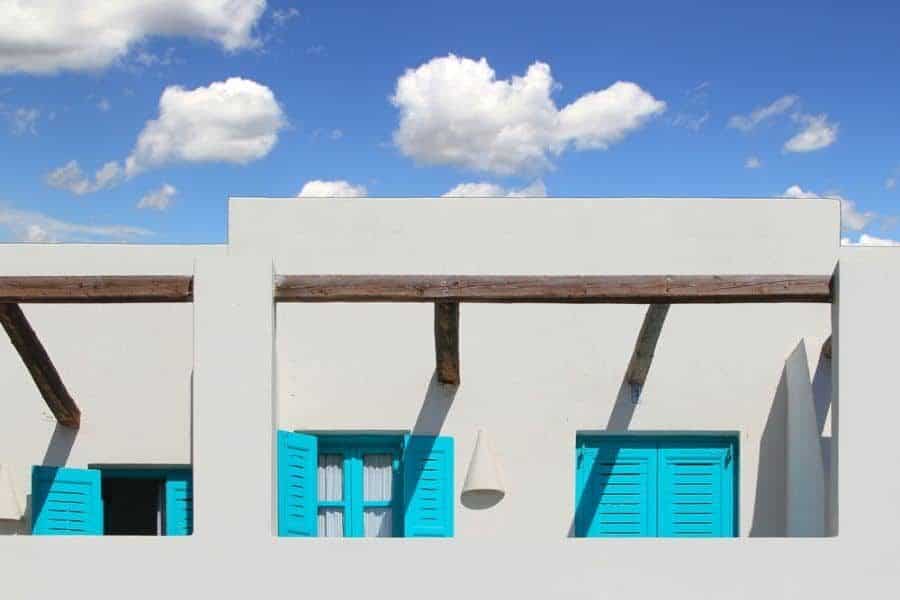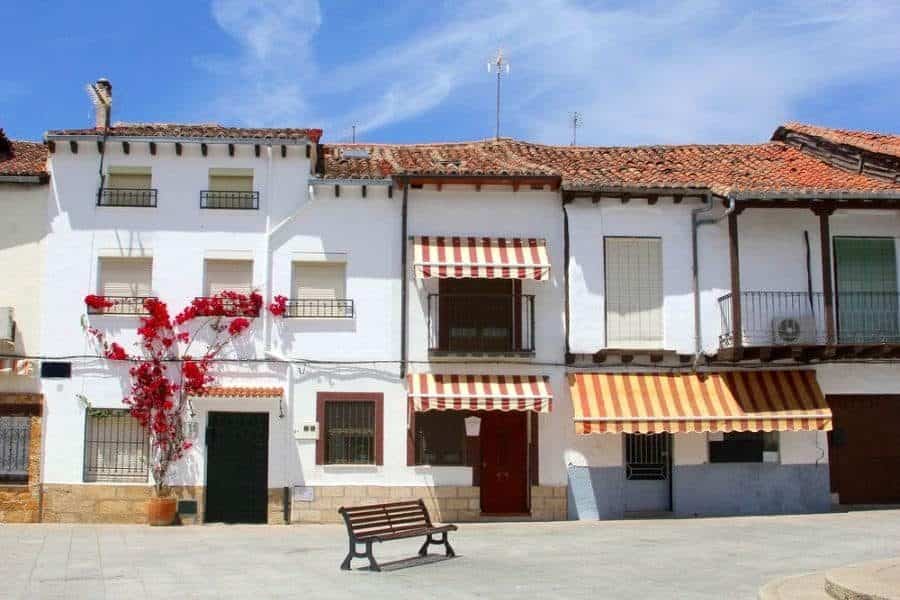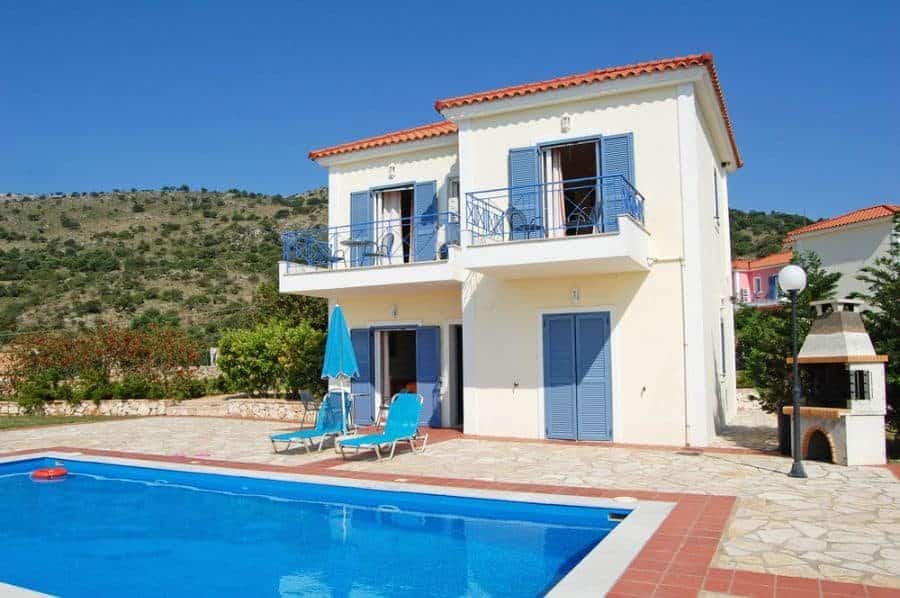 Mediterranean House FAQs
What does "Mediterranean style house" mean?
A Mediterranean style house is one designed in the style of homes located around the Mediterranean Sea. Designed to accommodate the unique needs of living in a warmer climate, these homes often feature inner courtyards and generous patios. Stucco walls, a tile roof, and arched windows are all features of a Mediterranean style home.
Where are Mediterranean houses located?
Mediterranean houses used to only be located in the beautiful Mediterranean countries including France, Italy, and Spain. However, they can now be found around the globe. Sometimes called Spanish style homes in the US, these houses are easily recognizable by their rough plaster exteriors, sprawling profiles, terra cotta roof tiles and arched doorways and windows.
What is the difference between Tuscan and Mediterranean style?
Although these are two similar types of architectural style, Mediterranean home design incorporates elements from around the Mediterranean area. These include influences from Greece, Turkey, Morocco, France, and Spain. Tuscan style focuses only on the design elements common in Italy, particularly the Tuscany region of central Italy.