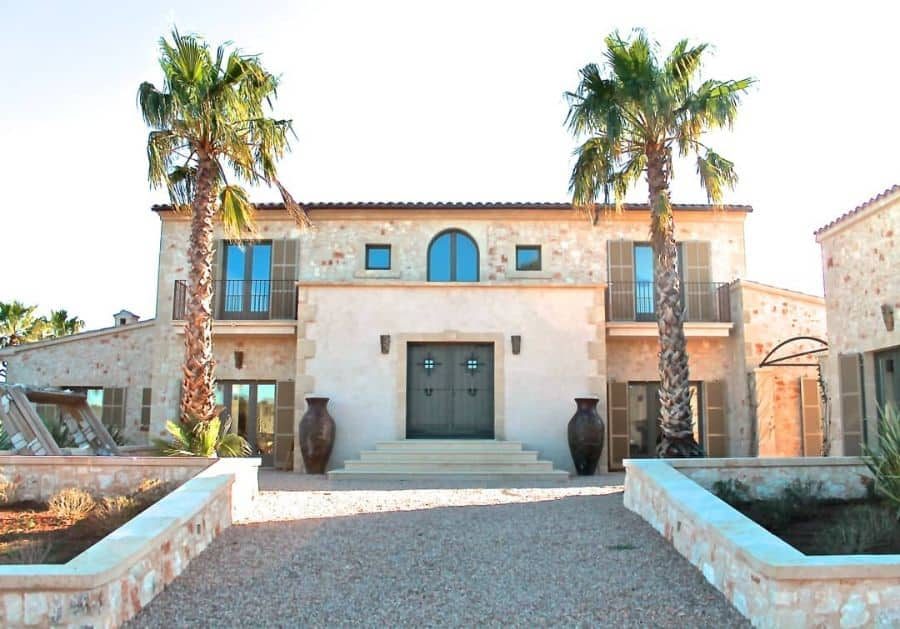 74 Mediterranean House Ideas
by — Kari Apted

Published on January 15, 2021

Updated on April 27, 2023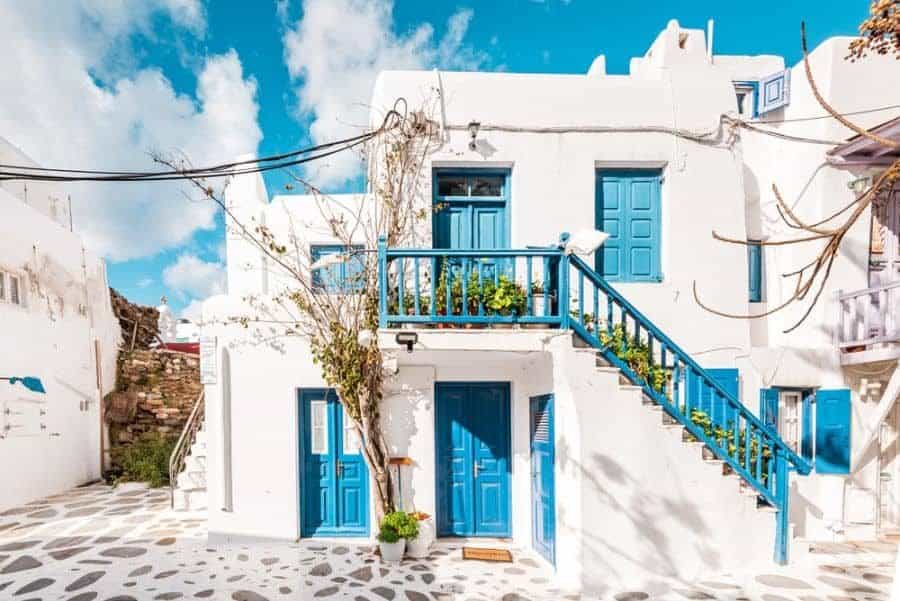 "Marseilles, Barcelona, Trieste, Istanbul—each romances the Mediterranean in its own fashion, mostly by embracing the sea in sweeping C-shaped bays that date back to antiquity." – Andre Aciman
The Mediterranean region encompasses all countries that surround the Mediterranean Sea. Regardless of location, many of theses homes share similar architectural characteristics that began emerging in the 10th and 11th centuries.
Mediterranean home design includes rough stucco exterior finishes, tile roofs, central courtyards, and a warm color palette.
Mediterranean architectural style started appearing in the United States in the early 1900s and slowly became a popular house plan in warmer climates.
It continues to be a favorite home style in Florida, California, and throughout the Southwest. Look through this gallery and find out why the warm, welcoming design of a Mediterranean home may be the best for you.
1. Opt For A Vibrant Color Scheme
If you're looking to add a burst of energy to your living space, consider creating a colorful Mediterranean house. Making the most of vibrant colors like blue, pink, orange, and yellow can create an atmosphere that is both bold and inviting.
Accessories such as bright tiles, murals, and patterned fabrics invoke the feeling of sunshine-filled days – perfect for conjuring nostalgia and joy. With creative accents throughout your house, you can achieve the look of a classic Mediterranean home without having to travel abroad.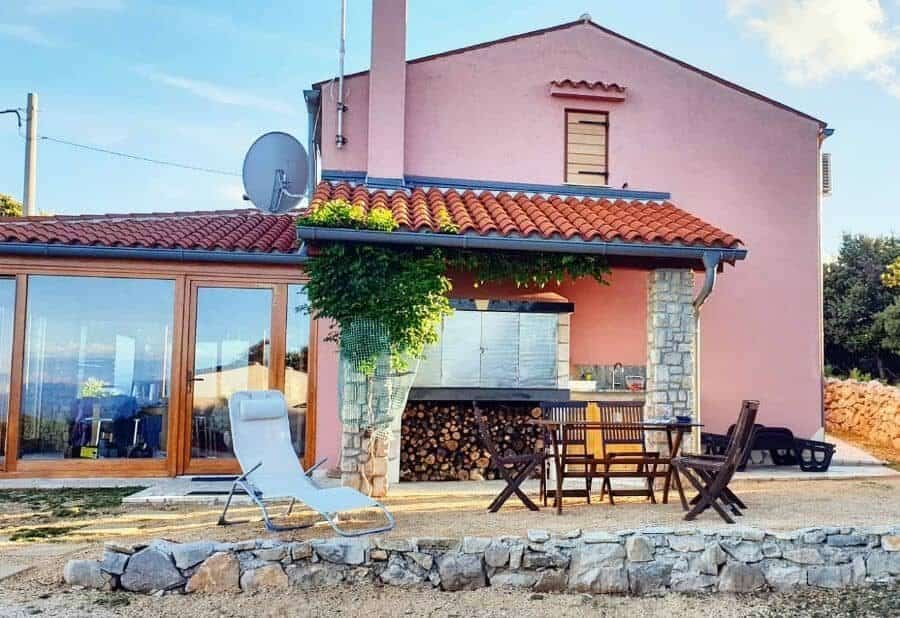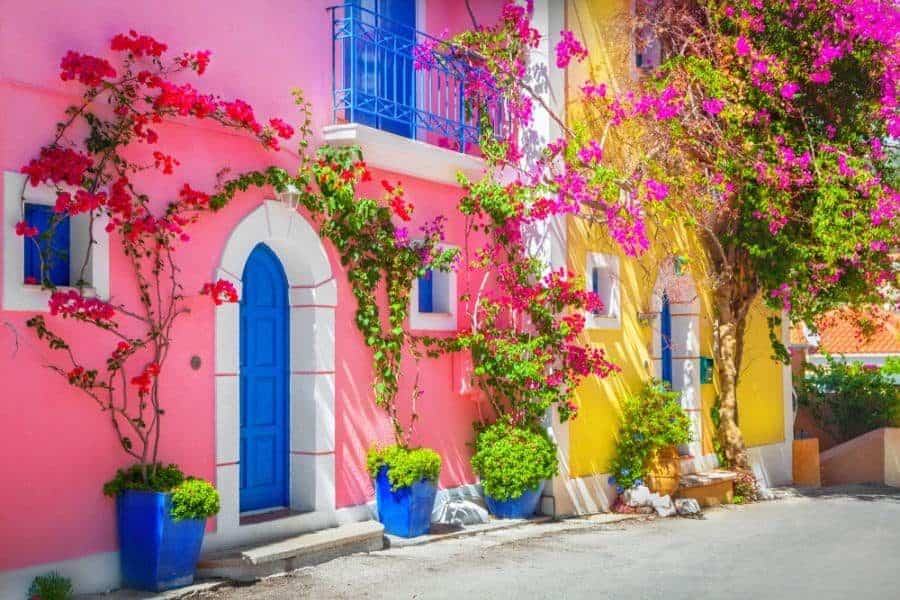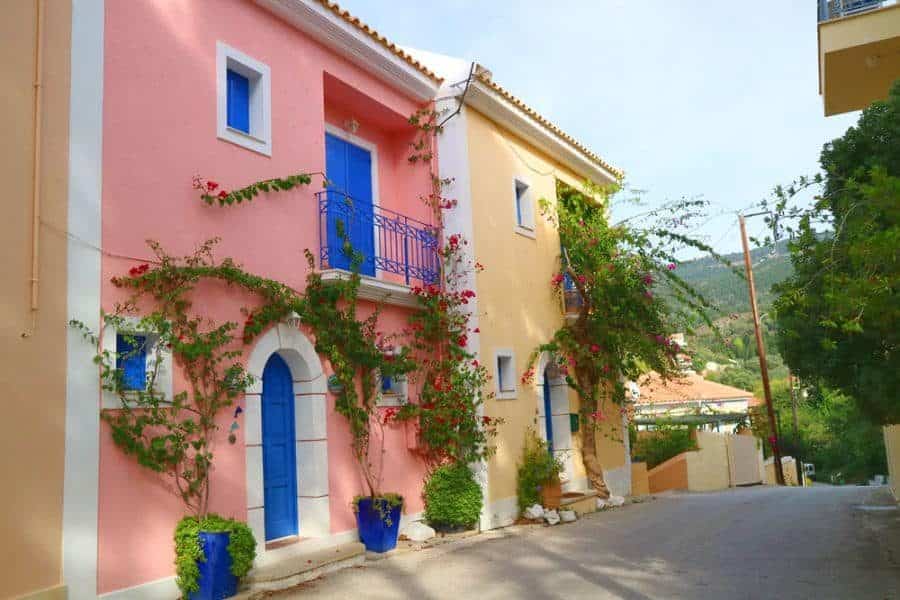 2. Consider A Balcony
Turn your ordinary Mediterranean home into a classic dream by building a grand balcony! This striking feature can add so much to the style and aura of your house. Make it stand out from the rest with wrought iron railings and shutters.
There's no better way to relax than to lounge around on this sun-soaked terrace while taking in the gorgeous views of the sea or countryside. Or set up a romantic candlelit dinner – whatever you choose, make sure that this Mediterranean house with a balcony looks absolutely stunning!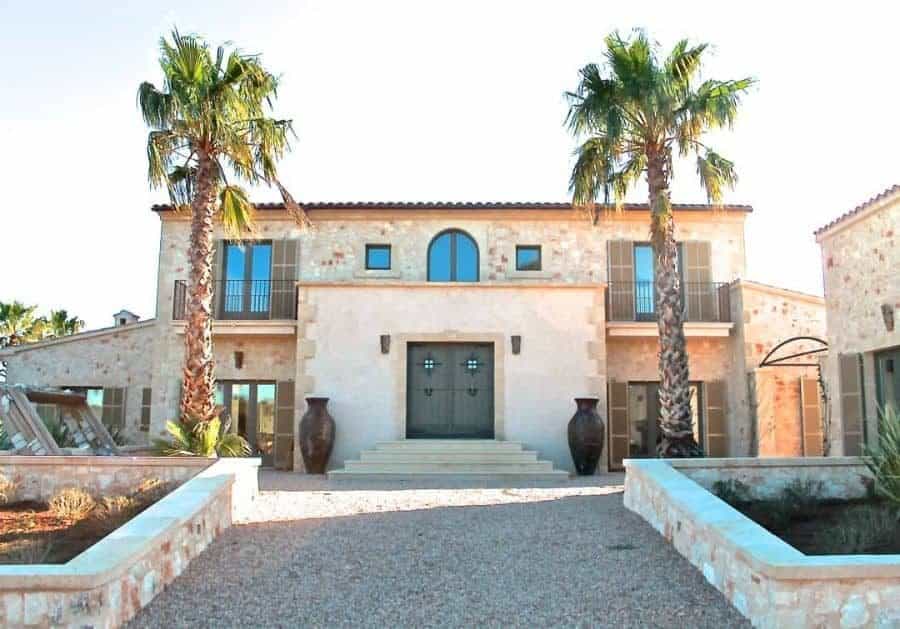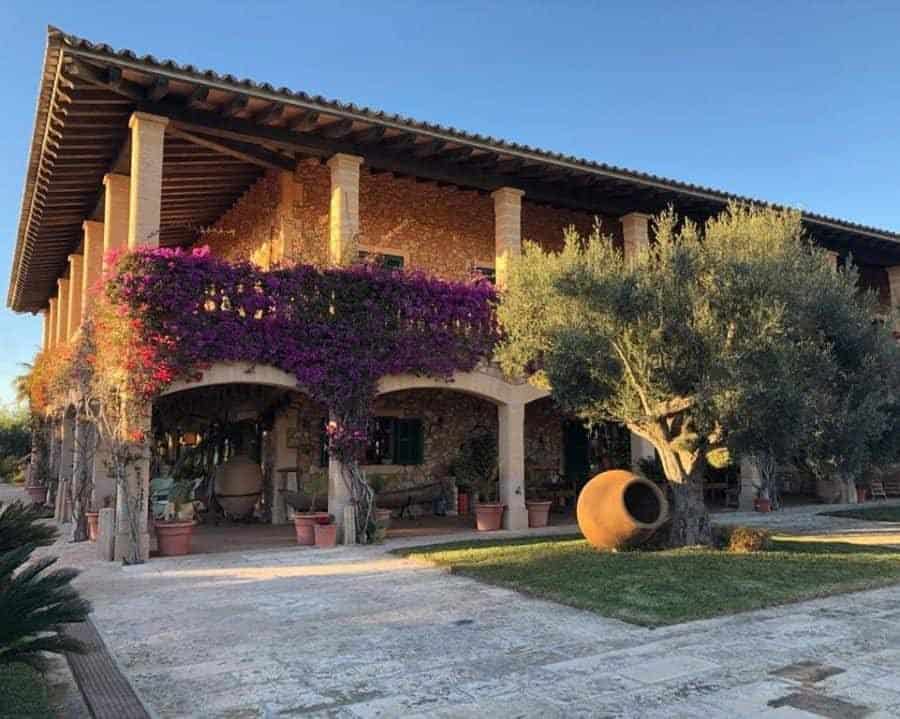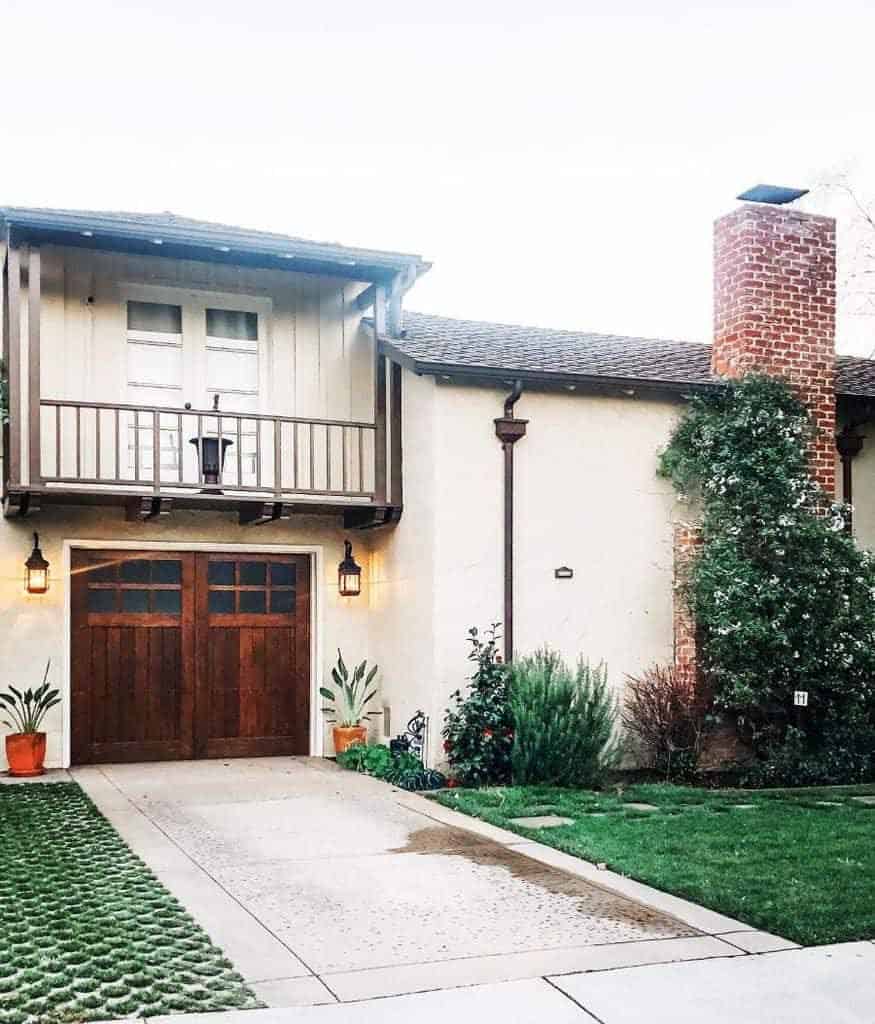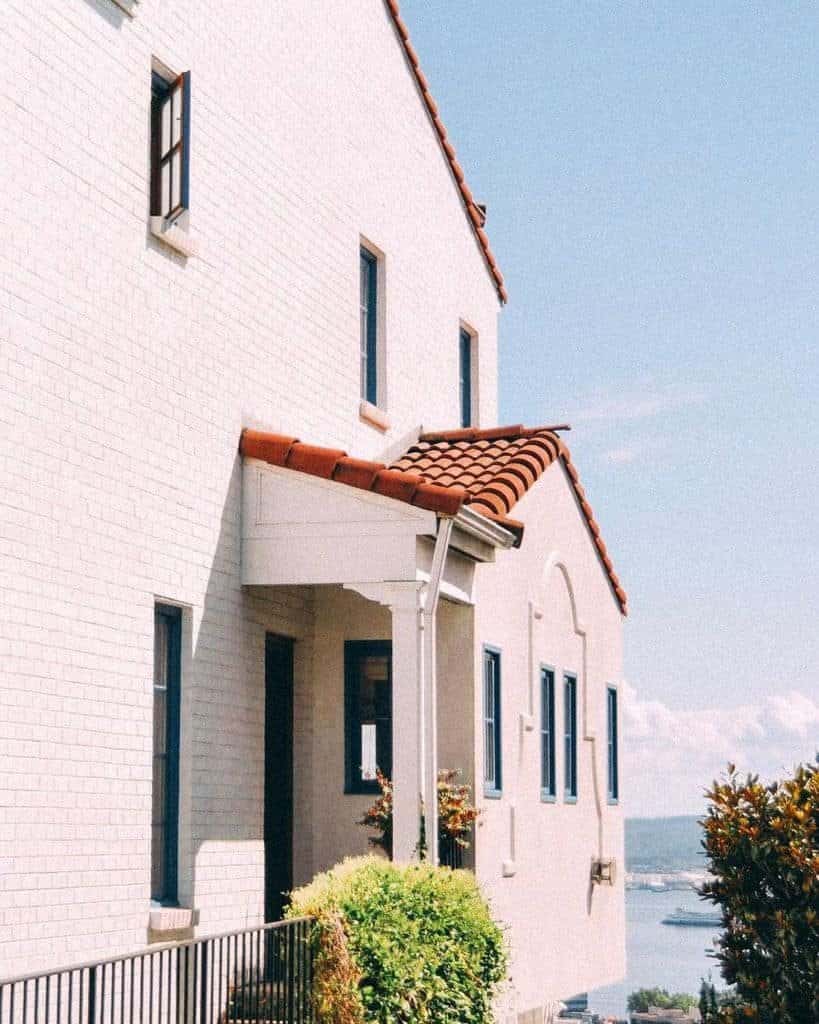 3. Design With Rounded Arches In Mind
If you're looking to create a Mediterranean-inspired home, the first thing you should consider is that rounded arches are an integral part of this style. Think of ancient Roman and Spanish architecture, with its hallmark arched frames and windows—you want to capture that look in your own house. Consider exterior materials like stone, stucco, or tile, as well as interior elements such as exposed beams and ornate accents.
Look for ways to bring together these subtle details by placing them strategically throughout the house, such as adding hand-carved wood front doors, or including delicately wrought iron railings on terrace stairs. All these touches help give your Mediterranean-style home an aura of charm and grandeur, making it a truly inspirational place for you to live in for years to come!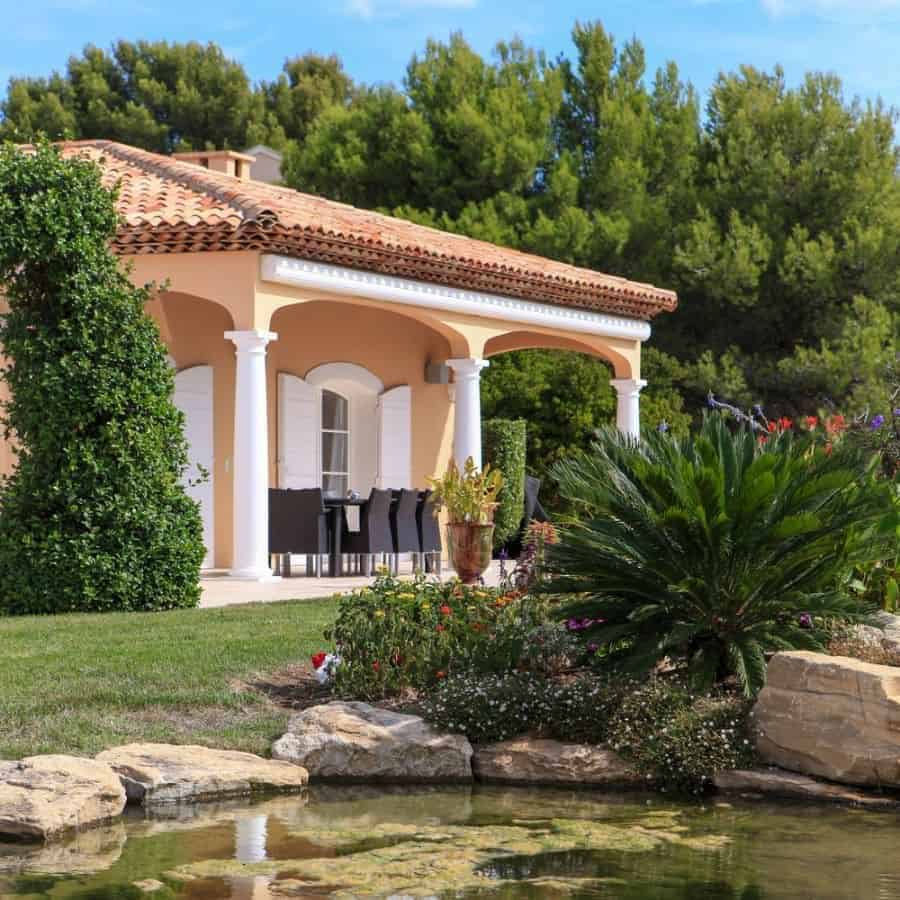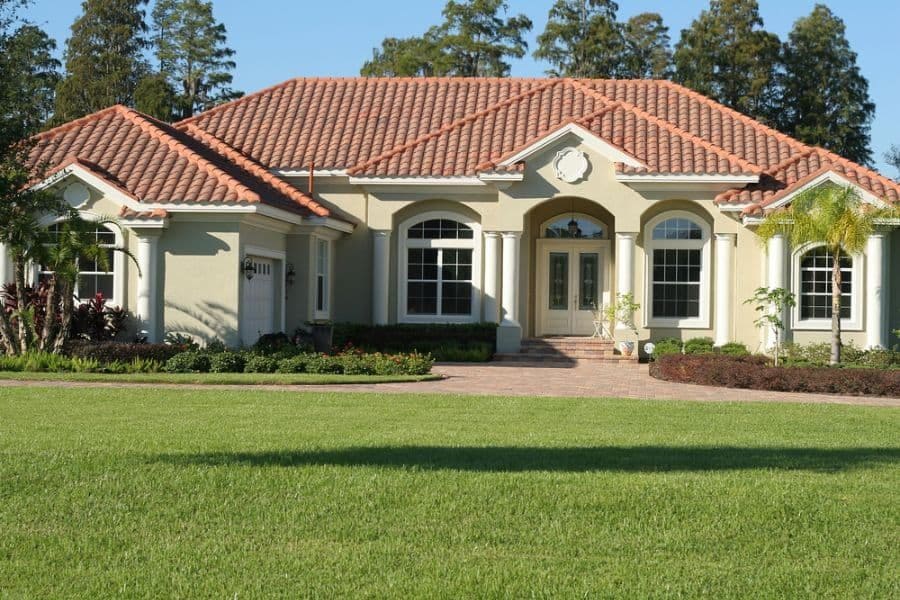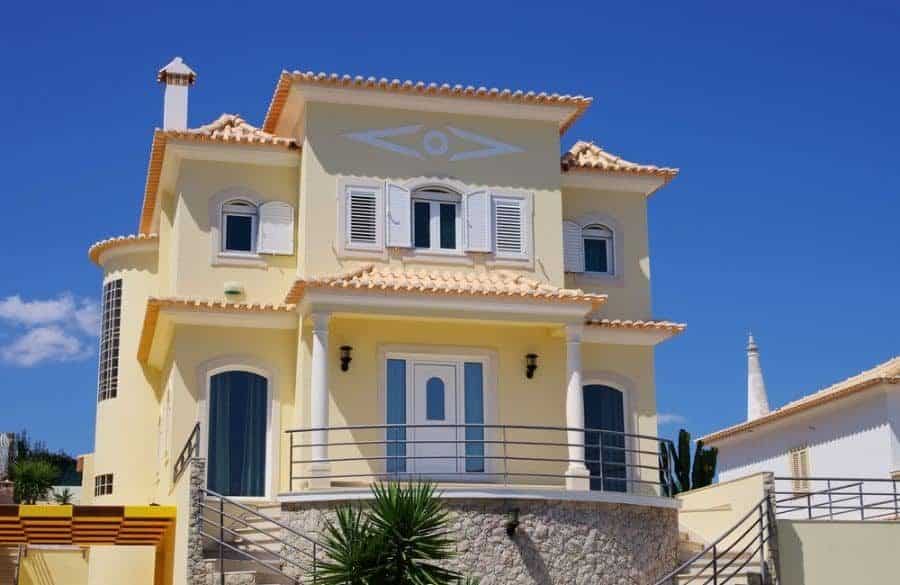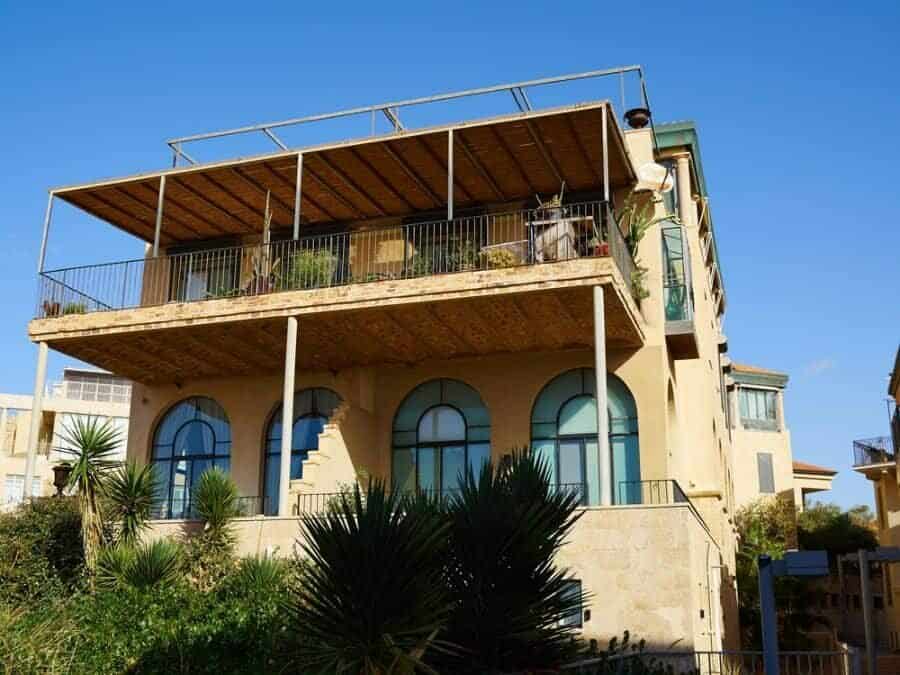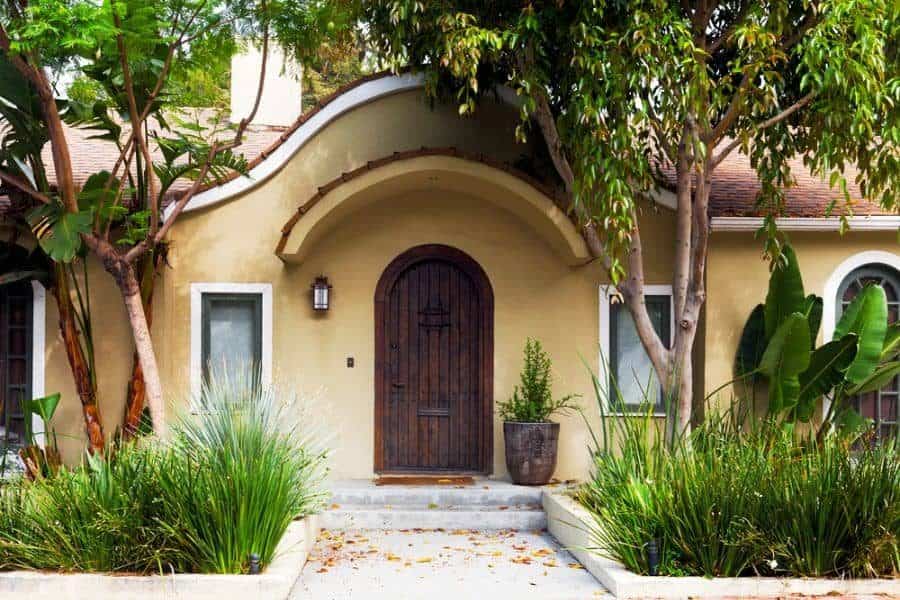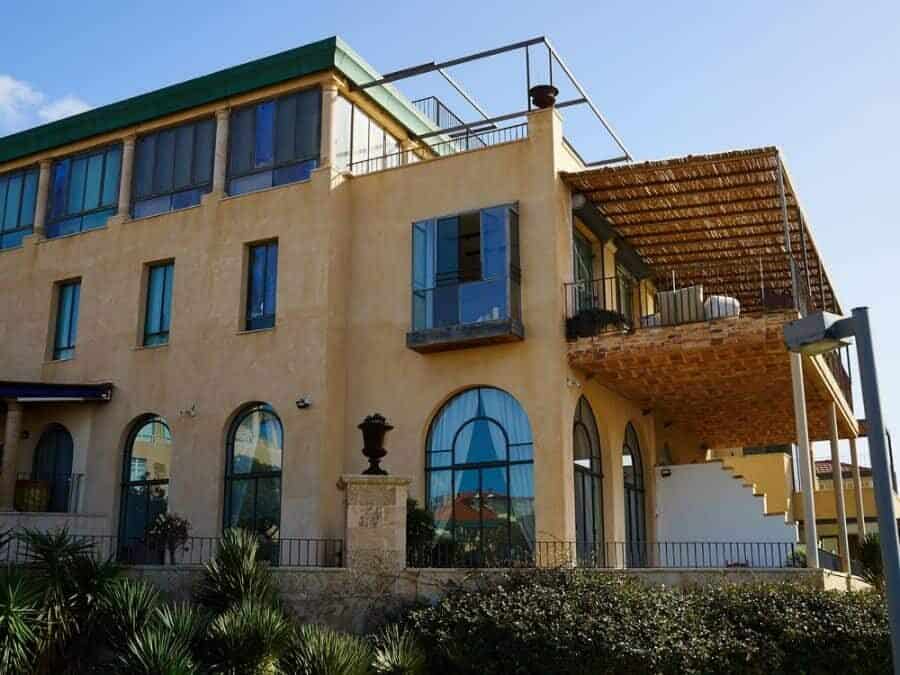 4. Trinity-Shaped Windows
Thinking of creating a Mediterranean-style home? Consider the classic trinity arch for your house's facade. Also known as an elliptical arch, these ancient landmarks have popped up in churches throughout Europe since the Medieval period and can add old-world elegance to any house with their distinct form.
Framing windows with these charming arches is a wonderful way to enjoy some of the light, airy benefits of a Mediterranean home. Try pairing them with church-shaped windows for added effect – together they can create a unique vibe that's both interesting and cozy. No matter how you choose to use them, this time-honored style of architecture is sure to bring character and beauty to any space!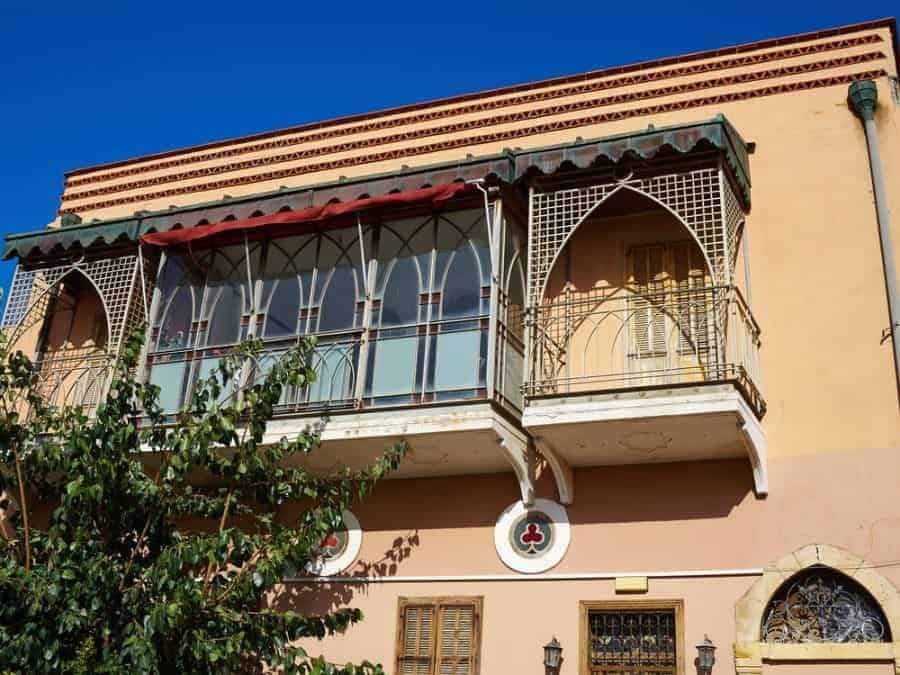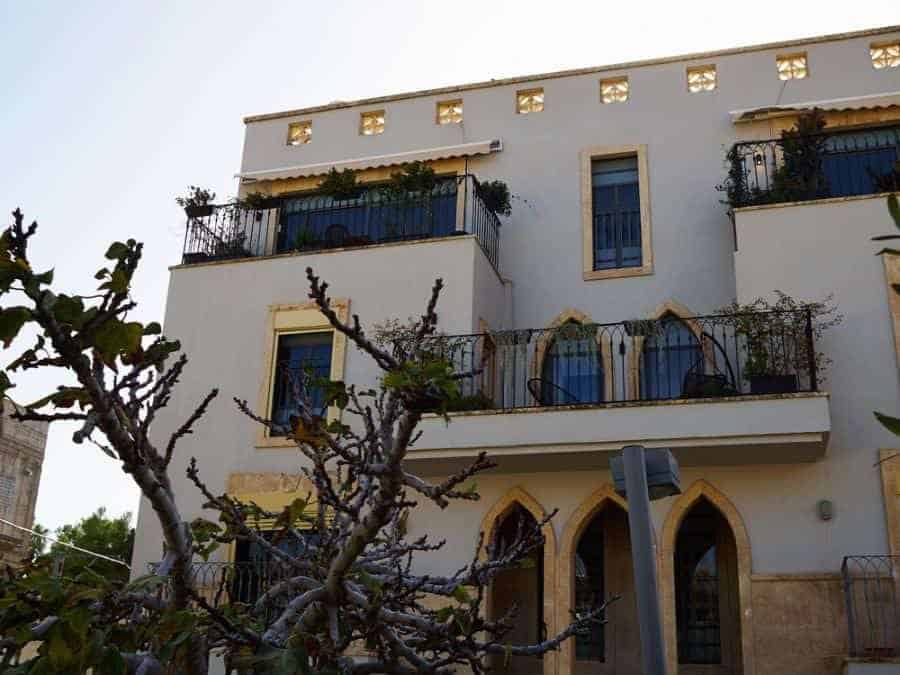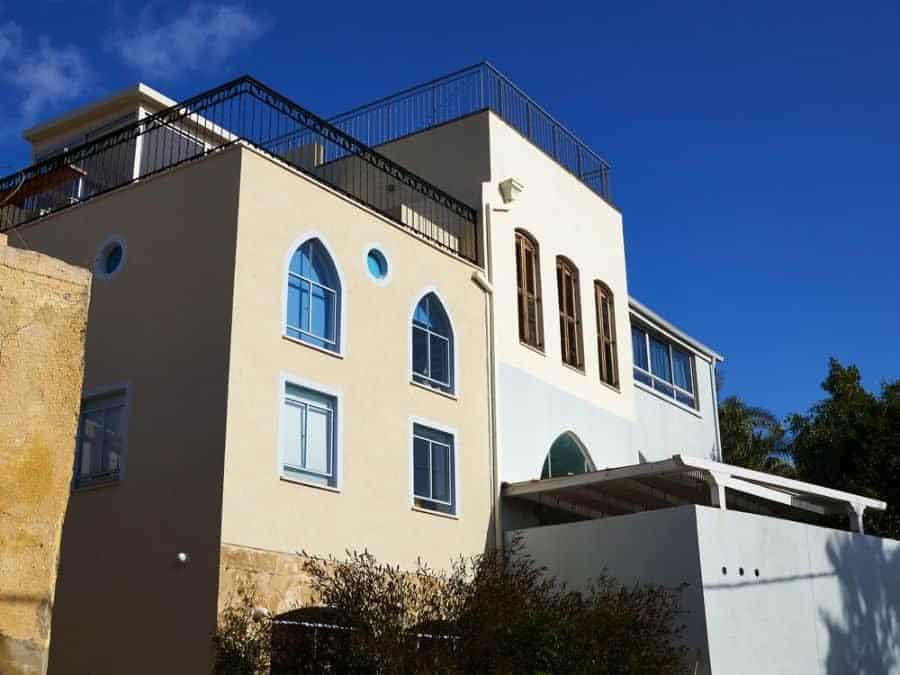 5. Don't Forget The Posts
If you're looking to add a touch of luxury and sophistication to your home, try using multiple posts in your entryway. A handful of sturdy entryway posts can define the space while giving insight into the Mediterranean-style design of your house.
Opting for large wooden posts that are intricately detailed can make a big difference in an otherwise plain hallway or entrance, giving guests the sense that they're truly entering something special.
And don't forget to check out all types of post designs including various shapes, sizes, finishes, and materials—it's all part of creating a luxury Mediterranean house!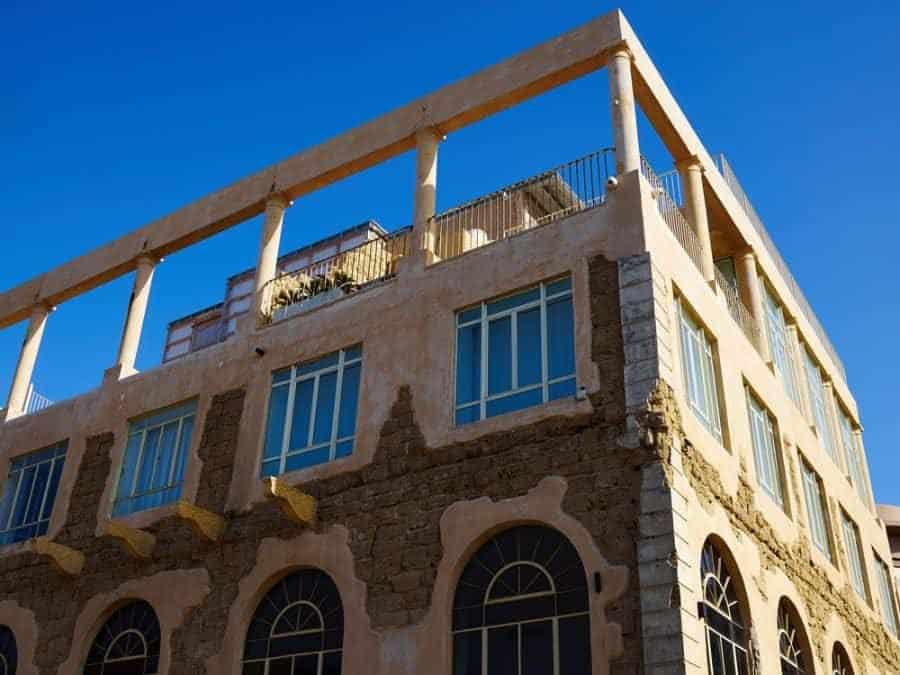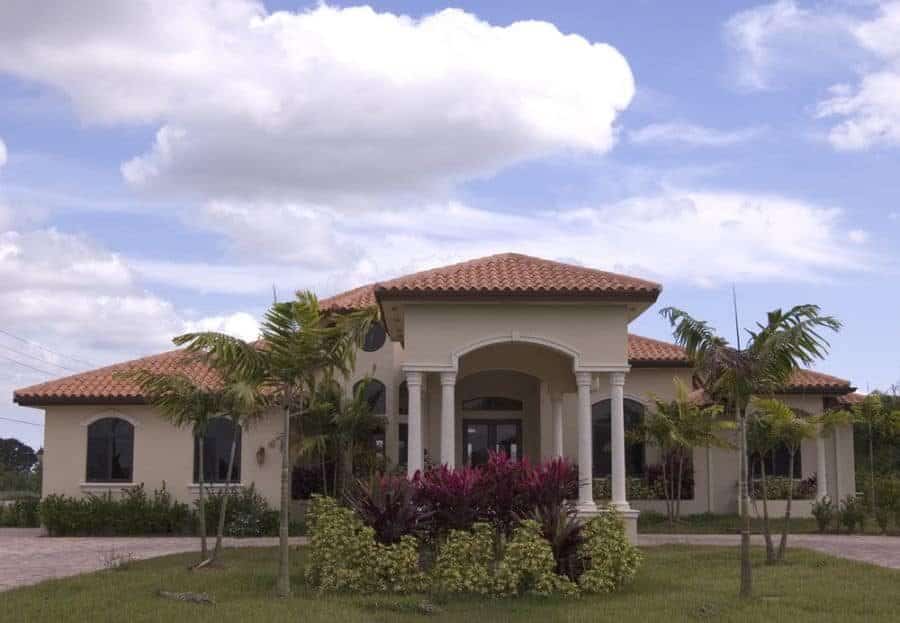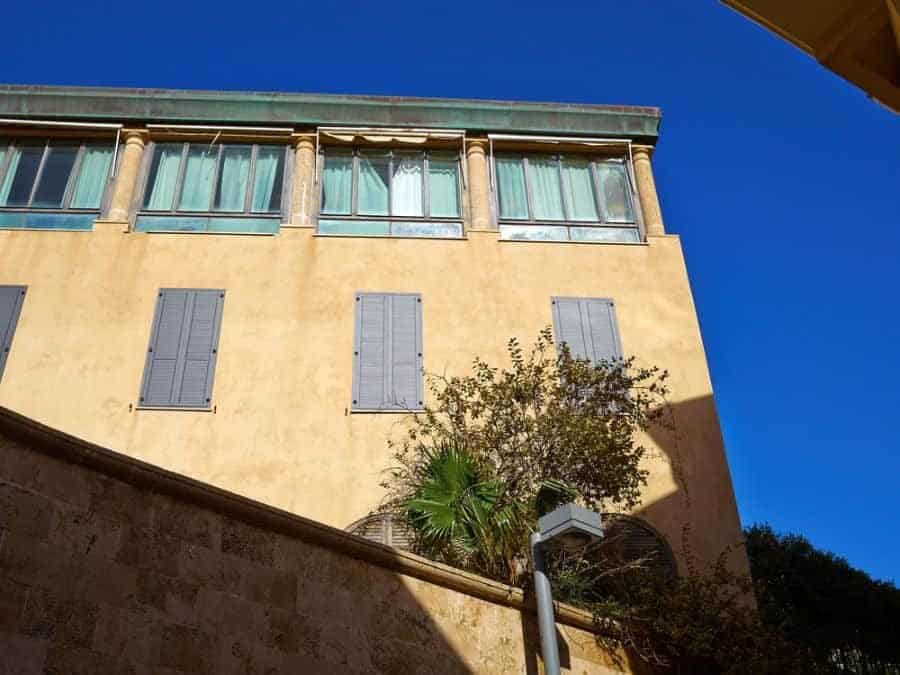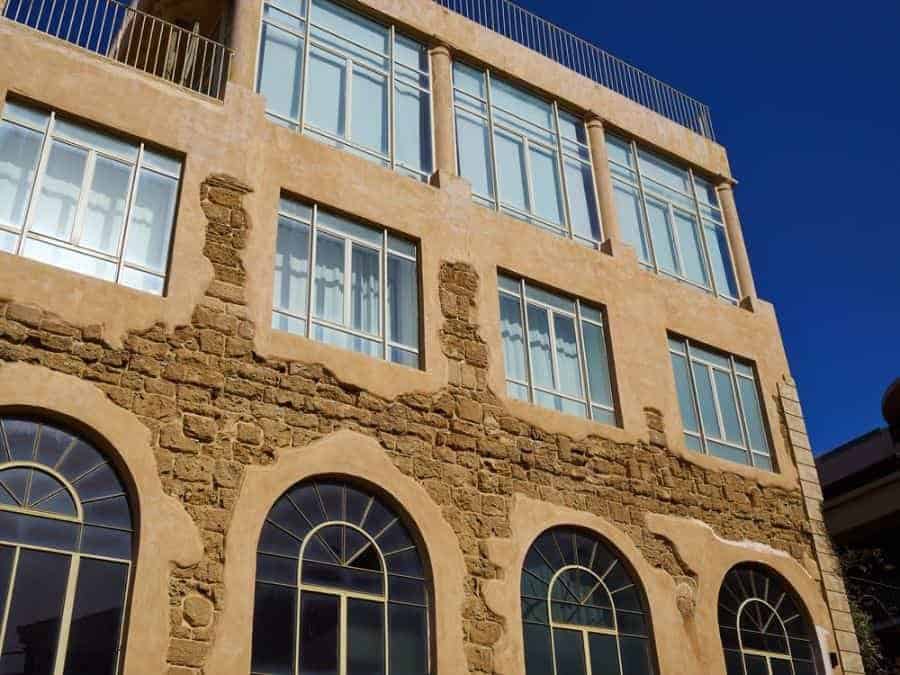 6. Santorini-Style Blue & White House
If you're looking for a romantic and classic Mediterranean home design, then consider decorating your house in the style of Santorini with beautiful blue and white shades. The natural sunlight paired with these two timeless colors will add an elegant atmosphere to any space.
However, it doesn't always have to be so high contrast – you can opt for muted blues and creams to bring a feeling of peace and complete relaxation into your home.
For a modern twist, go minimalistic but still incorporate Mediterranean elements like tile flooring or bright accent walls. Any combination of blue hues, textures, and accents will be sure to fit right into the relaxed Mediterranean moment of your dreams.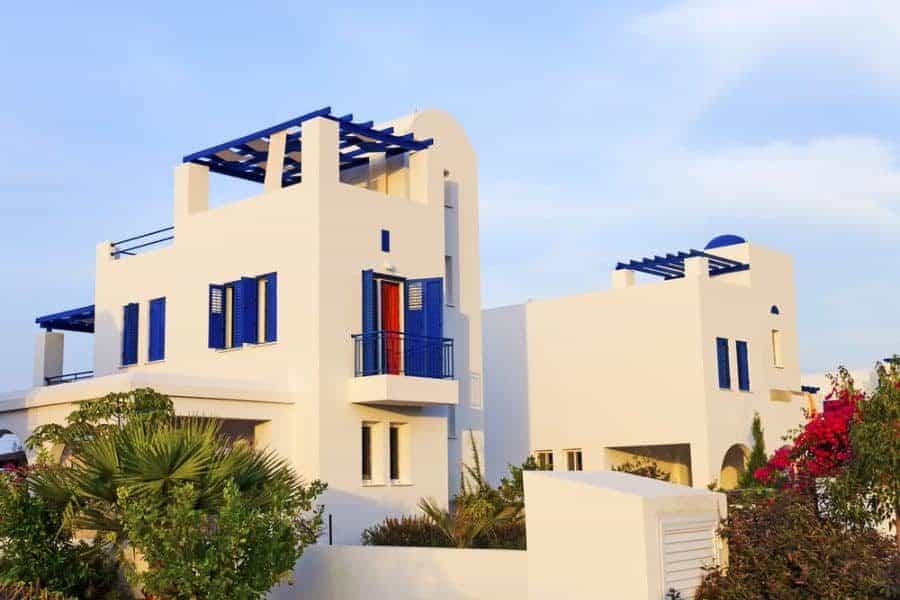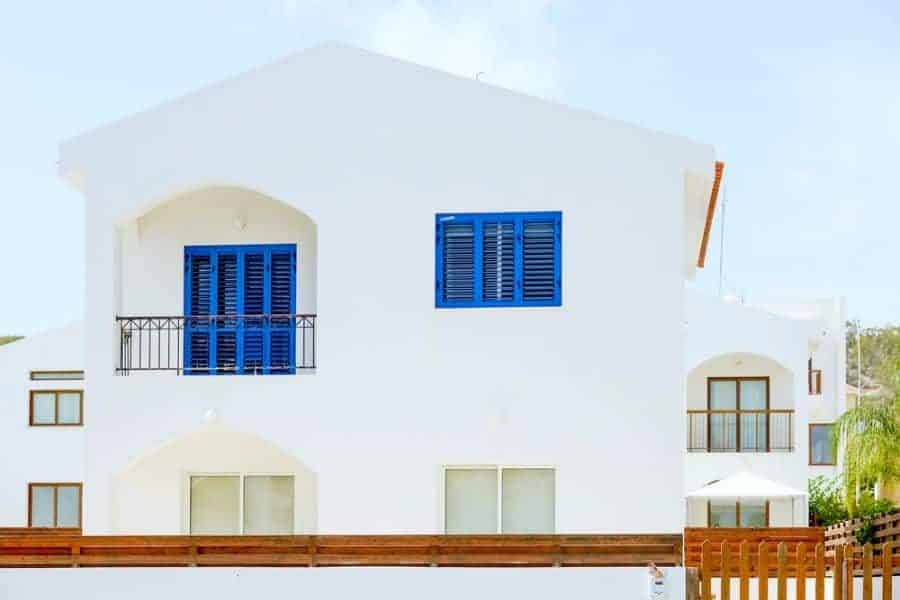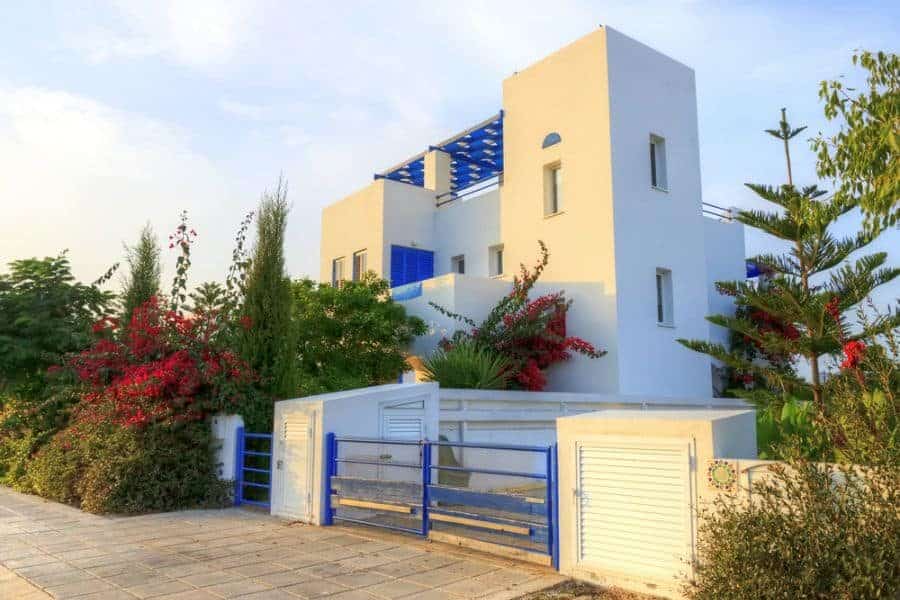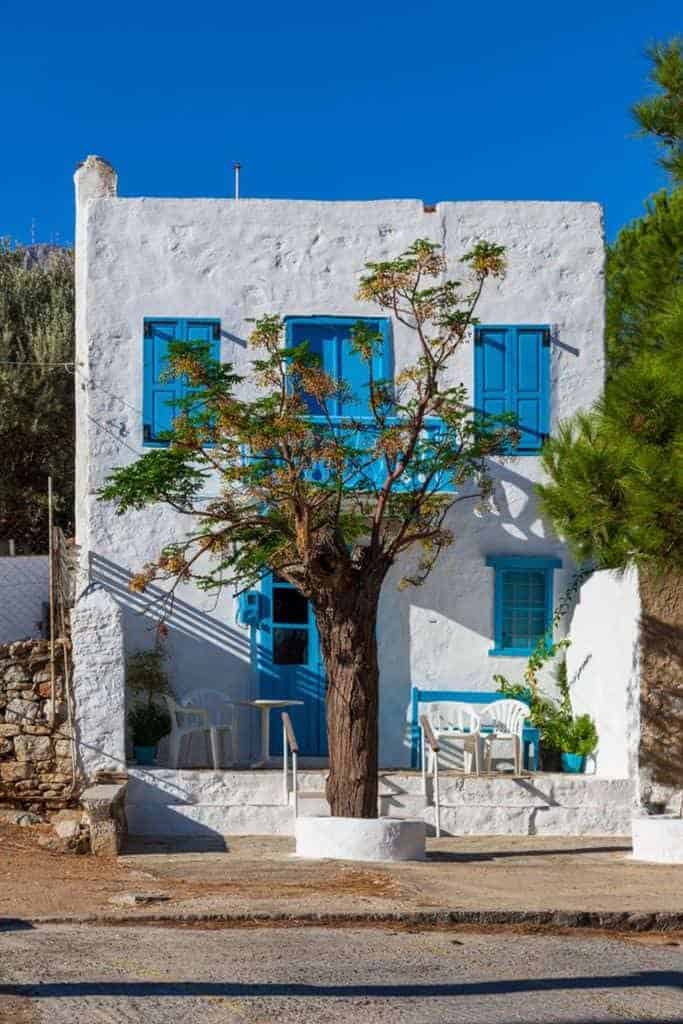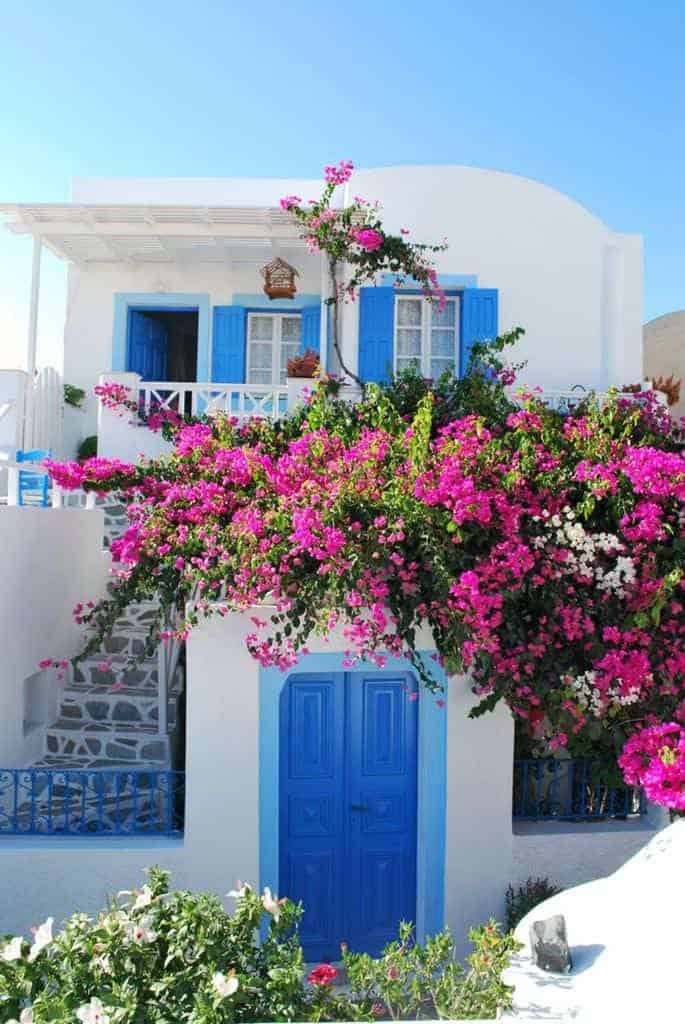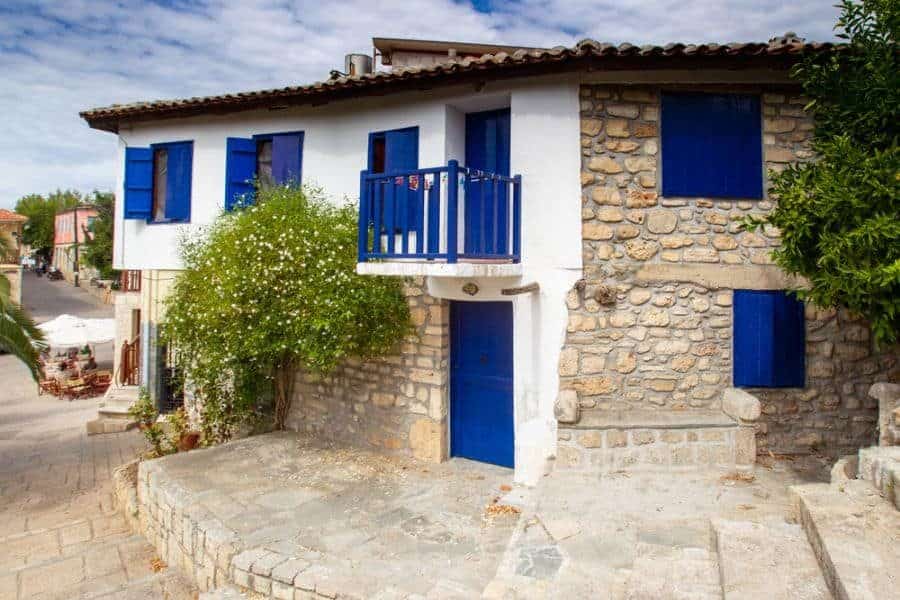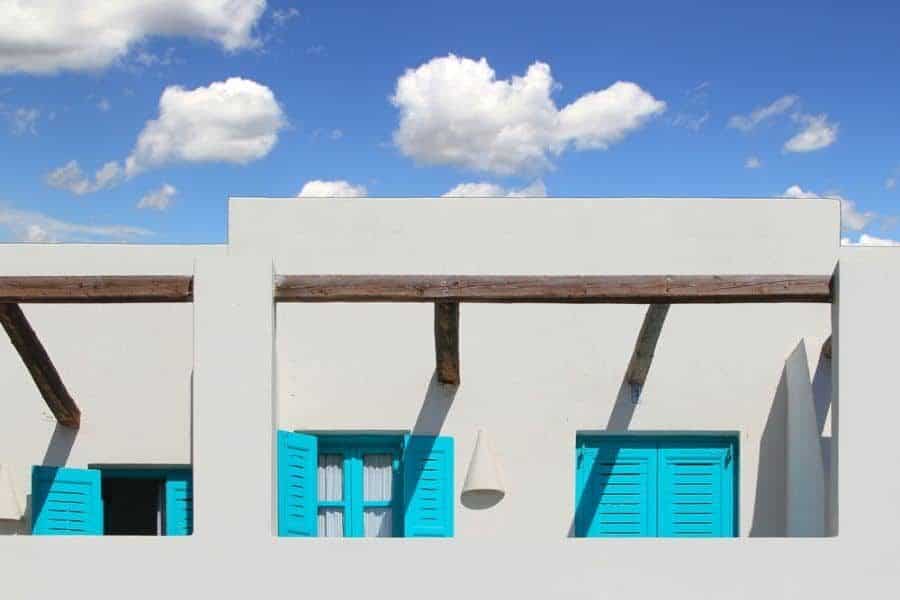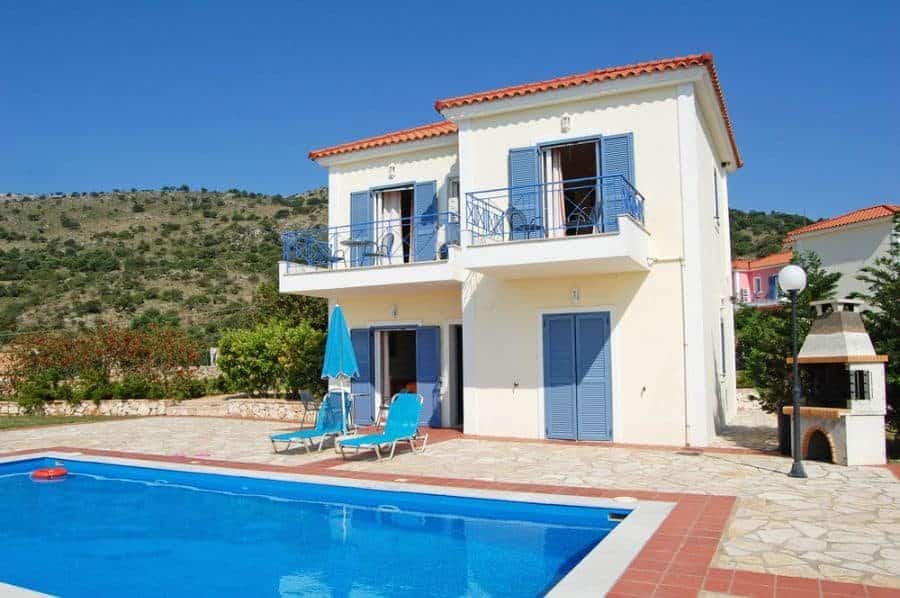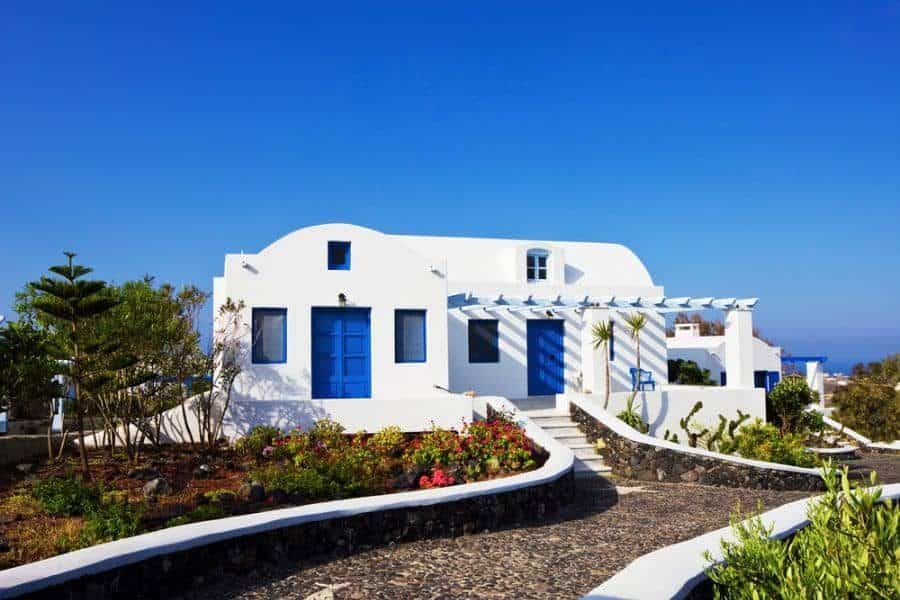 7. Invest In A Courtyard
If you are looking for Mediterranean house ideas, then why not consider building or renovating one with a courtyard? A courtyard can provide natural light, improve ventilation and create a unique private space in the heart of your home. This type of Mediterranean style can also be complemented with attractive finishes and design elements to create an inviting feel.
To get more creative with your look, try adding potted plants, archways, or even water features to your courtyard design! With a few creative tweaks here and there, you'll have a fabulous Mediterranean-style house that's completely unique.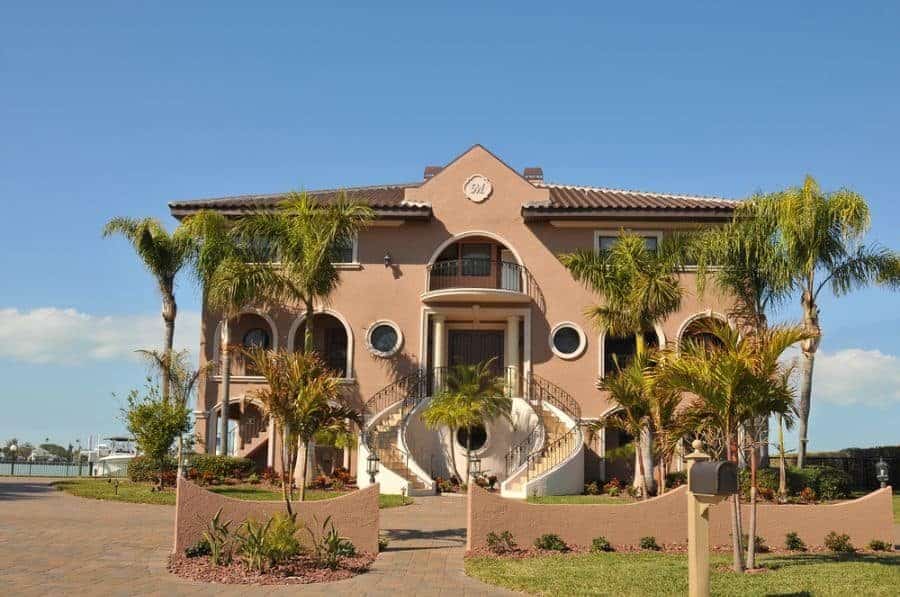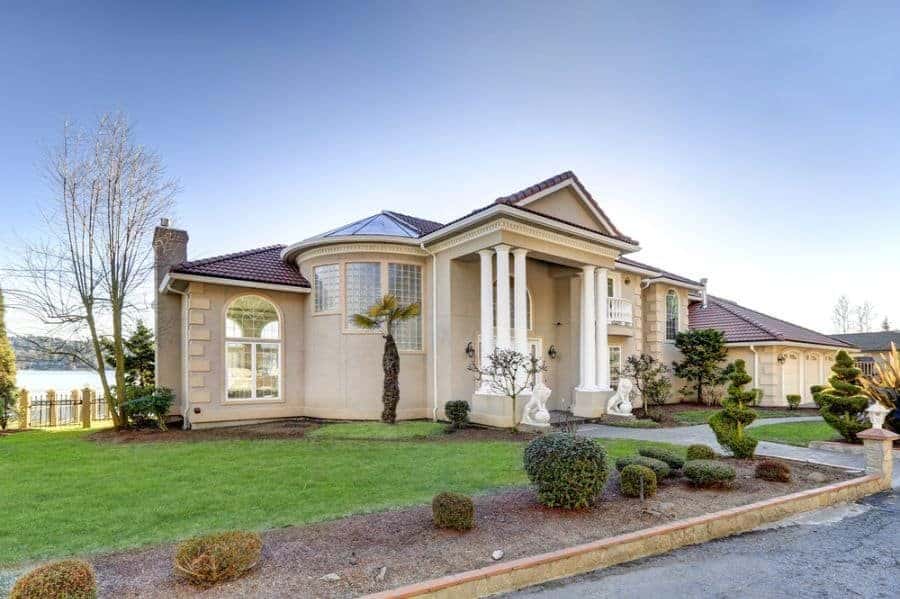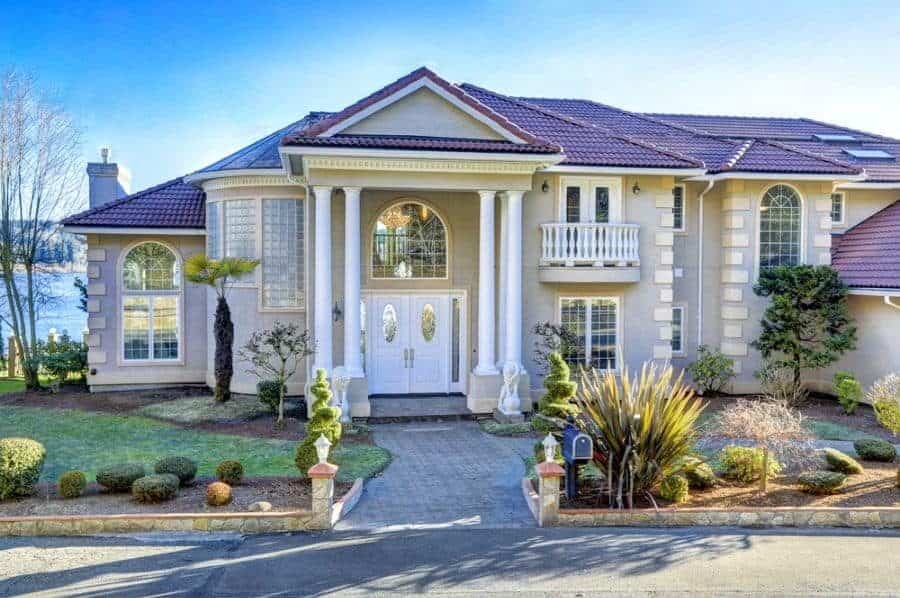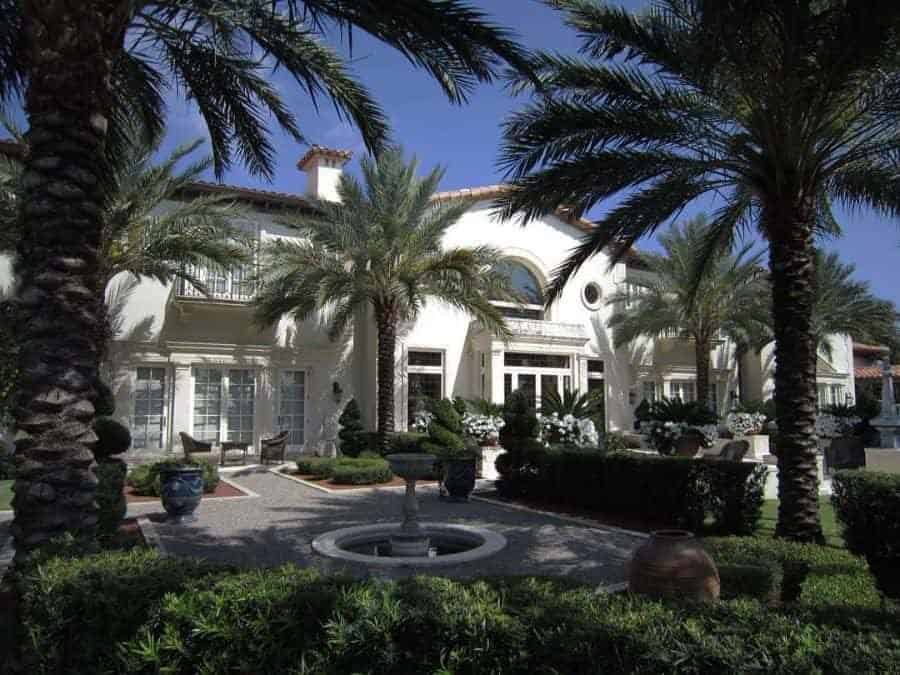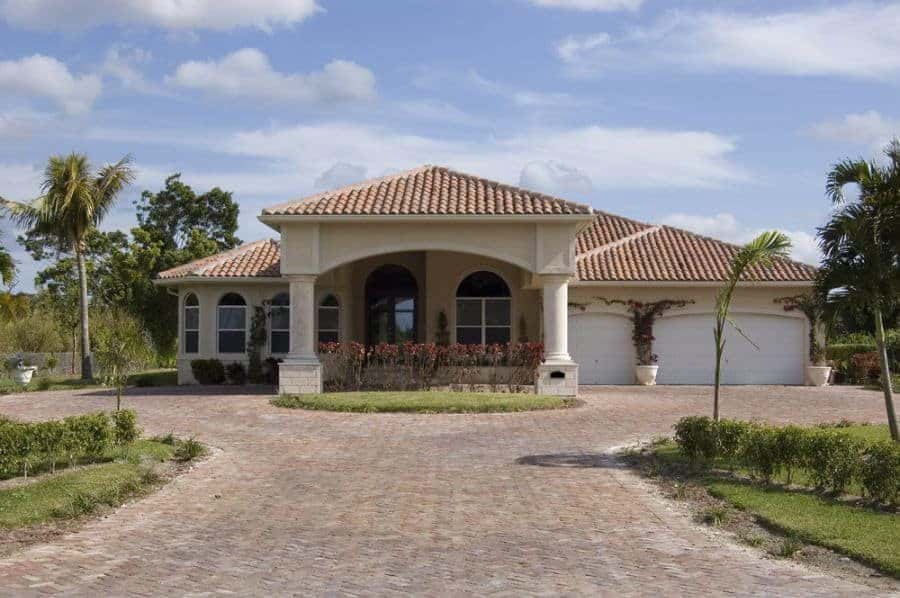 8. Modern Minimalist Mediterranean
If you're looking to bring the classic beauty of the Mediterranean into your home but with a modern twist, then consider going for a Modern Minimalist Mediterranean look. This style focuses on clean lines and muted colors that draw inspiration from the beautiful warm coastal areas of Southern Europe.
Think shades of ochre, terracotta, beige, and cream used liberally throughout the house on walls, floors, and furniture alike. Natural materials such as stone and wood can be used to bring touches of the Mediterranean outdoors into the home for a truly immersive atmosphere.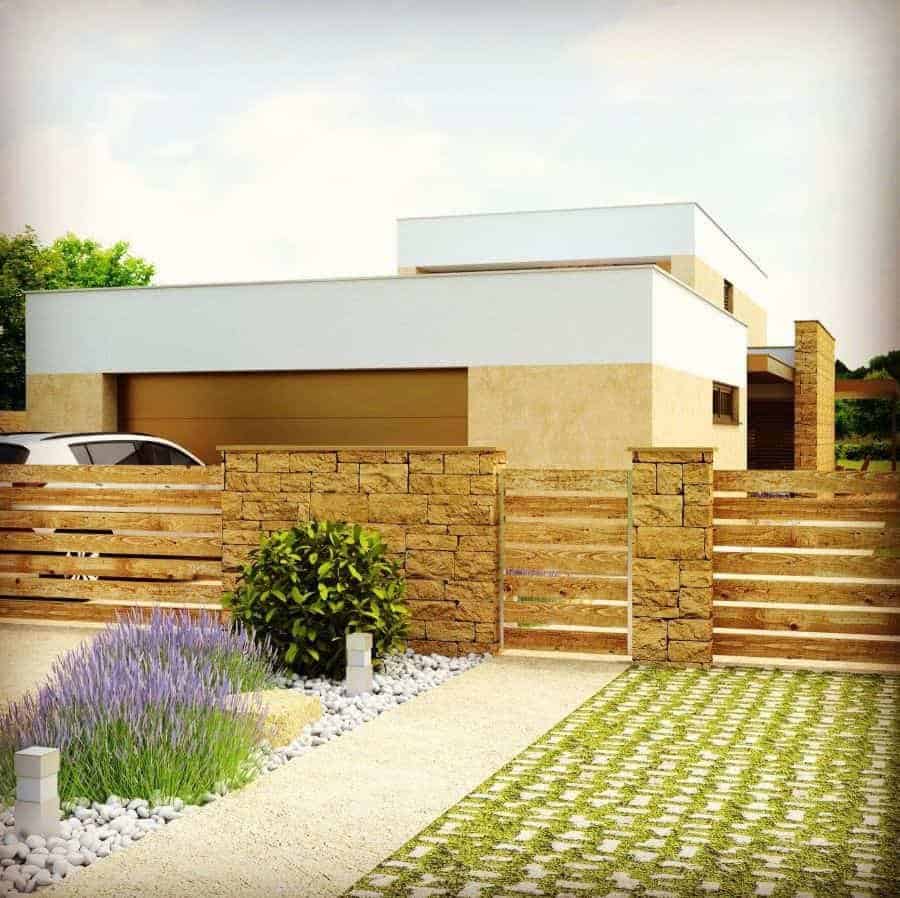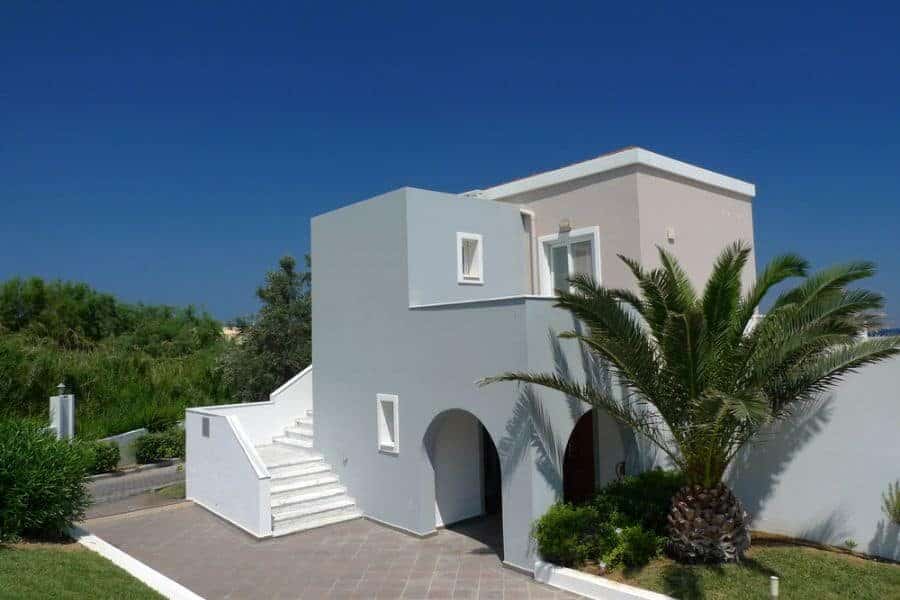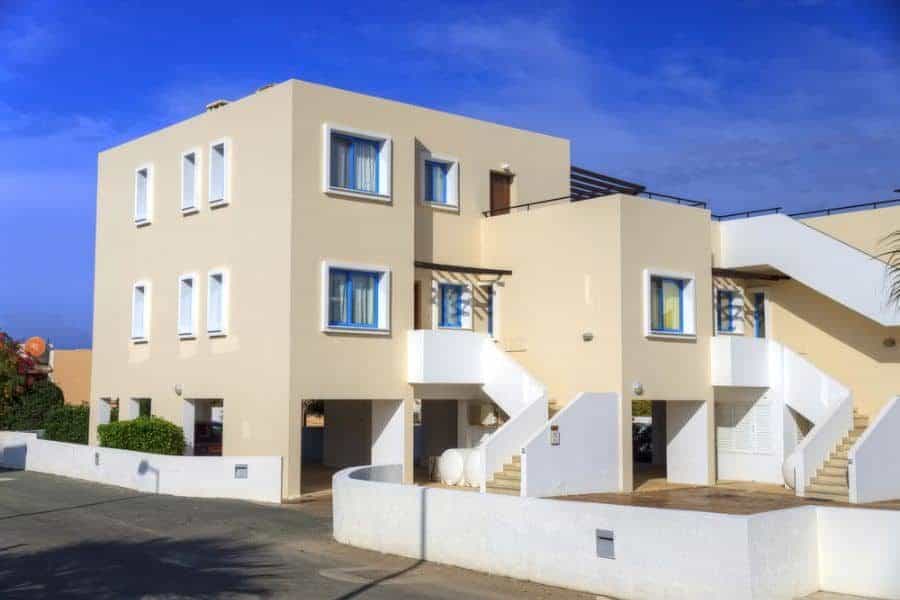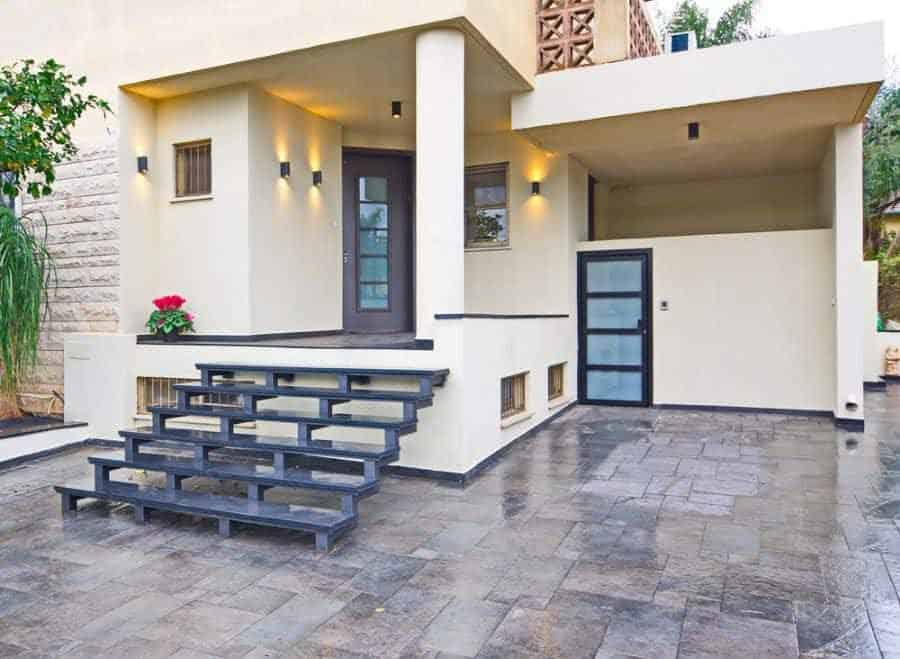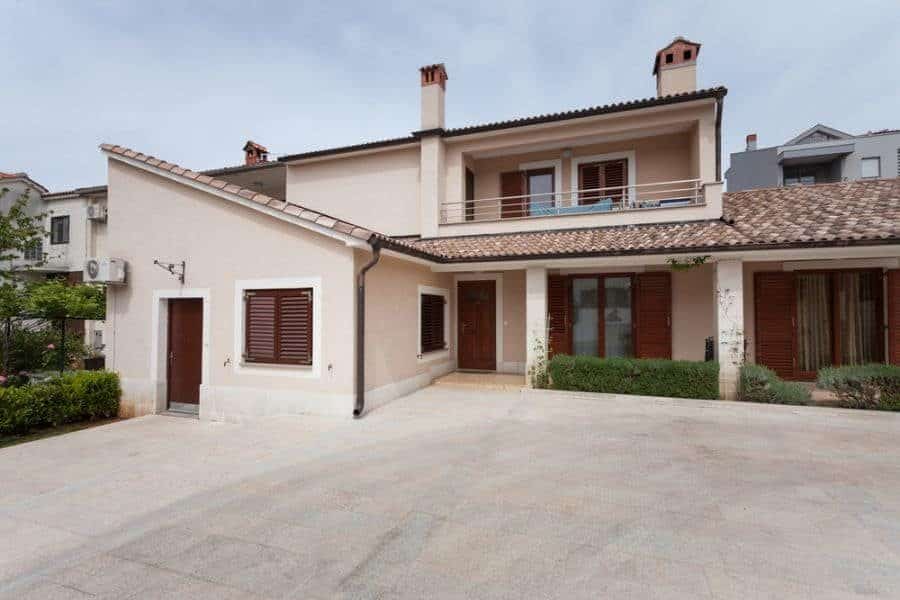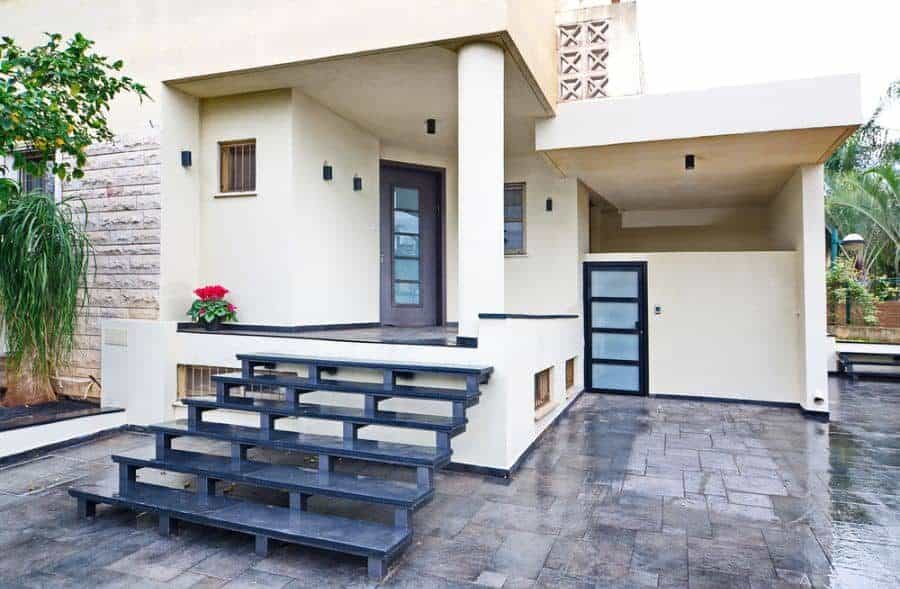 9. All-White Mediterranean Homes
An all-white house can be combined with greenery, terracotta, or cobalt blue highlights to bring in local textures and colors making the house look even more beautiful.
Give it a contemporary twist by using elements like lighting and furniture that go with modern-day trends. For the outdoor area, plants such as lavender and rosemary complete the Mediterranean look. The tranquility of this setting will create a soothing atmosphere perfect for bright afternoons at home.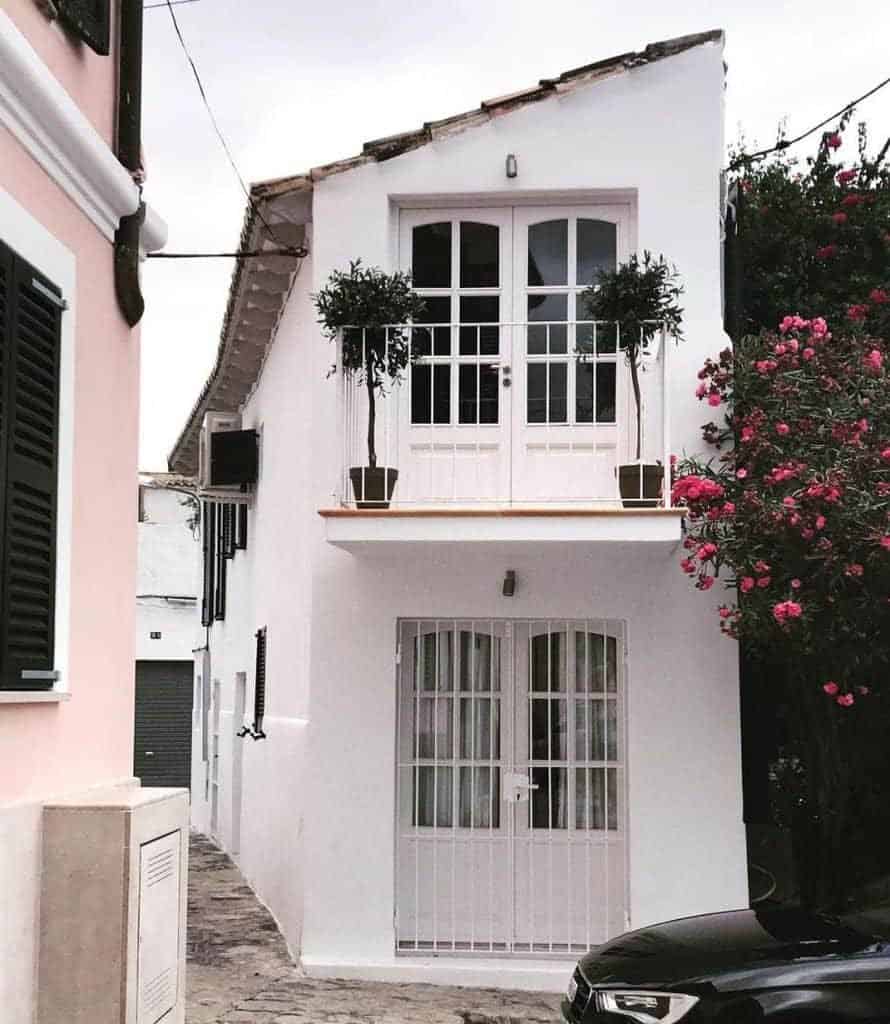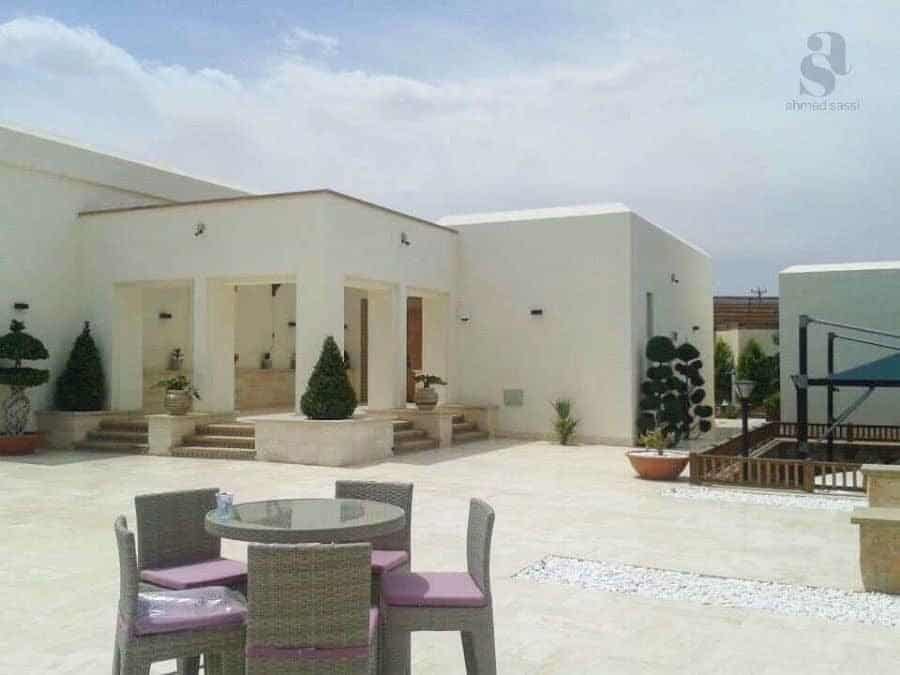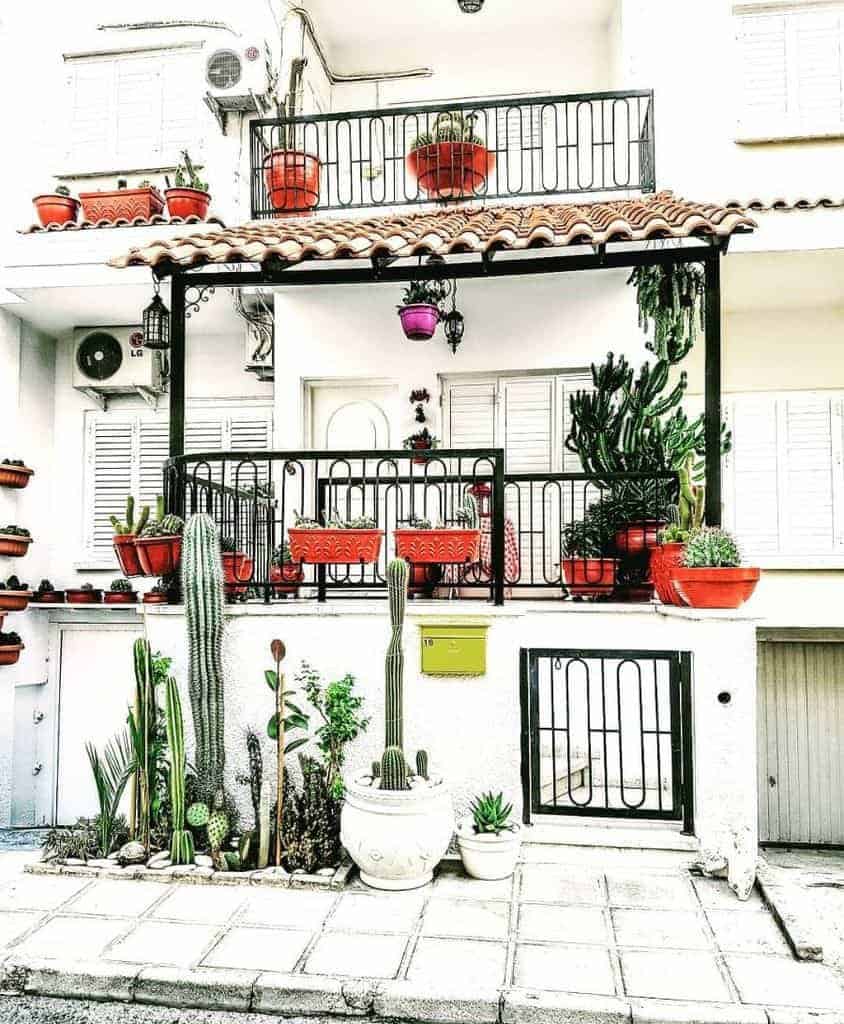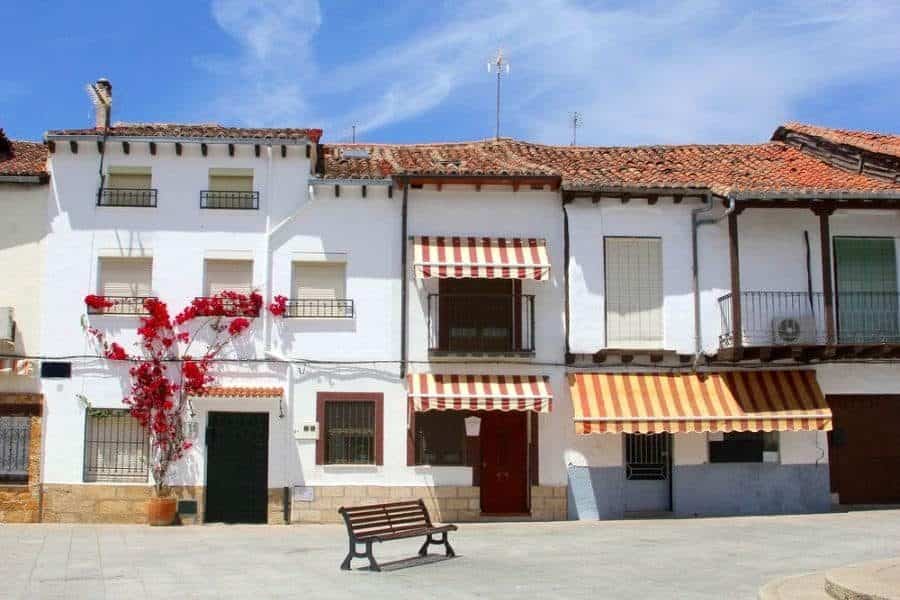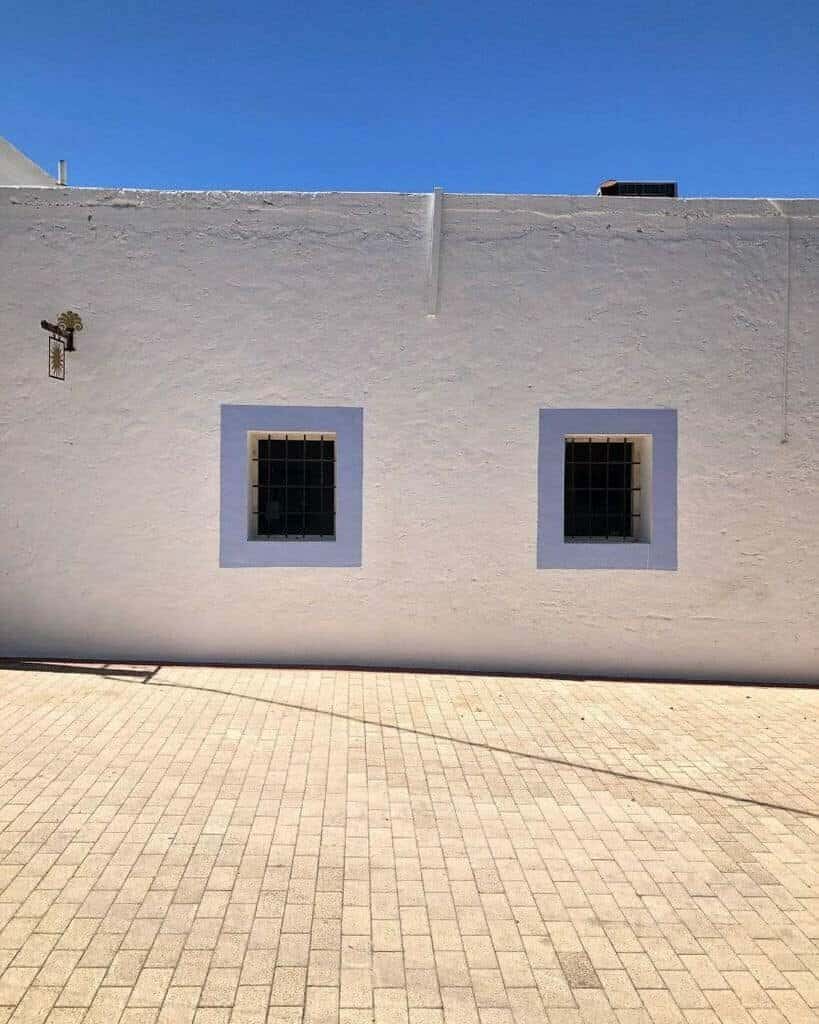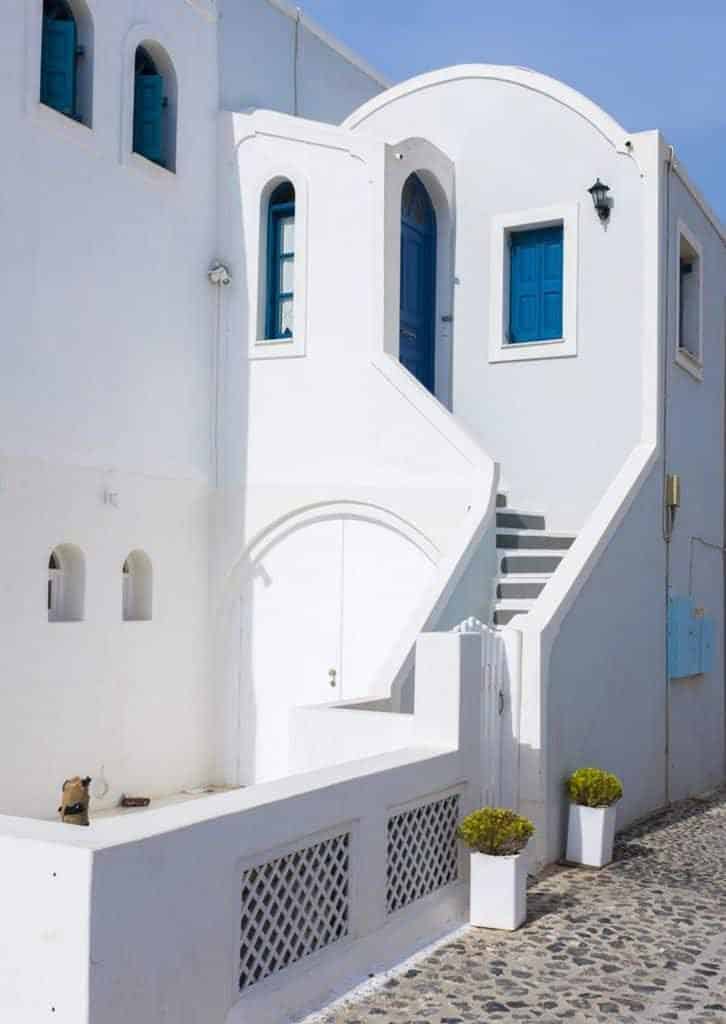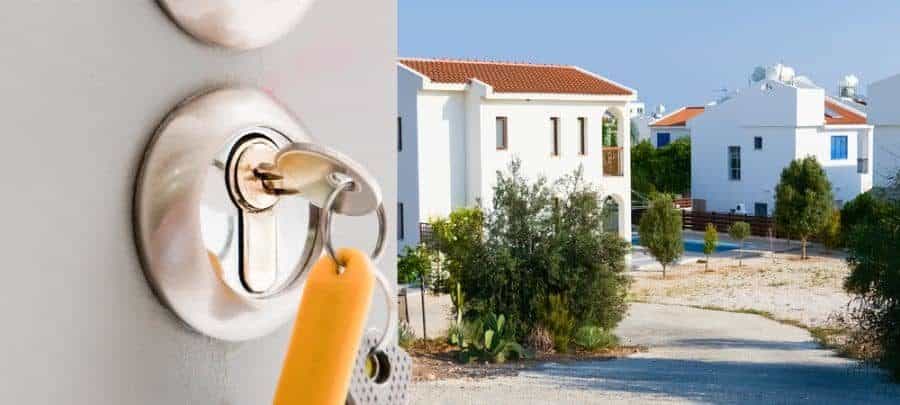 10. Surround The Entry Way With Plants & Flowers
Old-fashioned Mediterranean-style houses provide a unique balance of both traditional and modern elements that can lend themselves to many creative design choices.
Surrounding a Mediterranean house with lush, green plants will not only add color and provide visual interest but will also help to create an inviting atmosphere by providing shade during the hot summer months. Consider adding stepping stones or tiny pathways in between the plants for a charming effect and add terracotta or stone planters to complete your backyard oasis.
Cozy outdoor seating areas featuring rattan components, potted succulents, and throws should make for the perfect entertaining area when friends come over – it's sure to become an inviting haven that all your guests will love.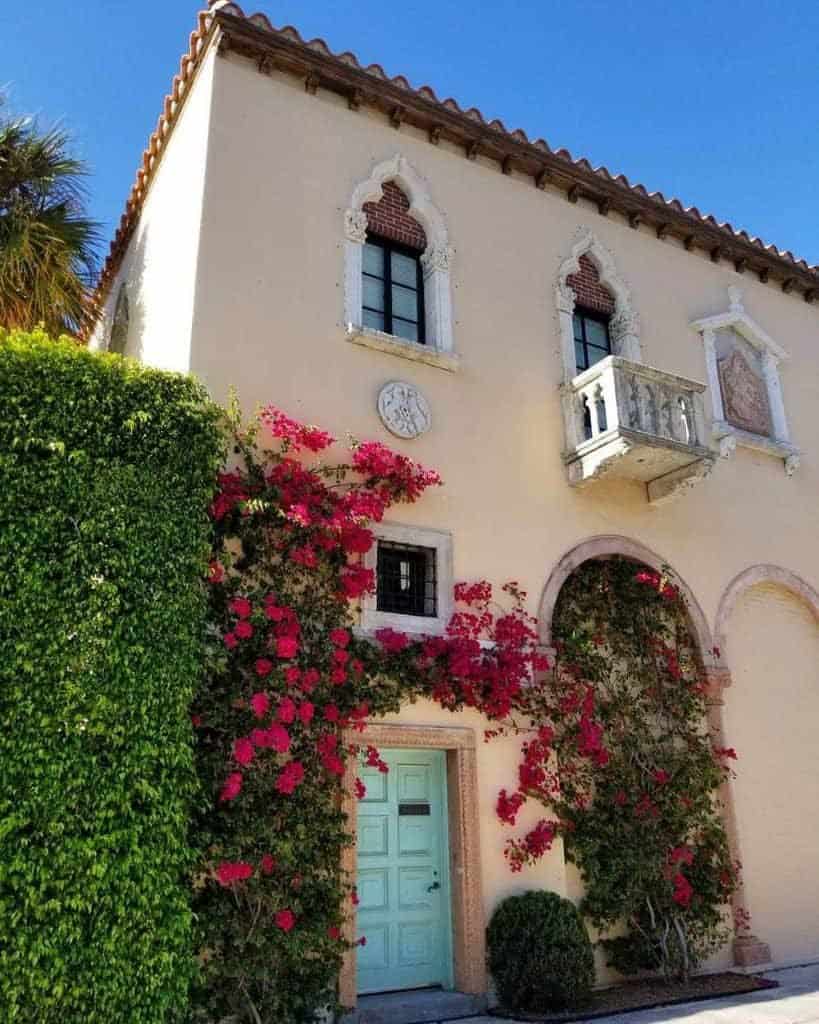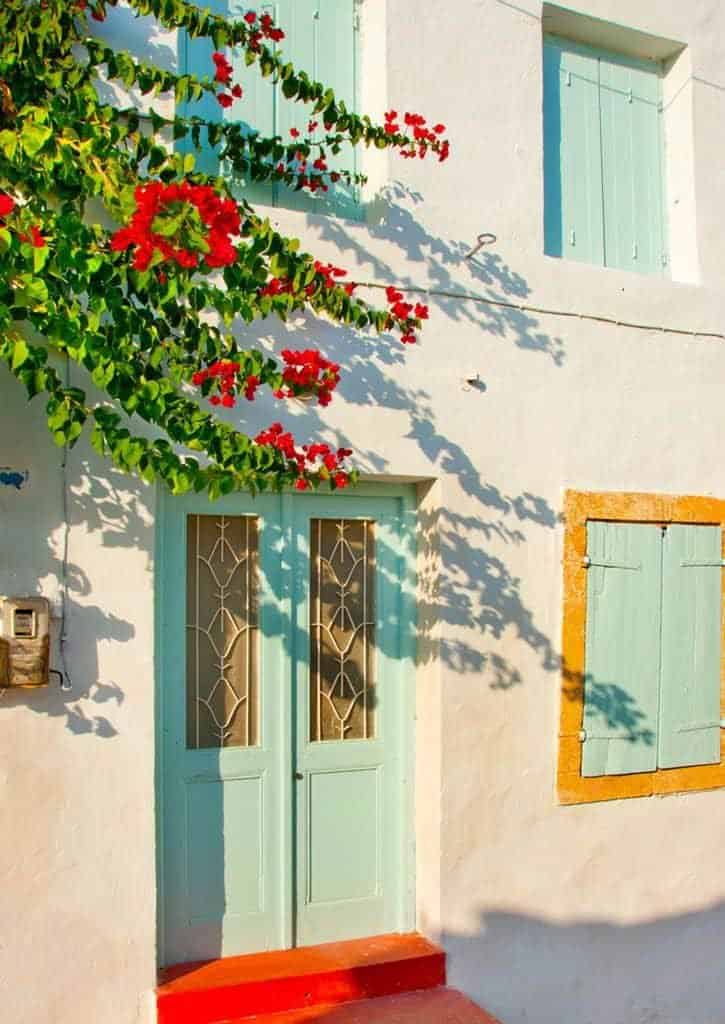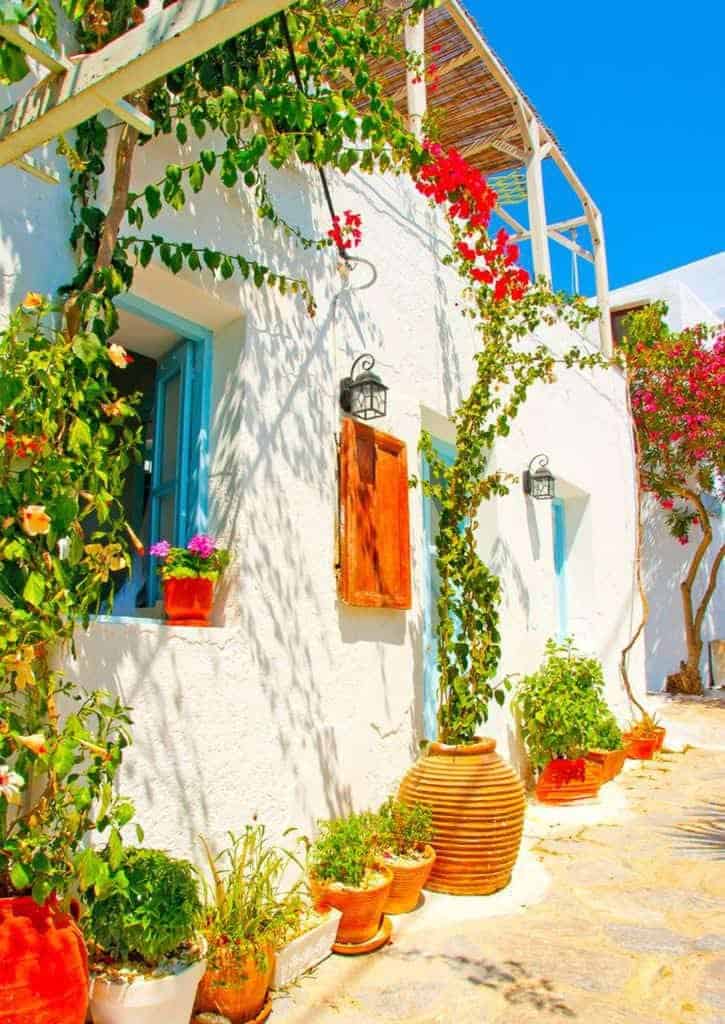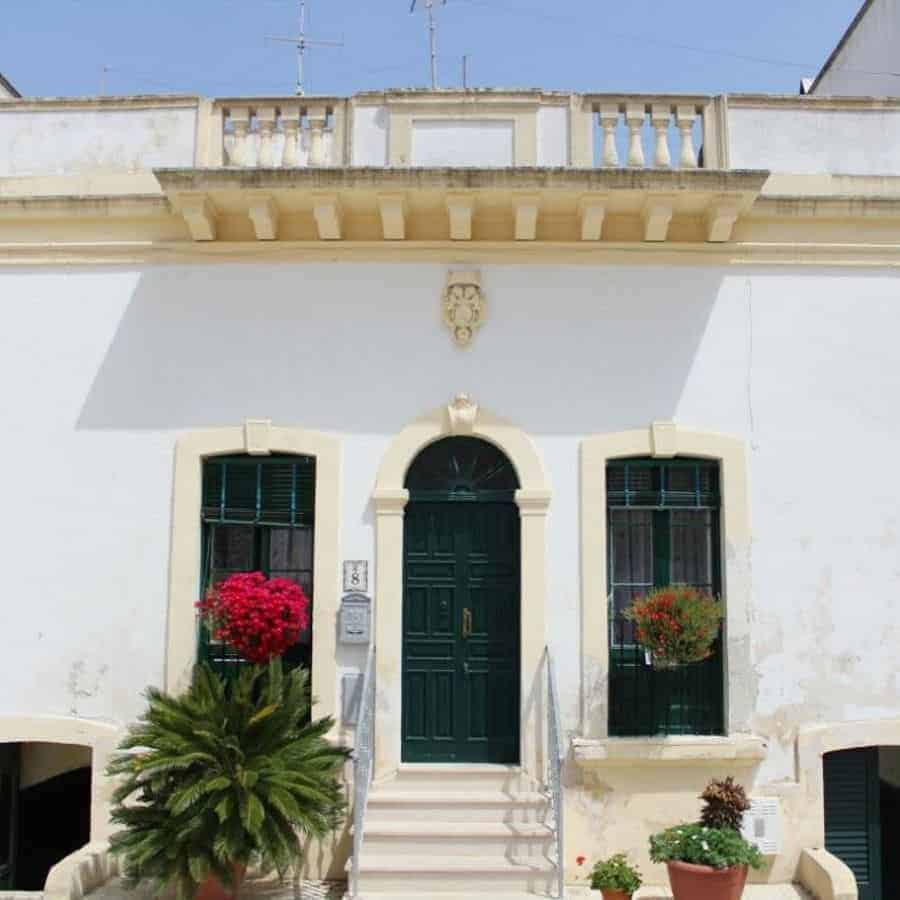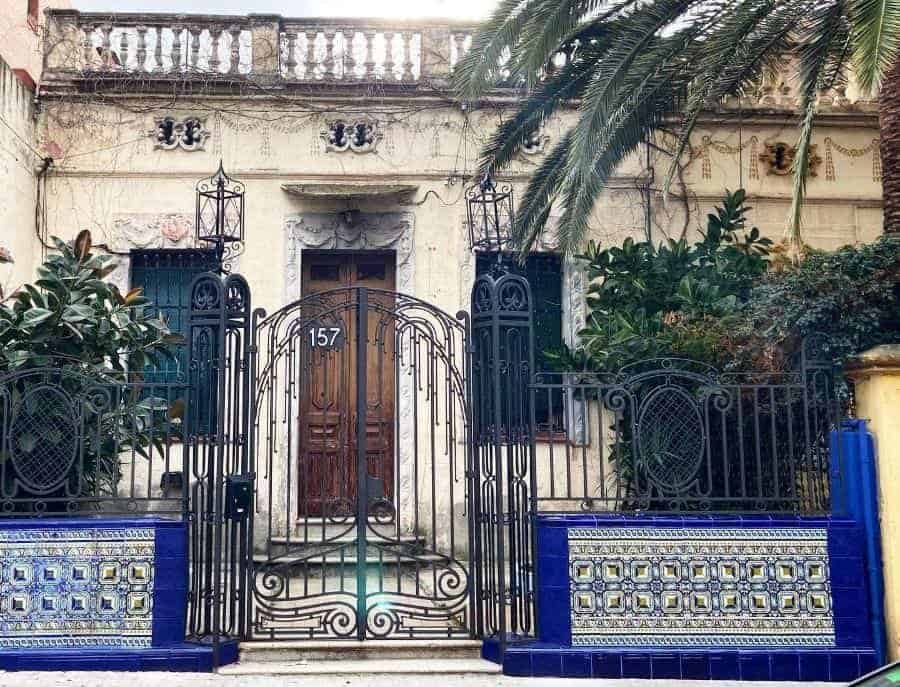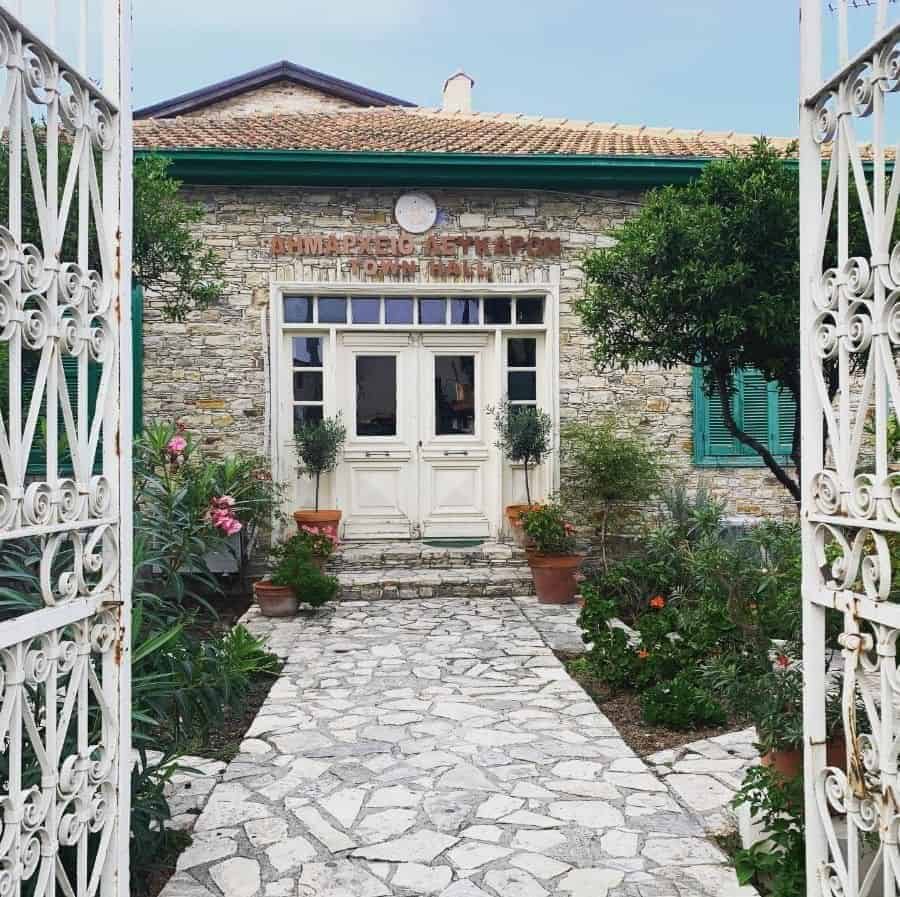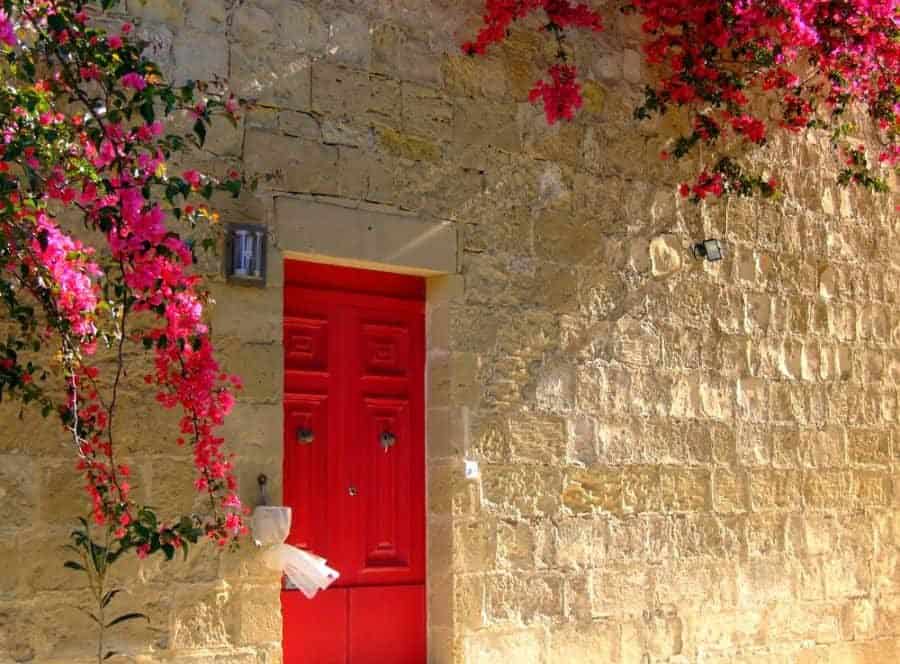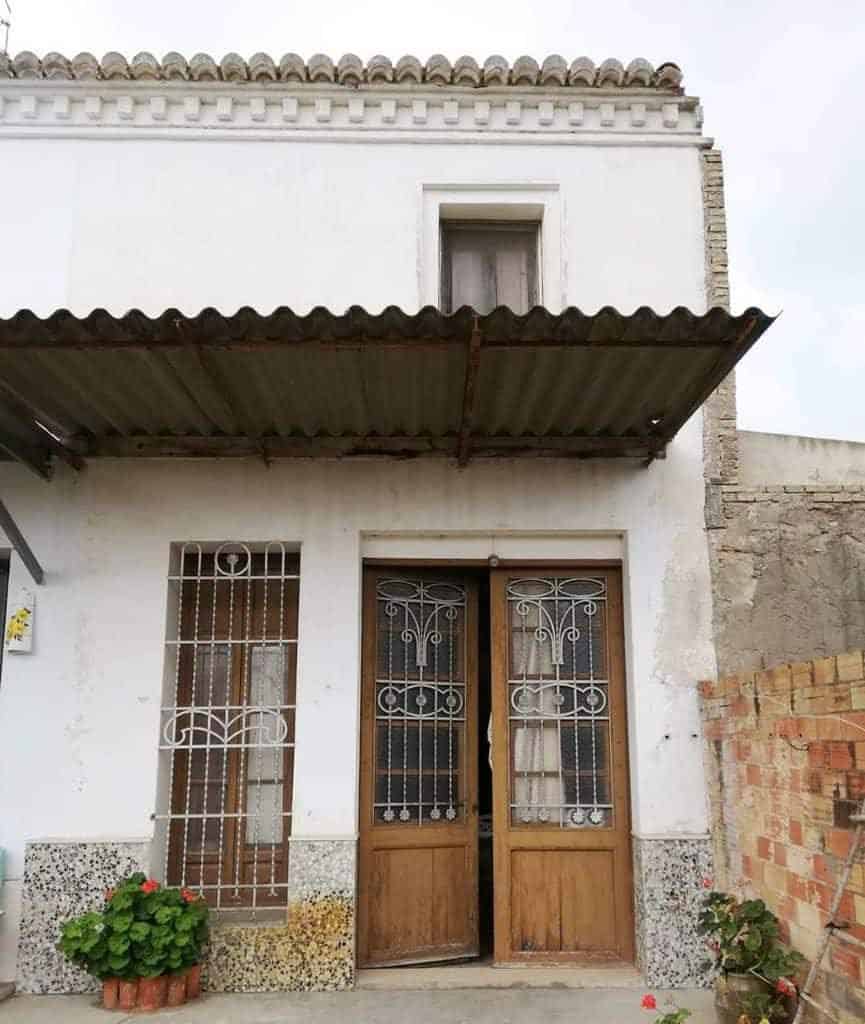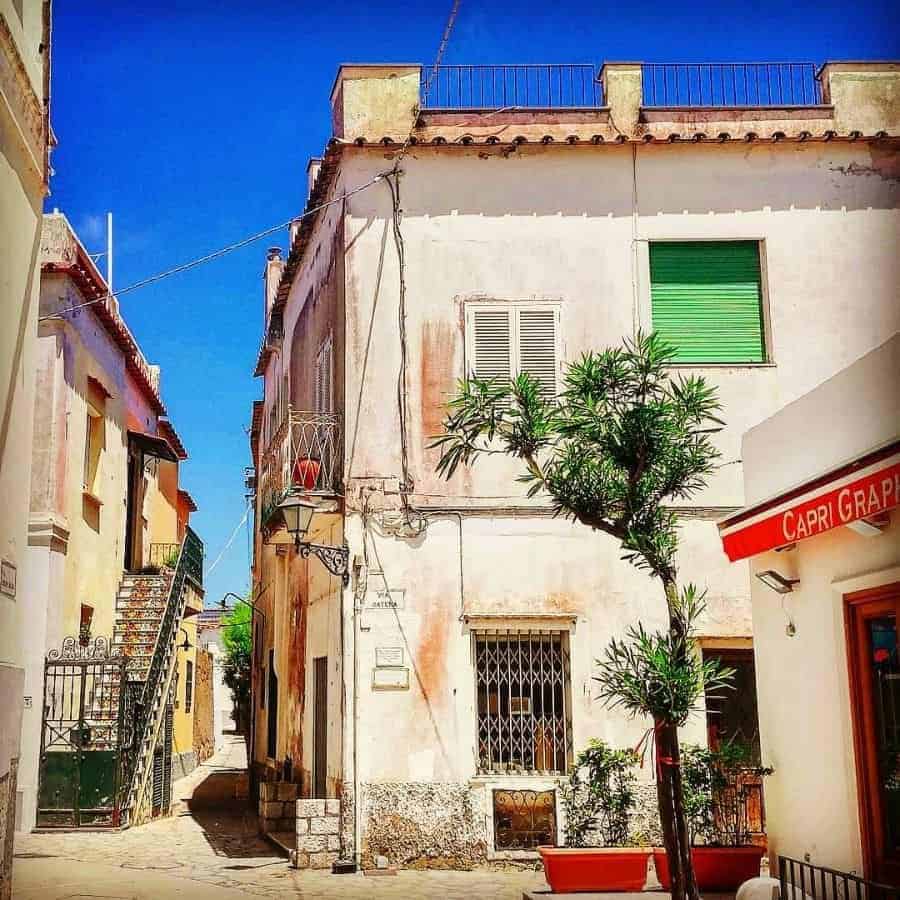 11. Build The Exterior With Stone Bricks
For those looking to create a classic Mediterranean look in their home, a stone house is a perfect solution. You can achieve this timeless style through stone bricks and exposed exterior walls – both of which offer great durability along with an attractive vintage look.
Consider using these elements for both the interior and the exterior of your home; interior fireplace walls, stair steps, and entryways are sure to make an impact. The addition of stone details such as arches and columns paired with bright colors helps to truly bring that Mediterranean feeling into your house.
With a little bit of creativity, you will have no problem crafting that perfect two-story Mediterranean stone house!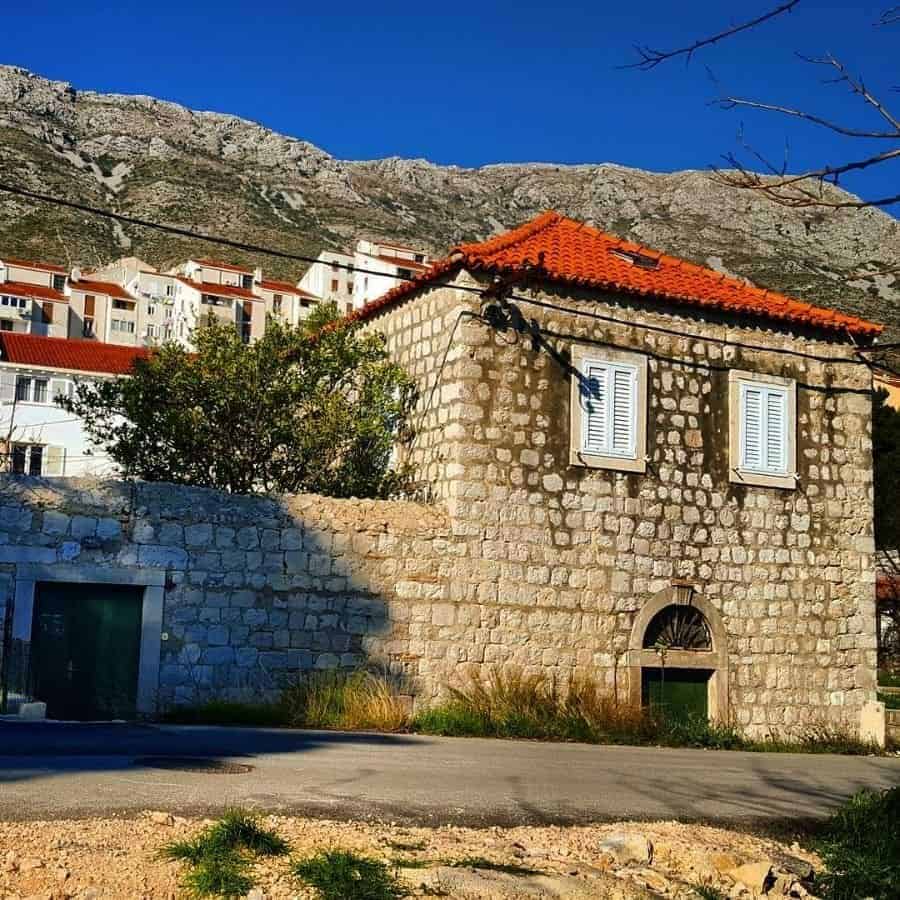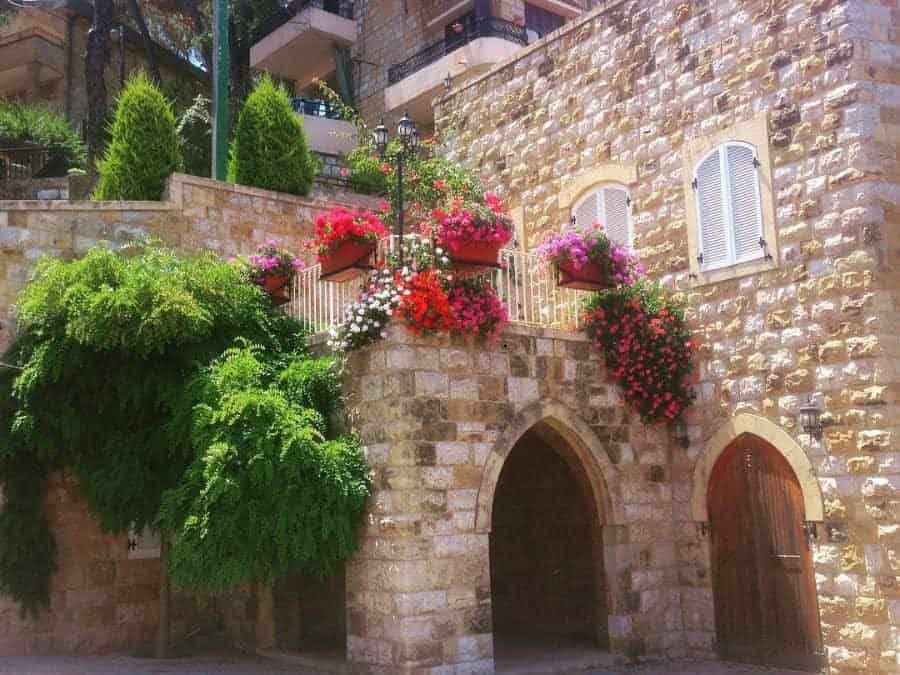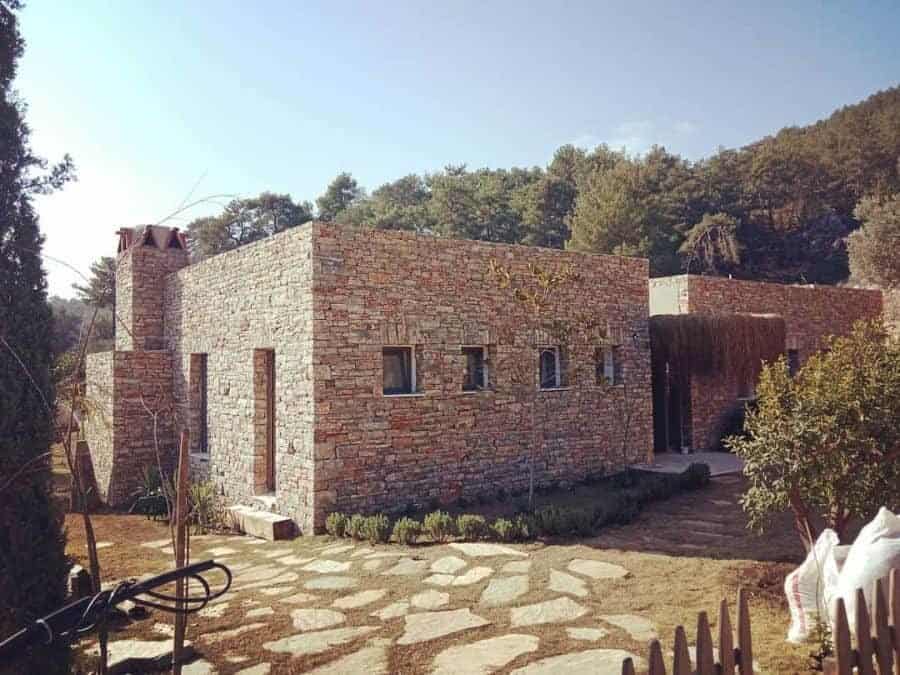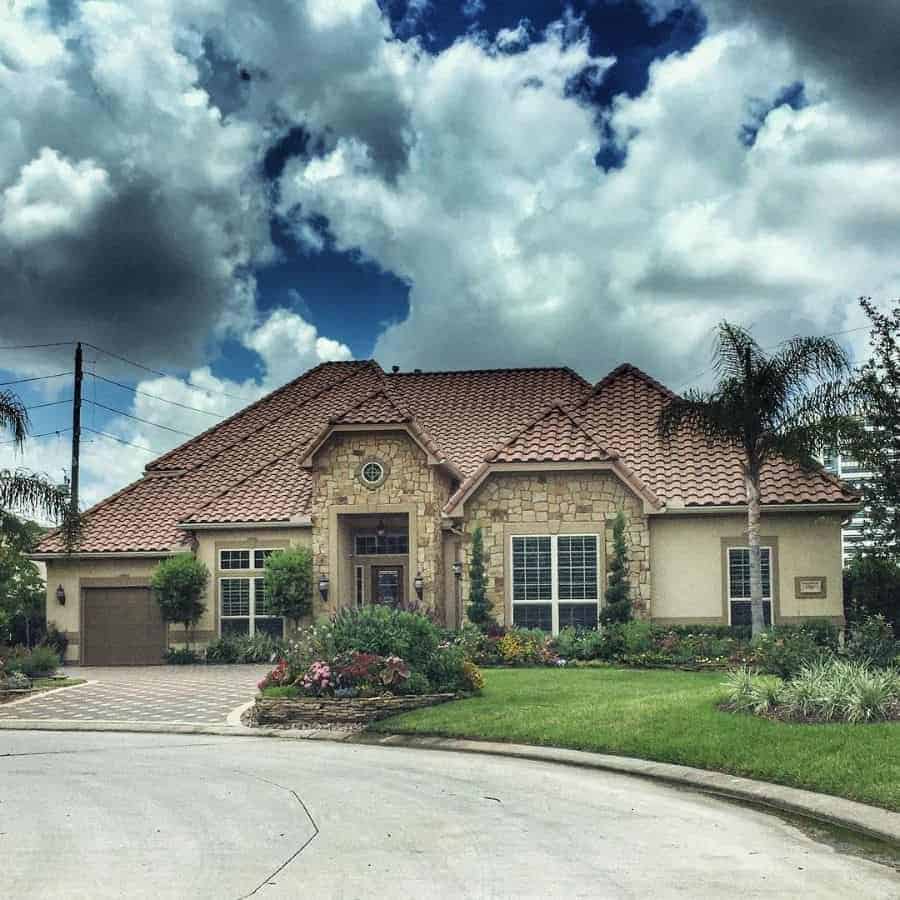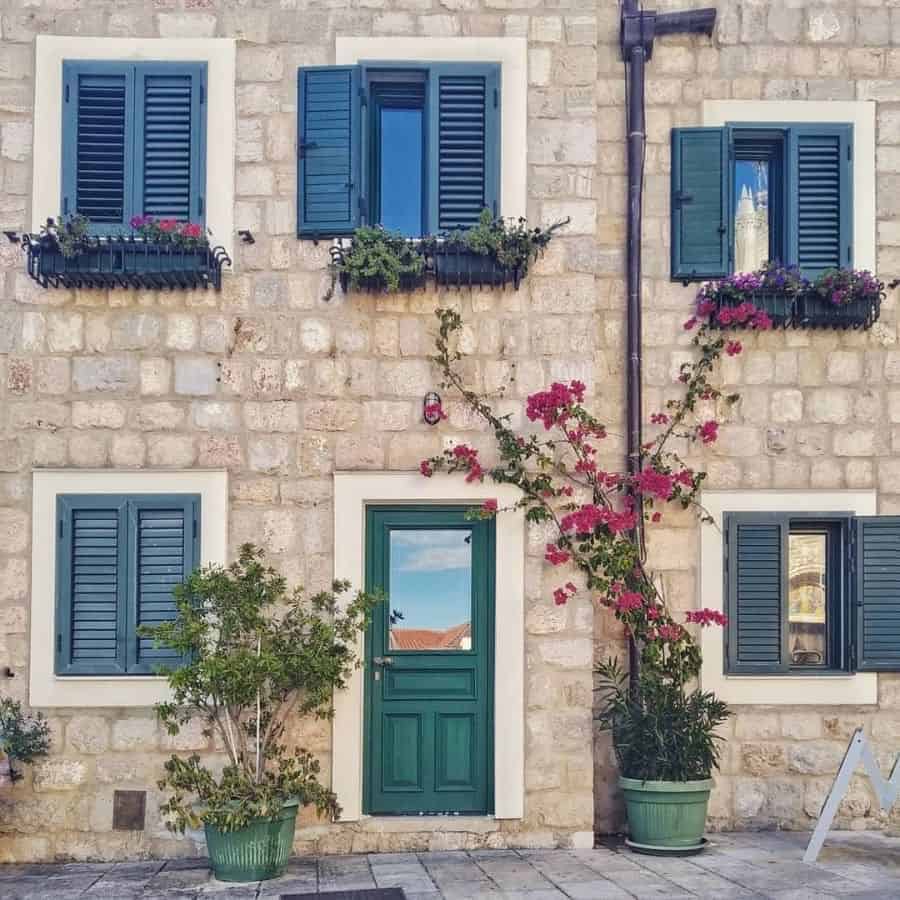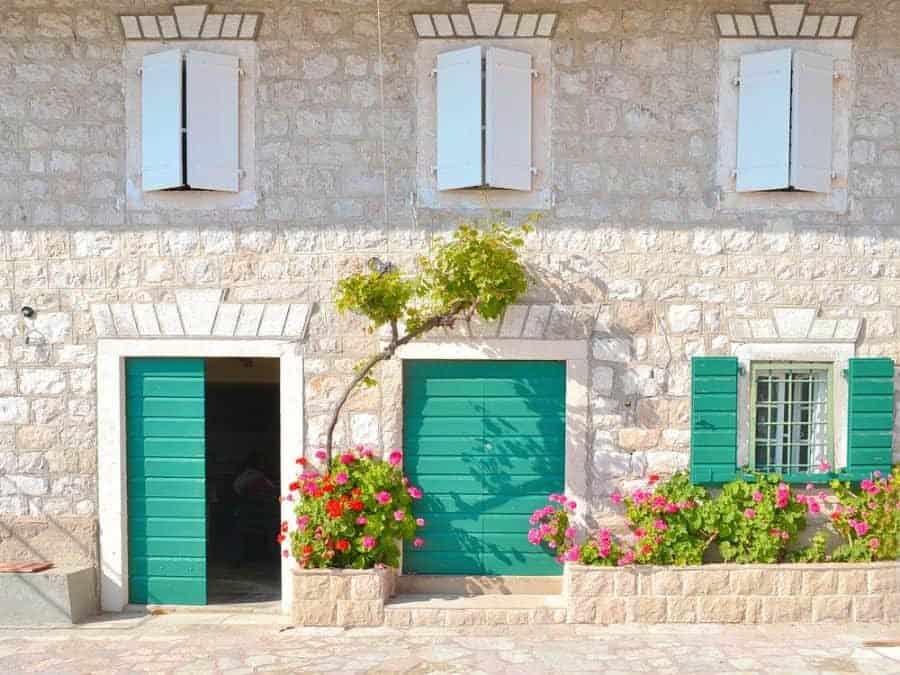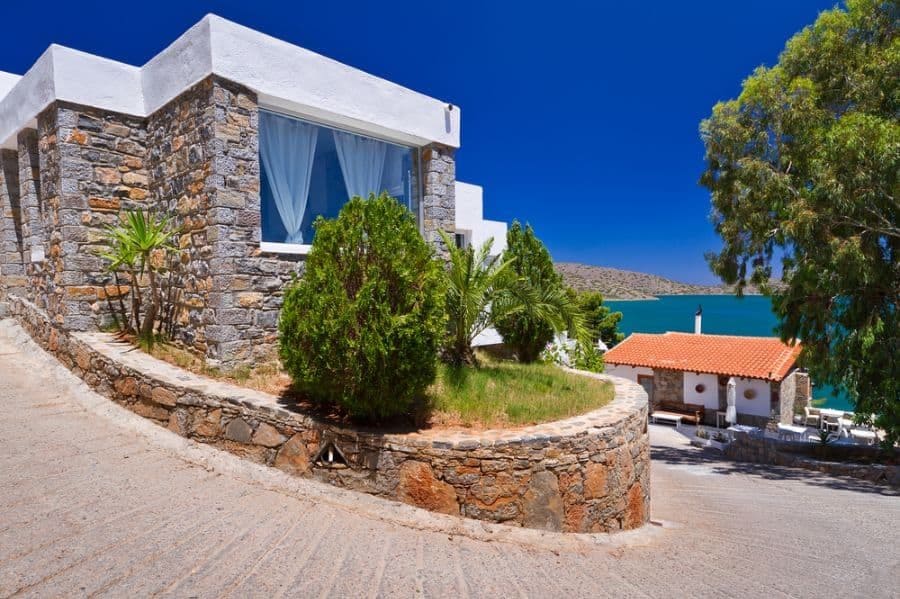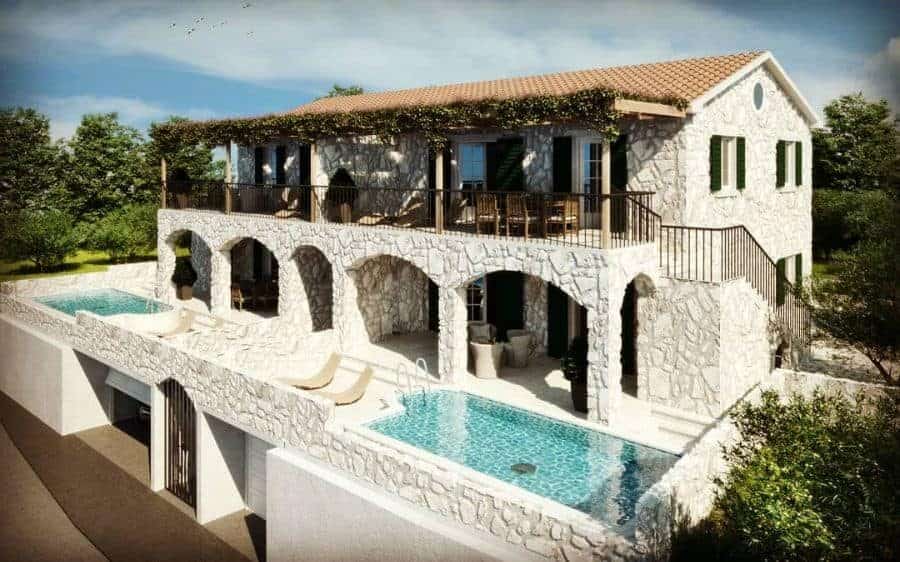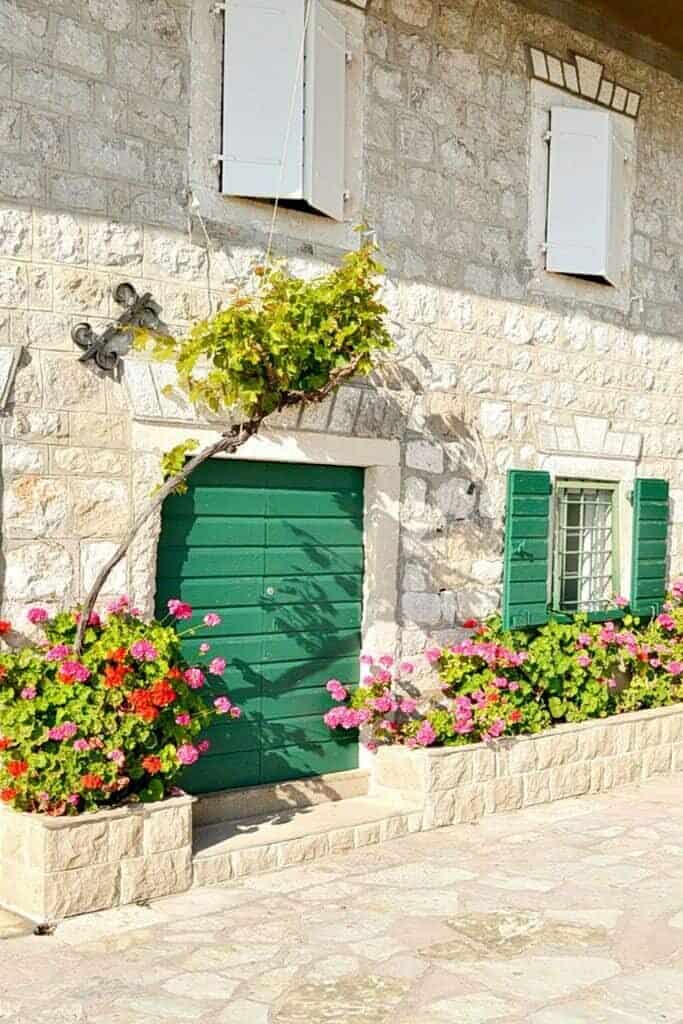 12. Warm Colors For A Tuscan-Style Mediterranean House
If you're looking for Mediterranean house ideas, then consider a Tuscan-style home! With mellow warm colors such as yellow and beige, combined with terracotta, a Tuscan-style Mediterranean house can offer the luxury of an Italian villa.
To add even more warmth to your space, open the shutters to let in natural light and hang colorful silks on the walls, and finish off your creative look with chandeliers or unique architectural details. The result? A timeless and elegant style that will always impress!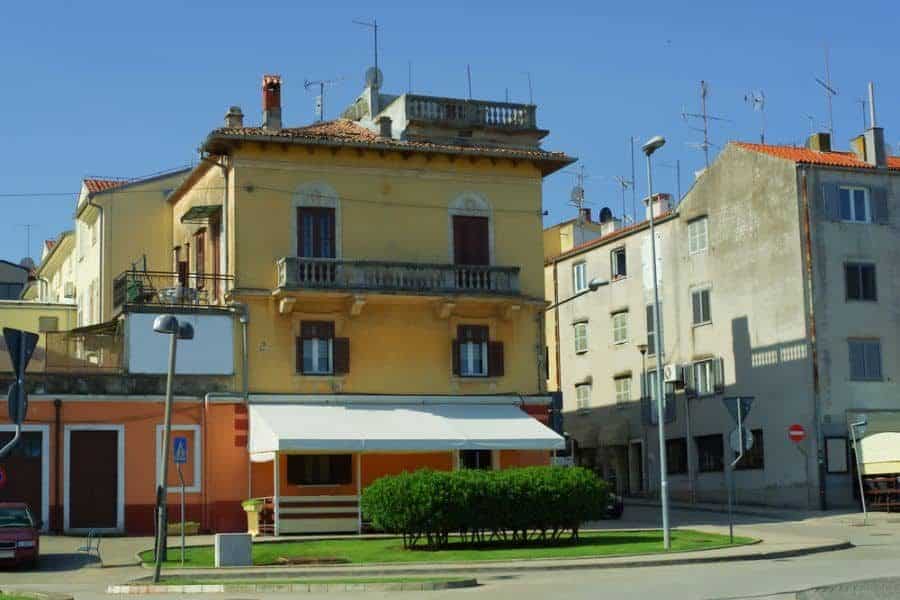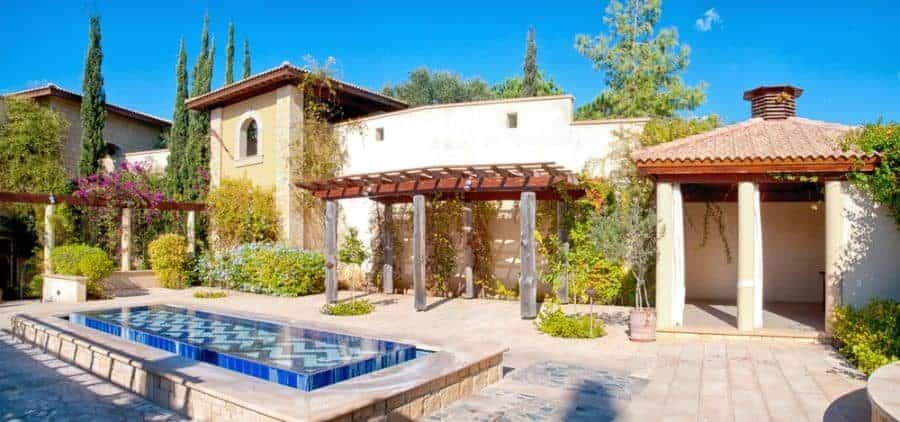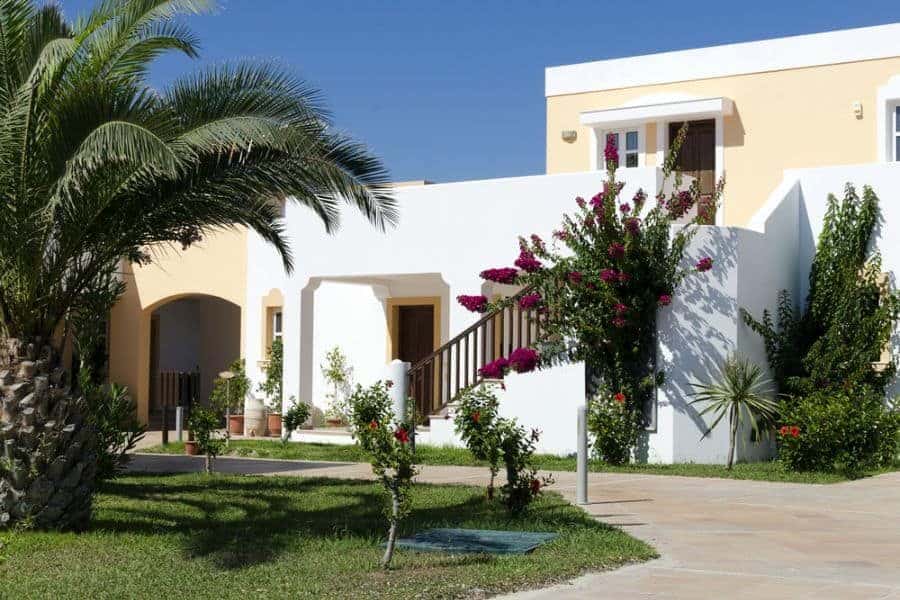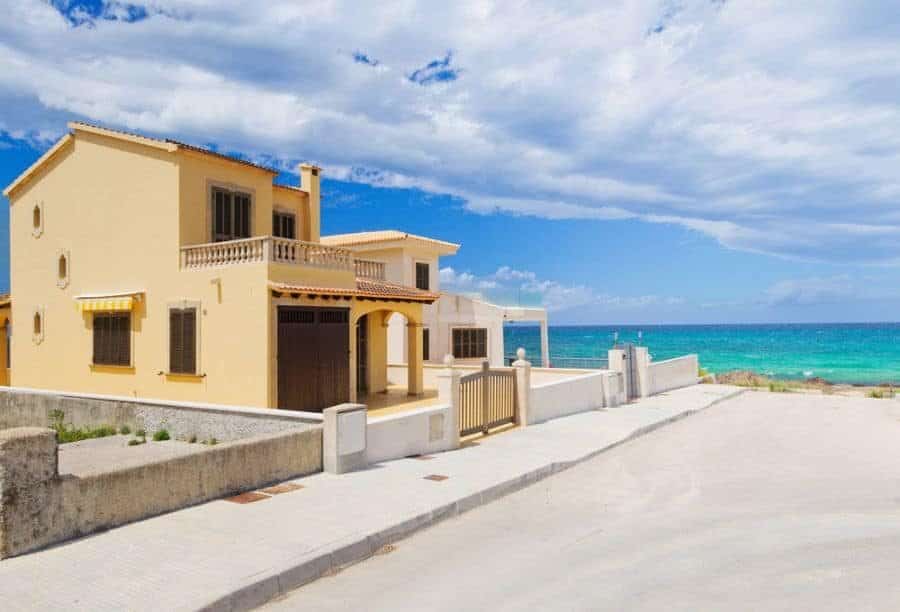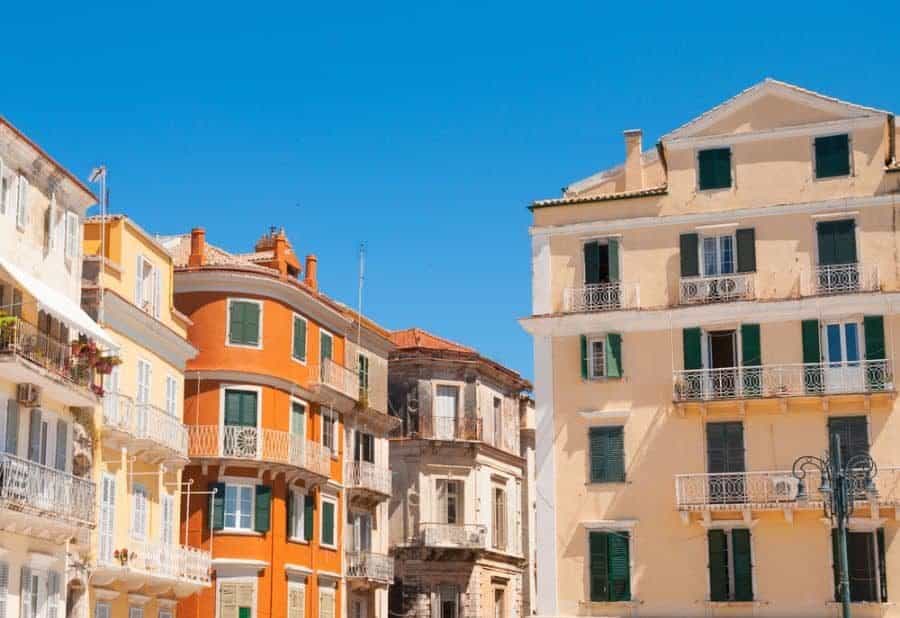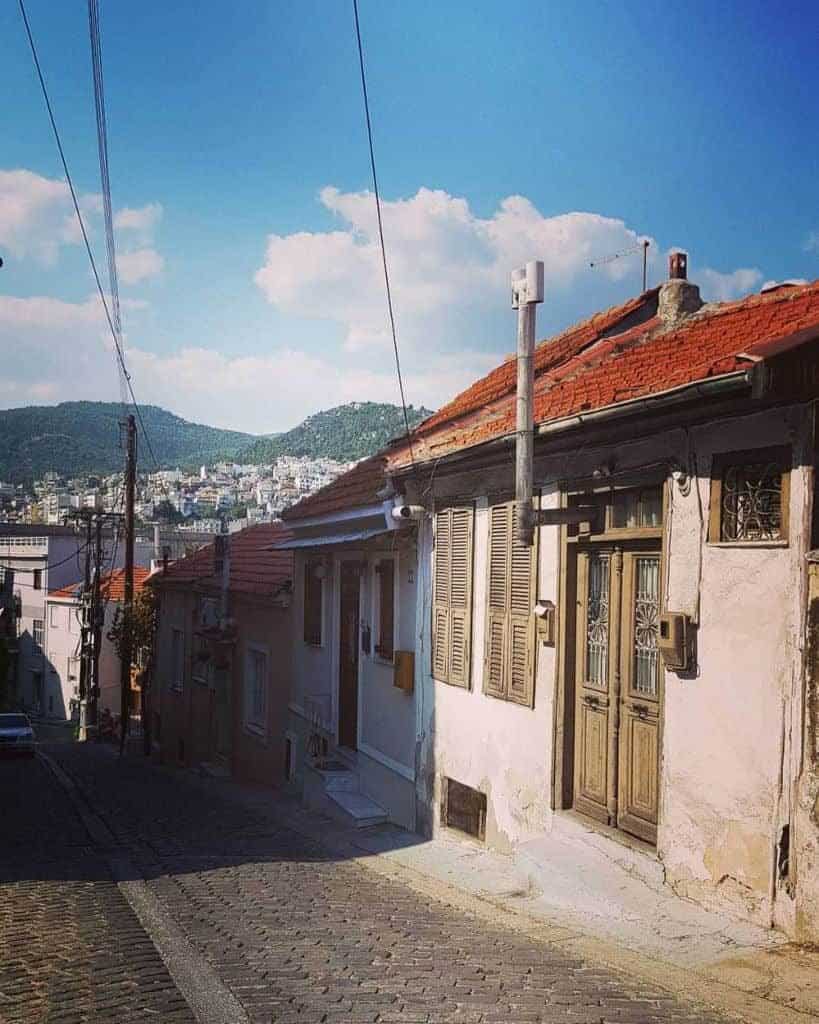 13. Blue Accent Shutters
One of the best elements to include in this Mediterranean home is blue windows and shutters, juxtaposed with terracotta walls with blues as an accent color. Choose hues that represent the sunshine of the European coasts and compliment them with bold yet sophisticated architectural features like curved or natural stone arches.
The combination can create an incredible atmosphere that exudes sophistication, inspiring relaxation and appreciation of nature.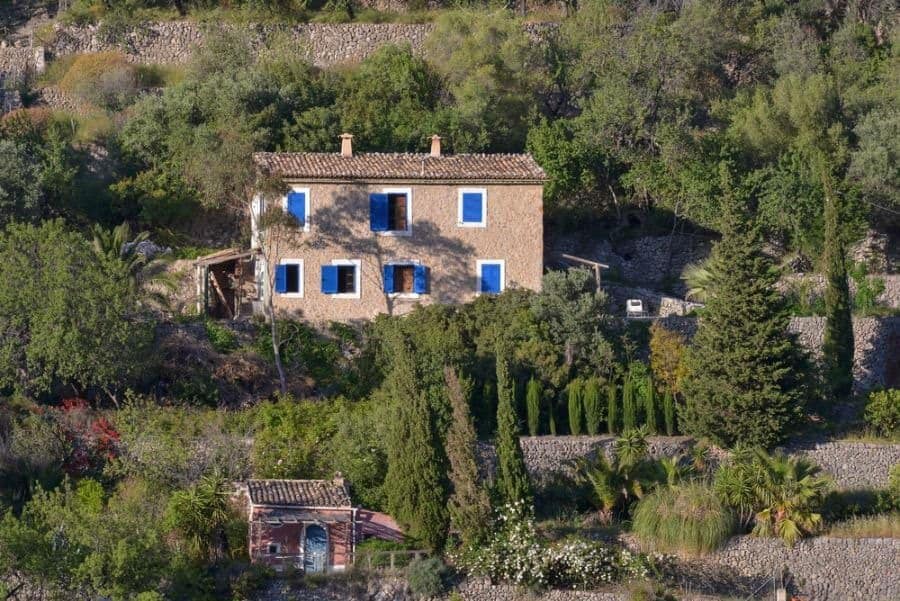 Mediterranean House FAQs
What does "Mediterranean style house" mean?
A Mediterranean style house is one designed in the style of homes located around the Mediterranean Sea. Designed to accommodate the unique needs of living in a warmer climate, these homes often feature inner courtyards and generous patios. Stucco walls, a tile roof, and arched windows are all features of a Mediterranean style home.
Where are Mediterranean houses located?
Mediterranean houses used to only be located in the beautiful Mediterranean countries including France, Italy, and Spain. However, they can now be found around the globe. Sometimes called Spanish style homes in the US, these houses are easily recognizable by their rough plaster exteriors, sprawling profiles, terra cotta roof tiles and arched doorways and windows.
What is the difference between Tuscan and Mediterranean style?
Although these are two similar types of architectural style, Mediterranean home design incorporates elements from around the Mediterranean area. These include influences from Greece, Turkey, Morocco, France, and Spain. Tuscan style focuses only on the design elements common in Italy, particularly the Tuscany region of central Italy.