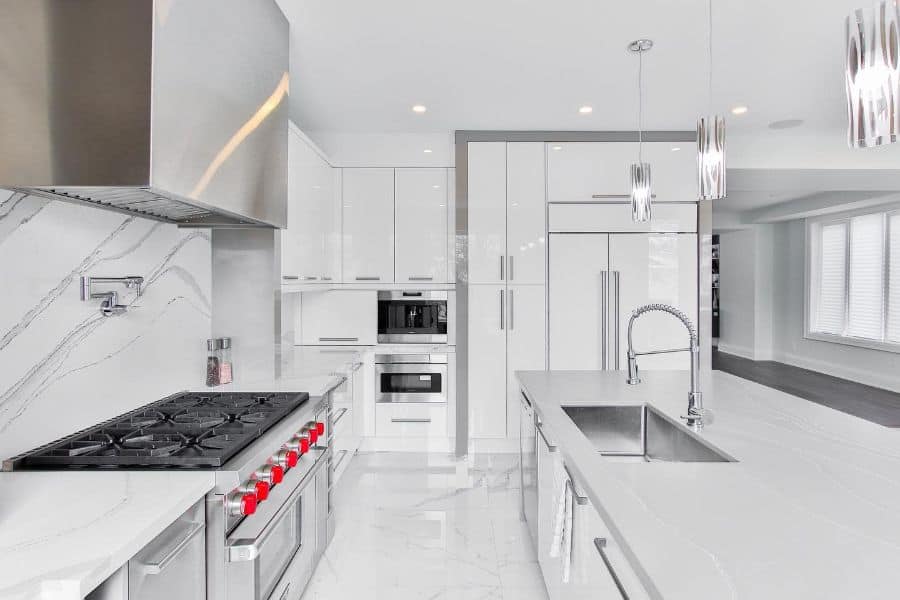 The Top 54 Modern Kitchen Ideas
The perfect kitchen doesn't just need to look great. It also needs to offer a clean, streamlined workspace for daily meals and entertaining. Modern design is the ideal balance of each.
Modern kitchen design is simple yet far from boring. With standout finishes and sleek lines, you can create a culinary space that proves less really is more. Plus, modern decor encompasses countless different trends. So you'll have no trouble finding modern kitchen ideas that suit your personal style.
From lighting to cabinetry, modern design is definitely having a moment in the sun. These examples will inspire you to reimagine your own kitchen with a modern twist!
1. Backsplash
Modern decor tends to be minimalist in nature. But your kitchen's backsplash is the perfect opportunity to add a pop of color or texture to the space as a whole.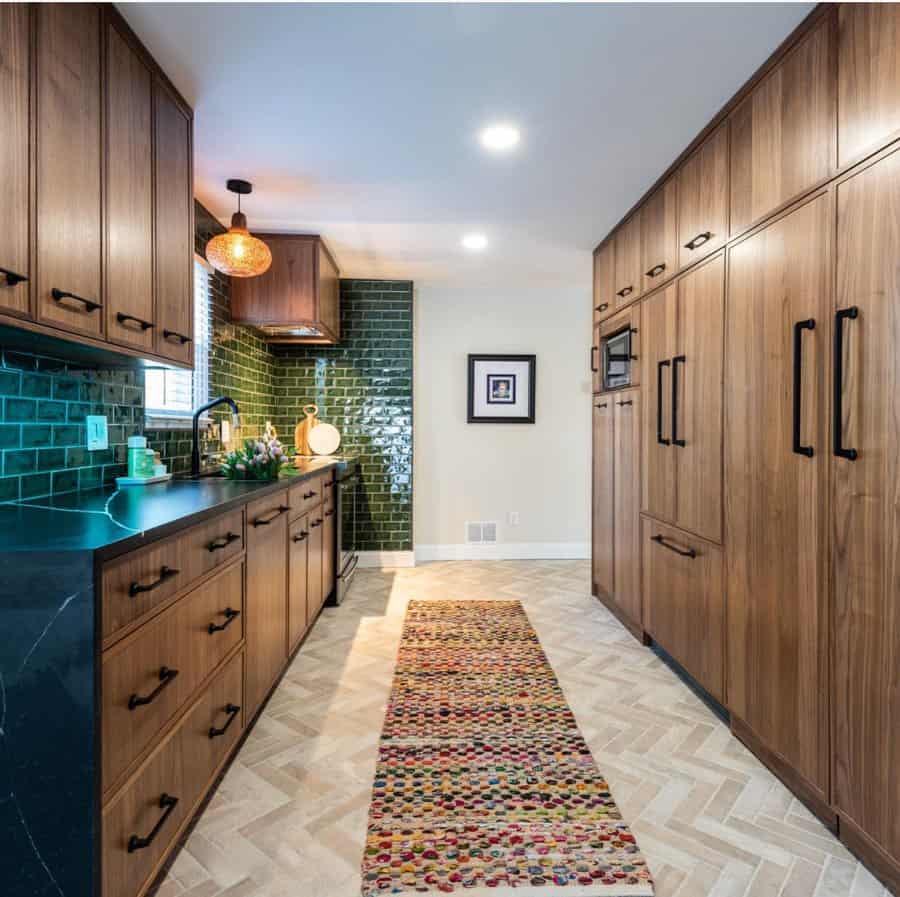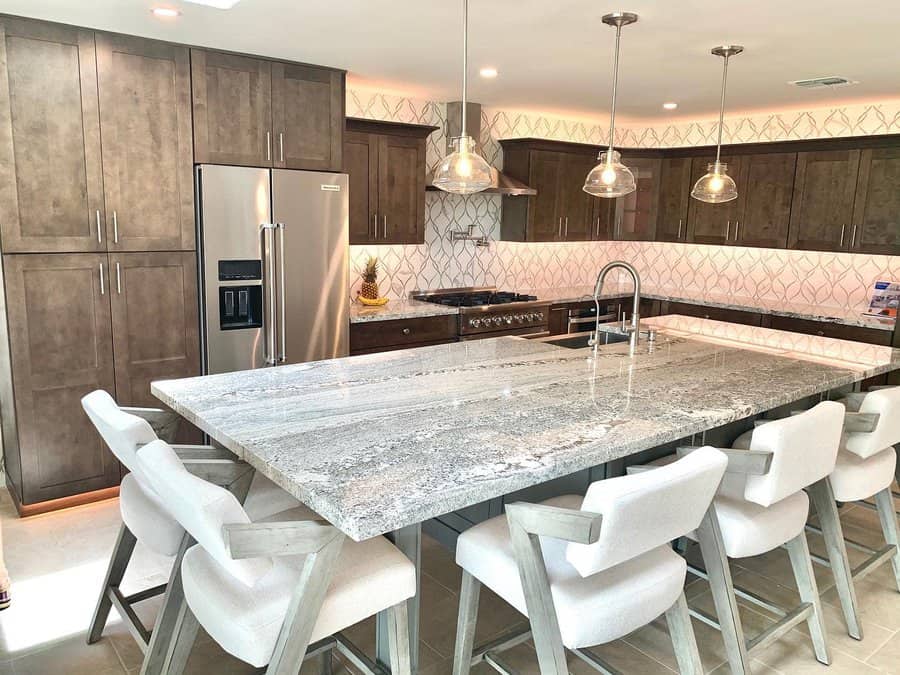 Backsplash tile comes in countless shapes, materials, and colors. There are no rules about what type of tile you can or cannot use in your modern kitchen. But it's a good idea to stay away from overly organic materials. Instead, opt for sleek metal, glass, or ceramic tile.
Patterned and mosaic tiles work beautifully in modern design. You can also add dimension to your kitchen backsplash by using a contrasting color of grout between each tile.
2. Cabinet
Modern kitchen cabinets should be simple and blend into the background. But that doesn't mean they should be boring!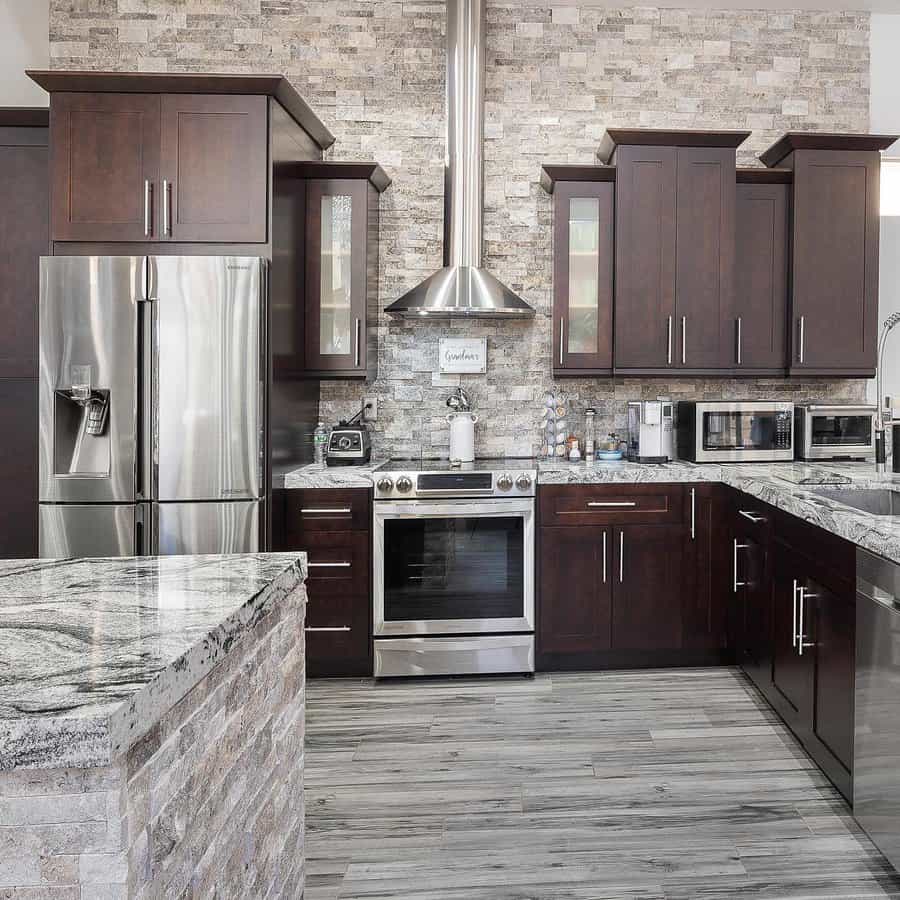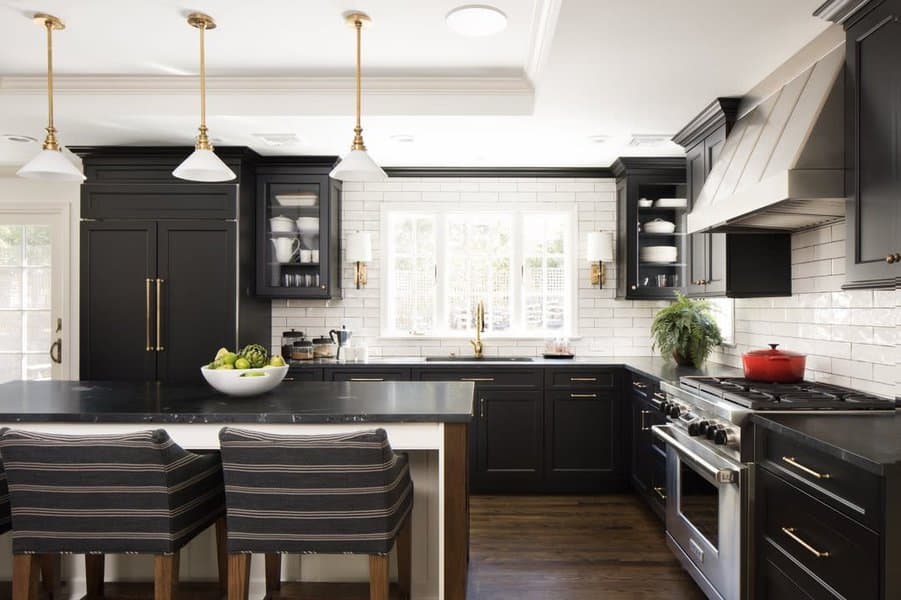 Shaker and flat panel cabinets are the best choices for a modern kitchen design. These styles offer clean lines that are perfect for creating a modern aesthetic. Stick to neutral tones and minimalist hardware with a metallic finish.
Keep your kitchen cabinetry from looking too uniform with contrasting upper cabinets or glass doors. You can never have too much storage, so invest in plenty of matching drawers as well.
3. Ceiling
It's important to remember that your kitchen ceiling is just as much a part of the space as any other surface. The best modern ceiling is sleek and practical.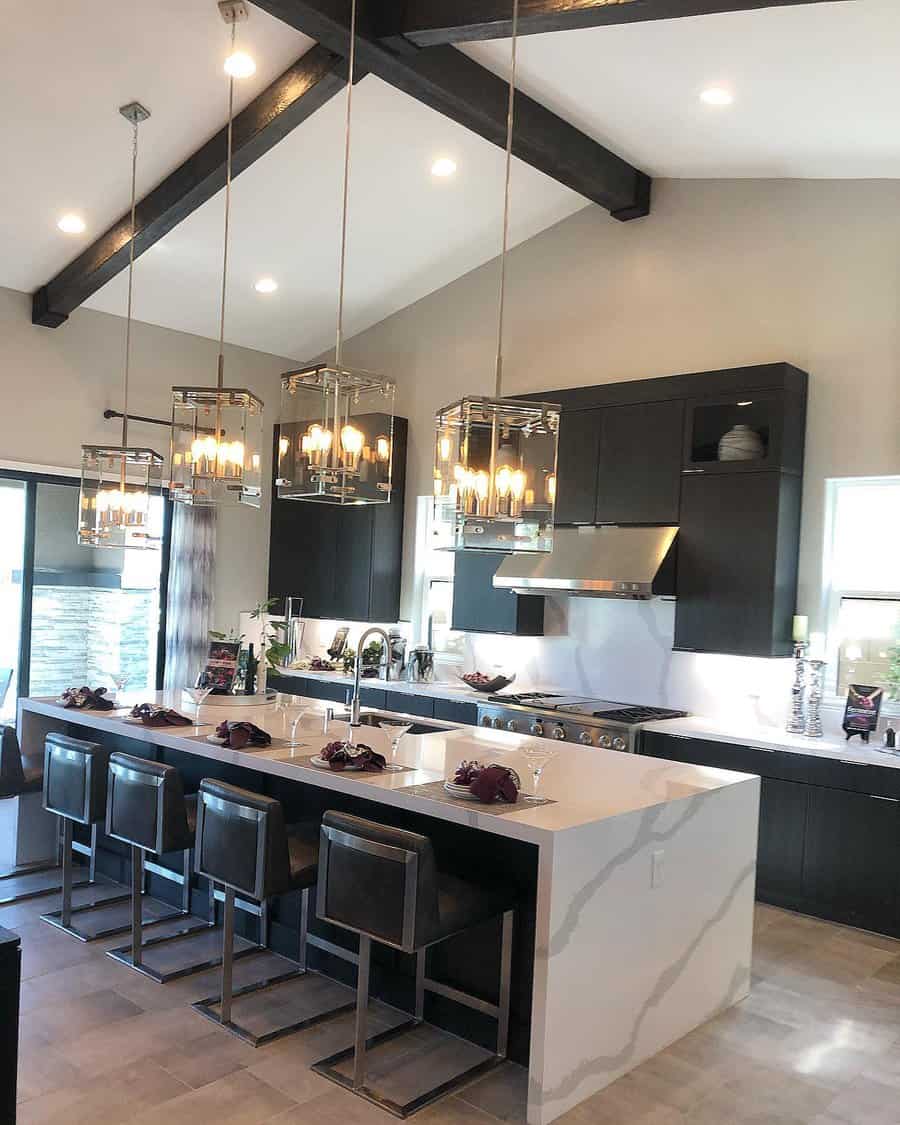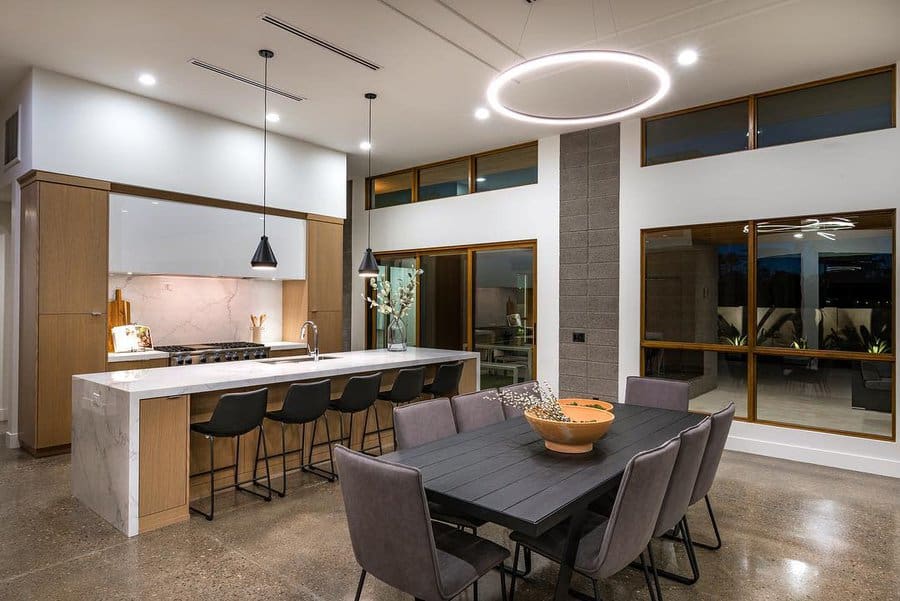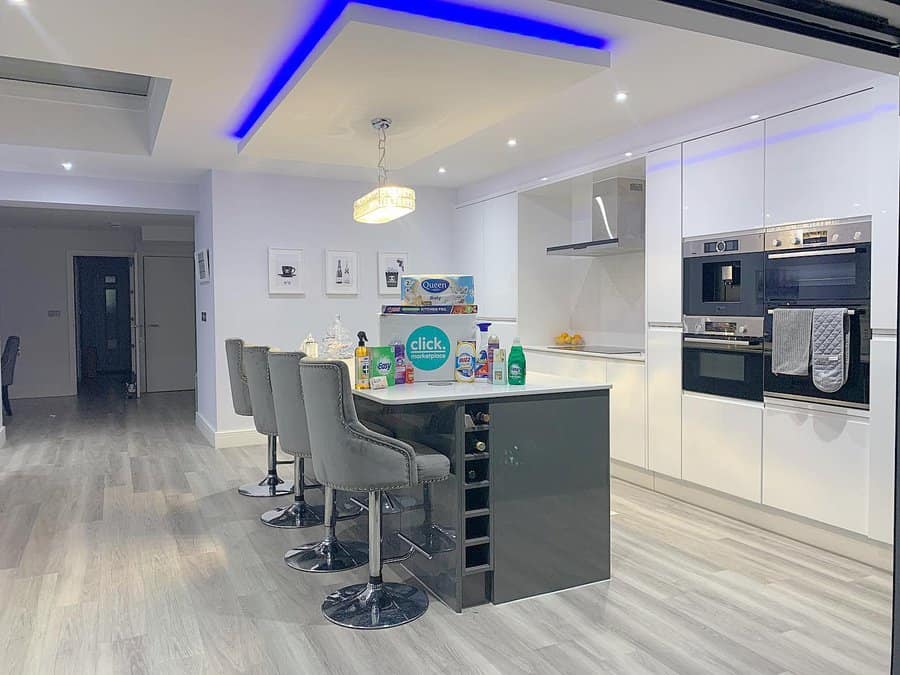 Include plenty of functional light sources throughout your kitchen ceiling to ensure no corner is left in the dark. Recessed lighting will illuminate the entire room without bulky fixtures.
Just because you're taking a modern approach to kitchen design doesn't mean you can't include a statement light fixture. In fact, it's encouraged. A pendant light hung over your kitchen island or breakfast bar will add a touch of style to the space.
4. Compact
The simplicity of modern design means you can make the most out of a small kitchen. If you're overwhelmed by how to unlock your kitchen's true potential, these examples might offer some inspiration.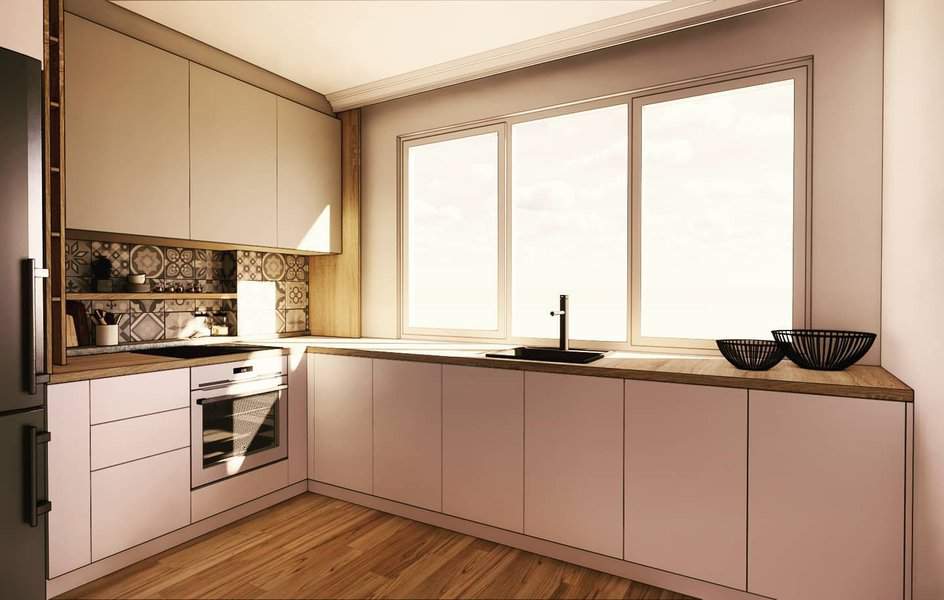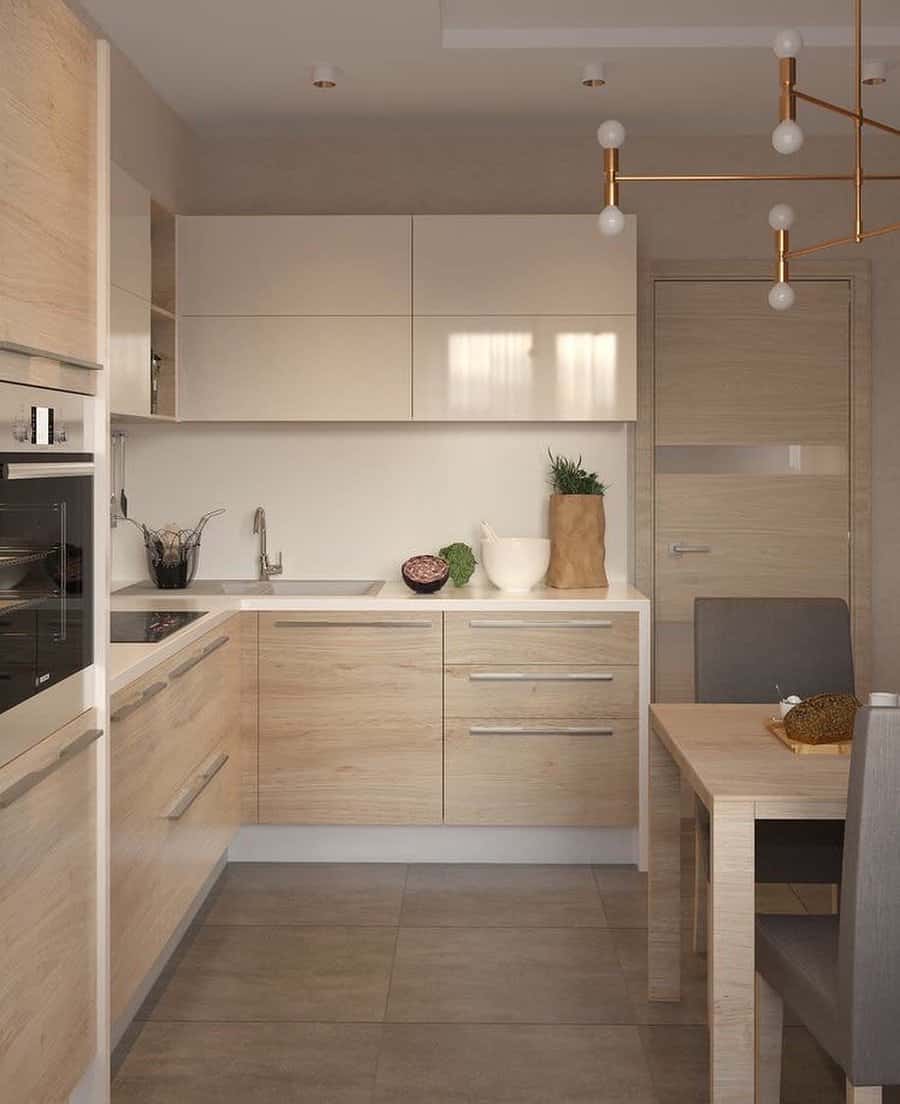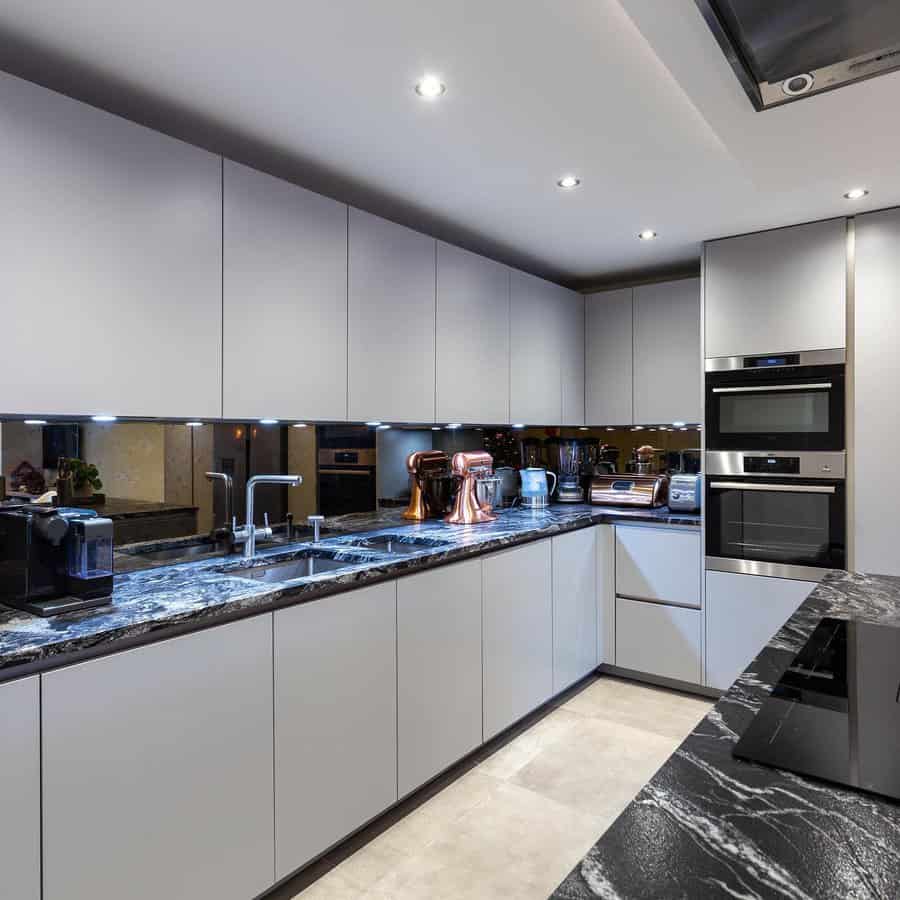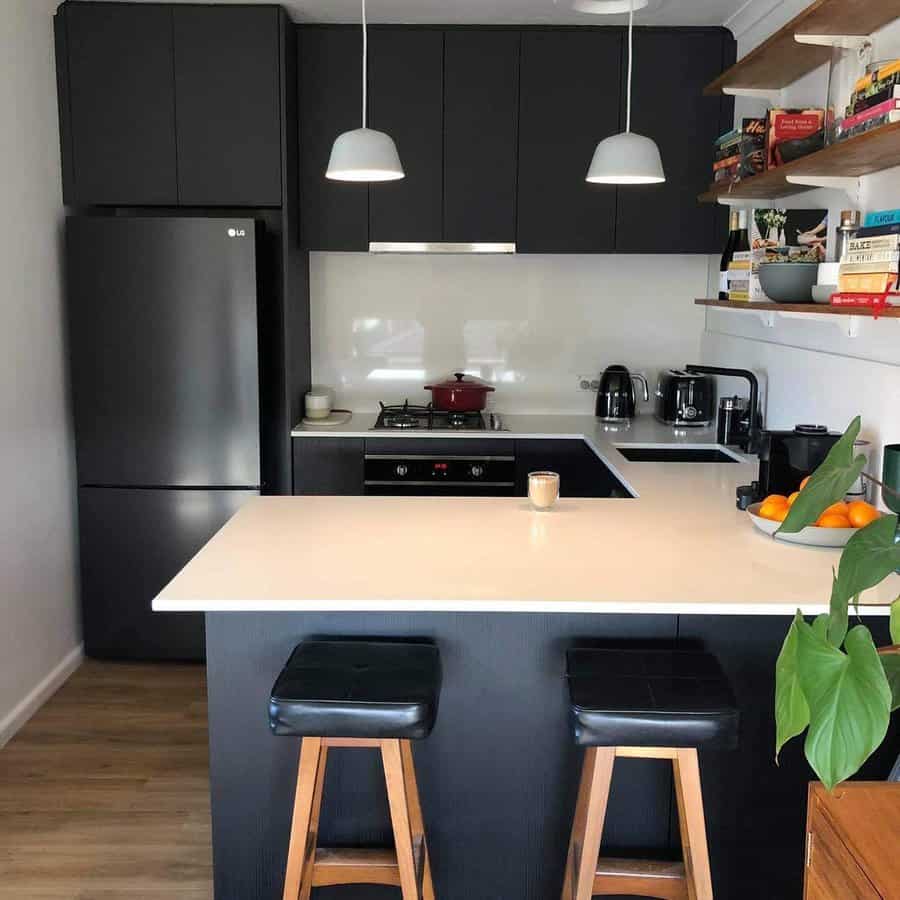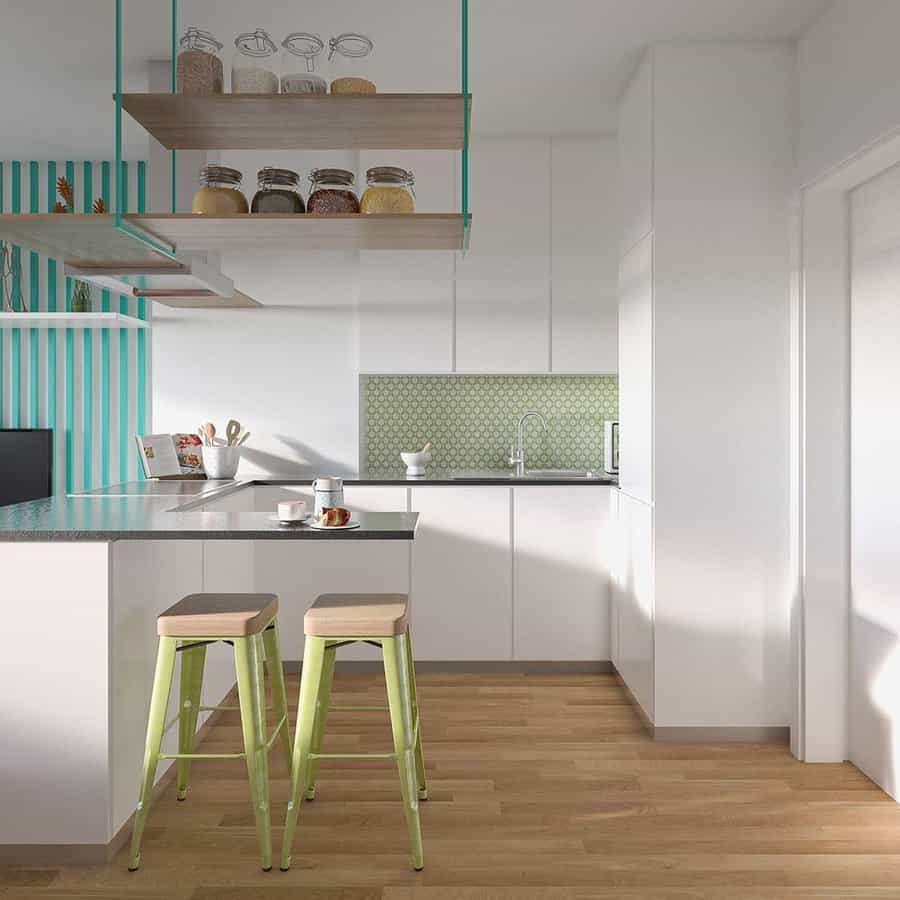 Clutter is the bane of the modern aesthetic. Prioritize storage space to keep your countertop and other work surfaces neat and organized.
Eliminate visual clutter by opting for handleless cabinet doors and sleek appliances. Avoid overly bright or ornate finishes. Cabinetry that matches your kitchen walls will open up the space — install an accent backsplash for a pop of color.
5. Contemporary
Defining the difference between modern and contemporary kitchen design is always difficult. But it's currently harder than ever because modern decor is one of the biggest trends in home design as a whole.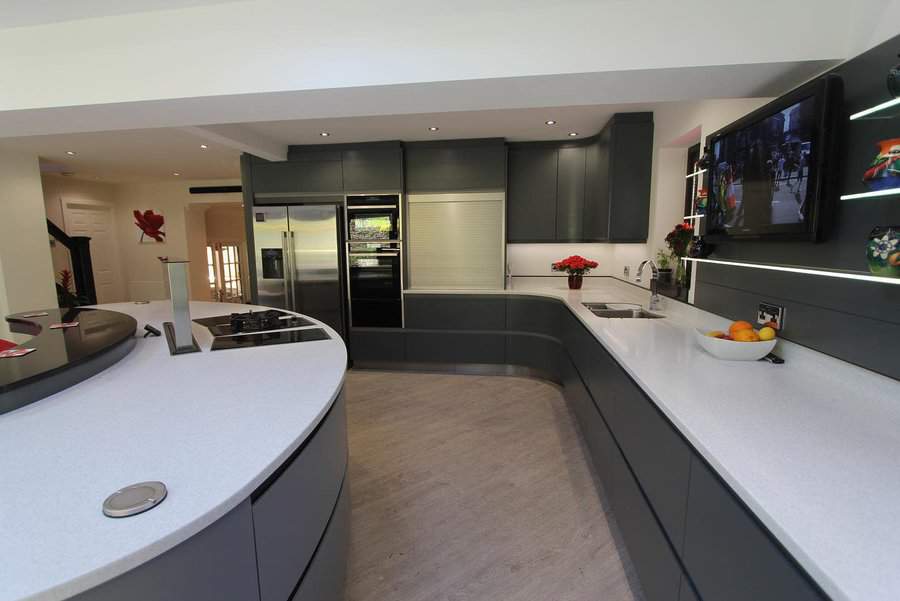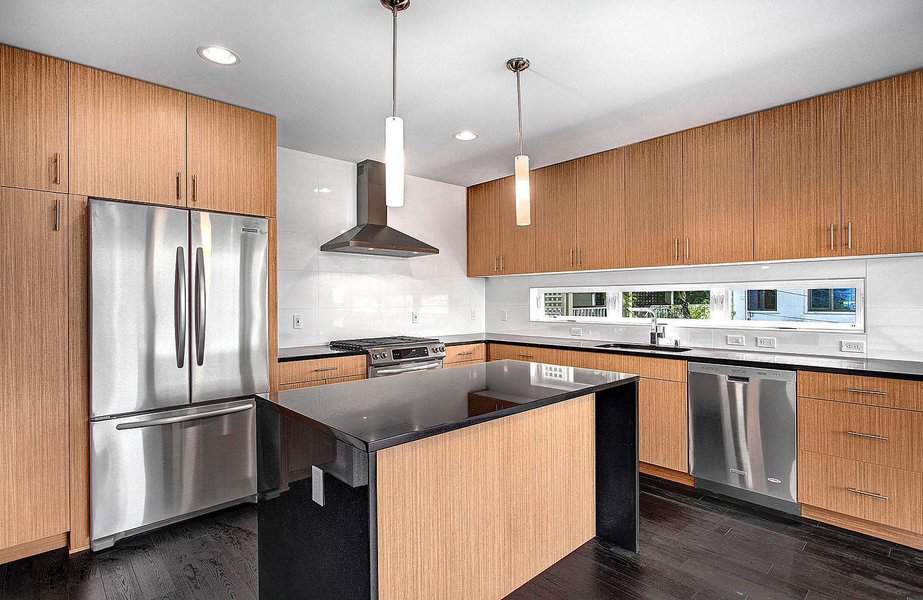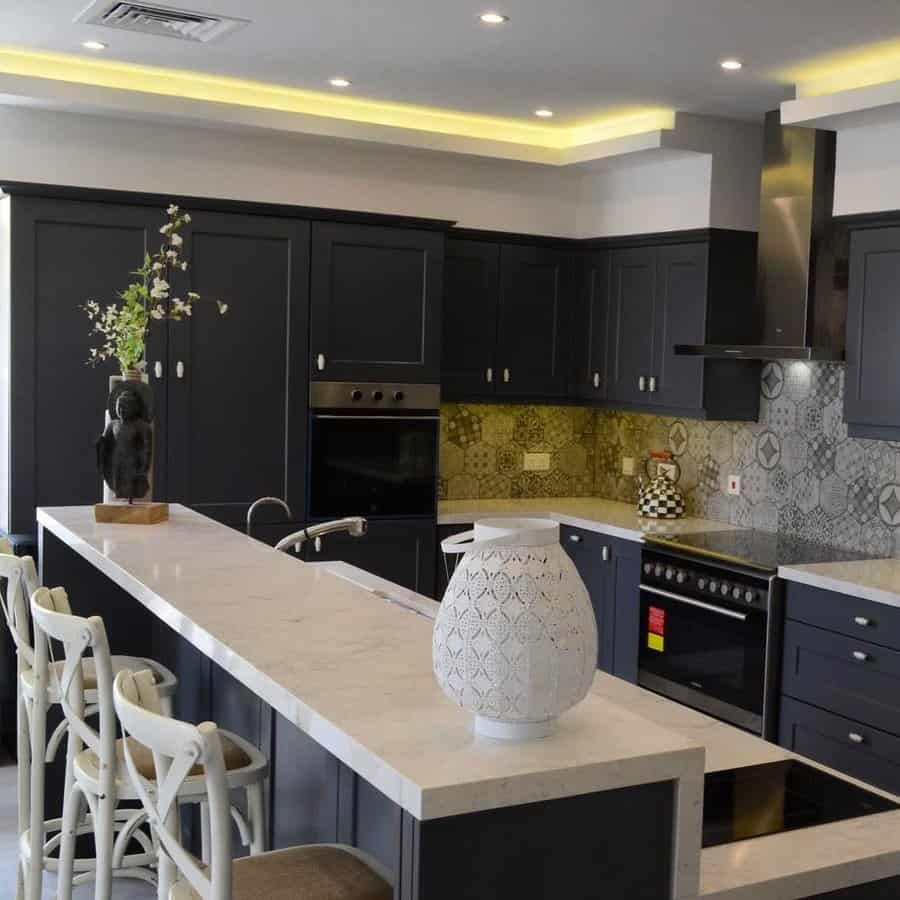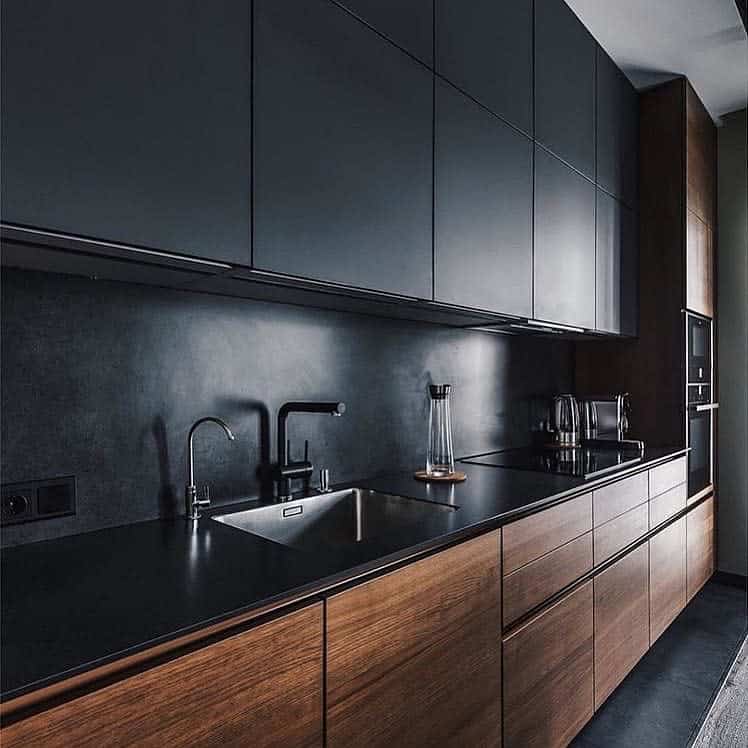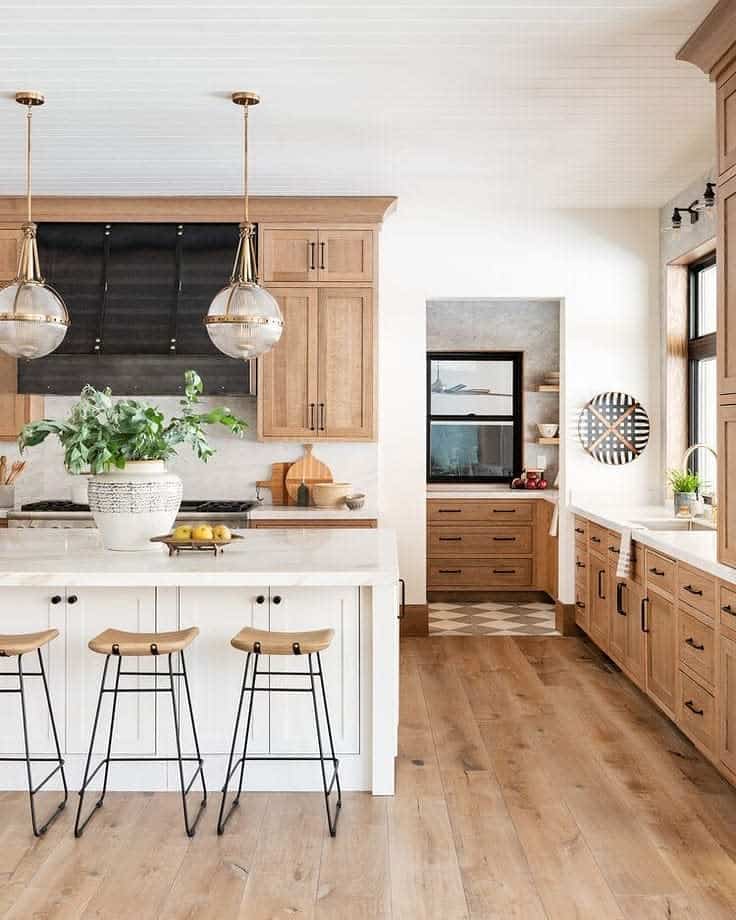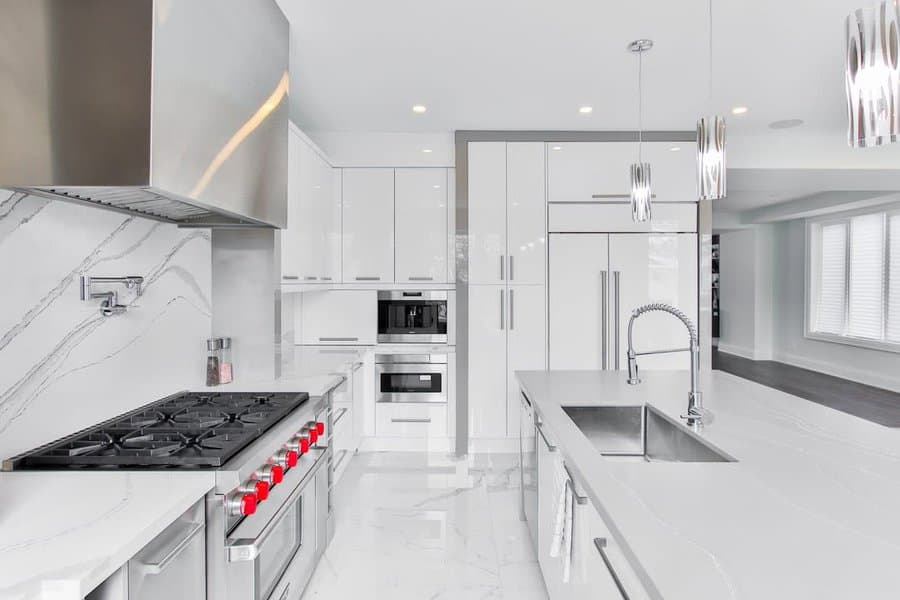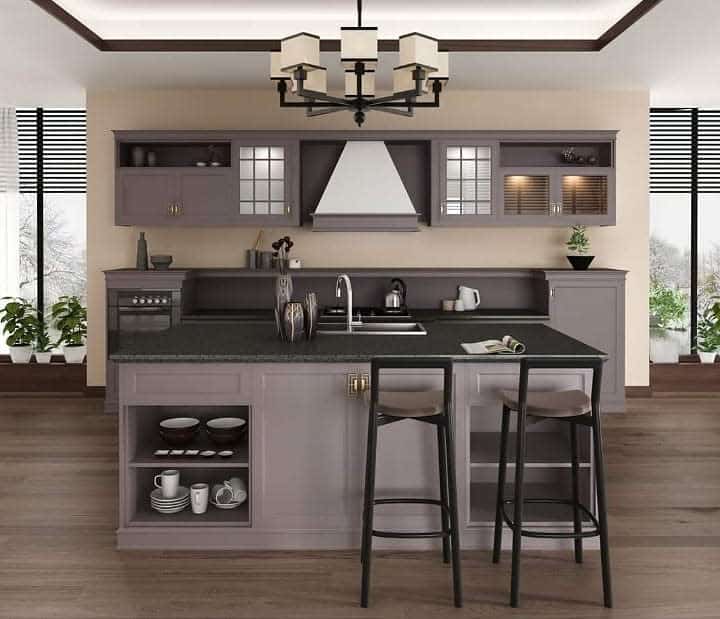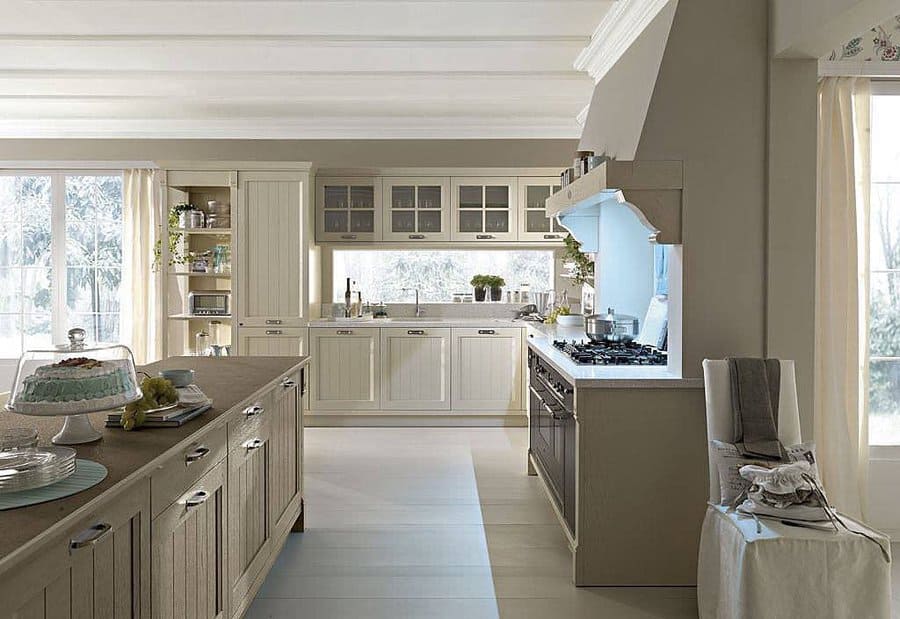 Contemporary kitchen decor includes anything that is popular and trendy in the current moment. So, naturally, what is and is not considered contemporary design is constantly changing.
The best way to incorporate contemporary elements into your modern kitchen is by using smaller accent pieces. This allows you to easily update your kitchen decor as the trends inevitably change!
6. Countertop
Simple is often best when it comes to selecting a new countertop for your modern kitchen. A countertop that matches the existing cabinetry or backsplash will make the space feel larger and more cohesive.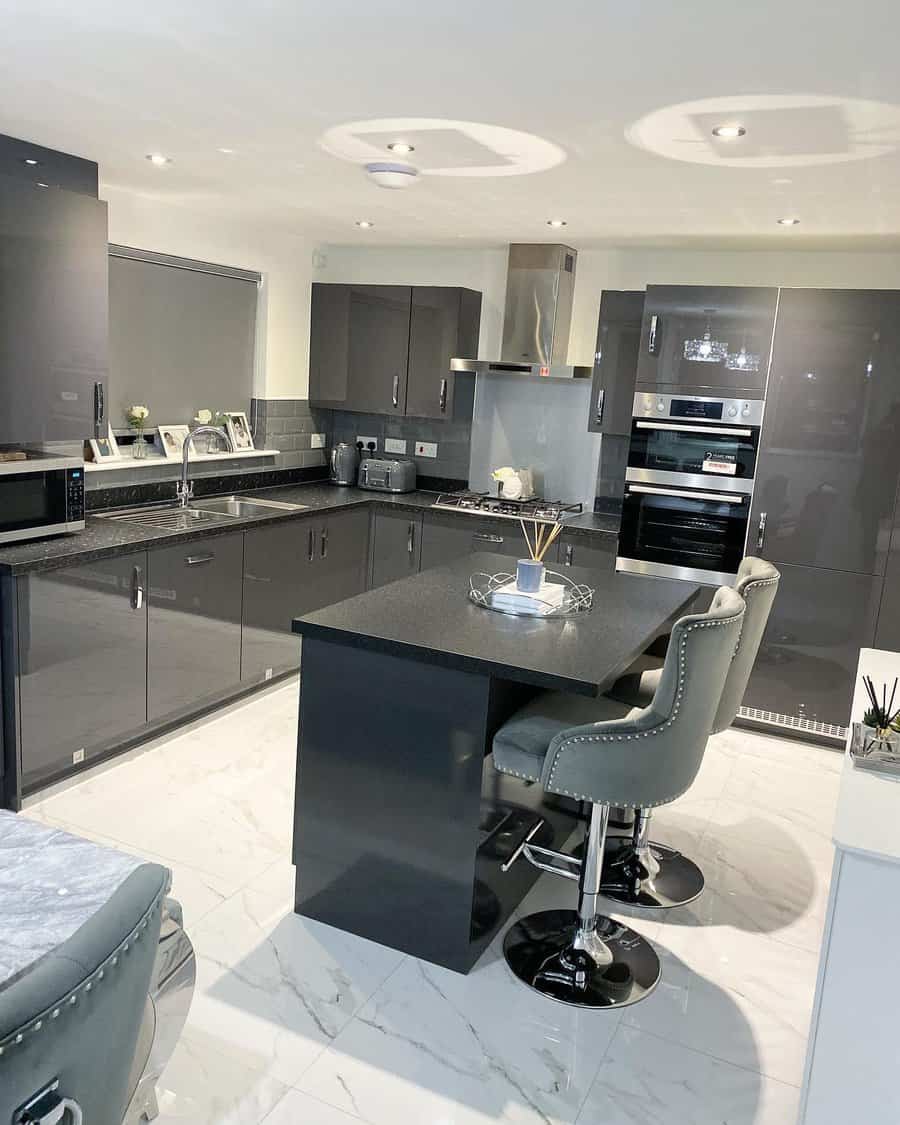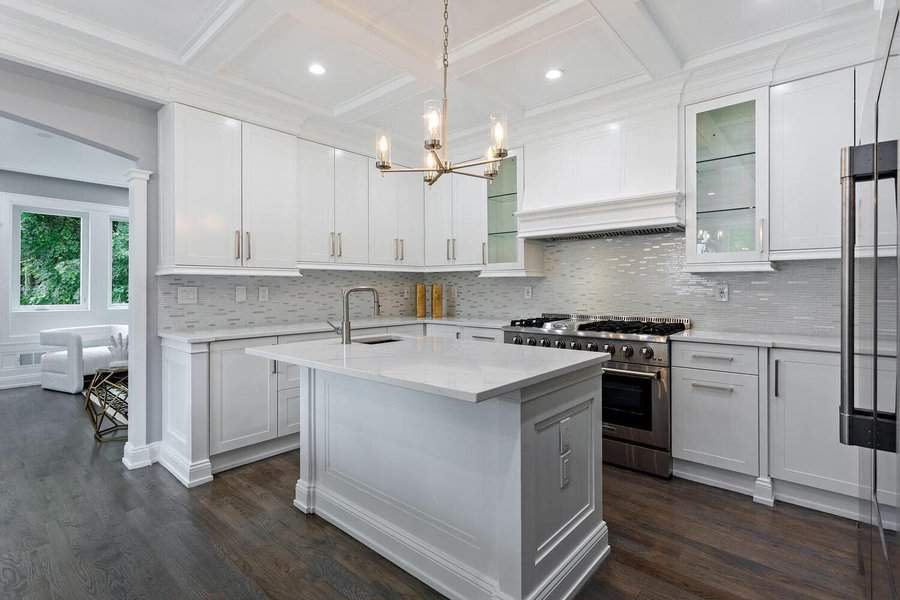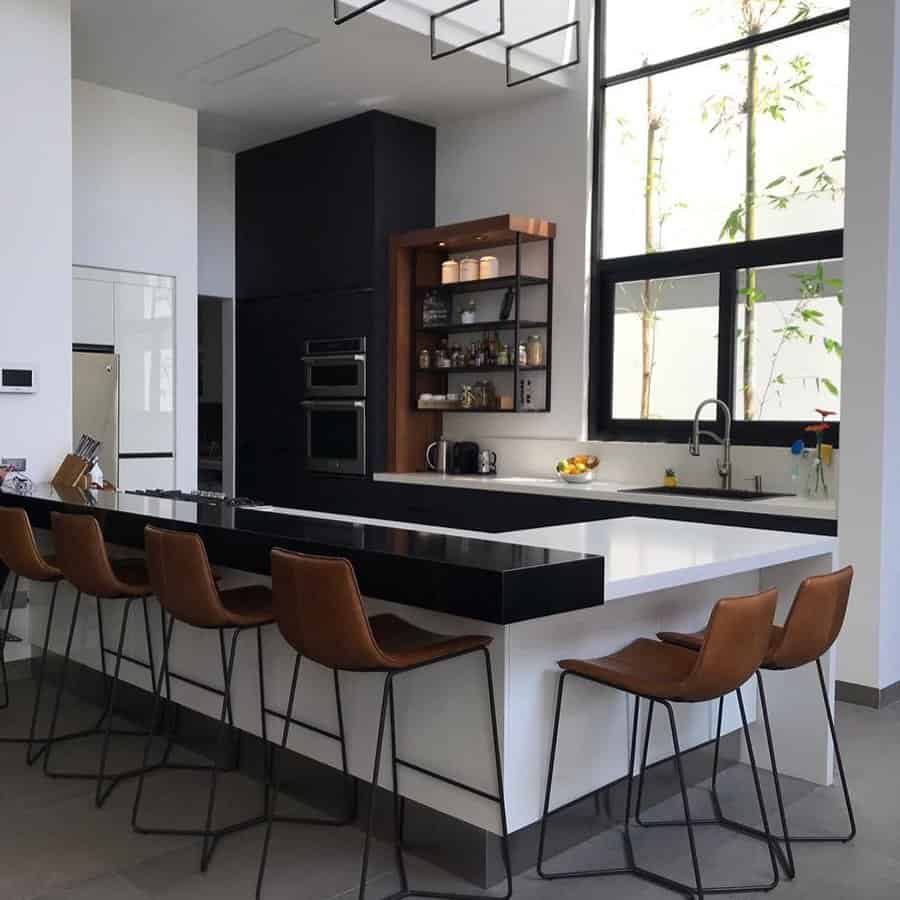 If your kitchen design could use a touch of warmth, consider installing a wood or butcher block countertop. This style of countertop is surprisingly durable and matches a range of modern design trends.
Natural stone countertops can be a great way to add some organic texture to your modern kitchen. Subtle variations in the stone will bring in some much-needed dimension without ruining the sleek finish you're in the market for.
7. Design
Many homeowners are drawn to modern kitchen trends for the sheer design potential. Modern kitchen decor lets you stretch your creative muscles without feeling overwhelmed.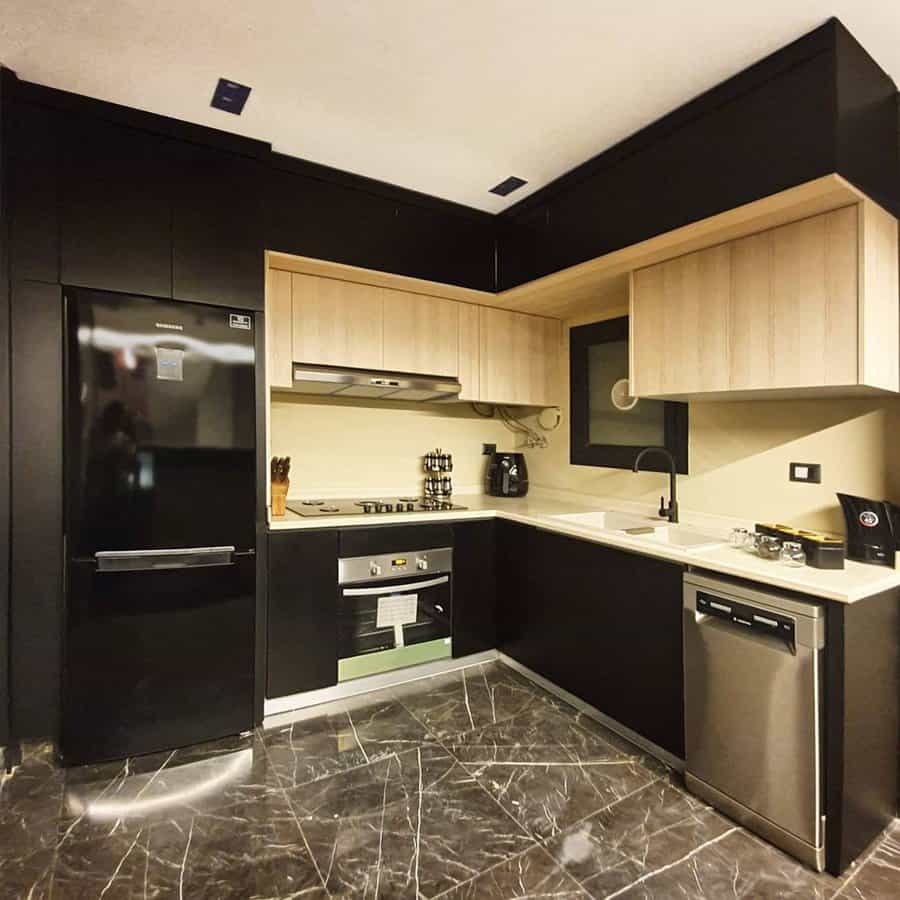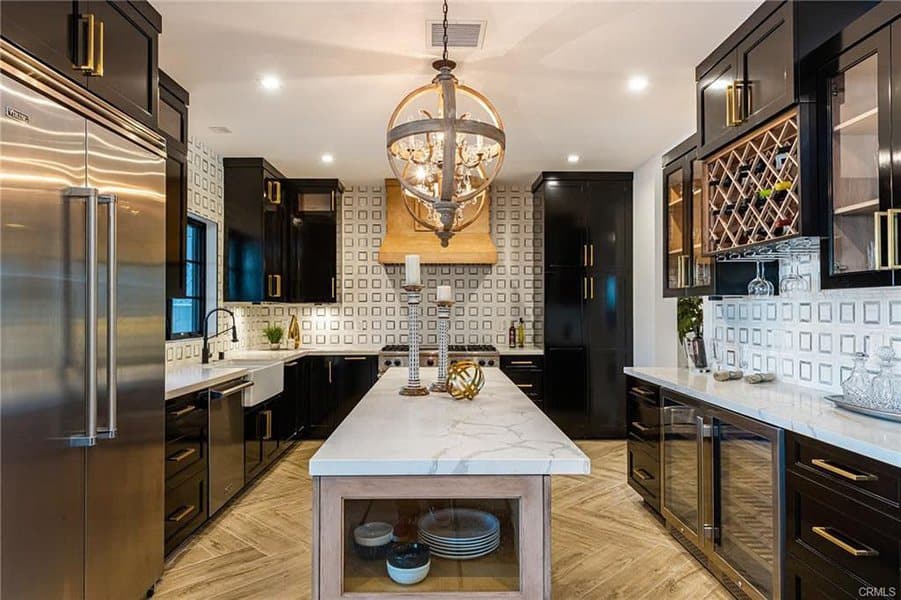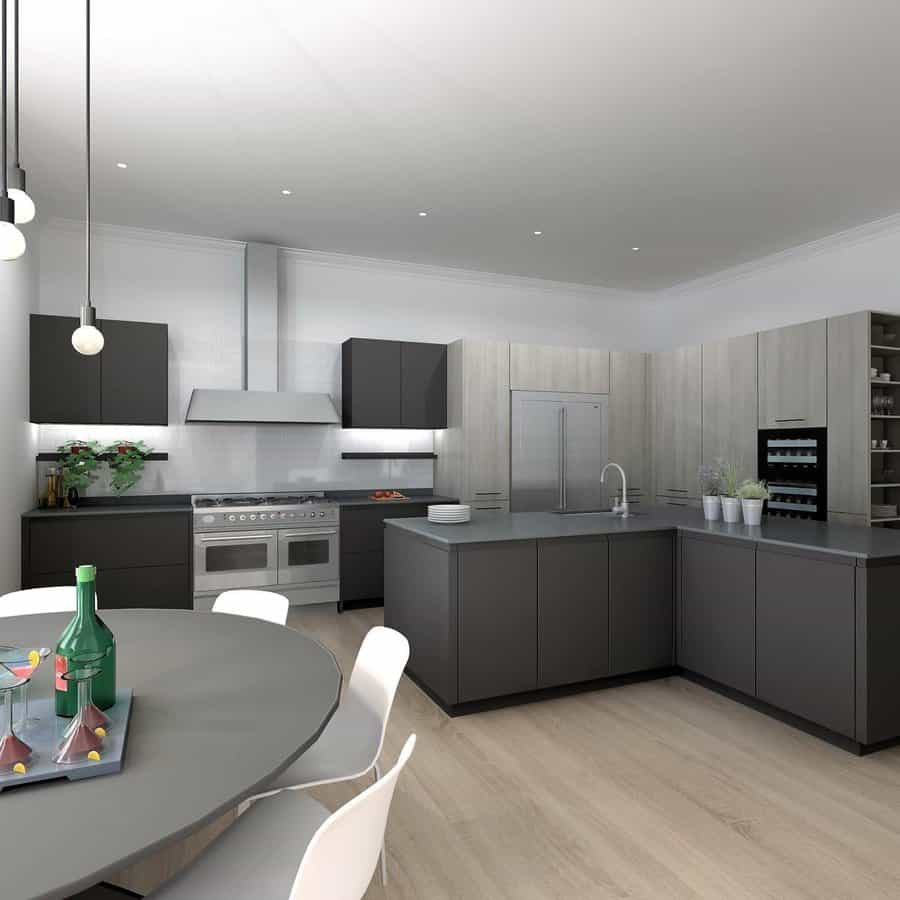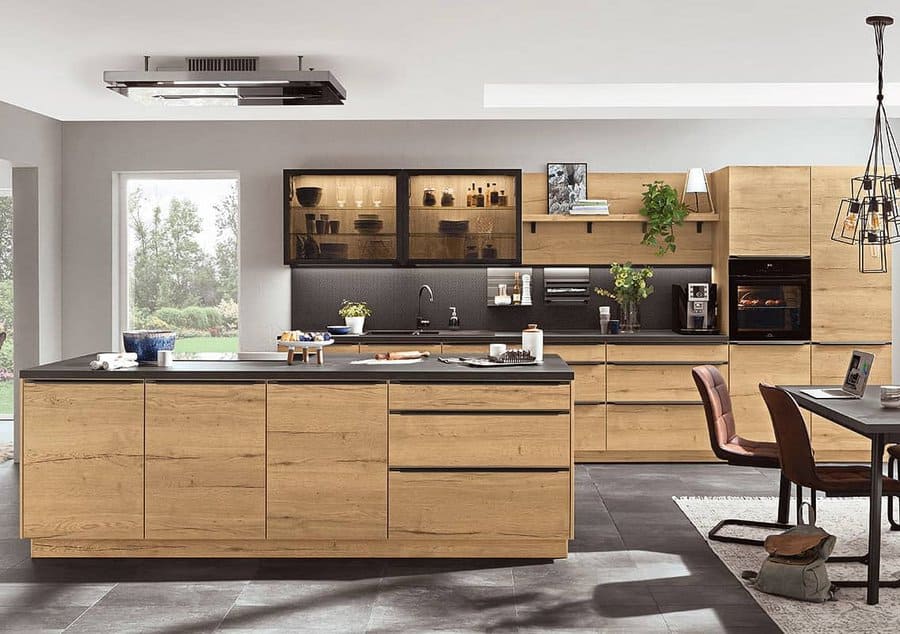 The finishes you choose for your kitchen can have a huge impact on the final look. There's nothing wrong with sticking to traditional stainless steel appliances or a subway tile backsplash. But consider including one or two unique finishes to make your kitchen remodel truly one-of-a-kind.
Keep in mind that the more decor elements you include in your kitchen the less effective each one will be! This is an interior design scenario where less really is more.
8. Island
Did you know that more homeowners plan to add an island to their kitchen than any other feature? So it's easy to forget that the kitchen island only became popular a few decades ago.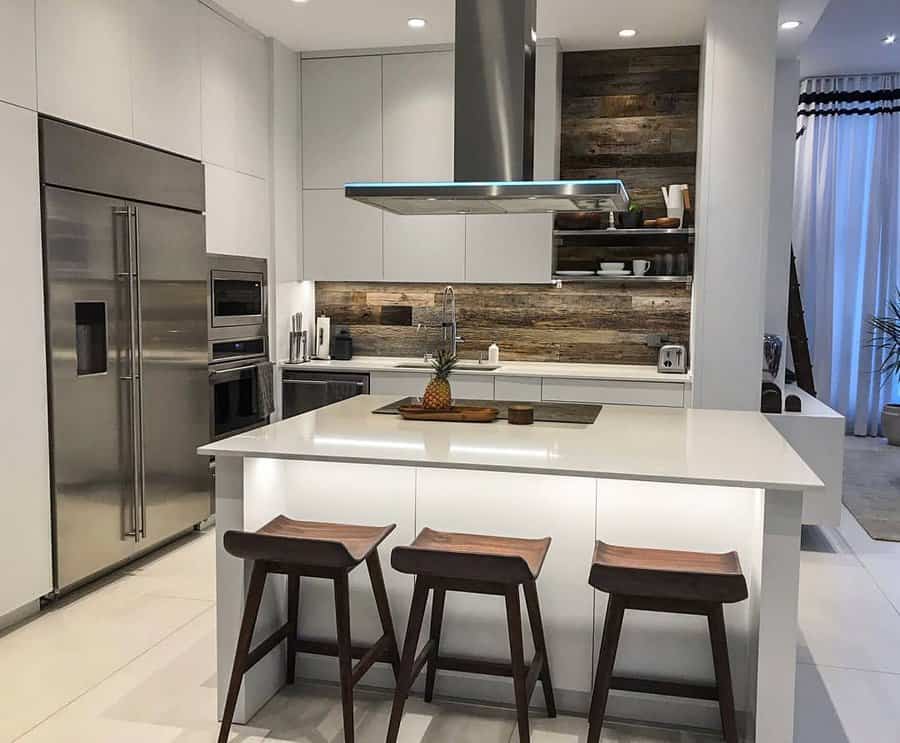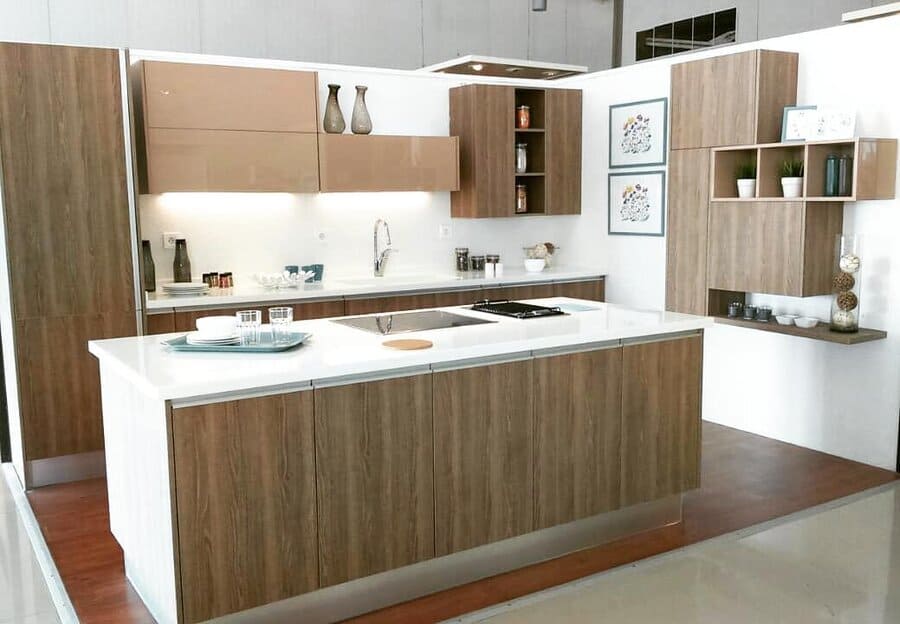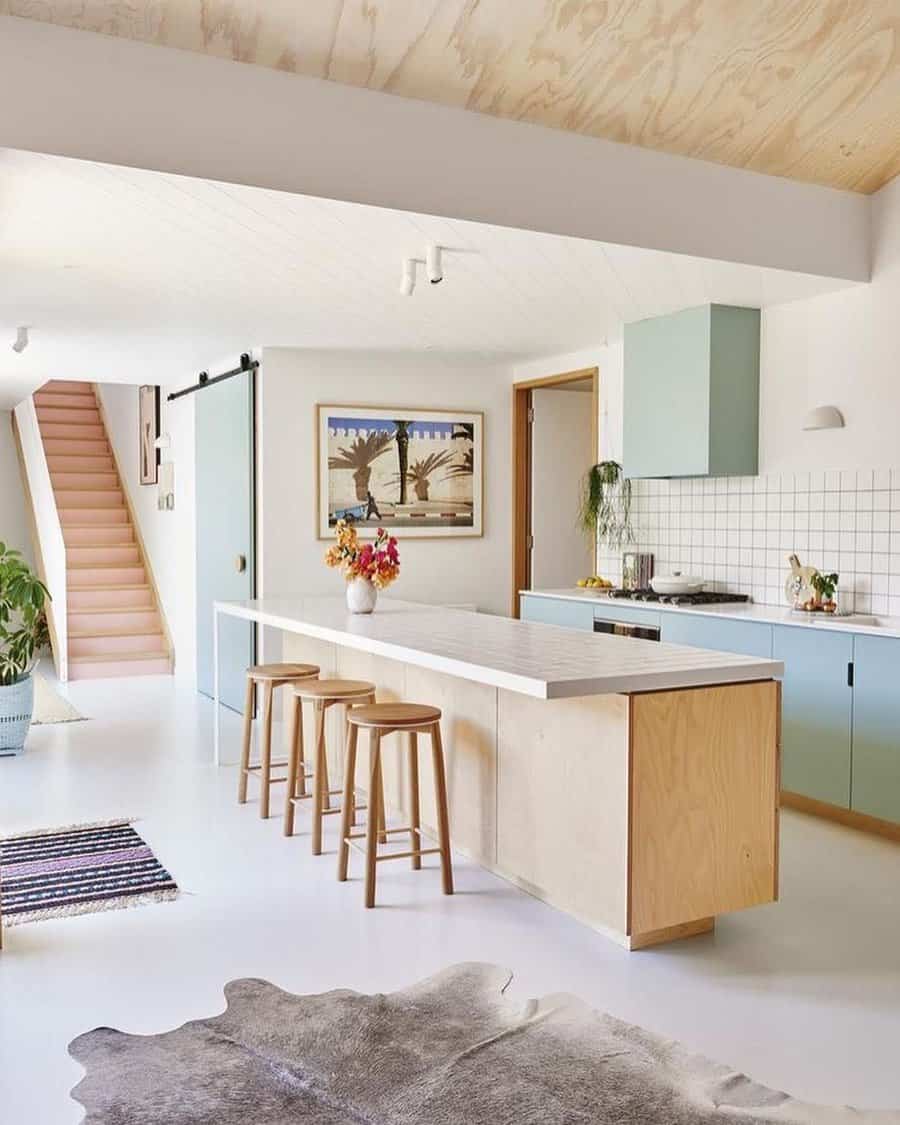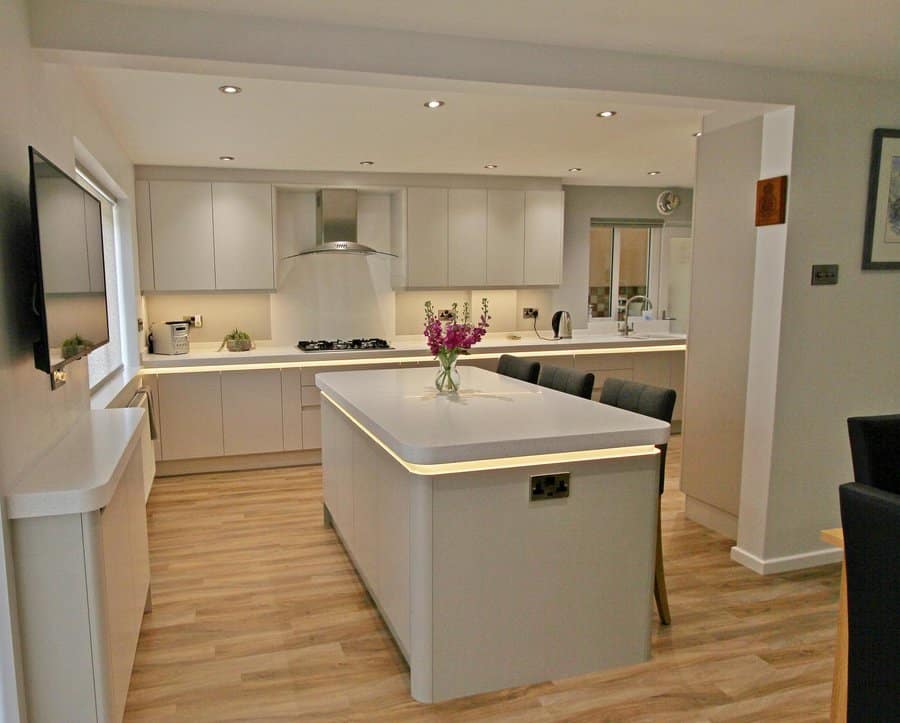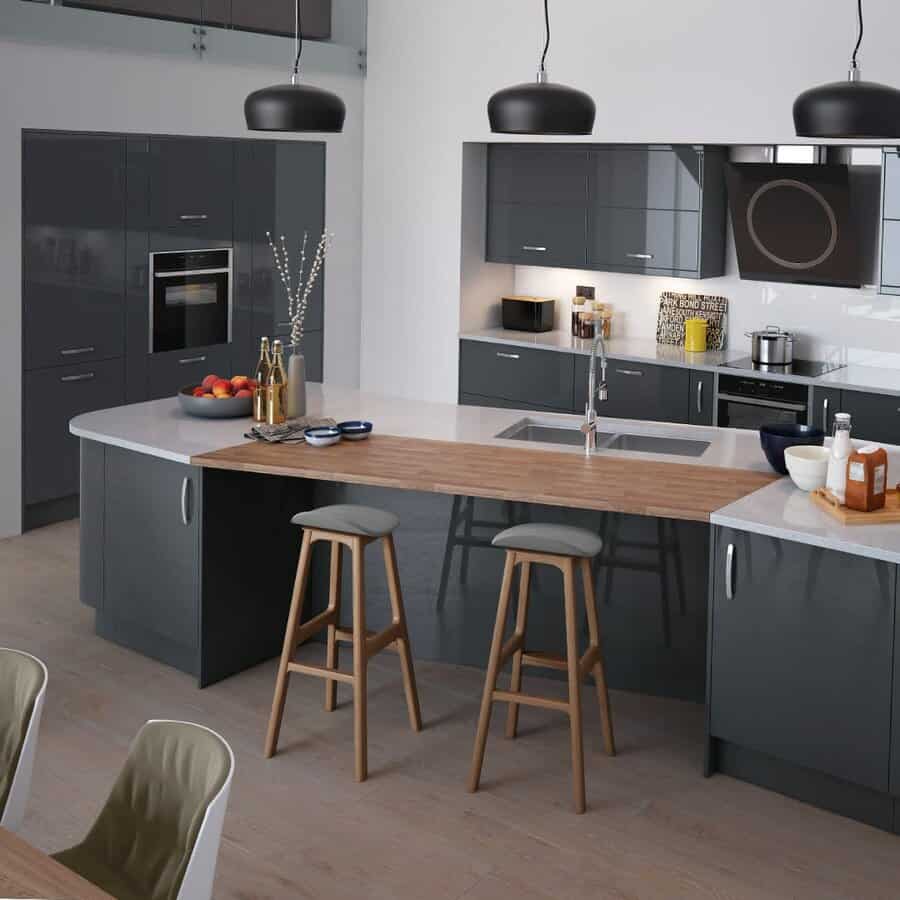 As a result, few homes featured kitchen islands when modern design was first emerging. Traditional modern homes were more likely to include a galley kitchen layout than today's open-concept floor plan.
One way to give your kitchen island a more modern feel is by including a built-in breakfast bar. Incorporate bar stool seating inspired by mid-century modern furniture. Illuminate the area with statement pendant lights or integrated LEDs.
9. Lighting
One excellent thing to keep in mind when designing a modern space is that every piece of decor should be functional. Light fixtures are a perfect example of this.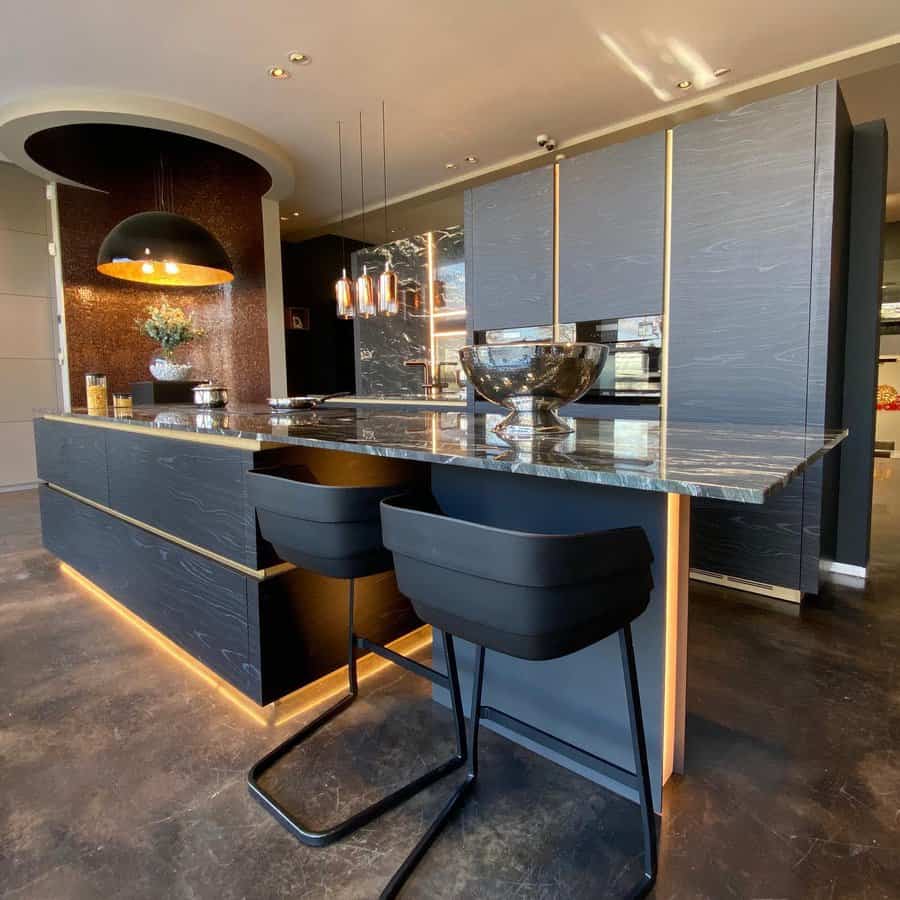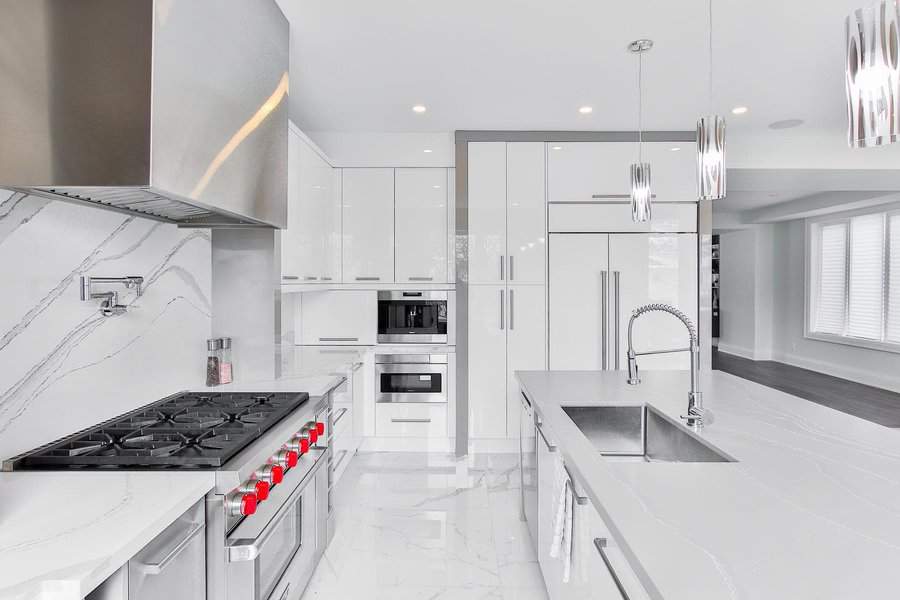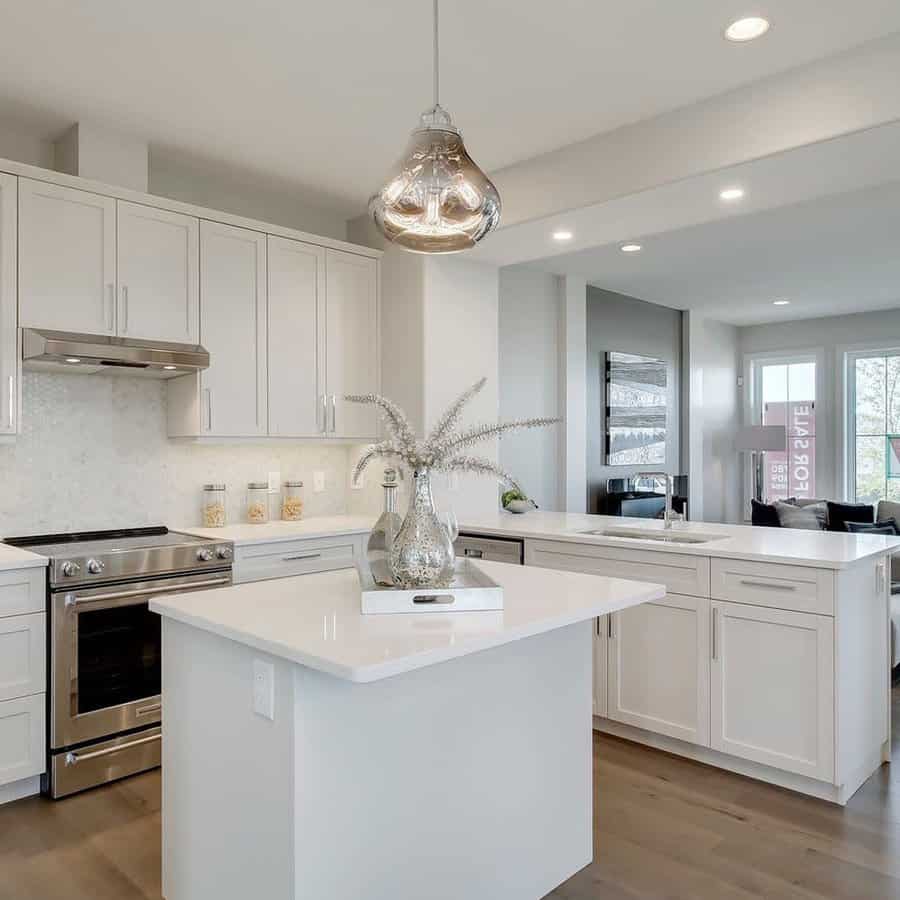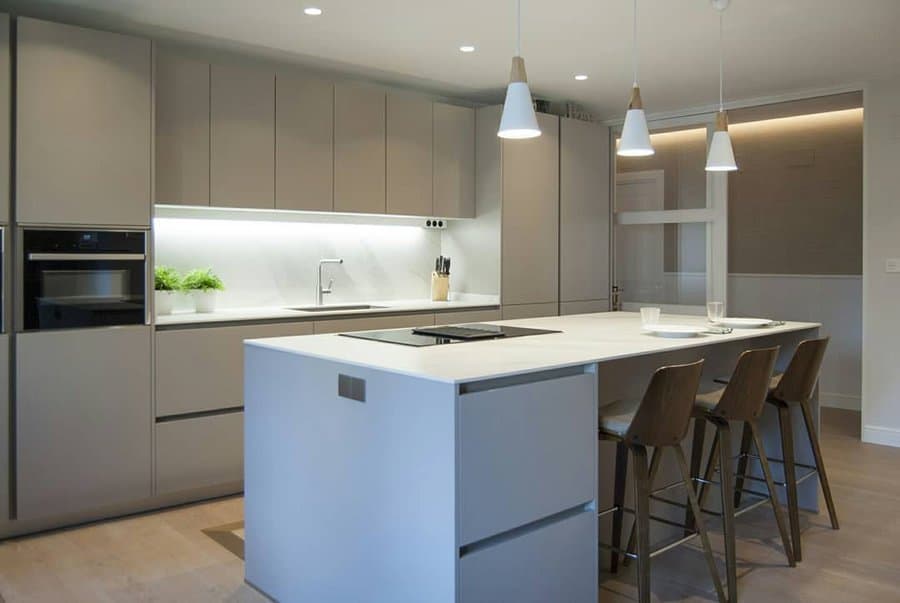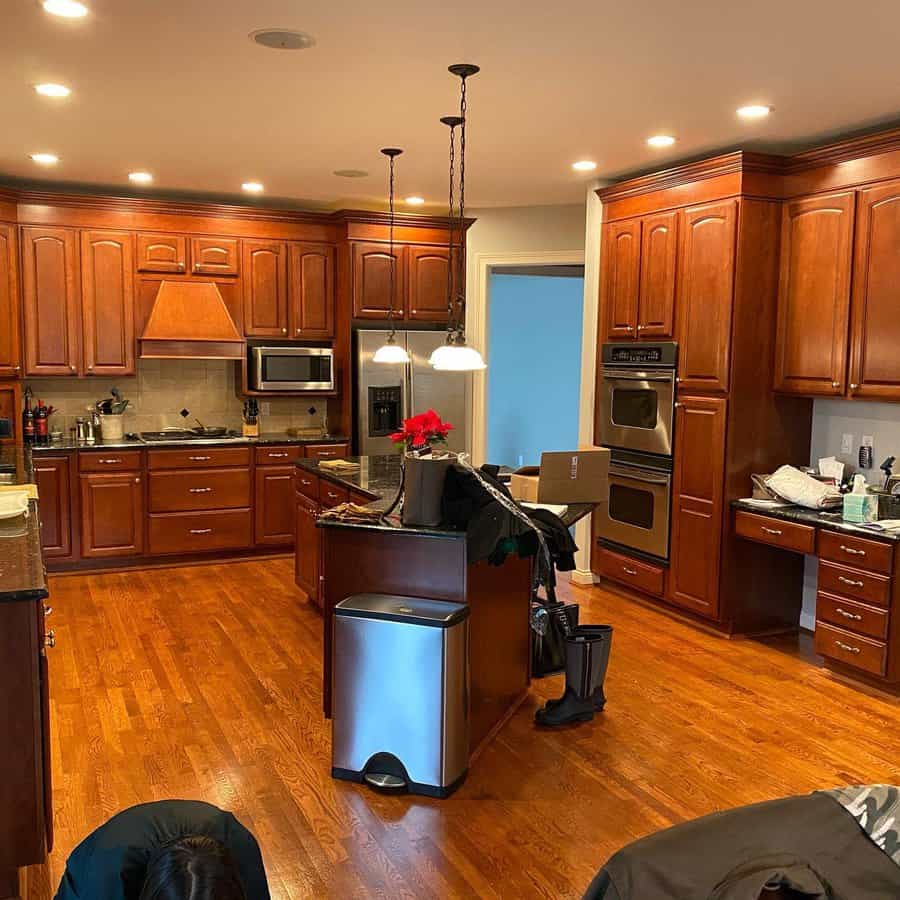 While modern design tends to be simplistic, there are still plenty of opportunities to express your personal style. Unique overhead lighting can add a ton of personality to your kitchen space. And every kitchen needs good lighting!
Hanging fixtures are not the only sources of light that can be utilized in your modern kitchen design. Built-in lighting installed underneath cabinetry or open shelving will give any kitchen a dose of modern style.
10. Luxury
Luxury design does not necessarily mean spending a fortune. With the right eye for color, texture, and scale, you can adapt your favorite modern kitchen ideas from magazines or social media to suit your own living space and budget.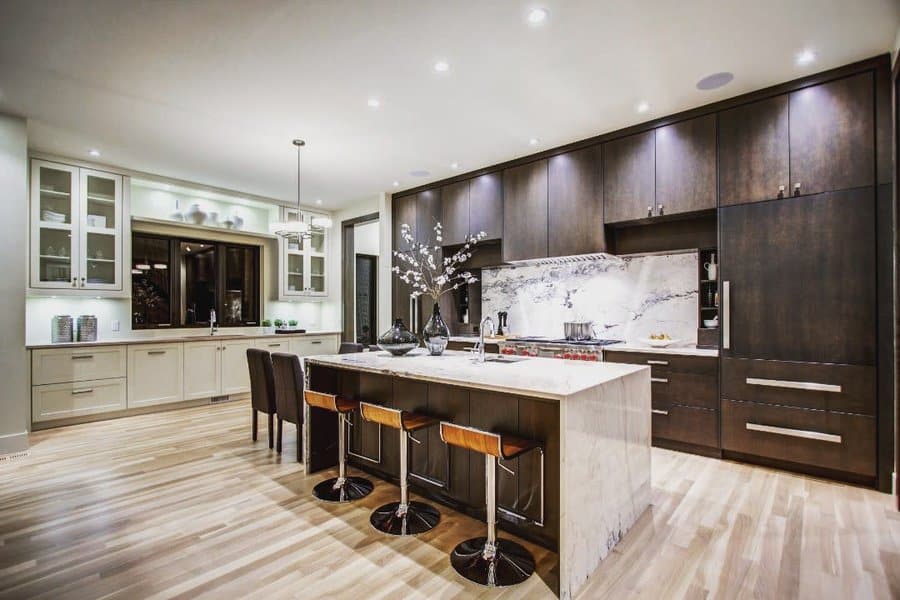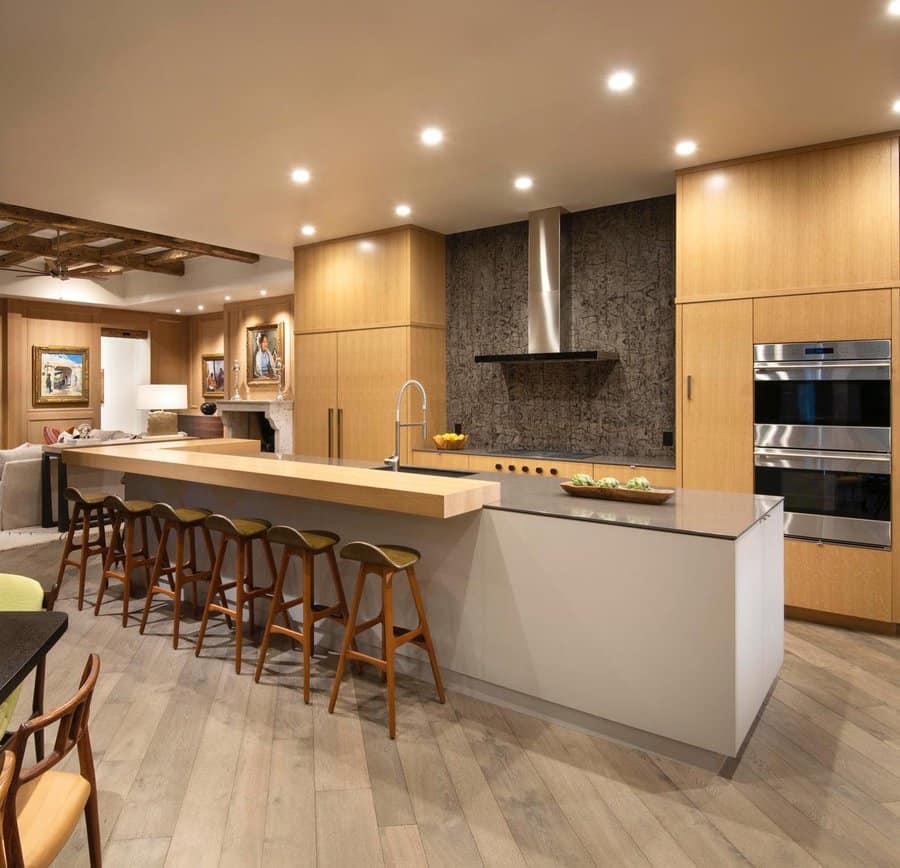 Yes, it might sound like a broken record. But the finishes used within your kitchen will ultimately determine if it comes off as cheap or luxurious. Subtle choices like velvet-upholstered stools or mirrored backsplash tiles can make a huge difference in the overall atmosphere.
If you're unsure where to start, consider hiring a professional. Modern kitchen designers offer a wide range of services that can help you turn your vision into reality.
11. Minimalist
It's easy to focus on minimalism in the form of physical clutter. Ample storage space is an absolute must. But you also need to think about your kitchen's visual clutter.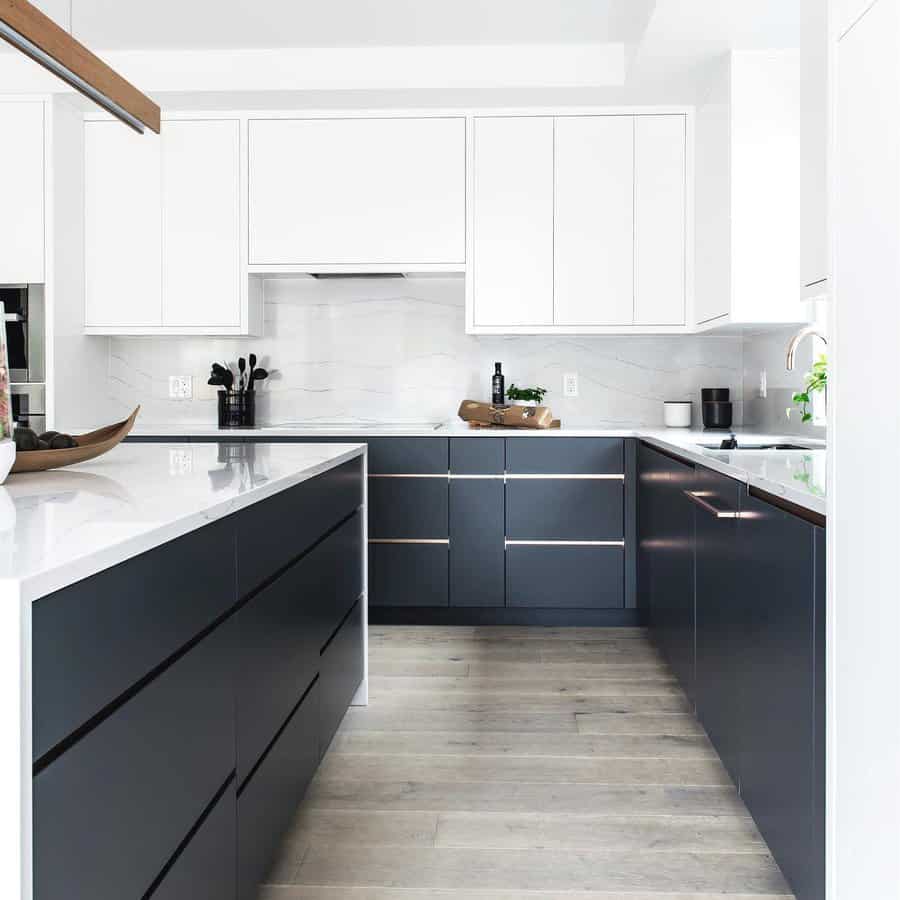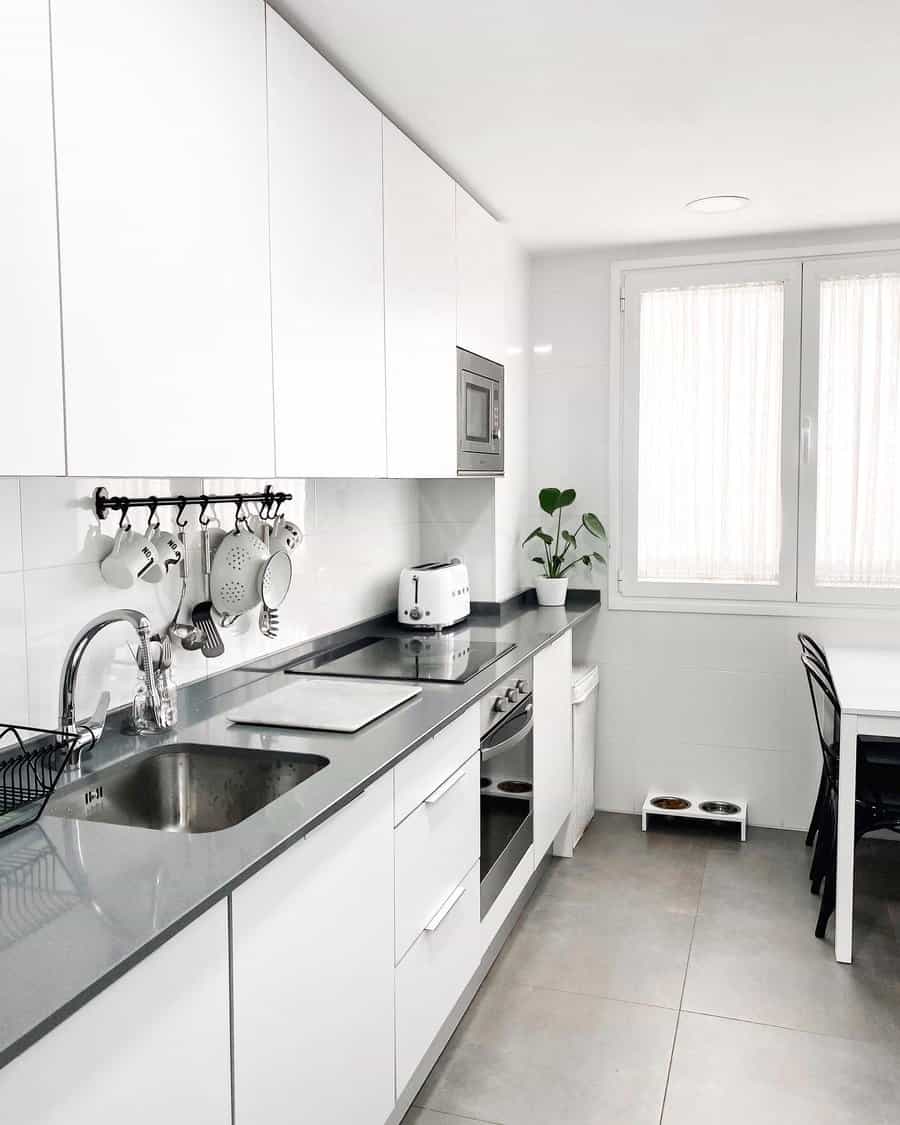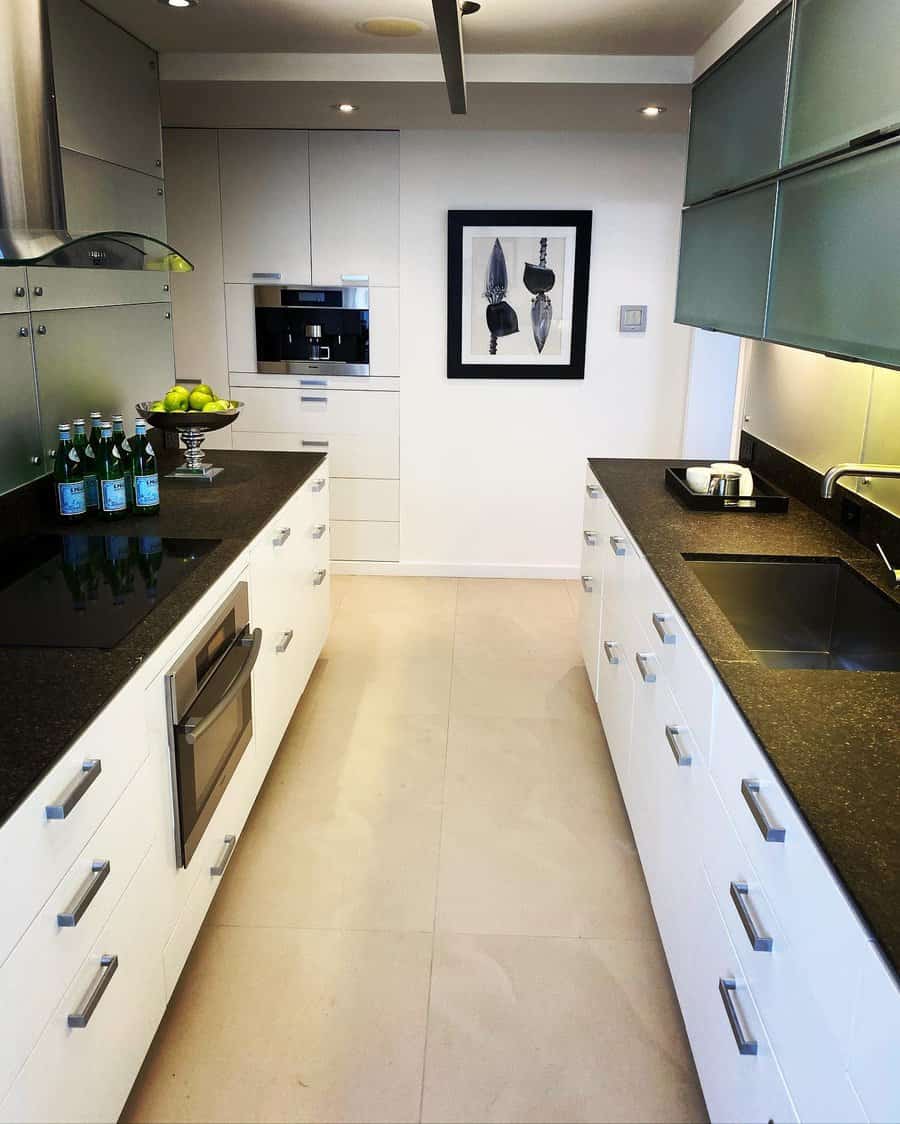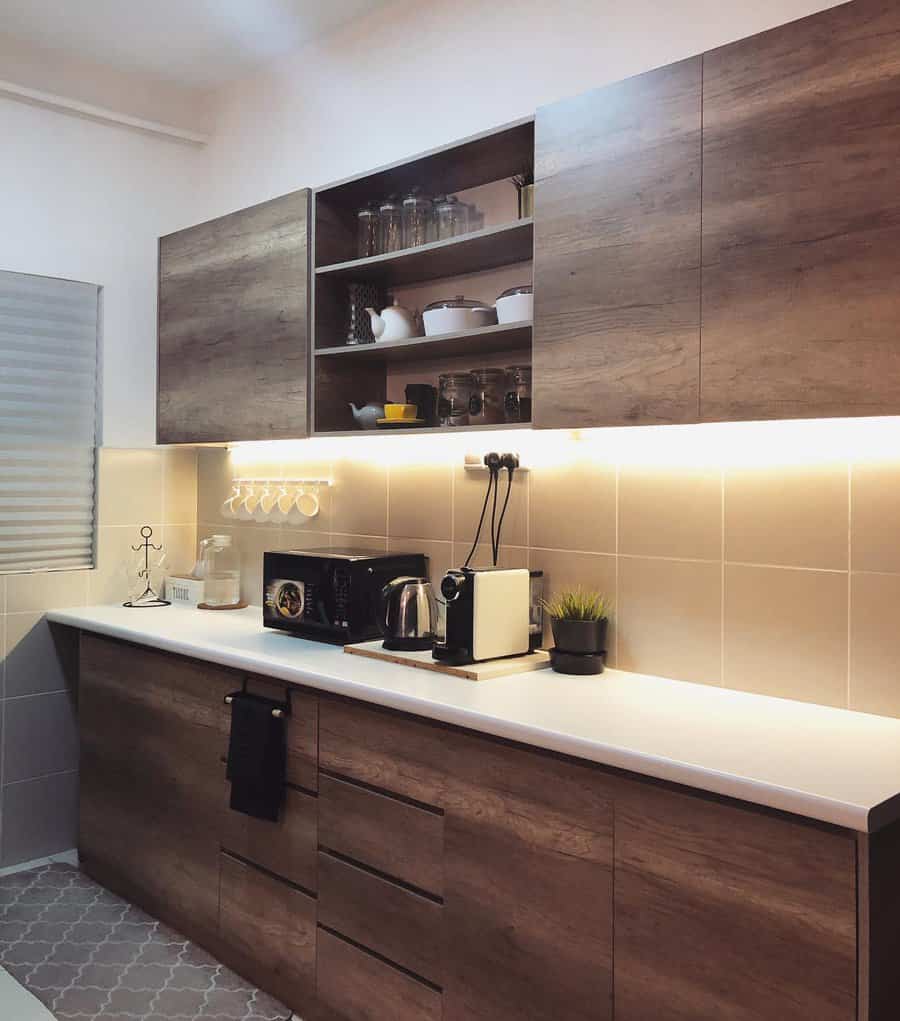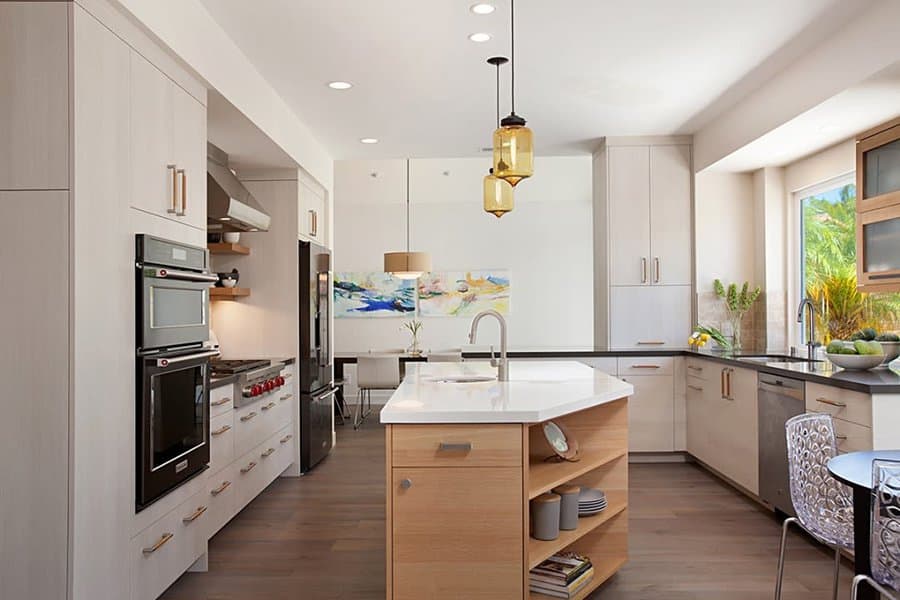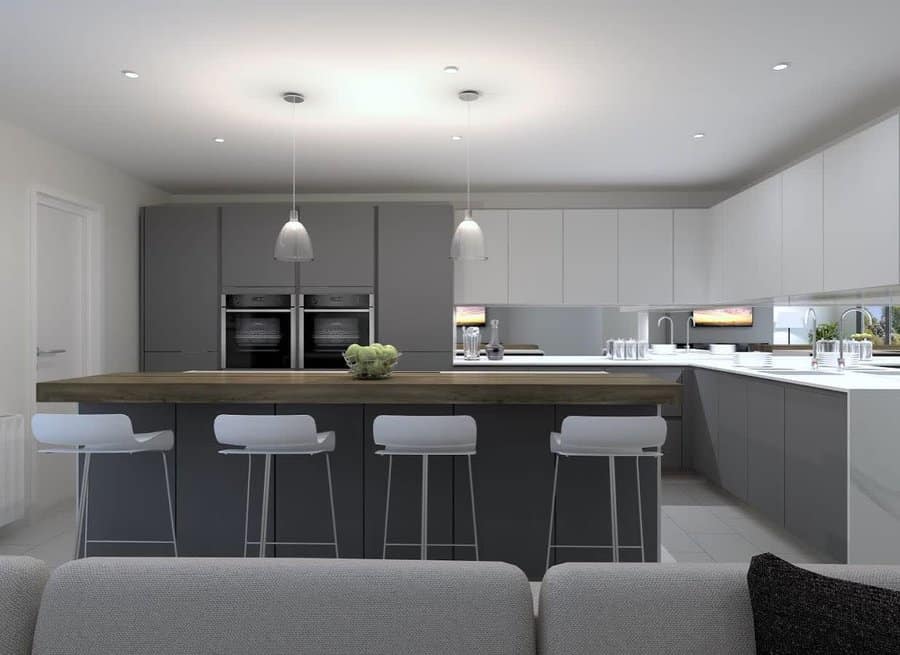 Color scheme plays a big role in visual minimalism. Matching cabinetry, counters, backsplash, and appliances will give your minimalist kitchen design a head start. Invest in flat cabinetry with minimal (or fully integrated) handles.
Adopting a minimalist approach without the right balance can result in a space that feels flat. Opting for materials like wood cabinetry, marble countertops, and metal fixtures can bring dimension into the space.
12. Remodel
Newly built homes often feature kitchens heavily inspired by modern design. But it's equally possible to make an existing kitchen feel fresh and modern with a remodel.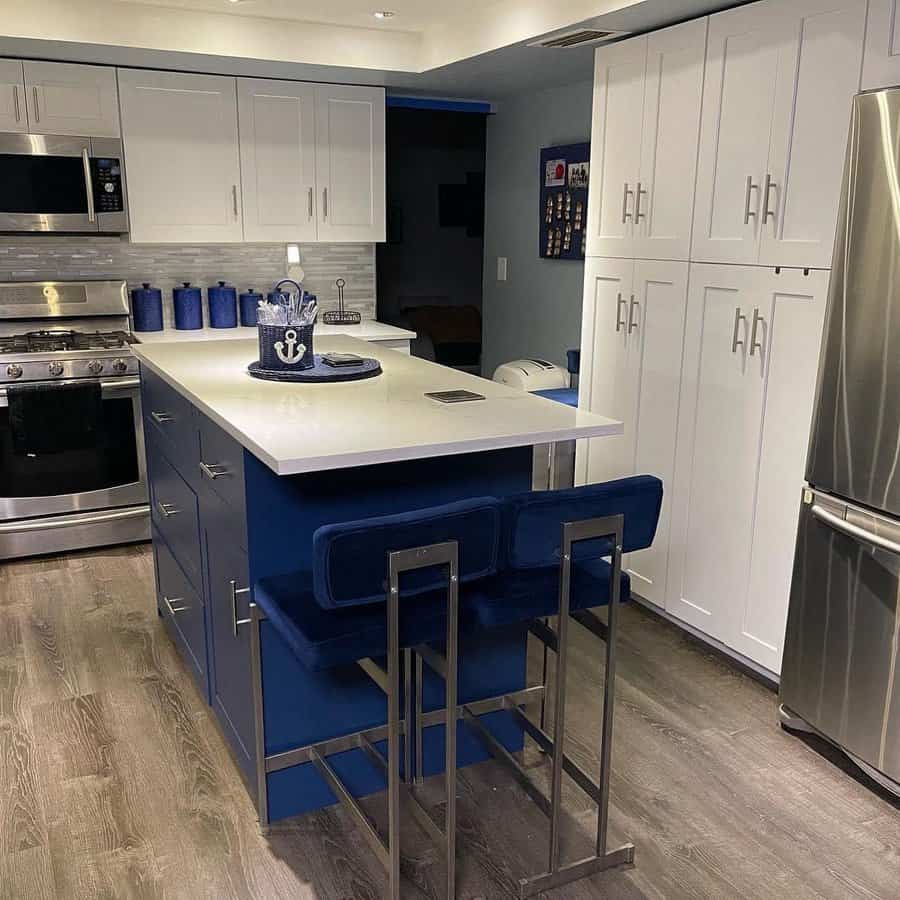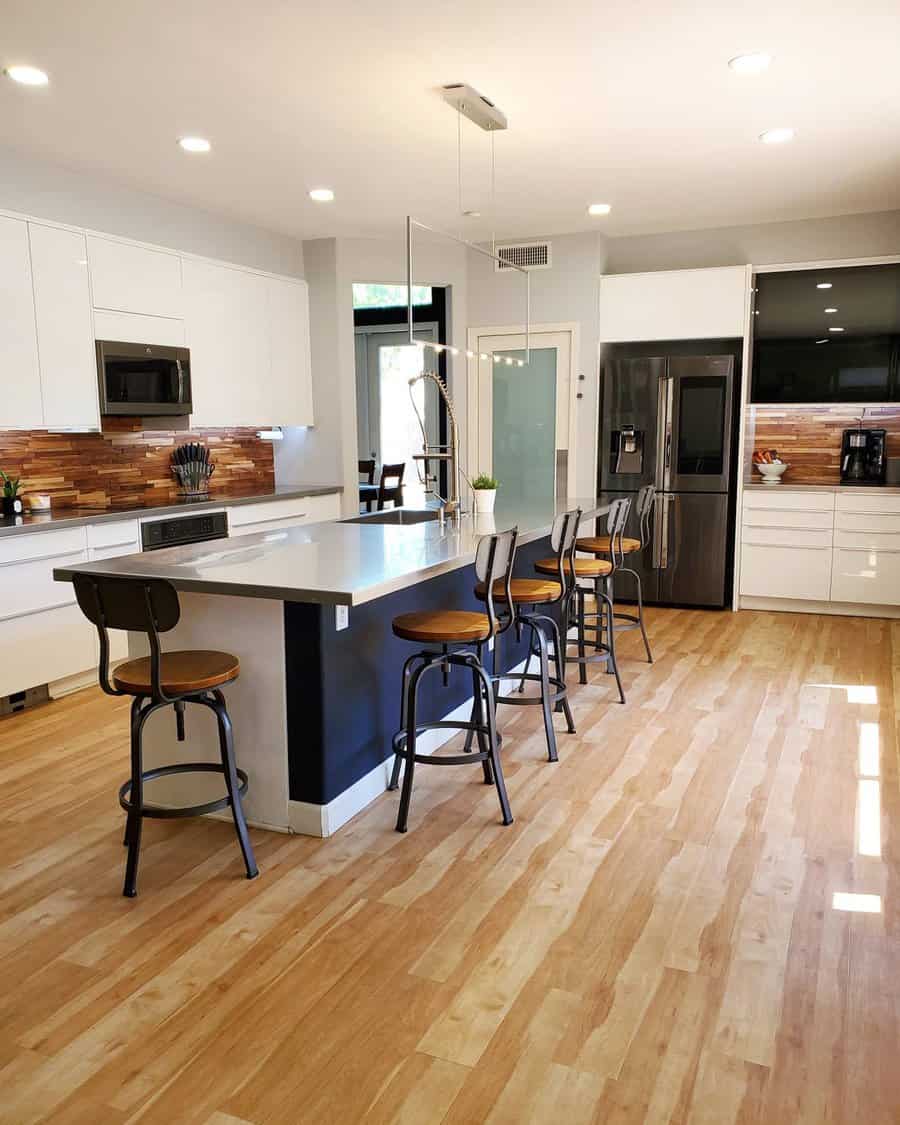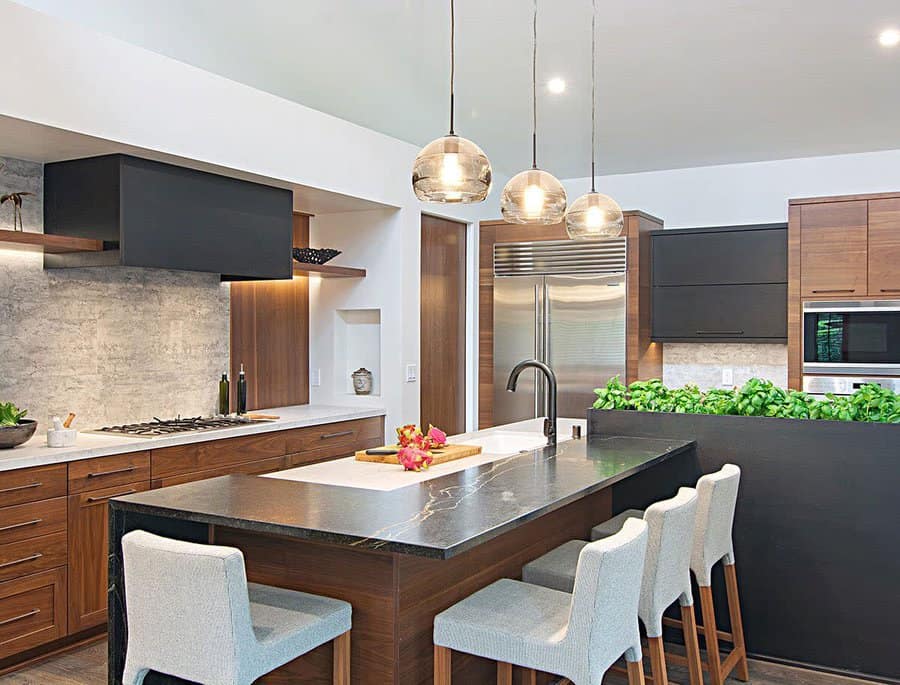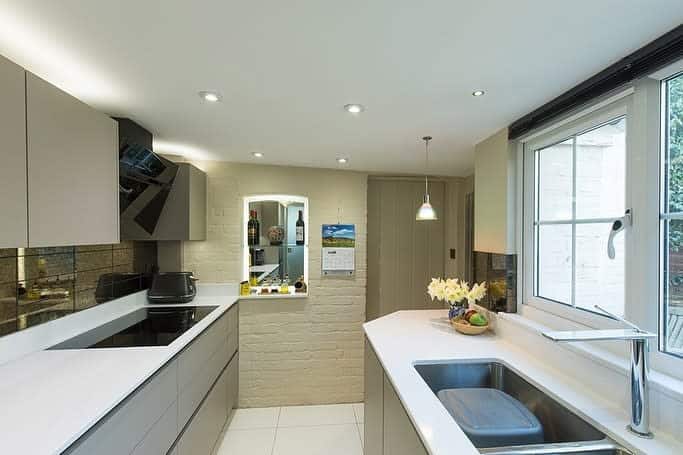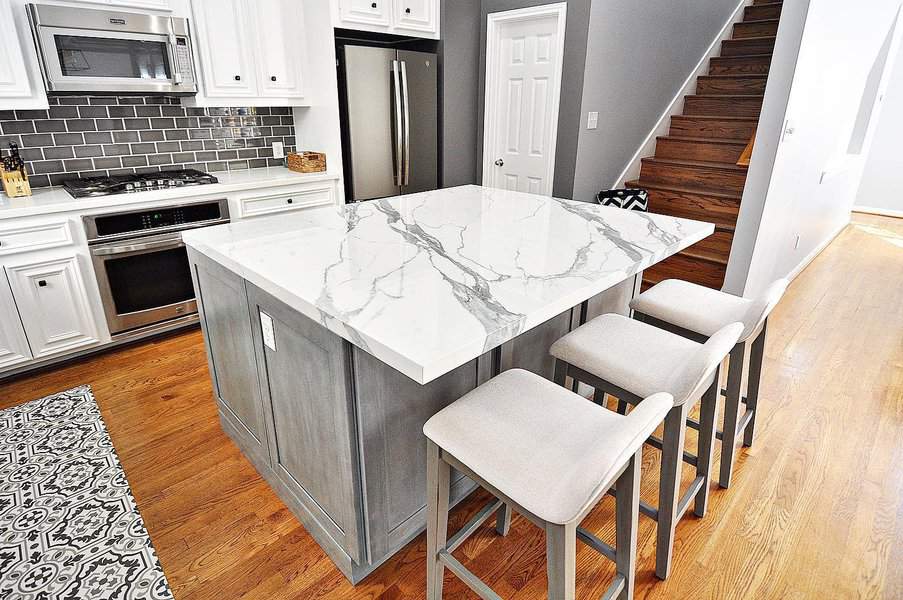 Seemingly small changes can make your kitchen feel like a completely different space. Update details like backsplash tiles, cabinetry doors and hardware, and light fixtures for a modern kitchen design that can be completed in a weekend.
Of course, starting from scratch is the easiest way to create the kitchen of your dreams. Stripping your kitchen down to the bones will allow you to customize the space with a brand new layout, storage solutions, and appliances.
13. U Shaped
Your kitchen doesn't need an open-concept floor plan to be a great candidate for a modern redesign. Even a compact U-shaped kitchen can be given a sleek, modern appearance.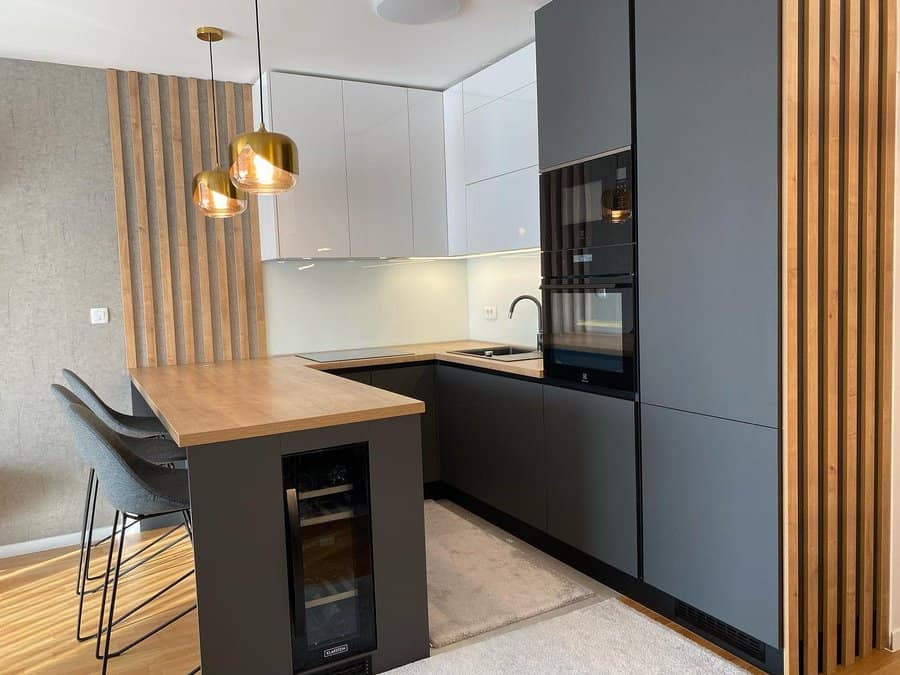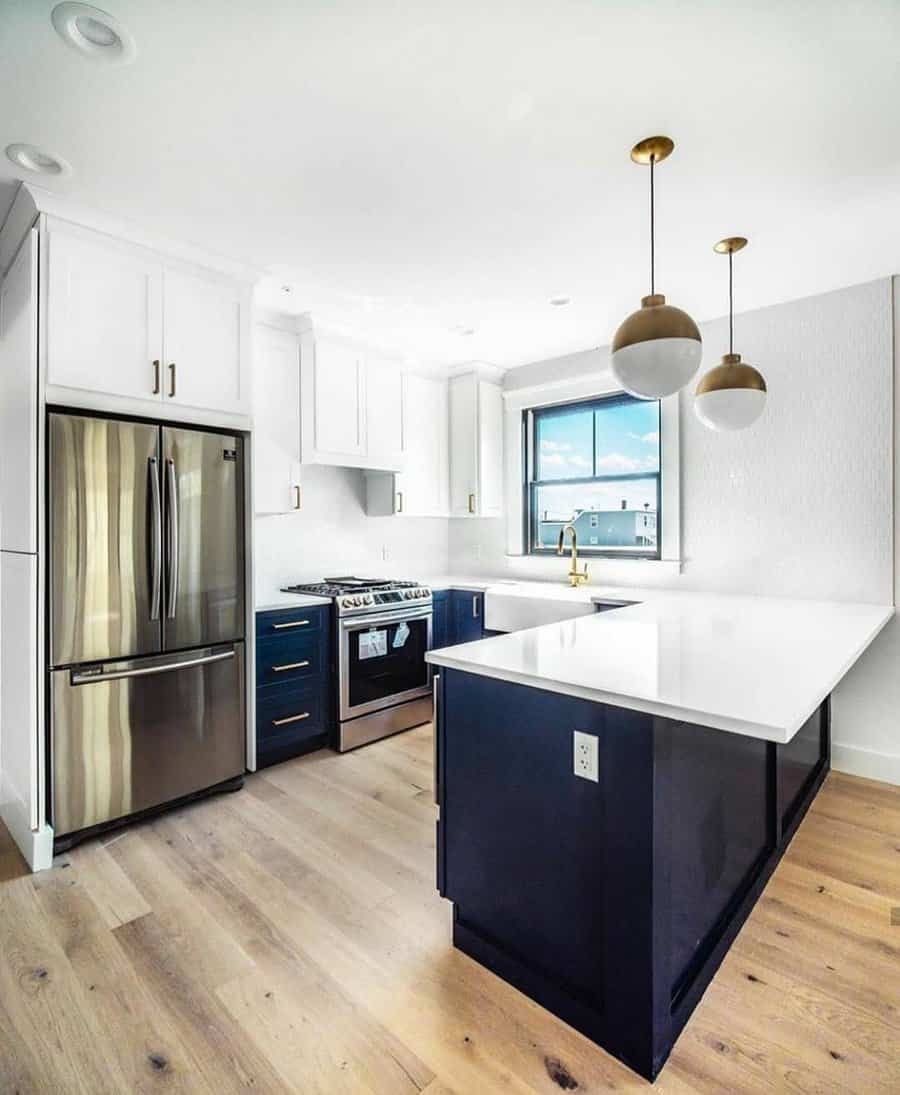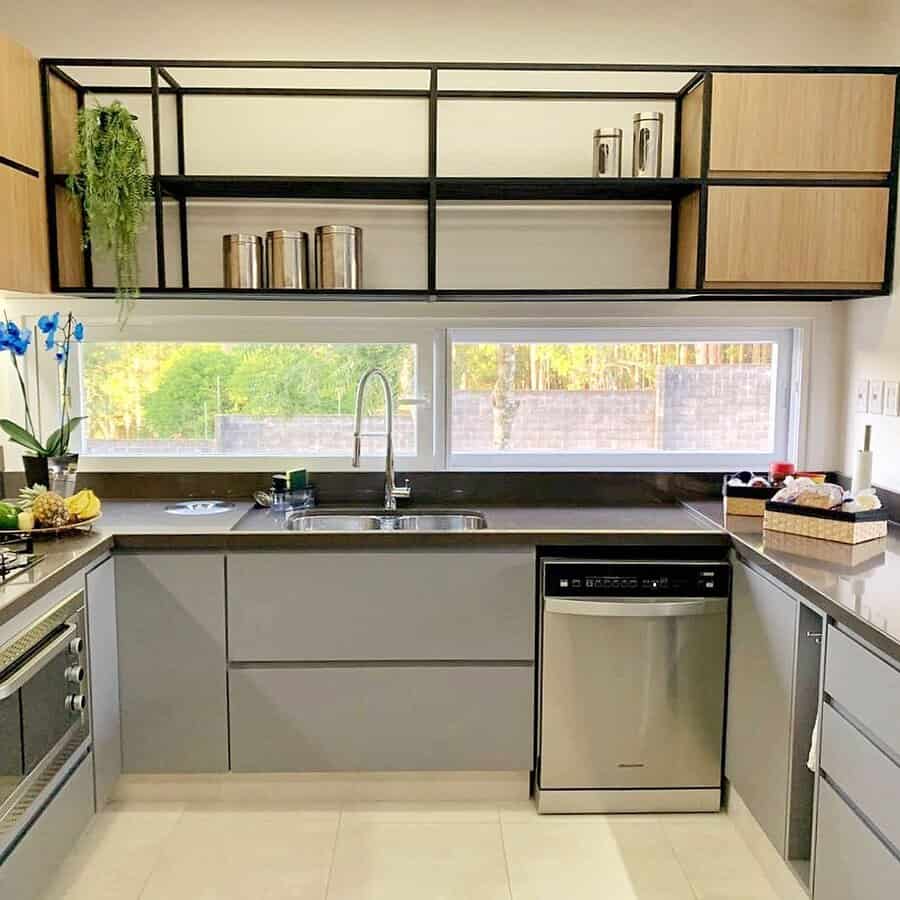 The simplest modern kitchen ideas will work best for a U-shaped layout. Avoid cluttering up the space with unnecessary decor and utilize unique light fixtures and surface finishes instead.
Install upper cabinets that project out less than your kitchen counters to free up some elbow room. Built-in pantry cabinets will provide plenty of storage space without impeding on your kitchen's floor space.
Modern Kitchen FAQs
Is wood cabinetry out of style?
Wood cabinetry was once ubiquitous in kitchen design. It's easy to see why many homeowners have ditched this trend for painted cabinet doors instead. But that doesn't mean you can make wood cabinetry look fresh and modern!
Flat cabinet doors are a better option than carved or paneled ones. The sleek surface pairs well with natural wood grain and allows the innate texture to shine on its own.
Avoid ornate handles and drawer pulls in favor of minimalist cabinetry hardware. Or, even better, invest in cabinet doors with built-in handles so no external hardware is needed at all.
What is the best flooring for a modern kitchen?
You can't go wrong with hardwood floors, regardless of the interior design style you're going for. Modern kitchens tend to work best with unique wood colors. Light pine, grey, or even black hardwood flooring will give your kitchen a dramatic look.
On the other hand, tile is a great option for kitchen flooring (especially if durability is a top priority). Turn to retro designs like checkerboard tiles for your modern kitchen. For a more contemporary aesthetic, consider using marble or granite tile.