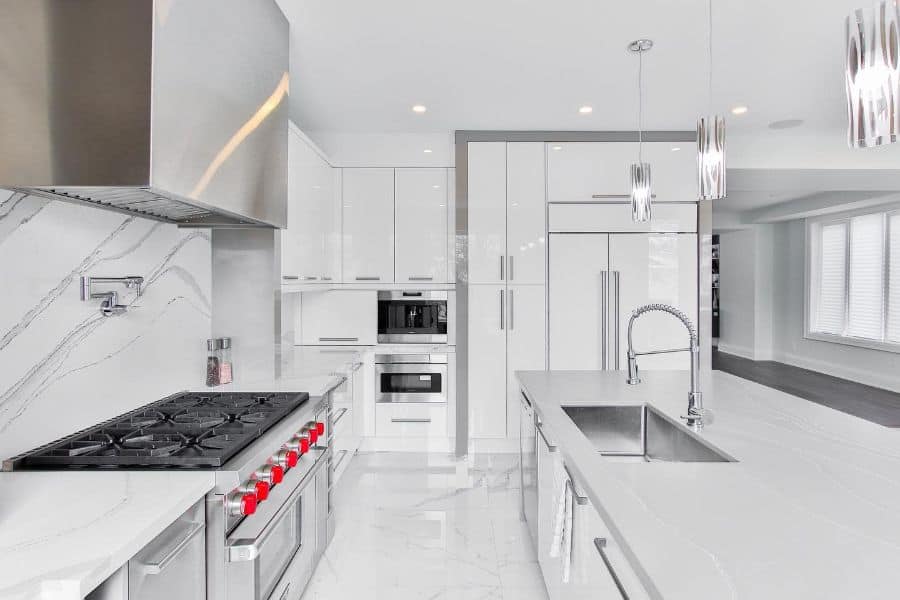 The Top 54 Modern Kitchen Ideas
The perfect kitchen doesn't just need to look great. It also needs to offer a clean, streamlined workspace for daily meals and entertaining. Modern design is the ideal balance of each.
Modern kitchen design is simple yet far from boring. With standout finishes and sleek lines, you can create a culinary space that proves less really is more. Plus, modern decor encompasses countless different trends. So you'll have no trouble finding modern kitchen ideas that suit your personal style.
From lighting to cabinetry, modern design is definitely having a moment in the sun. These examples will inspire you to reimagine your own kitchen with a modern twist!
1. Modern Galley Kitchen
A galley kitchen is a fantastic option for those looking to maximize space in a modern kitchen. With a narrow and elongated layout, a galley kitchen allows you to utilize every inch of your kitchen space efficiently. To make the most of your galley kitchen, consider using narrow spaces for storage or functional features such as pull-out pantry cabinets or hidden spice racks.
You can also opt for sleek and modern cabinetry to add a contemporary look to your kitchen. A galley kitchen can also benefit from ample lighting, whether through natural light or strategically placed fixtures to create a bright and inviting space.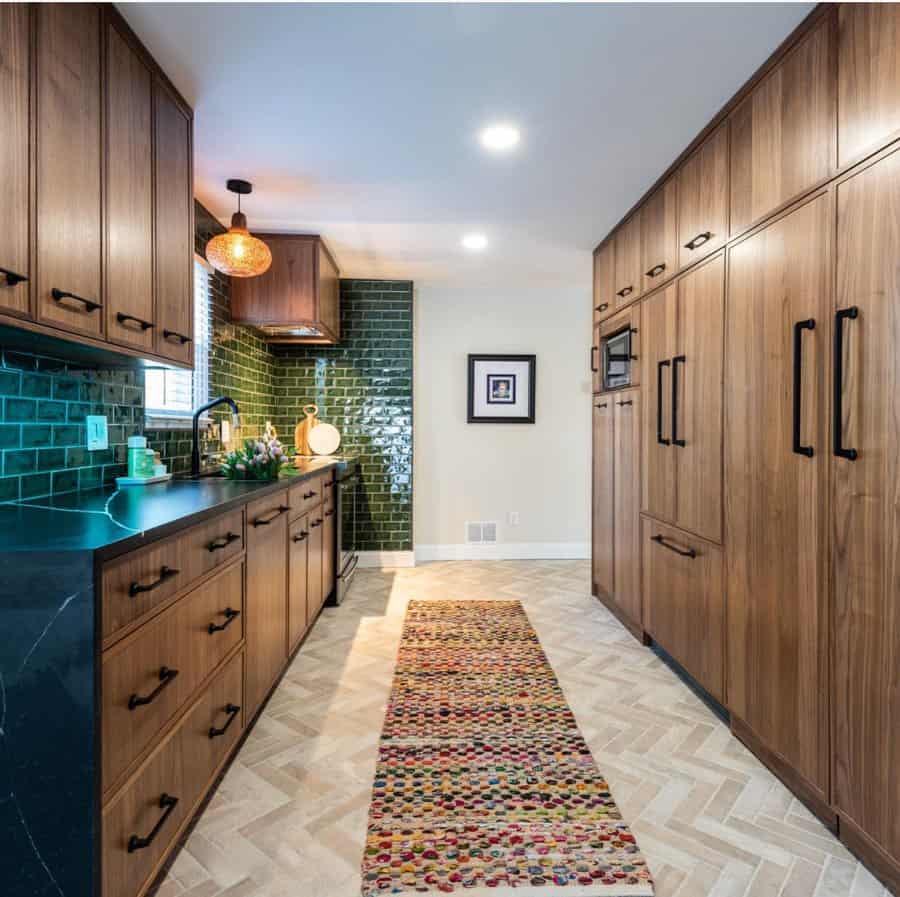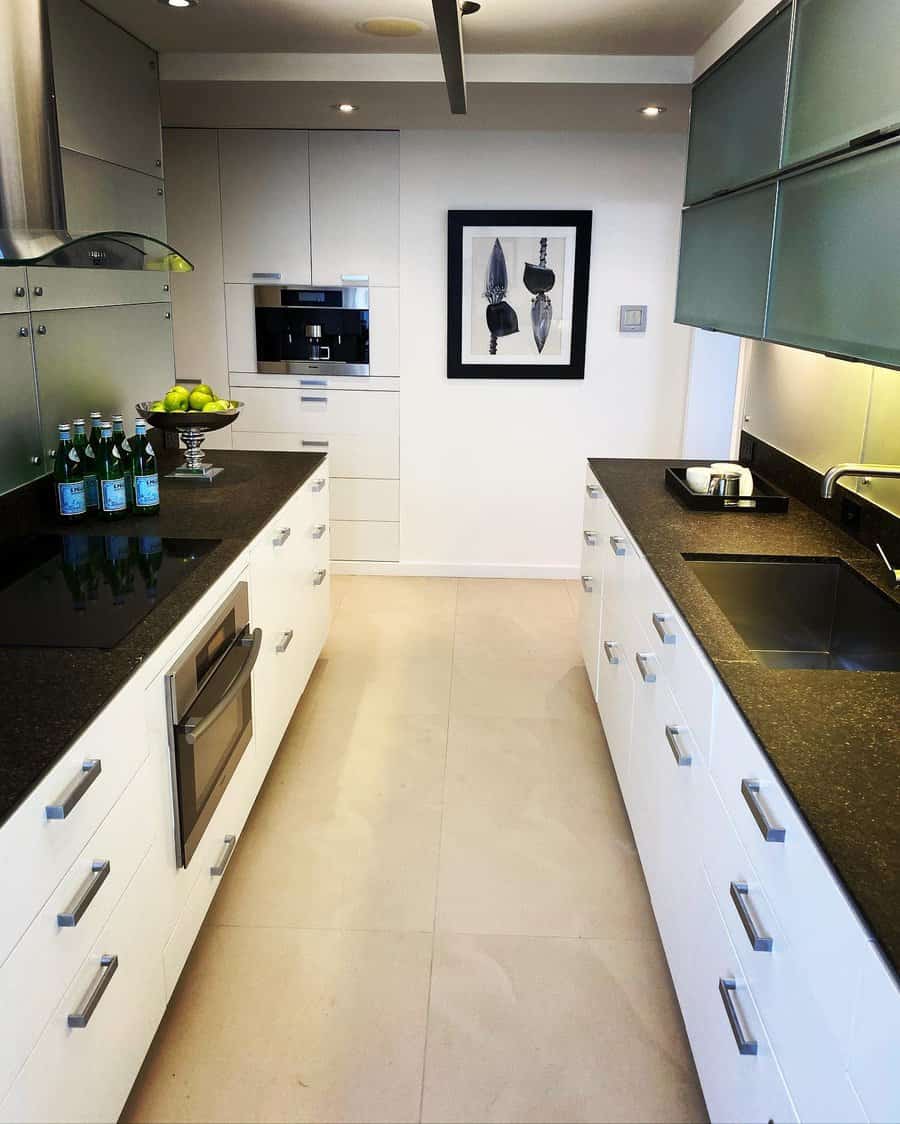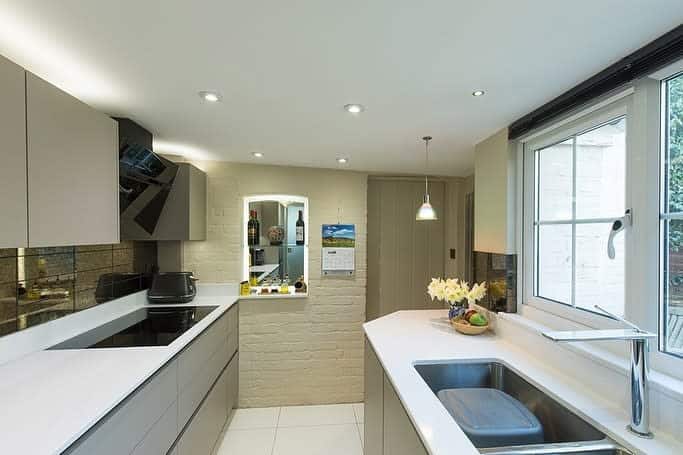 2. Install A Kitchen Island
Whether you're an avid cook or just enjoy spending time in the kitchen, an island can provide you with a versatile workspace that can be used for a variety of tasks. You can prep ingredients, chop vegetables, or even use them as a serving area when entertaining guests.
In addition to its practical benefits, a kitchen island can also add a touch of elegance and sophistication to your space. With so many design options available, you can choose an island that complements your home's aesthetic and creates a cohesive look throughout your kitchen.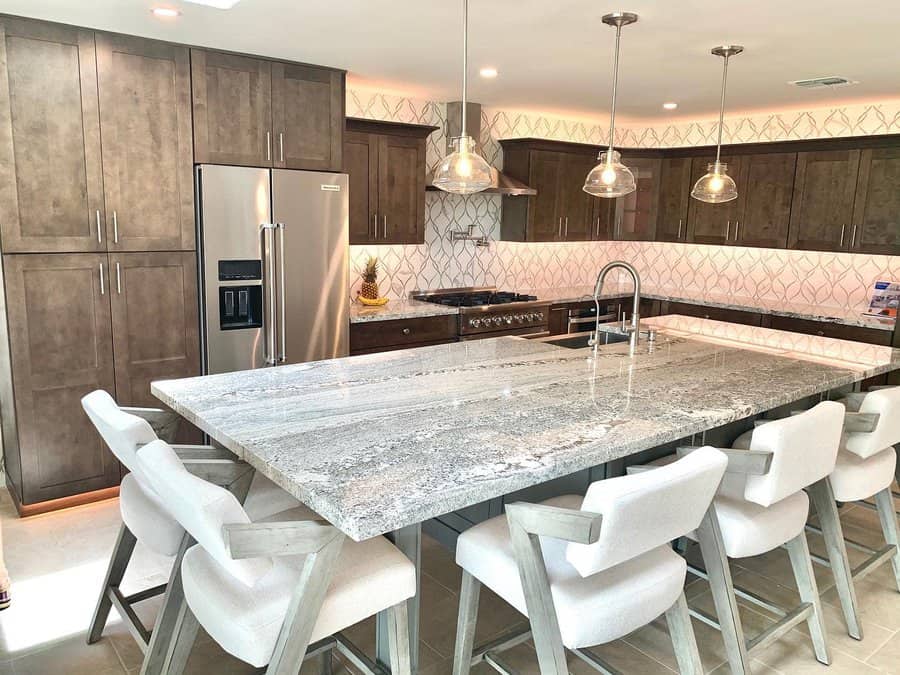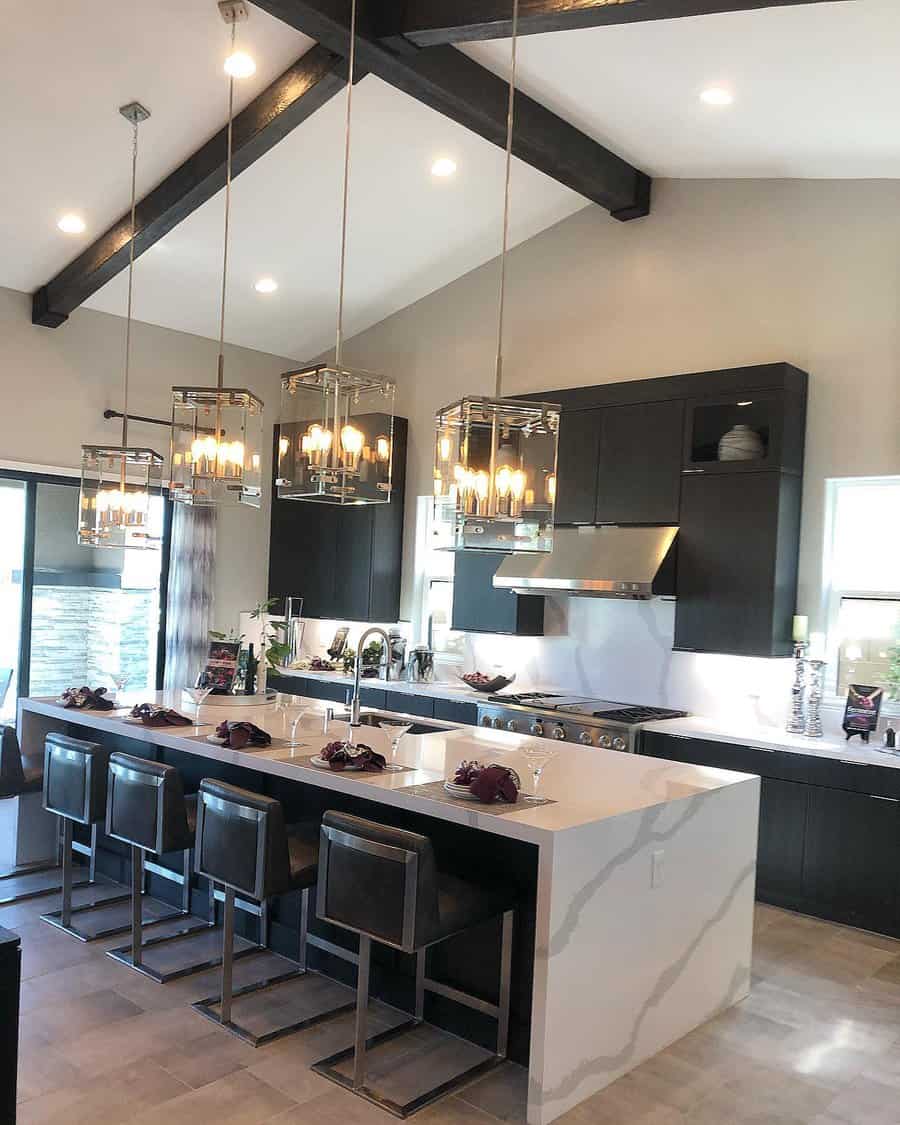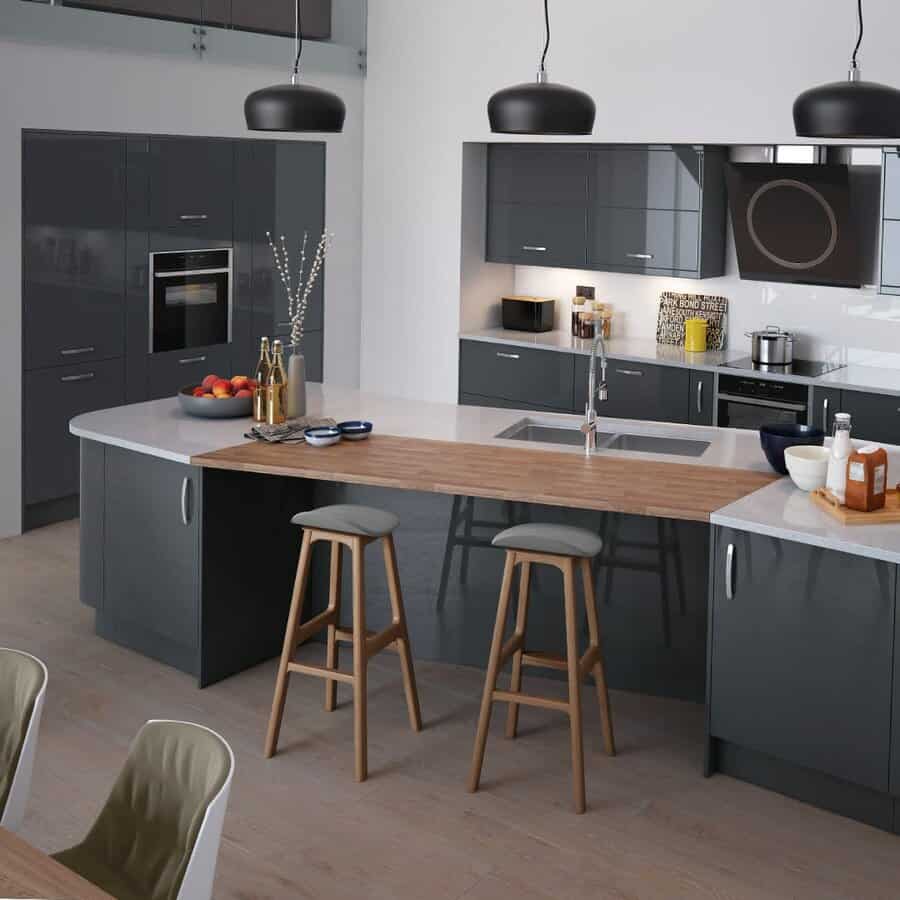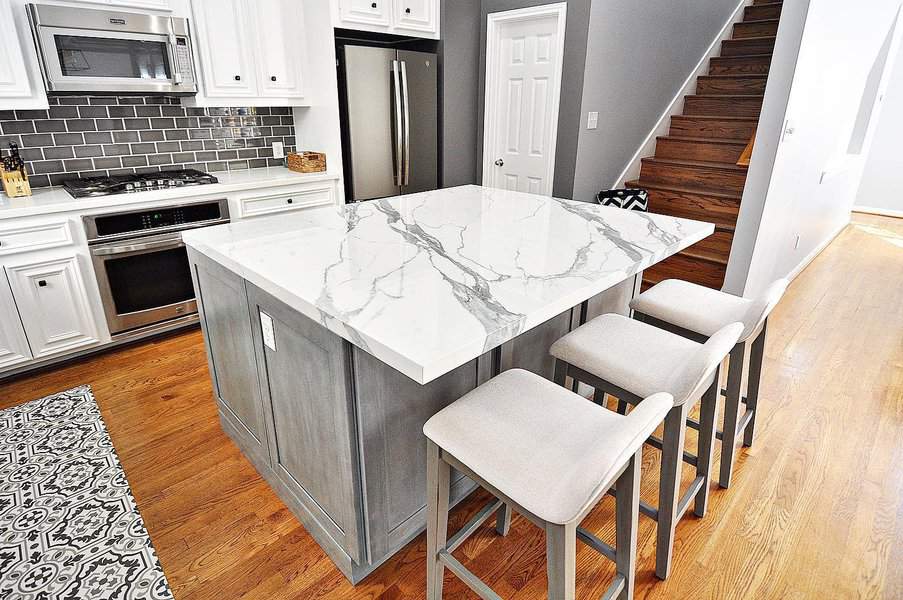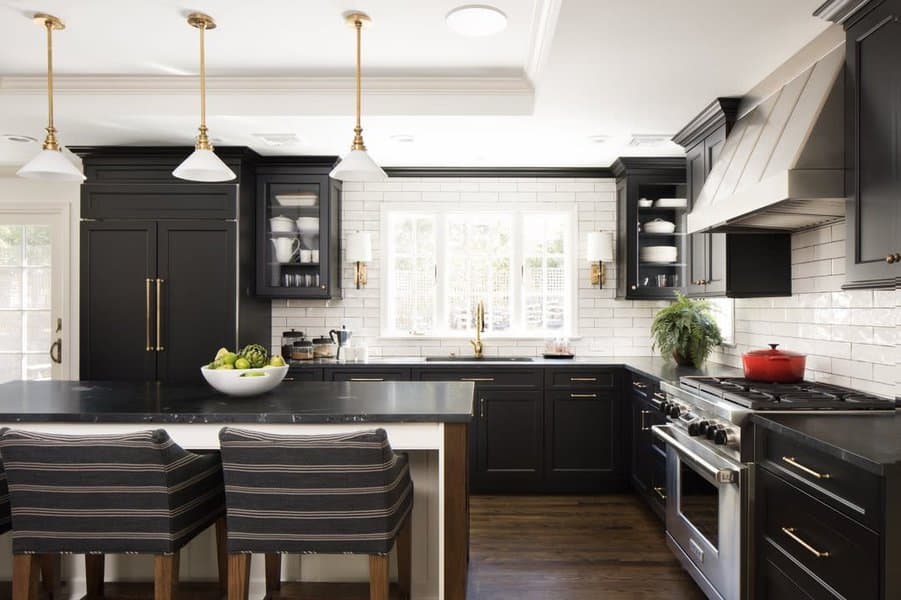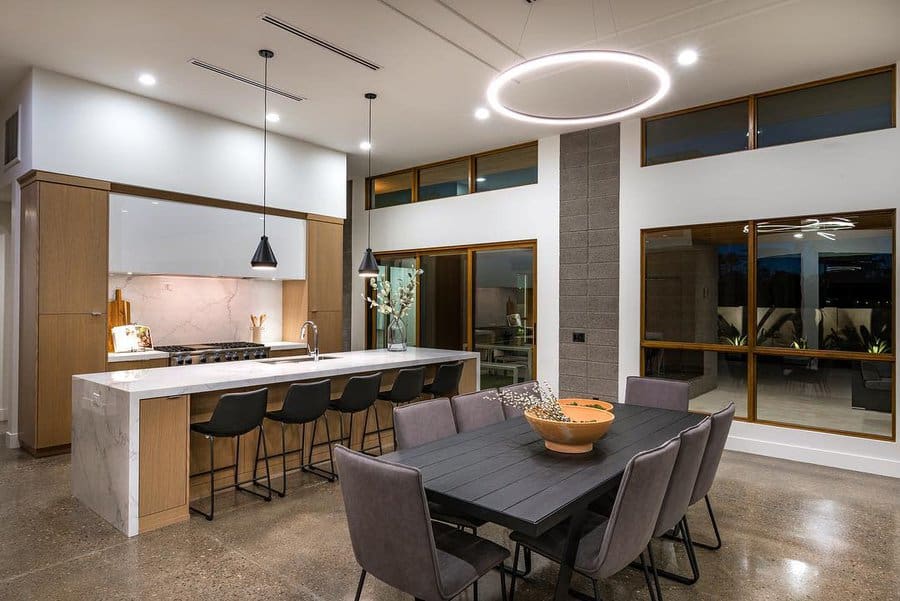 3. Use Luxury Vinyl Tiles
If you want to create a cozy and inviting atmosphere in your kitchen while still maintaining a contemporary look, LVT wood tiles are the way to go. These tiles offer the warmth and natural beauty of wood while being more durable and easy to maintain. With their sleek and modern design, luxury vinyl tiles can transform your kitchen into a chic and stylish space that's perfect for cooking, entertaining, and relaxing.
You can complement the LVT wood tiles with modern lighting fixtures and sleek stainless steel appliances to create a cohesive and polished look. Not only do luxury vinyl tiles offer a sophisticated and contemporary design, but they're also practical and long lasting, making them an ideal choice for a busy kitchen.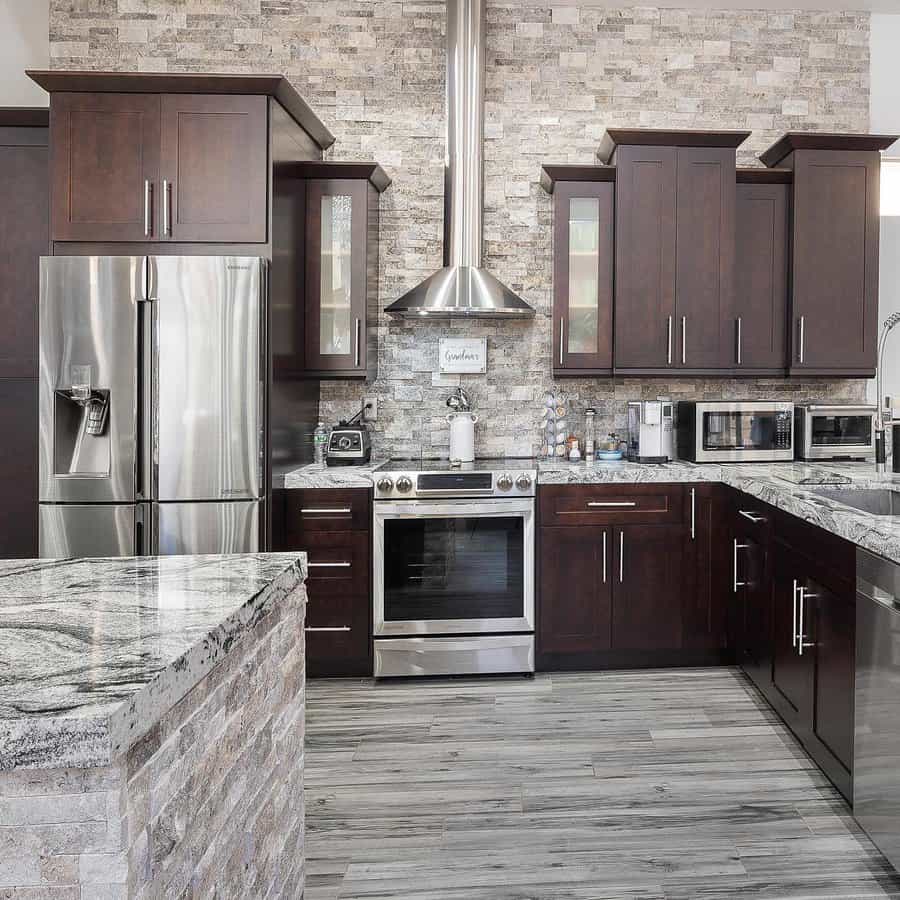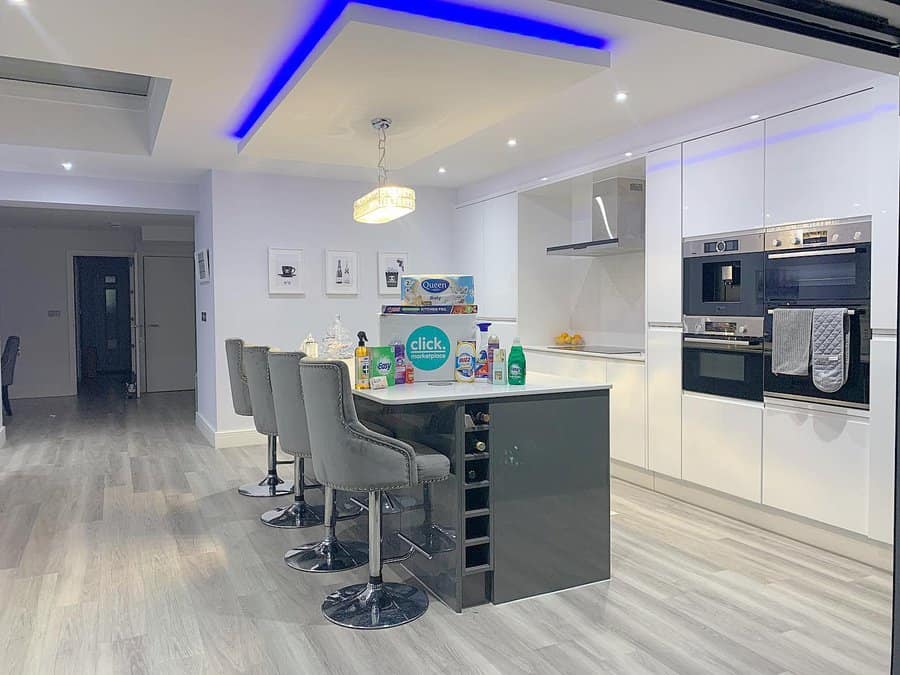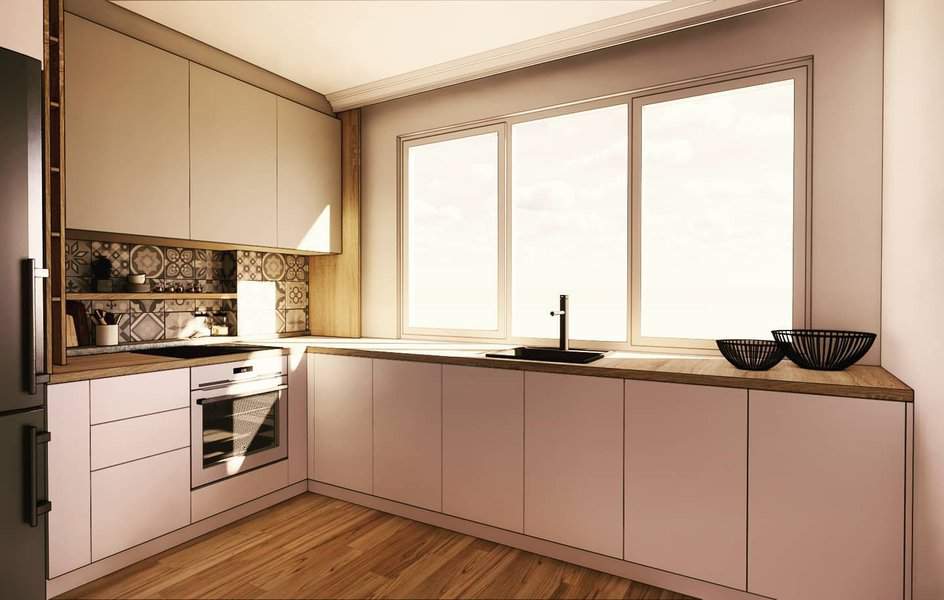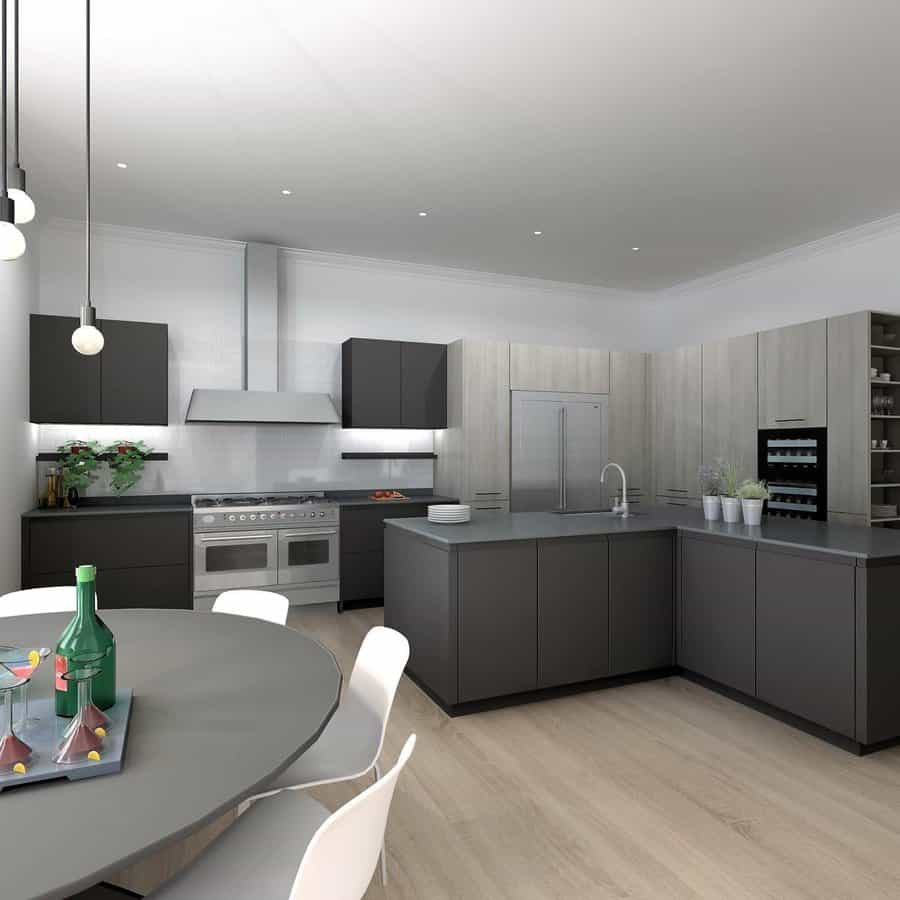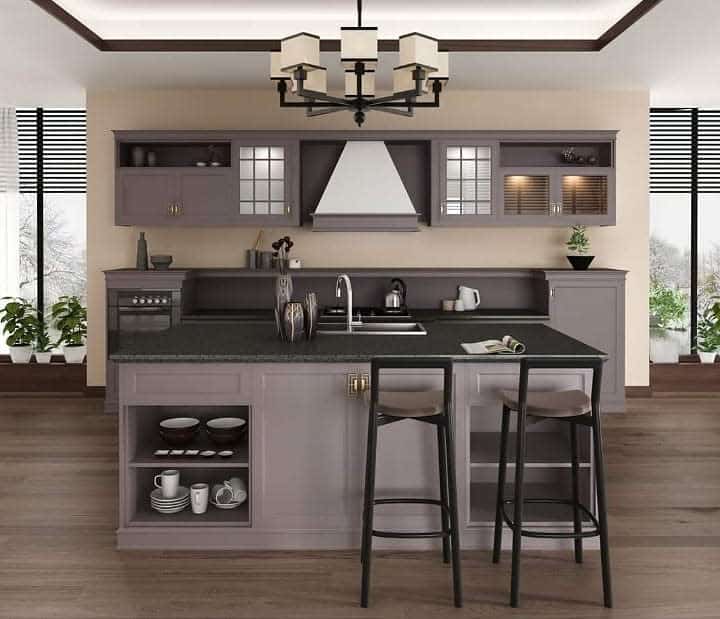 4. Use Concrete Tile Flooring
A modern kitchen with concrete flooring is the epitome of sleek and sophisticated design. Concrete flooring offers a minimalistic yet edgy look that complements modern kitchen aesthetics perfectly. It's also incredibly durable, easy to clean, and able to withstand high-traffic areas. Pair the concrete flooring with sleek, minimalist cabinets and countertops for a clean and cohesive look that exudes modernity.
Don't be afraid to add pops of color or texture with your choice of backsplash or kitchen accessories. Metallic finishes or wood elements can help to soften the starkness of the concrete and add warmth and texture to the space. Plus, the simplicity of the concrete flooring allows you to play around with other design elements and really make them stand out.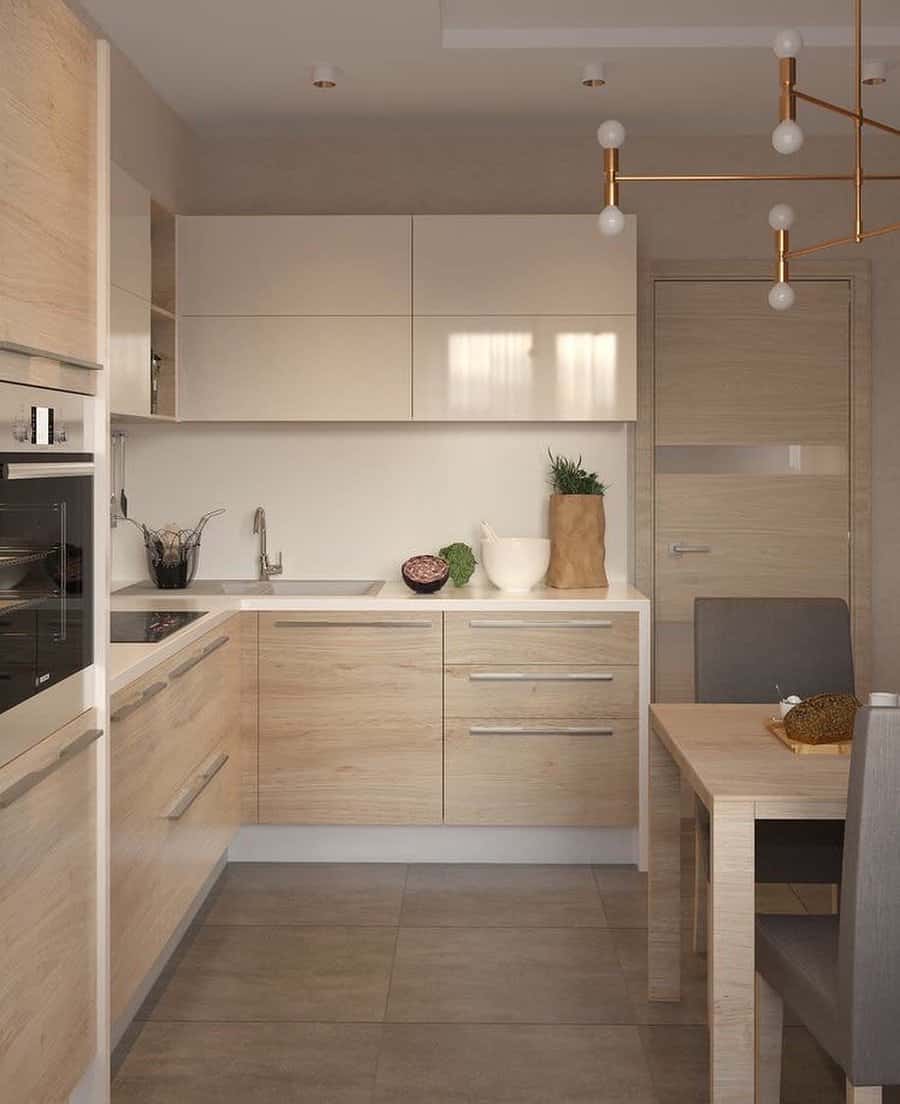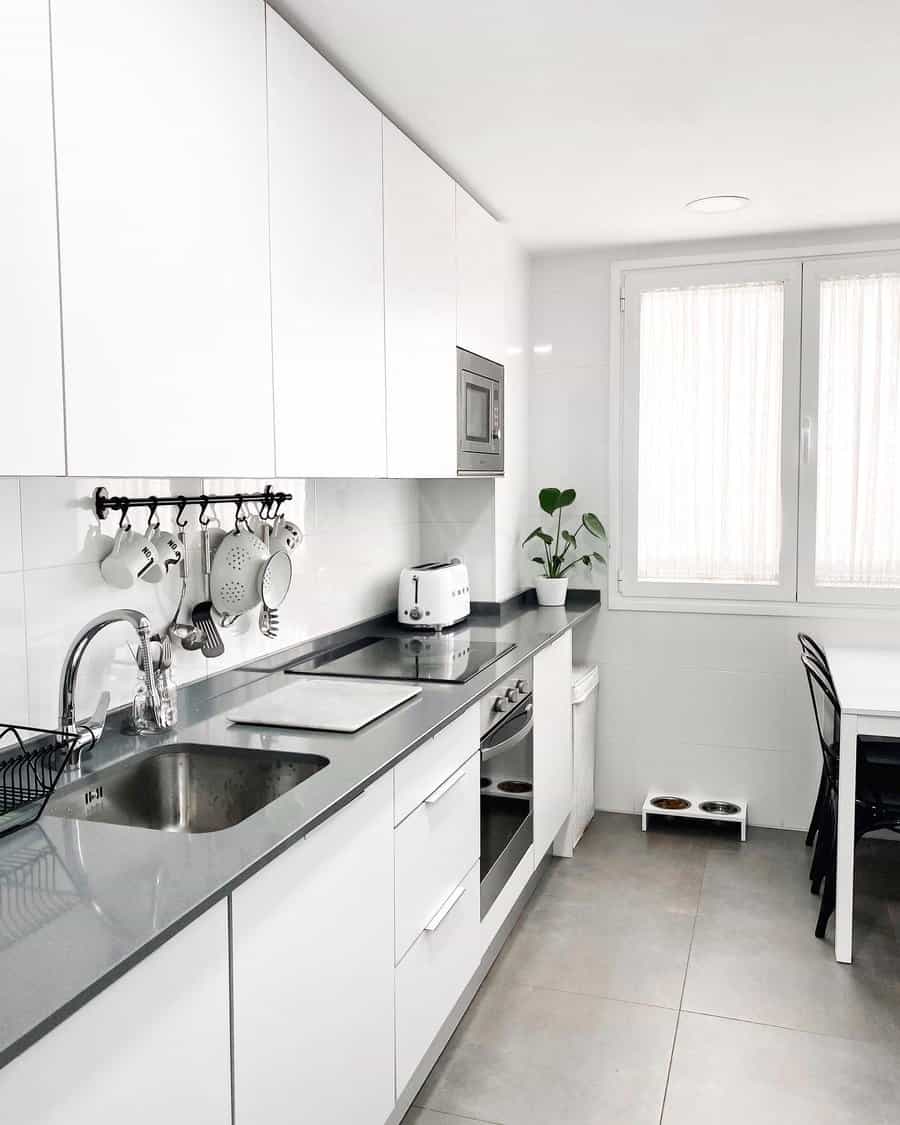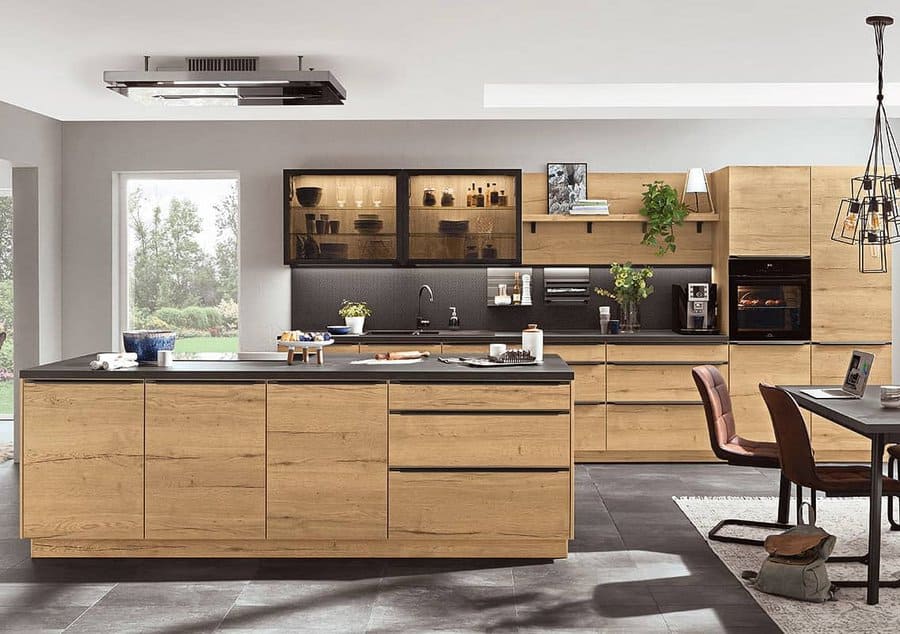 5. Black & White Kitchen
A black and white modern kitchen is the epitome of minimalist style, with its clean lines, sleek surfaces, and versatile color palette. The simplicity of the design makes it easy to maintain a clean and organized space, while the black and white color scheme provides a timeless and sophisticated look that never goes out of style.
The neutral color scheme also makes it easy to switch up the décor and accessories in your kitchen, so you can keep things fresh and interesting without committing to a specific color scheme. Whether you prefer a sleek, all-white look or want to add a pop of drama with black cabinetry or countertops, a black-and-white modern kitchen is a versatile canvas that allows you to experiment with different design elements and create a space that reflects your personal style.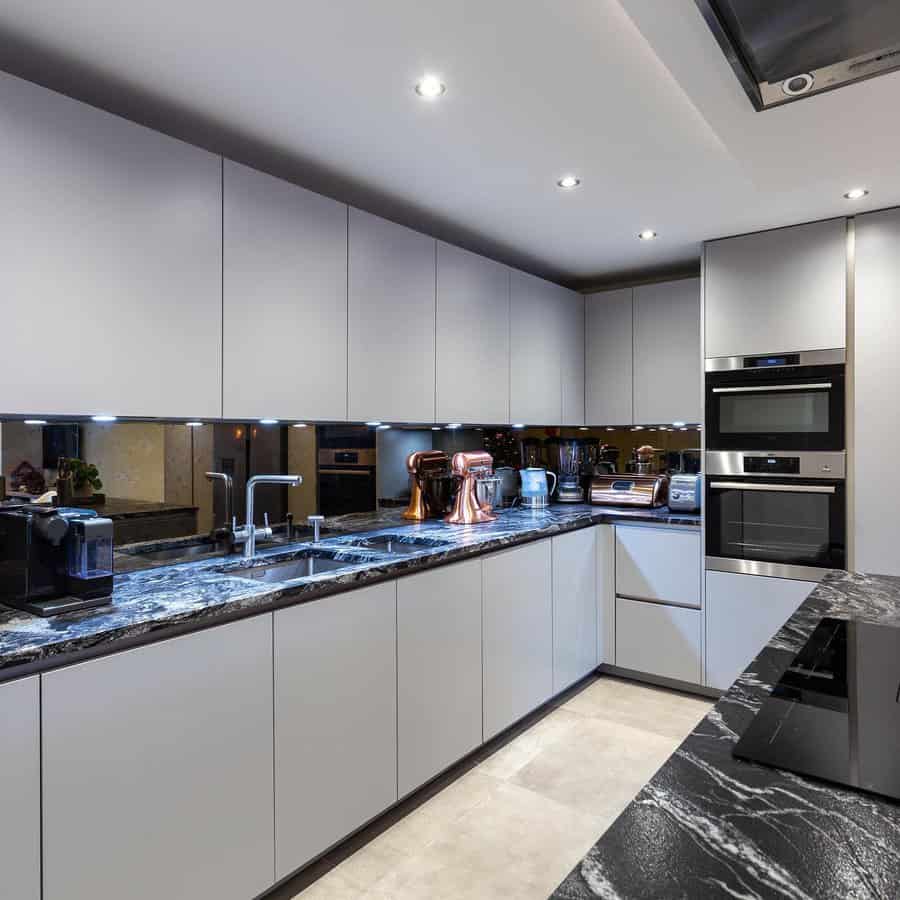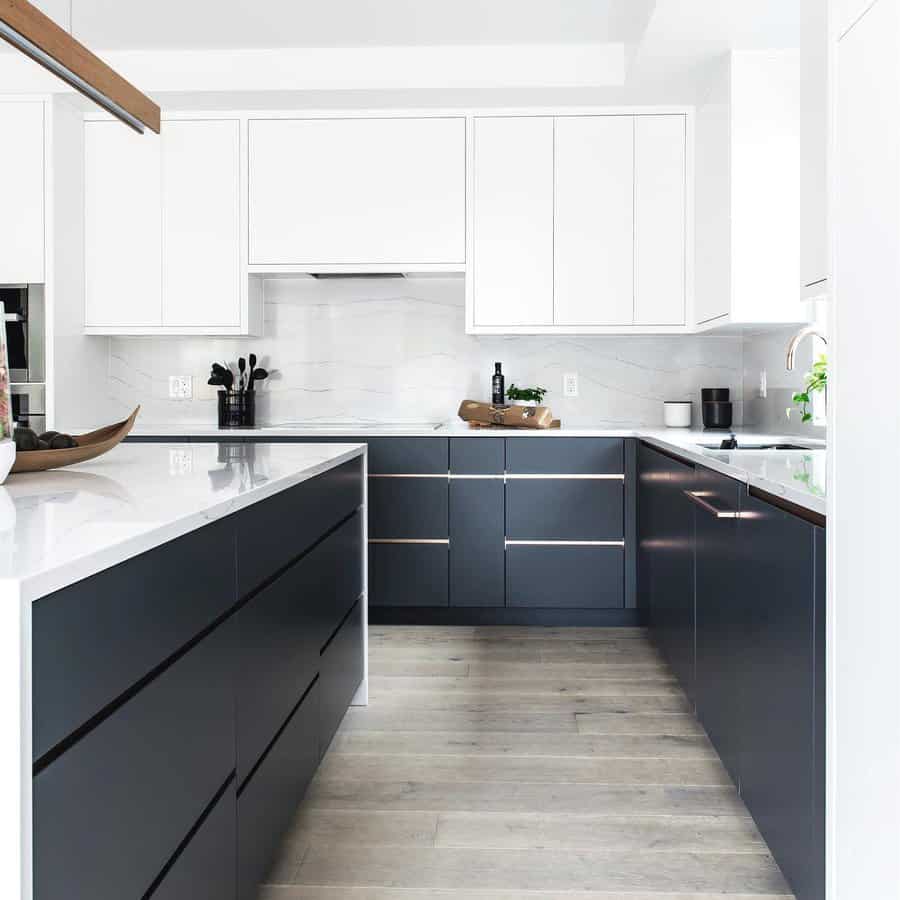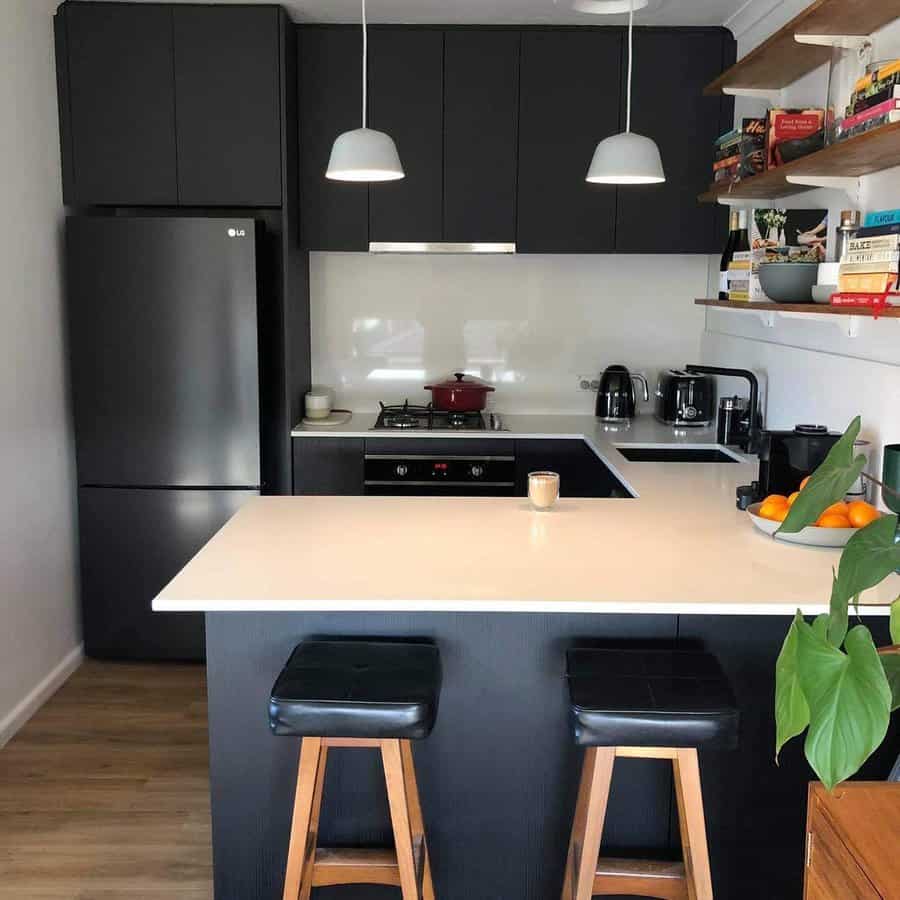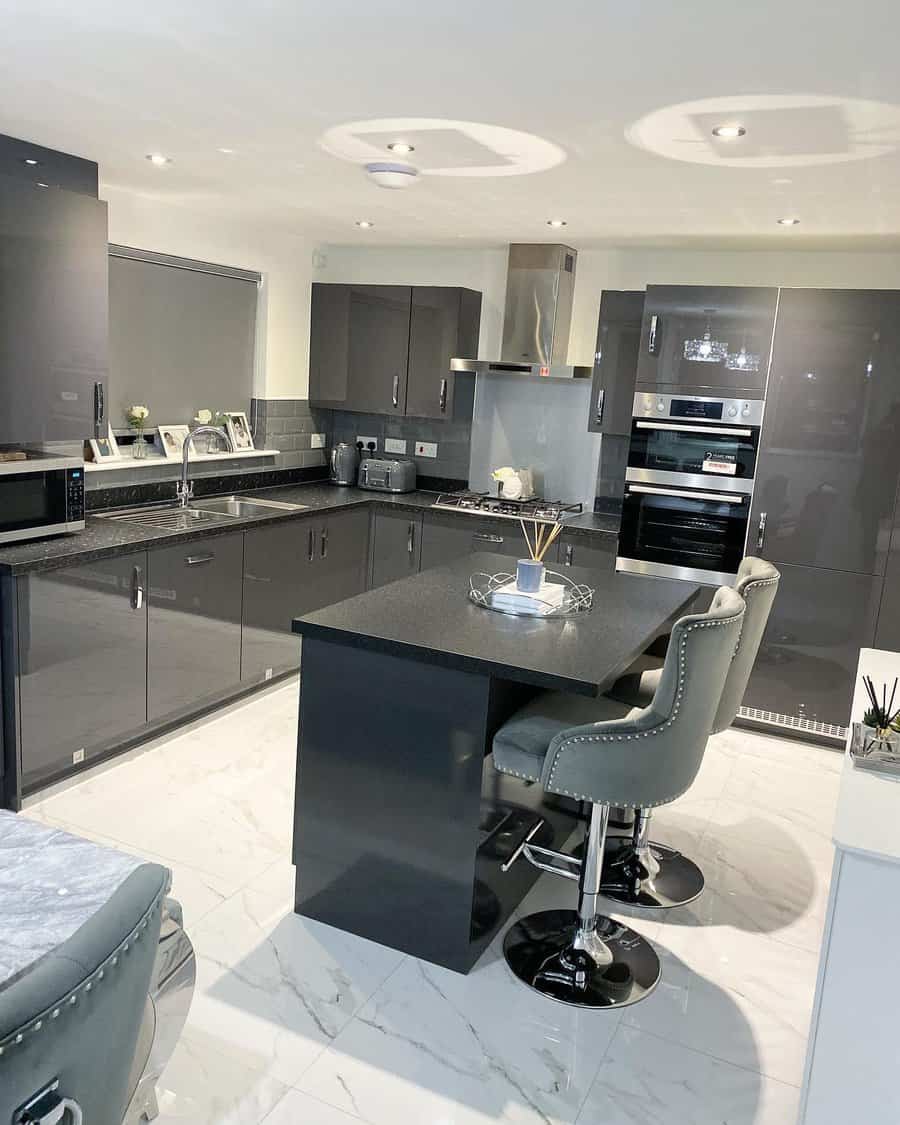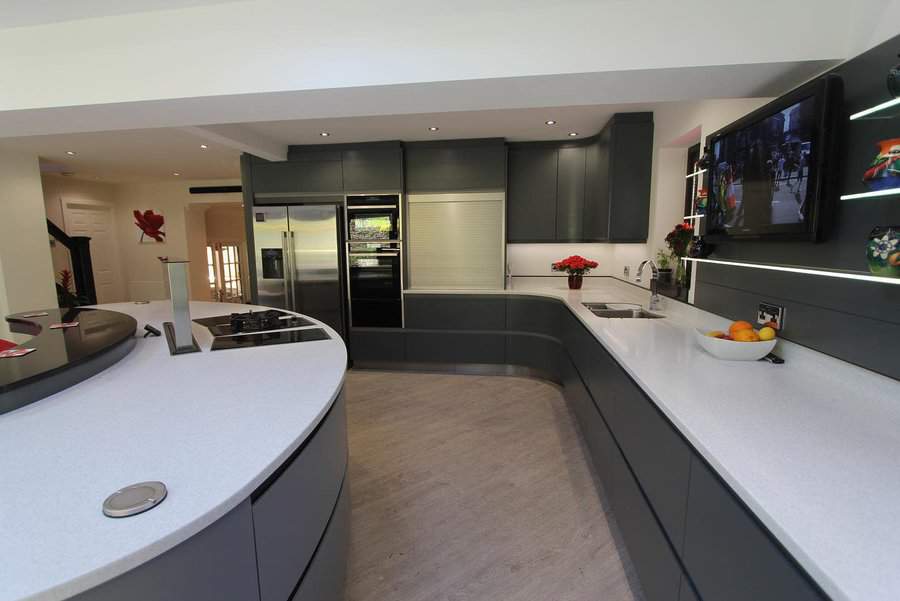 6. Install Decorative Backsplash Tiles
A modern kitchen with a decorative backsplash is the perfect way to add some personality and style to your cooking space. A backsplash is a functional element that helps protect your walls from spills and splatters, but it can also be an accent piece that adds a pop of color and texture to your kitchen.
With so many modern and stylish options available, you can choose a backsplash that complements your kitchen's design and adds a unique touch to the space. Whether you opt for geometric patterns, bold colors, or intricate mosaics, a decorative backsplash can take your modern kitchen to the next level.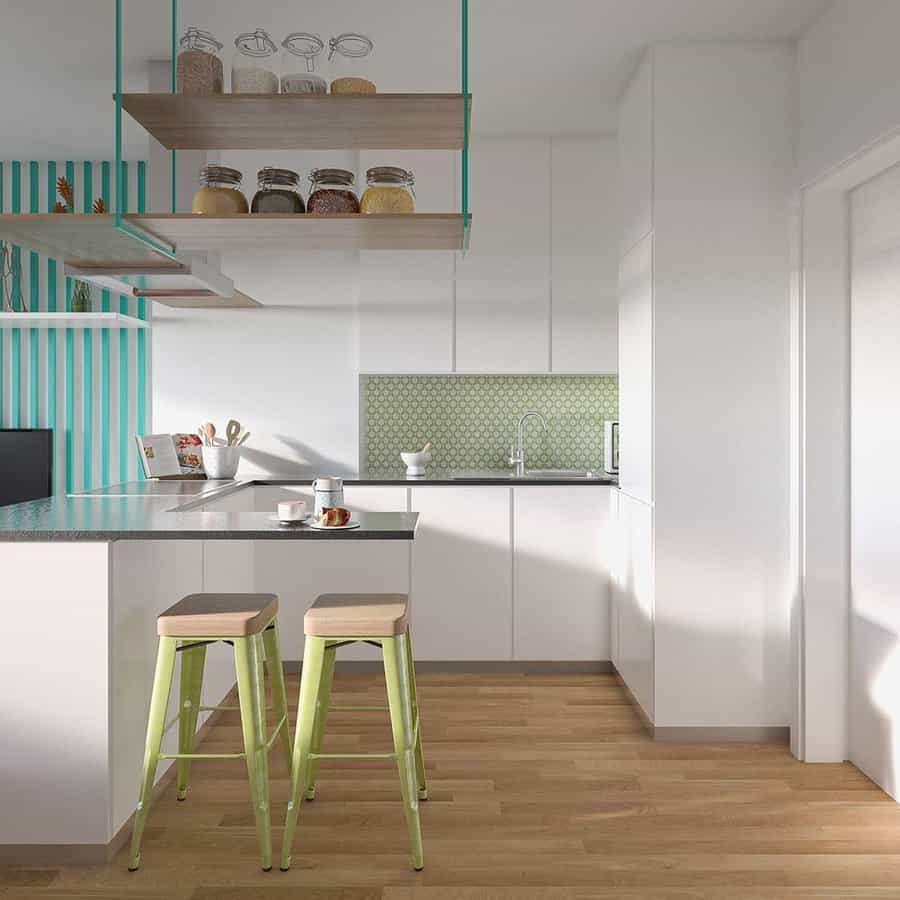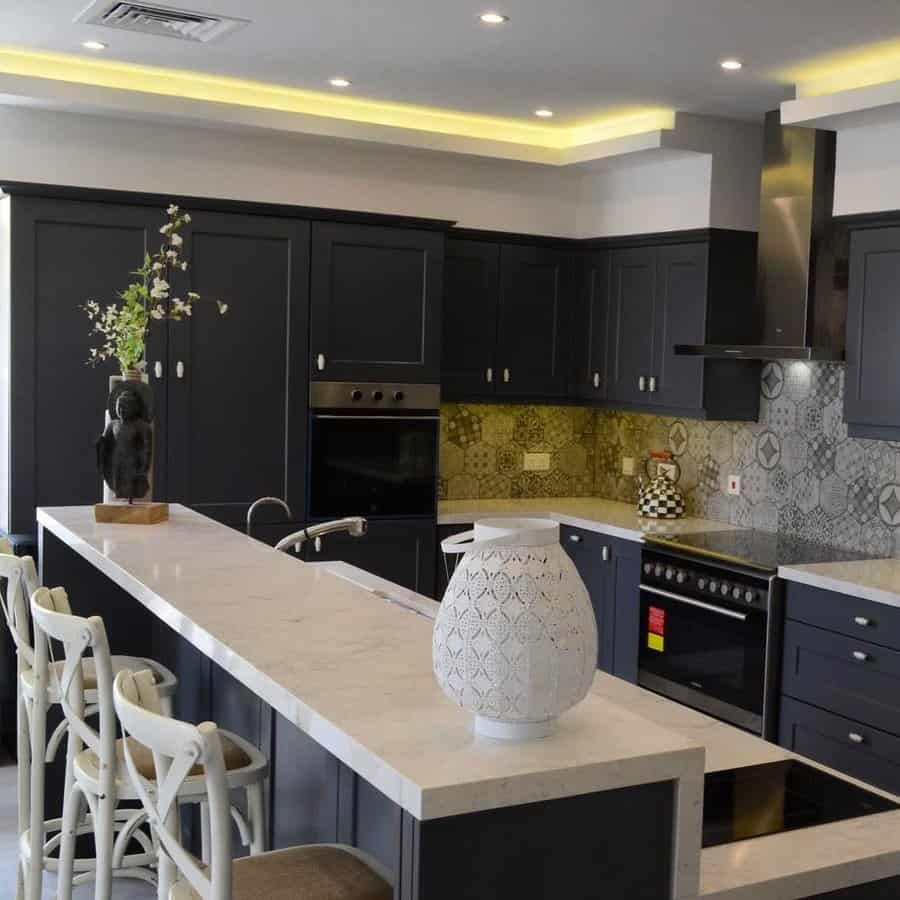 7. Install Cabinets With A Natural Wooden Finish
Cabinets with a wooden finish are a great way to add warmth and texture to a modern kitchen. When paired with a black and wood interior, the result is a sleek and sophisticated look that's both modern and timeless. The black elements in the kitchen provide a sleek and clean backdrop for the natural wood finishes of the cabinets, creating a beautiful contrast that's both striking and elegant.
The wooden cabinets also add a natural touch to the space, bringing a sense of warmth and comfort to the kitchen. They're perfect for creating a cozy and inviting atmosphere where you can cook and entertain in style. Wooden cabinets are also incredibly versatile, making them a great choice for a variety of kitchen styles and designs.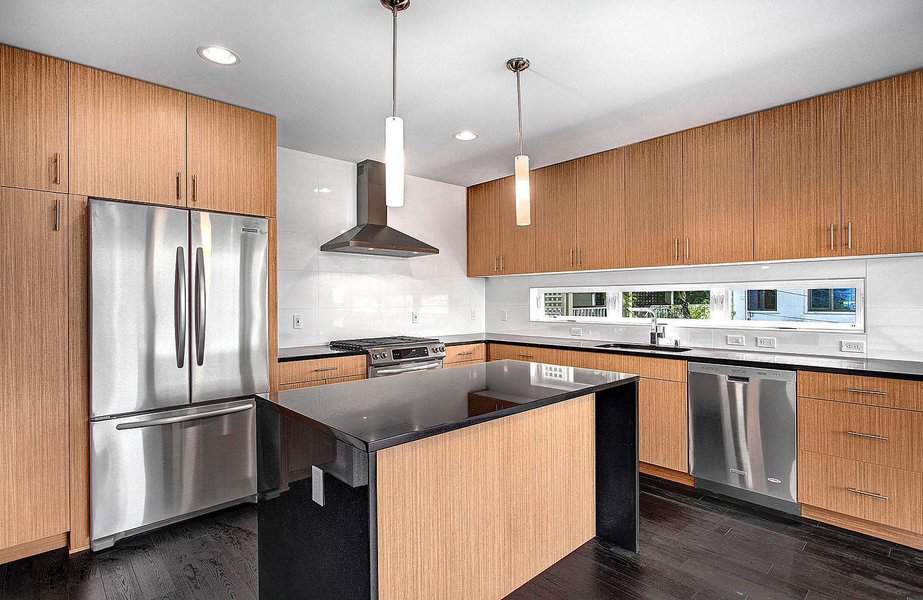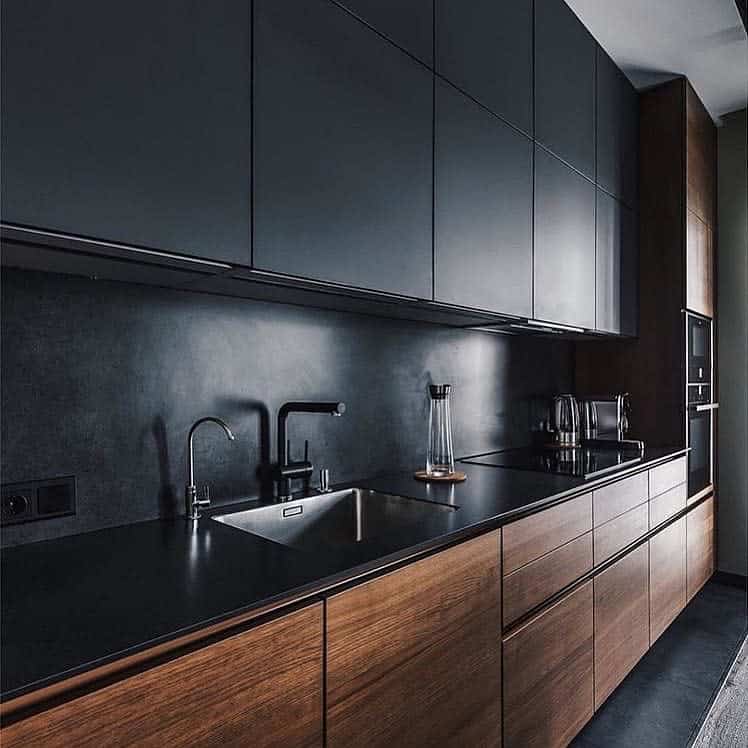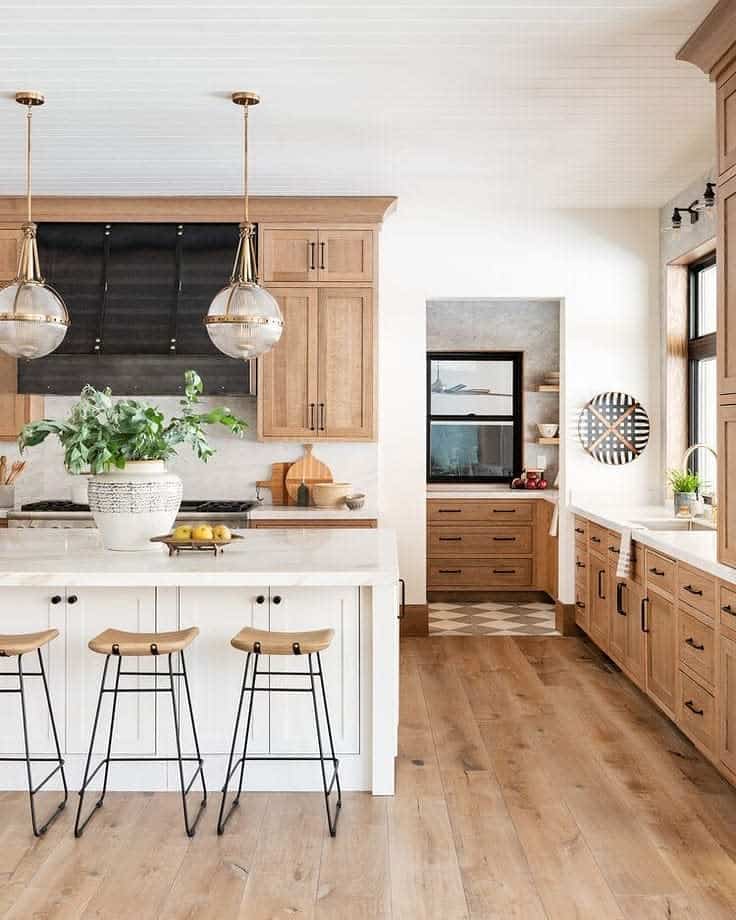 8. Pure White Kitchen
A pure white kitchen is the epitome of a bright and fresh design. With its clean lines and pristine surfaces, a white kitchen can create an airy and spacious feeling that's perfect for any home. The beauty of a pure white kitchen lies in its simplicity – the lack of distracting colors and patterns allows the natural light to shine through, highlighting every corner of the room.
Plus, a white kitchen is incredibly versatile and can be easily accessorized with pops of color or natural elements like wood or stone. A pure white kitchen is also incredibly easy to maintain, as spills and stains are easily visible and can be wiped away in a flash. Whether you prefer a sleek, modern look or a more traditional aesthetic, a pure white kitchen is the perfect backdrop for any style.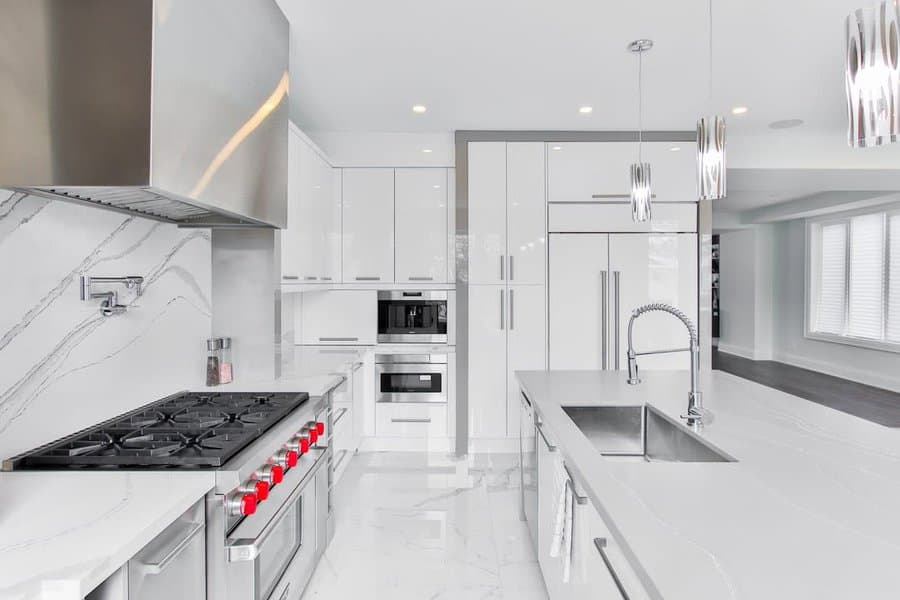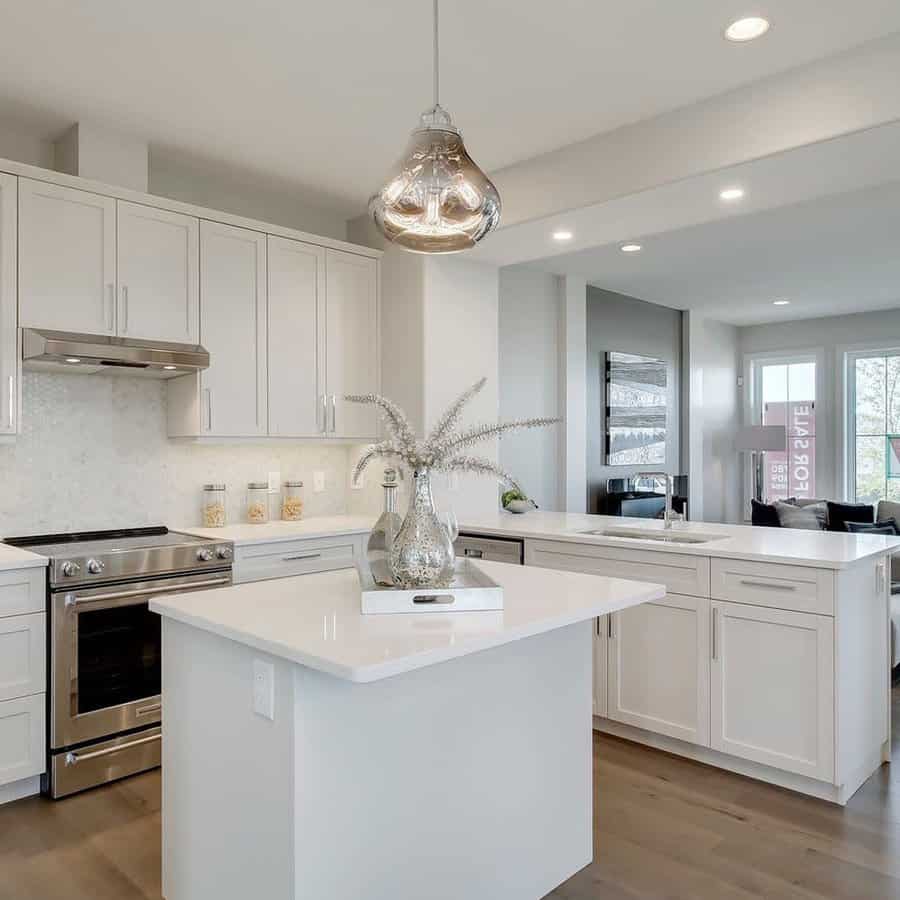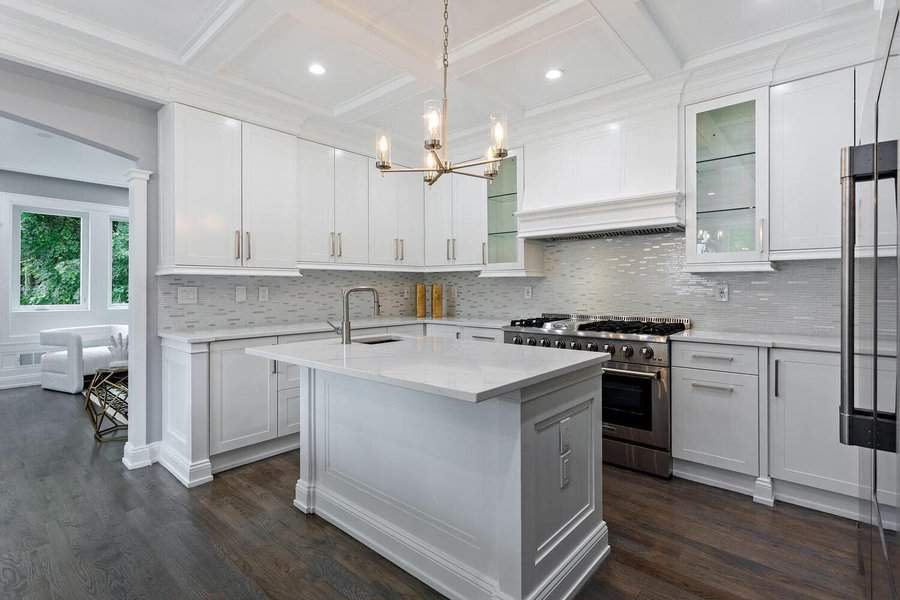 9. Open Plan Kitchen
An open-plan modern kitchen is the perfect place to create a sleek and functional space that's also inviting and stylish. The open-plan layout allows for easy flow between the kitchen and the rest of your home, making it perfect for entertaining or simply spending time with family. You can embrace the modern aesthetic with clean lines, minimalist design, and high-quality materials like stainless steel and marble.
Add a touch of warmth and texture with wooden accents or bold pops of color for a personalized touch. One of the biggest advantages of an open-plan modern kitchen is the ability to customize the space to suit your needs. Whether you're a passionate home cook or simply love the convenience of having everything within reach, you can tailor your kitchen to your lifestyle and preferences.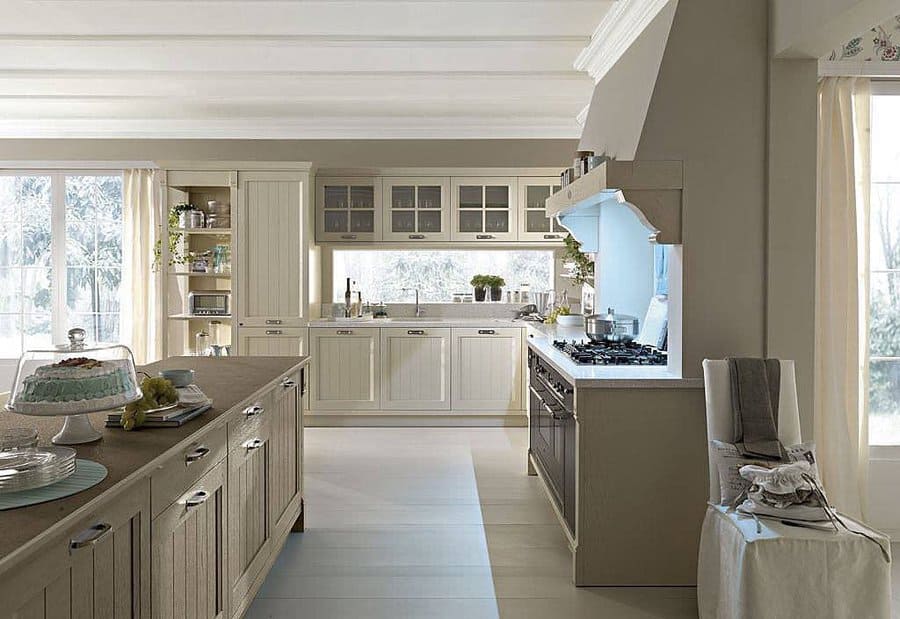 10. Kitchen With Bar Counter
A modern kitchen with a bar counter is an excellent way to create division in an open-plan setup while maintaining a sleek and sophisticated look. The bar counter serves as a transitional element between the kitchen and the living or dining area, providing a visual separation without compromising on the open feel of the space.
It's a versatile feature that can serve multiple purposes, from providing additional seating to offering a spot for food preparation or display. With a modern design, the bar counter can be a stunning statement piece that elevates the overall aesthetic of your kitchen. You can opt for a sleek, minimalist look with a smooth countertop and clean lines, or go for a more textured and natural look with a butcher block or concrete finish.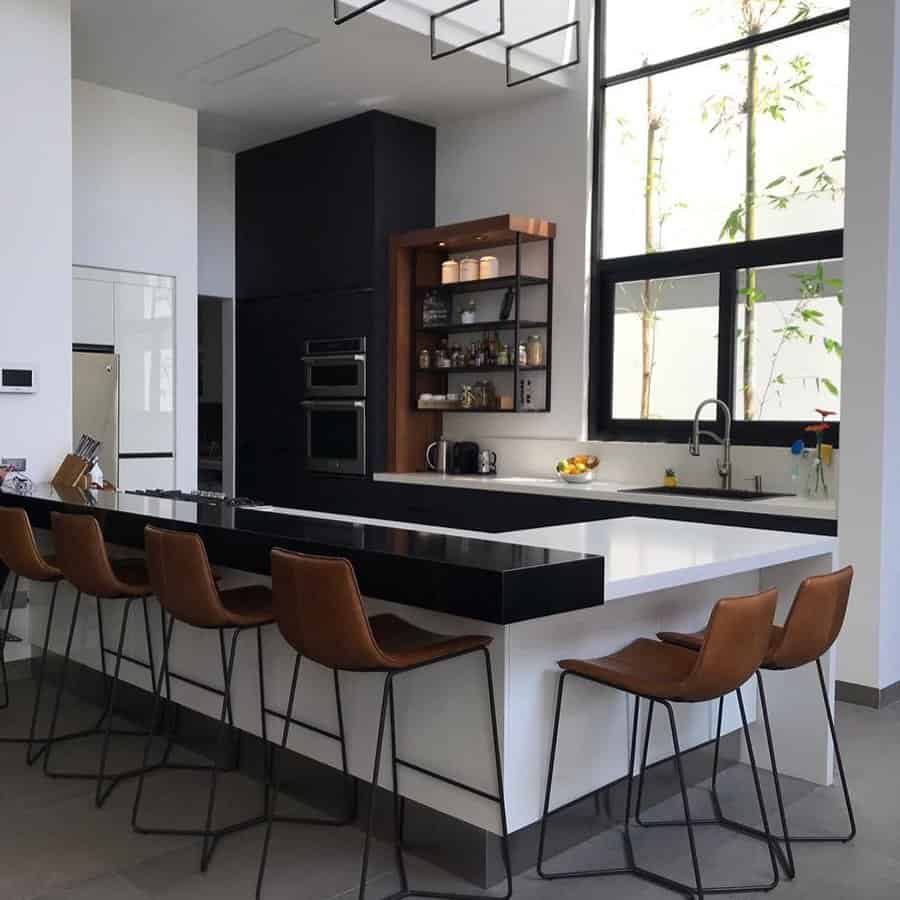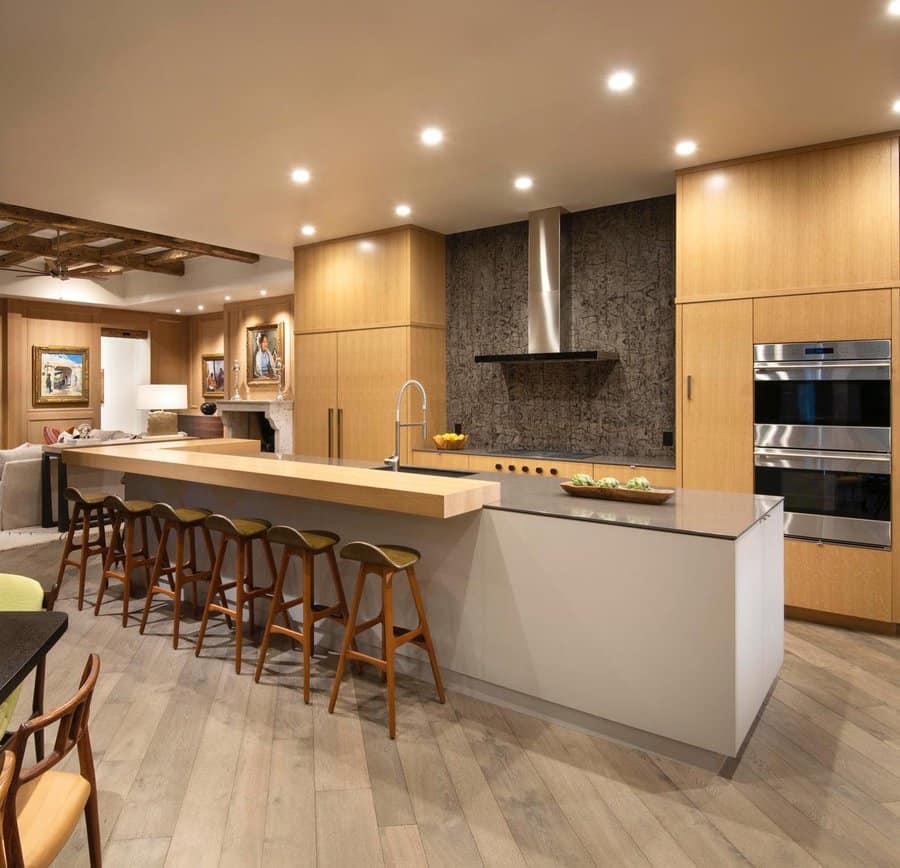 11. Install Black Fixtures
One of the most striking ways to incorporate black into your kitchen design is by opting for matte black faucets and metalware. These sleek and stylish fixtures provide a bold contrast against the light and bright surfaces of modern kitchens, creating a dramatic yet refined look. Imagine preparing a meal or washing dishes at a sink outfitted with a sleek black faucet and matching metalware – it's a small detail that can make a big impact on the overall aesthetic of your kitchen.
You can complement the black fixtures with other modern elements, like glossy cabinets, quartz countertops, and minimalist pendant lights. The result is a space that's chic and contemporary, a perfect reflection of your refined taste and style.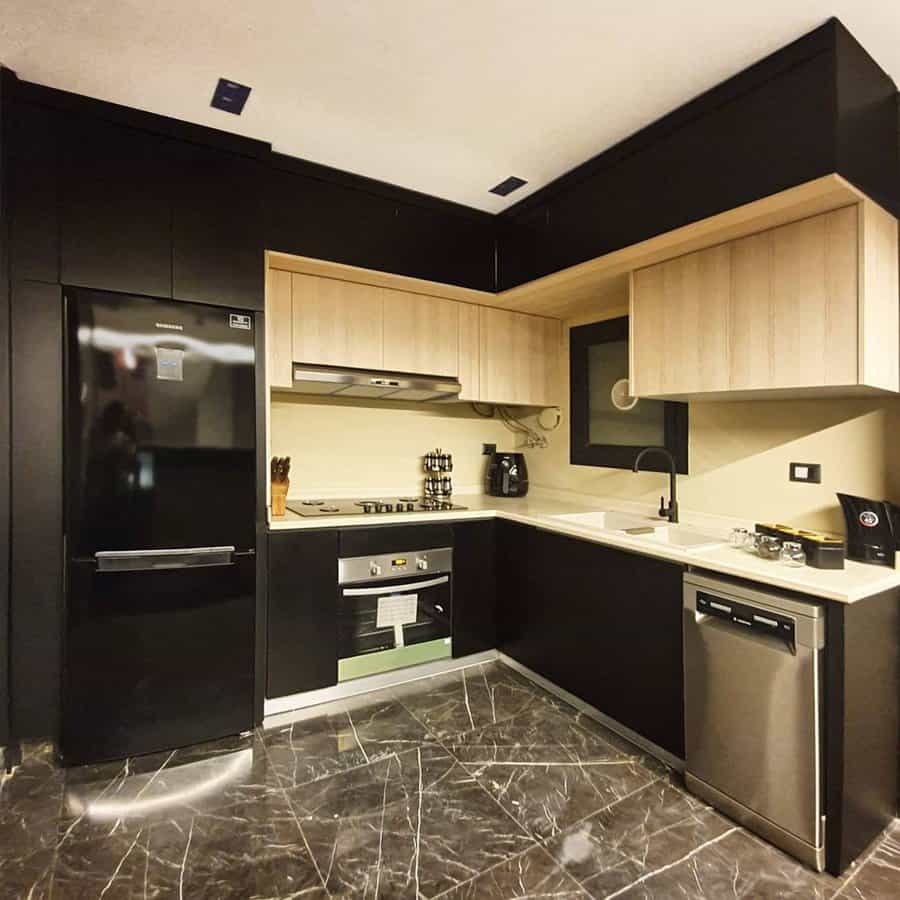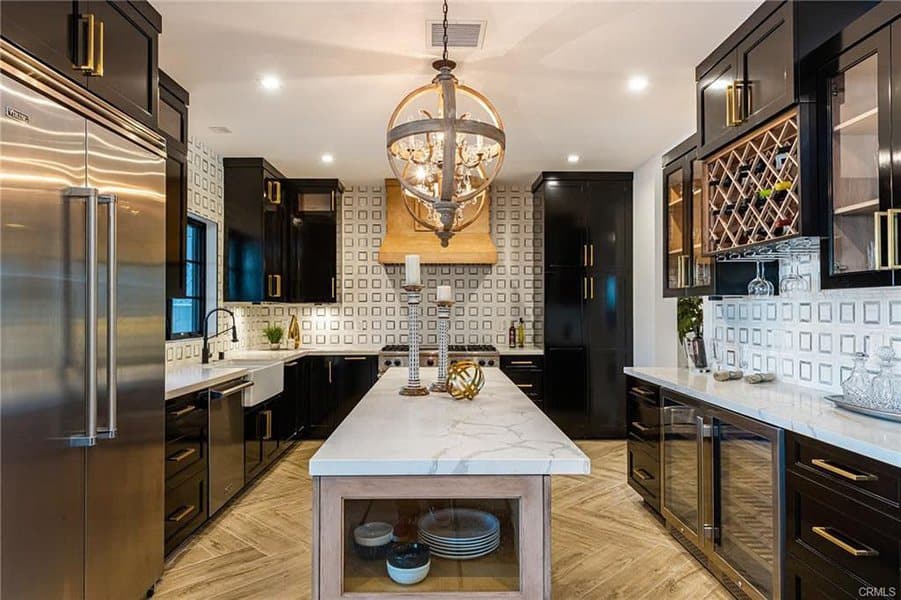 12. Add Handleless Cabinets
A modern kitchen with handleless cabinets is the epitome of sleek and minimalist style. The lack of handles on the cabinets creates a clean and streamlined look that's perfect for contemporary homes. With their smooth and uninterrupted surfaces, handleless cabinets are the perfect choice for homeowners who want a kitchen that looks uncluttered and effortlessly chic.
The minimalist style of the cabinets is often complemented by a simple color scheme, with white, gray, or black being the most popular choices. This allows the clean lines of the cabinets to take center stage, while also creating a calming and serene atmosphere in the kitchen.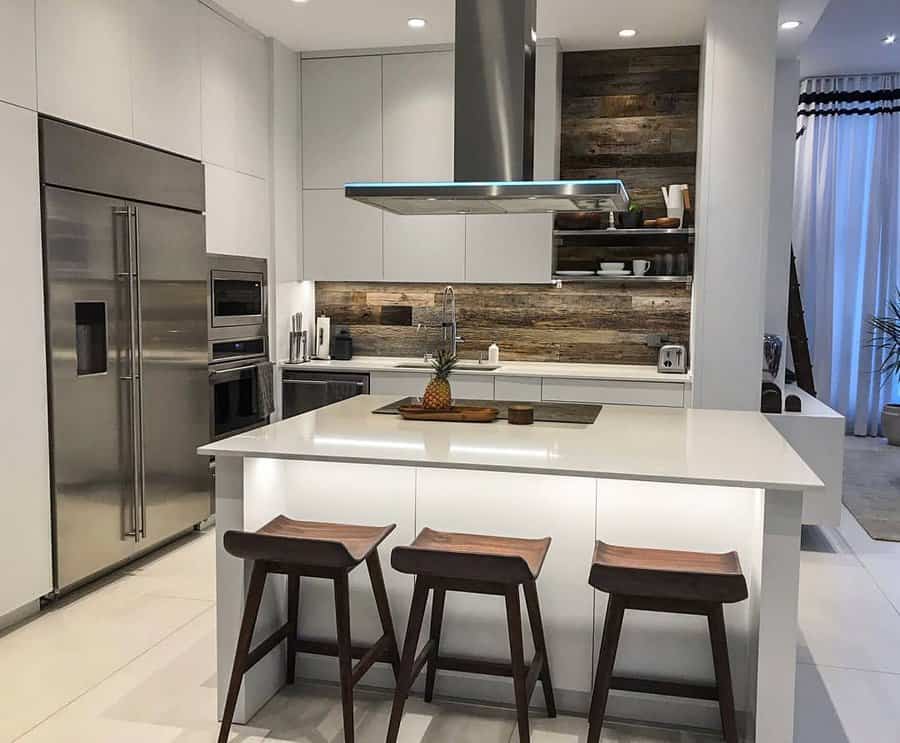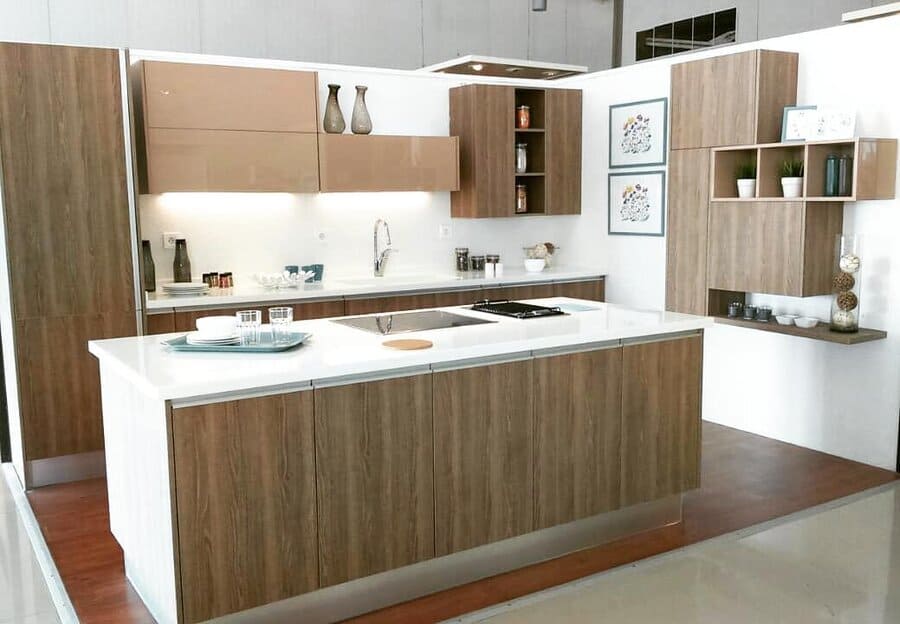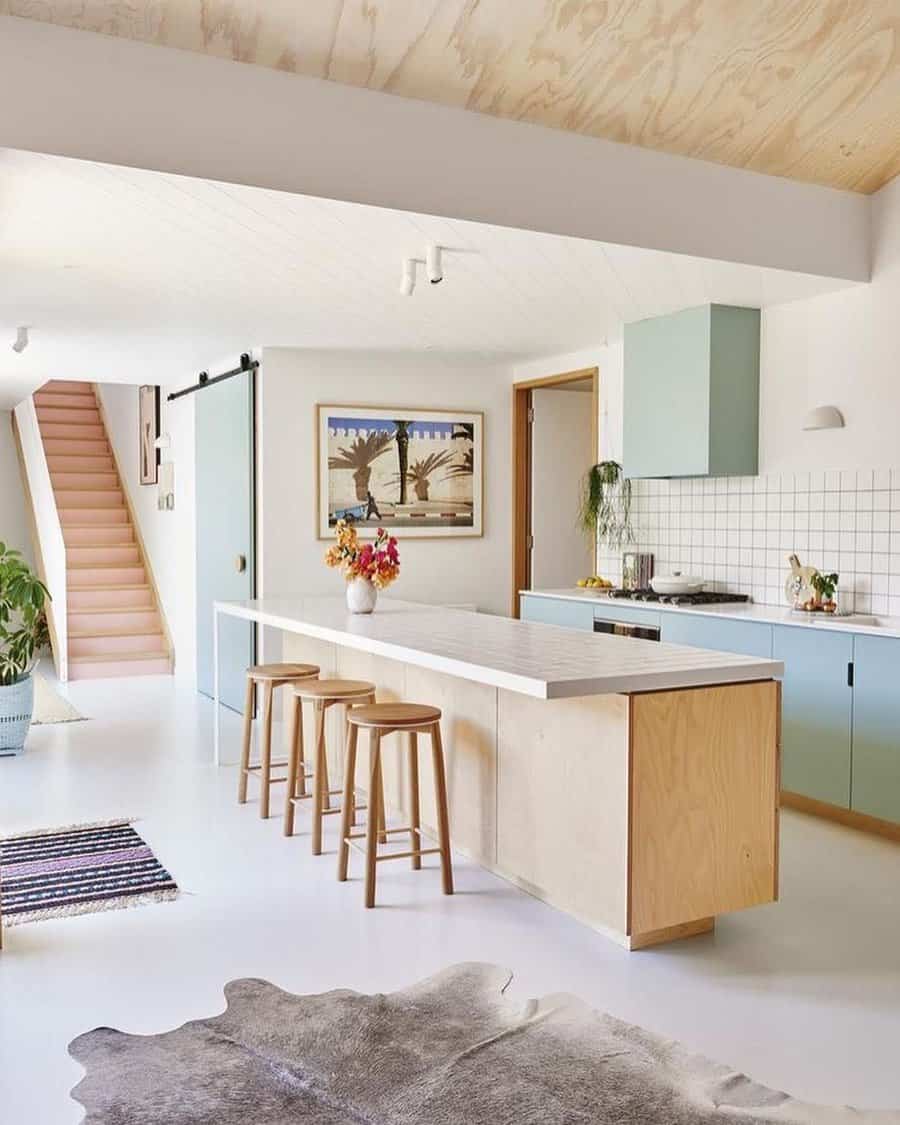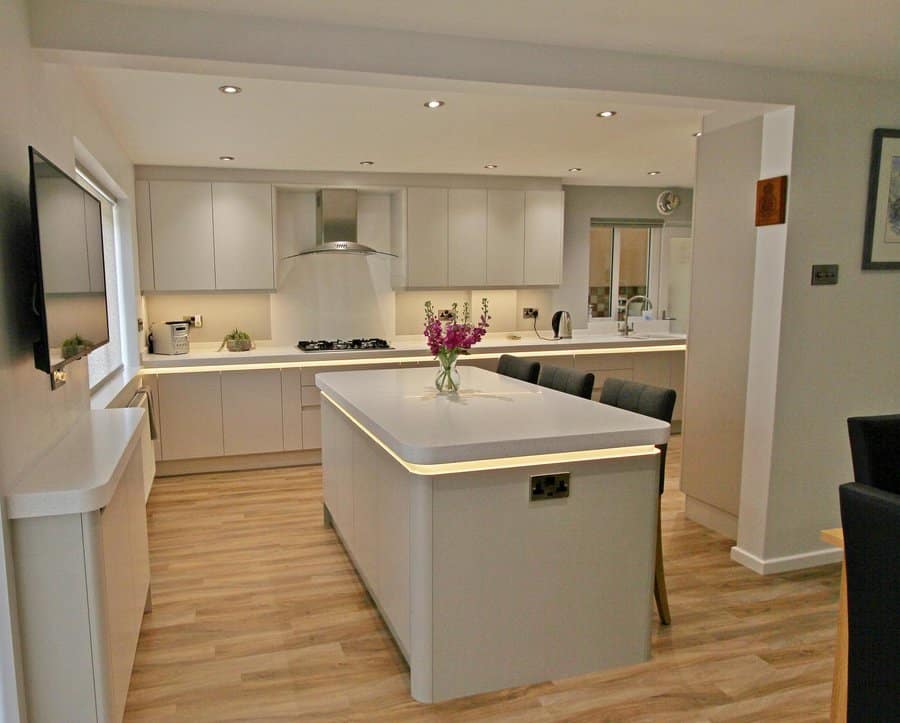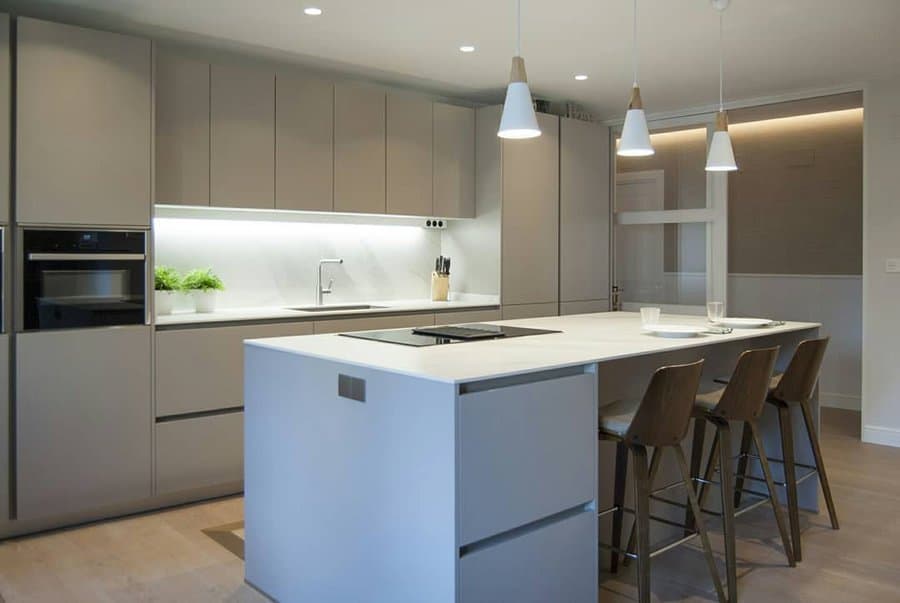 13. LED Strip Lighting
A modern kitchen with LED strip lighting is a truly stunning sight to behold. This type of lighting creates a sleek and contemporary look that's perfect for a modern home. LED strip lighting can be installed under cabinets, along the baseboards, or even in the ceiling, providing both task lighting and a beautiful ambient glow.
Not only does it look fantastic, but it's also energy-efficient and long-lasting, making it an eco-friendly option for your home. You can customize the color and brightness of the lighting to suit your preferences, allowing you to create the perfect ambiance for cooking, entertaining, or just relaxing. With LED strip lighting, you'll never have to worry about harsh overhead lights or dimly lit corners again.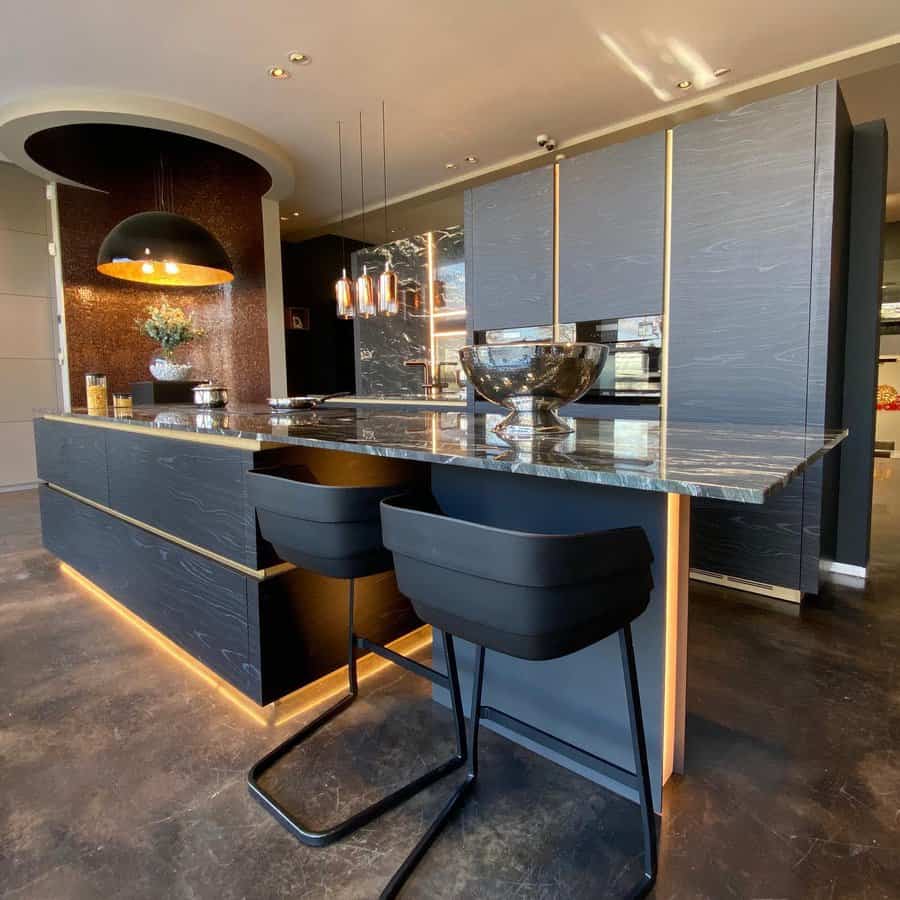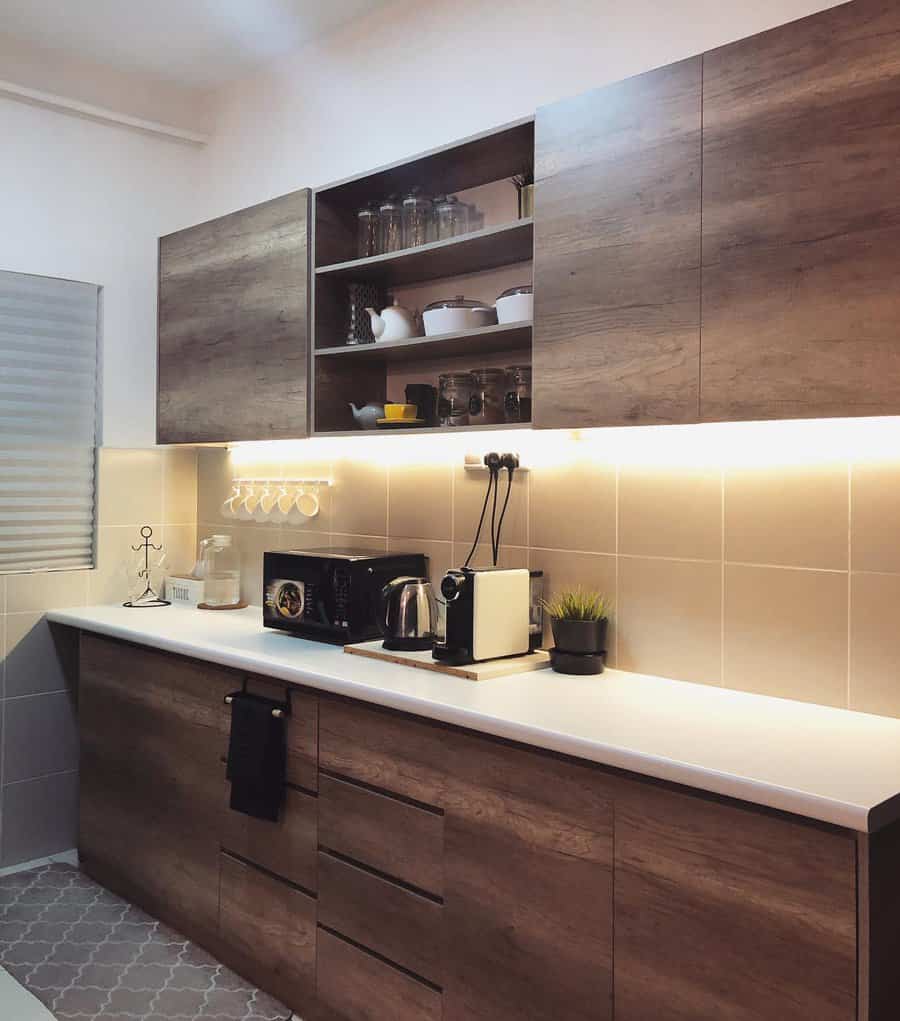 14. Install Marble Backsplash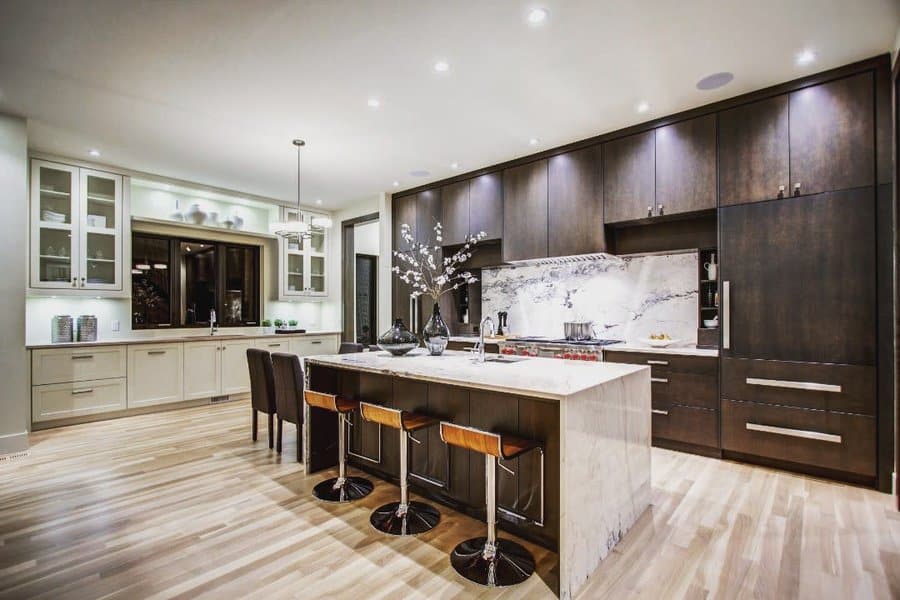 15. Hang Pendant Lights
Pendant lighting is a popular choice for kitchen islands as it provides ample light for food prep and adds a touch of sophistication to your design scheme. The sleek and contemporary look of pendant lights works well with modern decor and can be customized to fit your personal style. You can choose from a variety of shapes, colors, and materials to find the perfect pendant lighting for your kitchen.
Whether you prefer a minimalist look with a single pendant light or a more dramatic effect with multiple lights, pendant lighting can create a stunning focal point in your kitchen. With pendant lighting above your kitchen island, you'll have the perfect ambiance for intimate dinners or lively gatherings with friends and family.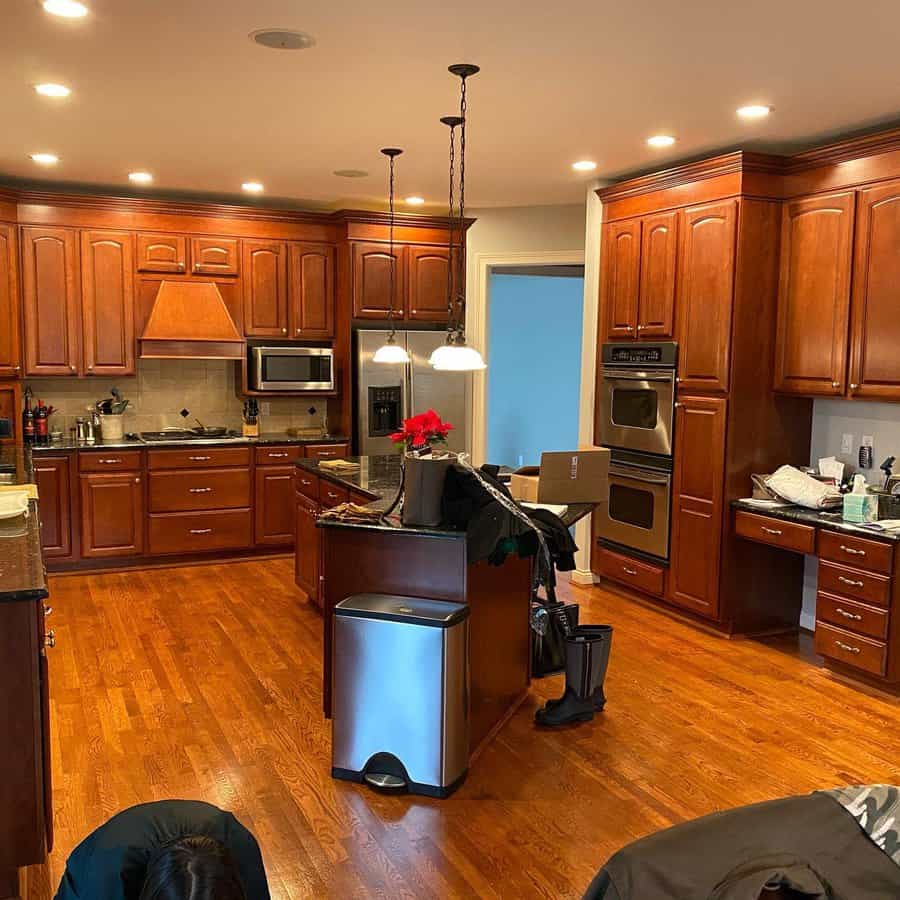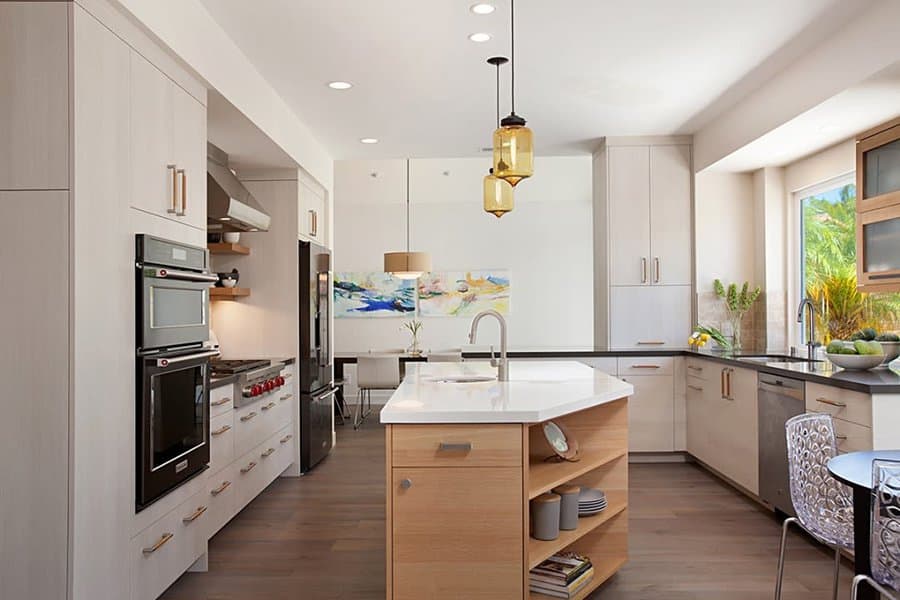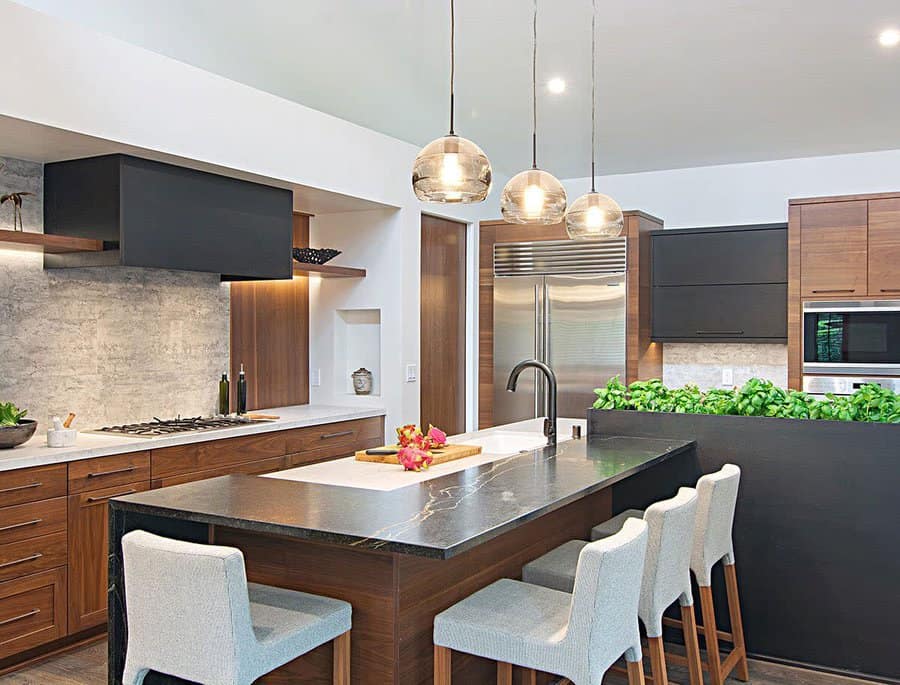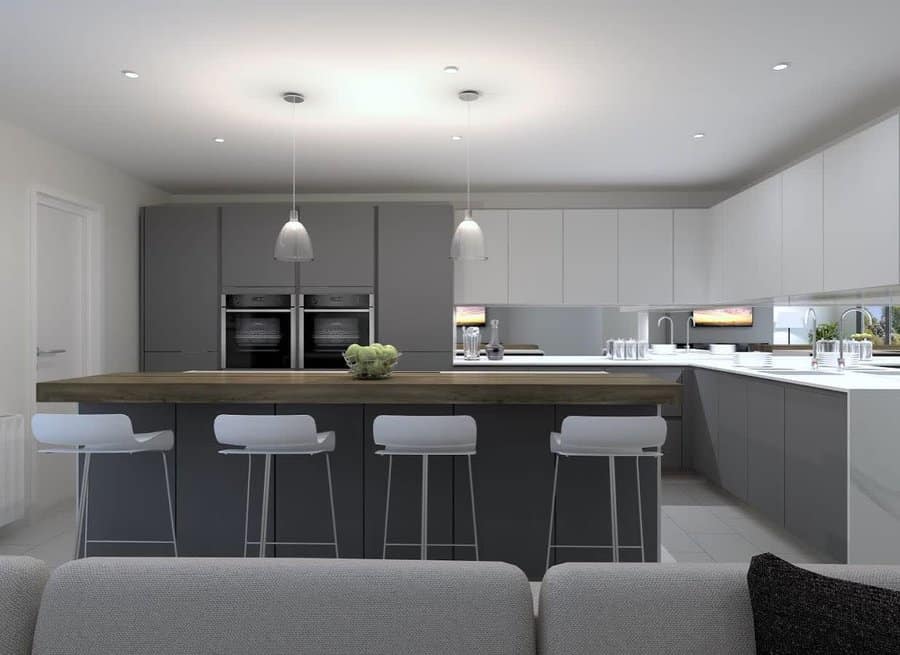 16. Add A Pop Of Color
Modern kitchen design is all about creating a sleek and functional space that feels fresh and contemporary. If you're looking for some inspiration to update your kitchen, consider adding a pop of color to your space. A bold choice like red cabinets can create a modern and energetic atmosphere that's sure to make a statement.
Alternatively, you could opt for a blue kitchen island to bring a splash of cool and calming color to your space. These pops of color can be balanced with neutral shades like white or grey to create a balanced and sophisticated look. In addition to color, modern kitchen design also favors clean lines, minimalism, and a focus on functionality.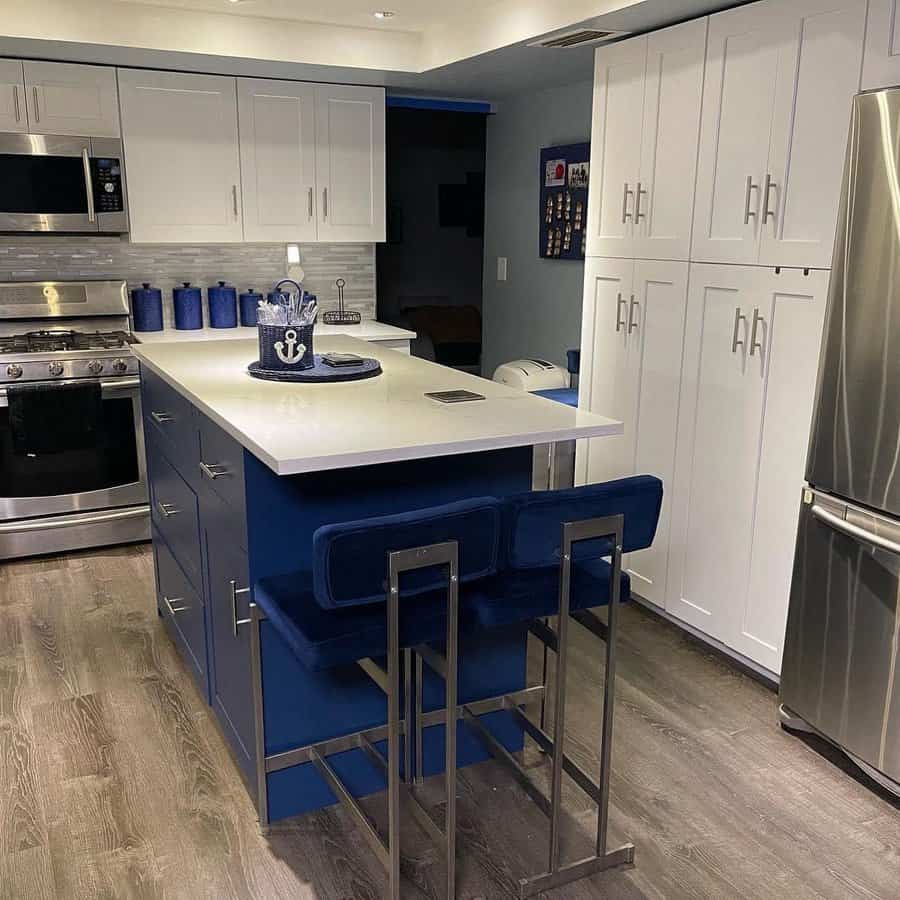 17. Wood Panel Accent
Wood panels can be incorporated in various ways, such as a backsplash, a cabinet door, or an accent wall. The natural wood grain adds texture and depth to the kitchen and provides a striking contrast to the clean lines and sharp edges of modern design. You can complement the wood panel with other natural materials like stone or metal for a harmonious look.
To keep the space feeling fresh and contemporary, opt for minimalistic cabinetry and appliances in muted colors like black, white, or stainless steel. A modern kitchen with a wood panel accent strikes the perfect balance between sophistication and warmth, creating a space that's not only beautiful but also functional and inviting.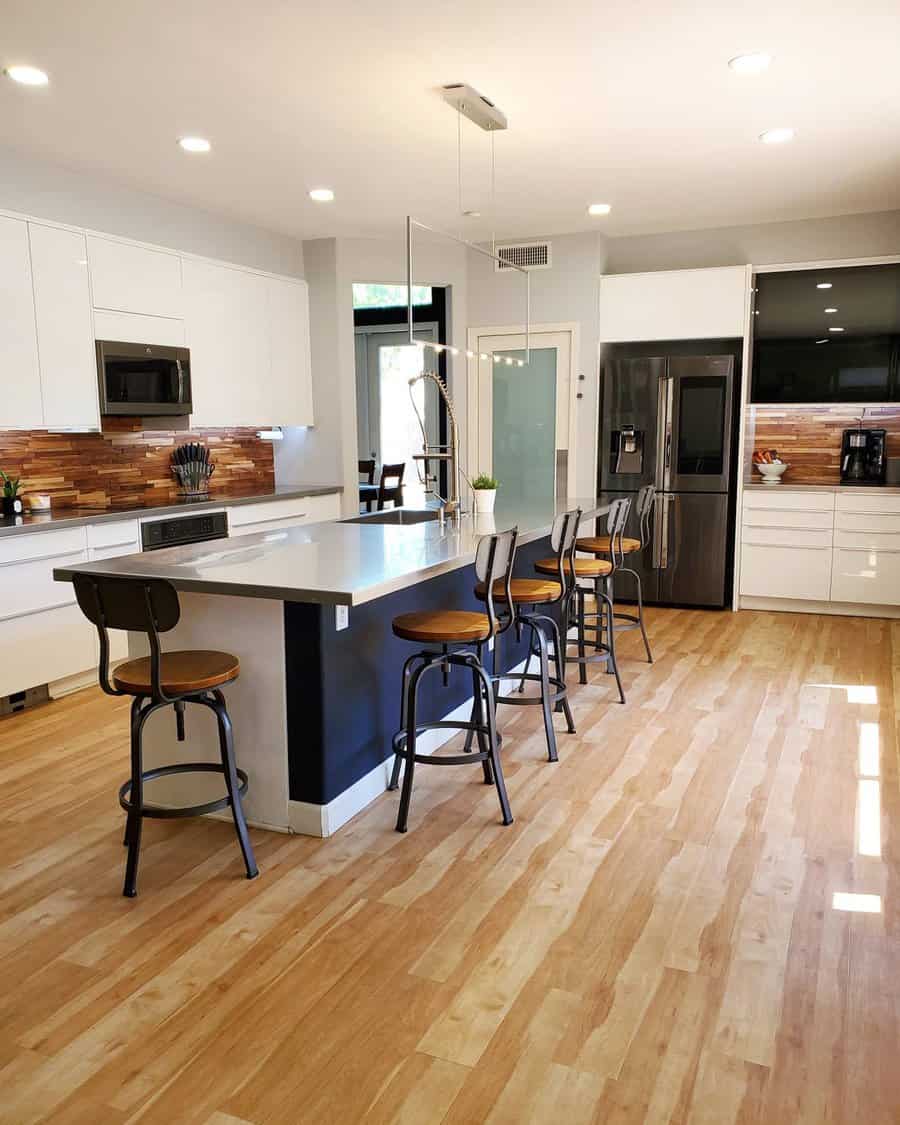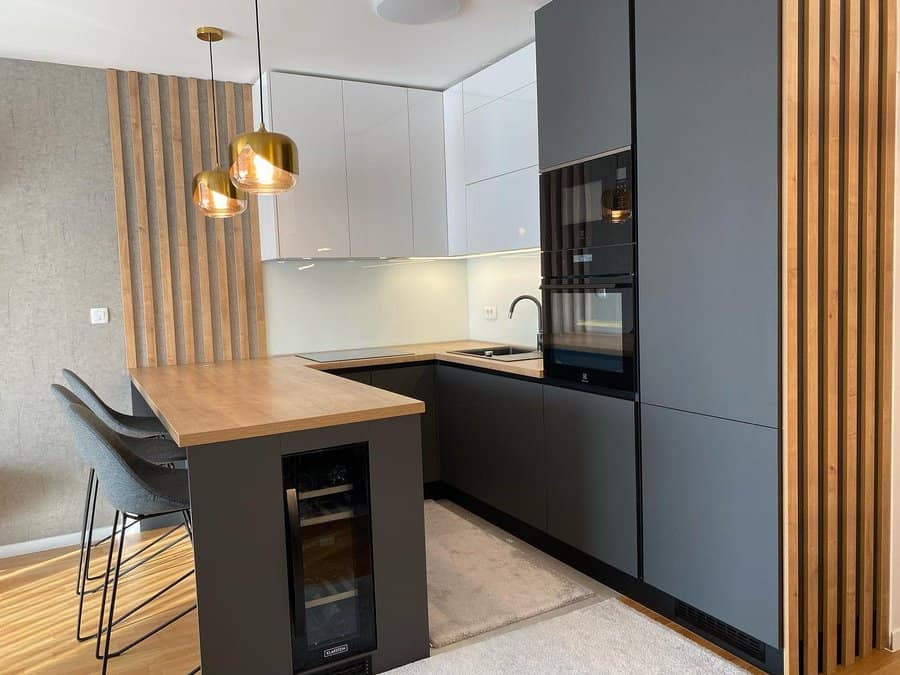 18. Go For Gold Fixtures
A modern kitchen with gold fixtures is the perfect way to add a touch of glamour and sophistication to your home. Gold fixtures, such as faucets and cabinet hardware, can create a warm and inviting atmosphere that's perfect for cooking, entertaining, and spending time with loved ones. The contrast between the sleek lines of modern design and the warm, radiant glow of gold fixtures creates a stunning visual impact that's sure to impress.
Whether you opt for a full-on gold aesthetic or just a few carefully chosen accents, gold fixtures can transform your kitchen into a luxurious and stylish space. You can also play with other elements like lighting and decor to enhance the golden tones and create a cohesive design scheme.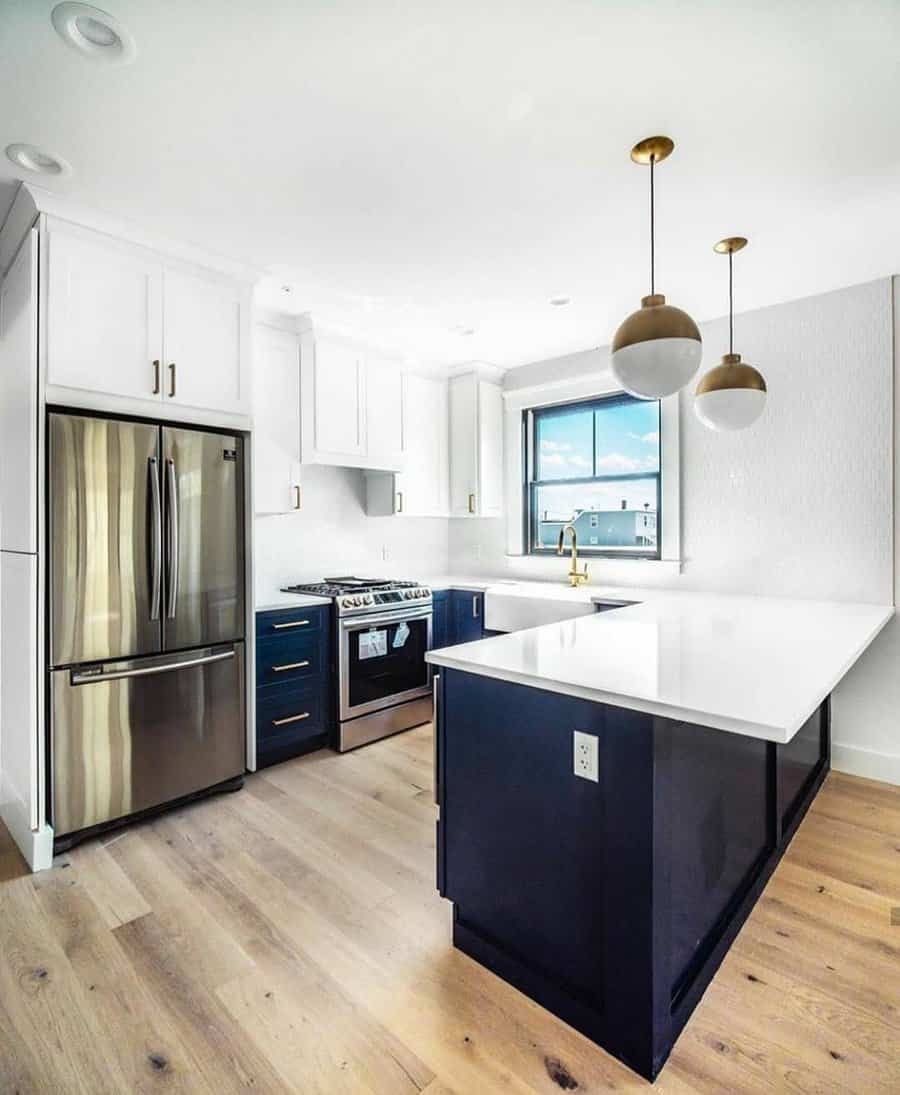 19. Install Open Shelving
A modern kitchen with open shelving is a beautiful way to showcase your favorite dishes, glassware, and other kitchen essentials. Open shelving not only allows for easy access to items but also adds a stylish and functional touch to your kitchen. It creates an open and airy feel that's perfect for entertaining and makes your kitchen feel larger and more spacious.
With the right styling, open shelves can become a focal point in your kitchen, allowing you to show off your personal style and taste. Opt for minimalist white shelves to create a clean and contemporary look or go for a more rustic feel with reclaimed wood shelves. You can even mix and match materials to create a custom look that reflects your unique style.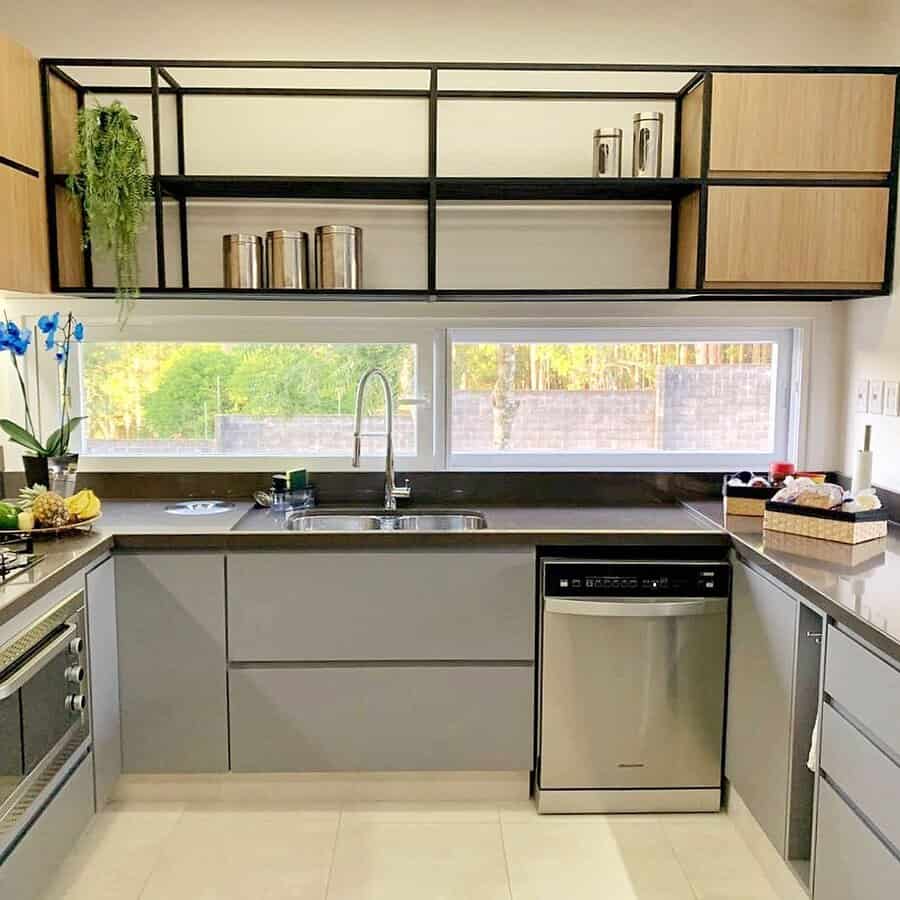 Modern Kitchen FAQs
Is wood cabinetry out of style?
Wood cabinetry was once ubiquitous in kitchen design. It's easy to see why many homeowners have ditched this trend for painted cabinet doors instead. But that doesn't mean you can make wood cabinetry look fresh and modern!
Flat cabinet doors are a better option than carved or paneled ones. The sleek surface pairs well with natural wood grain and allows the innate texture to shine on its own.
Avoid ornate handles and drawer pulls in favor of minimalist cabinetry hardware. Or, even better, invest in cabinet doors with built-in handles so no external hardware is needed at all.
What is the best flooring for a modern kitchen?
You can't go wrong with hardwood floors, regardless of the interior design style you're going for. Modern kitchens tend to work best with unique wood colors. Light pine, grey, or even black hardwood flooring will give your kitchen a dramatic look.
On the other hand, tile is a great option for kitchen flooring (especially if durability is a top priority). Turn to retro designs like checkerboard tiles for your modern kitchen. For a more contemporary aesthetic, consider using marble or granite tile.