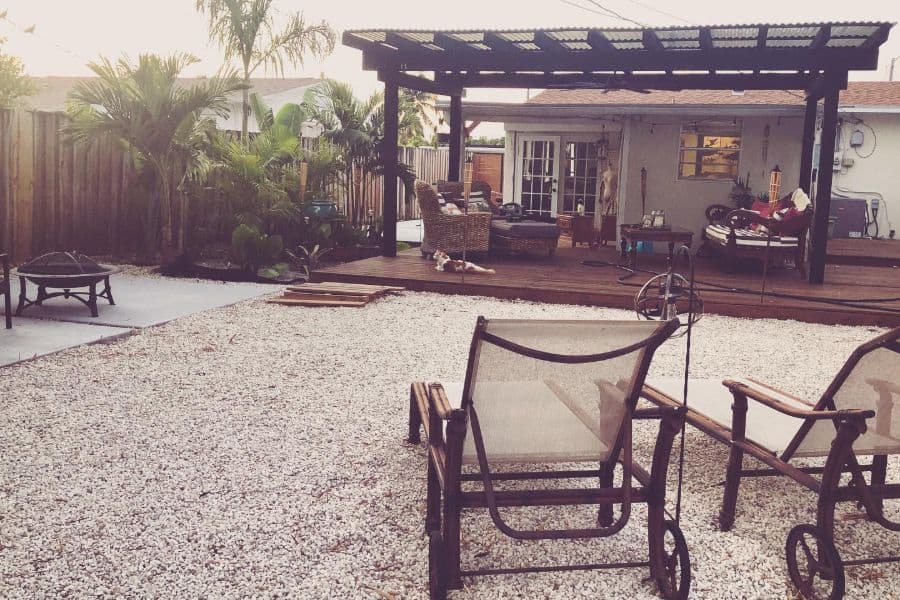 The Top 39 No Grass Backyard Ideas
Mowing a grass lawn is a never-ending job. The weekend arrives, and you'd rather be out enjoying your time off. Instead, you are stuck pushing the lawn mower around the yard yet again. There is another way. You could say goodbye to this thankless task for good with no grass backyard ideas.
Whether it's artificial turf, gravel, or tile, you too can have a backyard that's free of grass.
1. Budget
Don't give up just because you have a tight budget. There are plenty of low-cost grass alternatives. Take your time to remove any trace of the native grasses. This prevents the grass from trying to make a comeback.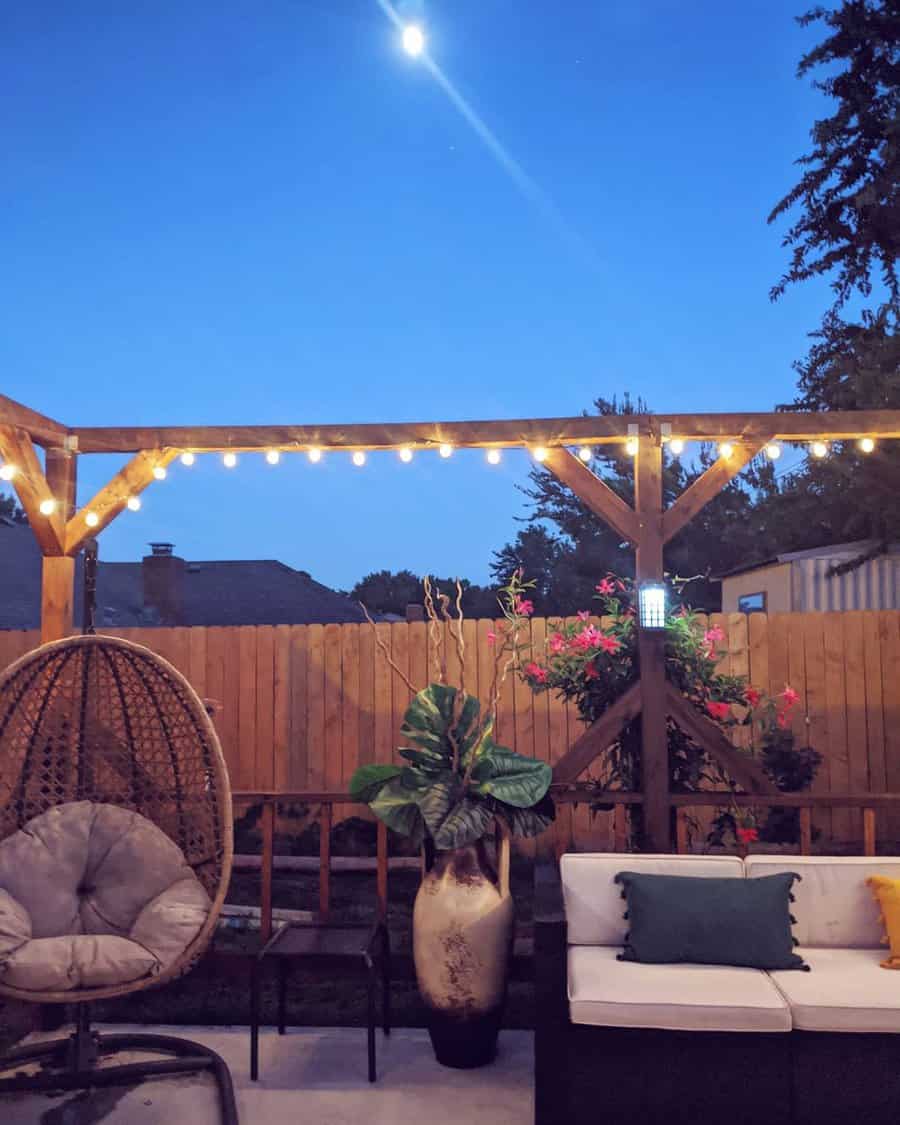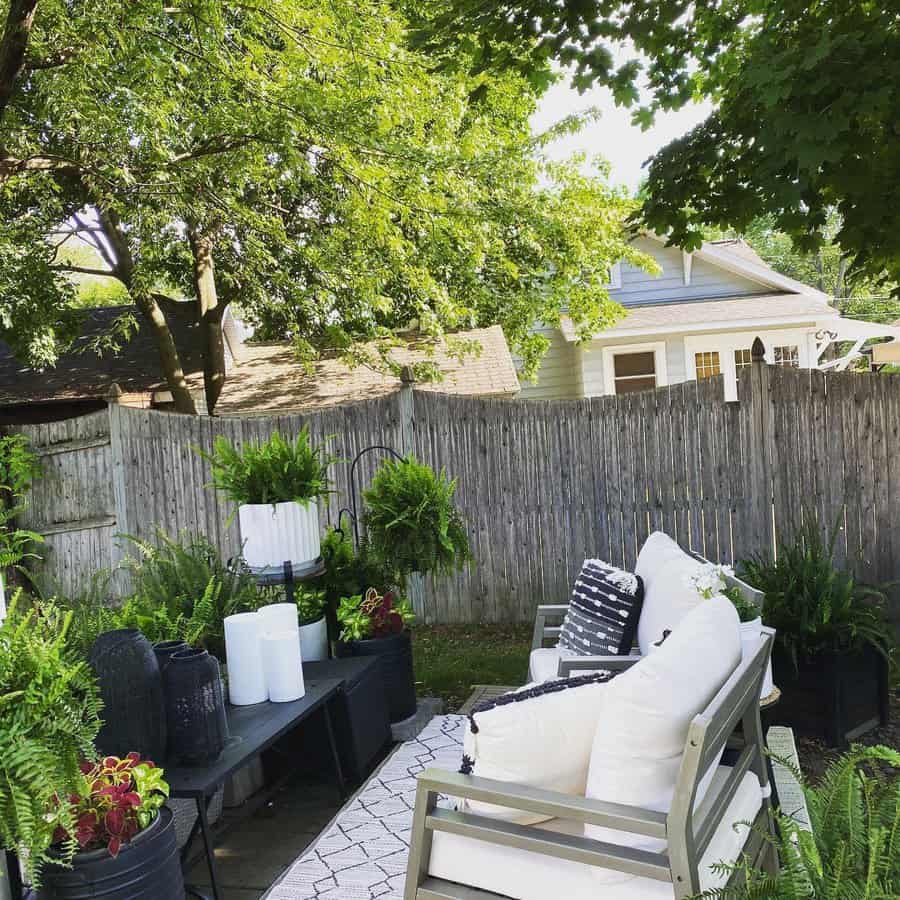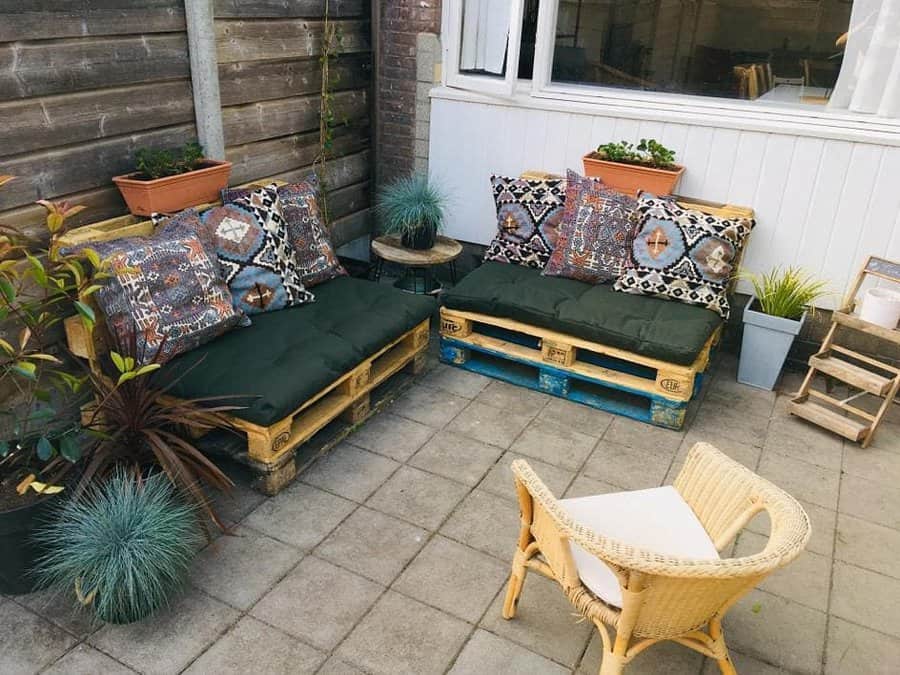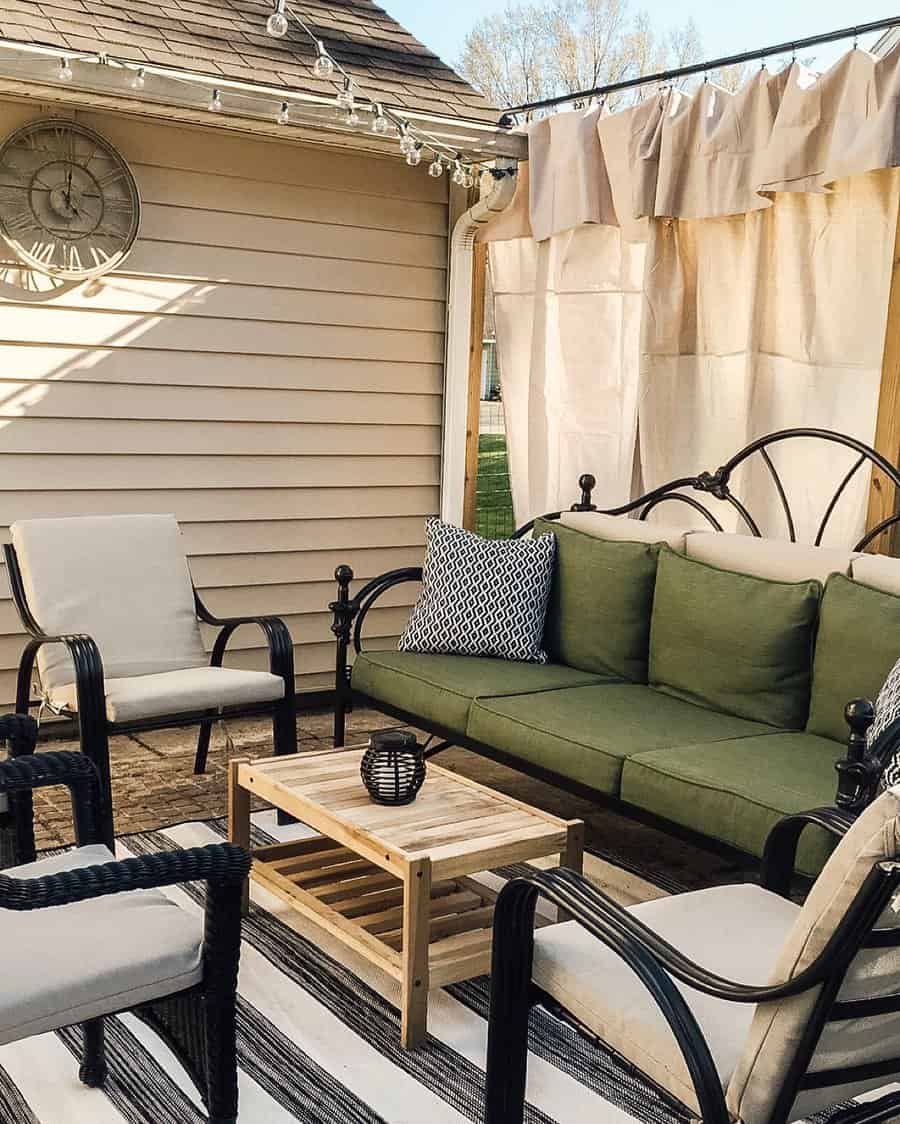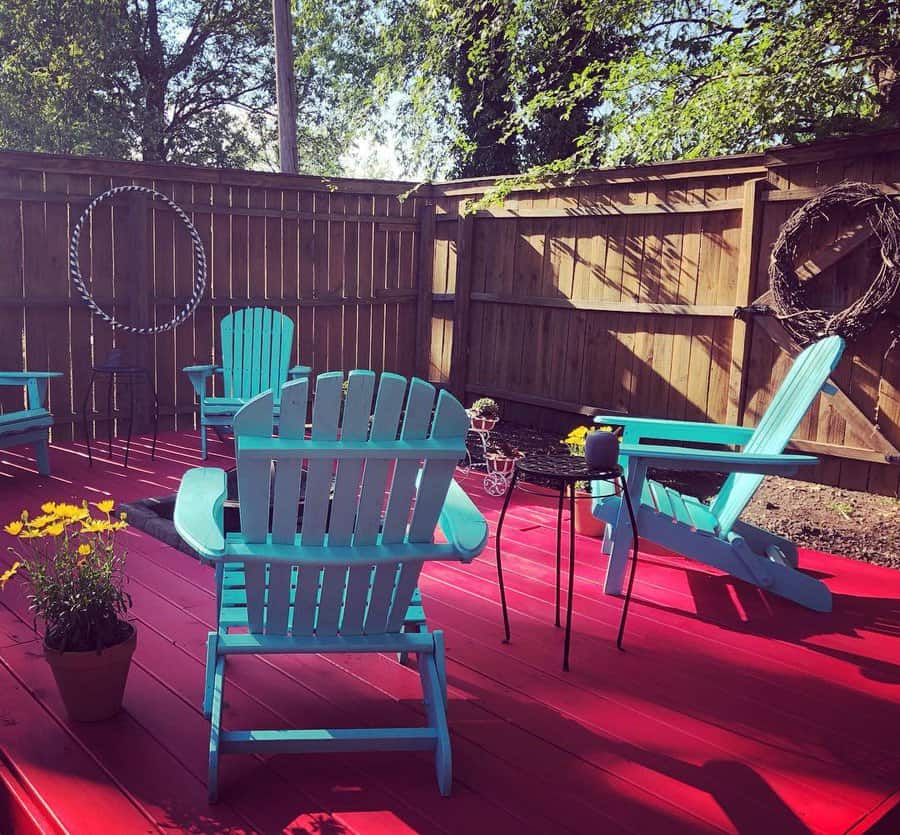 You could spread pea gravel, shell bits, or mulch over the ground. You could build a rock garden by covering the ground with sand and arranging some large boulders. Just be sure to have the right drainage for your new yard. The grass acted as a natural drain, so now you'll need a plan for the water. Otherwise, you risk large puddles that will develop mold and mildew.
2. Concrete
Poured concrete is simple and fast. While it may not be cheap, you can have someone come in and pour a large concrete pad over the majority of your backyard. This gives you a blank canvas to work with. For the best design, plan for drainage in advance. Small grates with drain pipes underneath help to keep your new concrete pad puddle-free.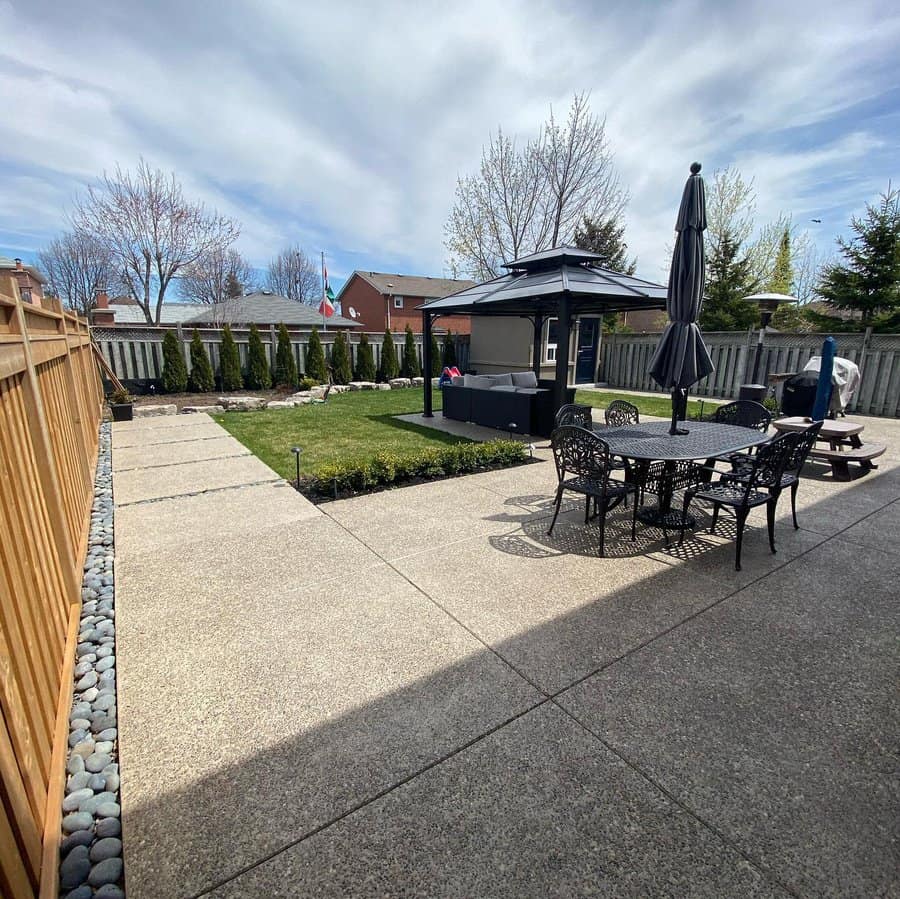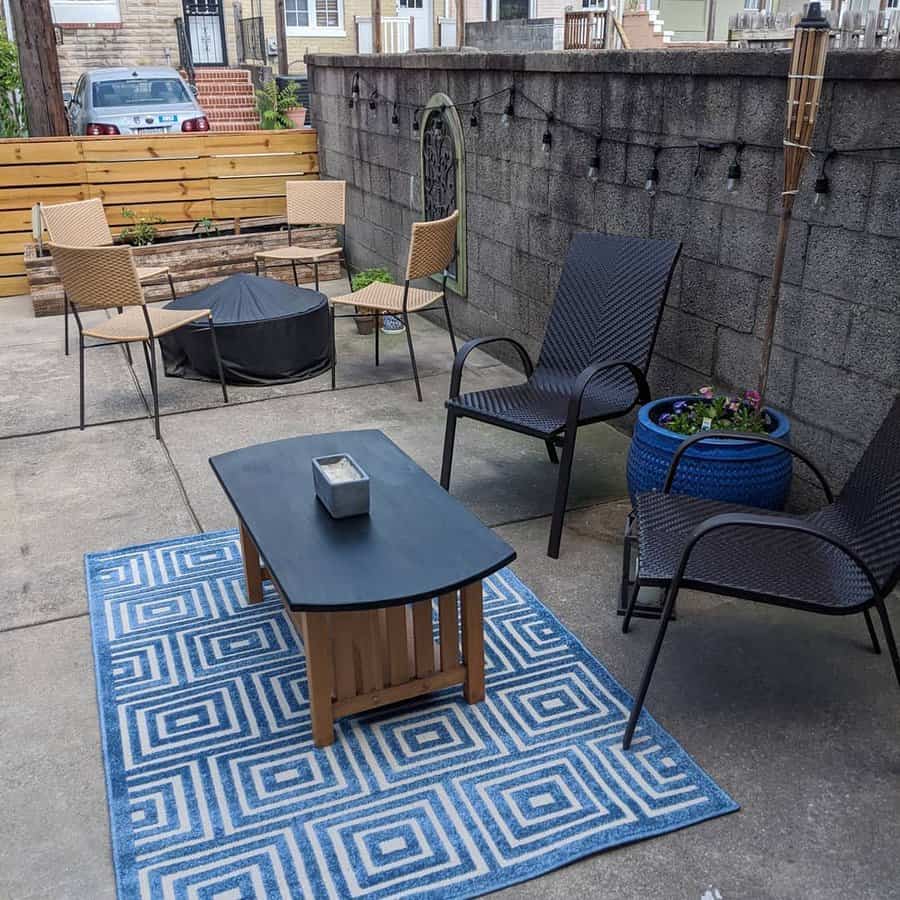 Arrange raised garden boxes and potted plants to bring a touch of nature back to your yard. Add sun sails, an awning, or a pergola to provide the area with some shade.
3. DIY
You can replace the natural grass in your yard yourself. All you have to do is choose the right medium to replace it. It should be something easy to work with. Don't attempt a project beyond your skill level, and it will come out looking great. Mulch, wood chips, and pea gravel are all DIY beginner-friendly options.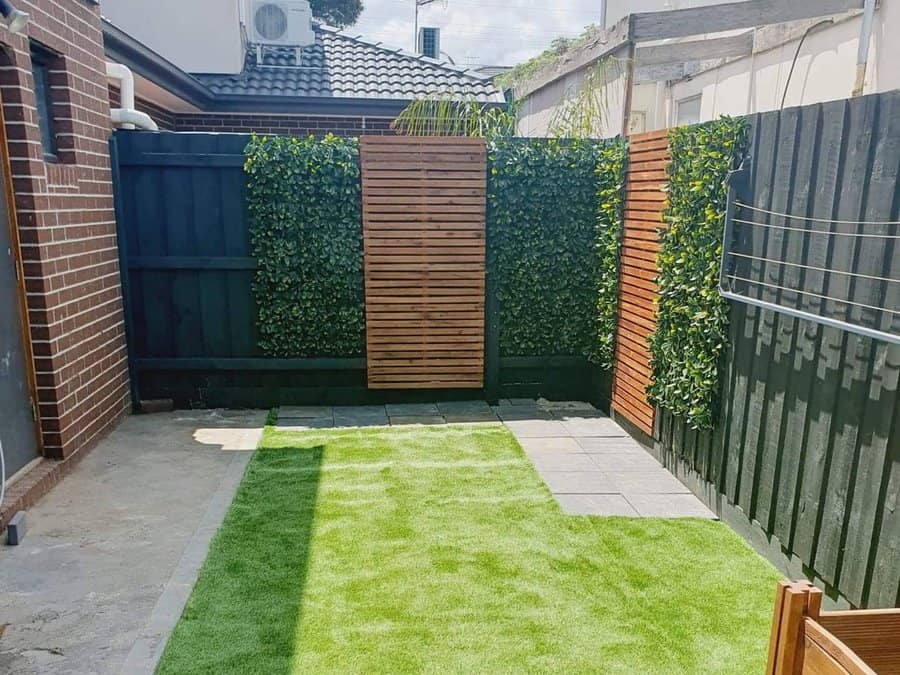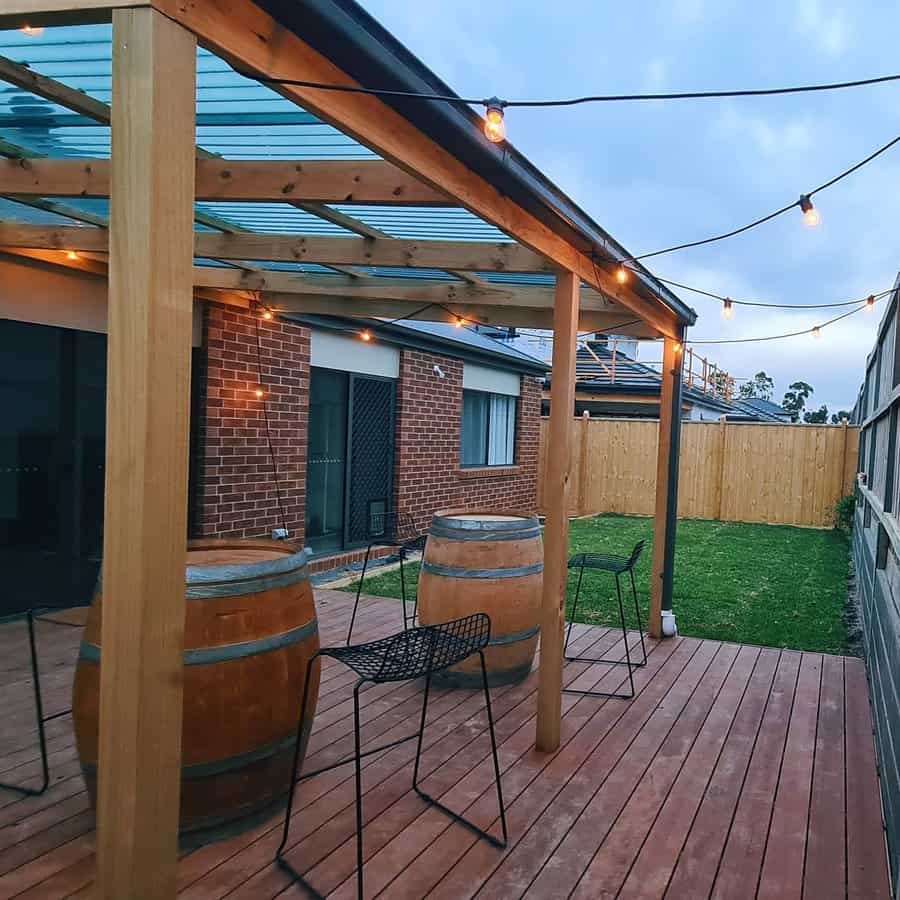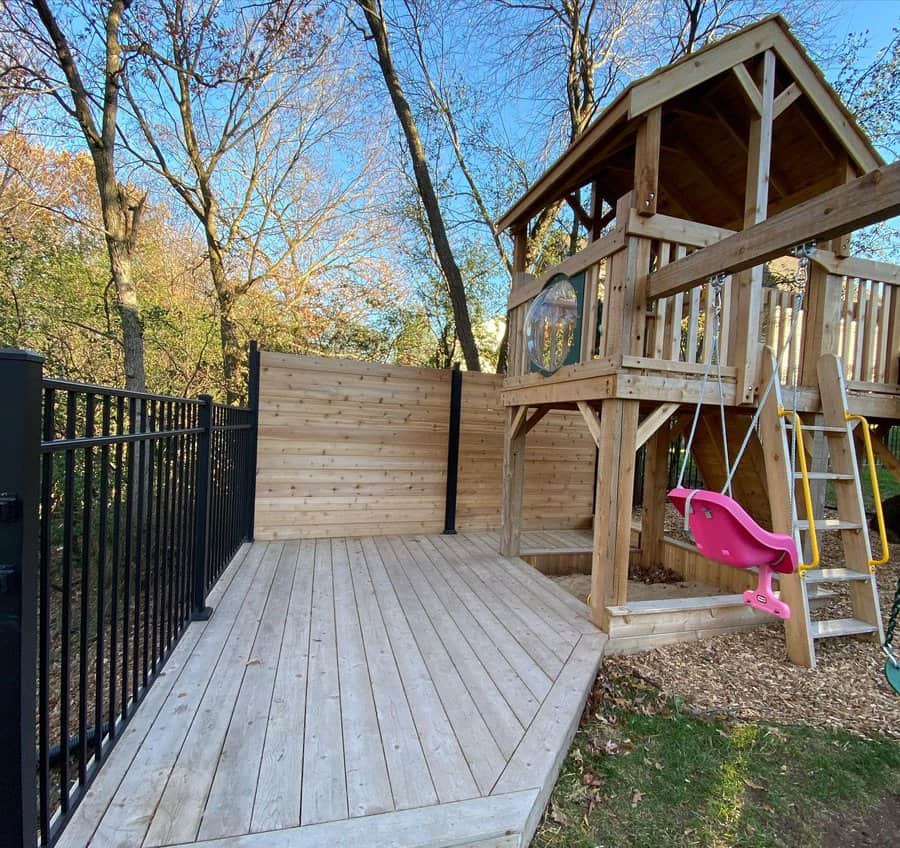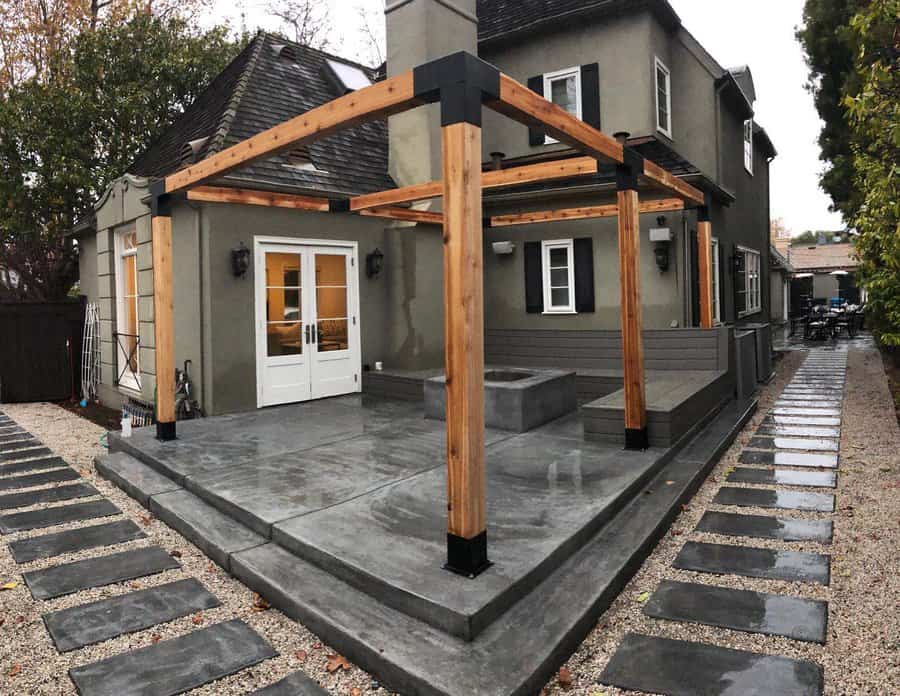 If you have more home improvement experience, then you could attempt a more complicated project. Say goodbye to lawn care and cover your backyard with synthetic grass. Modern synthetic turf comes in various colors, heights, and thicknesses to mimic the look and feel of real grass.
4. Fire Pit
You need to do something with your backyard after you remove all of the grass. Adding a fire pit to your outdoor space gives it a use. You'll have a gathering place where friends and family can relax in a chair and enjoy the warmth.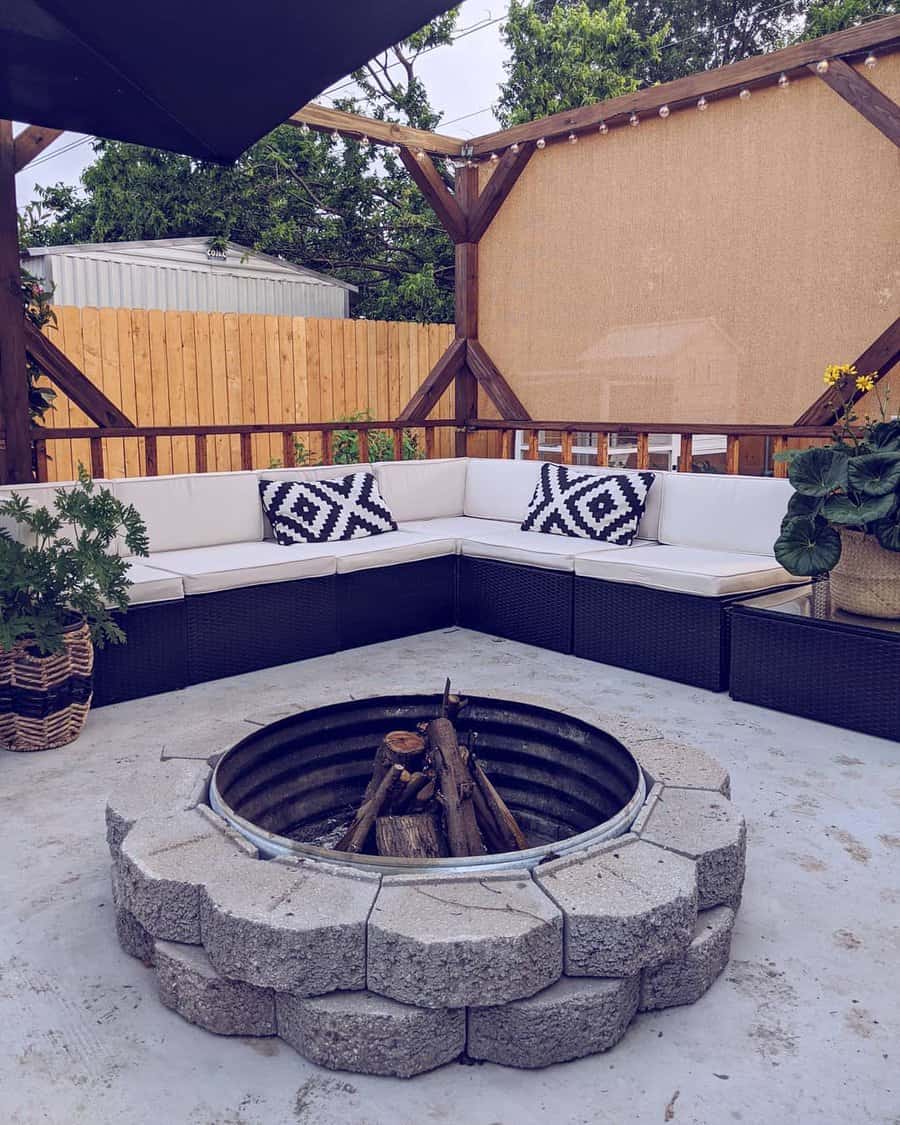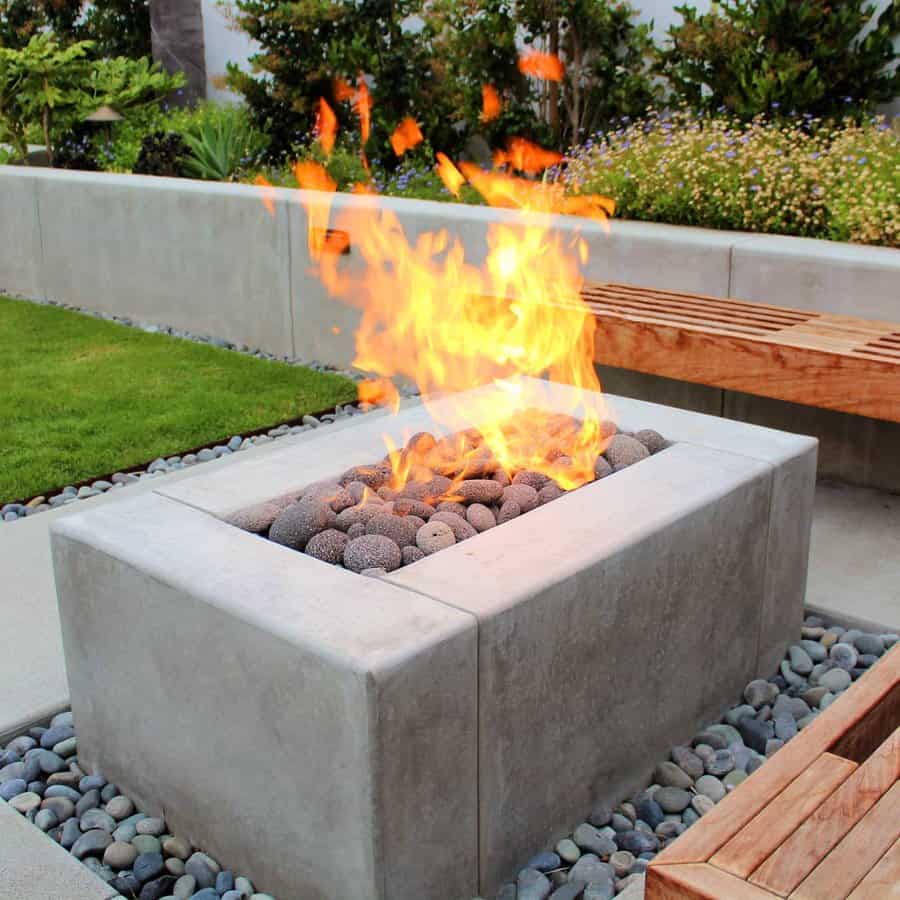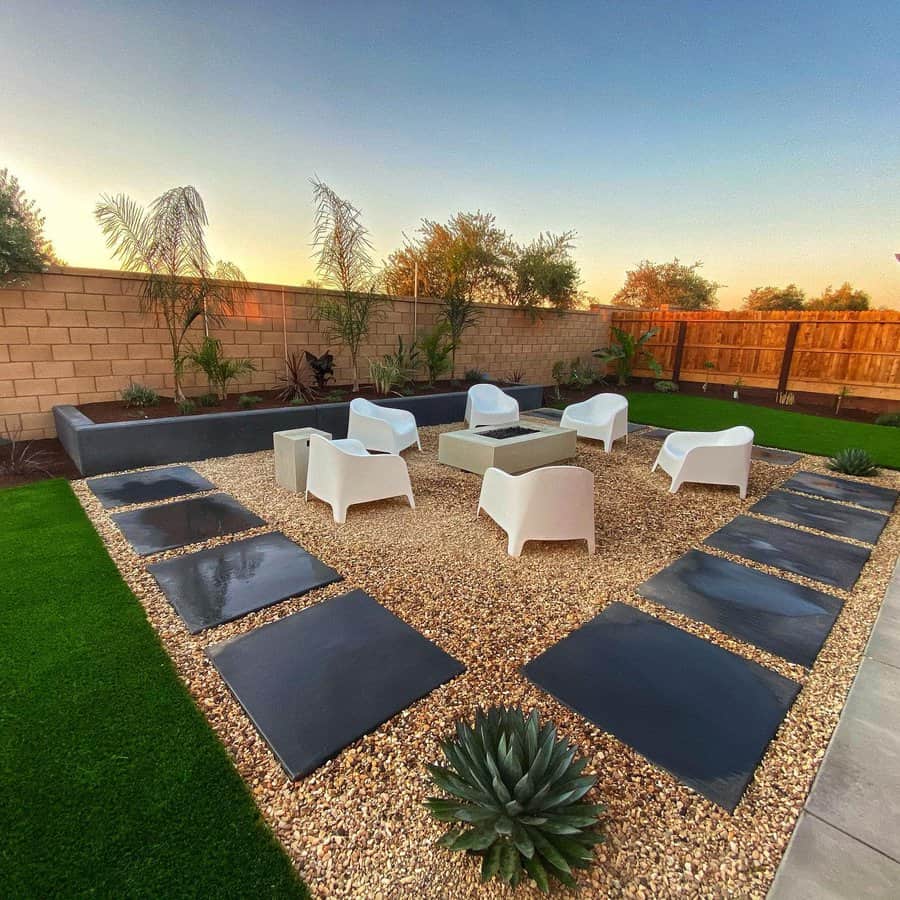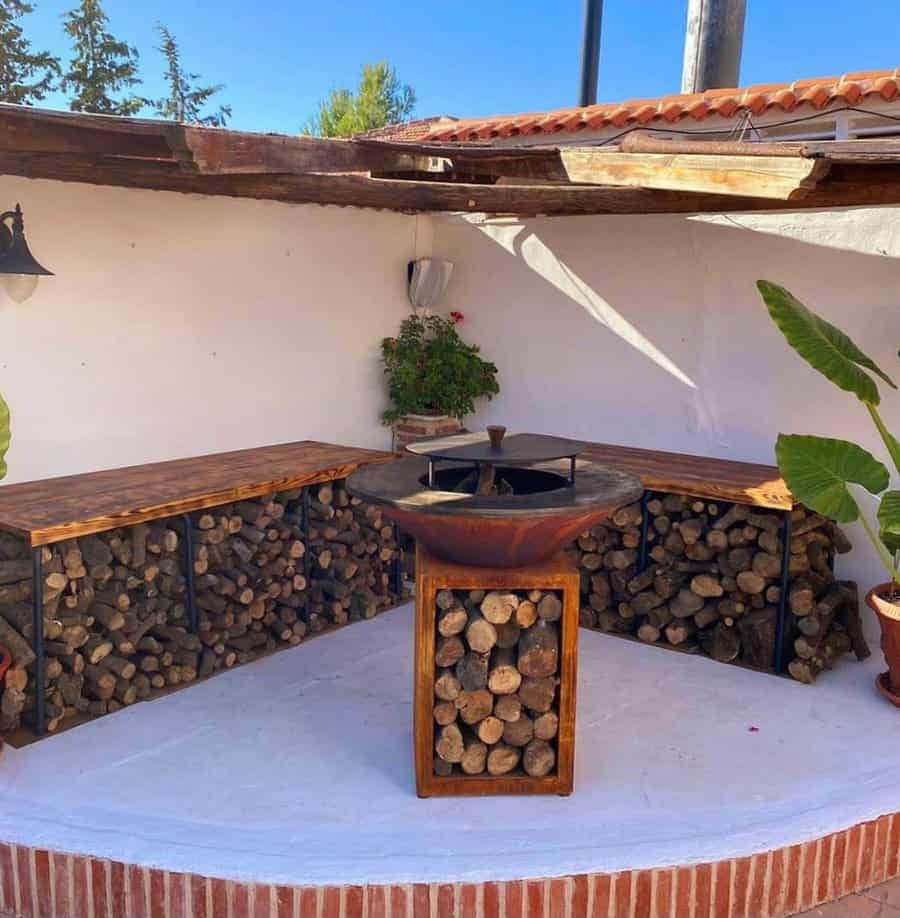 Work with a landscape designer to build your fire pit. They can help you build a safe one while also creating privacy around you. They will help you choose the right side for the pit while ensuring you have enough space around the outside.
Read more: 49 Fire Pit Ideas
5. Gravel
Adding gravel to your outdoor living space gives it a relaxed and almost country feel. There's a satisfying crunch sound as the rocks move under your feet when you walk across it. A nice thick layer of gravel is perfect for providing drainage and a durable ground cover.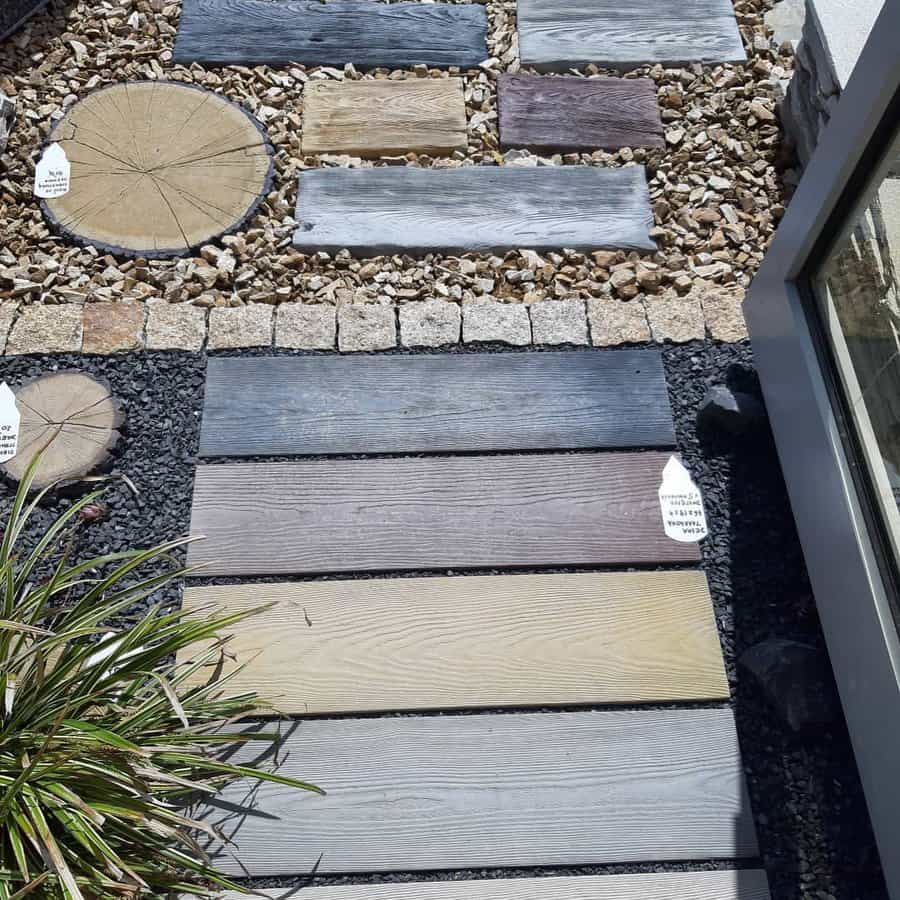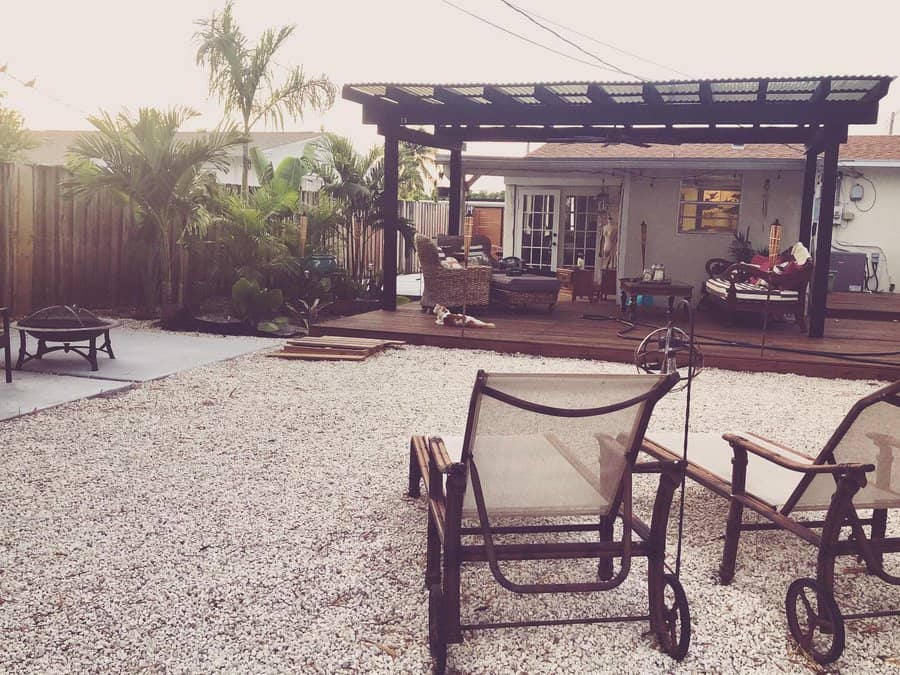 Consider using more than one type of gravel. Small pea gravel is perfect for around a fire pit. Use larger rocks as a border. This creates a visual design while also helping to keep the pea gravel in place. Use another type of colored gravel to create a landscape bed where you arrange a few potted plants.
6. Patio
The simplest way of getting rid of your grass is to extend your patio. Instead of covering your backyard with poured concrete, build a deck over your patio. Extend it out over the lawn. This creates a floating deck that can be as big or as small as you want. Build different levels for different uses. One area could be for dining and another for a fire pit.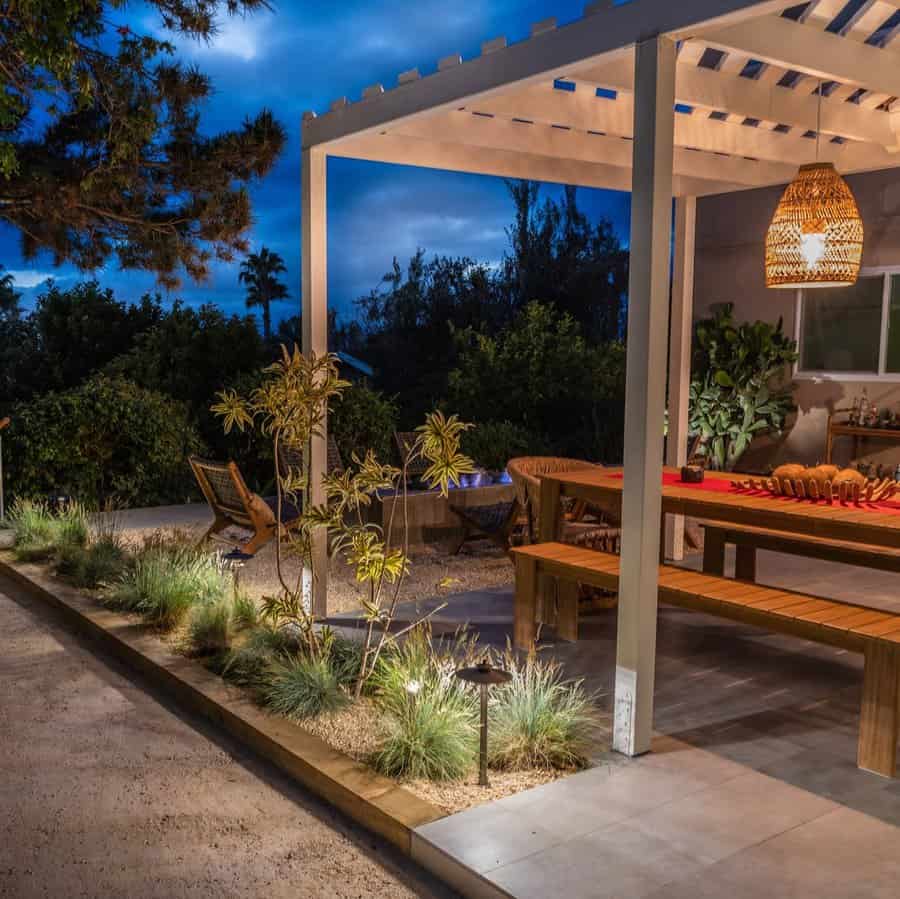 This type of ground cover makes sense because while it is durable and long-lasting, it doesn't have to be permanent. It is much easier and more affordable to pull a deck out than it is to rip up poured concrete or pavers. You or the future homeowners will appreciate this when it's time for a change.
7. Pavers
The upscale and more expensive option is to cover your backyard with pavers. Classic red bricks will look good with a traditional home. Neutral colored pavers look best with a modern-built home. A simple square or rectangular shape is the most common. However, you can choose a geometric shape and give your home a unique touch.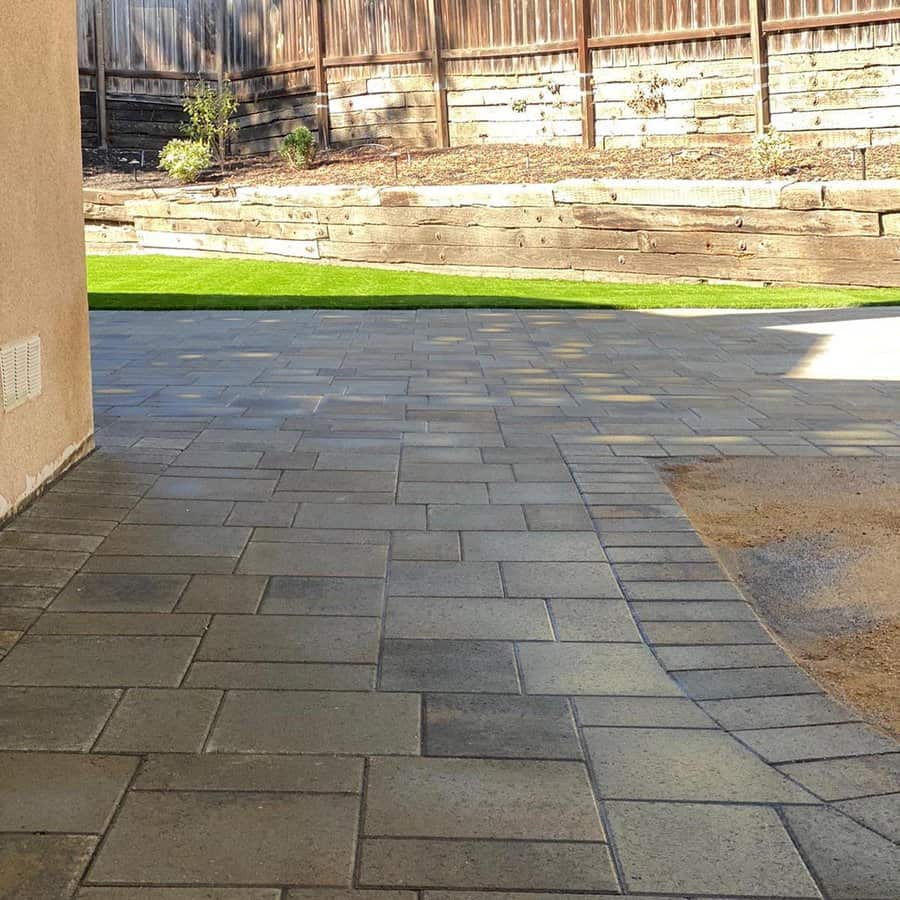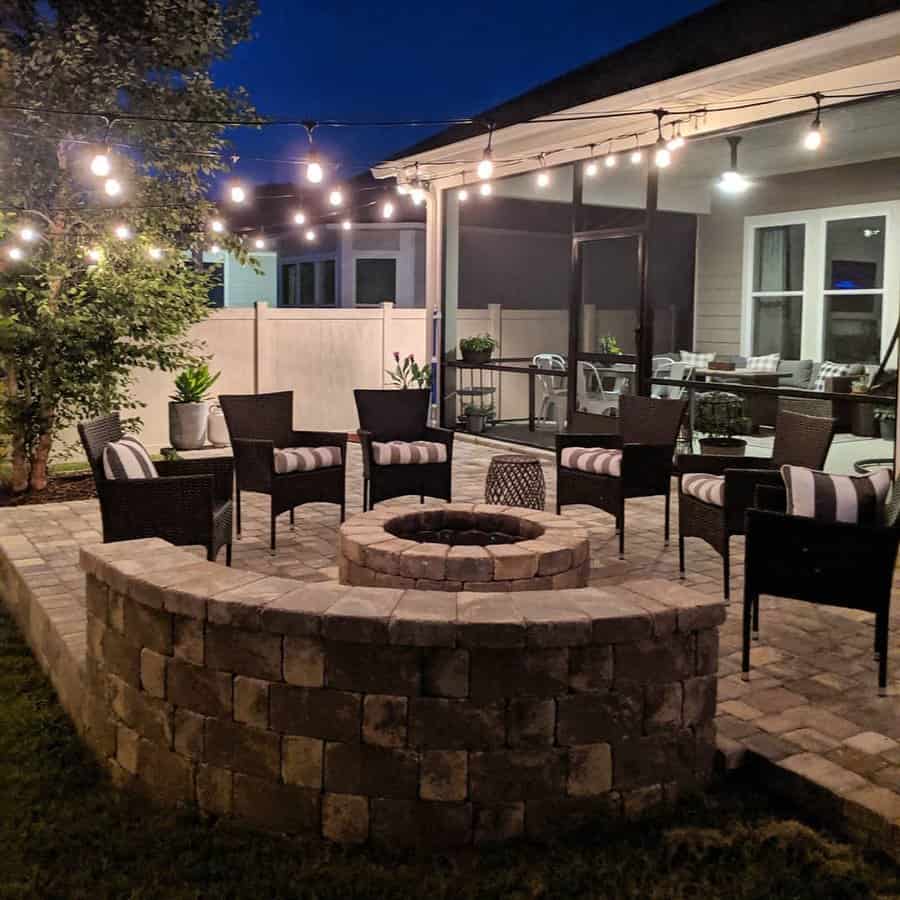 You can do pavers on a budget. Use bagged concrete from your local home improvement store. Once mixed, fill a paver mold. Repeat this process until you cover your desired area. You could leave them grey or mimic the look of real pavers by painting or staining them.
8. Pergola
Adding a pergola to your backyard gives it an overhead covering that can protect you from the sun and rain, giving you more usability out of your patio. Decorate your pergola with native plants to create a natural feel. The easiest way to do this is by arranging potted plants. Choose plants that grow tall with large shade leaves. The lush greenery creates a tropical feel.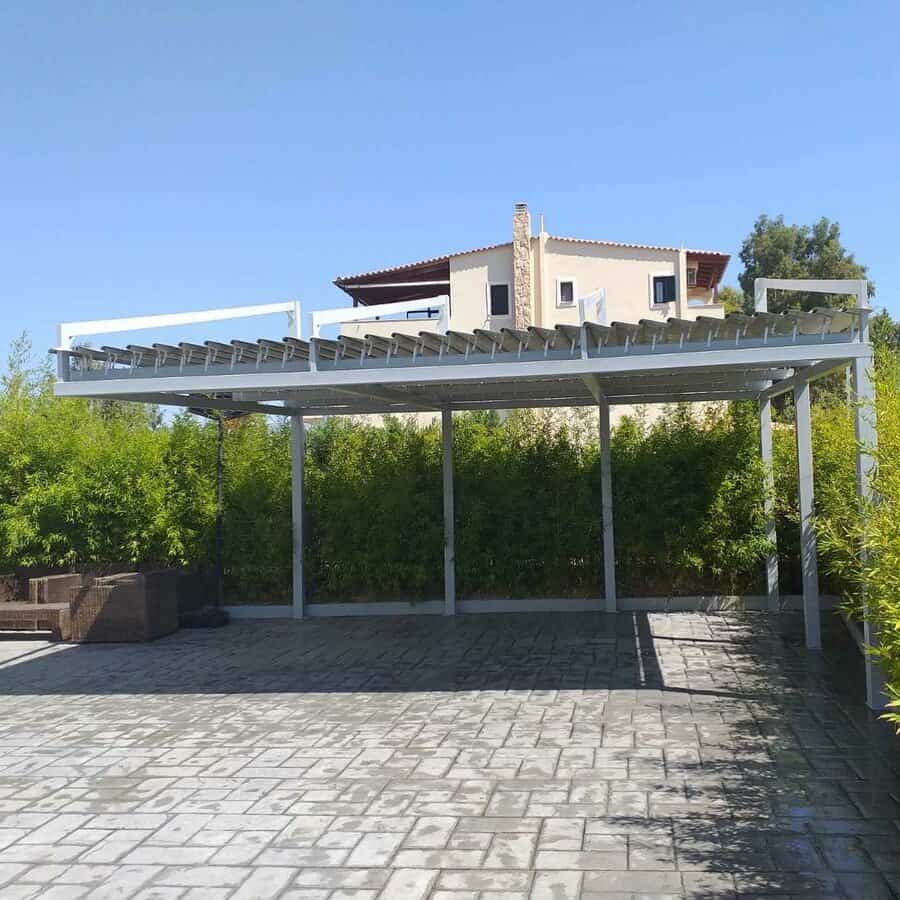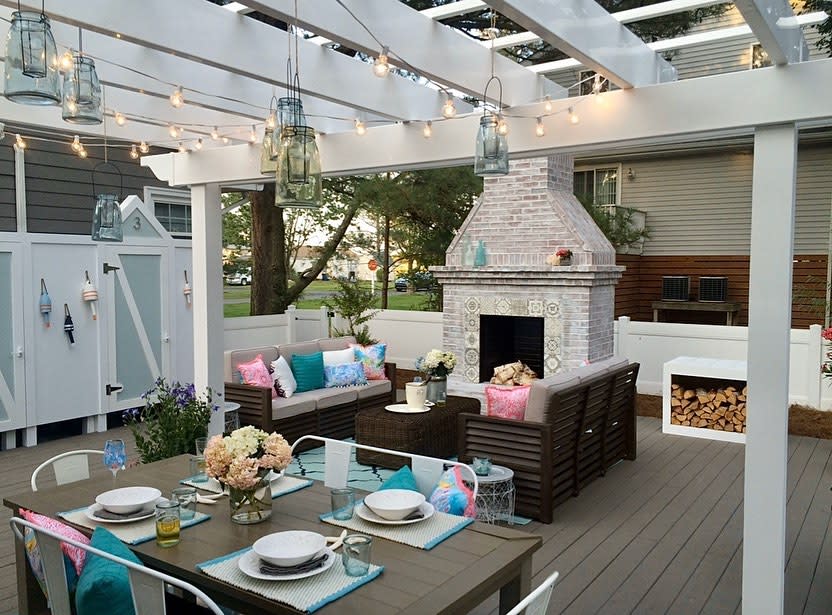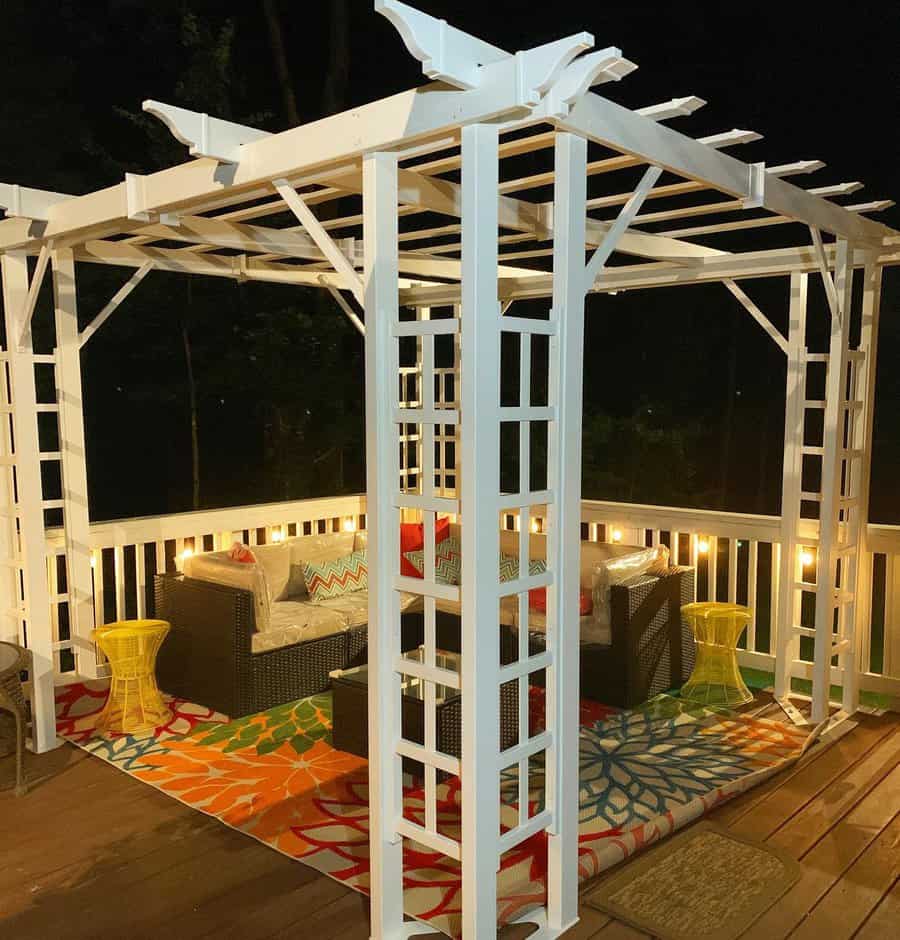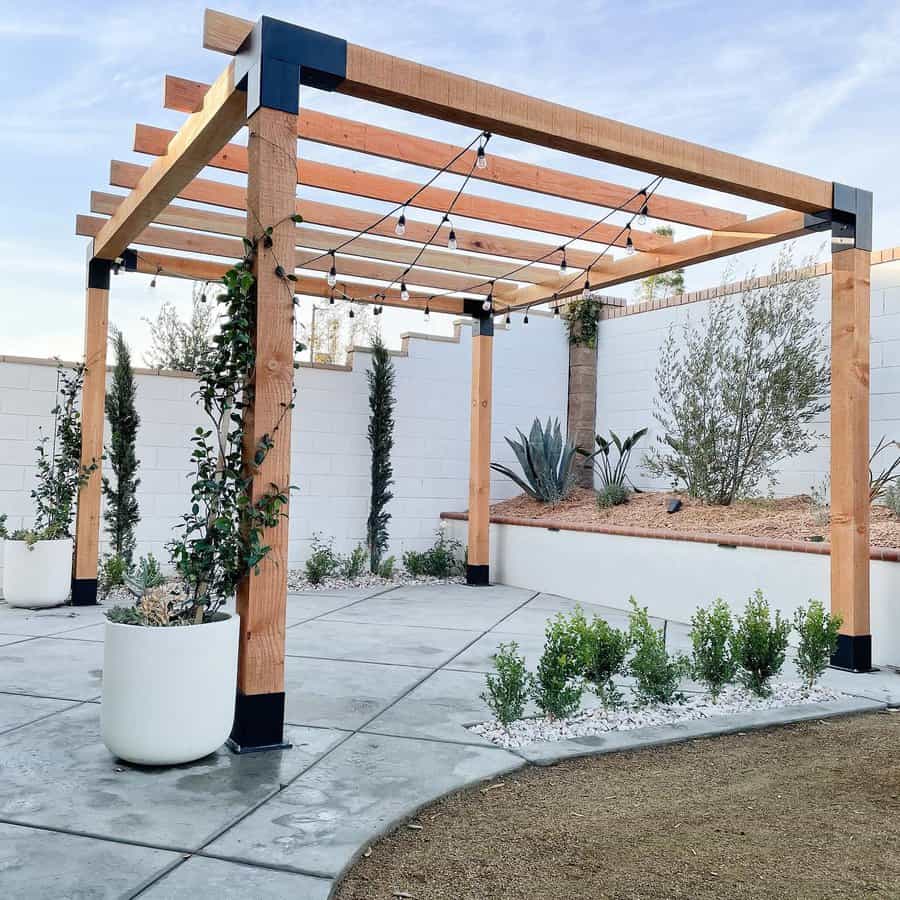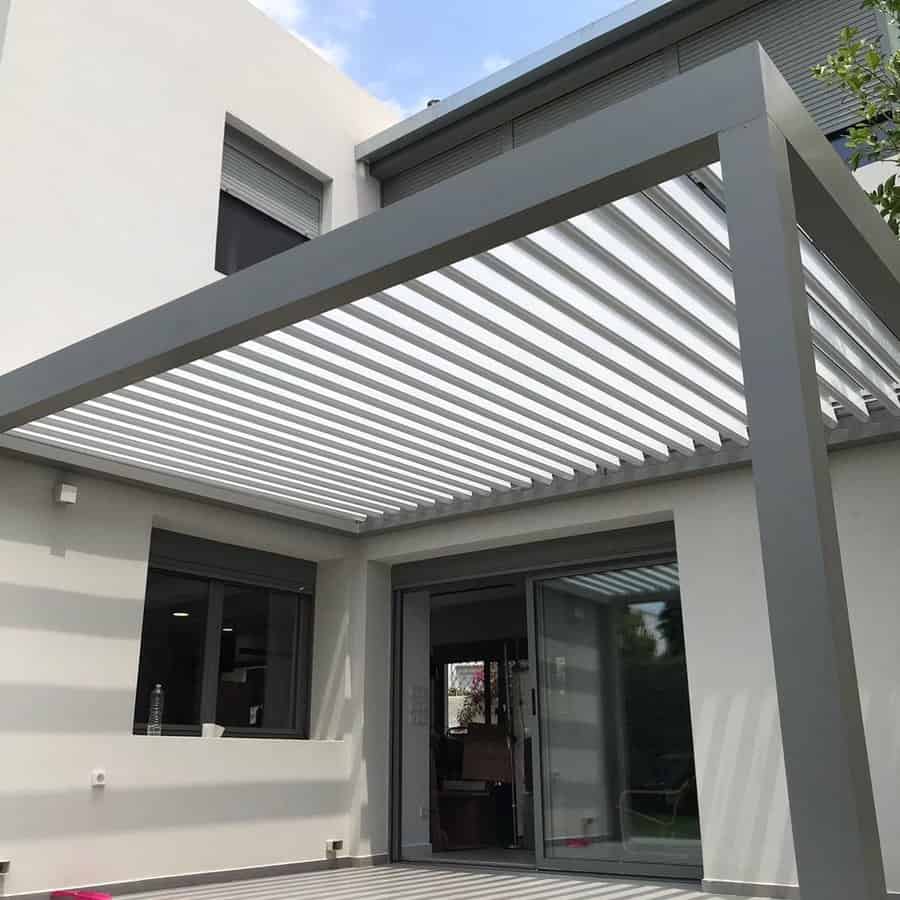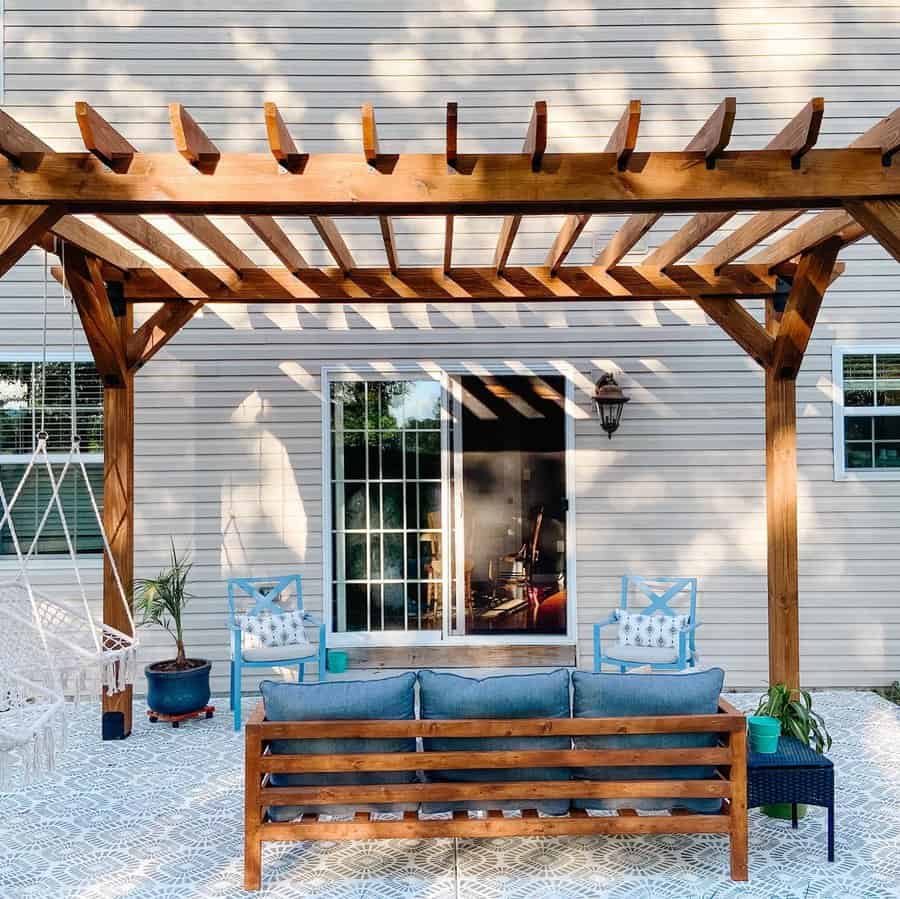 For a minimalist and low-maintenance garden design, use succulents, and air plants. These plants do not require regular water and pruning. You can place them in hanging planters that you string up from the pergola above.
9. Pool
Having a lawn around your pool may seem like a good idea. It feels lush on your feet and doesn't get nearly as hot as pavers or tile. Plus, you never have to worry about someone slipping or tripping on a hard surface and getting hurt. The problem with real grass is that it'll die with the chlorine exposure, and you'll end up with a dirt patch.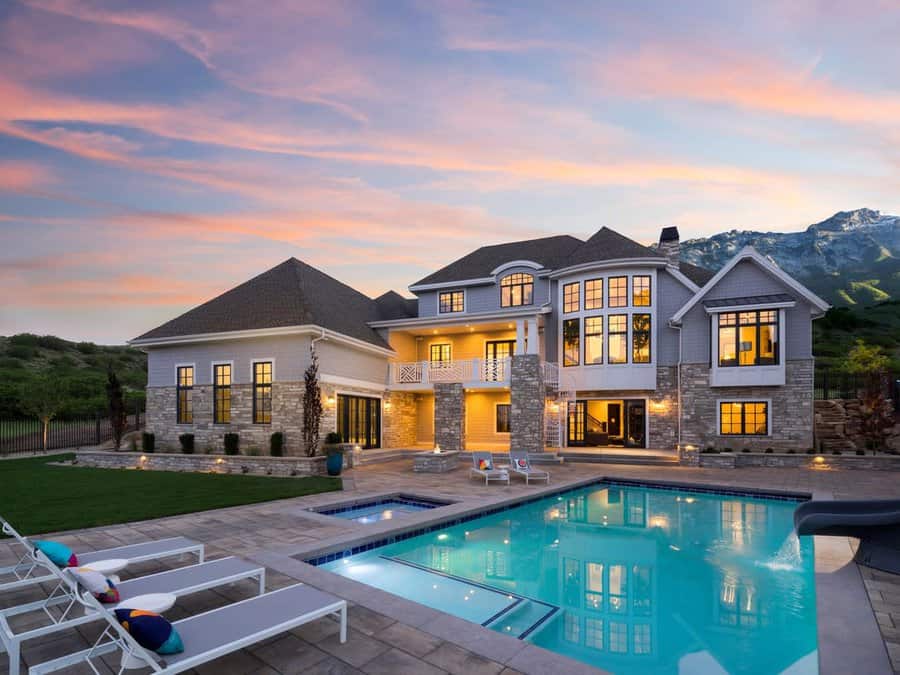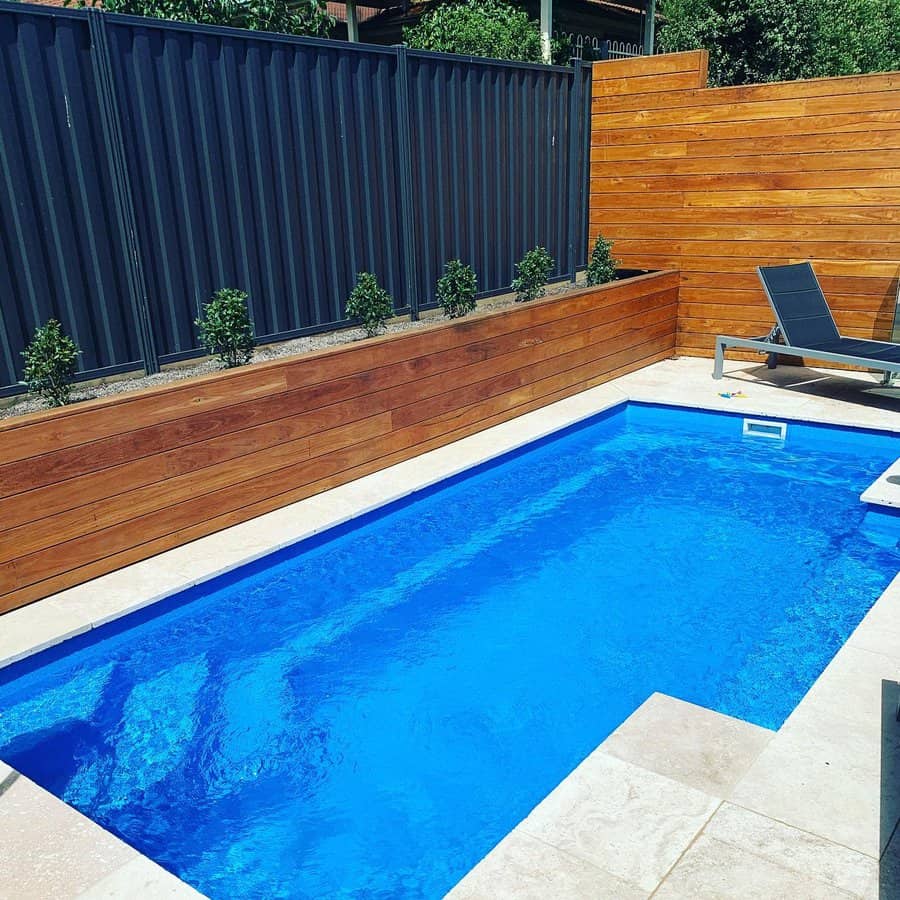 Switch out the real lawn for artificial grass. The faux turf is used in modern backyard ideas because it looks like real turf without the maintenance. You can also add landscaping to it to help it blend and look more natural.
10. Small
Having a small backyard is actually an advantage when getting rid of all of the grass. You have a small space to design and cover. You could build a retaining wall at one end to add some height to your small yard. This creates visual interest and different usable spaces.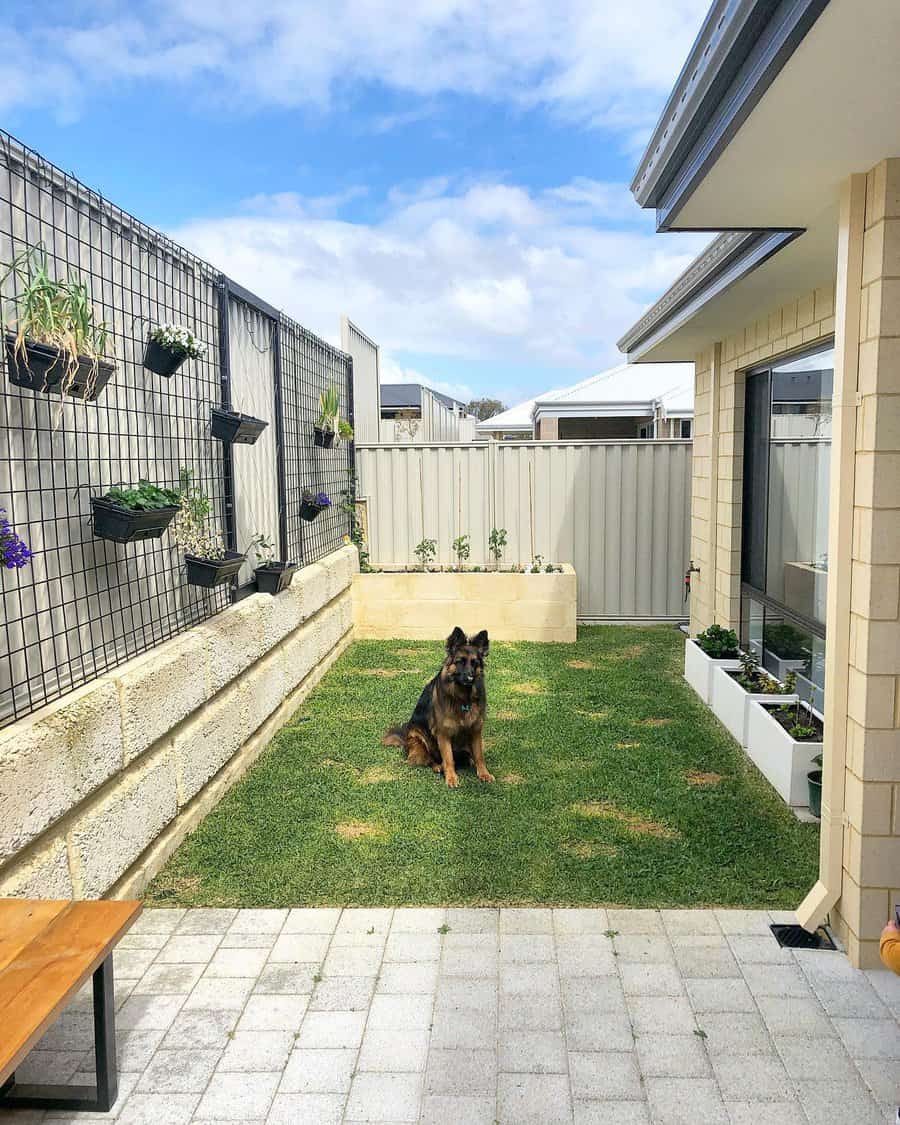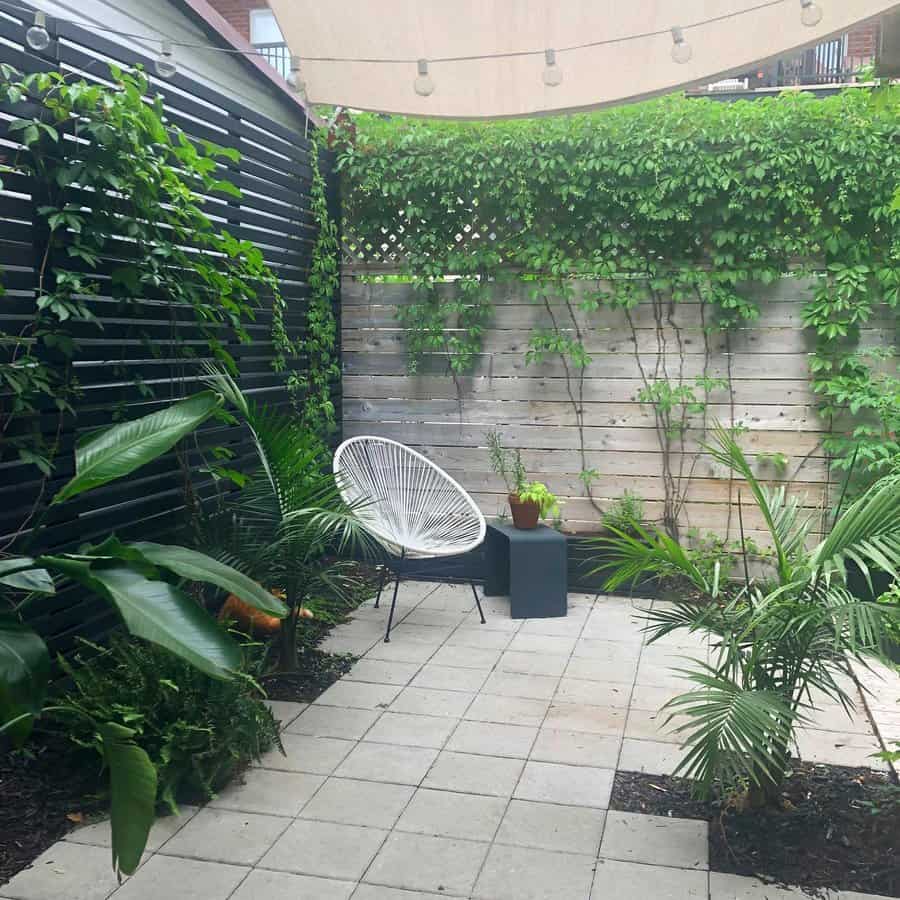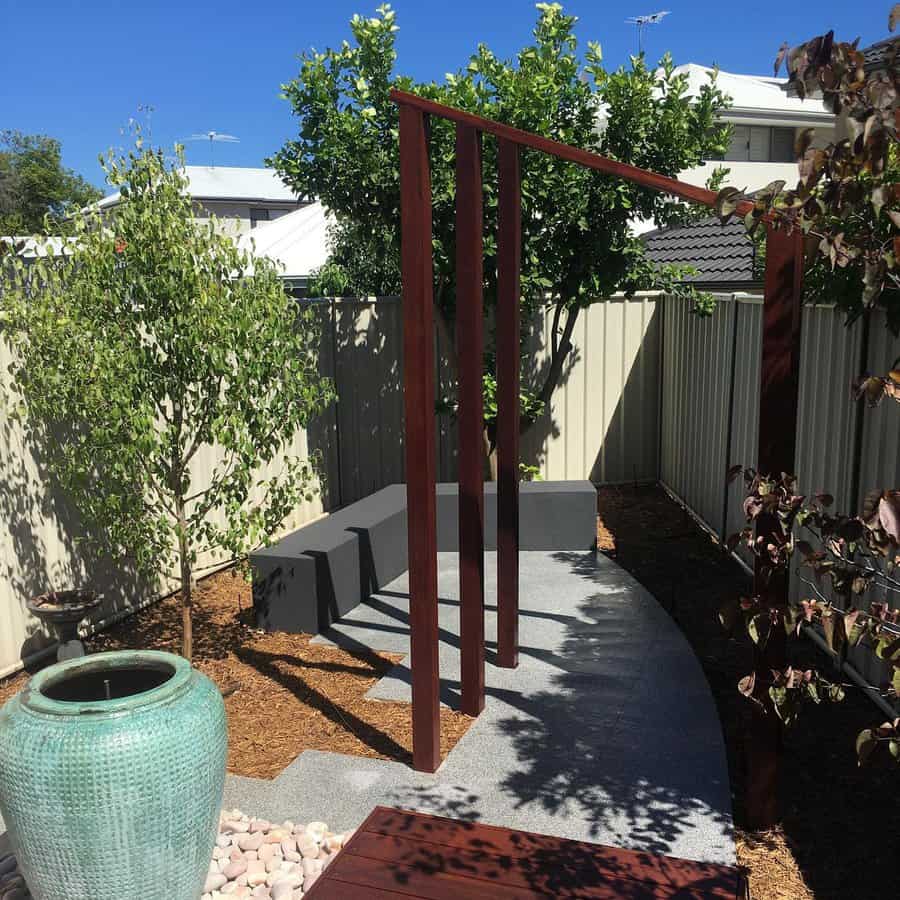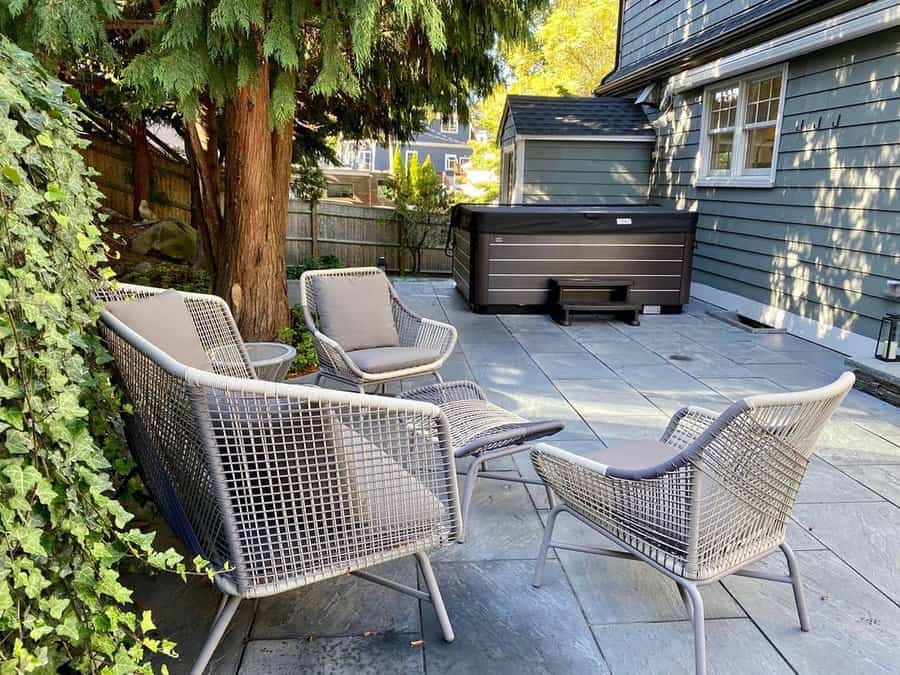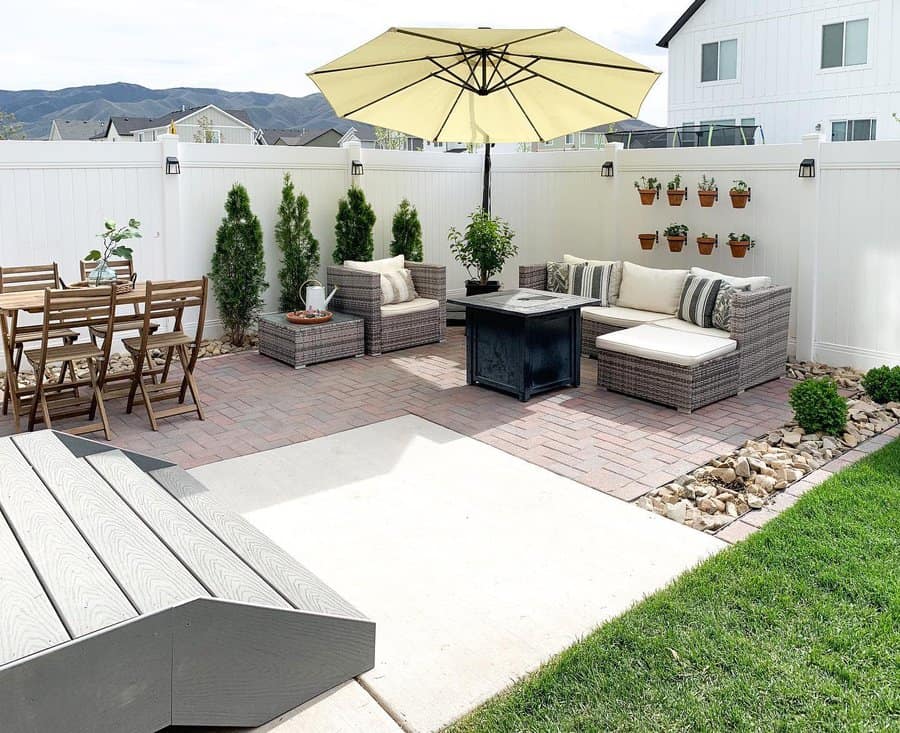 Don't try to do too much in your small yard. Otherwise, it will look crowded and feel cramped. Have one or two dedicated uses at most. Perhaps you have an outdoor fireplace that you turn into an outdoor living room. Or you could have a fire pit with chairs arranged around it. If you love to entertain, you could have a long dining table.
11. Tiles
Adding tile to your backyard can give you a low-maintenance landscape design. Only use tiles that will remain safe to walk on when wet. Terra cotta has a rich, earthy feel, while slate can give your yard a modern vibe.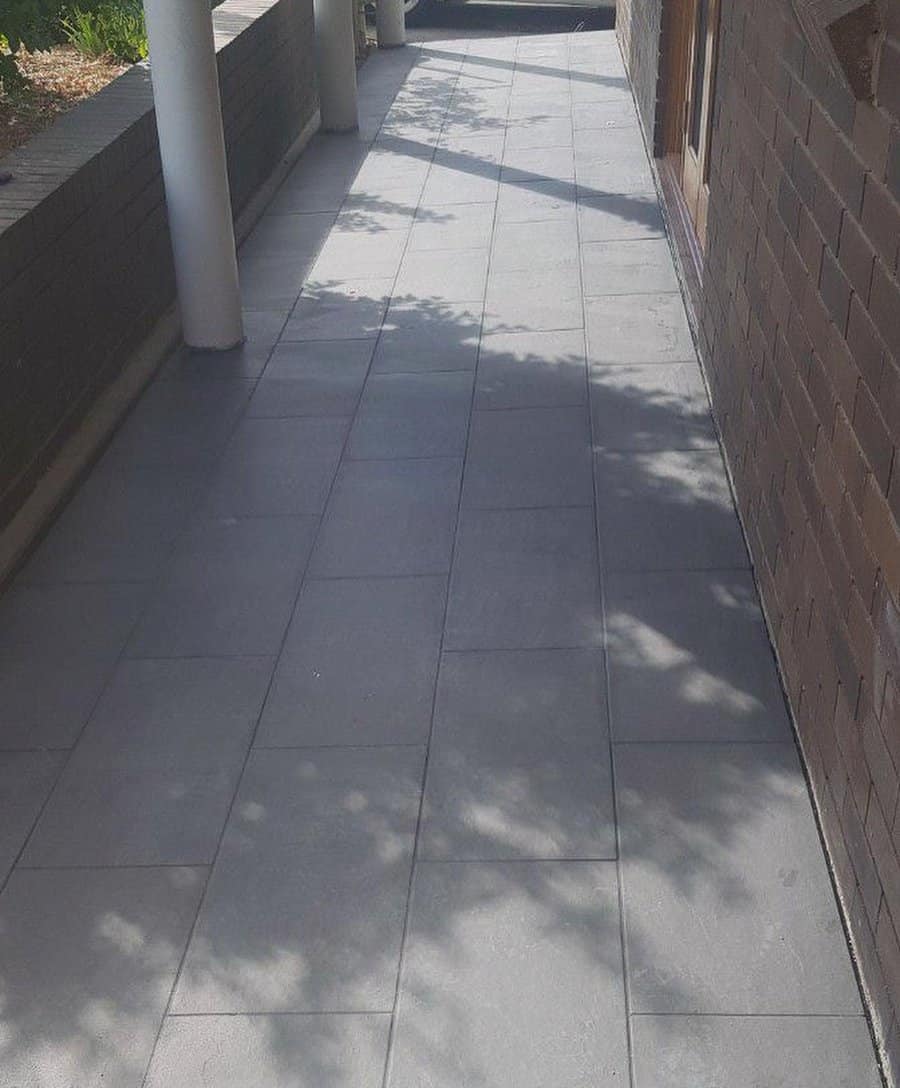 Work with a landscape architect to create a custom design. Transition the tile into synthetic turf grass. You don't have to worry about mowing while still having a touch of green. You could also have a raised flower bed that you cover with the tile for a uniform look.
12. Walkway
You still need to create walkways even when you don't have grass. Stepping stones give you a solid place to walk when you have grass. Without the grass, you don't need the specific stepping stones, but that doesn't mean you can't build walkways into your backyard design.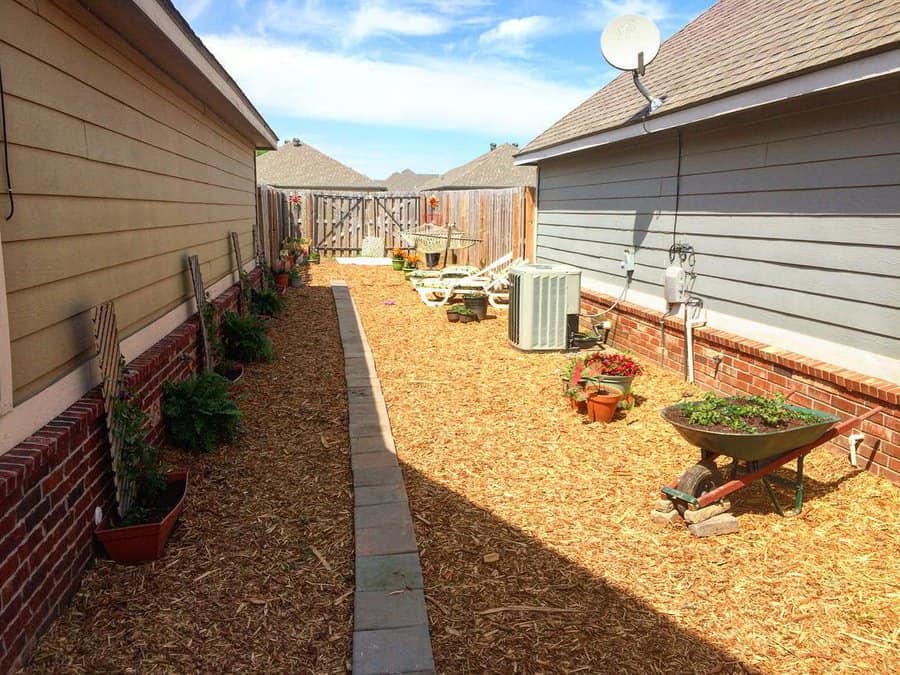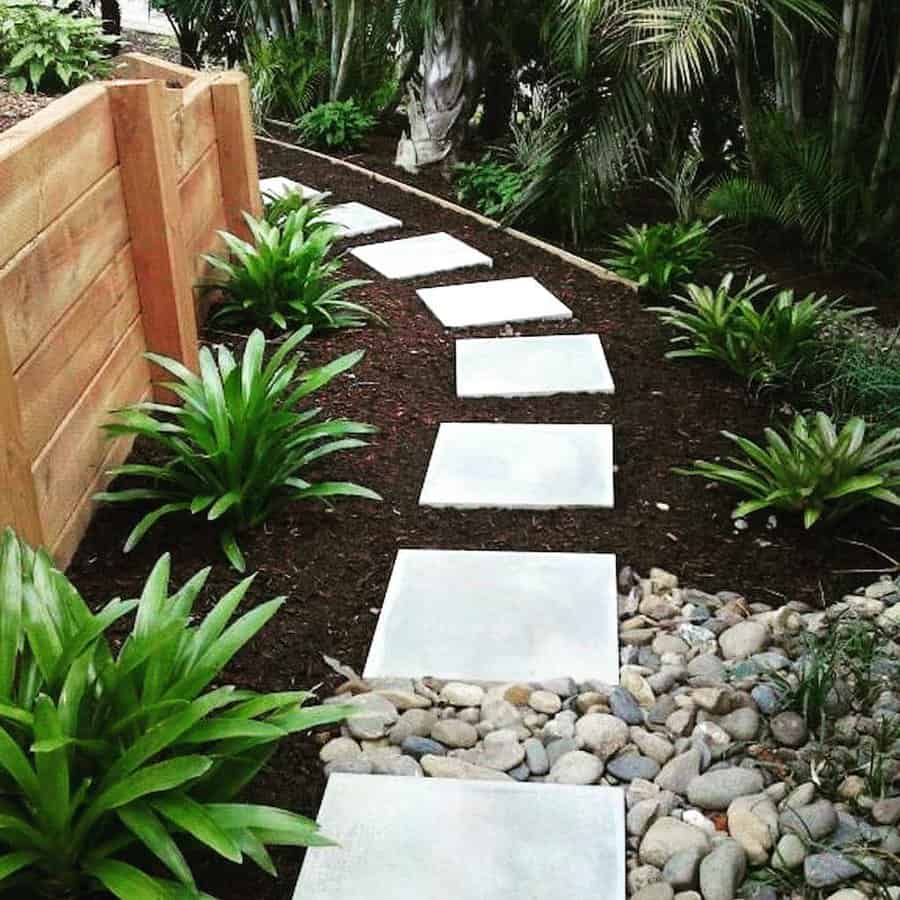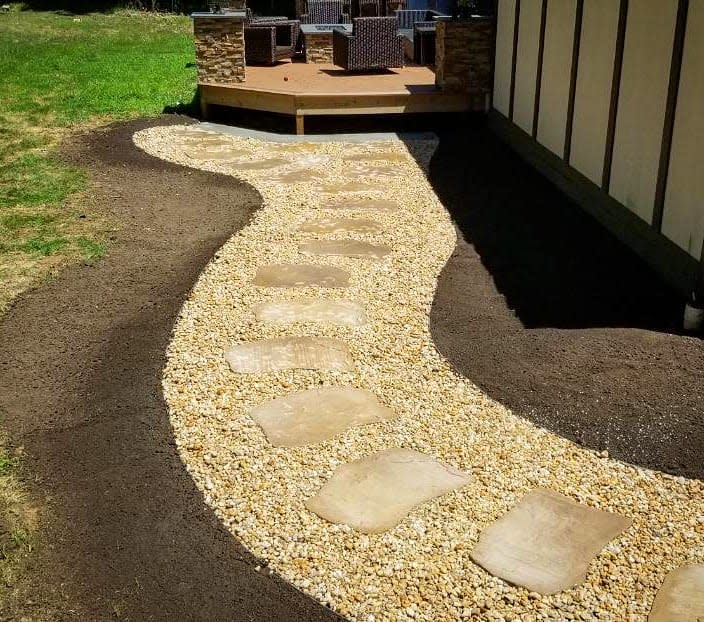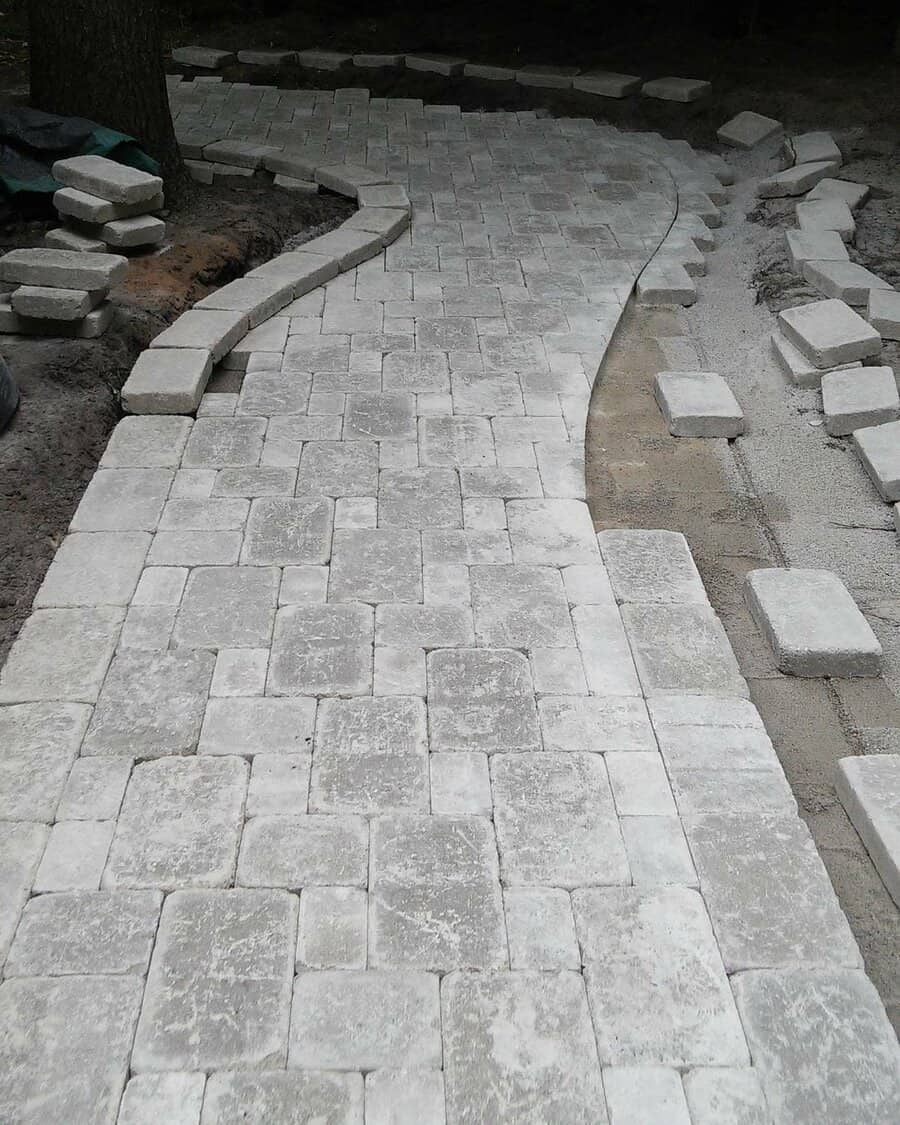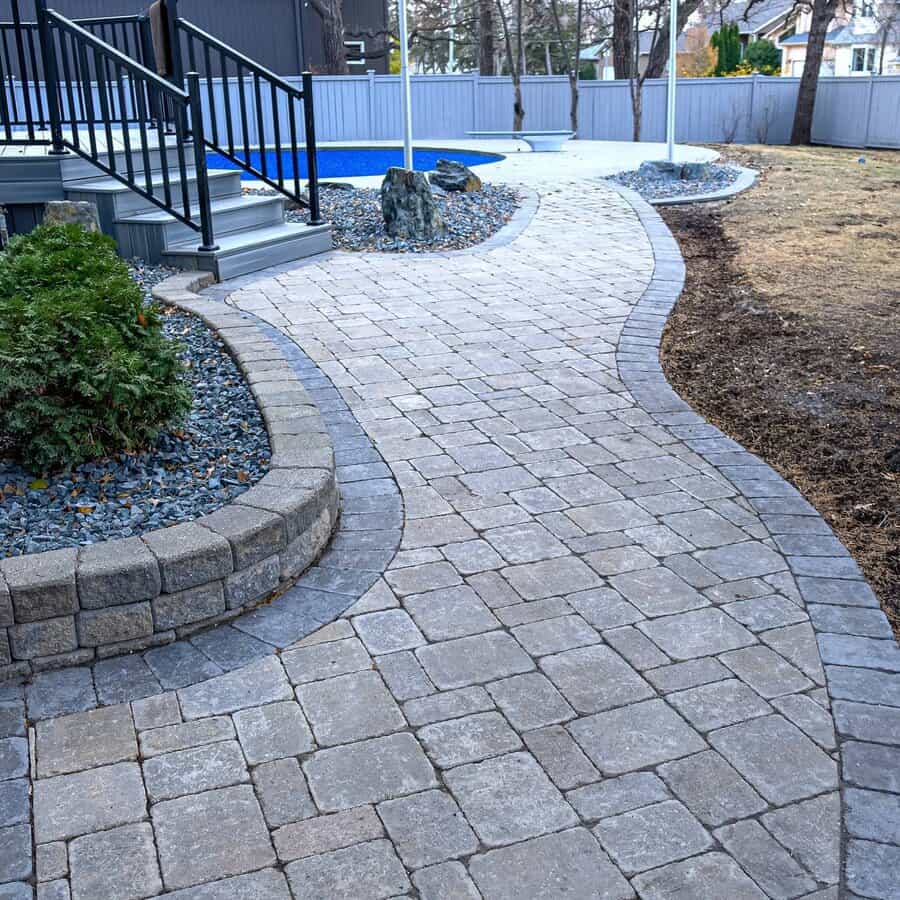 No Grass Backyard FAQs
What can I use instead of grass in my backyard?
If you love the look of your grass but what something low maintenance, then consider replacing it with artificial turf. There are modern options that mimic the look and feel of real grass.
How do I make a grass-free yard?
You could use plants to grow and cover your backyard. Cover the ground with gravel. Level the ground and lay down tile or stone. Pour concrete for a continuous hardscape. Turn your backyard into a garden with raised plant beds for flowers, ornamental grass, or vegetables.
What is the cheapest ground cover?
Instead of using grass as your ground cover, you can use plants. Creeping periwinkle, walk-on-me thyme, and moss phlox all grow quickly and create a thick covering over your backyard. You only need to buy a few plants, and they will do the rest.