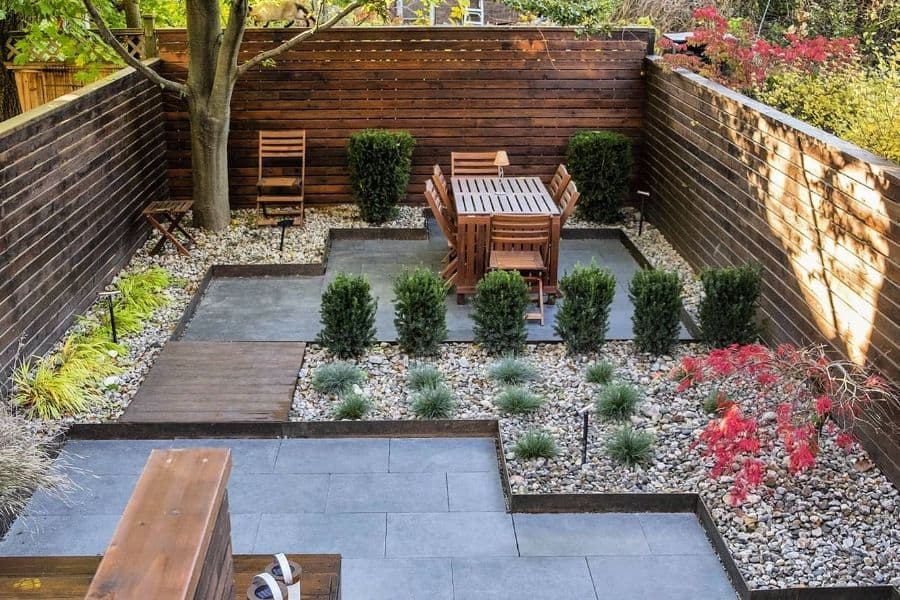 64 Low Maintenance Landscaping Ideas for Your Yard
by — Kari Apted

Published on May 21, 2021

Updated on April 27, 2023
"A gardener's recipe: One part soil, two parts water, three parts wishful thinking."
If you love a beautiful landscape but your thumbs are less than green, low maintenance landscaping may be for you. Many novice gardeners are surprised to learn how many low maintenance options exist for those lacking the time or the skill for complicated gardening.
Low maintenance landscaping ideas will vary depending on where you live. Certain low maintenance landscaping ideas, such as xeriscaping, can be tweaked to work in any climate. Scroll through our low maintenance landscaping gallery and start dreaming again of creating your ideal garden.
1. Low-Maintenance Artificial Backyard Grass
If you're looking for creative and low-maintenance landscaping ideas, artificial grass is a great choice. Unlike having to constantly maintain real grass with mowing, artificial grass offers a hassle-free solution that looks great.
Artificial grass also allows you to forget about weeding and fertilizing, so you won't need to worry about dug-up flowers or harmful chemicals. It also doesn't require watering like real grass so it's an eco-friendly way to landscape your outdoor space.
Plus, artificial grass can last for years without needing any maintenance at all!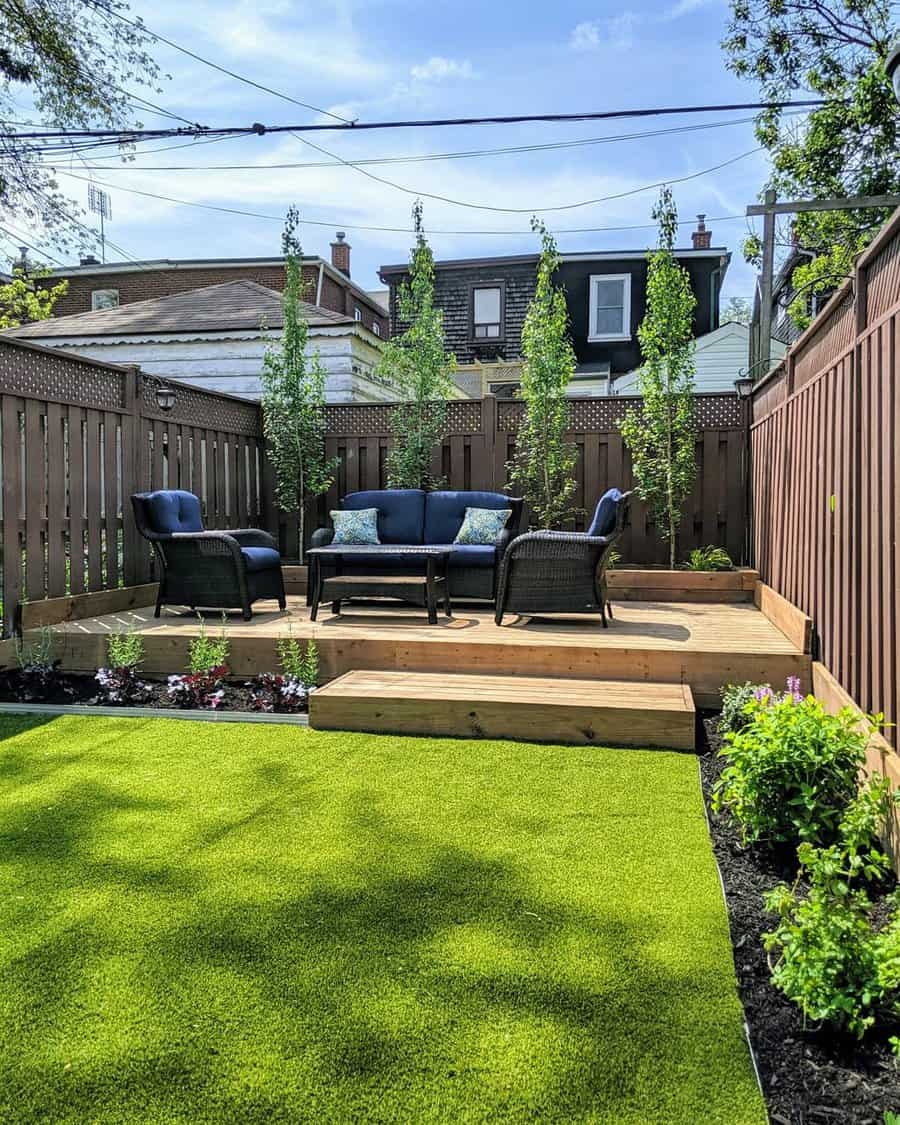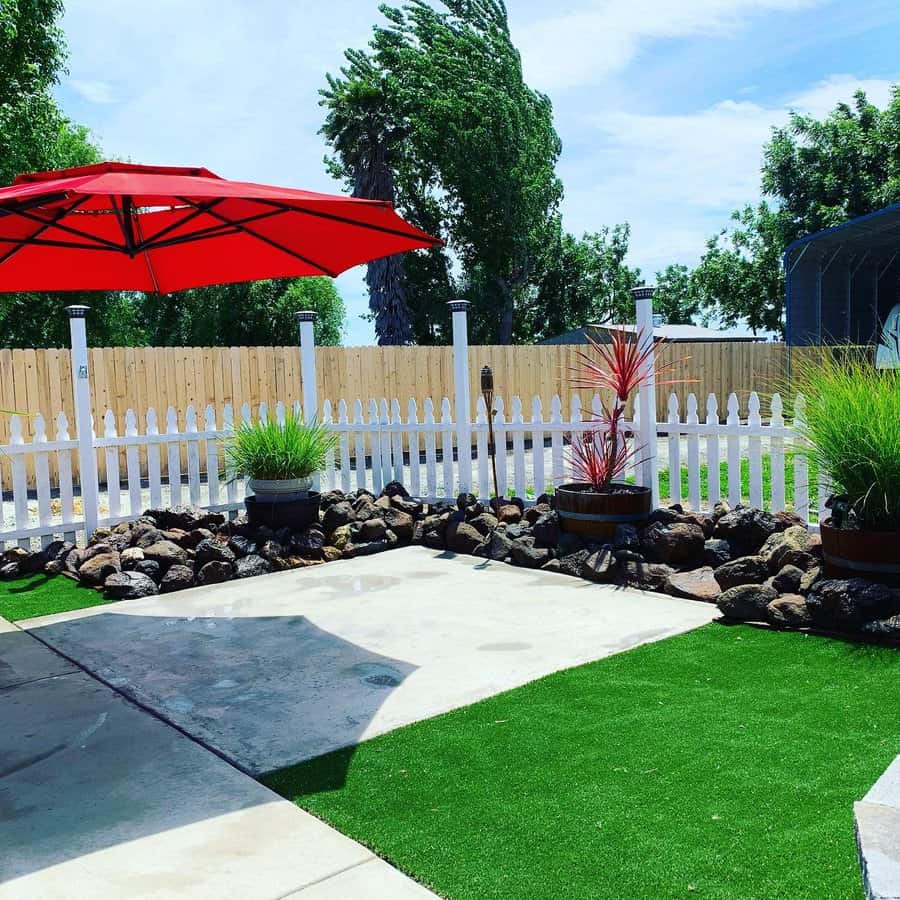 2. Add Stone Pavers
Creating a low-maintenance landscaping space involves finding creative ways to utilize stone pavers in your backyard. Consider placing stone pavers directly on the grass in both curved and straight pathways, creating an interesting contrast between soft waves of green and hard lines of stone.
Alternatively, you could place stone pavers on a bed of smooth pebbles for a quieter atmosphere with fewer turf maintenance needs.
Either way, adding stone pavers as part of your landscaping can lend a Mediterranean vibe which will take minimal effort to maintain.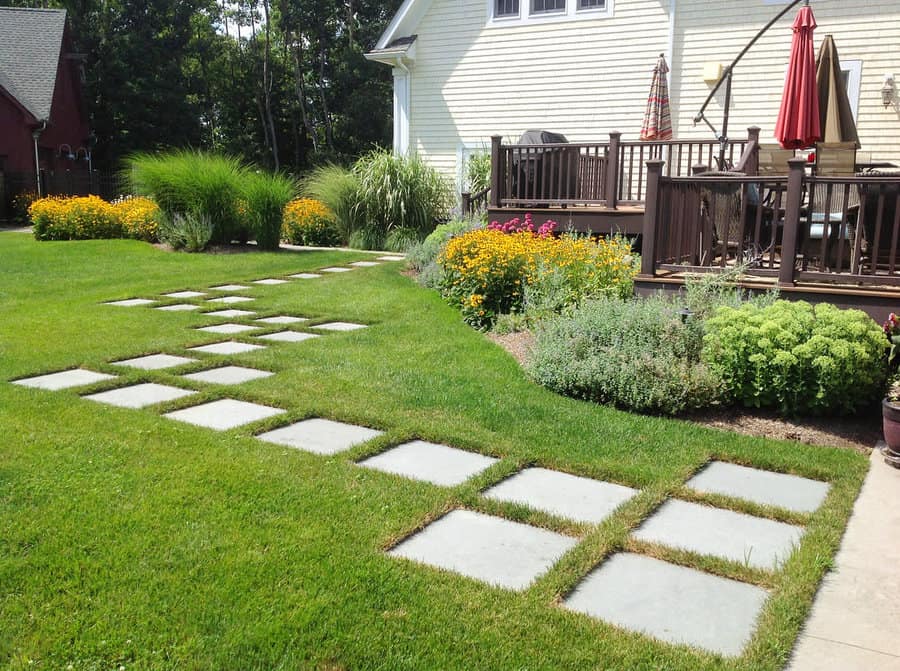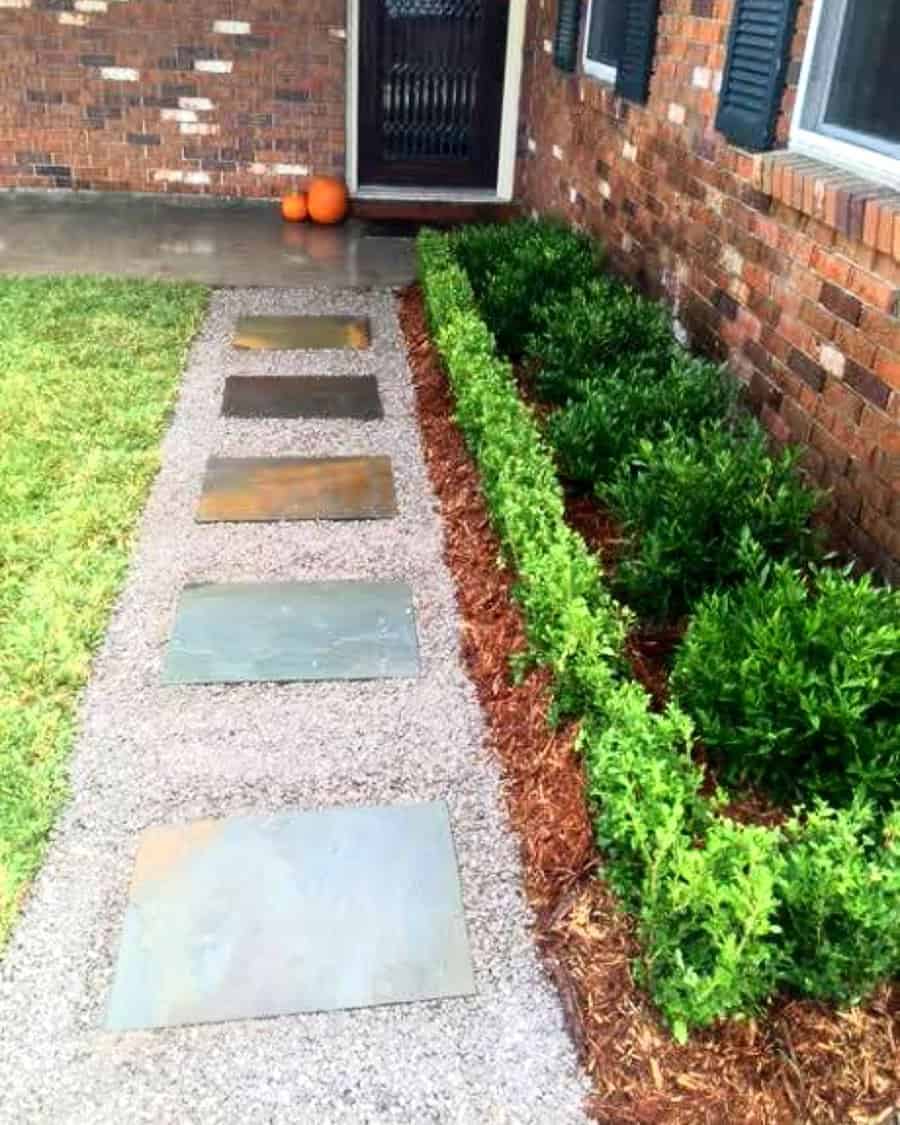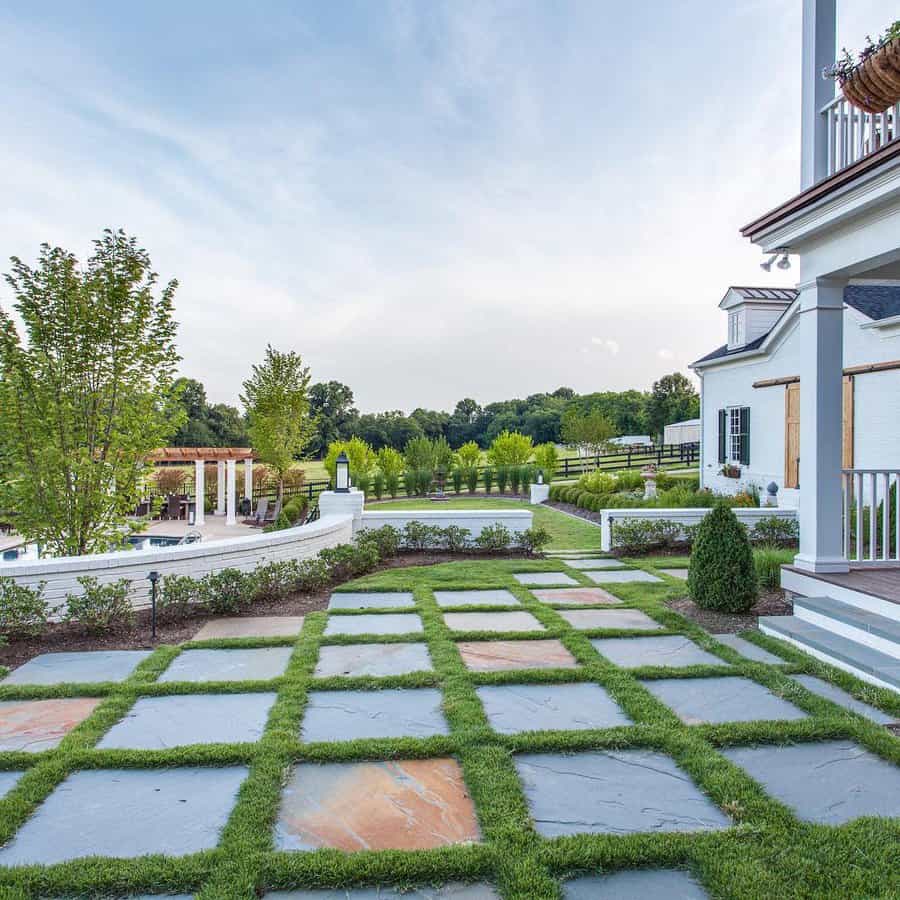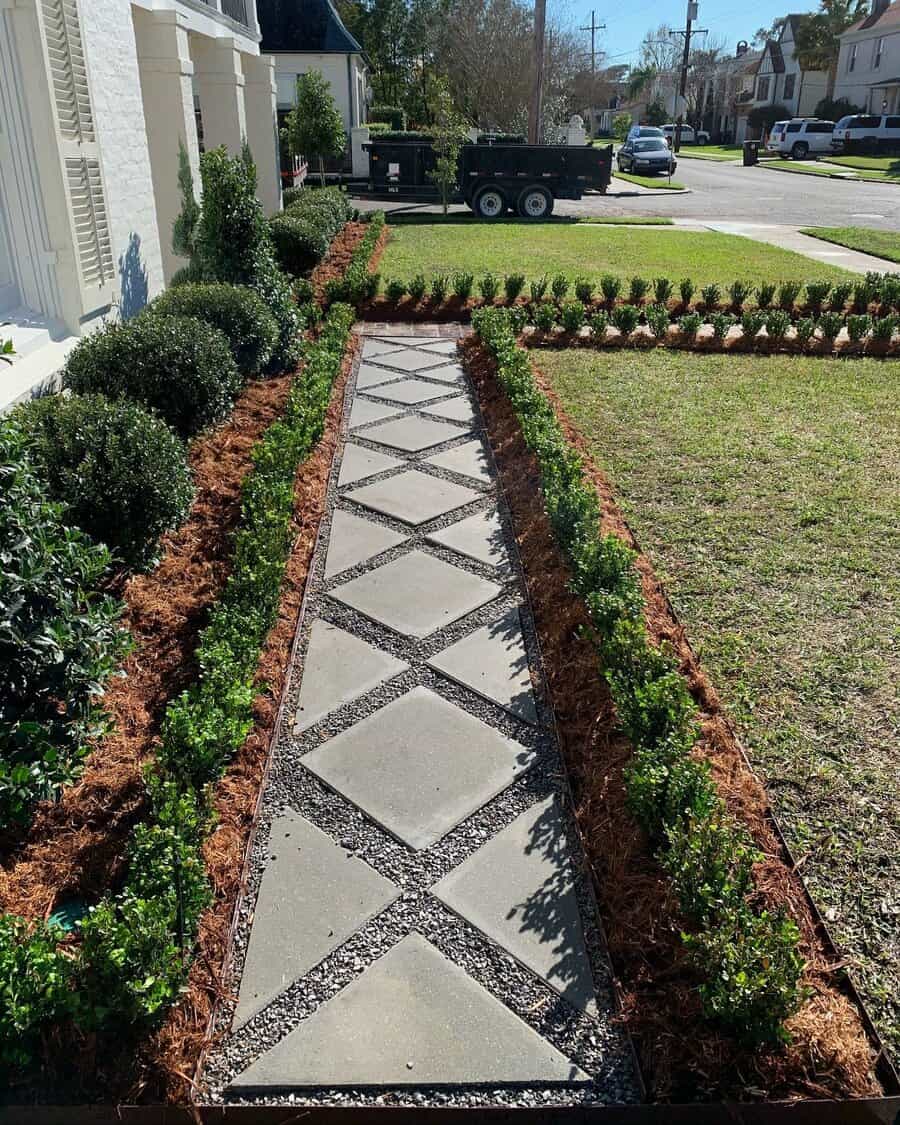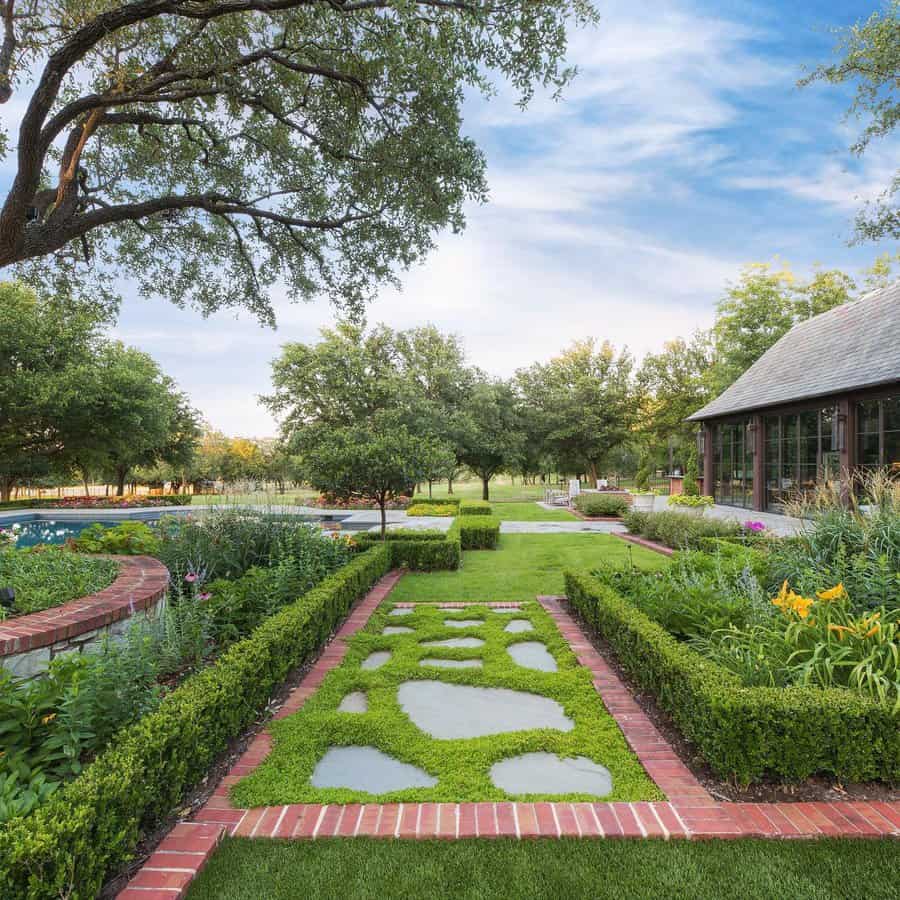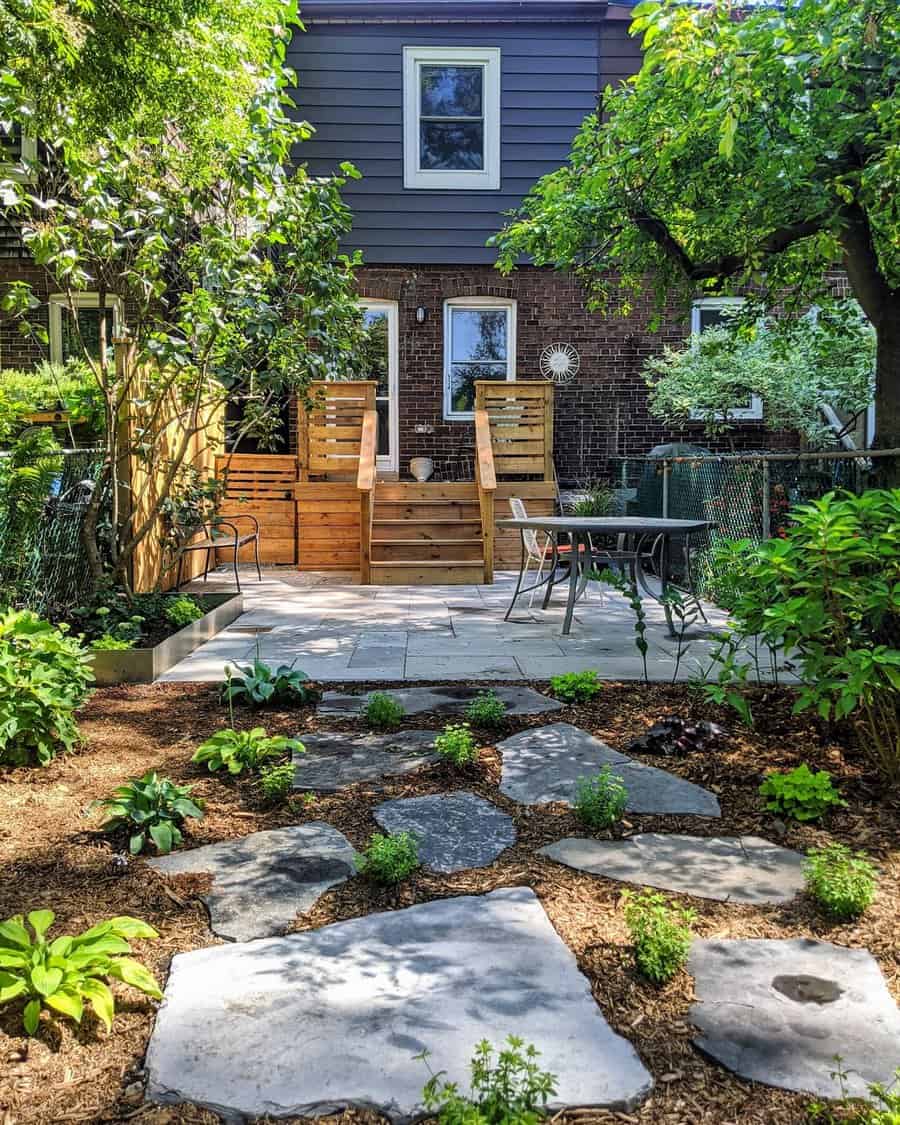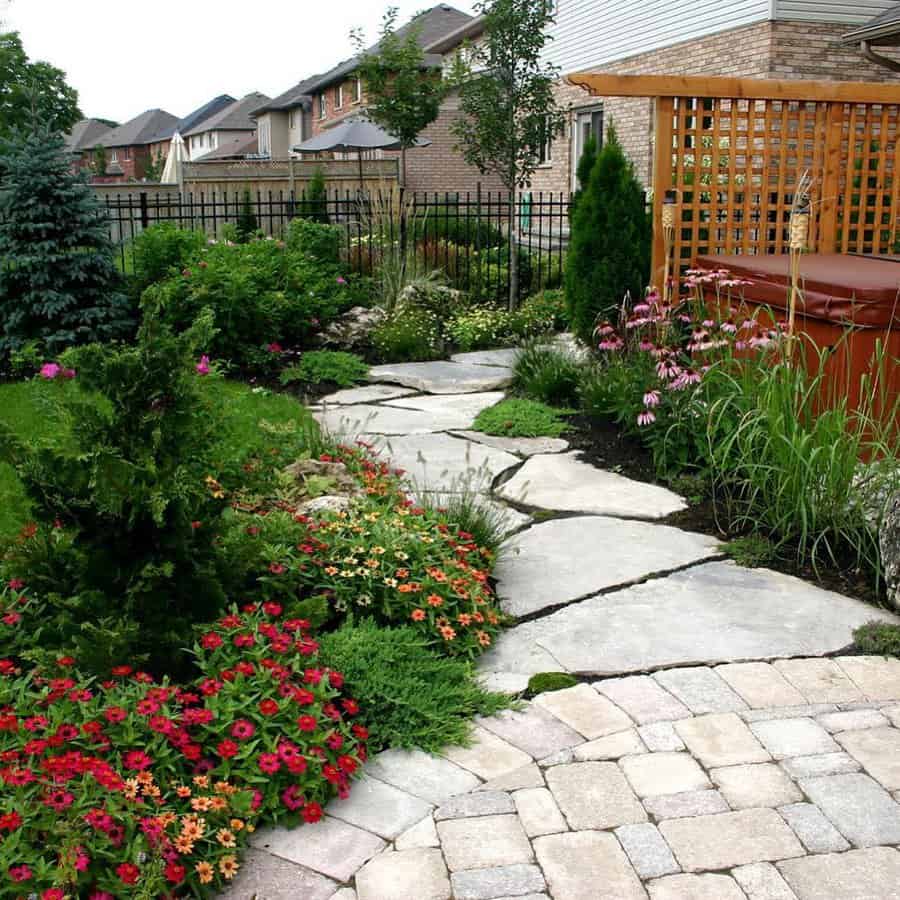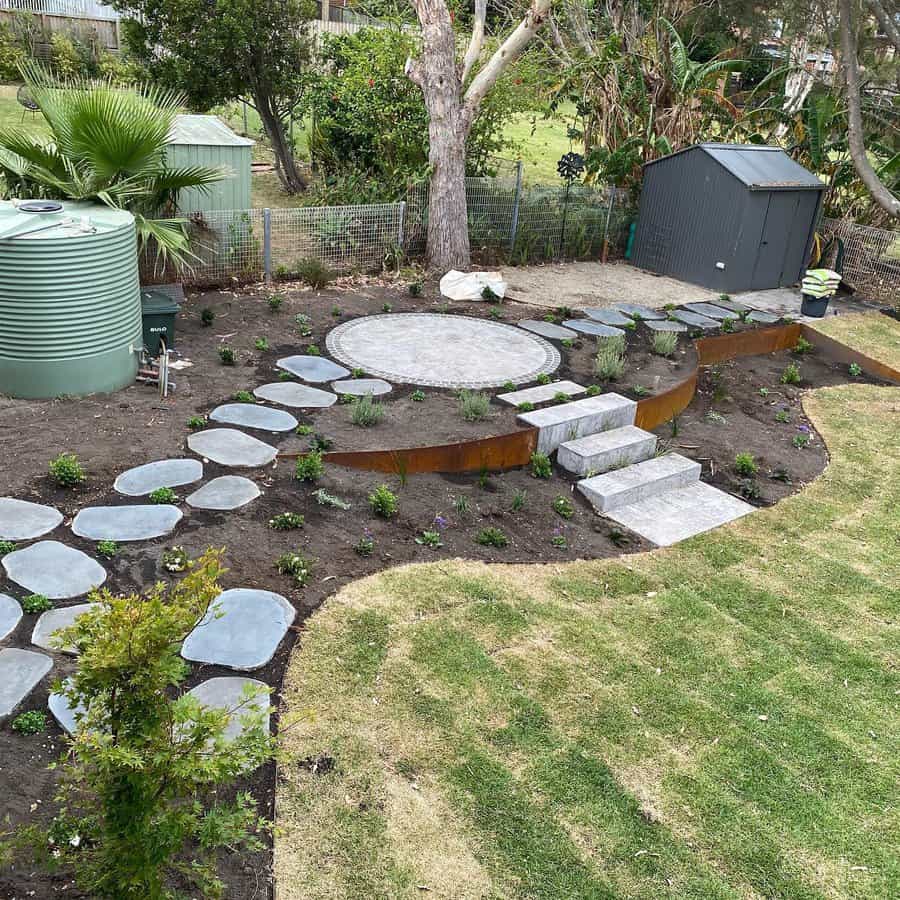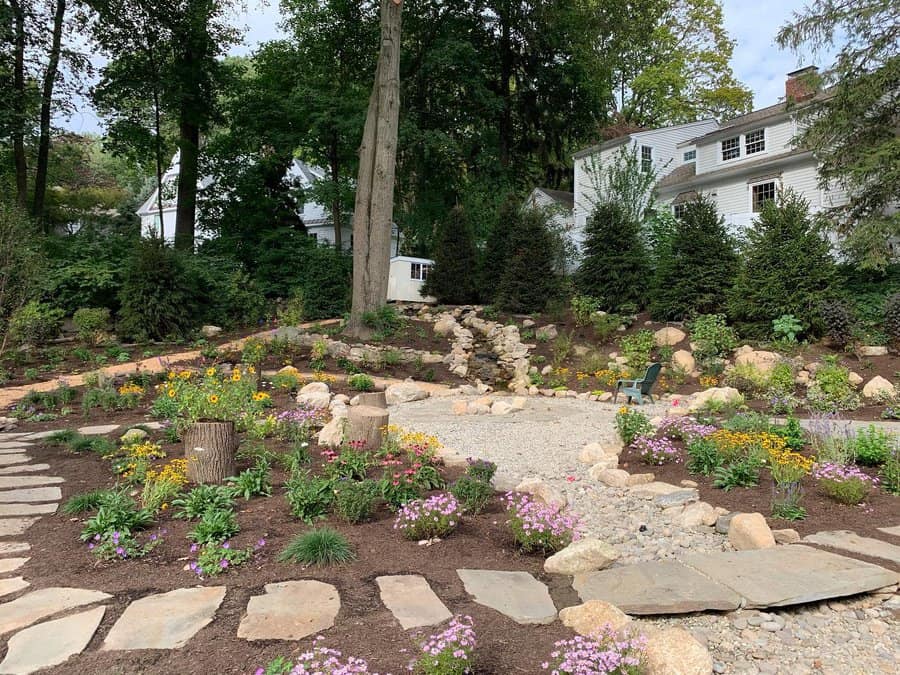 3. Plant Trees In Your Backyard
Planting trees in your backyard is a fantastic way to add some flair while also keeping your yard work to a minimum. Trees are excellent additions to any garden or outdoor space and don't require much effort to maintain.
They'll give your yard extra color, provide privacy from nosy neighbors, reduce noise pollution from busy streets, and help you cut down on energy costs by providing shade in the summertime.
As an added bonus, the birds and squirrels will love them too!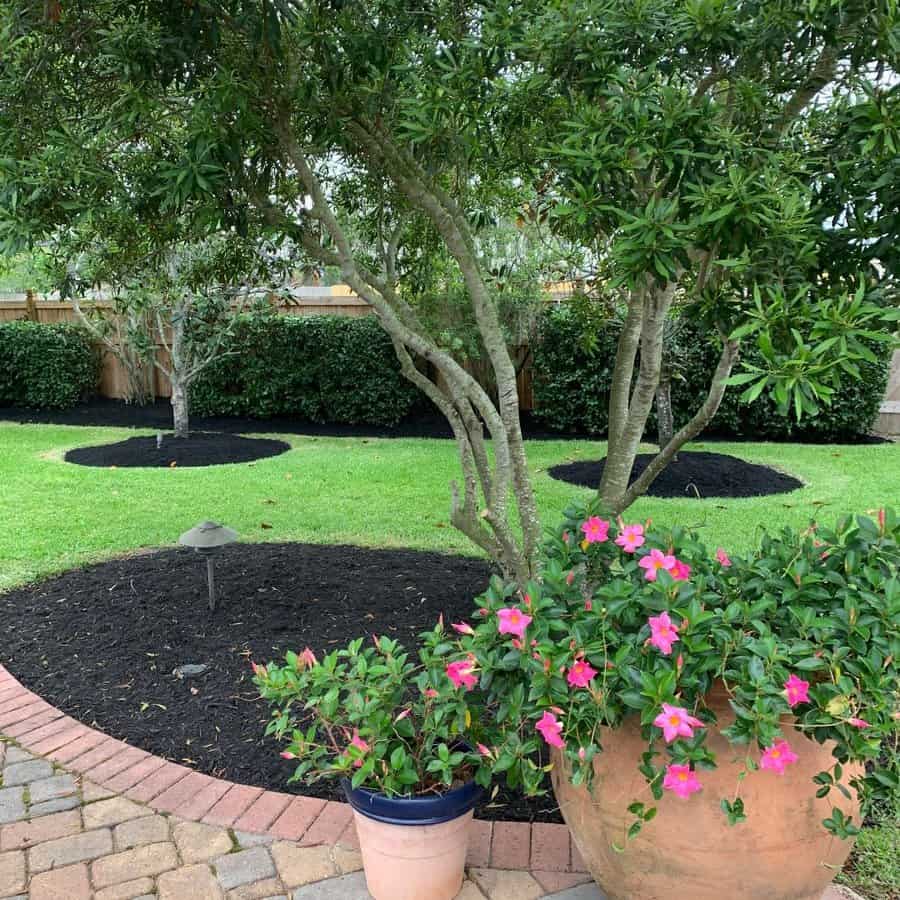 4. Jazz Up The Fence With A Side Landscape
Jazz up any fence with side landscaping that frames it perfectly; this can range from pretty plants in boxes and planters to mediums like rocks, gravel beds, and barks.
If you'd like something more visually appealing, then climbing vines on the fence will create a breathtaking effect, while bright flowers like daisies are a great way to add some color and fun, especially when planted around your lawn boundaries.
Choose a range of plant species with varying textures and heights so that you get all-year-round value out of the space.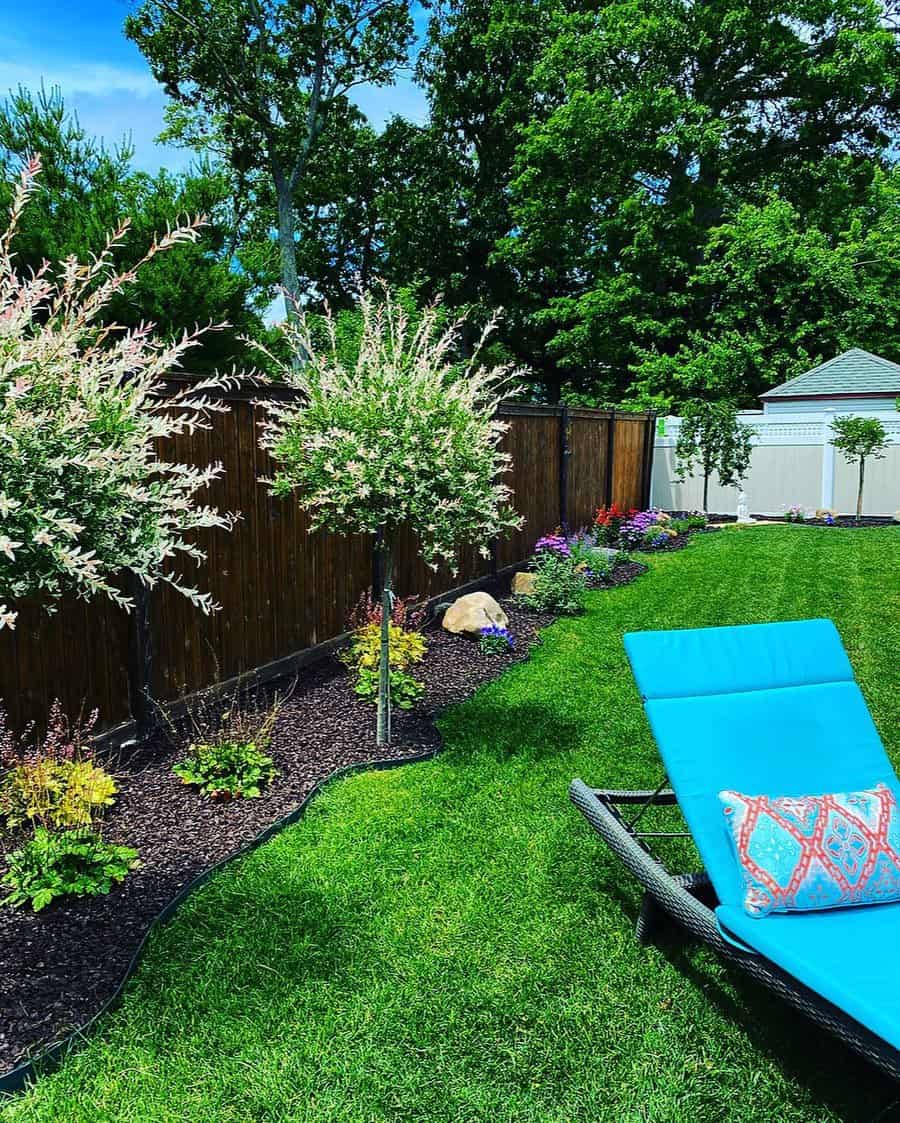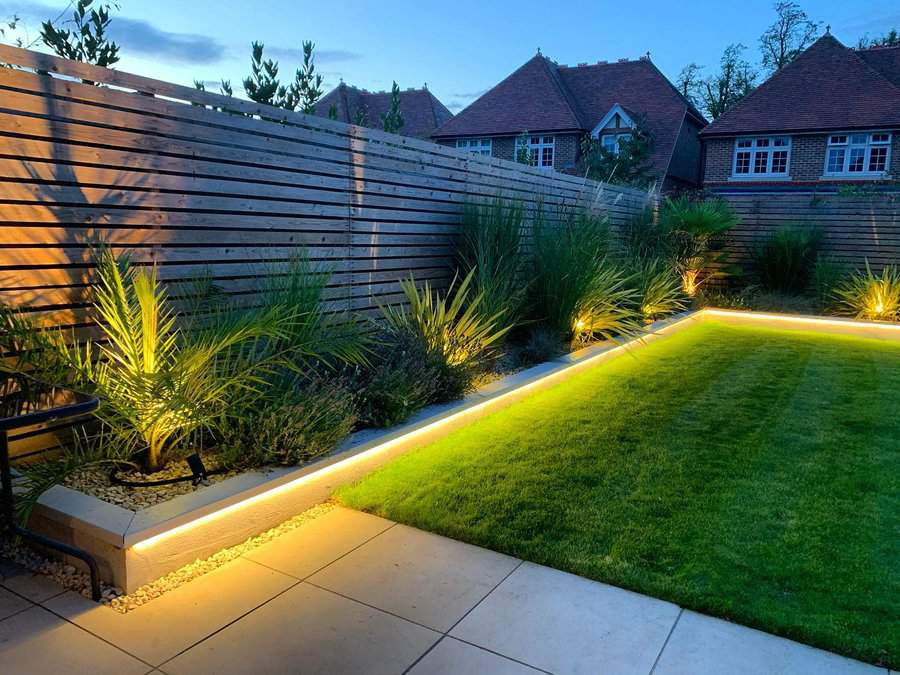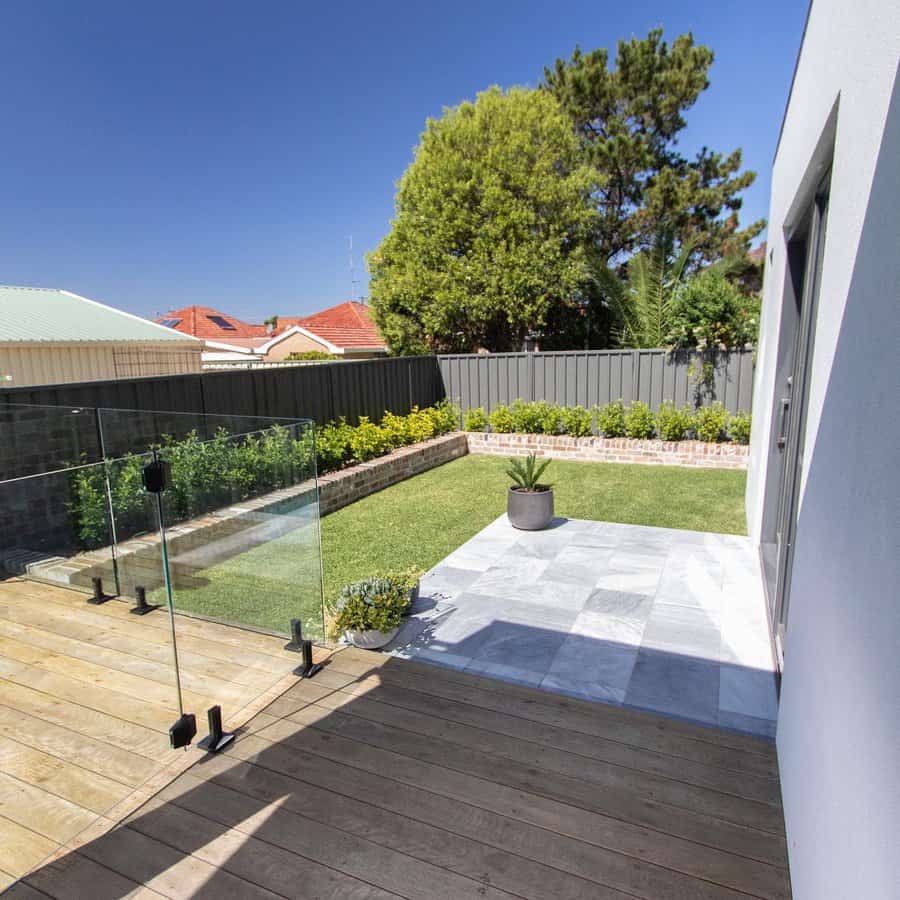 5. Decorate The Corners With Evergreens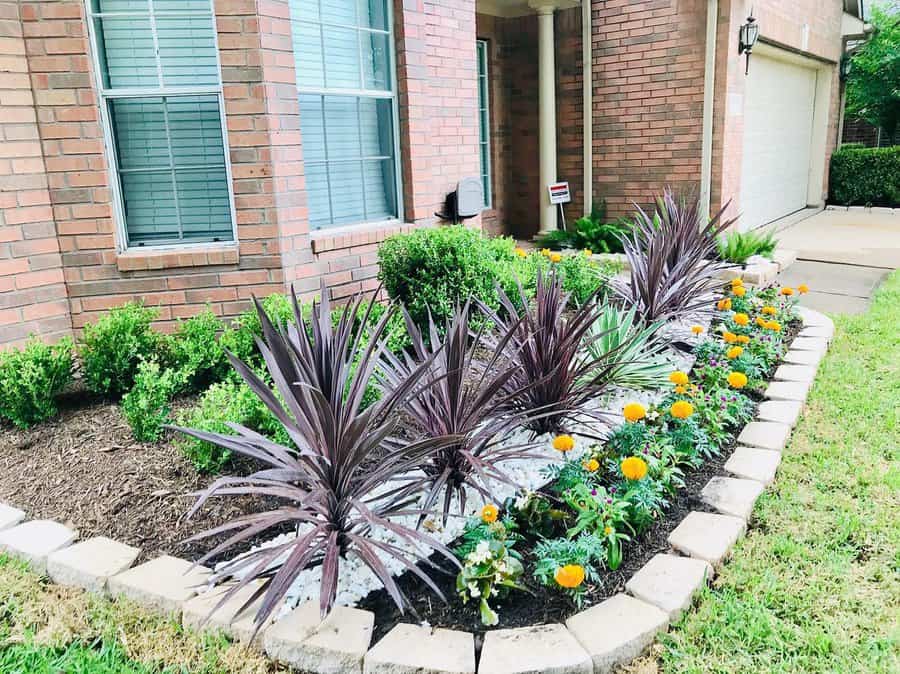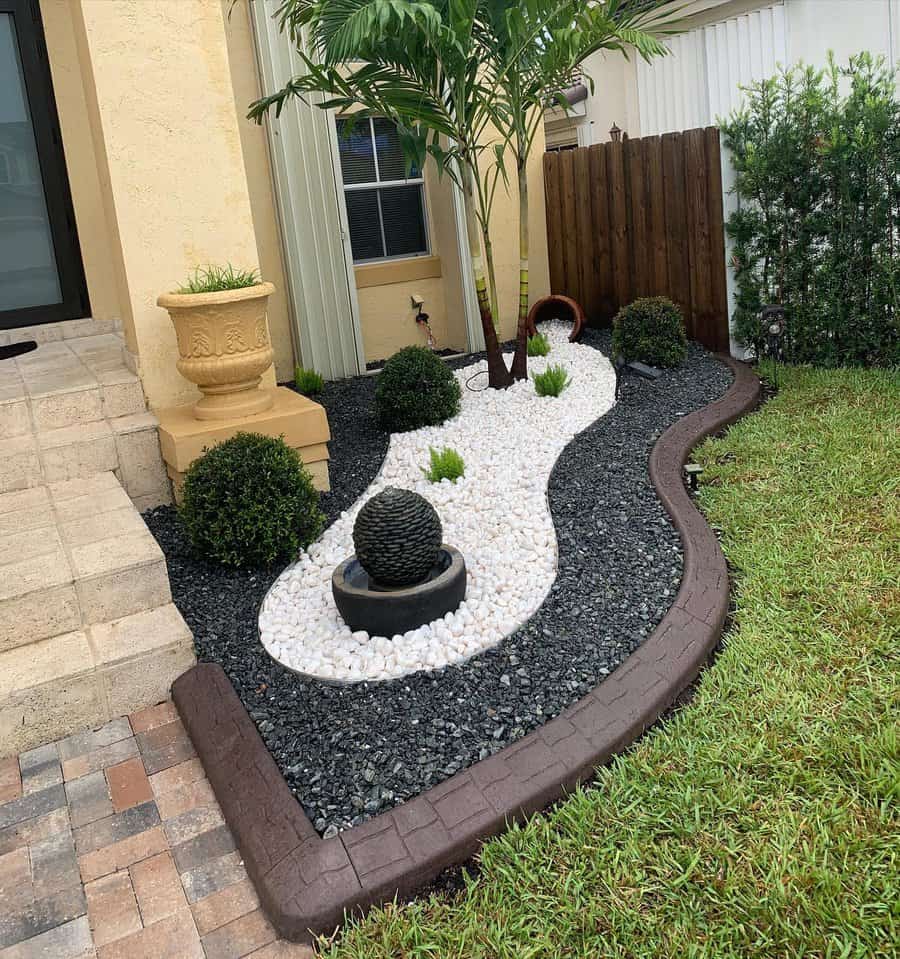 6. Dig Up A Cozy Bench Seating With A Landscape
Recessed benches are a space-saving feature that can easily be incorporated into an existing landscape design. Create a recessed bench with stone or brick and fill the space with plants or flowers for a beautiful addition to your outdoor living area.
Not only do recessed benches look lovely, but they also provide an inviting place to relax without worrying about regular upkeep.
Plus, you won't need to worry about mowing or weeding under the recessed bench either – just enjoy the new relaxing spot with minimal effort!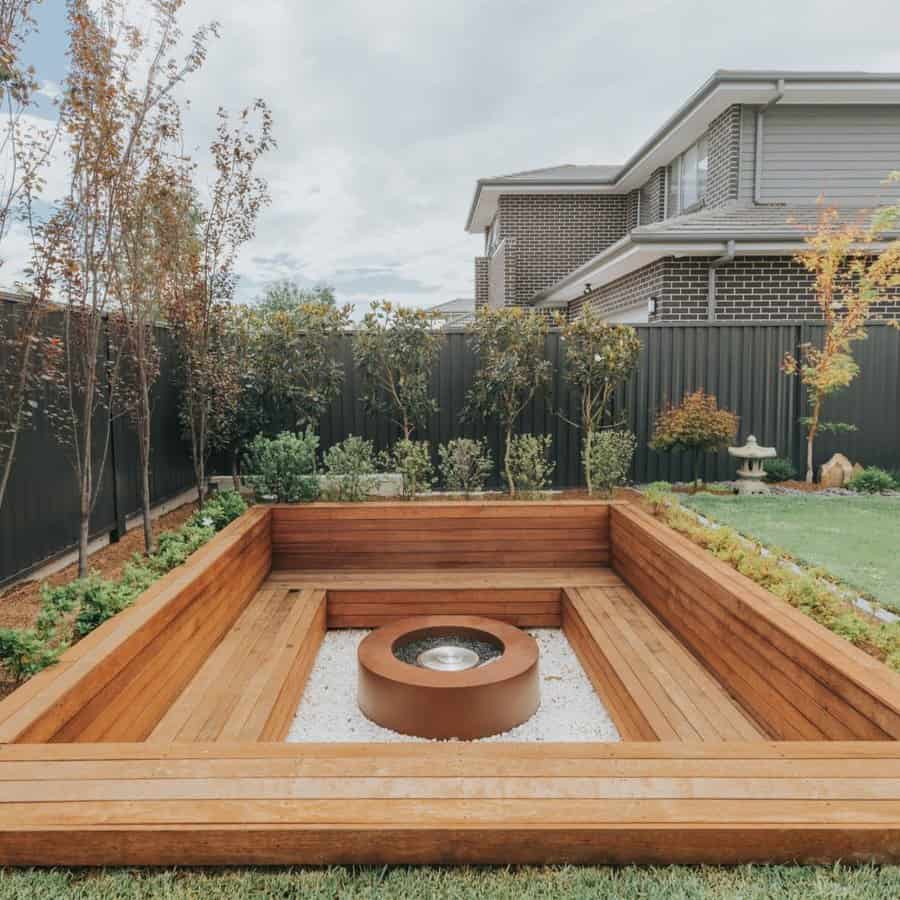 7. Add Creative Lighting To Highlight The Landscape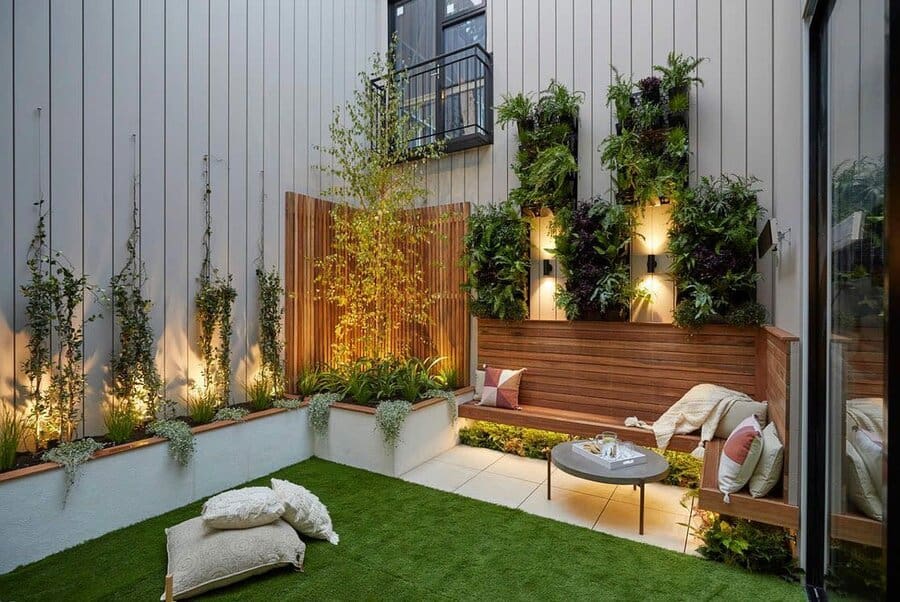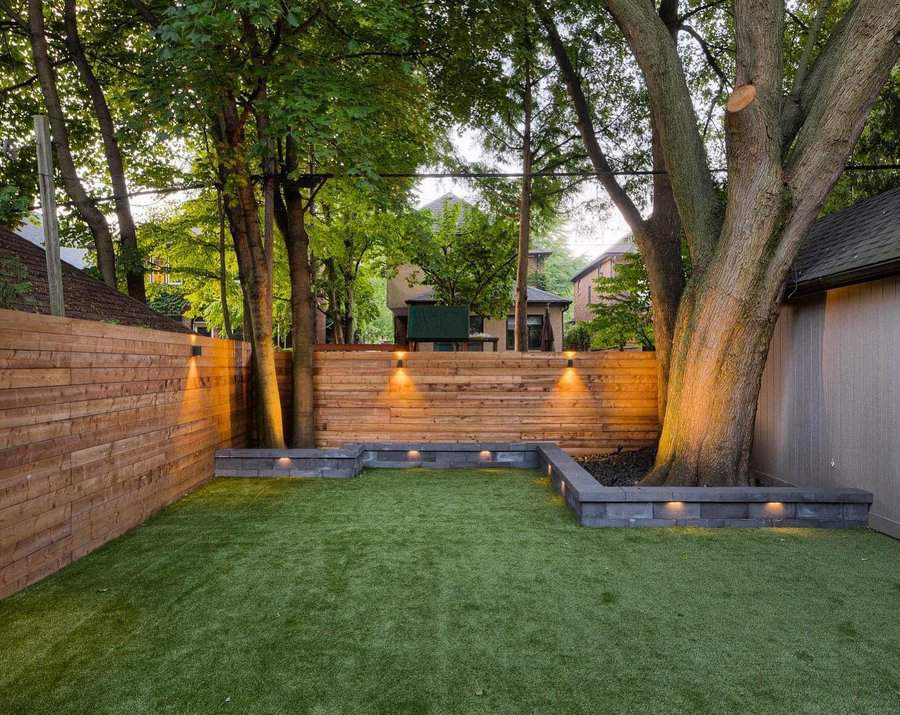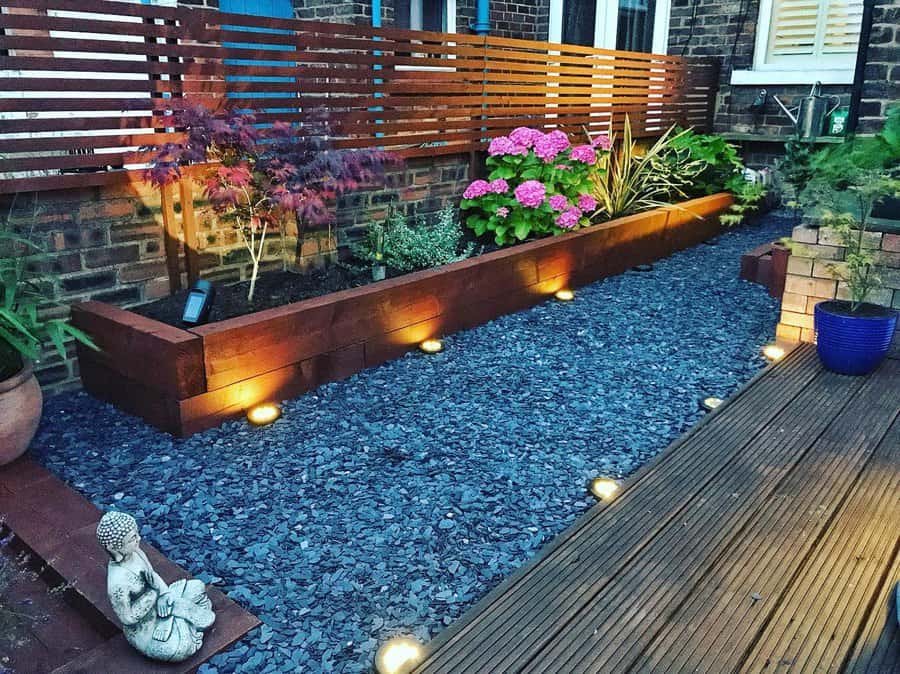 8. Pave The Way With Wildflowers
Summer is the perfect time to add a little outdoor flare to your home with low-maintenance landscaping. If you want a beautiful and easy-to-maintain garden, it's time to pave the way with wildflowers. A wildflower garden not only looks great but also requires very minimal care from you, making it an ideal pick if you're looking for a hassle-free space.
Plant some drought-resistant perennials and annuals, such as marigolds, sunflowers, and daisies; create a path of ornamental grasses or evergreens; or go formal with boxwoods and flowering shrubs. By getting creative with texture and colors, your wildflower oasis will have you feeling at ease all summer long!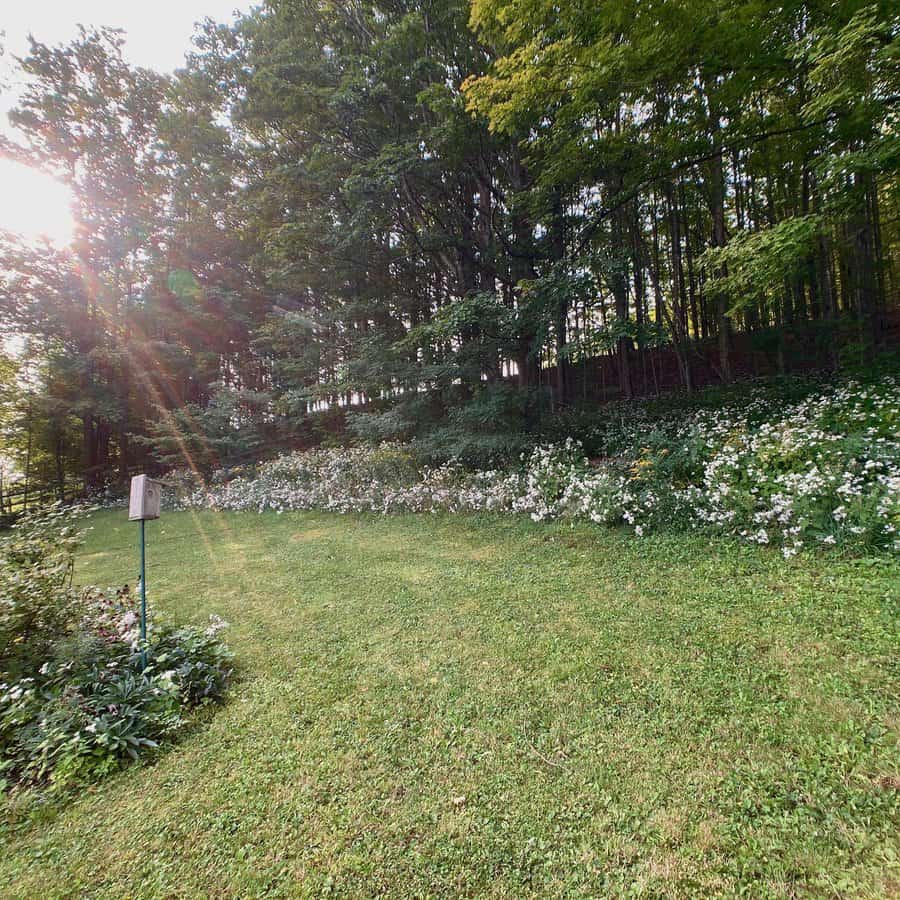 9. Add Pebbles To The Landscape
Pebbles add texture, shape, and color to any landscape, whilst still being easy to maintain – all you need to keep them neat is a quick sweep every once in a while. But there's, even more, you can do with pebbles! Why not arrange them in a pattern or mix together different types and textures like beige and black stones, or white and grey pebbles?
Create pathways lined with colorful pebbles or use them as garden dividers! Not only are they pleasing to look at but it's also incredibly practical as you get all the beauty of landscape design without having to spend too much time tending to it.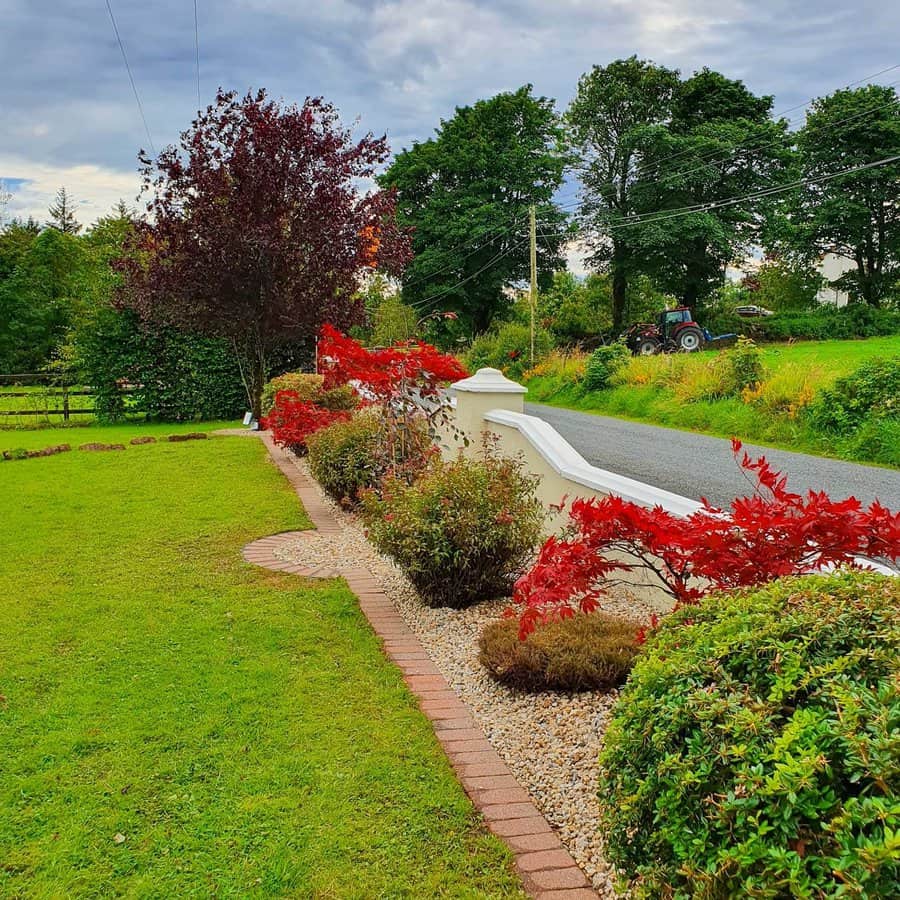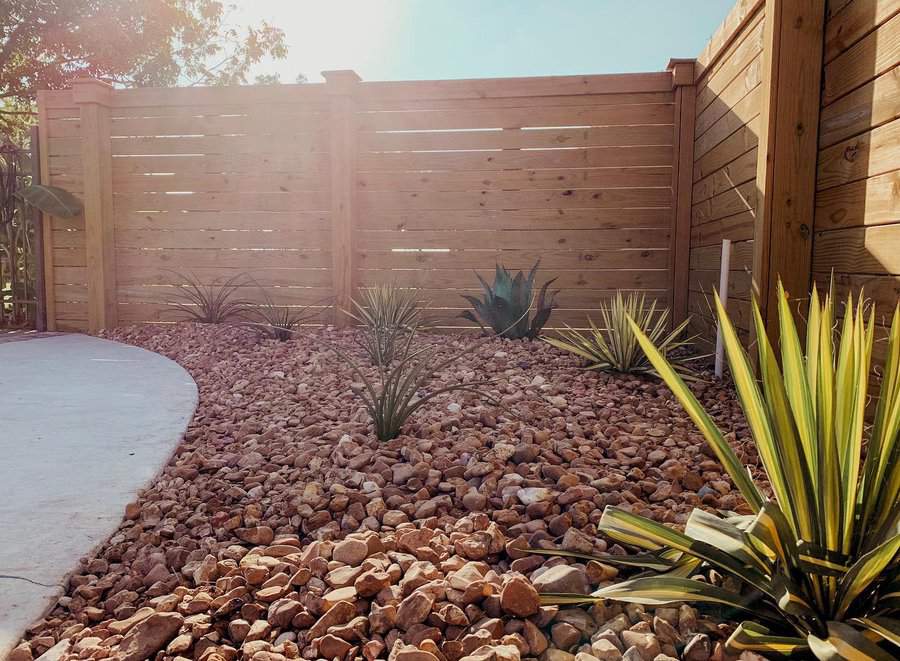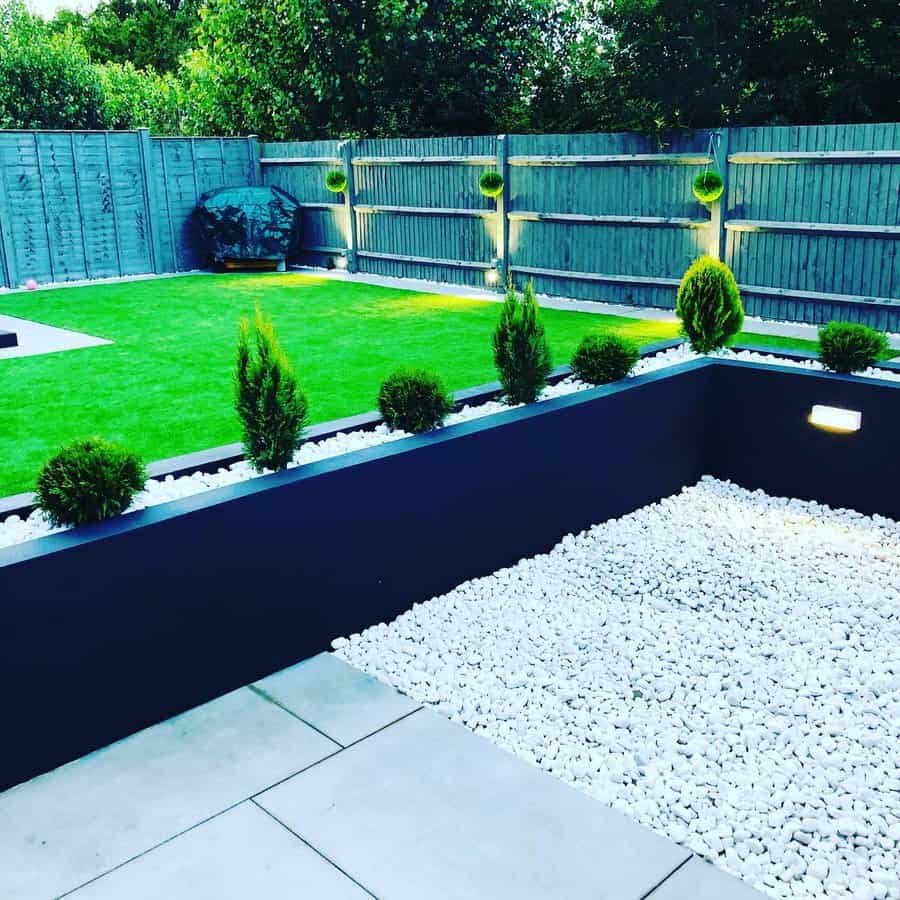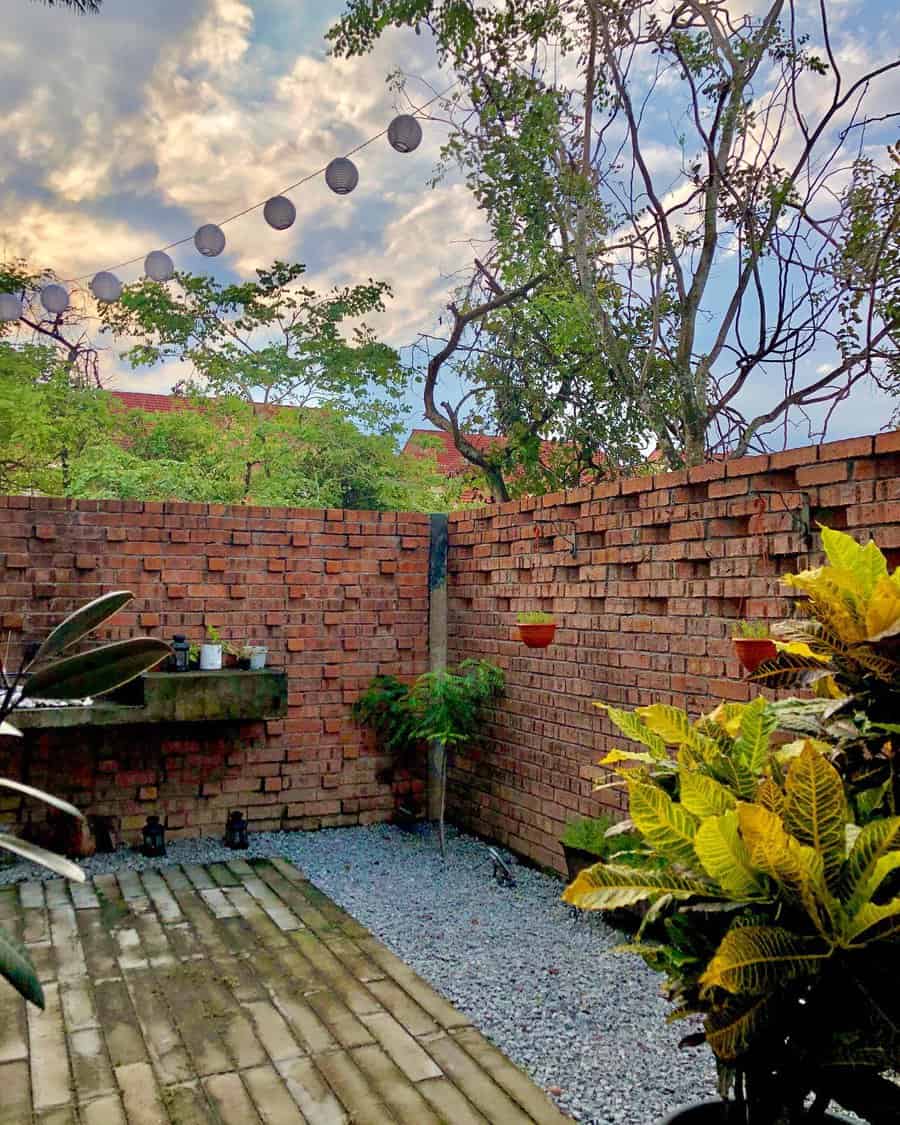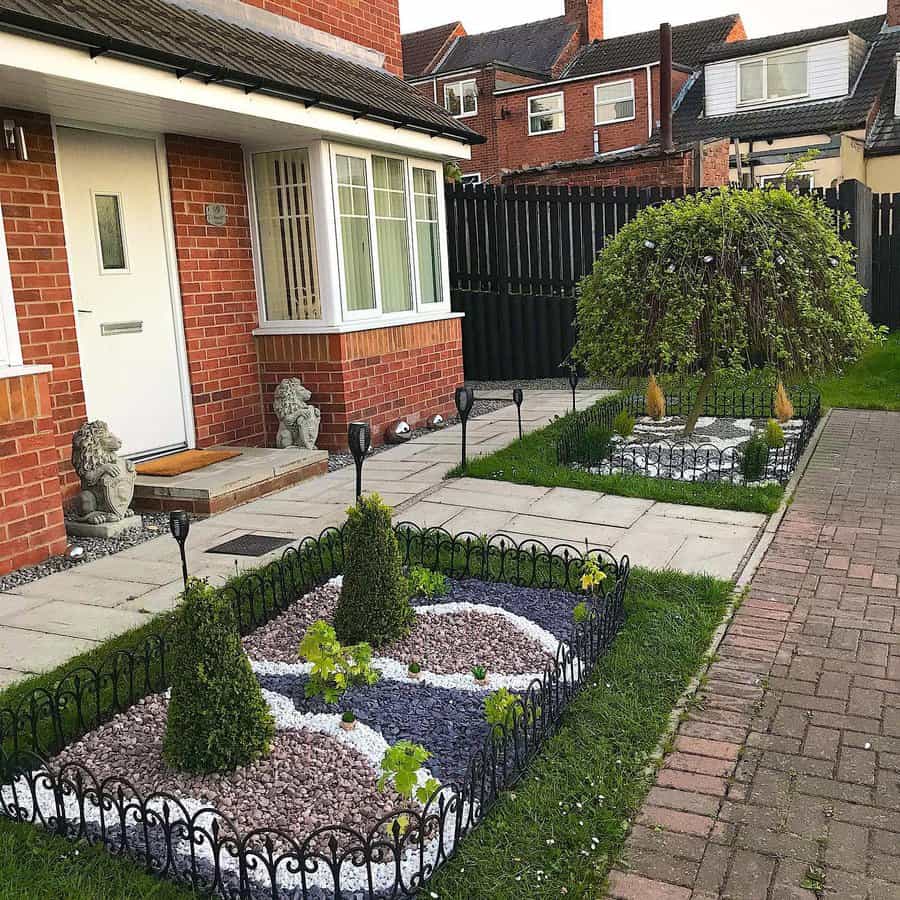 10. DIY A Plant Box
DIY projects have been gaining in popularity recently and a great way to get involved is to create a low-maintenance landscaping project. If you are looking for something with minimal upkeep, consider designing and building your own plant box.
Use a combination of succulents, flowers, or herbs depending on the climate in your area as these hardy plants require little watering and maintenance. Spice up the design by adding pebbles around the edges or layering different types of plants throughout.
Low-maintenance DIY landscaping ideas can be creative and easy – giving your outdoor space plenty of month-to-month pizzazz!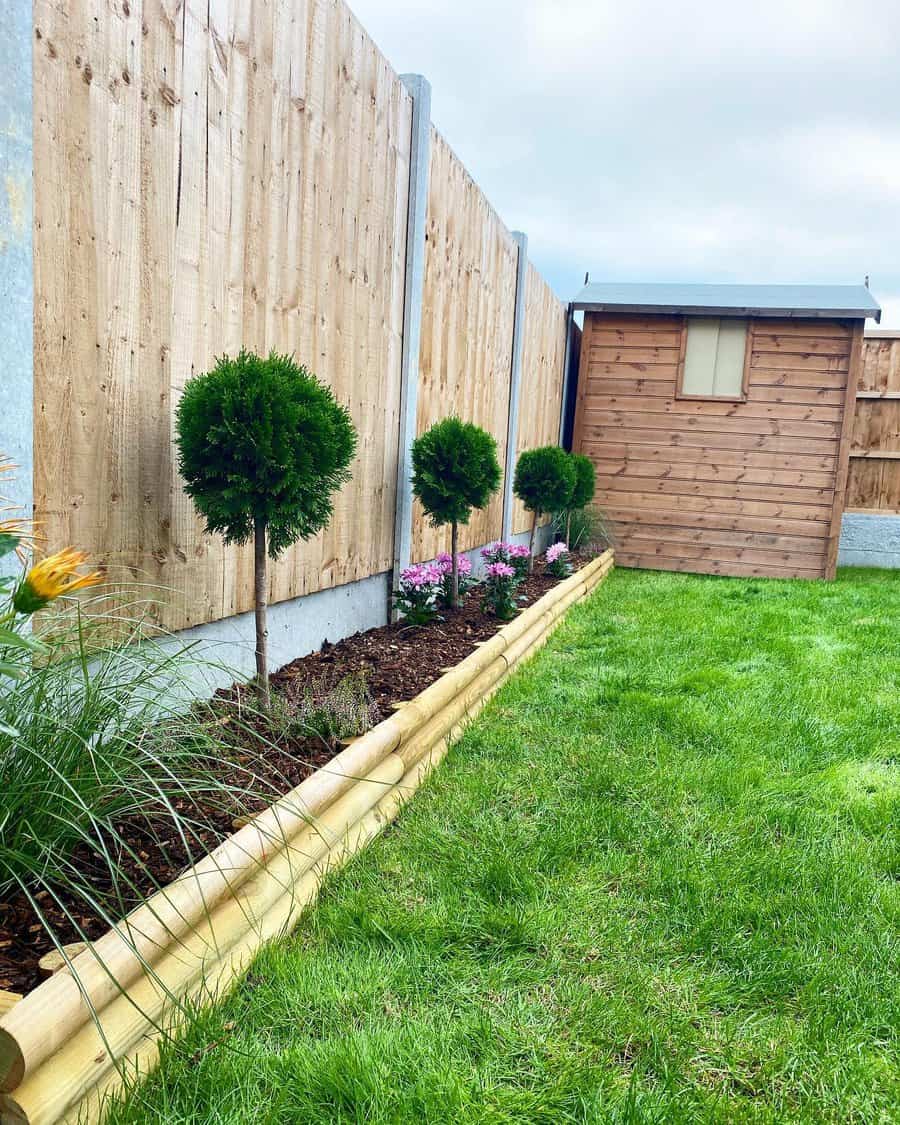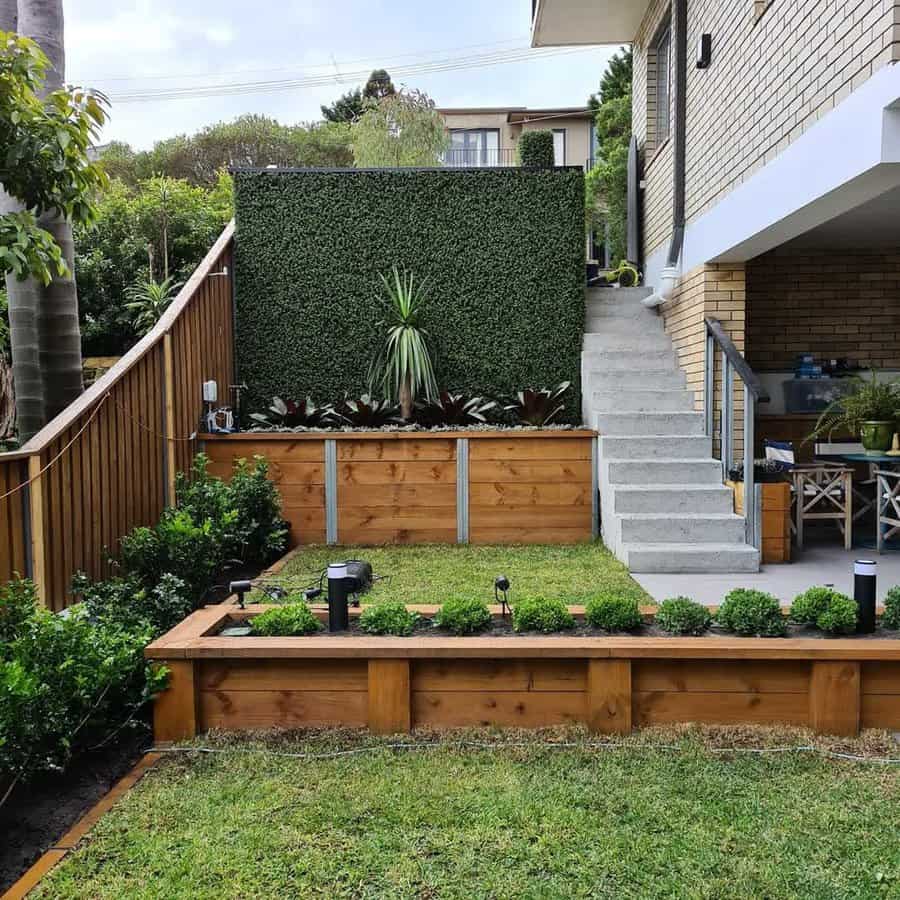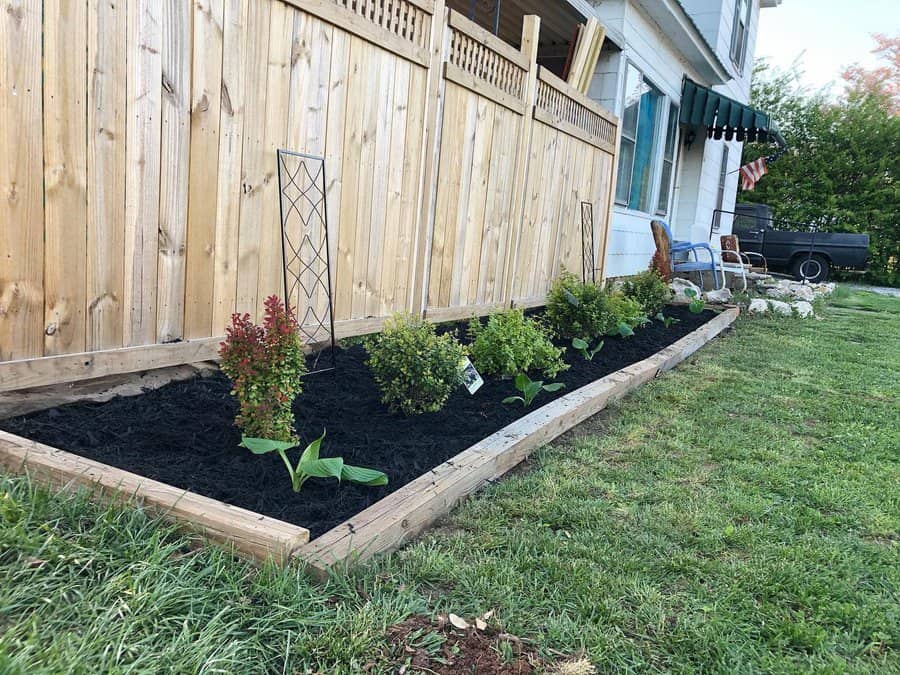 11. Be Creative With Freeform Landscaping
If you're looking for a truly dramatic outdoor space, freeform landscaping is the way to go! It's a great way to create beautiful and unique areas that don't require a lot of maintenance. Start by selecting natural materials such as stones and river rocks to define pathways or create freeform circles.
Try planting wildflowers in free-form shapes in your garden beds; they come in a huge range of colors and densities that will bring pops of color and texture all season long.
Group various sizes, shades, and shapes together for maximum visual enjoyment with minimal effort if you crave an even more low-maintenance option!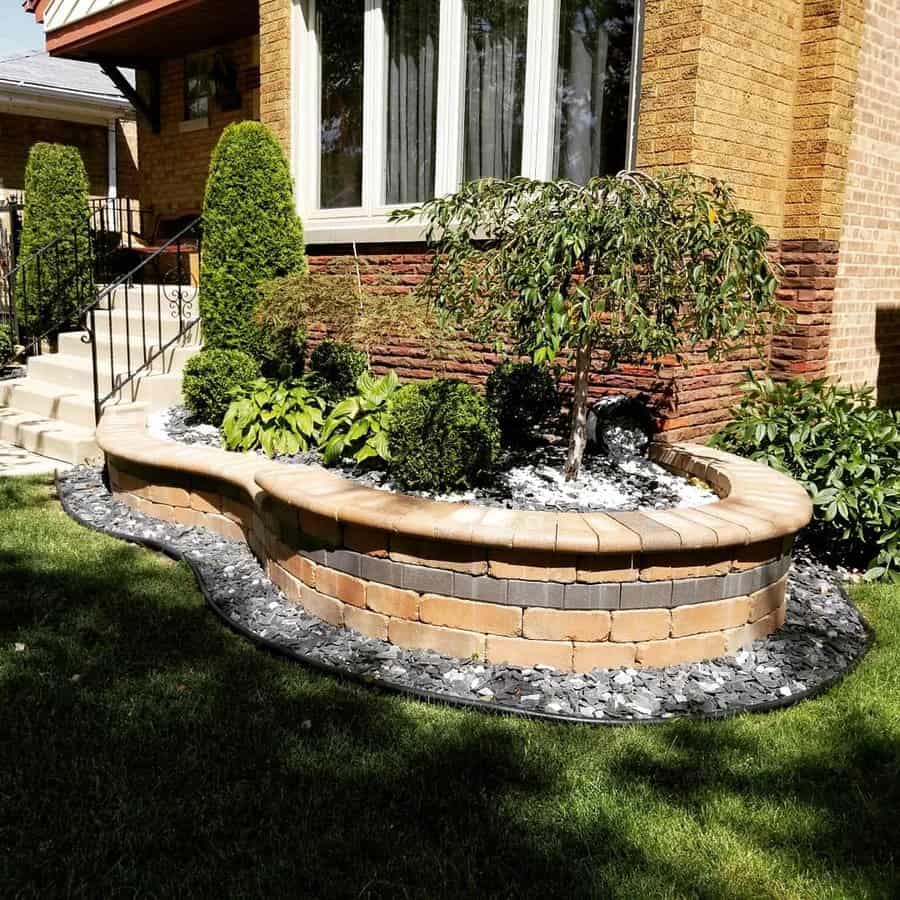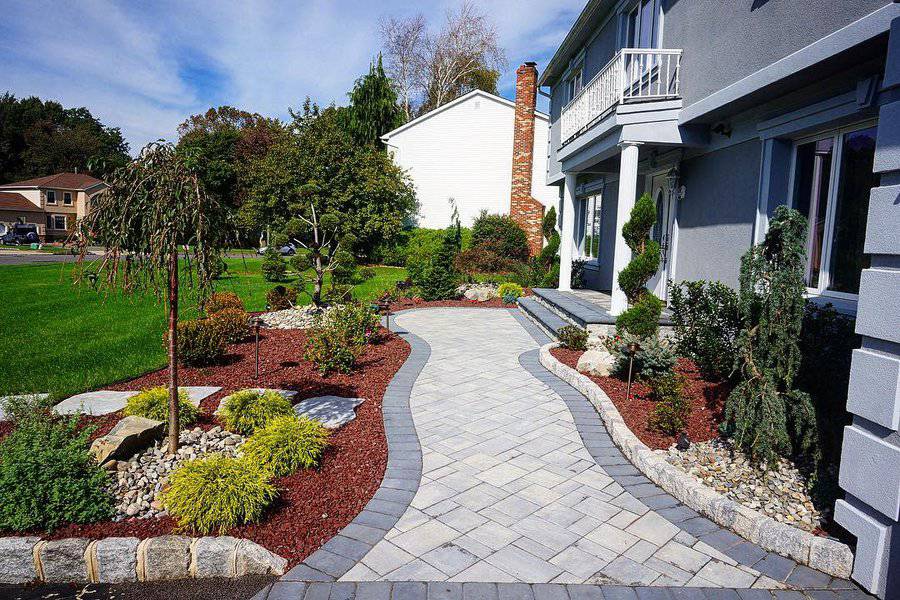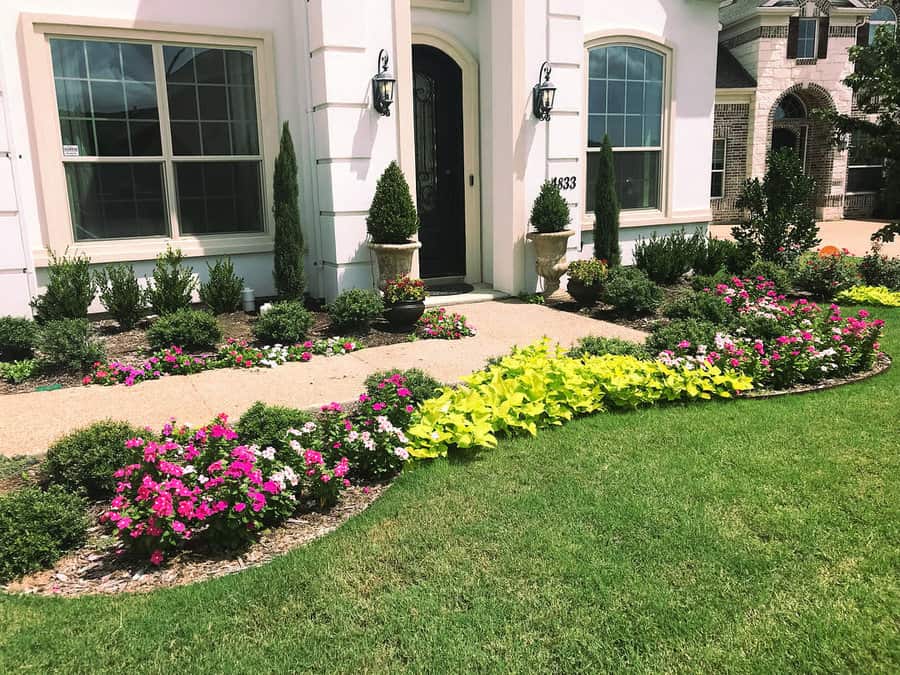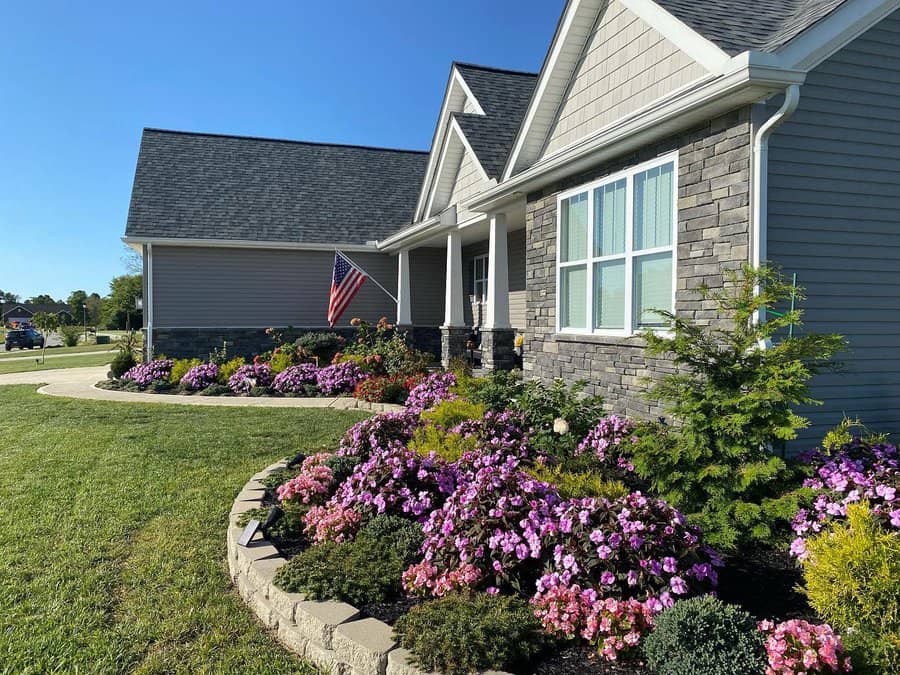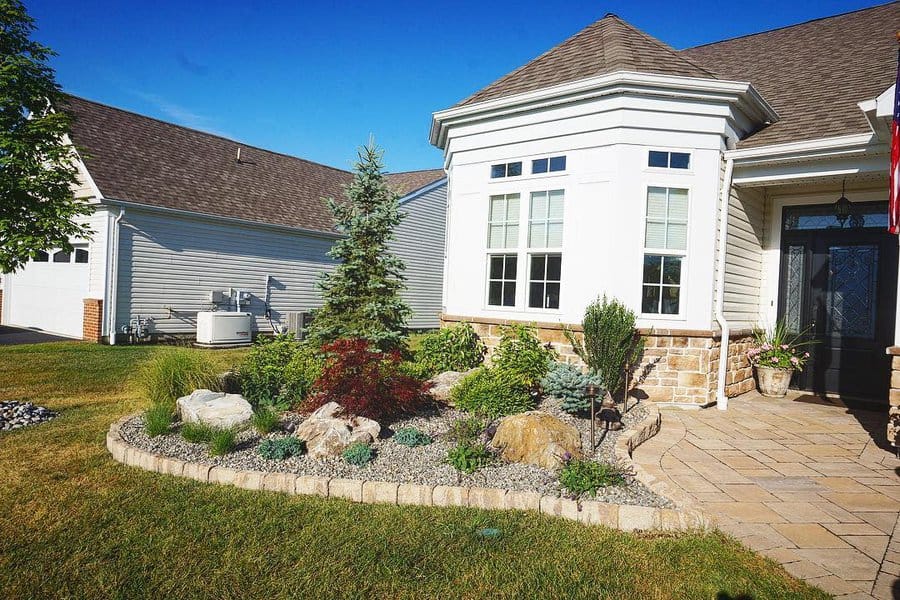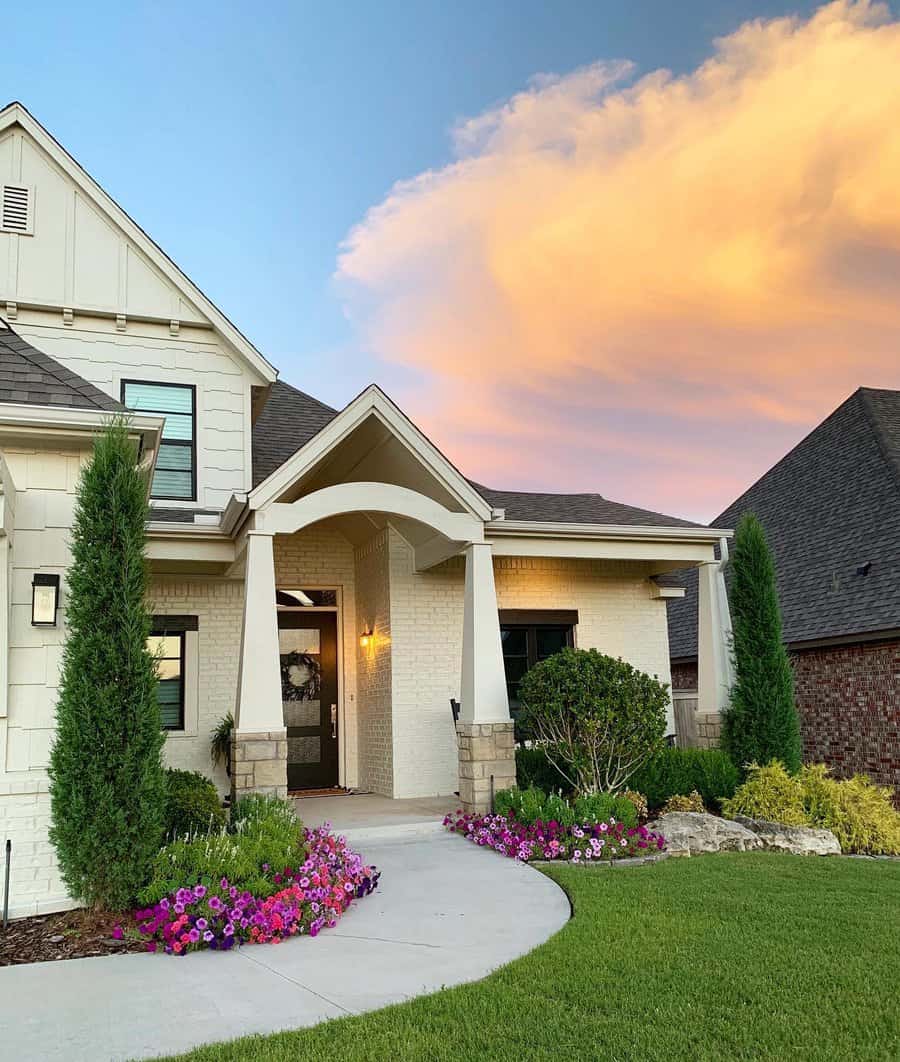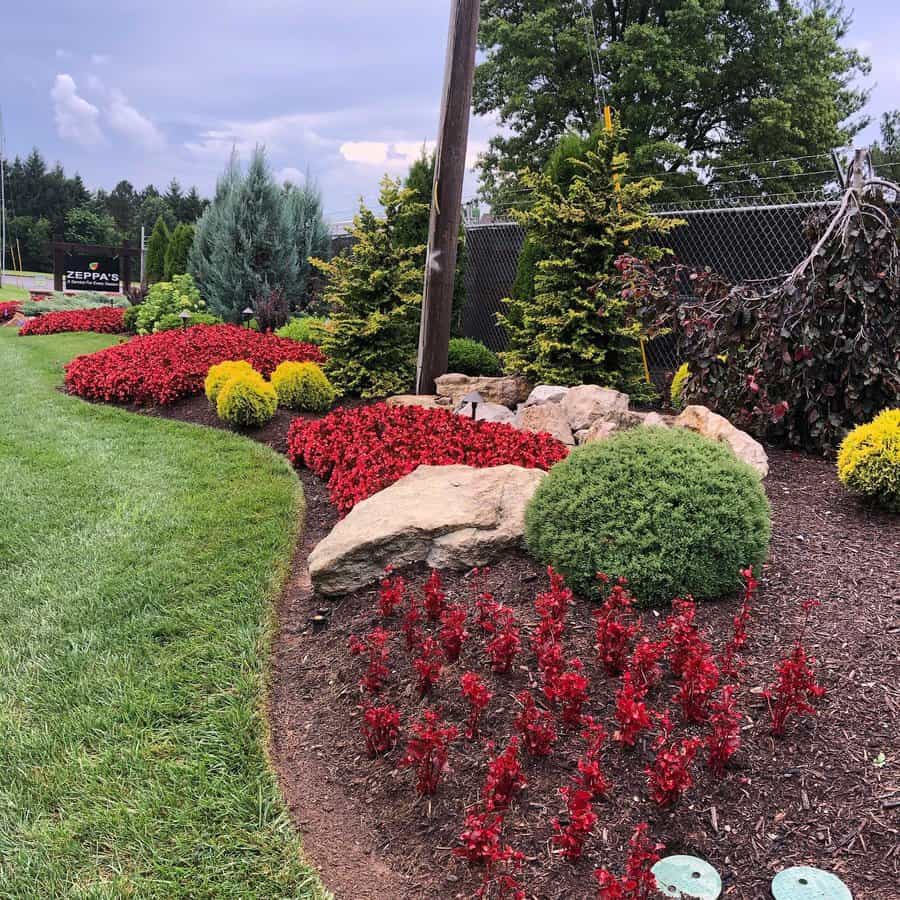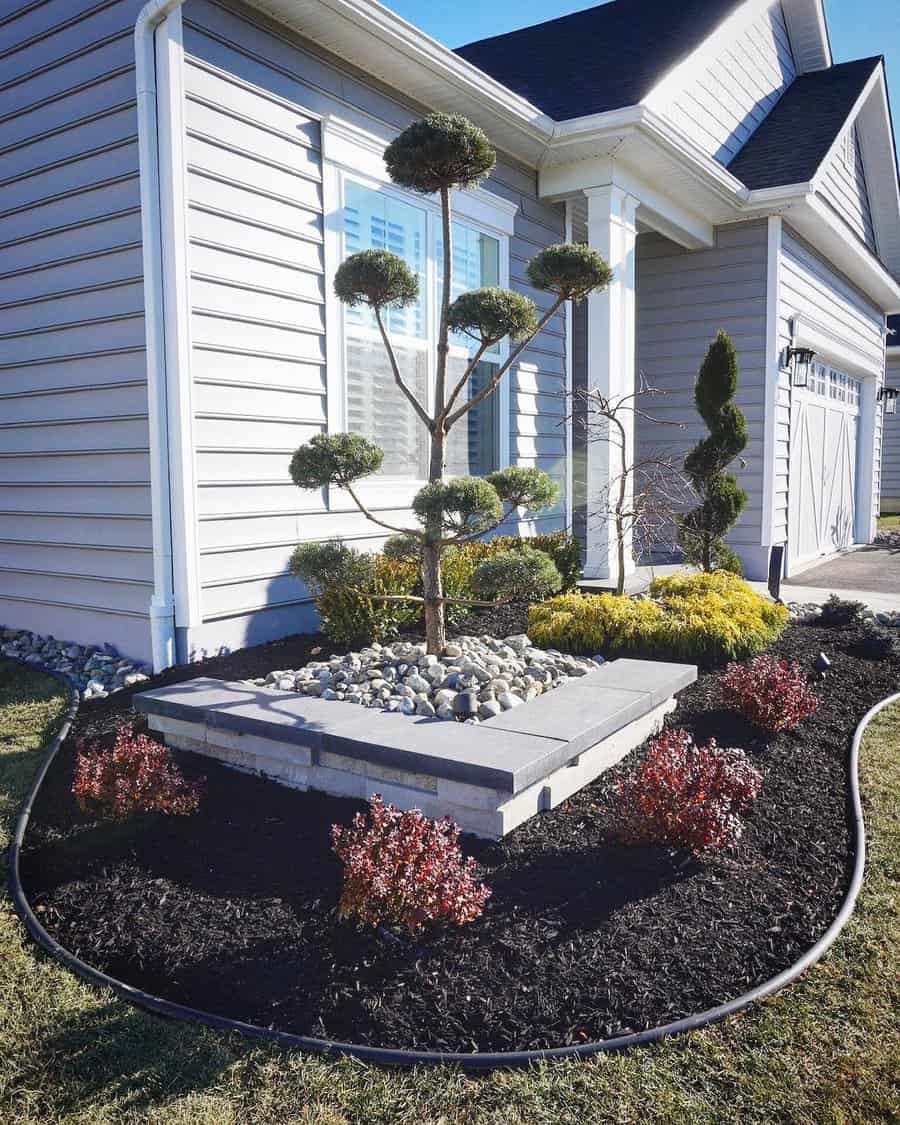 12. Arrange A Floral Garden
Gardening can be a great way to make the most of a large outdoor living space, but for many, the labor-intensive aspect associated with landscaping may seem daunting. If you're looking for creative low-maintenance ideas that don't sacrifice style, why not arrange a floral garden? Succulents are an excellent choice and come in all shapes, sizes, and colors.
With strategic placement and basic maintenance – such as watering and weeding – these hardy plants will thrive. Place them in warm sunny spots or even arrange them on walls to create neat patterns! Ultimately, selecting the right plants for your outdoor area will ensure the space remains vibrant with ease.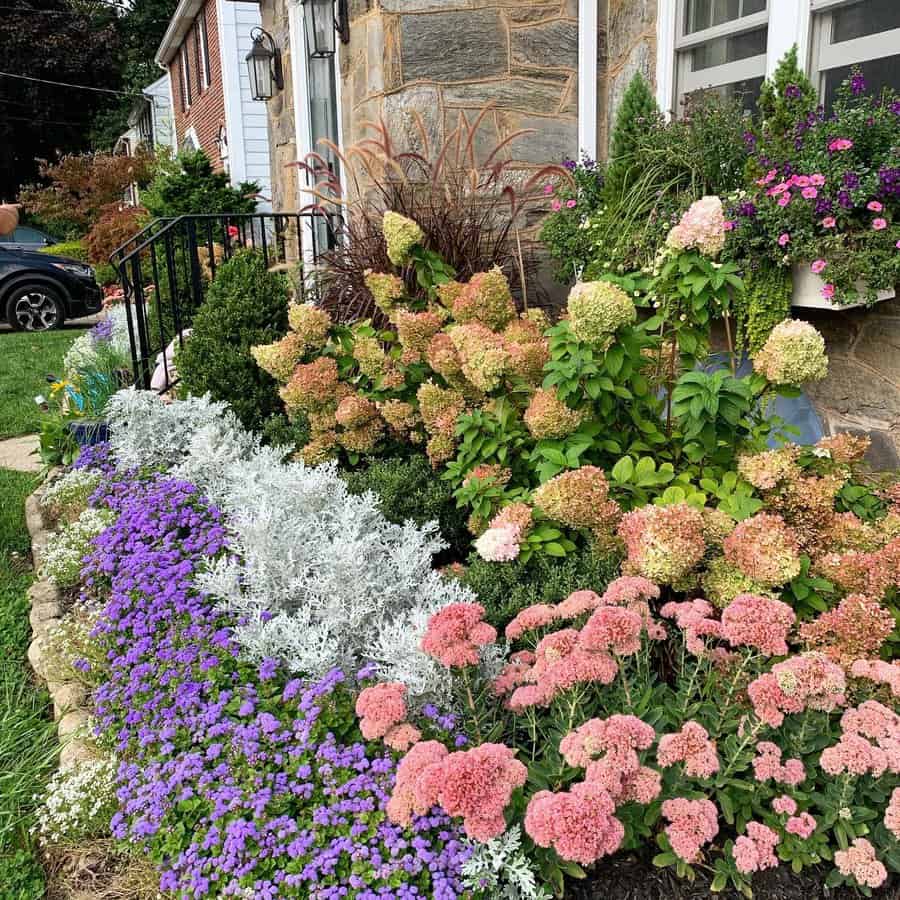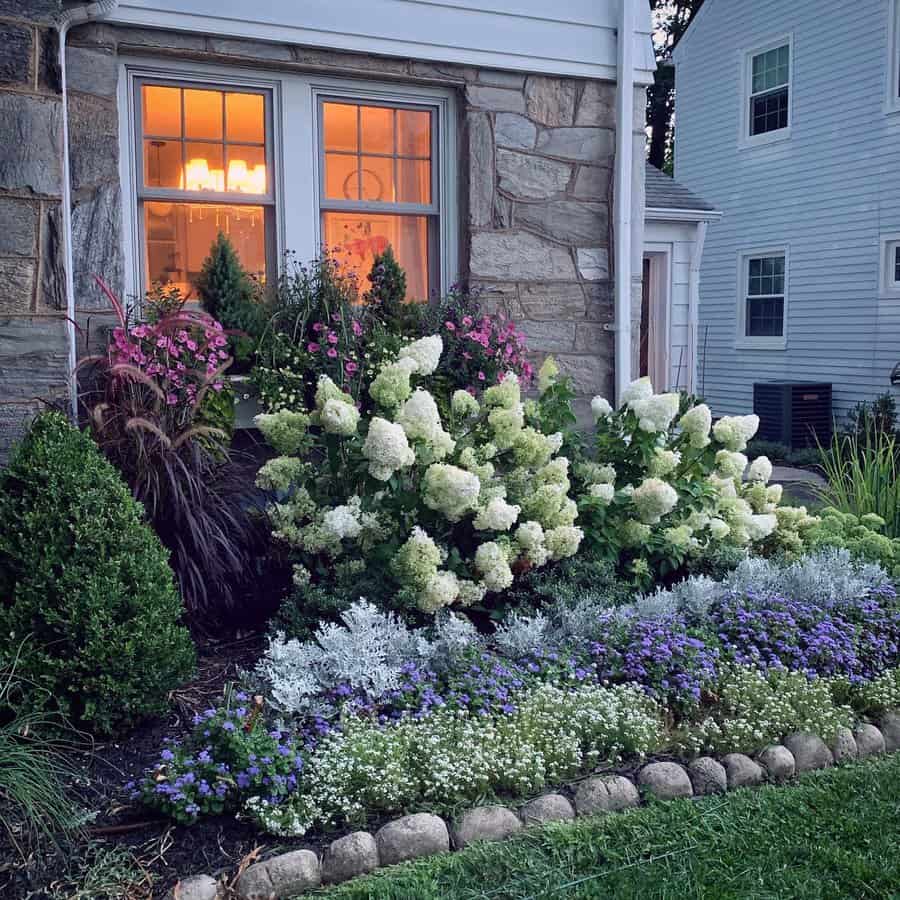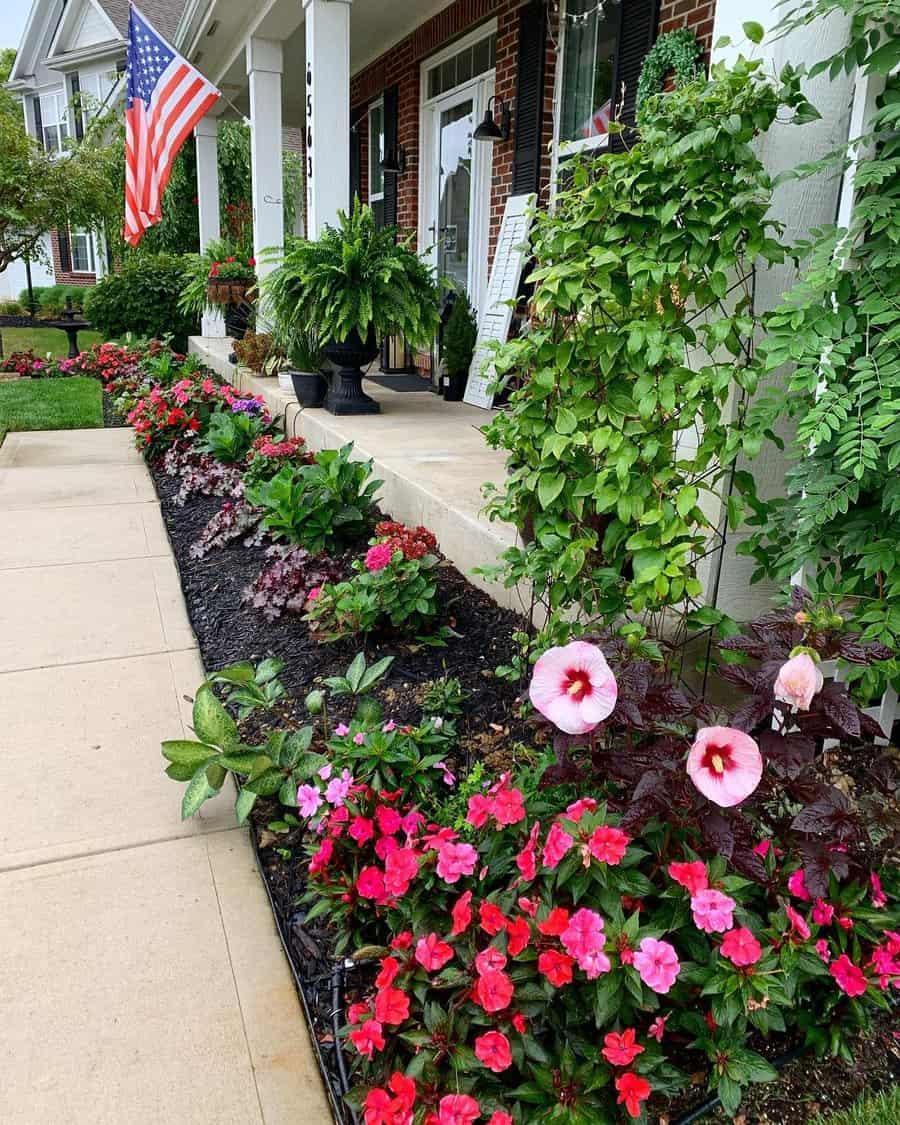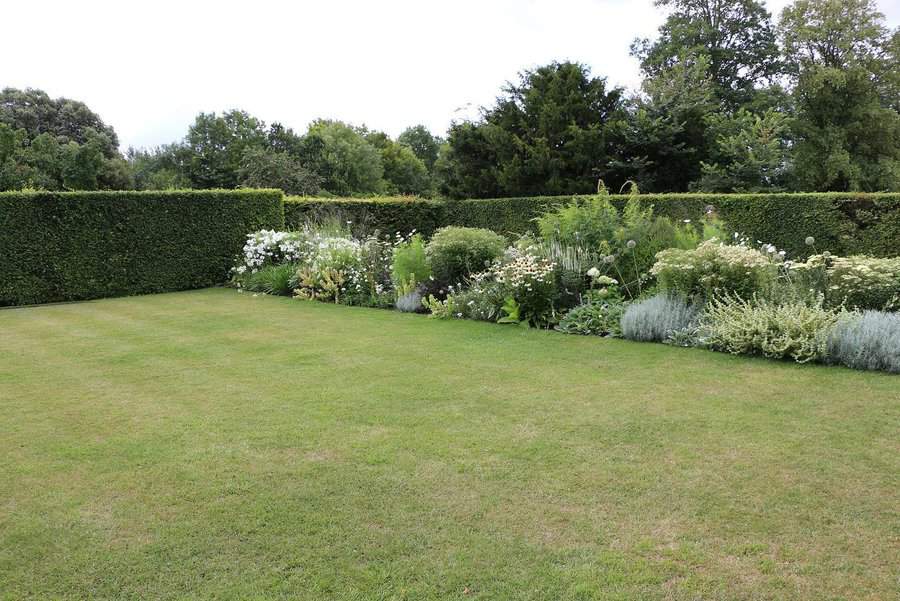 13. Designate The Landscape Area With Bricks
If you're looking for low-maintenance landscaping ideas, designate a section of your yard to serve as your landscape area. Designate the space by using bricks or rocks that can double up as a creative border. This designated section focuses on drought-tolerant plants and grasses, opting for non-invasive varieties to minimize the need for maintenance and pruning.
Planting native wildflowers, clovers and other ground covers is a great way to promote easy gardening. Structures like arbors or trellises can add an aesthetically pleasing feel to any landscape area with minimal upkeep thanks to their timeless beauty and durability.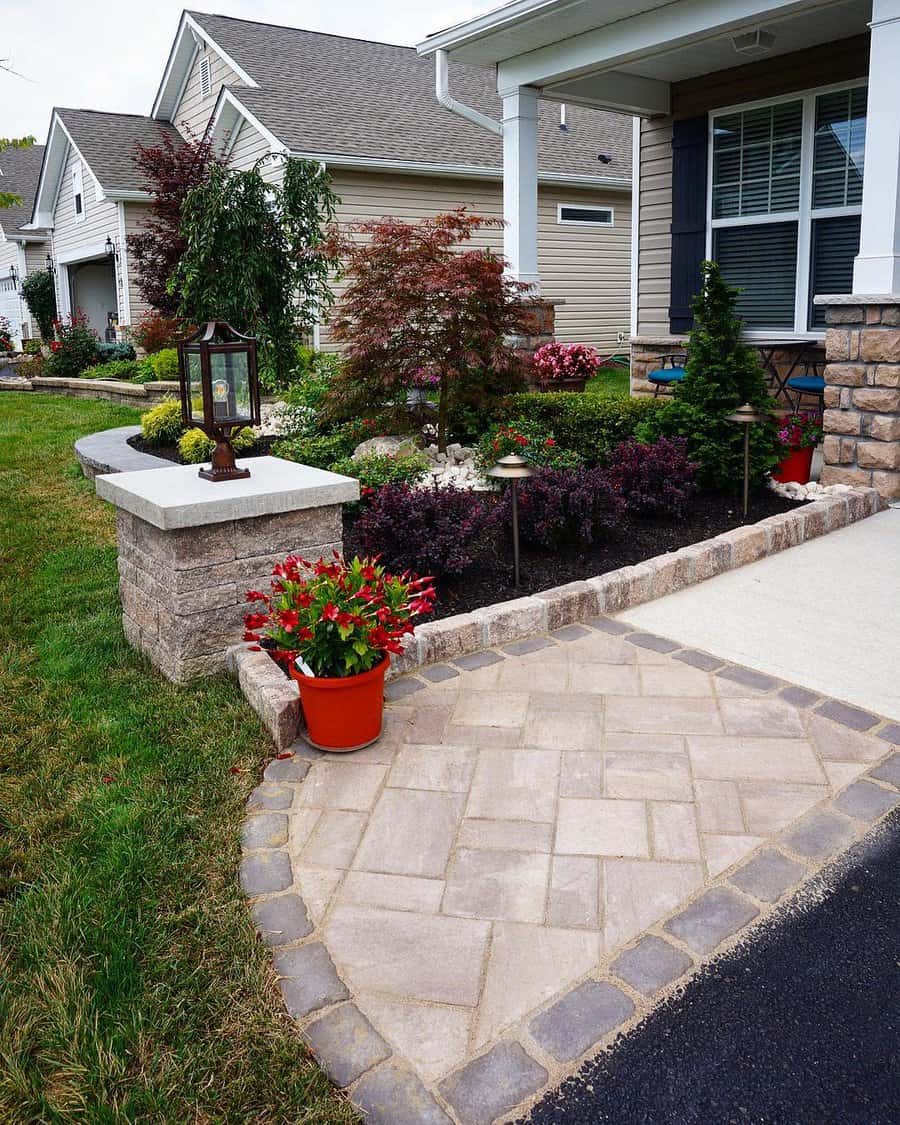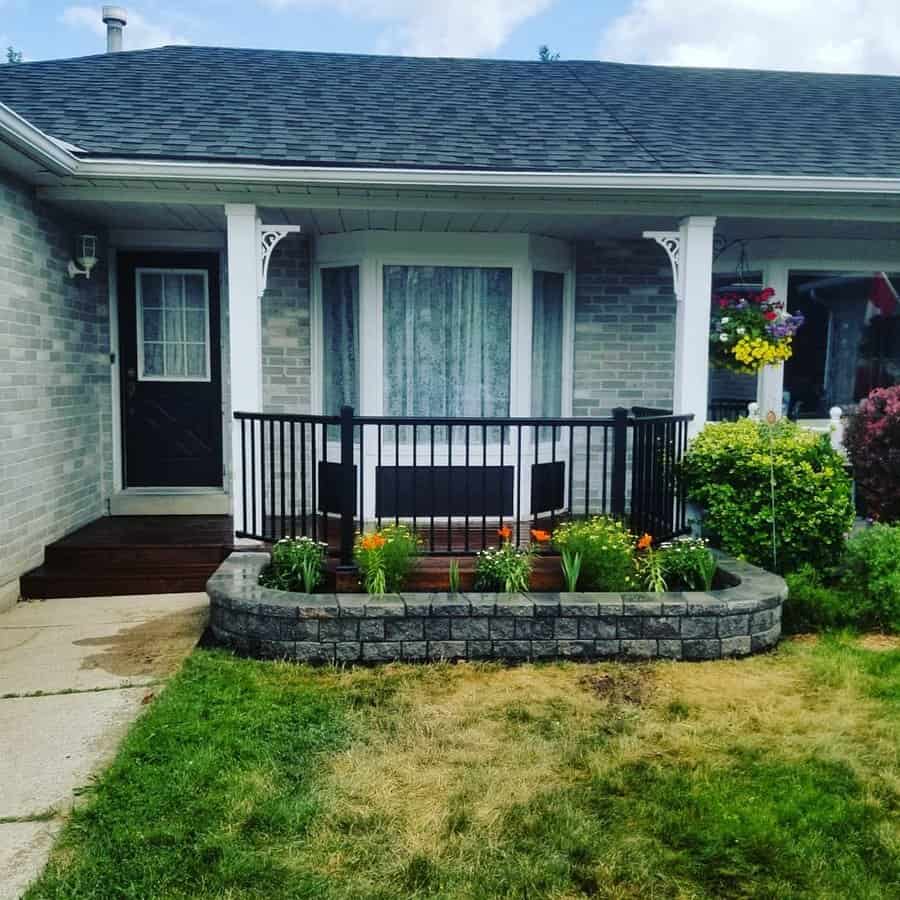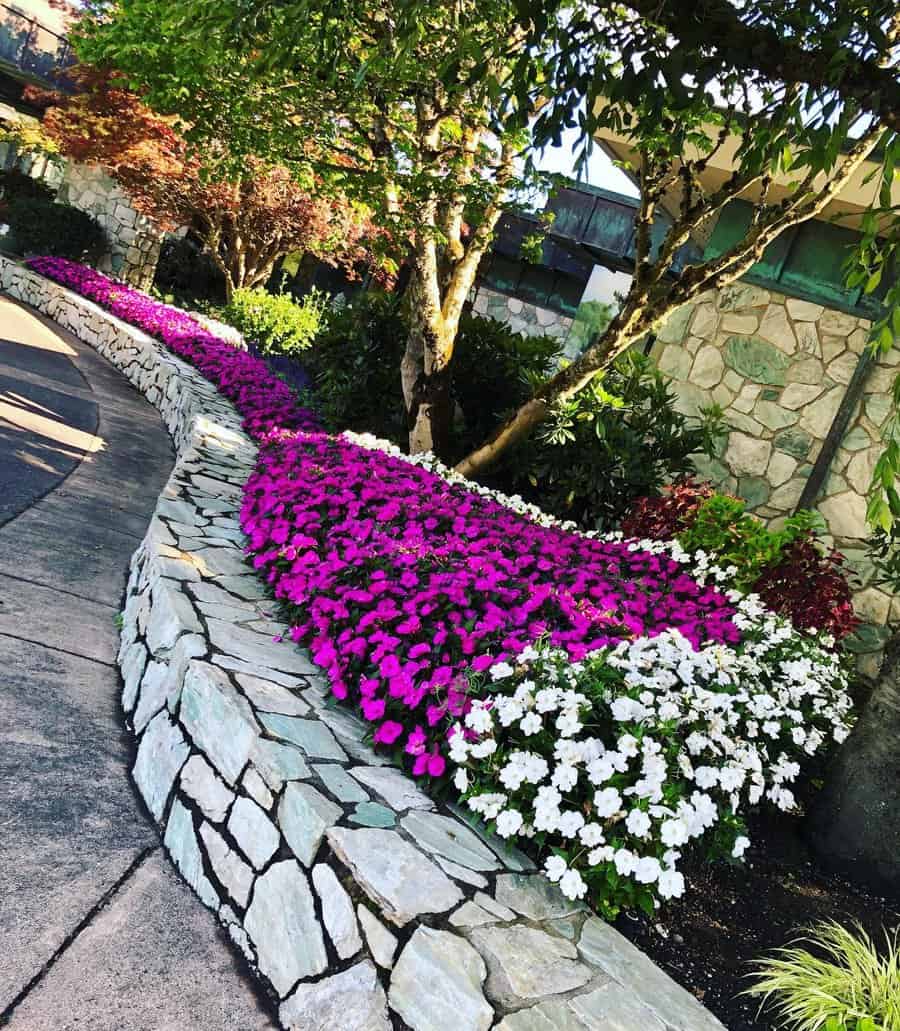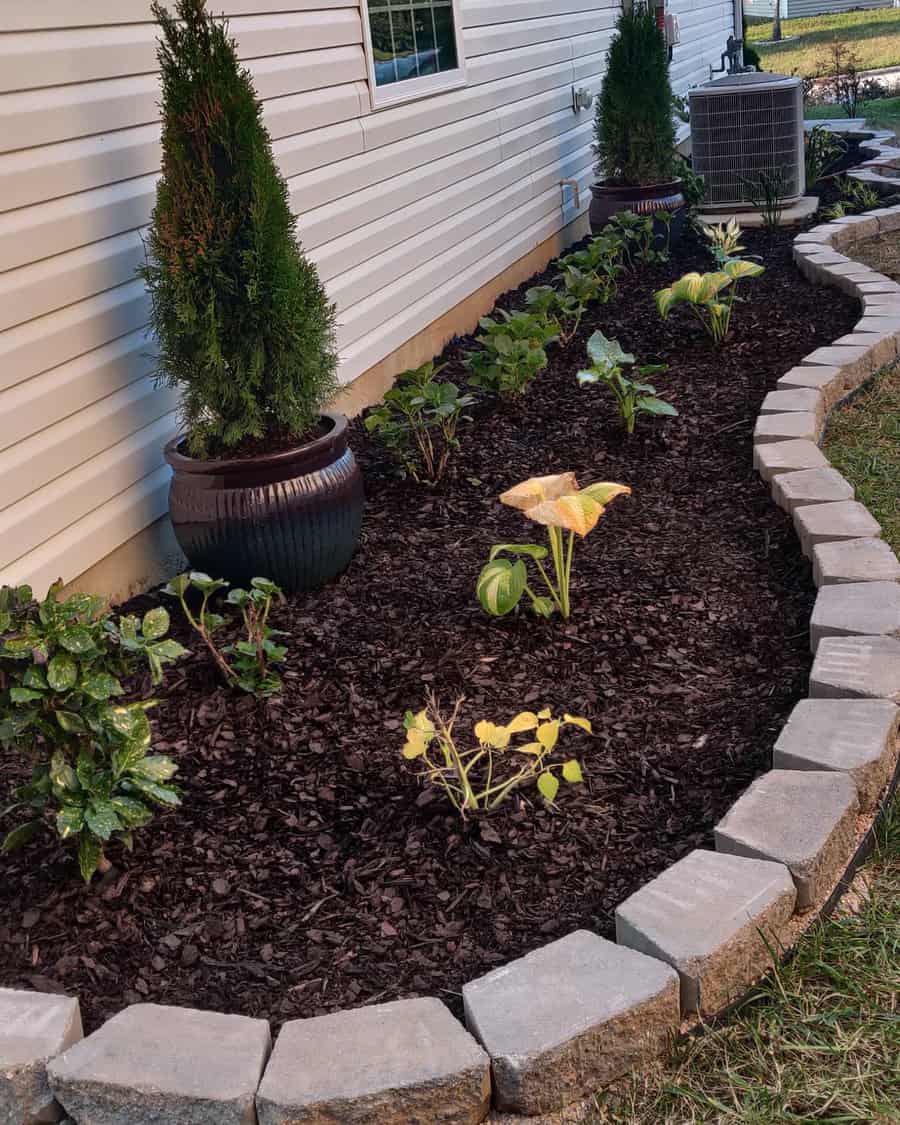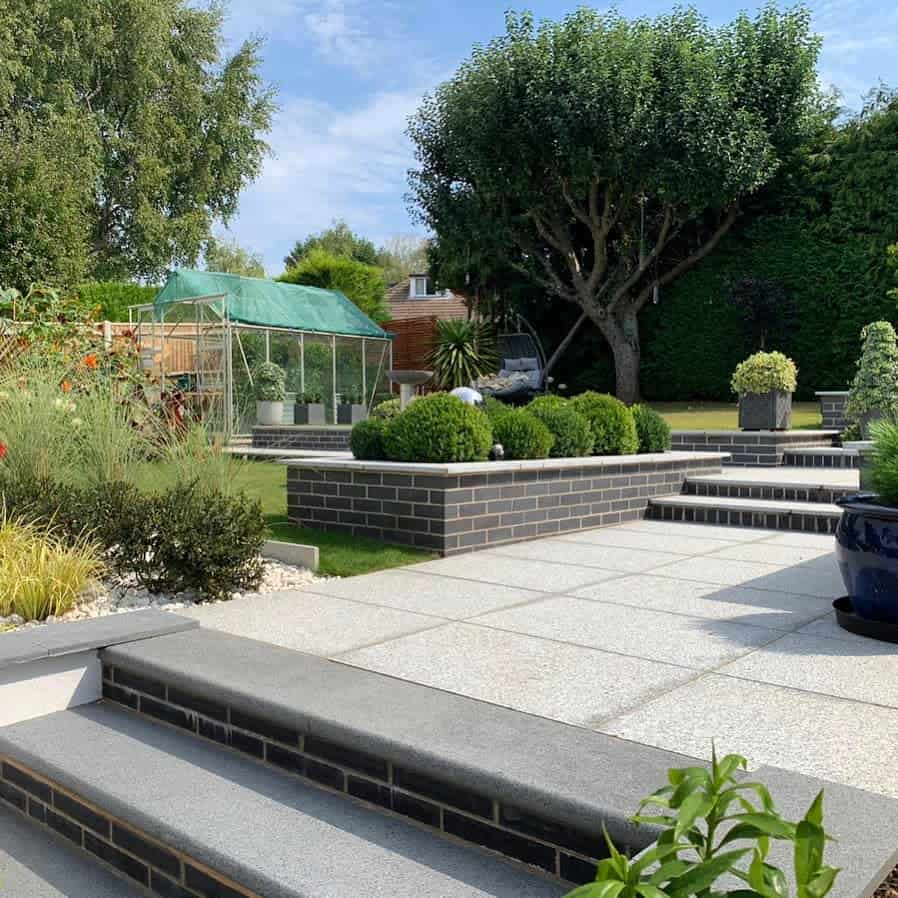 14. Mix & Match Landscaping Materials
For low-maintenance landscaping ideas that are sure to make your outdoor area stand out, mix and match landscaping materials. Consider using pebbles to line the driveway, pavers alongside a path or rocks and gravel sprinkled across the border of a flower bed.
By combining different elements, you can create an eye-catching design that requires minimal upkeep and maintenance. Keep things low-key but interesting by playing with accent colors or finding interesting variations in the shapes of pavers–have fun and let your creative side shine!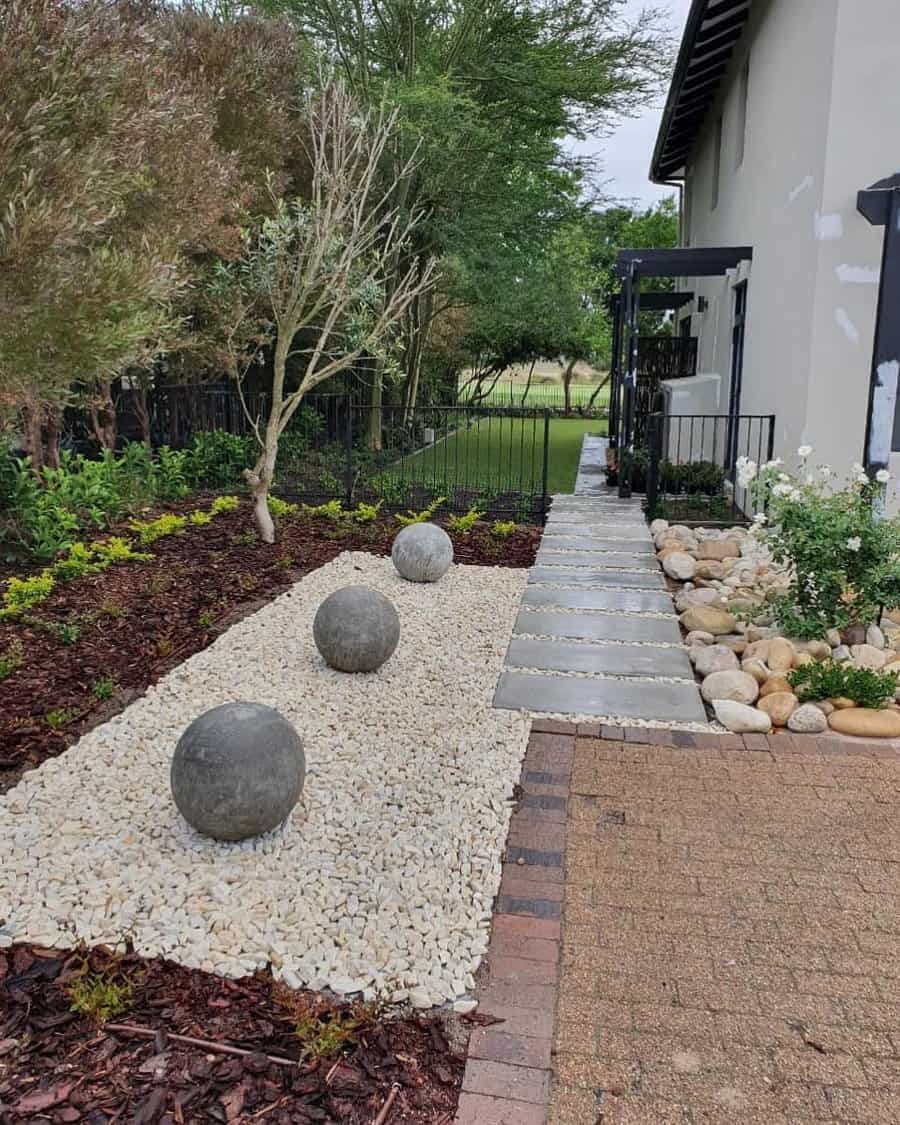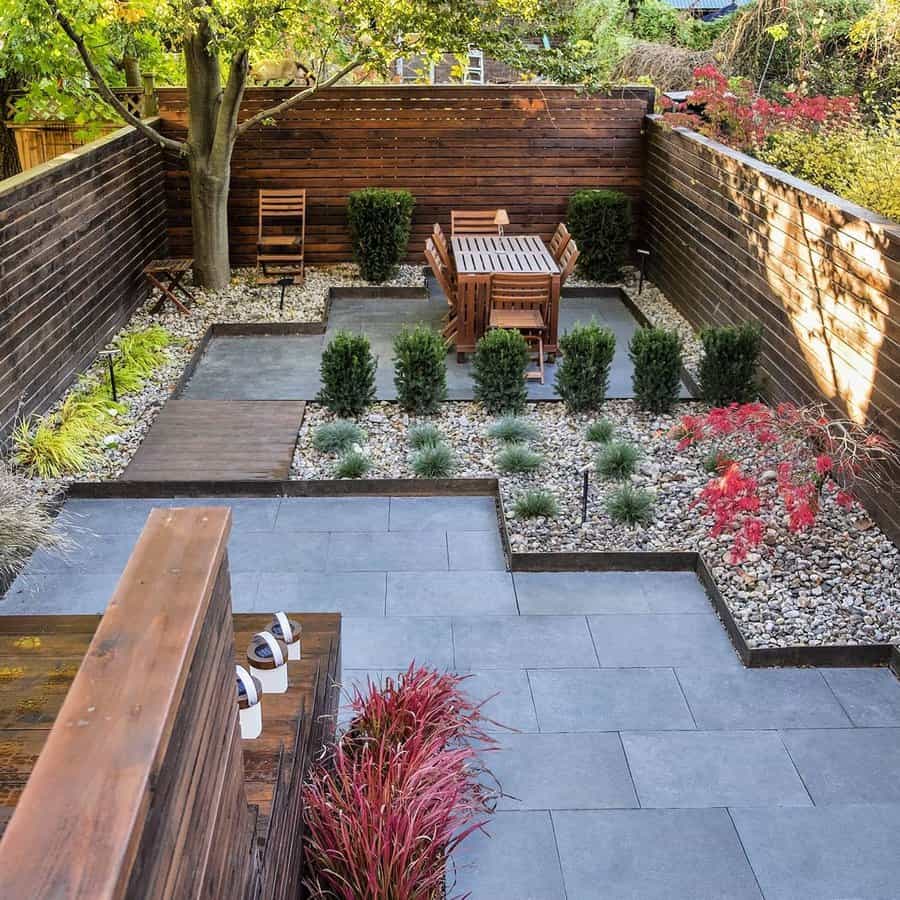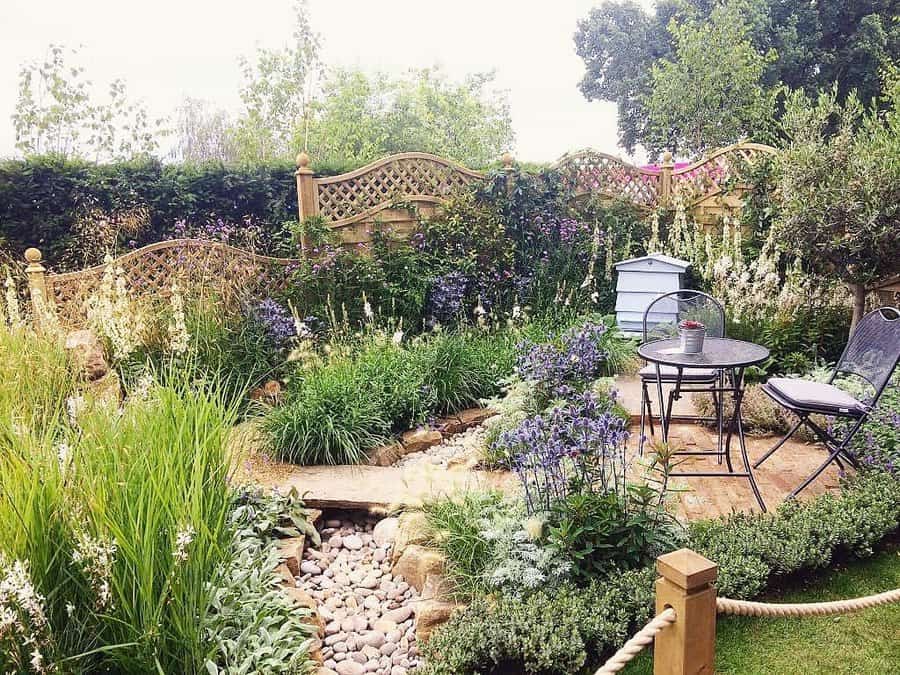 15. Craft Landscaped Islands
If you're looking to minimize your landscaping maintenance while maximizing the impact of your landscaped yard, consider landscaped yard islands and a yard centerpiece to draw the eye.
Incorporate pebbles and gravel in place of grass for easier upkeep, as well as low-maintenance plants like succulents or cacti – just ensure there is plenty of natural light available for these plants to thrive.
The result is a landscaped yard with minimal efforts required to maintain it, one that looks beautiful no matter the season.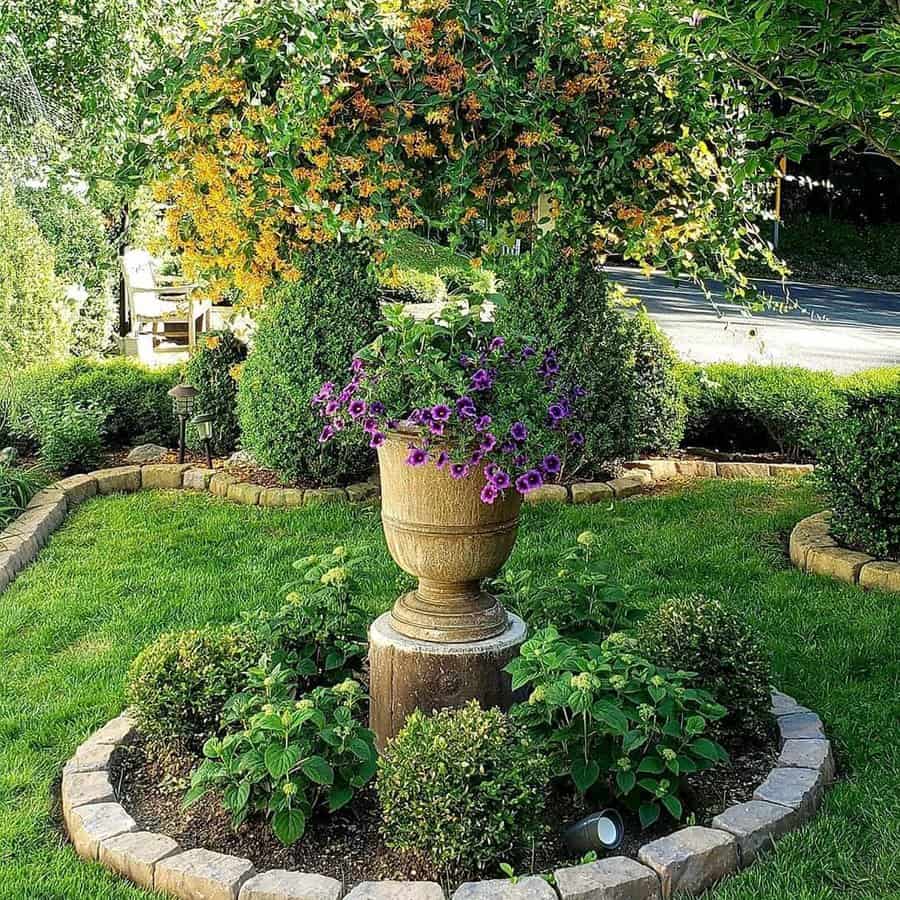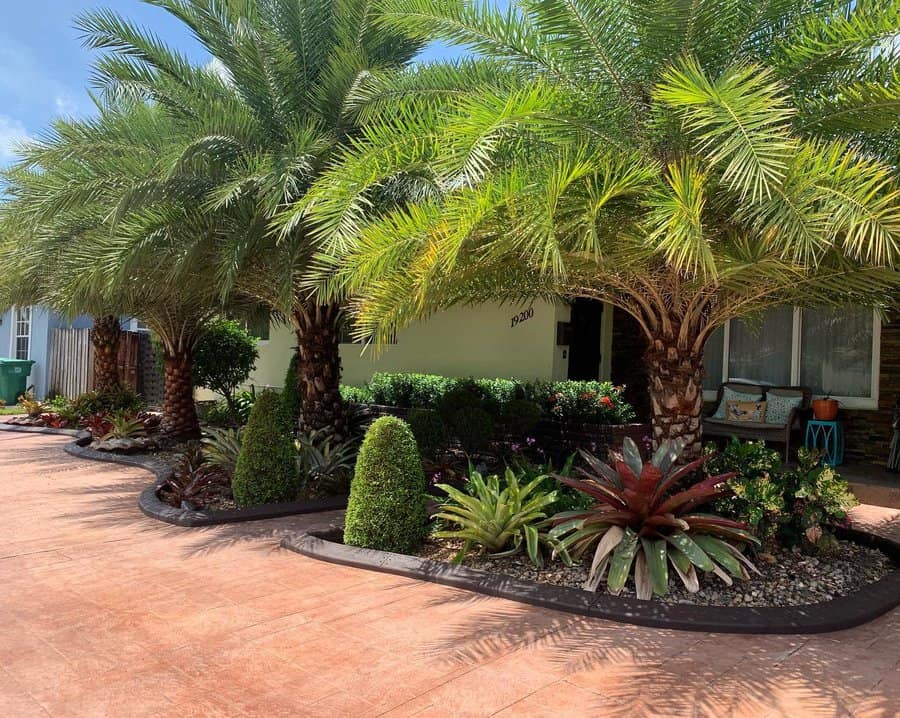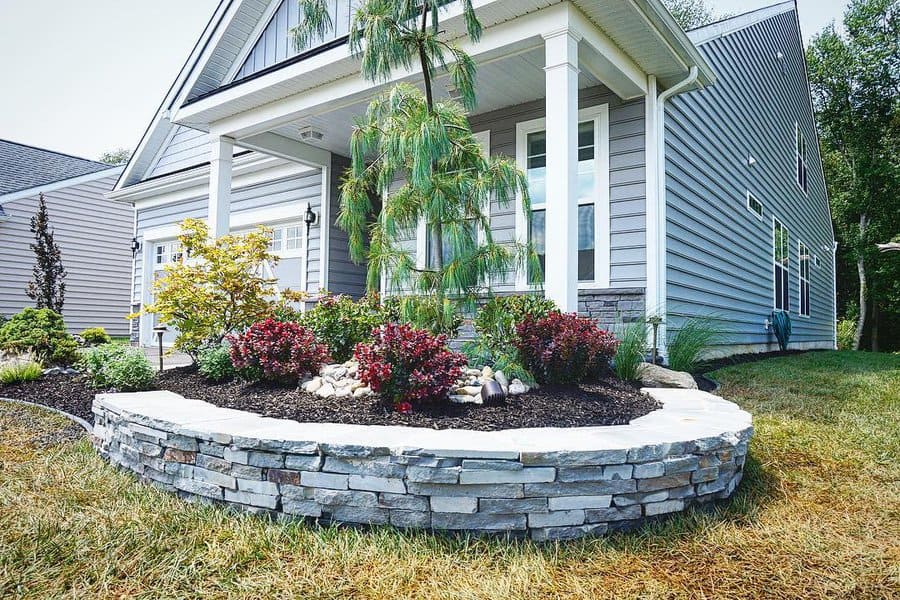 16. Bushes & Pebbles For A Minimal Look
Low-maintenance landscaping ideas can be as simple and cost-effective as utilizing bushes and pebbles for an attractive outdoor area. Planting bushes and shrubs is a great way to set the tone of your outdoor space without requiring a lot of upkeep.
Ample bushes can provide a high degree of privacy from neighbors, so you can relax in serenity outdoors or enjoy private gatherings. Keeping bushes well-trimmed is also easy and will help to maintain the neatness of your yard.
For additional design ideas, consider adding pebbles around bushes or walkways to provide an eye-catching contrast. These two elements come together to form a classic yet modern style while freeing up extra time to spend enjoying your outdoor living experience – all thanks to low-maintenance landscaping!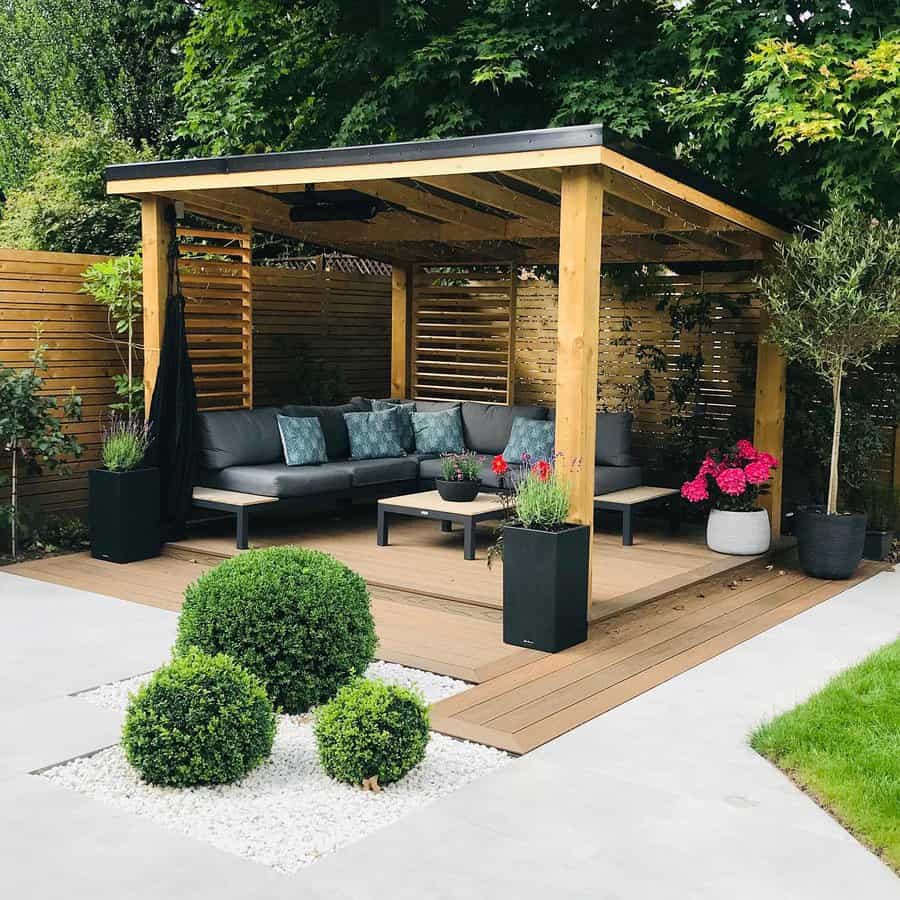 17. Piece Up A Rock Garden
If you're looking for landscaping ideas that are low-maintenance, rock gardens can be an excellent choice. Creating a rock garden is relatively simple and requires minimal fuss to keep it looking its best. You can add pebbles between the big rocks for texture, or use freeform stone pavers for a more creative flair.
A rock garden is one of the most peculiar yet attractive landscaping ideas around – perfect for those who don't have the time requirement of a more involved garden project.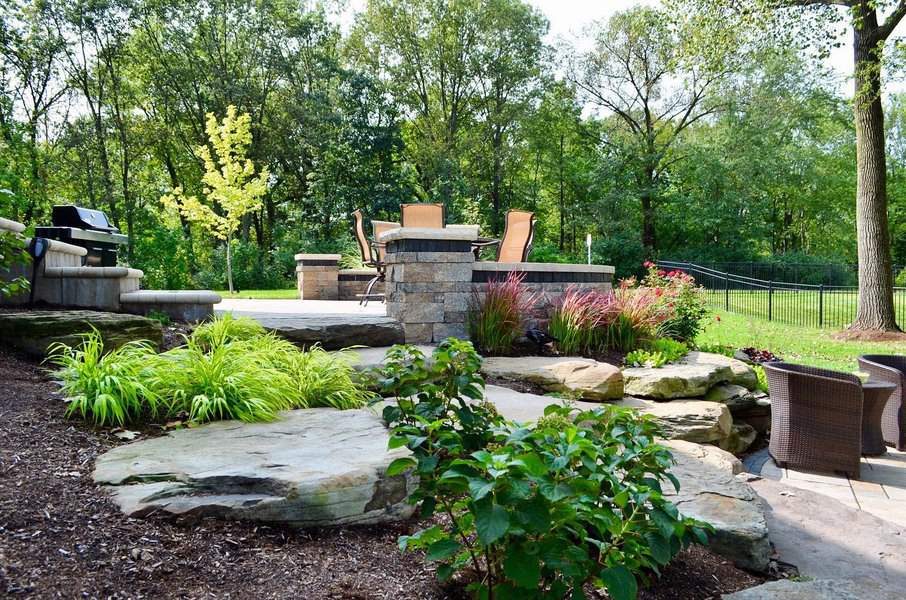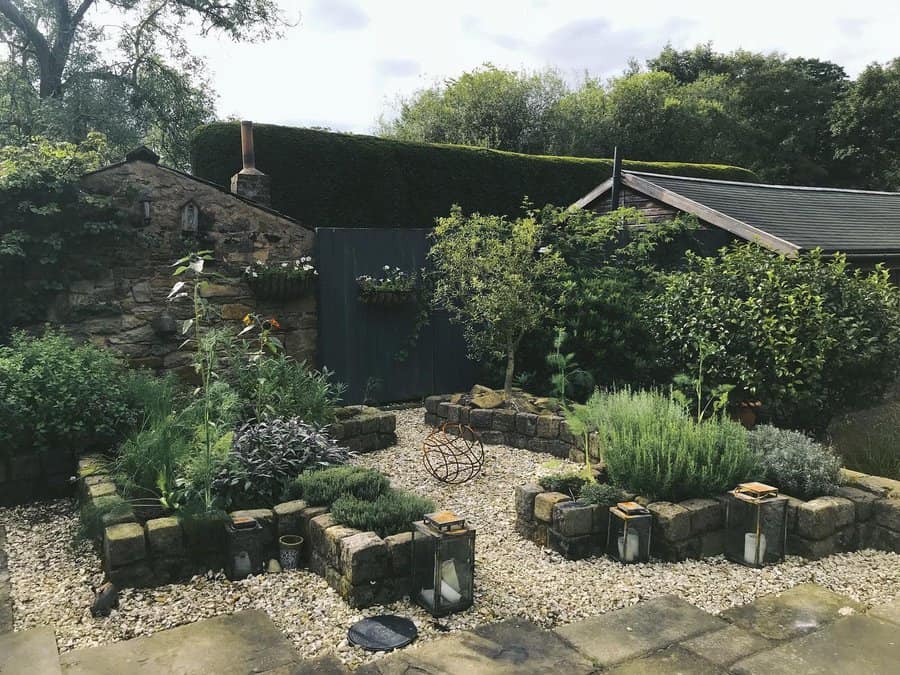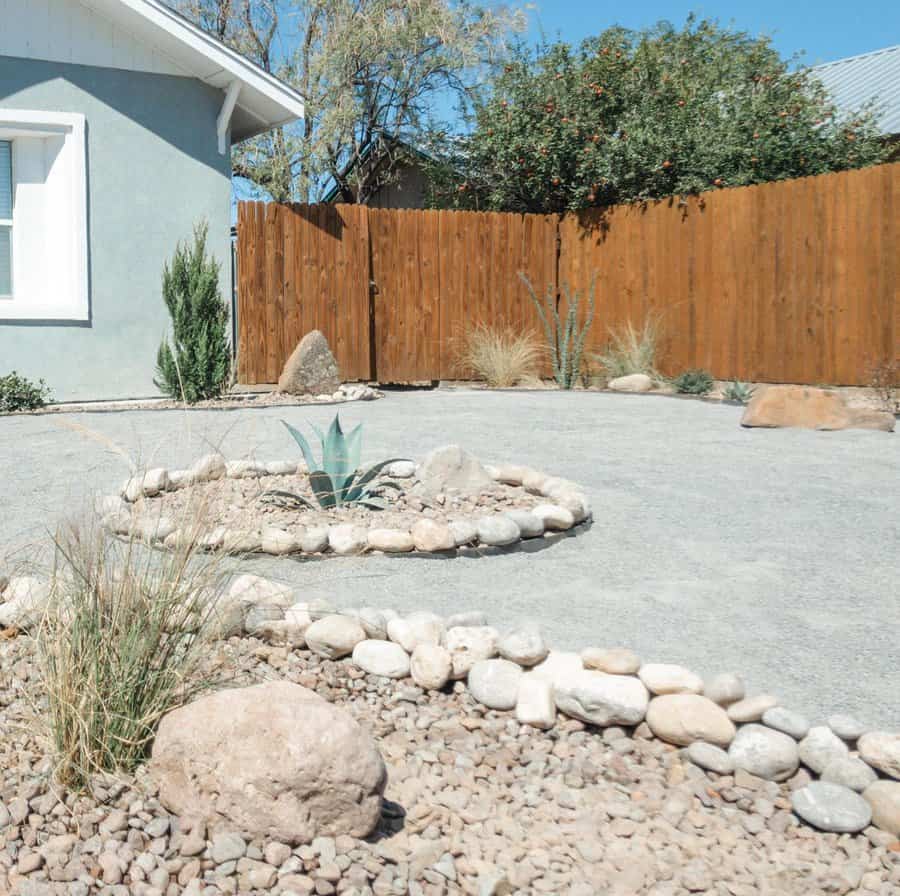 18. Just Add Grass
Have you been wanting to spruce up your yard but just don't have the energy for all the upkeep? Look no further – just add grass! Simple landscaping is an easy and stress-free way to improve the look of your outdoor space.
Start by tillering the soil, then laying down grass seed. Once that task has been completed, just water and wait. Innovative techniques like using outdoor lighting and unique plants can also be used to create an appealing low-maintenance landscape that requires minimal upkeep.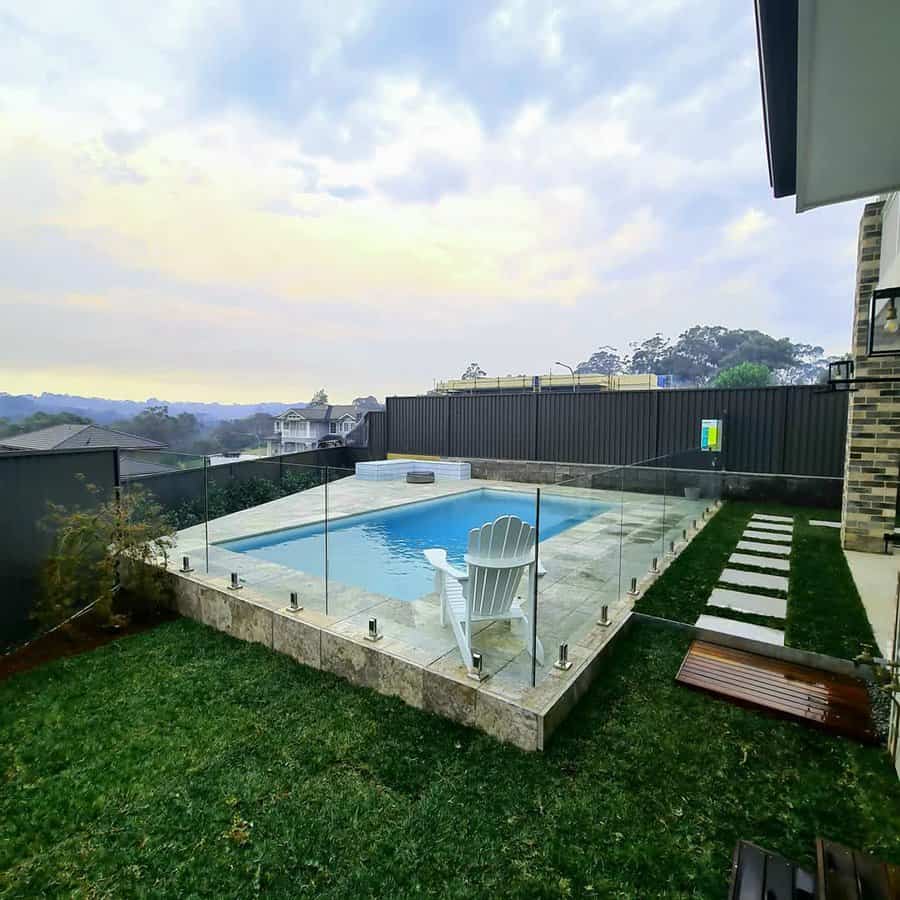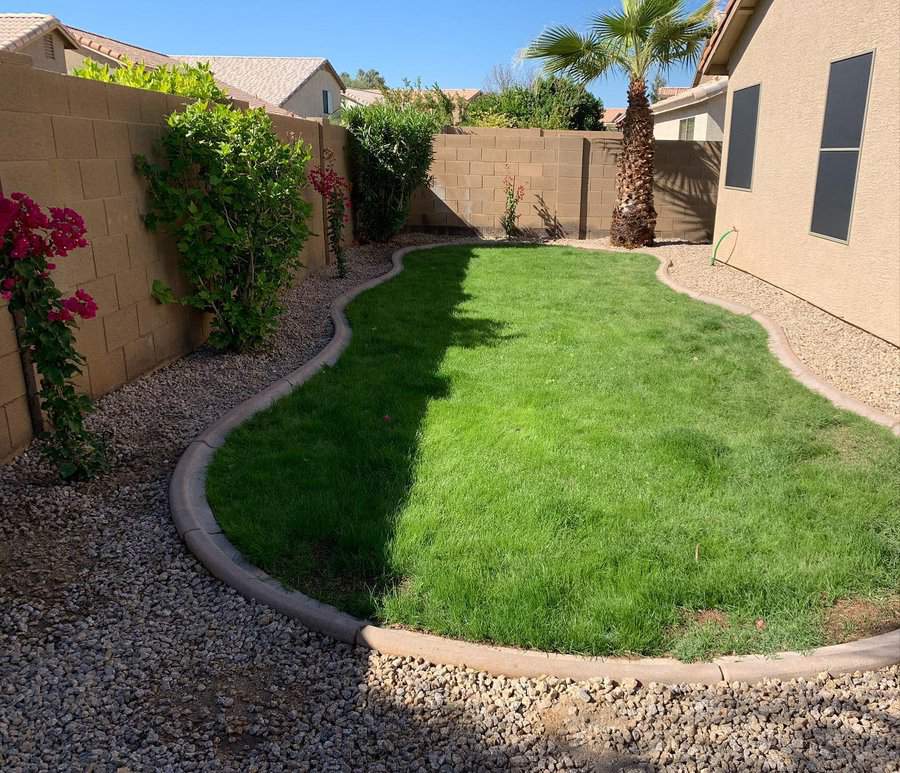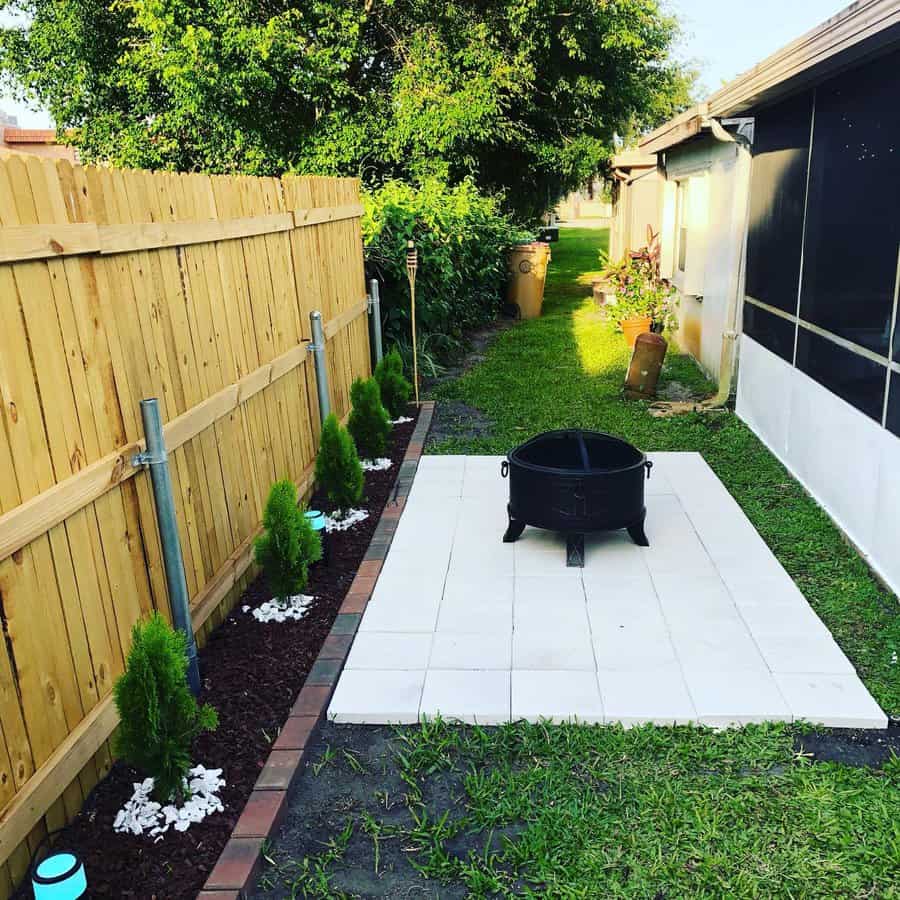 19. Experiment With Dimension & Layering
Experiment with dimension and layering to create the illusion of a well-crafted yard with minimal effort. Pebbles and hardy plants that require little in terms of regular maintenance are popular DIY choices for this.
Rely on resilient materials like rock, stone pathways, wooden structures, and hearty perennials to create an eco-friendly and aesthetically pleasing outdoor space that demands little of your time or resources.
With some savvy experimentation and creative thinking, you can maintain a visually stunning outdoor space without taking on daunting labor.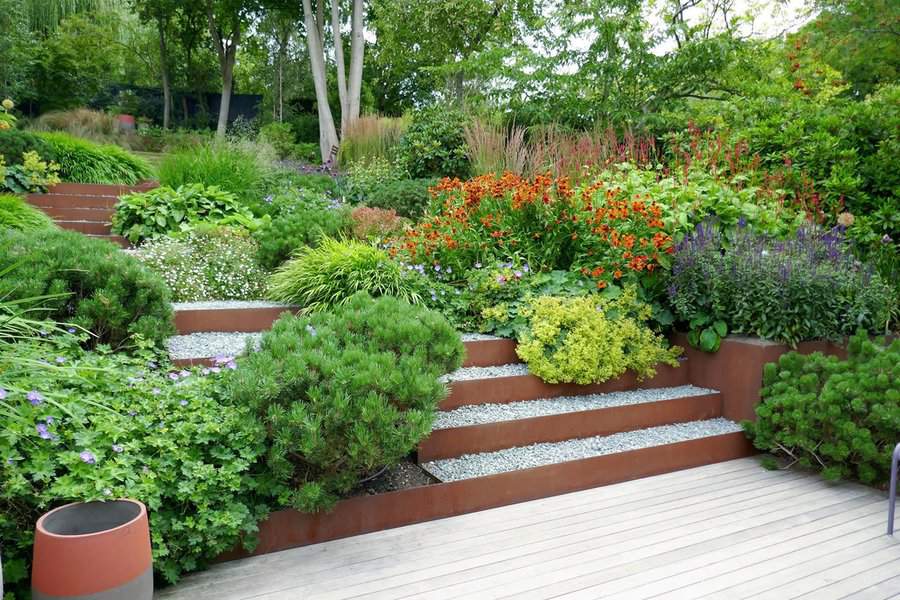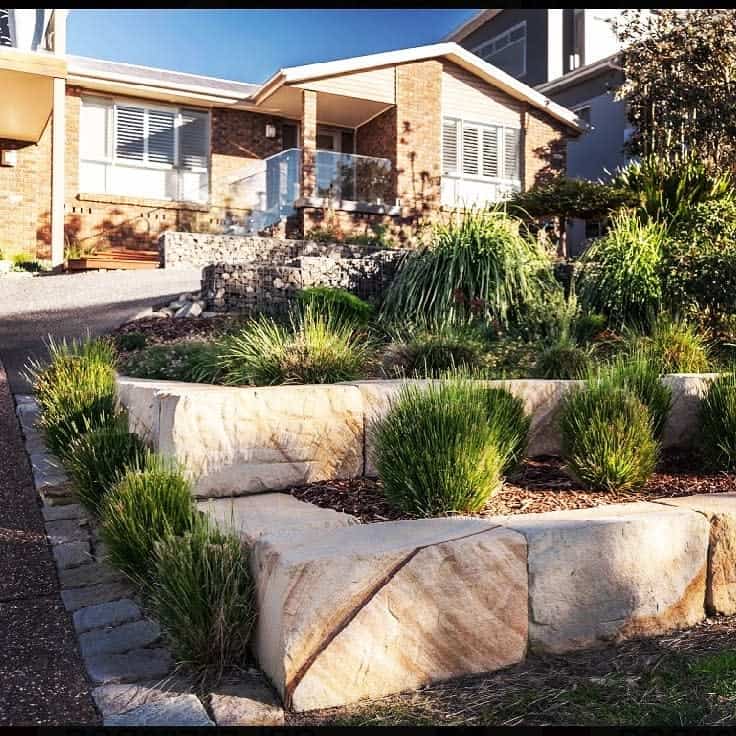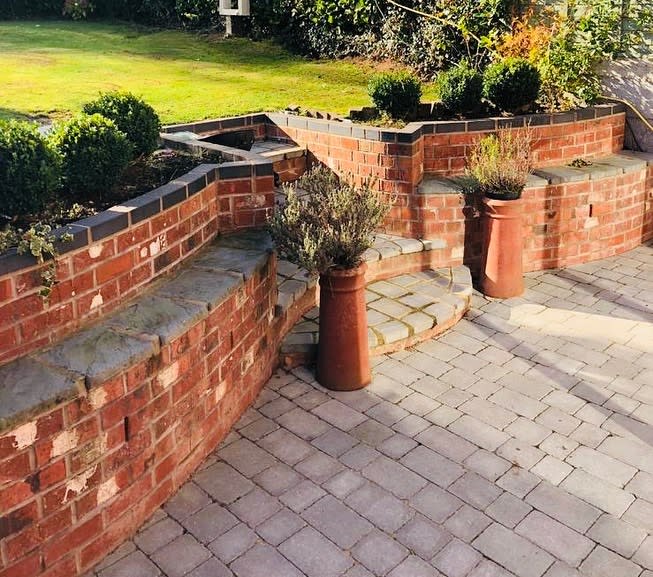 Low Maintenance Landscaping FAQs
What are the seven principles of xeriscaping?
Xeriscaping is a type of low maintenance landscaping that requires little or no irrigation. Its seven principles are:
Intentional planning/design

Turf or lawn limitation

Drought tolerant plants

Effective irrigation

Soil amendments

Mulching 

Proper maintenance
What can I use instead of grass in my backyard?
If you don't want grass, but still desire a green backyard, plant an herb garden or a ground cover such as ivy or creeping thyme. Artificial grass may also be an option. Plant-free low maintenance lawn replacements include a large deck or patio, or an expanse of rubber mulch.