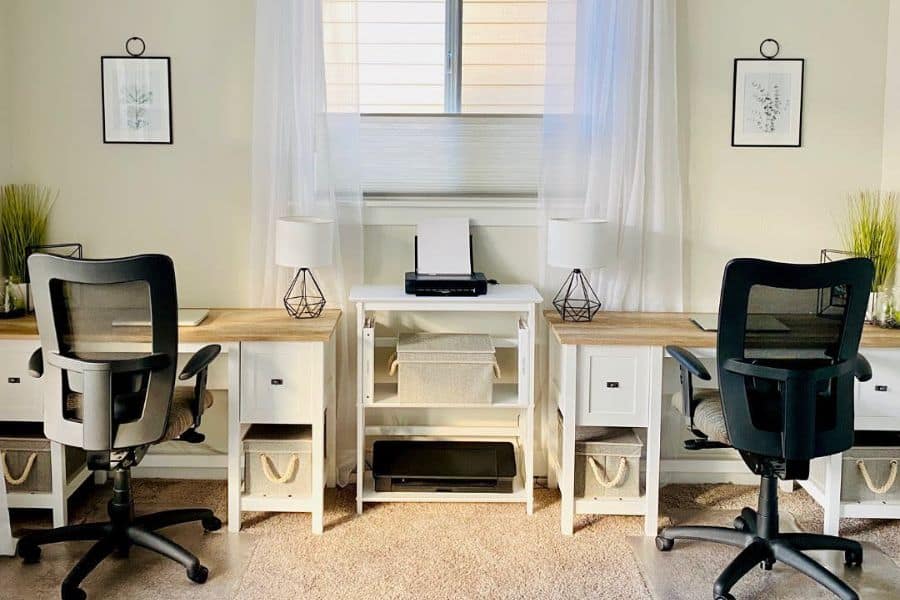 78 Home Office Organization Ideas to Boost Productivity
Few people would choose to spend their days in an office. But creating a home office that is neat and organized can at least soften the blow of long work hours and never-ending projects.
Better organization doesn't just help us look like we have our lives together. It can also have a direct impact on productivity and overall mood. These factors are especially important for those of us working from home.
Check out our favorite home office organization ideas below to get started. (Don't worry! You can adapt these ideas to suit your workplace office too.)
Read also: 83 Small Home Office Ideas
1. DIY
Outfitting a home office often means turning to DIY solutions. This is especially true when your office space needs to double as a regular living space, as well.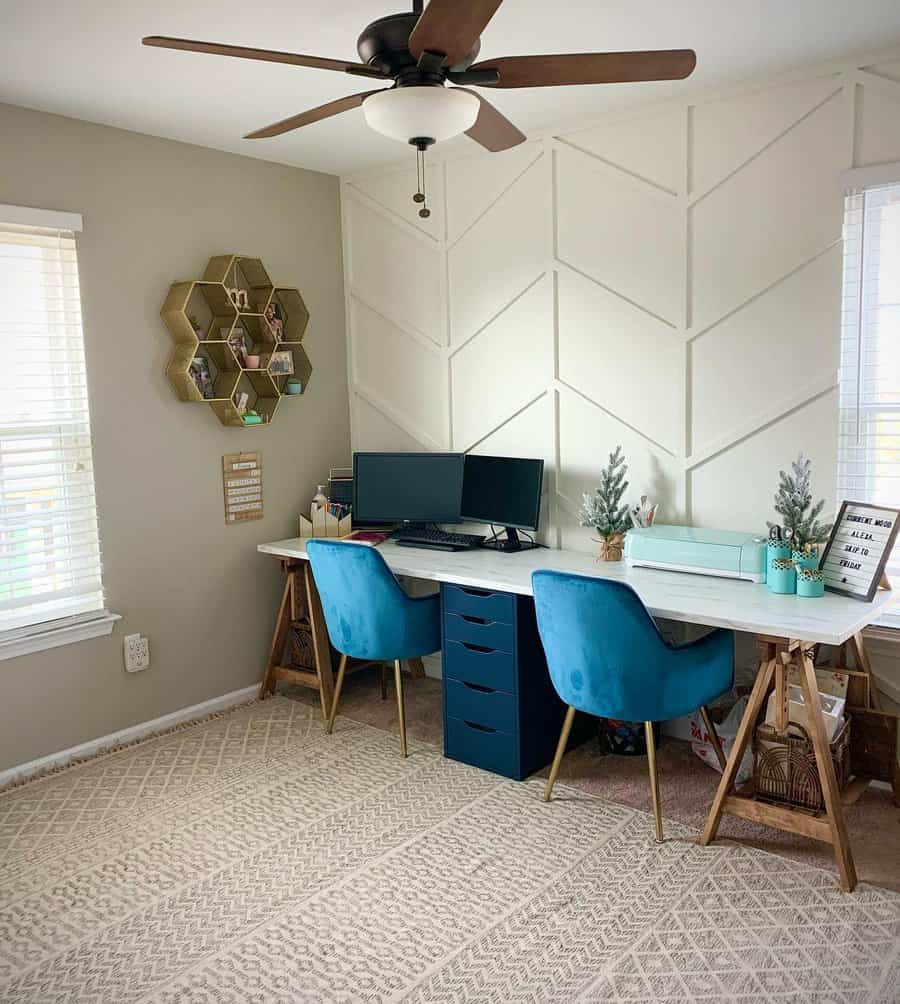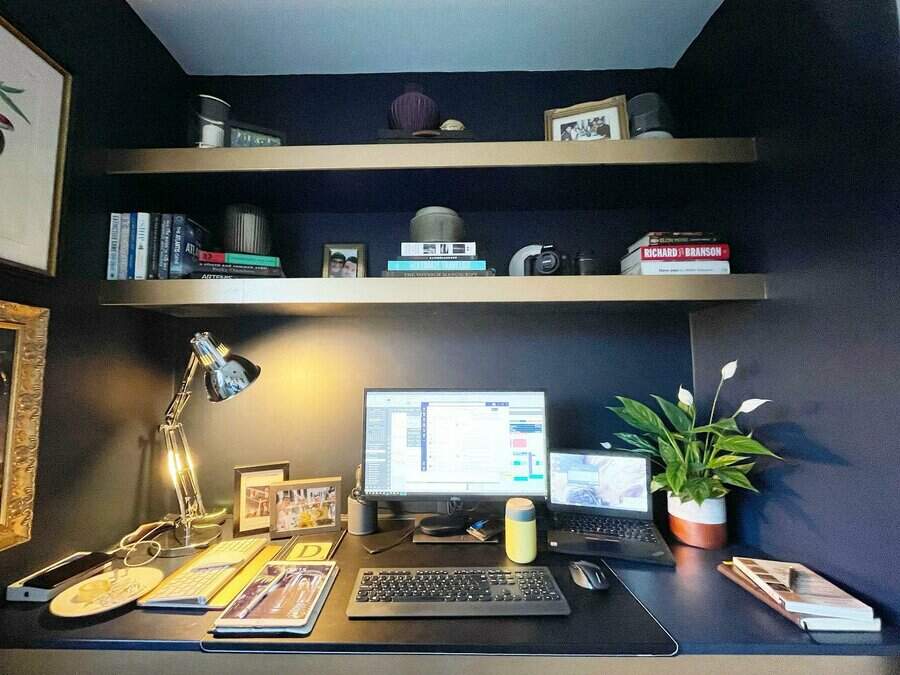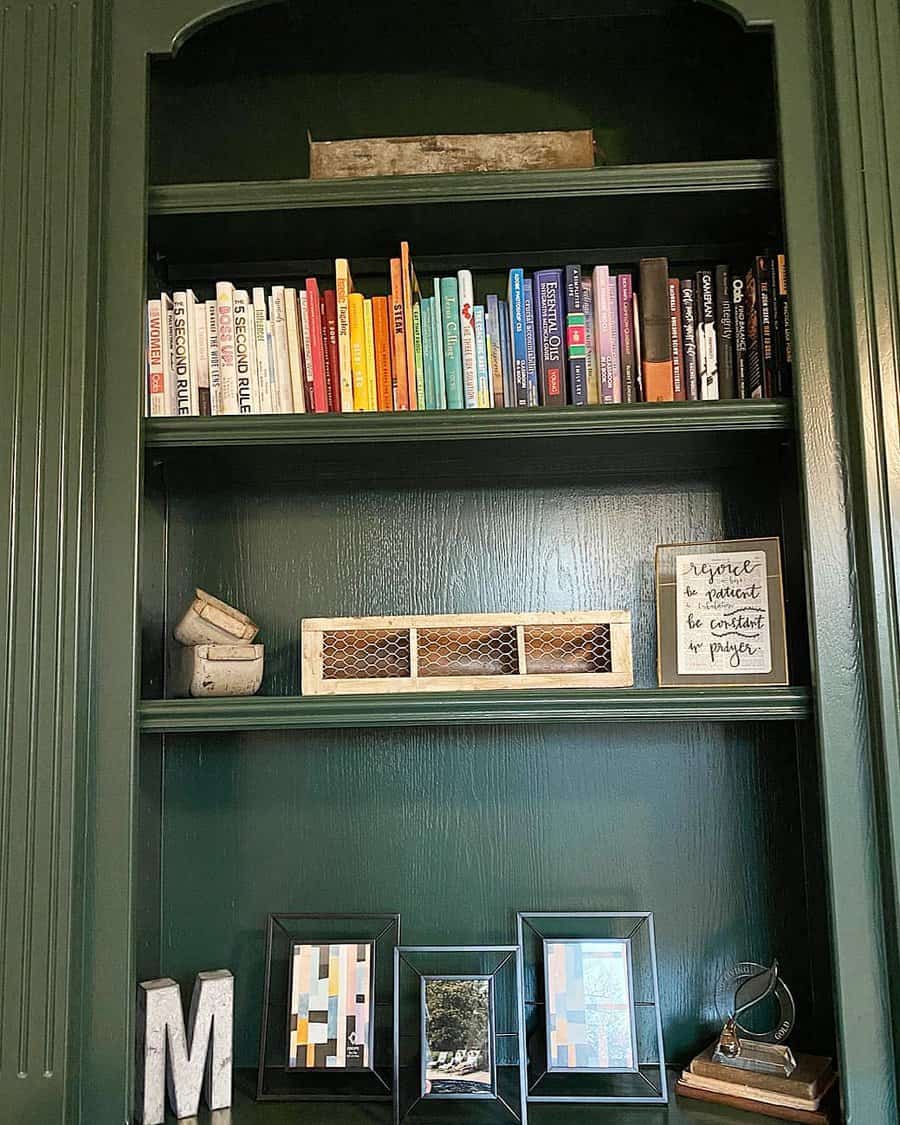 One excellent way to boost your home office organization is by DIYing a built-in desk. You can use budget cabinetry from your local home improvement store or even repurpose old cabinets from your kitchen or bathroom.
Installing a desk with floor-to-ceiling cabinets isn't the only way to DIY a great office organization solution. A DIY idea as simple as placing a sturdy board on a set of filing cabinets is both affordable and offers as much (or even more) storage than your average office desk.
2. Desk
Whether your days are spent in a public workspace or a home office, there's a good chance you rarely leave your desk. And no amount of office storage will make up for poor desk organization.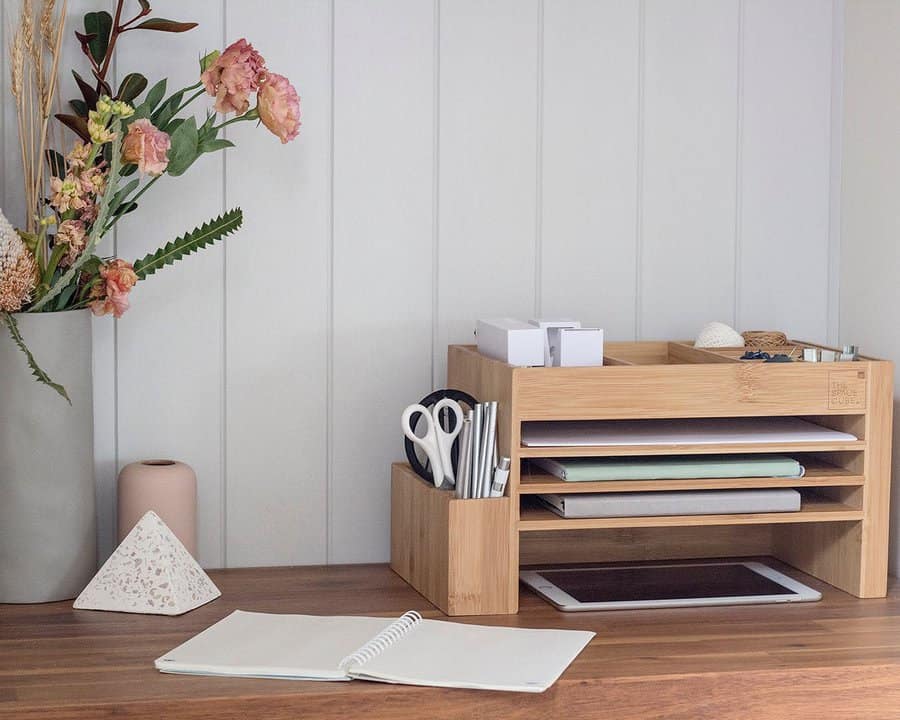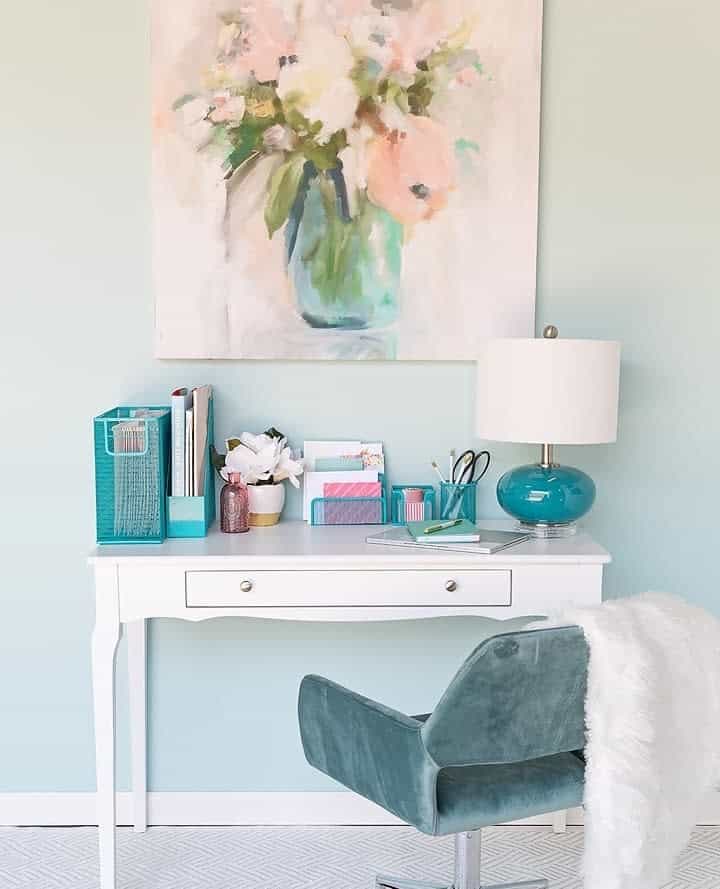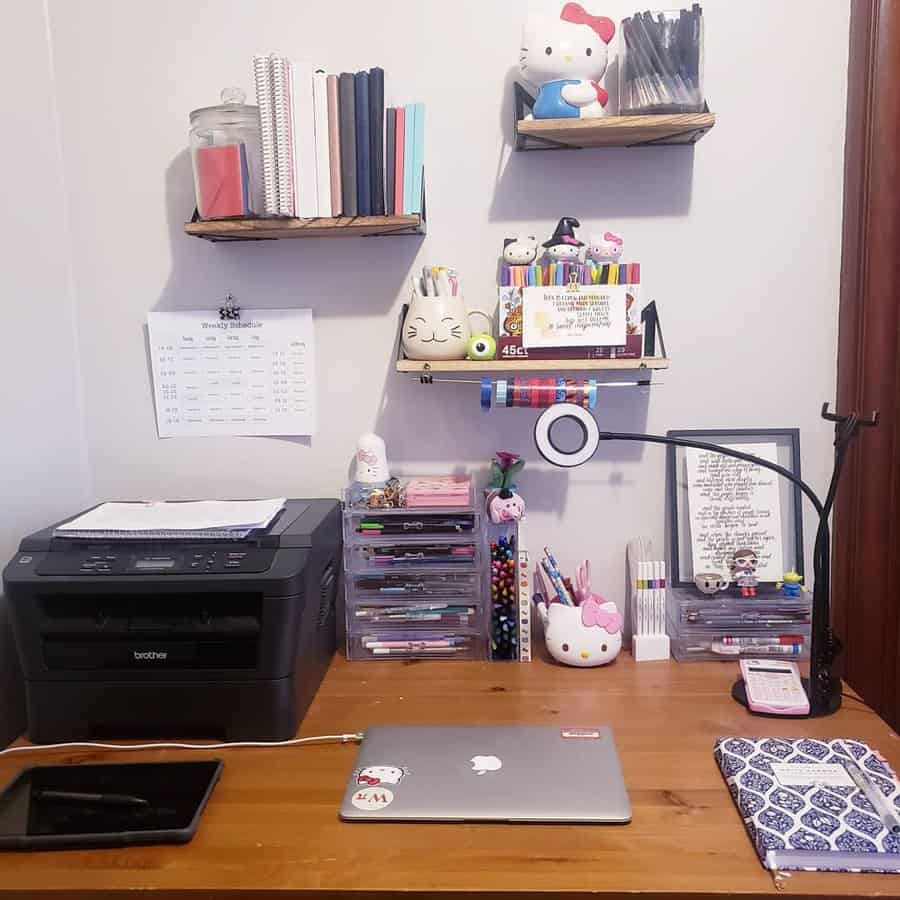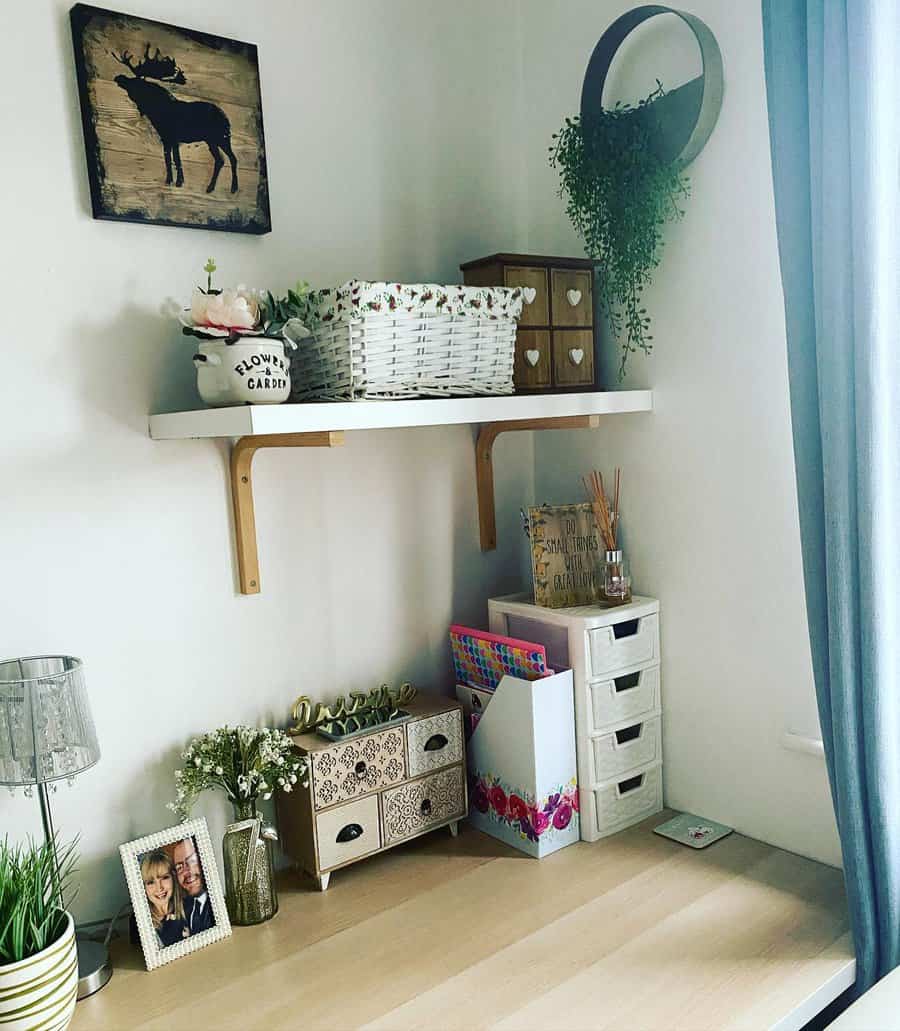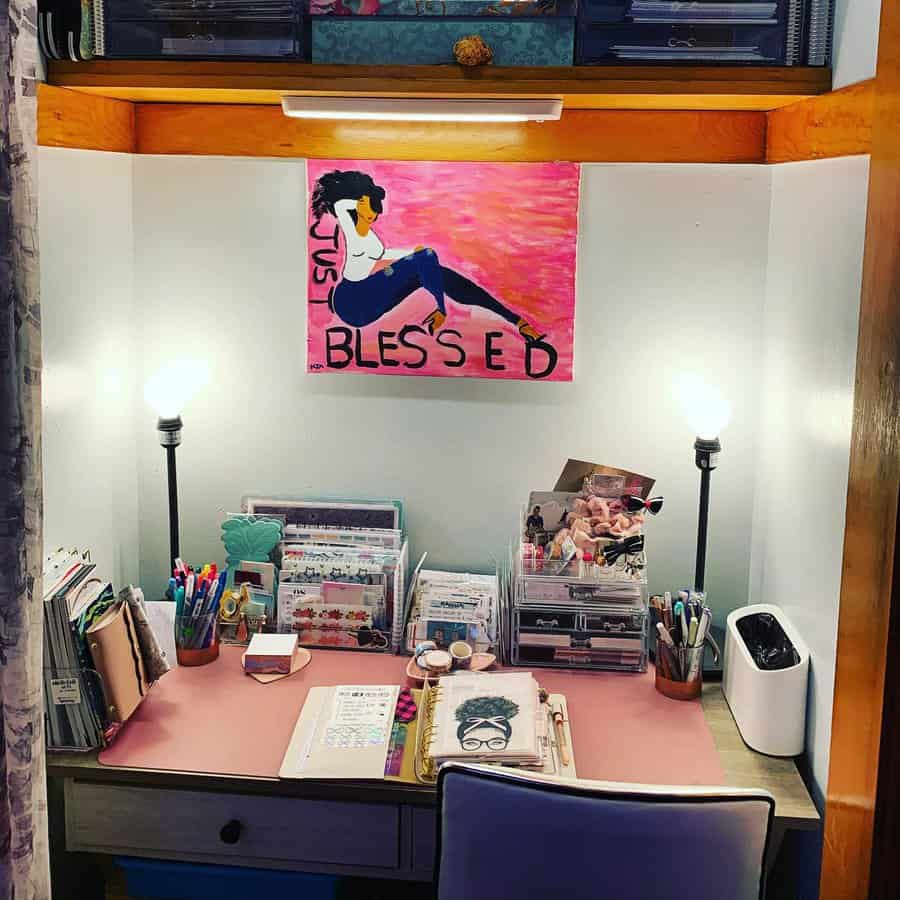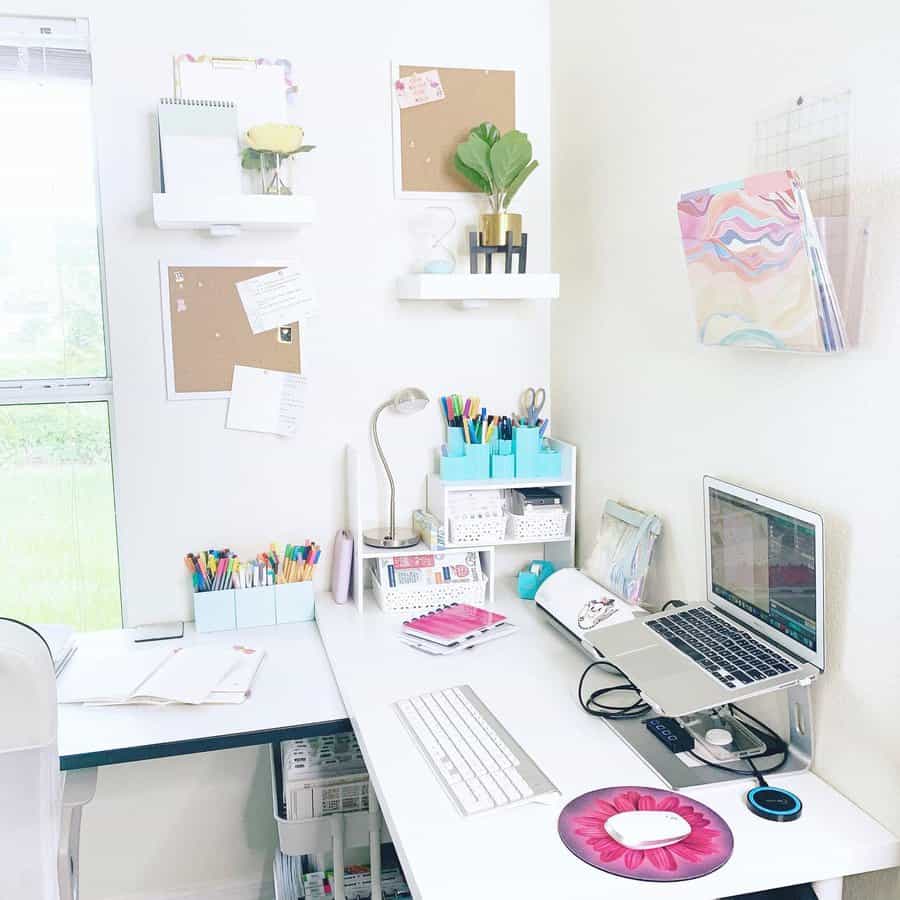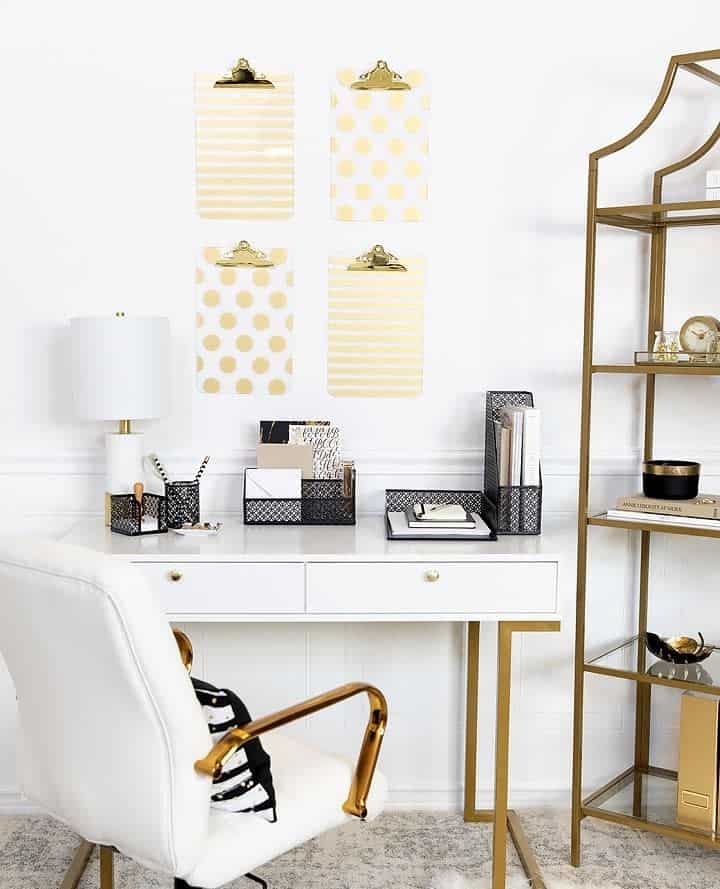 The greatest boon of quality desk organization is that your must-have office supplies are always within reach. A variety of desktop containers, drawers, and shelves will maximize the amount of storage at your disposal.
While storage is obviously extremely important, don't let your desk fall victim to "organized clutter." Set aside a generous portion of your desk as an empty work area that's always at the ready.
See more home office desk ideas here.
3. Decor Ideas
Organizing an office is far from an insurmountable task. Designing an office that actually looks as good as it functions is something else entirely. (If, that is, you don't have a few simple tricks up your sleeve!)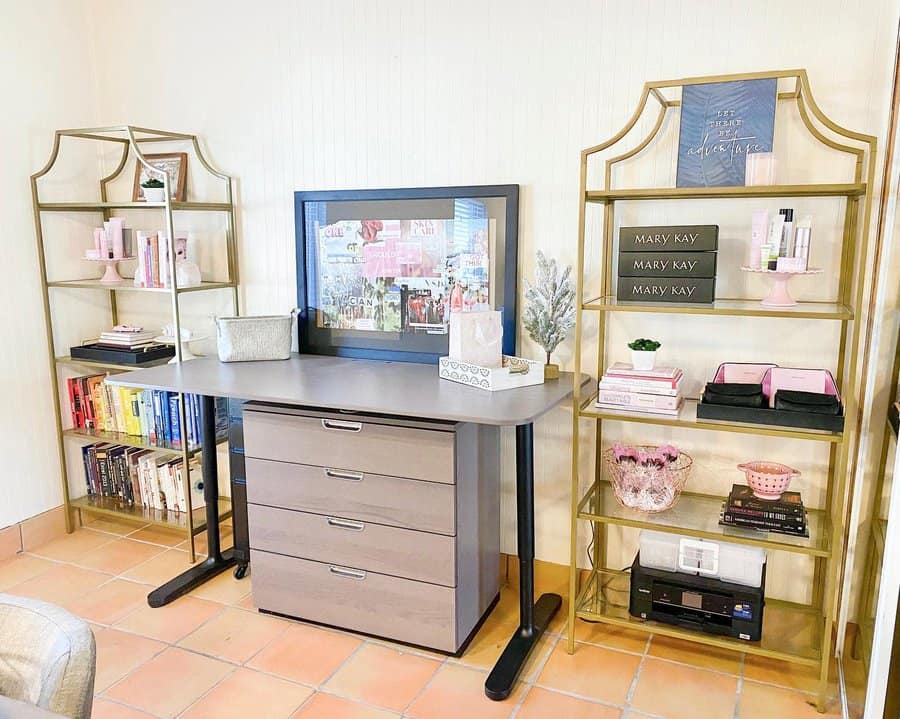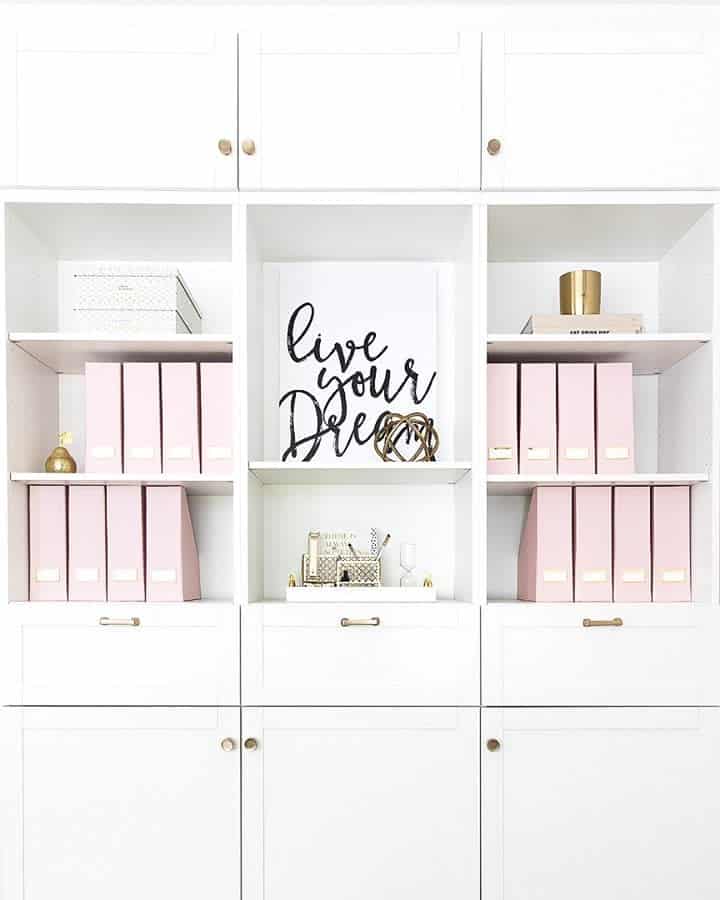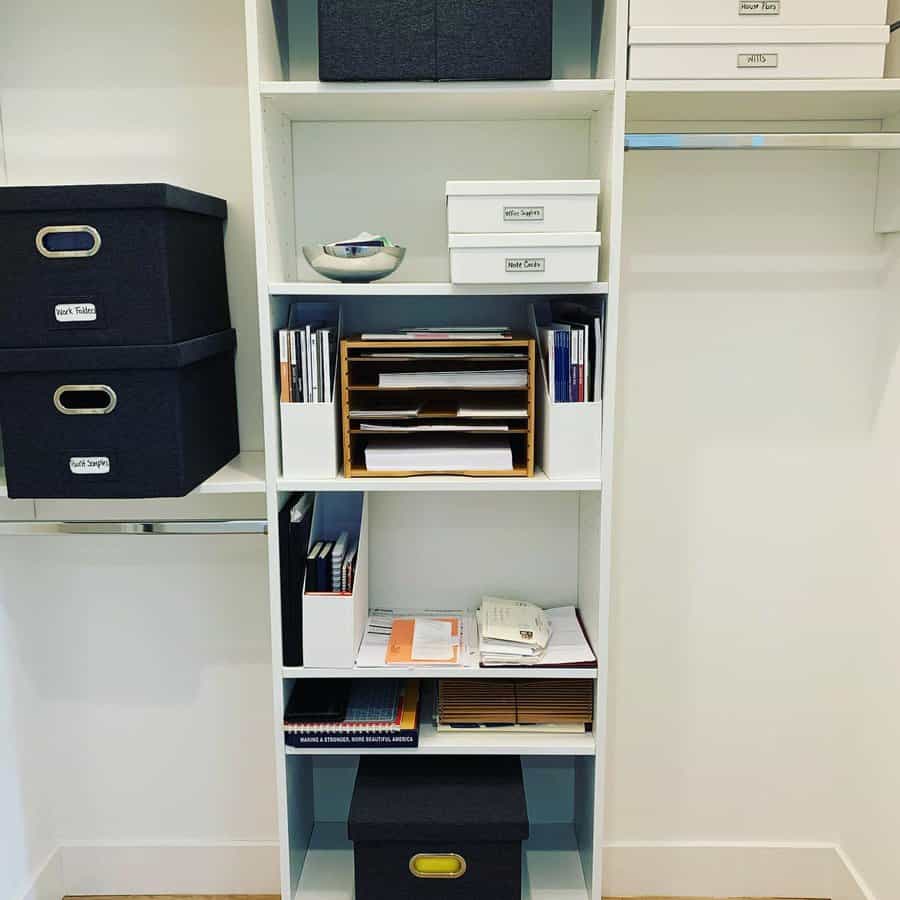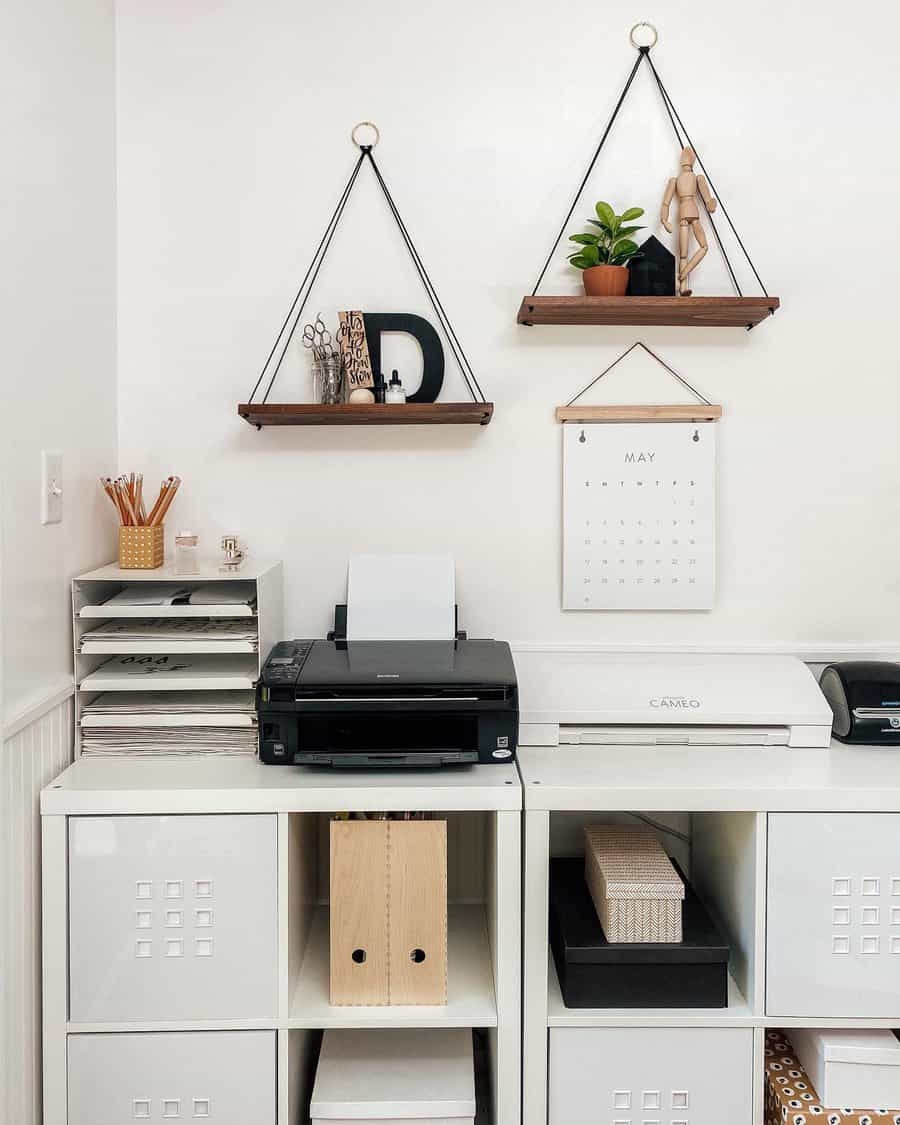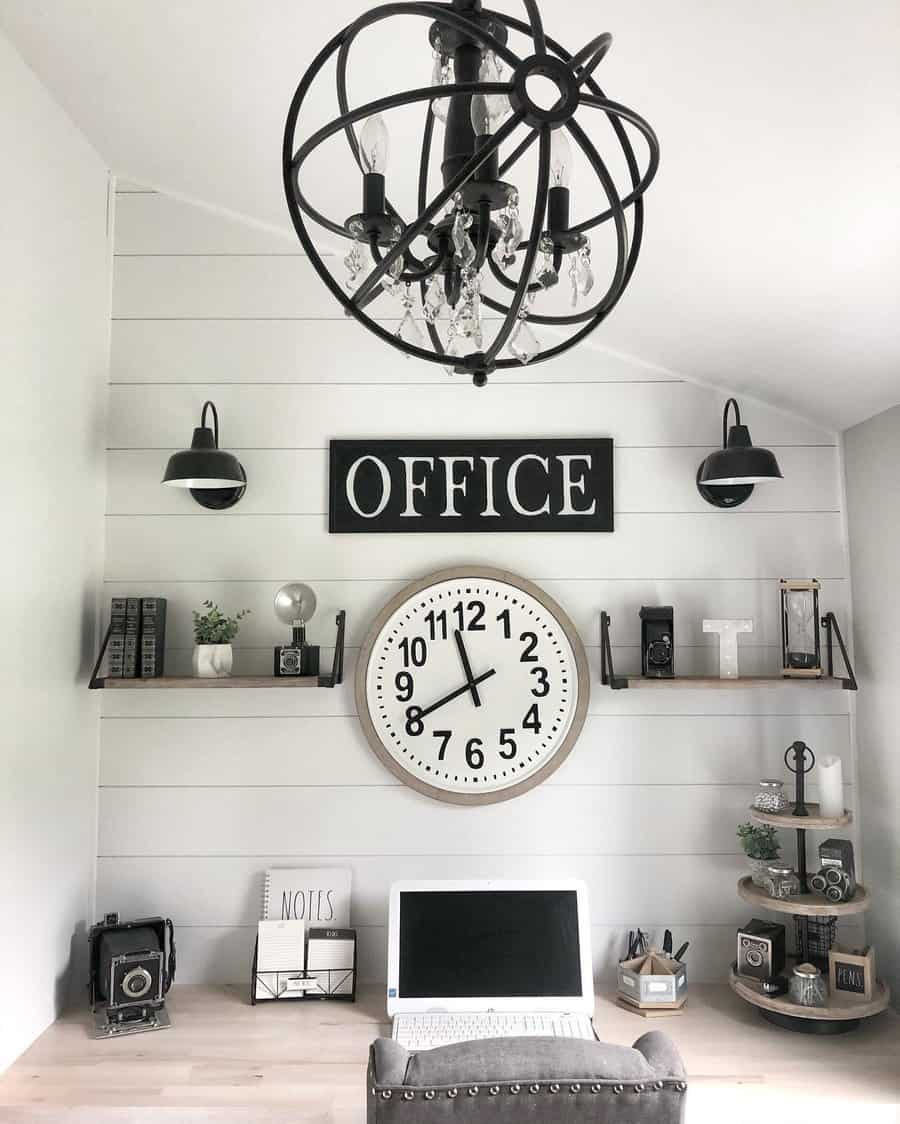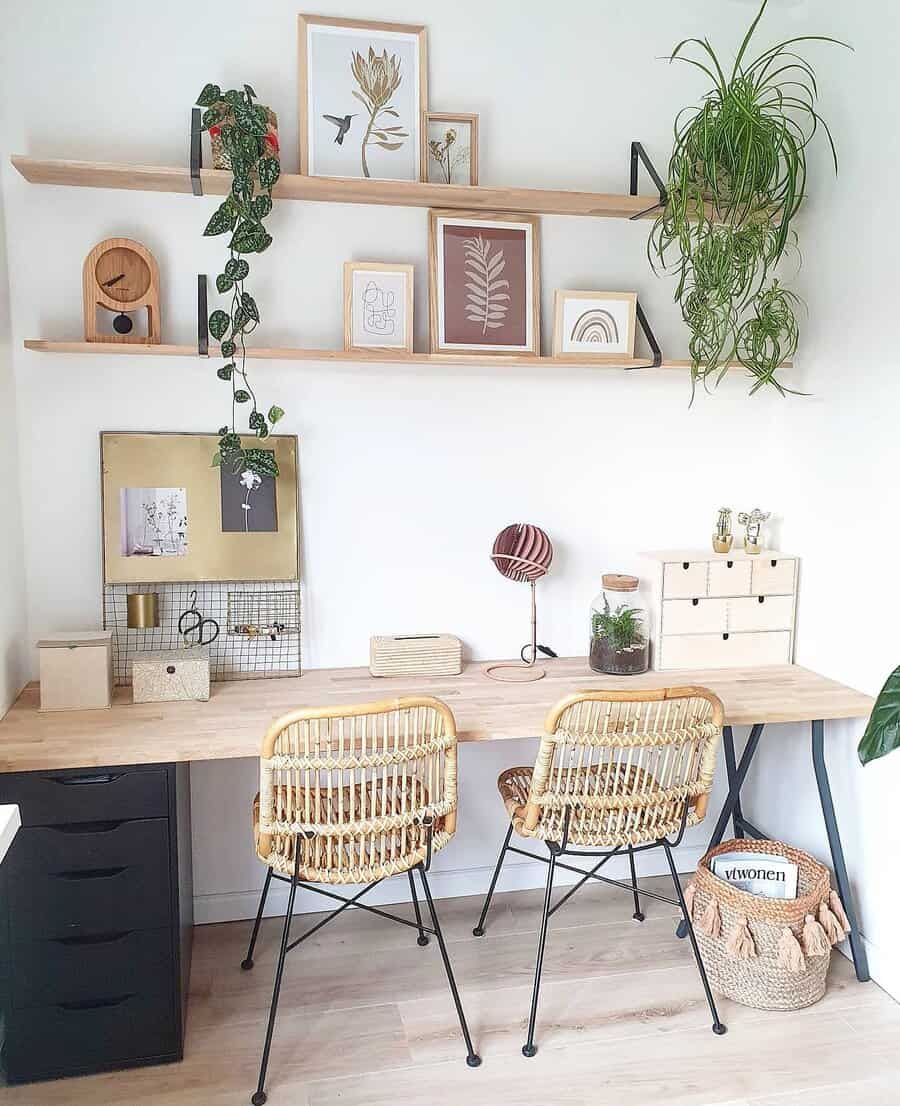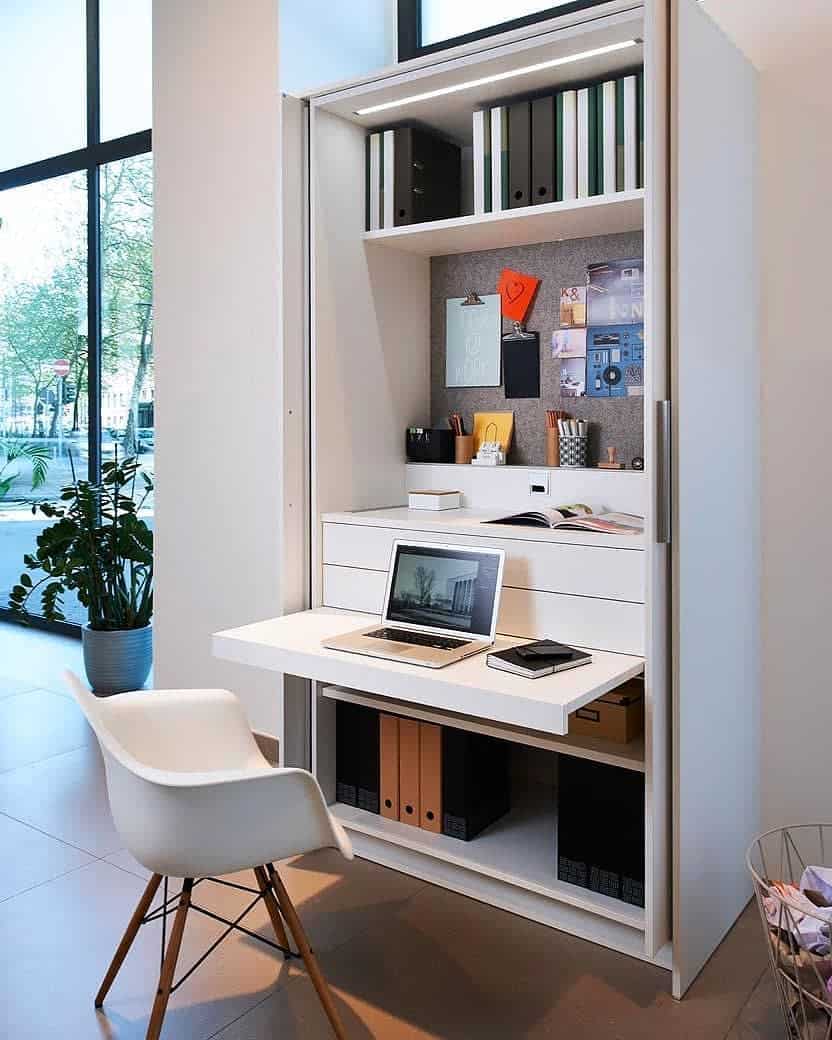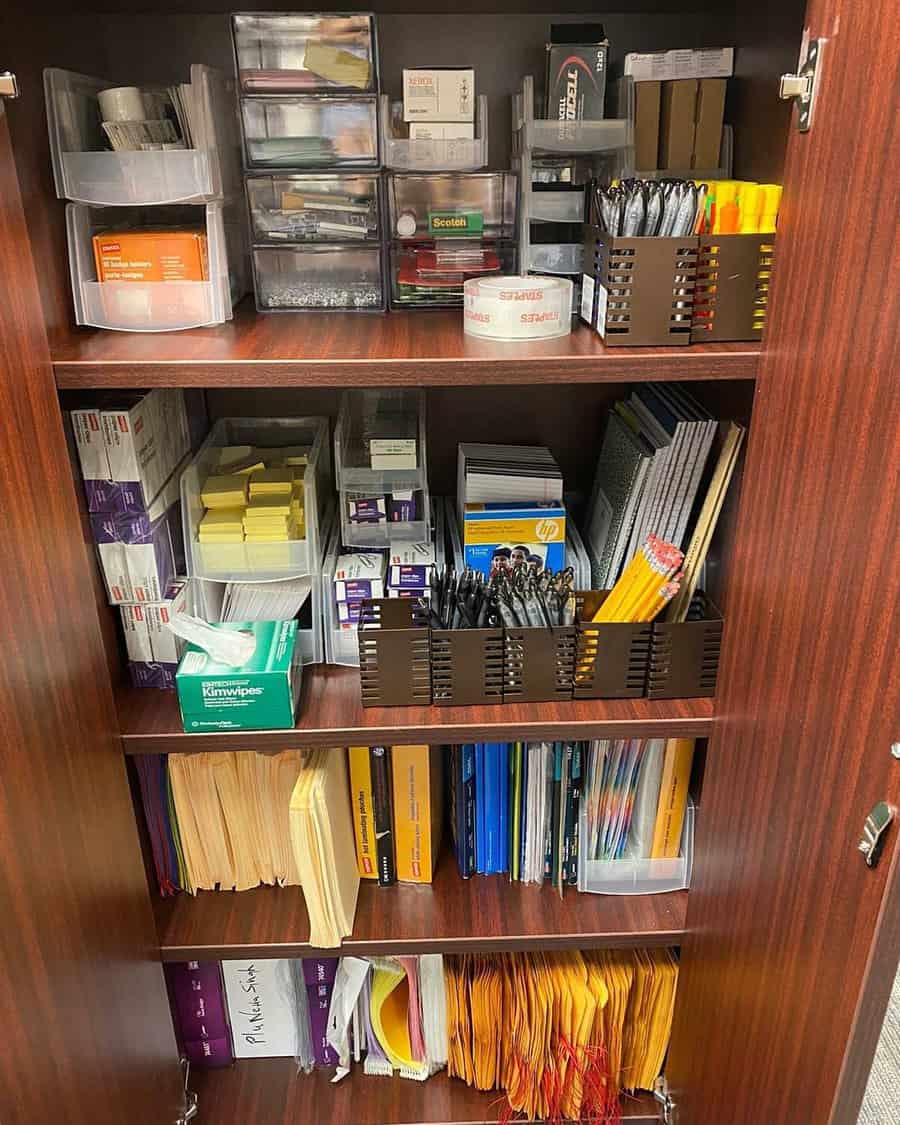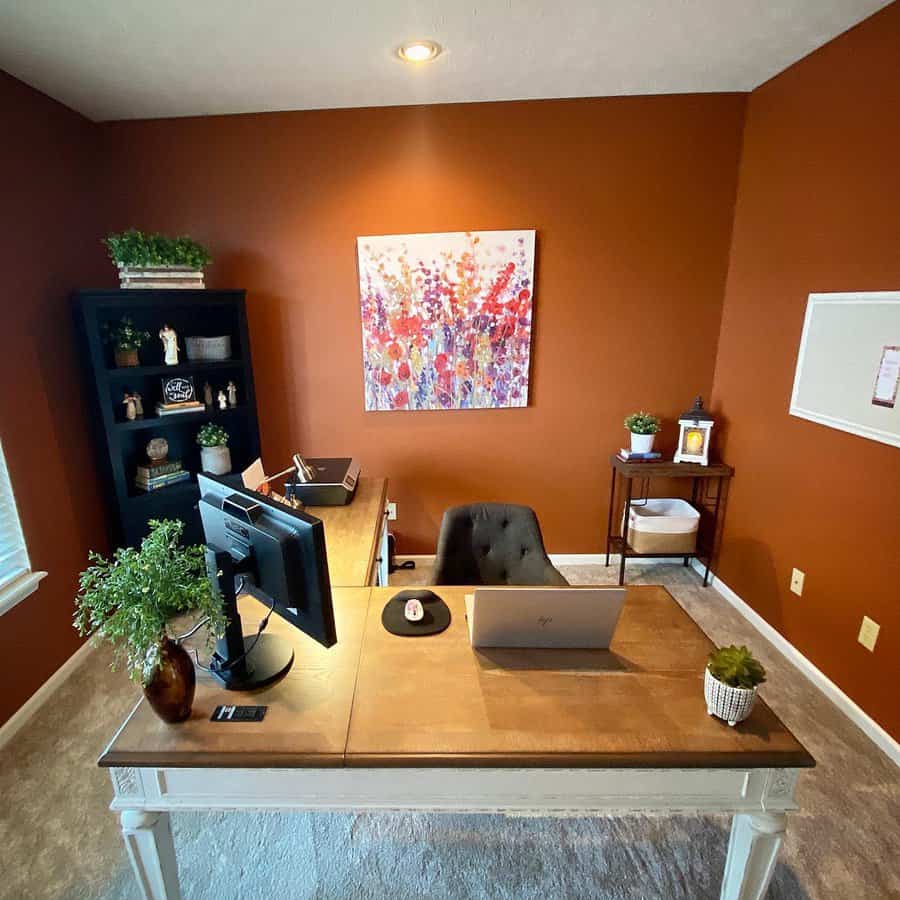 Take the time to find organization solutions that are aesthetically pleasing. A cute pen jar or a sleek file holder will function the same as a plain one. Store important papers in matching binders on your office shelves.
Hiding objects just out of sight is the best way to keep your workspace neat and tidy. Desktop boxes and drawers can be used for small items like paper clips or sticky notes. Don't slack on labeling — after all, time is money!
4. Drawer
Are you guilty of hiding office clutter inside your desk or filing cabinet drawers? Storing office supplies out of sight is only half of the battle.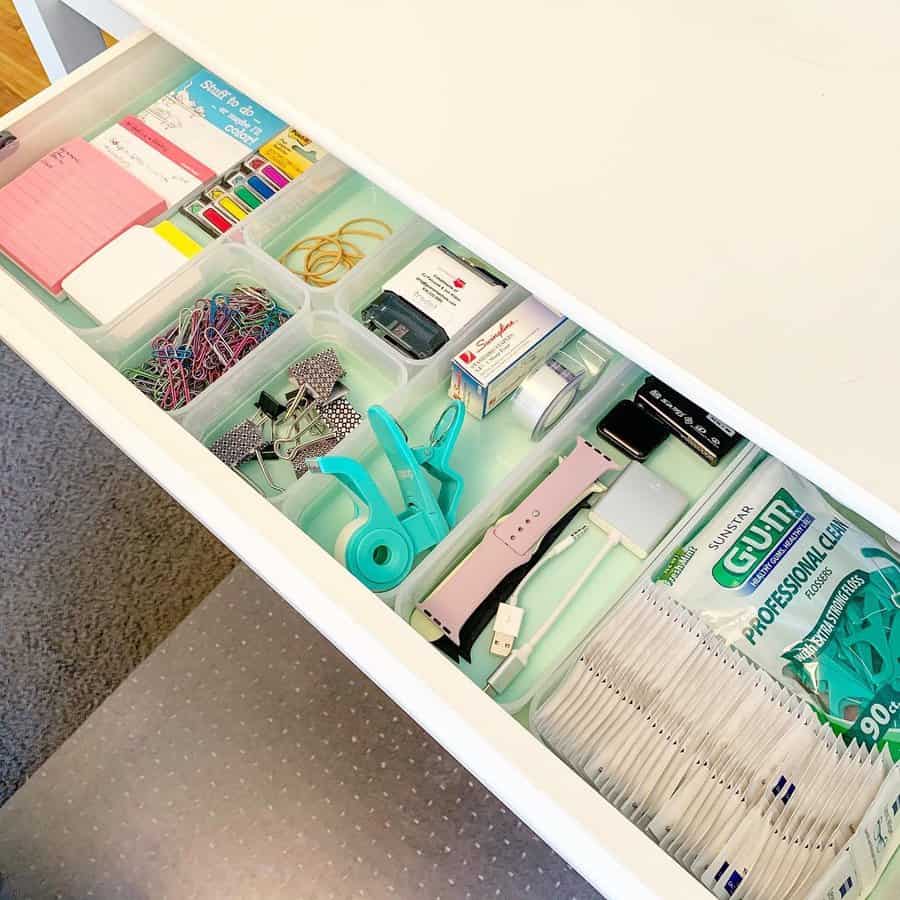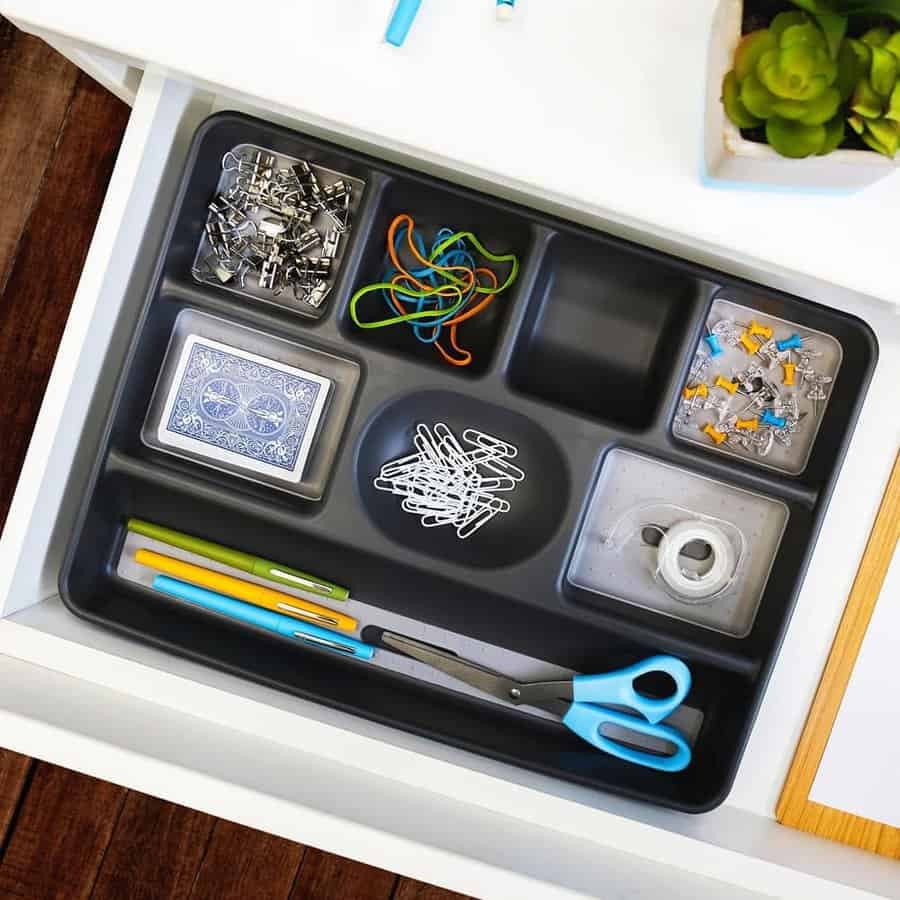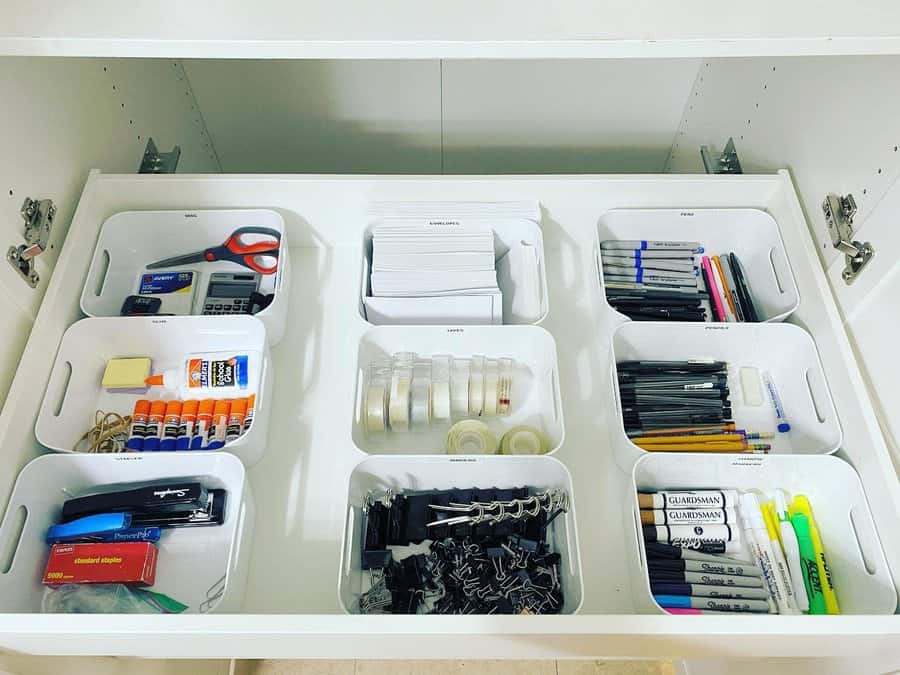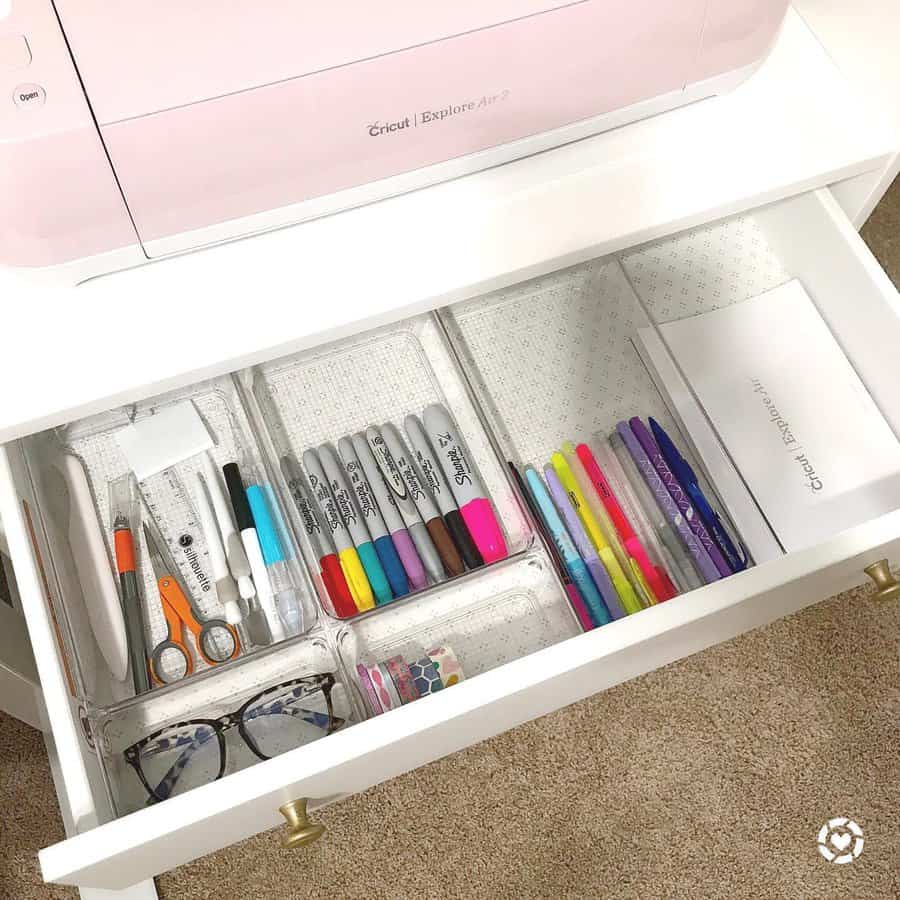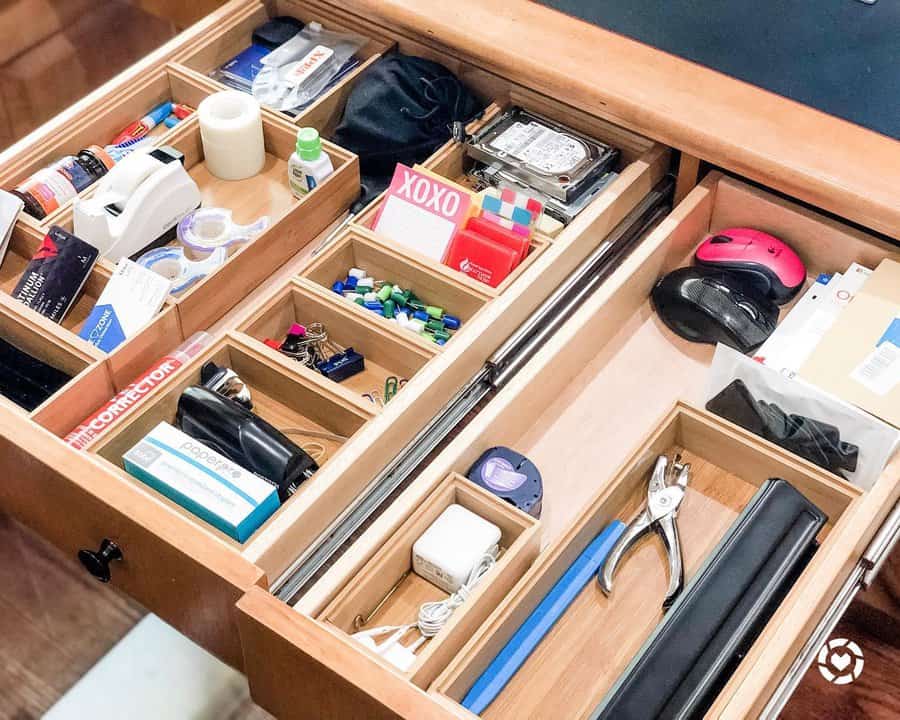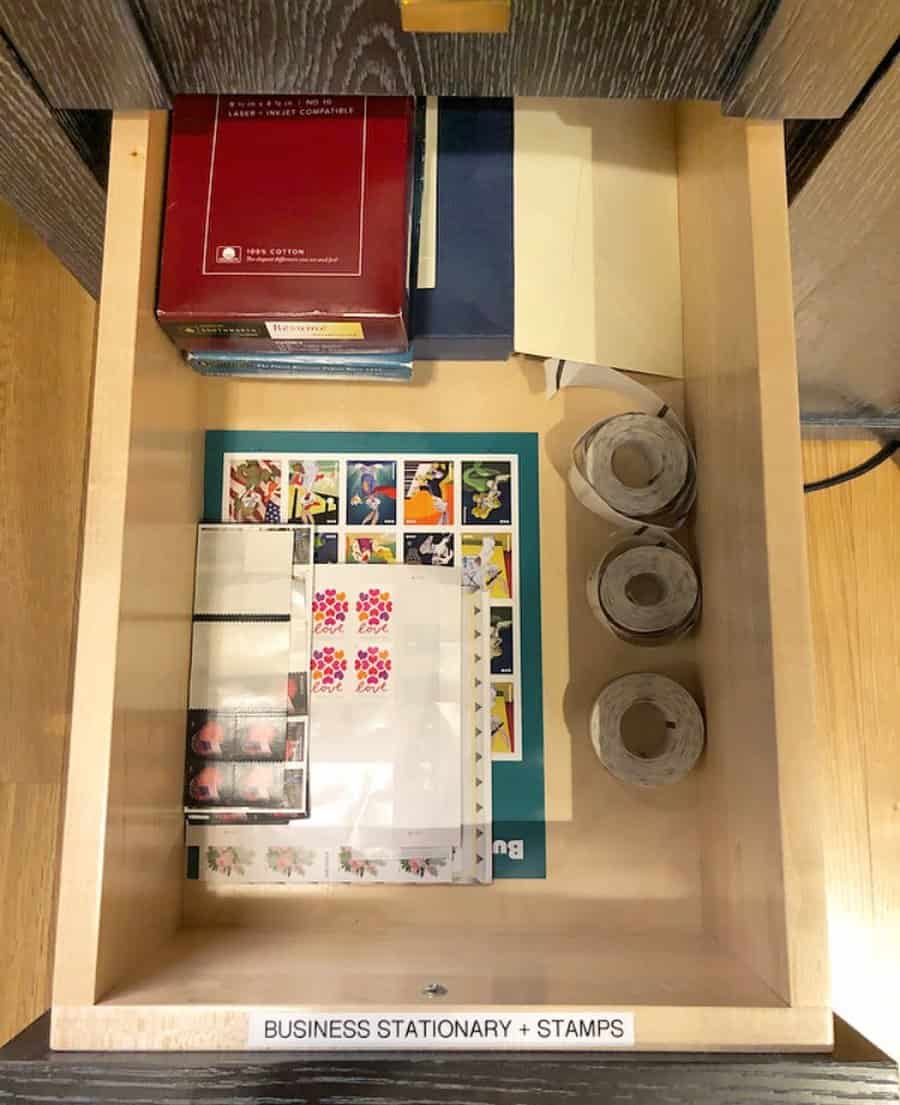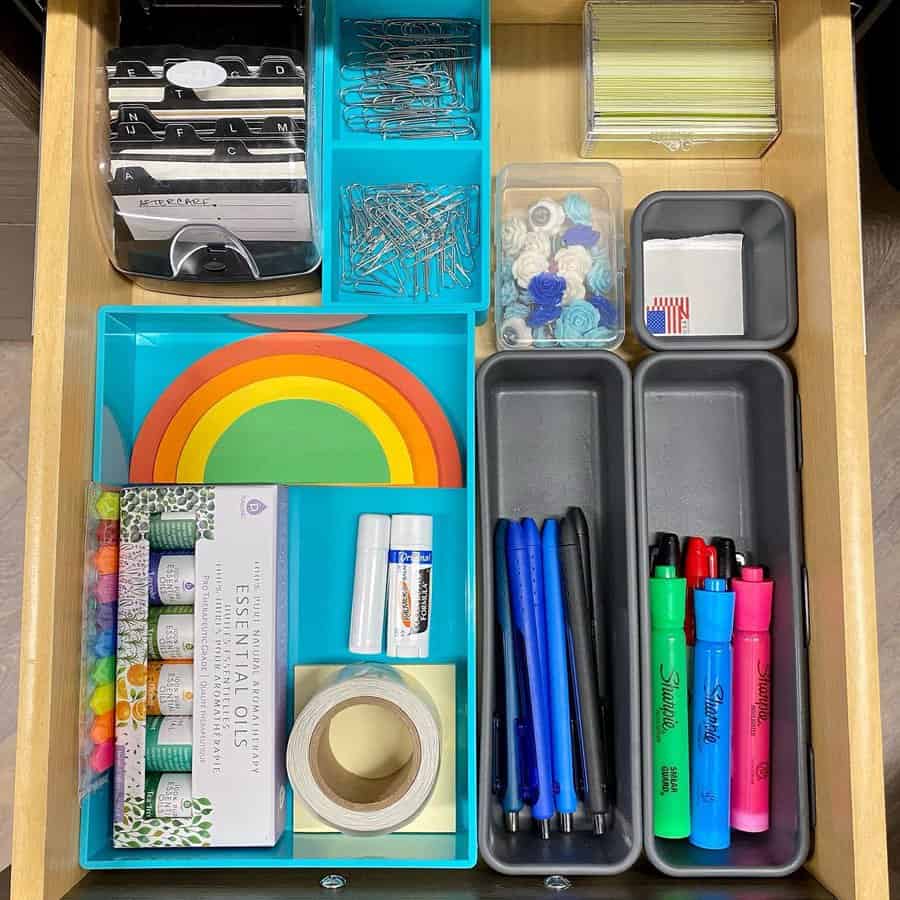 Don't make the mistake of letting every drawer in your home office turn into a glorified "junk drawer." After all, out of sight doesn't always mean out of mind — especially for the stressed worker!
It might not seem like it, but one of the best upgrades you can make to your office is a desk drawer organizer. Drawer organizers come in all sizes, styles, and materials.
You can choose from a design with dedicated compartments for all of your supplies or keep things simple with a drawer divider.
5. Home
Countless industries are turning to remote work rather than asking employees to come into the collective office. While that's great news for many, it does mean needing to carve out a suitable workspace within the home.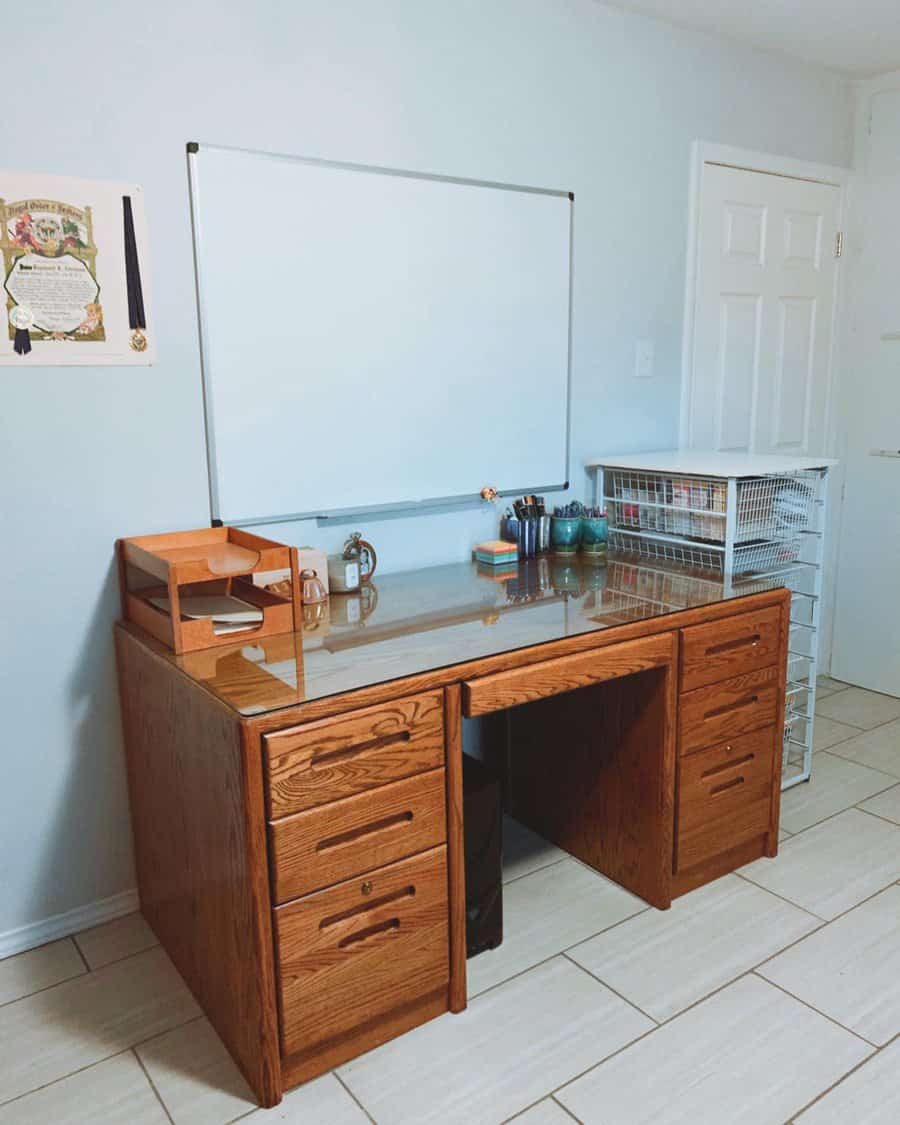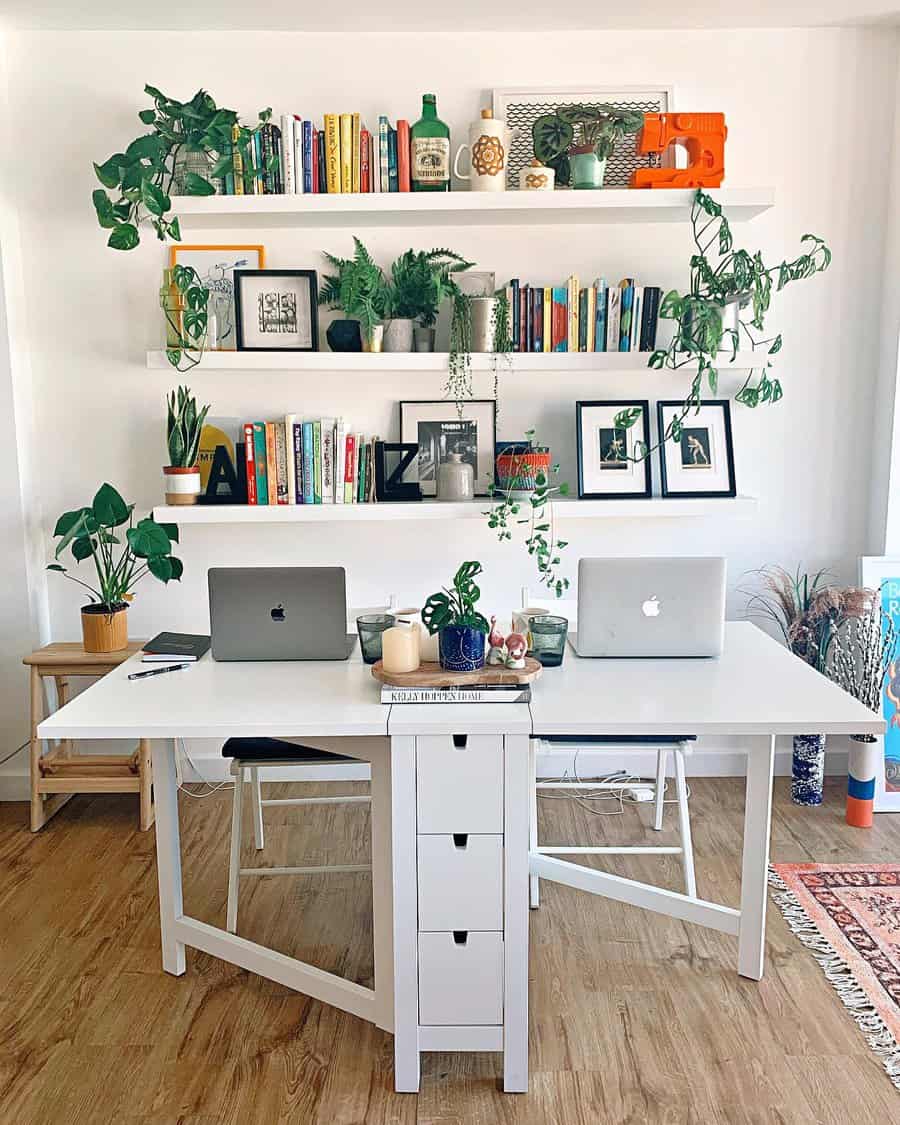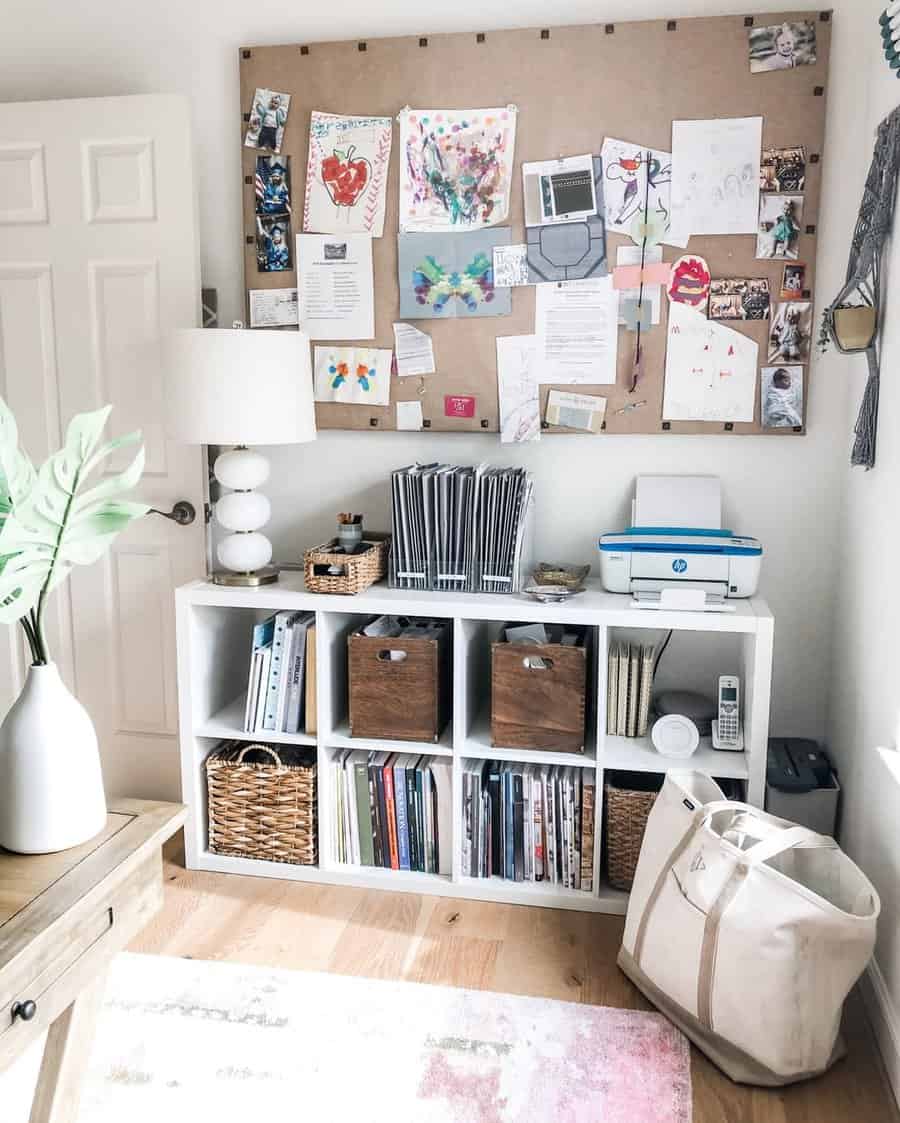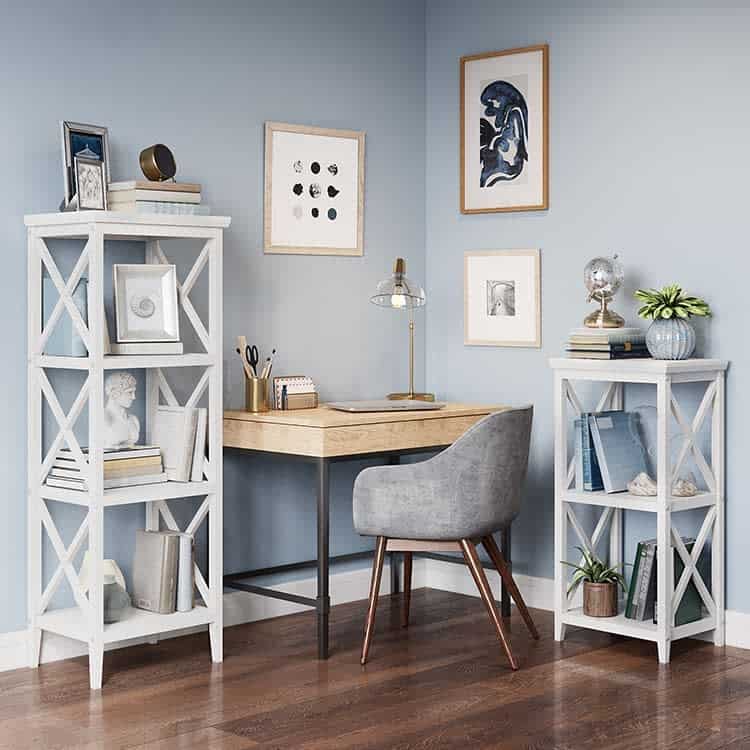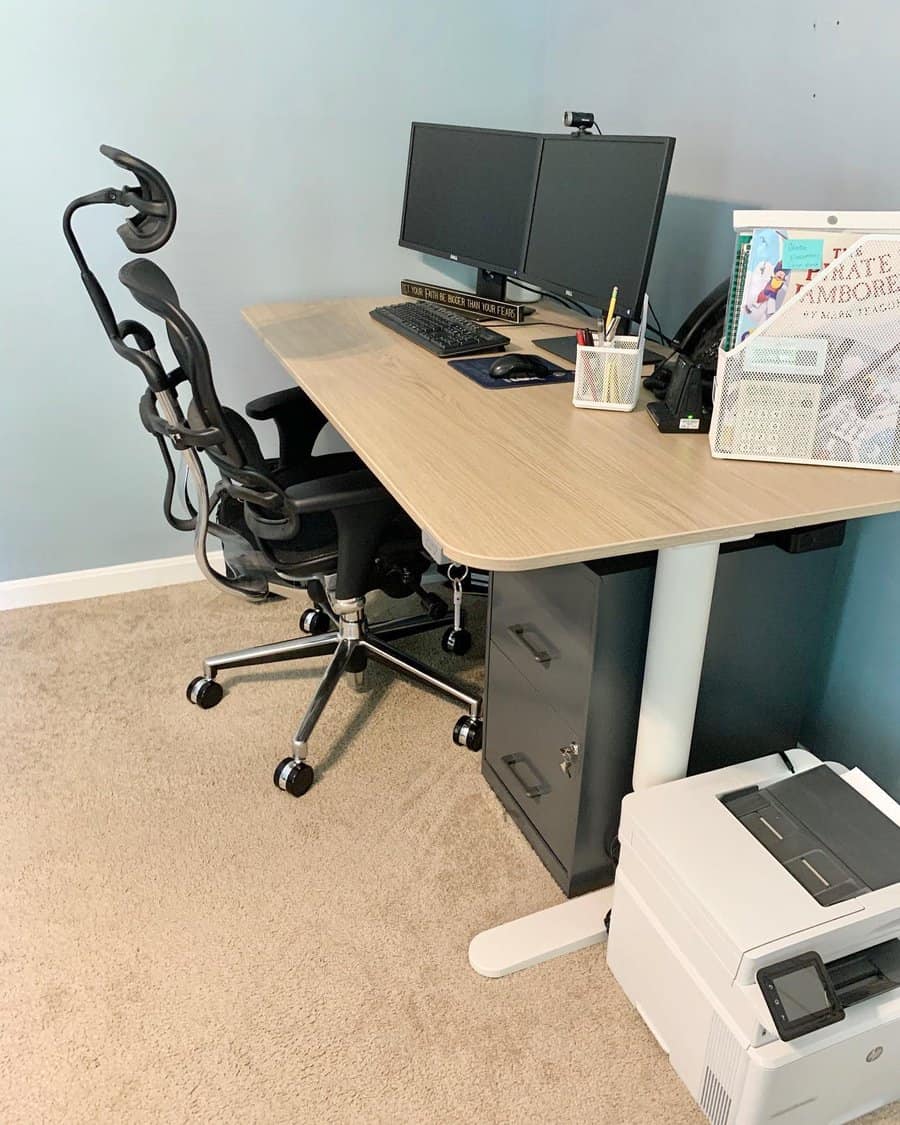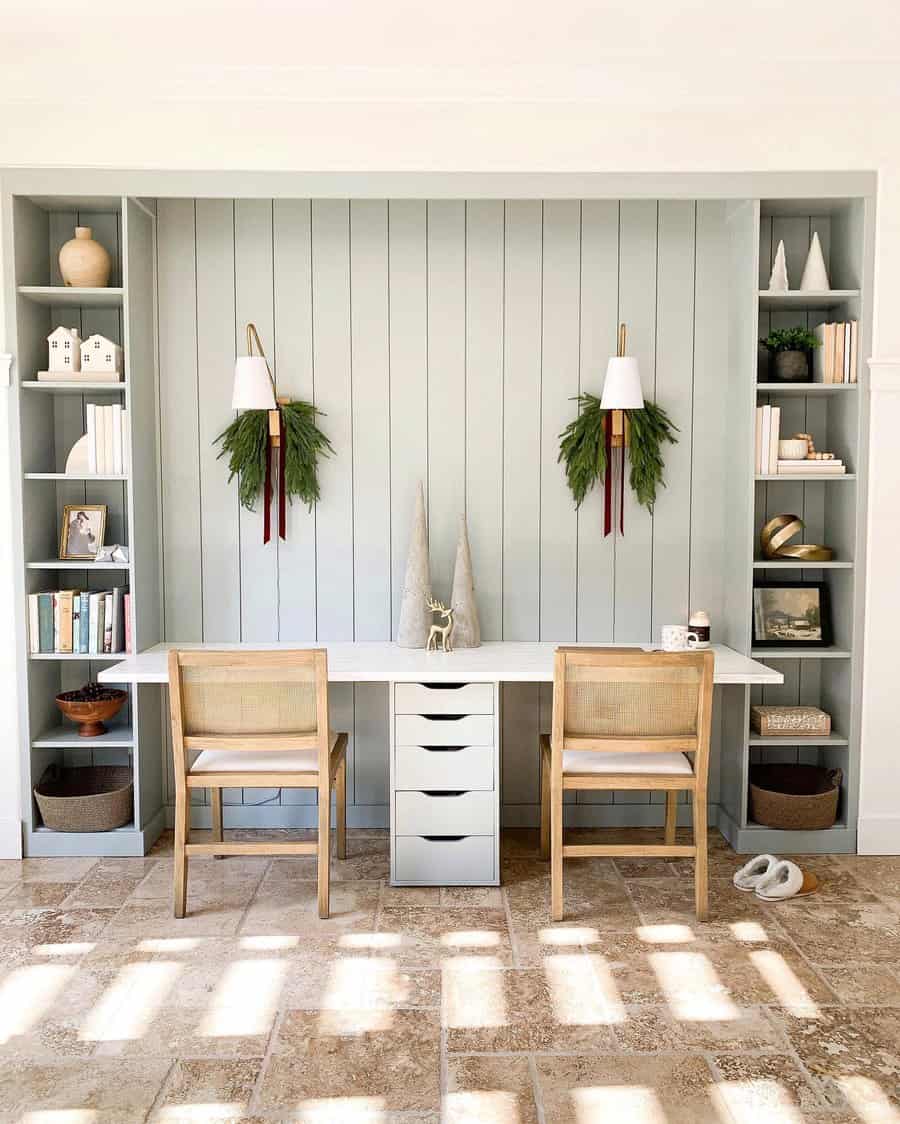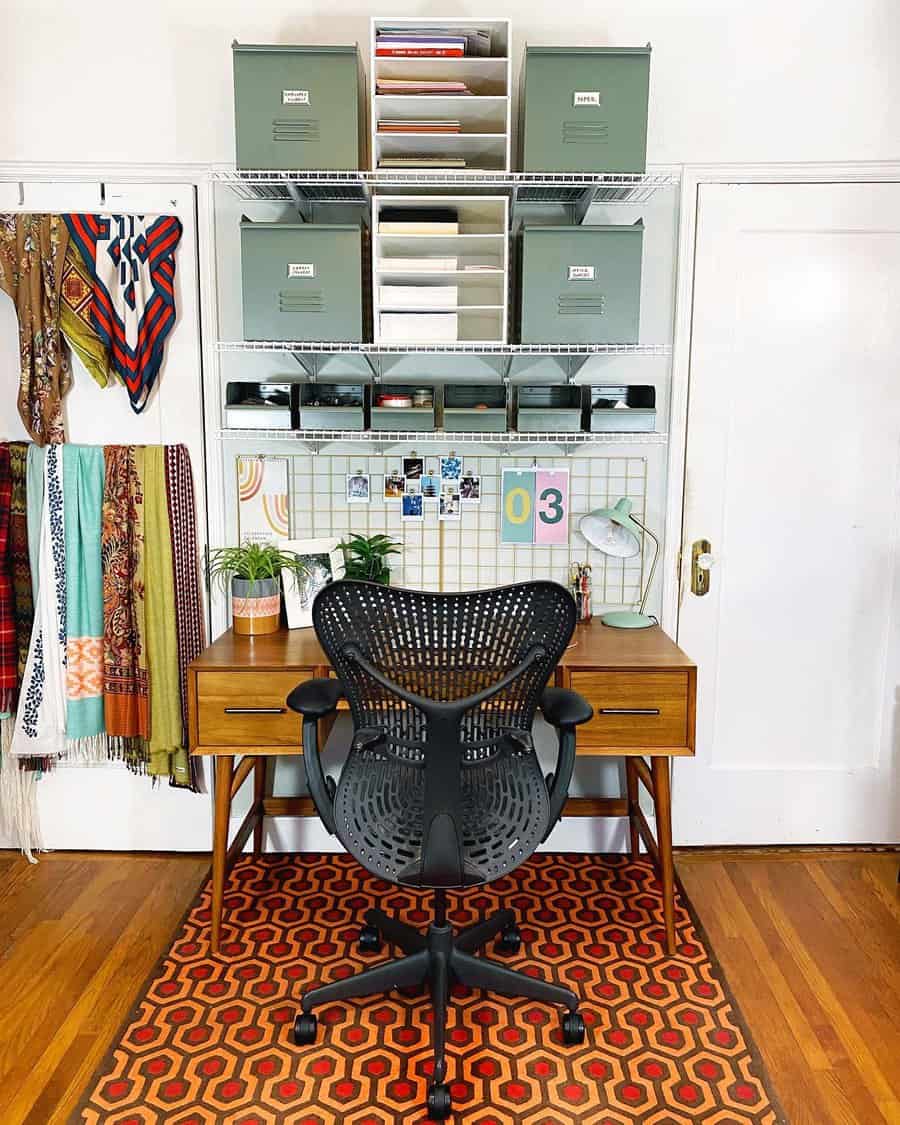 Start your home office organization on the right foot by investing in adequate storage space. Office furniture is an excellent resource (be sure to select a desk with drawers or cabinets). You can also organize your space with a stand-alone filing system.
Don't fall for every trend! Realistically, every home office will look a little different. The key is understanding your personal workflow and choosing organization techniques that best suit it.
6. Minimalist
Many people find that working in a minimalist office space helps them focus and stay productive. But you can't achieve minimalism with a desk covered in paper clutter and strewn-about office supplies.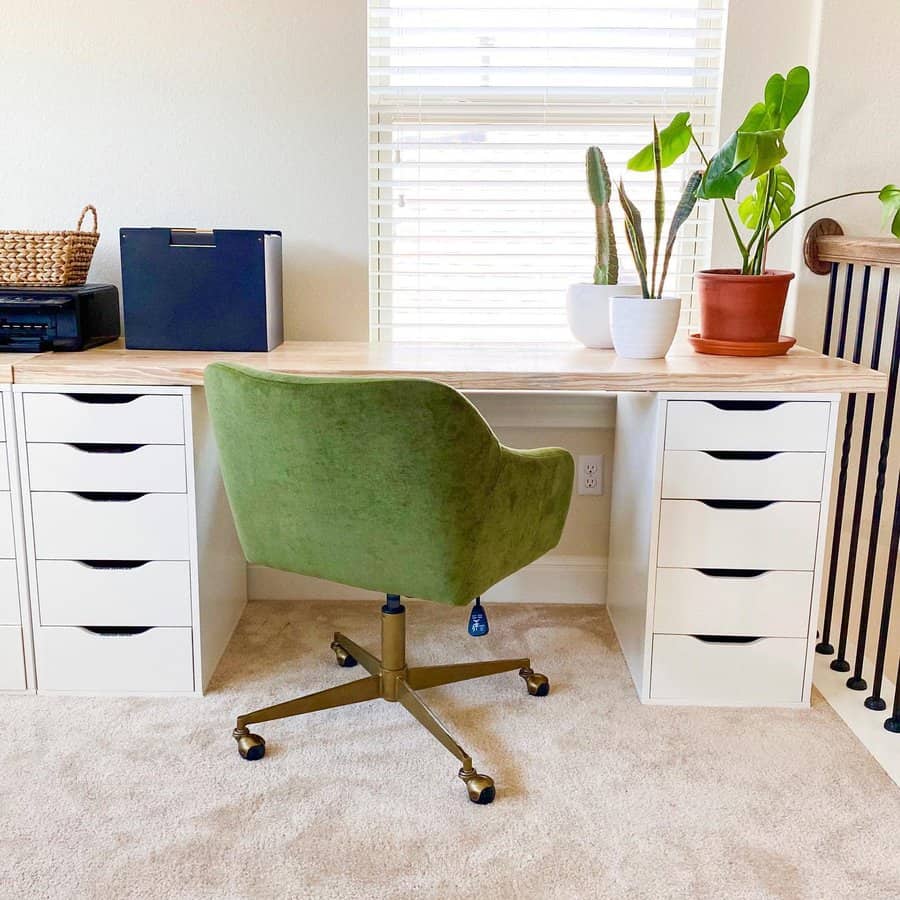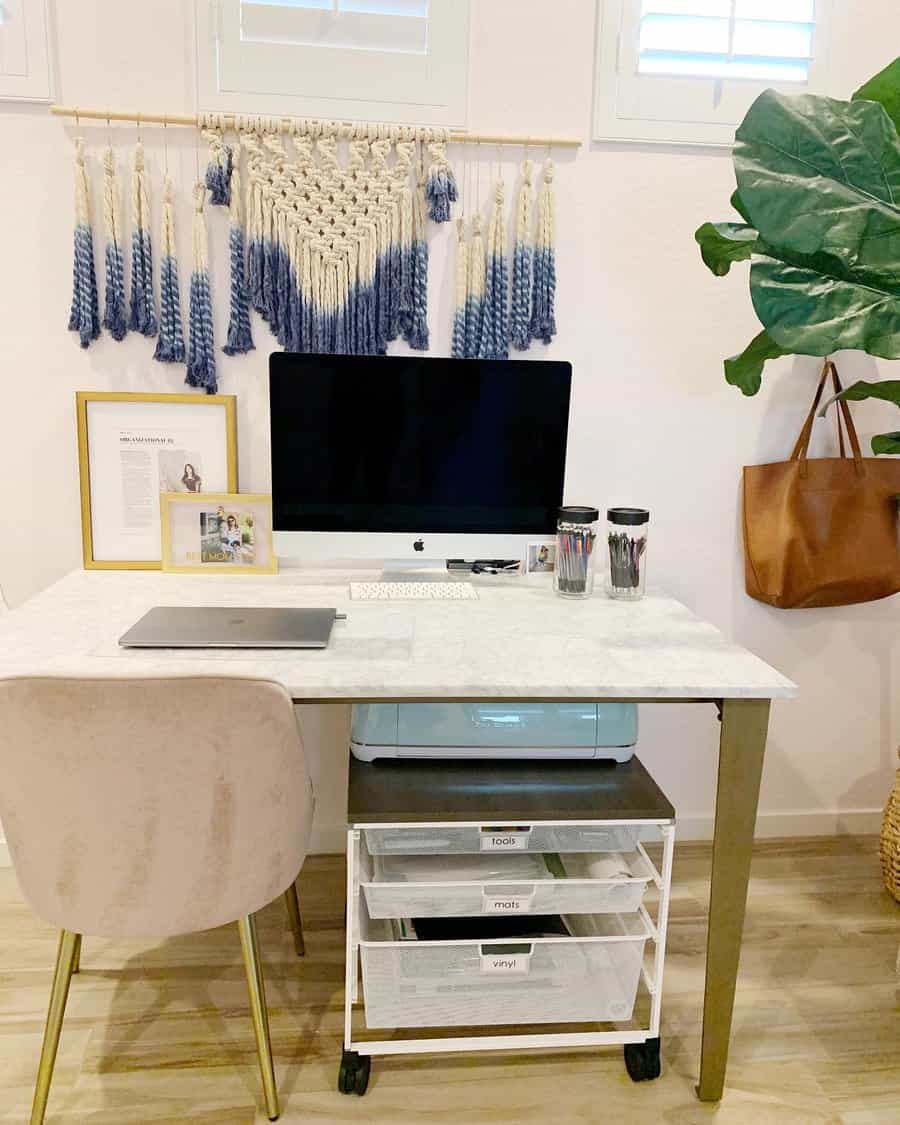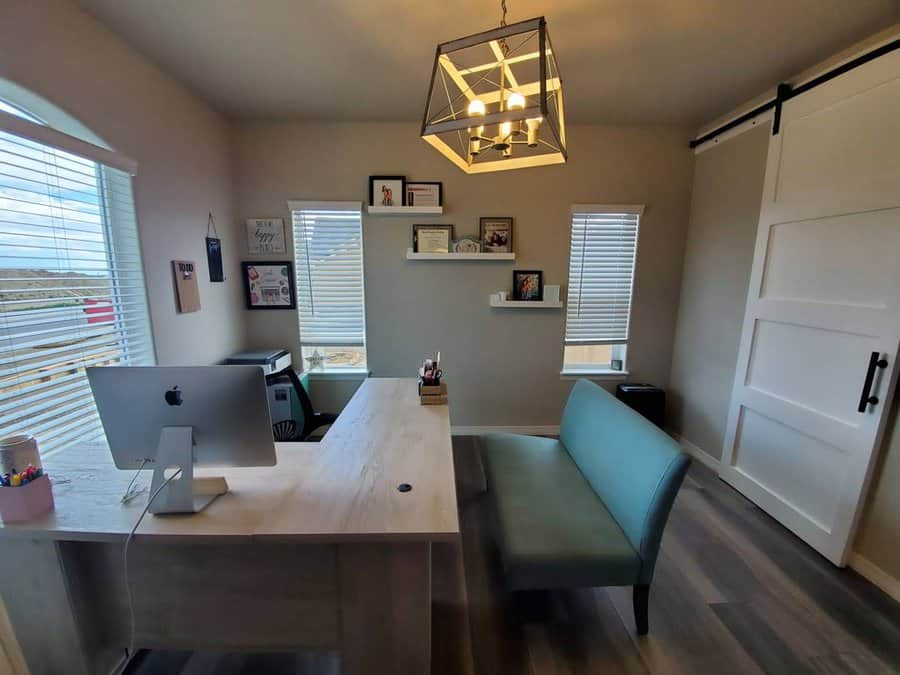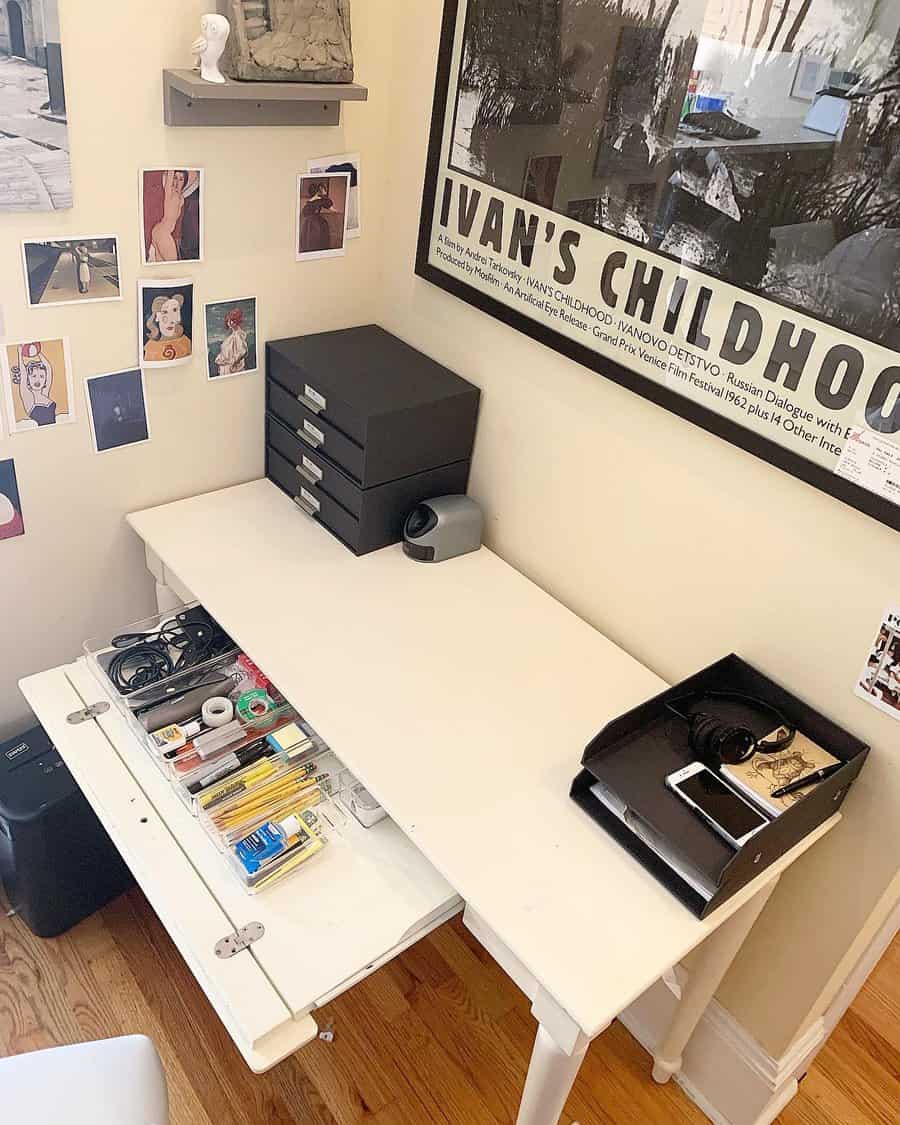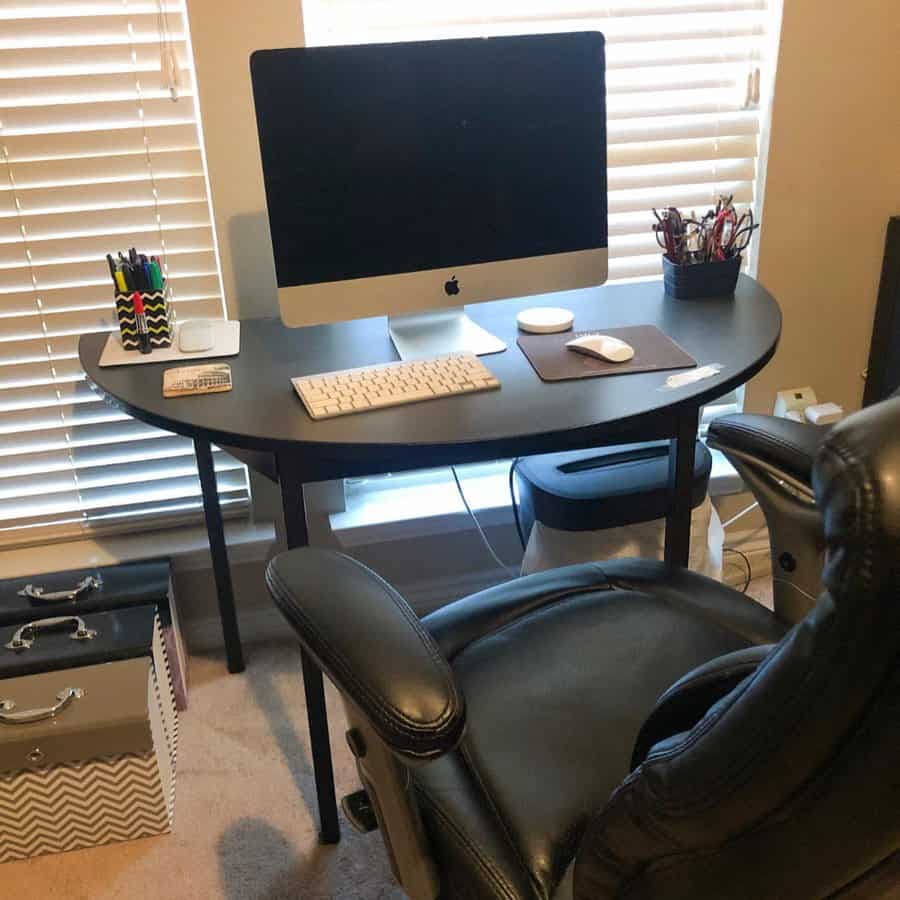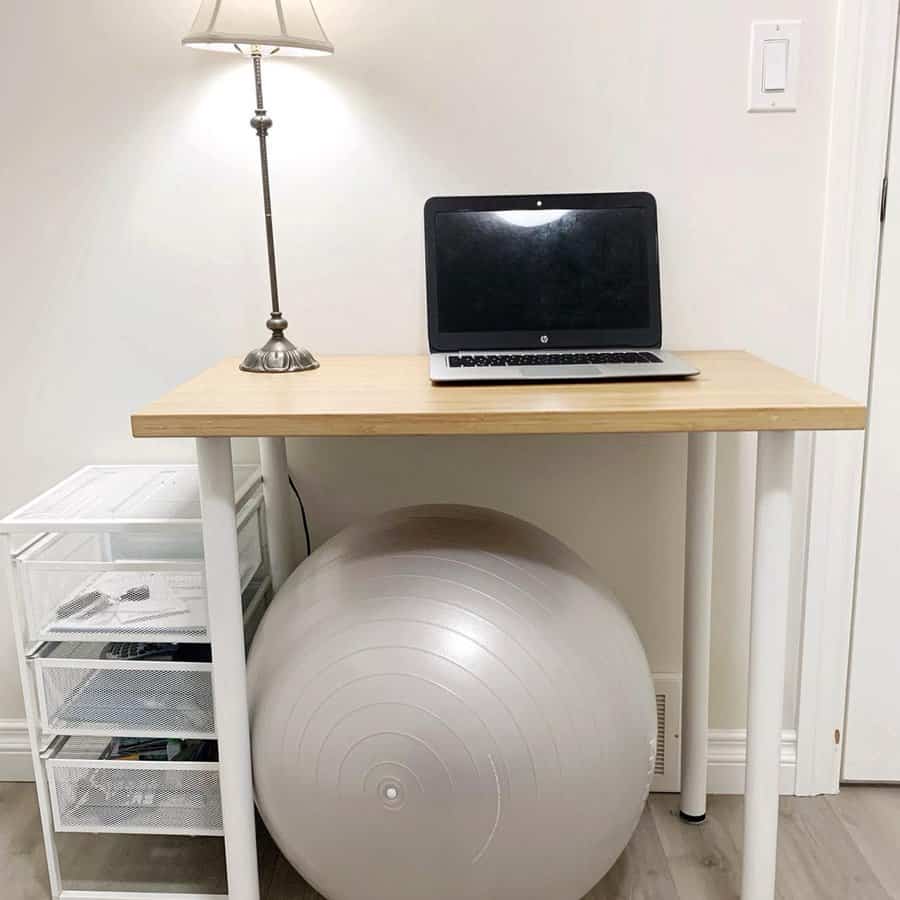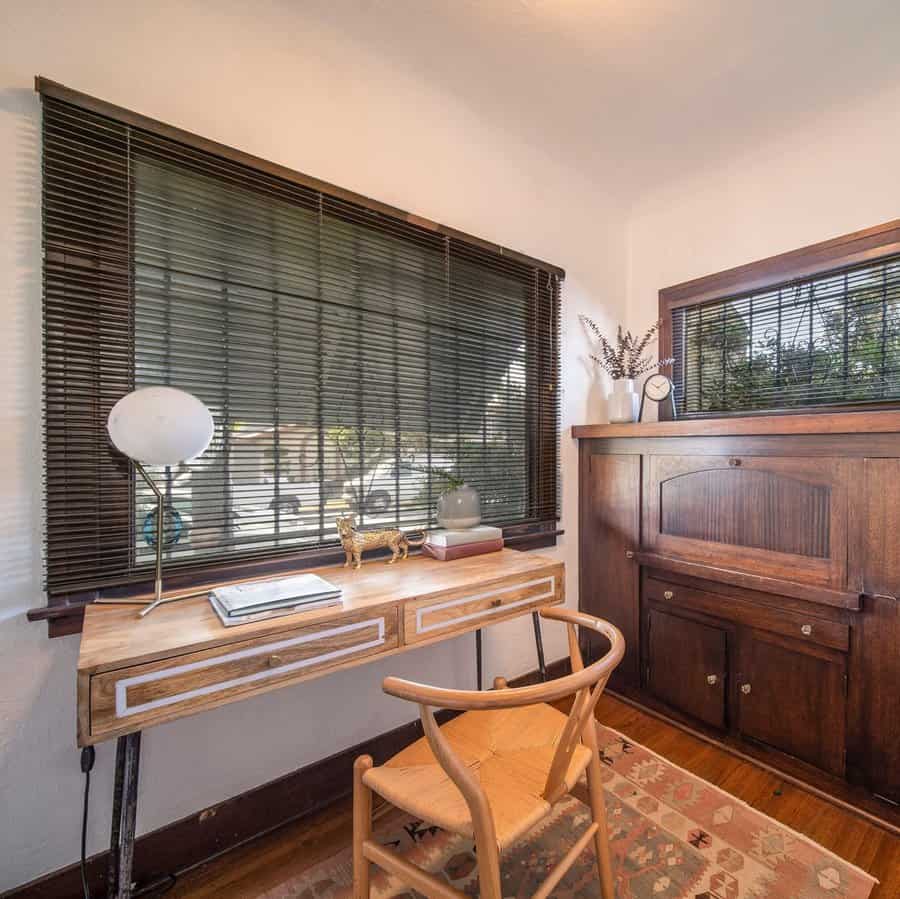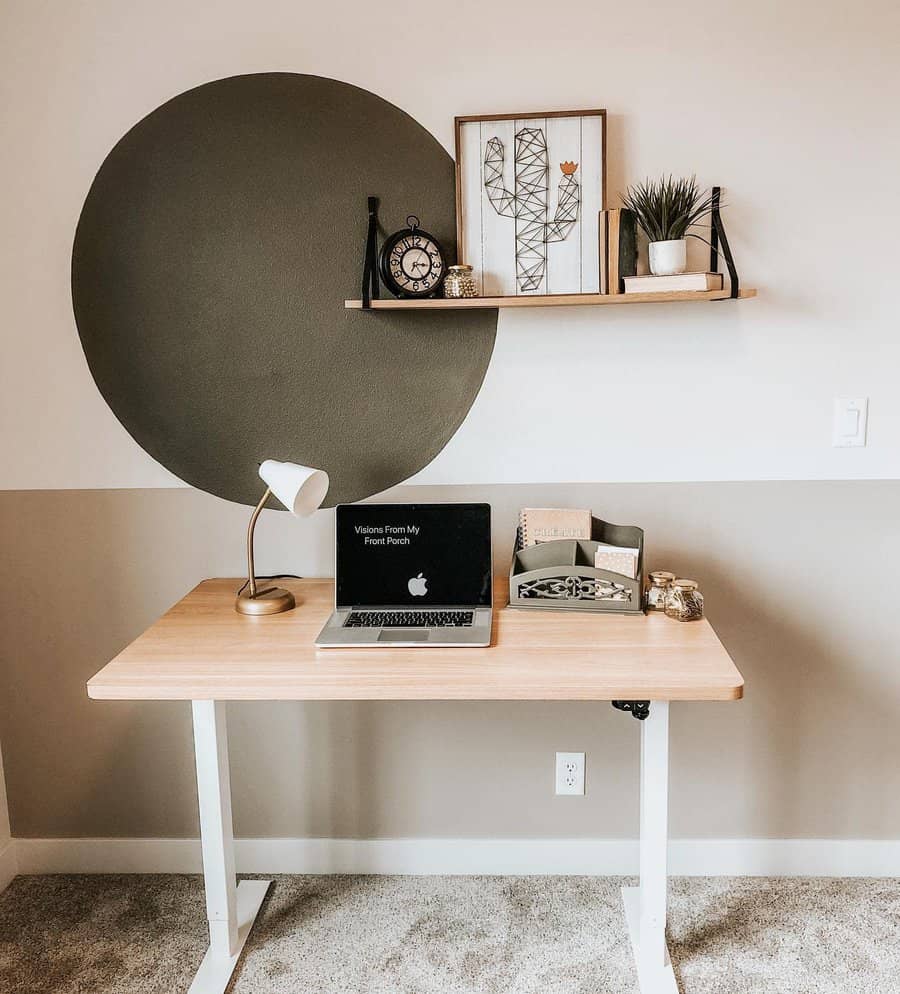 Hidden storage space is essential to this aesthetic. Your goal should be to have more available storage than actual items to store. Supplement your desk organization with simple filing cabinets or sleek rolling carts.
Avoid relying too heavily on your office wall space to organize your work. Floating shelves will clutter up the space visually without contributing much extra storage.
7. Pegboard
Crafters and handymen have been organizing with pegboards for years. So it's great to finally see this trend hit the average home office space!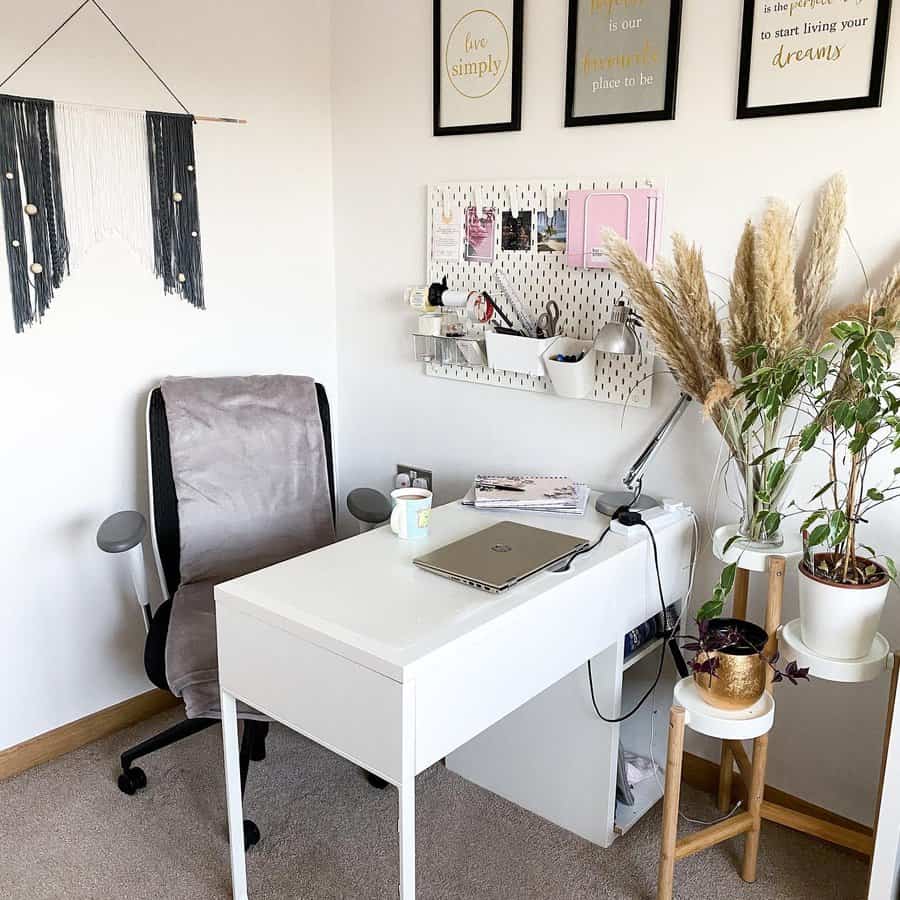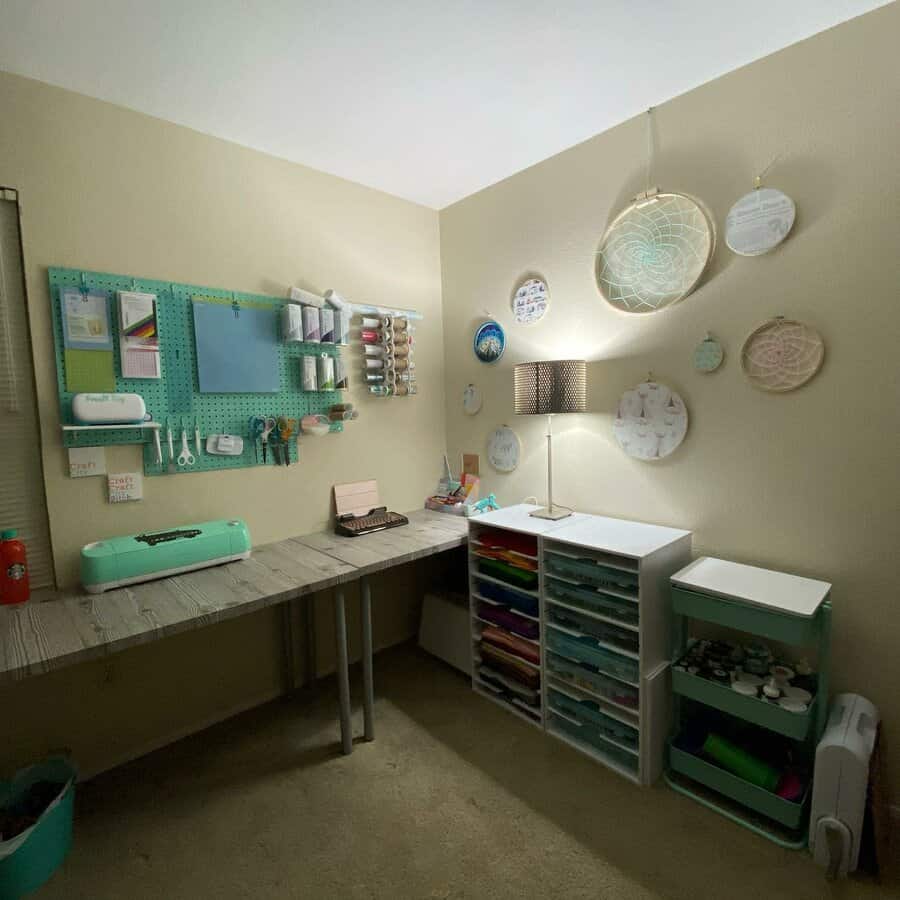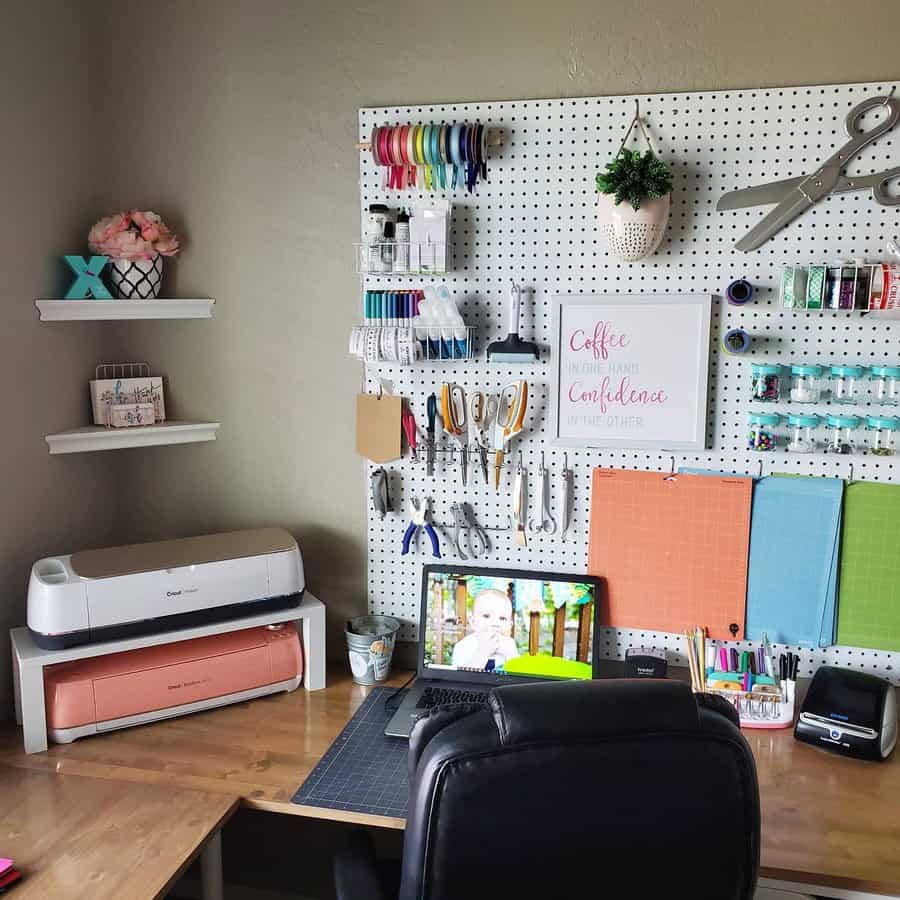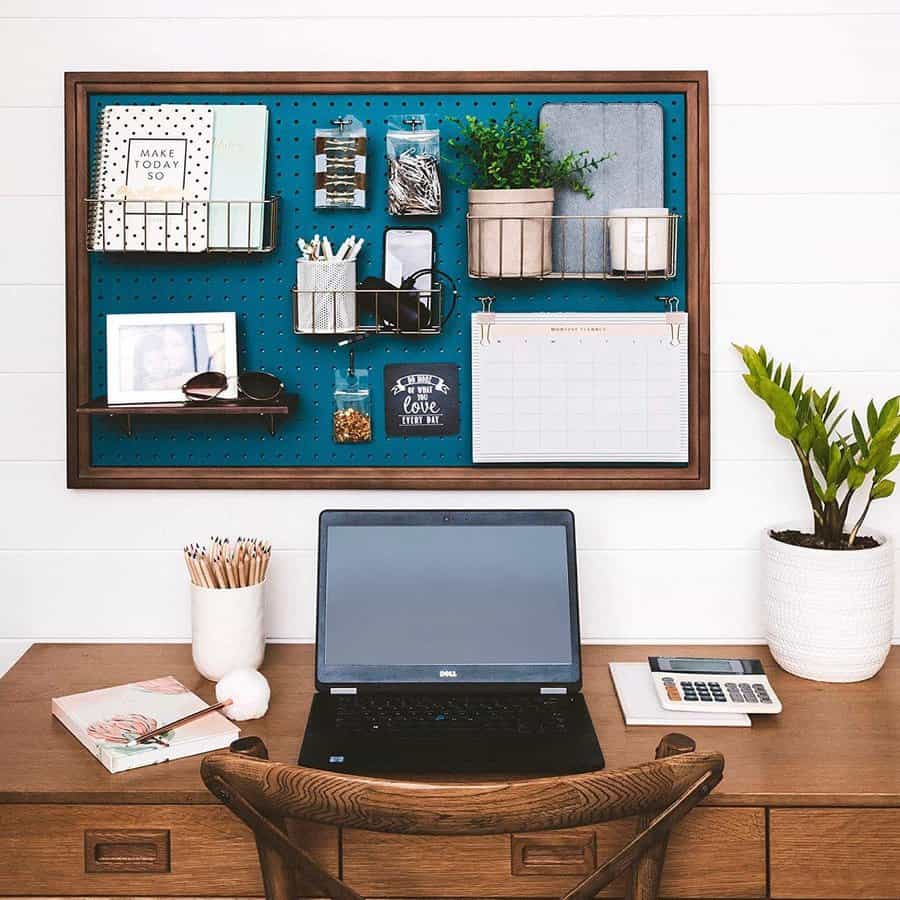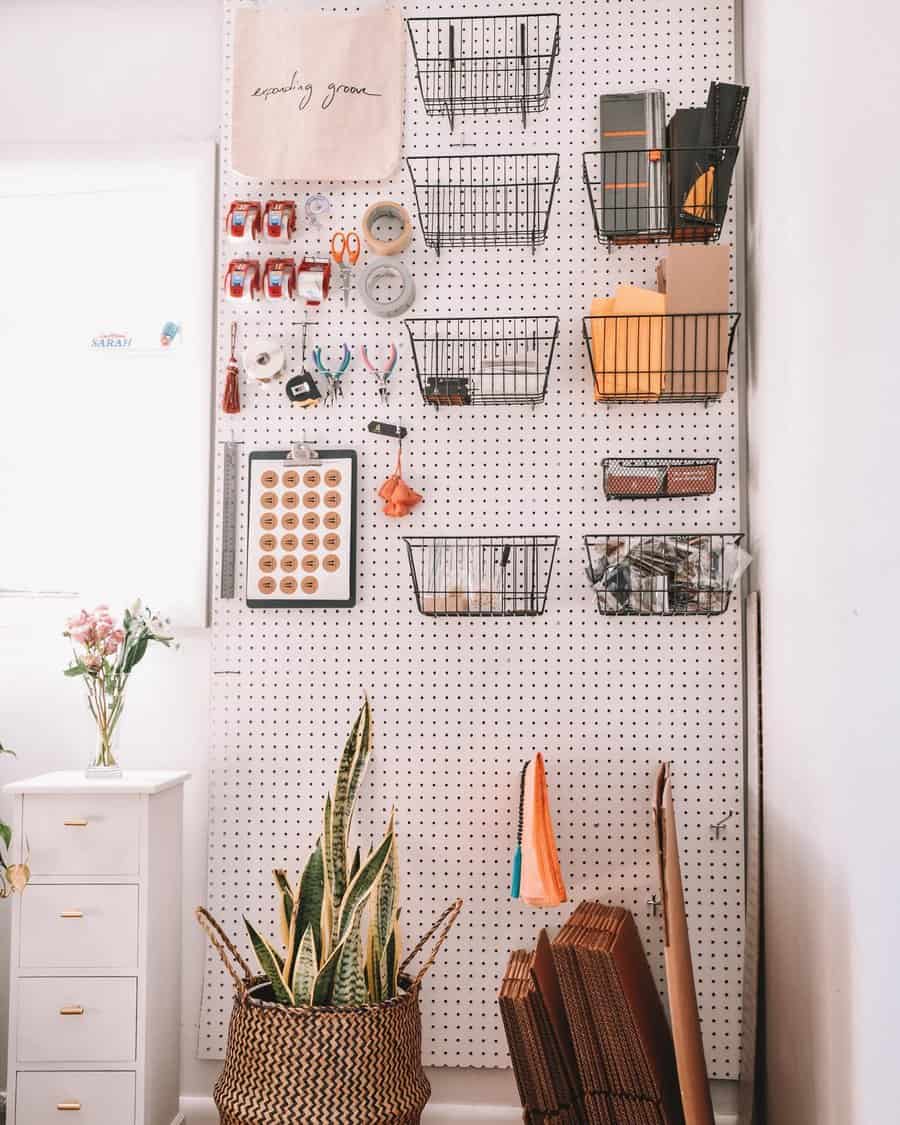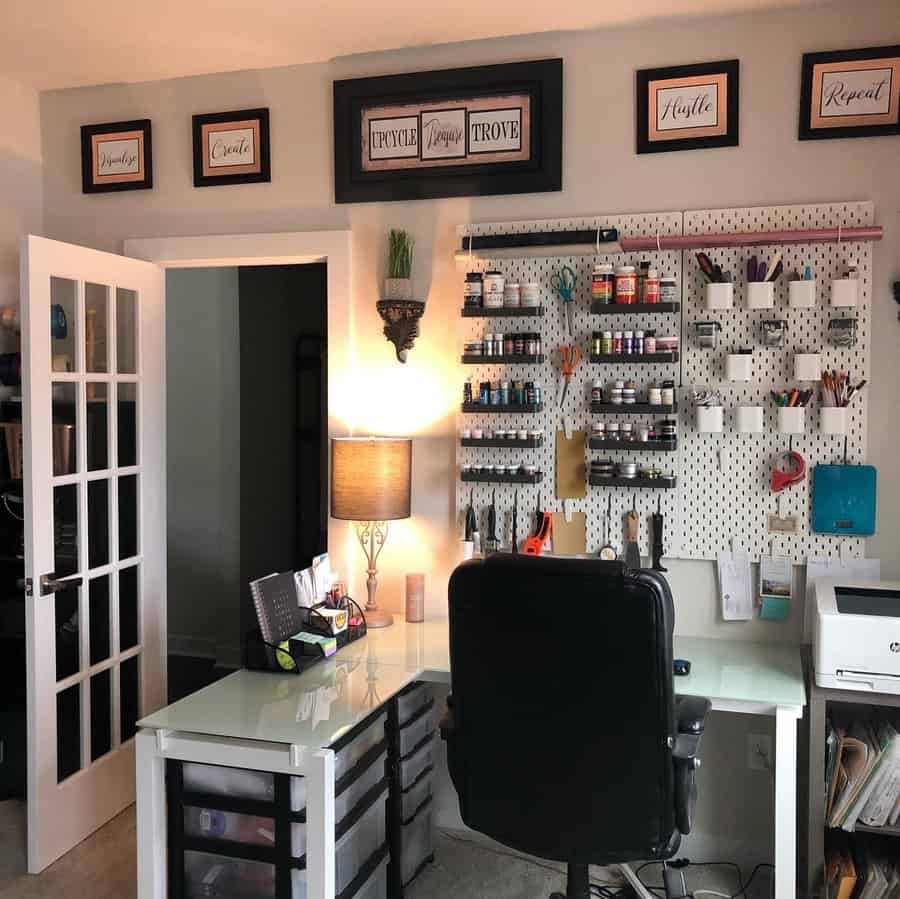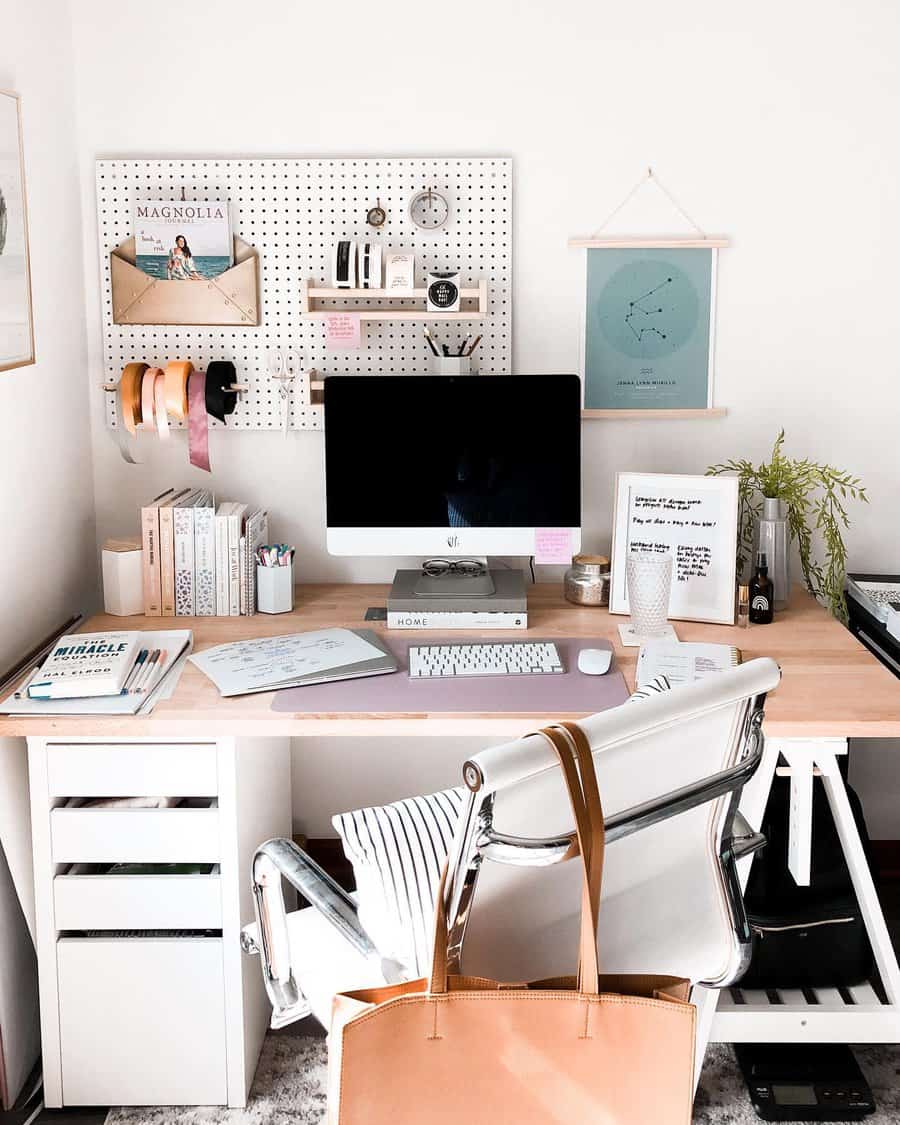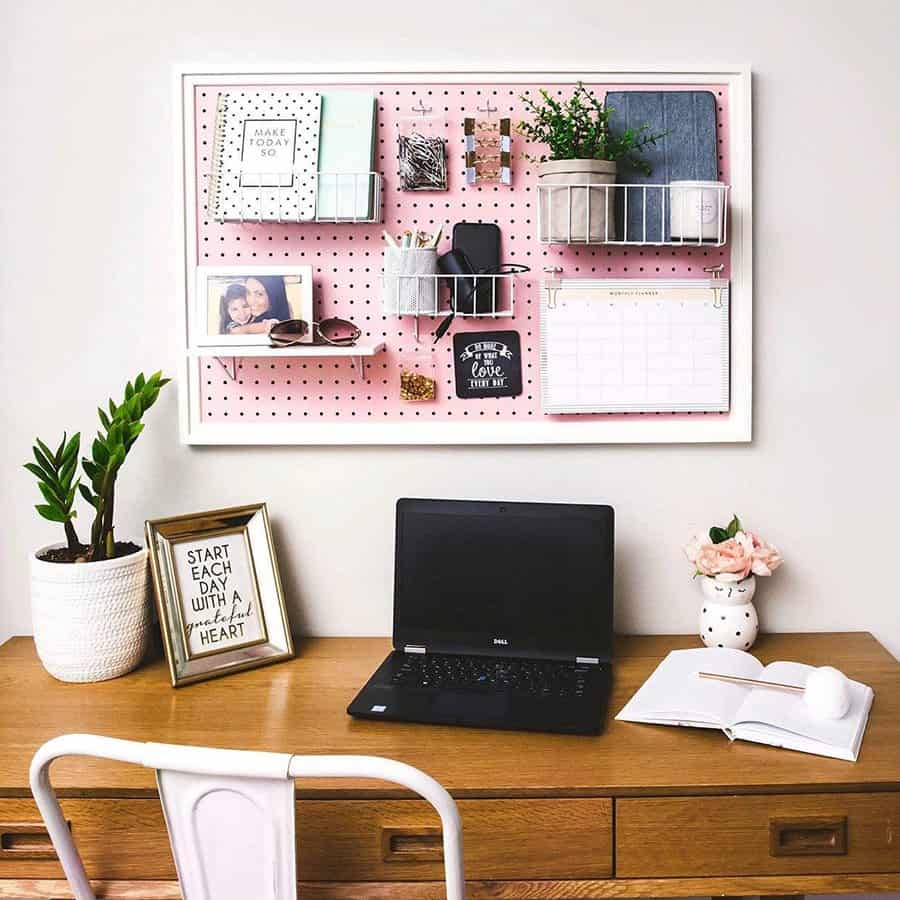 Hanging a pegboard over your desk is ideal for storing small items like pens, rulers, and staples. Your pegboard can also double as a traditional corkboard by holding memos, calendars, and other important notes.
Pegboards can easily be painted to match your office decor. If you need a wall organizer with a more professional finish, consider framing your pegboard before hanging.
8. Shelves
For items that need to be within easy reach, few home office organization ideas come close to the humble shelf. And if you want a space to display personal decor without cluttering up your desk space, a shelf is one of your only options.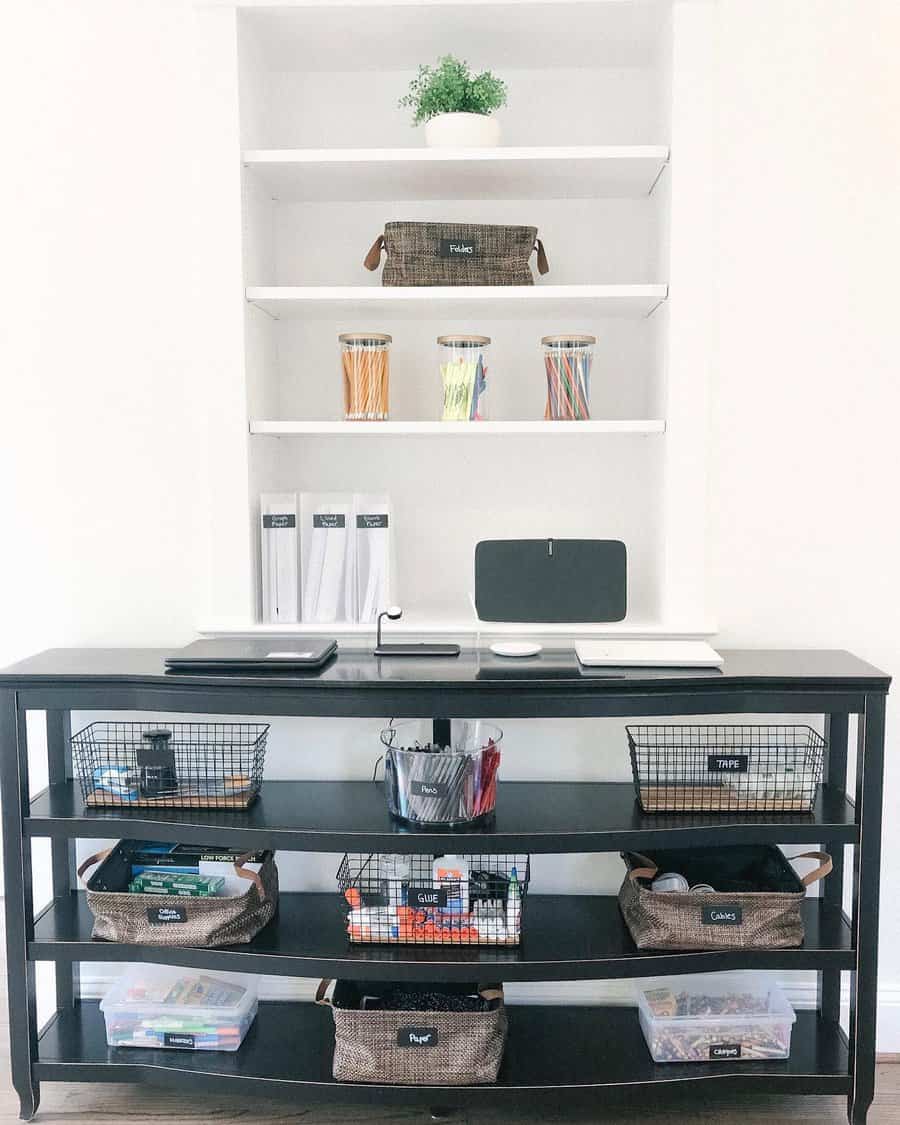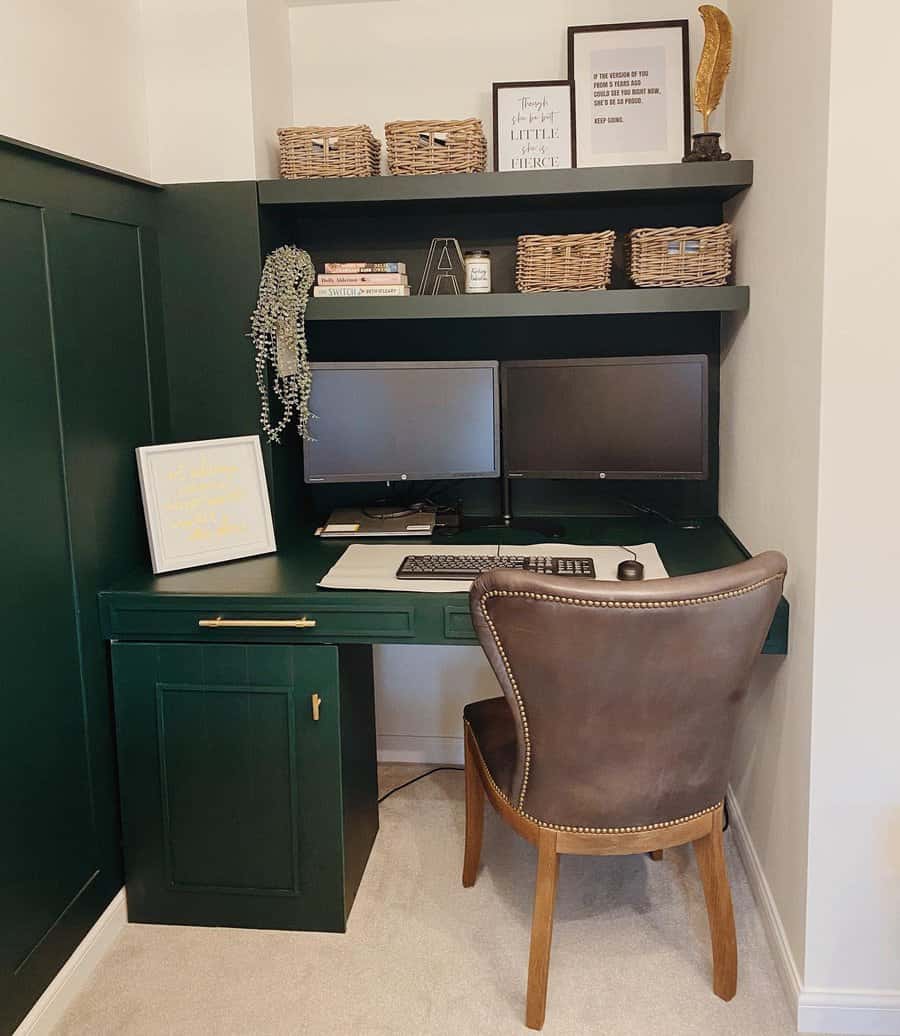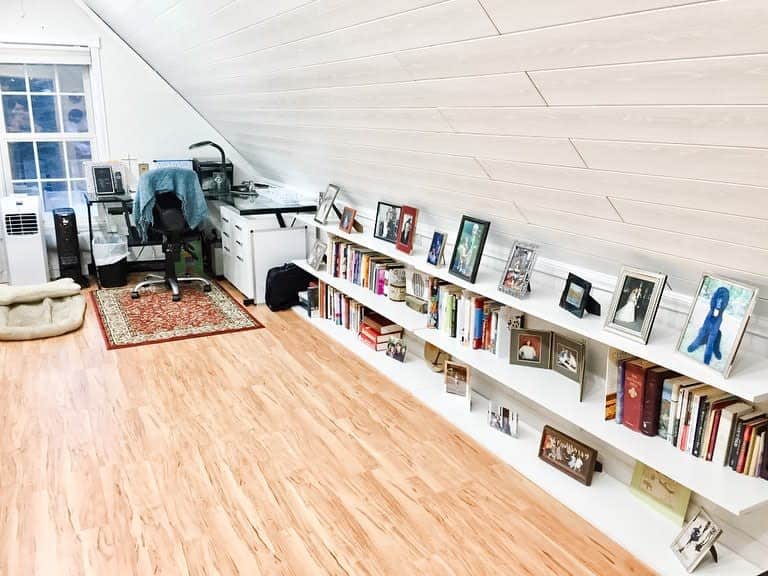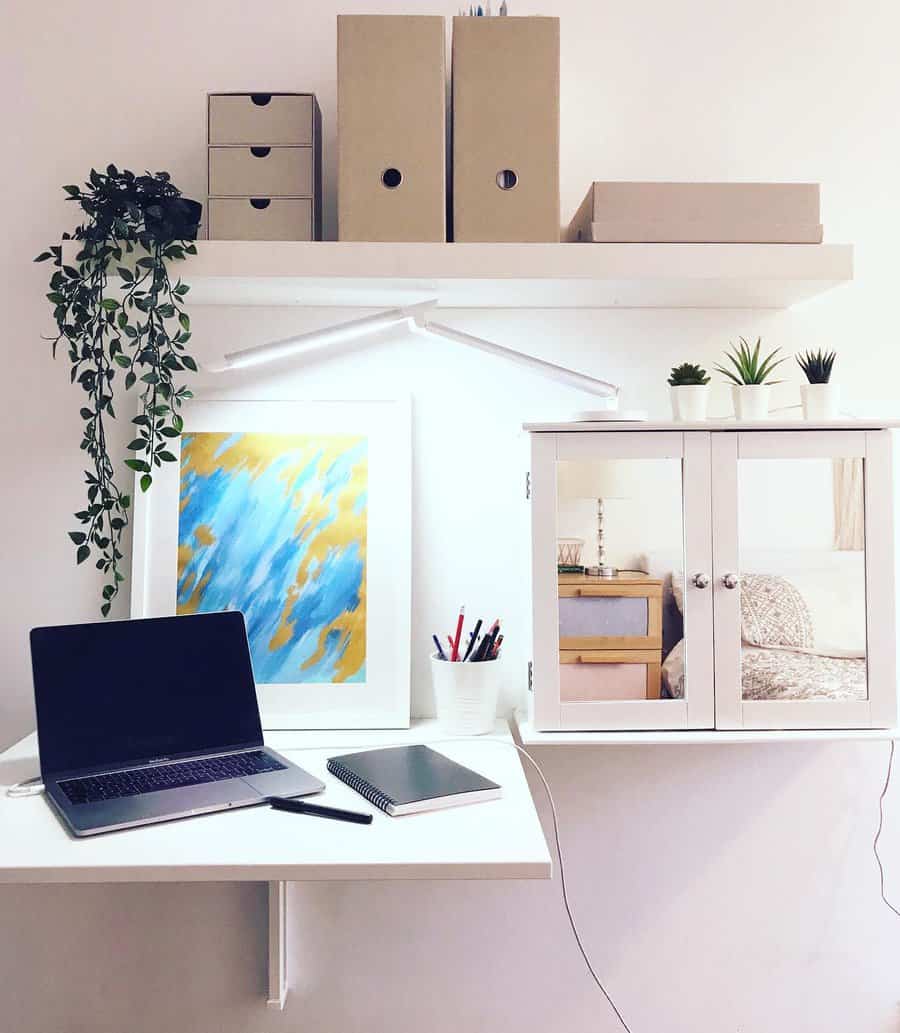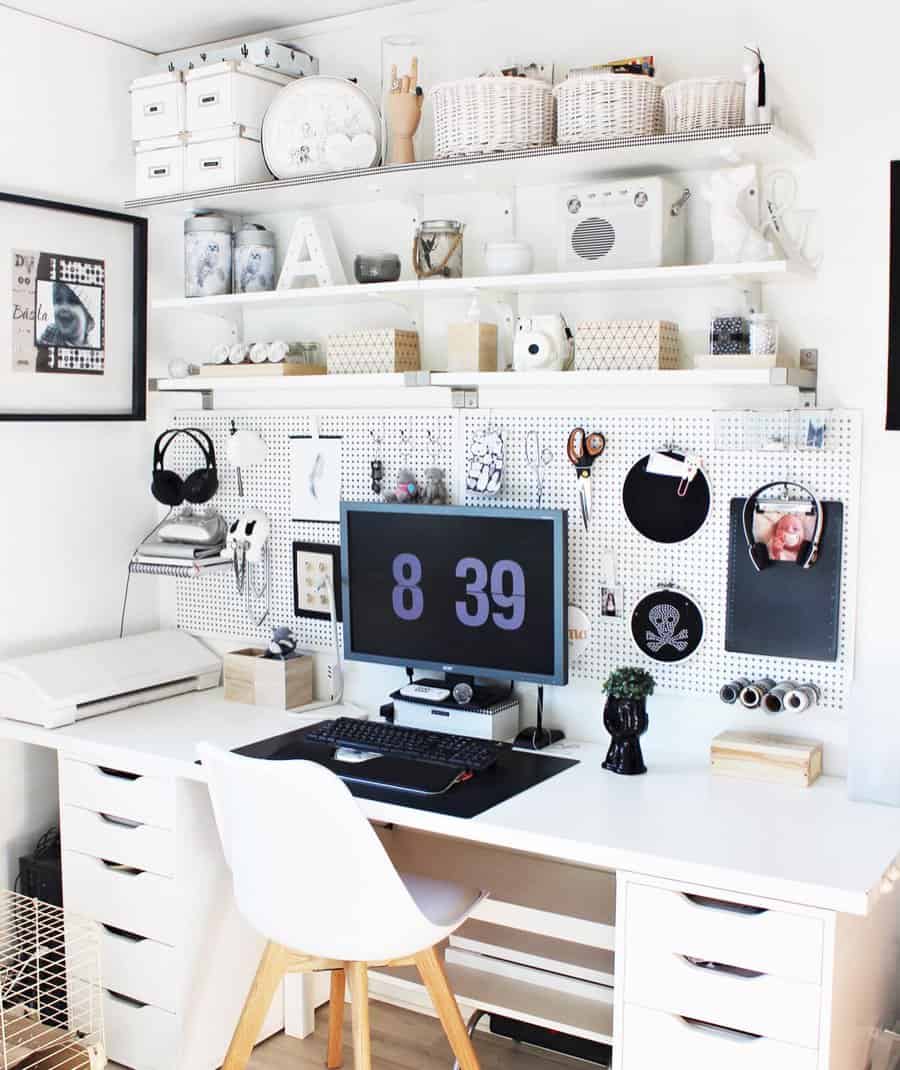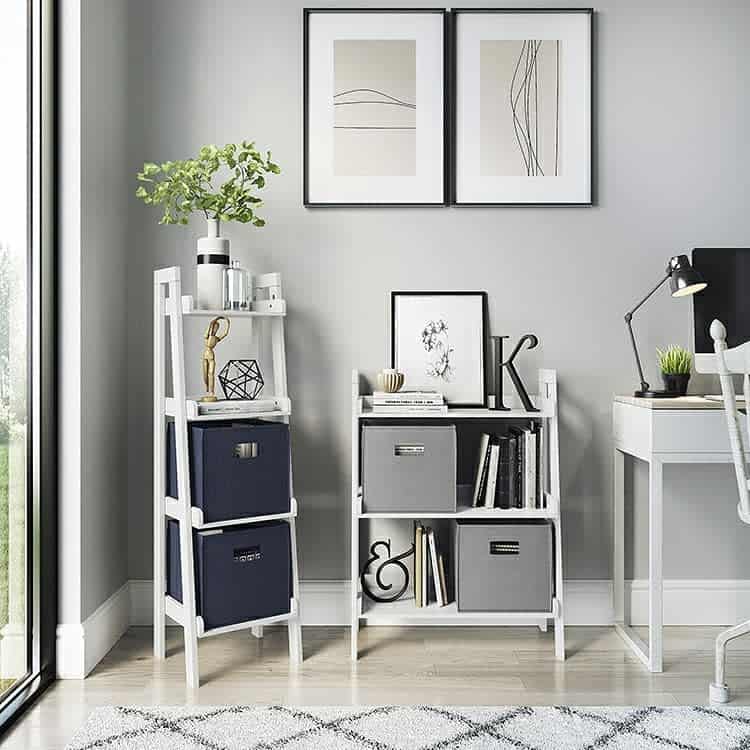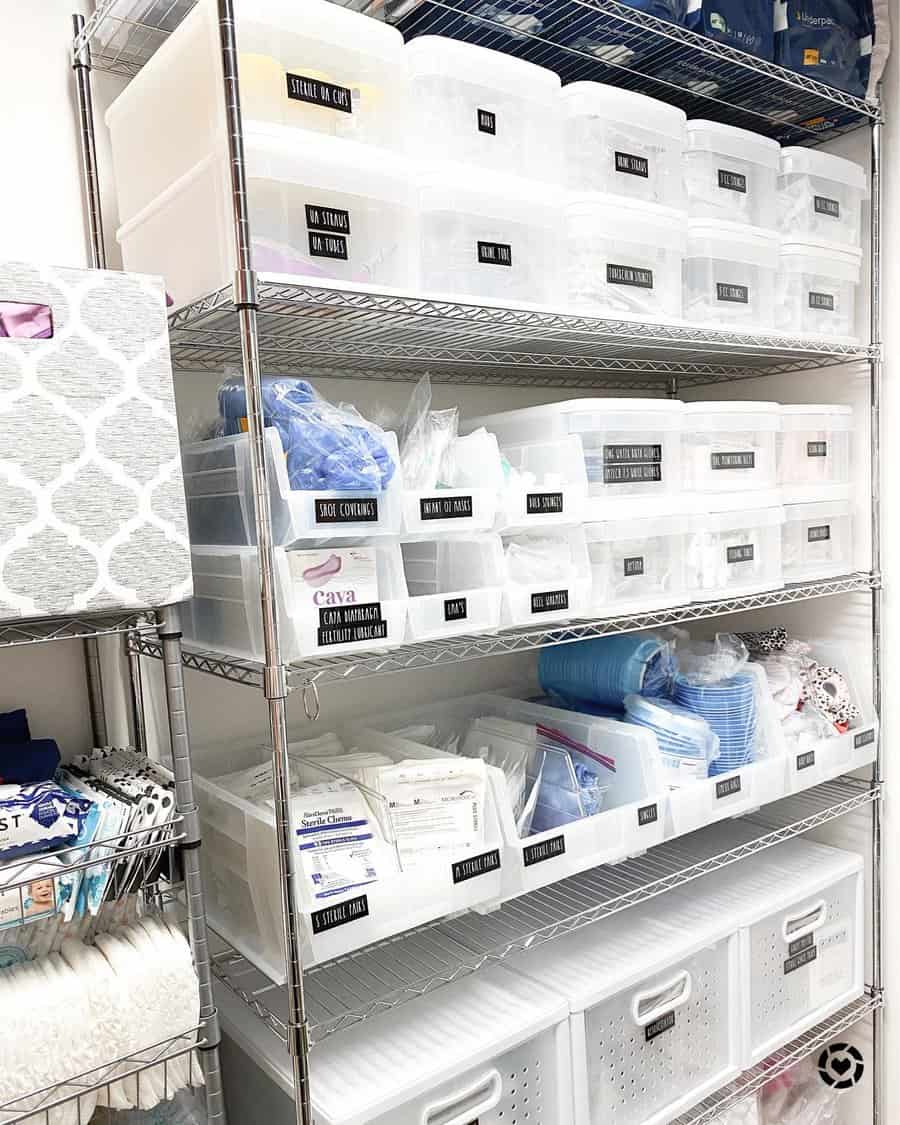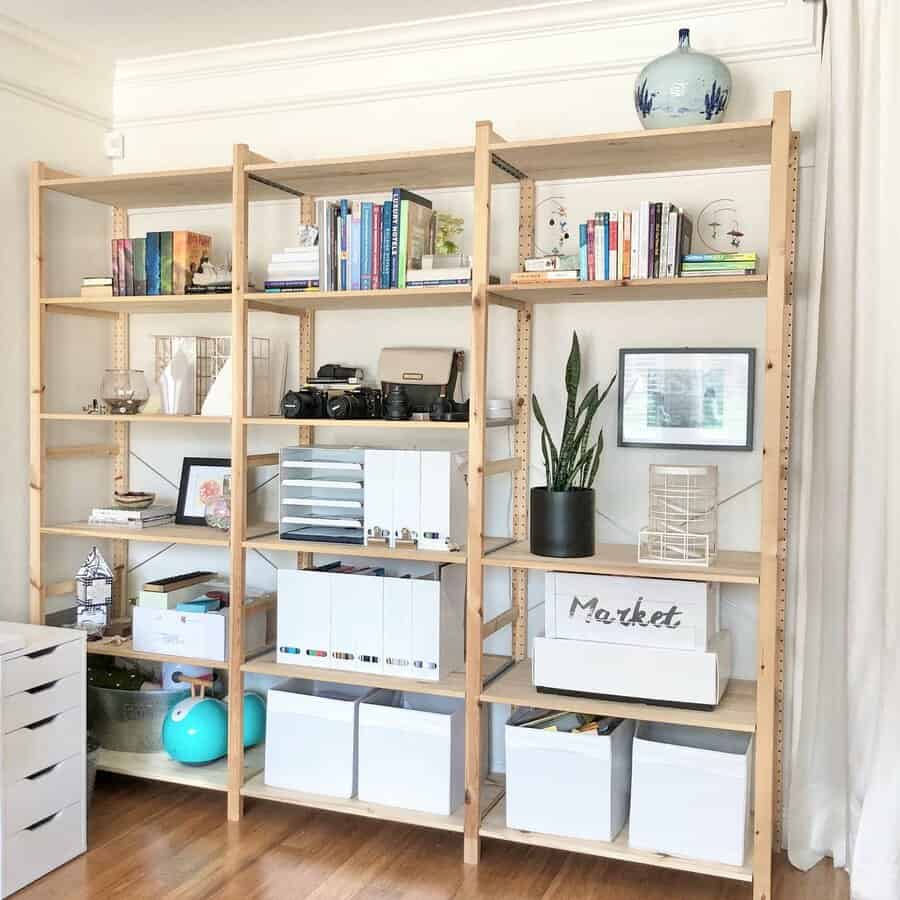 Office organization is not one size fits all. You might find that a repurposed bookshelf works best in your workspace. Or you might only have enough room for a set of floating shelves.
It's hard to organize small items with a shelf alone. Instead, use totes, boxes, and other versatile storage solutions to ensure all of your office supplies have a place to call home.
9. Storage
Efficient office organization often resembles a Matryoshka or Russian nesting doll. From the outside, you might only see a few drawers or cabinets. But you can't just let your office supplies pile up inside.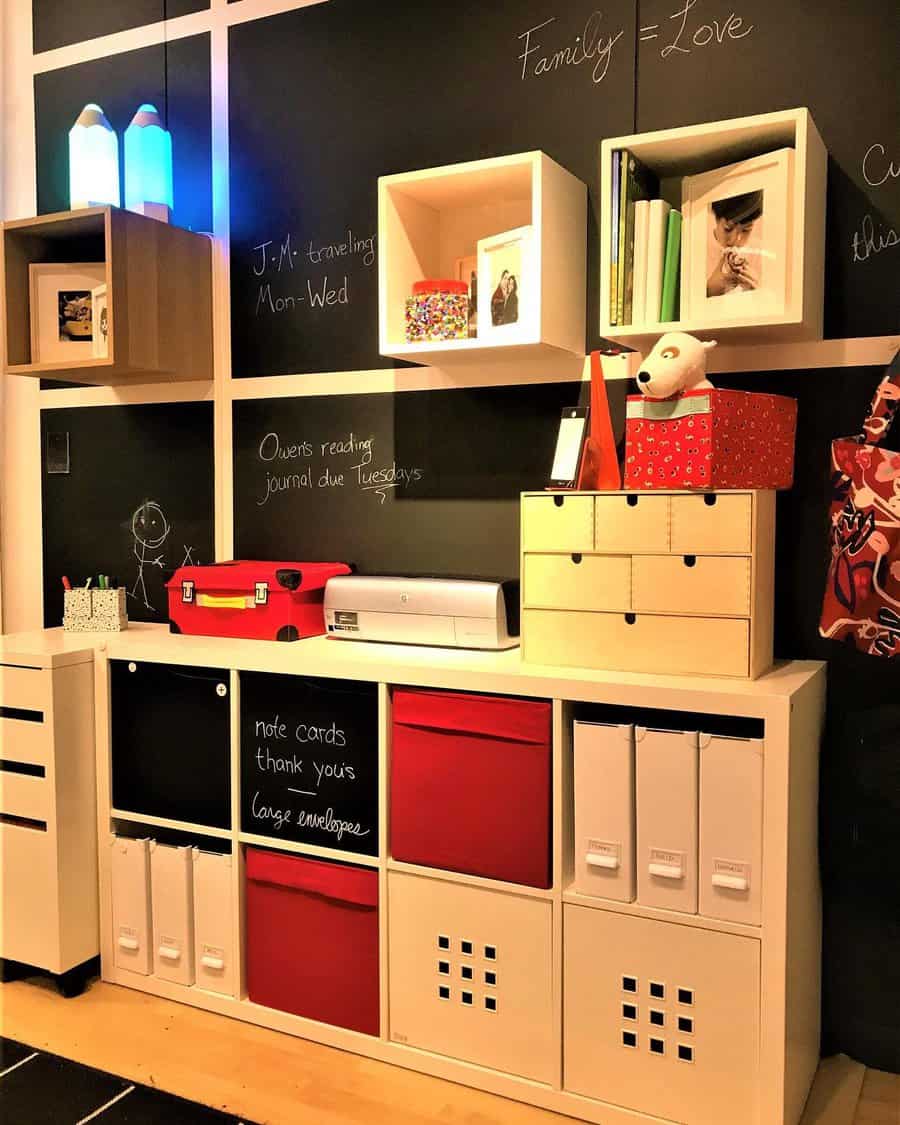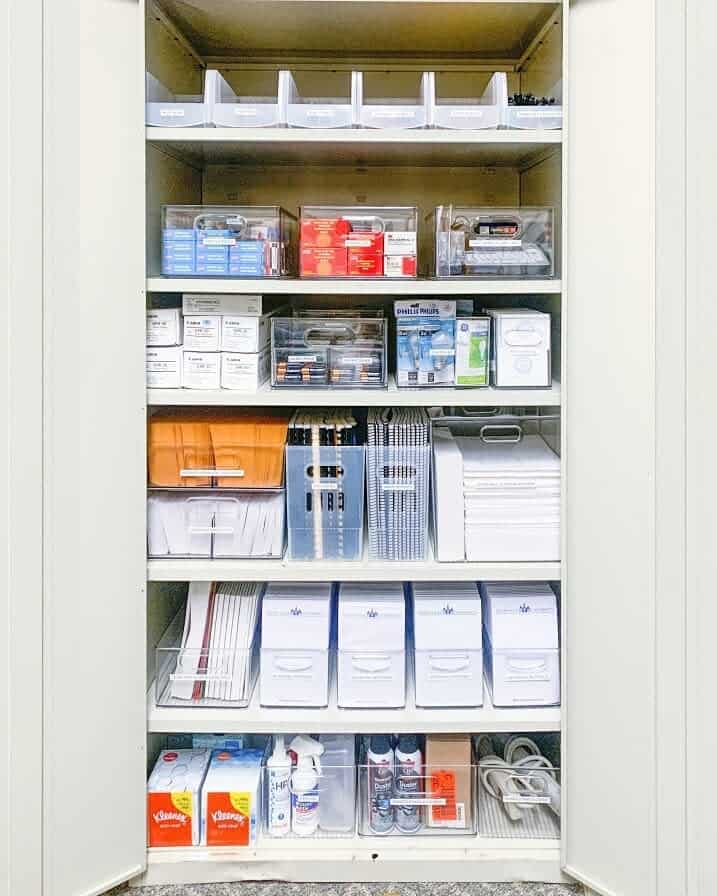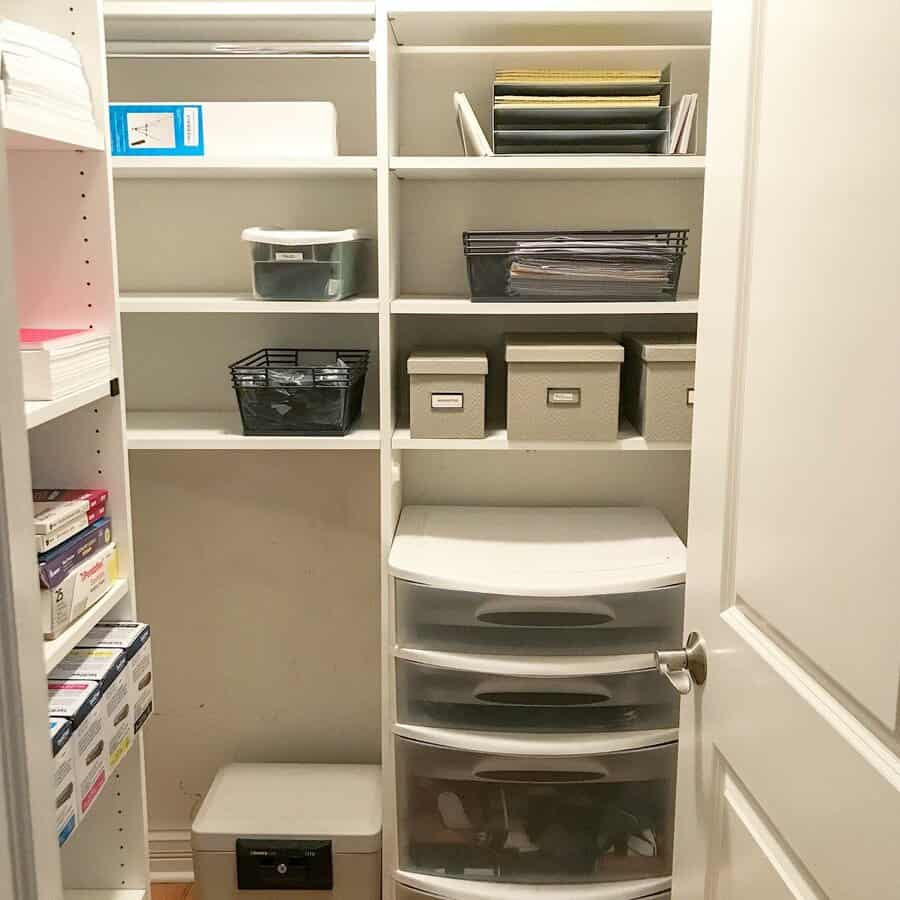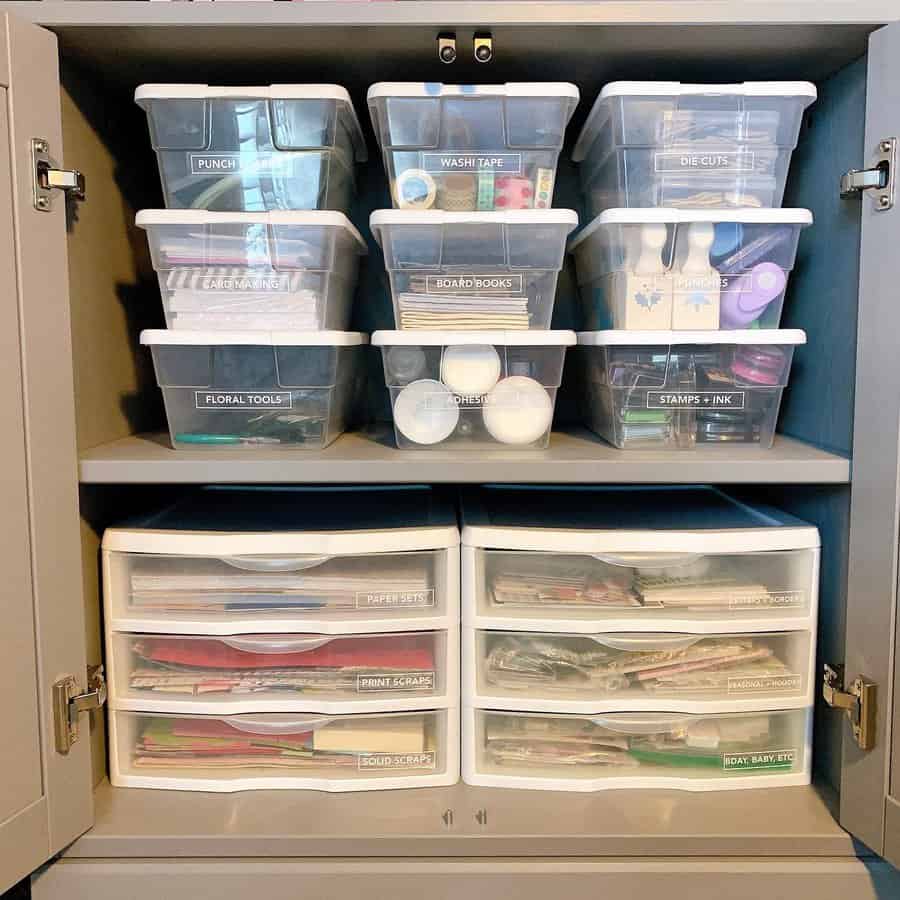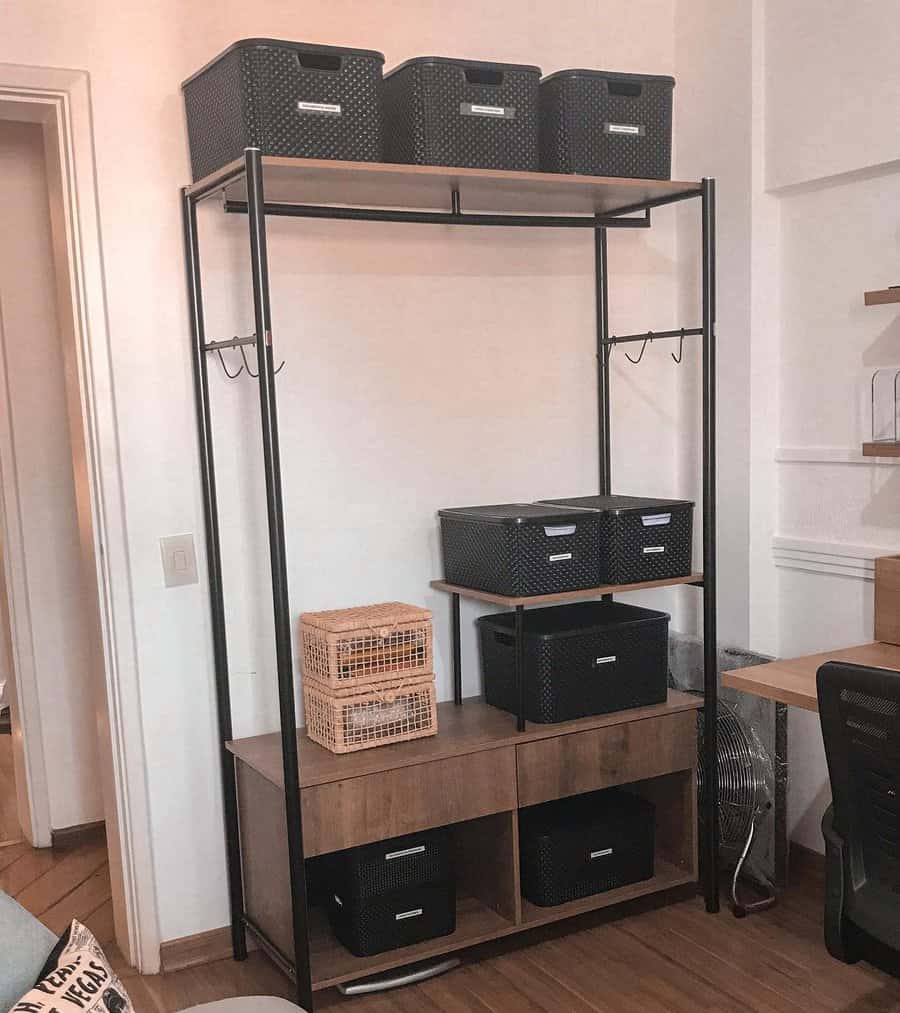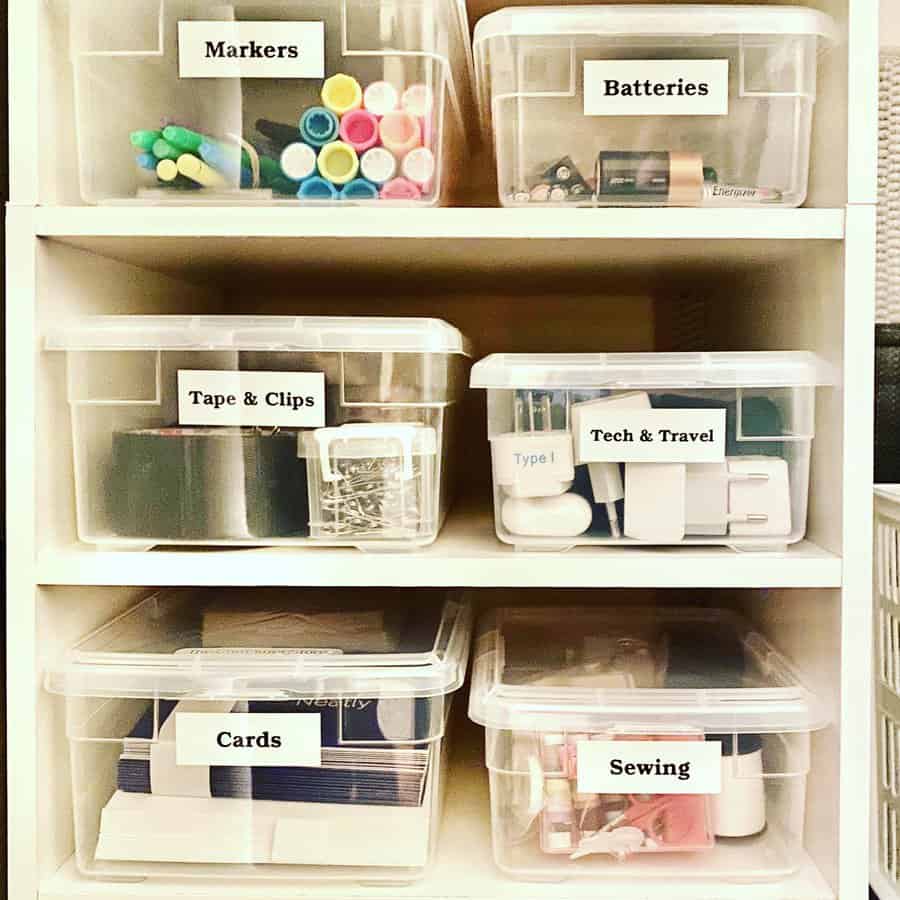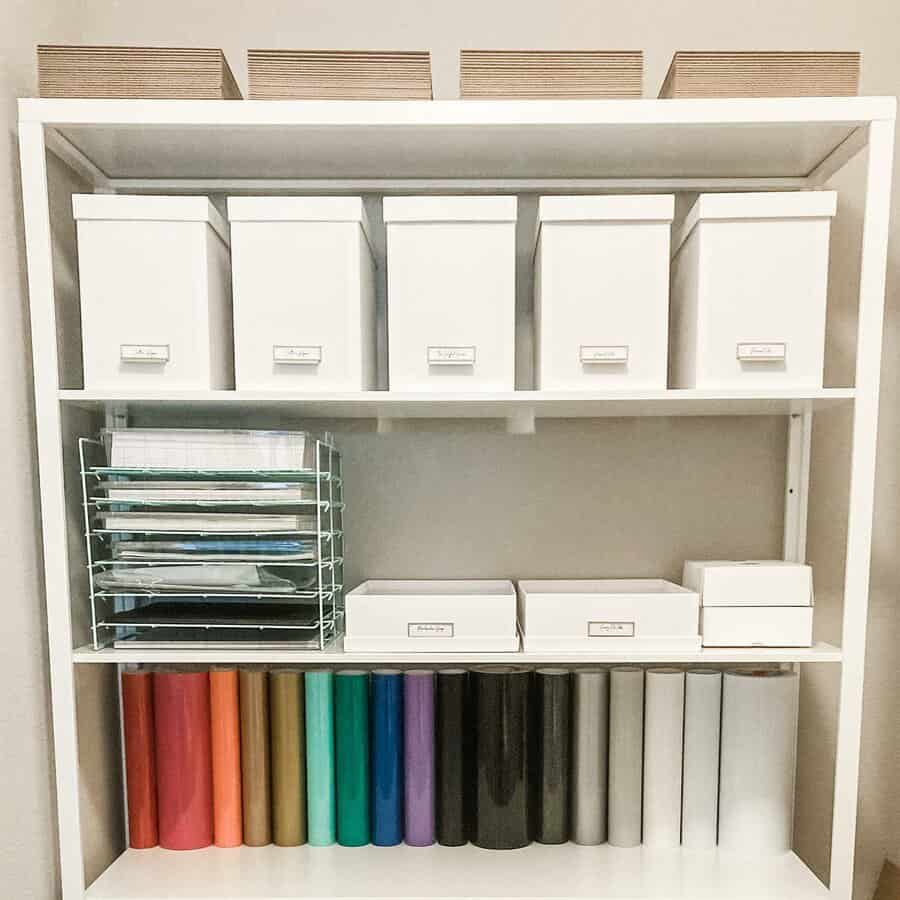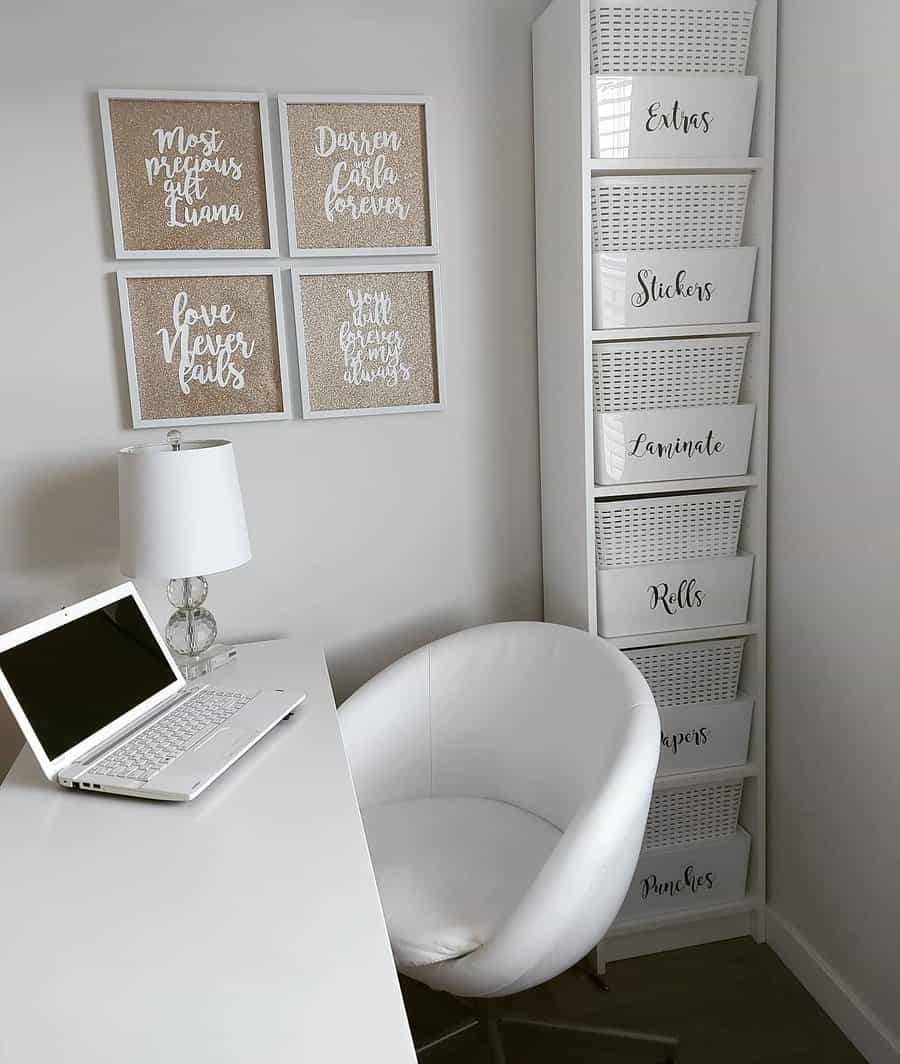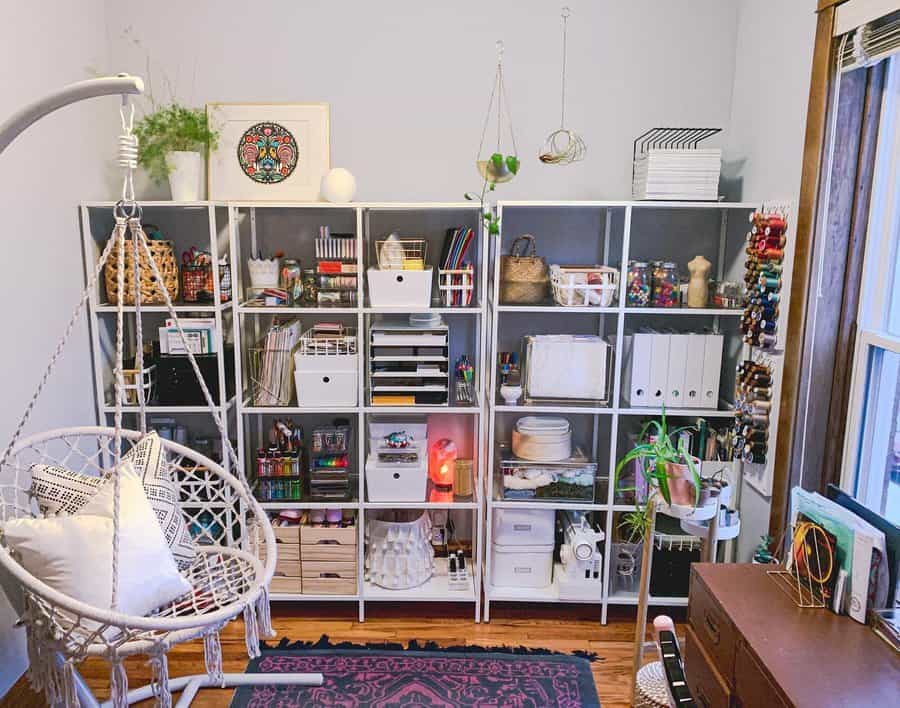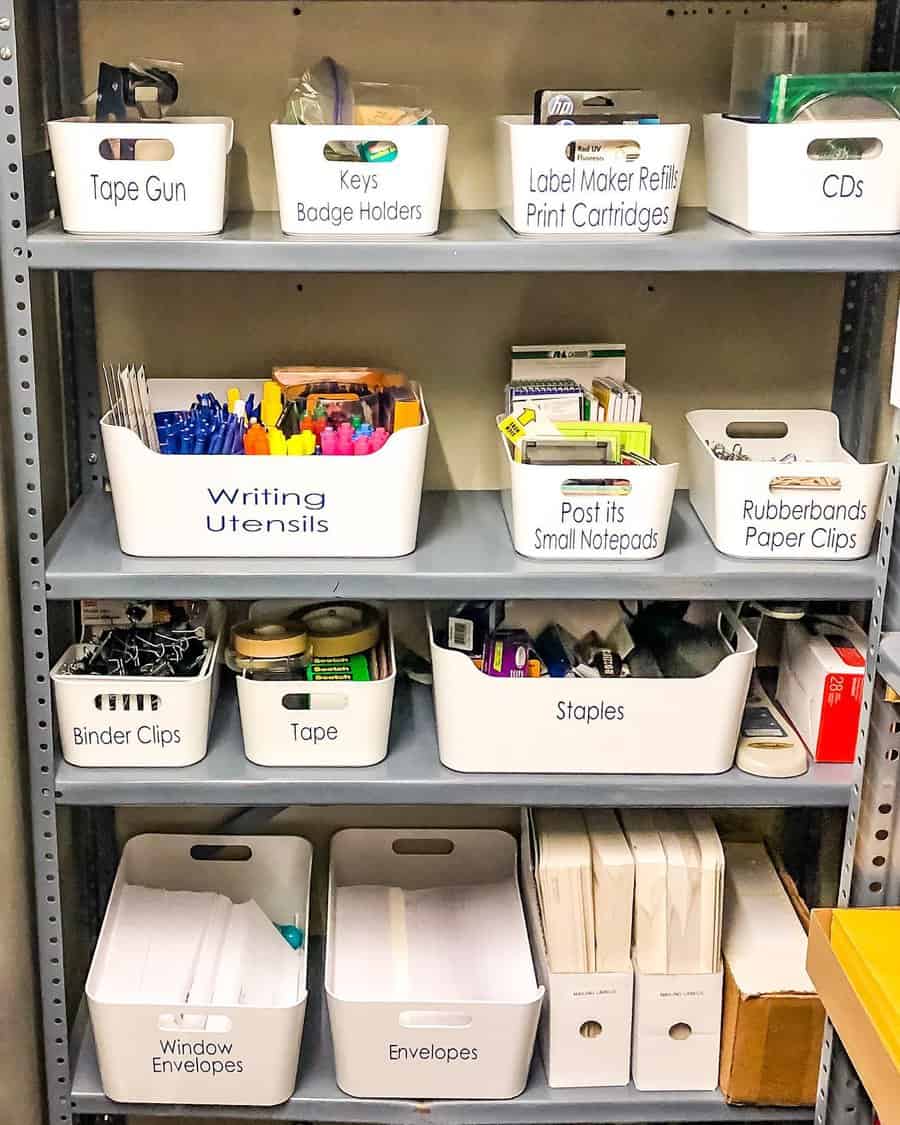 Small totes, drawers, baskets, and other organizers are the secret to maintaining a tidy office at every level. These storage solutions are perfect for any large closet or cabinet. You can also feel free to use them out in the open.
Clear storage containers allow you to see exactly what's inside. If you prefer the look of opaque totes, be sure to invest in a label maker!
10. Wall
Chances are, you've overlooked at least some of the storage space at your disposal. When it comes to outfitting an office, many workers forget to look up (literally!).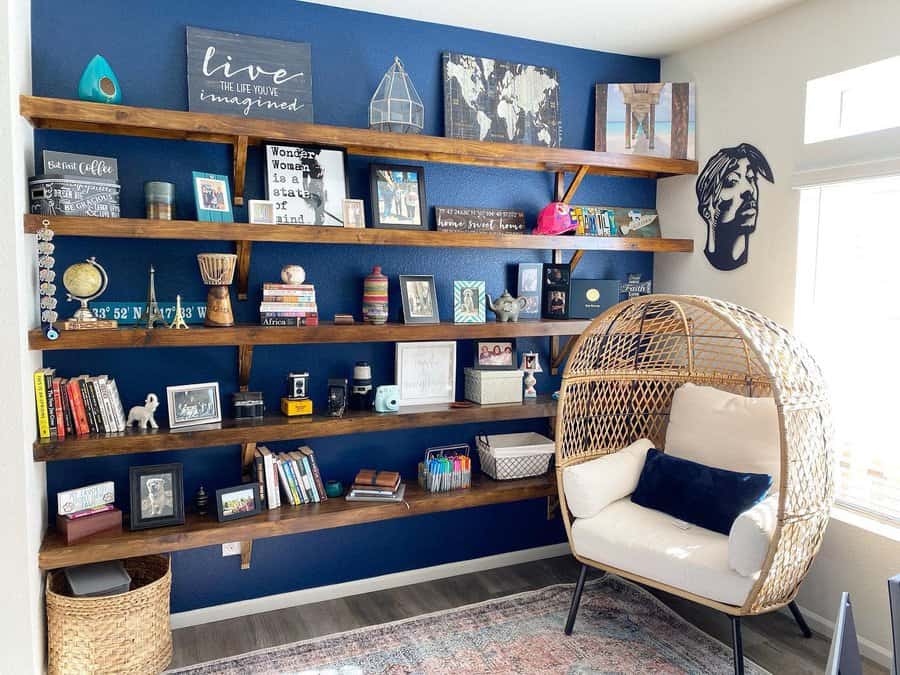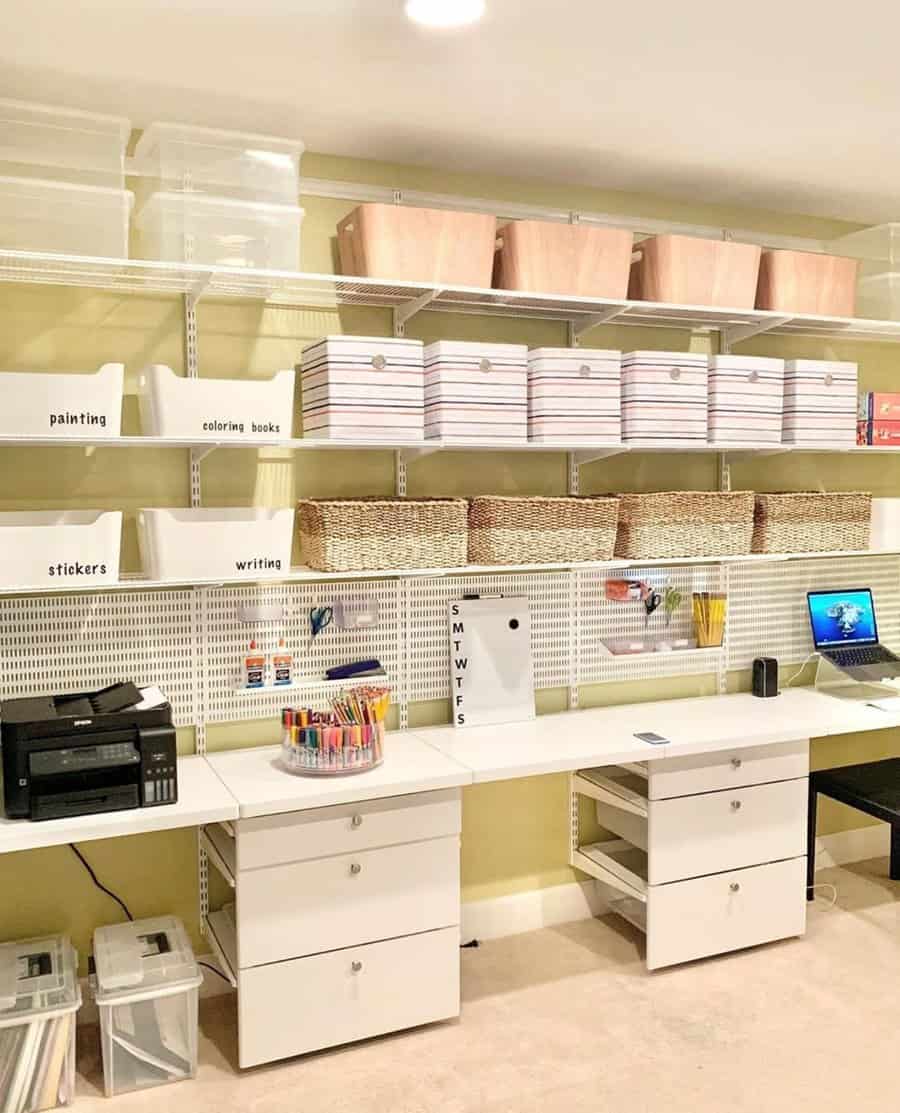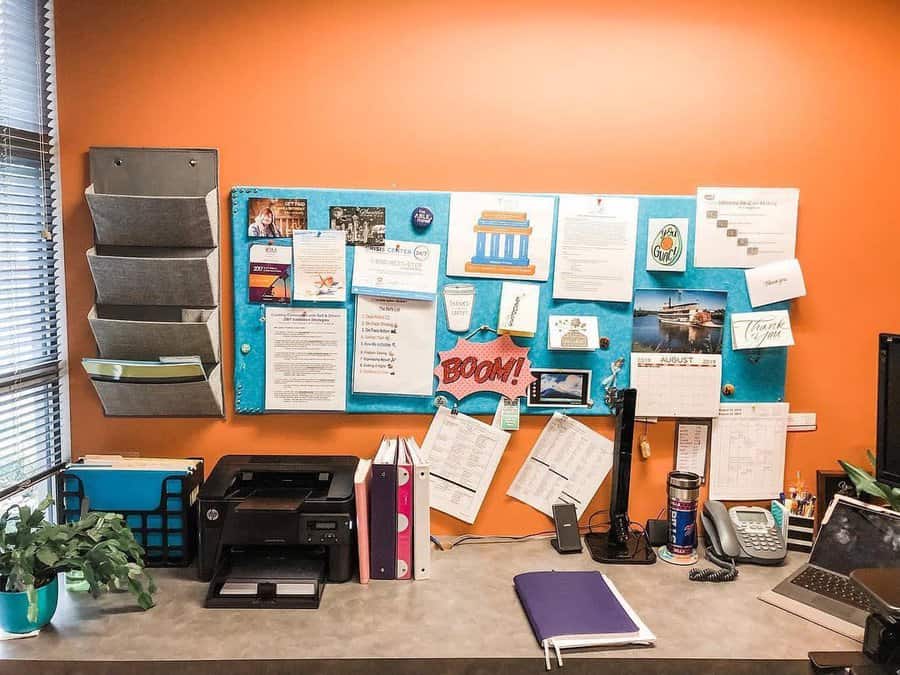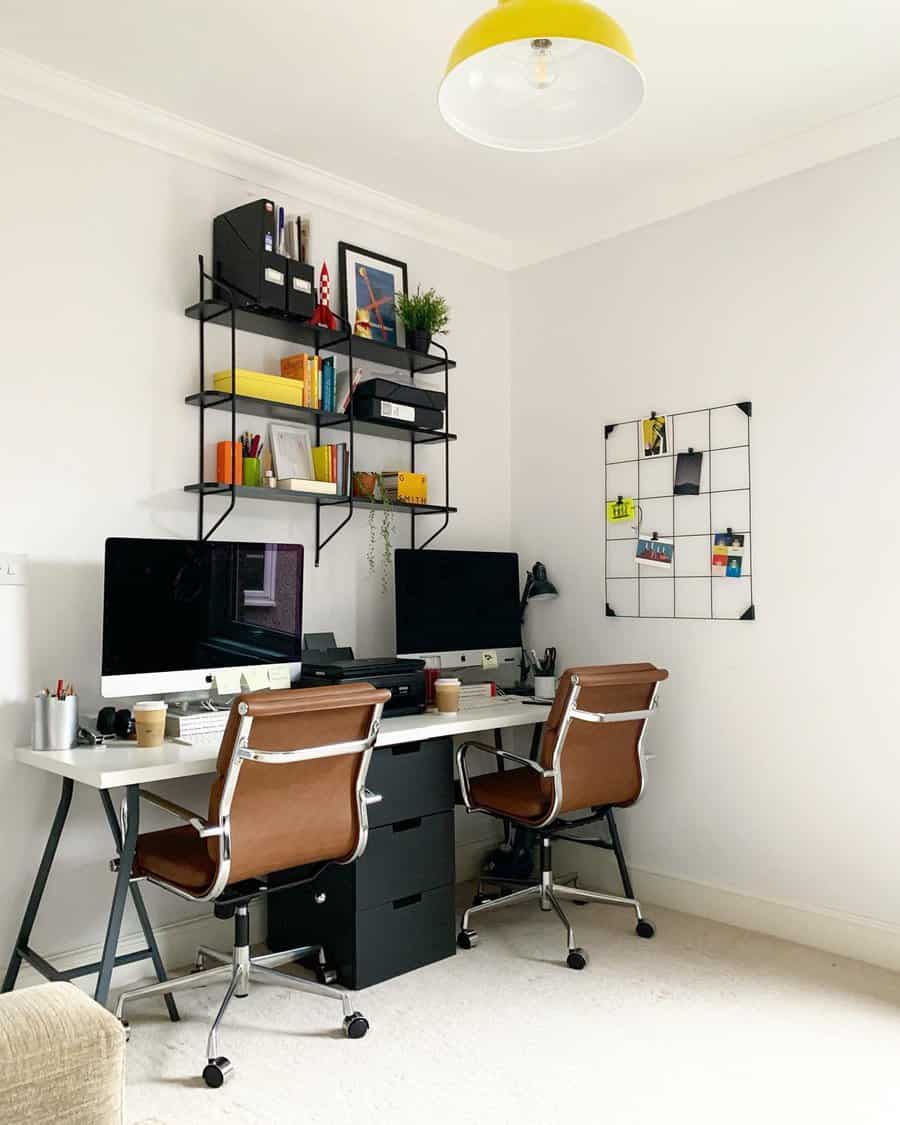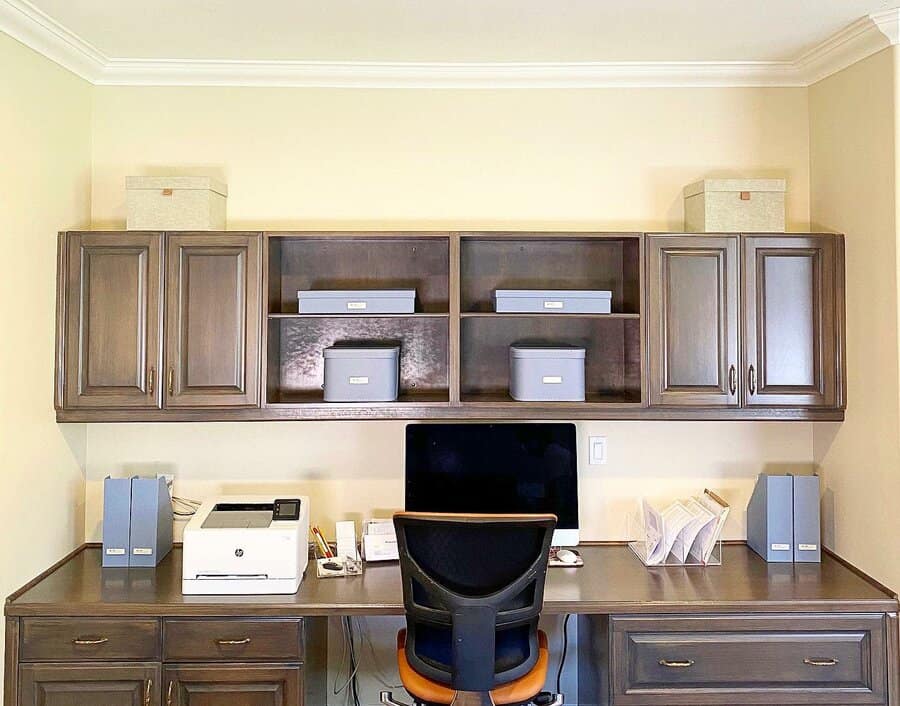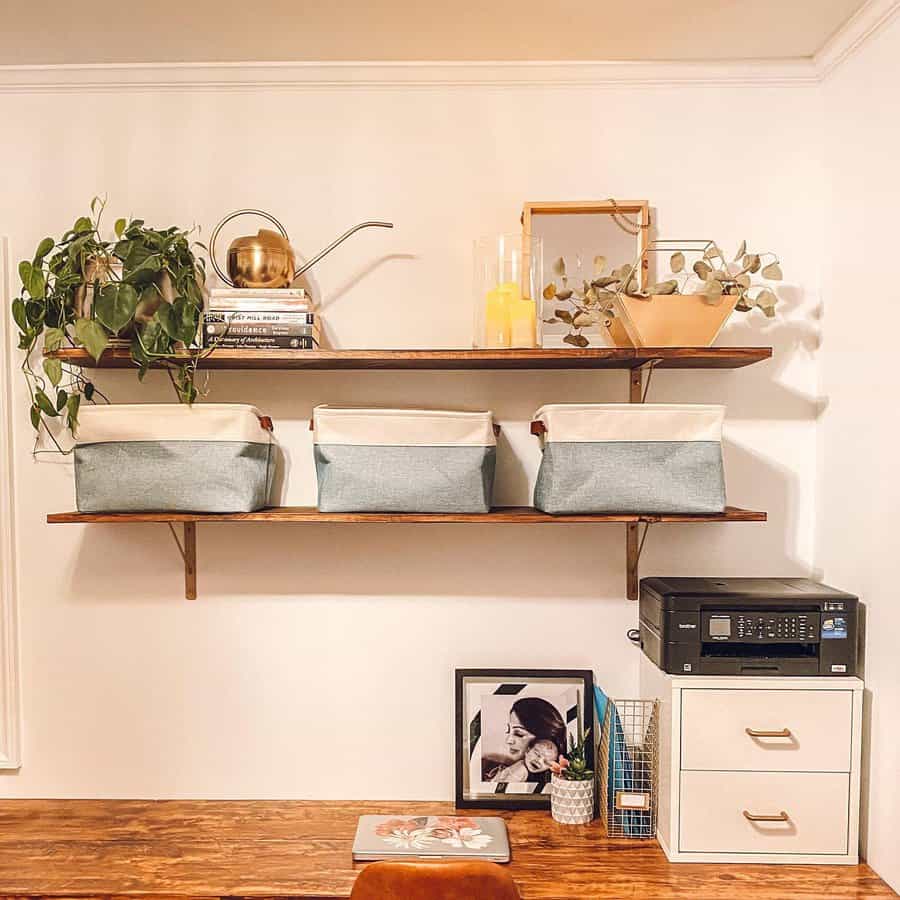 Wall space is an excellent resource for better organization. Shelving can be installed on nearly any wall. You can also boost your home office storage with hanging cabinets.
Most wall-mounted storage is easy to access and ensures nothing gets pushed to the back of a drawer. Even the most basic office organization tools — pegboards, chalkboards, whiteboards, etc. — can make a difference in the average workday.
Office Organization FAQs
How do you declutter a desk?
Whether you work in a home office or executive suite, a cluttered desk is a no-no. Not only does it look messy but it can actually slow down your productivity and raise your stress levels.
Start by removing the obvious offenders: Non-essential items that are rarely used. There's no reason for these supplies to take up such valuable real estate.
If you still find yourself with a full desk, continue organizing with a slow culling. Place the remaining items somewhere else (such as the floor or another surface). Then, spend the next week noting which items you must regularly get up and grab. Anything left behind needs to find a permanent home that is NOT your desk!
How do you keep an office organized long-term?
Even the best home office organization ideas are not permanent. It takes constant work to maintain a clean and organized workspace.
Create a detailed system when organizing your office space. You shouldn't need to spend any mental energy deciding where items go. Labels can help take the guesswork out of where things belong in the future.