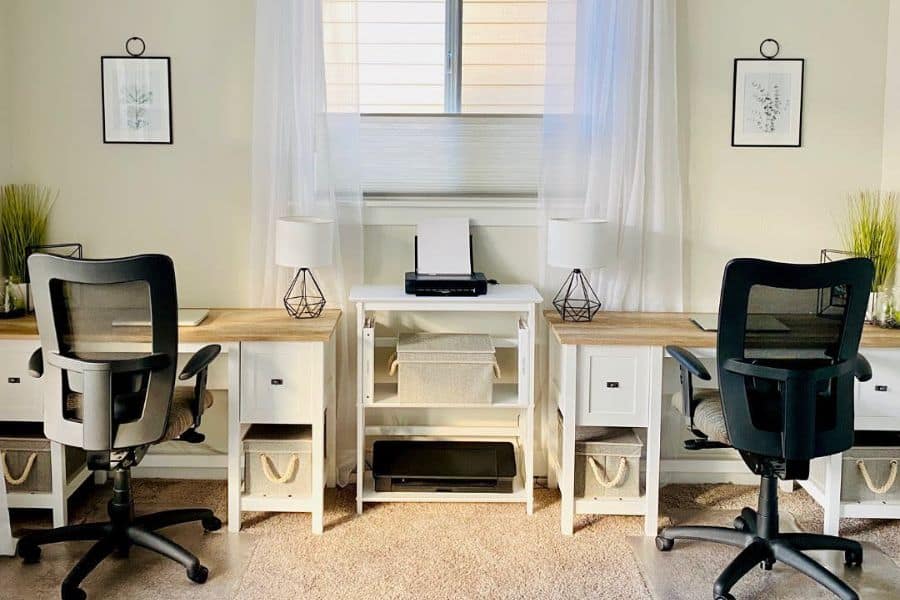 78 Home Office Organization Ideas to Boost Productivity
by — Kendrick Hulse

Published on July 5, 2021

Updated on October 6, 2023
Few people would choose to spend their days in an office. But creating a home office that is neat and organized can at least soften the blow of long work hours and never-ending projects.
Better organization doesn't just help us look like we have our lives together. It can also have a direct impact on productivity and overall mood. These factors are especially important for those of us working from home.
Check out our favorite home office organization ideas below to get started. (Don't worry! You can adapt these ideas to suit your workplace office too.)
Read also: 83 Small Home Office Ideas
1. Hidden Filing Cabinet Under Desk
Maximize your home office efficiency by adding a hidden filing cabinet under your desk. This clever solution not only tidies up your workspace but also frees up valuable desk real estate. To achieve this design, select a sleek under-the-table filing cabinet that complements your existing decor, ensuring both functionality and style. Keep your important documents easily accessible while maintaining a clean and organized workspace.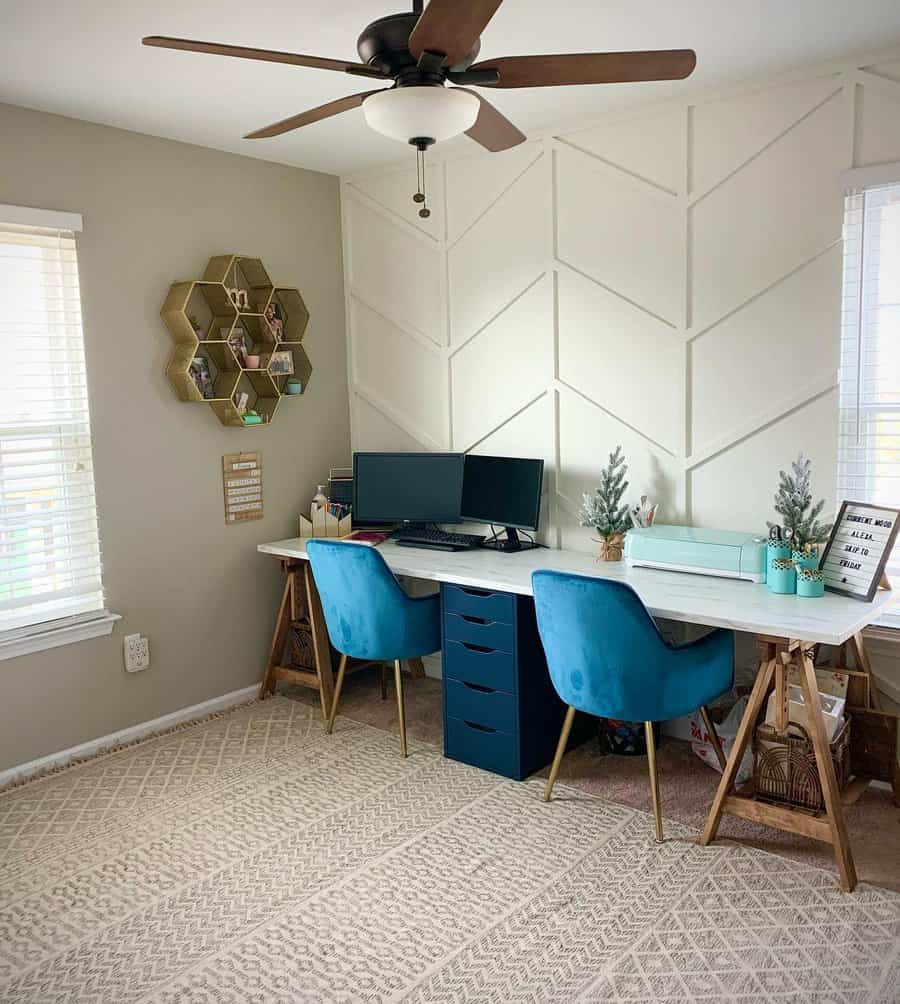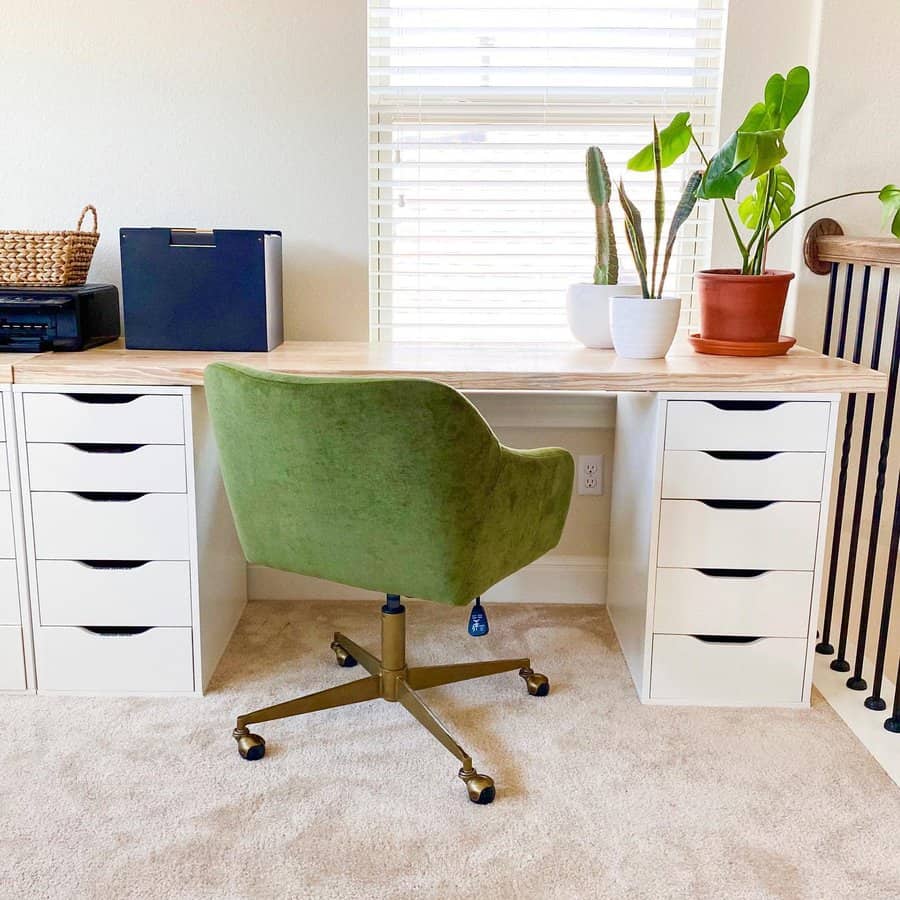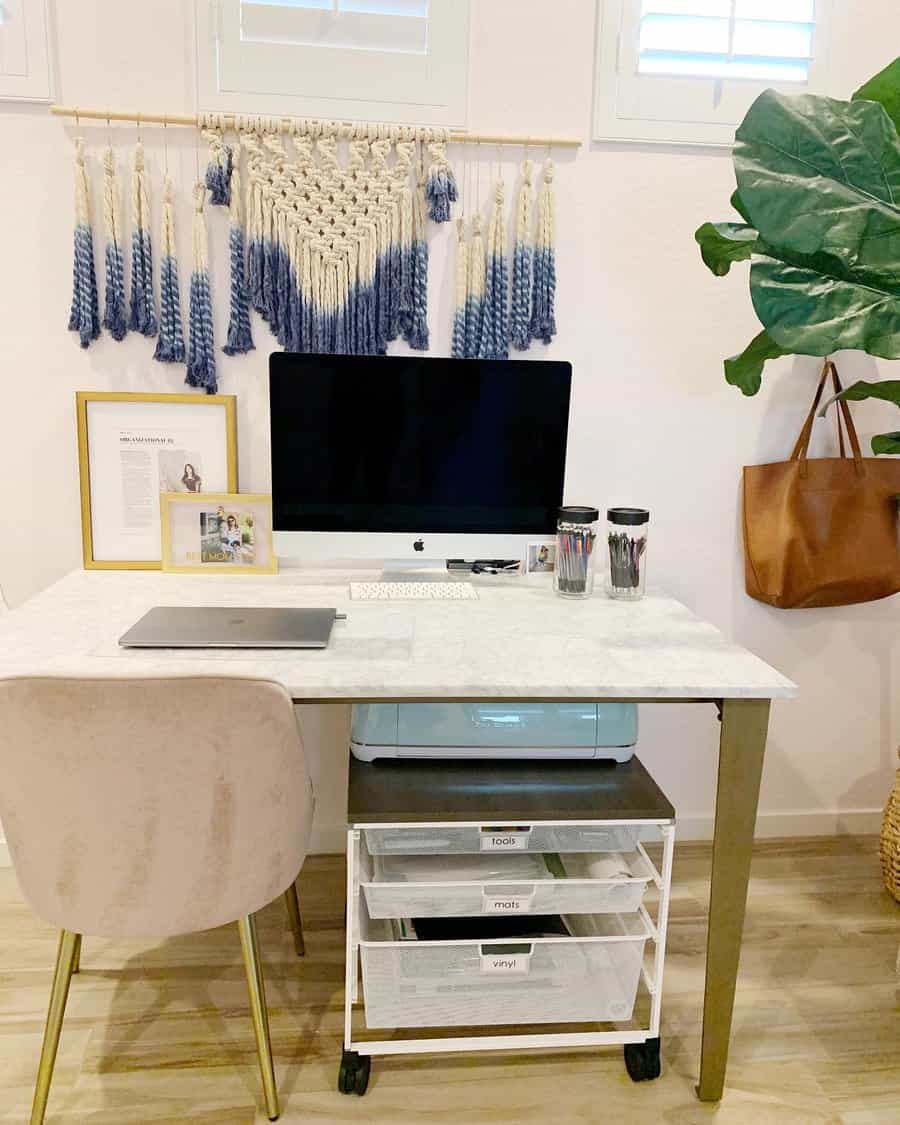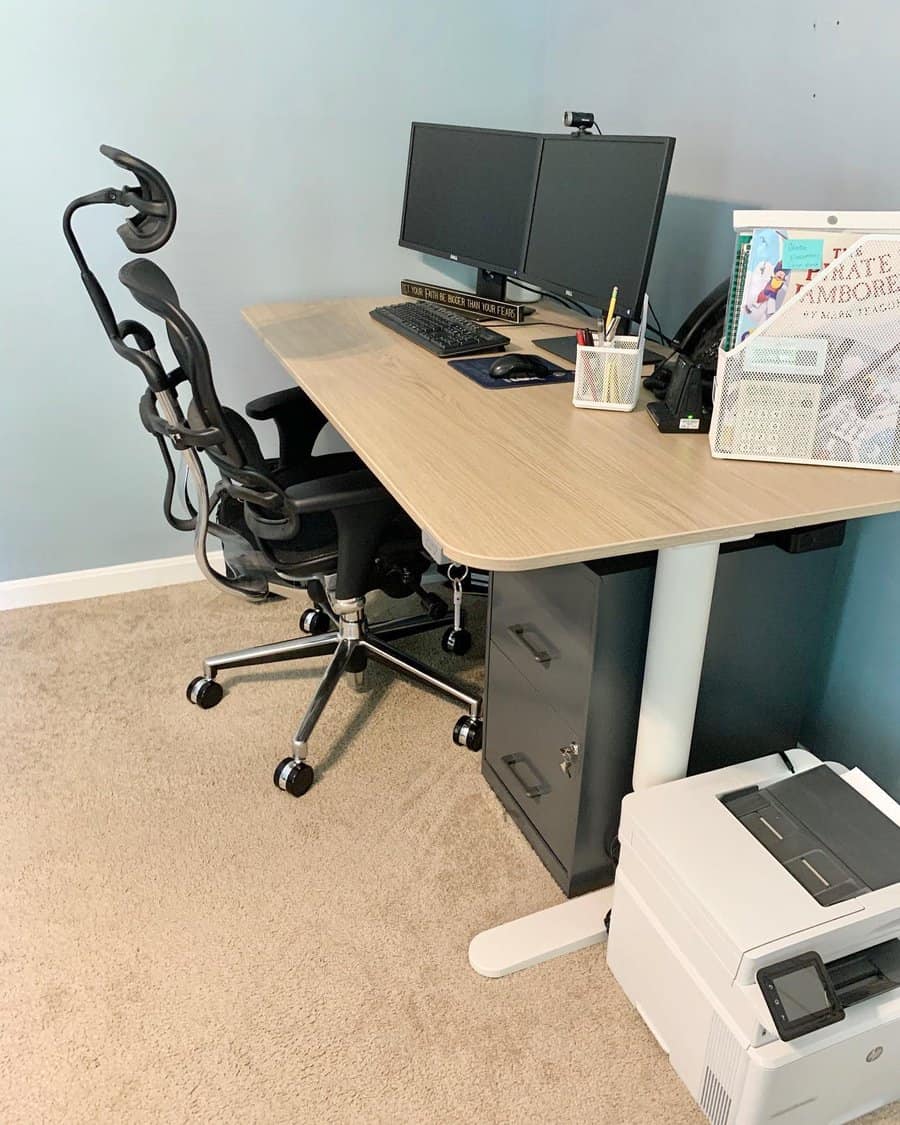 2. Floating Shelves for Stylish Storage
Elevate both your style and productivity in your home office with floating shelves. These sleek and space-saving shelves offer stylish storage solutions while keeping your workspace clutter-free. Install floating shelves above your desk for easy access to essentials without sacrificing floor space.
To maximize storage, consider a desk with built-in wall-mounted shelves on each side, allowing you to keep supplies within arm's reach. This not only enhances your office's aesthetic but also optimizes functionality, ensuring you can concentrate on your tasks with ease.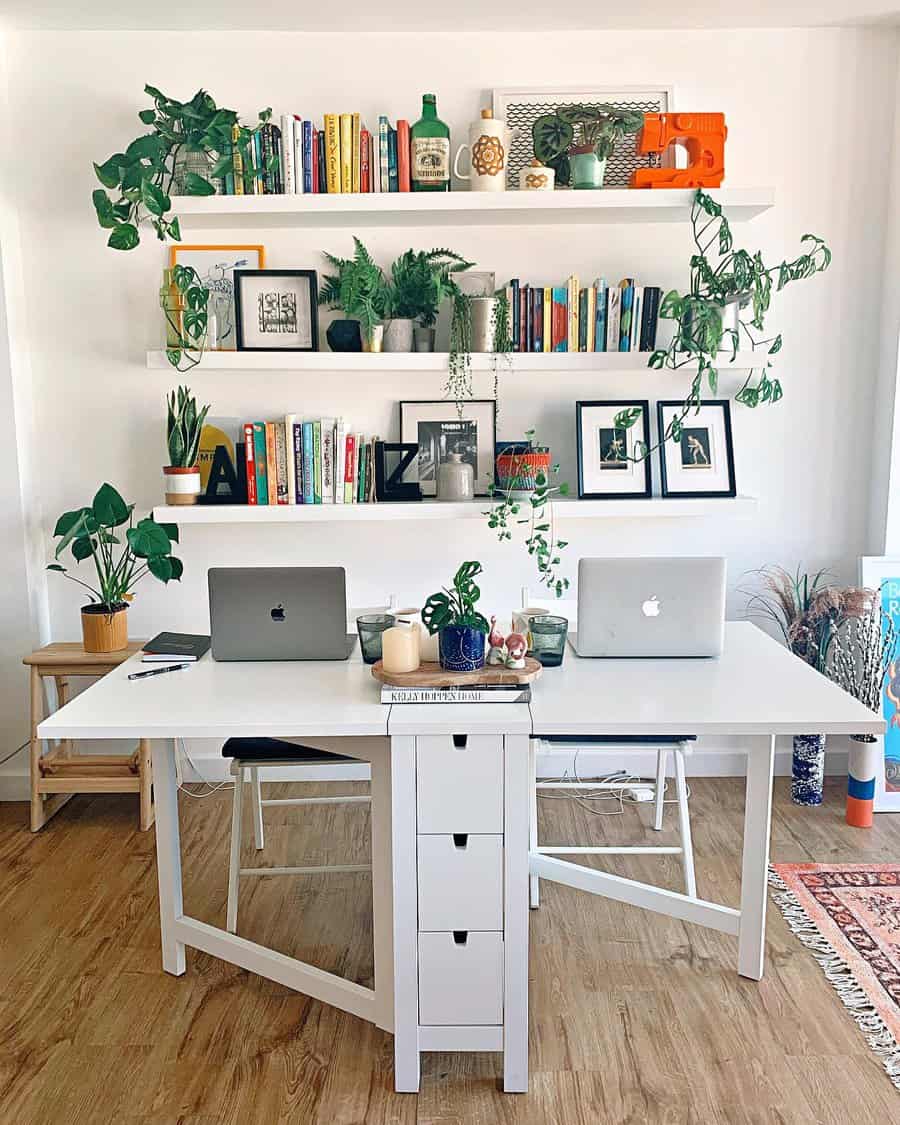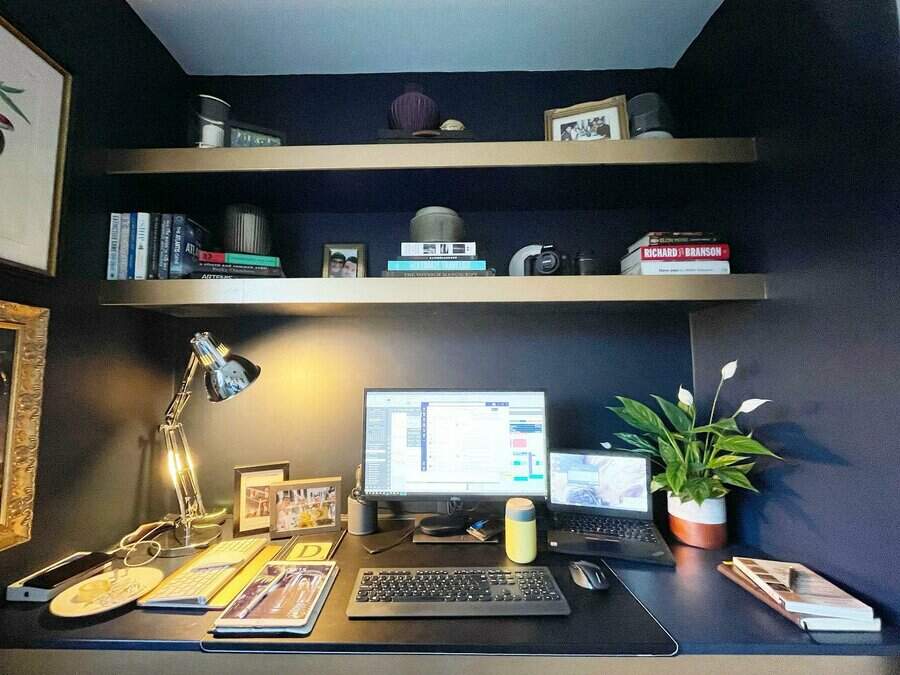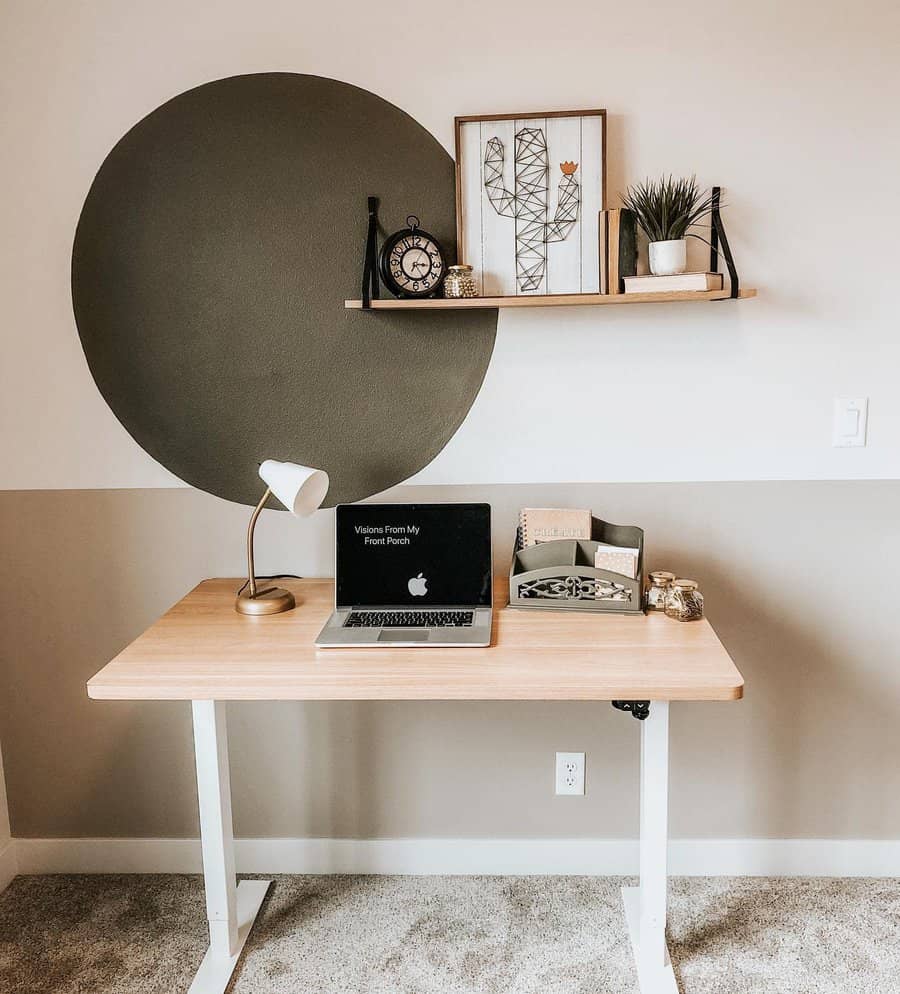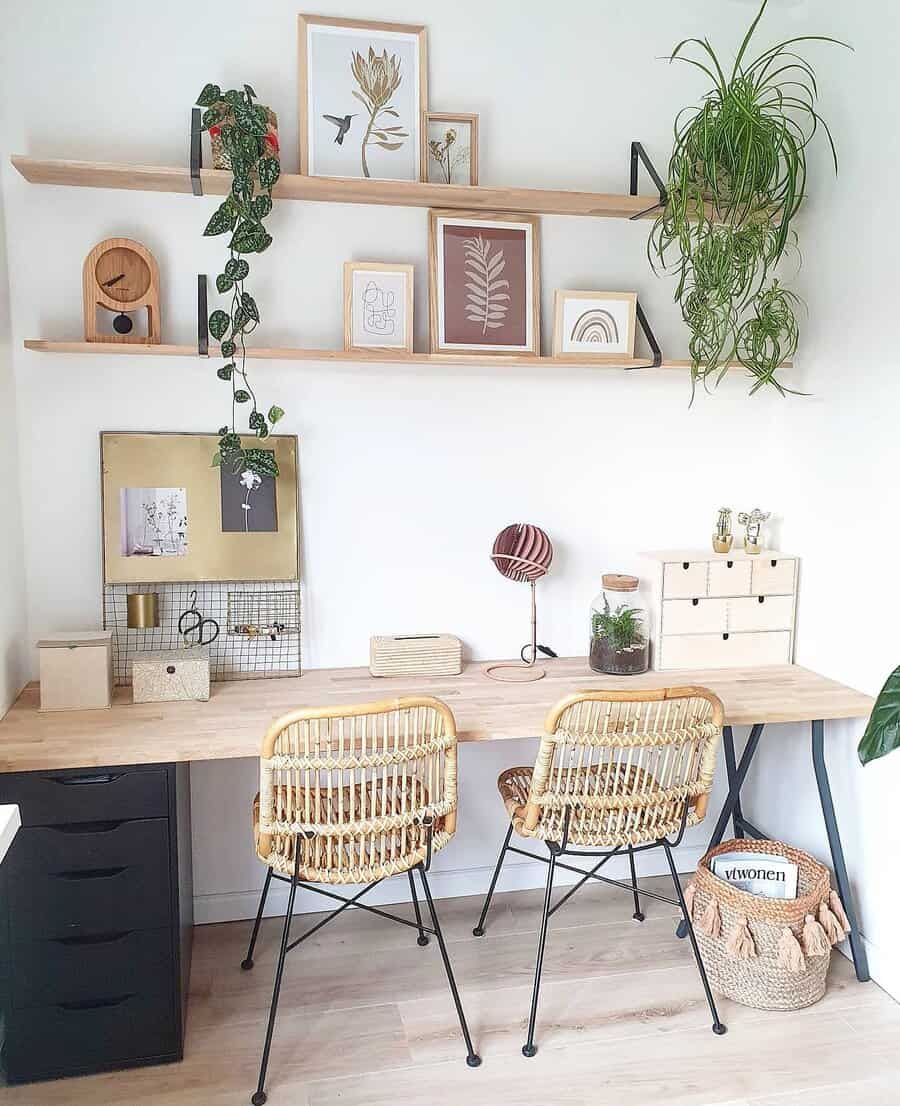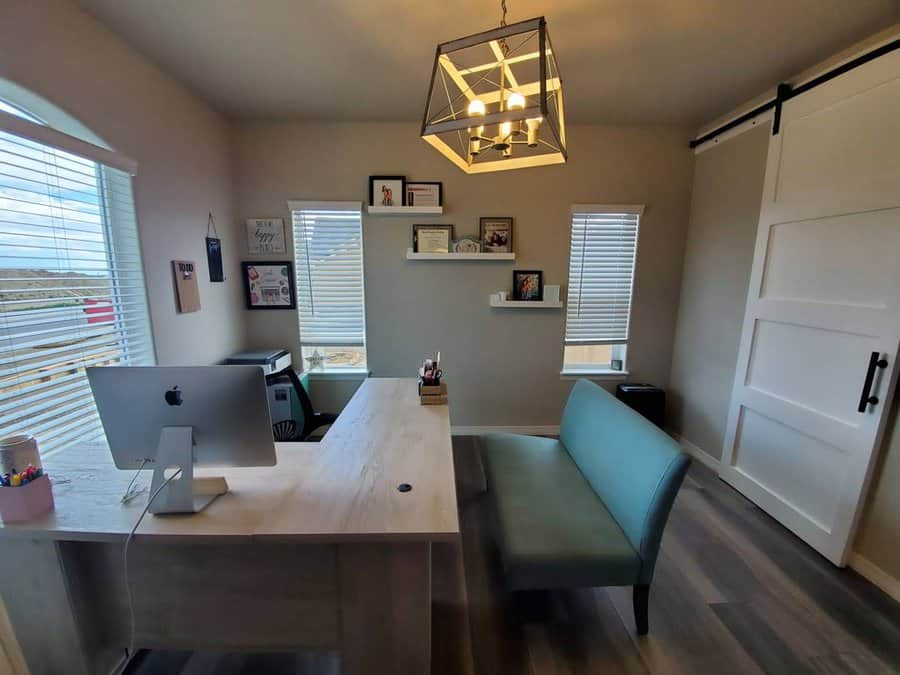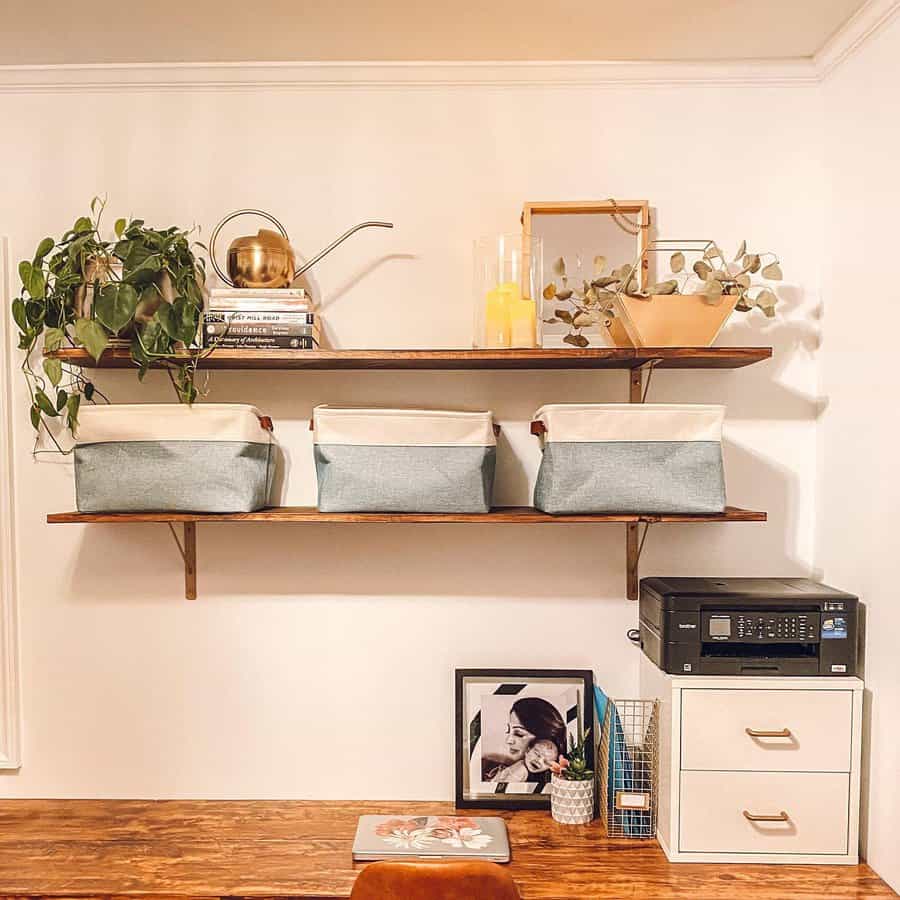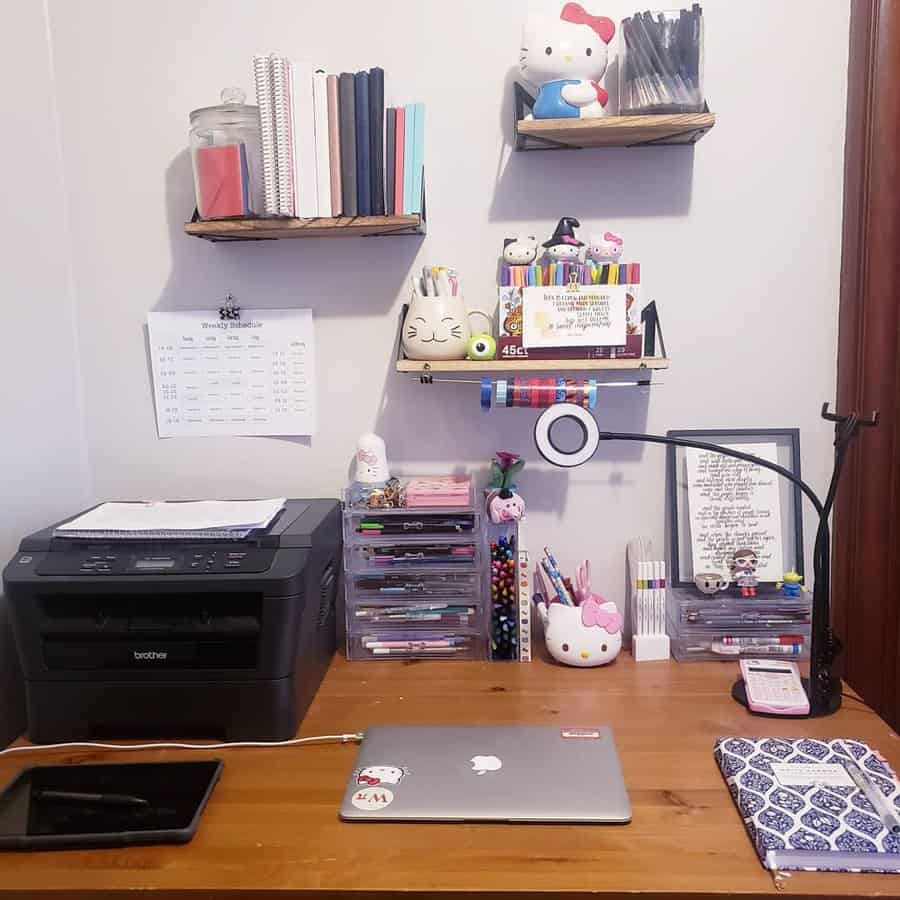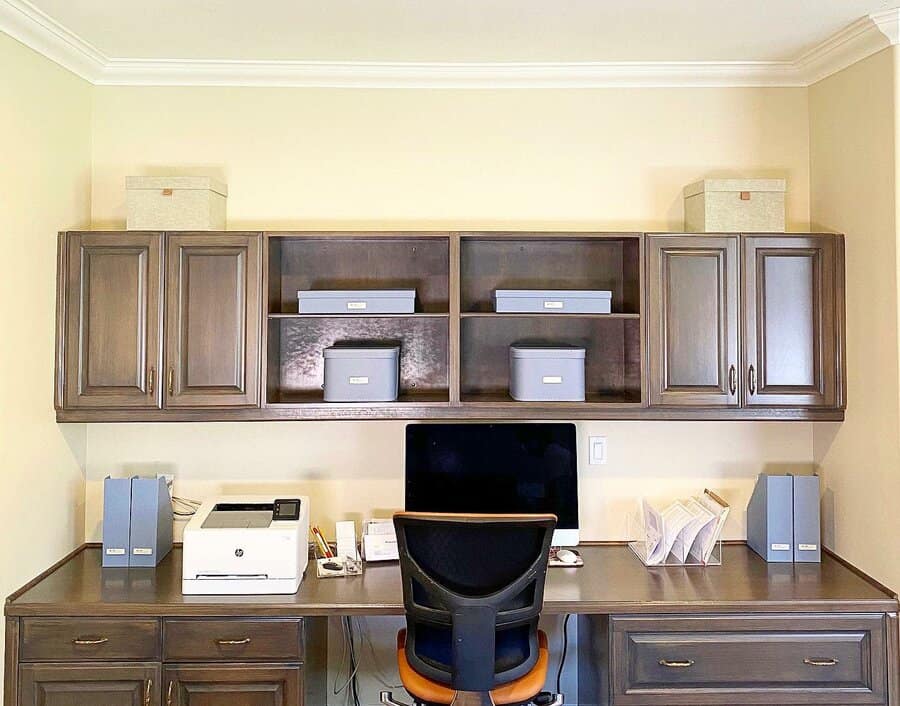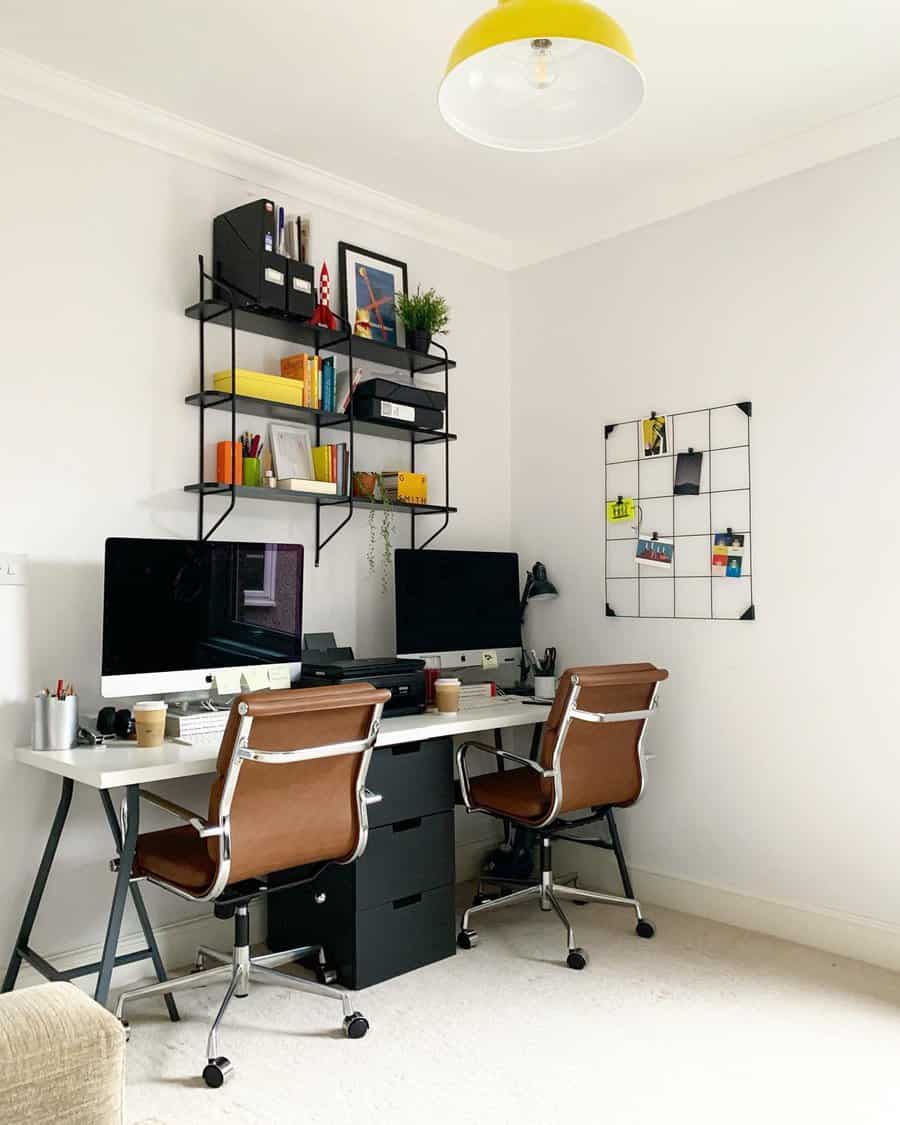 3. Sleek Recessed Shelf and Desk Combo
Enhance your home office's functionality with a sleek recessed shelf and desk combo. These space-efficient installations can seamlessly integrate into your existing workspace, offering ample storage for documents and supplies.
Opt for recessed furniture to elevate productivity and maintain a clutter-free environment. With everything conveniently within reach, you'll eliminate distractions and make the most of your work hours, boosting your overall efficiency. Say goodbye to procrastination and hello to a well-organized workspace.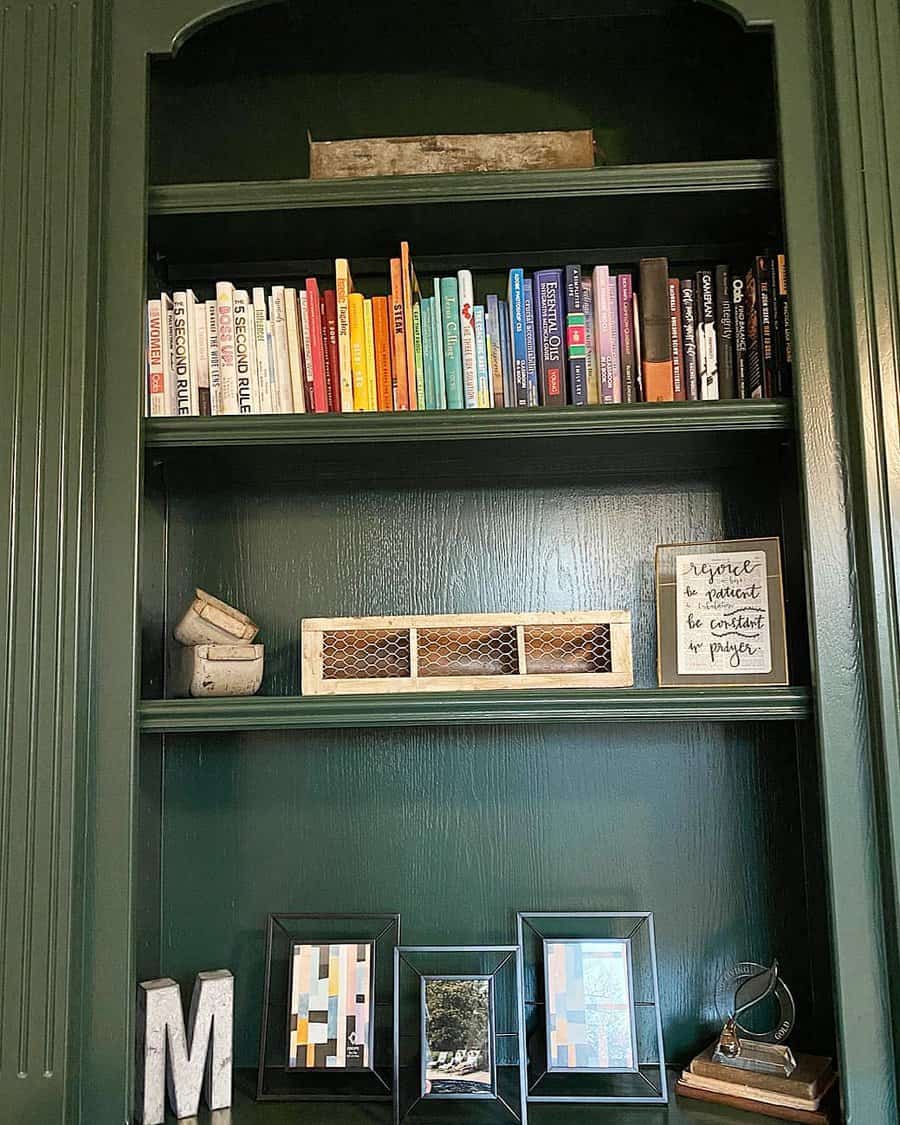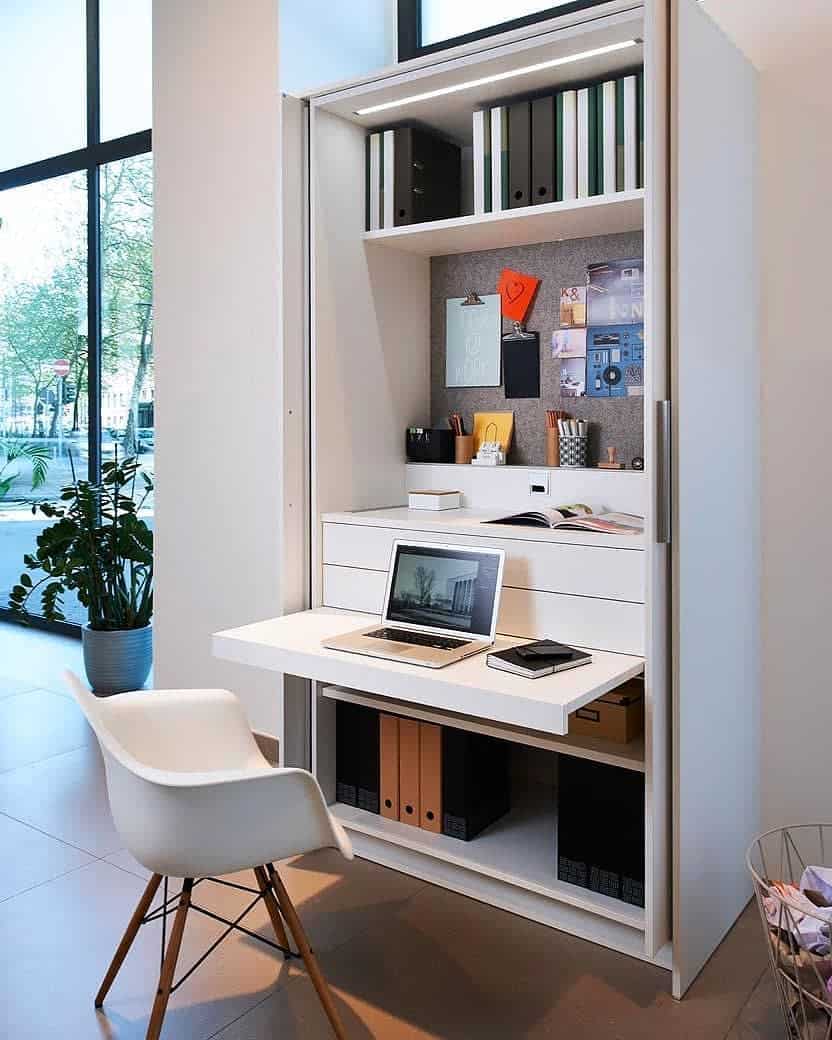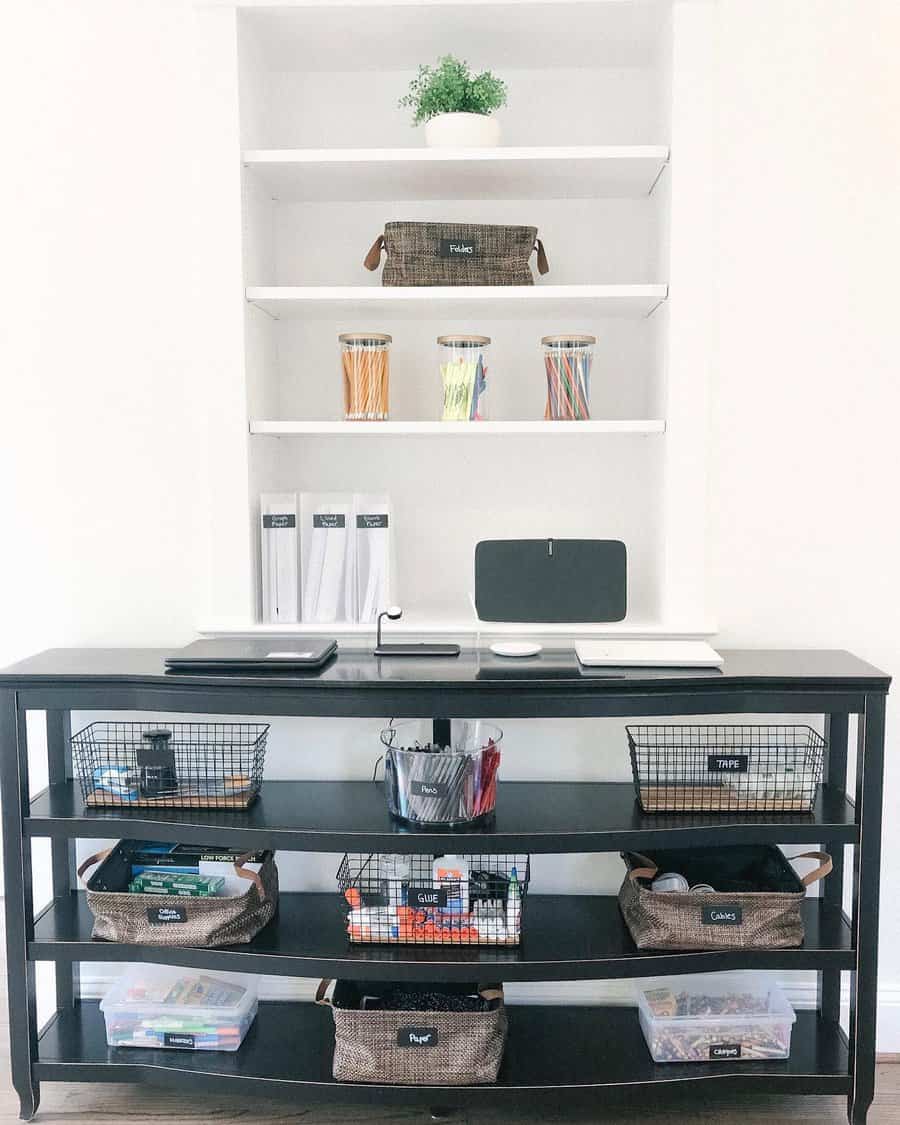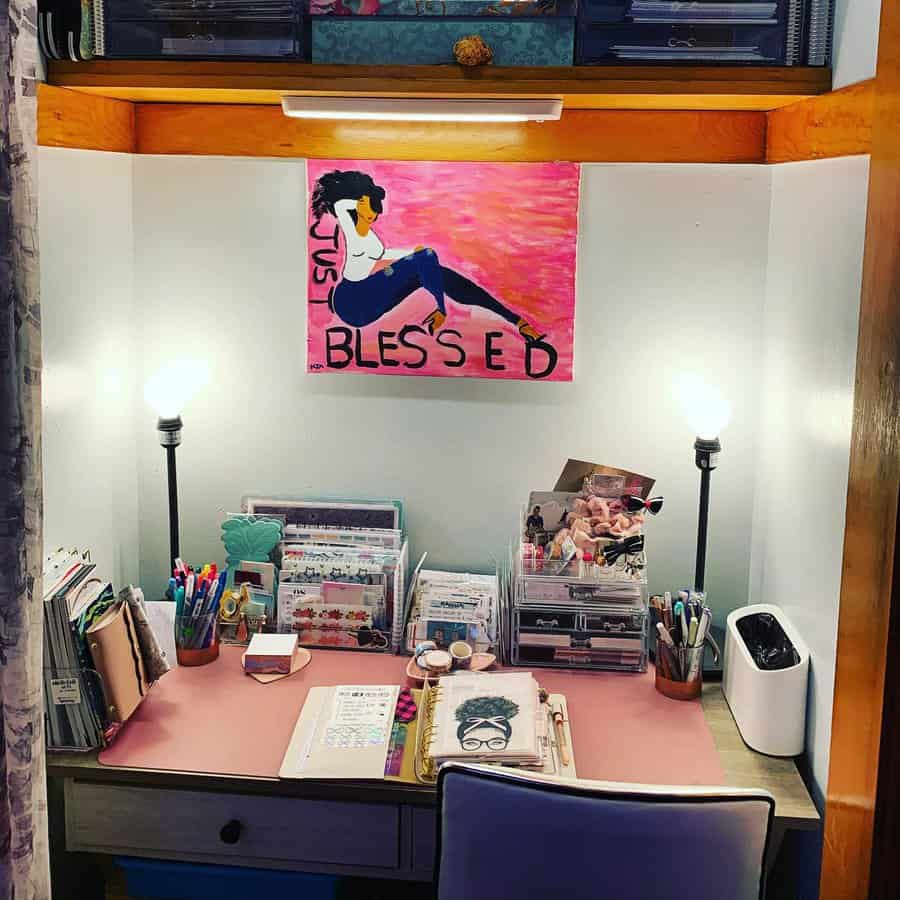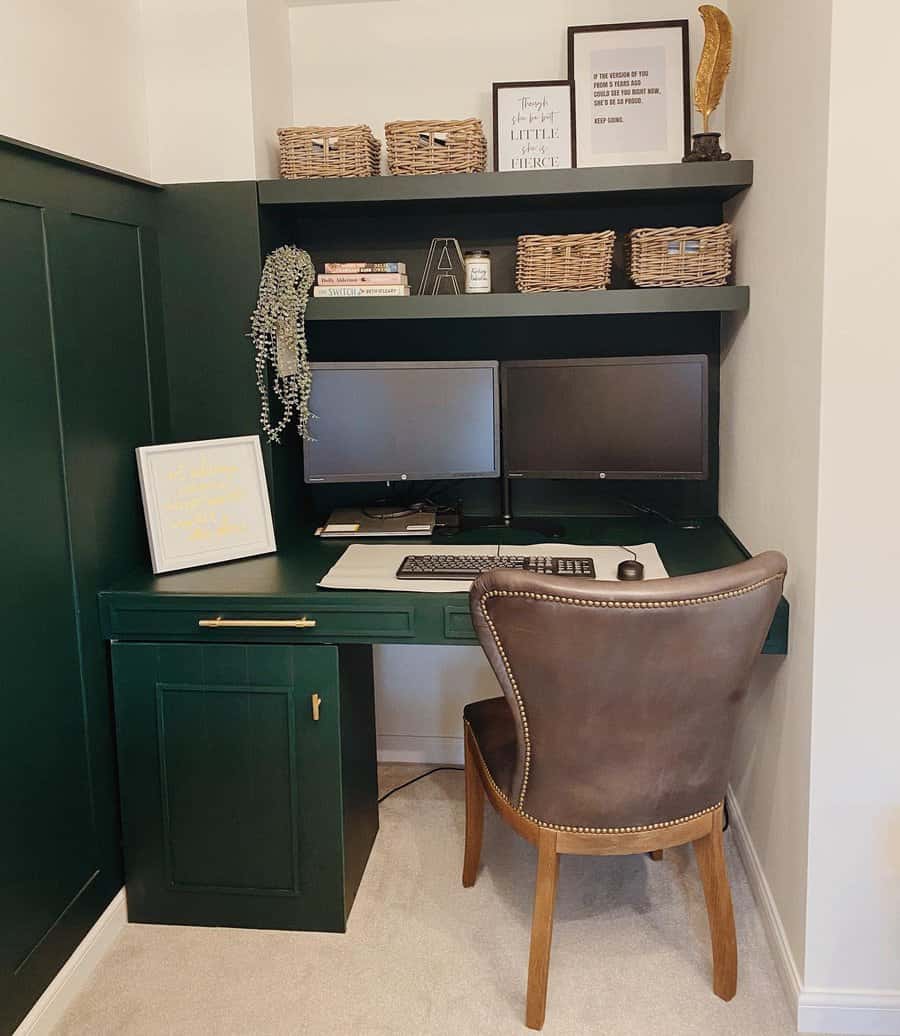 4. Efficient Desk Organizer Solutions
Boost your home office's organization and productivity with efficient desk organizer solutions. Consider incorporating pen and paper organizers, file folders, and craft organizers into your workspace.
Pen and paper desk organizers streamline document management and create more tabletop space. Utilize file folders to store important items that aren't needed immediately. Craft organizers are ideal for keeping scrap materials, paper, markers, and art supplies accessible for moments of inspiration. A well-organized home office is the cornerstone of productivity, so equip yourself with these essential tools to set the stage for success.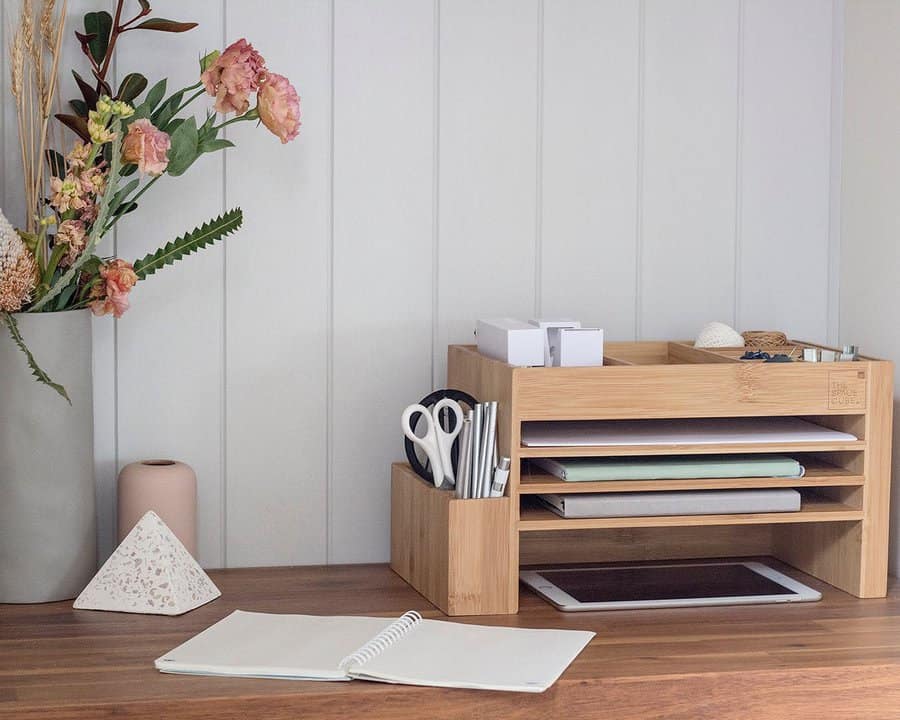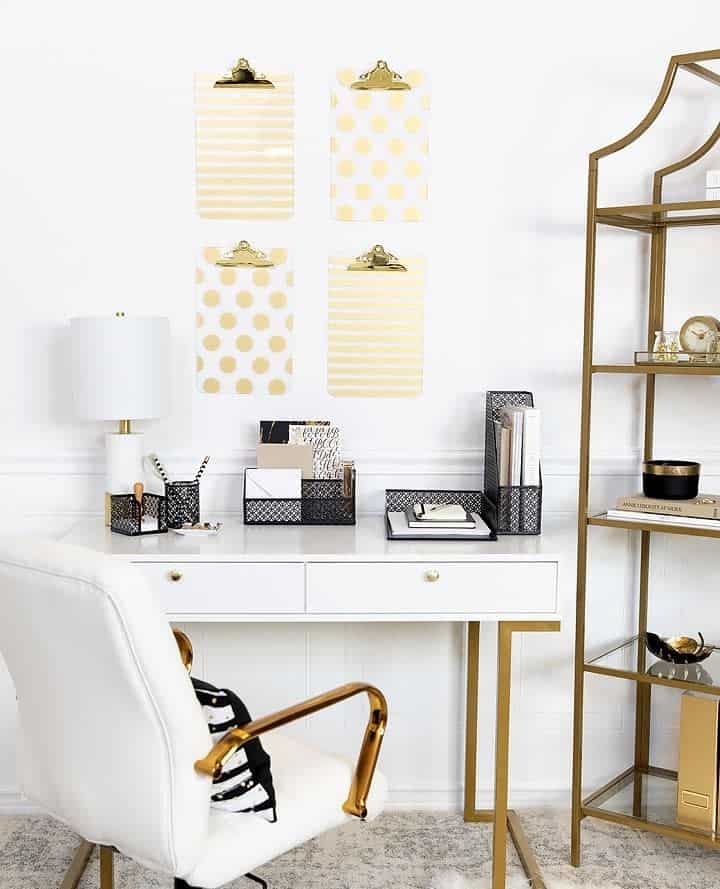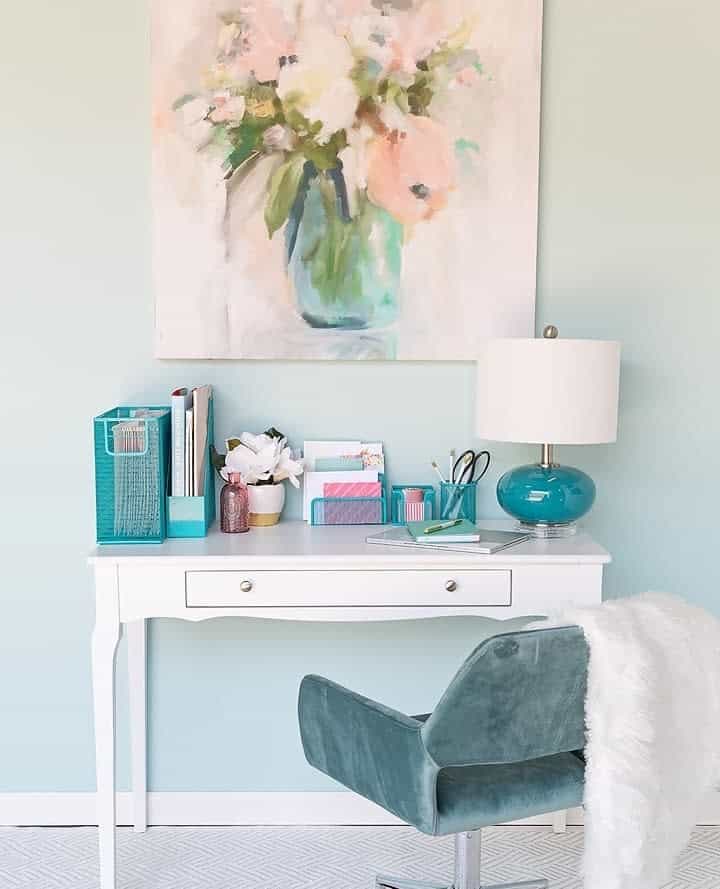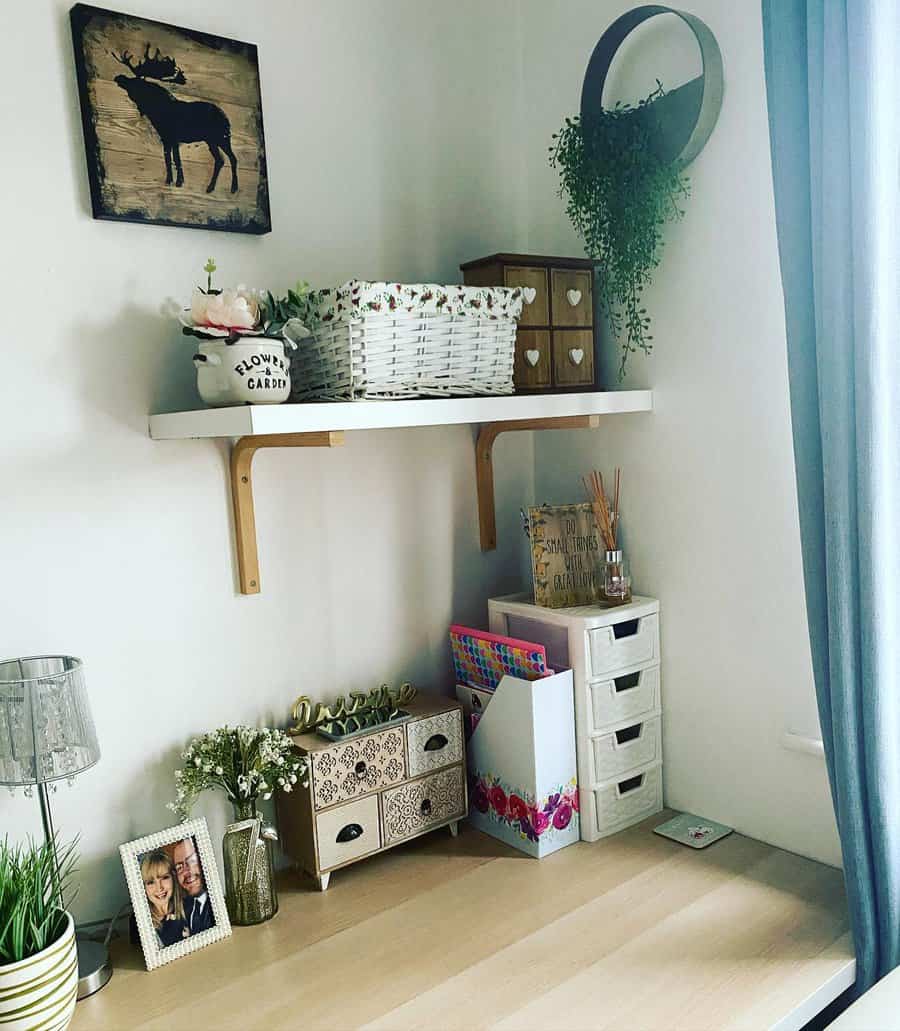 5. Cork Board: Stay Organized & Inspired
Stay organized and inspired in your home office with a cork board. This simple addition helps you manage tasks efficiently by providing a visual way to track reminders and to-dos.
Use the cork board to break down larger assignments into smaller, manageable tasks, allowing you to mark off your progress as you go. With a variety of shapes, sizes, and colors available, you can customize your cork board to match your specific needs and style, ensuring a functional and personalized workspace that keeps you motivated and on track.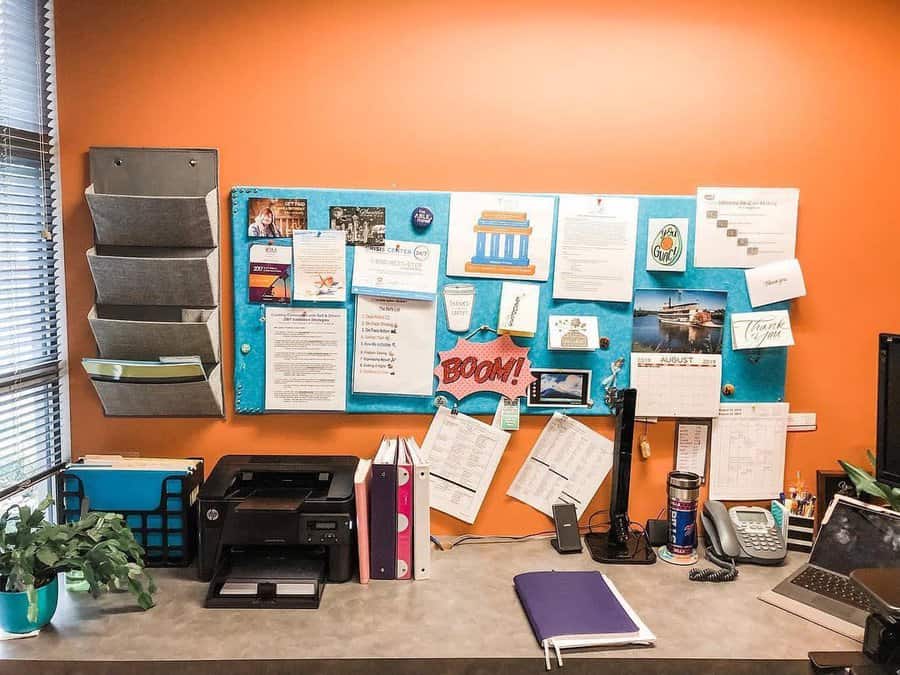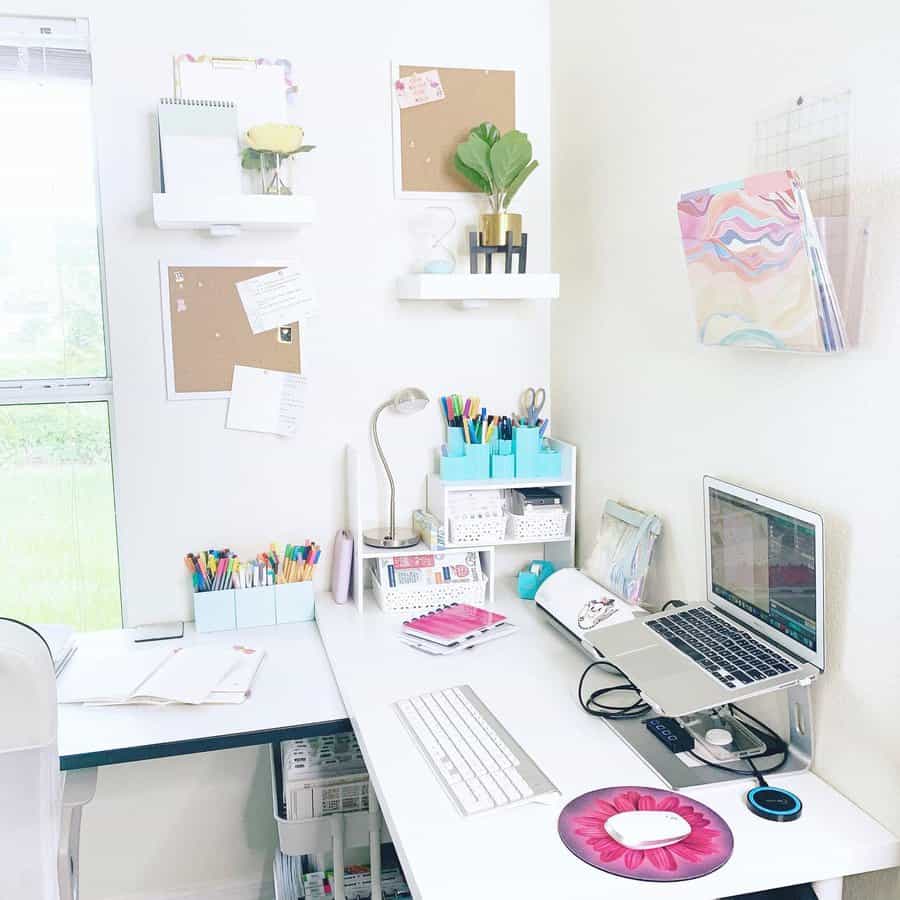 6. Space-Saving Backless Shelf Units
Optimize your home office space with space-saving backless shelf units. These shelves not only enhance organization but also create more room for other essential tasks.
Backless shelves offer versatile storage solutions while lending a modern and adaptable look to your workspace. You don't have to compromise style for functionality; these sleek and stylish shelves seamlessly complement any decor, ensuring that your home office is both efficient and aesthetically pleasing.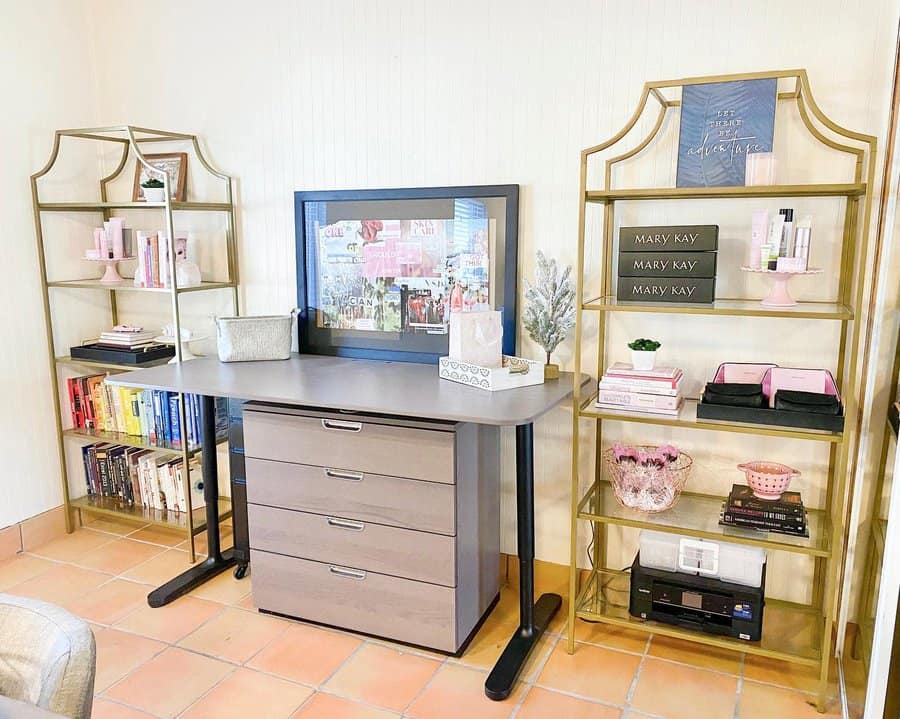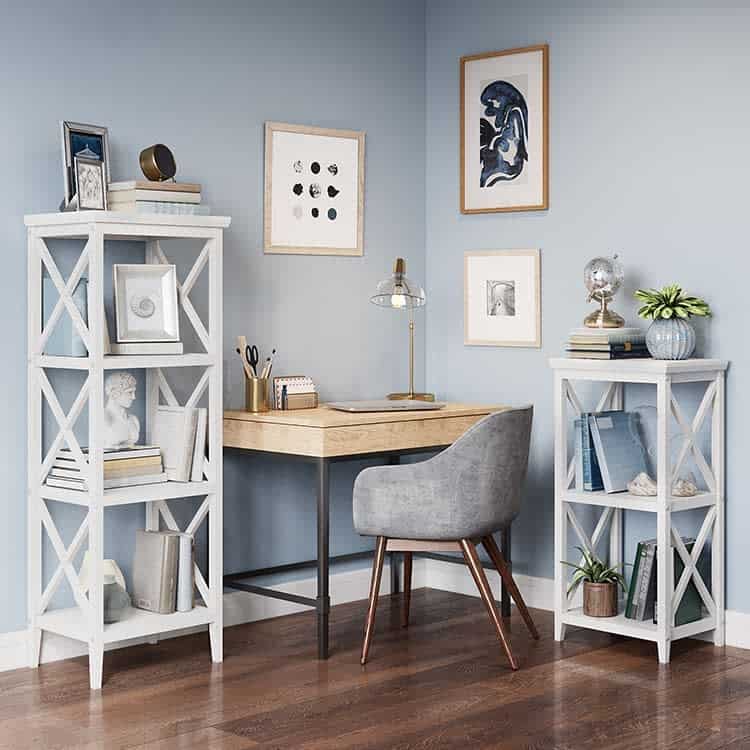 7. Seamless Built-In Wall Shelves
Transform your home office into an efficient and inviting workspace with seamless built-in wall shelves. These shelves not only provide a stylish platform for displaying books and decor but also maximize vertical space and create a sense of openness.
Enhance functionality by incorporating hooks or small baskets to corral pens, folders, business cards, and other necessities, infusing your built-in shelves with character. With these functional tweaks and aesthetic additions, your home office will become a welcoming and inspiring environment that fosters productivity and creativity.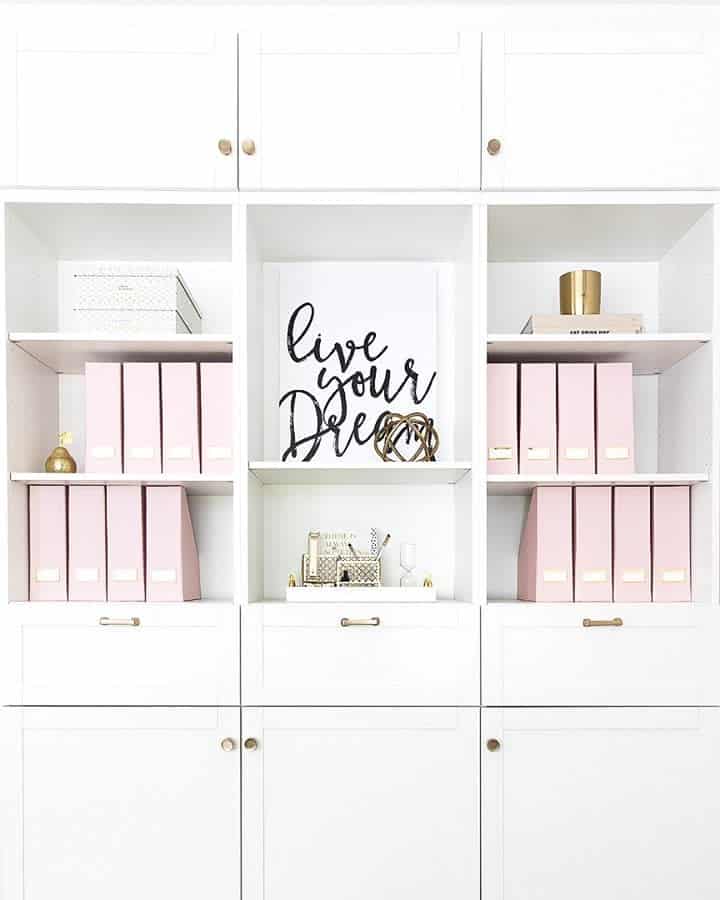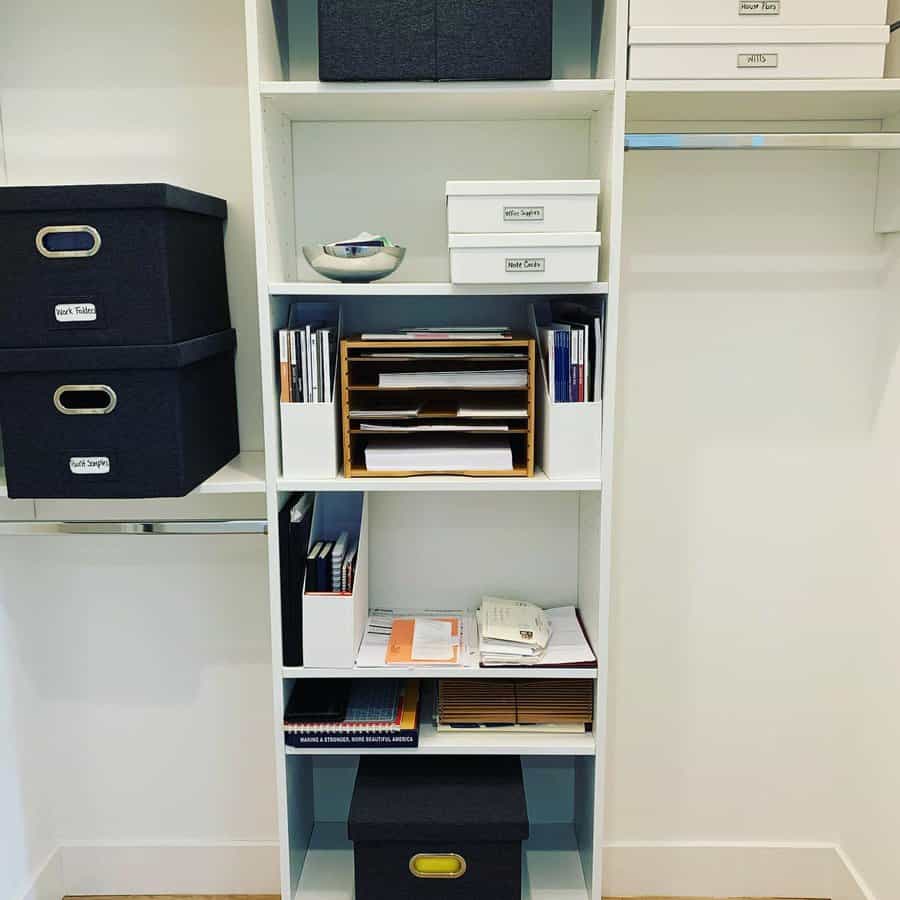 8. Boho Vibes with Macrame Shelves
Infuse your home office with boho vibes using macrame floating shelves. These versatile shelves not only serve as stylish decor but also offer functional storage for items like books, plants, or a printer.
Macrame shelves bring a unique and artistic touch to your workspace, and their removable shelf design makes reorganization a breeze. Enjoy the flexibility to refresh your office decor and organization whenever inspiration strikes, ensuring your workspace remains both organized and visually captivating.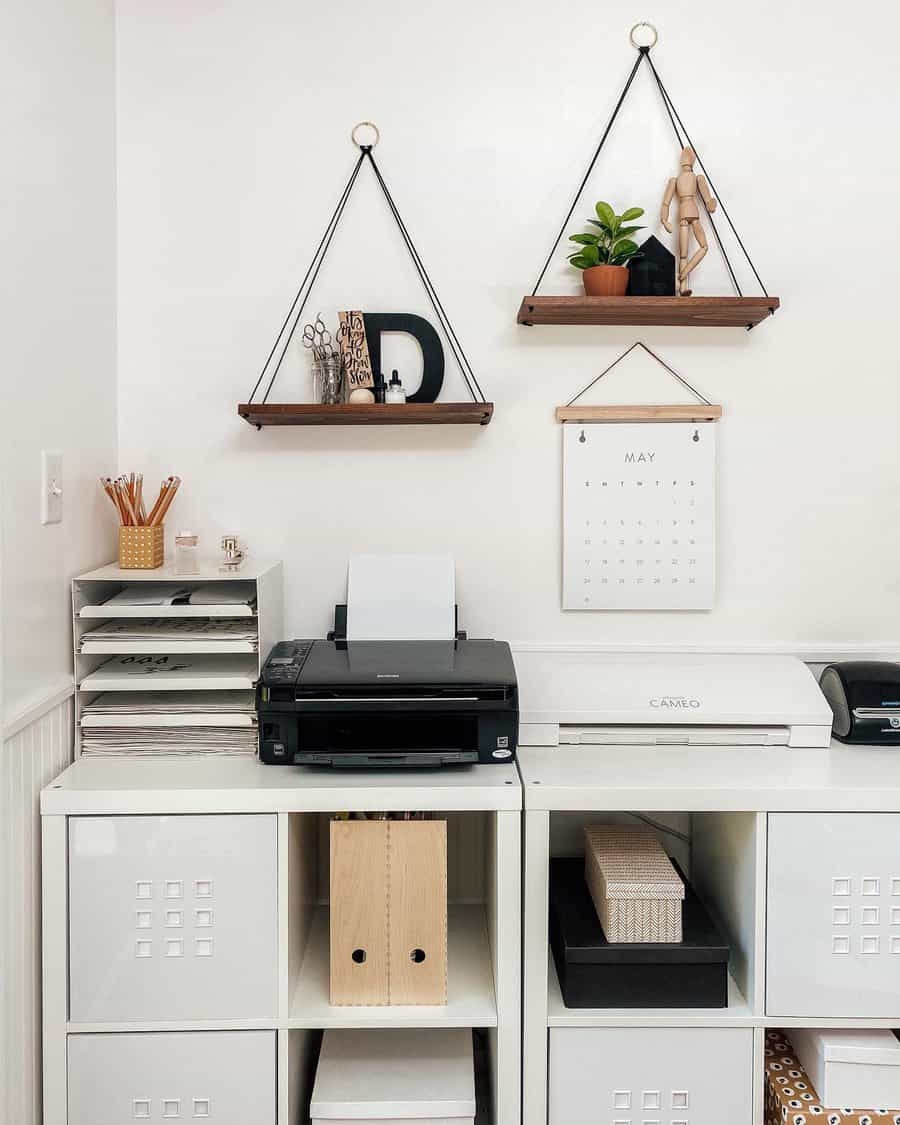 9. Creative Tiered Tray Repurposing
Add a touch of creativity to your home office organization with repurposed cupcake-tiered trays. Instead of reserving them for special occasions, transform these trays into functional desk organizers.
Select your most-used desk items, such as rulers, staplers, and scissors, and arrange them on each tier of the repurposed cupcake-tiered tray for easy access. This simple repurposing hack not only enhances organization but also sparks creativity in your workspace, making your home office both practical and inspiring.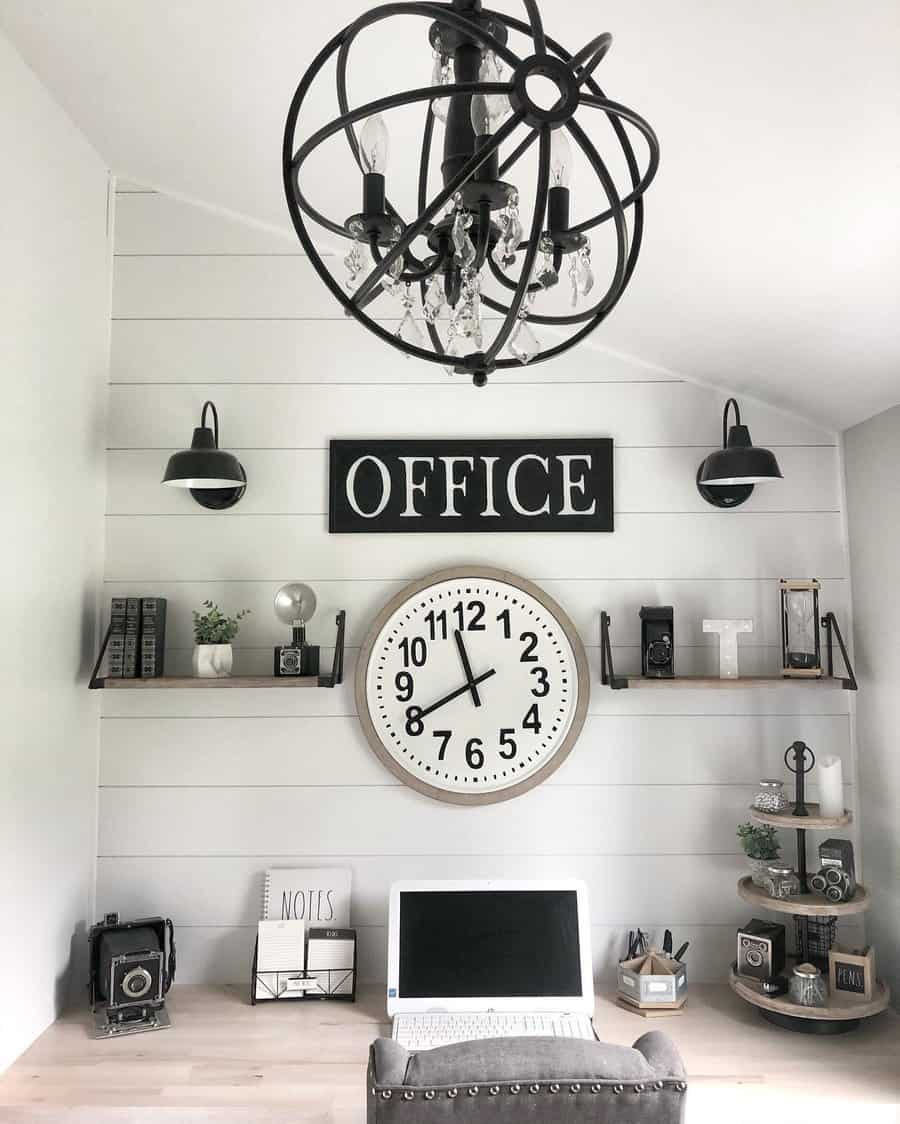 10. Tidy Up with a Closet Organizer
Maximize your home office's efficiency and comfort with a closet organizer. Utilizing closet organizers allows you to optimize every inch of available space, keeping your workspace tidy and functional.
Begin by selecting organizers that align with your closet's size and shape, incorporating shelves and drawers for additional storage. Designate specific areas for items such as printers, accessories, papers, and reference materials, tailored to your daily office requirements.
With everything in its designated place, you'll easily locate what you need when you need it, elevating the productivity and efficiency of your home office.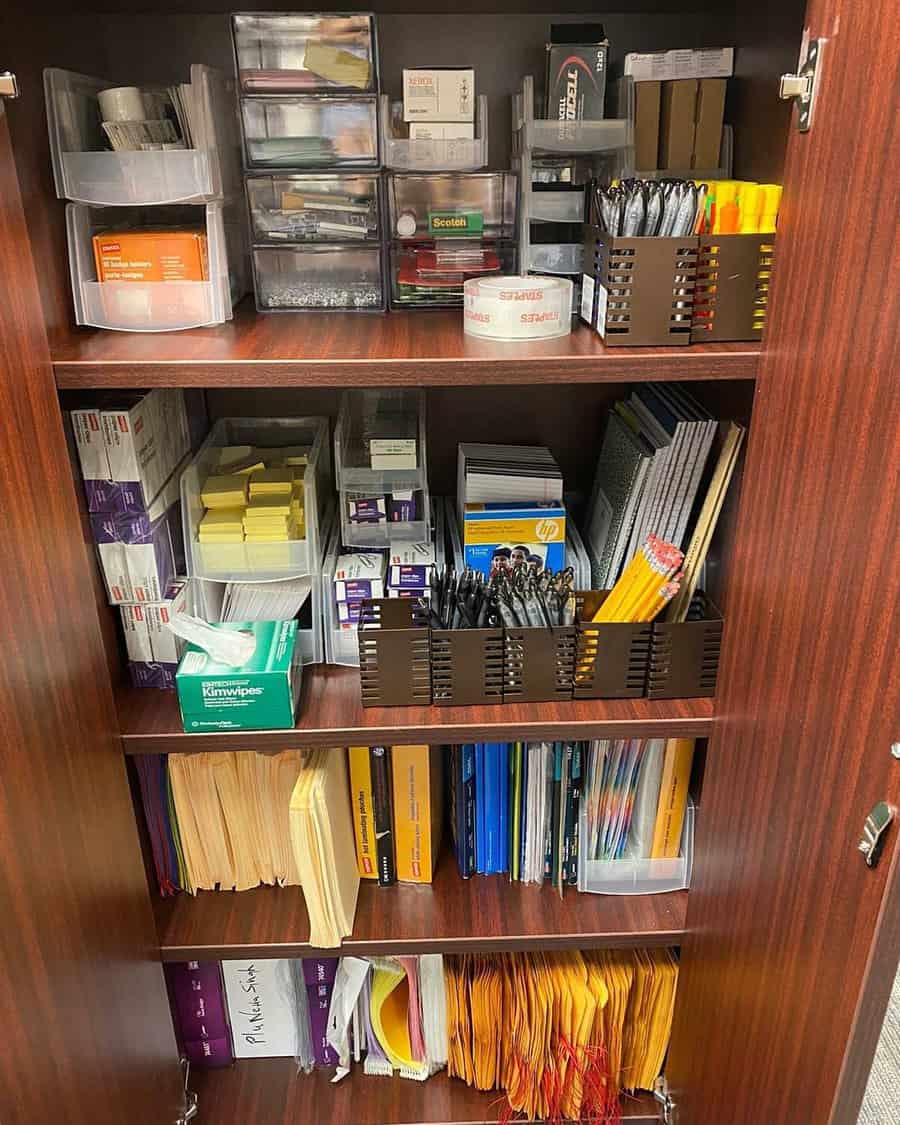 11. Maximize Space with Corner Bookshelves
Efficiently organize your home office and make the most of your space with corner bookshelves. These clever additions ensure that everything you need is easily accessible, eliminating the time wasted on searching for essentials.
Utilize every corner of your workspace by positioning the corner bookshelf against a wall. Store documents, supplies, tools, and other items in a well-organized manner. Transform your walls into an efficient workstation that keeps everything within arm's reach, allowing you to stay productive and focused, even when work deadlines are looming.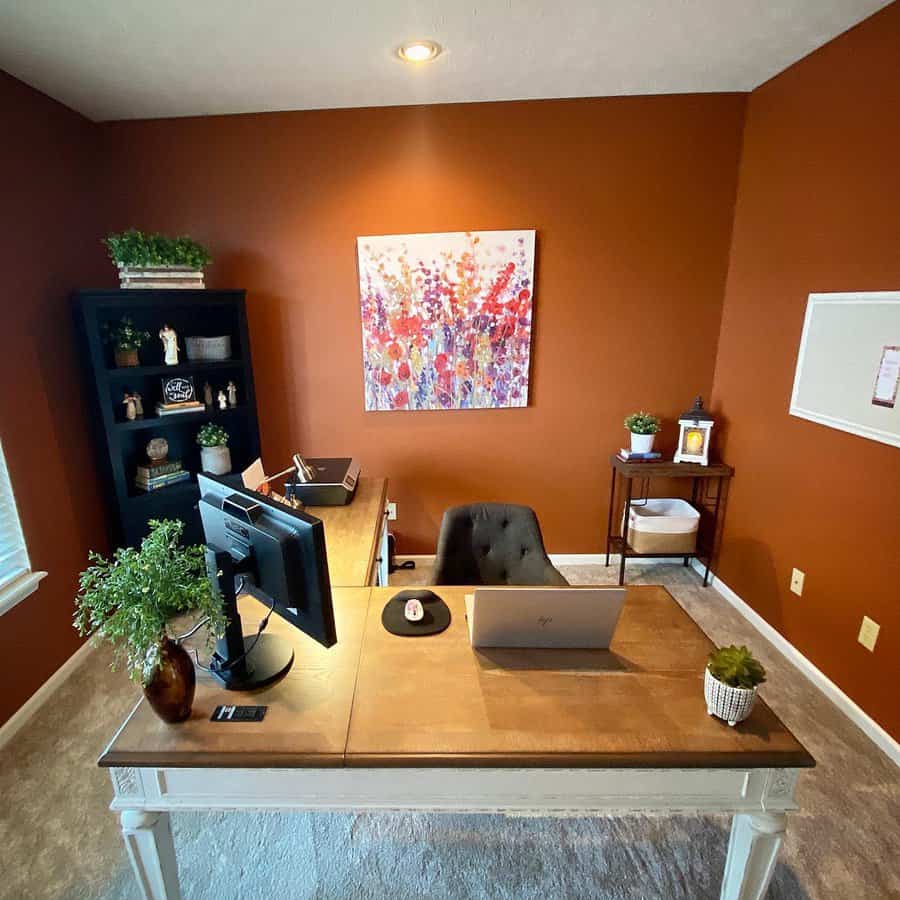 12. Drawer Dividers for Neatness
Achieve neatness in your home office with the help of drawer dividers. These simple tools can transform your workspace into an efficient and inviting environment.
Strategically place drawer dividers in each drawer and label them for easy access to documents, notebooks, and supplies. Enhance organization further by investing in storage baskets or shelves on your desk, creating accessible storage space. Consider using colorful bins to add both functionality and a touch of style to your workspace. With thoughtful planning and these organizational tools, your home office will be well-prepared and ready for productivity in no time.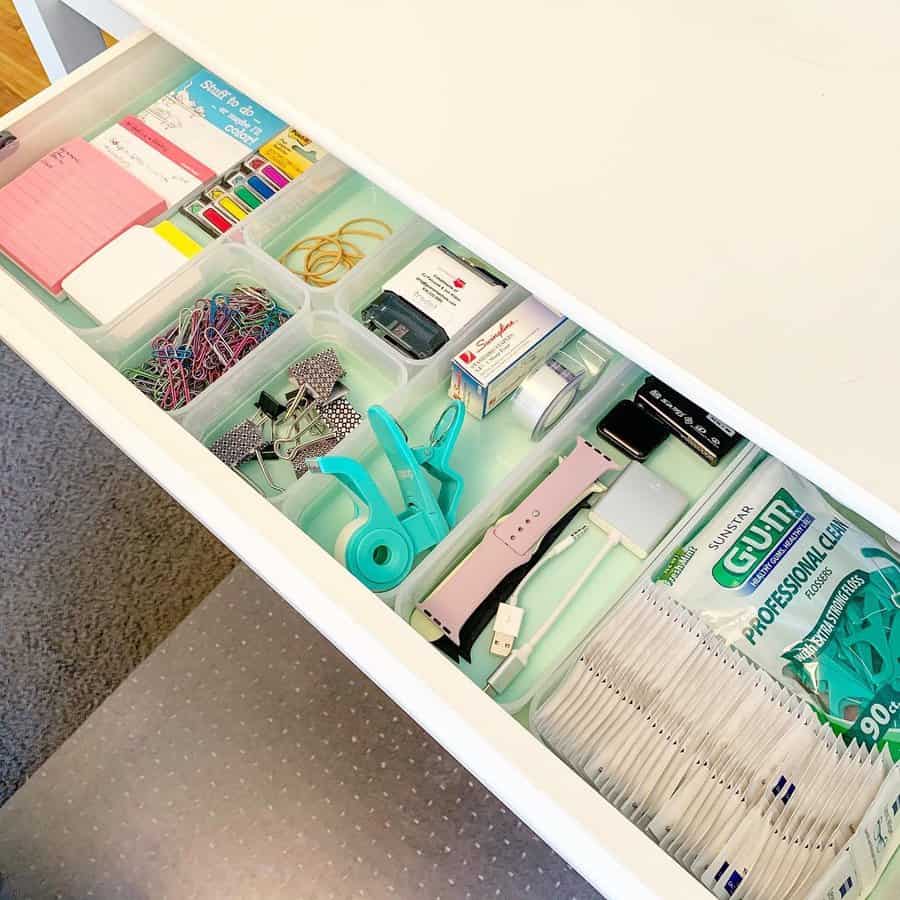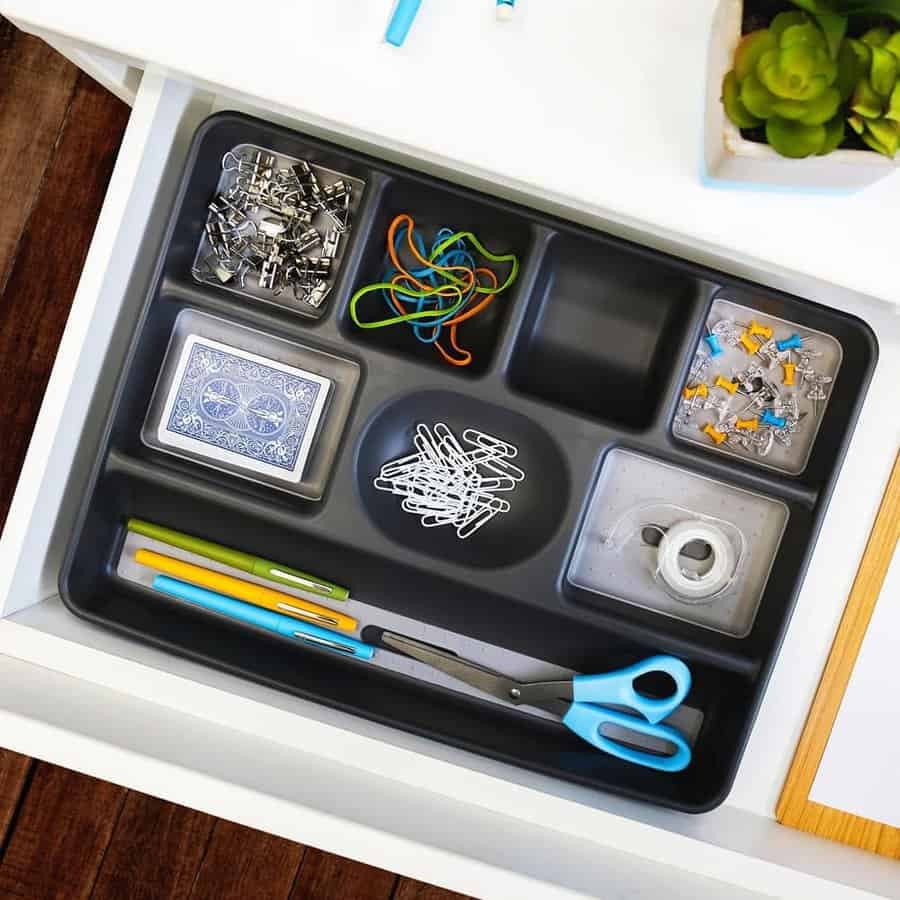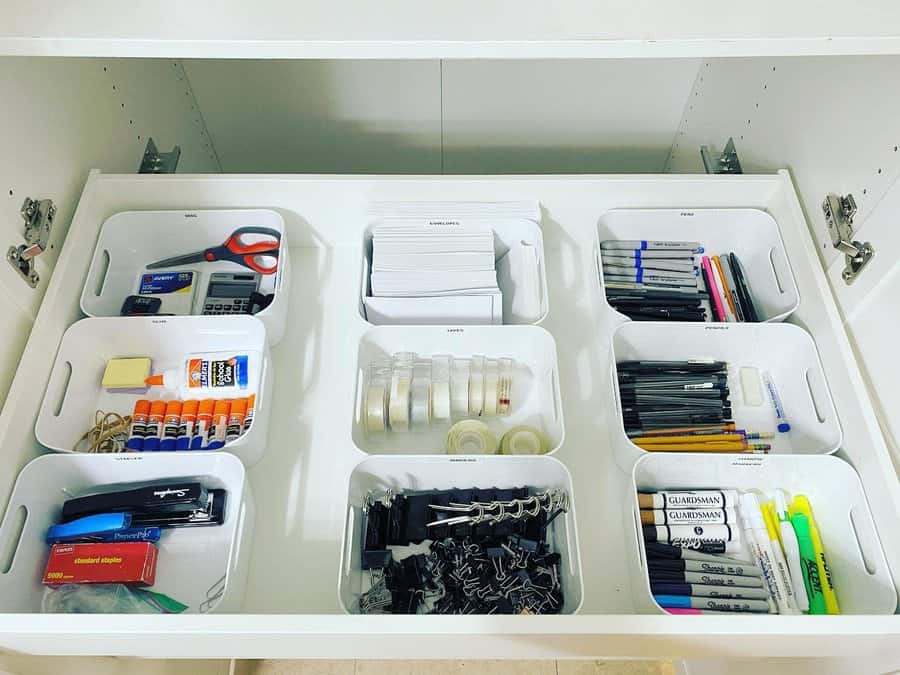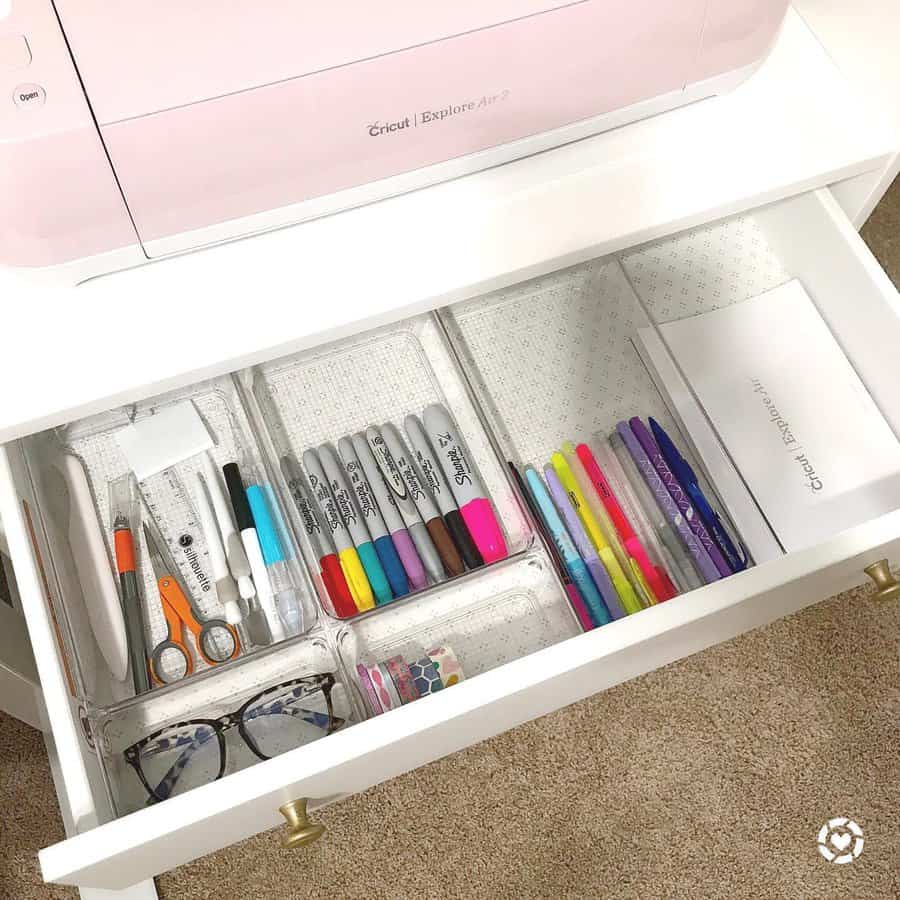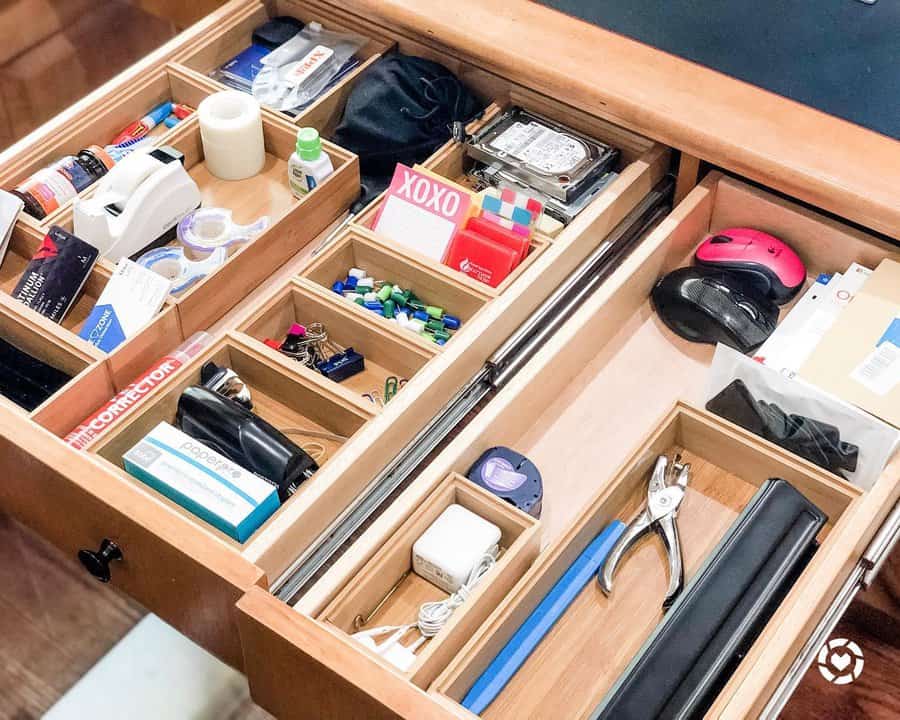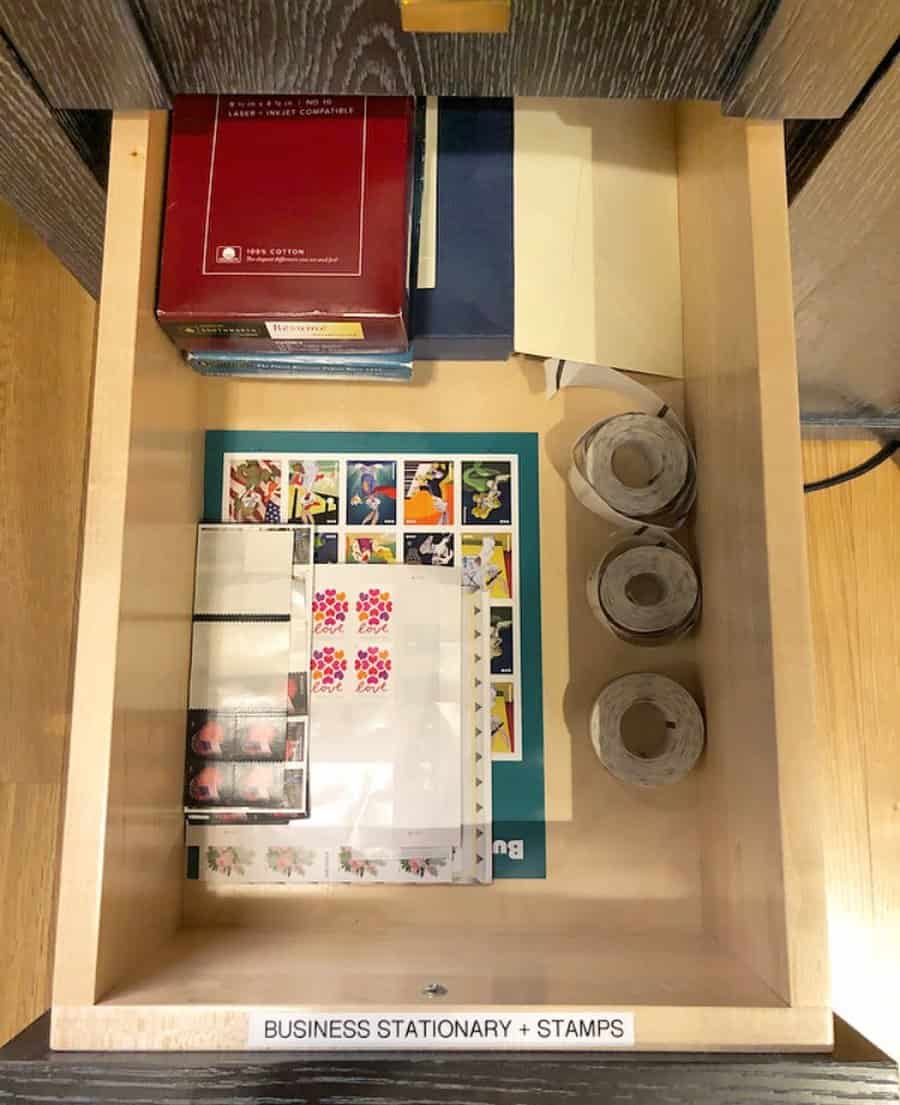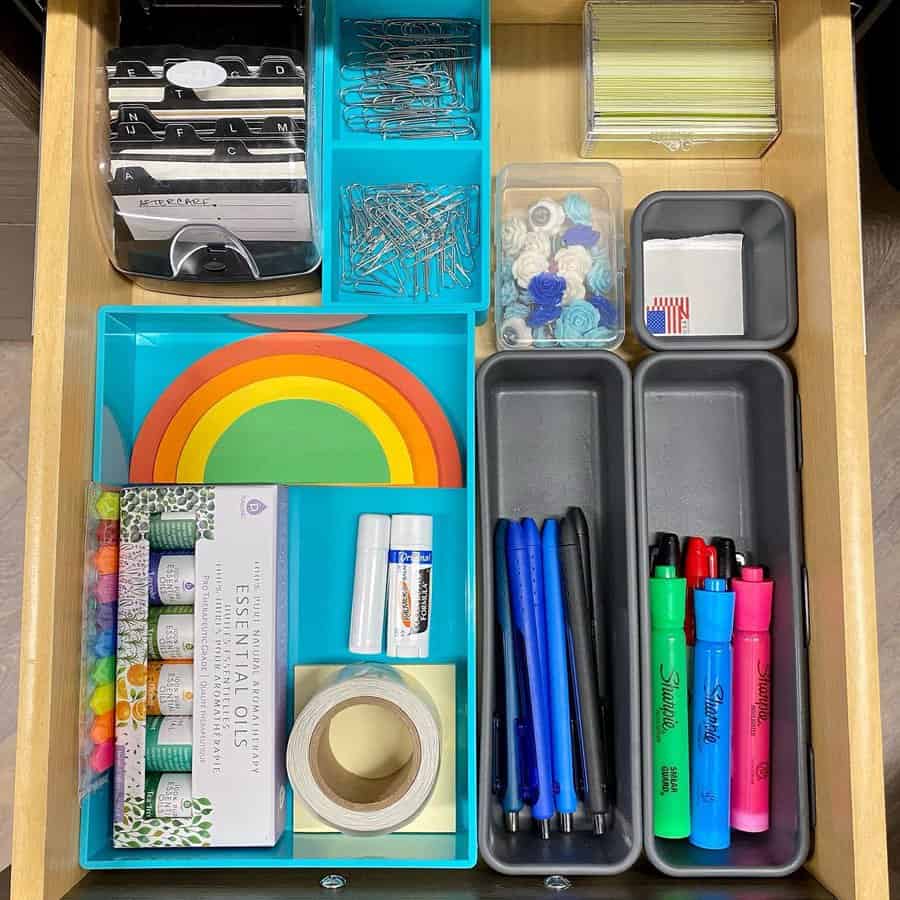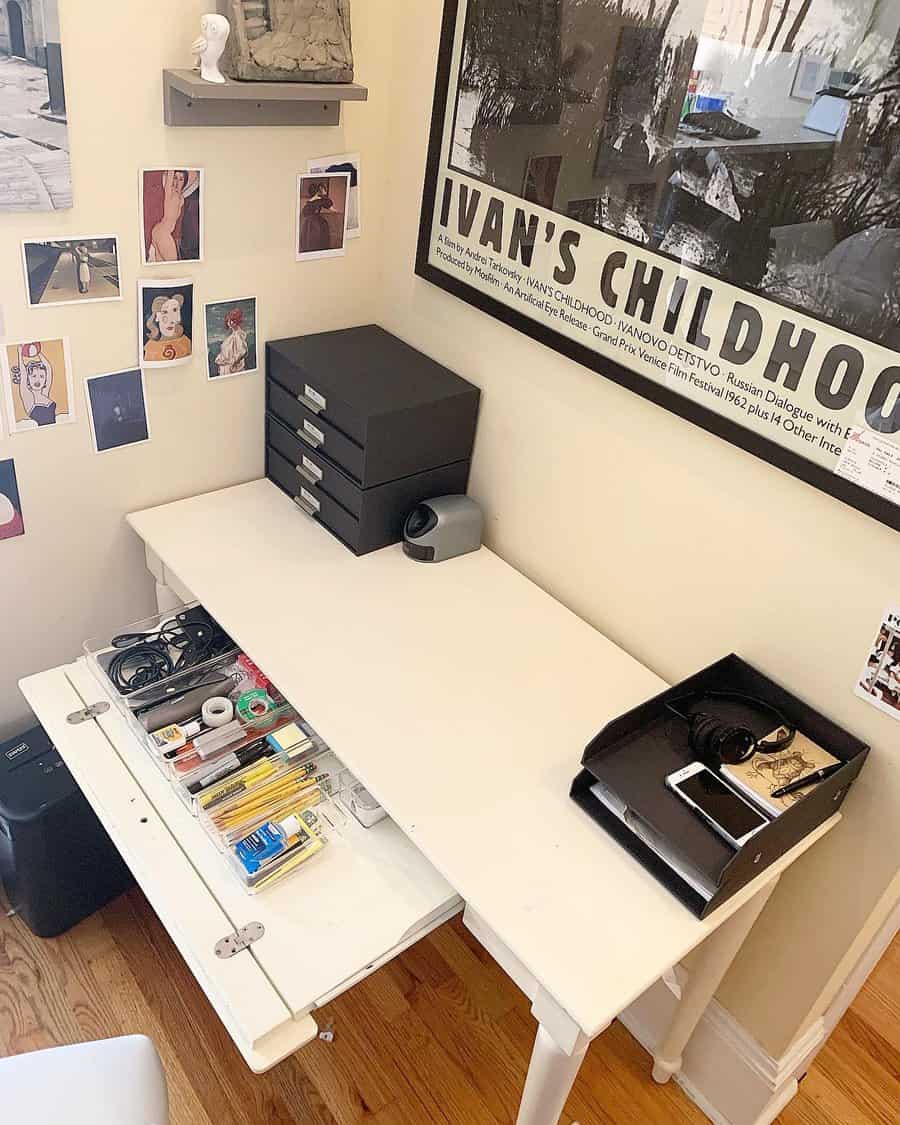 13. Mobile Organization: Metal Tray Rack
Enhance your home office's productivity with a mobile metal tray rack. This versatile solution offers flexibility by allowing you to easily relocate shelves near your work desk or other frequently used areas, ensuring quick access to necessary supplies.
Rolling metal racks are built to withstand the weight of books, binders, file folders, laptop bags, and other essential items, providing a safe and organized storage space. With all this convenience packed into a compact design, you can maintain a tidy and efficient office without compromising your limited square footage.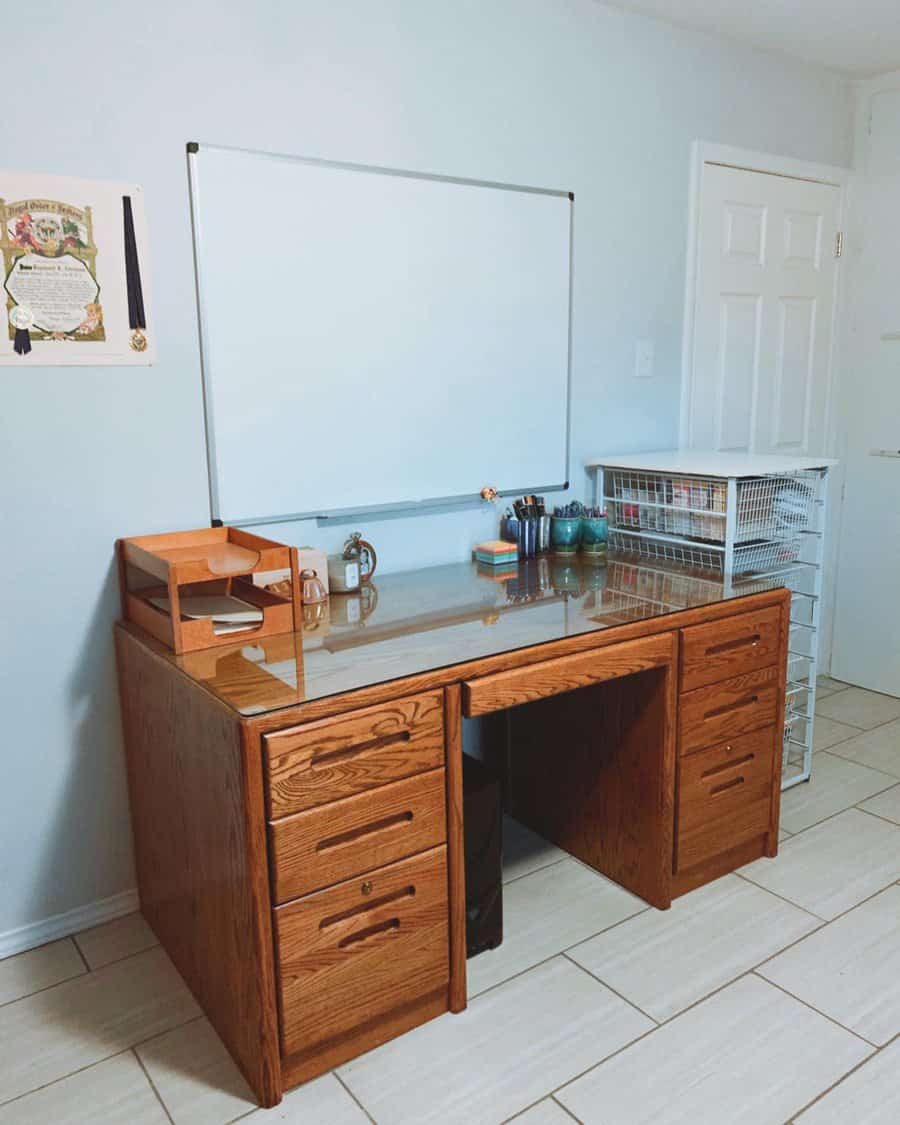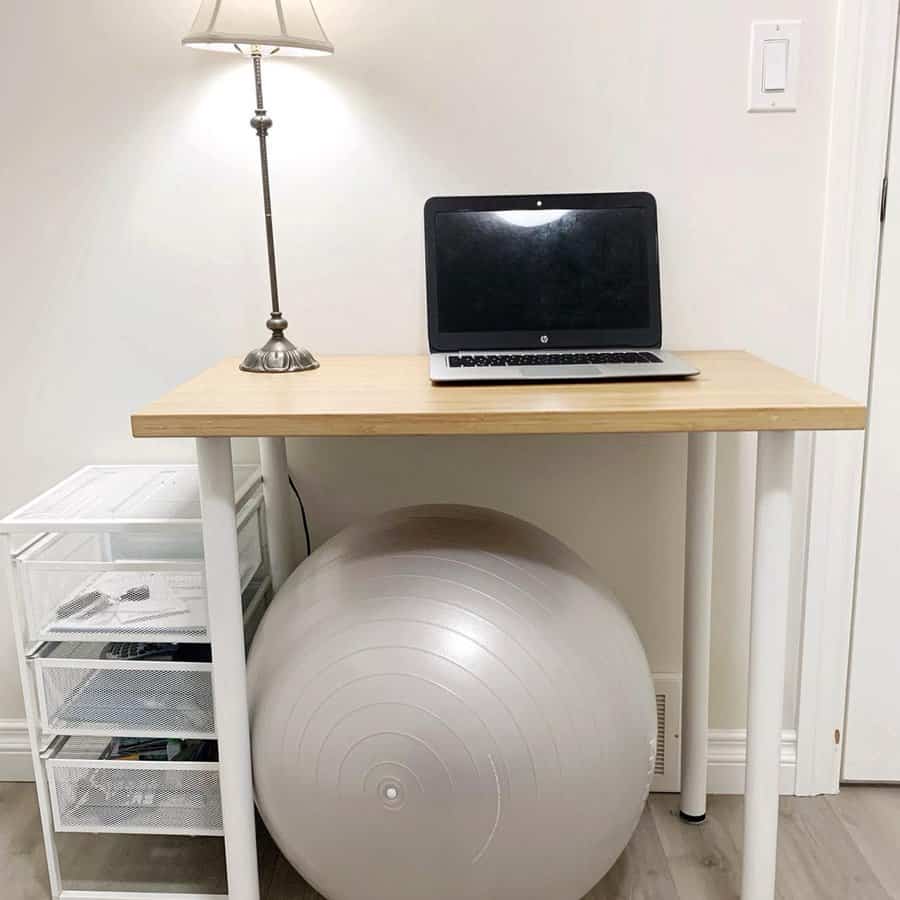 14. Low Shelf with Functional Countertop
Transform your home office with a low shelf featuring a functional countertop. This solution eliminates desk clutter and disorganized piles of paper, providing an elegant and practical office improvement.
Maximize the potential of this low shelf by filling it with labeled folders for document organization, neatly arranged stationery supplies, or even framed art and photographs to infuse style and personality into your workspace. Say goodbye to chaos and hello to an organized and aesthetically pleasing home office environment.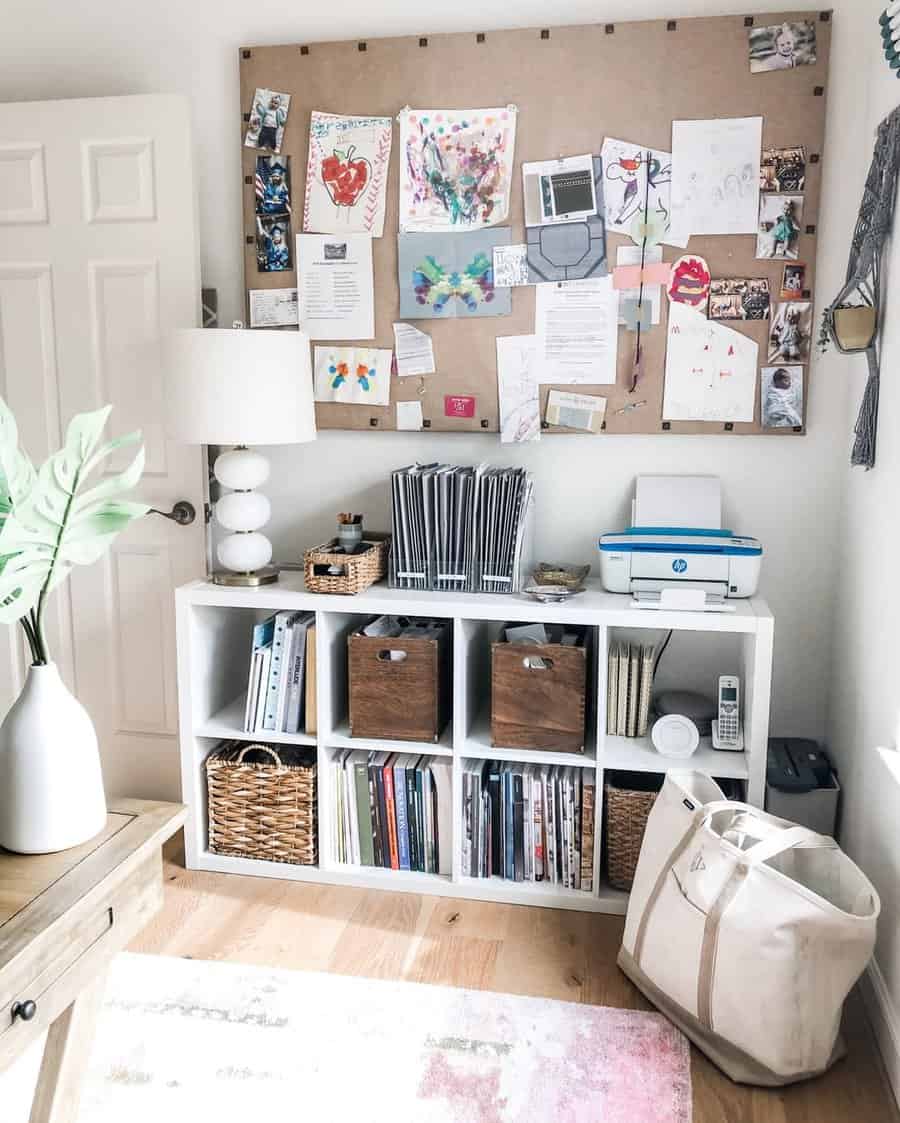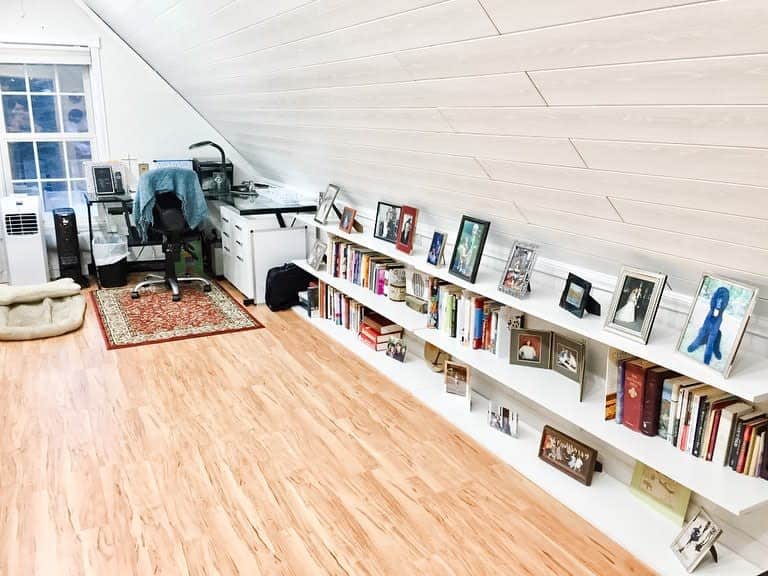 16. Smart Side Shelves Built-In
Elevate your home office organization with smartly integrated built-in side shelves. These well-designed shelves provide easy access to essential items, while desk-mounted side shelves simplify the organization of file folders and papers.
Enjoy a clutter-free workspace that streamlines task completion and boosts productivity. Customize your work sanctuary to reflect your personal style, combining organization with aesthetics for an inspiring and efficient home office setup. Embrace the advantages of a thoughtfully designed workspace that not only aligns with your style but also keeps your work life organized and productive.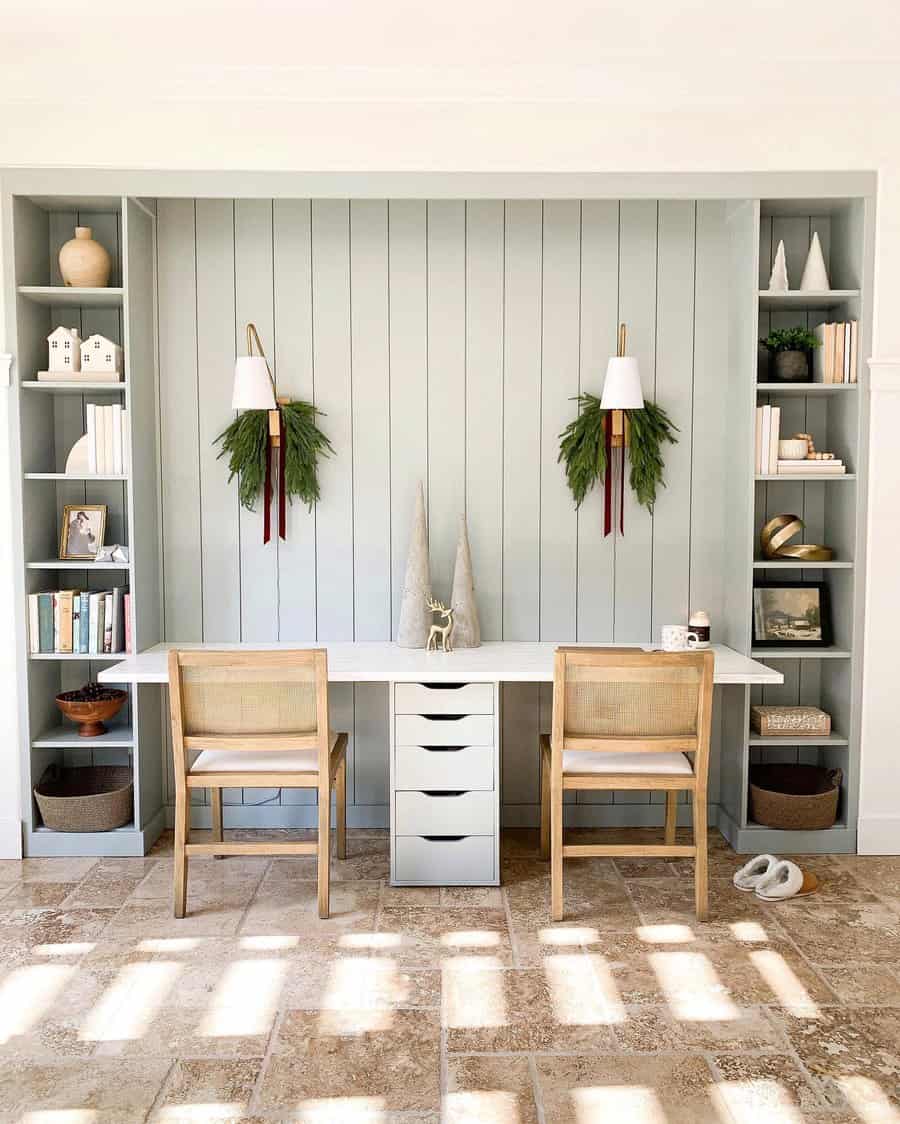 17. Wall-Mounted Metal Racks for Order
Enhance your home office's organization with wall-mounted metal racks. These versatile additions not only increase efficiency but also make working from home a more enjoyable experience. Overhead racks provide easy access to essential office supplies while keeping your workspace tidy.
Unleash your creativity by turning wall-mounted metal racks into decorative elements that elevate the aesthetics of your home office. Installing these racks is a straightforward solution to bring order and organization to your workspace, allowing you to work effectively and stylishly from the comfort of your home.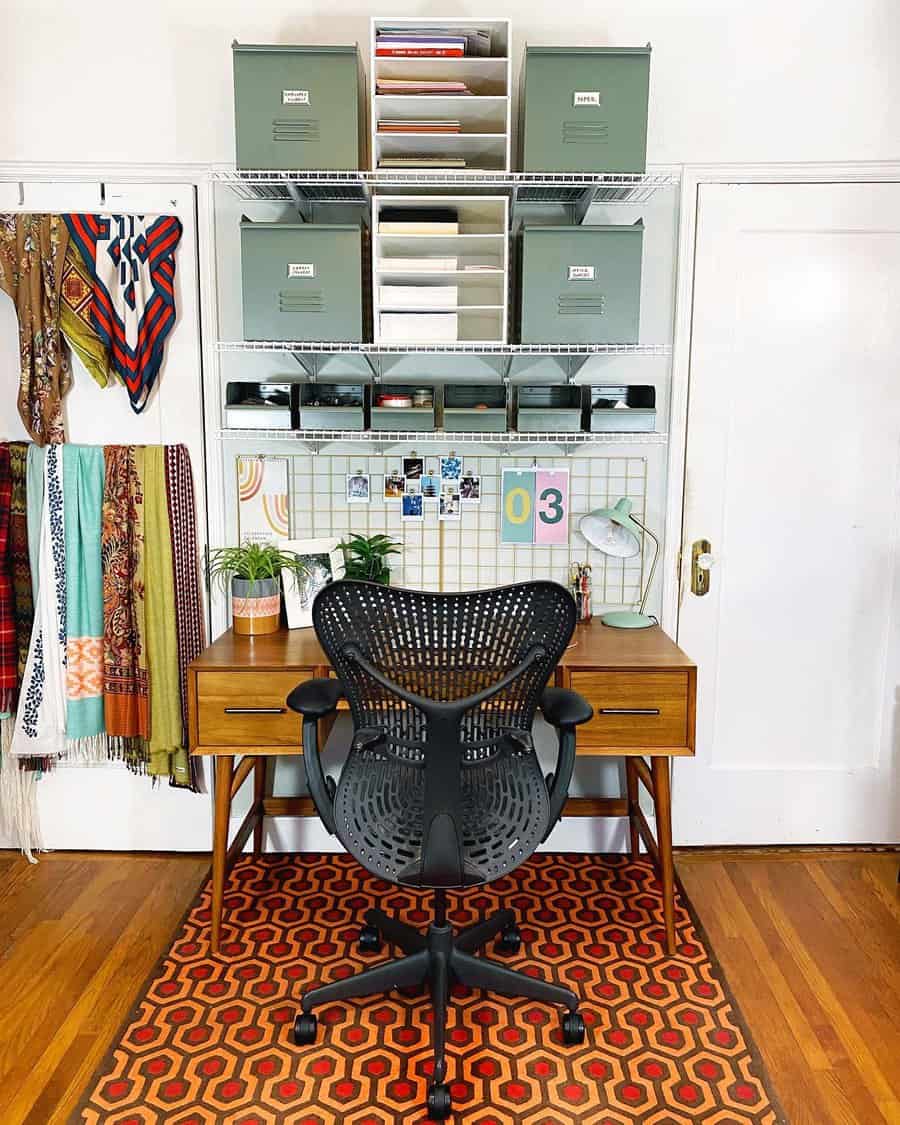 18. Dedicated Printer Shelf Solution
Simplify your home office organization with a dedicated printer shelf solution. Positioning the printer at a lower level ensures optimal accessibility and a streamlined workflow. Consider allocating additional shelves for office supplies to ensure everything has its designated spot.
Embracing this shelf-based system helps you stay organized and eliminates the frustration of searching through cluttered spaces. A well-organized home office fosters creativity and productivity, making your work-from-home experience smoother and more enjoyable. Invest in the space you need to thrive in your home office setup.
19. Crescent Office Table for Efficiency
Enhance your home office's efficiency and aesthetics with a crescent office table. This innovative furniture piece is a growing favorite among professionals working in limited square footage. It not only optimizes available space but also adds a sleek and modern touch to your workspace.
Crescent-shaped tables come in various materials, allowing you to choose one that matches your personal style and complements your existing office decor. Investing in this versatile furniture piece provides both style and functionality, improving your home office's efficiency and appearance without breaking the bank. Elevate your workspace with a space-saving and stylish crescent office table.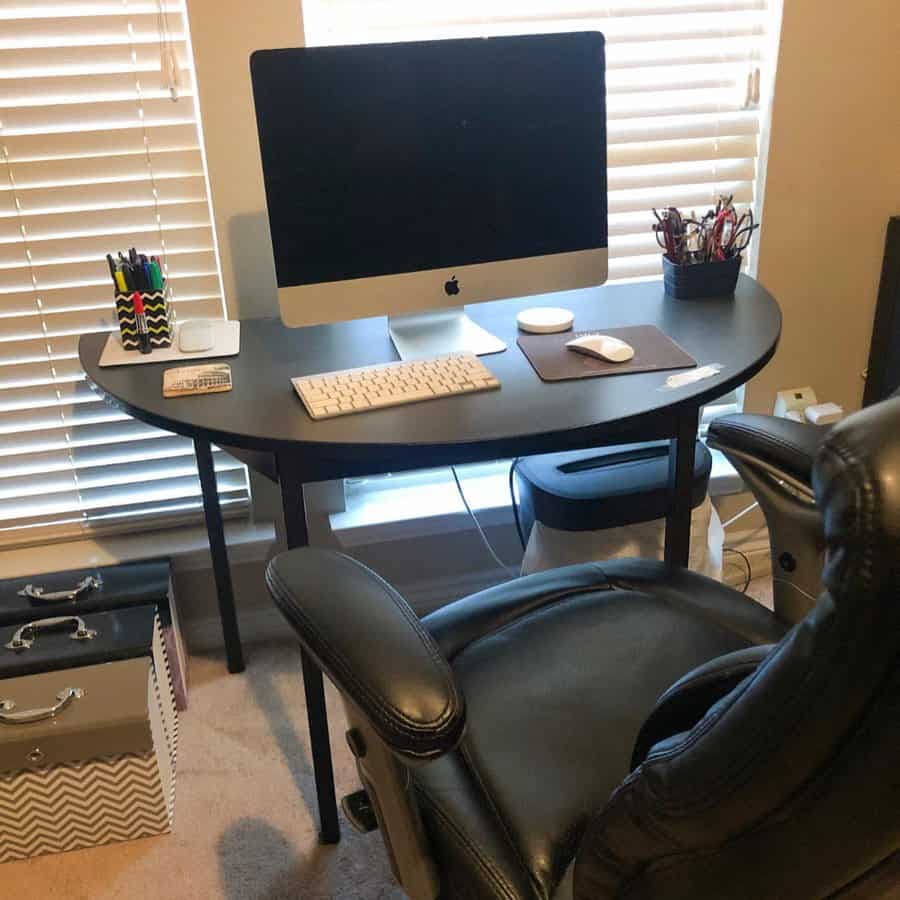 20. Concealed Cabinet Shelves for Clutter
Elevate both organization and aesthetics in your home office with concealed cabinet shelves. These storage solutions discreetly hide supplies, documents, and electronics, creating a clean and uncluttered workspace. Choose cabinets that complement your room's decor, and consider incorporating pops of color or texture to enhance the inviting atmosphere.
Keep countertops clear by displaying only essential items, eliminating visual clutter. This straightforward approach guarantees a well-organized home office, enabling efficient and stress-free work. Implement this simple trick to transform your workspace into a productive and visually appealing environment that promotes focus and creativity.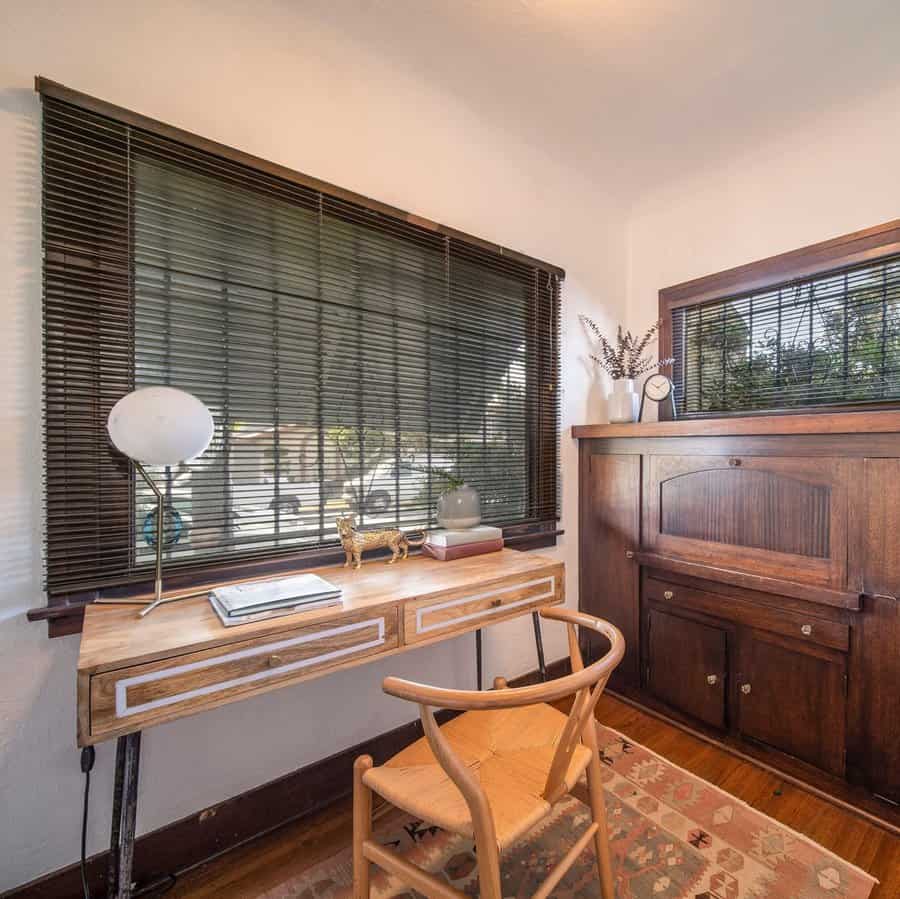 21. Organize It All with a Pegboard
Unlock the organizational power of pegboards for your home office. These versatile tools provide a straightforward and efficient method to keep supplies organized and within easy reach while optimizing wall space.
Pegboards offer flexibility, allowing you to tailor your setup to match your unique needs and preferences. Their dynamic nature makes them a valuable addition to your workspace. If you're aiming for an efficient and tidy work area, pegboards are the ideal solution, seamlessly blending practicality with versatility. Embrace this underrated gem to elevate your home office organization and boost productivity.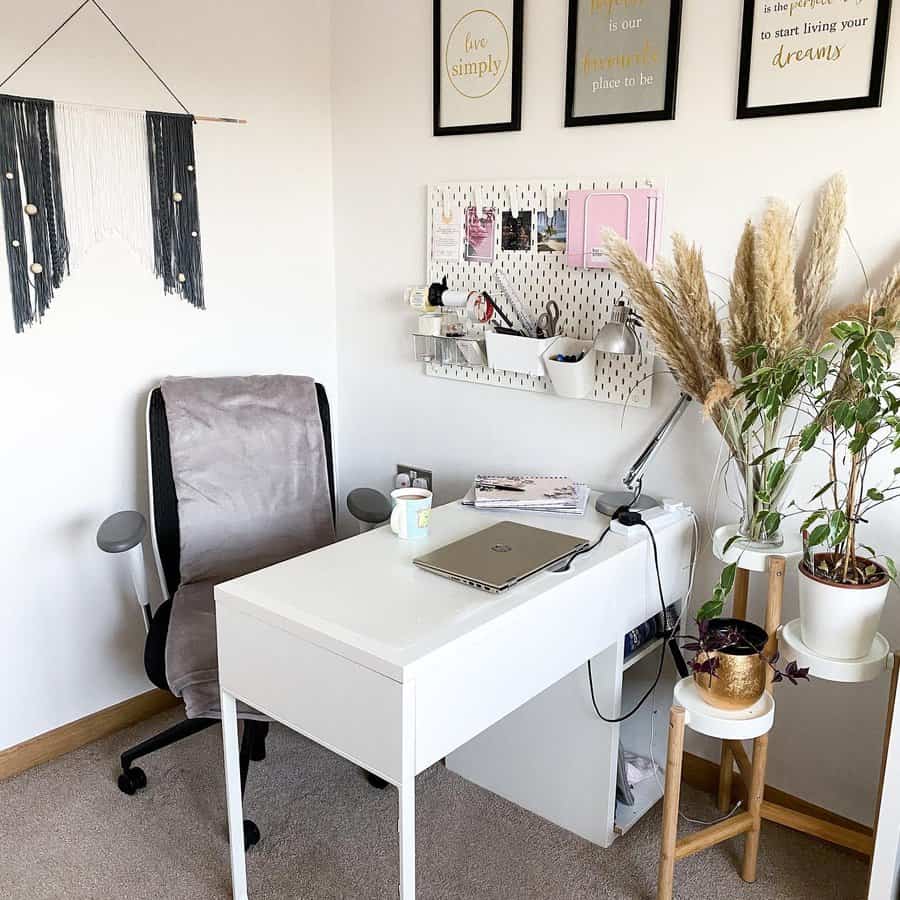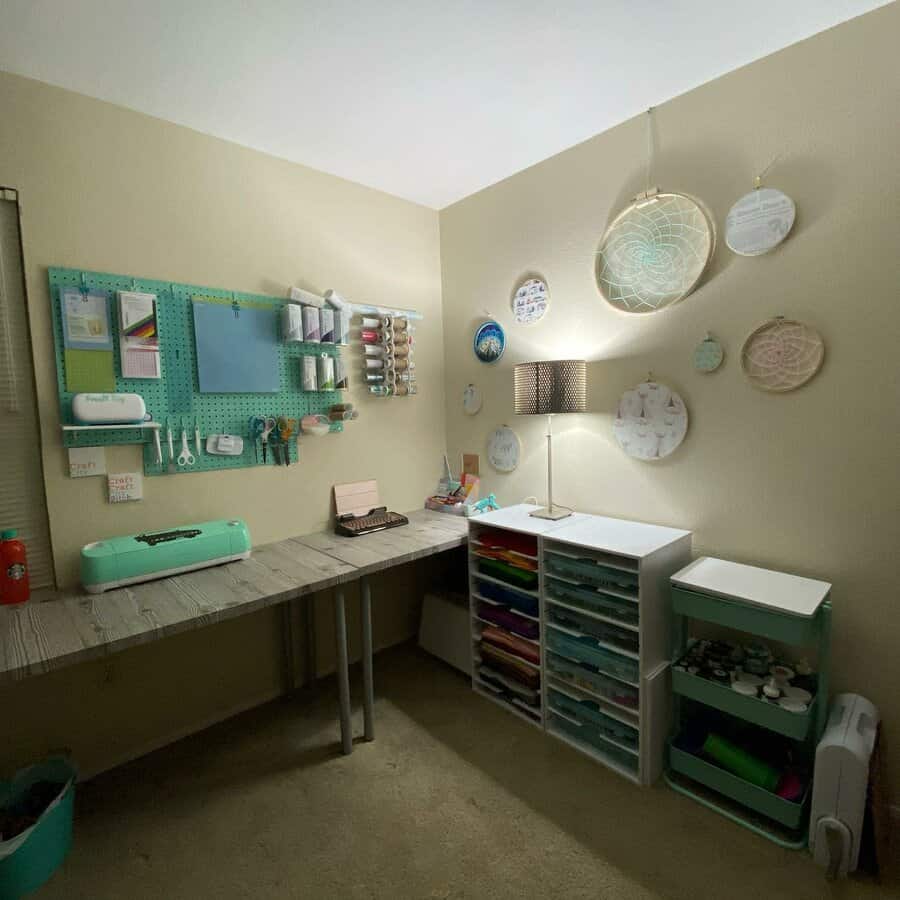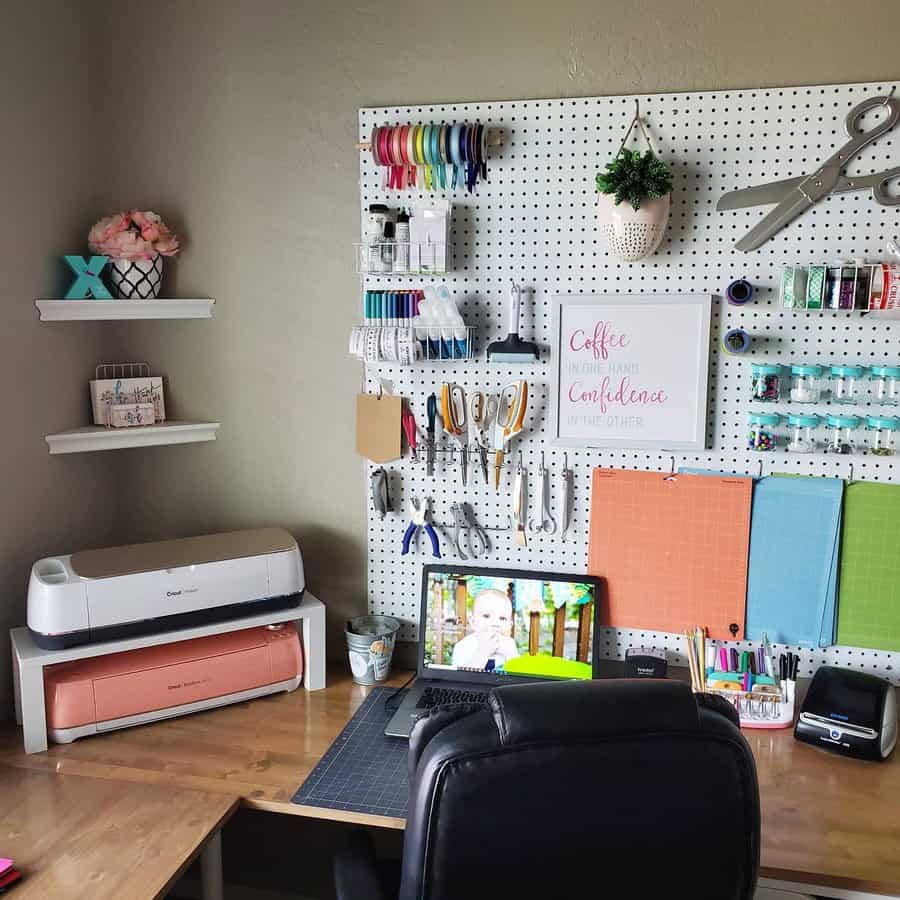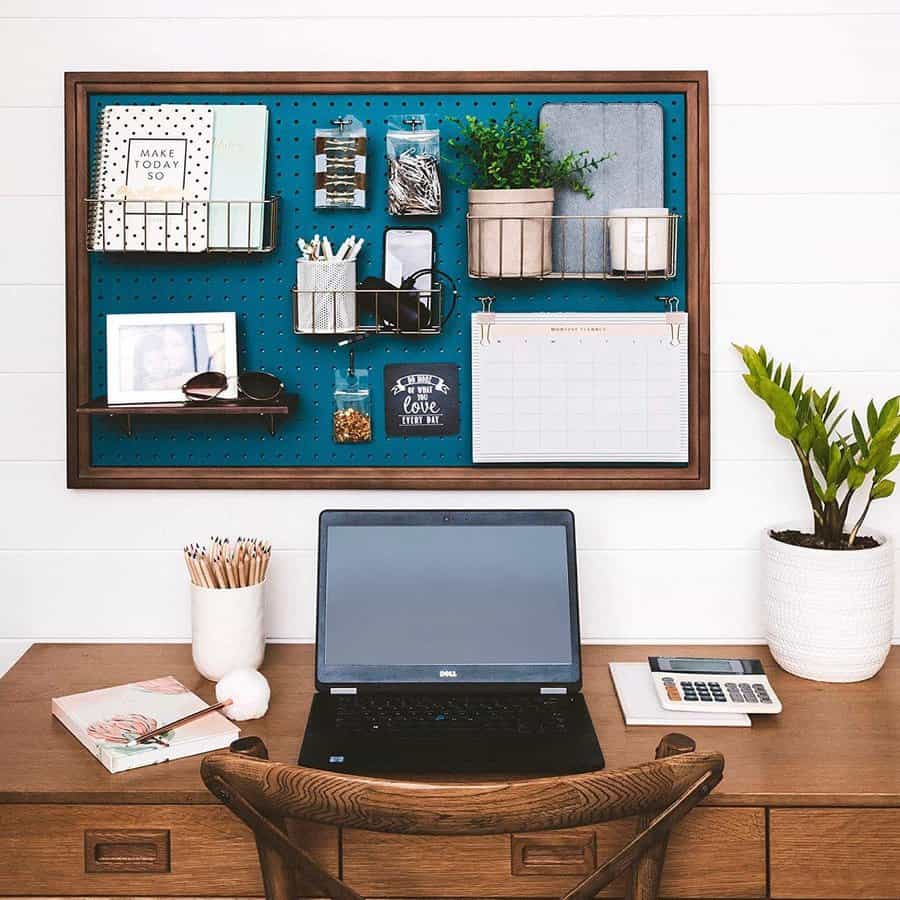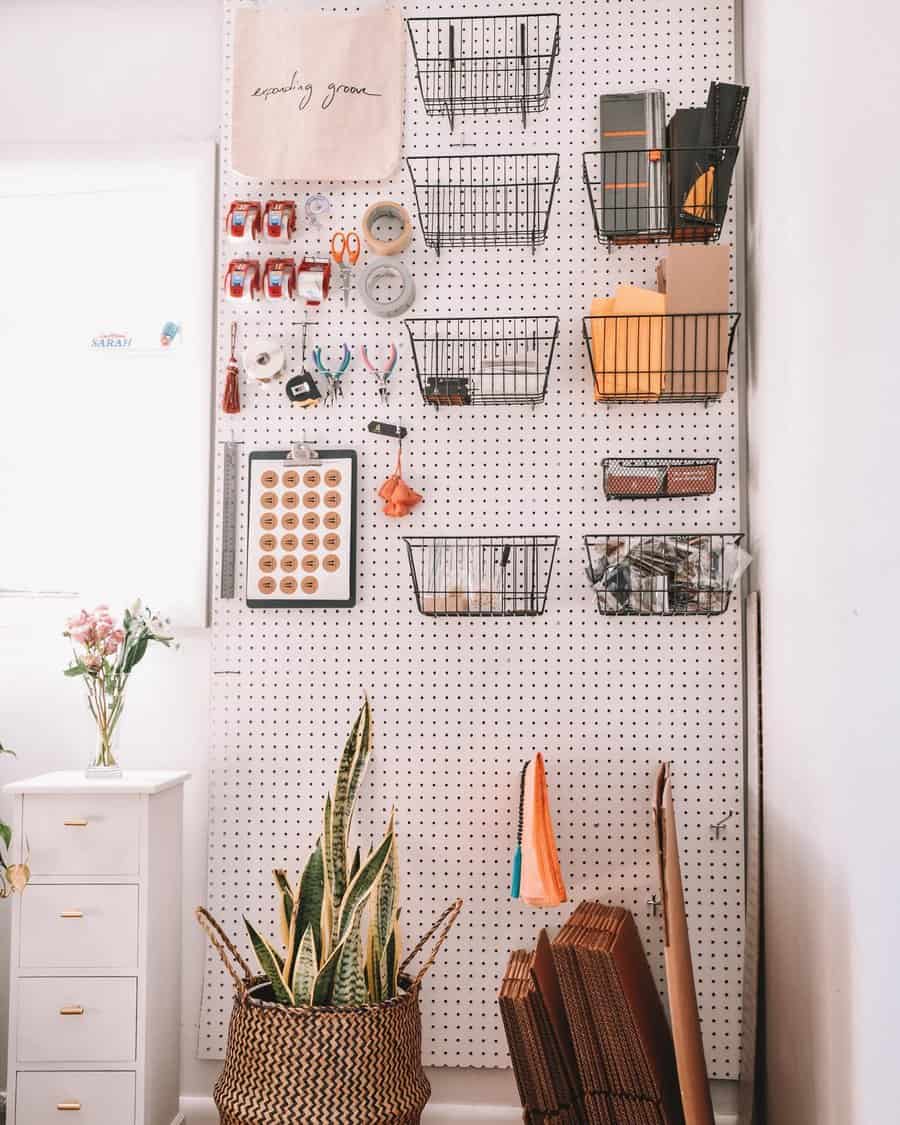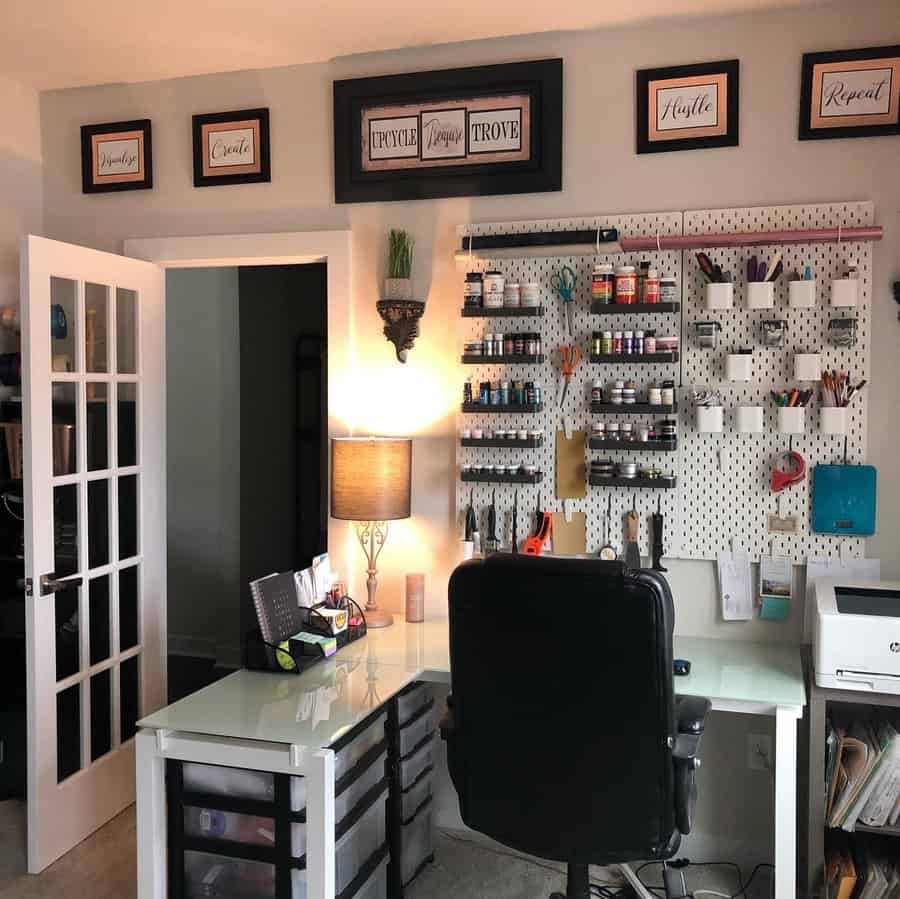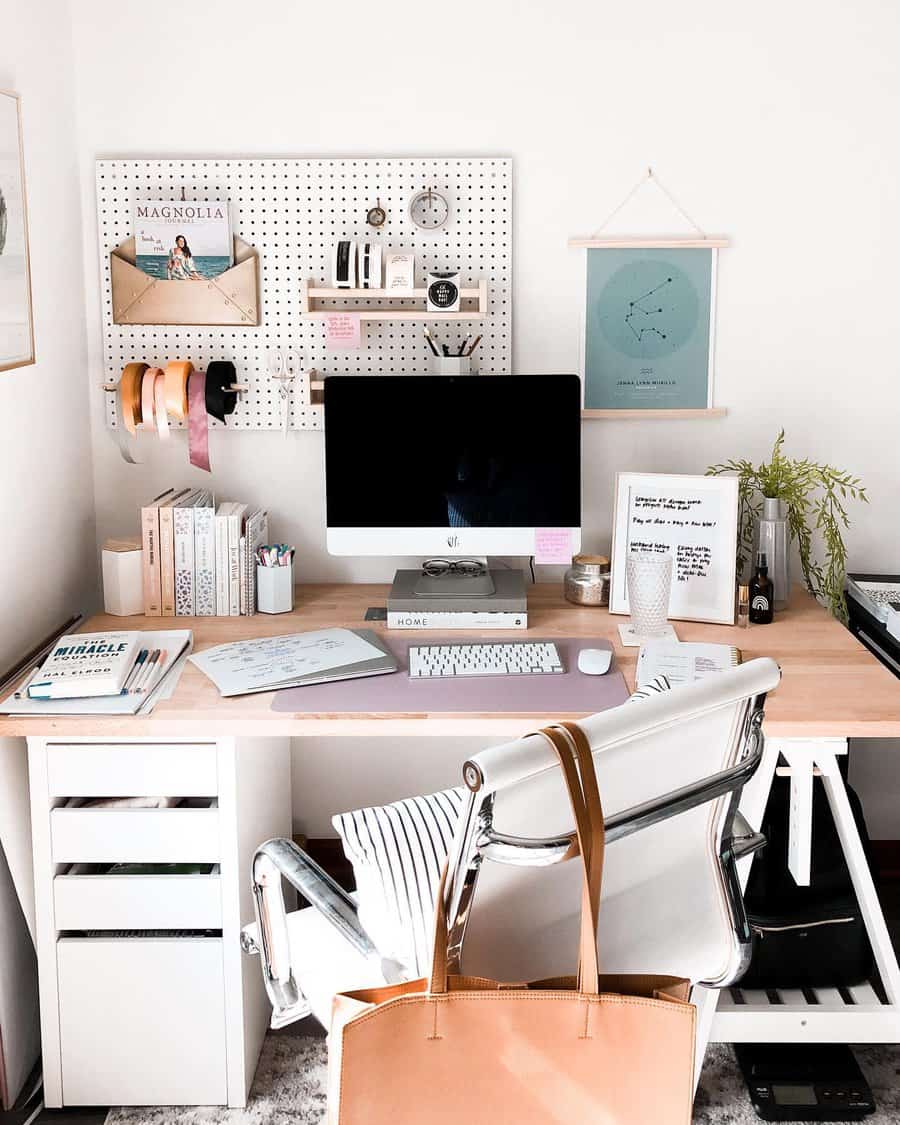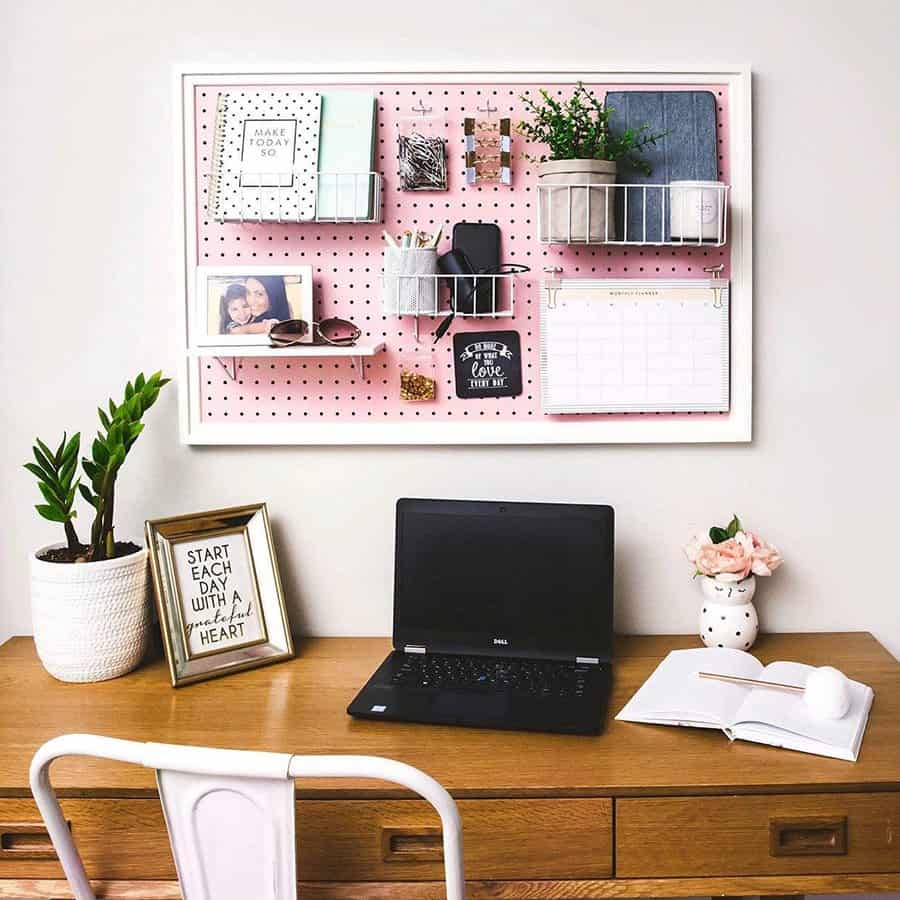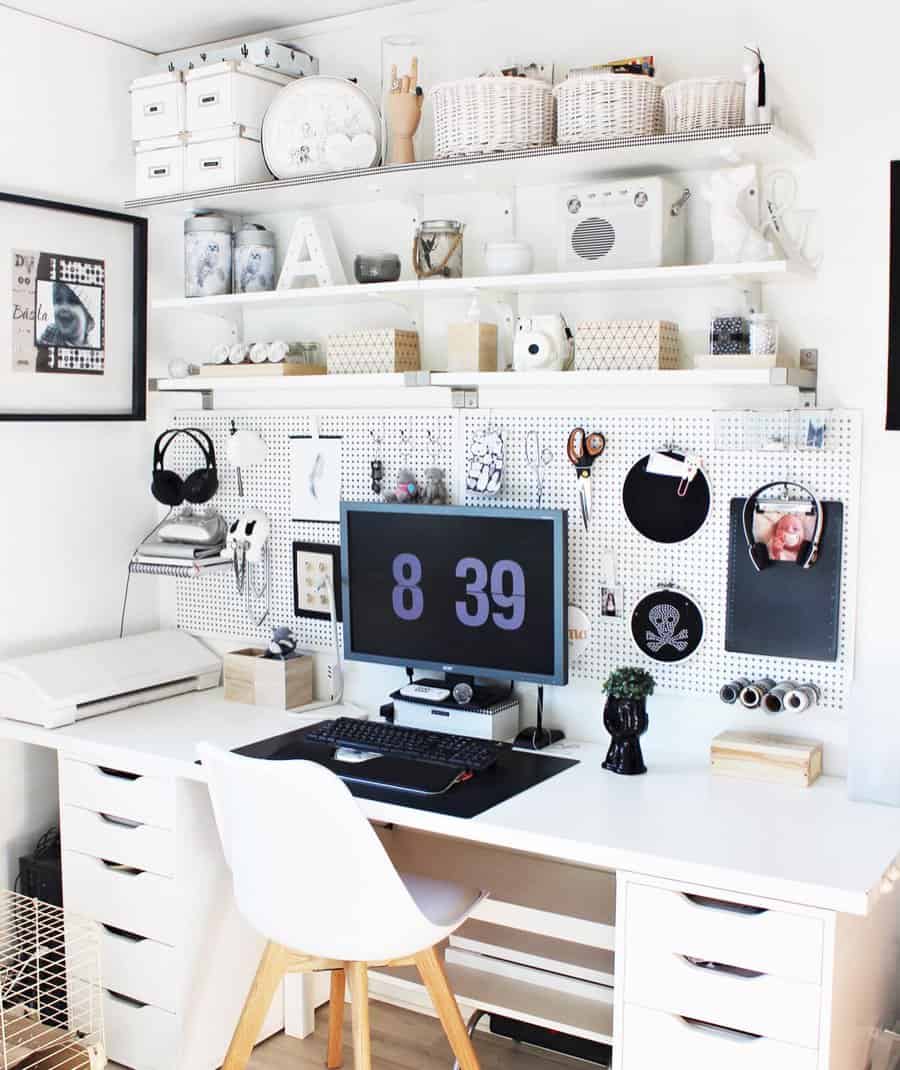 22. Floating Office Countertop with Storage
Optimize your home office for efficiency and organization with a floating office countertop featuring integrated shelves. This strategic design consolidates your workspace, centralizing essential office materials in one location instead of spreading them across multiple surfaces.
For additional space optimization, think about incorporating a wall-mounted desk or extra floating shelves above your workstation. These creative solutions not only save room but also ensure that all your work essentials remain easily accessible. Simplify your home office setup and stay organized with a well-planned floating office countertop and shelf arrangement.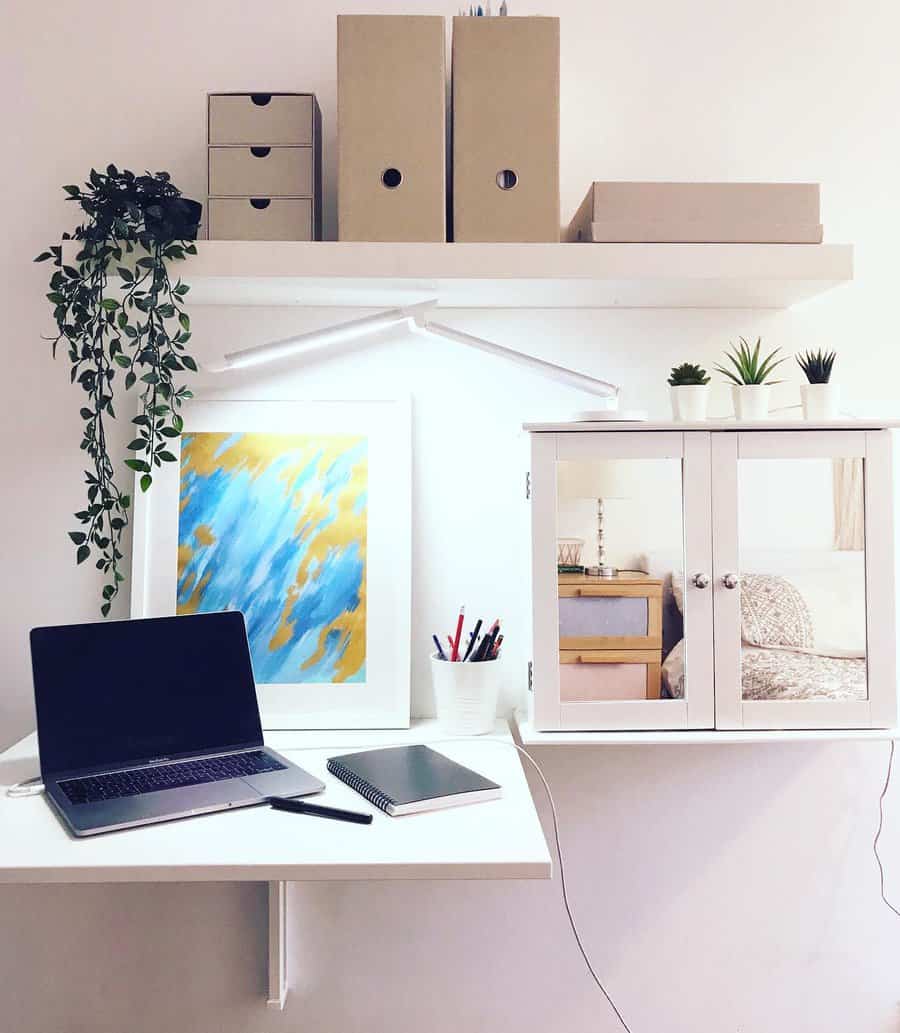 23. Standalone Bookstand for Elegance
Enhance your home office comfort and productivity by incorporating a standalone bookstand. These versatile bookcases provide additional storage and organization, giving your workspace structure and promoting focused work.
Utilize standalone bookcases to keep essential materials like reading materials, printer paper, pens, and even an extra all-in-one printer neatly organized. With everything you need within reach, you can maintain an organized and efficient workspace, facilitating hours of concentrated work. Invest in a standalone bookstand to elevate your home office's functionality and comfort.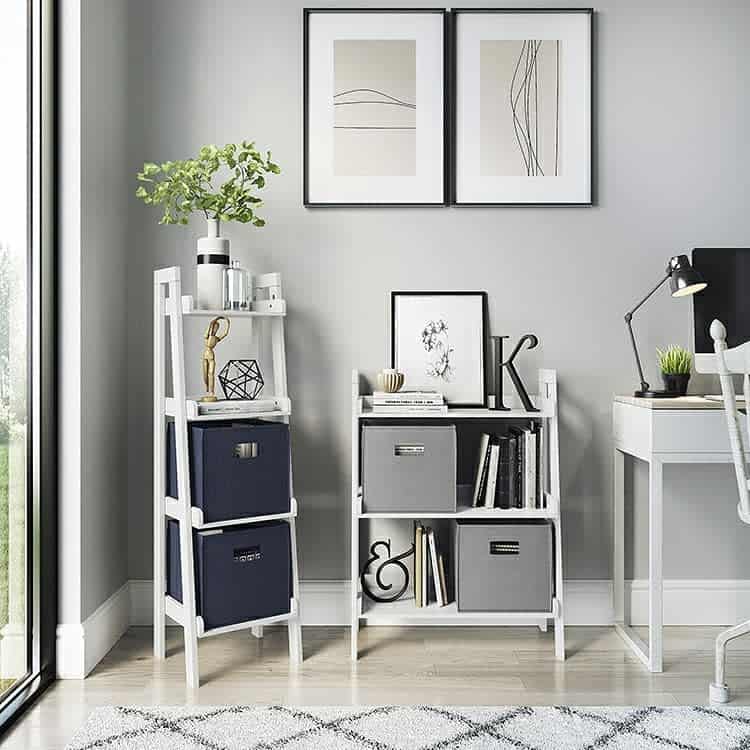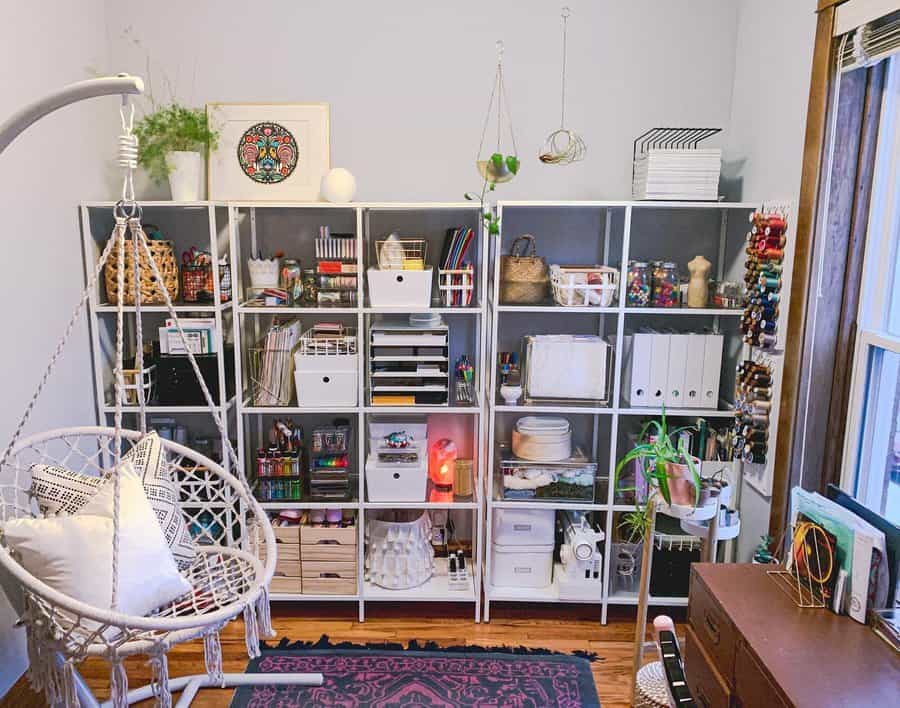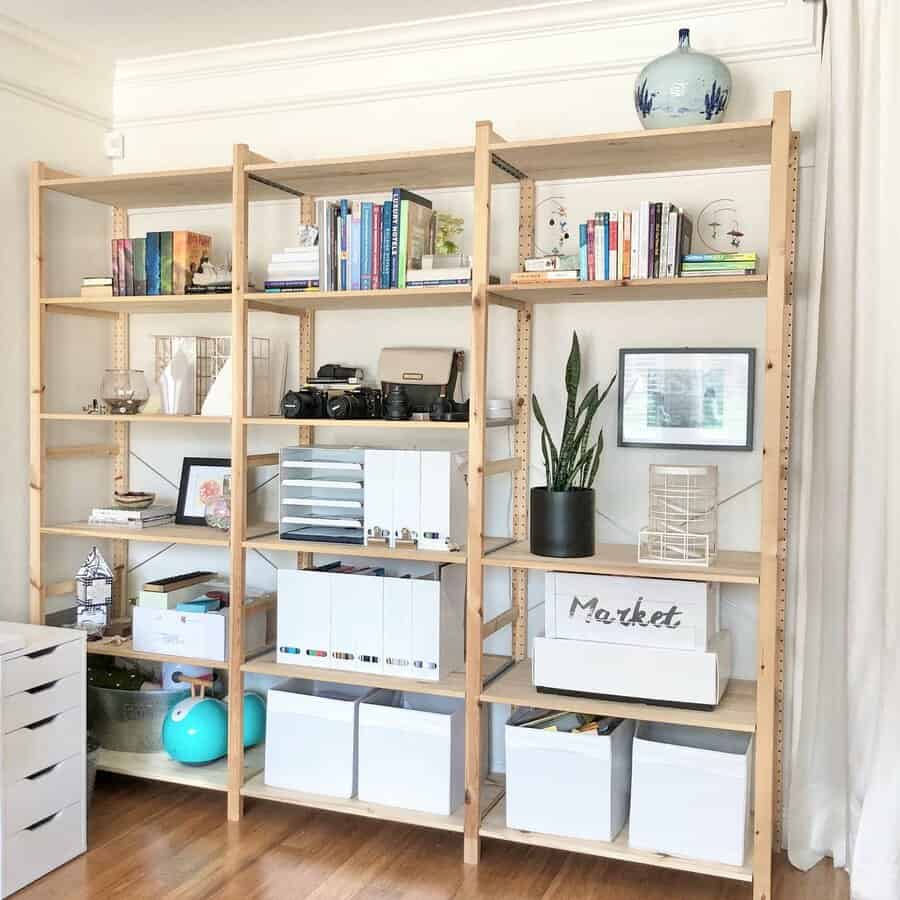 24. Organize with Labeled Storage
Elevate your home office organization with labeled storage solutions. These practical tools not only keep your desk tidy but also ensure quick and effortless item retrieval.
Maximize storage space by placing organizers on shelves above your desk, thinking vertically to optimize your workspace. With strategically positioned labeled organizers, you can easily access additional paper and documents, streamlining your task completion process.
Even in smaller or more compact home office spaces, the creative use of labeled organizers allows you to maximize available room while maintaining a well-organized and productive workspace.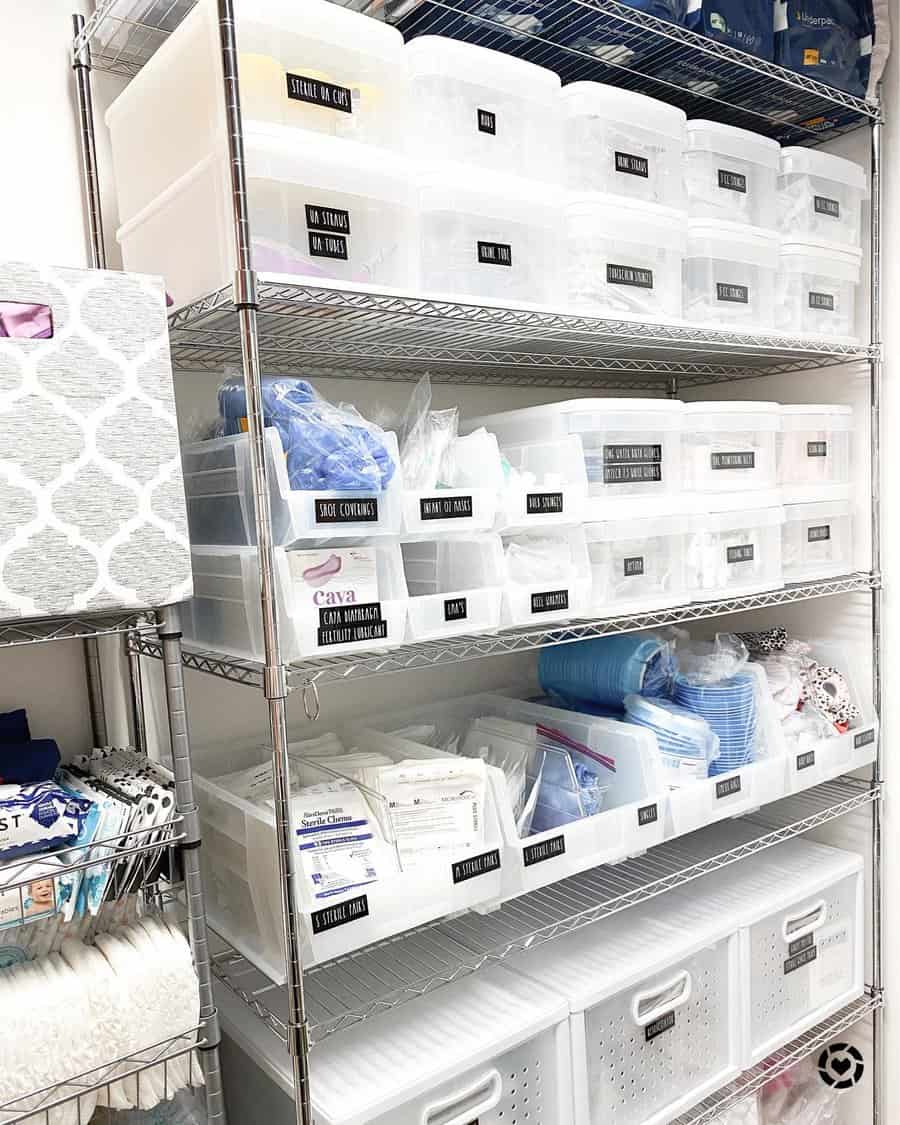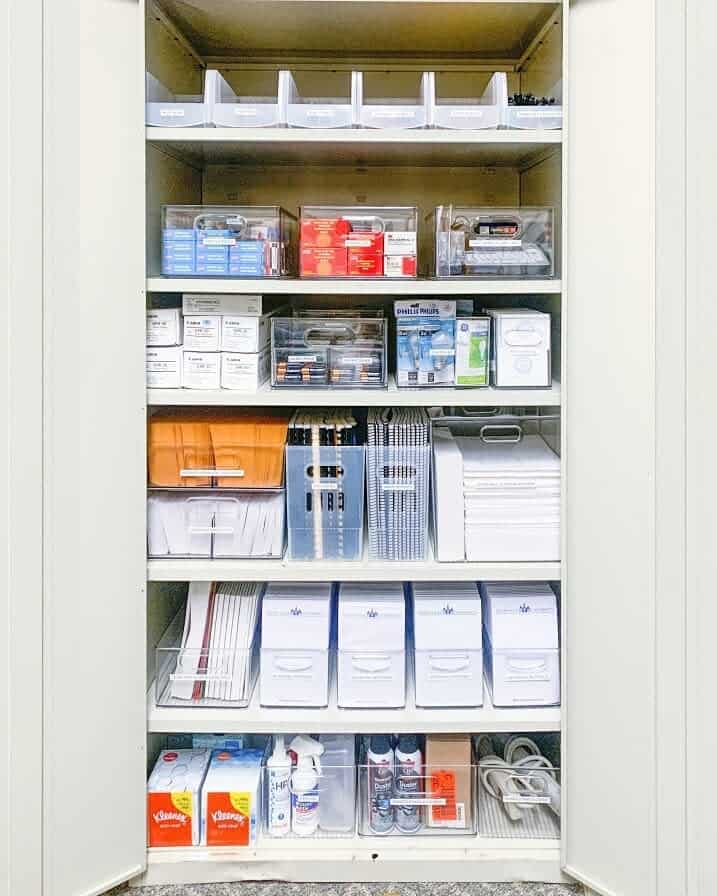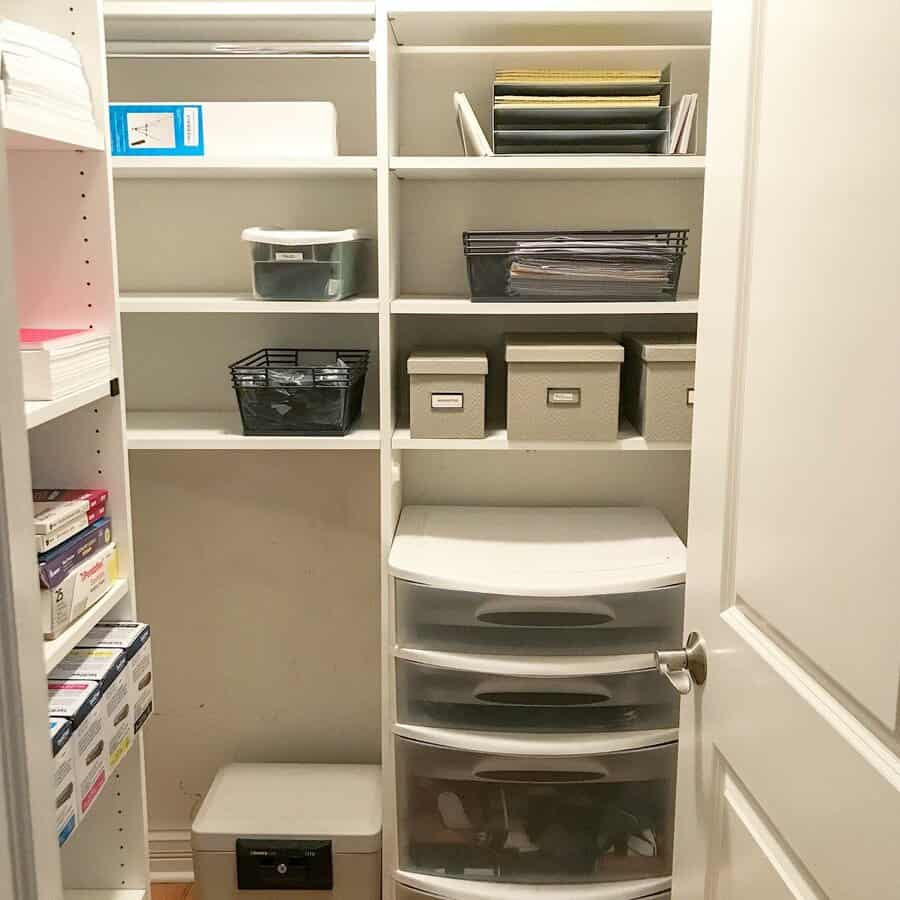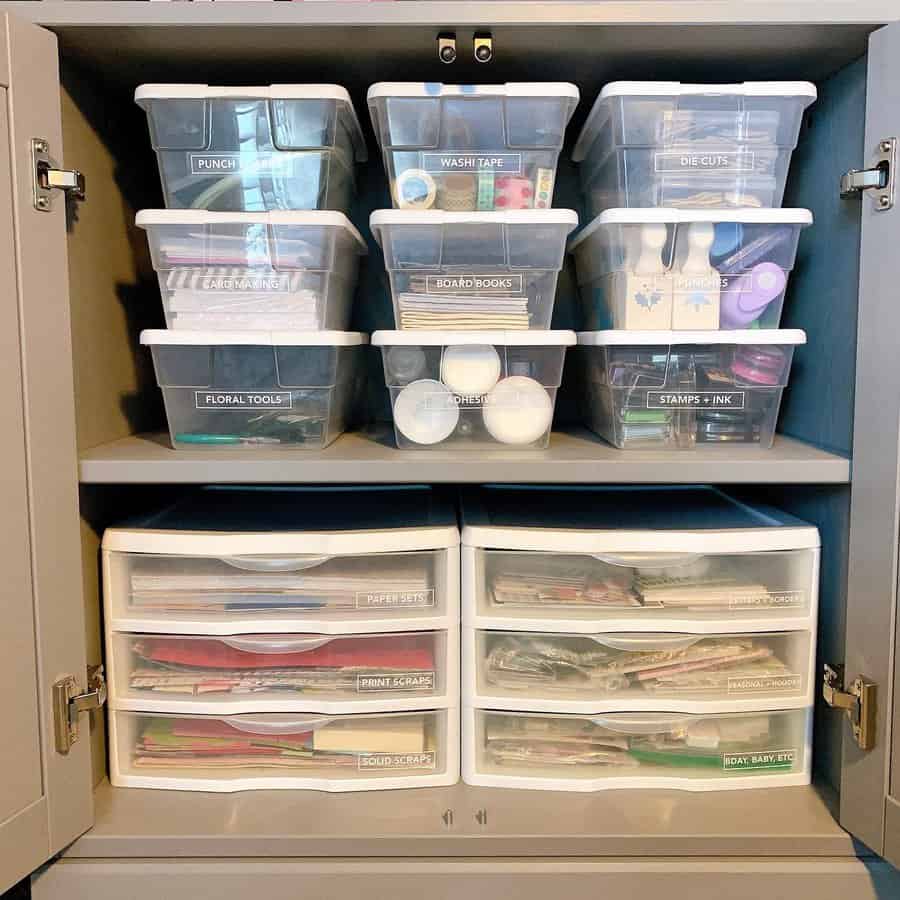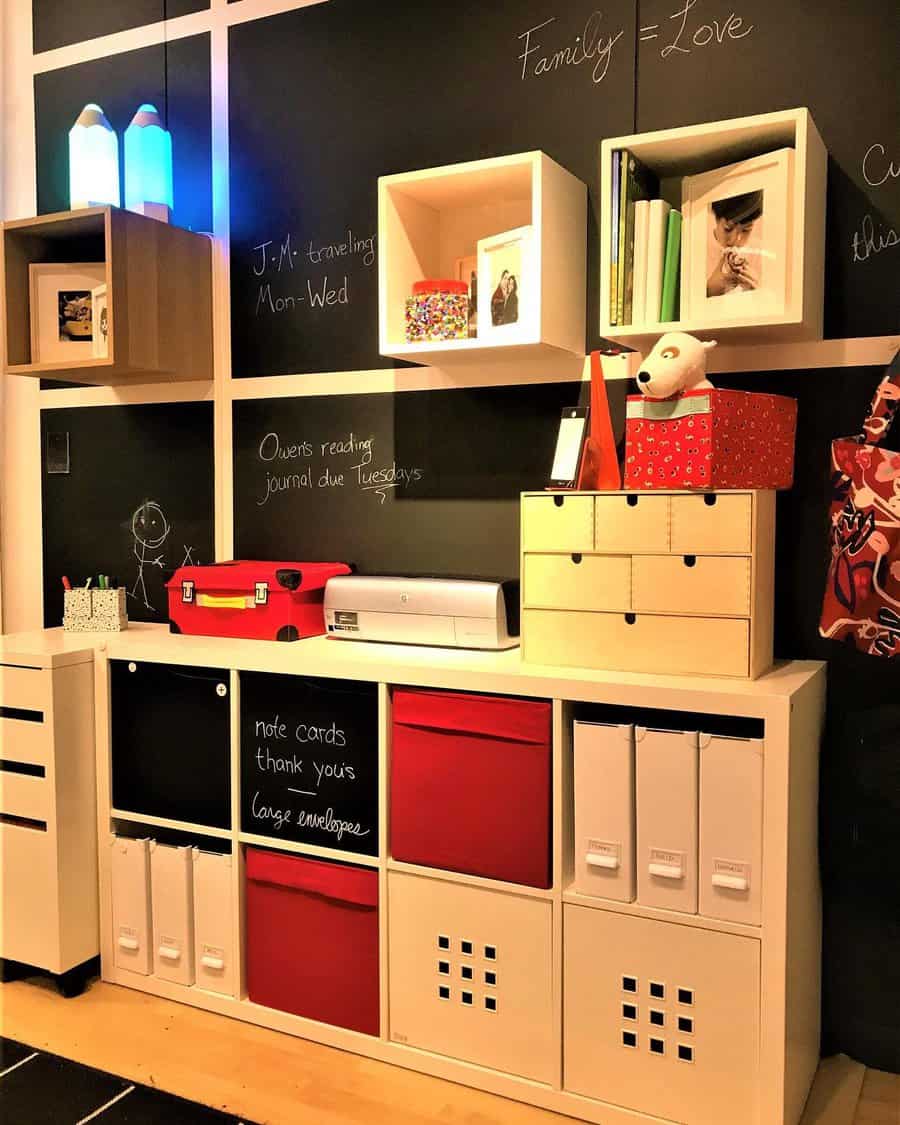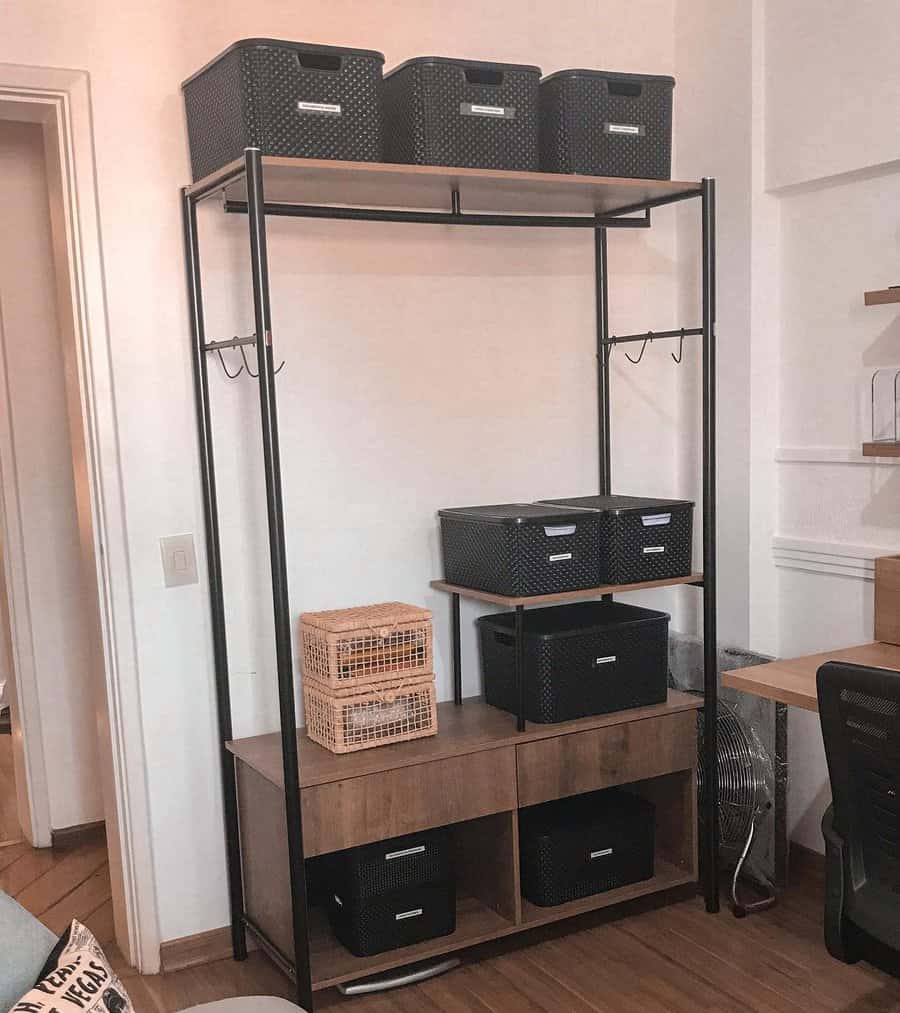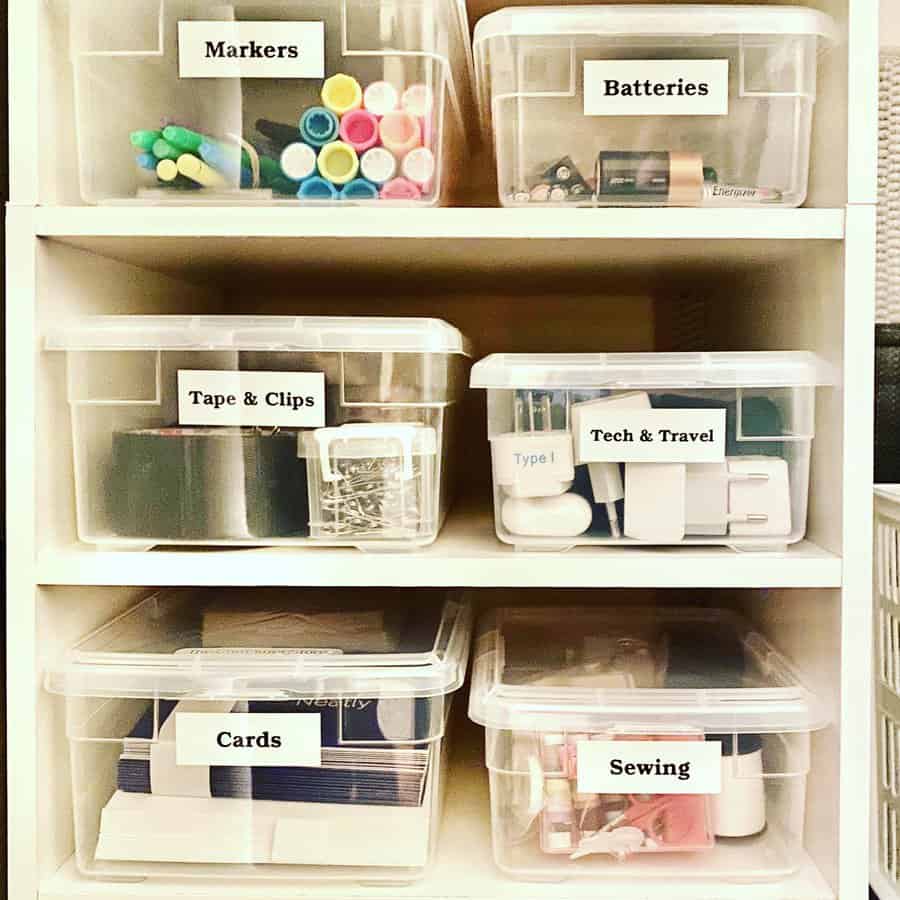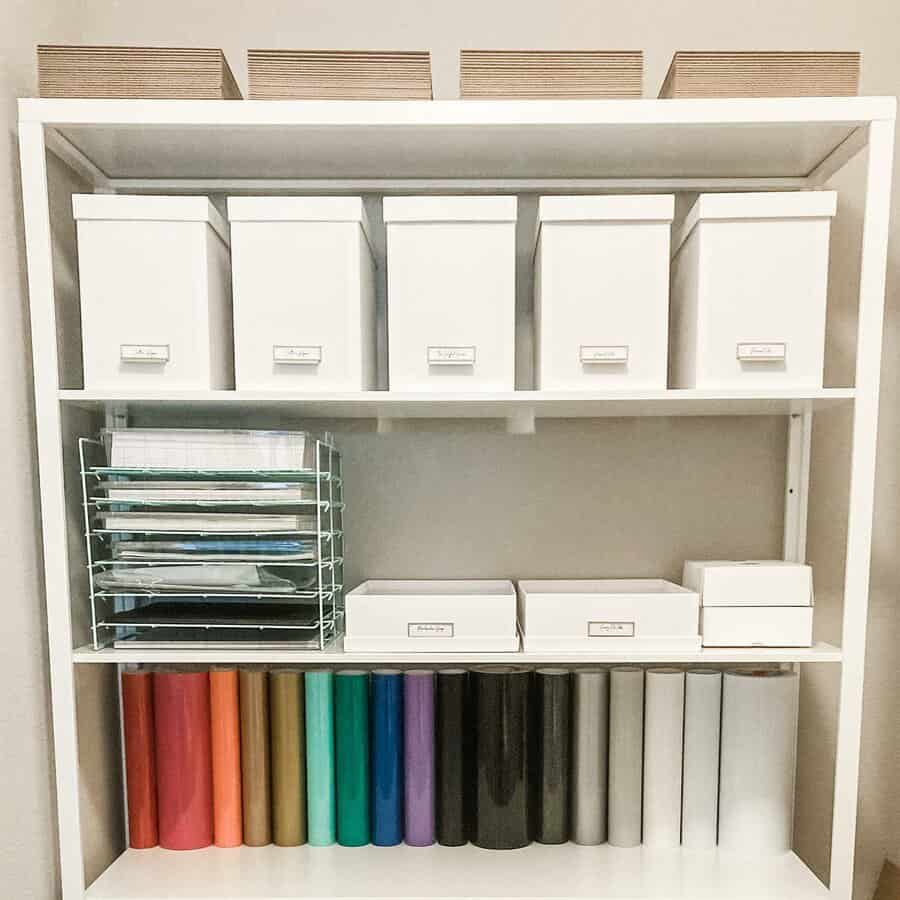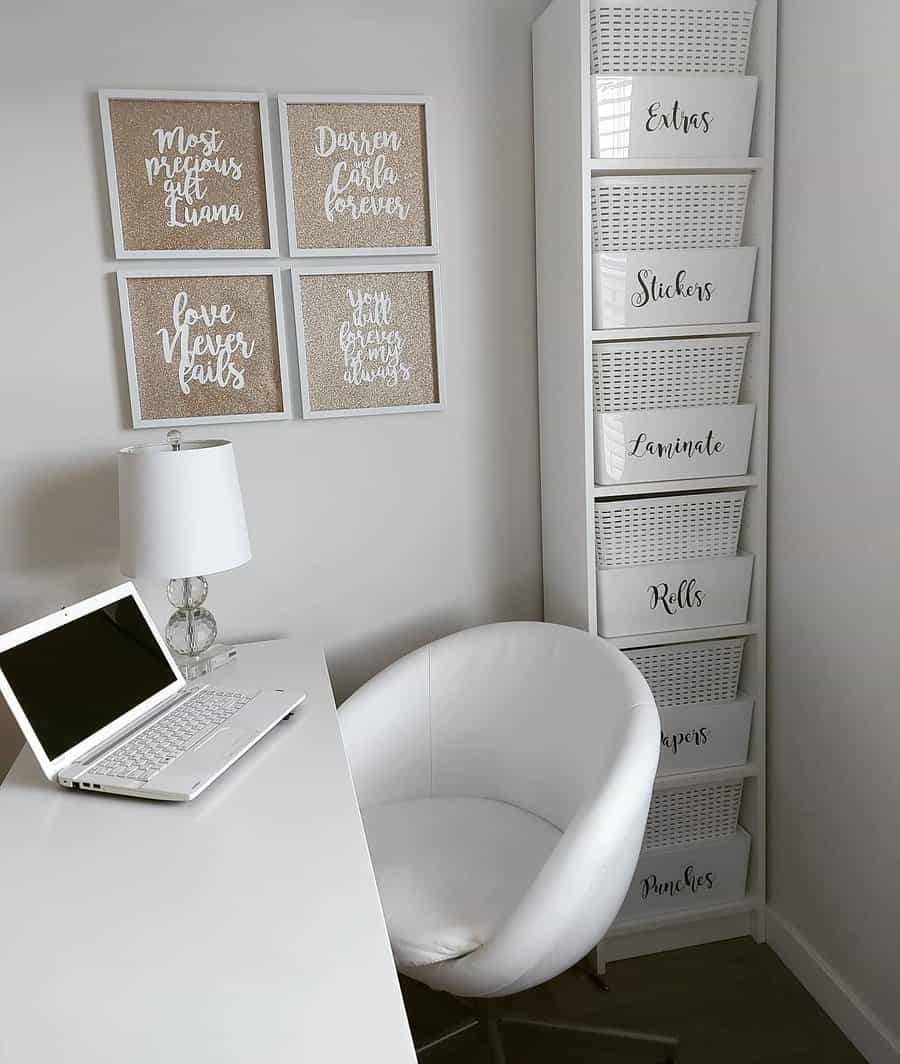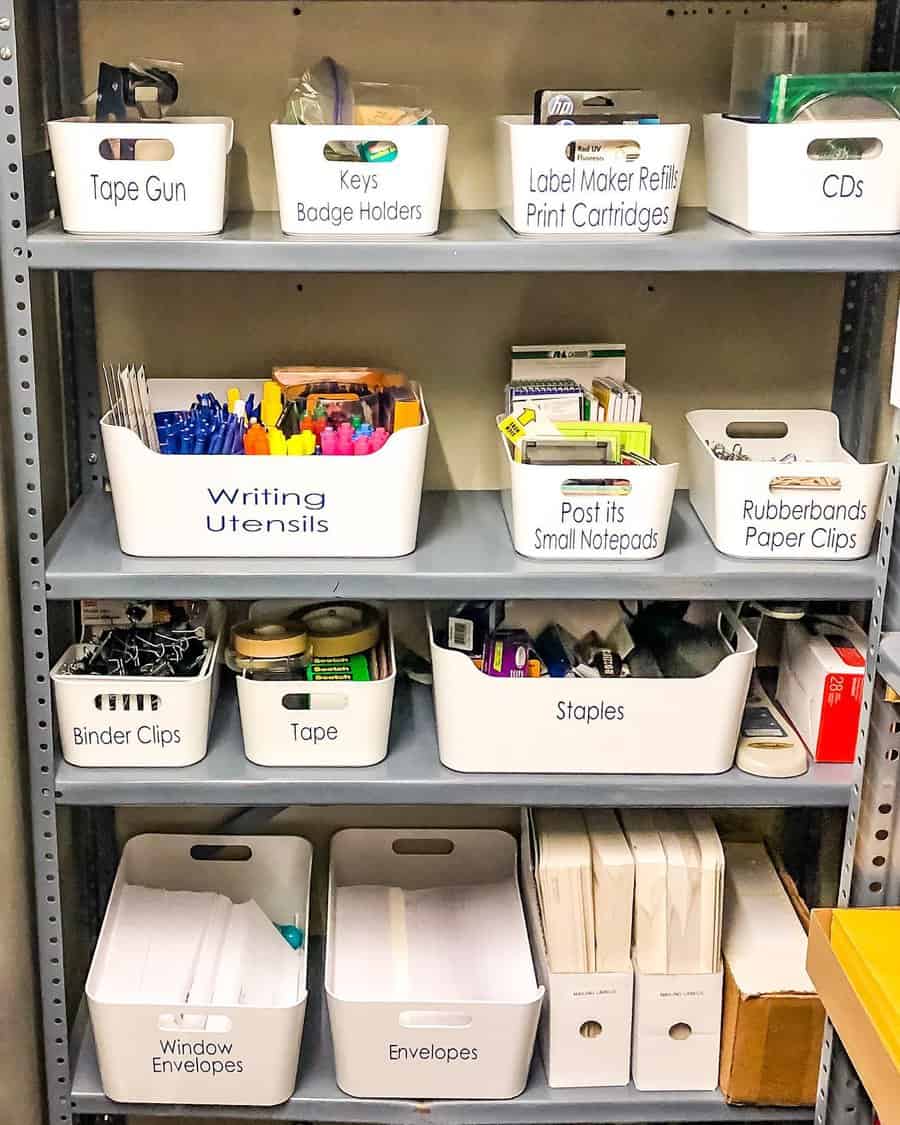 25. Complete Home Office: Wall-Mounted Shelf
Enhance your home office's functionality and style with a full wall-mounted shelf. This innovative solution maximizes space utilization and maintains a clutter-free environment. Utilize these shelves to organize business and technology essentials, documents, and other necessary items.
Beyond their organizational advantages, full wall-mounted shelves can inject color and elevate the overall aesthetics of your home office. Consider this efficient and visually pleasing addition to enhance productivity and create an inspiring workspace that motivates you to do your best work from home.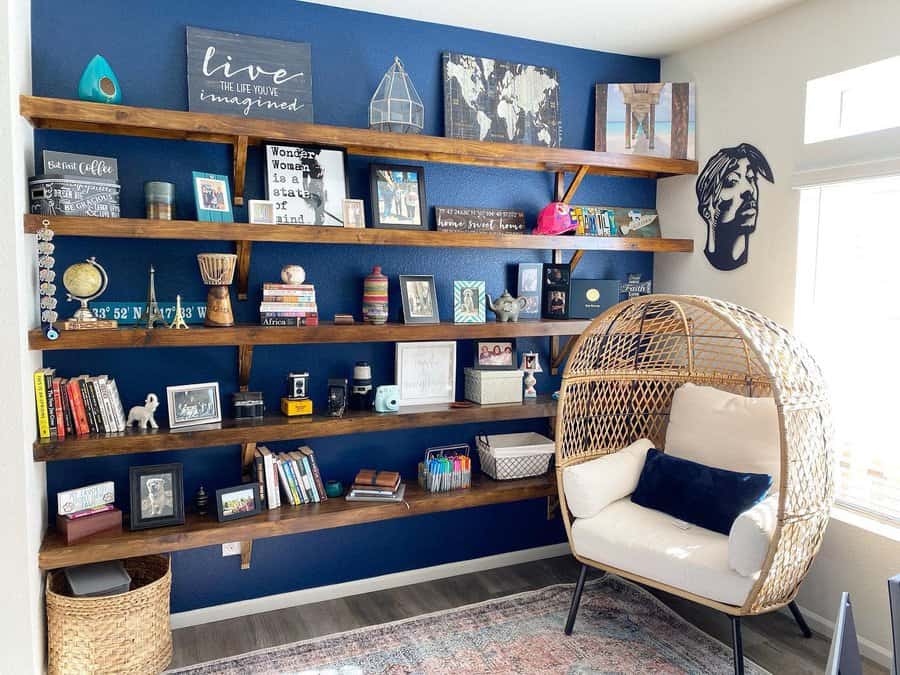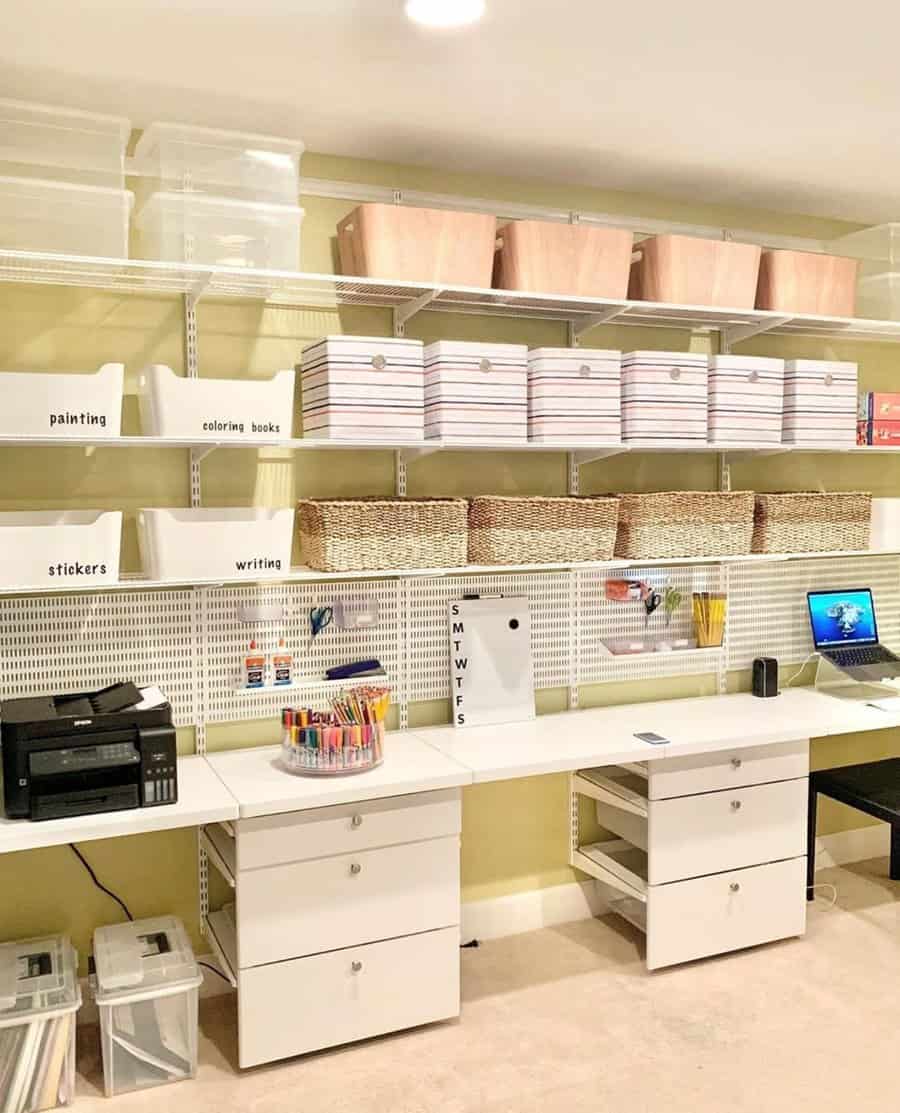 Office Organization FAQs
How do you declutter a desk?
Whether you work in a home office or executive suite, a cluttered desk is a no-no. Not only does it look messy but it can actually slow down your productivity and raise your stress levels.
Start by removing the obvious offenders: Non-essential items that are rarely used. There's no reason for these supplies to take up such valuable real estate.
If you still find yourself with a full desk, continue organizing with a slow culling. Place the remaining items somewhere else (such as the floor or another surface). Then, spend the next week noting which items you must regularly get up and grab. Anything left behind needs to find a permanent home that is NOT your desk!
How do you keep an office organized long-term?
Even the best home office organization ideas are not permanent. It takes constant work to maintain a clean and organized workspace.
Create a detailed system when organizing your office space. You shouldn't need to spend any mental energy deciding where items go. Labels can help take the guesswork out of where things belong in the future.