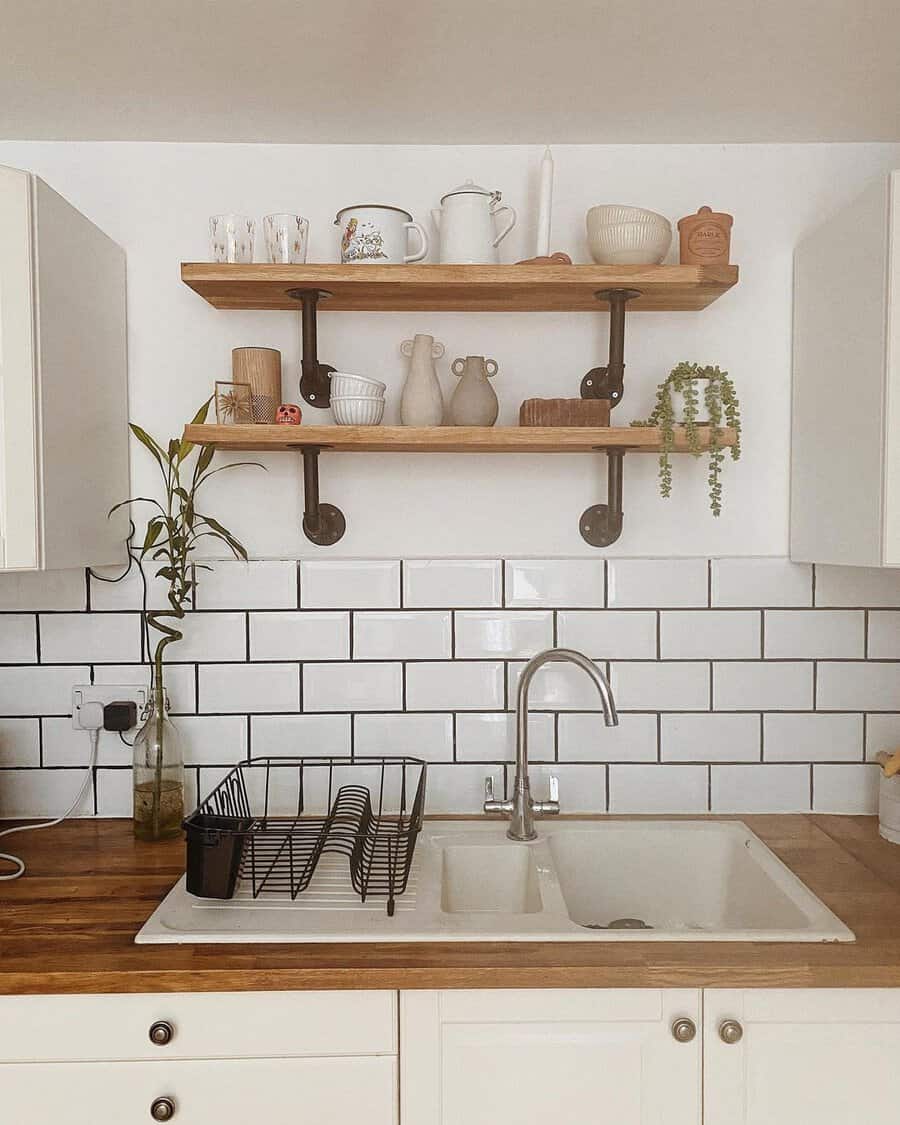 15 Best Open Shelving Kitchen Ideas
Open shelving in the kitchen can breathe new life into your space, offering a perfect blend of functionality and style. Not only does it offer easy access to dishes and appliances, but it also serves as a platform to display your favorite kitchenware, cookbooks, and decor pieces.
In this article, we will explore a variety of open-shelving kitchen ideas that can revolutionize your cooking area, making it feel more spacious and personalized. From rustic wooden shelves to modern metal designs, we've got suggestions that cater to all tastes and kitchen sizes.
1. Wall-Mounted Floating Shelves
Wall-mounted floating shelves offer a seamless and versatile way to showcase your belongings while adding a touch of contemporary elegance to any space.
Imagine a living room adorned with sleek, minimalist shelves that seemingly defy gravity, providing a stylish backdrop for your curated collection of books, decorative objects, and cherished mementos. These shelves create an opportunity for you to express your creativity by arranging items in an artful display, transforming a simple storage solution into a captivating focal point.
Whether in a small apartment or a spacious home, the beauty of open shelving lies in its ability to maximize vertical space while keeping your essentials within arm's reach.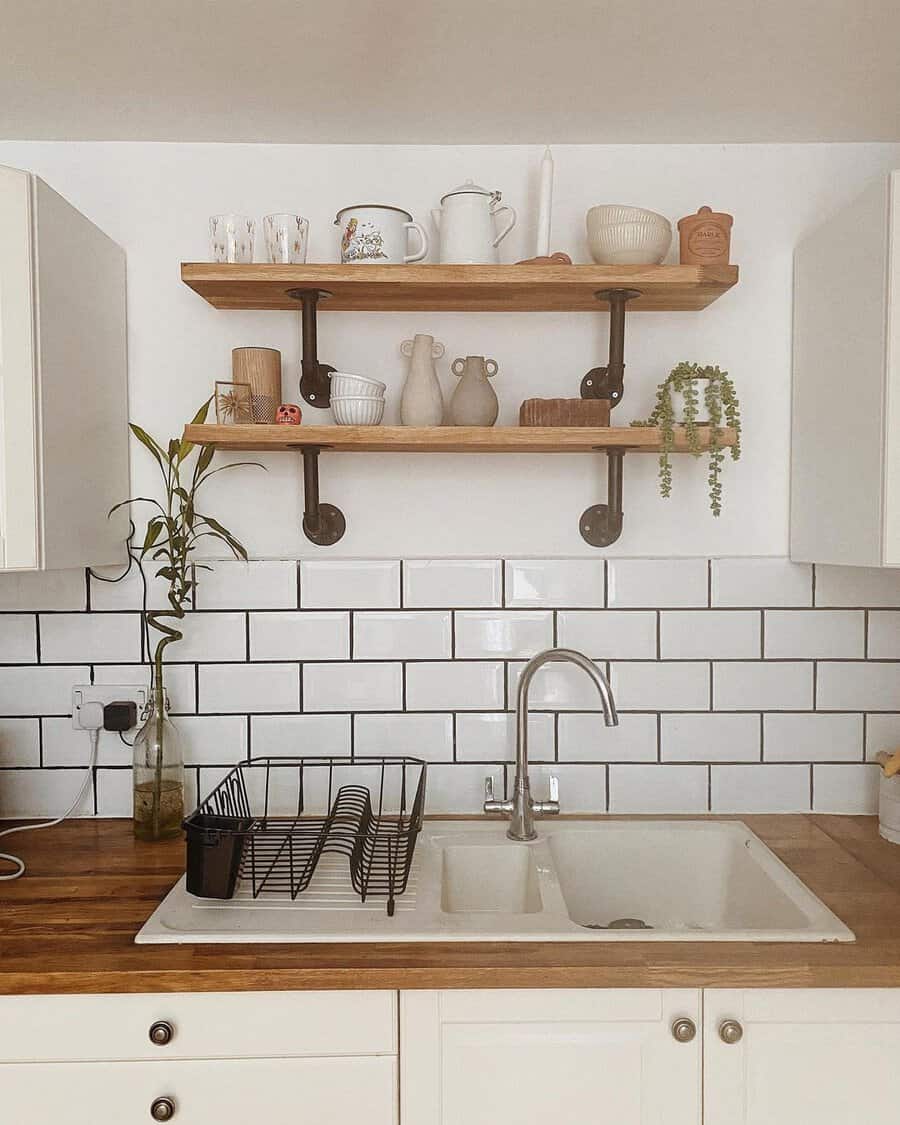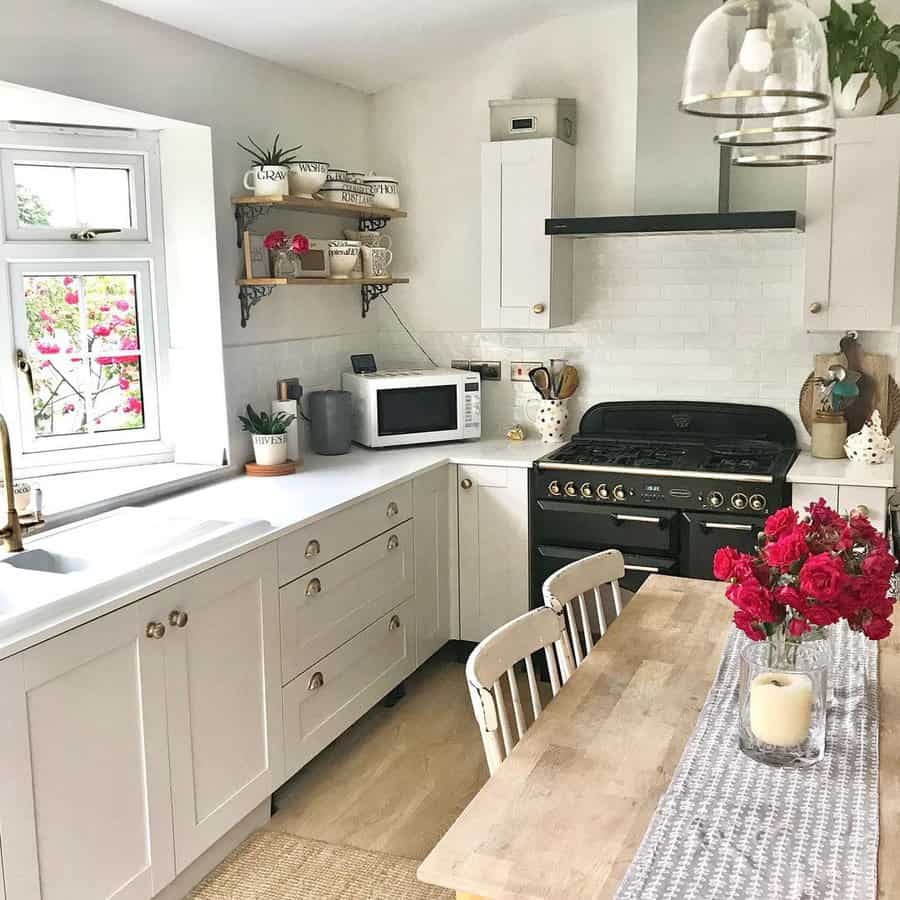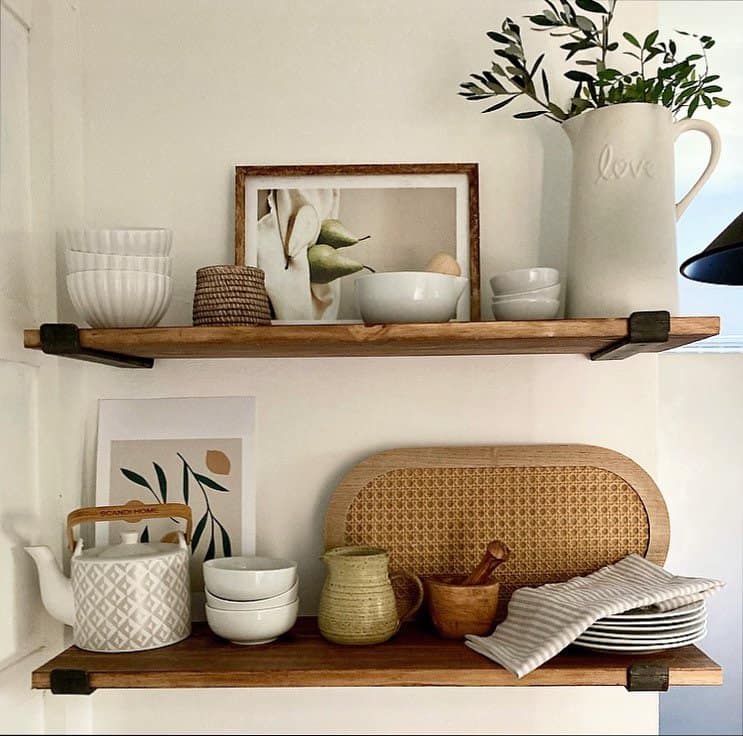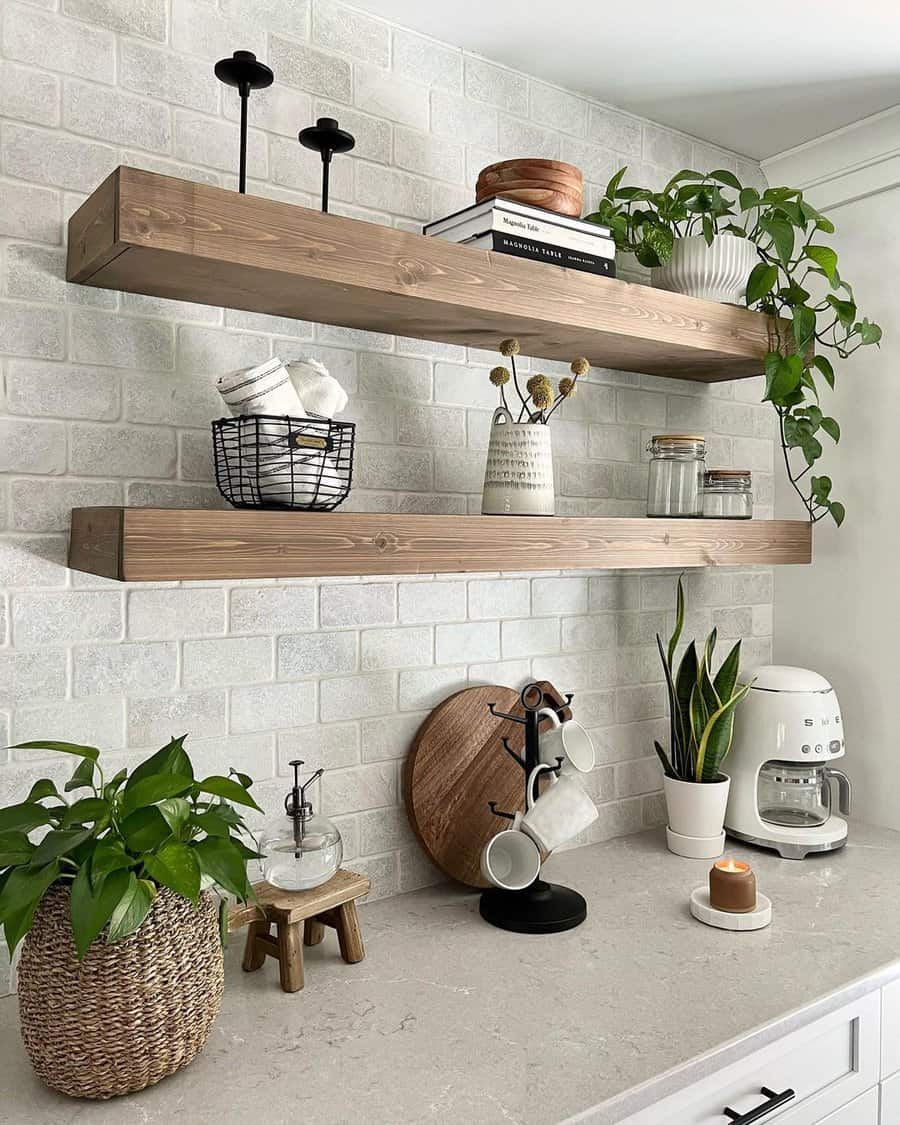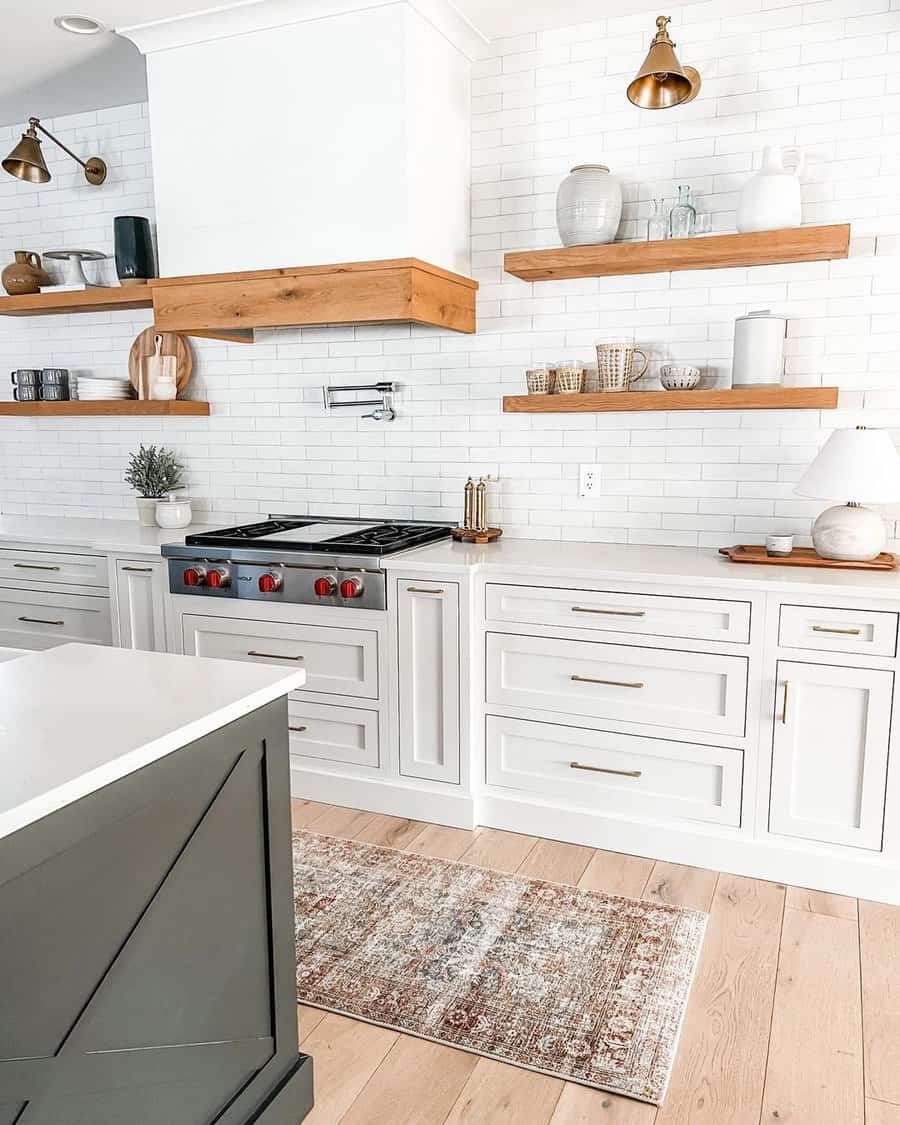 2. Corner Floating Shelves
When it comes to optimizing storage space in your home, don't let those corners go to waste! Embrace the charm and functionality of corner floating shelves. These ingenious open shelving solutions not only make use of otherwise underutilized corners but also add a touch of contemporary elegance to your space.
Imagine sleek, minimalist shelves seamlessly mounted in the corners of your room, displaying your favorite decorative pieces or providing easy access to everyday essentials.
Whether in the living room, kitchen or even the bathroom, corner floating shelves offer a creative way to showcase your personal style while maximizing storage potential.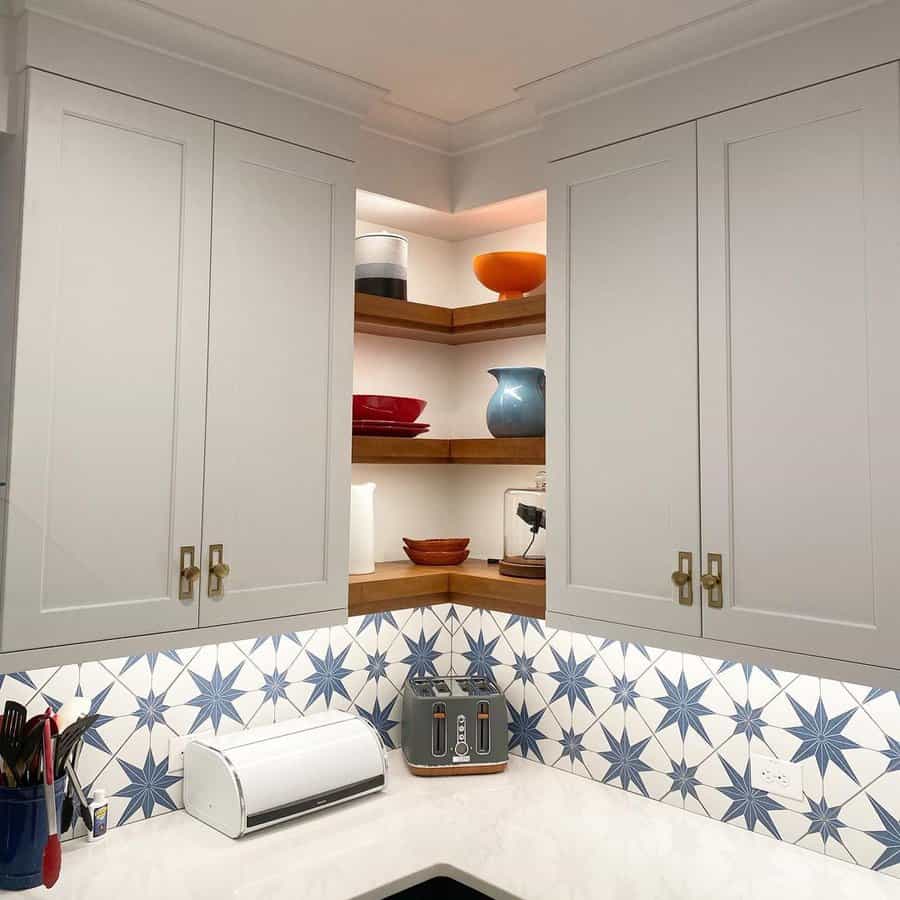 3. Floating Shelves With Hook Attachment
These innovative storage marvels offer a perfect blend of functionality and style. Picture sleek and minimalistic floating shelves effortlessly suspended from the wall, with a sturdy rod and hook attachment extending below.
The rod provides an ideal spot for hanging kitchen utensils, mugs, or even plants, while the shelves themselves showcase your curated collection of books, decor items, or cherished mementos. The creative use of floating shelves with a rod and hook attachment adds a touch of modernity and sophistication to any space.
Whether it's in the kitchen, living room, or even the bathroom, these shelves offer a practical storage solution while becoming a stunning focal point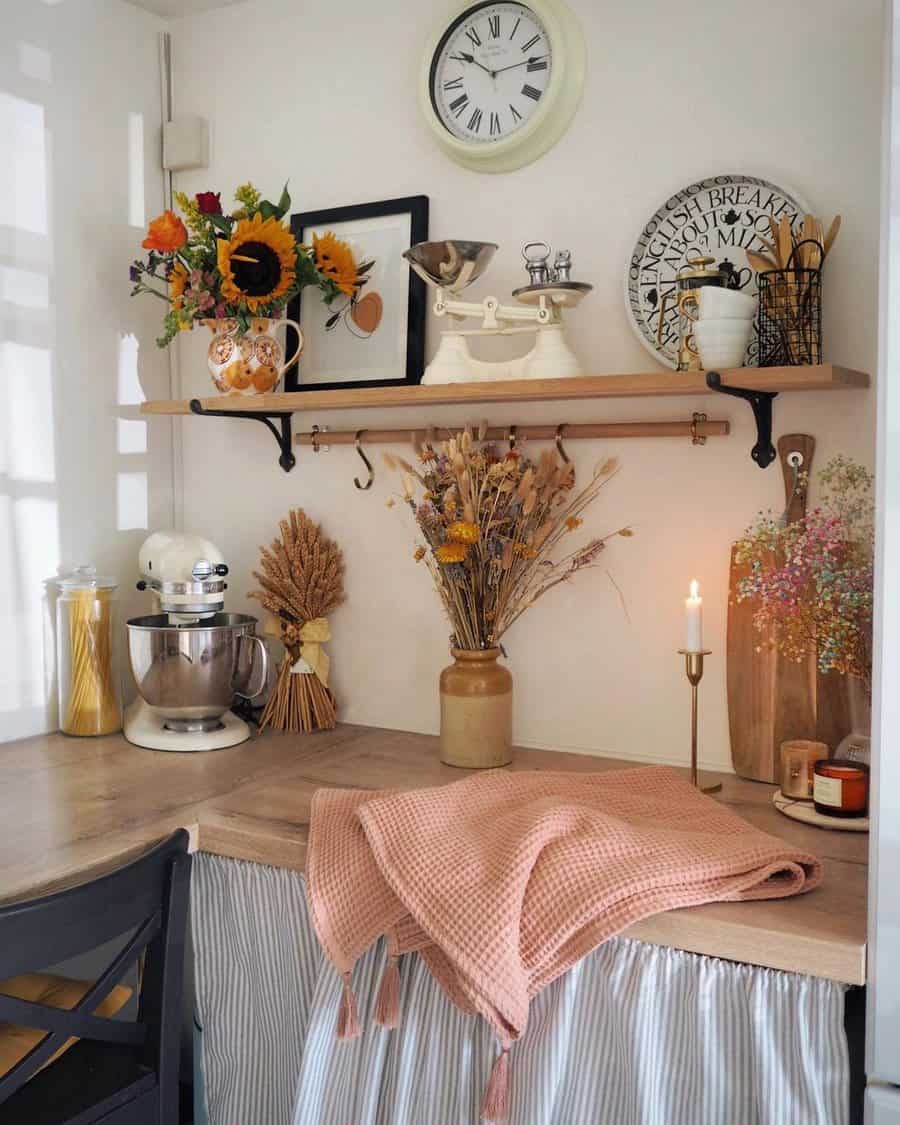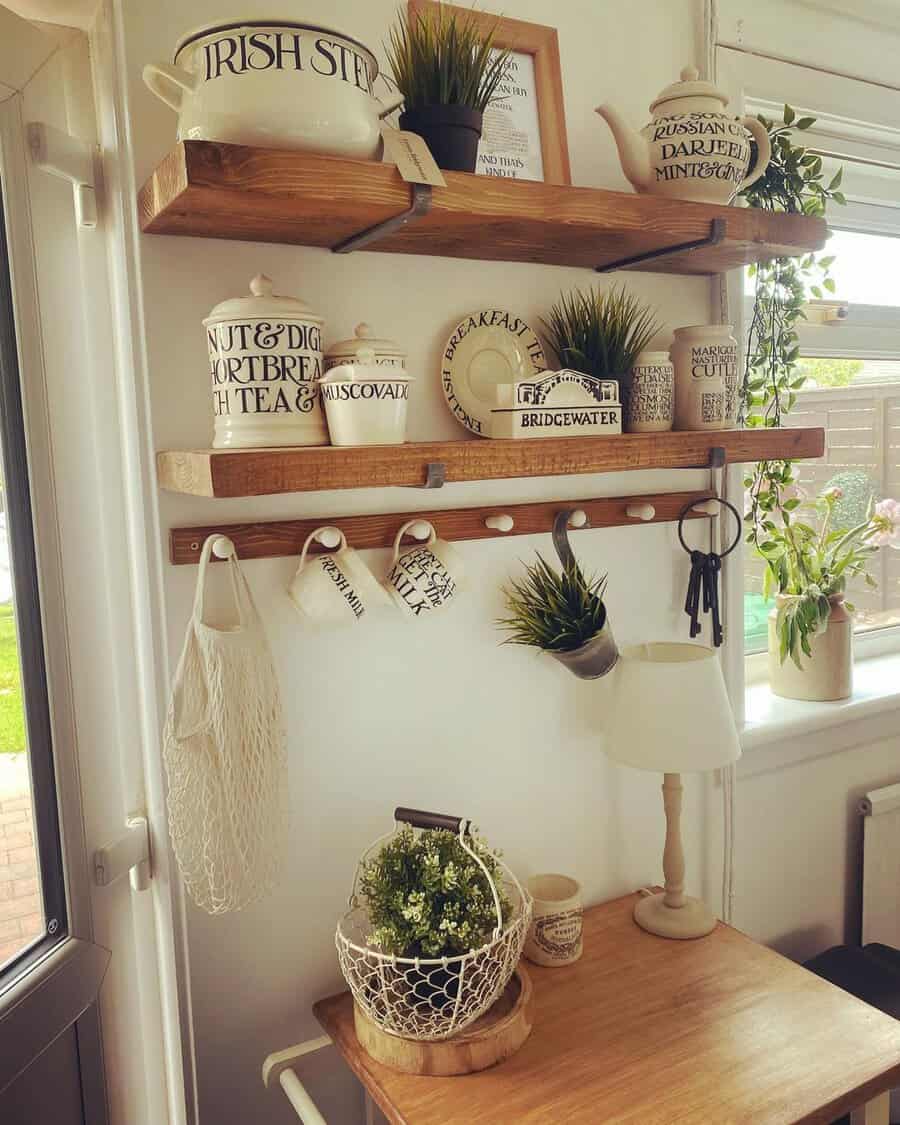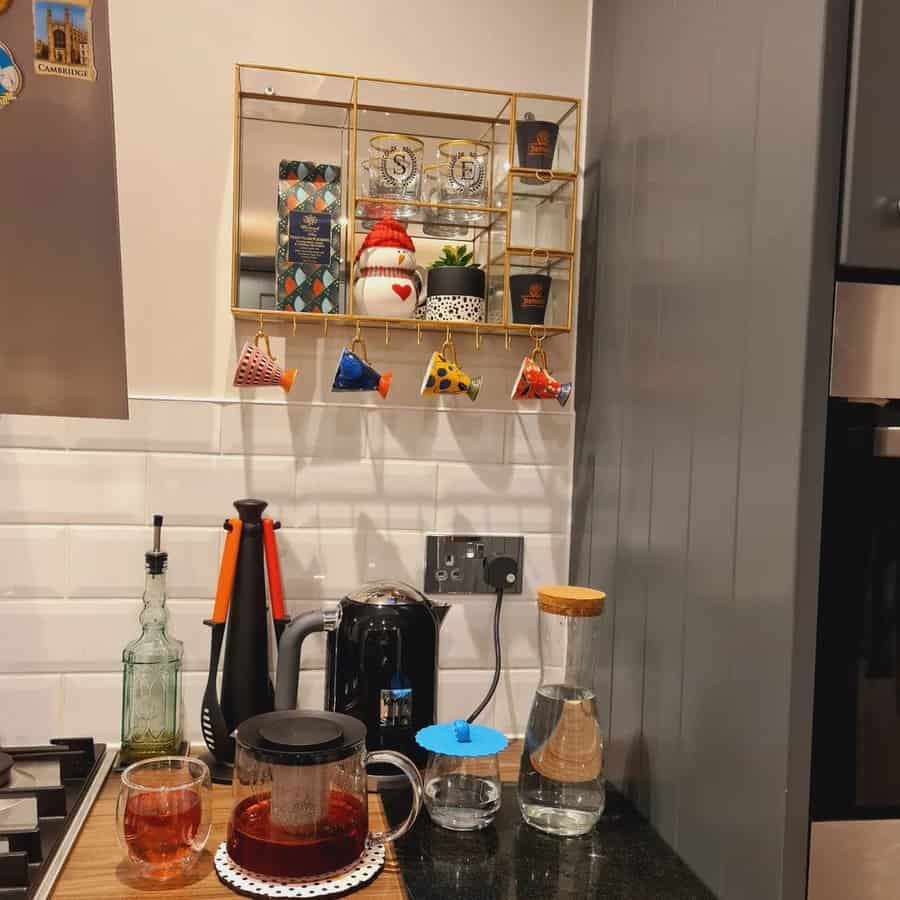 4. Ceiling-Mounted Floating Shelves
When it comes to storage solutions, why limit yourself to traditional options? Embrace the open and airy feel of ceiling-mounted floating shelves to take your storage design to new heights. These captivating shelving units not only provide ample storage space but also serve as a stunning visual centerpiece in any room.
Picture sleek, minimalist shelves suspended from the ceiling, effortlessly displaying your favorite books, decor, and keepsakes. The beauty of ceiling-mounted floating shelves lies in their ability to maximize vertical space, making them perfect for rooms with limited floor area.
Whether you choose a single long shelf or a cluster of smaller ones, this storage solution adds a touch of modern elegance to any space.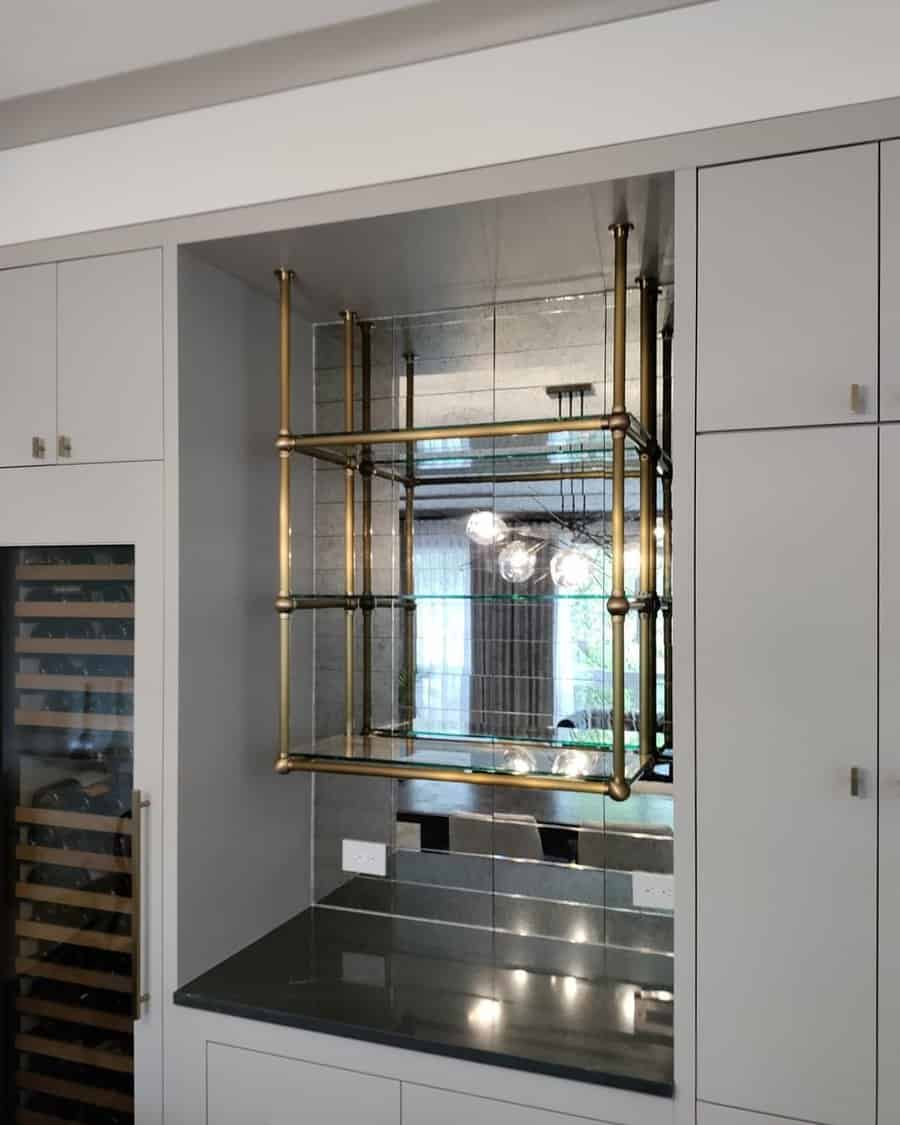 5. Cupboard Extension Open Shelving
When it comes to storage design, why settle for ordinary cupboards when you can add a dash of creativity and embrace the allure of open shelving? Imagine transforming your traditional cupboard into a stunning cupboard extension with an open shelf.
This innovative approach combines the practicality of concealed storage with the beauty of an exposed display. The open shelf serves as a dynamic canvas to showcase a diverse range of items, from beloved decor pieces to treasured collections.
Playful mixtures of books, plants, and decorative accents create an engaging visual tapestry, adding personality and charm to your space. By incorporating this unique storage solution, you not only maximize functionality but also inject a creative flair that elevates your interior design to new heights.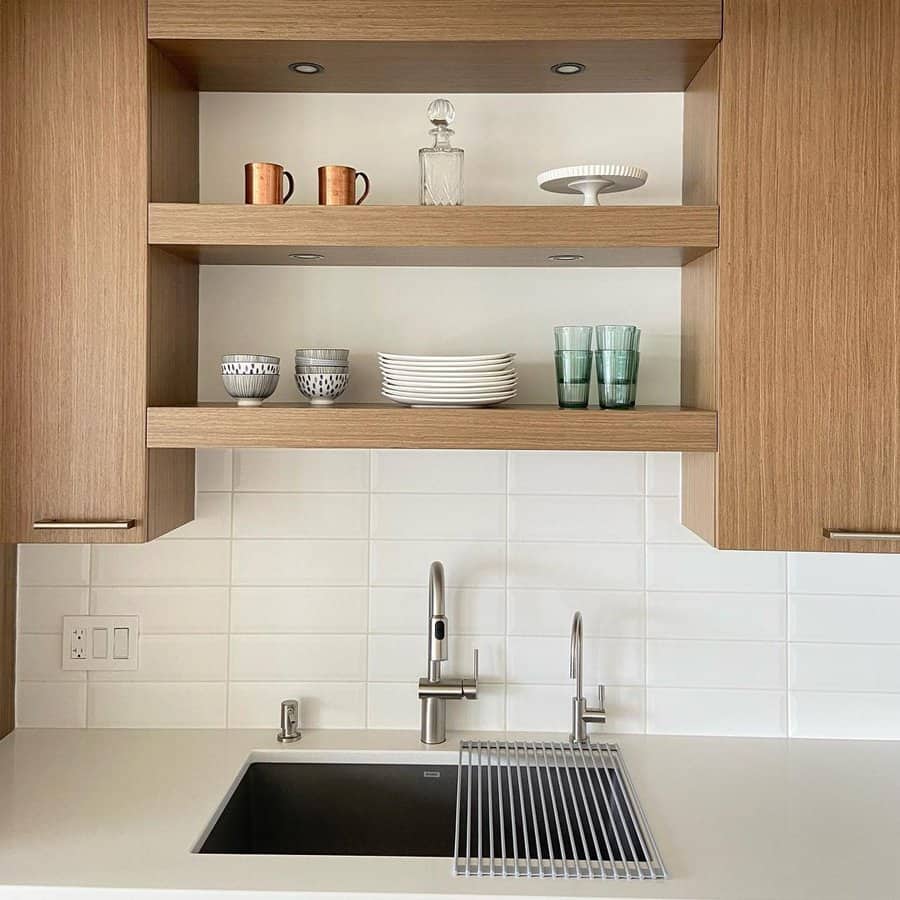 6. Kitchen Backsplash With Shelf
Imagine a beautifully tiled backsplash adorned with a strategically placed open shelf, ready to showcase your collection of small items and decor. This innovative design not only provides convenient storage for frequently used kitchen essentials but also serves as an opportunity to infuse your personality into the heart of your home.
Display your favorite spices, cookbooks, or charming kitchen decor on the shelf, adding a touch of creativity and personal flair to your culinary haven. Embrace the possibilities of open shelving and let your kitchen backsplash become a functional work of art that effortlessly combines practicality and aesthetics.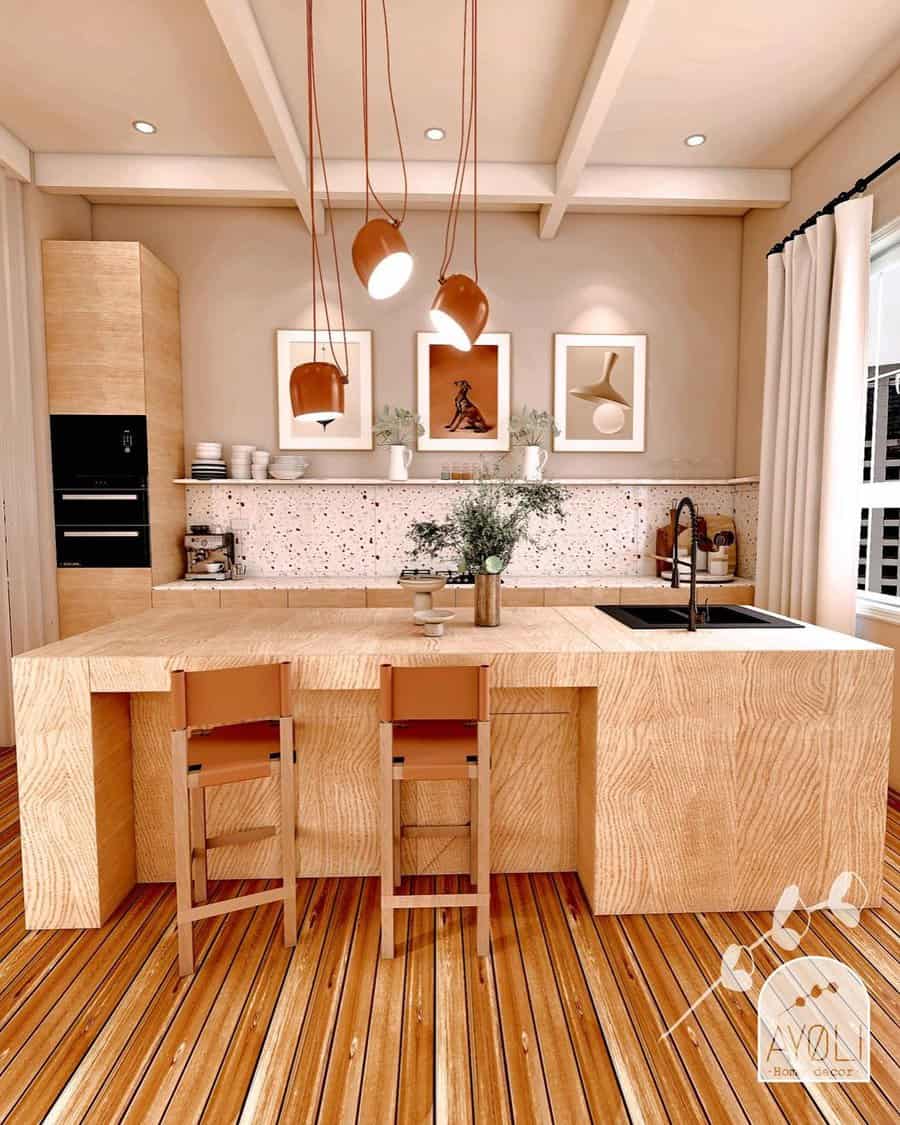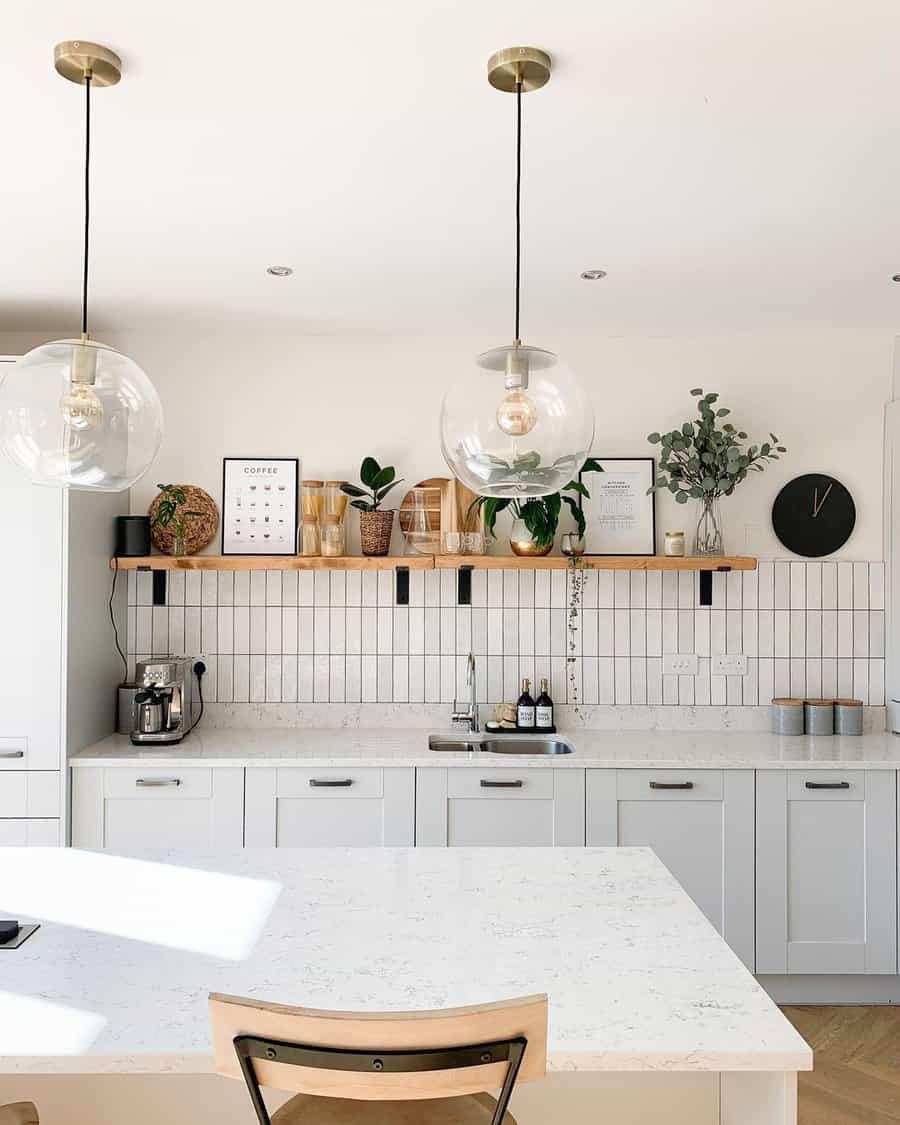 7. Pantry Open Shelving Wall
When it comes to functional and visually appealing storage solutions, open shelving takes the spotlight. Imagine transforming a bare wall in your pantry into a stunning open shelf display that not only provides ample storage but also adds a touch of style to your space.
With an end-to-end pantry open shelf wall, you have the perfect opportunity to showcase your favorite kitchen essentials and decorative items. Organize your pantry staples in beautifully labeled containers, stack cookbooks, display colorful dishware, and even incorporate some indoor plants to bring a fresh and lively atmosphere to the area.
The beauty of open shelving lies in its versatility, allowing you to personalize the arrangement according to your needs and aesthetic preferences. So, embrace the charm of open shelving in your pantry and let your storage design elevate both functionality and design in your kitchen.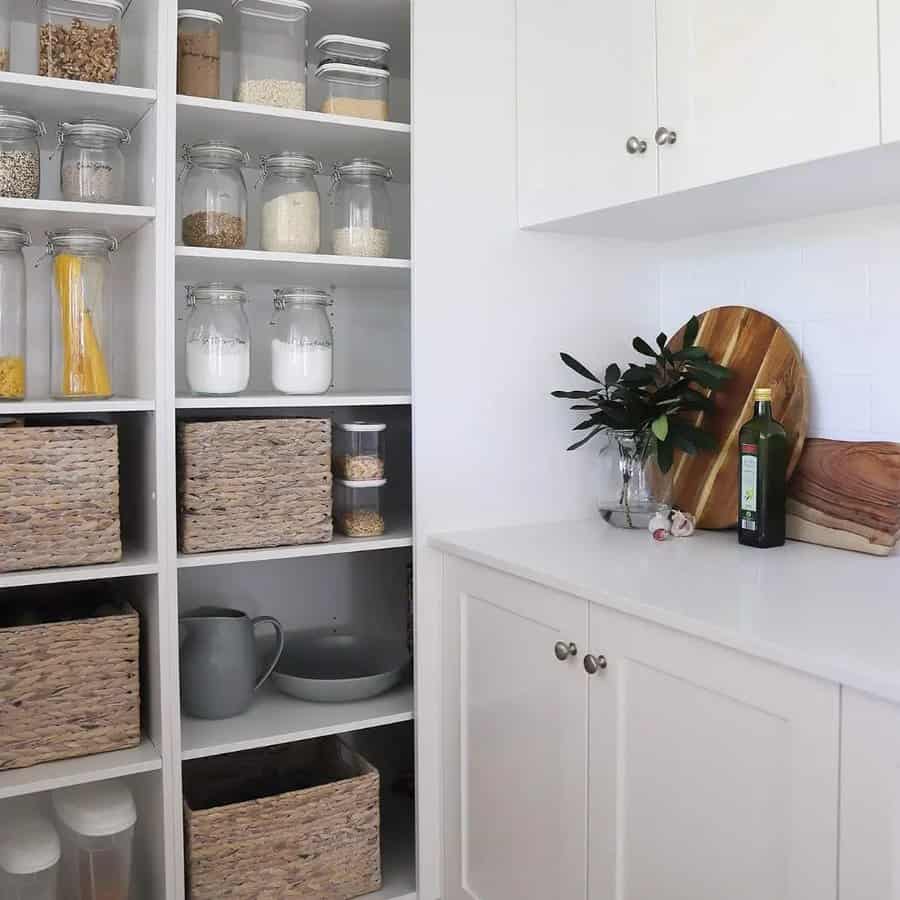 8. White Floating Shelves
Whether you're seeking to showcase your collection of vibrant ceramics or organize your ever-growing succulent family, white floating shelves offer endless possibilities for creative arrangement and personalization. They also expand your space visually with its light colors.
So, embrace the clean lines and minimalist charm of white floating shelves, and elevate your storage design to new heights while transforming your white wall into a captivating gallery of your most cherished possessions.