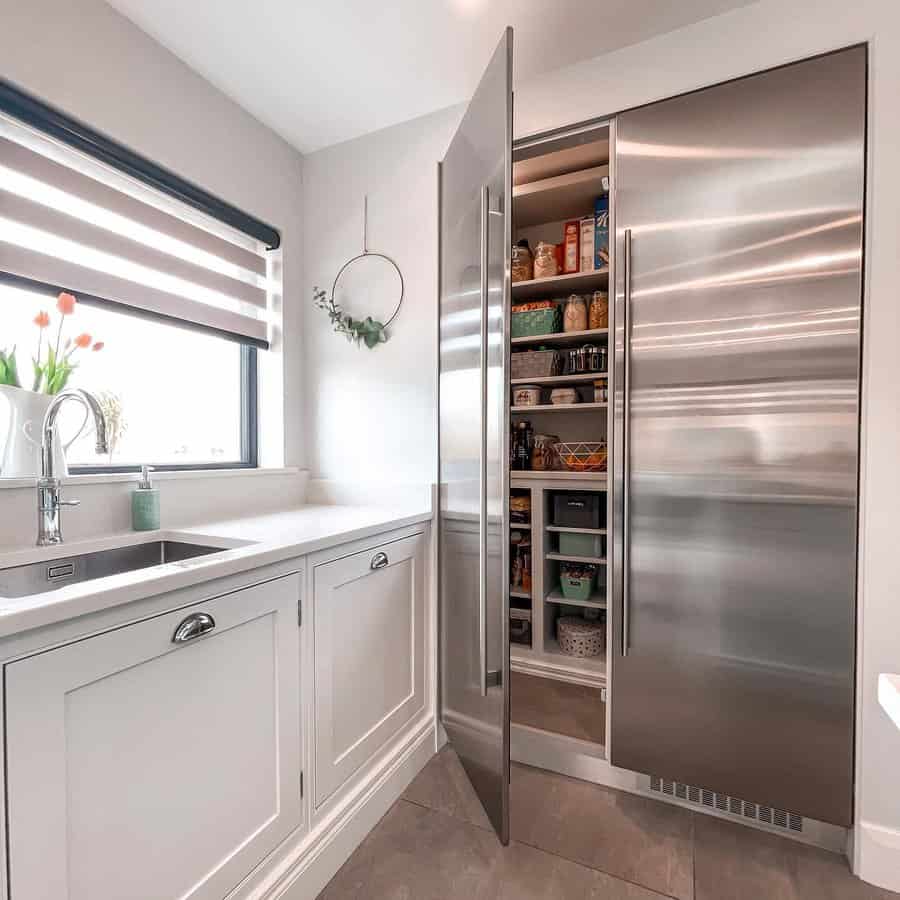 26 Pantry Cabinet Ideas to Transform Your Kitchen
In the heartbeat of our homes – the kitchen – functionality merges with aesthetics to create a space that's as practical as it is beautiful. A quintessential part of this merger is the pantry cabinet. This space, often overlooked, holds immense potential to transform your kitchen experience with thoughtful design and meticulous organization. From the vintage charm of rustic wooden shelves to the sleek sophistication of modern minimalistic designs, the world of pantry cabinet ideas is vast and inspiring.
In this article, we journey into the realm of pantry cabinet designs, bringing you a curated collection of ideas that marries innovation, style, and convenience. We'll delve into the trending designs, explore how you can optimize your current pantry cabinet layout, and provide tips for choosing the perfect cabinet to harmonize with your overall kitchen decor.
Whether you have a compact kitchen in an urban apartment or a large cooking area in a suburban home, these pantry cabinet ideas are bound to ignite your imagination and inspire your next kitchen remodel. Let's dive into the world where style meets storage, and witness how your pantry cabinet can become more than just a place for stashing away your groceries.
1. Recessed Pantry Cabinet
Imagine seamlessly integrating a hidden cabinet into the wall, creating a clean and unobtrusive look. With adjustable shelves and cleverly designed compartments, you can customize the interior to fit your specific storage needs. Add doors or keep it open, your choice.
Organize your dry goods, canned goods, spices, and more with ease, keeping everything neatly tucked away yet easily accessible. This pantry cabinet idea maximizes your kitchen space while adding a touch of elegance to your culinary haven.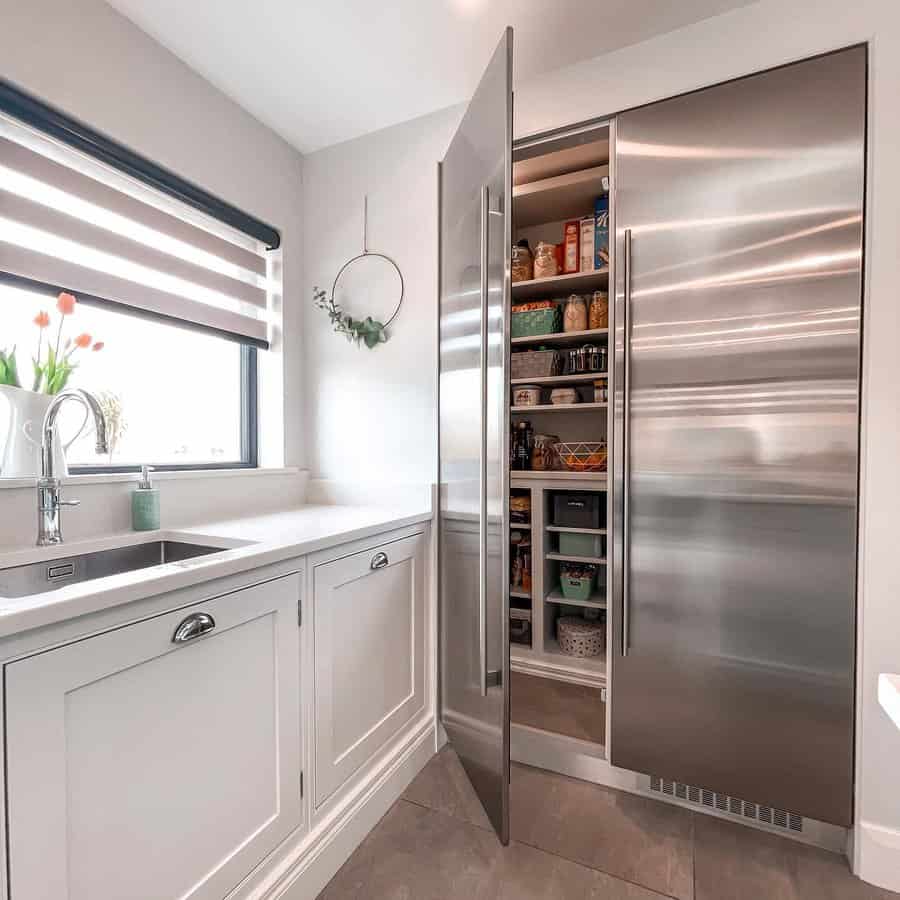 2. Basket Organizers
Say goodbye to the cluttered and chaotic pantry shelves and welcome a stylish and functional solution that will keep your food items neatly arranged and easily accessible. Opt for woven baskets in various sizes and shapes to add a touch of natural texture and visual interest to your pantry. Use larger baskets for storing bulkier items like potatoes or onions, while smaller ones can hold spices, snacks, or even fresh produce.
Label each basket to create a streamlined and intuitive system that makes finding ingredients a breeze. The beauty of basket organizers lies not only in their aesthetics but also in their practicality. They allow you to maximize your pantry space, keep items sorted and grouped, and make inventory management a breeze.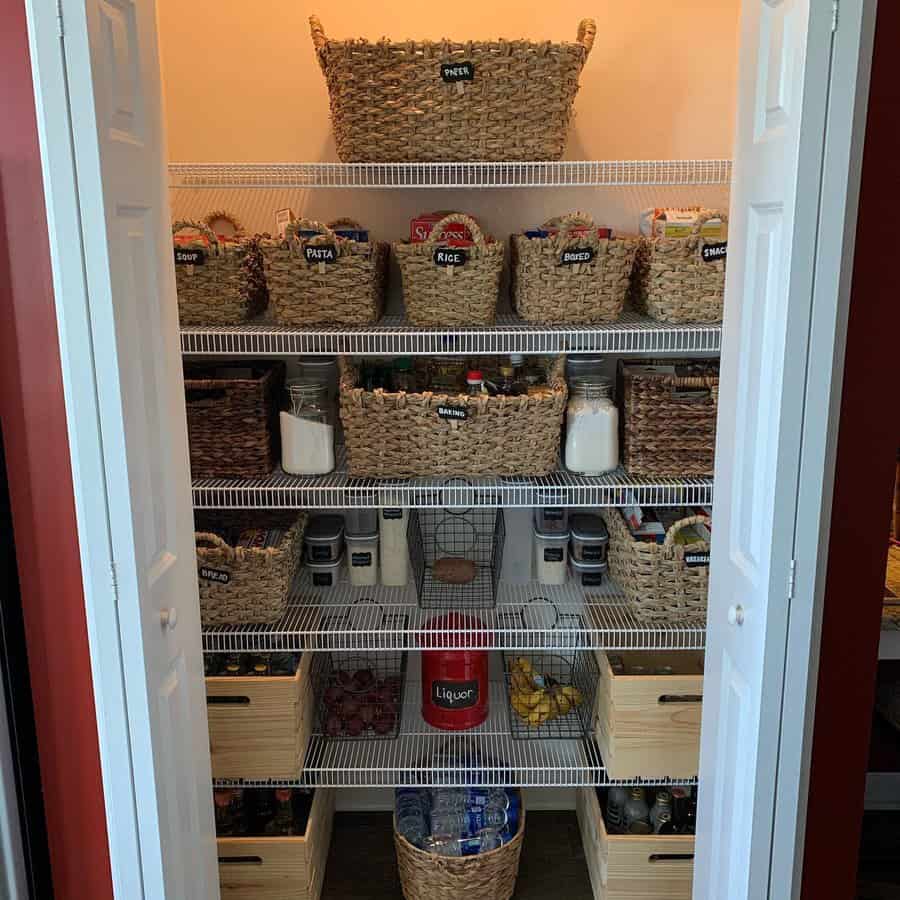 3. Walk-In Pantry Closet
Picture a spacious closet with neatly organized shelves and compartments, each dedicated to holding your favorite ingredients, snacks, and kitchen essentials. To add a touch of elegance, opt for a stunning closet door that complements the overall aesthetic of your kitchen. Whether it's a sleek sliding door, a barn-style door with rustic charm, or a glass-paneled door for a touch of modernity, the options are endless.
With a walk-in pantry closet, you'll have ample space to store and display your pantry items, making meal preparation a breeze. Keep everything at your fingertips, from spices to canned goods, and revel in the joy of having a pantry that not only serves a functional purpose but also adds a touch of sophistication to your kitchen.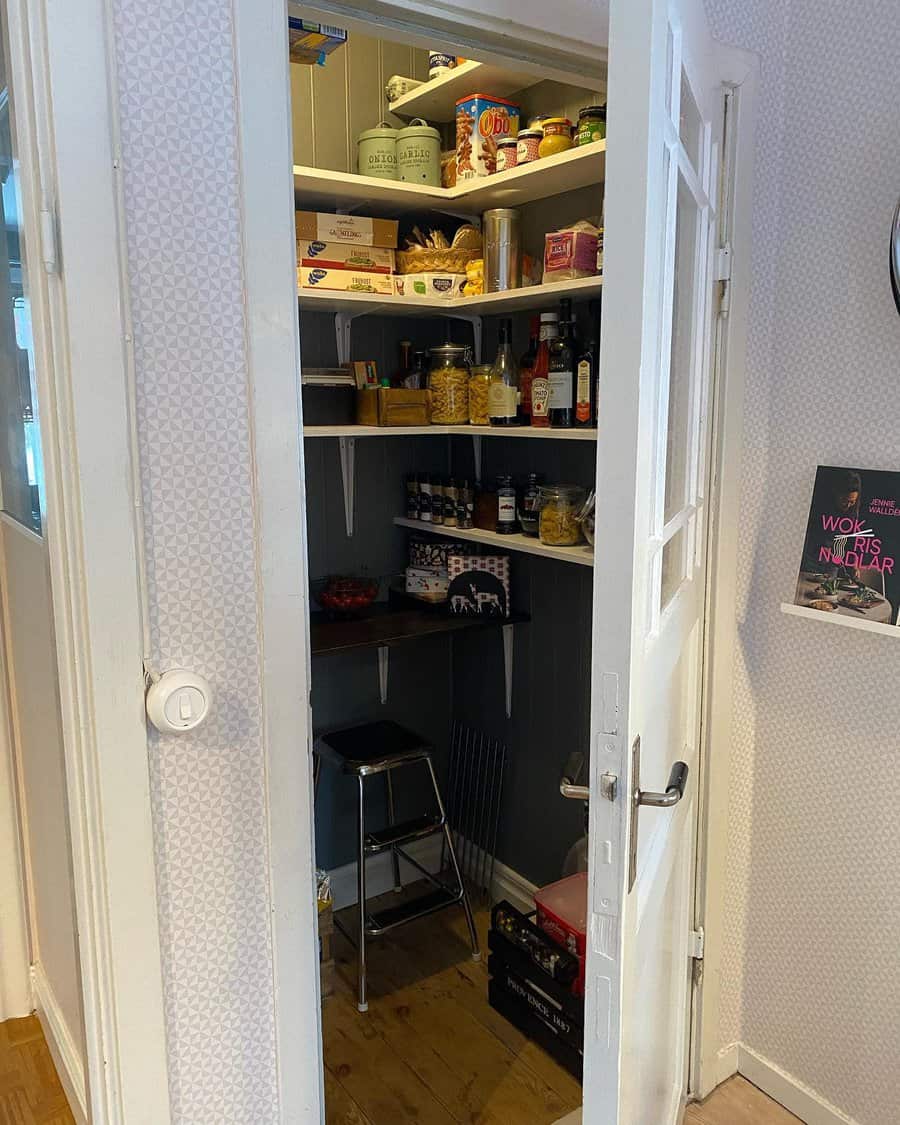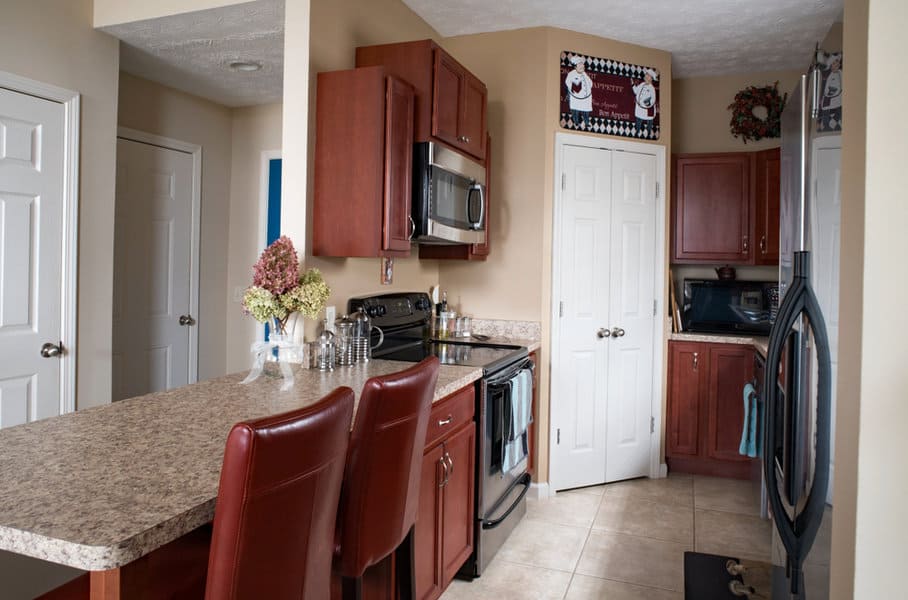 4. Corner Pantry Closet
Maximize the storage potential of your kitchen and add a touch of chic functionality with a corner pantry closet. Transform that unused corner into a stylish and efficient storage solution that will elevate your pantry game. The corner pantry closet is a clever way to utilize every inch of space, ensuring that no area goes to waste.
With its sleek design and smart organization, this pantry cabinet allows you to keep your kitchen essentials neatly arranged and easily accessible. Shelves and compartments can be customized to accommodate various items, from canned goods and spices to baking supplies and snacks. Utilizing the corner not only adds extra storage, but it also creates a seamless flow in your kitchen, optimizing the overall functionality and style.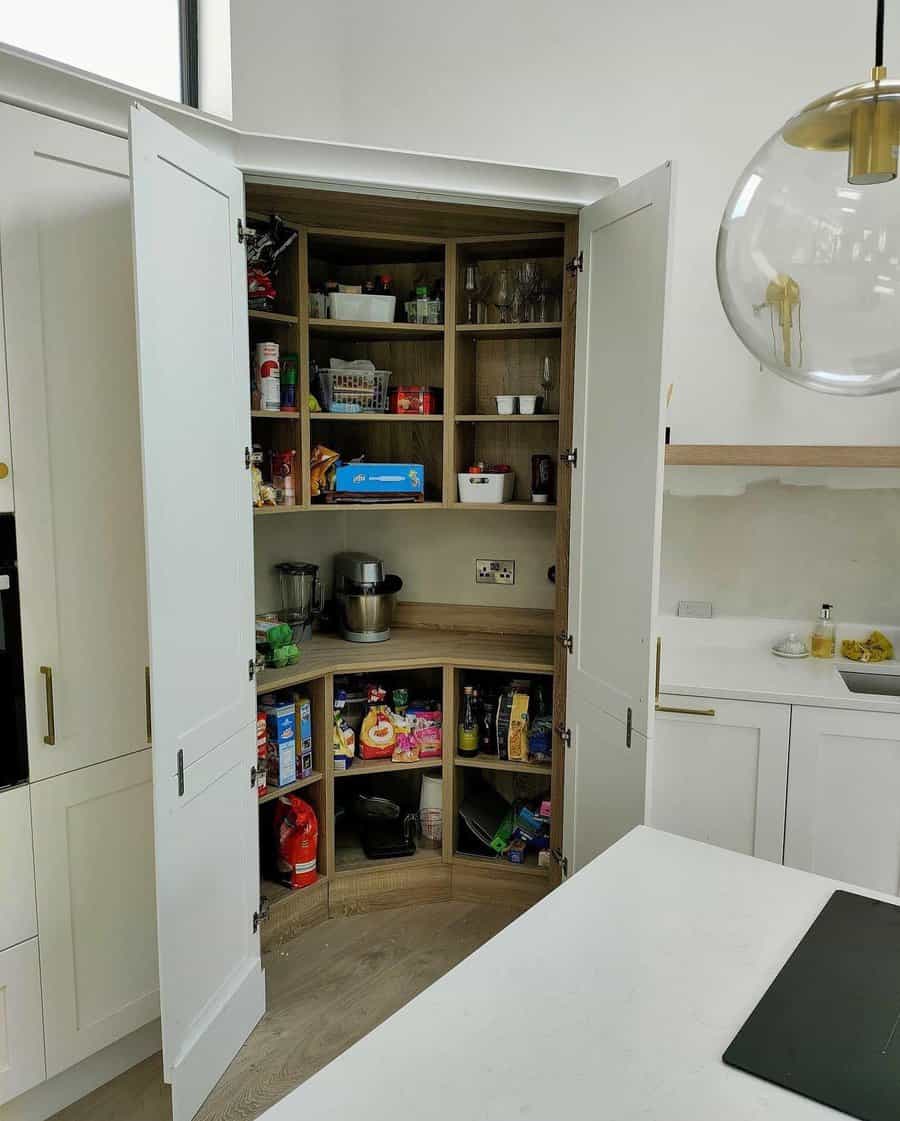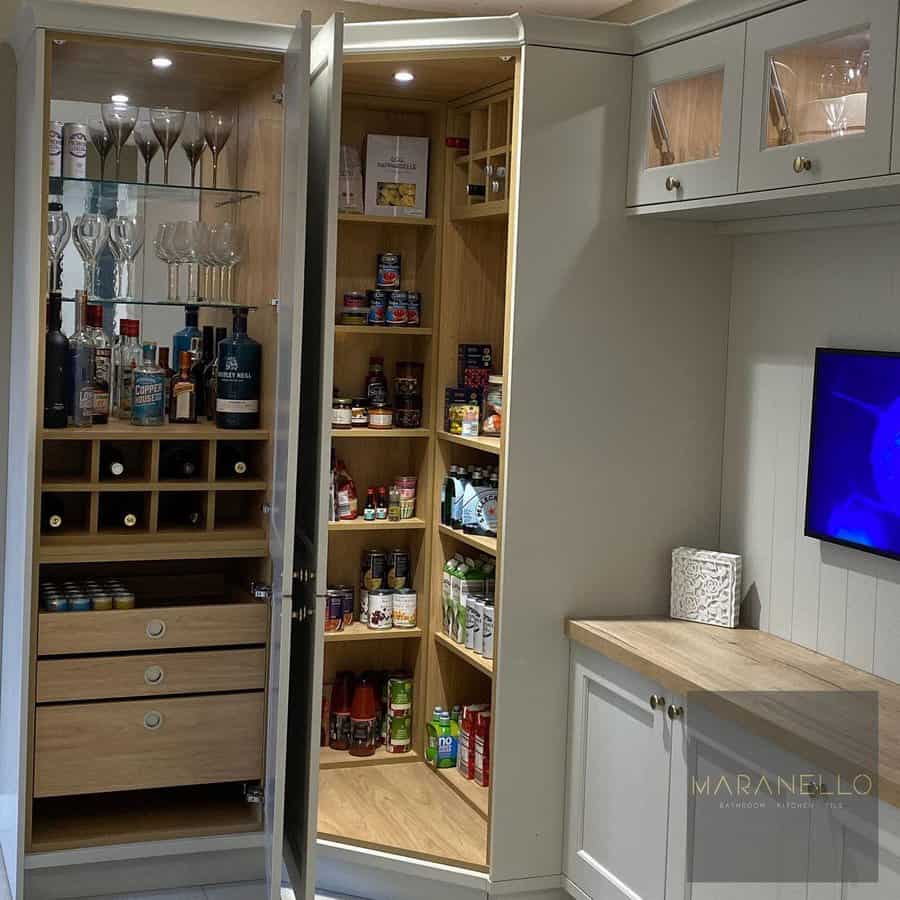 5. Pantry Closet With Countertop
Imagine a pantry closet with sleek and modern closet doors that conceal a world of culinary delights. But it doesn't stop there—take it to the next level by adding a beautiful countertop to create a multifunctional space. Transform a corner of your pantry into a charming coffee bar, complete with a stylish espresso machine and a collection of gourmet coffee beans.
This way, you can start your mornings in style, indulging in a freshly brewed cup of java right in the heart of your kitchen. The pantry cabinet with its countertop becomes a versatile zone where you can prep ingredients, assemble quick snacks, or even showcase your favorite cookbooks and culinary treasures.
With its combination of practicality and aesthetics, this pantry cabinet design adds a touch of sophistication to your kitchen while keeping your ingredients and supplies neatly organized.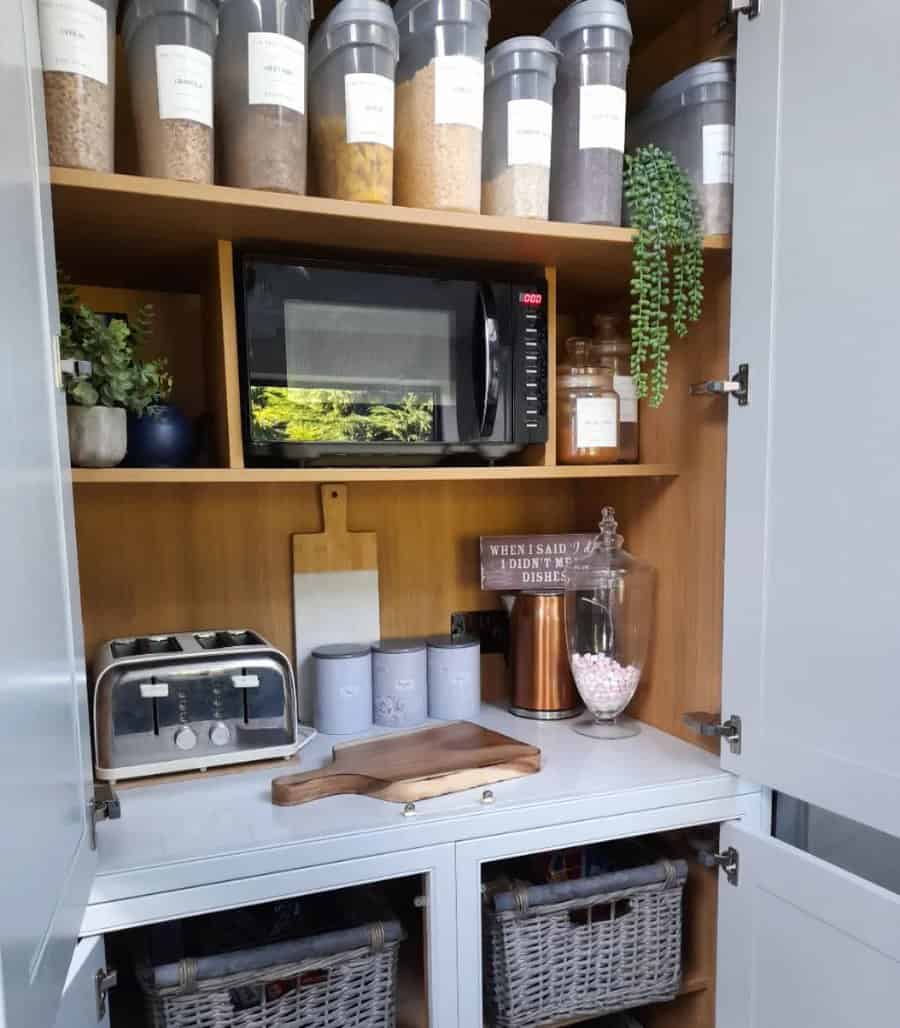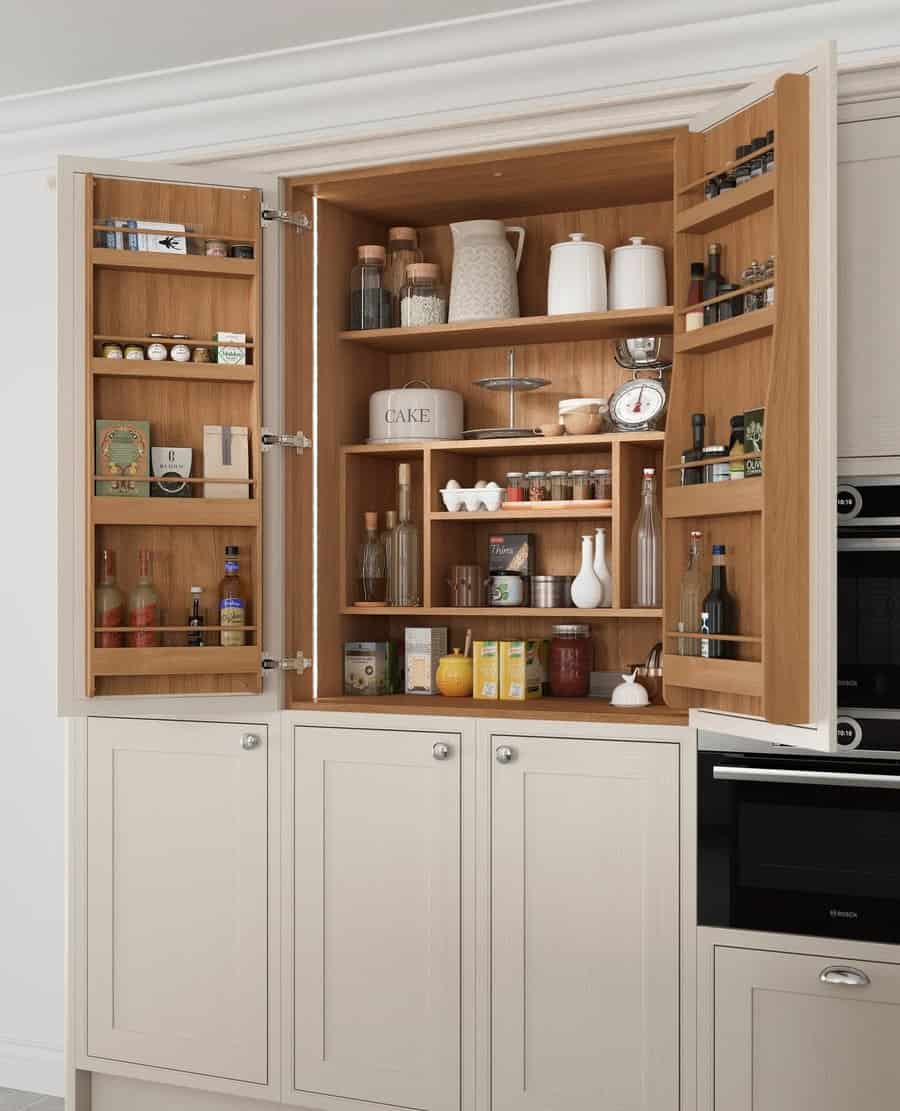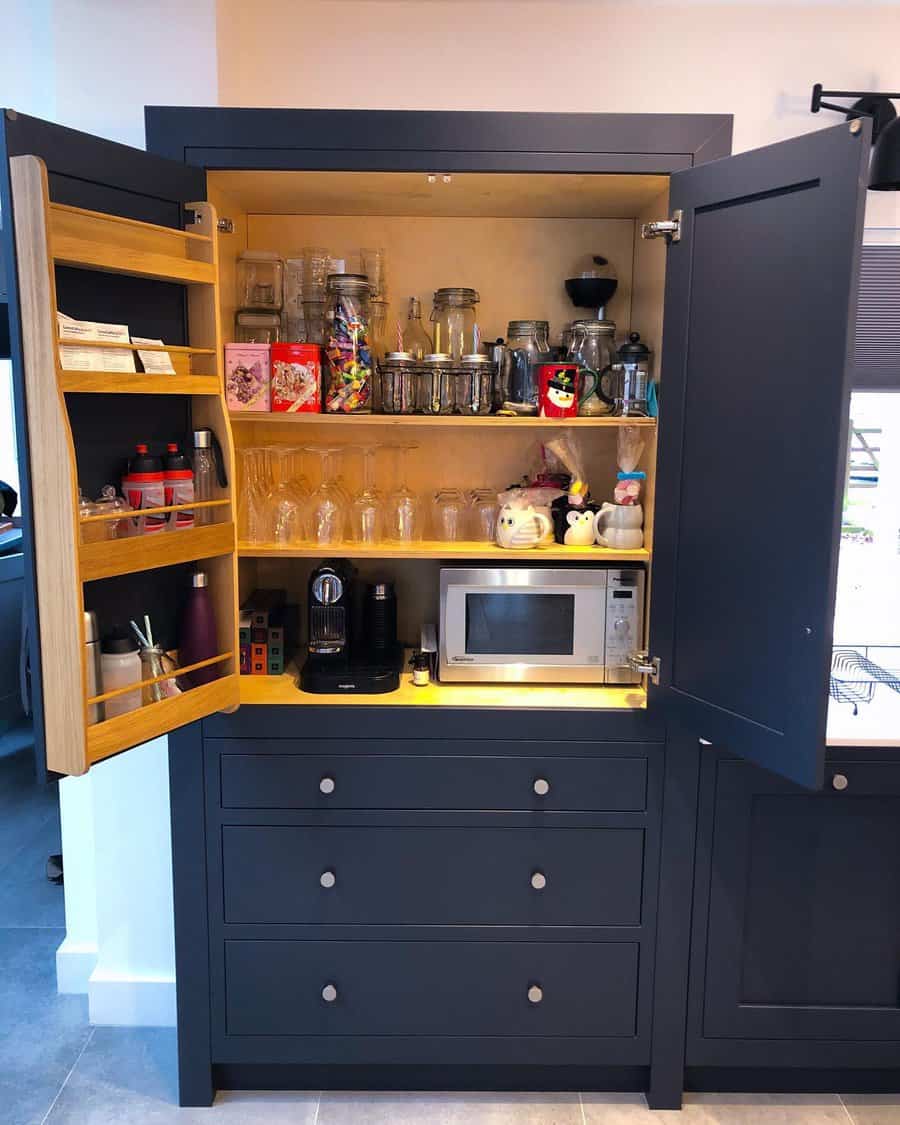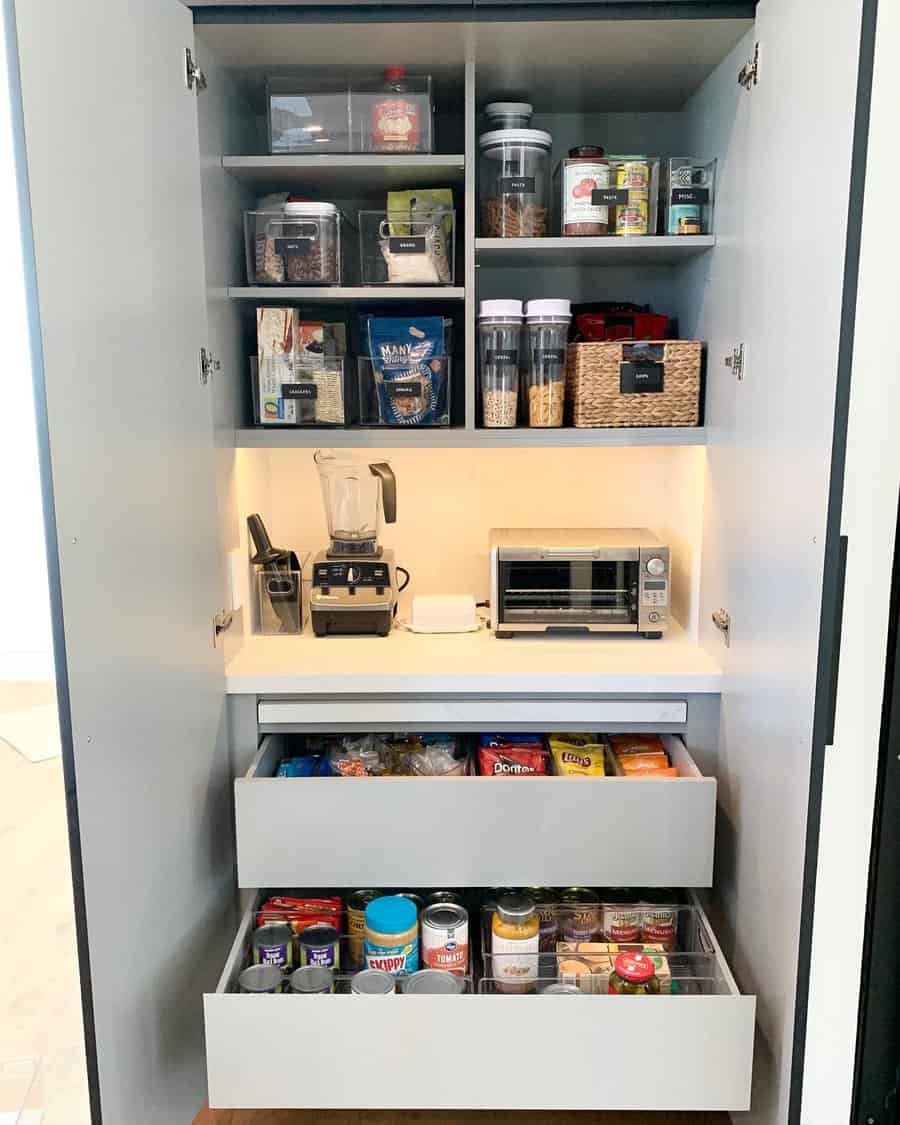 6. Pantry With Pull-Out Shelves
Step up your organization game with a chic and stylish pantry cabinet that will bring both functionality and flair to your kitchen. Say goodbye to rummaging through cluttered shelves and embrace the convenience of pull-out shelving units. These clever storage solutions make accessing your pantry items a breeze, allowing you to easily see and reach everything you need.
With dividers and modular options, you can customize the layout to fit your specific storage needs. Keep your dry goods, canned goods, and spices neatly organized and easily accessible. The sleek and modern design of the pull-out shelves adds a touch of sophistication to your pantry, making it a joy to use and showcase.
Whether you have a small or spacious kitchen, a pantry with pull-out shelving units is the perfect solution to keep your ingredients and supplies in order while adding a chic and stylish element to your space.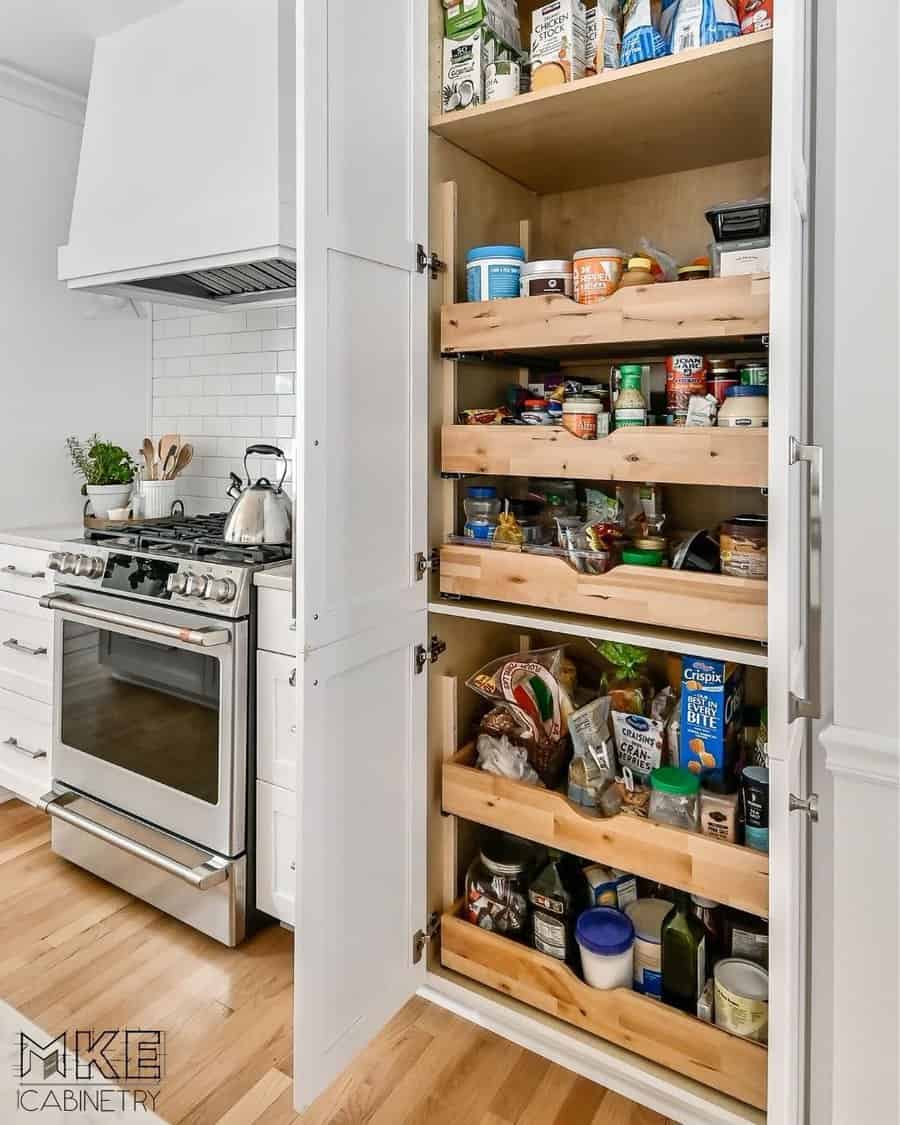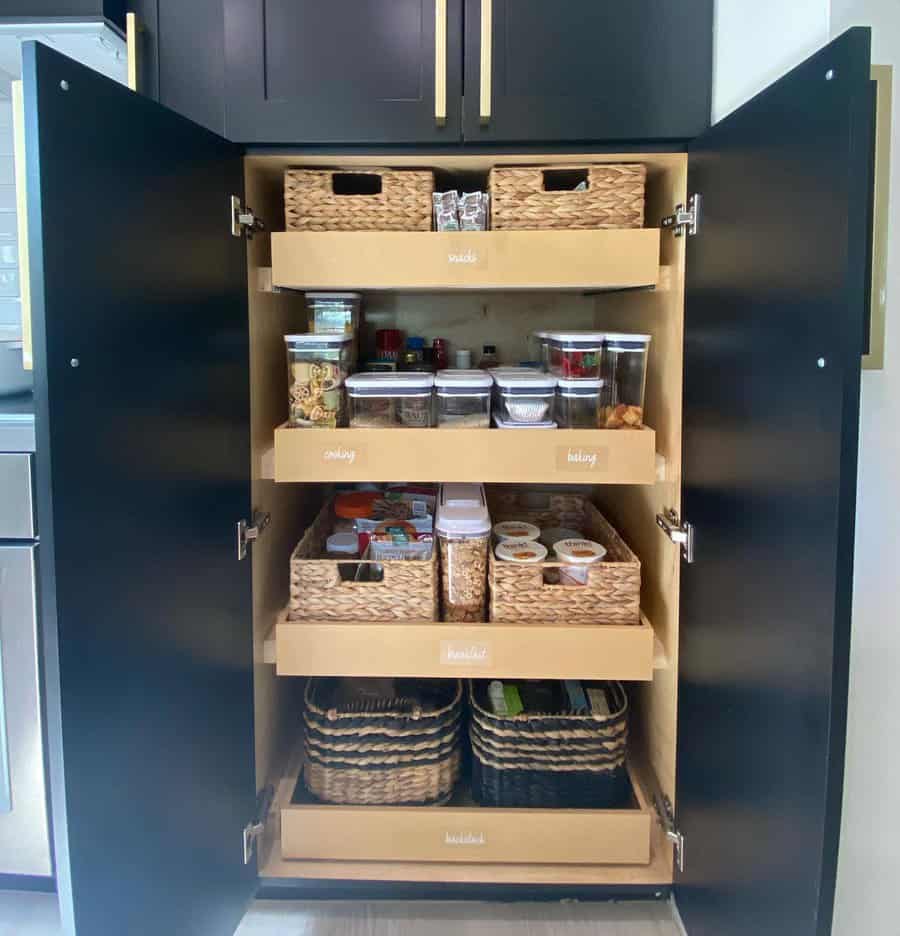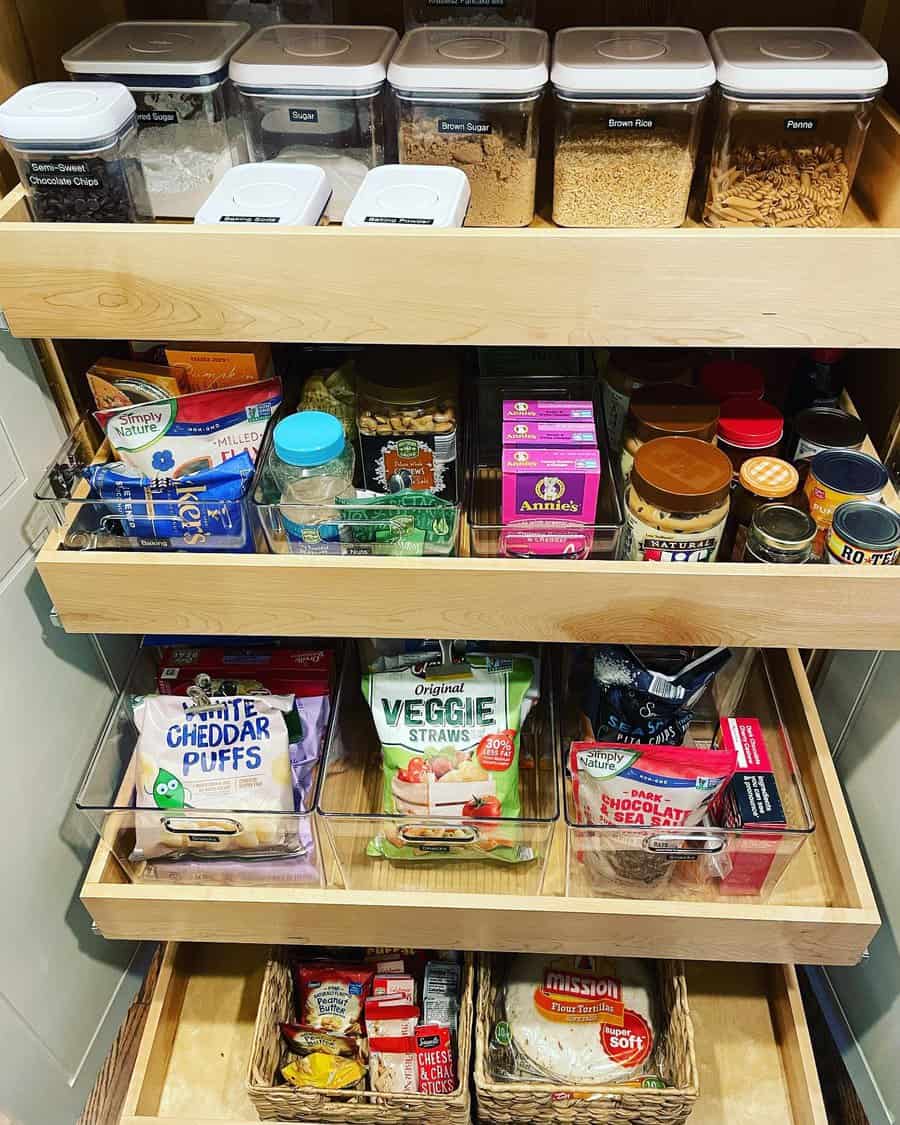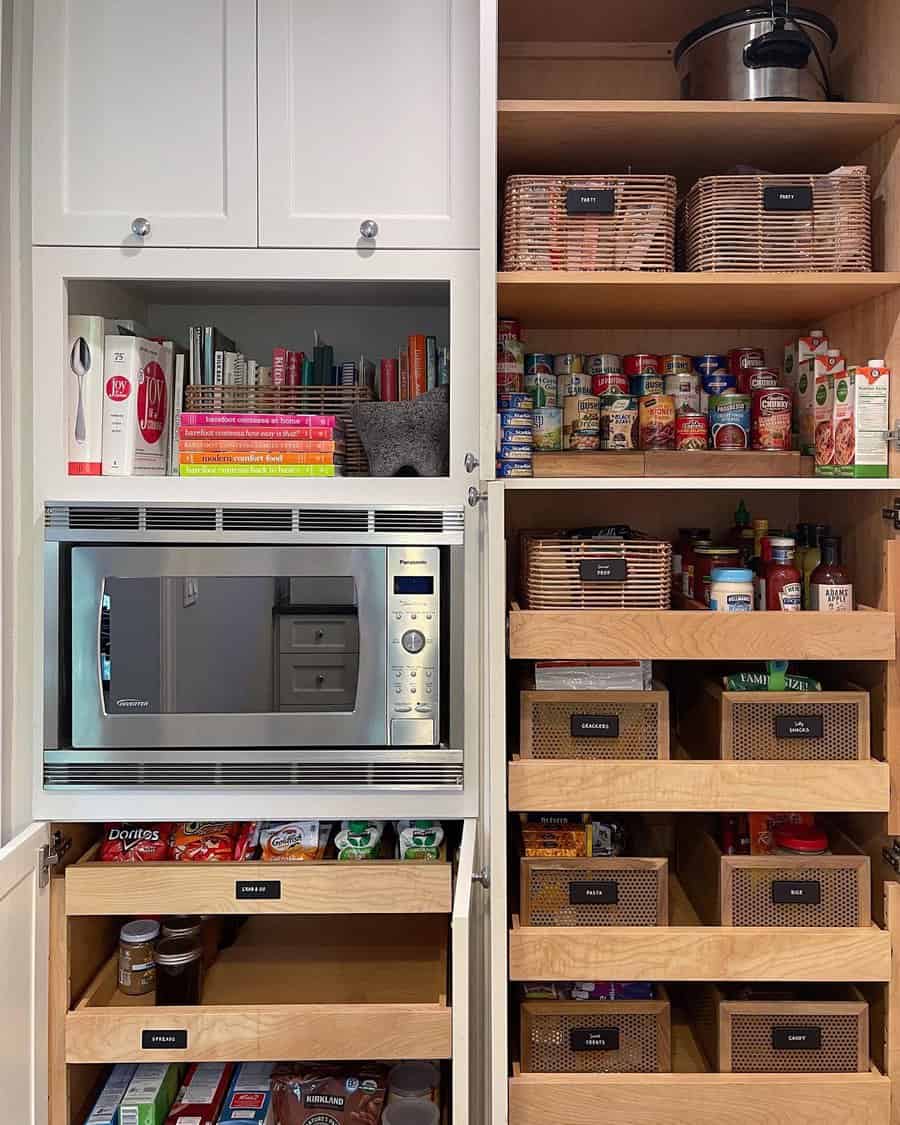 7. Open Pantry Shelving
Open pantry shelving is the perfect solution for showcasing your culinary essentials in a visually appealing way. Imagine a beautifully curated display of glass jars filled with colorful spices, neatly arranged stacks of stylish dinnerware, and rows of neatly lined-up pantry staples.
The open shelving not only adds a touch of modern sophistication to your kitchen, but it also allows for easy access and quick visibility of your ingredients, making meal prep a breeze. To take it to the next level, incorporate decorative baskets or woven bins to store snacks, fresh produce, or even linens for a cozy and charming touch.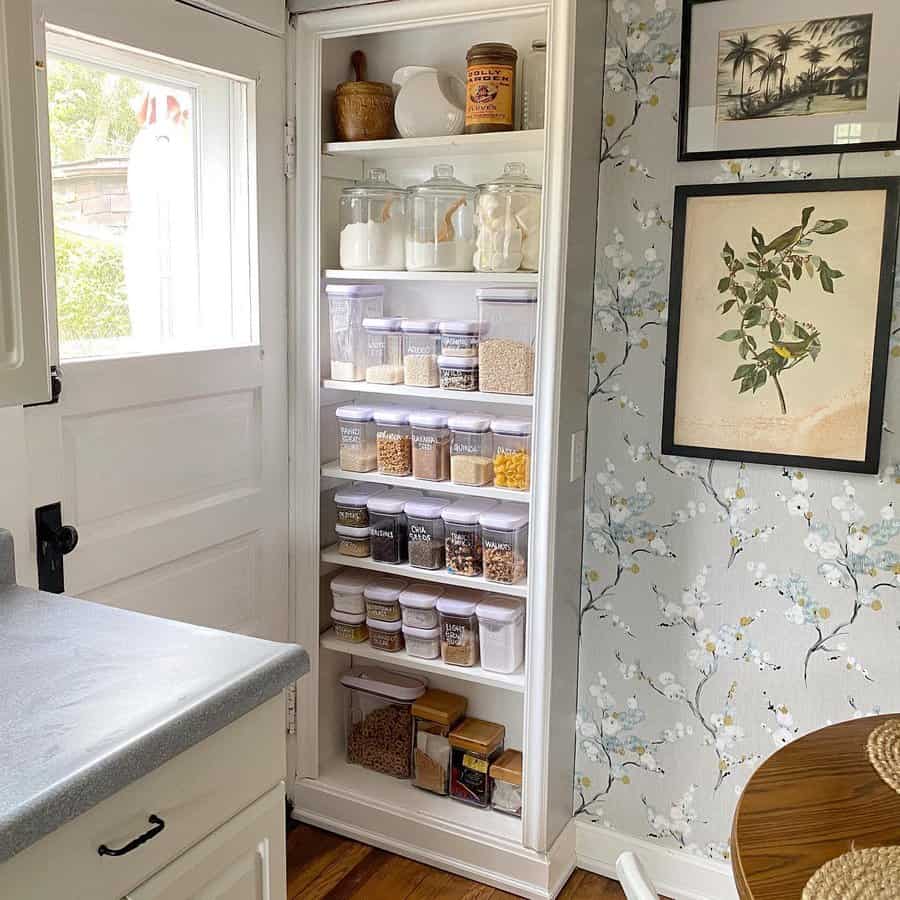 8. Pantry With Floating Shelves
Floating shelves offer a modern and minimalist look, allowing you to showcase your collection of spices, jars, and kitchen essentials in style. With their open design, these shelves create a sense of spaciousness, making your pantry feel bright and airy.
Arrange your items with precision and create a visually appealing display that showcases your favorite ingredients and culinary treasures. Whether you opt for a monochromatic color scheme or add pops of vibrant hues, the floating shelves will effortlessly blend with any design aesthetic, making them a versatile choice for a chic and stylish pantry.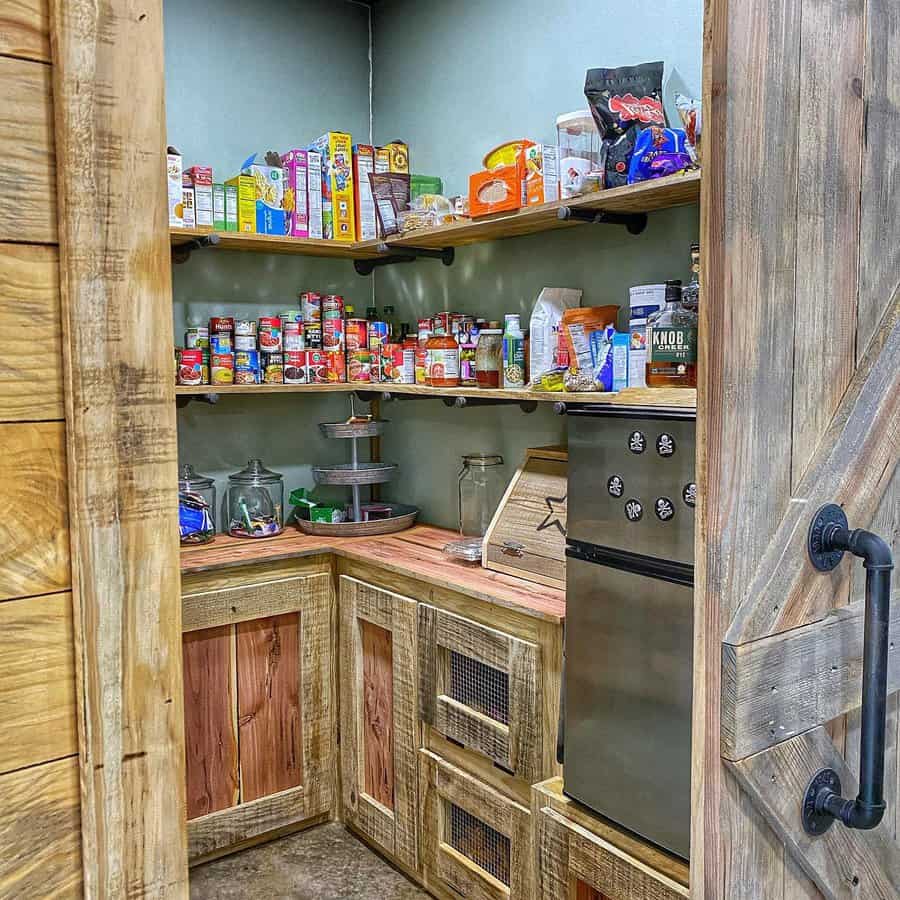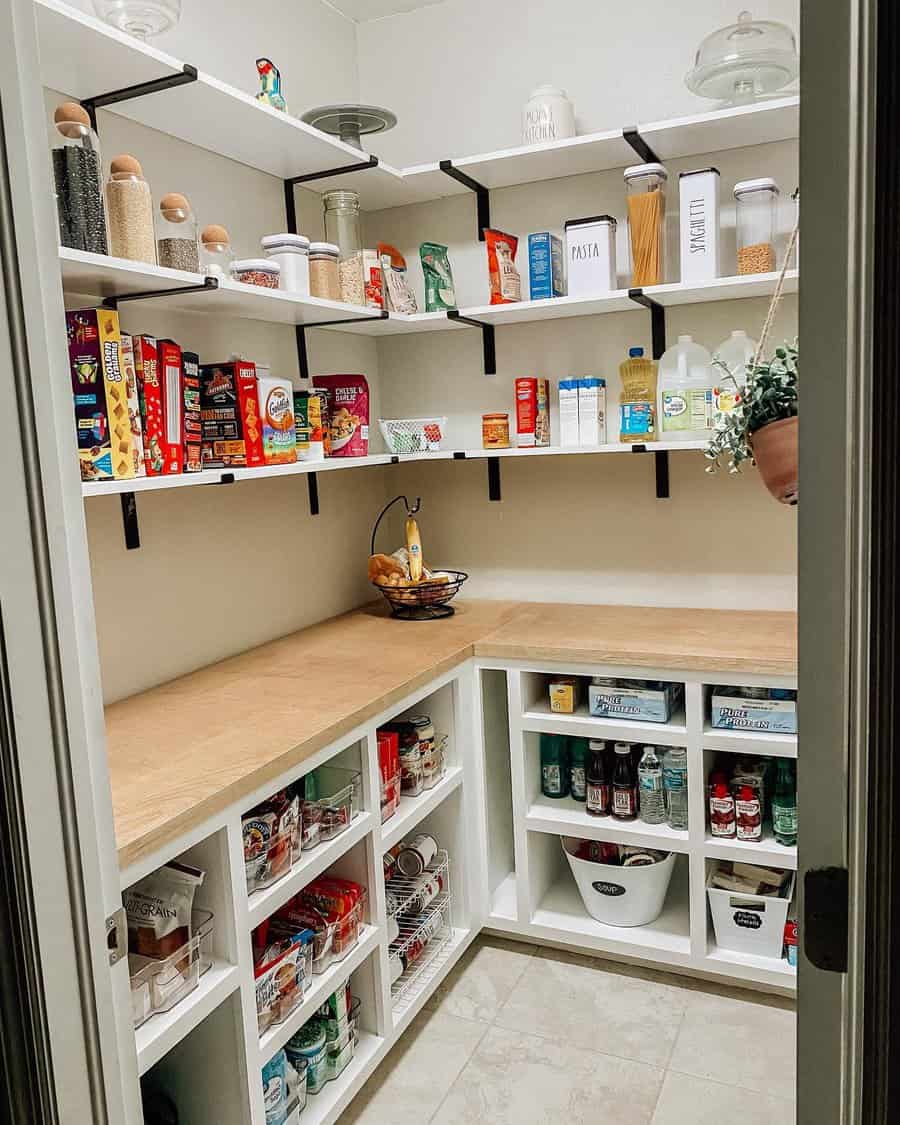 7. Labeled Storage
By categorizing and labeling each shelf and drawer, you'll create a streamlined and efficient system that saves you time and eliminates the frustration of rummaging through cluttered shelves. Imagine the satisfaction of effortlessly locating ingredients and supplies, thanks to clearly marked sections for spices, baking essentials, snacks, and more.
Not only do labels provide a sense of order, but they also add a touch of sophistication to your pantry cabinet. Choose elegant fonts and designs that complement your kitchen's aesthetic, whether it's sleek and modern or rustic and charming.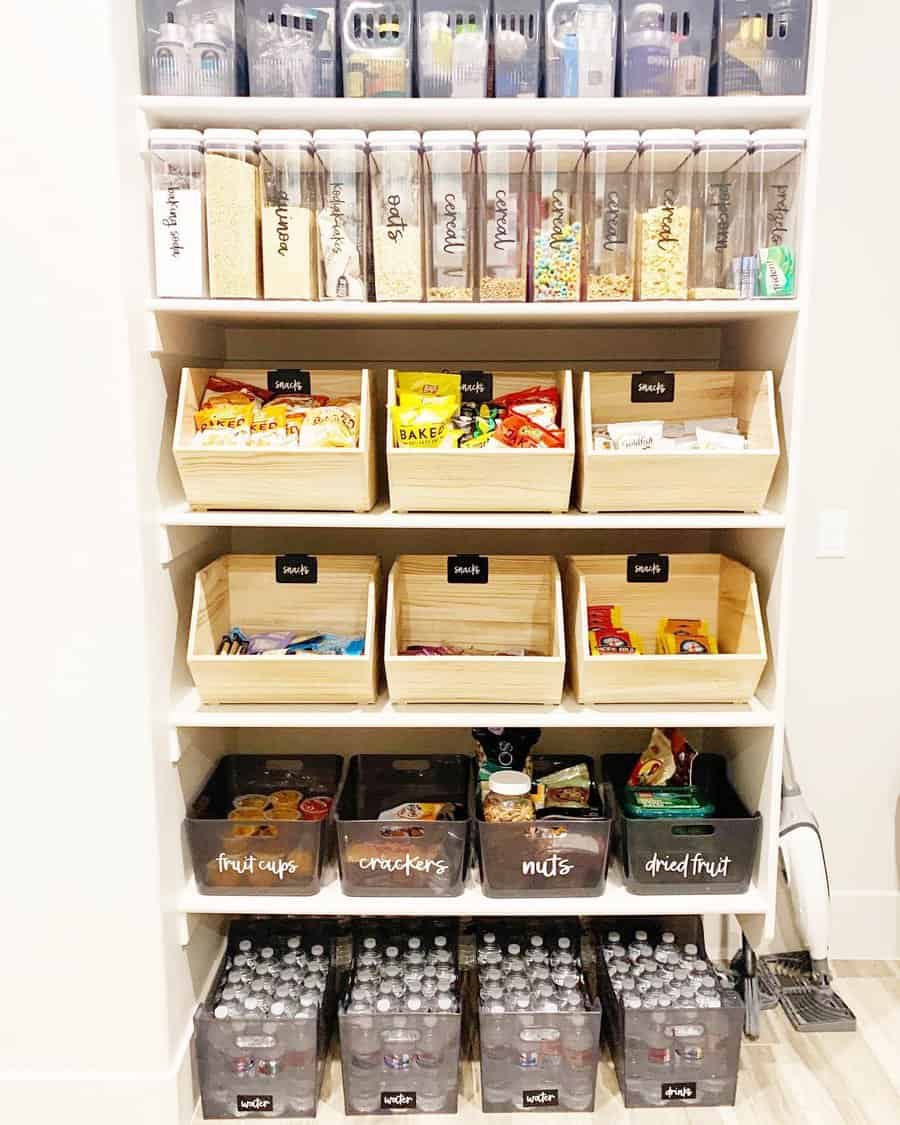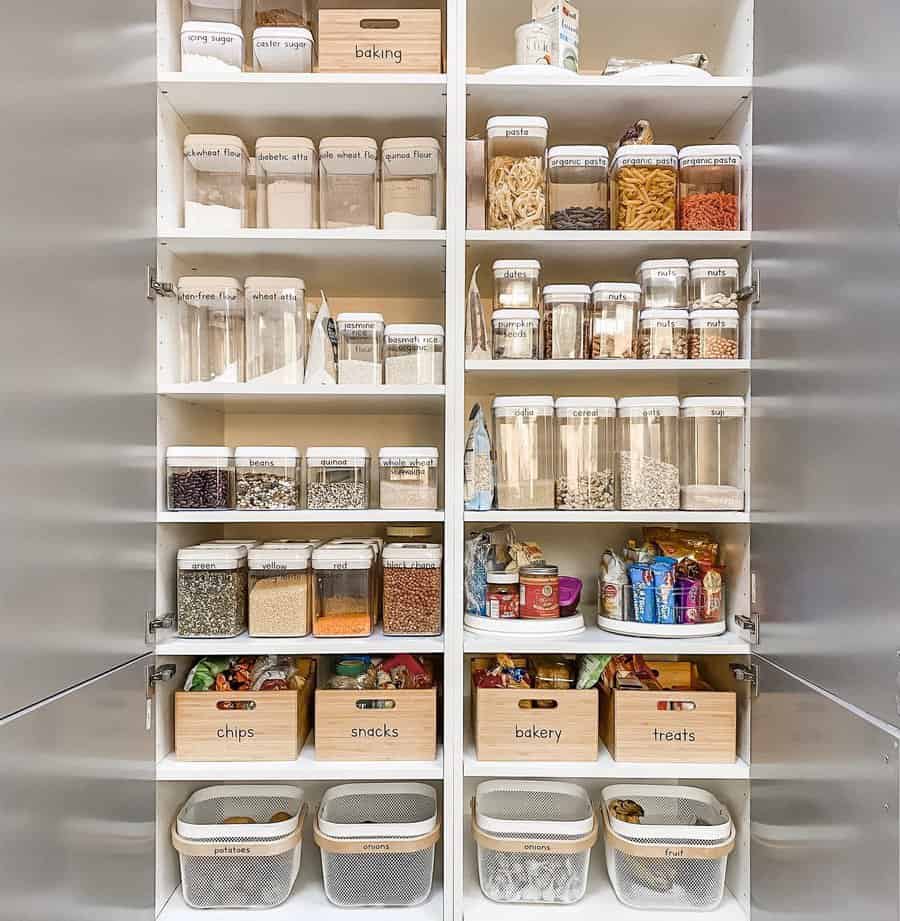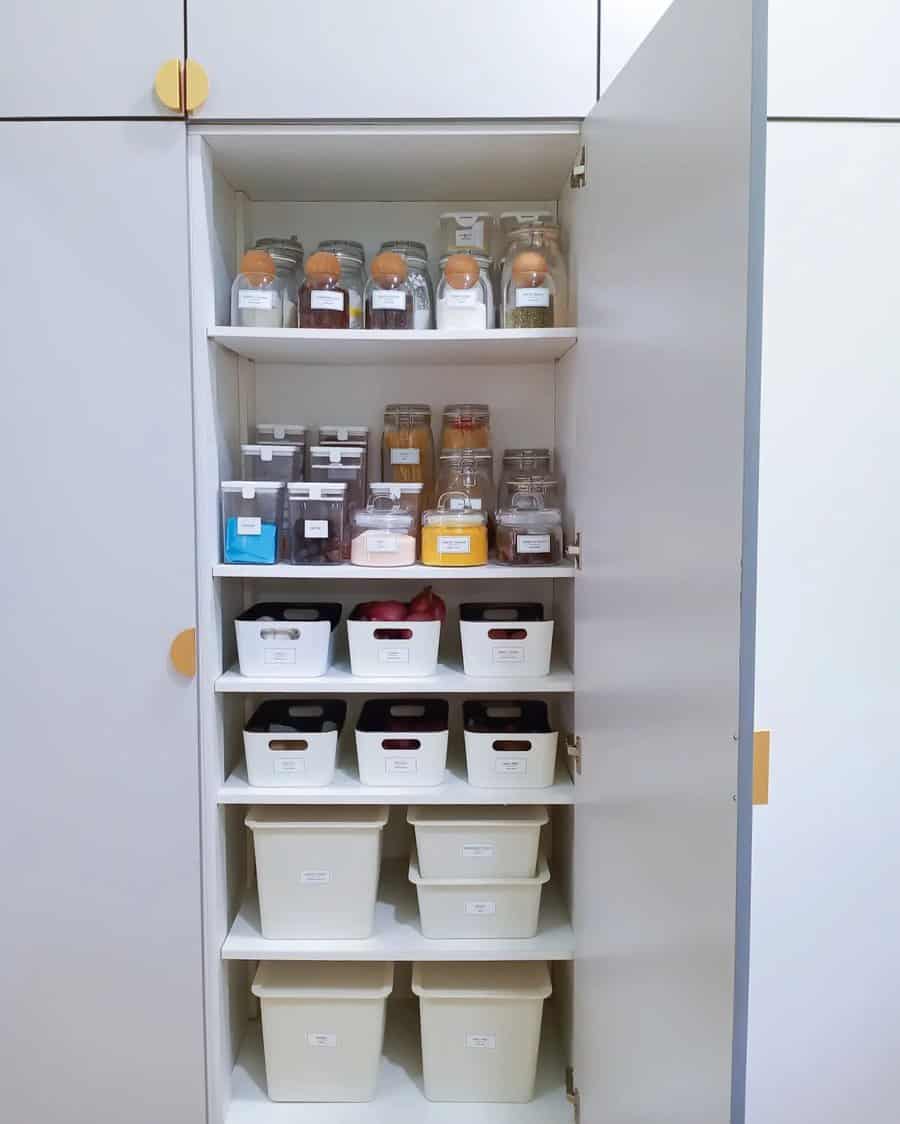 8. Vertical Pull-Out Shelves
These ingenious shelves are the perfect addition to utilize those unused spaces beside your fridge, transforming them into a hidden treasure trove of culinary delights. With a simple pull, the shelves gracefully glide out, revealing a neatly organized collection of canned goods, spices, snacks, and more.
The vertical design maximizes every inch of space, allowing you to store an impressive array of items while keeping everything easily accessible and visible. Not only do these pull-out pantry shelves offer practicality, but they also add a touch of sophistication to your kitchen.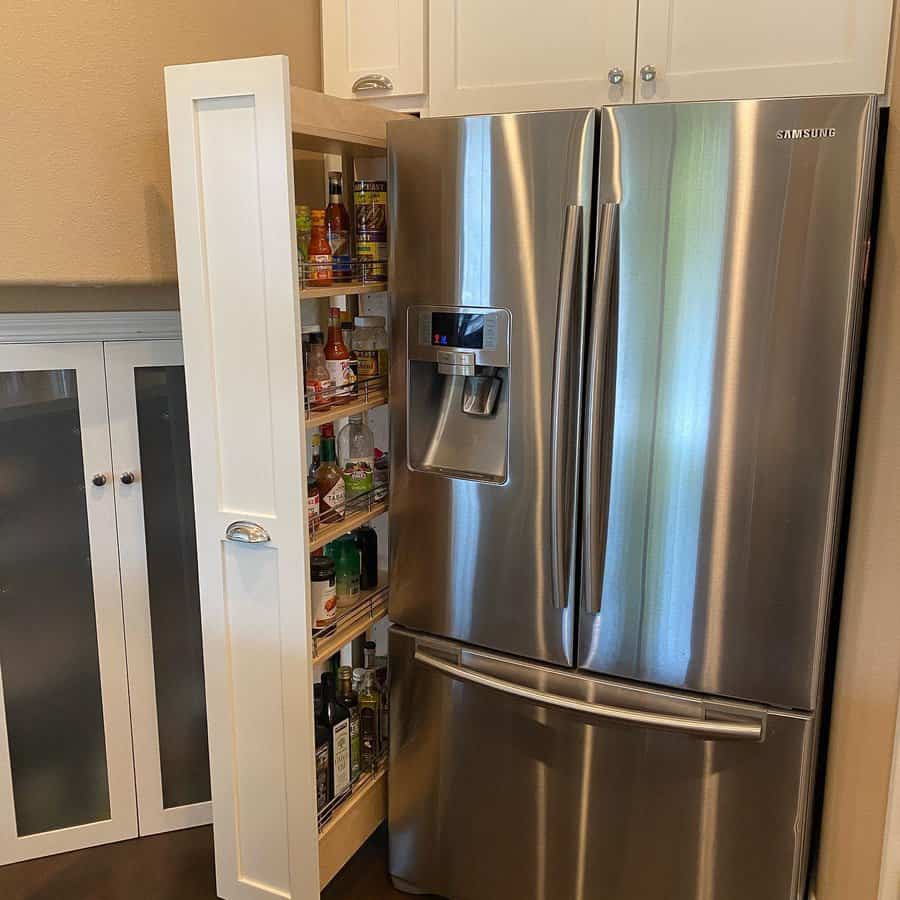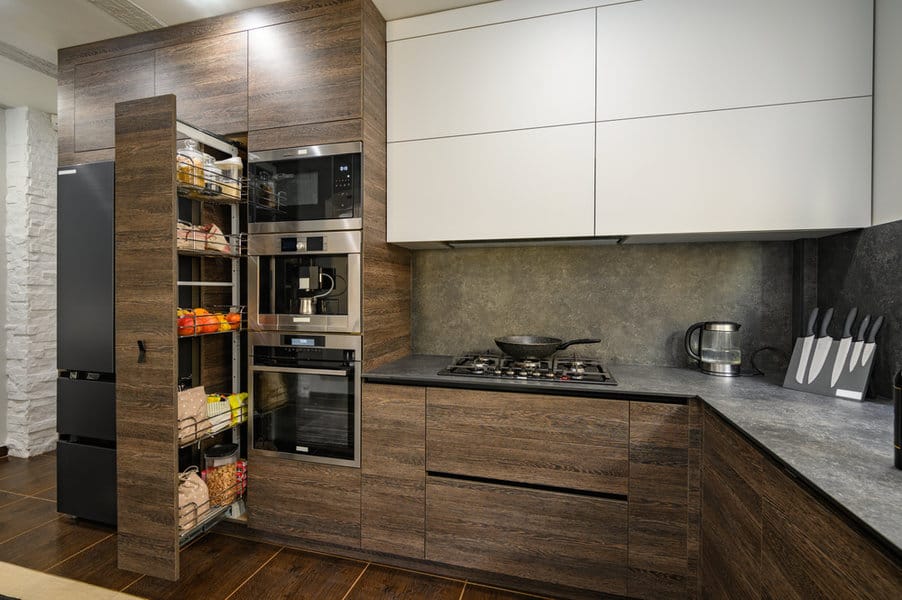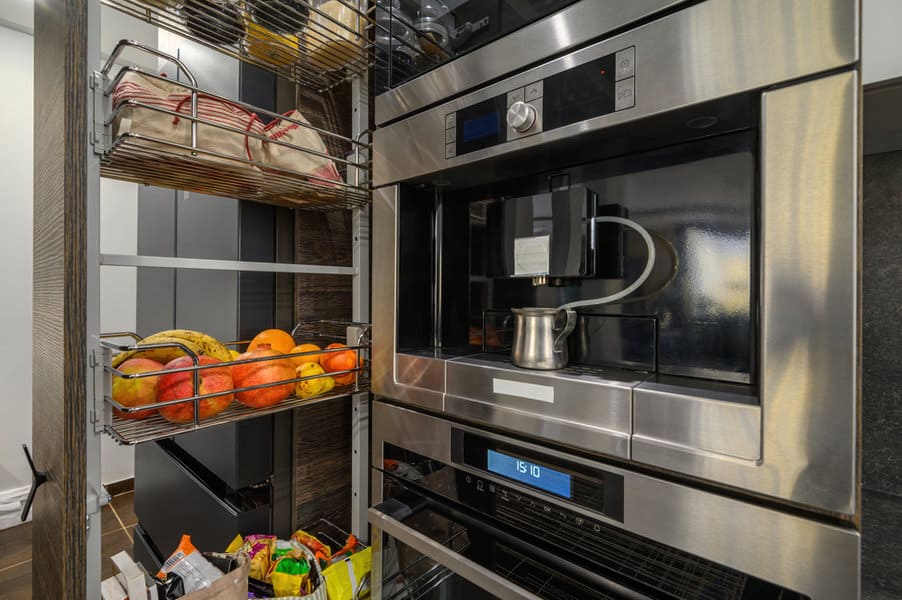 9. Modular Pantry Shelves
Elevate your kitchen organization game with chic and stylish pantry cabinet ideas that combine functionality and aesthetics. Enter the world of modular pantry shelves, where versatility meets elegance. These adjustable wonders allow you to customize the layout of your pantry to suit your storage needs perfectly. Say goodbye to cluttered shelves and hello to a well-organized space that caters to your ever-changing pantry essentials.
With modular pantry shelves, you can effortlessly adapt the height, width, and configuration of each shelf, accommodating everything from tall cereal boxes to tiny spice jars. The sleek and clean design adds a touch of modern sophistication to your pantry, creating a visually appealing backdrop for your culinary treasures. Whether you're a master chef or a passionate foodie, these modular pantry shelves will revolutionize your kitchen storage and make every cooking experience a breeze.