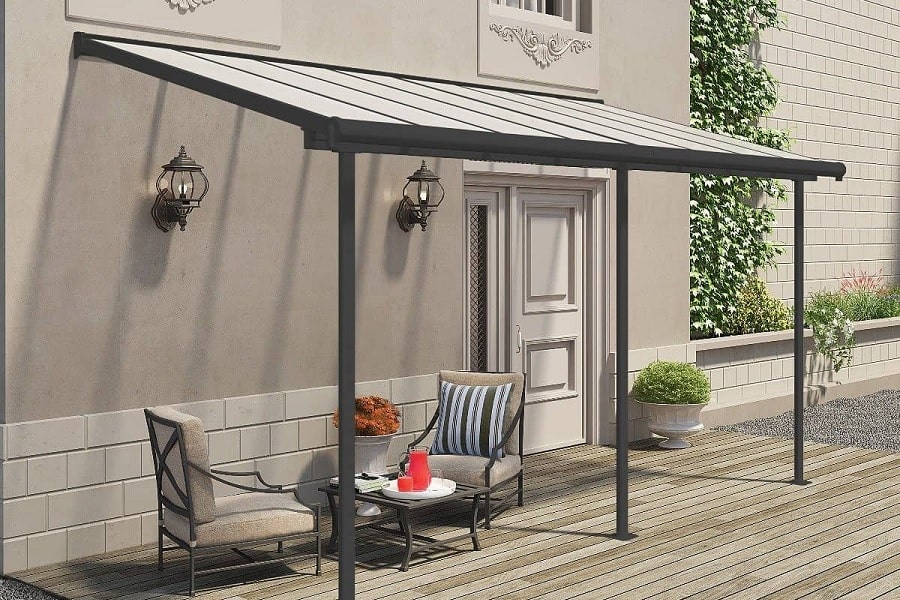 The Top 27 Patio Cover Ideas
"Spending time outdoors makes you feel great." – Elizabeth Hurley
You've worked hard to turn your boring concrete patio into a lovely outdoor living space. Perhaps it's an outdoor kitchen or a cozy outdoor room designed for entertaining with sofas, a coffee table, and a fireplace. There's just one thing missing, a roof.
There are patio cover ideas that can help you turn your new outdoor space into a covered outdoor room that you can use year-round.
These covered patio ideas are durable, protective, and will improve the look of your patio.
1. Classic Pergola
Patio covers are an excellent way to dress up an outdoor space, and there are plenty of creative options available. A classic pergola can be a great choice for those who want an elegant and timeless look. These structures can either stand alone or be attached to the house, depending on your preferences.
Pergolas are perfect for supporting climbing plants, such as vines and roses, adding an extra layer of beauty to your outdoor space. For a more modern touch, consider galvanized metal lean-tos. These structures offer lightweight protection from the sun but also have a contemporary feel that sets them apart from more traditional patio cover ideas.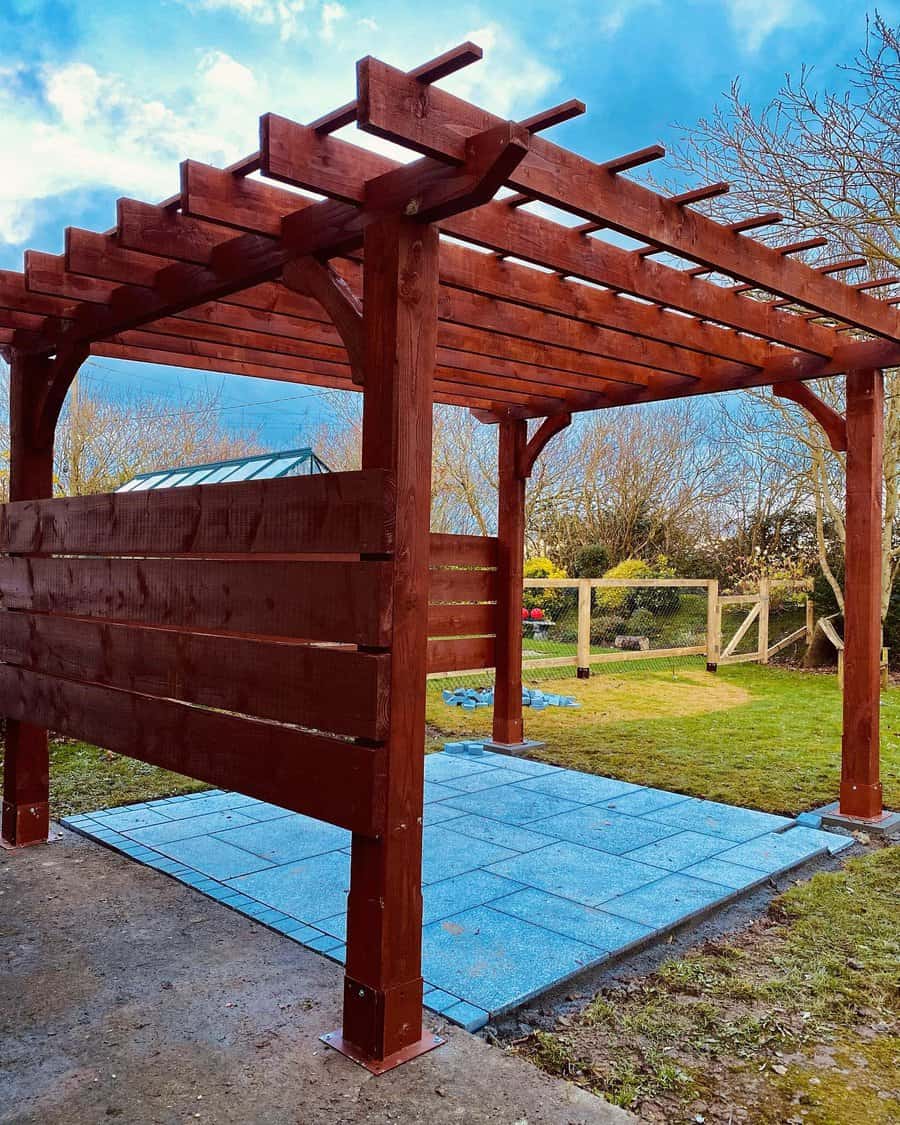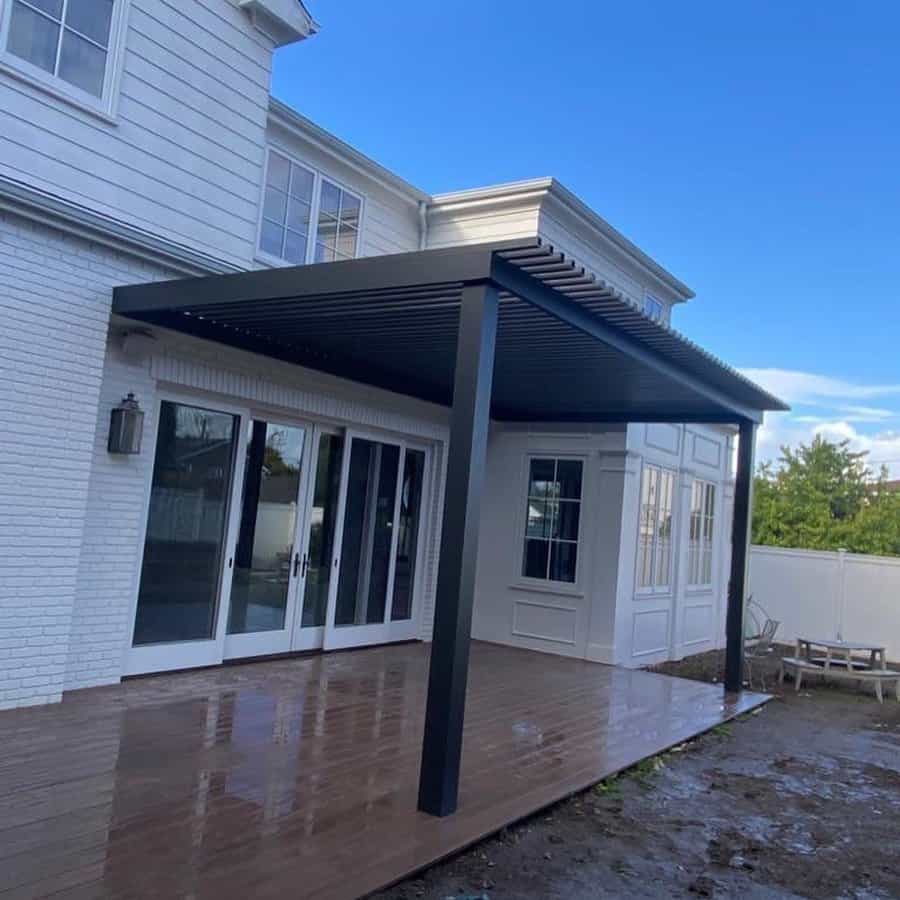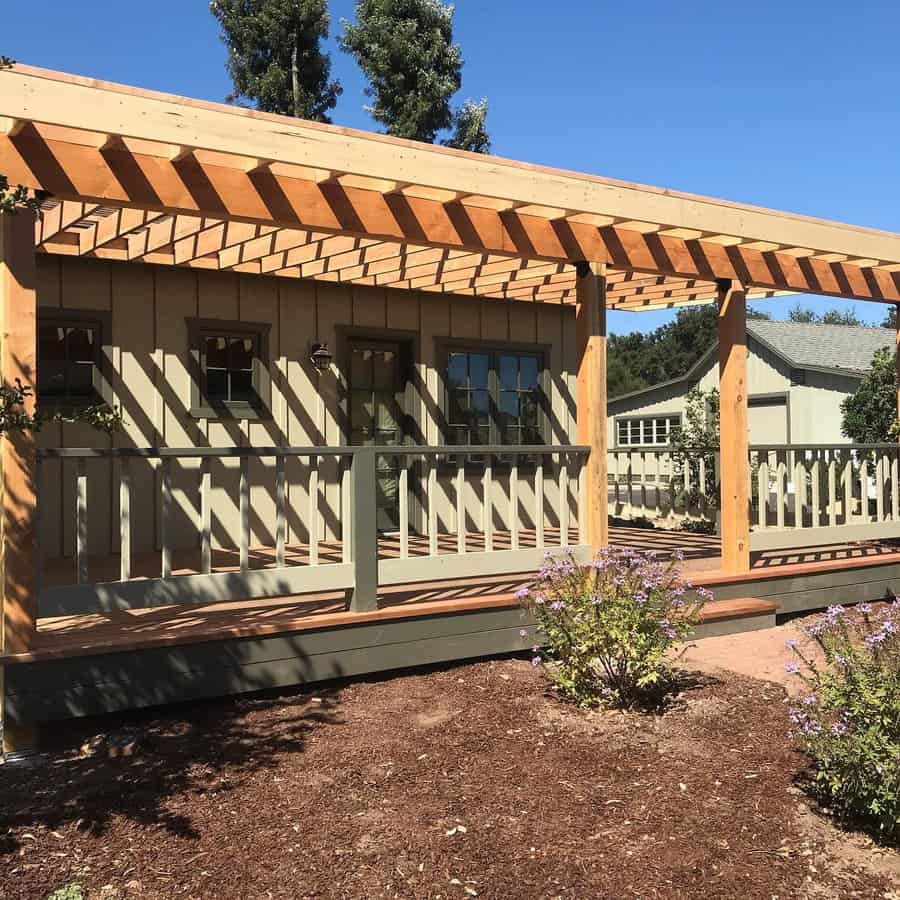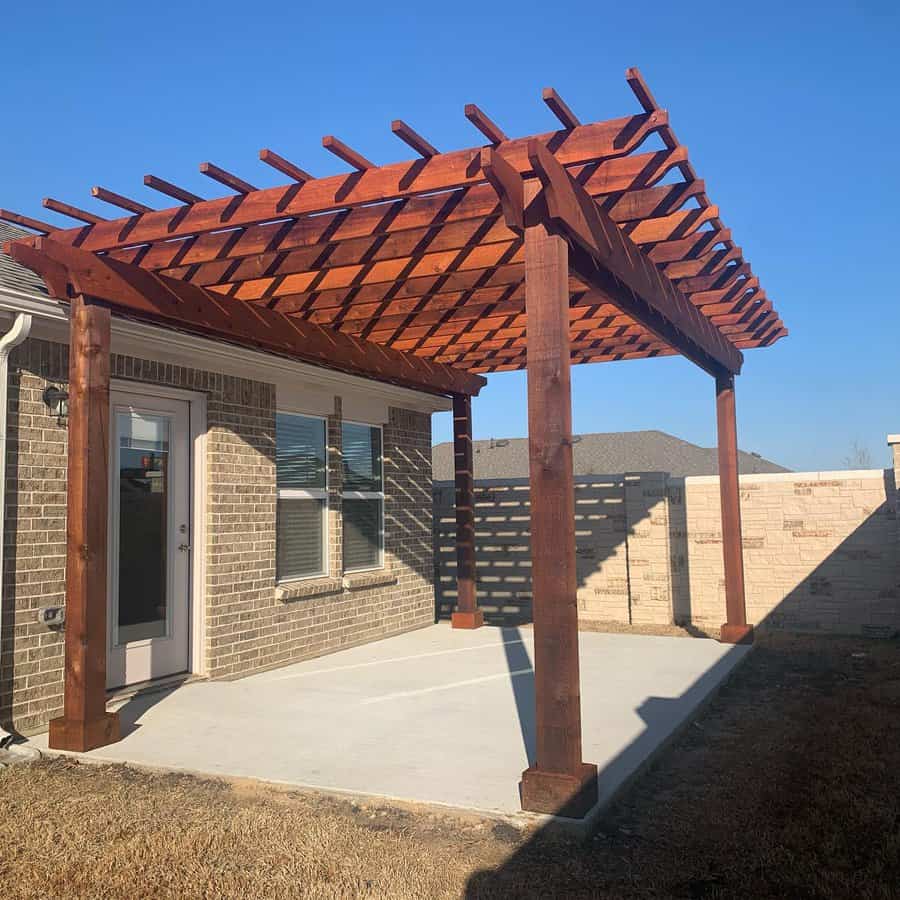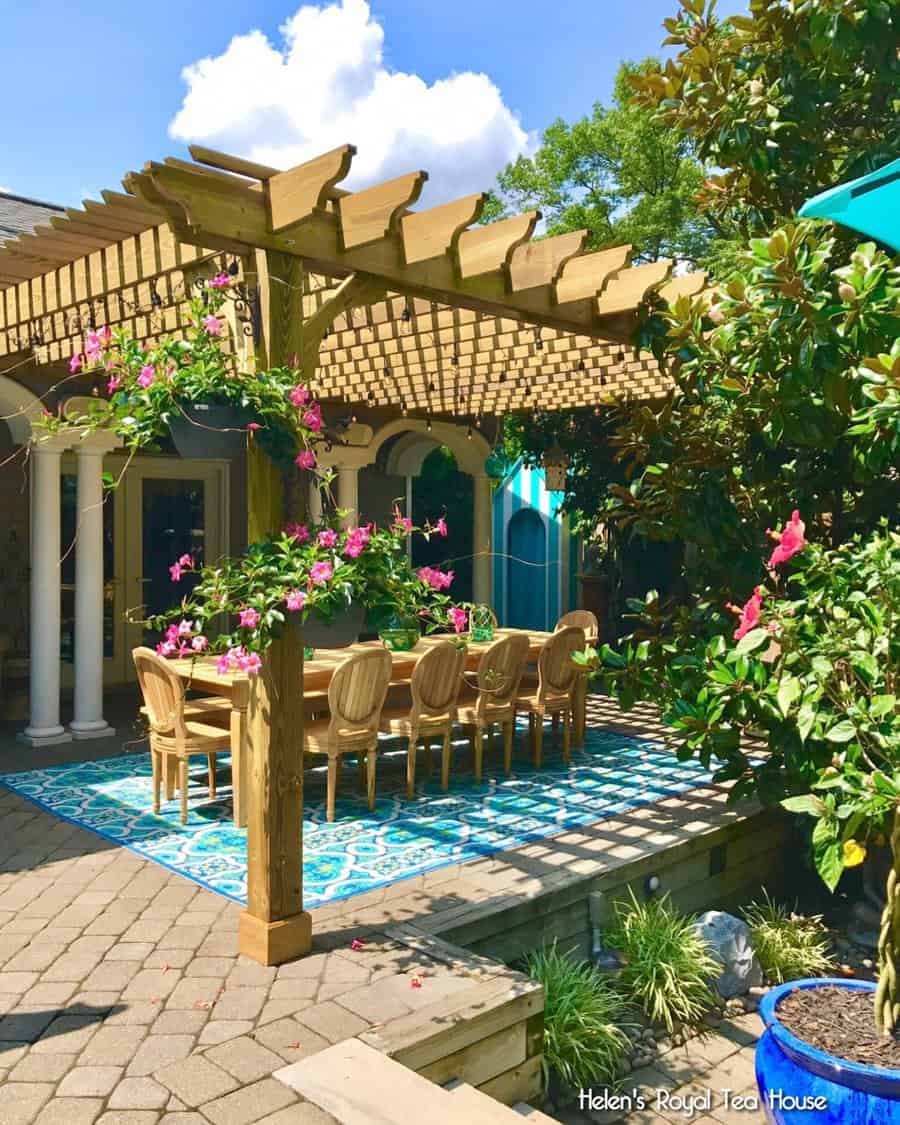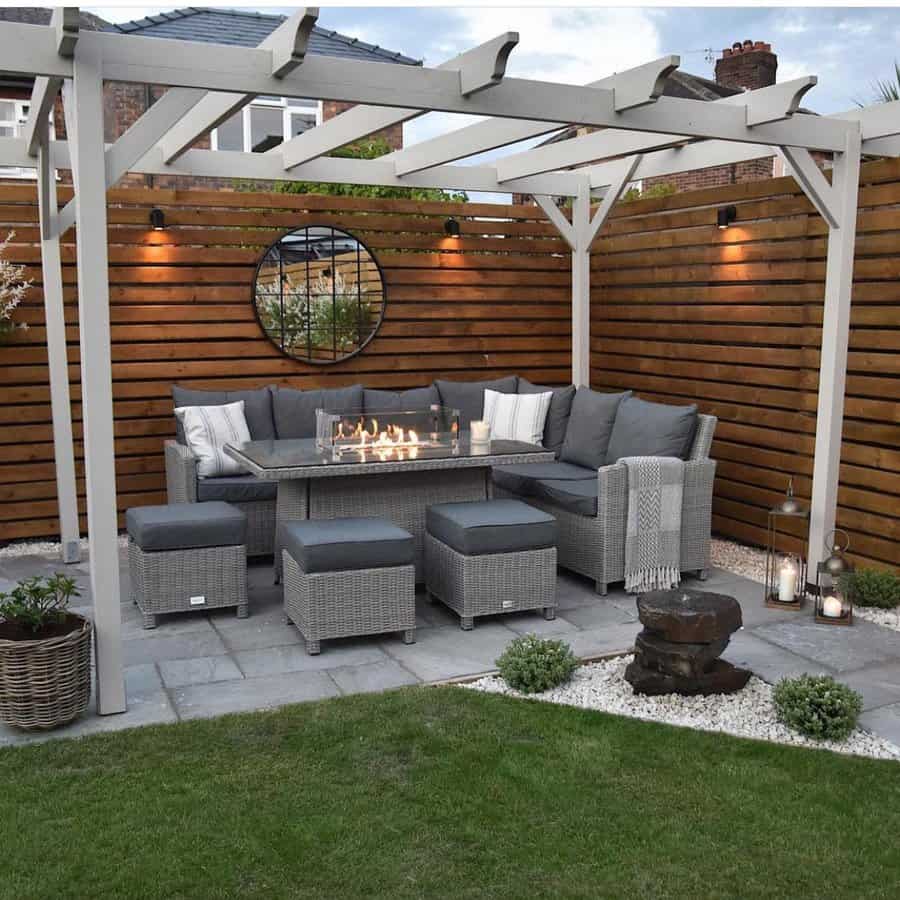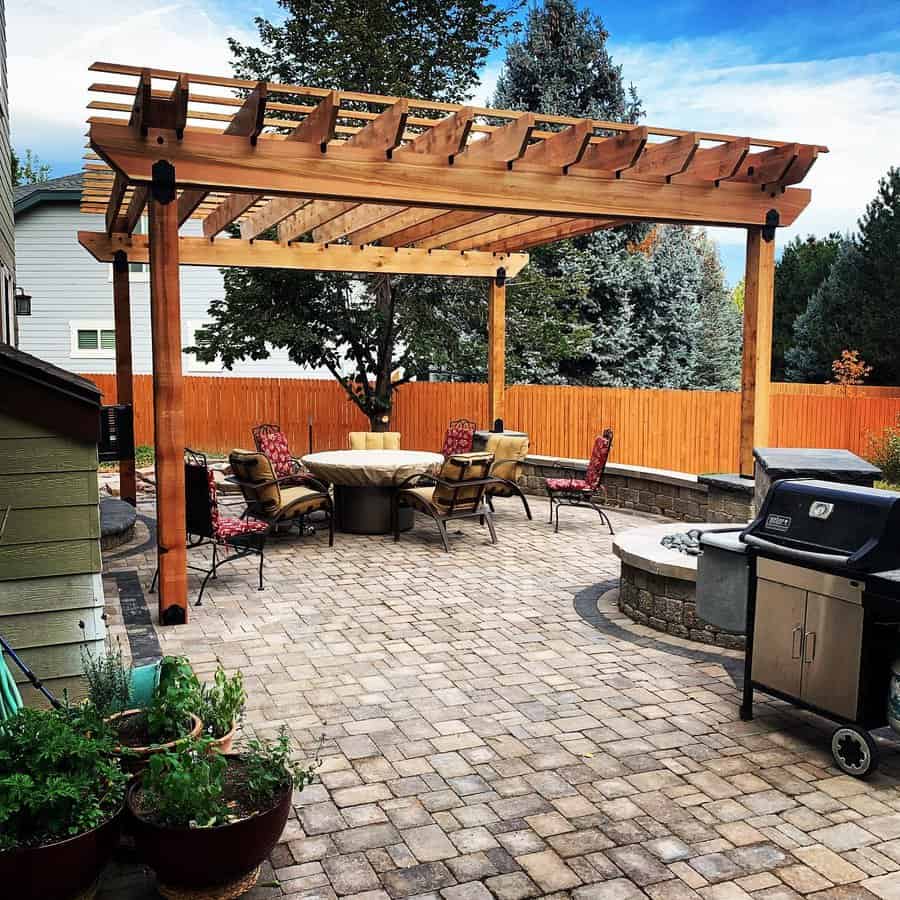 2. Modern Overhang
Adding a patio cover can completely transform the atmosphere of your outdoor space – from day to night, you're able to capture and create whatever ambiance you desire. If you're looking for something modern, why not try a flat overhang?
Not only does it provide effective and stylish protection from rain or sun, but when done right it can also be an energetic focal point for your patio. Whether you opt for vibrant color, unique material combinations, or unique hanging planters, there are plenty of ways to personalize your modern flat overhang and make it stand out from the crowd!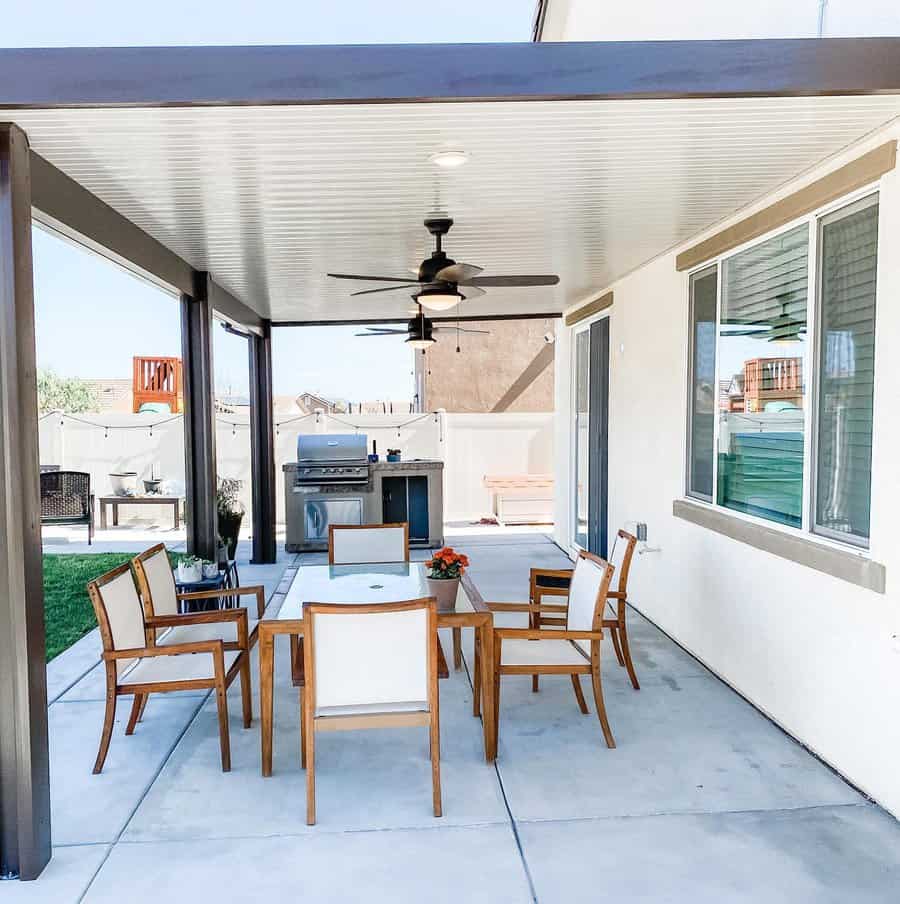 3. Covered Pergola
Give your patio a touch of architectural flair with a covered pergola roof. This stylish and practical solution can not only give you shade from the sun but is also perfect for protecting against light rain and wind. For an extra element of cozy relaxation, you can string white lights along the pergola cross beams to create a unique atmosphere.
Best of all, these options are easy to install and come in a variety of designs that can fit any location or budget. So, if you're looking for something to make your outdoor area complete, consider these fantastic patio cover ideas!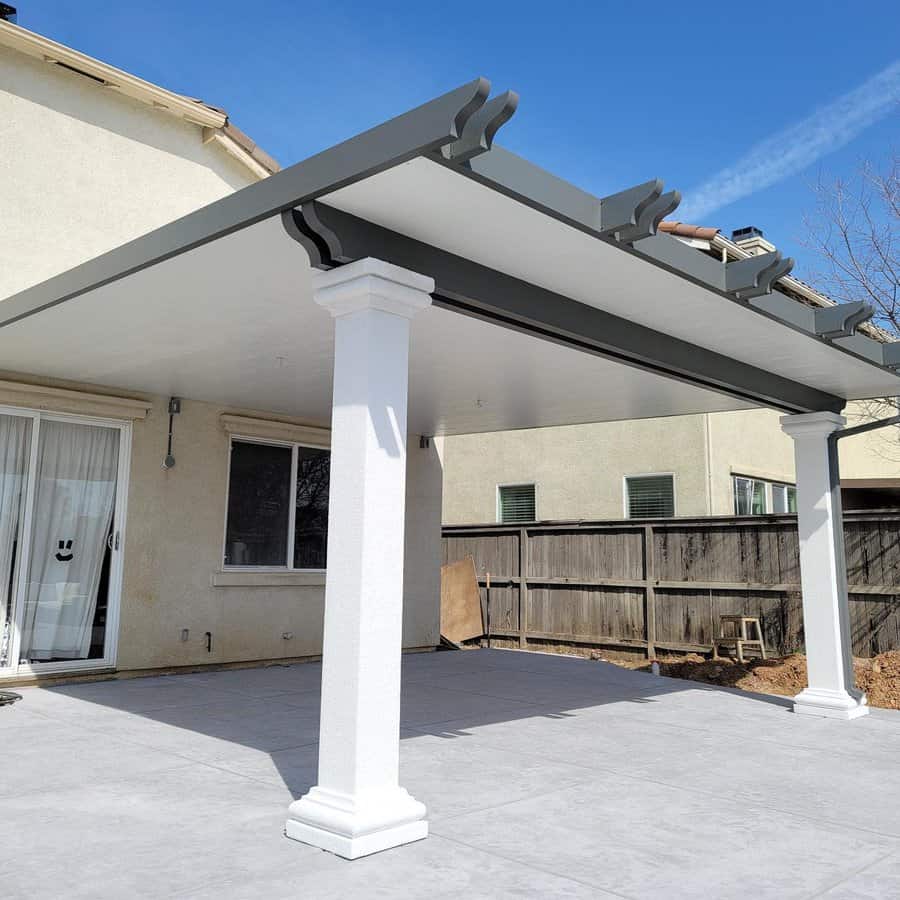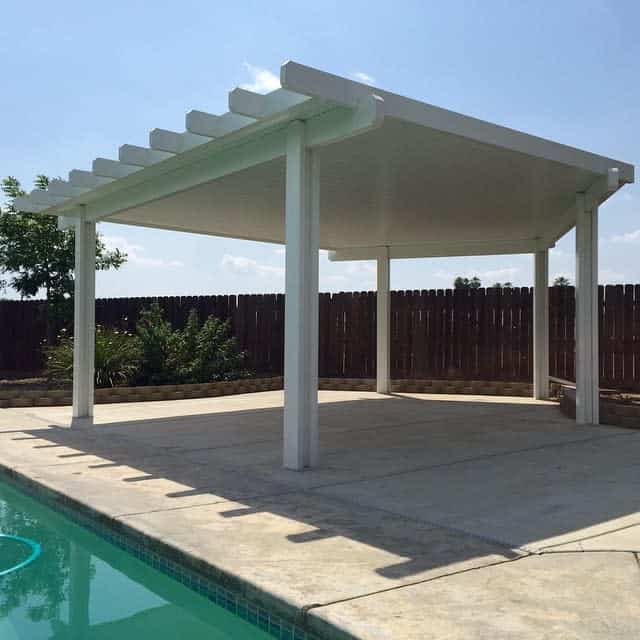 4. Clear Pergola Roof
One creative way to improve your patio space is to look into the idea of a clear pergola roof. This type of cover will provide coverage from both the rain and bright sunlight. It can make any outdoor area more inviting and comfortable, no matter if you're entertaining guests or simply lounging with a good book. With this unique solution, you'll get protection from the elements while still being able to enjoy watching nature in action when the weather is nice.
Plus, this modern structure provides lots of opportunities for decorating; you can hang plants or dangle colorful lights for added visual flair. All in all, there's almost no limit to how innovative your patio cover ideas can become.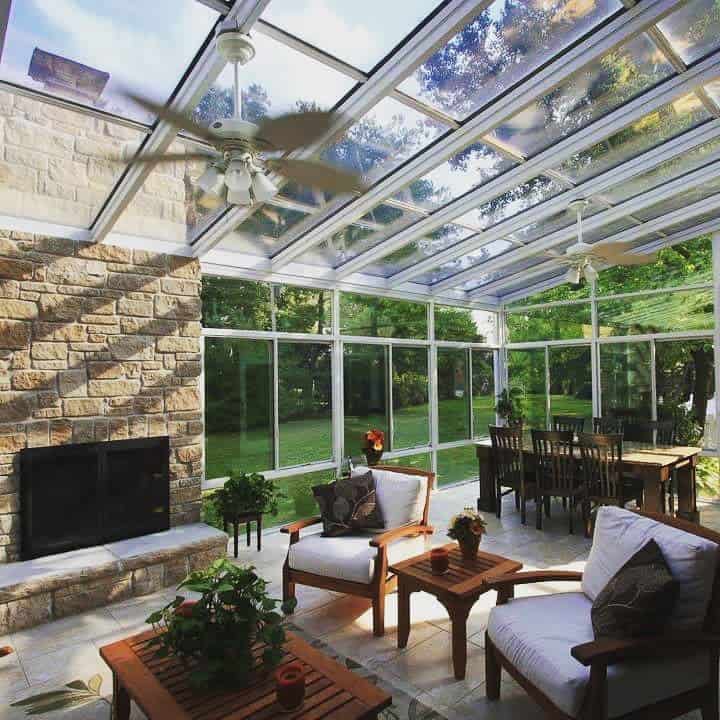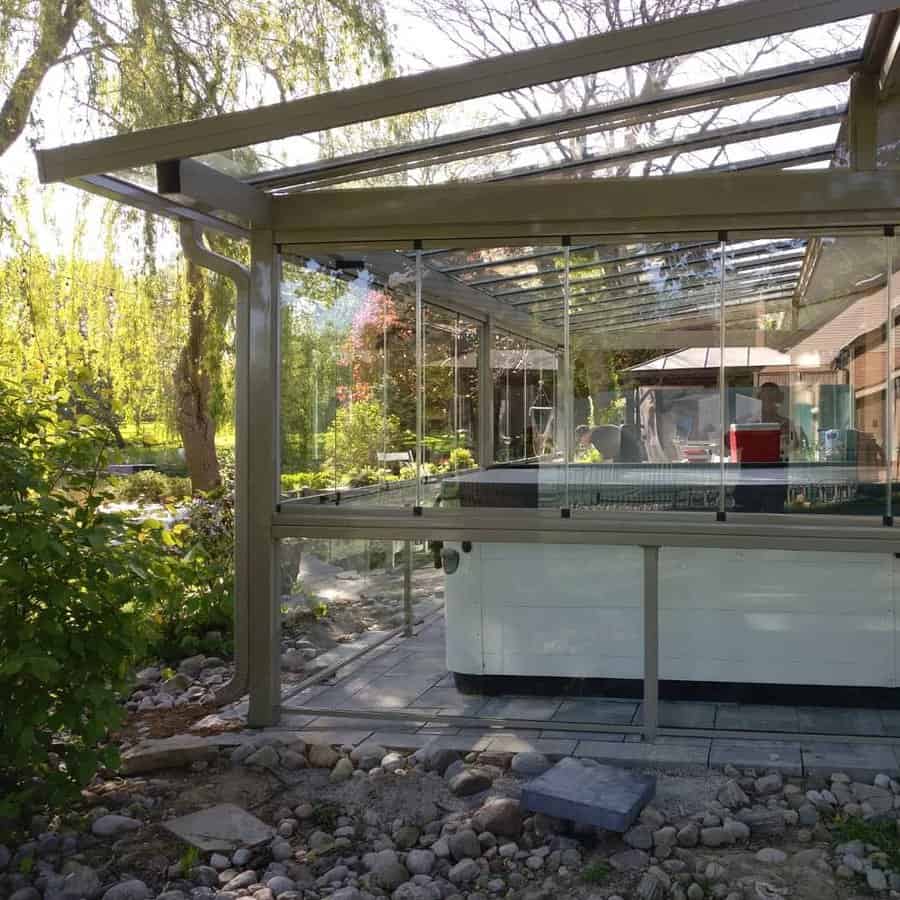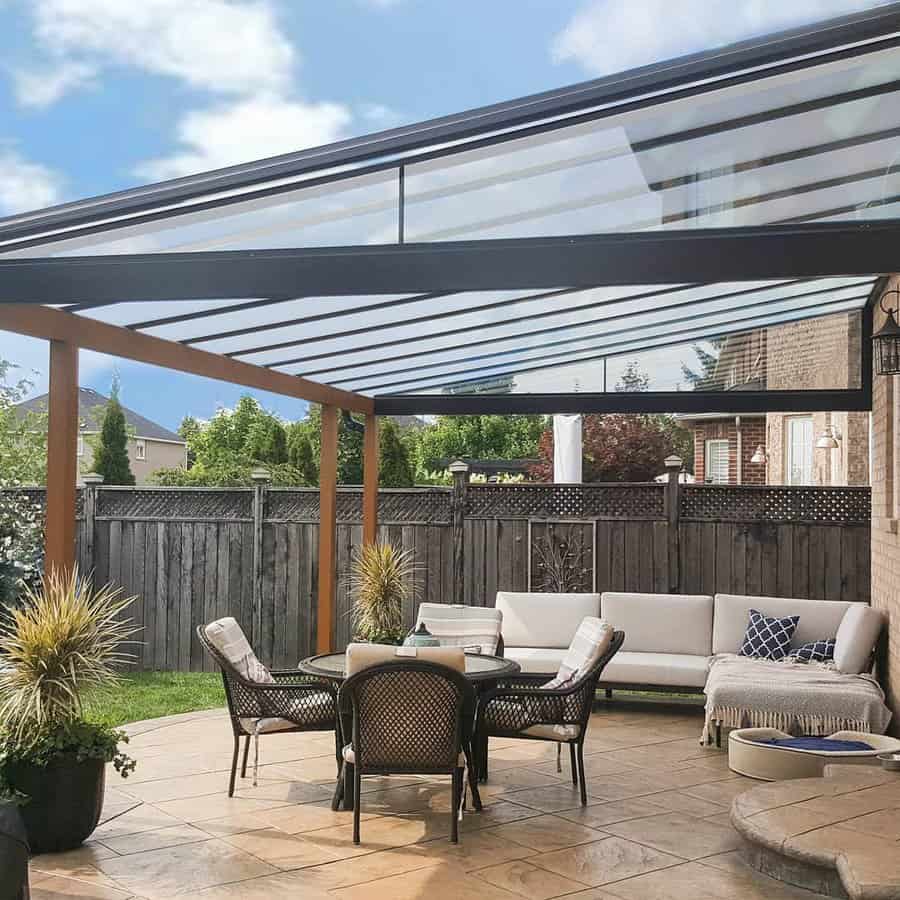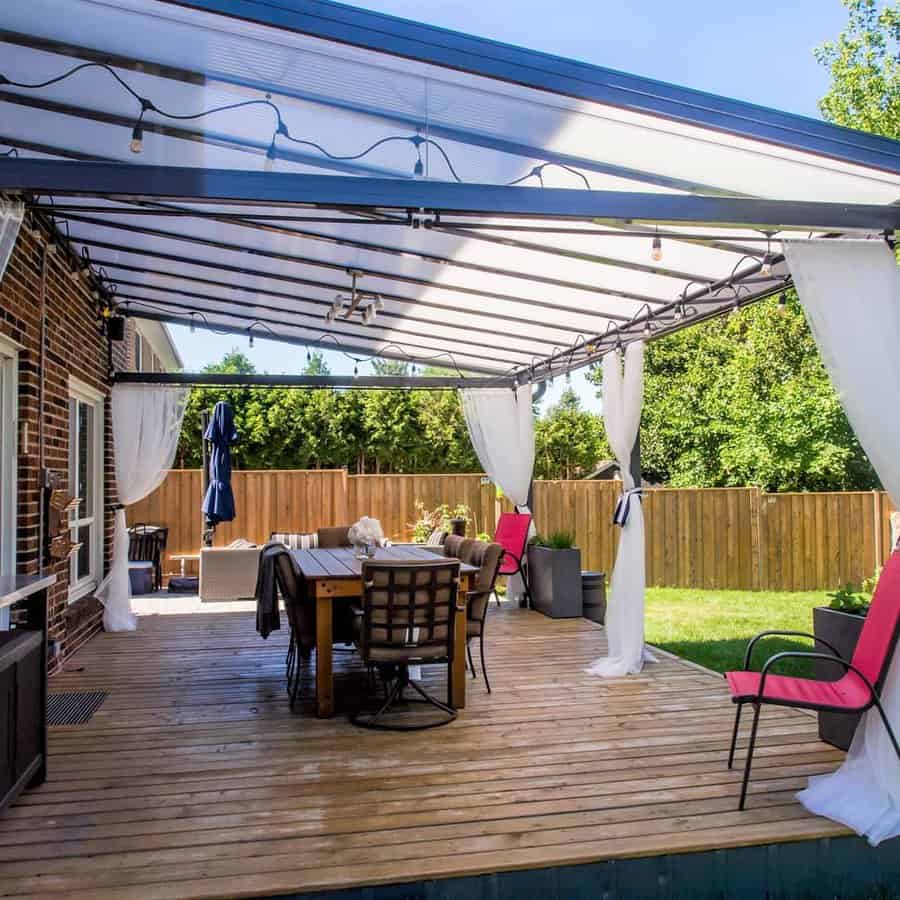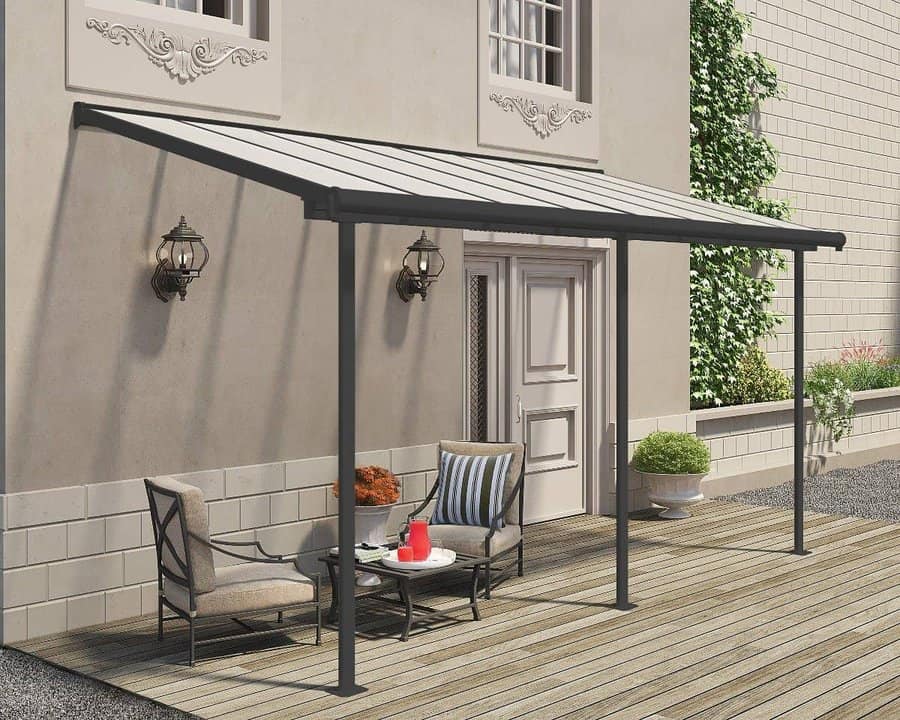 5. Retractable Overhang
If you're looking for creative patio cover ideas, why not consider a modern retractable overhang? Installing an adjustable, lightweight overhang can provide the perfect way to enjoy your outdoor patio space whatever the weather.
Whether you seek protection from sun or rain, a retractable overhang is an effective and stylish solution that will lift the ambiance of any outdoor area. Ideal for both indoor and outdoor patios alike, you can easily adjust the size of your patio cover depending on the amount of sunlight or rain you'd like to let in.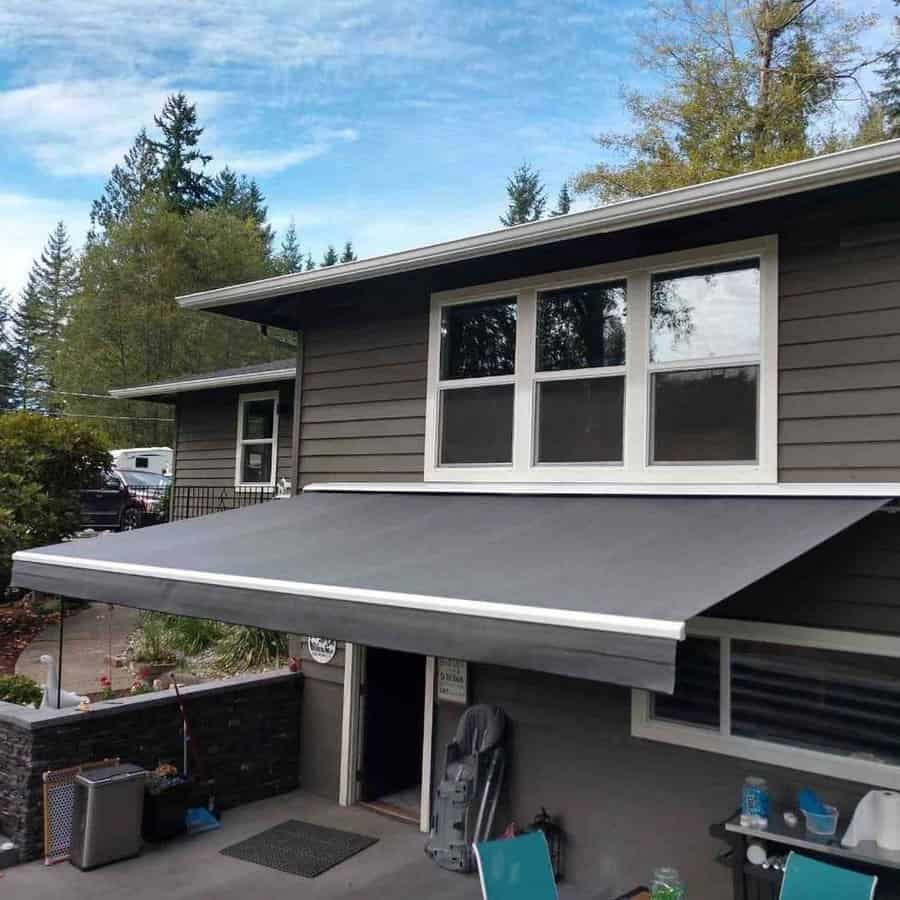 6. High-Ceiling Covered Pergola
When it comes to livening up your patio, there's no better way to go than a high-ceiling pergola cover. Not only can you relax out of the sun and rain under this stylish roof, but you can also make the most of your patio by having a ceiling fan installed for ultimate comfort and even incorporating pendant lighting for that special evening ambiance.
Whether you want to lounge with friends and family or host a dinner party al fresco, this chic patio cover will be sure to impress.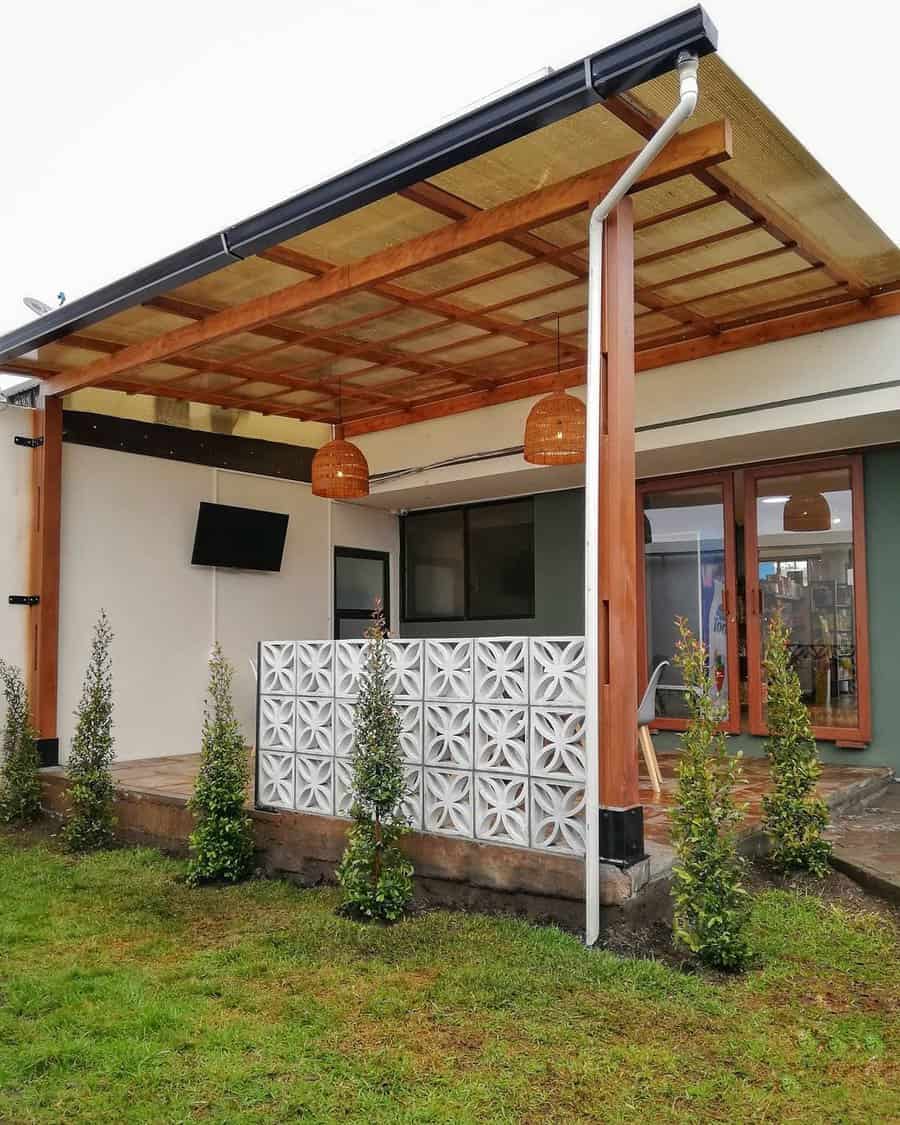 Patio Cover FAQs
How can I cover my patio cheaply?
If you don't have a large budget, then look for coverage options that are affordable, and that you can install yourself. A shade cloth or shade sail is one option. A wood frame with plastic corrugated sheets is another affordable option.
How do you attach a covered patio to the house?
The exact method you use for attaching your patio roof will depend on the structural elements of your home. However, one common method used is to attach the roof to the facia board. Then reinforcing the facia to the beams in the roof.
Doing this provides structural support and strength to the home while also placing the patio roof at a lower level to the home's roof. That way, water on the roof flows downward and away from the home and doesn't become trapped between the house roof and the patio cover.
How much does it cost to put a roof over a patio?
The cost of covering your concrete patio will depend on the material you use and the size of your patio. Typically, the cost will range from $1,000 to $10,000.
You can reduce the cost of your installation by doing the work yourself. This will reduce or even eliminate the labor costs, which can sometimes be the majority of the cost.