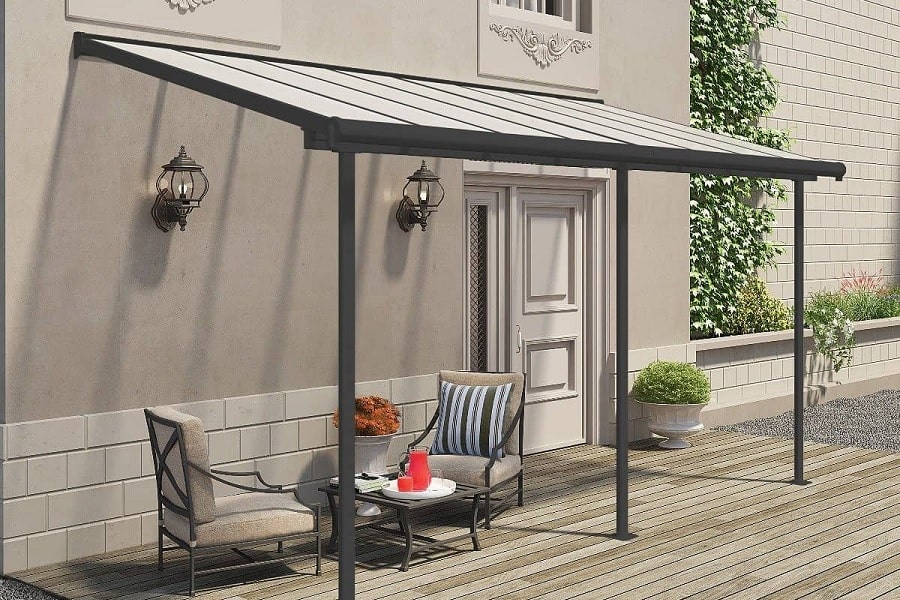 The Top 27 Patio Cover Ideas
"Spending time outdoors makes you feel great." – Elizabeth Hurley
You've worked hard to turn your boring concrete patio into a lovely outdoor living space. Perhaps it's an outdoor kitchen or a cozy outdoor room designed for entertaining with sofas, a coffee table, and a fireplace. There's just one thing missing, a roof.
There are patio cover ideas that can help you turn your new outdoor space into a covered outdoor room that you can use year-round.
These covered patio ideas are durable, protective, and will improve the look of your patio.
1. DIY
If you have experience working on home improvement projects, you can tackle the project of adding a cover to your patio on your own.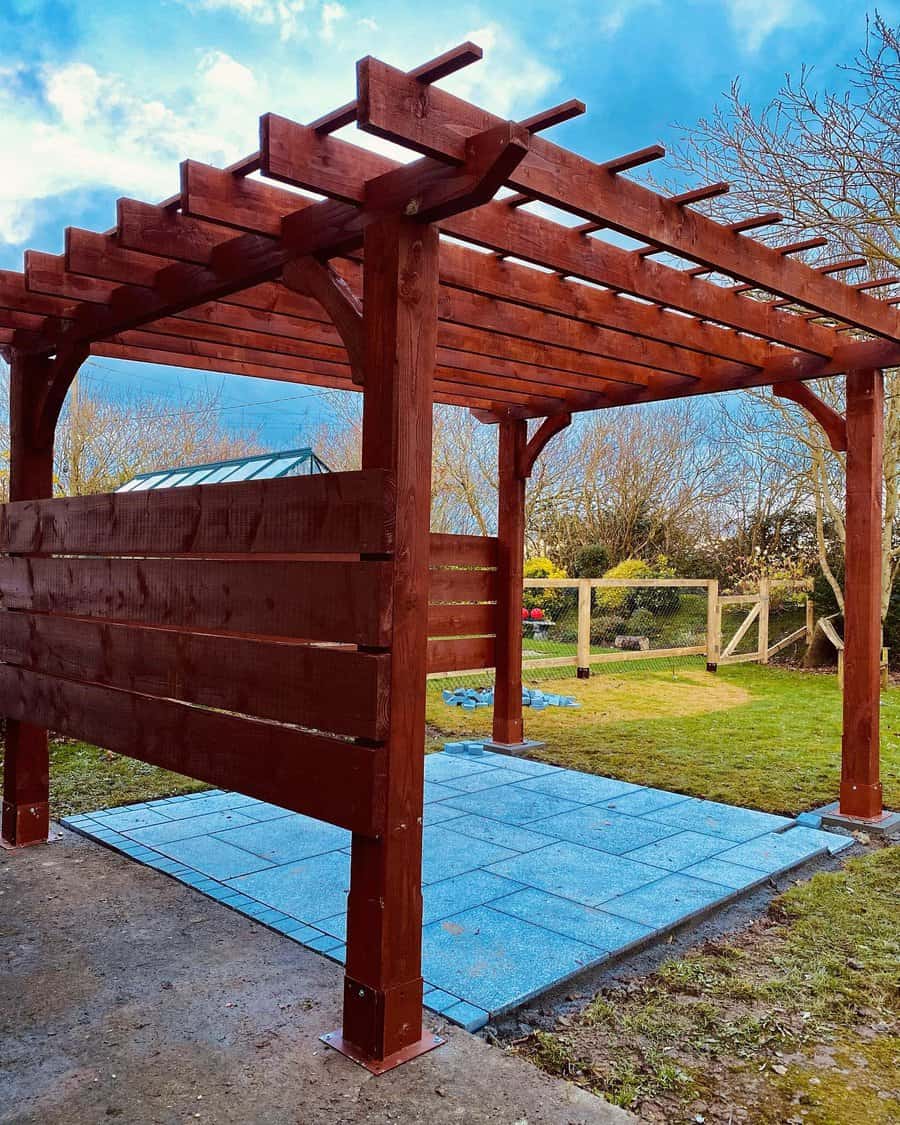 While you could buy wood and add a structure, this can require permits and inspections. Instead, a simpler and more affordable option is to install a shade cloth or shade sails. This DIY patio cover project requires special fabric and the installation of hooks or screw eyes.
The fabric gets strung up taught over the patio to provide shade and protection from the rain. Depending on the size and shape of your patio, you may be able to have one large shade cloth, or you'll have to have several sails that overlap each other.
2. Flat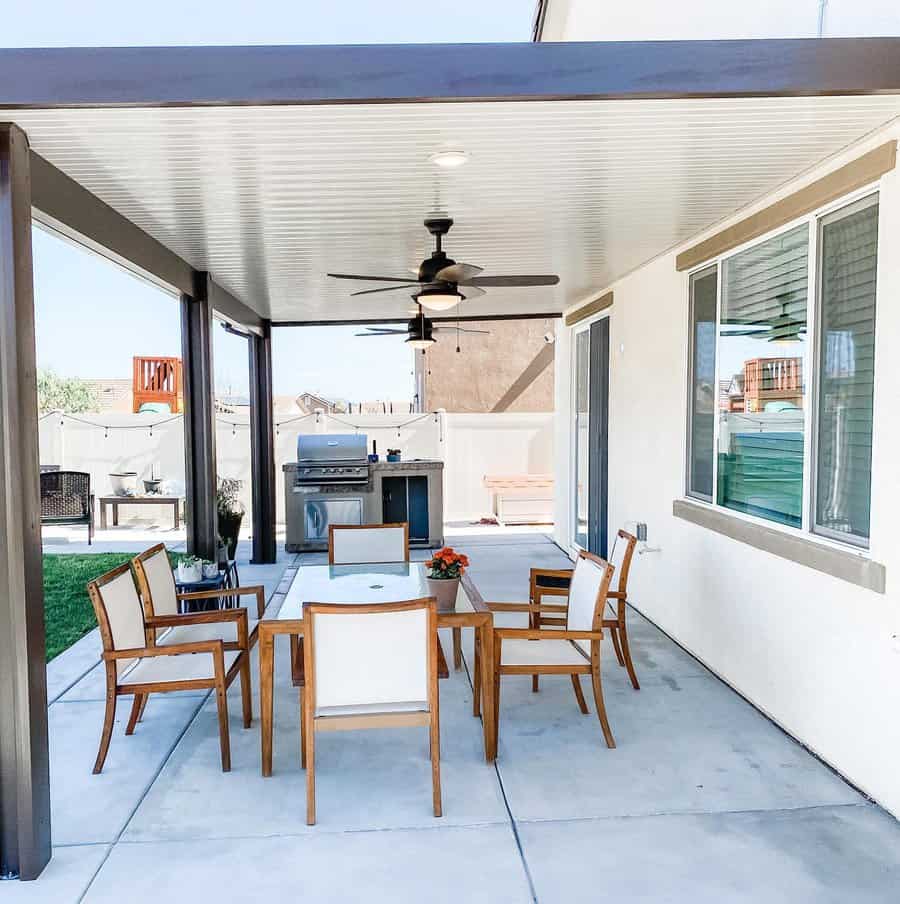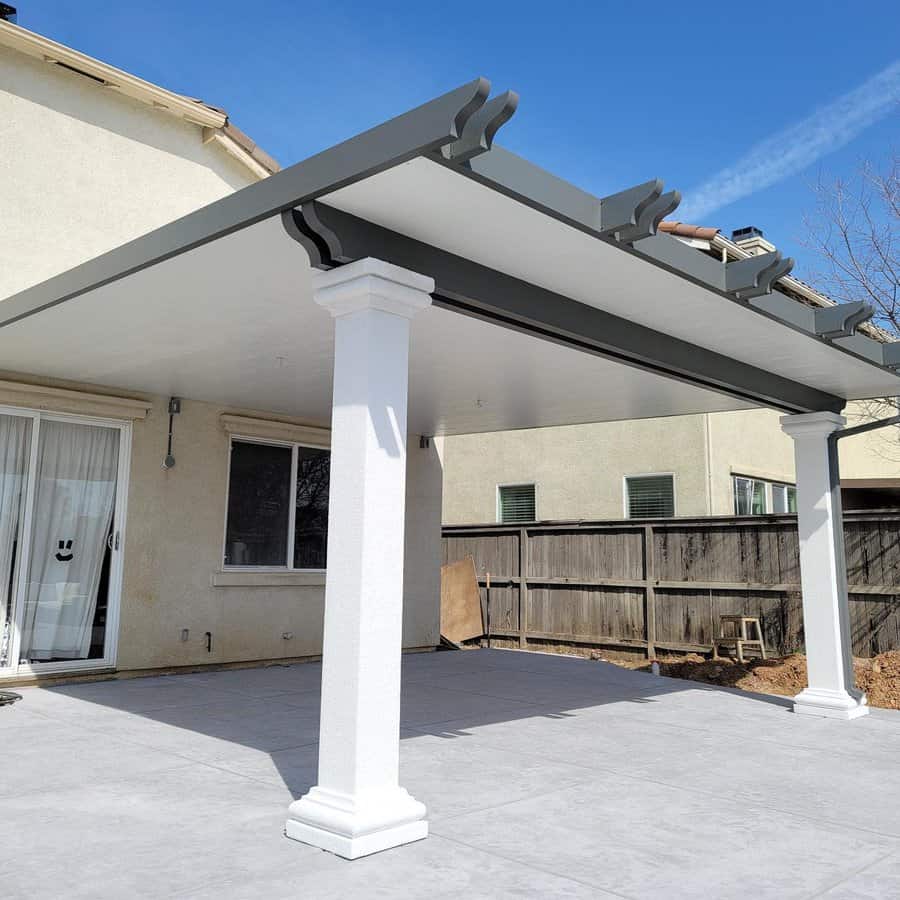 Aluminum patio covers are the most popular of the flat cover ideas. It's affordable, lightweight, and corrosion-resistant. This helps your new roof investment to be a long-lasting one.
Most people choose white for the color of their roof, but you can choose almost any shade to match the color of your home.
3. Free Standing
If you want to avoid messing with your home's structure, permits, or inspections, then consider building a free-standing outdoor patio cover. This could be something as simple as adding a patio umbrella. A large one can easily cover your dining table or sofa.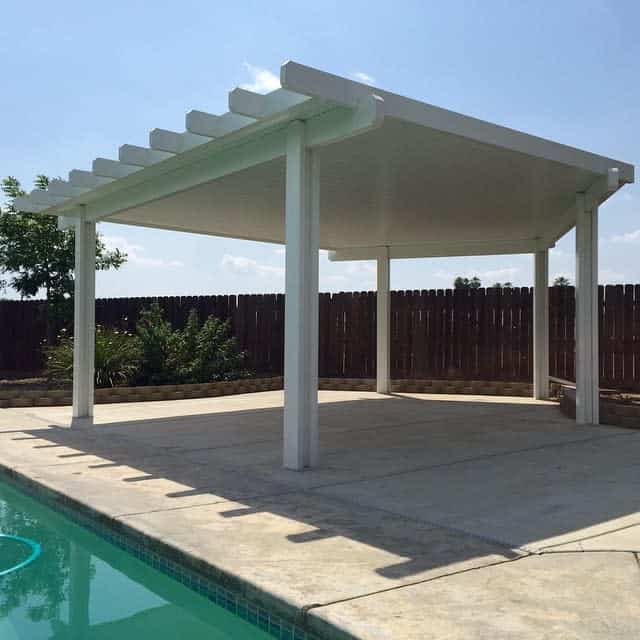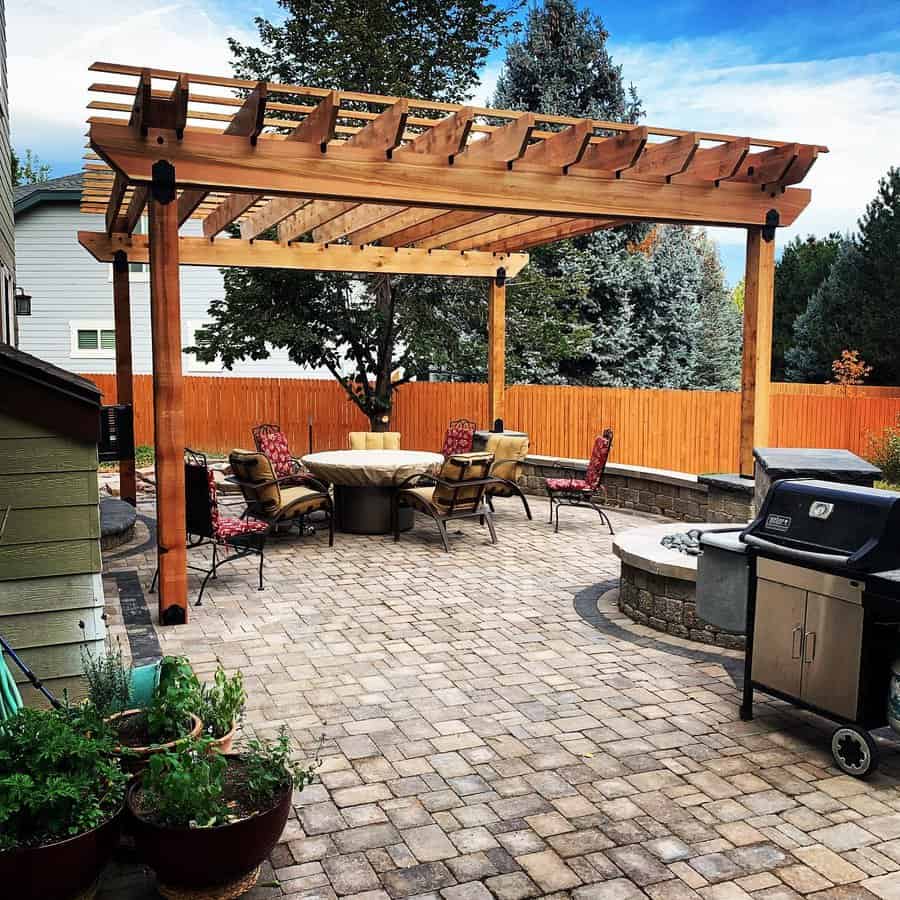 If your patio cover plans involve something a little more elaborate, then look for a free-standing shade structure that also fits into your patio cover design.
Popular options are pergolas and canopies. You can buy these structures as a kit and erect them over your existing patio. You could buy one that's large enough to cover the entire patio or save money and buy one that only covers a half or quarter of the patio.
4. Glass
If you want to turn your concrete slab into an enclosed patio, then consider glass. It's a much bigger investment than the other patio cover options. It requires a solid structural frame to be built around your patio.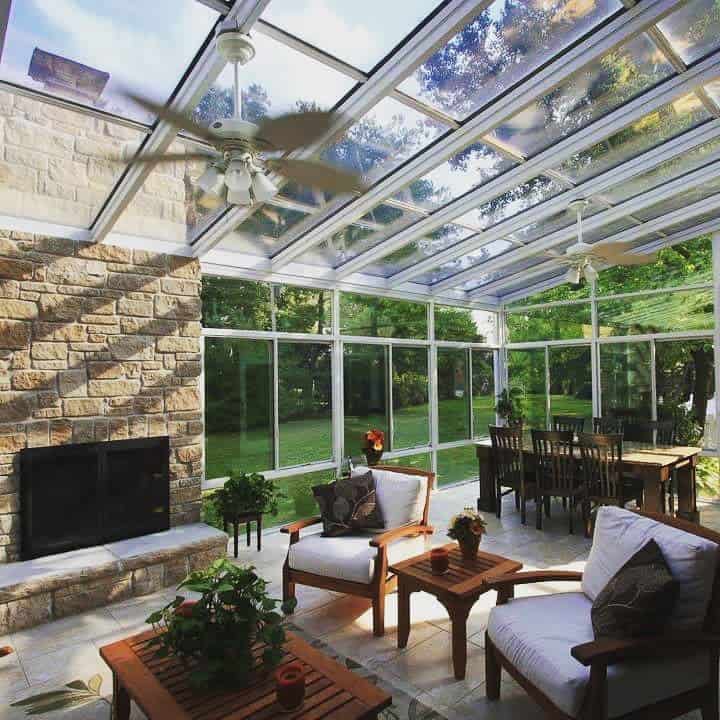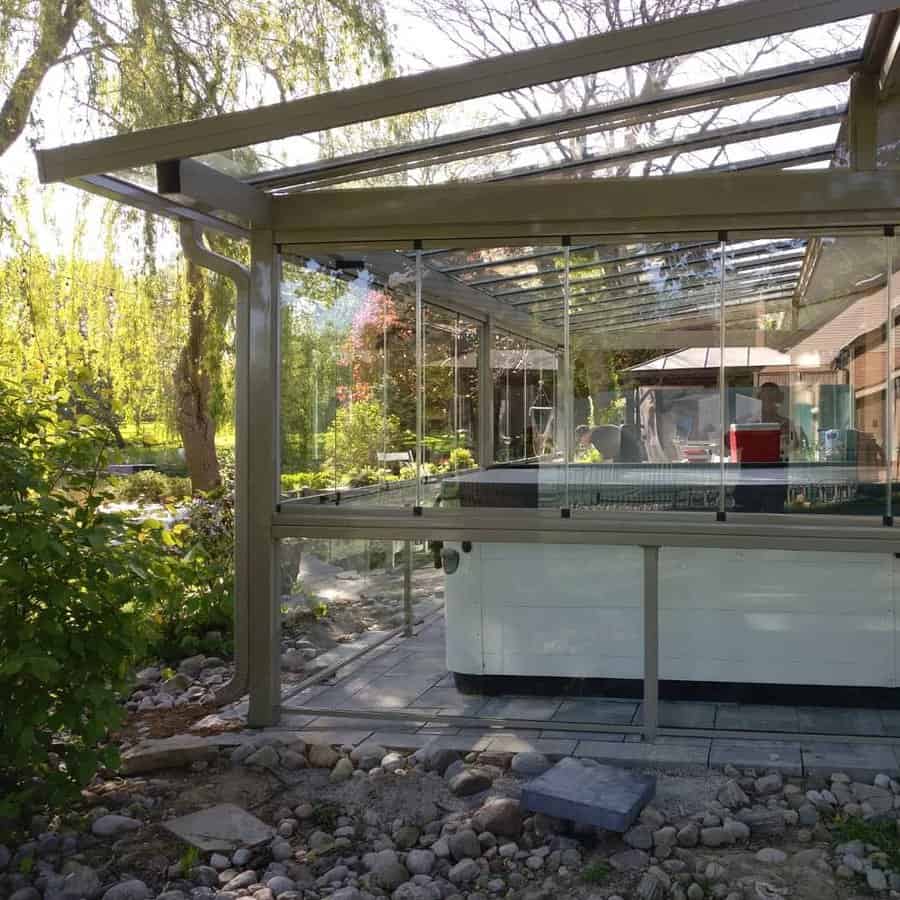 You'll also want to consider the amount of sun your area experiences. An all-glass roof in Florida or Arizona will result in you creating a heat box that will be insufferable to be in.
A skylight in the roof with all glass walls is a better glass patio idea. Then you can add patio furniture and turn your enclosed patio into a sunroom or day room.
5. Pergola
Pergolas look elegant and are freestanding outdoor structures. This makes it possible to erect one next to your house or out in the middle of your yard. While most pergolas are square, you could build yours in a triangle or rectangle. Then you have a pergola that's just the right size and shape to cover your outdoor furniture.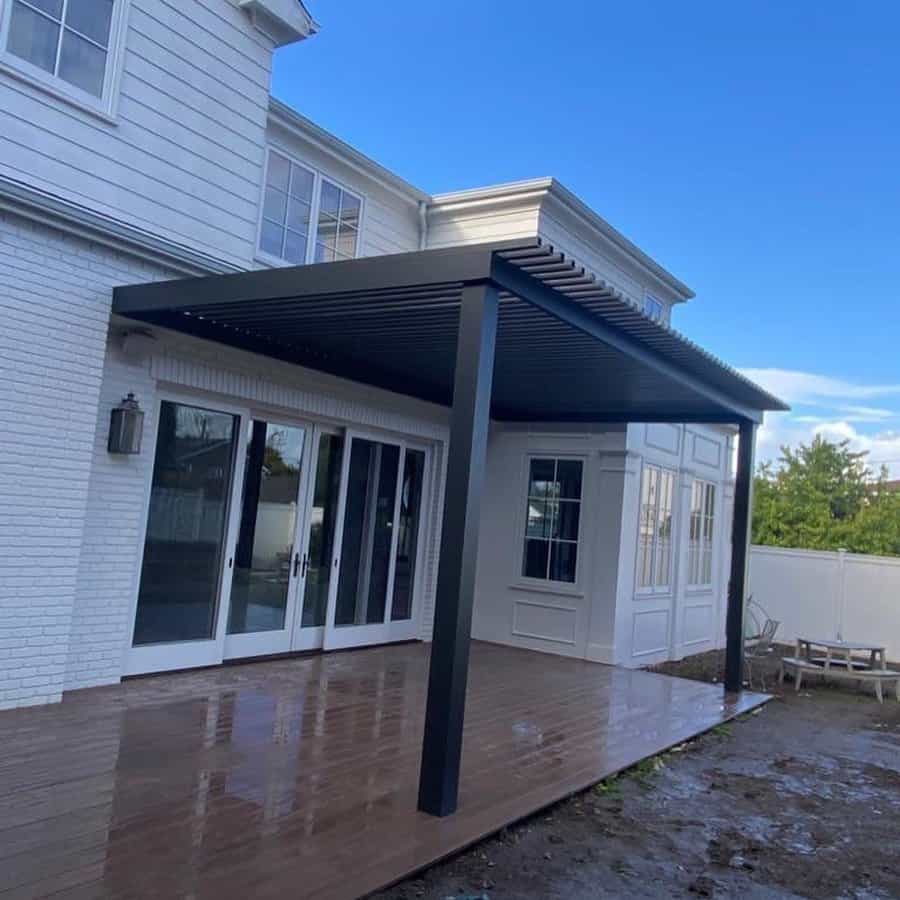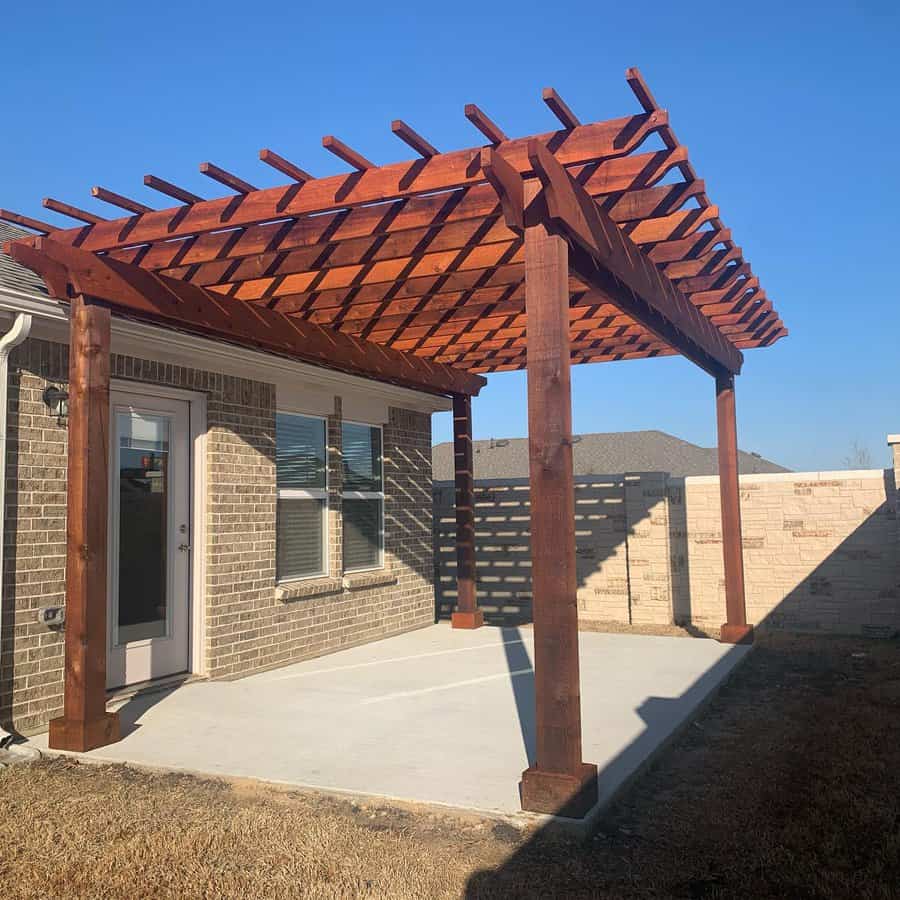 A wood pergola will give your patio a traditional look. However, you can also have a solid patio cover that's built out of vinyl or PVC. These are bright white and require less ongoing maintenance.
6. Plastic
If you have a tight budget or want to do the roof addition project yourself, then consider using plastic sheeting. This isn't the most elegant of the patio shade ideas, but it's definitely effective.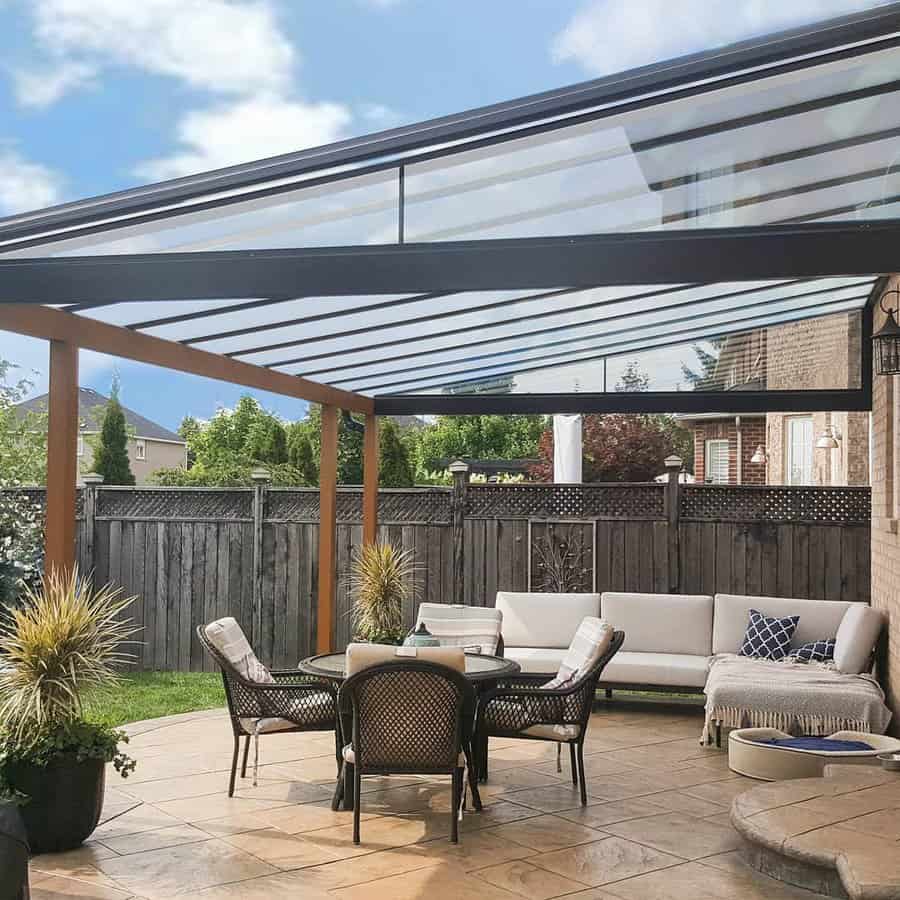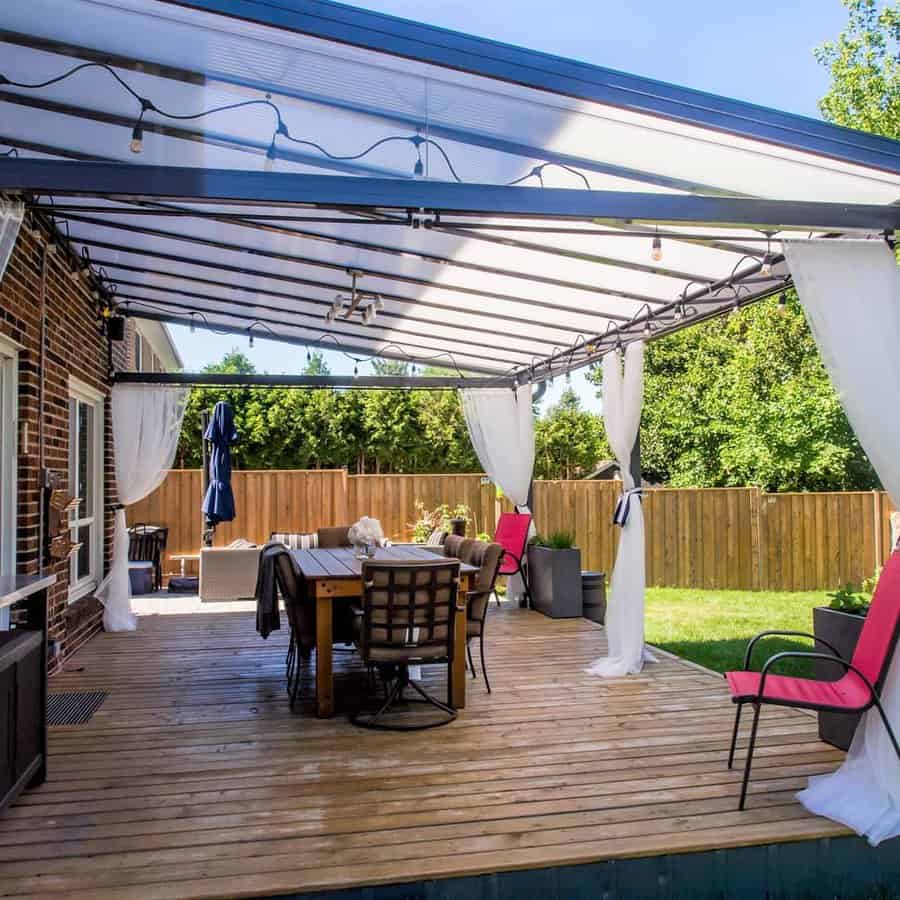 The plastic comes in translucent or with a color tint. There are also opaque options if you want to completely block the light. However, if you block too much light, your patio can feel dark and depressing, even when it's sunny out.
To prevent your backyard patio from getting too dark, try using a combination of translucent clear and opaque plastic corrugated sheets.
7. Retractable
If you have an outdoor space that's connected to the side of your home, then a retractable awning will give you flexibility in your patio design.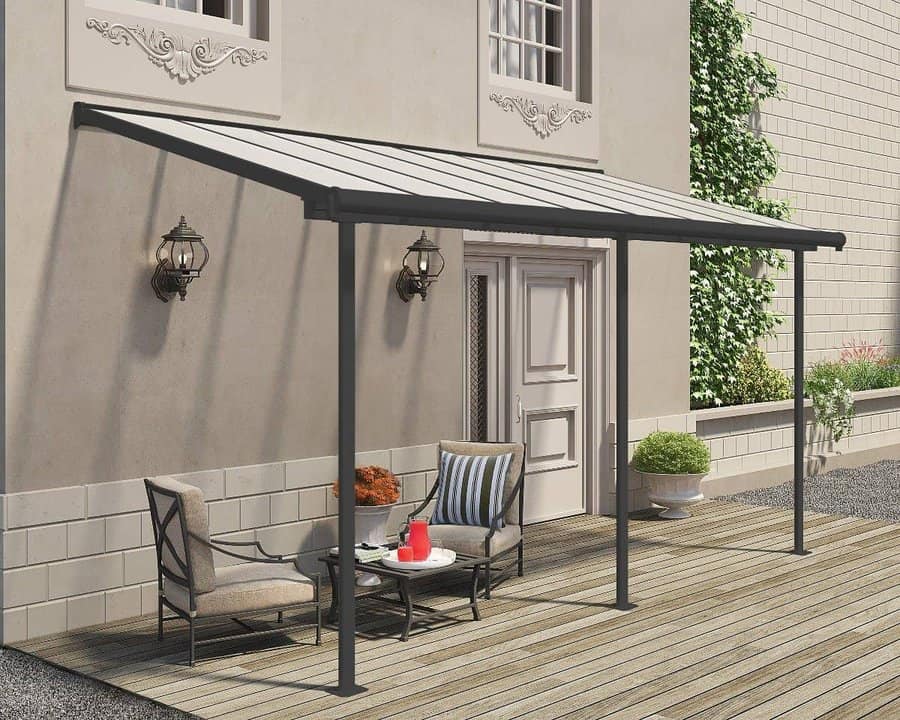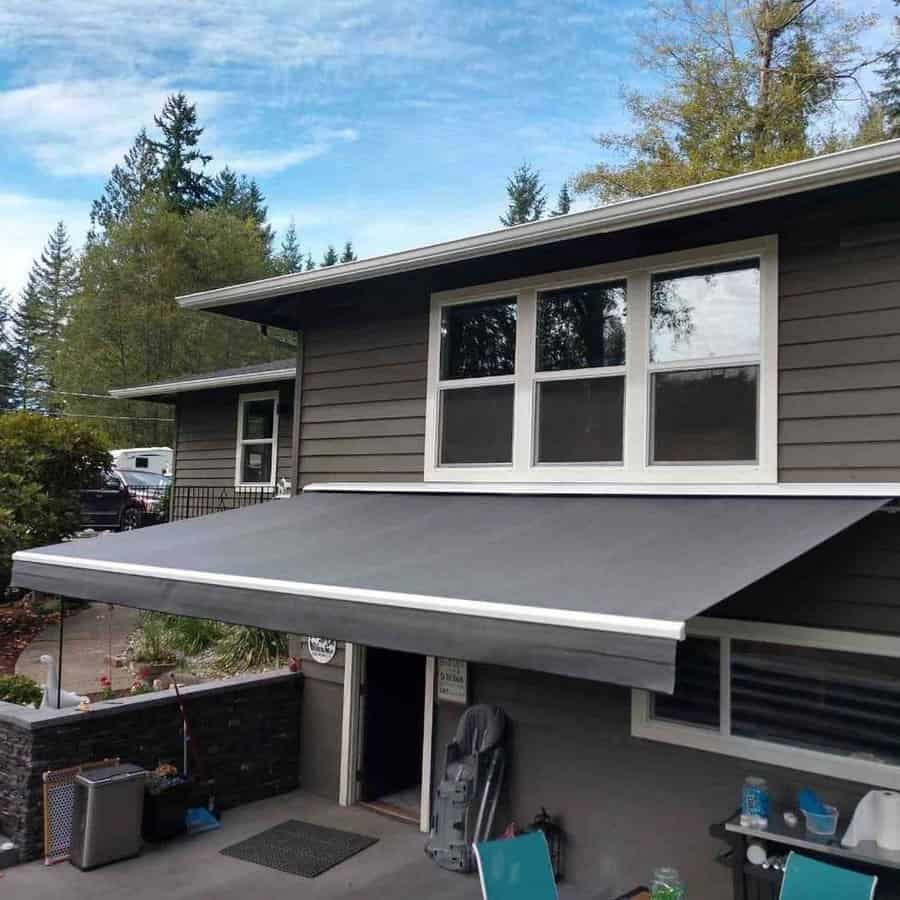 When you don't need the cover, you can retract it back. Then when you do need it, you can extend it out and have full coverage. With the push of a button, the awning will retract back and roll up and out of the way.
What's nice about awnings is that they come in a range of colors and patterns. This lets you pick a custom design that will match your home and patio design perfectly.
8. Wood
Wood is a durable material that's easily adaptable. This makes it a perfect solution for building your wood patio cover. First, choose the type of lumber you want to use.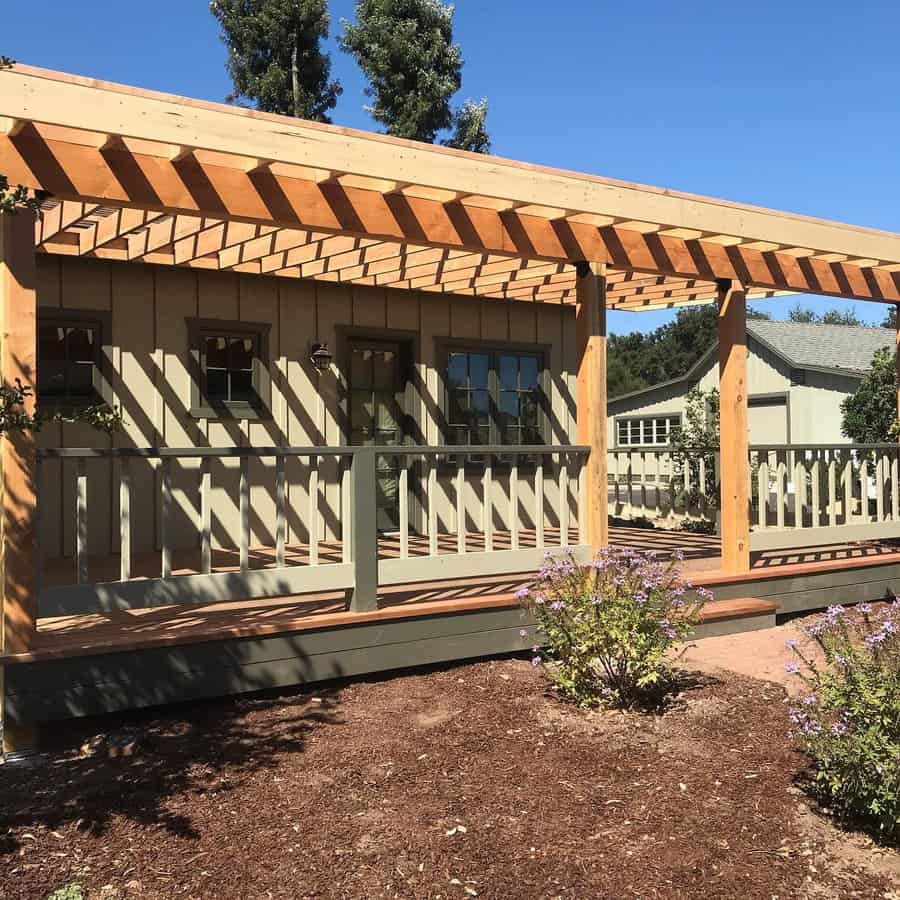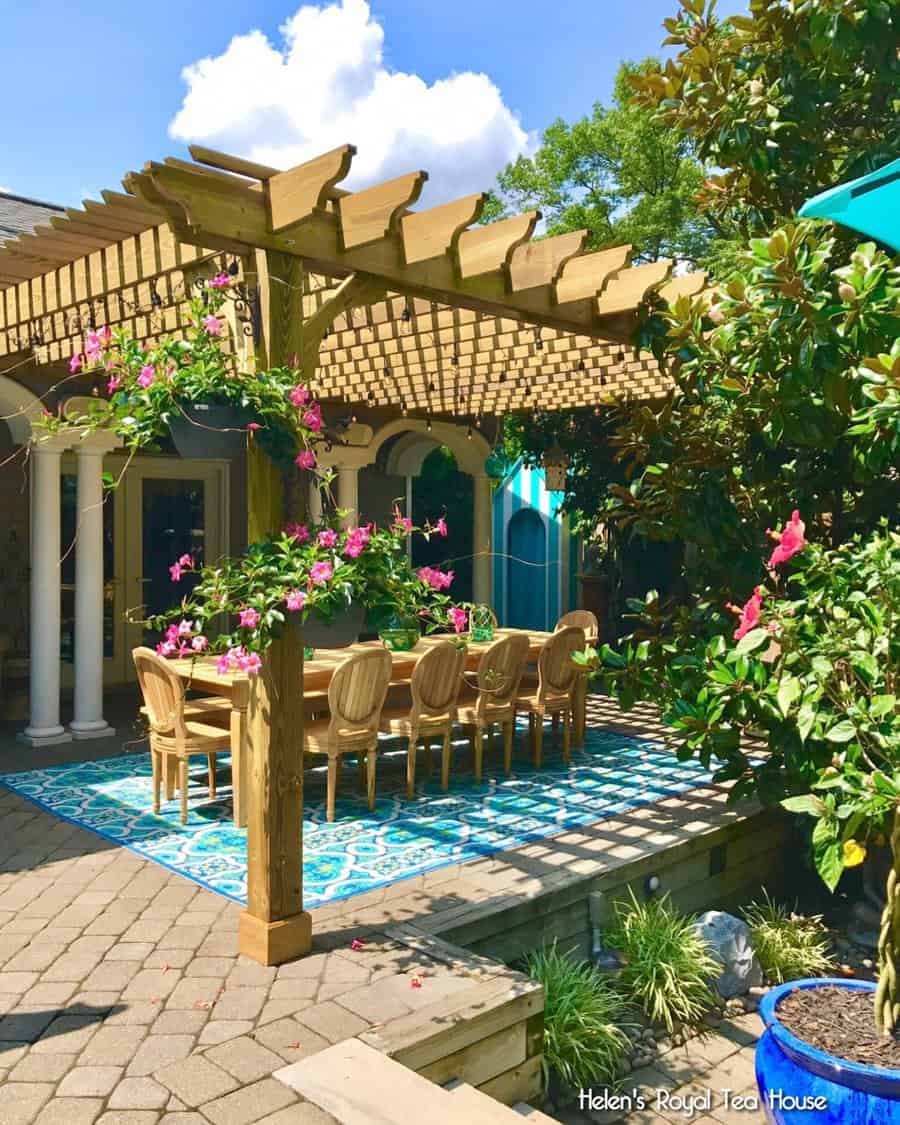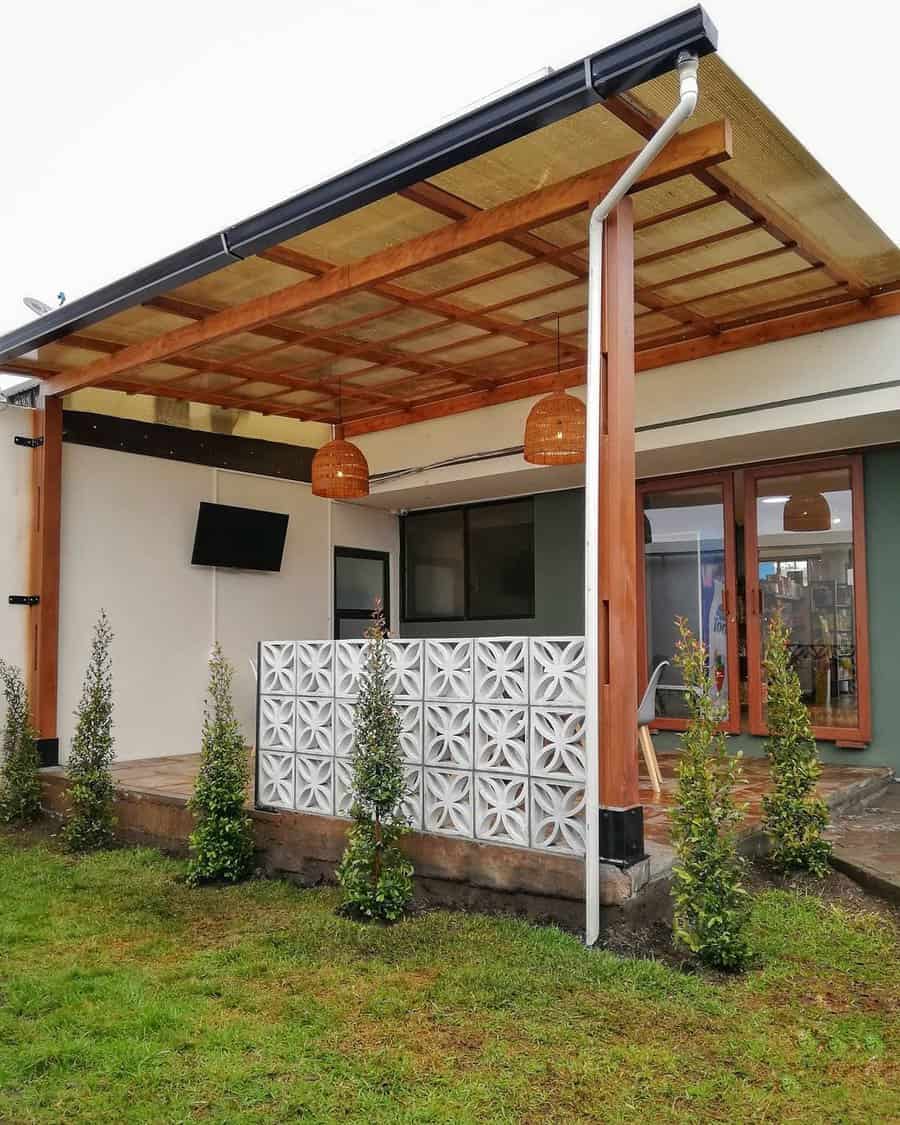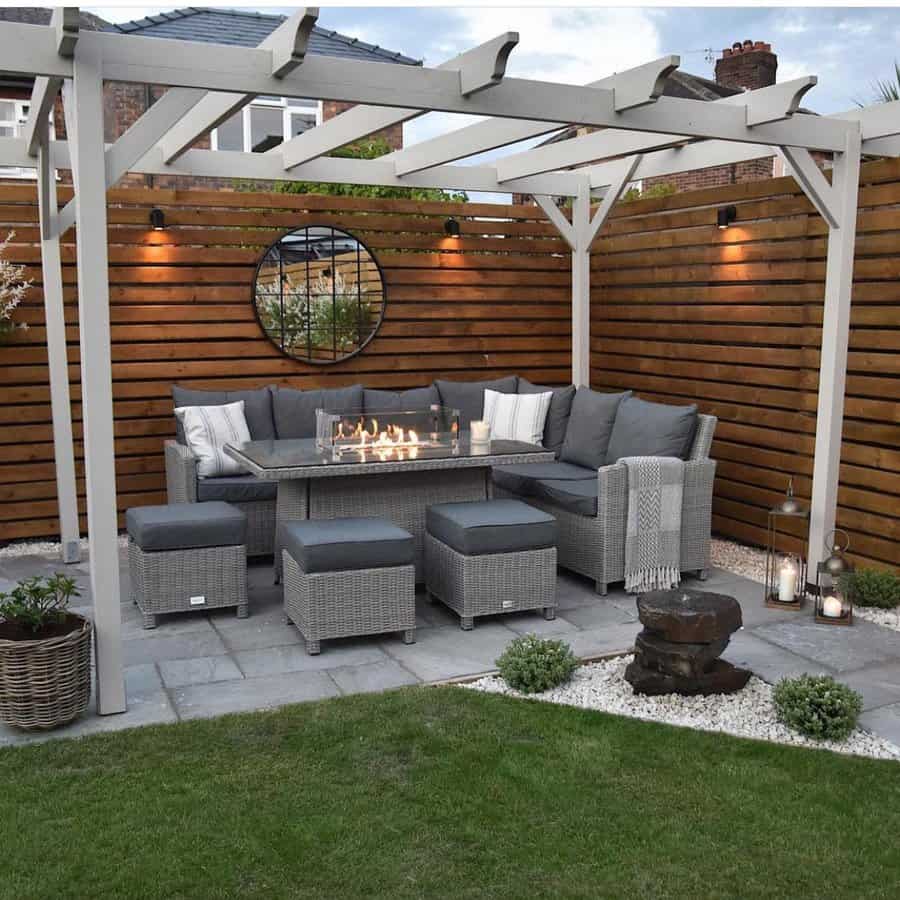 Hardwoods are best because they are the most durable and beautiful. However, they are also more expensive. Treated softwood is an acceptable, more affordable alternative.
However, it will need regular care and maintenance to last. When designing the cover for your outdoor living area, think about the aesthetic you want to create. This could be rustic, contemporary, traditional, craftsman, modern, or minimalist.
Patio Cover FAQs
How can I cover my patio cheaply?
If you don't have a large budget, then look for coverage options that are affordable, and that you can install yourself. A shade cloth or shade sail is one option. A wood frame with plastic corrugated sheets is another affordable option.
How do you attach a covered patio to the house?
The exact method you use for attaching your patio roof will depend on the structural elements of your home. However, one common method used is to attach the roof to the facia board. Then reinforcing the facia to the beams in the roof.
Doing this provides structural support and strength to the home while also placing the patio roof at a lower level to the home's roof. That way, water on the roof flows downward and away from the home and doesn't become trapped between the house roof and the patio cover.
How much does it cost to put a roof over a patio?
The cost of covering your concrete patio will depend on the material you use and the size of your patio. Typically, the cost will range from $1,000 to $10,000.
You can reduce the cost of your installation by doing the work yourself. This will reduce or even eliminate the labor costs, which can sometimes be the majority of the cost.