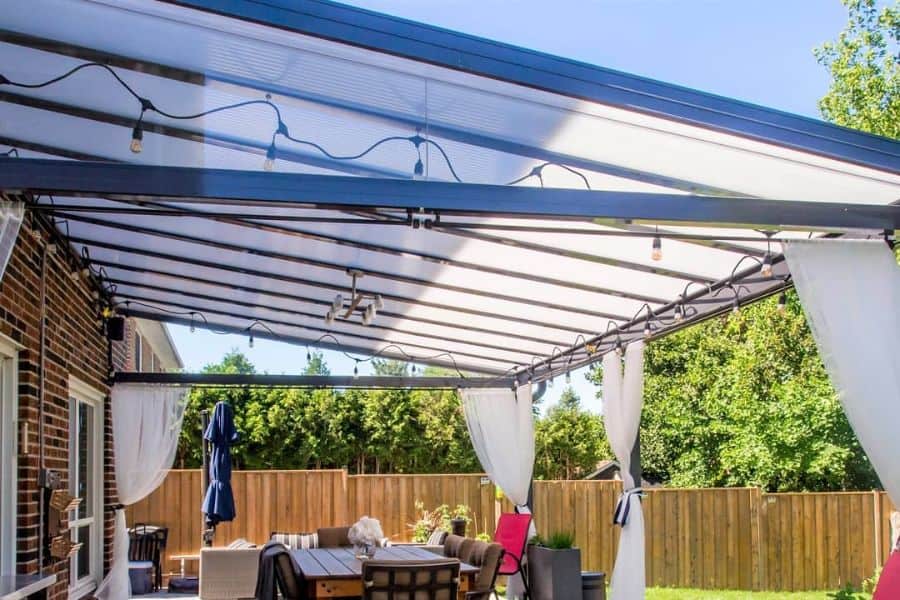 Sitting in the hot summer sun can feel nice. It can also feel unbearably hot. It's not fun to sit down to a nice dinner and find yourself sweating up a storm. That's when you know it's time to take your open concrete patio and turn it into a patio enclosure. Adding a roof means you can enjoy your outdoor kitchen, dinner table, or lounge area in the cool comfort of shade. The only thing you can't do is have a fire pit. Save that for your open yard.
These patio roof ideas will show you how to turn a plain open patio into an impressive covered outdoor space.
1. Modern Electric Awning
Installing a modern electric patio roof canopy can be the perfect way to enjoy your outdoor space without fear of unexpected surges in the weather. You'll have access to sun and shade at the simple touch of a button, all while transforming your archway into a comfortable spot to relax.
Enjoy summer days with a book and never worry about getting caught in a sudden shower – electric patio roofs are waterproof, meaning you an watch raindrops from the comfort of your own home. The freedom that electric awnings provide make them the perfect addition to any patio!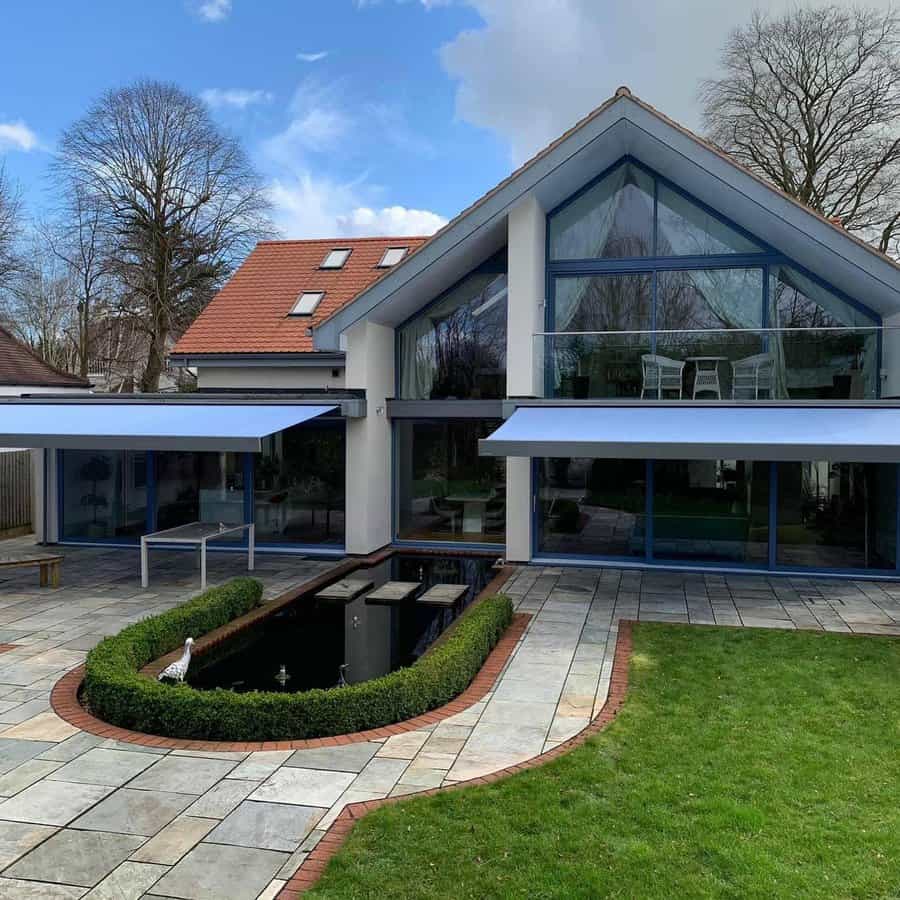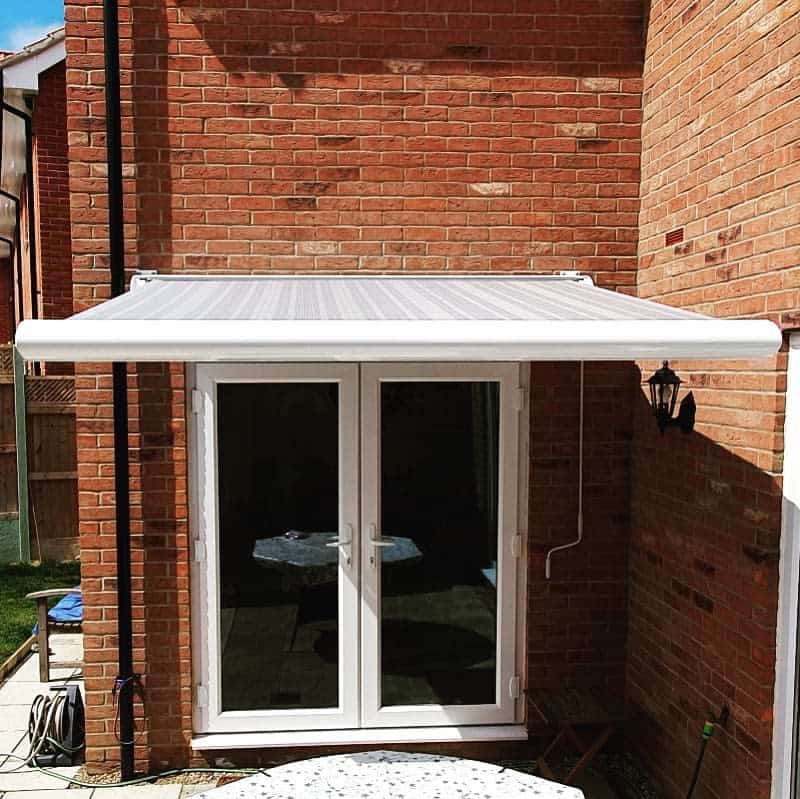 2. Minimalist Pergola
A minimalist pergola with privacy walls makes for a perfect patio roof. With its clean and sleek design, it pairs well with all kinds of other furniture and decor, making it the go-to choice for a modern look.
Not only does it look great, but adding a patio roof like this also creates functional outdoor spaces that are perfect to enjoy year-round. Plus, with only minimal setup needed, you can enjoy this beautiful addition to your home in no time.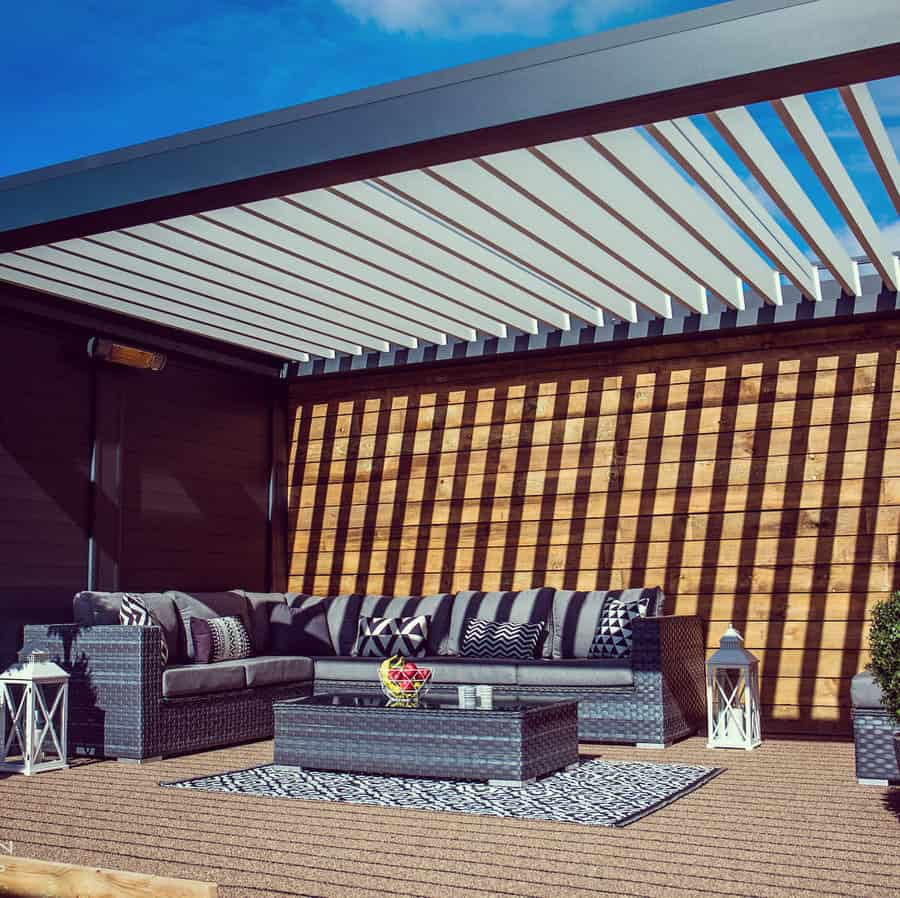 3. Covered Pergola
On a sunny summer day, nothing beats the comfort of a covered patio roof. Keep the sun and heat off your patio space while relaxing in the shade. Whether you choose to install a covered pergola with a transparent roof or fabric covering, you will still get plenty of light access while basking in your covered paradise.
The possibilities are endless when it comes to choosing the look and feel you want for your quality time outdoors – from bright whitewashed woods to modern designs, there is something for everyone. Now all you need to do is sit back and enjoy!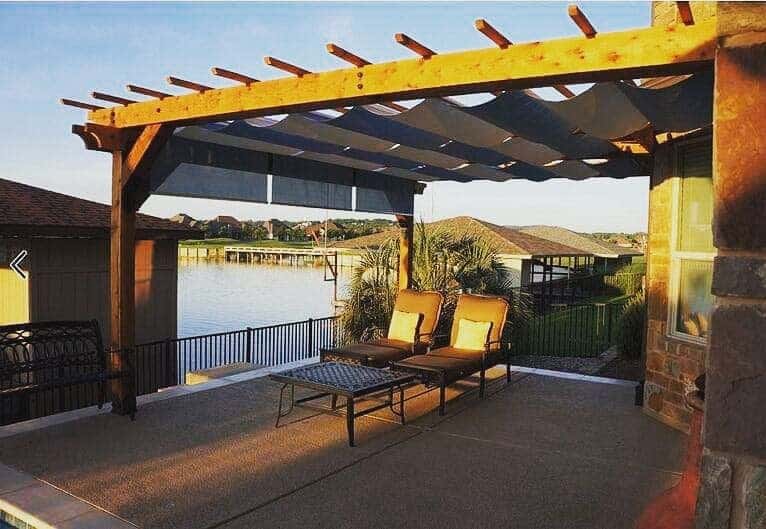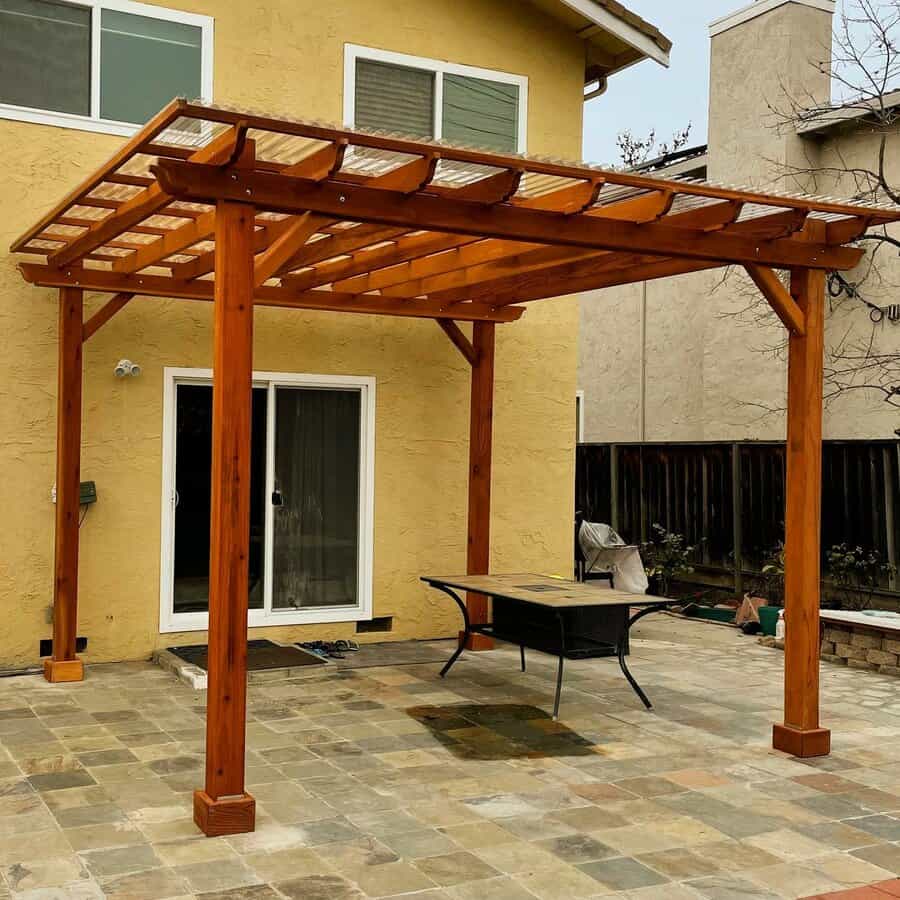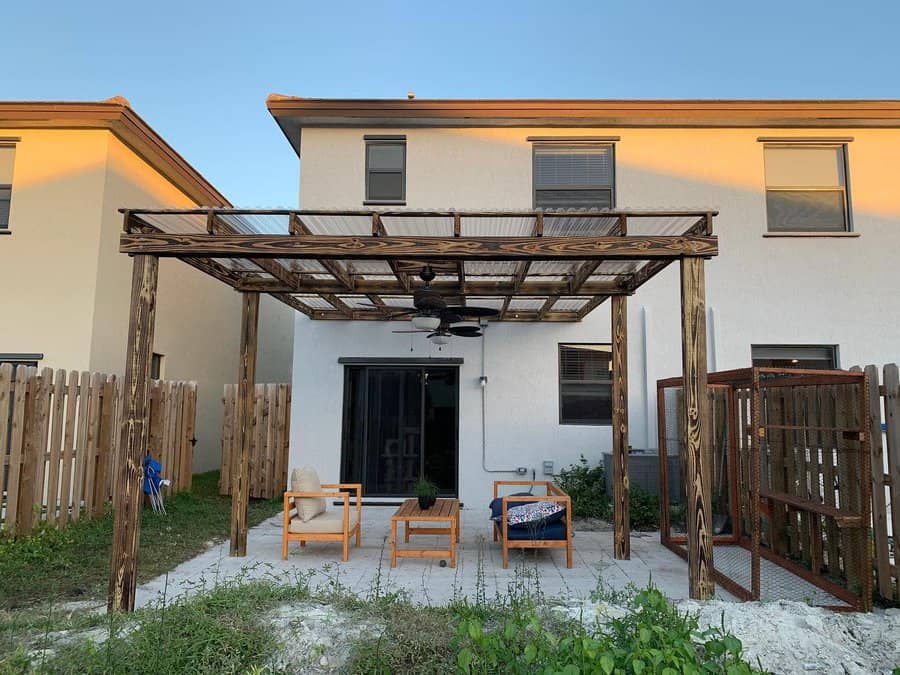 4. Traditional Canopy
A traditional striped canopy is one of the most popular patio roof options, and its low cost makes it an excellent choice for those looking for something that does the job without breaking their budget. It's easy to assemble and can transform your backyard into a place of comfort and refuge.
Whether you're celebrating a special occasion or just looking to relax in the peace and quiet of the outdoors, make sure your patio is ready with a traditional striped canopy!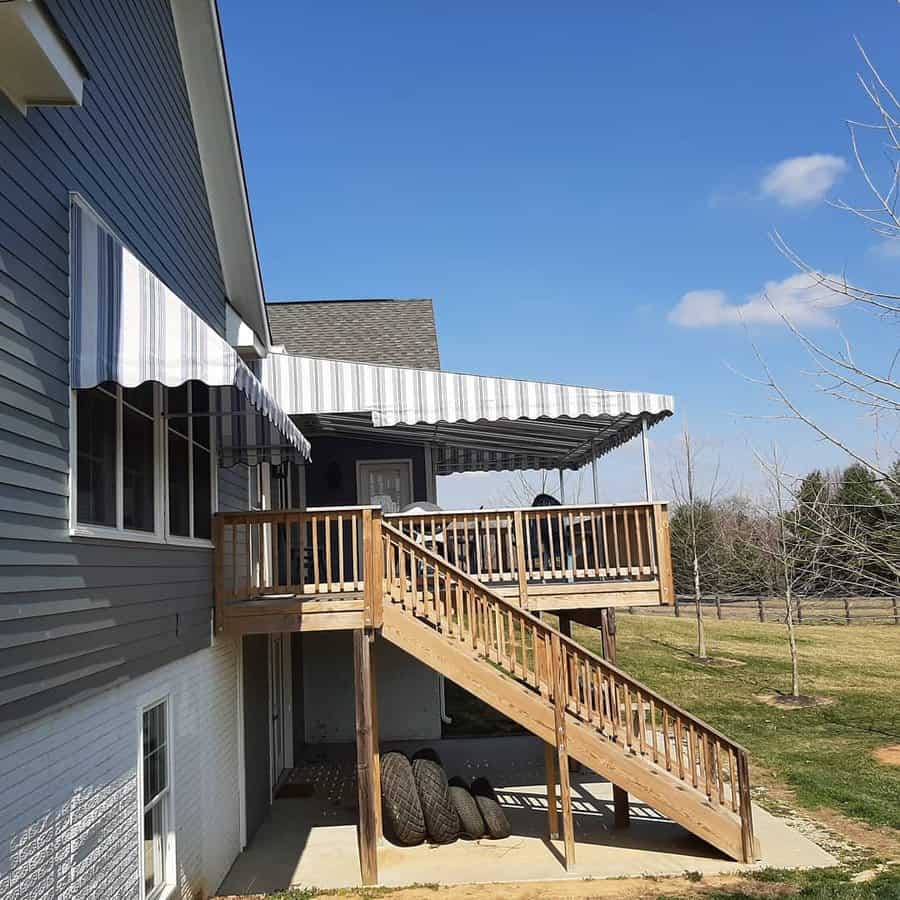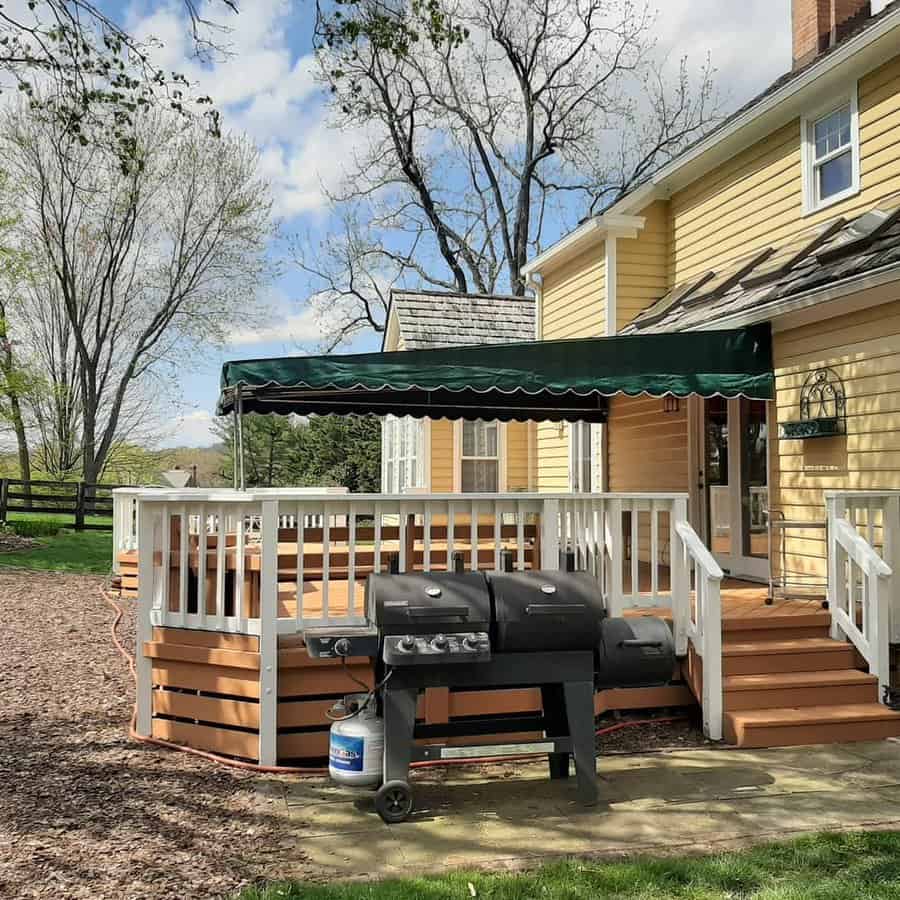 5. Industrial-style With Transparent Roof
Industrial-style roofs with transparent options create an open and airy atmosphere, giving you the direct access to natural light that you crave when relaxing outside, while also providing a modern look for your deck or garden.
Imagine enjoying a cup of tea beneath industrial-style roofing with plenty of natural sunlight streaming through, making all of your outdoor spaces more inviting. With these beautiful industrial-style roofs with transparent choices, you will never want to go back inside.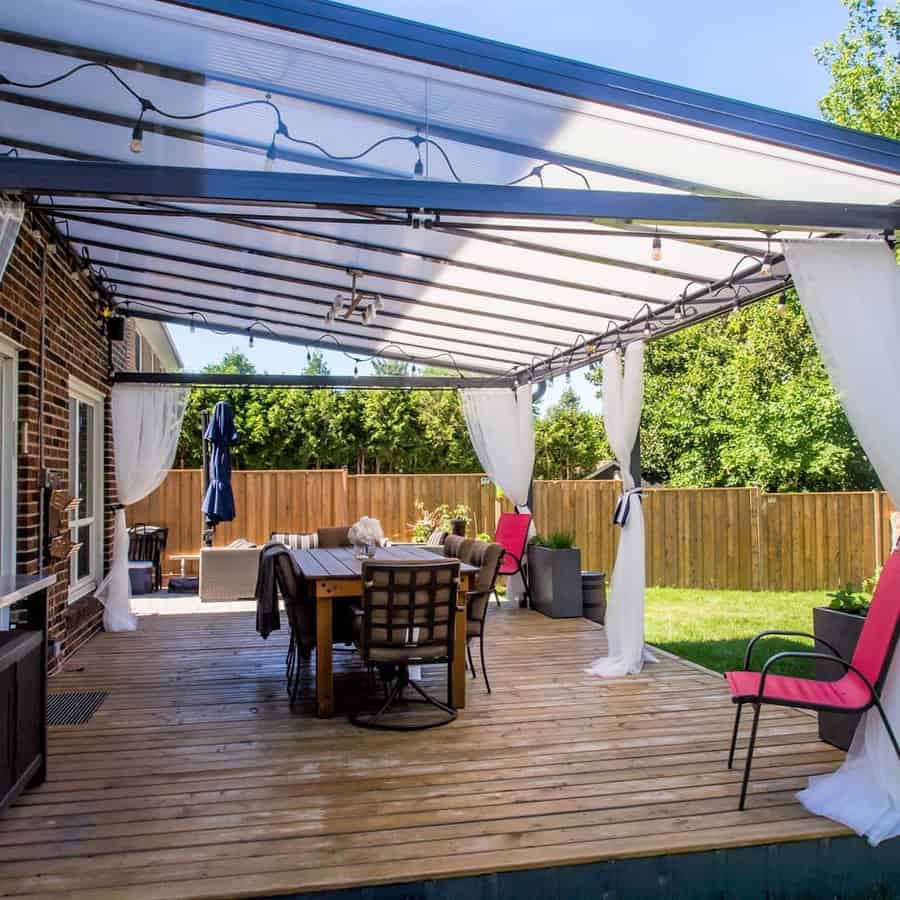 6. Pavilion
Nothing says summer quite like pavilion-style patios with string lights and an outdoor space that seems to stretch on forever. Installing a patio roof allows you to extend your living area beyond the confines of your home, and gives you a place to entertain guests or just relax and enjoy the night air without worrying about the elements.
Not only do pavilion-style roofs create a beautiful visual effect, but they also provide protection from rain and harsh sunlight. Remember to include strings of twinkling lights for those special occasions – creating a unique ambiance with just one simple addition.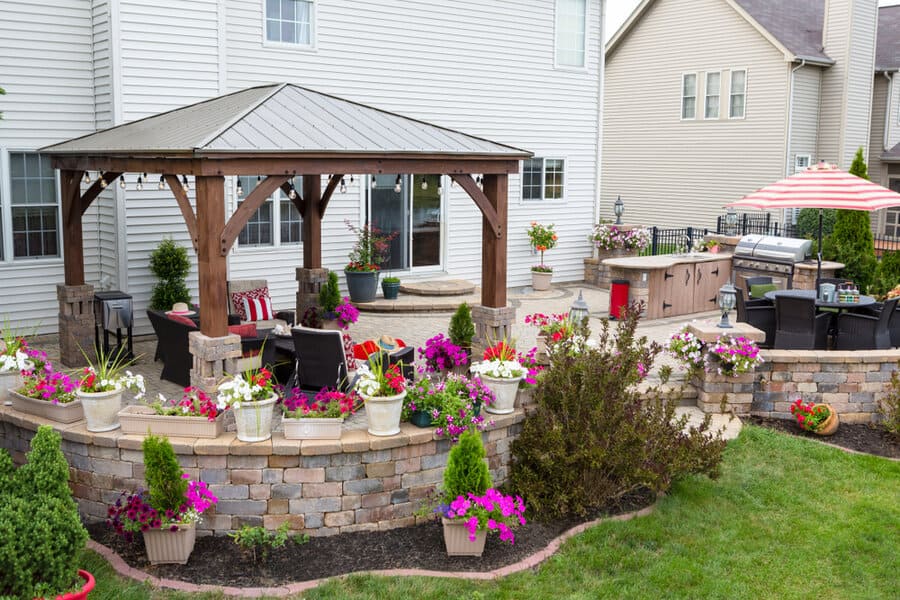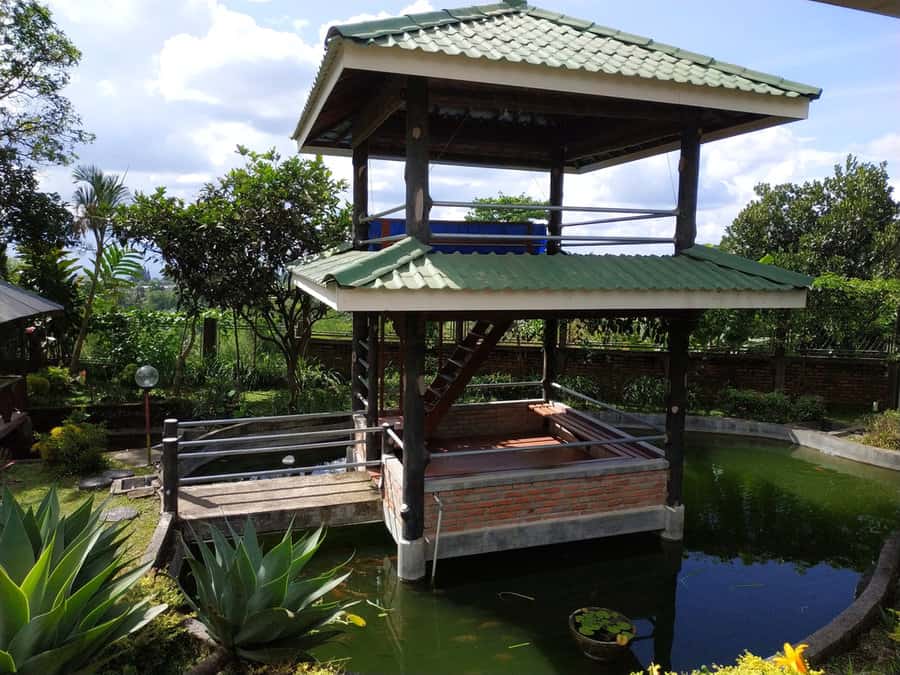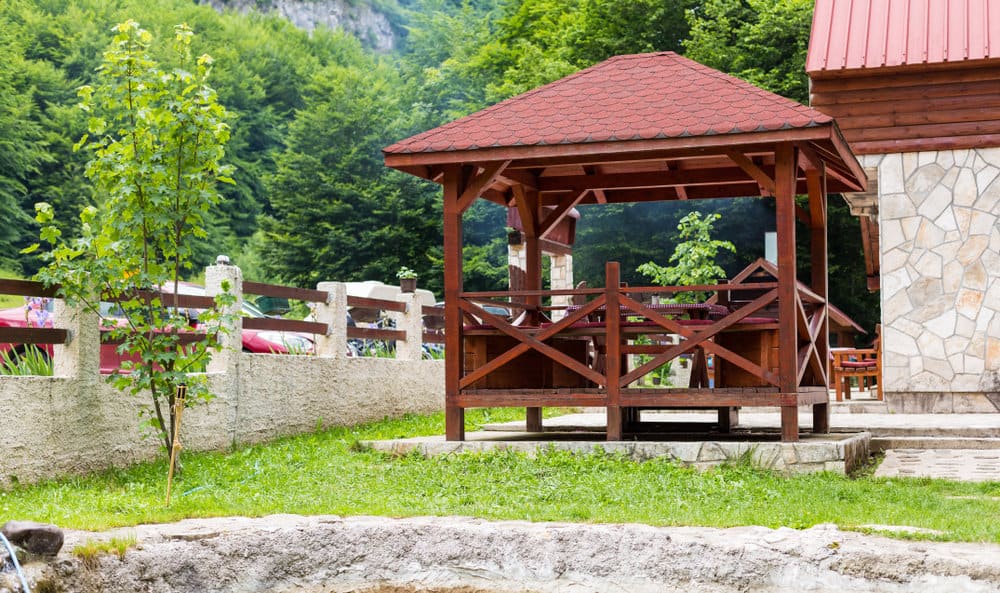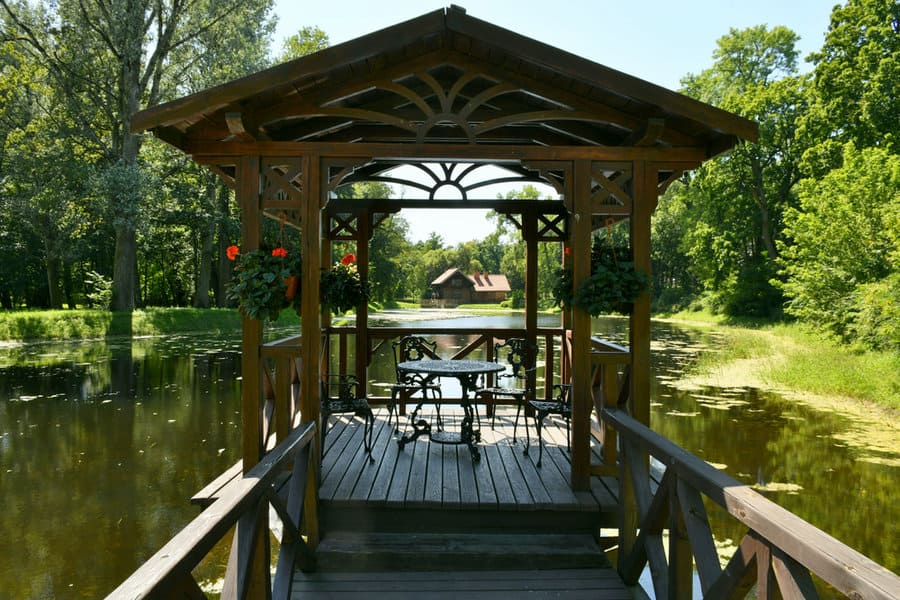 7. Gazebo
A gazebo roof with a privacy screen is the perfect way to add personality and style to your patio. The gazebo roof provides extra protection from weather, sunlight, and pests – giving you the convenience and safety of indoor living in an outdoor setting.
The privacy screen allows for amiable gatherings with family or friends, giving you that extra bit of comfort knowing those moments can be cherished in peace and isolation.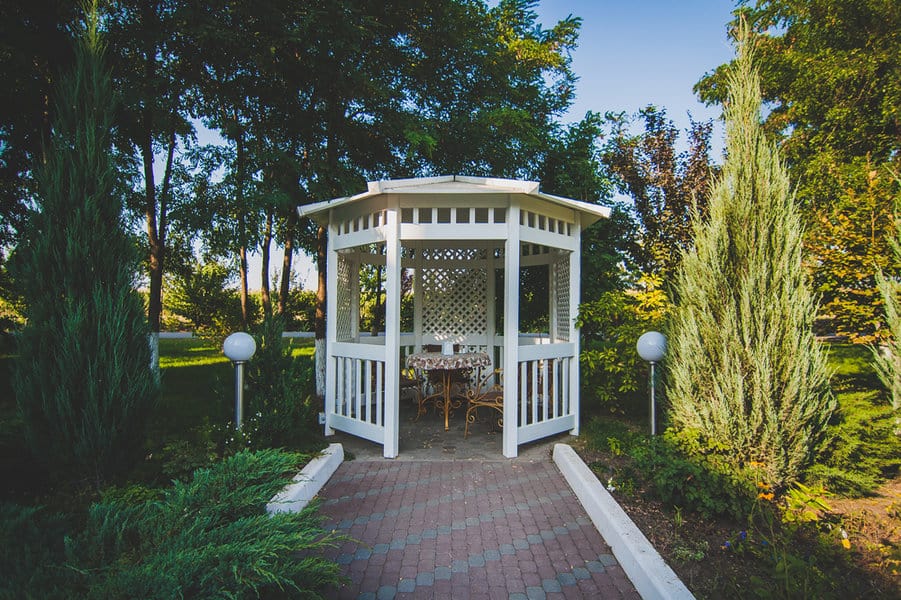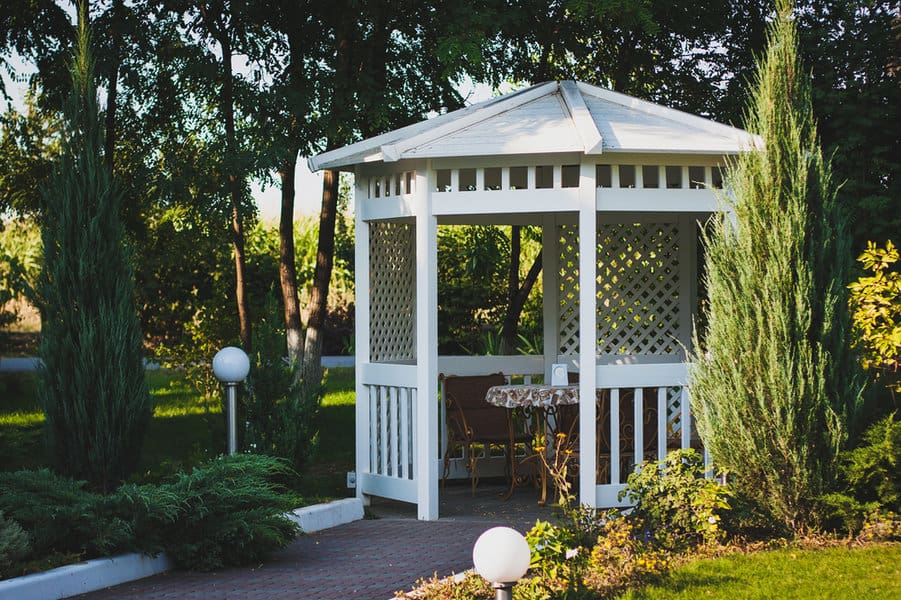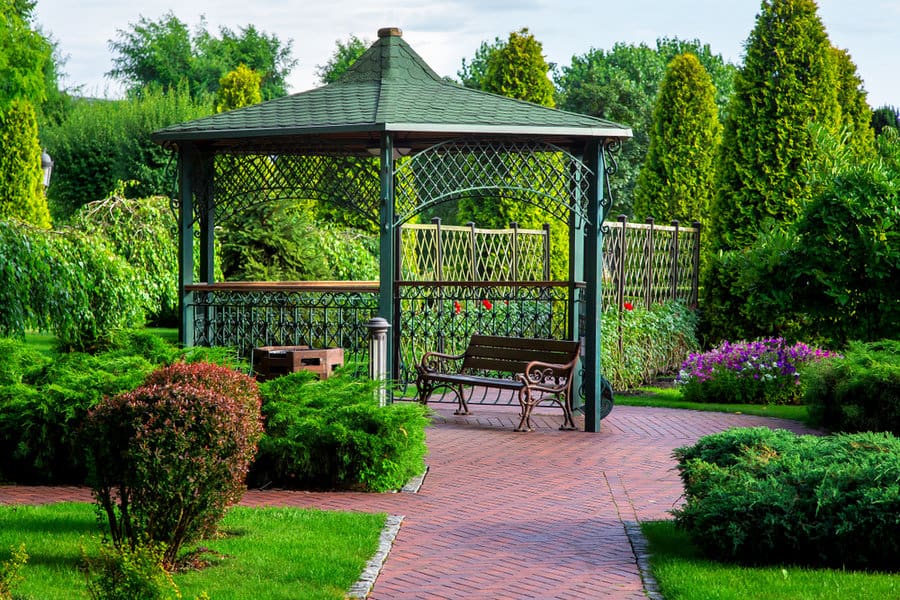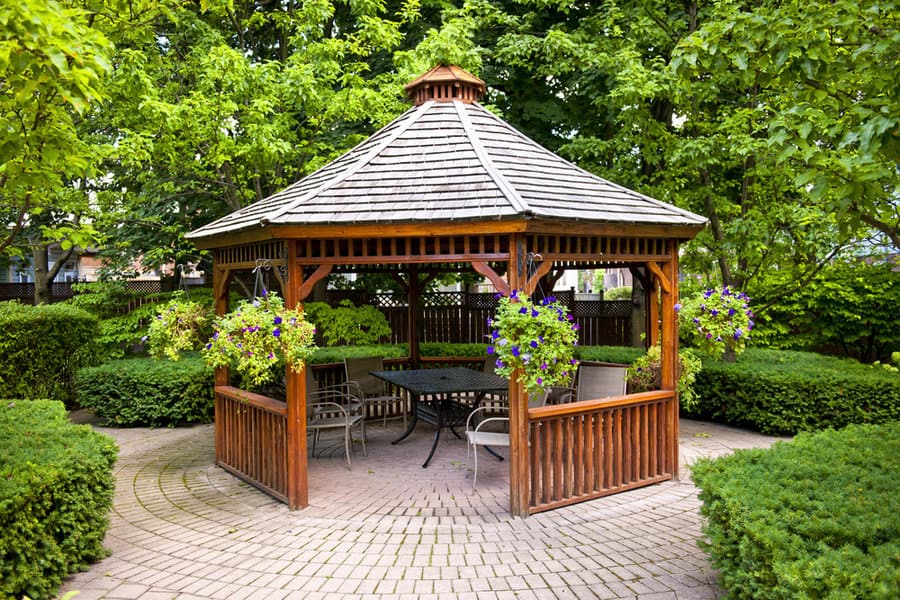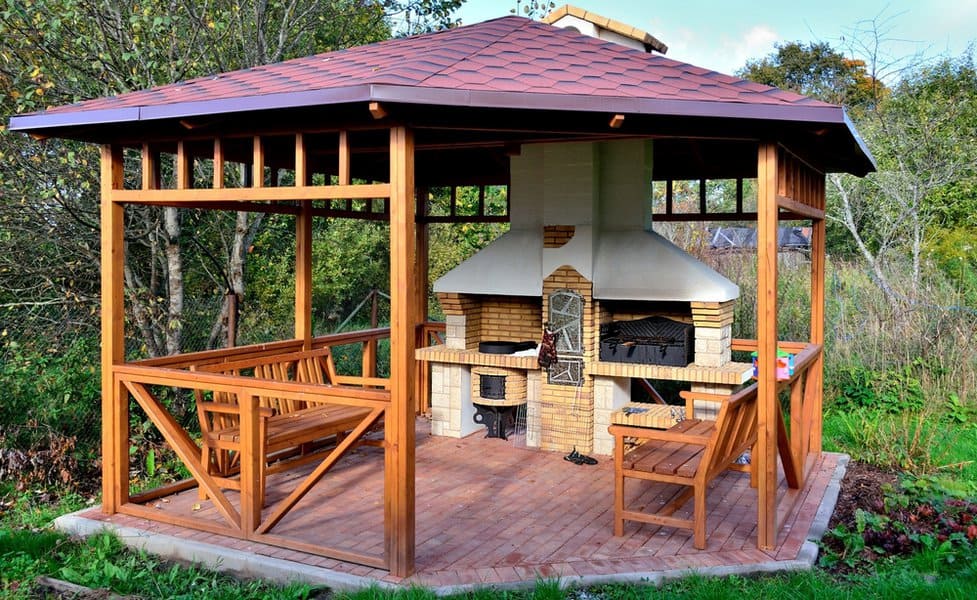 8. Arched Cedar Ceiling
If you're looking for an outdoor patio roof option with a touch of flair, you can't go wrong with one featuring a cedar arched ceiling. Aside from its aesthetic appeal, this type of patio roof has practical advantages as well. It offers protection from the elements while still allowing plenty of fresh air to flow through, creating an airy atmosphere that is perfect for kicking back and enjoying the outdoors.
Whether you use it to relax, entertain friends and family, or both, this patio roof with a cedar arched ceiling will add personality and charm to your backyard.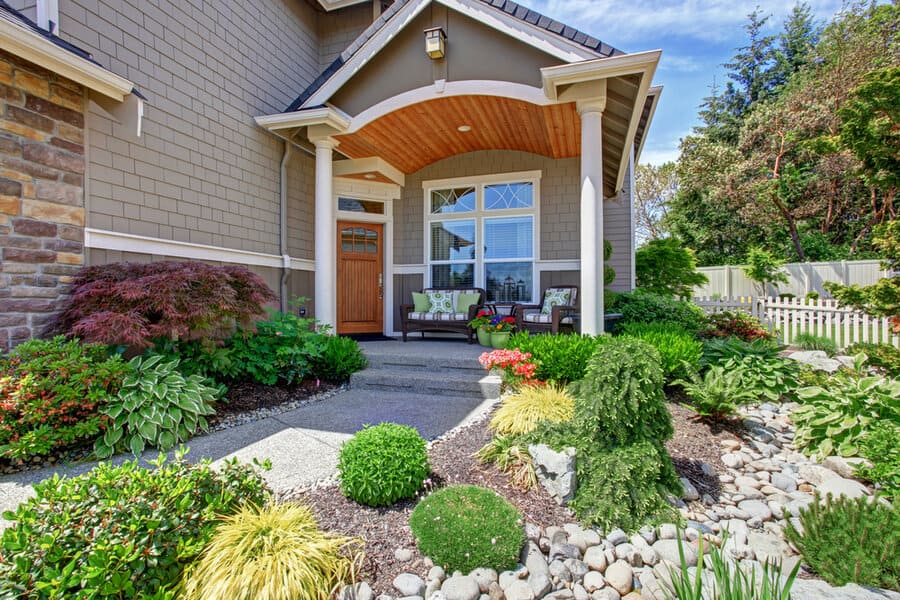 9. All-natural
A patio roof is a great addition to any home, and all-wood construction truly brings a unique touch. With tall standing ceiling beams extending up from the walls, all-wood roofs bring an air of spaciousness, as if the room itself is almost drawing you in.
Whether you are looking for sunny days to lay out reading your favorite book, or rainy evenings for lounging with friends beneath the protection of your all-wood patio roof, it can provide all the necessary requirements for years to come.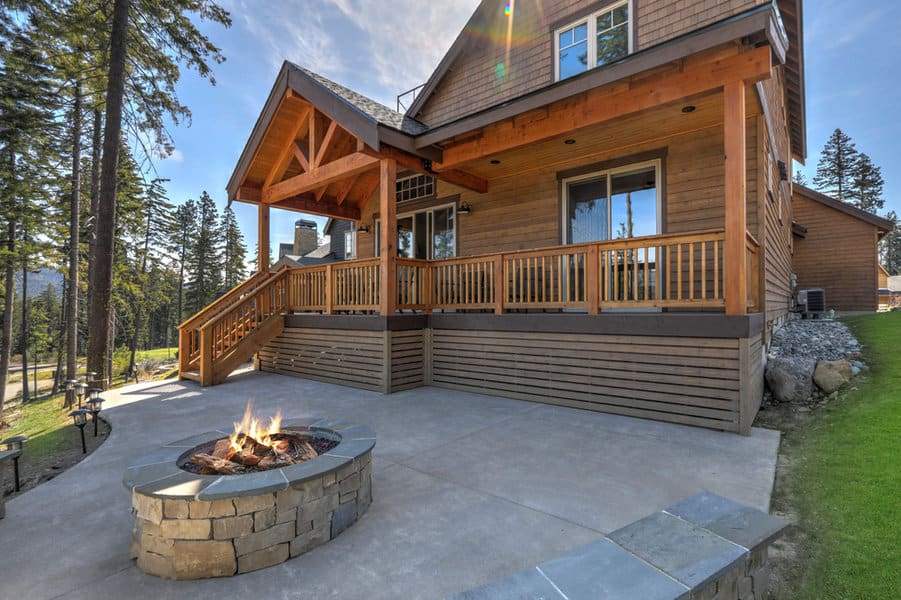 10. Glasshouse
A glasshouse patio roof allows you to create a lush and inviting outdoor space by surrounding the glass with beautiful flowering plants. Blooms of every hue and texture burst from the edges, reflecting their dazzling colors off the glass and creating a paradise of natural beauty.
Not only does the glasshouse patio roof provide visual enchantment – it can also be enjoyed physically! With this awesome feature, you can relax in your outdoor oasis knowing the glass will keep out wind, rain, and other elements, providing an intimate and cozy atmosphere all year round.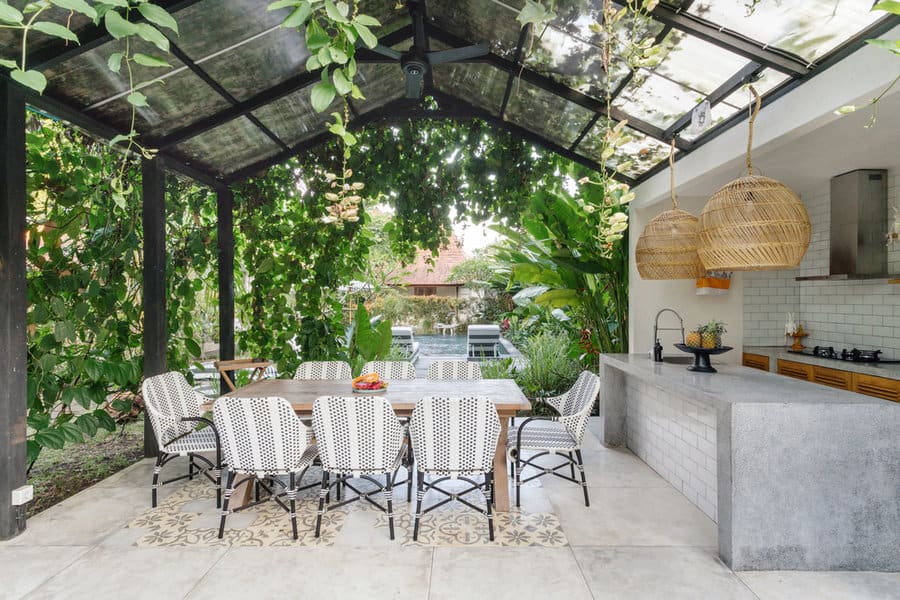 11. Tensile Roof
Add some modern flair to your outdoor space with a tensile roof patio! Whether you're looking for a chic, contemporary aesthetic or a breezy beach style, tensile roofs provide the perfect way to customize and accentuate your existing patio.
Instead of going for traditional wood, steel, or tile like most roofs, tensile materials are light yet durable which provides ample assistance in upholding your structure against the elements while keeping it looking fresh and modern.
With tensile patios, you'll have a go-to spot to relax and hang out with family and friends in no time!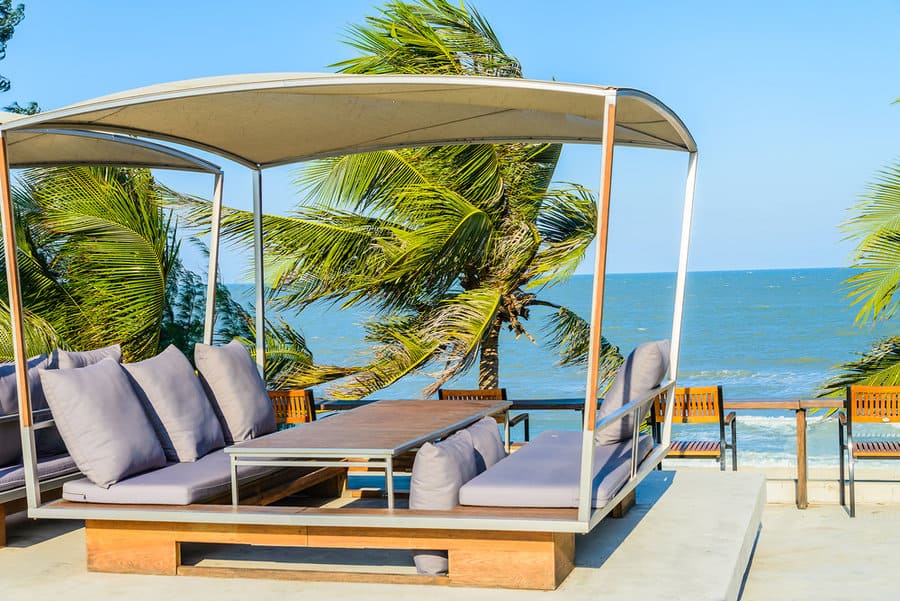 12. Gazebo With Curtains
Nothing quite captures the coastal vibe like a gazebo roof with flowing curtains. The gentle and breezy feeling of the soft fabric moving in the breeze, paired with a stunning ocean view and sandy beaches stretching to eternity is sure to be an unbeatable outdoor experience.
Whether you are just looking for a patch of shade or want to create that perfect seaside atmosphere, a gazebo roof will certainly help you achieve your dream patio escape.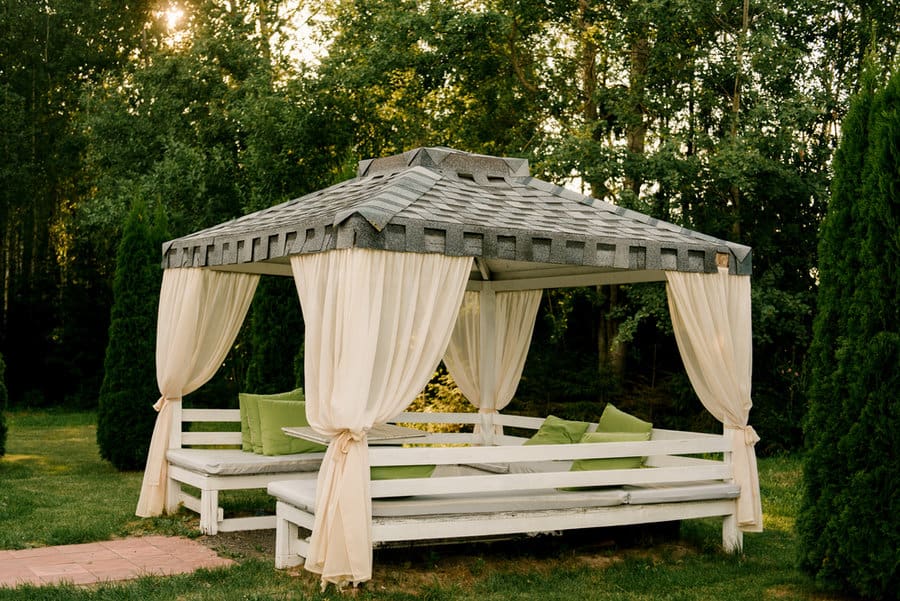 13. Full Shade
A patio roof might seem like something of a luxury, but it can be invaluable for homes in high temperatures and high humidity. A high-ceiling full-shade patio roof can help keep cool air circulating on hot summer days, while also blocking out direct UV rays, making it ideal for entertaining or relaxing.
You could even try converting your car garage with seating into an airy retreat by adding a patio roof to provide the perfect cover from the elements. This solution allows you to not only save some money on traditional AC units but also provides an inviting atmosphere for family and friends to chill together.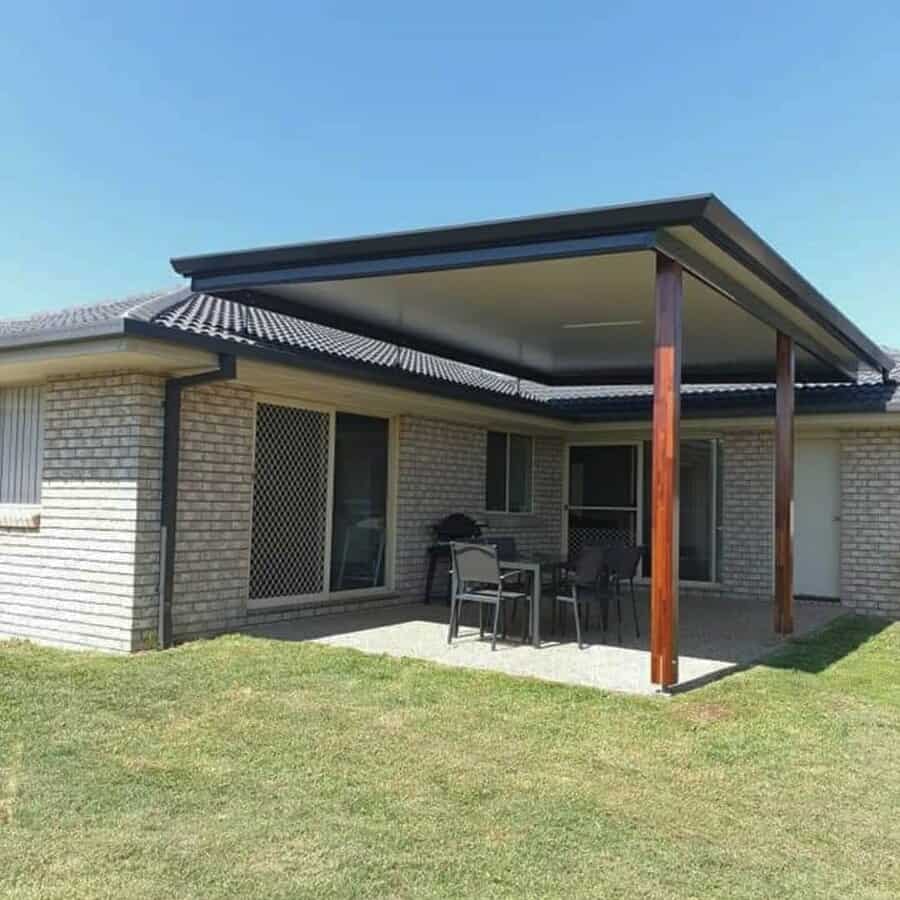 14. Maple Roof With Ceiling Fan
There's nothing quite like sitting out on the patio with a cool drink and some good company on a lazy summer afternoon. With a maple roof, you can expand your outdoor oasis even further. Not only do maple roofs offer the perfect shade from the scorching sun, but they also come complete with a ceiling fan to circulate the air and keep you cool on those sweltering summer days.
So when entertaining friends or having an intimate evening with your significant other, maple roofs with ceiling fans give you just what you need to enjoy every second of your precious free time!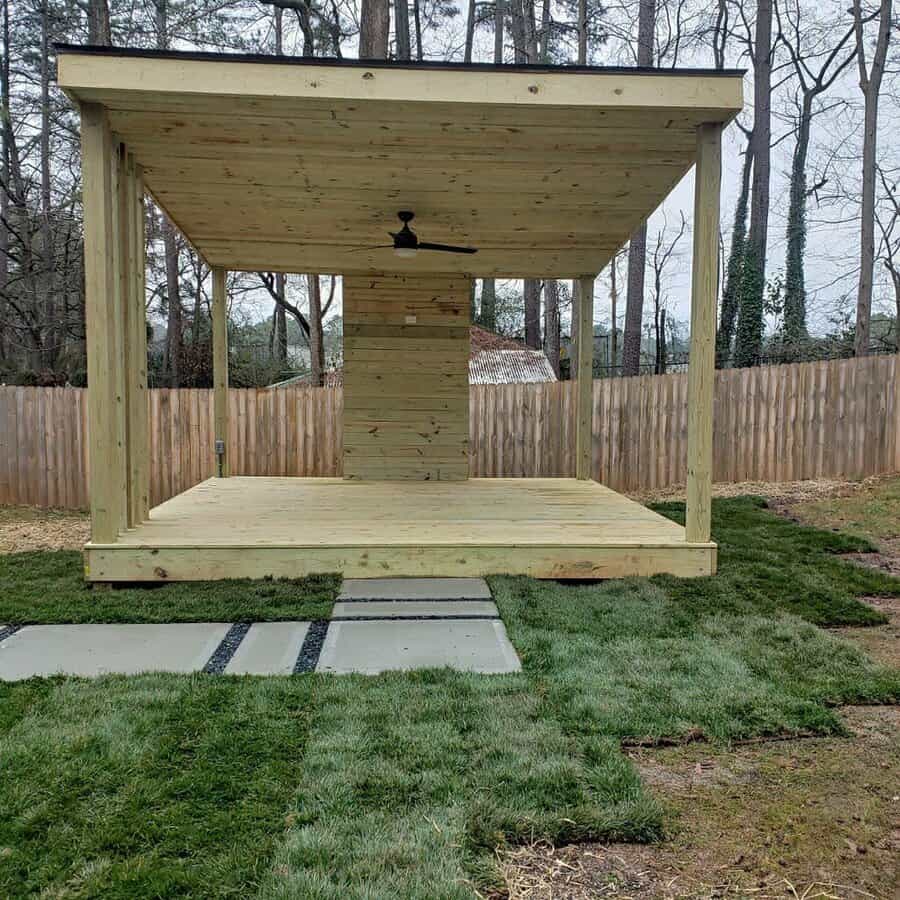 15. Up & Down Pergola
Spruce up your patio with an up-and-down pergola! This unique style of the roof adds a whole new dimension and layering to your outdoor space by having different levels of shade. Sitting on the top layer provides a greater challenge from the sun's blazing rays, while the lower level offers sun-filled exposure for any relaxers in the house.
Not to mention adding that stylish look to your home; up and down pergolas are the perfect way to add protection and character to your patio without draining your pocketbook.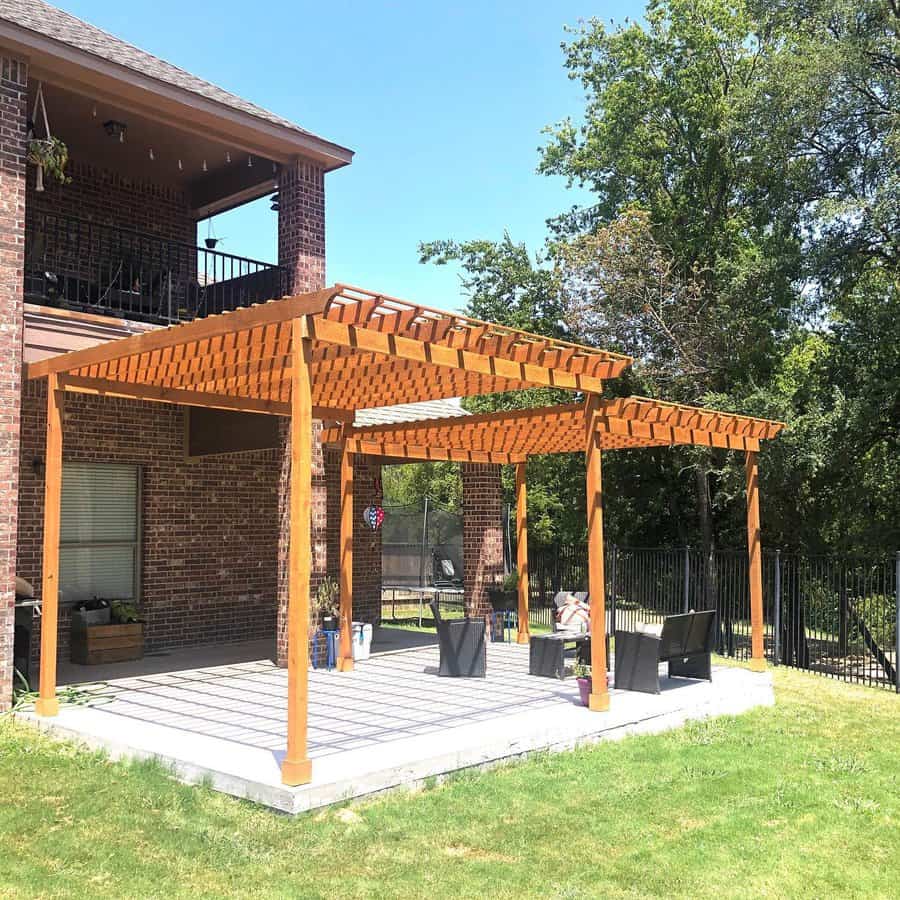 16. Pergola With Intersecting Rafters
Is your patio in need of a facelift? A stylish pergola with intersecting rafters can provide the perfect makeover for your outdoor decor. A pergola serves many purposes: it not only adds character and charm to your space but is also an effective way to offer more shade in the summertime!
When sunlight interacts with the pergola's rafters, a mesmerizing shadow play is created that amplifies its beauty. As such, it is a great way to transform a dull, bare patio into a chic oasis.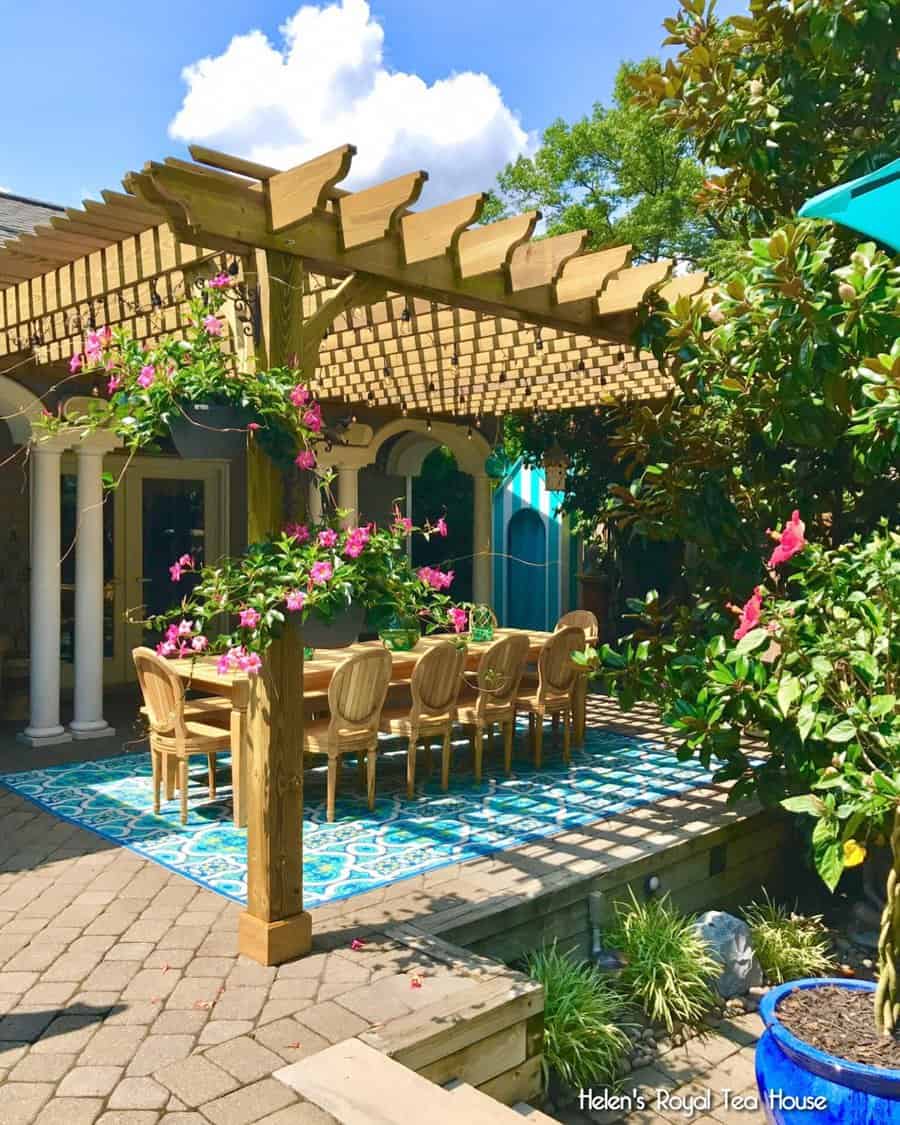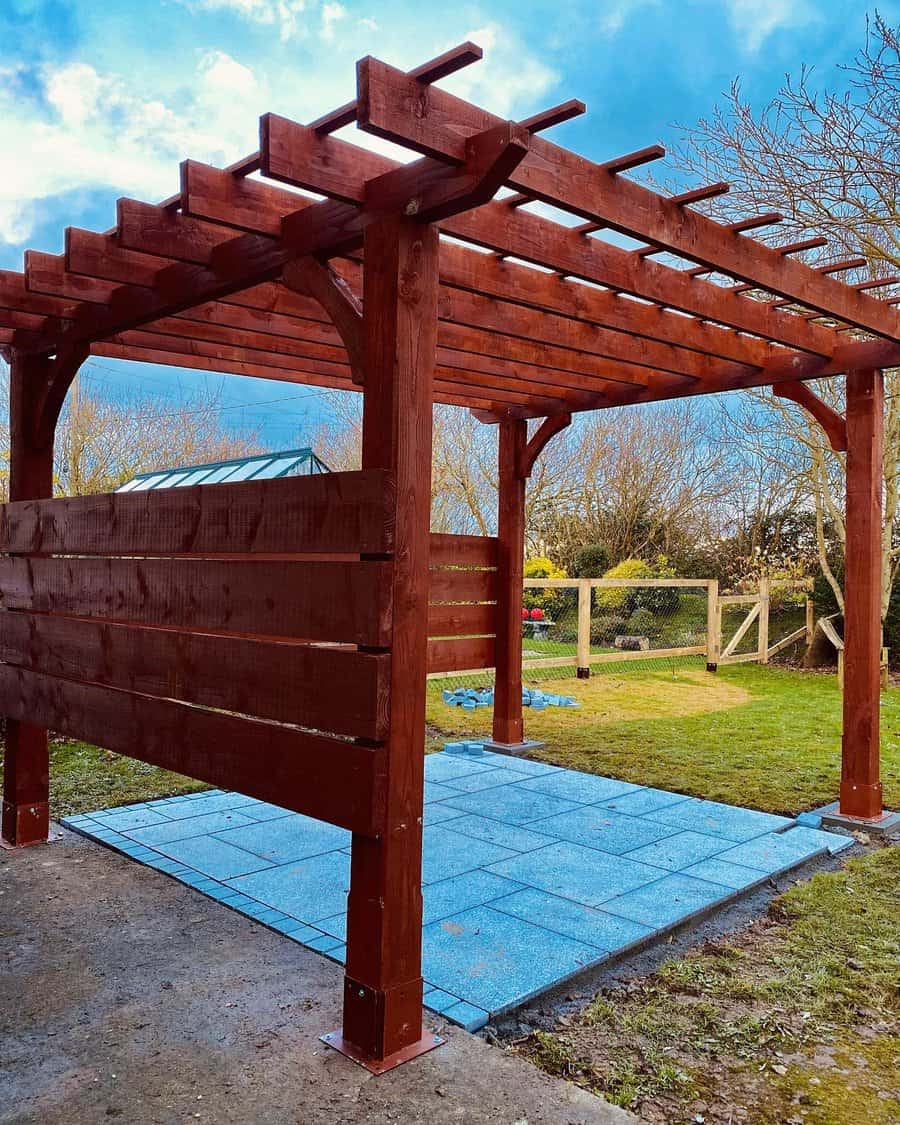 17. Fully Covered Roof With Beams
Outfitting your patio with covered roof beams is a great way to create a rustic and inviting atmosphere for any gathering. Not only will you be able to enjoy the covered area in even the hottest summer months, but the timelessly classic covered roof can stand up against all kinds of weather, from sun and rain to snow and wind.
With high-quality materials that last for years, installing a covered patio roof brings both stylishness and practicality to your outdoor space. Enjoy a space that's both functional and beautifully crafted with covered roof beams.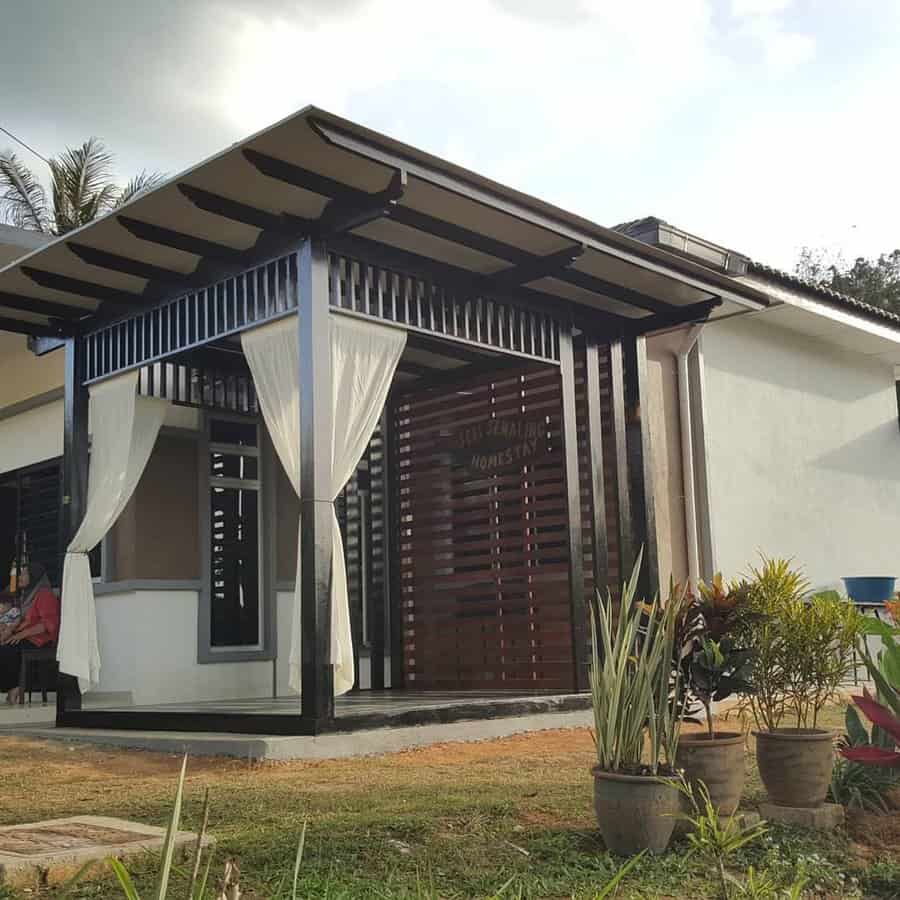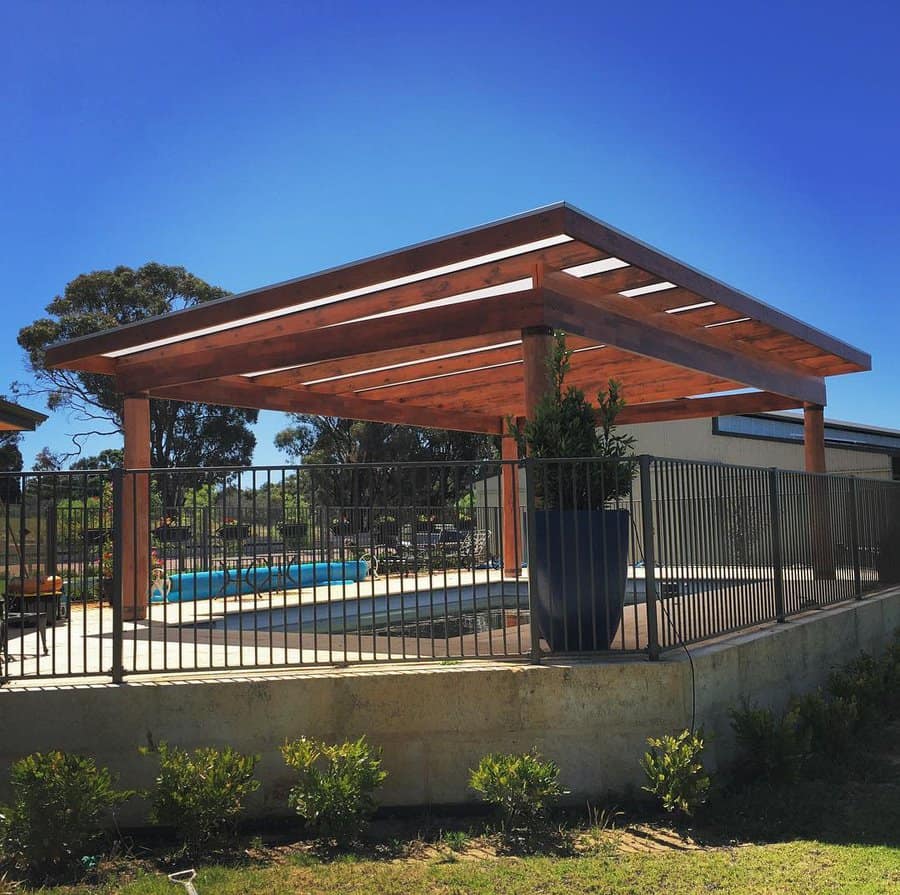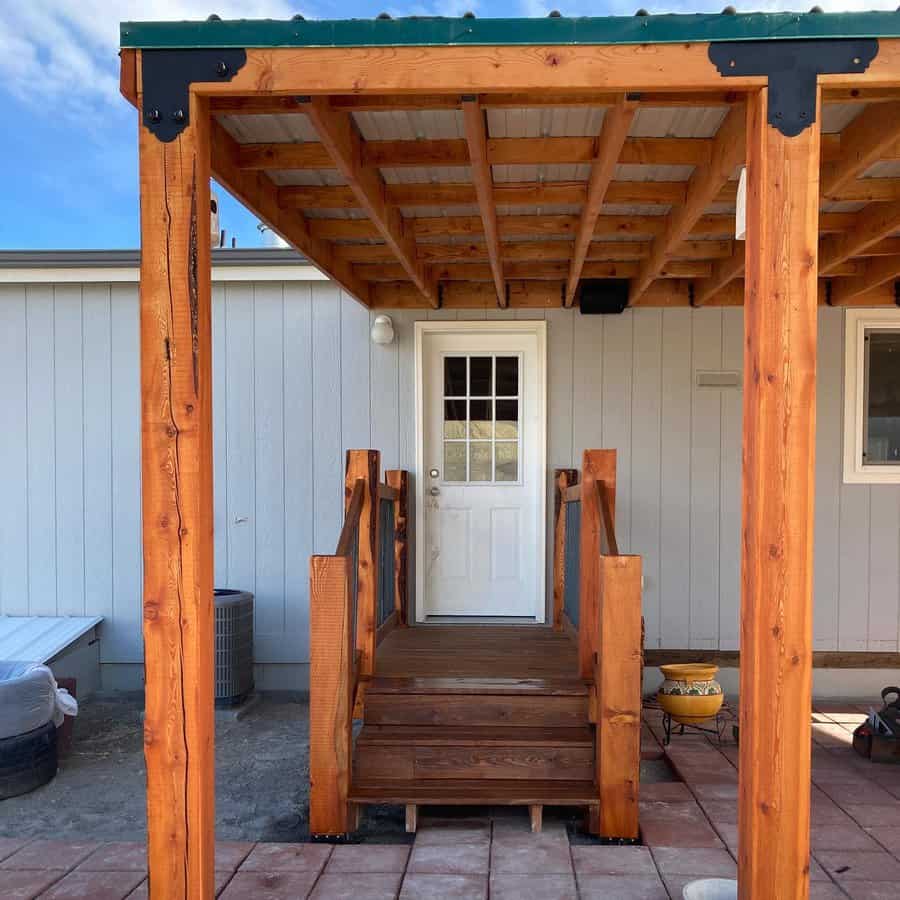 18. Insulated Roof
When your garden patio needs some extra protection from the elements, insulated roofing can provide just that. Imagine a fully-covered patio roof with its insulated design providing maximum shade for hot summer days and keeping insulated during cold winter months – all without cutting away too much sunlight!
An insulated roof is also great for defending against rain and other types of weather that may cause damage to your outdoor space. It not only looks amazing but also helps you enjoy your garden space year-round, no matter the weather!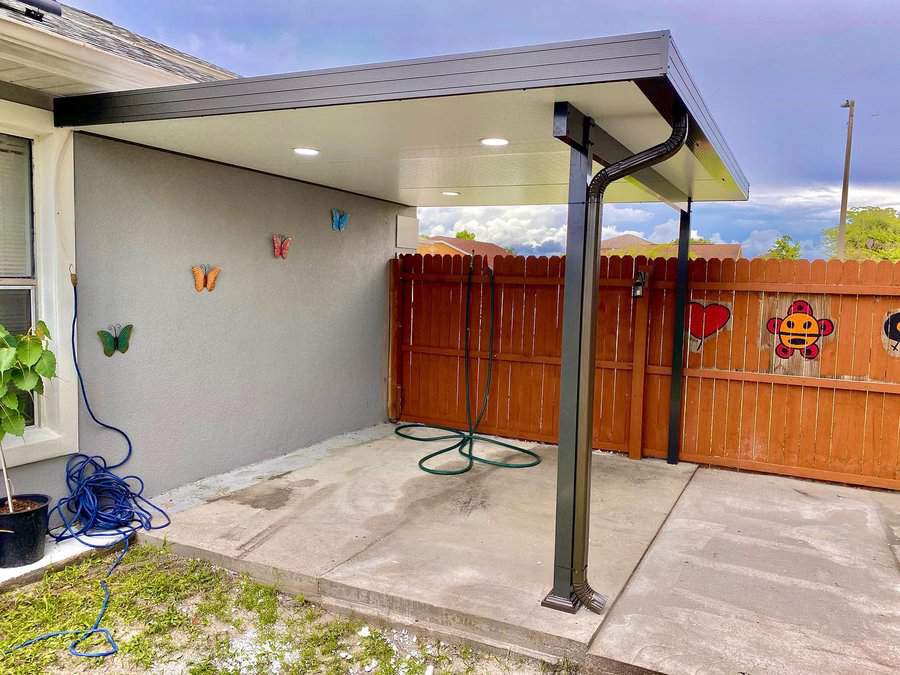 19. Slanted Porch Roof
There's nothing quite like the look of a slanted porch roof atop a traditional American home. Picture white stucco walls, brick railings running along the sides, and stylish string lights draped over the slanted porch roof.
A slanted patio roof can accommodate both style and function, providing shade when needed, protection from rain and, yes, a beautiful design element all rolled into one.
Whether you're looking to enhance an existing patio roof or start anew with something fresh and unique, slanted roofs provide the perfect backdrop for outdoor leisure activities.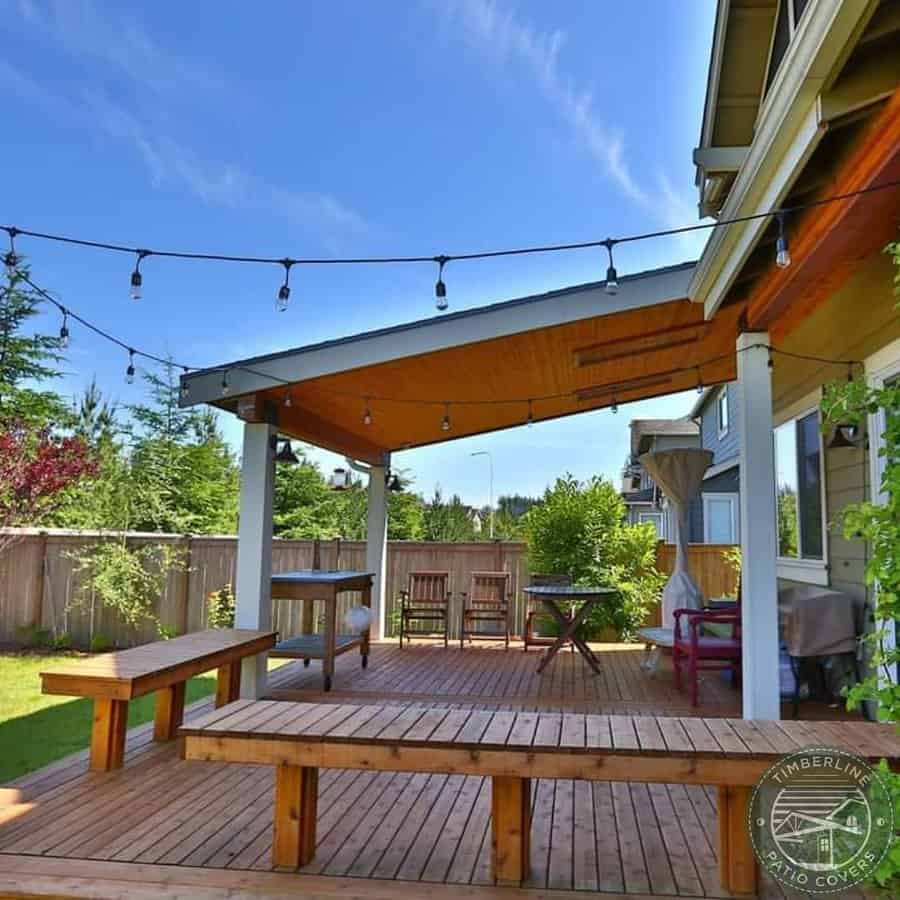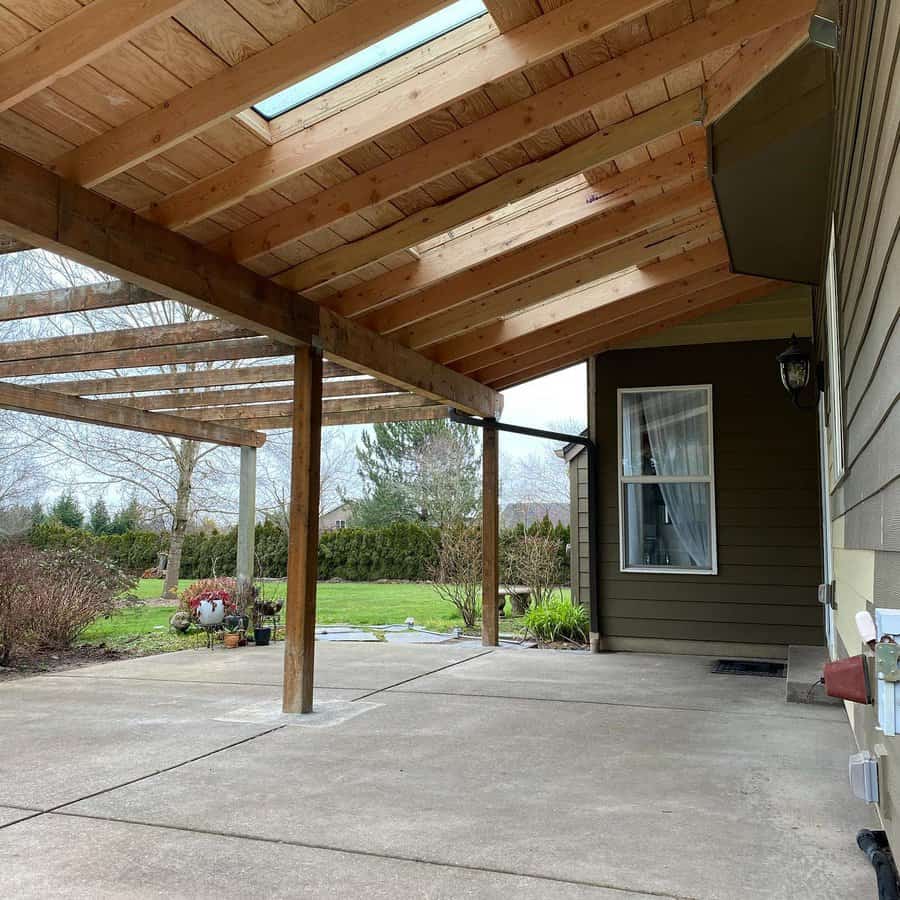 20. Bungalow Roof
Adding a bungalow roof to your patio is the perfect way to bring traditional charm and character to any outdoor space. Not only do these roofs offer partial protection from the elements, but they also manage to be surprisingly airy.
With very open and airy features, you can still enjoy plenty of light while taking advantage of the extra shading. Whether you want a permanent or retractable design, adding a patio roof can be an easy way to transform your bungalow into a stylish and inviting recreation area.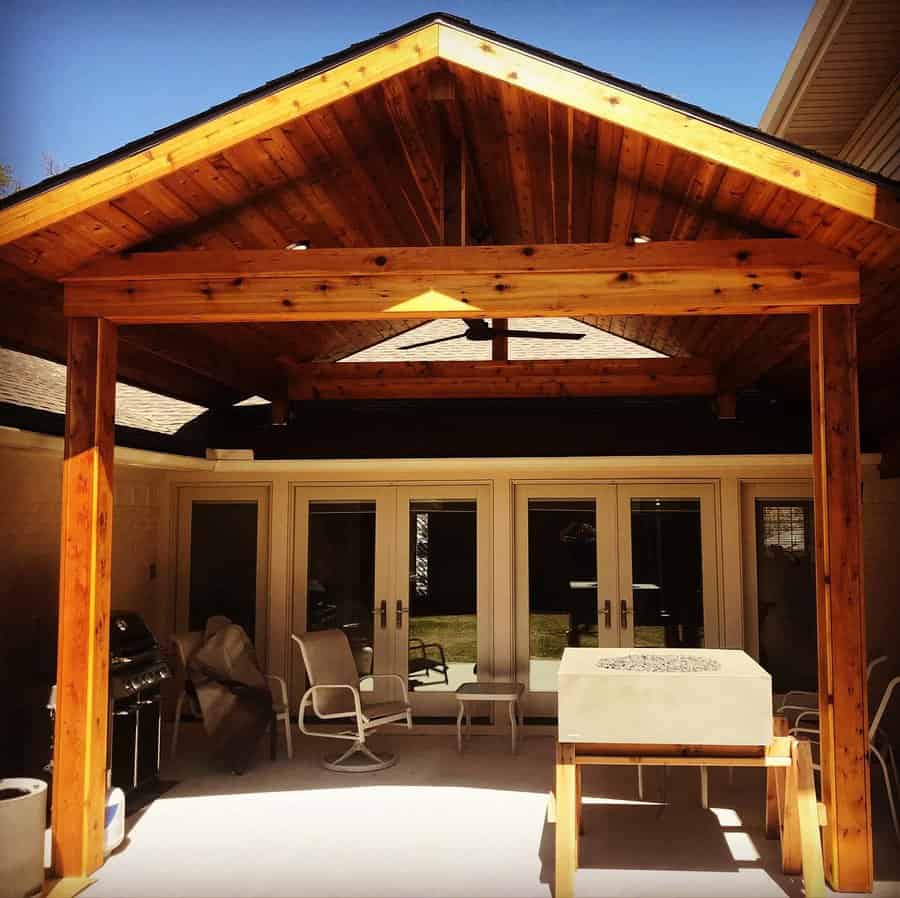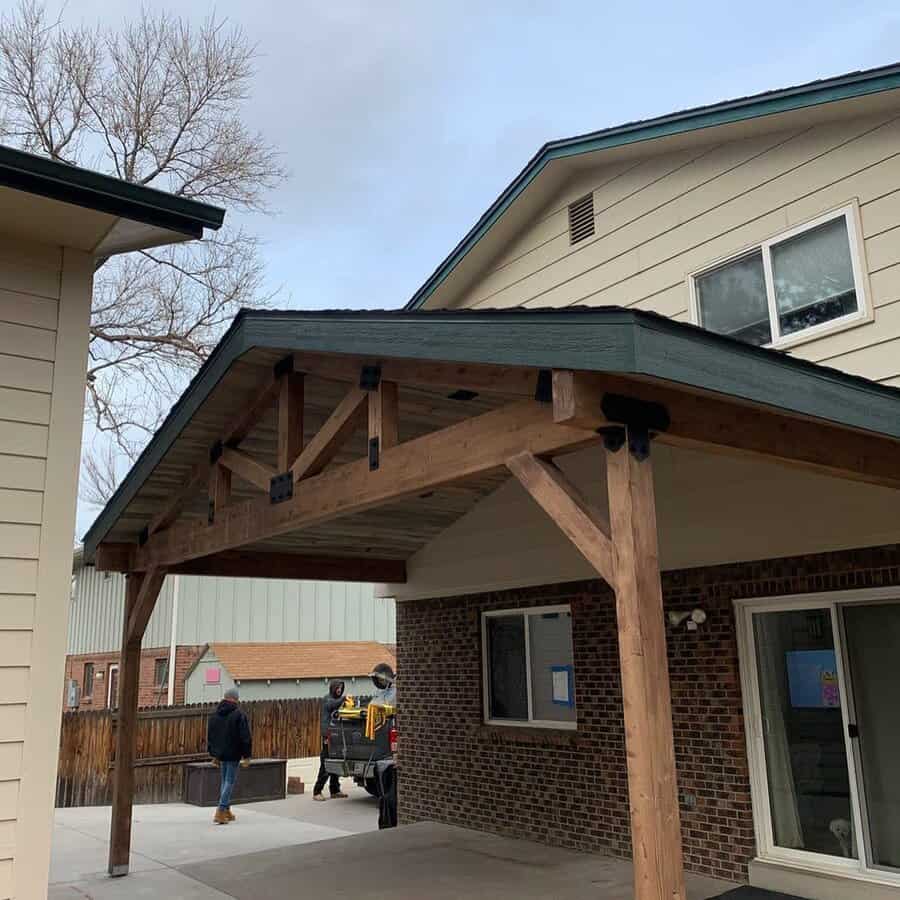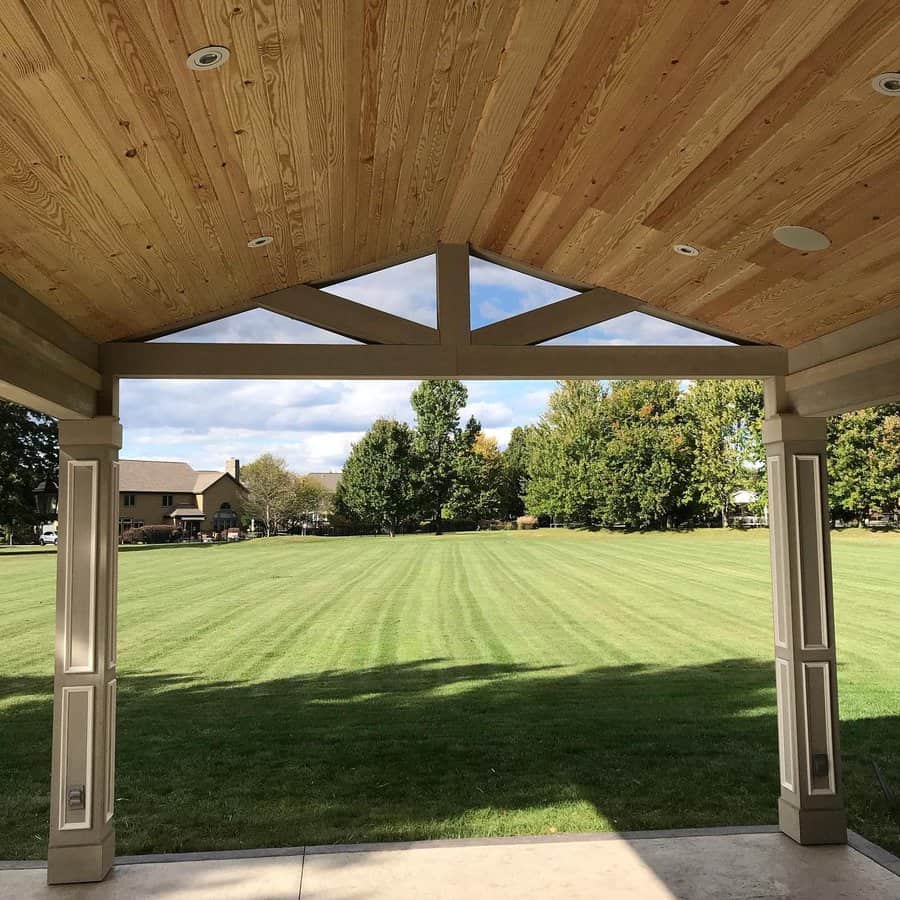 21. Patio Roof With Poles
Imagine a patio roof with poles that can be switched up to suit all of your entertaining needs. Whether you prefer complete shelter from the elements during the patio season or simply need some shade during summer, this patio roof provides fantastic versatility.
It adds an element of charm and luxury to your outdoor space while also offering protection when needed, whatever the occasion! Set it up for a family gathering, laze away with a book under its cover on a hot day, or keep friends out of the rain – with this patio roof, no matter what your al fresco dreams entail, they can become reality.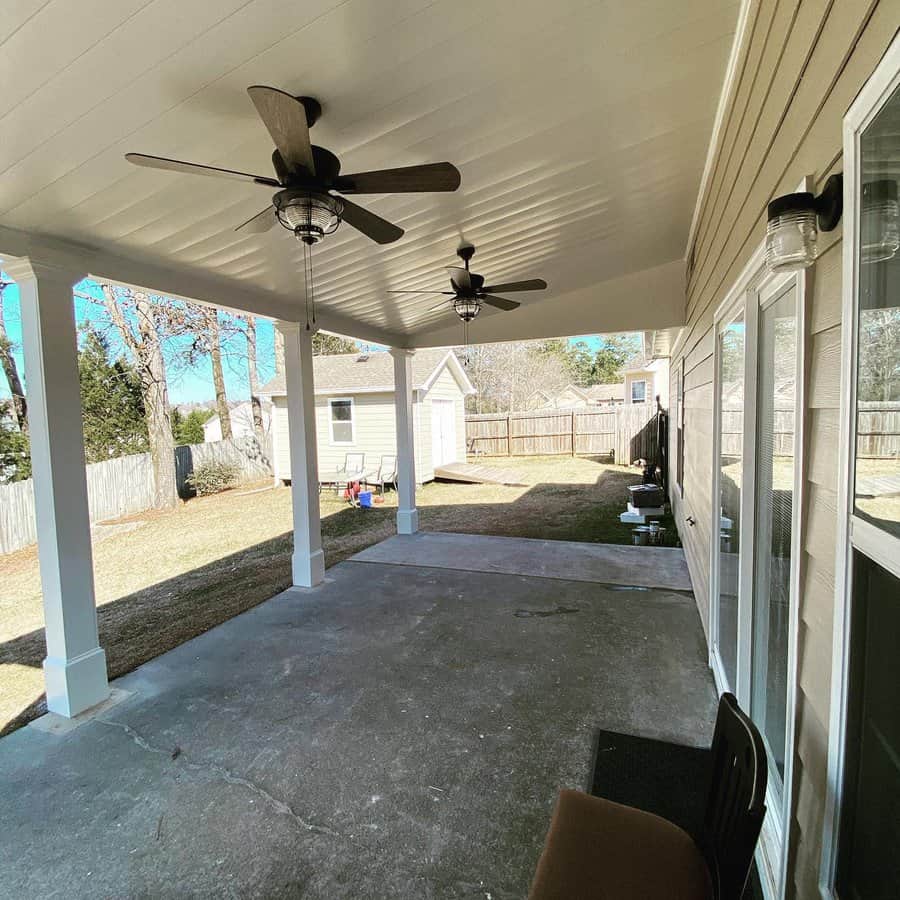 FAQs
What is the cheapest way to cover a patio?
The cheapest way to cover a patio is with a sail shade. It's affordable because it's a piece of fabric with hooks. The next most affordable patio cover is a wood frame to which you attach translucent sheets.
Do patios have a roof?
Patios do not typically come with a roof. They are just a concrete slab that's a part of the home's foundation that extends out from the side of the house. You can easily add a roof to your patio after the home is built if you decide you want one.
What roof is best for a patio?
Wood tends to look the most appealing thanks to its attractive aesthetics. Metal is durable and can give your patio a modern feel. Vinyl is a good option for those who want a low-maintenance option.