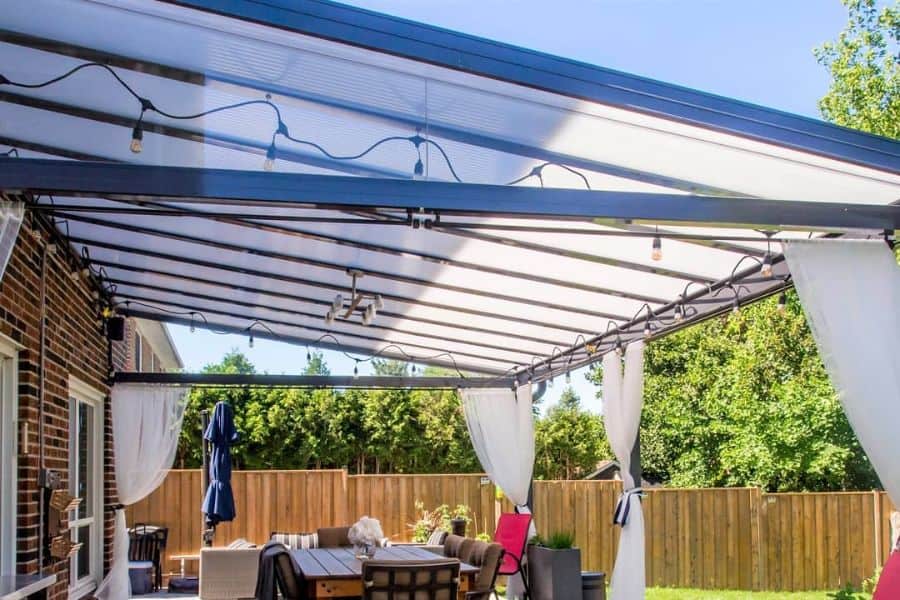 Sitting in the hot summer sun can feel nice. It can also feel unbearably hot. It's not fun to sit down to a nice dinner and find yourself sweating up a storm. That's when you know it's time to take your open concrete patio and turn it into a patio enclosure. Adding a roof means you can enjoy your outdoor kitchen, dinner table, or lounge area in the cool comfort of shade. The only thing you can't do is have a fire pit. Save that for your open yard.
These patio roof ideas will show you how to turn a plain open patio into an impressive covered outdoor space.
1. Awnings
Instead of building an entire structure on the side of your house, you could simply add a roof extension. There are a few options, such as a shade sail, shade cloth, or retractable awning. These fabric coverings can cover a surprisingly large square footage.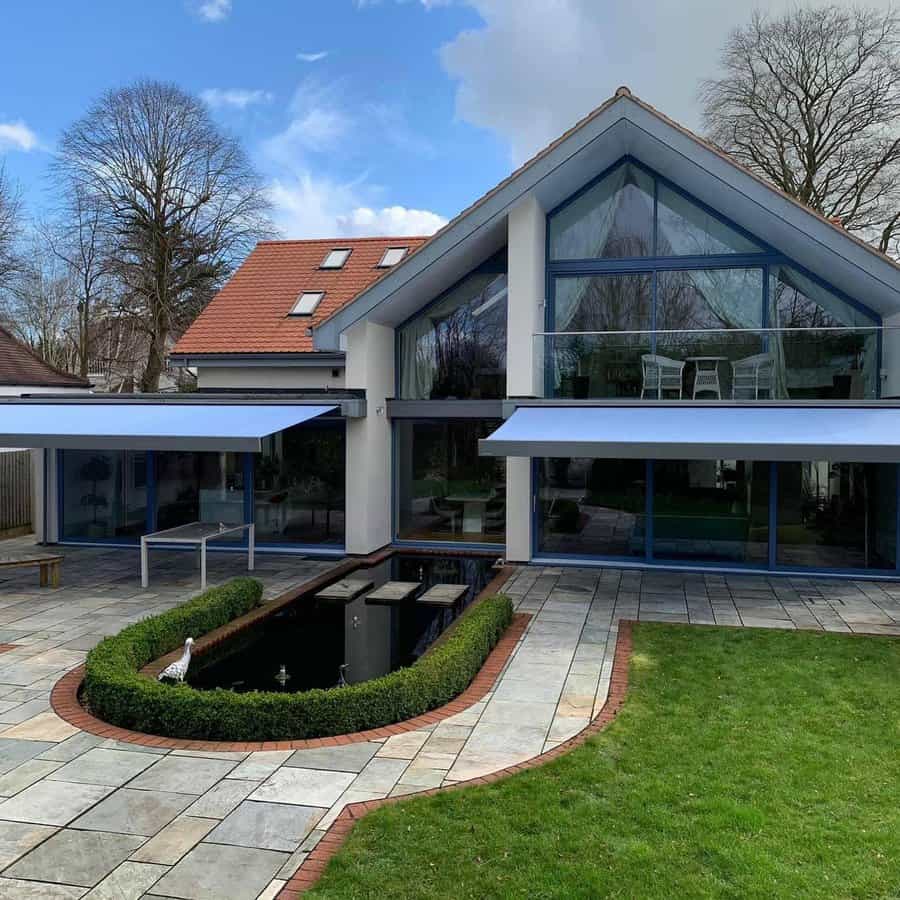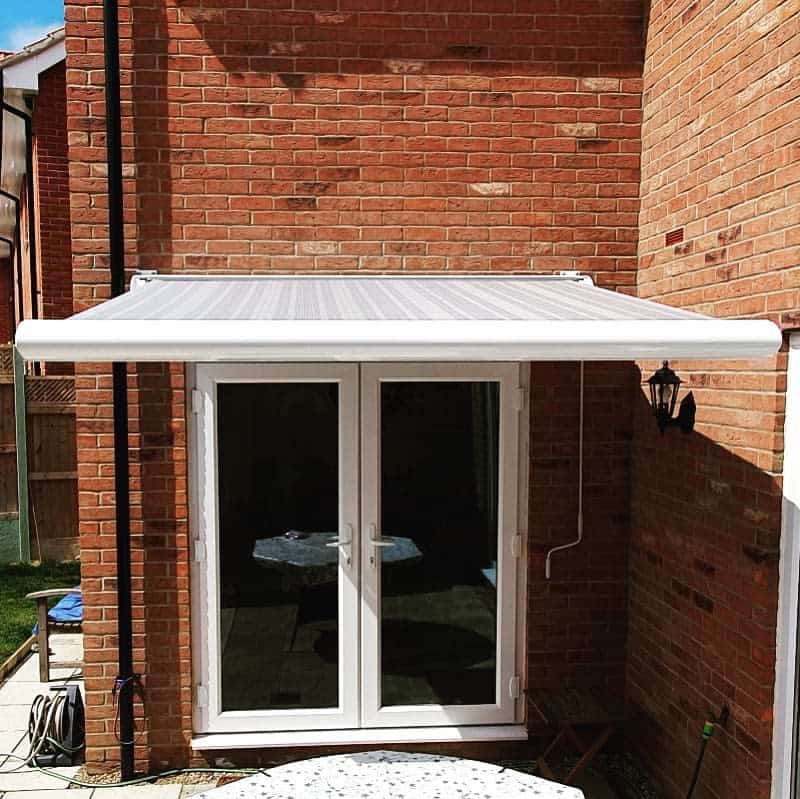 Retractable awnings are nice because you can move them out and back as you need them. They also come in a variety of designs, so you can choose an awning that will match your home and patio decor style. A shade sail isn't retractable but can cover a space further out from your home than an awning. You'll attach it to the house roof and another support, such as a pole, on the other side of the patio.
2. Canopy
A retractable canopy is similar to an awning but not quite. Canopies aren't mounted to the side of your home like an awning. This style of patio cover is what is on a pergola or over the frame that's built over your patio.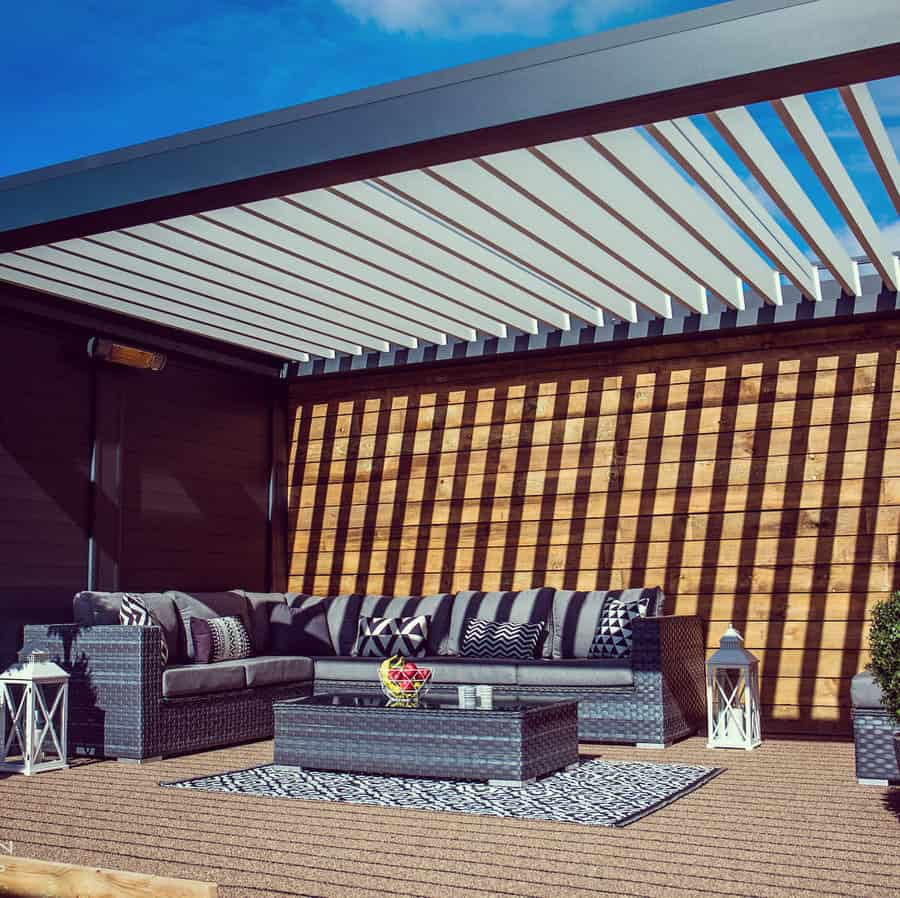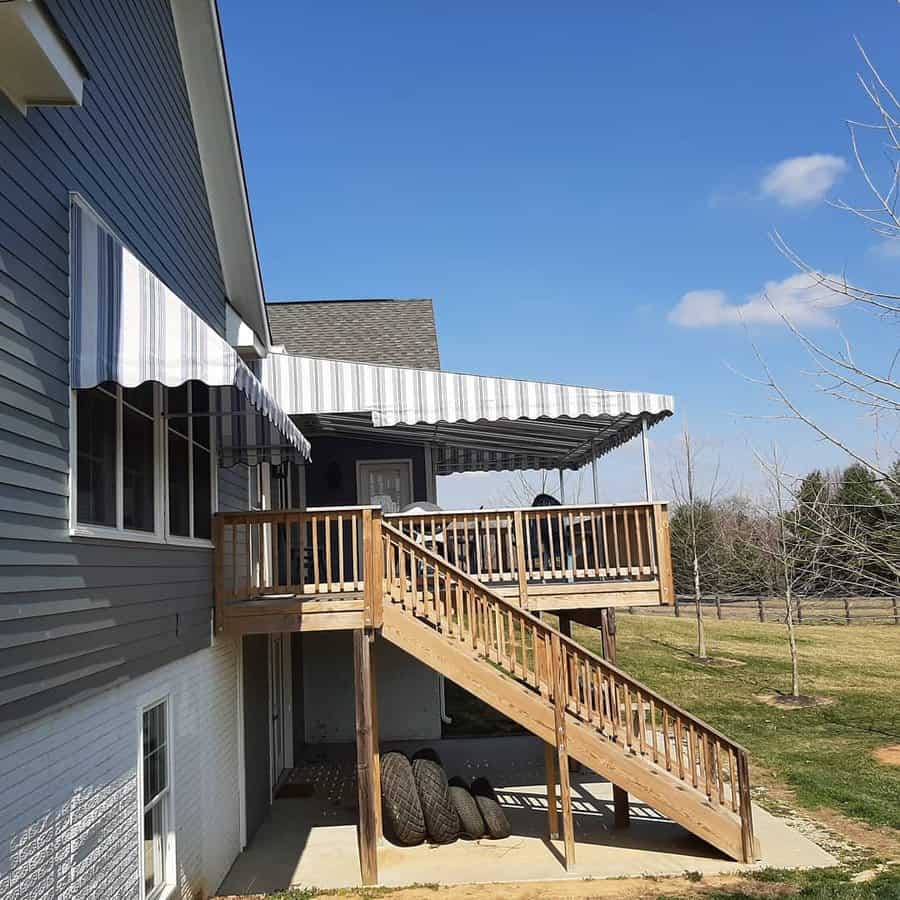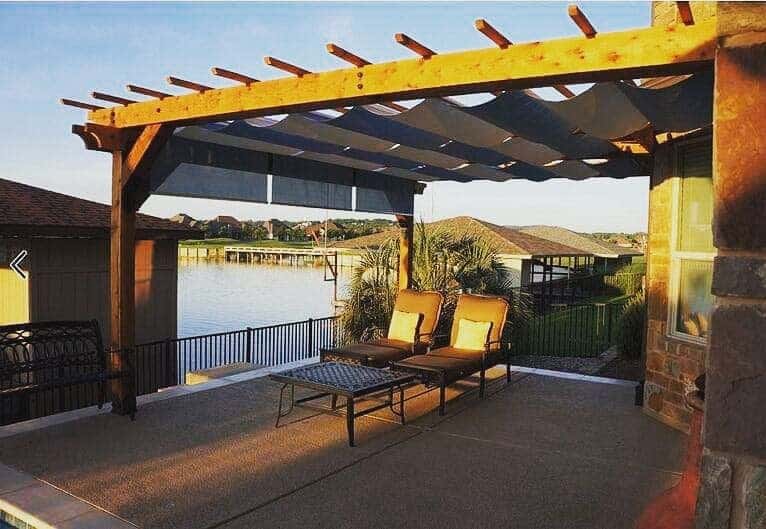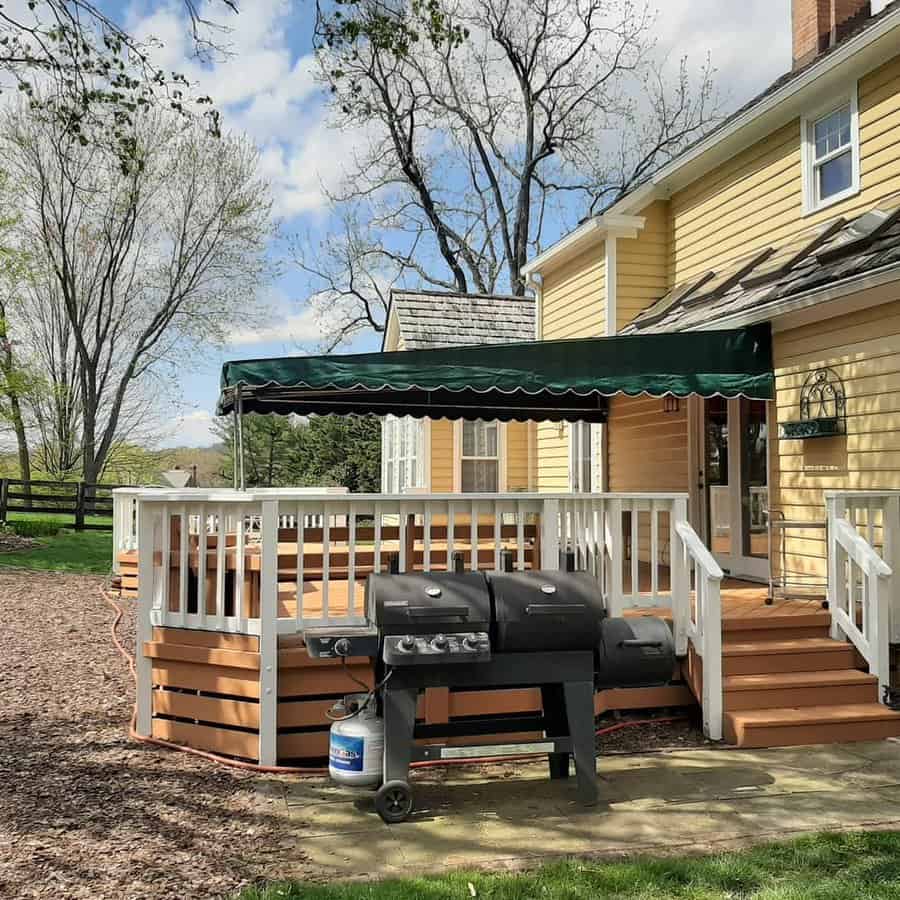 The canopy will be a single or multiple pieces of fabric that stretch over the pergola's roof. Sometimes, the fabric is secured in place and not moveable. Some designs are moveable so that you can pull the fabric back to one side.
3. Ceiling Fan
A covered patio can start to feel hot. The structure can block air movement, which leaves you feeling stagnant and hot underneath the cover. The simplest solution is to add a ceiling fan. A low flat roof can make this difficult. So if you want to add a ceiling fan, plan to make the ceiling taller to give you more space for the fan.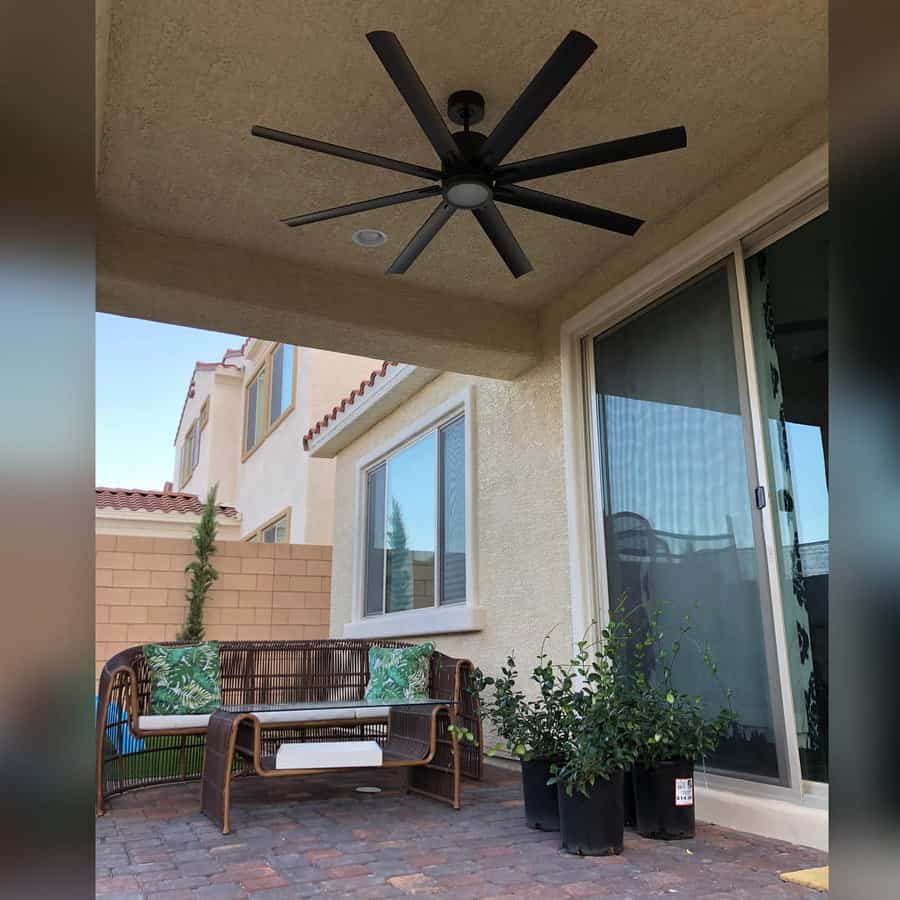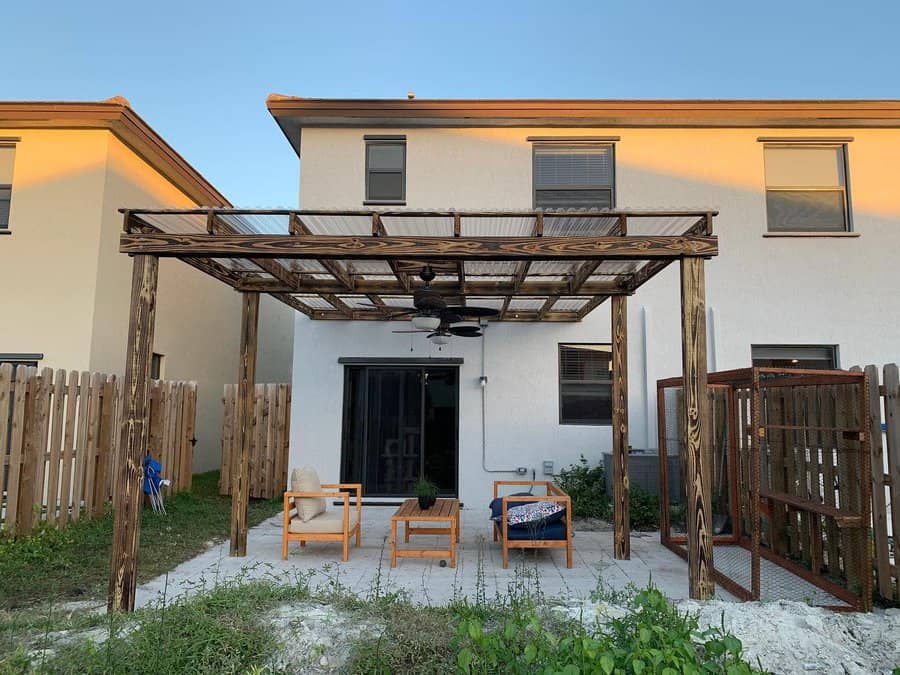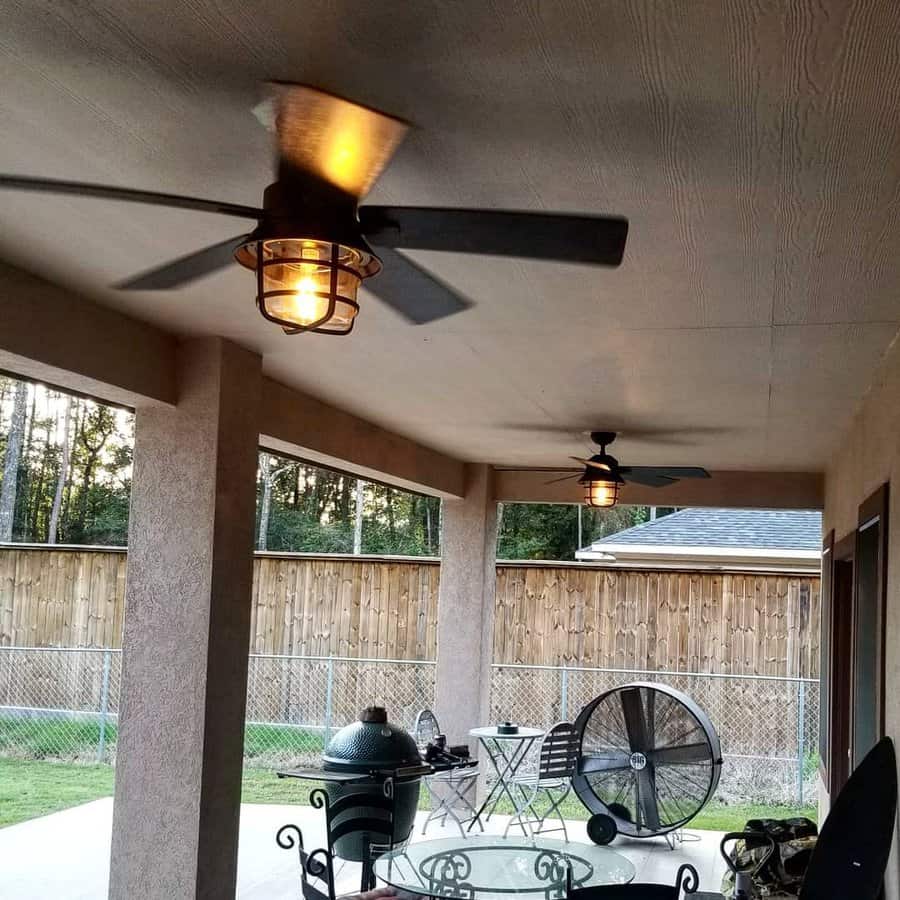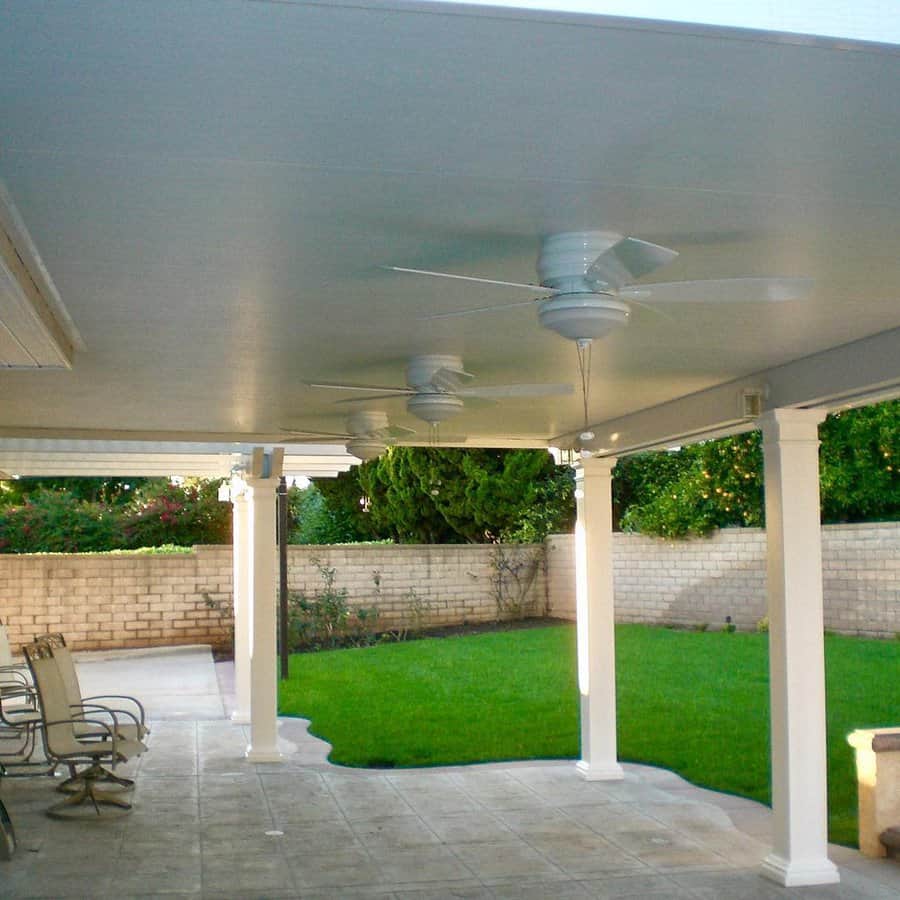 A gable roof is also a good design option. The roof will peak at its highest point in the middle and then slope down to its lowest point on either side. Always use an outdoor-rated ceiling fan to ensure it's safe for use outside.
4. Clear
A patio roof blocks the harsh sunlight that can make your outdoor space uncomfortable. However, that also means that your patio can be darker than what you want. You'll have to install lighting to fix this.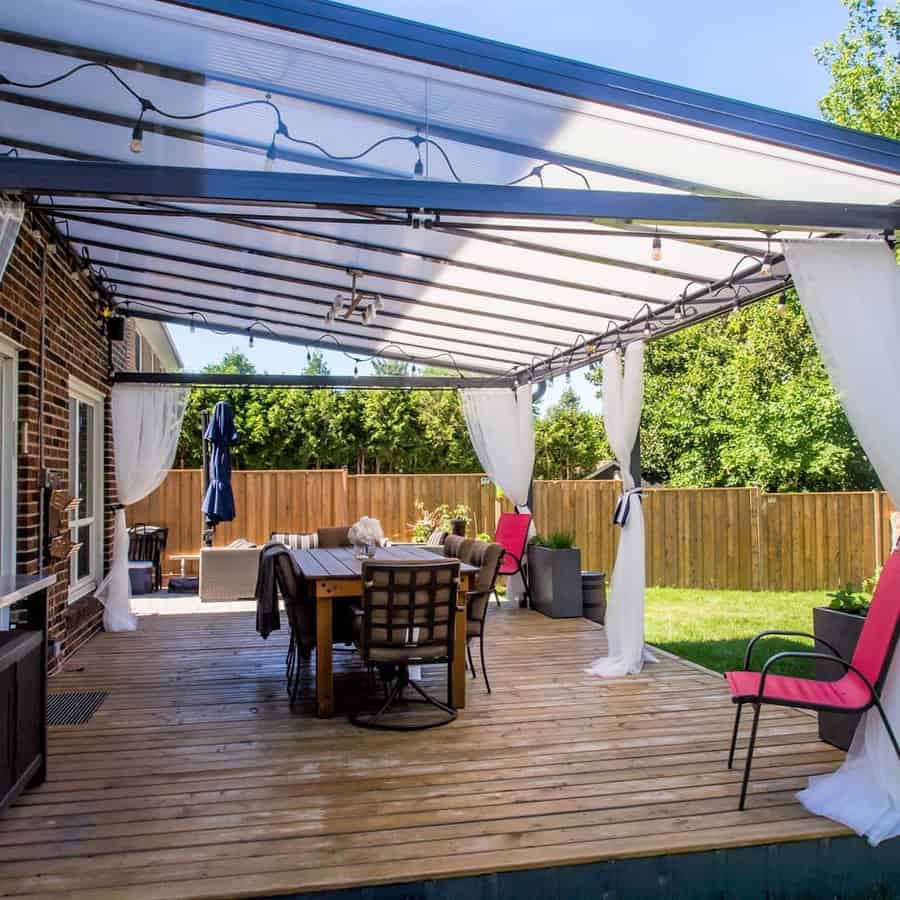 Another option is to install a transparent porch roof. Polycarbonate sheeting is dual-layered with space between the two layers. The translucent material allows plenty of light to come through while the air gap between the two layers helps to insulate the patio from getting too hot.
5. Curved
If you want a unique patio roof design, consider a curved design. These shade structures are a single flat piece that arches over your patio. It's one of the ore modern patio ideas. If you live somewhere that rains a lot, have a lot of falling leaves, or snows, then you can use the arch to your advantage.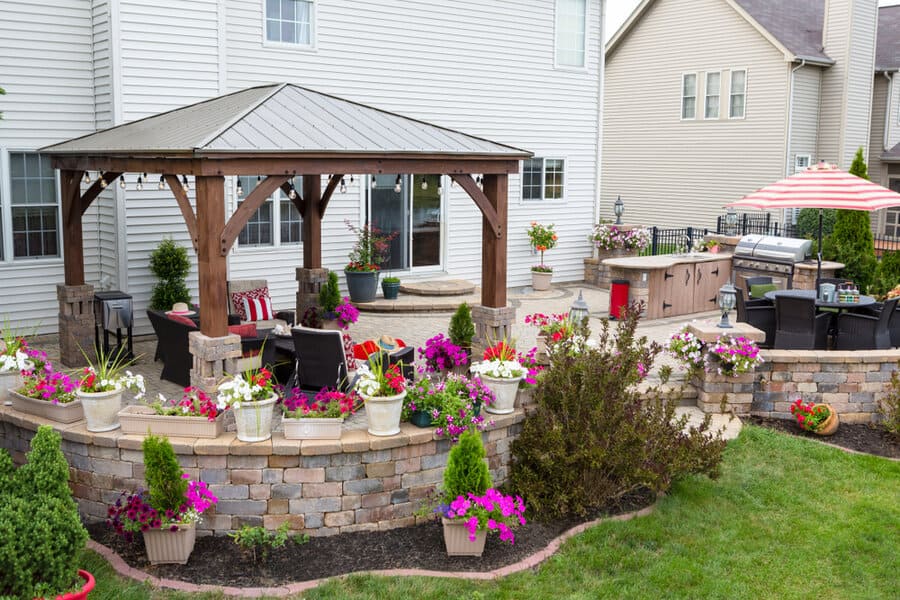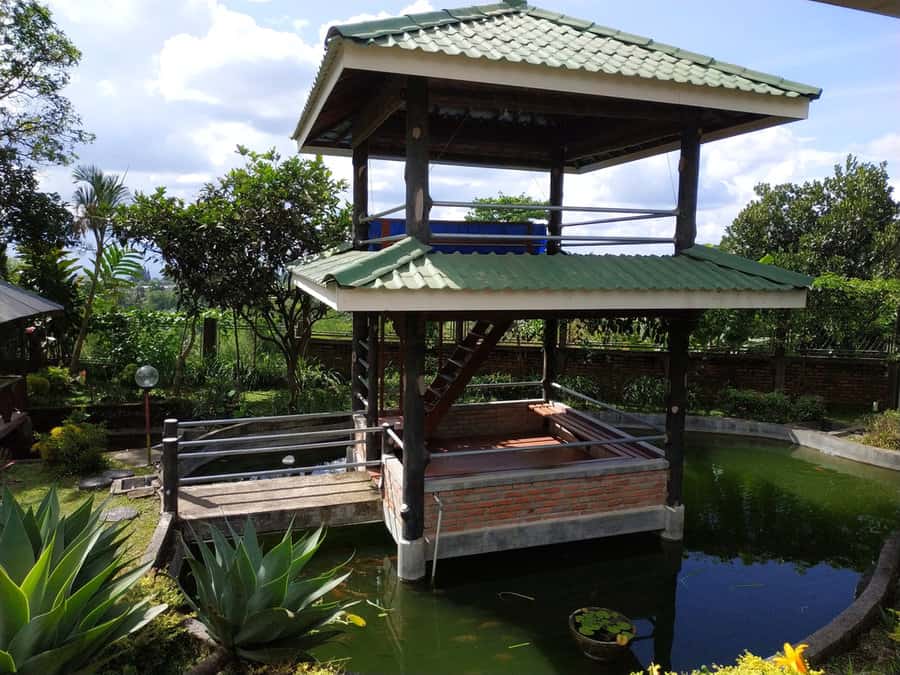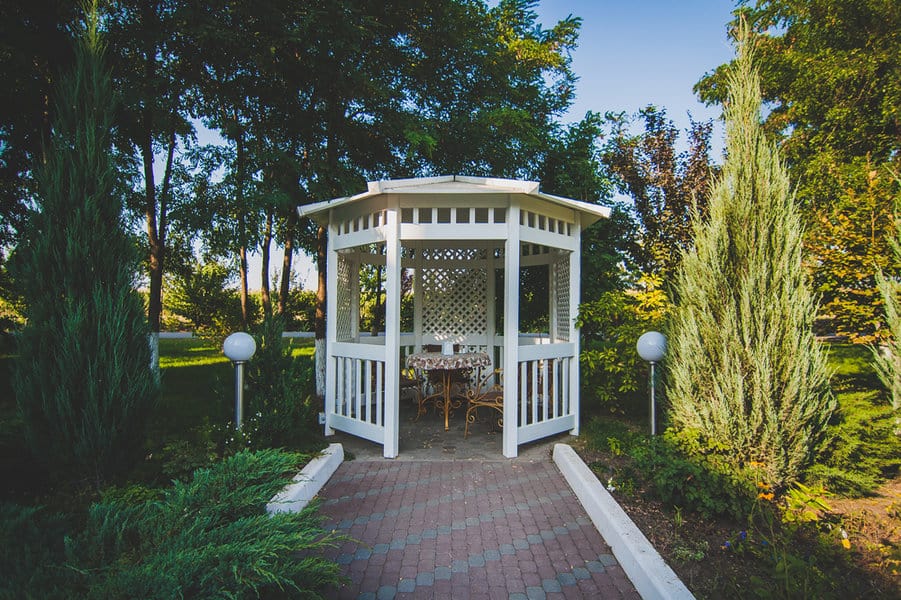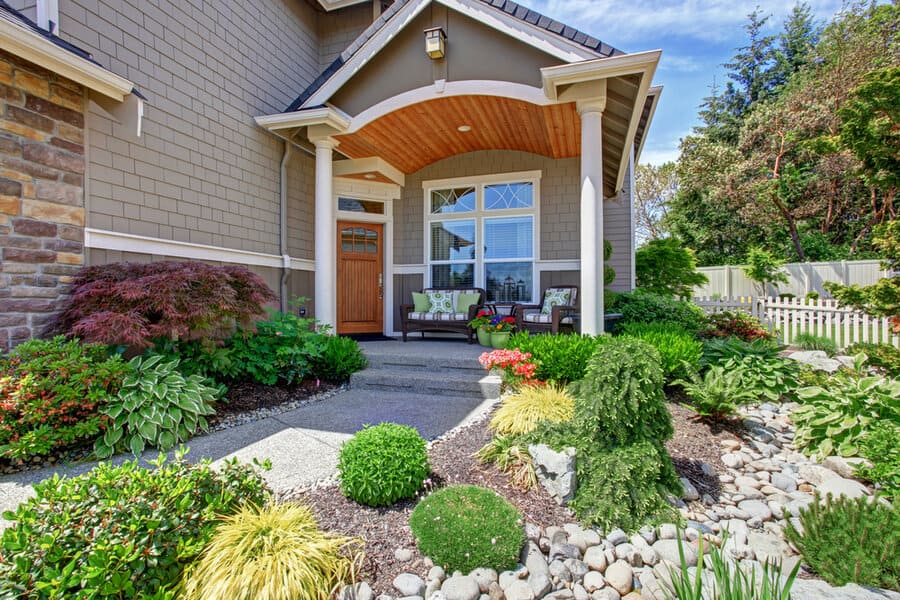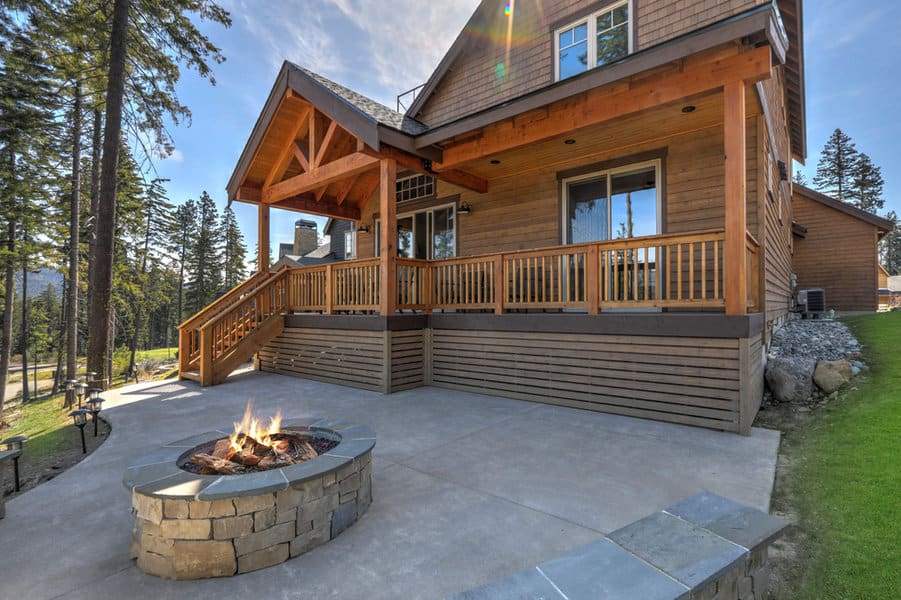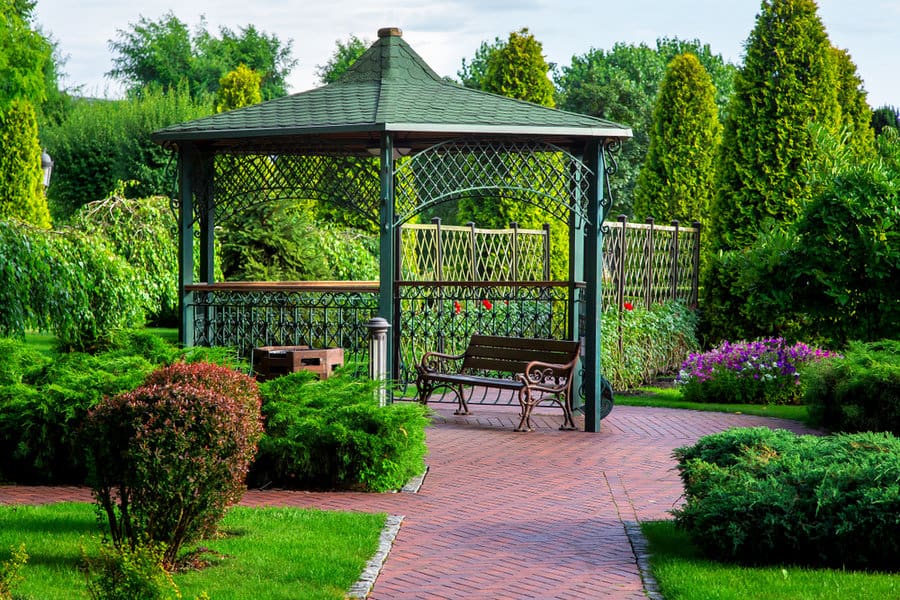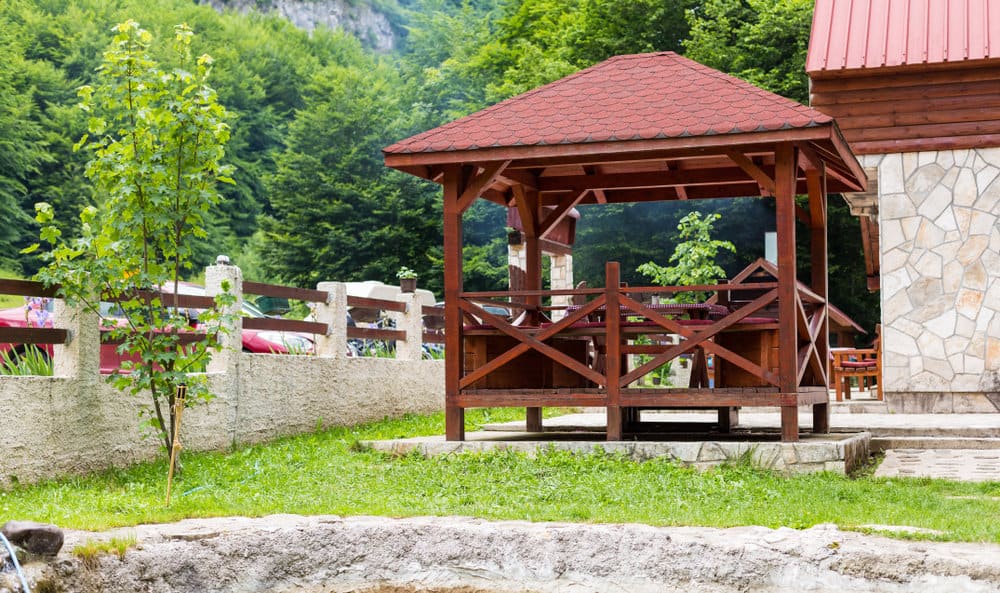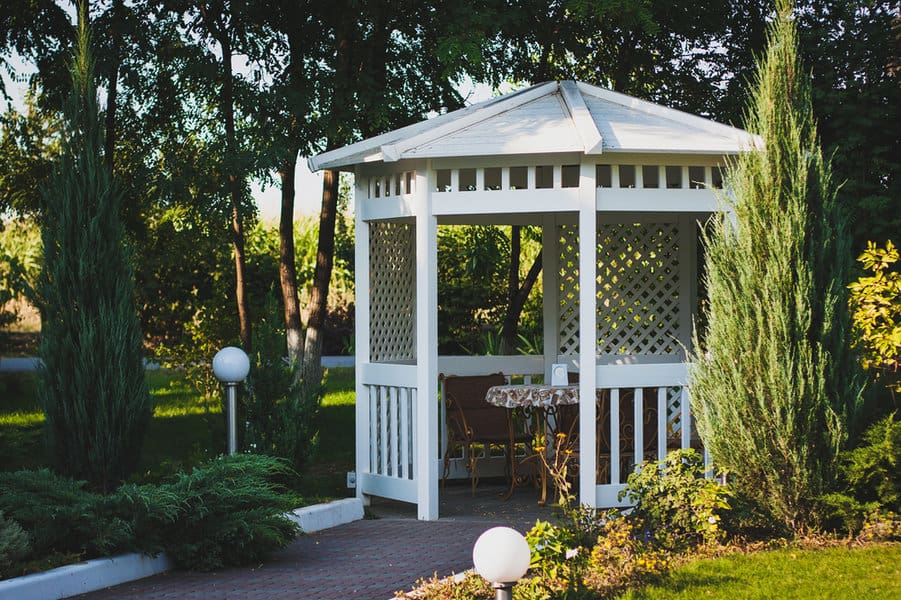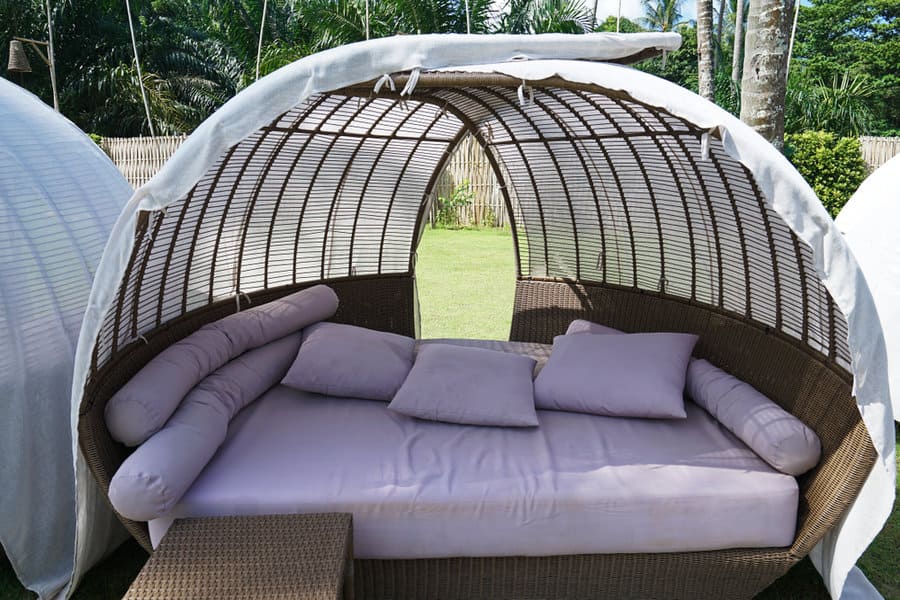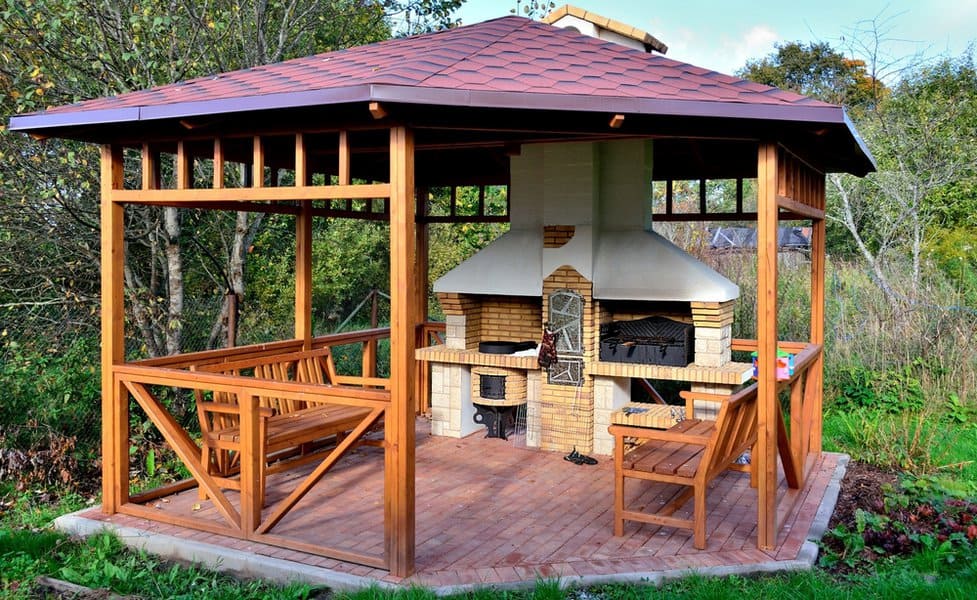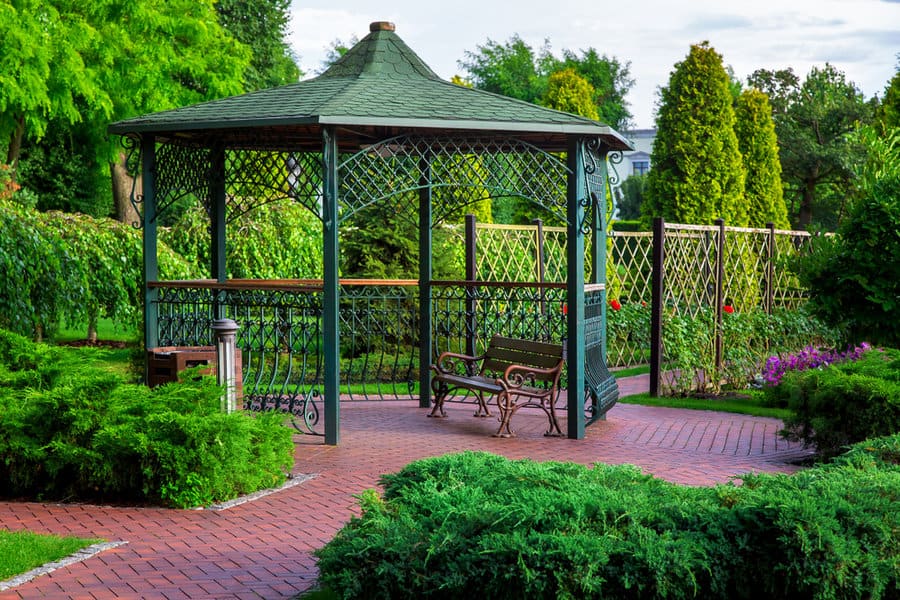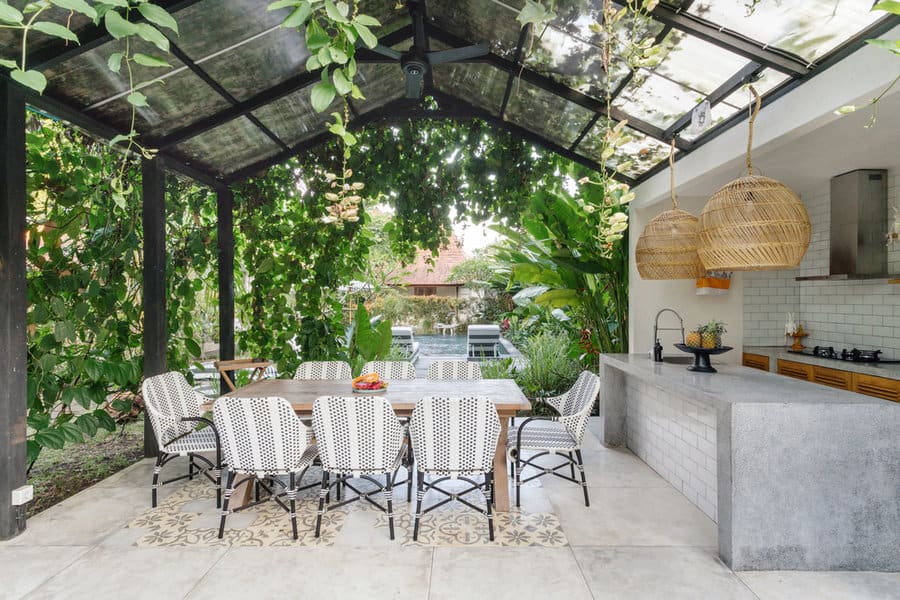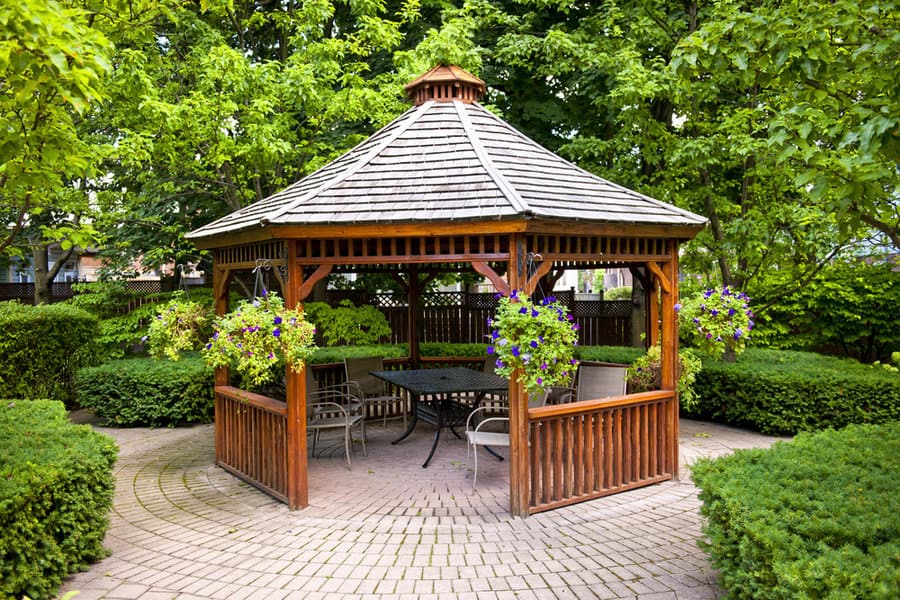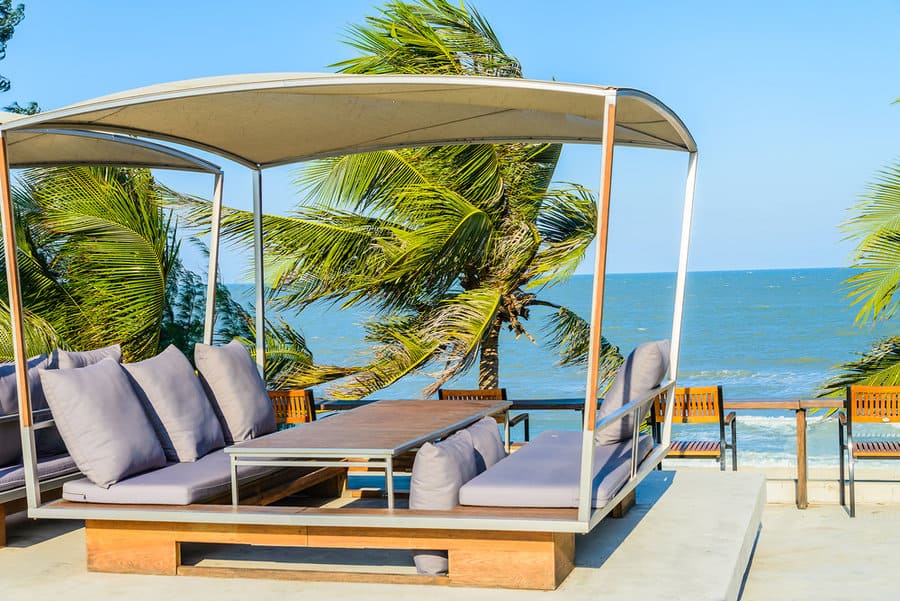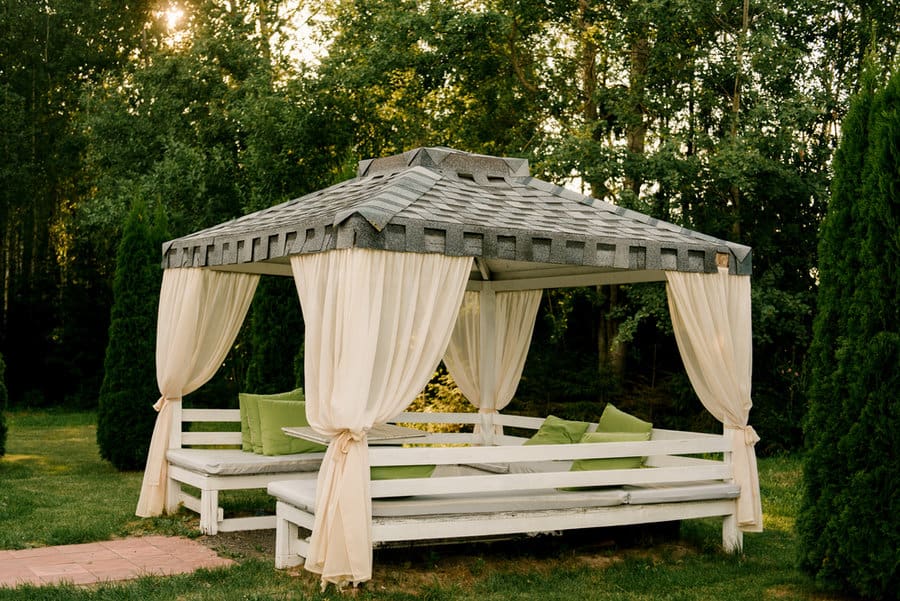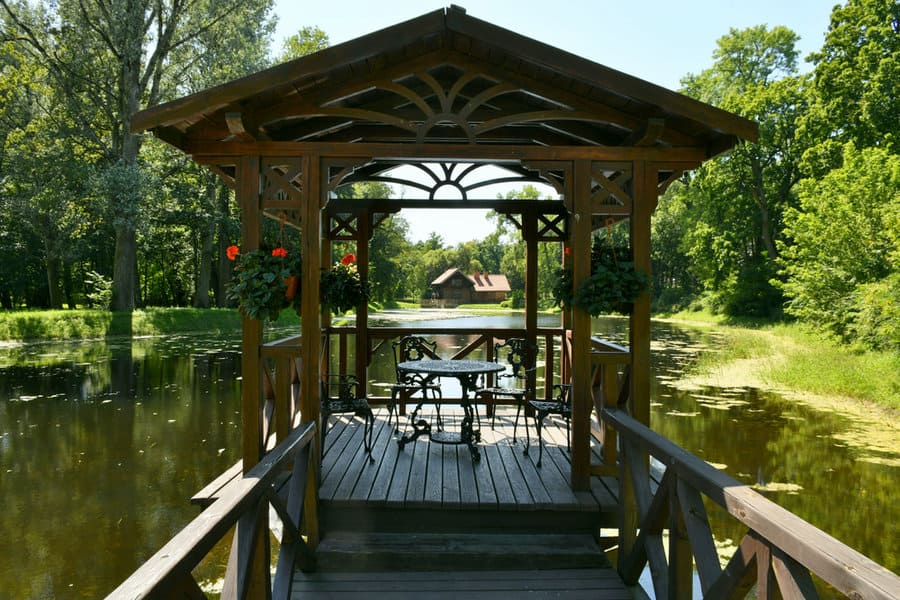 The shape of the roof will naturally direct the flow of these things off the roof. Typically, these rooves are made from metal or a plastic-type of material. They can easily be shaped into a curved design. Then you could have a support that's made from metal or wood.
6. Insulated
If you want to make your patio more comfortable to use throughout the entire year, then you need to add insulation to your roof. Insulating the roof helps maintain a steady atmosphere in your outdoor living space.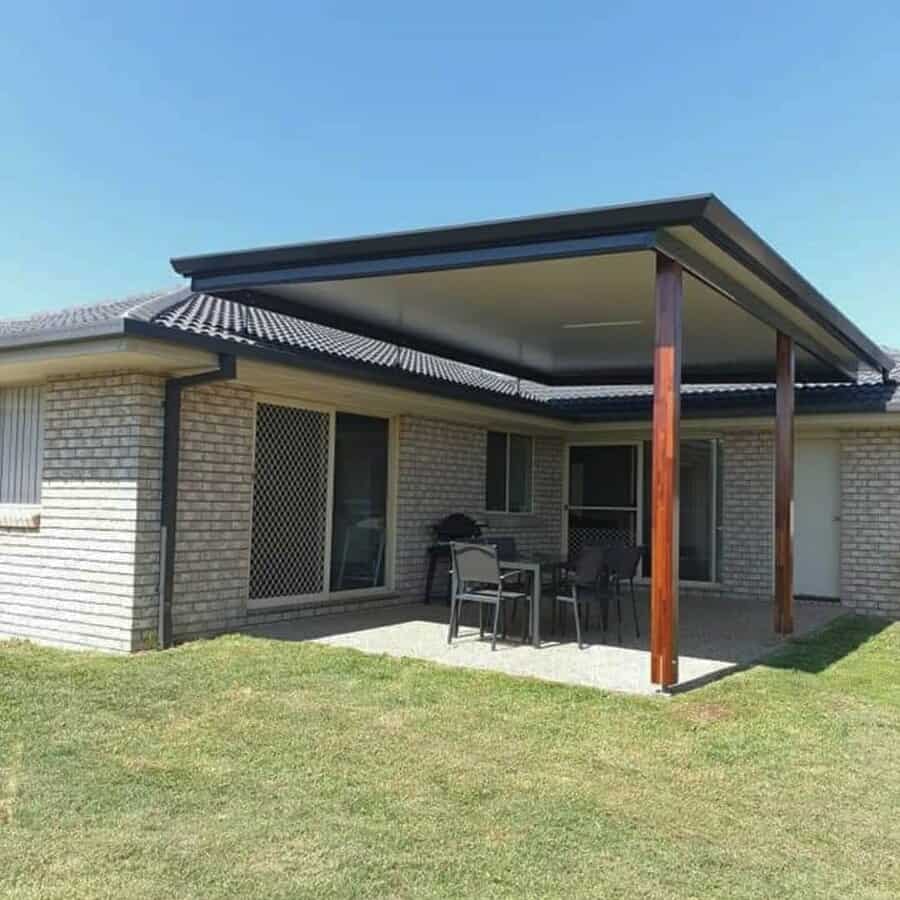 Adding insulation will prevent the heat from the sun from permeating down and warming your patio. It will also prevent the warm air in your patio from rising and leaving the space during the colder winter months. If you decide to insulate your roof, you need to finish the underside to seal the insulation in. You don't want it dropping on you.
7. Modern
Modern backyard patios go beyond just a roof. They will have protection all around. A screened porch gives you the usability of your backyard patio year-round. The roofing for your new patio design can be anything you want.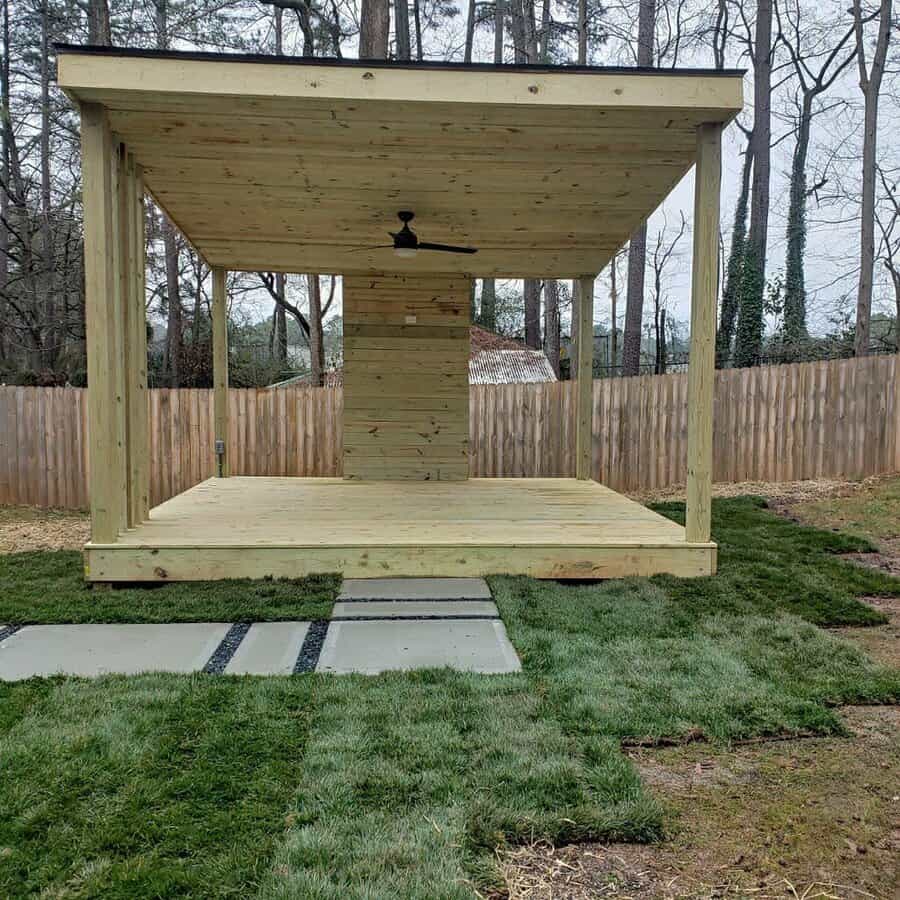 For a completely modern design, opt for a metal roof. Then add selective wood accents. Paint the metal white, black, or grey to help protect the metal and give your patio a sleek design. Keep the design simple and clean, with minimal ornamentation.
8. Pergola
Sometimes, your patio isn't connected to your home. When this happens, you need a freestanding patio roof. A pergola is a perfect solution. It's popular among covered patio ideas because they come in various materials, designs, and sizes.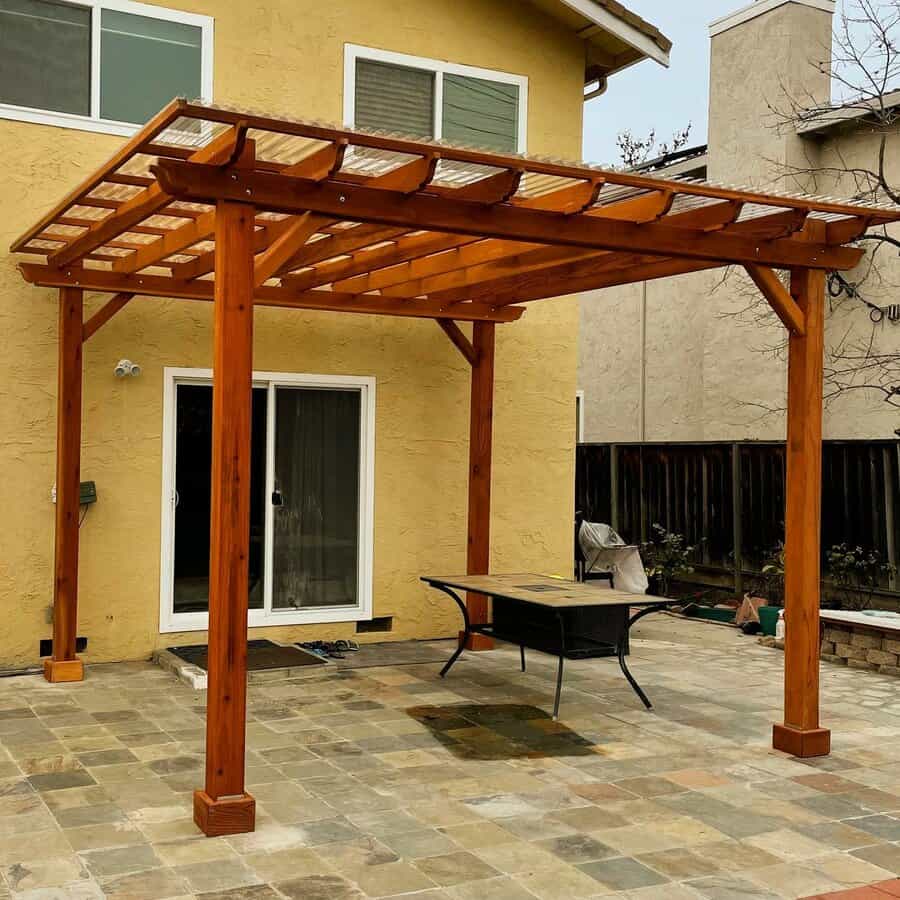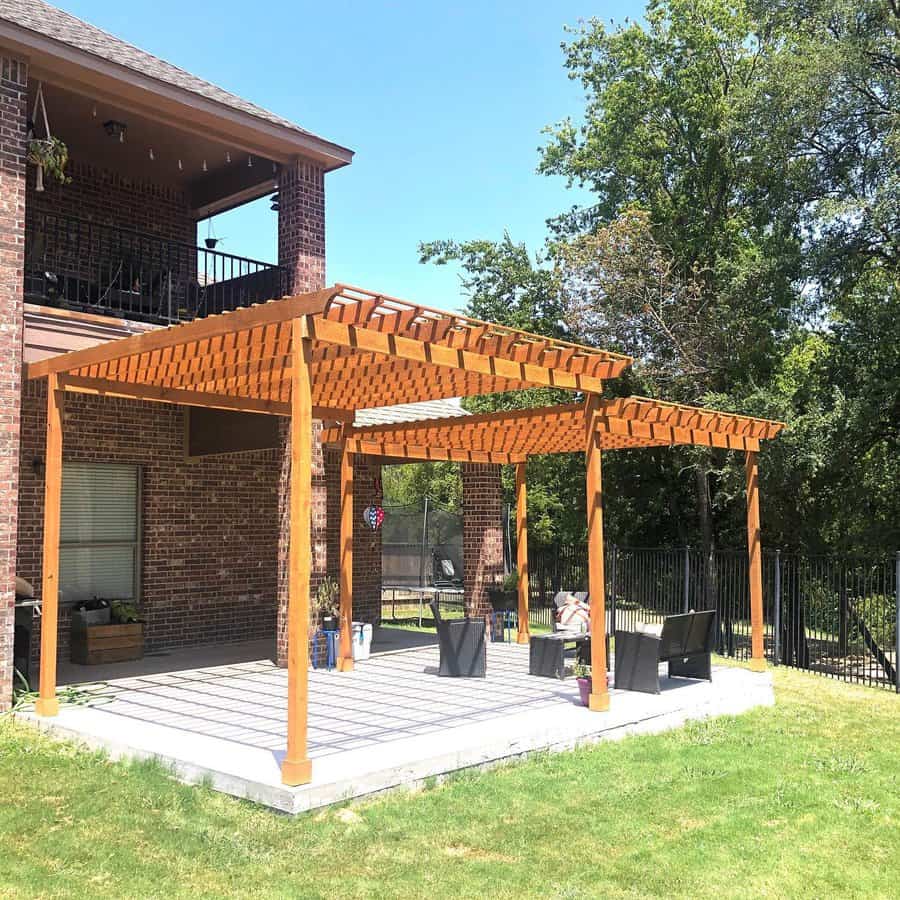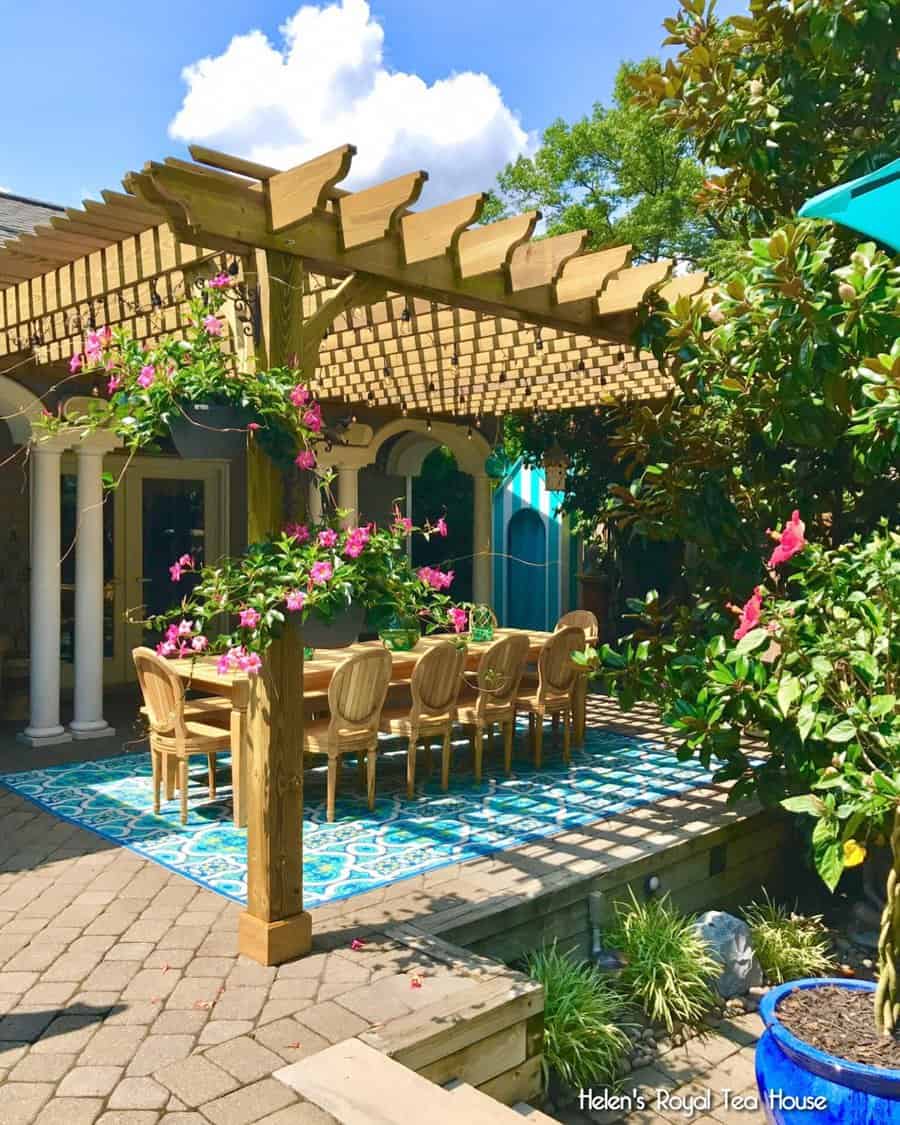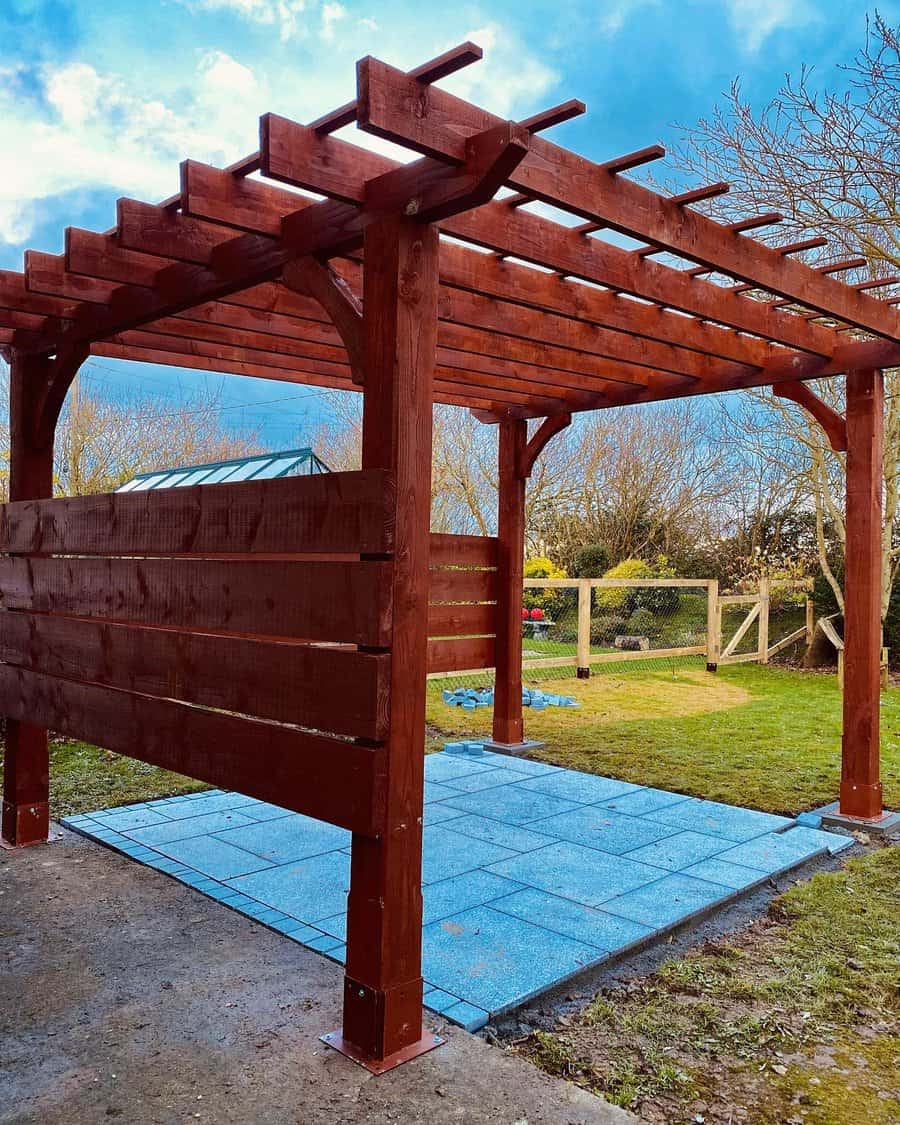 Pergolas don't automatically come with a solid roof, though. If you want better overhead coverage, you need to add a roof, encourage enough leafy vine plants to grow, or attach a heavy-duty fabric. What's nice about pergolas is that they are freestanding and open on all sides, allowing plenty of airflow.
See more pergola ideas here.
9. Timber
Adding a timber-framed cover to your patio is a doable DIY patio cover project. Once you have the frame, you can then build the roof portion.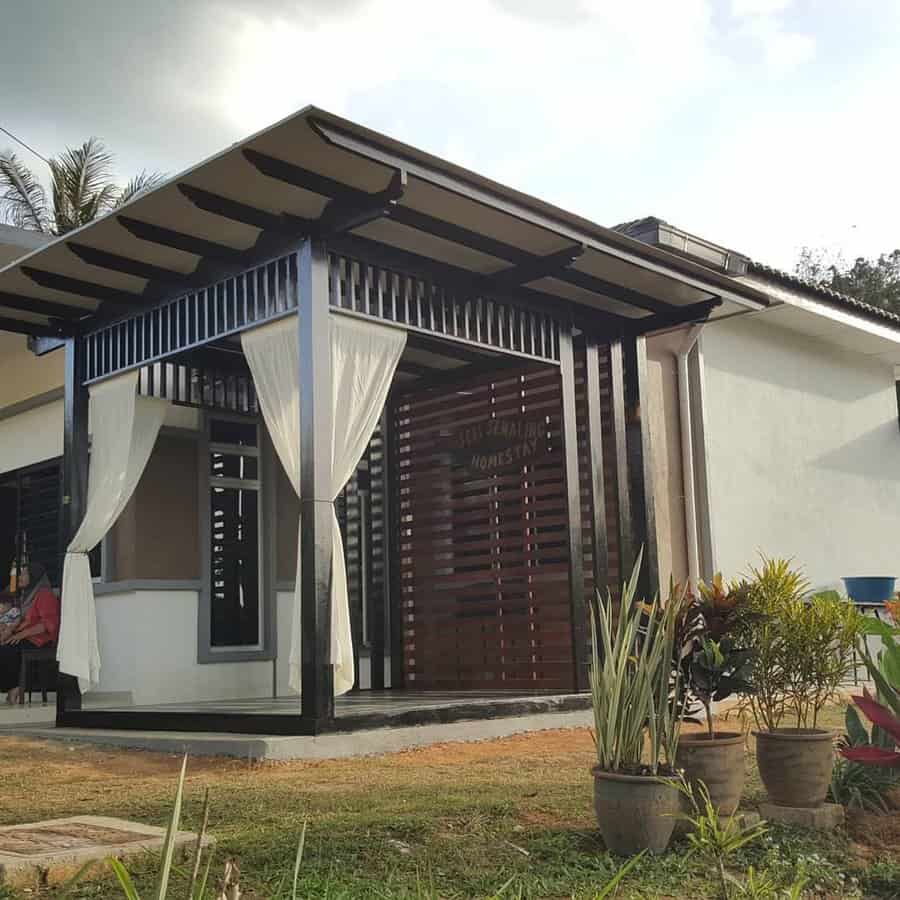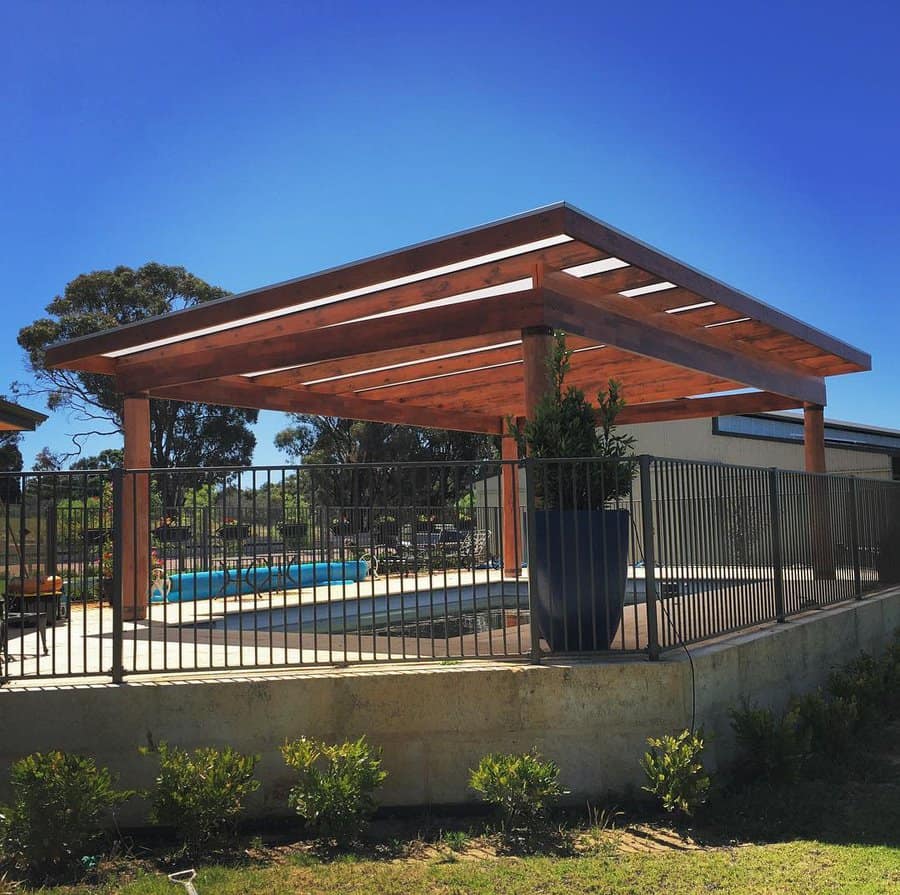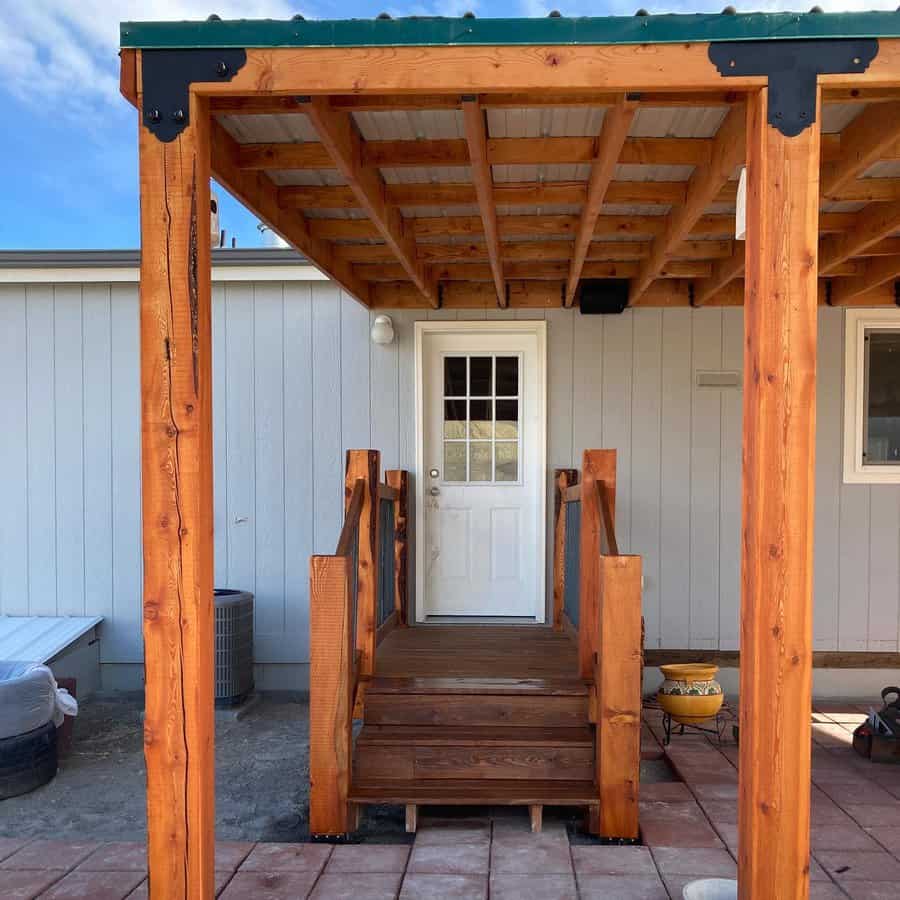 You could make it match the rest of your home with shingles. Or you could build an additional living space. Why not turn your patio cover into a roof deck? Build stairs or a spiral staircase that leads up to this secret area. It will give you increased privacy and a better view of the surrounding property.
10. Tin
Nothing sounds cooler than rain on a tin metal roof. It has a romantic pitter-patter that can turn into a roar as the rain intensifies. Tin is lightweight, durable, and affordable, making it a popular choice for DIY covered patio projects.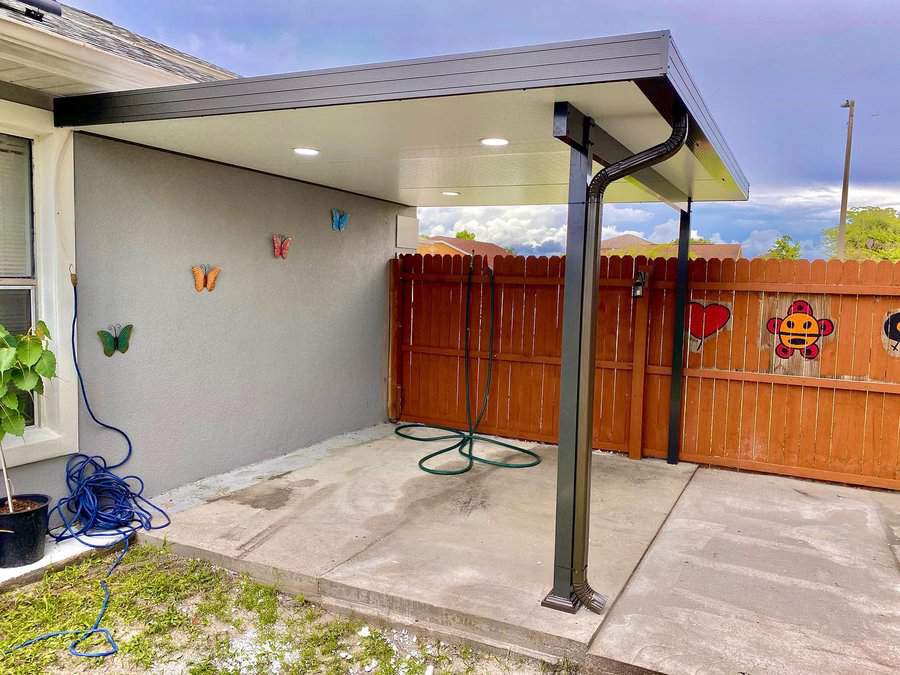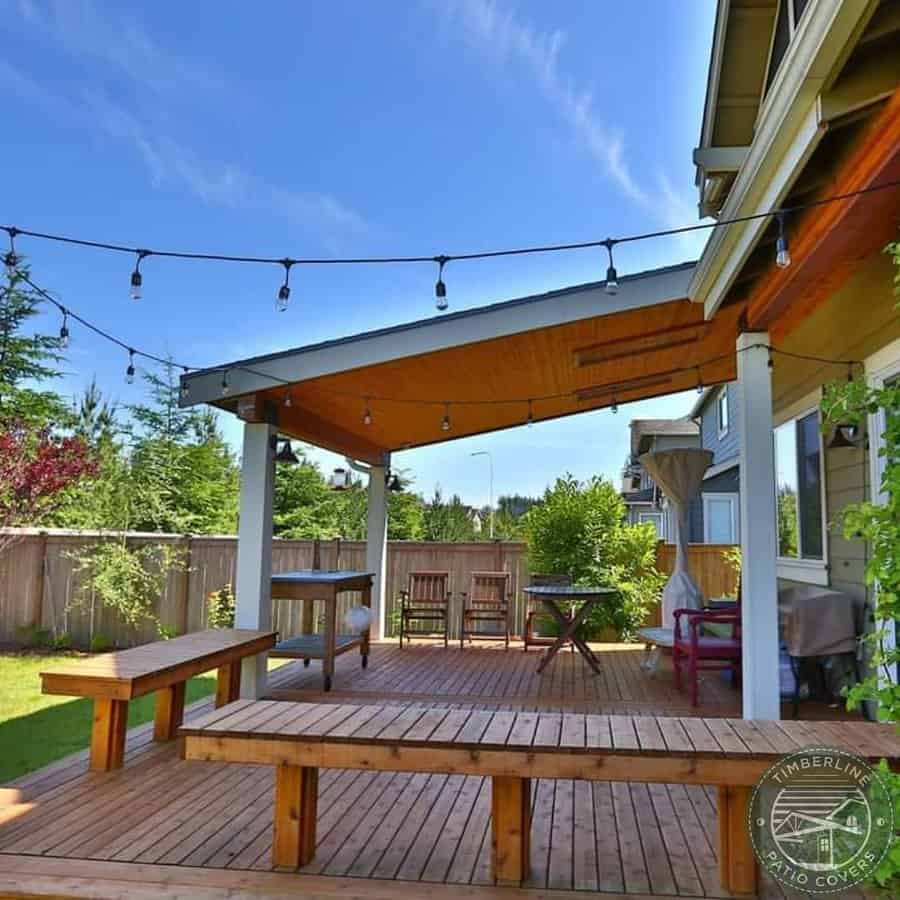 Another popular alternative is an aluminum patio cover. You commonly see both used for shed roofs, so you could have your shed and patio roofs match for a cohesive exterior design. Because the metal comes in sheets, you will have a flat roof design for your tin or aluminum patio cover.
11. Wood Panel
A wooden pergola may work when you aren't concerned about having complete coverage. However, you need more to treat your patio as an outdoor room. A wood patio roof design is a better solution.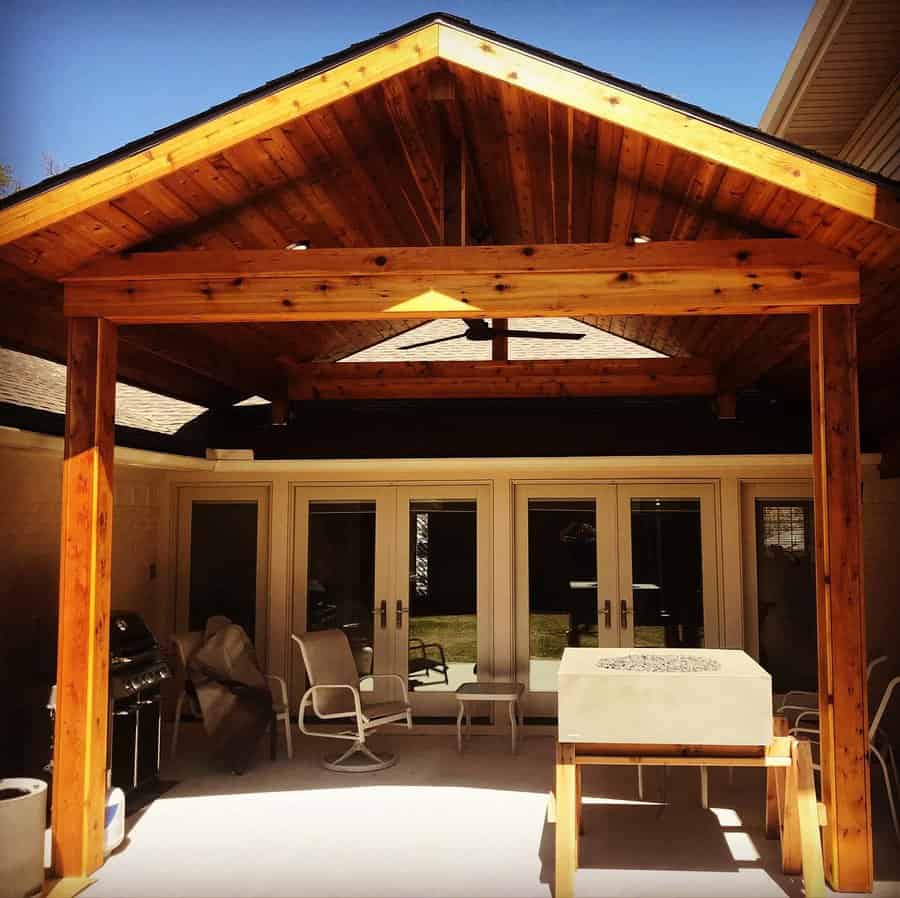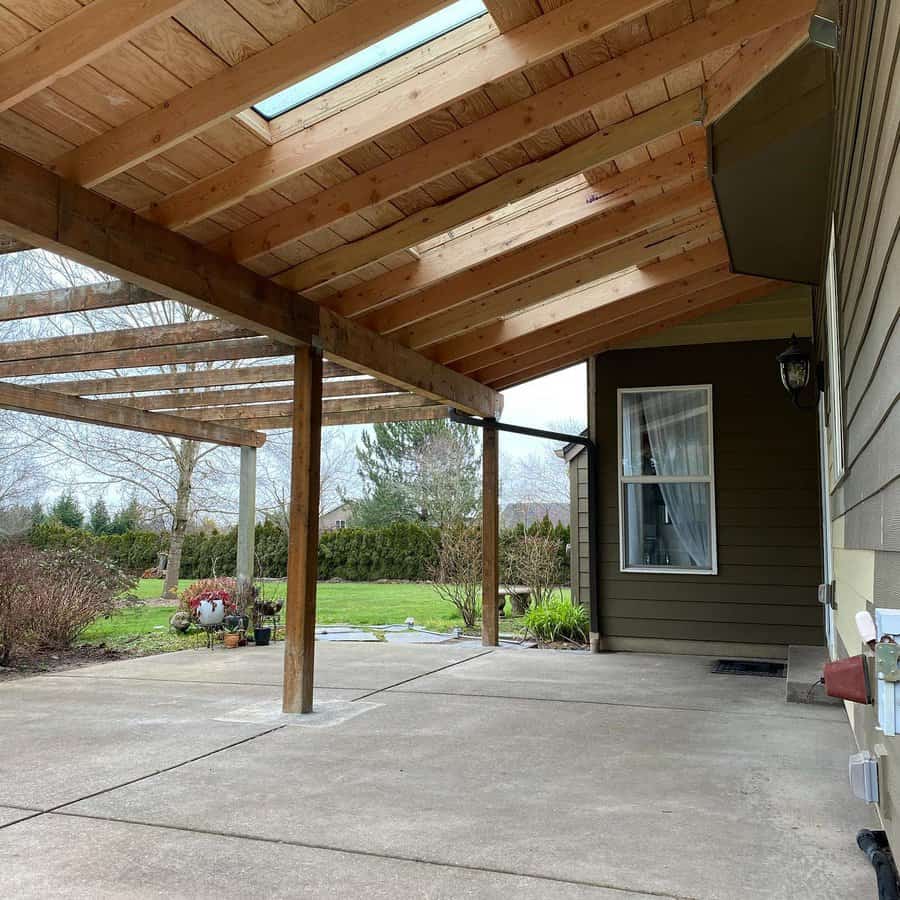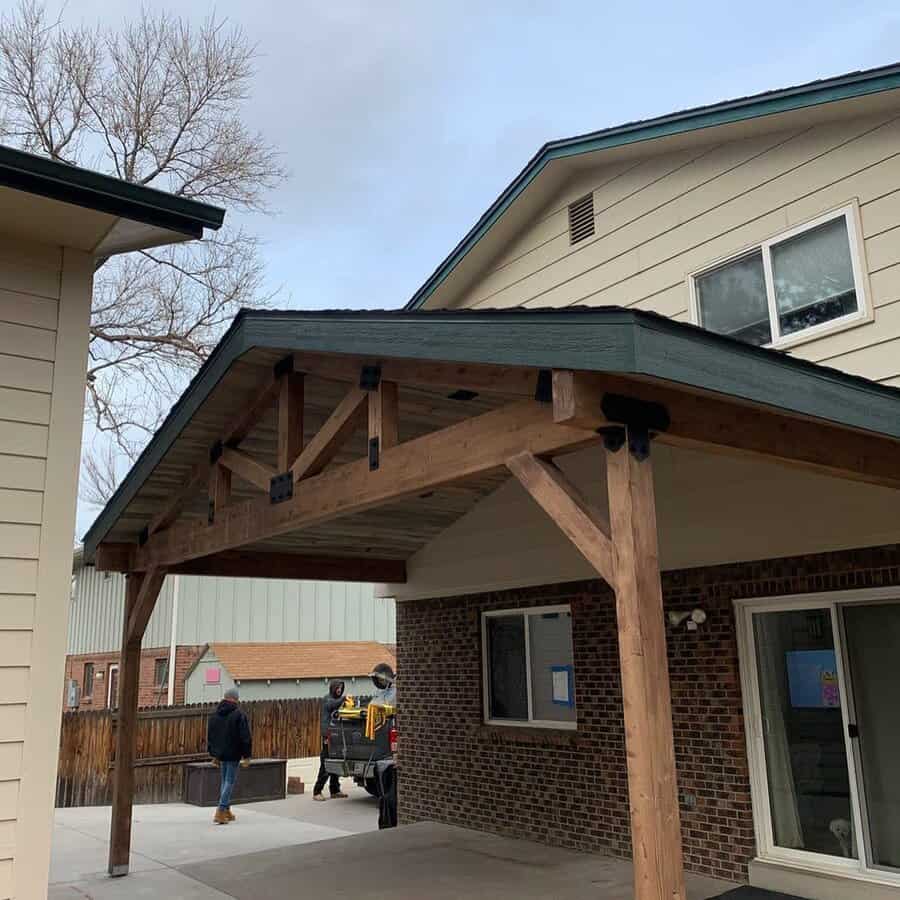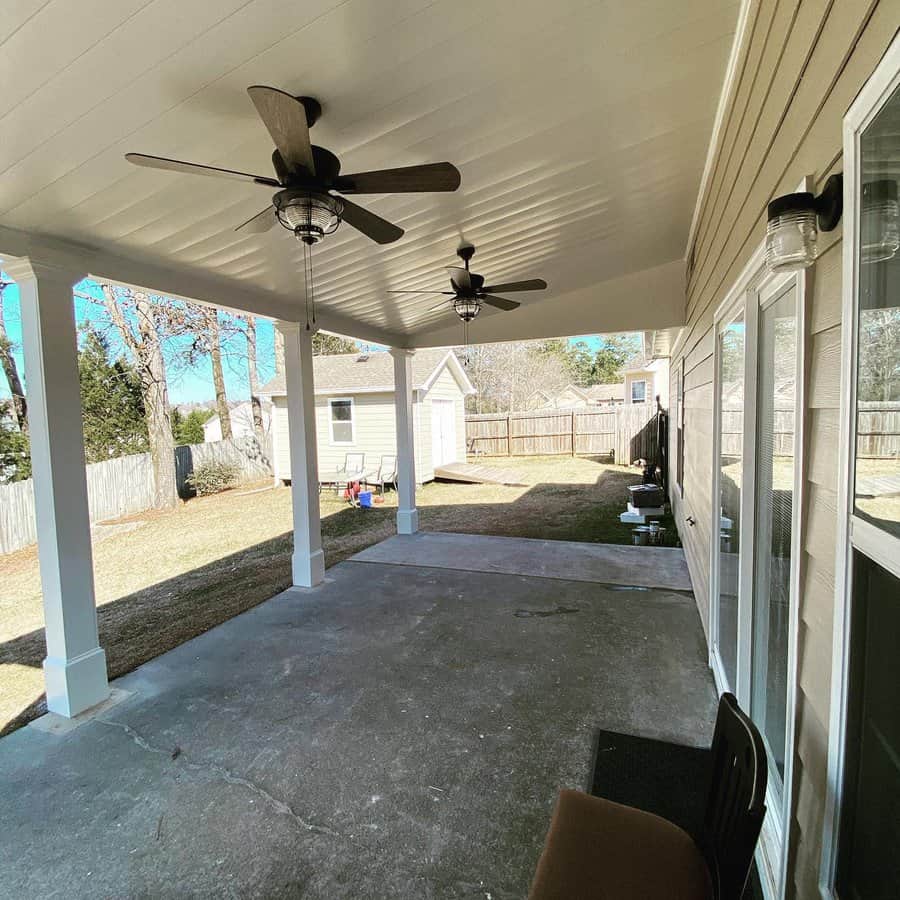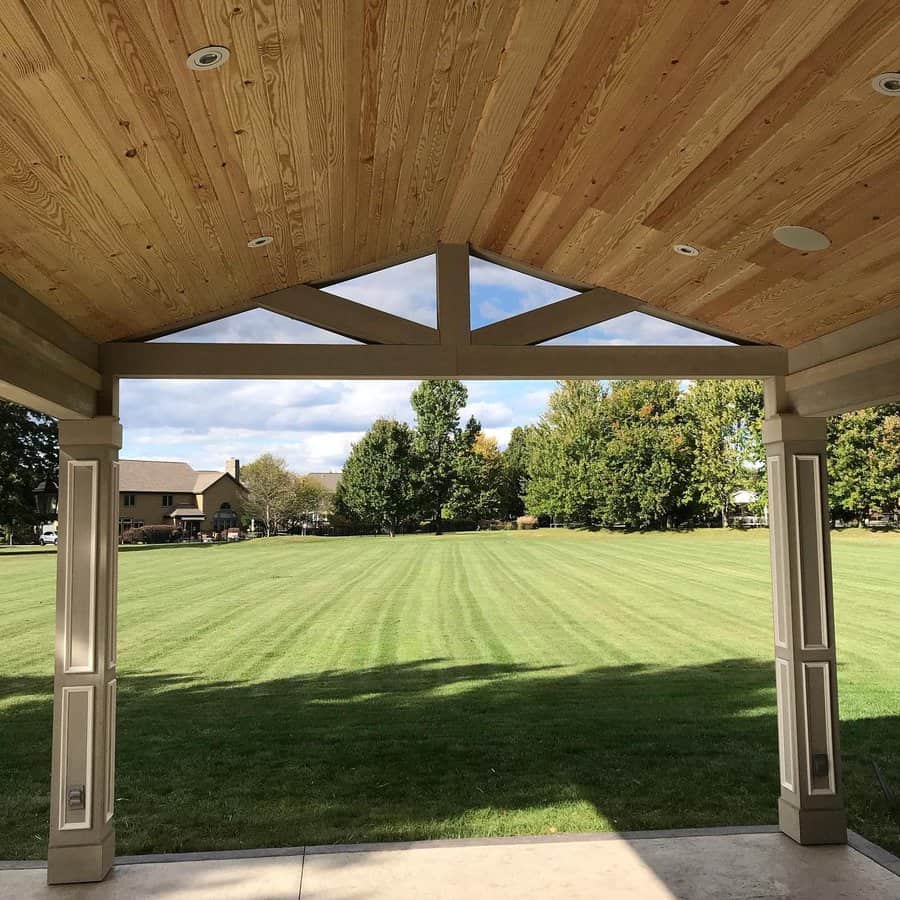 You have a covered roof that looks beautiful and adds a sense of interior design to your outdoor space. Lining the underside of your roof with wood panels gives your covered porch a finished look. Depending on the type of wood you choose, it could look like a cabin or a tropical hut.
FAQs
What is the cheapest way to cover a patio?
The cheapest way to cover a patio is with a sail shade. It's affordable because it's a piece of fabric with hooks. The next most affordable patio cover is a wood frame to which you attach translucent sheets.
Do patios have a roof?
Patios do not typically come with a roof. They are just a concrete slab that's a part of the home's foundation that extends out from the side of the house. You can easily add a roof to your patio after the home is built if you decide you want one.
What roof is best for a patio?
Wood tends to look the most appealing thanks to its attractive aesthetics. Metal is durable and can give your patio a modern feel. Vinyl is a good option for those who want a low-maintenance option.