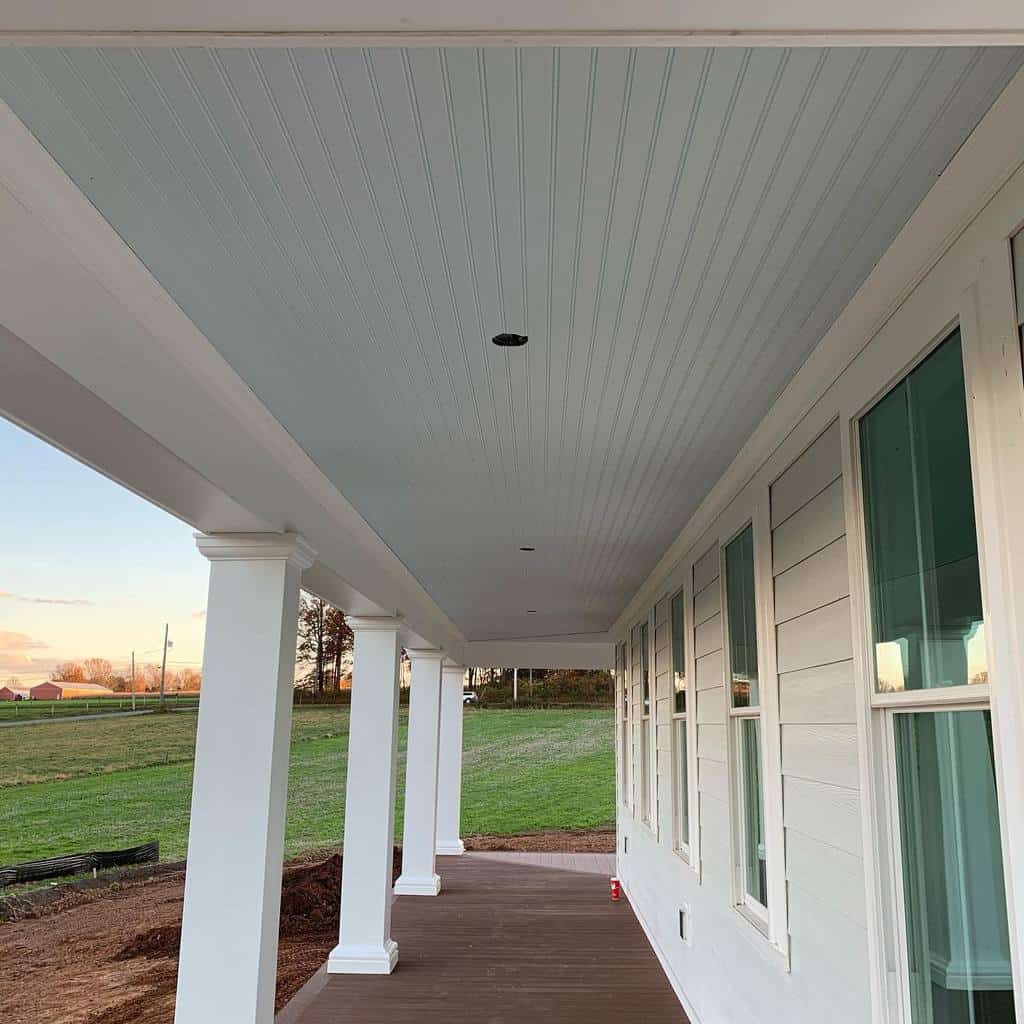 38 Porch Ceiling Ideas and Designs
"True luxury is being able to own your time – to be able to take a walk, sit on your porch, read the paper, not take the call, not be compelled by obligation." -Ashton Kutcher
Few things are more pleasing than relaxing on the porch with a book and a beverage on a lazy summer afternoon. But creating the perfect outdoor living oasis requires the same attention to detail as the rooms inside your home.
While a plain porch roof protects you from the elements, it's nothing great to look at while you're relaxing below. Paint, beadboard, and other design features will elevate your porch experience to something truly special. These top porch ceiling ideas will inspire you to spruce up your outdoor living space.
1. Blue
It's long been a southern living tradition to paint the porch ceiling blue. Residents of the Deep South believed that a deep blue called "haint blue" would keep evil spirits and ghosts away.
However, a blue porch ceiling may serve a more practical purpose. Many believe that sky-like hues help keep birds and insects from nesting inside the porch ceiling. Others simply state that blue paint seems to make the area feel more natural and welcoming.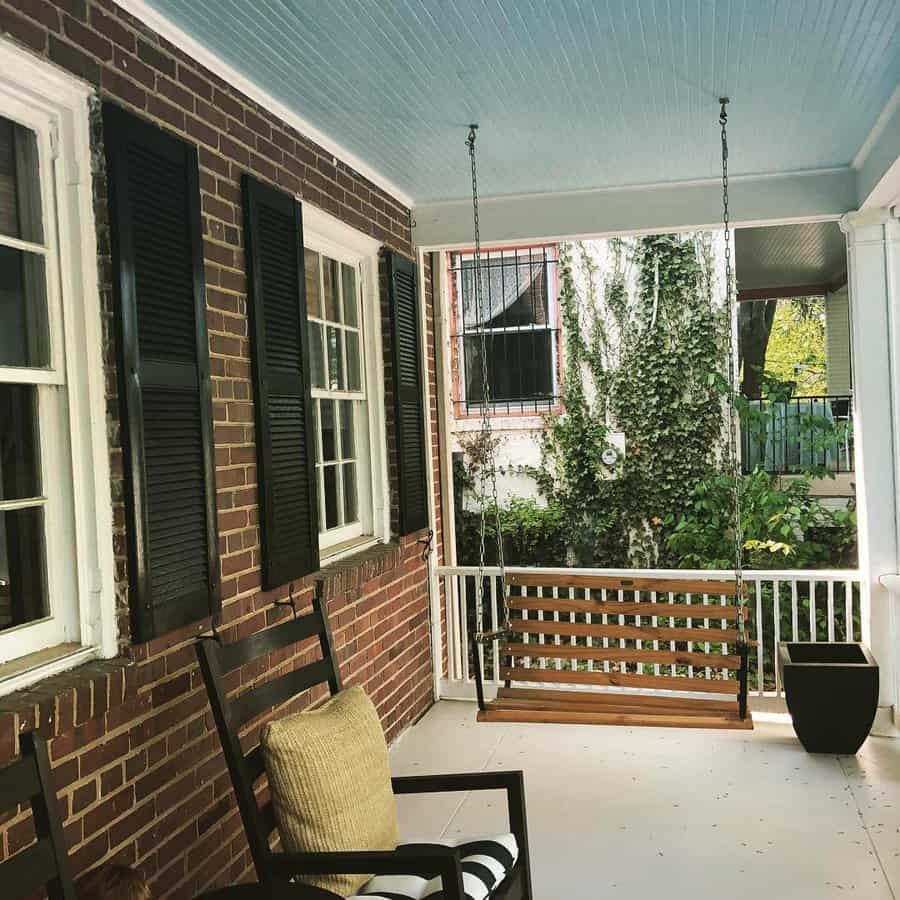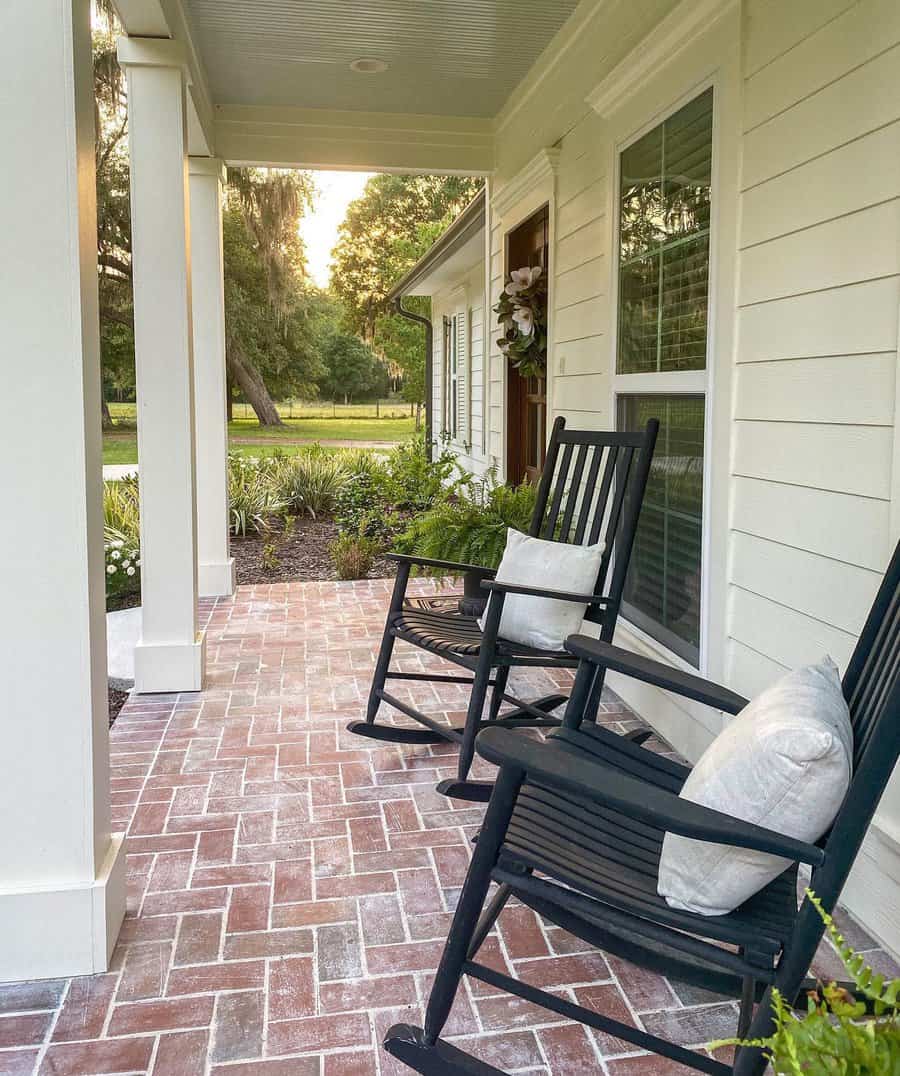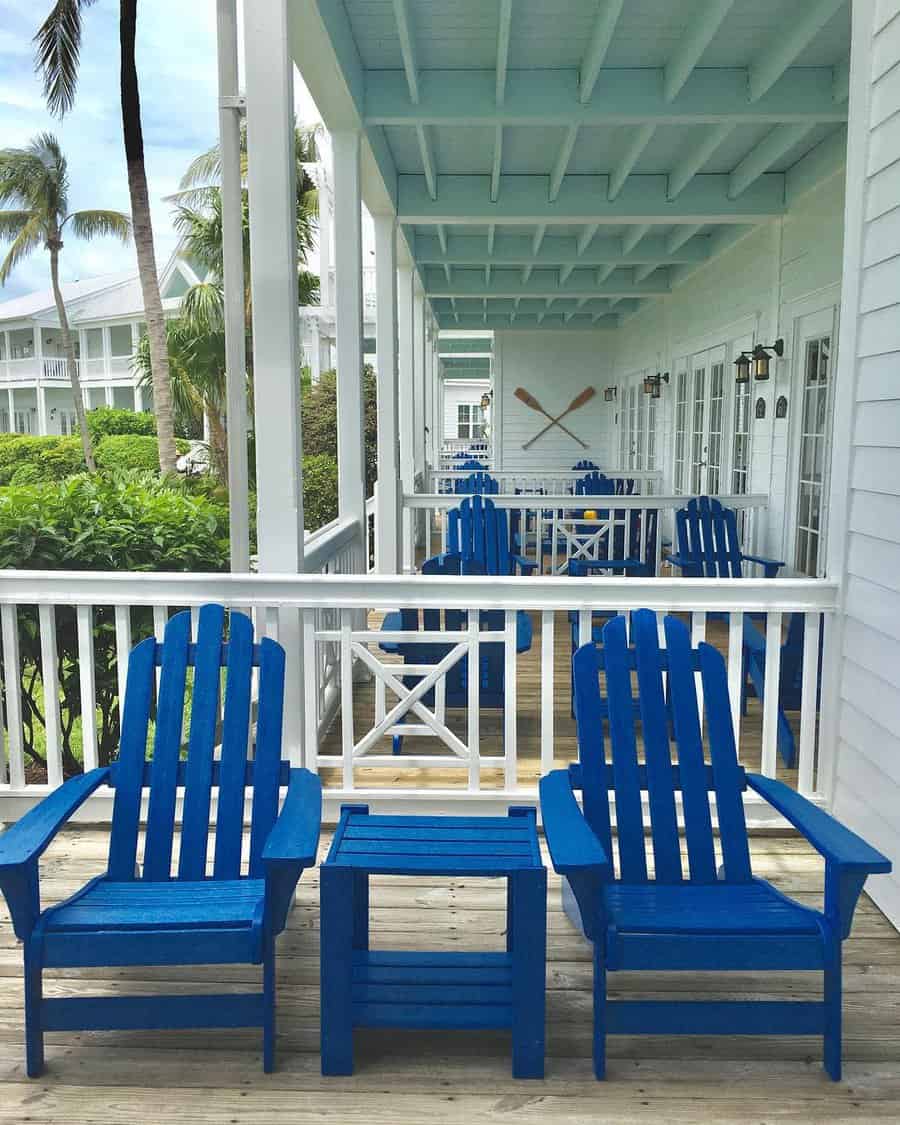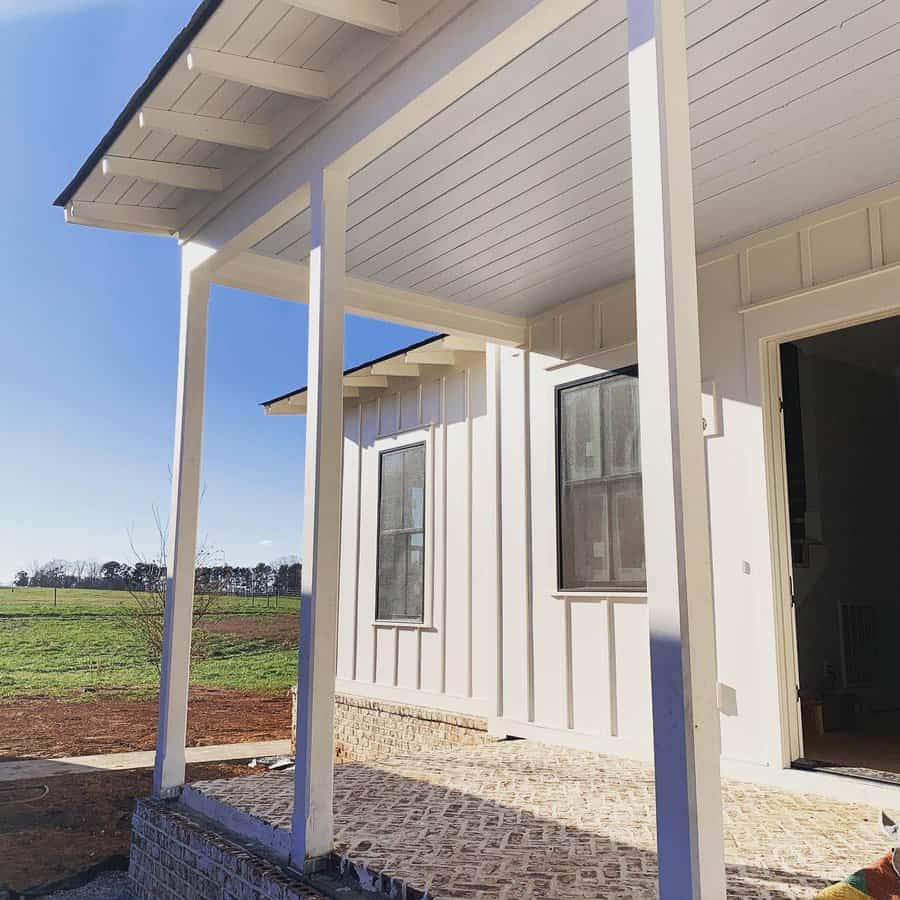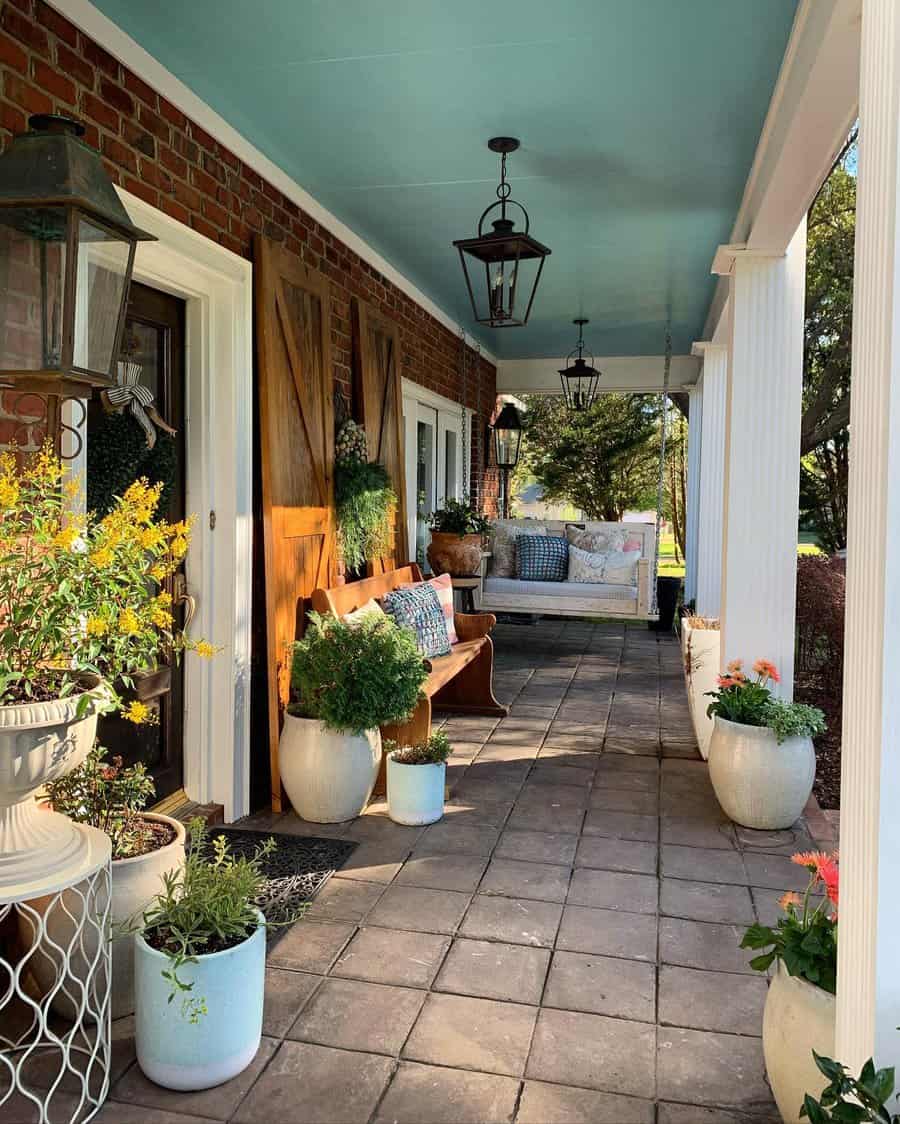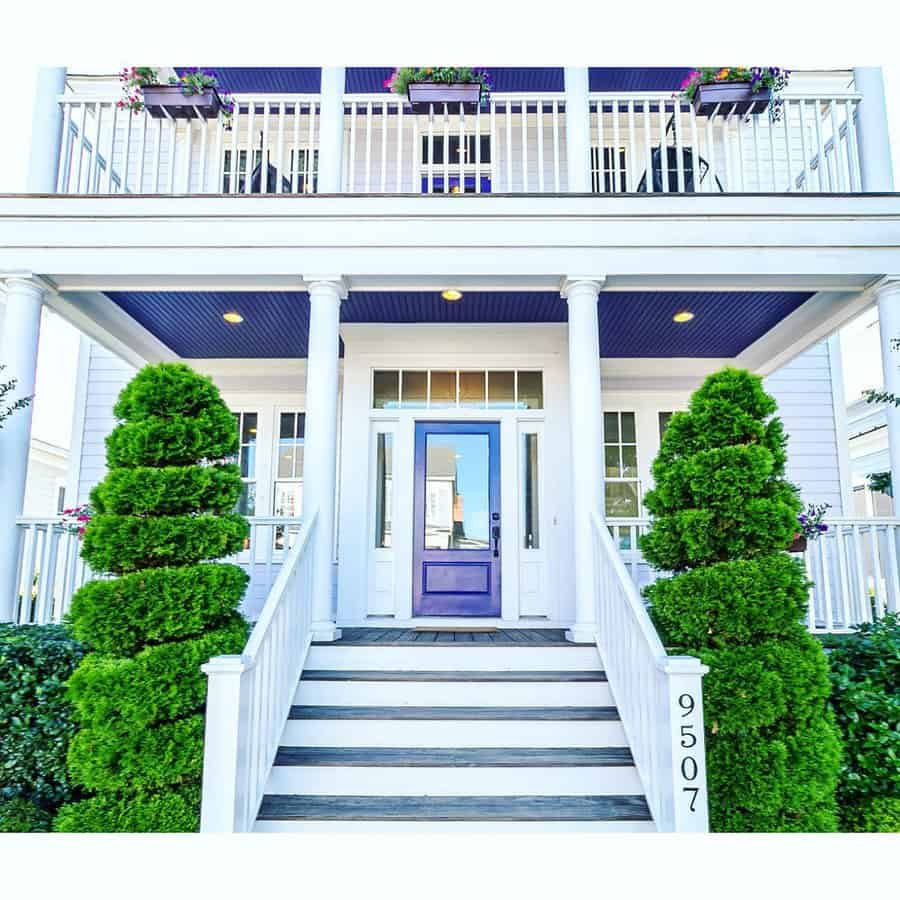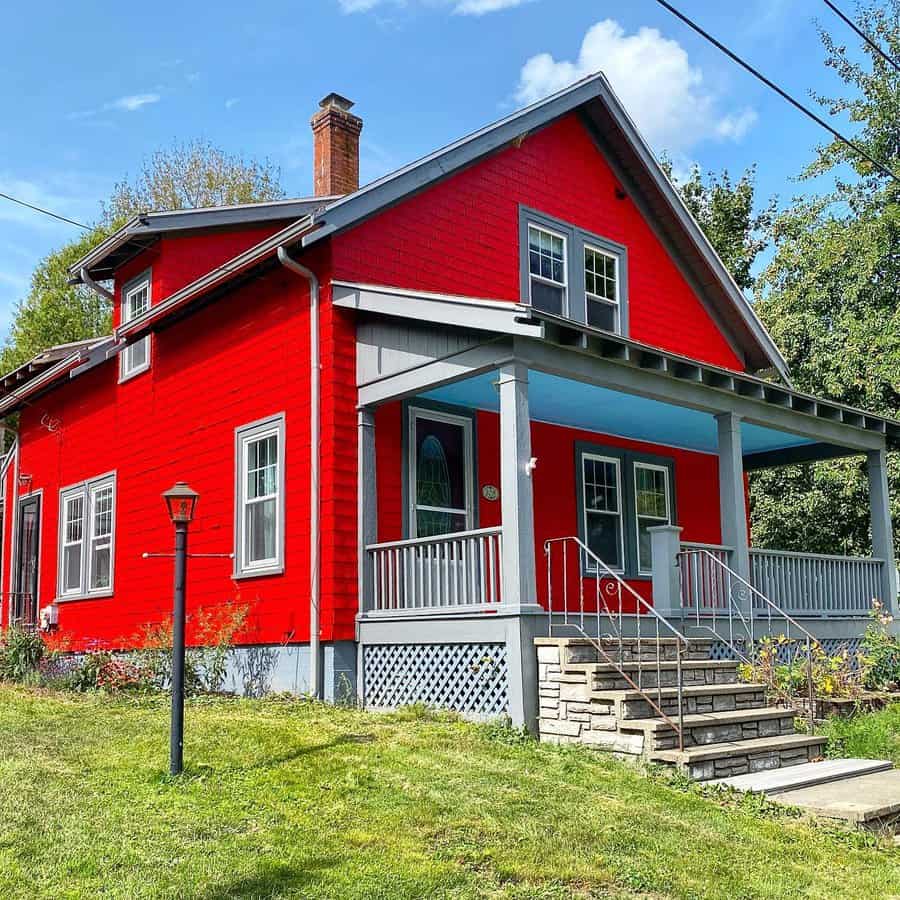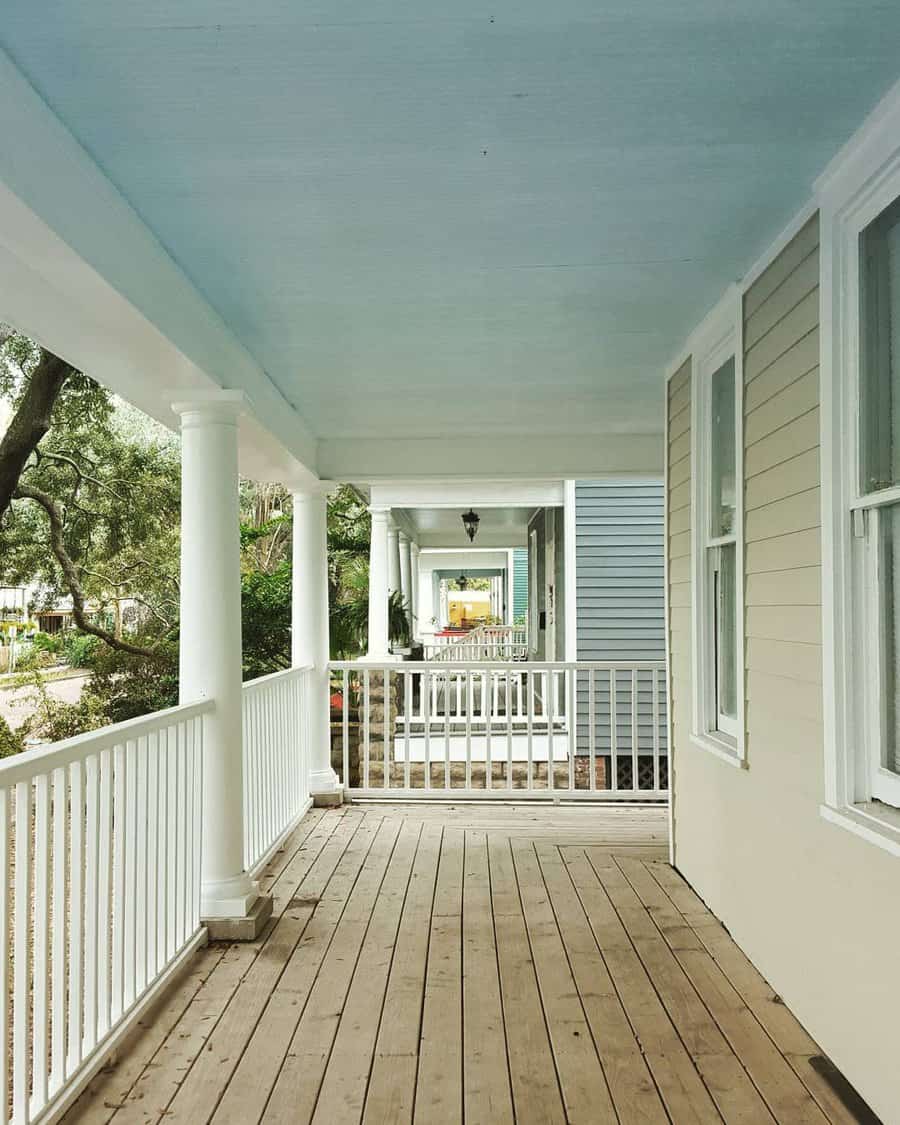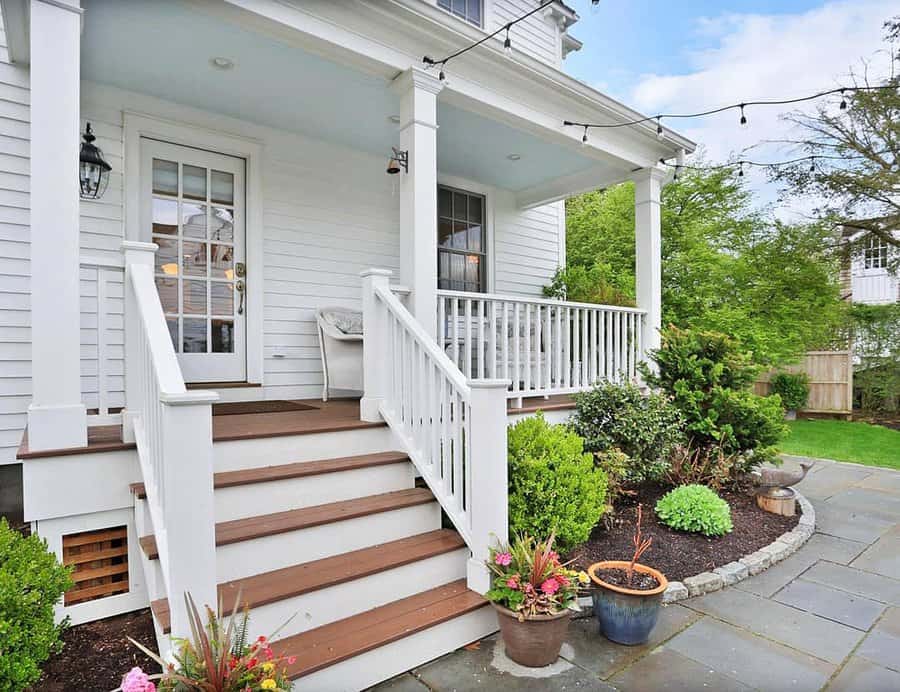 Whatever the reason for choosing a blue porch ceiling, it's a tradition that's here to stay. Paint retailer Benjamin Moore has several great paint color choices for your southern porch ceiling ideas, including Clear Skies and Palladian Blue. Sherwin Williams Atmospheric shade of blue is another excellent ceiling paint option when you want to mimic the natural light in a midday summer sky.
2. Coffered
A coffered wood ceiling is one that has beams arranged in a grid-like pattern of squares, rectangles, or other shapes. The word "coffer" means "indentation" which accurately describes the appearance of a coffered ceiling. It often resembles a grooved checkerboard, but you can choose from dozens of simple or intricate patterns.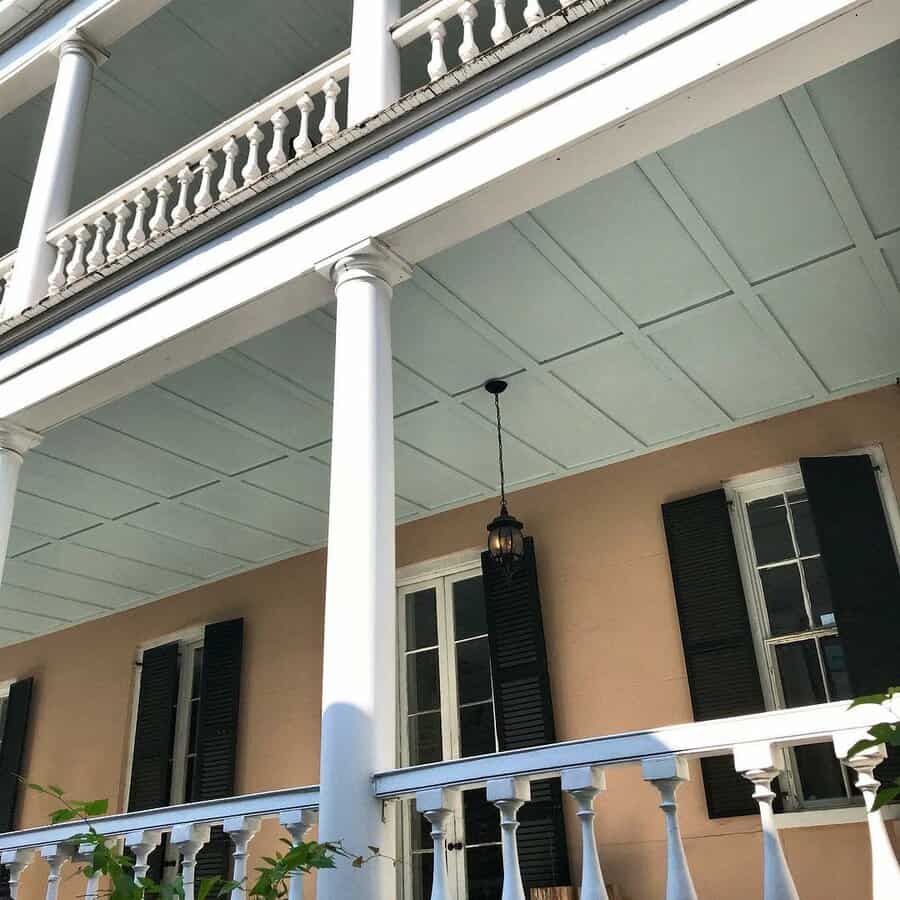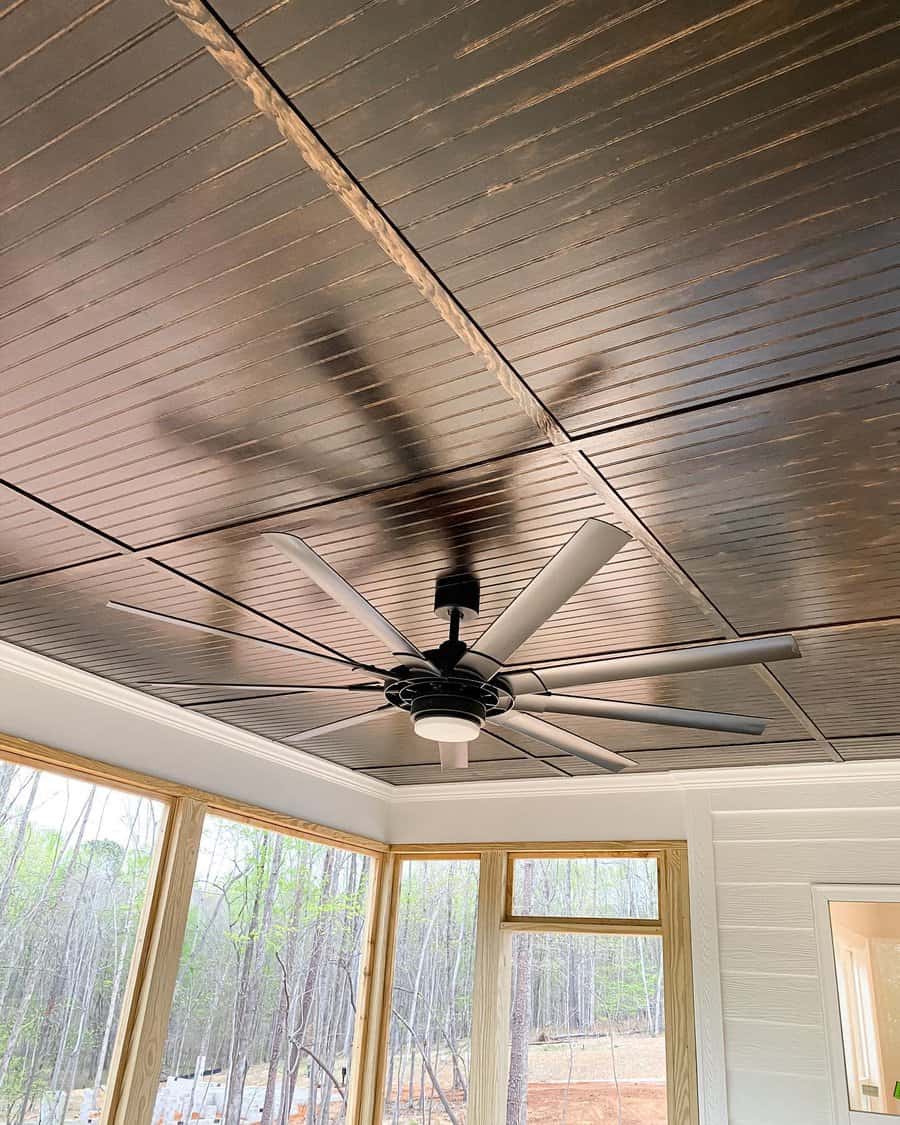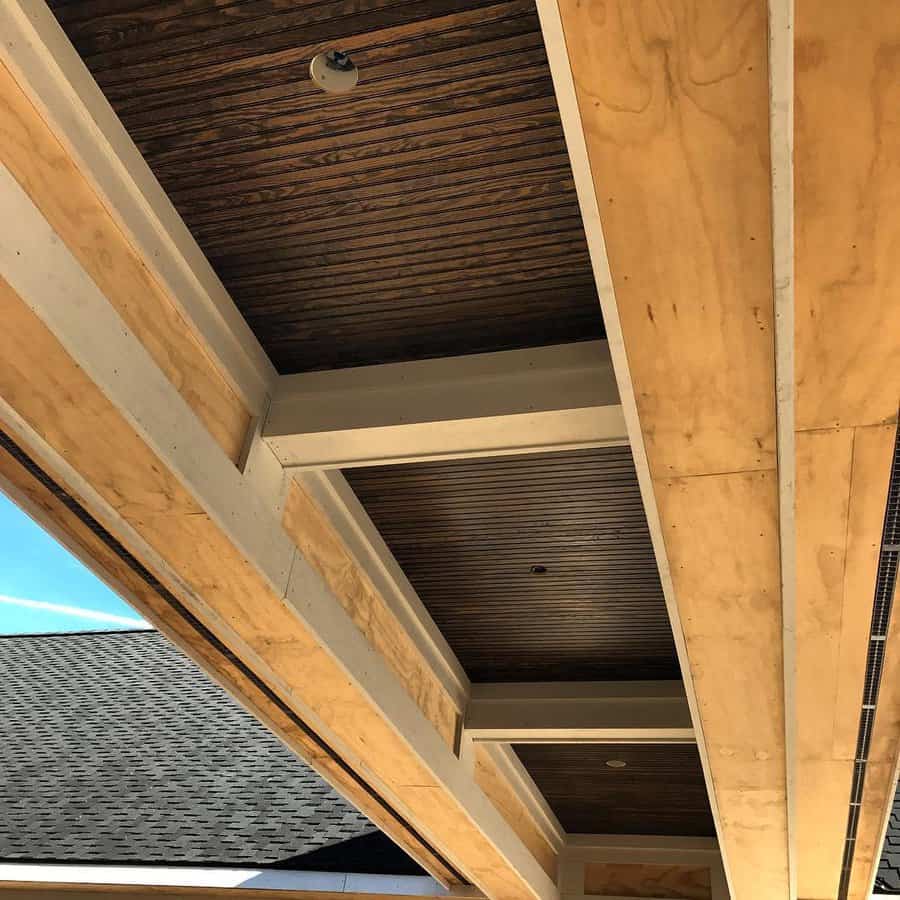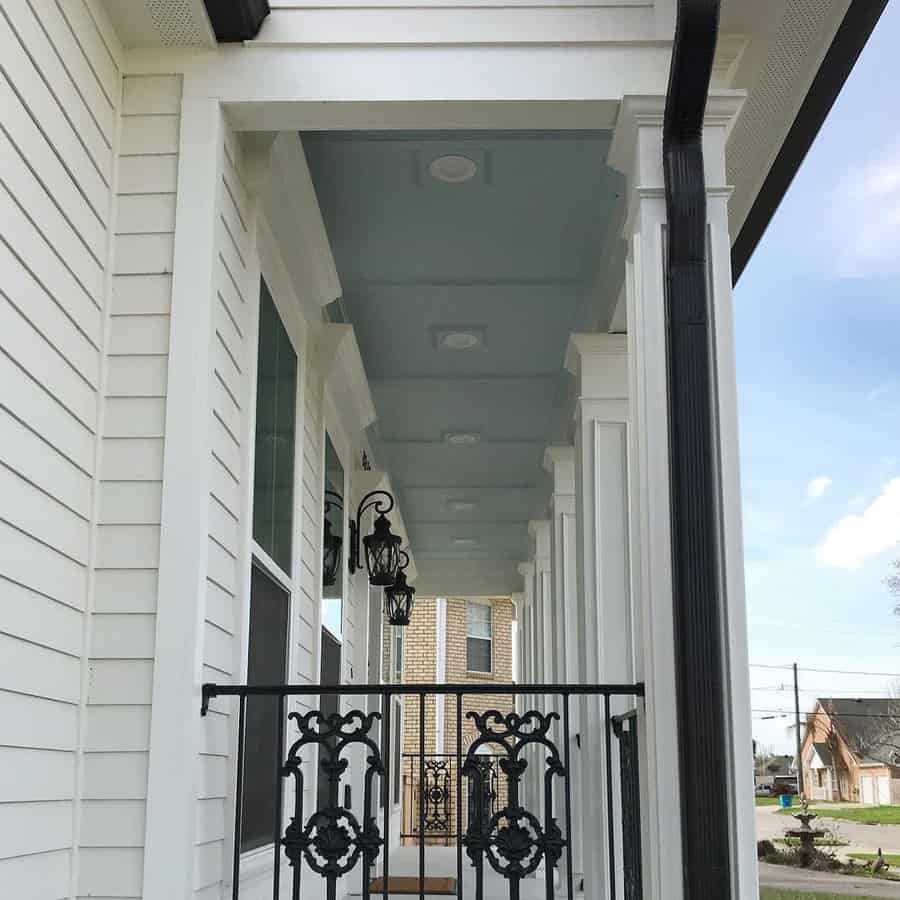 Coffering makes an open or screened porch ceiling appear more spacious and it also helps to absorb excess sound. A coffered wooden ceiling brings a certain elegance to an ordinary outdoor porch and can even raise your home's resale value. Extend a coffered ceiling from an indoor porch area to an exterior covered porch for design continuity.
3. Covered
Without a porch roof, a porch is just an outdoor patio. Porch roof and ceiling options abound, from the affordable to the expensive. Depending on your decoration style, you may want a simple tin panel roof set on a wood beam framework, or you may prefer a classic beadboard porch ceiling design.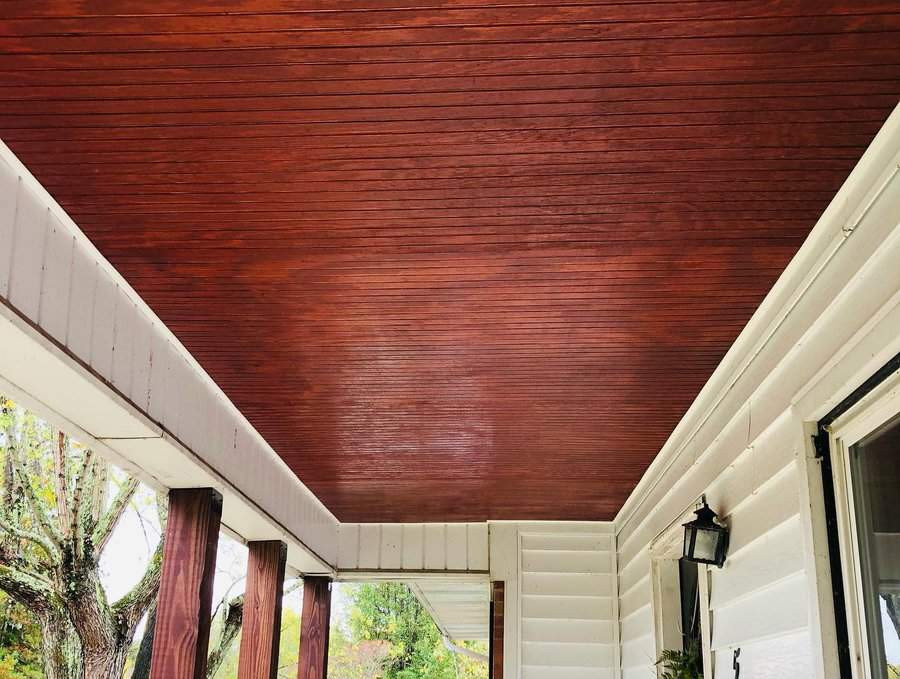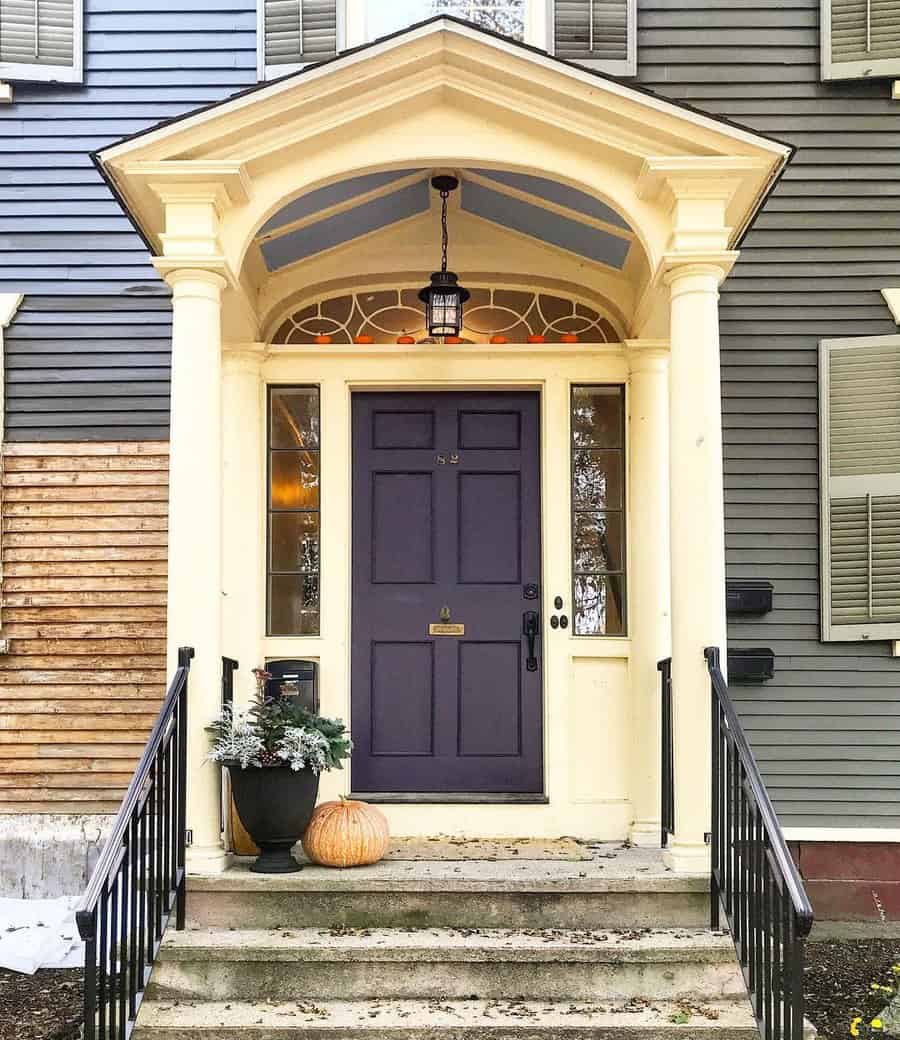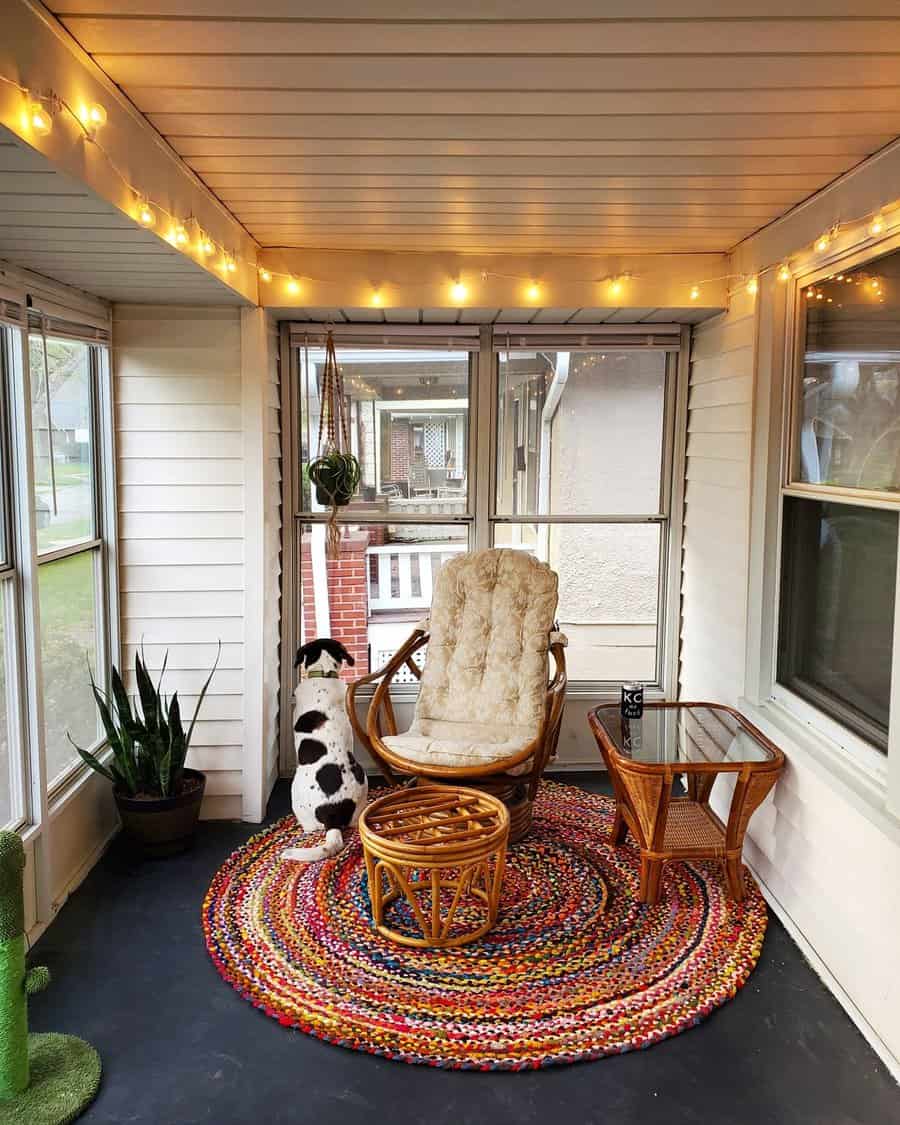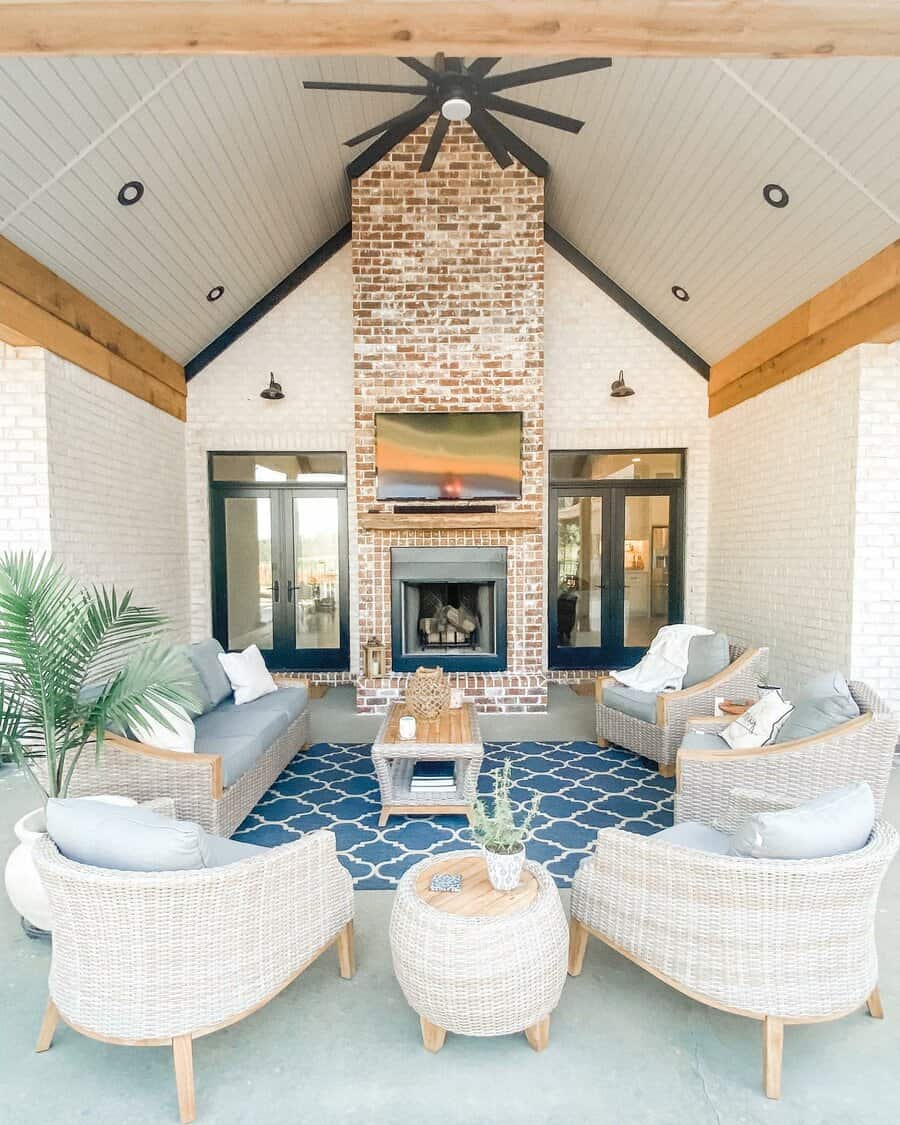 A covered porch design is necessary to enjoy your outdoor living space year-round. If you have a sunroom or other enclosed porch, you can use the same ceiling treatment you used in the rest of your home. However, the porch is a fun place to try out an entirely new option, such as covering the ceiling with the same wood planks on the floor.
When settling on your porch ceiling ideas, remember to include lighting and ventilation options. Recessed lighting and a ceiling fan or two make your porch extra enjoyable on hot days and in the evenings. Just make sure you install outdoor ceiling fans, as models rated for indoor use cannot handle exposure to humidity and the elements.
4. Dark
Do something dramatic with your porch ceiling and go dark. Deep blue, grey, brown, and even black paint is a modern porch ceiling finish that many prefer.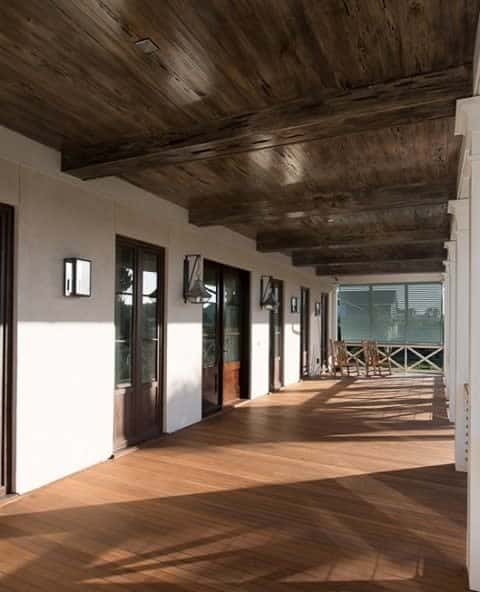 Dark stained wood on the porch ceiling helps beautiful wood doors, shutters, and other wood touches stand out. Pair a dark wood porch ceiling with lighter wood trim and porch furniture for a stunning view from the street.
Dark colors bring the porch roof down visually, resulting in a greater sense of coziness. This is helpful if you have a tall, open gable roof or otherwise elevated porch ceiling. In a cool climate, dark colors also absorb heat, making your outdoor space warmer on chilly days.
5. Front
The front porch is what welcomes people into your corner of the world. Making it as beautiful as possible is a great way to express your personality before anyone even steps foot inside your home. Be sure to choose outdoor ceiling fan and lighting options that reflect the overall style of your home's exterior.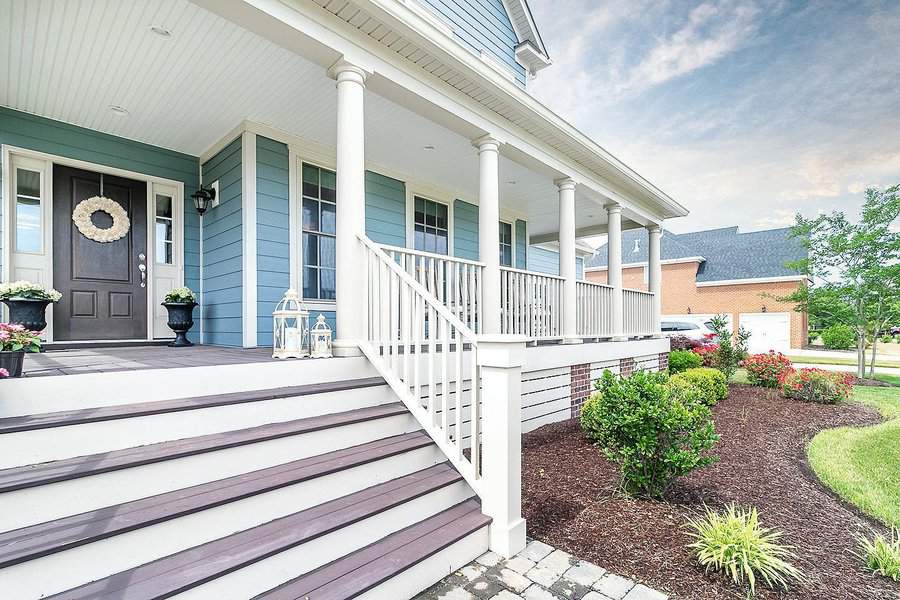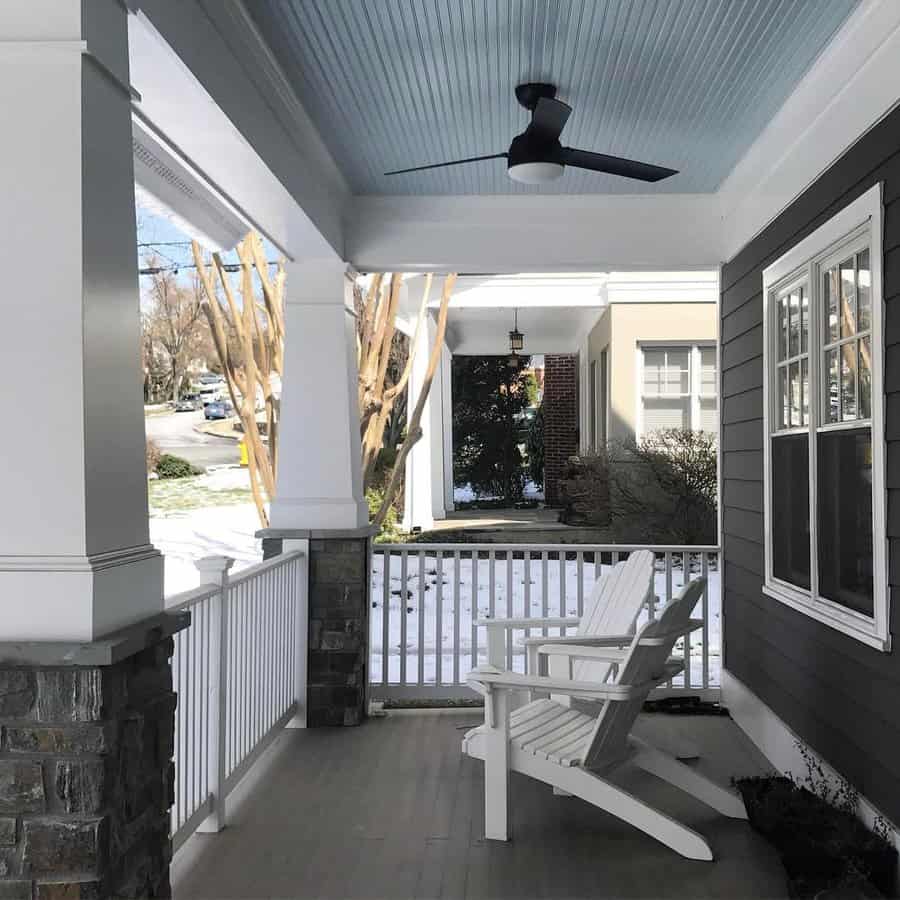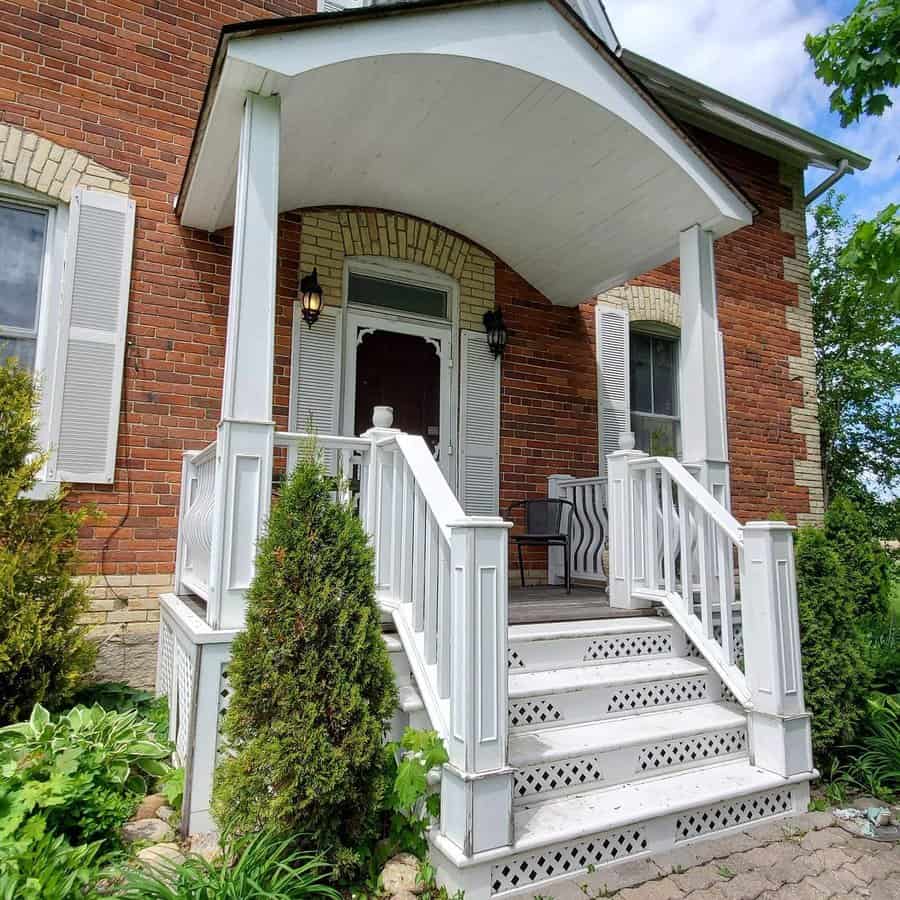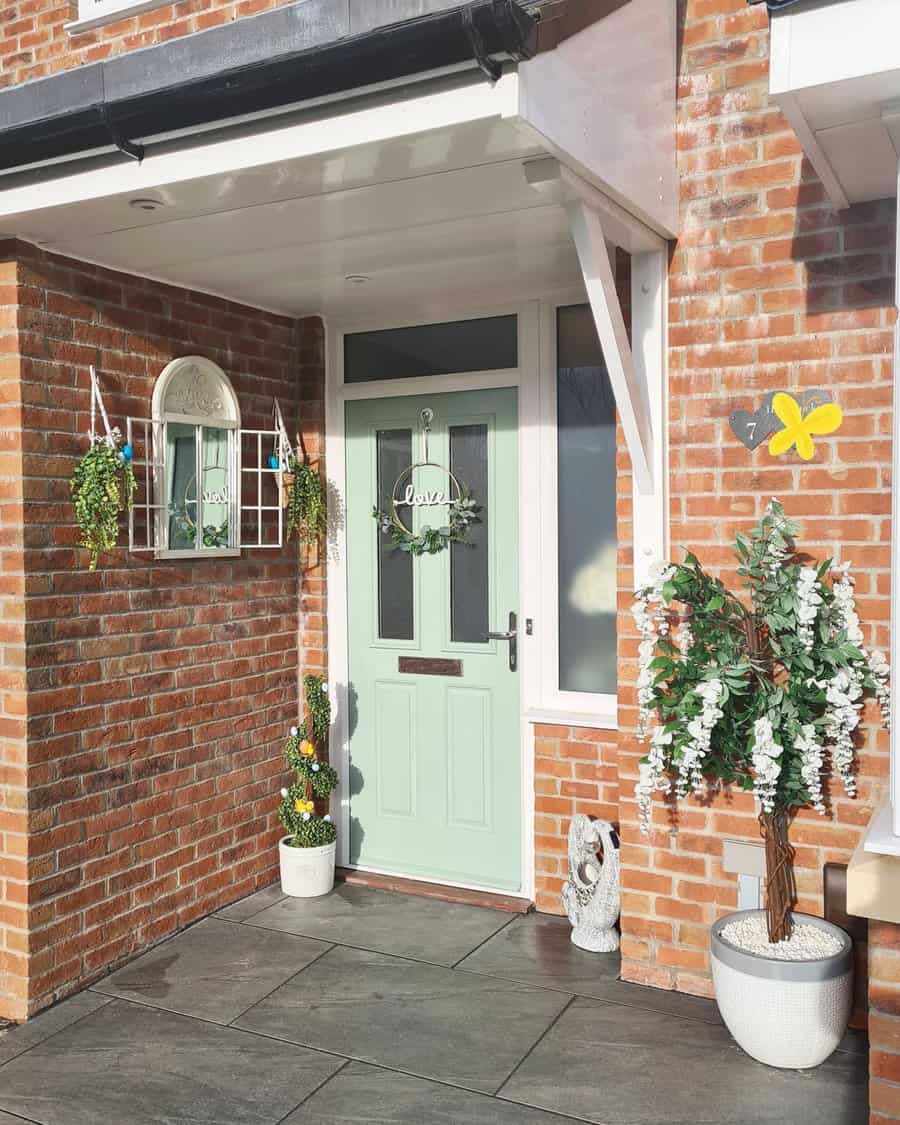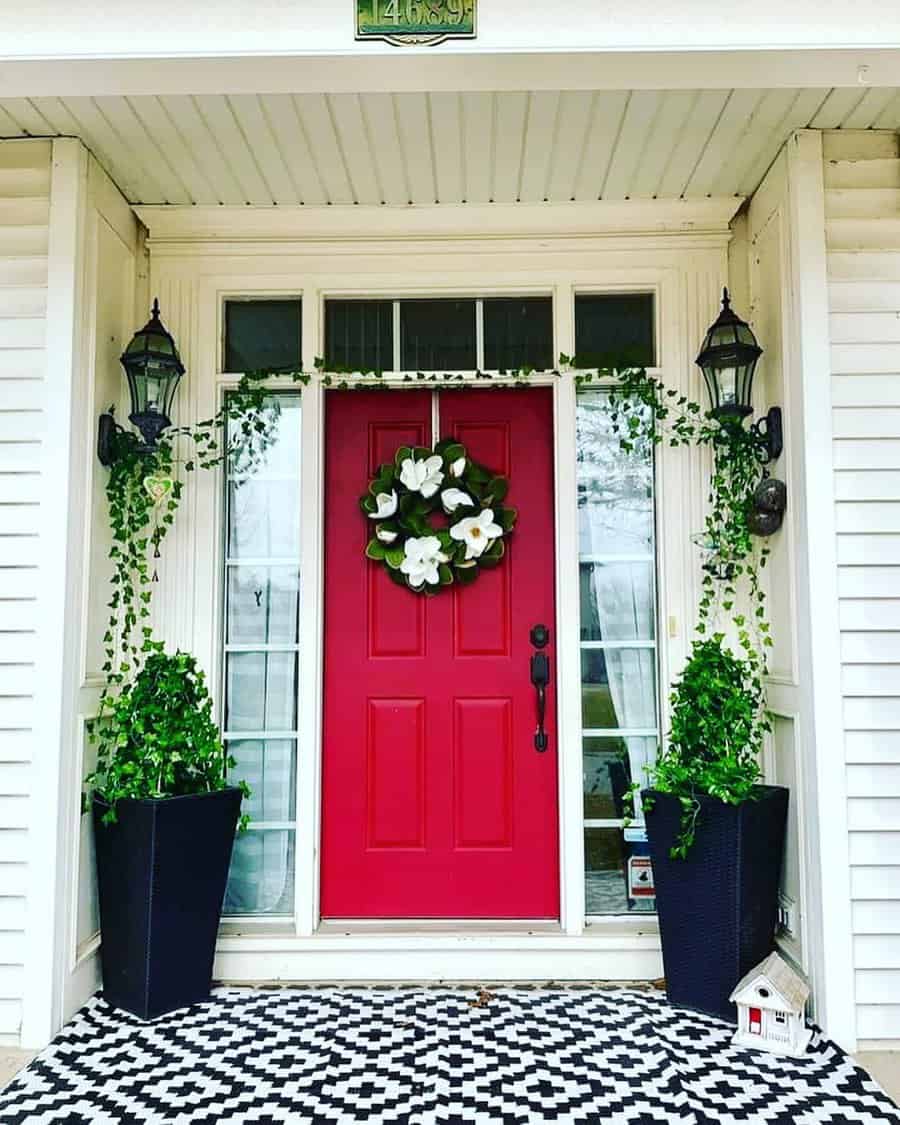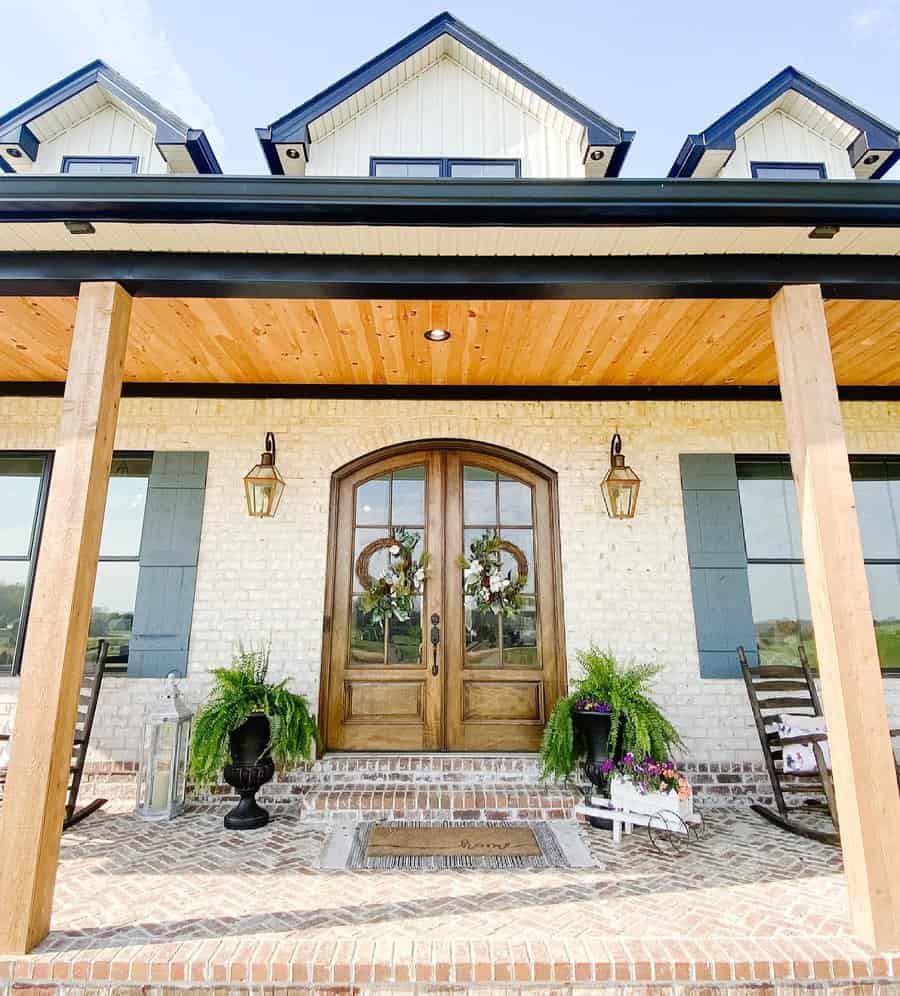 Whether you have a small entryway porch or a full wraparound porch, treat it as you would any interior space. Wicker furniture topped with plush cushions invites people to sit a while, enjoying the breeze from your ceiling fans as they sit under the fabulous porch ceiling ideas you manifested.
See also: Front Porch Railing Ideas
6. Modern
Modern design embraces simplistic minimalism, and a modern home exterior needs a modern porch ceiling treatment. A plain white plywood ceiling with shallow coffered lines provides a modern gridwork design. Paint the same style of porch ceiling black for a unique modern twist.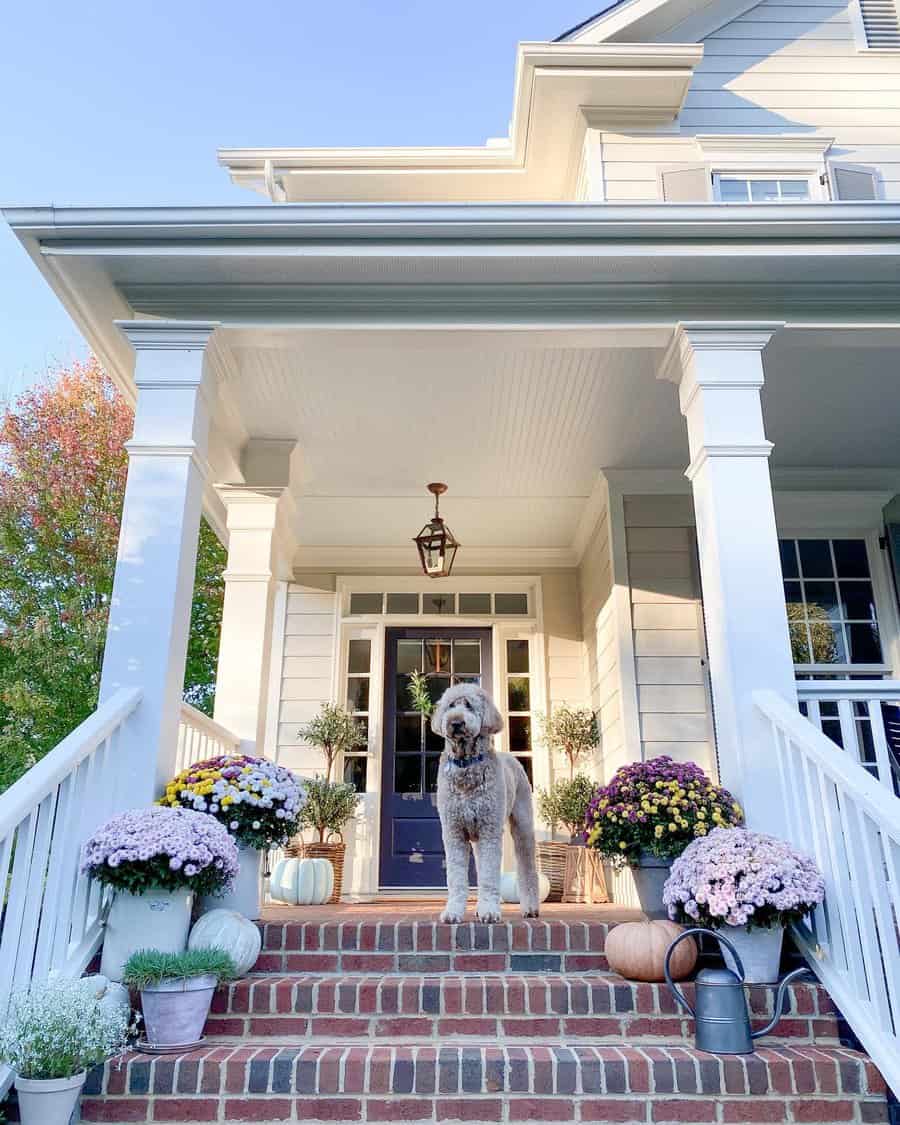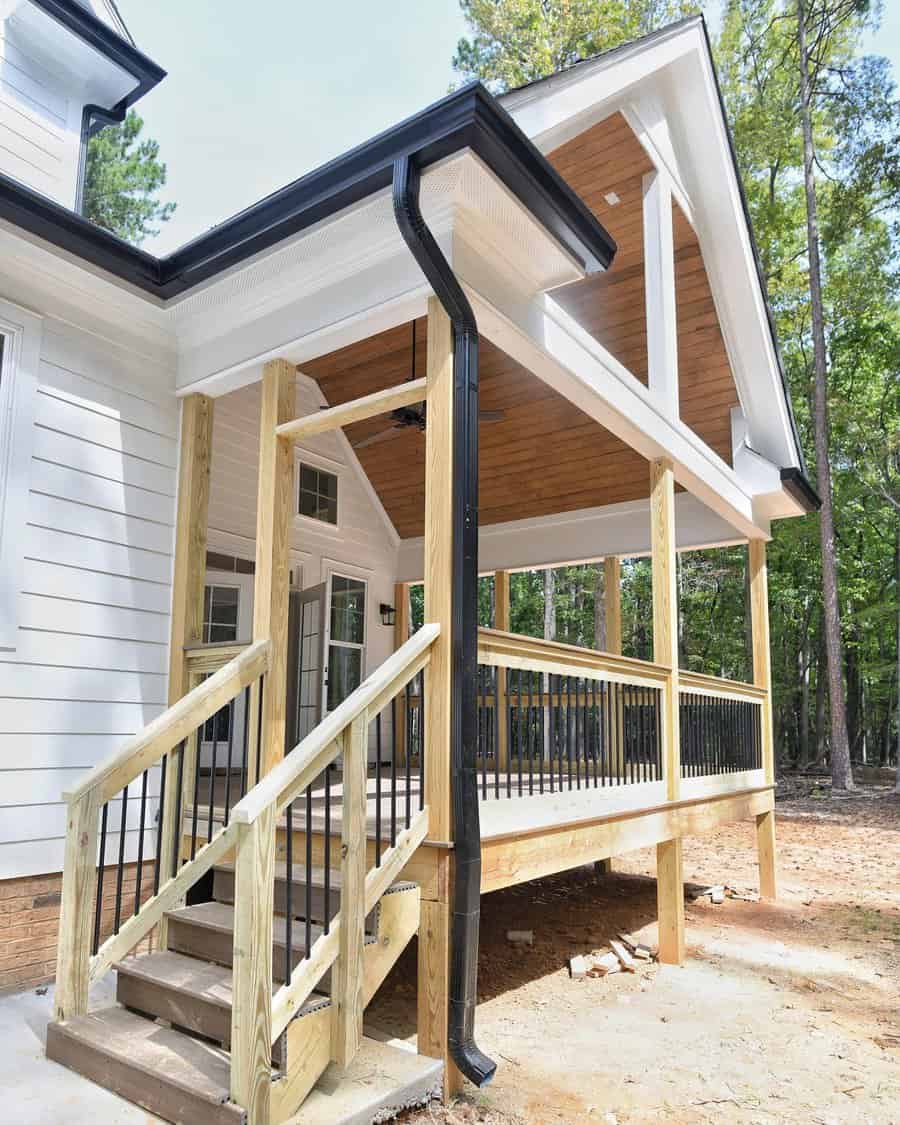 Add simple recessed lighting fixtures and a sleek metal outdoor ceiling fan to keep the modern vibe flowing. Since modern design embraces neutrals with solid pops of color, don't be afraid to paint the porch ceiling a bright color, such as pink, red, or yellow.
7. Stained
Stained wood is one of the most gorgeous porch roof ideas. Its warm, deep hues integrate the home's other wood touches in a way that easily meshes with contemporary and traditional decor.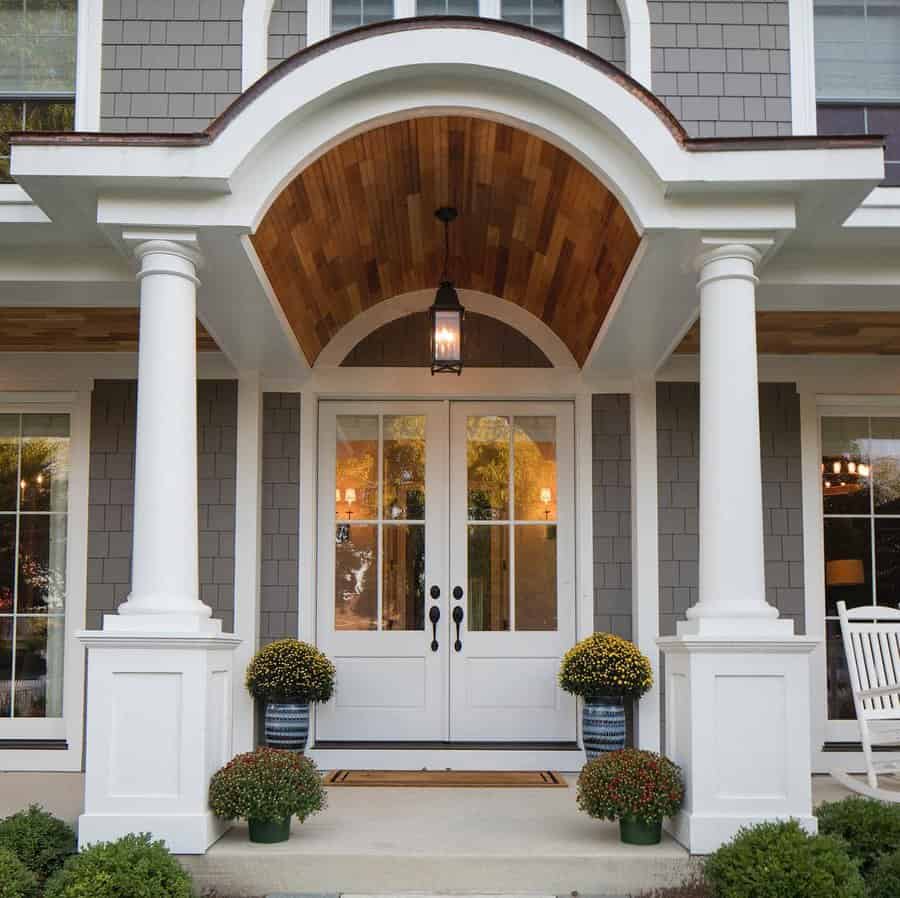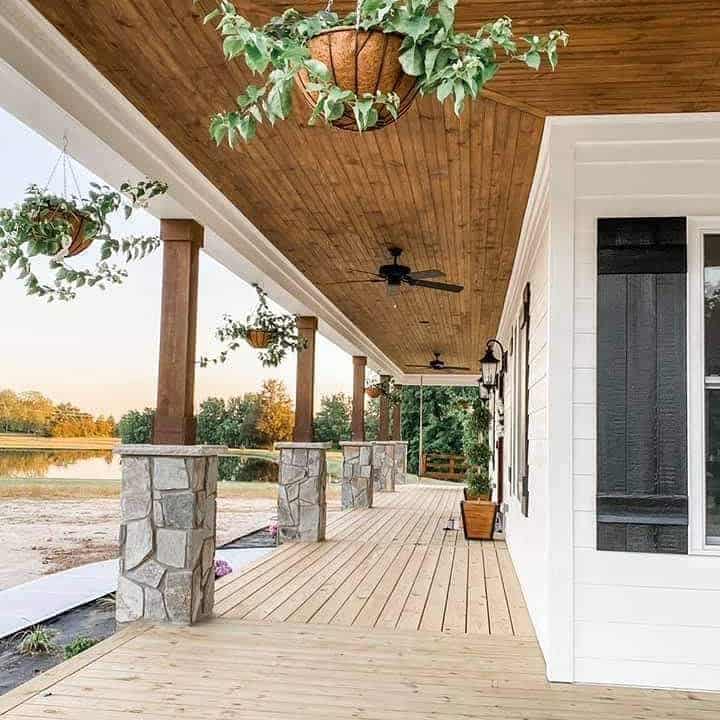 While every exterior wood finish needs to be sealed, the type of finish you use will influence how your roof looks. Rougher wooden beam and wood plank surfaces are good for rustic or industrial porch ideas, while smooth and shiny finishes better suit Craftsman, Victorian, and modern homes.
While beautiful, high-quality wood products are preferrable for patio roof treatment, you can use less expensive wood and composite materials and achieve a similar look.
8. White
From New York to South Carolina, from Texas to Oregon, white is probably the most common color that people use on their porch roof and ceiling surfaces. White is fresh and clean, and visually expands any area where it's used.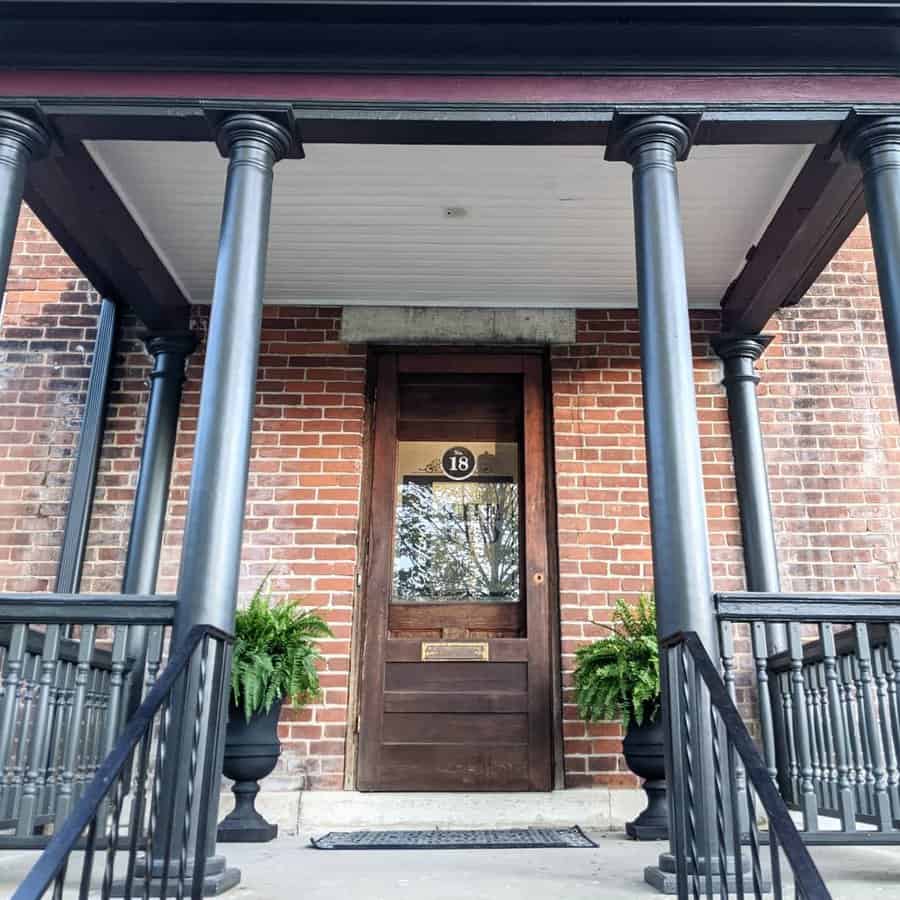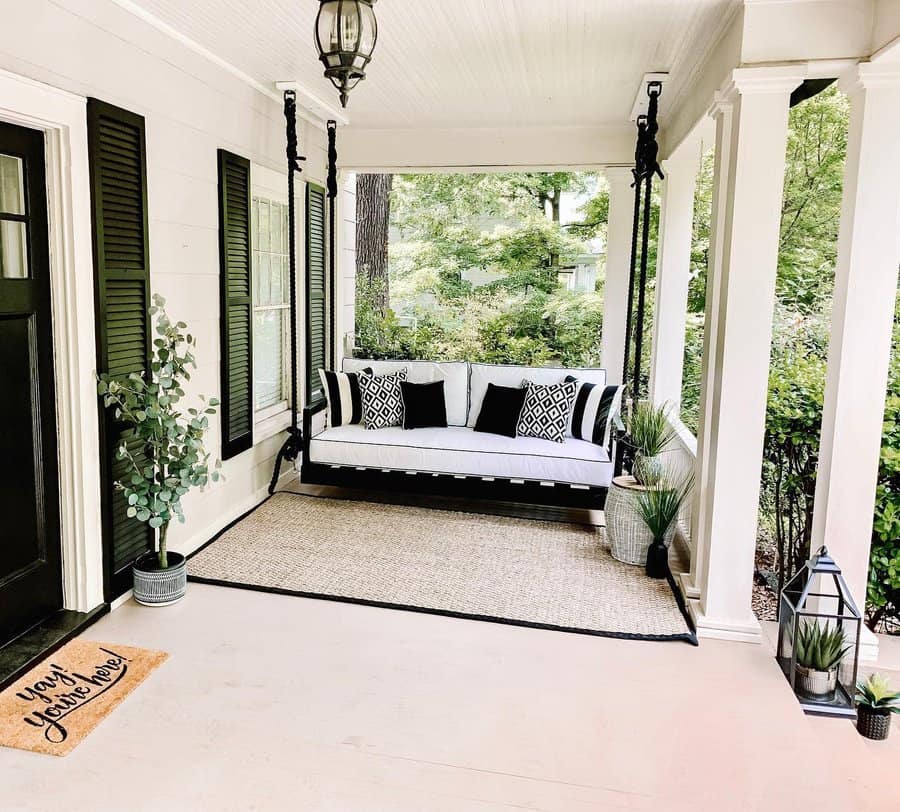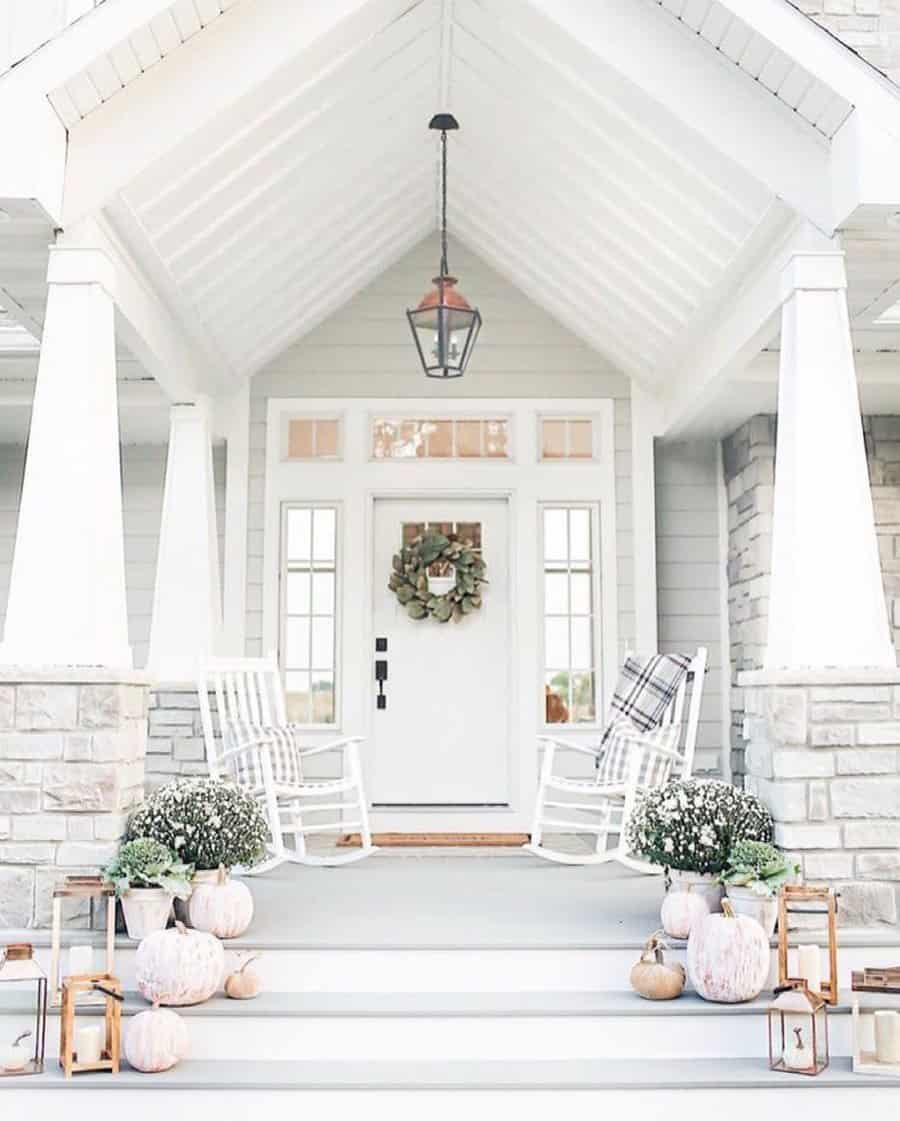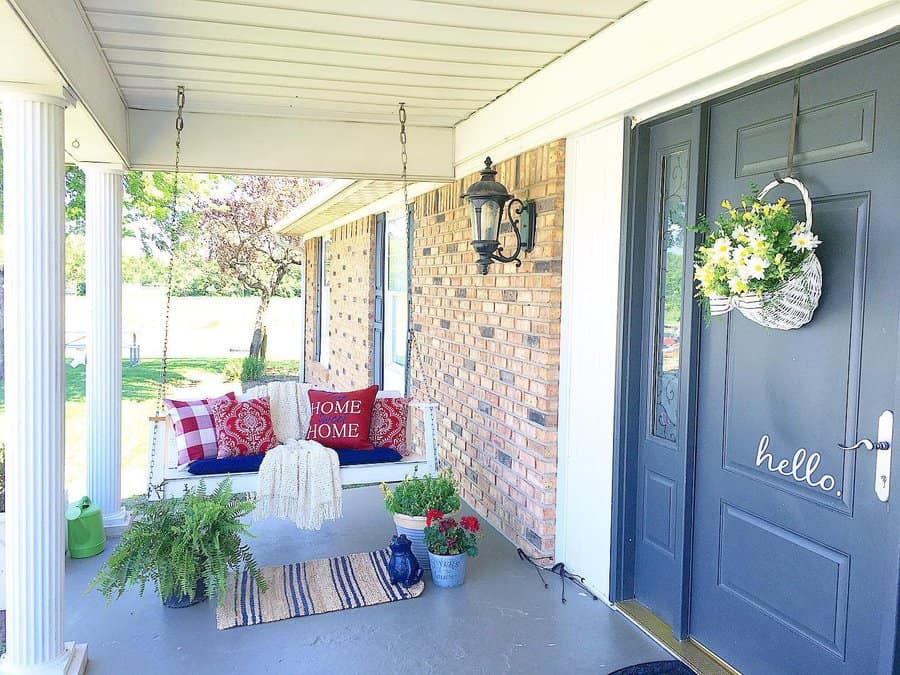 White is the one porch ceiling color that literally goes anywhere. Even a basic plywood or beadboard ceiling is easily brightened by a coat of white paint.
However, don't just pick up any random can of white paint from Home Depot—especially if your home exterior or trim is white. Shades of "white" can vary greatly in natural light—from grey to yellow—so always rely on paint swatches to make sure you match your existing paint color.
9. Wood
Most porch ceilings have a plywood base, and many people paint or stain the plywood for a simple ceiling treatment. There are so many other things you can do with wood, from beadboard to coffering, and shiplap to shingles.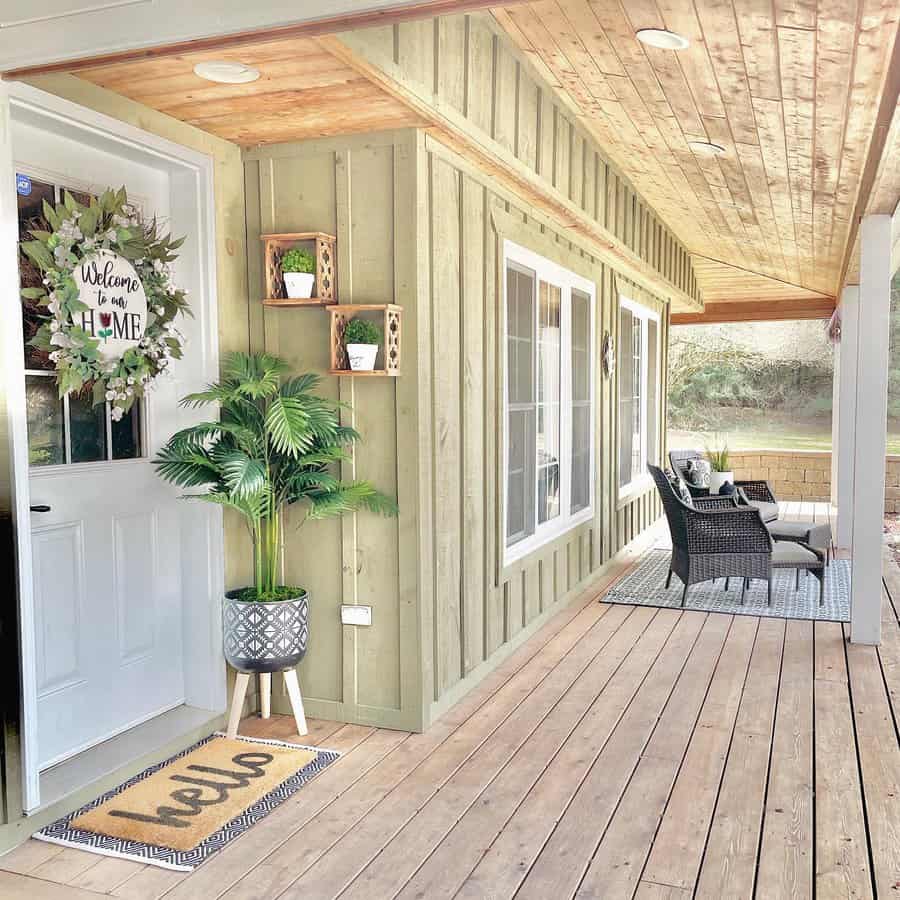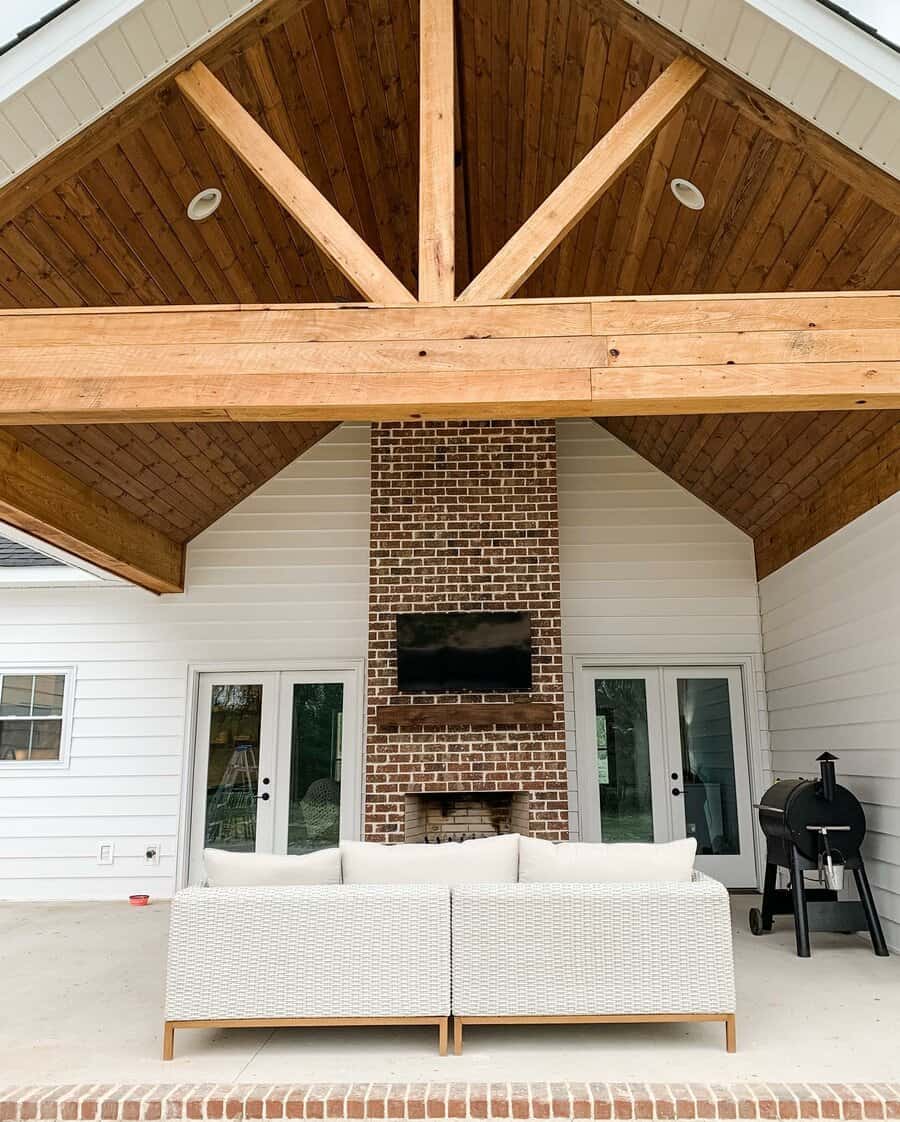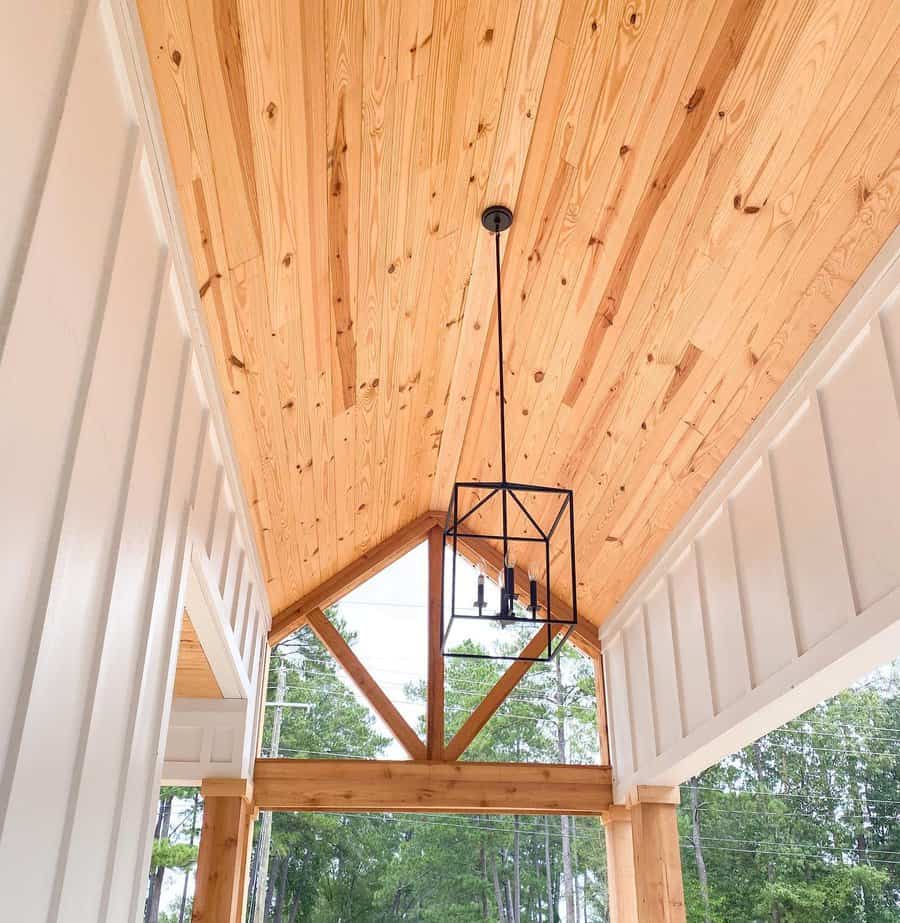 Mixing and matching wood finishes is a popular design option when styling the roof and ceiling on a front porch, outdoor kitchen, or covered back porch. Painted wood trim and stained wood planks coexist beautifully together and are far more visually interesting than using just one type of finish.
Porch Ceiling FAQs
What material is best for an outdoor ceiling?
Plywood is the most often used porch ceiling covering. It's important to use a quality, exterior grade plywood and prime it well before painting.
Can you use paneling on a porch ceiling?
It depends on the type of paneling. You will want to buy paneling made for exterior use, especially if you plan to stain it instead of painting it. If you're going for a painted paneling, such as beadboard, look into a PVC or fiber cement paneling. These products will be more durable over time than real wood.
Can you use drywall on an exterior porch ceiling?
No. Even drywall rated as "moisture resistant" cannot stand up to the fluctuating weather conditions experienced on an outdoor porch. It will sag prematurely from direct exposure to moisture.