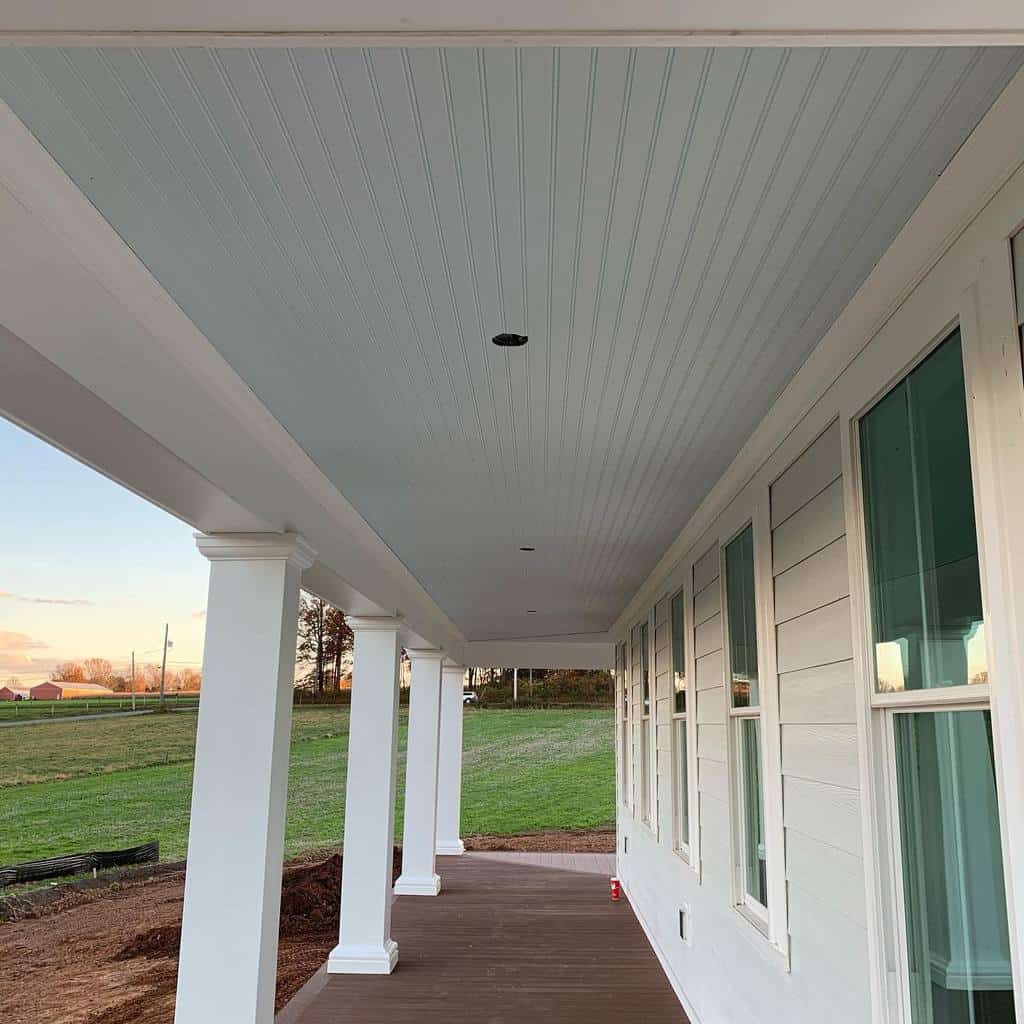 38 Porch Ceiling Ideas and Designs
by — Kari Apted

Published on February 16, 2022

Updated on October 2, 2023
"True luxury is being able to own your time – to be able to take a walk, sit on your porch, read the paper, not take the call, not be compelled by obligation." -Ashton Kutcher
Few things are more pleasing than relaxing on the porch with a book and a beverage on a lazy summer afternoon. But creating the perfect outdoor living oasis requires the same attention to detail as the rooms inside your home.
While a plain porch roof protects you from the elements, it's nothing great to look at while you're relaxing below. Paint, beadboard, and other design features will elevate your porch experience to something truly special. These top porch ceiling ideas will inspire you to spruce up your outdoor living space.
1. Experiment with Ceiling Materials
Enhance the appeal of your outdoor space by exploring various ceiling materials. One intriguing option is a composite porch ceiling. Combine a wooden ceiling with a painted frame to create a sophisticated and distinctive area for leisure and entertainment amidst nature's beauty.
Get creative by blending different materials to craft a truly unique look that will impress your guests with your design prowess. Not only do composite porches boast lasting durability, but they also require minimal maintenance, ensuring your space maintains its aesthetic charm for years to come.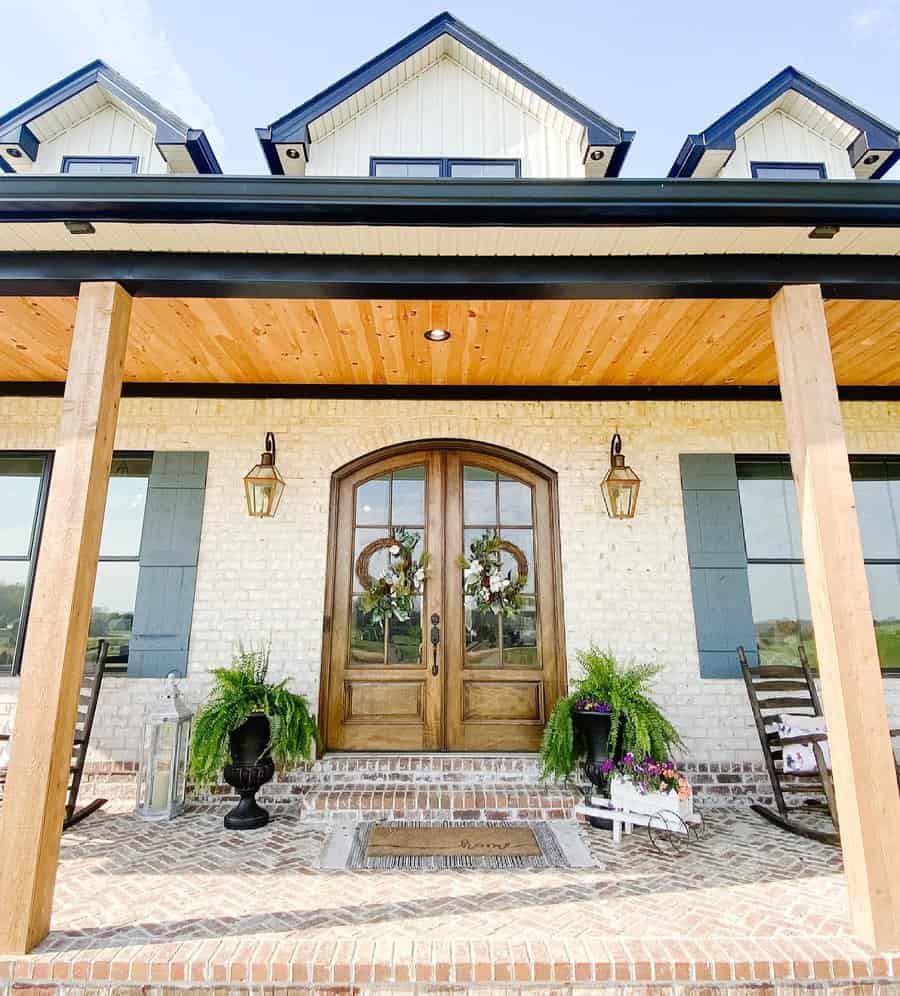 2. Create a Serene Porch Atmosphere
Choosing a light-colored porch ceiling can work wonders in creating a serene atmosphere. Consider soft pastels or classic white to evoke a calming ambiance. This simple change will not only soothe your guests but also leave them with a sense of tranquility. Pair it with comfortable seating and soft lighting to complete the inviting atmosphere.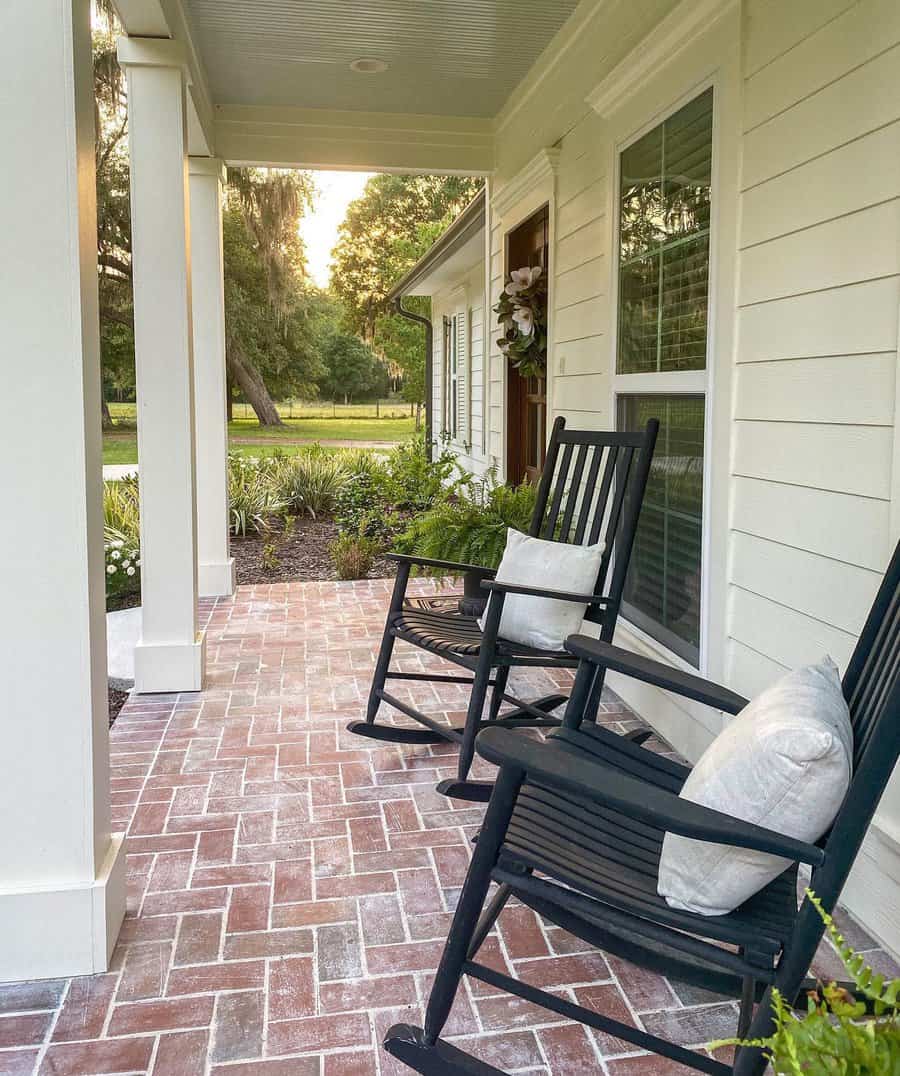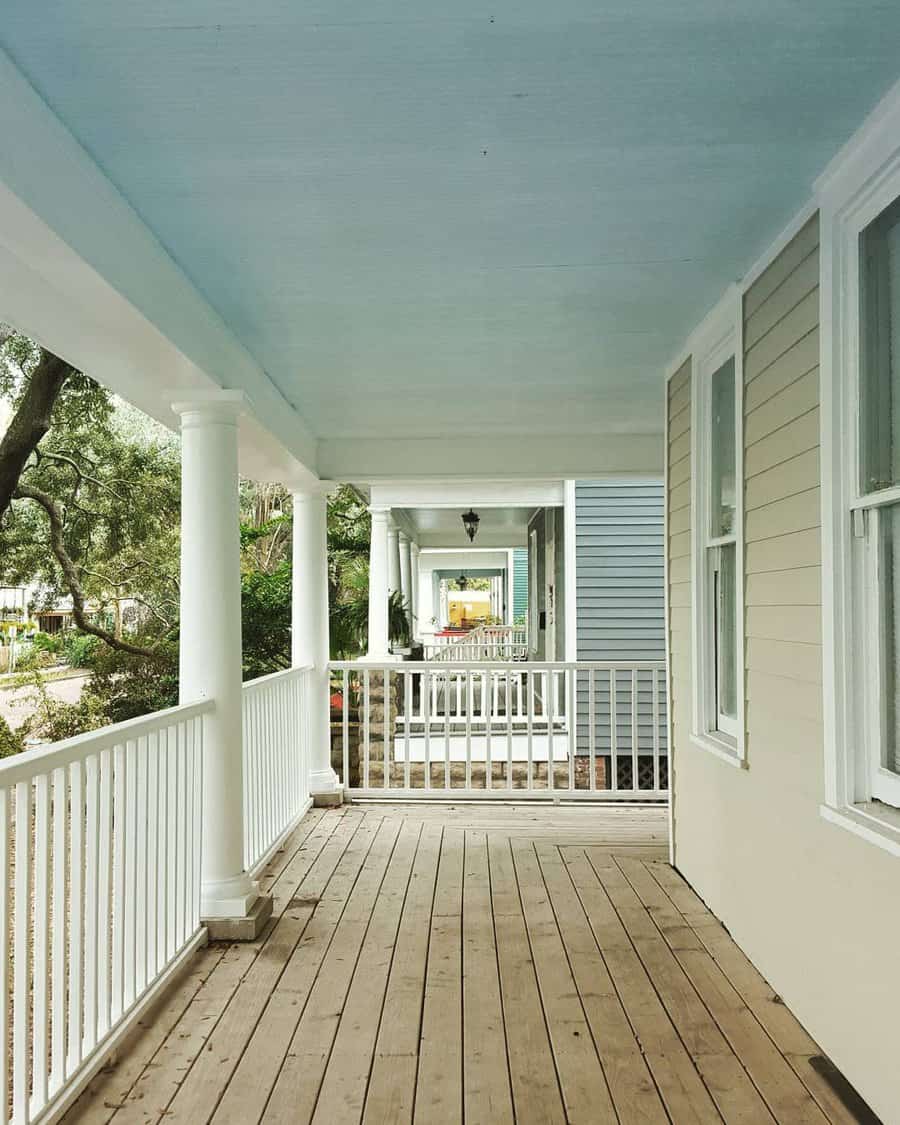 3. Enhance with Porch Ceiling Beams
Introduce beams to your porch ceiling for a coastal-inspired oasis. These beams not only infuse charm but also add depth and height, bringing life to a plain ceiling. To achieve this look, consider painting the beams white or staining them for an authentic beachy vibe.
Pair the beams with light and breezy furnishings, such as wicker furniture and nautical accents, to complete your coastal retreat and make the most of your summer relaxation.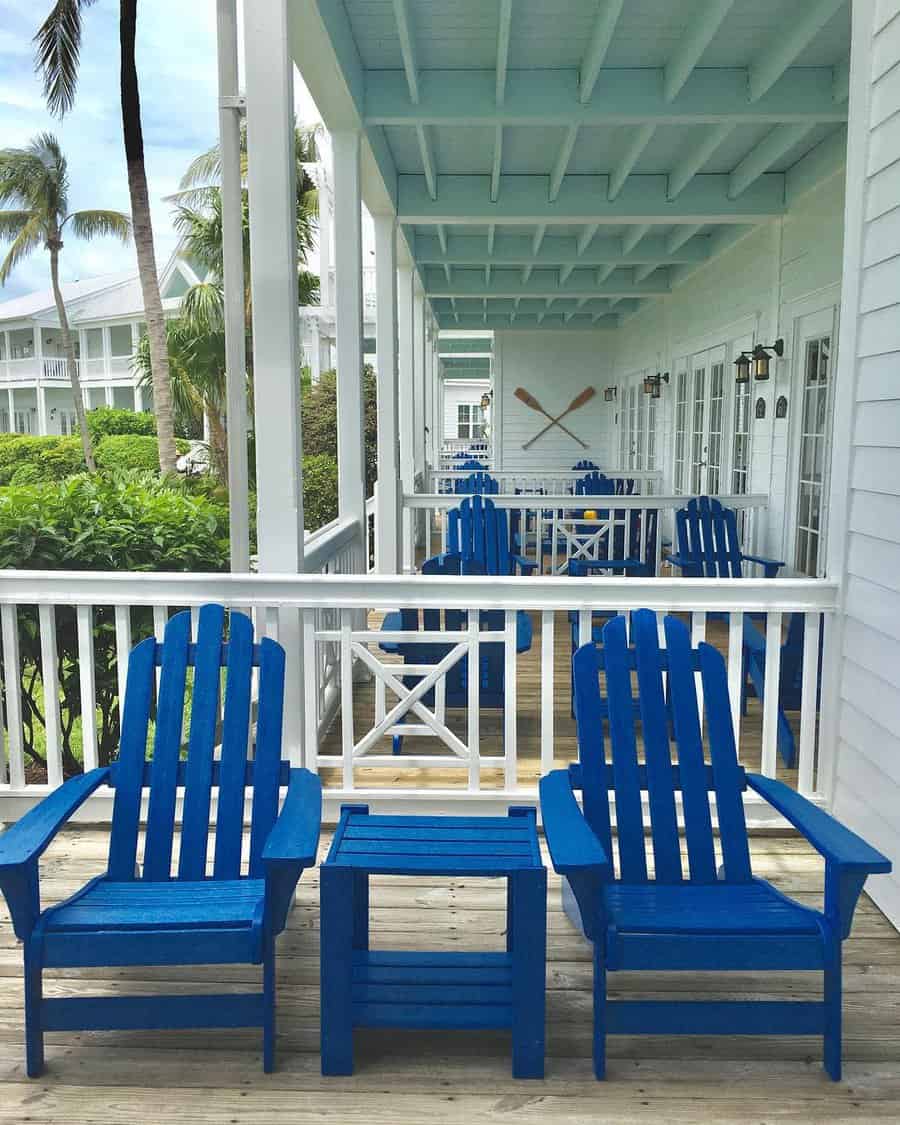 4. Decorate with Stylish Rafter Tails
Consider incorporating rafter tails into your porch ceiling design to infuse charm and creativity into your outdoor space. These wooden cutouts not only add visual appeal but also bolster the structural integrity of your porch by extending the rafters.
Rafter tails offer the added advantage of seamlessly complementing other porch components, creating a cohesive overall design. With a wide variety of styles available, you can select rafter tails that harmonize with your porch's surroundings, whether you prefer a classic or eye-catching look. Elevate your porch's appeal with the versatile and stylish addition of rafter tails.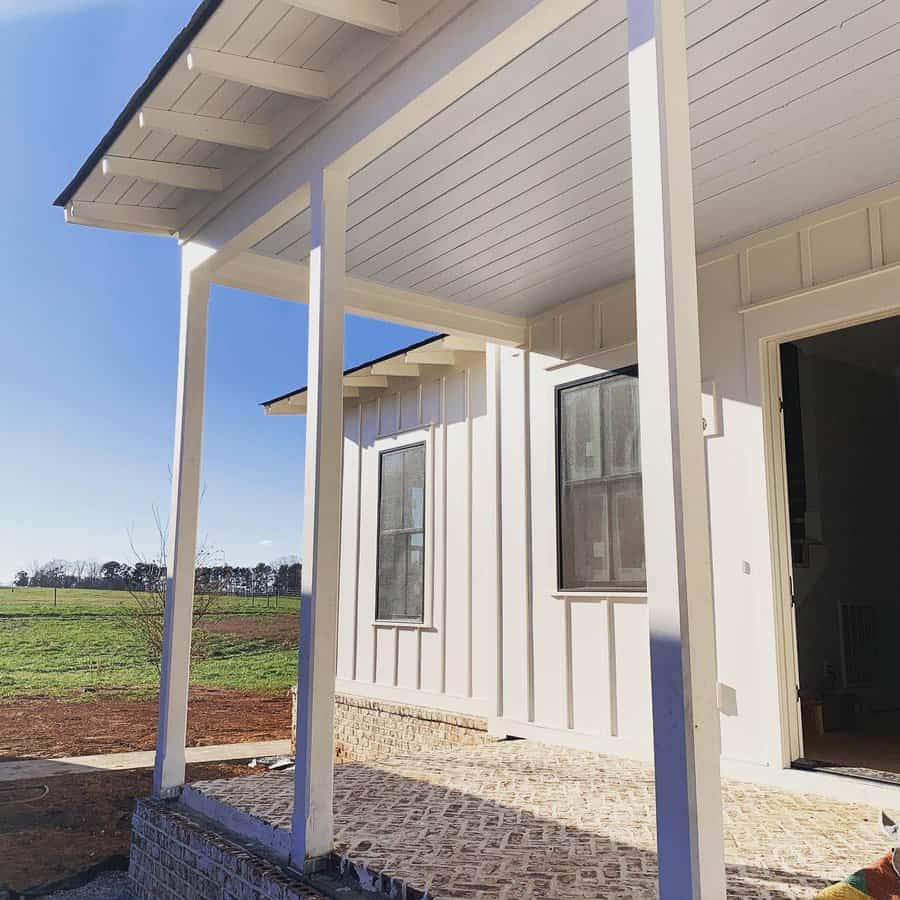 5. Stay Cool with Blue Ceilings
Painting your porch ceiling blue is a timeless choice that can instantly cool down your outdoor space. Whether you prefer a gentle baby blue or a vibrant electric shade, blue exudes a soothing aura, perfect for turning your porch into a peaceful retreat.
Additionally, blue ceilings may deter pests and symbolize good luck, adding to their appeal. When choosing this design, consider complementing it with white or light-colored furniture to create a refreshing coastal vibe. Investing in your porch's aesthetics, particularly through a blue ceiling, can truly transform your outdoor area into a haven of tranquility.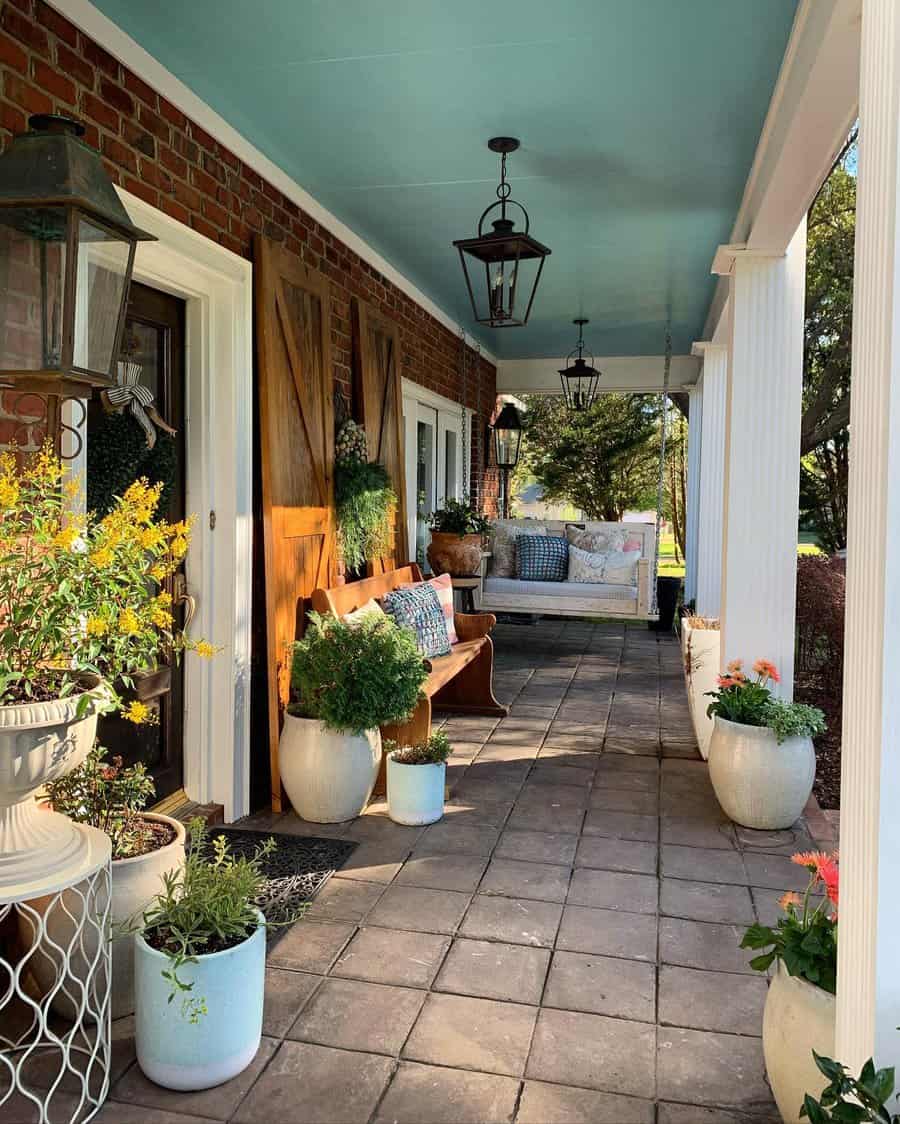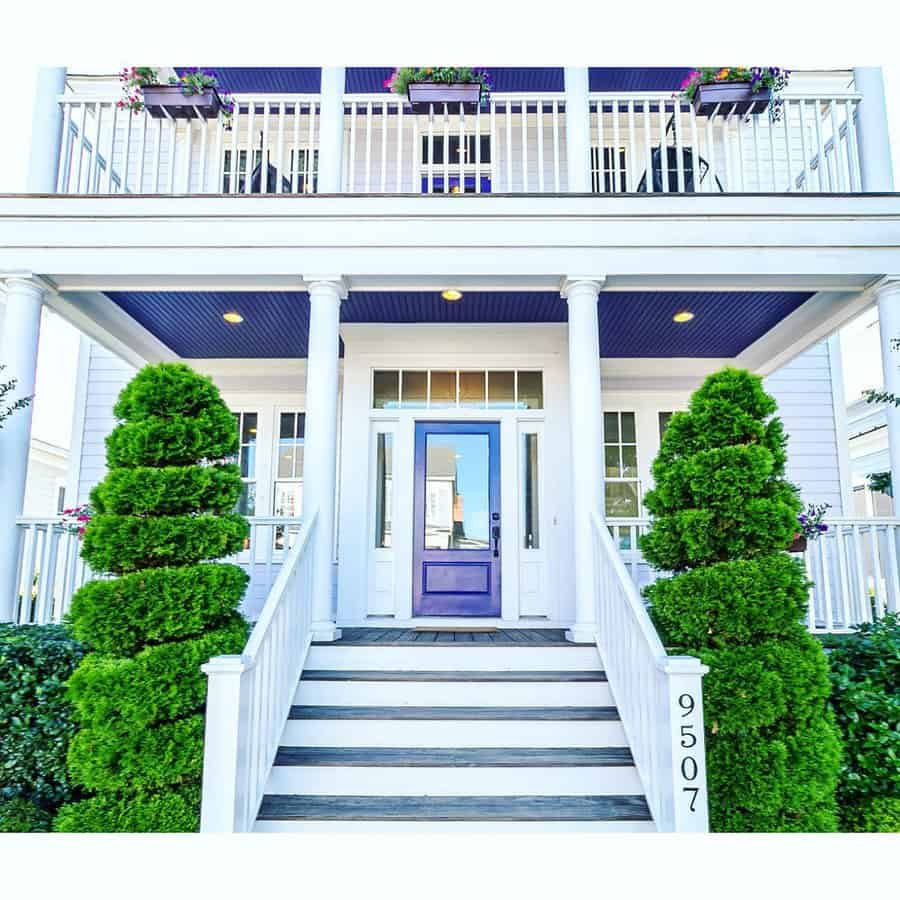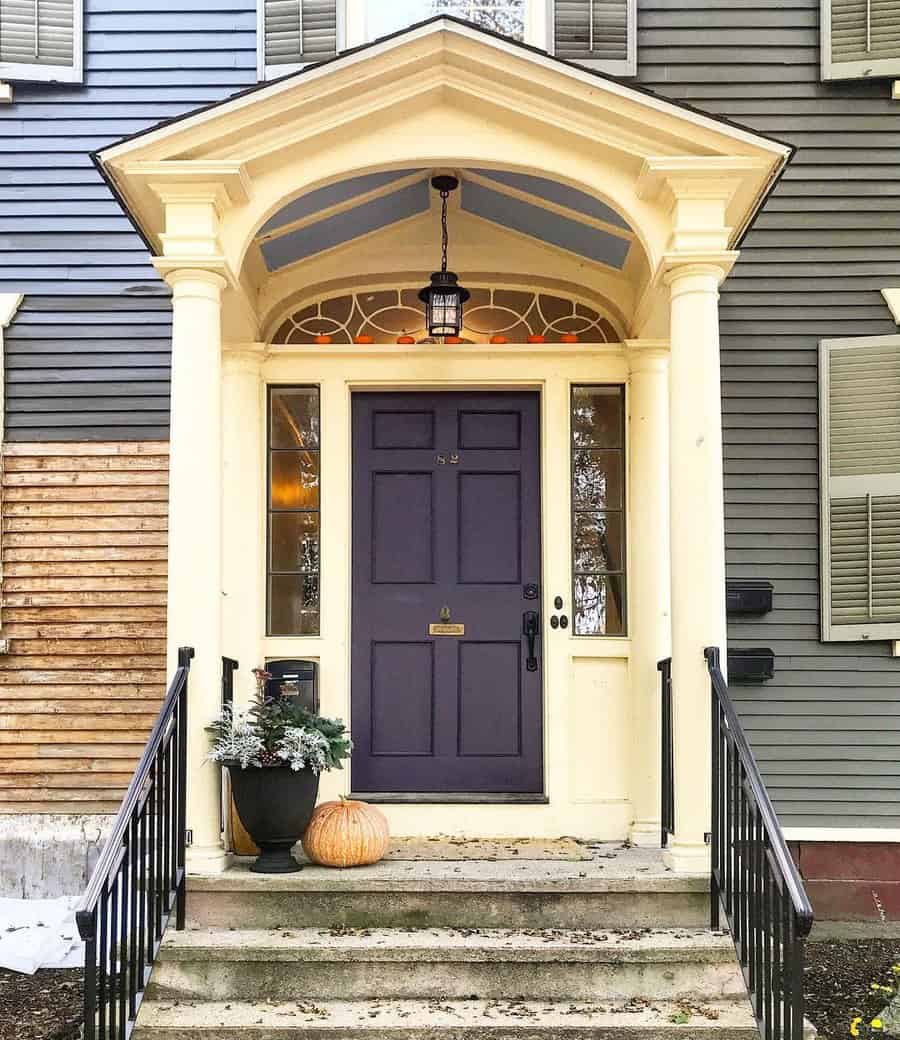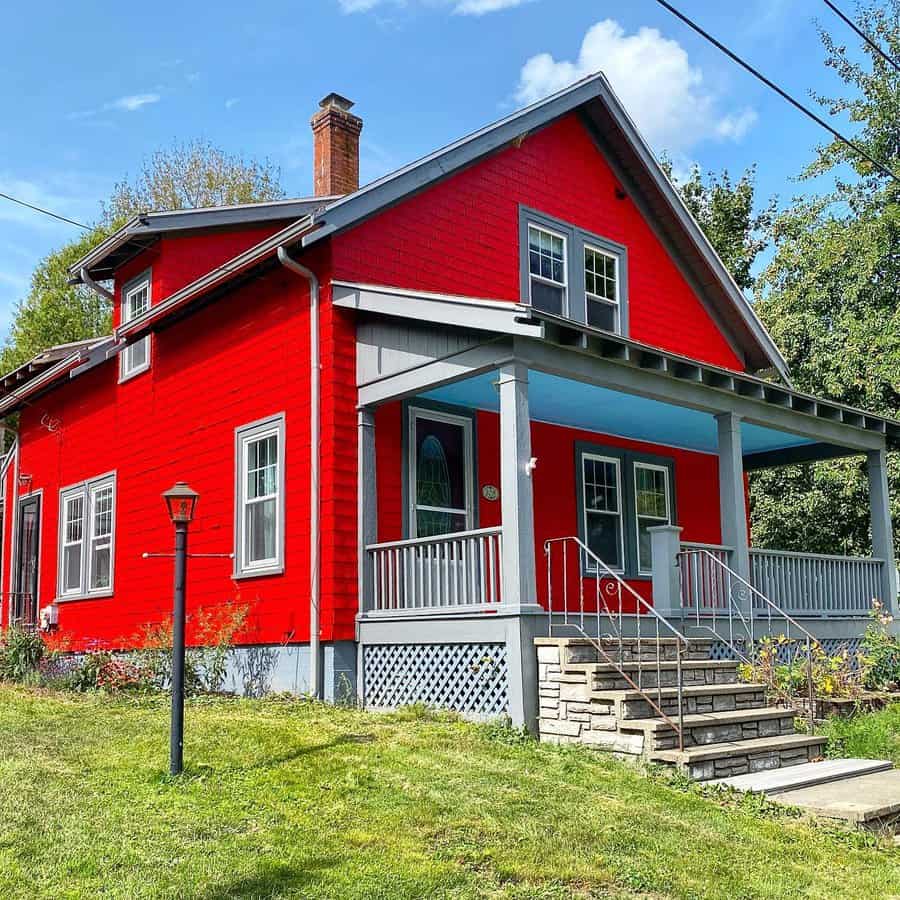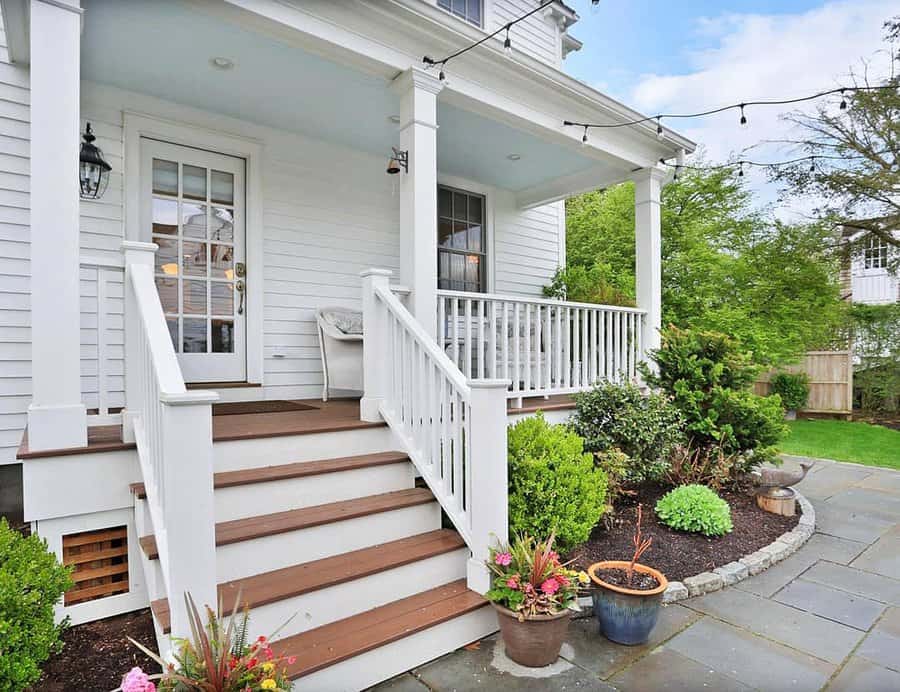 6. Make a Statement with Ceiling Lamps
Pendant lighting is a fantastic way to make a statement with your porch ceiling. It effortlessly adds a unique and stylish touch to your outdoor space while providing essential lighting for your evenings outdoors. Whether you choose a single standout pendant or multiple scattered lights, this design choice can effortlessly transform your porch from ordinary to extraordinary.
Consider complementing this lighting with other decor elements like comfortable seating or potted plants for a complete and inviting porch ambiance.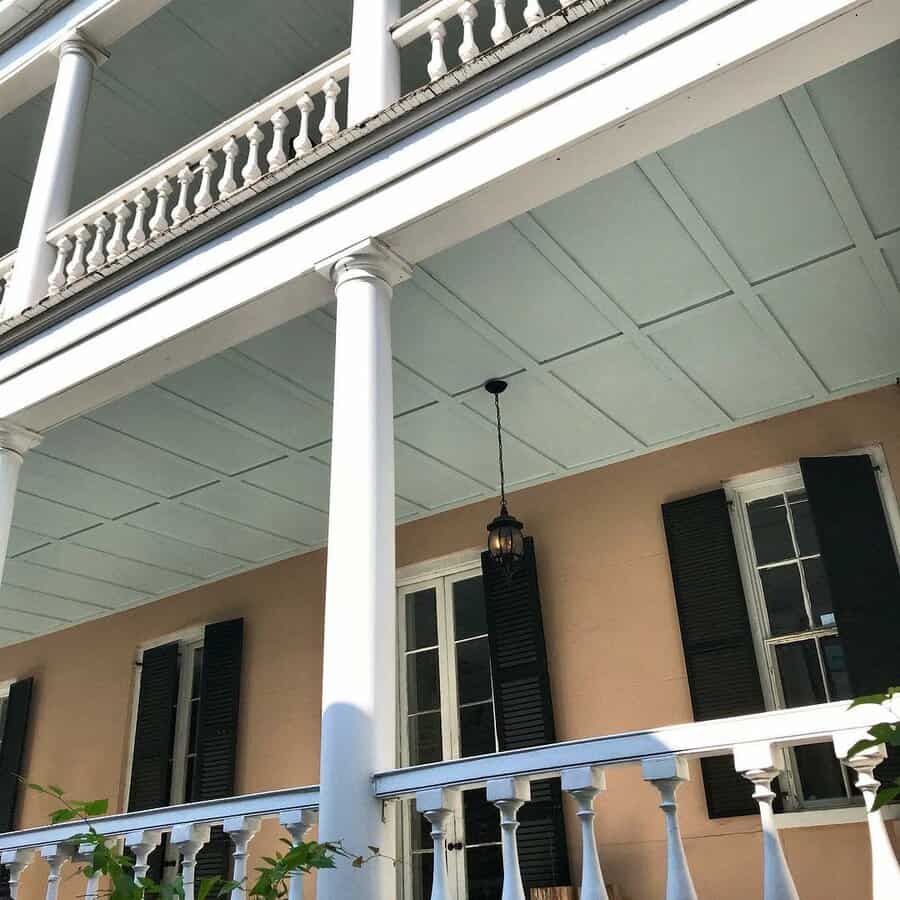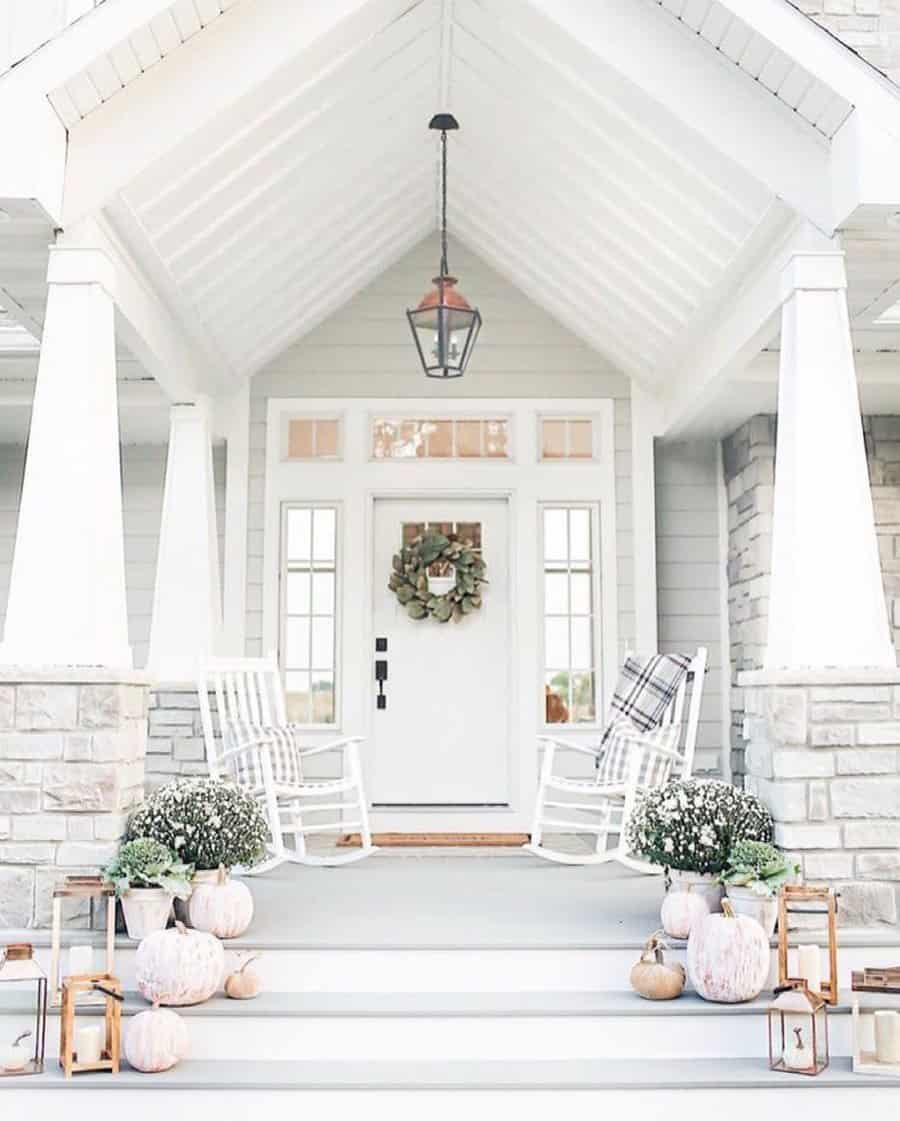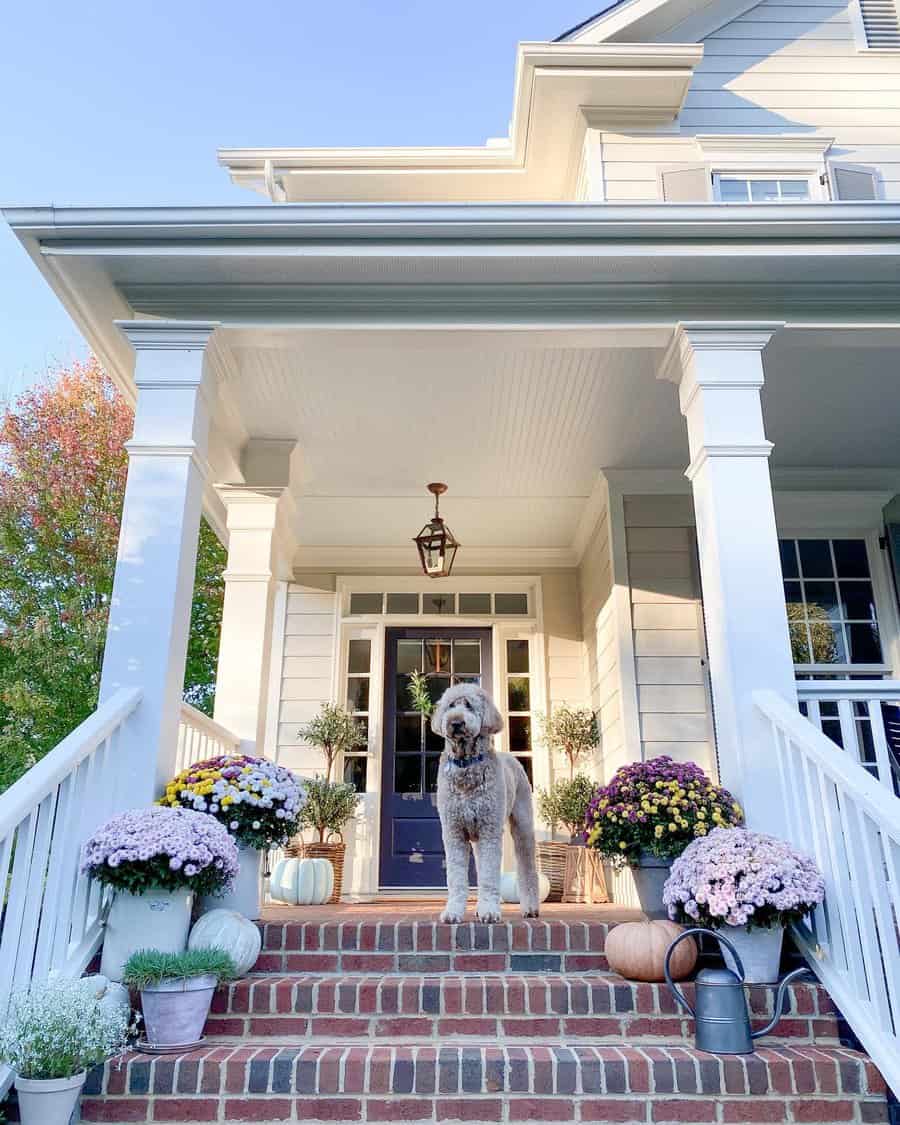 7. Coordinate with Wooden Walls
Coordinating your wood porch ceiling with wooden walls creates a charming and rustic atmosphere. This design choice evokes the cozy ambiance of a mountain cabin getaway, making it ideal for impressing guests or creating a tranquil escape at home. To complete the look, consider adding wooden furniture, such as rocking chairs or a wooden dining set, and layering with soft textiles like cushions and throws for a harmonious and inviting porch design.
8. Add Drama with Dark Wood
Dark wood ceilings can add a touch of drama to your porch design. Their deep, rich colors create a striking contrast against light walls, resulting in an inviting and cozy atmosphere. To complement this look, consider using neutral or muted color palettes for your furniture and decor, adding soft lighting fixtures, and incorporating textured cushions and rugs for a balanced and sophisticated outdoor space that exudes style and comfort.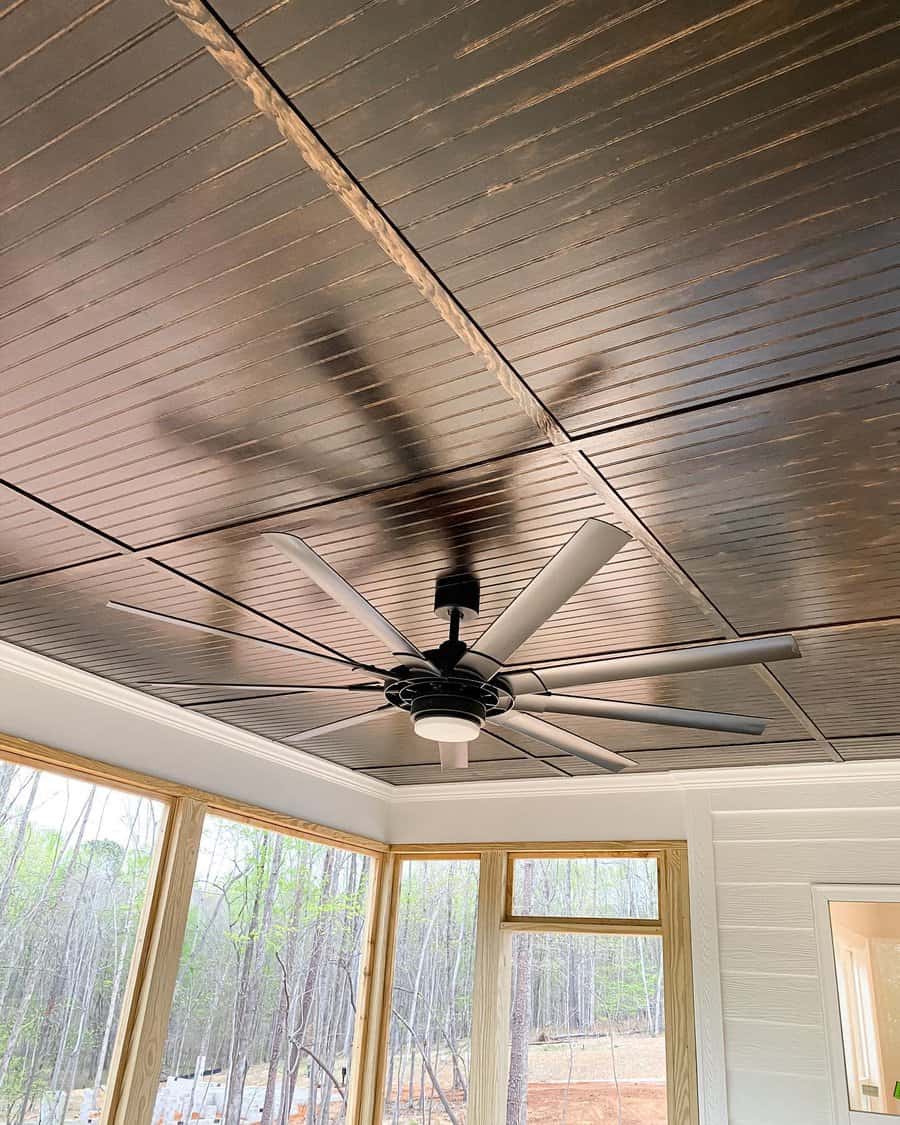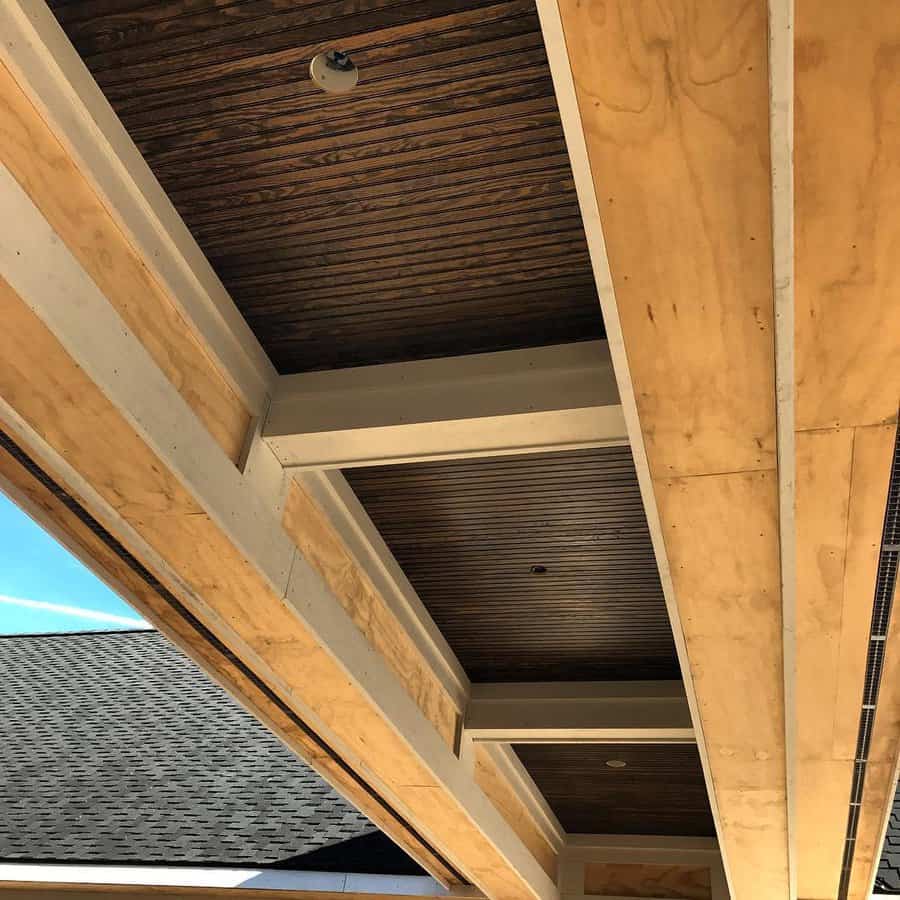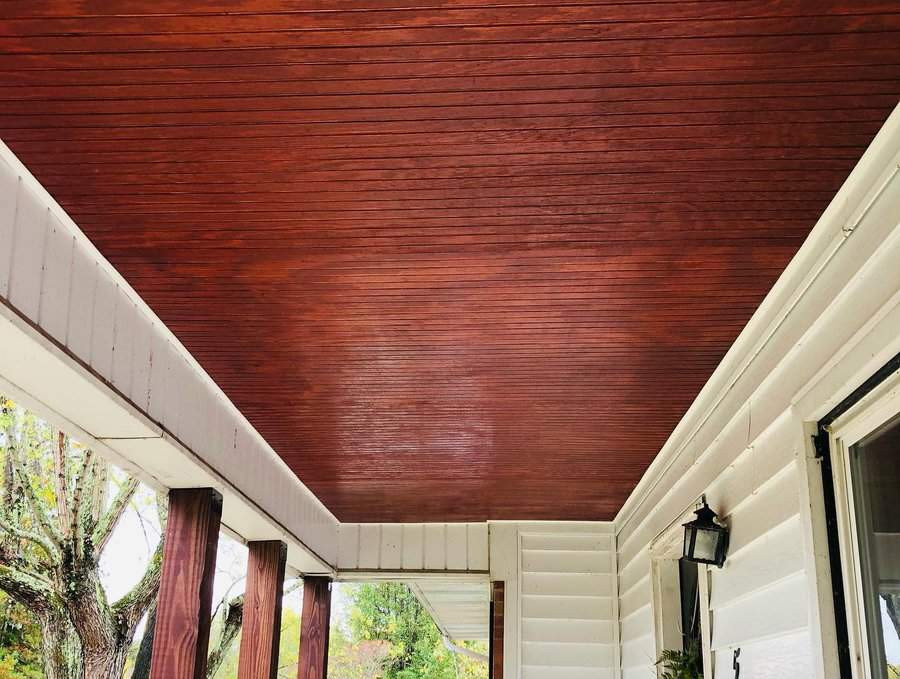 9. Small Ceilings, Big Charm
For a refreshing makeover of your small porch ceiling, consider using light colors. Painting it in bright white or subtle pastel hues can instantly brighten up your entryway and make it more inviting.
Light colors create a sense of openness and airiness, making the narrow space feel more expansive. To complete the look, add some potted plants or hanging baskets to your porch, which not only complement the light colors but also add a touch of nature to your outdoor area, creating a welcoming and visually appealing atmosphere.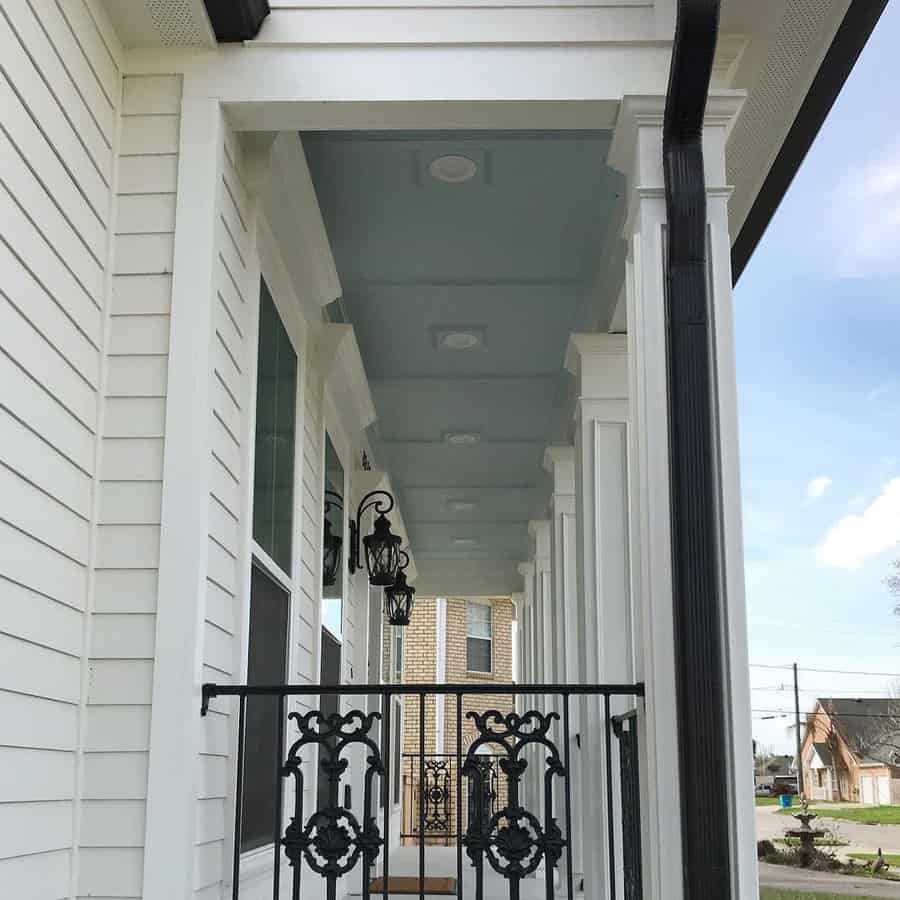 10. Illuminate with String Lights
Transform your outdoor living space into a enchanting haven by adorning your porch ceiling with string lights. These versatile strands offer adjustable and replaceable lighting that can suit any occasion or season.
Picture romantic summer nights bathed in a soft, dreamy glow created by these charming lights. To complete the look, consider adding cozy seating, such as cushioned chairs and outdoor rugs, to make your porch a welcoming retreat both during the day and as night falls, ensuring it's a place you'll cherish year-round.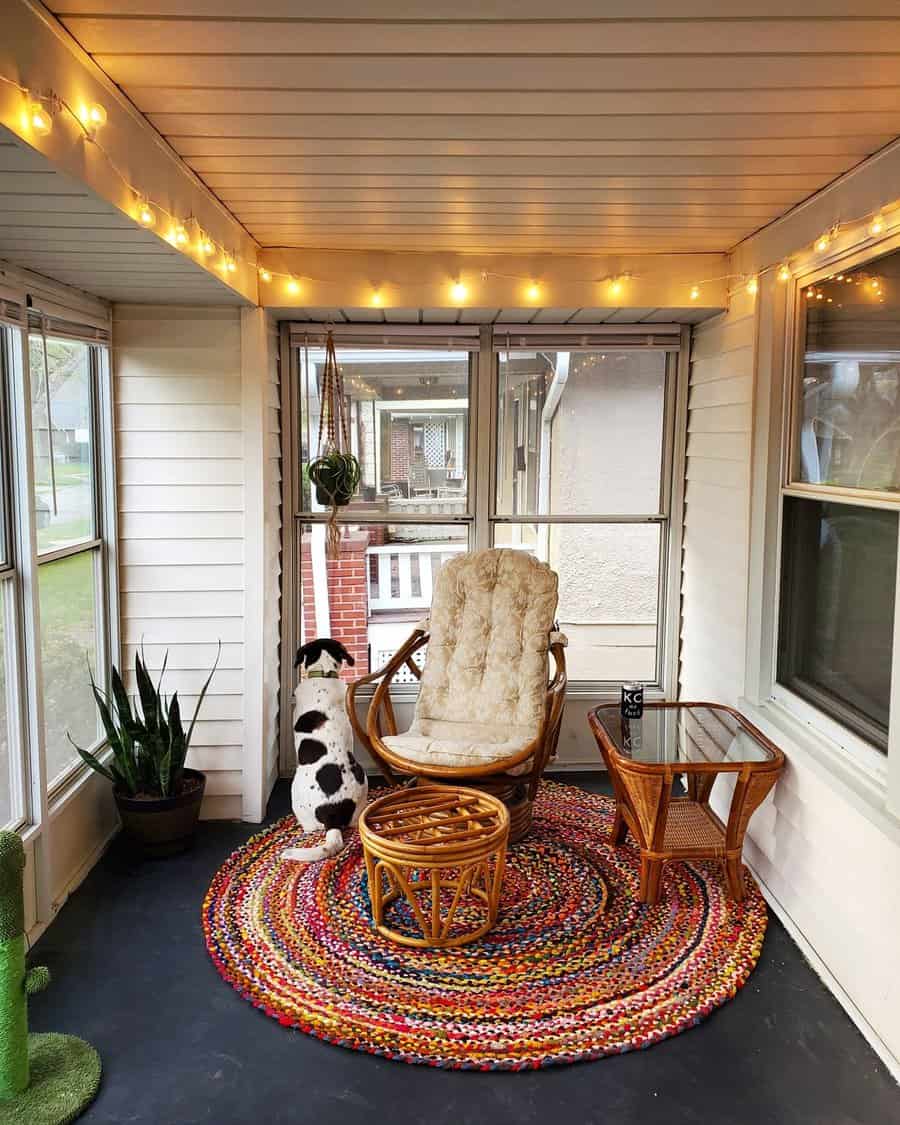 11. Elevate with High Ceilings
High porch ceilings bring an open and spacious feel to your outdoor area. Emphasize your home's impressive height by installing a ceiling fan, providing both refreshing airflow and a stylish touch.
Envision relaxing on warm summer evenings, enjoying the cool breeze that flows through your porch. To enhance the space further, consider adding tall potted plants and cozy outdoor seating, such as a porch swing or rocking chairs, to create a welcoming retreat where you can unwind and soak in the serene atmosphere of your private haven.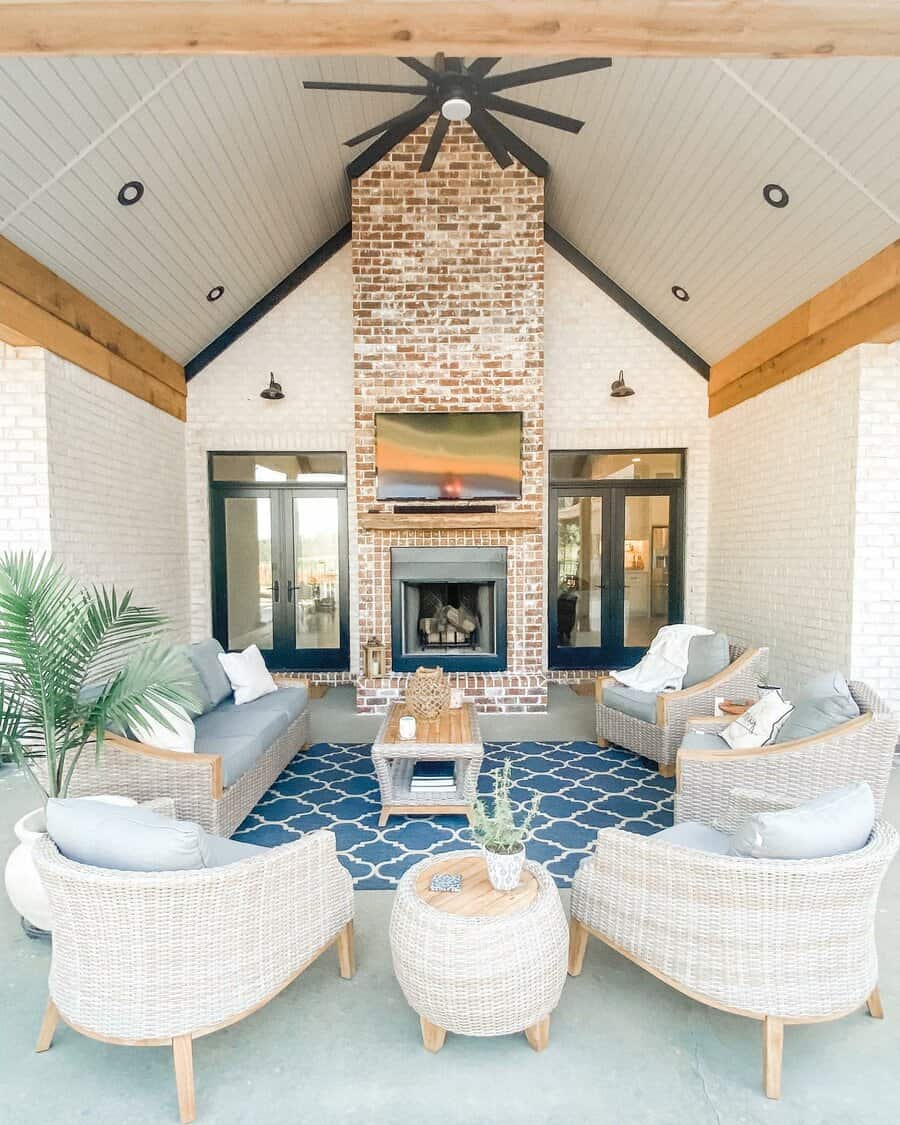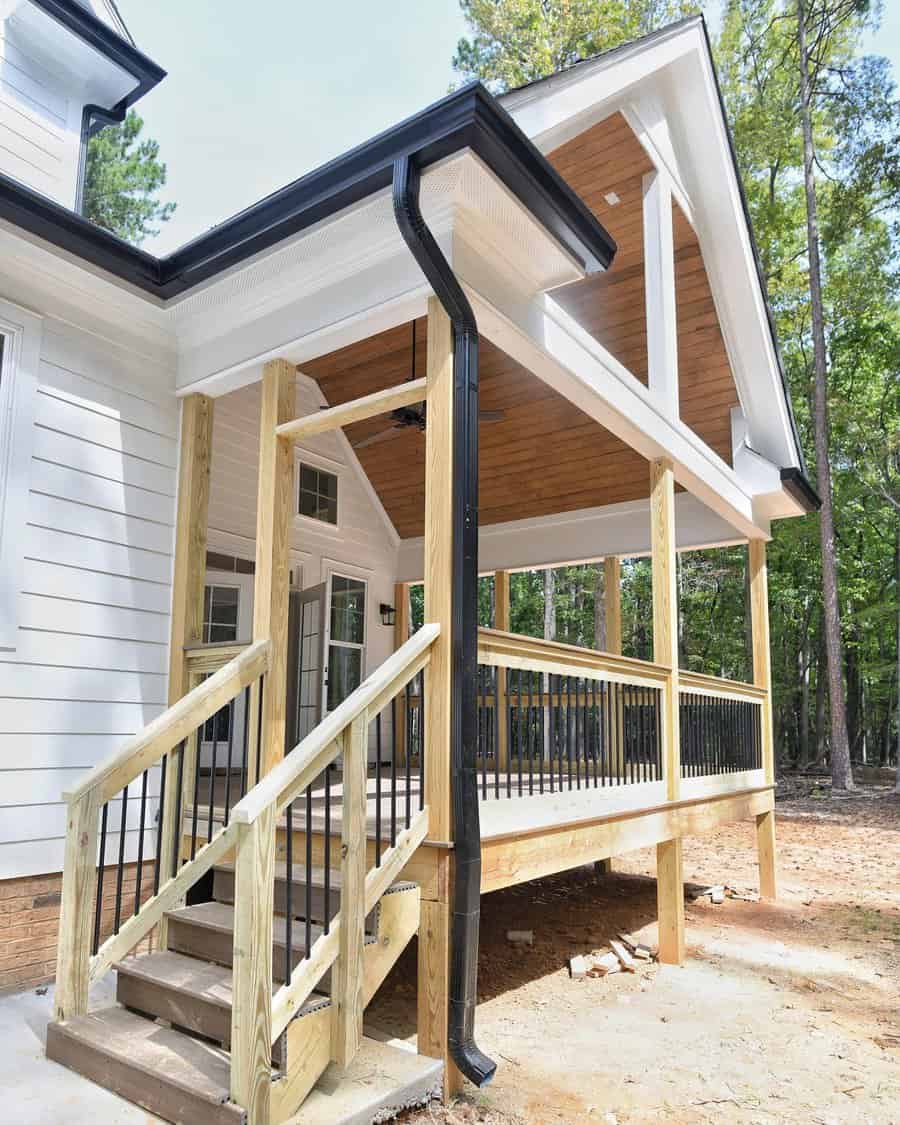 12. Achieve Rustic Porch Elegance
For a touch of farmhouse charm in your outdoor space, consider a distressed wood ceiling. Distressed wood beams exude classic appeal and rustic aesthetics, transforming your porch into a cozy cabin retreat.
The weathered finish lends a worn-in charm that pairs beautifully with cream-colored or neutral paint. To infuse a hint of modernity, incorporate natural materials like bamboo and rope for added texture and contrast, creating an inviting and unique atmosphere for lazy summer days with friends.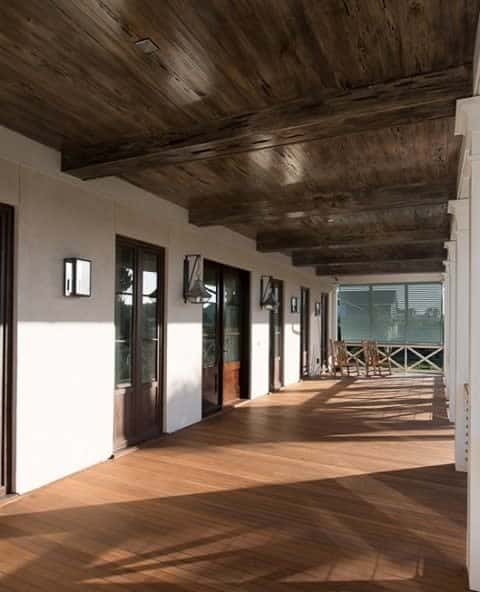 13. Seamless White Ceilings
White porch ceilings offer a clean and seamless backdrop for your outdoor living area. To make the most of this design, consider contrasting the white ceiling with vibrant colors or earthy tones in your decking and furniture. You can opt for equally clean white furniture and accents for a minimalist look or choose more eye-catching elements to let your creativity shine. To complete the design, add potted plants, colorful cushions, and decorative lighting fixtures to infuse personality and style into your porch space.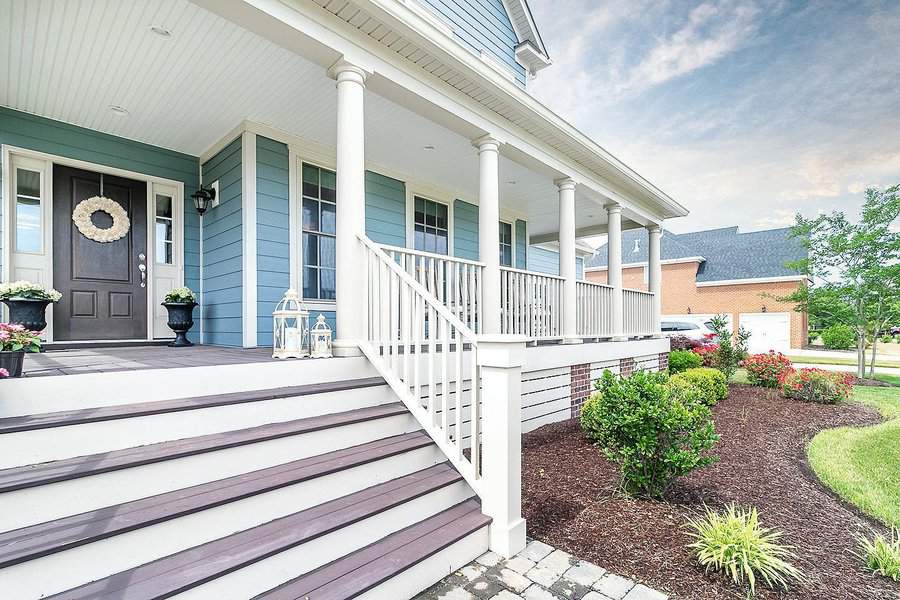 14. Stay Cool with Ceiling Fans
Installing a ceiling fan on your porch not only adds to its aesthetics but also offers practical relief during hot summer months. The gentle breeze creates a more pleasant atmosphere, allowing you to enjoy your porch even as the temperatures rise.
When choosing a fan, consider both style and functionality, as there are numerous decorative options available. To optimize its effectiveness, place the fan strategically to ensure even airflow, and pair it with comfortable seating and outdoor lighting to create an inviting outdoor oasis perfect for day and night relaxation.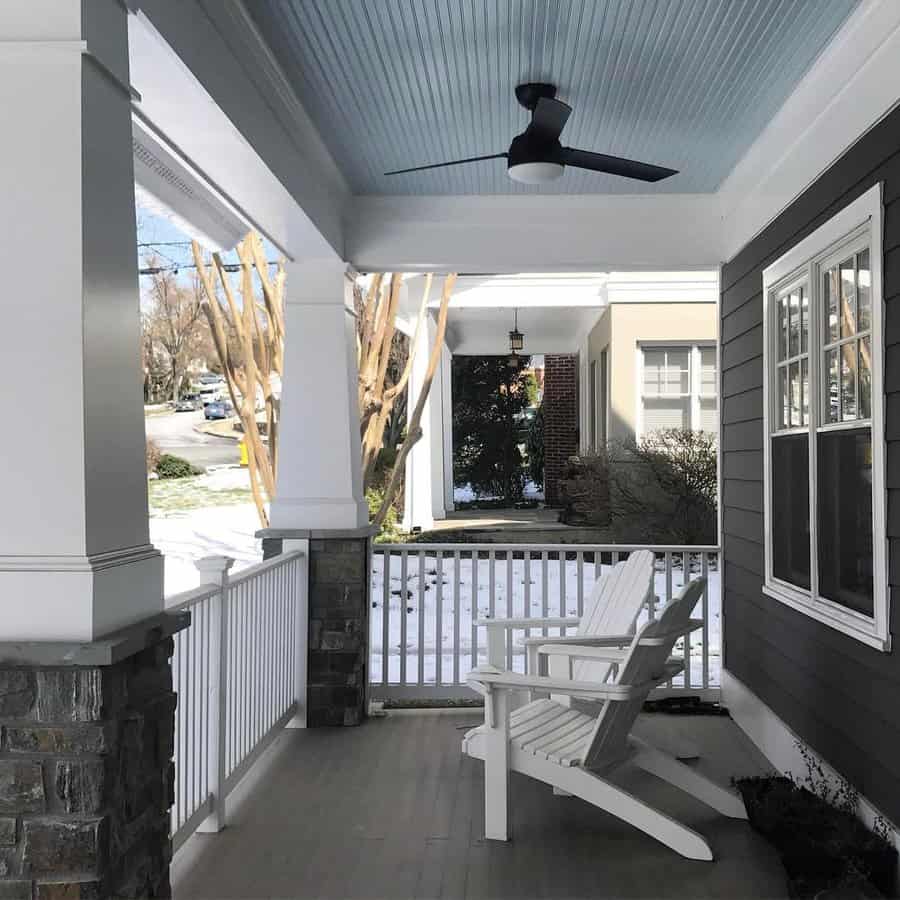 15. Arch Your Porch Ceiling
Consider an arched porch ceiling to infuse traditional charm and elegance into your home's exterior. The graceful curve of an arched ceiling complements both traditional and modern architectural styles, adding a touch of sophistication to your porch. To enhance its appeal, pair it with architectural elements like columns or decorative moldings.
Additionally, installing a ceiling fan or pendant lights can further enhance the aesthetics while providing practical functionality for your outdoor space. An arched porch ceiling not only elevates the visual appeal but also offers added protection from the elements, creating a warm welcome for your visitors.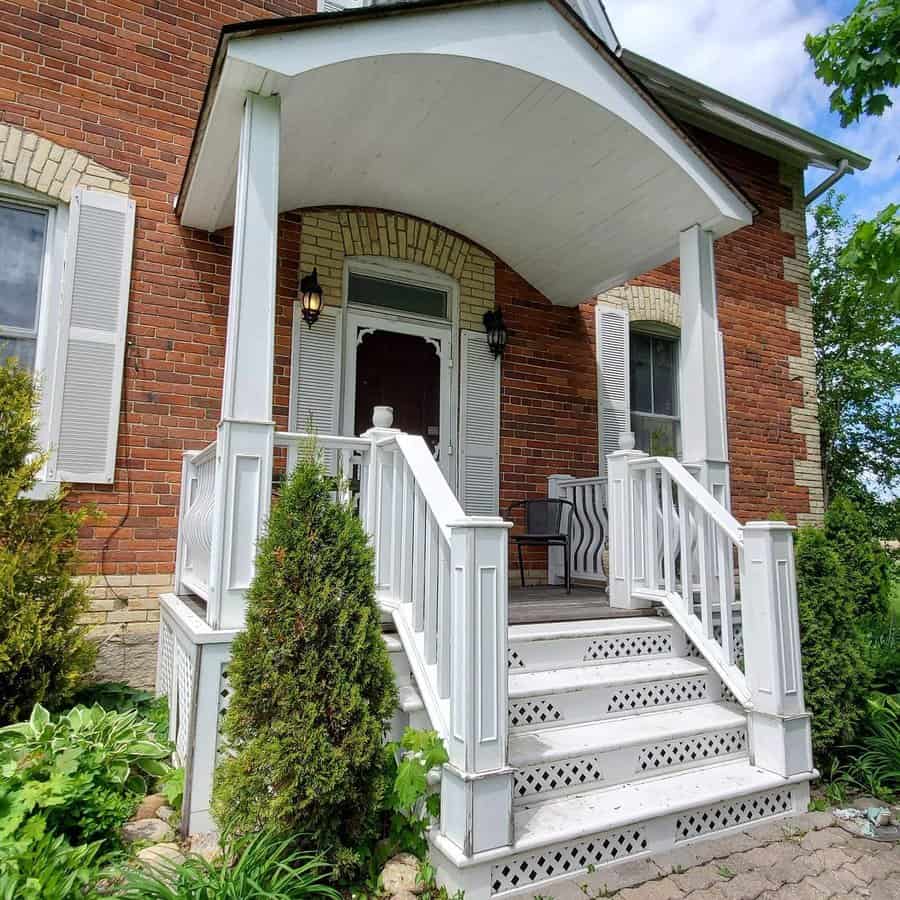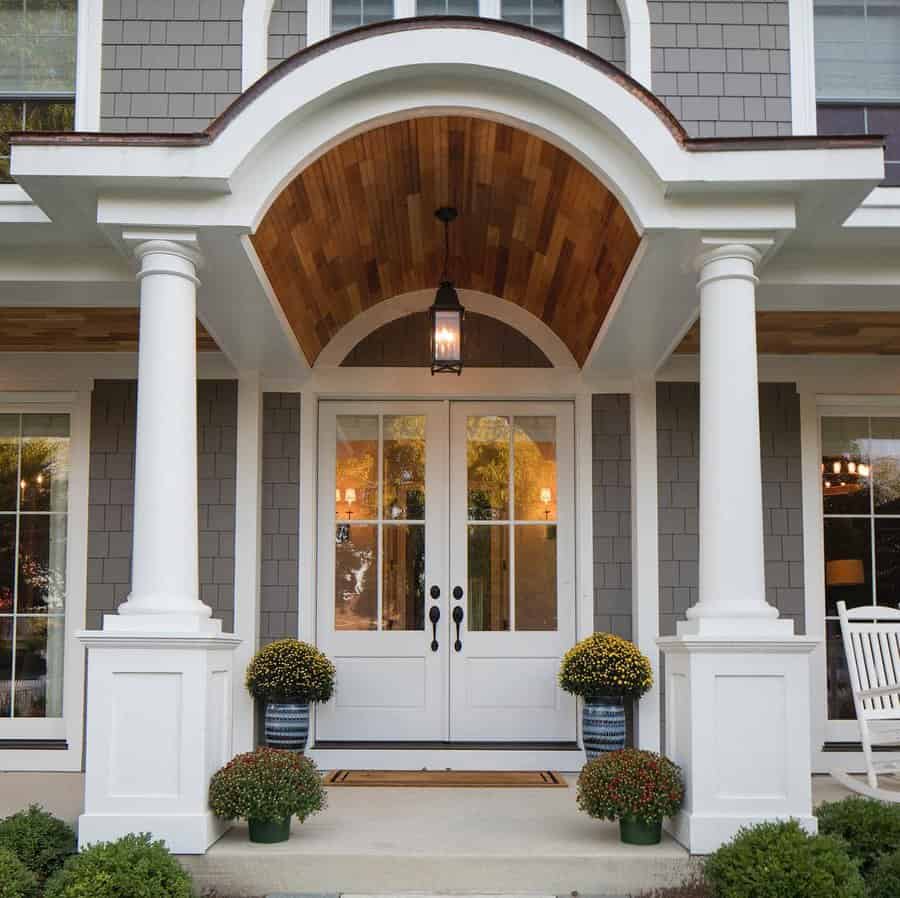 16. Expand Space with Matching Ceilings
Coordinating your porch ceiling with the walls can instantly make your outdoor space feel more expansive and inviting. While matching colors is a safe choice, consider creating a dynamic contrast by selecting complementary shades for the wall and ceiling. For example, if you have neutral-toned walls, opt for a slightly lighter or darker hue for the ceiling to add depth and interest. To complete the look, add comfortable seating, outdoor rugs, and potted plants to create a harmonious and welcoming porch that feels like an extension of your home.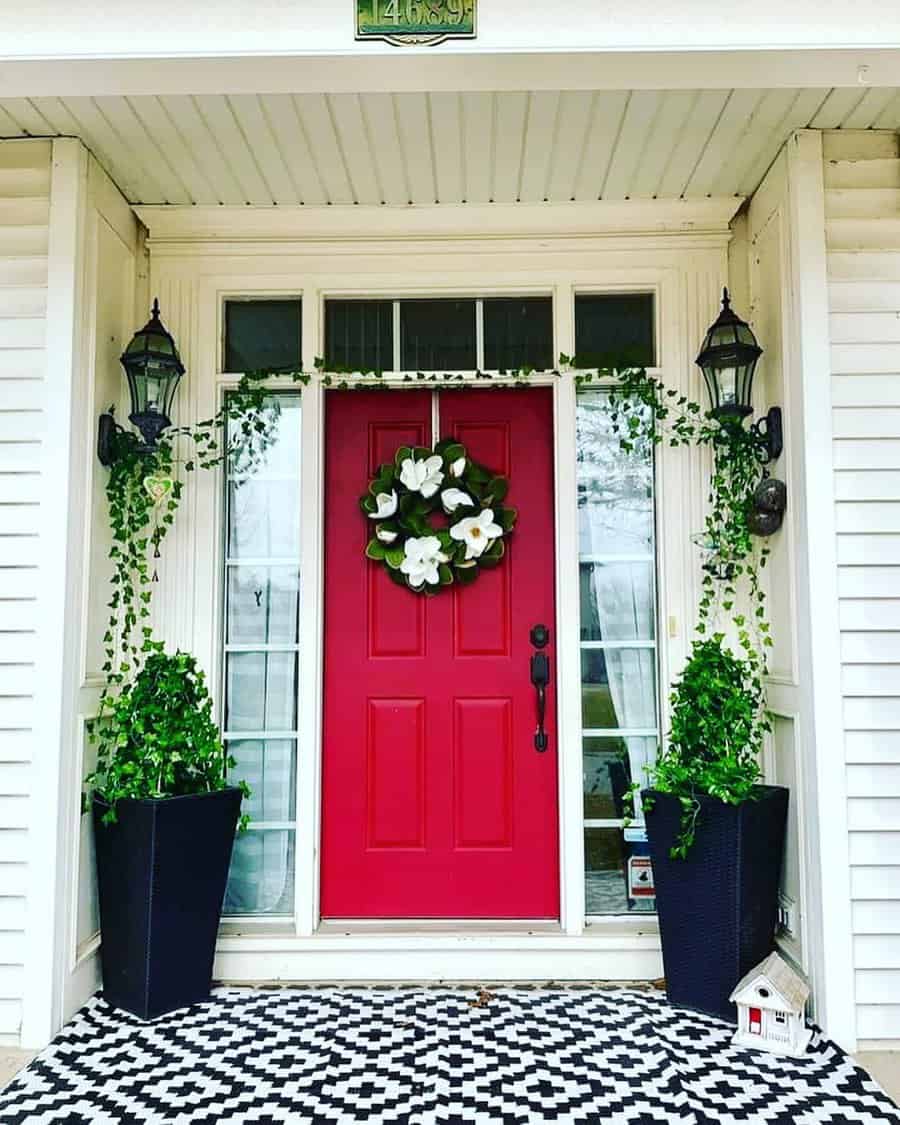 17. Simple Canopy Overhangs
Adding a canopy overhang to your porch ceiling is a timeless choice that combines aesthetics and functionality. This design not only adds charm to your outdoor space but also provides valuable shelter from the weather.
It's particularly well-suited for smaller porches, lending them a classic and inviting appeal. To achieve this look, consider using natural materials like wood or bamboo for the canopy, and complement it with vintage-style furniture and cozy lighting to create a warm and welcoming atmosphere for your porch.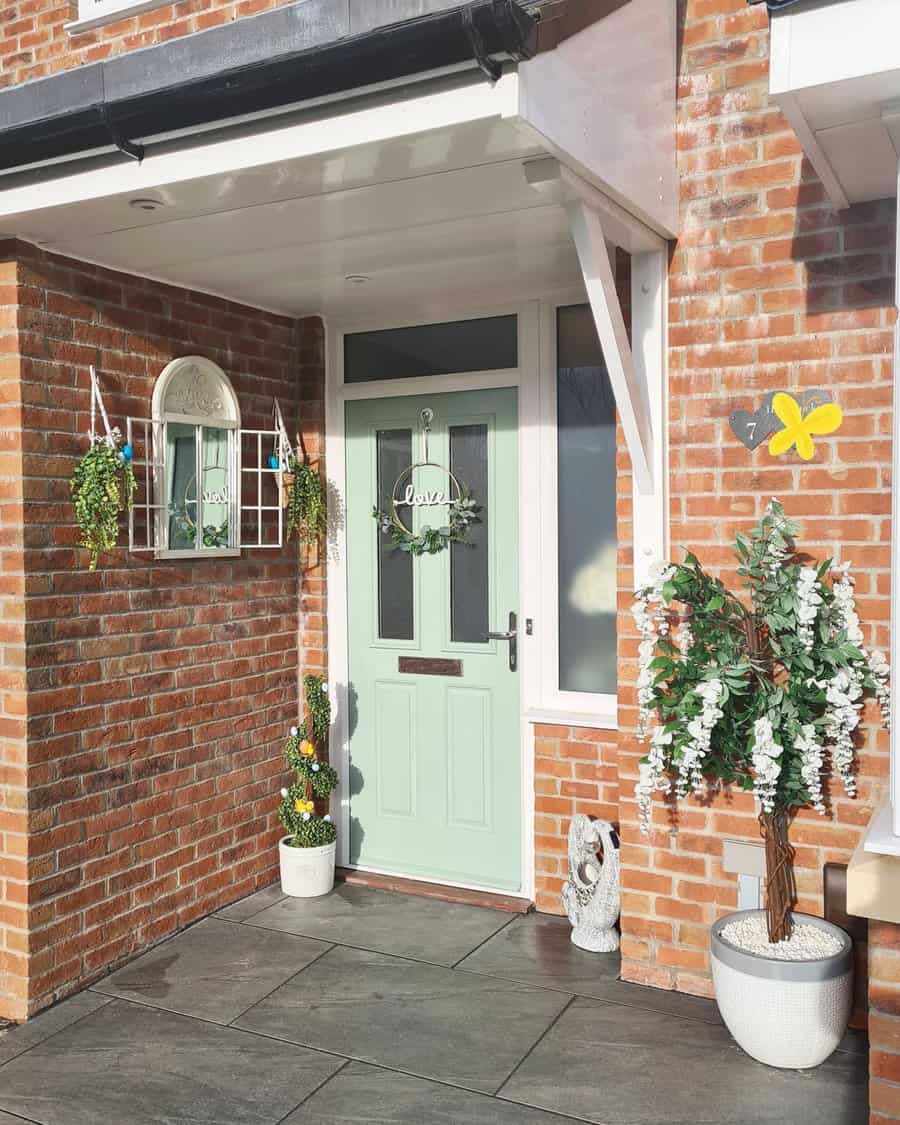 18. Hang Greenery from the Ceiling
Transform your porch into a lush oasis by hanging greenery from the ceiling. Consider installing built-in ceiling hooks designed for suspending planters or string gardens. These hooks are both functional and decorative, adding a distinctive charm to your outdoor area. To achieve this look, select a variety of indoor plants or succulents, ensuring they suit your porch's lighting conditions. Combine hanging greenery with cozy seating and soft lighting to create a tranquil retreat where you can relax and unwind.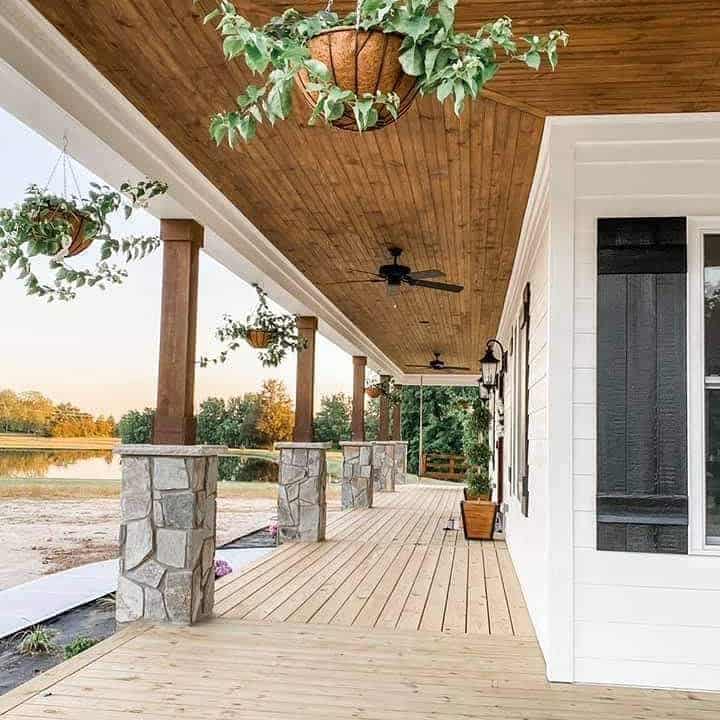 19. Industrial Vibe with Matte Black Posts
For an industrial-inspired outdoor space, consider incorporating matte black posts into your porch ceiling design. This addition complements rustic red brick walls or industrial metal beams, creating a cohesive and bold statement. To complete the industrial look, pair it with sleek metal furniture, minimalistic decor, and industrial-style lighting fixtures.
Adding potted succulents or cacti can soften the starkness of the black and introduce a touch of greenery for a balanced and captivating porch that captures the essence of modern industrial design.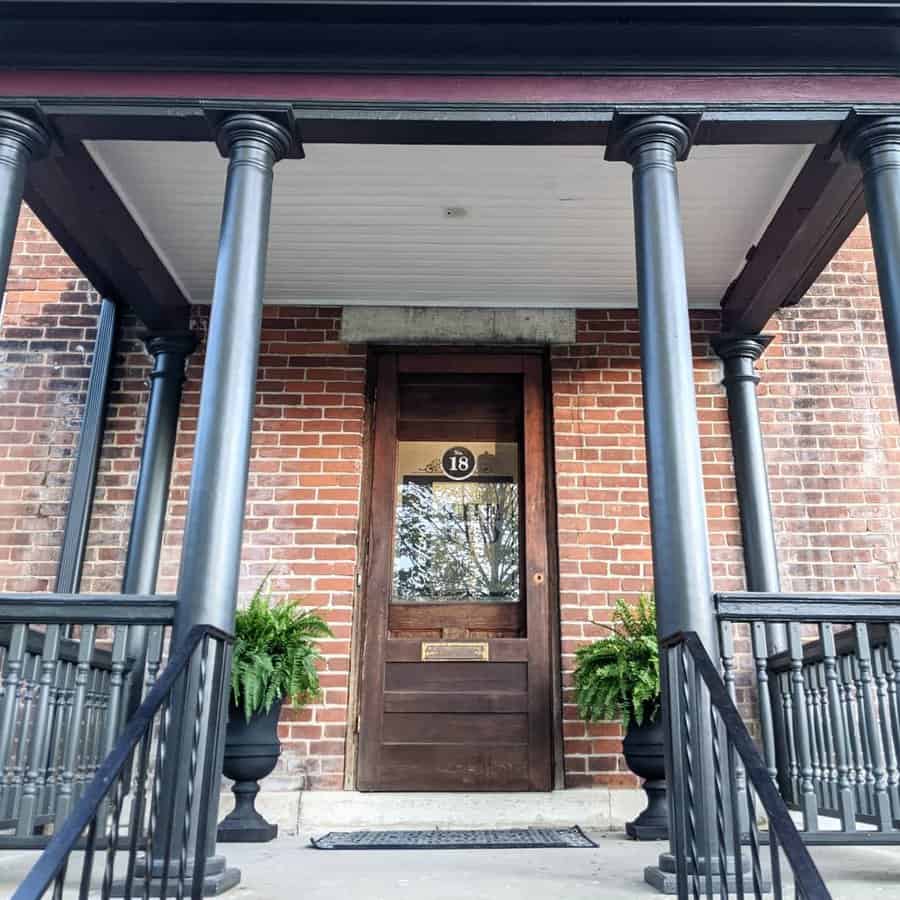 20. Swing in Boho Style
Elevate your porch's cozy factor with a bohemian chic touch – a hanging swing. Installing a swing below your porch ceiling not only adds charm but also provides a delightful spot for relaxation. To enhance the boho style, layer the swing with colorful cushions, throw blankets, and a macramé plant hanger. Incorporate a small side table for your beverages or books, creating an inviting and serene porch retreat perfect for lazy summer days or cozy evenings under the stars.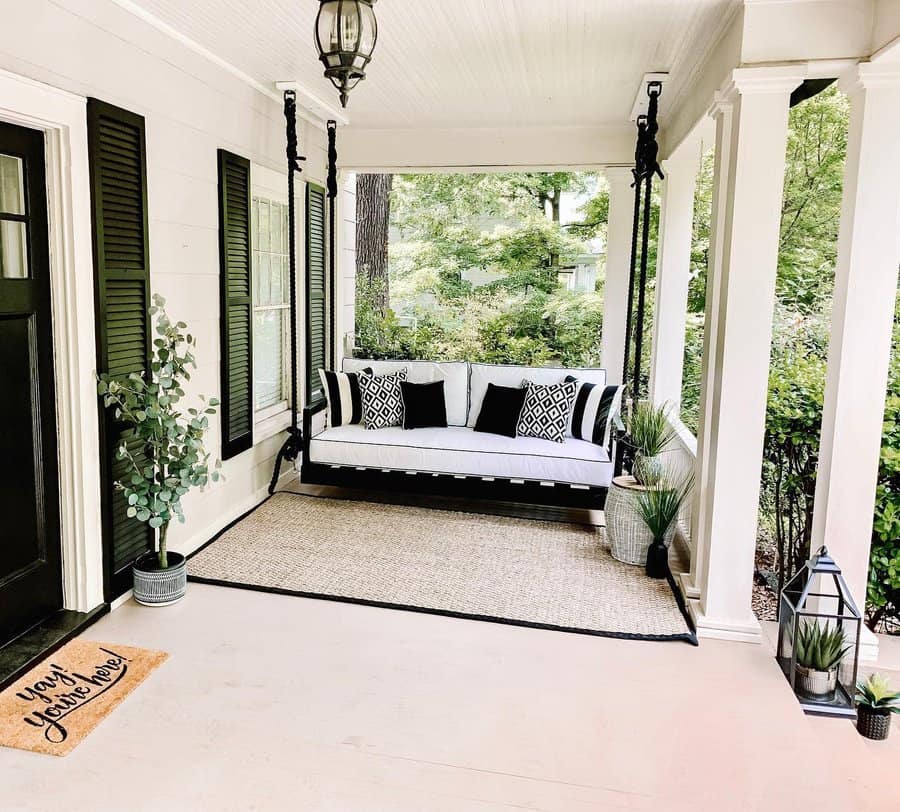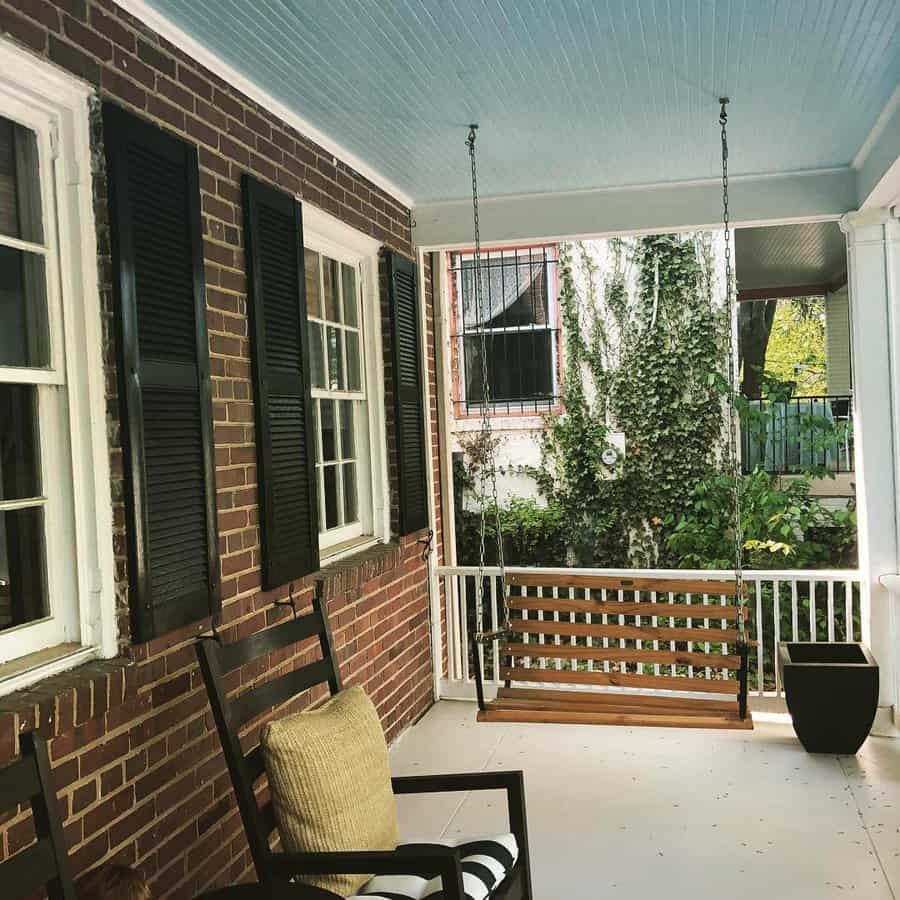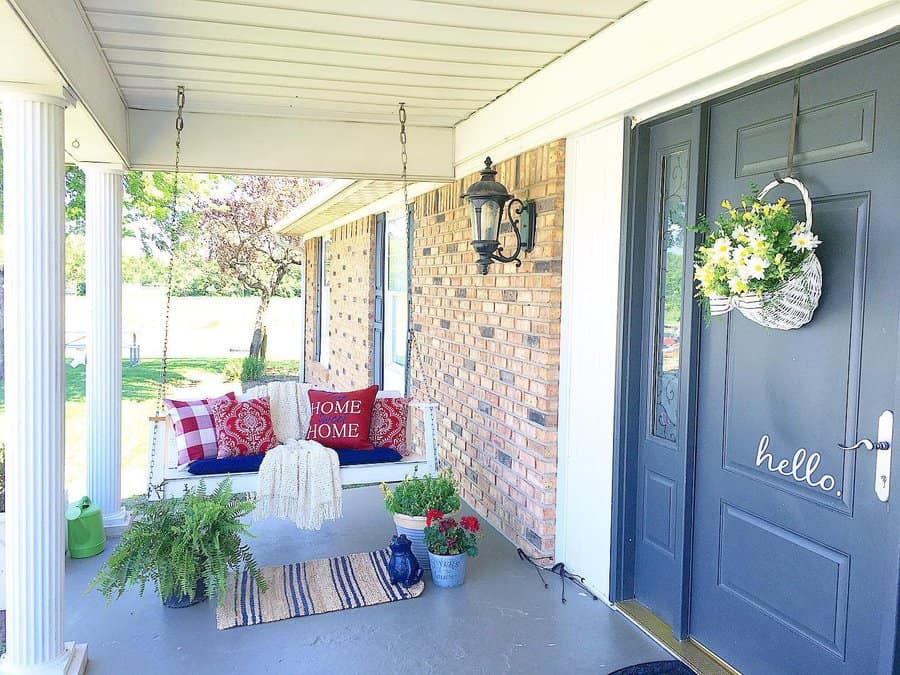 21. Embrace Light Wood Ceilings
Consider adding a light wood porch ceiling to elevate your outdoor living area. Its versatile style and subtle color palette allow for effortless pairing with pastel walls or traditional brickwork, providing a unique and visually appealing look for your home.
The light wood finish creates an airy and inviting ambiance, perfect for year-round outdoor relaxation. To complement this design, incorporate natural materials in your furniture and decor choices, such as wicker or rattan seating and potted plants, to create a harmonious and tranquil porch that's both stylish and comfortable.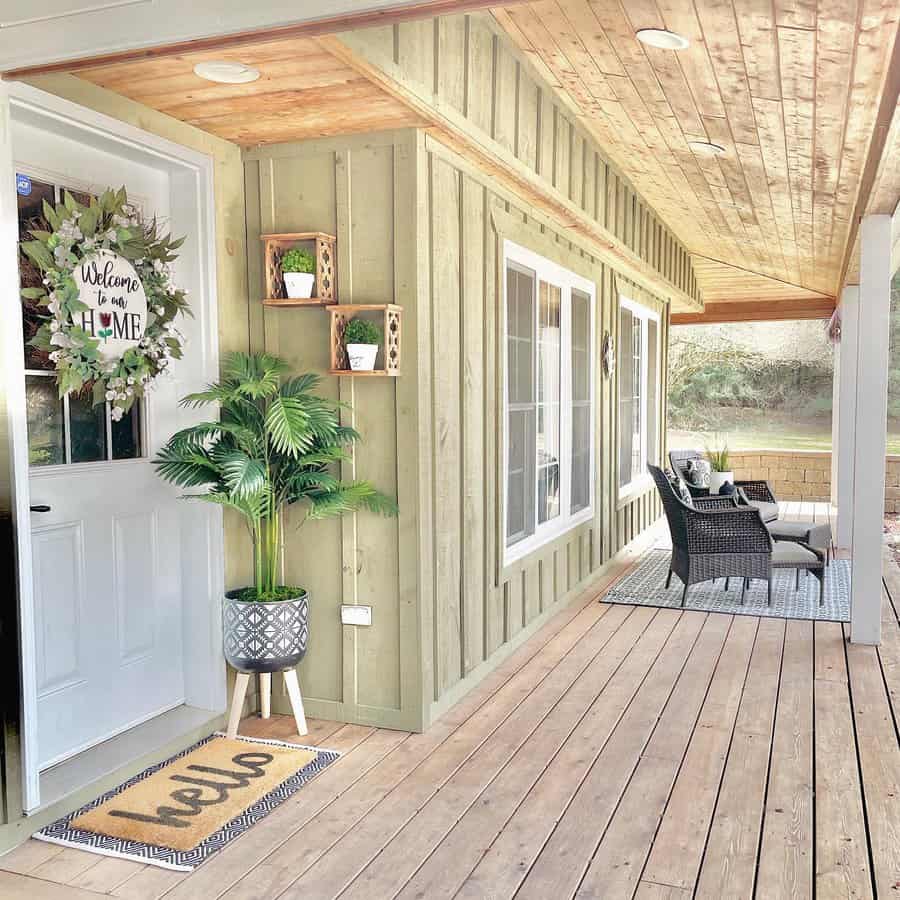 22. Timber Truss Grid for Character
Consider elevating the character of your porch by incorporating a timber truss grid on the ceiling. This design choice infuses a rustic charm reminiscent of old-fashioned farmhouses. To complement this look, consider installing a ceiling fan for added functionality and comfort during warmer days. The warm, inviting ambiance created by the exposed wood makes your outdoor space an inviting haven year-round. Explore various timber truss grid options to find the perfect fit for your porch.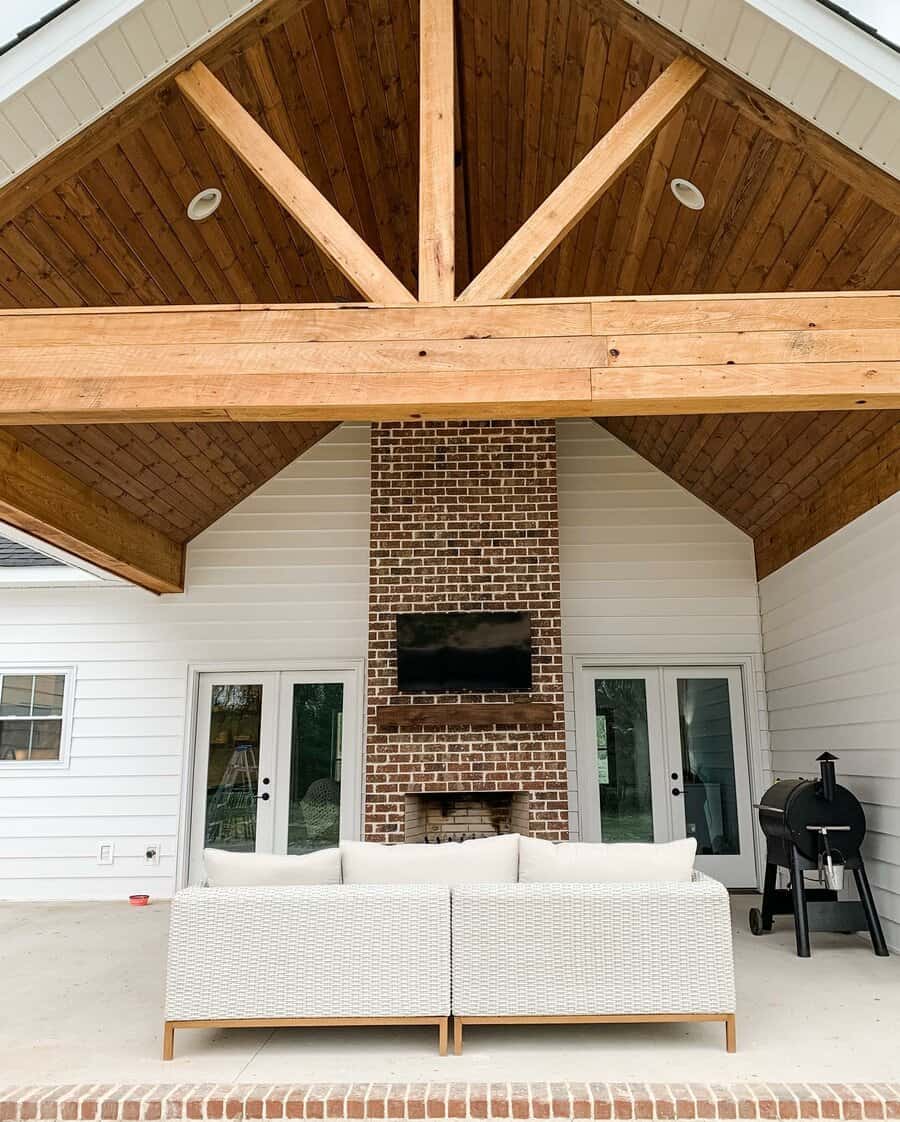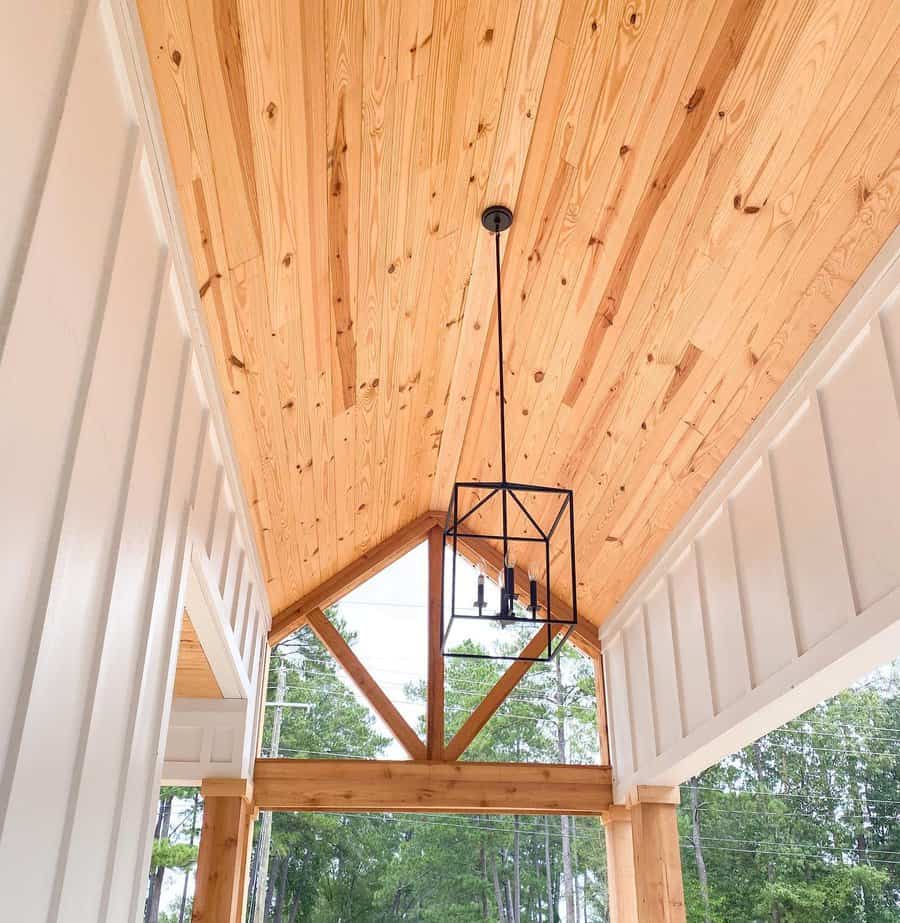 23. Low Ceilings, Cozy Space
Opting for a low porch ceiling can be a cost-effective way to create a modern and inviting outdoor entertainment space. By keeping the ceiling lower, you'll not only reduce energy costs but also give your outdoor area a contemporary makeover without breaking the bank. Consider using creative paint or wall treatments to enhance the aesthetics and make the most of your cozy space.
Low porch ceilings can be an opportunity for unique design choices that save both time and money, resulting in a stylish and welcoming outdoor retreat.
Porch Ceiling FAQs
What material is best for an outdoor ceiling?
Plywood is the most often used porch ceiling covering. It's important to use a quality, exterior grade plywood and prime it well before painting.
Can you use paneling on a porch ceiling?
It depends on the type of paneling. You will want to buy paneling made for exterior use, especially if you plan to stain it instead of painting it. If you're going for a painted paneling, such as beadboard, look into a PVC or fiber cement paneling. These products will be more durable over time than real wood.
Can you use drywall on an exterior porch ceiling?
No. Even drywall rated as "moisture resistant" cannot stand up to the fluctuating weather conditions experienced on an outdoor porch. It will sag prematurely from direct exposure to moisture.