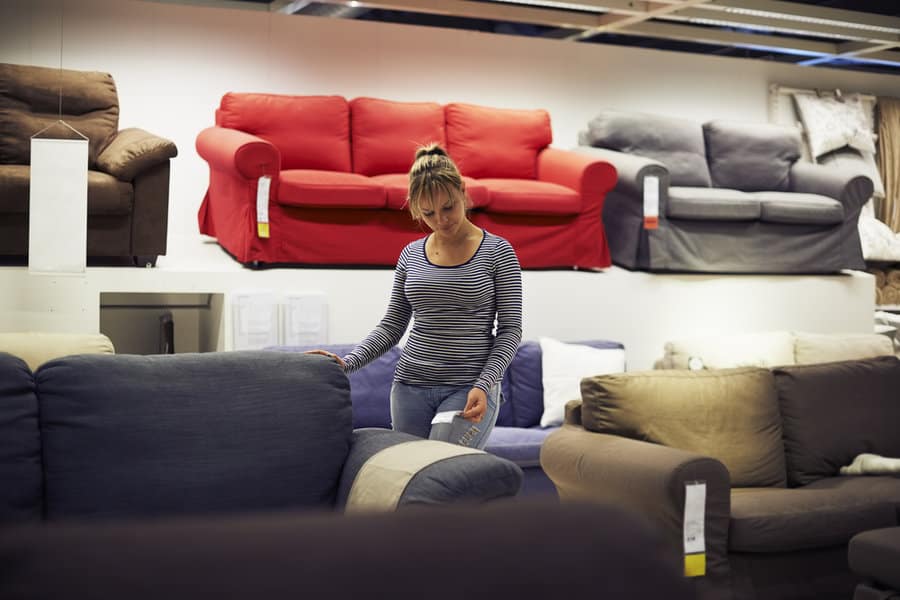 The Ultimate Guide to Selecting the Perfect Sofa
by — Isabella Adler

Published on September 20, 2023

Updated on September 20, 2023
Did you know that the average person spends about 4 years of their life sitting on a sofa? That's a significant chunk of time, making your sofa choice more important than you might think. Ever settled into what you thought was a plush sofa at a friend's house, only to find yourself squirming uncomfortably moments later? Picking the right sofa isn't just about aesthetics; it's about crafting the perfect environment for relaxation and connection.
In this guide, we delve deep into the world of sofas, exploring the intricacies of design, materials, and ergonomics. From understanding the basics of frame durability to the secrets of cushion plushness, we're going to ensure your next sofa isn't just good—it's perfect. Read on to unlock the secrets to sofa satisfaction.
1. Measuring for Your Sofa
Before diving into sofa shopping, it's essential to have a clear understanding of your room's size. A sofa, while a significant piece, should harmoniously fit within its environment and not overpower the space.
Use a measuring tape to obtain precise room dimensions, taking into account windows, doors, and other significant elements. It's not just about ensuring the sofa fits, but also about preserving the flow and functionality of the room.
The primary purpose of a sofa is seating, but remember that not all seating is created equal. You want to ensure ample space for every potential sitter. A common mistake is picking a sofa that's too large, making the room feel cramped, or too small, rendering it inadequate for family gatherings or entertaining guests.
Visualize the space and consider other furniture items you might have or plan to acquire. A good tip is to use masking tape to outline the potential sofa space on your floor. This physical representation can give a clearer idea of how the sofa will interact with its surroundings.
2. Pick Your Sofa Style
Your sofa can be a statement piece, reflecting your personal style and the essence of your home. Classic sofas often boast elegant curves, plush backrests, and ornate wooden legs, resonating with a timeless appeal that complements a variety of decors.
On the other hand, modern sofas tend to favor cleaner lines, minimalist features, and are often seen in neutral palettes with occasional vibrant color splashes. These can be perfect for contemporary homes or those seeking a more streamlined look. When deciding, consider the existing décor elements in your room and what kind of ambiance you wish to establish.
The mid-century sofa design, popularized in the 1950s and '60s, bridges the gap between classic and modern. With its vintage flair, tapered wooden legs, and functional form, it's a versatile choice for both retro enthusiasts and those seeking a trendy, yet timeless appeal.
However, the sofa universe is vast, and other styles range from rustic, bohemian, industrial, to eclectic. It's beneficial to explore various design catalogs or visit furniture showrooms to familiarize yourself with the plethora of styles available.
Remember, the key is to find a sofa that resonates with your aesthetic preferences and enhances your living space's overall vibe.
3. Material Selection
Selecting the right material is as much about functionality as it is about aesthetics. Leather, a luxurious and durable choice, offers a sleek finish and is relatively easy to clean, making it a favorite for households with children or pets. Over time, it can develop a unique patina that adds character.
However, leather might not be ideal in extreme climates, as it can feel cold in winter and sticky in summer. Fabric sofas, conversely, come in a myriad of textures, patterns, and colors, allowing for more design flexibility. They can be cozier and more breathable than leather, but may require more maintenance, especially if they're light-colored or delicate.
If you're seeking a sofa for an outdoor setting, material selection takes on a new dimension. Outdoor sofas demand materials that can withstand varying weather conditions, from blazing sun to pouring rain. Think of solutions like synthetic resin, teak, or treated metal frames, paired with water-resistant and UV-protected cushions.
It's also a good idea to invest in protective covers for off-season storage or unexpected weather changes. Remember, while outdoor sofas are built to be robust, periodic maintenance – such as cleaning and checking for wear – will significantly extend their lifespan and keep them looking fresh.
4. Cushion Comfort
When it comes to delivering consistent support and contouring to the body, memory foam stands out. Originally developed for astronauts, this material has found its way into our homes, offering a firm yet plush seating experience.
Memory foam cushions adapt to the sitter's body shape, providing tailored comfort. They're especially beneficial for those with back issues or who spend extended periods on the sofa. However, they can retain heat, so they might not be ideal for hotter climates or those who tend to run warm.
For those seeking the epitome of luxury and softness, down-filled cushions are a top choice. Filled with the fluffy undercoating of ducks or geese, these cushions offer a plush, sink-in feel that's unparalleled. They're incredibly comfortable and can give your sofa a relaxed, inviting look. However, they do require more maintenance, including regular fluffing to maintain their shape.
Additionally, for those with allergies, it's essential to ensure that the down is hypoallergenic and encased in a tightly woven fabric to prevent feather escape.
5. The In-Store Test Drive
While online shopping offers convenience, there's an irreplaceable value in physically testing a sofa in-store. The sit test goes beyond just a quick perch; it's about truly experiencing the sofa. Sit down, lean back, and even lie down if that's how you'd use it at home. Consider the depth of the seat, the angle of the backrest, and the height from the floor. Remember, what looks good might not always feel good, and the goal is to find a sofa that you can comfortably lounge on for extended periods.
A close inspection is crucial to ensure you're investing in a durable piece. Examine the sofa's stitching, looking for uniformity and tightness. Check the legs and frame for any signs of wobbling or instability. Feel the armrests and back for any lumps, sags, or irregularities. If it's a recliner or has other moving parts, test those mechanisms to ensure smooth operation. Taking a few extra minutes to scrutinize the details can save you from potential hassles and added costs down the road.
6. Buying Smart: Questions to Ask
Purchasing a sofa comes with its set of logistics. Clarify delivery details in advance, including costs, timelines, and setup services. Consider challenges like tight spaces or stairways in your home. Some stores provide comprehensive 'white glove' services, while others might leave it at your door. Being prepared can stave off delivery day surprises.
When investing in a sofa, a clear understanding of its warranty is essential. Dive deep to know what's covered, from frame to potential accidents. Some shops offer extended protections at an extra fee. Always weigh the costs and benefits and scrutinize the fine print.
Durability is paramount when choosing a sofa. Inquire about frame construction, cushion quality, and gather customer feedback. Such insights can give a clearer picture of the sofa's longevity and overall performance.
7. Maintenance and Care
Prompt action can salvage a sofa from unexpected spills. For fabric sofas, understanding their cleaning codes is crucial; for instance, "W" suits water-based cleaners and "S" demands solvents. Leather requires immediate blotting of spills. Before using any cleaner, always test on an inconspicuous spot; for tough stains, consider professional cleaning solutions.
Proper maintenance prolongs a sofa's lifespan. Regular vacuuming for fabric and periodic wiping for leather, complemented with annual conditioning, keeps them fresh. Protect your sofa from direct sunlight and, if possible, rotate its cushions to maintain even wear, ensuring it remains your living space's focal point.