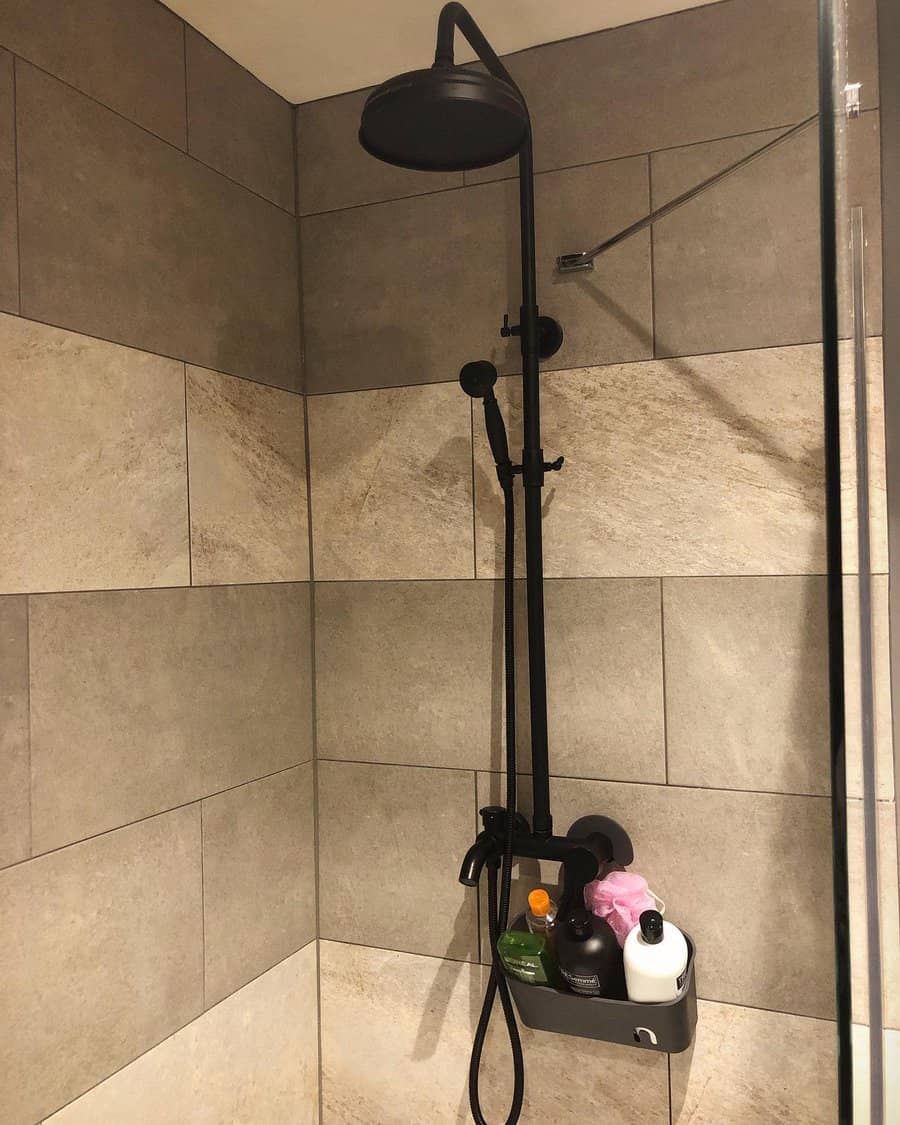 72 Shower Storage Ideas for Better Organized Bathroom
by — Kari Apted

Published on June 8, 2023

Updated on June 18, 2023
Bathroom spaces, especially showers, can often feel cramped and cluttered. The key to taming this chaos? Ingenious shower storage solutions.
In this article, we're going to delve into a wealth of practical and stylish shower storage ideas.
Whether you're looking to implement hanging baskets, use magnetic holders, or invest in corner units, there's something here for every type of shower.
We'll walk you through options to suit a variety of tastes and budgets, ensuring that you can maximize your shower space while keeping everything you need close at hand.
Get ready to transform your shower area into a neatly organized, user-friendly space.
1. Hanging Shower Caddy
Whether you have a tiny bathroom or just love keeping things within easy reach, a hanging shower caddy is a game-changer. Imagine a sleek metal caddy suspended from your showerhead or mounted on the wall, providing ample space for all your bathing essentials.
With clever compartments and adjustable shelves, you can neatly store shampoo, conditioner, body wash, and even your loofah. Plus, this innovative storage idea keeps your products dry and easily accessible, creating a spa-like experience every time you step into the shower.
Say goodbye to the days of juggling slippery bottles or cluttered shower floors. Embrace the magic of a hanging shower caddy and indulge in a well-organized shower sanctuary that you'll absolutely adore.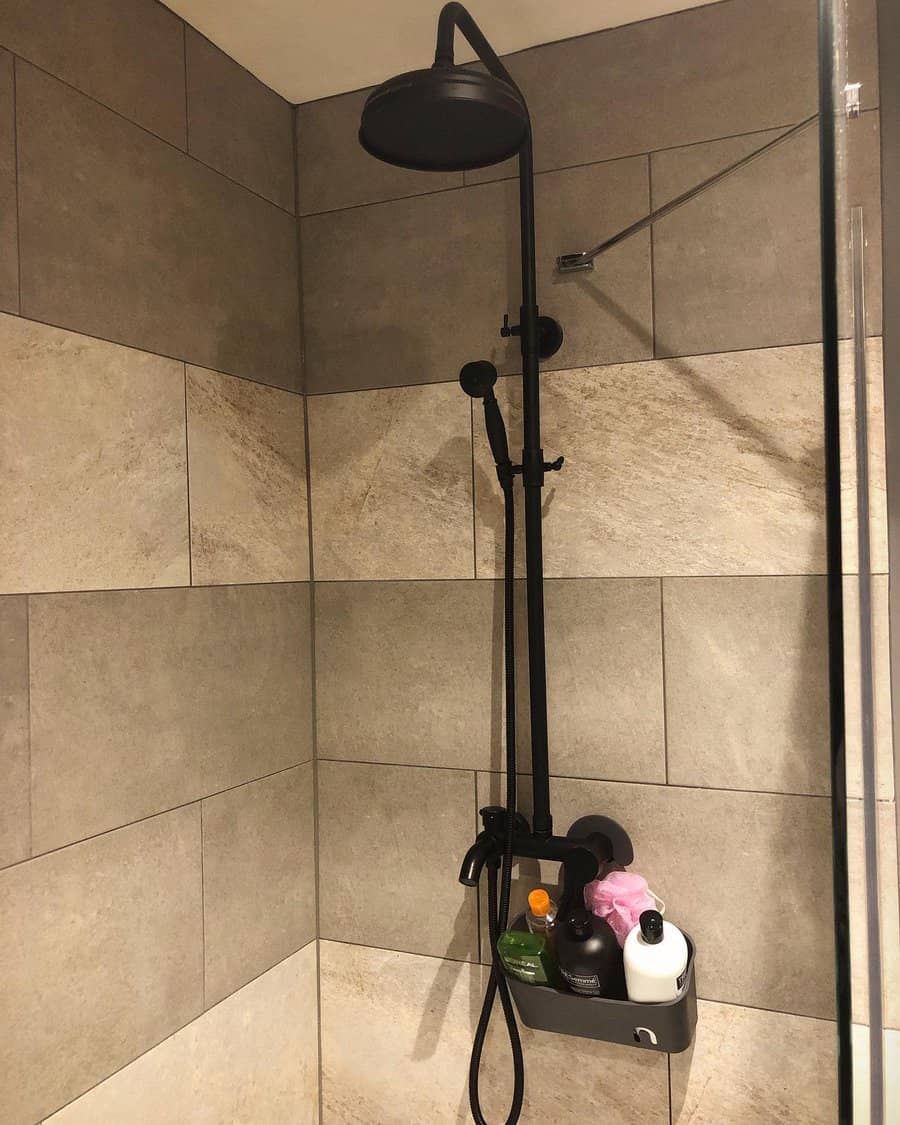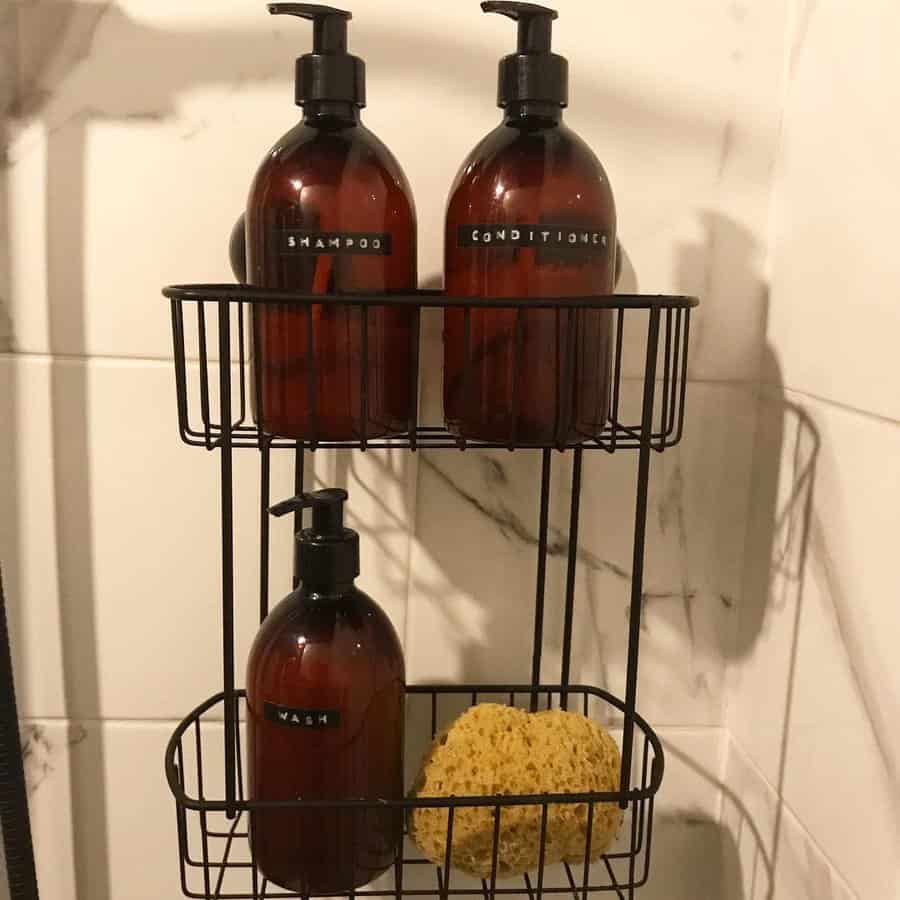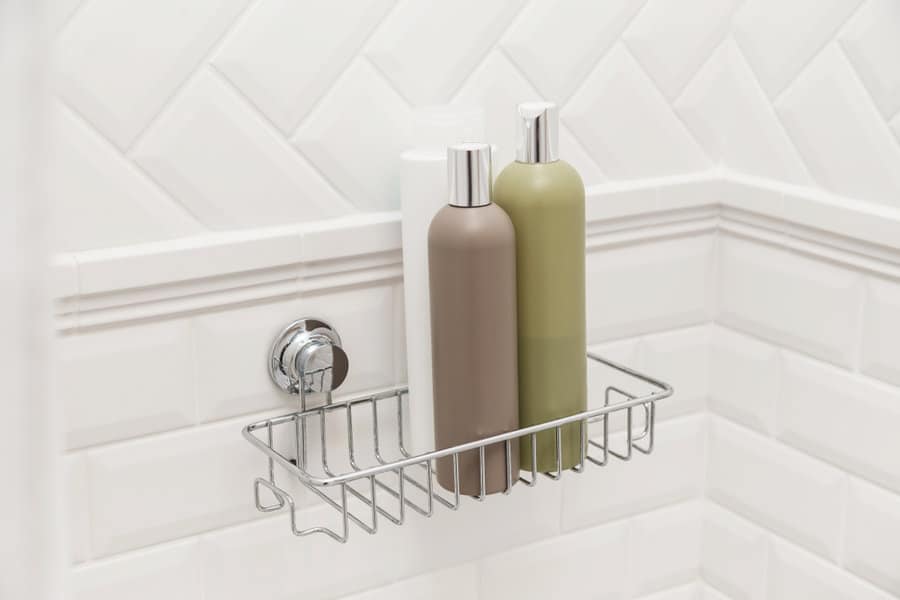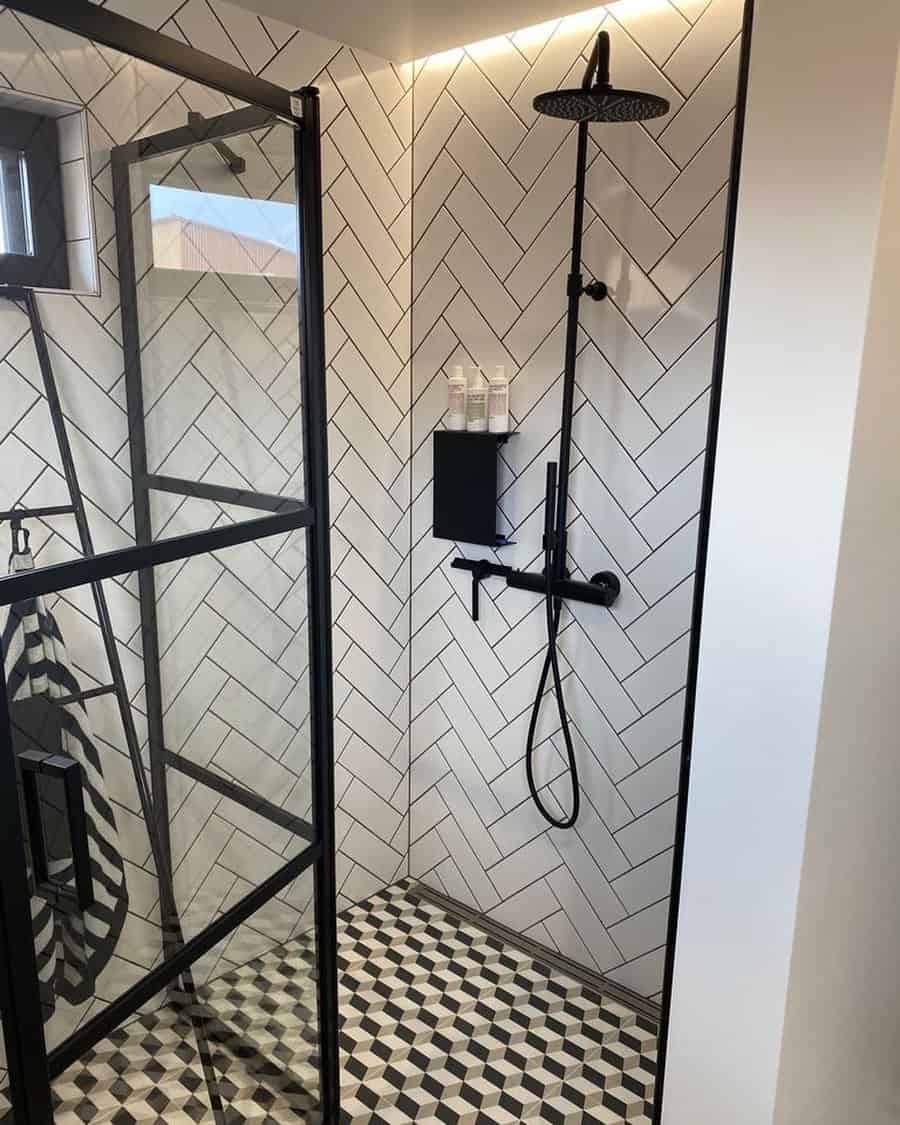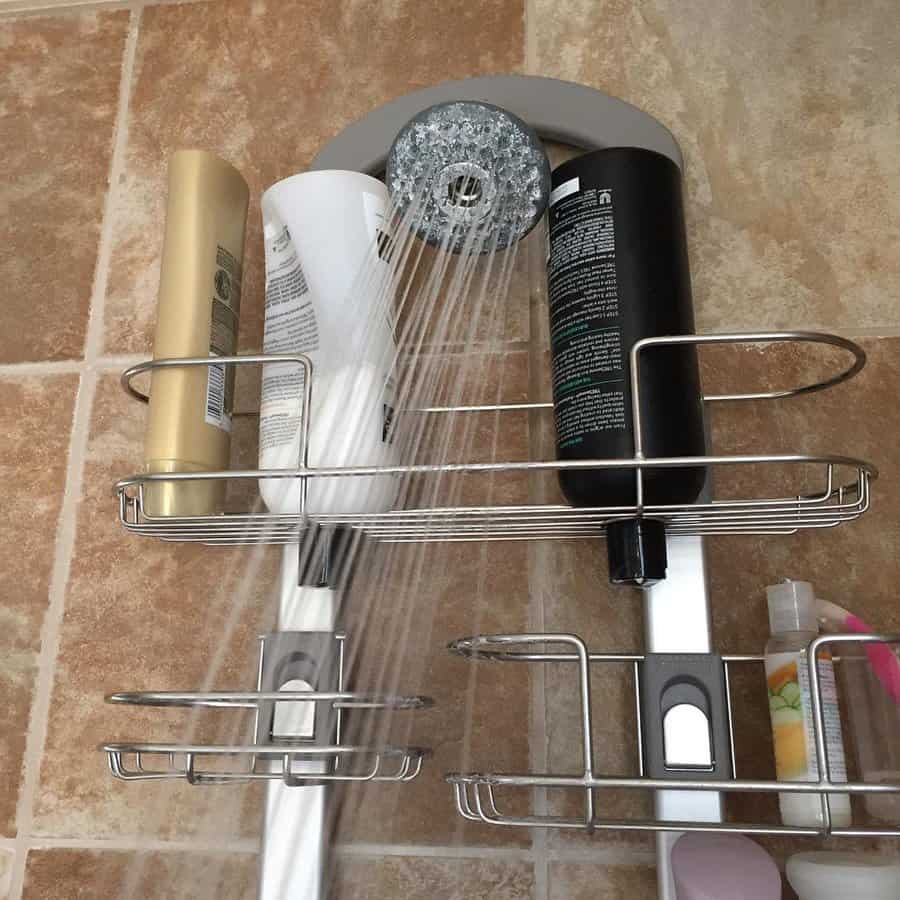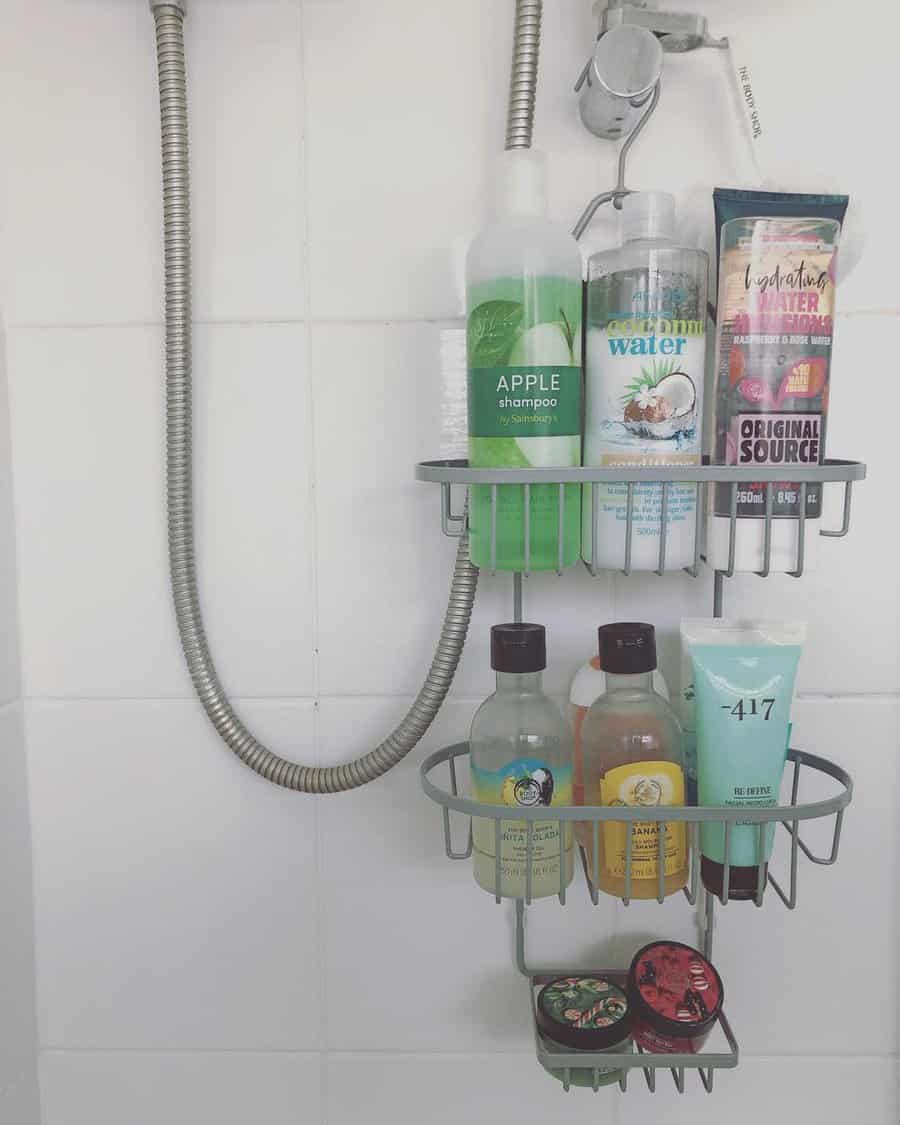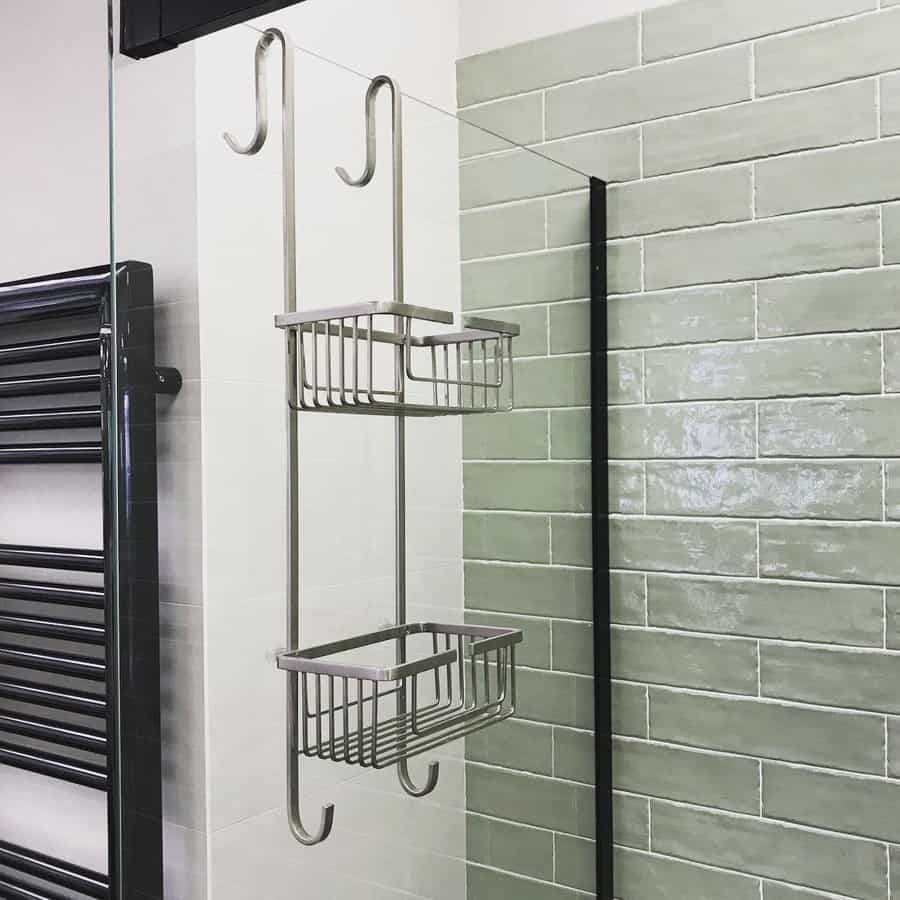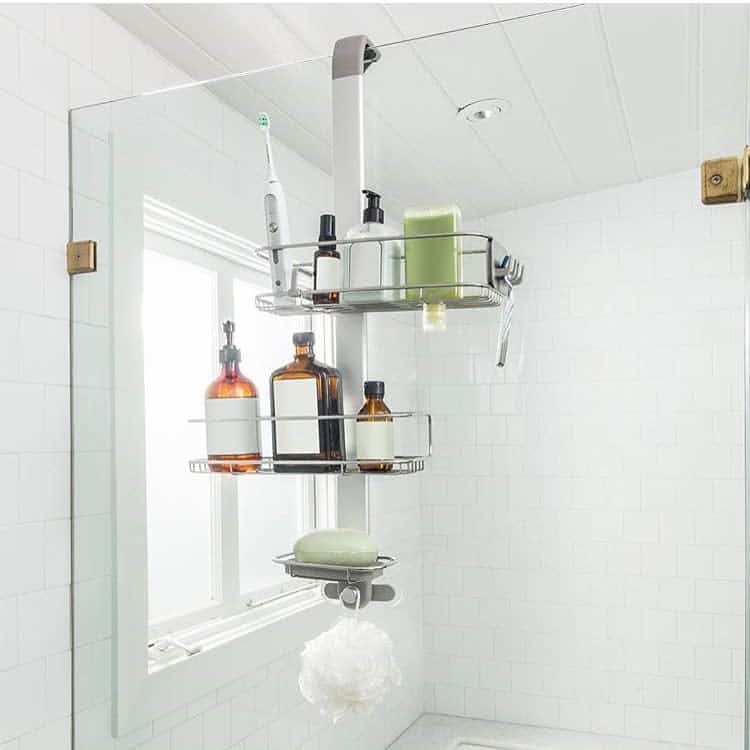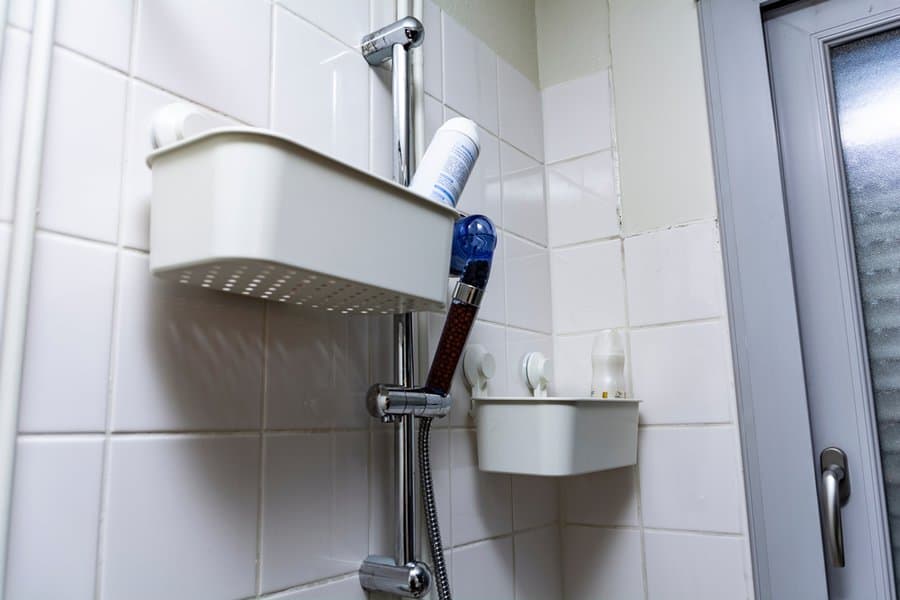 2. Basket Organizer
Turn your shower into a clutter-free sanctuary with the ingenious use of a woven organizer basket. This versatile storage solution brings a touch of creativity and aesthetics to your bathroom while keeping your towels, laundry, and shower supplies neatly organized.
Picture this: a charming, handwoven basket, delicately blending rustic charm with contemporary style, hanging effortlessly from your shower wall. Its sturdy design allows you to store an array of items, from fluffy towels to spare laundry or even a selection of your favorite shower products.
Not only does the woven organizer basket add a functional element to your bathing routine, but it also elevates the overall ambiance of your bathroom, creating a visually appealing and engaging space to indulge in self-care.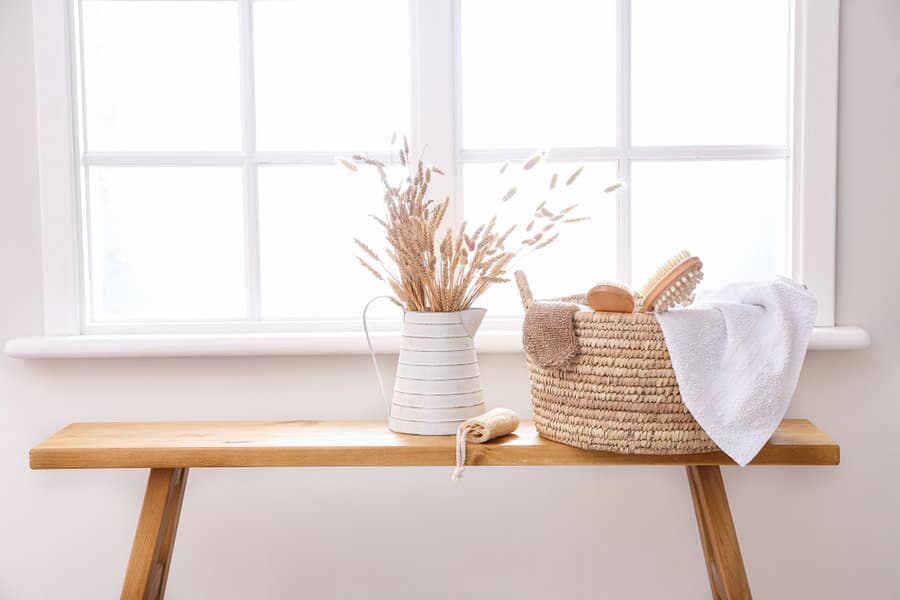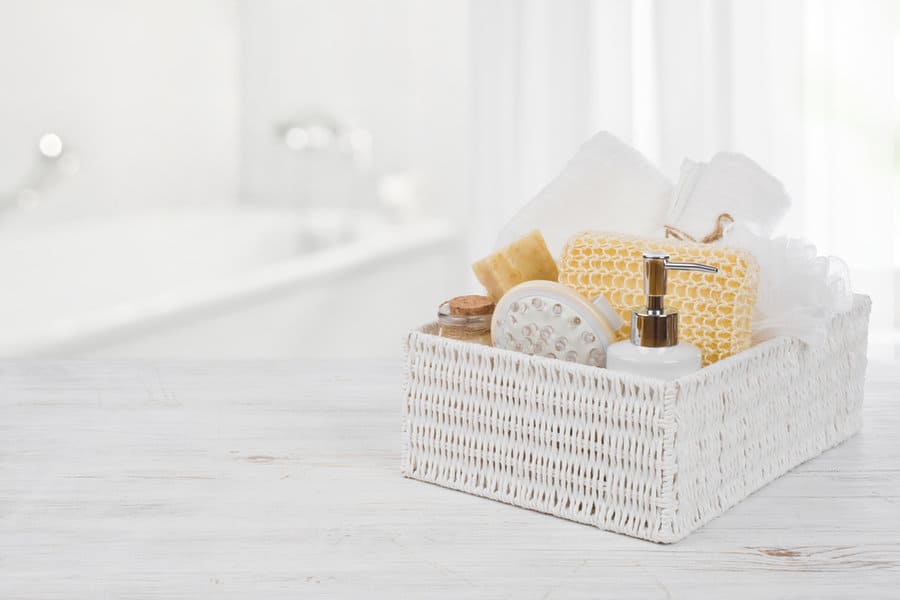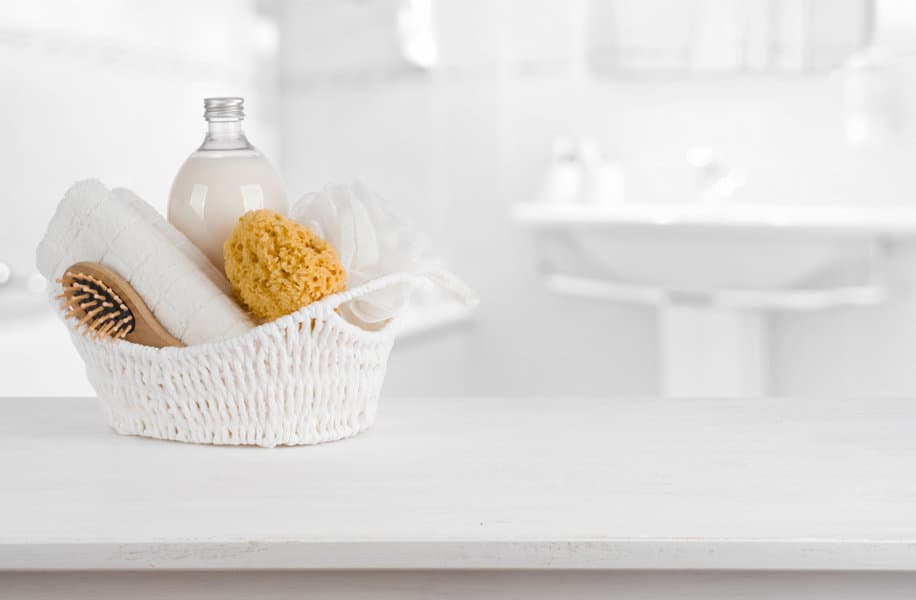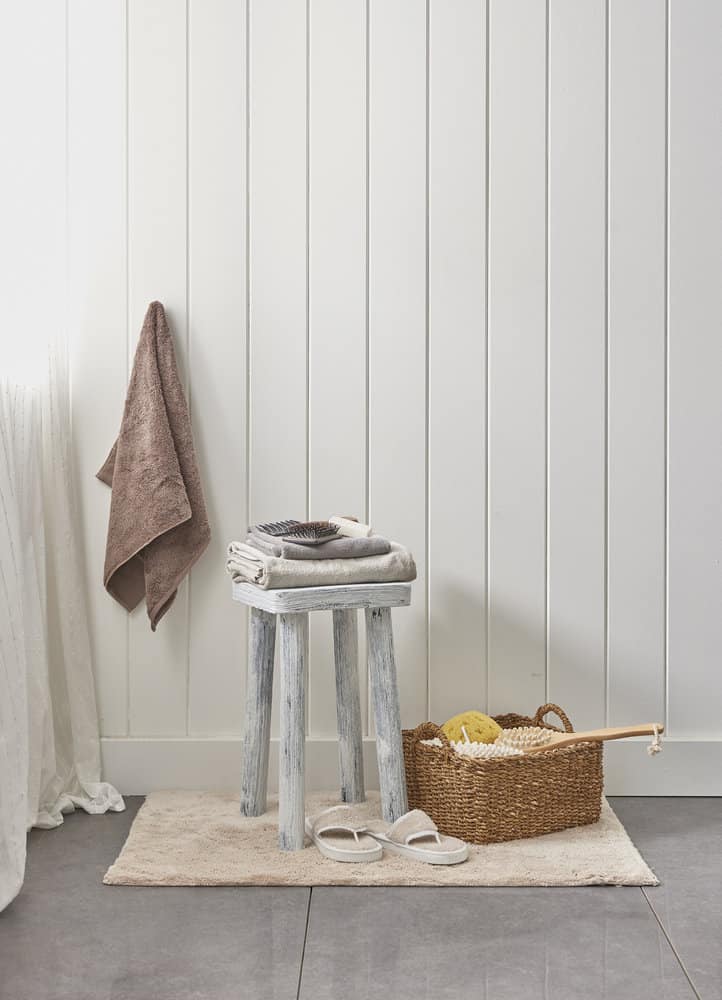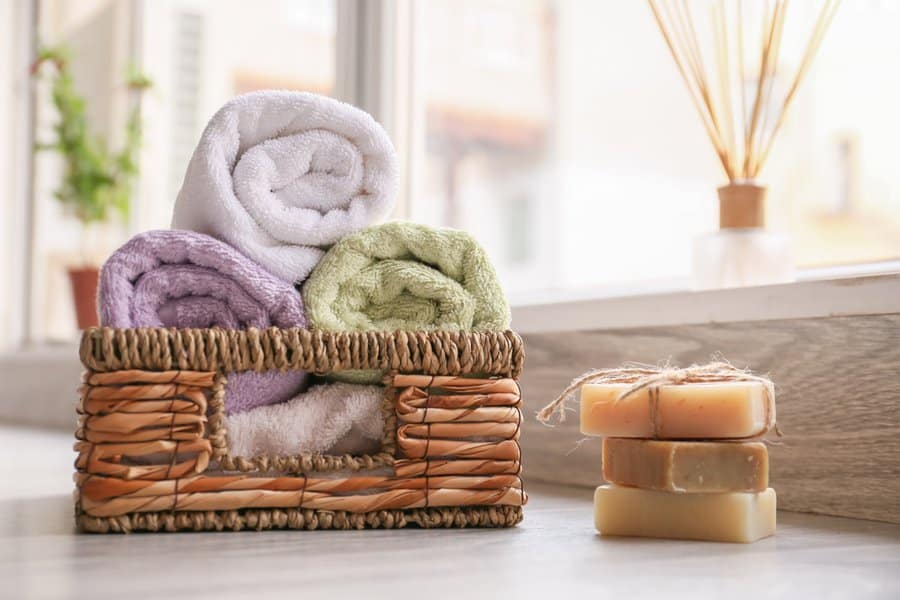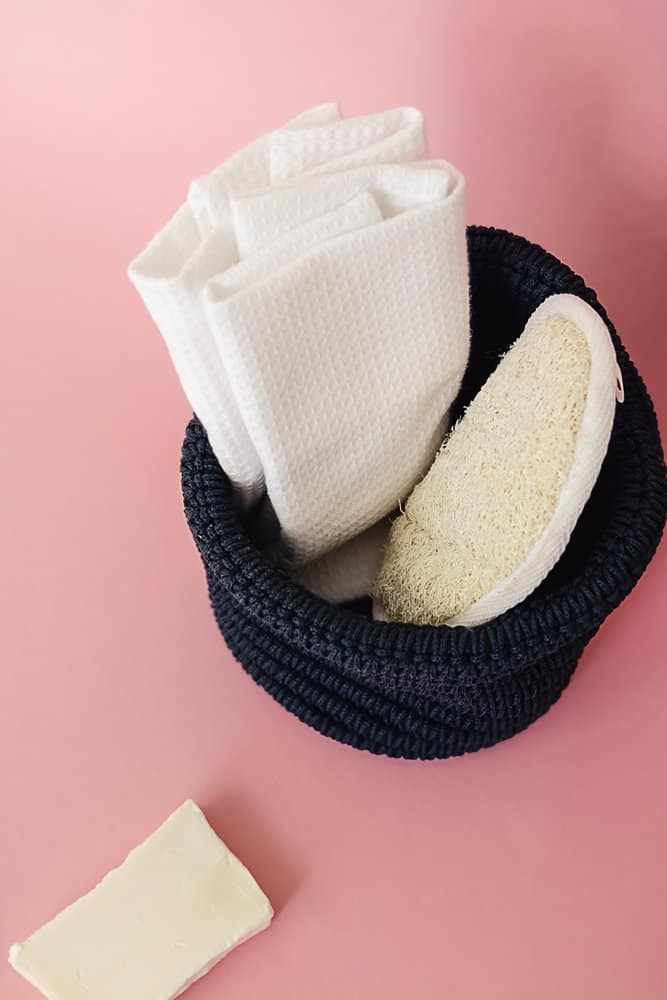 3. Metal Towel Rack
When it comes to maximizing space and keeping your essentials within reach, a metal towel rack takes center stage. This versatile and sleek addition not only provides a dedicated spot for your towels but also adds a touch of sophistication to your bathroom decor.
Whether you have a compact shower or a spacious retreat, a standalone metal towel rack offers the perfect solution for creating storage that is both functional and visually appealing.
With its clean lines and sturdy design, this storage option allows you to neatly hang your towels, keeping them dry and easily accessible while adding an element of charm to your bathing sanctuary.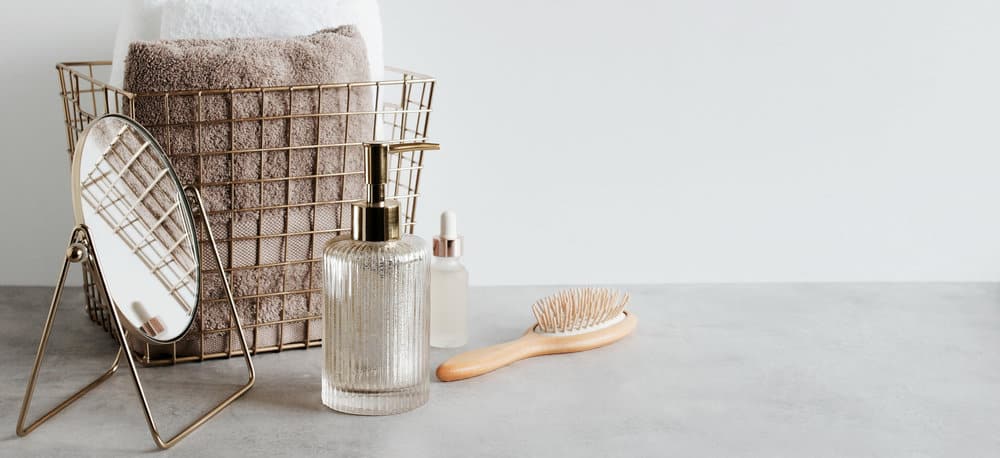 4. Bath Tub Caddy Tray
When it comes to organizing your toiletries or creating a serene ambiance with candles, a bathtub caddy emerges as a must-have accessory. Picture this: a beautifully crafted wooden or stainless steel tray that elegantly spans the width of your bathtub, providing a chic platform for all your shower essentials.
With compartments and slots cleverly designed to hold your favorite shampoos, conditioners, soaps, and loofahs, the bathtub caddy ensures easy access to everything you need while keeping clutter at bay.
Imagine indulging in a relaxing soak while your favorite scented candles gracefully flicker on the caddy's built-in holders, creating a tranquil atmosphere that washes away the stress of the day.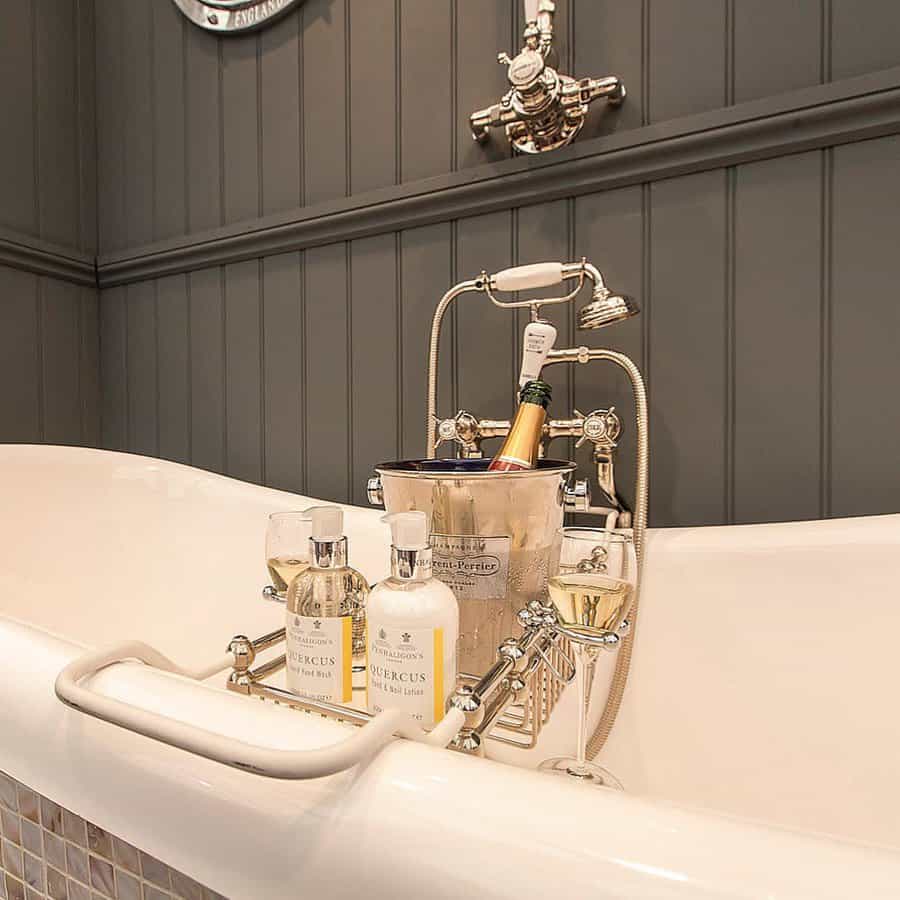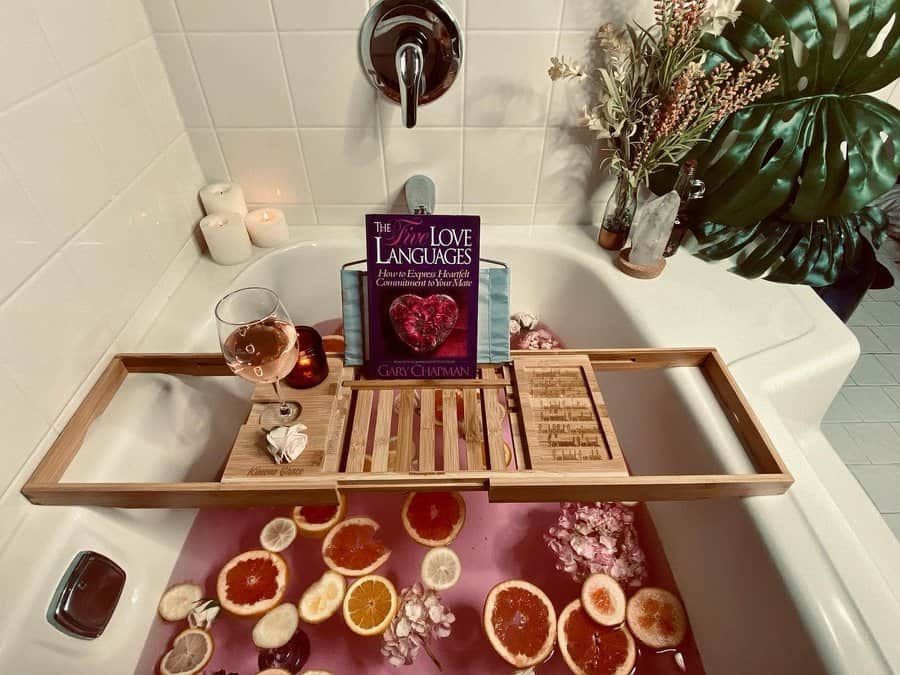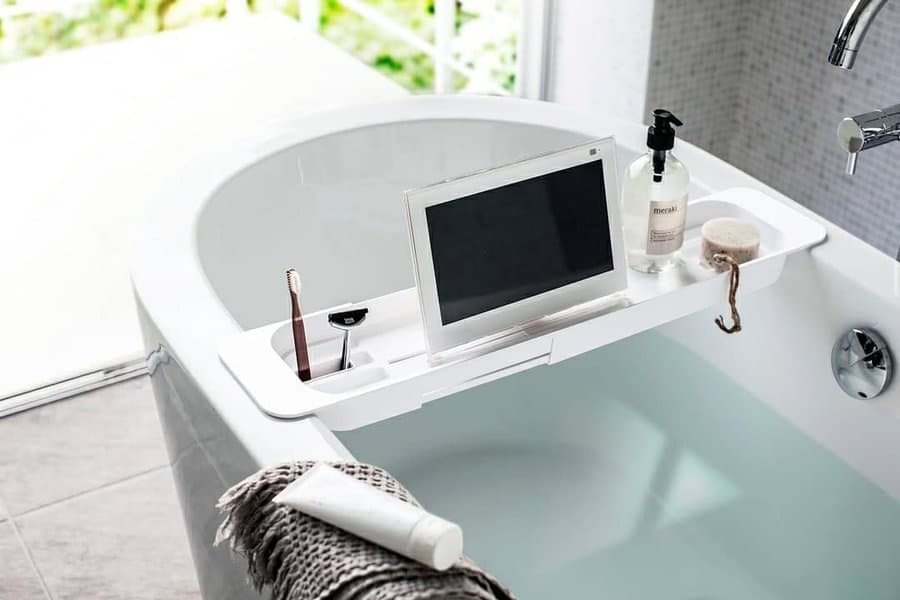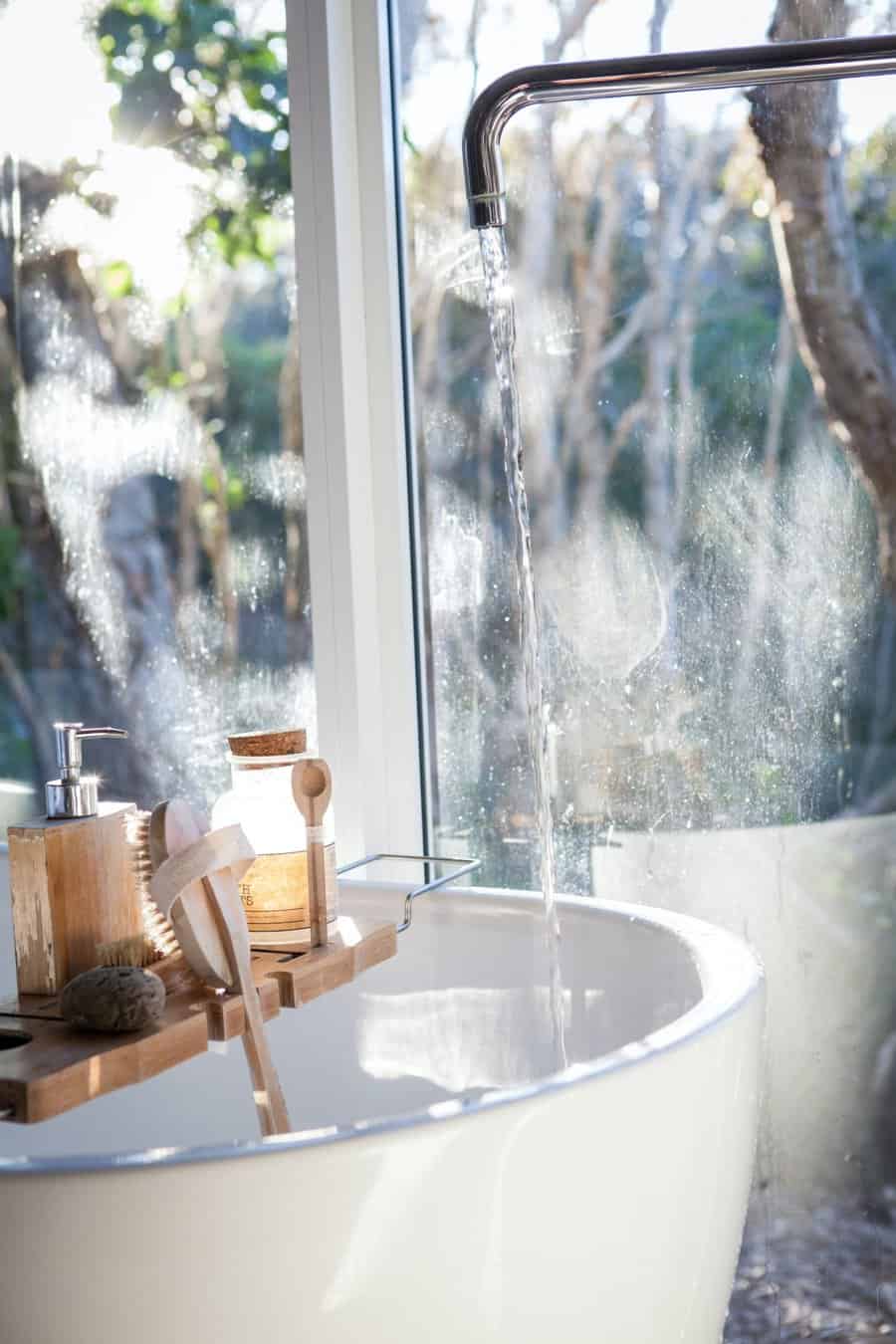 5. Towel Wall Hooks
One brilliant solution that combines functionality and style is using towel wall hooks. These nifty hooks are the perfect addition to any shower, offering a convenient and accessible spot to hang your towels. Imagine stepping out of the warm water and reaching for a fluffy towel effortlessly.
Not only do towel wall hooks keep your towels within arm's reach, but they also add a touch of creativity to your bathroom decor. Arrange them in a geometric pattern or go for a playful mix of colors to make a statement. With towel wall hooks, your shower experience will be elevated to a whole new level of convenience and design.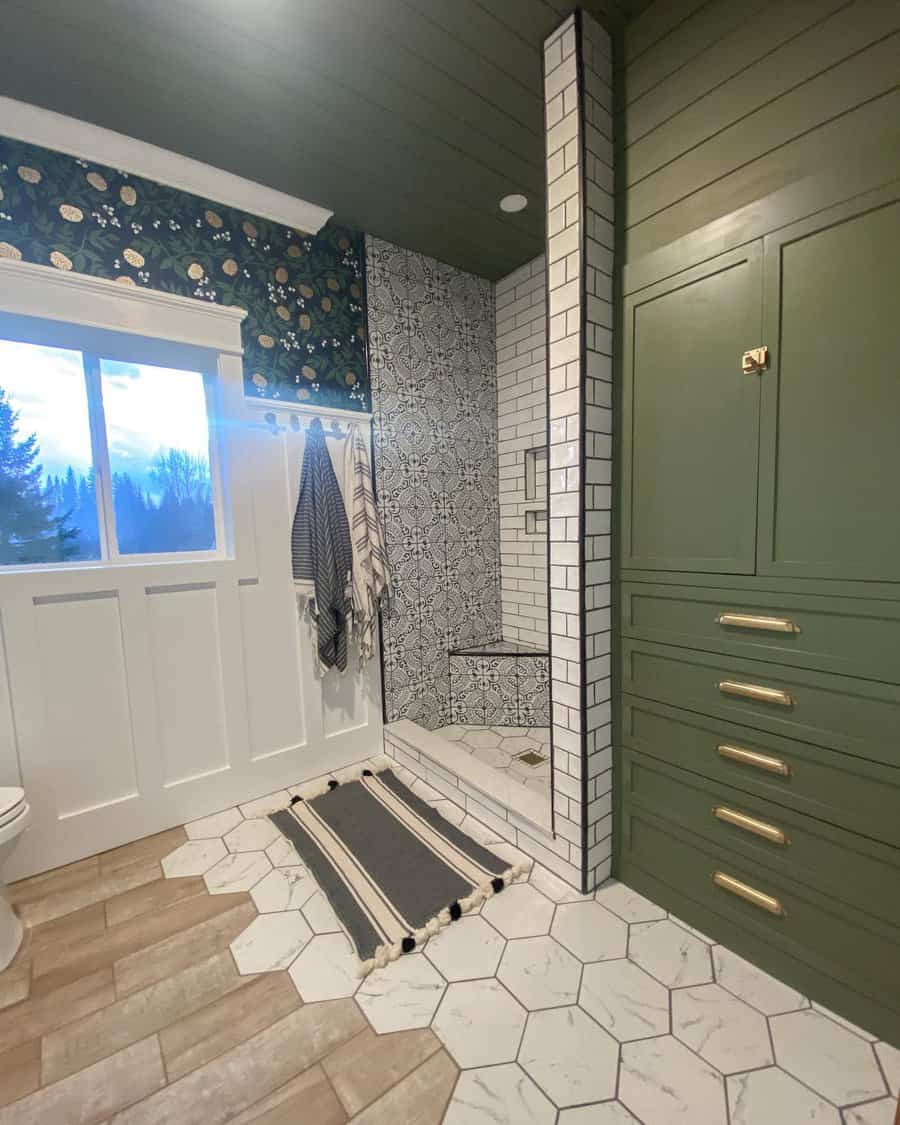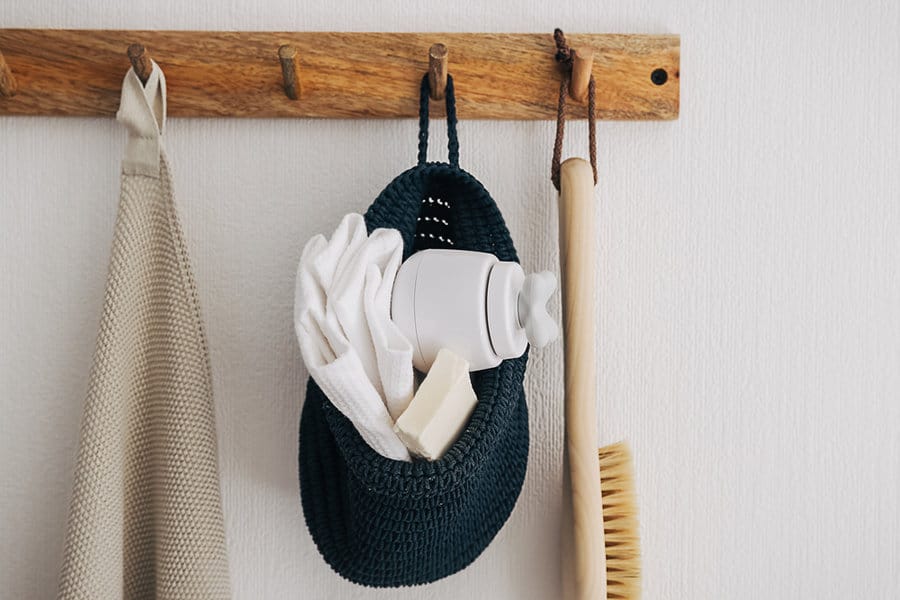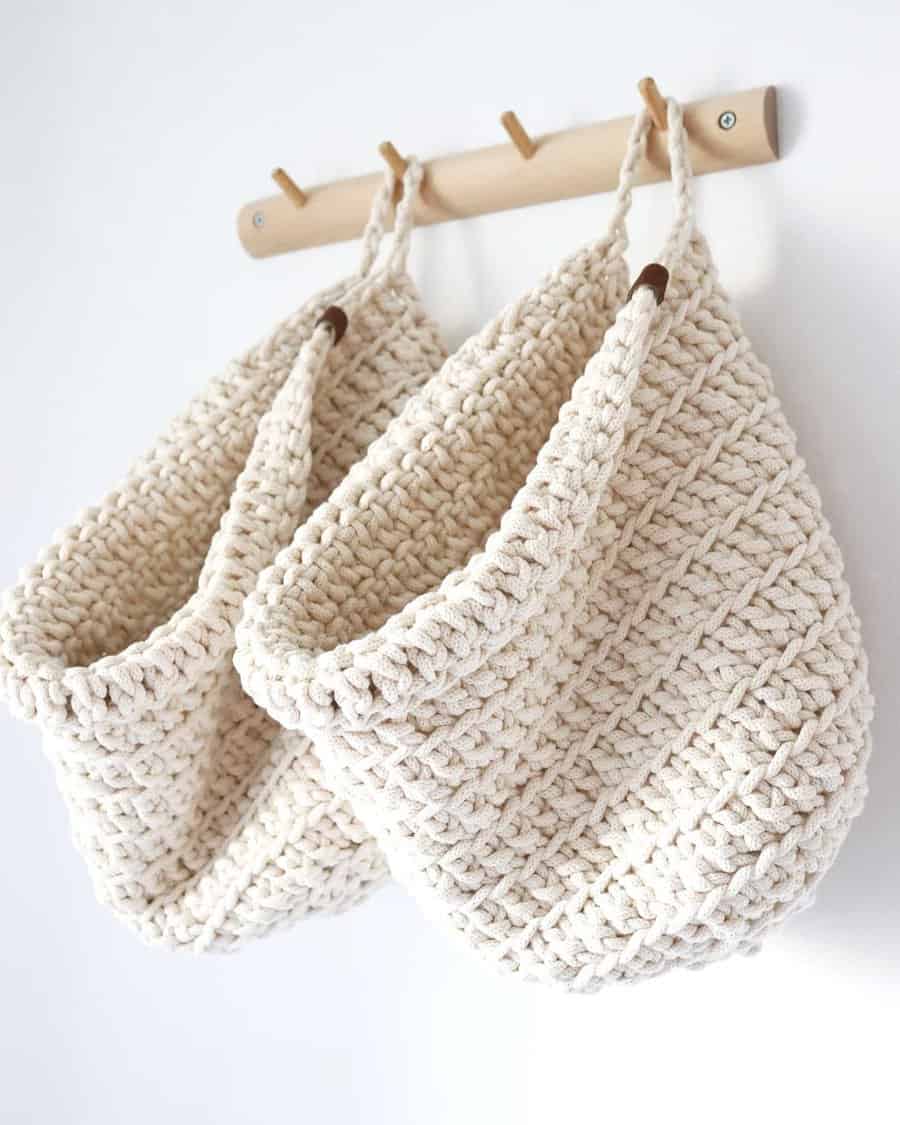 6. Recessed Shower Shelf
When it comes to optimizing your shower space, the secret lies in finding innovative storage solutions that combine functionality with aesthetic appeal. And what better way to achieve that than with a recessed shower shelf?
This clever storage idea not only maximizes your shower's available space but also adds a touch of elegance to your bathroom decor. Picture a sleek, built-in shelf seamlessly integrated into your shower wall, creating a clean and uncluttered look. The recessed design allows for easy access to your toiletries while keeping them neatly organized and within arm's reach.
From luxurious shampoos and invigorating body washes to pampering scrubs and fluffy loofahs, a recessed shower shelf becomes your sanctuary, showcasing your essentials with style.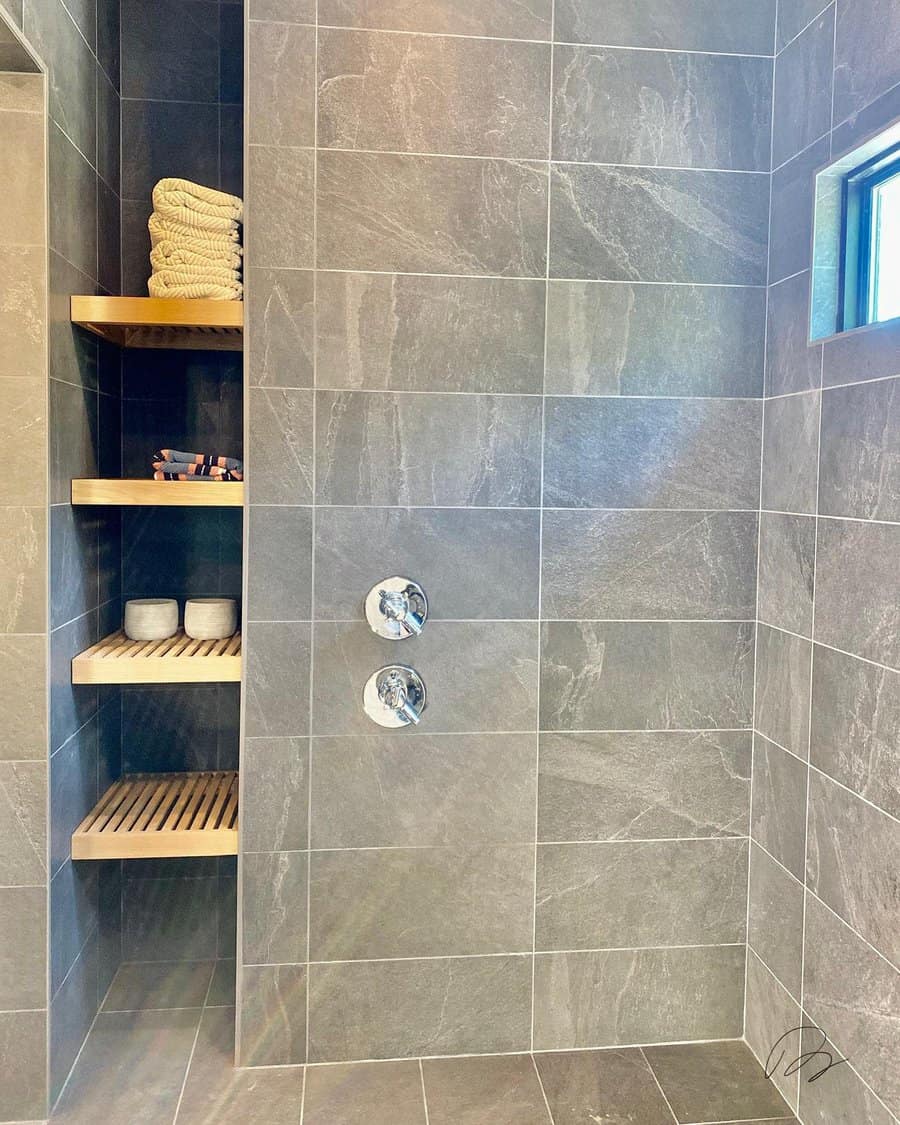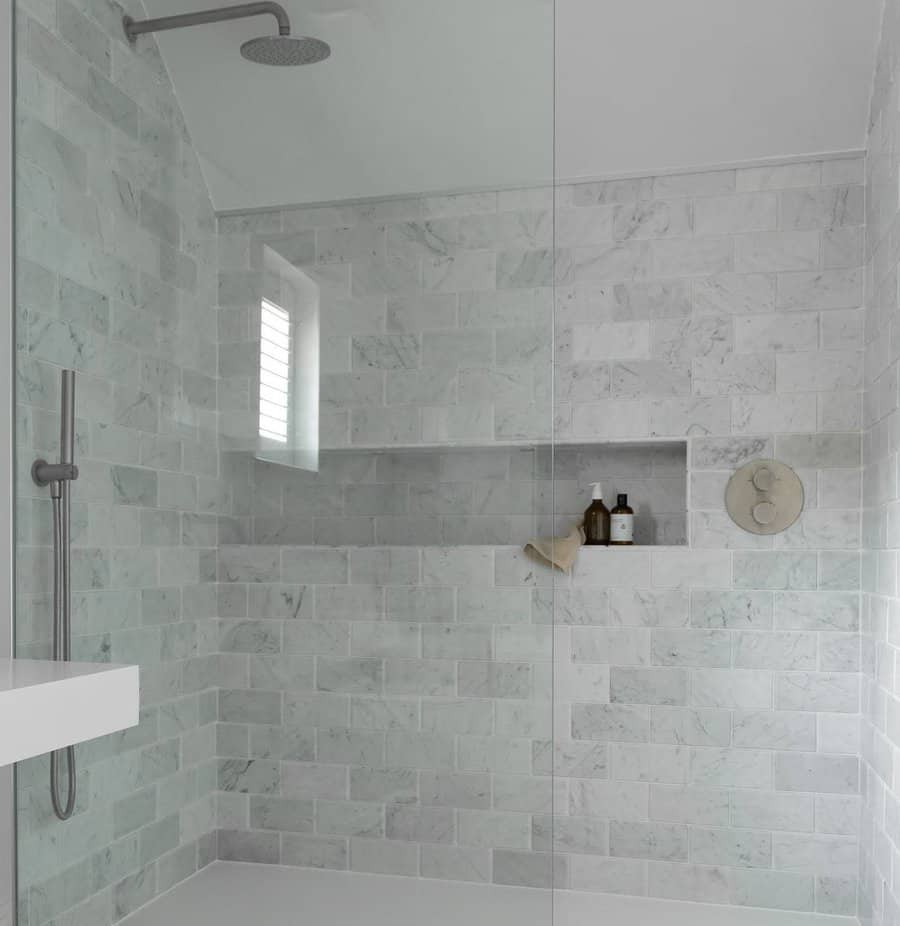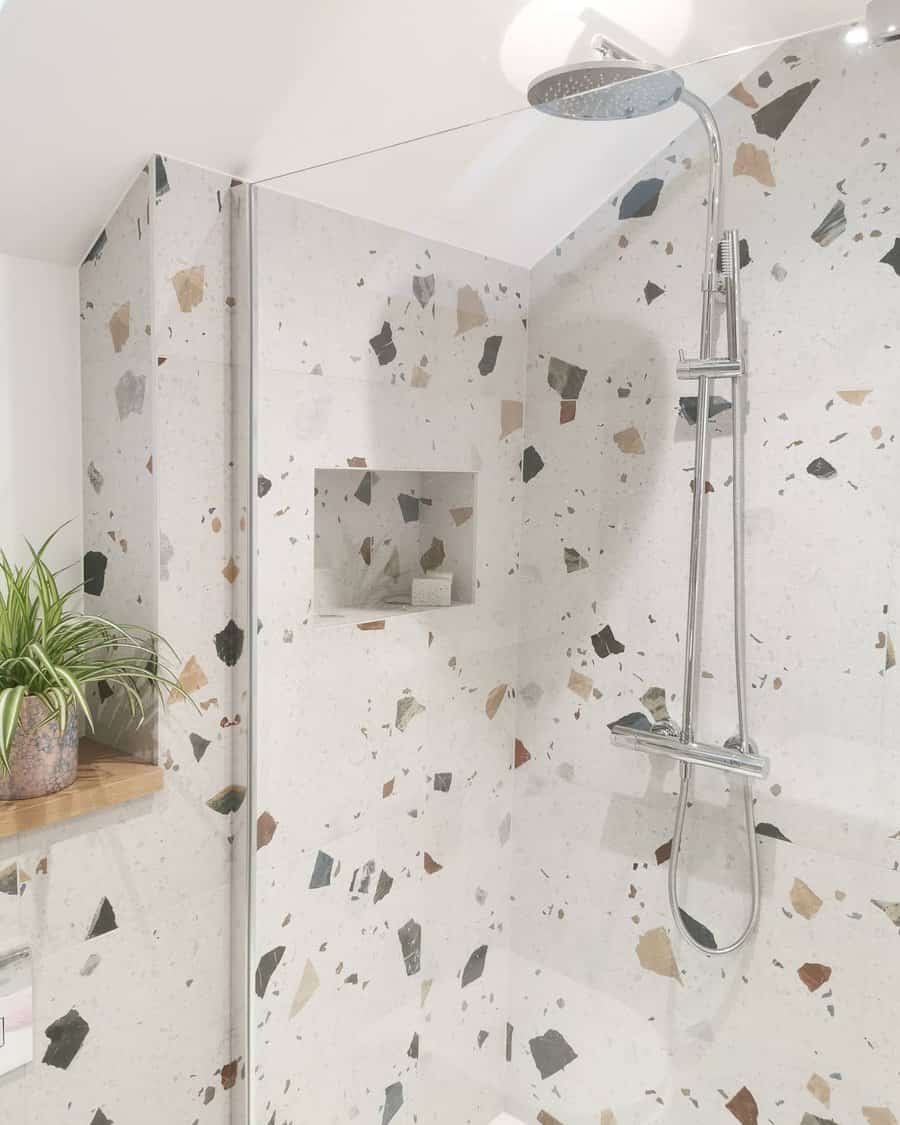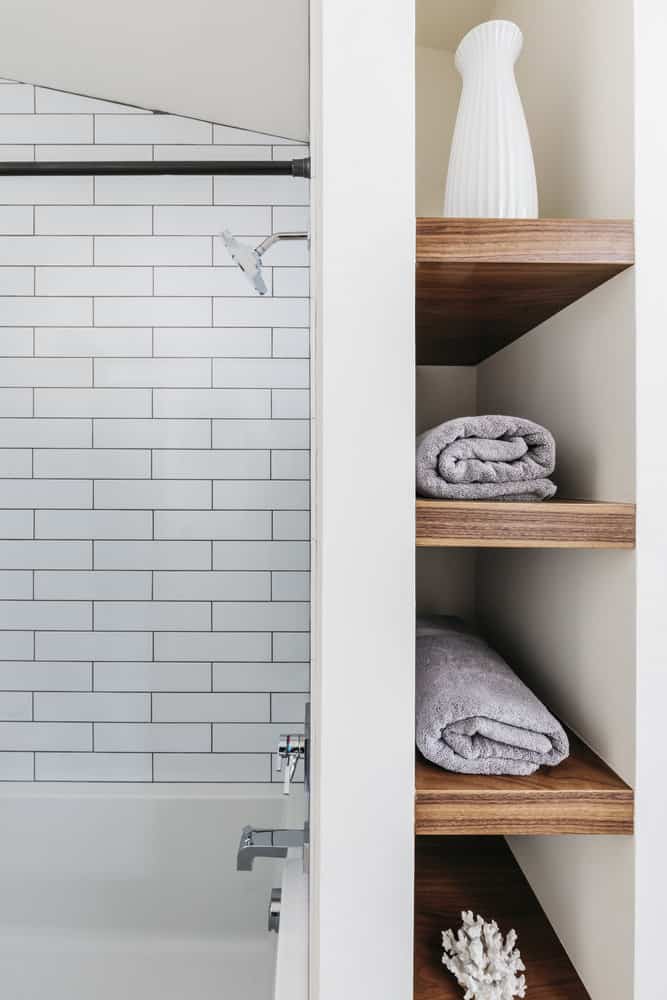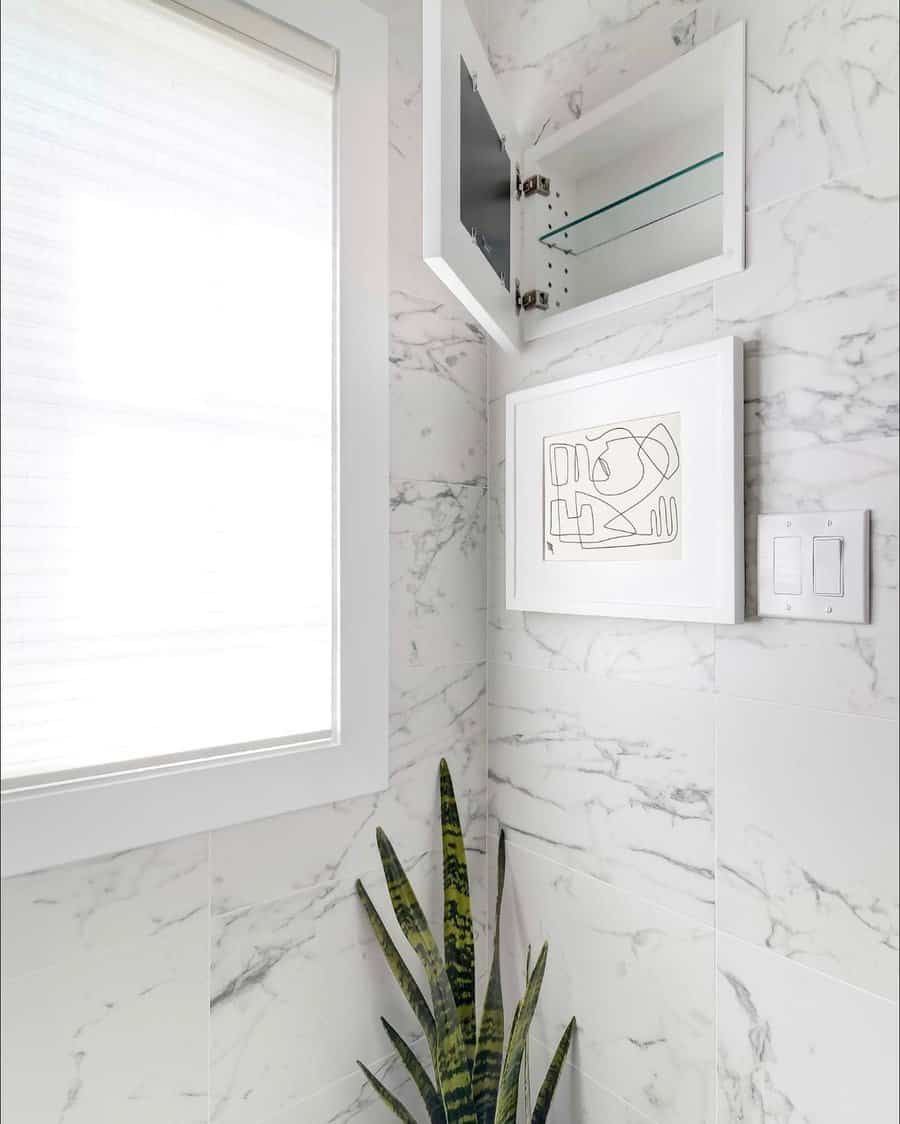 7. Corner Shower Shelf
When it comes to optimizing your shower space, one standout solution is the corner shower shelf. This ingenious creation takes advantage of that often overlooked corner, transforming it into a stylish and functional storage nook. Picture a sleek, minimalist shelf seamlessly blending into your shower tiles, providing a perfect home for your favorite bath products.
Imagine a sleek, triangular shelf snugly nestled in the corner of your shower, ready to hold your shampoos, conditioners, body washes, and even those loofahs. With its clever design, the corner shower shelf maximizes every inch of your shower, giving you ample storage without sacrificing style.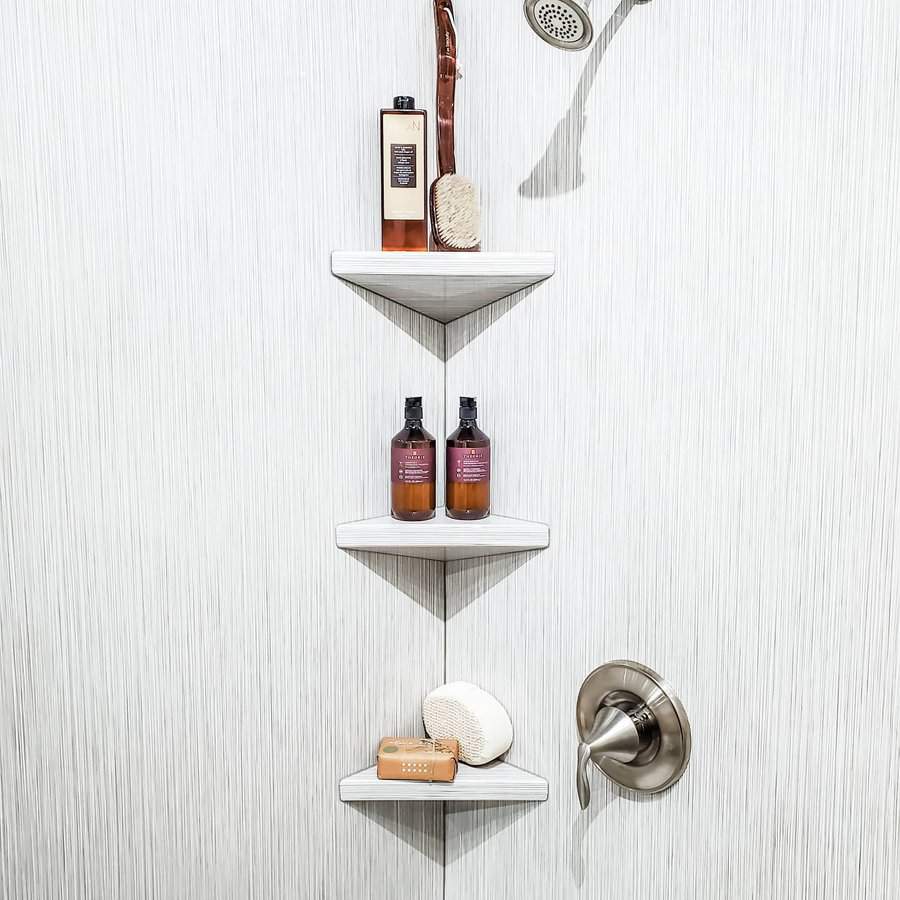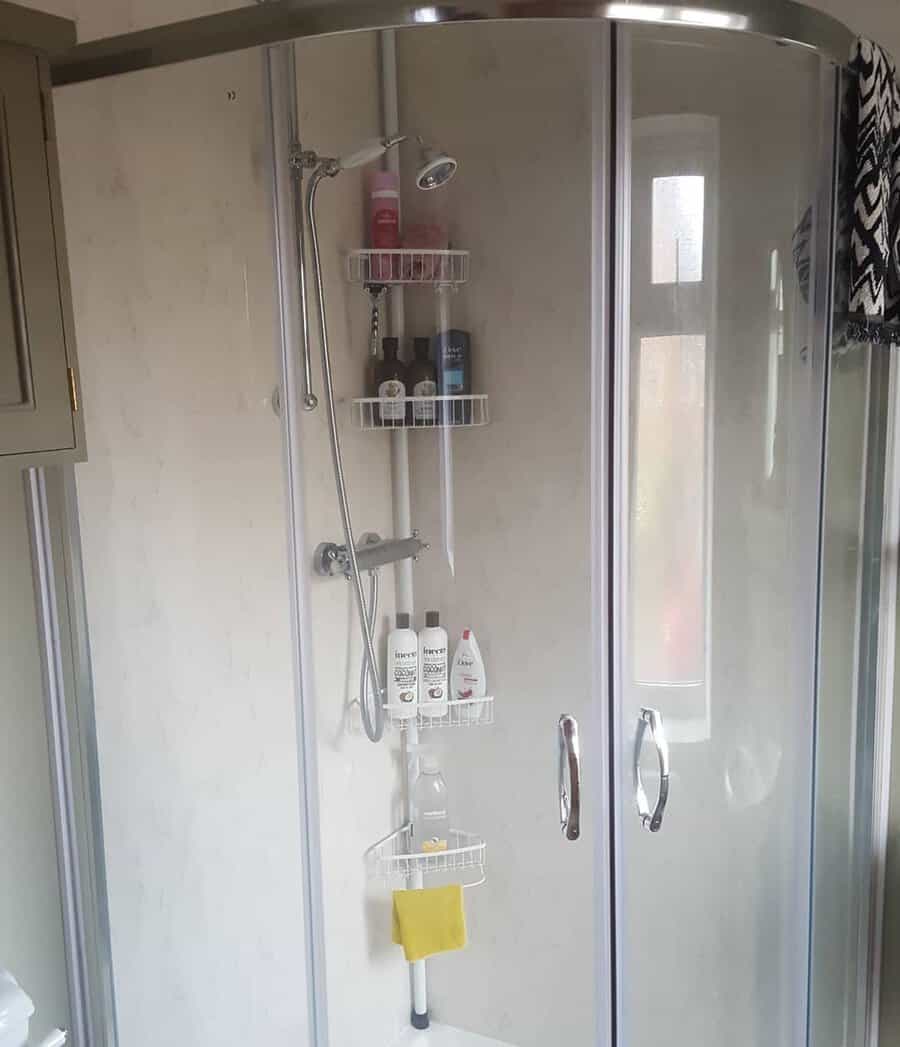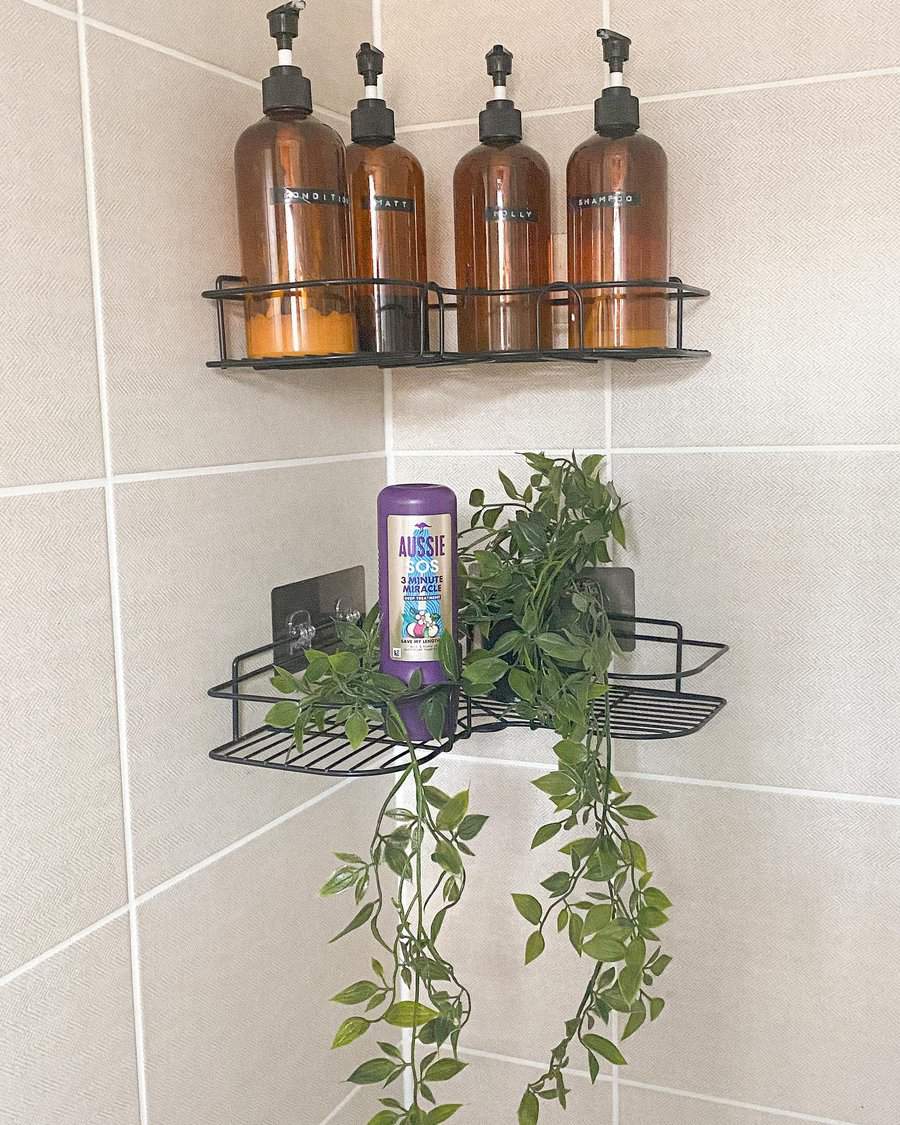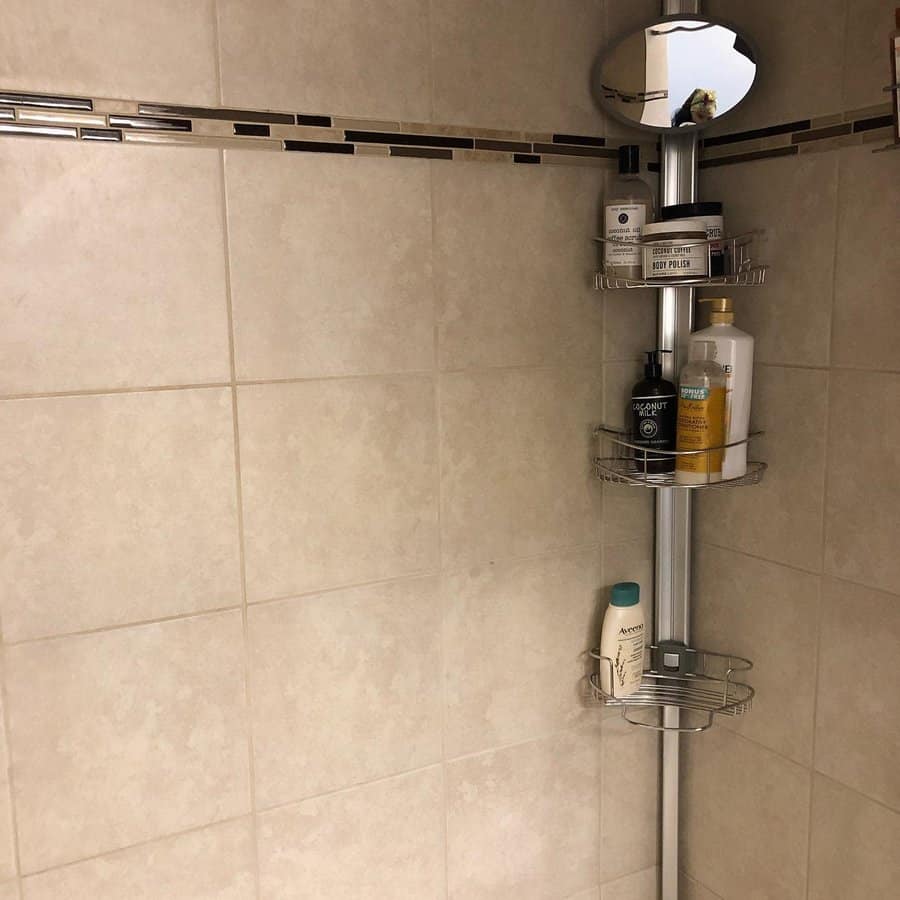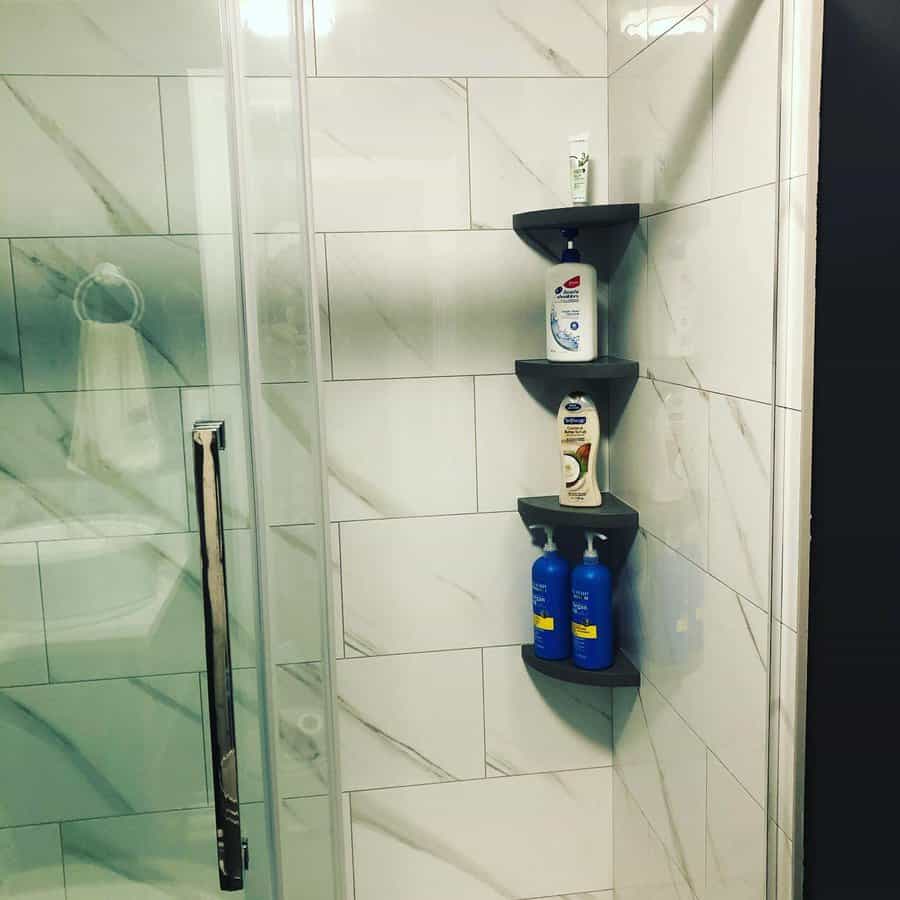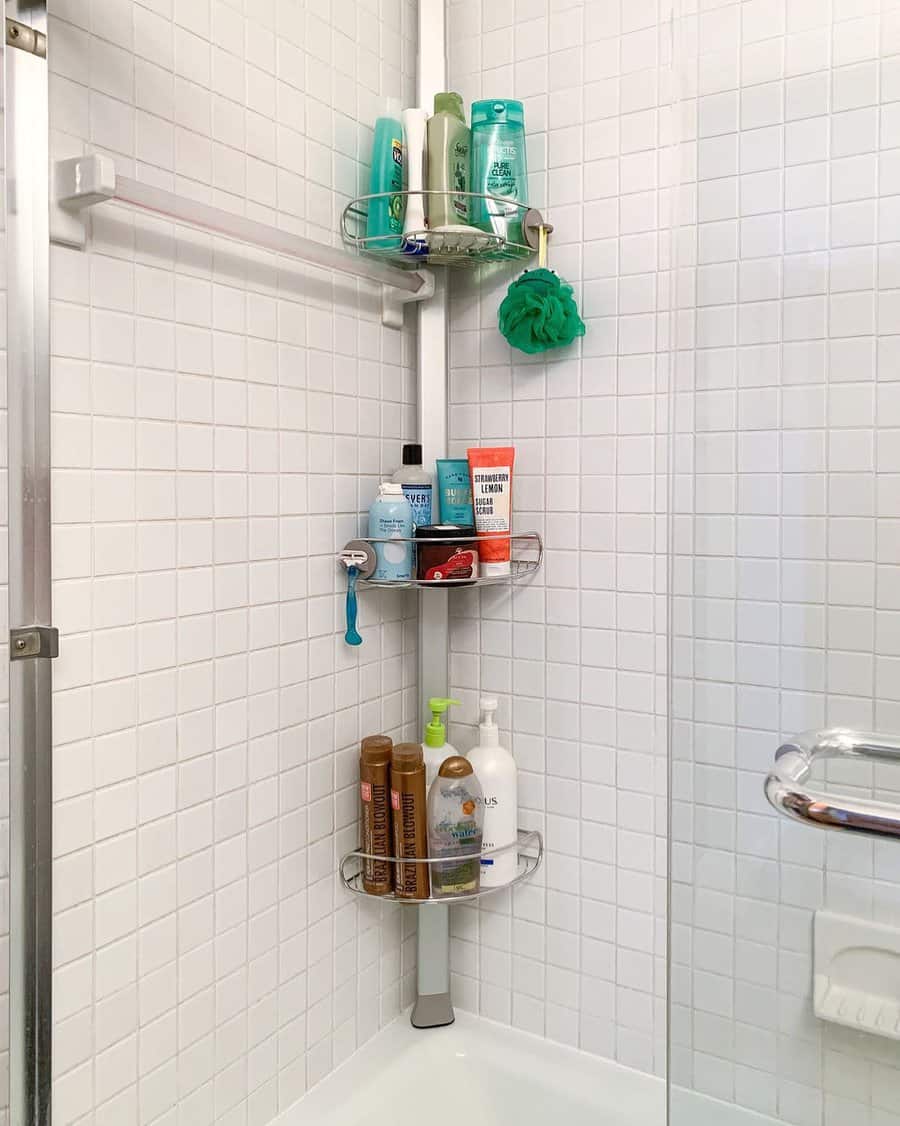 8. Floating Shelves
These versatile and stylish additions are the perfect solution to keep all your shower essentials within reach while adding a touch of contemporary charm to your bathroom. Whether you have a small shower or a spacious oasis, floating shelves offer a world of possibilities.
Install them above your bathtub to store your favorite bath products, scented candles, and even a waterproof speaker for a relaxing and indulgent experience. Alternatively, place a few floating shelves at varying heights along the shower wall to keep your shampoo, conditioner, and body wash neatly organized.
Add a potted plant or a decorative piece to bring a fresh and personal touch to your shower oasis. With floating shelves, your shower storage becomes a stylish statement, reflecting your creative personality while effortlessly decluttering your space.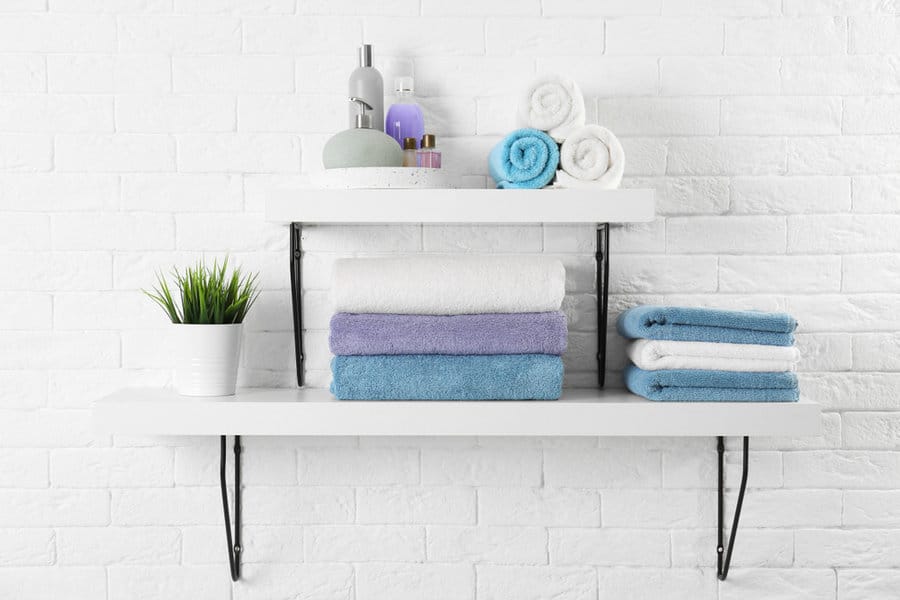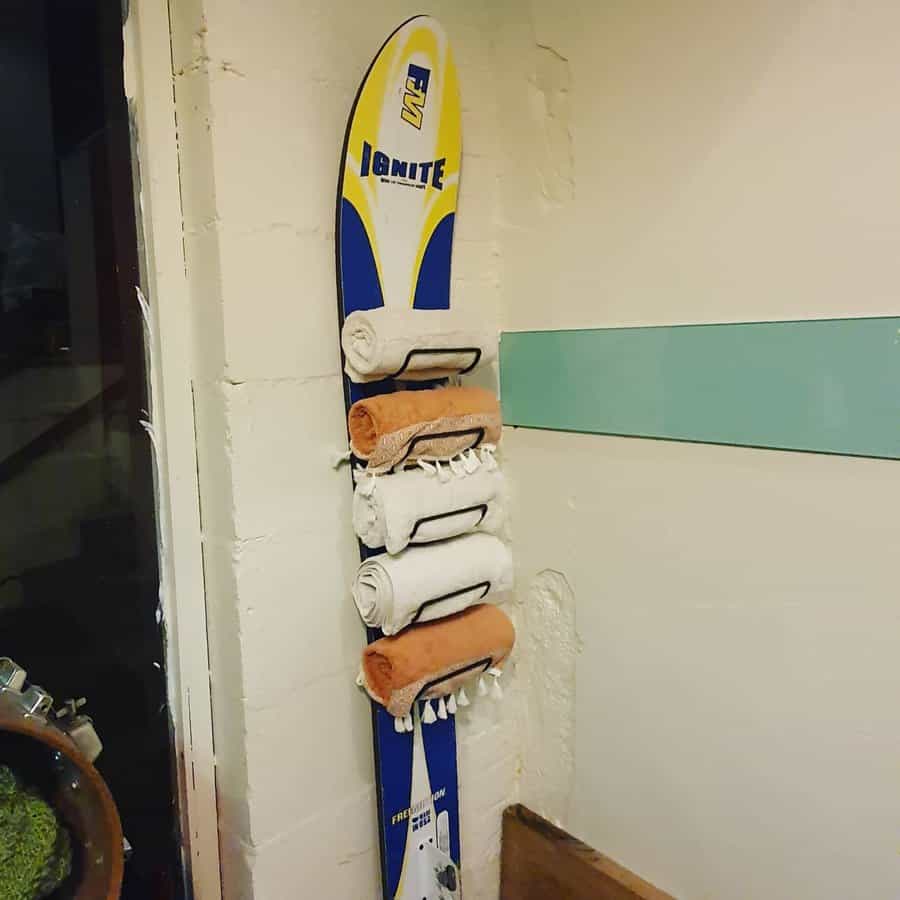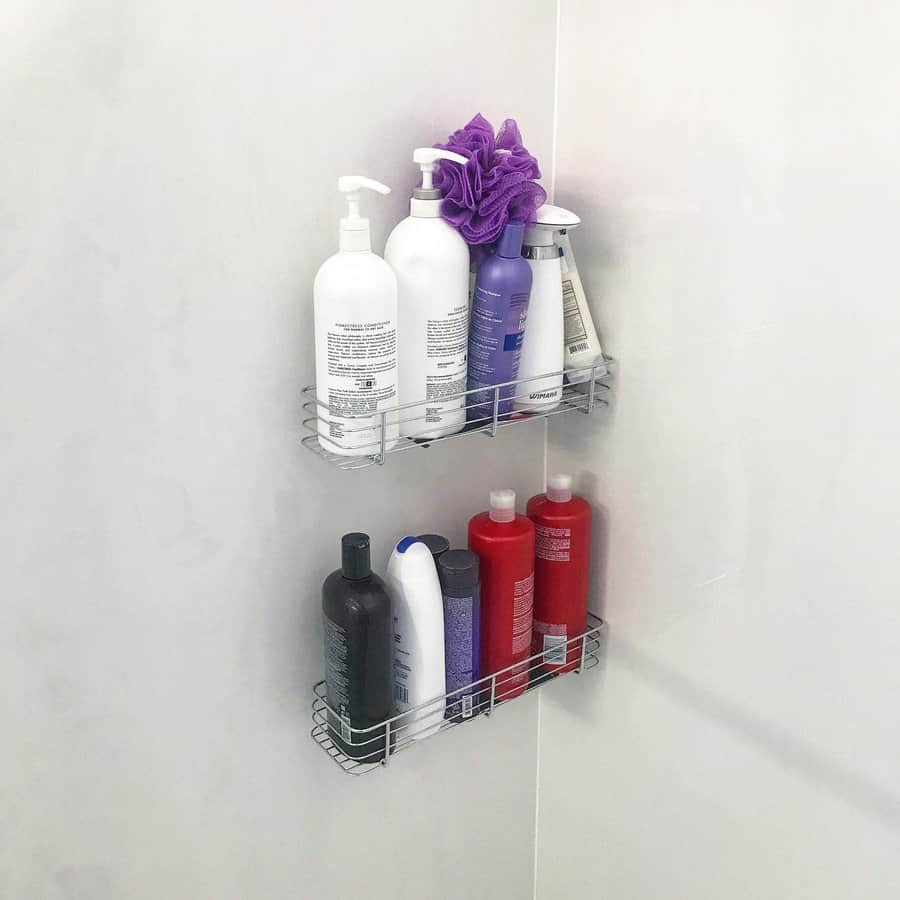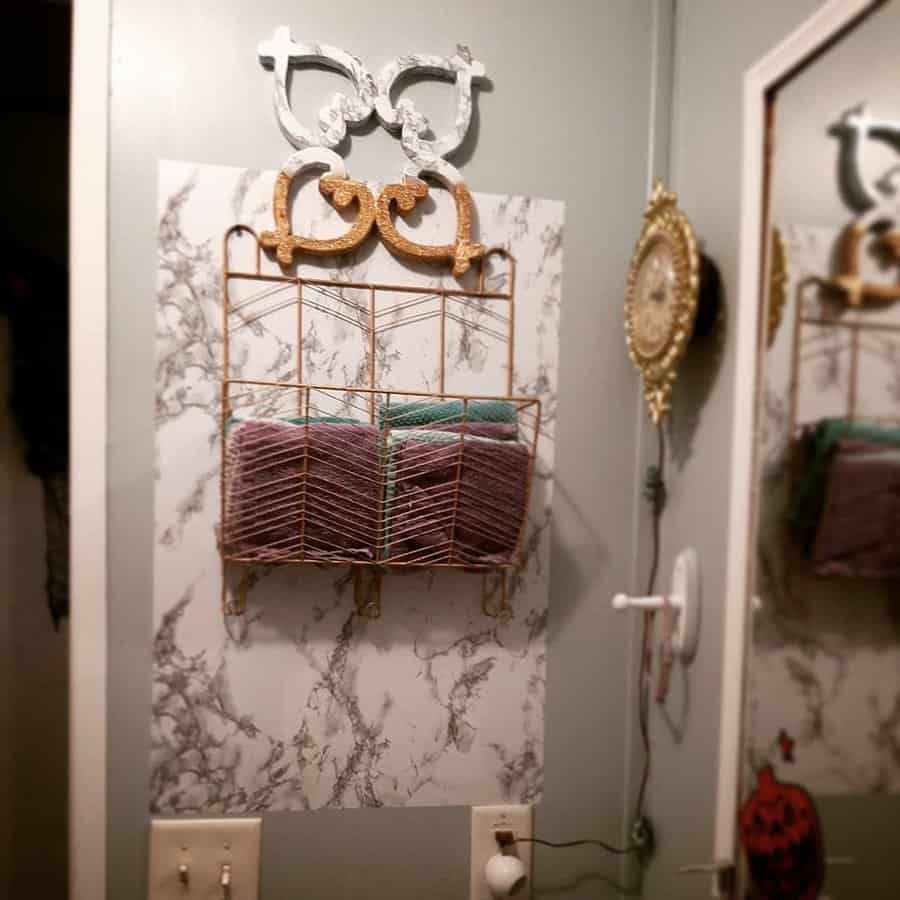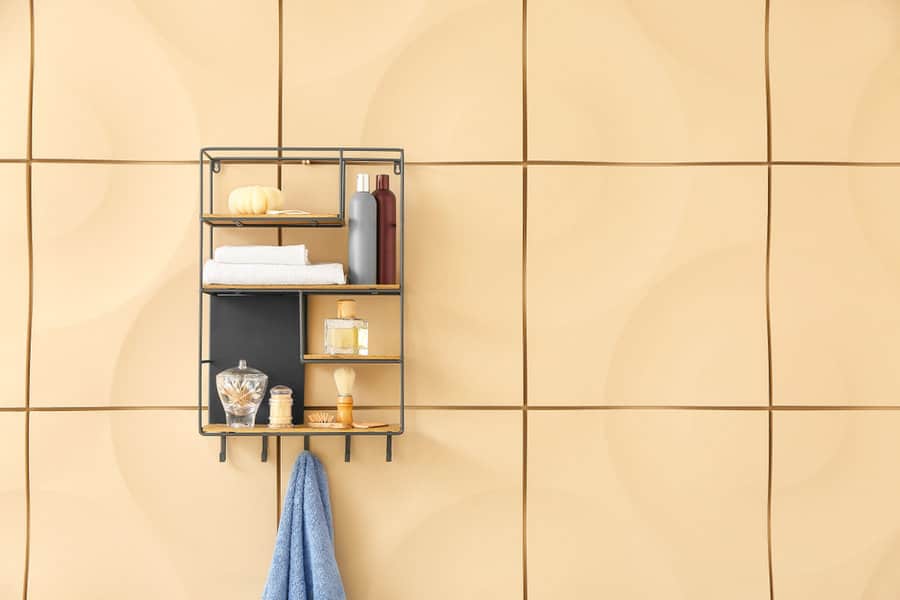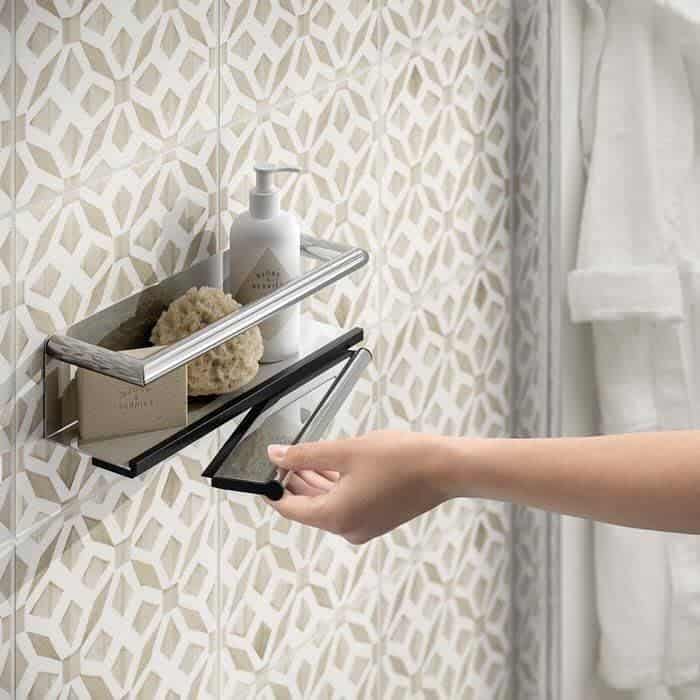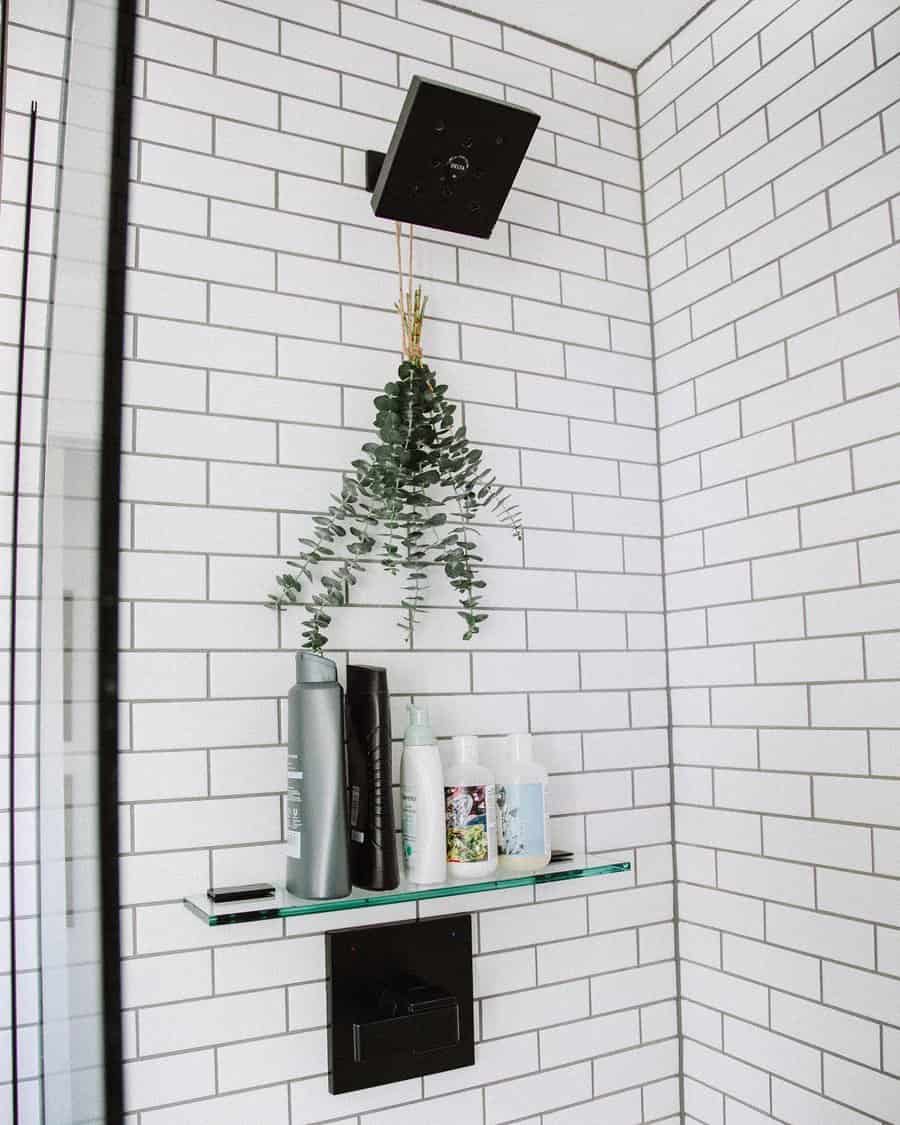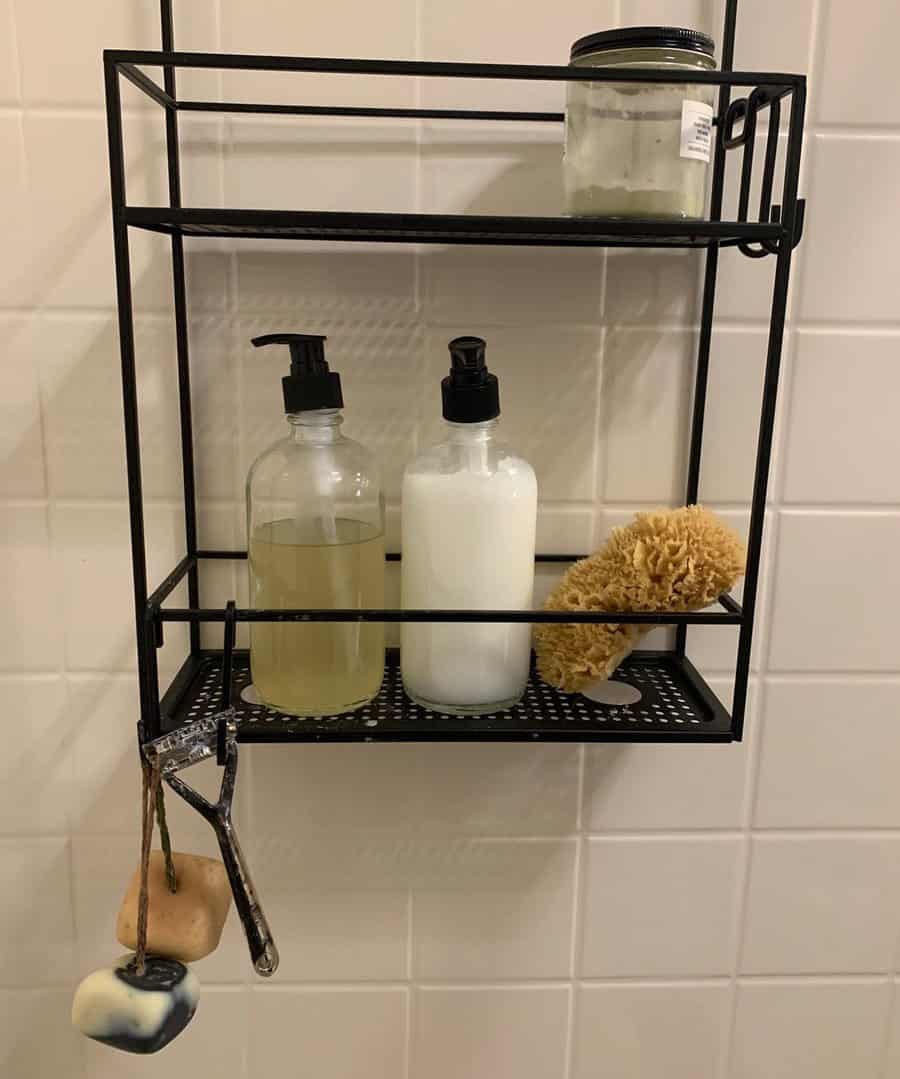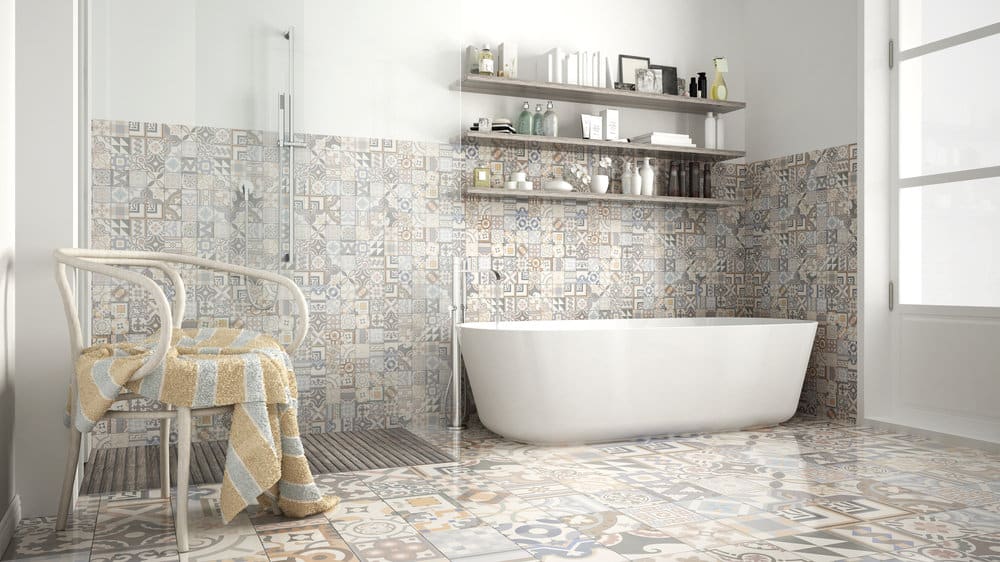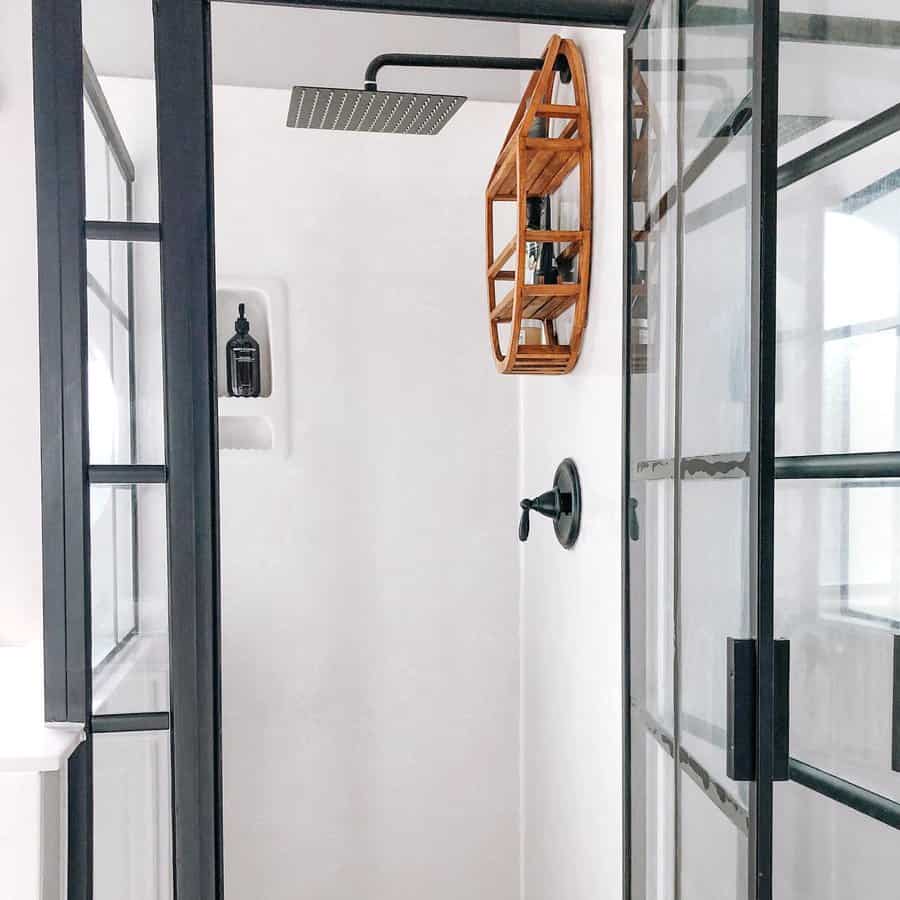 9. Foldable Hanging Storage
If you're tired of cluttered shower shelves and want to optimize your bathroom space, then I have the perfect solution for you: foldable tiered fabric shower storage. This innovative storage idea combines practicality and style, giving your shower a neat and organized look.
Picture this: a compact fabric storage unit that unfolds into multiple tiers, allowing you to store all your shower essentials in one place. The foldable design ensures that it takes up minimal space when not in use, making it ideal for small bathrooms.
Not only does it provide ample room for your shampoo, conditioner, body wash, and other toiletries, but it also adds a touch of elegance to your shower with its sleek and modern appearance.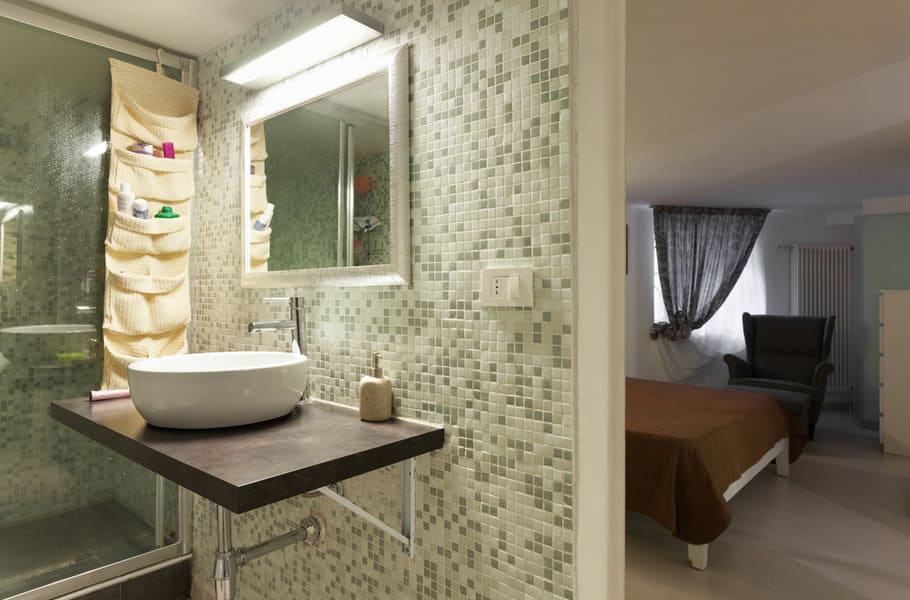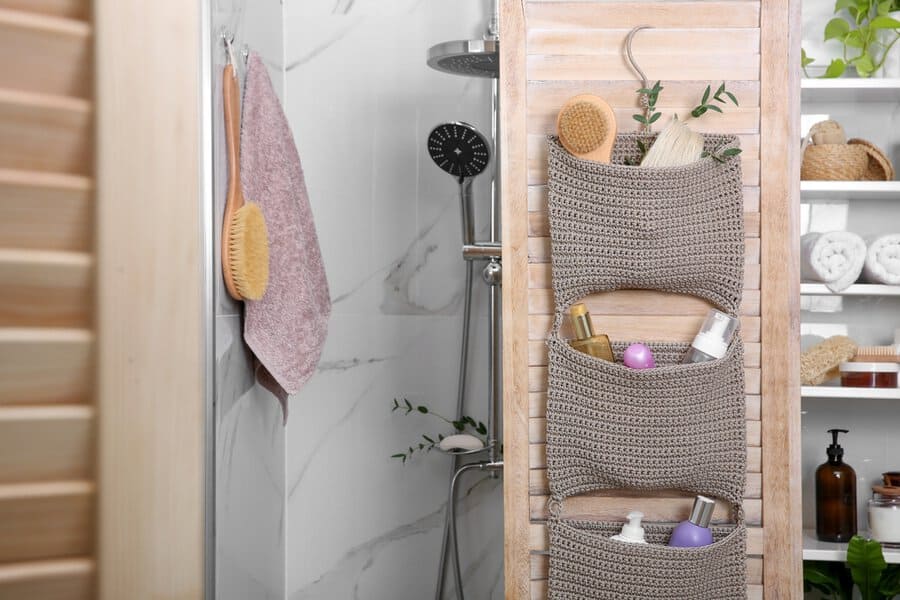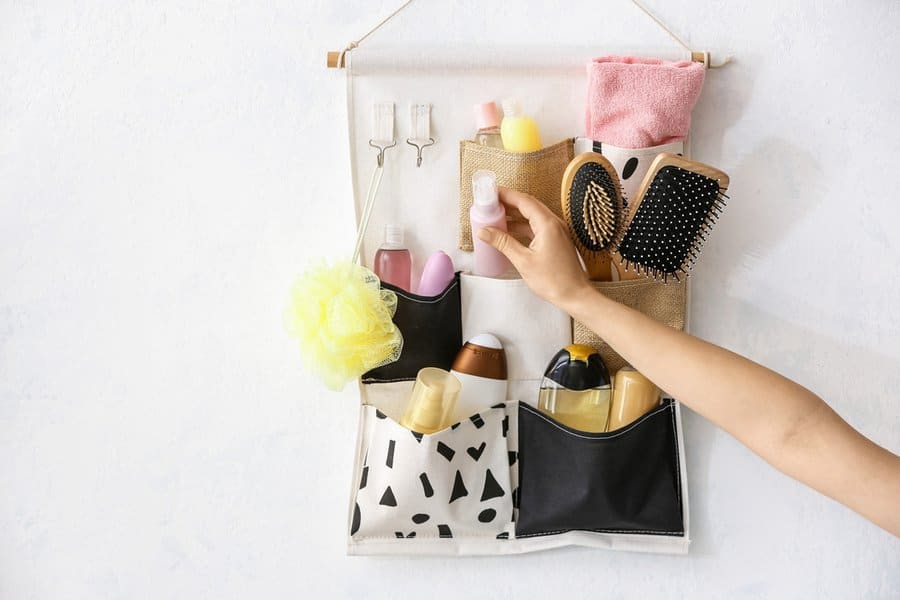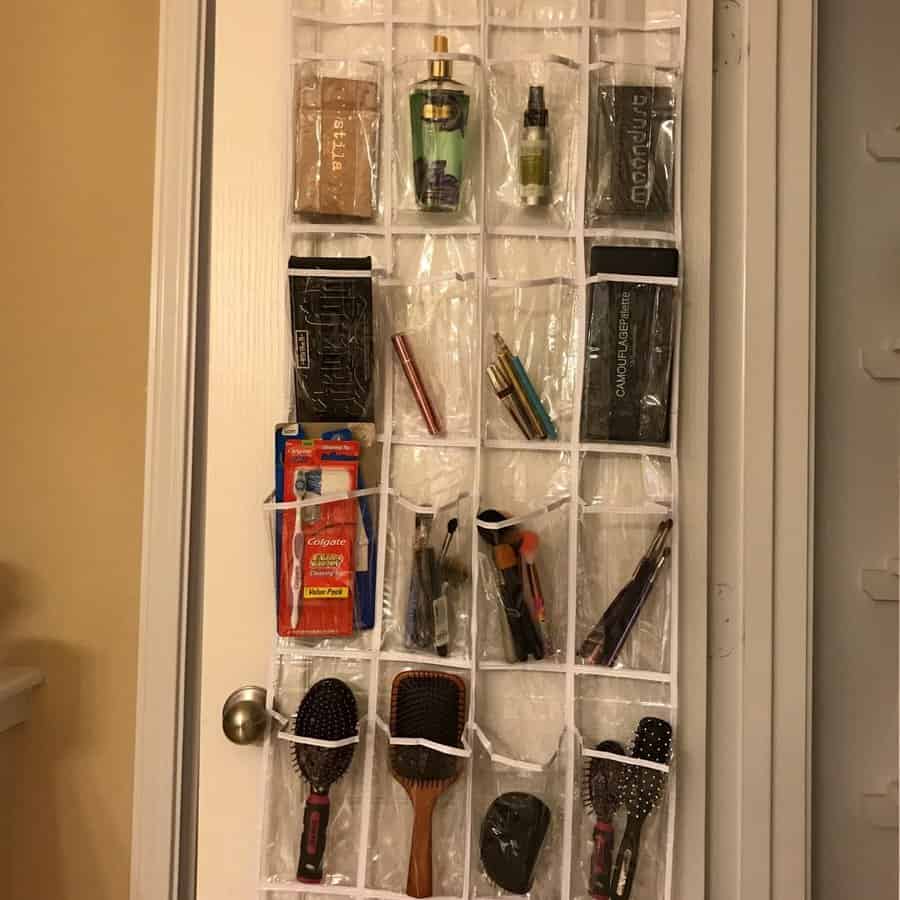 10. Backsplash Shelf
A backsplash shelf cleverly utilizes the often overlooked wall space behind your shower, turning it into a stylish haven for your shower essentials. Imagine having your favorite shampoo, conditioner, and body wash neatly arranged within arm's reach, eliminating the need for cluttered shower caddies or precarious balancing acts.
With the backsplash shelf, you can effortlessly keep your shower space organized while showcasing your style. Whether you opt for a sleek and minimalistic design or a rustic, nature-inspired aesthetic, the backsplash shelf opens up a world of possibilities for your shower storage needs.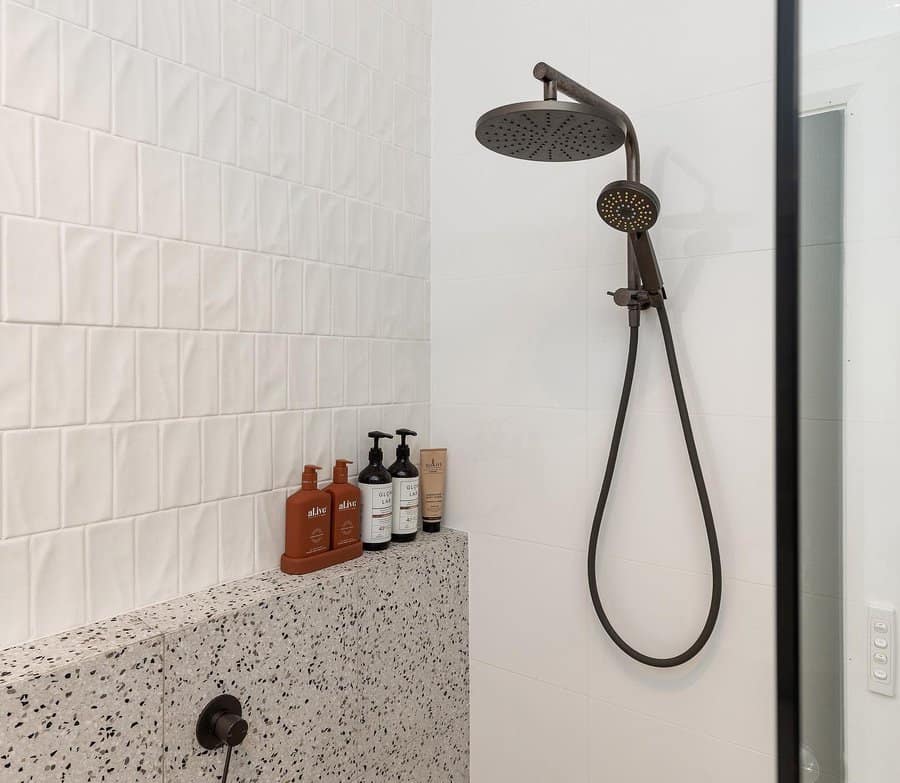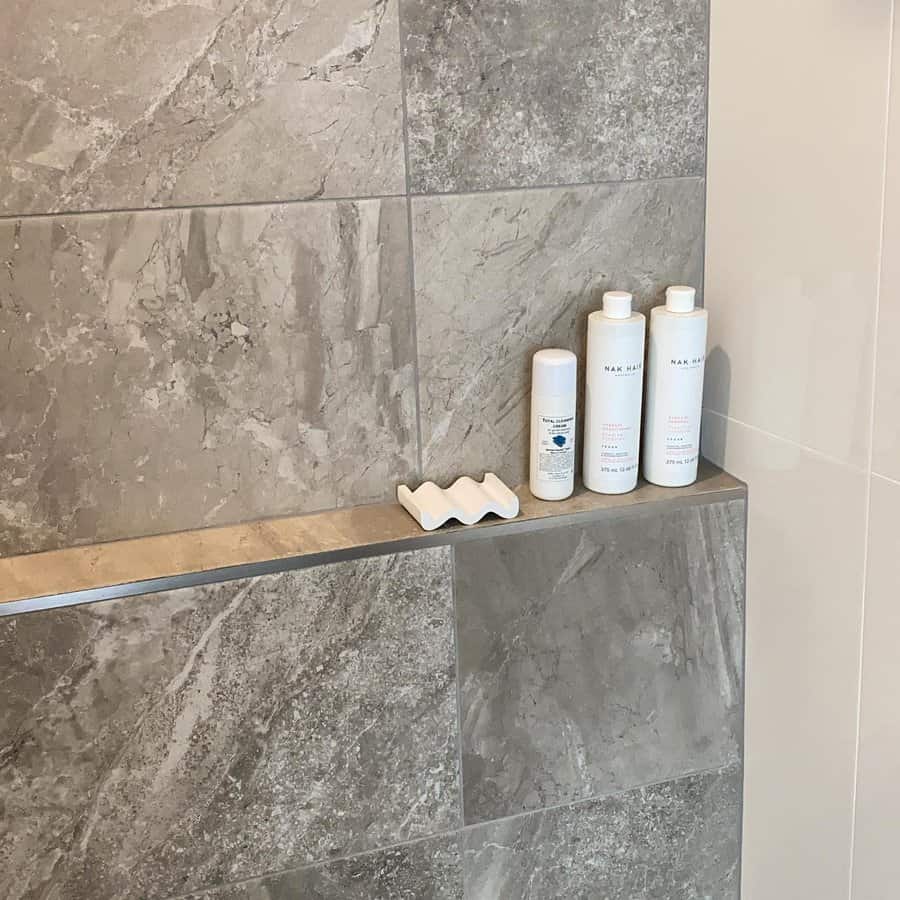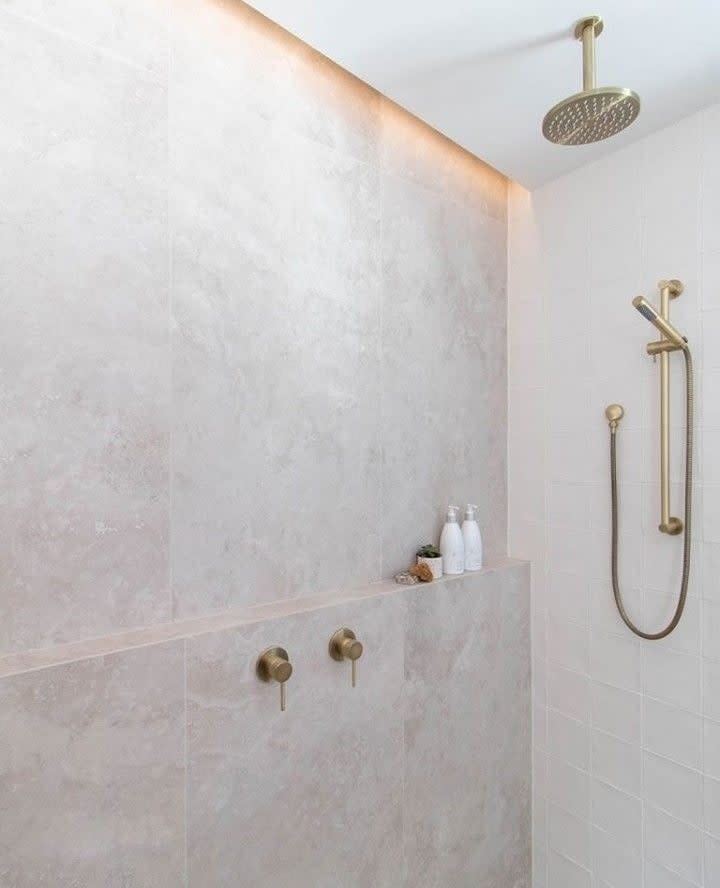 11. Plastic Organizer Crates
These plastic organizer crates come in various sizes and designs, making it easy to customize your shower storage to suit your needs. Whether you have a small bathroom or a spacious one, these crates can be stacked, hung, or even attached to the walls, maximizing every inch of your shower area.
From storing shampoo bottles, conditioner, and body wash to keeping your loofahs, razors, and bath toys in order, these crates are your ultimate shower companions. With their durability and water-resistant properties, you can trust that your shower essentials are protected from moisture and easily accessible whenever you need them.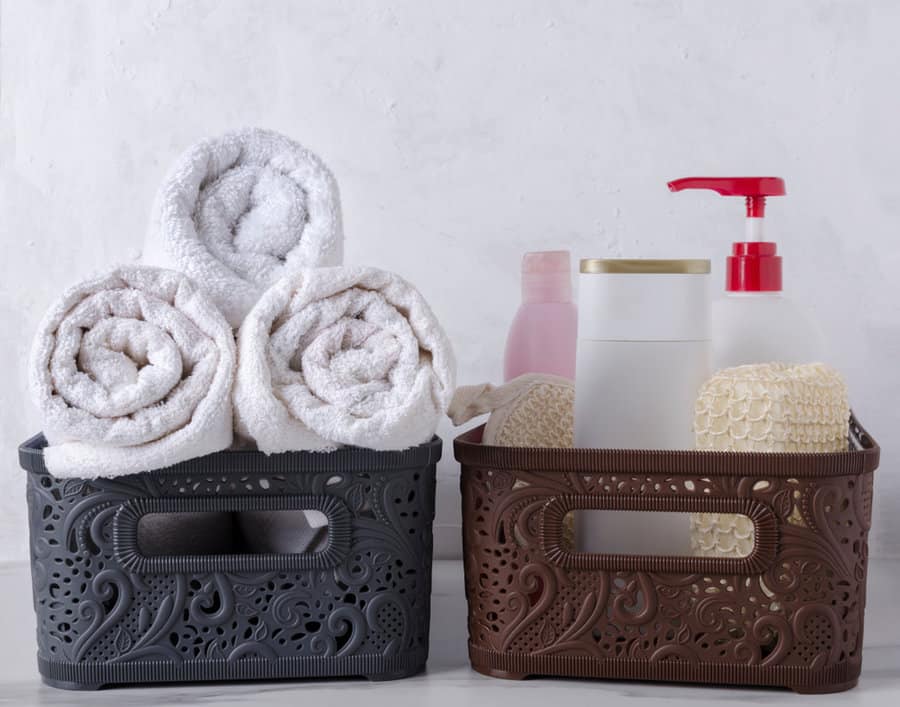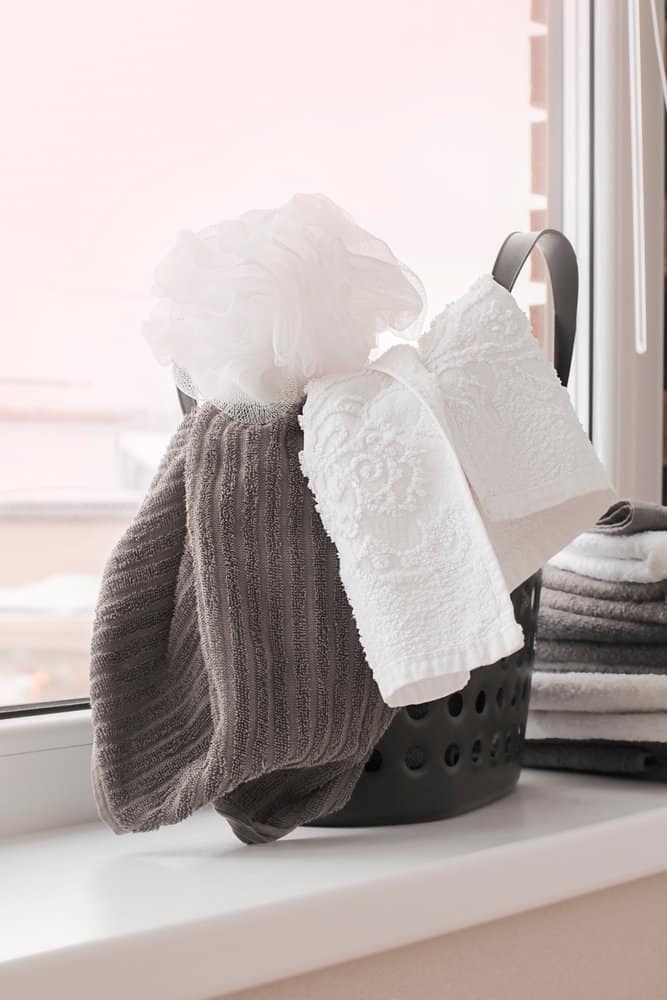 12. Shower Ladder Rack
Transform your shower into a stylish and organized haven with the innovative shower ladder rack! Say goodbye to cluttered surfaces and hello to a functional and eye-catching storage solution. This ingenious design allows you to maximize your vertical space by utilizing a ladder-shaped rack that can hold an array of shower essentials.
Add hooks to hang loofahs, scrub brushes, or even your favorite shower cap, keeping them easily accessible yet neatly tucked away. Additionally, a rod for towels can be incorporated into the ladder, offering a convenient and elegant way to display and dry your towels.
With the shower ladder rack, you can indulge in a creative and engaging storage option that elevates both the functionality and aesthetic of your shower space.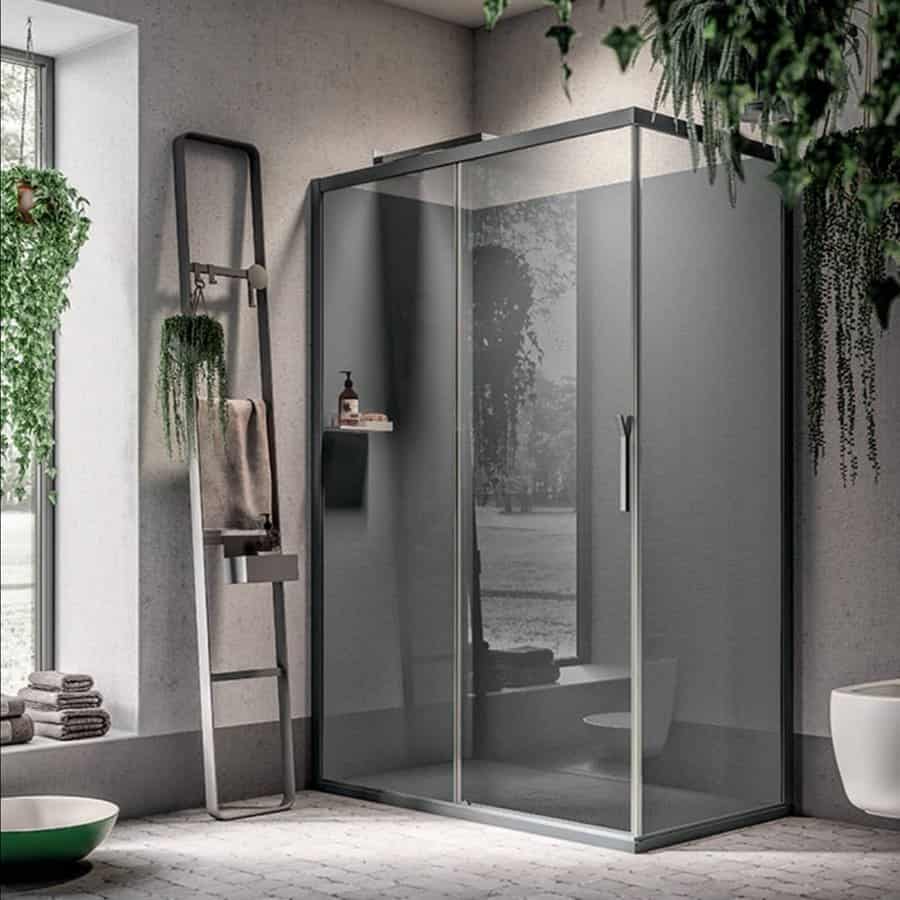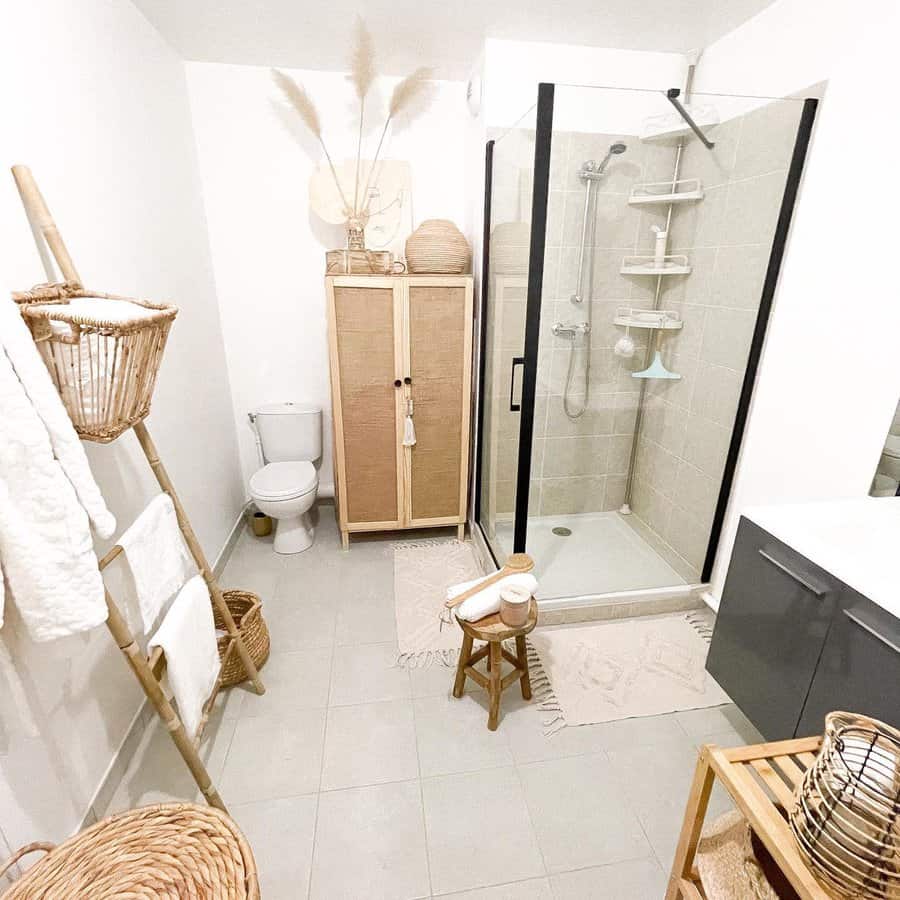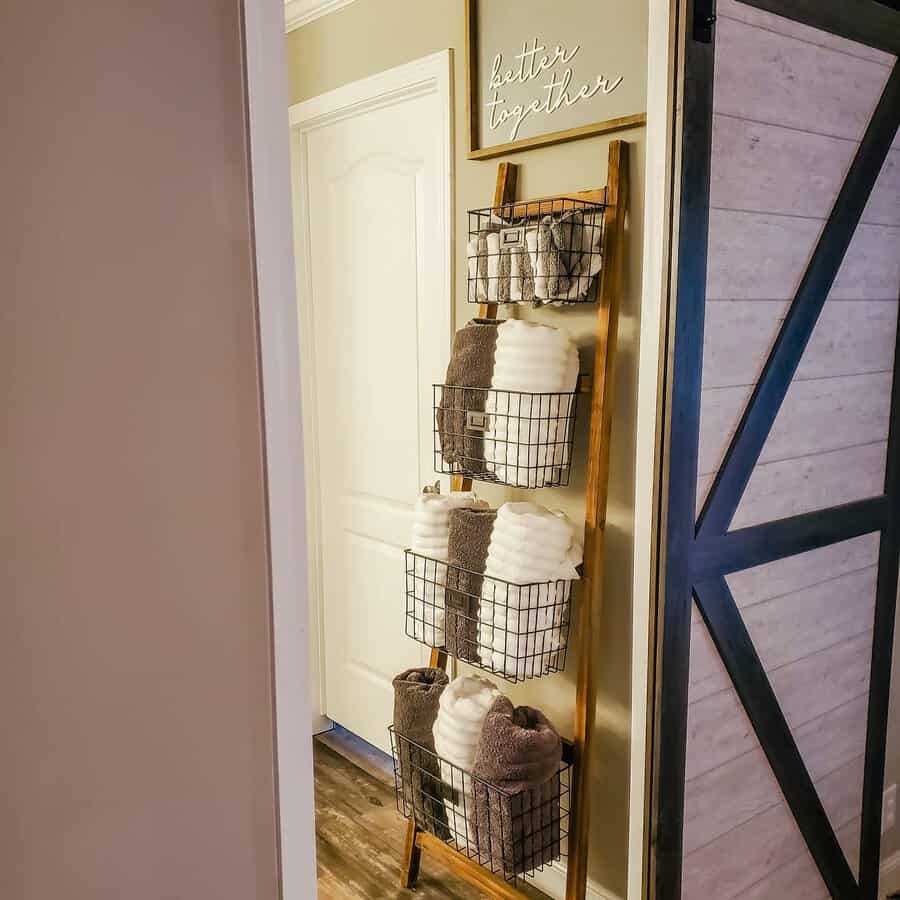 13. Wall-Mounted Liquid Pump Caddy
Looking for ingenious shower storage ideas? Look no further than the marvelous world of wall-mounted liquid pump caddies! These nifty contraptions are designed to snugly hold your favorite shower essentials while adding a touch of organization and charm to your bathing sanctuary.
What makes them truly remarkable is their ability to be customized specifically for your pump bottles. With a dash of creativity and a sprinkle of innovation, you can find or create a wall-mounted liquid pump caddy that perfectly fits your unique style and needs.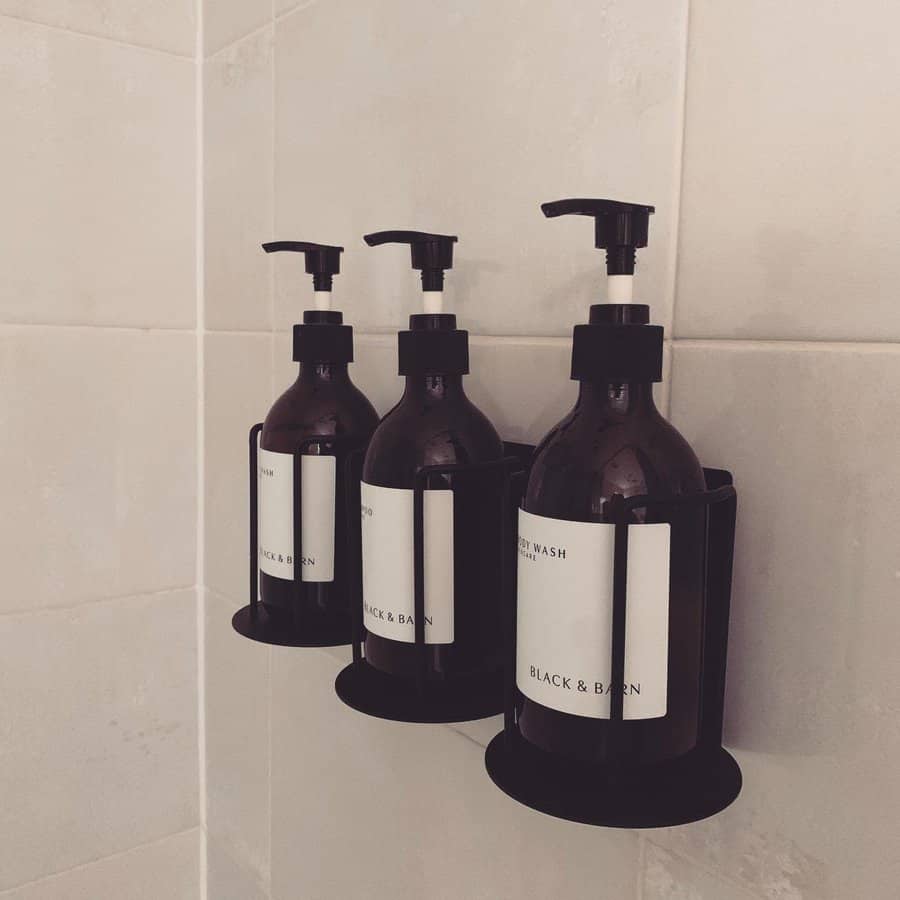 14. Standalone Shower Shelf
When it comes to optimizing your shower space, a standalone shower shelf is an absolute game-changer! Imagine a storage solution that adds functionality and style without sacrificing precious square footage. Enter the backless wonder of shower storage.
This innovative design not only keeps your shower essentials within arm's reach but also adds a touch of creative elegance to your bathroom. Picture a sleek, minimalist shelf seamlessly integrated into your shower, creating a clutter-free oasis. From luxurious shampoos and conditioners to rejuvenating body scrubs, the standalone shower shelf provides the perfect platform for showcasing your favorite products.
Embrace the art of organization while embracing the beauty of simplicity with this incredible storage solution. Say goodbye to a chaotic shower and hello to a harmonious, visually stunning space that truly reflects your unique style.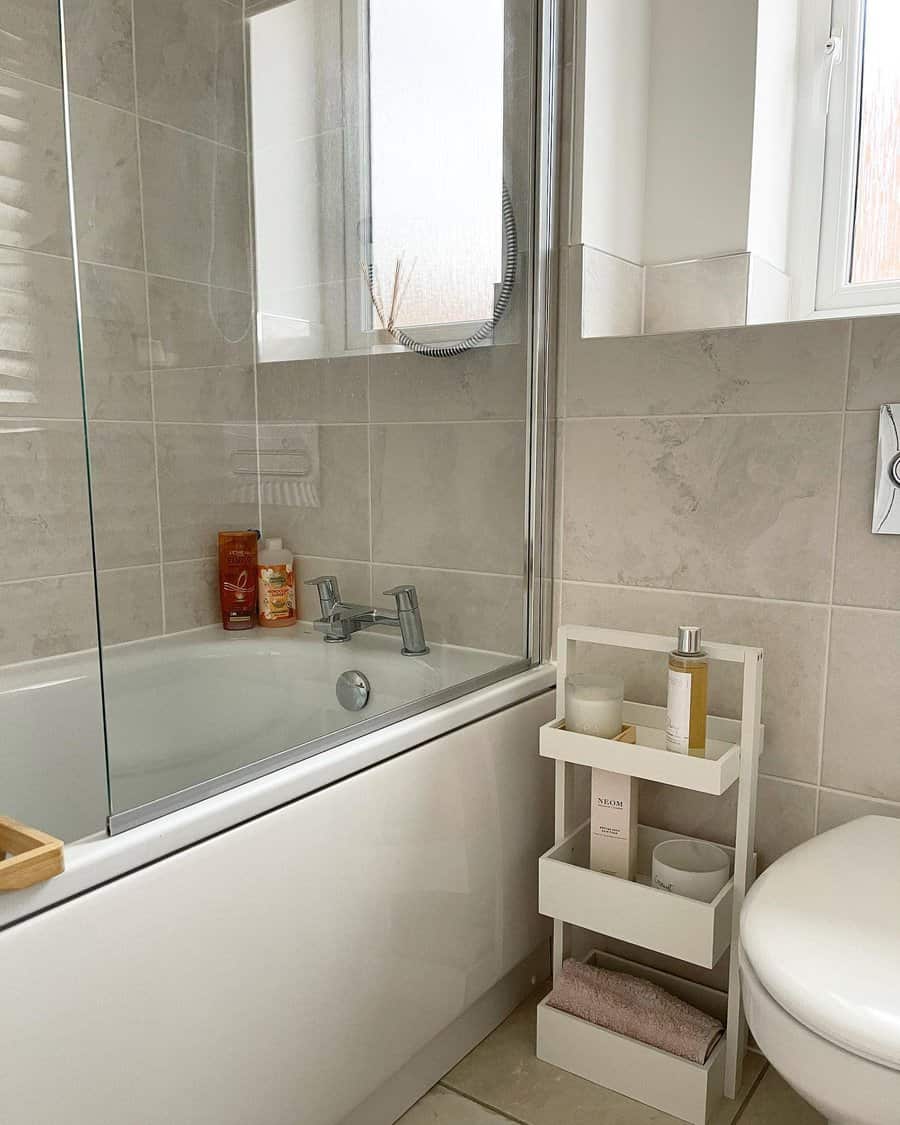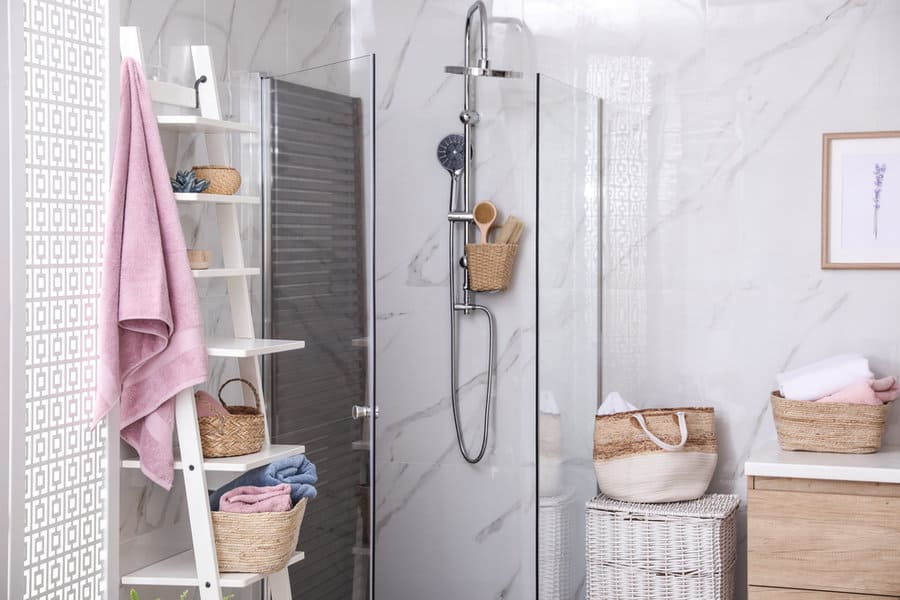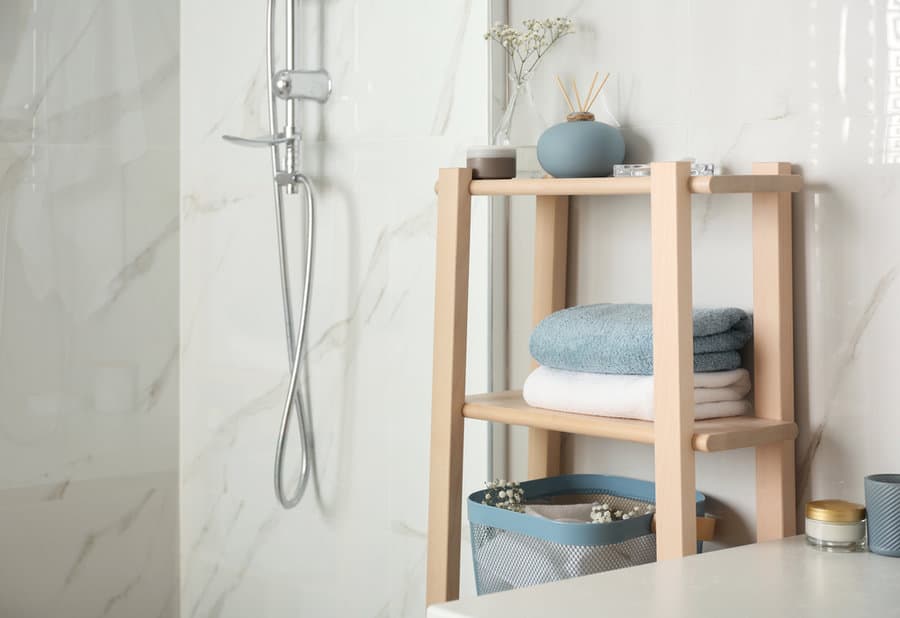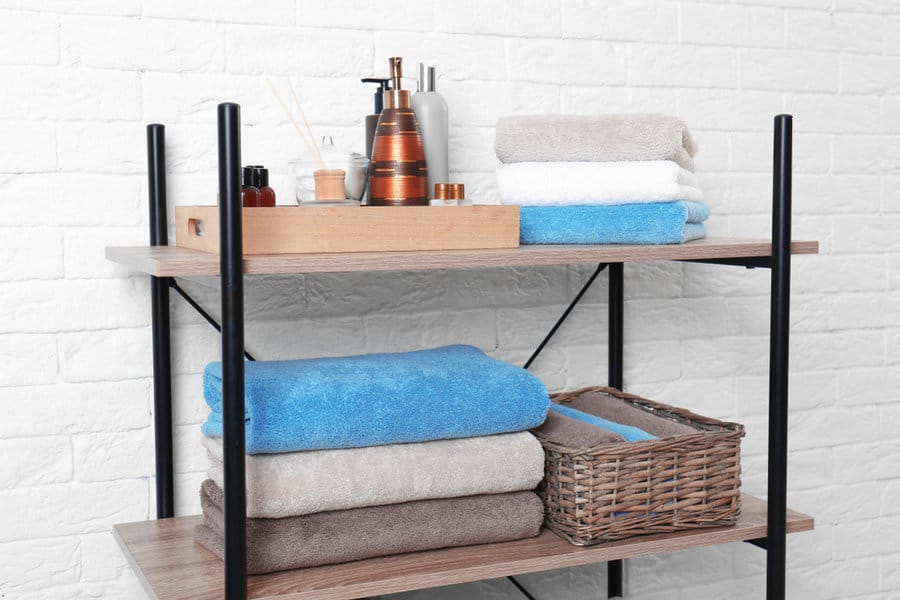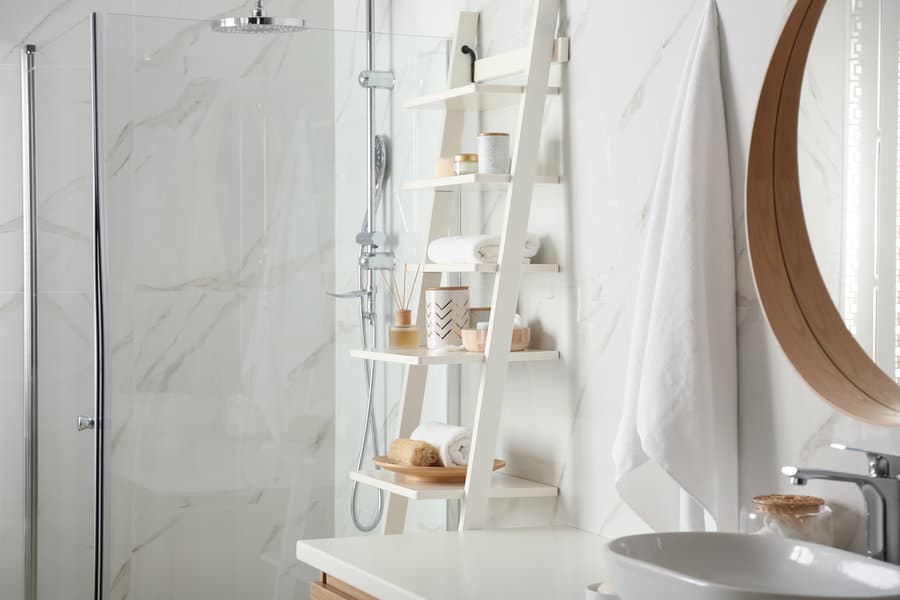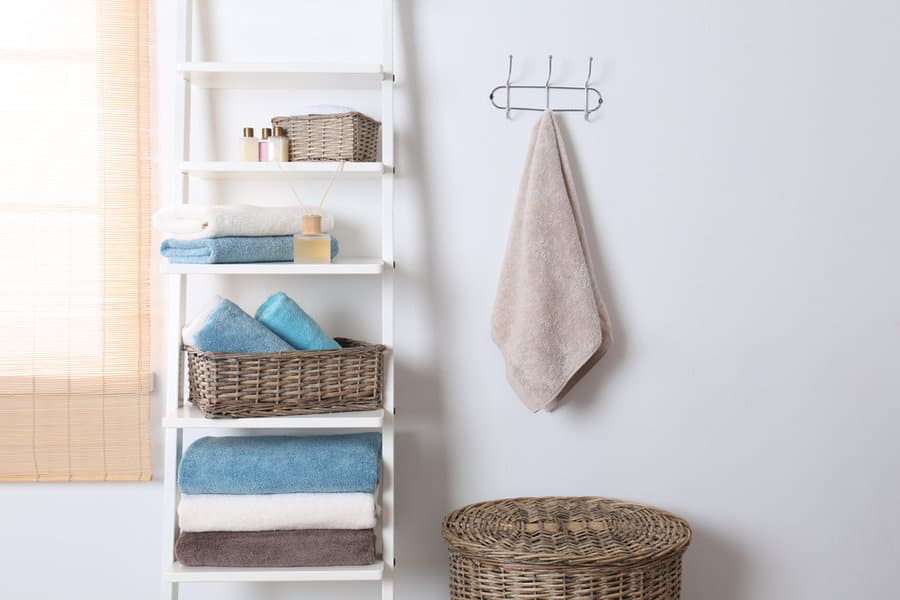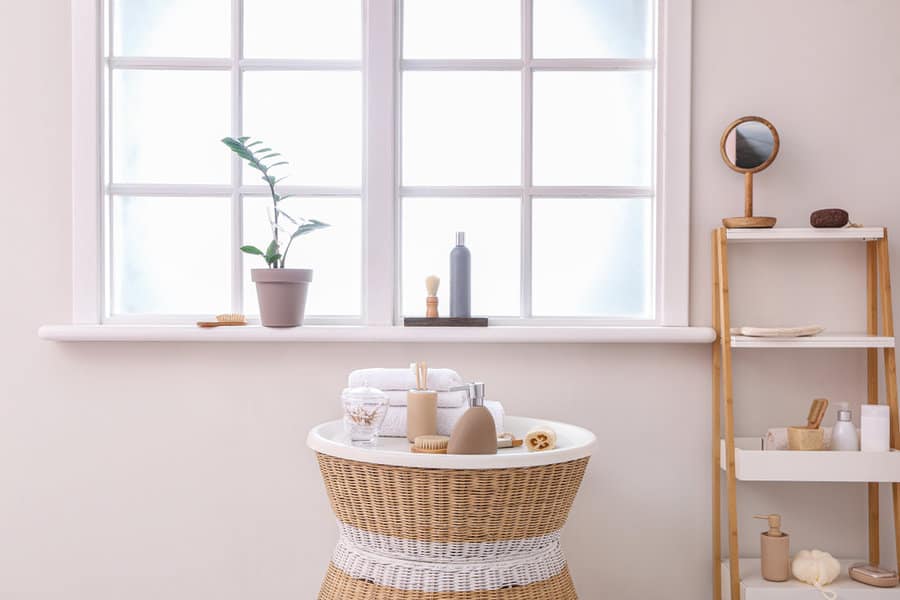 15. Shower Stool With Shelf
When it comes to shower storage ideas, one unique solution that truly stands out is the shower stool with storage. This clever piece of furniture not only provides a comfortable seating option while you cleanse and unwind, but it also boasts an under-the-seat shelf that adds an extra layer of organization to your bathing oasis.
With the under-the-seat shelf, you can conveniently store your favorite bath essentials, such as shampoo, conditioner, and body wash, within arm's reach, ensuring a clutter-free and enjoyable shower experience. This ingenious combination of seating and storage not only saves space but also adds a touch of creativity and practicality to your bathroom design.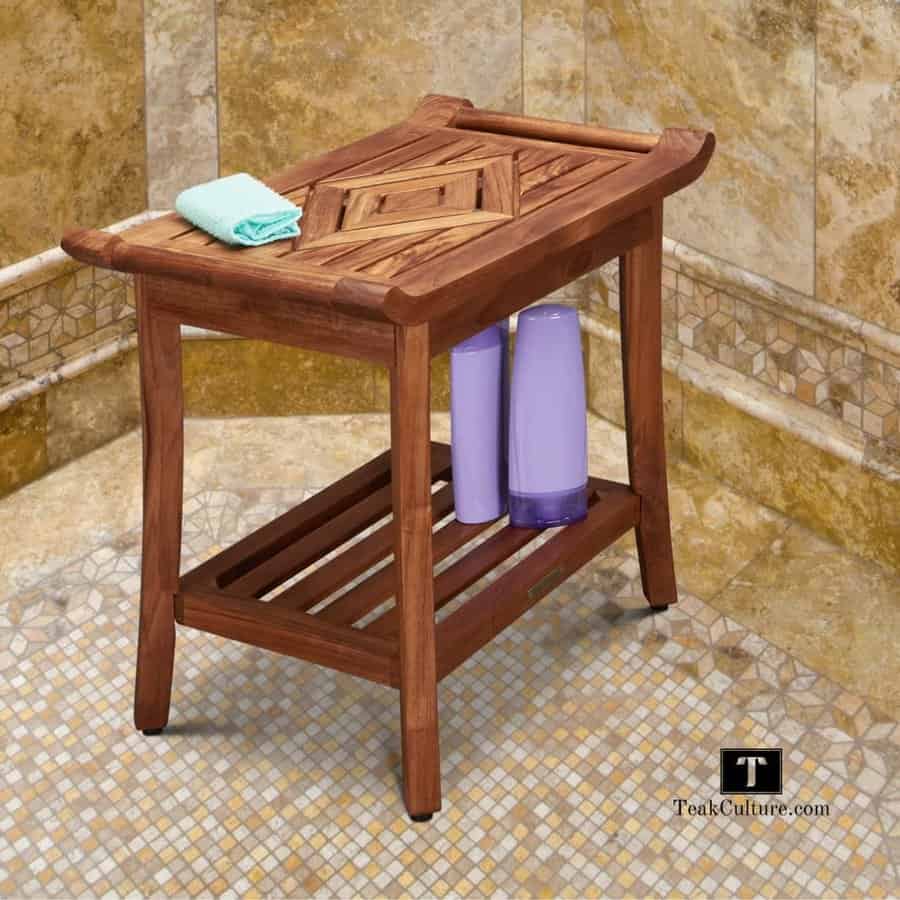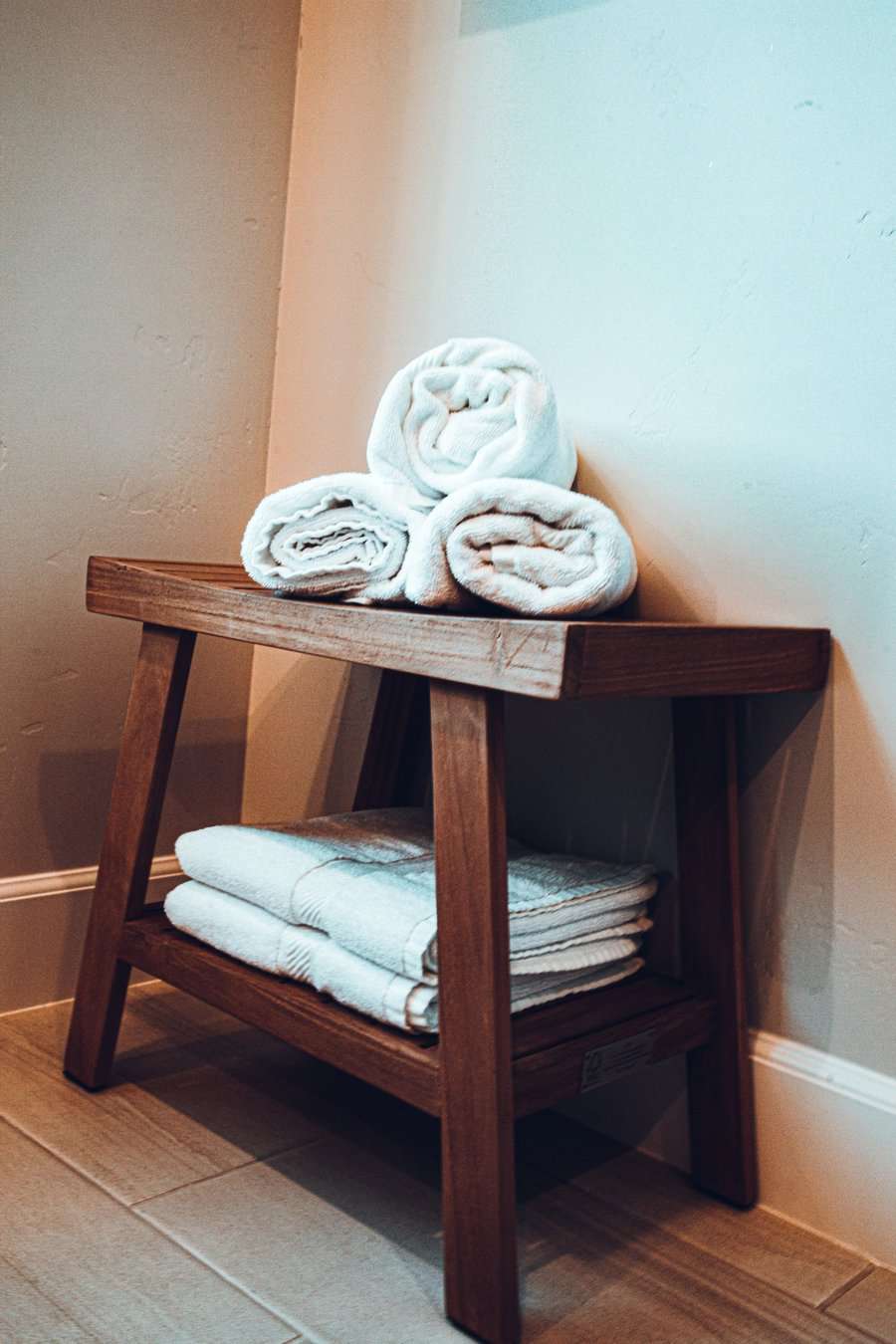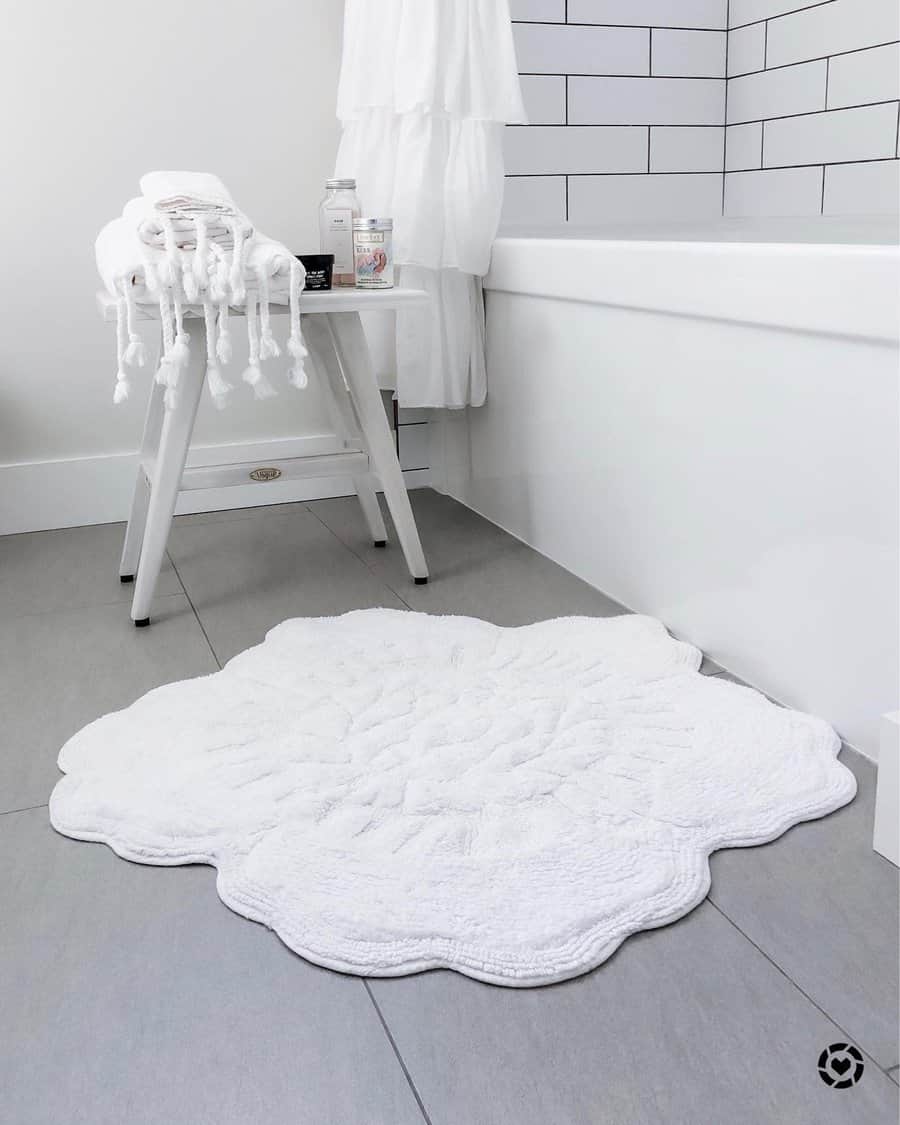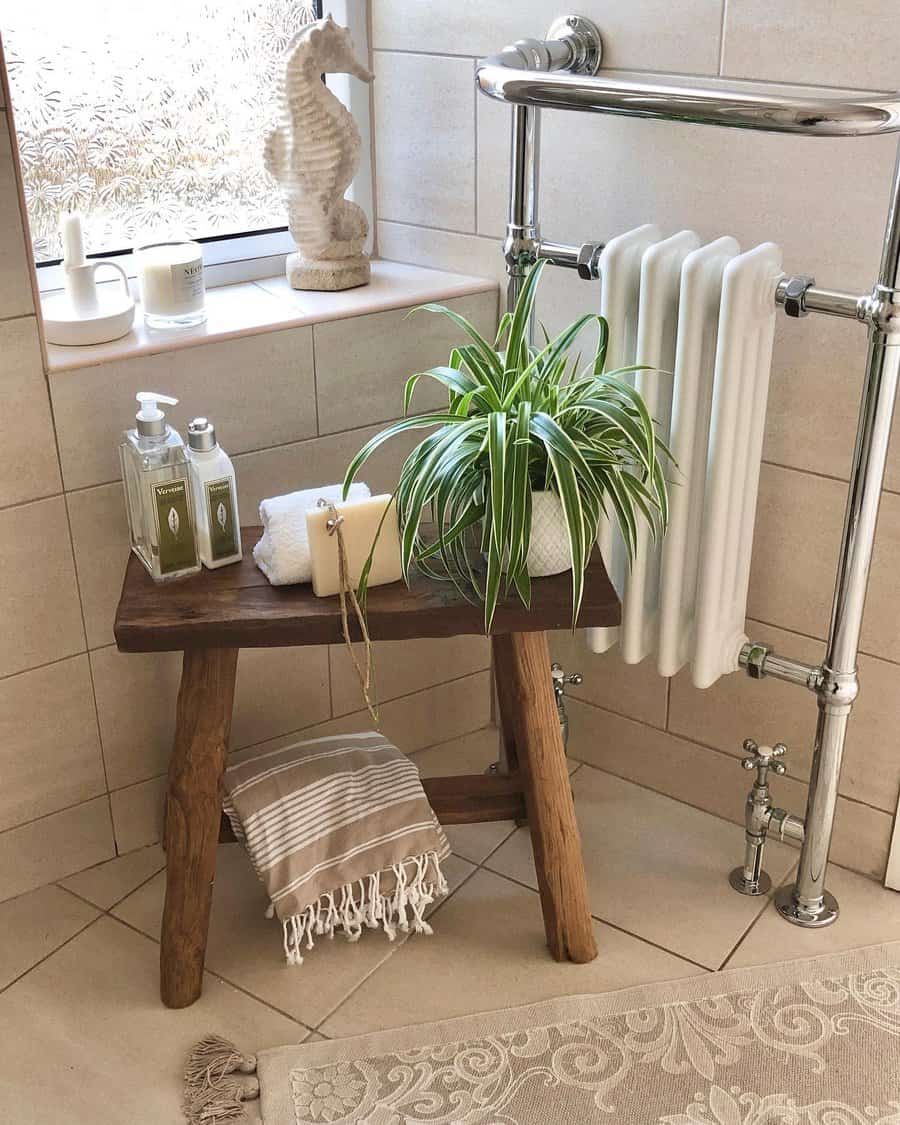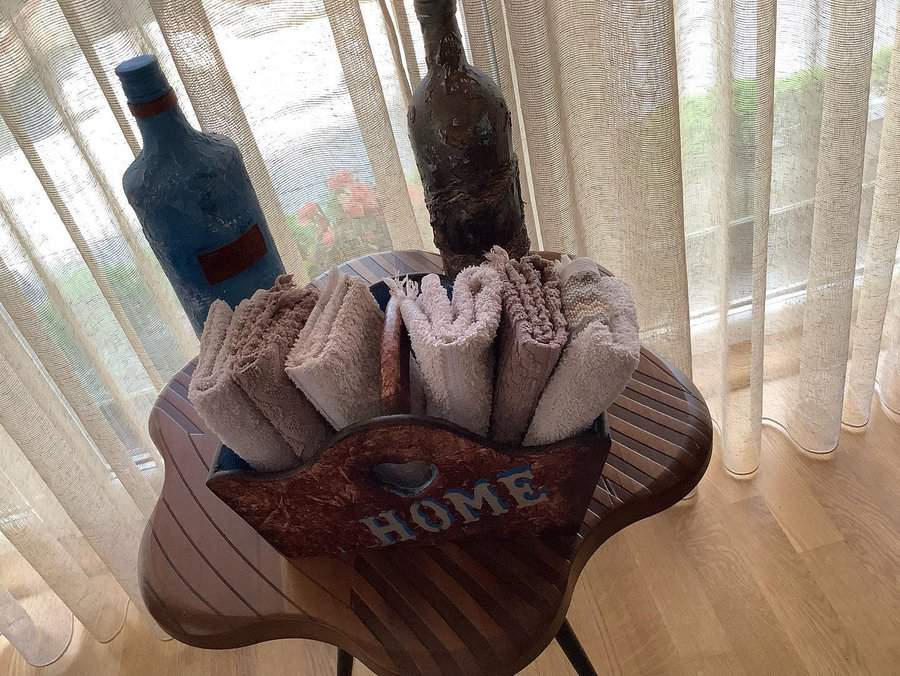 16. Towel Rod
When it comes to optimizing shower storage, one of our favorite options is incorporating a towel rod. This versatile element can be mounted on the ceiling or wall, providing a unique and eye-catching solution for keeping towels within reach while maximizing space efficiency.
By selecting a towel rod with a creative design and finish, such as a sleek chrome or rustic copper, you can add a touch of elegance to your shower. Not only does a ceiling or wall-mounted towel rod keep your towels organized, but it also adds a visually appealing element to the overall bathroom design.