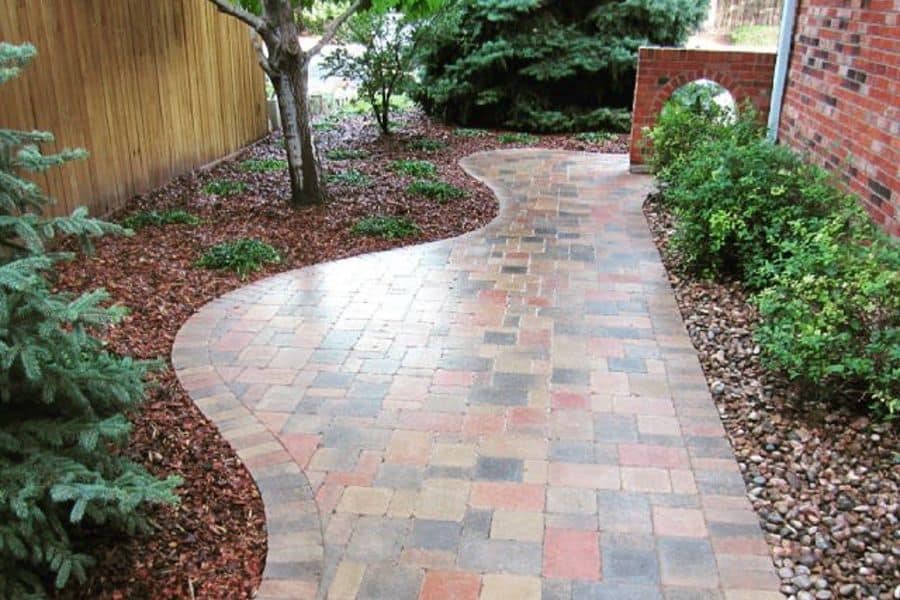 The Top 56 Side Yard Ideas
You might not think about your home's side yard very often. But that doesn't change the impact it can have on your property's value and functionality.
A well-designed side yard can be just as useful and aesthetically pleasing as your backyard — even if it is quite a bit smaller. If you have any space at all along the sides of your home, the last thing you should do is leave it neglected.
Check out these side yard ideas to learn how to create a stylish, space-efficient outdoor space that truly adds to your home's curb appeal.
1. DIY
An unused space like a side yard is the perfect spot to try your hand at some DIY landscaping. Unlike a full-size backyard, you can complete this landscaping project in a single weekend.
If traditional grass fails to thrive in your side yard, switch to a layer of mulch or pea gravel instead.
You can still incorporate a simple walkway using stepping stones of your choice. By using recycled materials like stone slabs and reclaimed wood, you can create a design that's eco-friendly and saves some money.
To add some greenery to your side yard, use landscaping borders to create garden beds along the edge of your property. For a no-dig landscape design, arrange potted plants throughout the space.
2. Fence
If your property features a side yard, there's a good chance it butts up against your neighbor's property. A fence is a great way to boost privacy while adding a touch of style to the space.
While chain-link fencing is practical, most people would agree it doesn't look as nice as a wood fence. Many homeowners also opt for vinyl fencing, which mimics the look of natural wood without the cost.
Line your new fence with a narrow garden bed or compact shrubbery. Remember that adding a fence to your property line might cut down on the available sunlight. Choose shade-tolerant plants for your landscaping if this is the case.
3. Garden
When landscaping a small space, it can be tempting to go with a minimalist approach. But adding a garden bed to your side yard might be the best way to transform the area into something you love.
Raised beds can give the illusion of more space, especially if you build a tiered container garden. You can also install an arbor covered in vines to give your yard a fairytale aesthetic.
To ensure your side yard is still passable, include a garden path in your landscape design. If space allows, add a compact seating area where you can sit back and enjoy the lush greenery and sweet aromas of your garden.
4. Gate
Often, side yards are an extension of the main property behind your home. If this section of lawn leads to your backyard, you might want to install a gate for privacy and security.
Gates can be both ornamental and functional in your landscaping design. To keep out (or in) small critters, opt for a solid gate that sits flush against the ground. If your garden gate is just for show, consider investing in a decorative wrought iron design for a classic look.
While a walkway isn't a requirement, adding pavers to your side yard can help protect the grass when people are passing through. Don't forget to add a lock if security is a top concern.
5. Landscape
It's easy to let your side yard look dull and neglected. Channel your inner landscape designer to turn this area into a miniature outdoor living space. Start with in-ground landscaping borders or concrete pavers to divide everything up.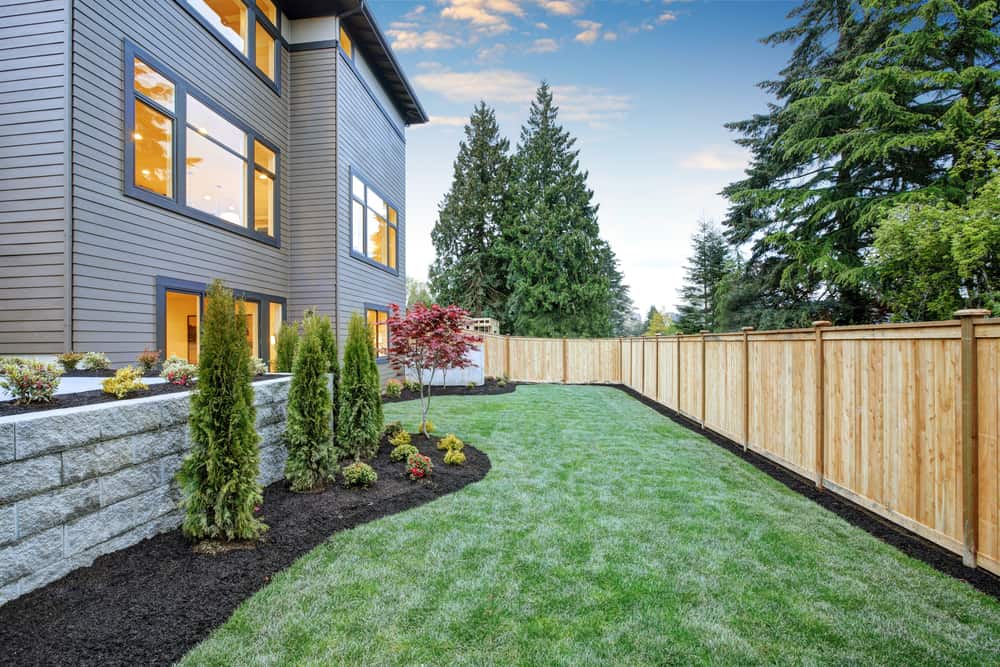 Chances are, physically expanding your side yard isn't possible. But you can make this narrow space feel bigger by drawing the eye up. Elevated garden beds will make your side yard feel multidimensional despite the limited space.
Place thin landscaping decor — statues, fountains, lanterns — along the edge of your yard to give the illusion of height. Introduce greenery with tall tree species like evergreens and palms that add texture without eating up a ton of elbow room.
6. Path
We'd all love a lawn full of lush grass. But if your side yard serves as a pathway between your front and back lawns, it probably won't stay green for long. You can avoid the dreary look of dead turf by including a walkway in your landscaping ideas.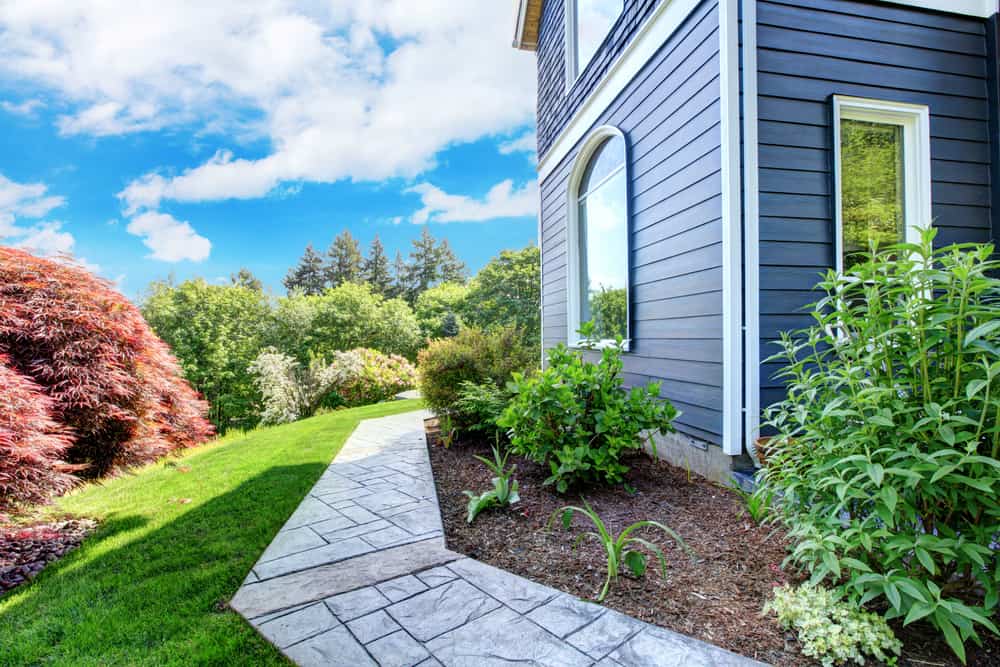 Decide if you want your walking path to have a natural or contemporary appearance. Rough-cut stones are ideal for the former. If you prefer the latter aesthetic, go with geometric pavers with a uniform finish.
Of course, there's nothing stopping you from turning your entire side yard into a dedicated path. Use poured concrete or bricks to lay down your new walkway. Frame everything with a retaining wall and flower bed.
7. Patio
You can never have too many outdoor living spaces. If you have a small backyard, though, this is easier said than done. Rather than let your side yard area turn into a dumping ground for trash cans and debris, why not transform it into your dream patio?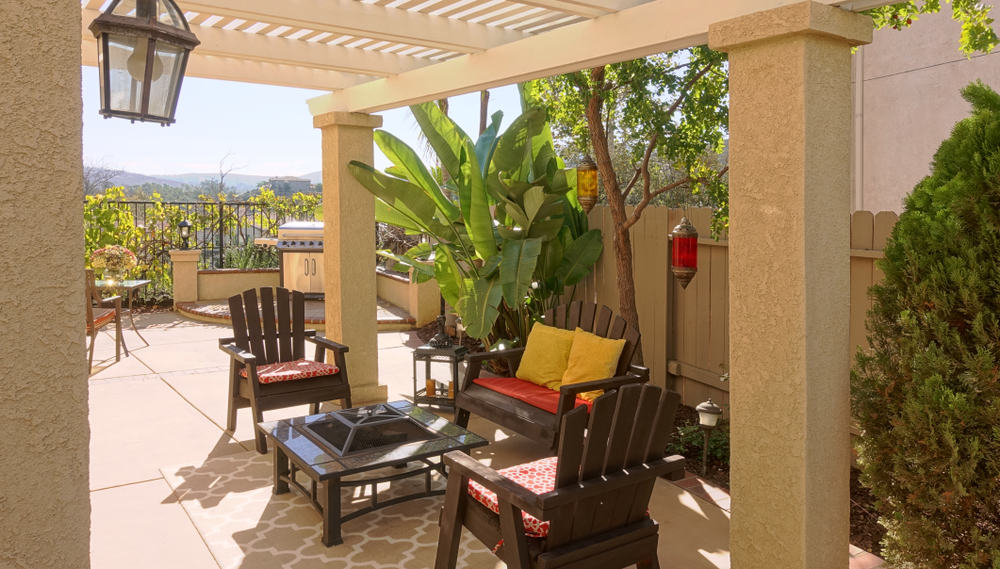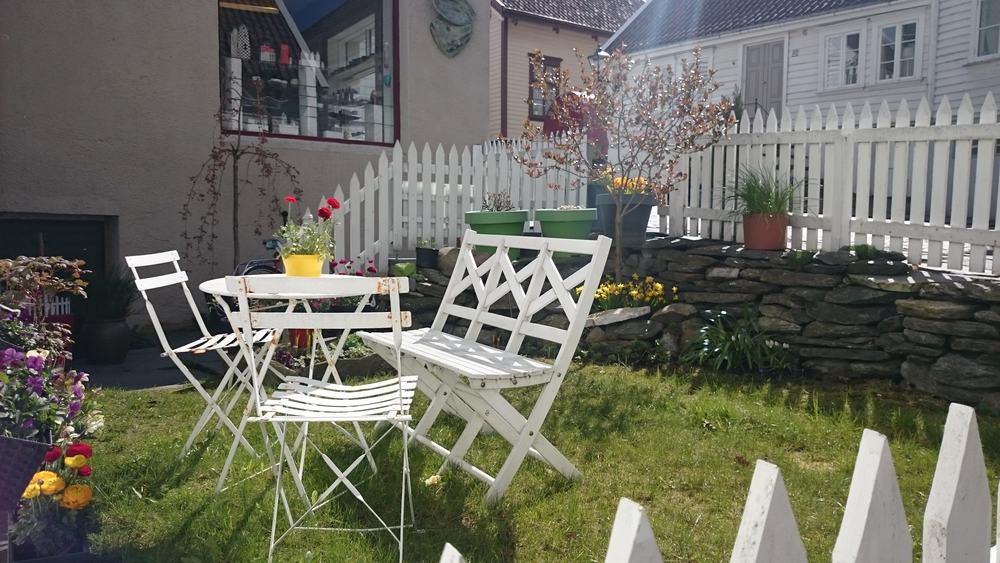 You don't need a ton of free usable space to make a great patio. In fact, the limited room can be an asset if you lean in. Use a retaining wall or flower garden to make the space feel even cozier.
For a cheap alternative to concrete, you can use river rock or gravel for your patio flooring. Choose compact furniture to make the most out of your newly redesigned outdoor space.
8. Paver
Want to keep your side yard as simple and low-maintenance as possible? Ditch traditional ground cover in favor of a contemporary paved walkway.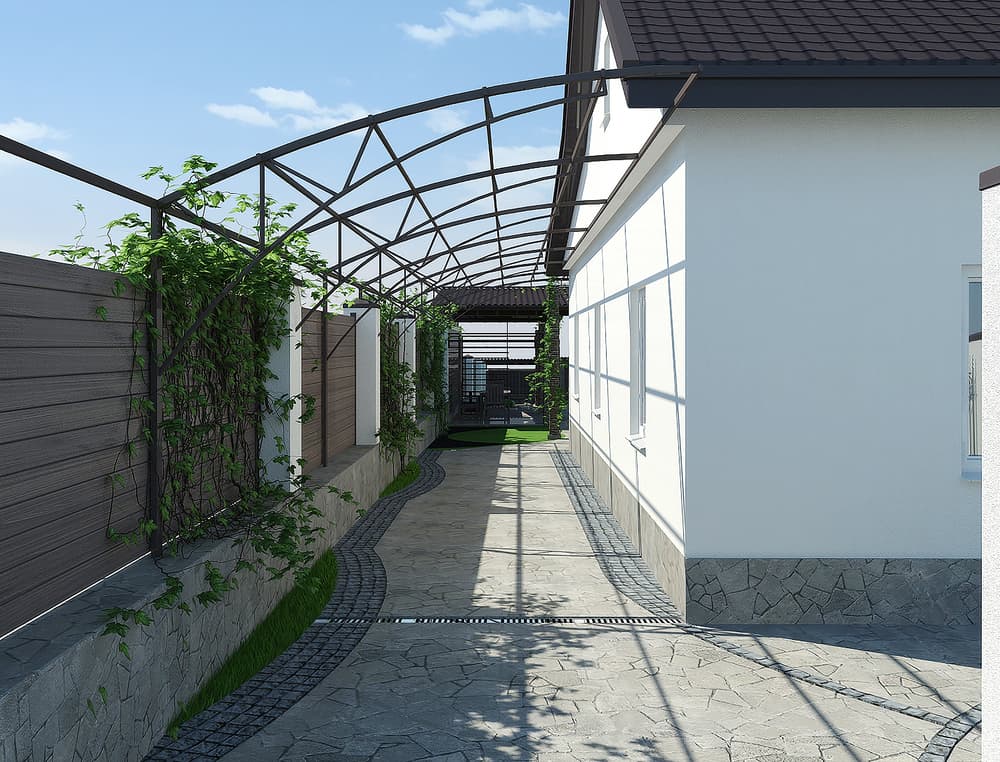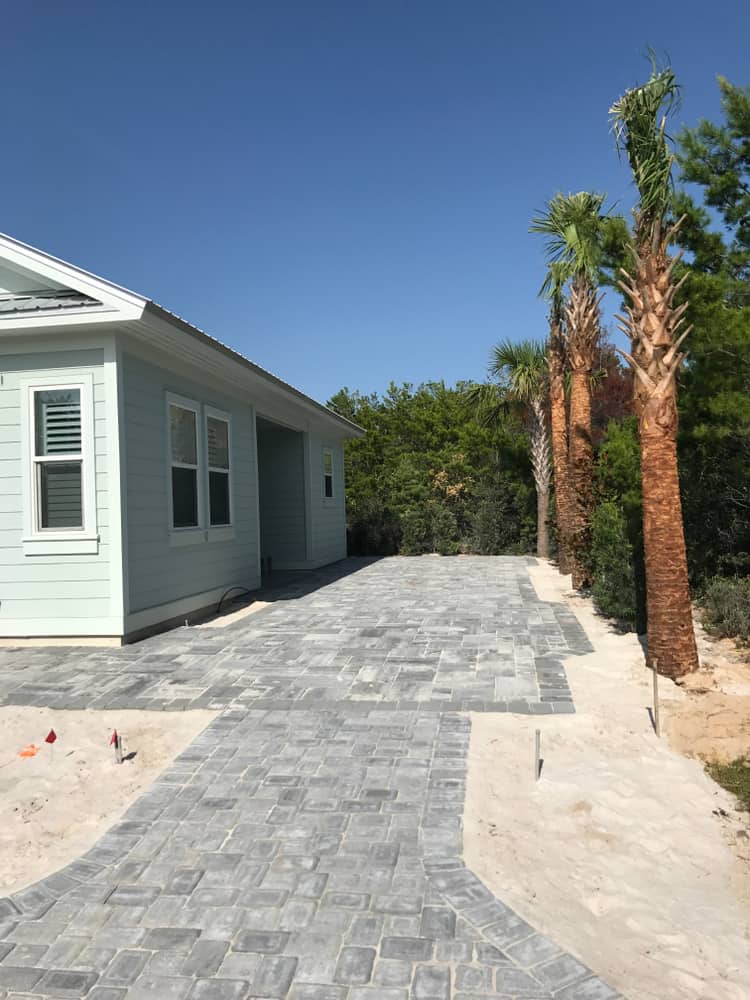 To prevent the space from feeling too barren, add some greenery along the edge of your pavers. Shrub species like yew, hydrangea, arborvitae, and laurel are all great options. Or fill a matching planter set with your favorite annuals.
If your pavers are framed by turf or garden beds, be sure to lay down weed fabric underneath to keep invading plants at bay. Cover bare soil with mulch or pebbles for a finished look.
9. Small
The worst thing you can do is let your side yard sit empty as wasted space. With a little creativity, you'll be amazed by what you can achieve with a small section of property.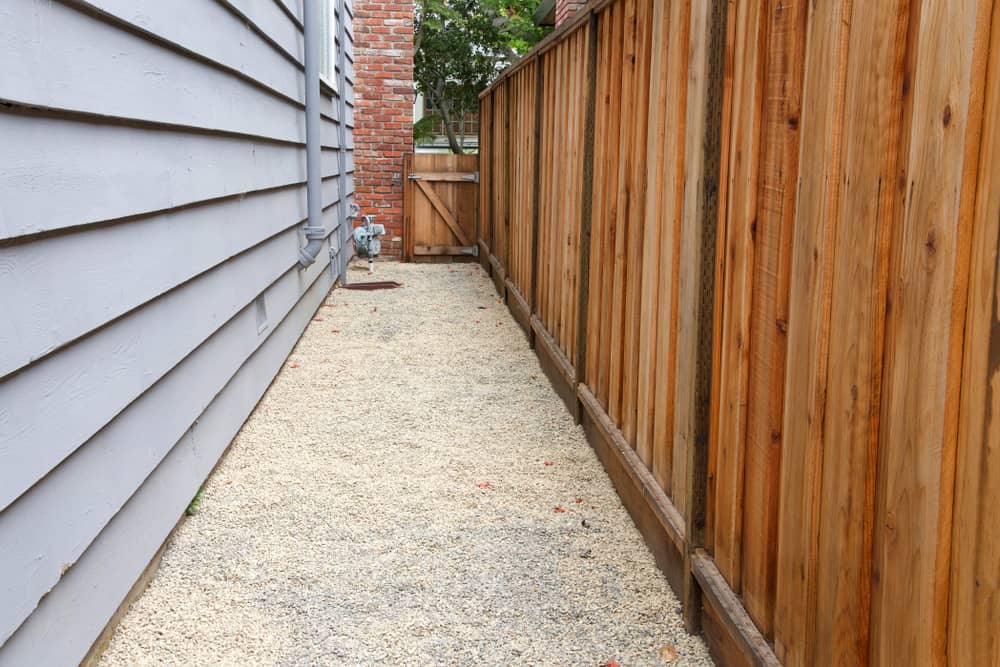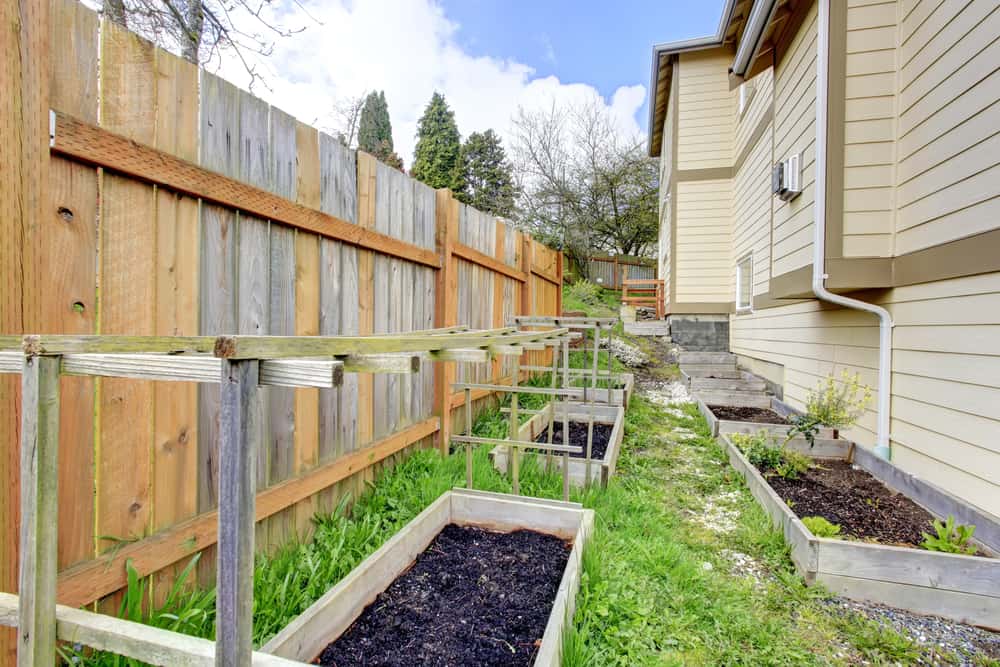 If you want your side yard to be as productive as possible, a vertical garden might be perfect. Invest in a freestanding vertical planter or mount baskets to a nearby wall or fence. Keep shrubs and trees trimmed back to maximize the openness of your compact side yard.
Don't shy away from adding a water feature like a fountain or ornamental pond. Landscaping pavers and rocks can help divide your side yard and make it look bigger than it actually is.
Side Yard FAQs
What can you use in a side yard instead of grass?
If you can't or don't want to grow grass in your side yard, there are plenty of great alternatives. Ground cover plants (like native clover) are eco-friendly and mimic the look of grass. You can also convert your side yard into a rock garden or fill the entire space with flowering perennials.
How do you make a side yard functional?
If your side yard connects to the back of your property, this is the perfect opportunity to design a walkway to your backyard. Frame the area with flower beds or shrubs. Add a gate to keep children and pets where they belong.
If your side yard culminates in a dead-end, transform the space into a personal getaway. Plant vegetables and herbs for an edible garden. Install a miniature patio and create a comfortable nook for reading and relaxing.
Can you put a fire pit in a side yard?
Fire pits should be at least 10 feet away from any structure. This includes your home's exterior, as well as fences or pergolas. Most side yards are not wide enough to safely accommodate a fire pit.