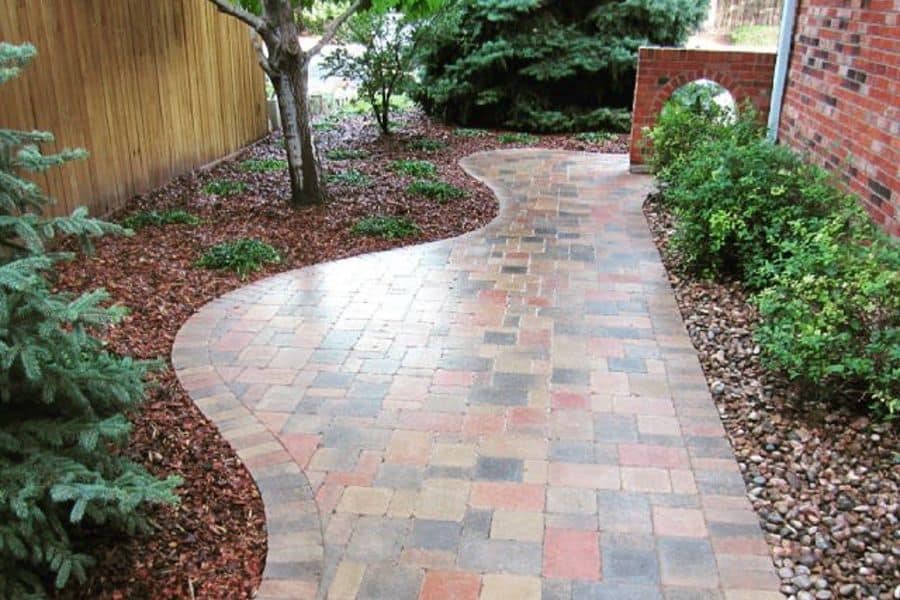 The Top 56 Side Yard Ideas
by — Kendrick Hulse

Published on March 29, 2021

Updated on October 17, 2023
You might not think about your home's side yard very often. But that doesn't change the impact it can have on your property's value and functionality.
A well-designed side yard can be just as helpful and aesthetically pleasing as your backyard — even if it is much smaller. If you have any space along the sides of your home, the last thing you should do is leave it neglected.
Check out these side yard ideas to learn how to create a stylish, space-efficient outdoor space that truly adds to your home's curb appeal.
1. Elevate with Brick Paver Steps
Brick paver steps can transform a side yard into a functional and elegant space. Select paver designs and colors that complement your home's aesthetic, ensuring cohesion. To amplify the charm, consider installing landscape lighting along the steps, providing both safety and a warm ambiance during nighttime.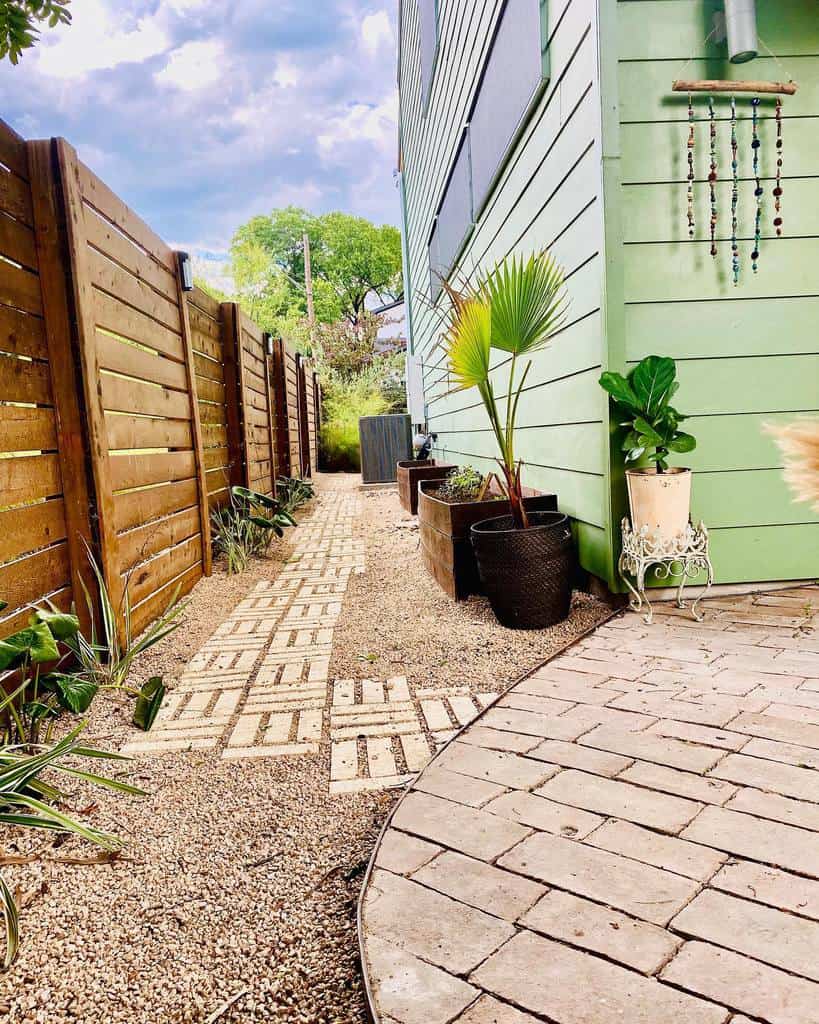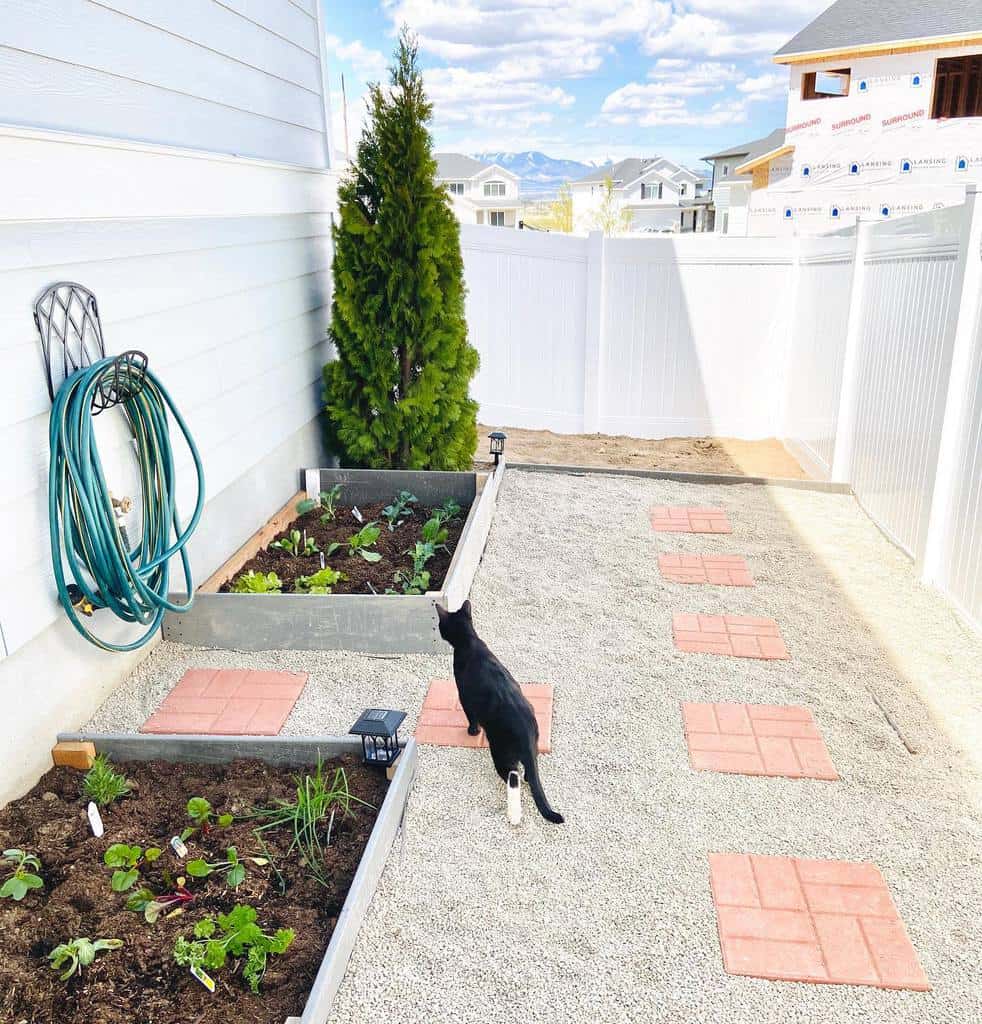 2. Choose Natural Flagstone Steps
Flagstone steps introduce rustic charm to side yards due to their natural and enduring properties. To make the pathway distinct, intersperse varying sizes and shapes of flagstones. Surrounding them with ground cover plants or vibrant flowers elevates texture and color. For added privacy and allure, integrate a trellis with climbing plants like ivy or wisteria, and consider incorporating lanterns or water features for a captivating touch.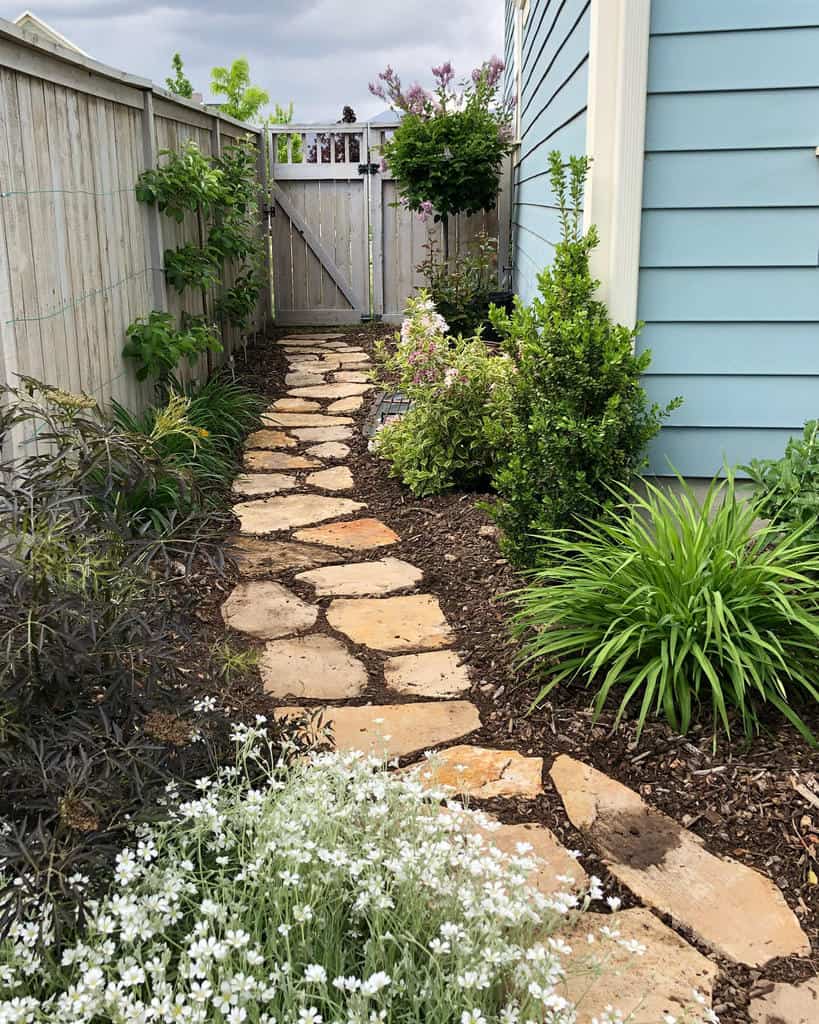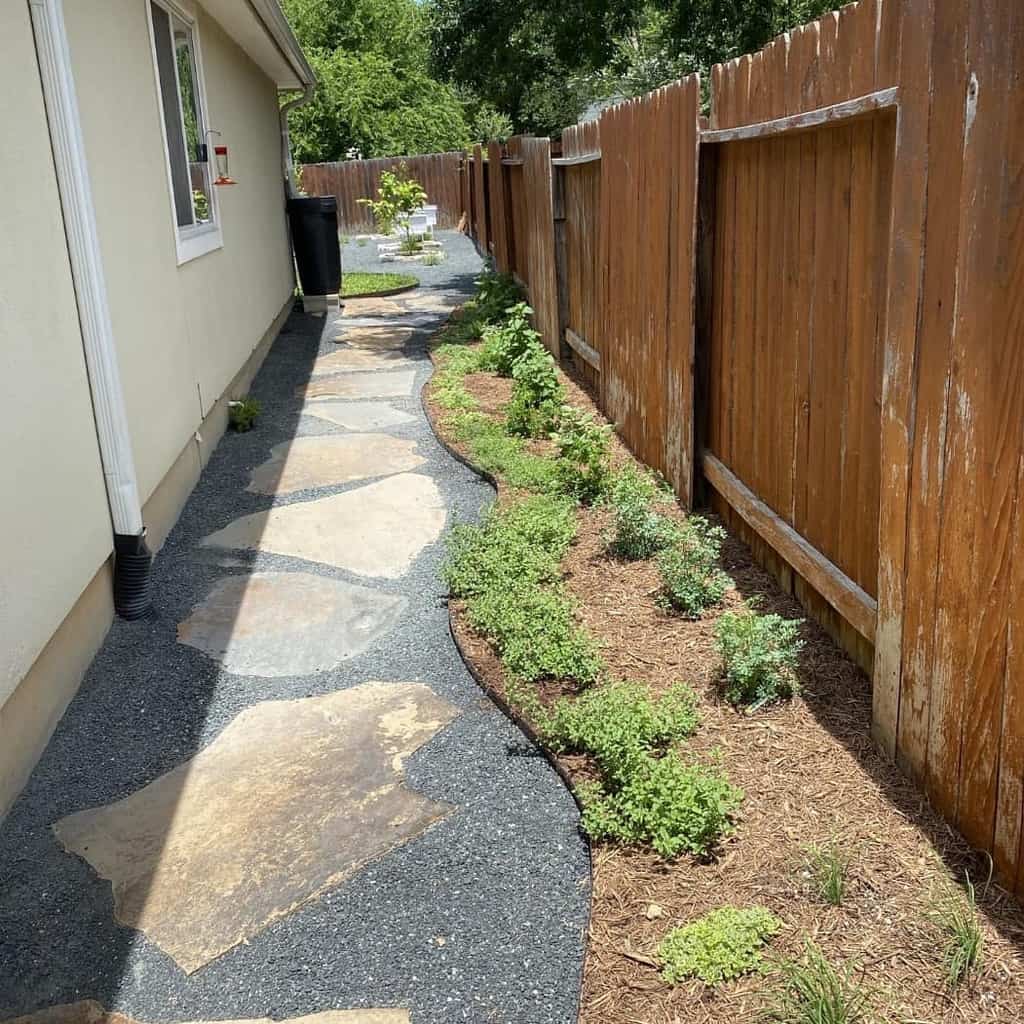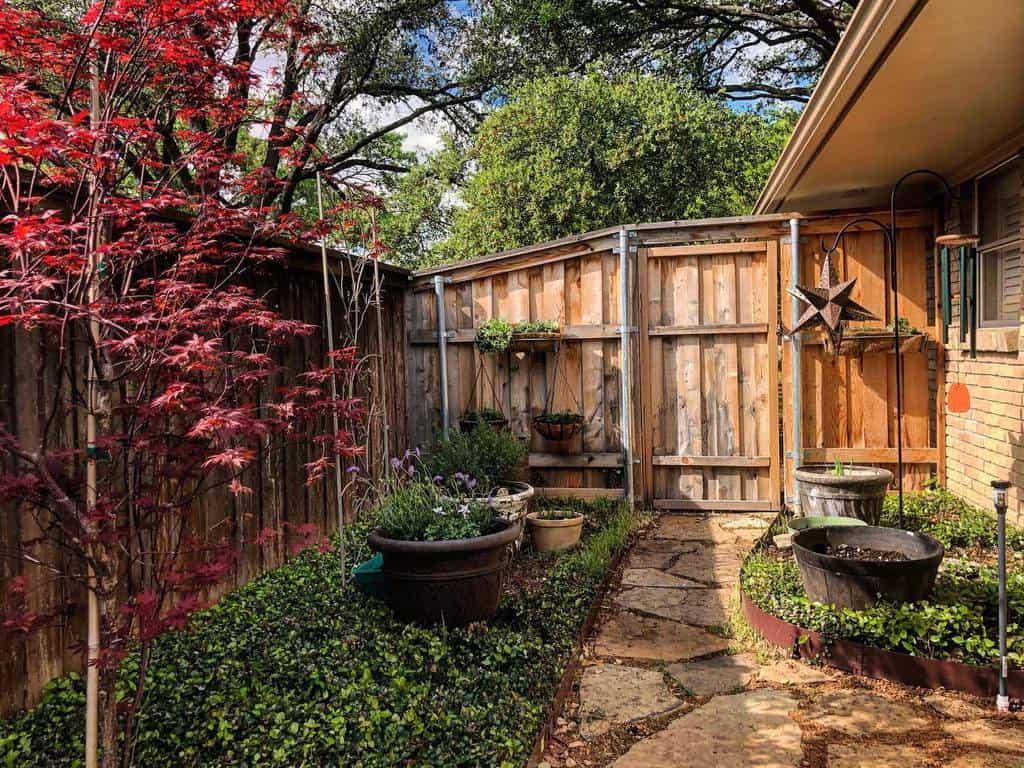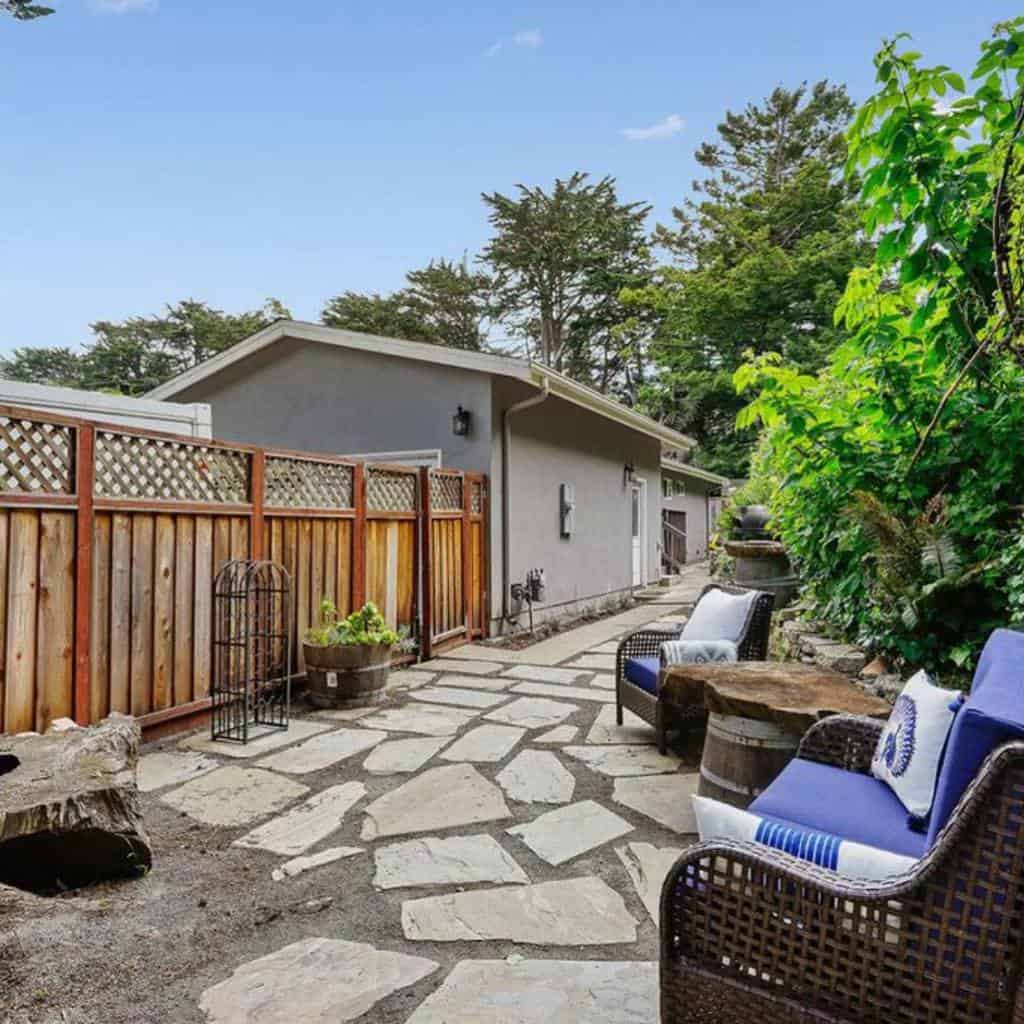 3. Craft a Pebblestone Walkway
Designing a pebblestone walkway offers versatility; mix varying pebble colors and sizes or blend them with pavers or flagstones for a dynamic texture. Complement the path with side greenery or planters to amplify its natural essence. To elevate functionality, consider creating an adjacent lounge with seating or a fire pit, turning the side yard into a cozy retreat or an entertainment hub.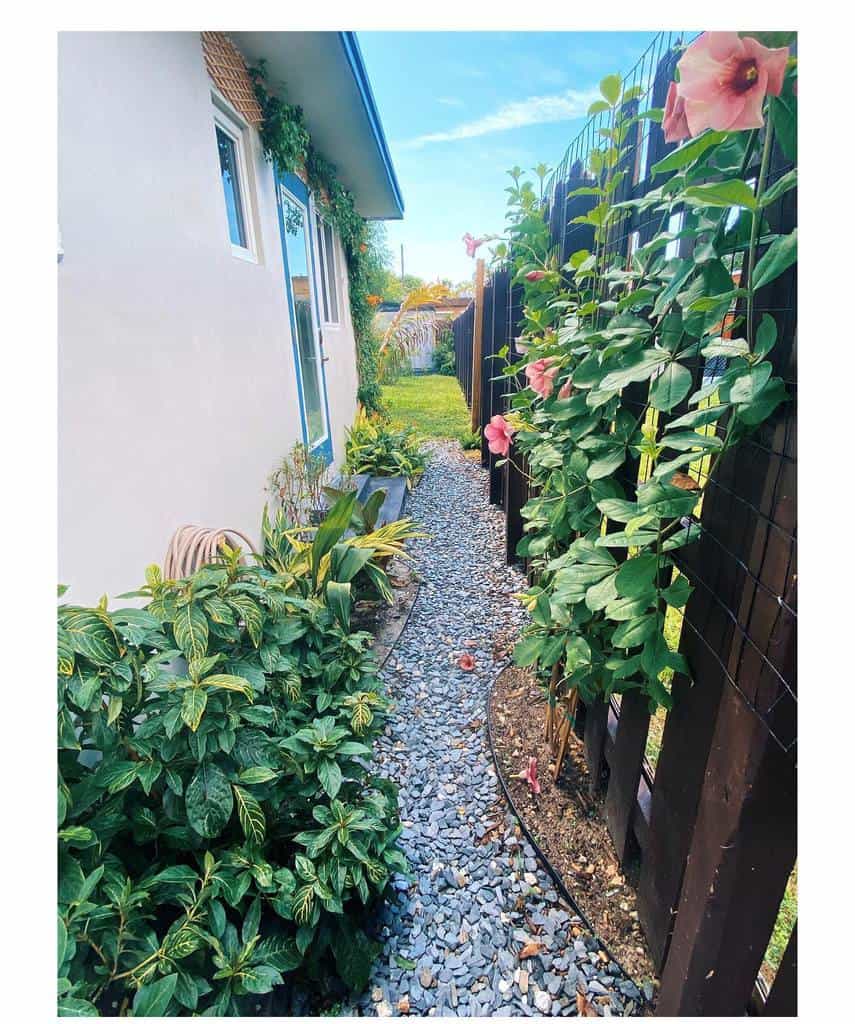 4. Blend Concrete, Grass & Pebbles
A captivating side yard integrates concrete, grass, and pebble pavers for a harmonious pathway. Large concrete slabs, interspersed with grass and pebbles, bridge the modern with the natural. Enhance this design by placing potted plants, setting up outdoor lighting, or introducing seating for relaxation. To utilize vertical space and add vibrancy, consider incorporating a vertical garden or raised garden beds alongside your home.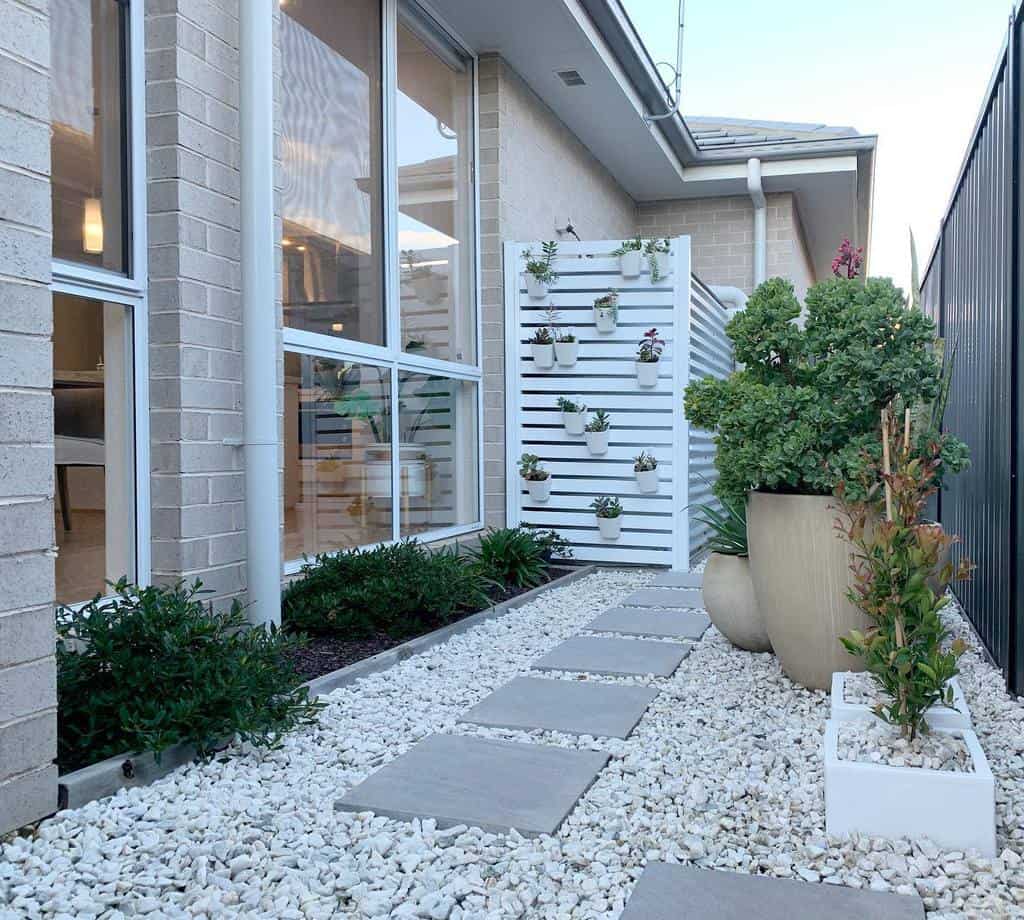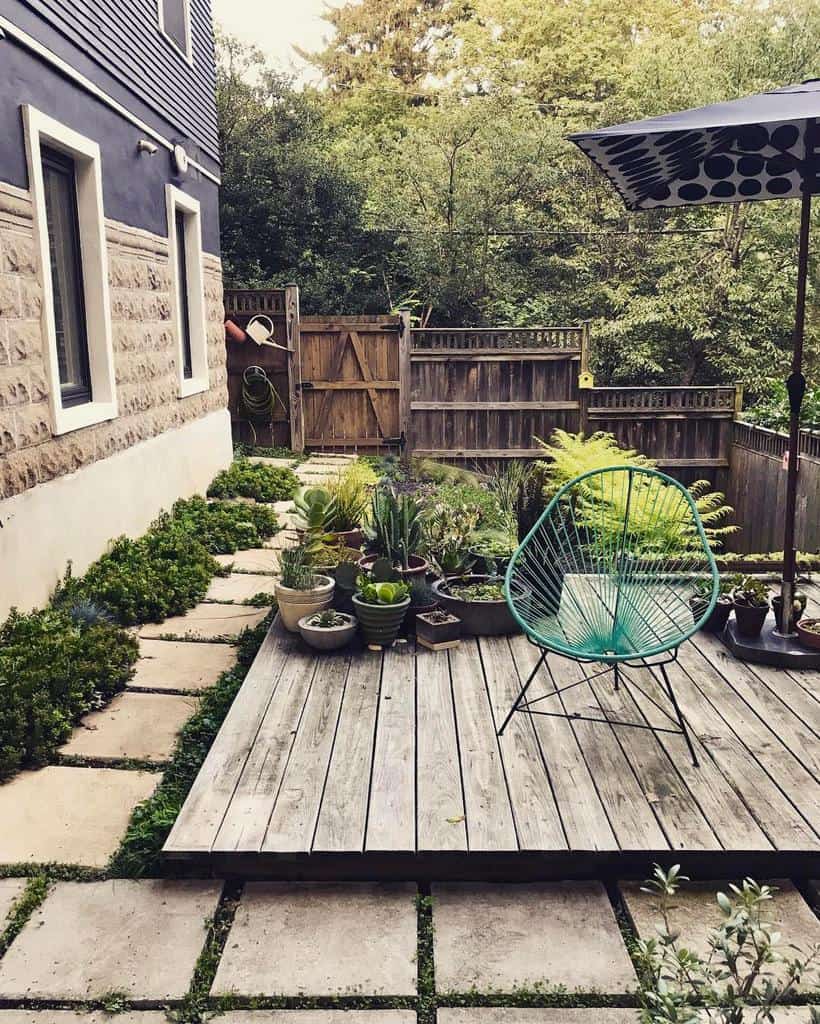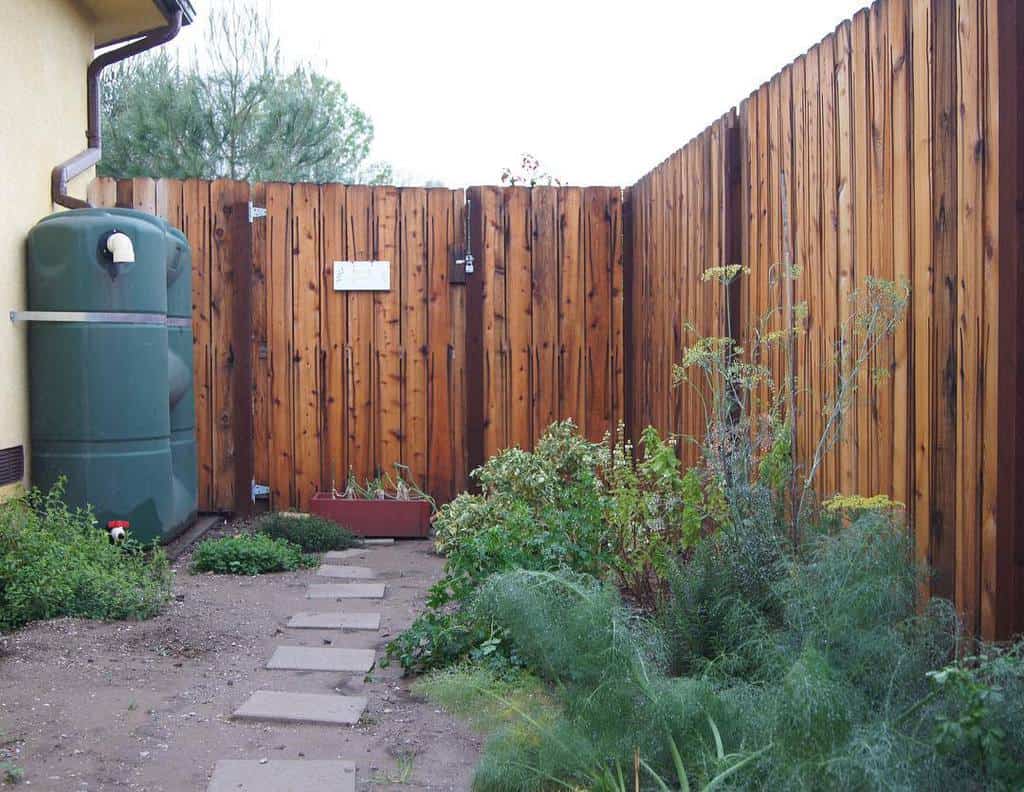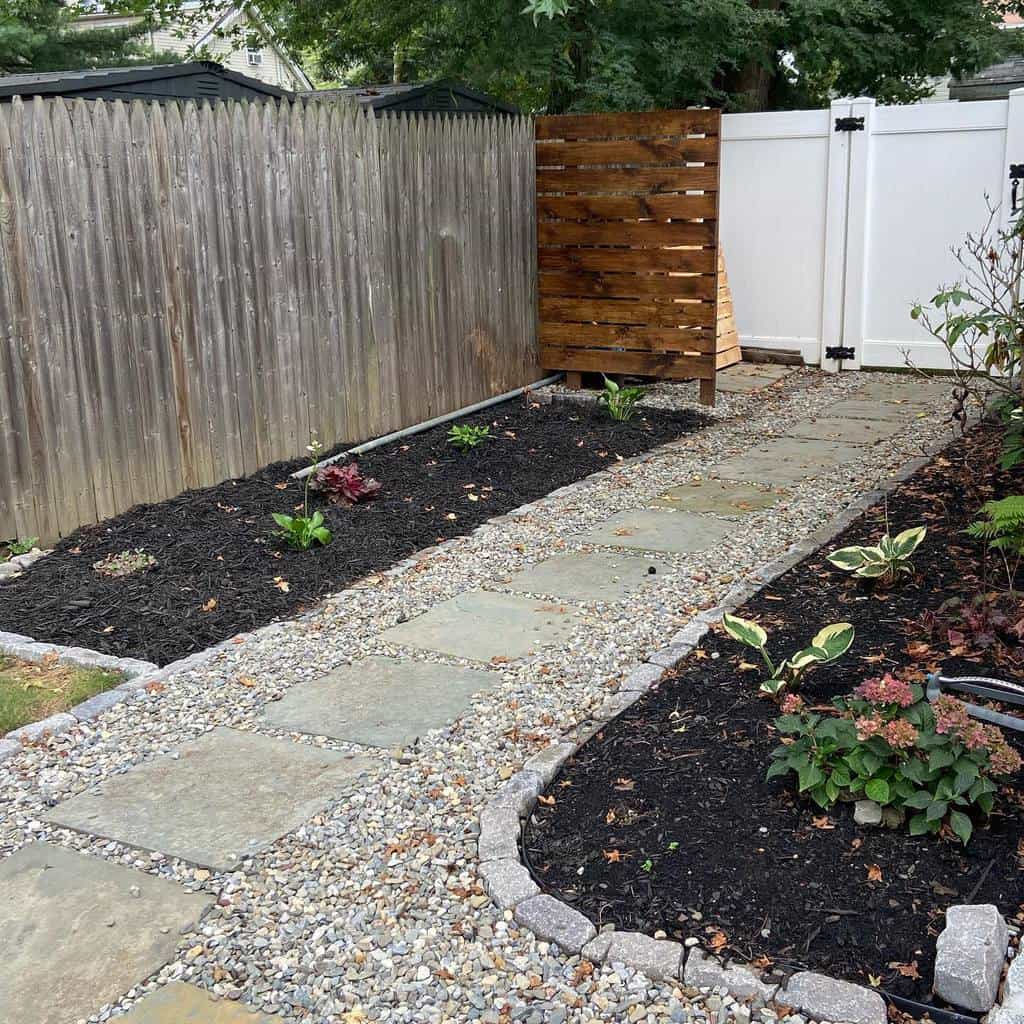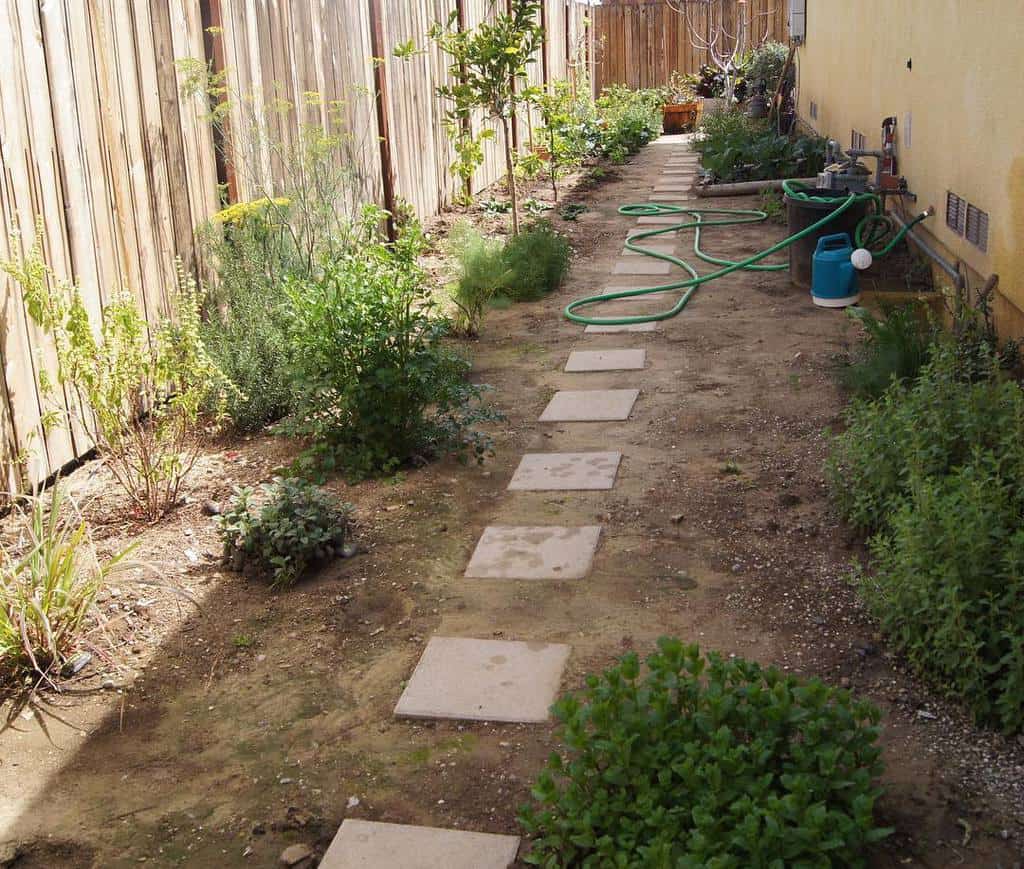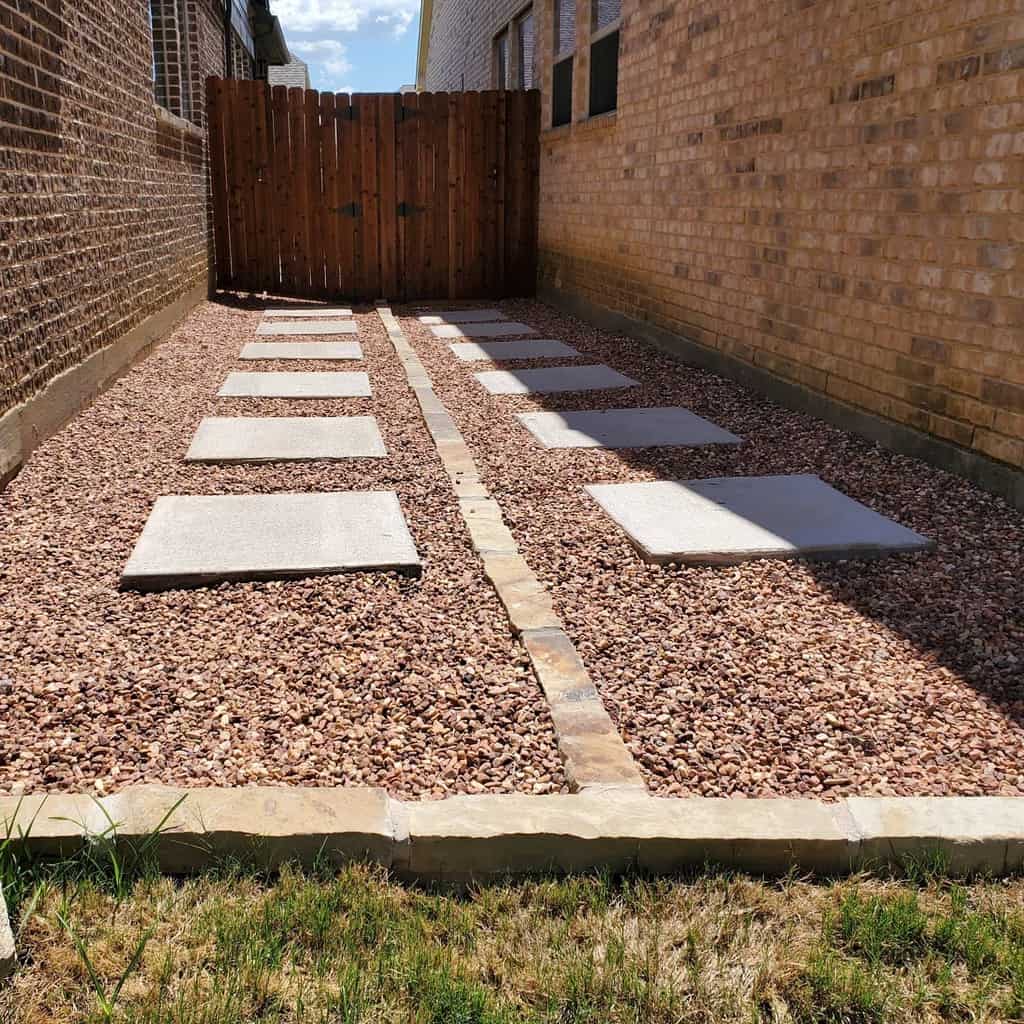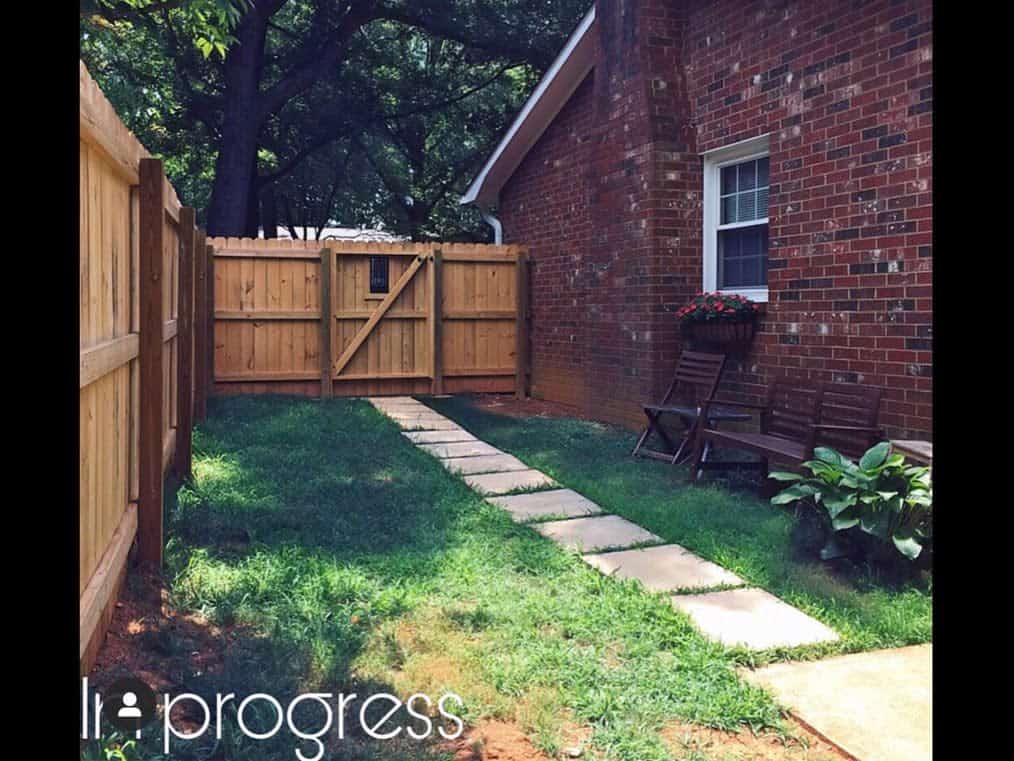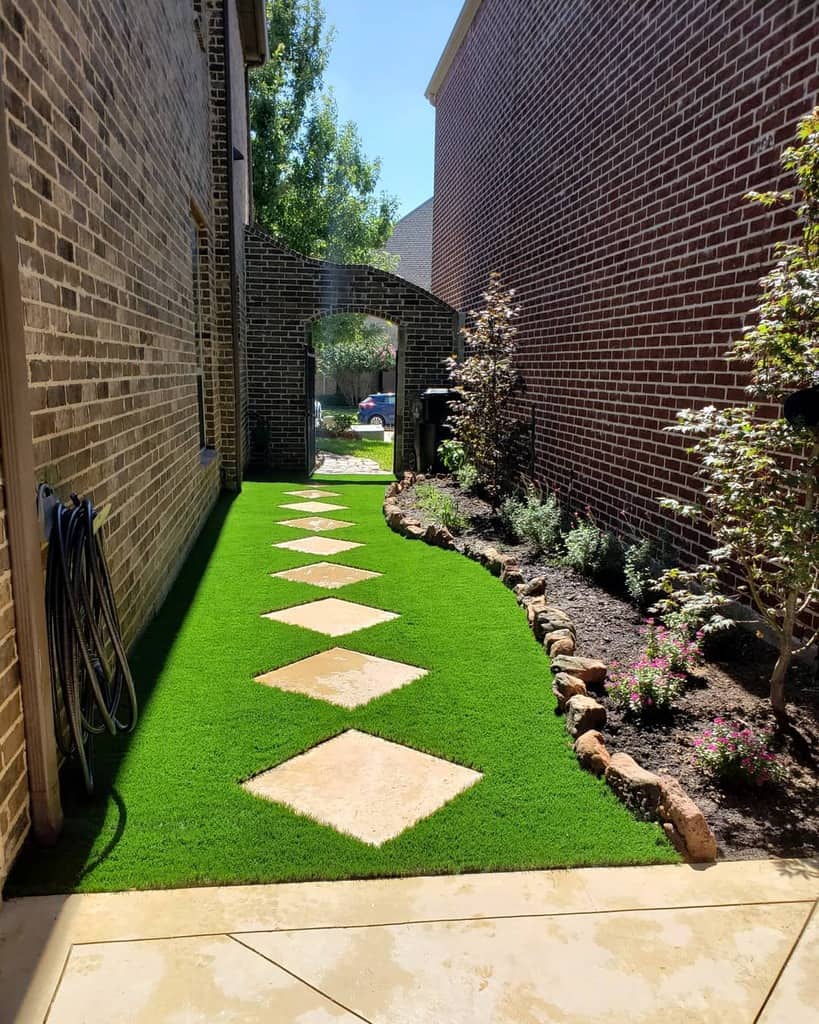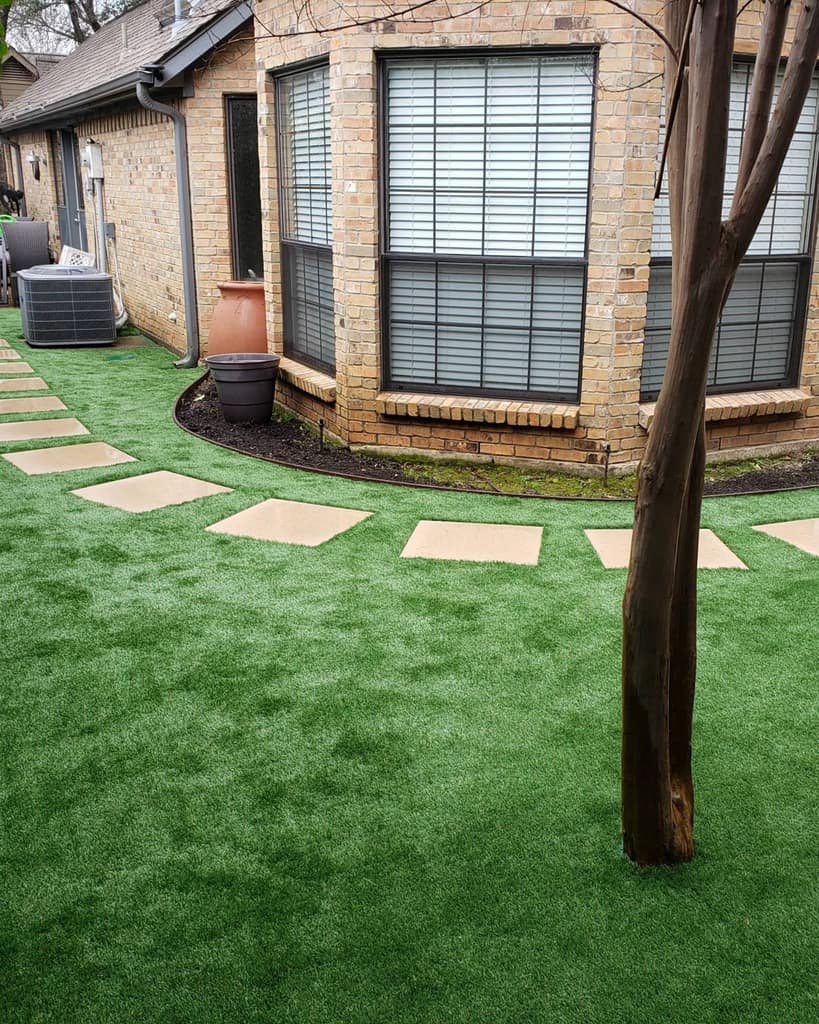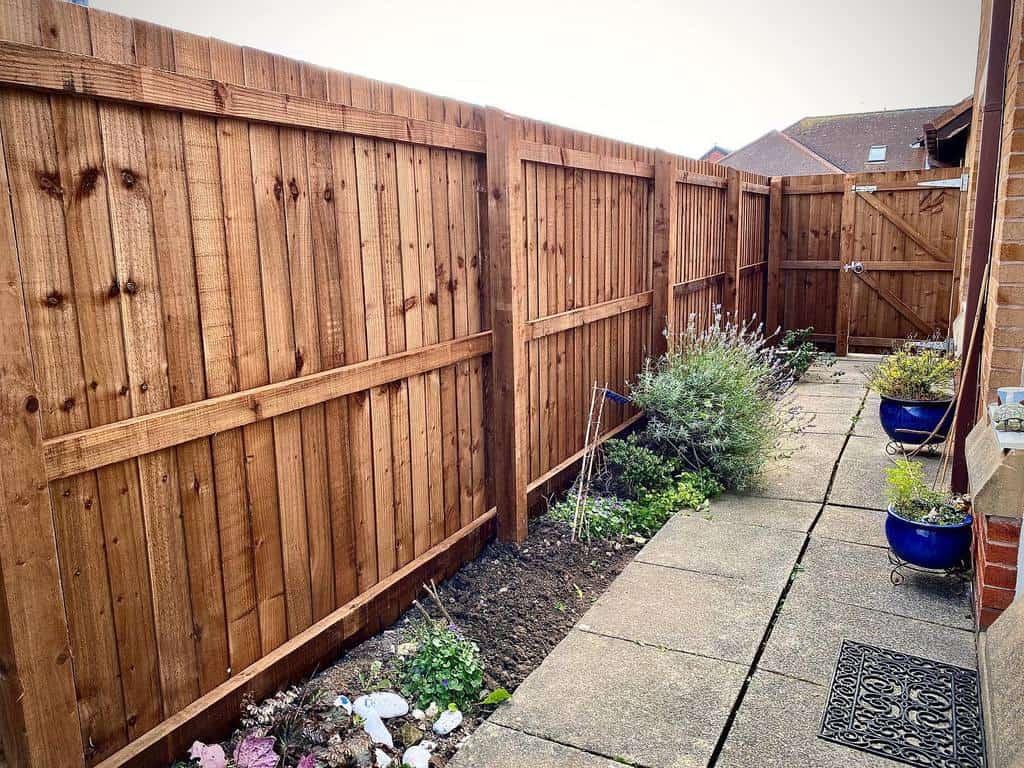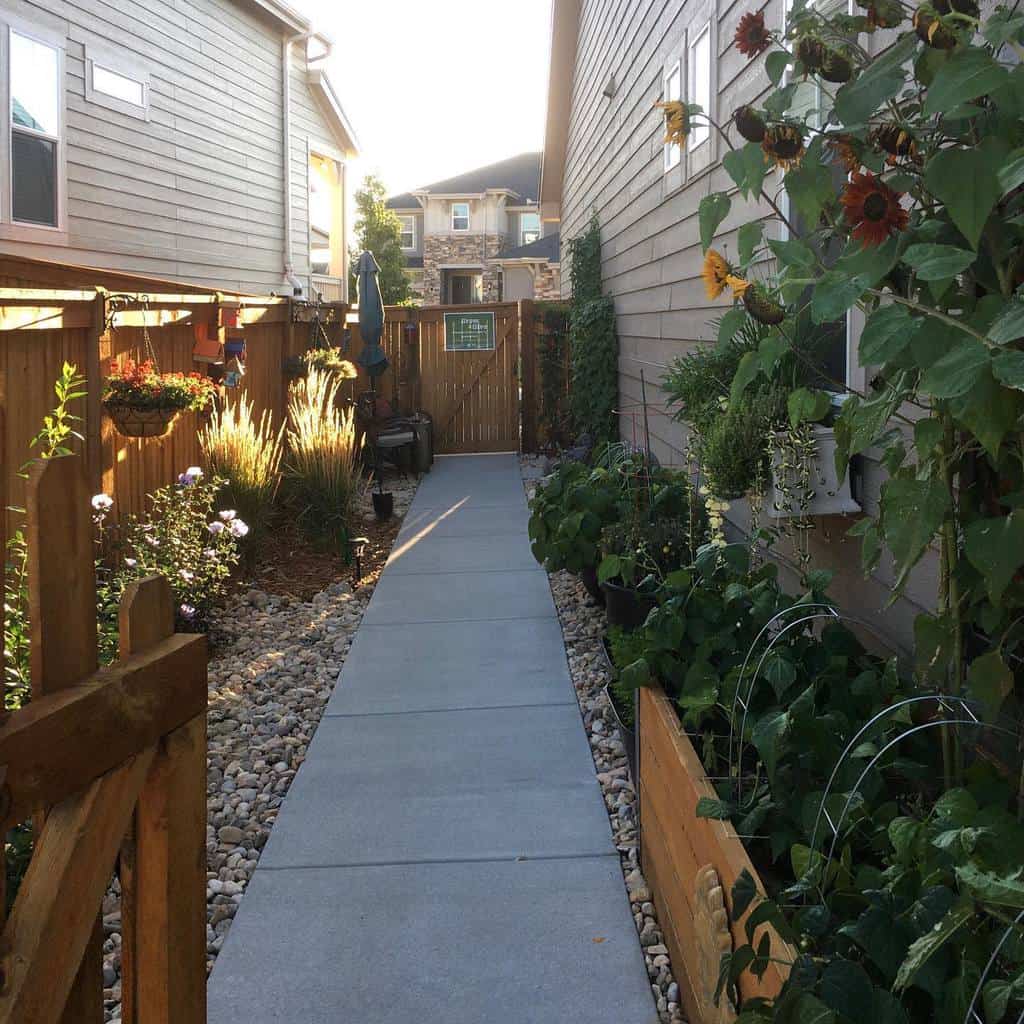 5. Go Green with Artificial Grass
Artificial grass offers a low-maintenance, eco-friendly side yard solution that blends beauty with functionality. Its consistent lushness transforms bare areas and provides a safe play zone for kids and pets, while also conserving water—crucial in arid regions. Elevate this green canvas by introducing potted plants, garden beds, or cozy seating, turning the space into a year-round outdoor haven for relaxation and enjoyment.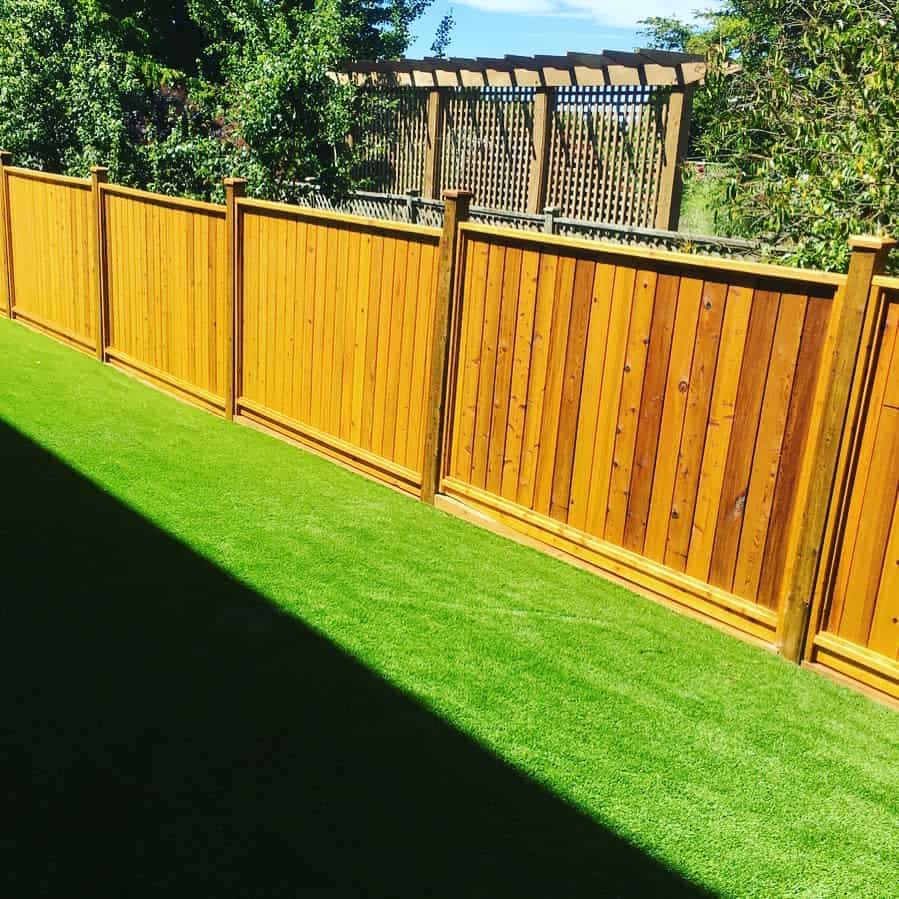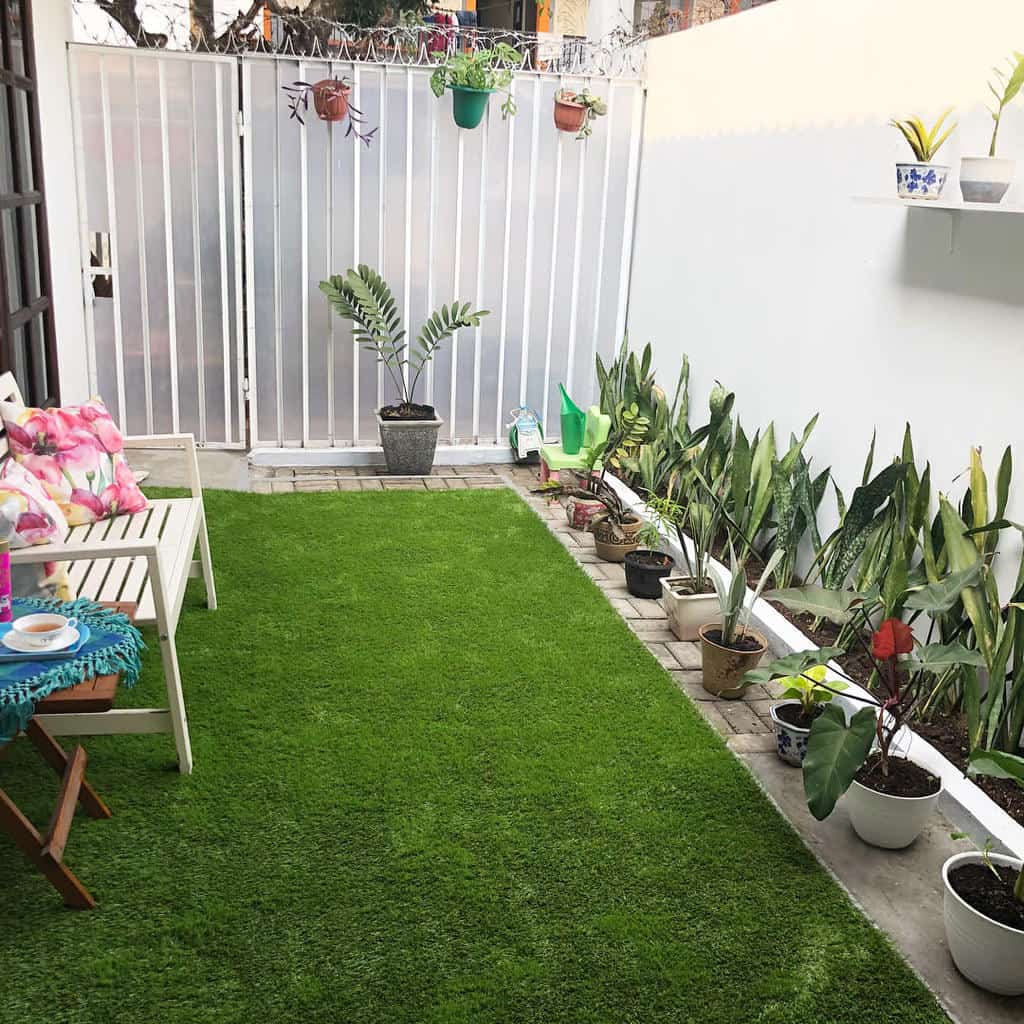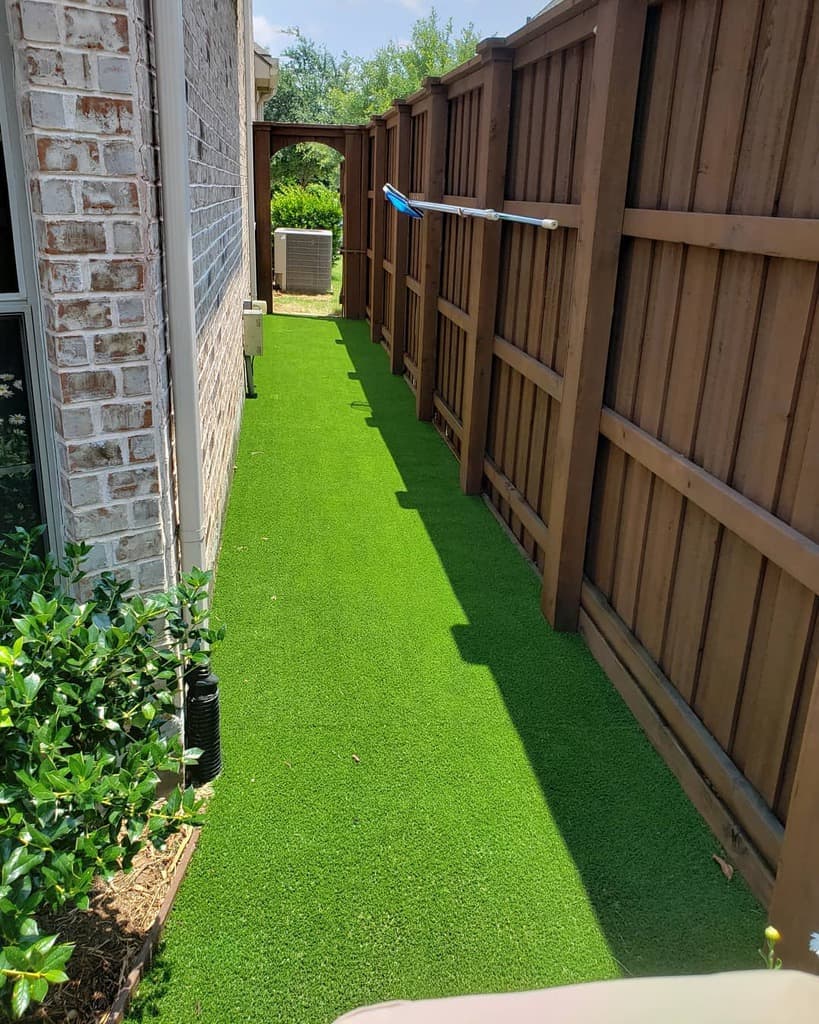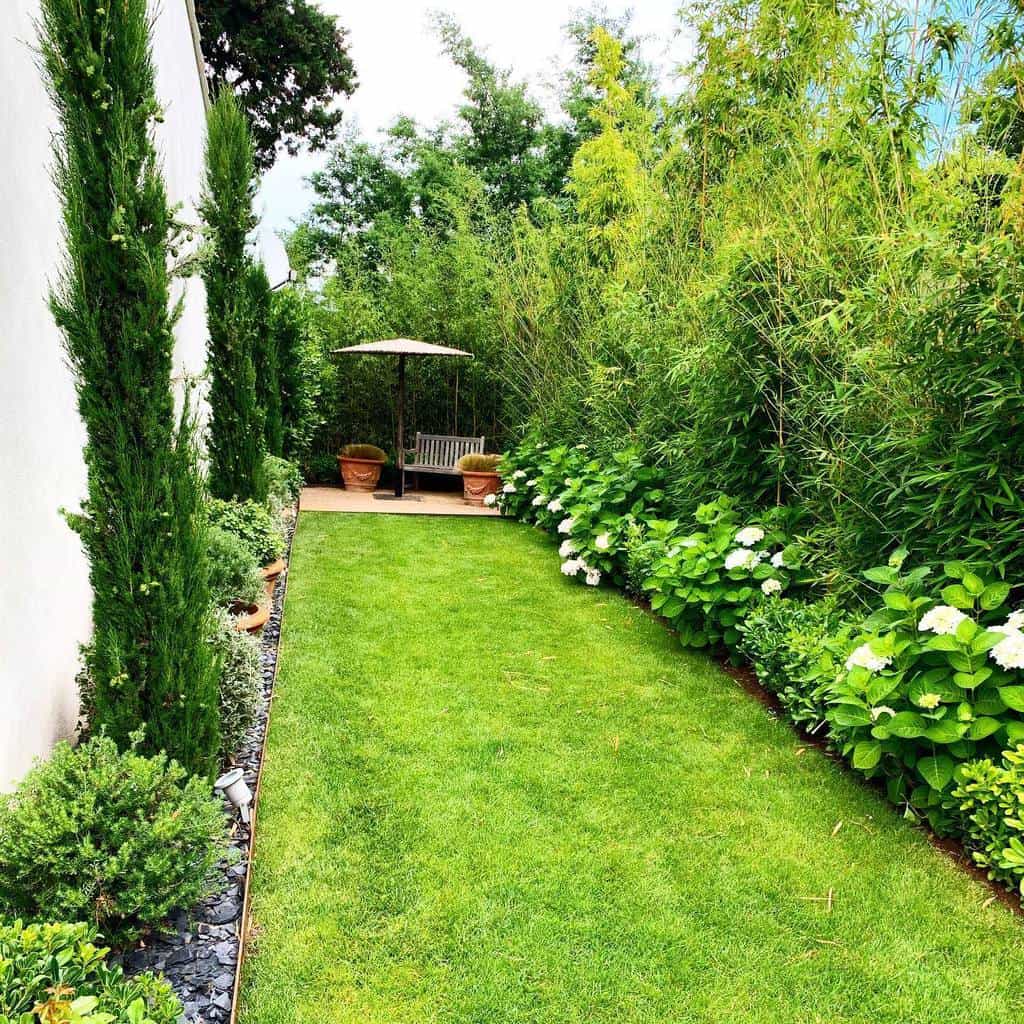 6. Cultivate a Side Yard Veggie Garden
Transforming an underutilized side yard into a vegetable garden offers fresh produce and aesthetic appeal. Begin by evaluating sunlight exposure and soil quality to select suitable vegetable varieties. Utilize raised beds or containers filled with enriched soil, and consider trellises for climbers like tomatoes. Intertwine pathways, decorative stones, and cozy seating, ensuring your garden is not only productive but also visually enticing.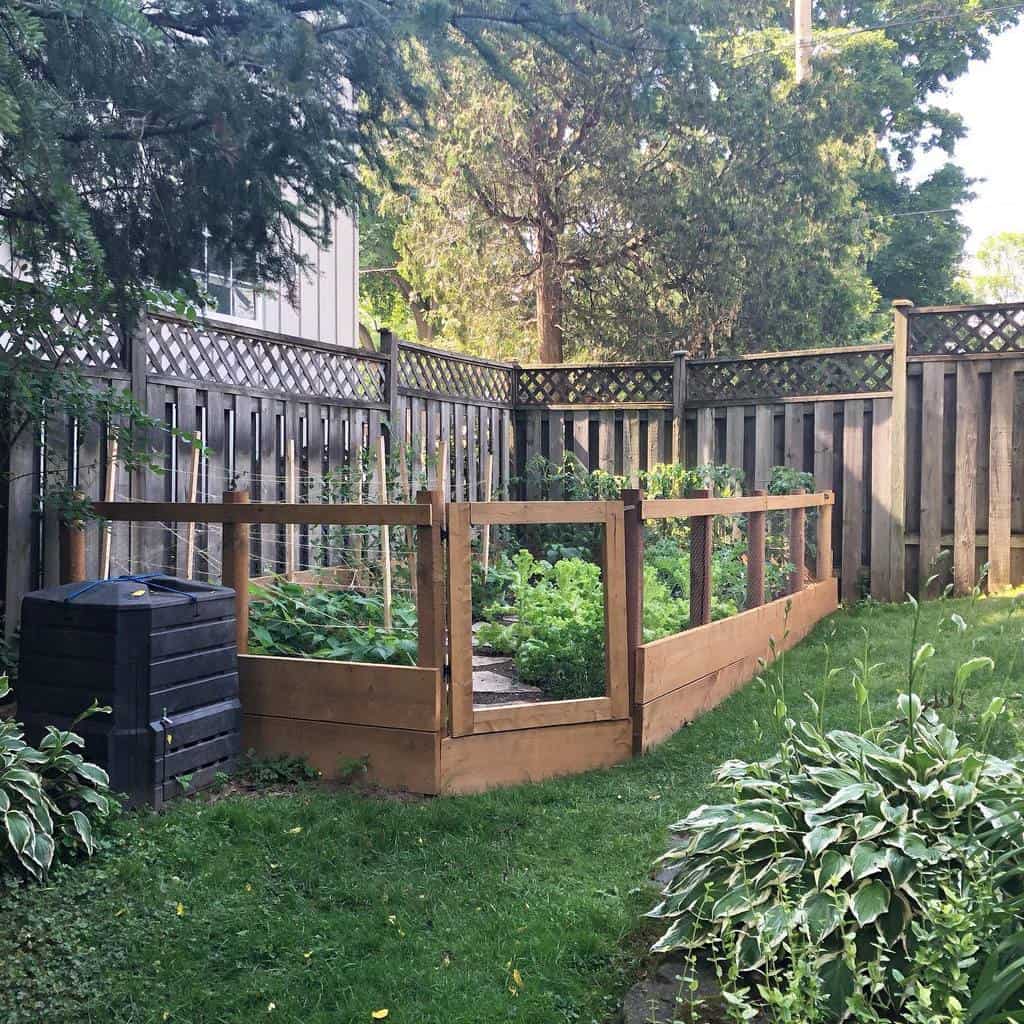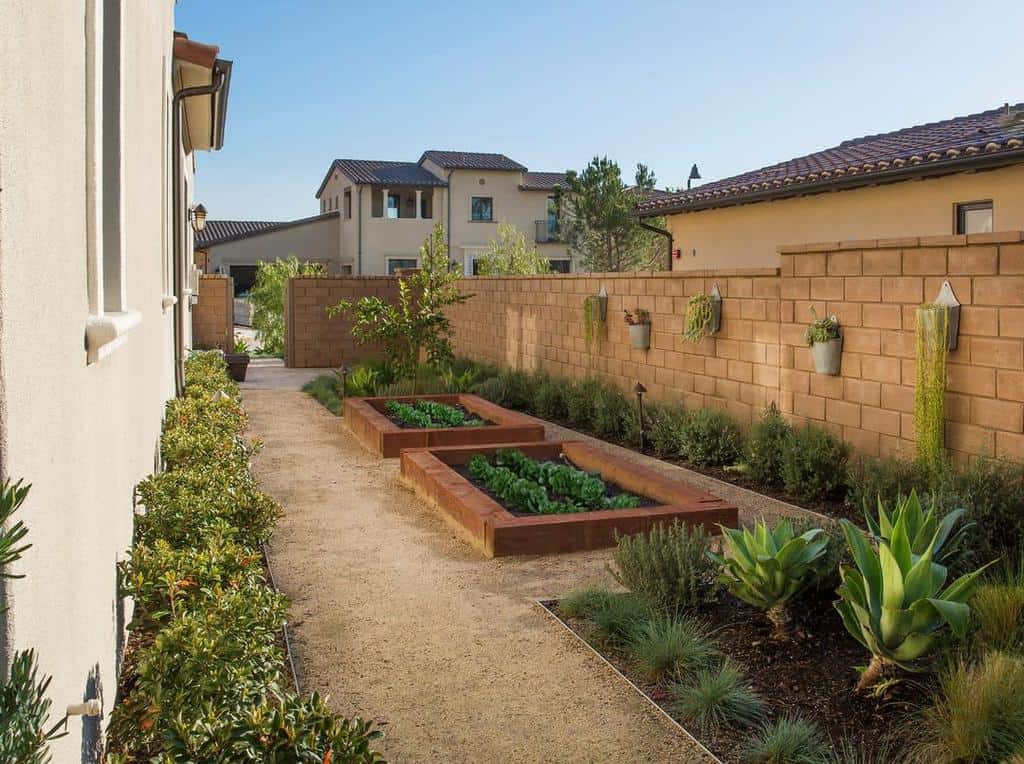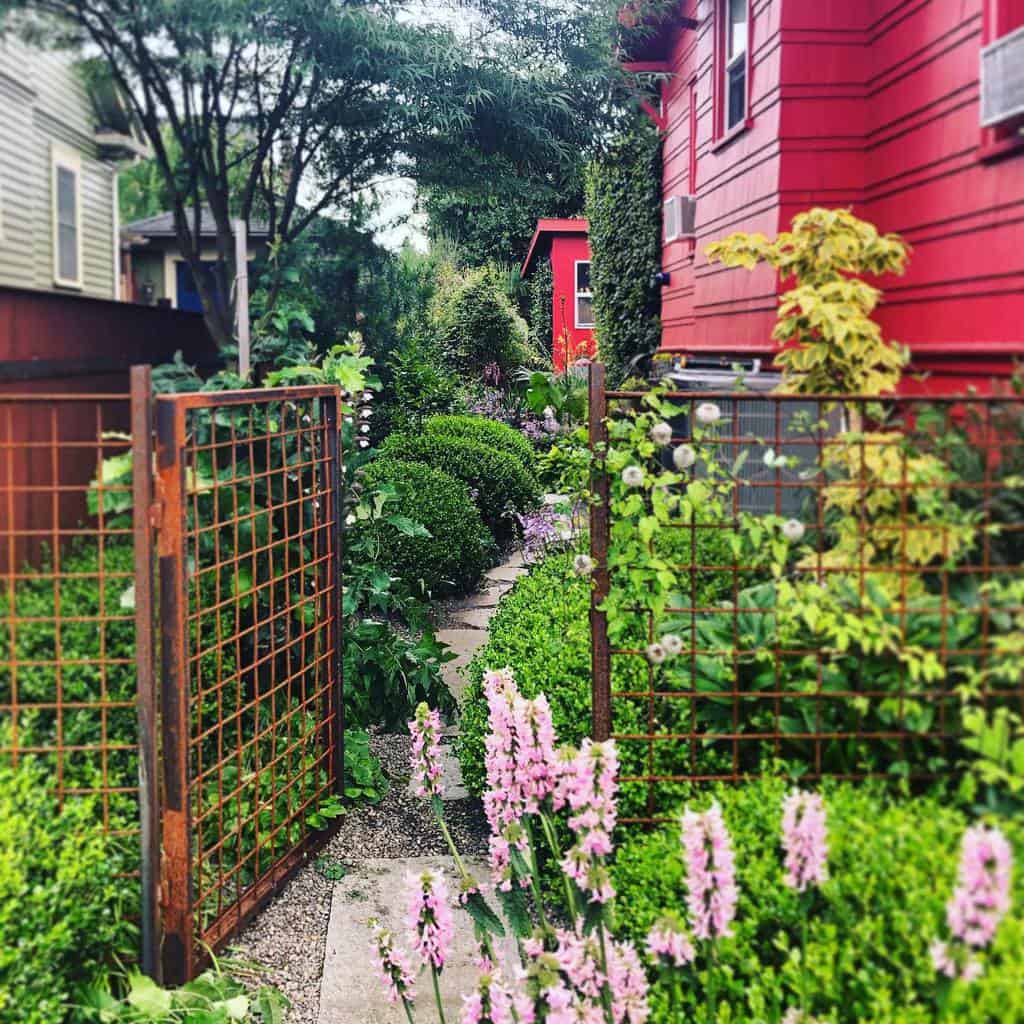 7. Ensure Seclusion with Privacy Fencing
A privacy fence enhances side yards, offering a warm, secluded haven. Wooden fences, complemented with climbing vines or hanging planters, amplify aesthetic appeal. Within this intimate space, consider cultivating a vegetable or herb garden using raised beds or containers for fresh home-grown ingredients. For those seeking simplicity, artificial turf or gravel pathways present stylish yet low-maintenance alternatives.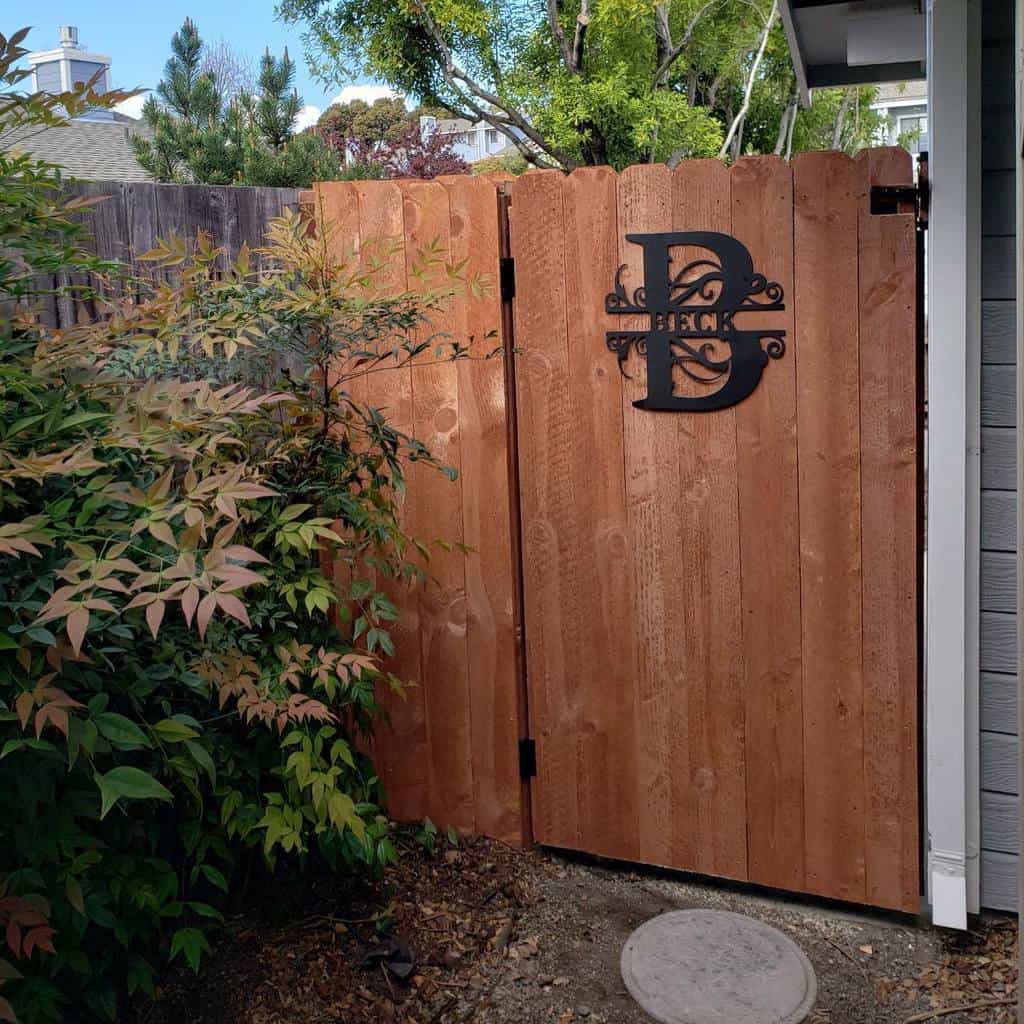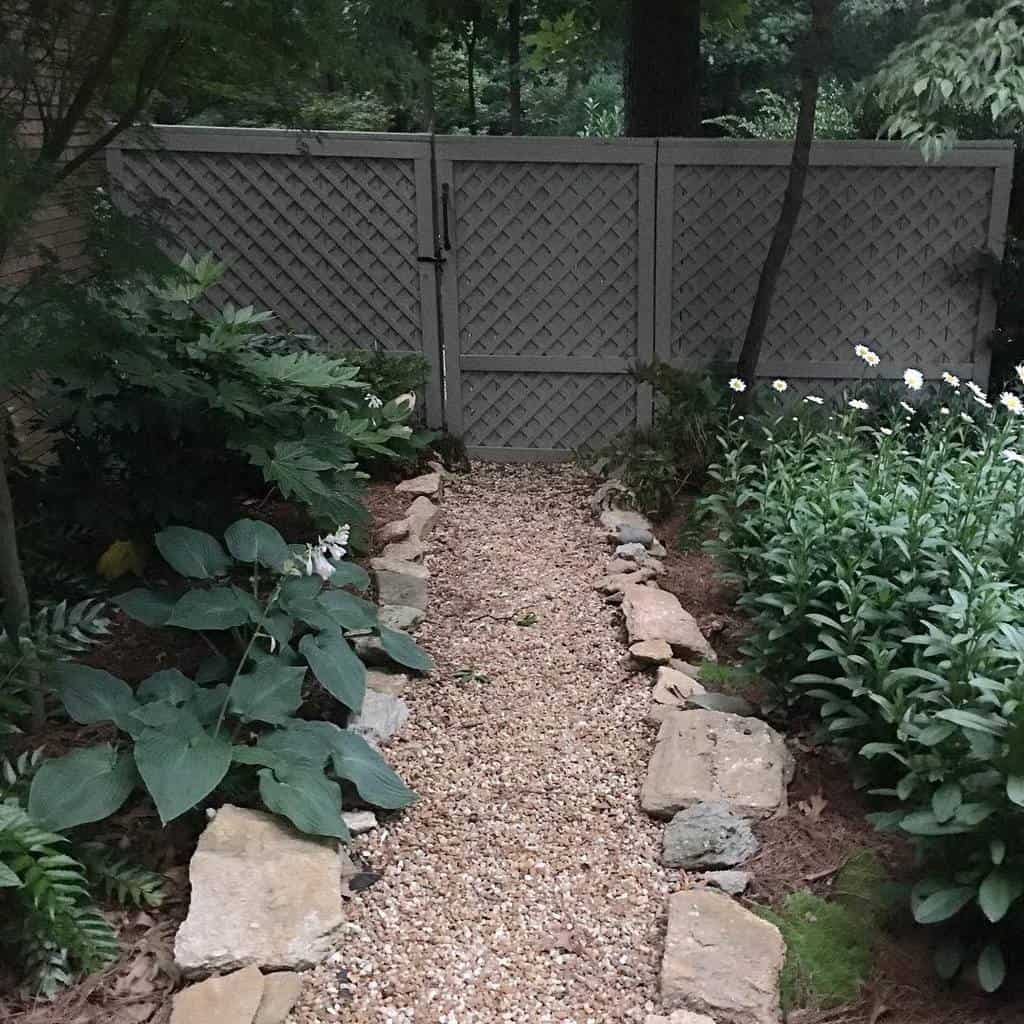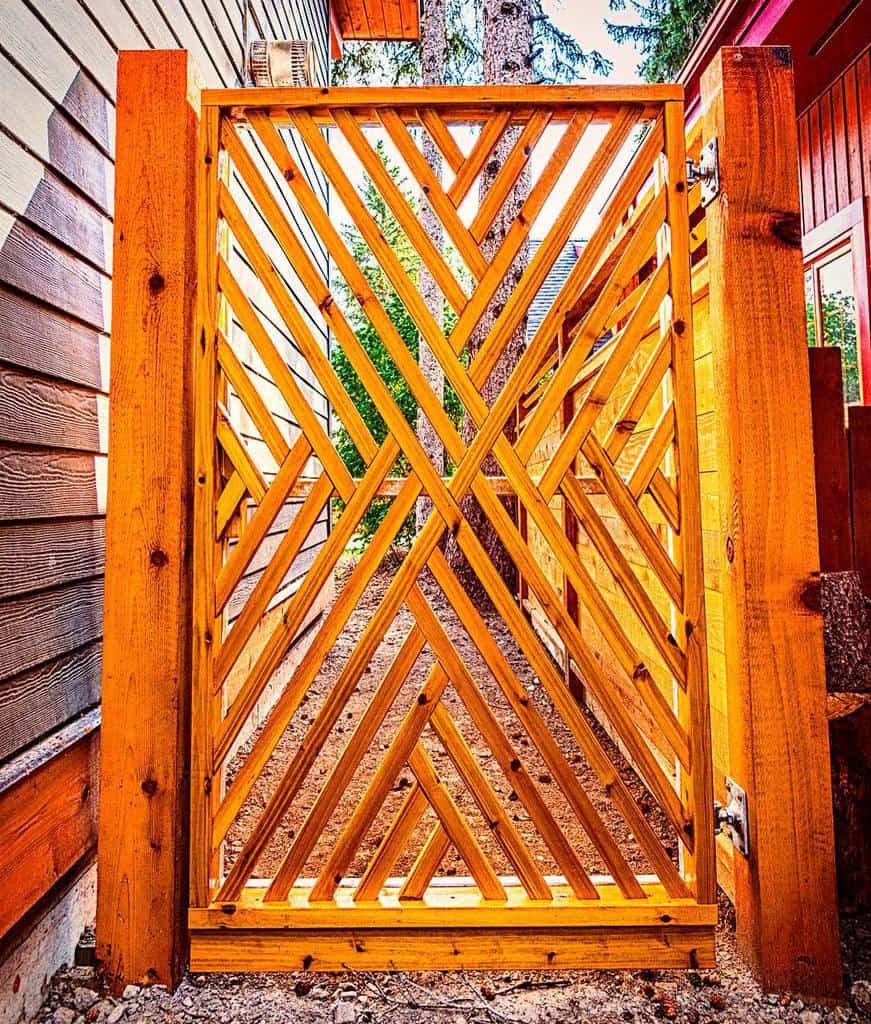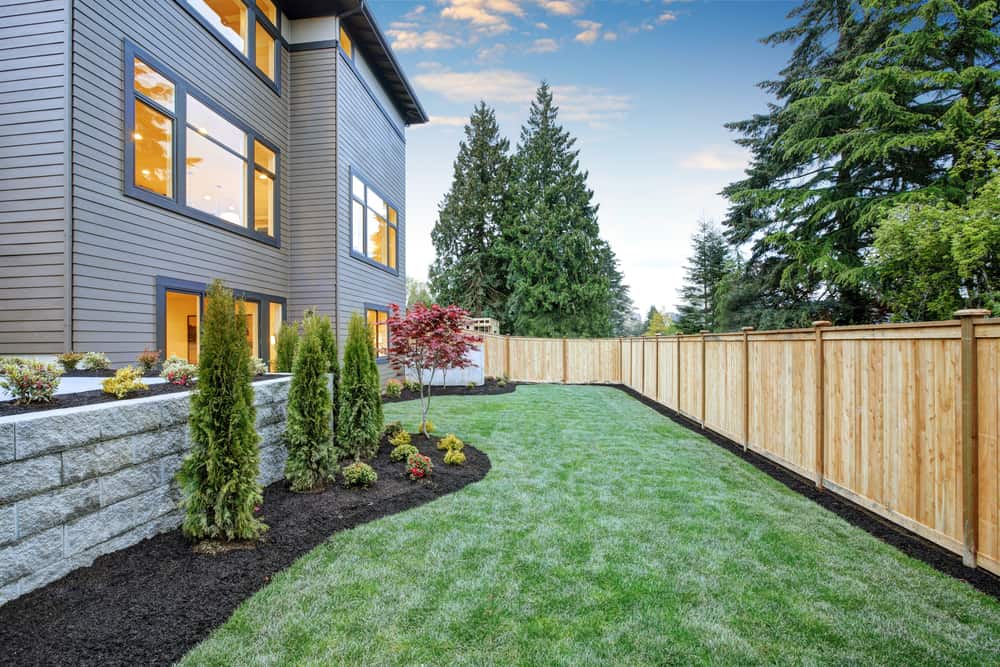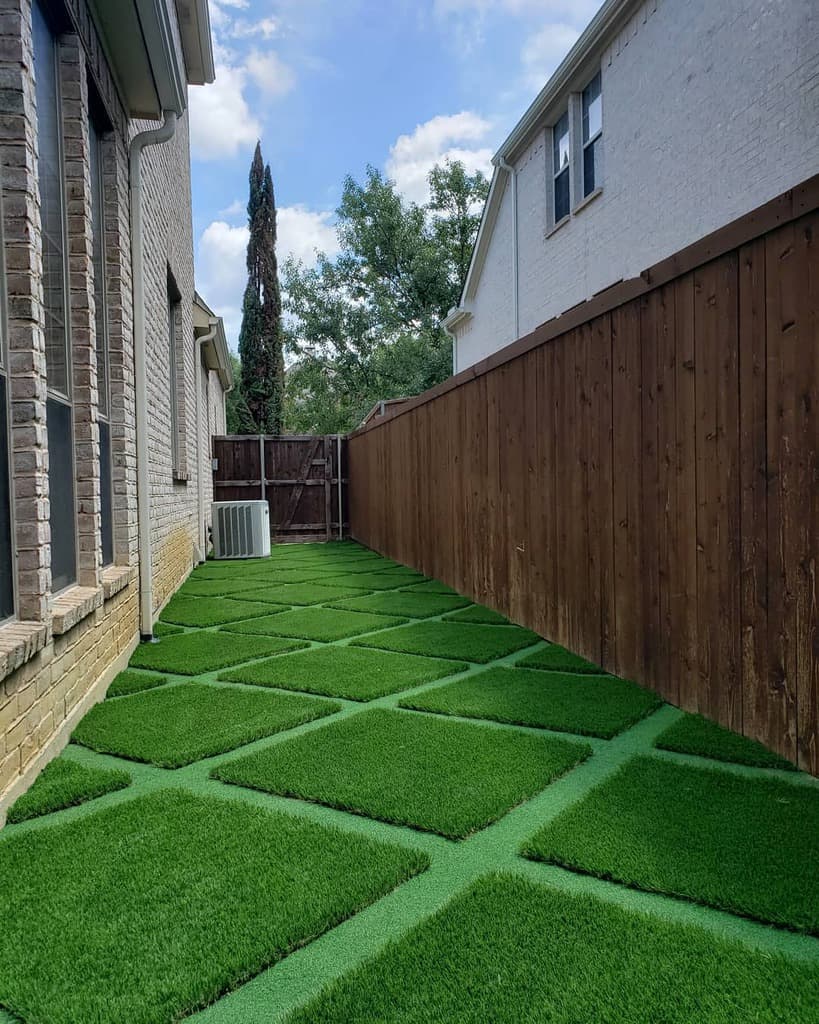 8. Stabilize Slopes with Retaining Walls
Retaining walls effectively transform sloping side yards into functional leveled areas. Using materials like natural stone or brick, create multiple small walls to add depth to your landscape. These can double as bases for tiered gardens or raised vegetable beds. To optimize limited space, a vertical garden or trellis can introduce lush greenery. Complement this structure with a serene seating spot or water feature, enveloped by dense plants, to craft a private sanctuary.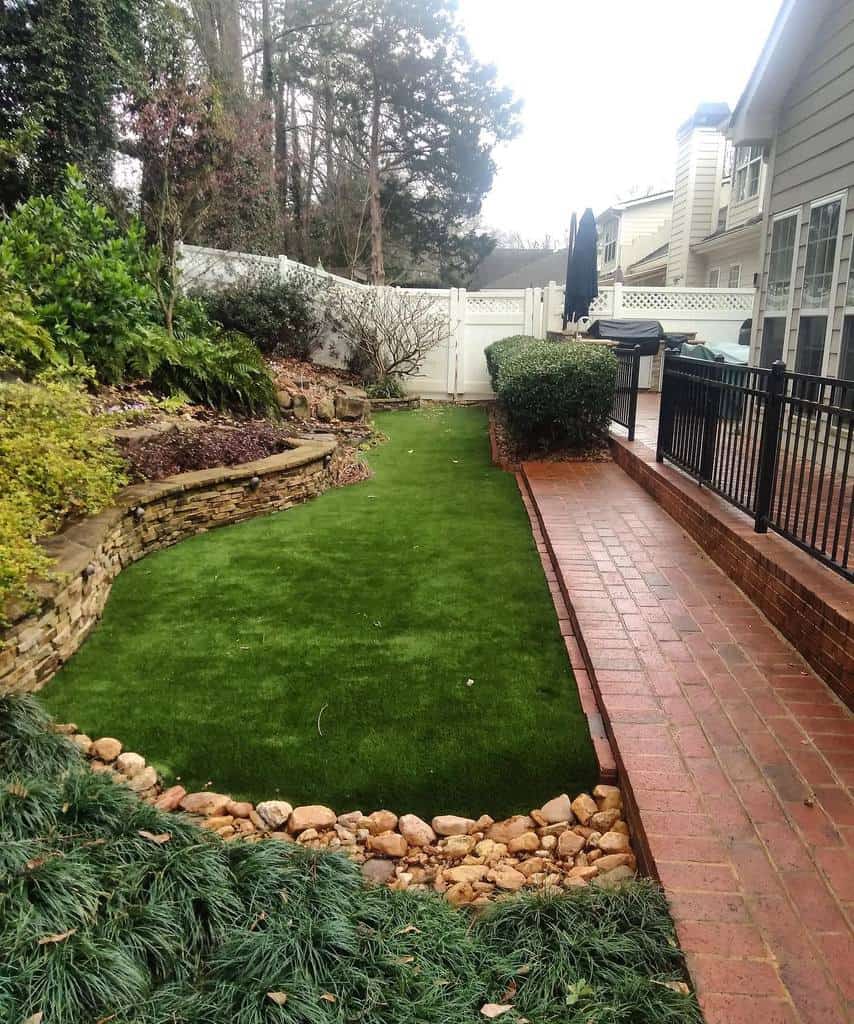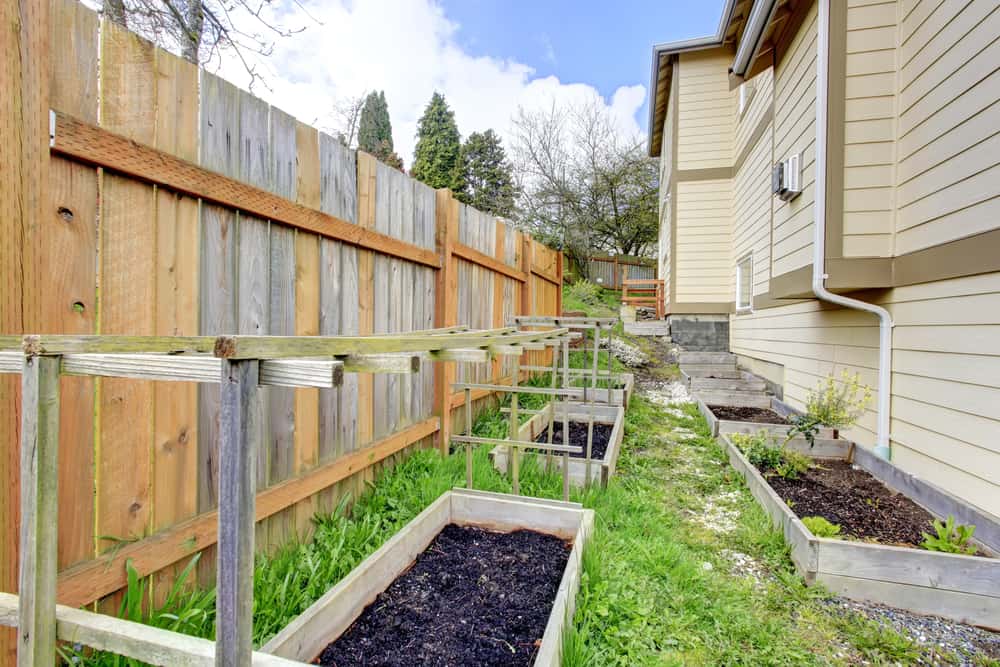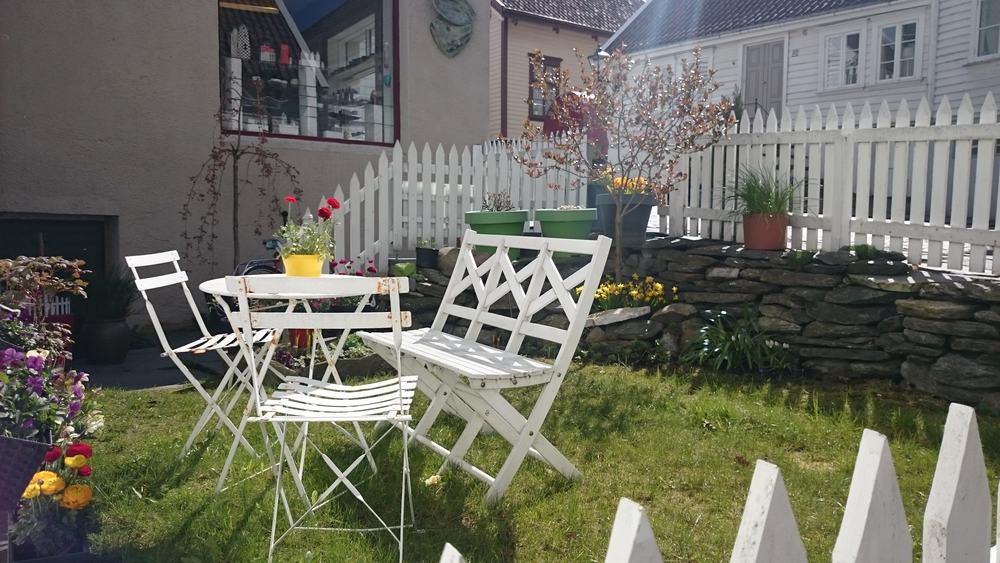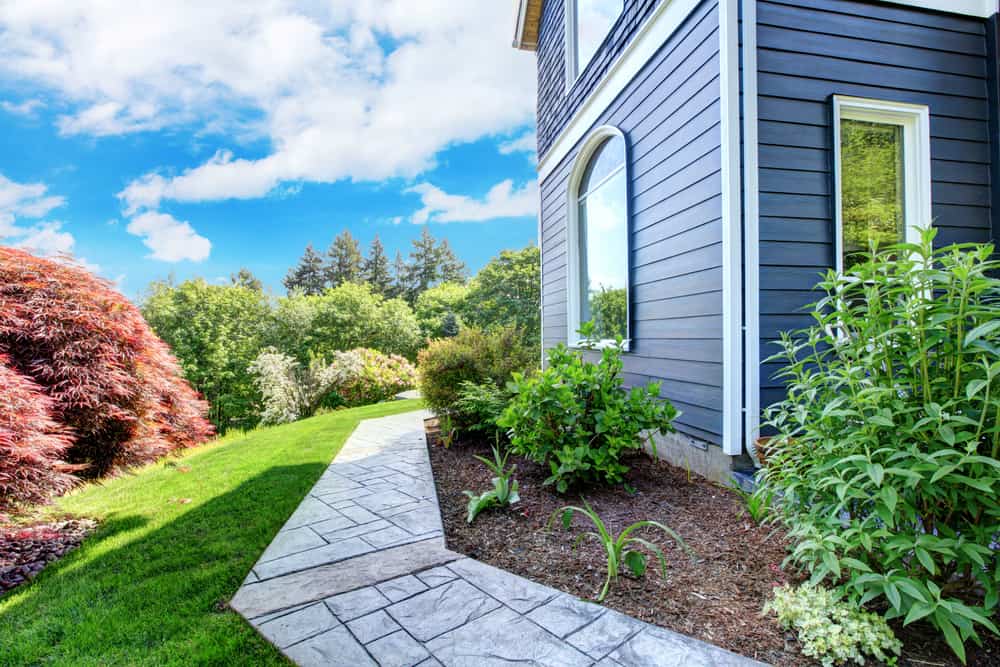 9. Beautify with Trailing Plant Displays
Maximize your side yard's potential by incorporating tiered landscapes using retaining walls made from natural stone or brick, adding both texture and depth. These walls can house tiered flower beds or raised vegetable gardens. For space-challenged yards, vertical gardens or trellises offer lush visuals and efficient plant growth. Enhance the ambiance with a tranquil seating nook or a water feature, enveloped in vibrant greenery, to create a secluded oasis.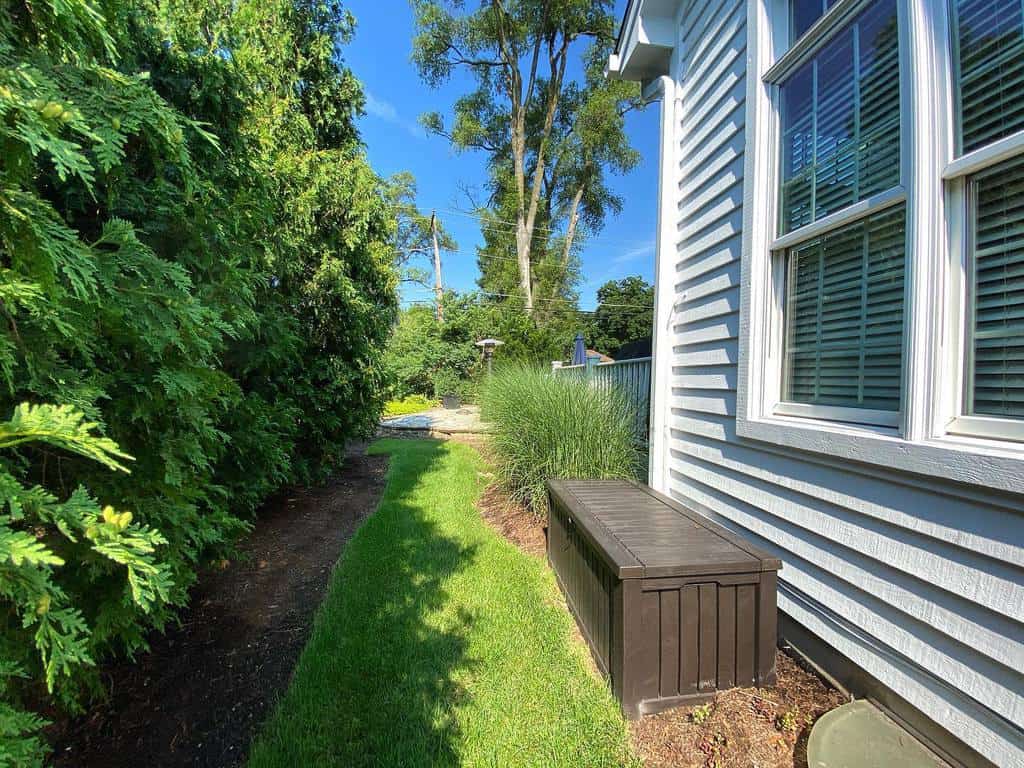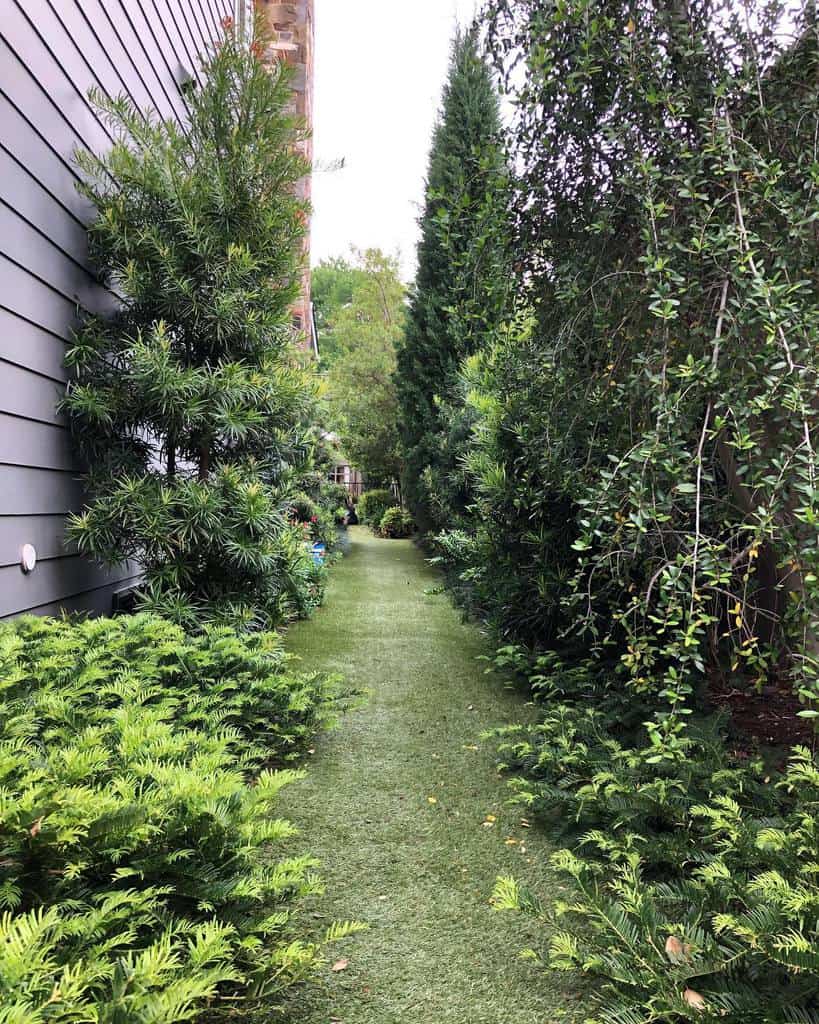 10. Weave Grass Paths in Landscape
Integrating grass garden paths can elevate your side yard, offering both verdant beauty and functionality. Surround the pathway with diverse plants, flowers, and shrubs to achieve a harmonious yet vibrant landscape. Enhance the space further with seating options like benches or hammocks, perfect for relaxation or contemplation. Consider introducing outdoor furniture for intimate gatherings, from quaint dinners to spirited barbecues.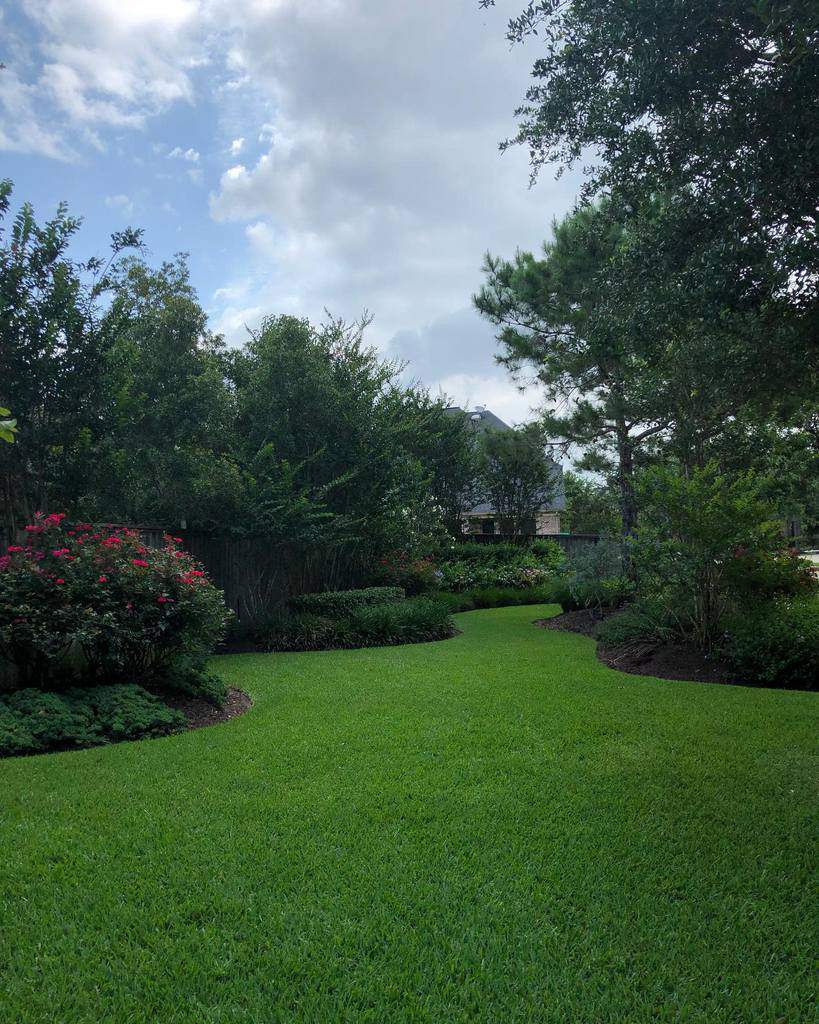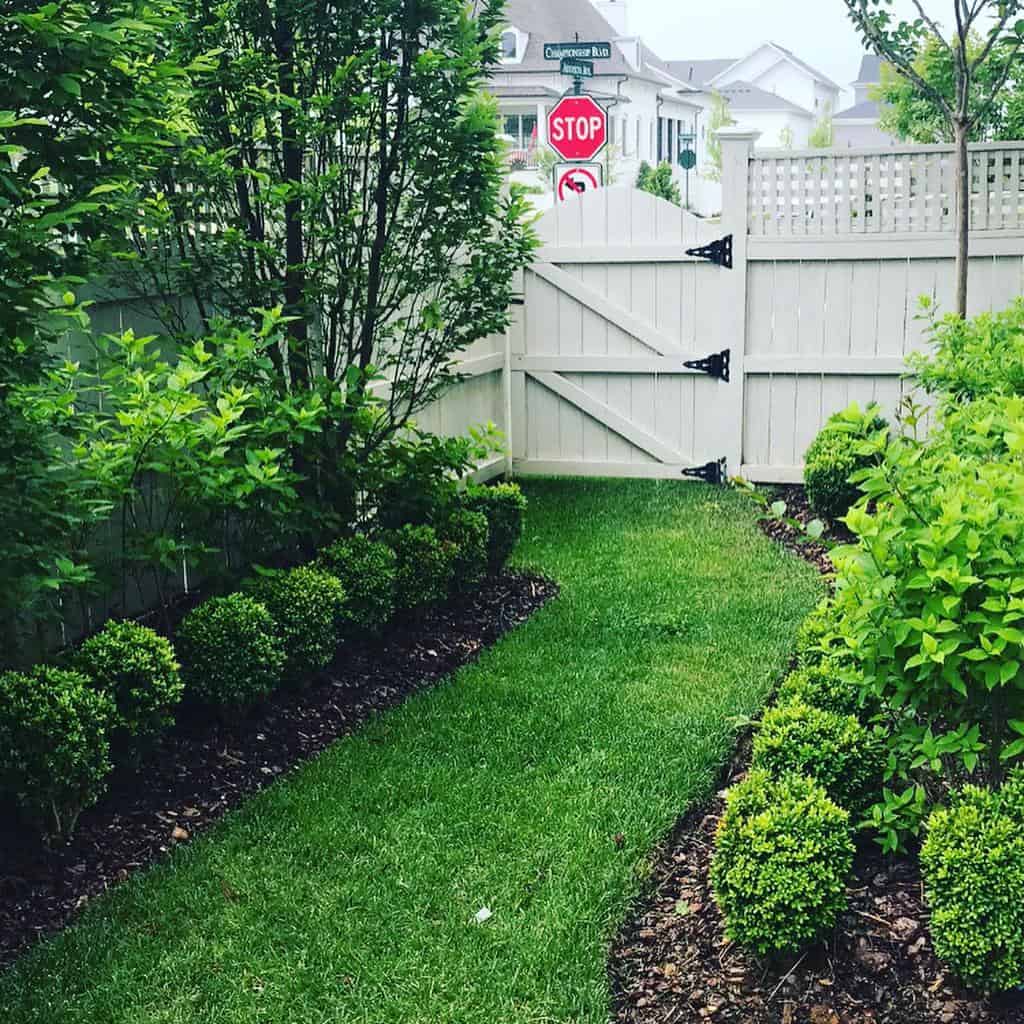 11. Create a Cozy Side Yard Oasis
Transform your side yard by introducing a wooden deck or paved patio as the foundation. Furnish this space with comfortable outdoor seating, complemented by ambient string lights or lanterns. Introduce greenery with potted plants or hanging baskets to infuse life and vibrancy. Utilize existing fences or walls as backdrops, adorned with art, mirrors, or planters. This revamped space becomes an enticing retreat for entertaining or serene moments outdoors.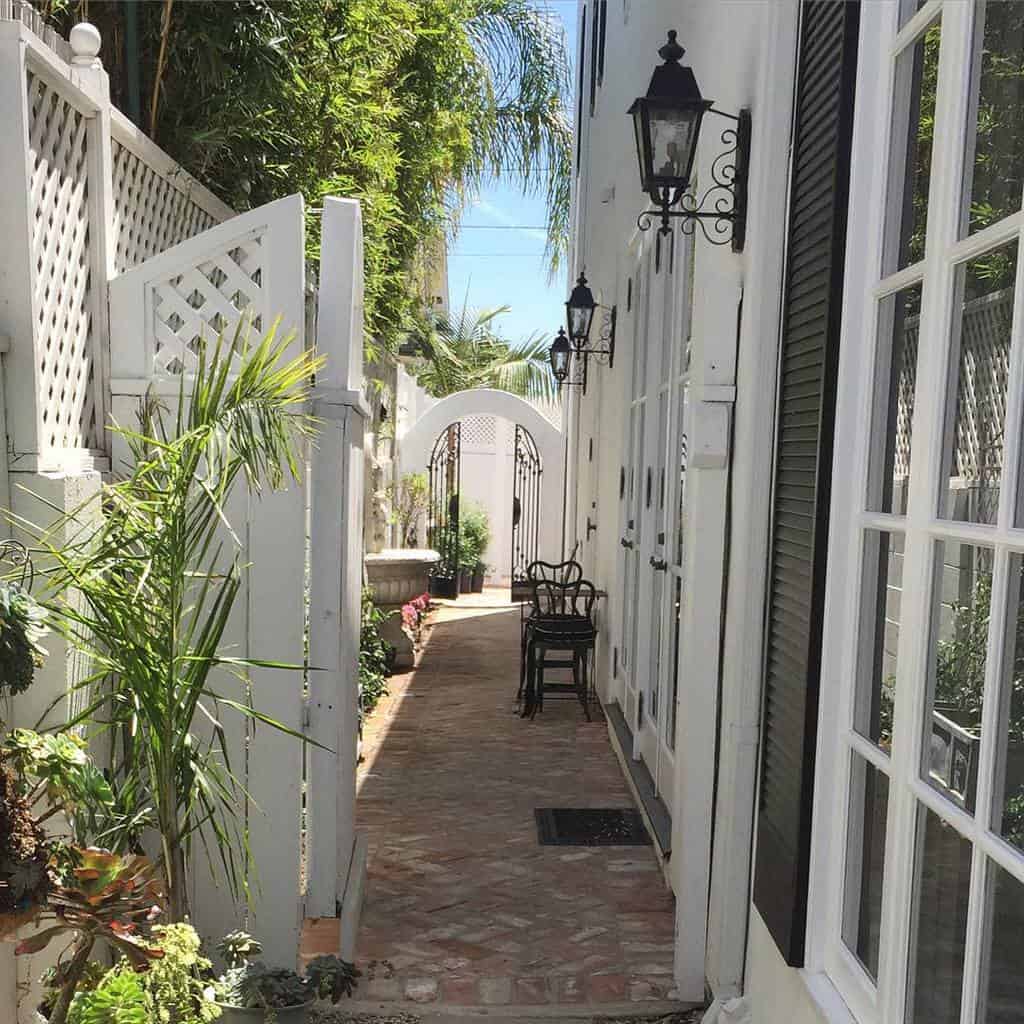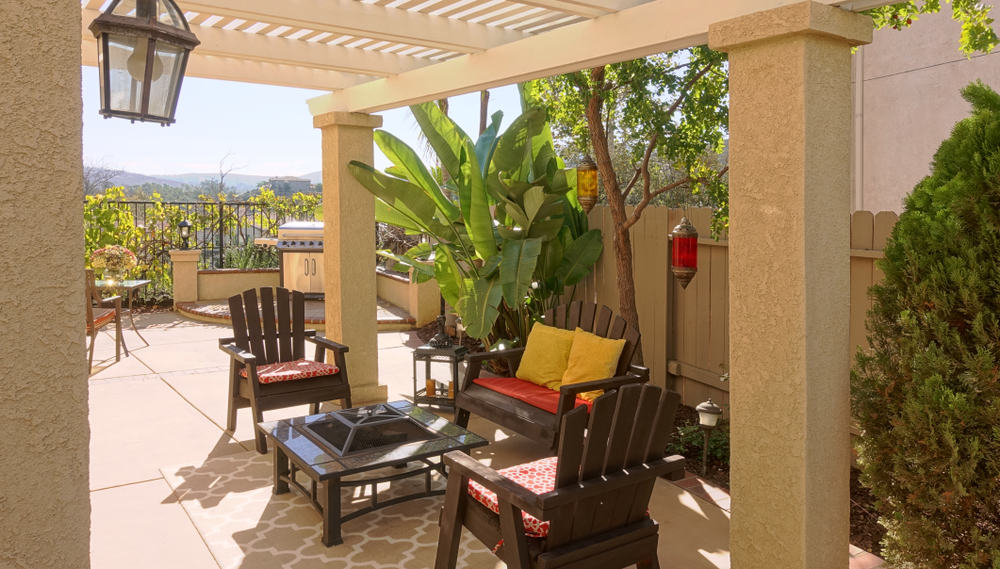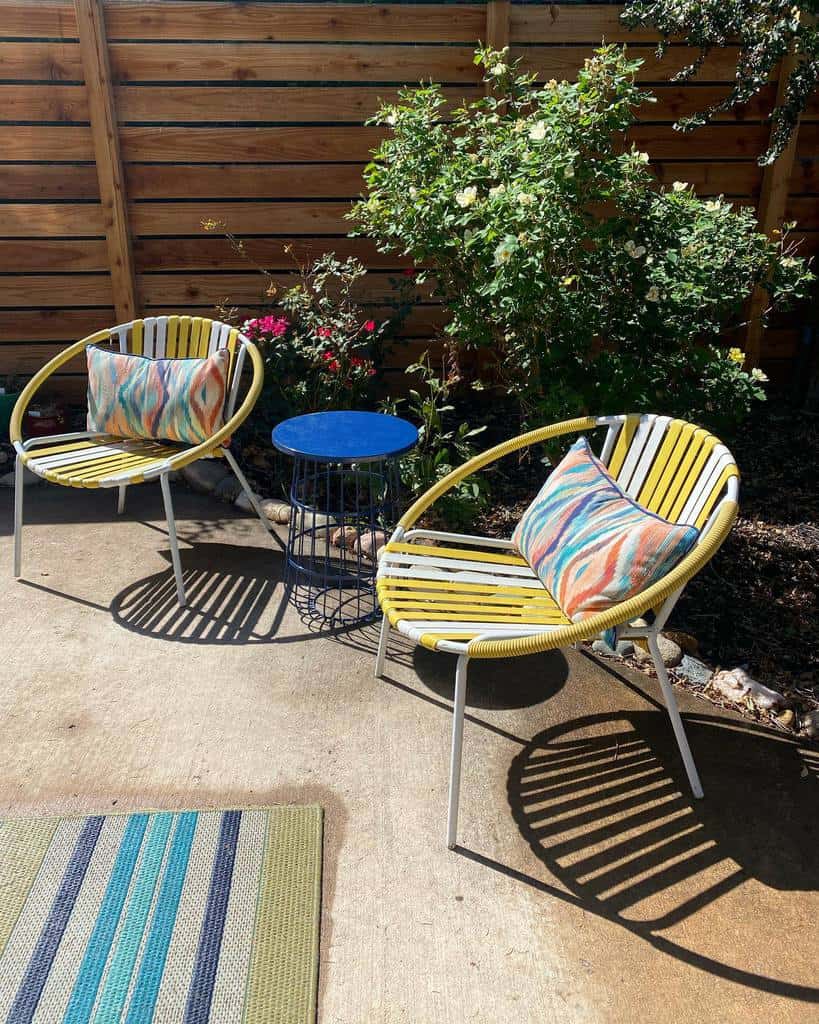 12. Opt for Gravel Patio Elegance
A gravel patio presents an elegant and low-maintenance solution, turning overlooked side yards into inviting lounging spots. Enhance this area with tasteful outdoor furniture, ambient string lights, and vibrant potted plants. The permeability of gravel aids in water drainage, making it ideal for frequently traversed or rain-prone areas. Complement this setup with charming garden paths using stepping stones or wood chips, infusing more character into your outdoor space.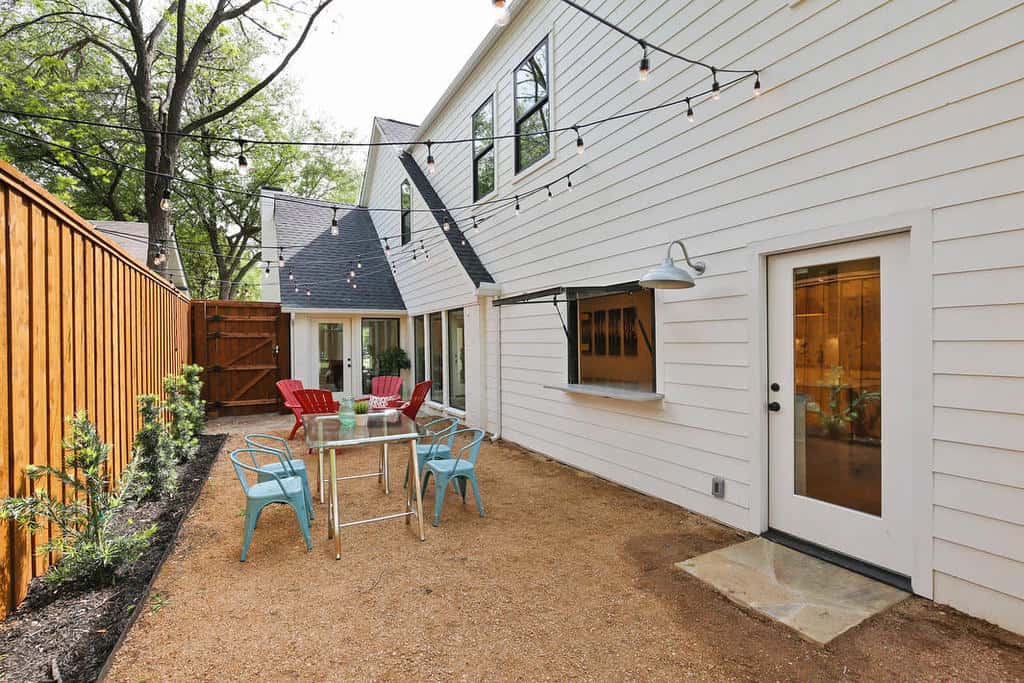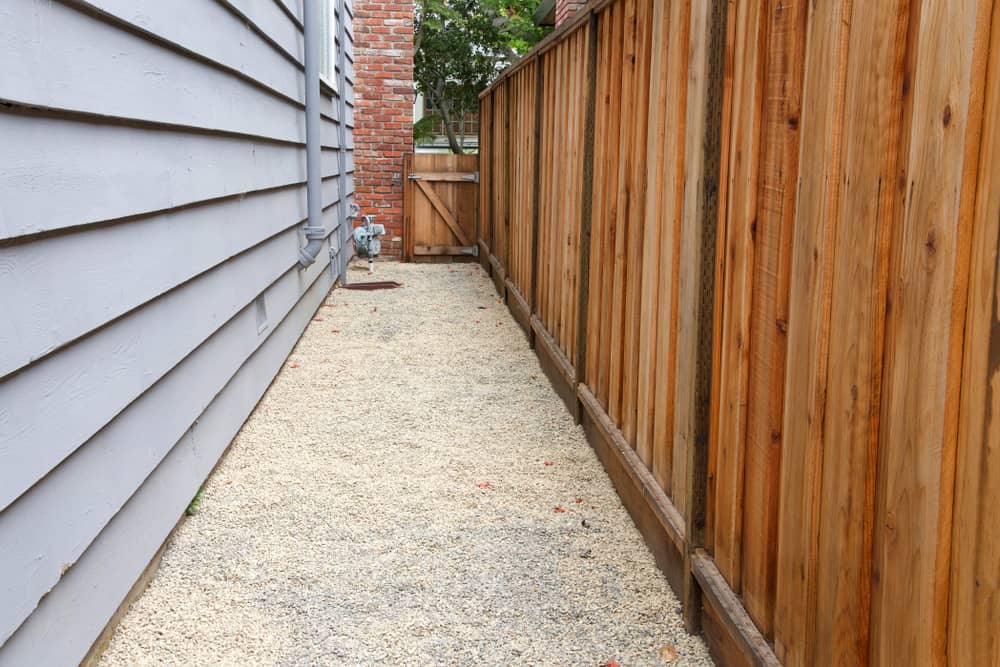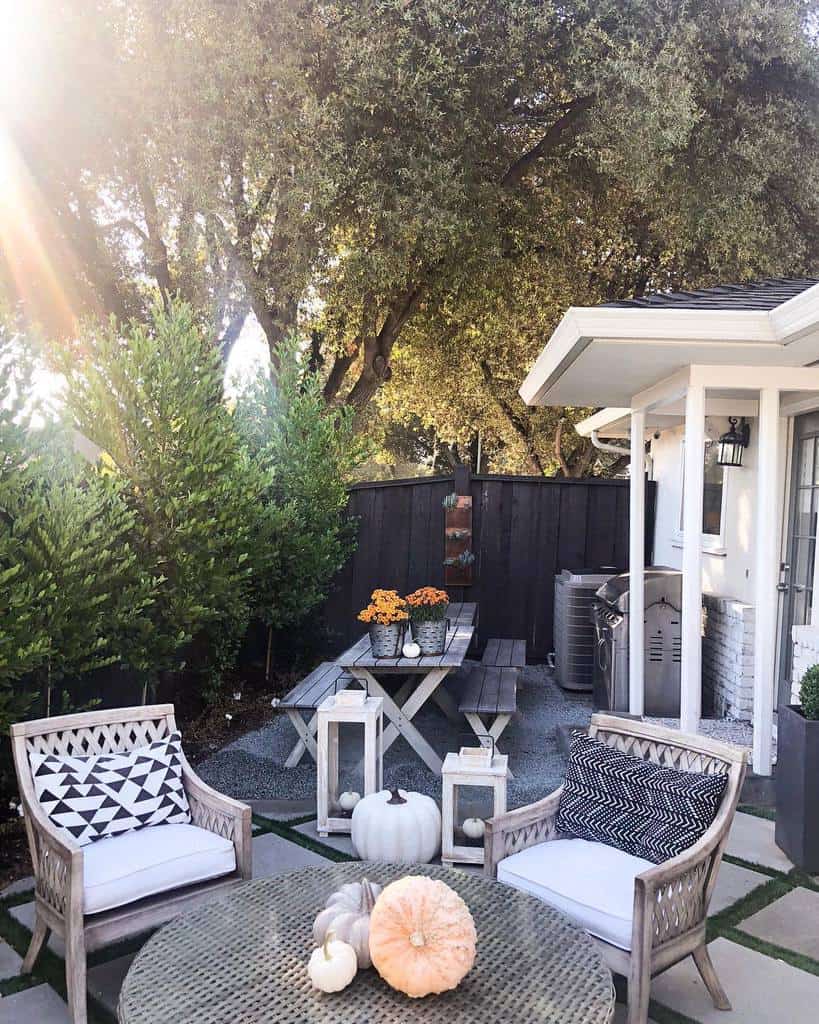 13. Indulge in Cobblestone Patio Charm
Introduce old-world elegance to your side yard with a charming cobblestone paver patio, an ideal choice for areas less suited for grass. Elevate its appeal with vibrant potted plants or hanging baskets. Complement this space with outdoor furnishings like a bistro set or lounge chairs, inviting relaxation and leisure. Ambient lighting can enhance the evening ambiance, turning your patio into a twilight retreat.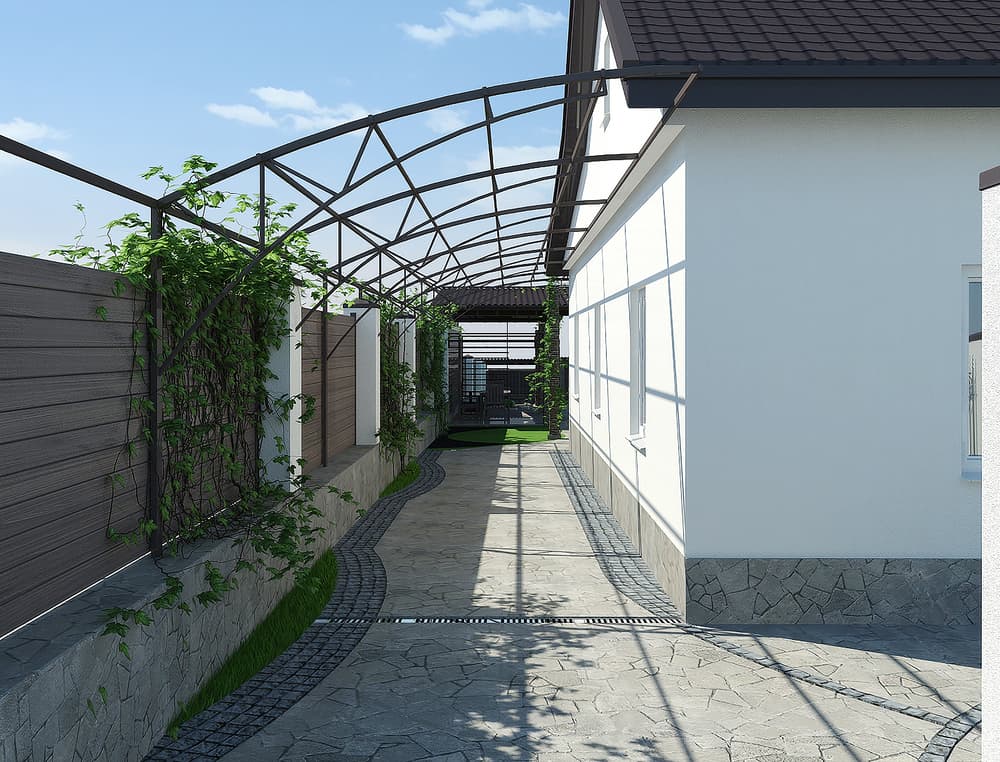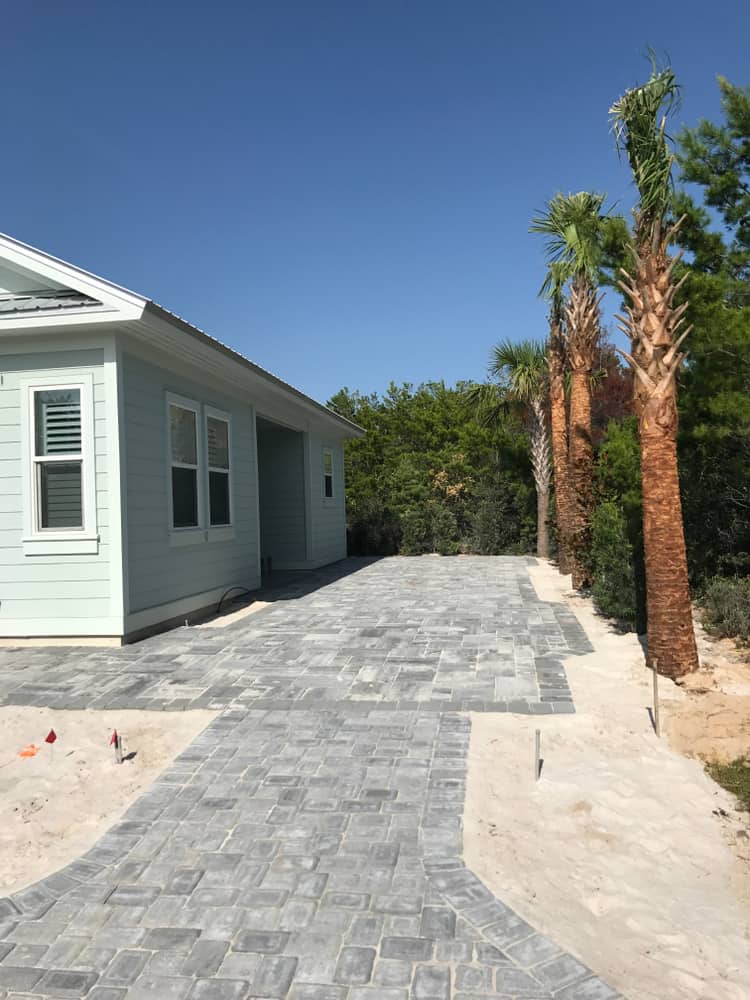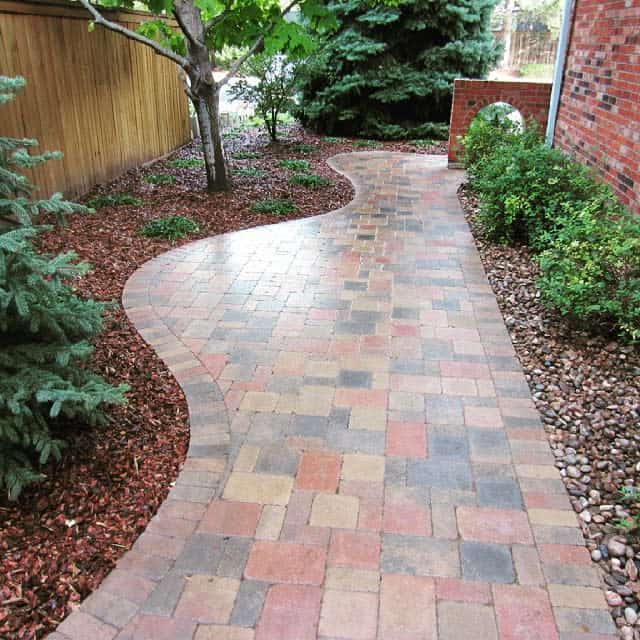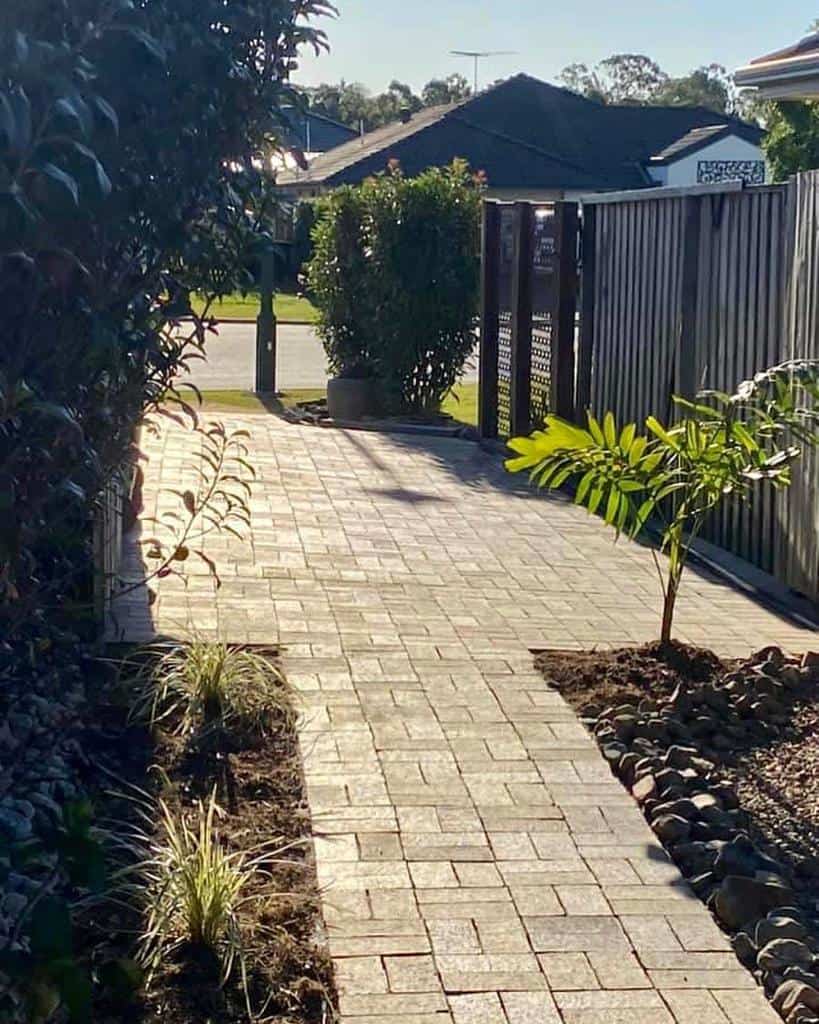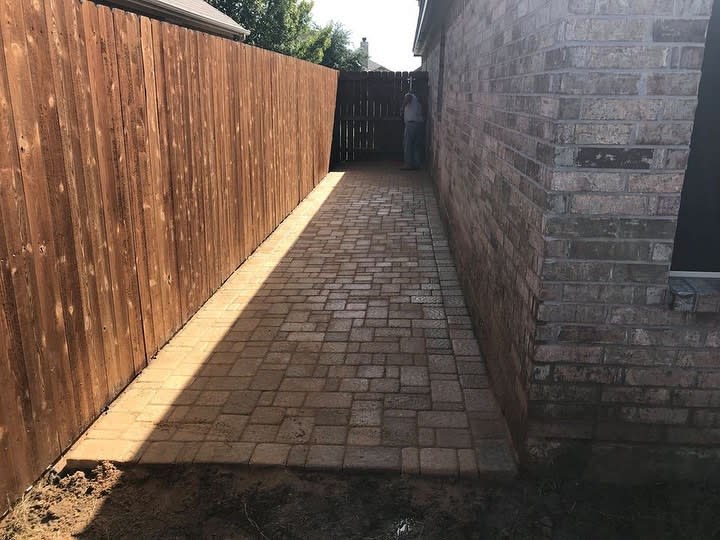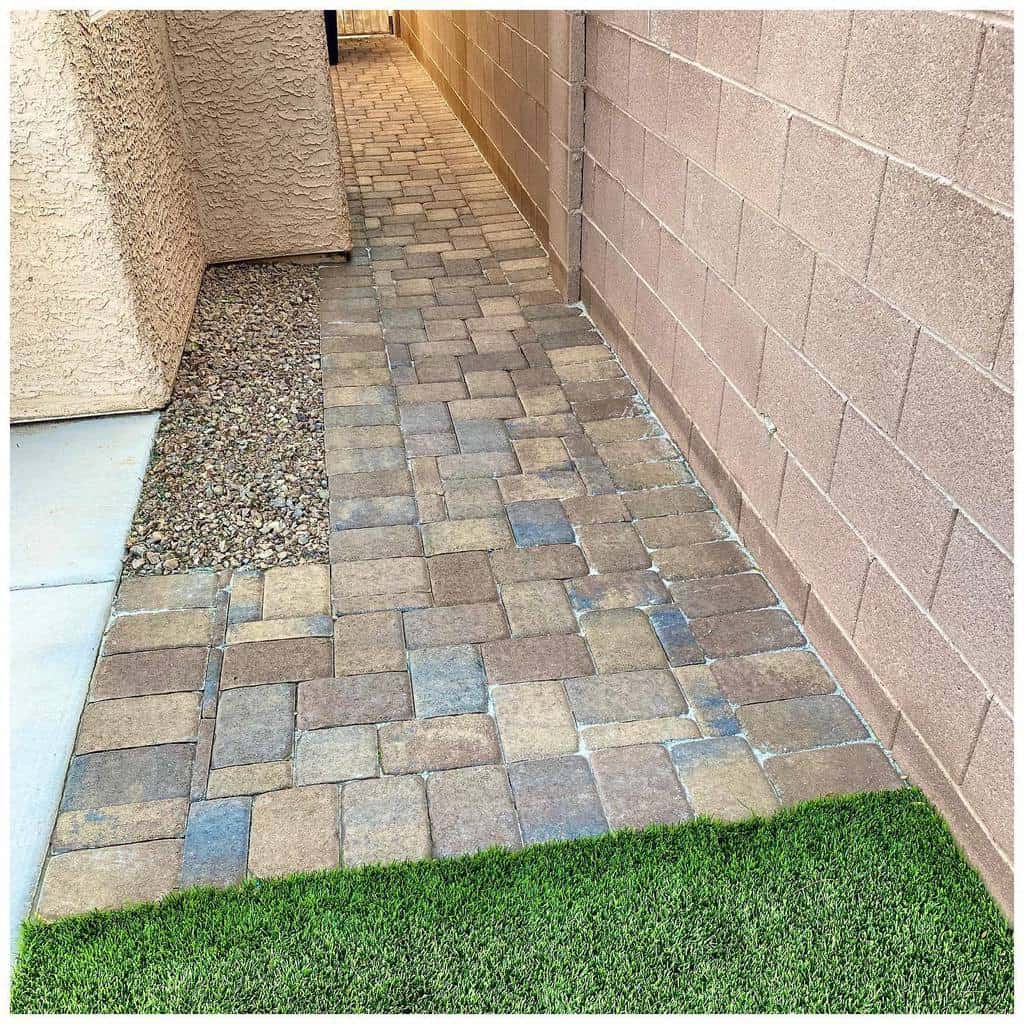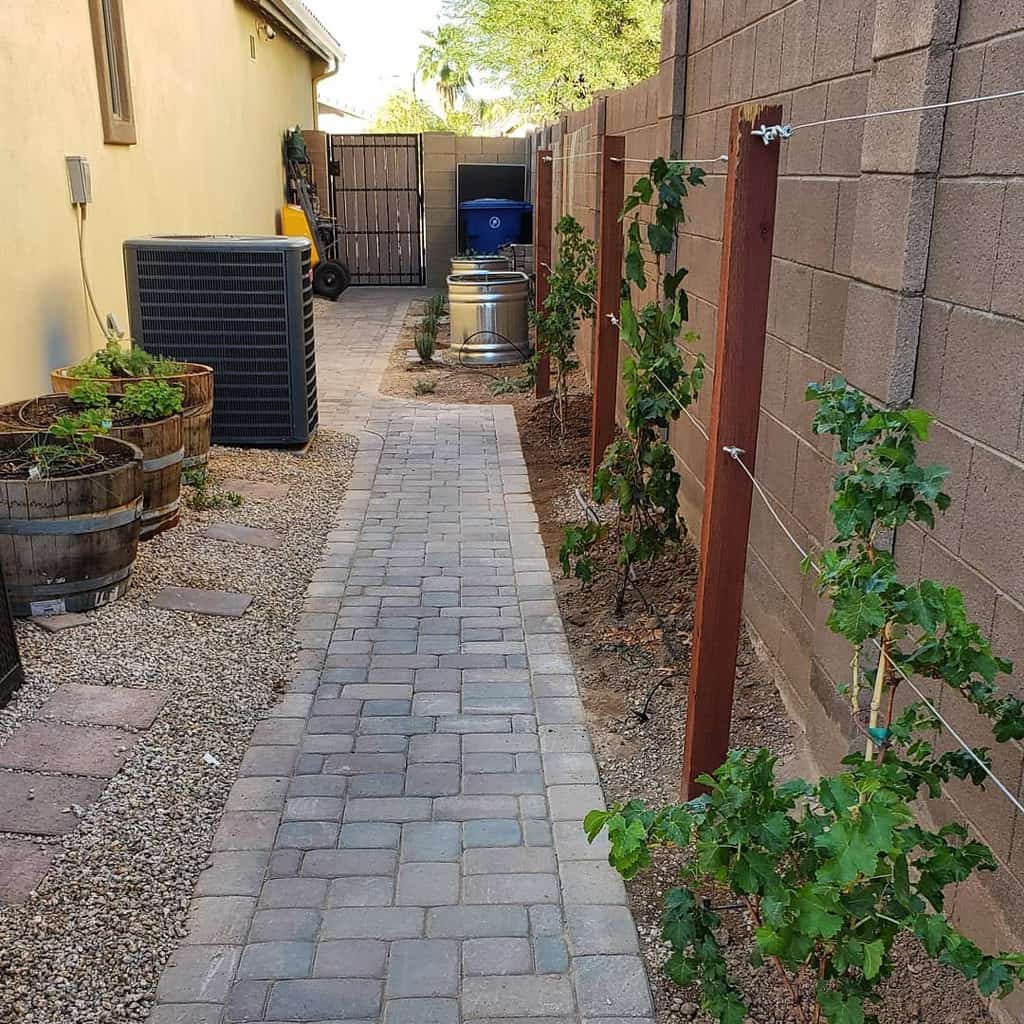 14. Enhance Borders with Fence Landscaping
Elevate often-neglected side yards by focusing on fence landscaping. Introduce climbing vines like jasmine or wisteria for a living, vertical garden effect. Infuse color and depth by adding flowering shrubs, including hydrangeas or camellias. For those with tighter spaces, raised planters along fences can host a diverse range of herbs, veggies, or succulents. Accentuate this green canvas with ambient outdoor lighting like string lights, casting a warm glow over your verdant fence boundary.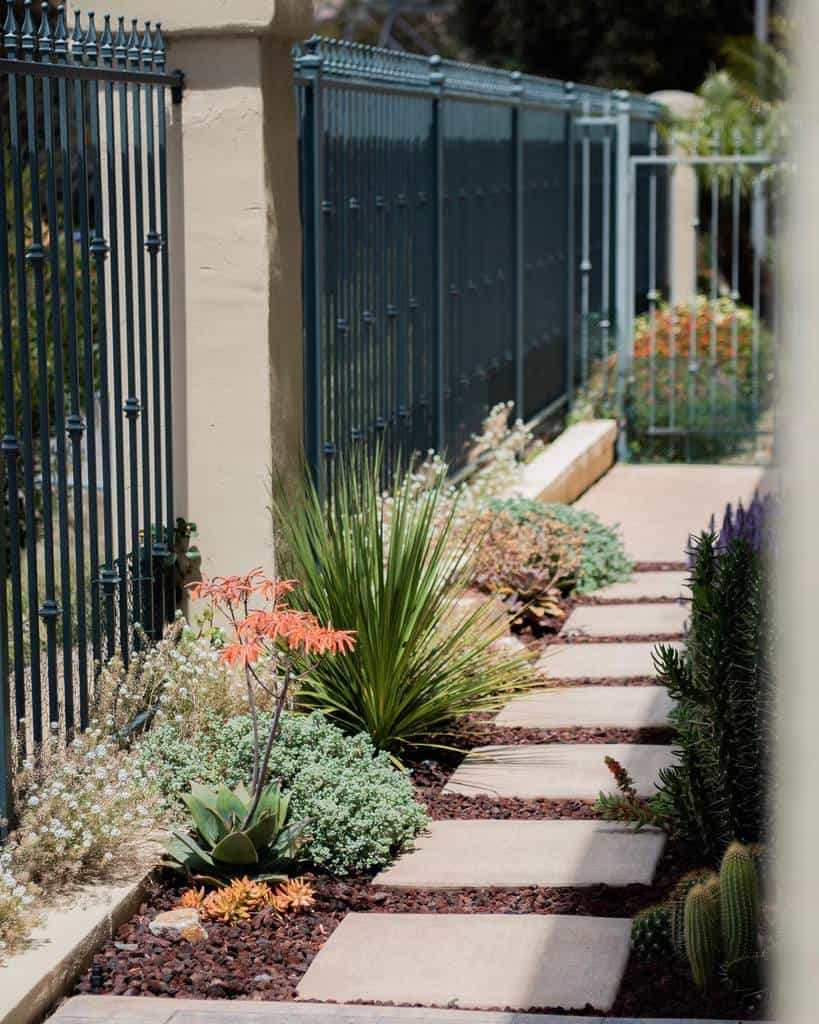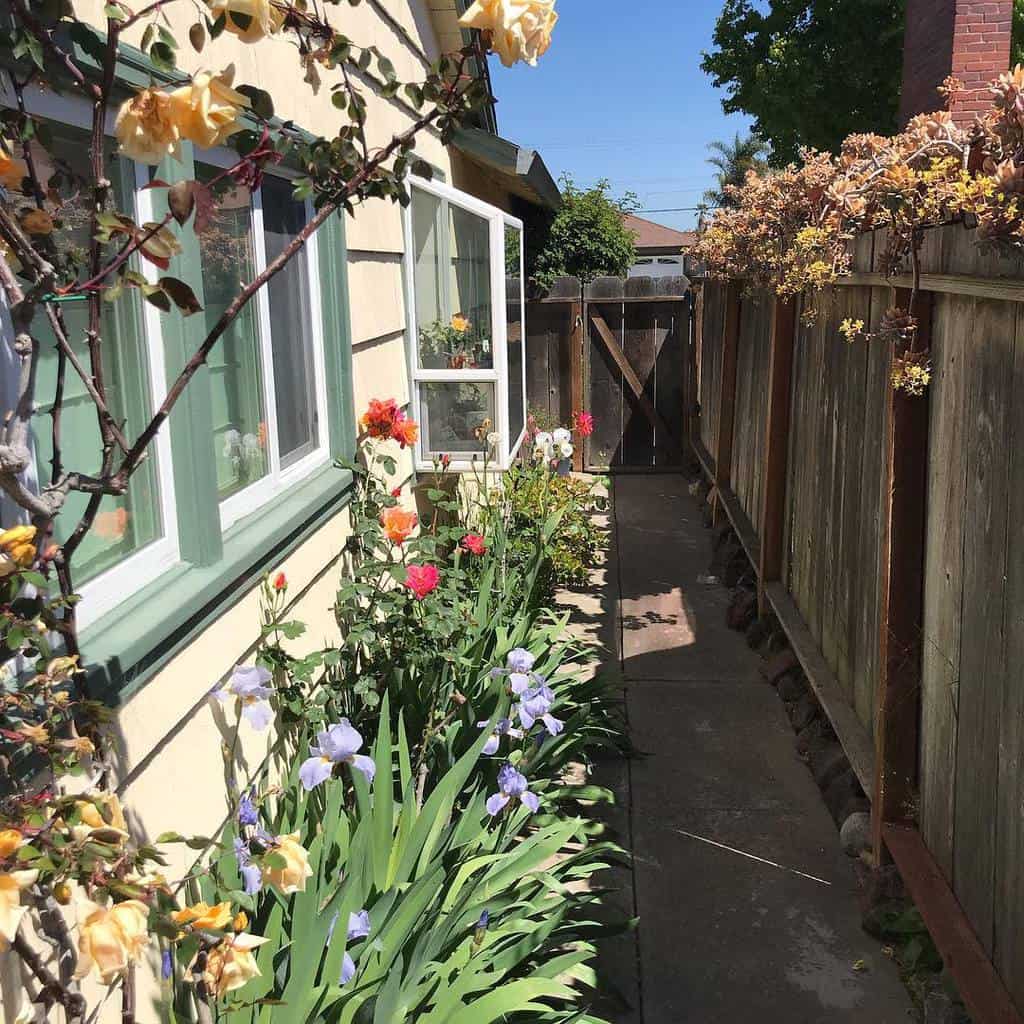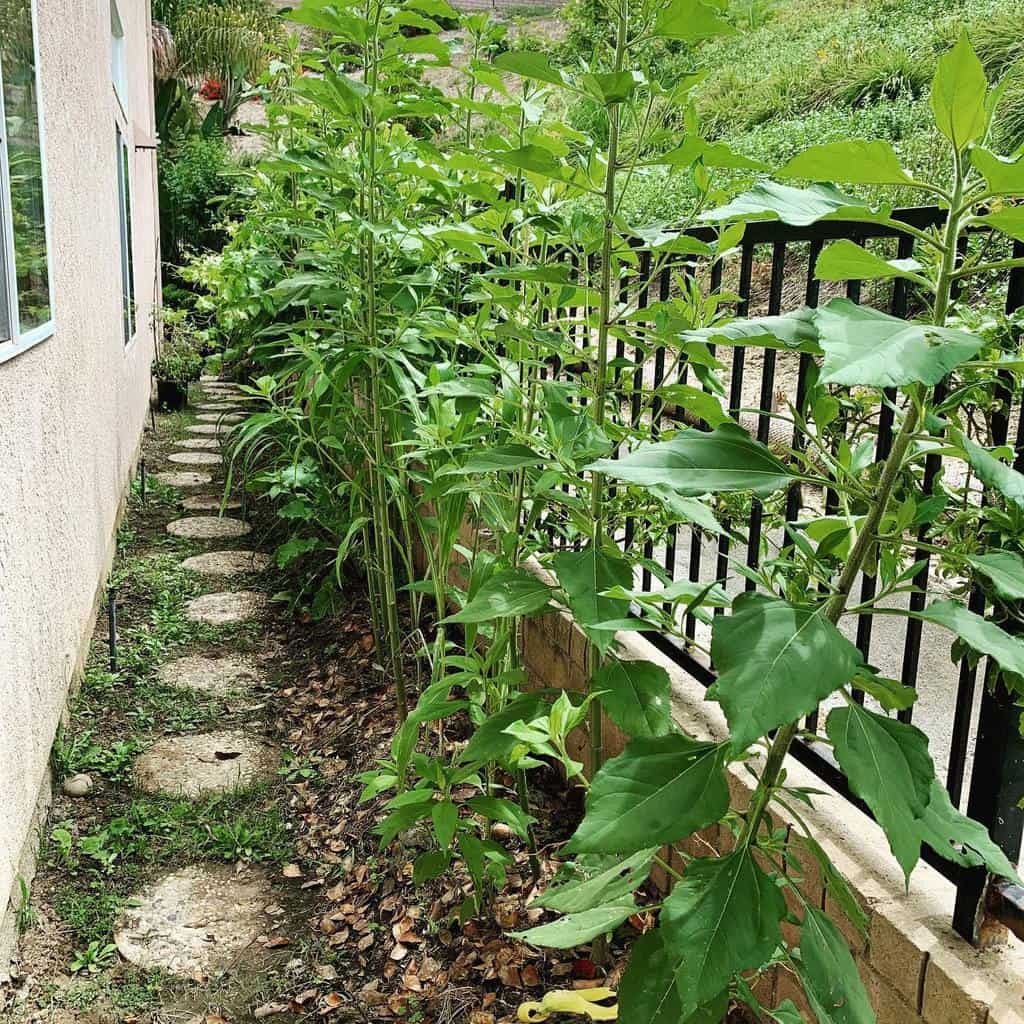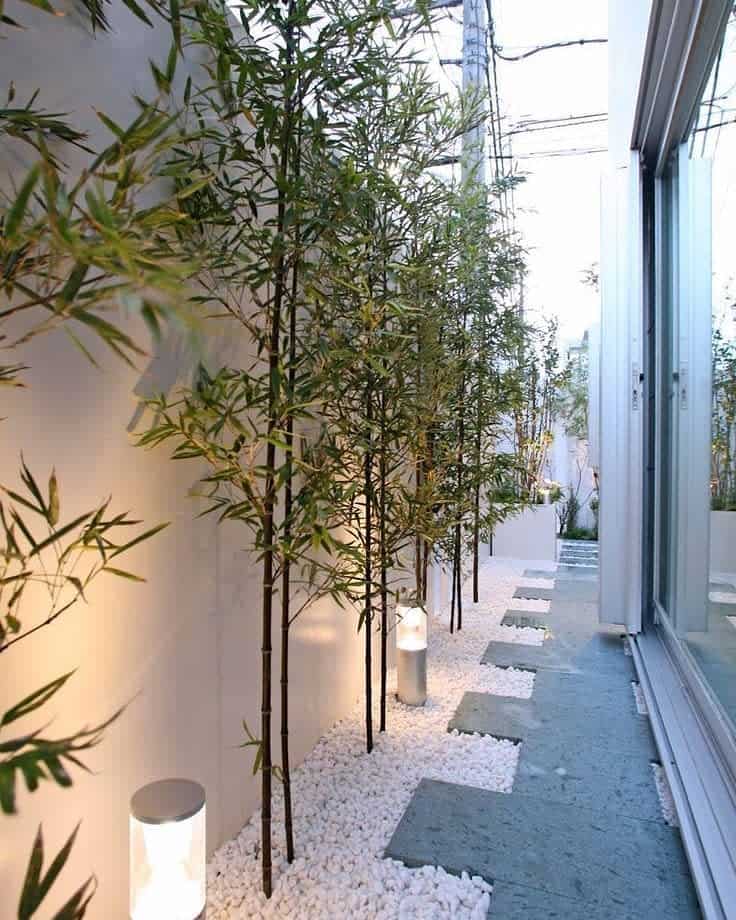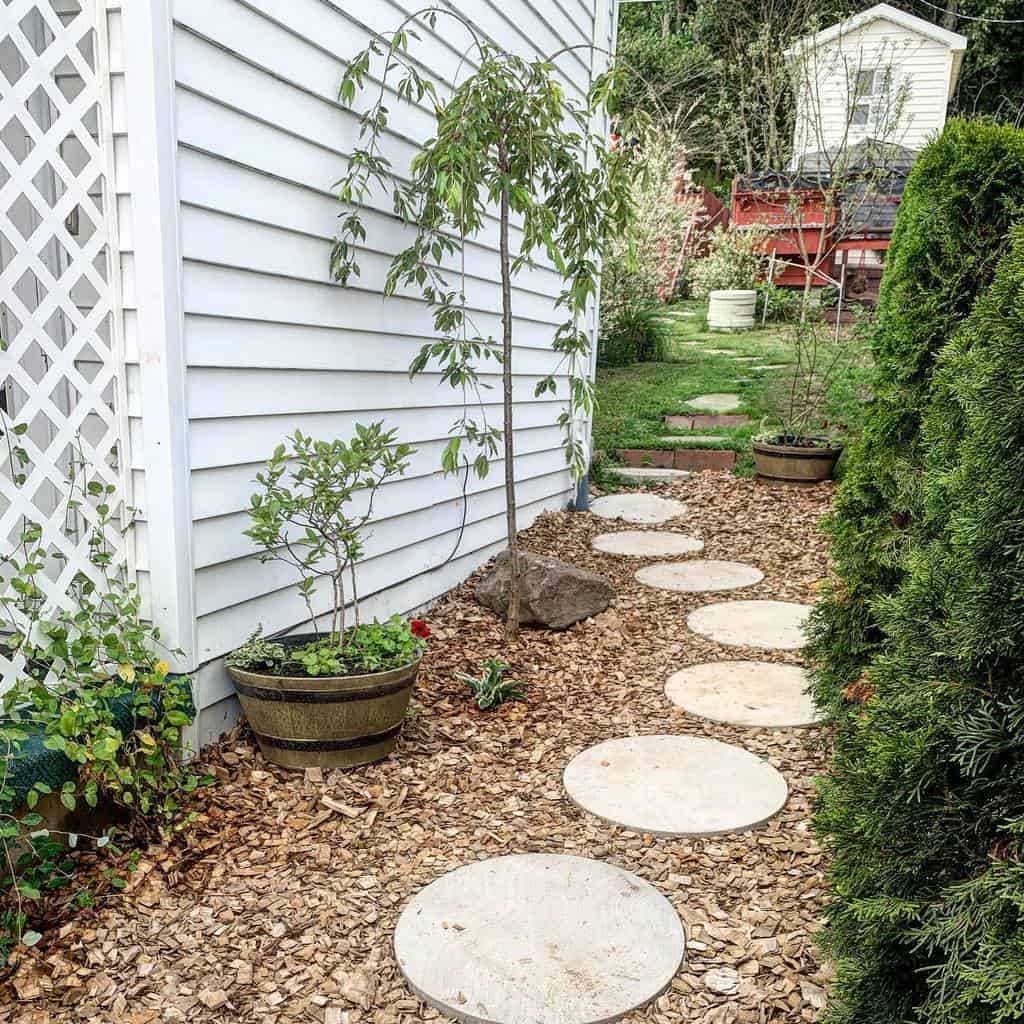 Side Yard FAQs
What can you use in a side yard instead of grass?
If you can't or don't want to grow grass in your side yard, there are plenty of great alternatives. Ground cover plants (like native clover) are eco-friendly and mimic the look of grass. You can also convert your side yard into a rock garden or fill the entire space with flowering perennials.
How do you make a side yard functional?
If your side yard connects to the back of your property, this is the perfect opportunity to design a walkway to your backyard. Frame the area with flower beds or shrubs. Add a gate to keep children and pets where they belong.
If your side yard culminates in a dead-end, transform the space into a personal getaway. Plant vegetables and herbs for an edible garden. Install a miniature patio and create a comfortable nook for reading and relaxing.
Can you put a fire pit in a side yard?
Fire pits should be at least 10 feet away from any structure. This includes your home's exterior, as well as fences or pergolas. Most side yards are not wide enough to safely accommodate a fire pit.