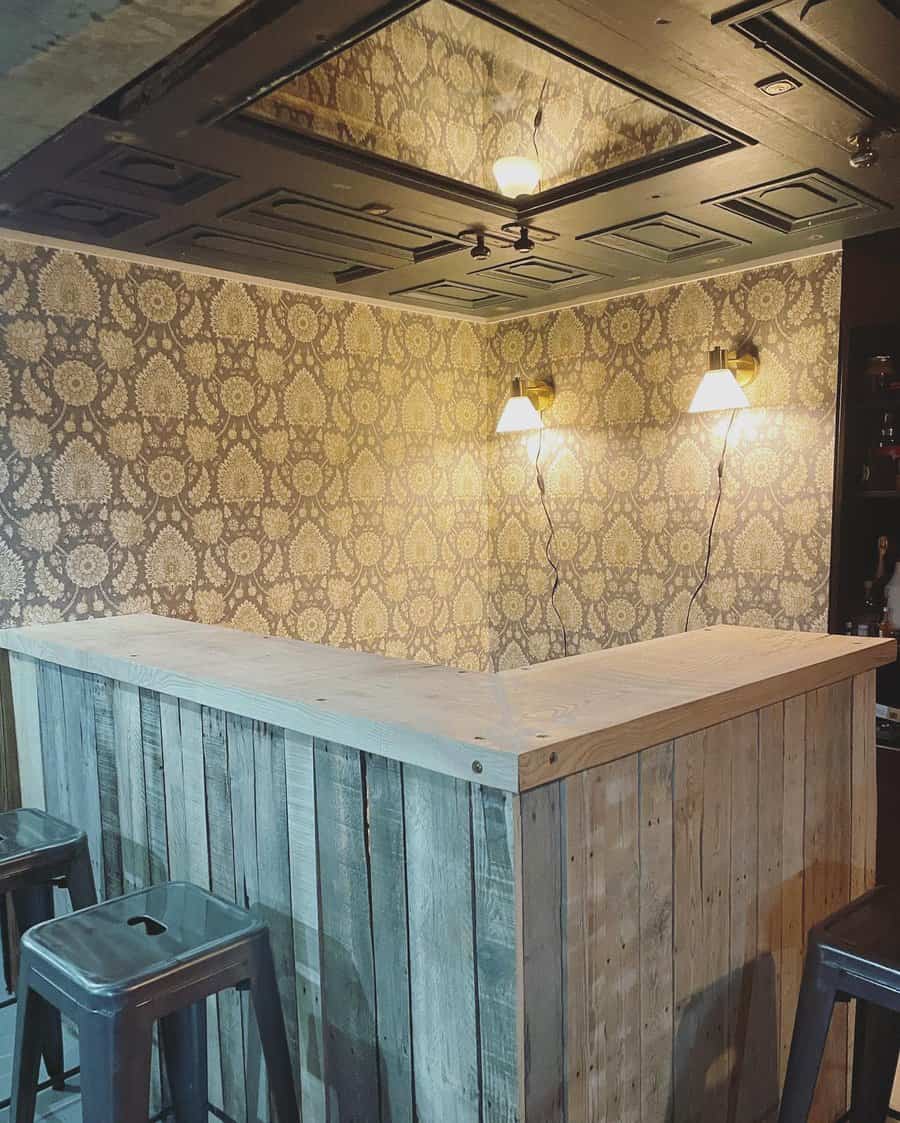 43 Small Basement Ideas for Transformation
by — Kari Apted

Published on June 1, 2023

Updated on June 8, 2023
In the grand scheme of home improvement, basements are often the unsung heroes lying in wait, ready to offer unprecedented value. Nestled beneath the hustle and bustle of daily life, these subterranean spaces typically house nothing more than boxes of holiday decorations and discarded furniture. However, with a dash of creativity, a sprinkle of design flair, and a solid strategy, even the smallest basements can morph into practical, aesthetically pleasing living spaces.
Here we explore a treasure trove of innovative design concepts and functional blueprints that will help you reimagine and reinvent your underutilized basement. Regardless of the size of your basement, we will delve into creative solutions, from minimalist designs and multipurpose rooms to home offices and cozy retreats.
Get ready to unlock the hidden potential of your basement, turning it into a space that not only increases the usability and value of your home but also becomes a place that truly reflects your lifestyle and personal taste. Let's explore the depths of your home, shall we?
1. Wet Bar
Unlock the hidden potential of your small basement with a chic and stylish wet bar! Transform your underutilized space into a trendy entertainment hub that will impress your guests and become your favorite spot to unwind. Picture a sleek bar counter, beautifully crafted with modern finishes, serving as the centerpiece of your basement.
The wet bar not only adds functionality but also brings a touch of sophistication to the space. Install a stylish sink and faucet for convenience, and incorporate shelves or cabinets to showcase your collection of spirits and glassware. Don't forget to add some trendy bar stools for seating, creating a cozy and inviting atmosphere.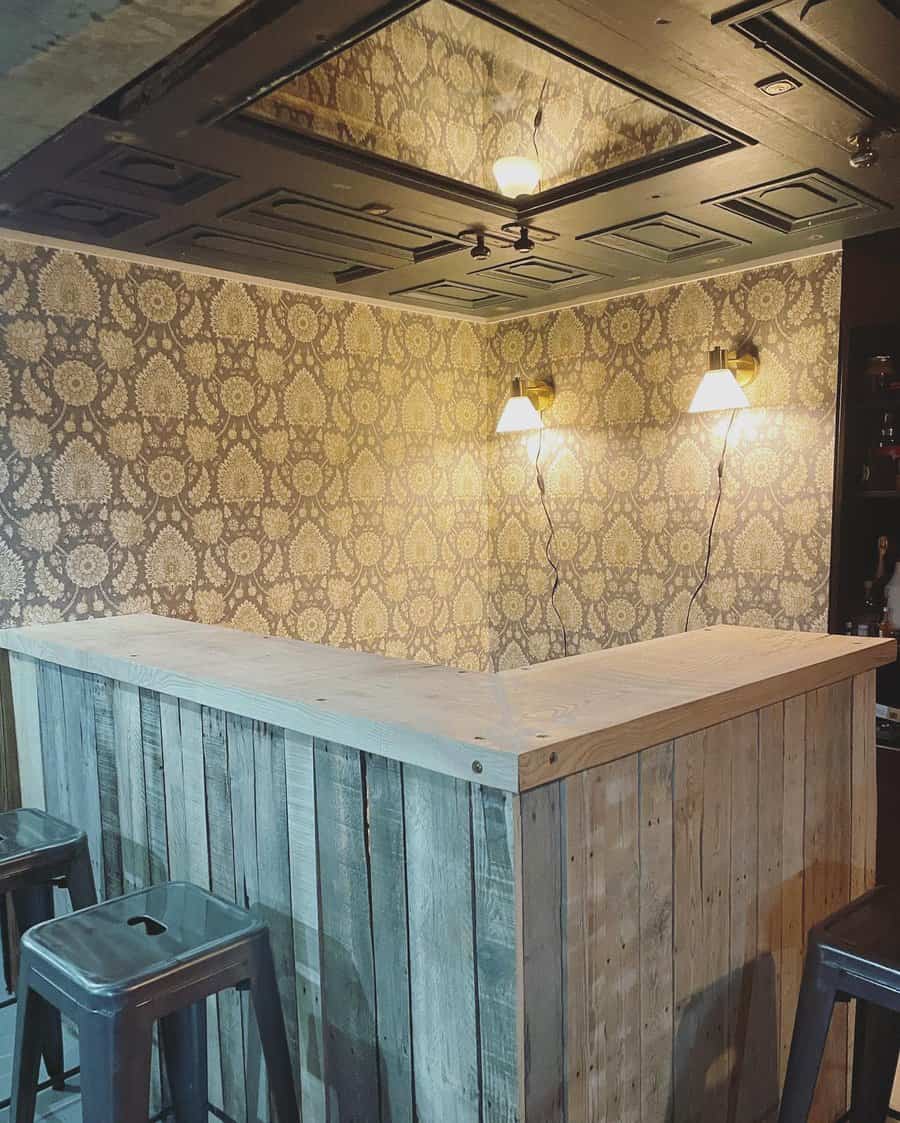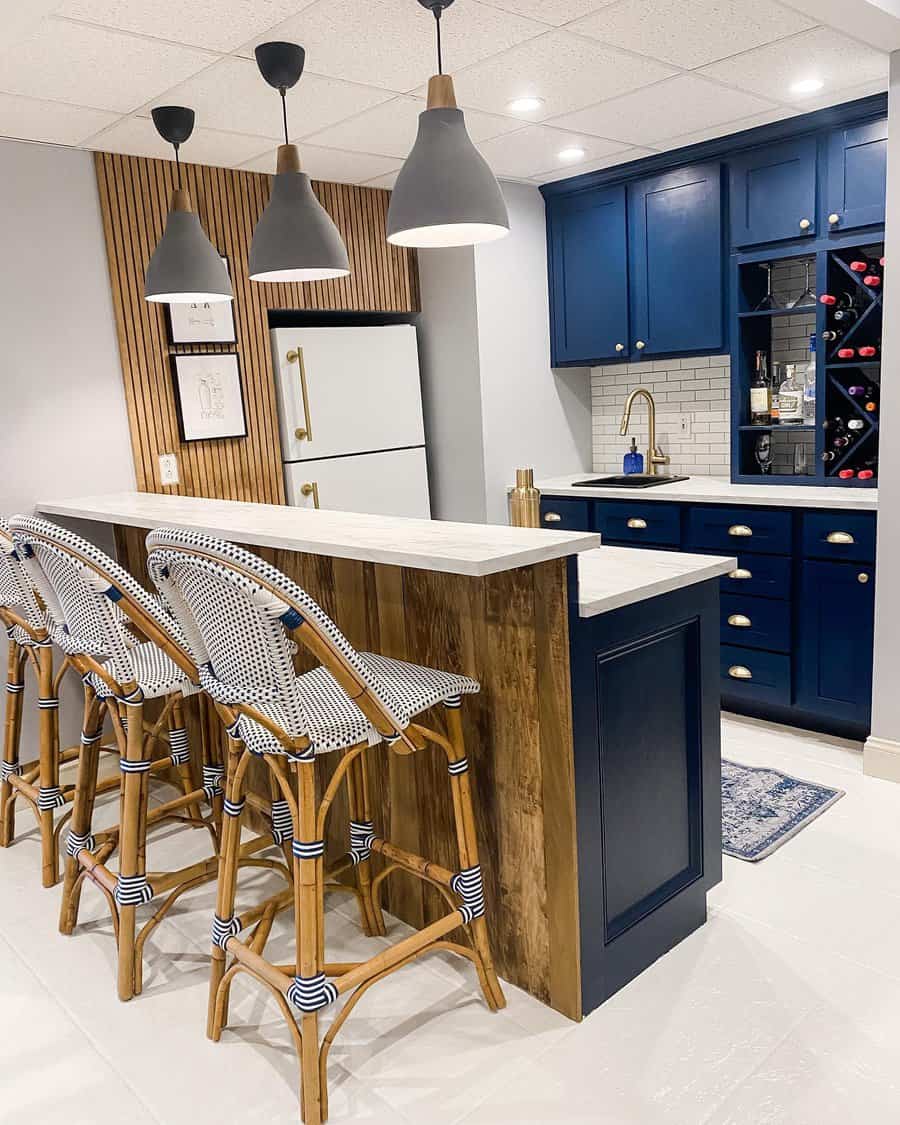 2. Guest Bedroom
Transform your small basement into a stylish and inviting guest bedroom that will leave your visitors in awe. With a touch of creativity, you can turn this often-underutilized space into a cozy retreat. Start by selecting a comfortable and space-saving bed that fits seamlessly into the room.
Opt for a sofa bed or a daybed that can double as seating during the day and a cozy sleeping spot at night. Enhance the ambiance with a statement pendant light that adds a chic and contemporary touch to the space. Choose a design that complements the overall style of the room, whether it's sleek and modern or eclectic and bohemian.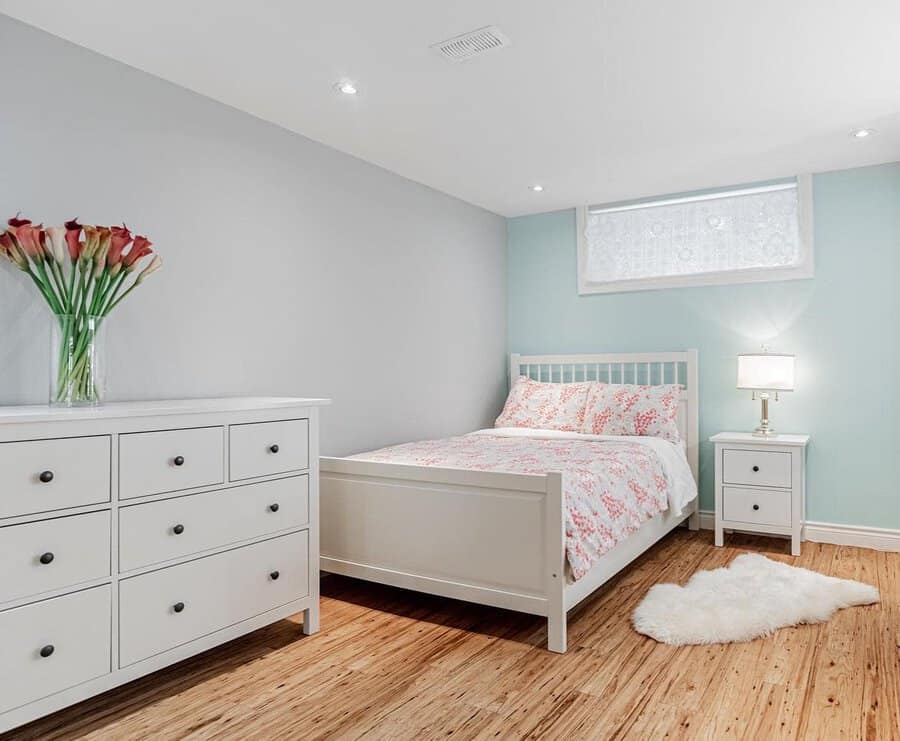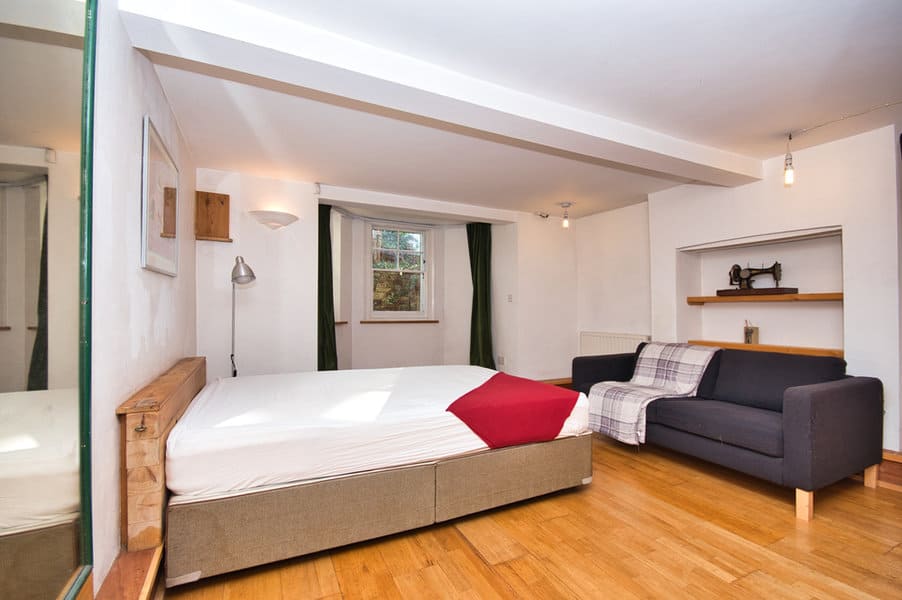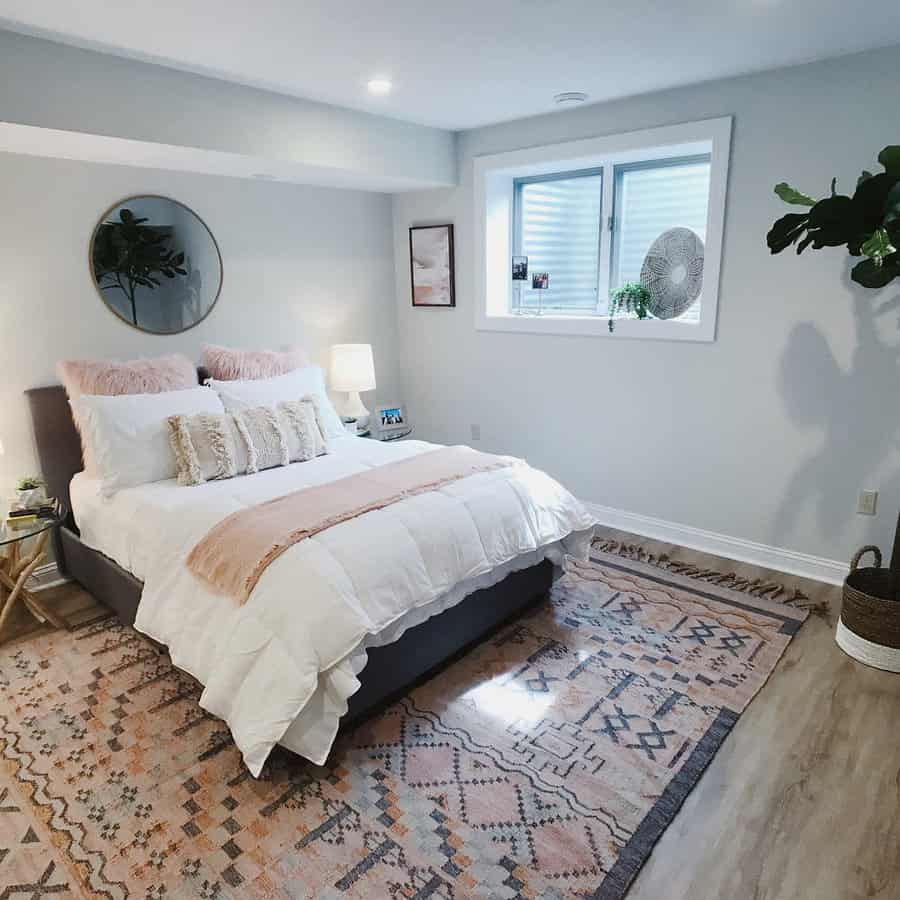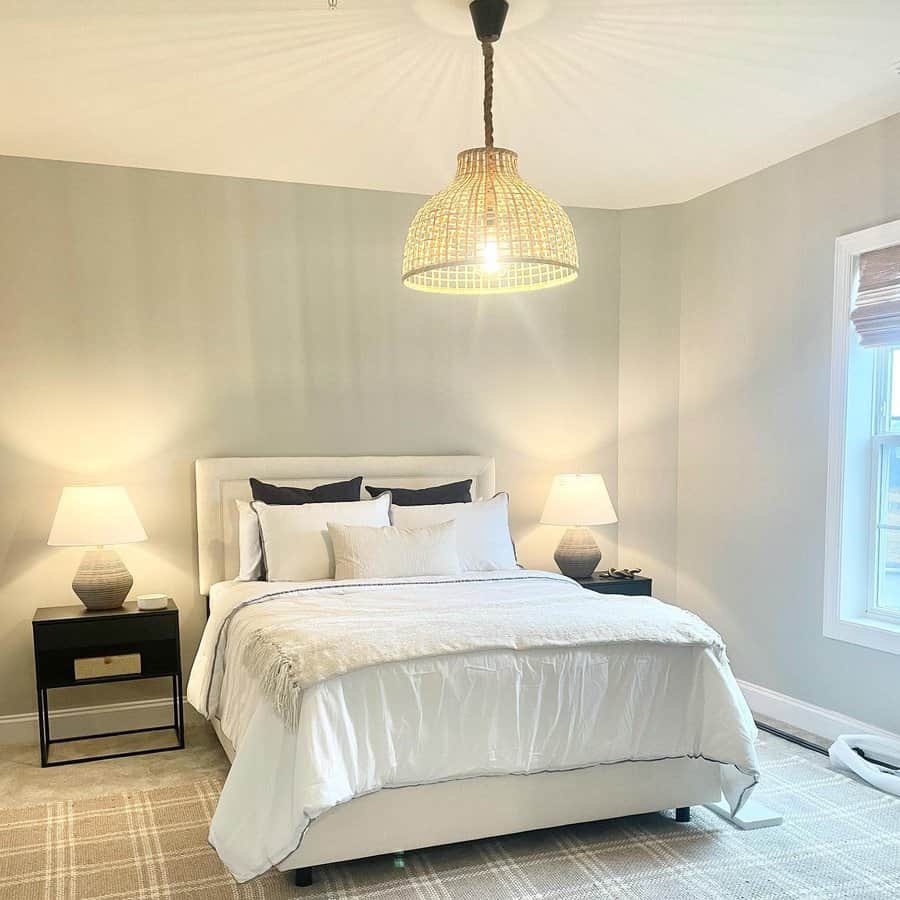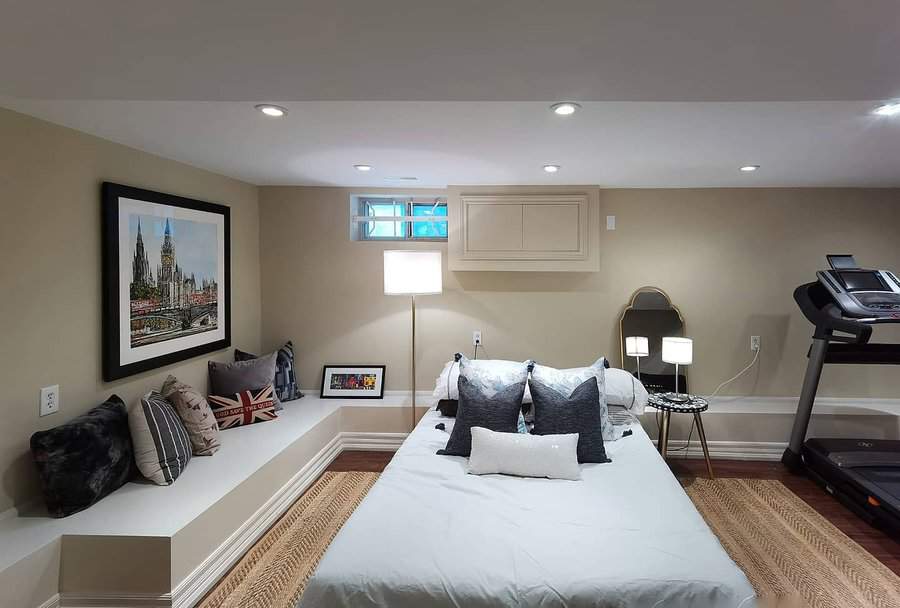 3. Underground Livingroom
Start by selecting sleek and comfortable couches that fit the space and your personal style. Opt for neutral or muted tones to create a calming ambiance, and then layer on plush rugs to add warmth and texture to the floor. Accentuate the coziness with an array of soft and stylish pillows that invite you to sink in and unwind.
Create a designated lounge area where you can kick back, watch movies, or catch up with loved ones. Consider incorporating a coffee table or ottoman for convenience and functionality. With the right furniture arrangement and thoughtful decor, your small basement can be transformed into a trendy and inviting living room space that's perfect for spending quality time with family and friends.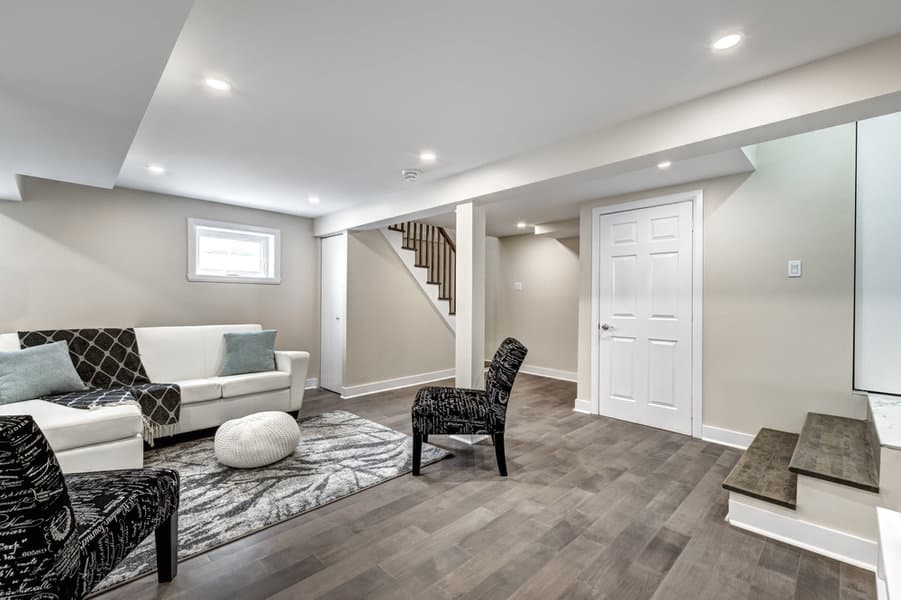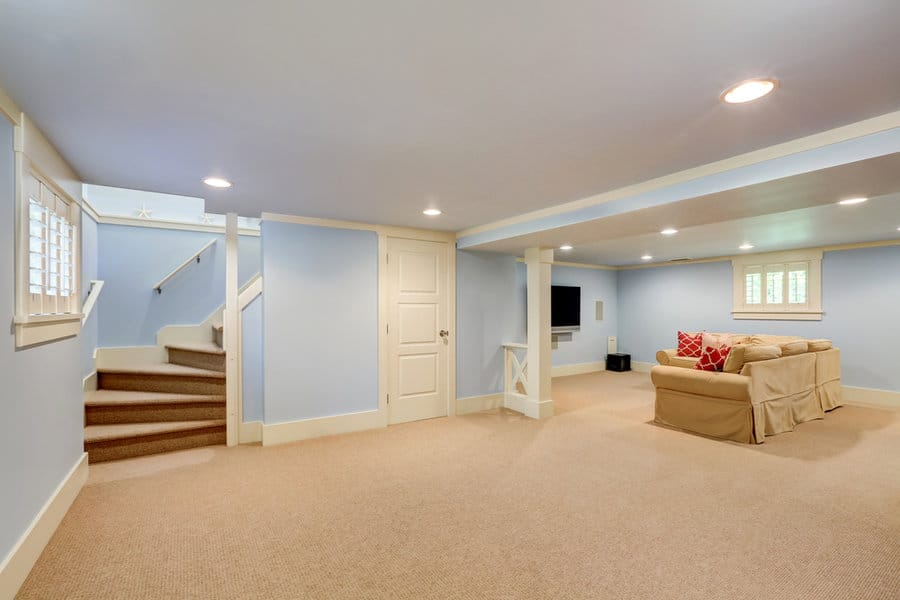 4. Music Room
Transform your small basement into a vibrant and inspiring music room that will make your heart sing! Unleash your creativity and turn this often underutilized space into a haven for musical expression. Set the stage by installing soundproofing materials to create an acoustically pleasing environment. Showcase your collection of instruments, from guitars to pianos, on stylish wall mounts or stands, not only making them easily accessible but also adding a decorative touch to the room.
Enhance the atmosphere with warm and ambient lighting, creating a cozy and inviting space for practice and performance. Consider adding comfortable seating and storage solutions to keep your sheet music, accessories, and audio equipment organized. Don't forget to personalize the space with artwork, posters, and memorabilia that reflect your musical passions.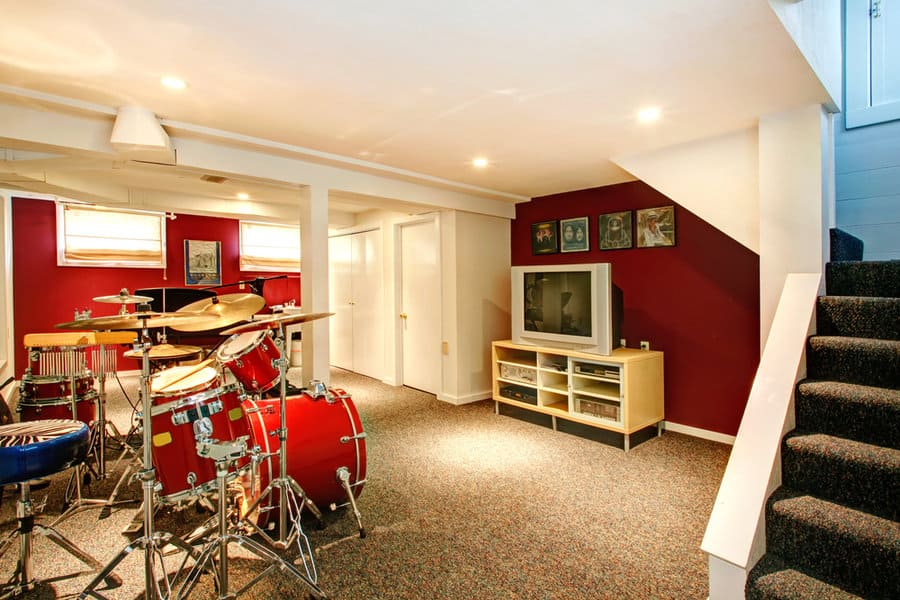 5. Movie Room
Transform your small basement into the ultimate cozy and chic movie room, perfect for relaxing and entertaining. Picture plush couches and luxurious Lazy Boy sofas strategically placed for maximum comfort. Add layers of soft blankets and throw pillows to create a warm and inviting atmosphere. Now, imagine a big projector screen taking center stage, ready to transport you into a world of cinematic magic.
Settle in with your favorite snacks and drinks, dim the lights, and let the movie marathon begin! This small basement movie room is not only a stylish retreat but also a versatile space for hosting friends and family. Whether you're watching the latest blockbuster or enjoying a nostalgic movie night, this cozy sanctuary will provide the perfect setting for unforgettable movie experiences.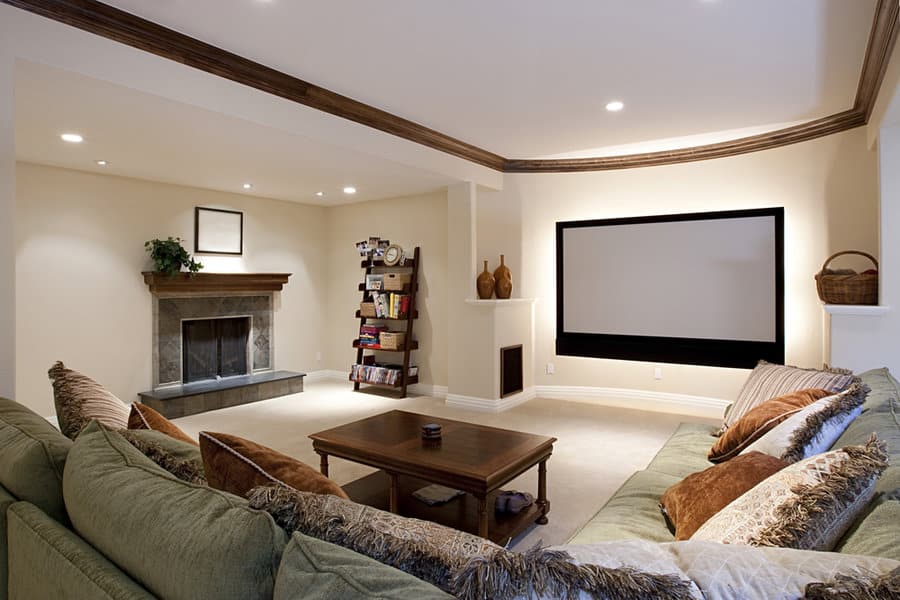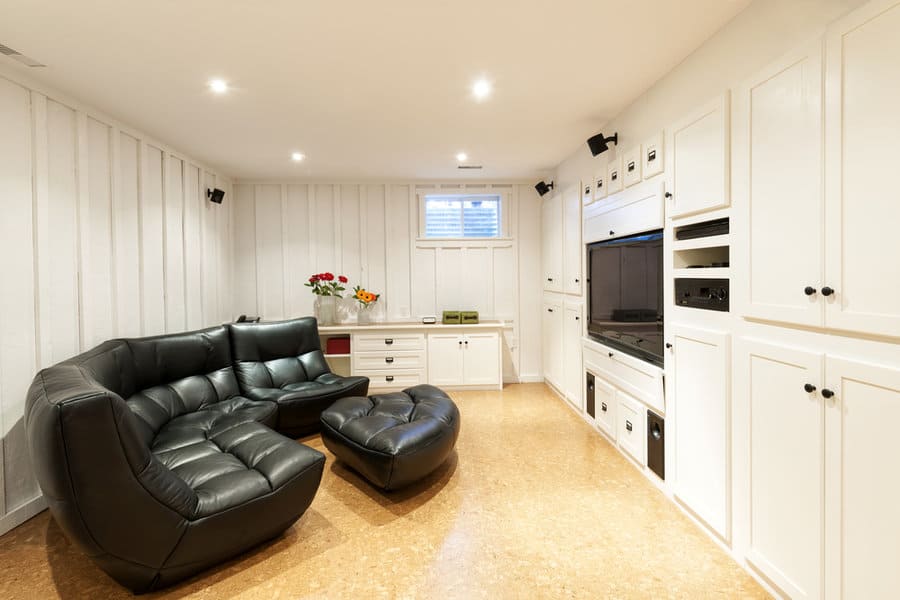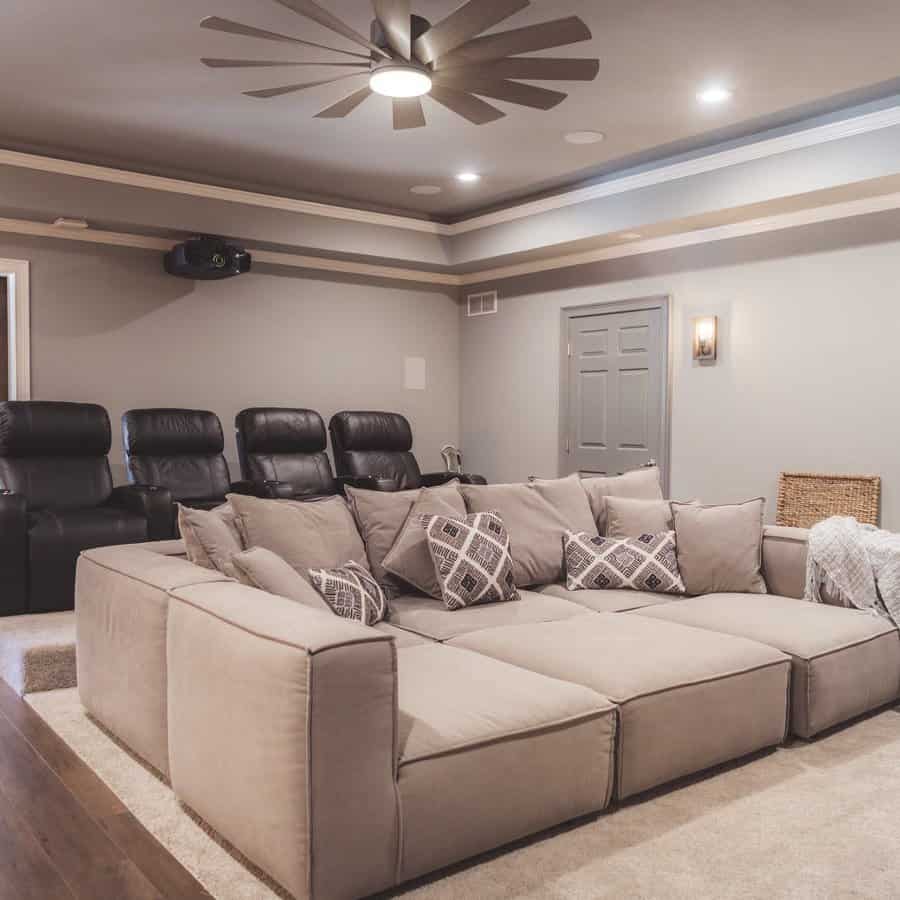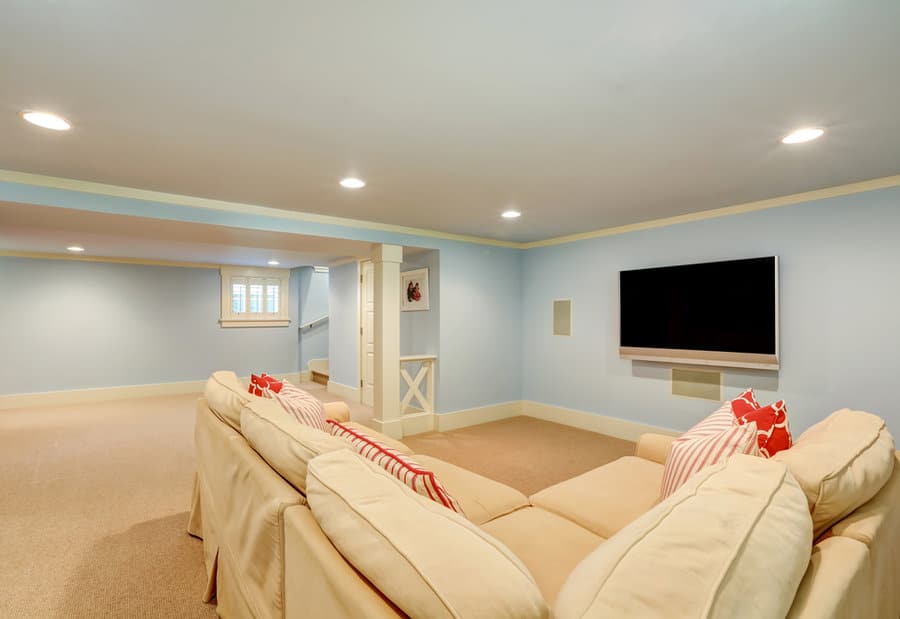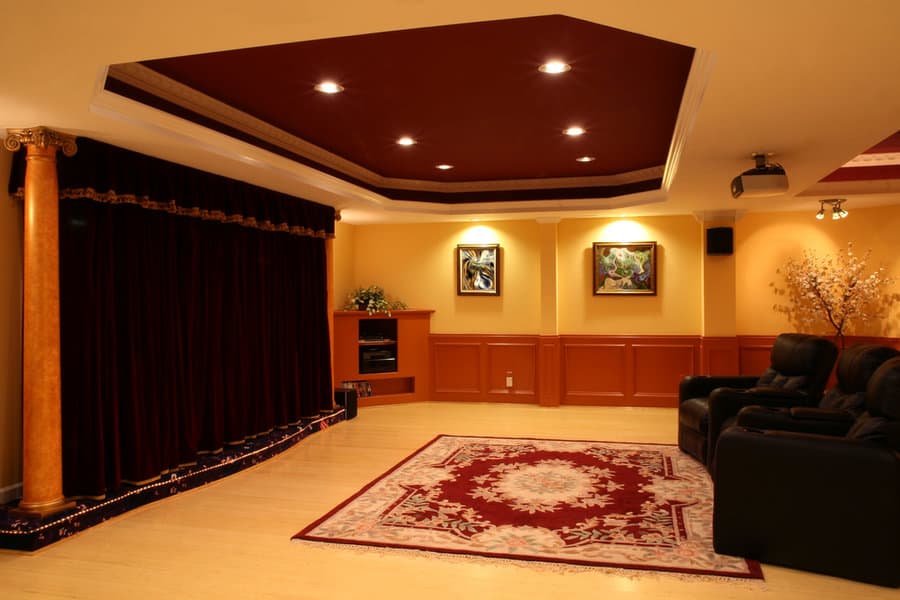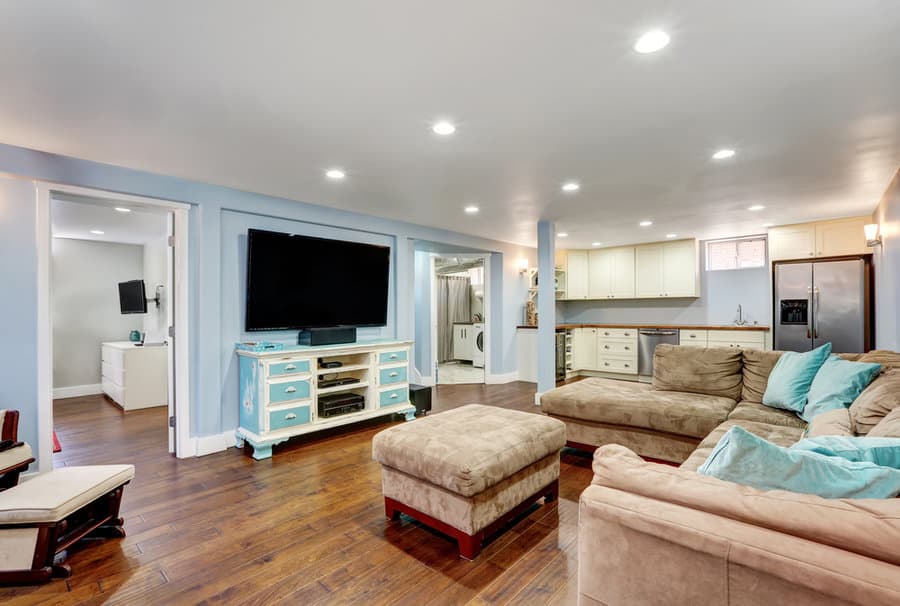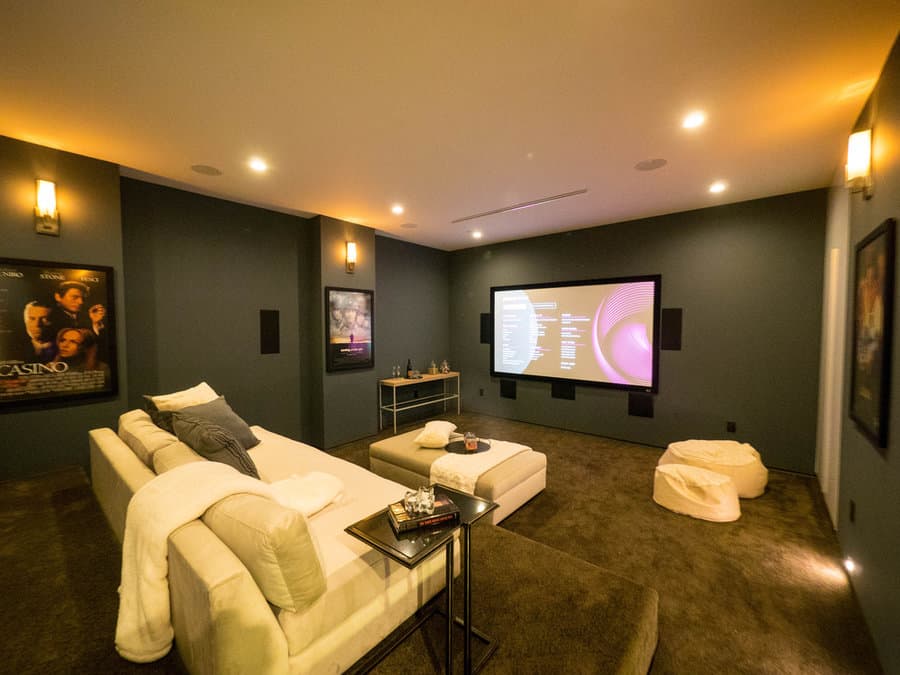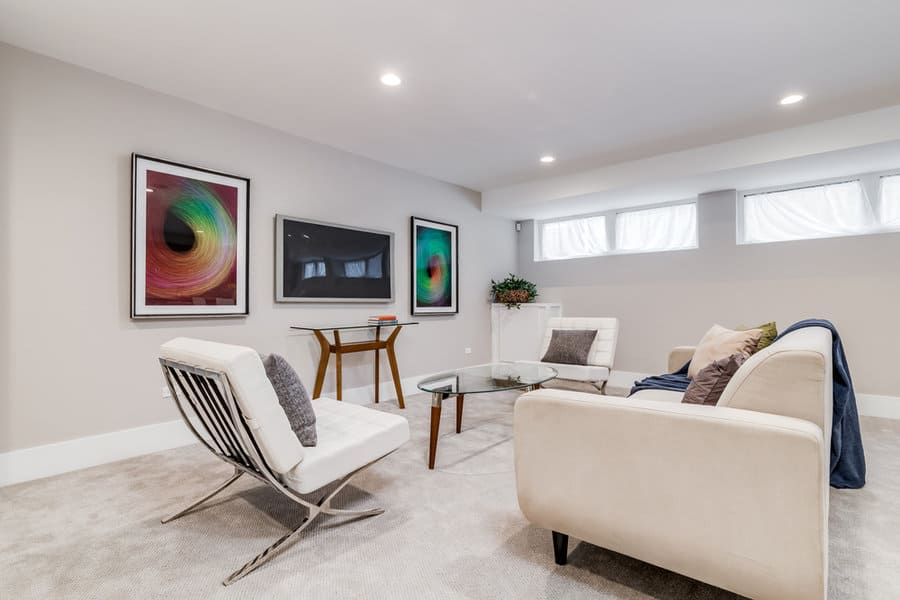 6. Wine Cellar
Embrace the allure of wine with a carefully curated space dedicated to showcasing your prized collection. Imagine elegant wine racks lining the walls, neatly displaying bottles of reds, whites, and sparkling delights. The cellar can be designed as an enclosed space, creating a sense of exclusivity and intimacy.
Utilize the limited space by maximizing vertical storage with floor-to-ceiling wine racks or incorporate a combination of wall-mounted and freestanding options. Opt for sleek and modern designs or embrace the rustic charm of wooden wine racks, adding warmth and character to the cellar.
Enhance the ambiance with soft, ambient lighting that highlights your collection and creates a captivating atmosphere. With your own small basement wine cellar, you can savor the beauty of wine and create an enchanting space that exudes elegance and refinement.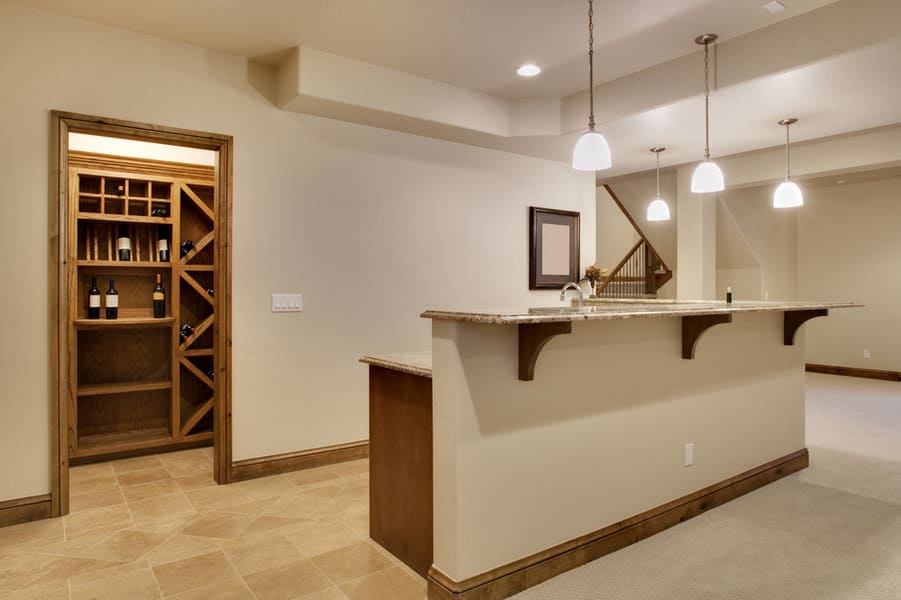 7. Basement Kitchen
A basement kitchen is not only practical but also adds a touch of sophistication to your home. Imagine having a dedicated space where you can unleash your inner chef, entertain guests, or simply enjoy a cozy meal with your loved ones.
A basement kitchen can serve as a versatile space for hosting gatherings, hosting cooking workshops, or even as a private retreat for yourself. It provides additional storage for kitchen essentials and allows you to keep the main kitchen upstairs organized and clutter-free. Whether you envision a sleek and modern design or a rustic farmhouse aesthetic, a basement kitchen can be customized to suit your style and needs.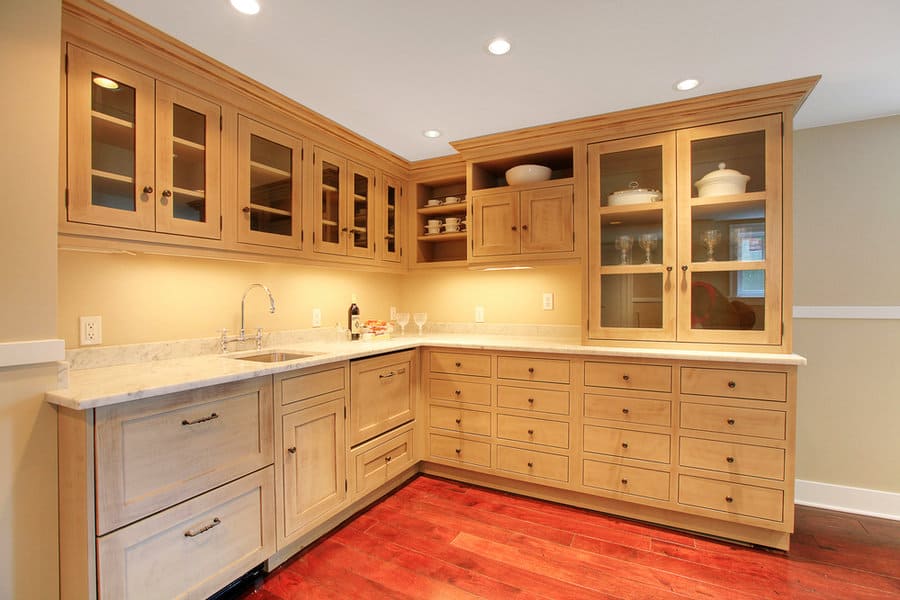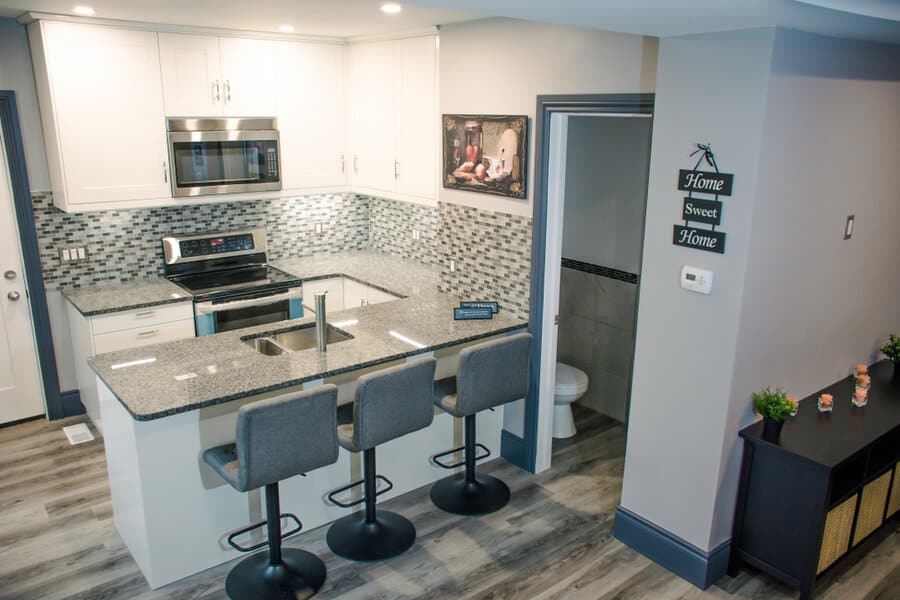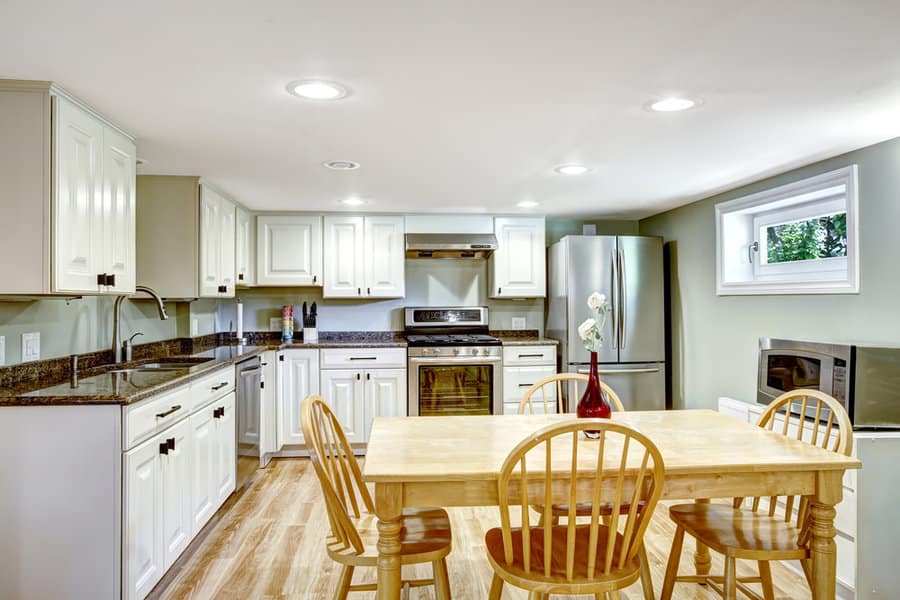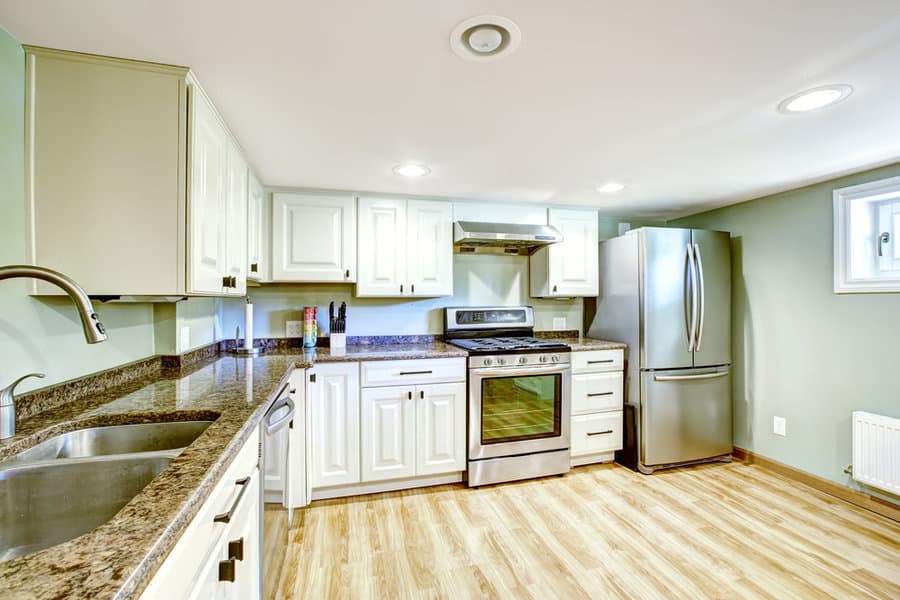 8. Lounge Area With Fireplace
Turn your small basement into a chic and cozy retreat with a stylish lounge area centered around a captivating fireplace. With a touch of creativity, your basement can become a luxurious haven where you can unwind and entertain in style. Imagine plush seating arranged around a stunning fireplace, creating a warm and inviting ambiance. Choose comfortable and stylish furniture pieces that fit the space perfectly, such as a sectional sofa or a pair of cozy armchairs.
Add soft throw pillows and textured blankets to enhance the comfort factor. The fireplace becomes the focal point, radiating warmth and elegance throughout the space. Consider using sleek and modern materials like marble or a rustic stone finish to elevate the fireplace's design. Complete the look with soft lighting, ambient music, and a curated selection of artwork and decor.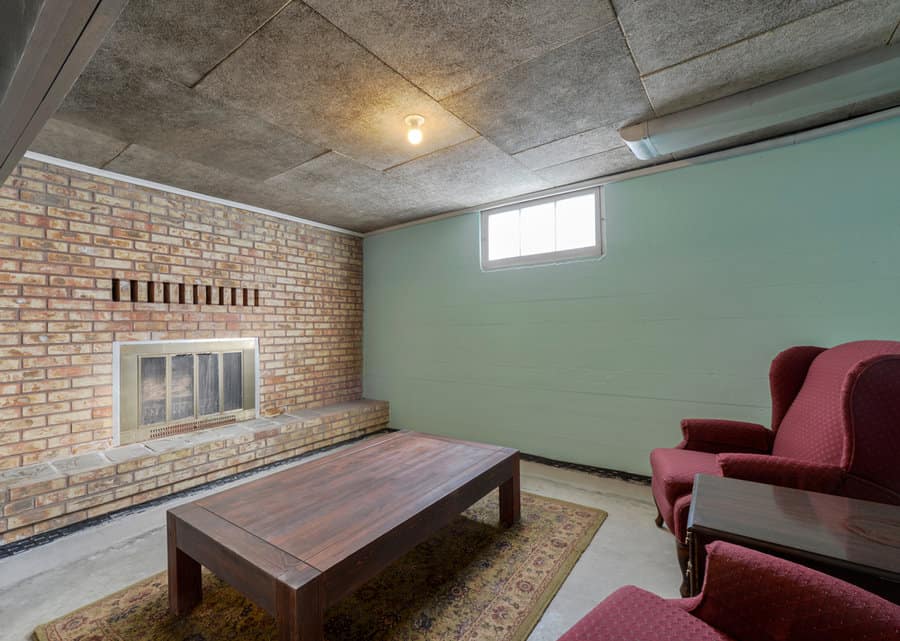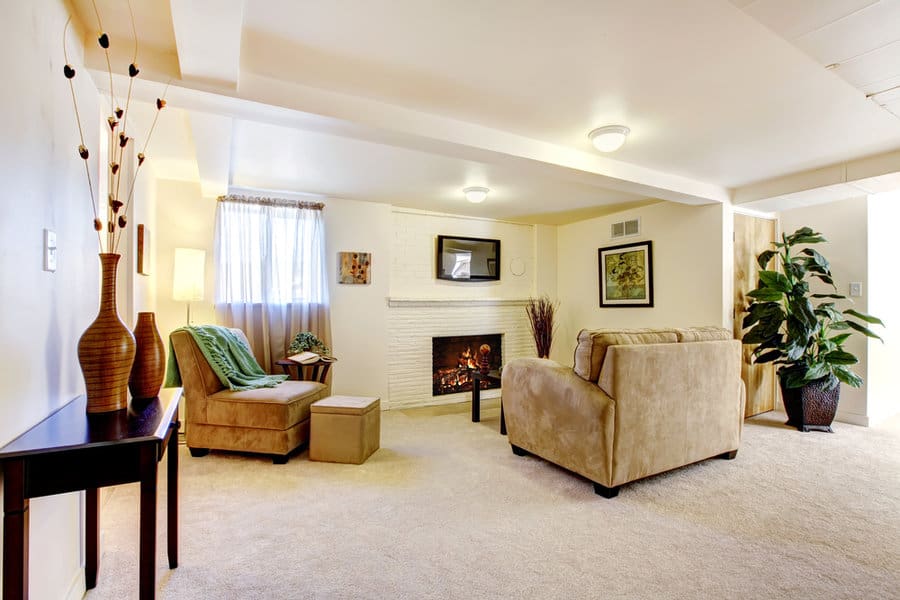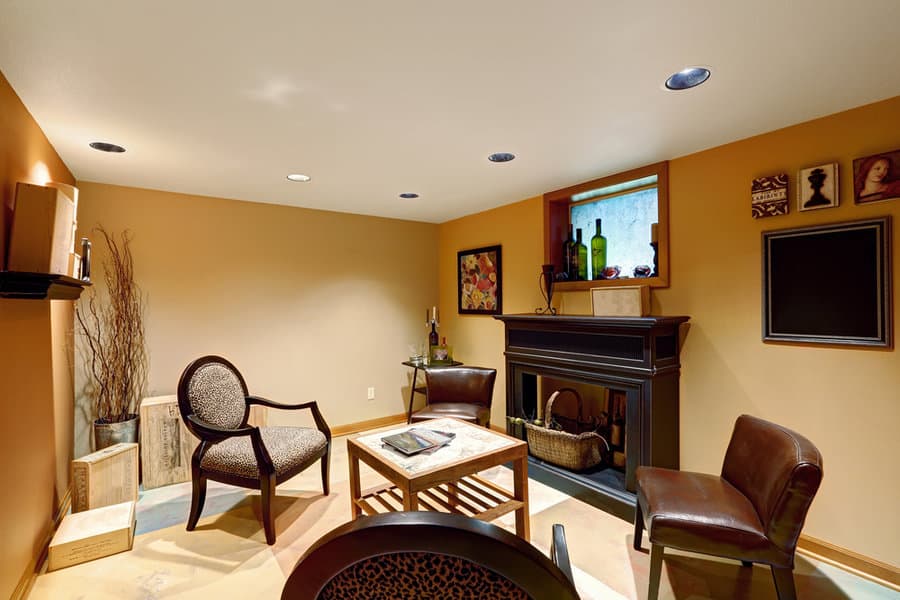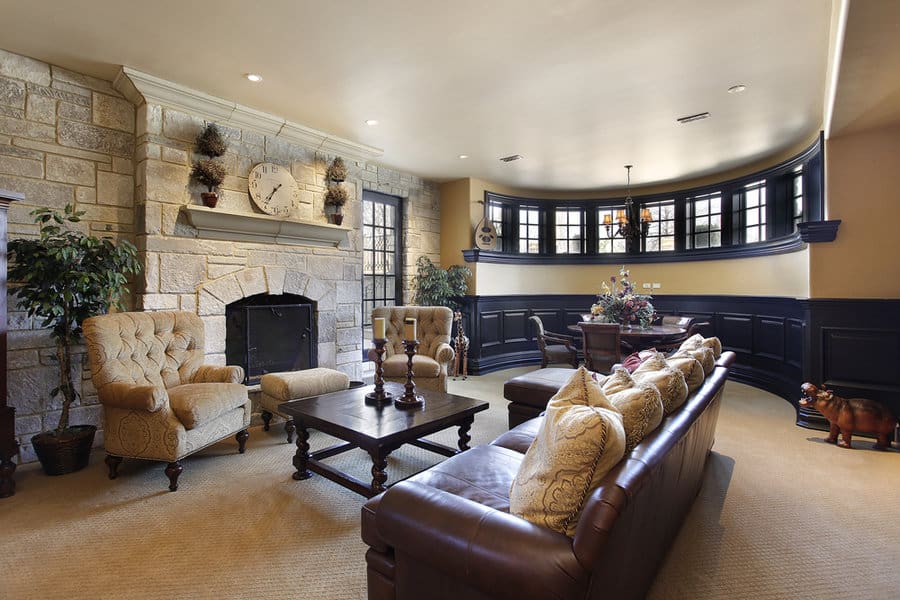 9. L-Shaped Daybed
d. This clever and space-saving solution not only provides a comfortable spot for lounging and relaxation but also adds a touch of chic elegance to your basement. The L-shaped design maximizes the use of corner space, making it perfect for small areas. Dress it up with plush cushions, soft blankets, and decorative throw pillows to create a cozy and inviting atmosphere.
The versatility of a daybed allows you to use it for lounging, reading, or even as an extra sleeping space for guests. With its stylish silhouette and carefully chosen fabrics, the L-shaped daybed becomes a focal point of your basement, adding a touch of sophistication to the space.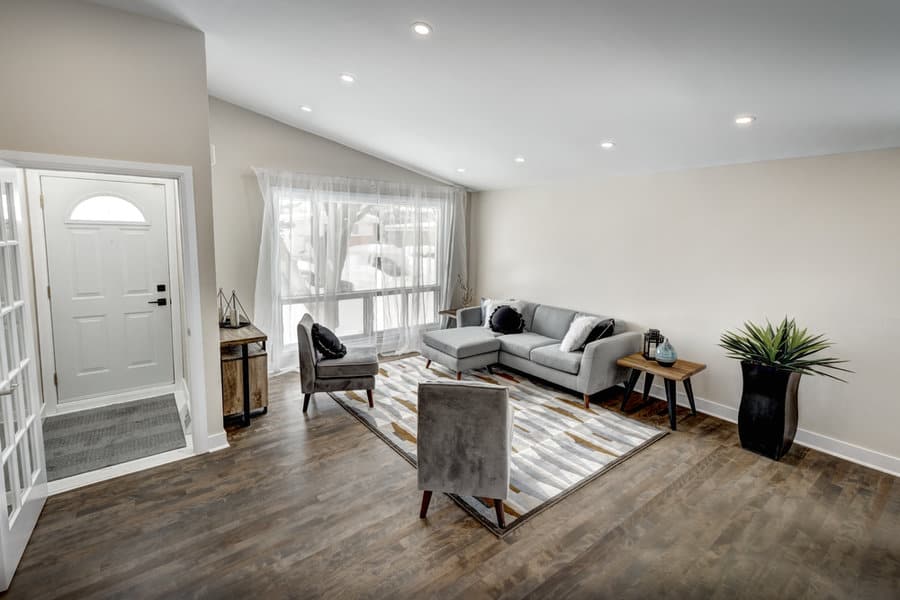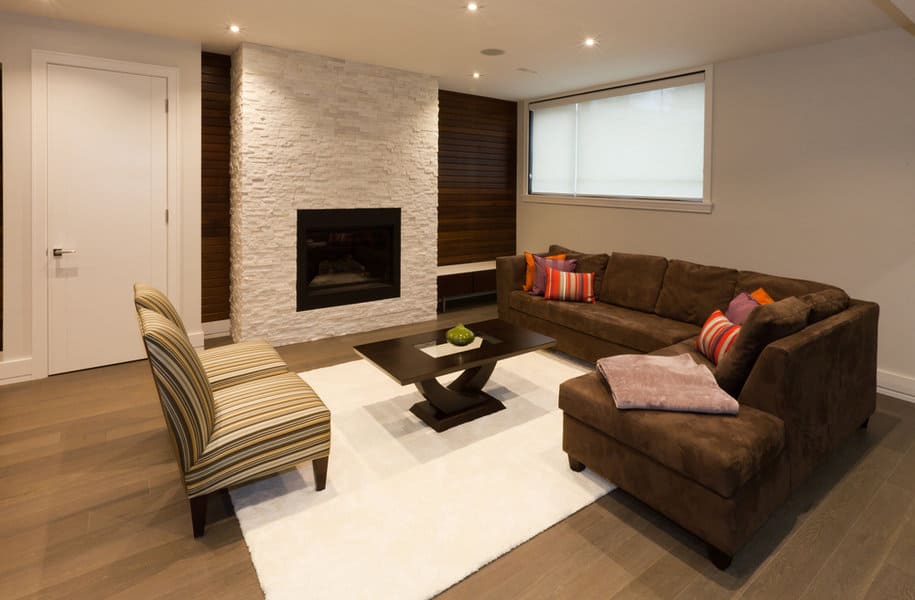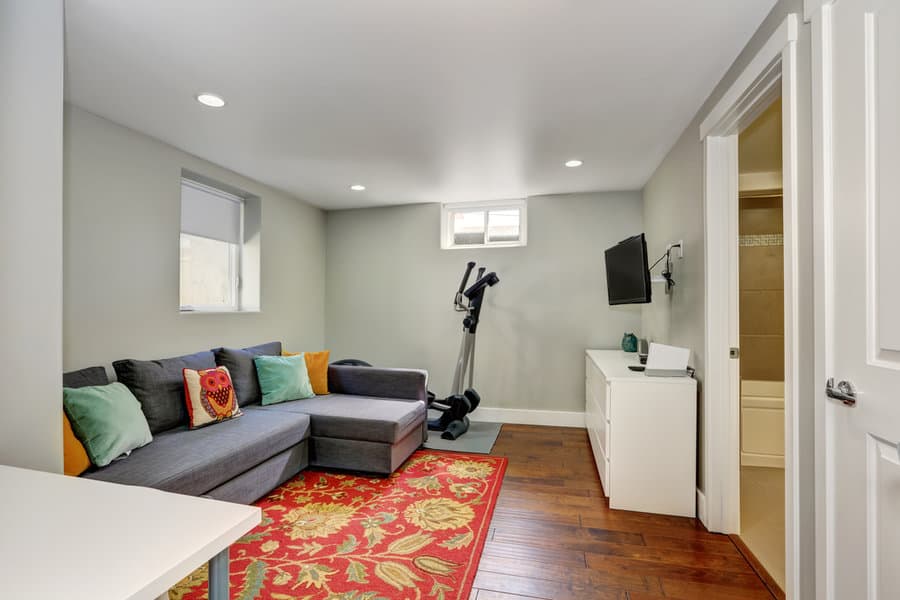 10. Man Cave
Embrace the allure of dark walls that exude a mysterious and sophisticated ambiance. Set the stage with a comfortable and luxurious couch, where you can kick back and relax after a long day. Add a touch of nostalgia and entertainment with a gaming setup that invites you to embark on virtual adventures.
Whether you're a fan of classic arcade games or the latest gaming consoles, this basement man cave is the perfect space to indulge in your favorite video games. Create an immersive experience with atmospheric lighting and sleek furniture that complements the dark walls. It's your personal sanctuary where you can escape, unwind, and immerse yourself in your passions.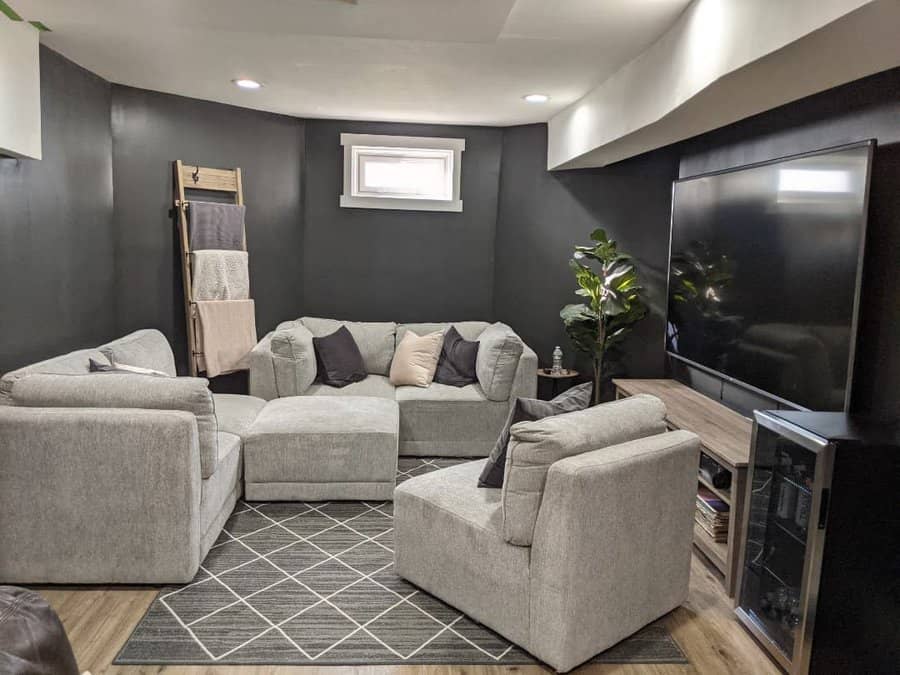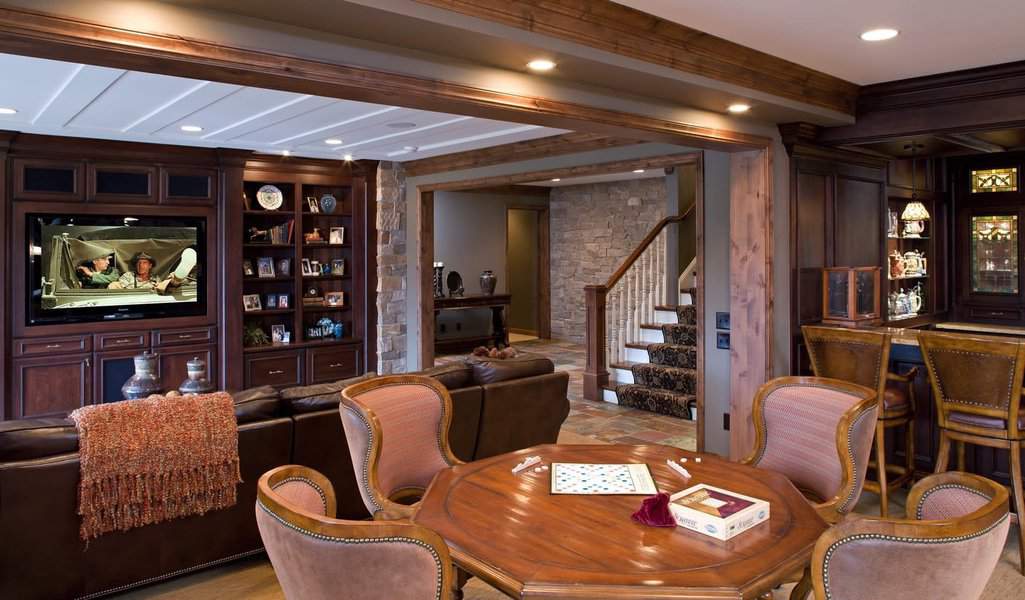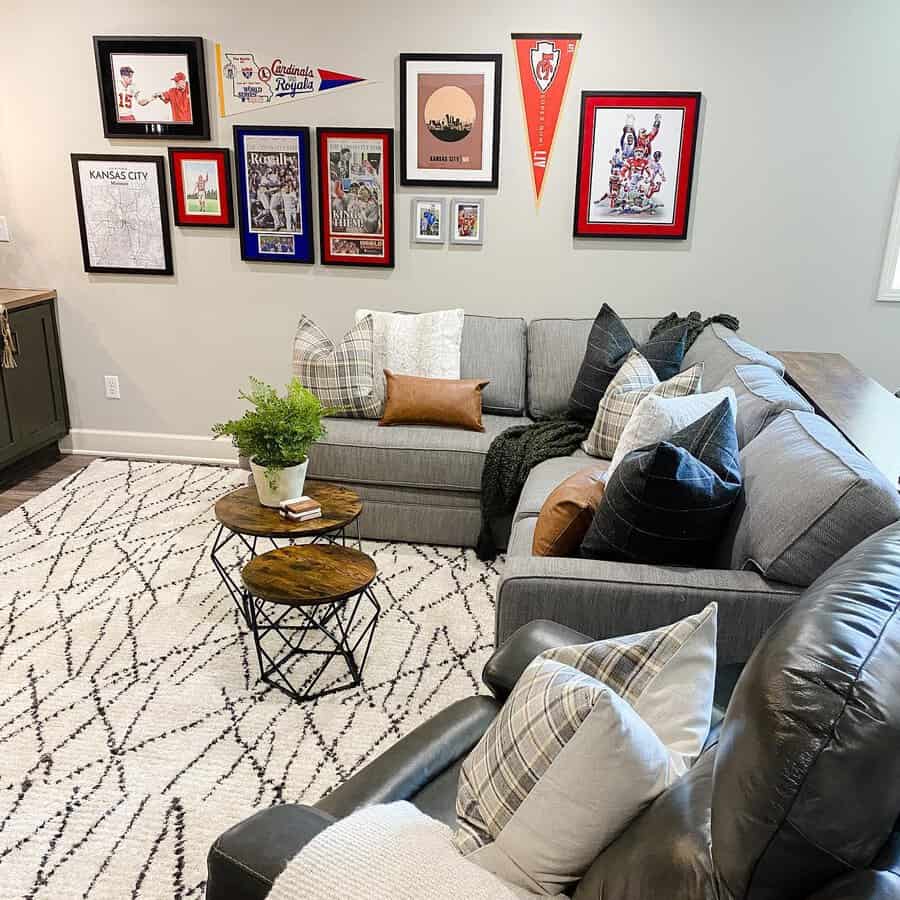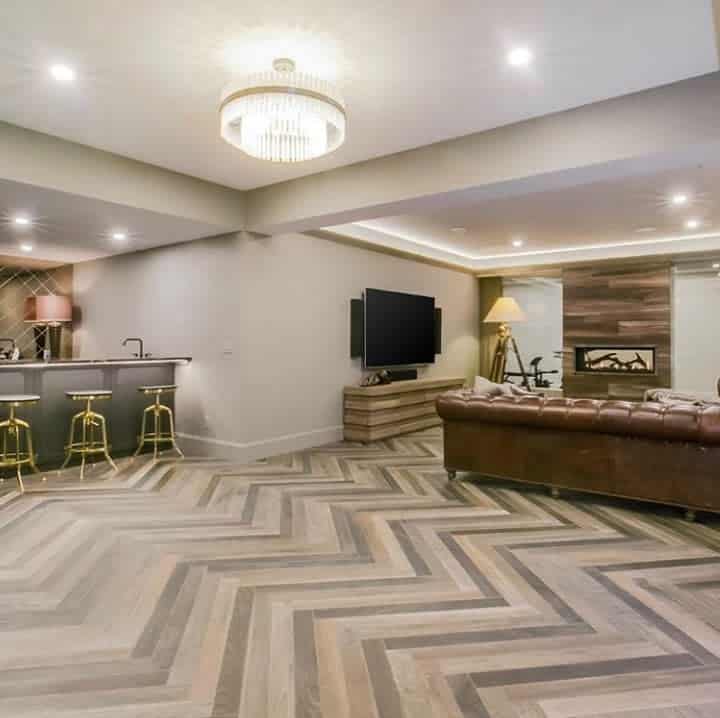 11. Area Rug
An area rug is not just a piece of fabric on the floor; it's a design element that brings warmth, comfort, and personality to your space. In an open-plan basement, where different areas seamlessly flow together, an area rug can define and delineate specific zones. Choose a rug with a pattern or texture that adds visual interest and complements the overall aesthetic of your basement.
Whether you prefer a bold, geometric pattern or a soft, neutral texture, the right area rug can anchor your furniture, create a cozy atmosphere, and tie the entire room together. It's like the cherry on top of your basement design, adding a touch of sophistication and completing the look.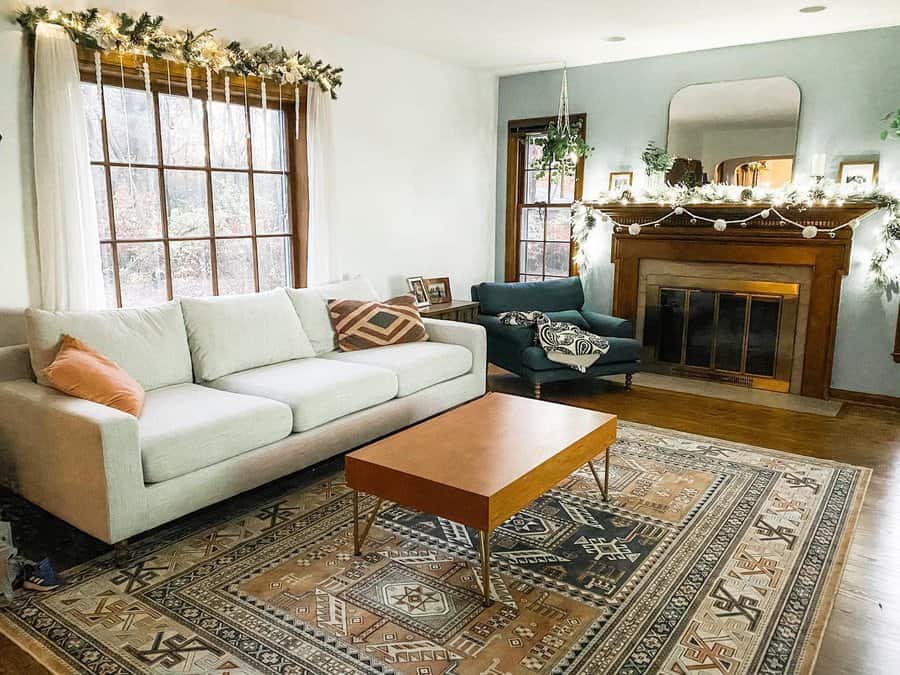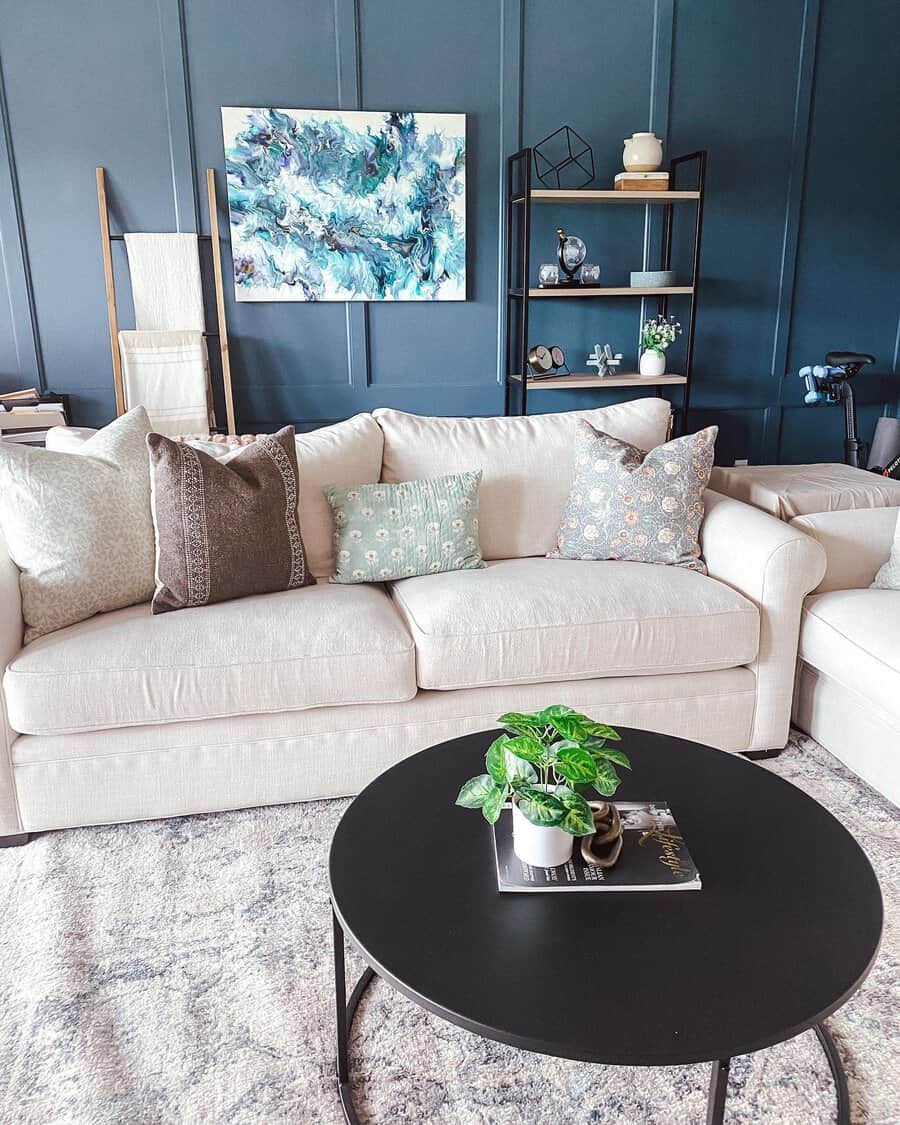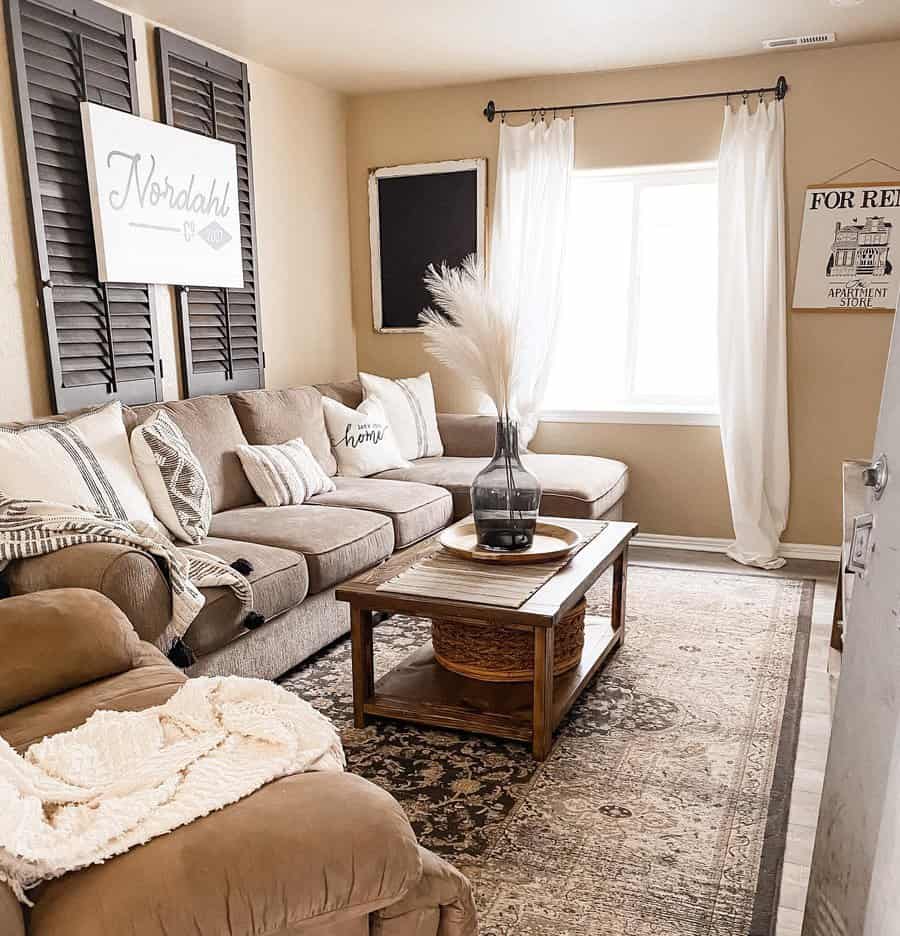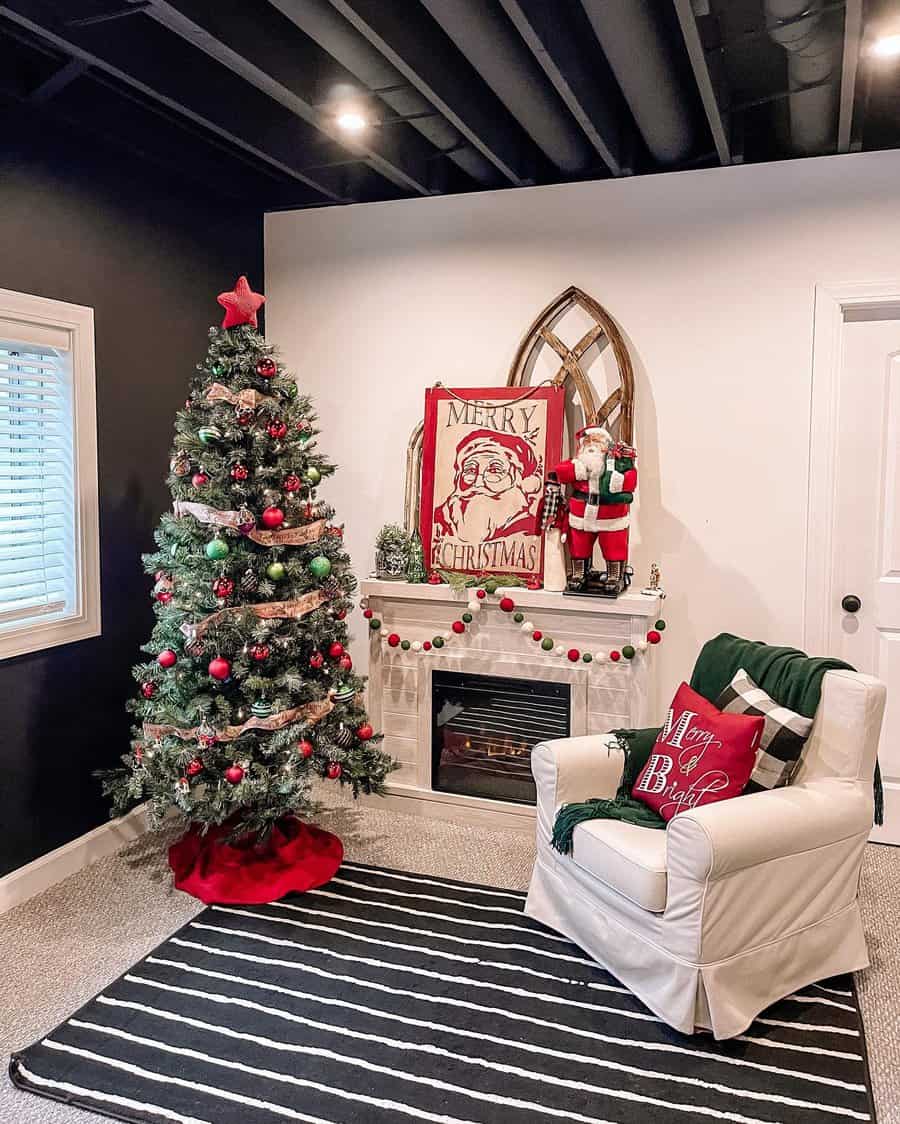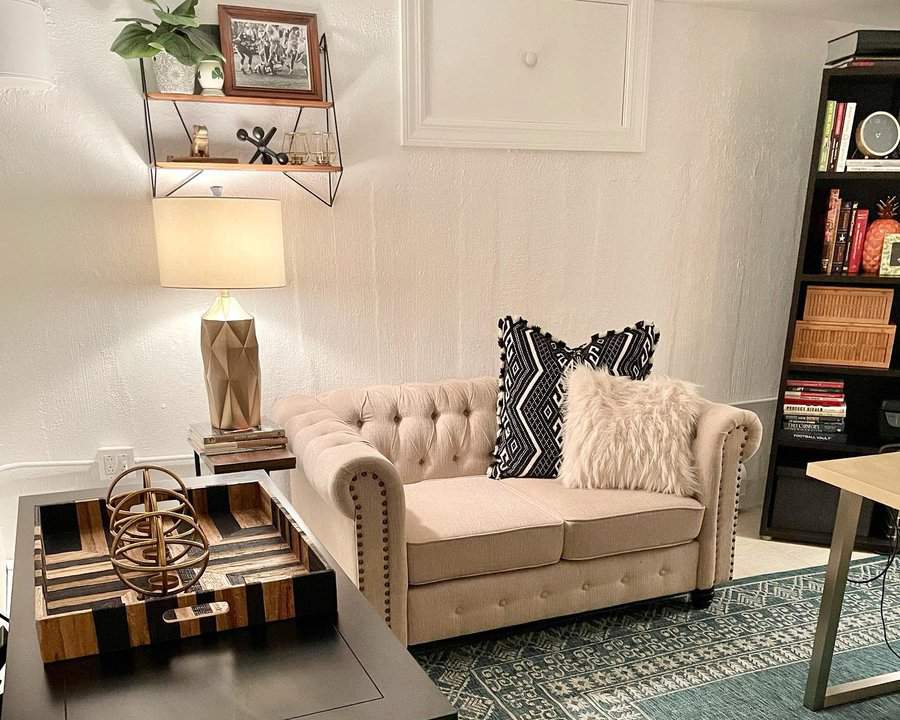 12. Basement Office
Say goodbye to wasted square footage and hello to a stylish and productive work area. With a little creativity and thoughtful design, you can create a haven that inspires creativity and fosters productivity. Start by selecting a sleek and compact desk that fits snugly into your basement space. Pair it with a comfortable chair that combines style and ergonomics for those long work hours.
Make the most of the limited natural light by adding strategically placed mirrors to create the illusion of a larger space. Illuminate your basement office with modern and adjustable task lighting, ensuring that you have ample light for focused work. Add chic storage solutions such as floating shelves and wall-mounted organizers to keep your workspace clutter-free and organized. Personalize the space with inspiring artwork and motivational quotes that reflect your style and aspirations.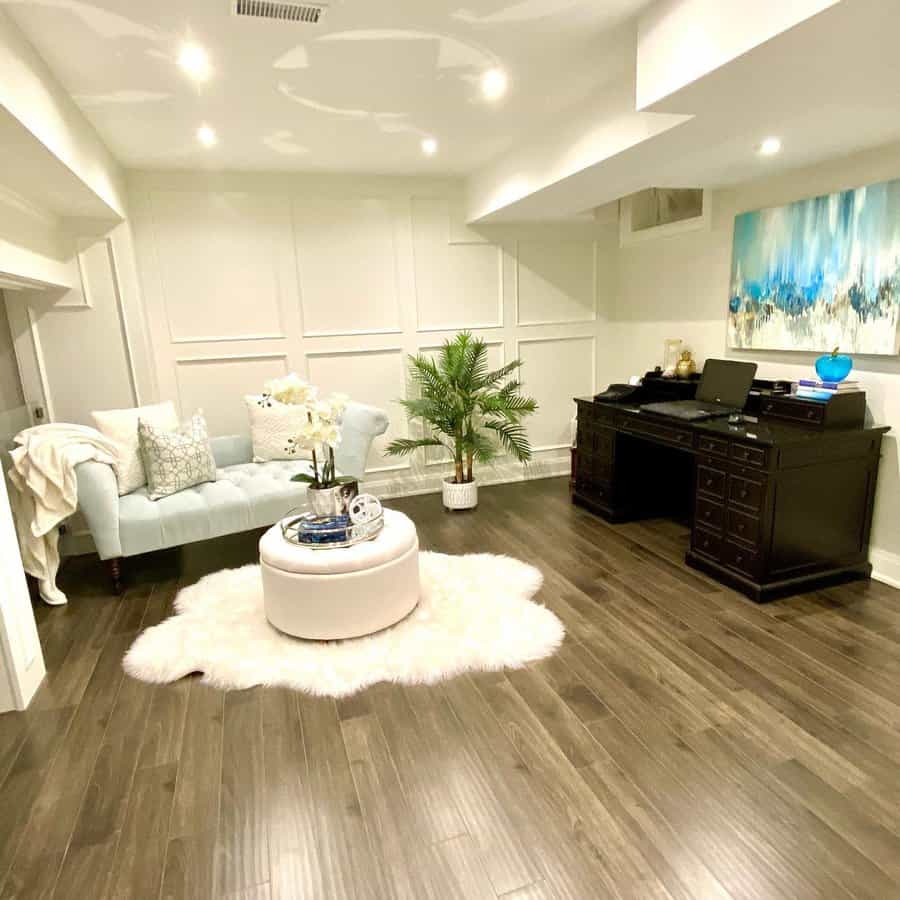 13. Kids' Playroom
Unlock the hidden potential of your basement and create a whimsical and imaginative haven for your little ones with a chic kids' playroom! Turn that underutilized space into a vibrant and engaging environment where your children can explore, learn, and have endless fun. Fill the room with an array of colorful and interactive toys that will spark their creativity and encourage imaginative play.
Set up different activity zones, such as a cozy reading nook with shelves stacked with captivating books, a craft corner where they can unleash their artistic talents, and a play area with games and puzzles to challenge their minds. Incorporate educational elements into the design, like a chalkboard wall or a world map mural, to stimulate their learning and curiosity.