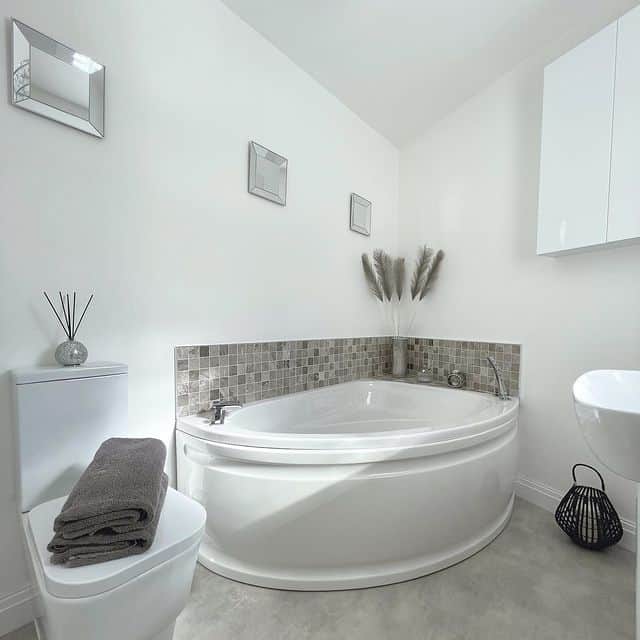 40 Small Bathroom Ideas with Tub
by — Andra DelMonico

Published on February 22, 2022

Updated on October 4, 2023
"I think a lot of contemplation happens in bathtubs. It does for me. Nothing like a hot bath to ease the tension and think about what's going to happen next." -Sarah McLachlan
The bathtub is definitely a place for relaxation and contemplation. However, if you have a small bathroom, you may think there's not enough room for a tub. Or, if you have a small bathroom with a tub, you may feel like the room is too crowded.
Small bathroom design is rather complicated. Even so, it's possible to turn a tiny bathroom into a beautiful space that allows you to soak your problems away. Check out our small bathroom ideas with a tub and see all the bathroom design ideas open to you.
1. Introduce Natural Light
In small bathrooms, maximizing natural light can make the space feel open and inviting. Consider adding a window near the bathtub, fitted with frosted treatments for privacy. This simple addition floods the room with light, creating a serene atmosphere. To achieve this look, consult a contractor to assess the feasibility and choose window treatments that suit your style, complementing them with light-colored decor for a harmonious ambiance.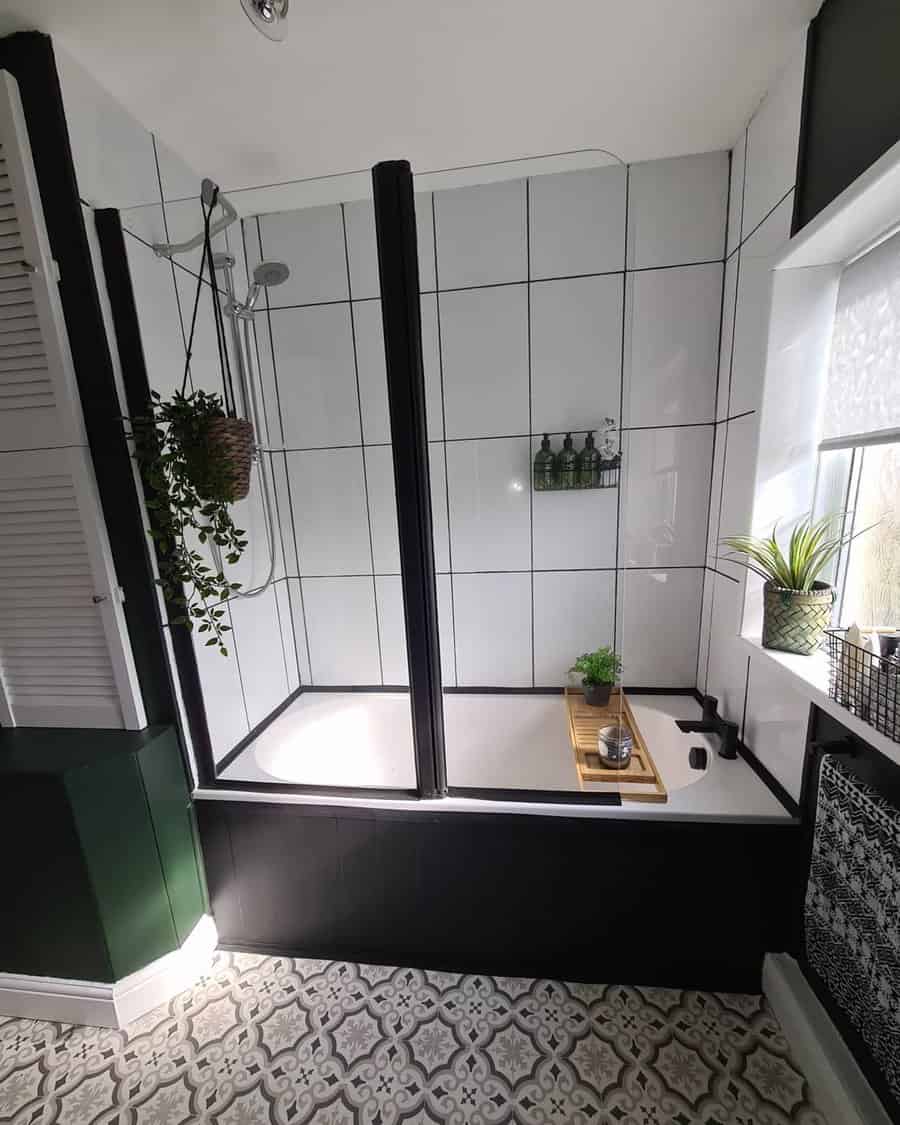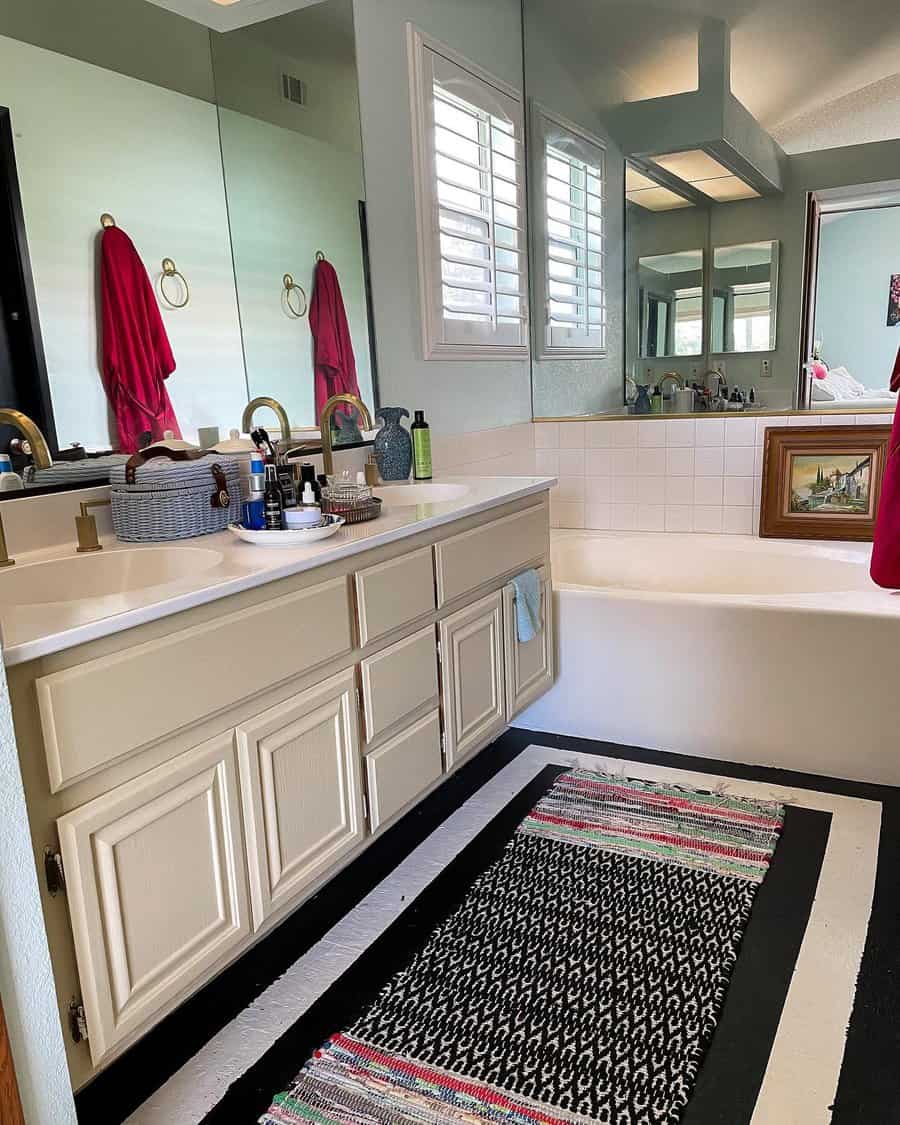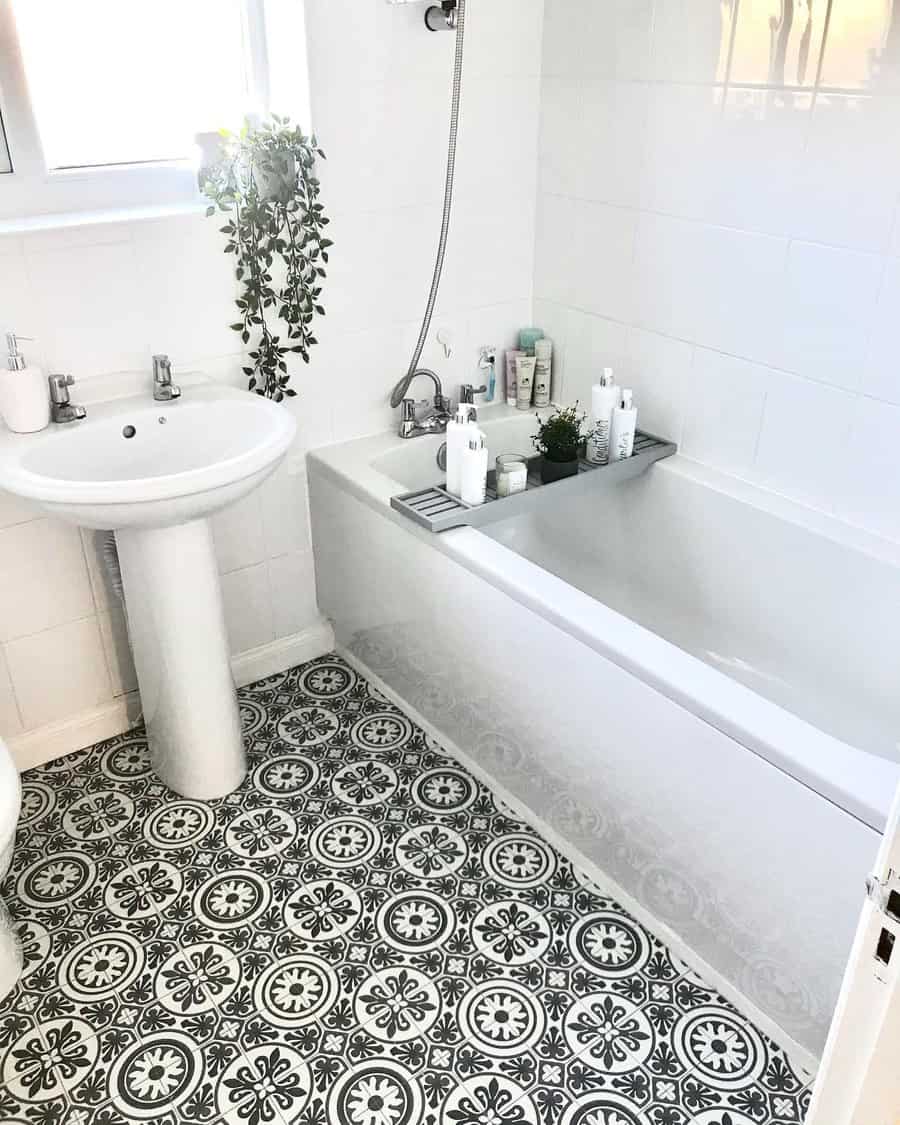 2. Embrace Standalone Tub Elegance
A standalone bathtub in a small bathroom can exude elegance and style without overwhelming the space. Choose a tub that complements your bathroom's size and style, and consider freestanding options for a chic statement.
To create a cohesive look, pair the tub with minimalist fixtures and simple, clean lines in your bathroom design. Additionally, utilize wall-mounted storage solutions to keep the space clutter-free and visually appealing, enhancing the overall aesthetic of your small bathroom with a standalone tub.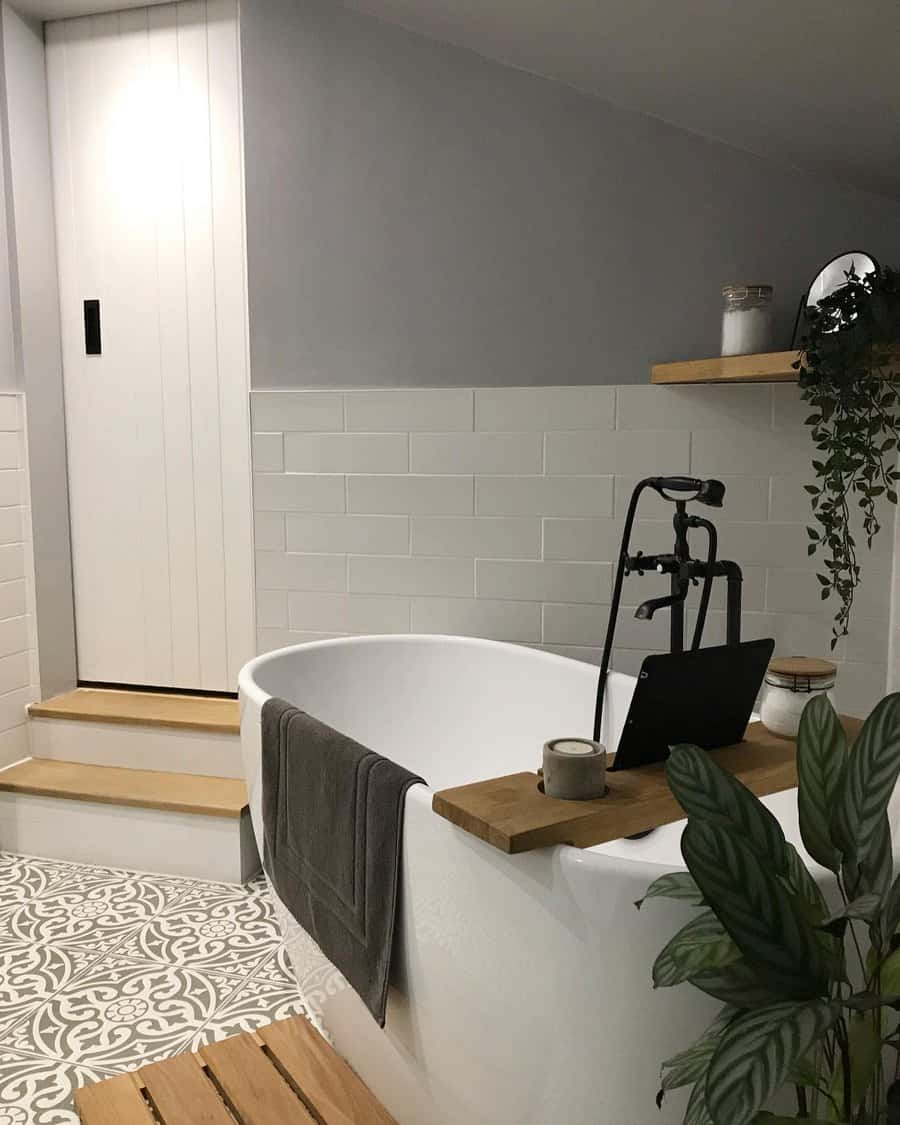 3. Optimize Corner Space
Consider utilizing a corner bathtub in your small bathroom. This innovative choice not only saves space but also enhances the visual appeal of your bathroom. With its distinctive curves and corner positioning, a corner bathtub allows for creative styling, allowing you to achieve a unique bathroom aesthetic. These bathtubs are readily accessible, catering to various styles and budgets. By incorporating a corner bathtub, you can efficiently transform your small bathroom while infusing it with character and style.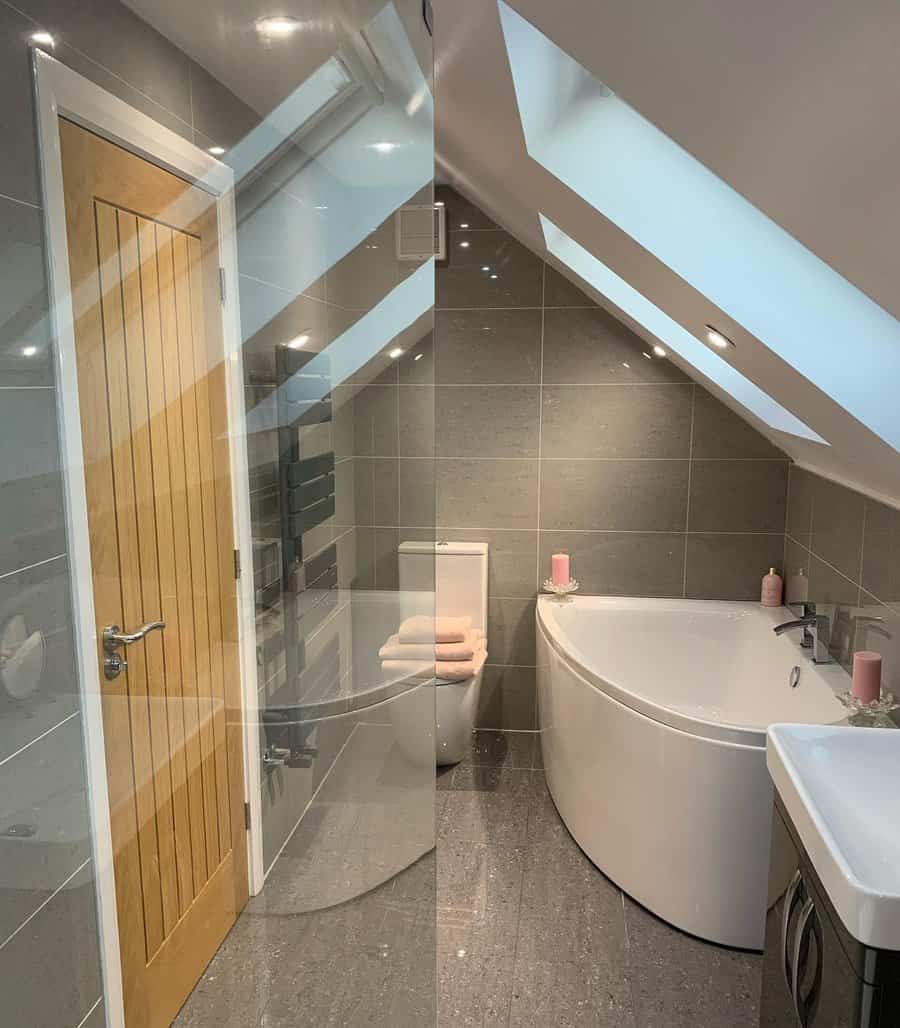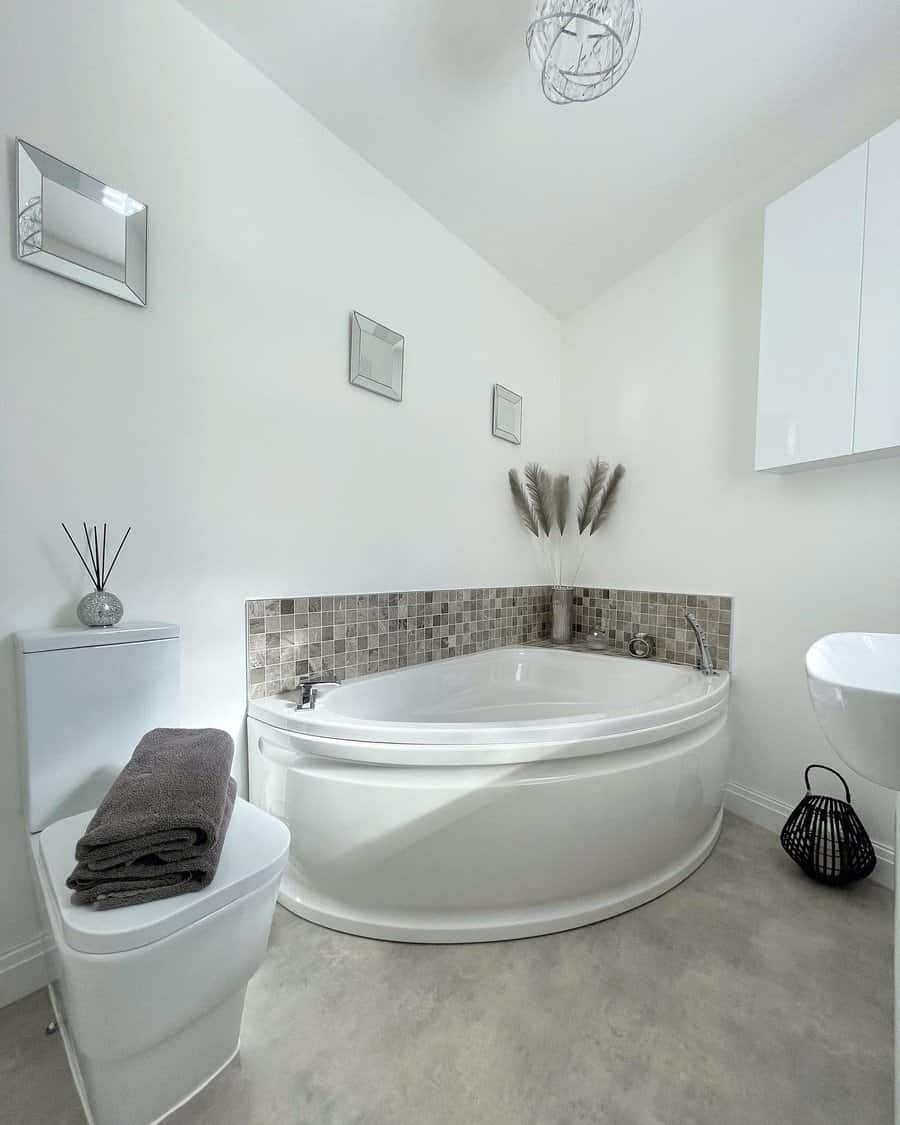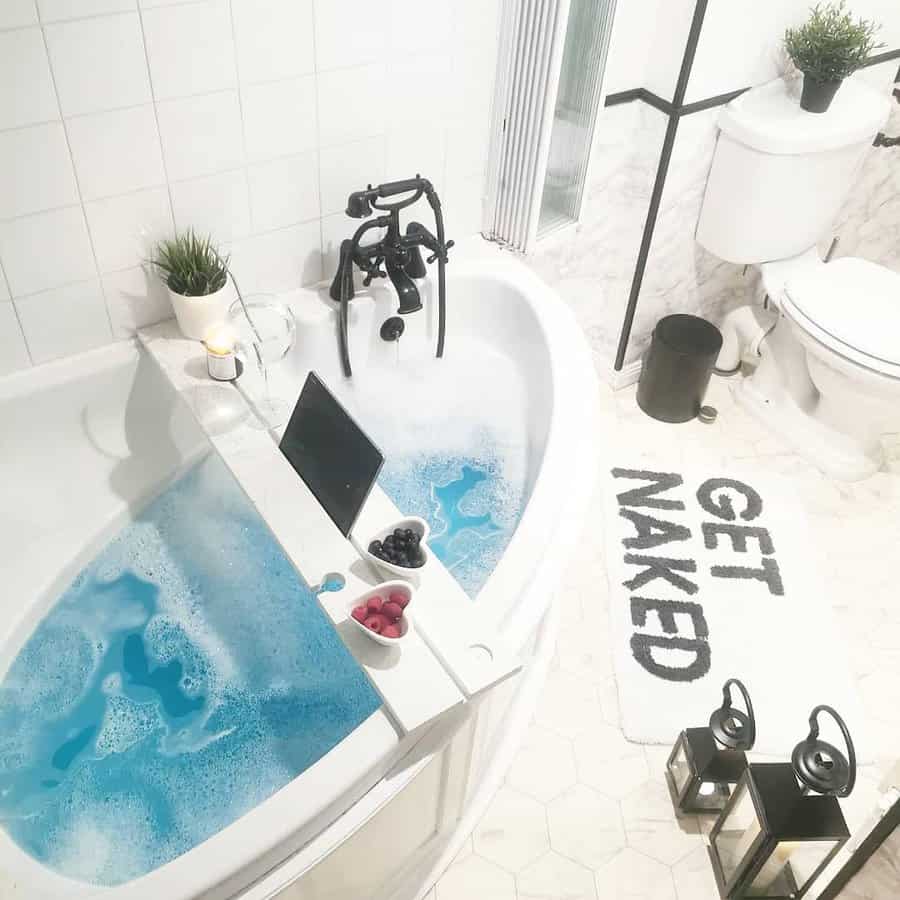 4. Harmonize Your Color Palette
Creating a cohesive color palette is key to enhancing a small bathroom with a tub. Opt for light hues like pastels and neutrals to visually expand the space, giving it a more open and airy feel. To maintain a harmonious look, stick to this color scheme for your tiles, walls, and fixtures. If you crave a pop of color, incorporate vibrant accessories or accents sparingly to complement the overall design.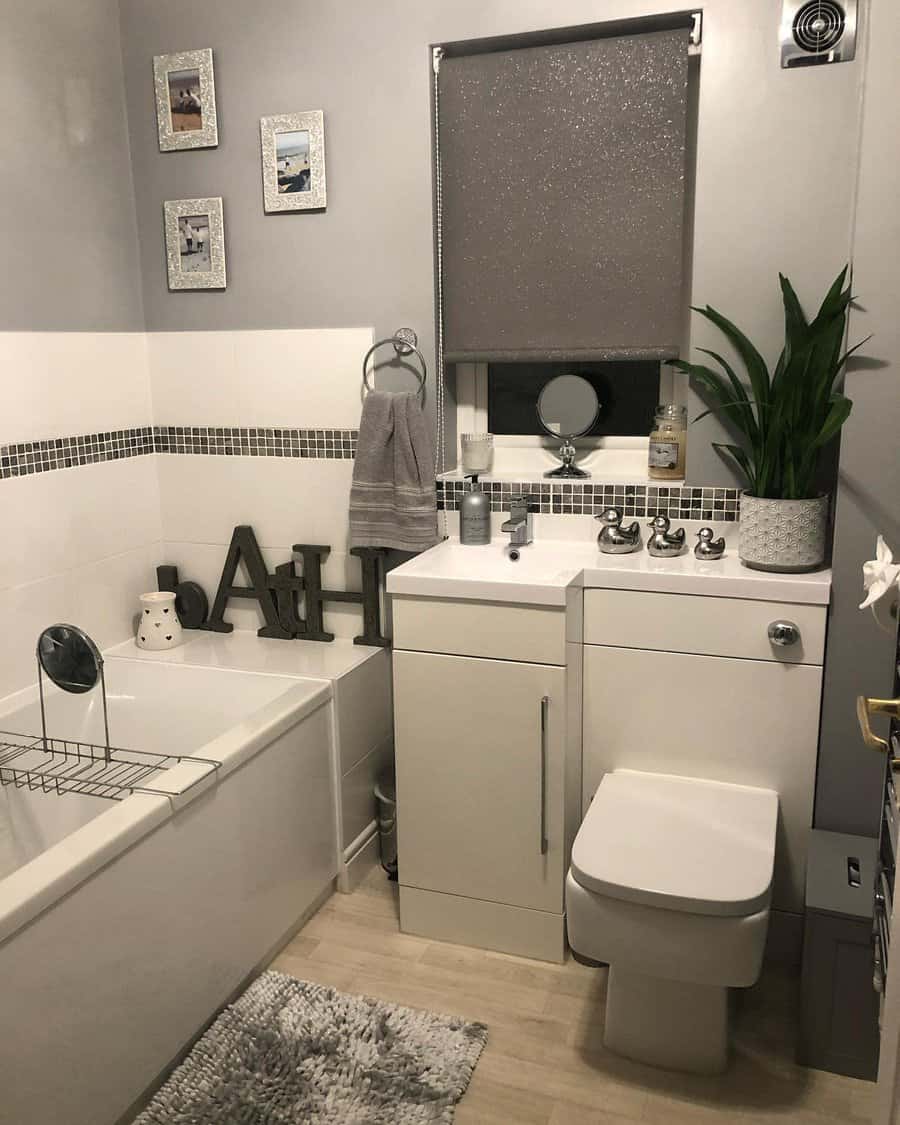 5. Bring Greenery into Bath
Transform your small bathroom into a soothing oasis by incorporating a touch of nature. Adding a few well-placed plants can work wonders in making your space feel more spacious and inviting. Combine the rich warmth of wooden accents with vibrant greenery to create a refreshing atmosphere that opens up even the tiniest bathrooms.
Not only will these plants enhance aesthetics, but they'll also purify the air, contributing to a serene ambiance. With some creative thinking, you can effortlessly turn your compact bathroom into a rejuvenating sanctuary, regardless of its size.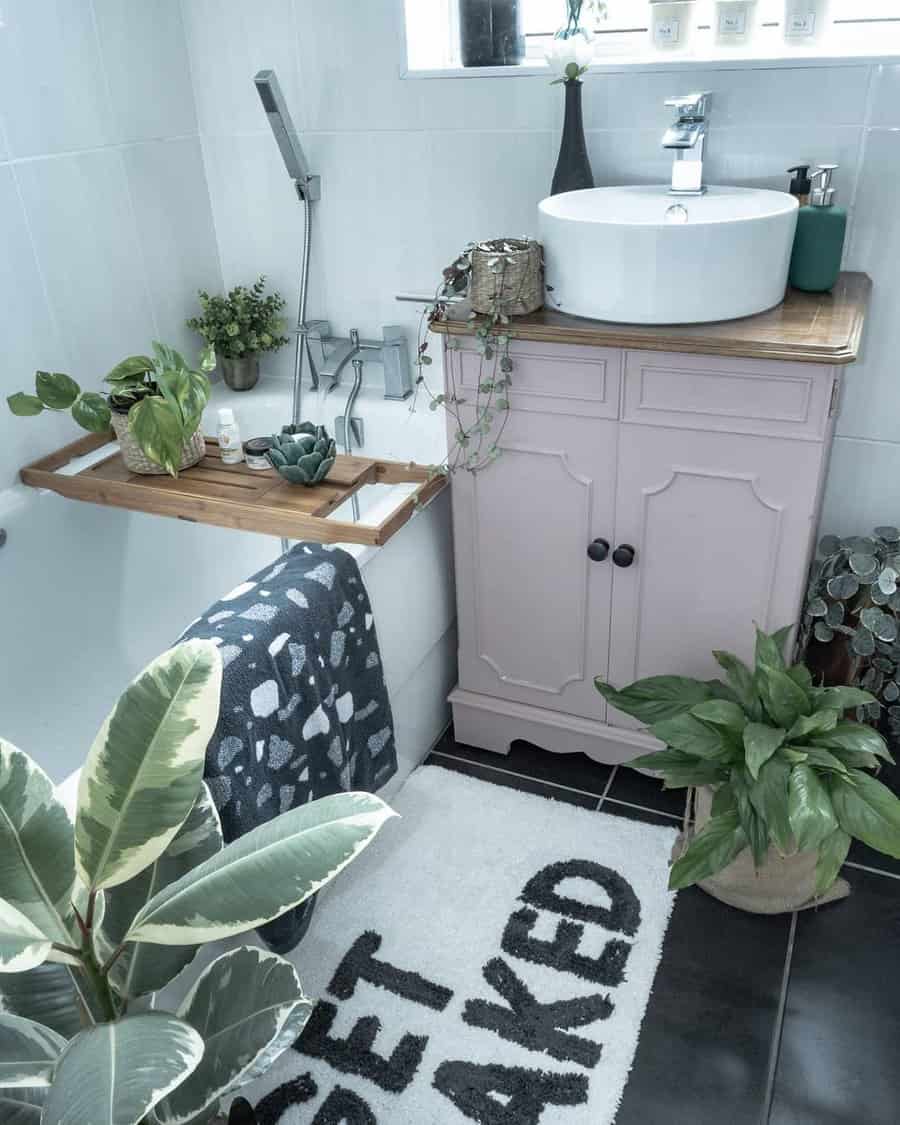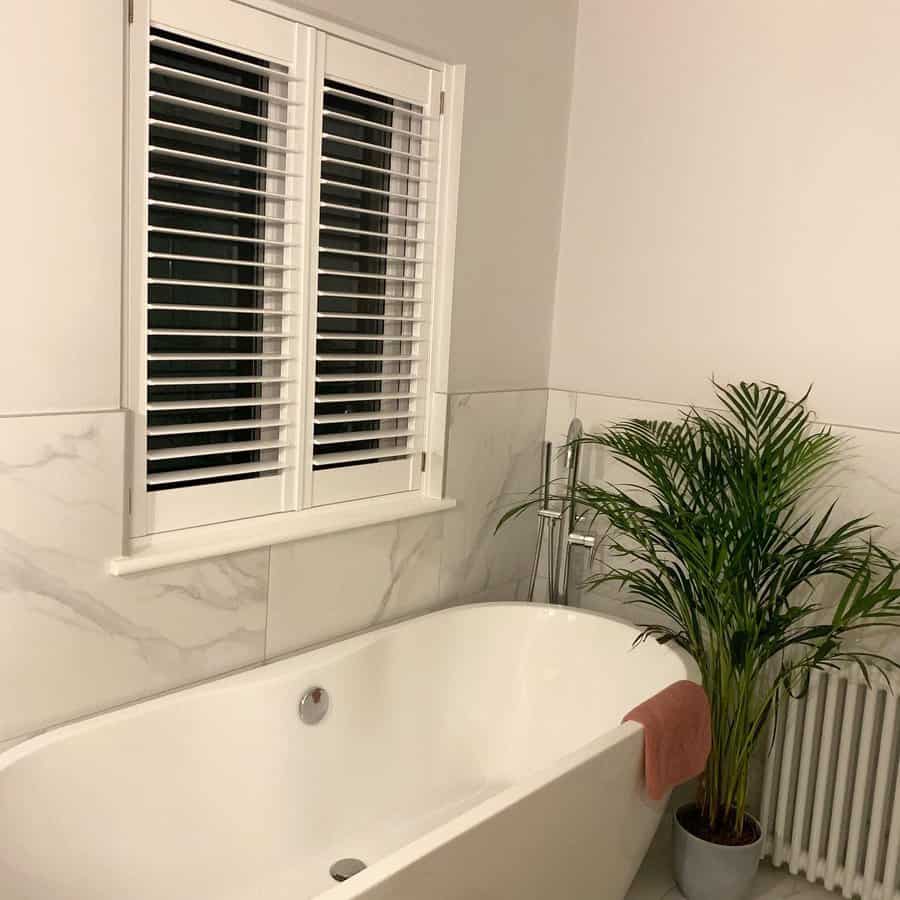 6. Elevate with Hexagon Tile
Revamp your small bathroom by incorporating hexagon tiles for a captivating and distinctive look. These tiles work wonders in bathrooms, irrespective of their size, thanks to their gender-neutral and charming appeal.
The distinctive hexagonal shape not only creates a sense of spaciousness but also adds a visually captivating element. Ideal for compact spaces, these tiles introduce complexity without overwhelming the room. Discover how to integrate hexagon tiles to give your bathroom a unique touch without compromising valuable floor space.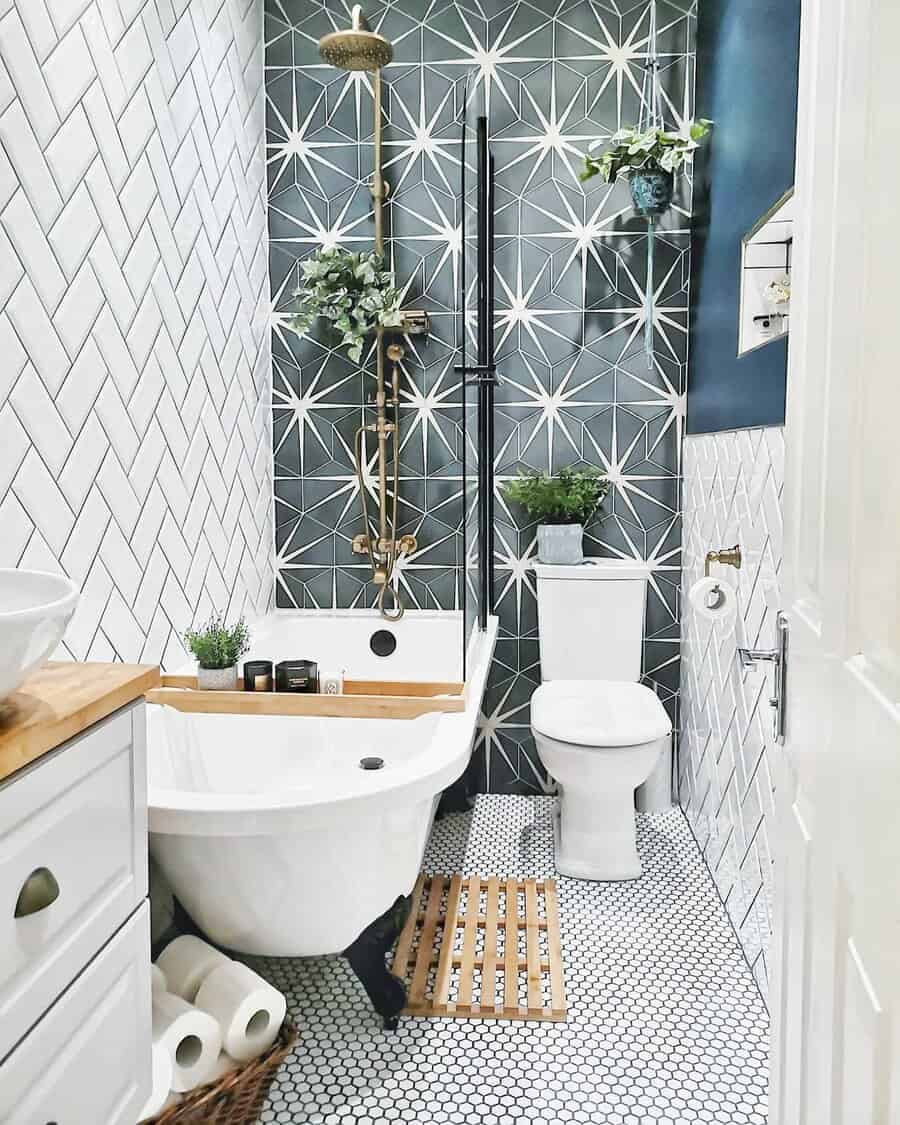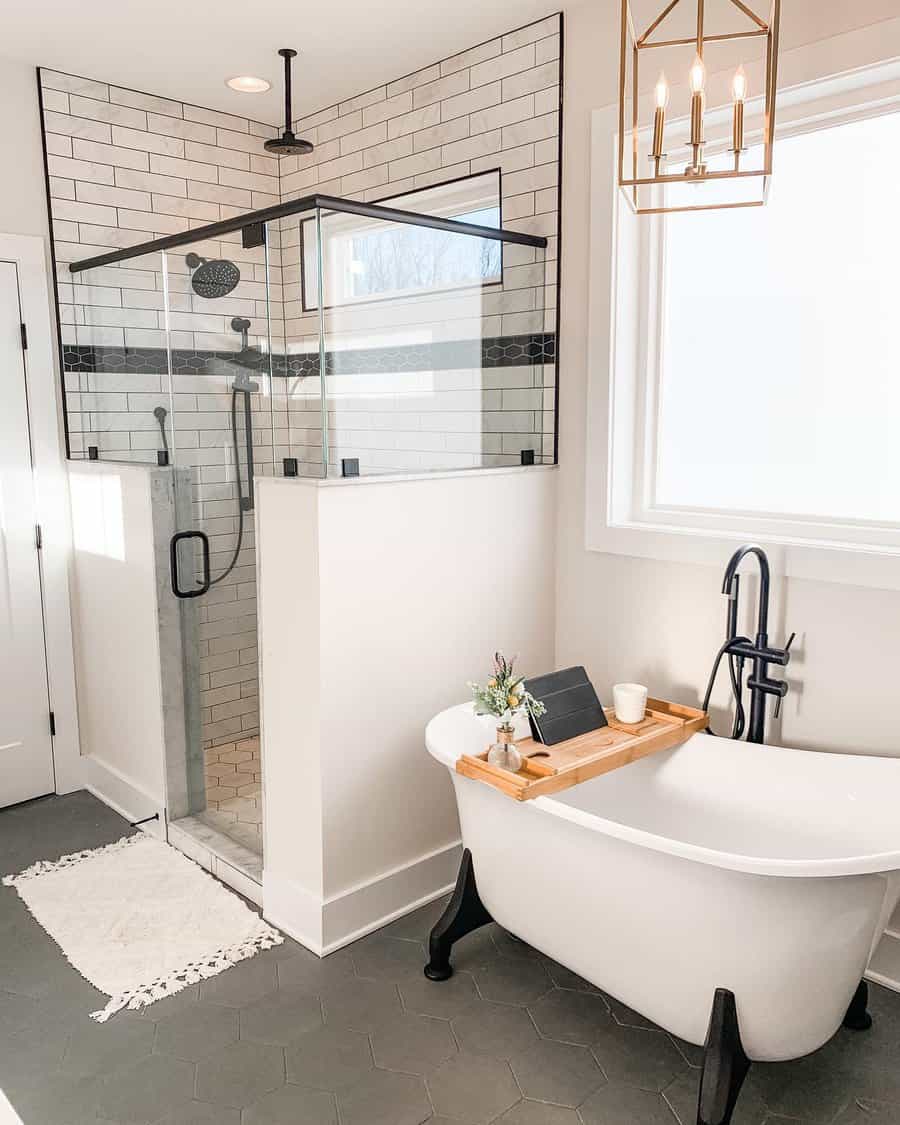 7. Luxe Appeal with Marble Floors
Infuse luxury into your small bathroom by opting for marble floors, instantly creating a sophisticated ambiance. Marble exudes timeless beauty, but it demands regular upkeep to maintain its pristine appearance. To keep your marble floor looking exquisite, ensure consistent cleaning and maintenance. This choice will add a touch of refinement to your small bathroom when cared for meticulously.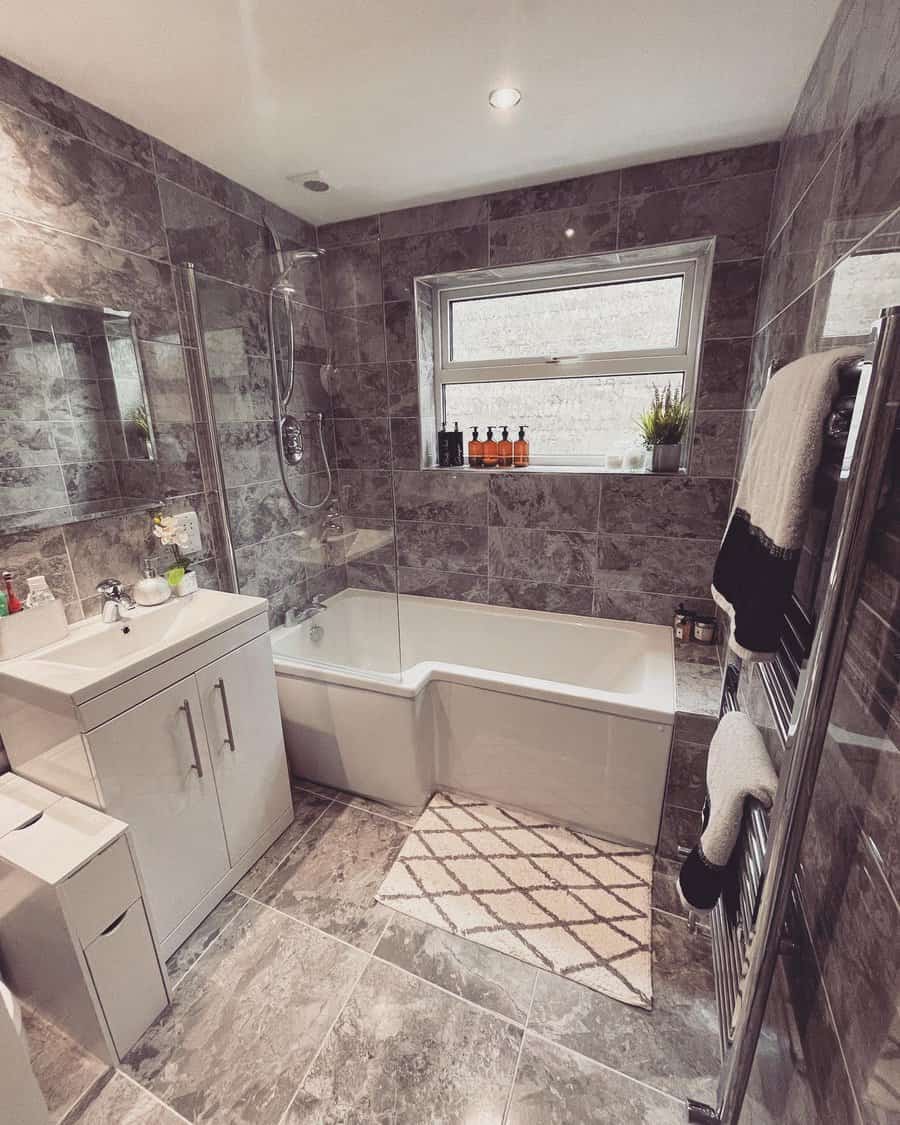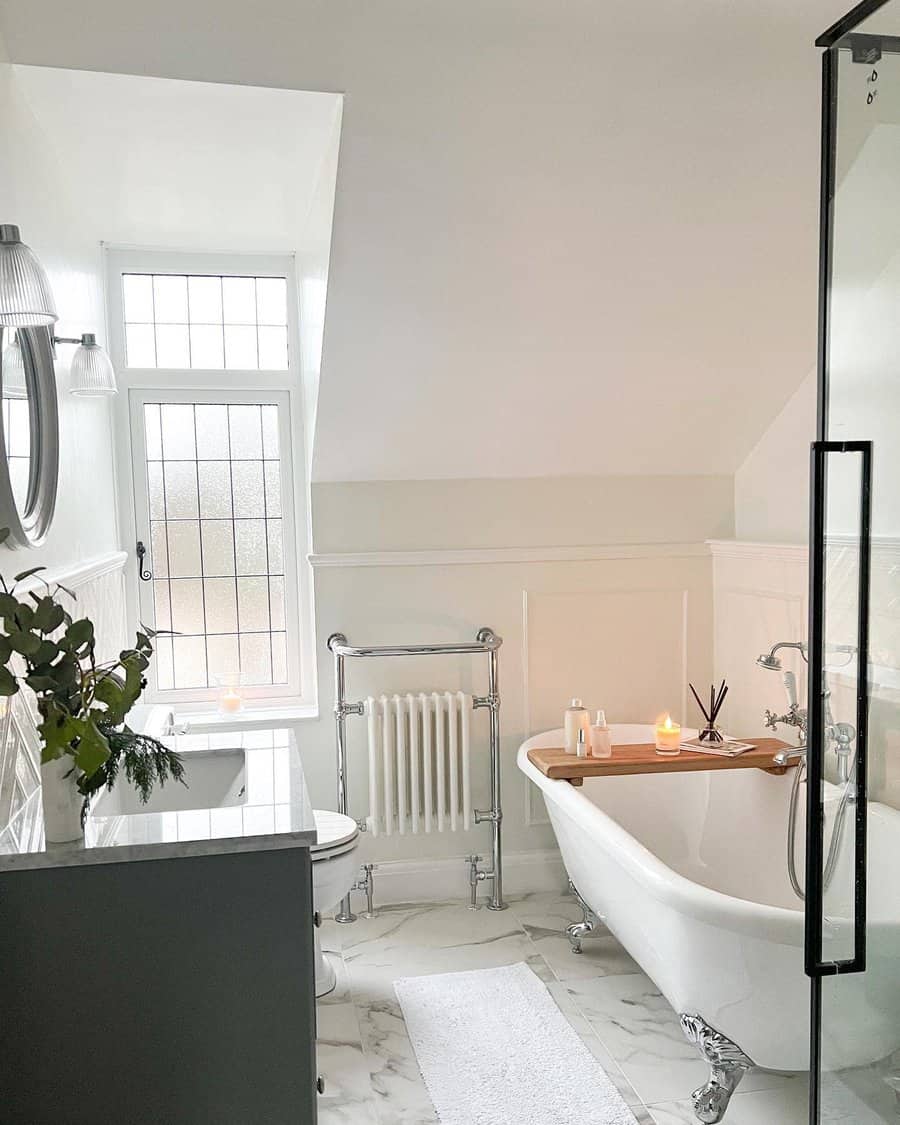 8. Express with Decorative Tiles
Enhance the aesthetic of your small bathroom with decorative tiles that infuse color and texture. Consider Spanish prints or boho tribal designs to add vibrancy to a plain space. Experiment with geometric tile patterns like subway tiles, hexagons, or honeycomb styles.
Mix and match sizes and tones to create a captivating and unique look. To achieve this design, consult tile specialists or browse online for inspiration, and complement the tiles with coordinating accessories and fixtures for a cohesive bathroom style.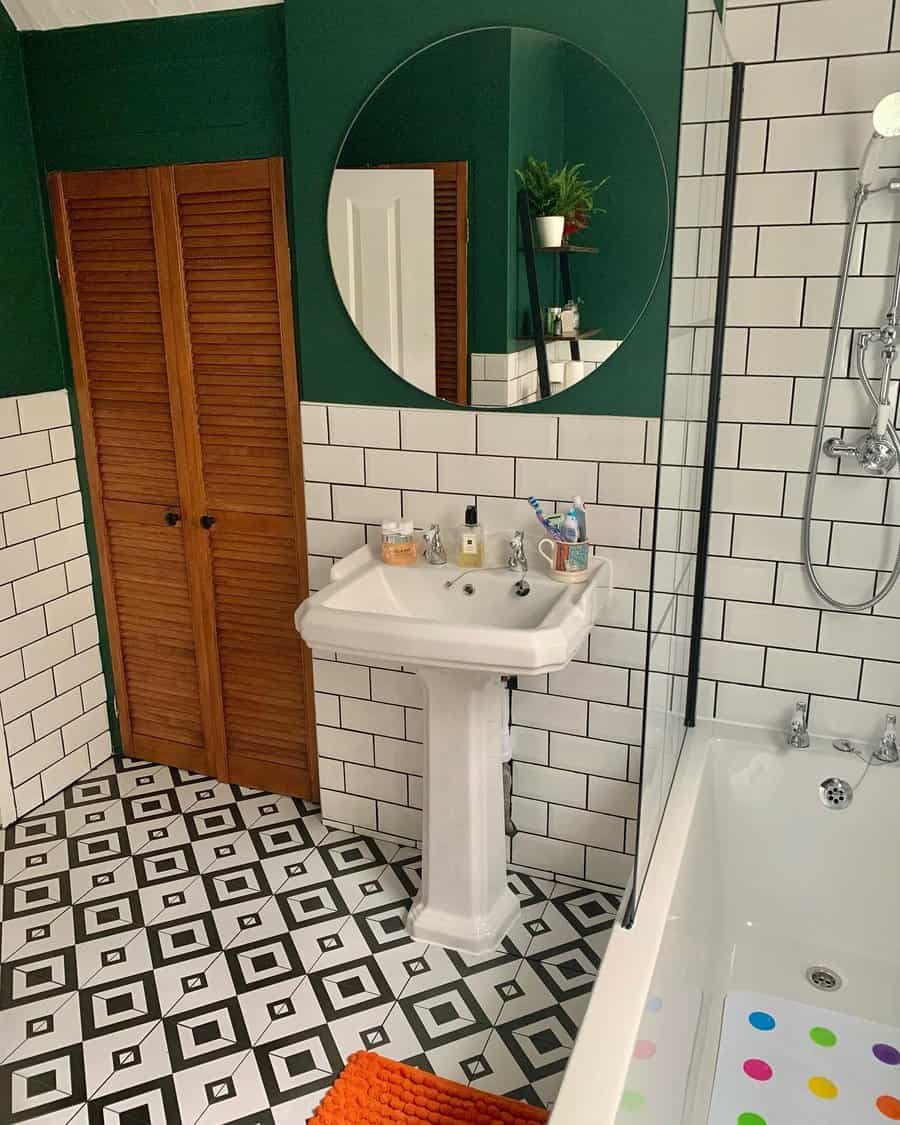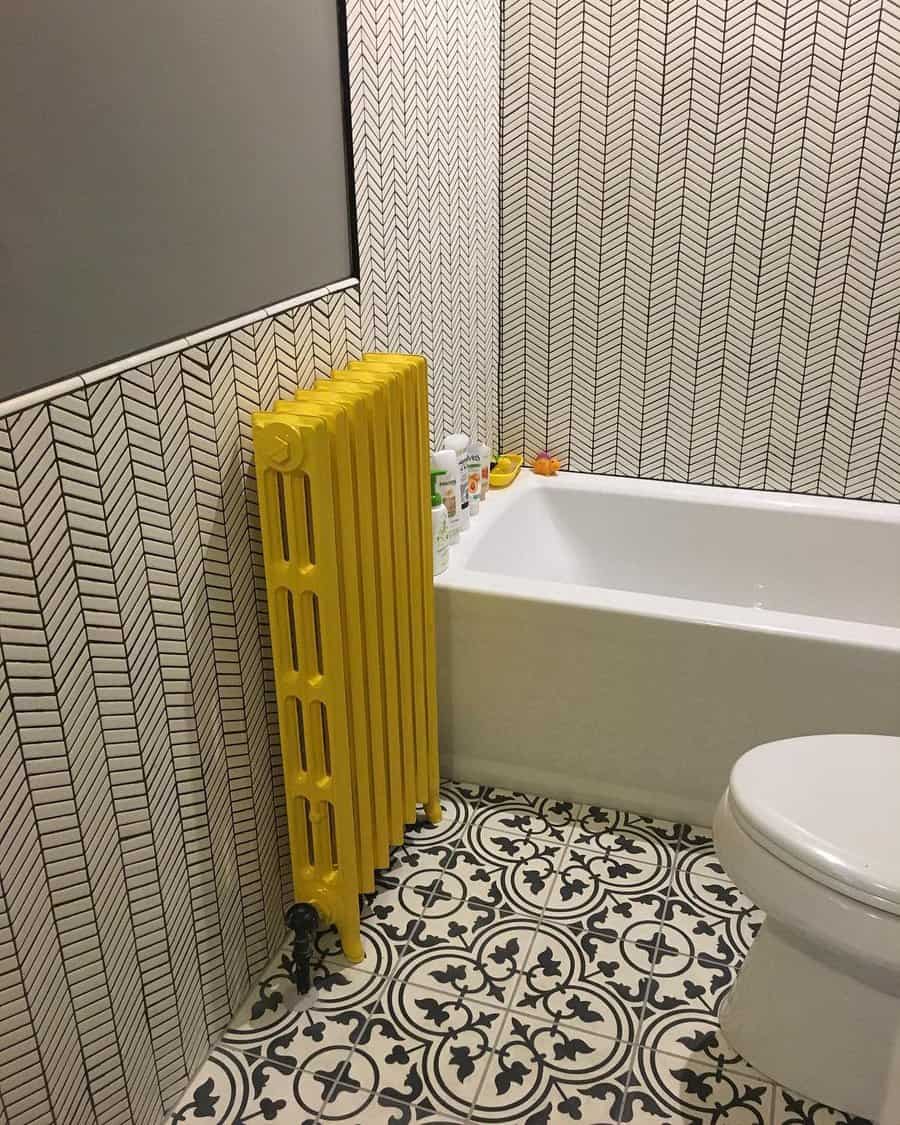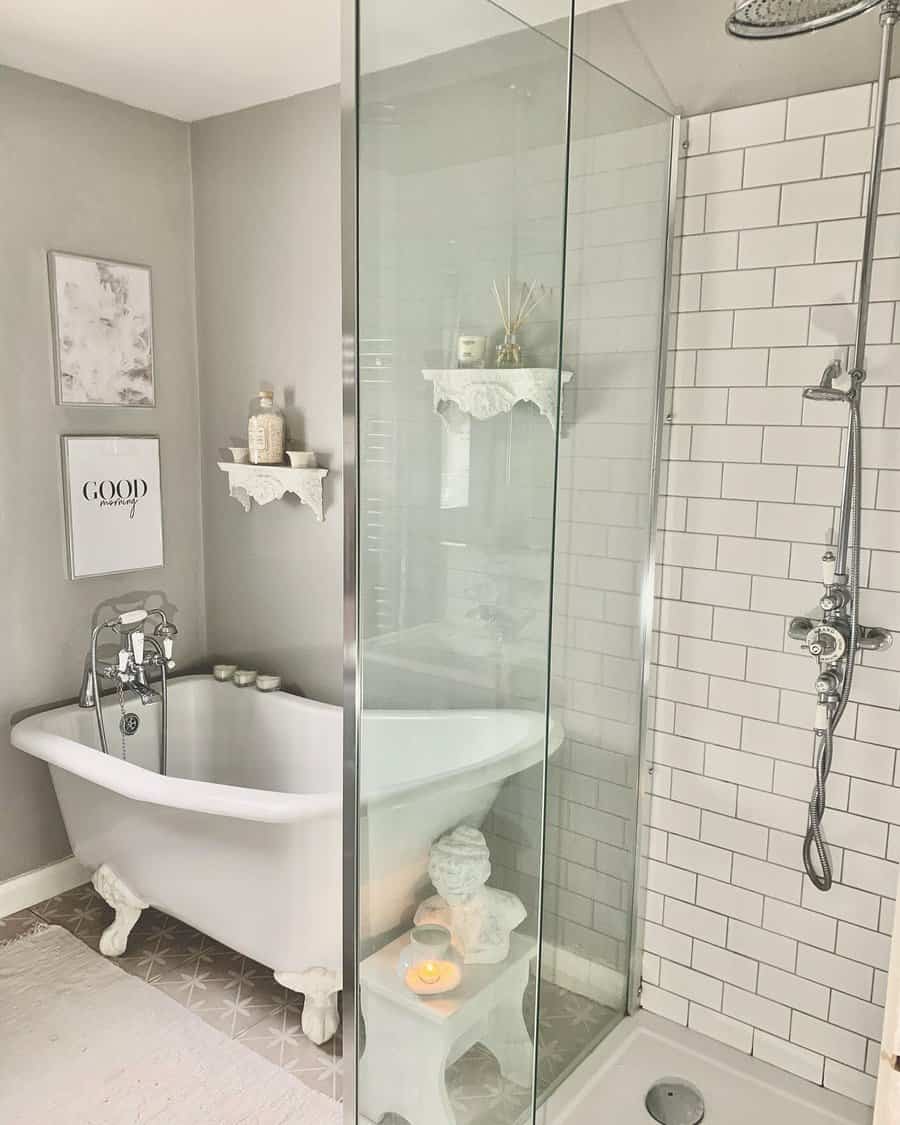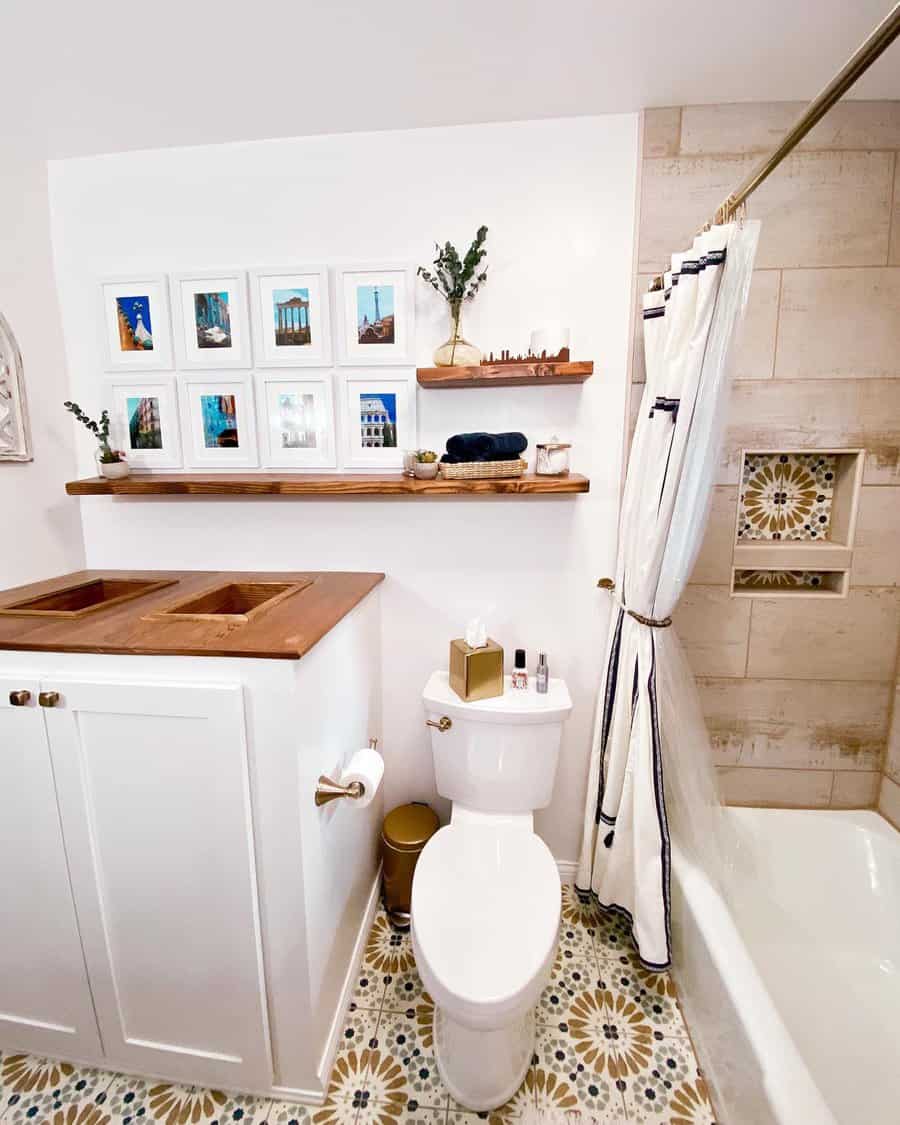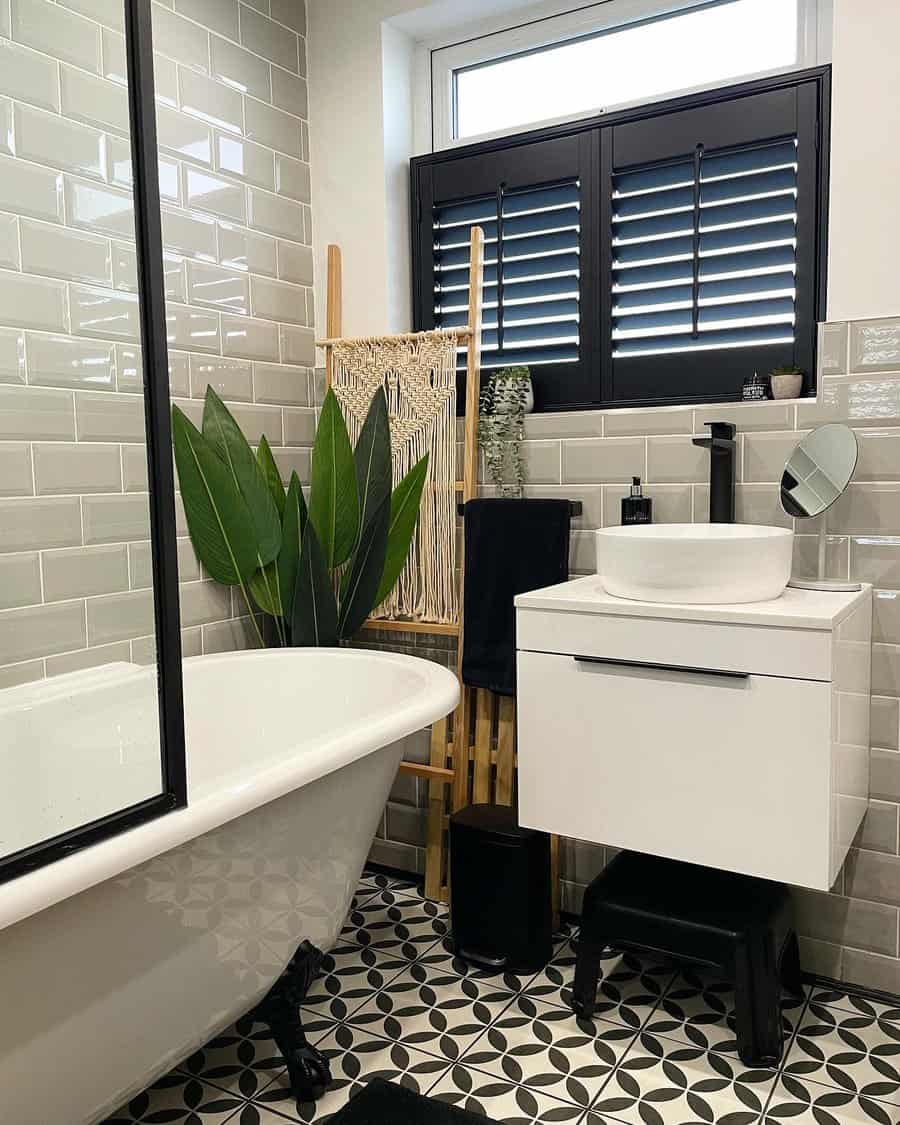 9. Illuminate with Pendant Lighting
Elevate the ambiance of your small bathroom by introducing pendant lighting. Opt for a bold, vibrant color or textured brushed metal to create a striking visual focal point. Beyond its functional lighting role, a pendant lamp can double as a captivating decorative element, resembling artwork.
To achieve this design, consult lighting experts for size and placement guidance. Complement the pendant light with coordinating fixtures and consider painting the bathroom walls a neutral shade to let the lighting fixture truly shine as a statement piece.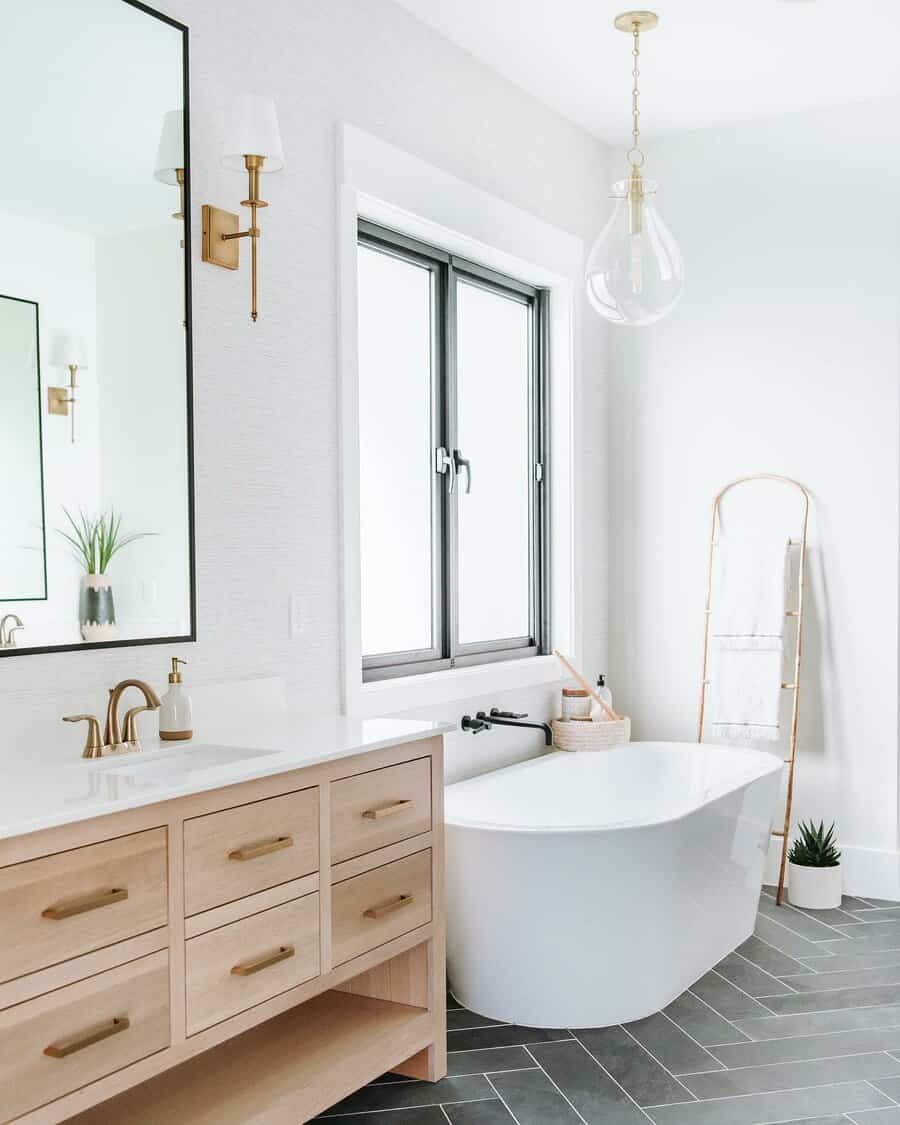 10. Half-Tiled Wall Charm
Achieve an eye-catching effect in your small bathroom by incorporating beveled tiles on one wall. This design choice creates the illusion of depth and adds dimension to the space. To make the most of this concept, select a paint color that complements the tiles and enhances the visual impact.
Consult a tile expert for guidance on tile sizes and patterns, and consider incorporating this half-tiled wall into a cohesive design scheme by coordinating it with the tub surround or vanity backsplash for a polished look.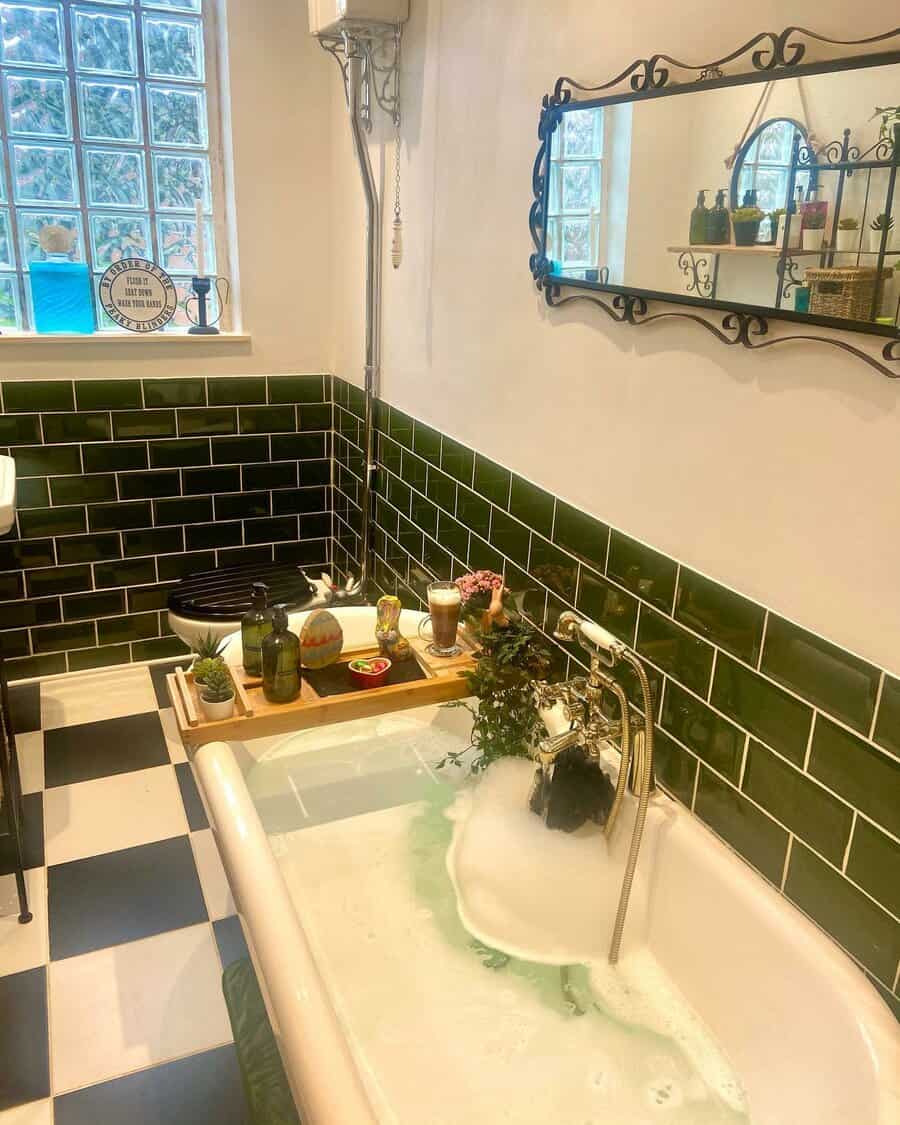 11. Sleek Black Fixtures
Introduce sleek black fixtures to your small bathroom for a touch of sophistication and minimalism. This timeless design choice complements various color schemes and interior styles, ensuring a lasting and stylish upgrade.
Whether you prefer a bold statement or subtle accents, incorporating black fixtures will elevate your bathroom's overall aesthetic. To enhance this look further, consider pairing them with white or neutral tiles and accessories for a striking contrast that makes your space feel open and chic.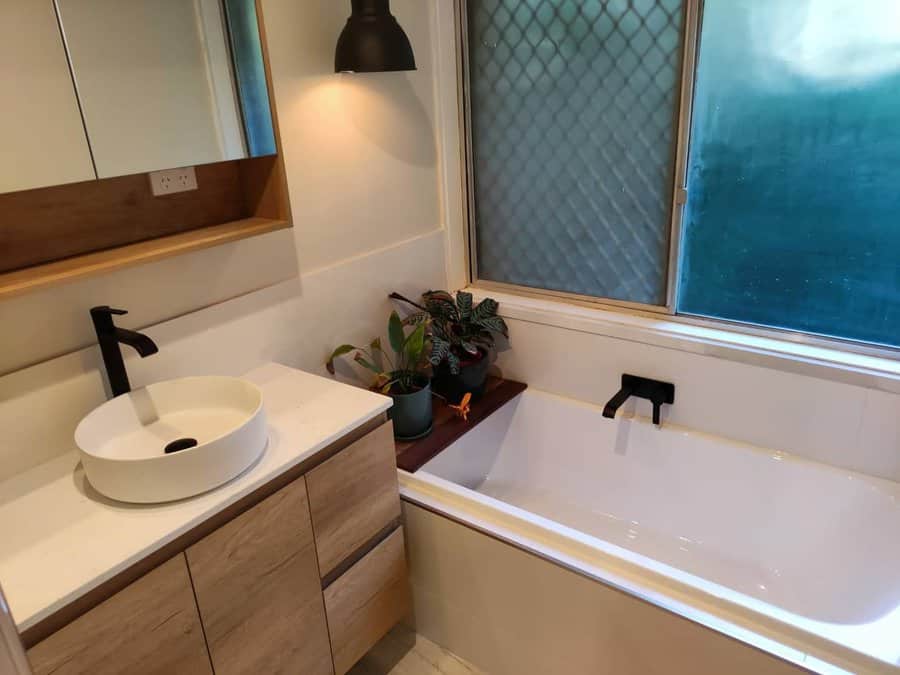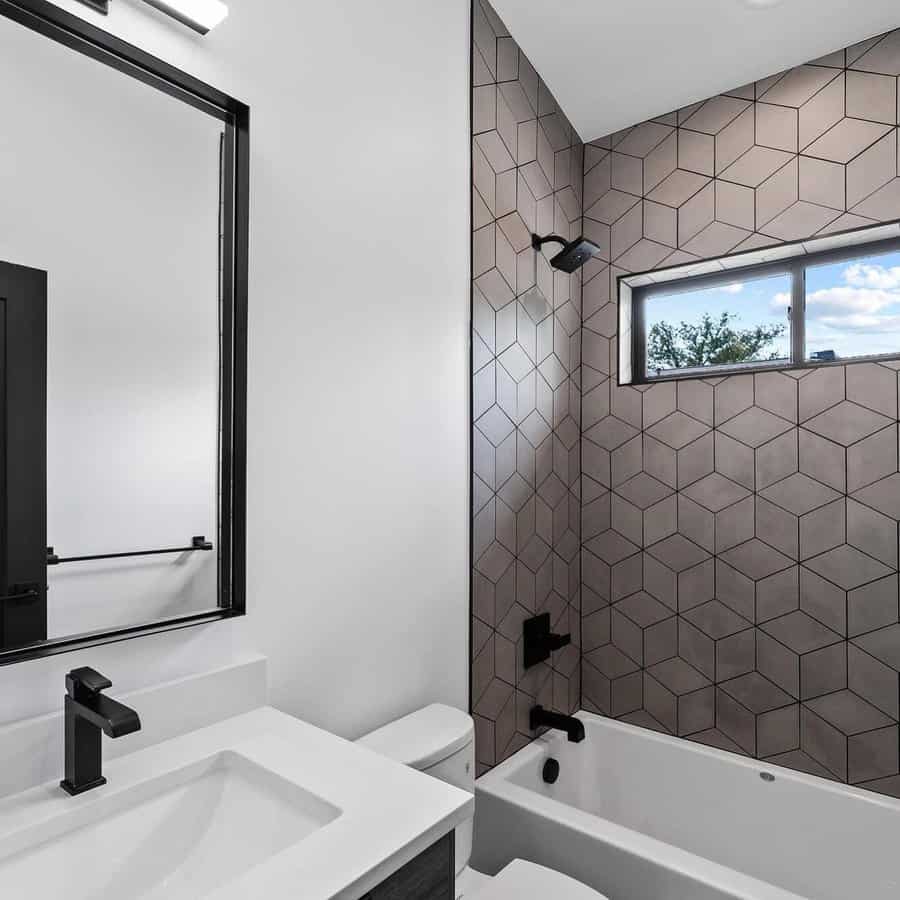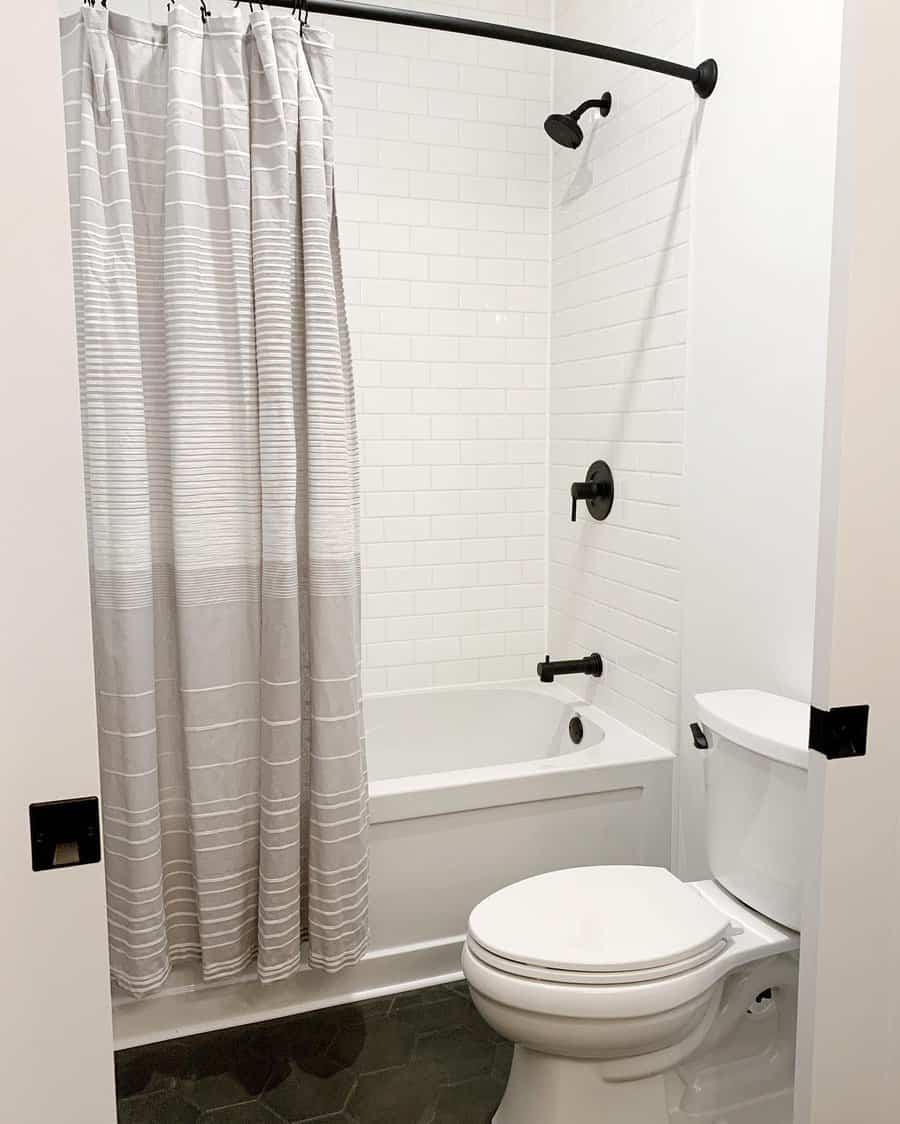 12. Organize with Recessed Shelves
Maximize your small bathroom's storage potential with recessed shelves. These discreet and accessible storage solutions not only help keep your toiletries organized but also add a stylish touch to your bathroom.
Consider integrating recessed shelves into your shower area for shampoos and soaps or above the bathtub for decorative items and additional storage. To achieve this design, consult a contractor or handyman for installation options, and choose shelves that match your bathroom's color scheme or style to create a cohesive look.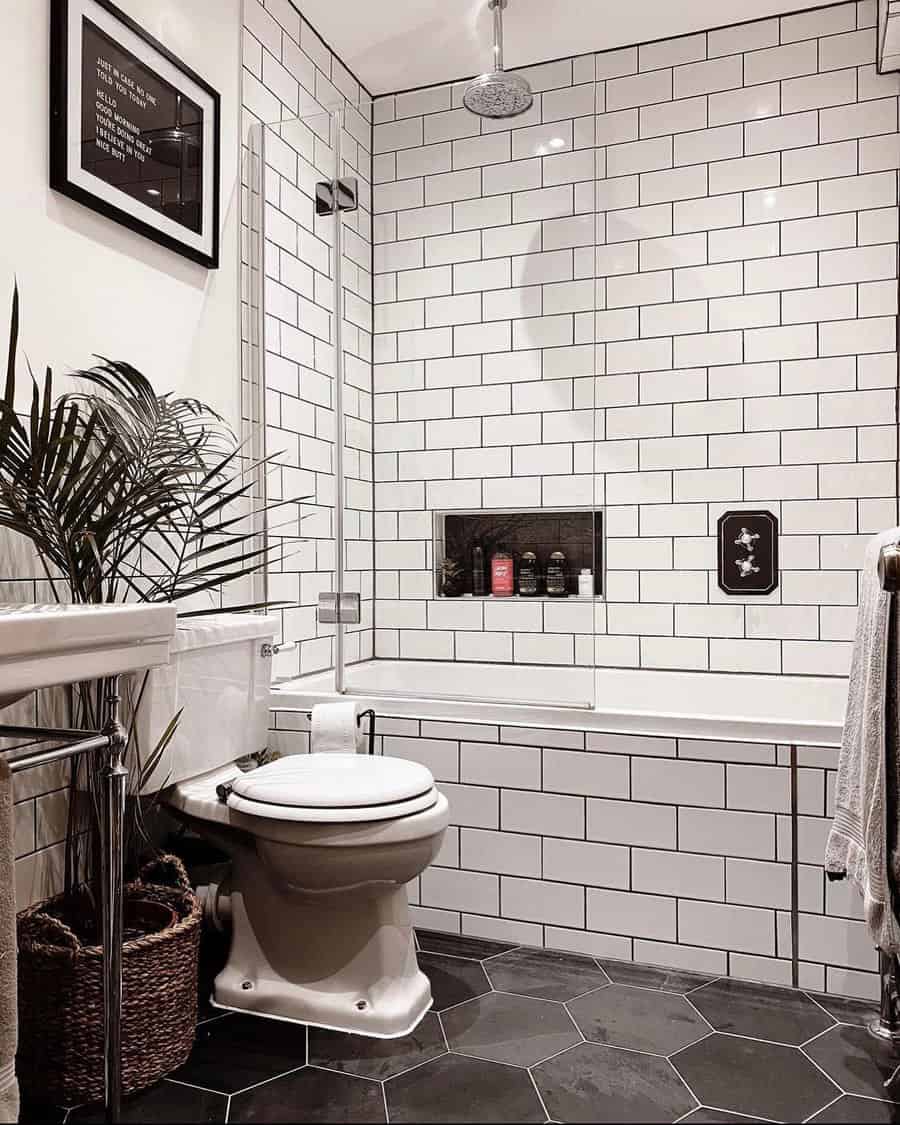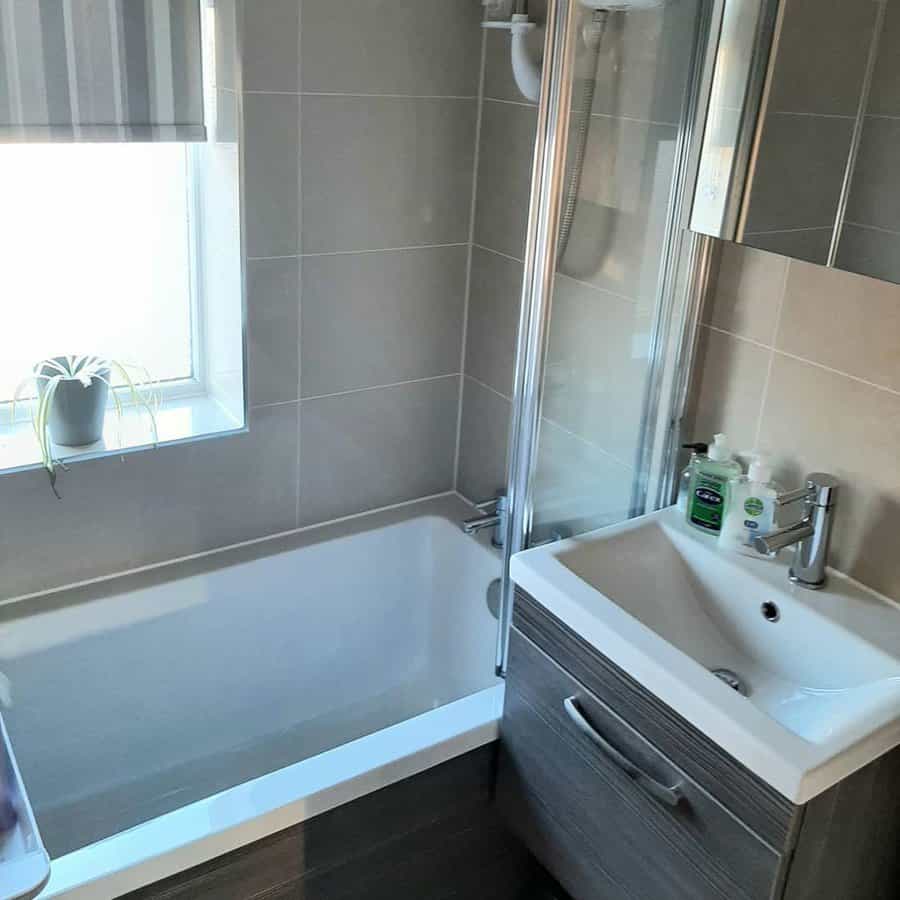 13. Create Mosaic Accent Stripe
Turn your compact bathroom into a luxurious retreat by incorporating mosaic glass tiles. Utilize these small tiles as an accent, running strips along the walls to achieve an elegant finish. To infuse vibrancy into the space, combine them with complementary tiles for a captivating contrast, creating a truly inviting and unique bathroom design. To get this look, consult with a tile specialist for guidance on selecting the perfect mosaic patterns and color combinations. Consider pairing it with soft, neutral wall colors to make the design pop even more.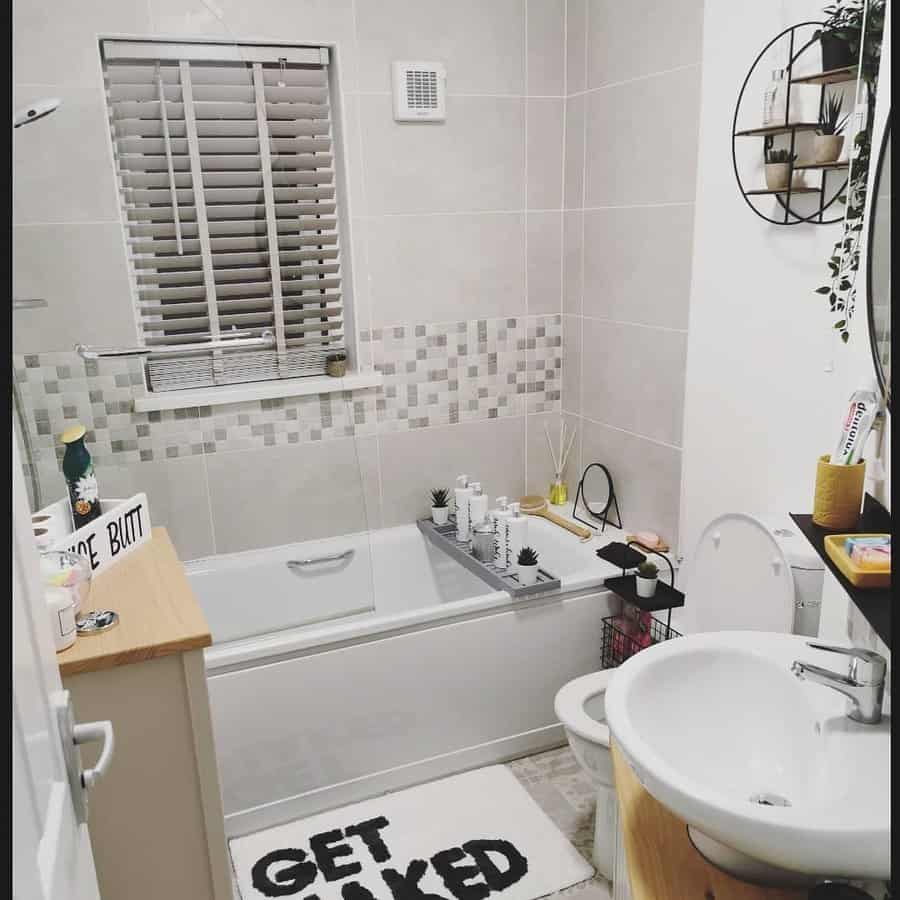 14. Artistic Graphic Tile
Transforming your compact bathroom with graphic tiles offers a chance to unleash your creativity. Experiment with various colors and grout options to achieve a stunning effect. For a striking appearance, combine dark, vibrant patterned tiles with contrasting dark grout, complemented by light blonde wood flooring. This interplay between dark walls and bright flooring not only creates an inviting atmosphere but also leaves a lasting impression.
To achieve this design, consult with a tile expert for guidance on tile patterns and color selections that match your style, and consider incorporating other light elements, such as mirrors and fixtures, to maximize the visual impact.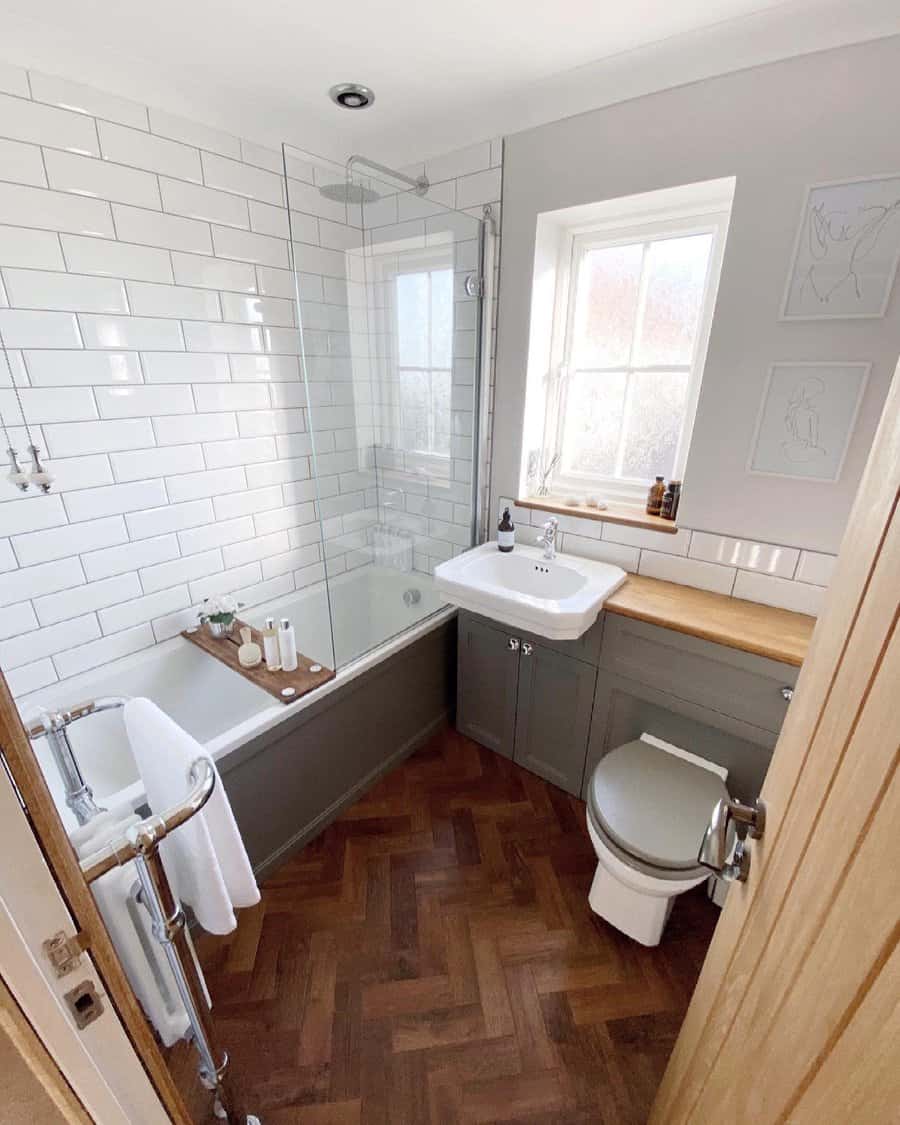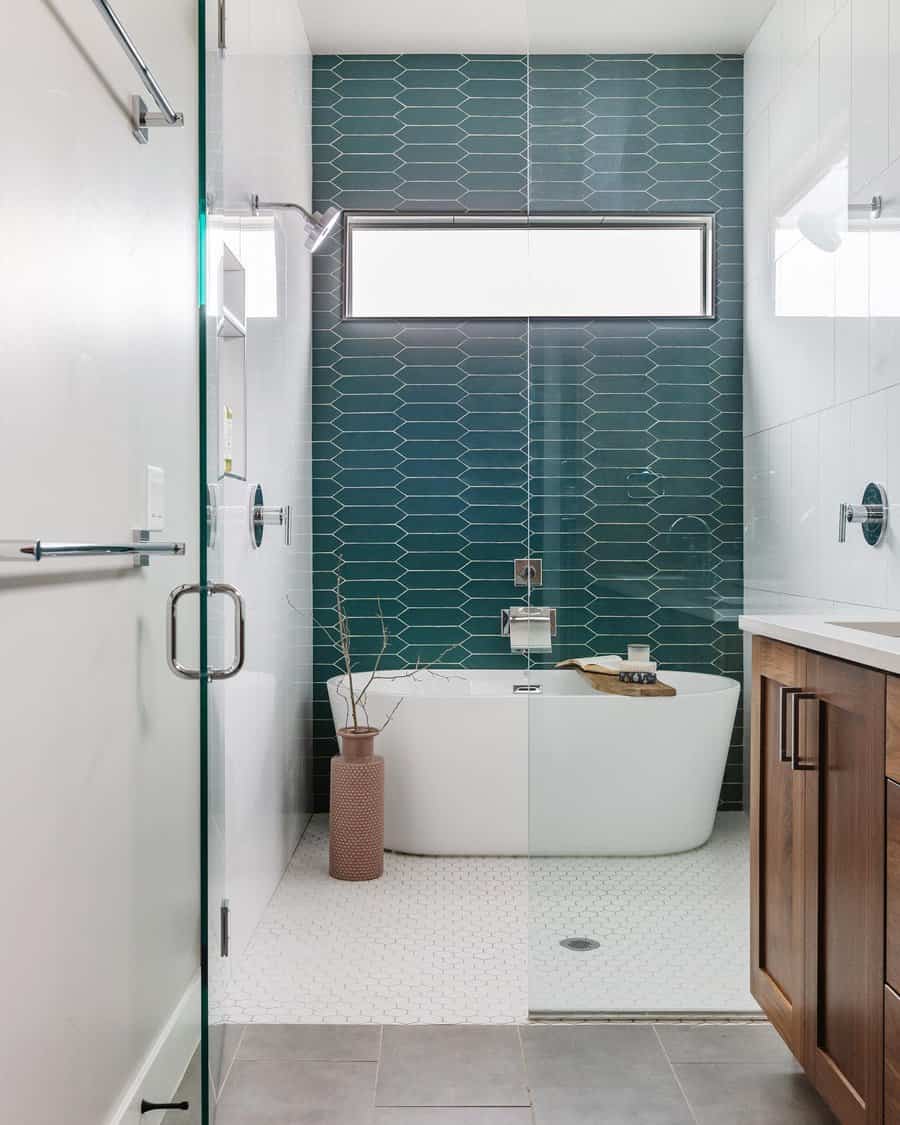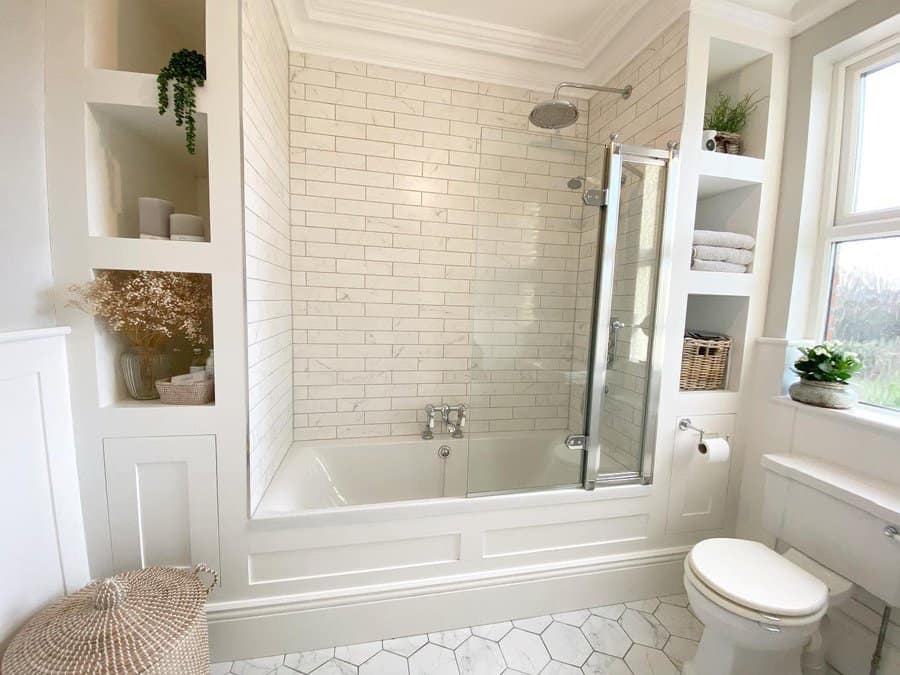 15. Playful Bathroom Rugs
Enhance the charm of your small bathroom by incorporating playful rugs. These versatile additions not only elevate your bathroom's style but also serve practical purposes. Invest in a variety of rugs that can be easily switched out to match different seasons or moods, providing comfort on chilly mornings. With these interchangeable rugs, you can effortlessly create a cozy and inviting bathroom ambiance that complements your chosen decor theme.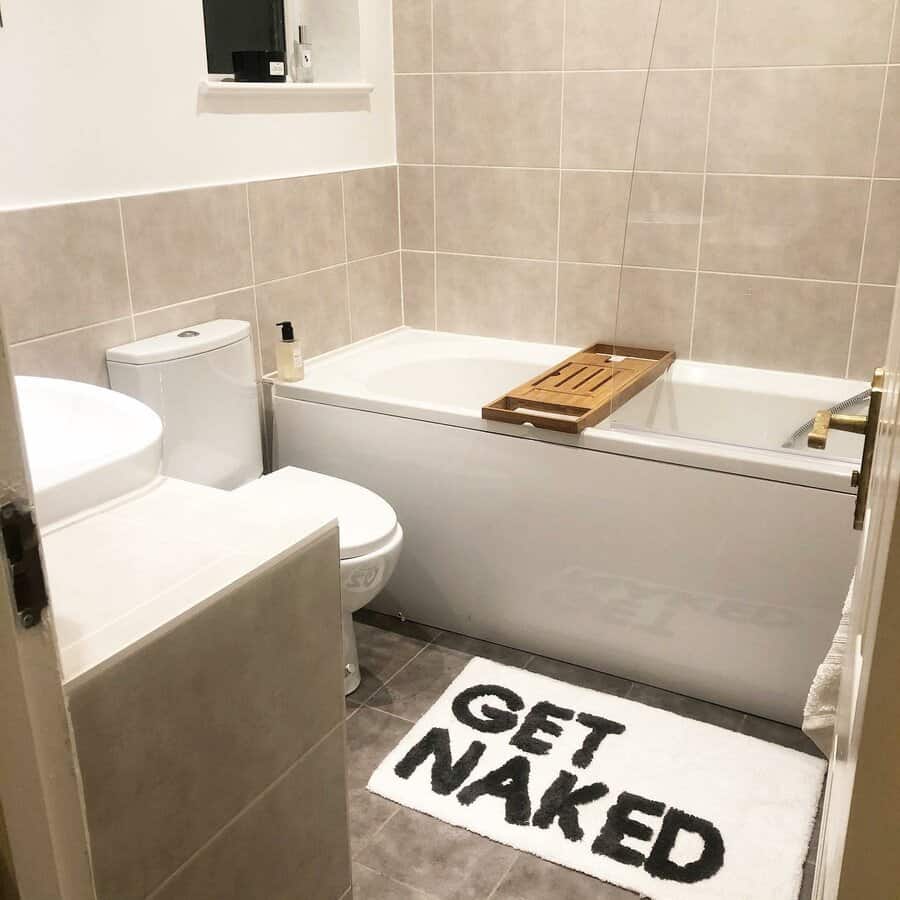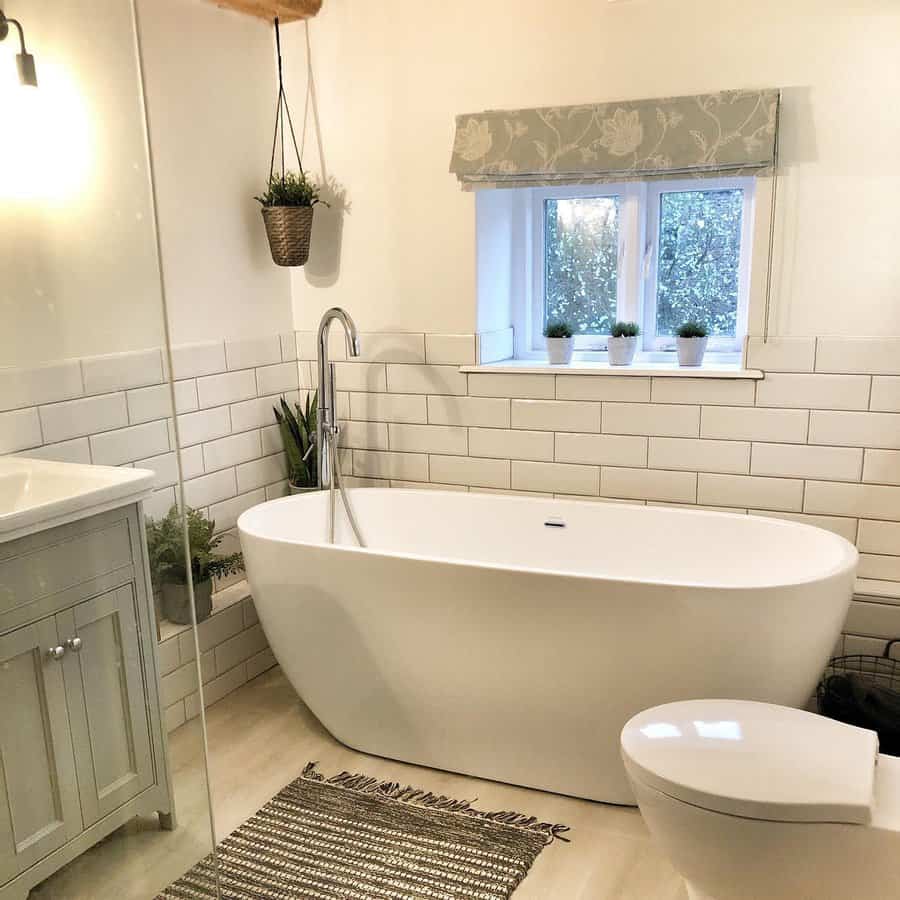 16. Timeless White Aesthetics
Create a timeless and visually spacious ambiance in your small bathroom with an all-white design. Opt for white walls, cabinets, and a vanity counter to achieve a clean and sleek aesthetic. To enhance this look, select an eye-catching floor tile and consider using towels in either light or darker shades to introduce contrast and visual intrigue. By embracing the power of bright whites, you can effortlessly transform your small bathroom into a stunning focal point of your home.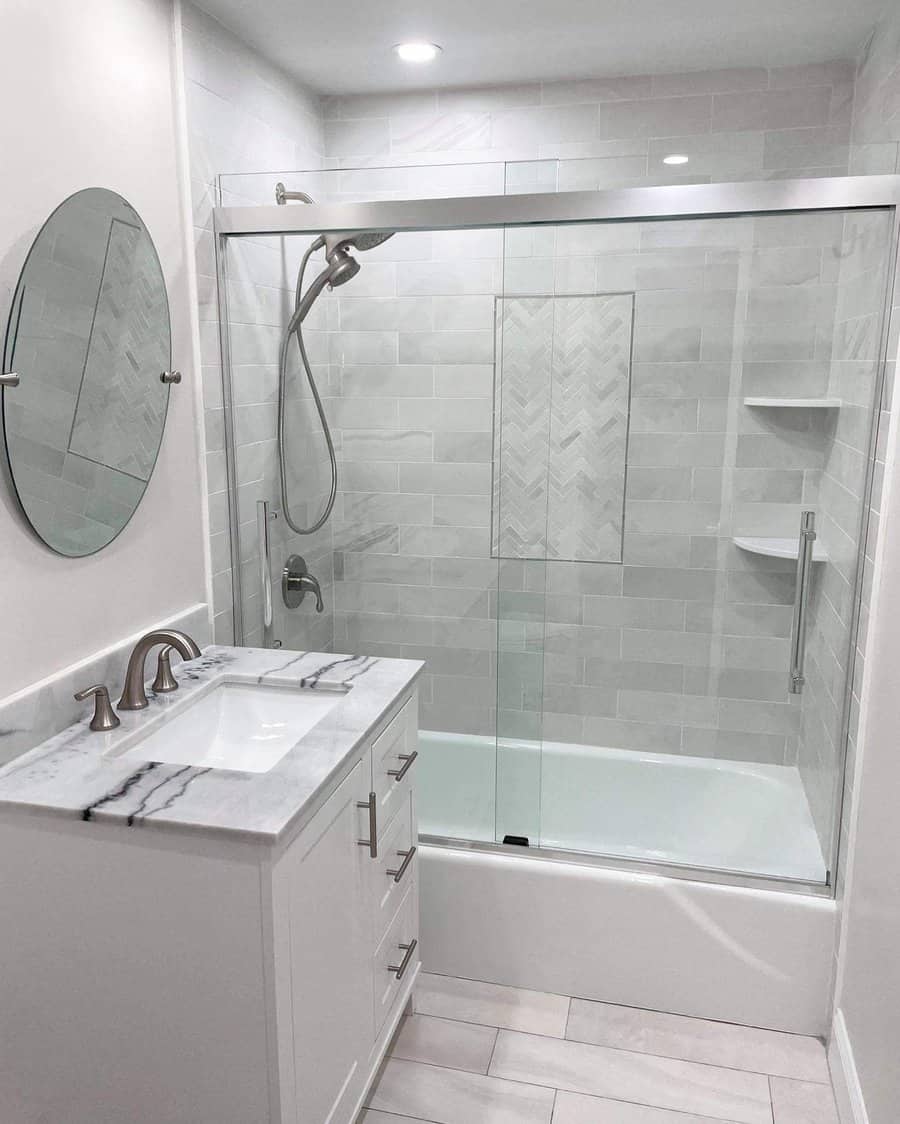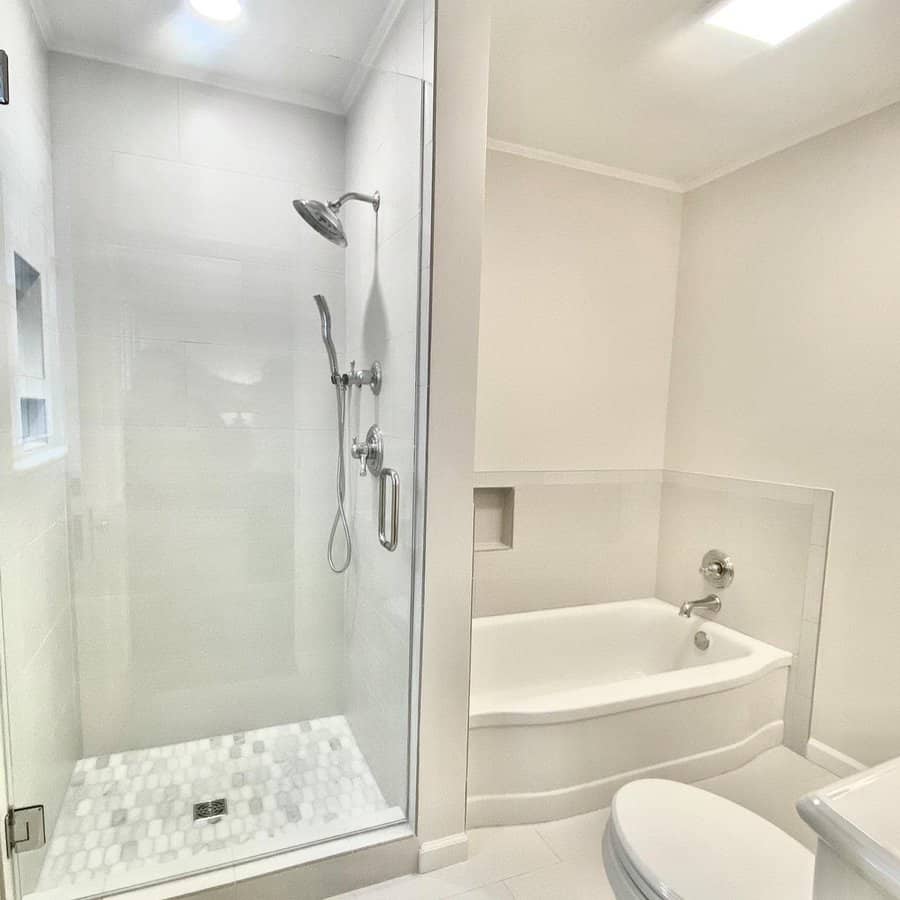 17. Expressive Maximalist Style
Discover the transformative power of expressive maximalist style in your small bathroom. To achieve this eclectic blend of vintage and modern, focus on balancing functionality with aesthetic appeal. Instead of bulky furniture, opt for organic and wooden elements to prevent the space from feeling cluttered. Add warmth and vitality with floor plants to complete the look. Embrace bold choices in your bathroom design to uncover the beauty of this unique style.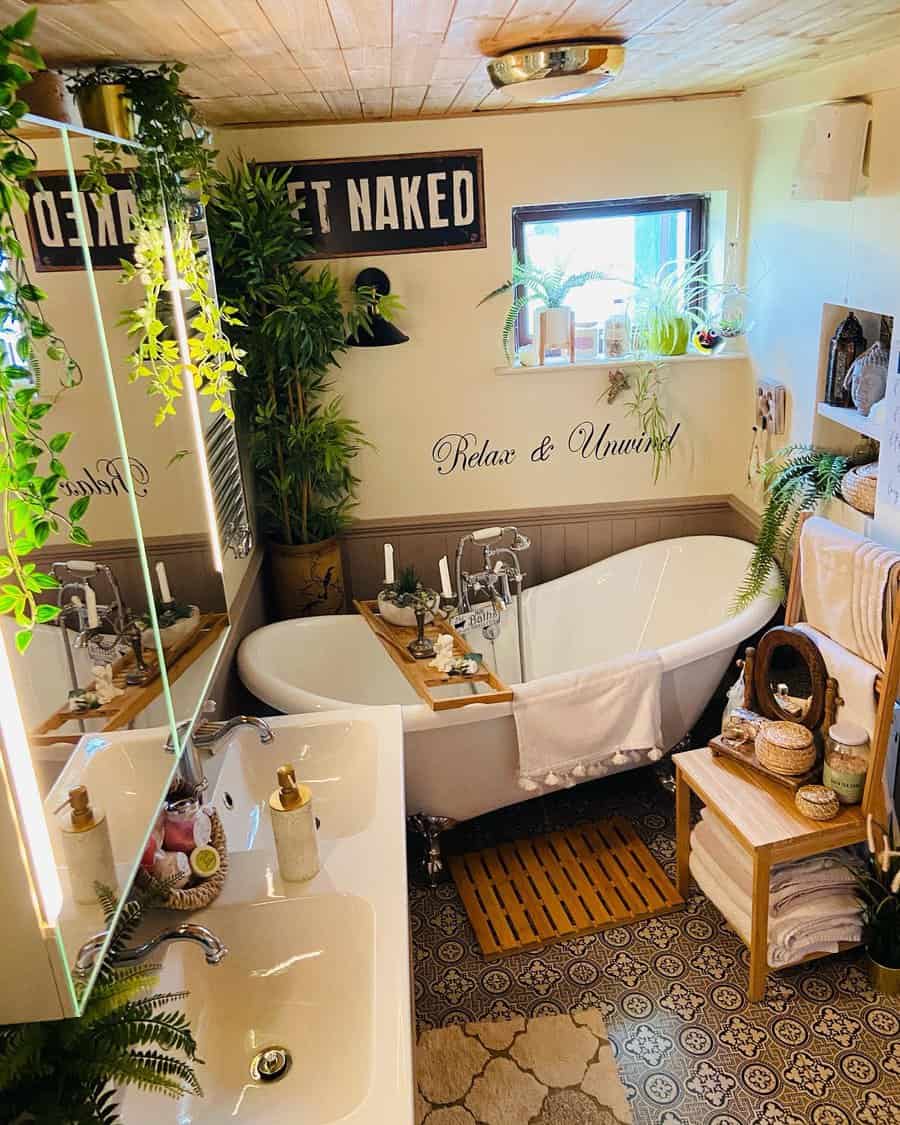 18. Bold Large Print Choices
Opt for large printed tiles in your small bathroom to instantly infuse it with energy and style. These tiles create a striking contrast with the compact space, giving it a unique and inviting appeal. The decorative patterns on the tiles divert attention from any clutter, making the bathroom appear more spacious. To enhance this design, incorporate colorful towels and various-sized mirrors for a chic and vibrant ambiance.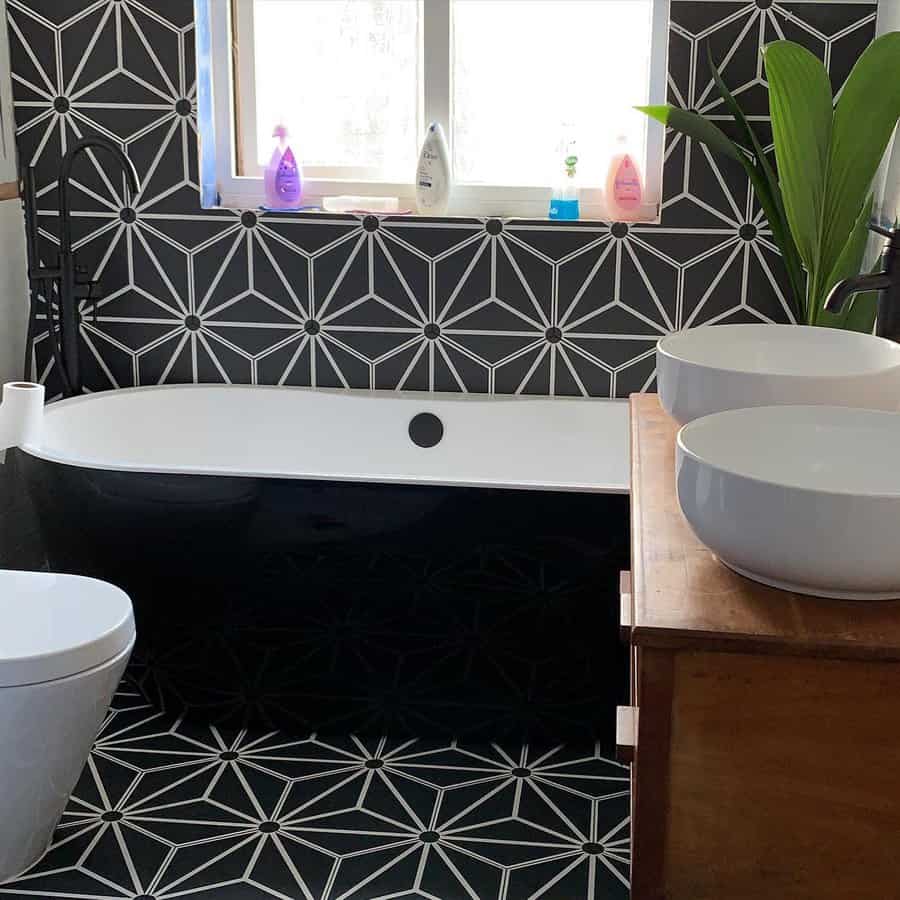 19. Convenient Laundry Nook
Integrating a laundry area into your small bathroom can significantly enhance your home's functionality. Whether you live in a spacious house or a compact apartment, this design choice offers valuable space-saving benefits. By adding a washing machine in the bathroom, you can dedicate the room entirely to laundry activities, freeing up other areas for more comfortable use.
For apartment dwellers seeking space optimization, consider utilizing unused corners to create your own laundry nook, making the most of your bathroom's square footage.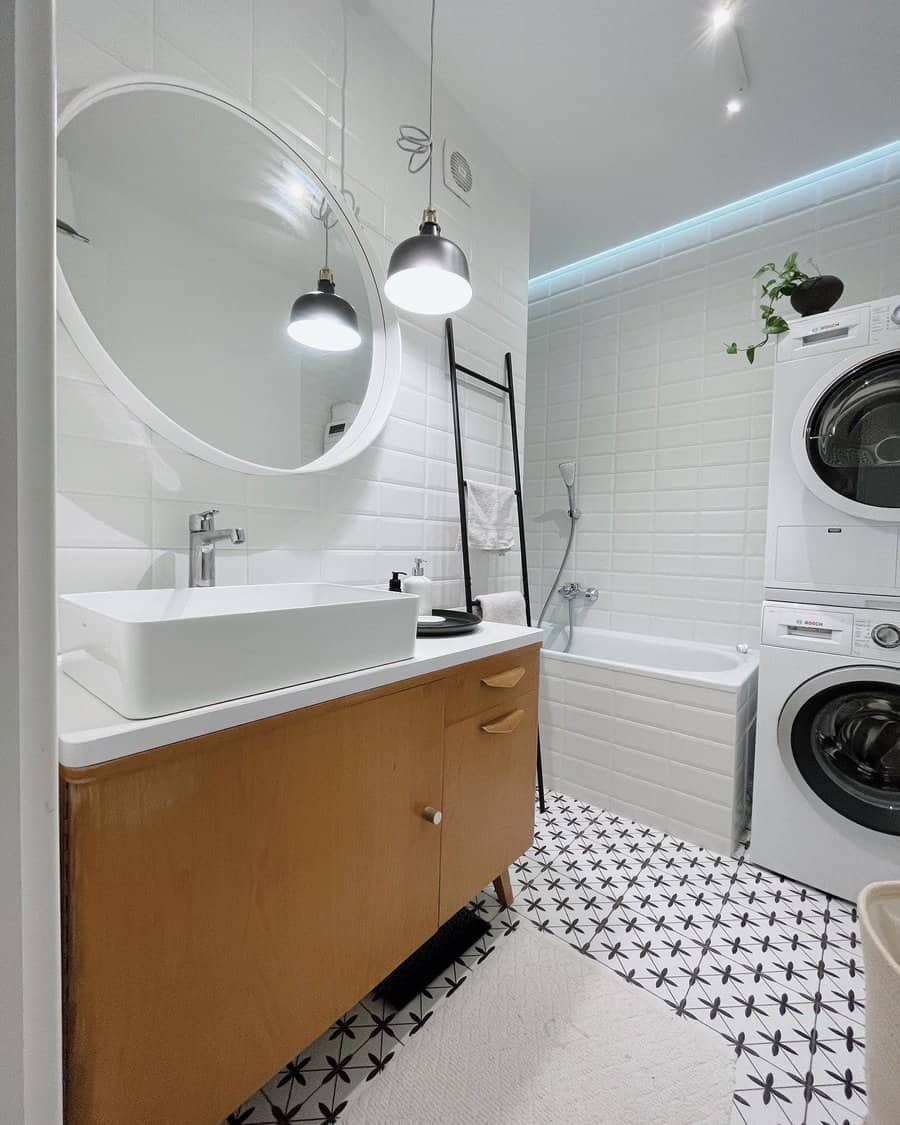 20. Reflect with Wall-Length Mirror
Expand the perceived space in your small bathroom by incorporating a wall-length mirror. This simple addition can instantly make your bathroom feel more spacious and chic. To maximize its impact, position the mirror strategically to reflect light and create an illusion of depth. Whether you're updating your own small washroom or enhancing a rental property, a wall-length mirror is a must-have accessory to turn any compact bathroom into a modern and inviting oasis.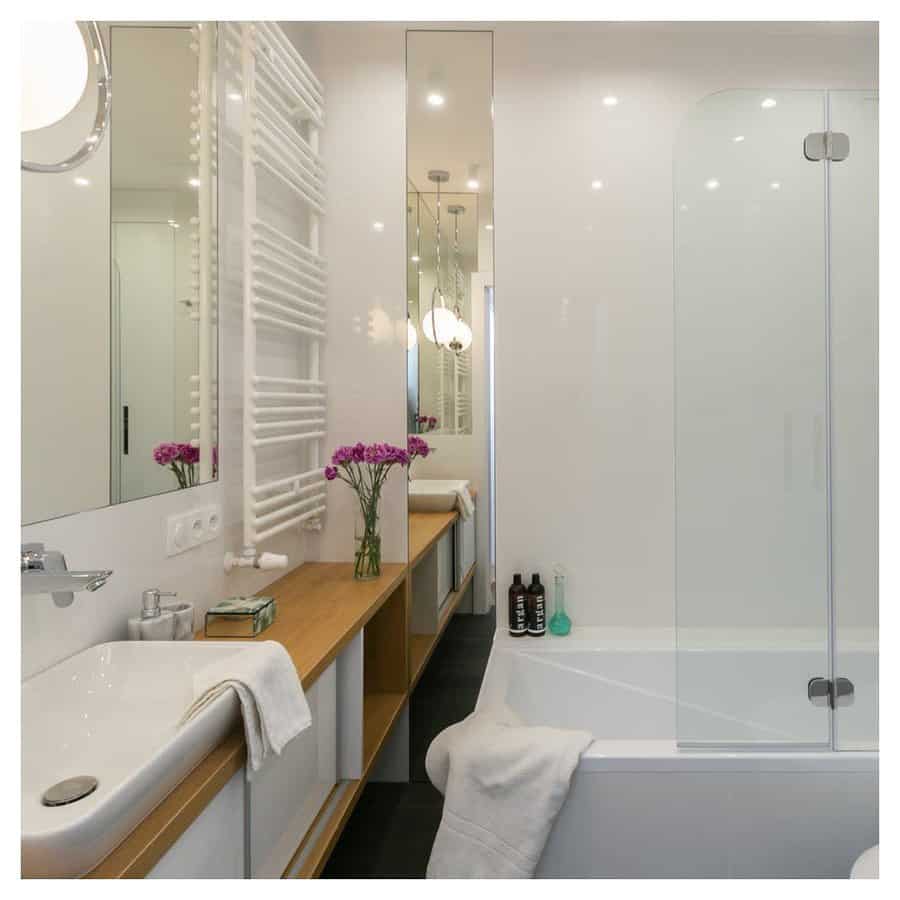 21. Circular Window Addition
Incorporating a small circular window in your small bathroom design can bring a delightful touch of nature's beauty into your space. The circular shape creates a pleasing contrast to the square features of your bathroom, adding a sense of harmony. More than just aesthetics, this window allows natural light to fill the room, making it feel brighter and more inviting.
Its simple, elegant design eliminates the need for additional decorations, creating a unique focal point that showcases the interplay between human-made structures and the natural world. To achieve this look, consult with a professional contractor who can help you seamlessly integrate this circular window into your bathroom layout, and consider complementing it with other nature-inspired design elements, such as indoor plants or earthy color palettes.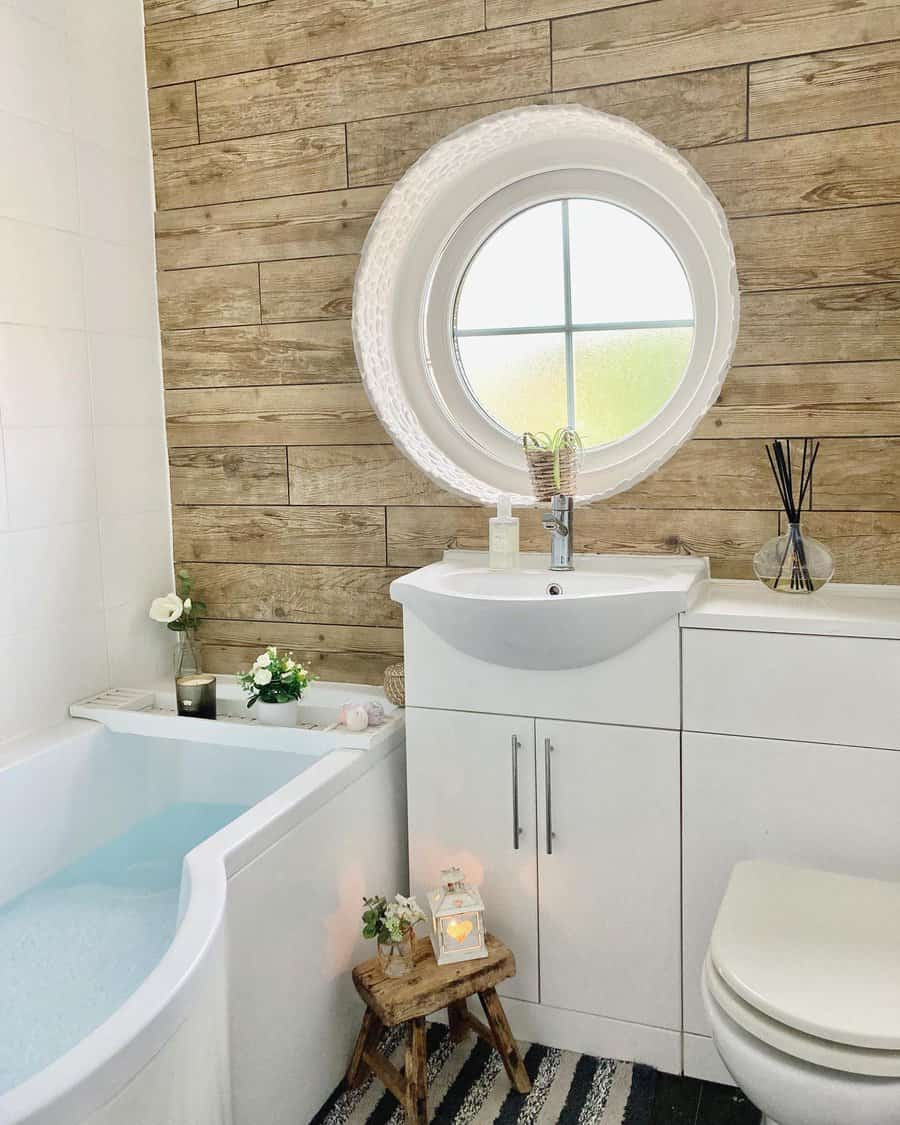 22. Accentuate with Wall Panels
Elevate your small bathroom's appeal by incorporating wood wall paneling. This versatile design choice adds both an accent and a warm, organic ambiance to the space. Whether you prefer the natural wooden hue or a custom paint color, wood paneling allows for a unique, personalized touch.
Consider complementing this feature with earth-toned decor elements, such as plants and neutral-colored towels, to enhance the cozy atmosphere in your small bathroom. Wood paneling is a timeless choice that can infuse personality and character into your bathroom's design.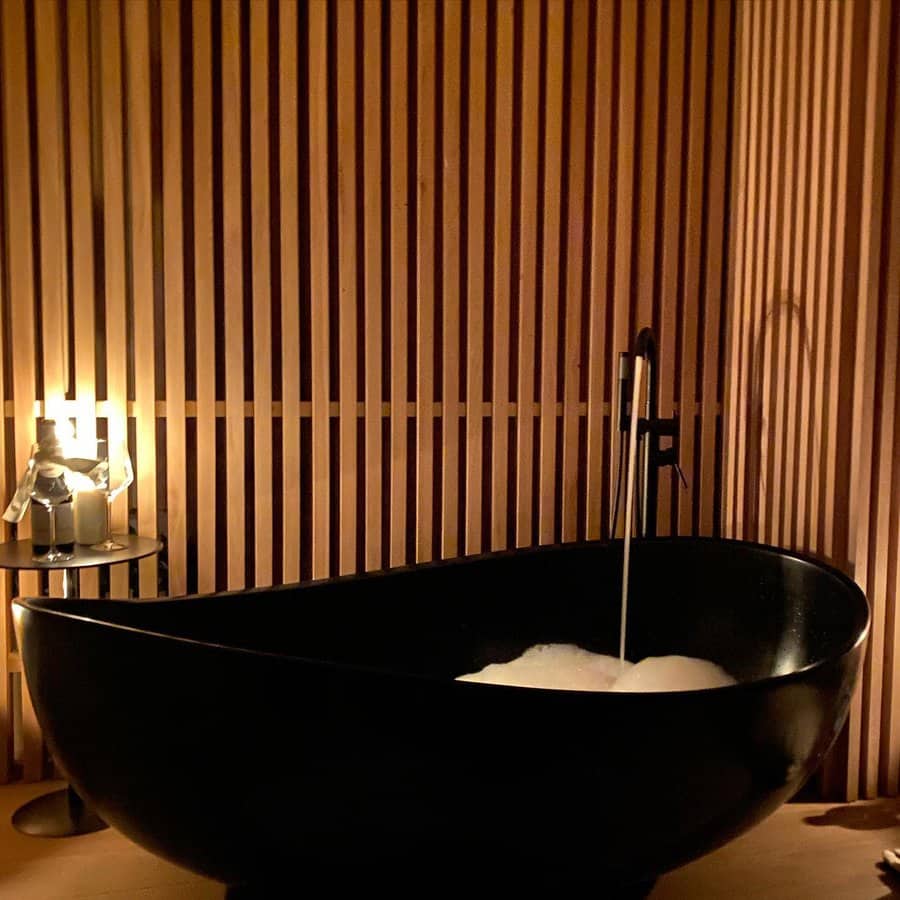 Small Bathroom with Tub FAQs
How can you put a freestanding tub in a small bathroom?
Japanese soaking tubs are the best choice for a tiny bathroom. Although they are small in diameter—as small as 41 inches wide—they are much deeper than an American bathtub. They have a built-in seat and the water comes all the way up to your chin for a true tub soaking experience. Another bonus: they come in cool finishes, including copper, wood, and stainless steel.
How small can a bathroom be and still have a tub?
A full bath should have at least 36 to 40 square feet of floor space. Unless you're getting a Japanese soaking tub, your finished bathroom needs to be at least 5 feet long in one direction to accommodate a bathtub.