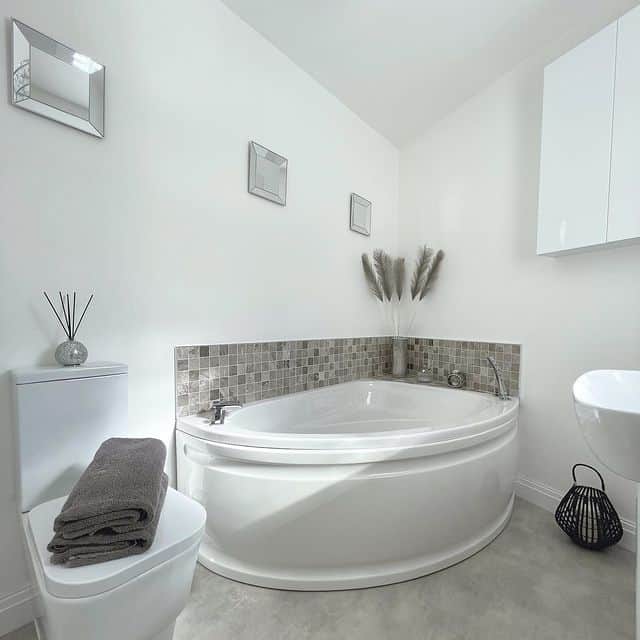 40 Small Bathroom Ideas with Tub
"I think a lot of contemplation happens in bathtubs. It does for me. Nothing like a hot bath to ease the tension and think about what's going to happen next." -Sarah McLachlan
The bathtub is definitely a place for relaxation and contemplation. However, if you have a small bathroom, you may think there's not enough room for a tub. Or, if you have a small bathroom with a tub, you may feel like the room is too crowded.
Small bathroom design is rather complicated. Even so, it's possible to turn a tiny bathroom into a beautiful space that allows you to soak your problems away. Check out our small bathroom ideas with a tub and see all the bathroom design ideas open to you.
1. Budget
If you have a small bathroom and your budget is tight, you don't have to plan an elaborate bathroom remodel to get a more functional space. Sometimes, just renovating to give the illusion of more space is enough.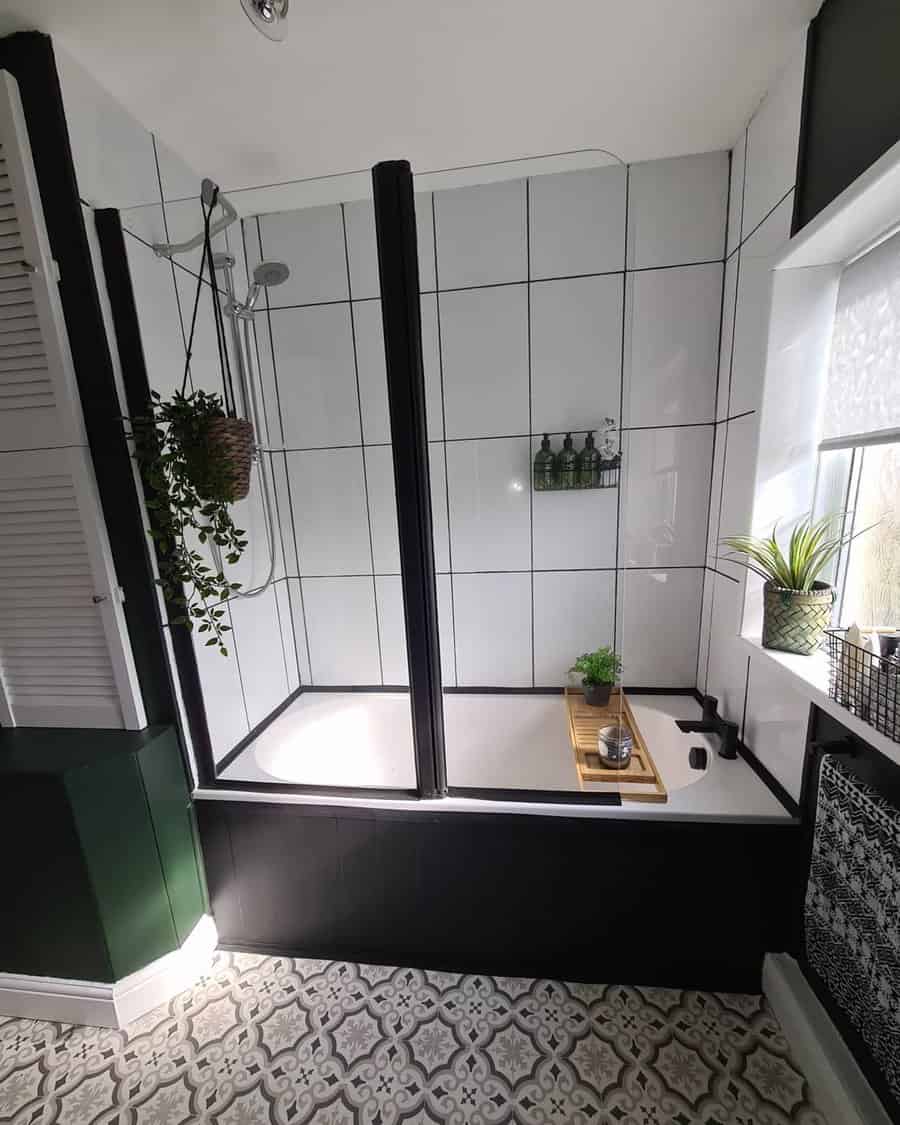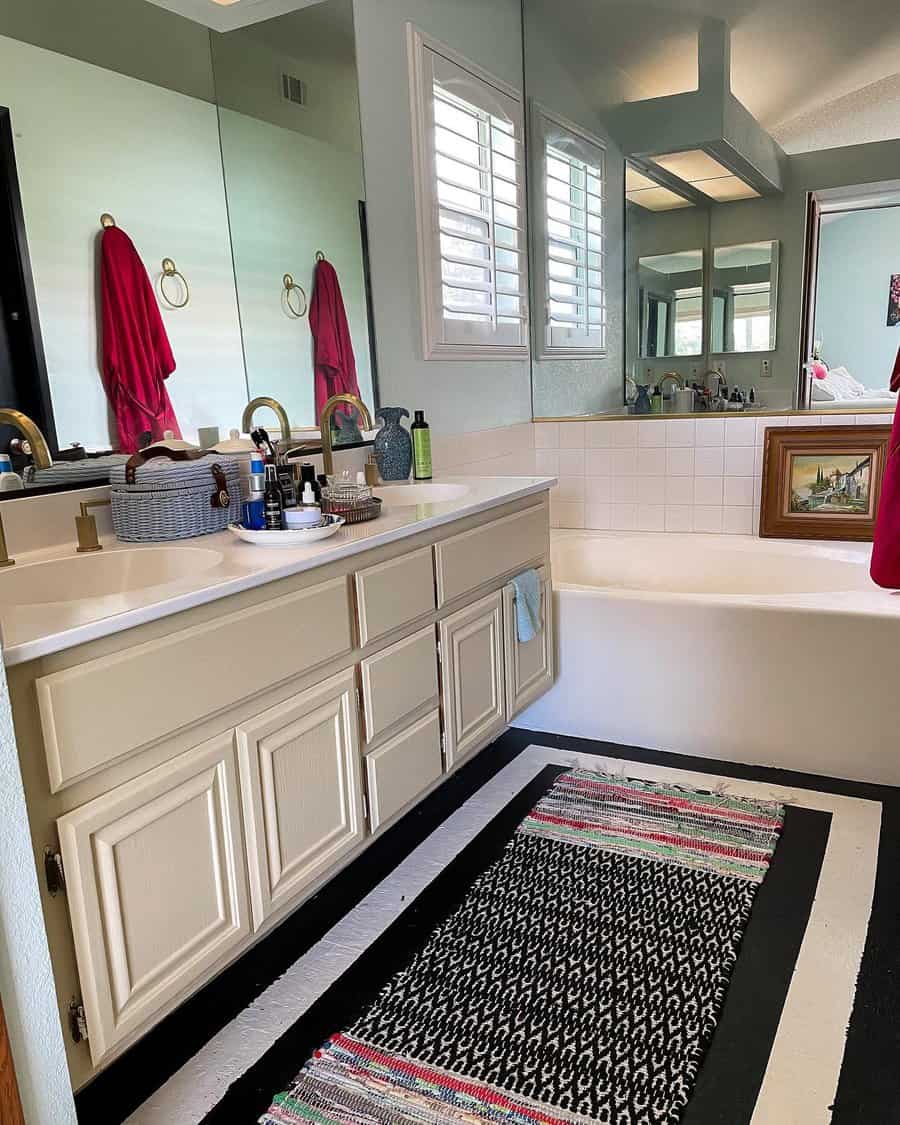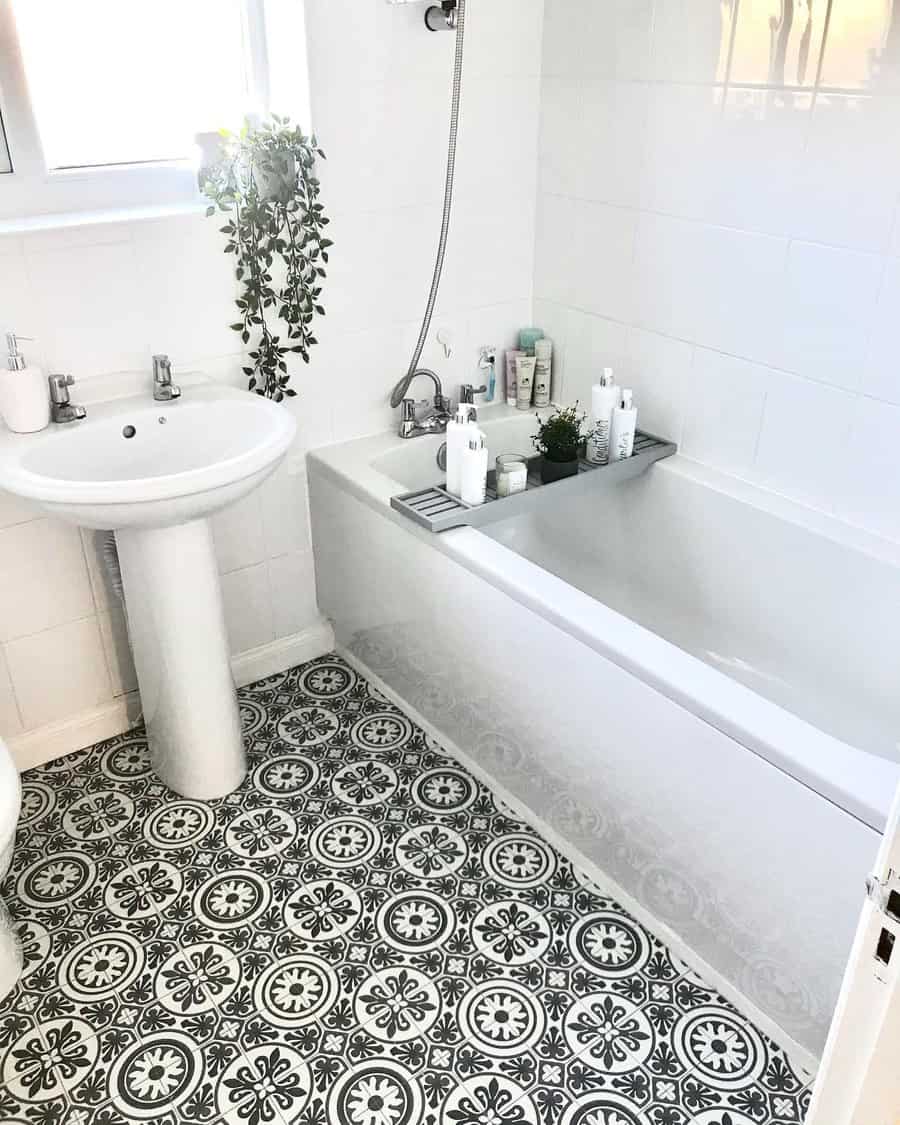 A large-scale wallpaper can actually make a small bathroom feel larger—and a small-scale print actually does the opposite. Find a print you like and choose your color palette to coordinate. If you prefer solid colors, note that high-gloss paint reflects more light. It's an affordable way to brighten your tiny bathroom.
2. Corner
One essential small bathroom decorating idea is to make the most of the room's corners. A corner shower enclosure, corner sink, or small corner storage shelf helps free up valuable floor and wall space.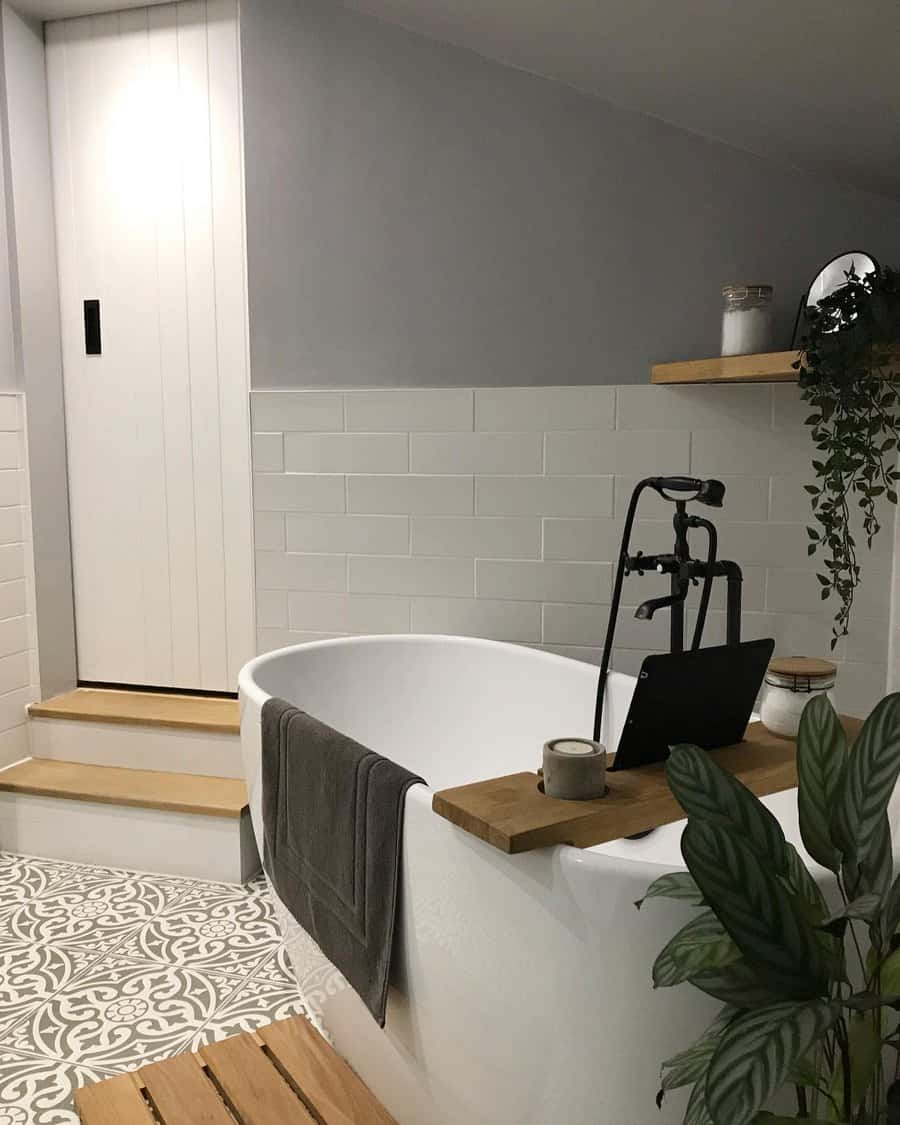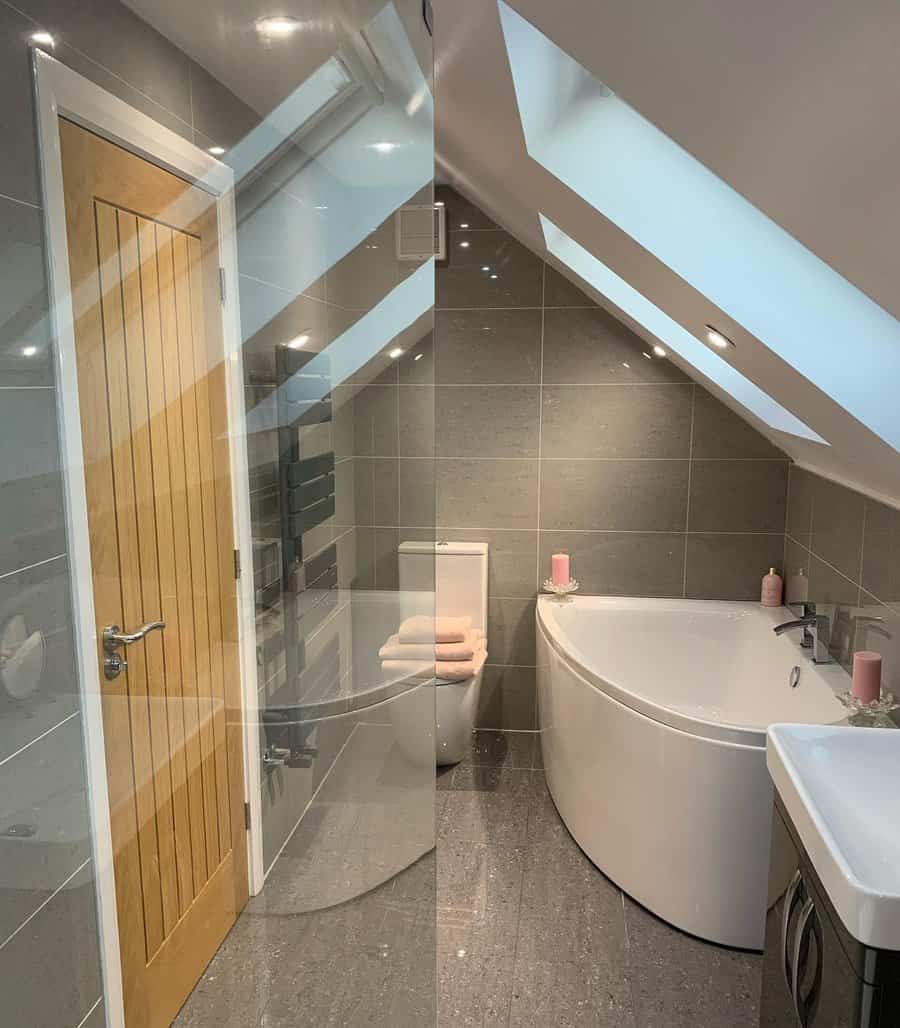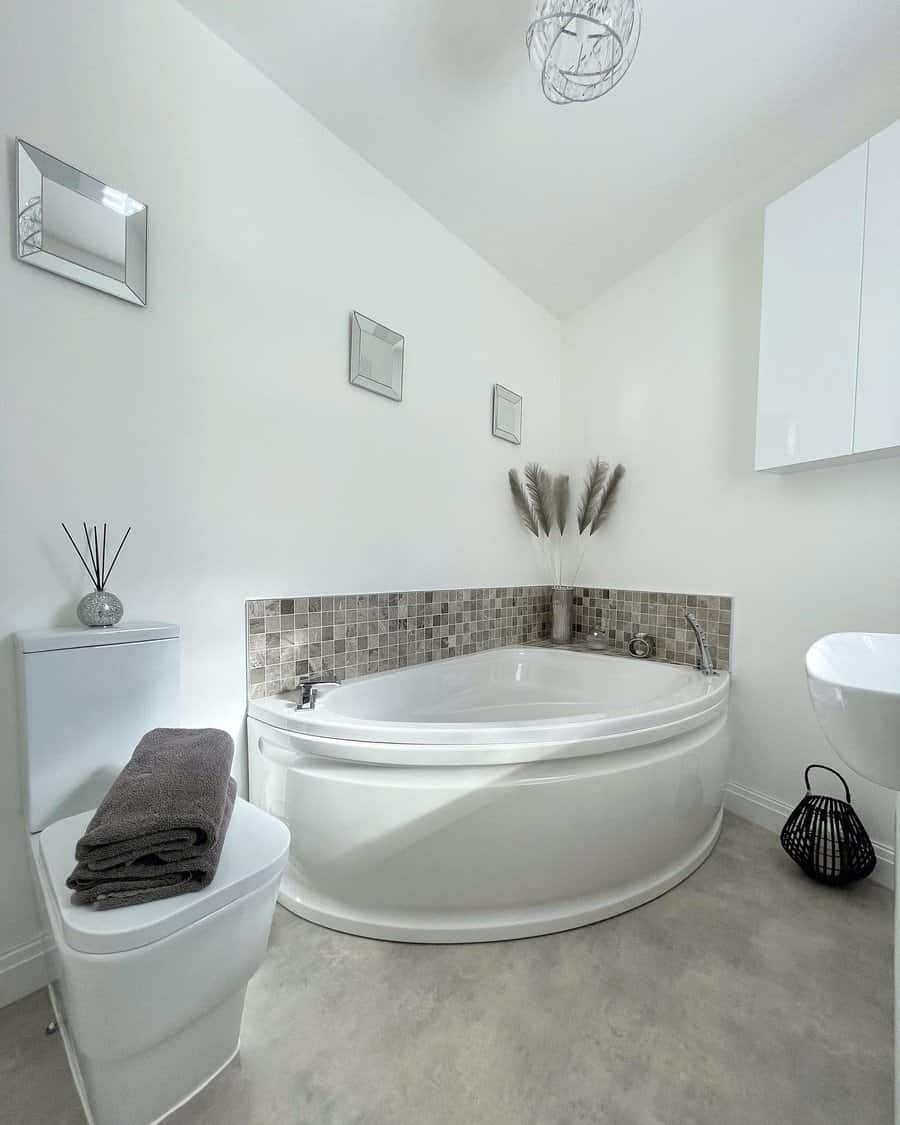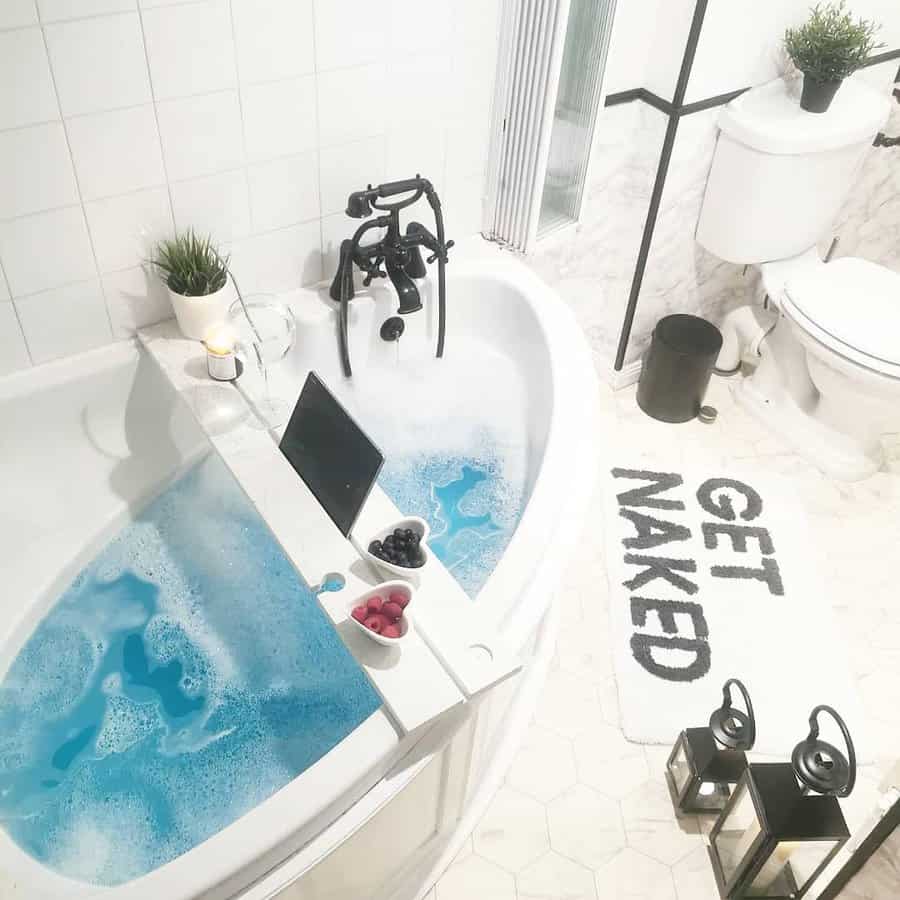 Try to use closed storage as much as possible, however, as any degree of clutter automatically makes a small or narrow bathroom feel claustrophobic. If your small bathroom design idea doesn't include closed cabinets, tuck hair brushes and accessories inside baskets to keep the room organized.
3. Decor
In small Manhattan apartments, tiny cottages, and other homes around the world, the lack of floor space is often complicated by limited natural light. This makes it a real challenge to bring small bathroom design ideas to fruition. Even so, it's possible to maximize your design ideas so that your small bathroom becomes one of your favorite rooms.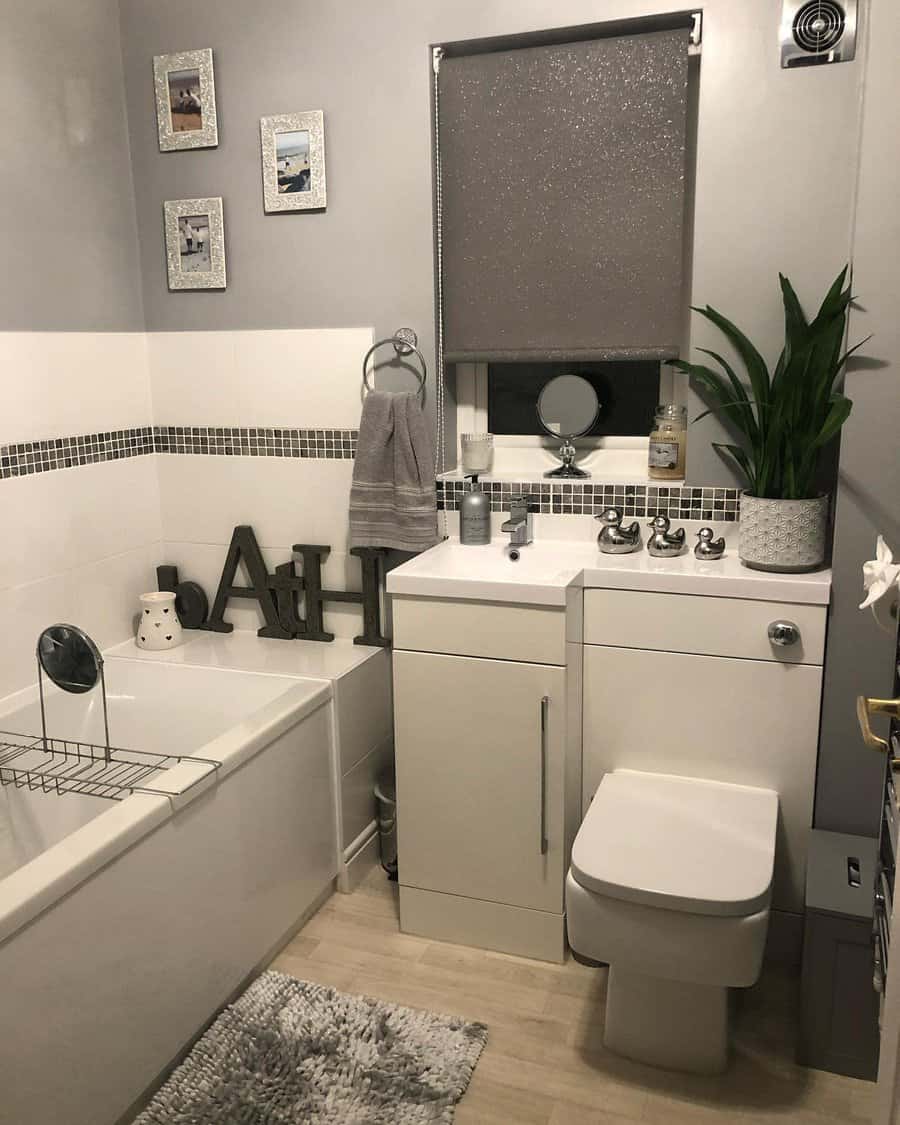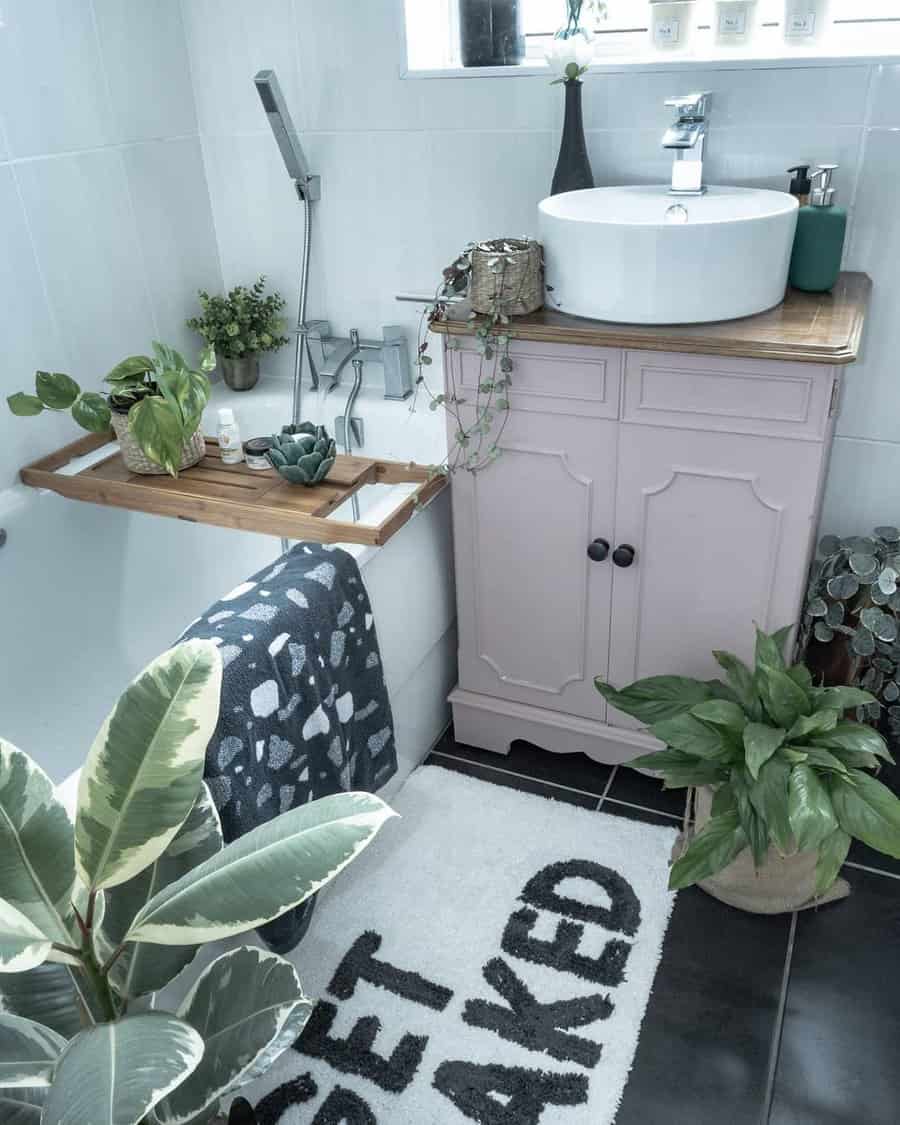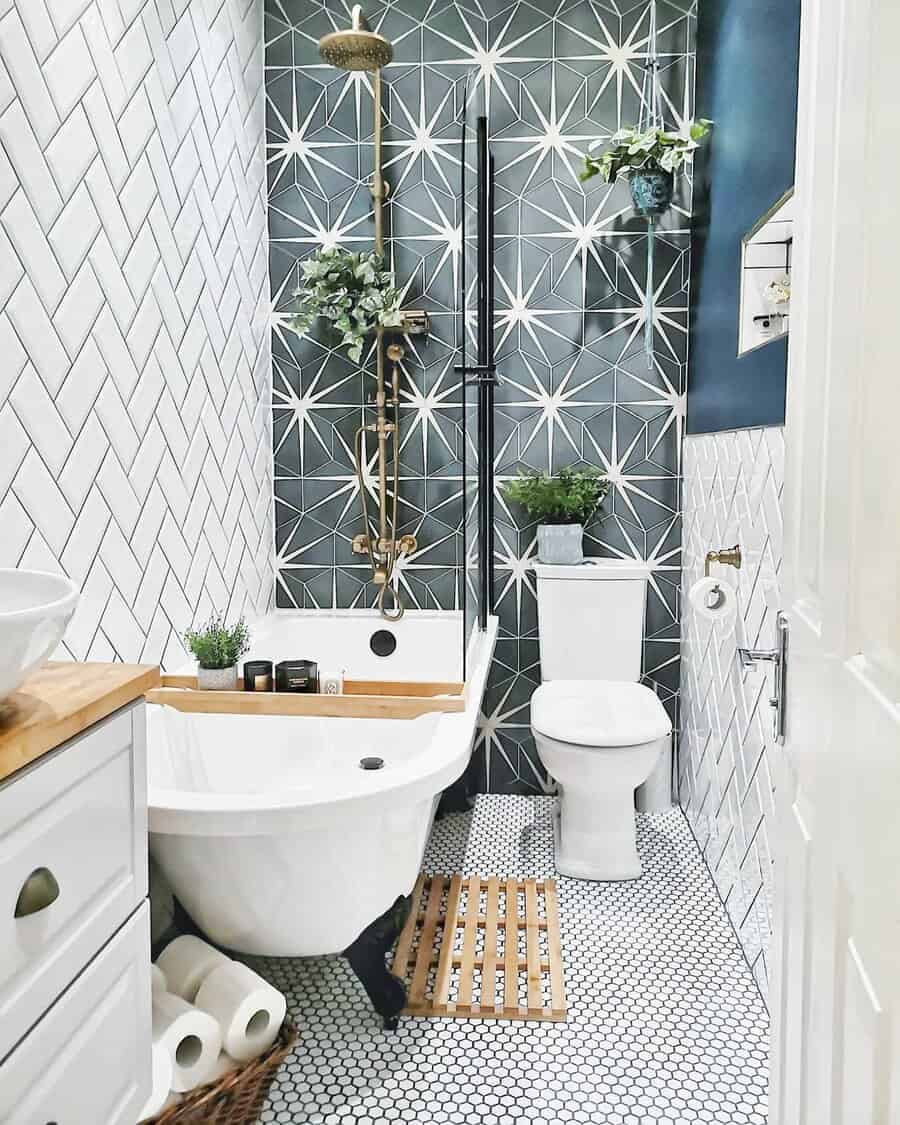 Keep your color palette light, airy, and bright. Look toward Scandinavian-inspired interior design cues, such as incorporating a lot of white and pale wood finishes. Create a full mirrored wall or hang large mirrors to visually expand the space.
Rugs, towels, artwork, and other accessories are to the bathroom what jewelry is to your outfit. Let your personality shine with the items you choose.
See some DIY bathroom decor ideas here for more inspiration.
4. Freestanding Tub
A freestanding tub is probably your best small bathroom idea. They come in a wide variety of sizes and depths, so you are quite likely to find one that fits along a bathroom wall or in the corner. Choose a classic clawfoot tub to complete a farmhouse or country small bathroom design idea. A metal or wood Japanese soaking tub incorporates better with modern bathroom ideas.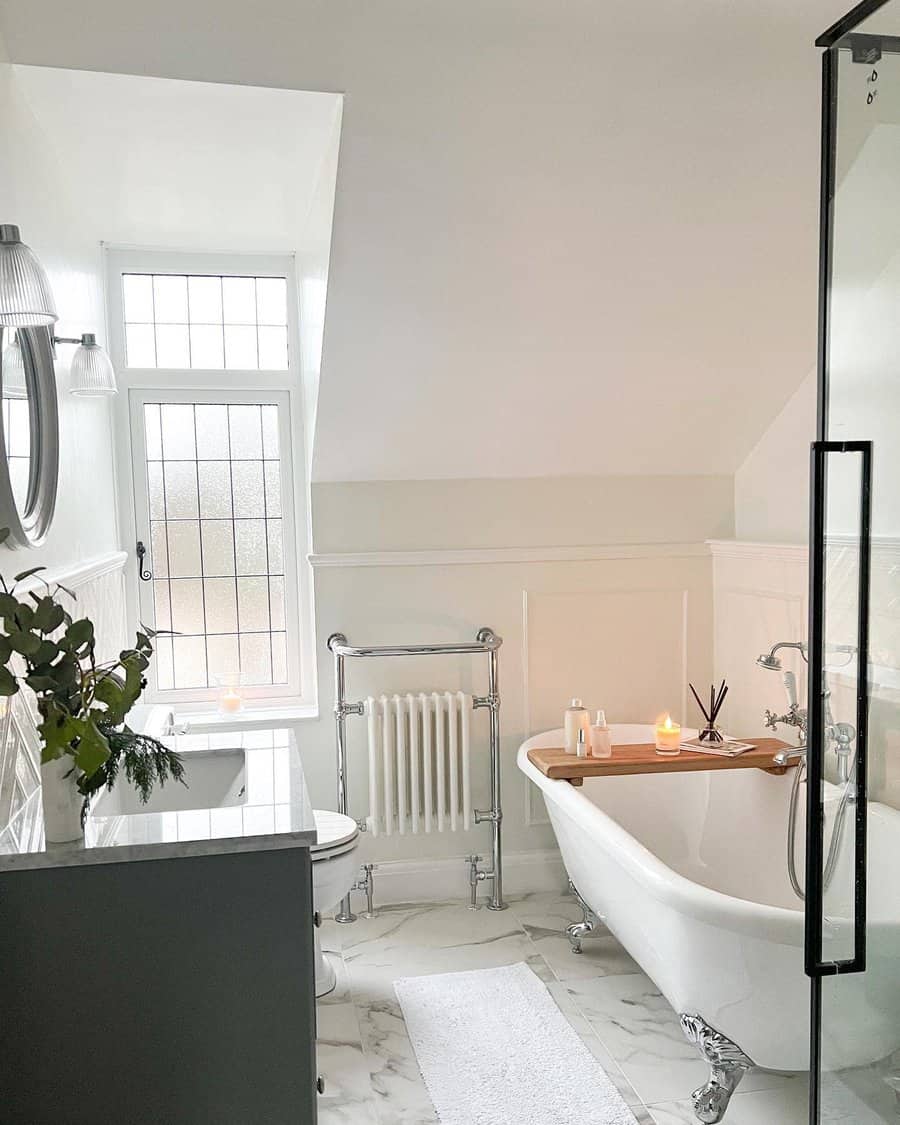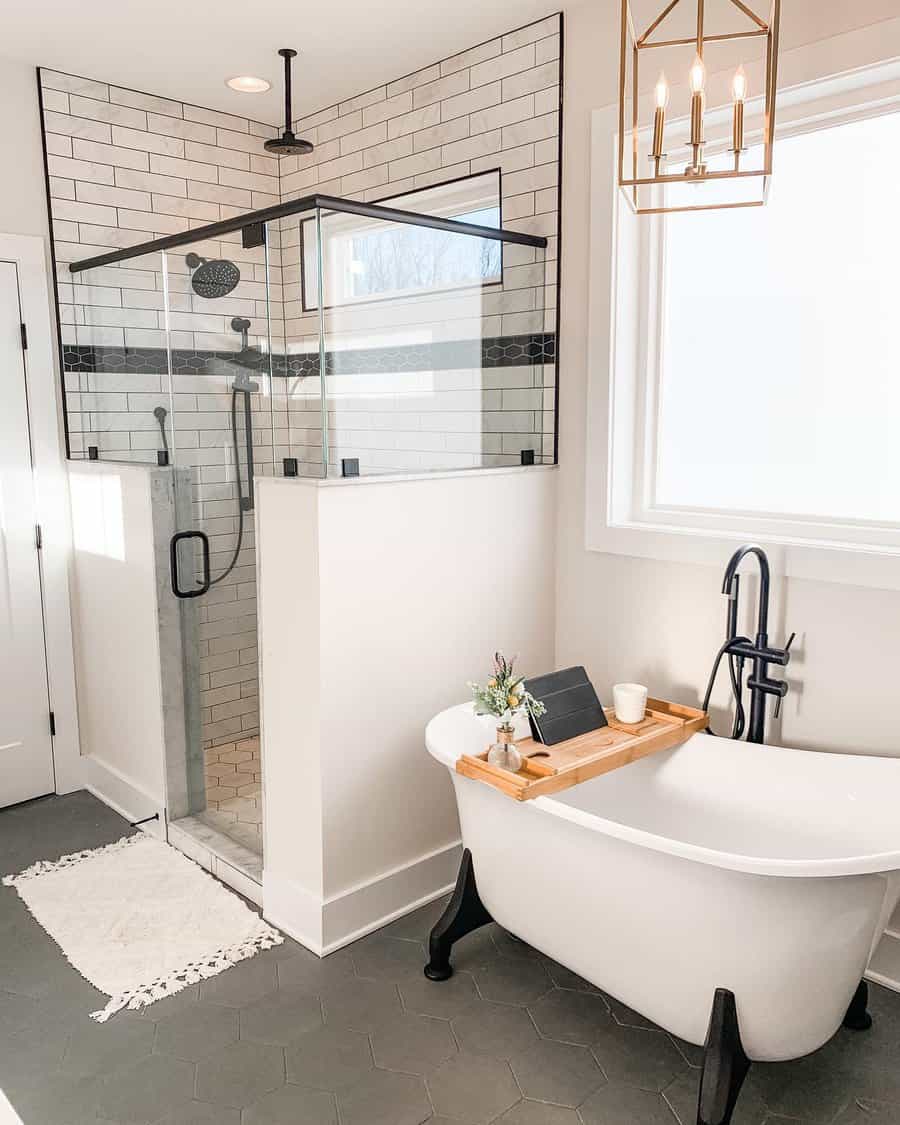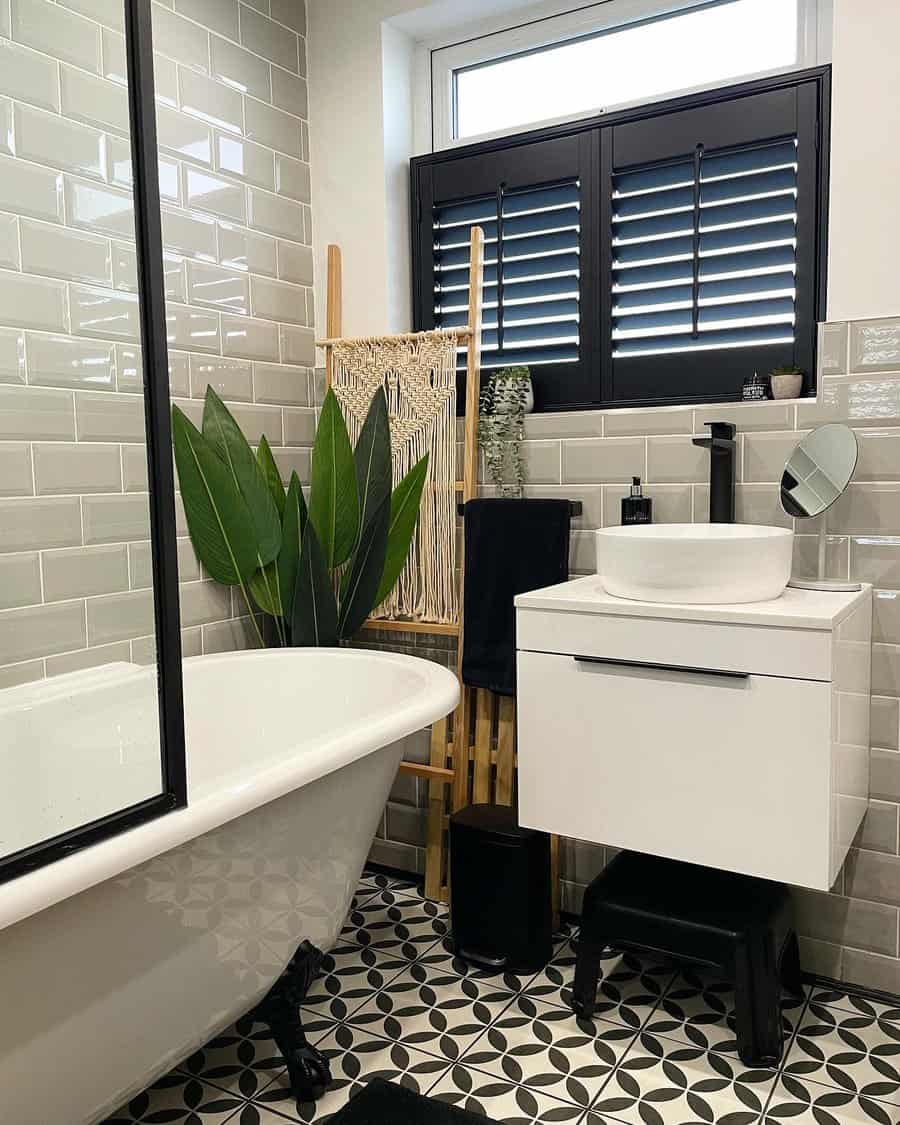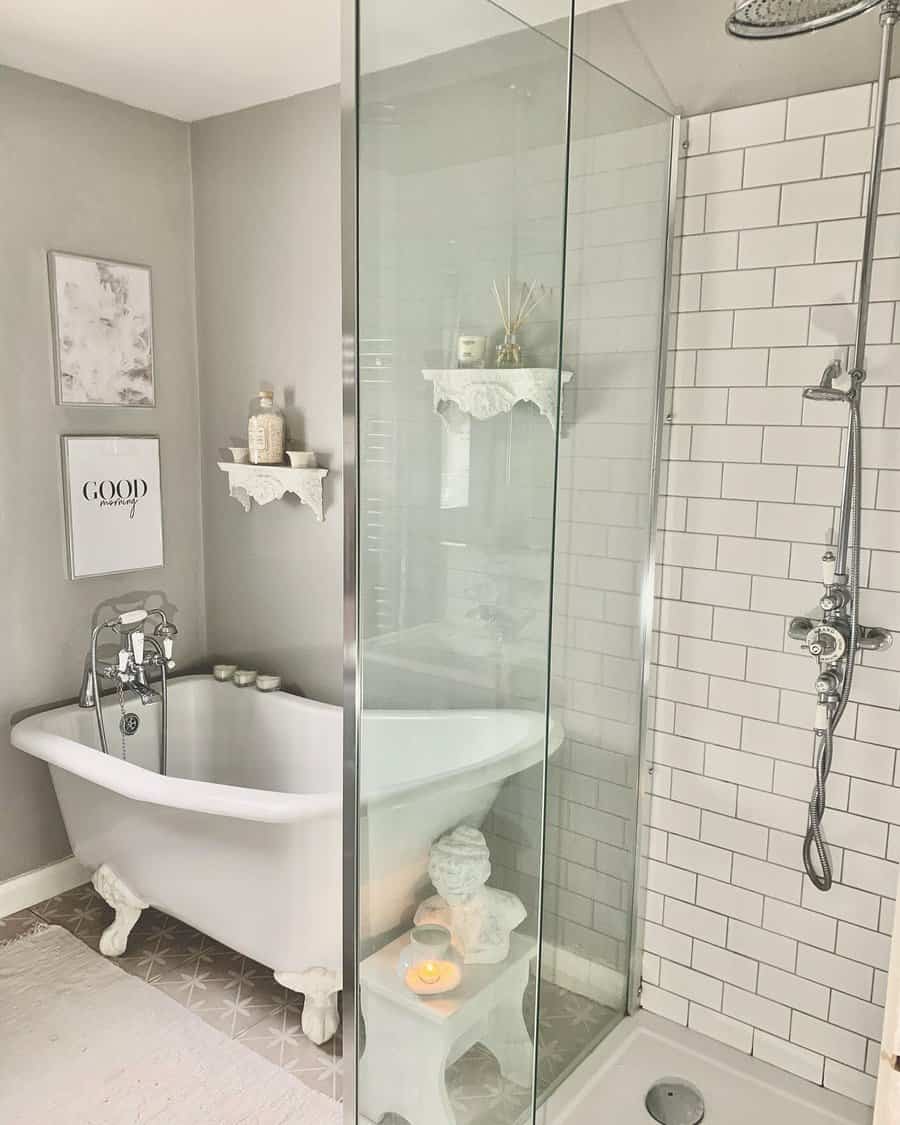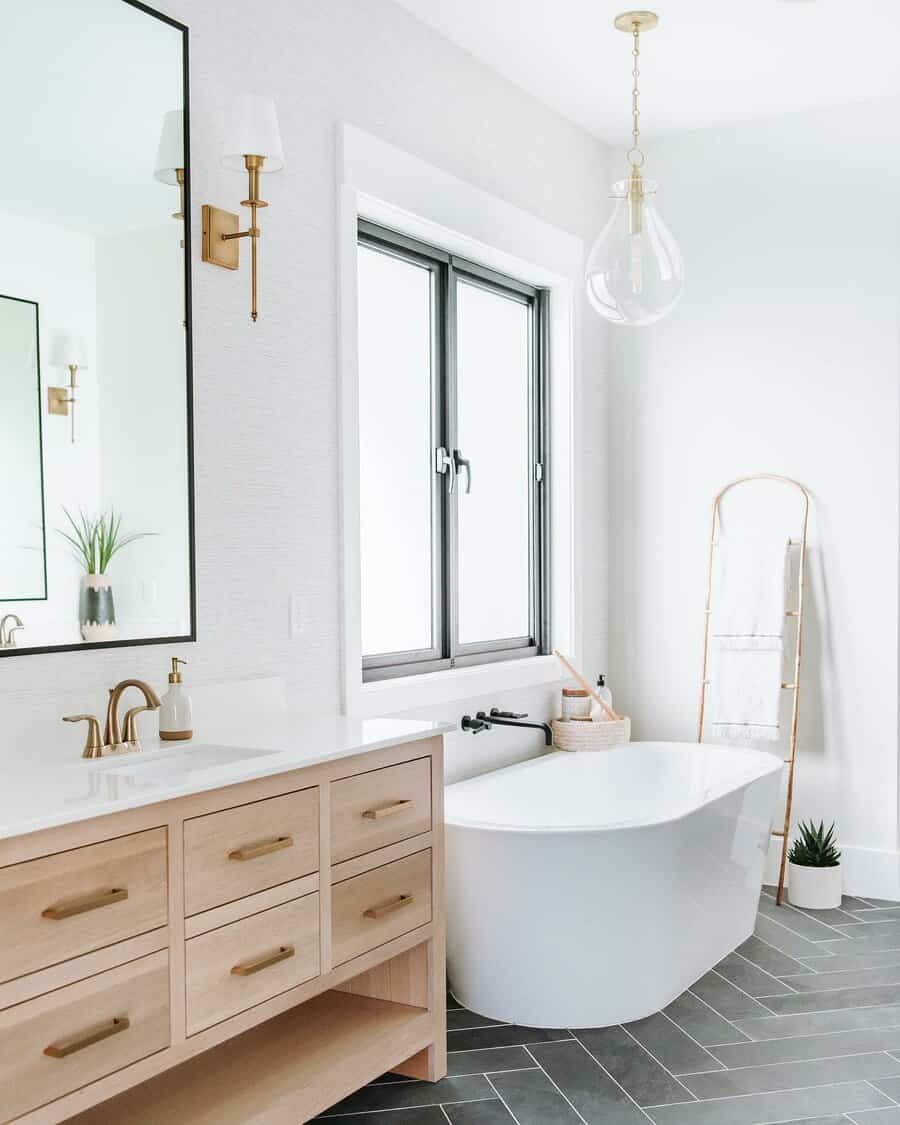 Stand—or wall mount—a towel ladder next to the tub to expand towel storage capacity. For a country chic feeling, choose a vintage wooden ladder or a new piece distressed to look old.
5. Green
Green is a soothing, peaceful color that injects a touch of nature indoors. No matter the hue you choose, green is a welcome color in classic and modern bathroom design.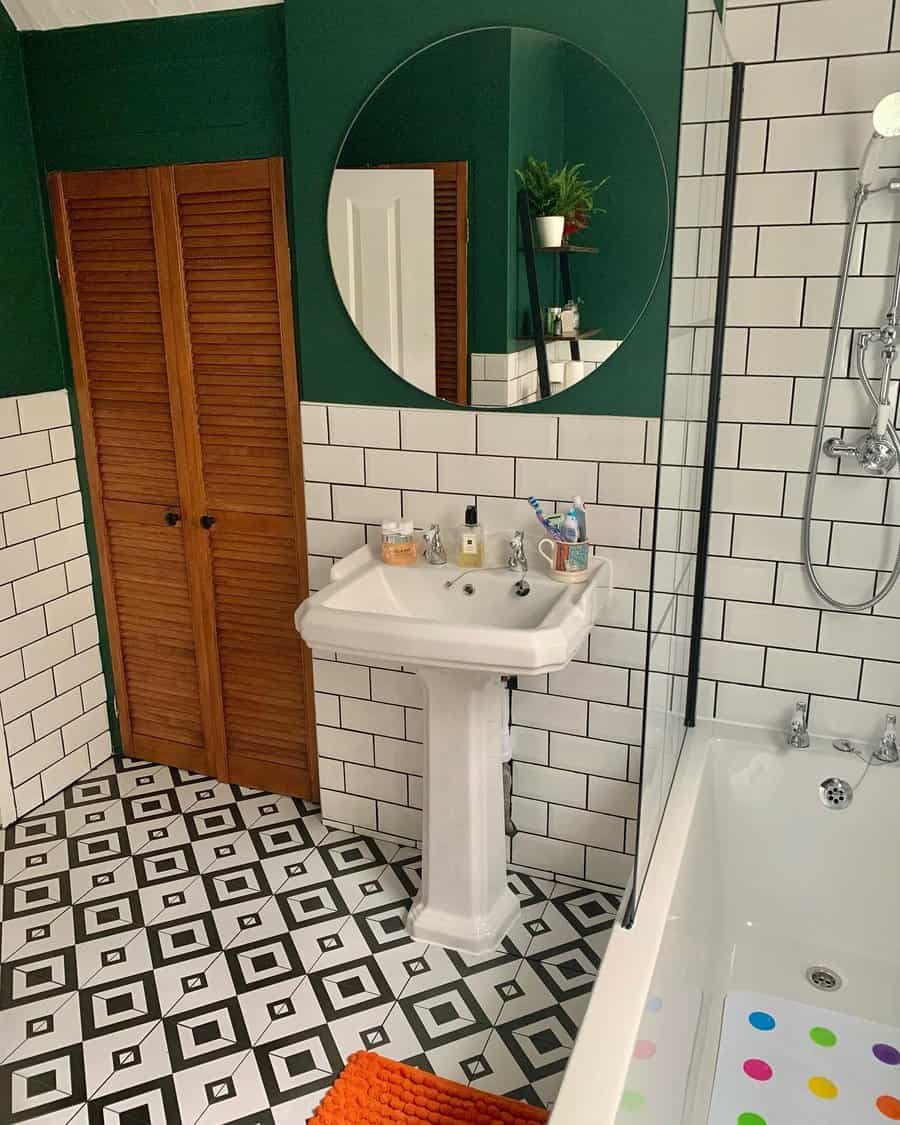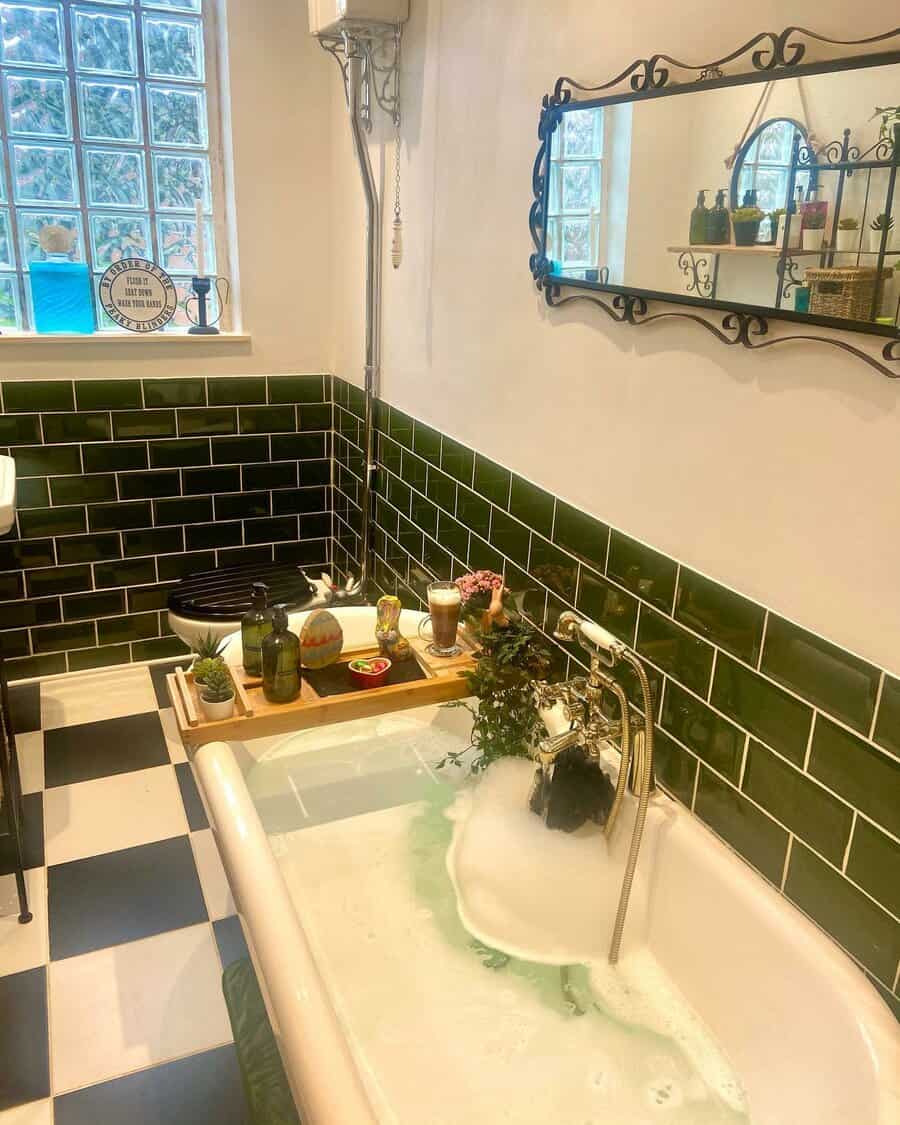 Pair green wainscoting with a white wall, or vice versa. If you love green, consider using green bathroom tiles instead of the classic white tile. Note that it's not required for floor and wall tile to coordinate. Green floor tile can provide a vibe reminiscent of a lush, green lawn.
6. Minimalist
A dramatic backlit vanity mirror should be included in your minimalist bathroom ideas list. Available in square, round, oval, and circular shapes, it's easy to find one that will beautifully illuminate your small space.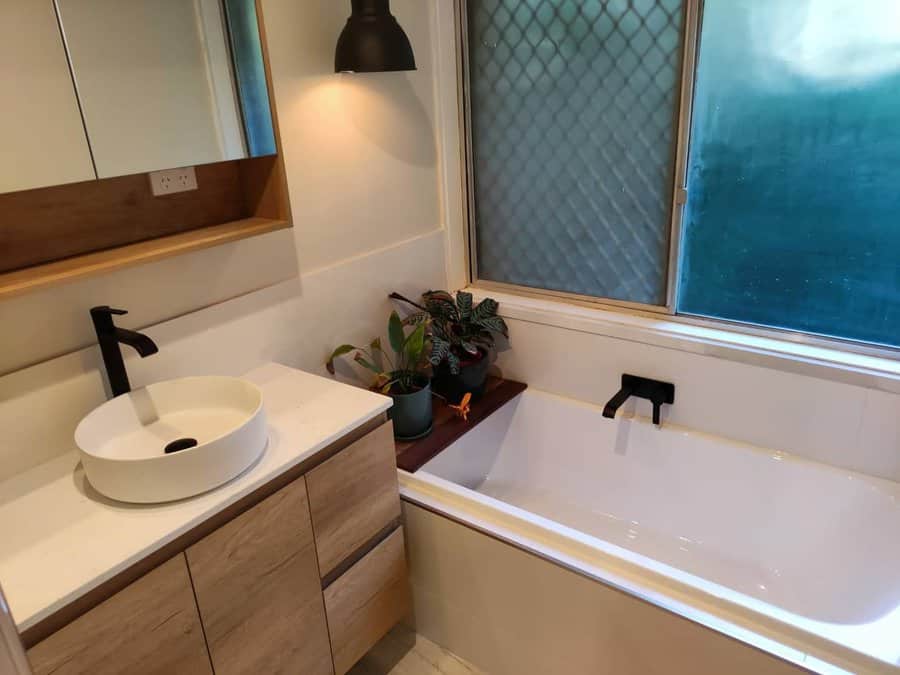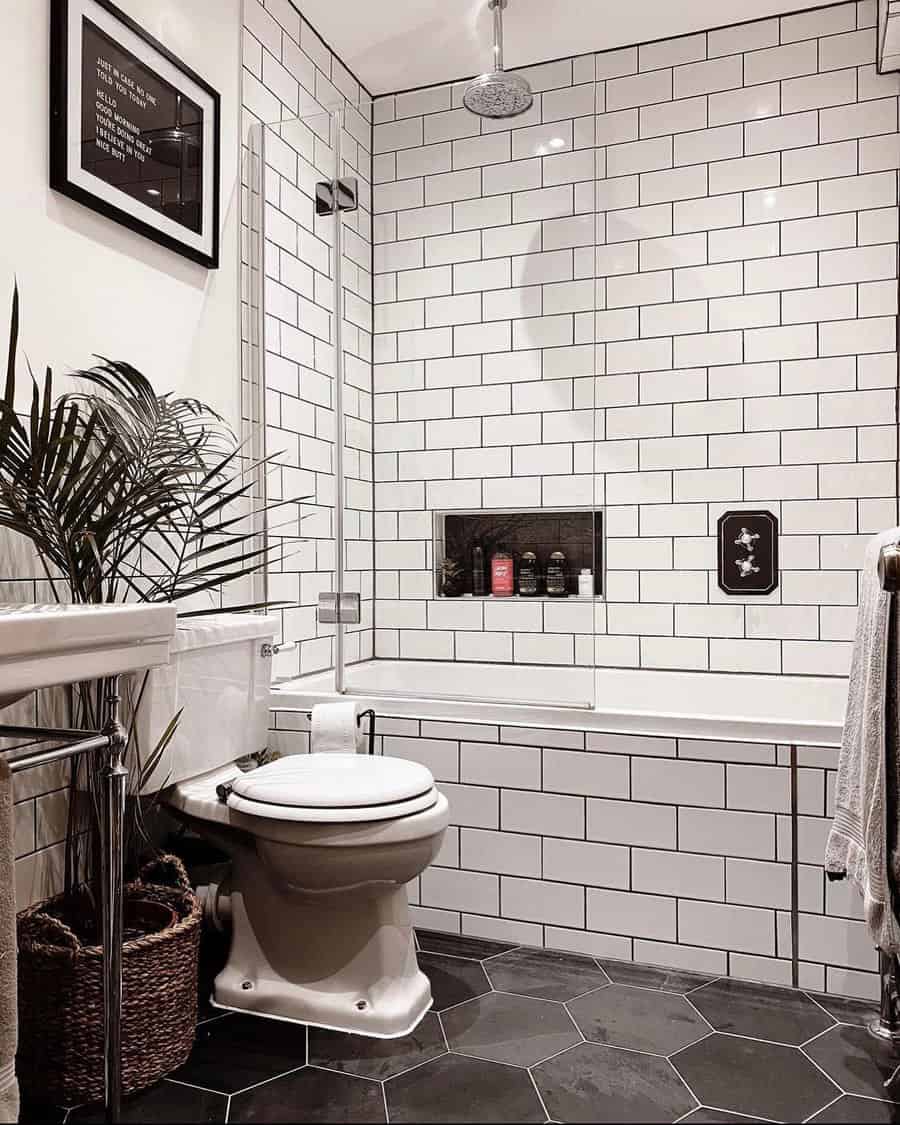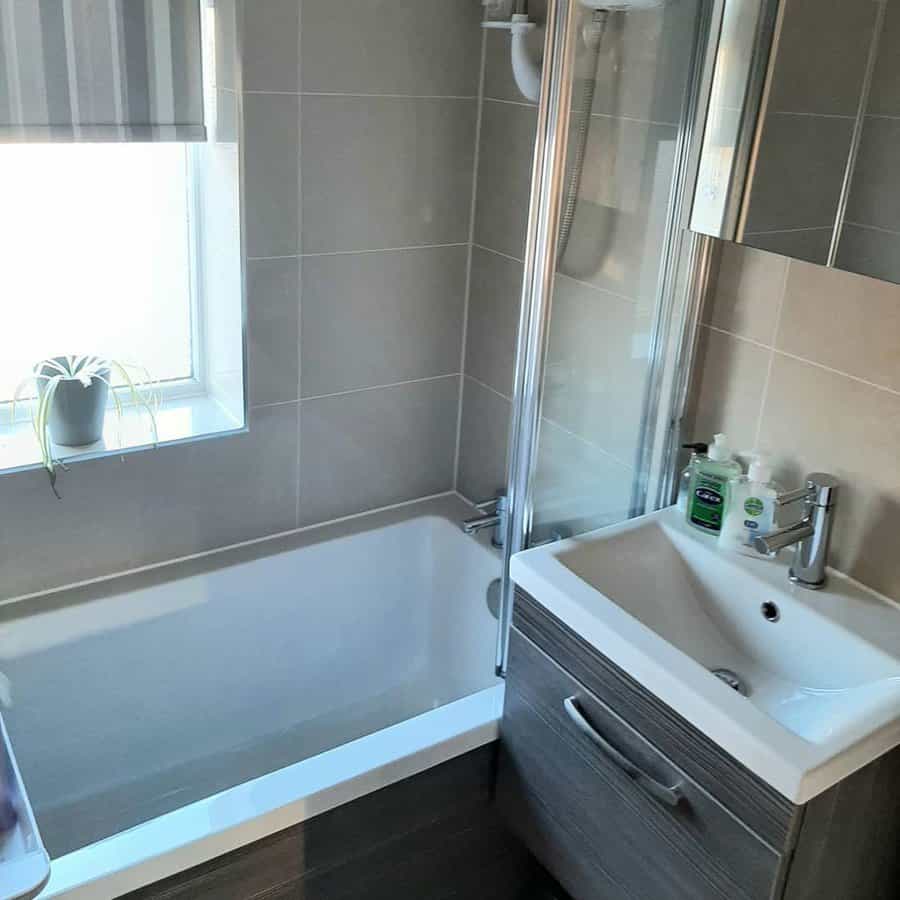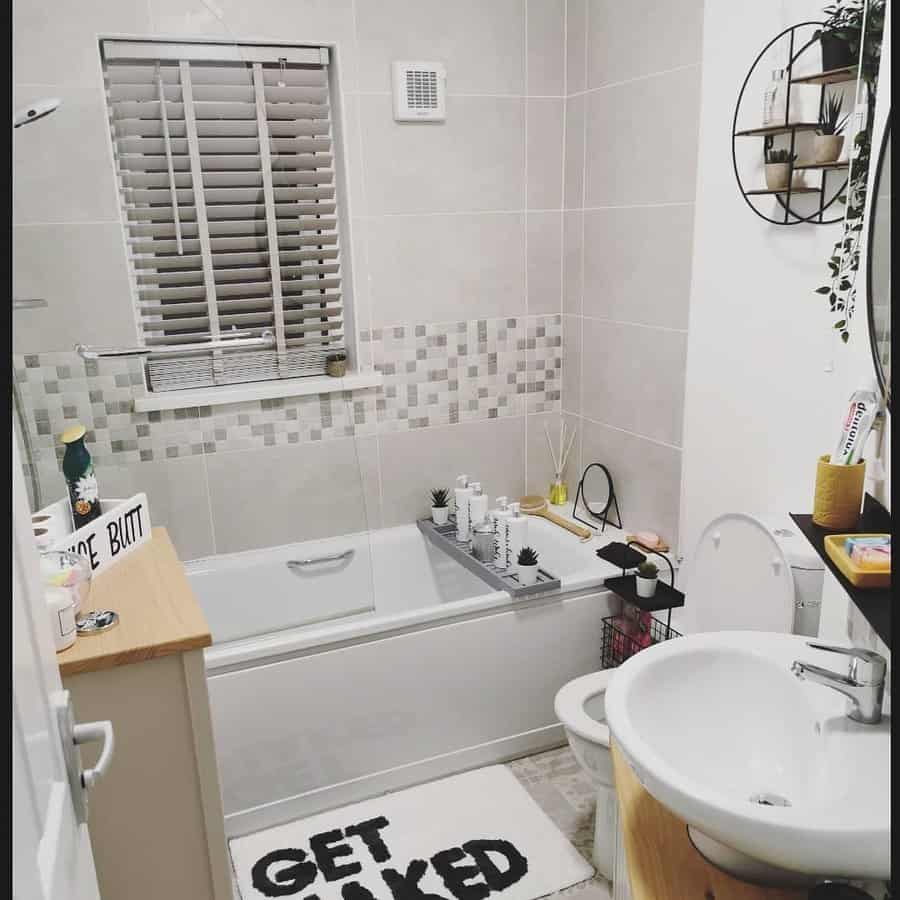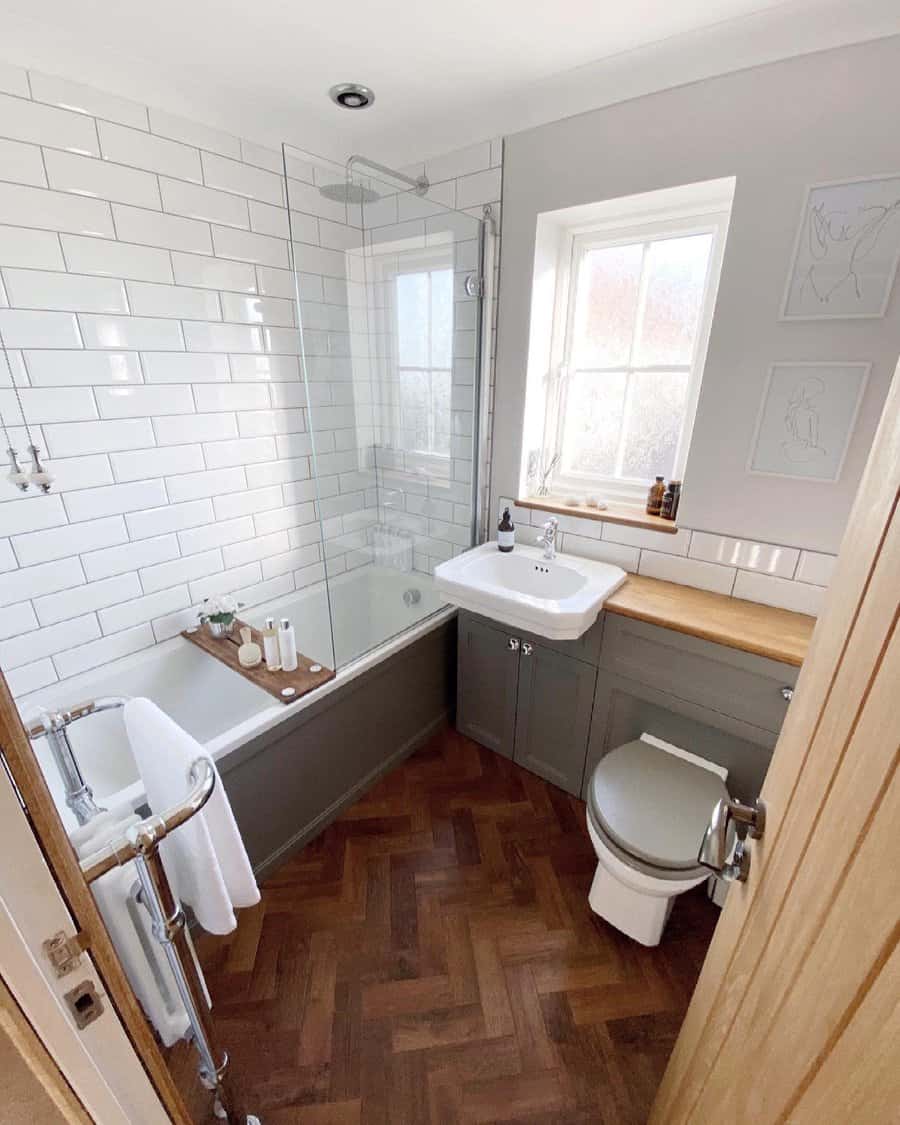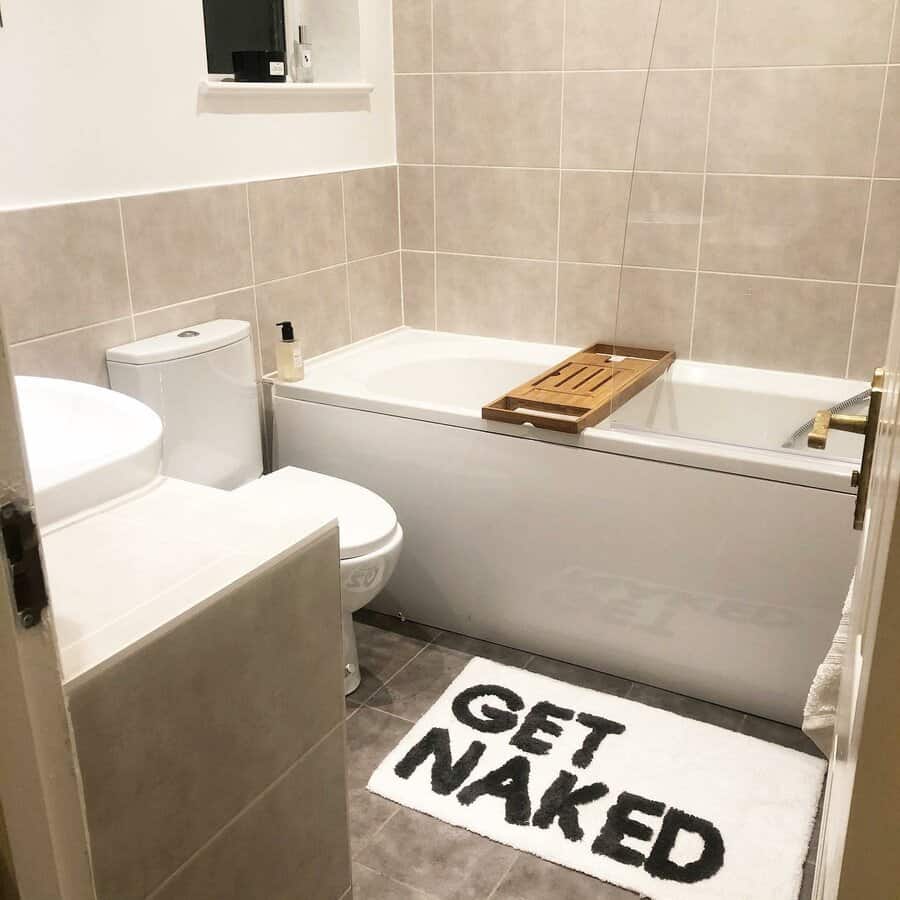 A monochromatic color palette is the foundation of minimalist design, but don't be afraid to include a pop of your favorite color. Whether it's in your towels or accessories, a bright splash of red or cobalt blue is a stylish way to inject your personality into a minimalist small bathroom design.
7. Remodel
A full bathroom remodel is the perfect opportunity to maximize all small bathroom ideas into one plan. Why waste valuable floor space on a swing door when you can install a space saving pocket door instead?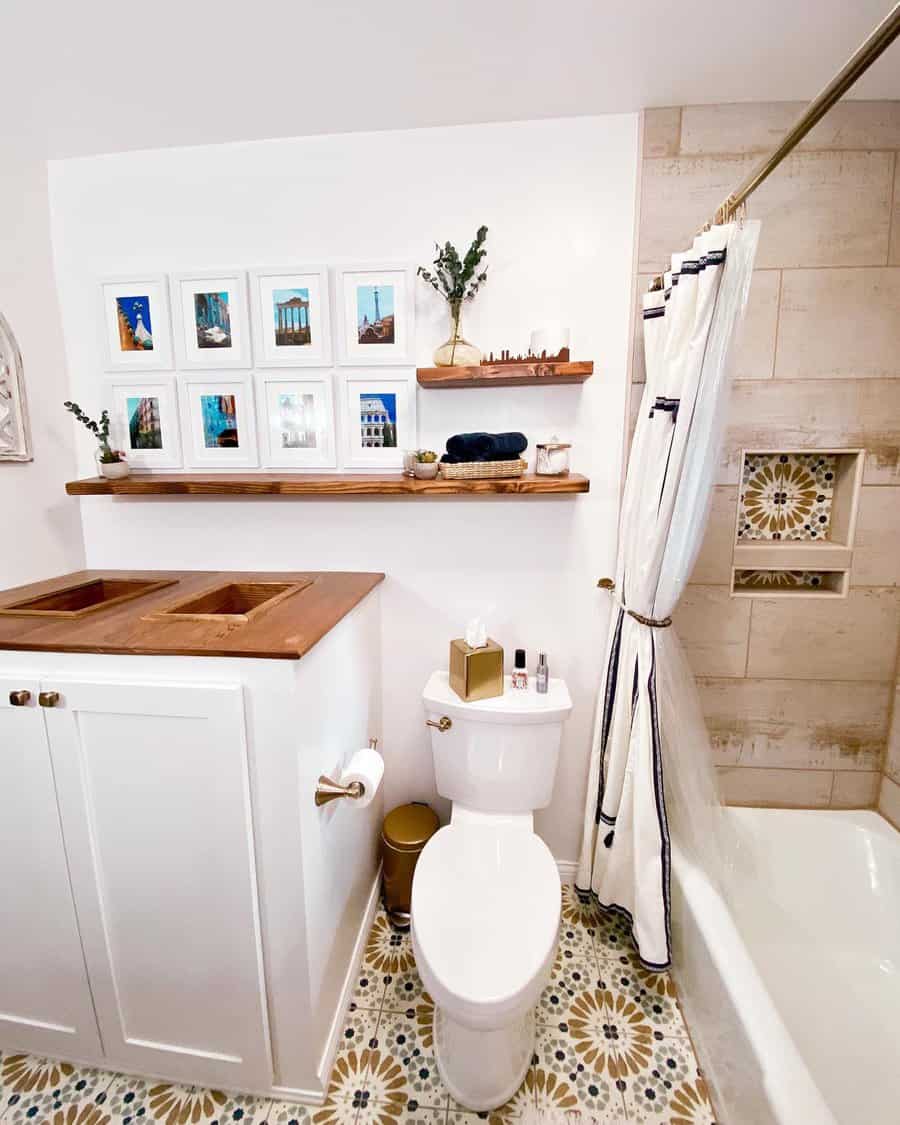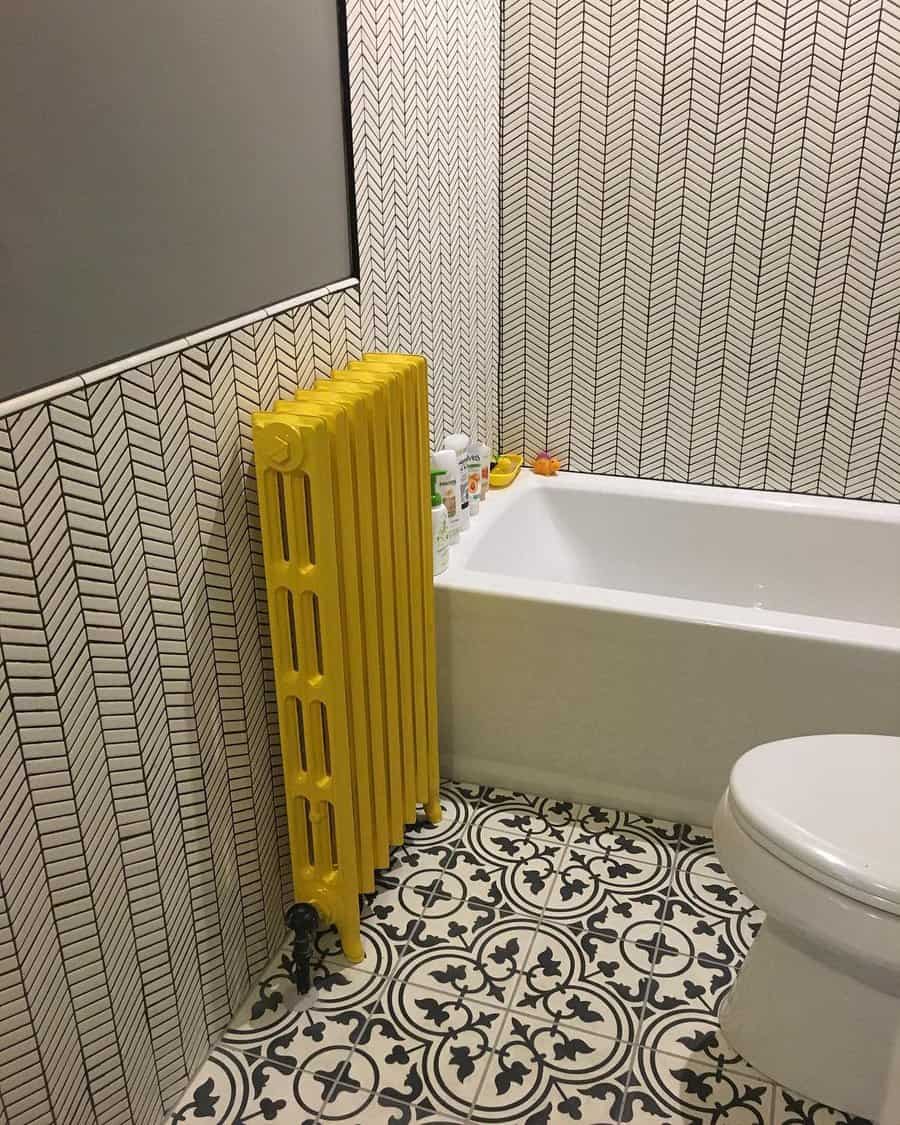 Replace standard sized fixtures with those that have a smaller profile. A narrow pedestal sink is often a better choice than a full vanity. You can even find toilet designs that take up a little less floor space than traditional models.
8. Shower
Install a shower niche between wall studs for valuable storage space that won't consume even an inch of shower space.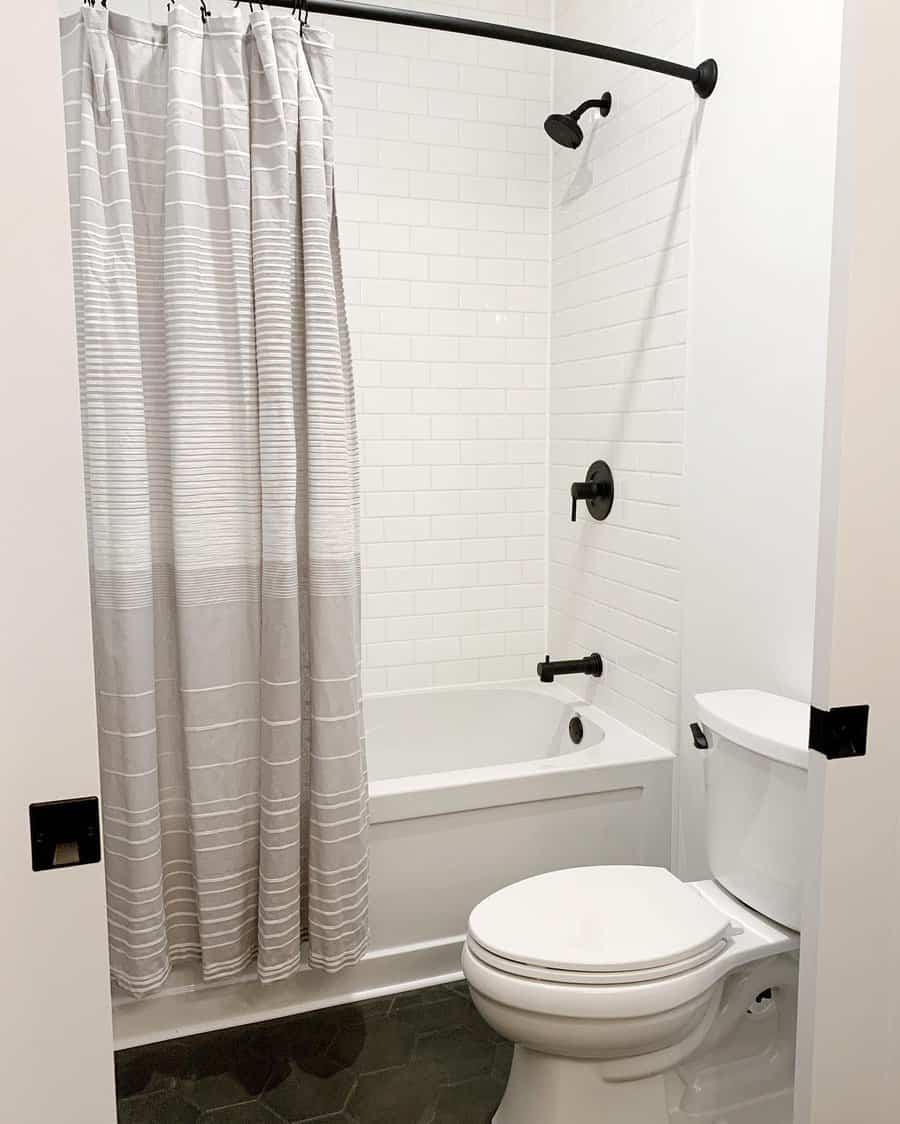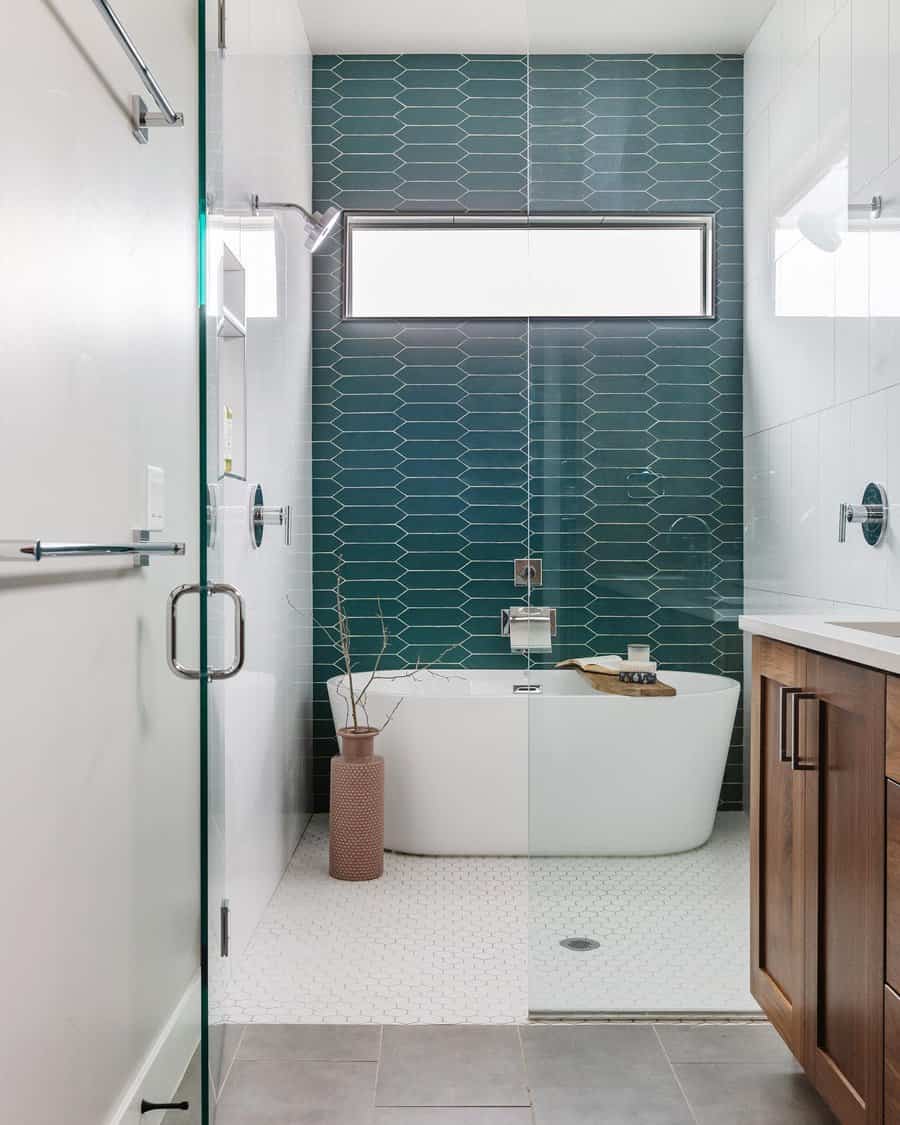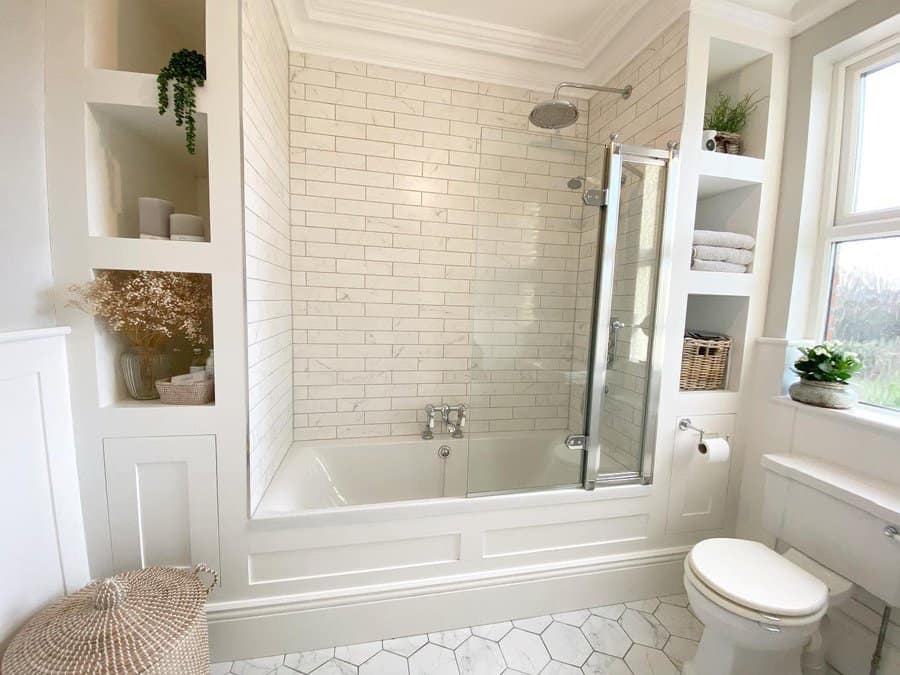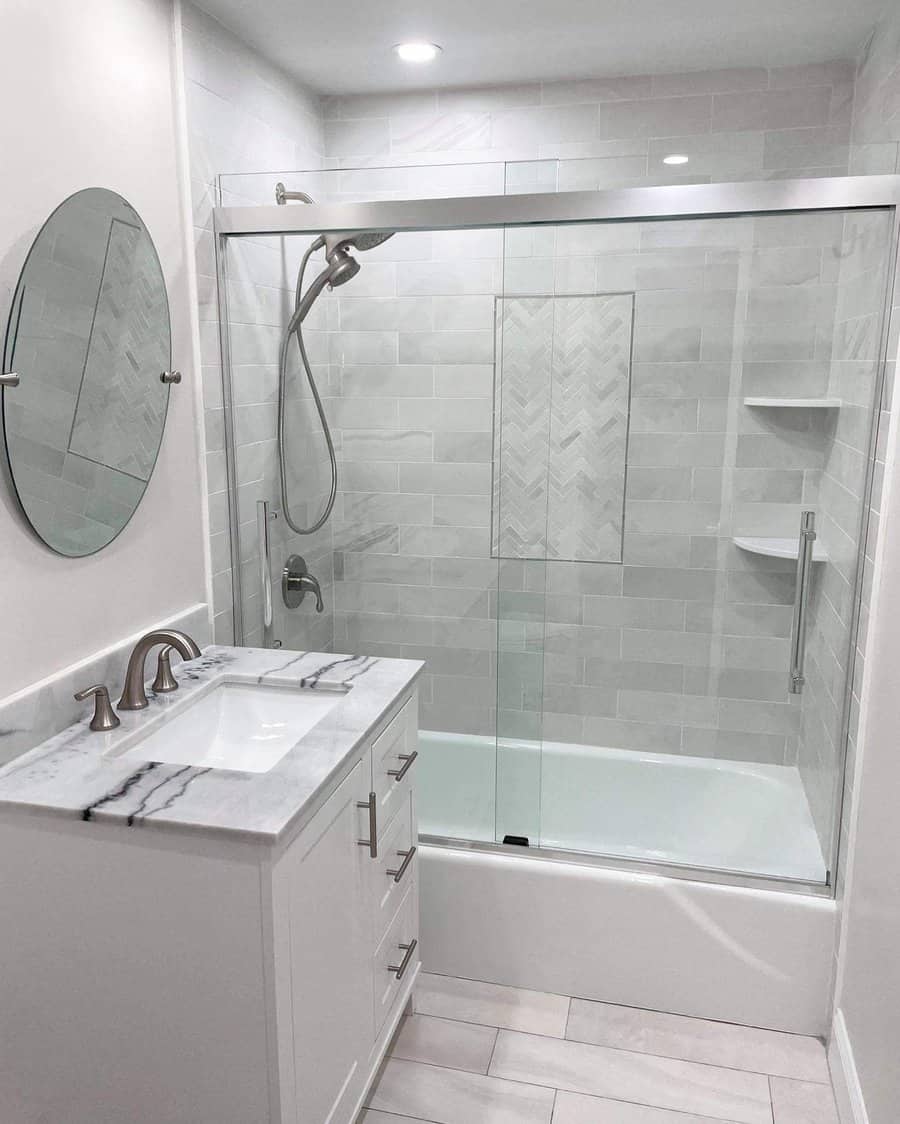 A glass shower door is preferable to a shower curtain because it makes the room feel more spacious. Choose a single glass panel or a stylish black French shower door—but make sure you use a squeegee after showering to keep it clear and spot-free.
If you prefer to keep a shower curtain in your small bathroom, hang it much higher than is customary. Taking the curtain all the way to the ceiling elongates the walls and provides the illusion of more shower stall space.
9. Sink
Placing an LED backlit mirror over the sink saves room by eliminating the need for wall sconces or other light fixtures. Because uninterrupted walls feel more spacious, move the toilet paper holder and towel rack to the sides of the vanity, if possible.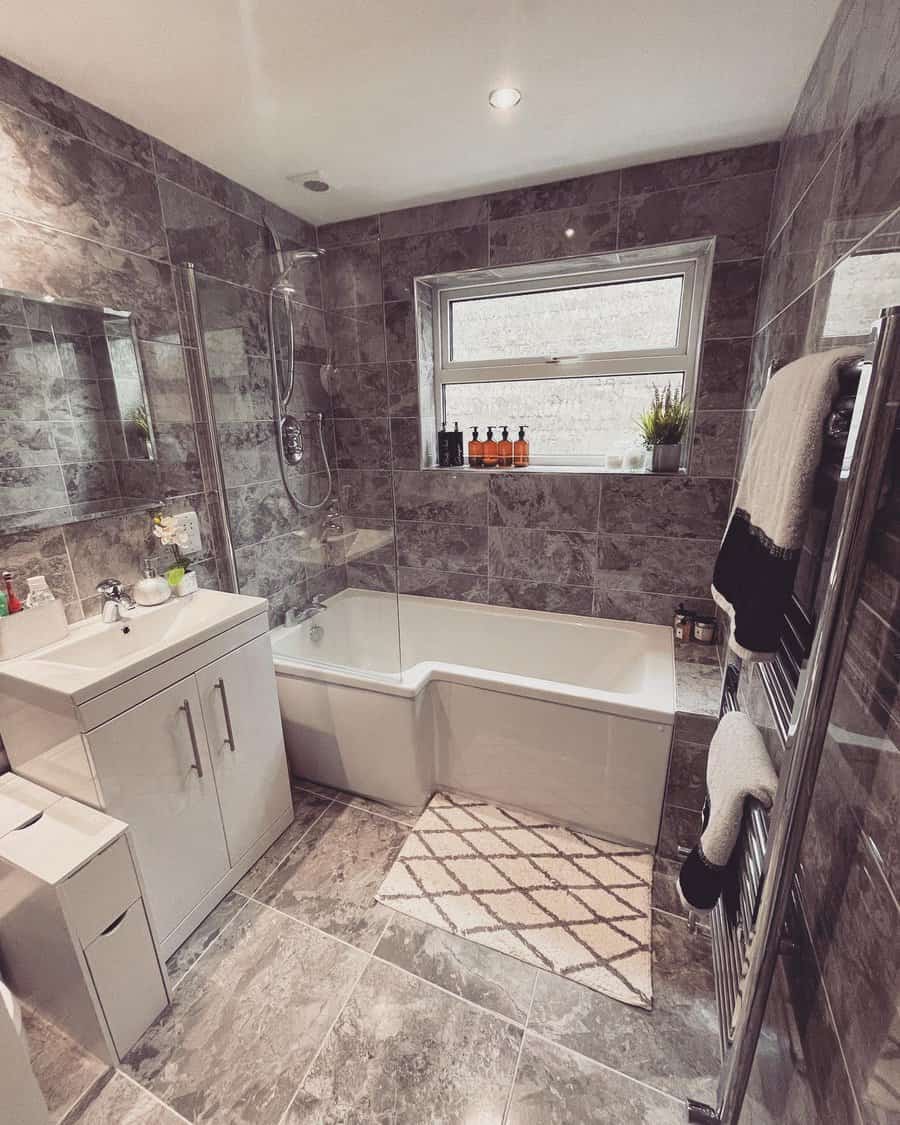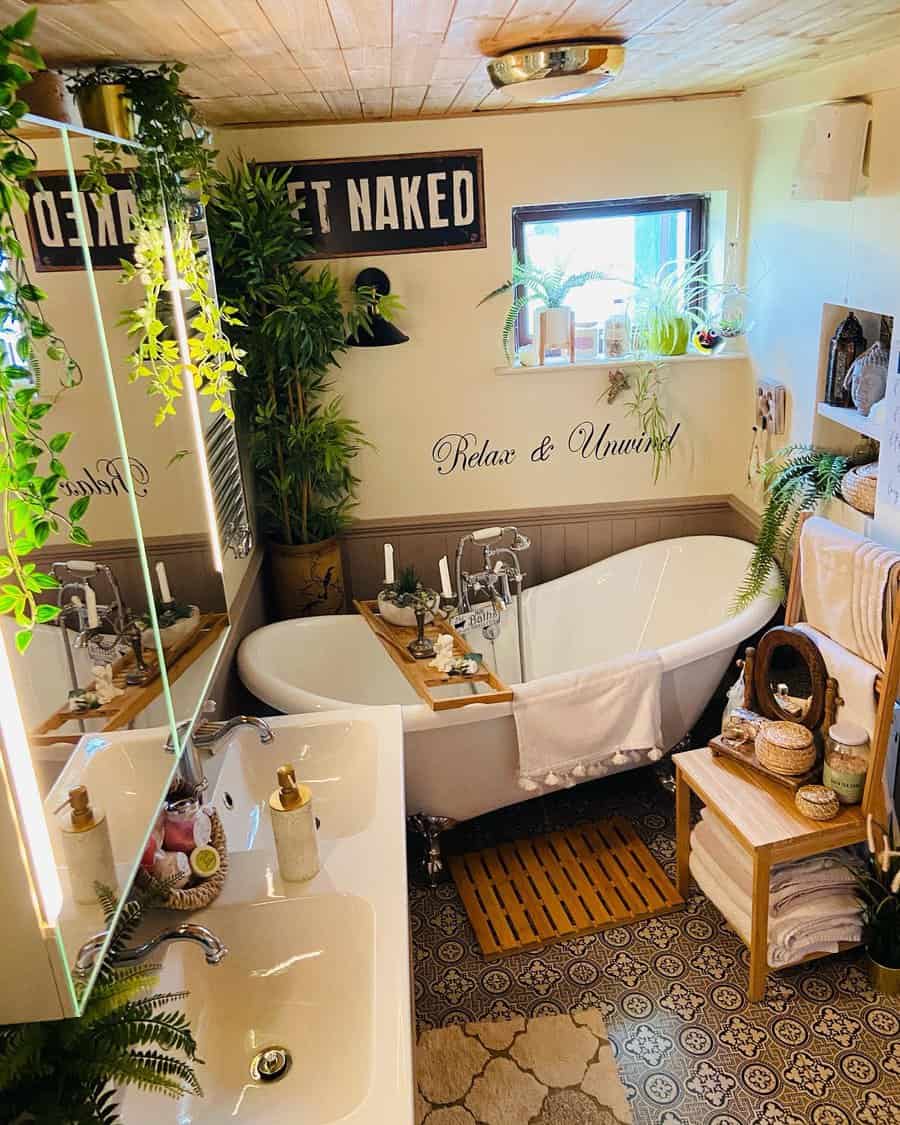 Another great space-saver is to eliminate the sink vanity entirely. Replace it with a pedestal sink and hang a wall-length floating shelf a foot or so above the sink. Store your toothbrush, toiletries, and decorative items on this unique floating vanity.
If you're doing a complete bathroom remodel and don't need much counter space, consider a small corner sink instead of the usual vanity/sink configuration. Especially in a small powder room, this can make a huge difference in how spacious the bathroom feels.
See more bathroom sink ideas here.
10. Tile
"Small" is your keyword when choosing tile design ideas for a small space. One-by-four inch and two-by-six inch floor tiles are ideal for small bathroom floors and walls. Interesting tile patterns, such as herringbone or chevron, also open up the bathroom visually.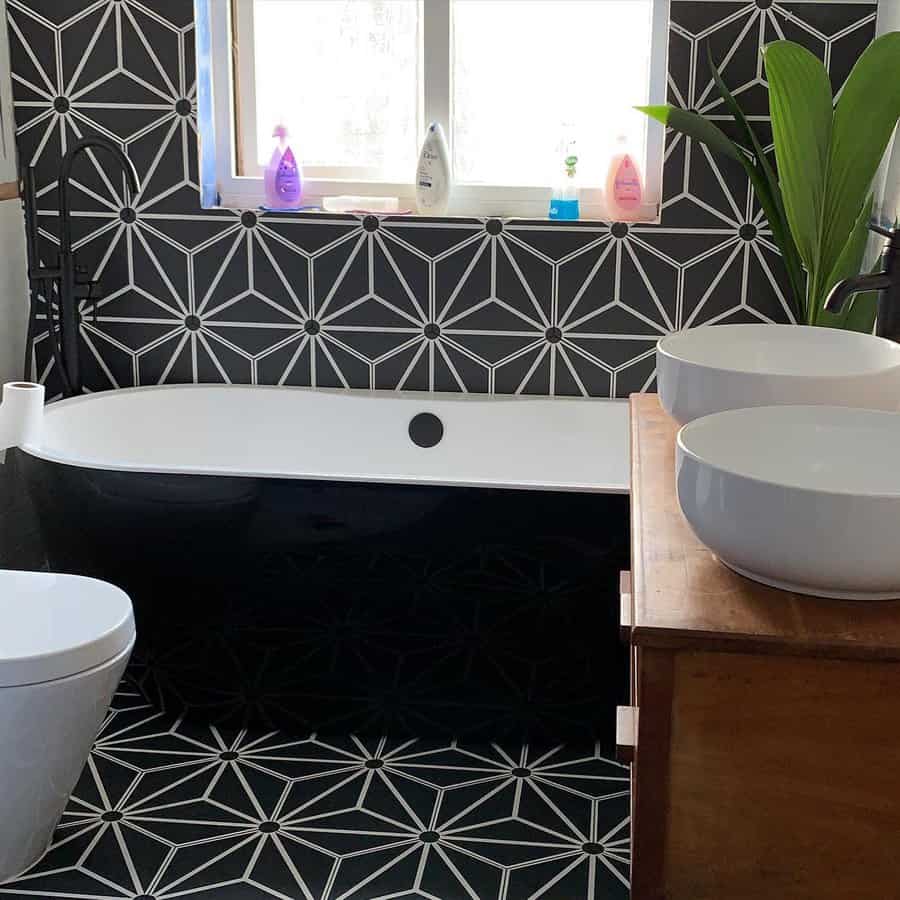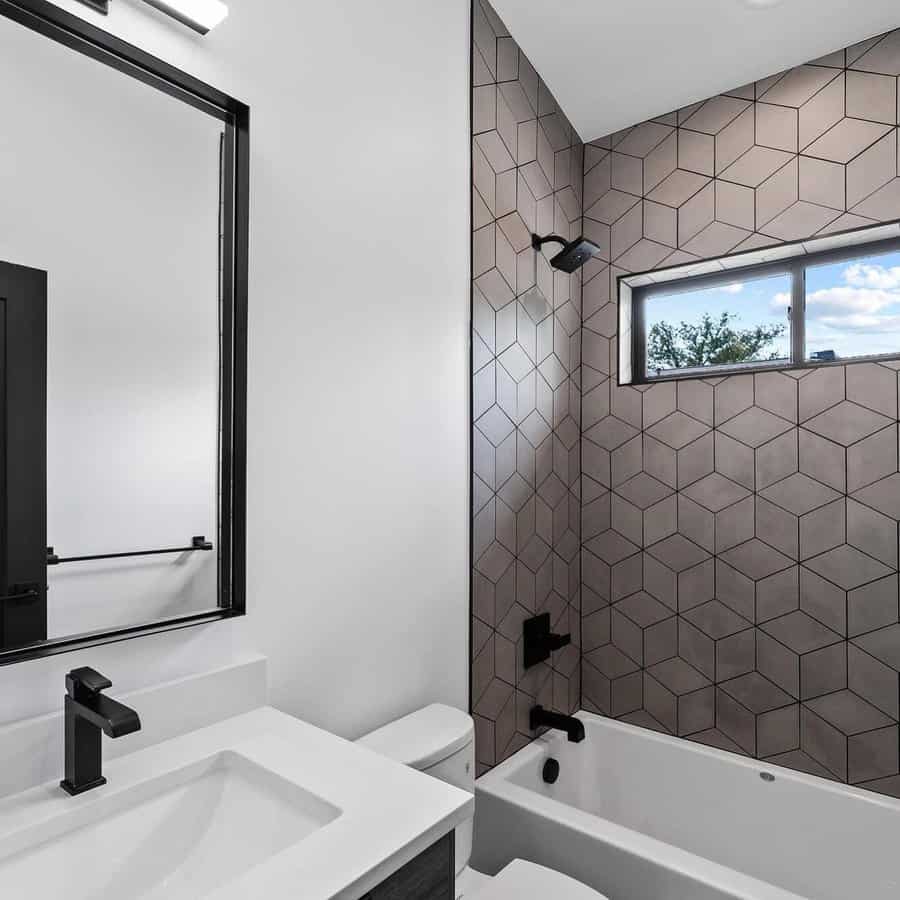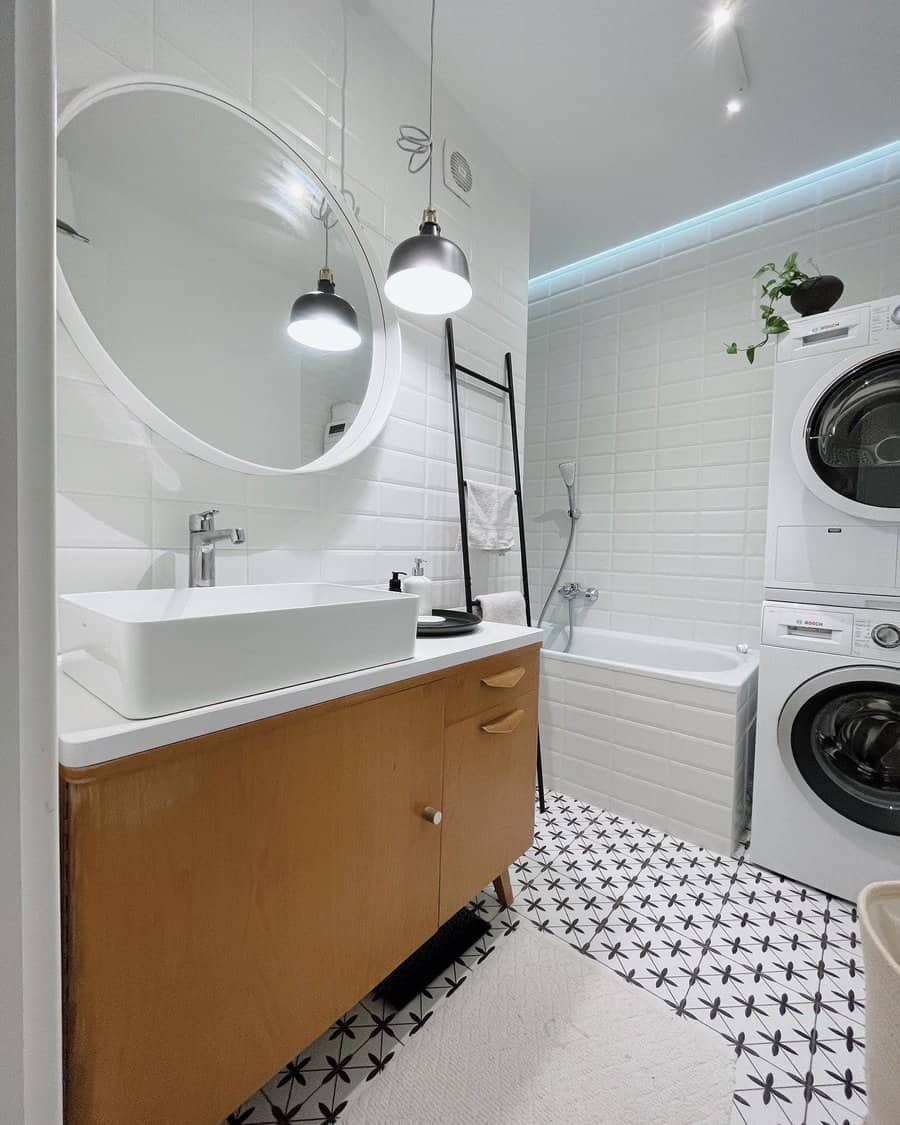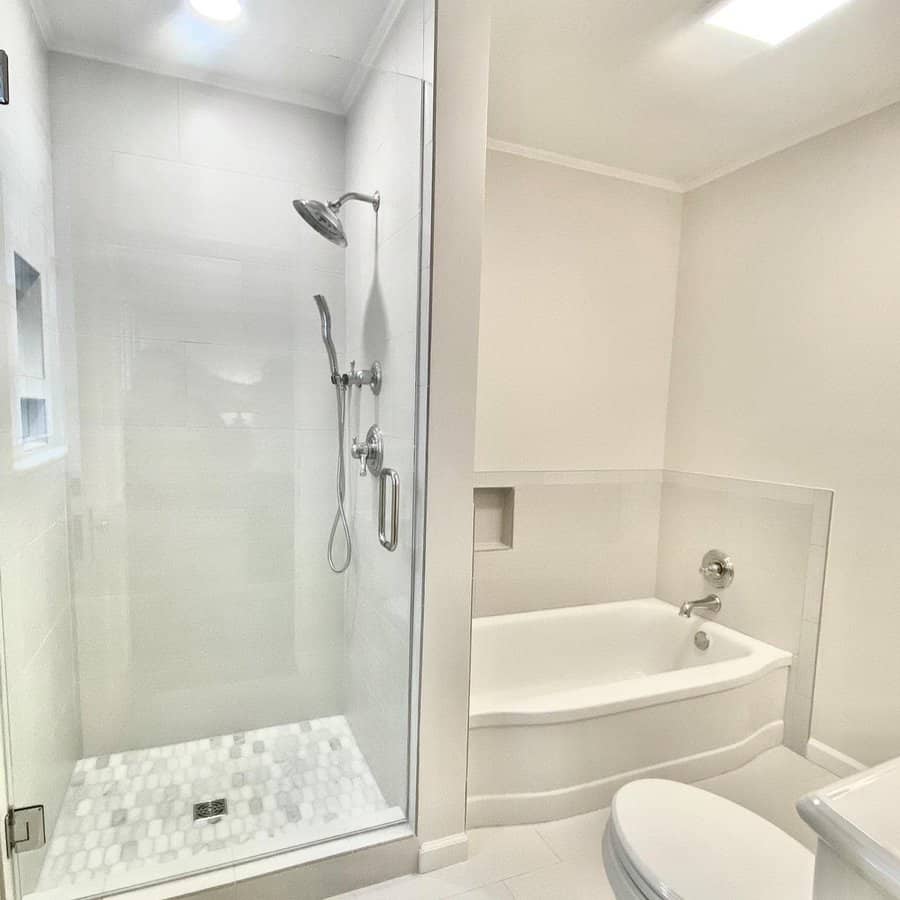 If your design ideas draw you to marble or other high end tile materials, don't automatically dismiss them as unaffordable. In a small space, expensive finishes can fit into many budgets because so little of the expensive tile or flooring is needed.
See more bathtub tile design ideas here.
11. White
If you need to visually expand a powder room or full bath, no other color does the job quite as well as white. To keep a white bathroom from feeling clinical, incorporate beautiful textures and tile patterns into the space. Add to your decor ideas touches of real wood, such as on mirror frames or cabinets.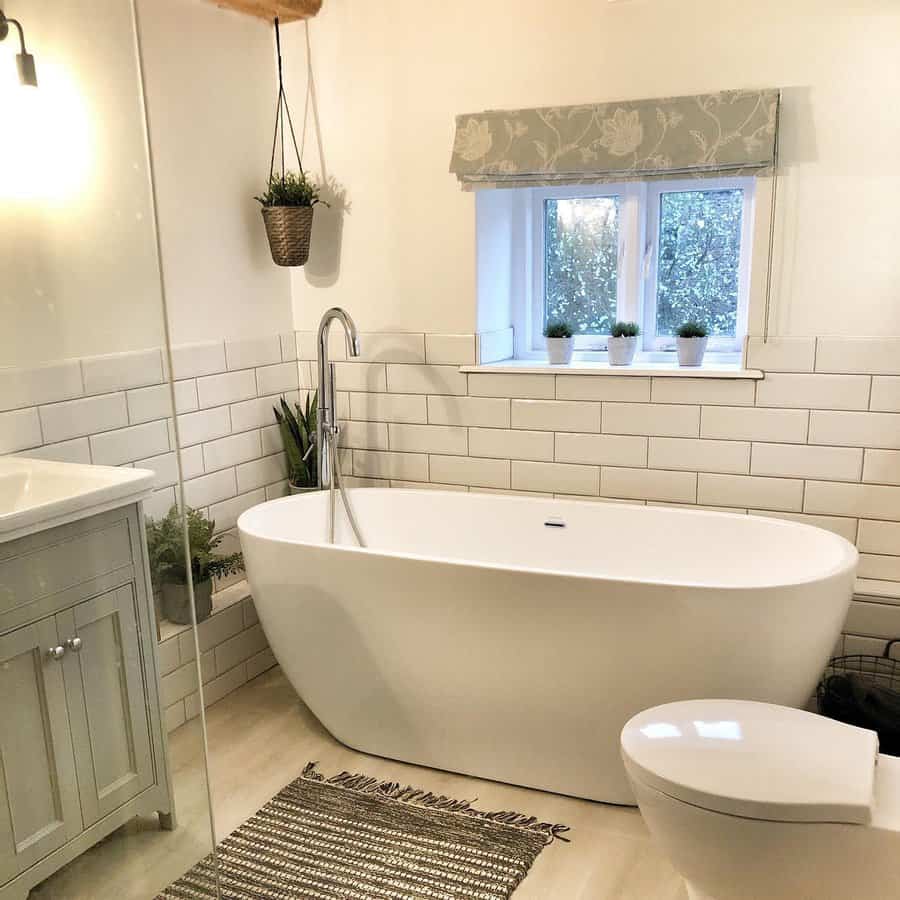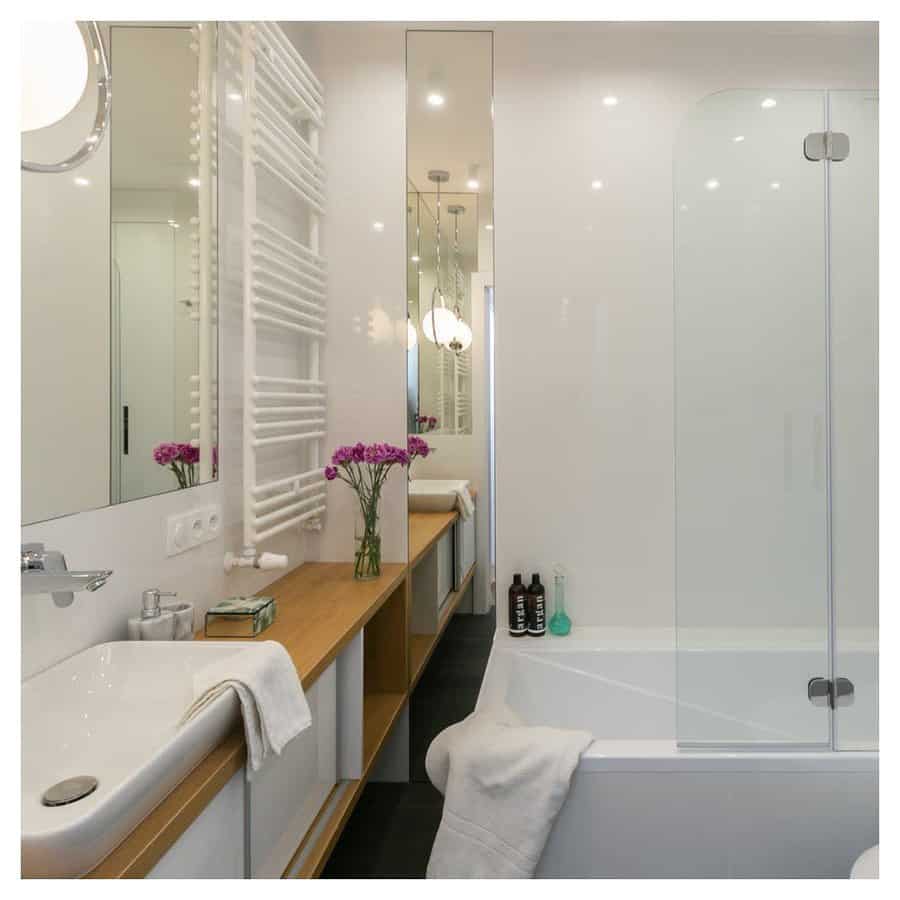 A white sink, toilet, countertop, and shower curtain makes the bathroom or powder room feel bright and airy. Pair white fixtures with one other color to keep the room contemporary and clean.
12. Window
Make the most of the available natural light coming through your bathroom window. No matter which wall the window is on, keep window treatments to a minimum. Cover a large window with decorative window film to provide privacy without blocking natural light.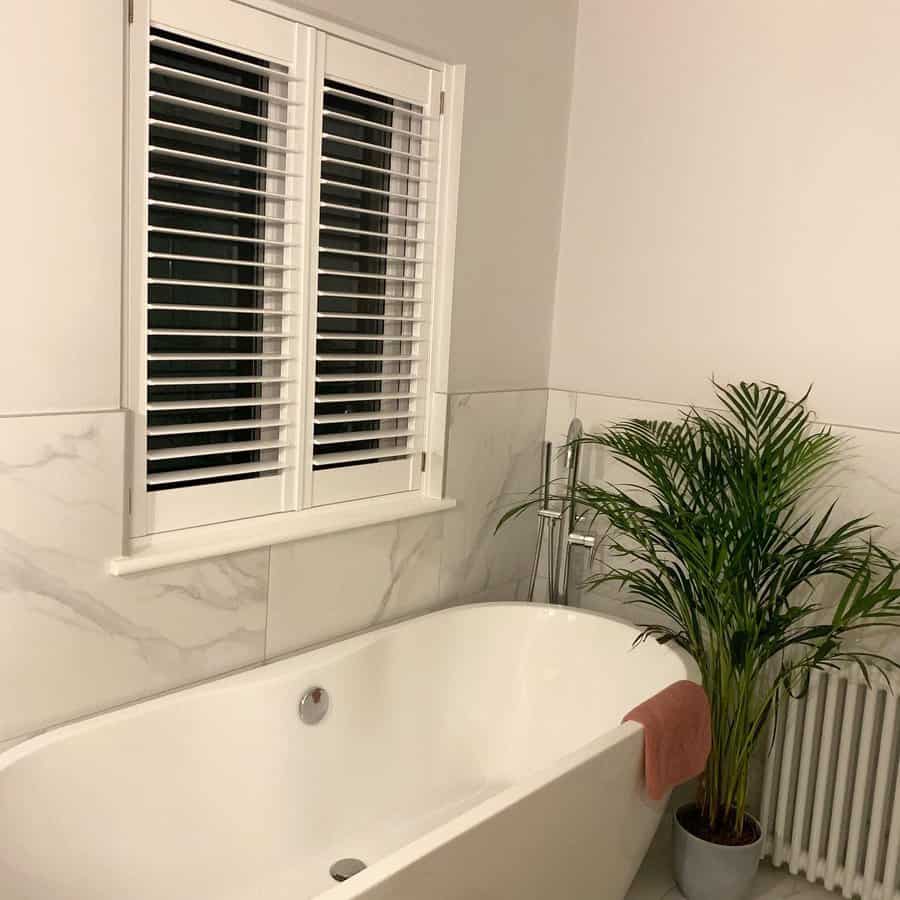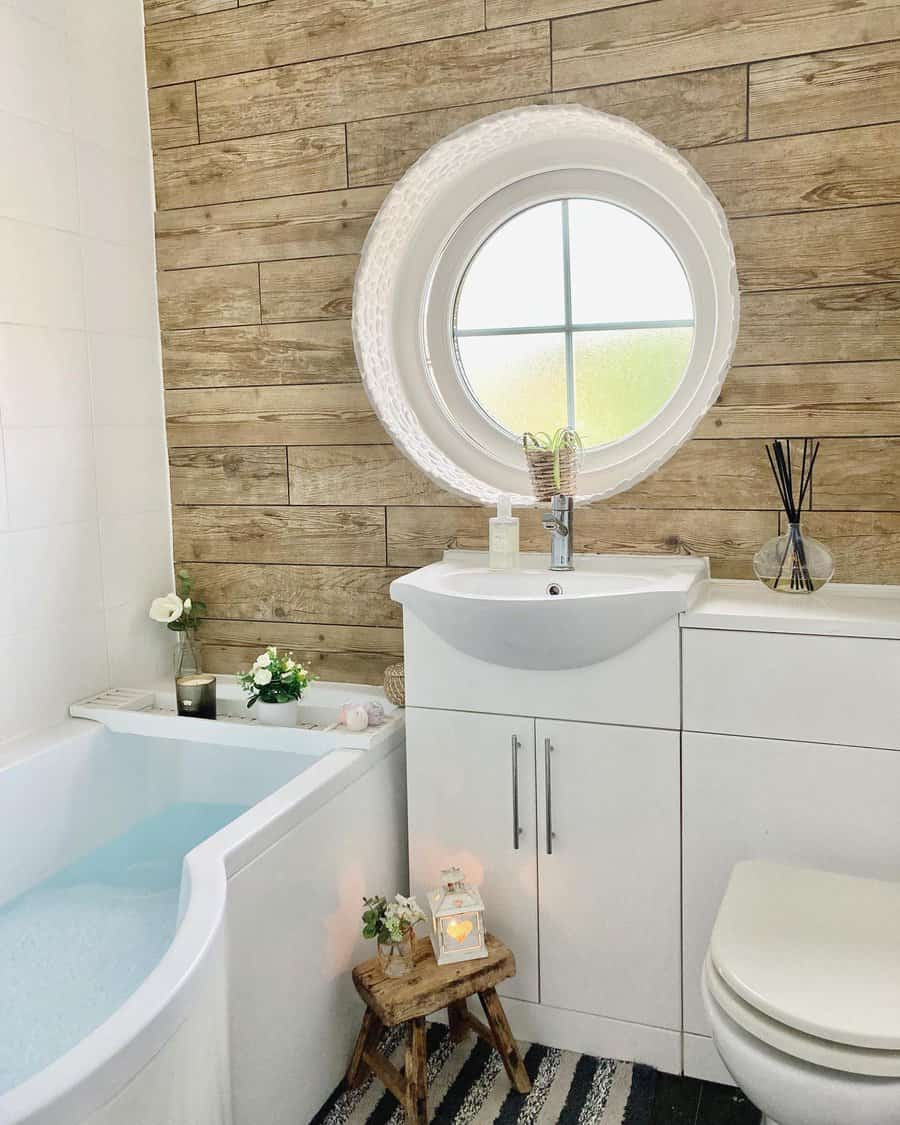 If you're remodeling a windowless bathroom, consider adding a skylight to your list of small bathroom ideas. This is a great way to brighten the room without the hassle of trying to add a wall window.
13. Wood
A wood bathroom can be a warm and welcoming renovation on an ordinary master bathroom. Asian-inspired wood wall tiles look amazing behind a freestanding tub and add contemporary flair. Combine rough wood paneling, natural stone tile, and copper sink and shower fixtures to create a lodge-inspired rustic bathroom.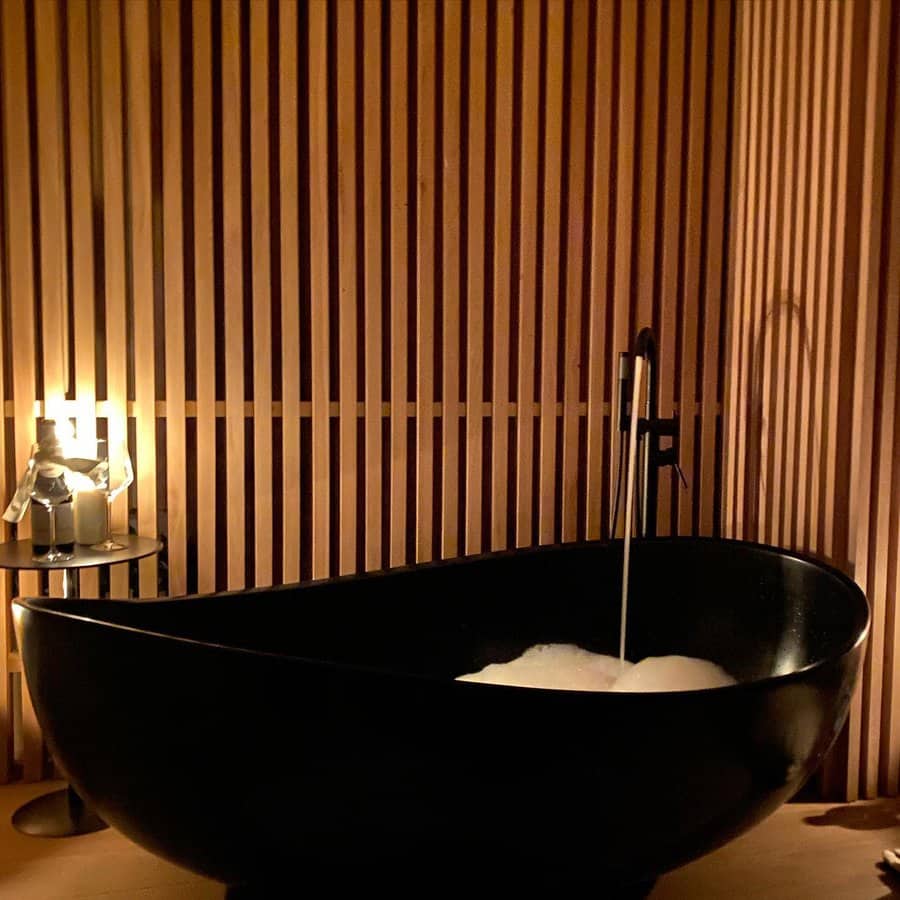 Tile with a wood grain finish can be hard to distinguish from hardwood floors and will stand up to high moisture levels much more than real wood. Wood paneling, beadboard, or shiplap is great on a small bathroom accent wall as it provides a warm, welcoming break from all-tile surfaces.
Small Bathroom with Tub FAQs
How can you put a freestanding tub in a small bathroom?
Japanese soaking tubs are the best choice for a tiny bathroom. Although they are small in diameter—as small as 41 inches wide—they are much deeper than an American bathtub. They have a built-in seat and the water comes all the way up to your chin for a true tub soaking experience. Another bonus: they come in cool finishes, including copper, wood, and stainless steel.
How small can a bathroom be and still have a tub?
A full bath should have at least 36 to 40 square feet of floor space. Unless you're getting a Japanese soaking tub, your finished bathroom needs to be at least 5 feet long in one direction to accommodate a bathtub.