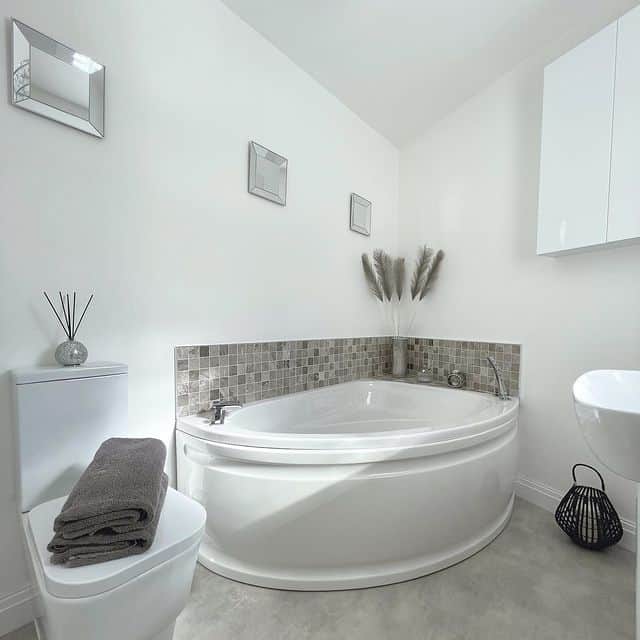 40 Small Bathroom Ideas with Tub
"I think a lot of contemplation happens in bathtubs. It does for me. Nothing like a hot bath to ease the tension and think about what's going to happen next." -Sarah McLachlan
The bathtub is definitely a place for relaxation and contemplation. However, if you have a small bathroom, you may think there's not enough room for a tub. Or, if you have a small bathroom with a tub, you may feel like the room is too crowded.
Small bathroom design is rather complicated. Even so, it's possible to turn a tiny bathroom into a beautiful space that allows you to soak your problems away. Check out our small bathroom ideas with a tub and see all the bathroom design ideas open to you.
1. Add A Window
While small bathroom spaces may seem cramped to some, with a bit of creativity, they can be transformed into bright and welcoming havens. A window beside the bathtub is an easy way to bring life into the room. With frosted window treatments for privacy, natural light will stream in to create an inviting atmosphere while giving one a peaceful feeling.
If you're looking to liven up your small bathroom, why not transform it into the oasis of your dreams?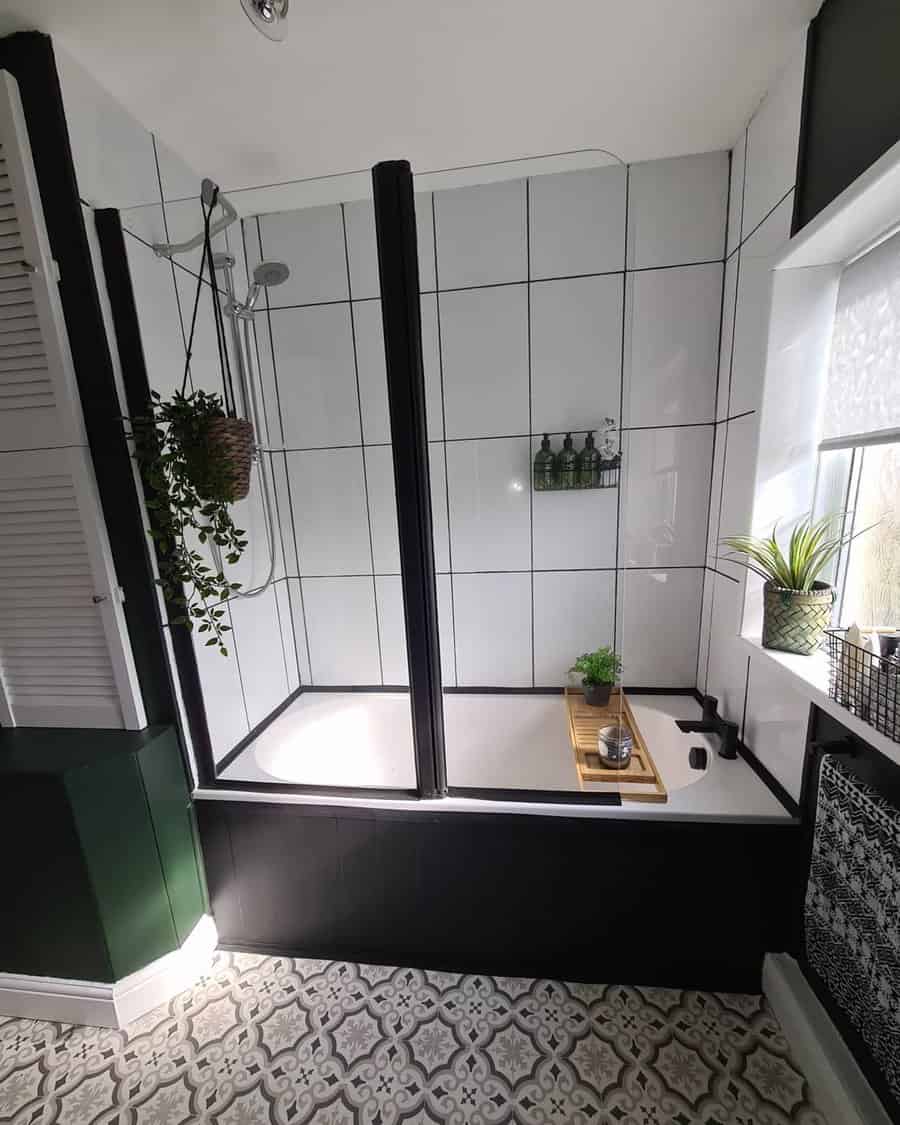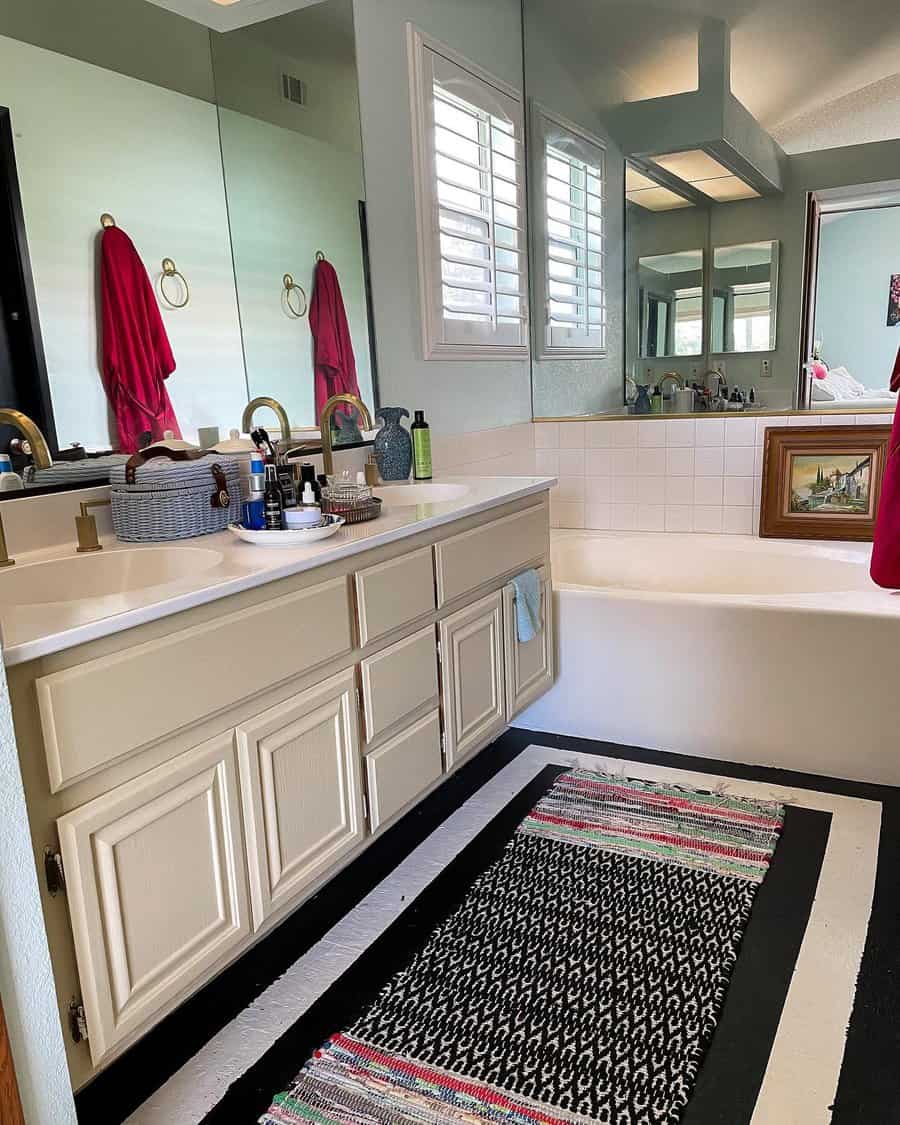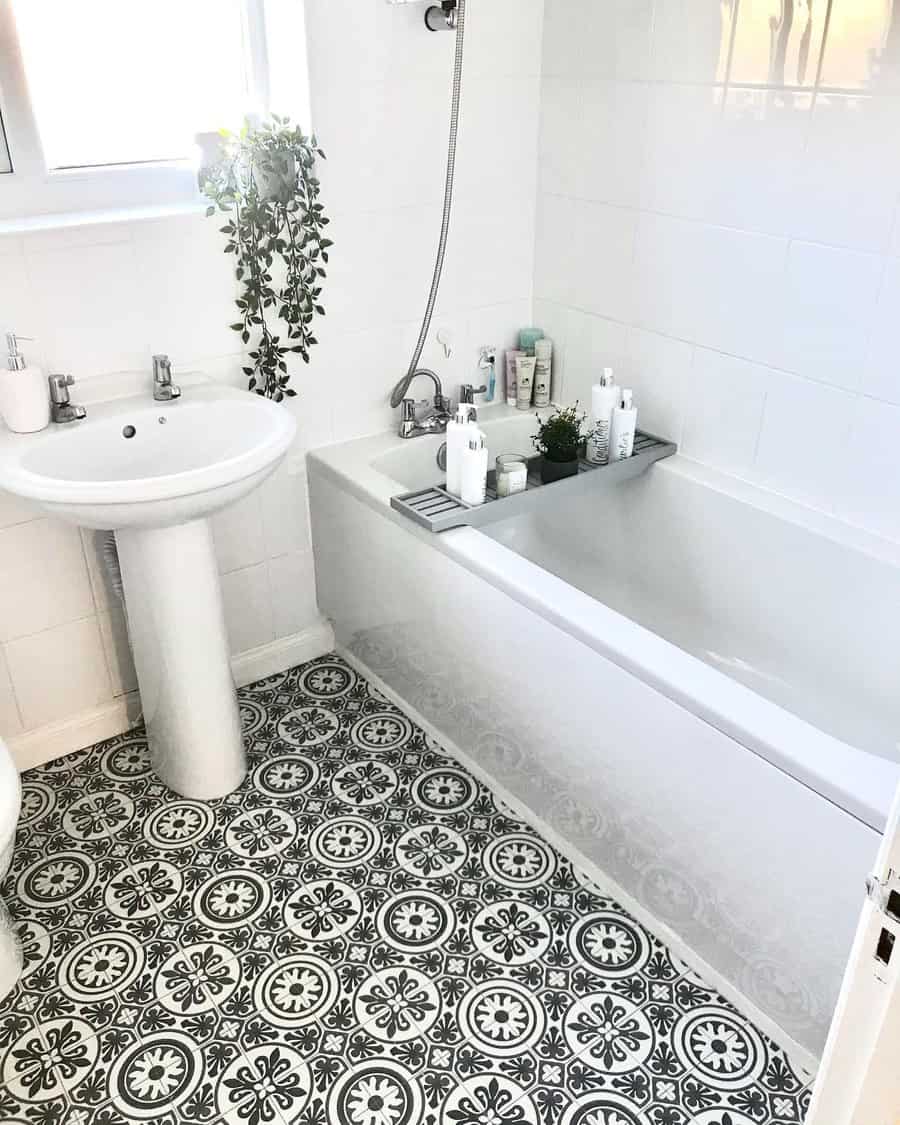 2. Set Up A Standalone Bathtub
Despite its small stature, a bathroom with a standalone bathtub can be just as chic and modern as a larger space. Not only does it consume less space, but it also looks sleek and stylish, making a great statement piece for your home. Instead of spending time remodeling to fit larger furniture, opt for pieces that are designed to fit in a small bathroom.
This will ensure the area looks thoughtfully designed instead of cluttered. To maximize available space and improve the function of this room, you should carefully consider the items you select.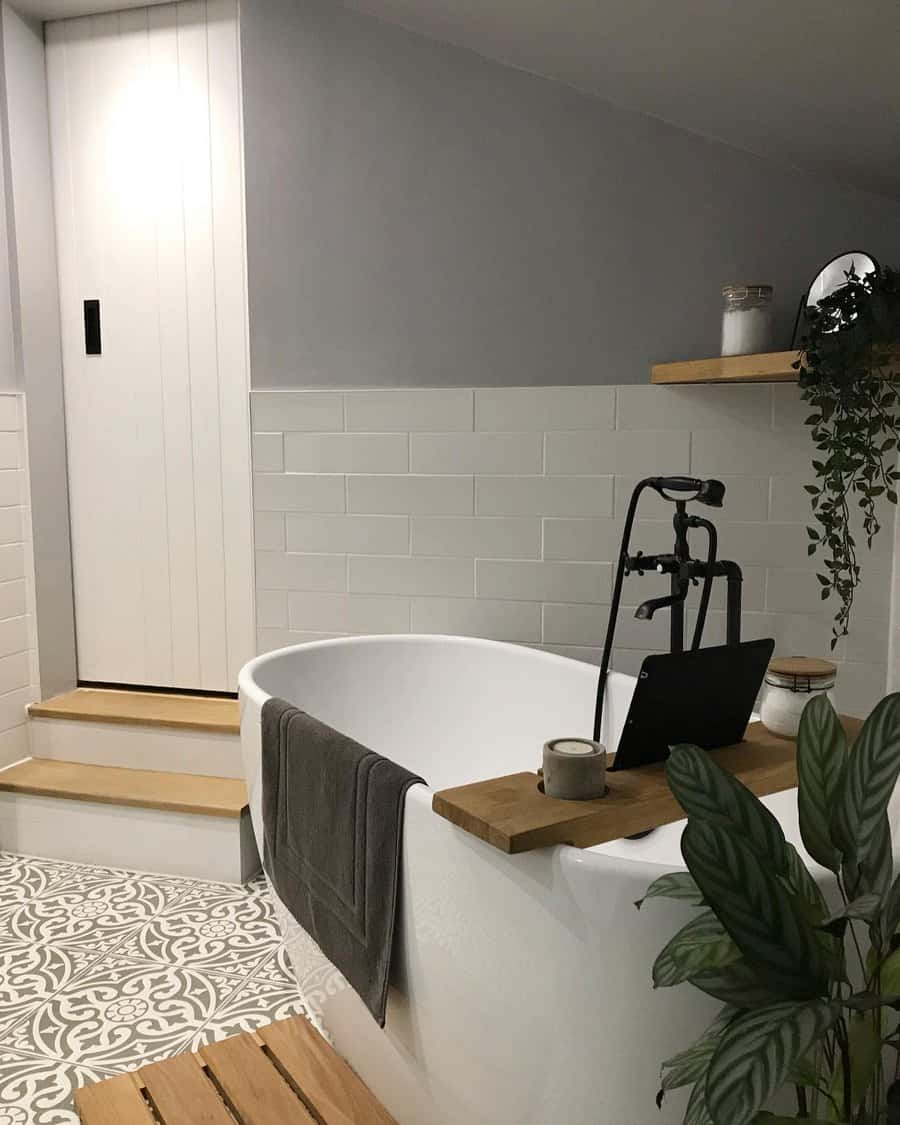 3. Utilize The Corner
Although a corner bathtub may sound like an unconventional idea, it makes perfect sense in small bathrooms. By taking advantage of corner space with a corner bathtub, you can maximize the efficiency of your small bathroom while also adding an exciting aesthetic touch.
With its elegant curves and corner placement, you have the freedom to express your creativity when styling the corner bathtub in order to complete the unique look you want for your bathroom.
In addition, corner bathtubs are widely available so there's something out there to fit any style and budget. So if you're looking for an efficient way to freshen up a small bathroom, a corner bathtub is sure to add that much-needed character.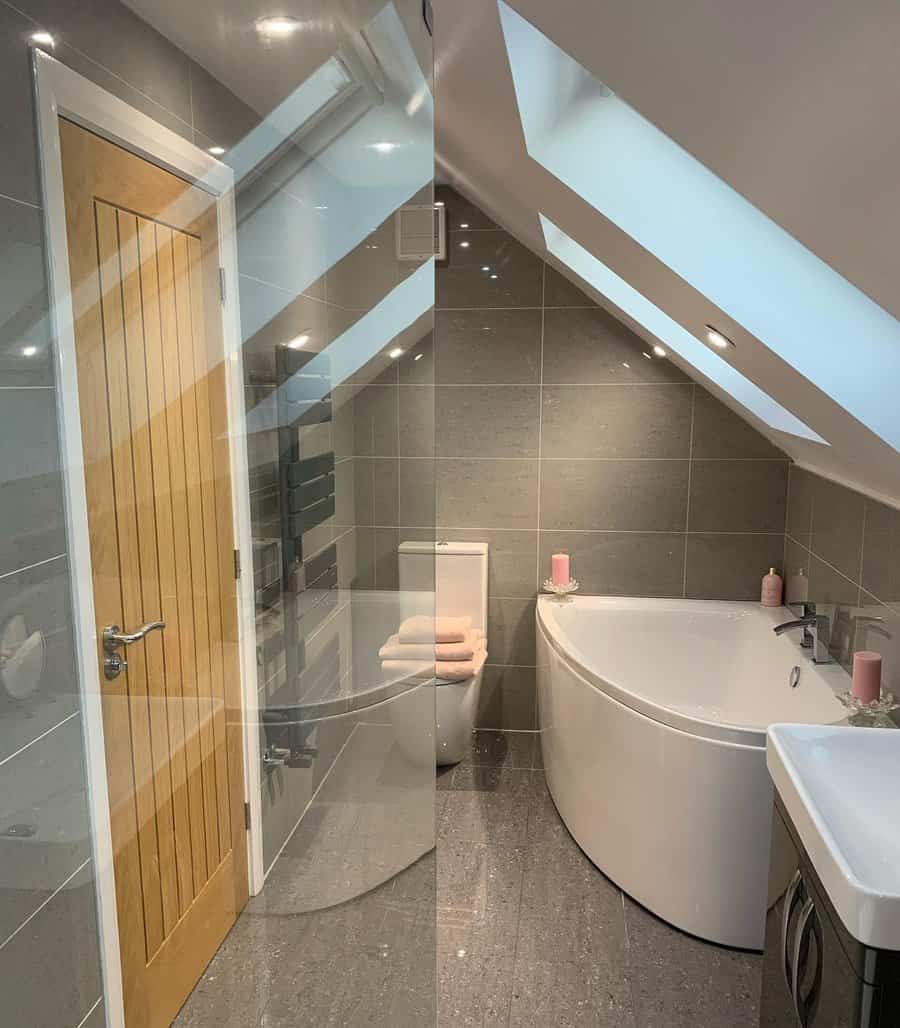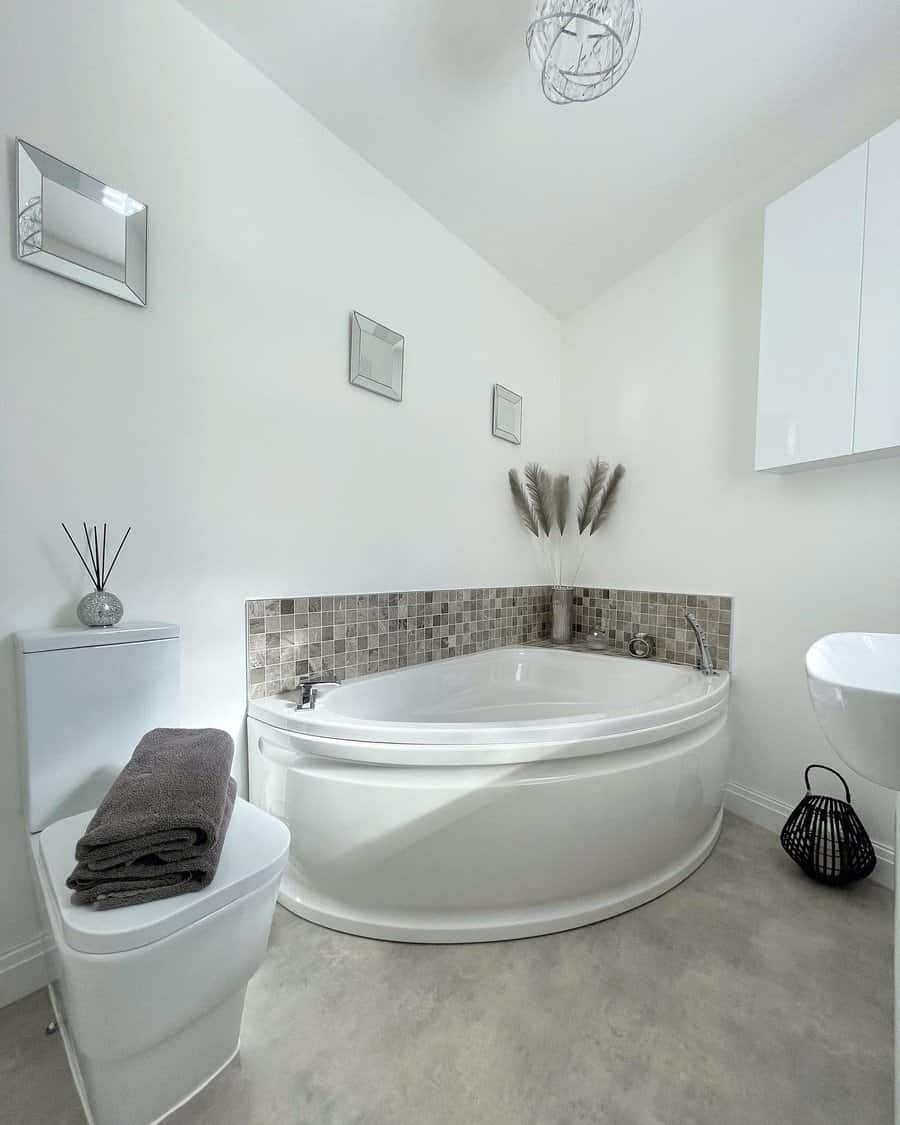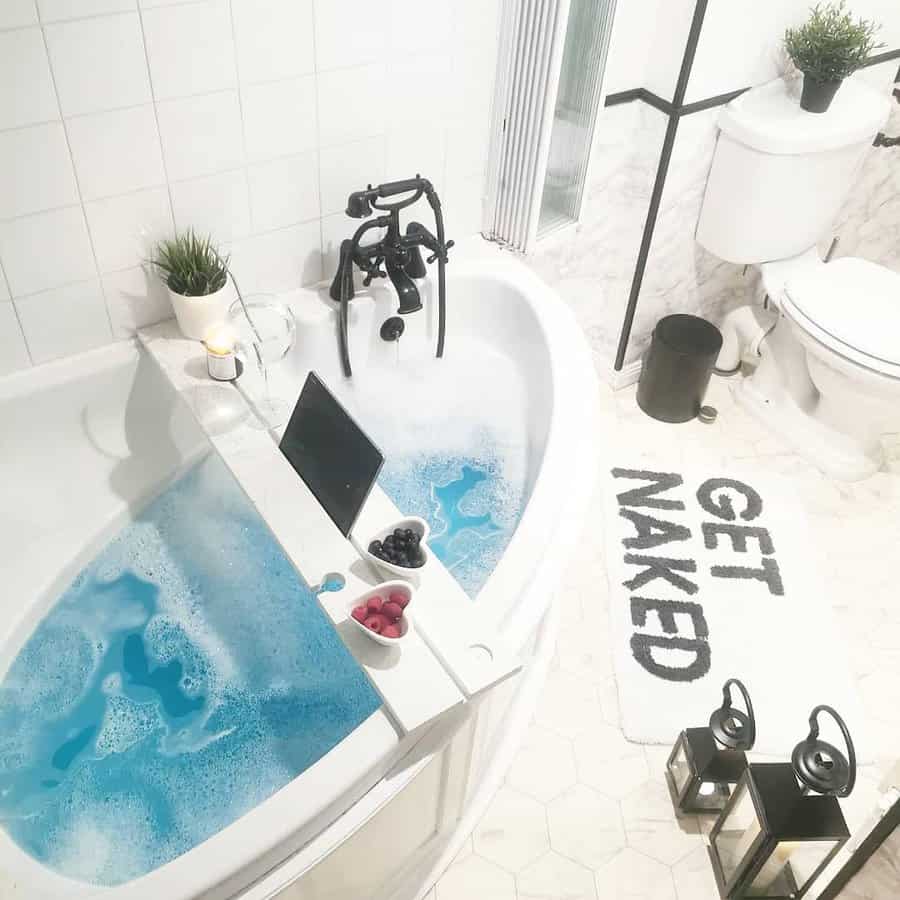 4. Stick To A Color Palette
A consistent color palette is a perfect way to update a small bathroom without taking up more space. Choosing light colors, such as pastels and neutrals, can make the room appear bigger!
Not only will it feel more spacious, but using the same color palette throughout is also extremely aesthetically pleasing. You may choose to add a few accessories in brighter colors if you prefer.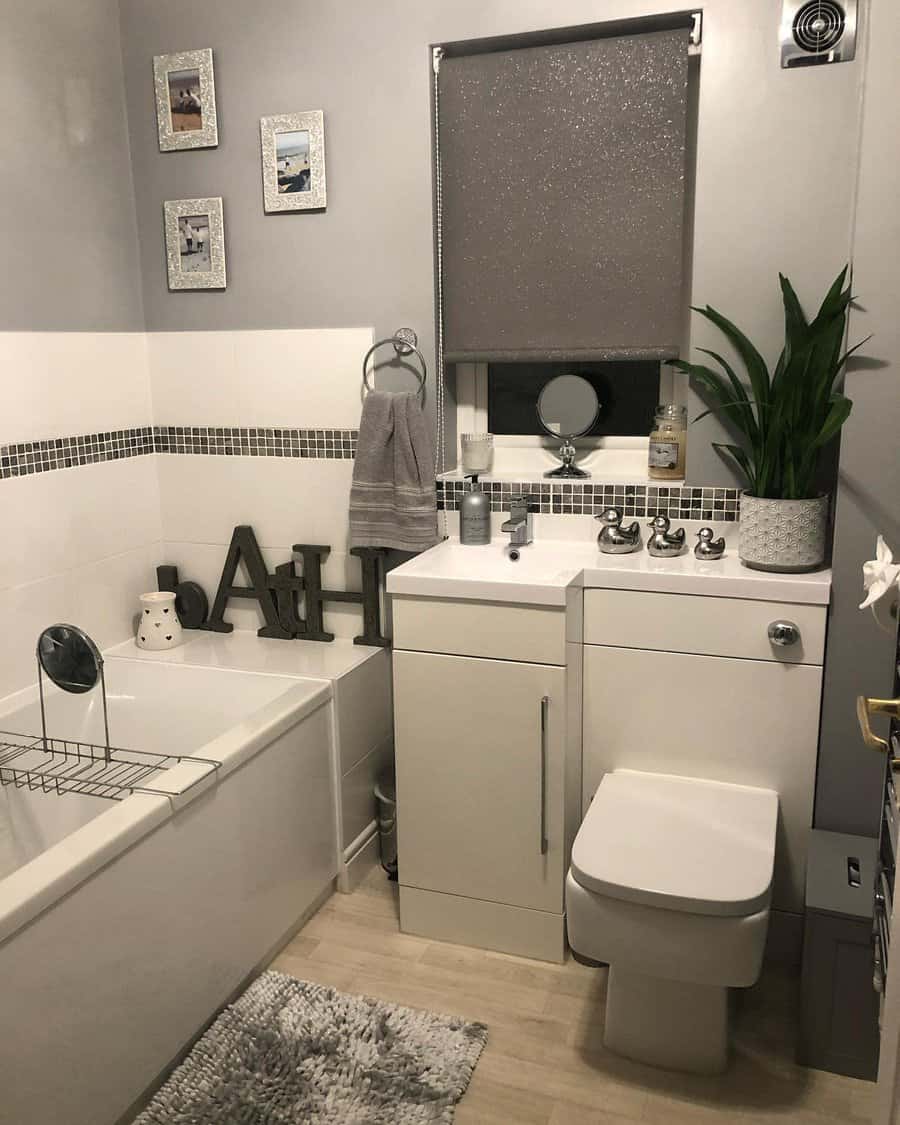 5. Incorporate Plants Into Your Bathroom
A small bathroom can be a lush retreat with just a few plants! Incorporating plants throughout your decor will give your space an inviting, natural vibe and make it look bigger.
The combination of warm wood tones and robust greenery will give the impression that even the smallest of bathrooms are still larger than life. Not to mention, breathing in the oxygen-enriched air coming from your potted plants will make for a calming and tranquil atmosphere!
With some ingenuity and creativity, you can use plants to transform your small bathroom into a paradise sanctuary – no matter how limited your space may be.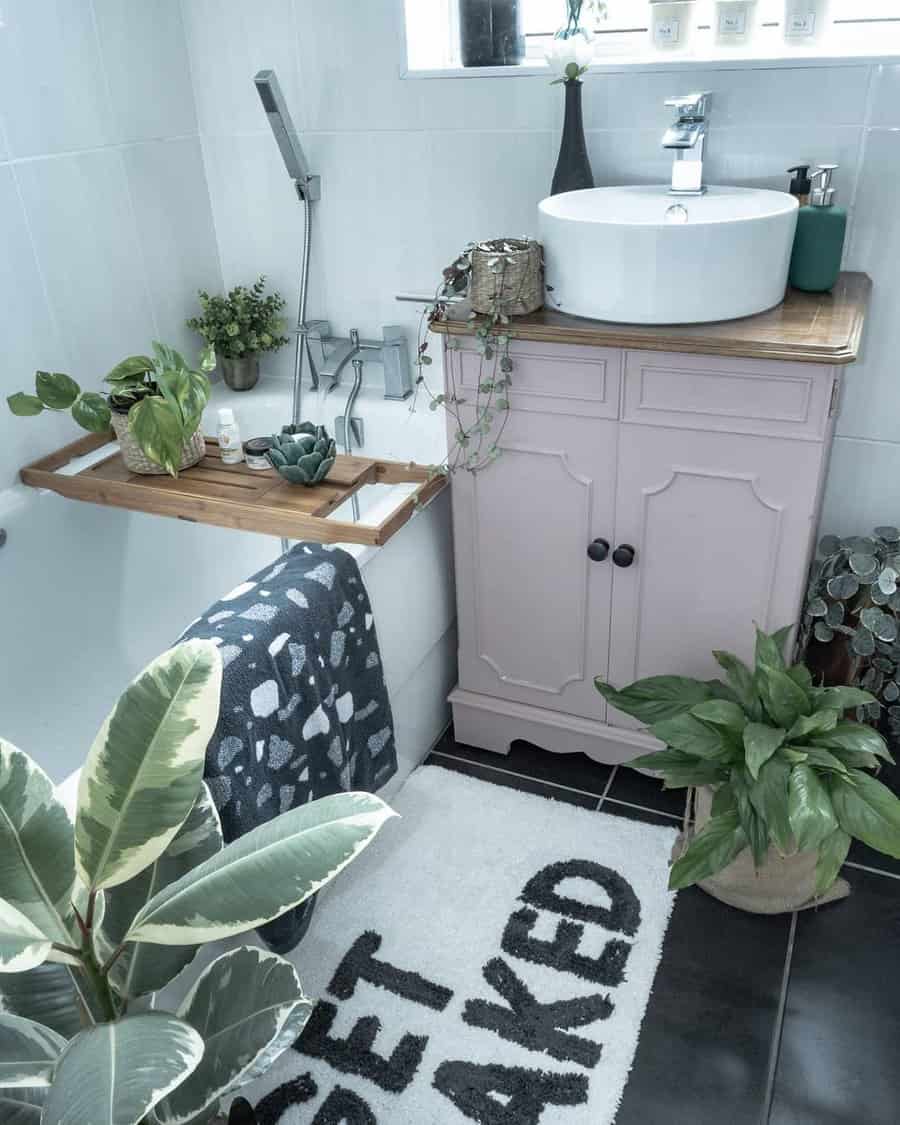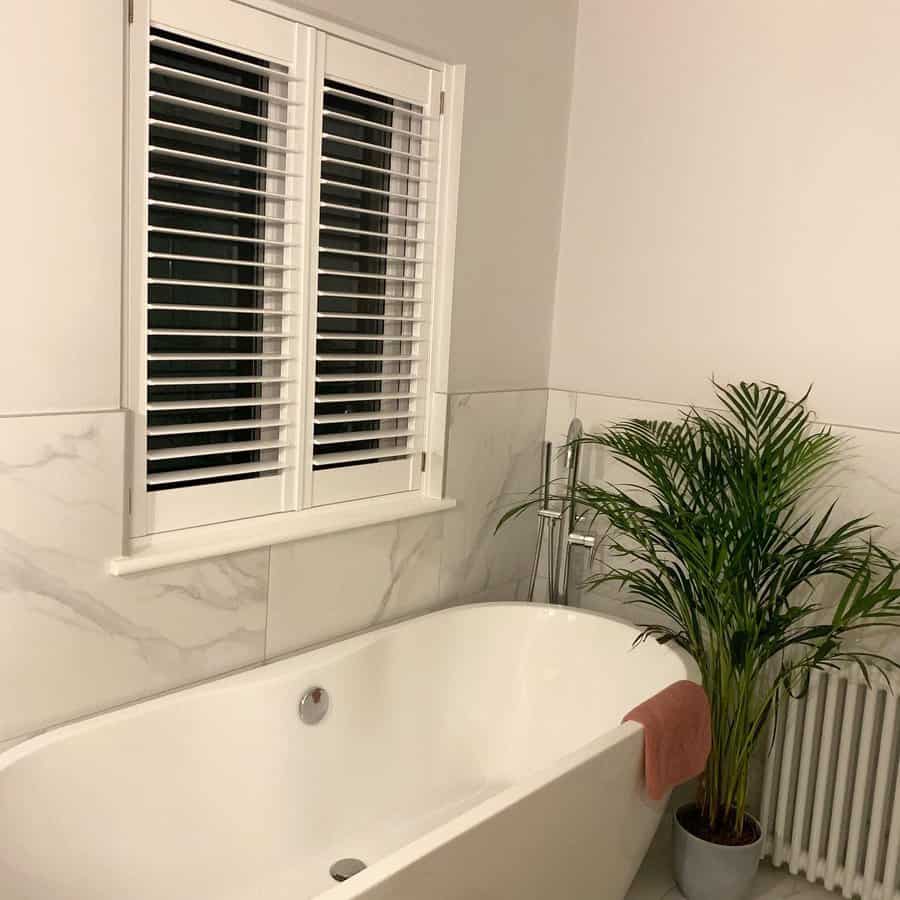 6. Install Hexagon Tiles
Complex yet cozy, a small bathroom with hexagon tiles adds visual interest and unique style to any space. Hexagon tiles are perfect for bathrooms of all sizes since they are both unisex and beautiful. The unique shape adds dimension to the room making it feel larger while also adding visual interest.
Perfectly suited to smaller spaces, the hexagonal structure adds an element of complexity without taking up too much space. This tile option is great for those hoping to give their bathroom a special touch without sacrificing too much floor space.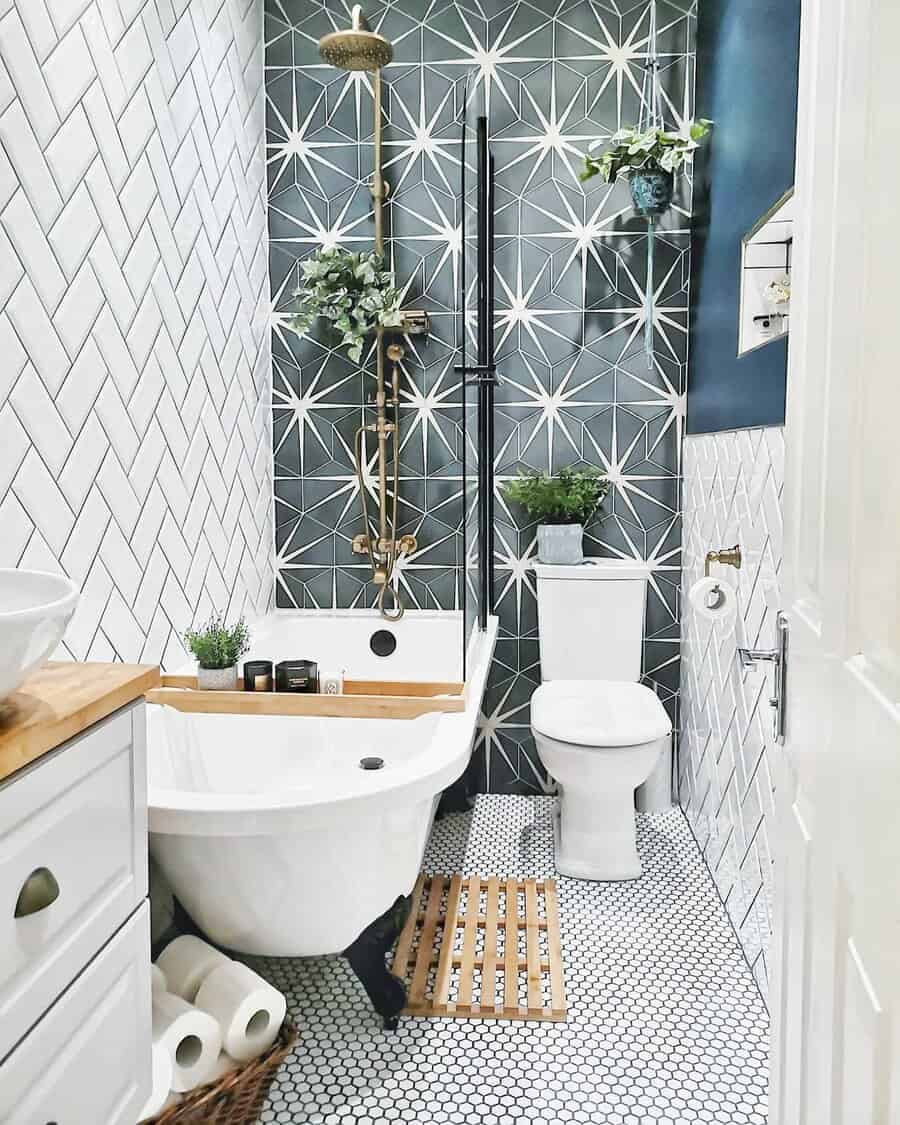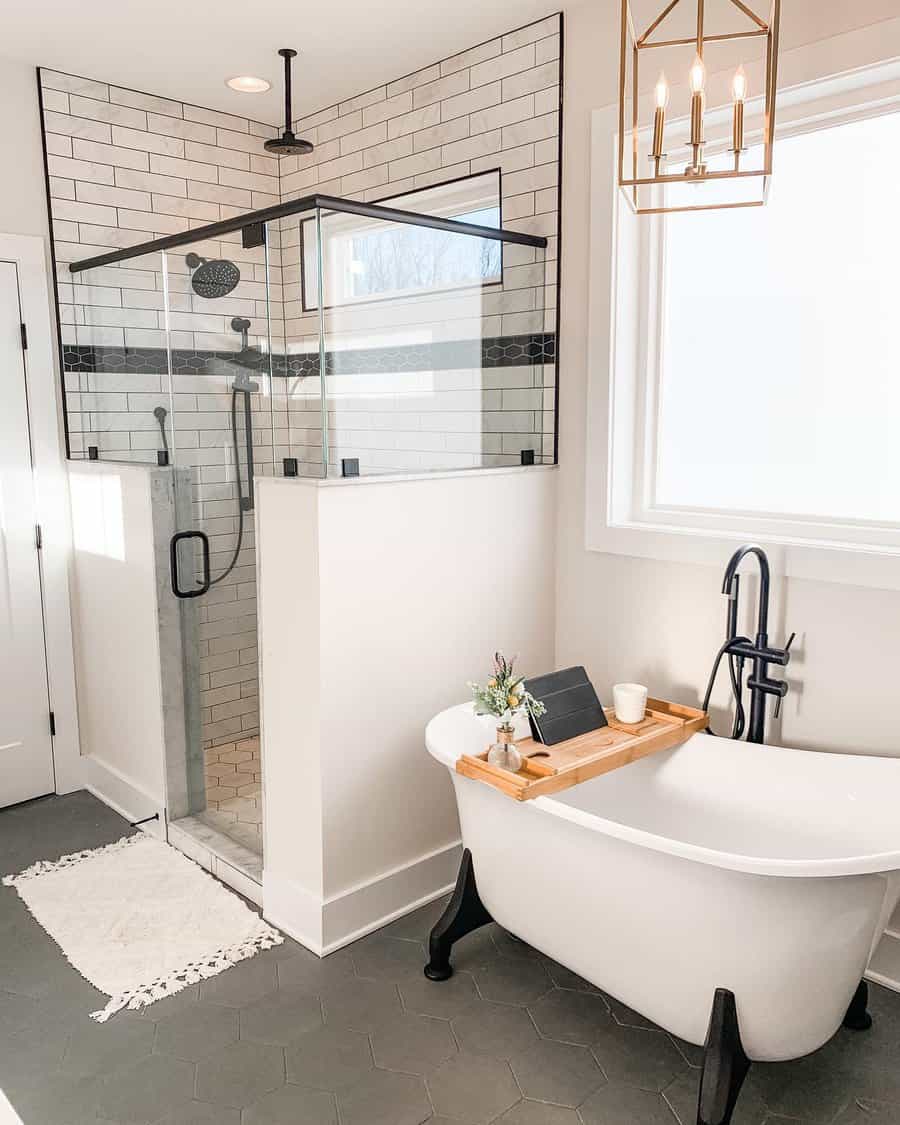 7. Go With Marble Flooring
A small bathroom is the perfect place to add a polished look with marble flooring, creating an elegant atmosphere. However, be warned – this high-maintenance material requires regular cleaning and maintenance in order to keep it looking fresh and as luxurious as when you first purchased it!
With careful care, your marble floor will remain beautiful and add a subtle sophistication to your small bathroom.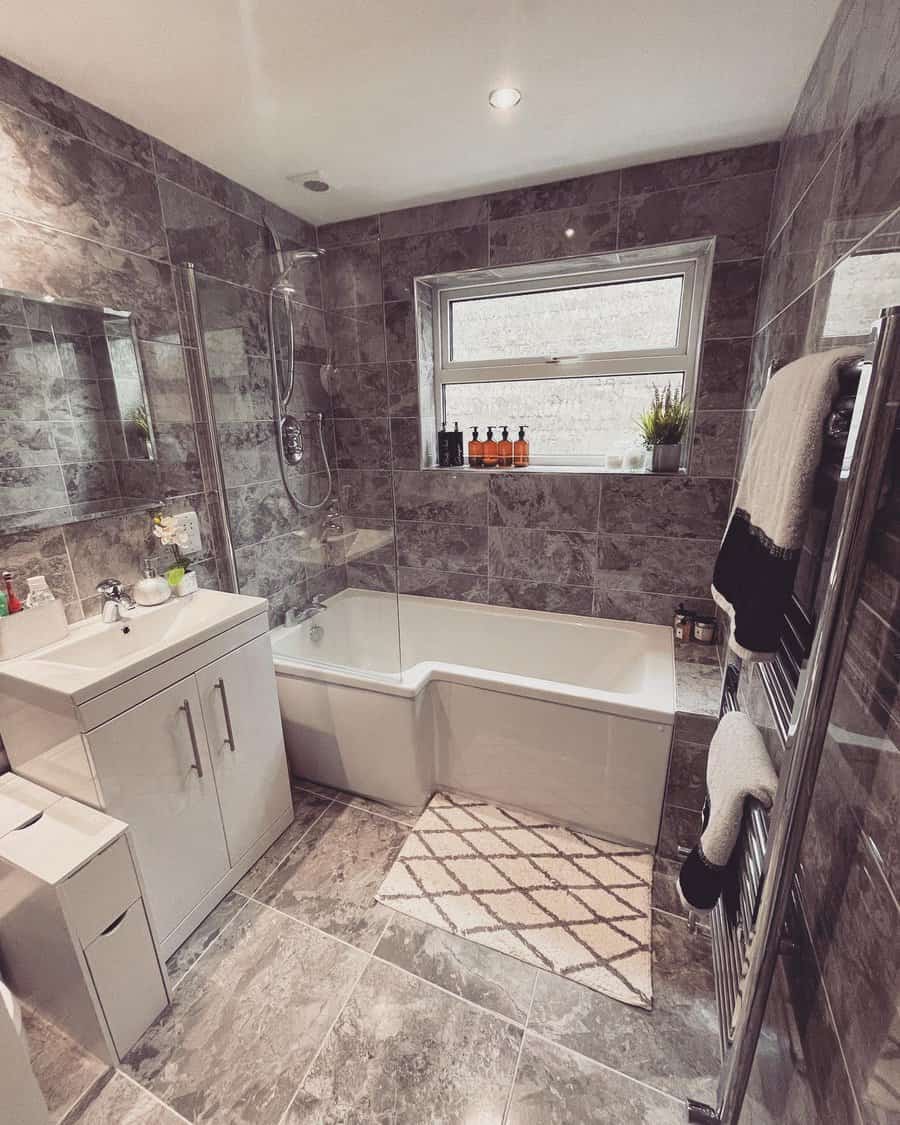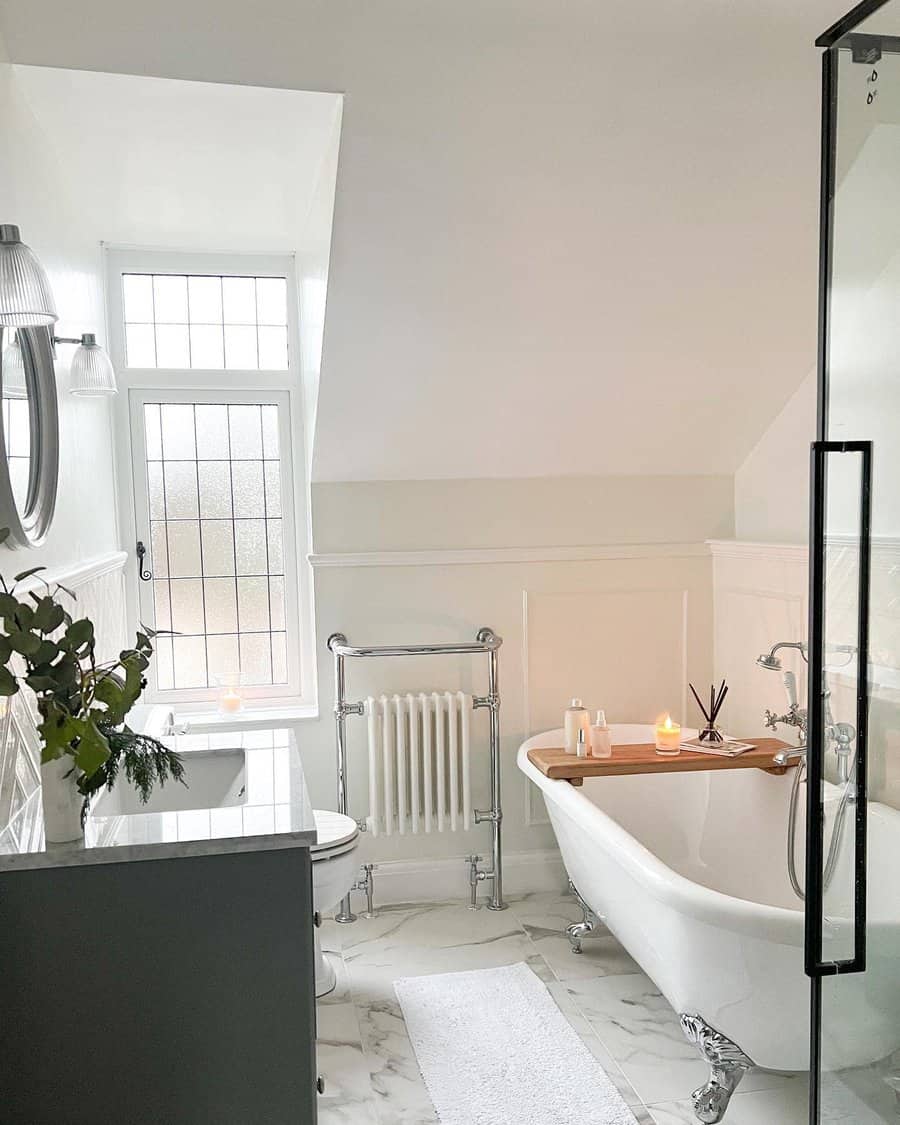 8. Opt For Decorative Tiles
Have fun with color and textures in your small bathroom by sprucing up the walls with fun, warm, and creative decorative tiles. Let Spanish prints and boho tribal designs provide life to a plain space.
And let geometric tile patterns boost energy levels, from the fun subway tiles to classic hexagons or honeycomb-style. Make sure you combine different sizes or tones, for an intriguing and unique effect all around!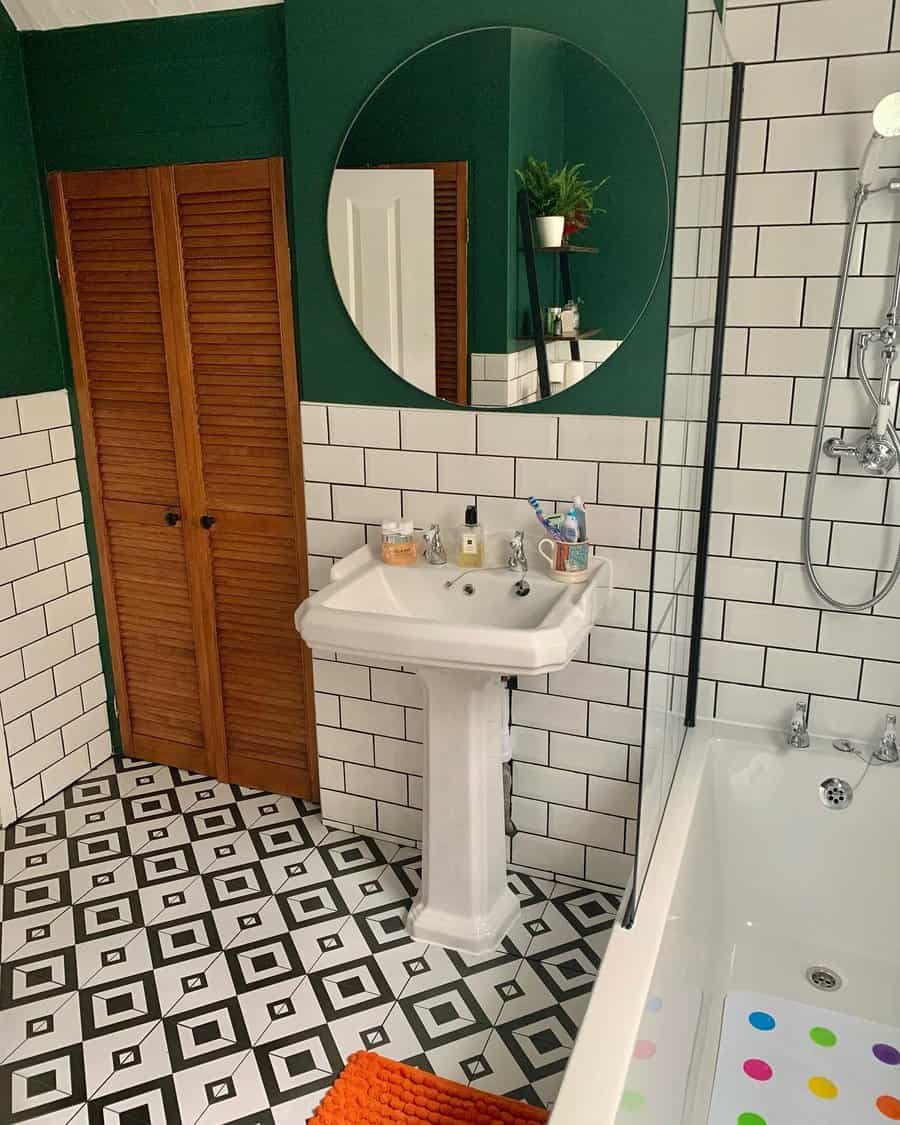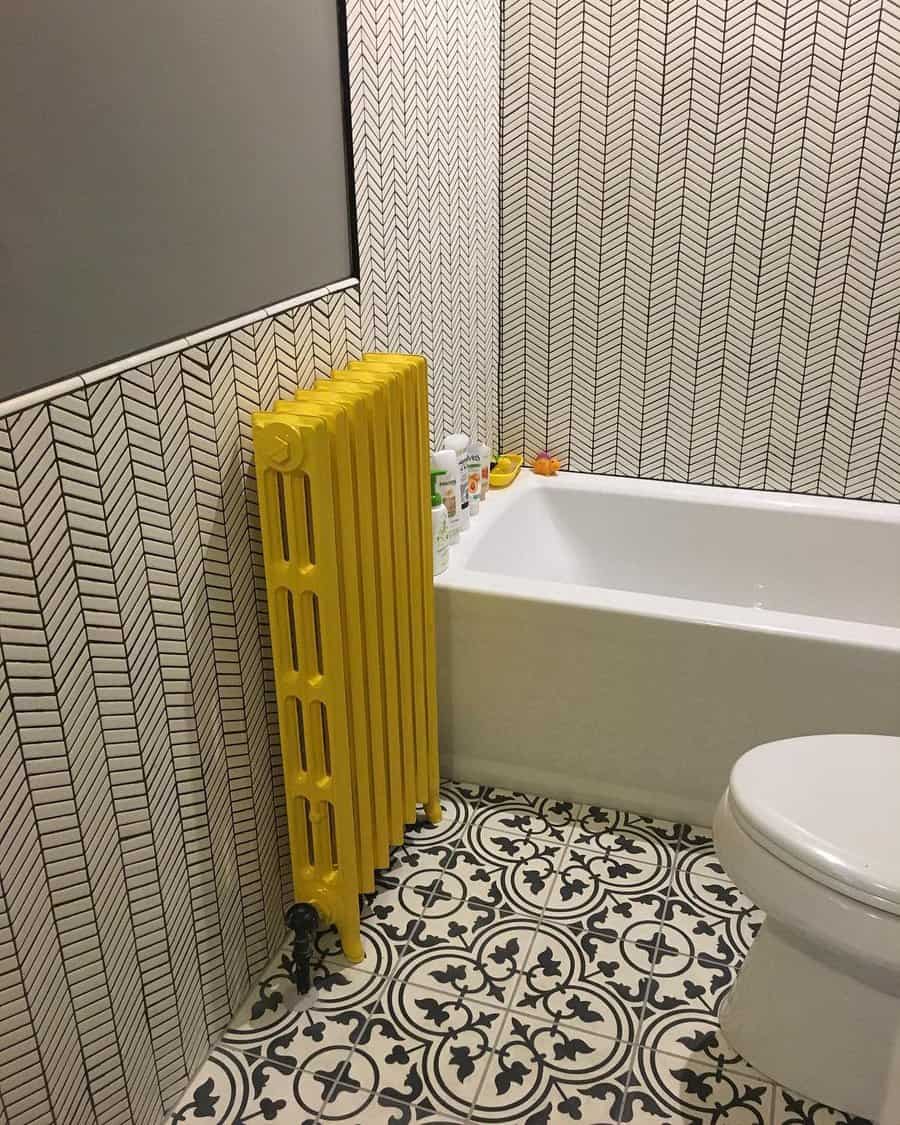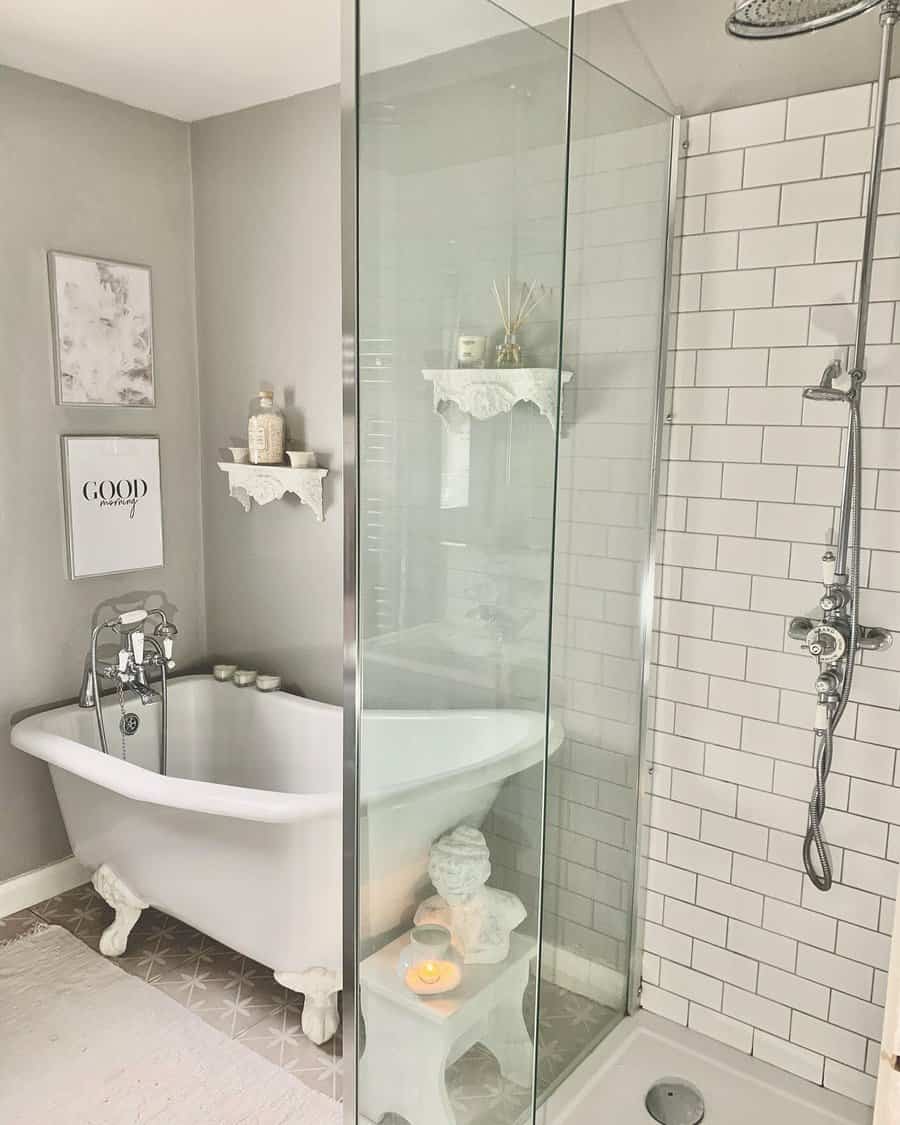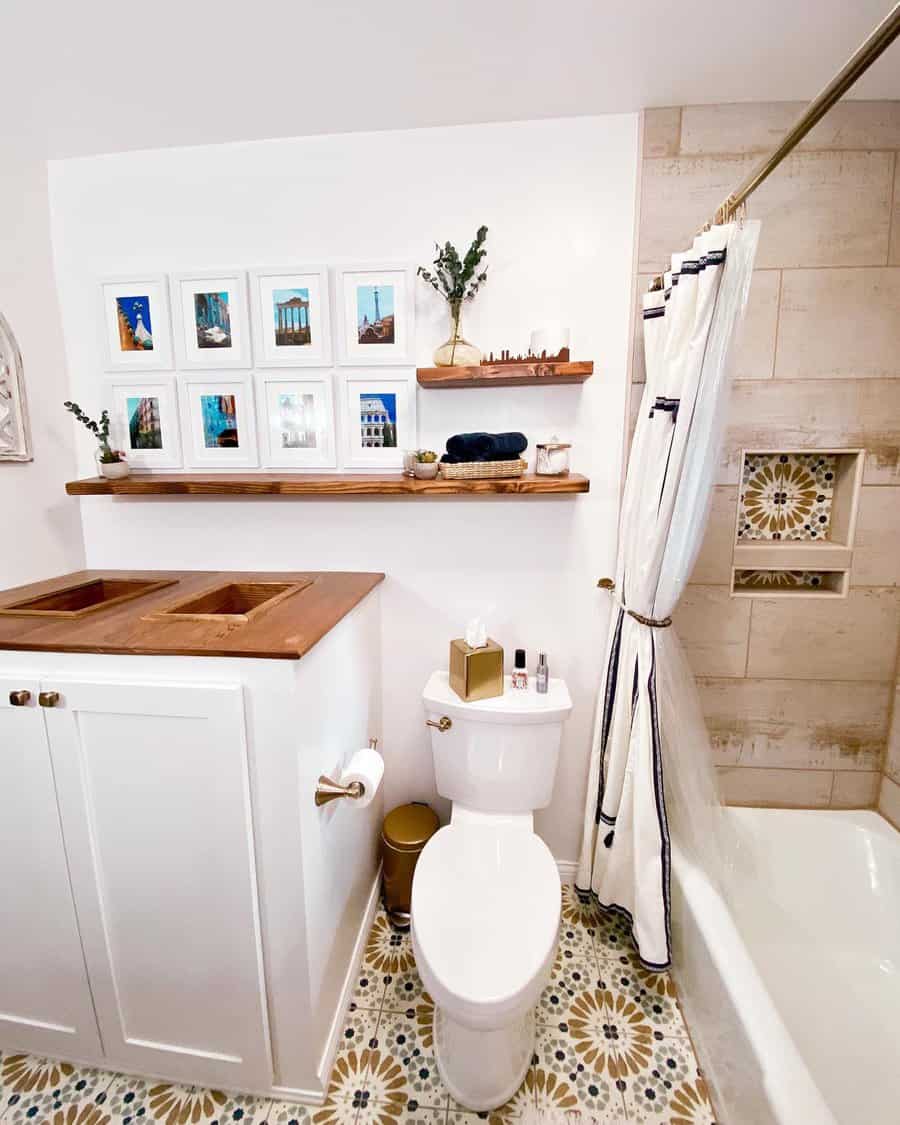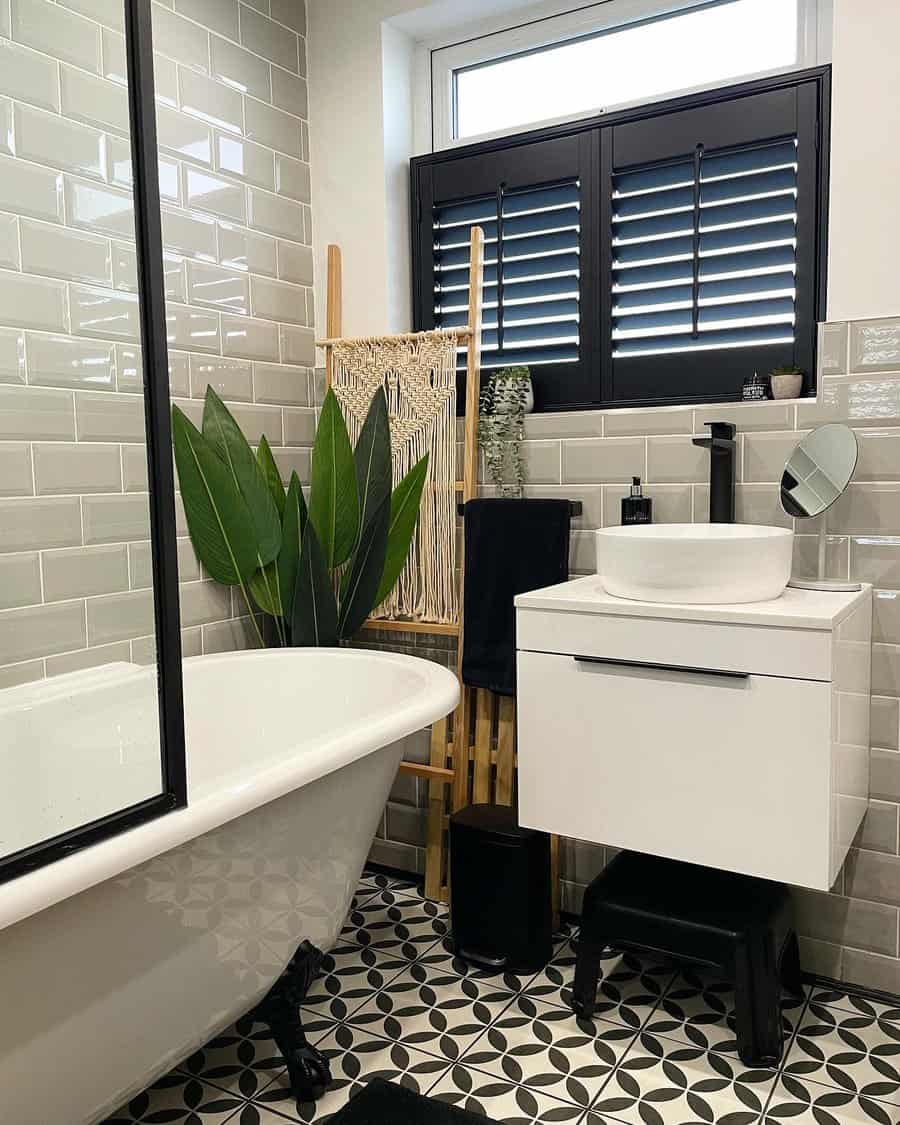 9. Make An Accent With A Pendant Lamp
The addition of a pendant lamp in a small bathroom adds an accent of visual interest to the space. This is especially true if you choose a bold, vibrant color or something that adds texture, like brushed metal. Aside from providing an extra layer of light, it adds a unique decorative touch to the room.
pendant lamp almost mimics artwork just hanging there, allowing your compact bathroom to be transformed into something special.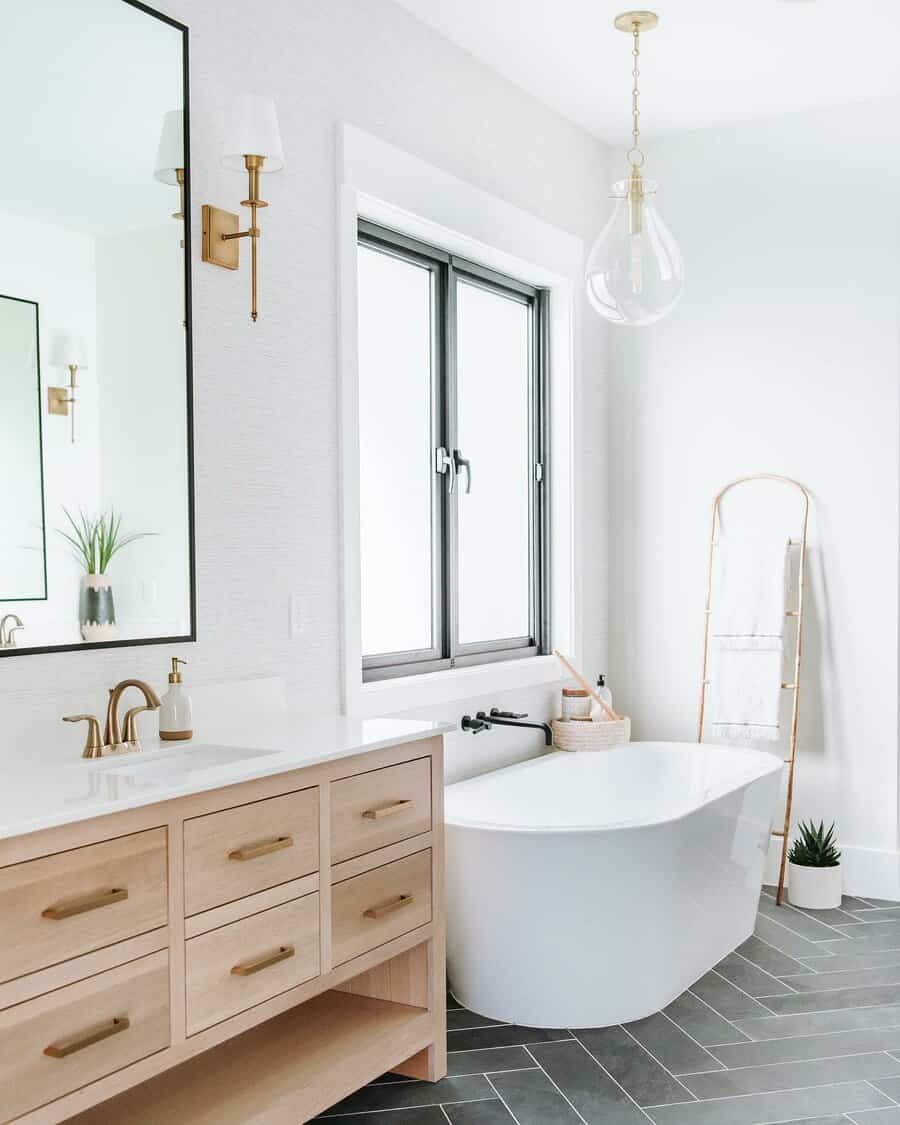 10. Put Up A Half-tiled Wall
Adding beveled tiles to one wall of a small bathroom can be a creative and simple way to create an optical illusion, making the wall seem as if it is receding into the distance. By pairing beveled tiles with a complementary paint color, you will be able to create dimension in a room that could be otherwise uninspiring.
With this project, your half-tiled wall will be transformed from plain to mesmerizing in no time.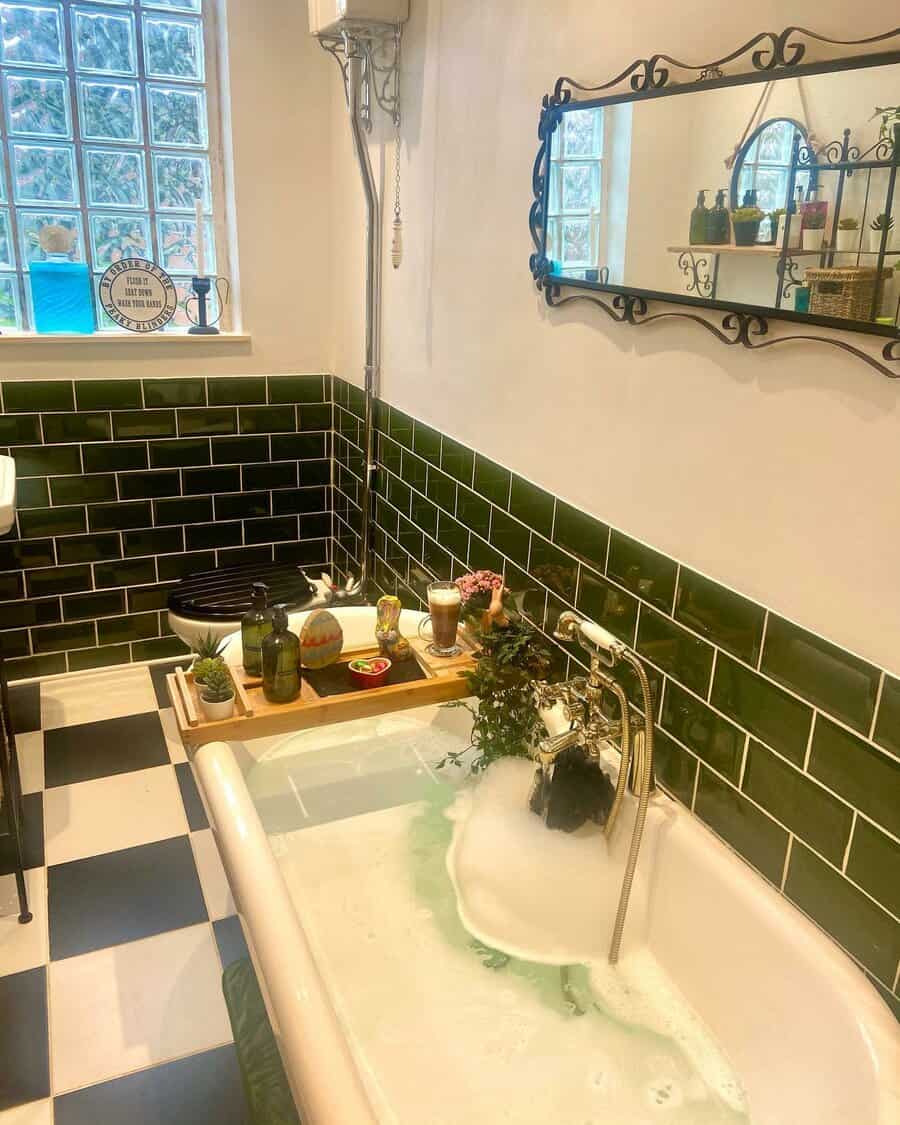 11. Install Black Fixtures
With sleek black fixtures, you can transform any small bathroom into a sleek, classy and minimalist space. This versatile look also pairs perfectly with different colors and interior design styles so it's a great way to give your bathroom an elegant and timeless update without worrying about trends coming in and out of style.
Whether you choose to use this statement look as the highlight of your bathroom or just as subtle accents throughout, you will be sure to create an unforgettable experience every time you step inside.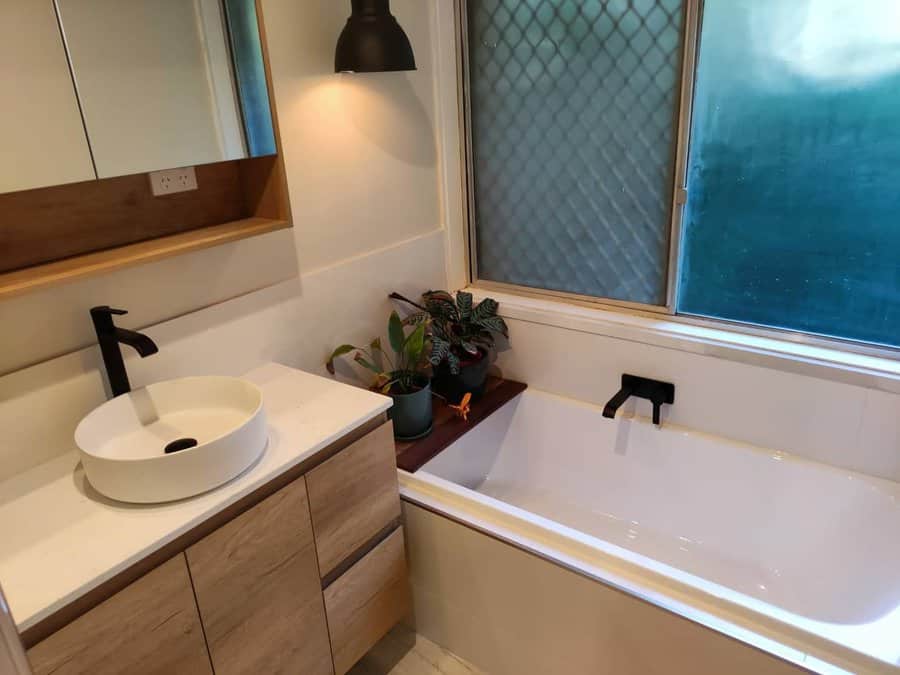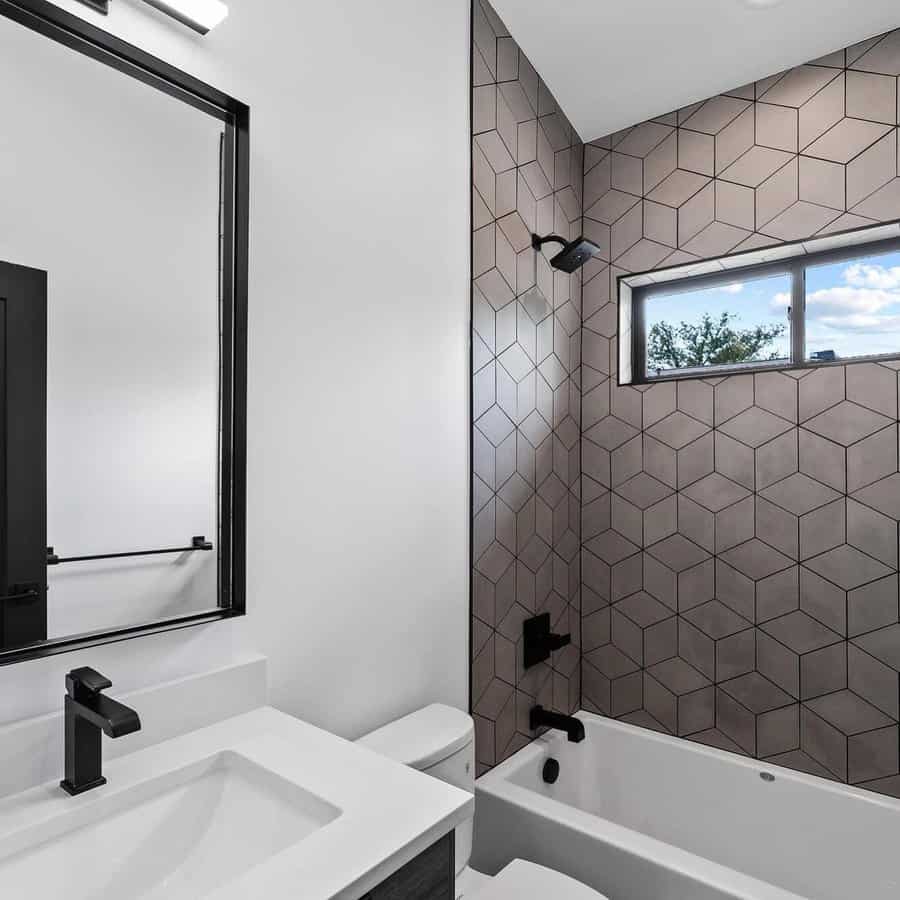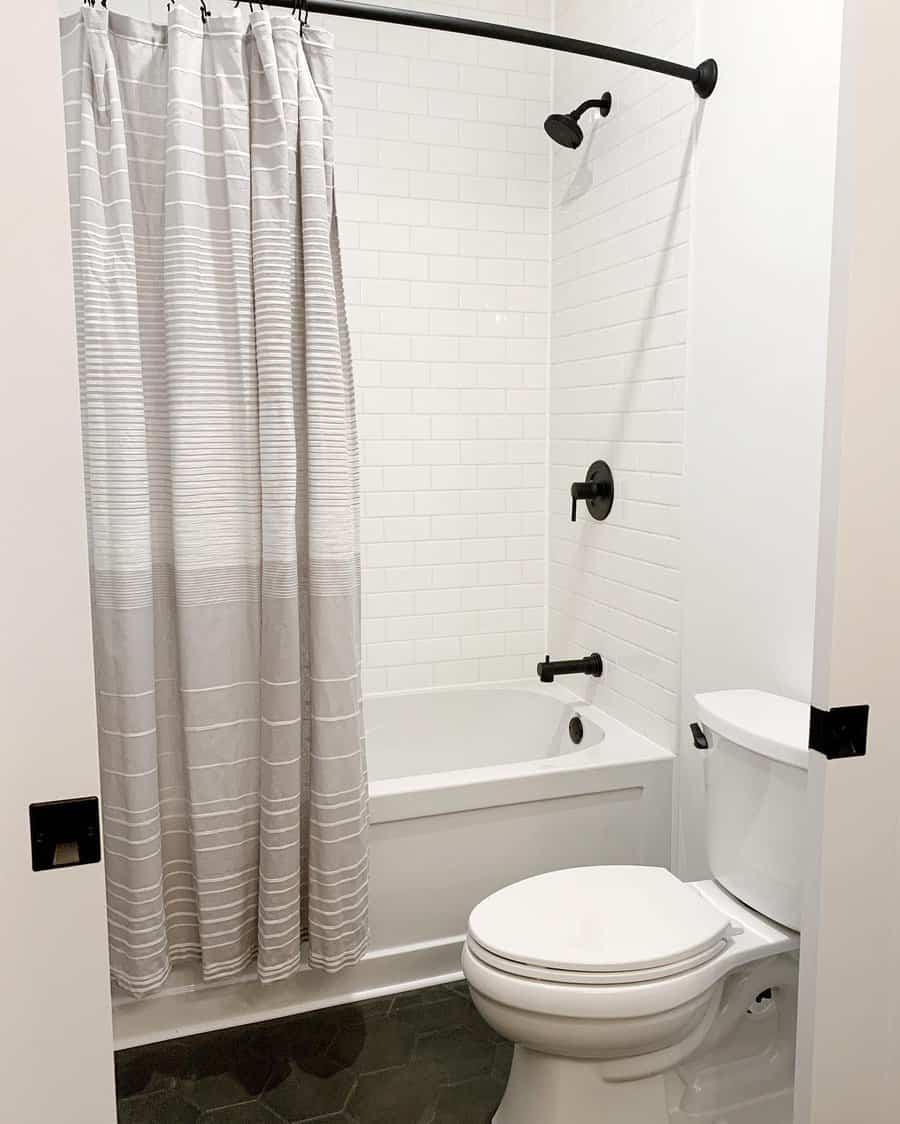 12. Add Recessed Bathroom Shelves
Having a small bathroom can be stressful especially when it comes to finding enough places to store your daily necessities. With recessed bathroom shelves, however, you'll maximise the use of space while still having an efficient storage system that's discrete and easy to reach.
Not only are they perfect for storage of toiletries, but they also help make your small bathroom more beautiful by providing additional shelving and space decoration options. Whether you want to show off a piece of decor or simply hide away everyday clutter, there is something ideal for everyone with recessed bathroom shelves.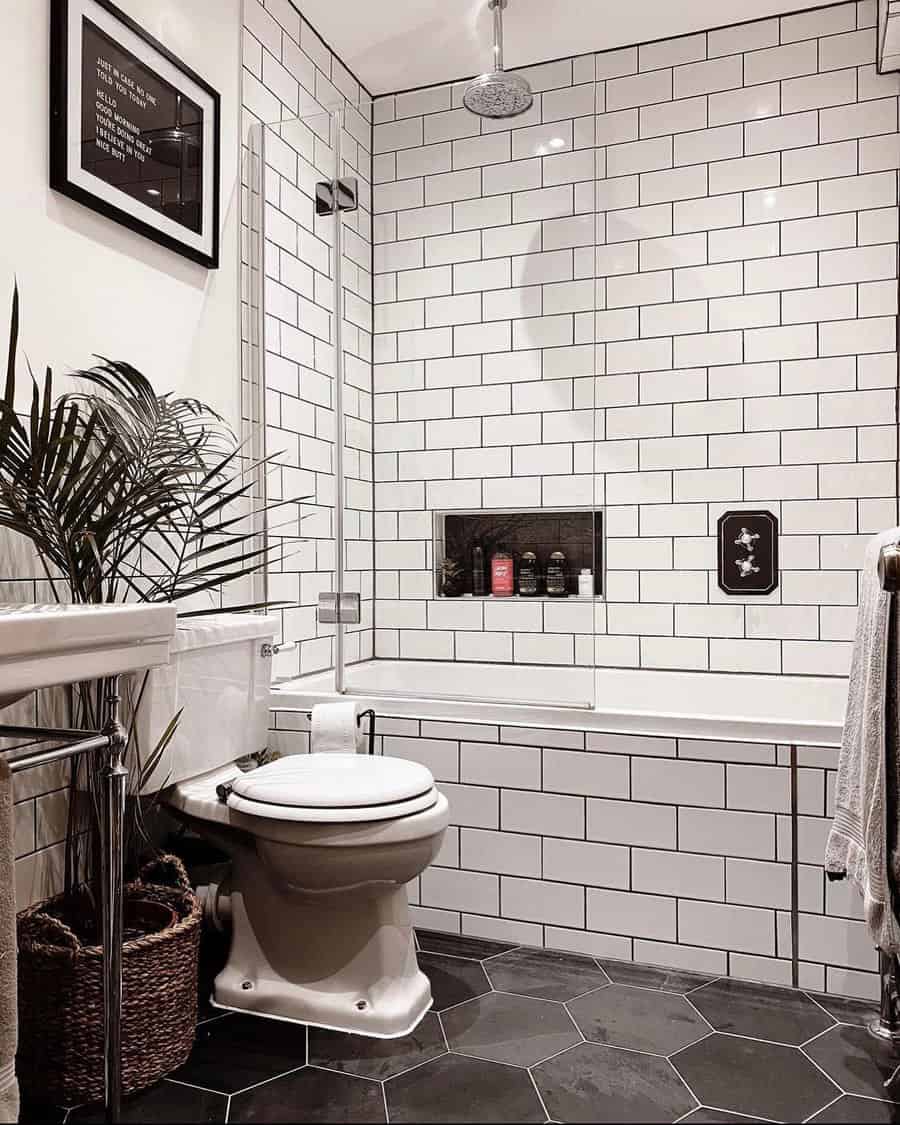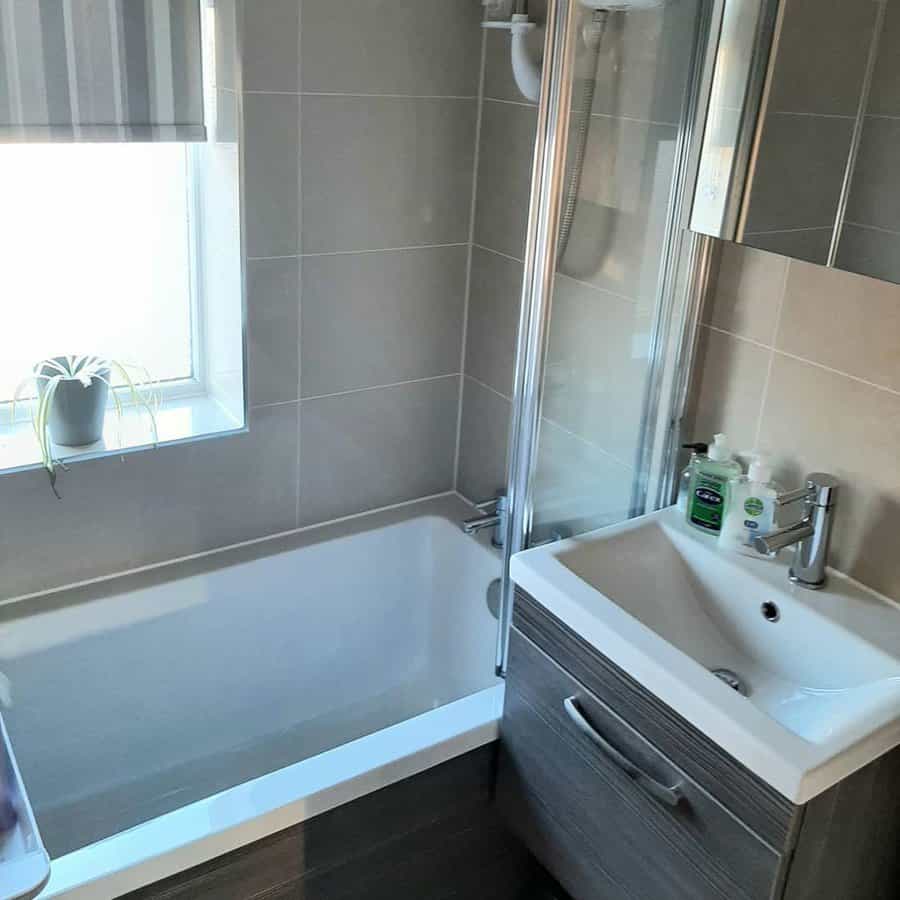 13. Create A Mosaic Tile Stripe For Accent
A small bathroom can be transformed into a luxurious escape with the use of mosaic glass tile. The small pieces are used for an accent, with strips of it running along the walls for an elegant finish.
To bring an even more vibrant feel to the space, they can be paired with complementing tiles for a beautiful contrast that will make this space truly inviting and unique.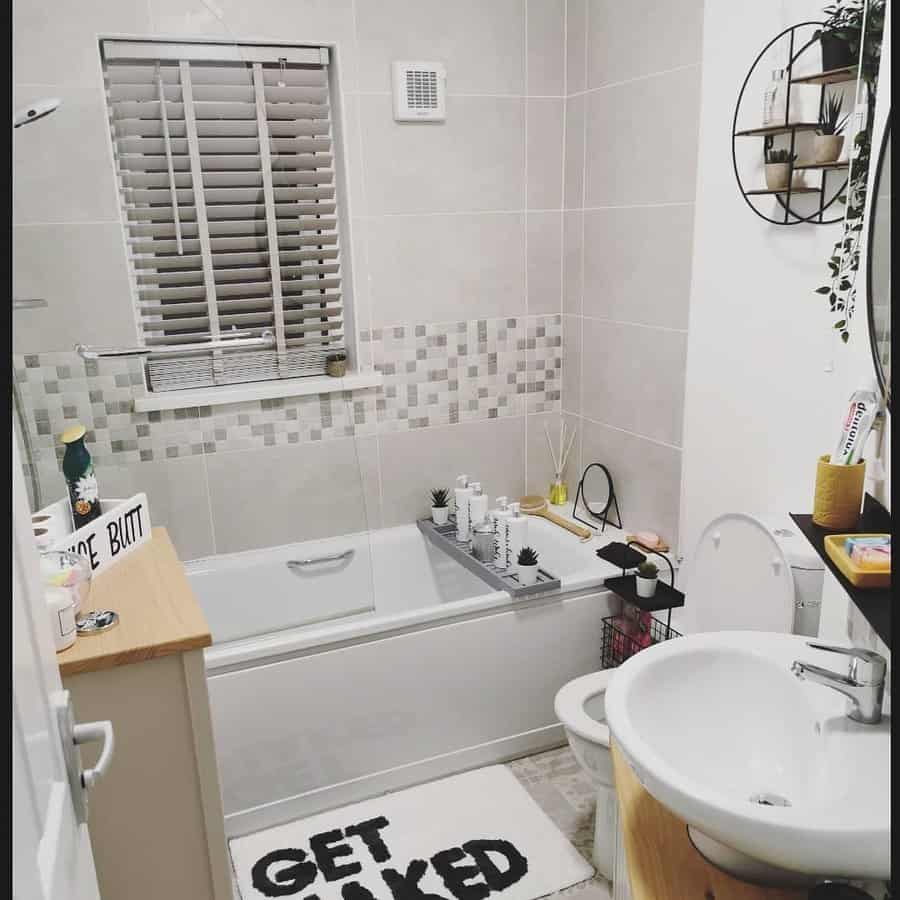 14. Install Graphic Tiles
Decorating a small bathroom with graphic tiles can be an exciting challenge—it's a great opportunity to play with colors and dark or brightened grout. If you're looking for a statement-making look, consider pairing dark, colorfully patterned tiles with dark grout and contrasting it with light blonde wood flooring.
The visual contrast between the dark walls and bright flooring will create an airy and inviting space while also providing a unique accent piece that visitors won't soon forget.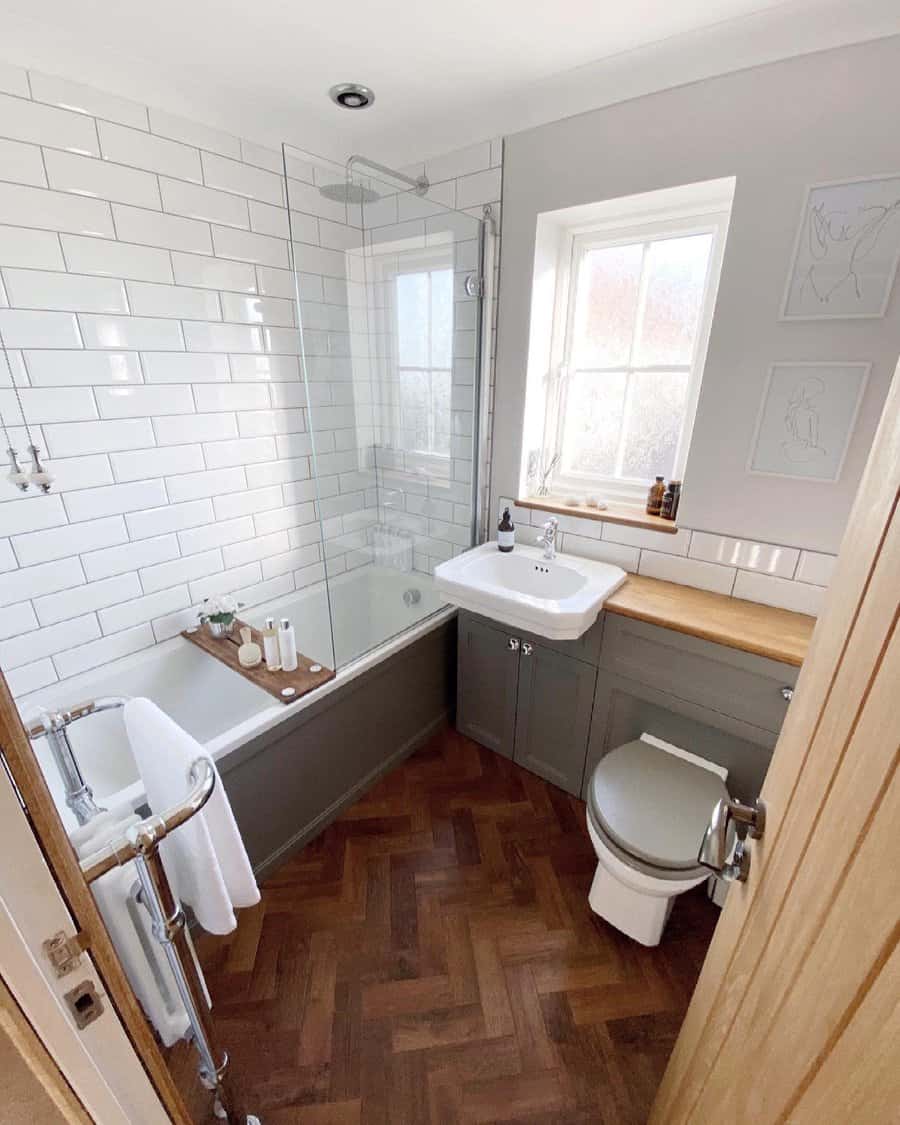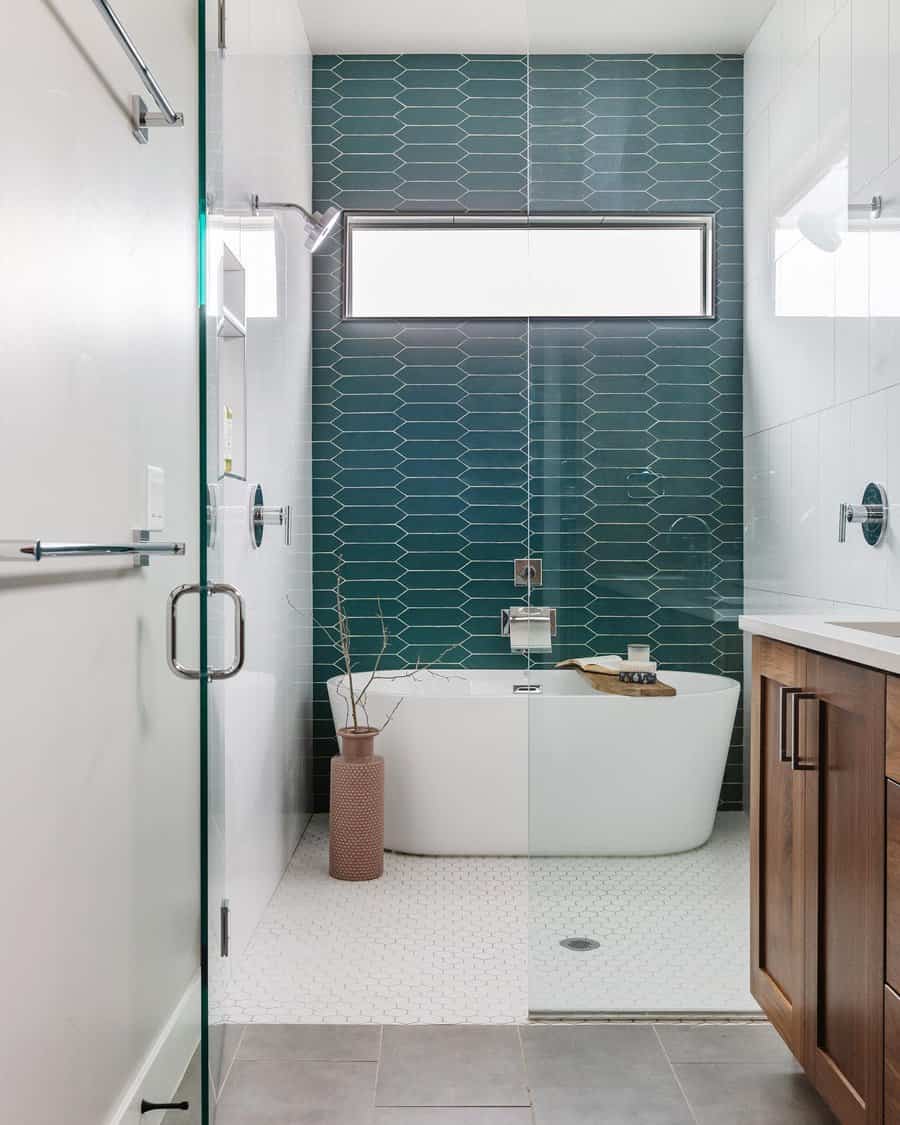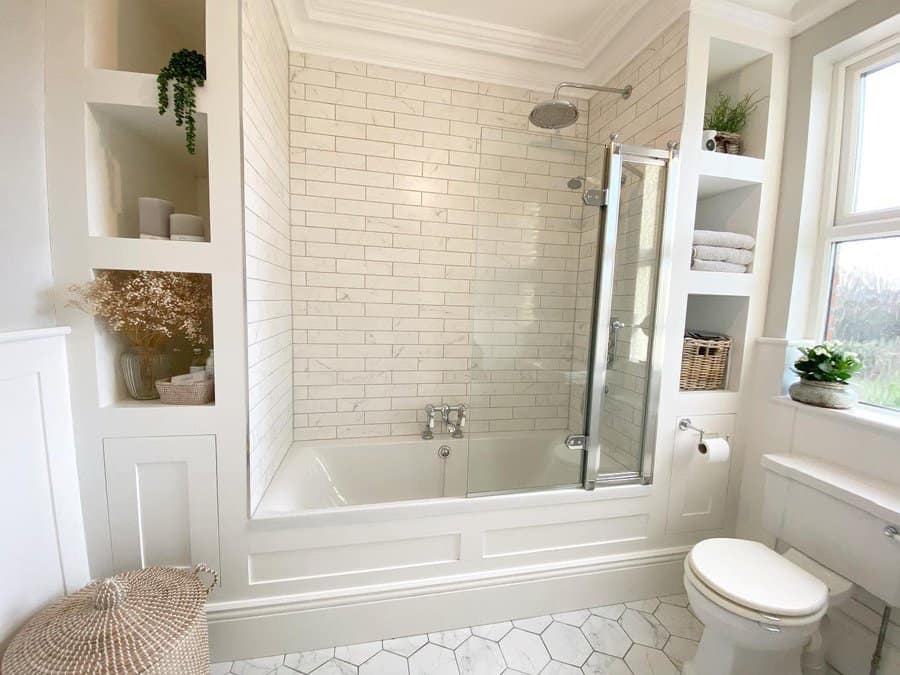 15. Decorate With Fun Rugs
Transform your small bathroom to something special with interchangeable fun rugs. Not only do they add a sense of style and creativity, but these rugs serve as both decorative and functional items. Keep a few options around the house to provide versatility, like adding comfort to chilly mornings or switching out for seasons.
These interchangeable rugs can be swapped with any outfit or theme you desire. A homey bathroom atmosphere is no longer out of reach!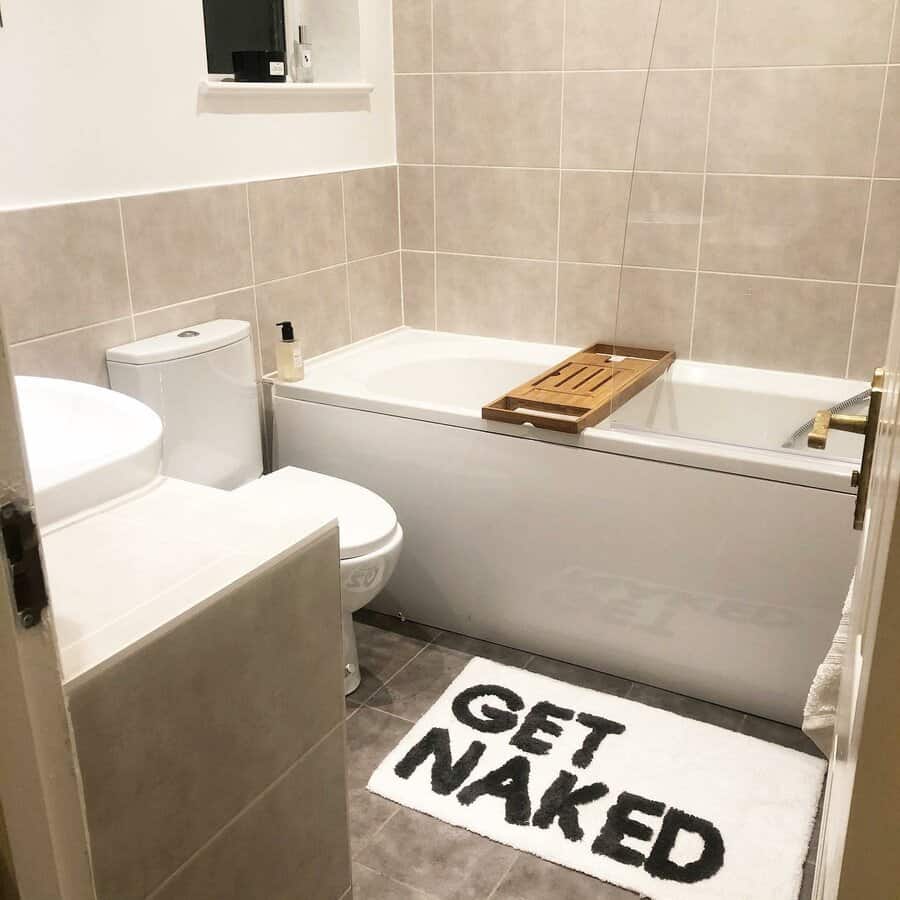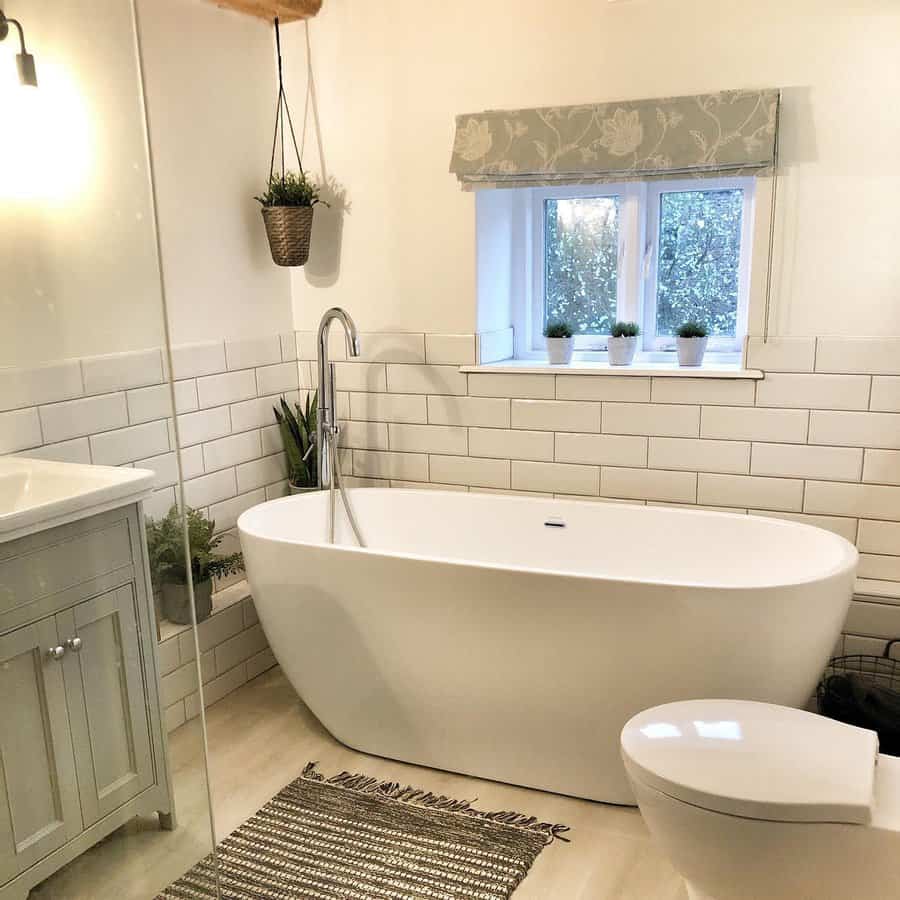 16. Go For White
An all-white small bathroom makes a big impression and can make the room look bigger. With white walls, cabinets, and a white vanity counter, your small bathroom will take on a clean and sleek aesthetic that makes it look much more spacious than it really is.
To complete the look pair an eye-catching floor tile with either light or darker-colored towels to add contrast and interest. By taking advantage of bright whites, you can easily make your small bathroom a show-stopper!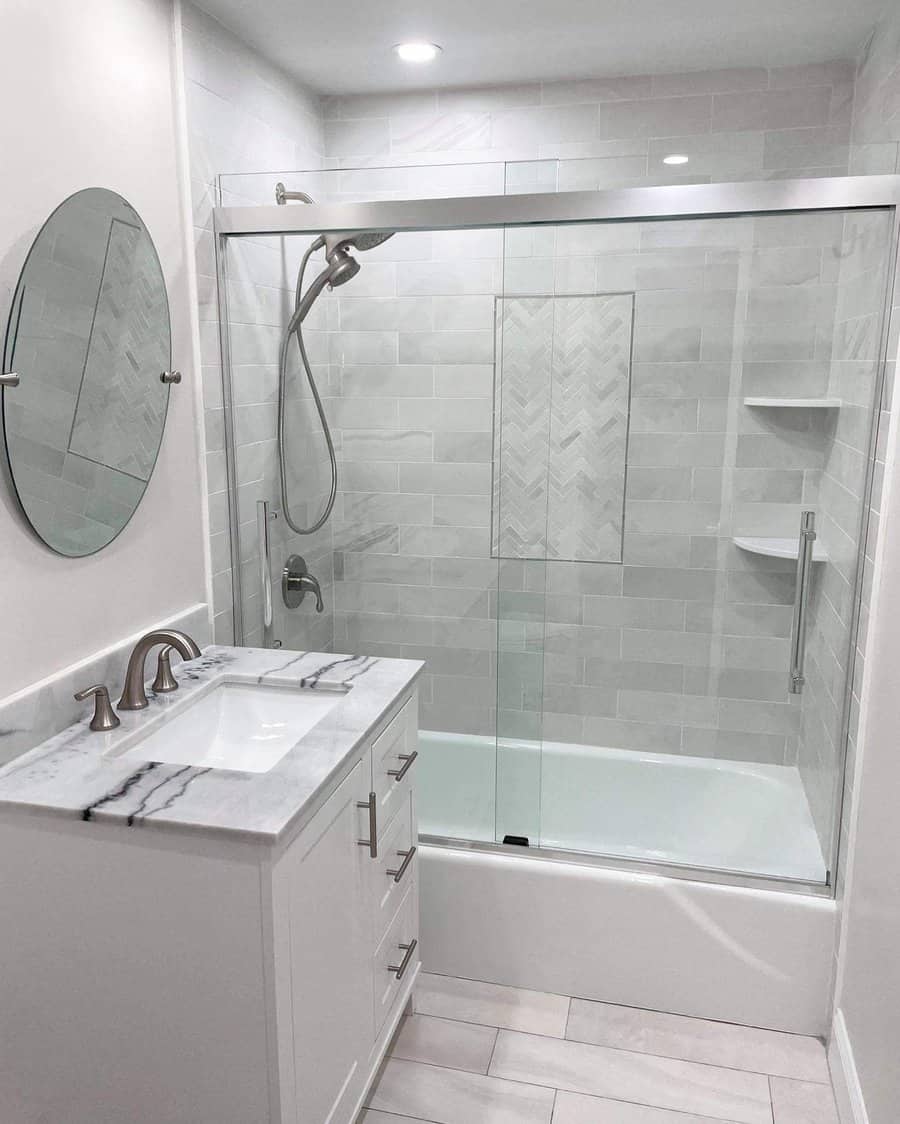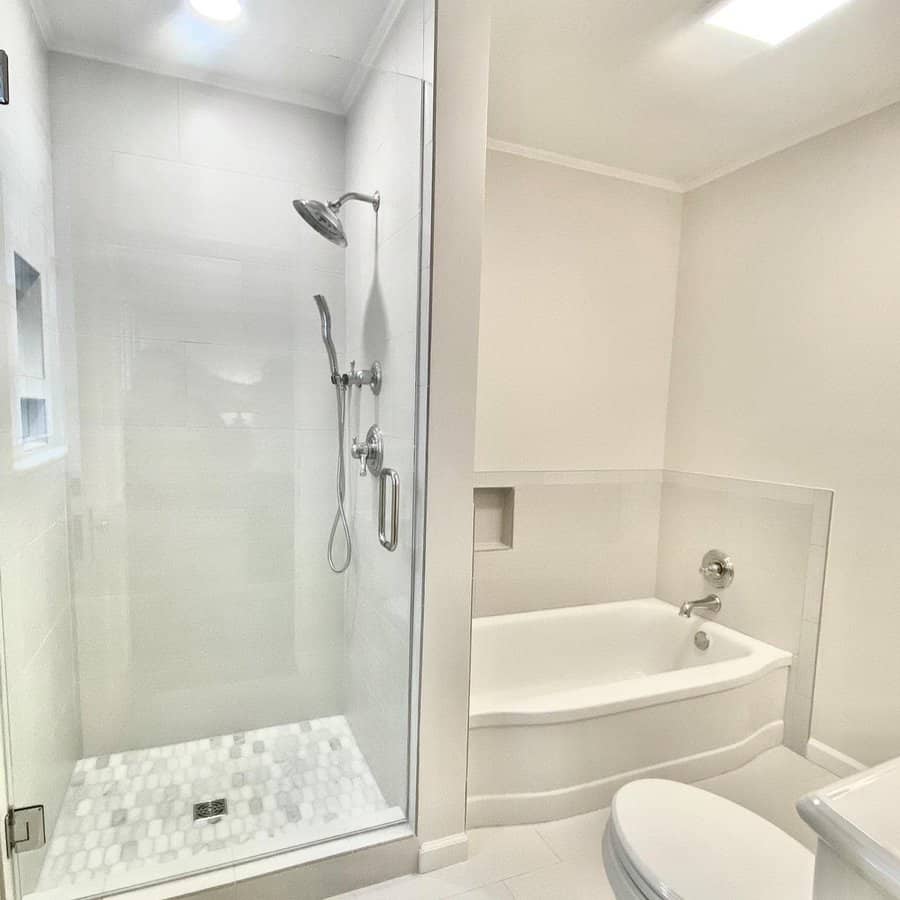 17. Be A Maximalist
A maximalist small bathroom can be a real game changer for your home decor. You can mix and match the decor to create the perfect blend of styles like vintage, modern, and eclectic. The trick is to bring out a balance between functionality and aesthetic appeal.
To keep it from looking too cluttered, it's best to opt for organic and wood elements instead of bulky furniture pieces. Last but not least, spruce up the space with some leafy plants for a touch of warmth and life – floor plants work great in this case! All in all, don't be afraid to be bold with your bathroom design — you'll never know what beautiful outcome awaits.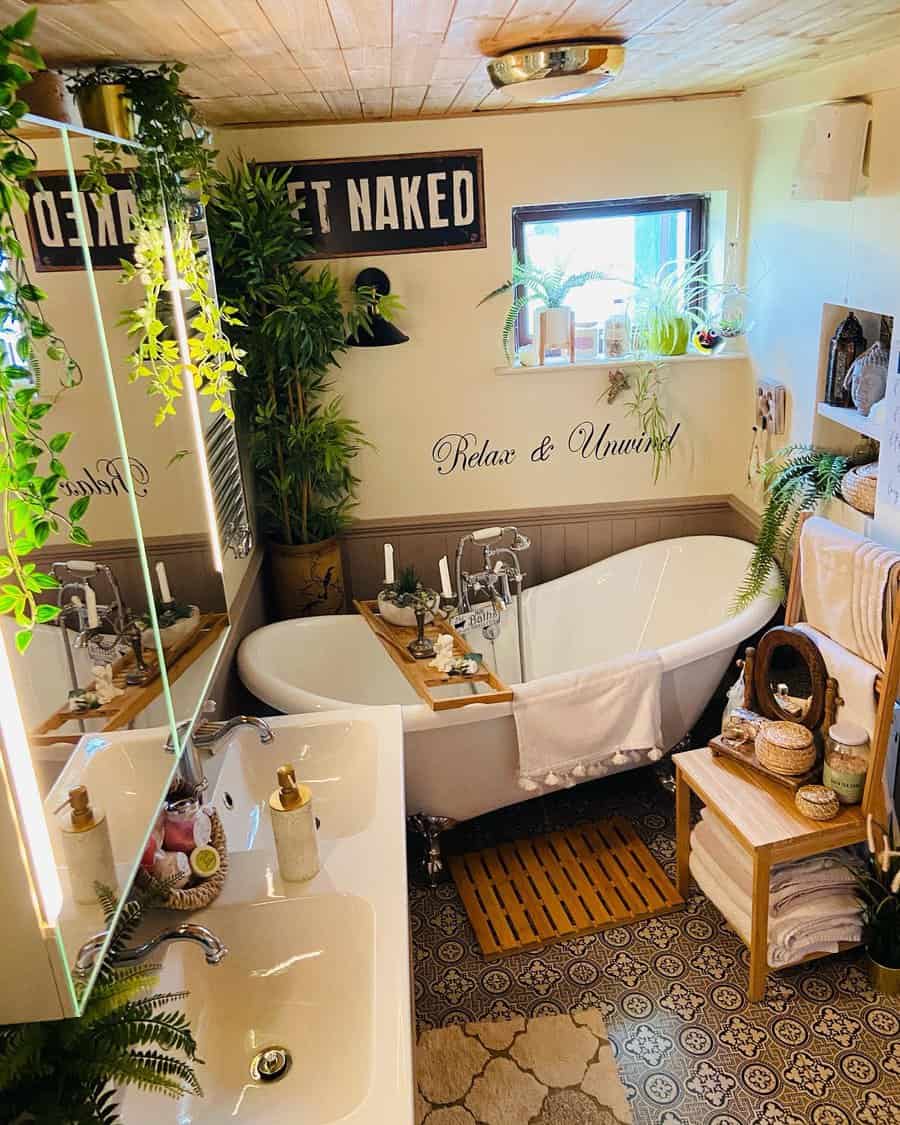 18. Go Bold With Large Prints
A small bathroom with large printed tiles is sure to create a decorative, energetic vibe. The large tiles contrast nicely with the small bathroom size and make the space look both unique and inviting.
The decorative pattern of the tiles will draw the eye away from any clutter or mess, making it seem like there is more room than actually exists.
With the help of some decorative touches, such as colorful towels or different-sized mirrors, this small bathroom will soon become a chic and lively place to be.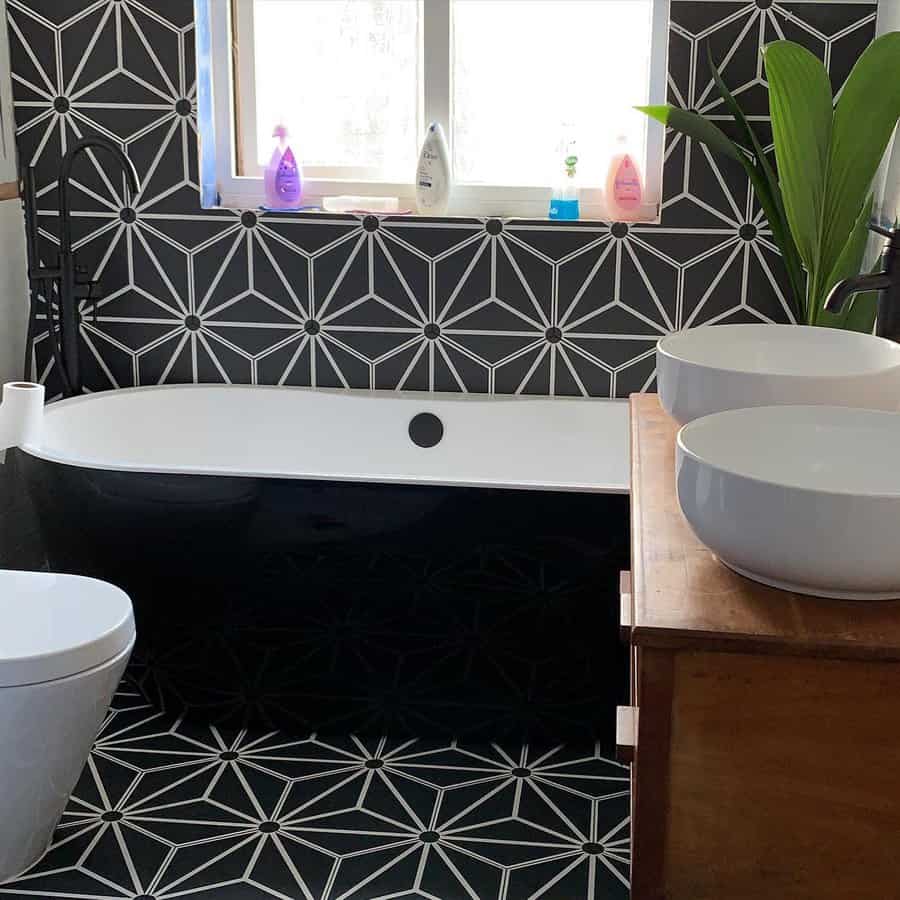 19. Set Up A Laundry Area
A small bathroom with an integrated laundry area could add a huge amount of convenience to any home – whether it's a large house or a small apartment. Adding a washing machine to the bathroom and having the space devoted entirely for laundry-related activities can free up other areas in the home for larger and more comfortable uses.
Moreover, if you're in an apartment and looking for ways to optimise your space, it might just be time to add that washing machine in your bathroom – a great way to take advantage of unused corners and create your very own makeshift laundry room!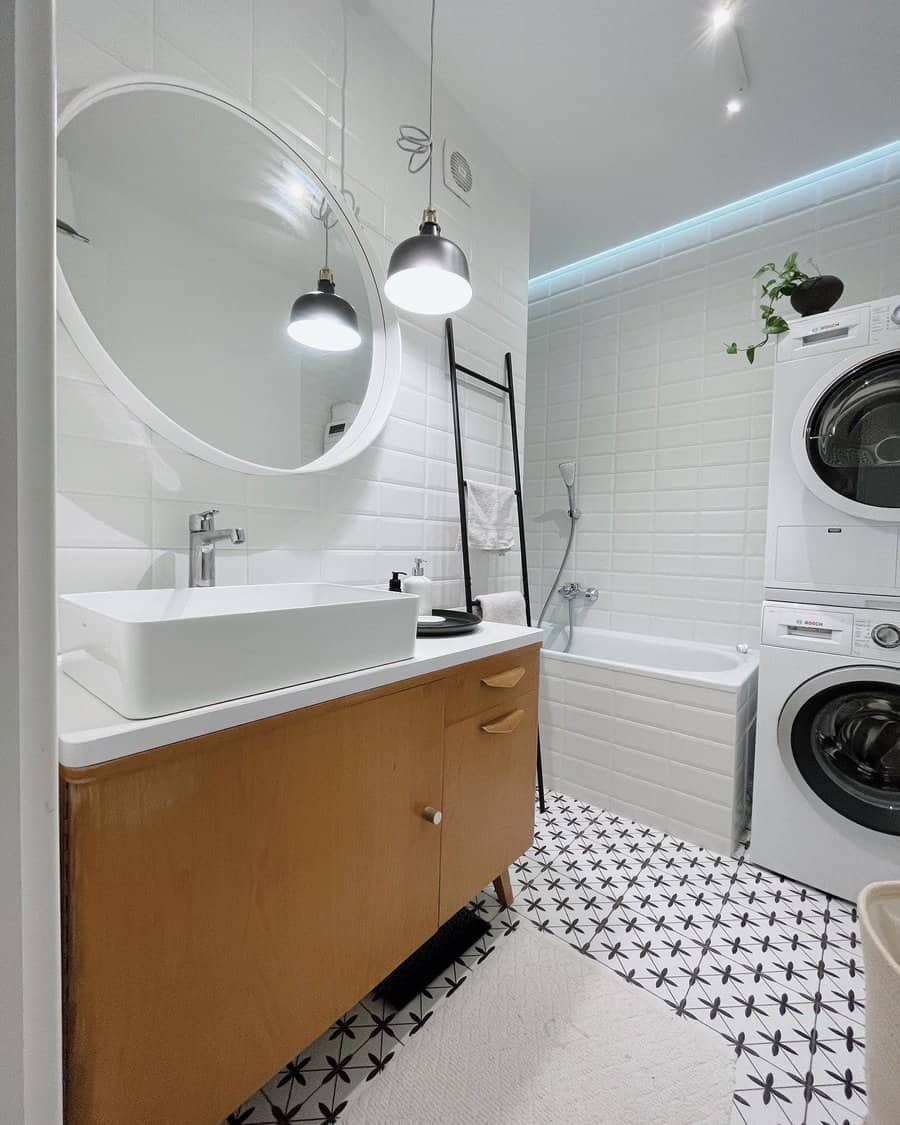 20. Install A Full-length Wall Mirror
Have you ever wished for your small bathroom to feel more expansive? With a wall full-length mirror, you can create an illusion of a larger space with ease! Completely transforming the look and feel of even the tiniest bathroom into a chic dream, this practical wall mirror fits perfectly in any smaller space.
Whether you're sprucing up your quaint washroom or looking to add extra panache to a holiday rental – wall full-length mirrors are essential for transforming even the most modest-sized bathroom into a modern oasis.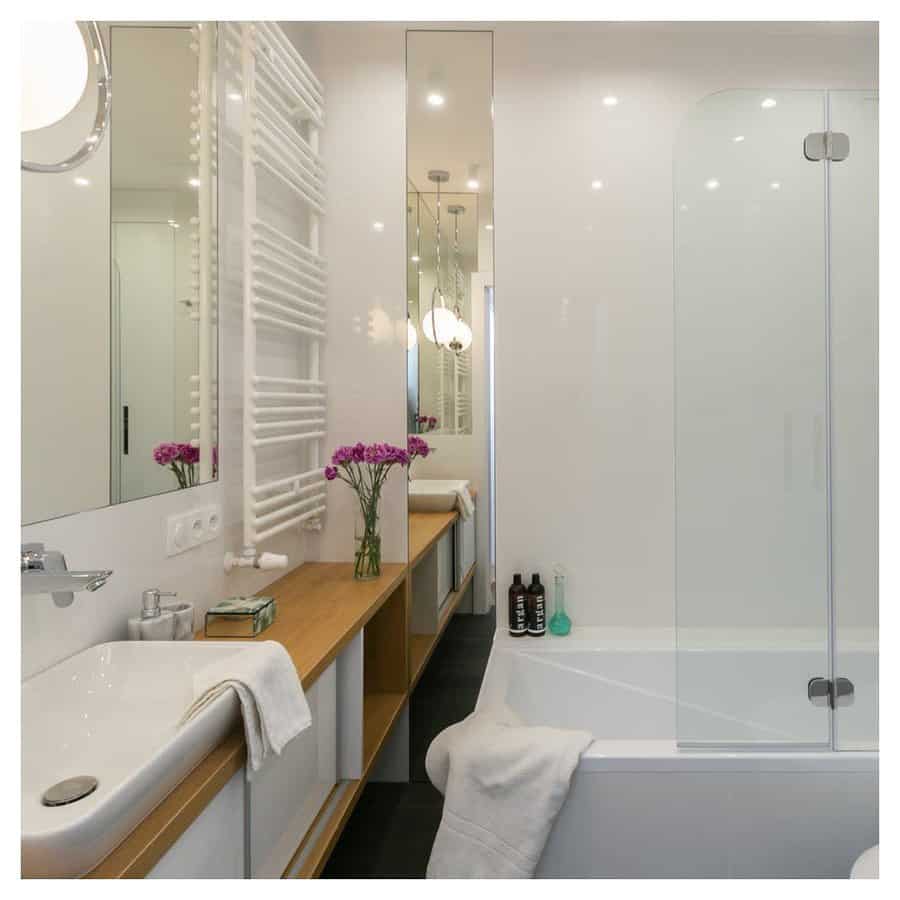 21. Build A Round Window
The small round window serves as a beautiful contrast to the square aspects of a small bathroom. It serves as a gentle reminder that some elements of nature can humble even the cathedrals that have stood for years.
Besides this philosophical reminder, its delicate curves serve as a soft element in an otherwise rigid space, providing a practical purpose to let natural light permeate and lift the spirits. Sure enough, it serves as decor with its perfectly circular shape without the need for adornments or embellishments – a unique piece to contrast the differences between man-made structures and the irregularity of nature.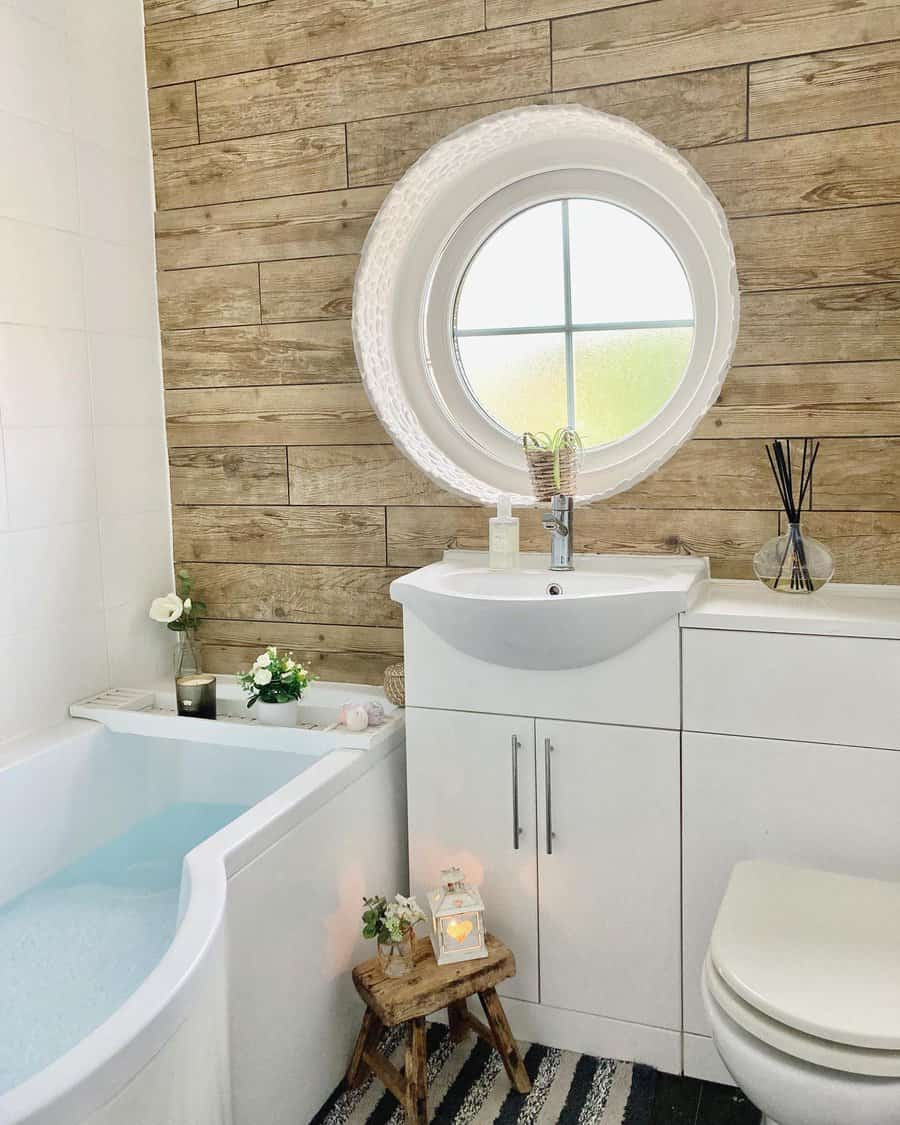 22. Add Wall Panels For Accent
A small bathroom can be transformed into a space worth dreaming of with wood wall paneling. This approach not only adds an accent to your walls, it also brings an organic vibe to the overall atmosphere that no other material can achieve.
The wood brings warmth and character, allowing you to create a space as unique as you are. Whether you opt for wood panels in its natural wooden hue, or you choose to have them painted in any color of your choice, wood paneling is truly one of the most versatile ways of adding personality to your small bathroom.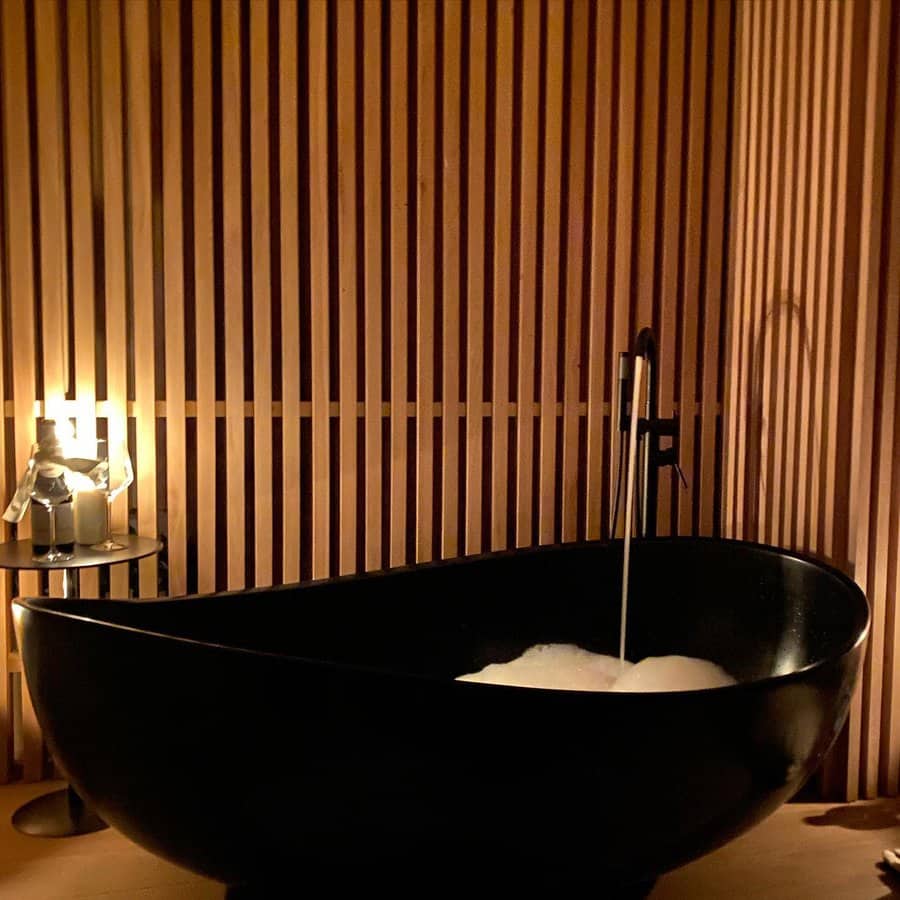 Small Bathroom with Tub FAQs
How can you put a freestanding tub in a small bathroom?
Japanese soaking tubs are the best choice for a tiny bathroom. Although they are small in diameter—as small as 41 inches wide—they are much deeper than an American bathtub. They have a built-in seat and the water comes all the way up to your chin for a true tub soaking experience. Another bonus: they come in cool finishes, including copper, wood, and stainless steel.
How small can a bathroom be and still have a tub?
A full bath should have at least 36 to 40 square feet of floor space. Unless you're getting a Japanese soaking tub, your finished bathroom needs to be at least 5 feet long in one direction to accommodate a bathtub.