Breathing new life into a bathroom is no small task for an amateur interior designer. But if you're going to test your skills, there's really no better canvas than a small bathroom or powder room.
In a tiny bathroom, you can make a huge impact with minimal labor and a limited budget. And, since the bathroom is its own space, you don't need to worry about your big design ideas clashing with the rest of your home's interior.
There are so many creative ways to make the most of a small bathroom space. Keep reading for our favorite small bathroom ideas and how to bring them to life in your own home!
1. Opt for a Glass Splash Screen Instead of a Shower Curtain
Consider transitioning from a traditional shower curtain to a contemporary glass splash screen. Glass screens offer a refined look, are simple to clean, and lack spots for mildew or soap scum accumulation. Additionally, they can enhance the perception of space in your small bathroom, providing an open and airy ambiance.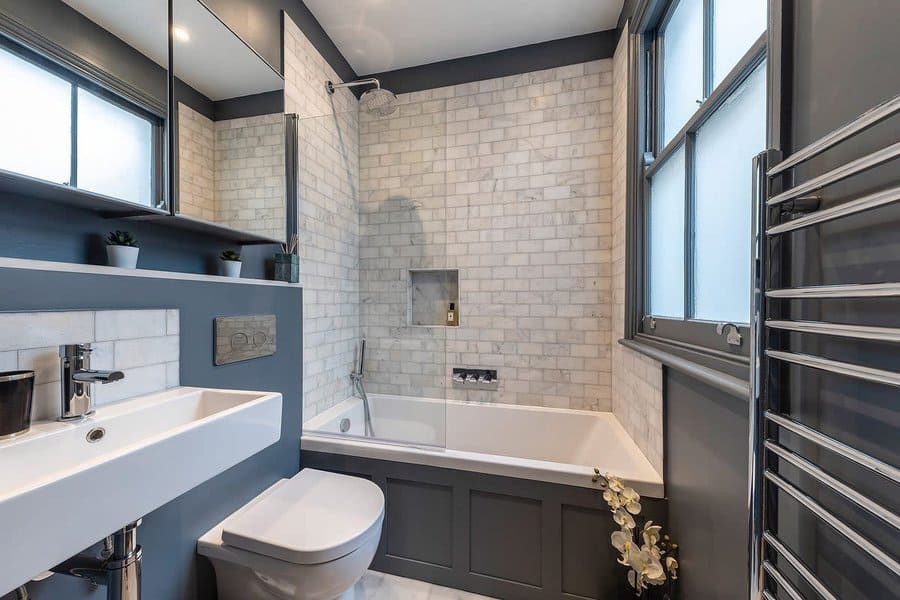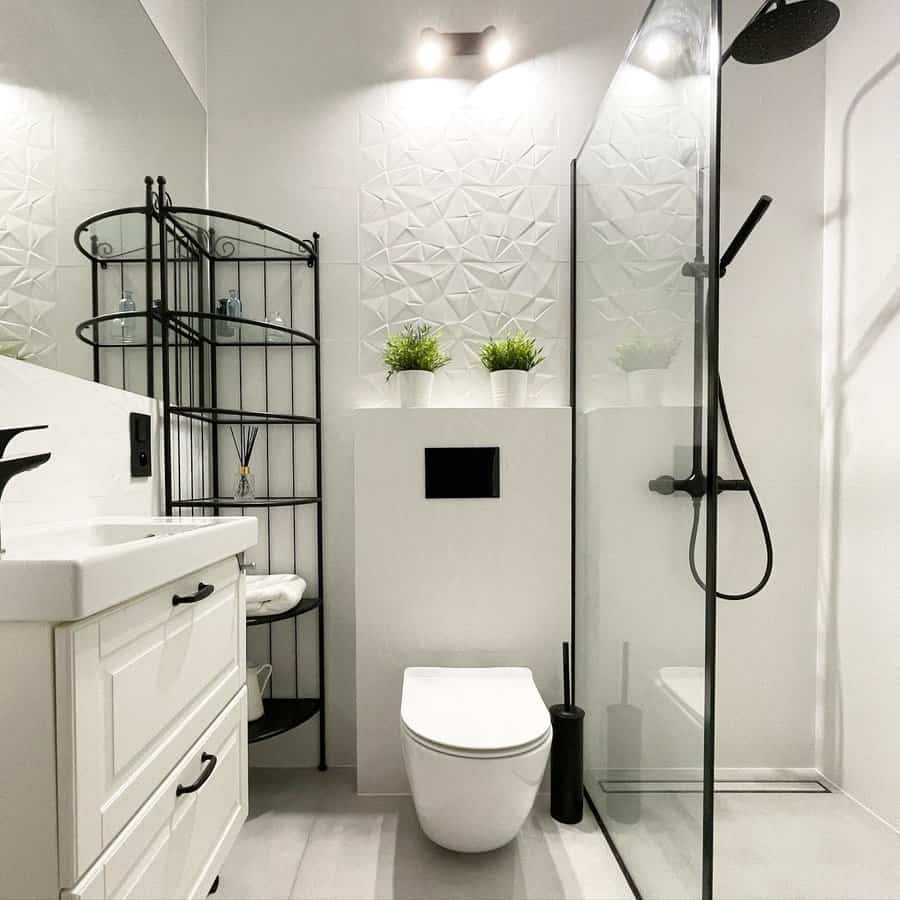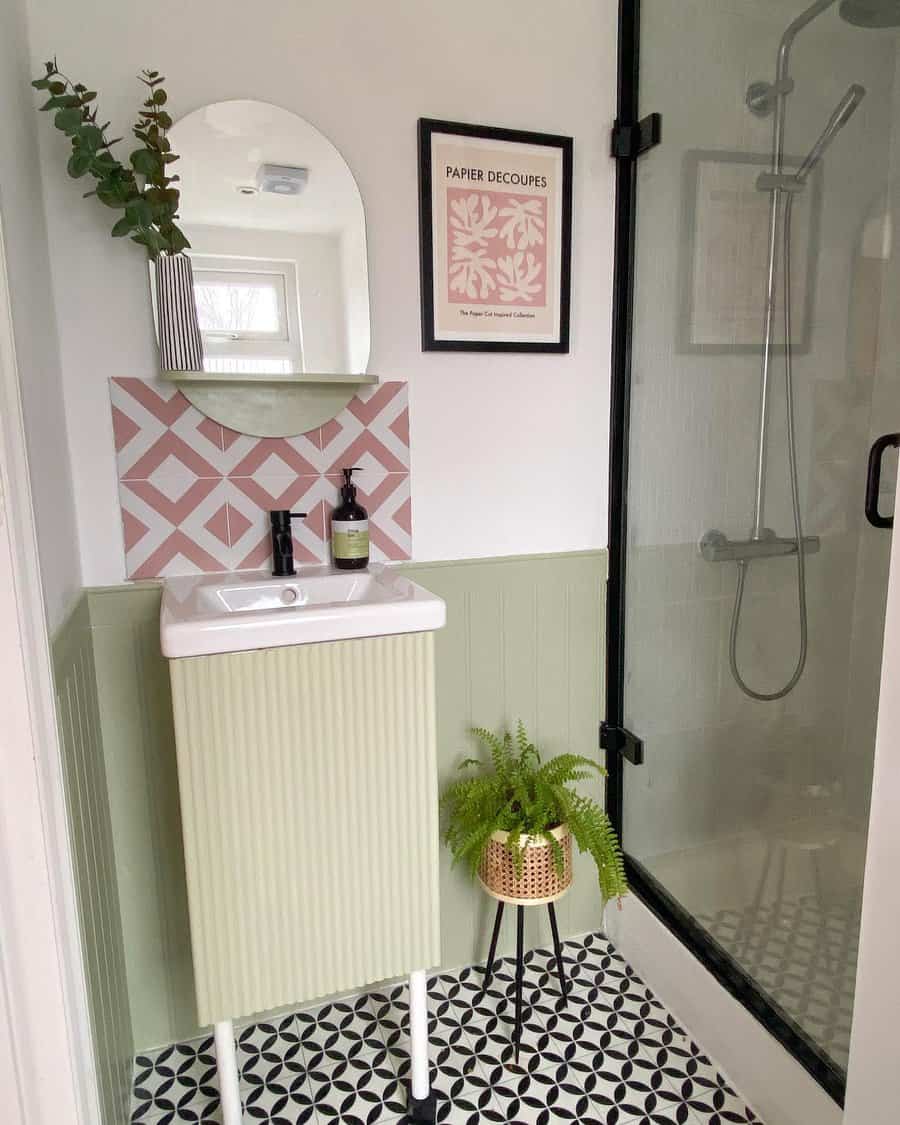 2. Save Space with a Freestanding Bathtub
For those with limited bathroom space, a freestanding bathtub is an elegant solution. These tubs are space-efficient while retaining the luxury of traditional bathtubs. Their standalone design lends a modern touch, elevating the overall aesthetics. Beyond style, they prioritize functionality, letting you indulge in a deep soak without monopolizing bathroom space.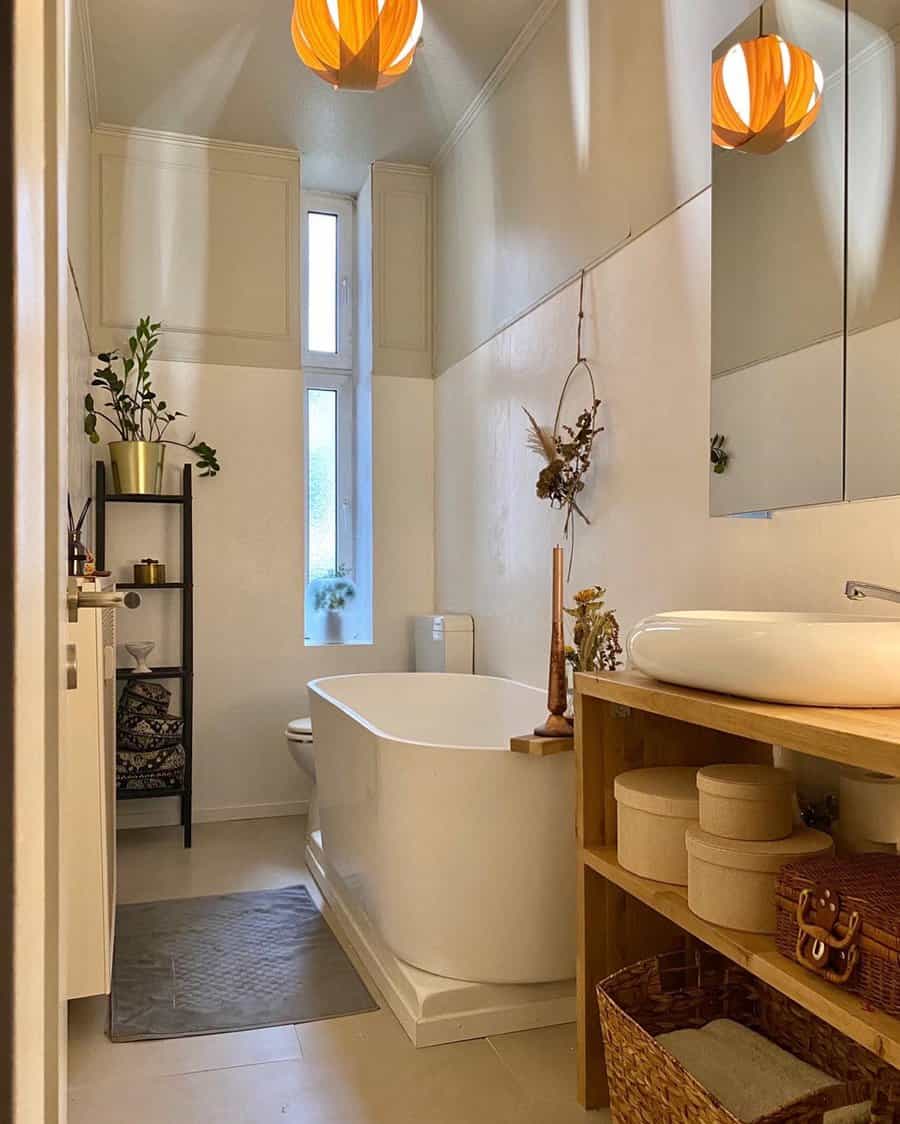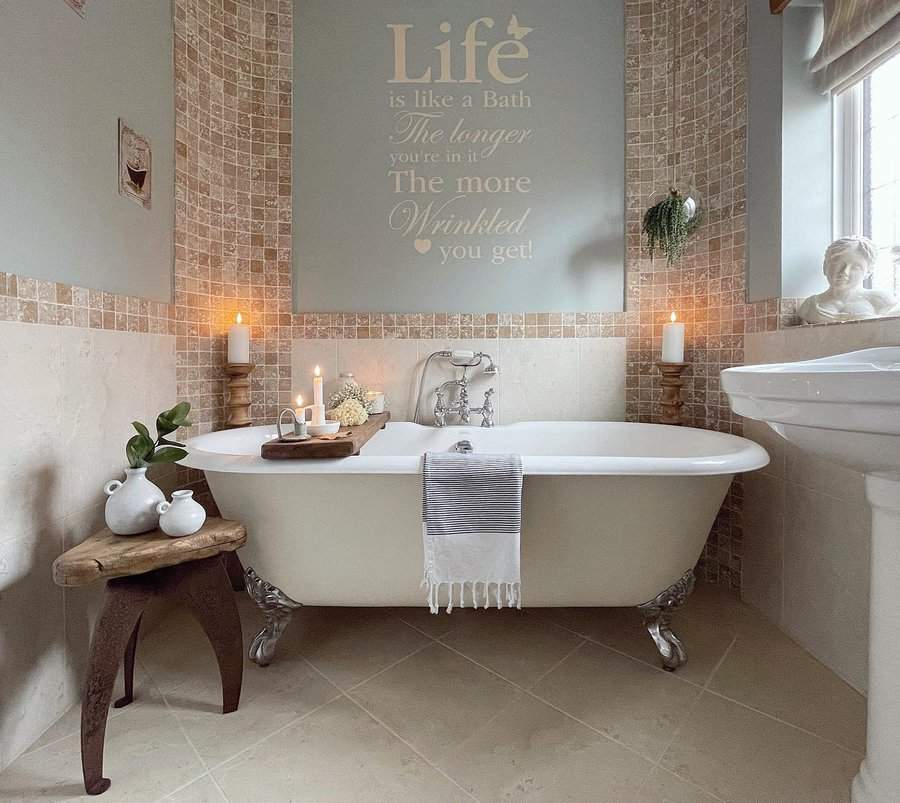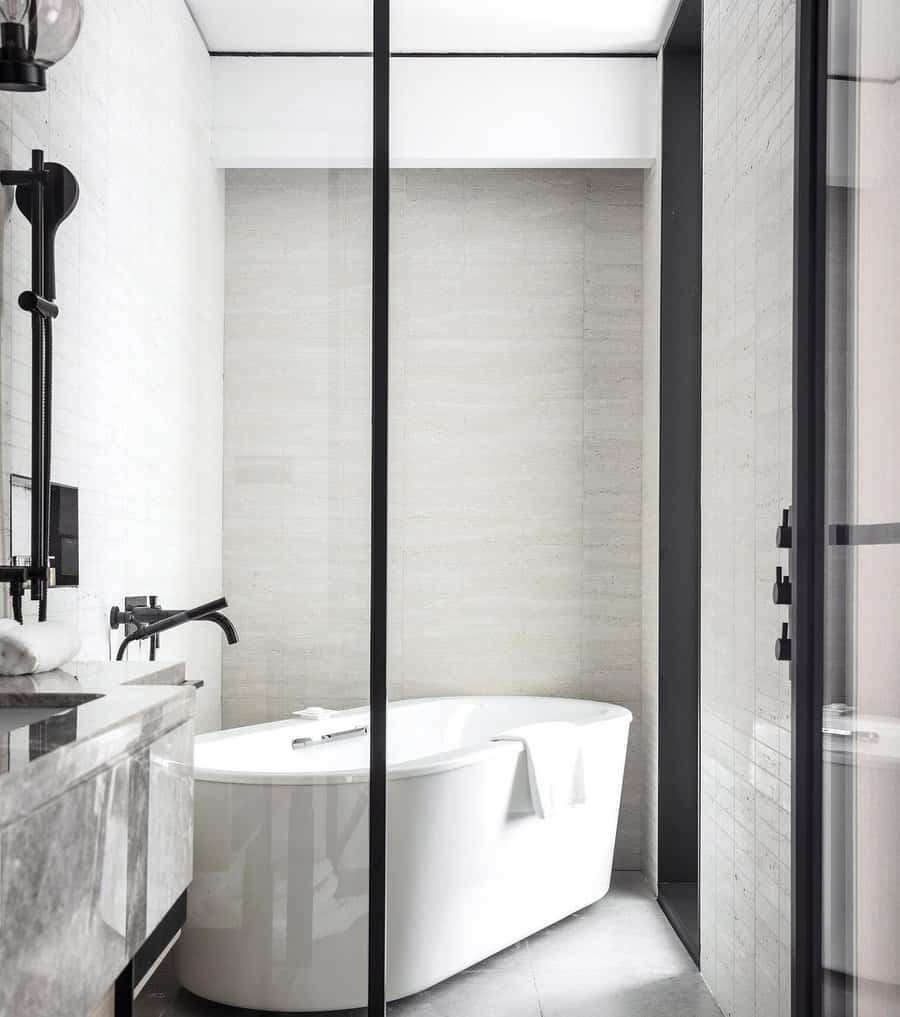 3. Create the Illusion of More Floor Space with a Floating Vanity
A floating vanity is a prime choice for tight bathrooms, enhancing the perception of floor space. Customizable to fit unique dimensions, it addresses spatial challenges. To maximize utility, pair it with a medicine cabinet or a sink featuring built-in storage. This choice combines modern aesthetics with practical functionality, ensuring no compromises.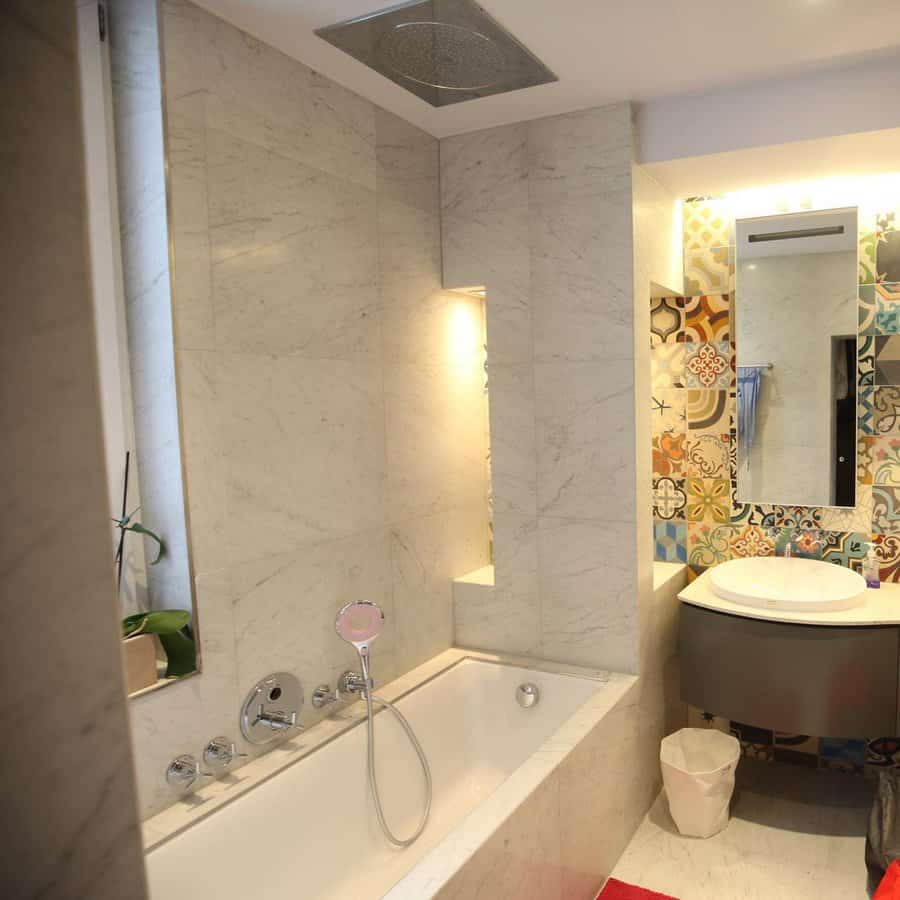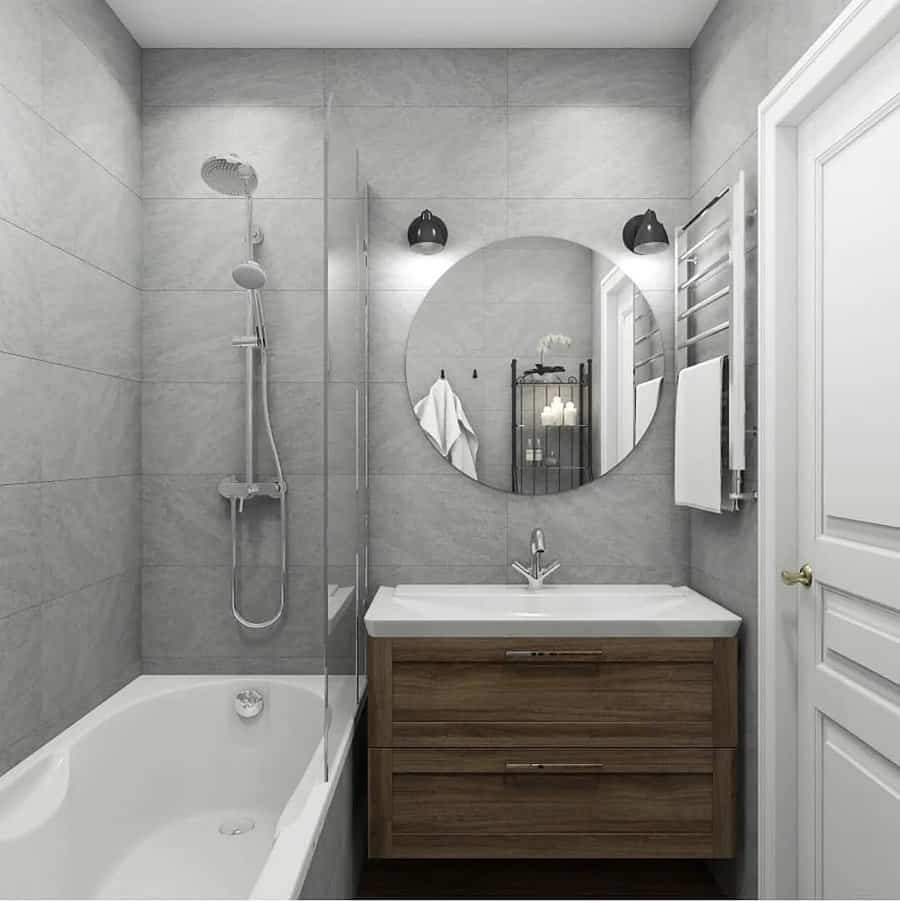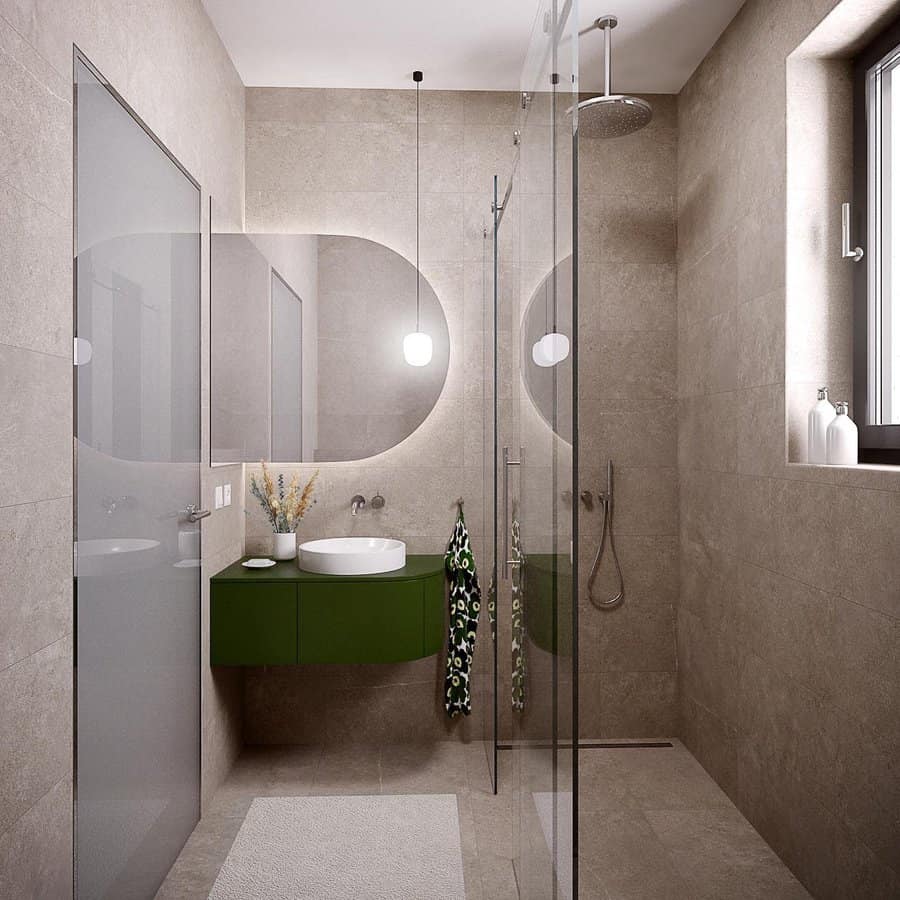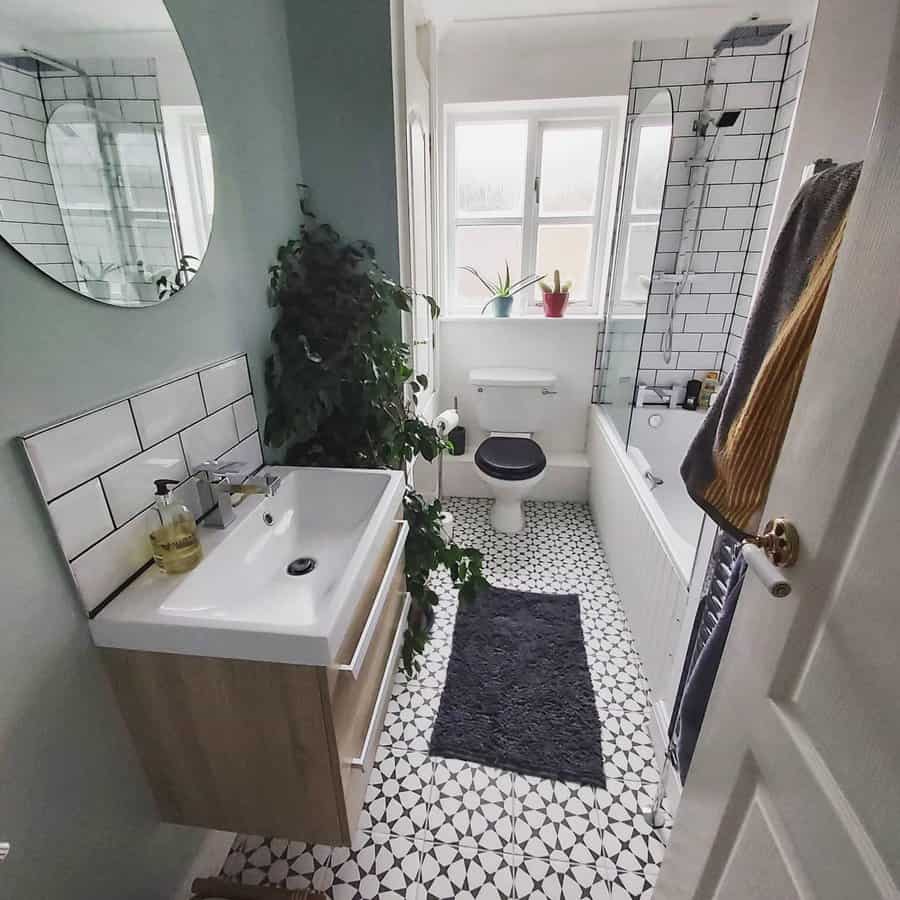 4. Black Fixtures For A Modern Look
Black fixtures bring a contemporary sophistication to small bathrooms. Their contrast against light tiles offers a dramatic yet spacious feel. Whether it's a faucet, showerhead, or towel bar, integrating black elements elevates the room's ambiance. Pair them with optimal lighting and complementary accessories to fully harness this chic design trend.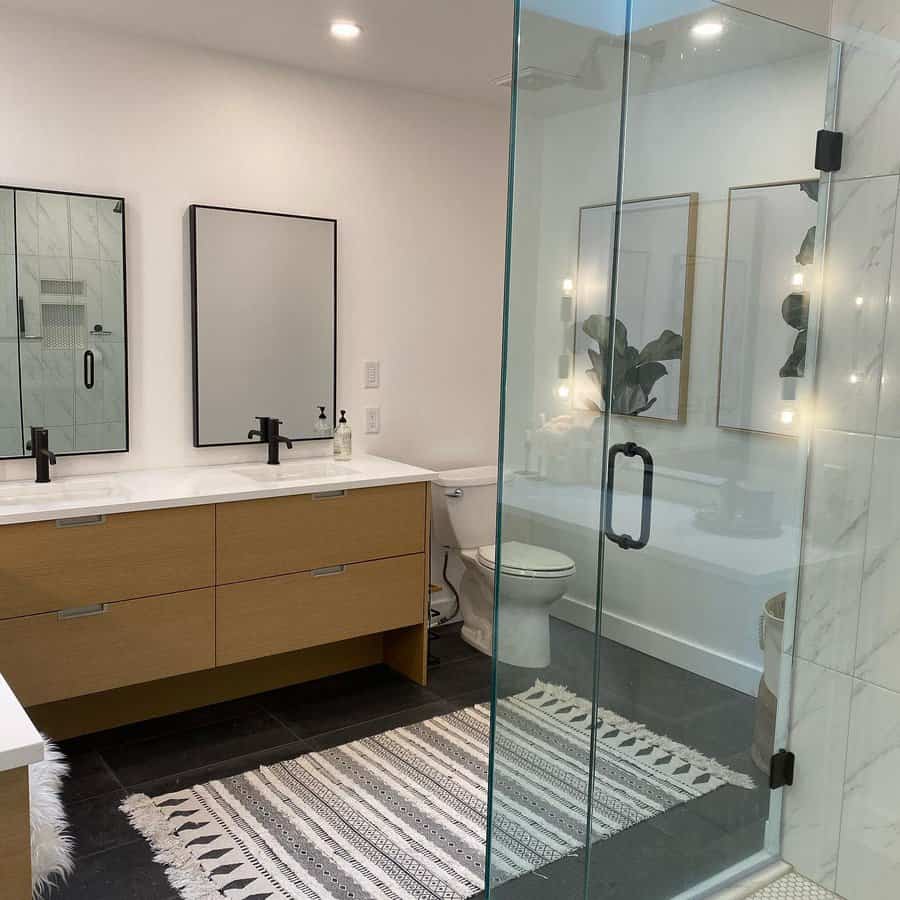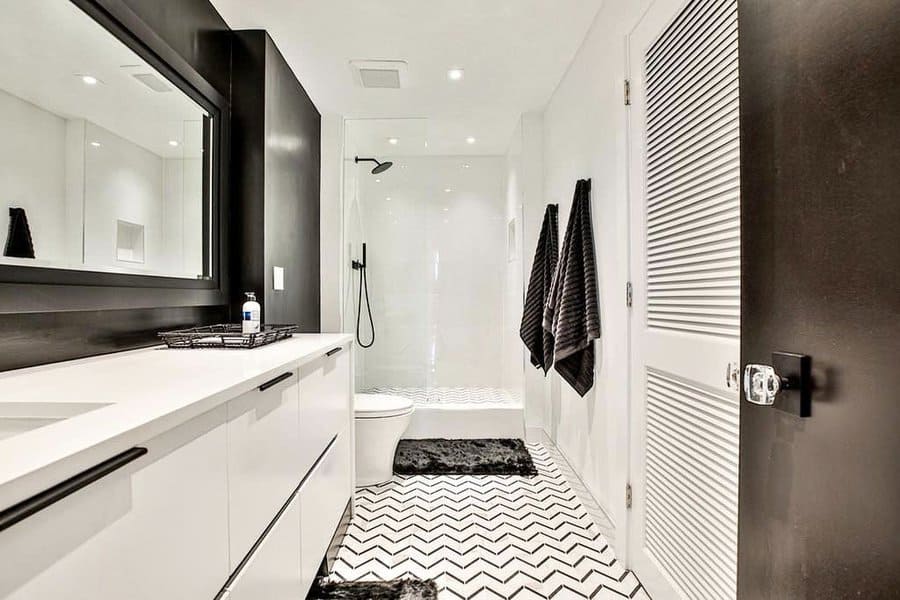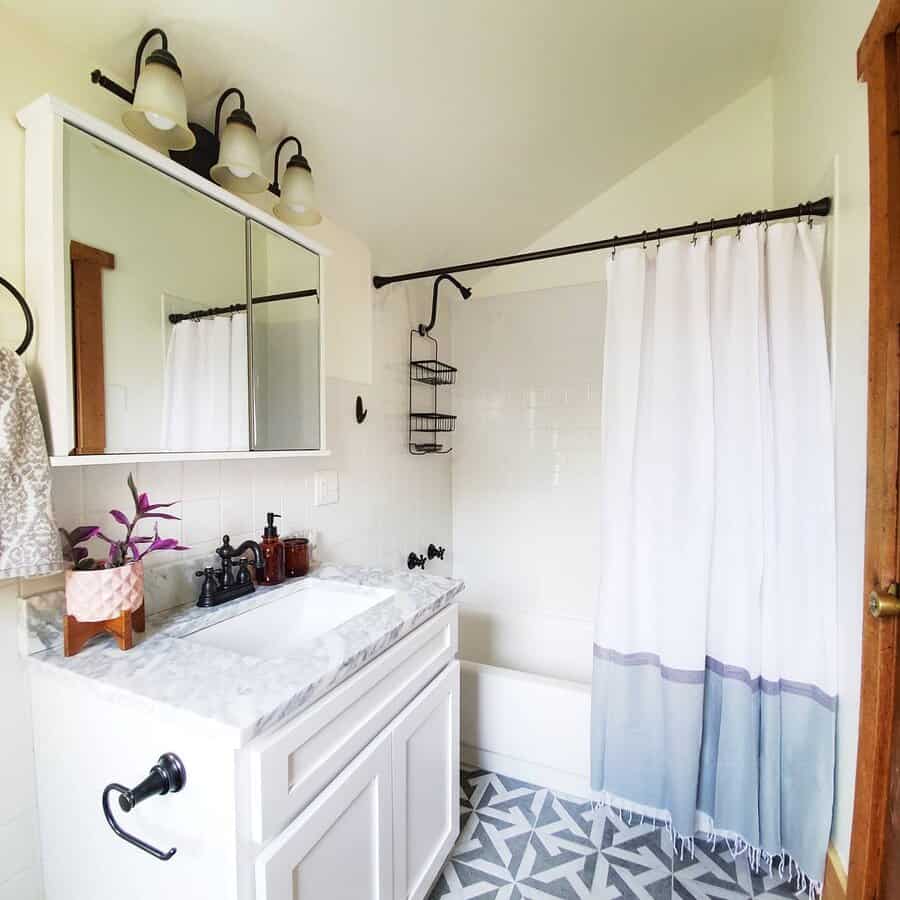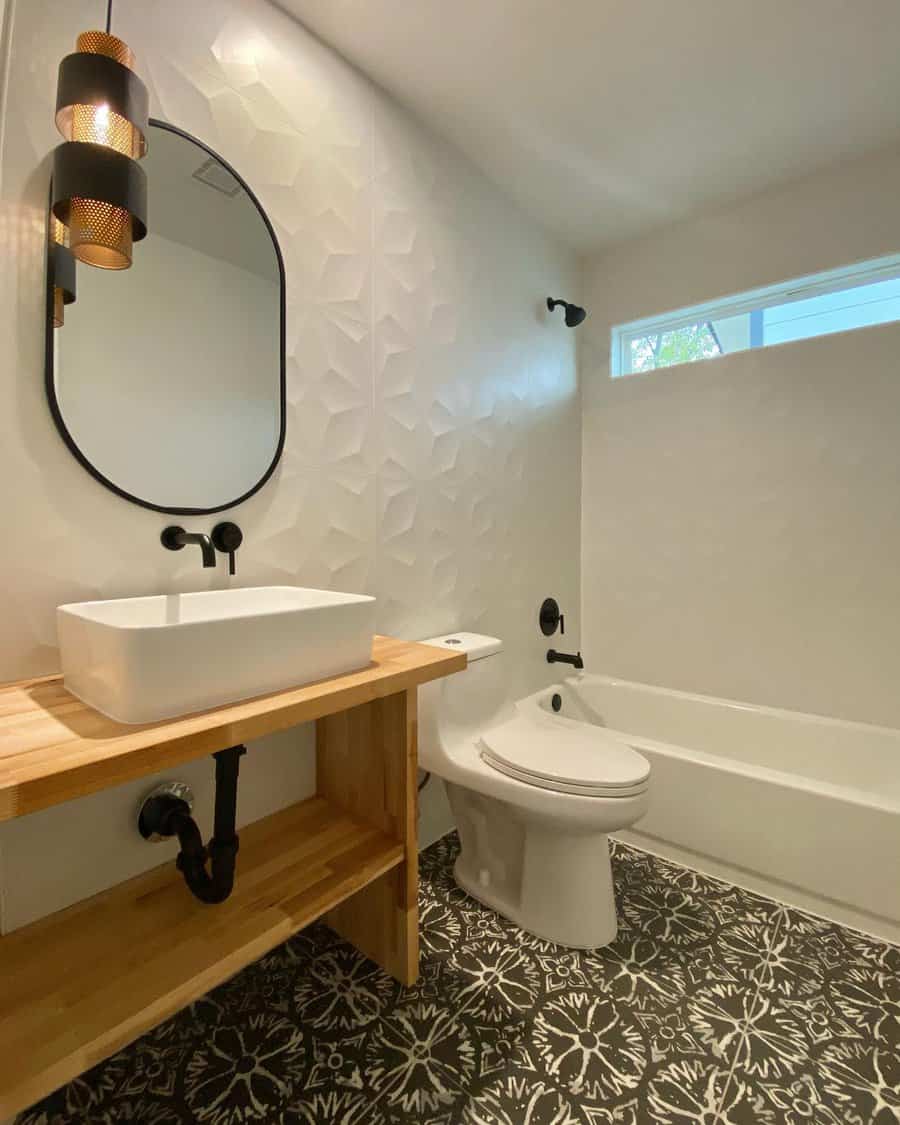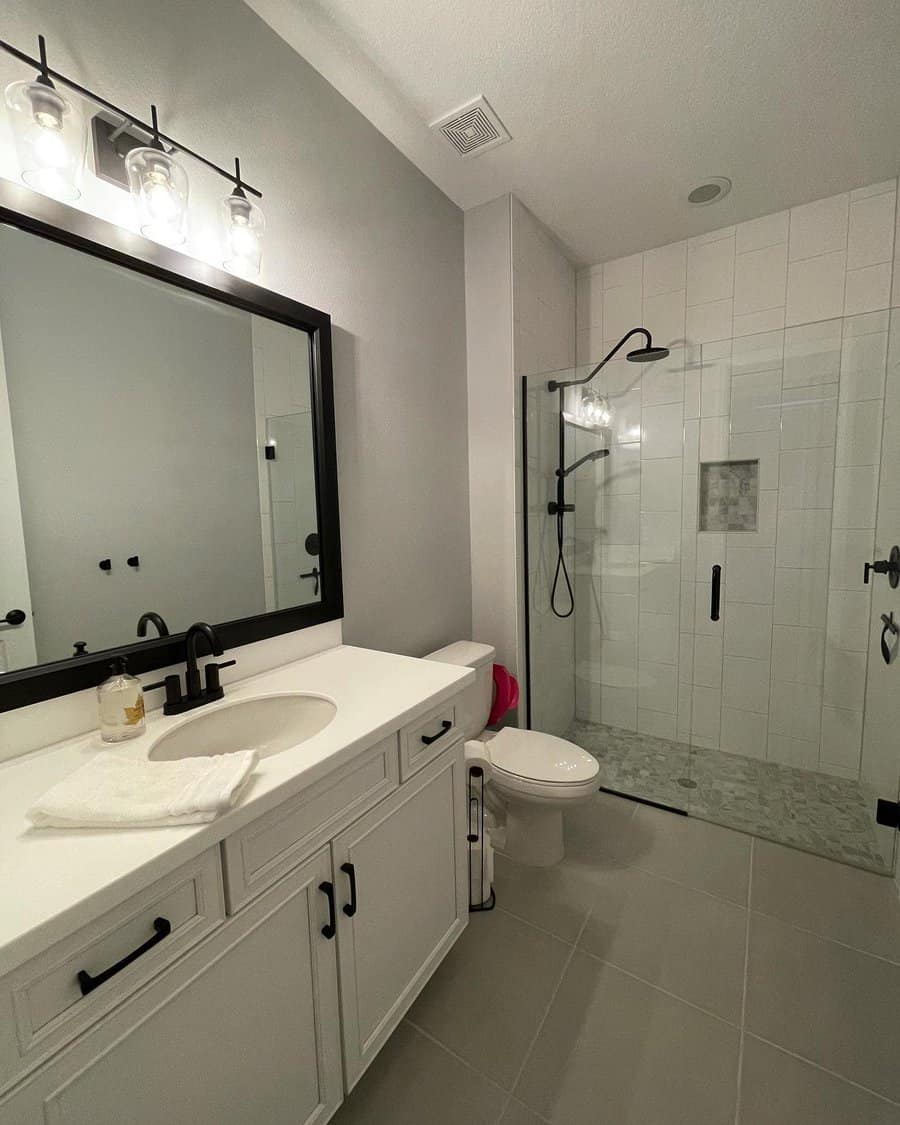 5. Use a Lighter Color Scheme to Make the Bathroom Feel Larger
A lighter color palette can magnify the sense of space in small bathrooms. Opting for pale, neutral wall colors and light-hued tiles can create an open and luminous ambiance. To amplify the perception of space, integrate these light shades into your design, offering a spacious feel even in the most compact areas.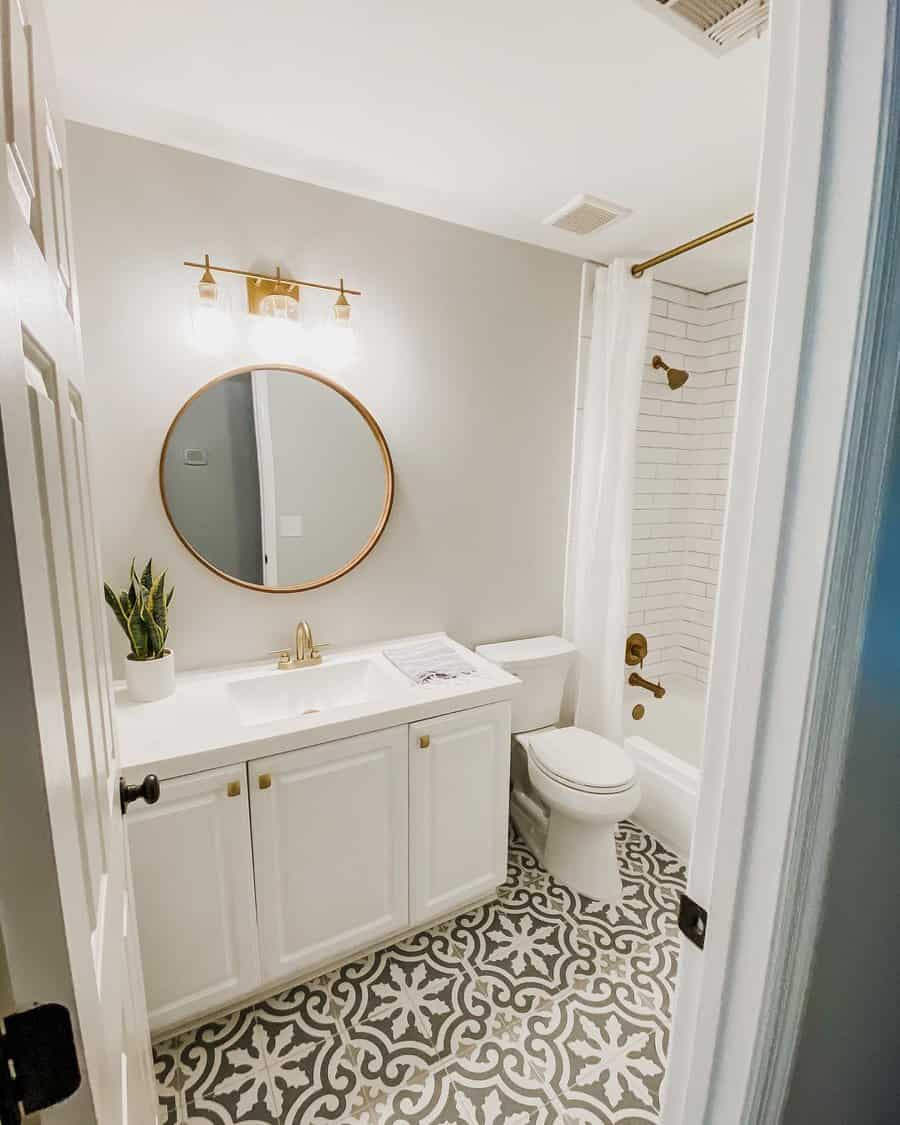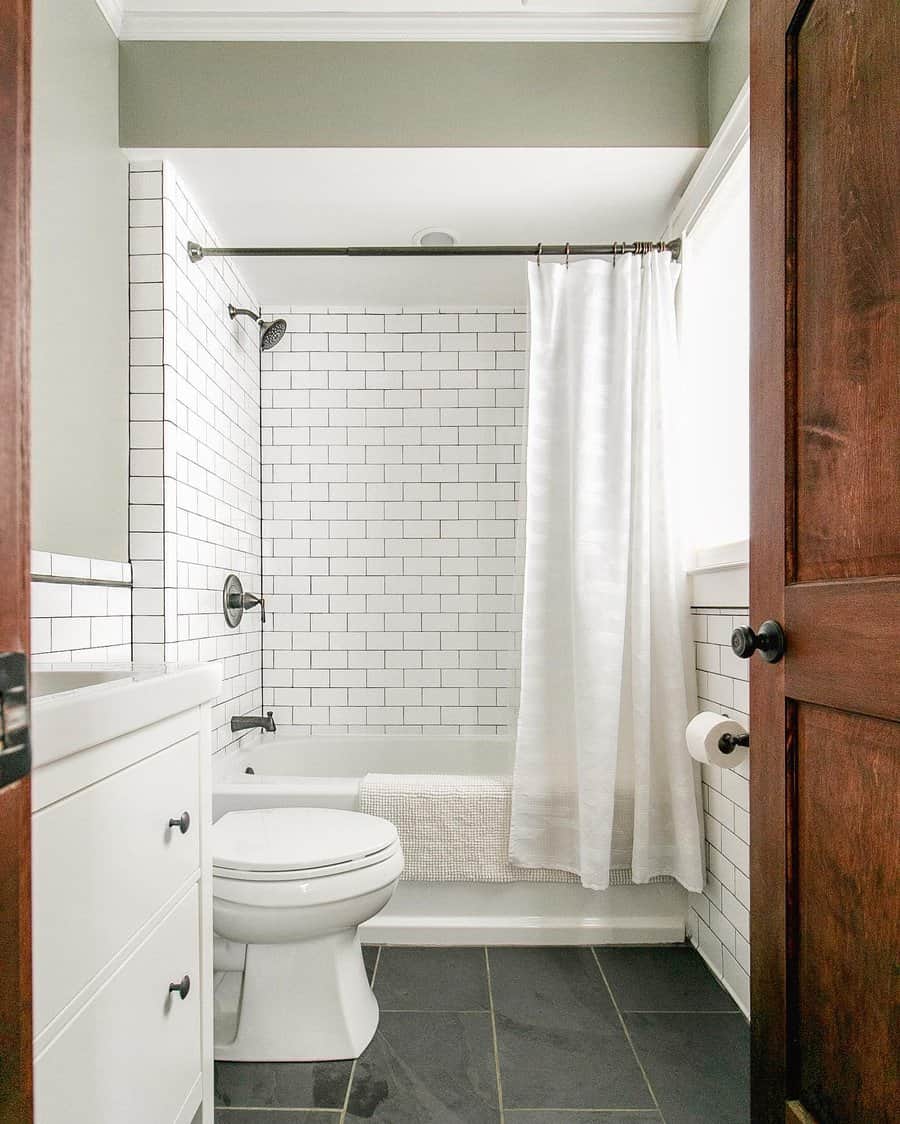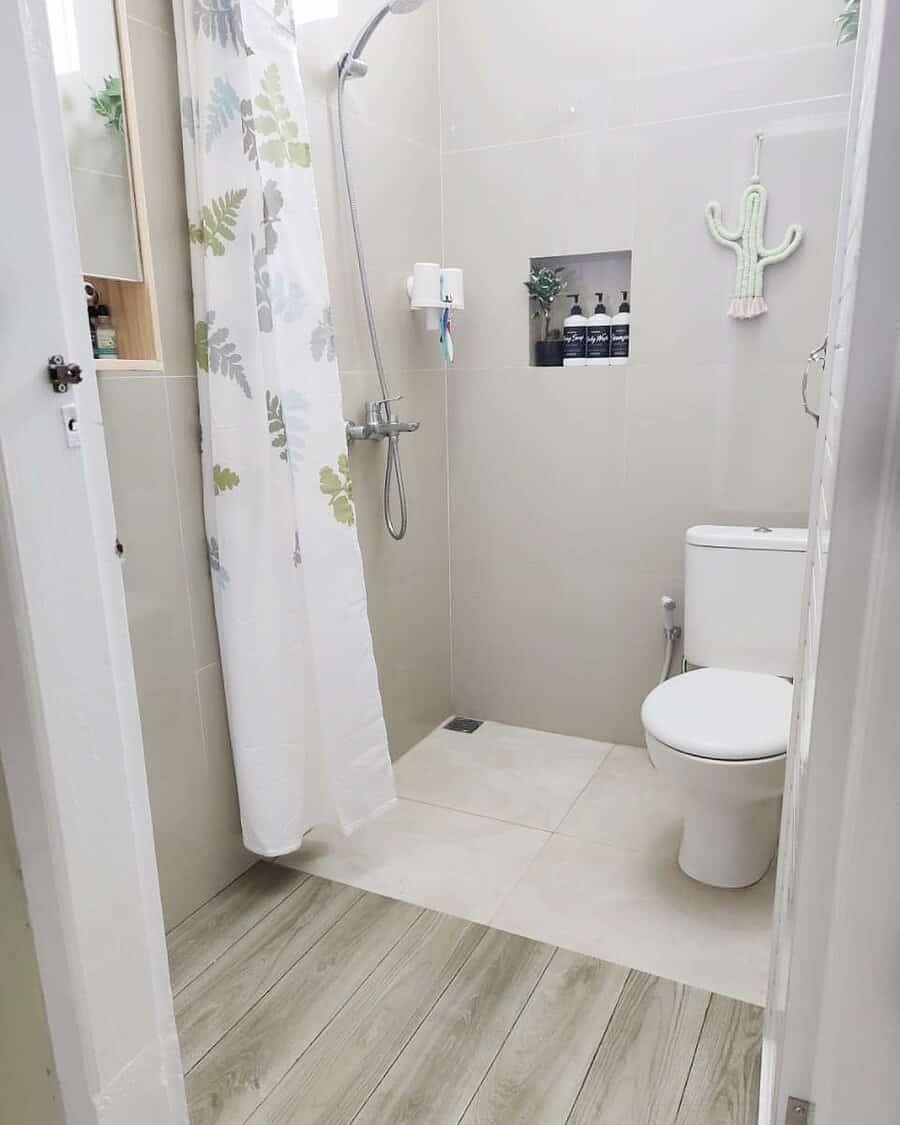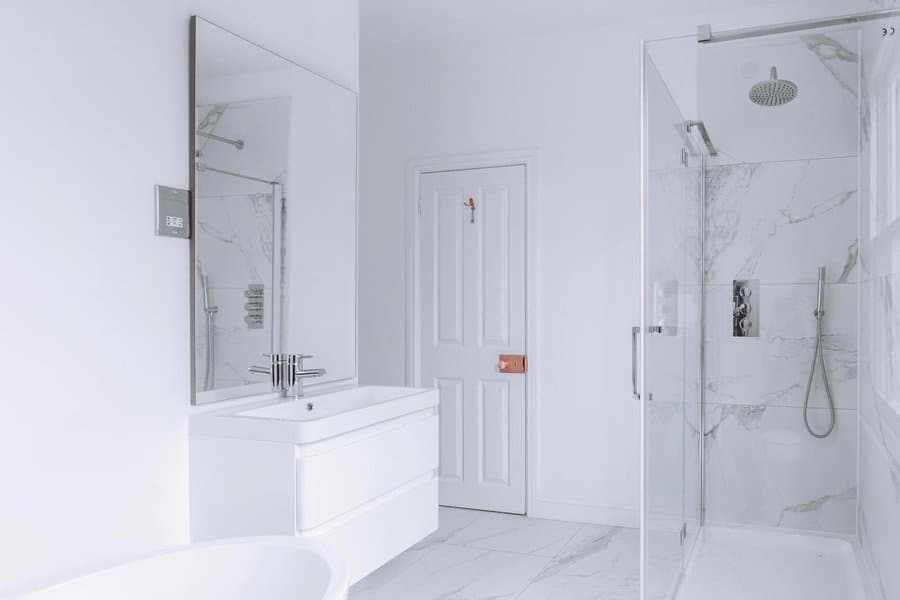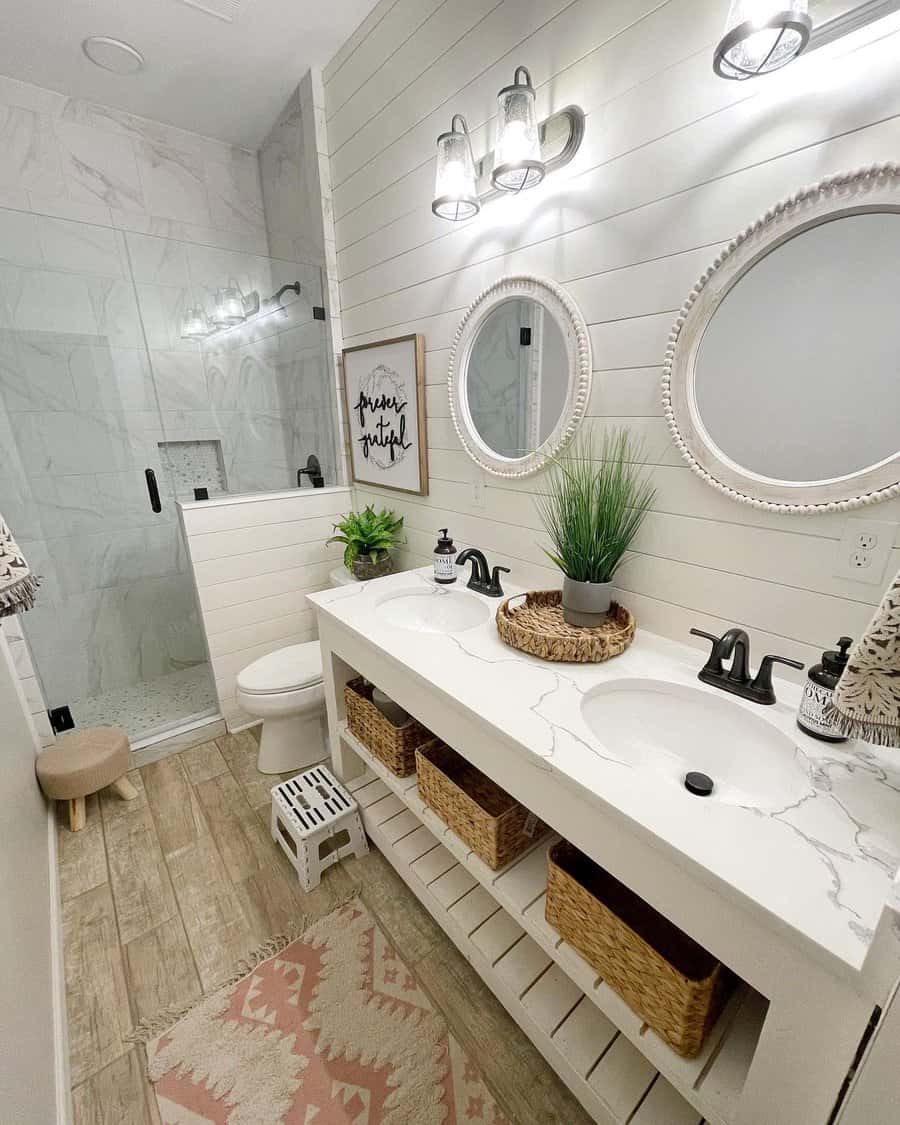 6. Add Style With A Statement Wallpaper
Statement wallpaper can infuse personality into small bathrooms. Thoughtfully chosen patterns and colors can introduce depth, diverting from the room's size. While bold prints can be invigorating, ensure a harmonious balance by pairing with minimalist fixtures and accessories. This blend can convert a compact bathroom into a design-forward space.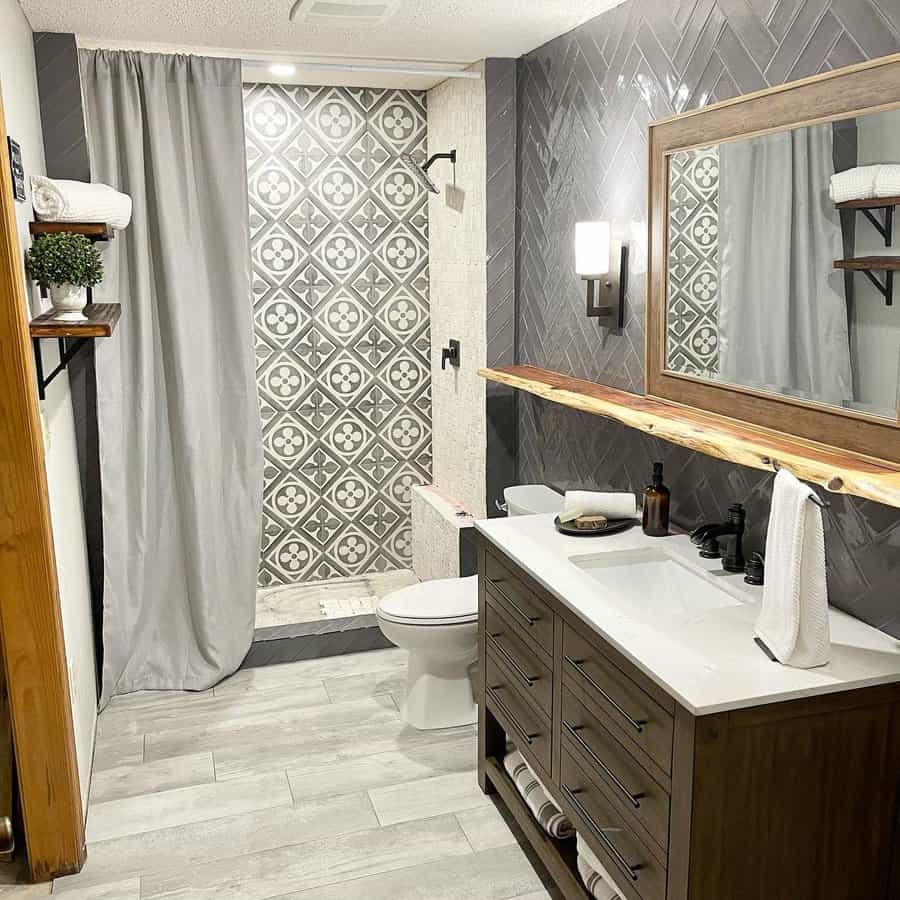 7. Bring in Natural Light With A Window
Introducing a window in a small bathroom can significantly elevate its ambiance by ushering in natural light. Beyond the aesthetic appeal, it offers the perception of an expanded space. A view, even if minimal, adds charm, while the very presence of the window provides a modern touch, ensuring your bathroom feels welcoming and fresh.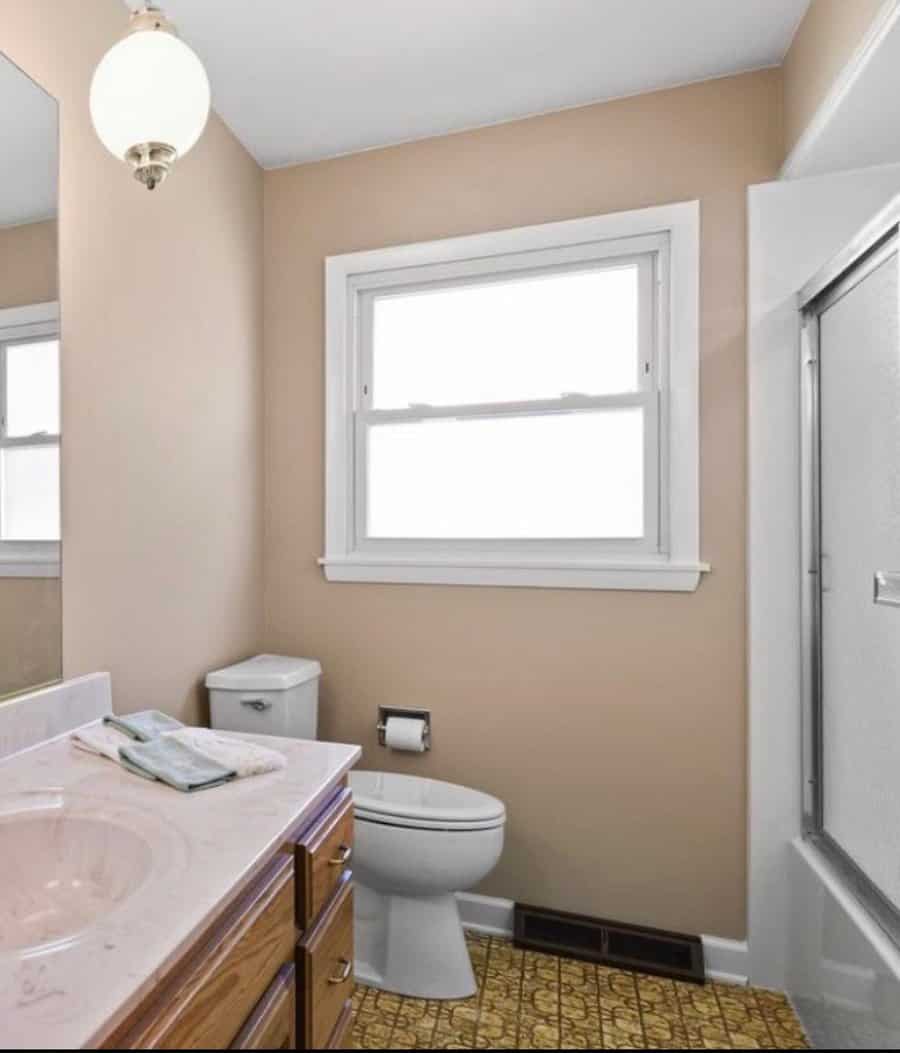 8. Save Space with a Hovering Toilet
In tight bathrooms, a hovering toilet can be a game-changer. This wall-mounted design enhances floor visibility, creating an illusion of more space. Beyond its sleek modern aesthetics, it allows you to harness vertical potential, ensuring optimal utility from every bathroom corner. If maximizing space and style is your goal, a hovering toilet is a worthy consideration.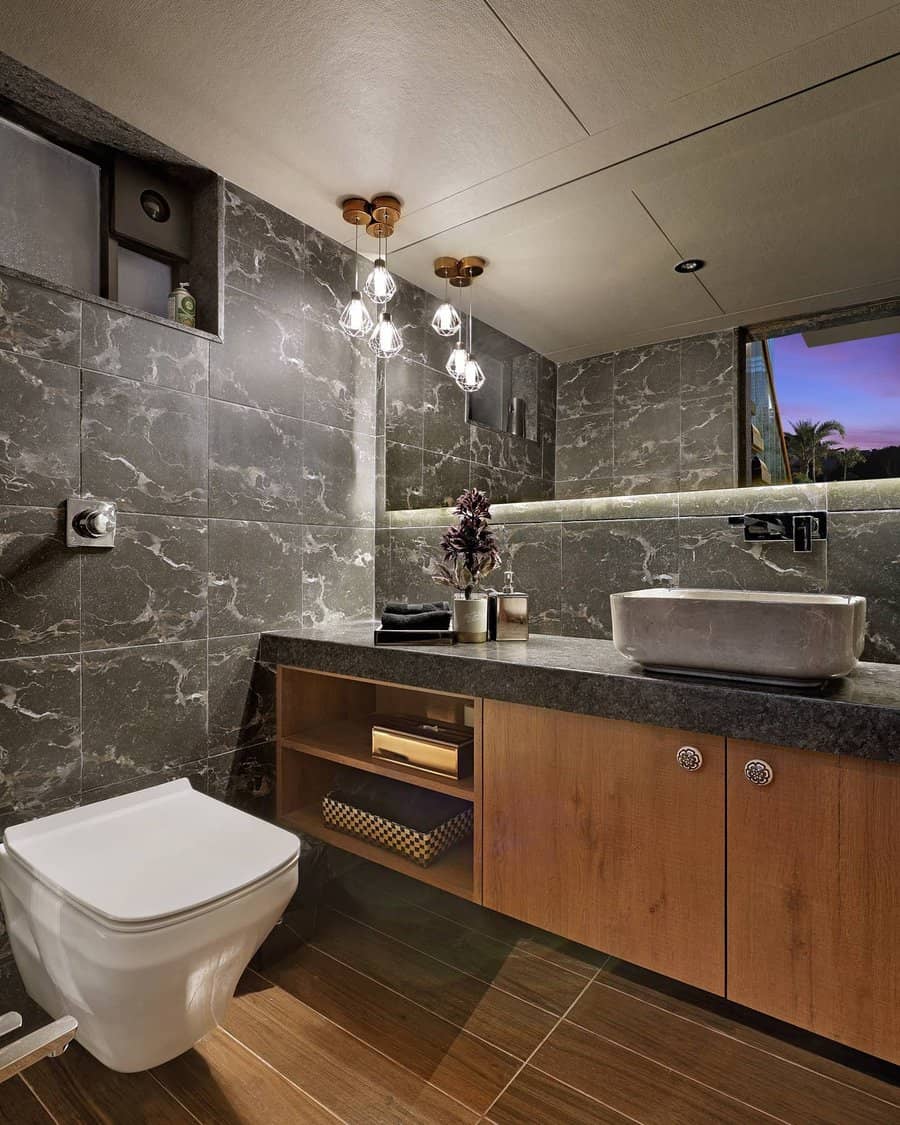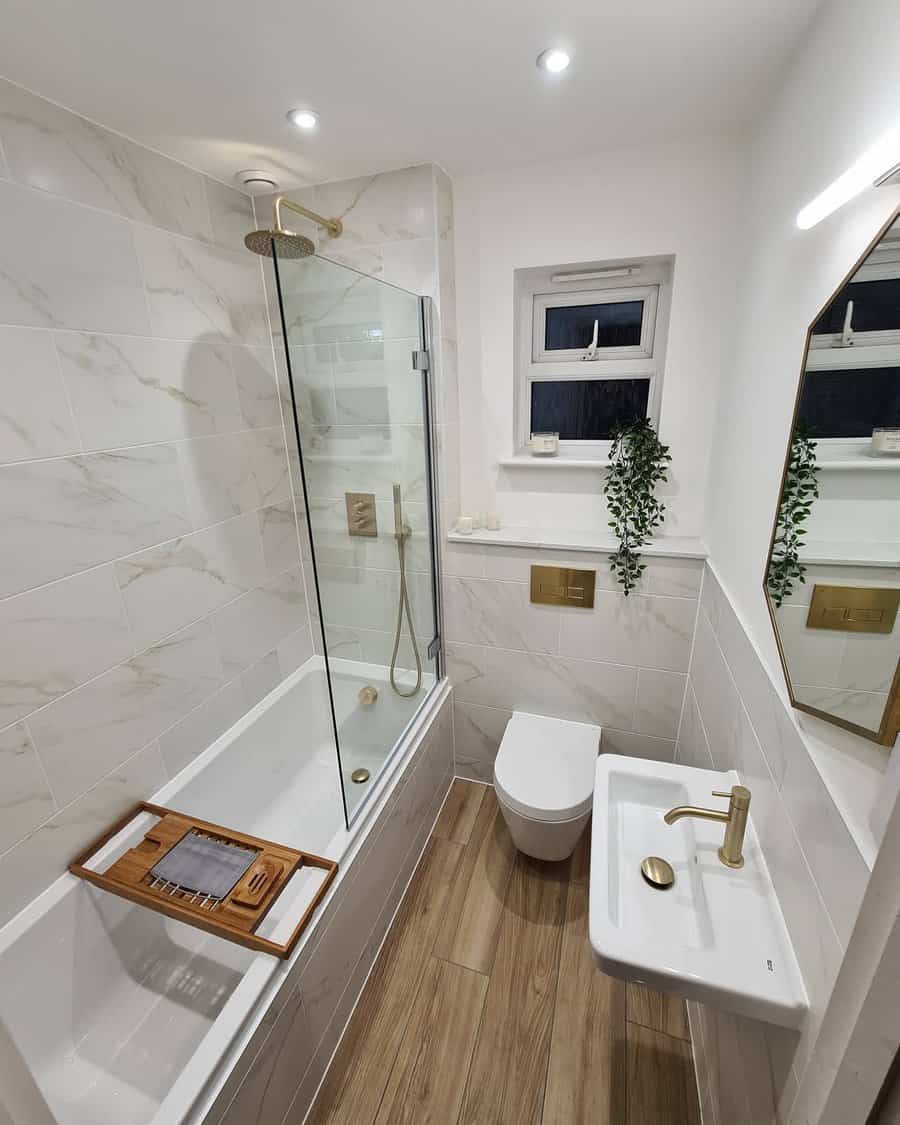 9. Marble Walls for an Elegant Look
Marble walls offer an immediate touch of luxury and refinement. The smooth texture, combined with natural light, provides an unmatched luminous glow. Even in compact bathrooms, the intricate vein patterns in marble introduce a distinct elegance without overwhelming the space. Embracing marble means prioritizing detail and sophistication, regardless of room size.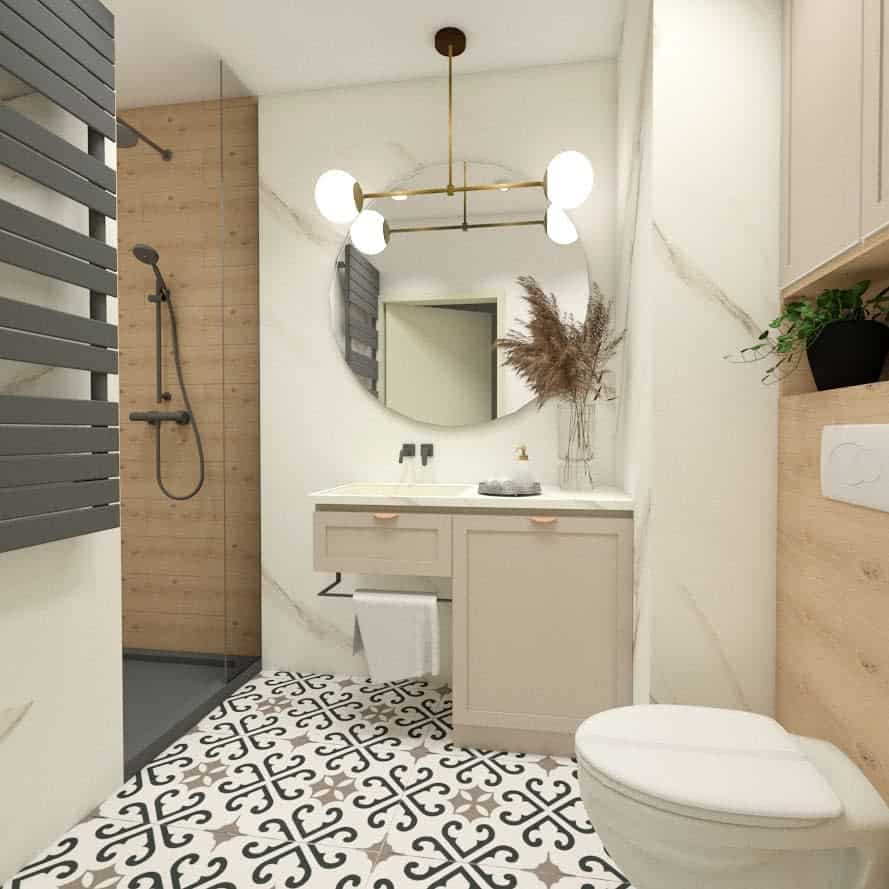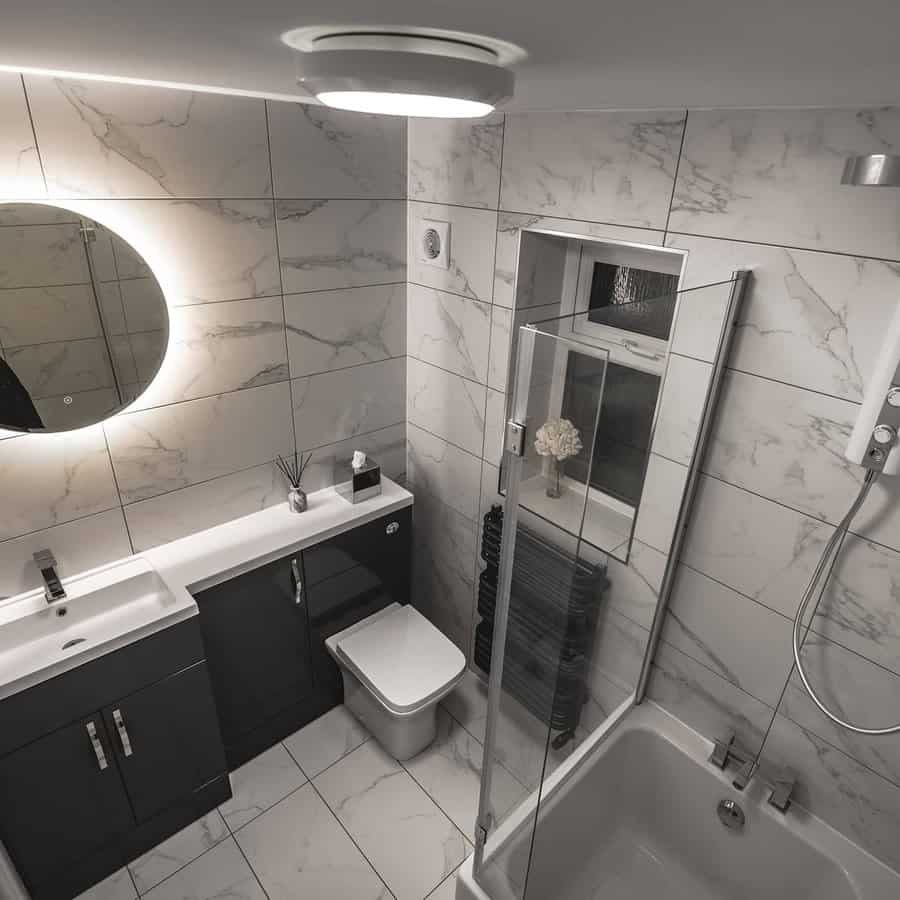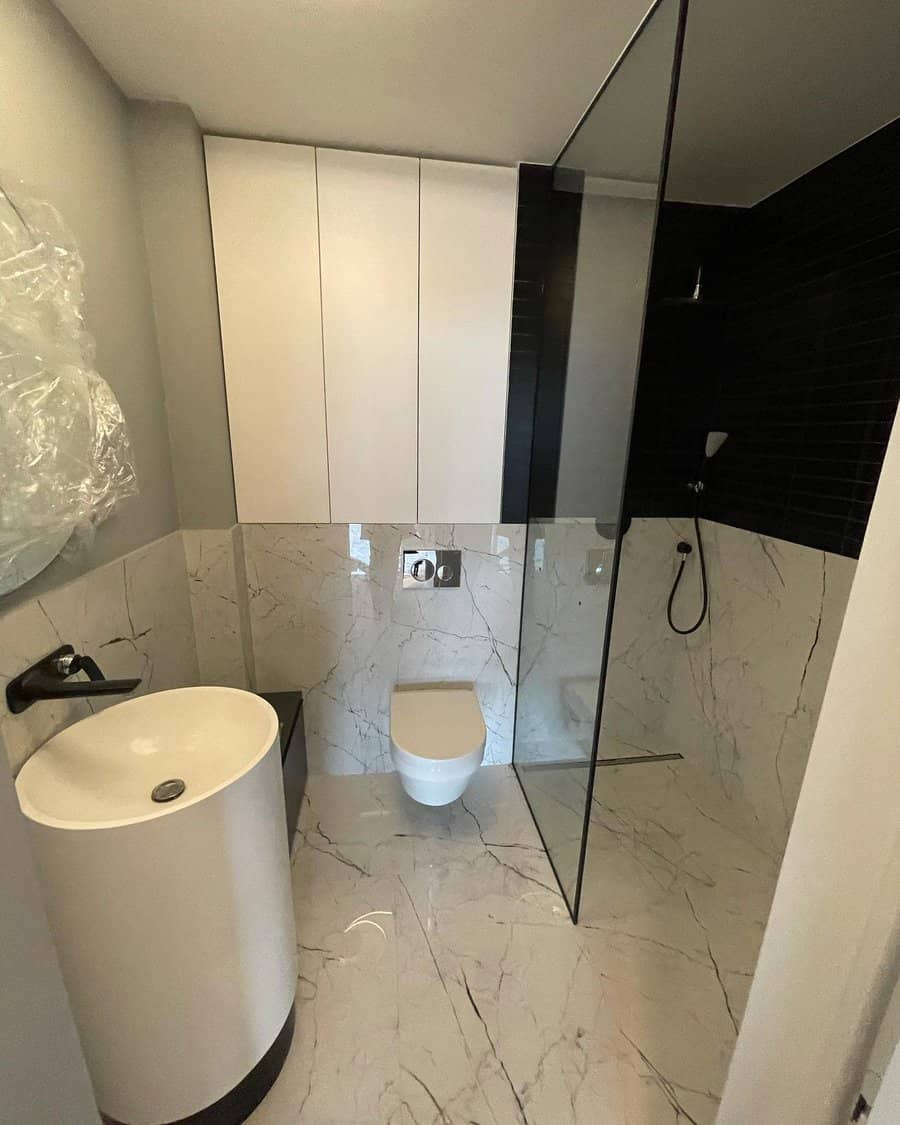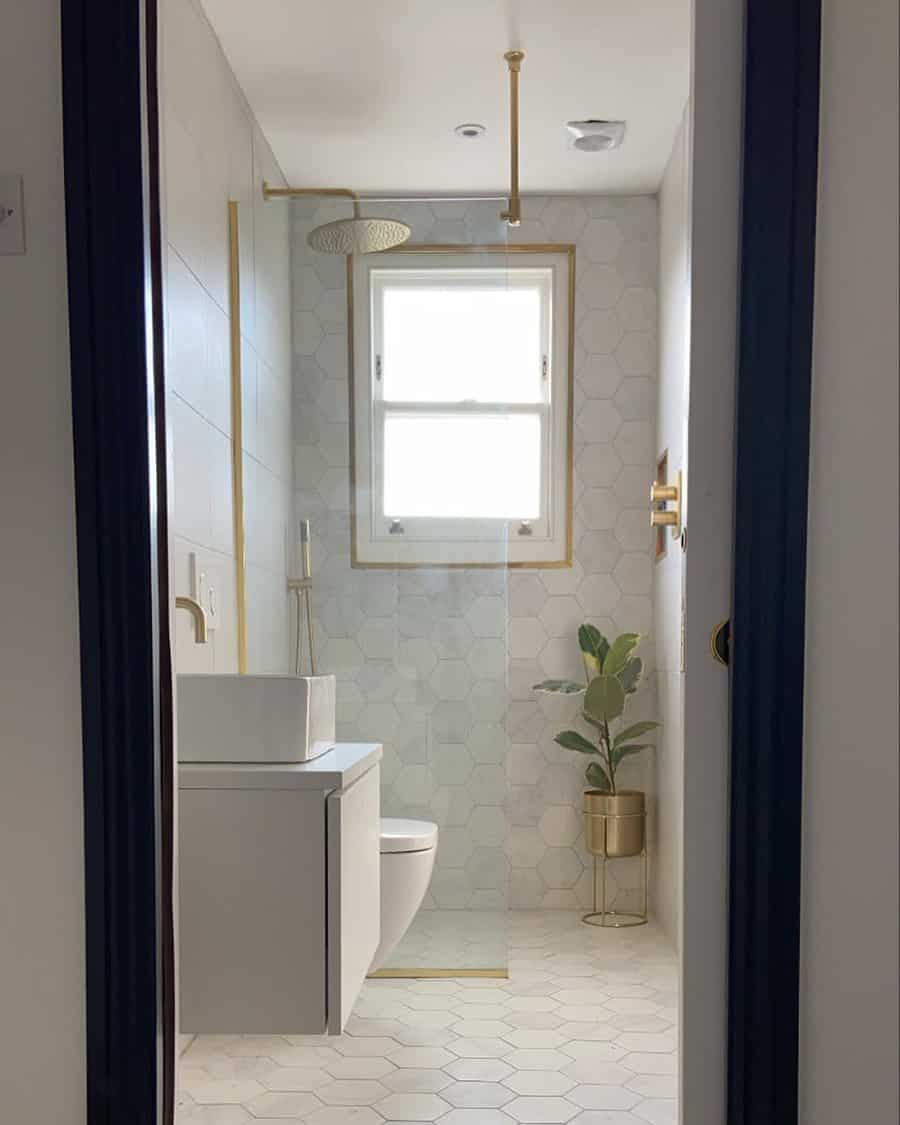 10. Recessed Wall Shelves For Toiletries
Maximizing space in small bathrooms is crucial. Recessed wall shelves offer a stylish and functional solution. Tucked into corners or between wall studs, they provide storage for towels and toiletries without consuming valuable room. This built-in design adds to the bathroom's sleekness, giving it a tidy, spacious feel while efficiently battling clutter.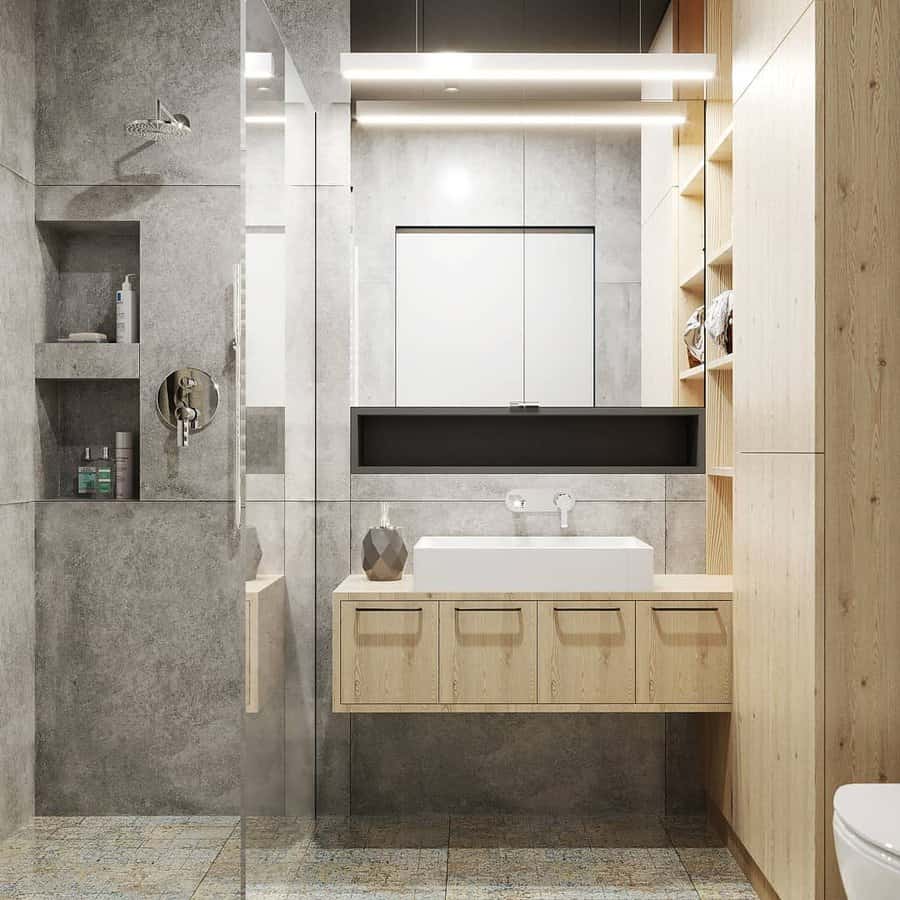 11. Incorporate Plants to Add Life to a Small Bathroom
Greenery can breathe life into a compact bathroom. Ferns and spider plants, known as natural air purifiers, introduce serenity. For those with limited surfaces, hanging plants are optimal, while succulents excel in humid conditions. By integrating a few well-chosen plants, your bathroom can evoke the ambiance of a tranquil jungle retreat.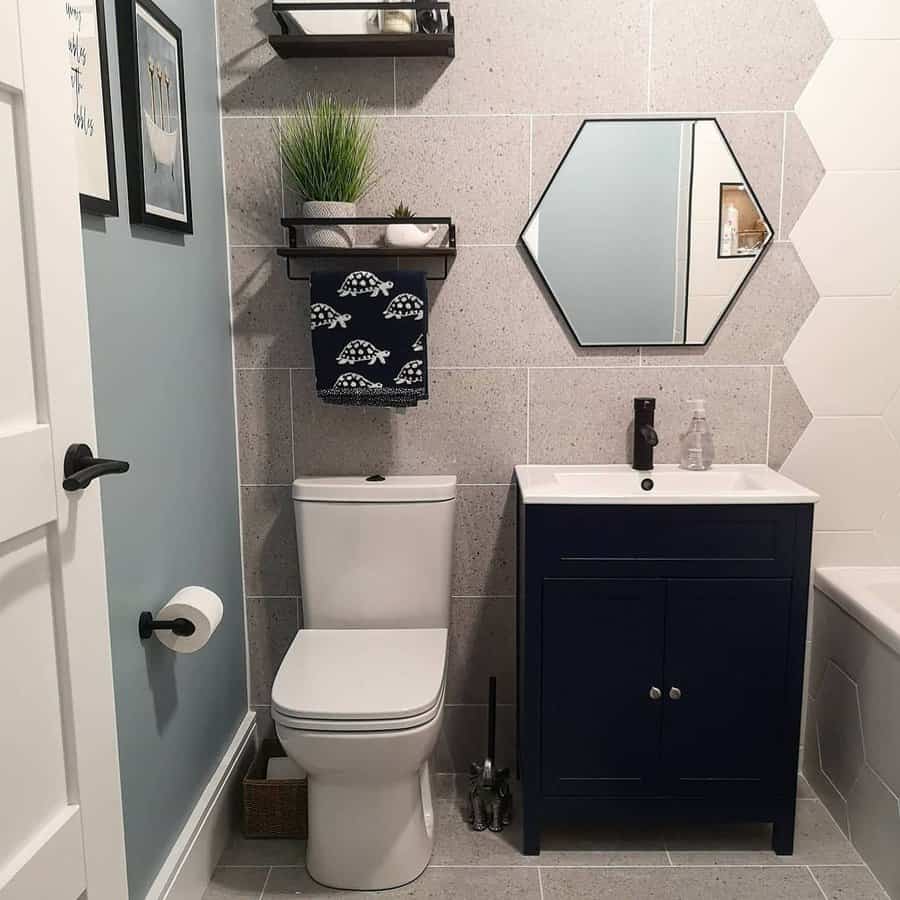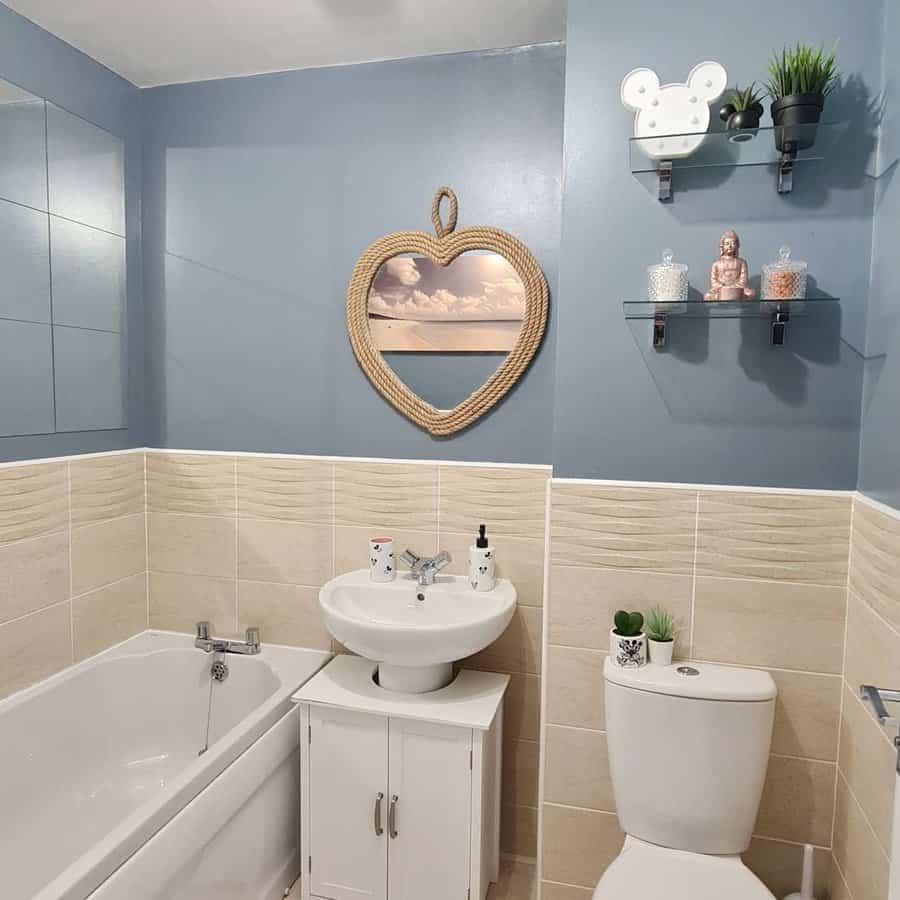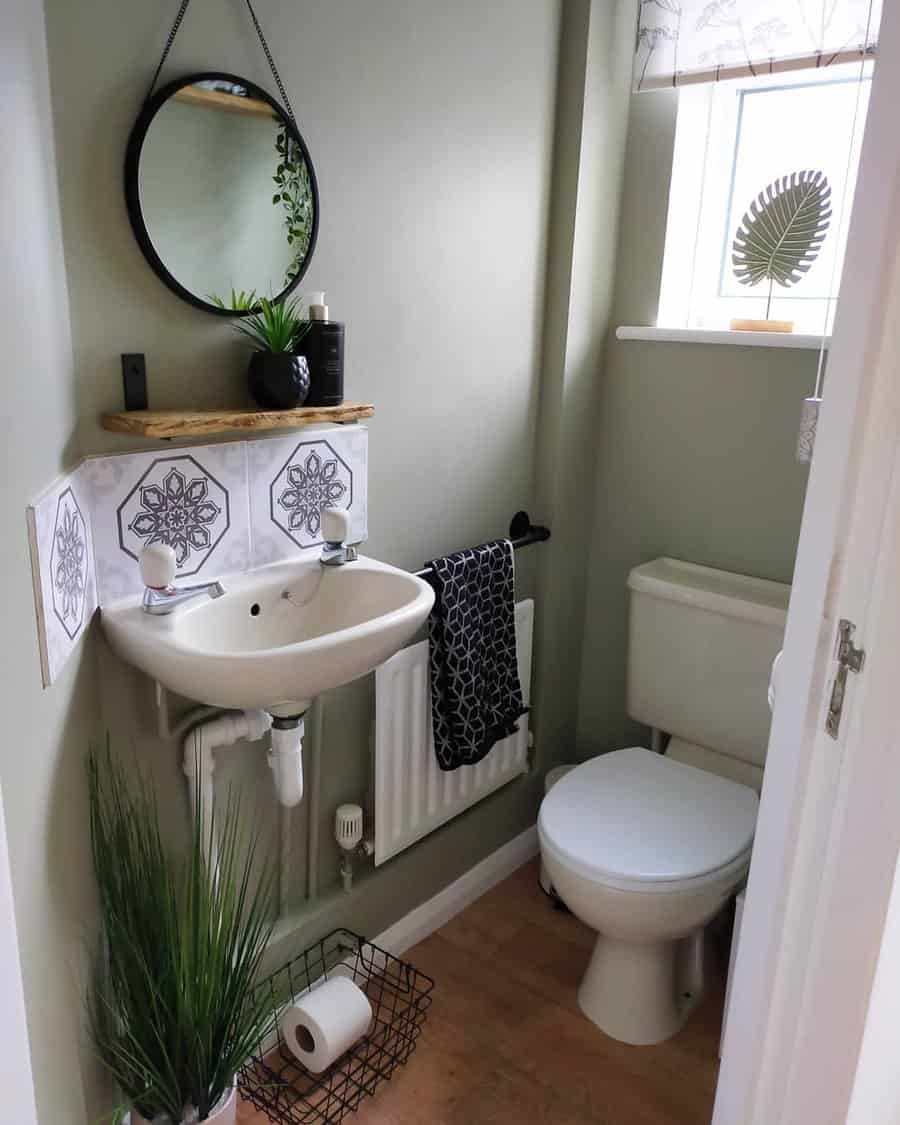 12. Good Things in Small Packages: Frameless Mirrors
Small bathrooms can shine with style, especially when enhanced by a sleek frameless mirror. Its addition amplifies the room's depth and fosters an airy feel. The clean, unobstructed design of a frameless mirror effortlessly integrates, delivering a contemporary and cohesive look to even the tiniest spaces.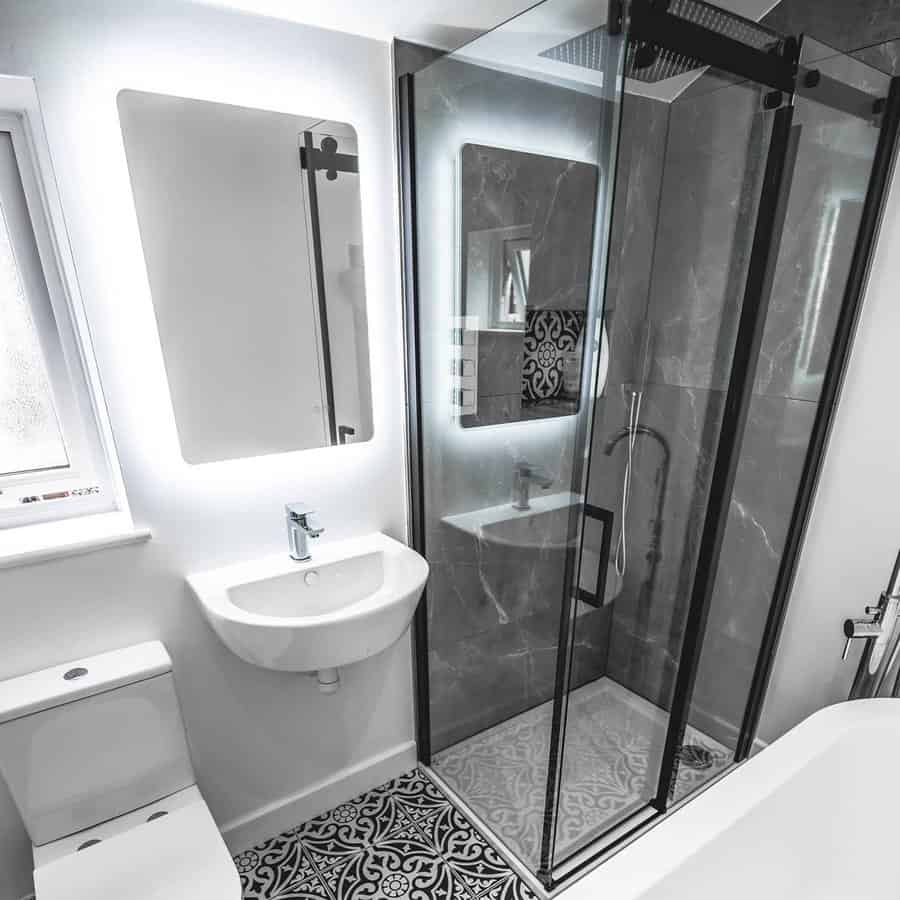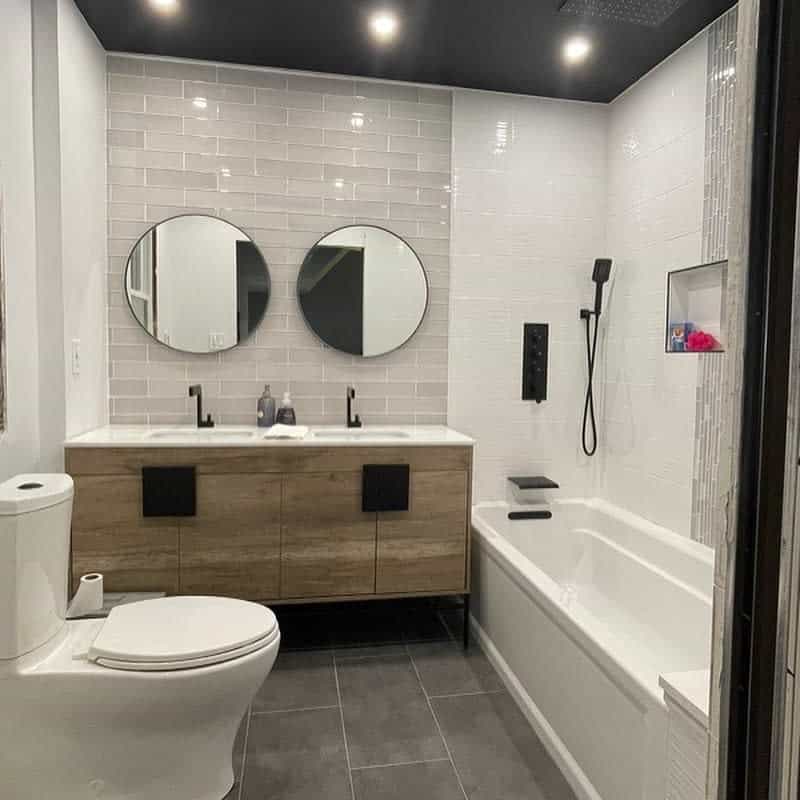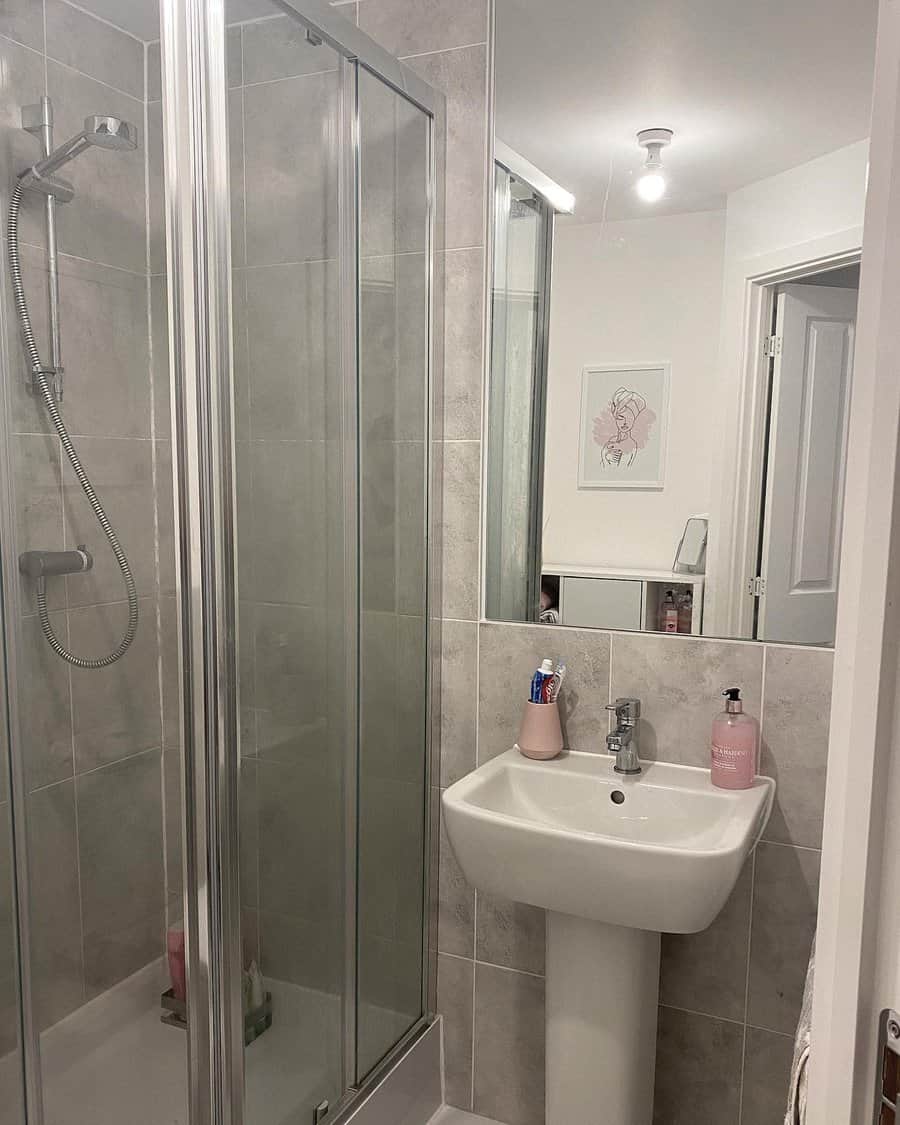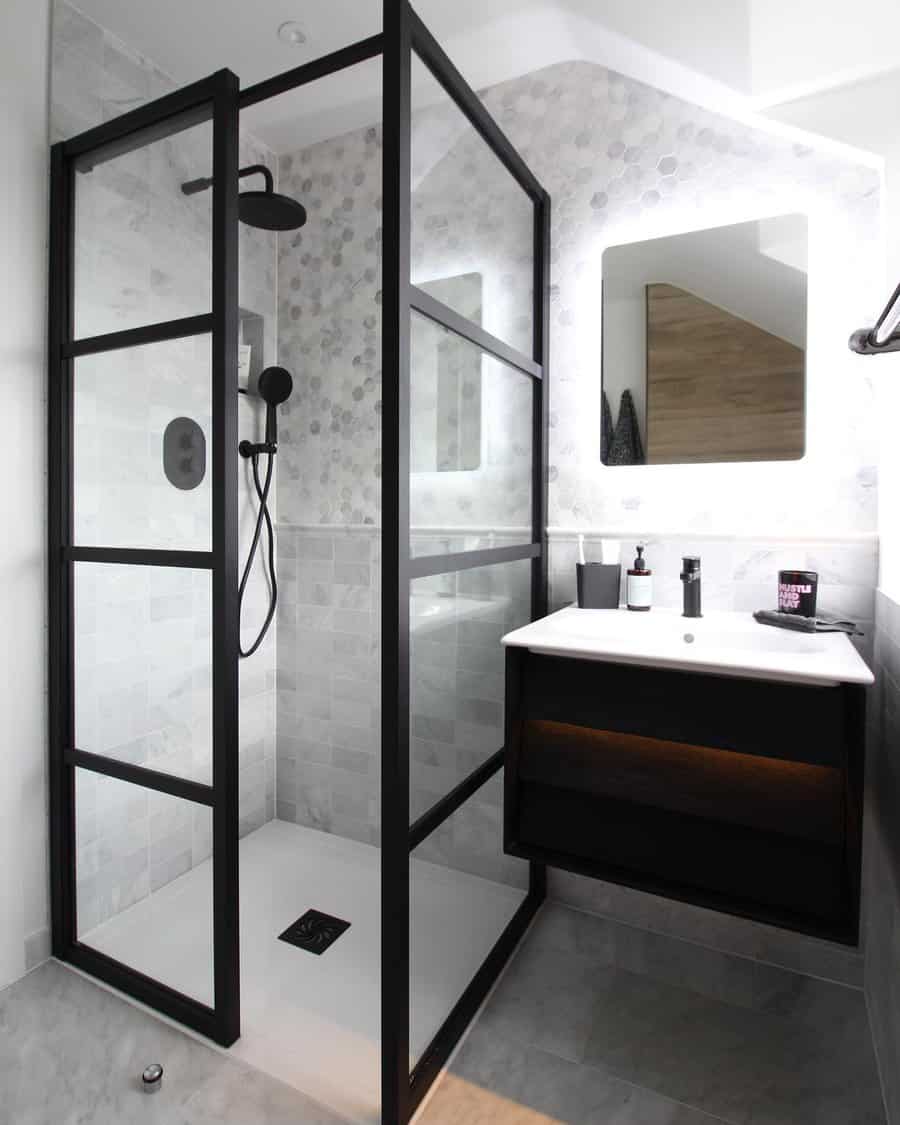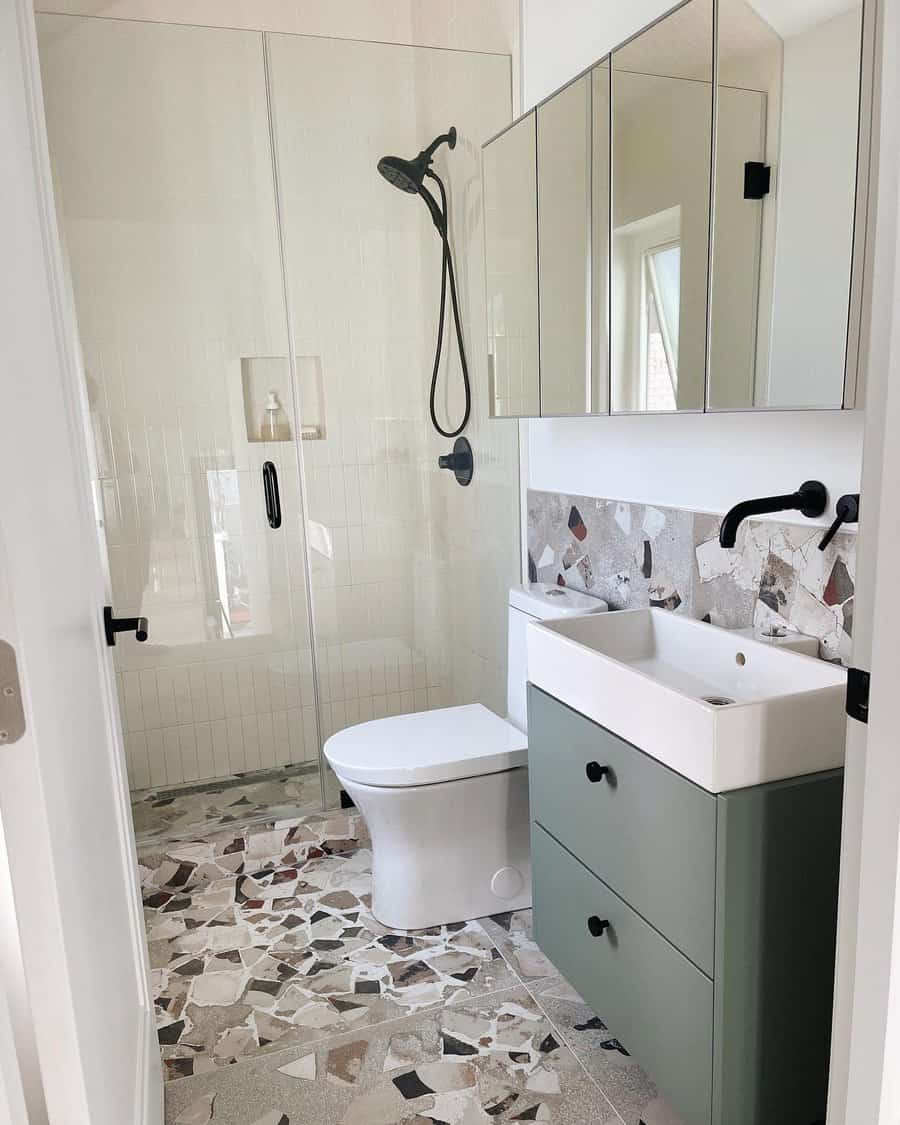 13. Corner Shower To Utilize Space
For compact bathrooms, a corner shower is a space-smart solution. It maximizes available room and offers a modern aesthetic. Available in diverse styles, from transparent glass to classic tile, the right corner shower can transform your petite bathroom into a tailored spa-like haven.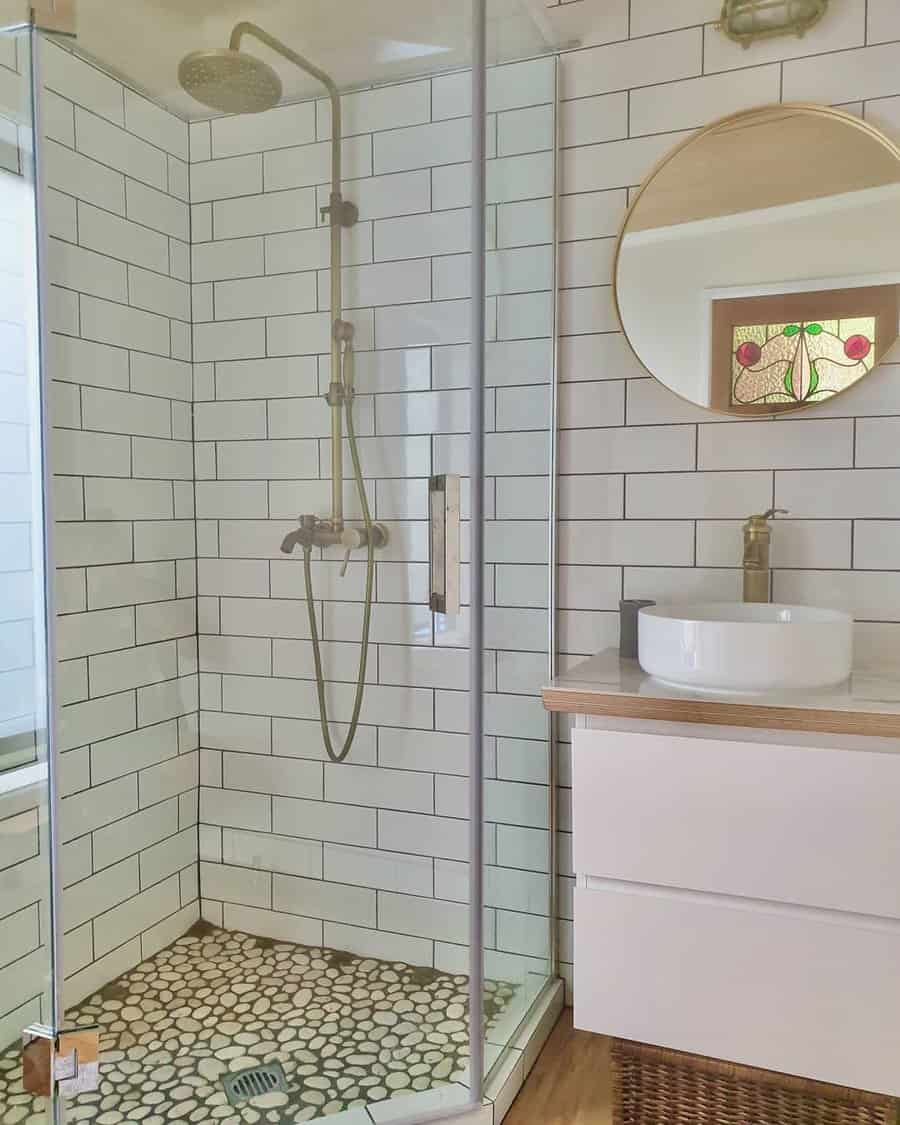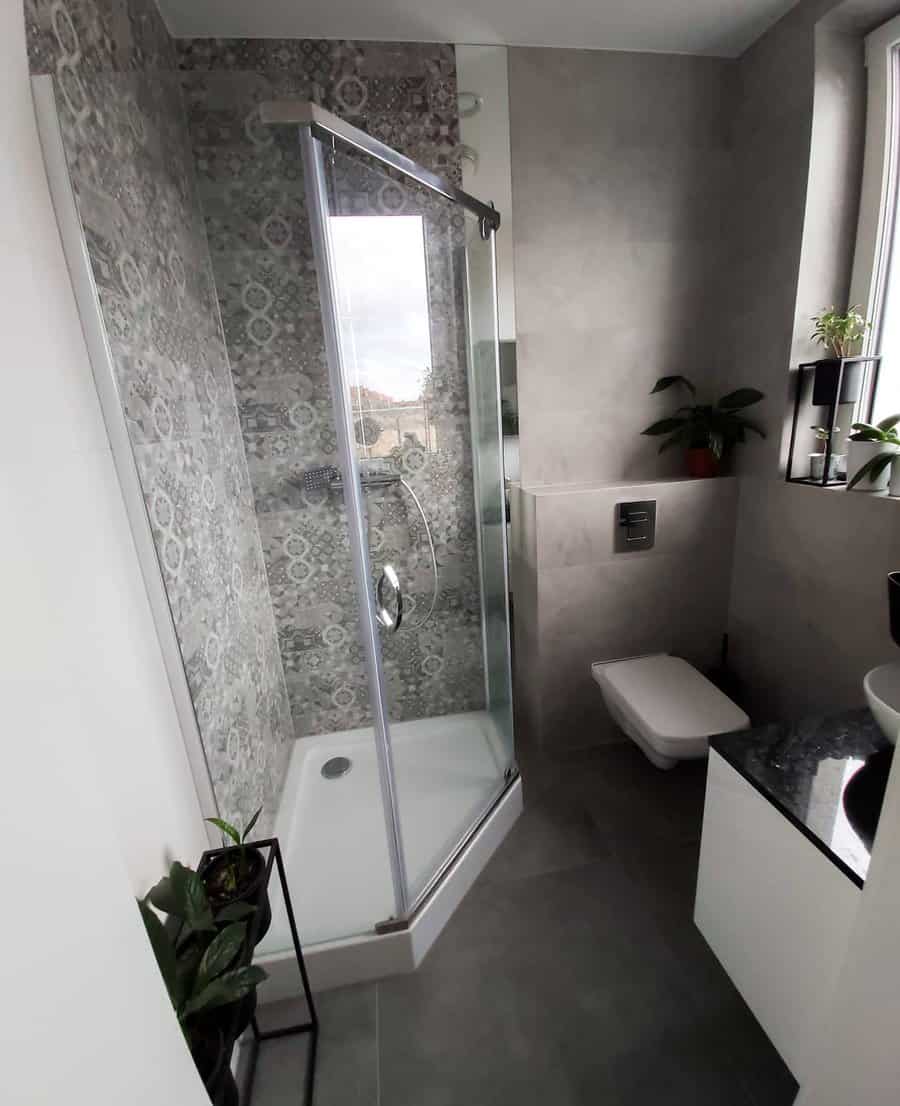 14. Hang Macrame Plant Hangers
Elevate a compact bathroom's aesthetics with macrame plant hangers. Their intricate designs introduce organic charm, while optimally positioning plants to save space. Even in limited quarters, a few strategically placed hangers can significantly enhance the ambiance, blending function with decorative flair.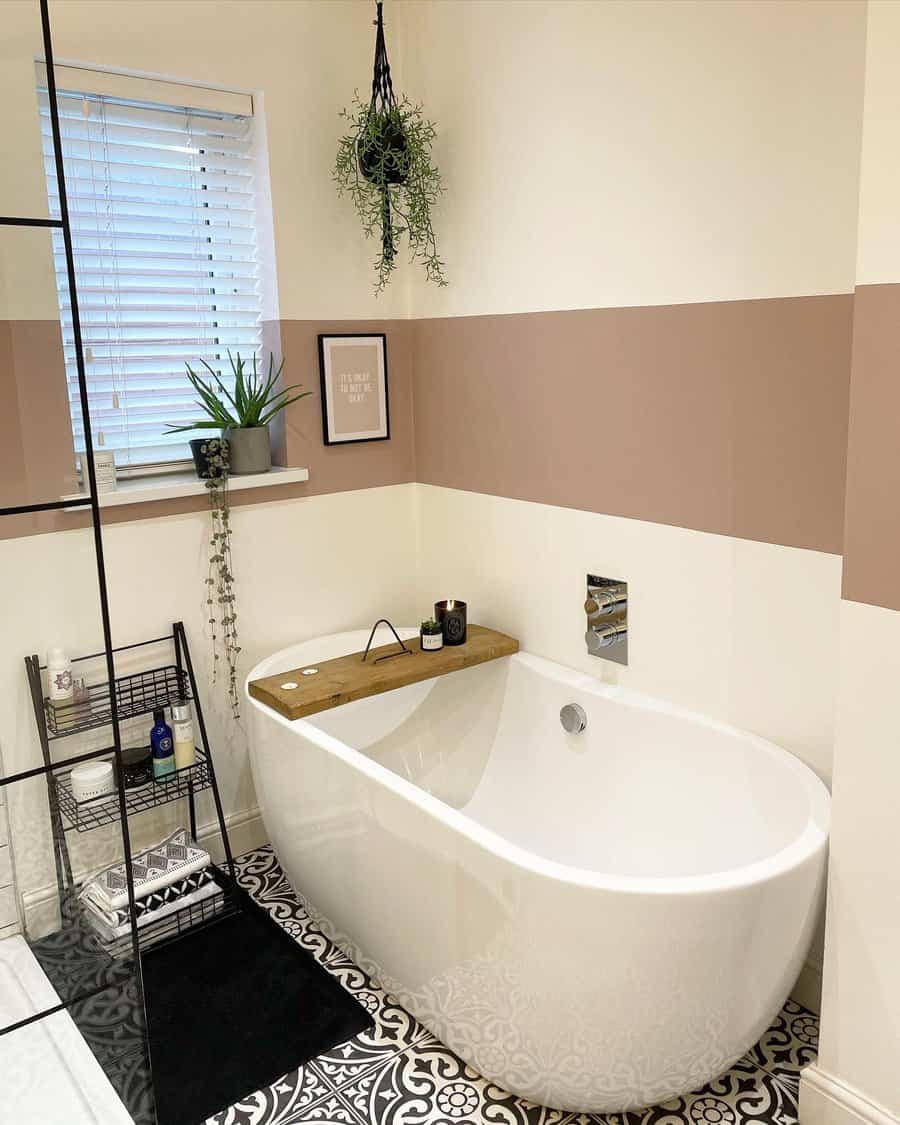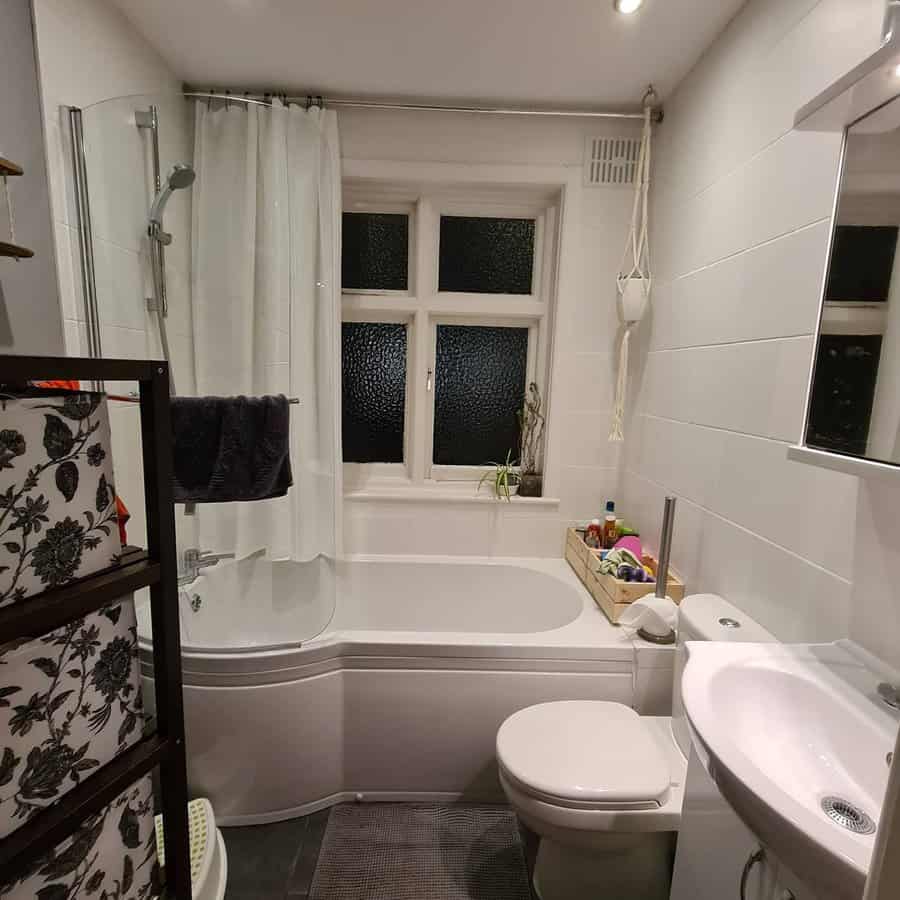 15. Add a Full-Length Mirror
A full-length mirror can significantly amplify a small bathroom's ambiance. Beyond the practicality of outfit checks, it creates an illusion of expanded space and brightness. Complementing the bathroom's aesthetics, such a mirror introduces both elegance and utility, showcasing the potential of compact spaces.
Small Bathroom FAQs
What is the minimum square footage for a full bathroom?
A full bathroom offers everything you could need — e.g., a sink, toilet, shower, and maybe even a tub. Full bathrooms also add value to a home when it comes time to list the property for rent or sale.
No matter how clever you are, not all spaces can be converted into full bathrooms. Generally, at least 30 square feet is required to accommodate a small shower stall. For a tub, your bathroom will need to be at least 40 square feet.
How much clearance does a bathroom door need?
It's not enough to fit a sink, toilet, and any other fixtures inside a small bathroom. For the bathroom to function properly, you also need to account for door clearance.
Most interior doors need 34 to 36 inches of clearance to fully open and close. Be sure to measure the space around your bathroom doorway before making any permanent changes!
Swapping out your traditional bathroom door for a sliding or pocket door can eliminate the need for extra clearance inside the room. This can make a huge difference when decorating a tiny powder room or guest bath.