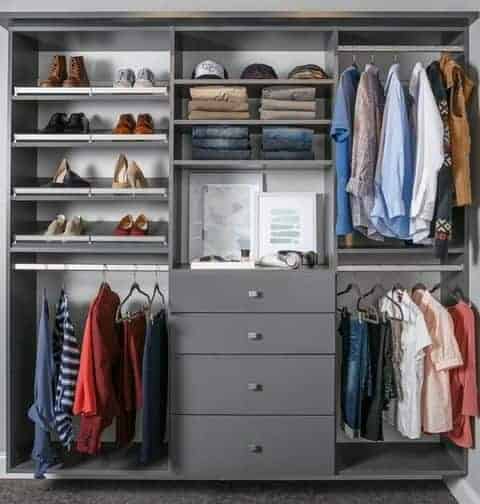 59 Small Closet Organization Ideas
Let's be honest: for a woman to say that she has enough closet space, is because her closet is gigantic!
Truth is, for most of us, there never seems to be enough room in the closet for shoes, coats, hats, belts, scarves, boots, handbags, beachwear, gym wear, office outfits, evening dresses, casual outfits… and some of us have to share precious closet space with our significant other!
If you are tired of your cramped closet and don't feel like throwing half of your stuff away, have a look at the organization tips we are going to share with you in this post.
1. Coat
In a perfect world, we should keep our coats color-coordinated, orderly hung by length in velvet hangers. But that is not the reality for many of us. So, if you have a small closet or wardrobe, maybe you should start sorting your clothing by season.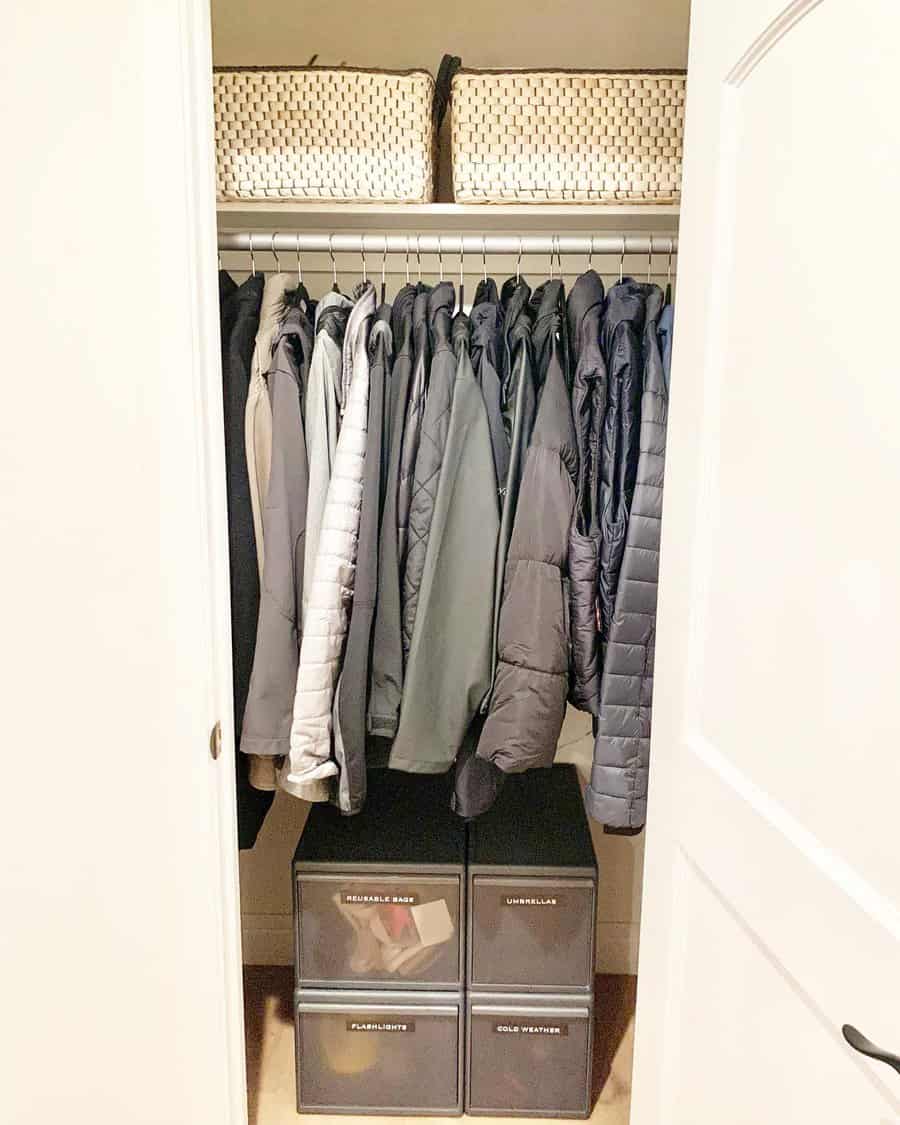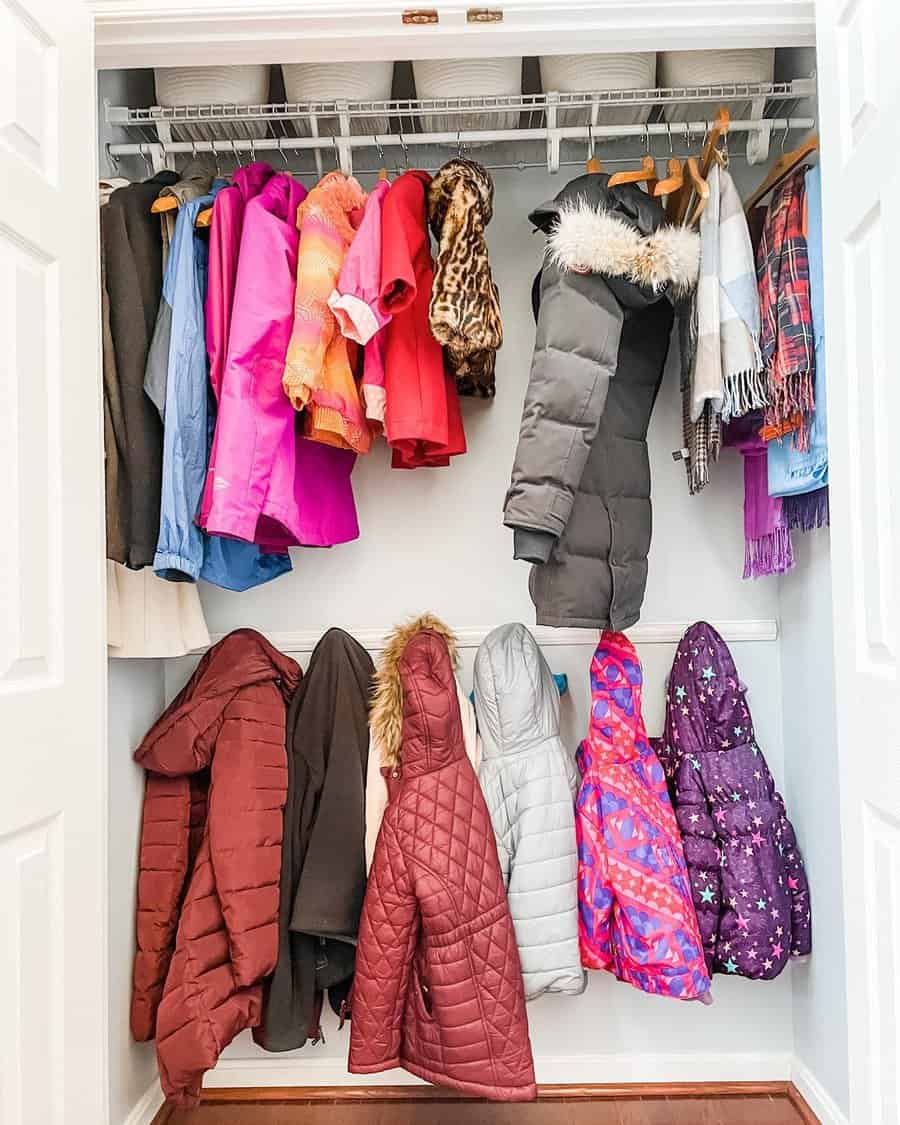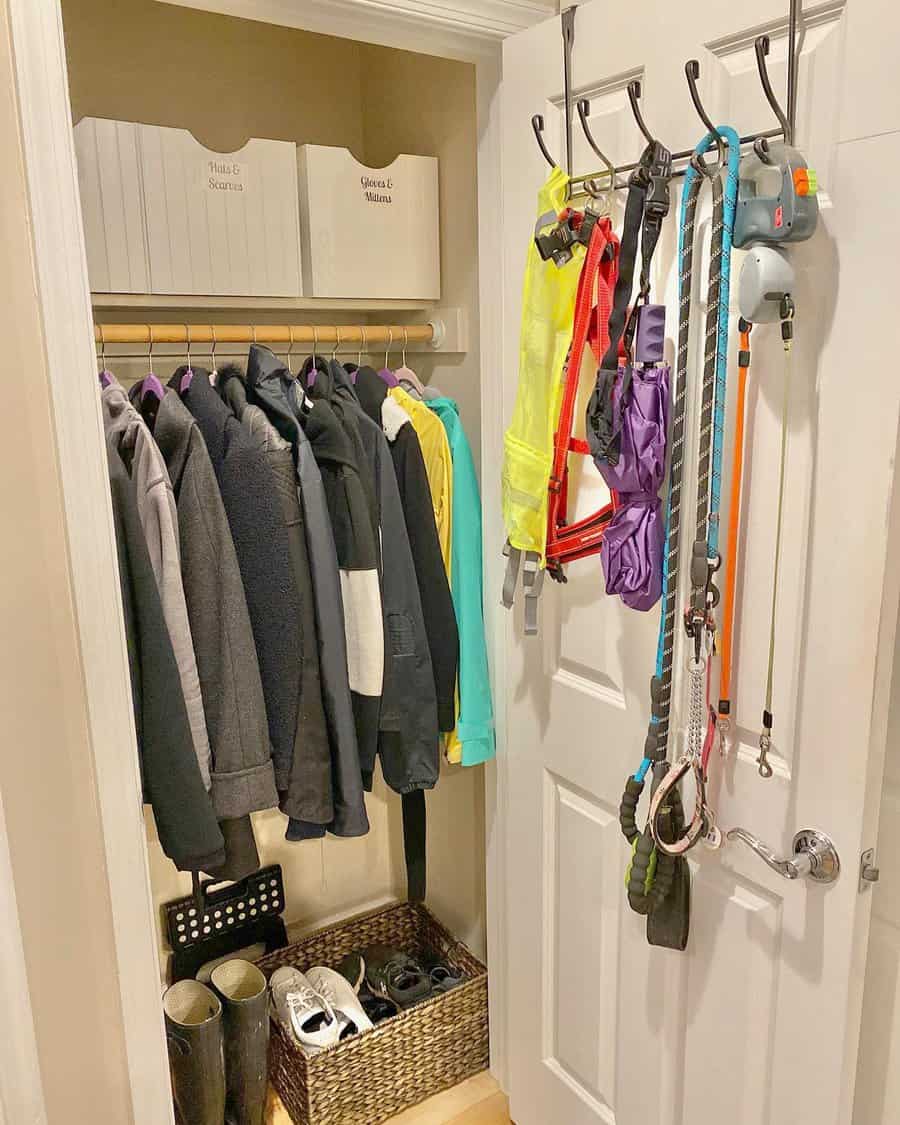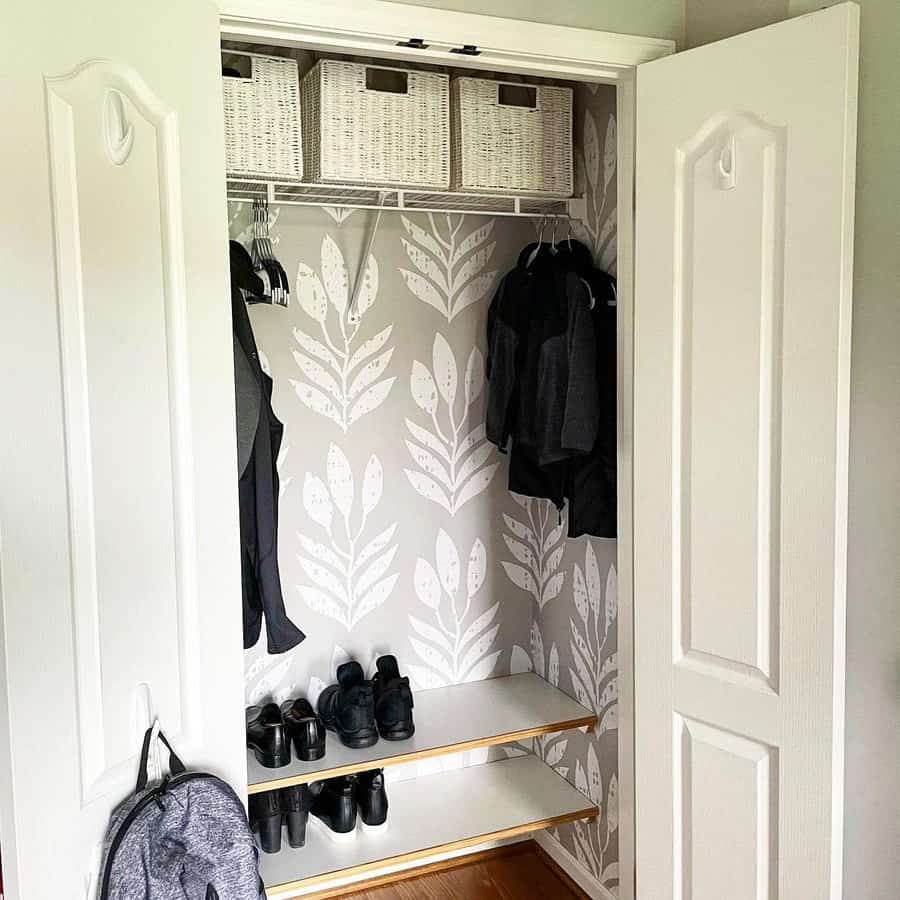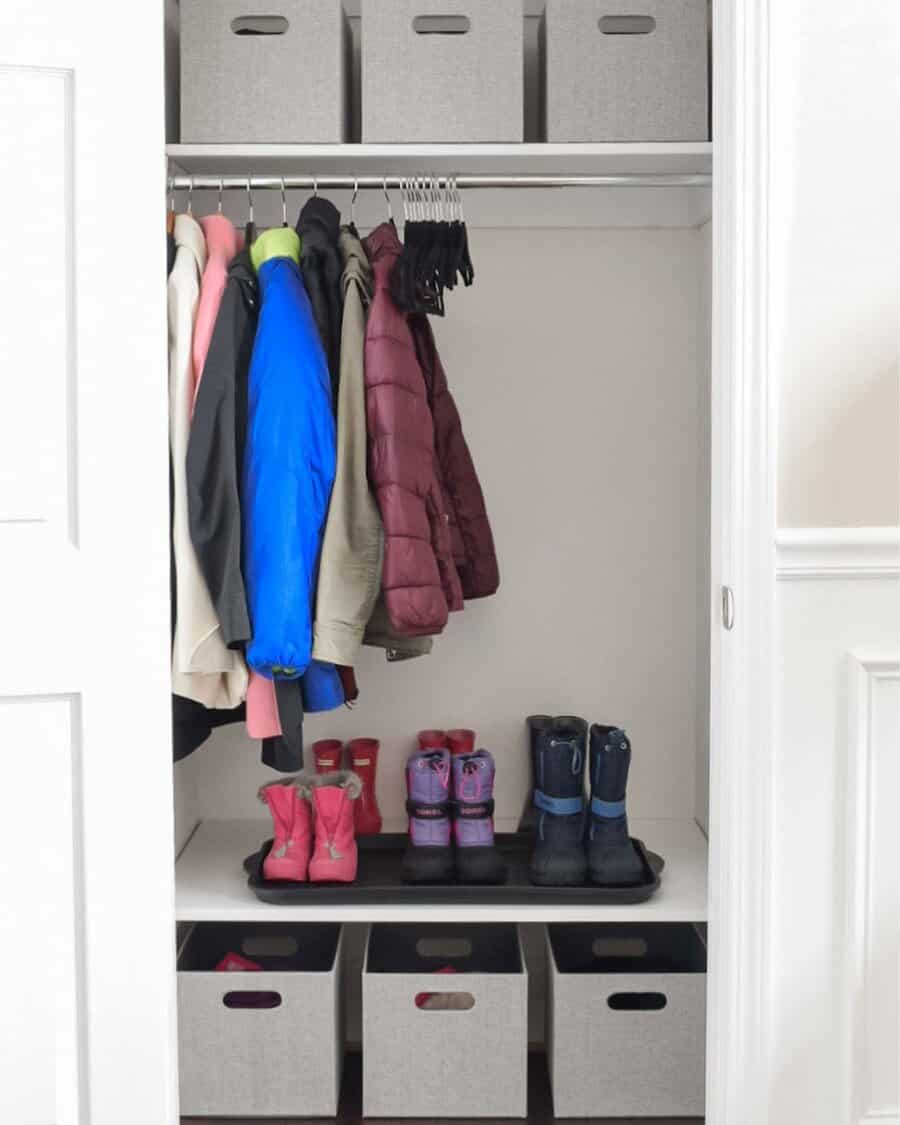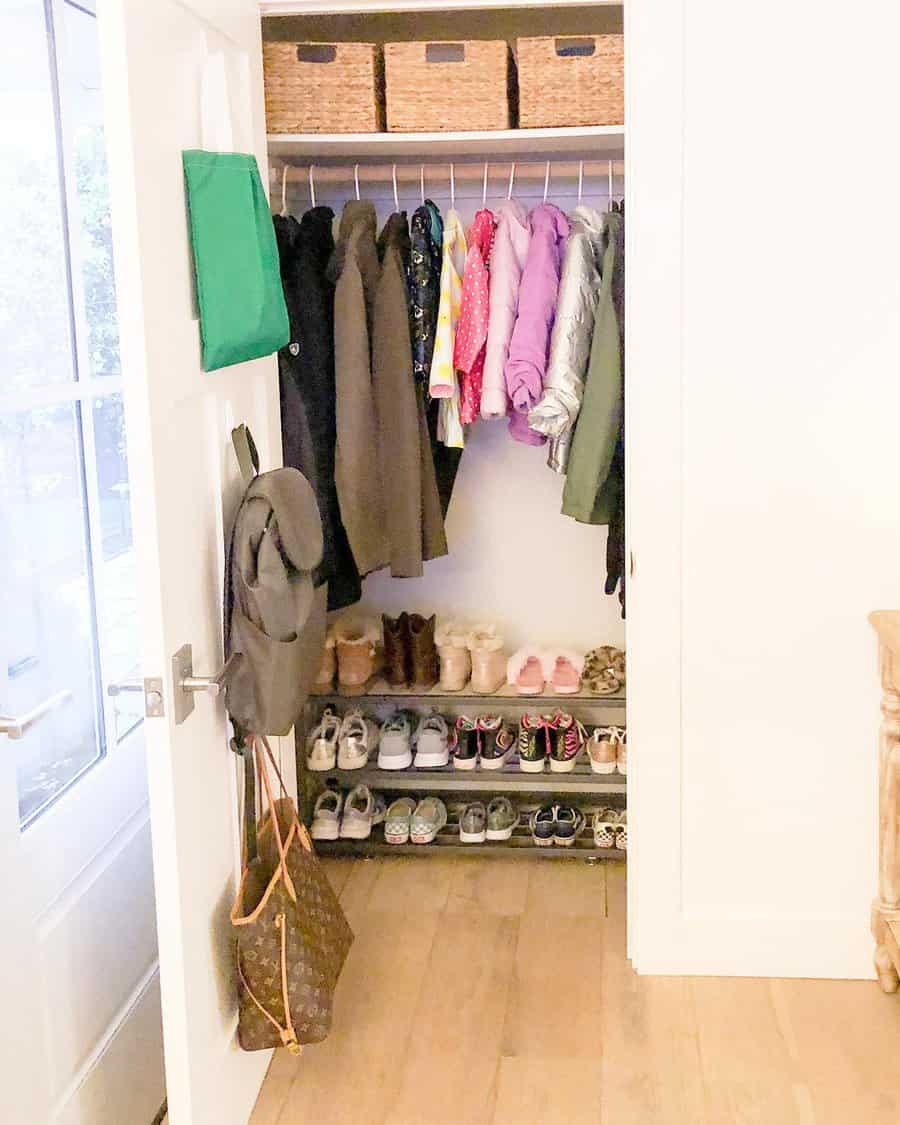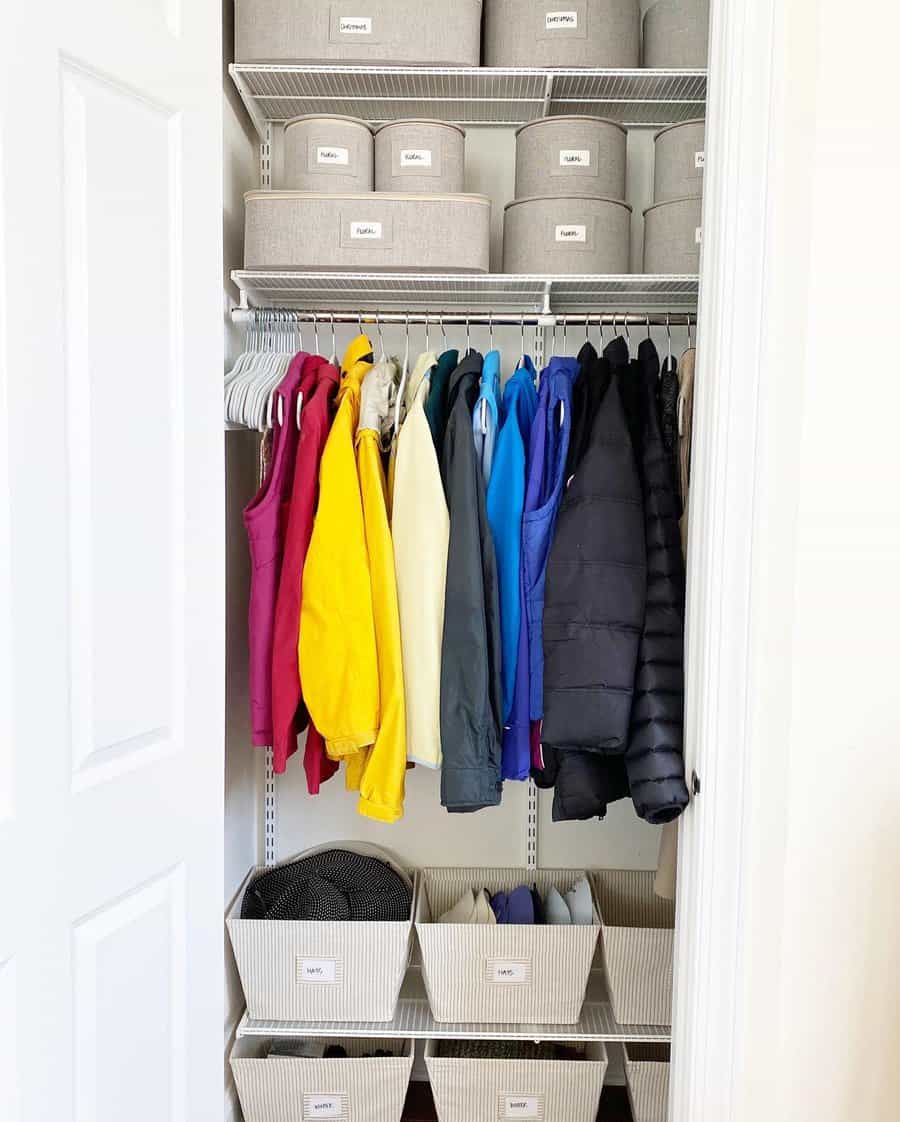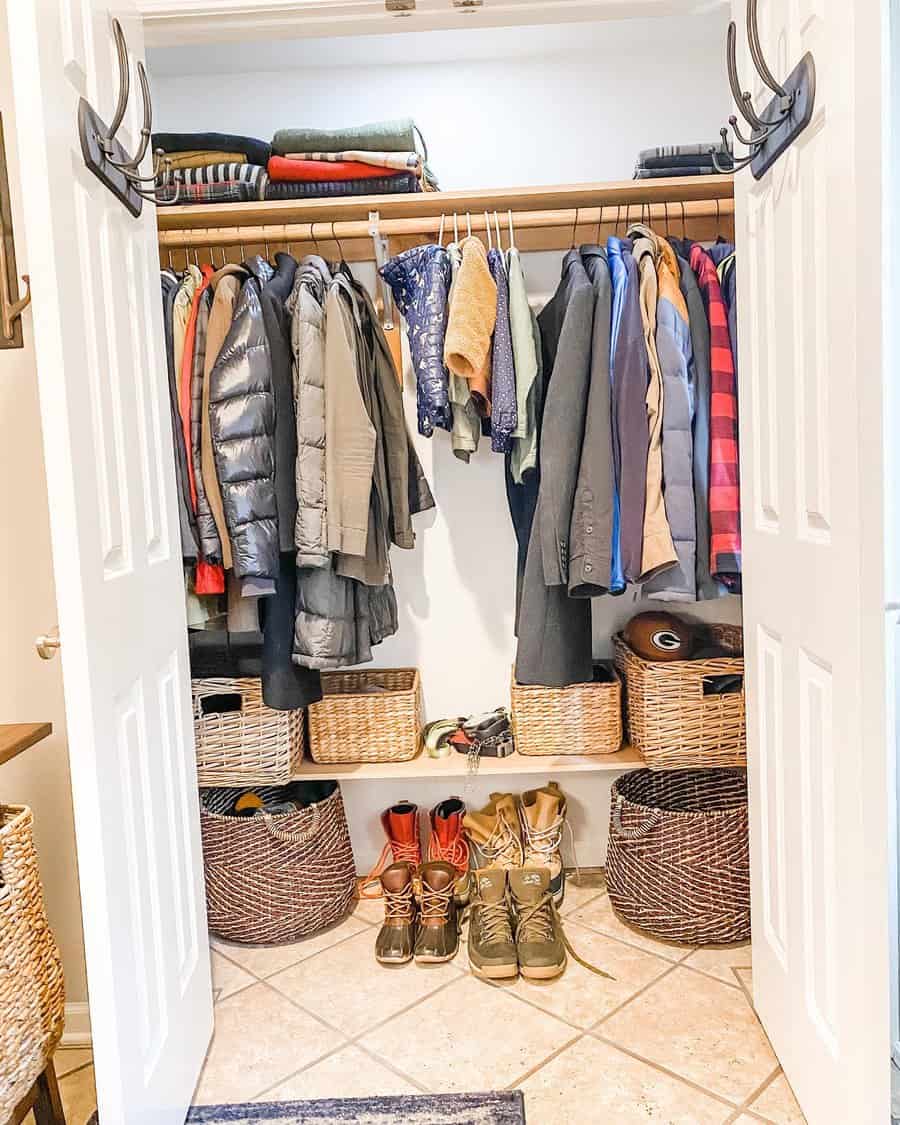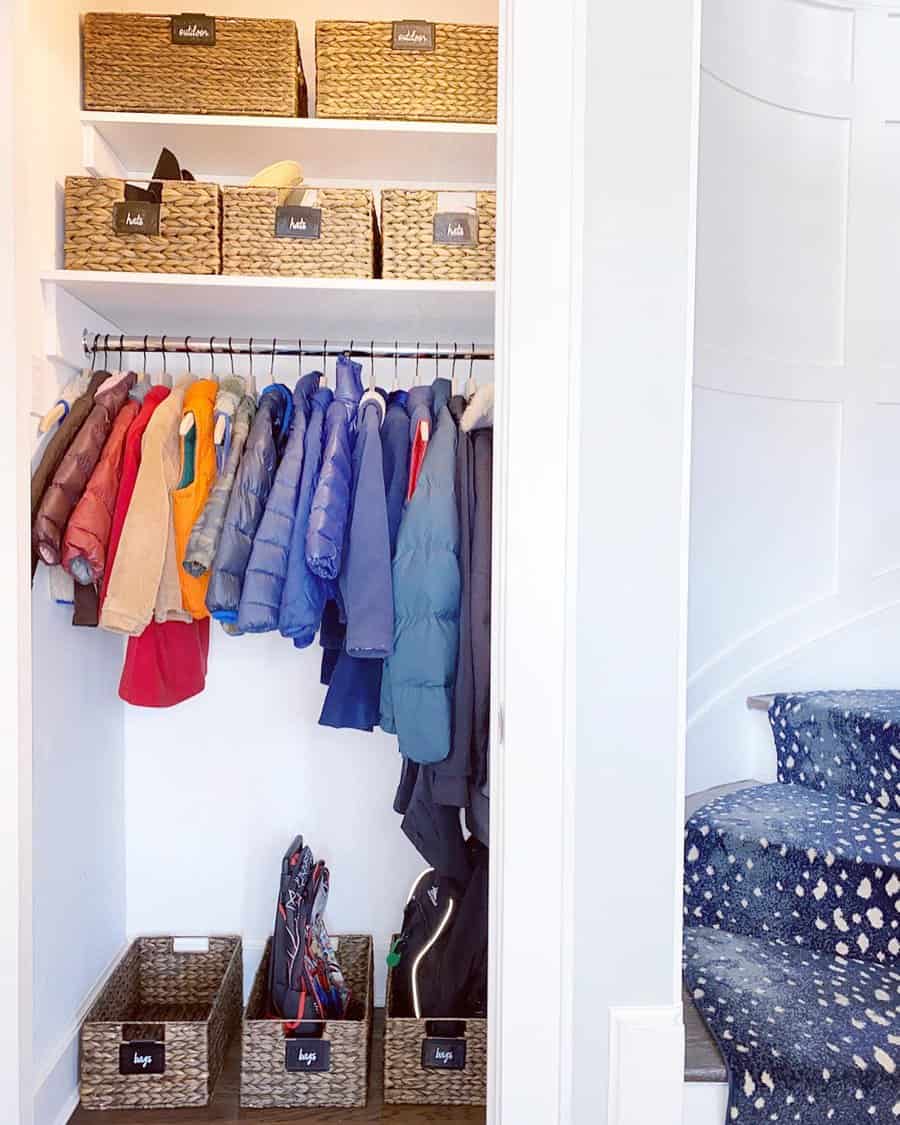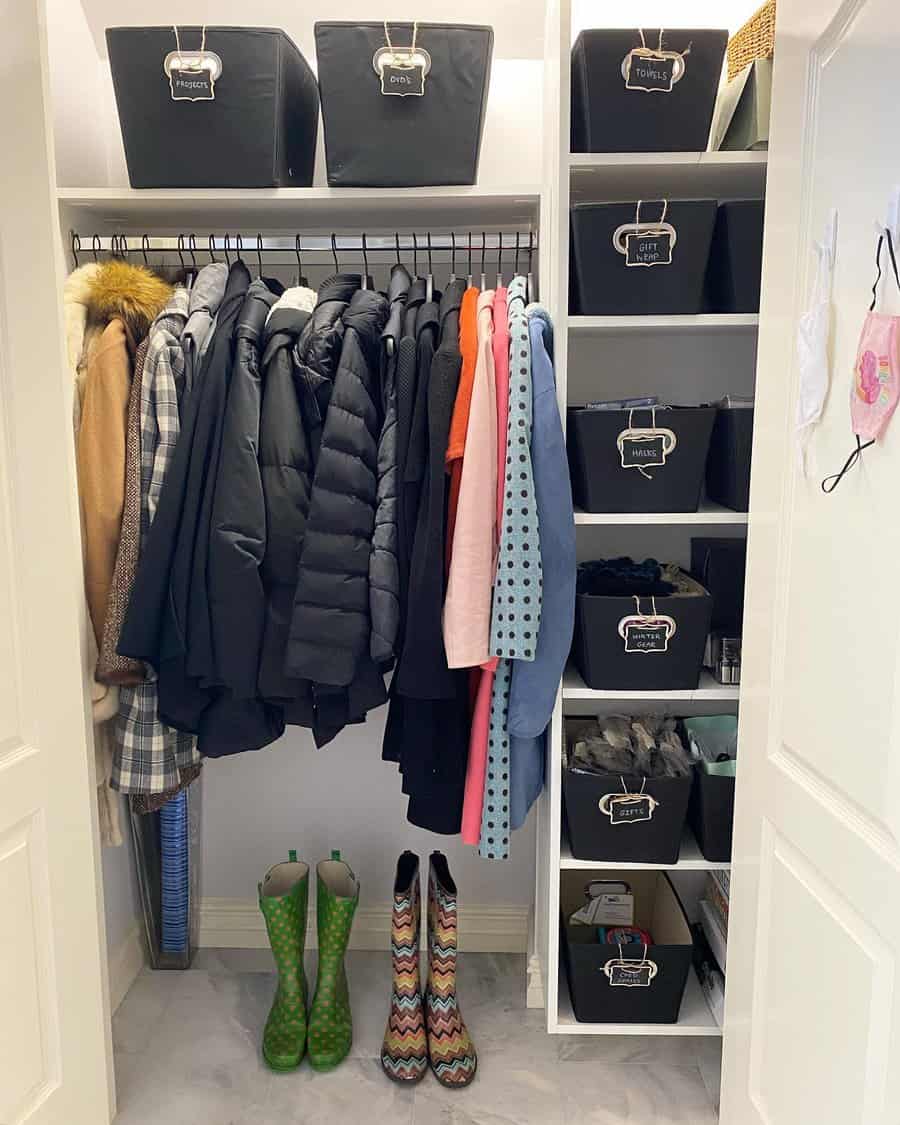 This process will help you decide what is worth keeping, and what you might consider donating or even trashing. Then, you can store your off-season clothing in plastic bins (cardboard boxes attract insects) but remember to wash or dry-clean them and empty all pockets before storing.
Vacuum-sealed bags are also a great option to store clothes and blankets. Double closet rods are a space saver, as well as double hangers, for you coats and winter clothing.
Pulldown closet rods are perfect for you to use the closet space up to the ceiling. There are several cool accessories that help you maximize your closet space!
2. DIY
You can customize your closet by adding paint, wallpaper, a mirror, shelves, hooks, light, drawers, baskets, etc. Think of your storage needs and then look for creative solutions.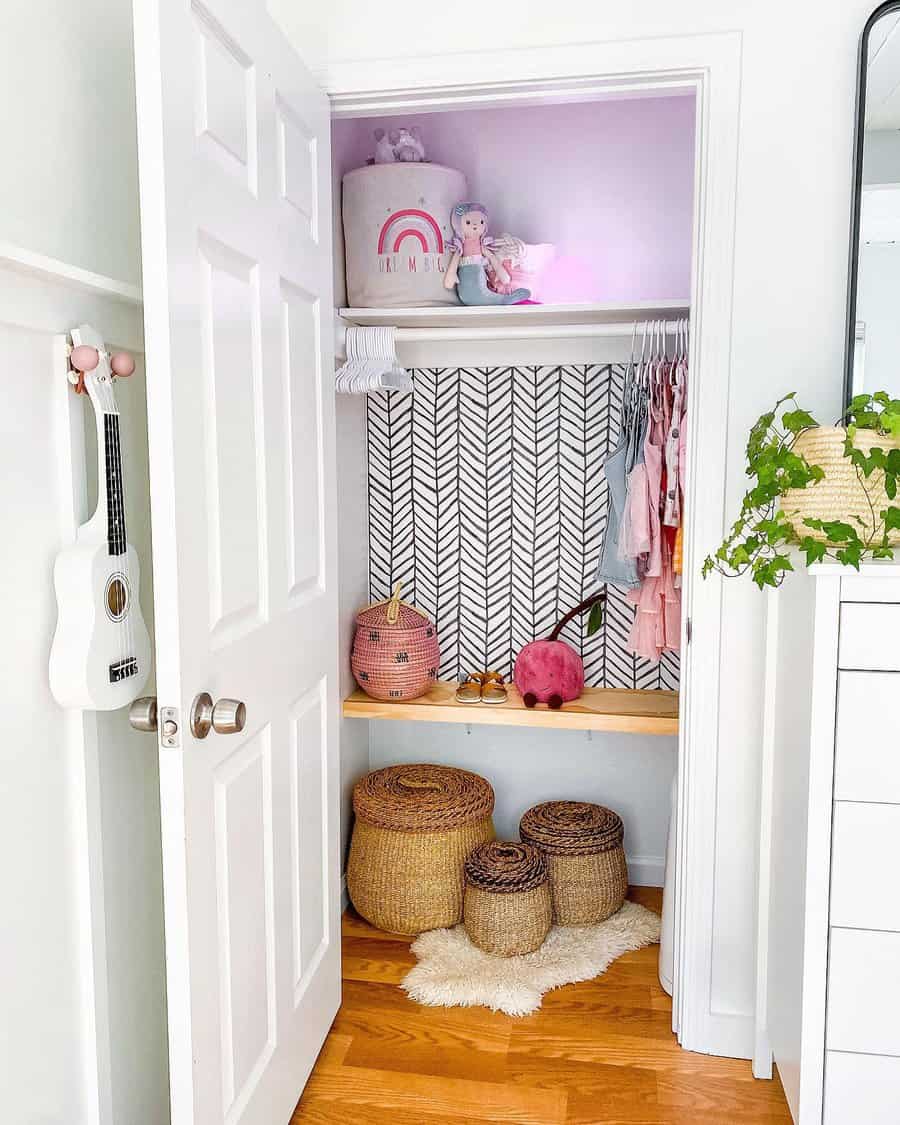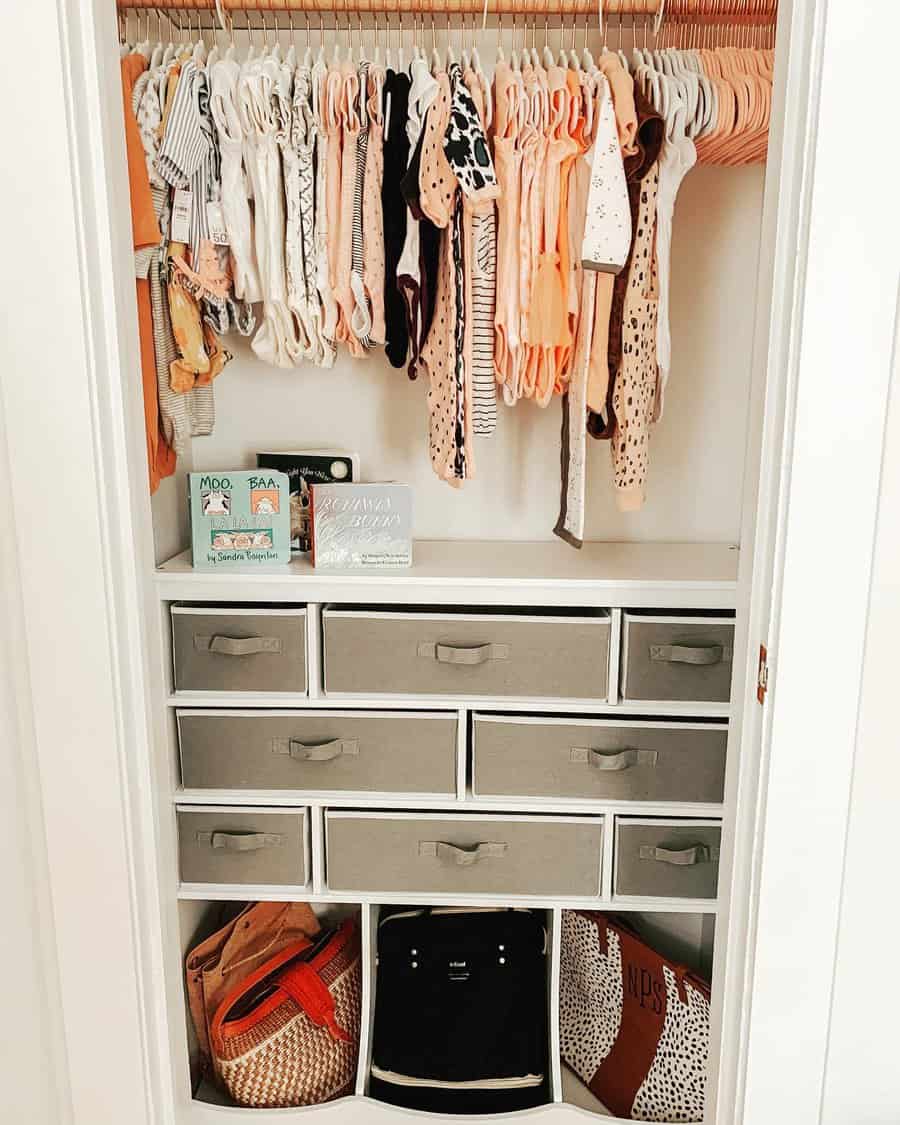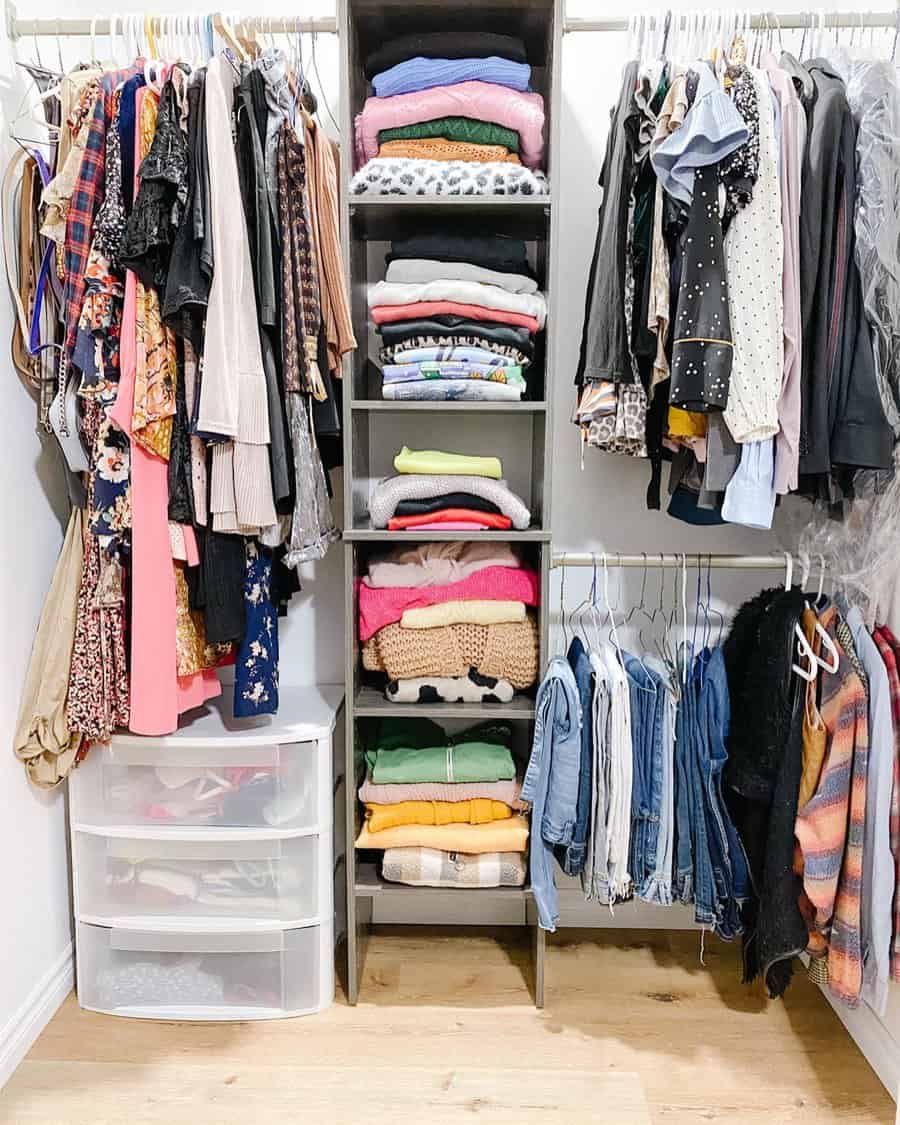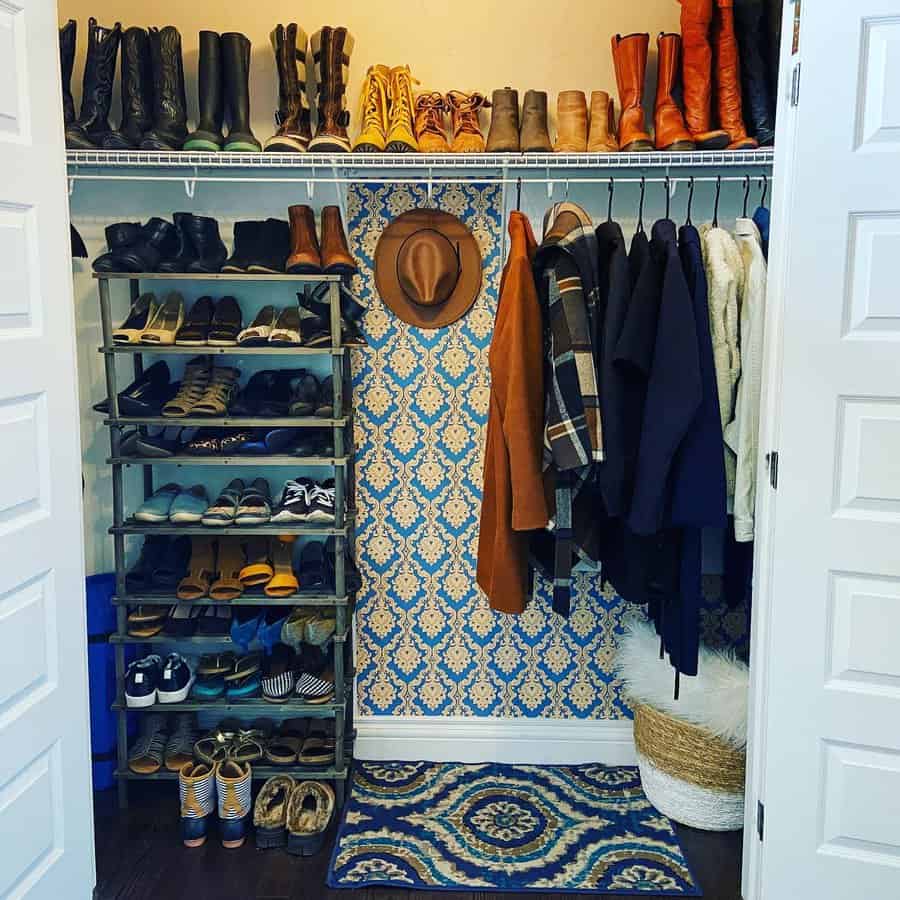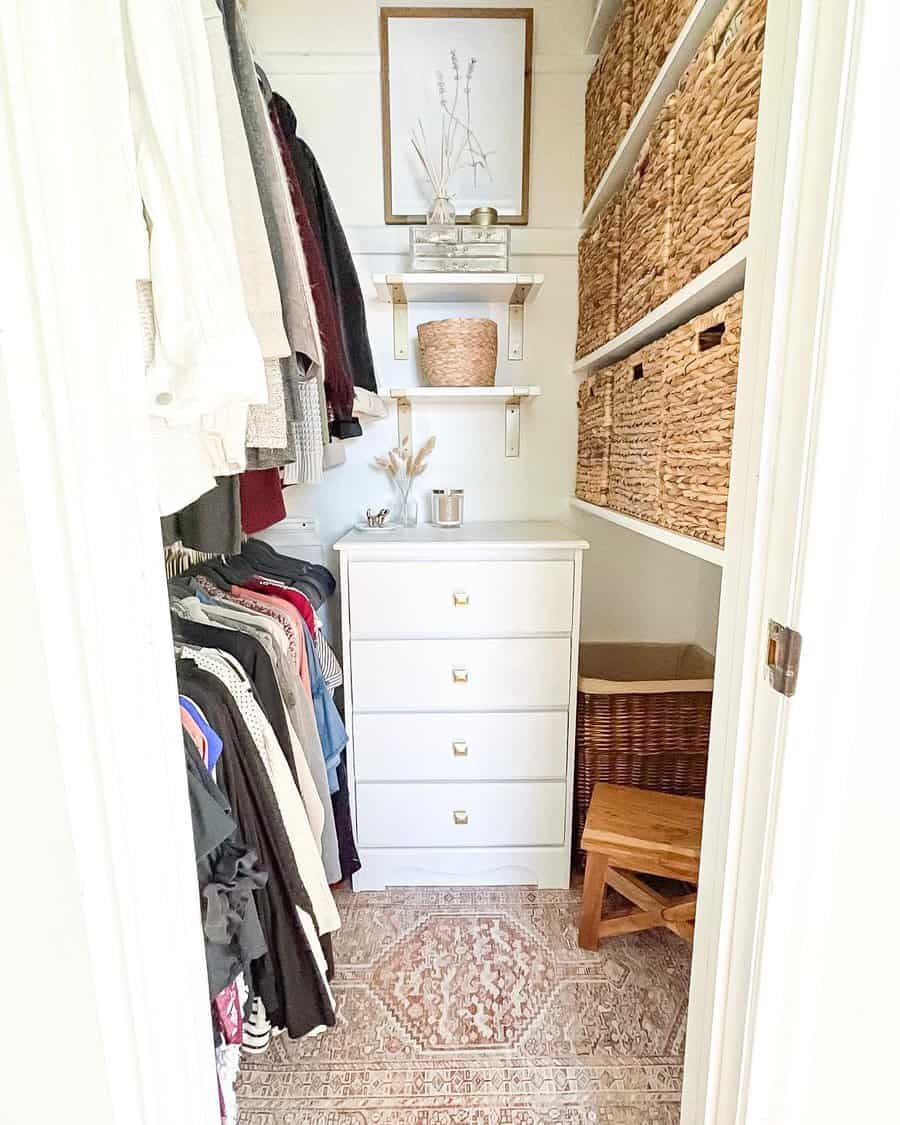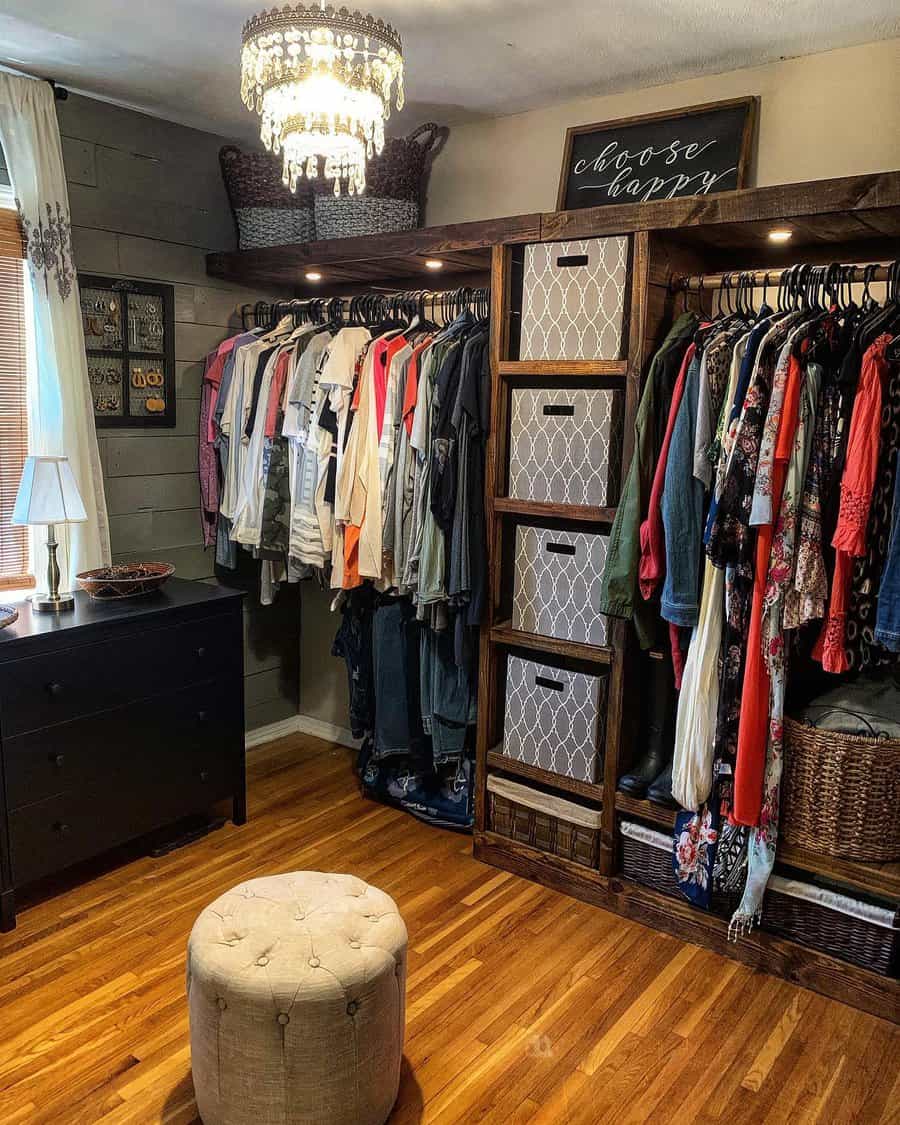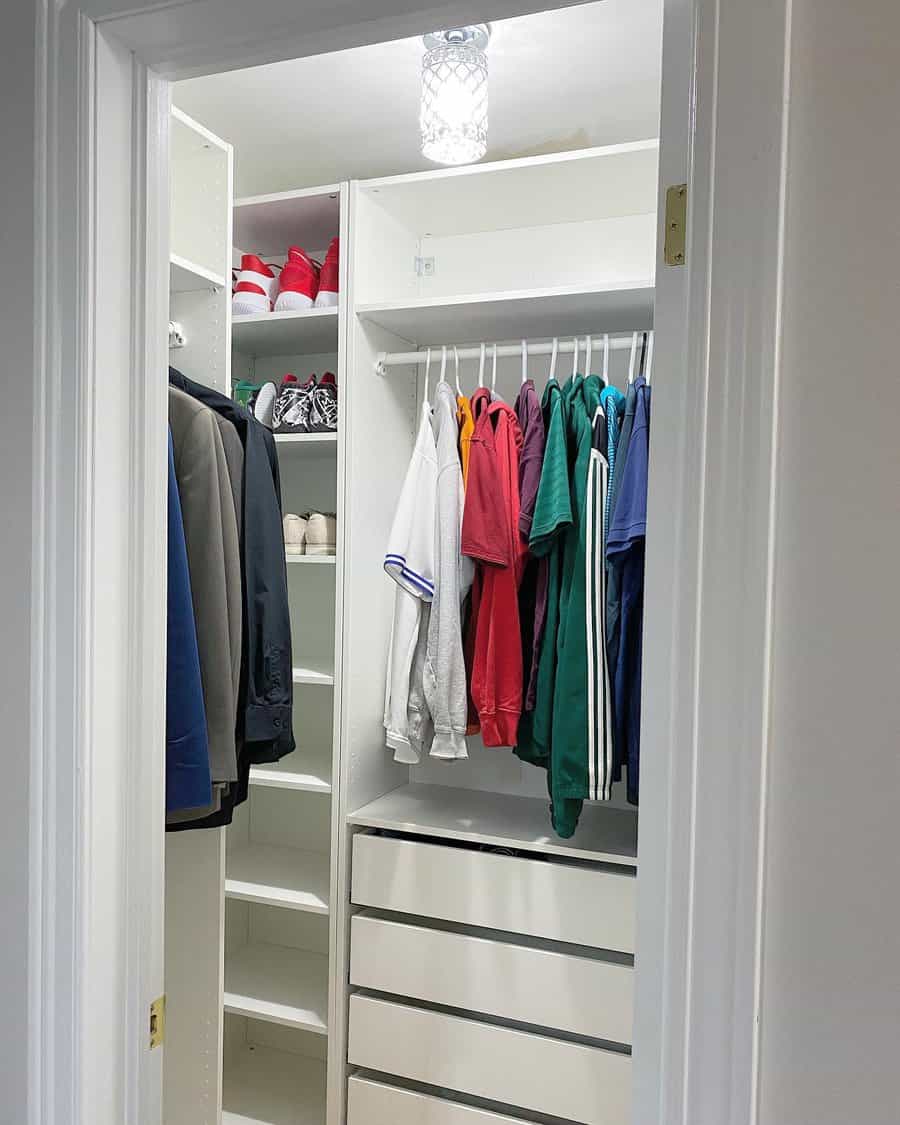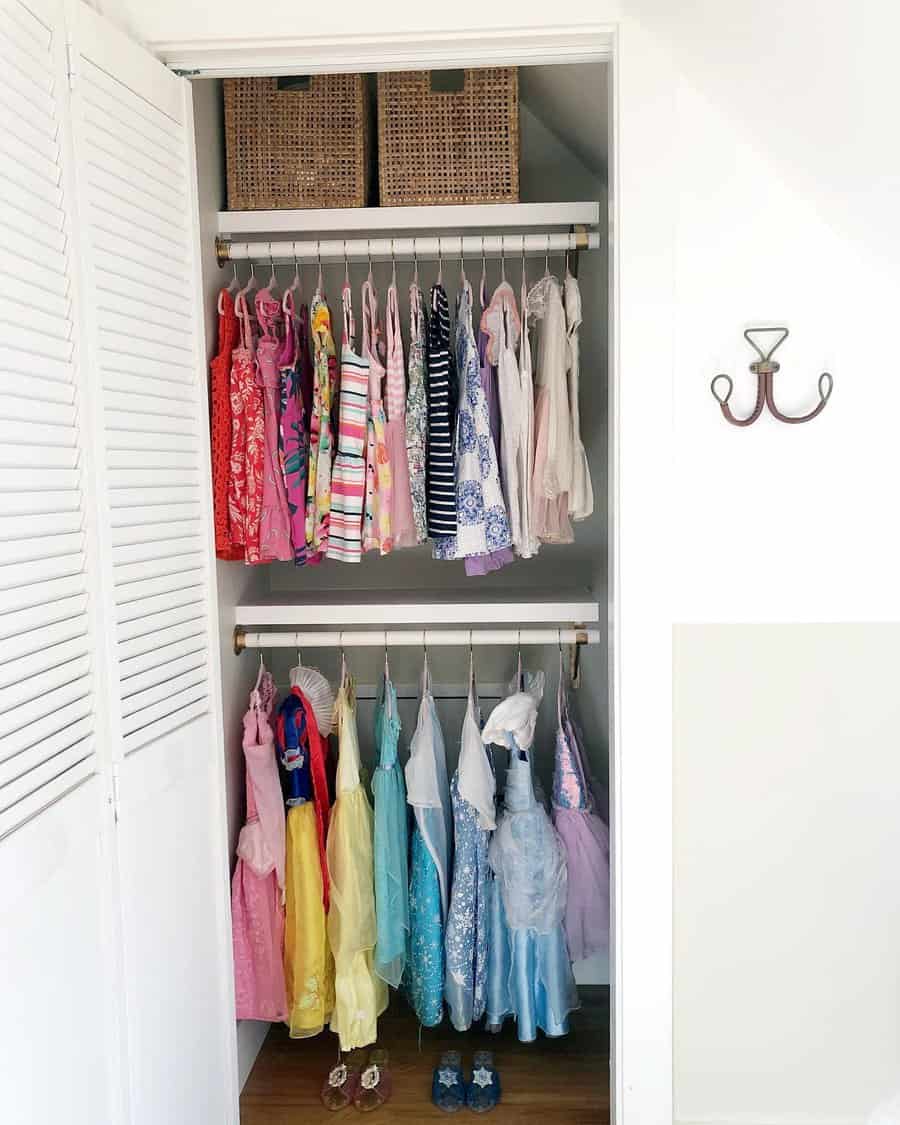 Use drawer dividers for swimsuits and underwear. Use the space in the back of your closet doors to hang, belts, scarves, hats, and sunglasses. You can use hooks or shelf strips, and remember that a hanging shoe bag can be used to store not only shoes…
3. Designs
You can design your closet to have hanging space and open shelving. Having multiple, adjustable shelves is a good call, but you may want to leave some space for drawers, that can be easily organized with dividers.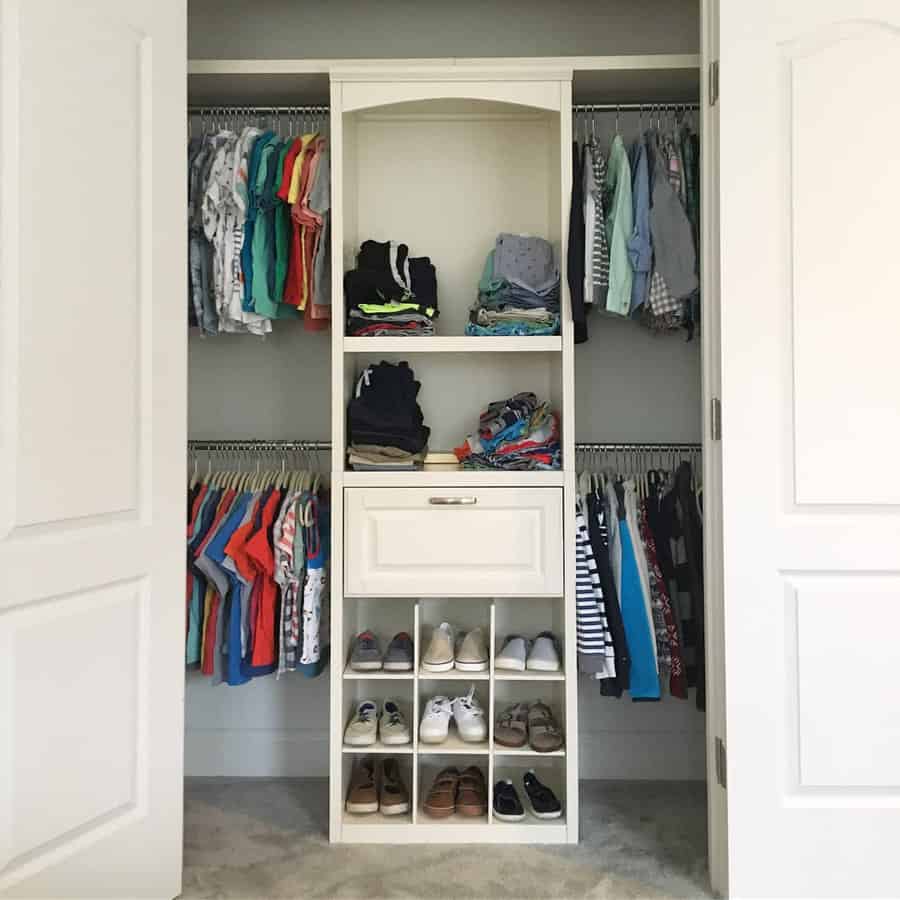 4. Drawer
Drawer dividers are the best solution, no matter the size of your drawer. Plastic dividers are cheap, foldable, and washable, so it's a pretty practical and affordable solution.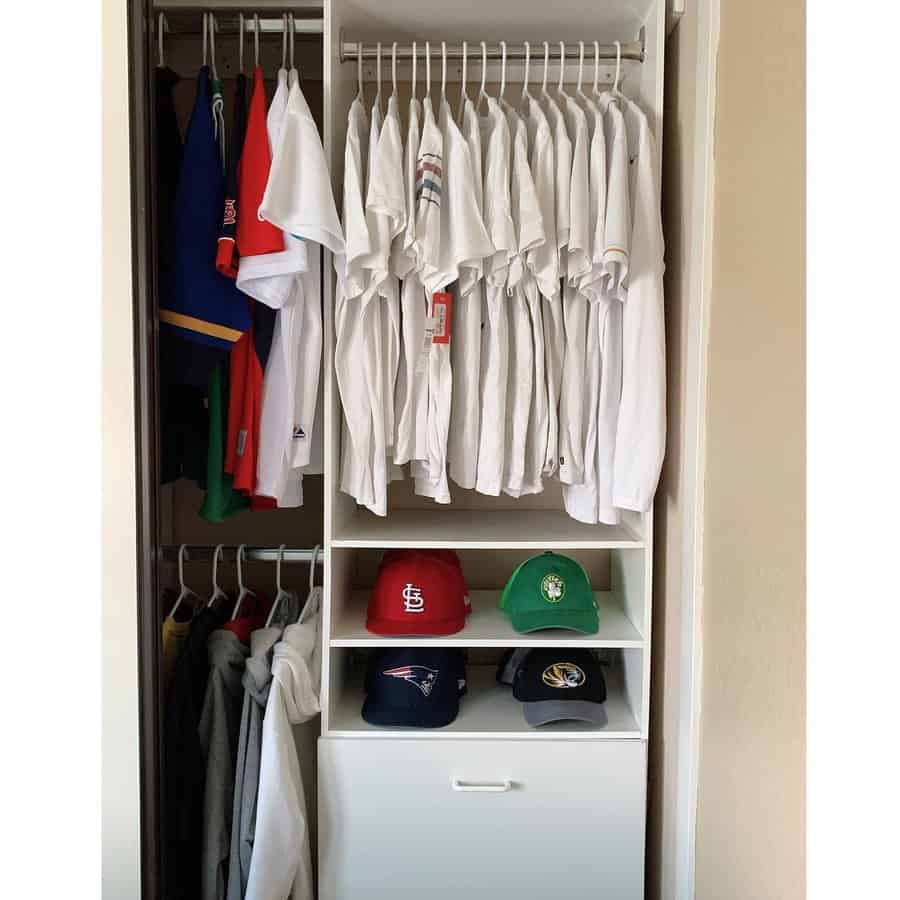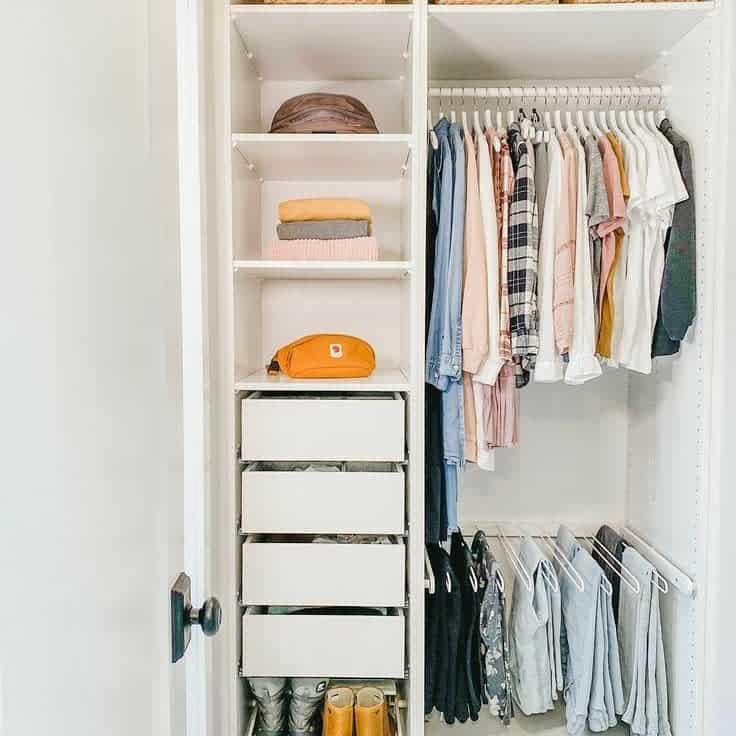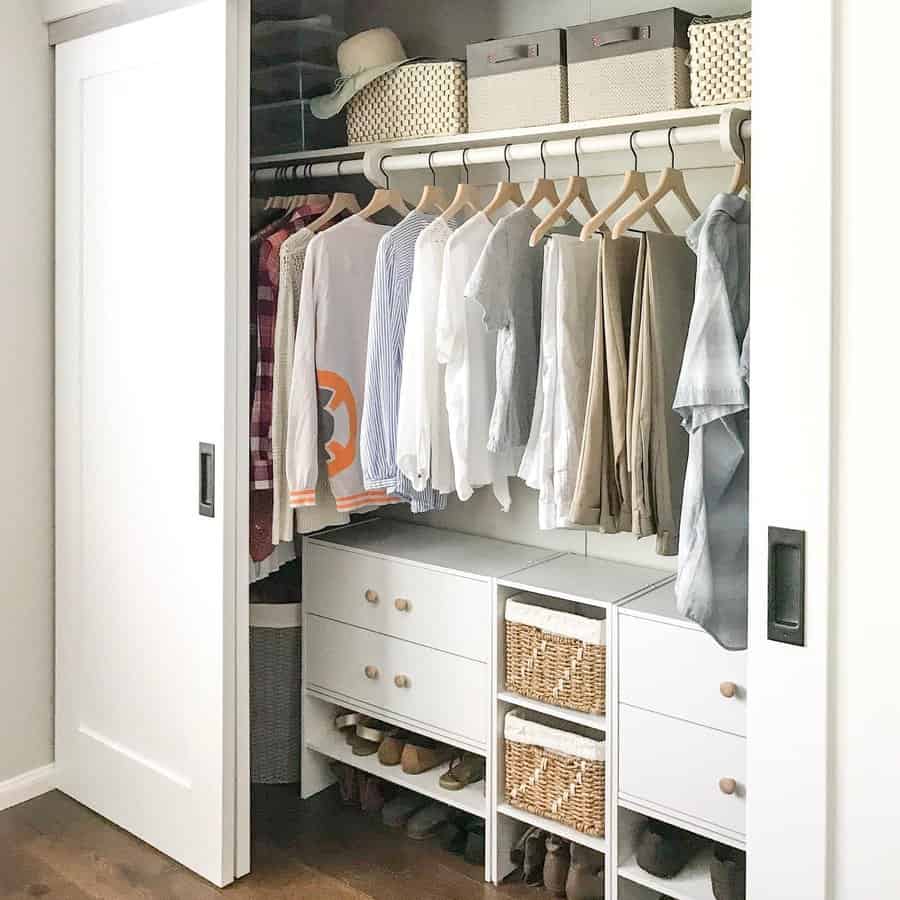 If you don't have enough drawers, use vertical hanging badges with drawers. They come in different sizes and colors and are super practical. Alternatively, you can use ground space with stackable drawers, which can be organized vertically and don't take up much space.
5. Hack
When it comes to organization racks, creativity is what counts. First of all, think of all the items you need to store: what can be hung, what needs shelving or drawers. You will easily find plenty of storage options in the market, that meet your needs.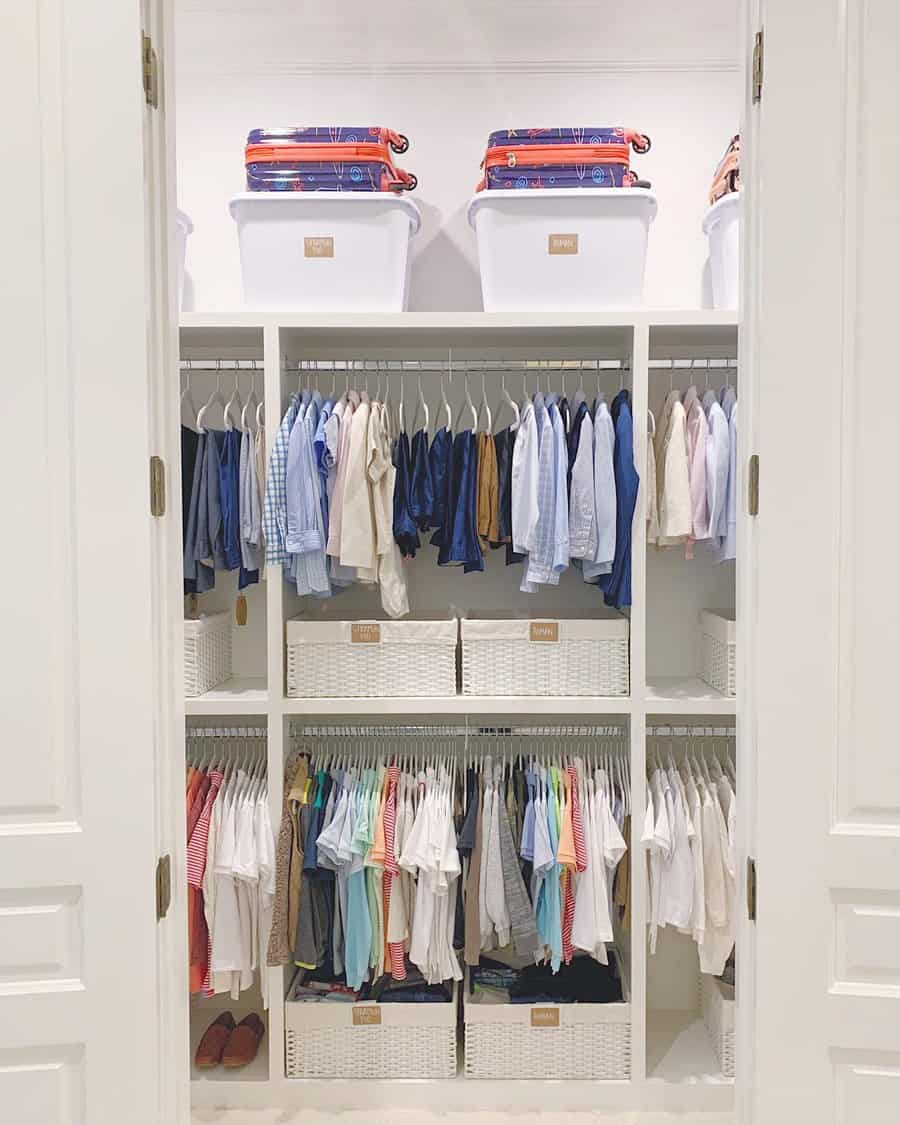 One simple hack is to use extendable pot lit holders (those that look like an accordion), to store your clutches vertically on a shelf. Think of double rods for children's closets, for instance, to double your storage space.
6. Kids
When your little ones start to grow up and you don't need a nursery closet anymore, it's time for a closet makeover, for them to have their own space and start choosing their looks!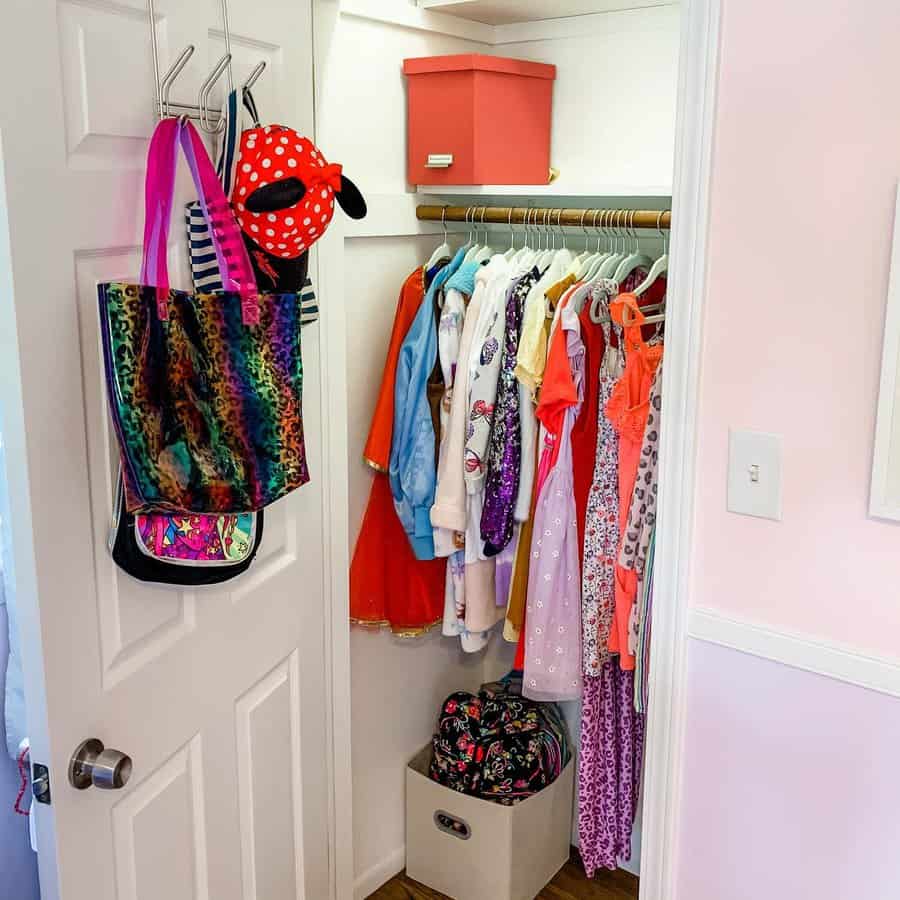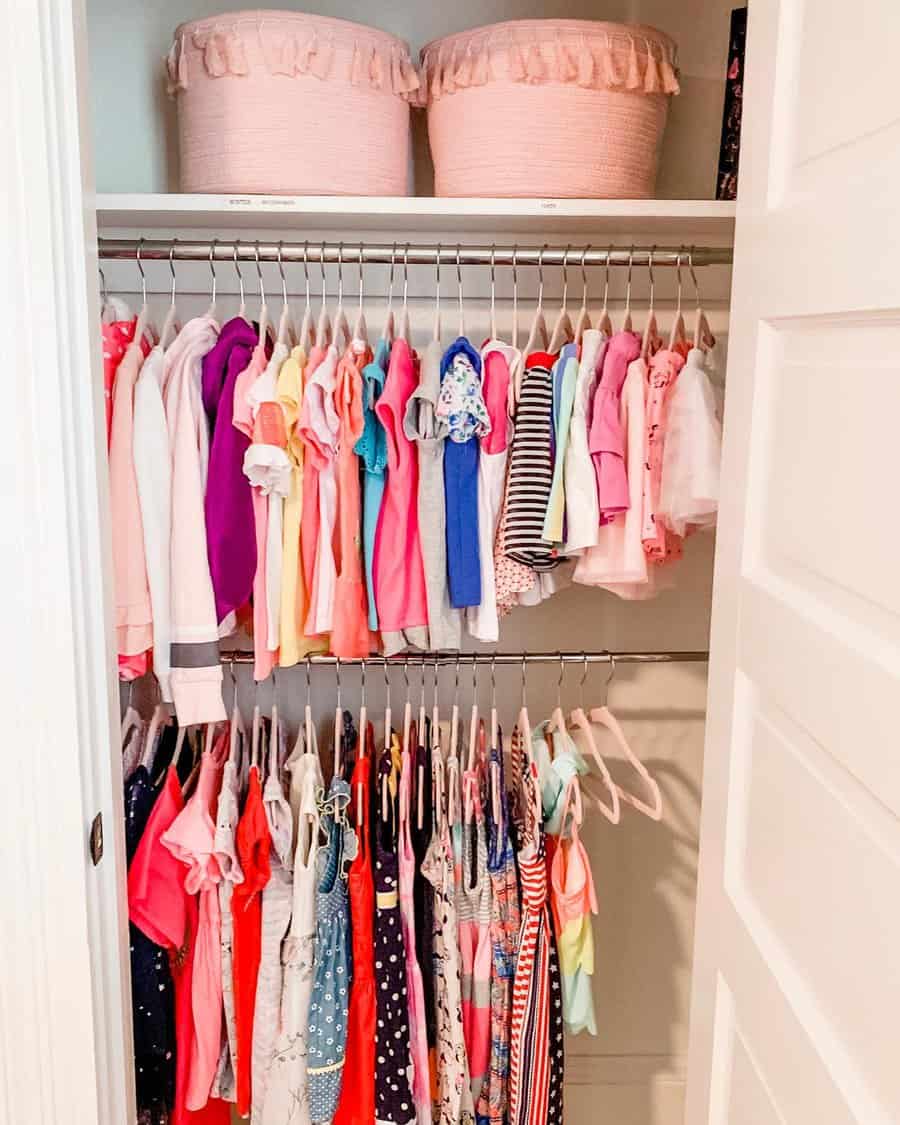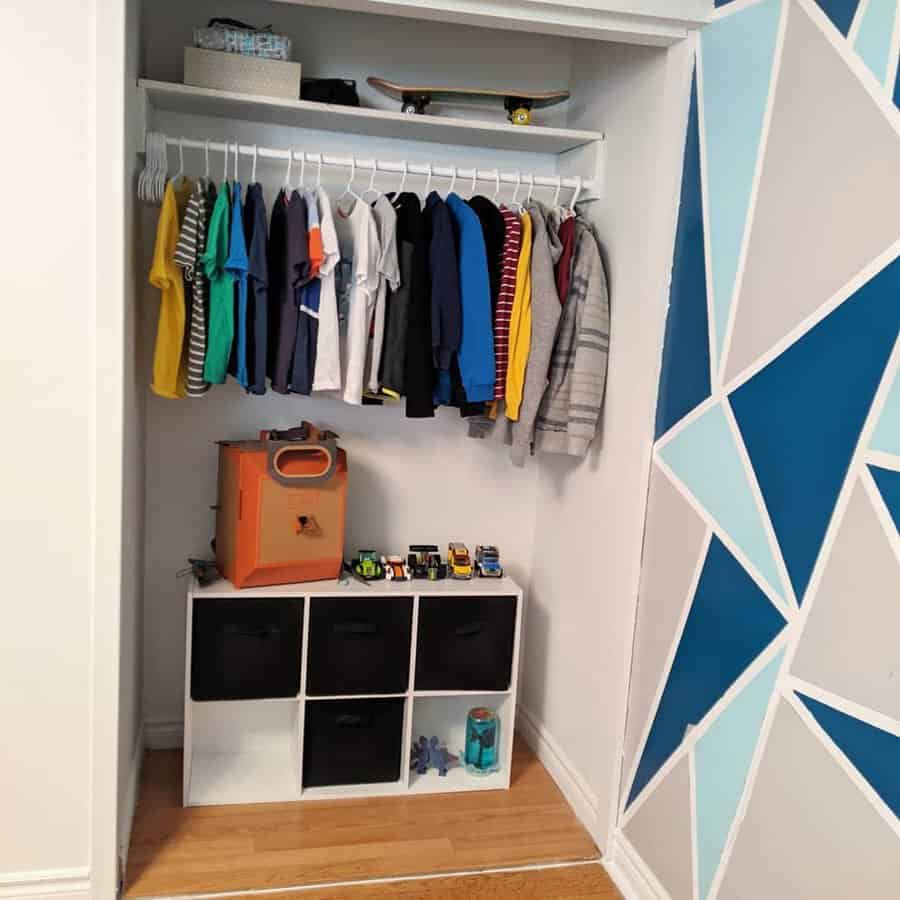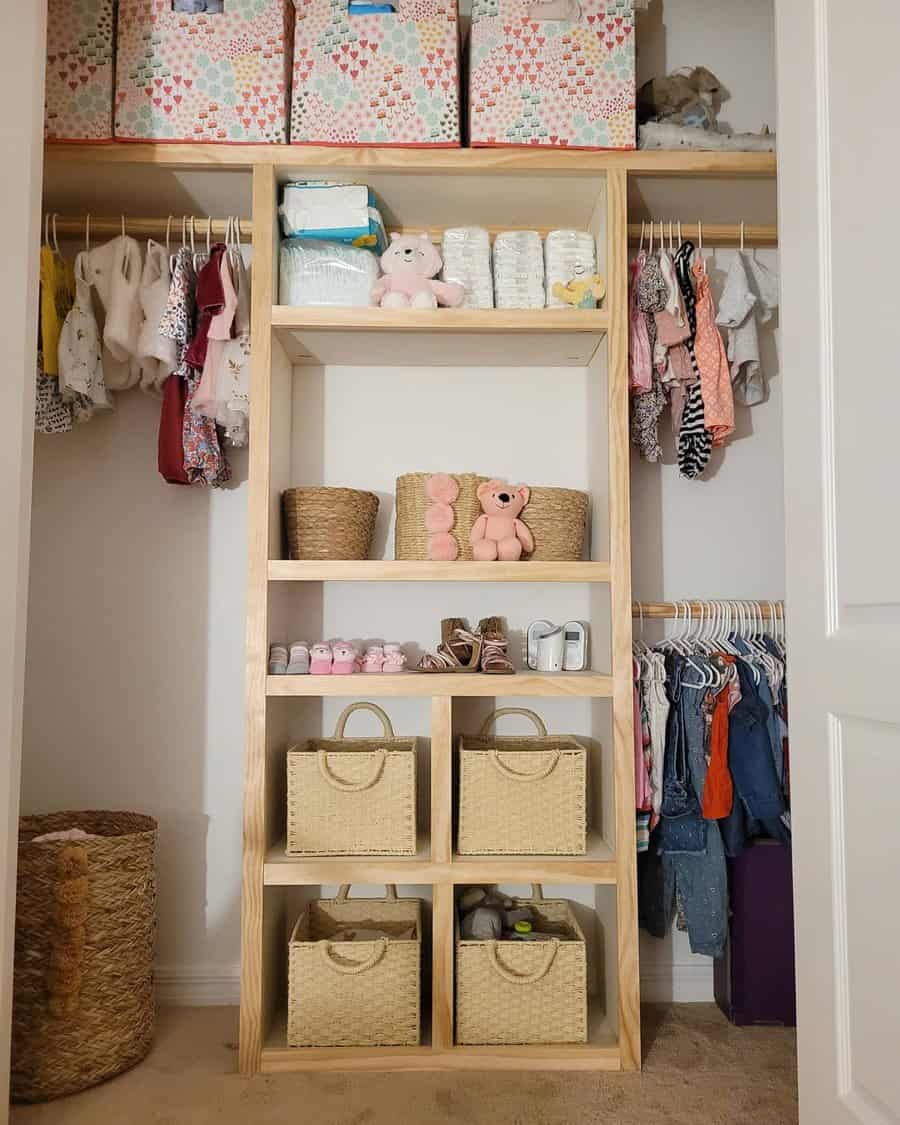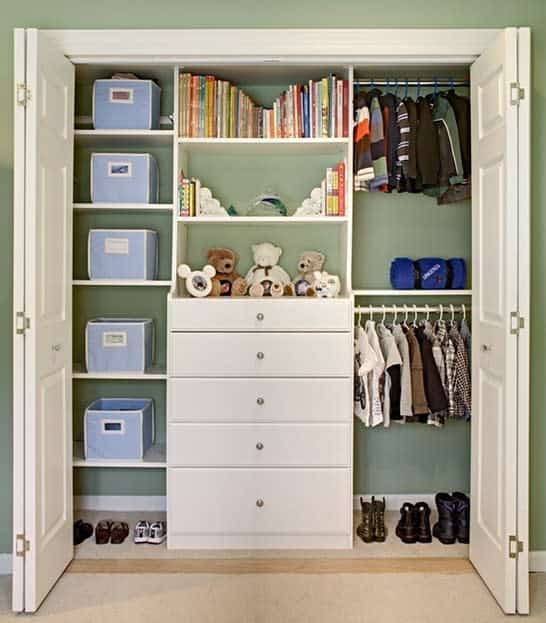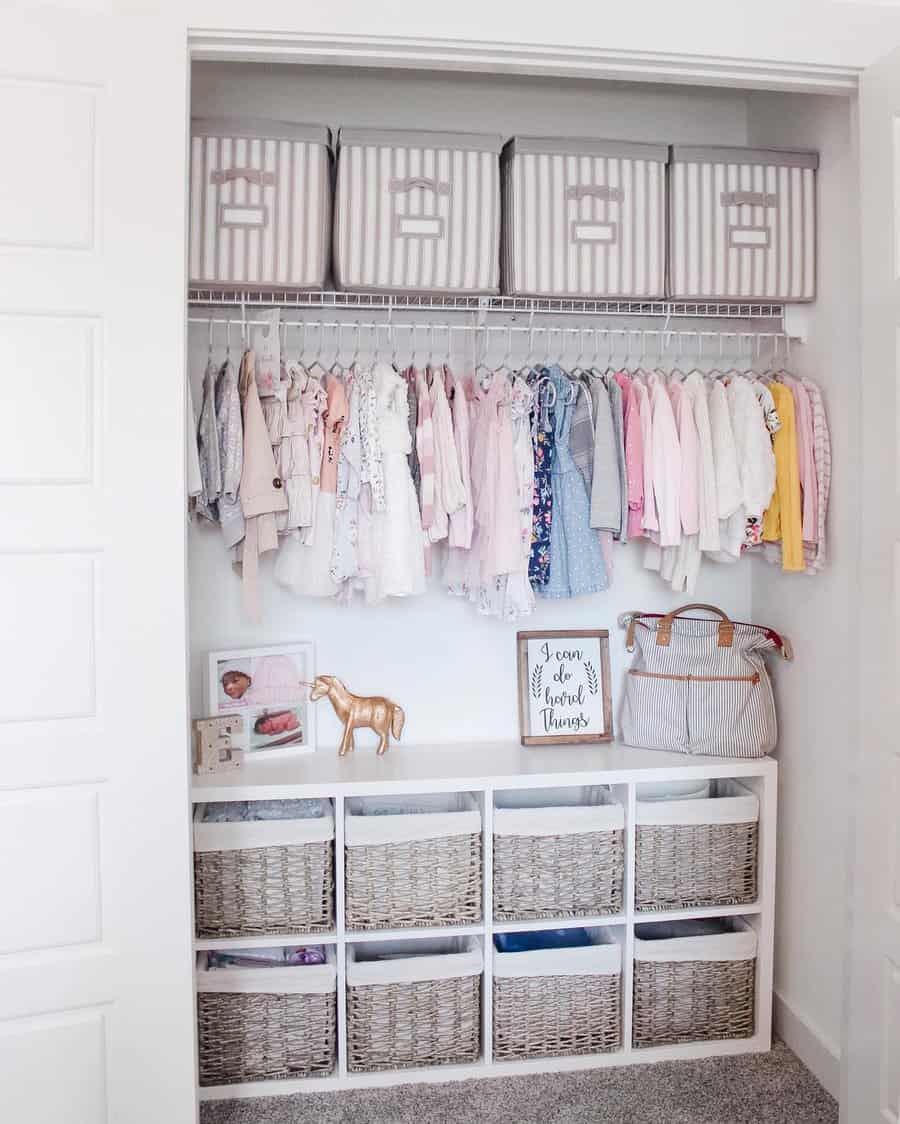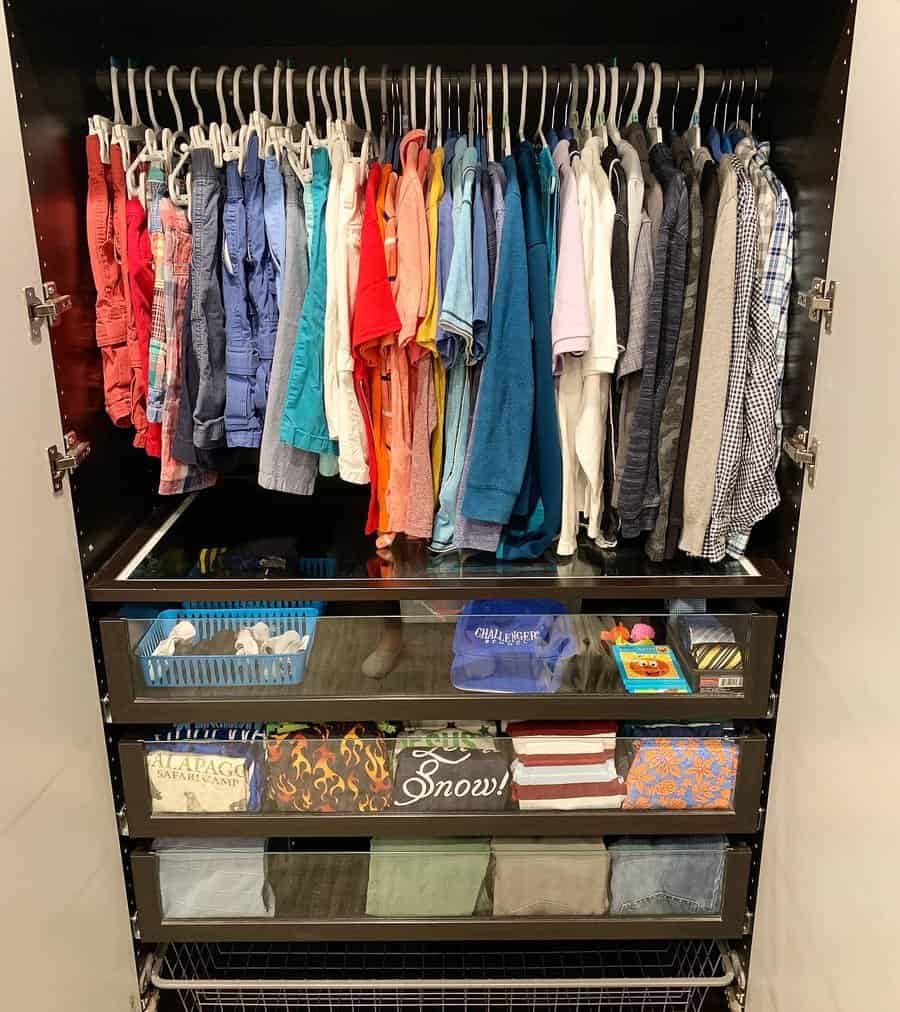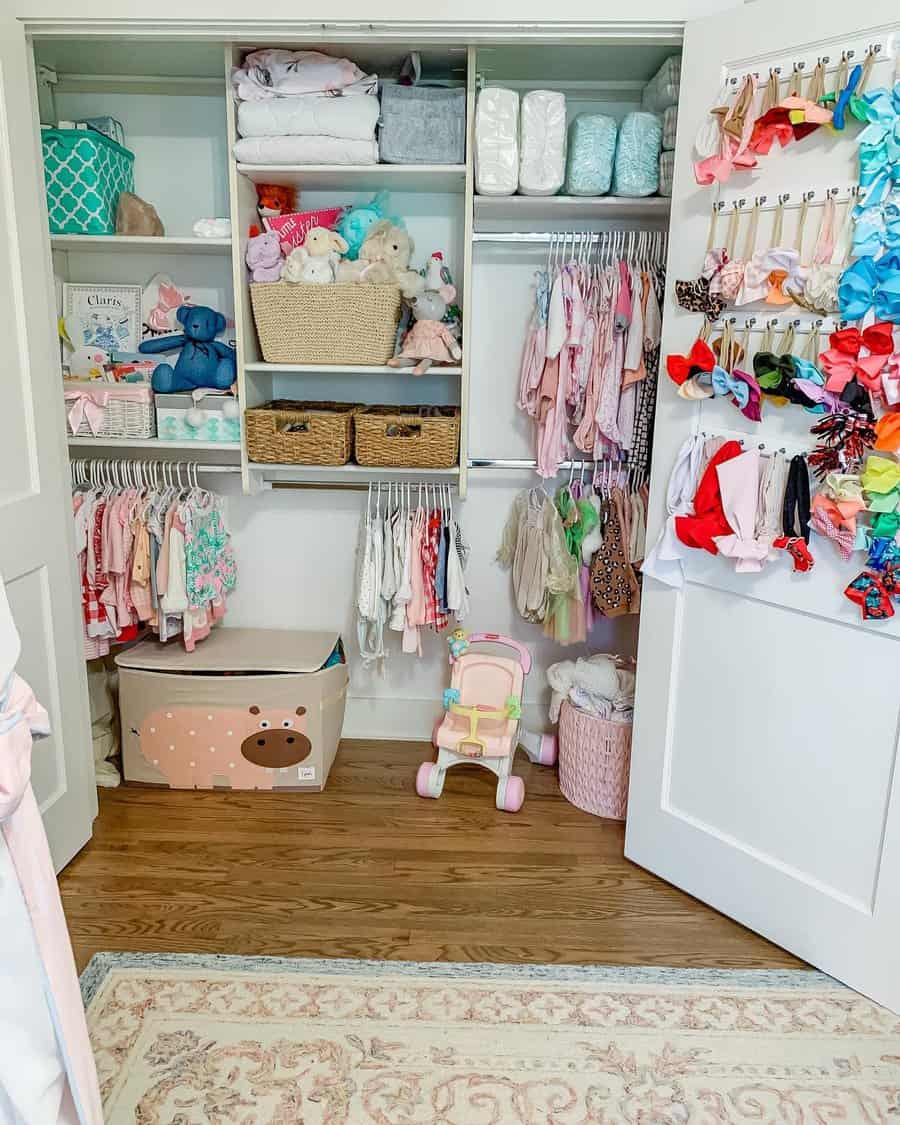 You must make sure your children's clothes are accessible and easy to pick up, otherwise they will make a huge mess every time they look for an item. In case you opt for open shelves, use dividers that make it easier for them to get just one item at a time.
Use the back of their closet doors to hang hooks for their backpacks, hats, and belts. Make sure you save space for some bins to store their toys.
Use smaller, transparent bins to store 2 or 4 pairs of shoe maximum in each bin, otherwise there will be a mess when they look for shoes in big bins full of them!
7. Shelves
Modular shelving is a great solution since you can adjust the height for your specific needs.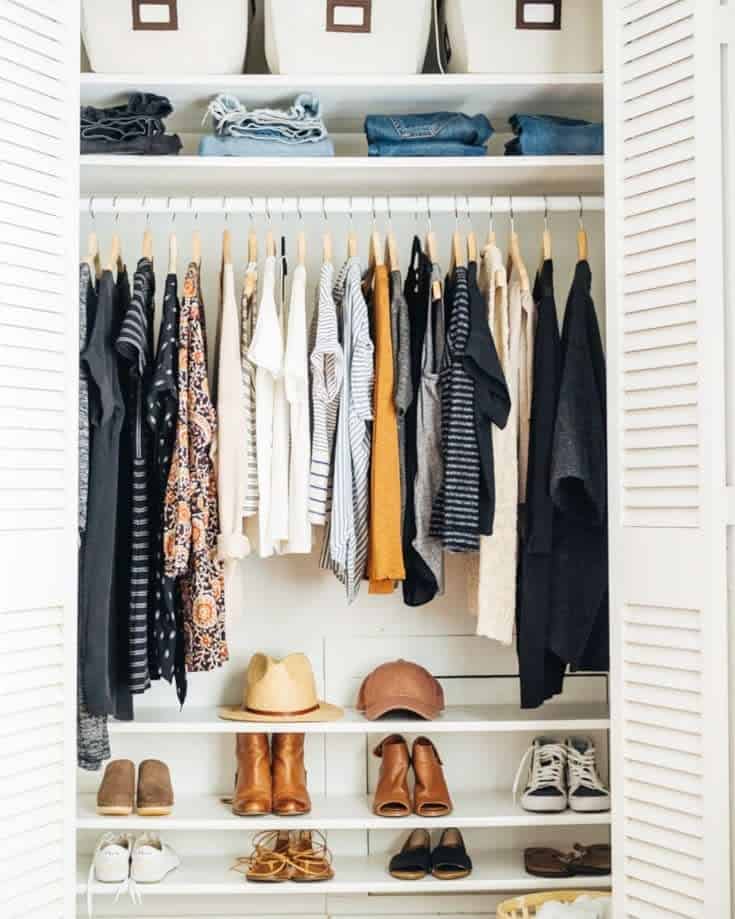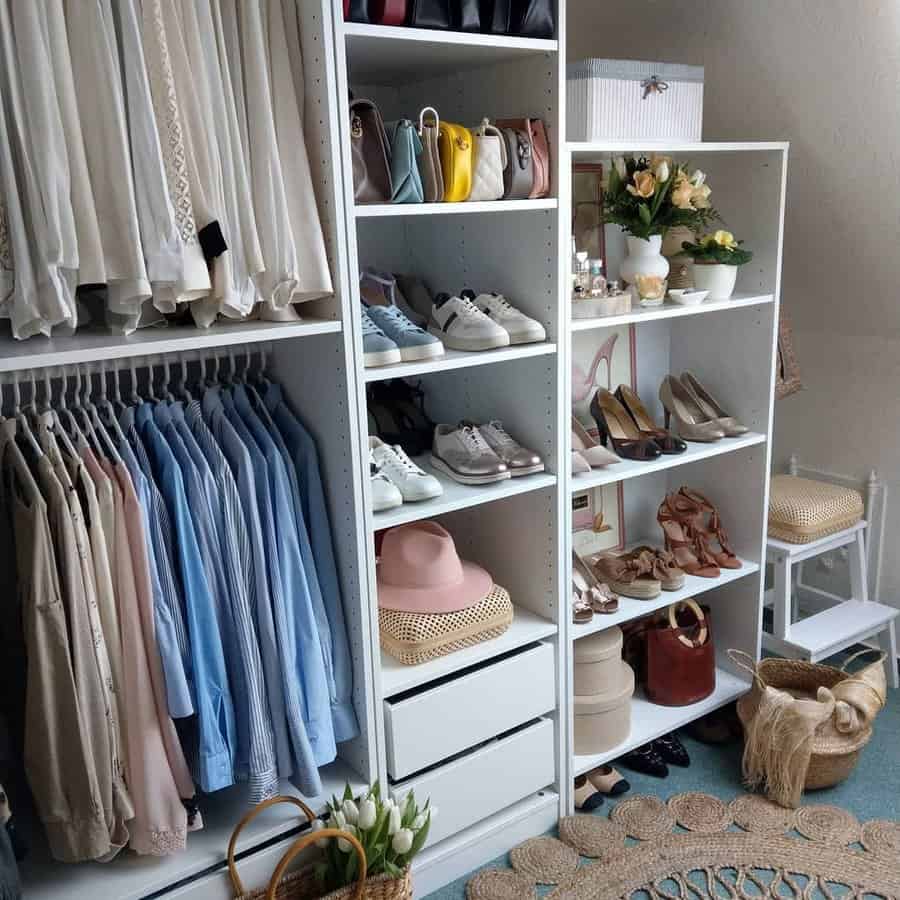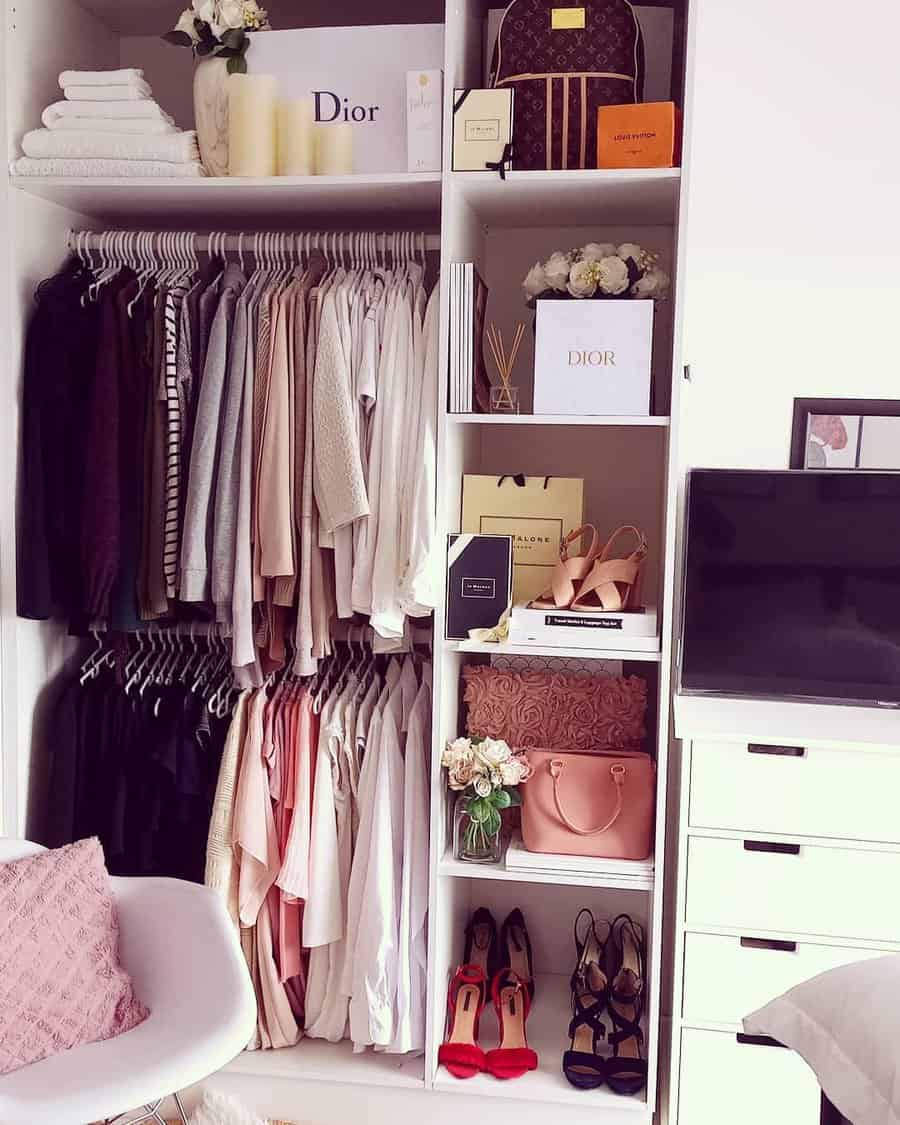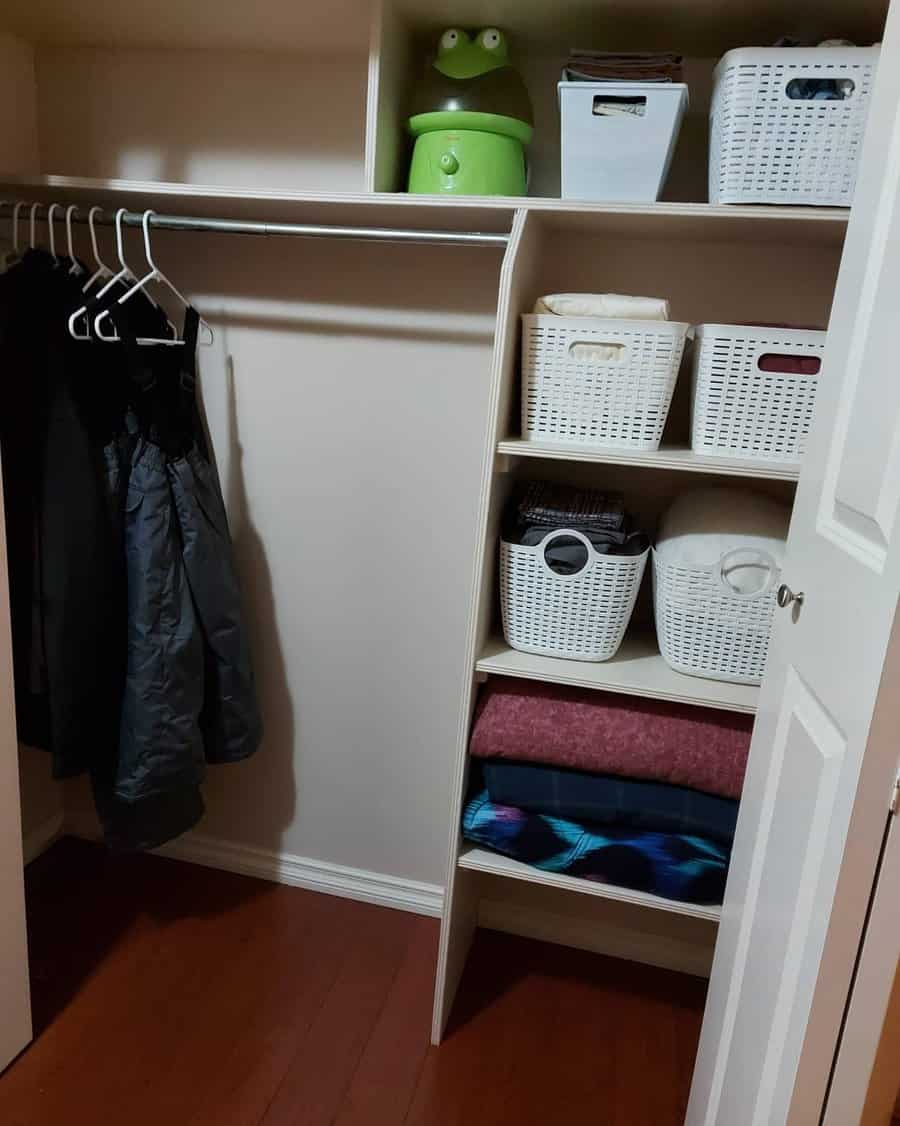 Self-dividers are a must-have, so you can keep your stuff tidy and well organized, even in the smallest spaces. Declutter your closet by using sets of labeled boxes of the same color and textures, to give your closet uniformity and a harmonic feel.
8. Space Saver
When it comes to design options, focus on space and functionality above all. Choose space-saving hangers, some come with 6 slots to hang clothes vertically, or 12 slots to hang them horizontally.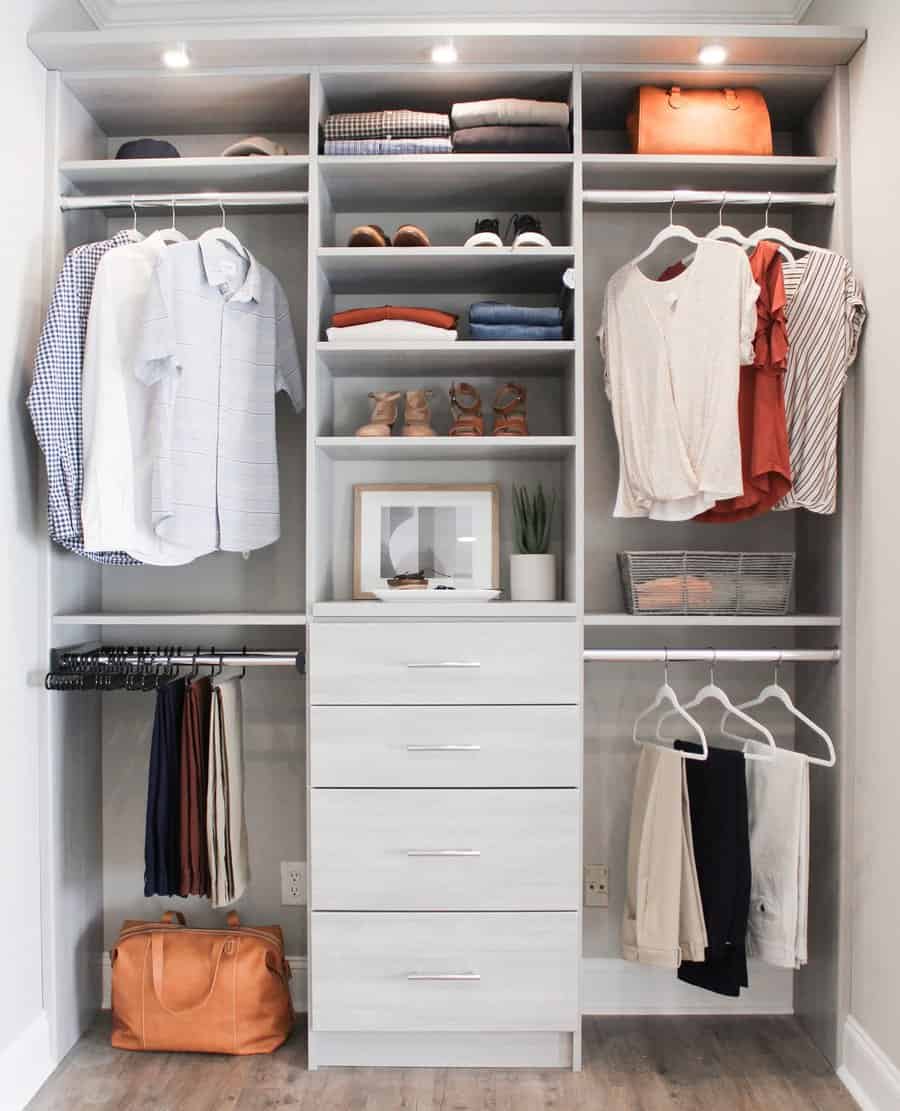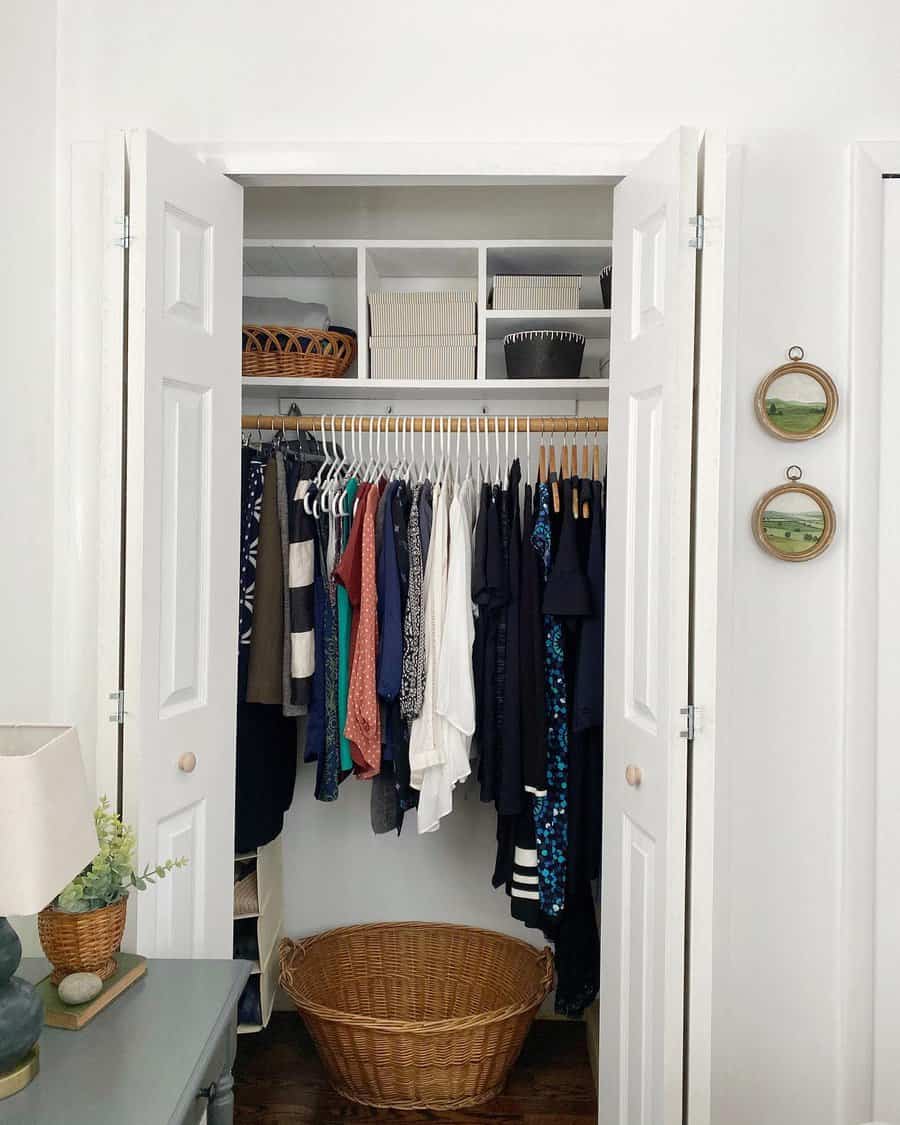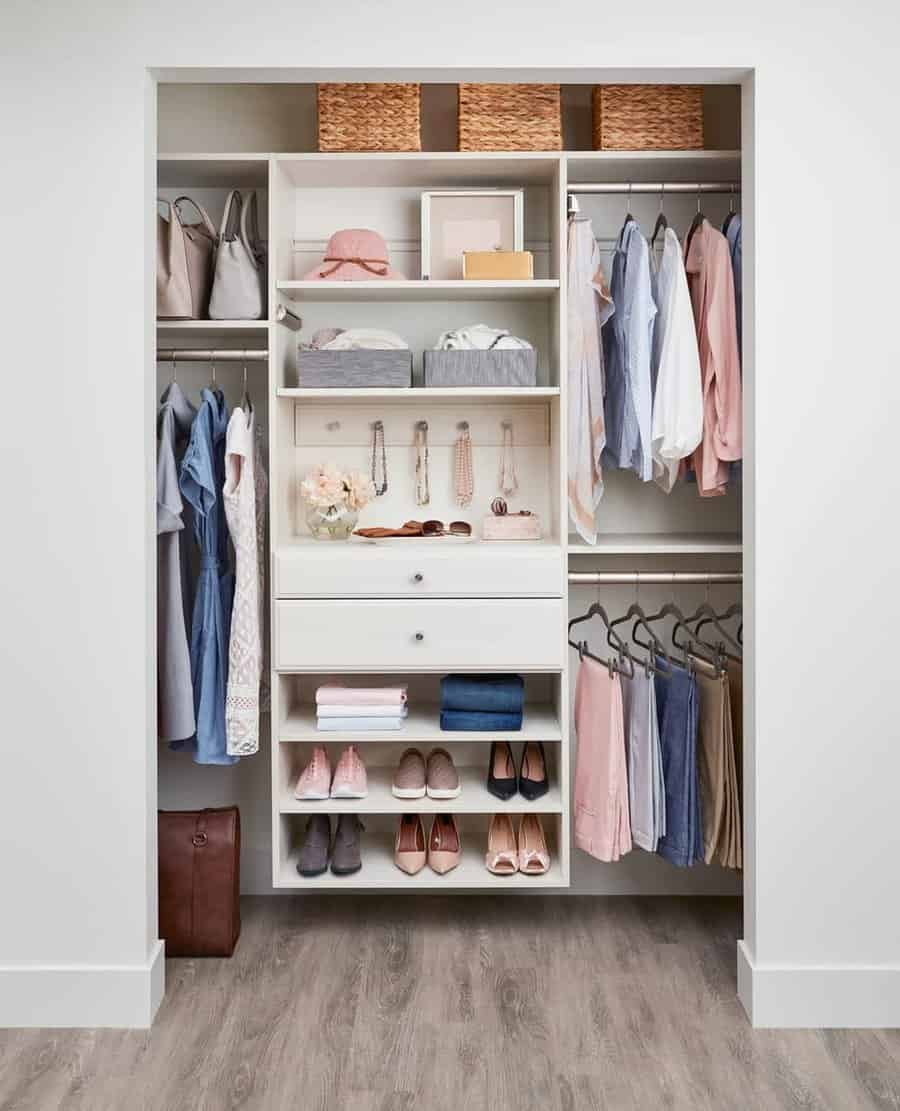 Keep your shoes in transparent acrylic boxes, so you can stack them vertically and you can easily spot them at a glance. The same goes for transparent drawers for sweaters, bags, scarves, you name it. Do not underestimate the space over the hanging rod, to add a shelf and store bins, bags, or off-season clothing.
9. Storage
If you want a tidy and organized space to live in, storage is the key! Everything should have its place and there should be a place for everything.
No matter the size of your home, it all comes to planning and organizing. Plan your closet space so you have room for hanging rods, shelves, and drawers. If yours is a simple closet with only hanging rods, you can double the hanging space by adding an extra rod. You can either add a wall-to-wall tension rod or hag the additional rod to the above one.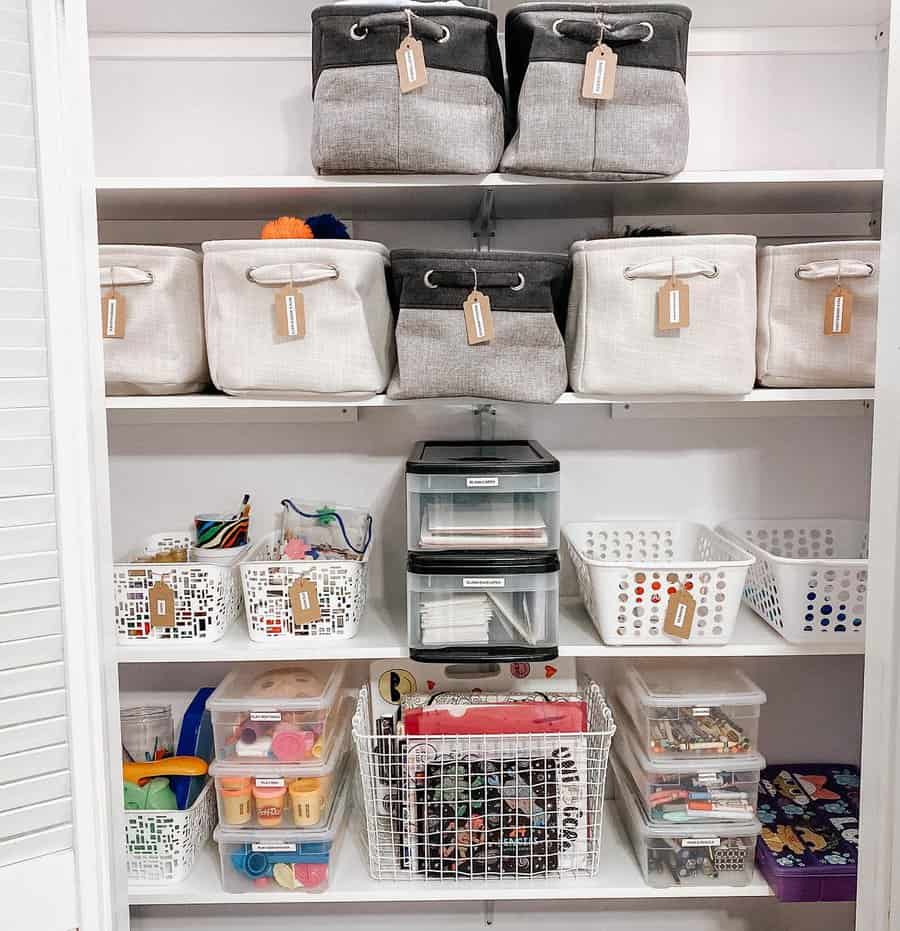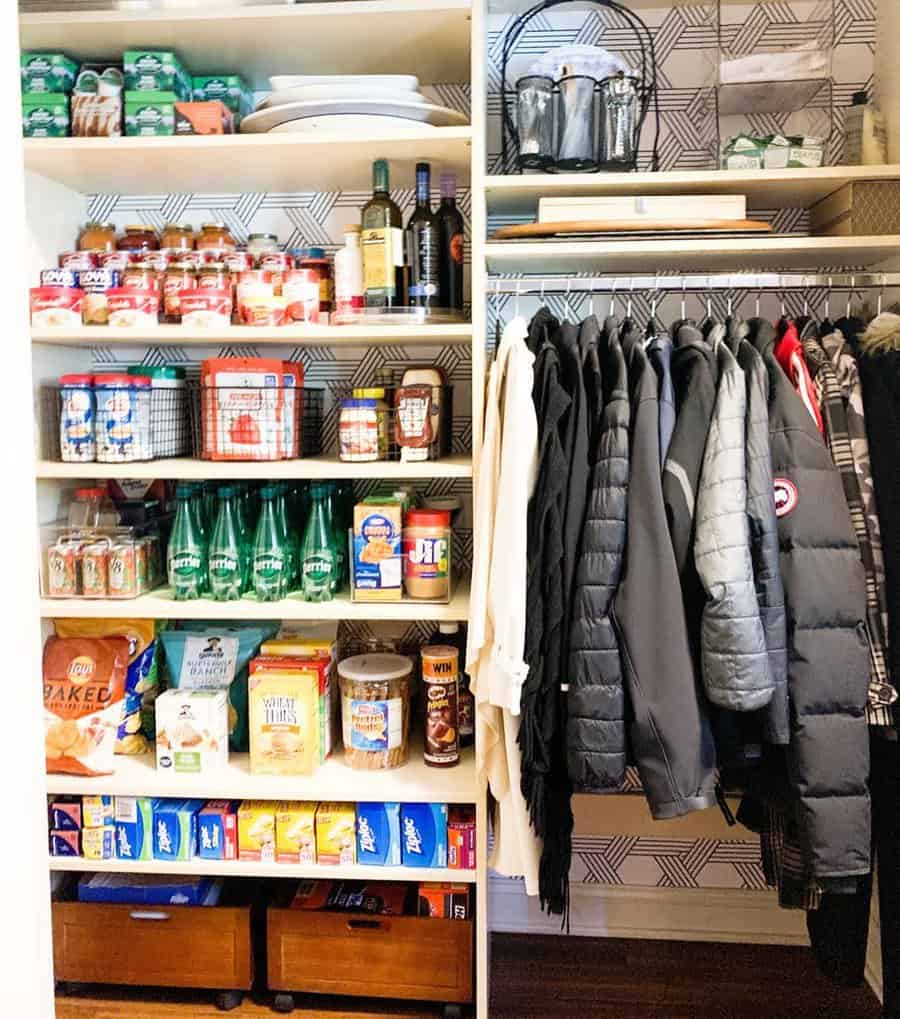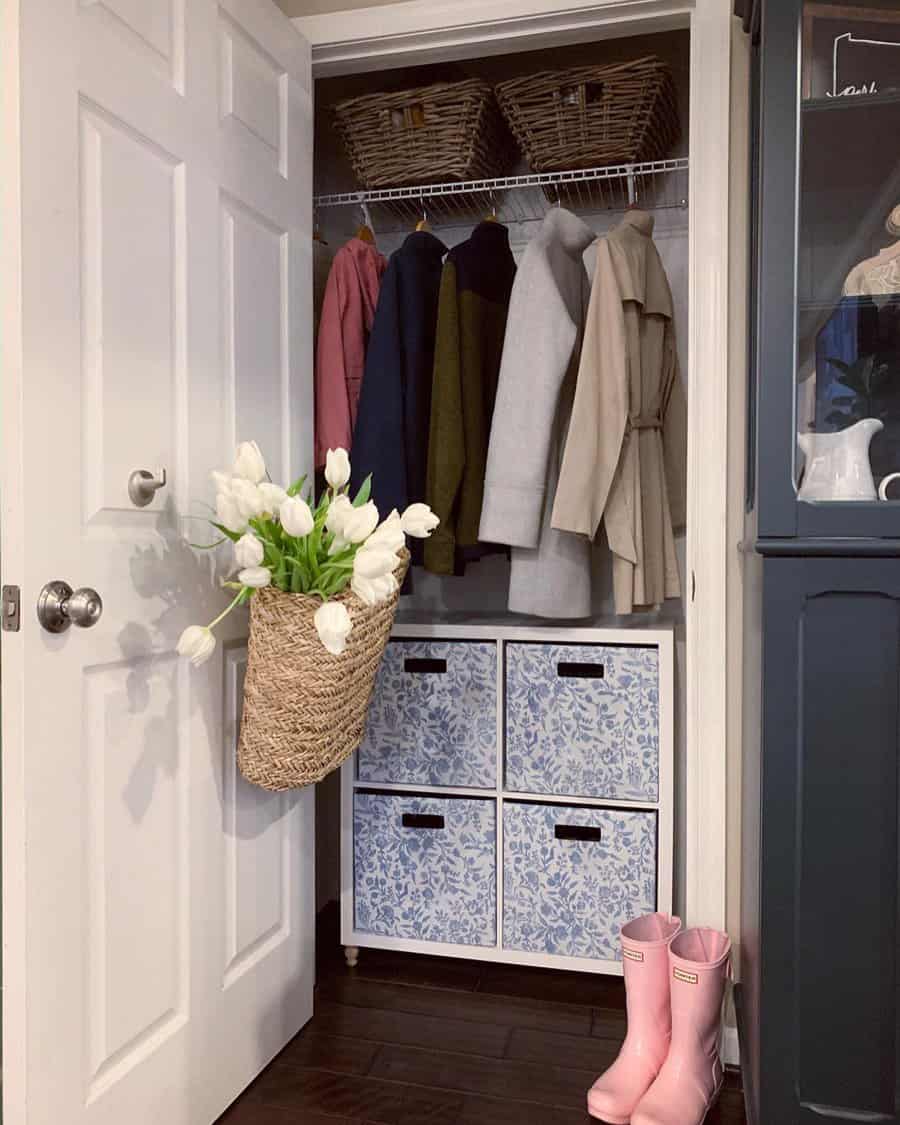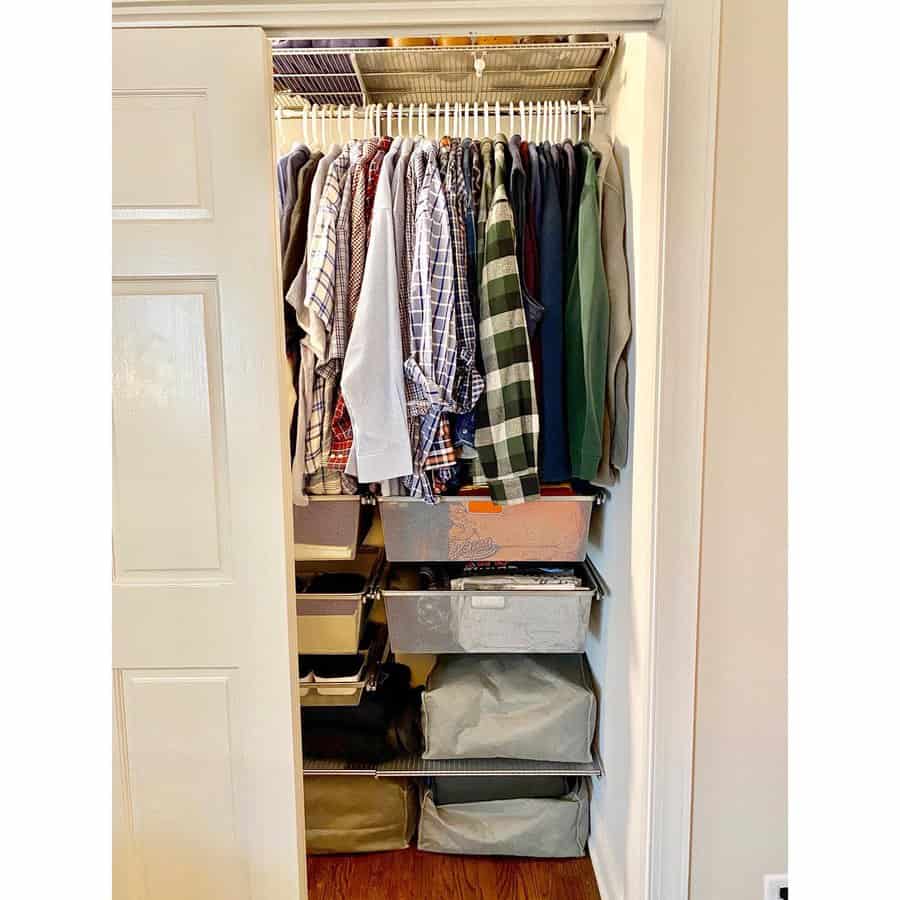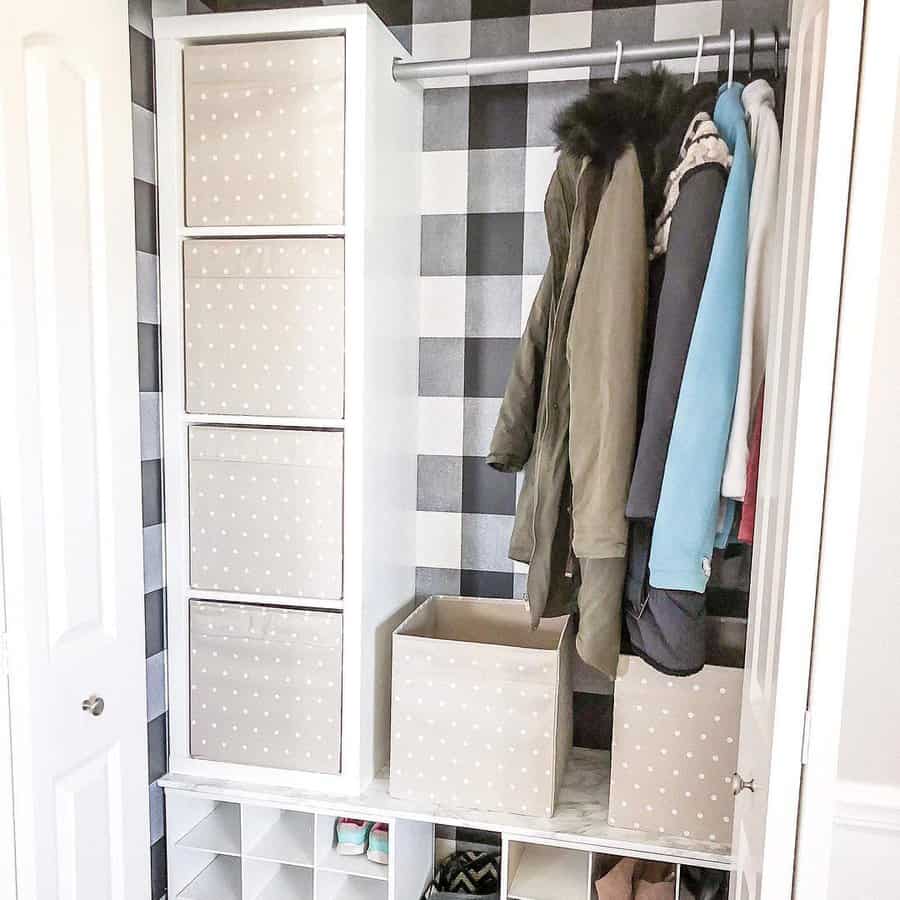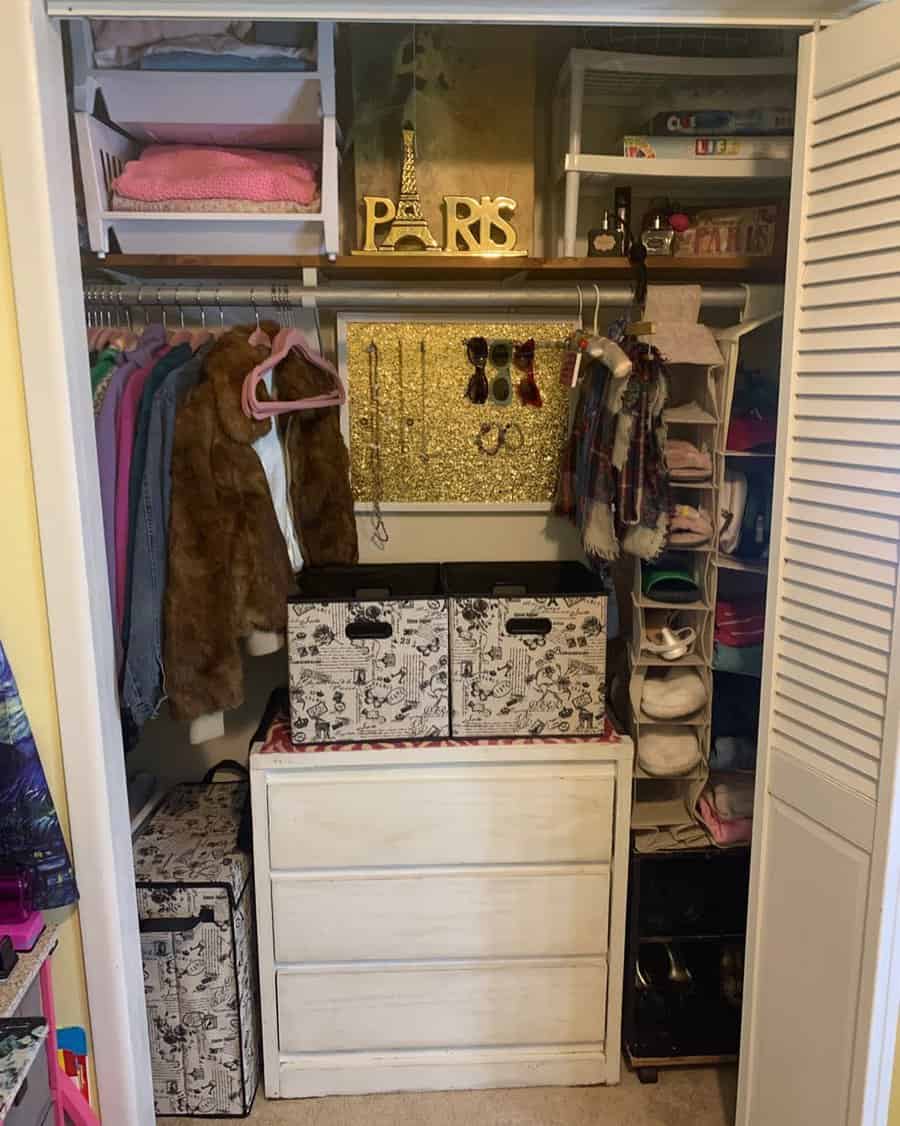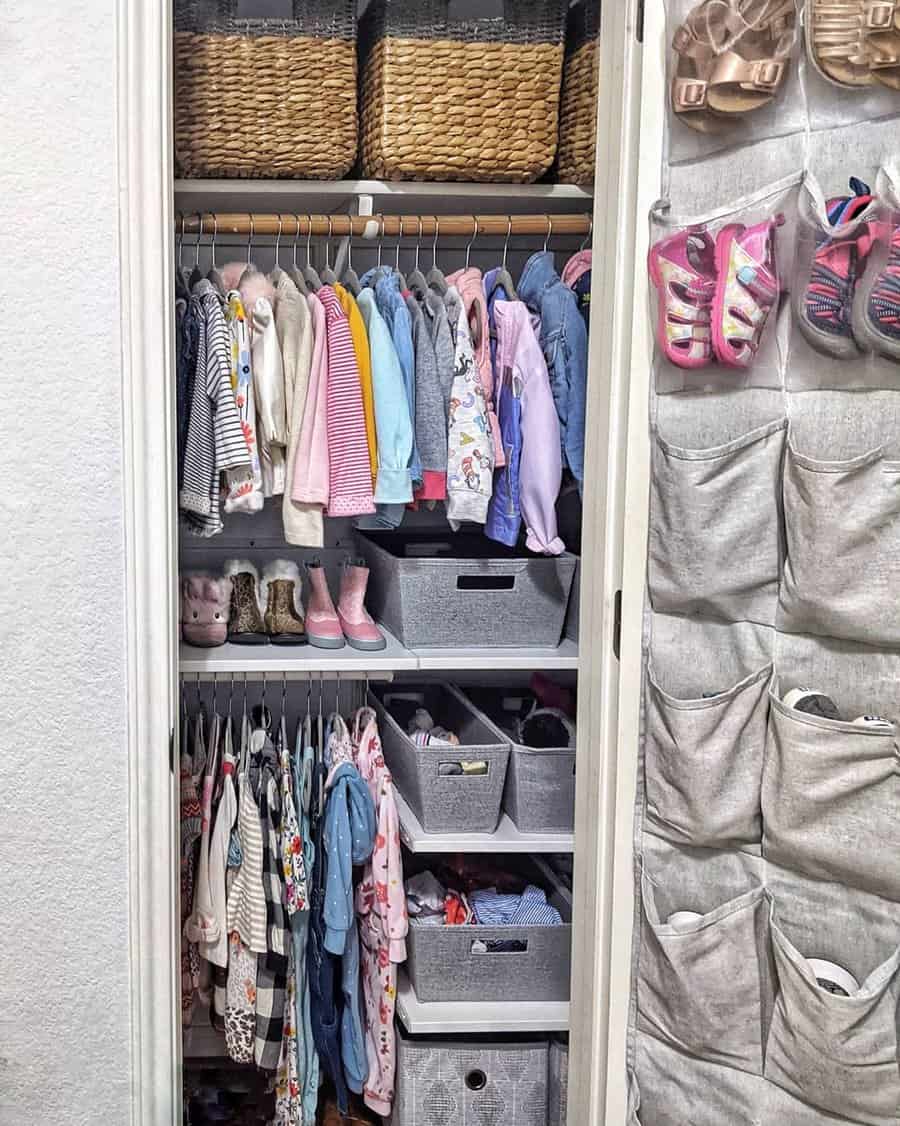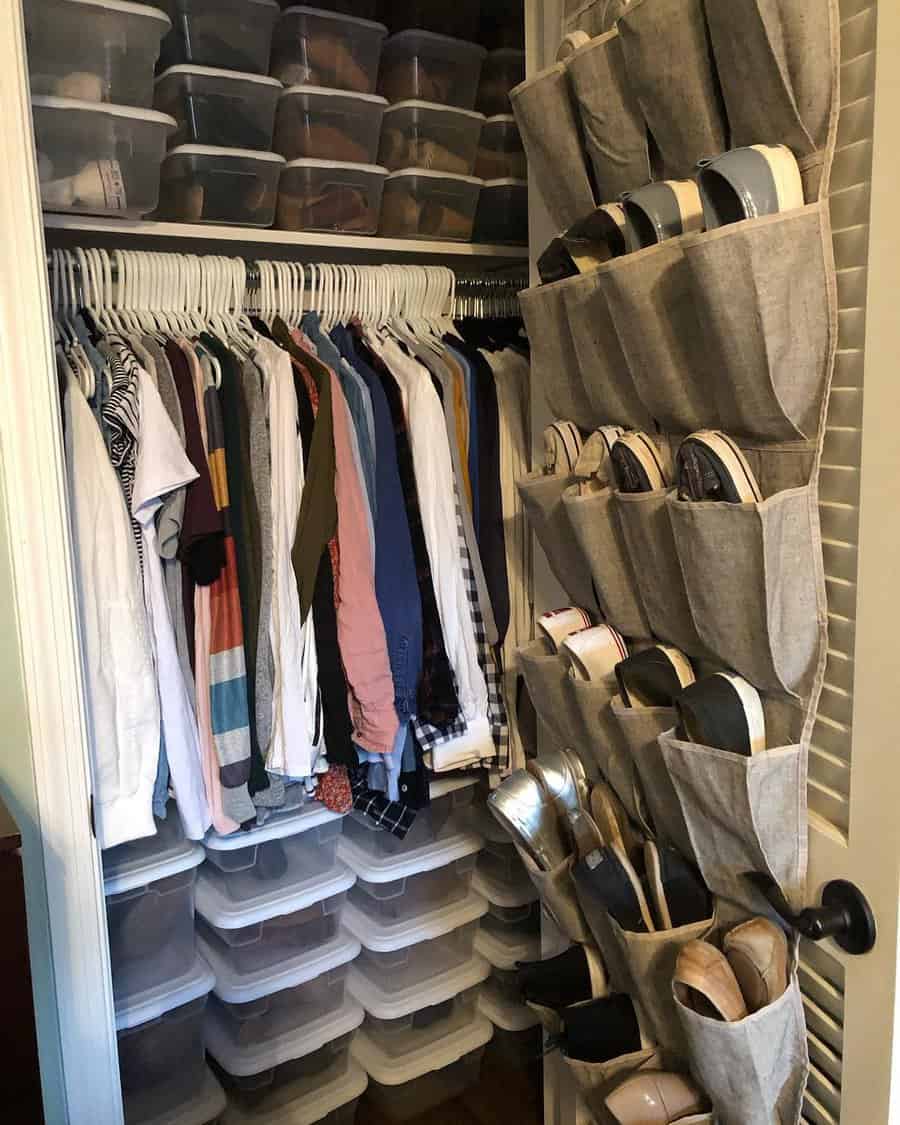 You can add transparent acrylic stackable drawers where shelving space is not enough. Wire mesh storage pull-out drawers or baskets are another excellent idea!
Wall-mounted sunglass organizers are also practical and help you save precious space in your drawers! To save floor space, add adjustable shoe racks so that you can also use the space under the rack.
In small closets, even the tiniest space can be used! Corner laundry hampers can be a good solution to store linens, in case you don't have a linen closet.
10. Walk-in
Walk-in closets can soon become cluttered if you do not plan to take maximum advantage of the space. Use same size hangers and sets of bins and baskets in the same color and material.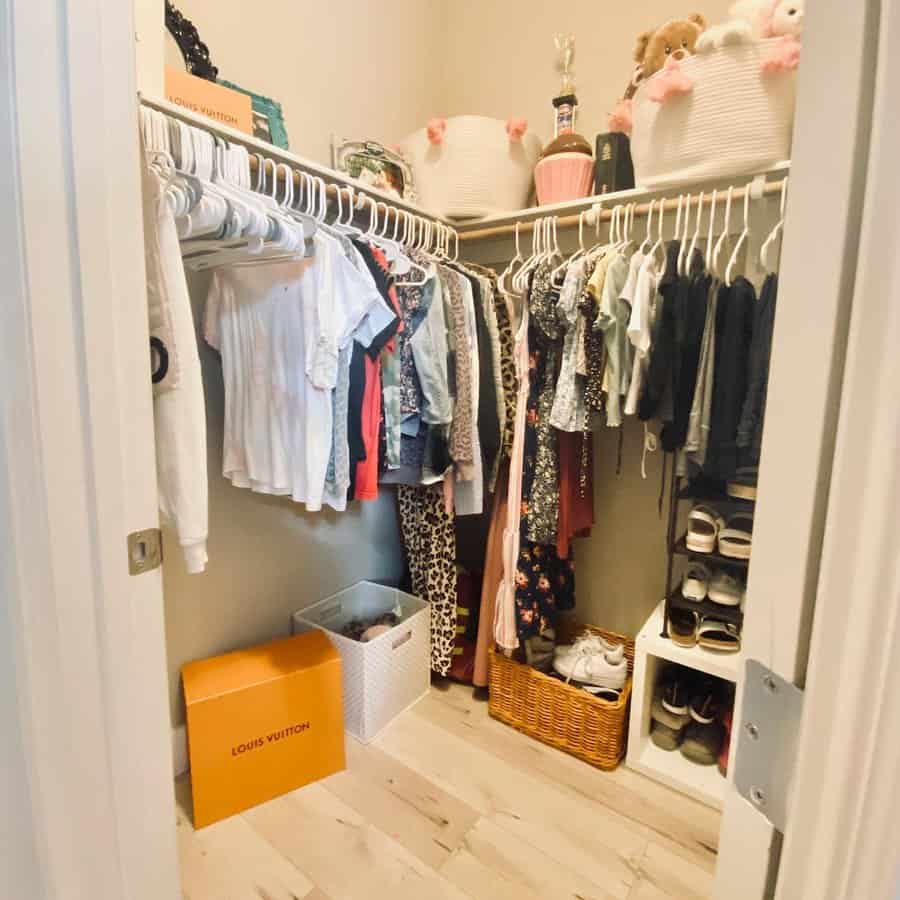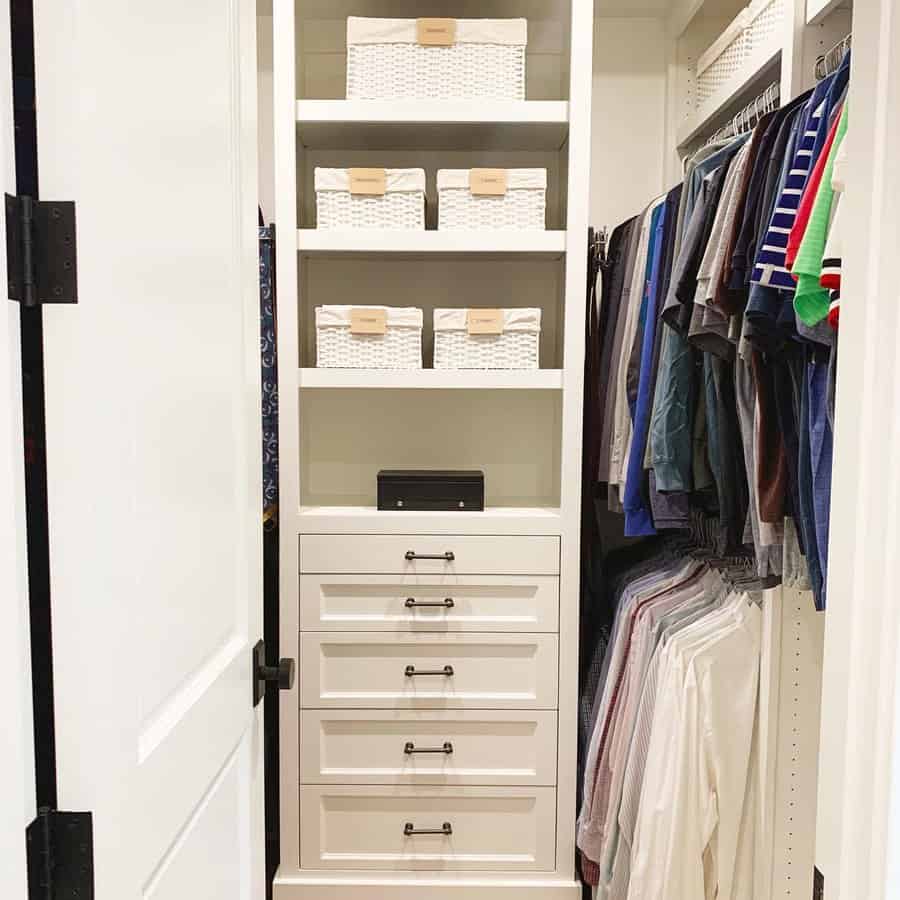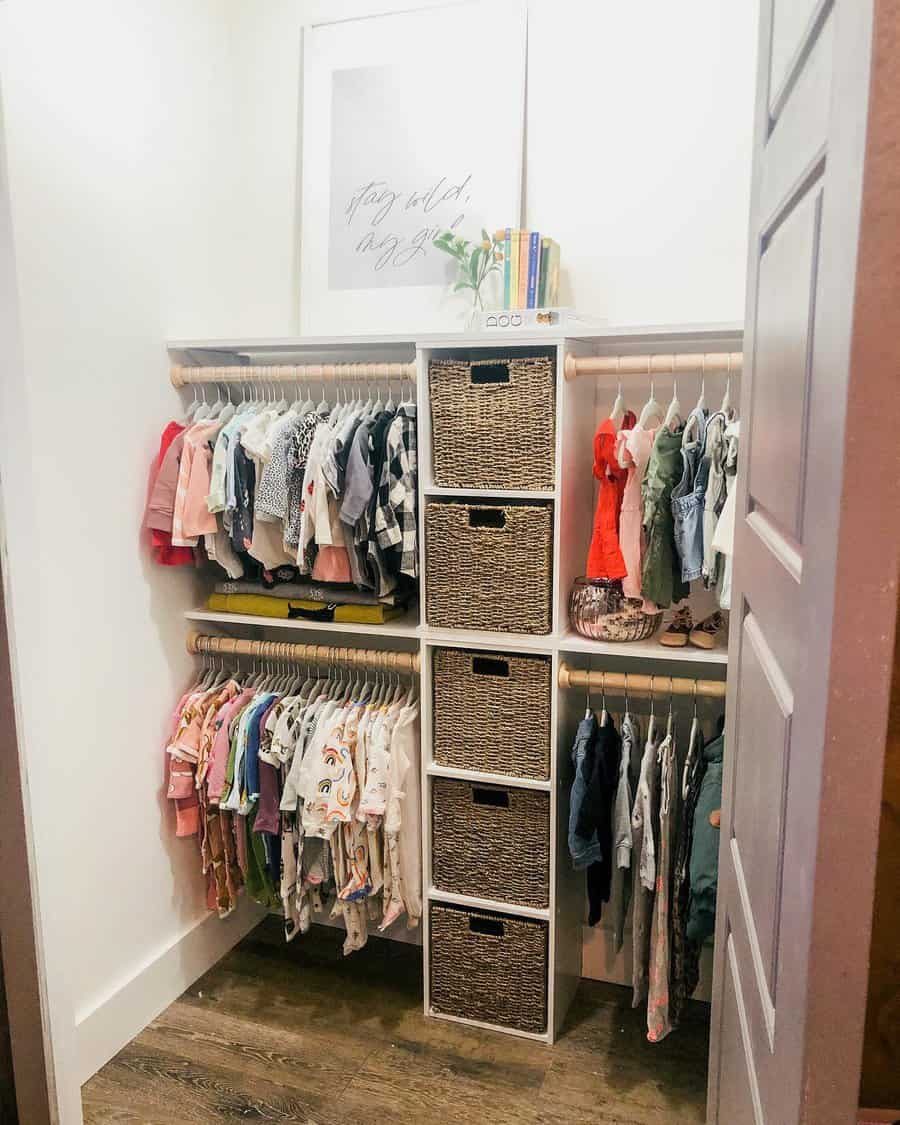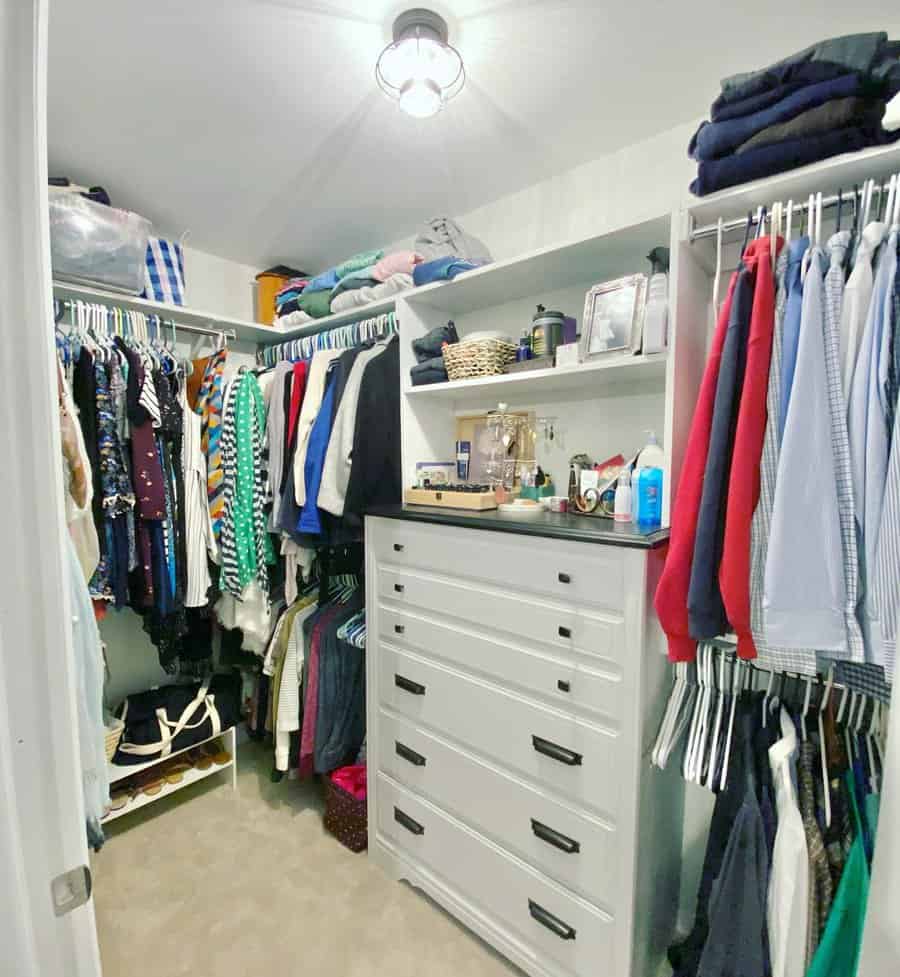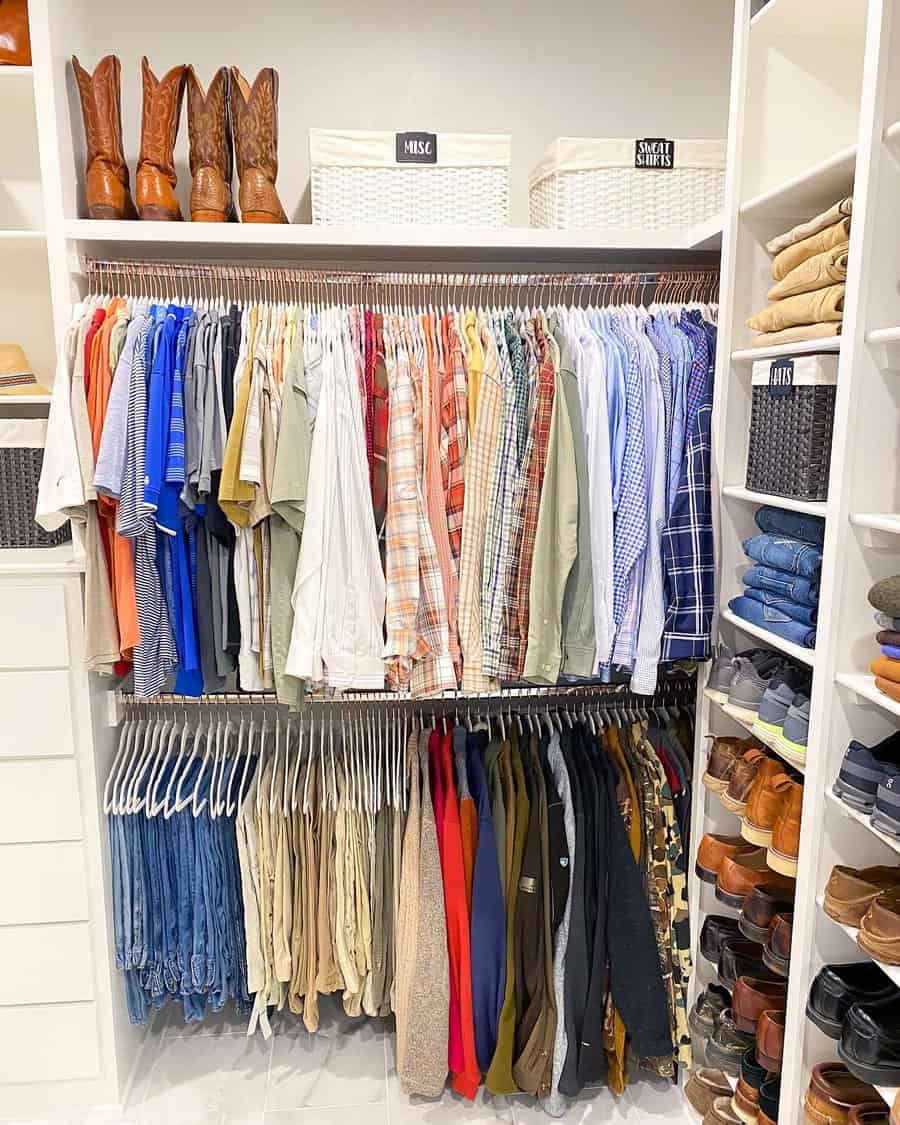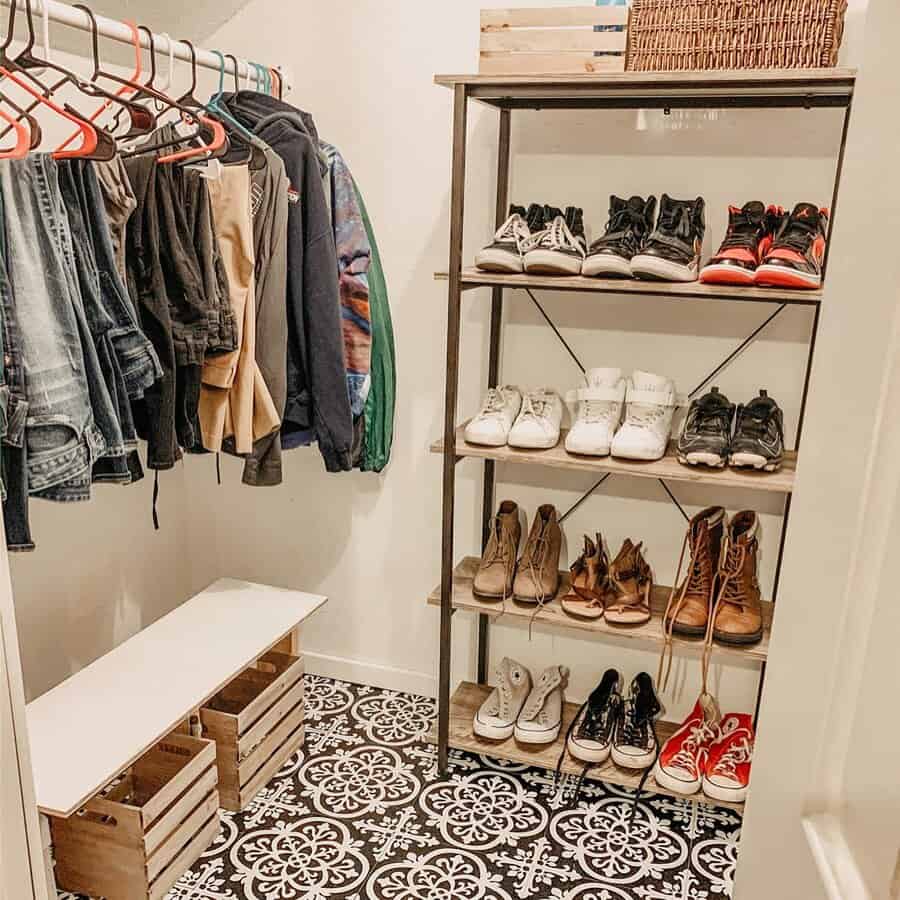 There are several options to choose from, like transparent acrylic, rattan, hyacinth or natural fiber baskets, metal wire, plastic and so forth. I do not recommend cardboard boxes to avoid unpleasant smells, even if you wrap them in nice fabric or stick-and-peel wallpaper.
11. Women
Women's closets have to be functional… and beautiful! Color coordination makes all the difference.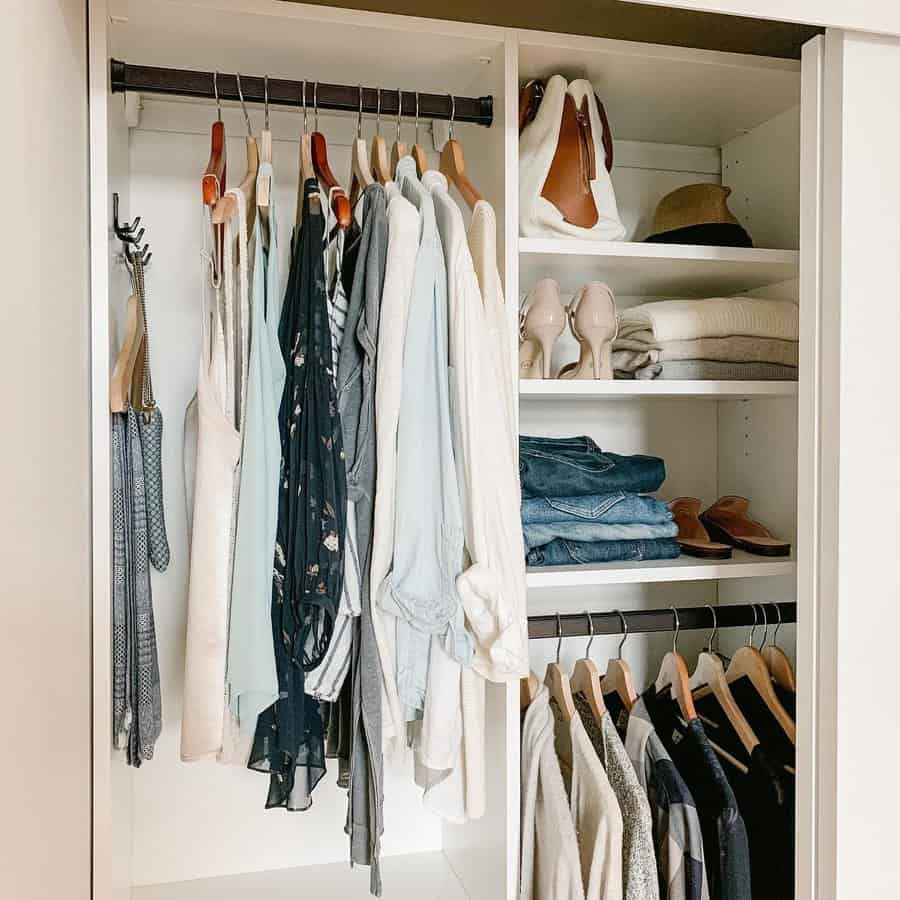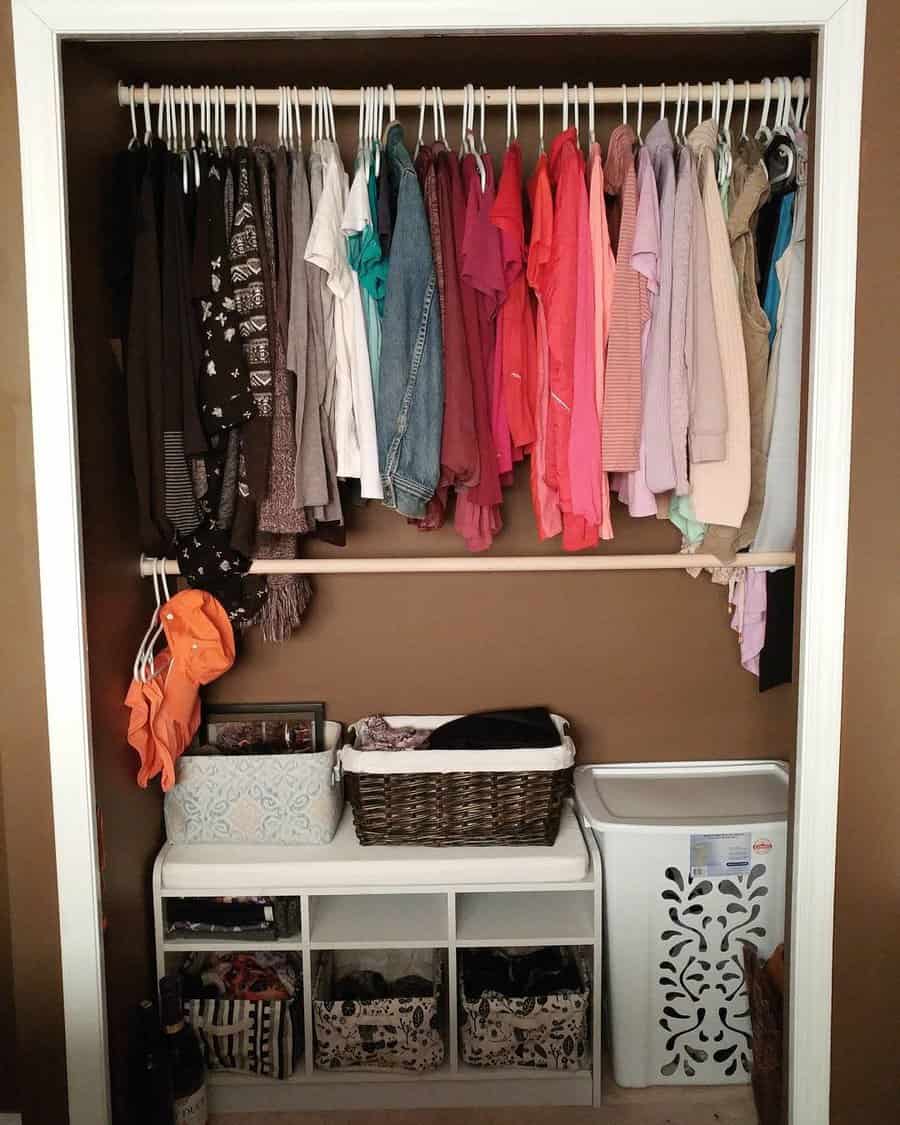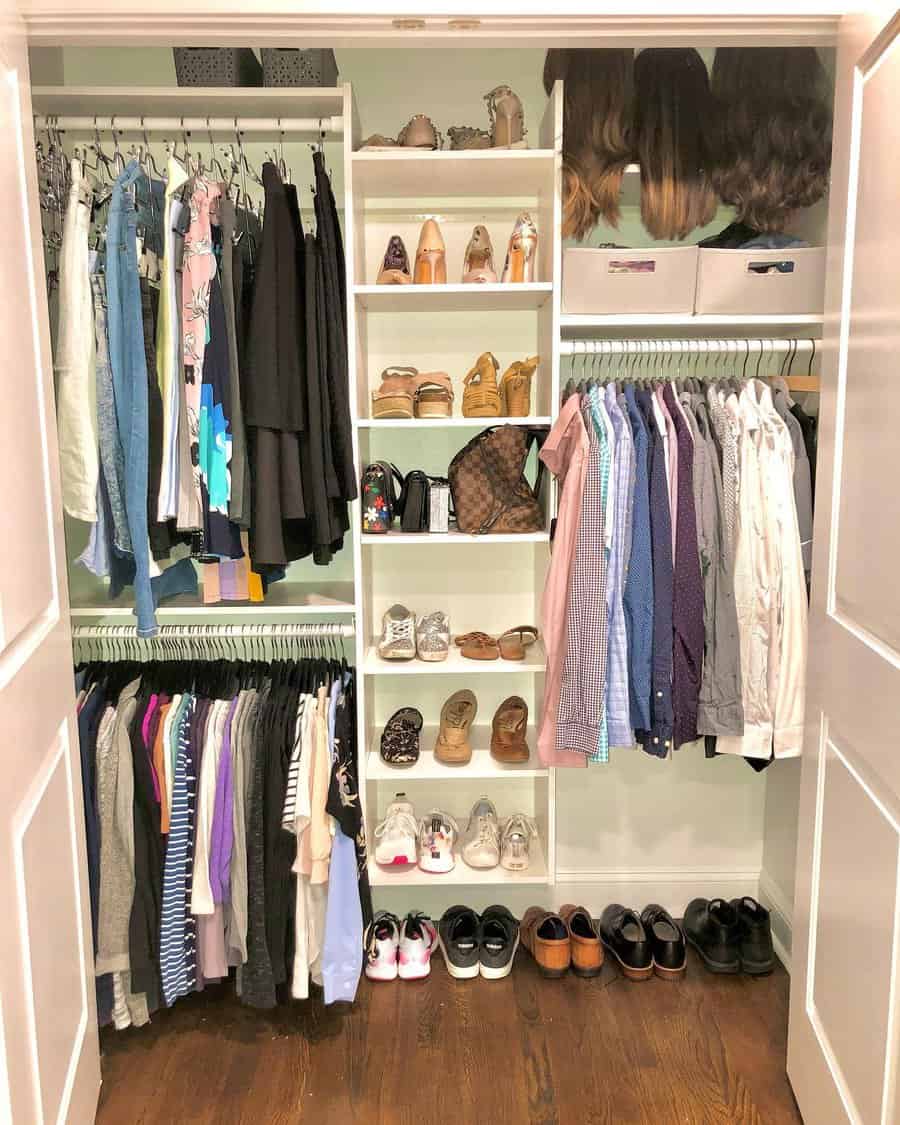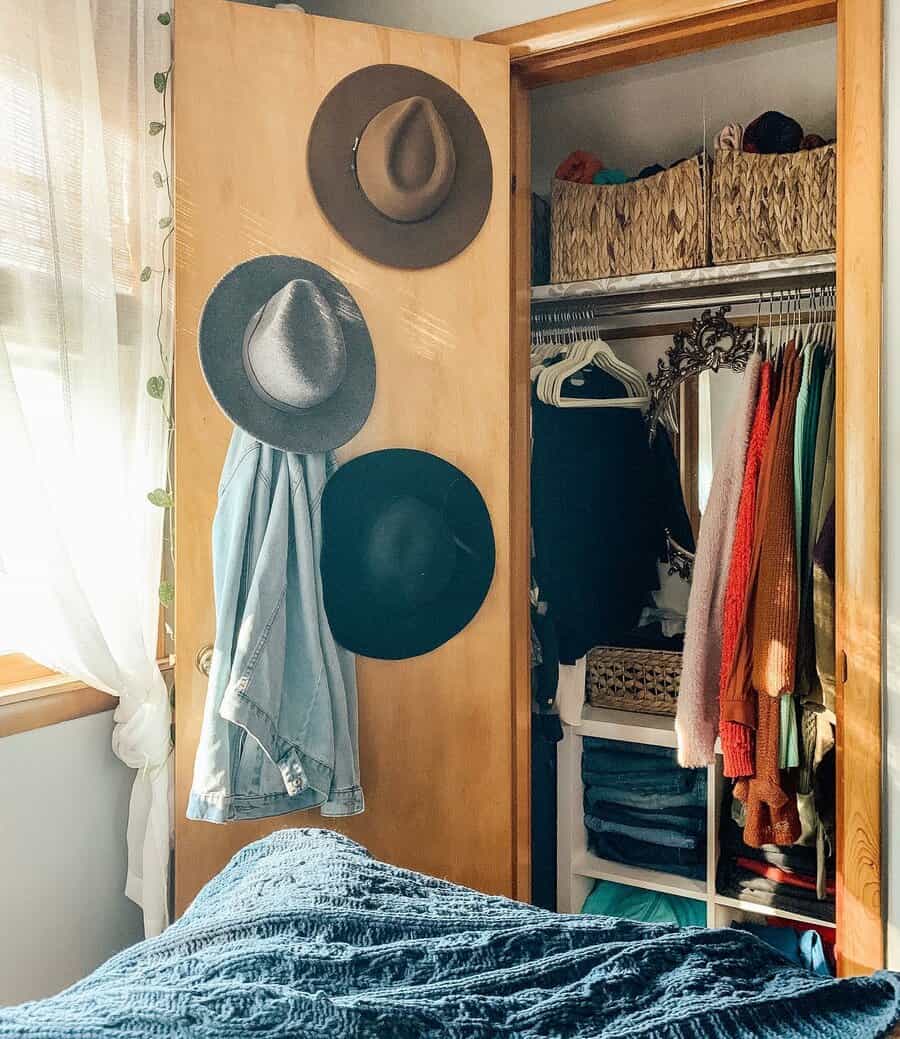 Make sure you have a special spot to keep your accessories and jewelry. Here are some DIY jewelry organization tips:
FREQUENTLY ASKED QUESTIONS
Can we hang sweaters?
Sweaters can stretch out, so you should preferably fold and store them in shelves or drawers.
How do I maximize the space in a tiny closet?
Think of multiple hanging rods, floor-to-ceiling shelves,  drawers and shoe racks. Use dividers to keep your clothes organized and easy to pick and store. Determine designated spaces for your clothes and accessories, so that each item has a place, even in small closets.
Are vacuum bags suited to store clothes?
Yes, you can store your clothing items in vacuum bags, but it is recommendable to remove your clothes from time to time for some fresh air, and then store them back in the bags.