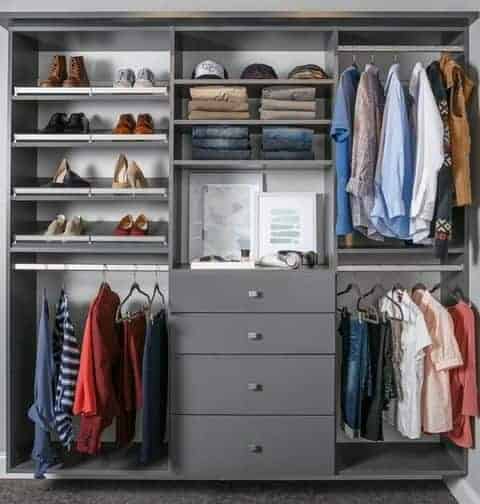 59 Small Closet Organization Ideas
by — Liz Bittar

Published on February 17, 2022

Updated on October 24, 2023
Let's be honest: for a woman to say that she has enough closet space, is because her closet is gigantic!
Truth is, for most of us, there never seems to be enough room in the closet for shoes, coats, hats, belts, scarves, boots, handbags, beachwear, gym wear, office outfits, evening dresses, casual outfits… and some of us have to share precious closet space with our significant other!
If you are tired of your cramped closet and don't feel like throwing half of your stuff away, have a look at the organization tips we are going to share with you in this post.
1. Organize Clothes by Season
Organizing your clothes by season is a smart space-saving strategy. Consider designating one side for winter and the other for summer items. Categorize your clothing, like pairing skirts with blouses, and use drawers for neatly folded jeans. Don't forget to label bins and baskets for easy access. These small closet organization tips will help you maintain a clutter-free and efficient space.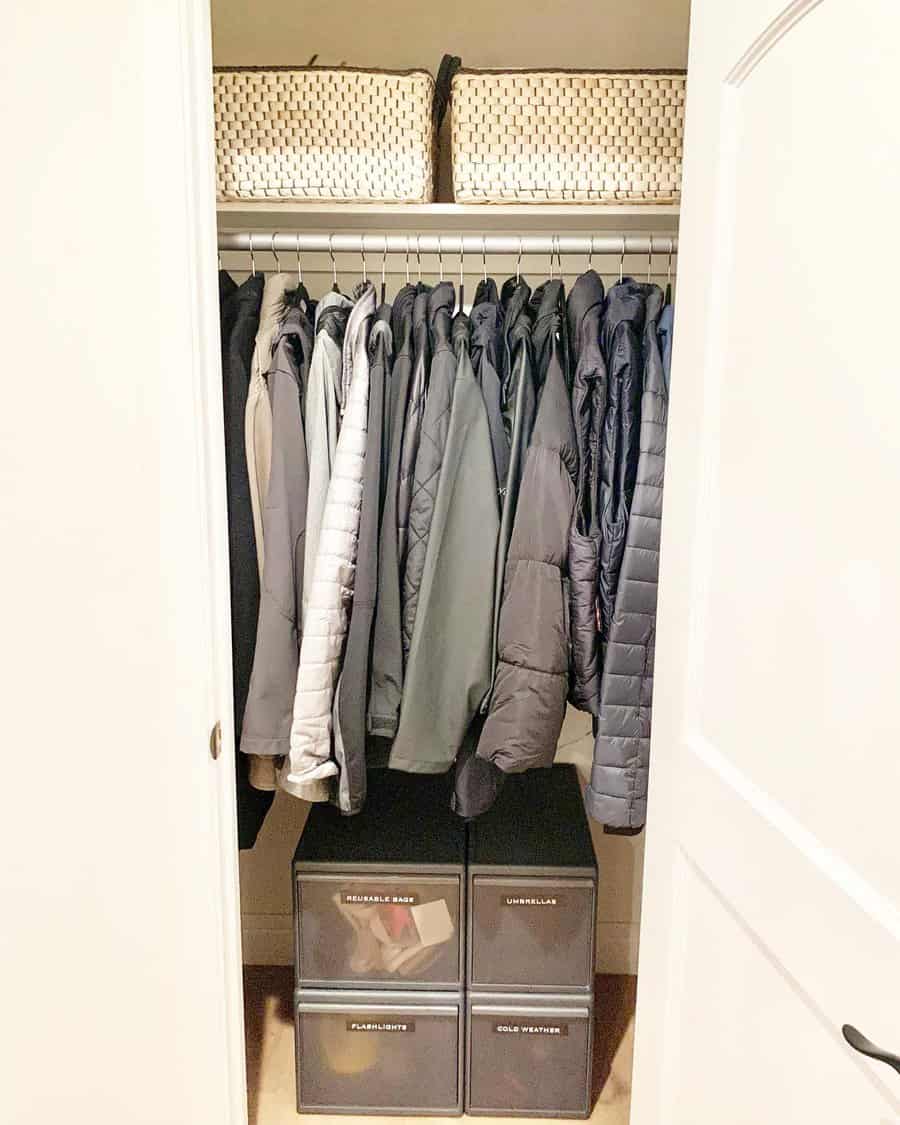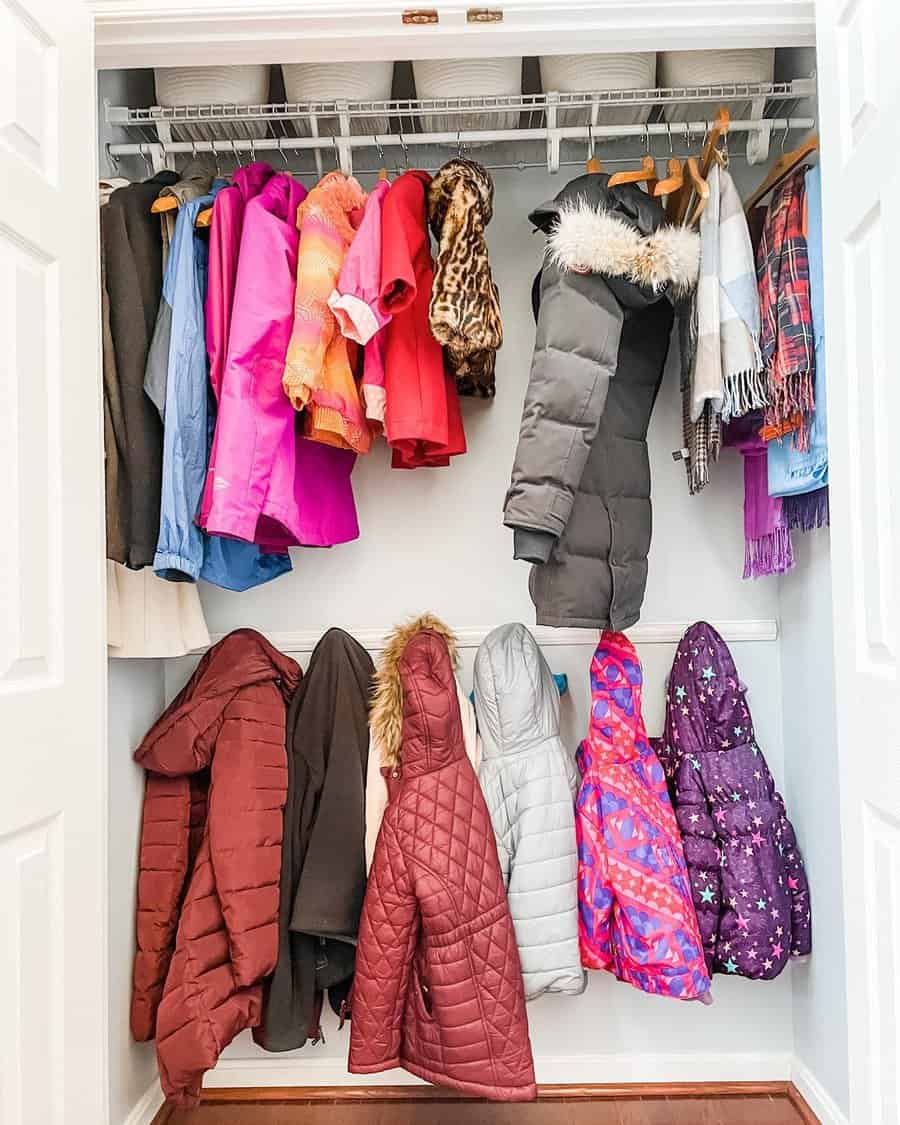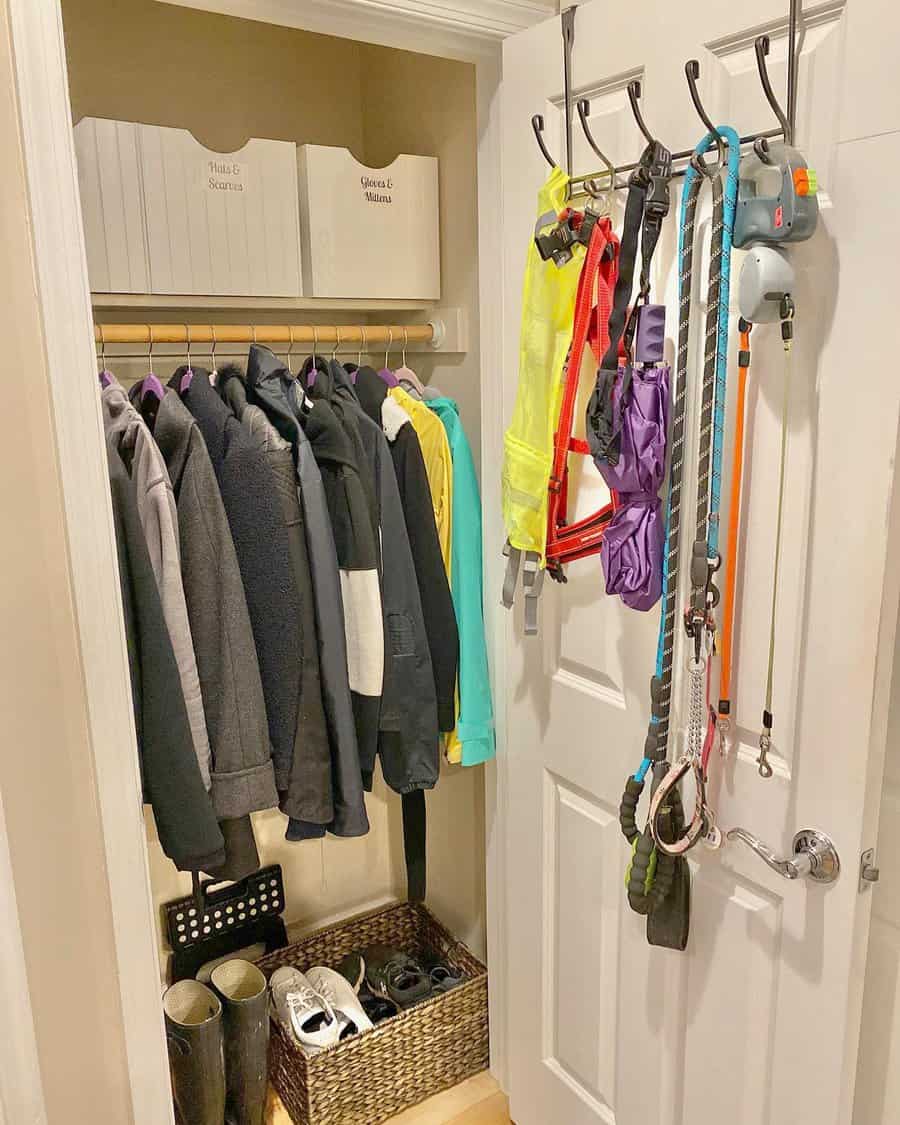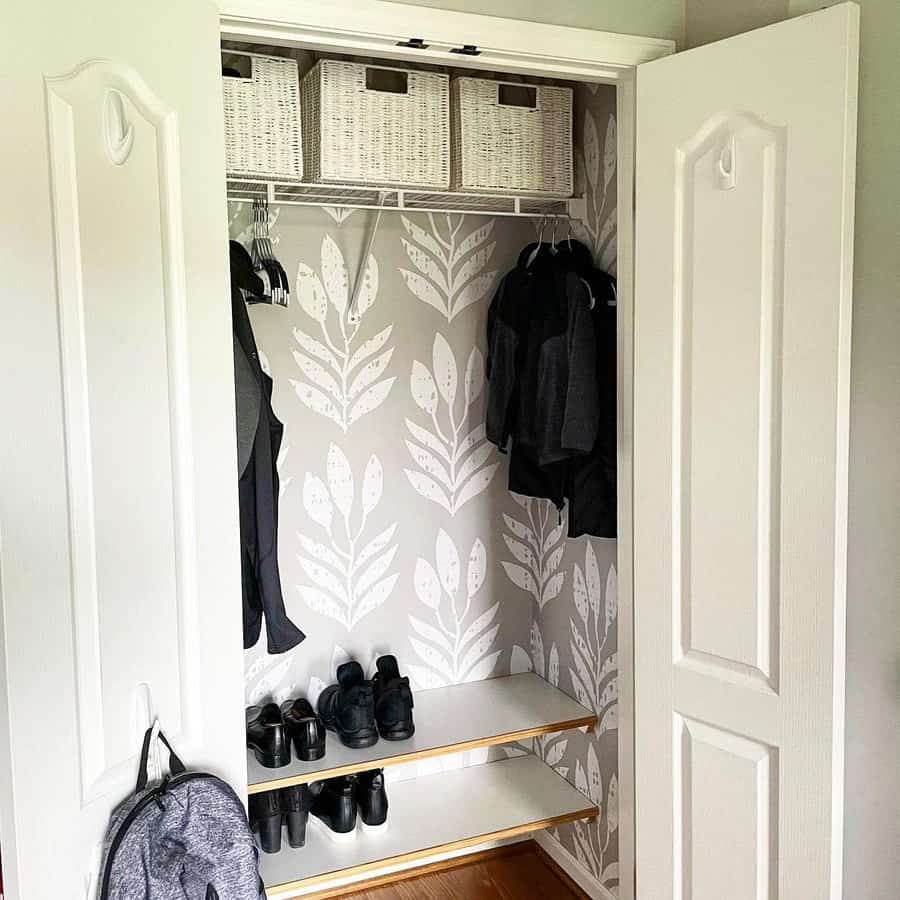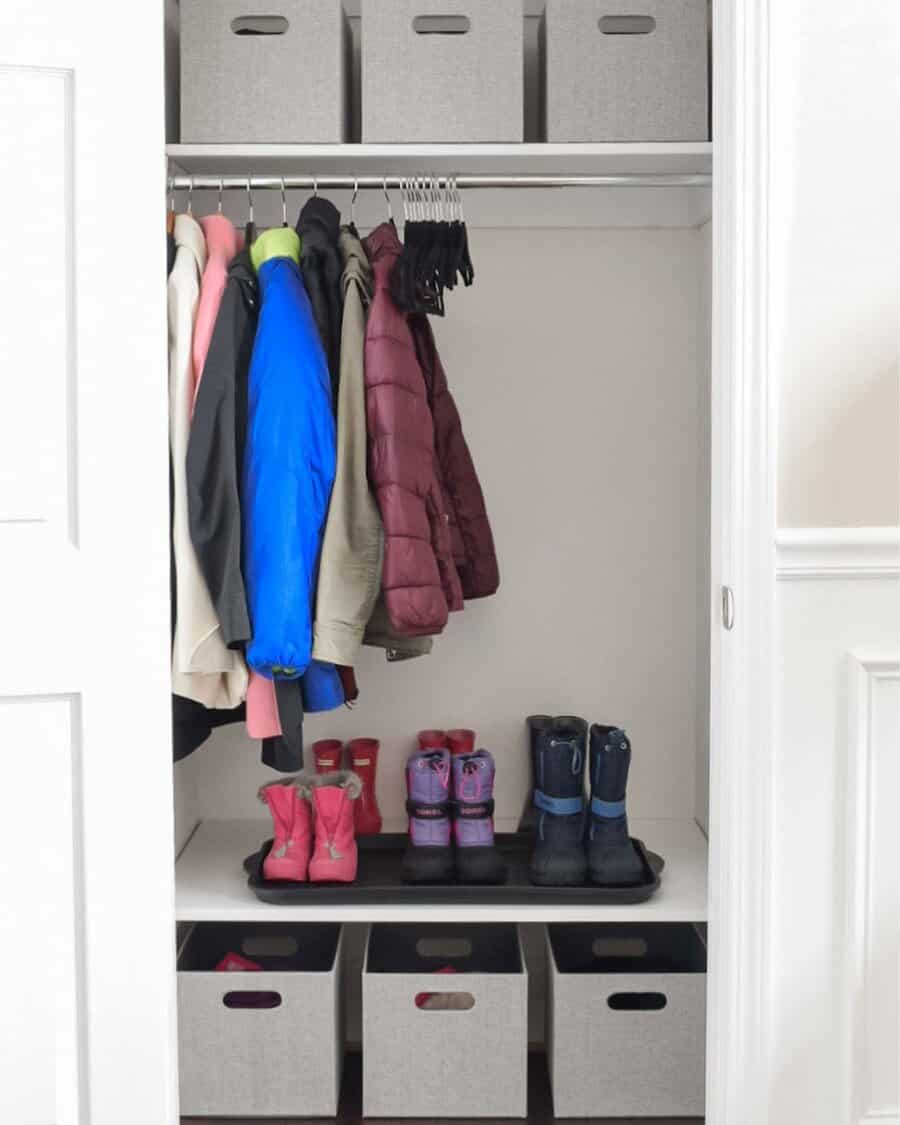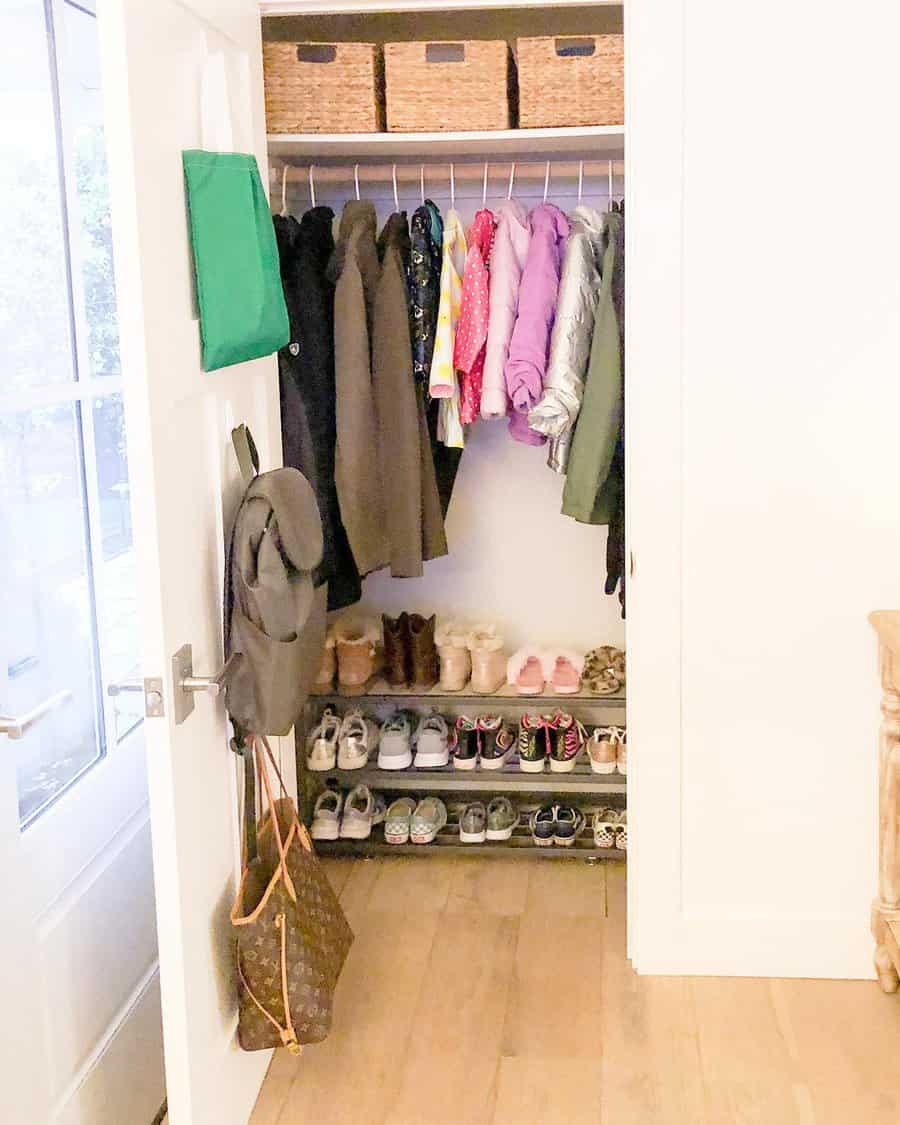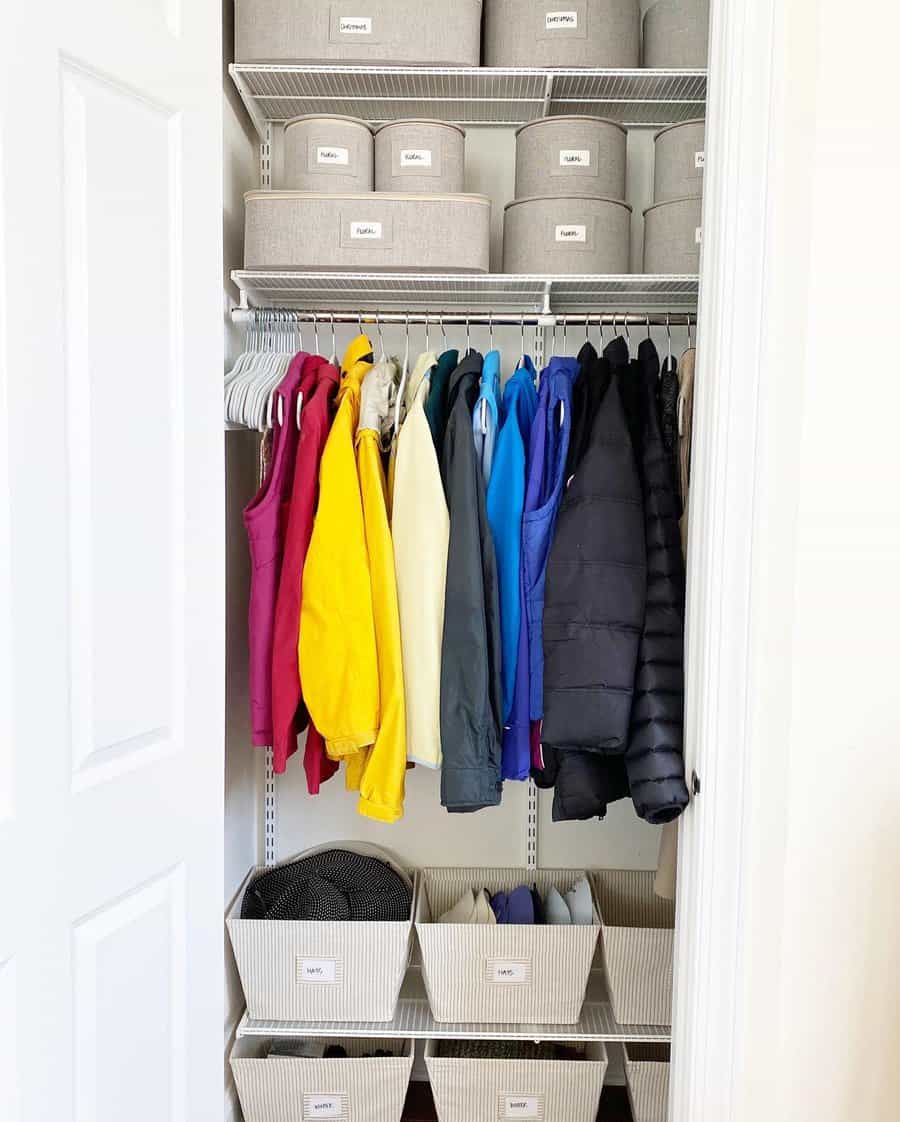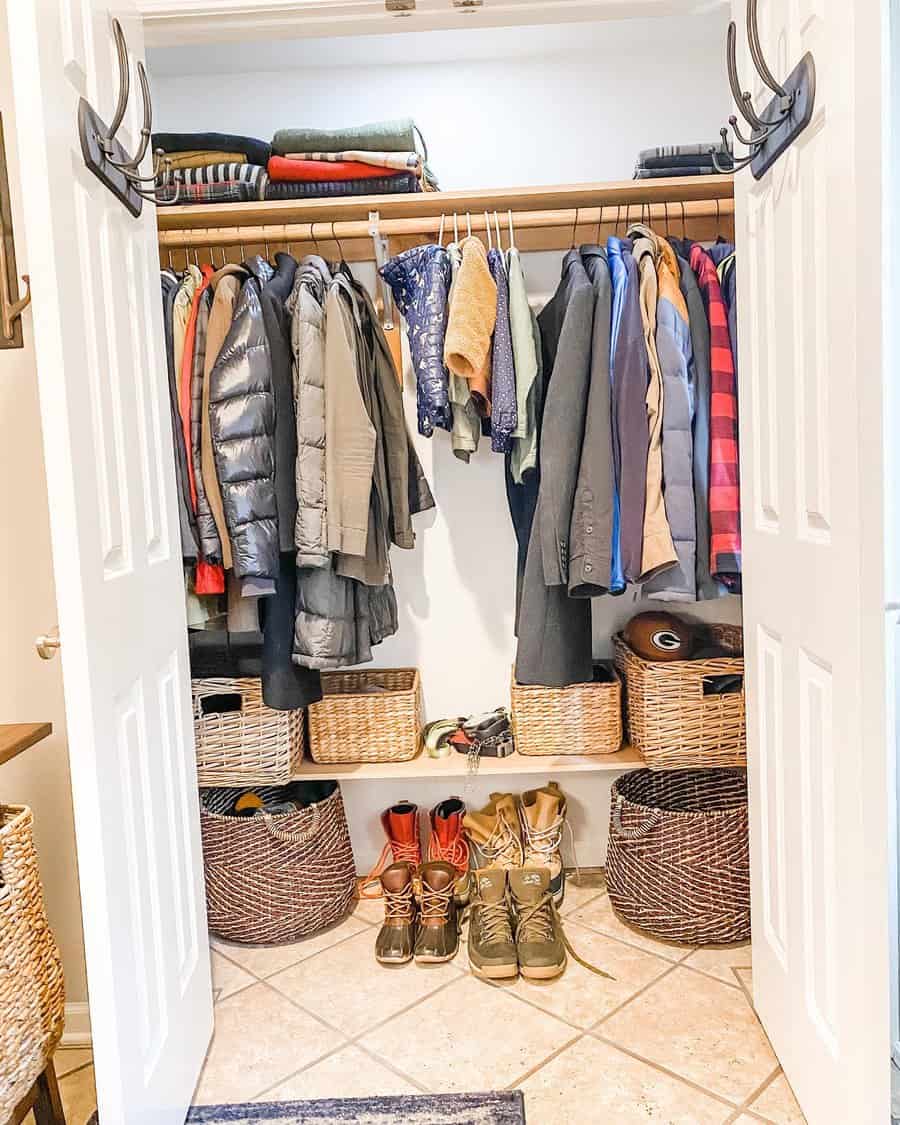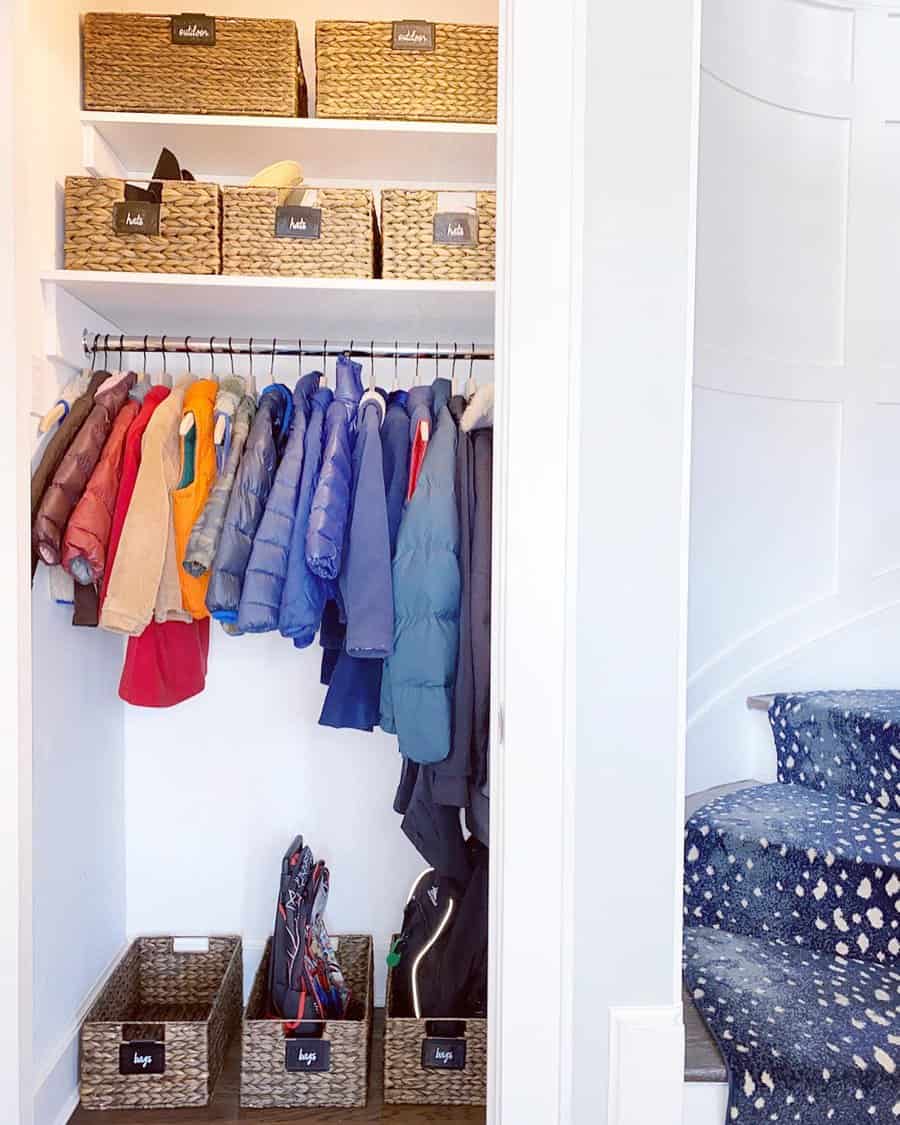 2. Elevate Closet Aesthetics
Enhancing the aesthetics of your small closet can make it more inviting. Consider subtle changes like adding wallpaper for character or pendant lighting for ambiance. Optimize vertical space with shelves and door organizers for accessories. Showcase decor with wall baskets and hooks to create a visually appealing yet practical closet space. These ideas help balance functionality and aesthetics.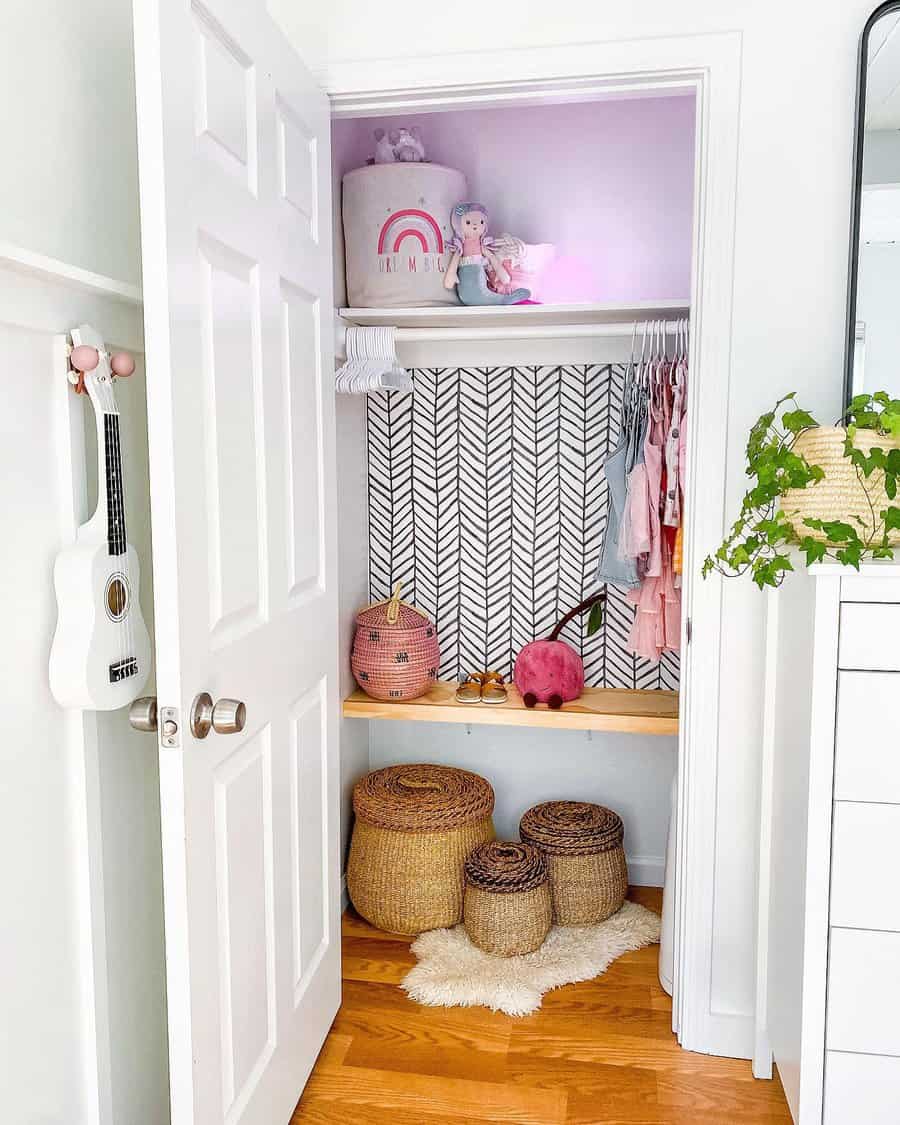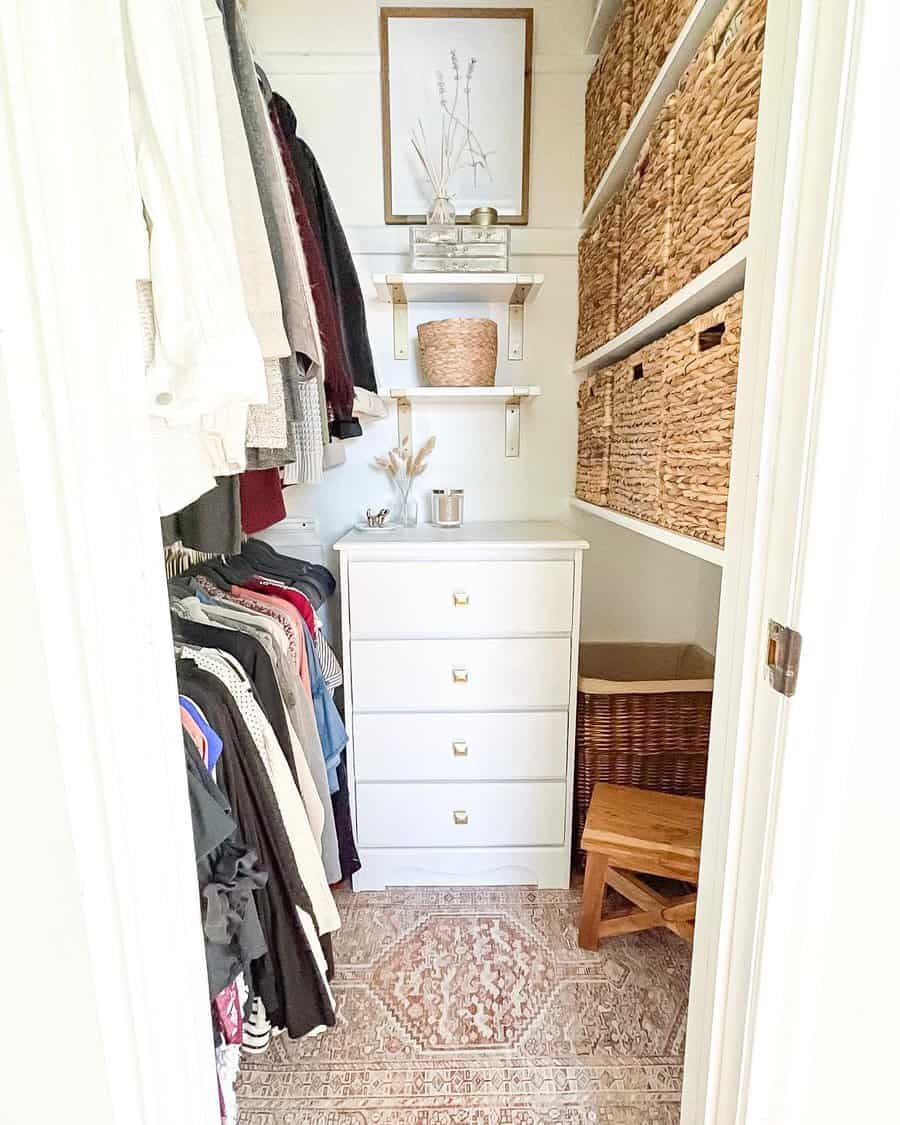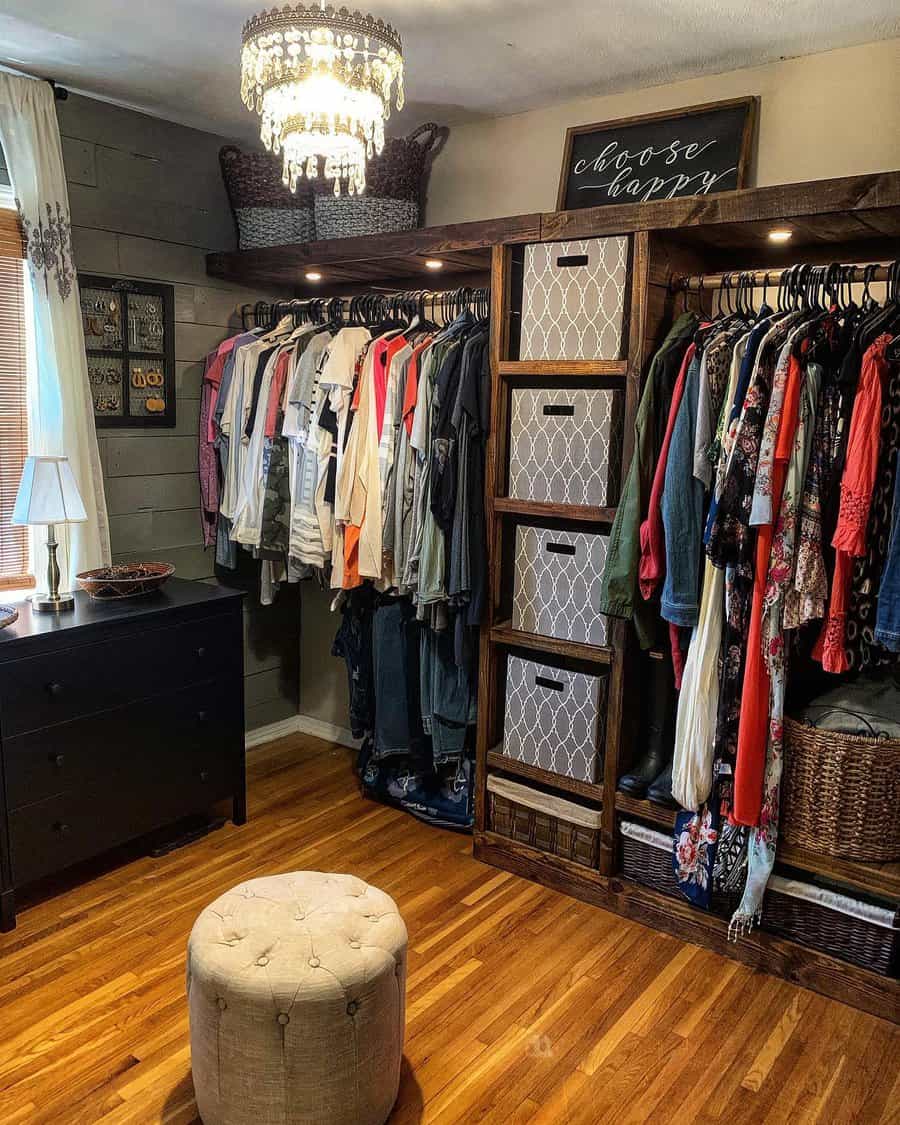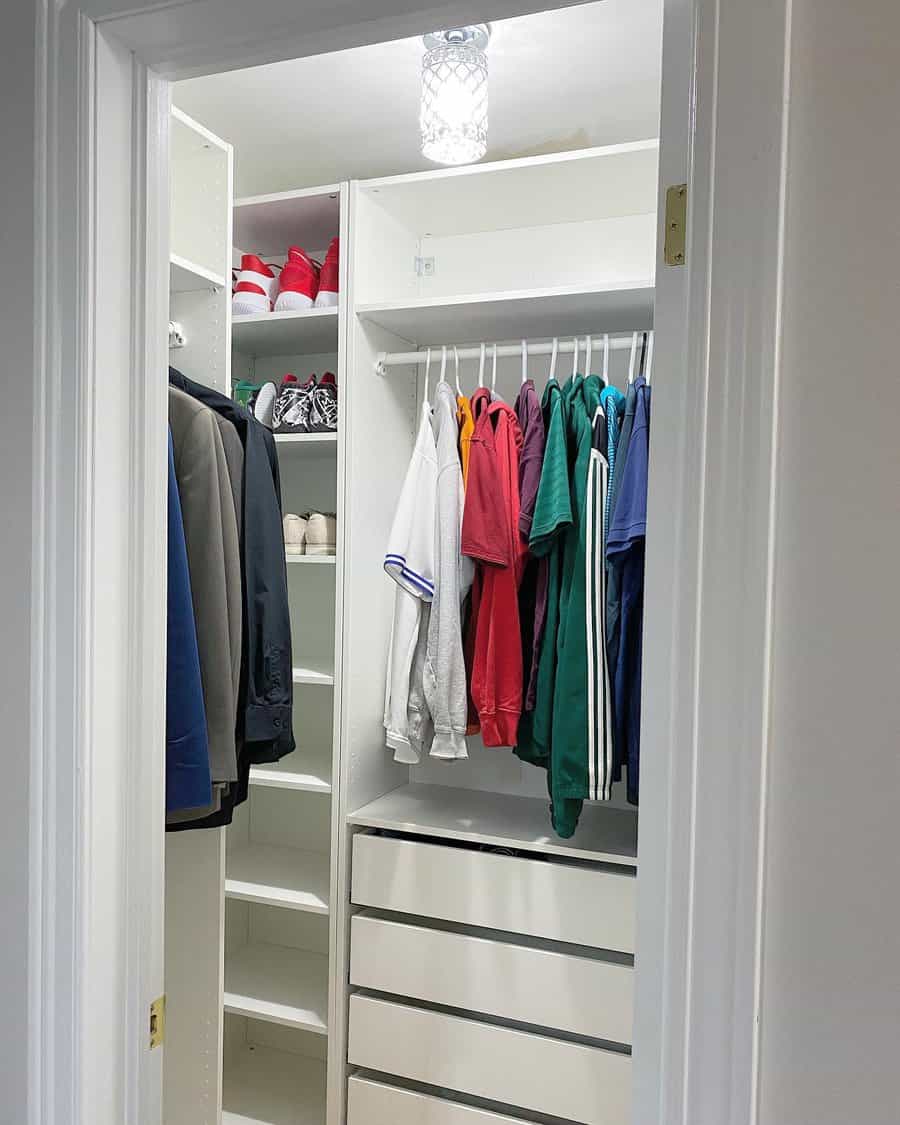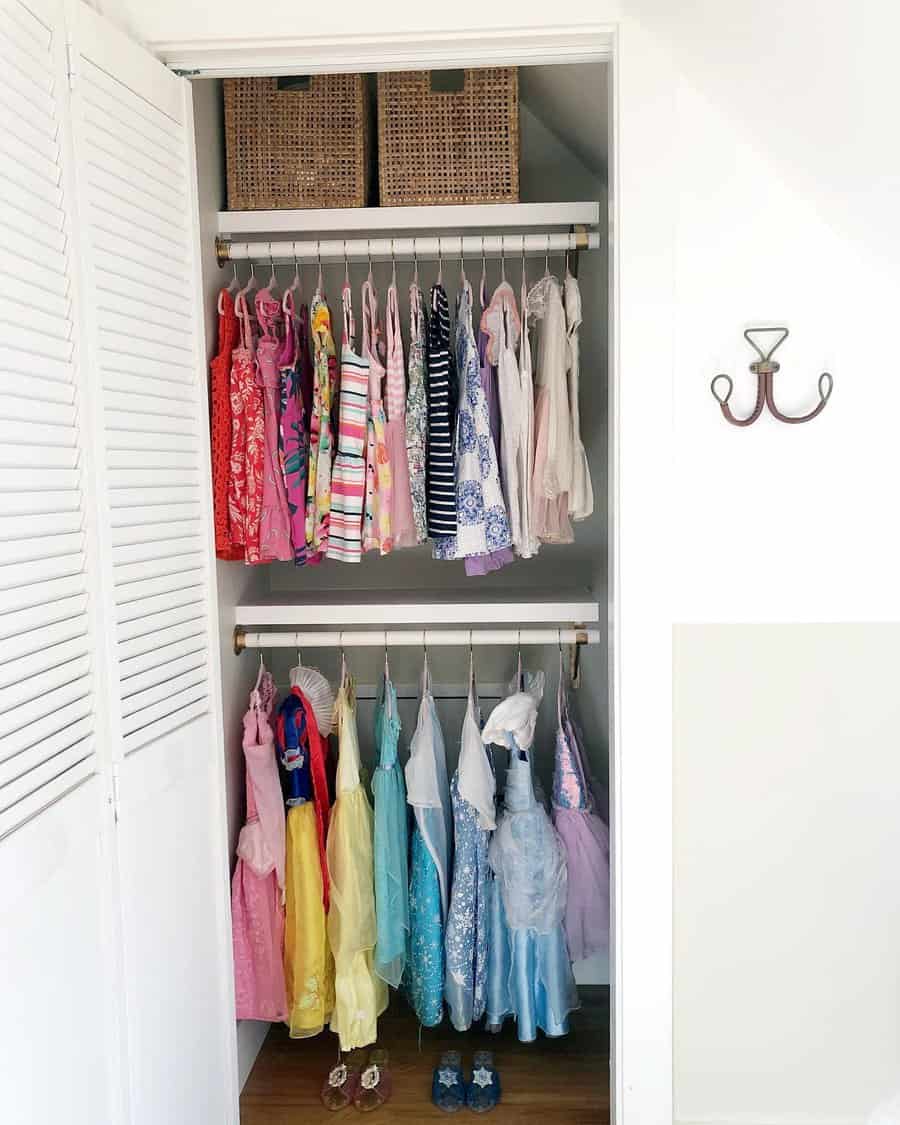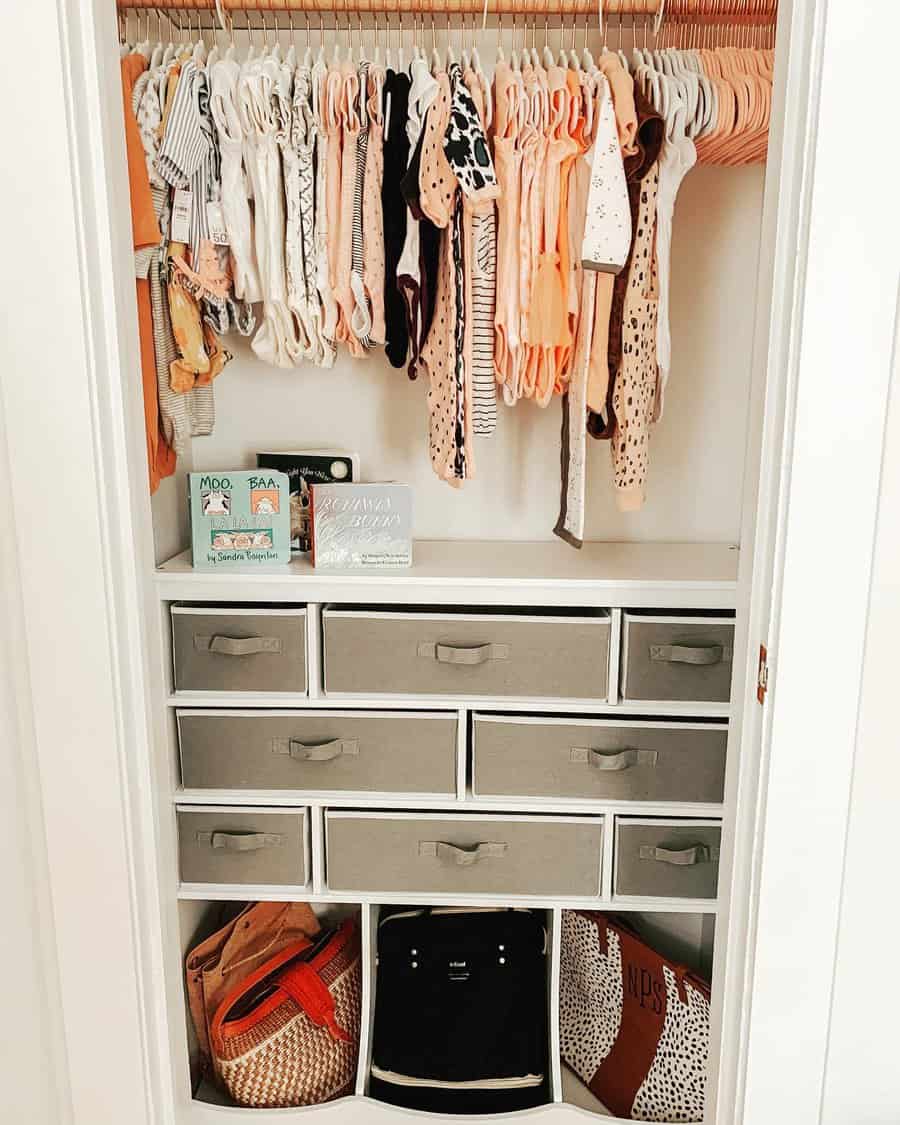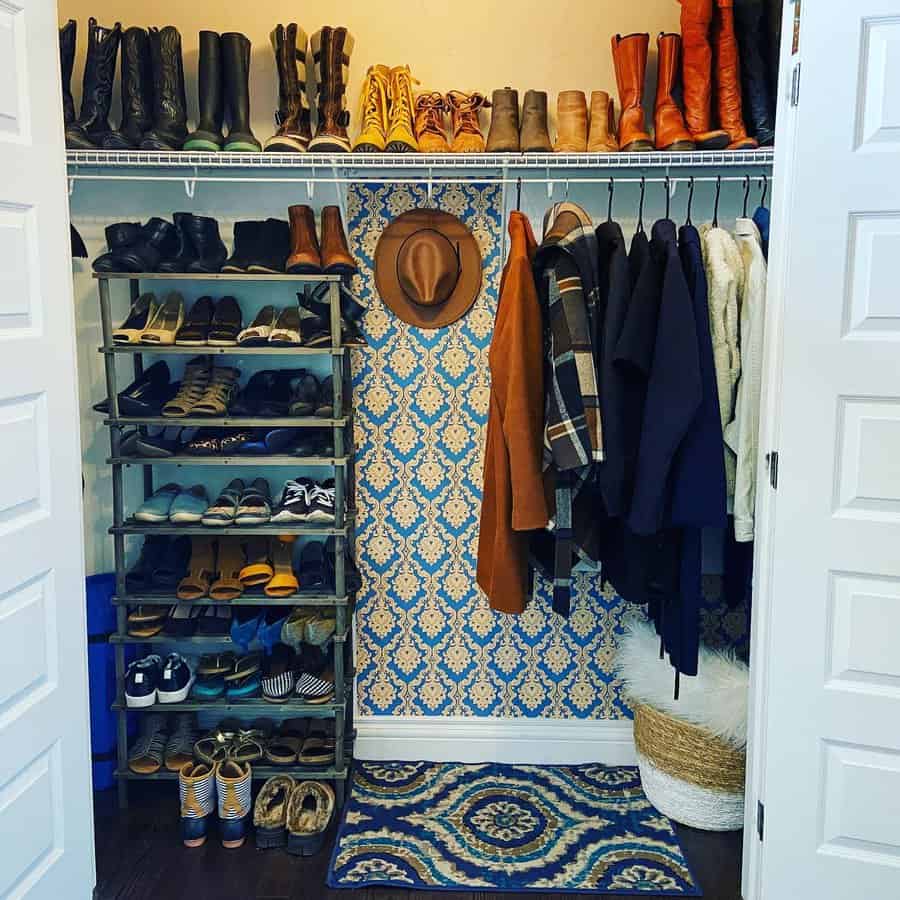 3. Opt for Built-In Organizers
Choose built-in organizers for a compact closet transformation. These shelves maximize your space and make items easily accessible. Replace bulky shoe boxes with hanging racks for socks, scarves, and jewelry. Utilize wall space with built-in drawers for neatly folded clothes. If you need extra space, install hooks on the closet door for instant storage solutions. These strategies optimize your small closet's functionality.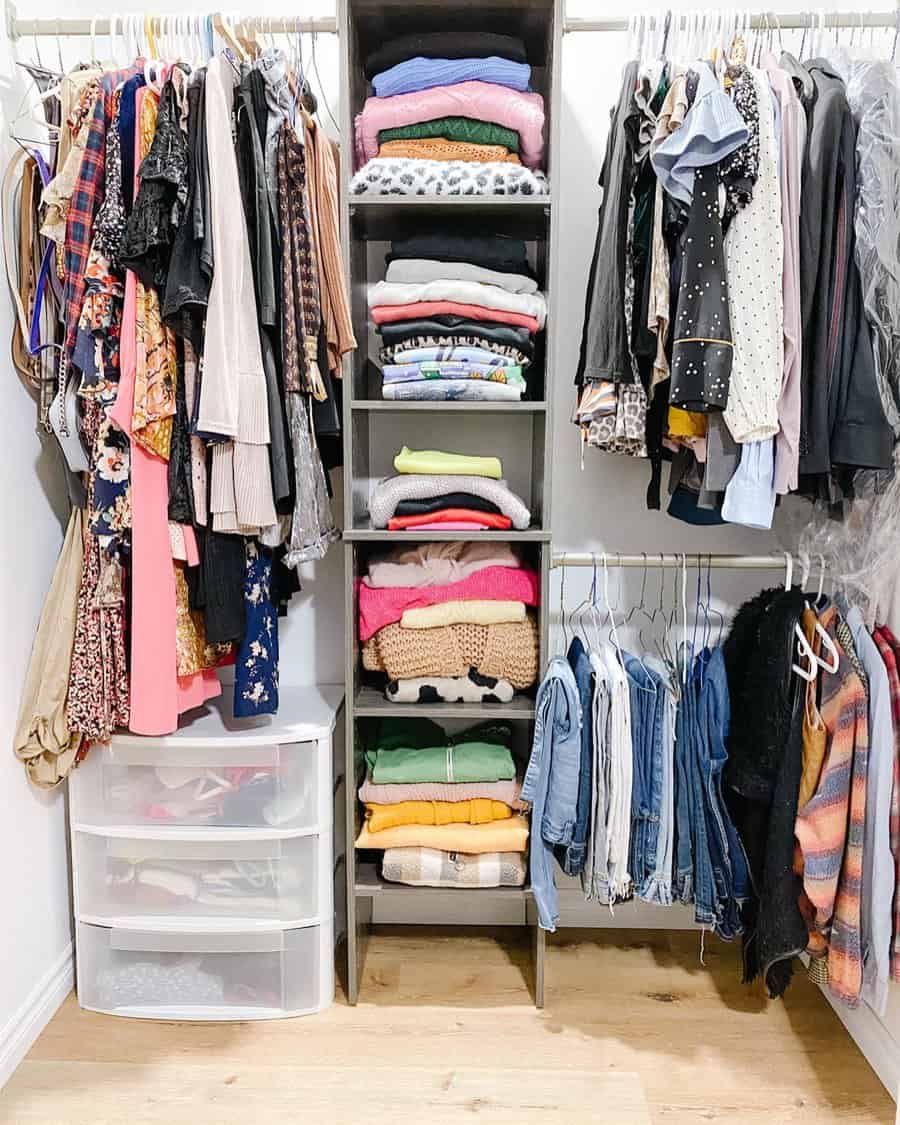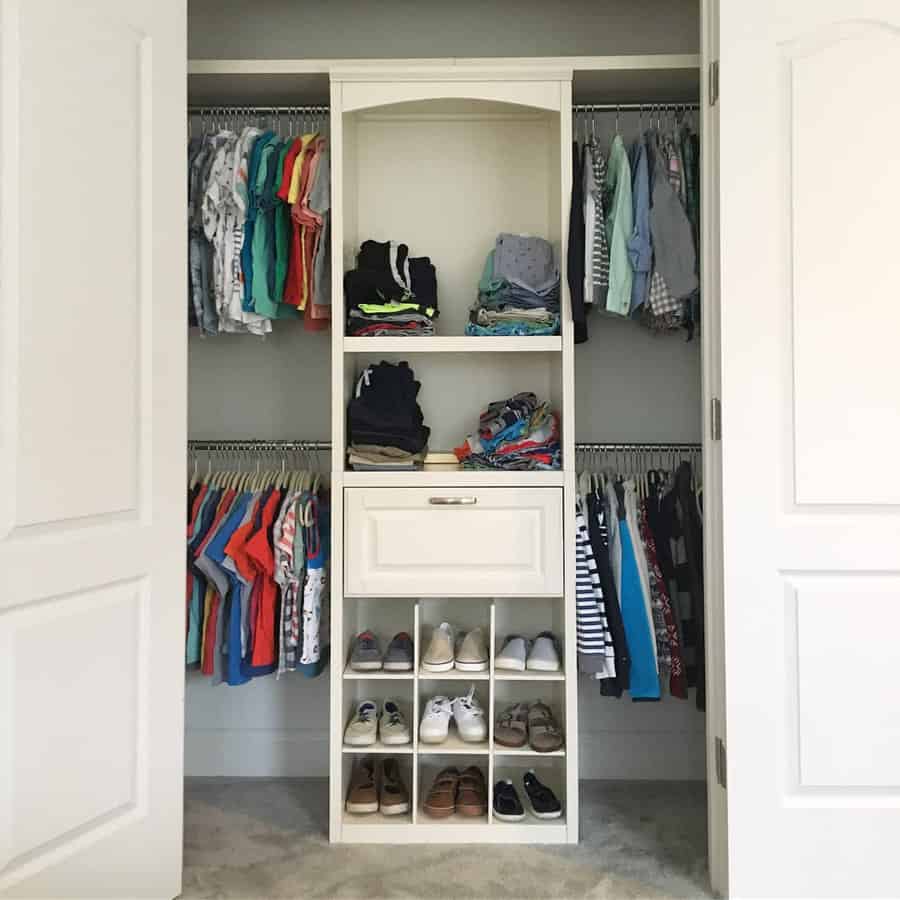 4. Coordinated Hanger Selection
Streamline your closet with a coordinated hanger selection. Matching hangers create a polished appearance. Folding shirts and sweaters minimize visual clutter. It's also an opportunity to assess your wardrobe for items that need decluttering. Maintaining a consistent look in your closet enhances both organization and aesthetics.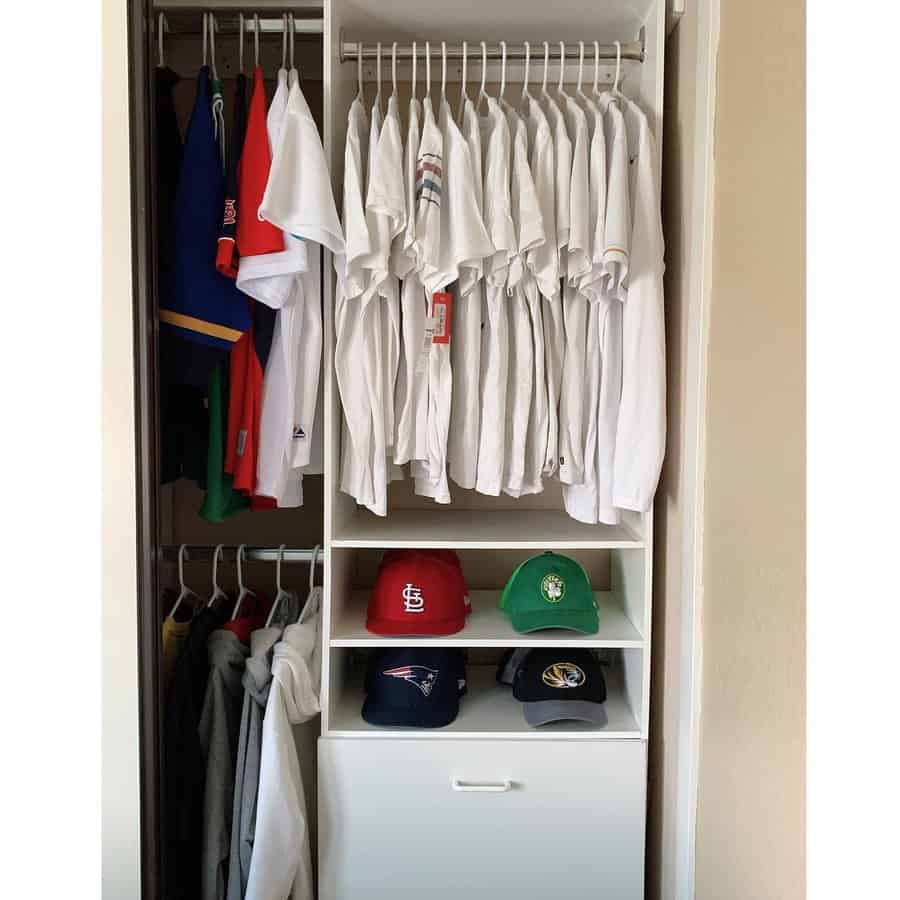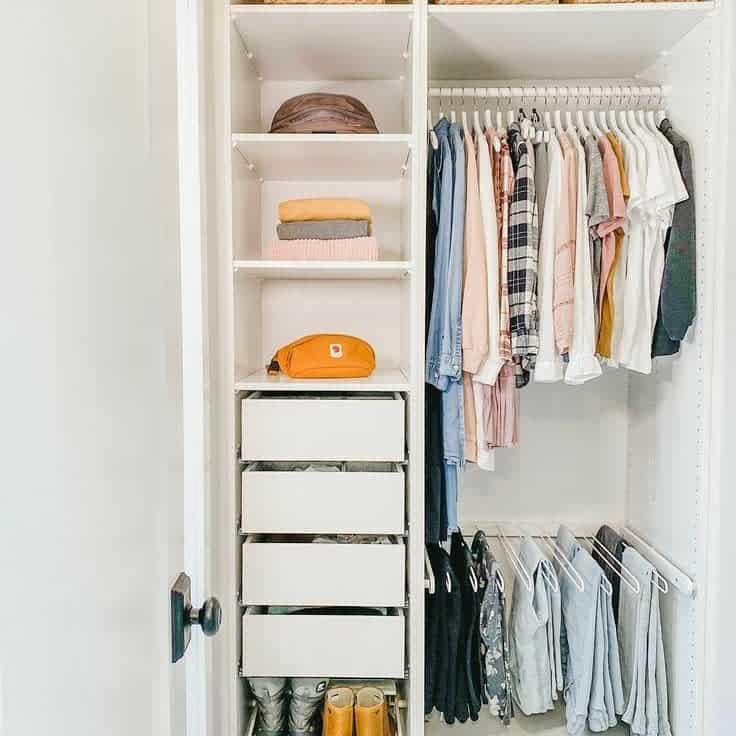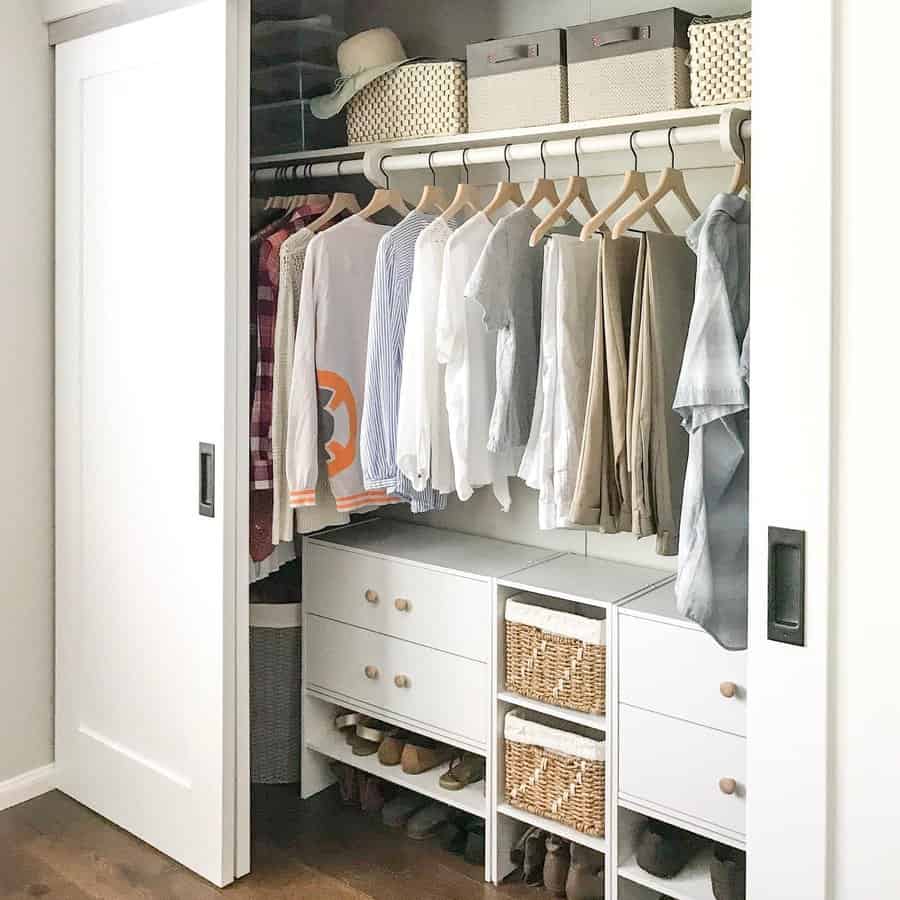 5. Efficient Drawer Labeling
Improve small closet organization with effective drawer labeling. Clearly labeled drawers and baskets simplify item identification. Maximize space by incorporating shelves and hooks on closet walls. Employ transparent shoe boxes or labeled canvas cubes to discreetly store and easily access jewelry and clothes. These small closet organization strategies maintain a tidy and accessible closet throughout the year.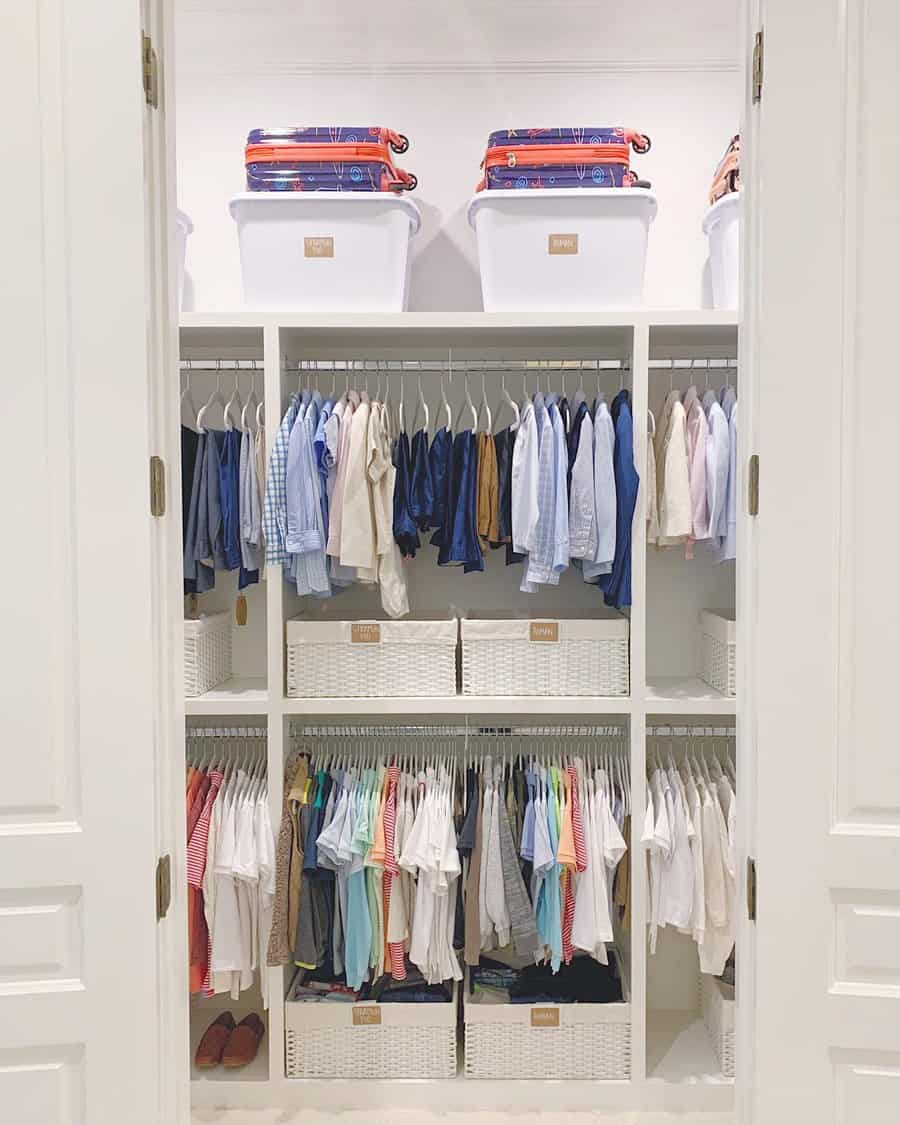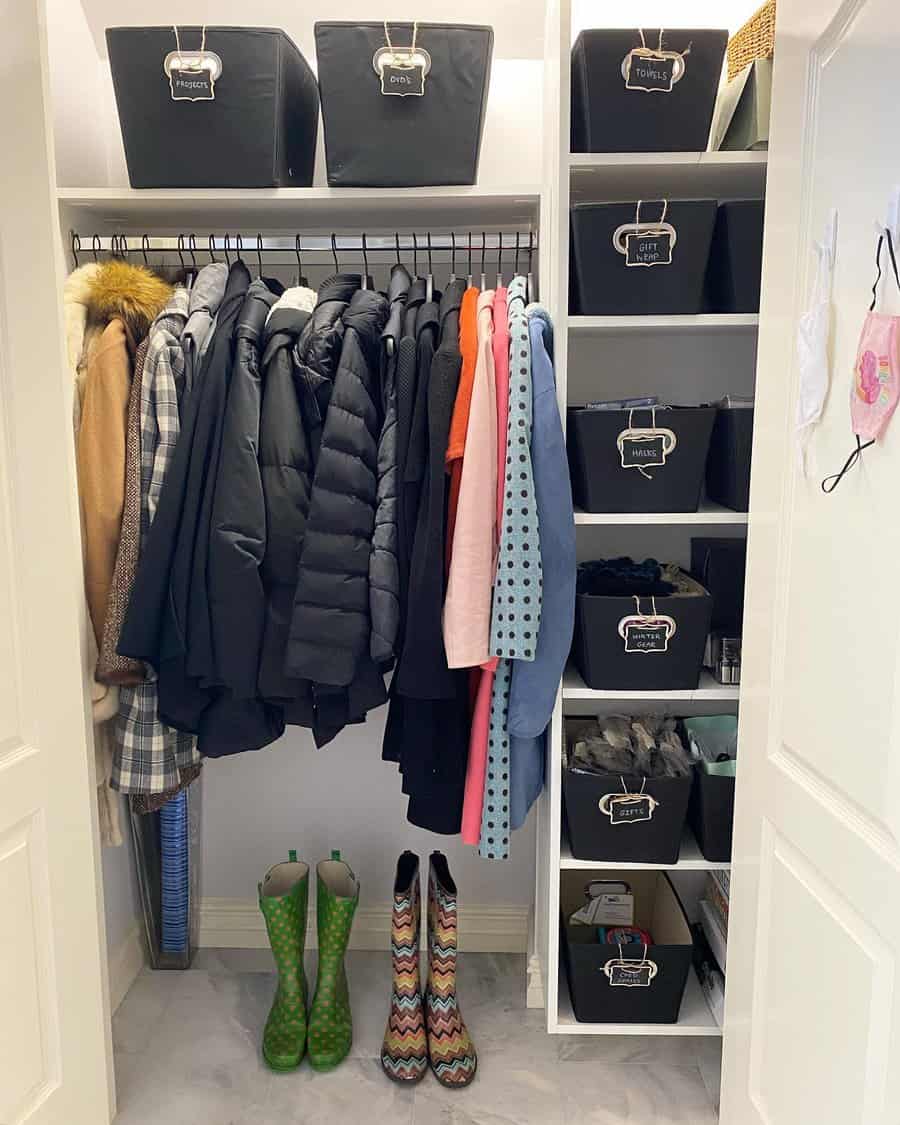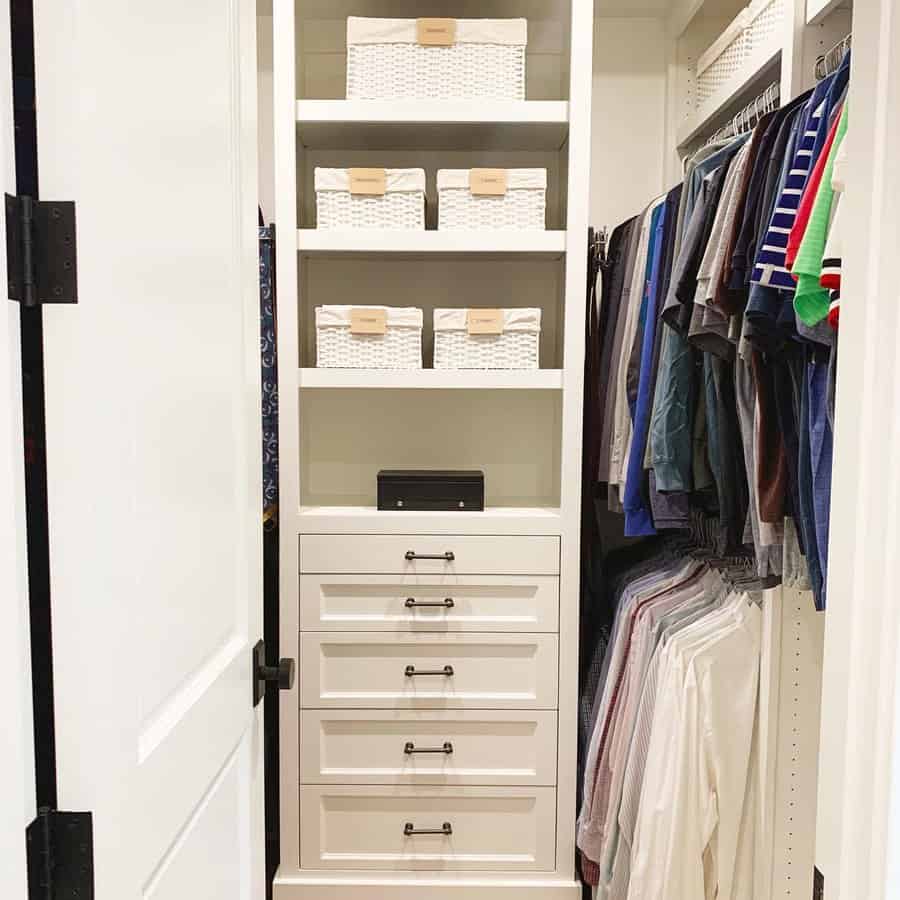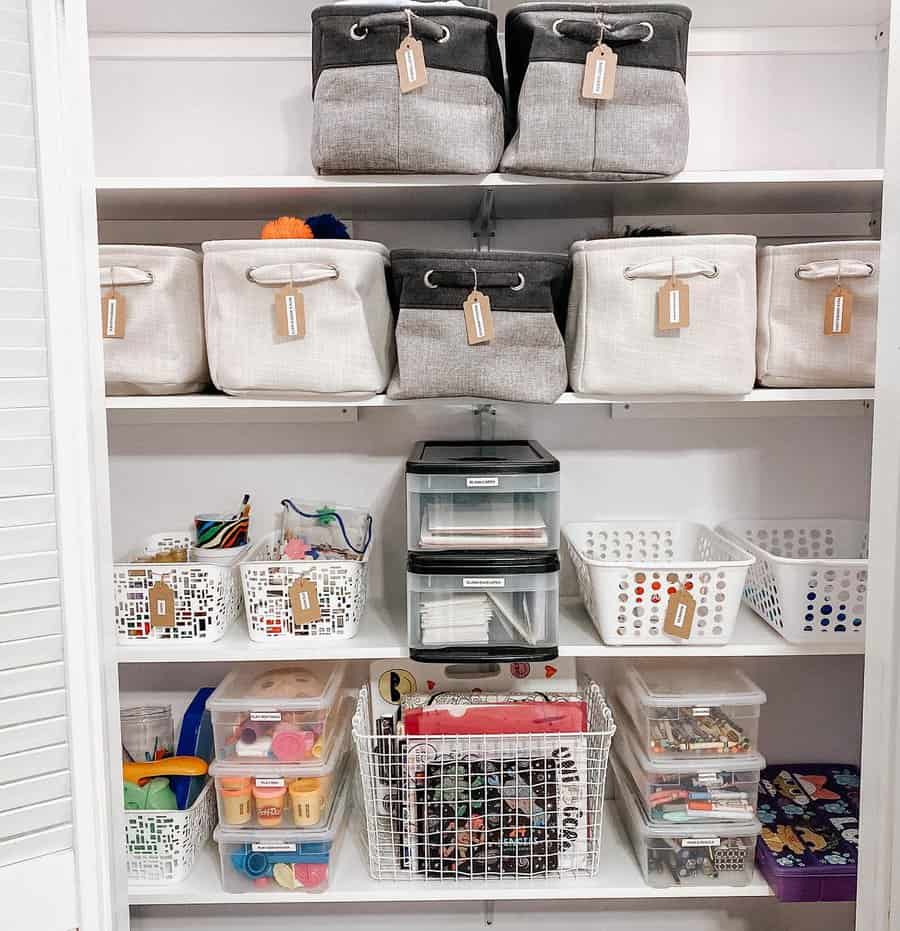 6. Kid-Friendly Closet Solutions
Make your kids' closets orderly and fun with these tips. Create special sections for dressier clothes. Use floor boxes for seasonal items. Incorporate toy boxes in the bedroom for quick cleanup. Utilize shelves and hangers for organized storage. Add dividers or color-coded laundry bags to keep things fun and organized. These kid-friendly closet solutions make organization a breeze.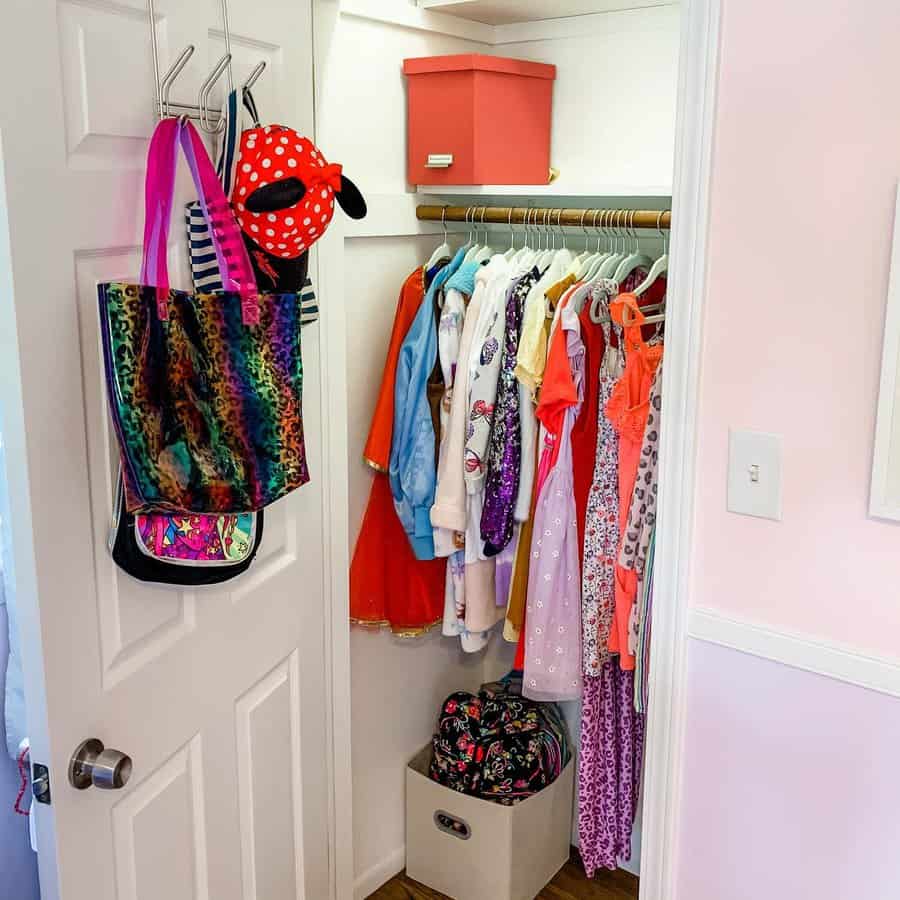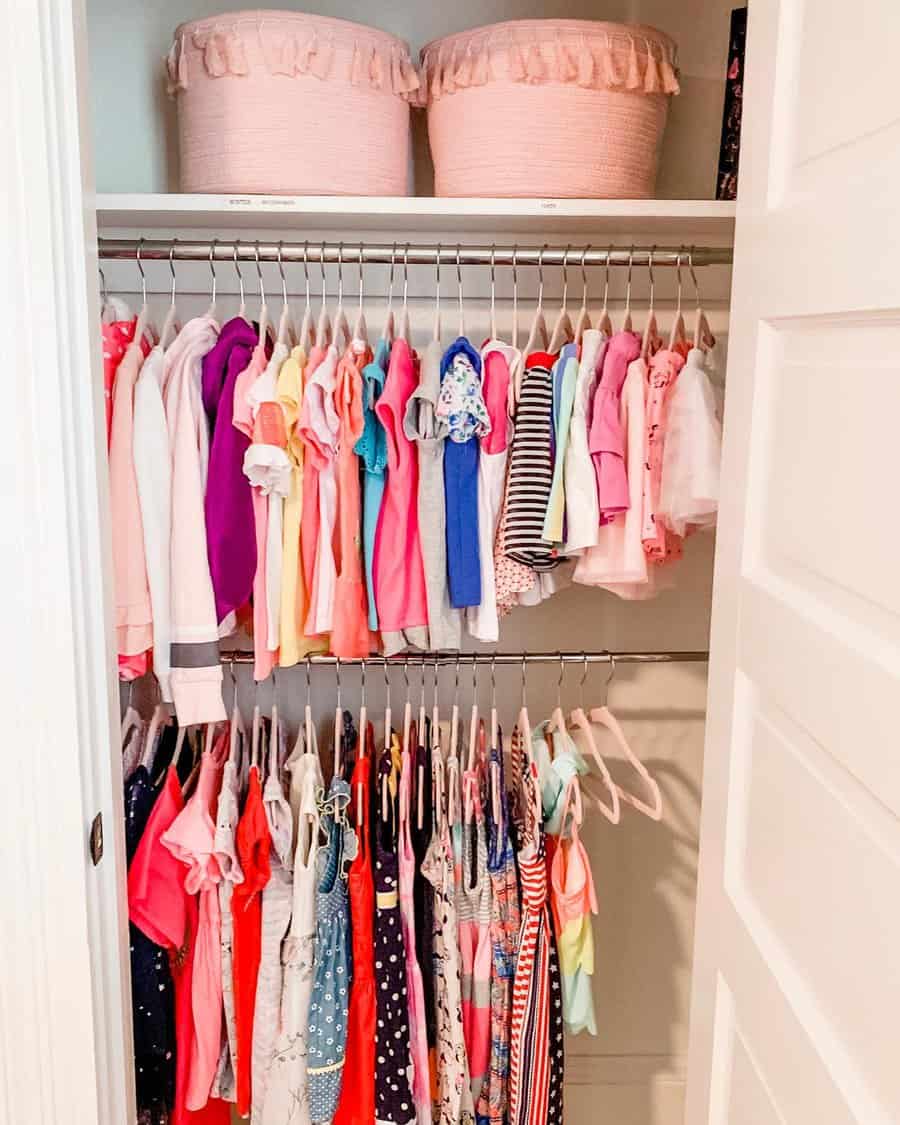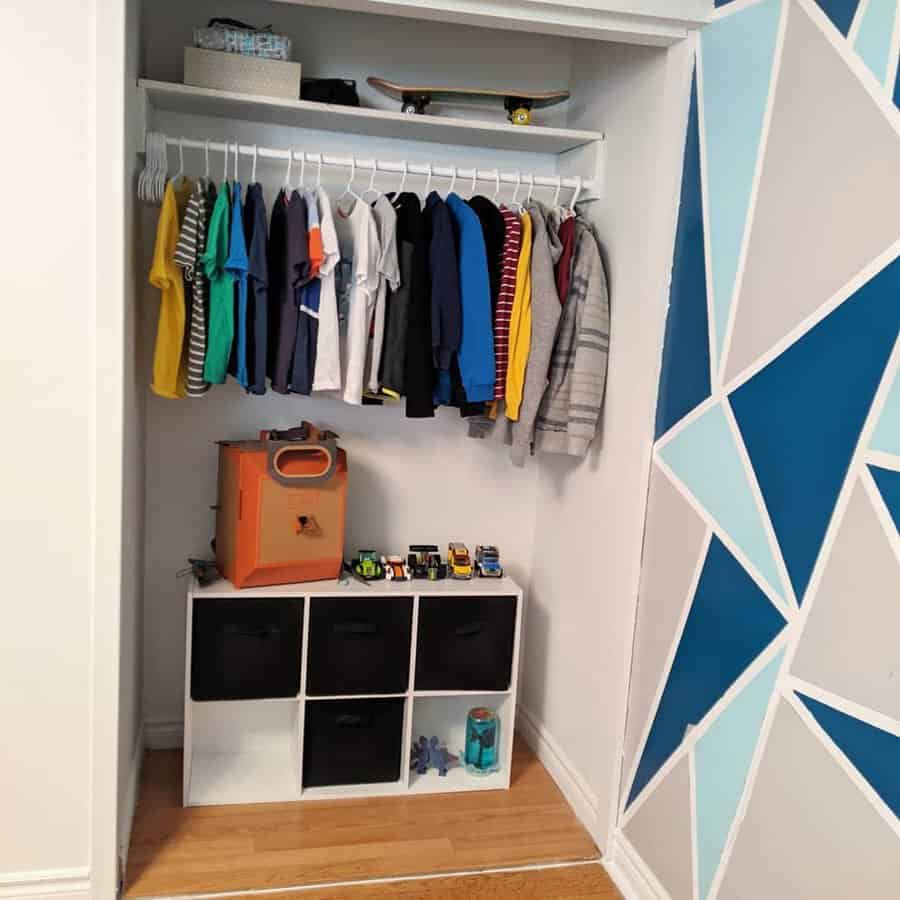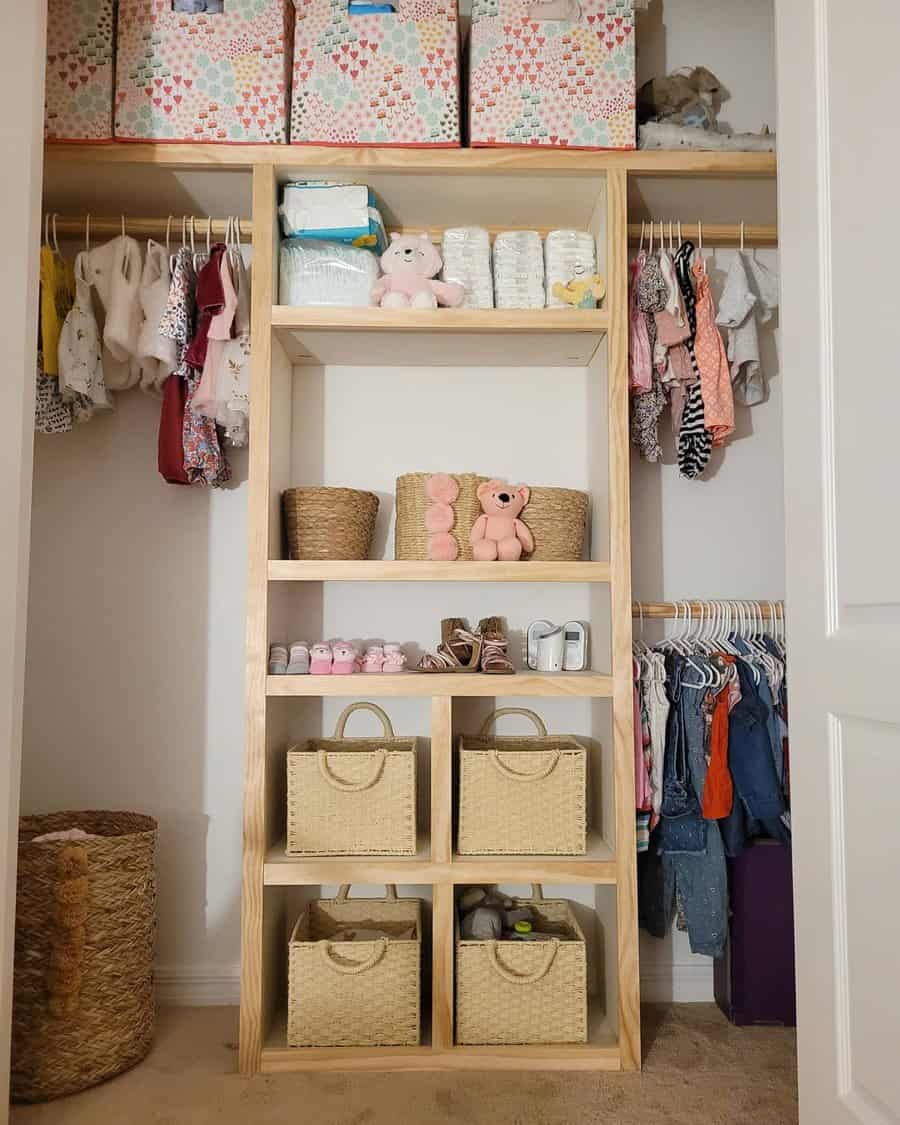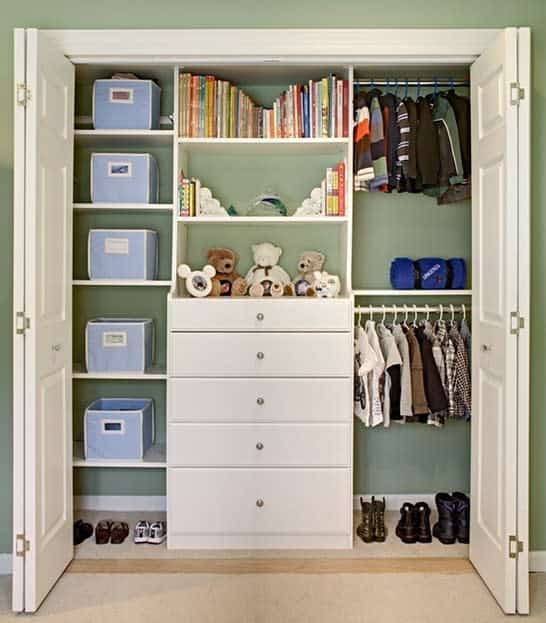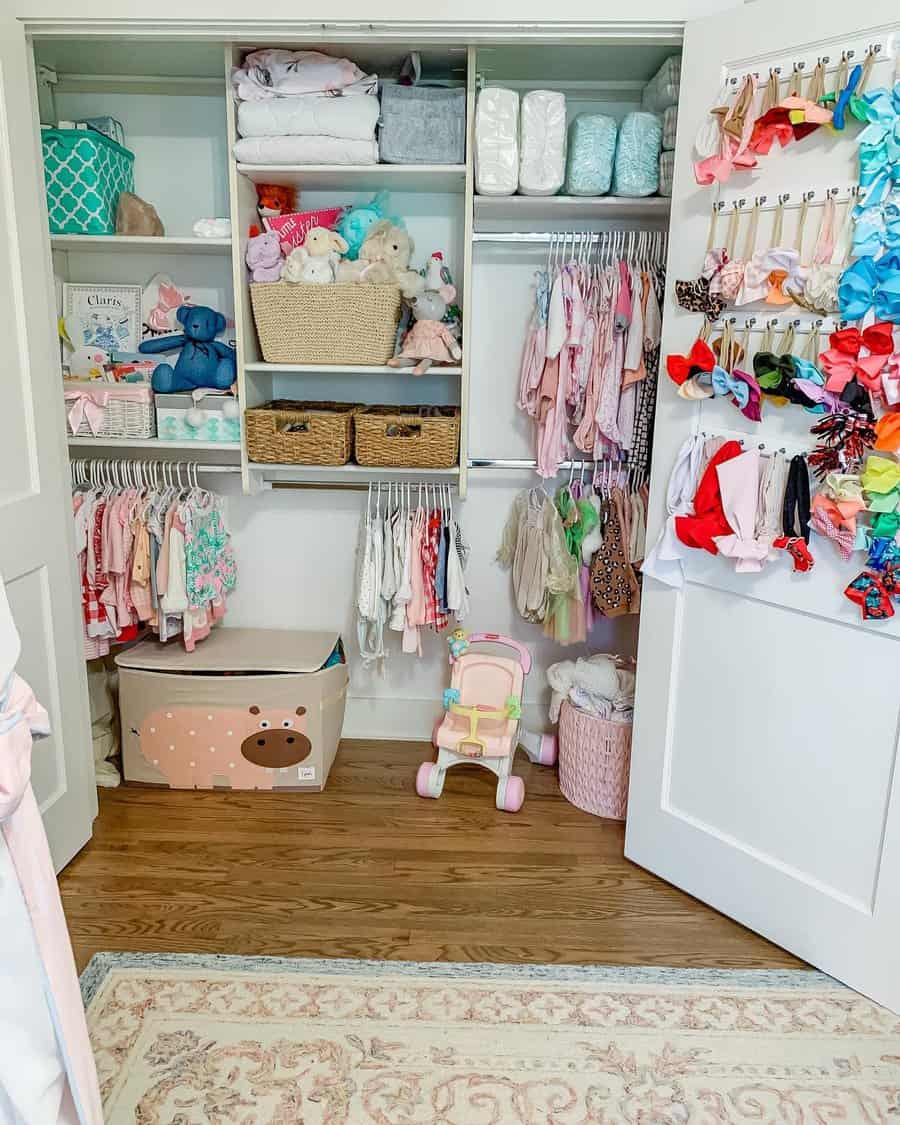 7. Transparent Drawer Installations
Optimize your small closet with transparent drawer installations. Clear drawers and bins enable quick item identification. Utilize door shelves for added storage and designate sections for folded clothes, shoes, and accessories. Organizing your small closet becomes a breeze with these transparent storage solutions, creating a neat and efficient system.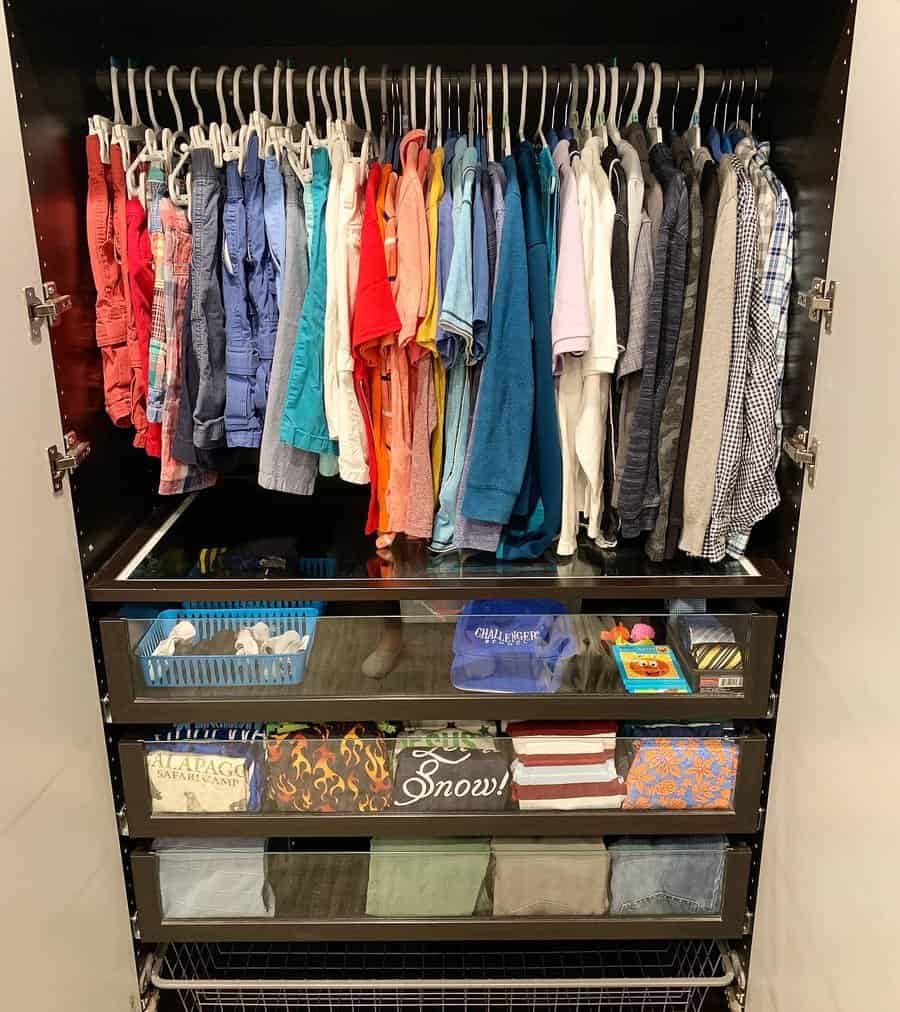 8. Adaptive Modular Shelving
Achieve efficient small closet organization with adaptable modular shelving. Modular shelves provide customization to maximize storage potential. For heavier items, consider wall-mounted hooks to save floor space. Maintain organization with storage containers and baskets for small items. These ideas create an organized and versatile small closet design.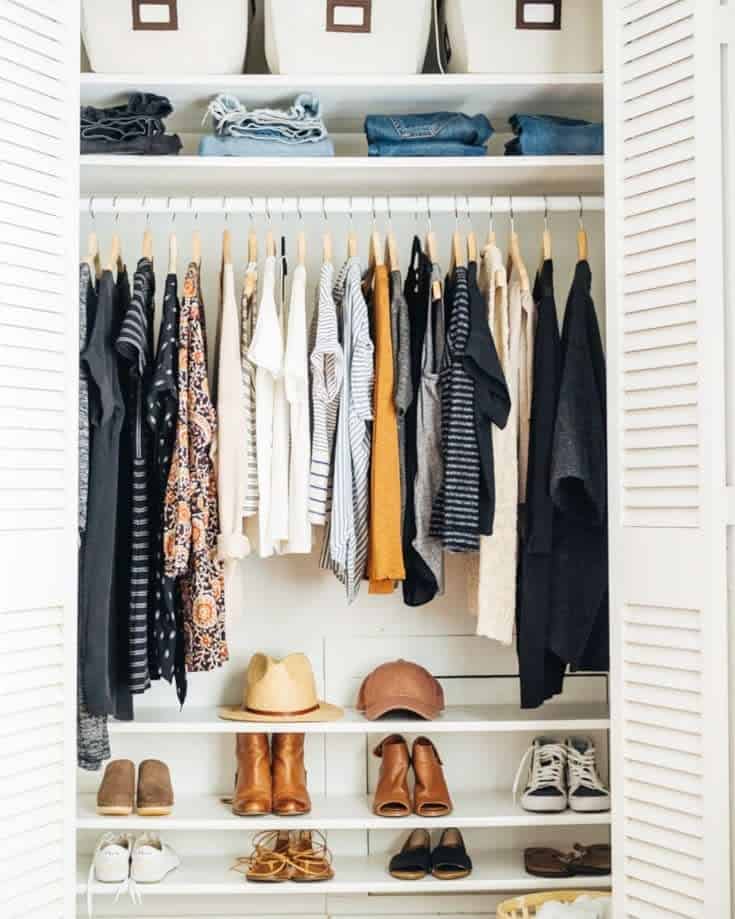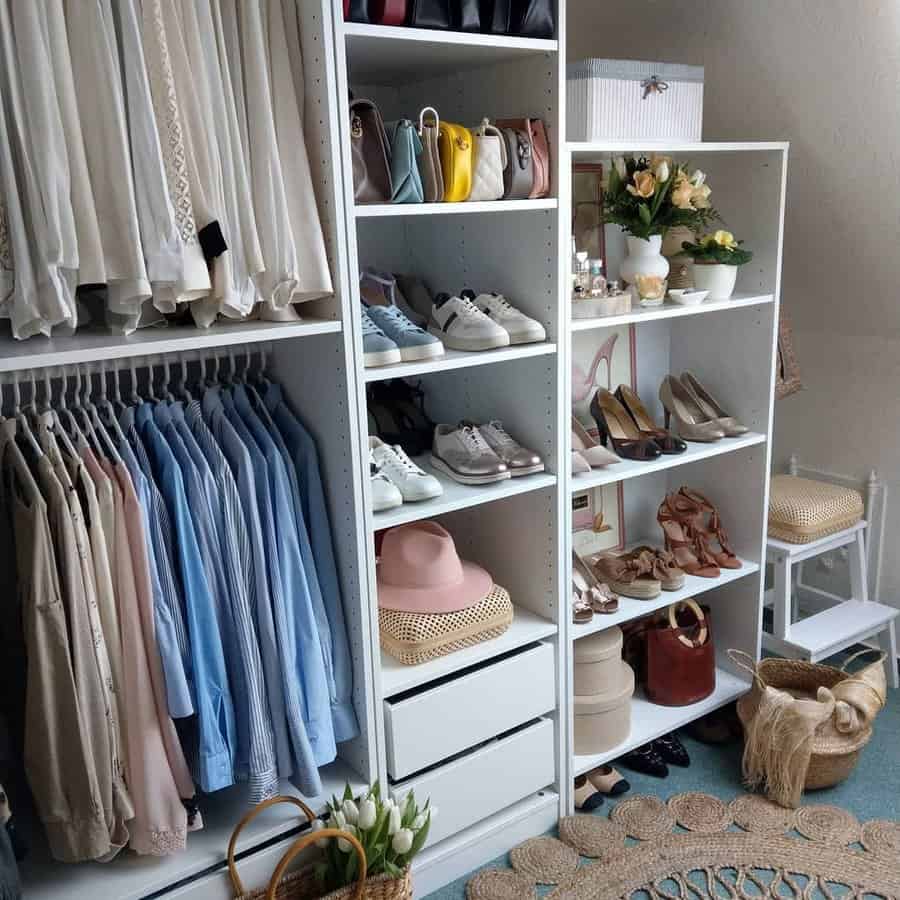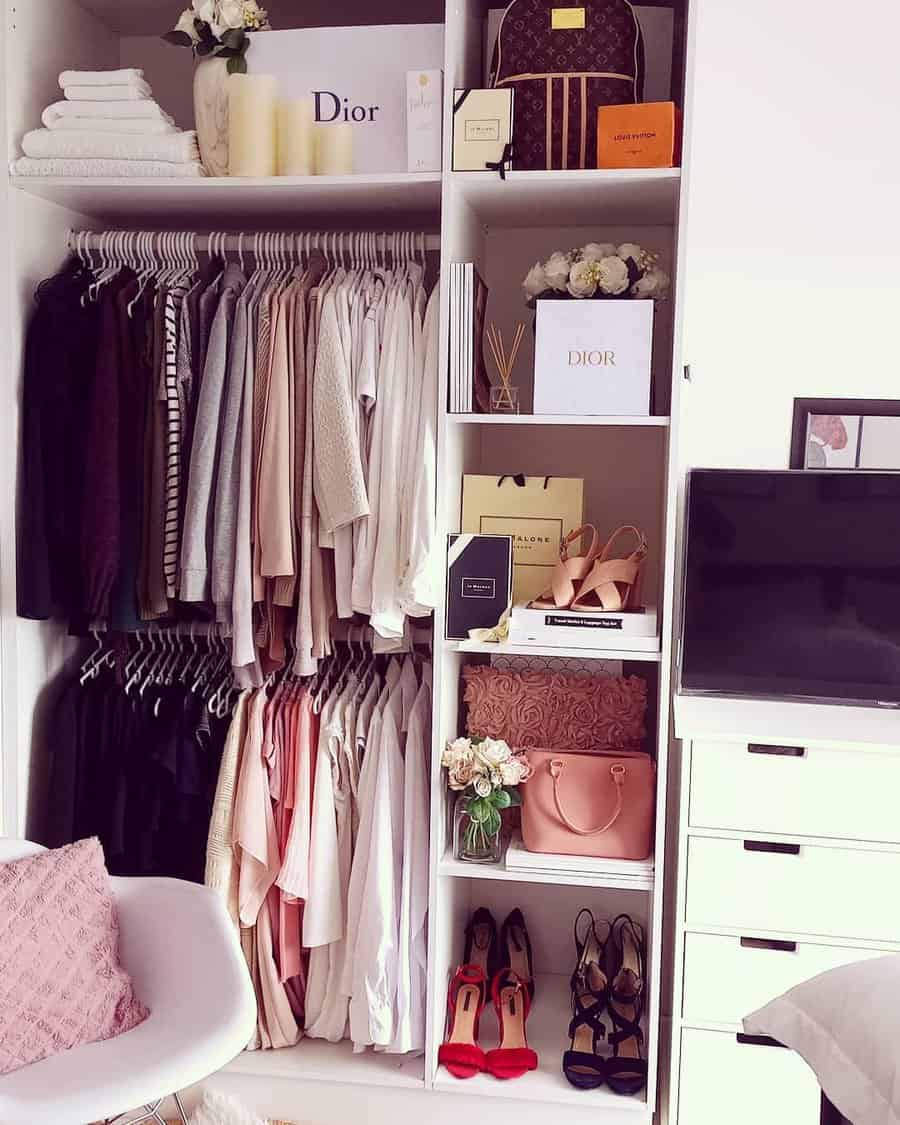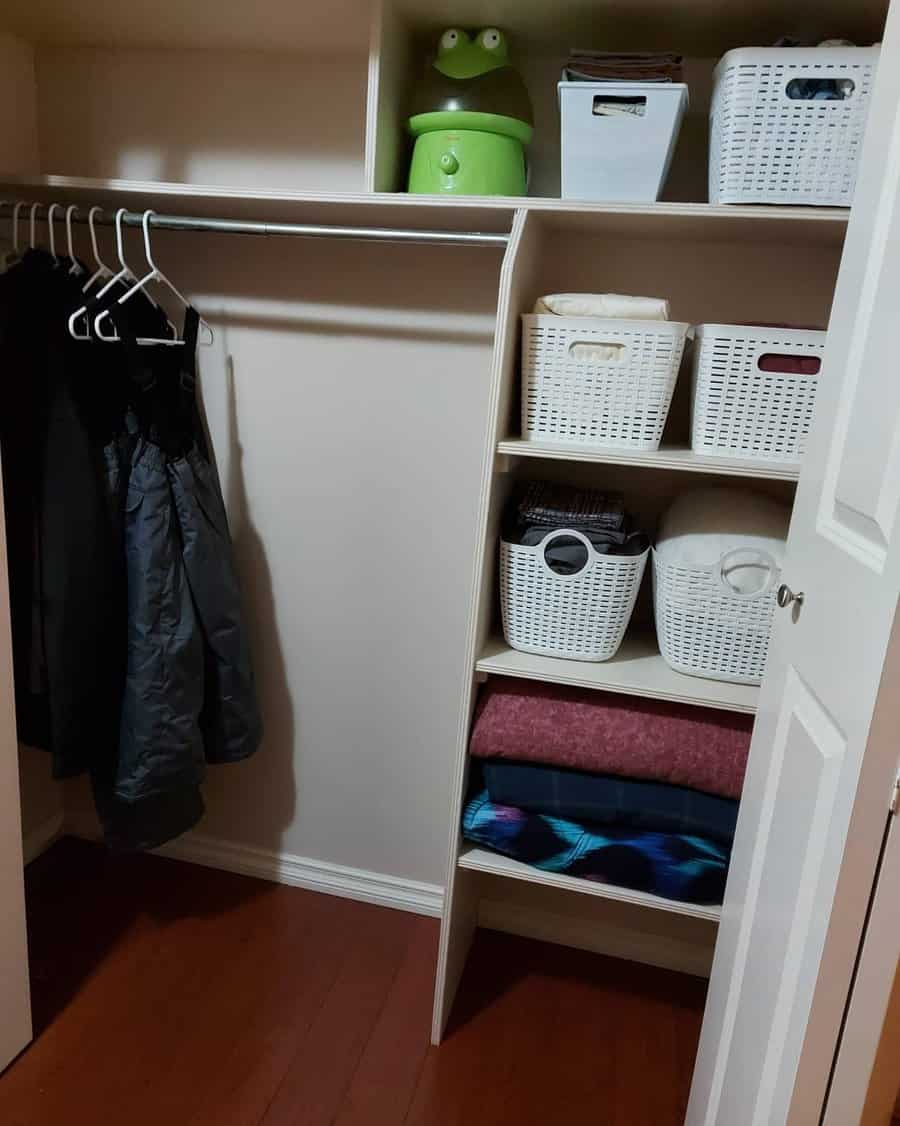 9. Mix Storage Varieties
Improve small closet organization by incorporating a mix of storage solutions. Diverse shelving options can accommodate clothing, accessories, and other items in a single closet. Optimize your space with adjustable shelving and drawers for socks and jewelry. Maintain a clutter-free closet by periodically reviewing and donating items from your wardrobe. These recommendations ensure a flexible and well-organized small closet design.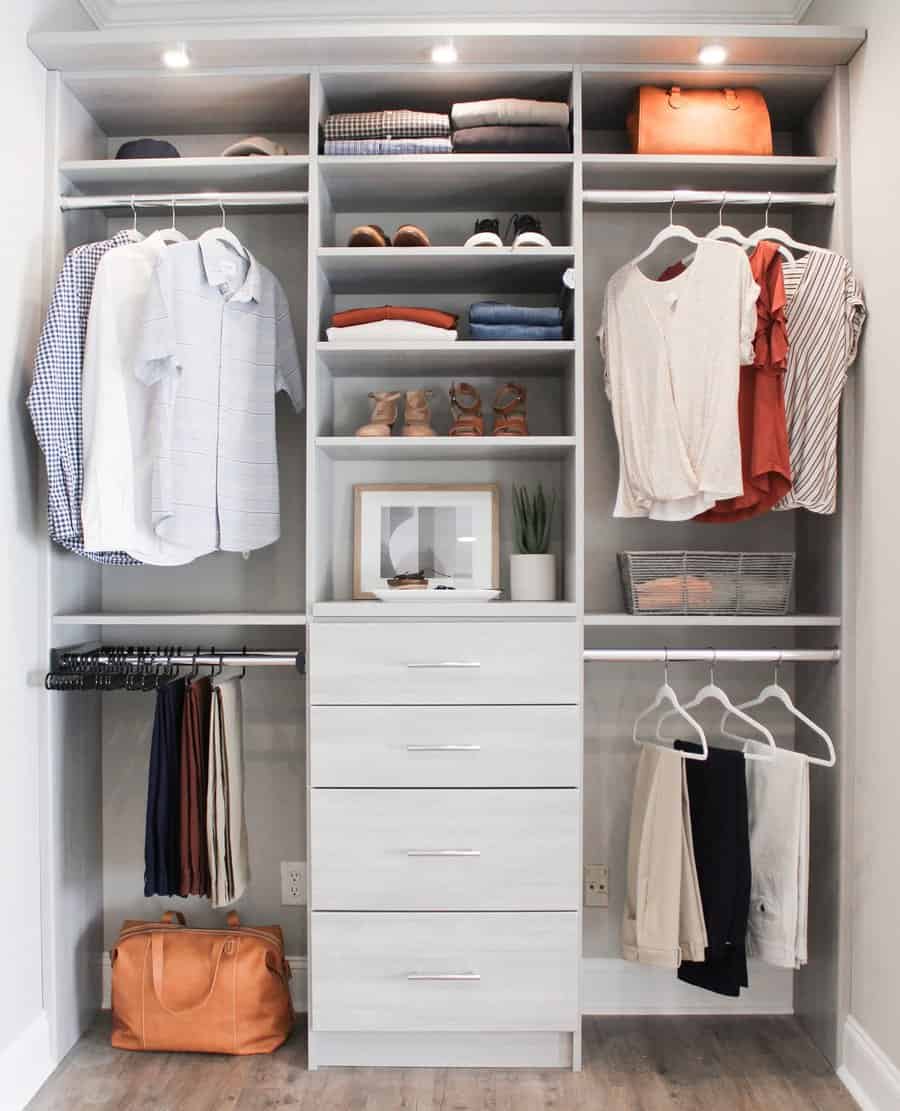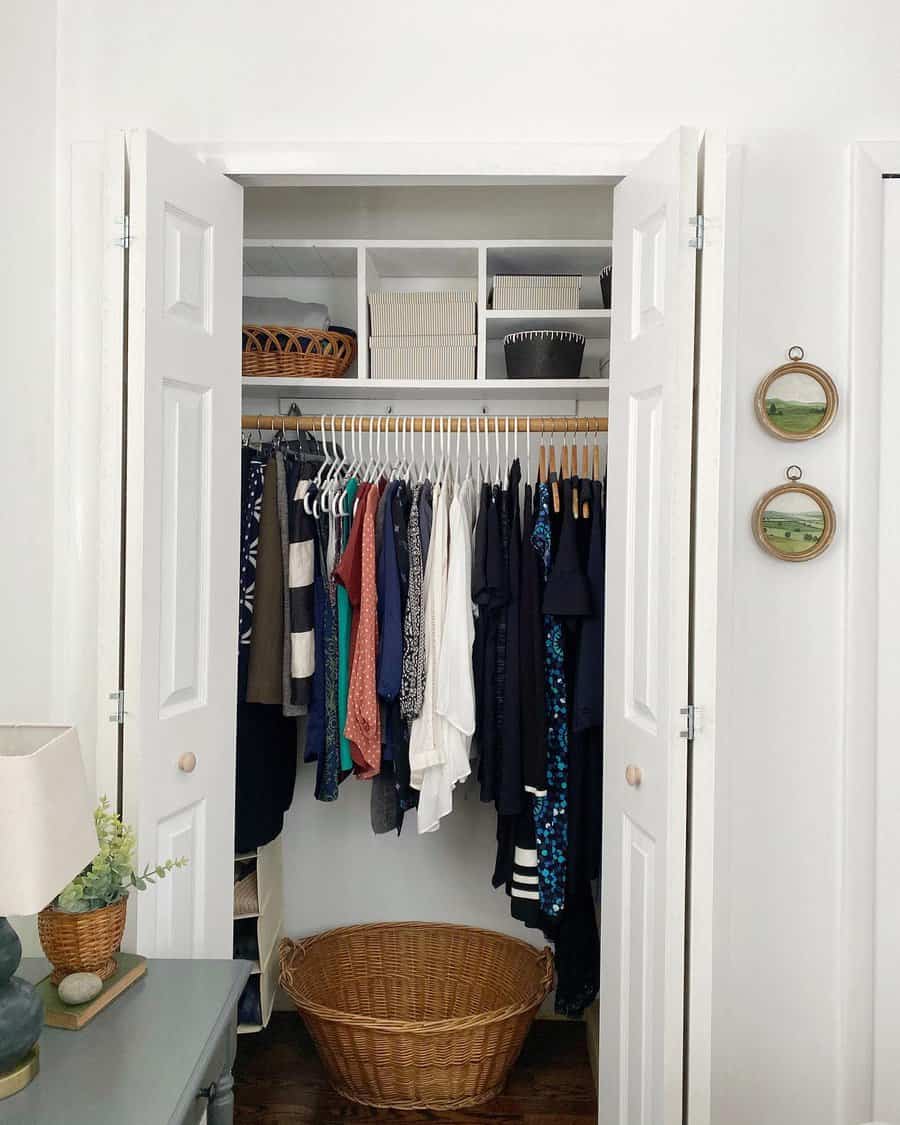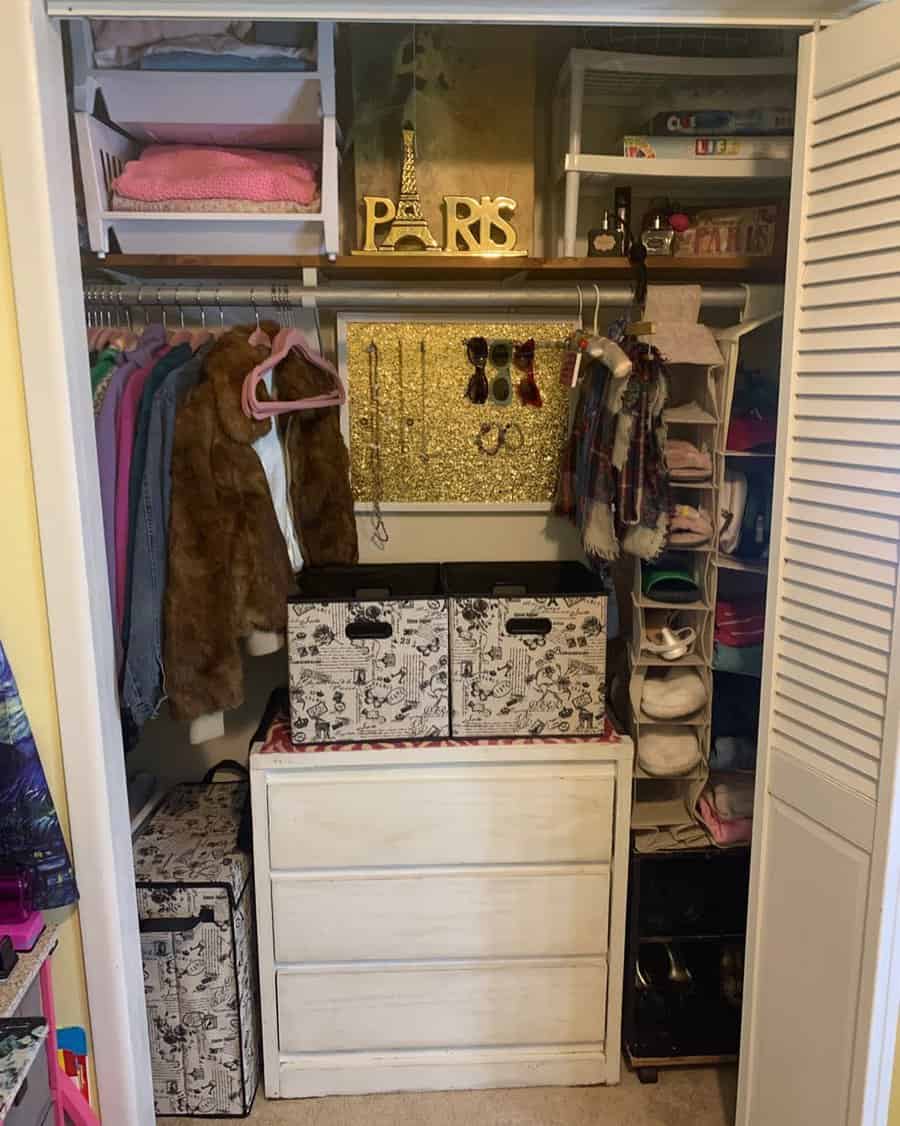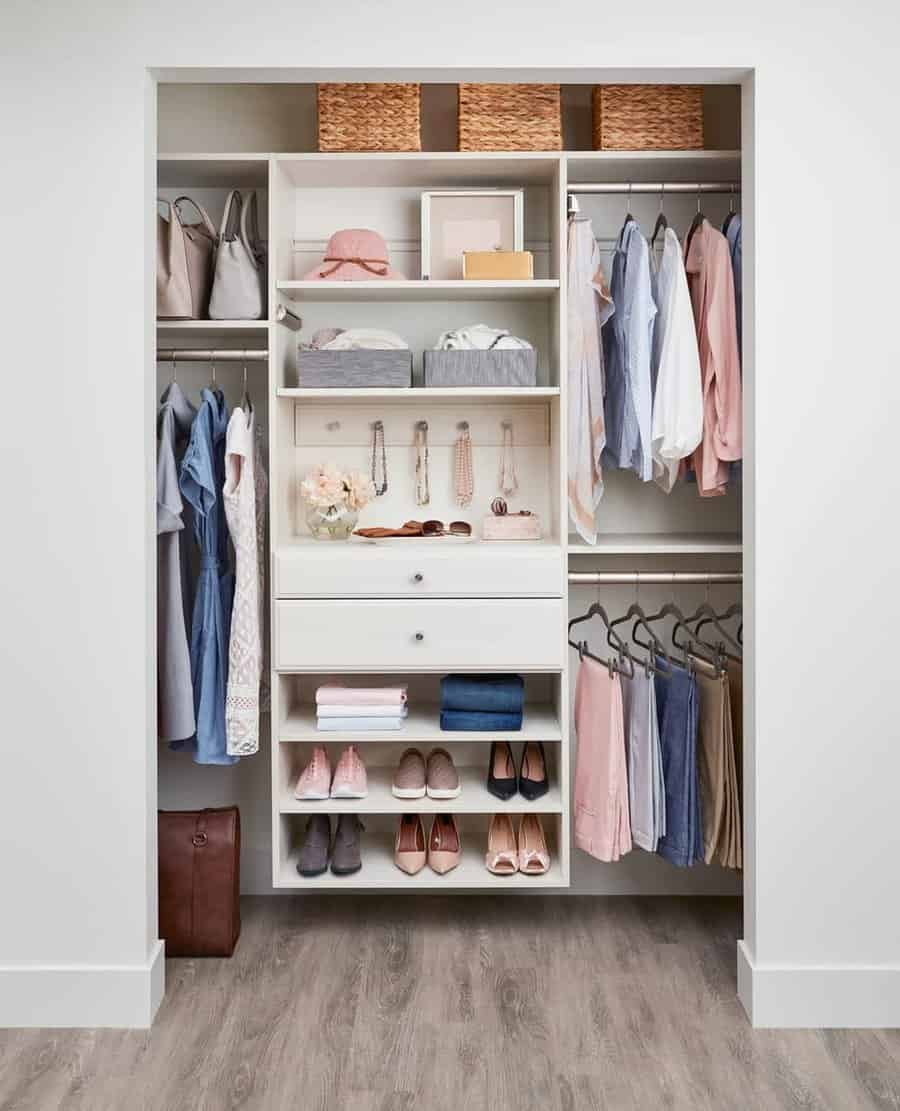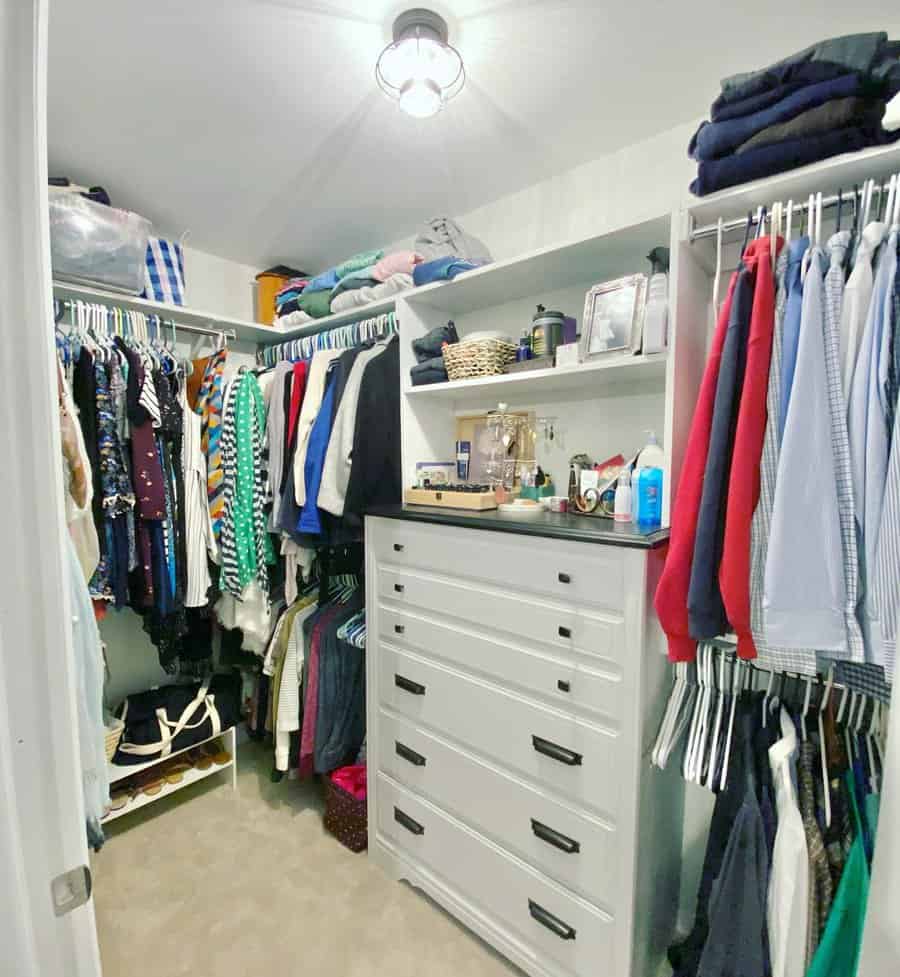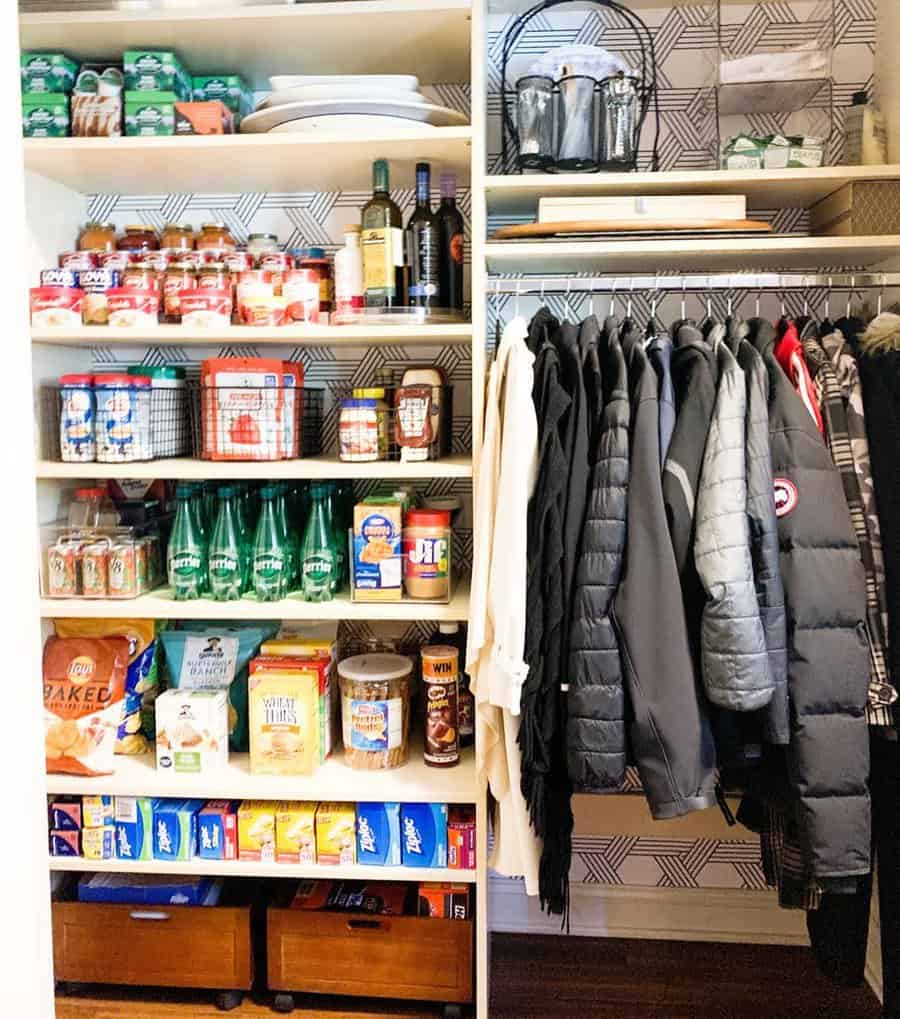 10. Create a Coat Closet
Establish a coat closet for efficient small space organization. Begin by taking inventory and categorizing your items. Use small decorative baskets for winter accessories on the closet floor. Install a coat rack for compact coat storage. Utilize vertical storage containers and clear plastic bags for scarves and gloves. These strategies simplify small closet organization and maximize space usage.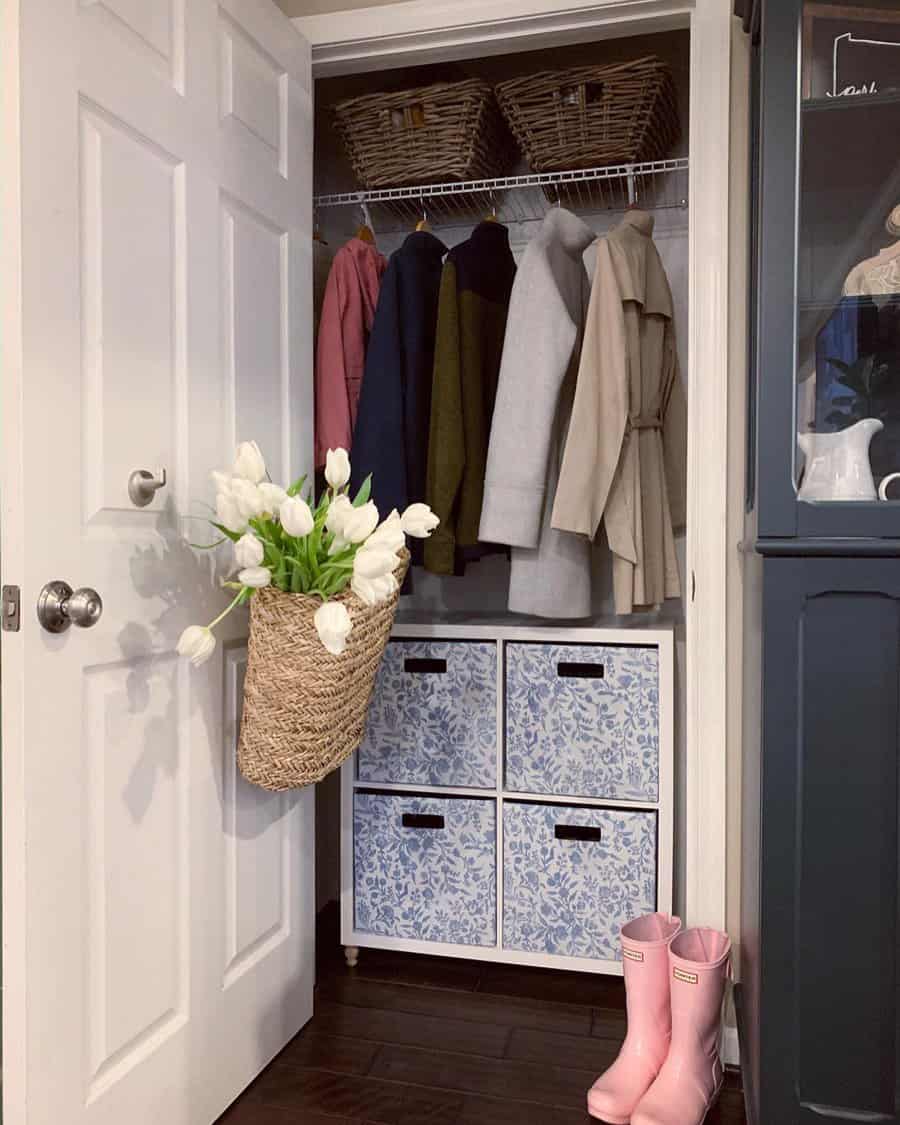 11. Shoe Shelving and Storage
Implement shoe shelving and storage to streamline your closet. Install shelves for easy access and categorize them for different types of shoes. Consider adjustable shelves to accommodate varying footwear quantities. This organized approach eliminates daily shoe-hunting and keeps your closet clutter-free. Make your closet an oasis of order.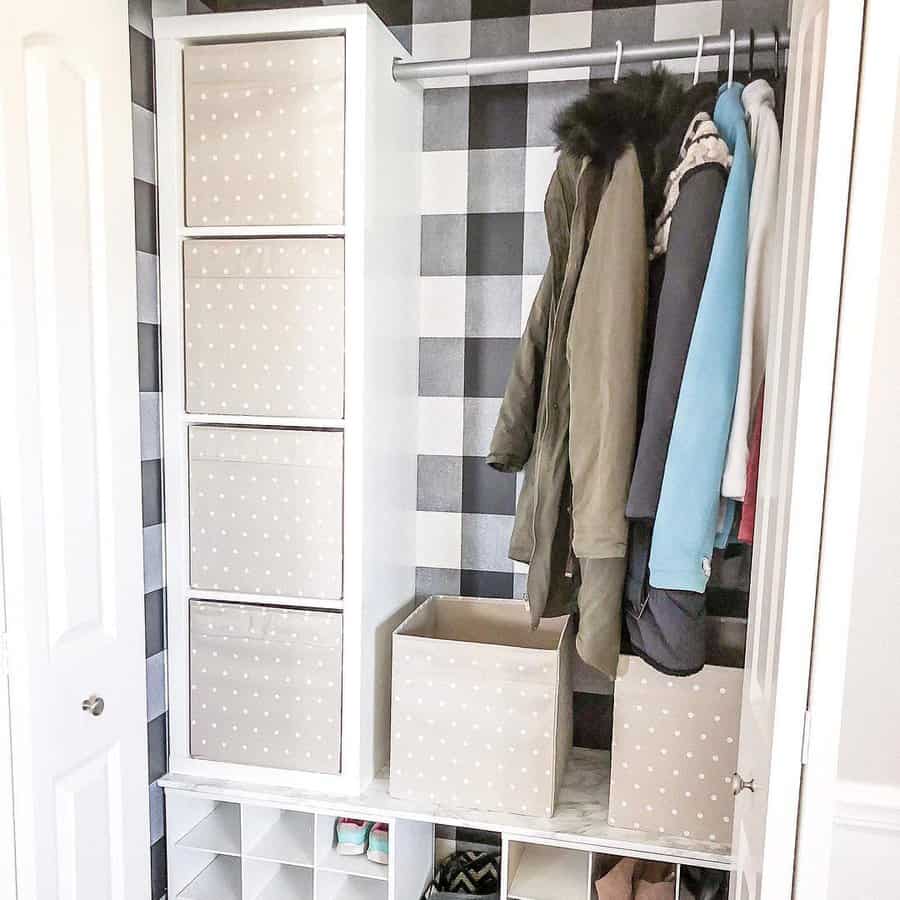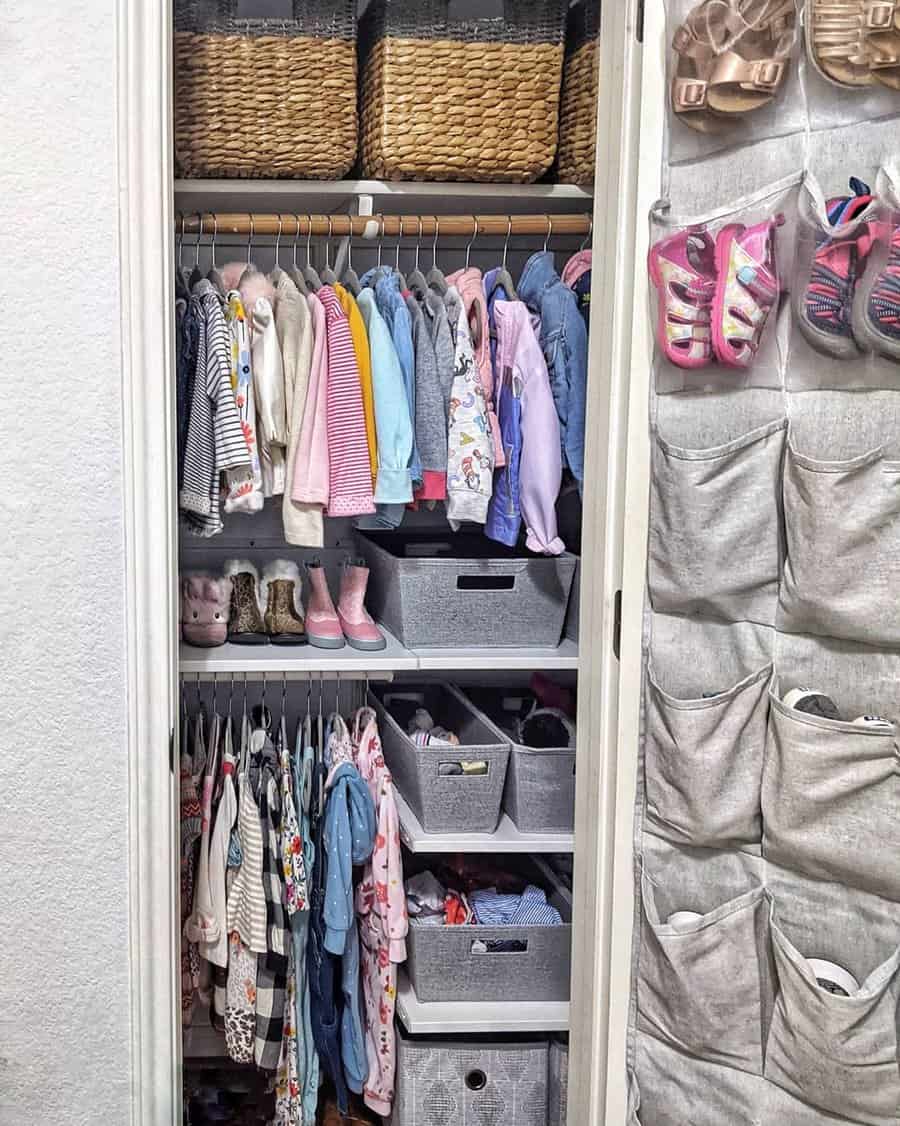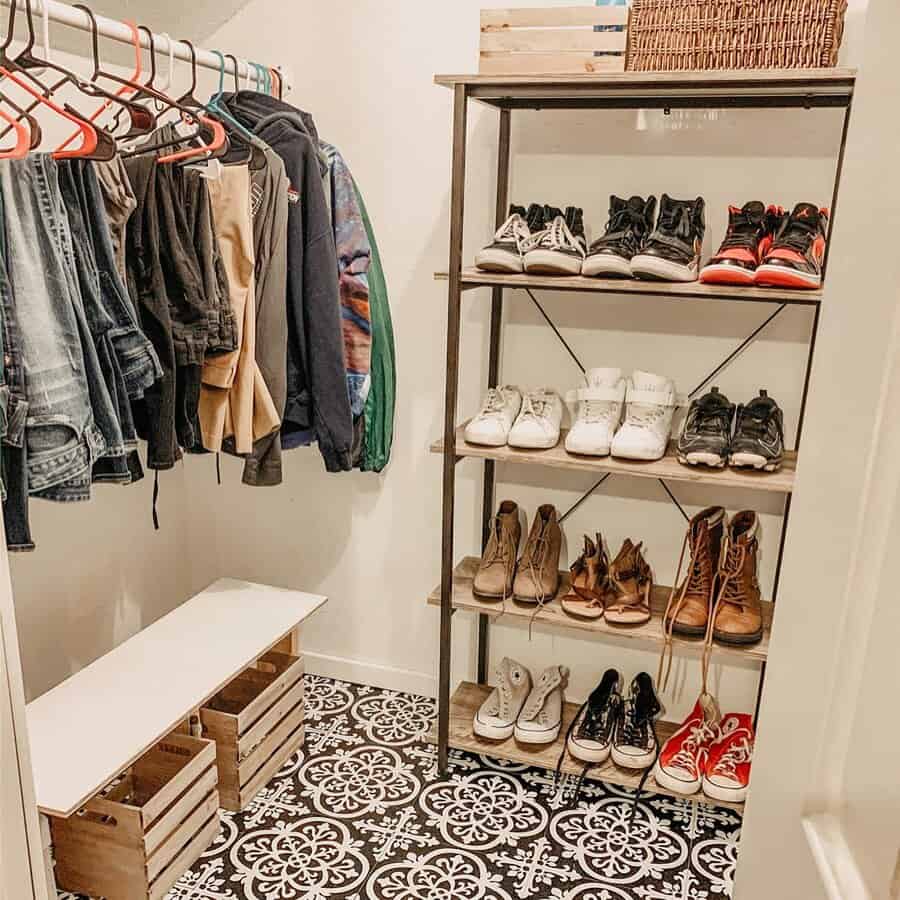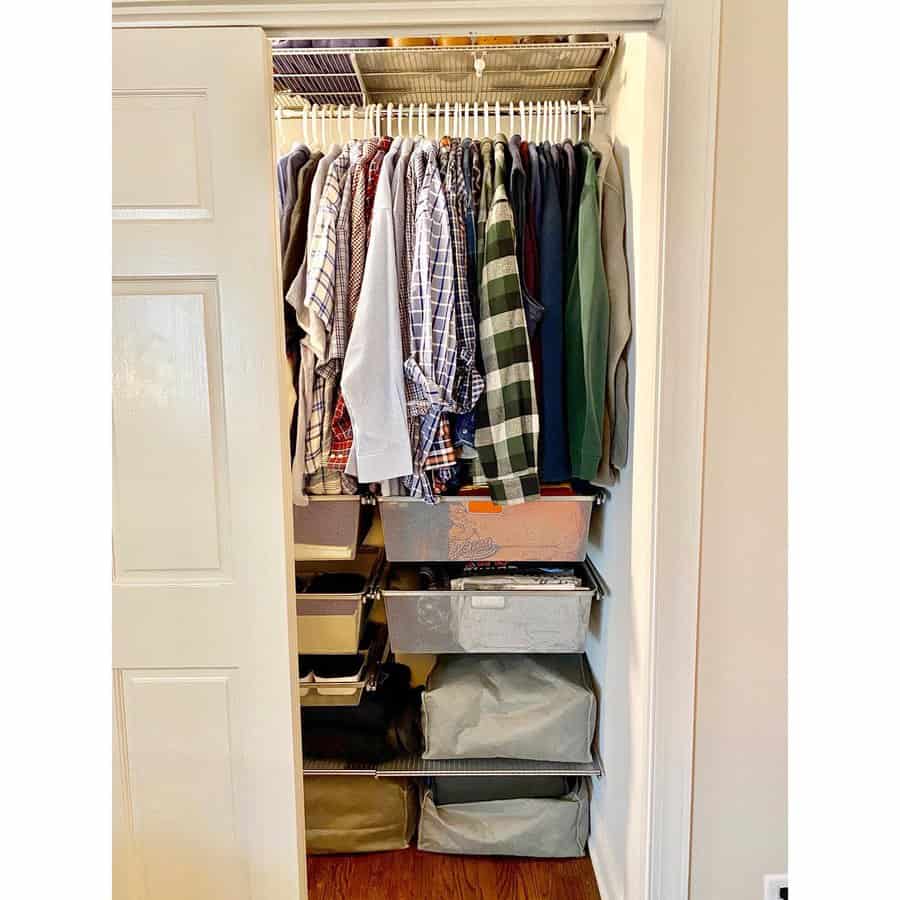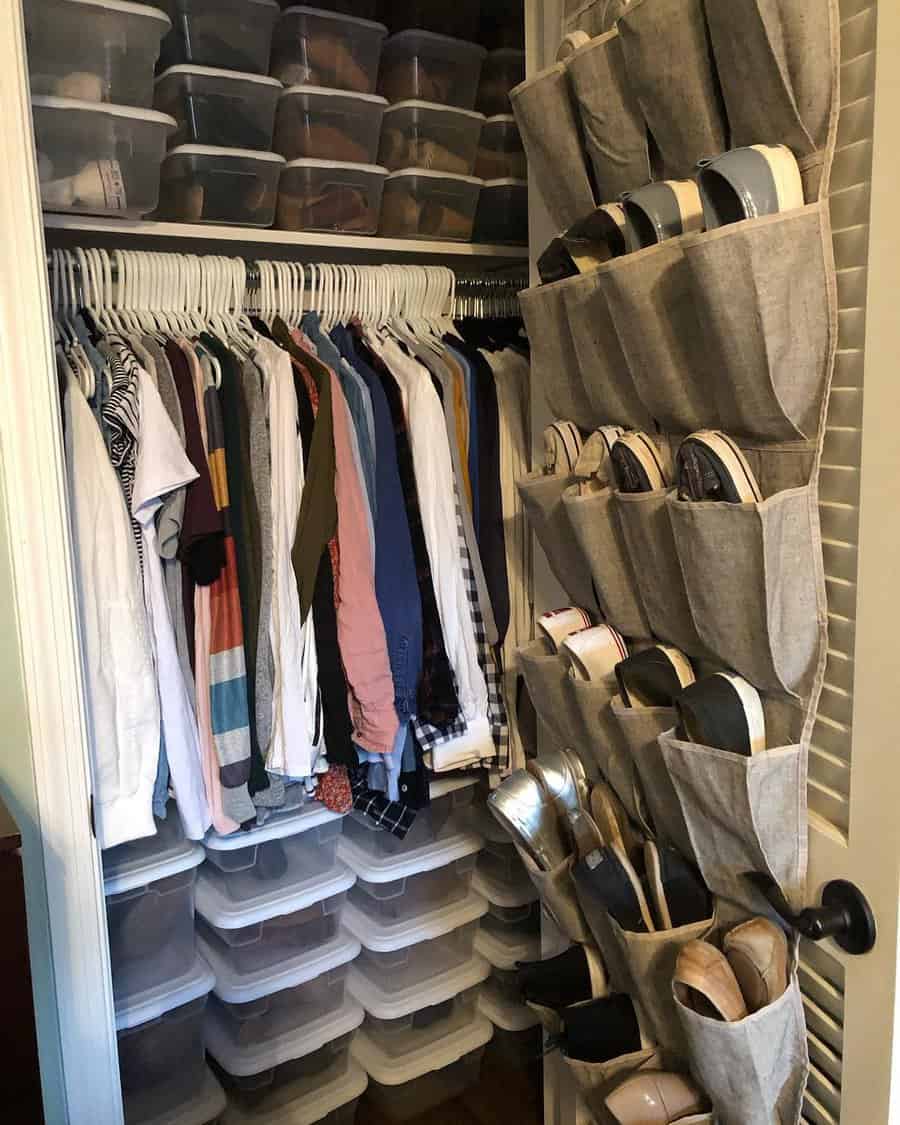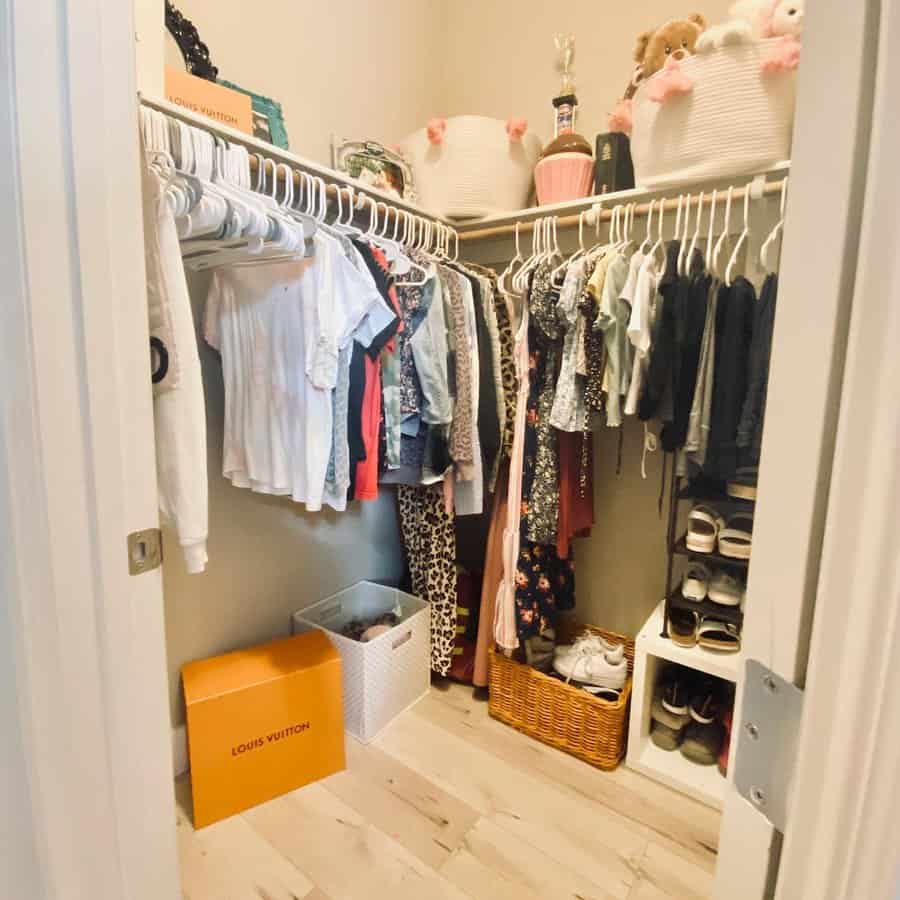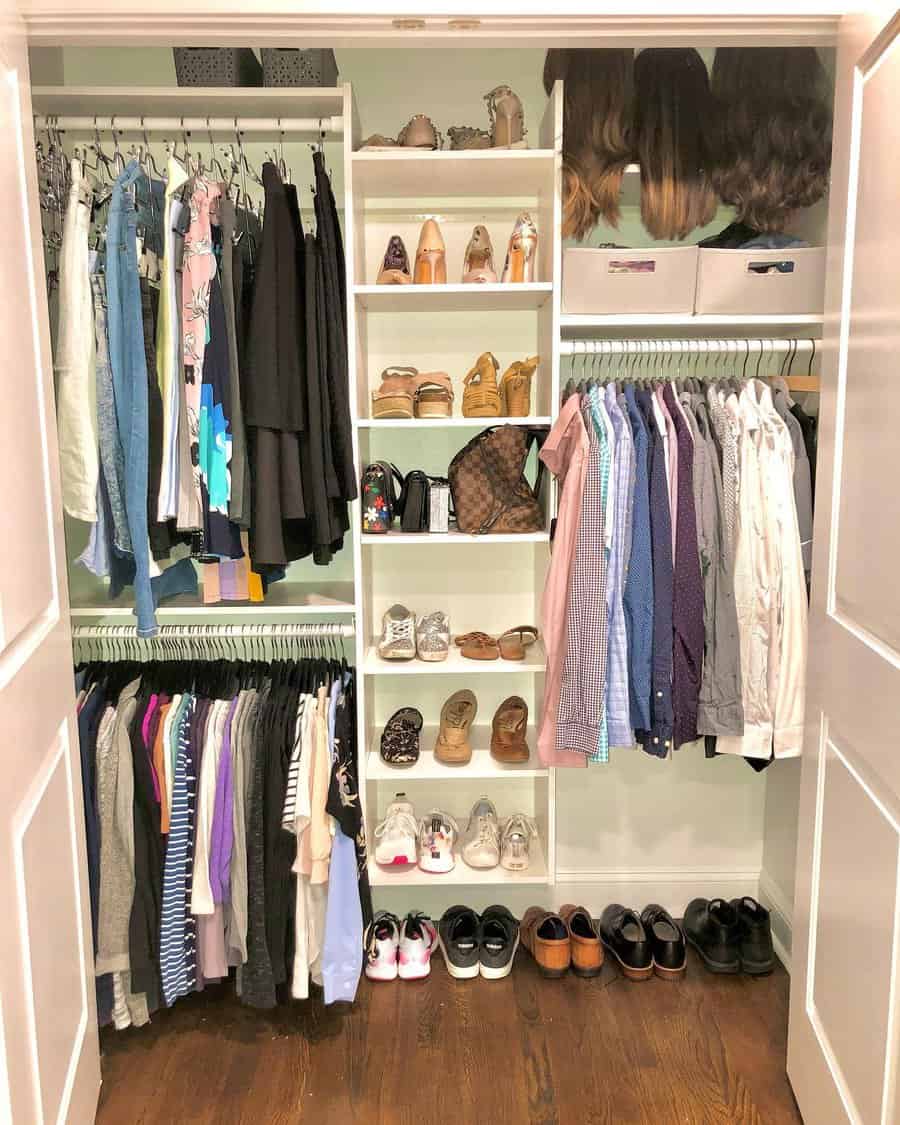 12. Woven Baskets for Style & Storage
Enhance both the functionality and style of your small closet by using woven baskets. These baskets are perfect for neatly storing items like sweaters and blankets. Their woven texture adds a visually appealing element, and the design allows for proper ventilation. Incorporating woven baskets is a smart solution for bringing order and charm to your small closet.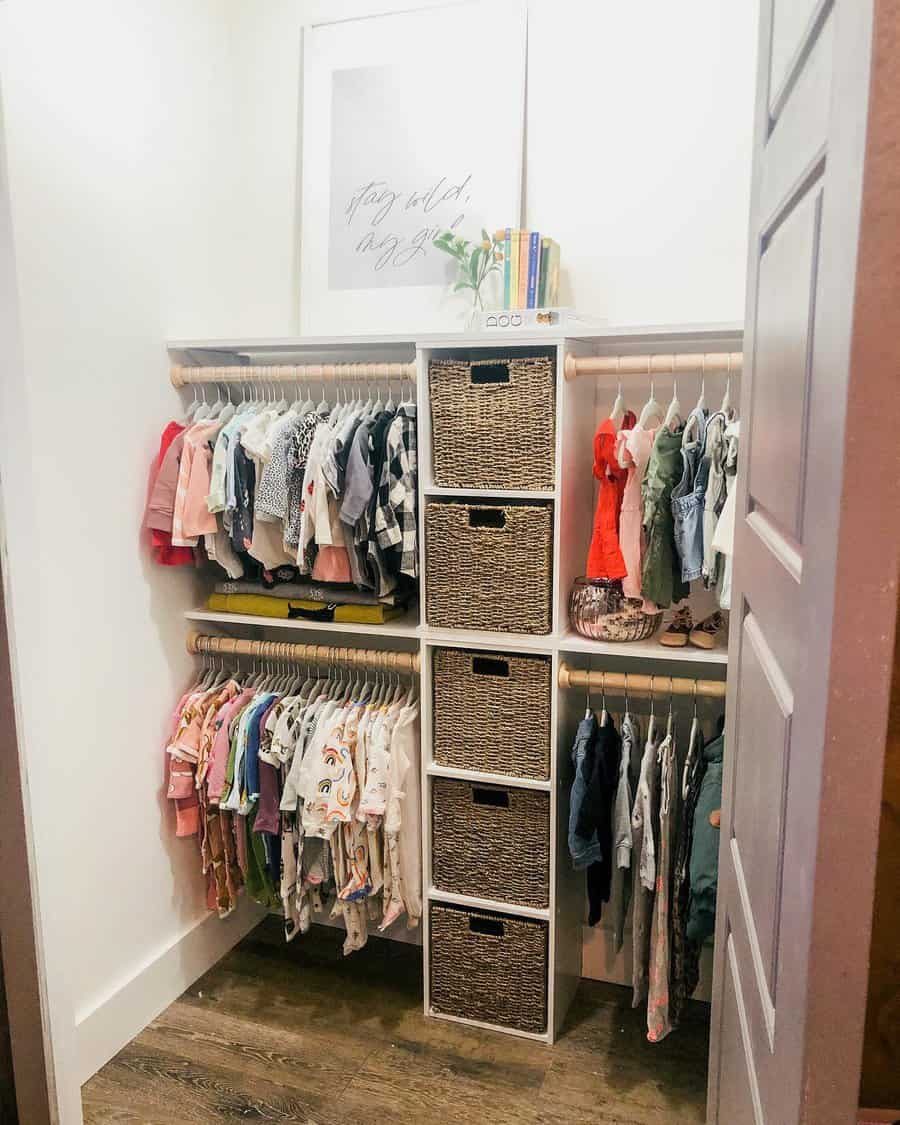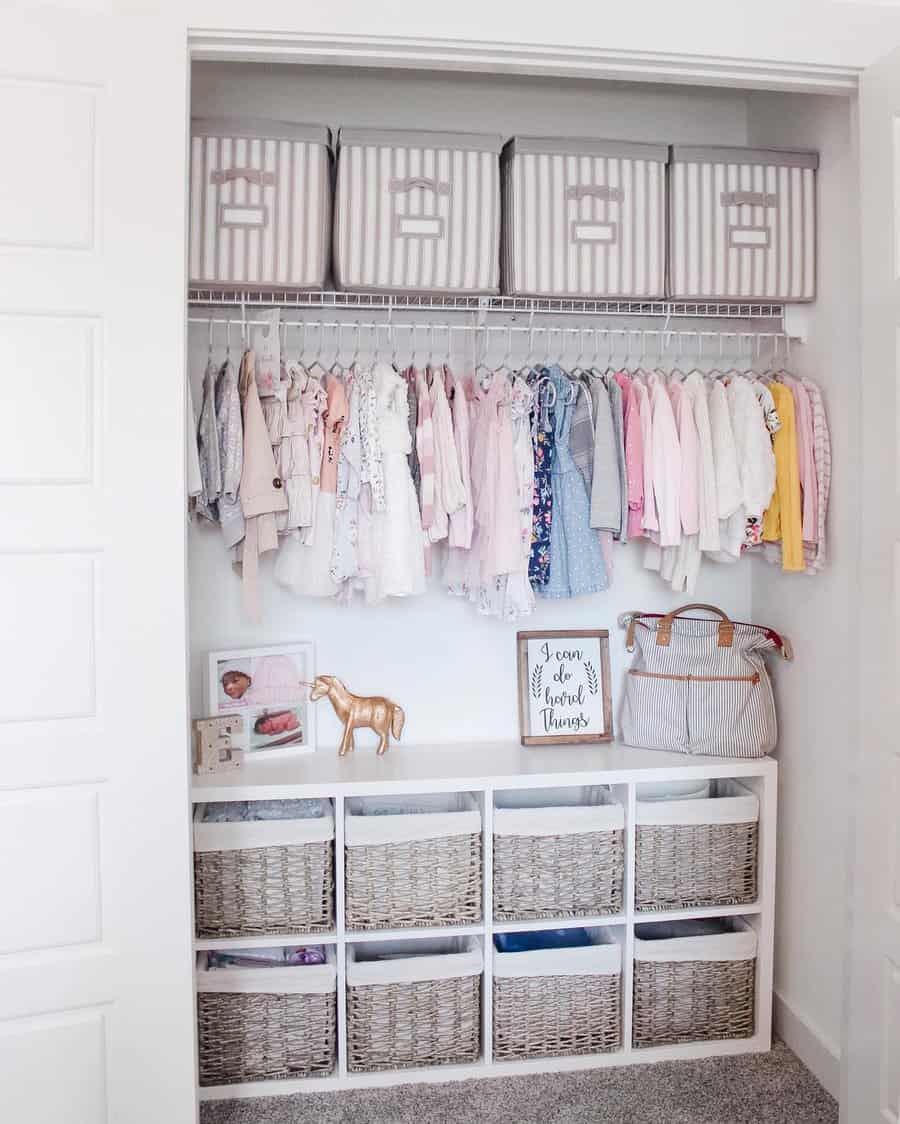 13. Color-Coordinated Closet Arrangement
When it comes to small closet organization, color coordination is your secret weapon. Group your clothes by color, and you'll transform your closet from chaotic to effortlessly accessible. Not only does this approach make finding the right outfit a breeze, but it also adds a stylish, visually pleasing touch to your space. Embrace a palette of bright and neutral colors for a sleek, organized look that showcases your fashion sense. Your closet can be both practical and a reflection of your personal style.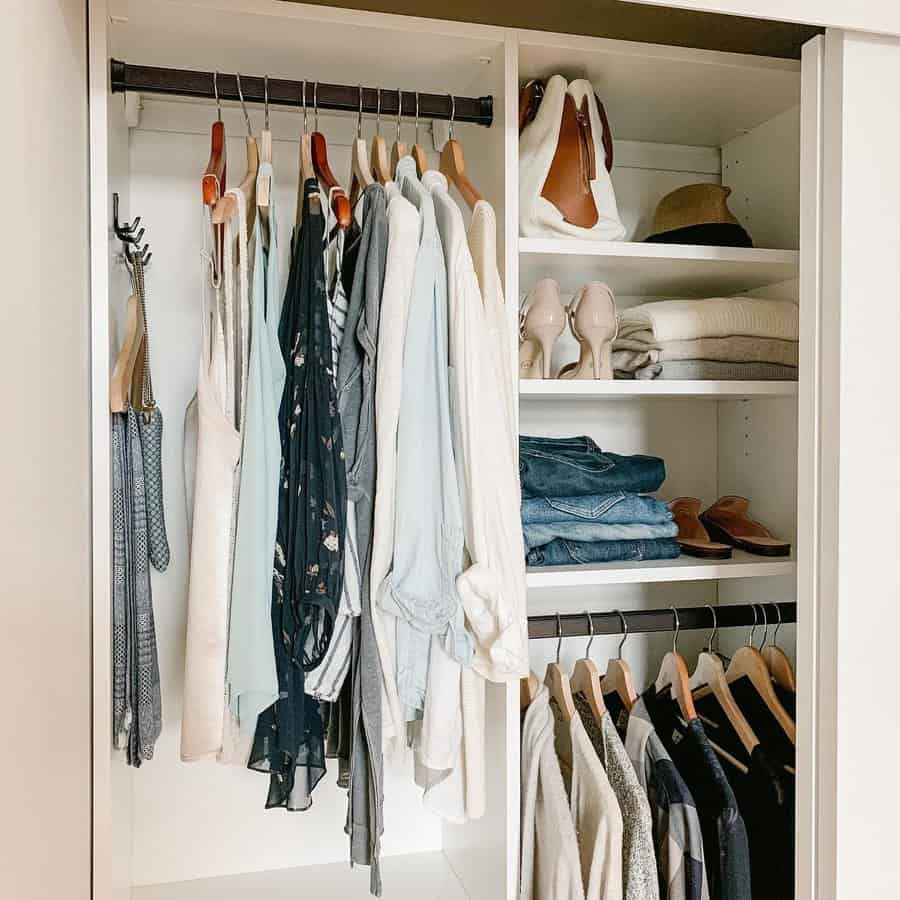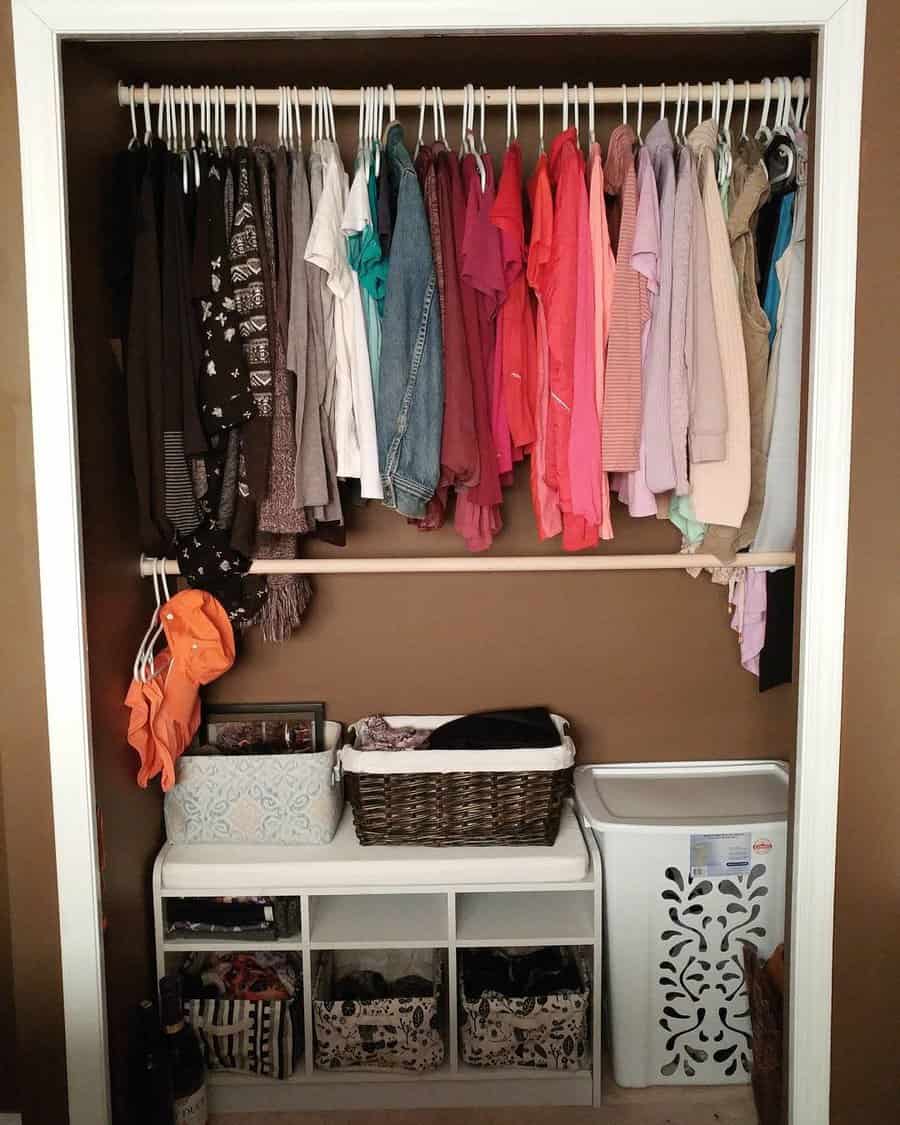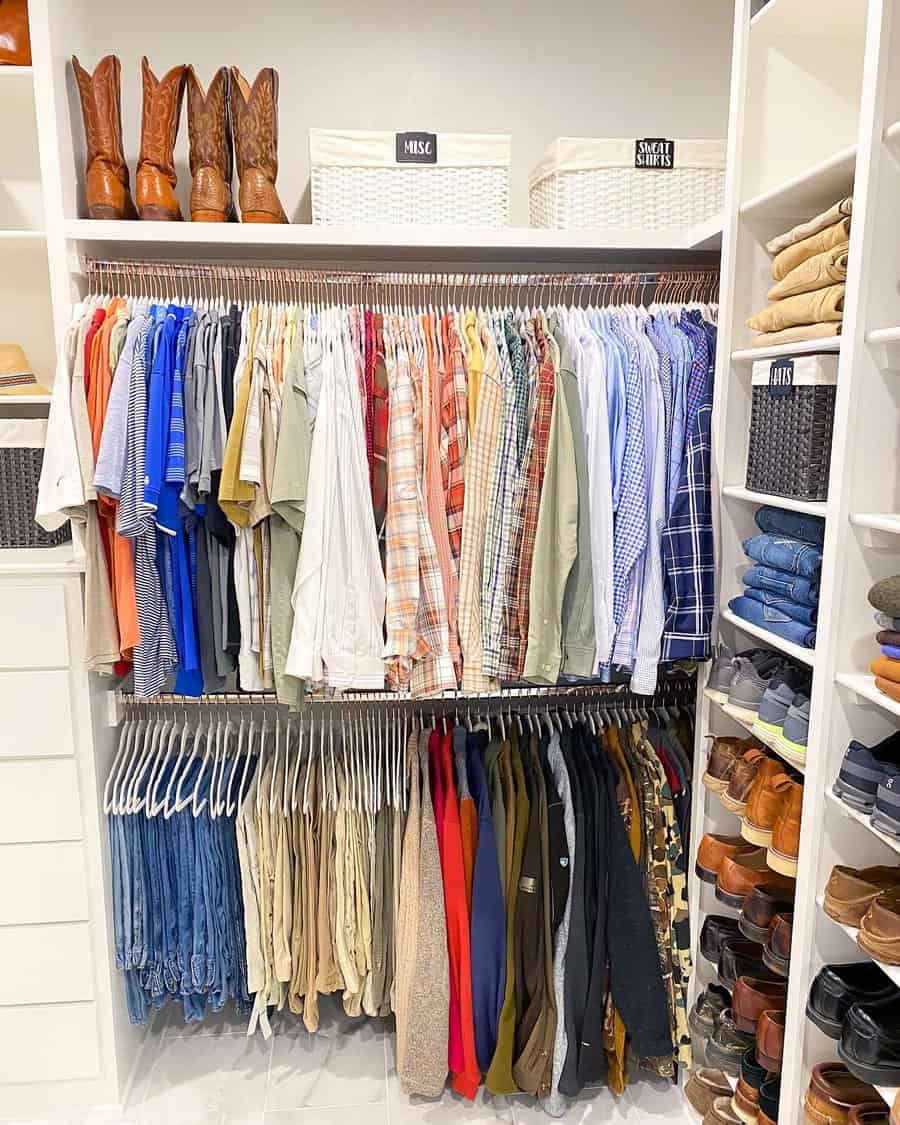 14. Multi-Use Hooks on Closet Door
Unlock the full potential of your small closet by incorporating versatile hooks on the closet door. These hooks serve as an ingenious solution for hanging bags, hats, or belts, effectively expanding your storage space without crowding your closet. Instantly locate your essentials with ease.
Enhance your closet's functionality by placing collapsible bins or cloth baskets on the shelves to store less frequently used items. This strategic organization method turns your closet into an efficient hub for managing your daily life with style.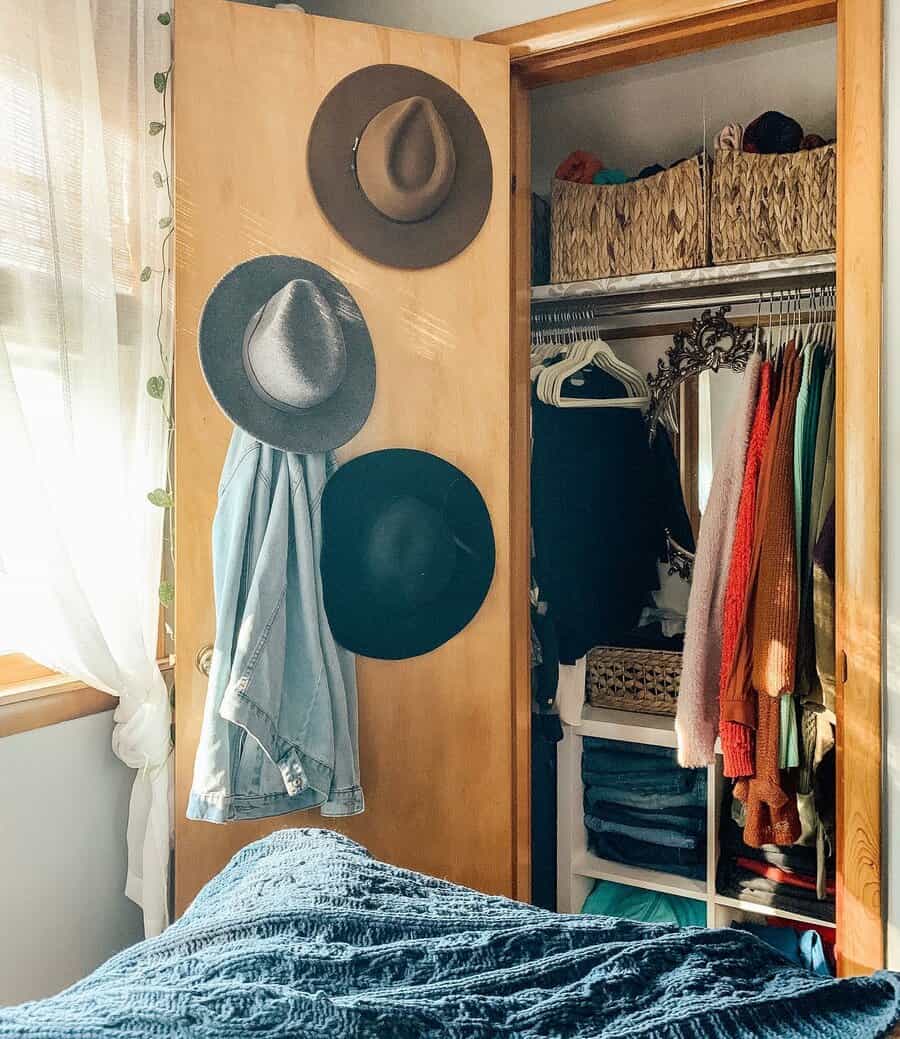 FREQUENTLY ASKED QUESTIONS
Can we hang sweaters?
Sweaters can stretch out, so you should preferably fold and store them in shelves or drawers.
How do I maximize the space in a tiny closet?
Think of multiple hanging rods, floor-to-ceiling shelves,  drawers and shoe racks. Use dividers to keep your clothes organized and easy to pick and store. Determine designated spaces for your clothes and accessories, so that each item has a place, even in small closets.
Are vacuum bags suited to store clothes?
Yes, you can store your clothing items in vacuum bags, but it is recommendable to remove your clothes from time to time for some fresh air, and then store them back in the bags.