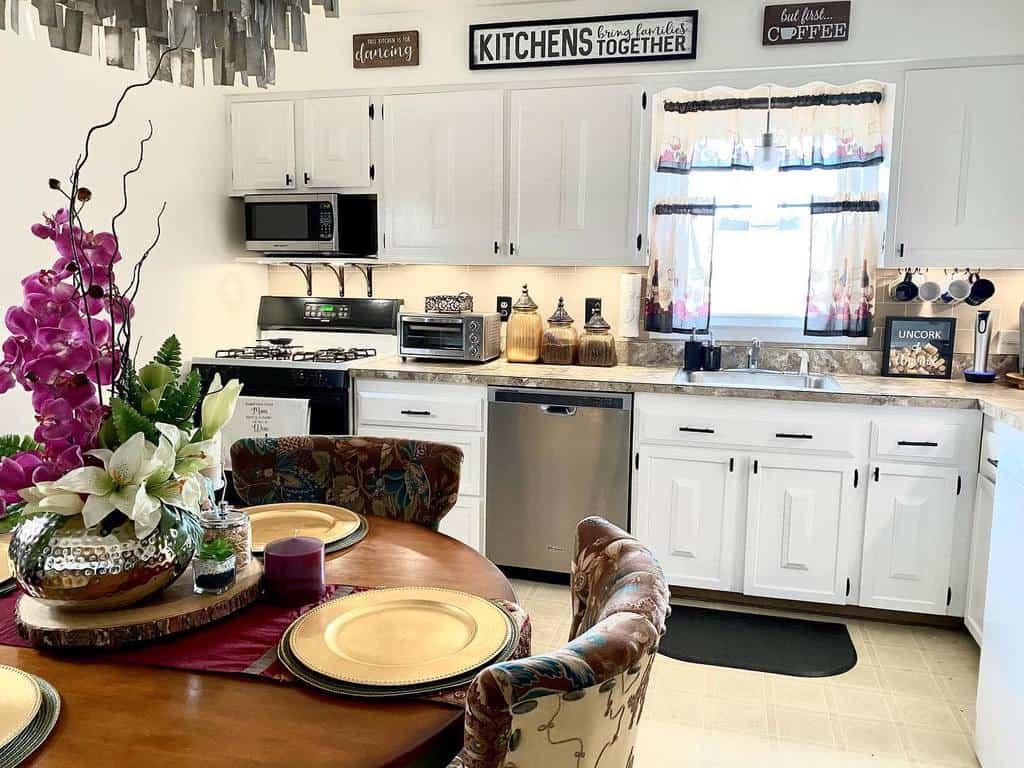 The Top 56 Small Kitchen Storage Ideas
by — Kari Apted

Published on November 9, 2021

Updated on October 17, 2023
"If you can organize your kitchen, you can organize your life." – Louis Parrish
Kitchen organization can be a problem in homes of all sizes. No matter big their kitchen, most people feel like there's never enough kitchen storage space or counter space.
If you're in need of new small kitchen storage ideas, you're in the right place. Enjoy our collection of the best tips and tricks to help you master the art of small kitchen organization.
1. Transform Your Kitchen Hood Cover
Integrating a kitchen hood that seamlessly aligns with your cabinetry not only maximizes your small kitchen's visual space but also enhances its aesthetics. Opting for a hood with materials like sleek stainless steel or warm wood tones can elevate your kitchen's style. For a complementary design element, consider incorporating open shelving. This not only offers easier access to kitchen essentials but also broadens the space visually. Rustic wood or chic metal shelves can provide both function and flair.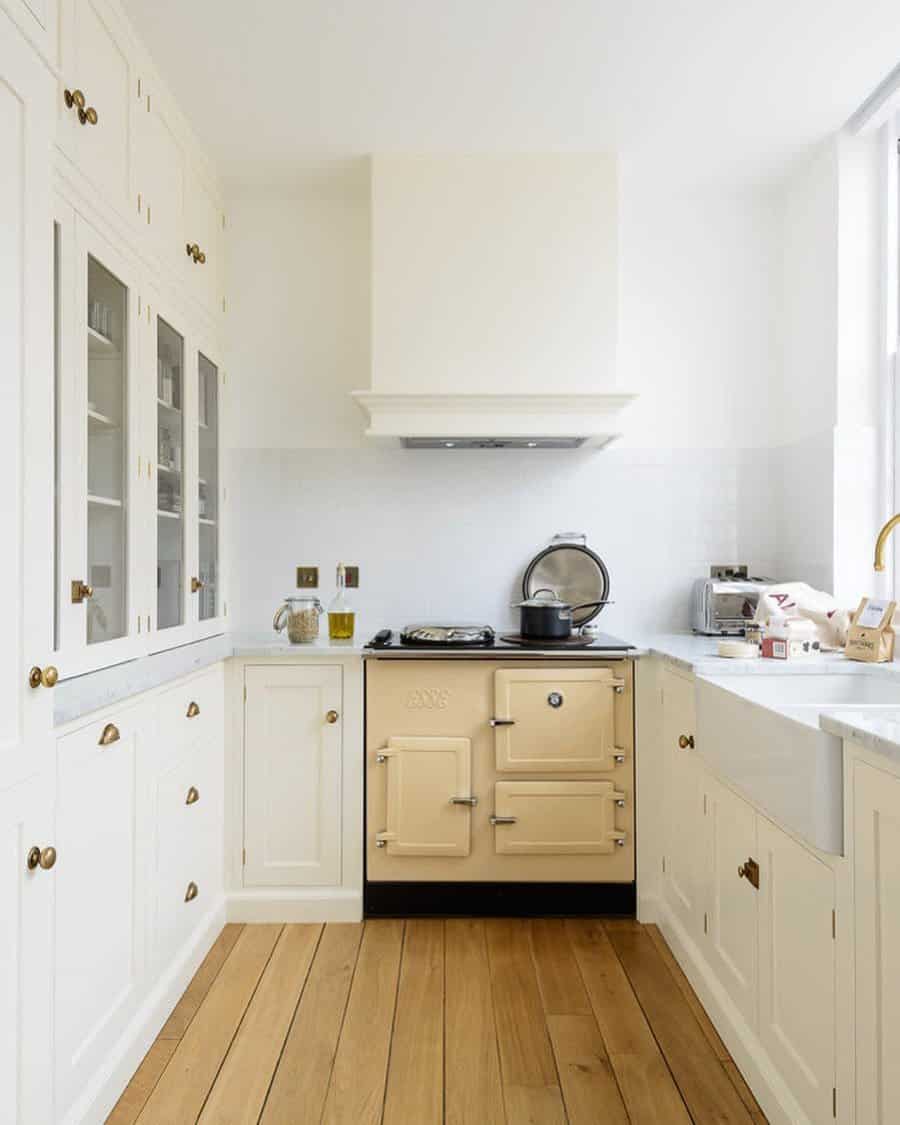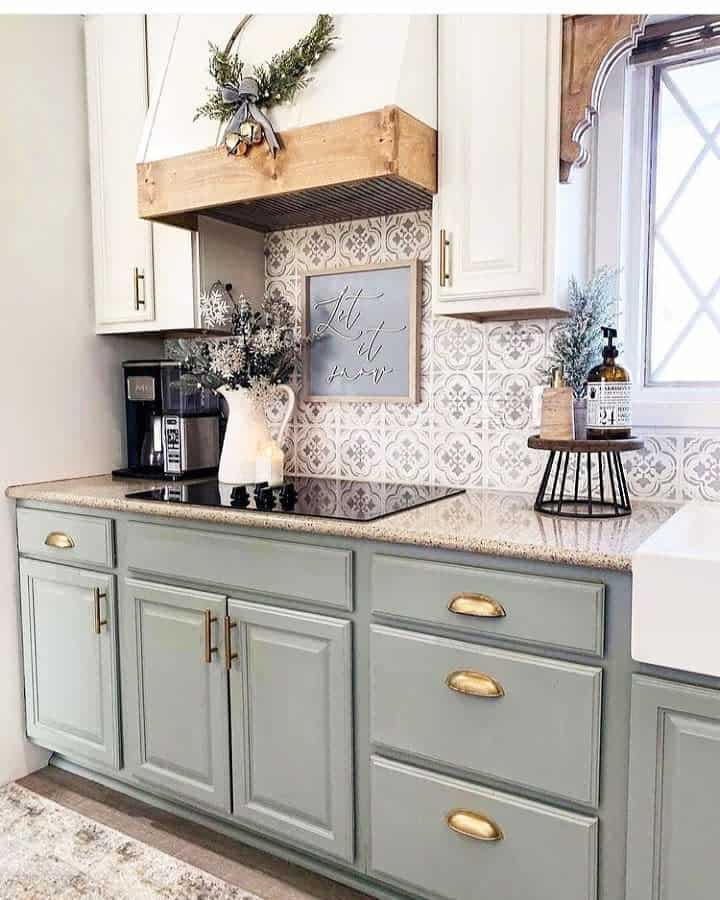 2. Enhance Space with Runner Rugs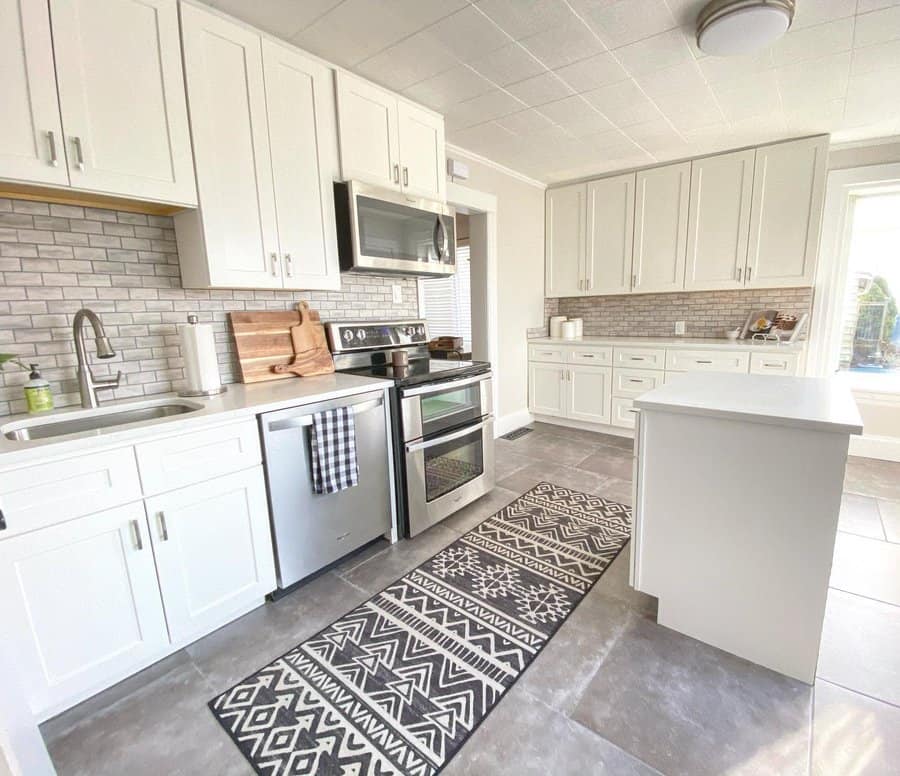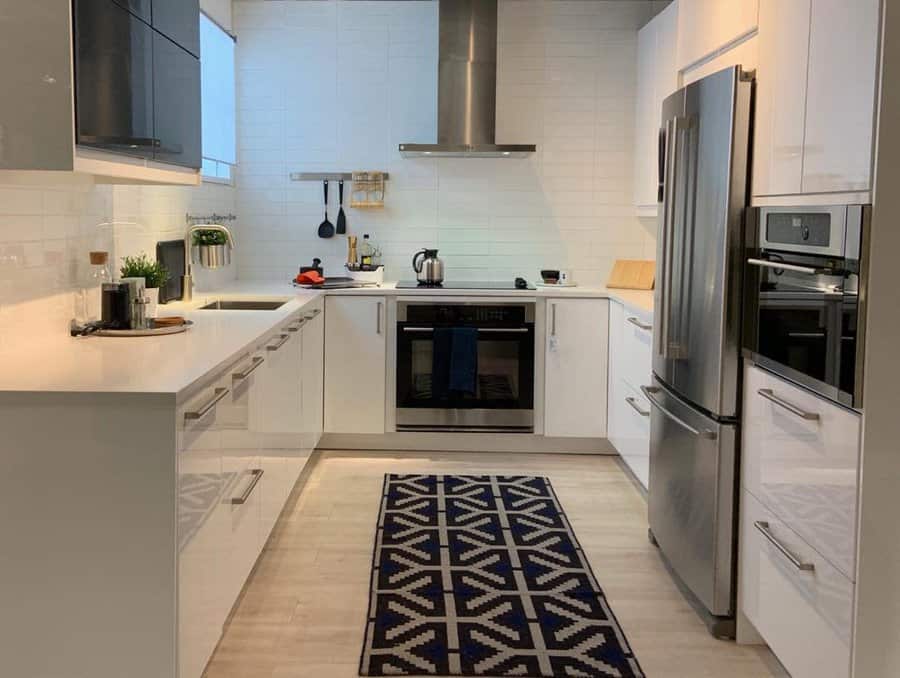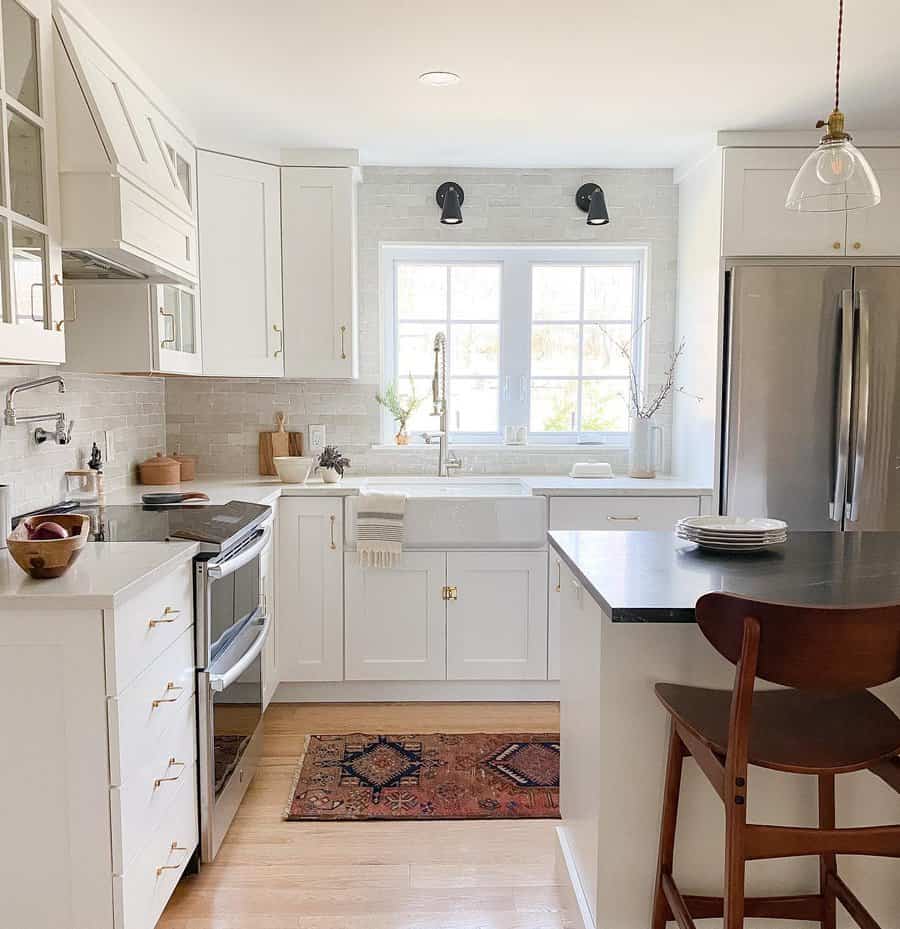 3. Optimize with L-Shaped Countertops
In tight kitchen spaces, L-shaped countertops offer both efficiency and expansive preparation areas. This design maximizes corner space, which often goes underutilized. To further enhance this setup, consider adding a runner rug. This element not only injects personality through color and pattern but also protects the flooring. When selecting a rug, ensure it complements your cabinetry and is appropriately sized for the space. Opting for machine-washable options provides easy maintenance and longevity.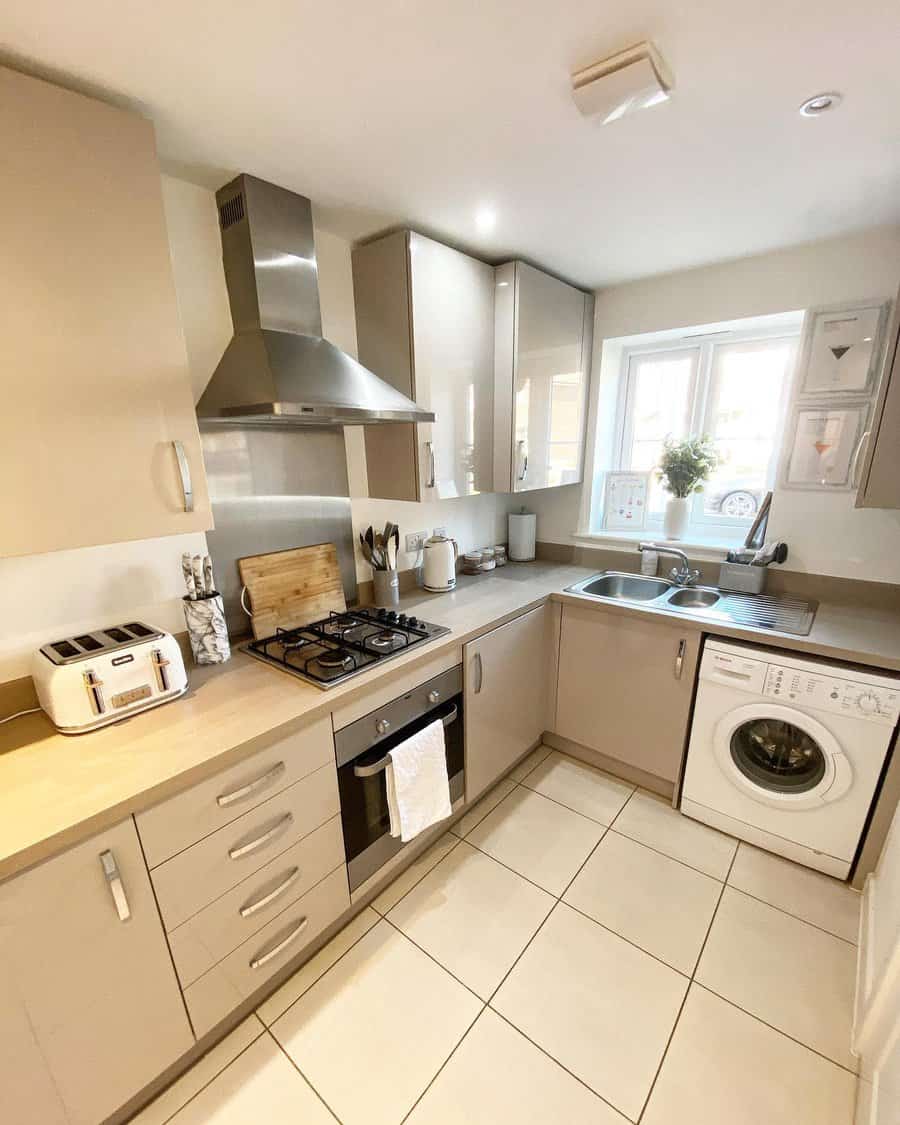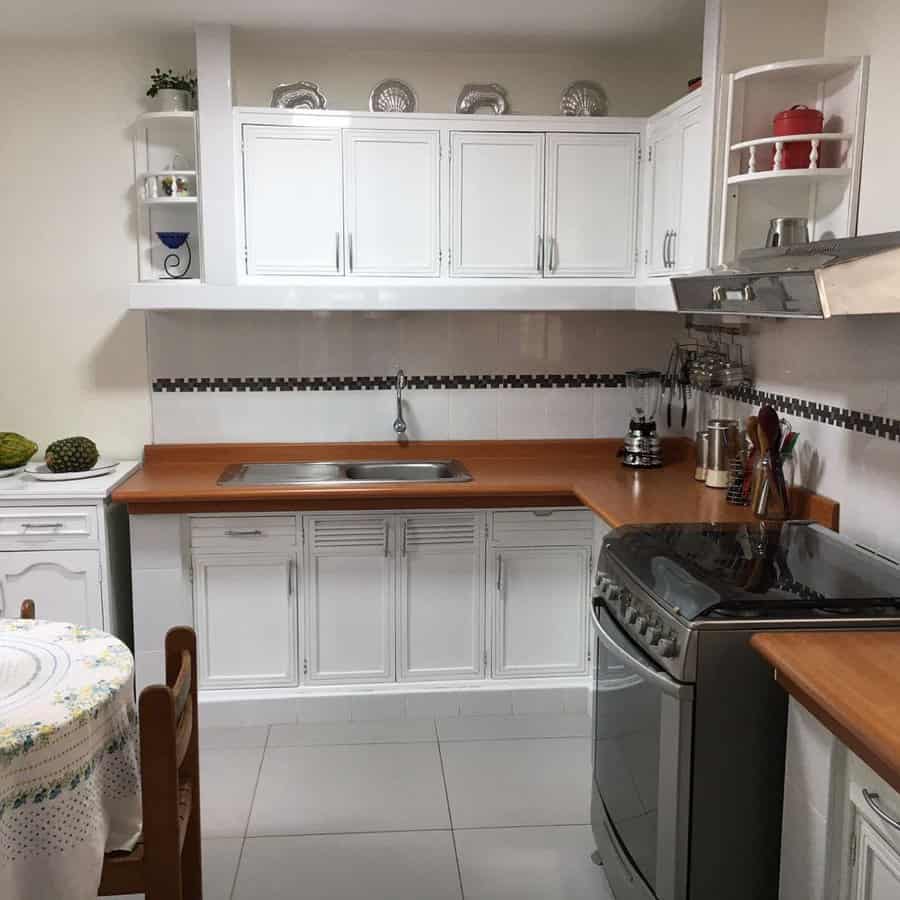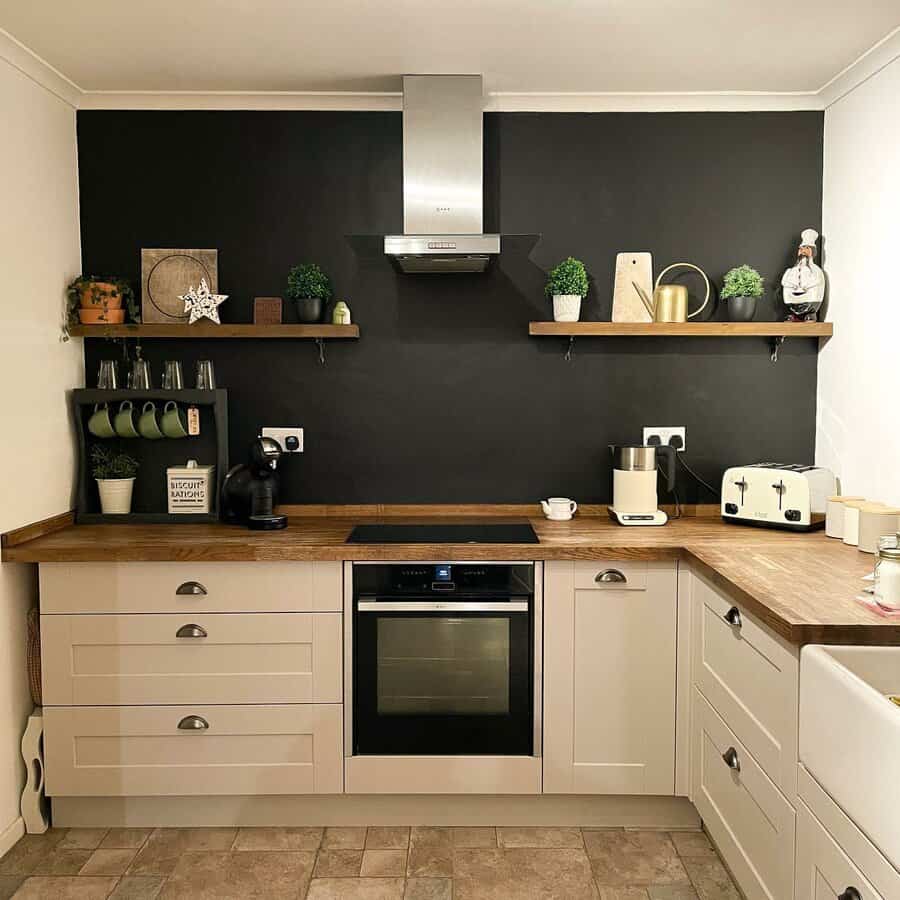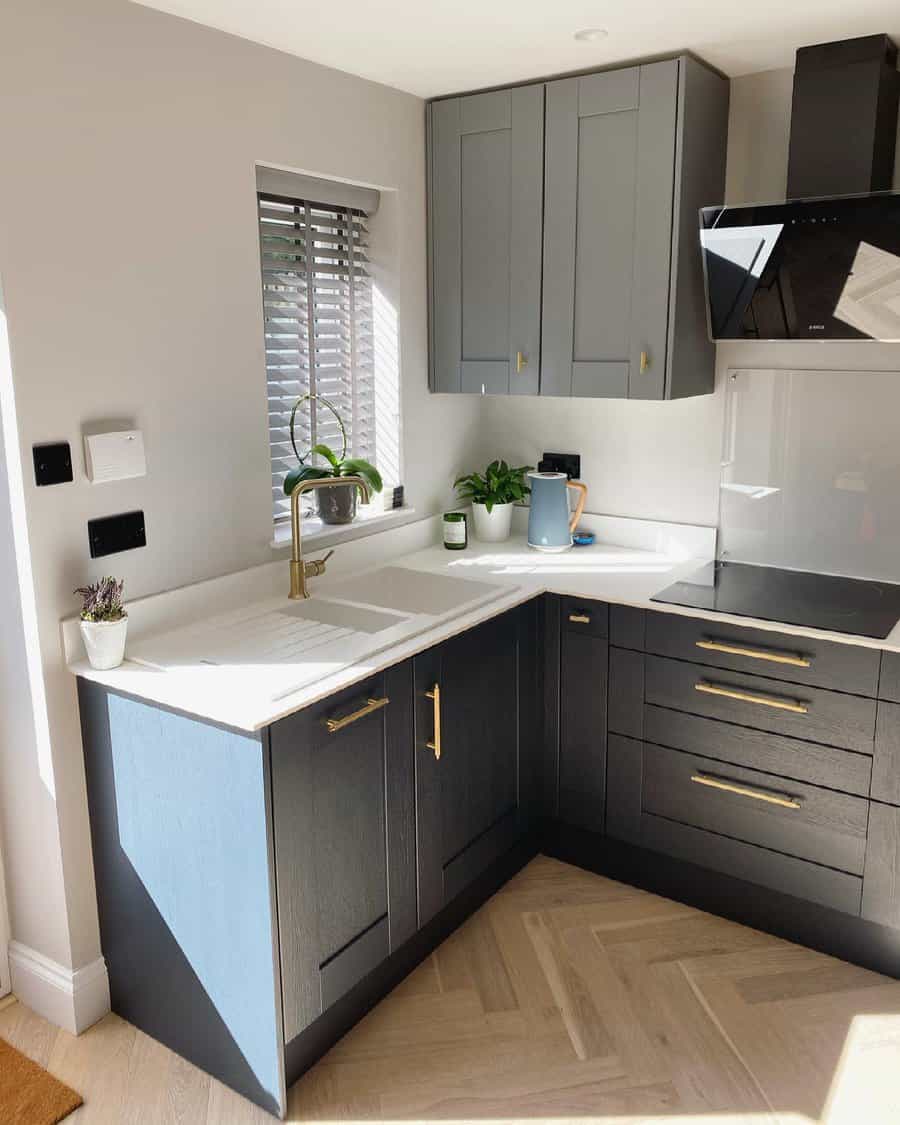 4. Beautify with Exposed Ceiling Beams
Exposed ceiling beams enhance a small kitchen by adding depth and rustic charm, effectively elevating the overall aesthetic. By drawing the eye upward, they provide an illusion of a larger space. Complement these beams with light-colored walls, cabinets, and countertops, such as whites or soft blues. This color palette amplifies the sense of space, making your kitchen appear both larger and brighter.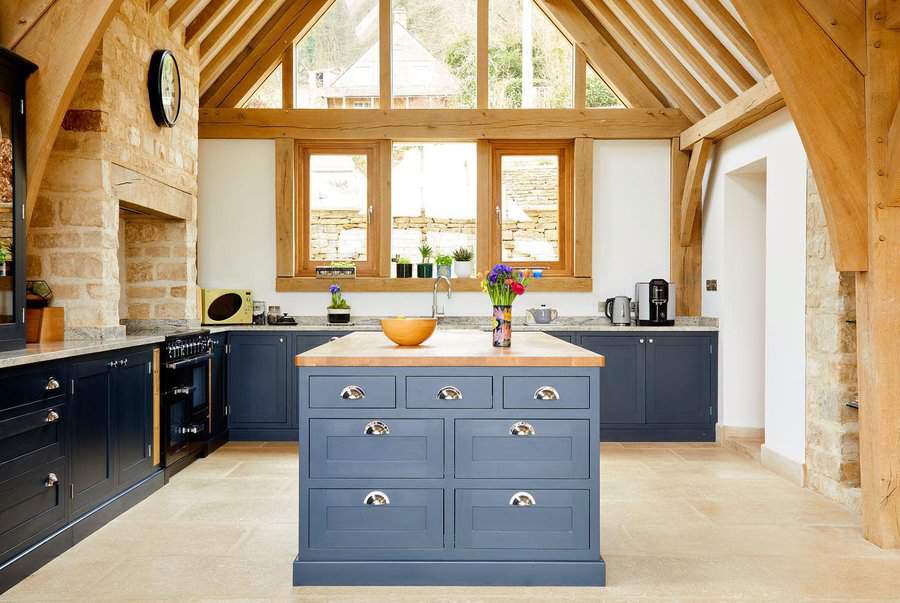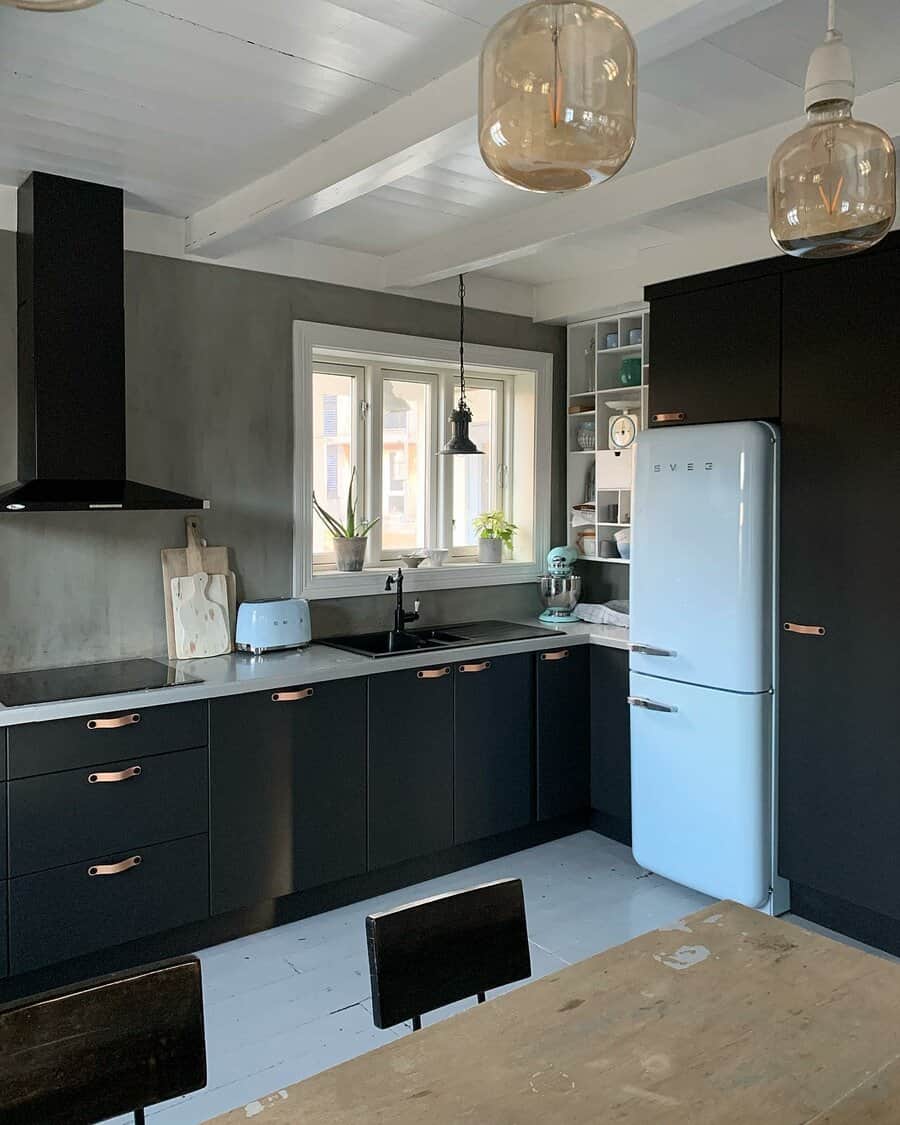 5. Embrace the Small White Kitchen Look
A white-themed kitchen magnifies natural light, imparting a sense of spaciousness. Opt for white cabinetry, countertops, and a tile backsplash for a cohesive, modern appeal. Integrating elements like a white farmhouse sink or matching appliances further streamlines the look. To introduce vibrancy, accessorize with colorful dish towels, fruit bowls, or a chic rug, adding both color and texture without overwhelming the serene white backdrop.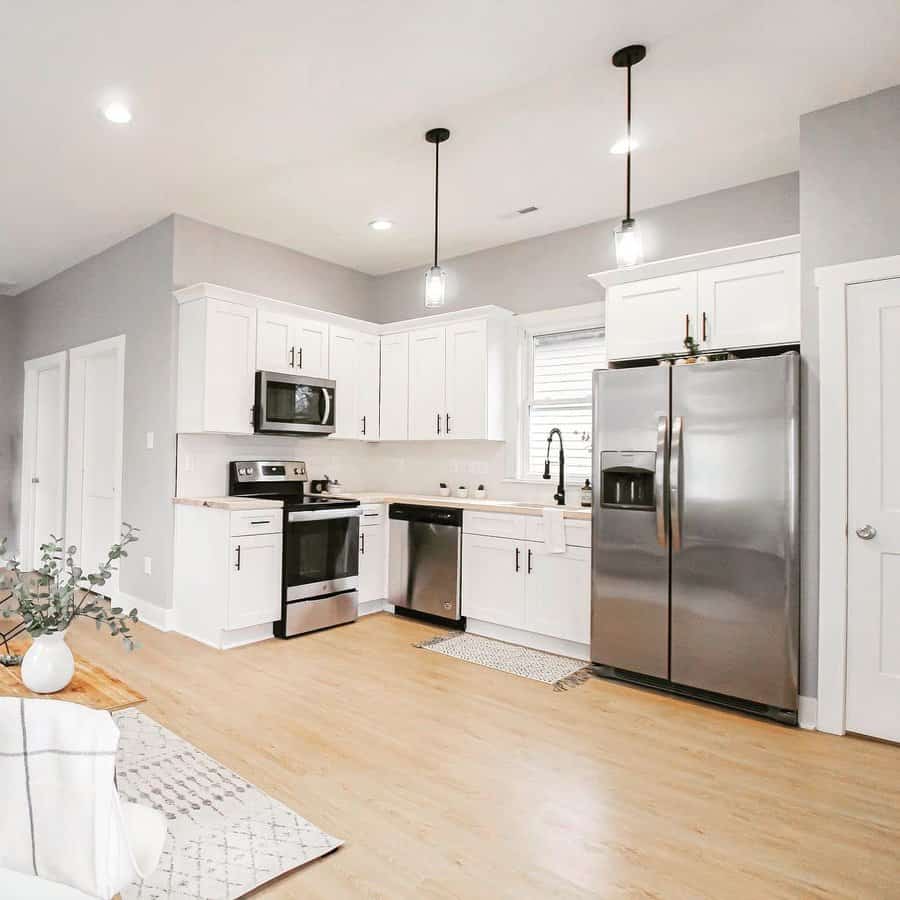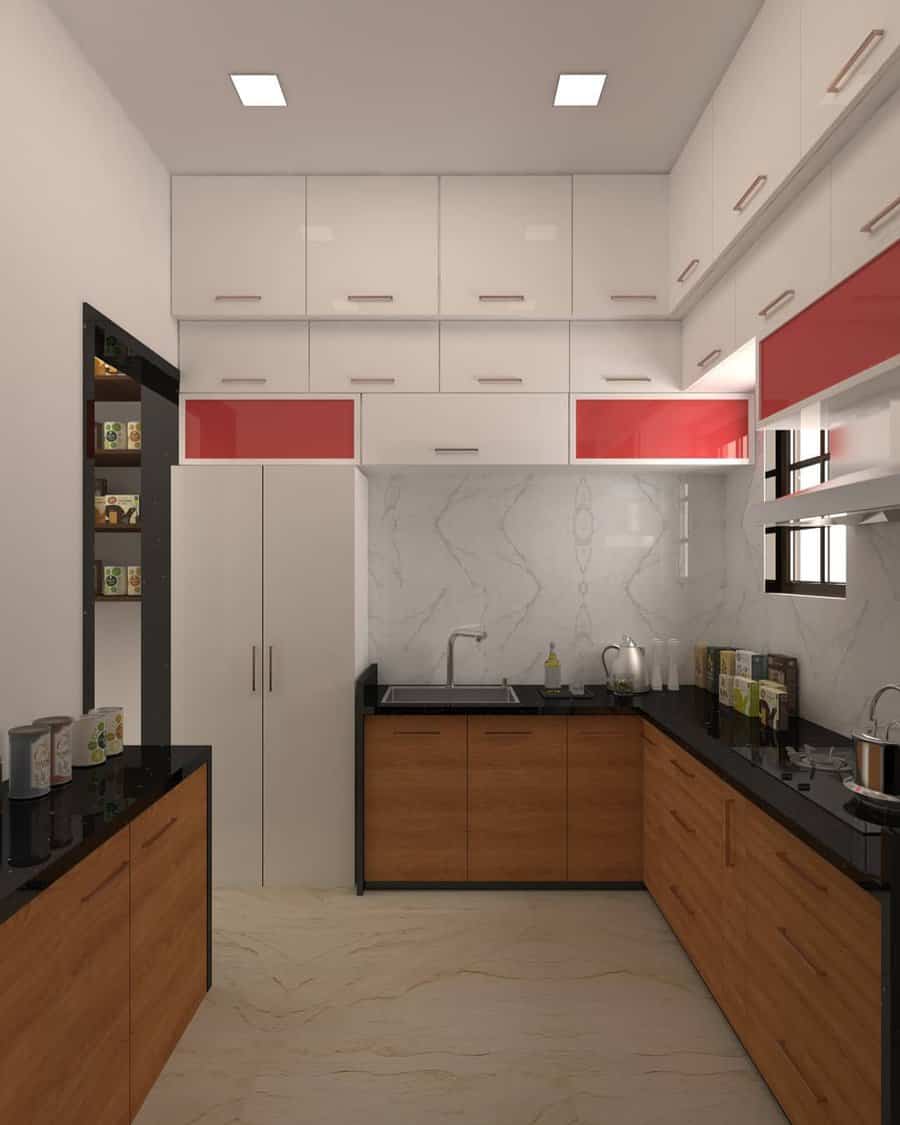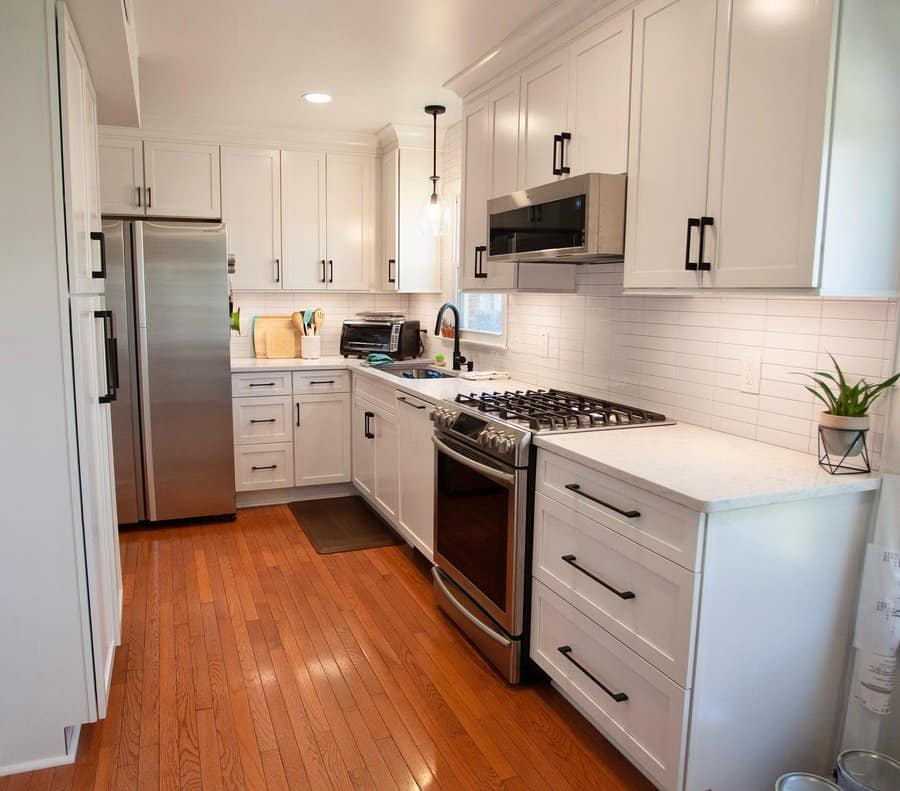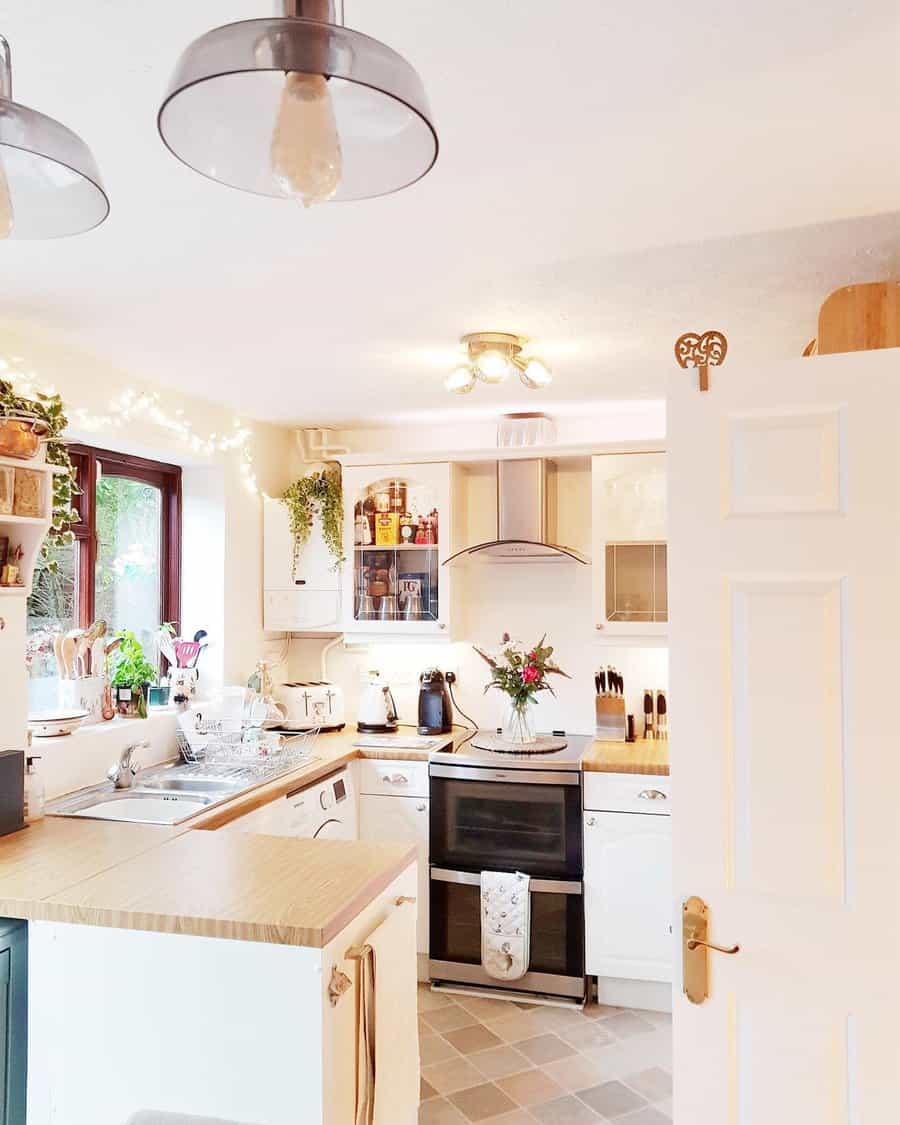 6. Organize with Pantry Solutions
Maximize pantry space by decluttering and introducing labeled organizers like wire baskets, stackable containers, and lazy susans. Once cleared of expired items, these solutions ensure swift access to essentials. Utilize the insides of cabinet doors for spice racks or measuring tools to conserve counter space. For those with a kitchen island or cart, adding hanging baskets or shelves underneath is perfect for storing utensils, cookbooks, or small appliances.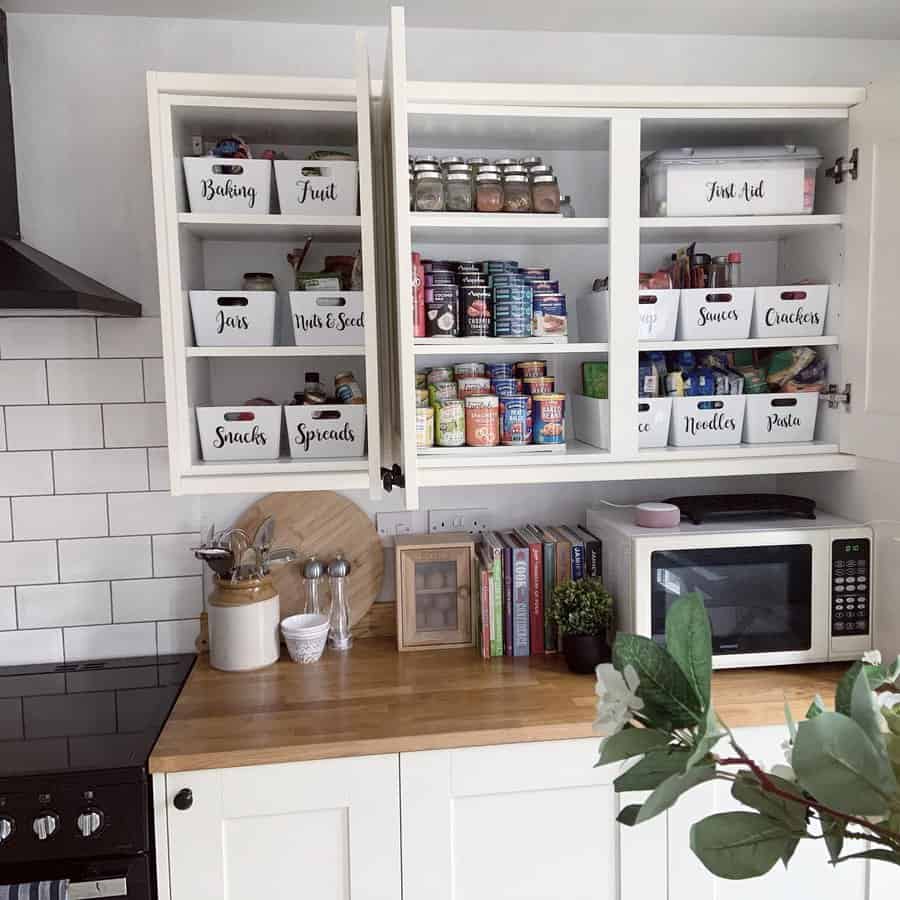 7. Emphasize Monochromatic Kitchen Themes
This approach involves using one color or shades of the same color for your walls, cabinets, countertops, and backsplash. This not only creates a cohesive and harmonious look but also gives the illusion of more space. A monochromatic palette is versatile and can work with any style, from modern to traditional.
Plus, it can make your kitchen feel less visually cluttered since there are no contrasting colors to draw the eye. You can add interest and texture to your monochromatic kitchen with different materials and finishes, such as matte or glossy surfaces, natural stone or wood, and metal accents.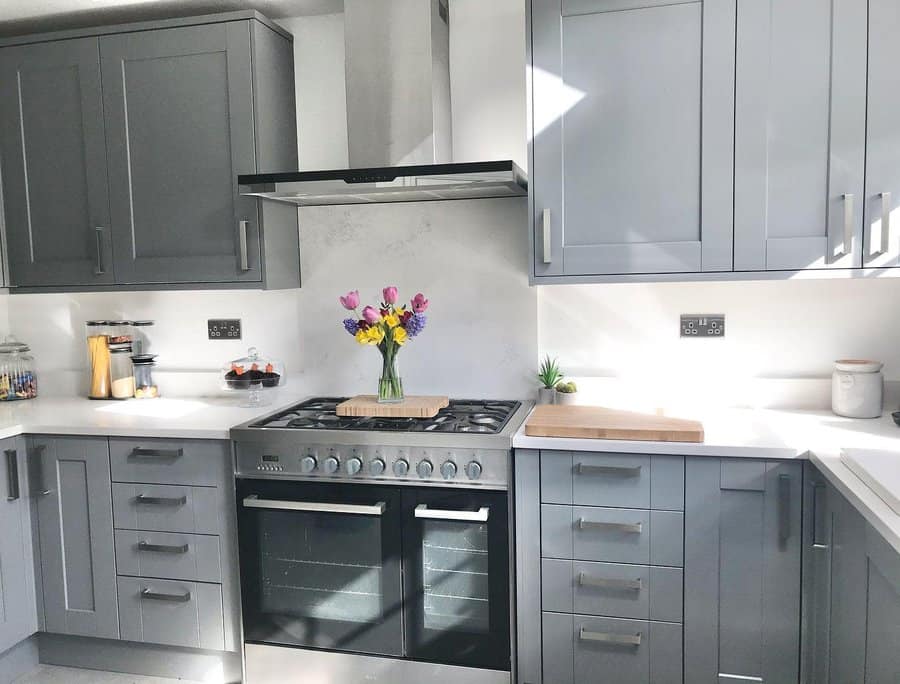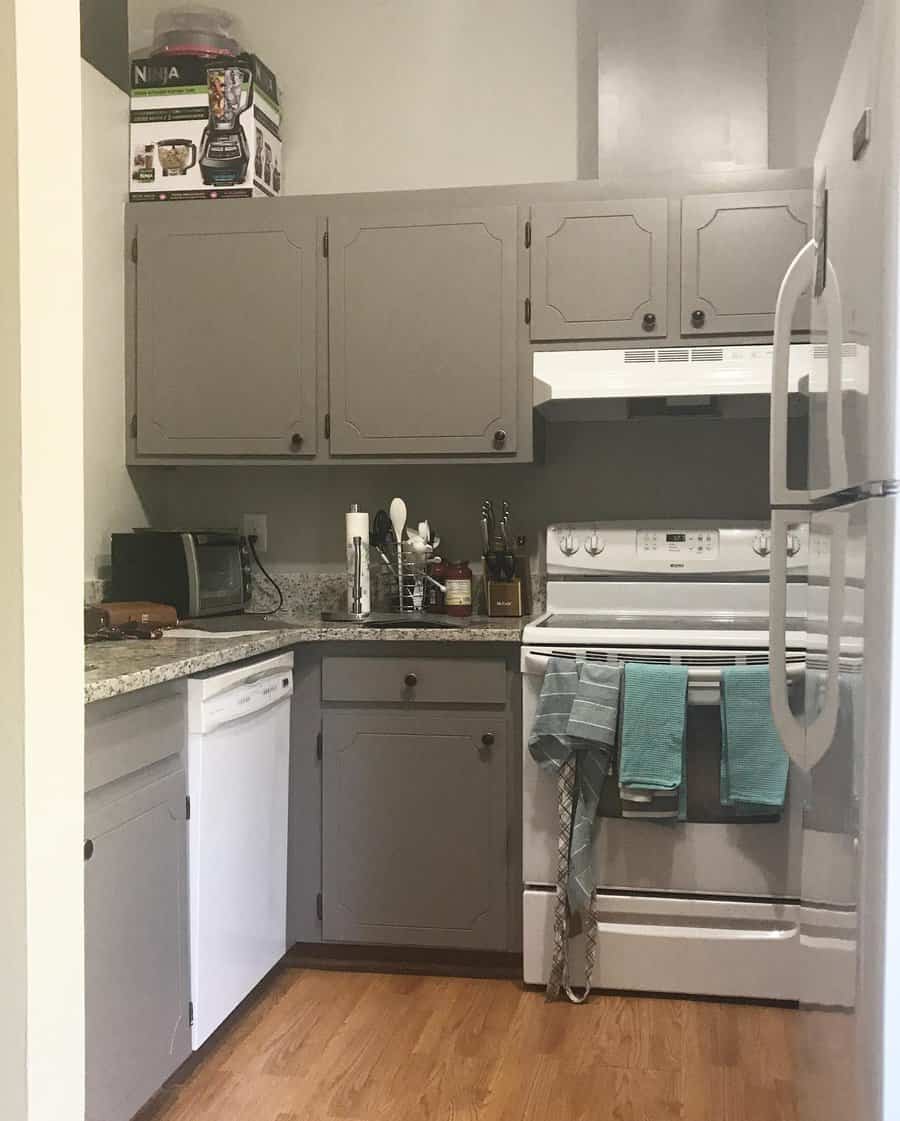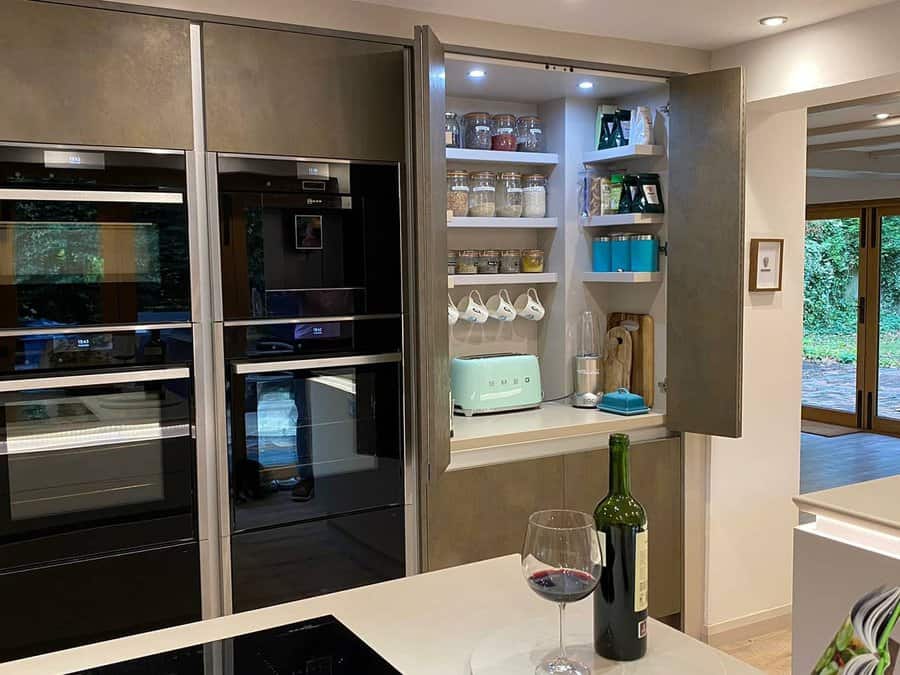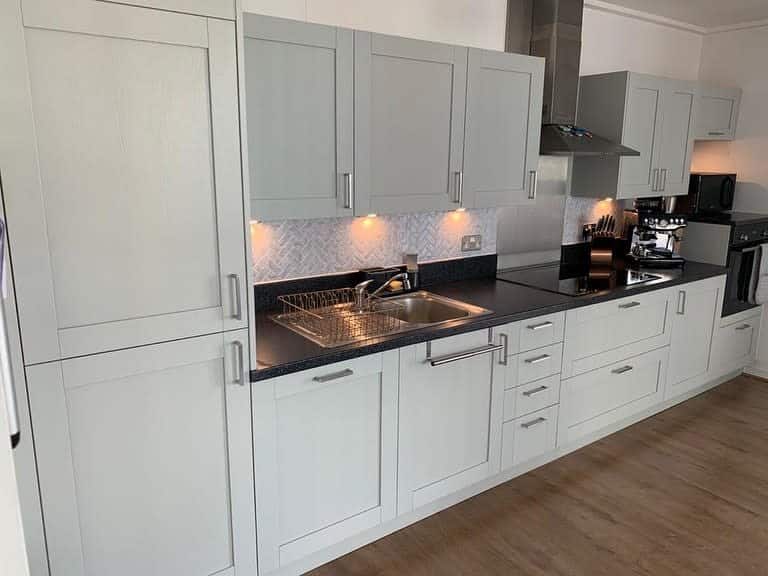 8. Maximize Space with Tiered Cupboard Racks
Tiered cupboard racks efficiently stack kitchen essentials vertically, releasing much-needed counter and cabinet real estate. Ideal for plates, spices, or canned goods, these organizers facilitate easy access during cooking. Enhance space optimization by adopting magnetic knife holders or installing hooks inside cabinet doors. These tweaks not only organize pots, pans, and utensils but also maintain a clutter-free kitchen ambiance.
9. Create a Cozy Recessed Coffee Nook
Designate a kitchen corner for a recessed coffee nook, complete with a door enclosure, to conserve counter space without compromising your coffee rituals. Use cabinets or shelves for your coffee essentials, while the door maintains tidiness and offers an opportunity for flair. Personalize this space by painting the door a vibrant hue or adorning it with elements like a chalkboard or a "Coffee Bar" sign. This dedicated spot merges functionality with charm, perfect for savoring your morning caffeine or hosting coffee breaks.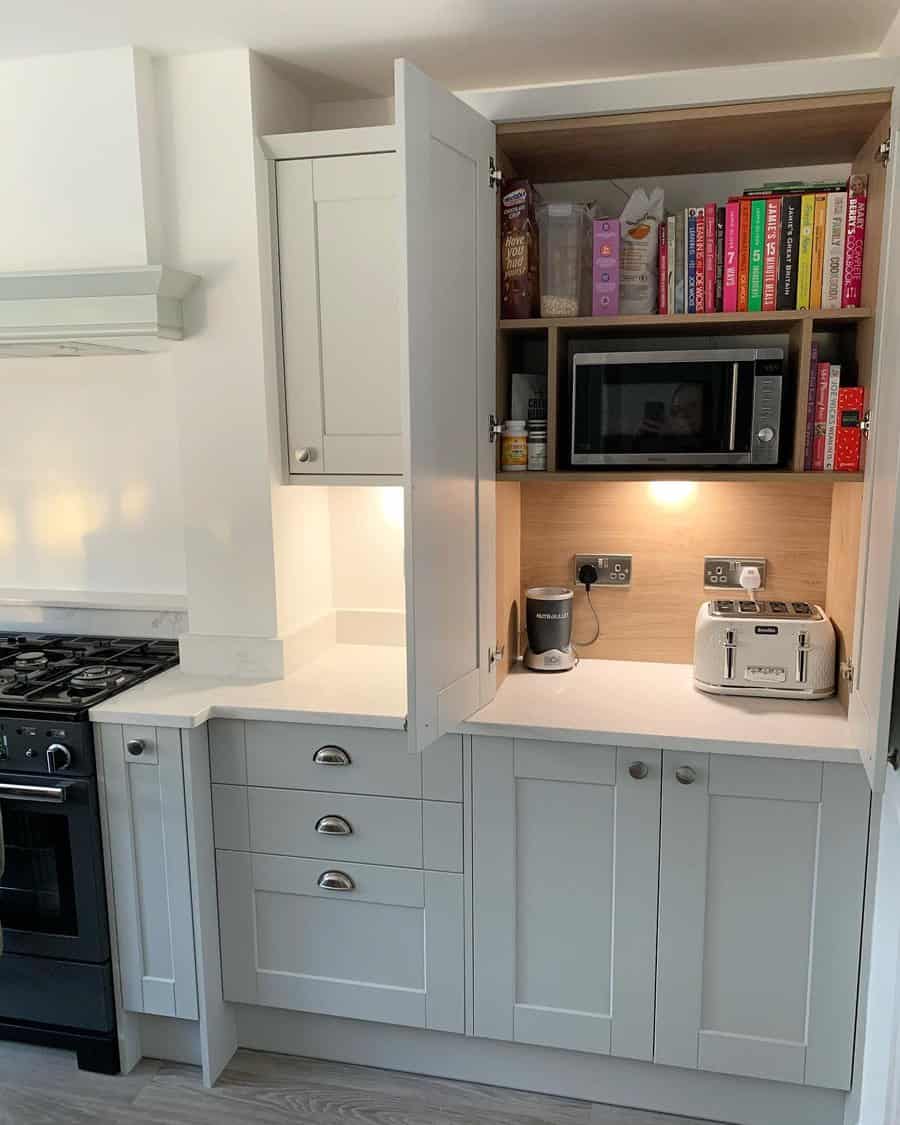 10. Save Space with Mounted Microwaves
Mounting your microwave, whether on the wall or under a cabinet, is a savvy way to reclaim counter space and instill a sleek look in your kitchen. For this, consider microwave models tailored for mounting or employ a universal mounting kit for your current unit. Compact or built-in microwaves also seamlessly integrate with your cabinetry. Pair this strategy with floating shelves or a hanging pot rack for organized, easy-to-reach cookware and utensils.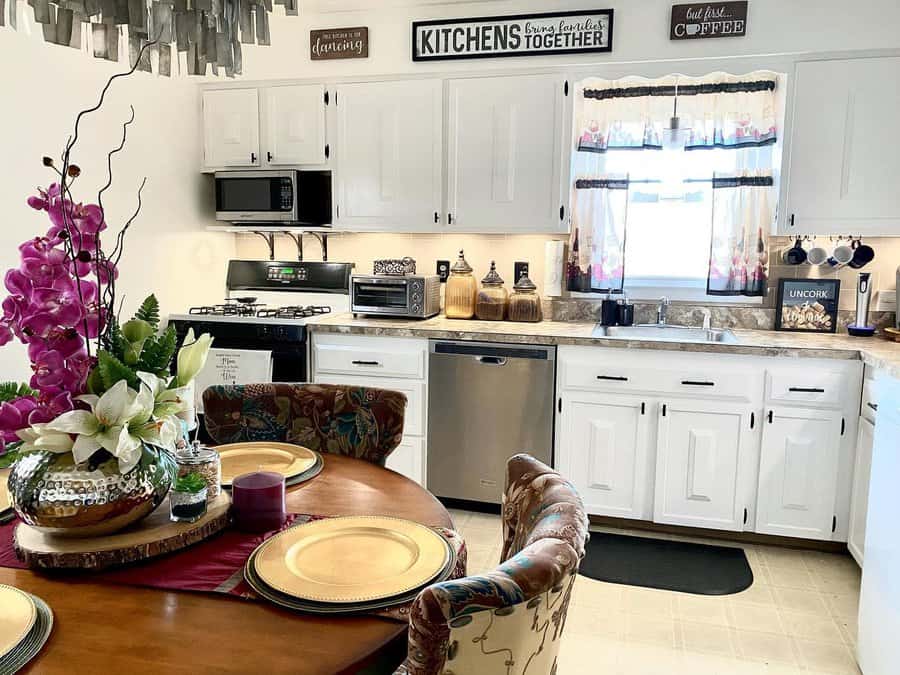 11. Expand Storage with Floating Shelves
Floating shelves are a sleek solution for small kitchens, offering extra storage without overwhelming the space. Easily installed above countertops or alongside cabinets, they provide a chic way to showcase dishes and kitchenware. Available in diverse materials like wood, metal, or glass, there's a style to match any kitchen aesthetic. For added versatility, consider attaching hooks or baskets for utensils and spices or accessorizing with plants or decorative items, infusing your kitchen with character.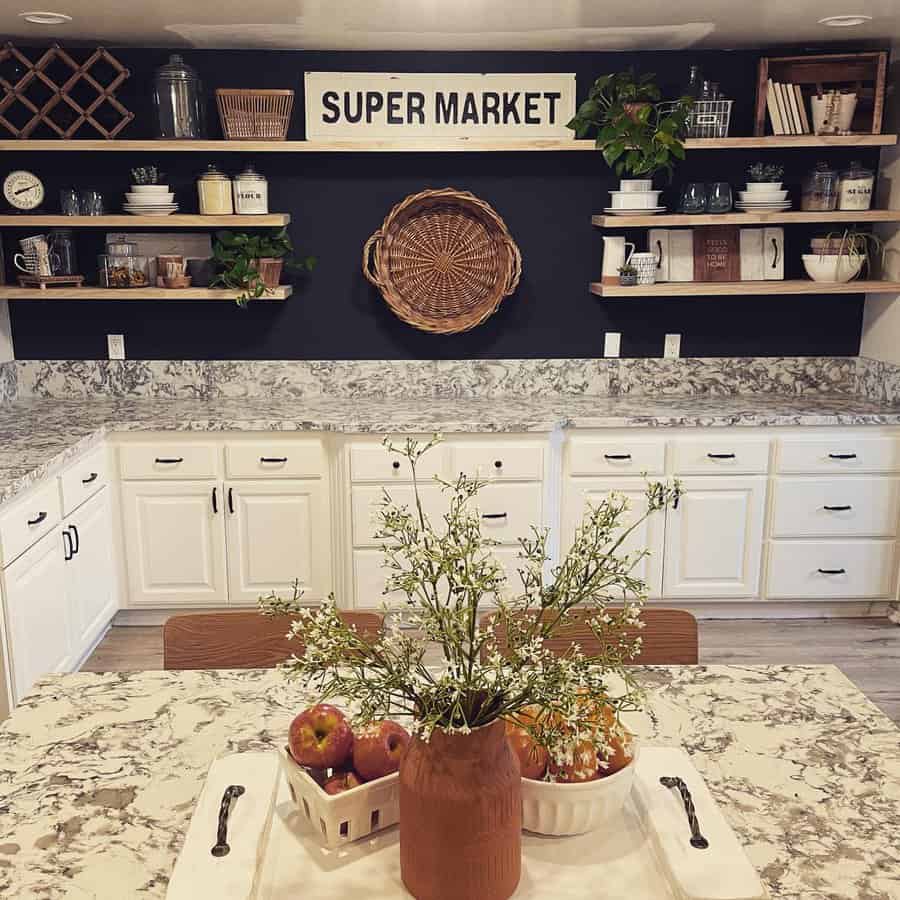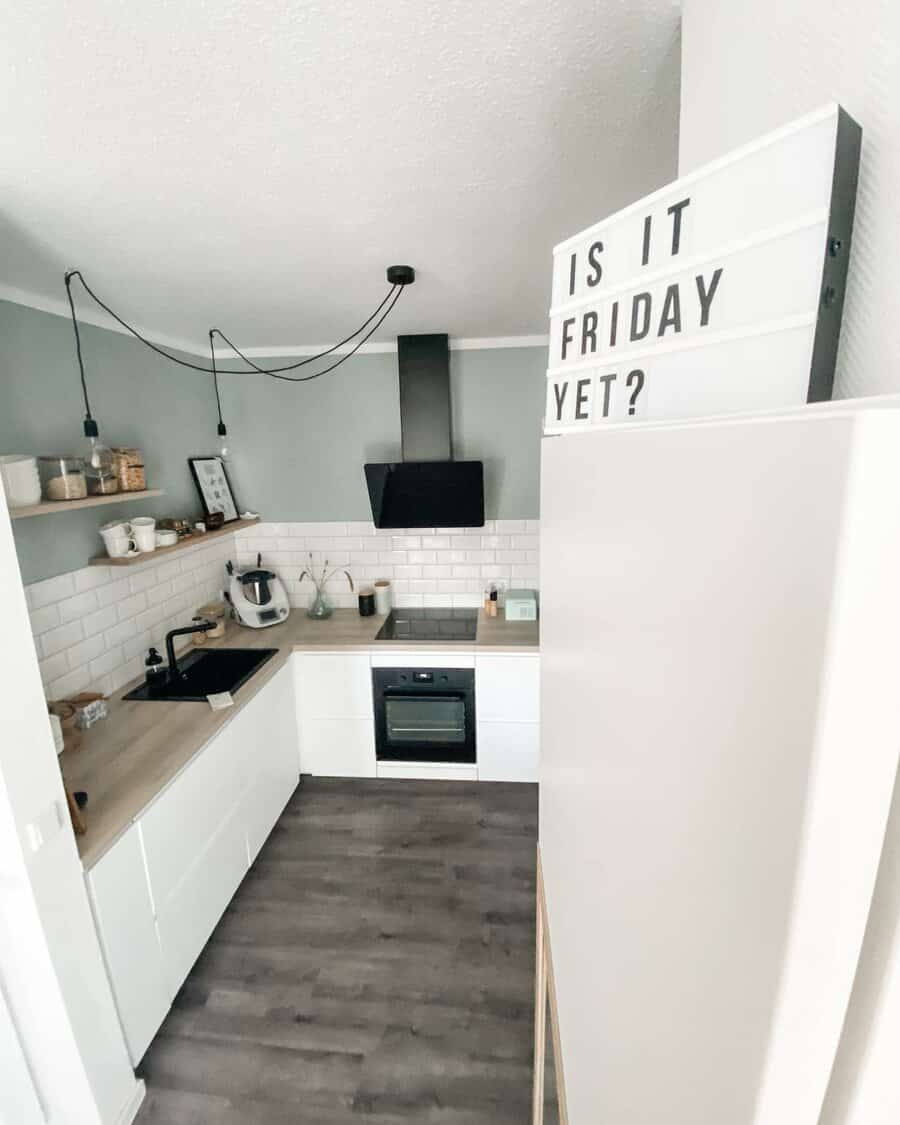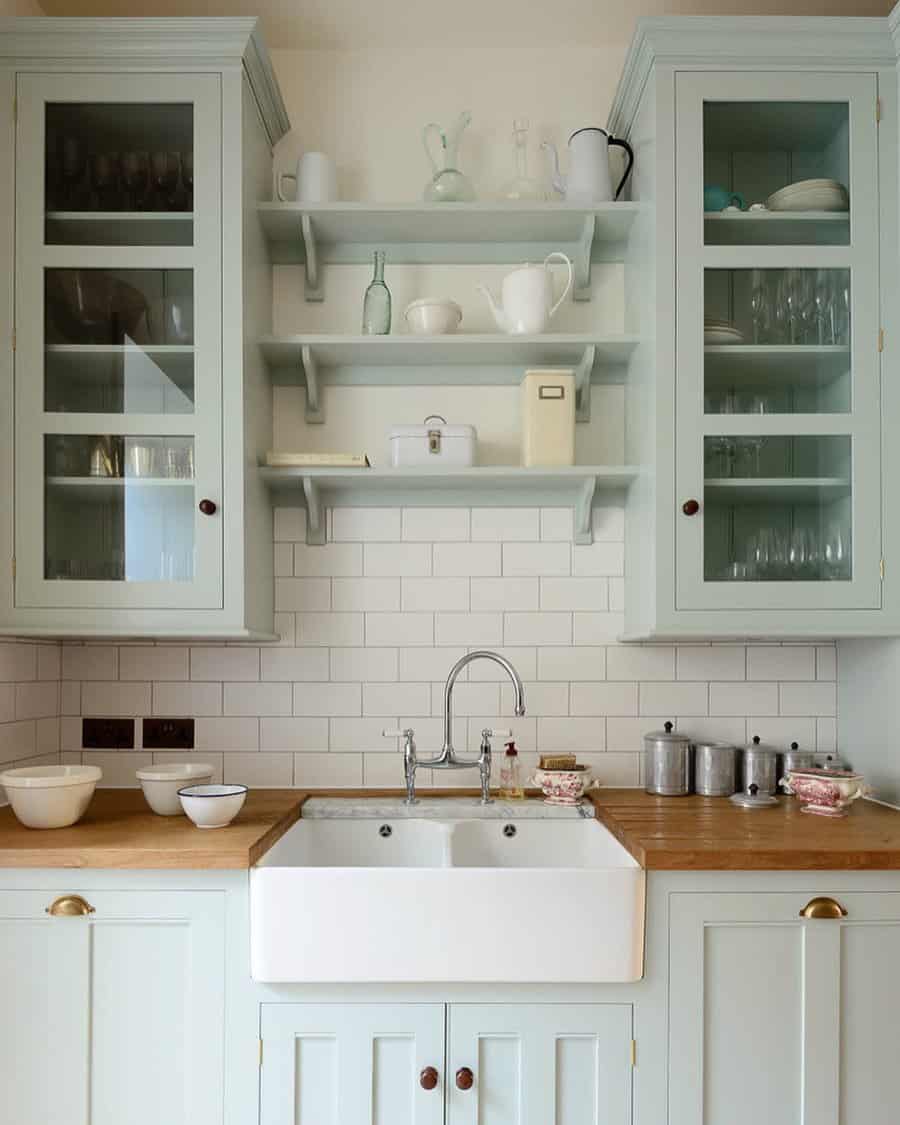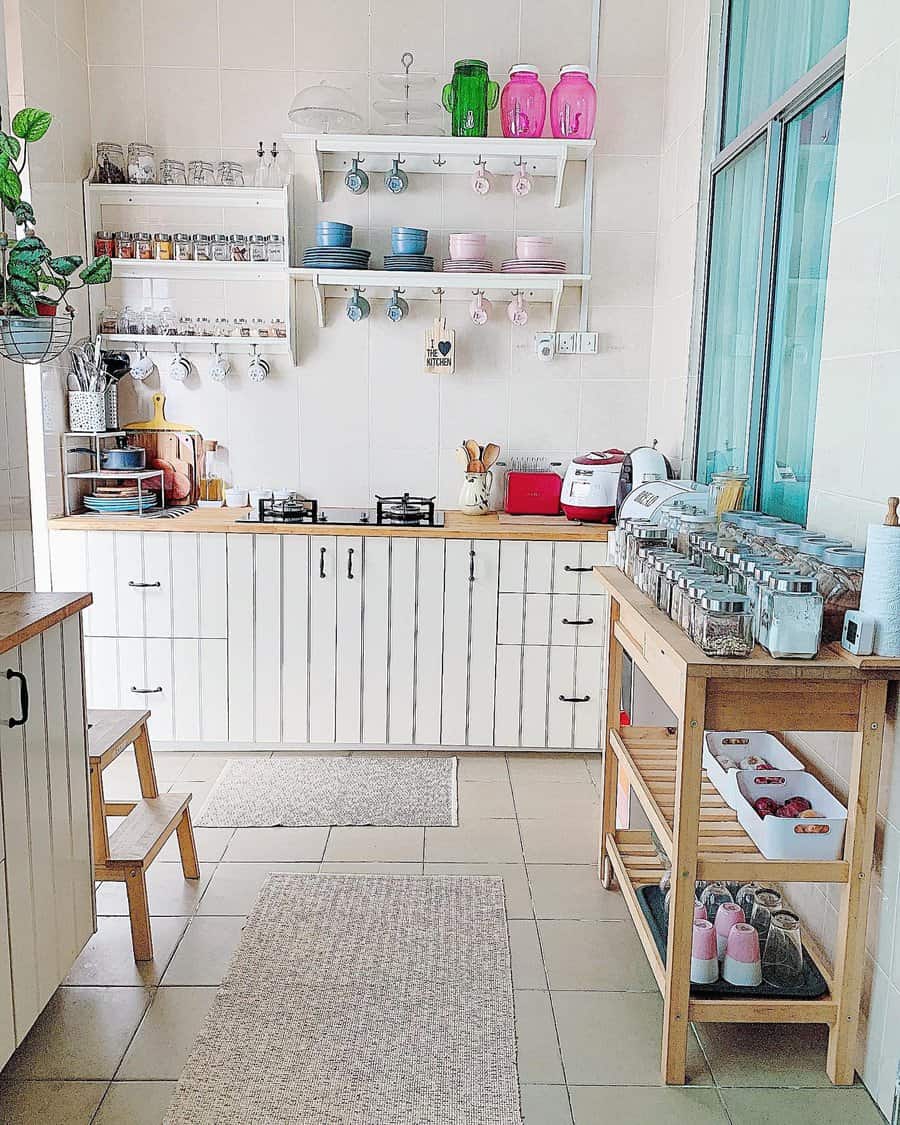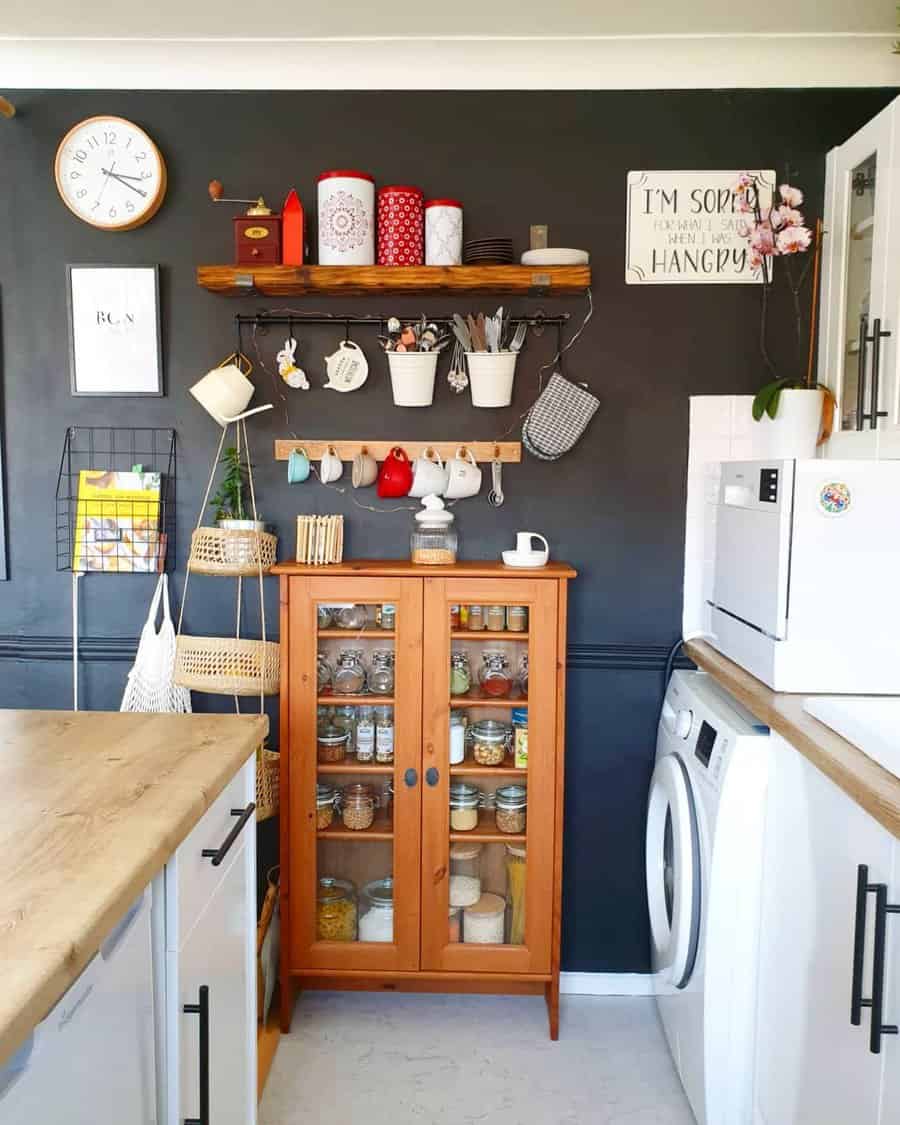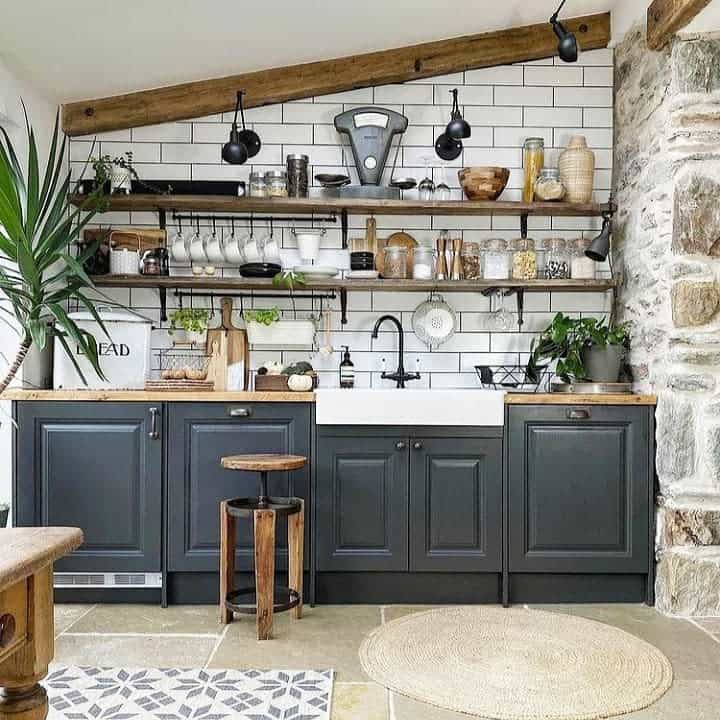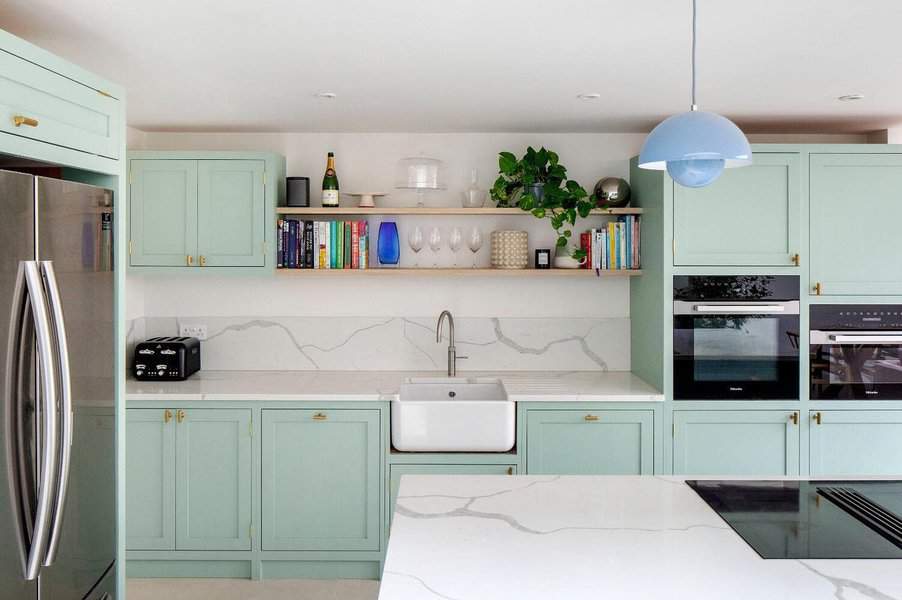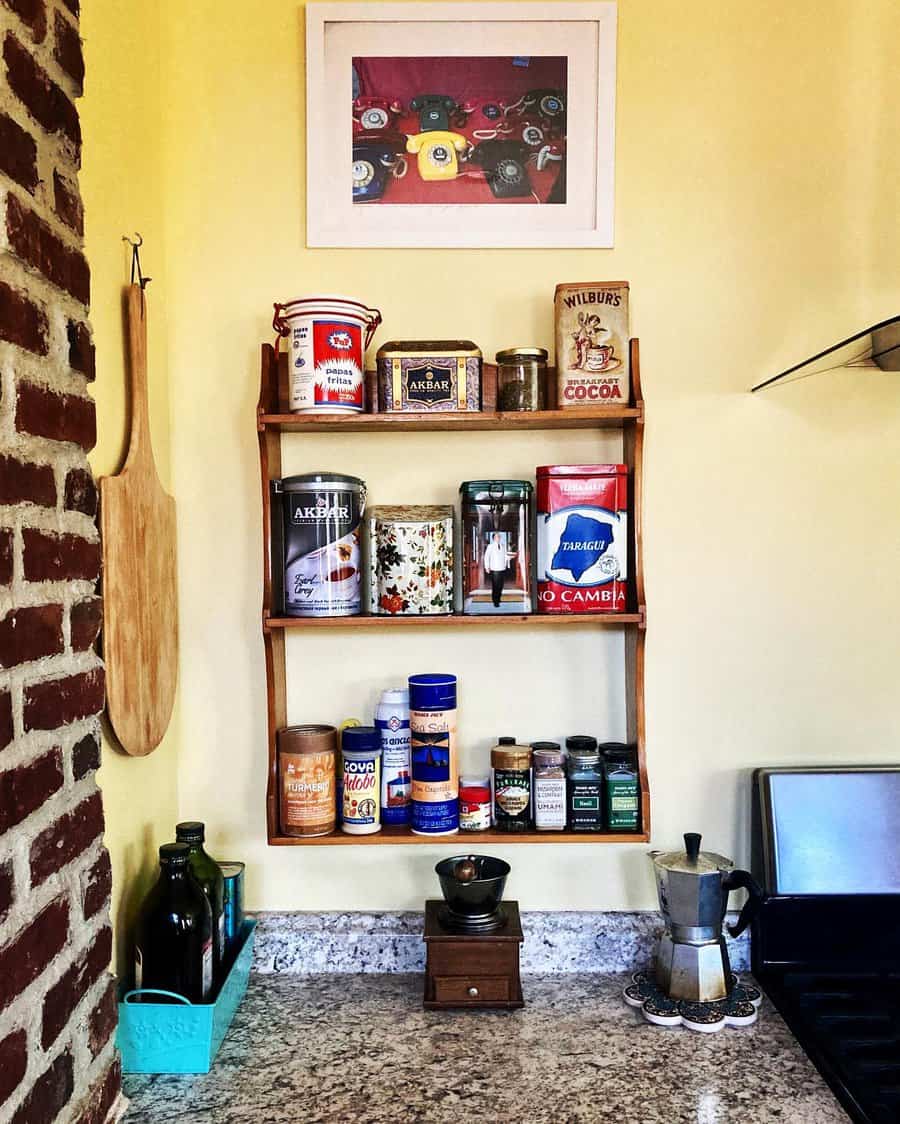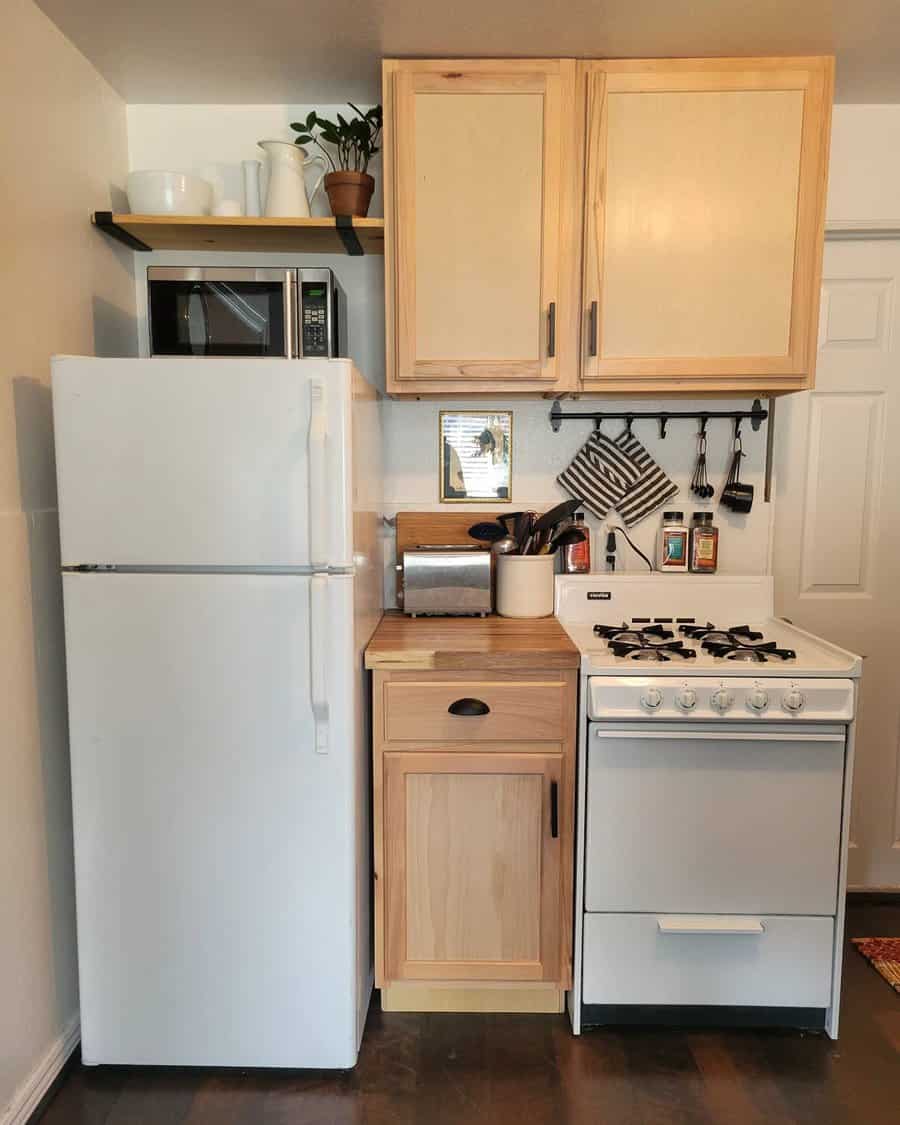 12. Personalize with Pegboard Accessories
Pegboards are both efficient and budget-friendly, leveraging vertical space to declutter counters and cabinets. By hanging essentials from pots to small appliances, it streamlines accessibility. A plethora of hooks and accessories lets you tailor the pegboard to your preferences. To make it uniquely yours, consider painting it a bold shade or applying a distinct pattern. With such a setup, even the smallest kitchens can radiate style and functionality.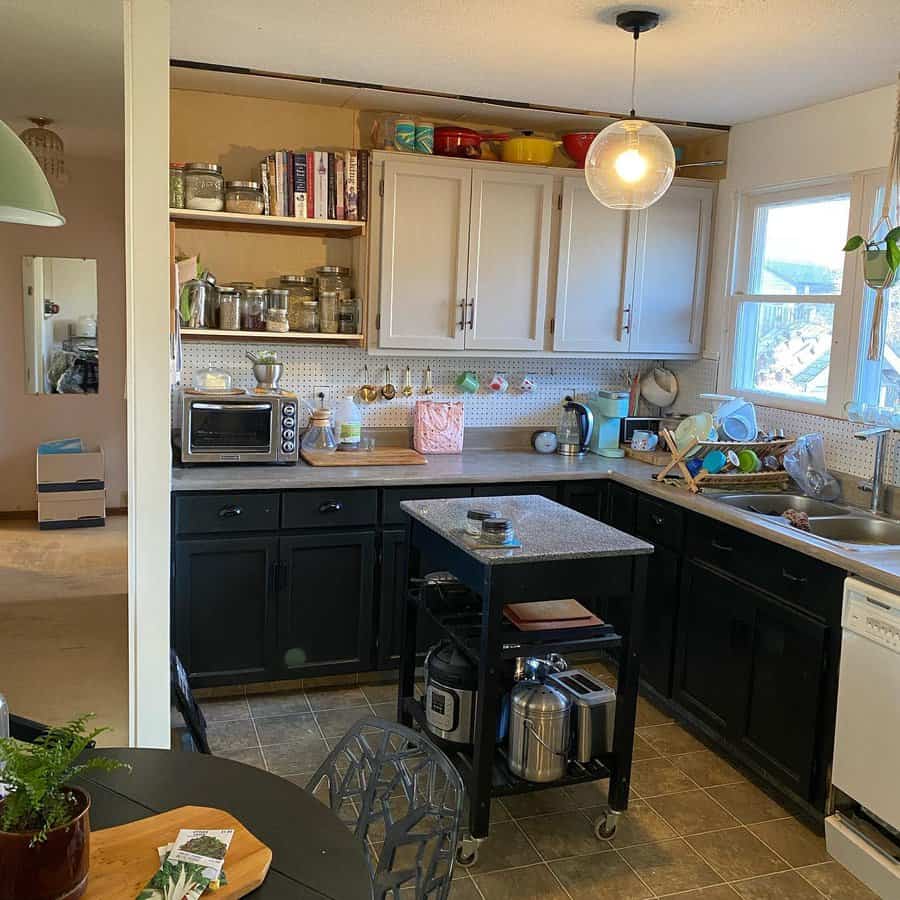 13. Elevate Style with Decorative Backsplashes
Decorative backsplash tiles can be the game-changer for a small kitchen's aesthetics. Available in diverse styles and shades, these tiles cater to varied tastes, from vibrant patterns to muted tones. Beyond style, a backsplash serves as a shield, protecting walls from splashes and lending texture. For a noticeable yet practical upgrade in a constrained kitchen space, a decorative backsplash emerges as an ideal choice.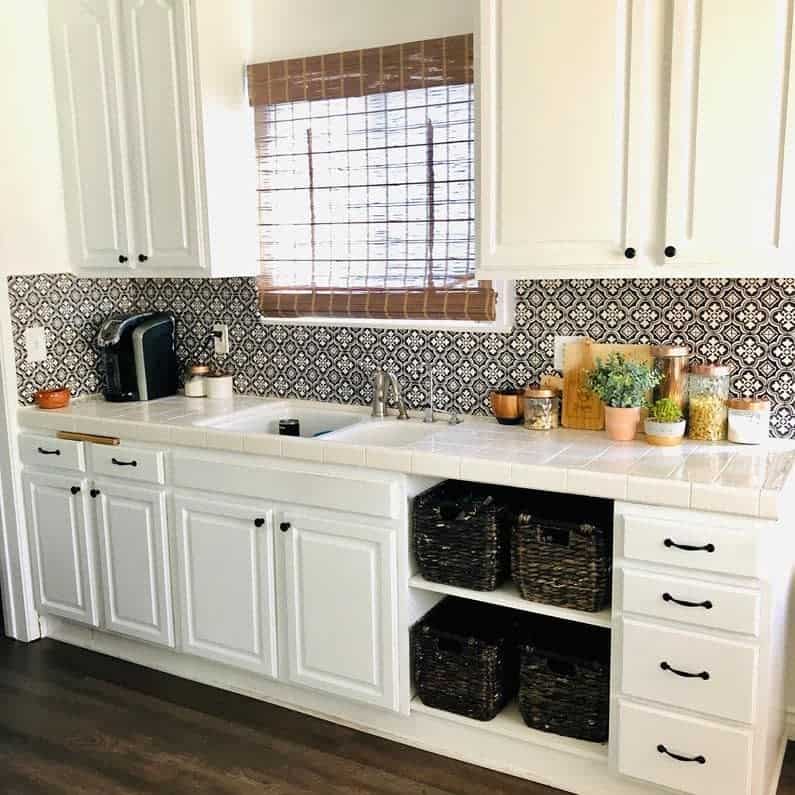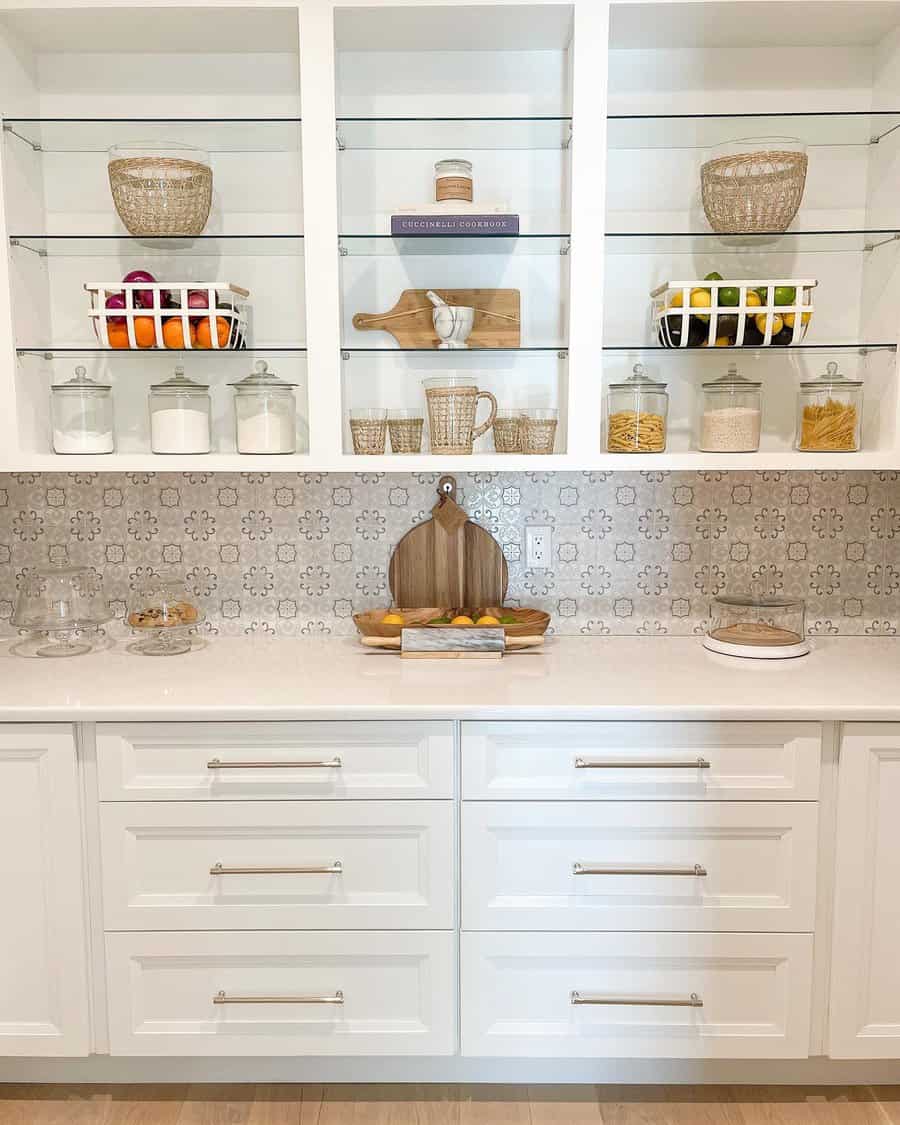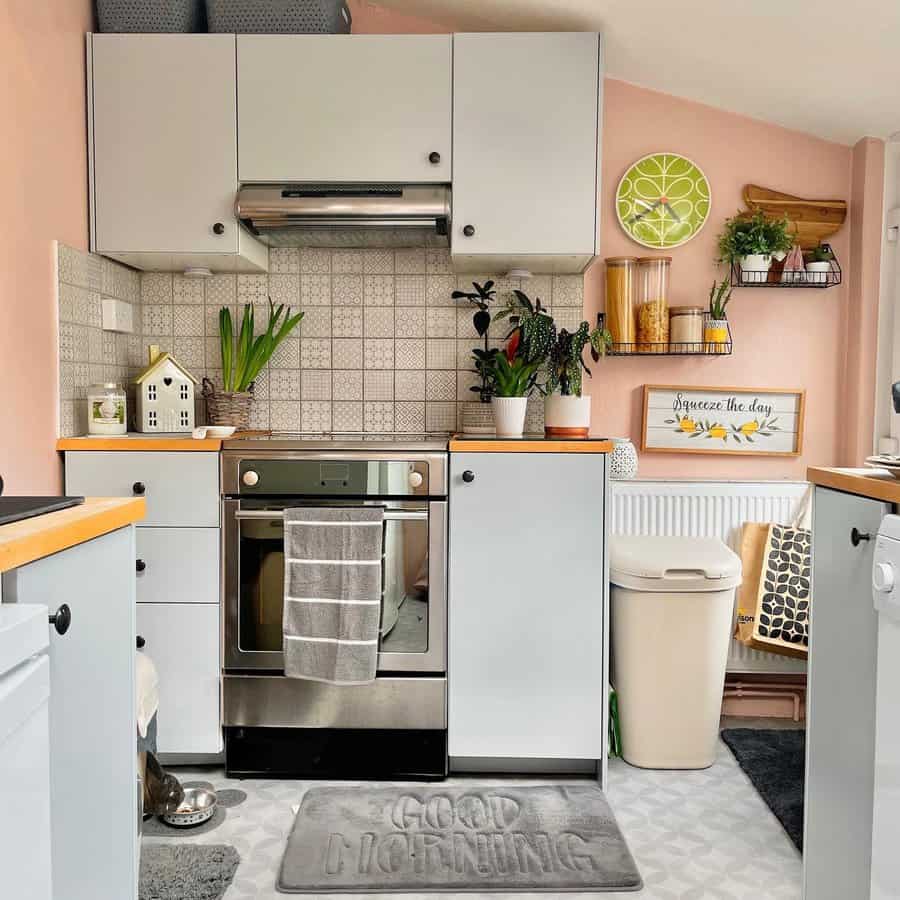 14. Boost Functionality with U-Shaped Counters
A U-shaped countertop layout optimally uses a small kitchen's space, establishing an effective work triangle between the sink, stove, and refrigerator. To enhance its appeal, opt for materials like wood, marble, or stone. These not only provide durability but also elevate the aesthetic, blending seamlessly with the kitchen's design while adding depth and charm.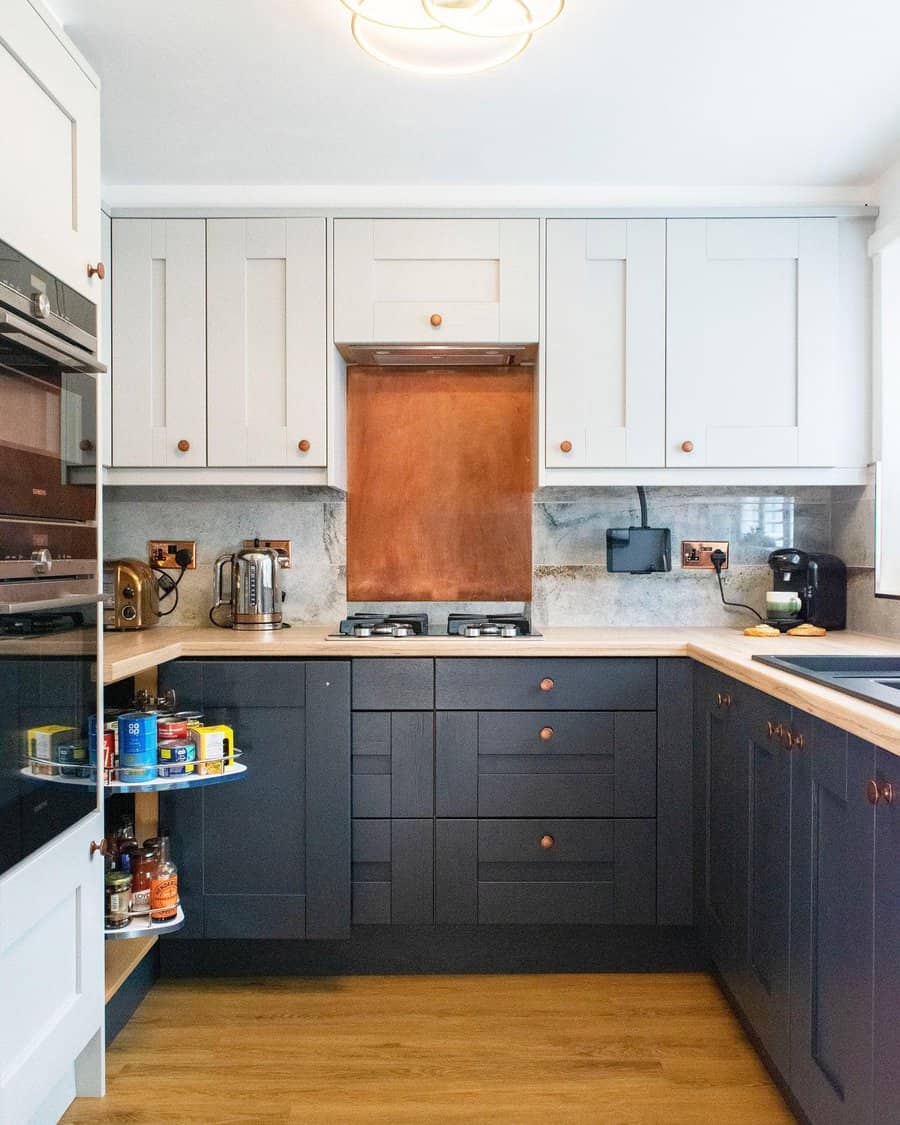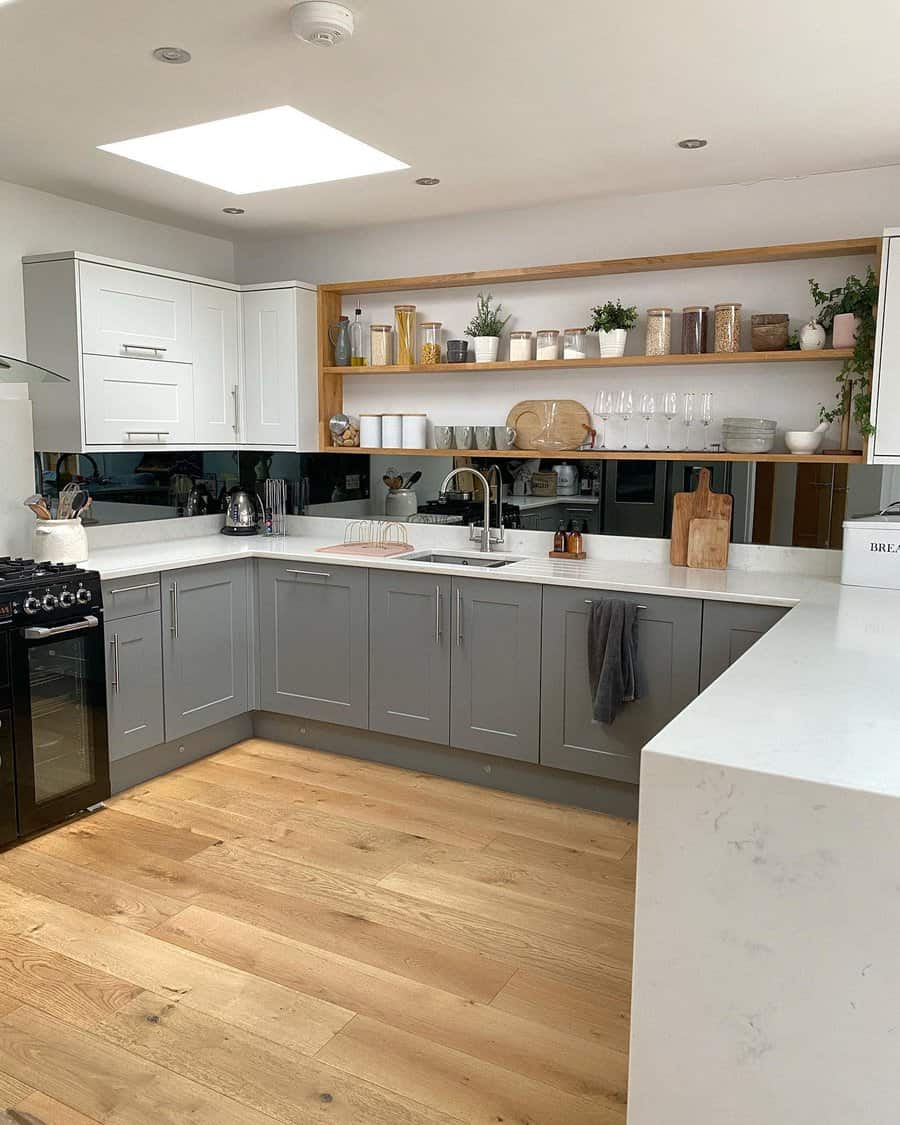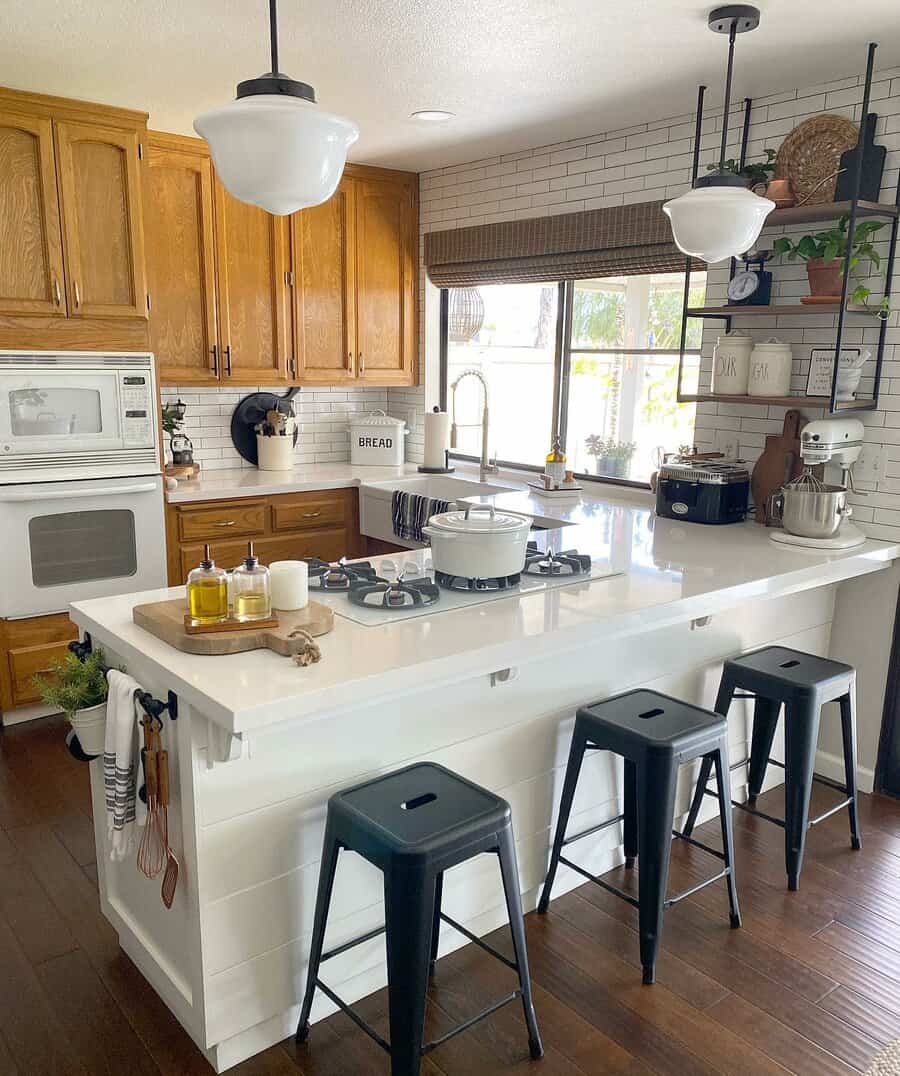 15. Entertain with a Kitchen Bar Counter
A bar counter in small kitchens offers a dual benefit: enhancing workflow and serving as an entertaining spot. Paired with a decorative backsplash, it becomes an instant focal point, adding vibrancy, texture, and a reflection of your style. In open-plan homes, the bar counter subtly delineates the kitchen, maintaining a balance between accessibility and intimacy. This setup marries flair with function, making it a win for both everyday use and special occasions.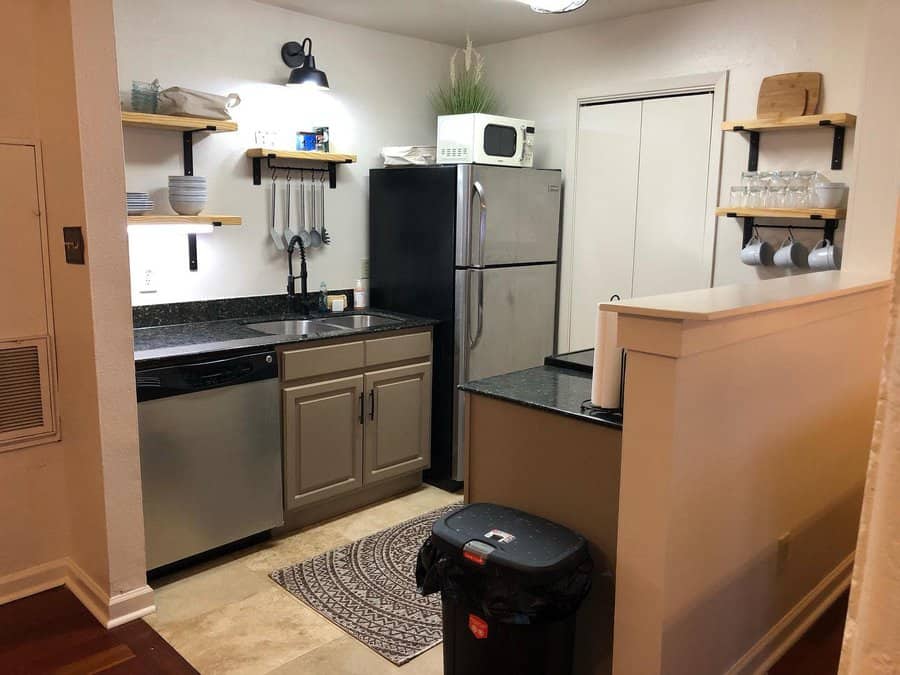 16. Utilize Kitchen Island for Extra Drawers
Incorporating a kitchen island with specialized drawers optimizes storage in small spaces. Glass drawers showcase your glassware, adding an elegant touch, while mug drawers ensure your favorite cups are always on hand. Alternatively, these spaces can be repurposed for pots and pans. This multifunctional island not only boosts storage but also enhances the overall kitchen aesthetic, merging functionality with style.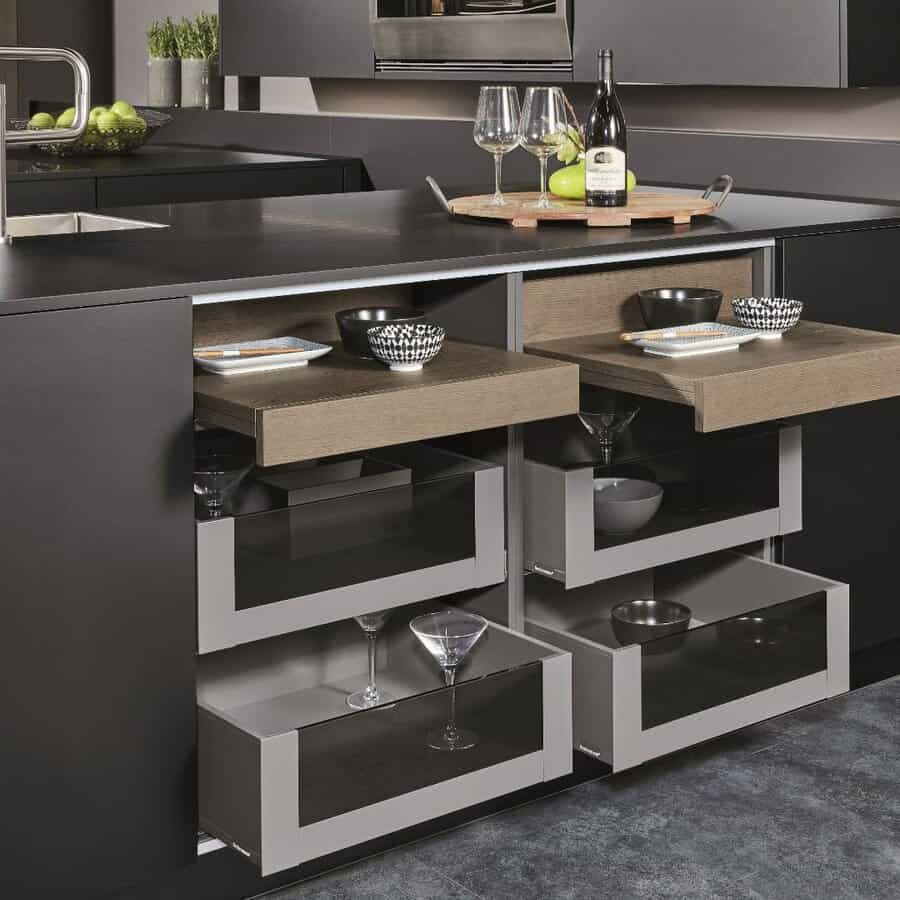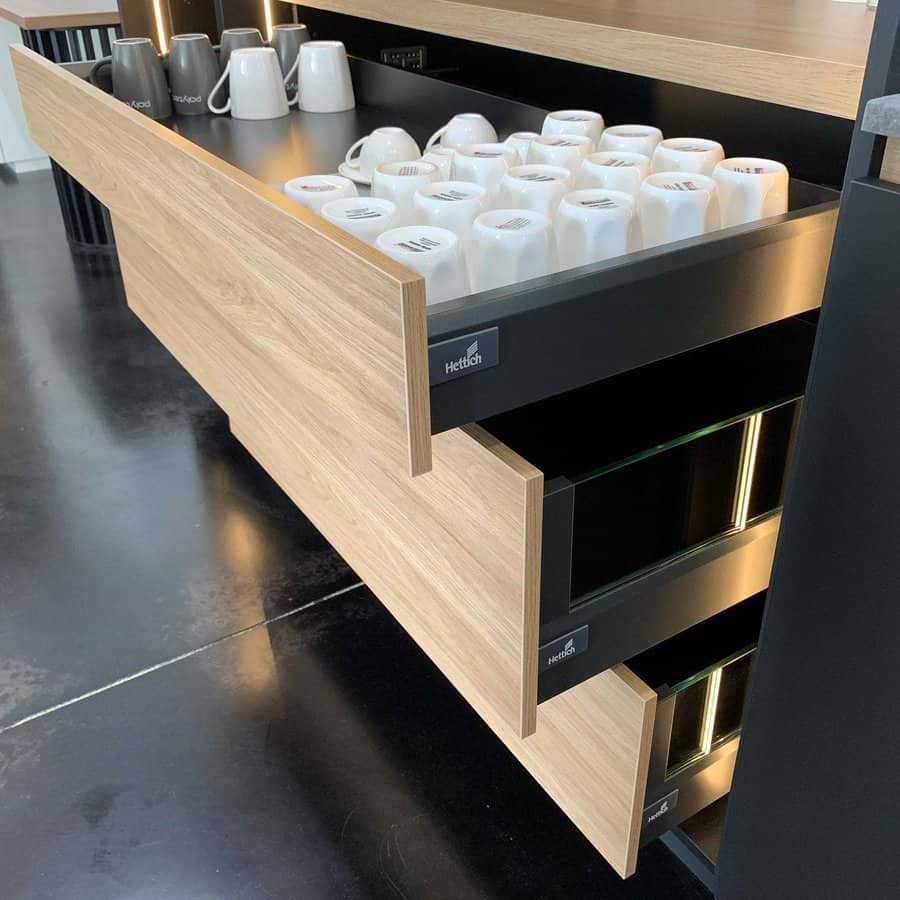 17. Sort Items with Drawer Dividers
Drawer dividers are essential tools for optimizing storage in small kitchens. By neatly separating utensils, they maximize drawer space and speed up your cooking process. Whether you prefer the contemporary feel of metal or the rustic charm of wood, there's a divider that aligns with your kitchen's style. Experience hassle-free meal prep without the jumbled mess, just by integrating these effective organizers.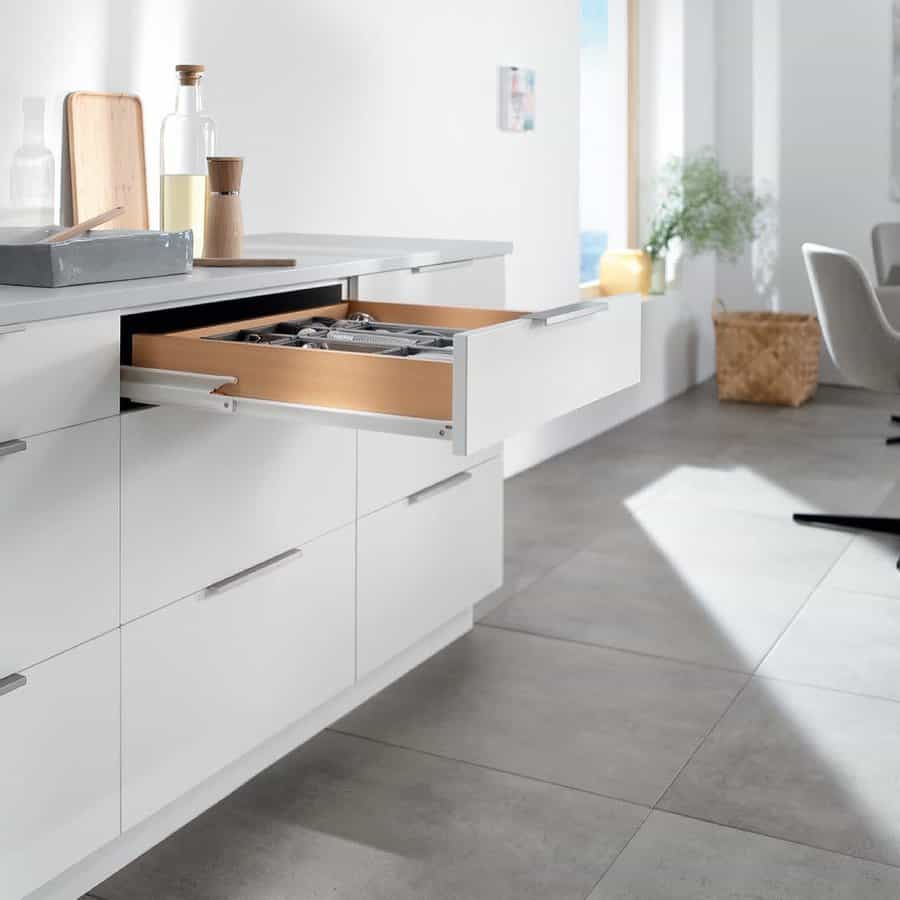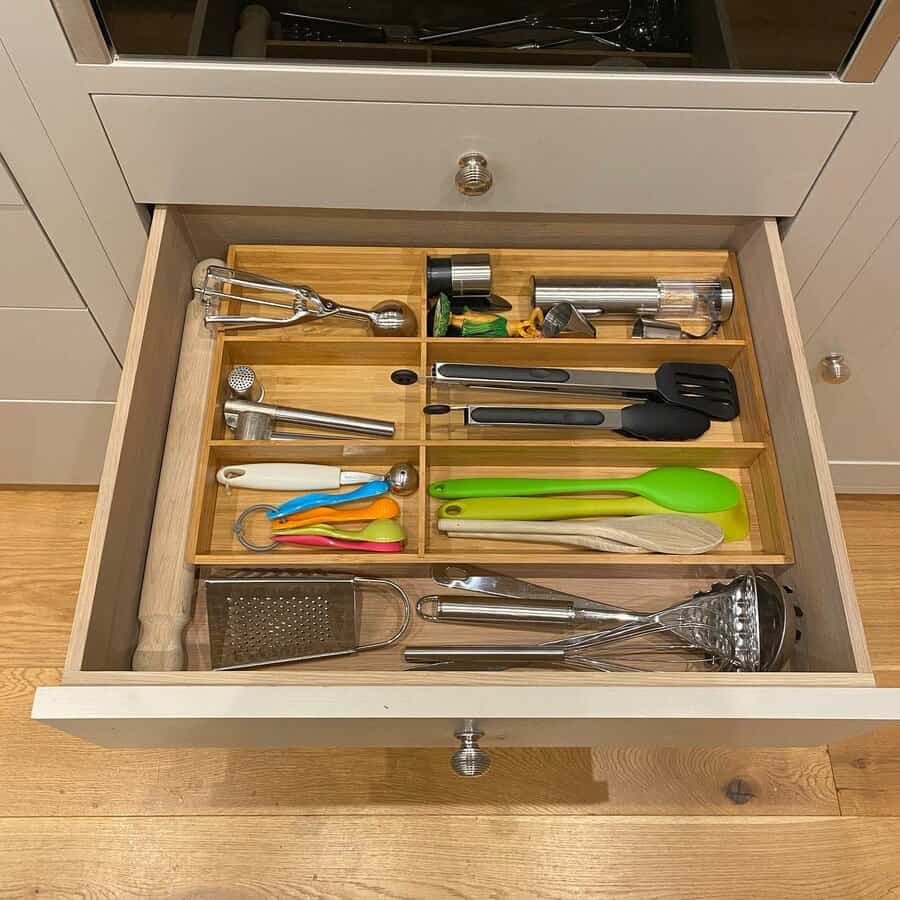 18. Add Function with a Kitchen Island
In small kitchens, a compact kitchen island can be transformative. It offers more counter area for prep work and doubles as extra storage for utensils and gadgets. To elevate its visual appeal, adorn your island with a decorative backsplash that complements your kitchen's aesthetic. This mix of utility and style ensures your space remains functional and trendy.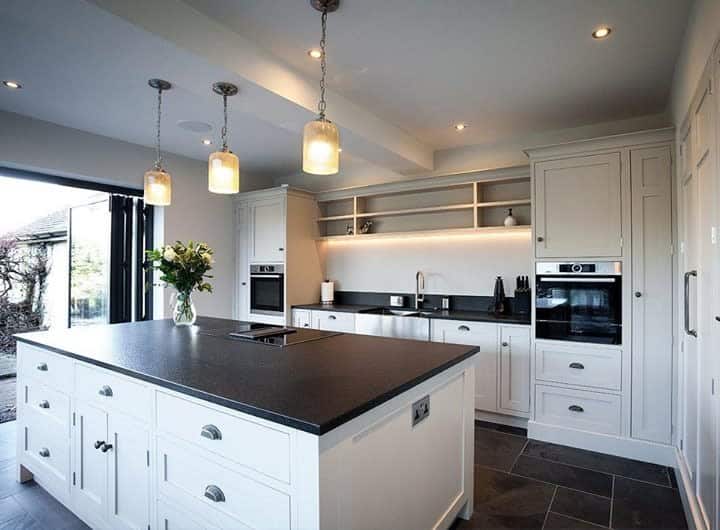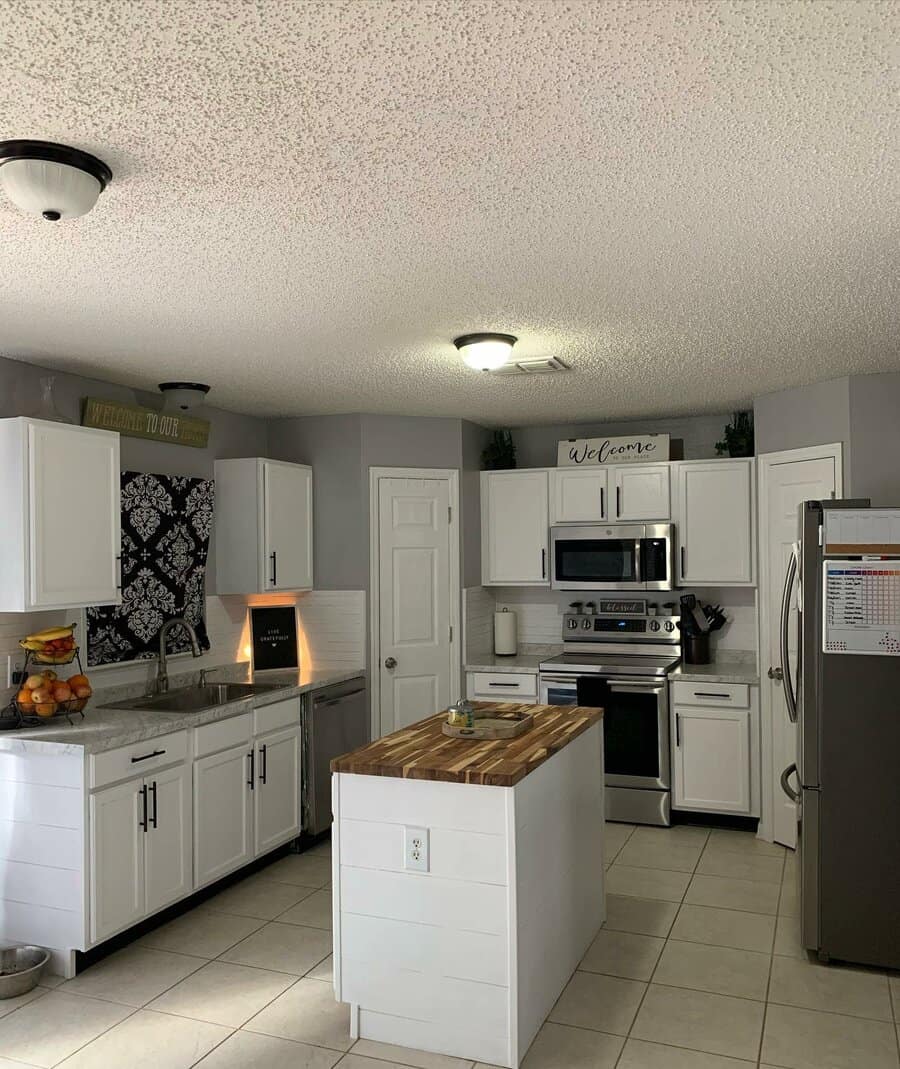 19. Innovate with Pull-Out Pantry Designs
A pull-out pantry is a smart solution for small kitchens, maximizing vertical storage and decluttering the space. It organizes your ingredients efficiently and slides out for easy access. To seamlessly blend with your kitchen, select a style and finish that matches your current decor. This addition pairs functionality with design, enhancing both utility and aesthetics.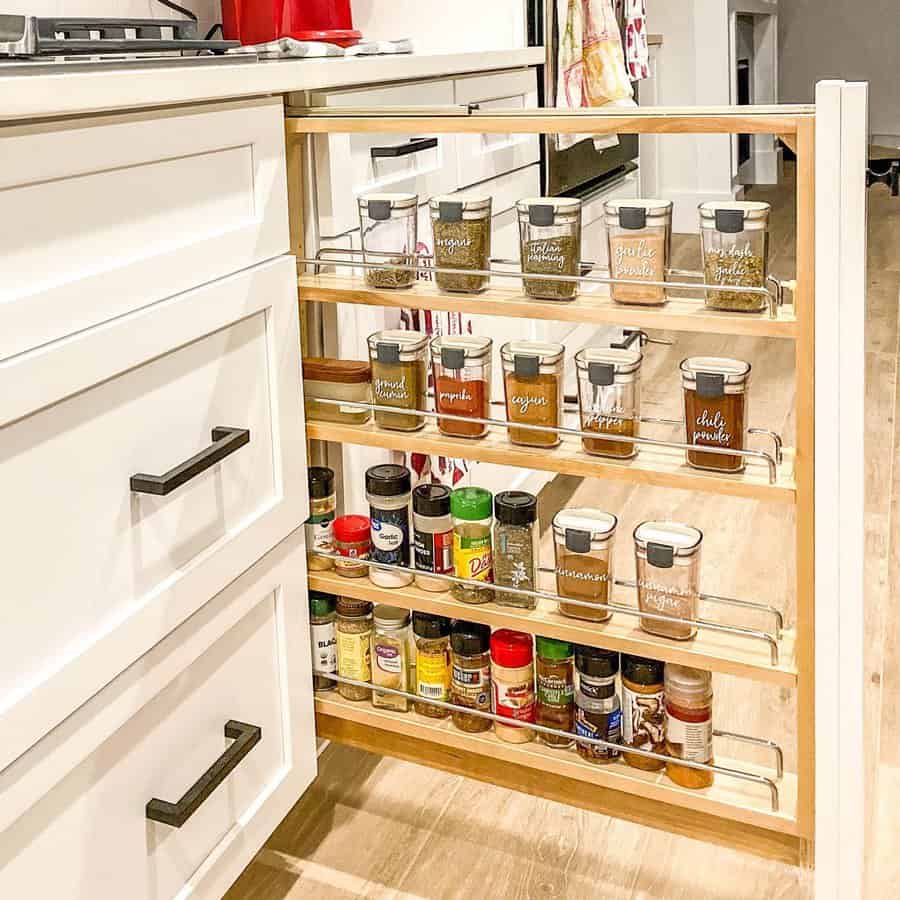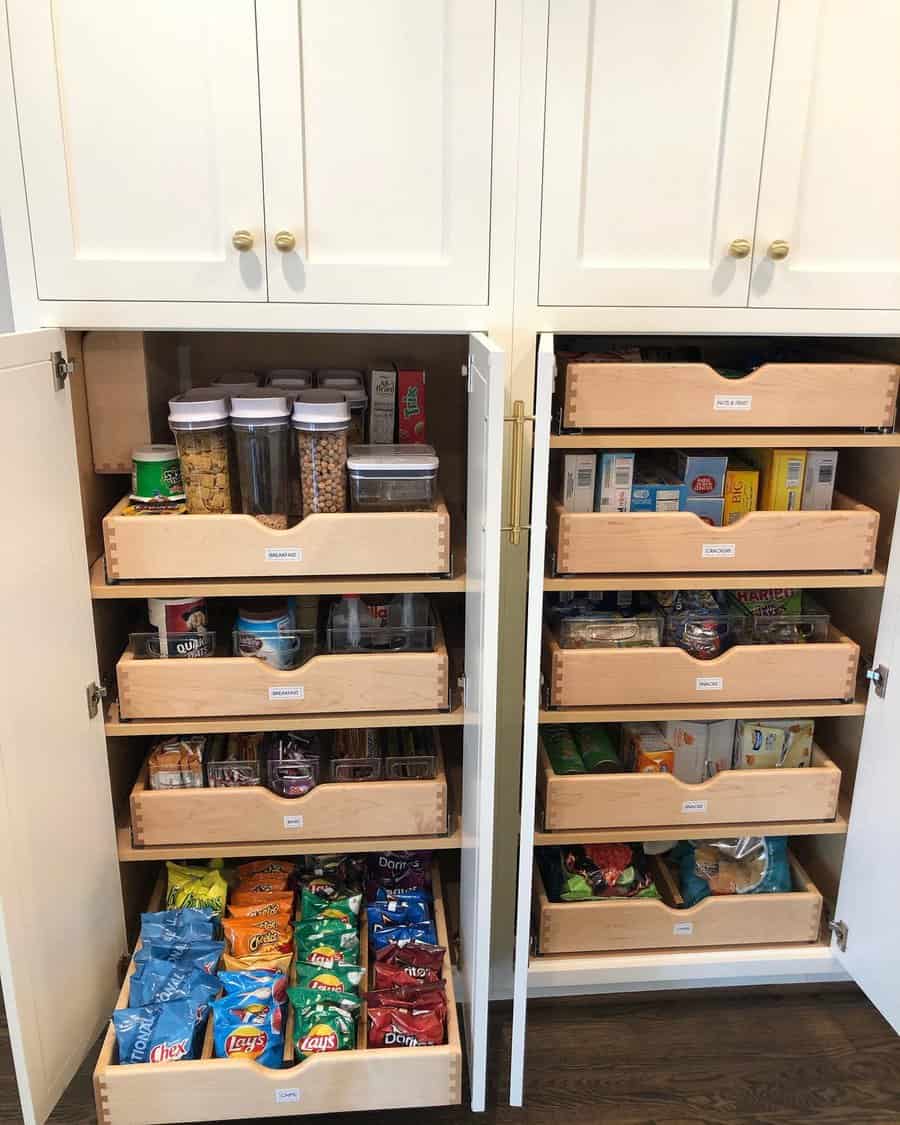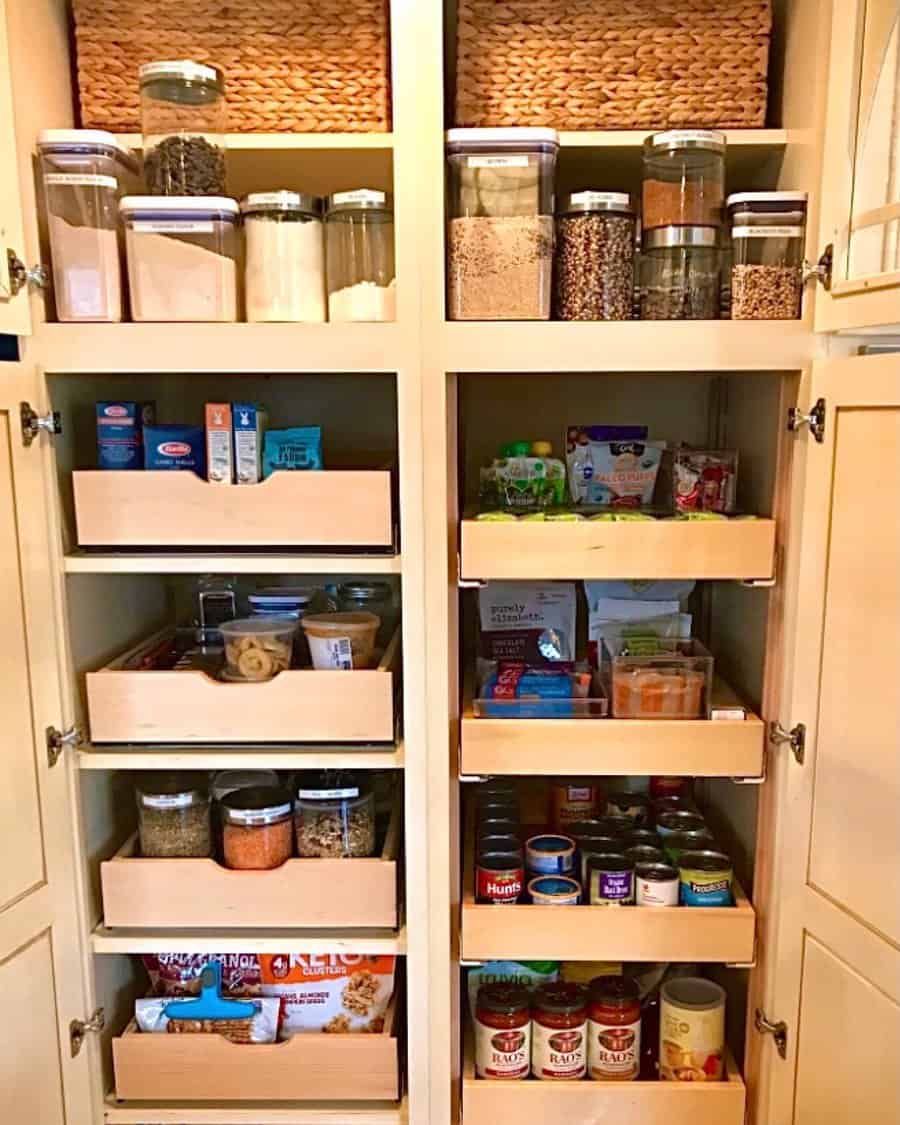 20. Store Smart with Airtight Containers
Airtight containers are essential for small kitchens, ensuring freshness while enhancing organization. Opt for clear containers for visibility or add labeled ones for a cohesive look. Experimenting with various sizes can add a dynamic touch to your pantry. Personalize with creative labels or decorative touches for added flair. With this organized setup, simplify your meal prep and enjoy a clutter-free space.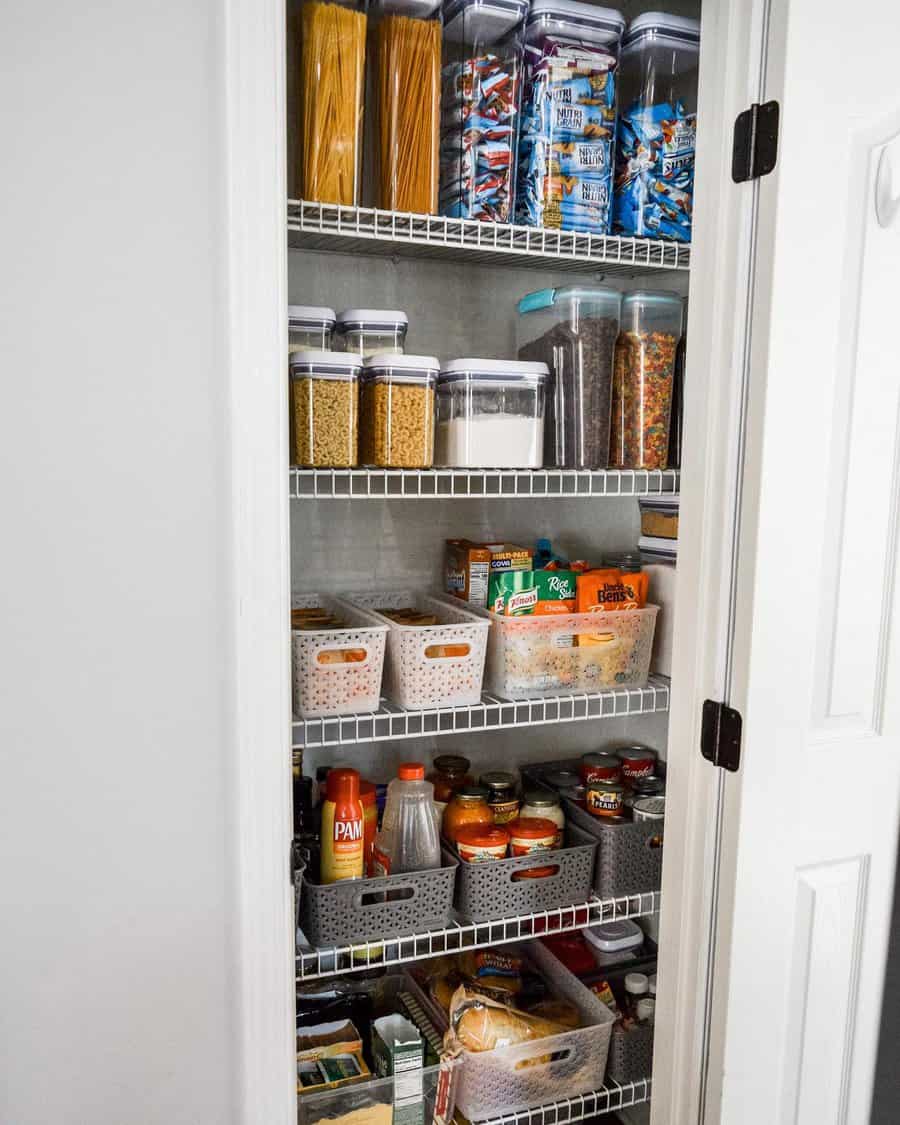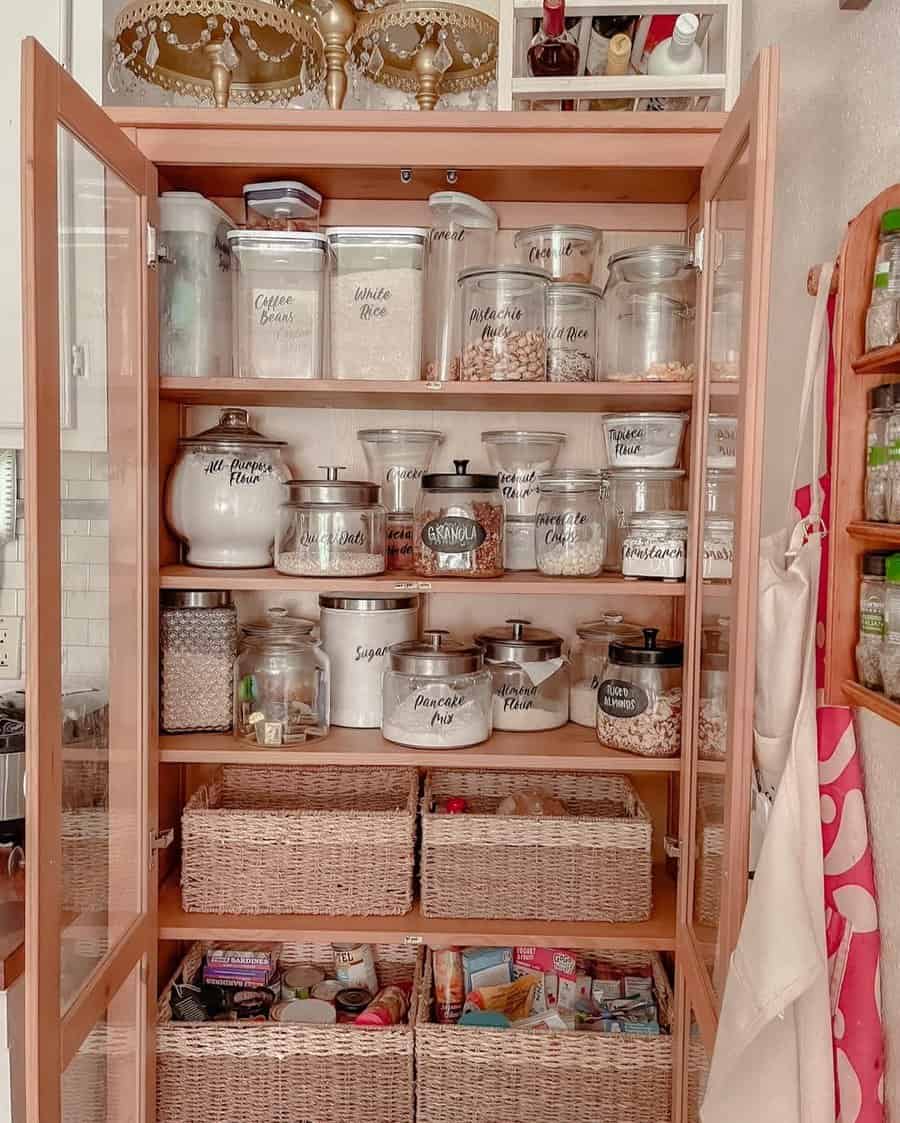 21. Simplify Access with Turntable Racks
Efficiency meets elegance in small kitchens when you incorporate turntable racks into your pantry. These rotating racks ensure that everything is at your fingertips. Fill them up with your airtight containers, mason jars, or your preferred pantry items. A gentle spin brings what you need directly to you, reducing the time spent searching and rearranging. Beyond just function, they also elevate the aesthetic appeal of your kitchen. Opt for a turntable rack and transform the way you interact with your pantry!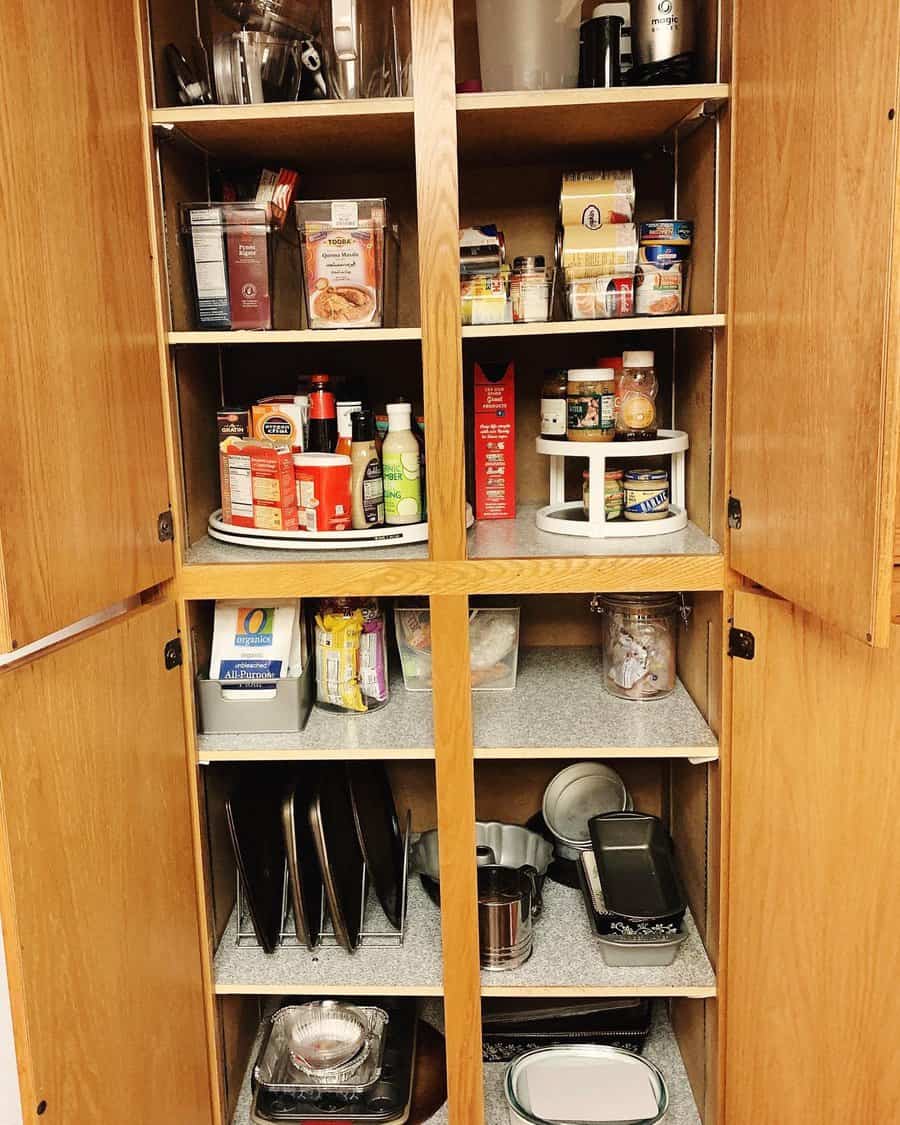 22. Make Use of Corner Pantry Spaces
Corners in kitchens are often underutilized, yet they hold untapped potential for space-saving and efficient storage. A corner pantry shelf can be your key to unlocking that potential. Whether it's a built-in or standalone unit, corner pantries are designed to fit snugly into those tricky spaces, providing ample storage while maintaining a sleek look.
What's more, with its unique position, you're afforded a panoramic view of your items, ensuring you'll never lose track of your ingredients again. Whether you opt for open shelving or cabinet-style doors, this addition will seamlessly blend functionality with aesthetic appeal. So don't let those kitchen corners go to waste – turn them into a storage haven with a corner pantry shelf.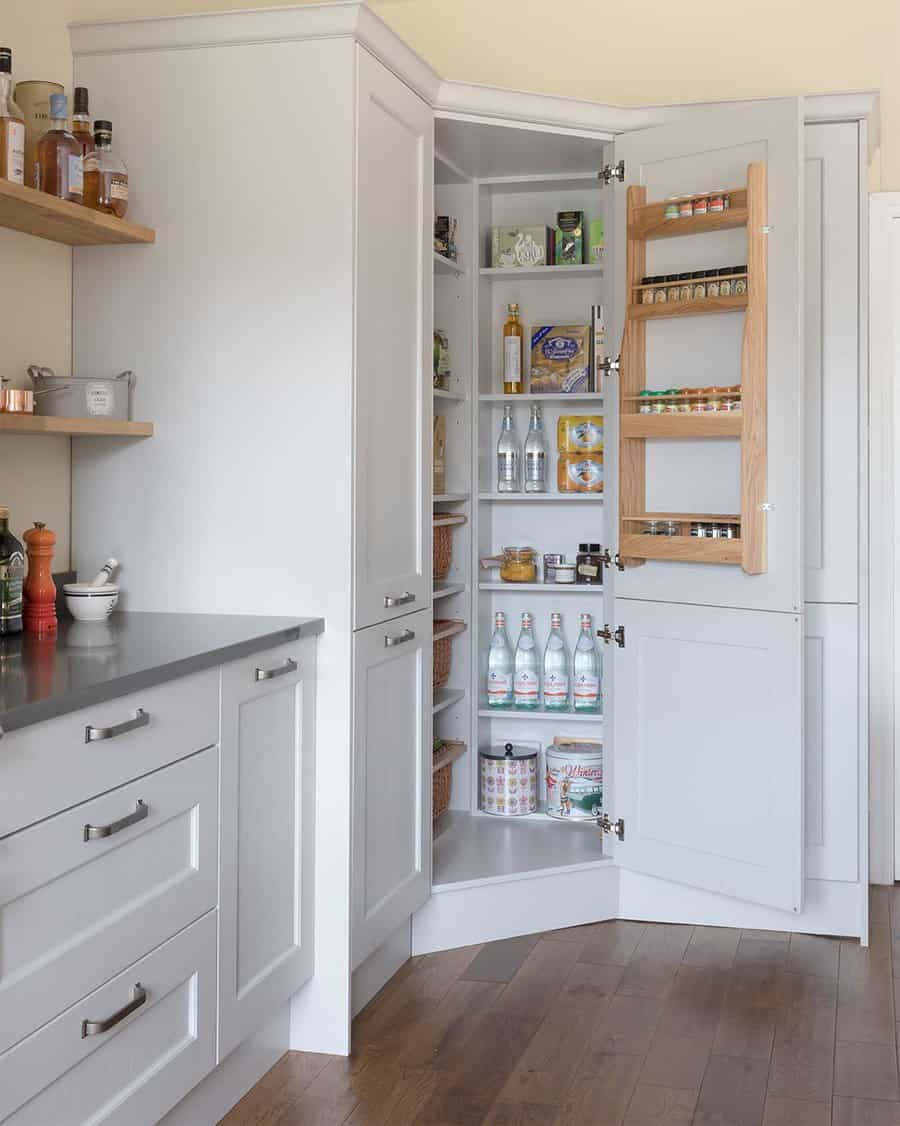 Small Kitchen Storage FAQs
How do you organize your kitchen when you don't have a pantry?
Many small kitchens lack a pantry, but you have other storage idea options. Select a cabinet or two for food storage and use a drawer for storing spices. Use an old bookcase or freestanding cupboard as a pantry, or repurpose a seldom-used coat closet into a working pantry.
How should pots and pans be stored in a small kitchen?
Look up for great small kitchen storage ideas for your cookware. Screw hooks into the wall above your stove and hang pots and pans there, or install a ceiling pot rack. You can also stash cookware in the drawer at the bottom of your range, or even inside the oven. Just don't forget to remove them before preheating.