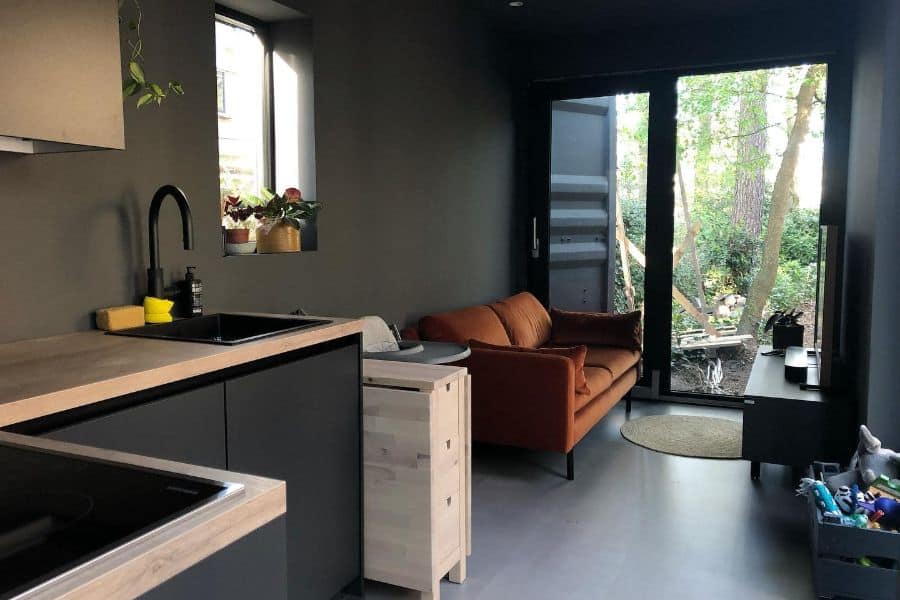 56 Small Space Ideas for Tiny Living
by — Kari Apted

Published on April 6, 2021

Updated on October 20, 2023
"Any intelligent fool can make things bigger, more complex…. It takes a touch of genius – and a lot of courage – to move in the opposite direction." – E.F. Schumacker
The average American home has 2,500 square feet of living space, while the typical tiny house rarely exceeds 500 square feet. Why would anyone volunteer to downsize so drastically?
The tiny-house movement was birthed from the pursuit of a simpler lifestyle. Small homes are inexpensive to build and maintain, especially if they are partially (or fully) off the grid. Living in such a small house also has a positive impact on the environment.
Are you curious about which small space ideas work, and which are too minimalistic? Scroll through our best small space ideas for inspiration on becoming a tiny house owner.
1. Compact Bathroom Sinks Maximize Space
Compact bathroom sinks, like small or corner basins, are ideal for optimizing space in your bathroom. They not only save room but also enhance the bathroom's aesthetics while ensuring practical washing space. Plus, they tend to be more cost-effective than standard sinks and can often be installed without additional plumbing. Explore these space-saving sink options to maximize your small bathroom's functionality and style.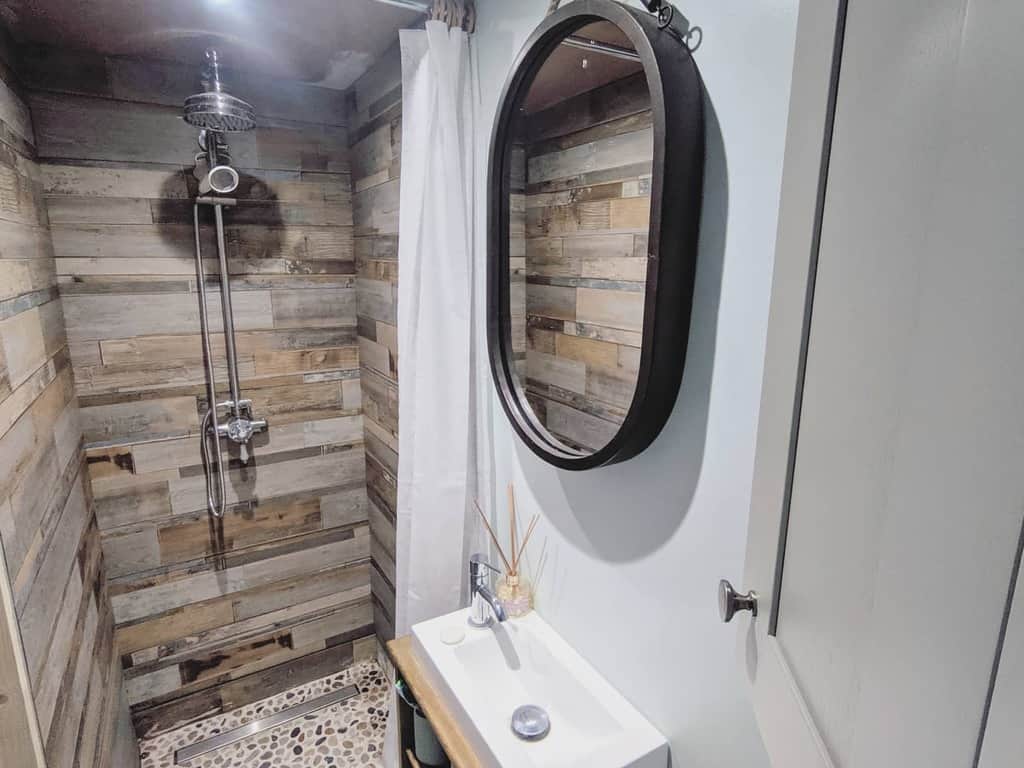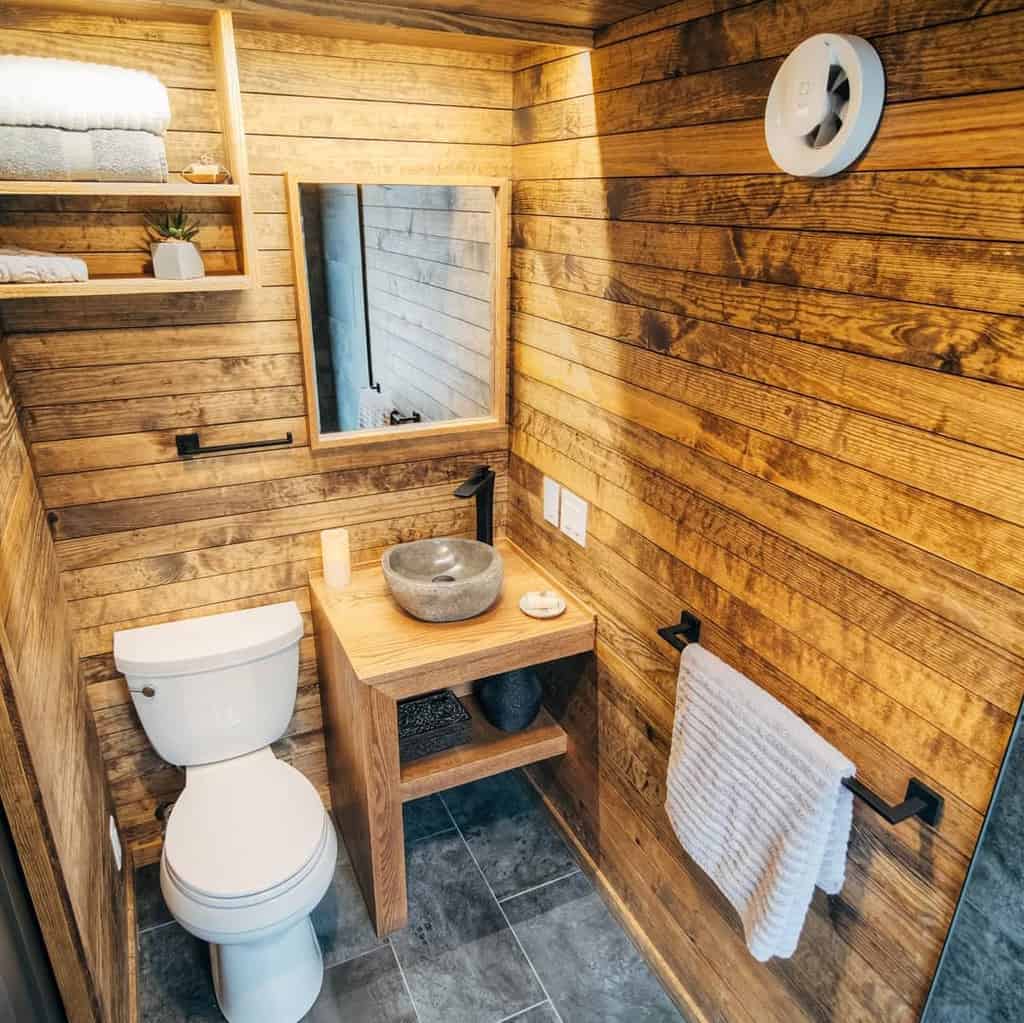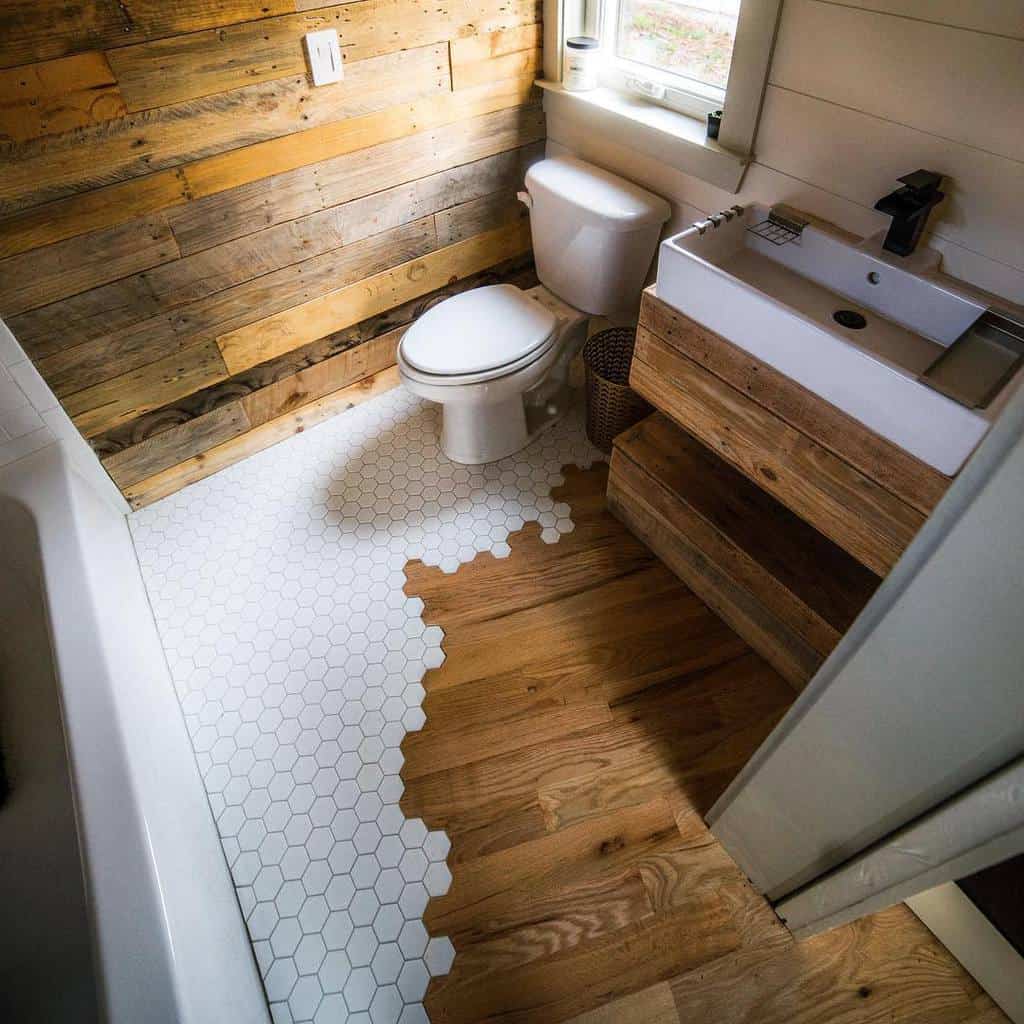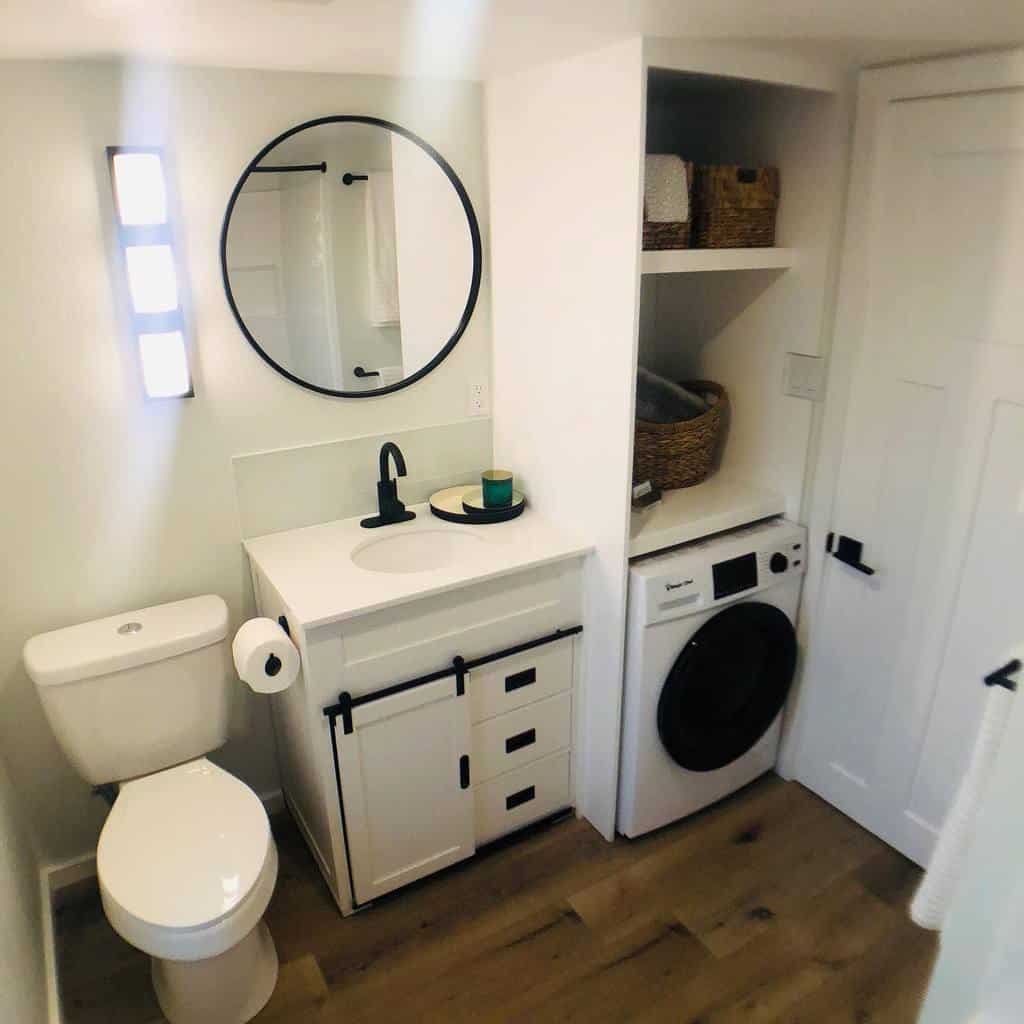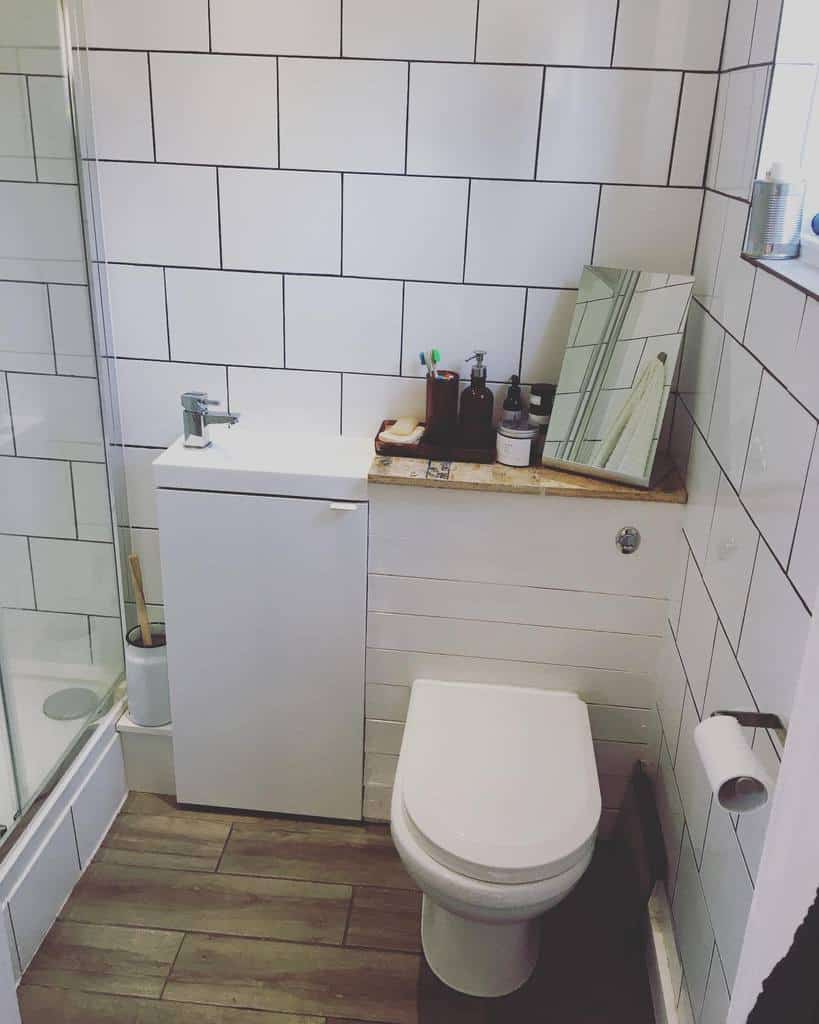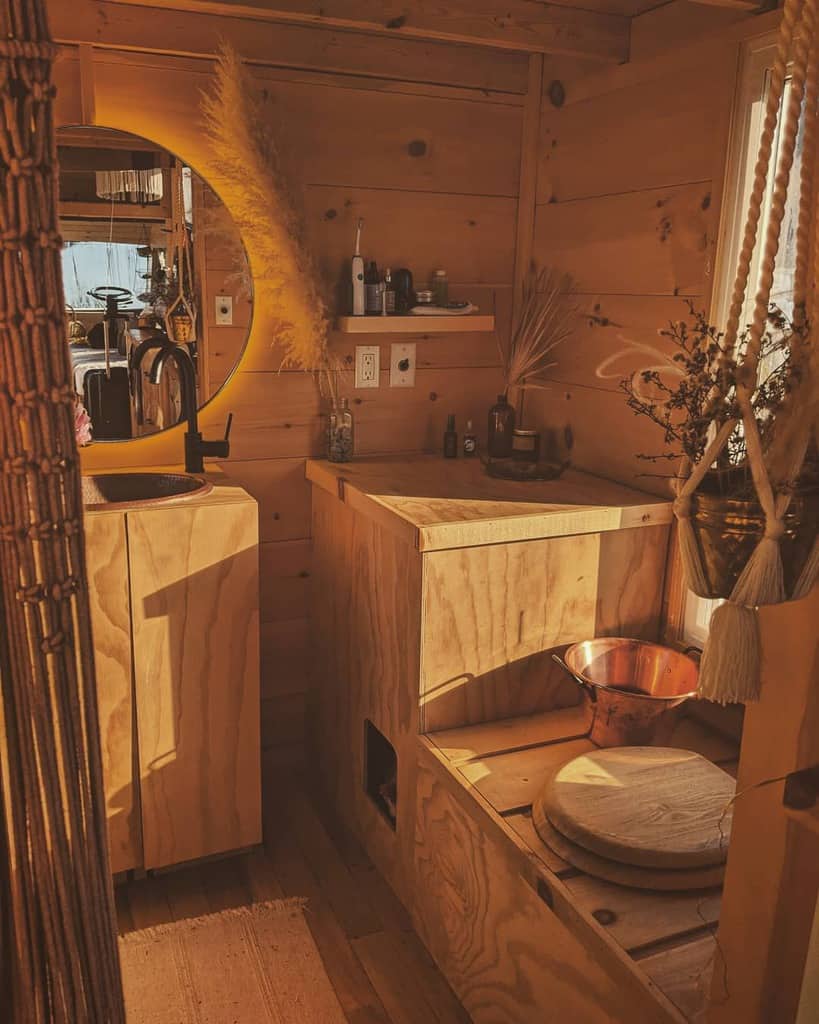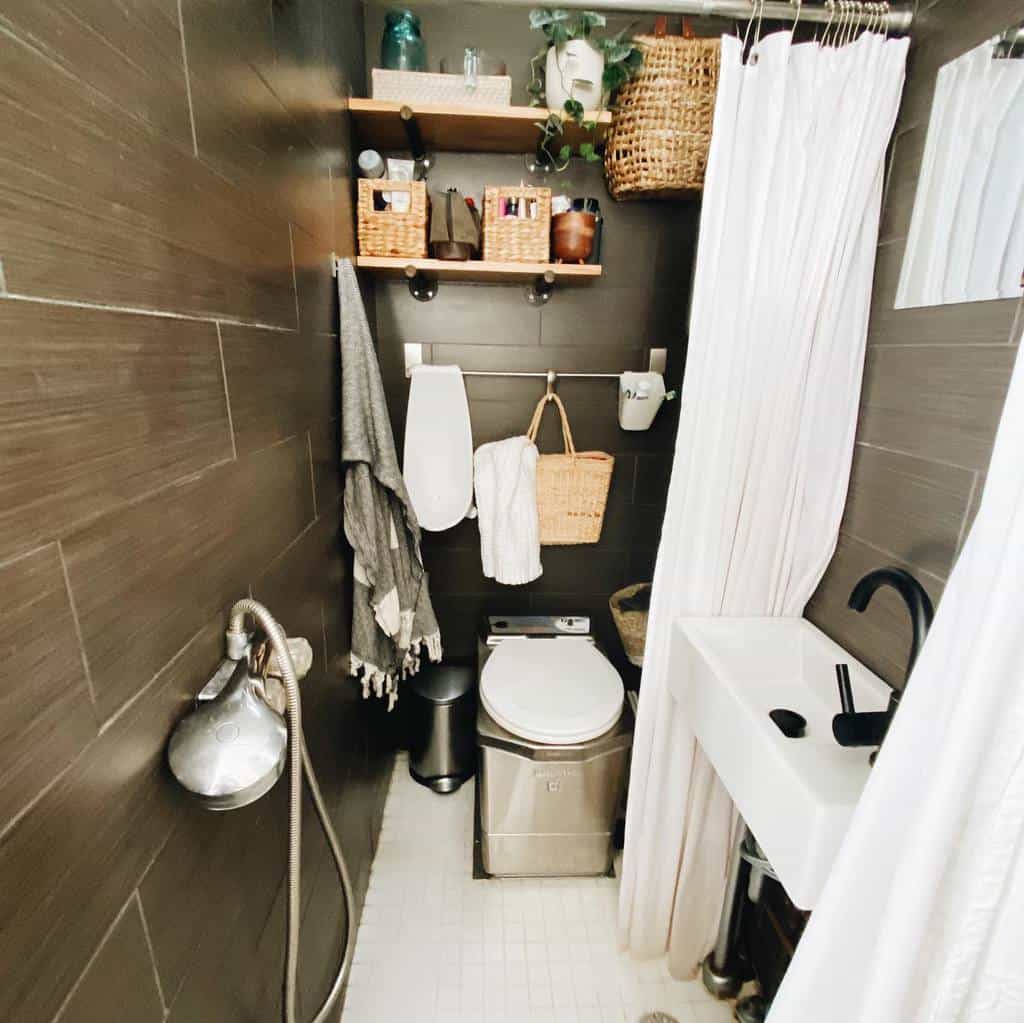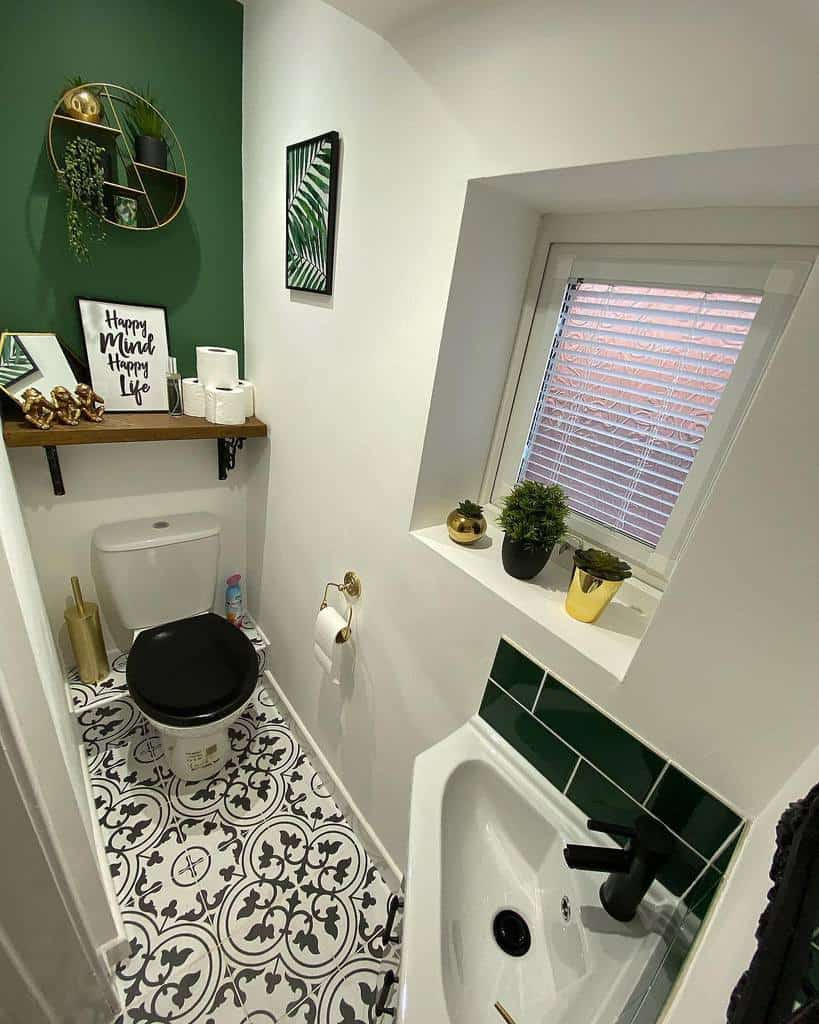 2. Sliding Doors Save Room
Maximize the illusion of space in your small living areas with sliding doors. These doors not only save room but also introduce a chic, modern aesthetic. They work wonders in small bathrooms, creating a more open and inviting atmosphere. Consider incorporating mirrors or glass panels with sliding doors for an even more significant visual impact, opening up your space and adding a touch of elegance to your tiny living area.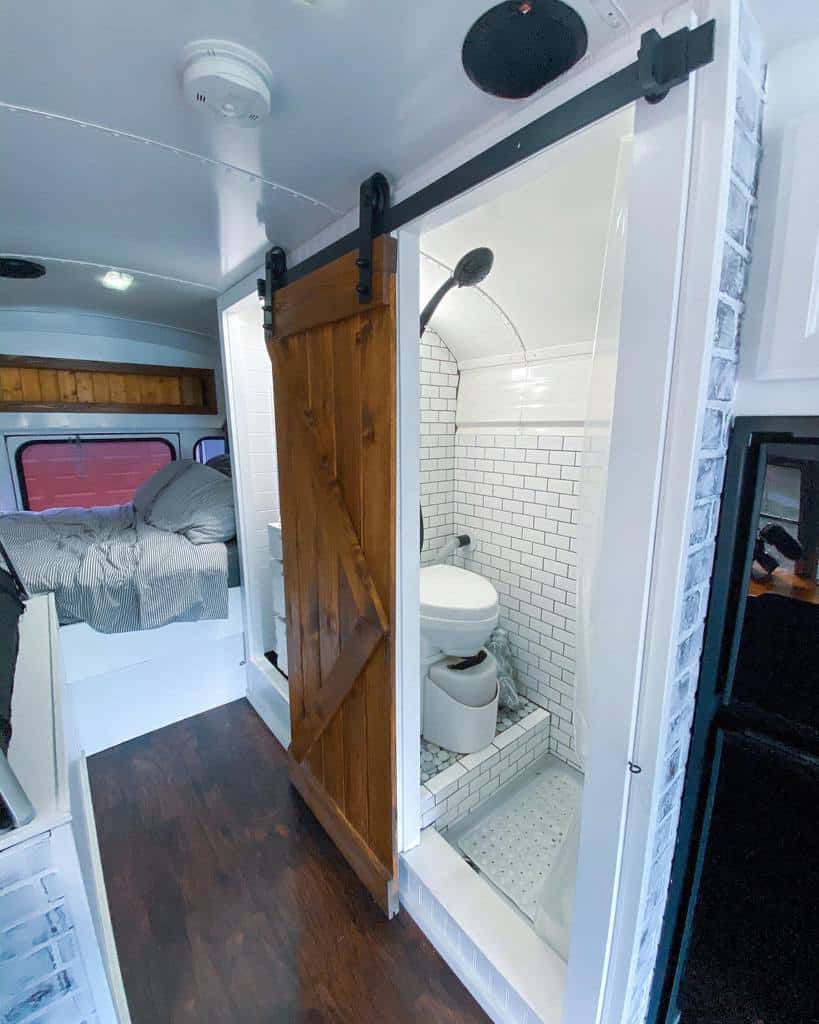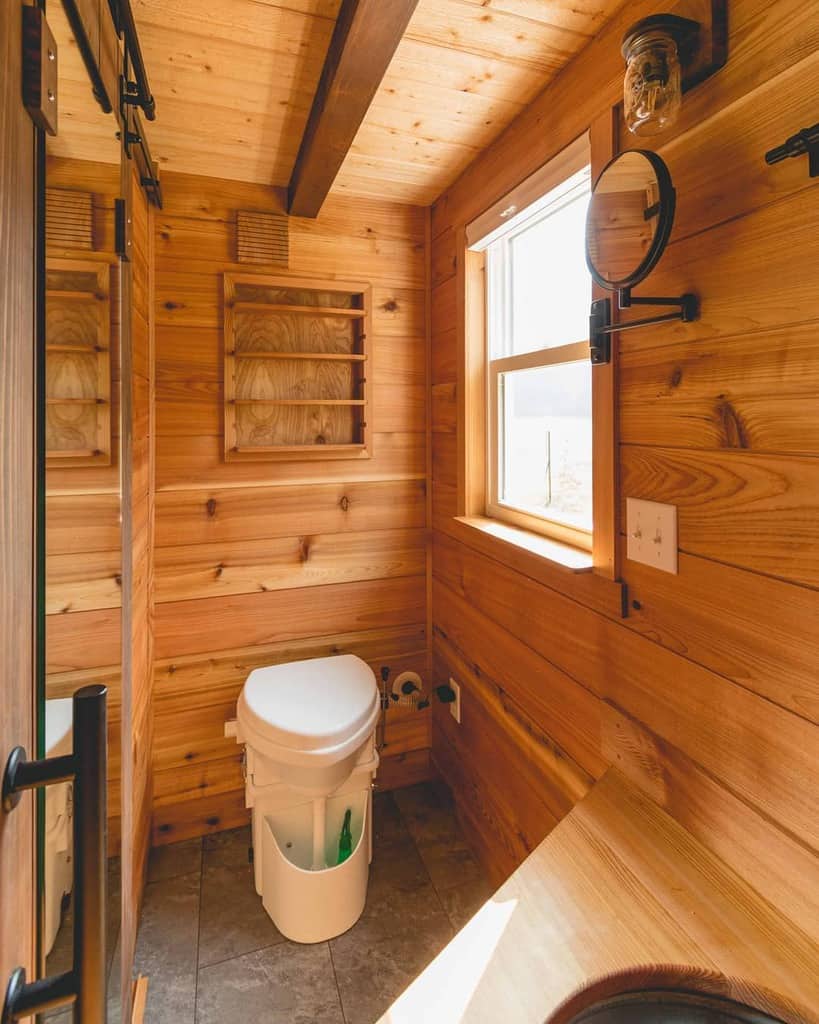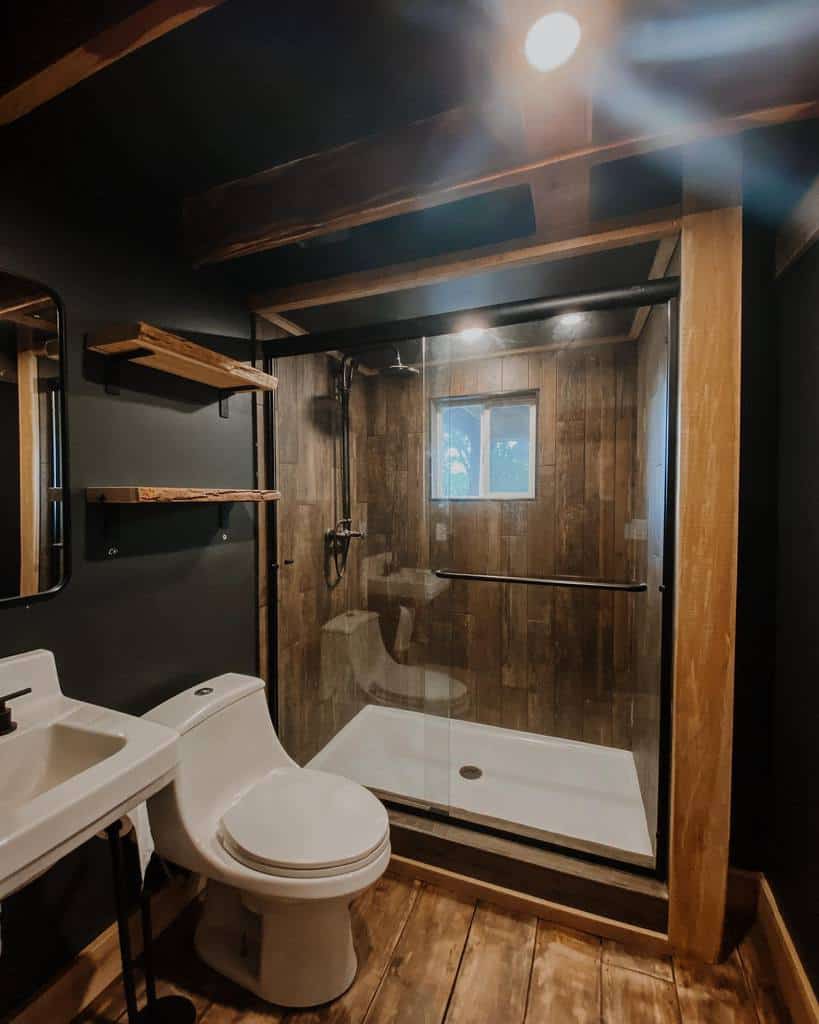 3. Space Dividers Define Zones
Achieving organization and openness in small bathrooms can be a challenge, but glass dividers offer an effective solution. These dividers define zones within the space while maintaining an open and seamless feel. Whether it's glass shower doors, tub enclosures, or glass walls and partitions, they allow light to flow freely, ensuring your bathroom looks spacious and stylish. Consider incorporating glass dividers to maximize functionality and aesthetics in your tiny bathroom.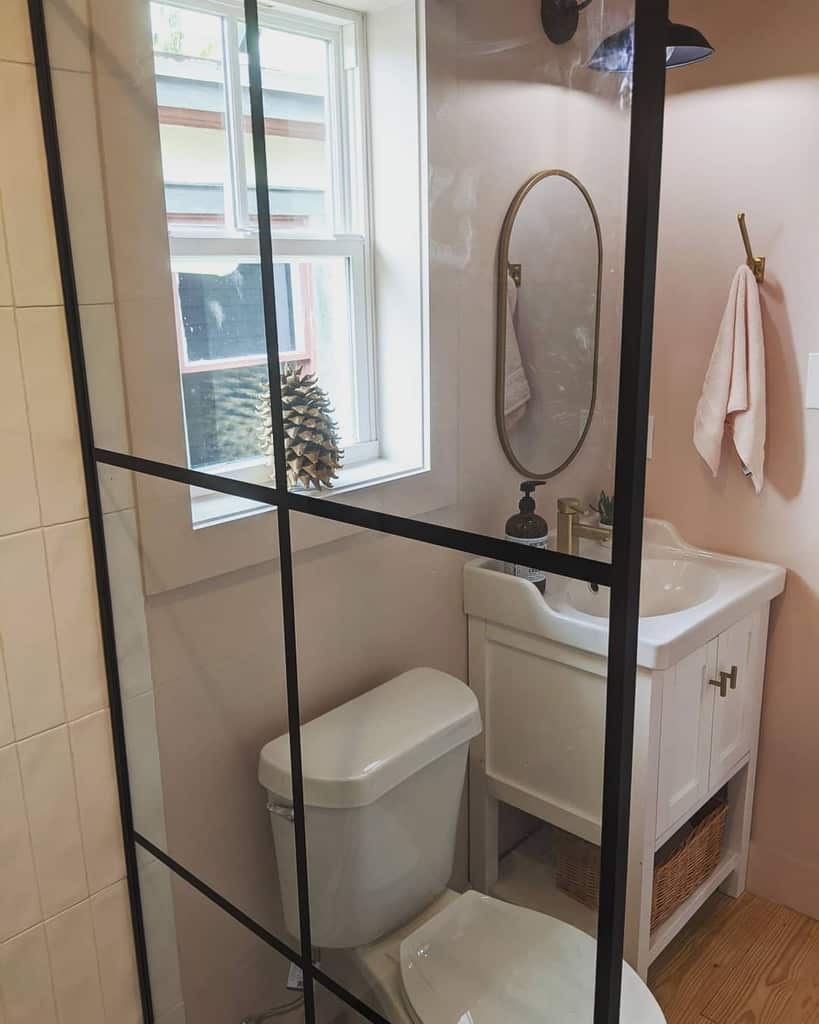 4. Shared Bedrooms: Loft-Style Sleeping
In small living spaces like shared bedrooms or studio apartments, loft-style beds offer a creative and practical solution. These beds free up valuable floor space, allowing room for storage options like shelving and drawers beneath the bed. Consider wall-mounted furniture to maximize vertical space and create a functional and versatile living area. Whether you're planning a complete home makeover or seeking ways to optimize your space, loft beds can be a game-changer.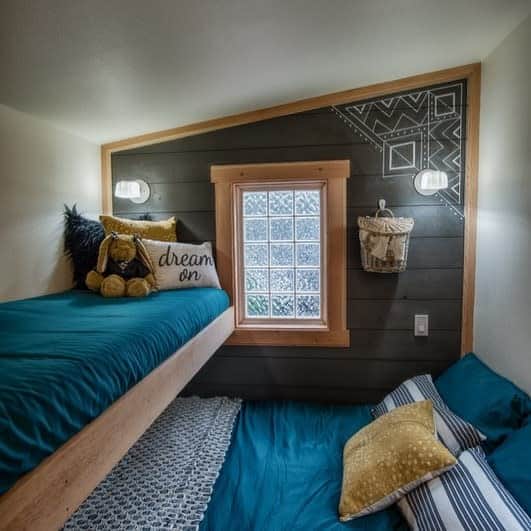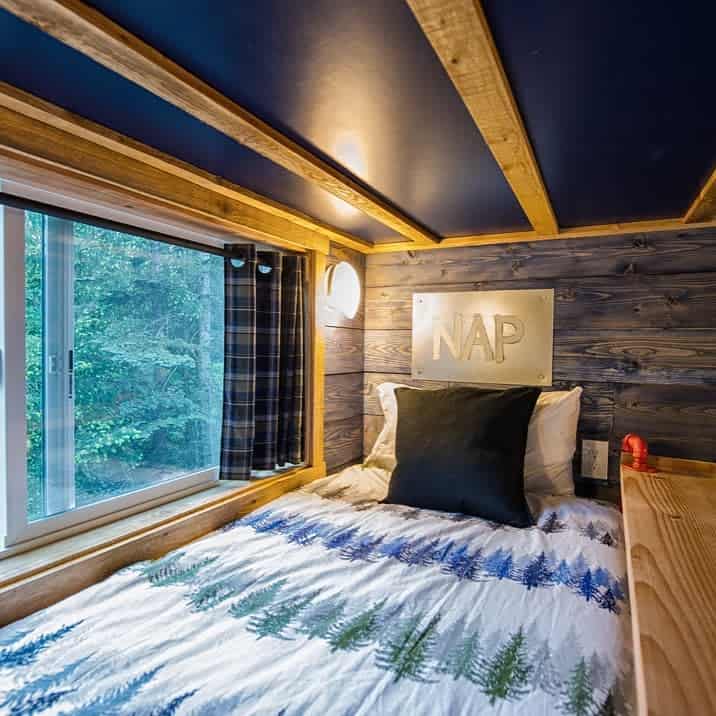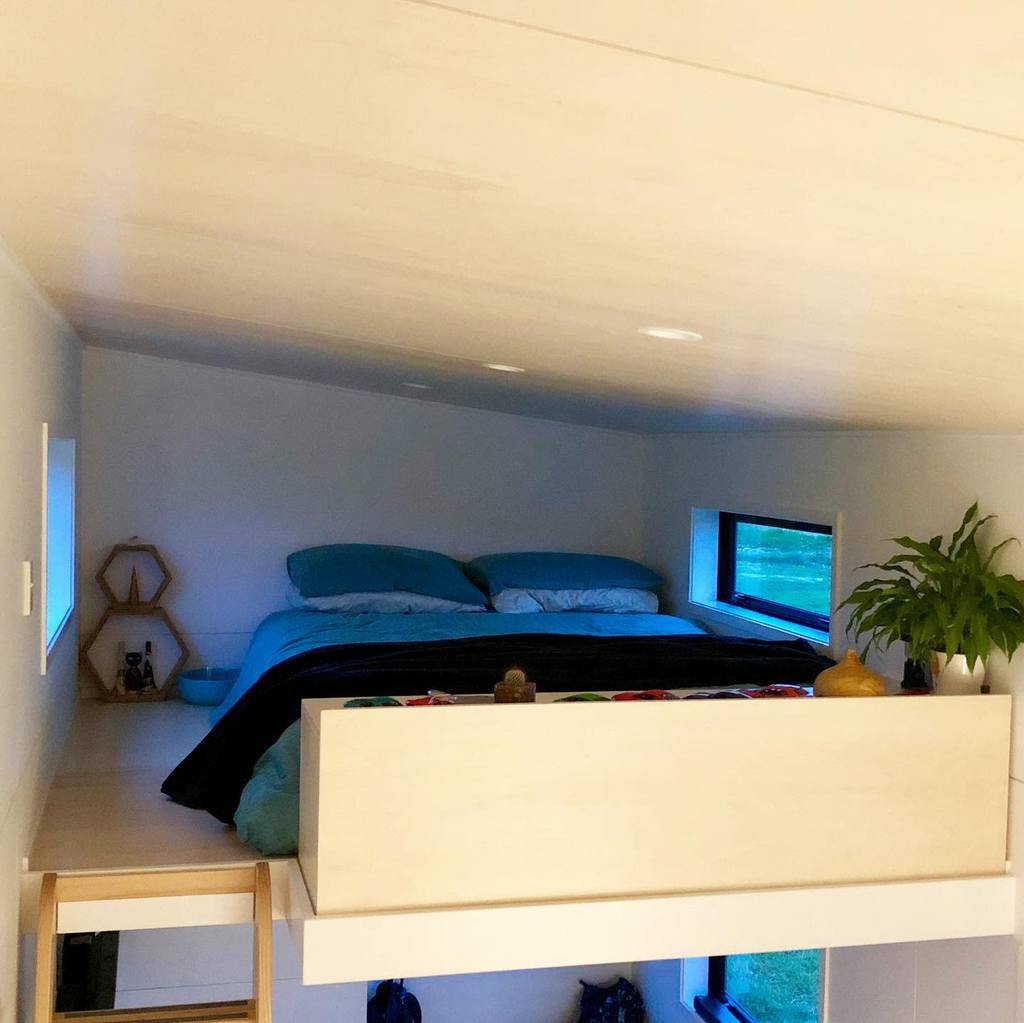 5. White Palettes Open Small Spaces
Creating an all-white interior can significantly expand the perceived space in small living areas. This palette enhances brightness and airiness, serving as a blank canvas for your creative expression. Add pops of color through artwork and furniture, avoiding the need for heavy wallpaper or dark hues. Consider an open-plan layout and incorporate soft furnishings like rugs, curtains, and diverse light fixtures to define zones within the space while maintaining a bright and open atmosphere. Embrace the versatility of an all-white palette to make the most of your tiny living area.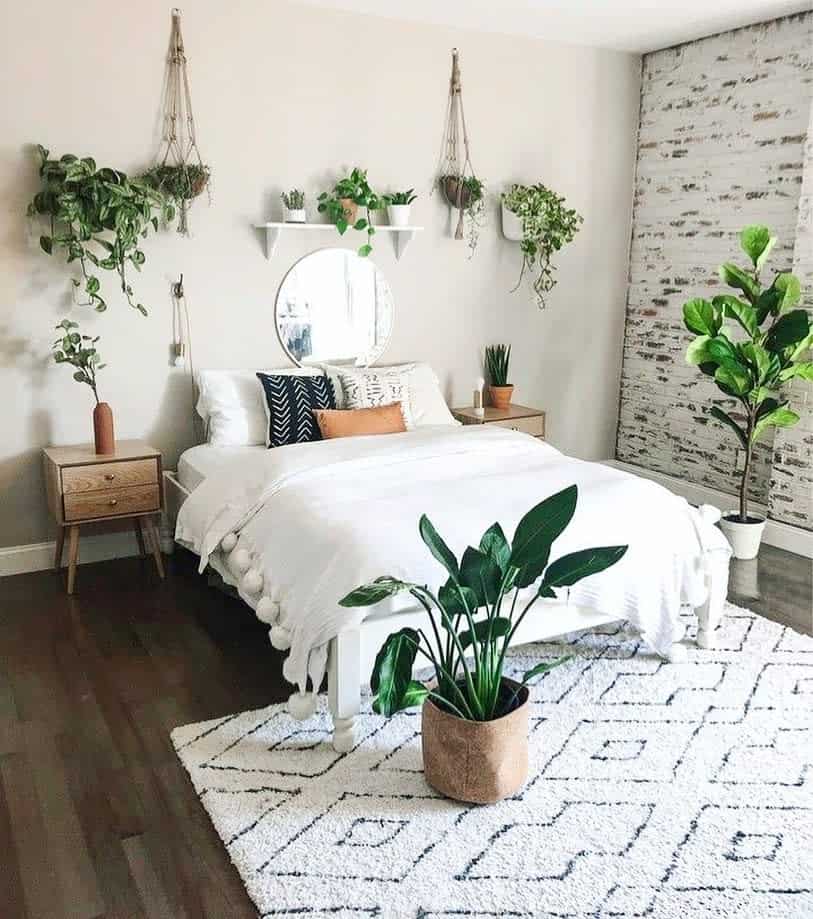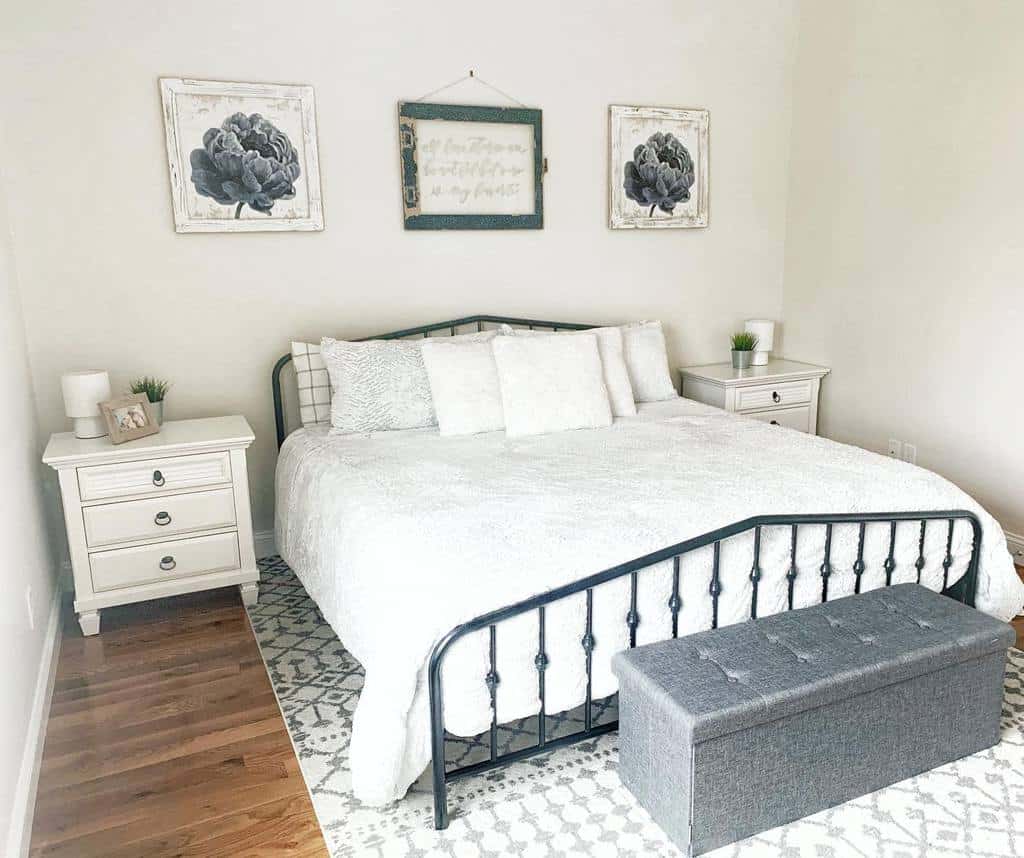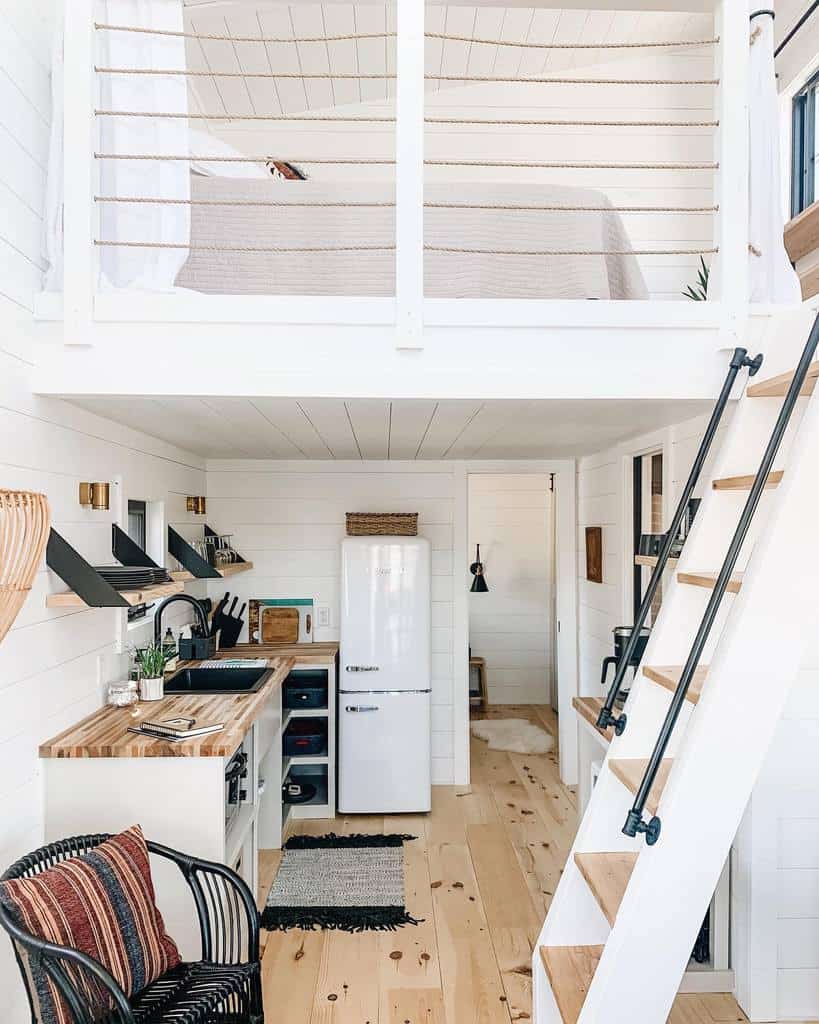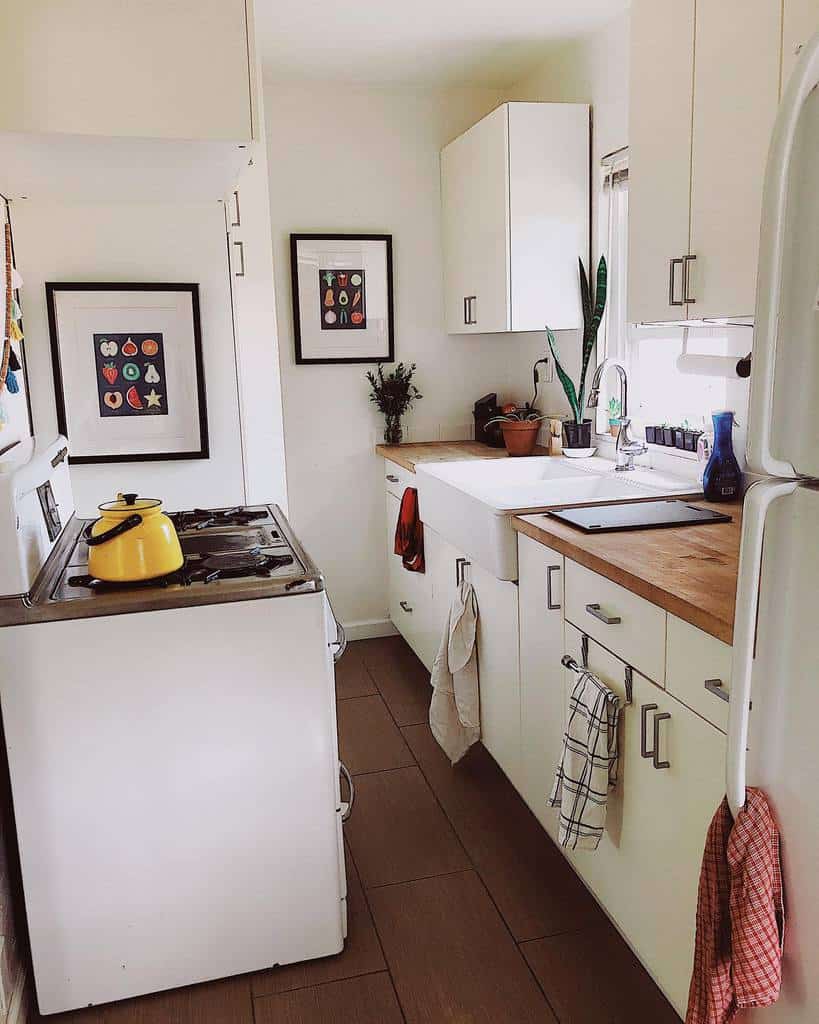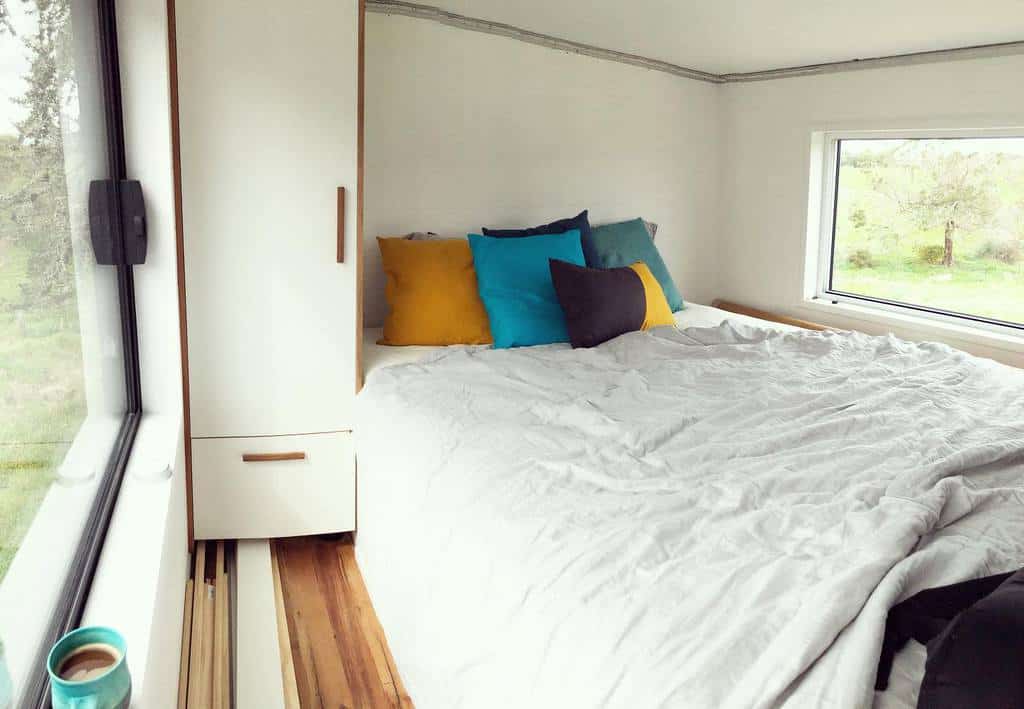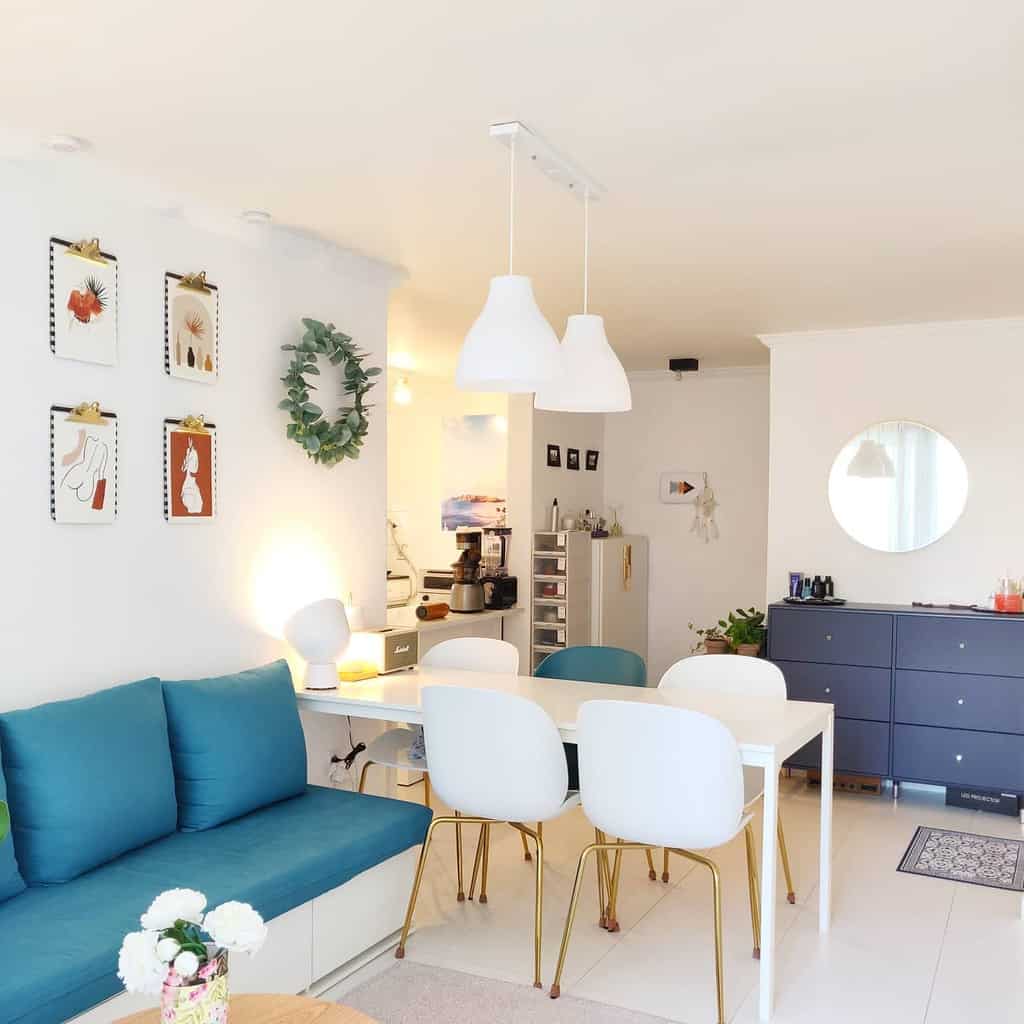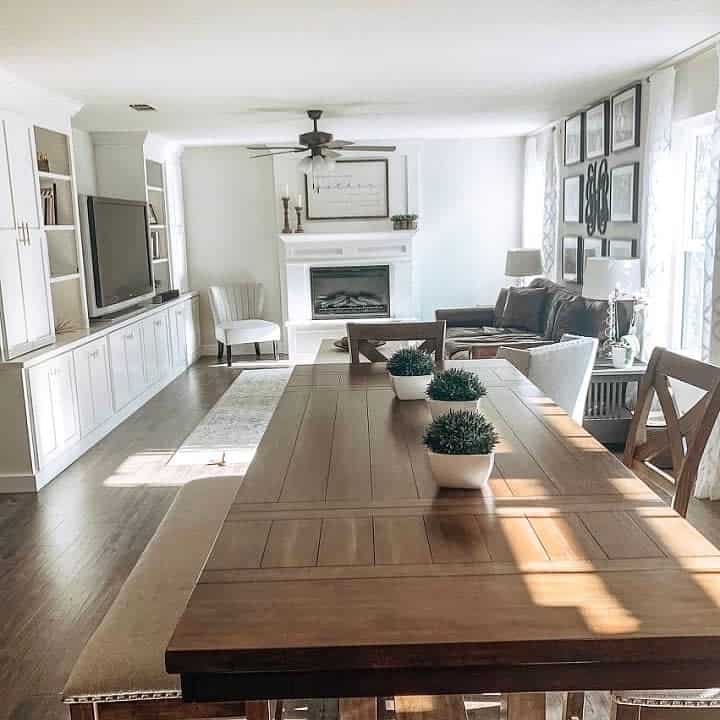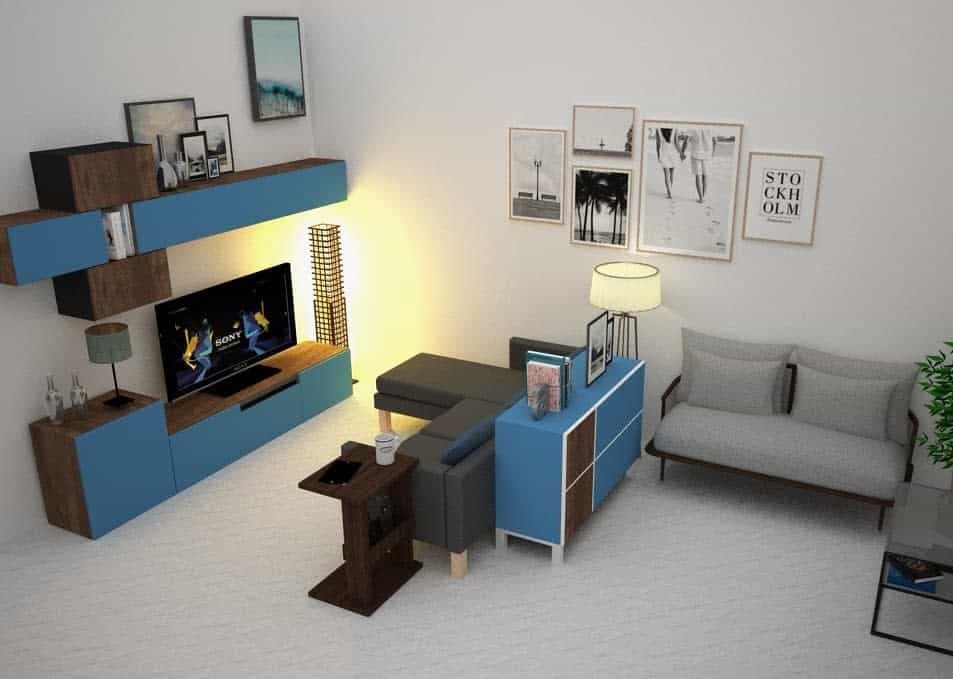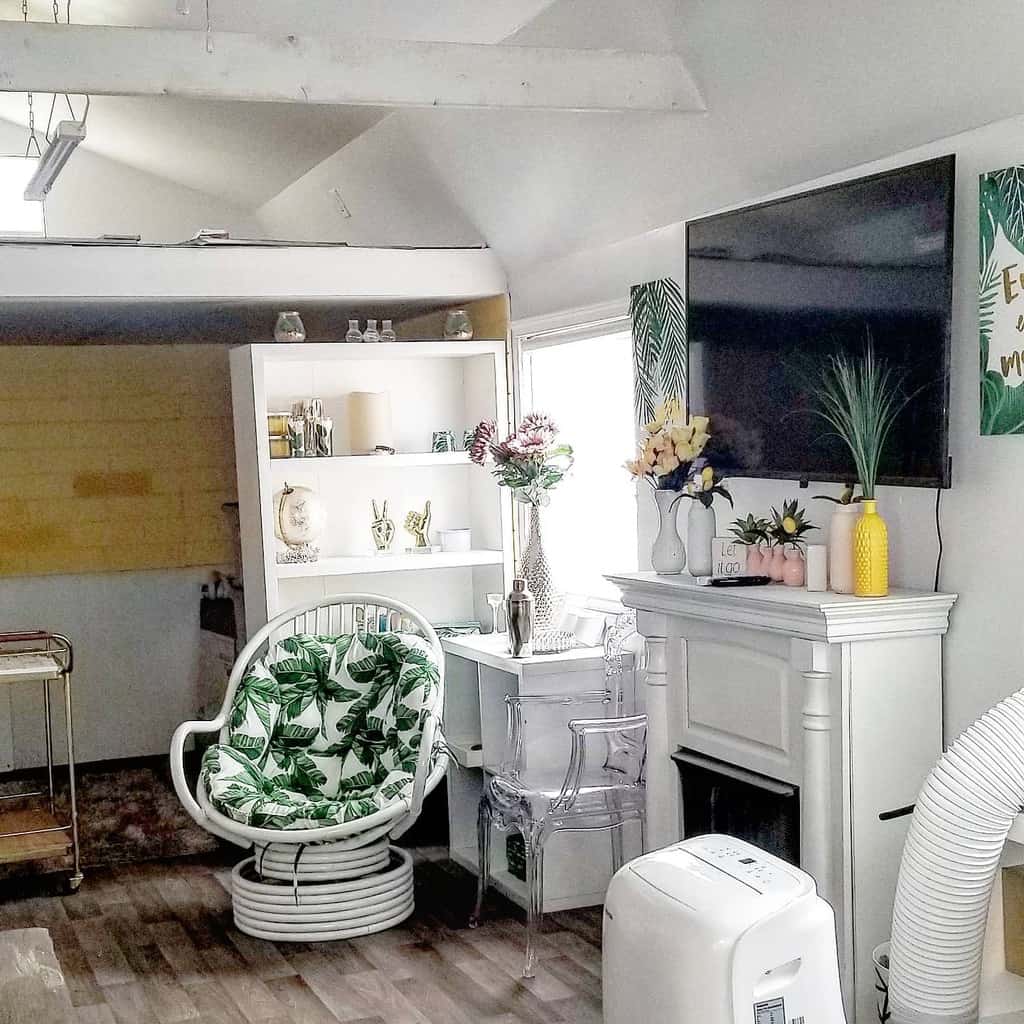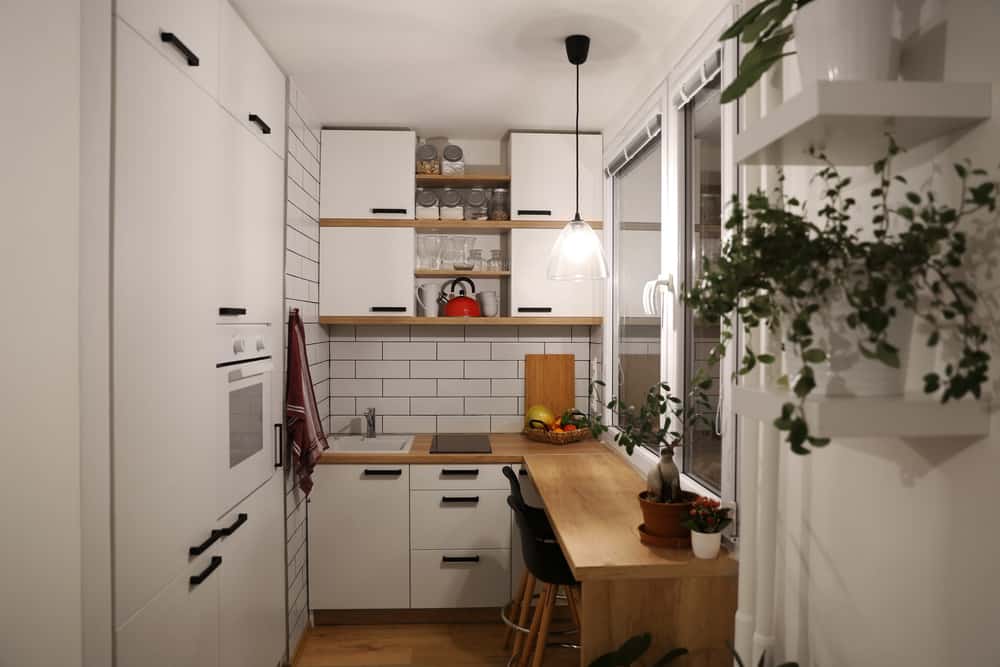 6. Enlarge Visual Space with Large Windows
Enhance the spaciousness of your small bedroom by incorporating large windows that invite natural light, creating a cheerful and inviting atmosphere. Use reflective surfaces like mirrors and glossy white furniture to add dimension and brightness. This combination of design elements will transform your bedroom into a cozy retreat that appears much more spacious than its actual size.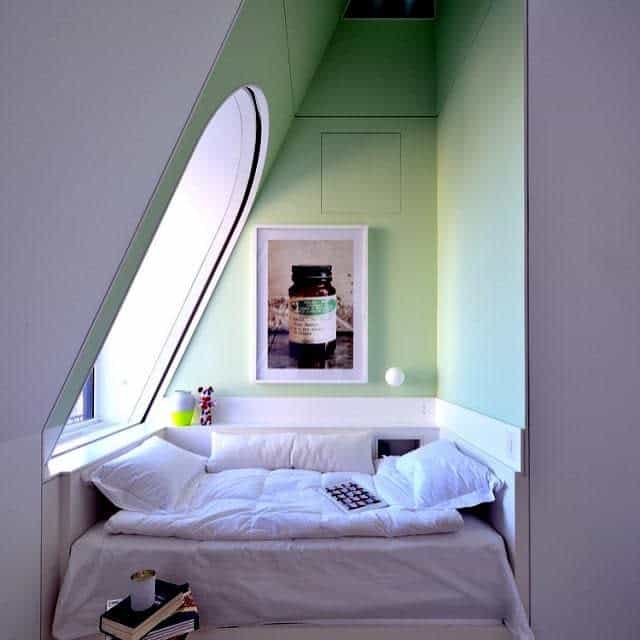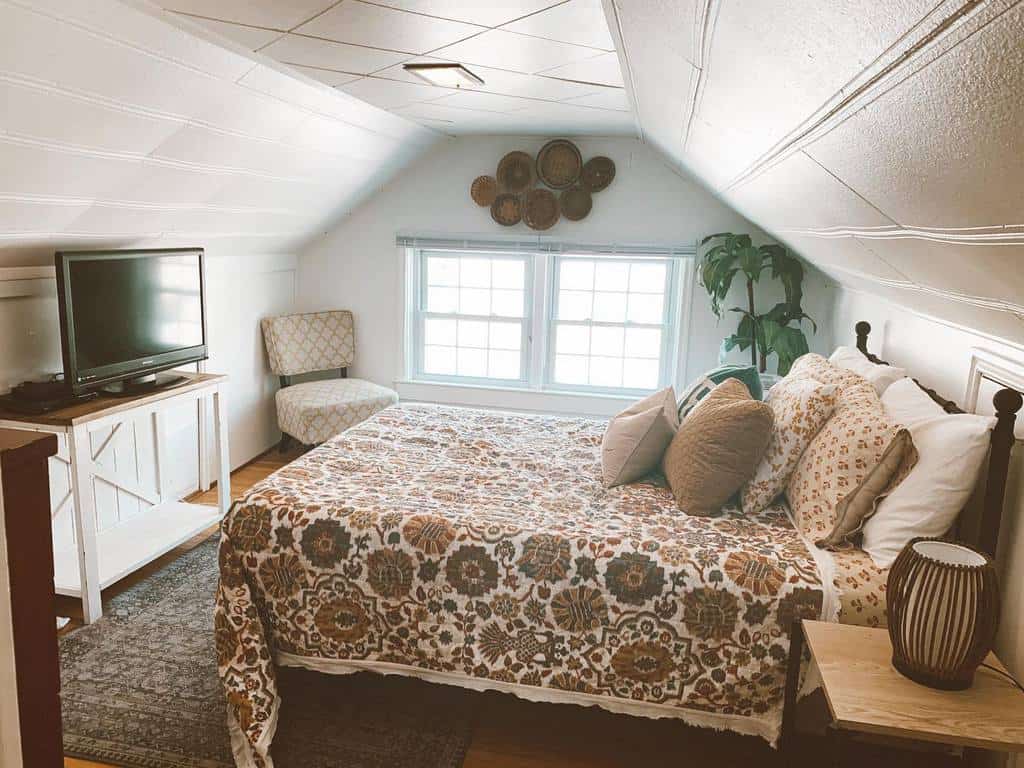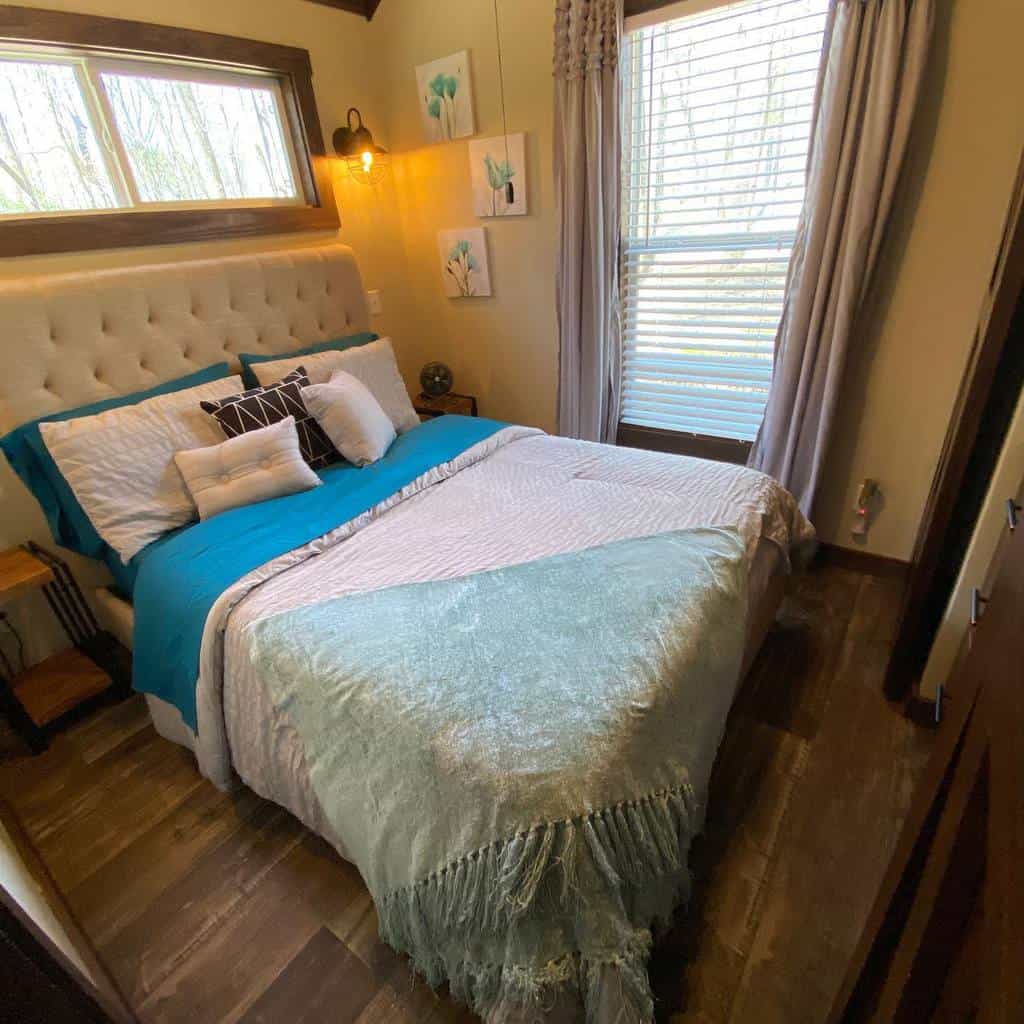 7. Under-Bed Storage Solutions
Discover the potential of under-bed storage to maximize your small living space. Small homes demand creative storage solutions, and utilizing the space under your bed, as well as additional storage under furniture, can free up valuable room. Take advantage of this strategy to keep your tiny home clutter-free and well-organized, making it feel more open and spacious.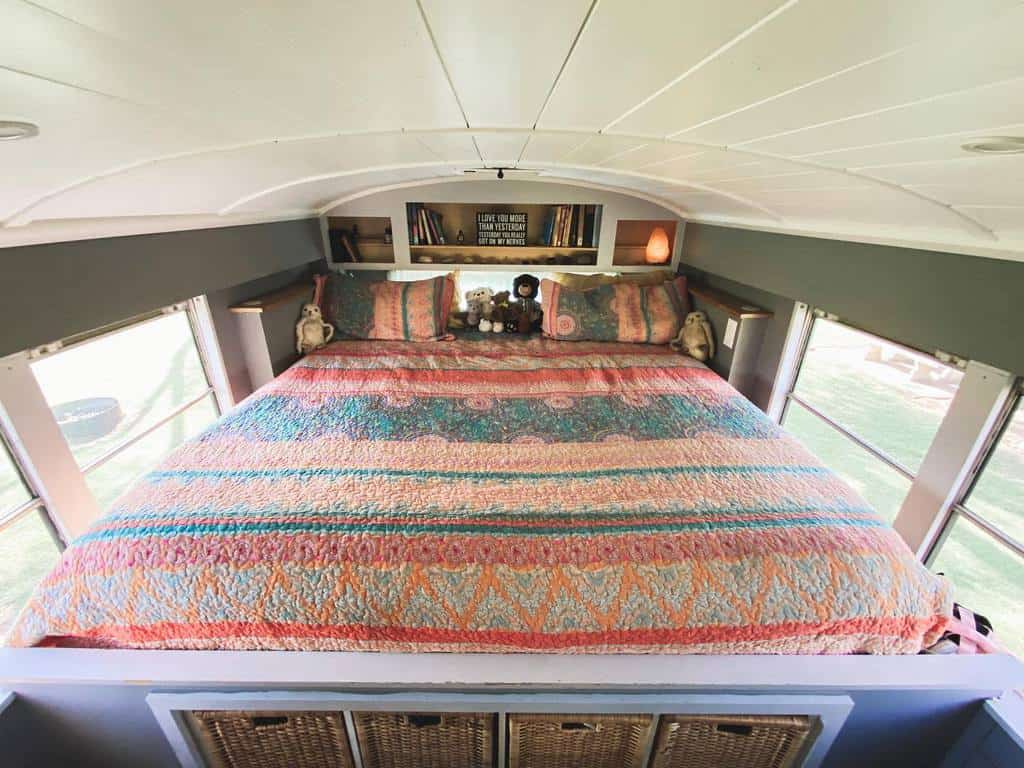 8. Skylights Brighten Rooms
Optimize your small bedroom with a skylight to infuse it with natural light, opening up the space and enhancing its usability. Consider loft beds or multifunctional furniture pieces for added storage to make the most of the room. Embrace an airy, yoga-inspired ambiance with indoor plants, and with the additional illumination from the skylight, transform your tiny bedroom into a spacious and tranquil retreat.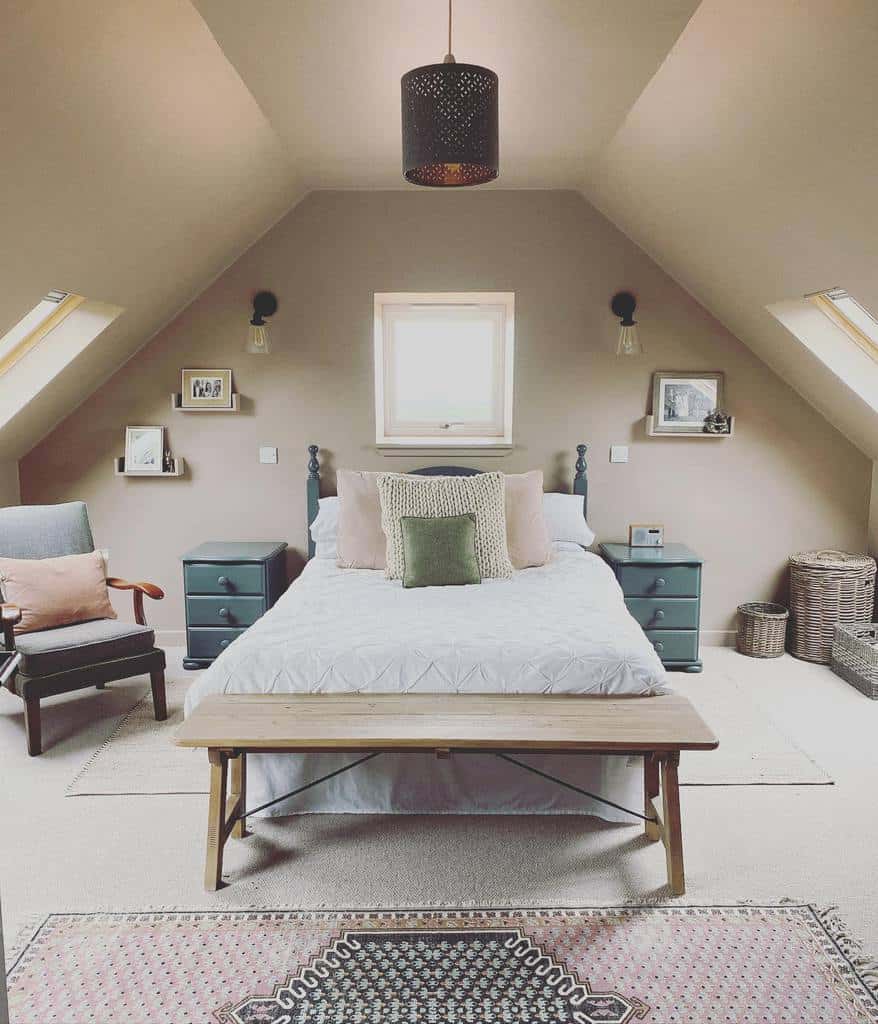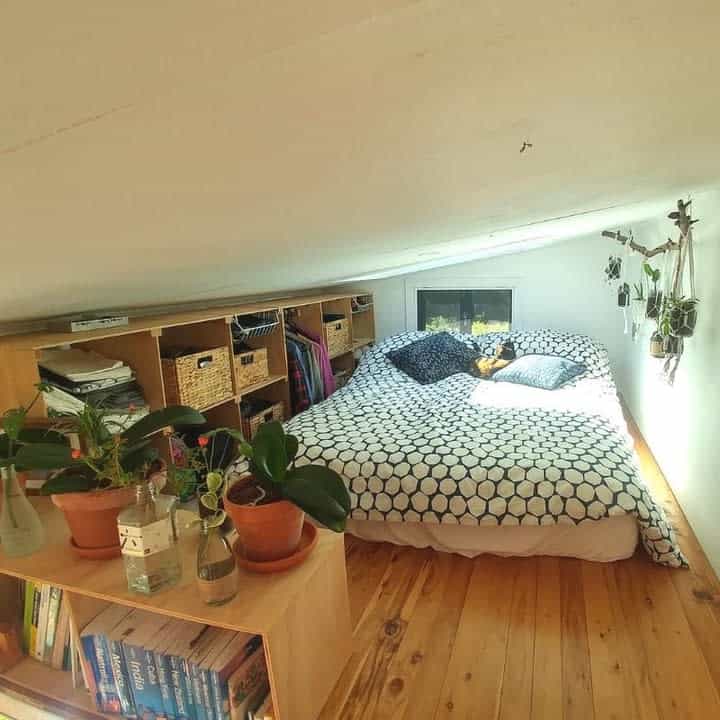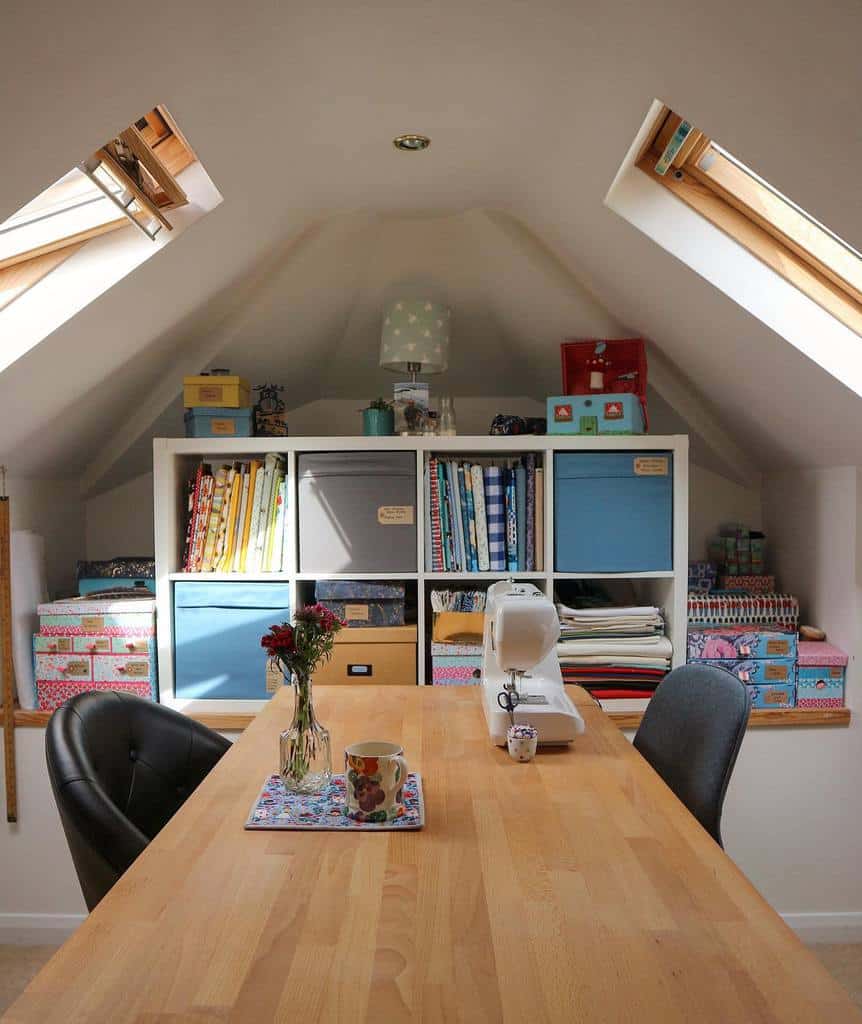 9. Airy Ambiance with Wood Accents
Elevate the ambiance in your small space with wood accents. Incorporating wood elements such as flooring, paneled walls, doors, and furniture creates an airy, organic, and rustic charm. Choose from a range of wood finishes, from unfinished to stained, to bring out its natural patterns and enhance the sense of space. With wood, you can achieve a charming and elegant atmosphere without overwhelming the area, making your small space feel larger and more vibrant.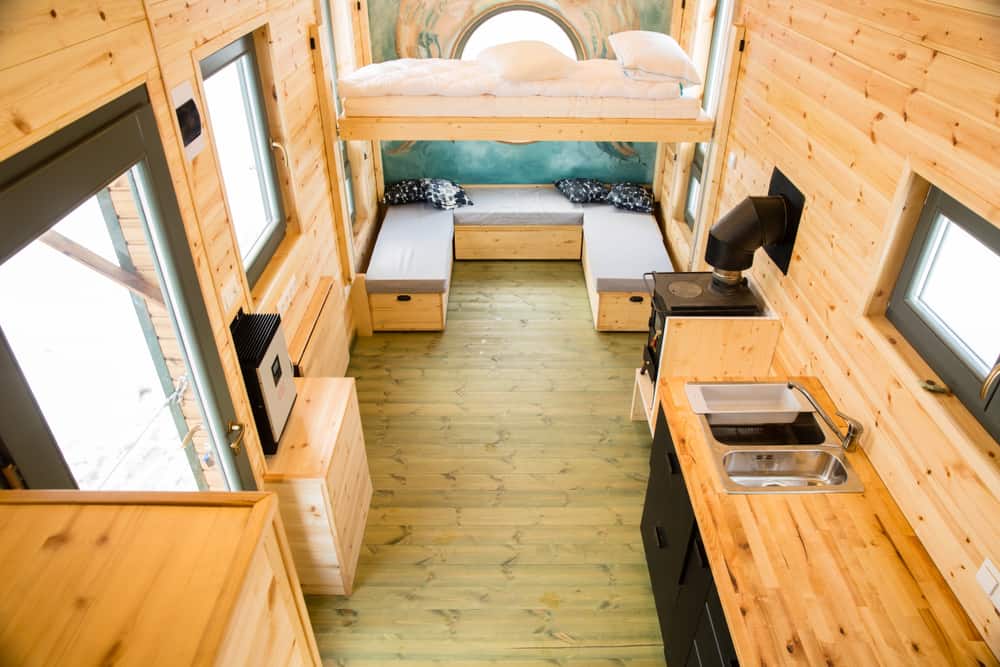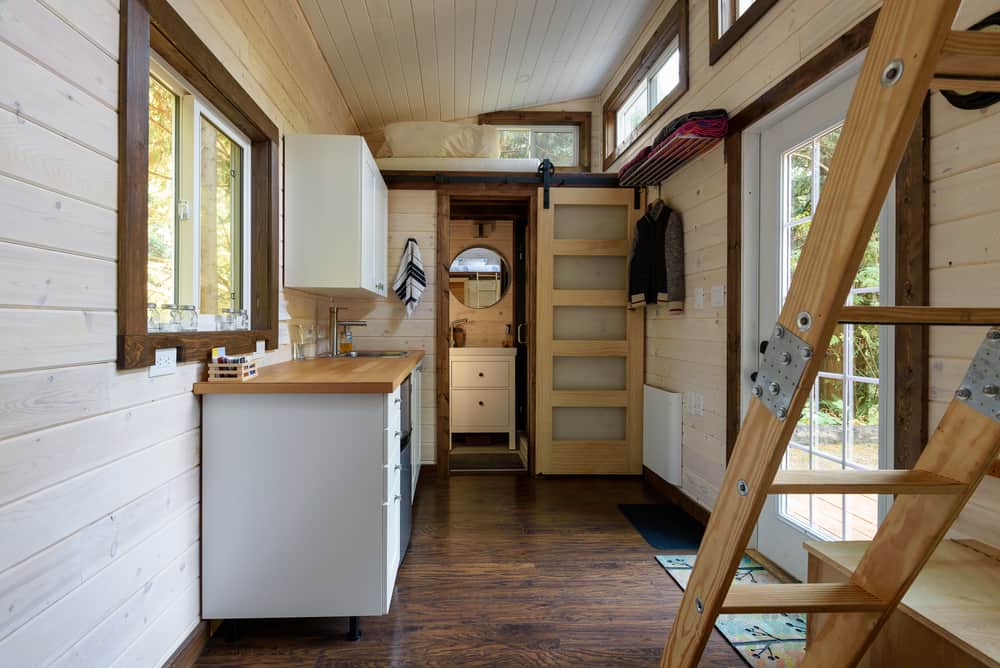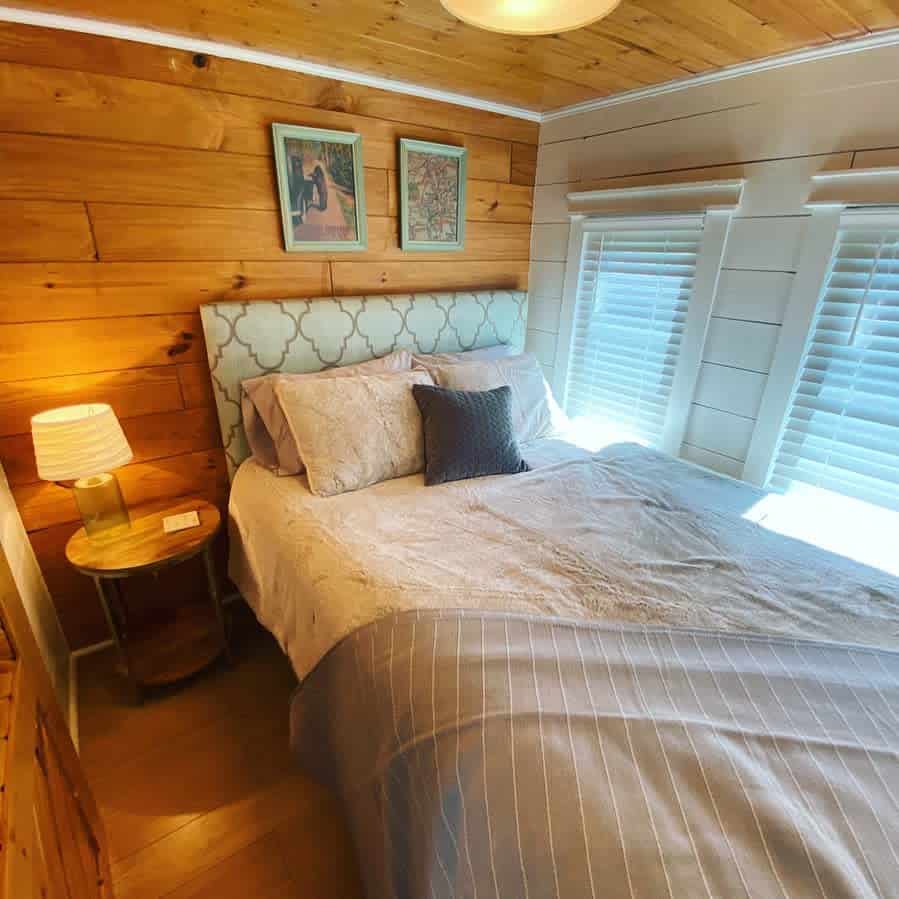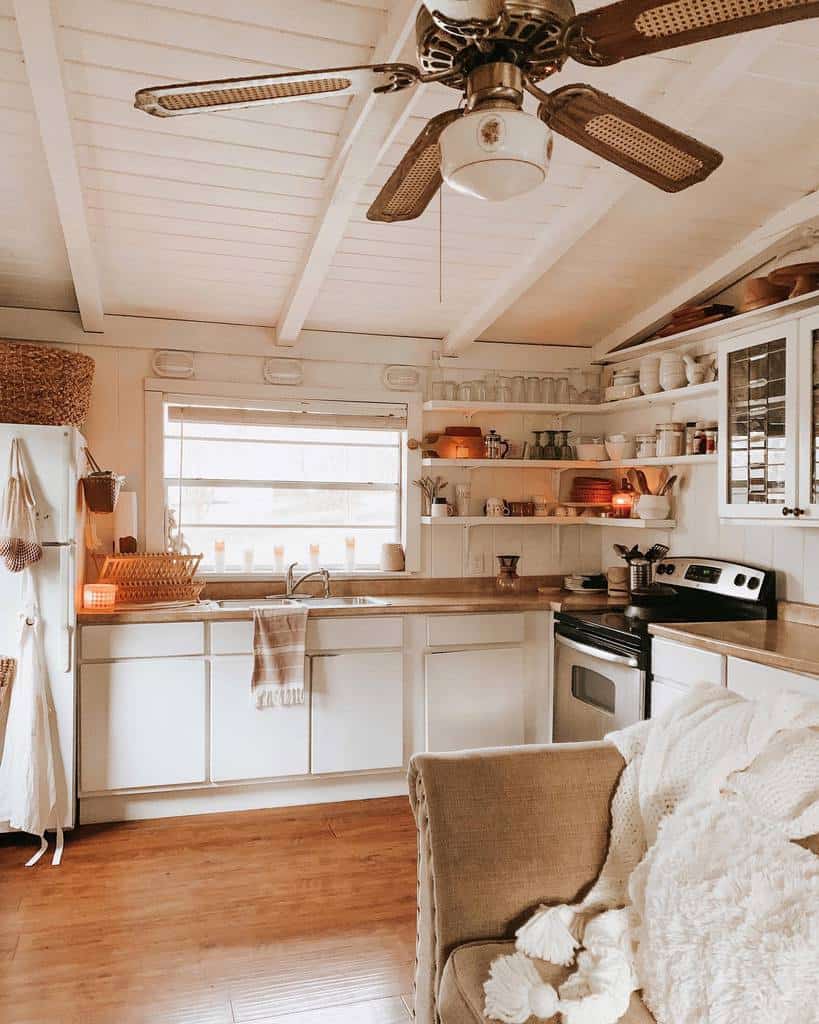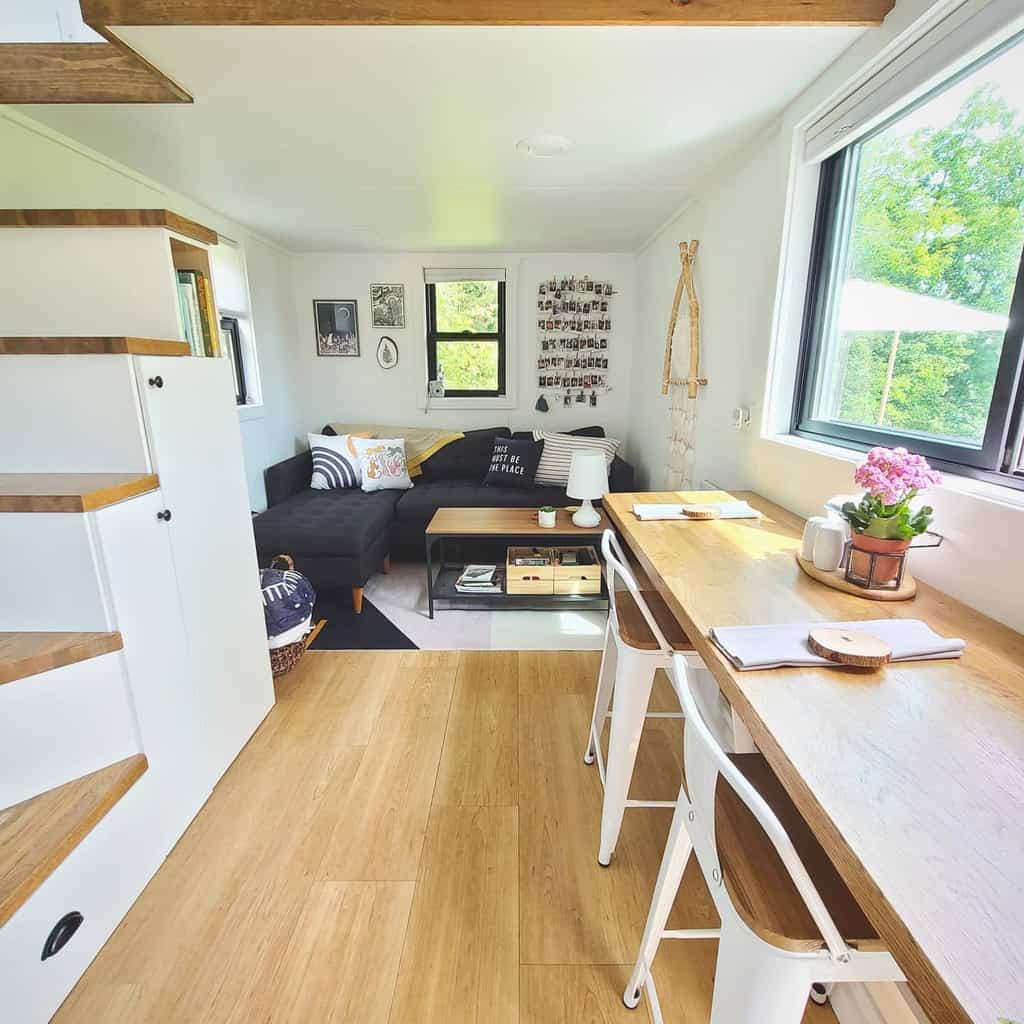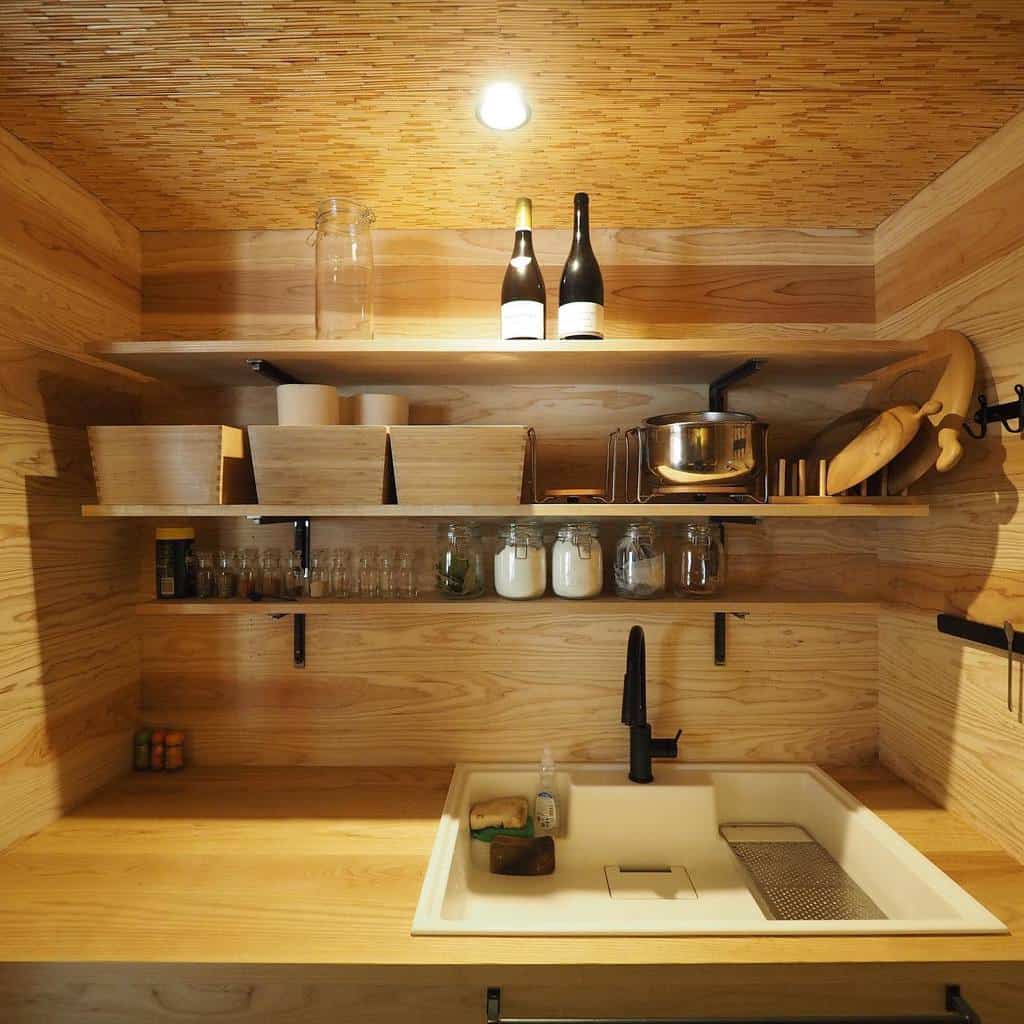 10. Vibrant Colors for Warmth

Infuse warmth and vitality into your small living space with vibrant colors. Consider using warm, bold hues like yellow or orange to add energy and interest to your interior. Soft furnishings and textiles can balance the color palette while space-saving storage solutions like drawers and shelving units maintain an uncluttered look. Wall mirrors reflect light, creating the illusion of a larger room, which is especially beneficial in spaces with limited natural light.
Additionally, an area rug can introduce warmth and unify colors and textures, making the room feel more spacious and cohesive. By incorporating these elements, you can create an inviting and captivating interior, regardless of your space's size.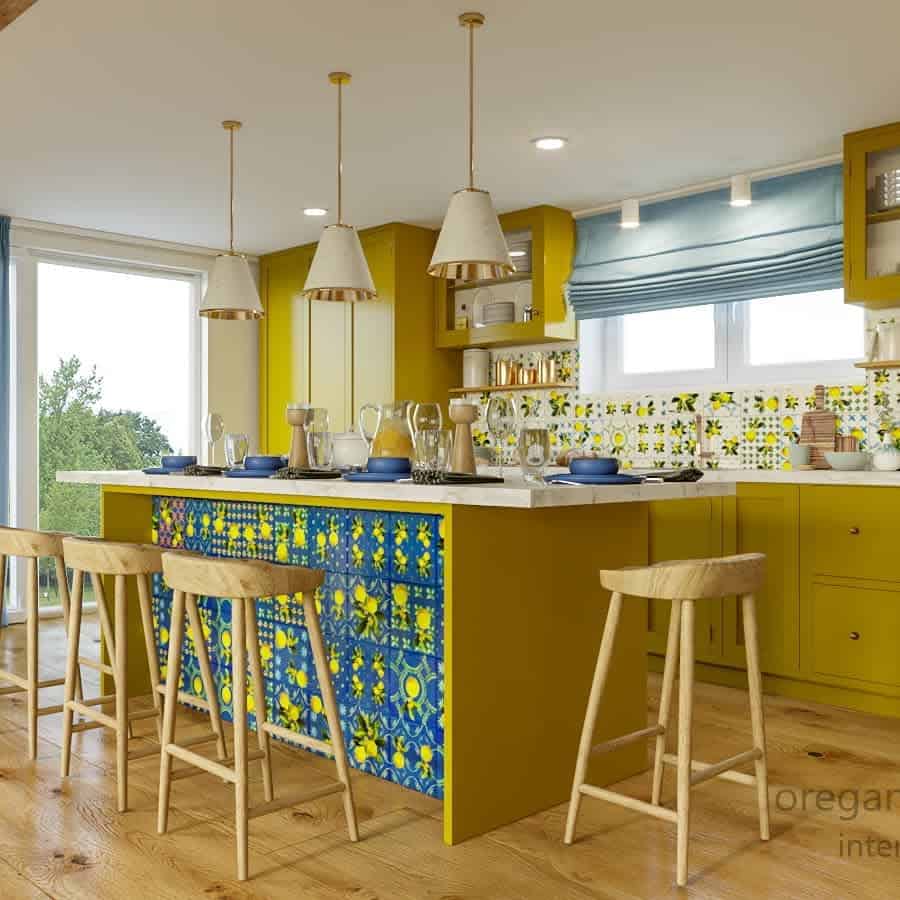 11. Maximize Low Ceilings Creatively
Unlock the potential of low-ceilinged bedrooms by using creative design strategies. Opt for low and wide furniture pieces like low-profile beds, nightstands, dressers, and bookcases to create a cozy and functional ambiance while making the most of your space. Introduce a variety of textures, colors, and patterns to add depth and vibrancy to the room. In small spaces with low ceilings, simplicity and minimalism often work best, so remember that less is more when decorating your space.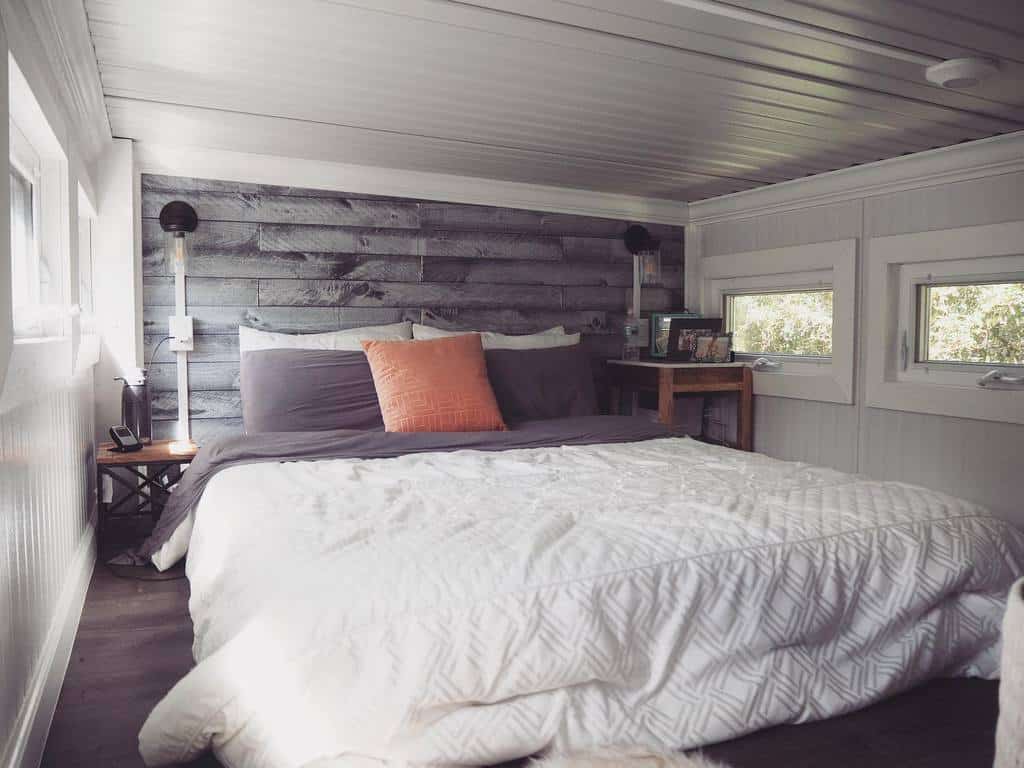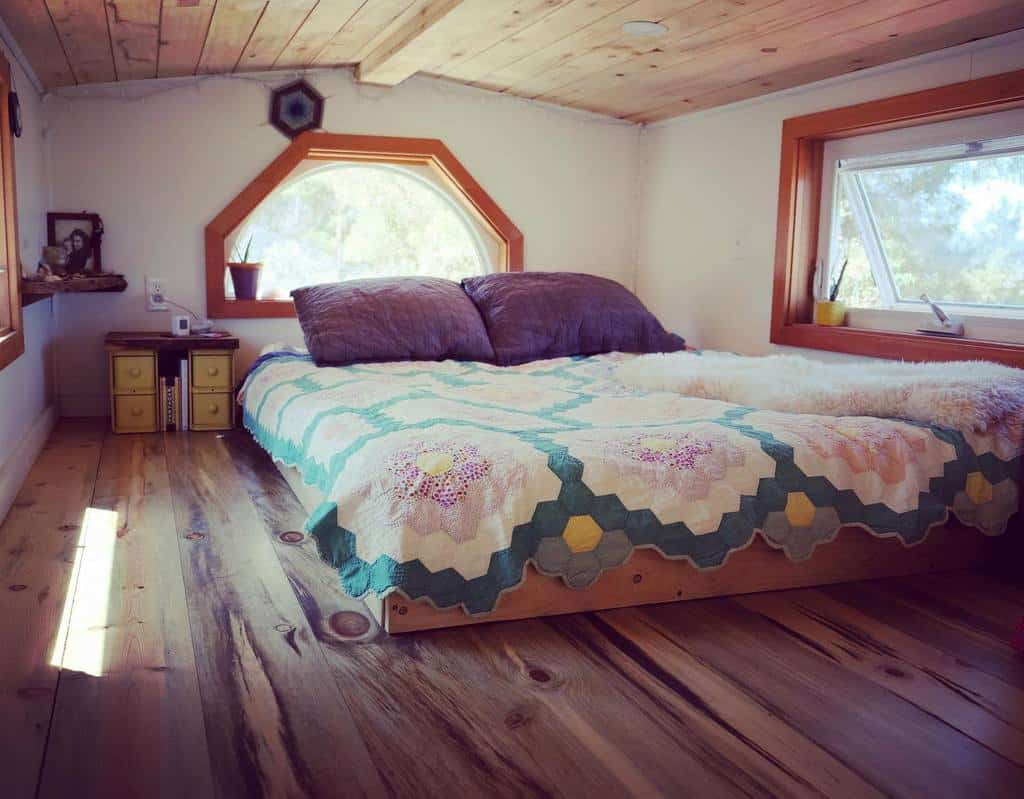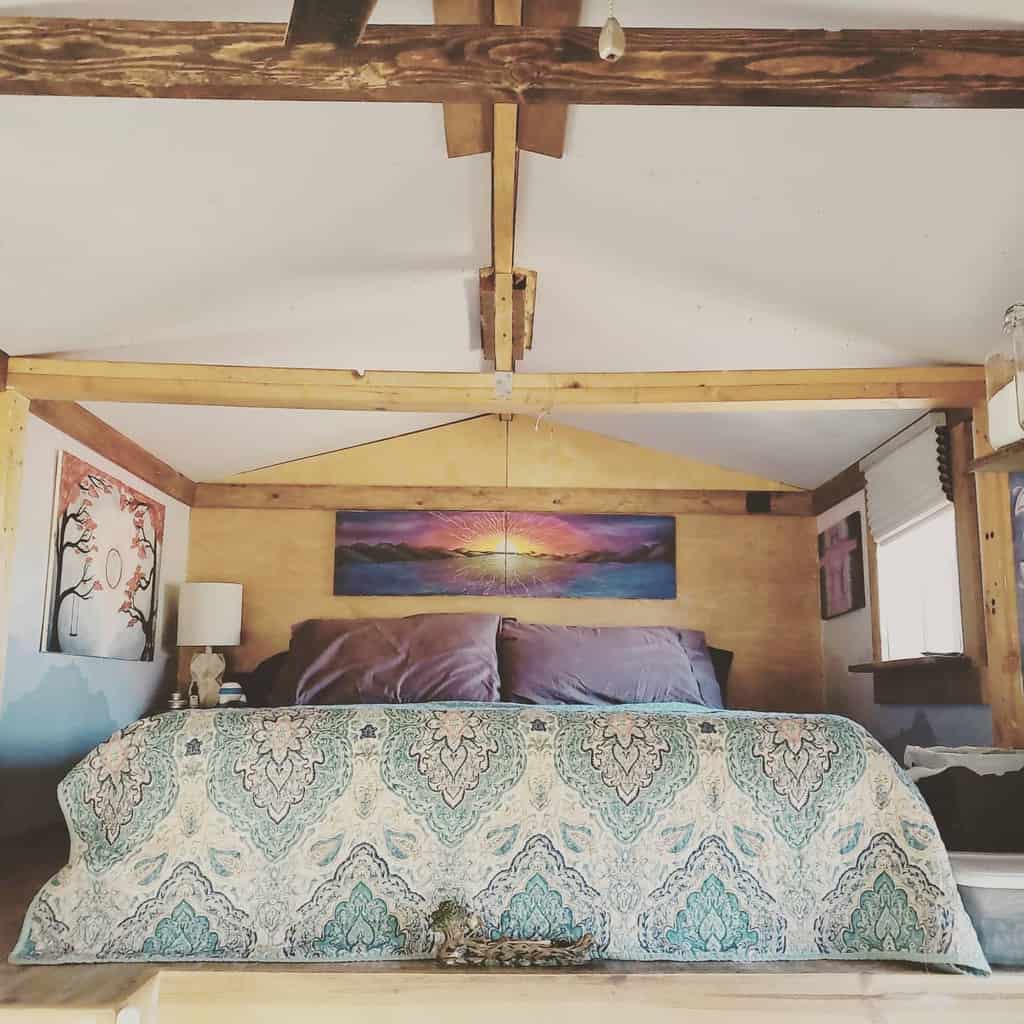 12. Slim Stairs Save Space
Optimize your small living space with slim stairs that save room. In tight quarters, traditional walls aren't the only design solution. Narrow stairs and eaves can create luxurious relaxation nooks and inventive storage options. Transform loft spaces into mini sanctuaries or versatile play areas, adding a unique, personal touch that enhances your home's charm and functionality. When dealing with limited space, thoughtful design choices can make your space truly shine.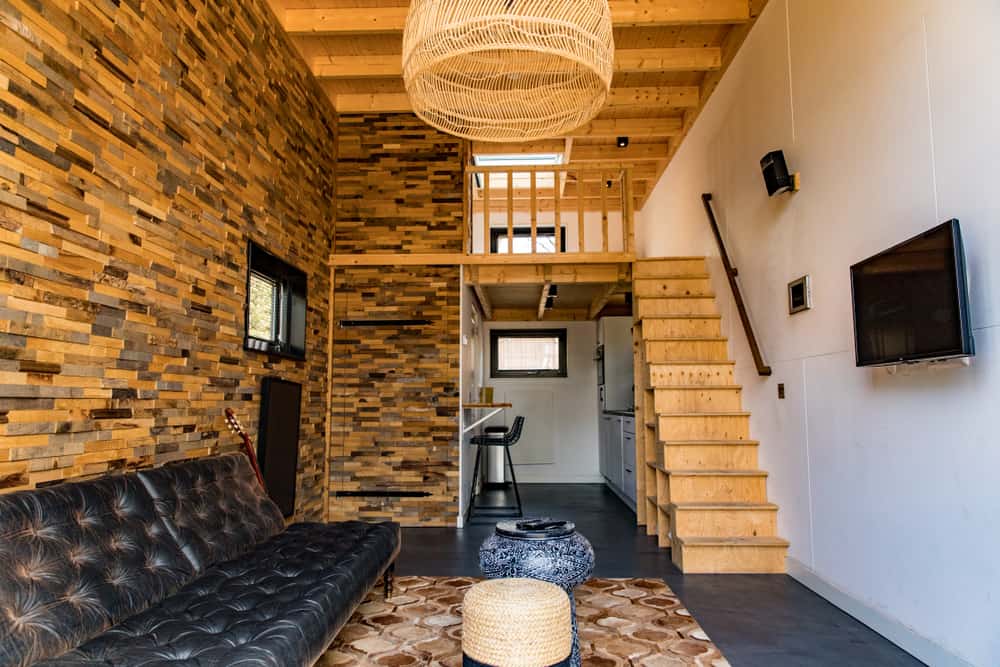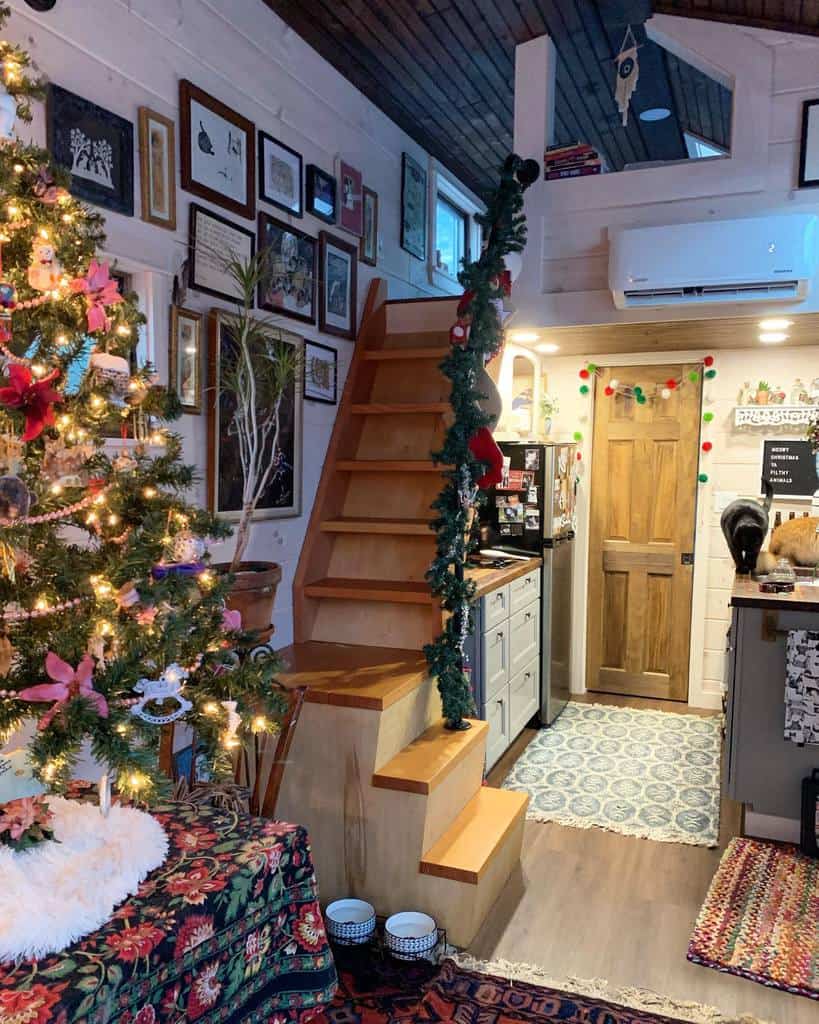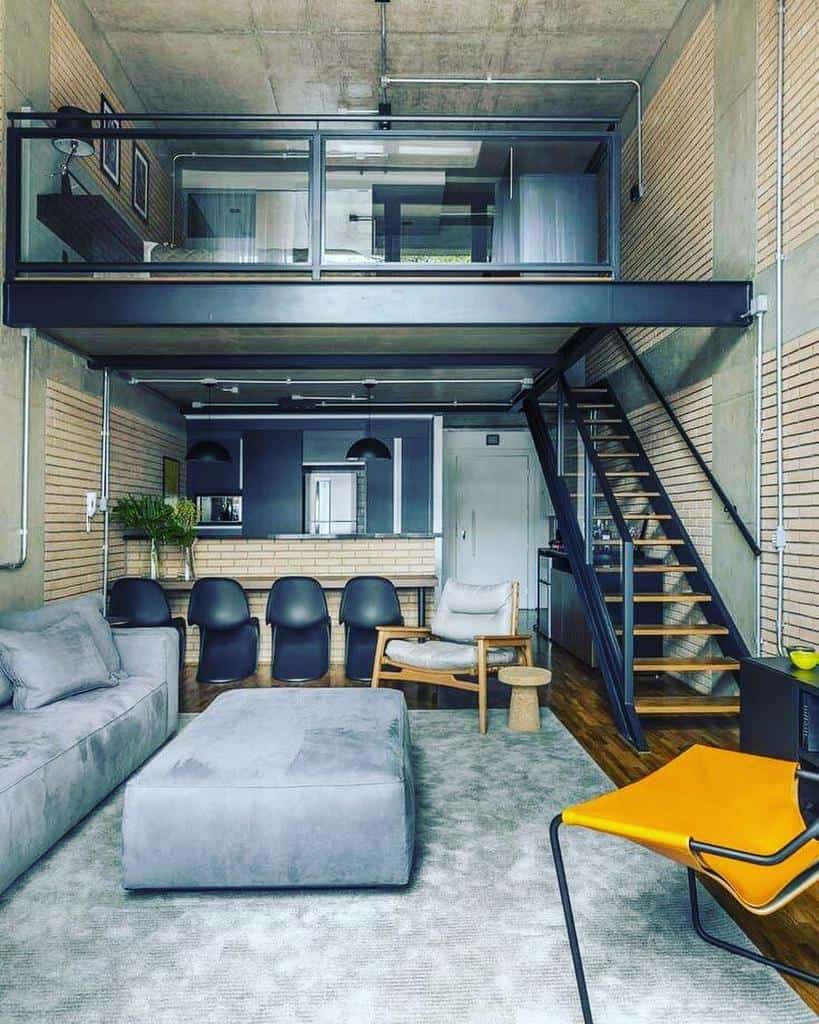 13. Micro Spaces: Ladder Staircases
Explore ladder staircases as a clever solution for optimizing micro spaces. They enable easy room layout changes and occupy minimal space, ideal for compact areas. Ladder stairs introduce an intriguing visual element and can make a bold statement in even the tiniest spaces. Ensure safety by choosing a sturdy ladder of adequate height and consider adding secure support pieces on either side. Don't overlook the importance of a banister or handrail for added security, creating a functional and visually striking design element.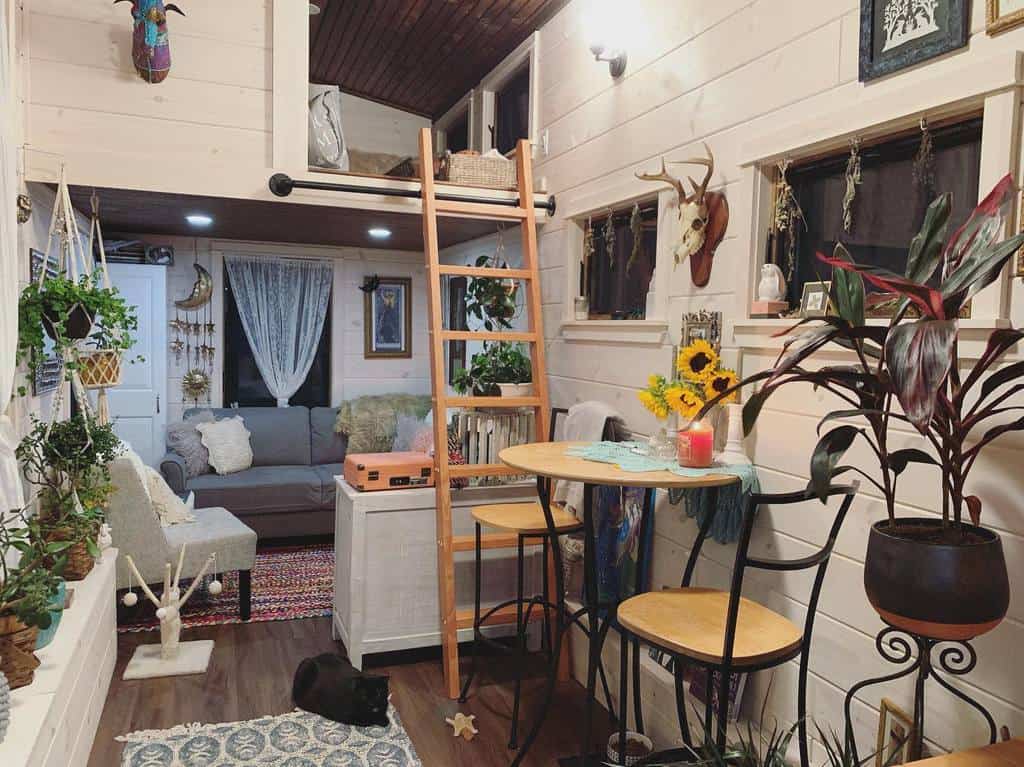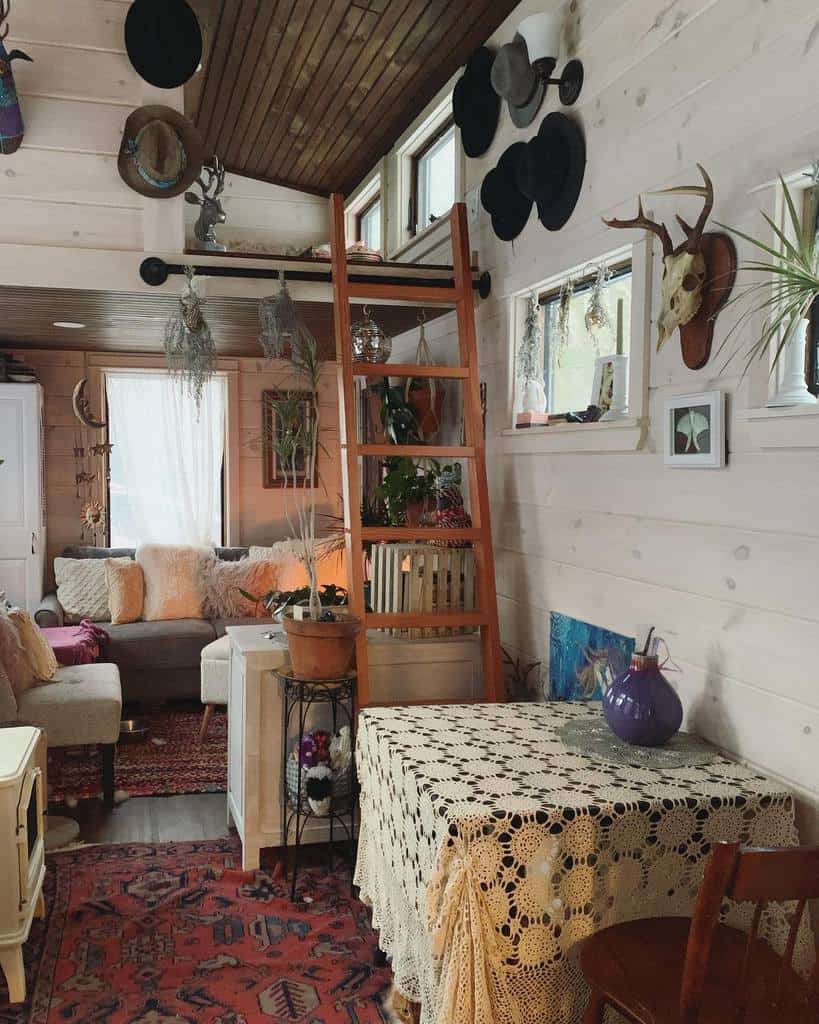 14. Greenery Expands Your Space
Greenery is an effective way to expand your small living space. Incorporate both real and faux plants to introduce a sense of airiness and nature into your home. Choose multi-purpose furniture to maximize storage, and consider fold-away items like tables and chairs for added versatility.
Light-colored walls, large windows, and skylights can create a sense of spaciousness, while mirrors on the walls add depth and brightness. With these strategies, you can transform your small space into a cozy and inviting environment with ease.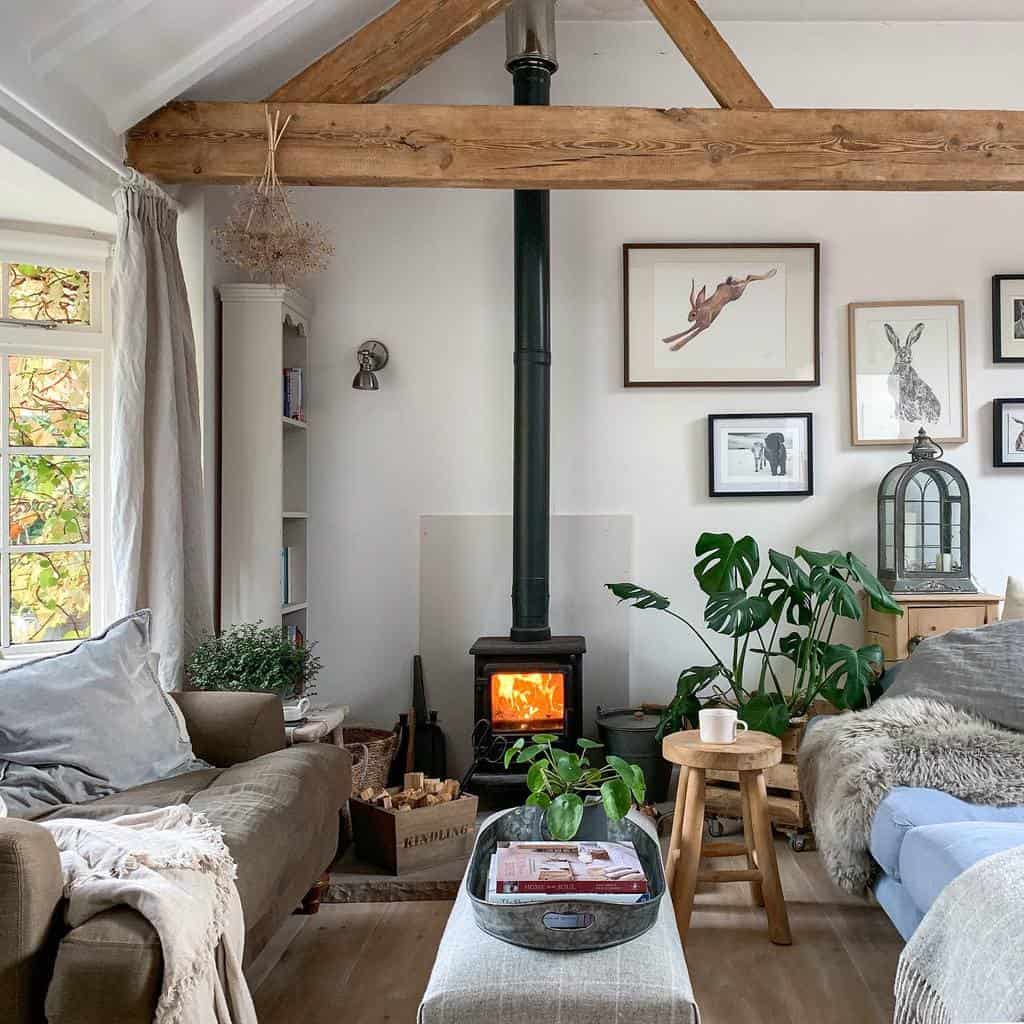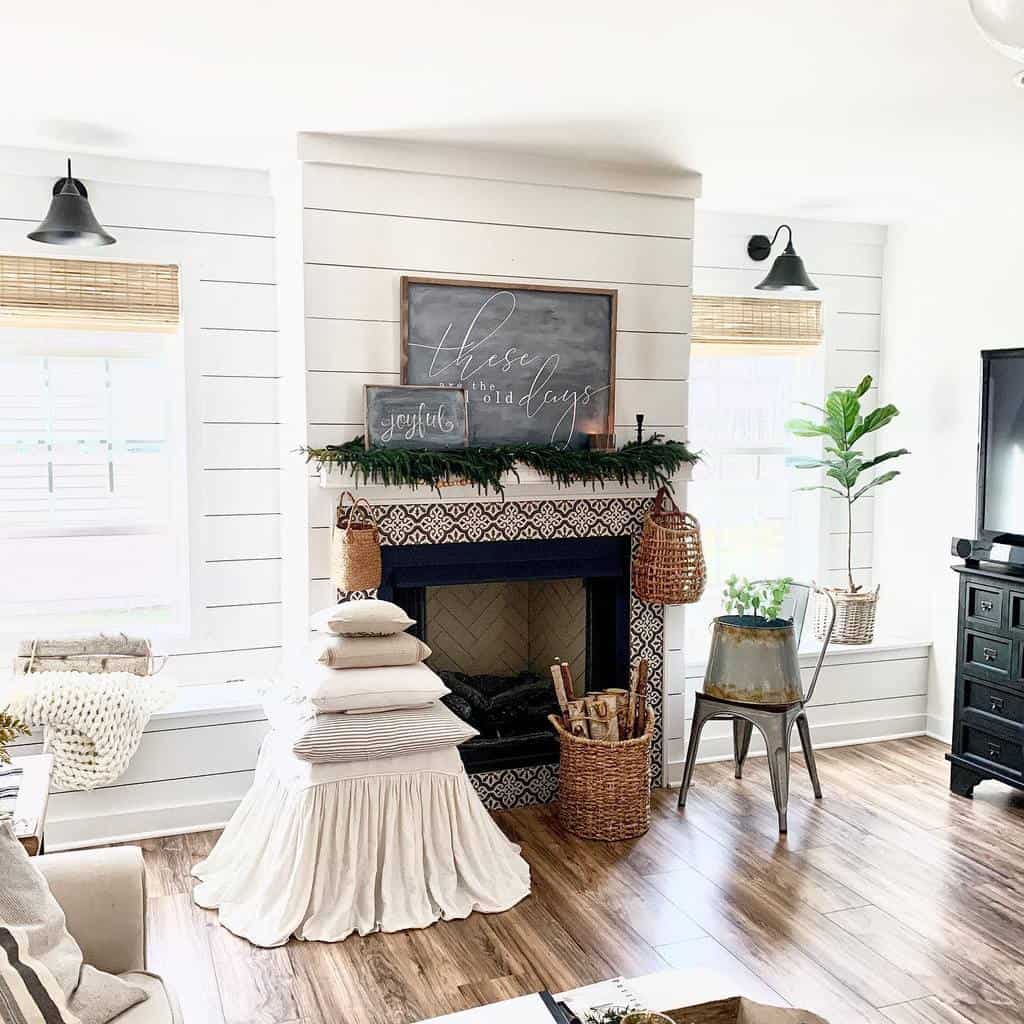 15. Muted Colors for Serenity
Create a serene atmosphere in your small space by using muted colors. Soft pastels like pinks, blues, and yellows can make the room feel cozy and stylish. Choose neutral tones to make the space appear larger and avoid darker colors or busy patterns that can make it feel cramped. Muted colors bring a sense of sophistication and elegance to your room, enhancing the overall feeling of spaciousness.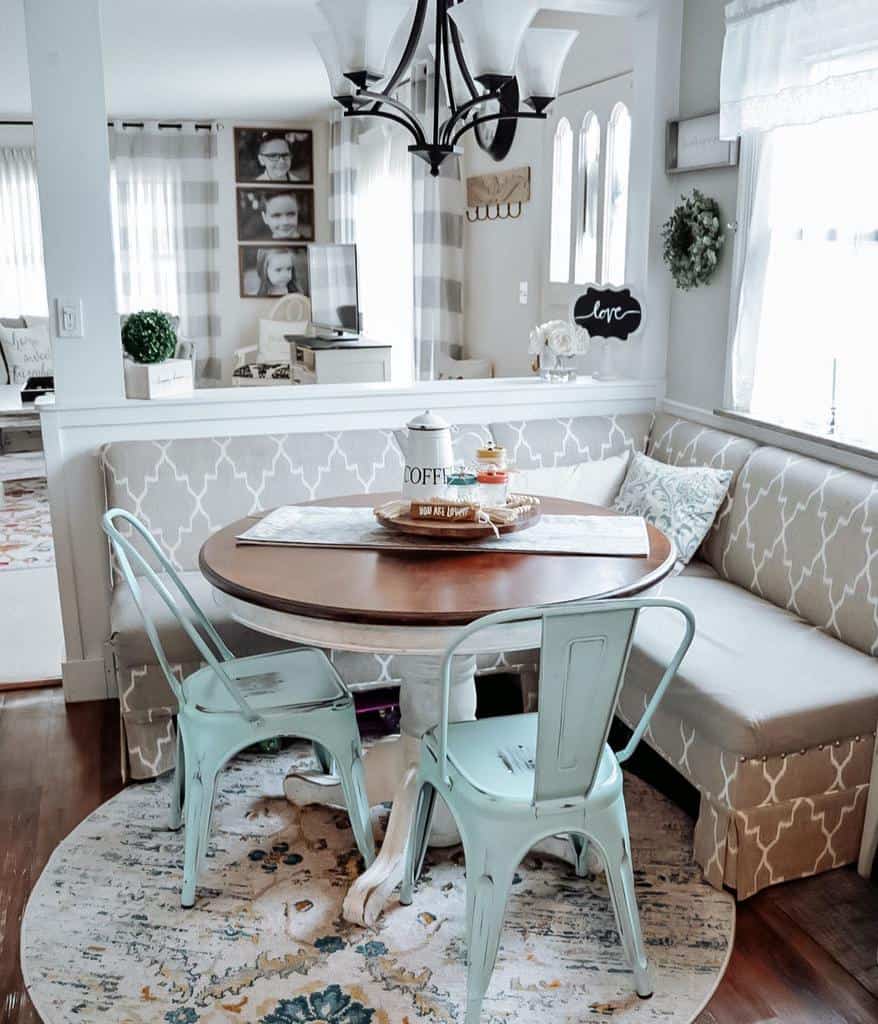 16. Glass Doors for Natural Light
Amplify the sense of space in your small living area with glass doors that invite natural light. These doors provide a quick transformation, making the space feel more open and airy. Consider using frosted films on the glass or combining glass with wooden frames to maintain privacy while connecting with the outdoors and increasing the influx of natural light. Embrace the power of glass doors to bring a new dimension to your confined space.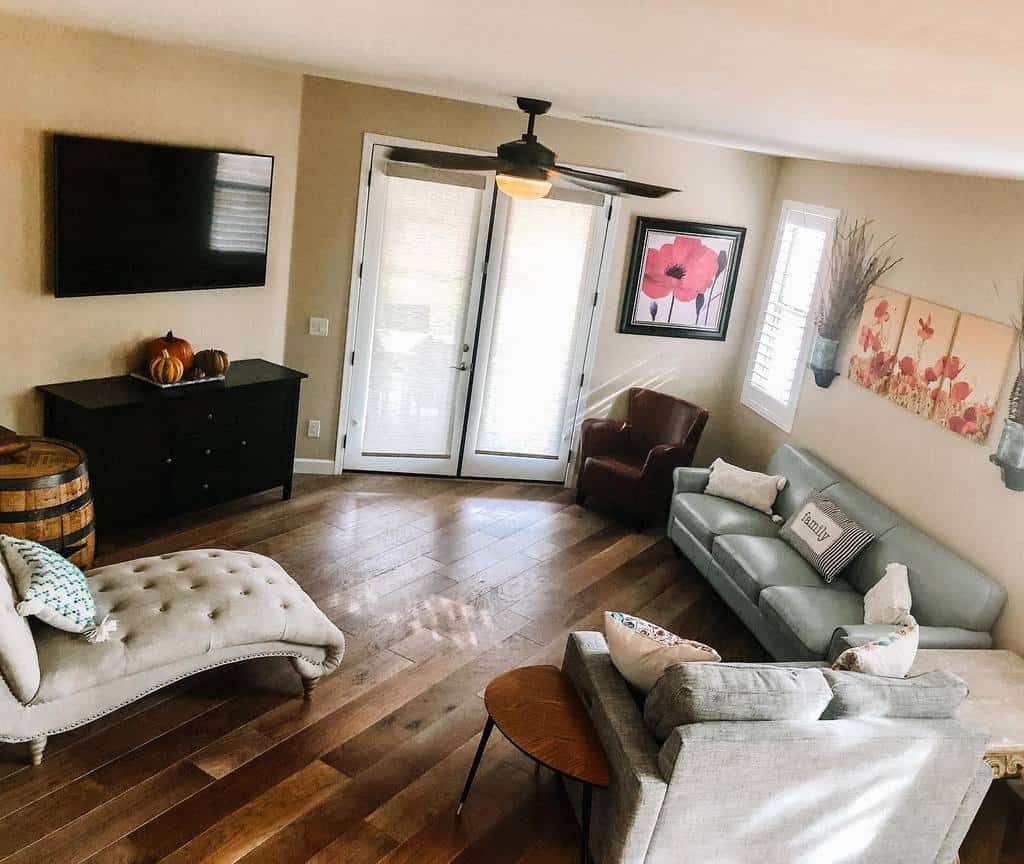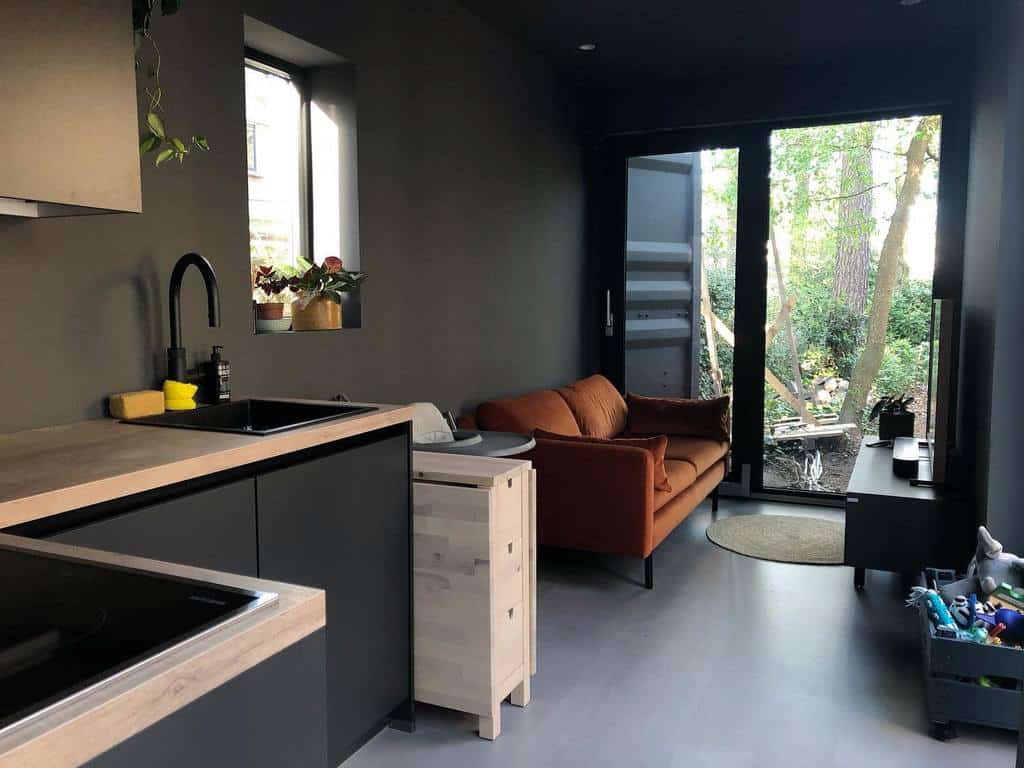 17. Overhead Shelves Optimize Vertical Space
Enhance the interior of your small space by incorporating overhead shelves. These shelves not only add dimension but also serve as a canvas for displaying decorative items that inject personality and charm into your home. From storing baskets and trinkets to showcasing art pieces and wooden crafts, overhead shelves introduce texture and vibrancy to your space, effortlessly transforming it from mundane to captivating. Make the most of your vertical space with this creative design solution.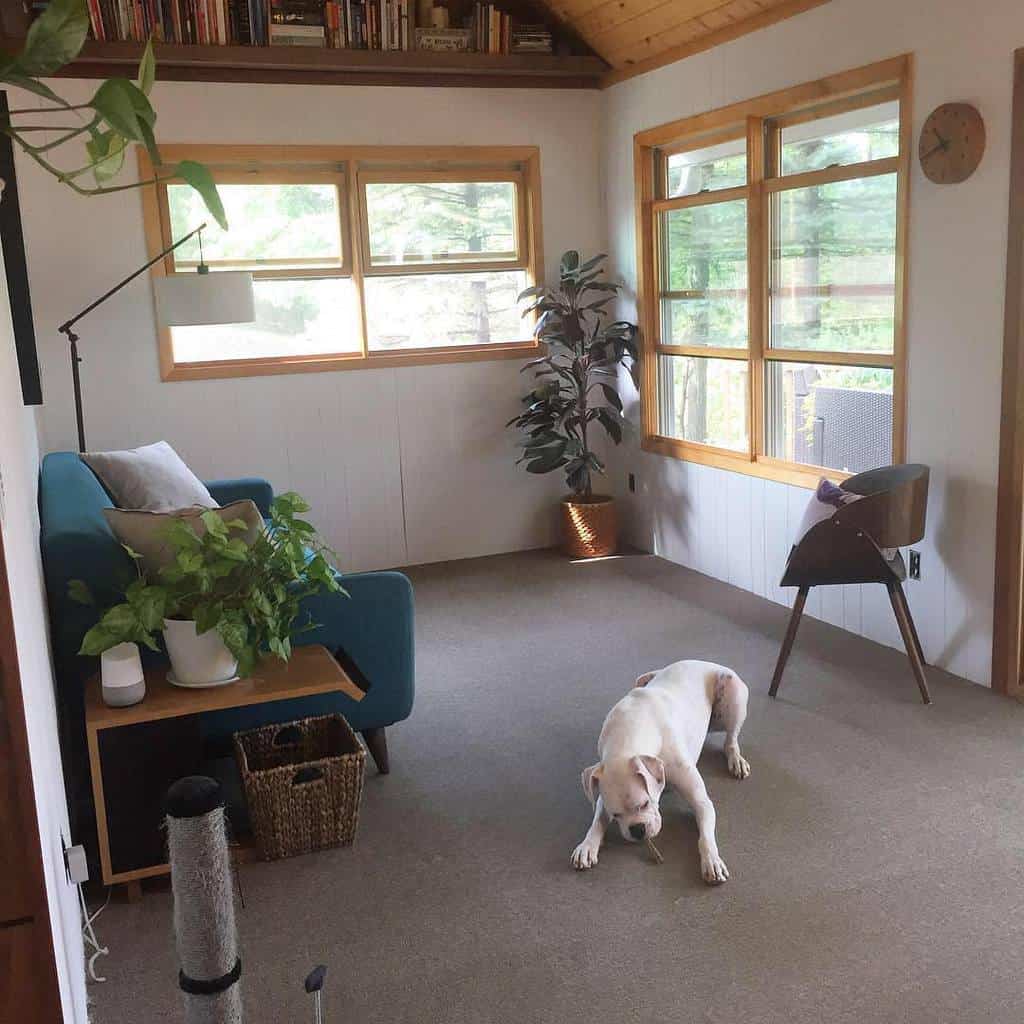 18. Runners and Rugs Define Areas
Add a runner or area rug to enhance and define areas in your small space. In hallways, runners visually elongate the room, making it appear more spacious. These rugs come in various sizes, shapes, and colors, allowing you to choose one that perfectly complements your space and decor style. Whether you aim to create the illusion of more space or add a touch of color, a runner or area rug can be a versatile and stylish solution to optimize your tiny living area.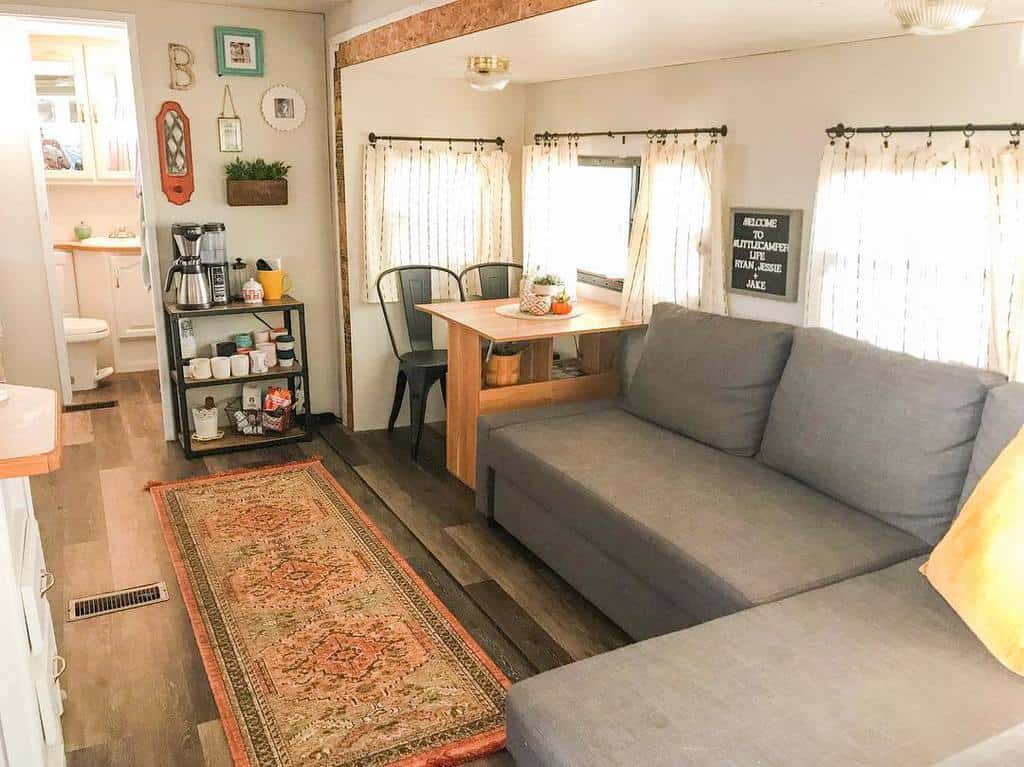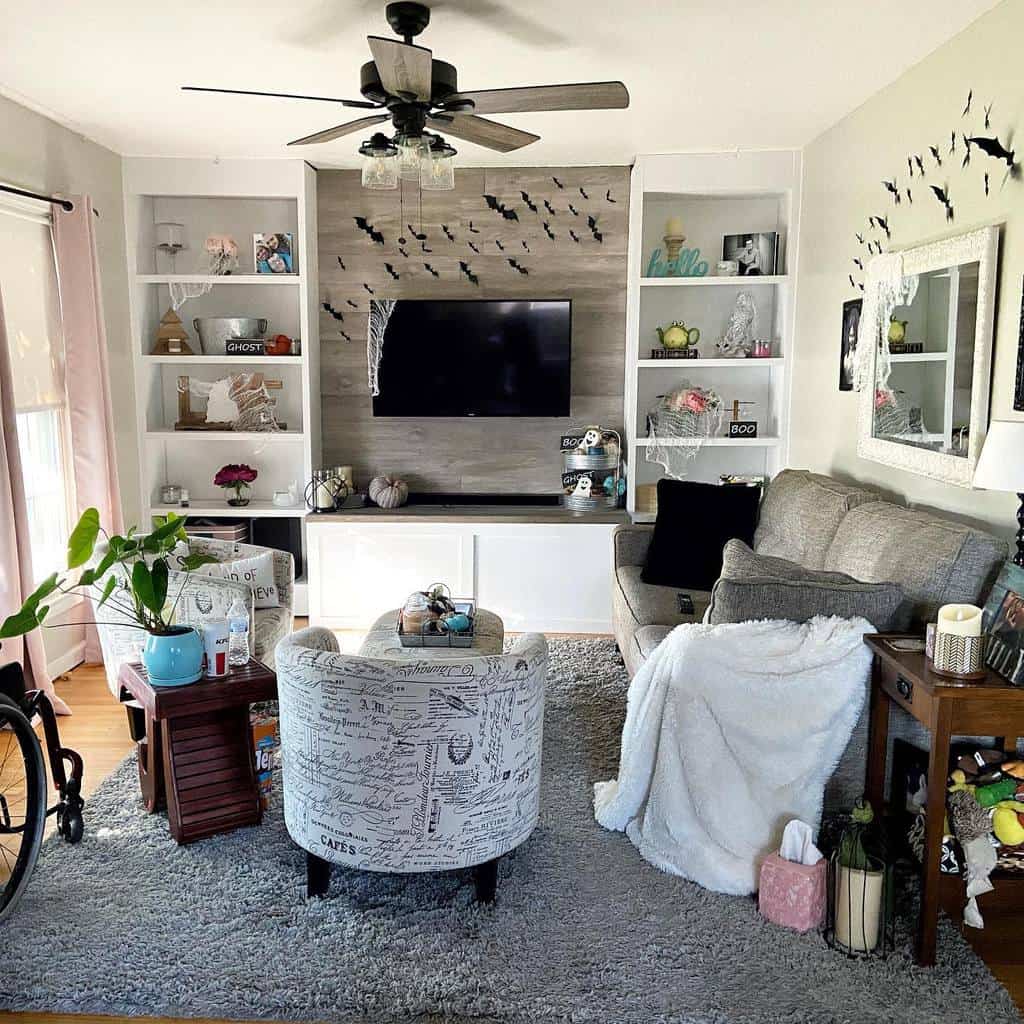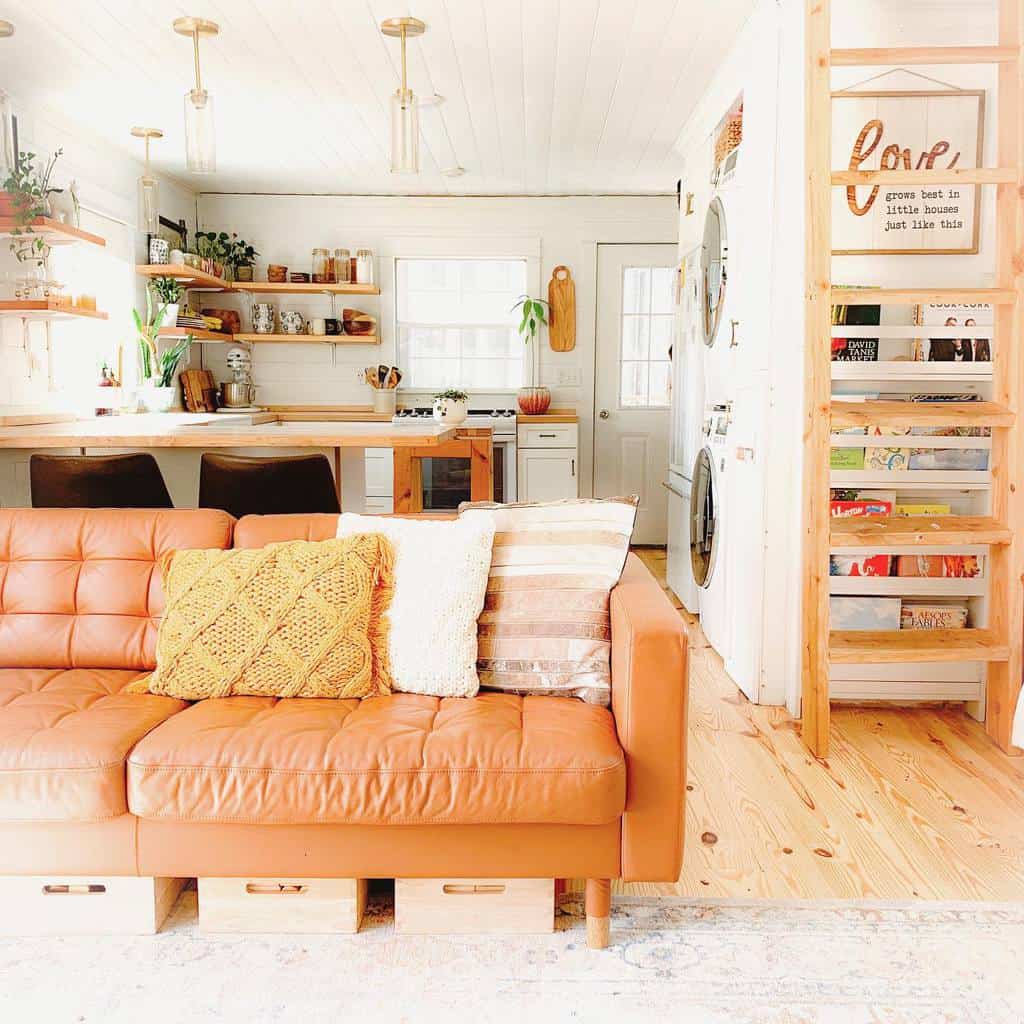 Tiny House FAQs
Why are tiny houses illegal in some states?
Tiny houses are legal in all 50 states, but some local laws and building codes make it difficult to legally dwell in such a tiny home. You must research local zoning regulations before investing in a tiny house. Six states that are exceptionally welcoming to tiny house living include California, Colorado, Maine, North Carolina, Oregon, and Texas.
Can you build a tiny house for $5,000?
Yes! DIY tiny house kits can be purchased in that price range. DIYing your own tiny house plan will save you thousands of dollars while sharpening your DIY skills.
Do you have to pay taxes on a tiny house?
Tiny house tax policies vary by state. Living in a tiny home means you might avoid the huge property tax bills that accompany traditional home ownership. However, you may have to pay an annual personal property tax on your tiny home as a trailer or RV.