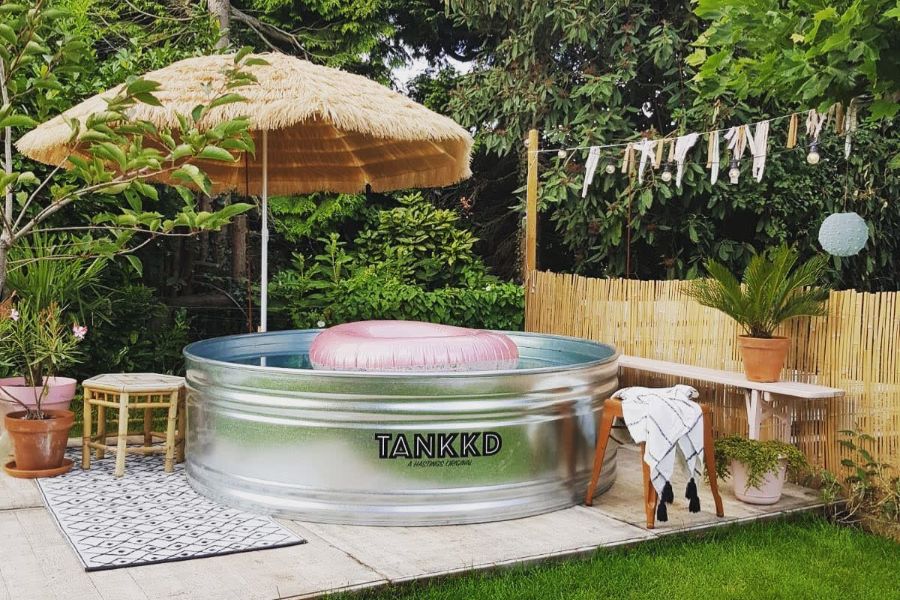 68 Stock Tank Pool Ideas
by — Kari Apted

Published on March 16, 2021

Updated on April 27, 2023
Life is cool by the pool.
If you long for a backyard swimming pool, but lack the space or the budget, a stock tank pool might be for you.
Stock tanks have long served a functional purpose on farms, holding animal feed and water. Made from galvanized metal or plastic, they have become an affordable small pool alternative.
Although a DIY stock tank pool is only about two feet deep, it's sufficient to cool you down on hot summer days.
Look through our favorite stock tank pool ideas then decide which corner of your yard is perfect for creating this little backyard oasis.
1. Set Up A Sand Landscape Around The Stock Tank
Have you ever dreamed of having a beach in the comfort of your own home? With stock tank pool ideas, that's no longer an impossible dream! Imagine a large pool on the sand landscape and it emanates a beach-like atmosphere.
This can be made possible with a rustic-looking galvanized metal stock tank and taking advantage of the space around you for maximum relaxation. Add some plants, brightly-colored lounge chairs, and umbrellas to complete the set in your backyard. It will quickly become one of your favorite relaxation spots!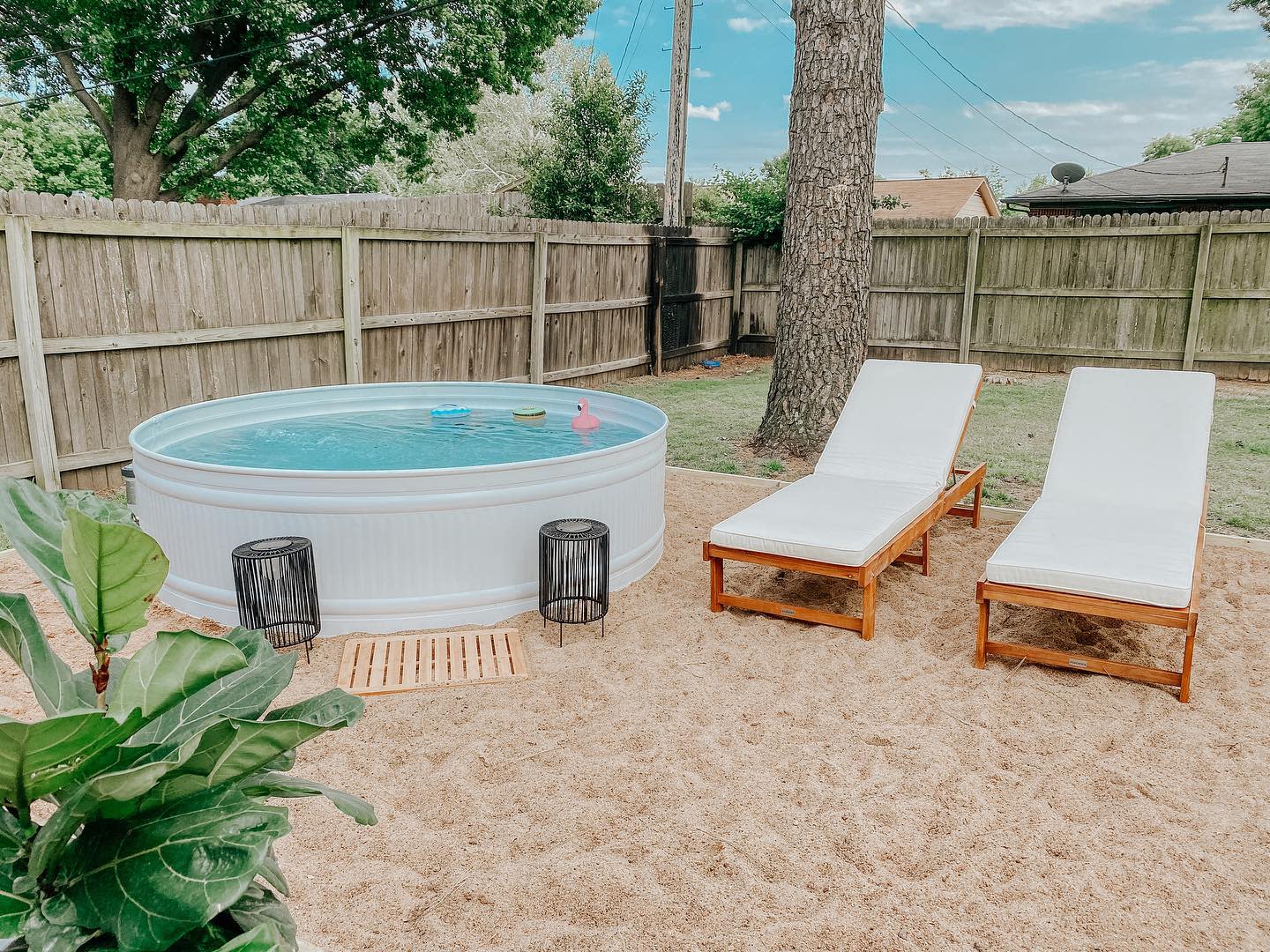 2. Cover With Bamboo Poles
Transform your backyard into an oasis with a stock tank pool. Stock tanks can be purchased inexpensively and provide an alternative to the traditional in-ground swimming pools of the past. Covering your unusual pool with bamboo poles can add a unique atmosphere and bring a tropical vibe to any outdoor space.
Incorporate containers of plants, floating candles, outdoor furniture, and colorful beach umbrellas for a complete aesthetic look. Keep it simple or get creative – either way, you'll have a one-of-kind outdoor space for relaxing, entertaining, and enjoying warmer weather.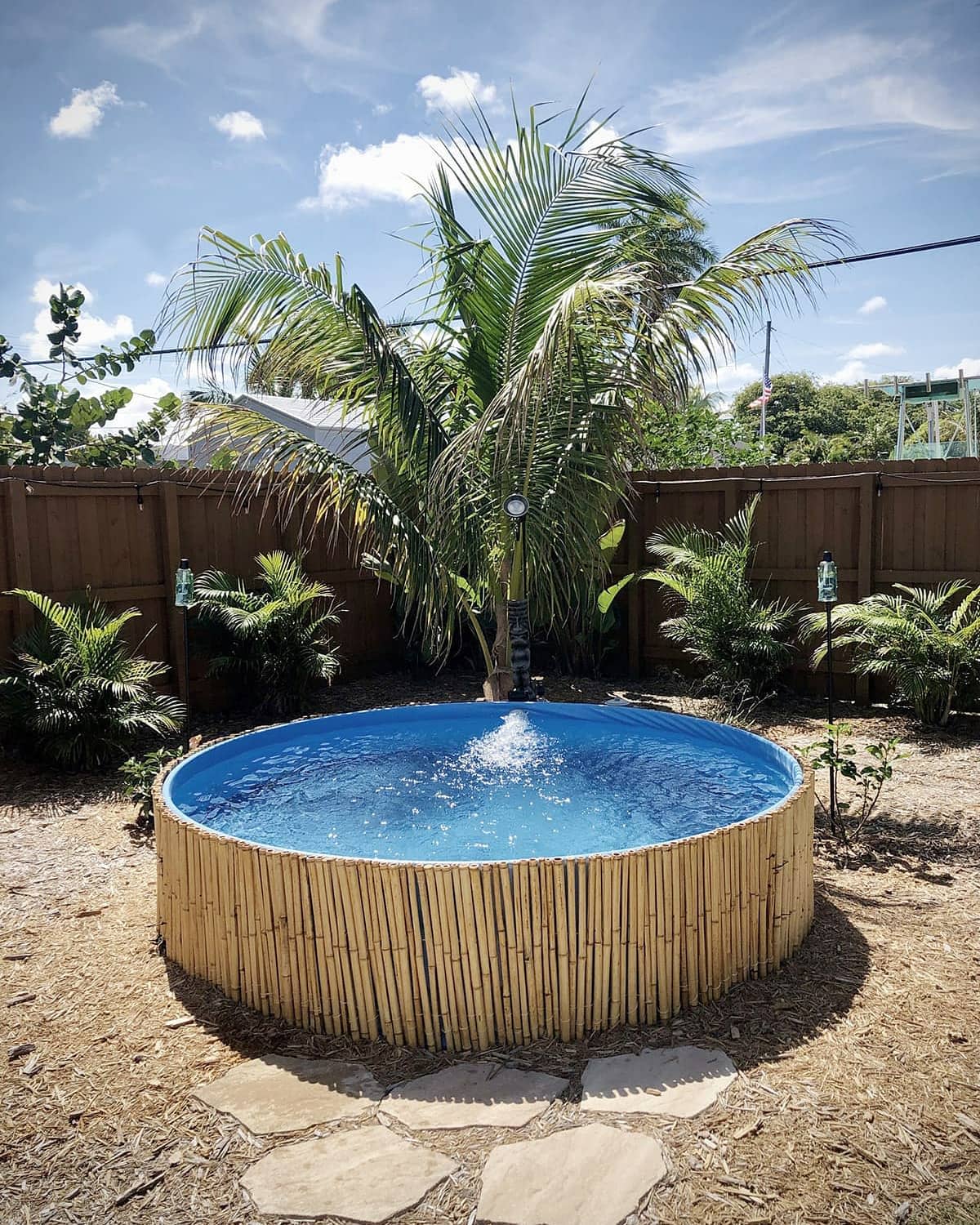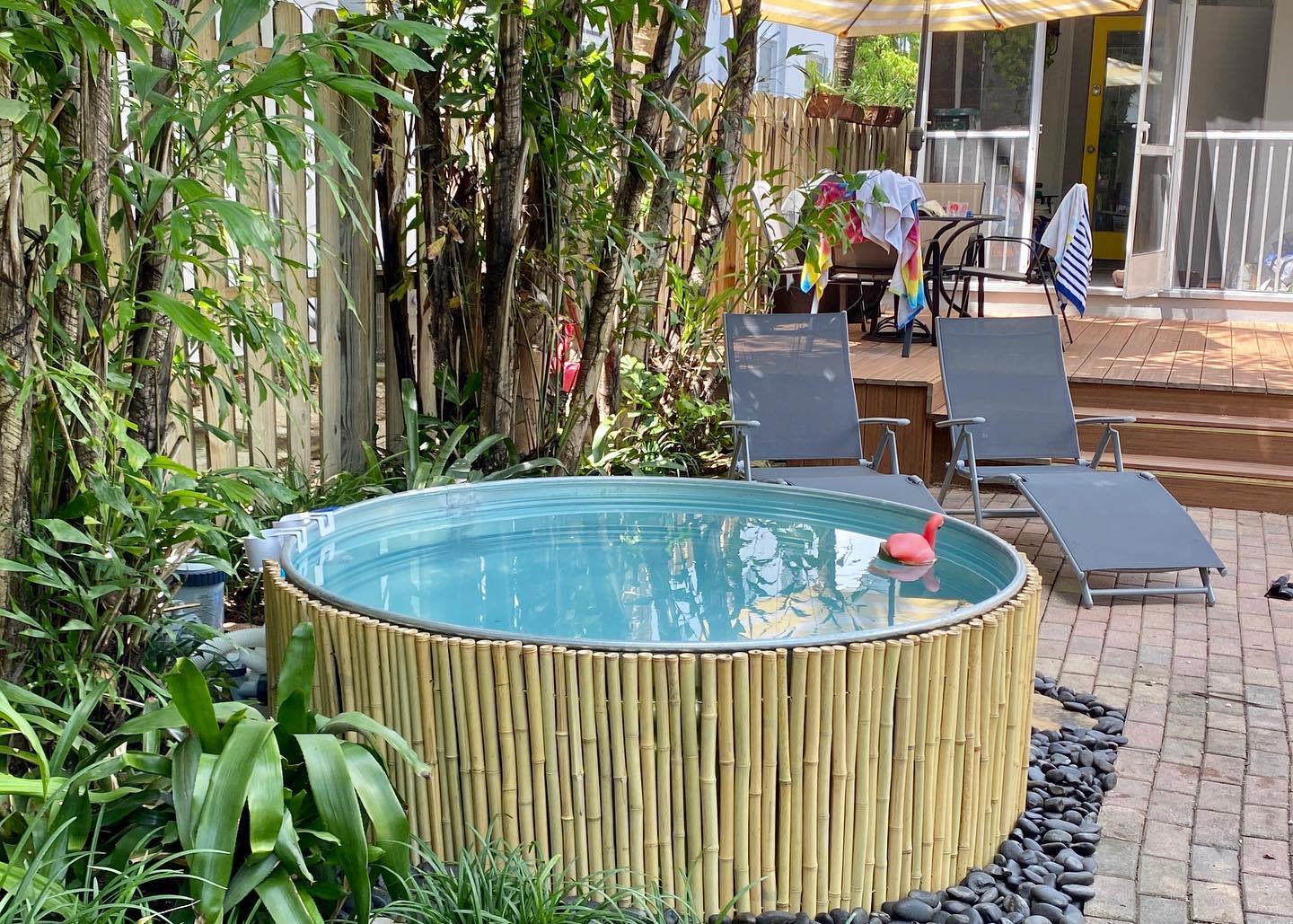 3. Kid-ify With Pool Noodles
If you're searching for an easy pool solution to keep your family cool on hot summer days, a pool noodle-framed stock tank pool can be your perfect solution! A simple frame fashioned with pool noodles makes it safe (even for young kids) and easy to use.
What's great about stock tank pools is that they are an inexpensive alternative to a traditional built-in pool. And this kind of custom setup doesn't even require installation – just fill it up and your backyard oasis is ready for some fun in the sun!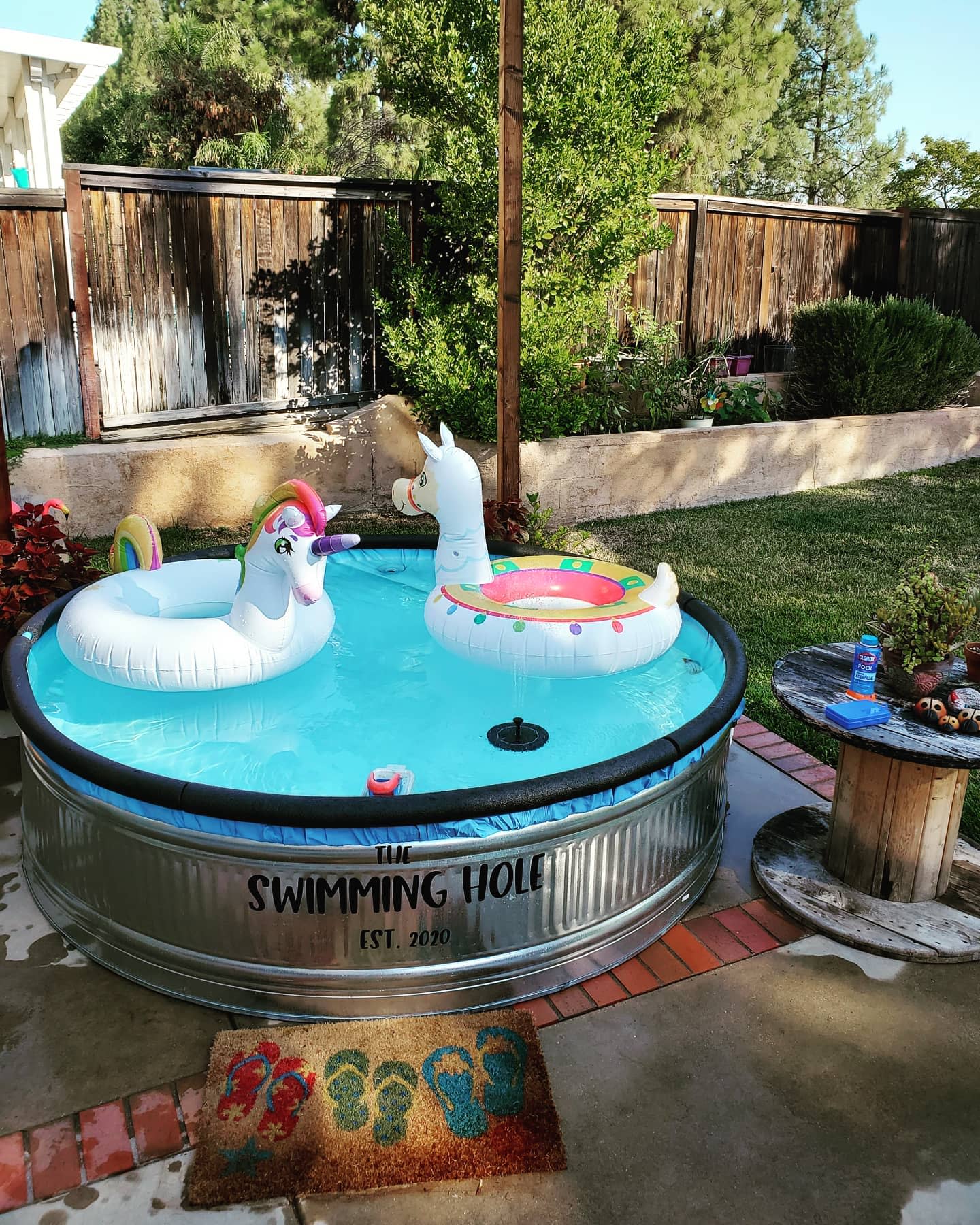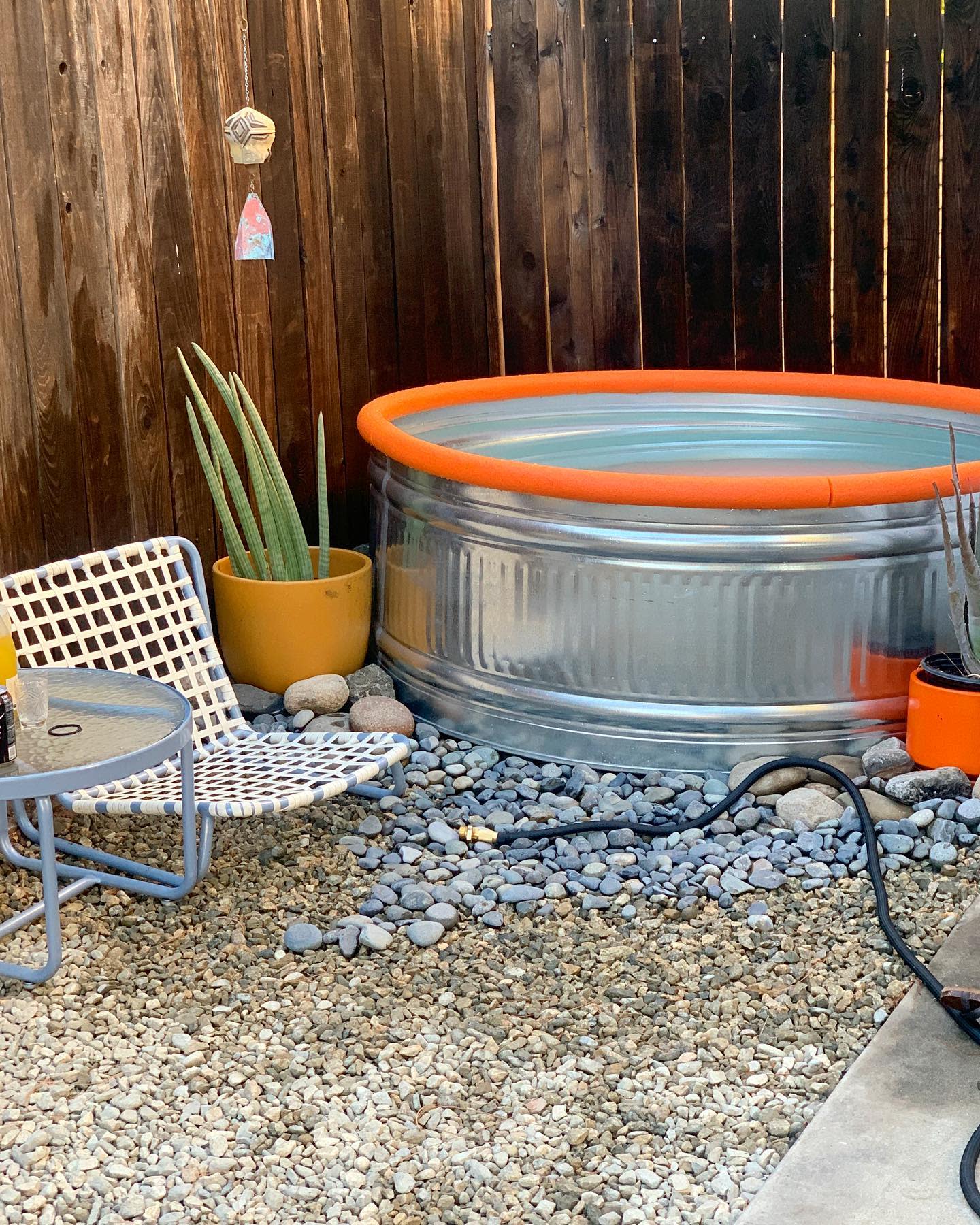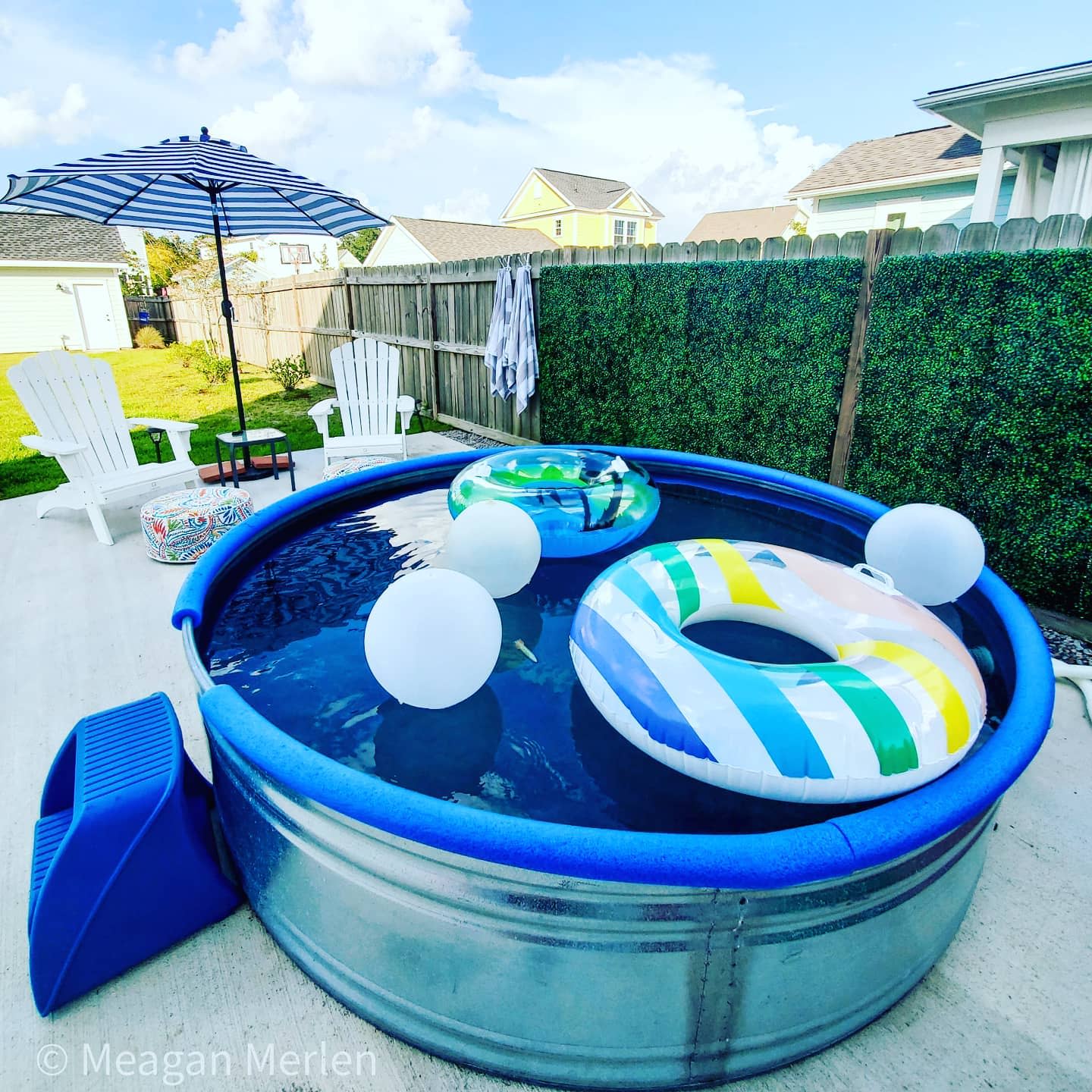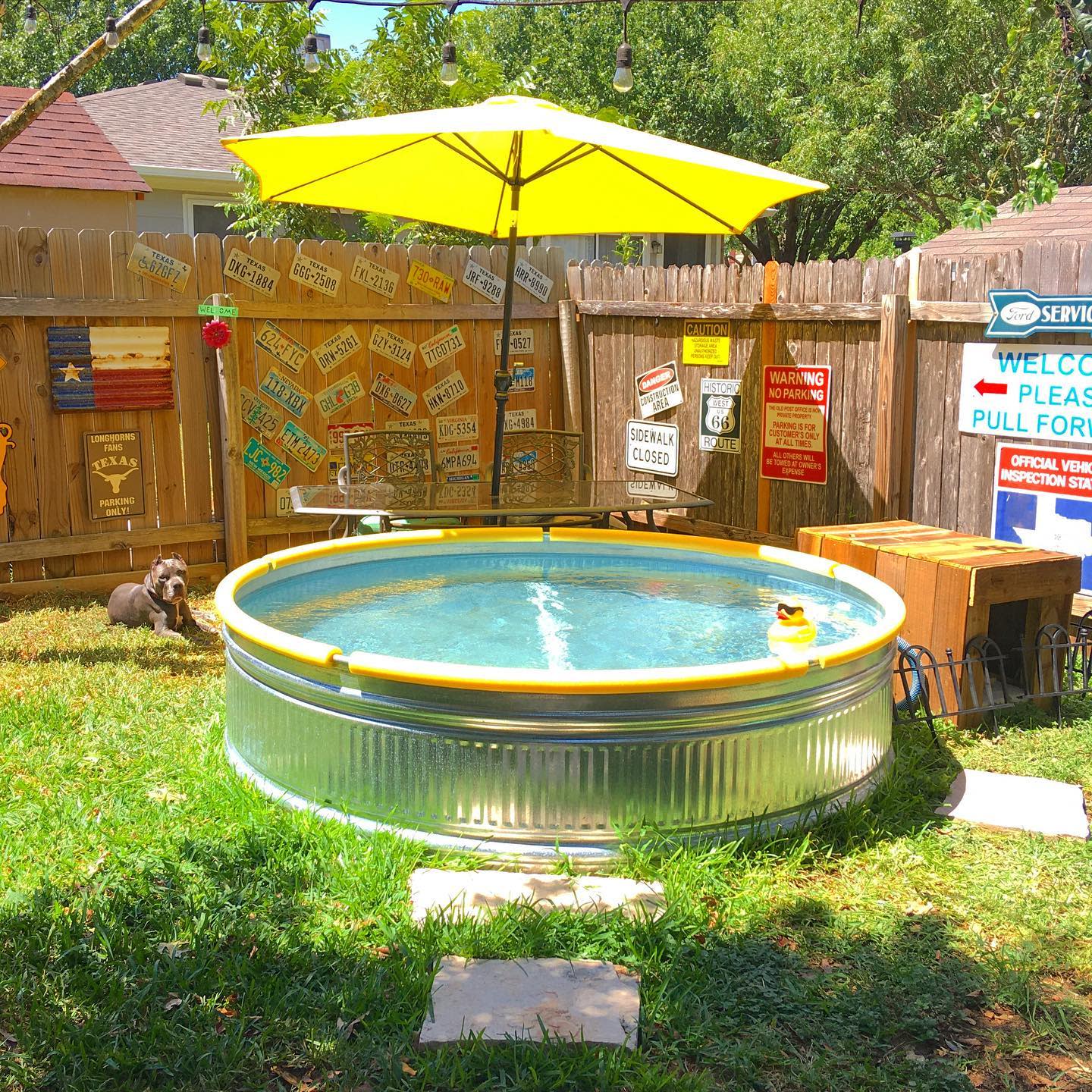 4. Stock Tank Pool With Seating Deck
If you're looking for an exciting pool idea this summer, why not consider getting a stock tank pool with a seating deck attached? Stock tank pools are surprisingly low-cost and easy to install, making them a great option for enjoying the summer with family and friends.
Additionally, making your own seating deck adds the customizable flair that allows you to turn your pool into a unique and original outdoor space. Whether you use railroad ties or cinder blocks as the base of the seating deck can help make it into a comfortable and beautiful backyard oasis that will help make all of your summer dreams come true!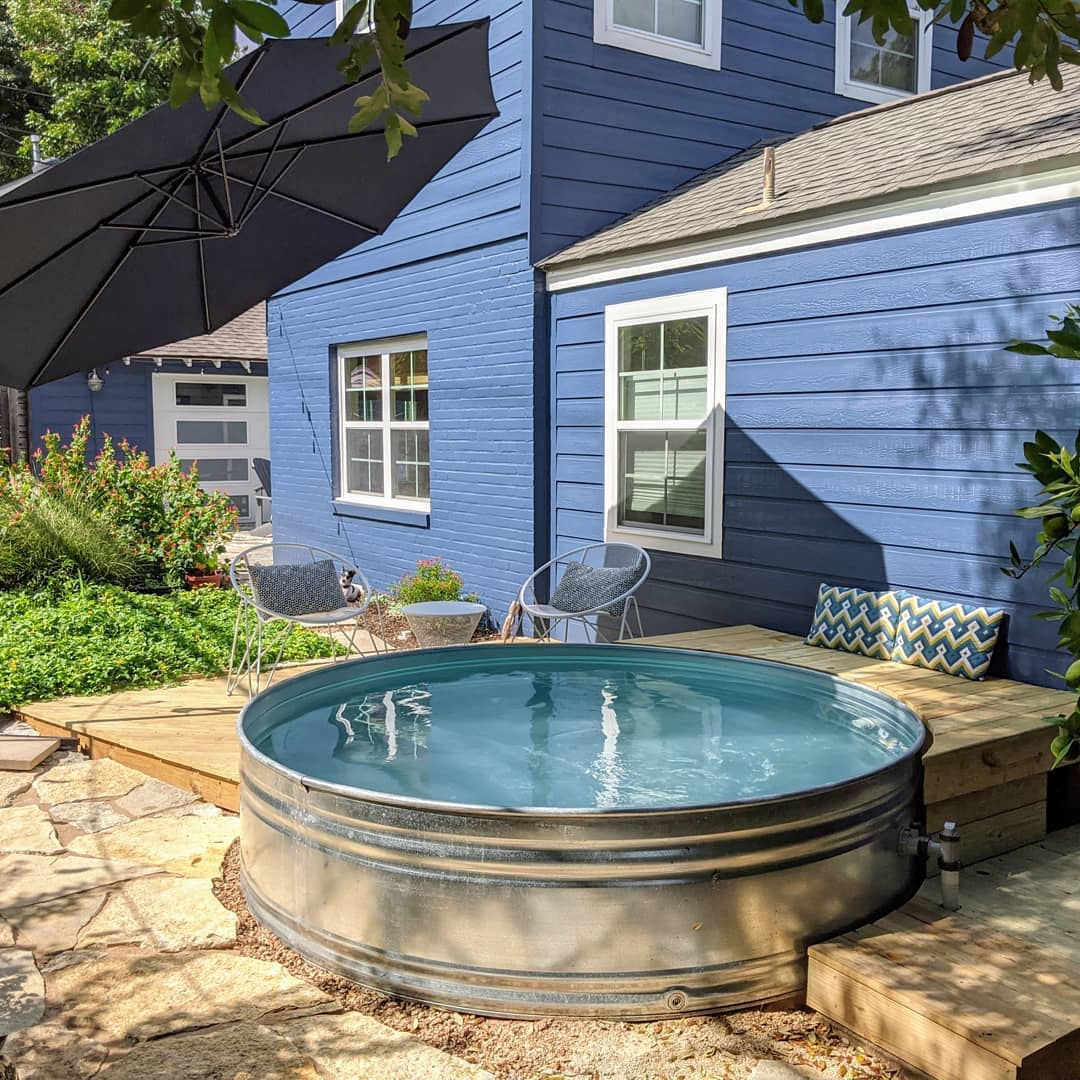 5. Hang String Lights Above The Pool
If you're looking to create a unique pool experience, why not try setting up a stock tank pool with string lights? Not only is it an affordable and convenient way to give yourself access to a refreshing pool, but the string lights can also add ambiance and atmosphere in the evenings.
This can be made even better if you place some surrounding furniture around the edges so you have somewhere comfortable to relax or hang out when taking a dip.
Stock tank pools don't require complicated construction or equipment either – just one stock tank with supports for stairs or a ladder, plus some lights and patio furniture.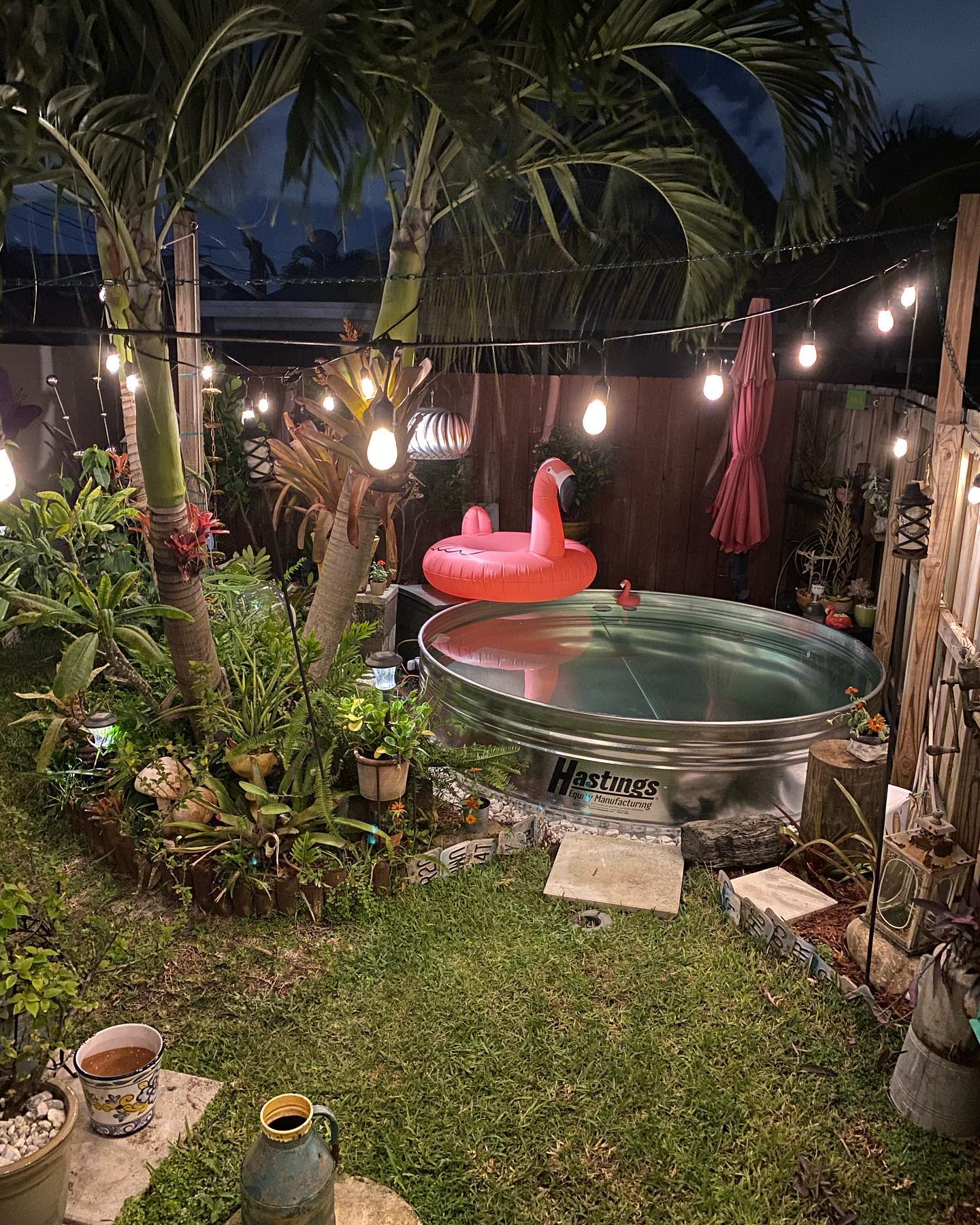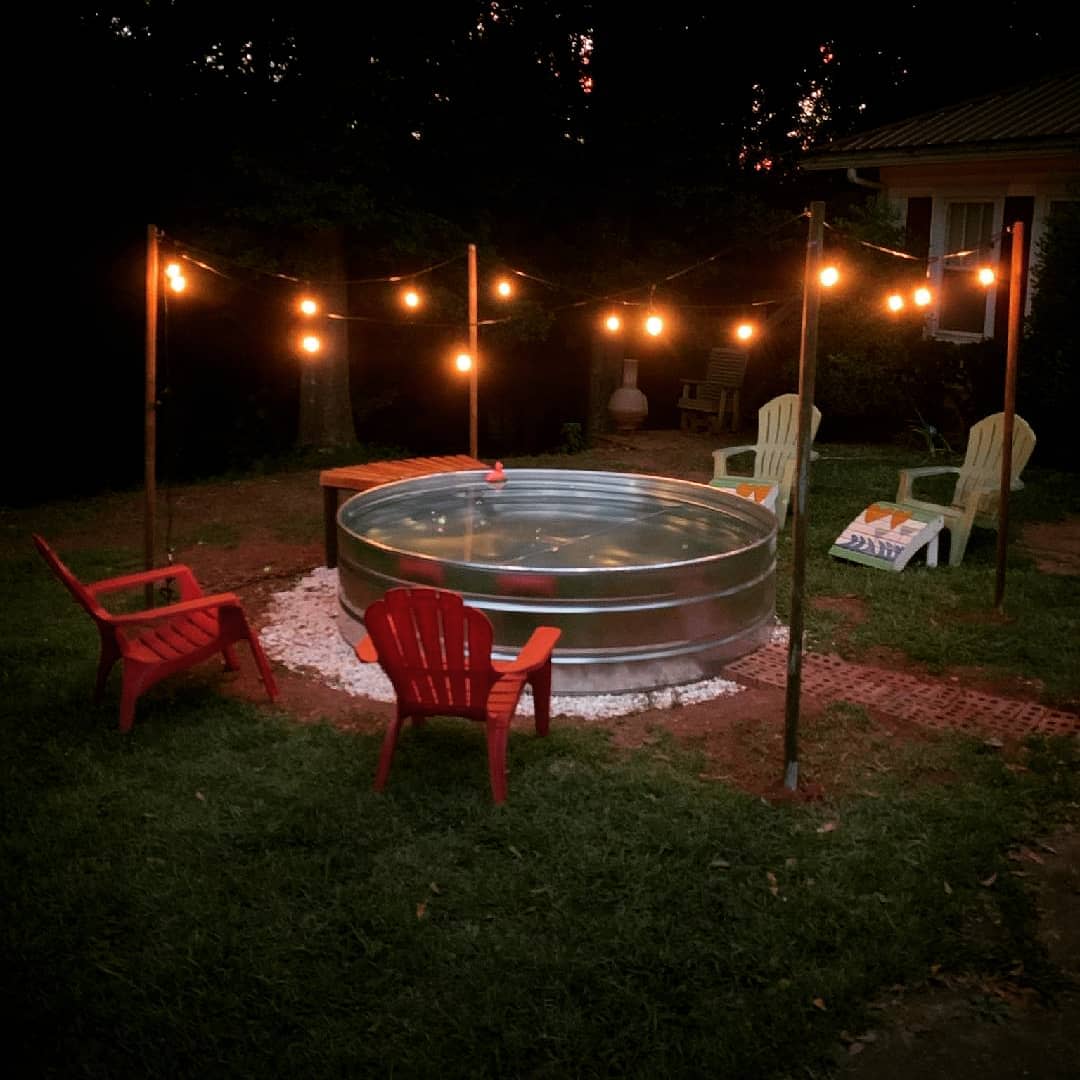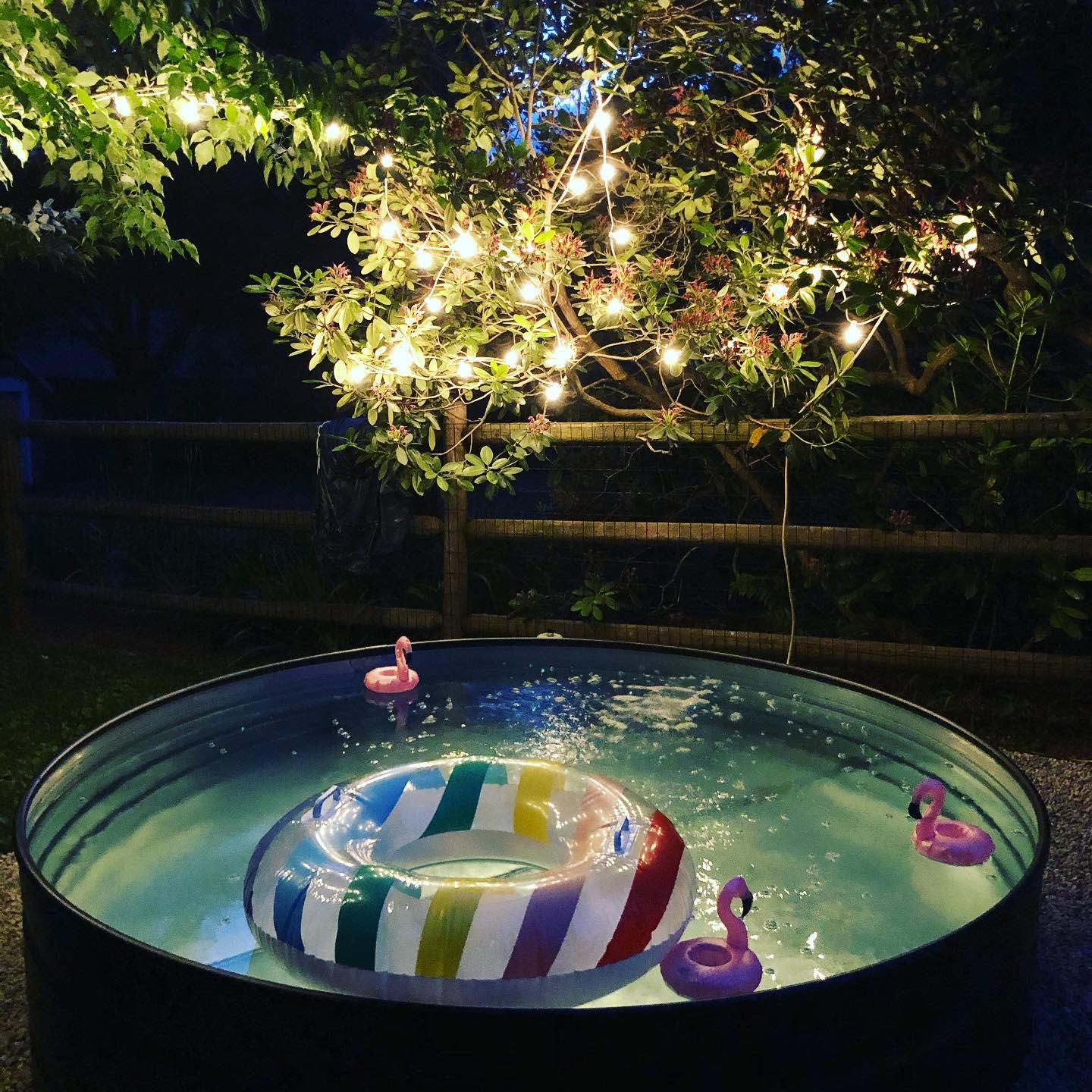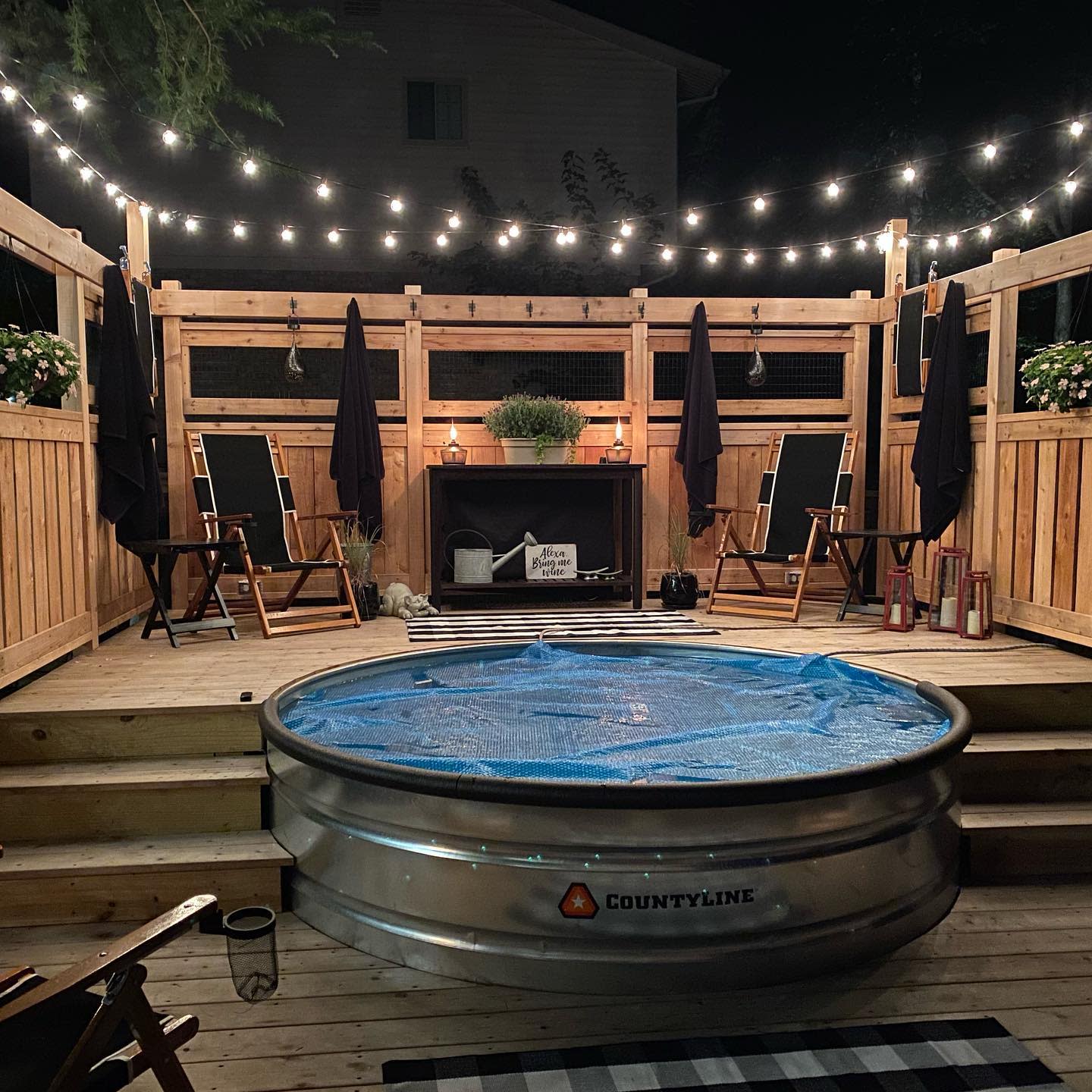 6. Build A Deck Around The Pool
Deciding to install a stock tank pool in your own backyard is a creative way to beat the summer heat. A great option for smaller yards, you can create a striking aesthetic with a pool on your deck or patio – just make sure to take precautions concerning safety and weight load. With minimal preparation, you could be enjoying cool dips in the water in no time at all!
Plus, as an extra bonus, afterward you have the option to repurpose the tank – whether it's using it as a makeshift planter or raised bed garden, a play area for kids or pets, or even as décor.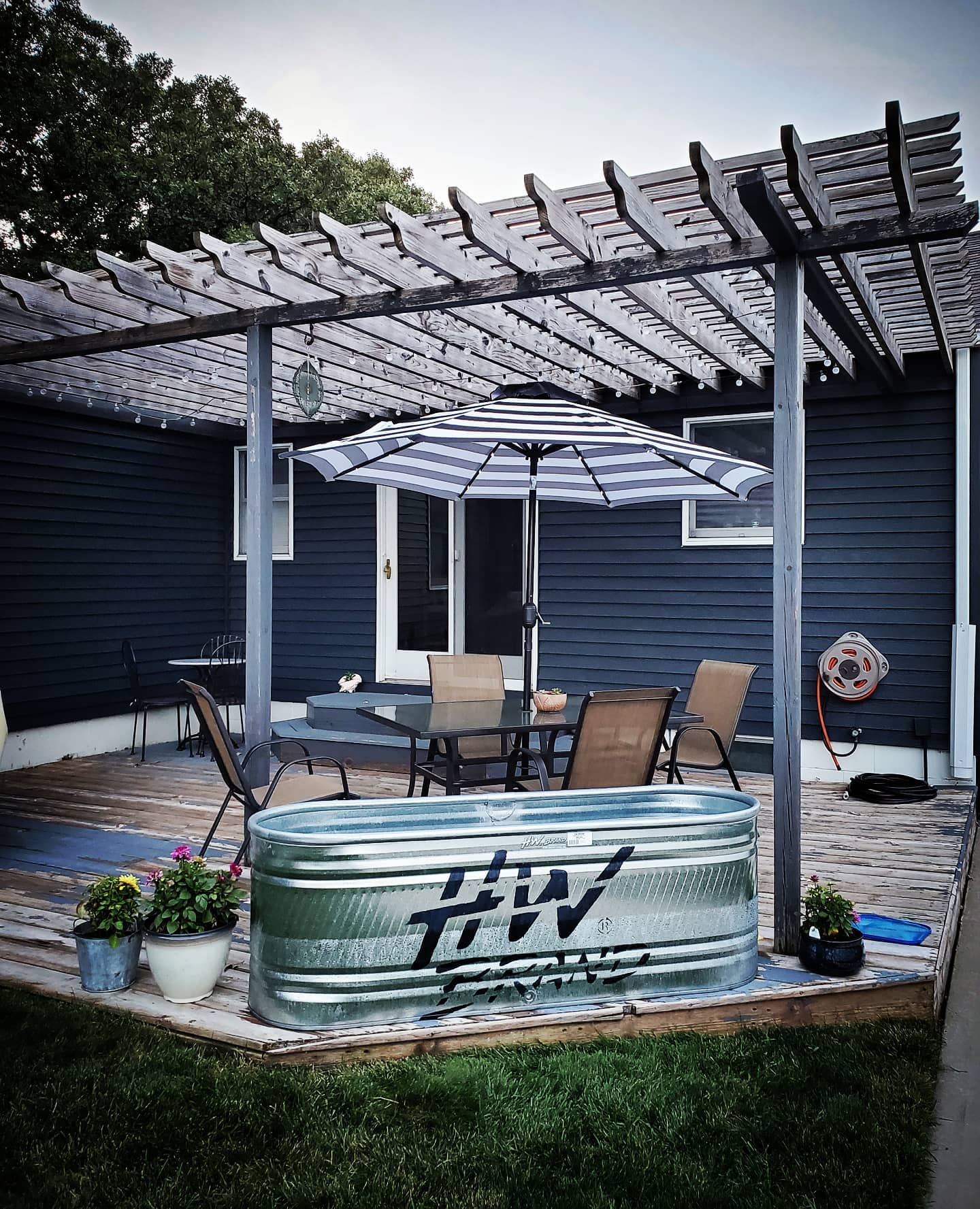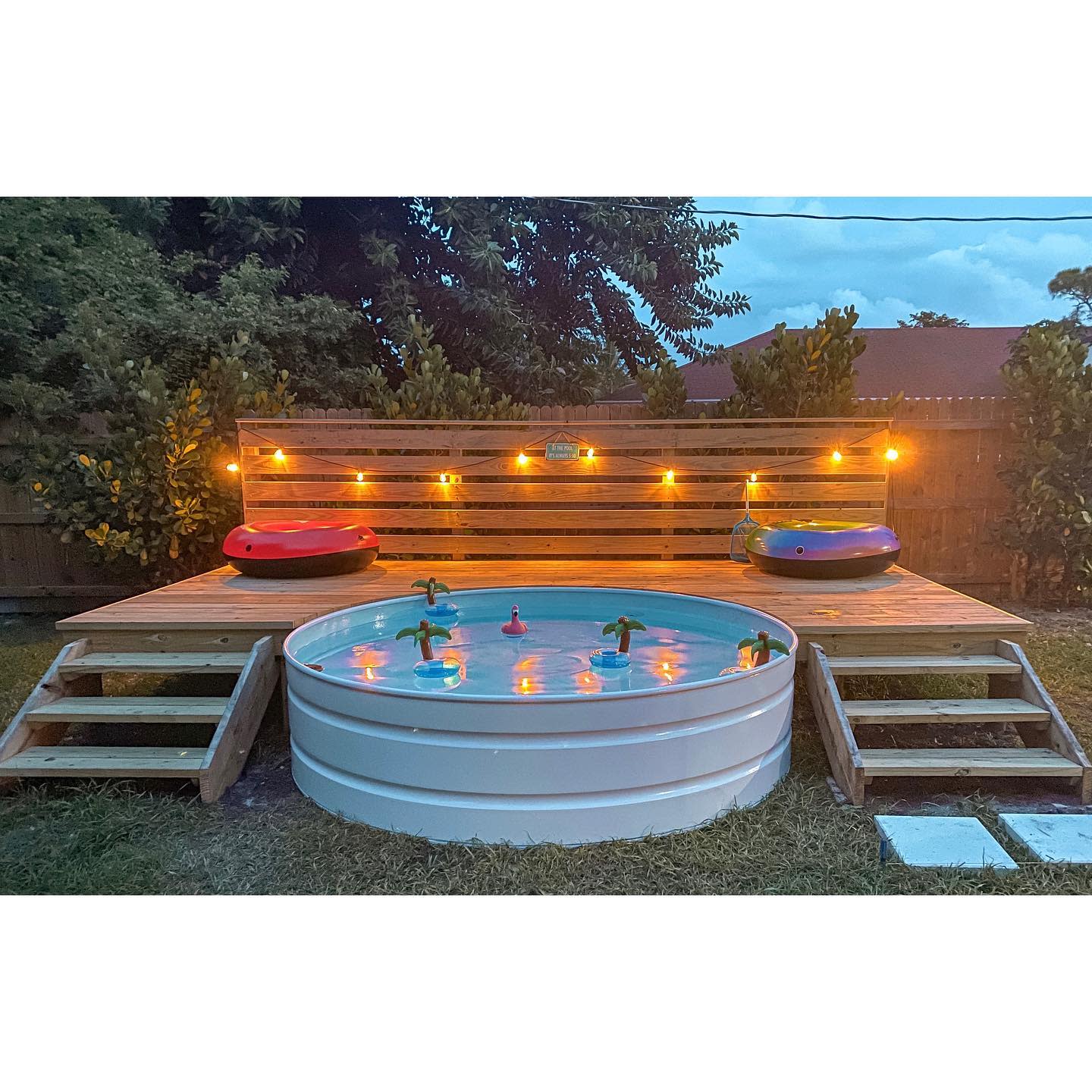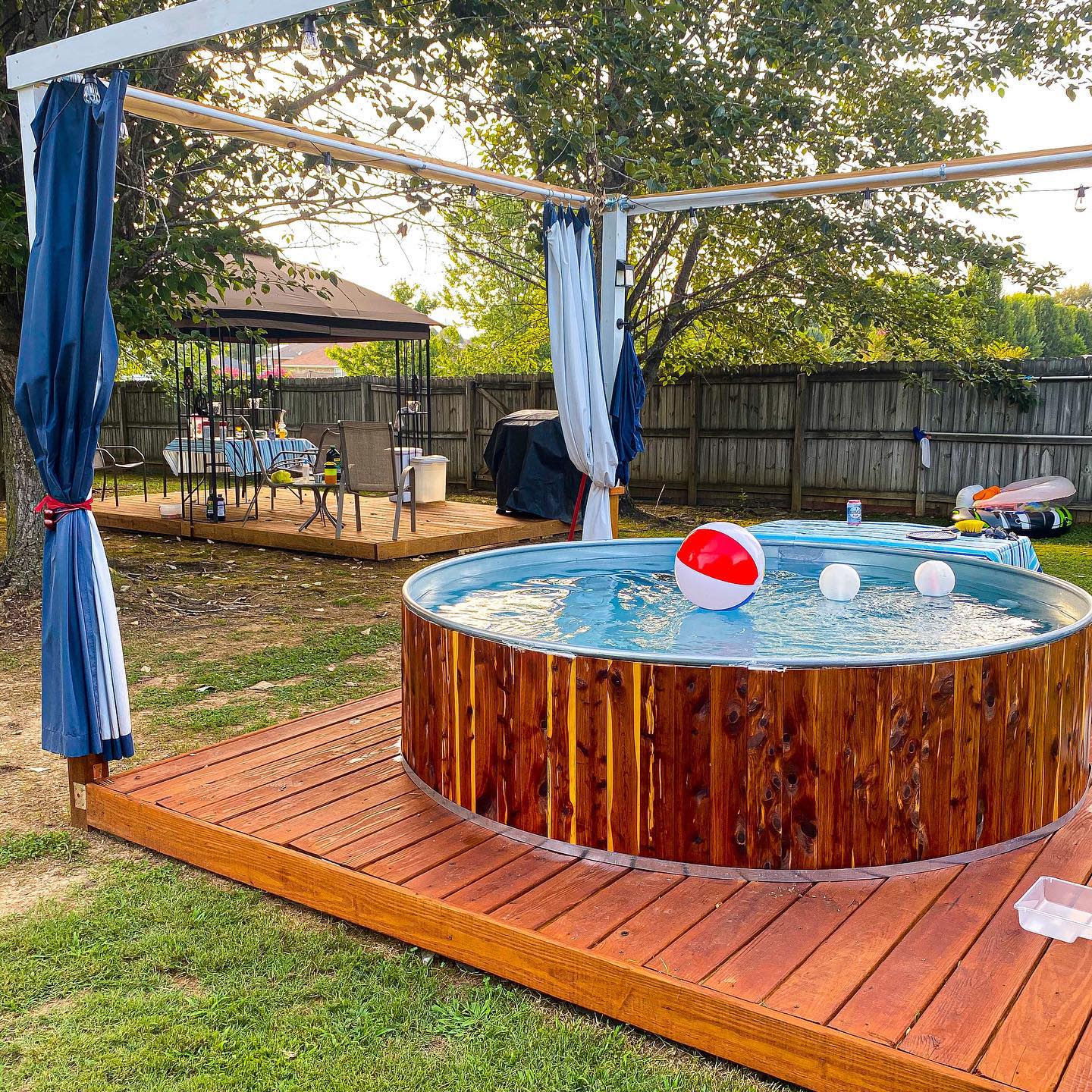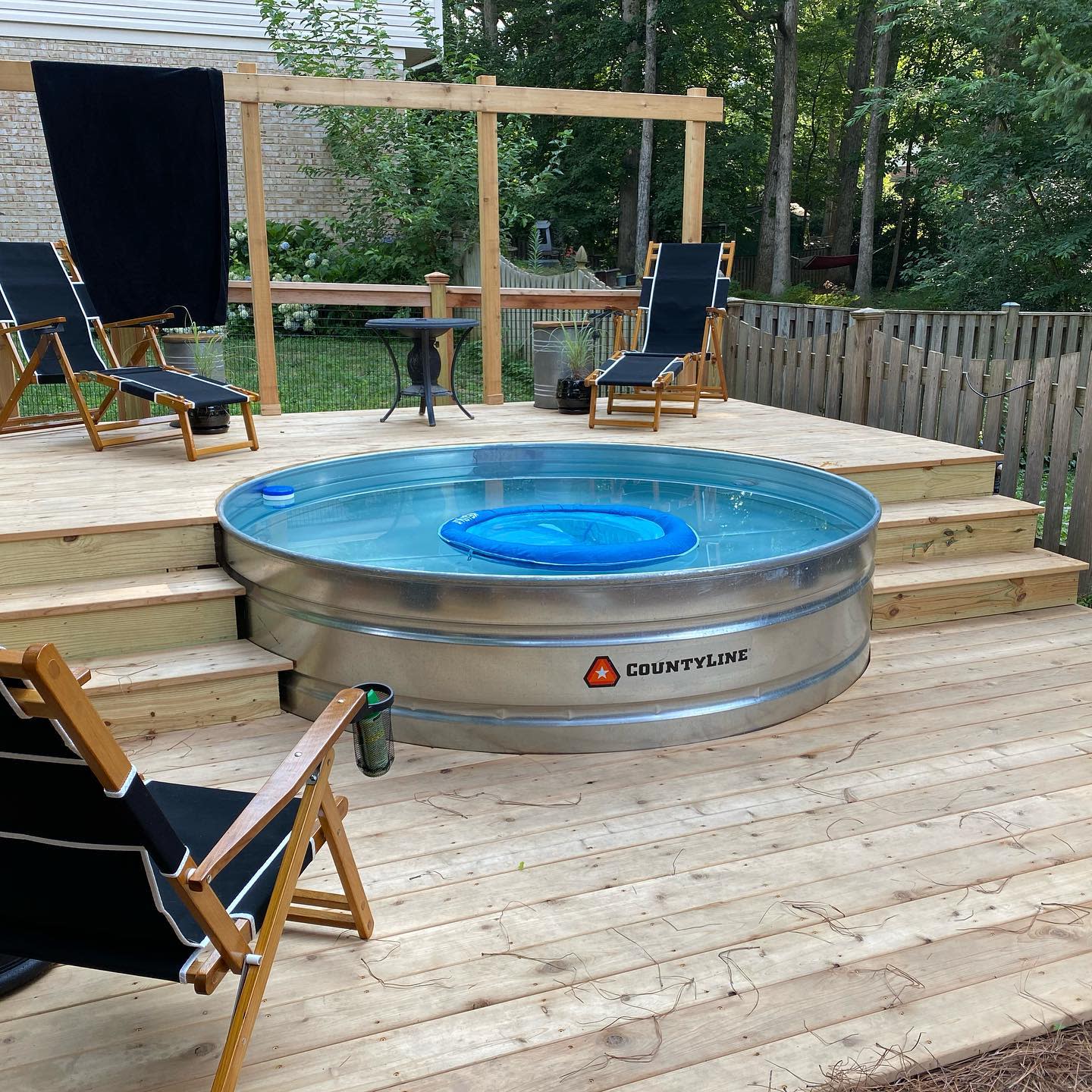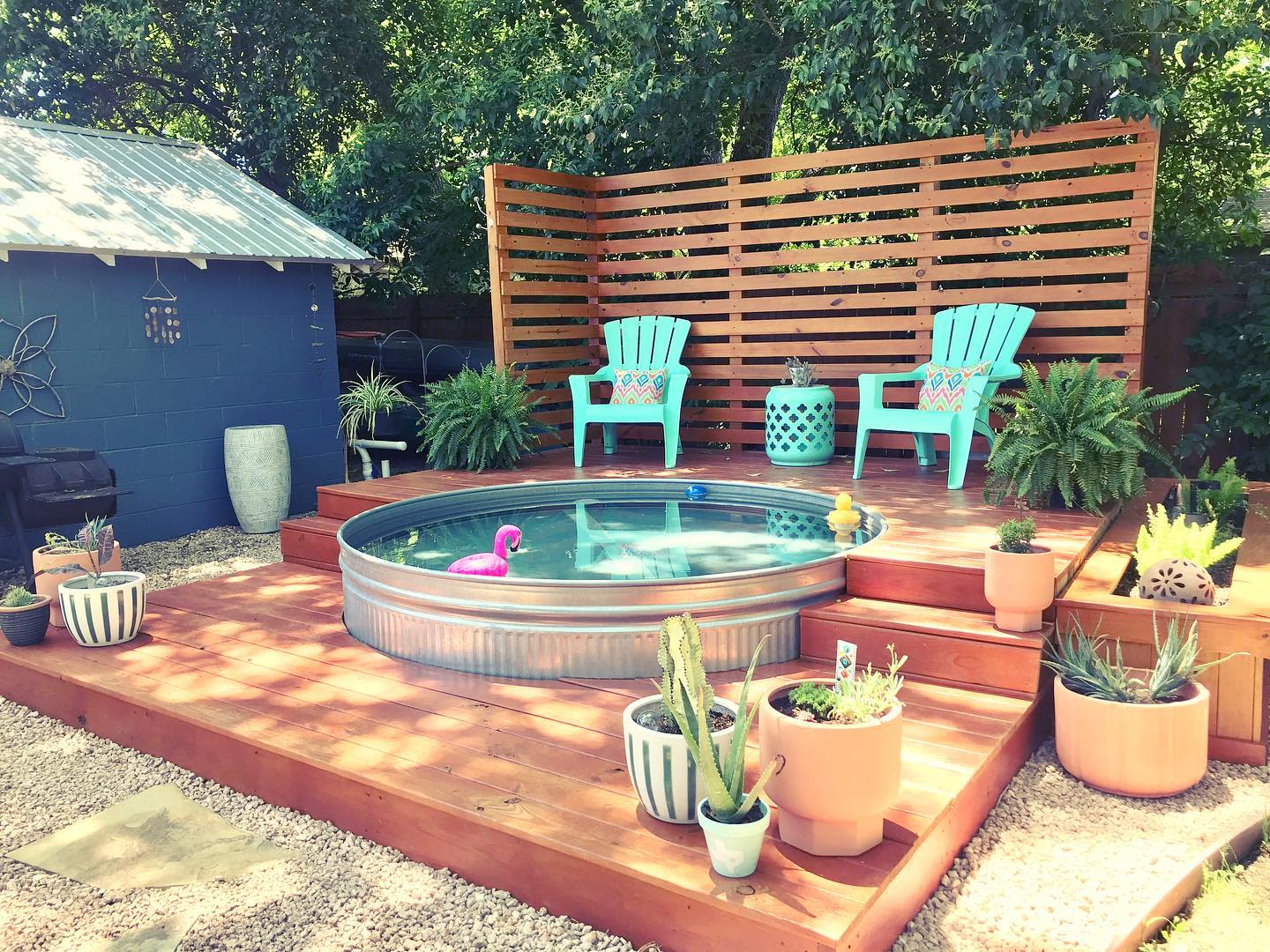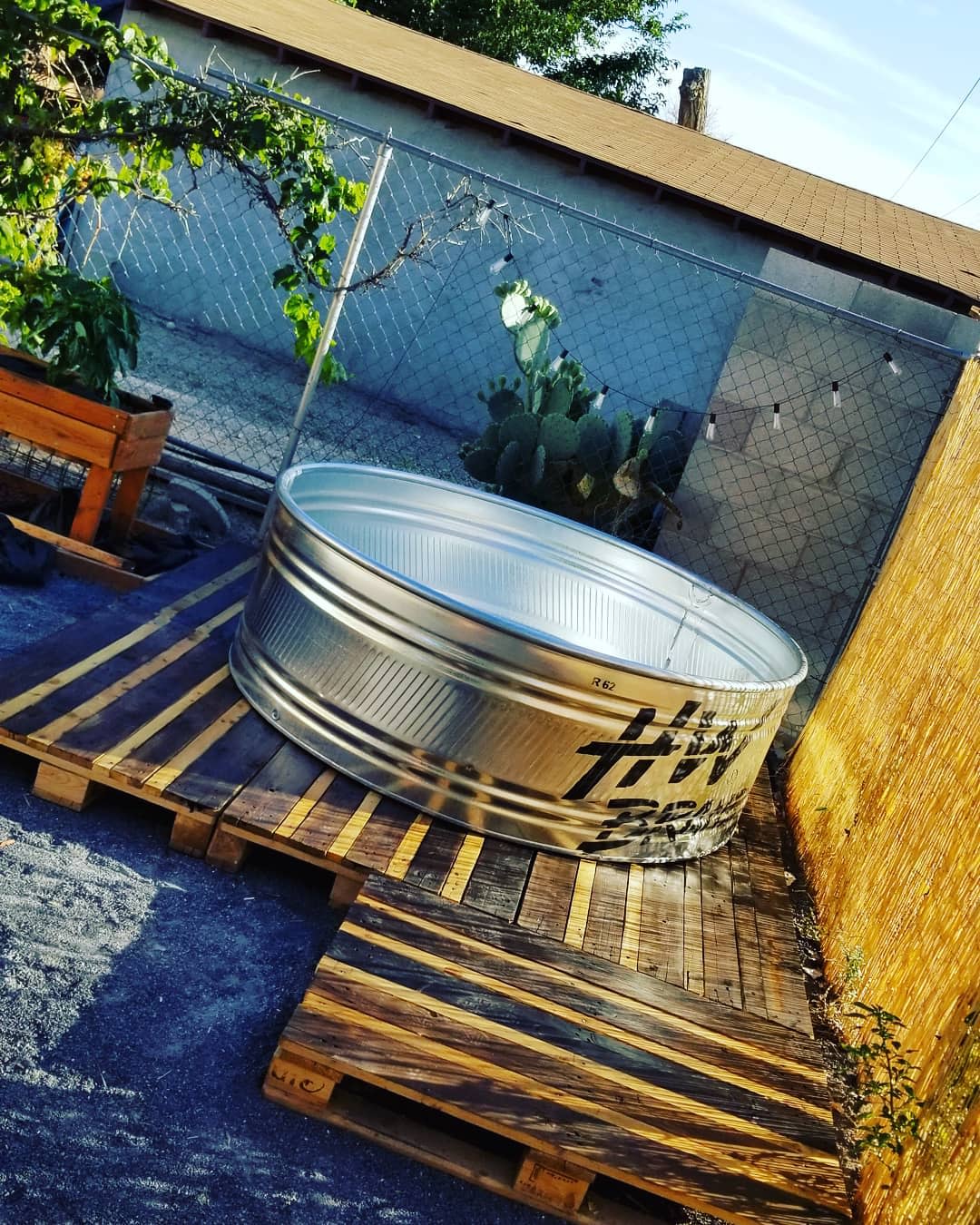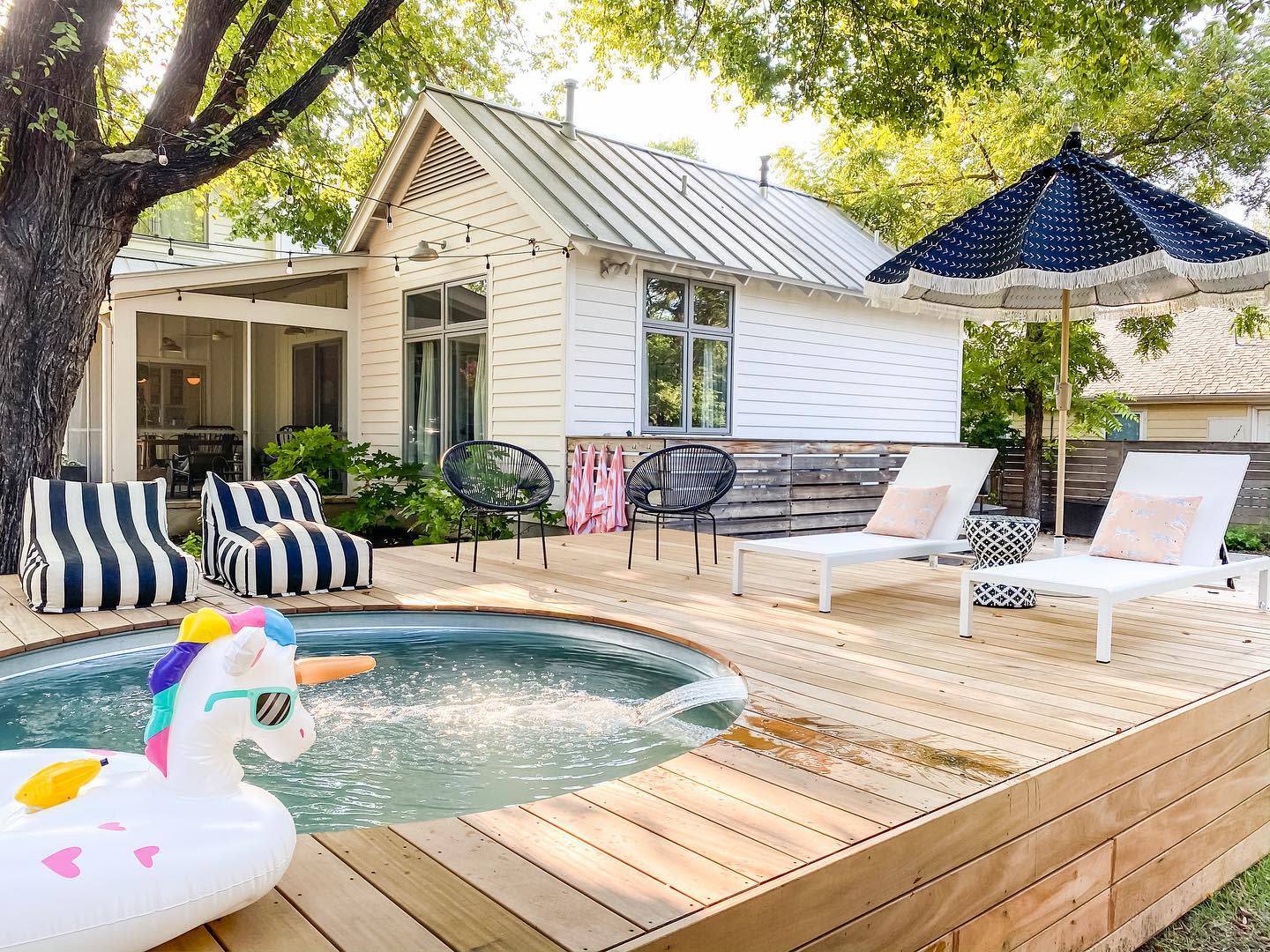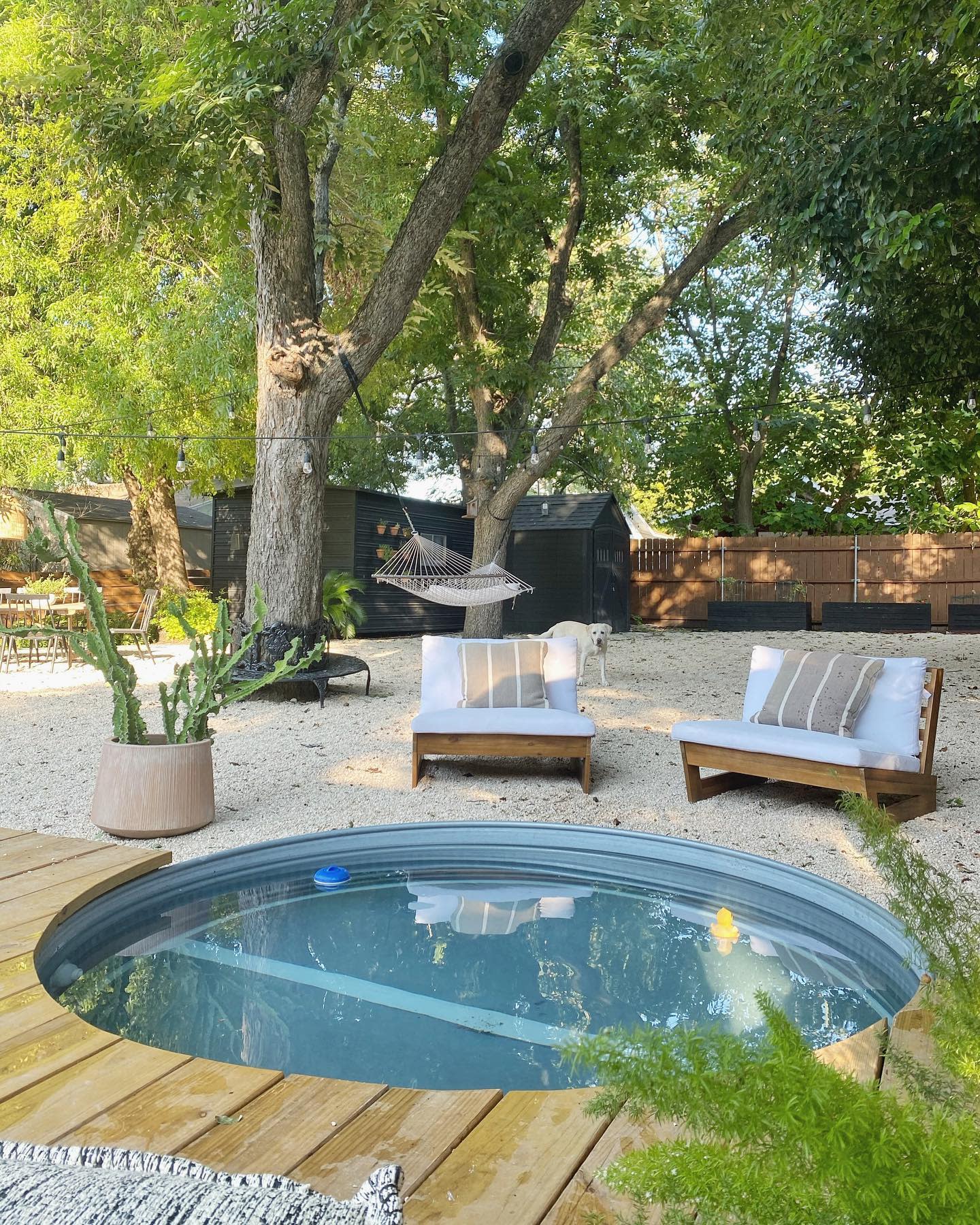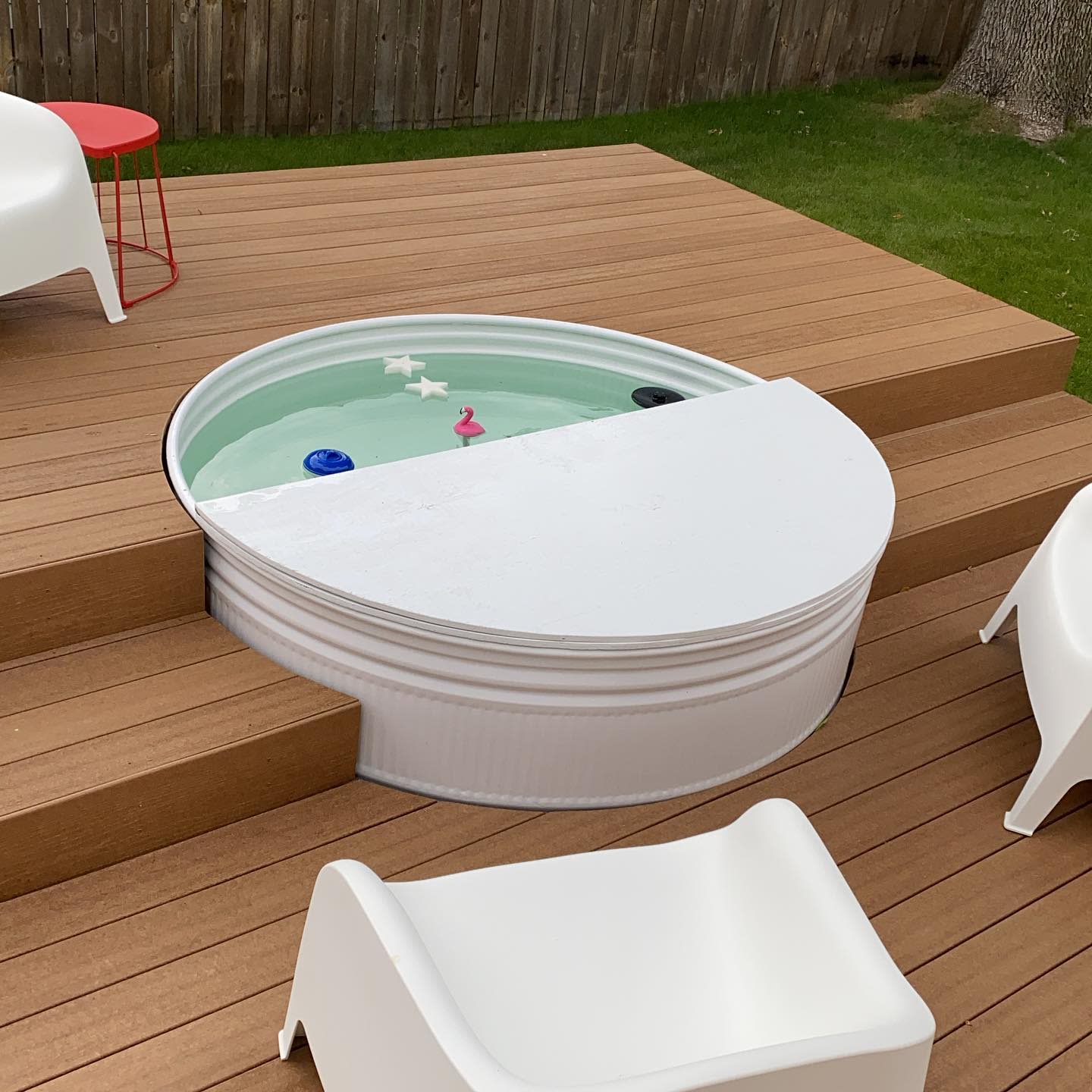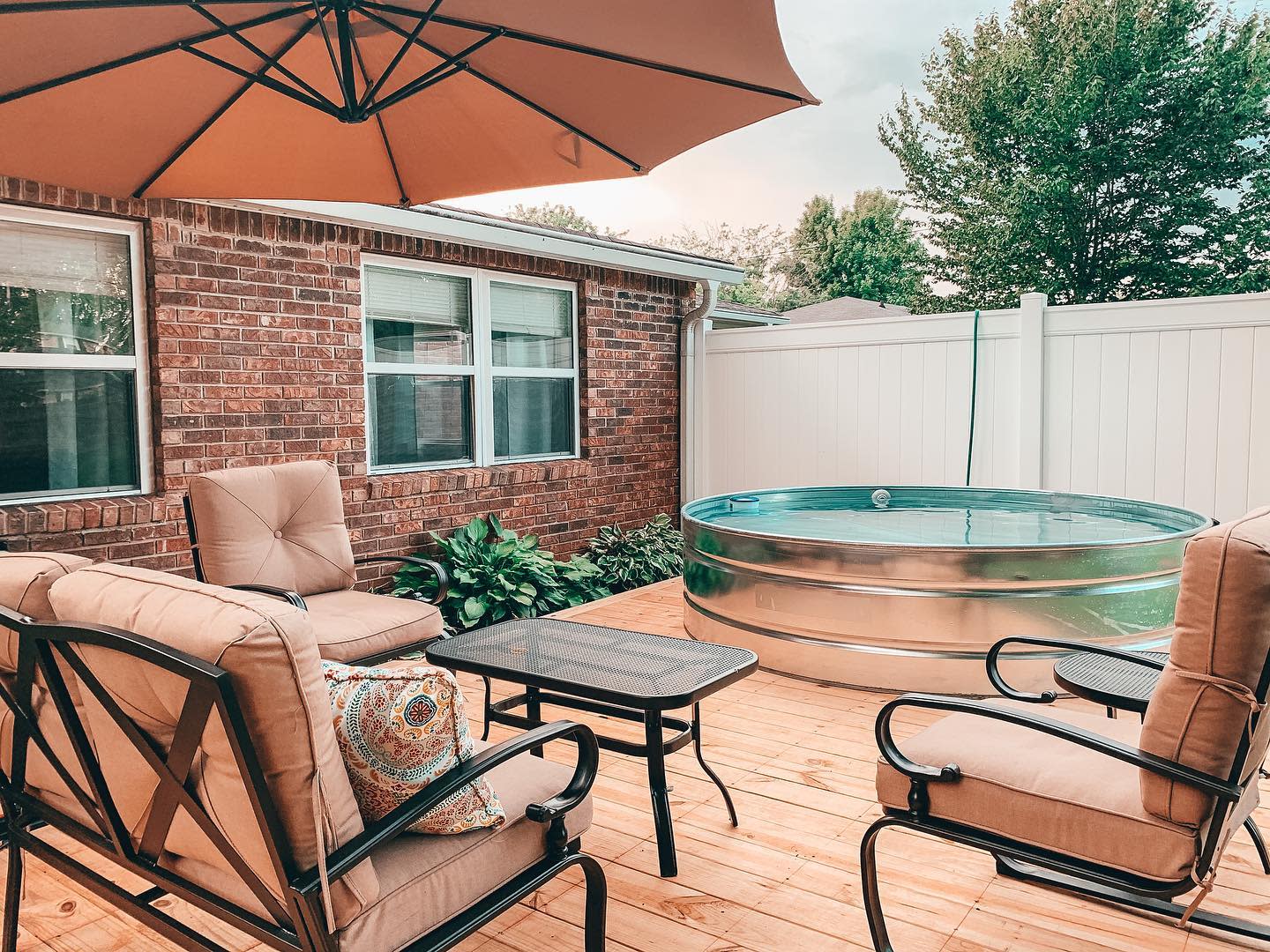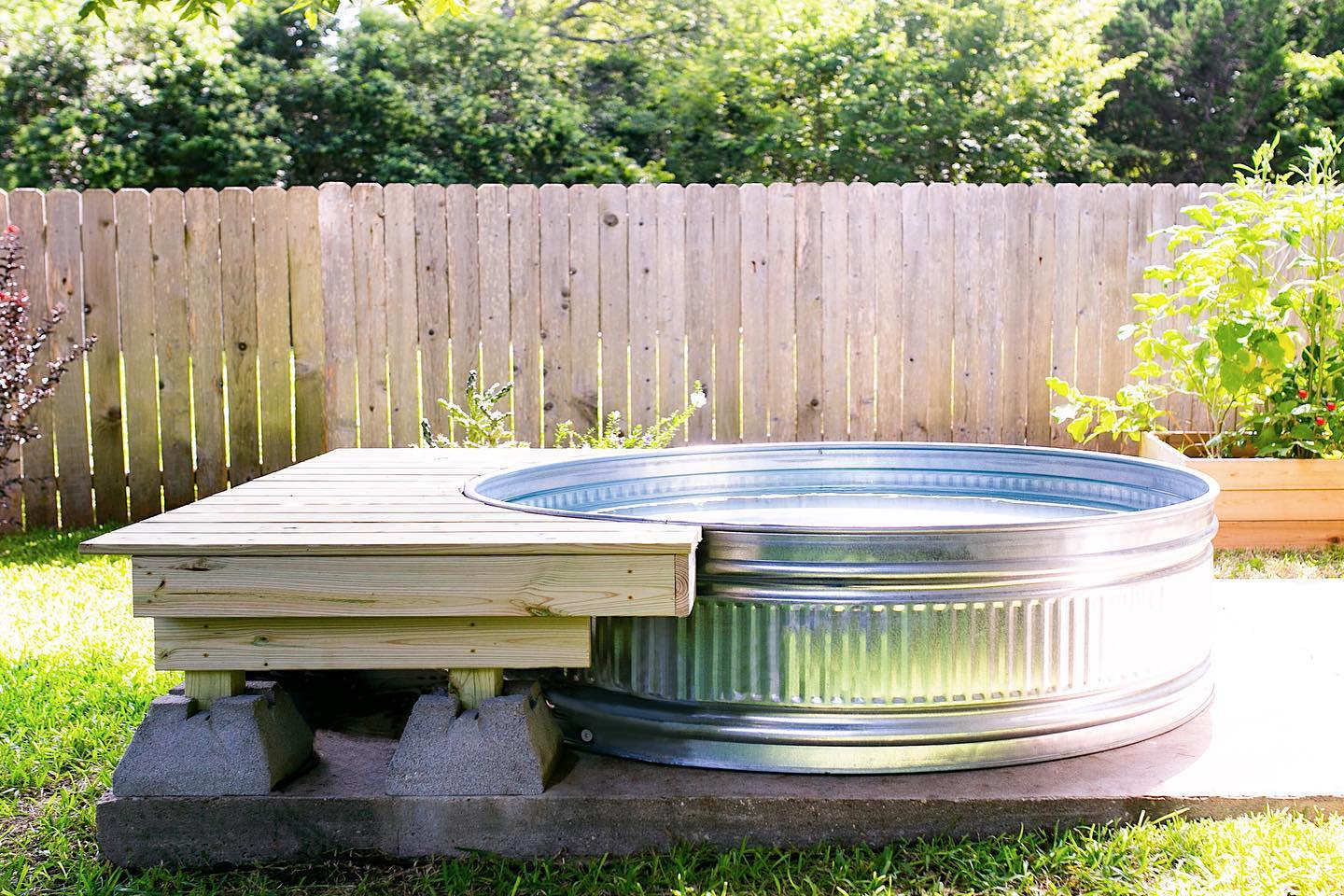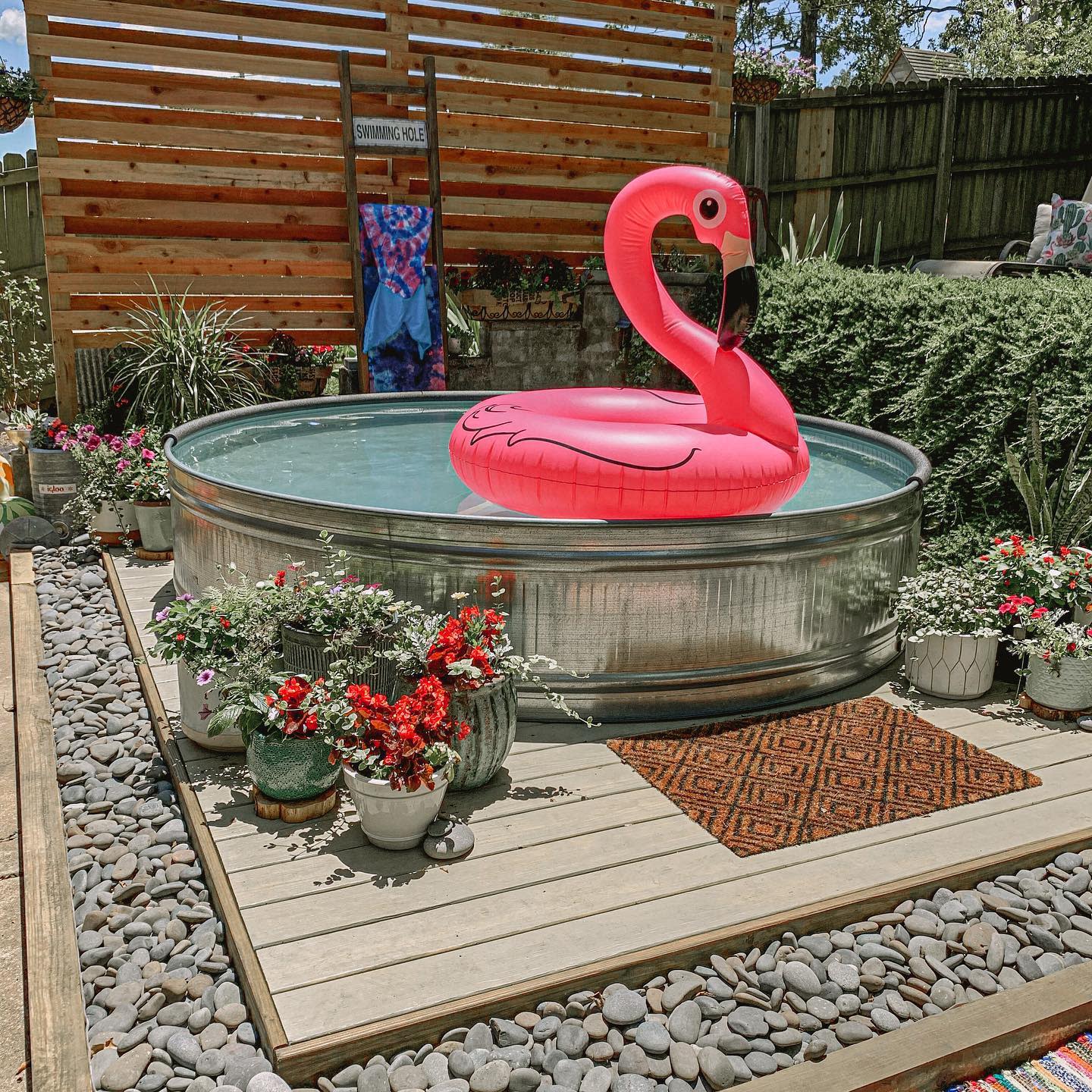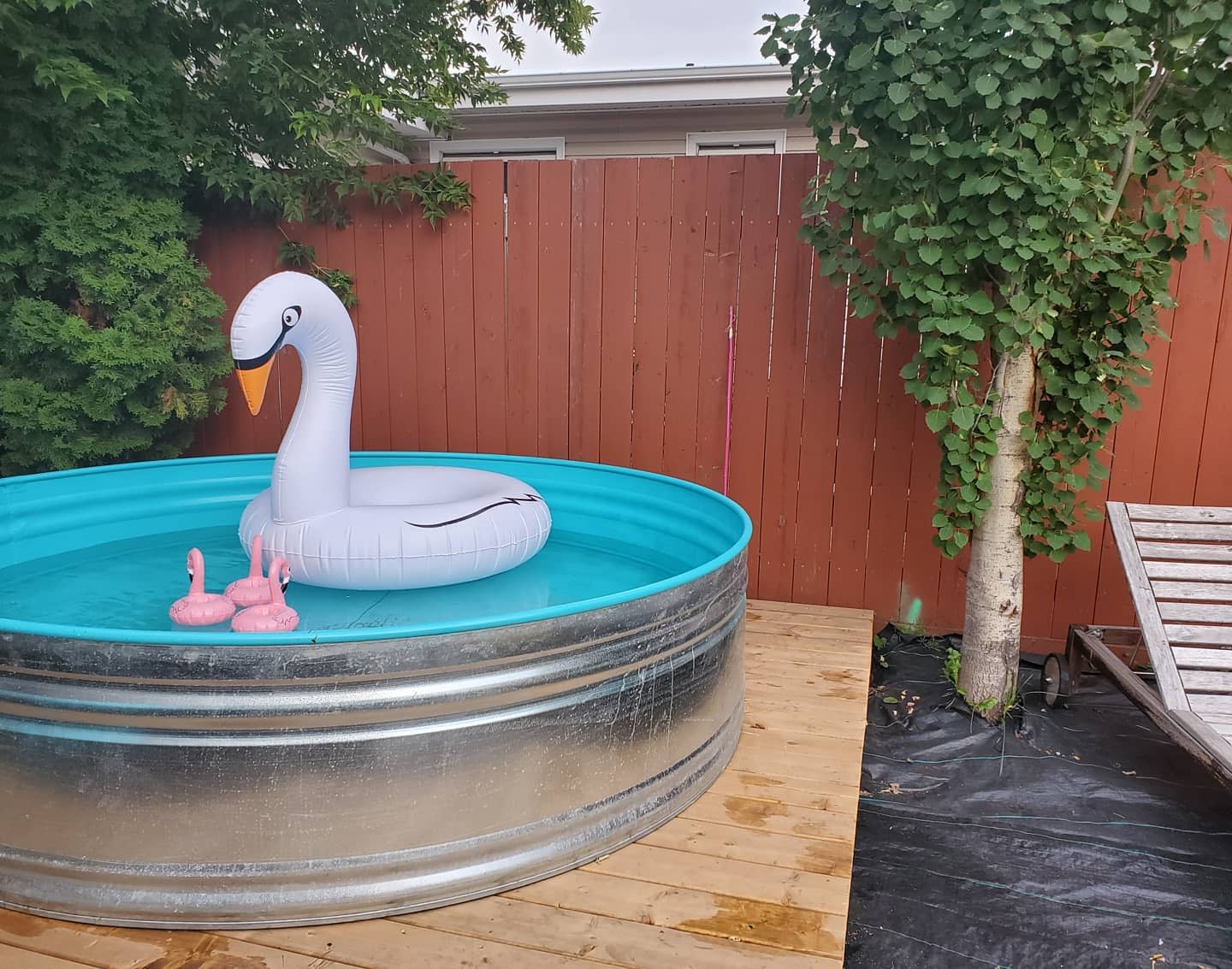 7. Keep It Simple
When it comes to stock tank pool ideas, one of the simplest yet most effective ones is to go with an unpainted galvanized stock tank pool. Not only can these galvanized tanks be easily found at local feed and home improvement stores, but they are also relatively easy to set up. All you need to do is make sure that it's level and fill it up with water!
Though you may want the finished look of painted stock tanks, sometimes the best way to go is with something plain and simple. You don't have to worry about customization or extra elements; just set it up and start cooling off in your swimming hole.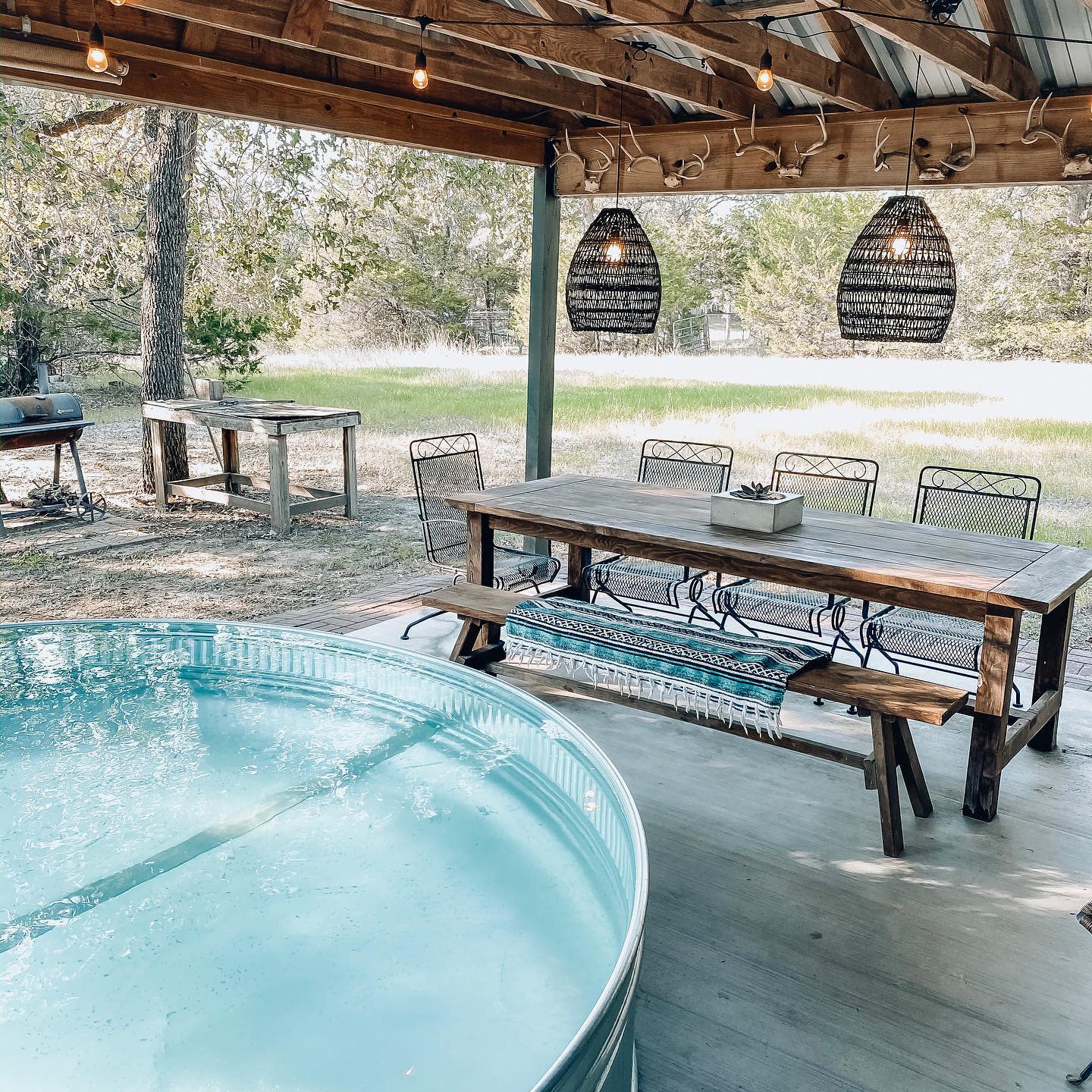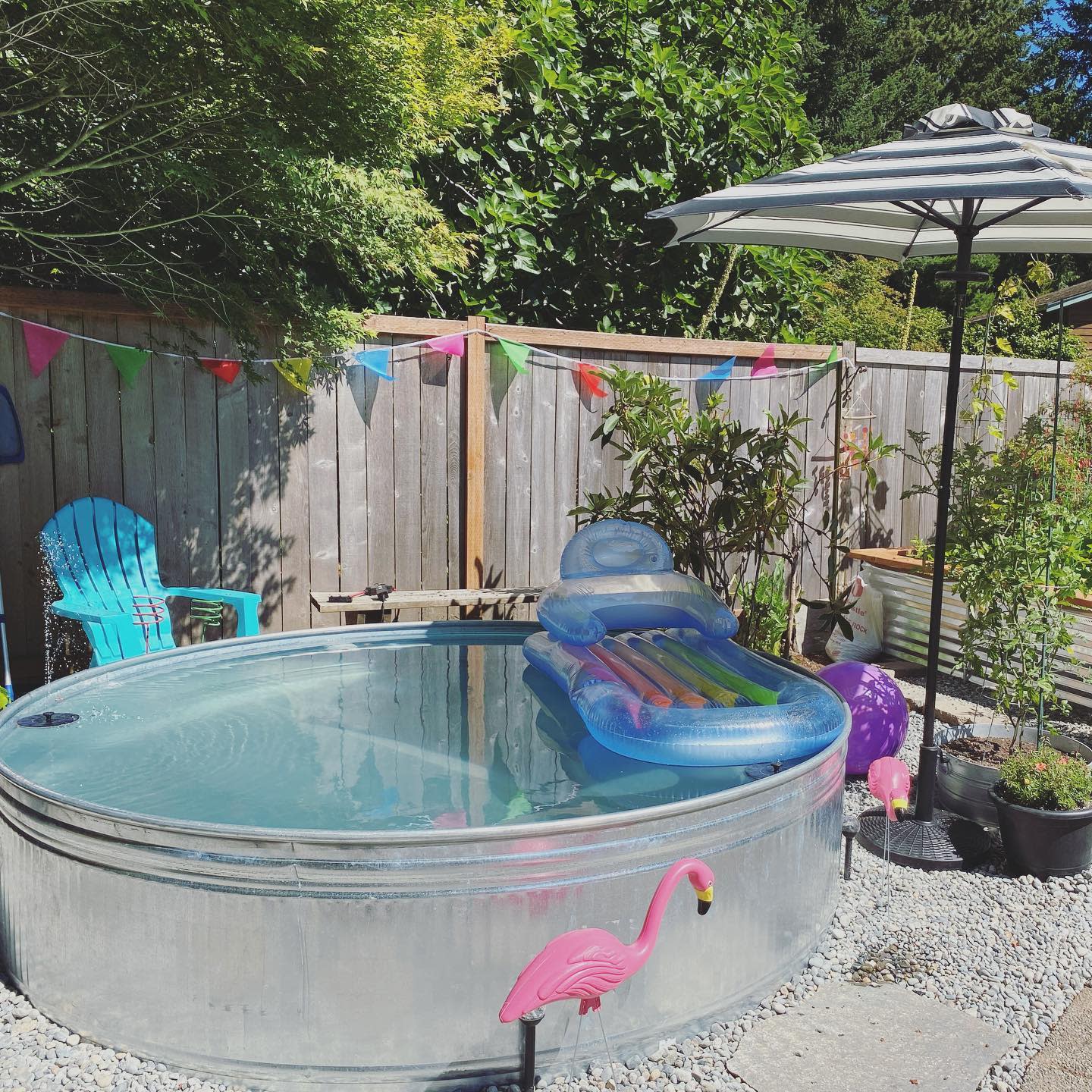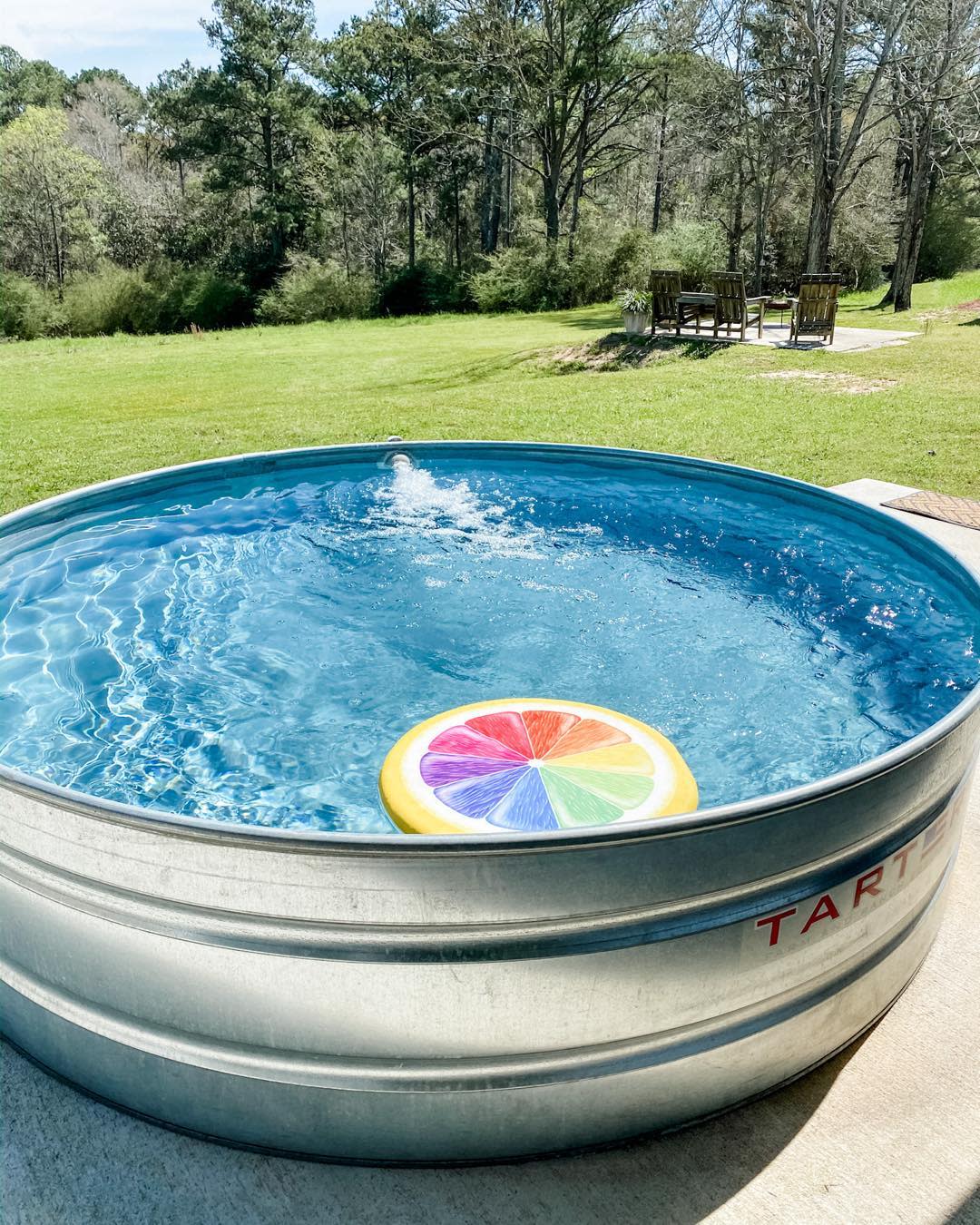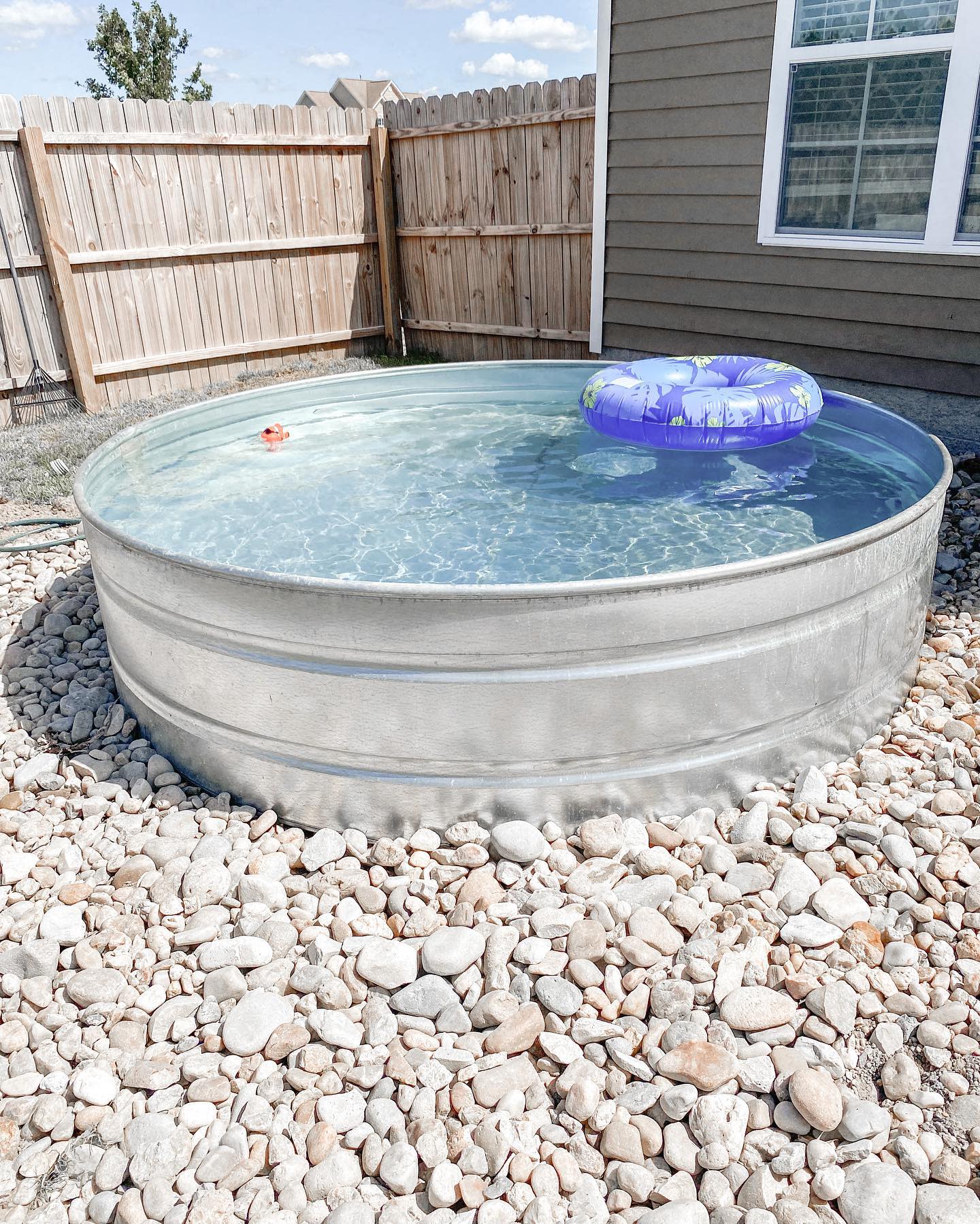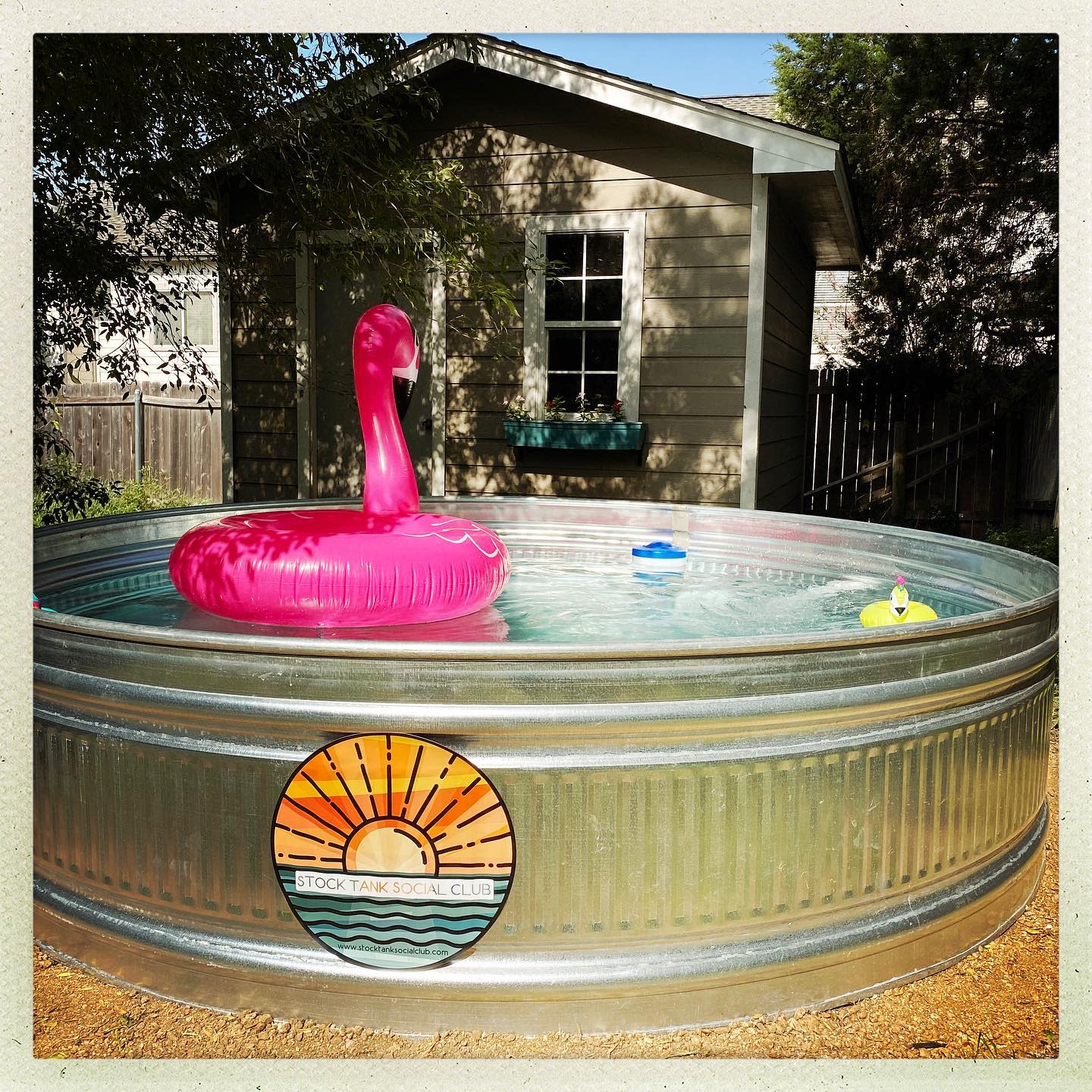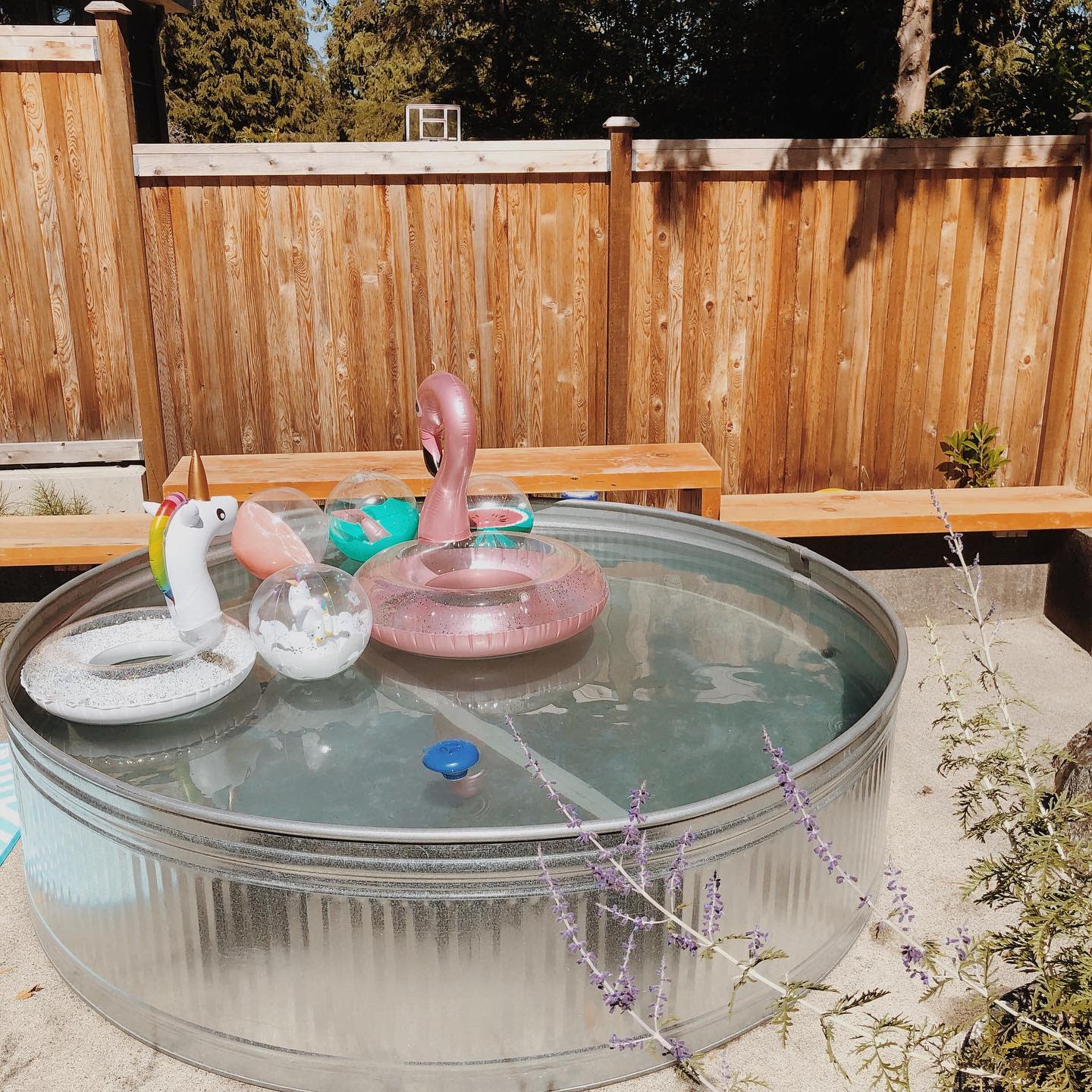 8. Install A Privacy Wall
A stock tank pool is an ideal solution for those looking to cool off in their backyard this summer. Not only are stock tanks budget-friendly but they are also easy to install. For a unique addition to your backyard haven, why not incorporate a privacy wall into your stock tank design? This can be as simple as adding some tall shrubs around the edges or constructing a wooden frame and covering it with climbing plants.
Not only will it enhance the look of your space it will also provide an increased sense of safety and security whilst cooling off outdoors. With this new addition to your backyard, you'll be sure to have summer days that are nothing short of heavenly!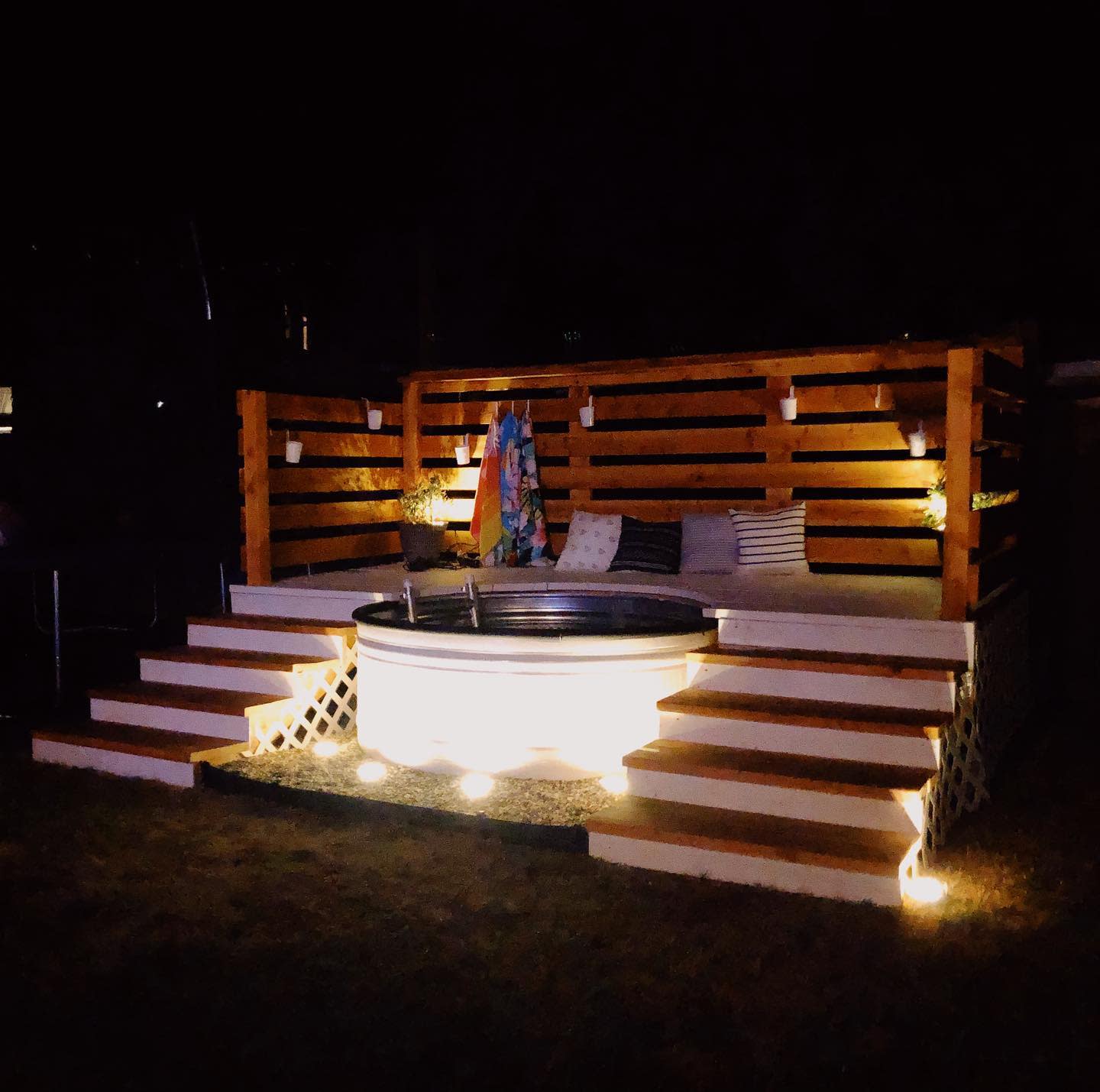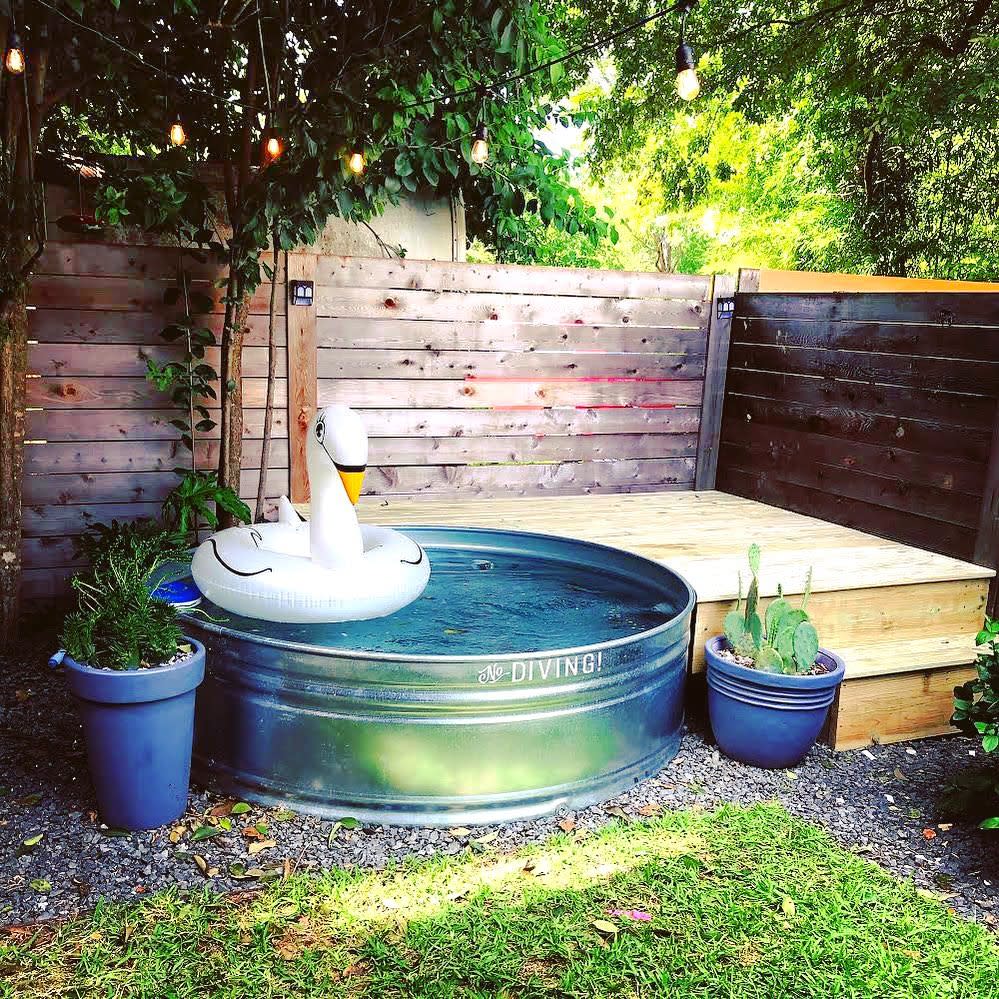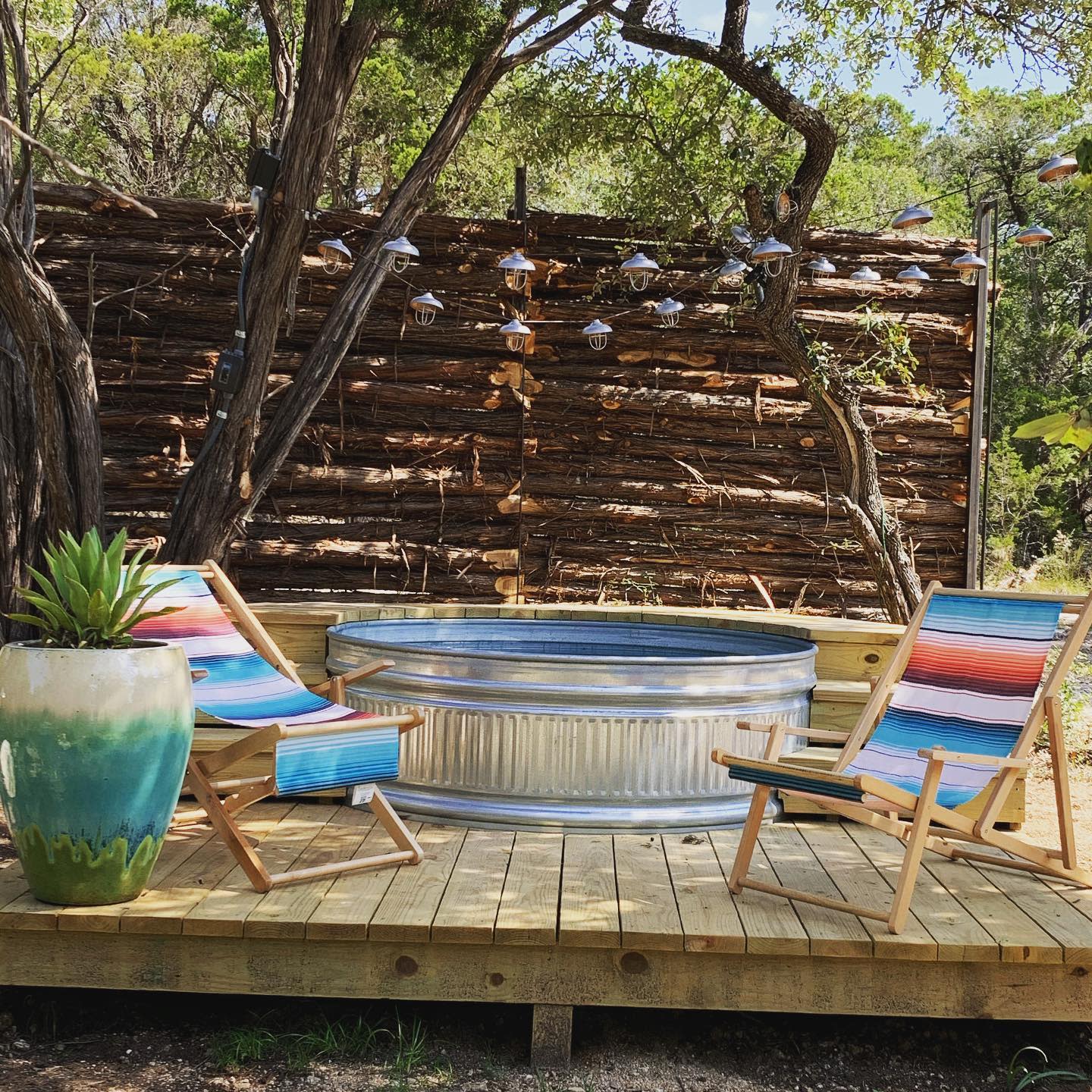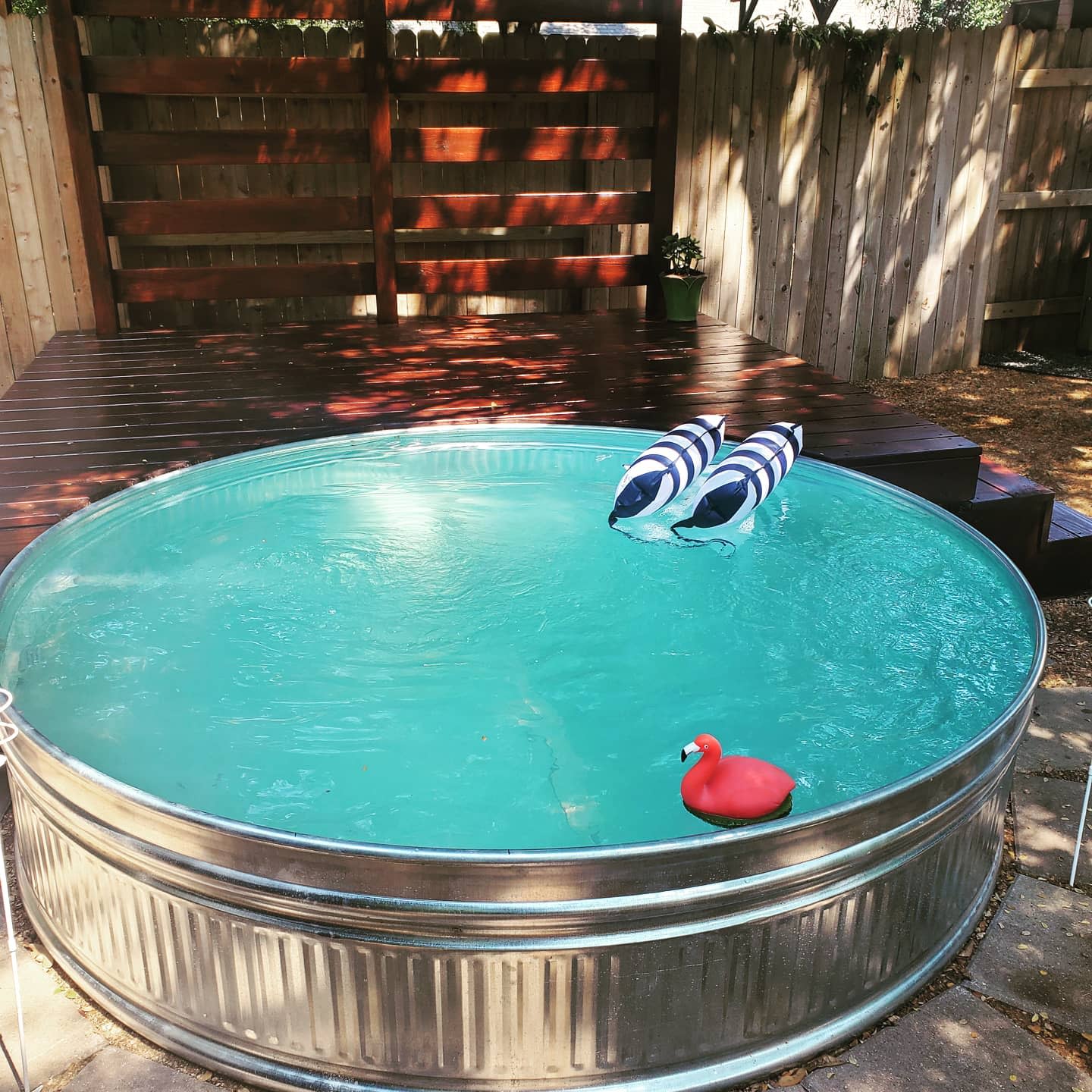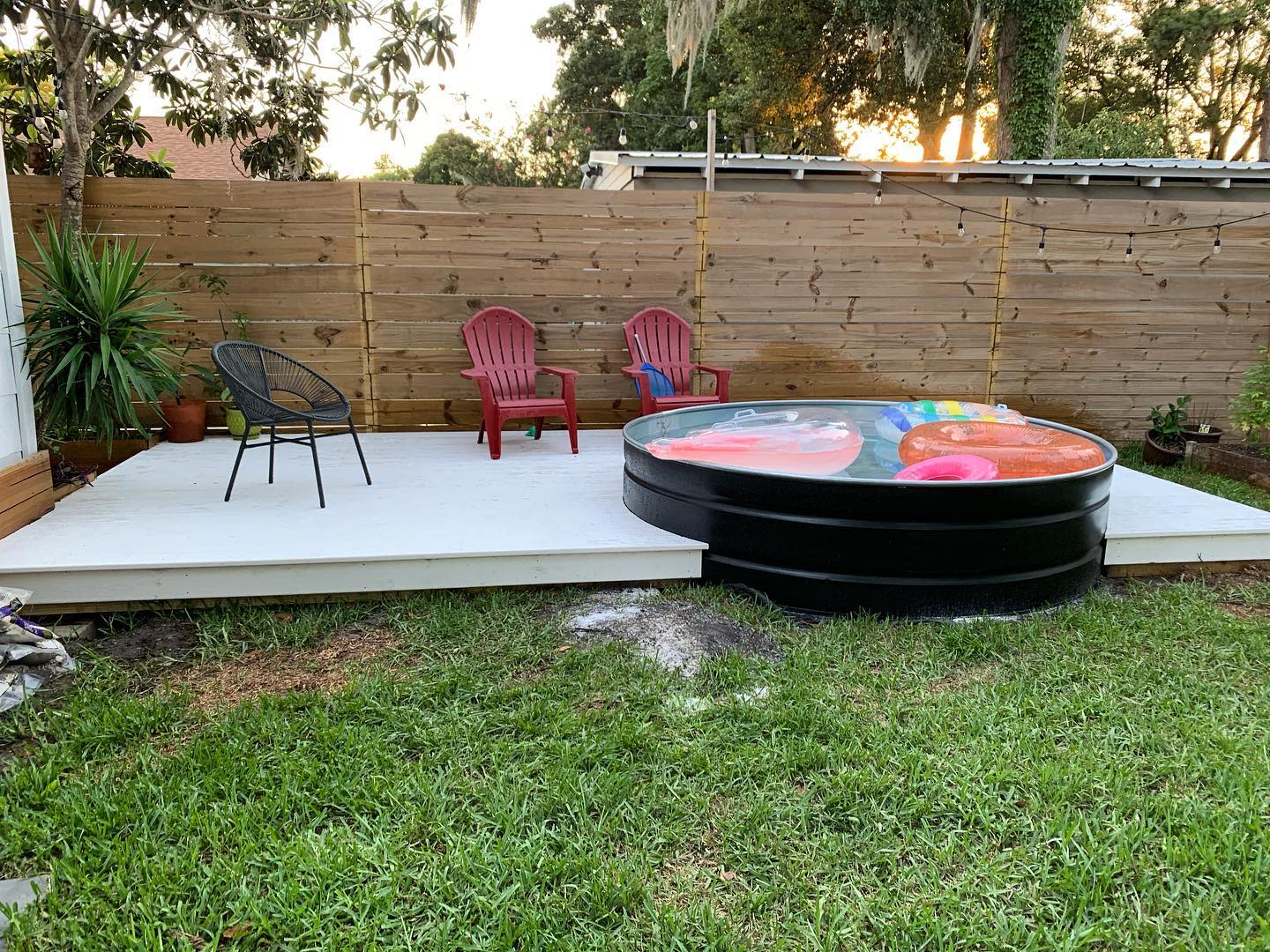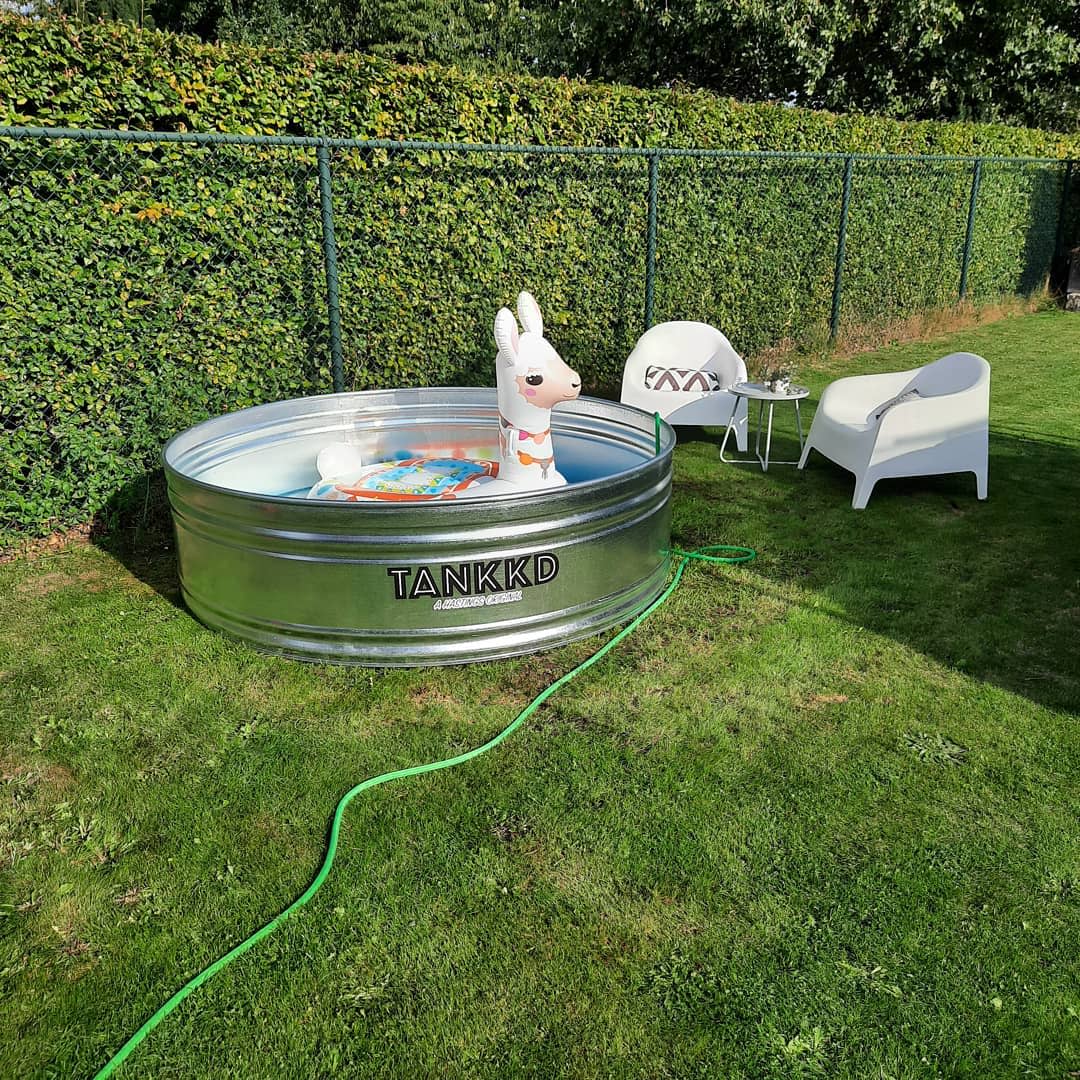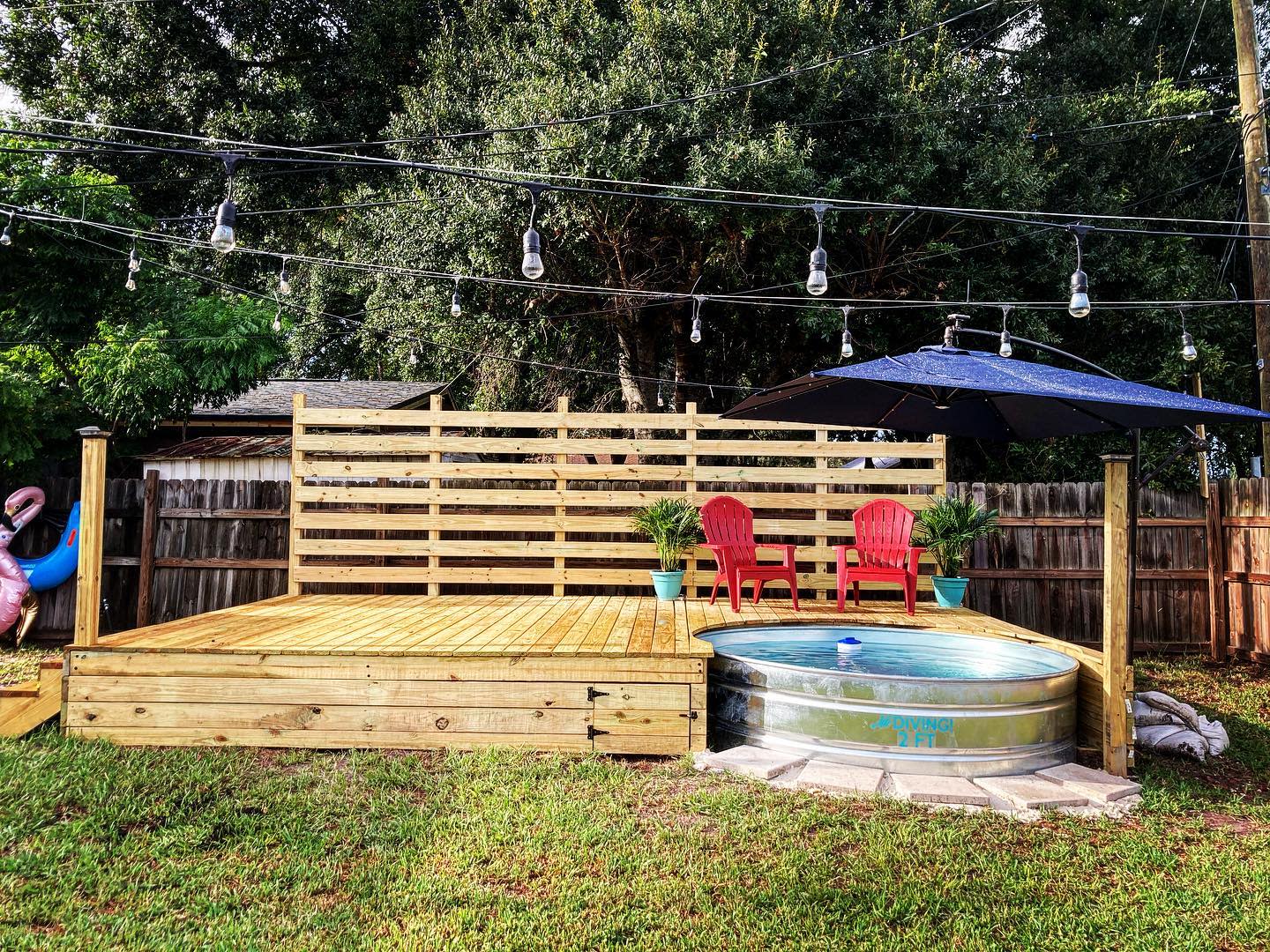 9. Add An Umbrella
If you're looking for an inventive way to create a stylish swimming oasis in your own backyard, why not consider a stock tank pool with an umbrella? This trend is becoming increasingly popular among homeowners who want to enjoy their outdoor space while also taking advantage of some time on the water.
Days lazing in the sun can be made more enjoyable by having family, friends, and pets come over to splash around and make memories together. Adorning your stock tank pool with an umbrella will add that extra factor of elegance and sophistication, allowing you to elevate the outdoor ambiance without breaking the bank. So why not give it a try — there's no better way to cool off during summer!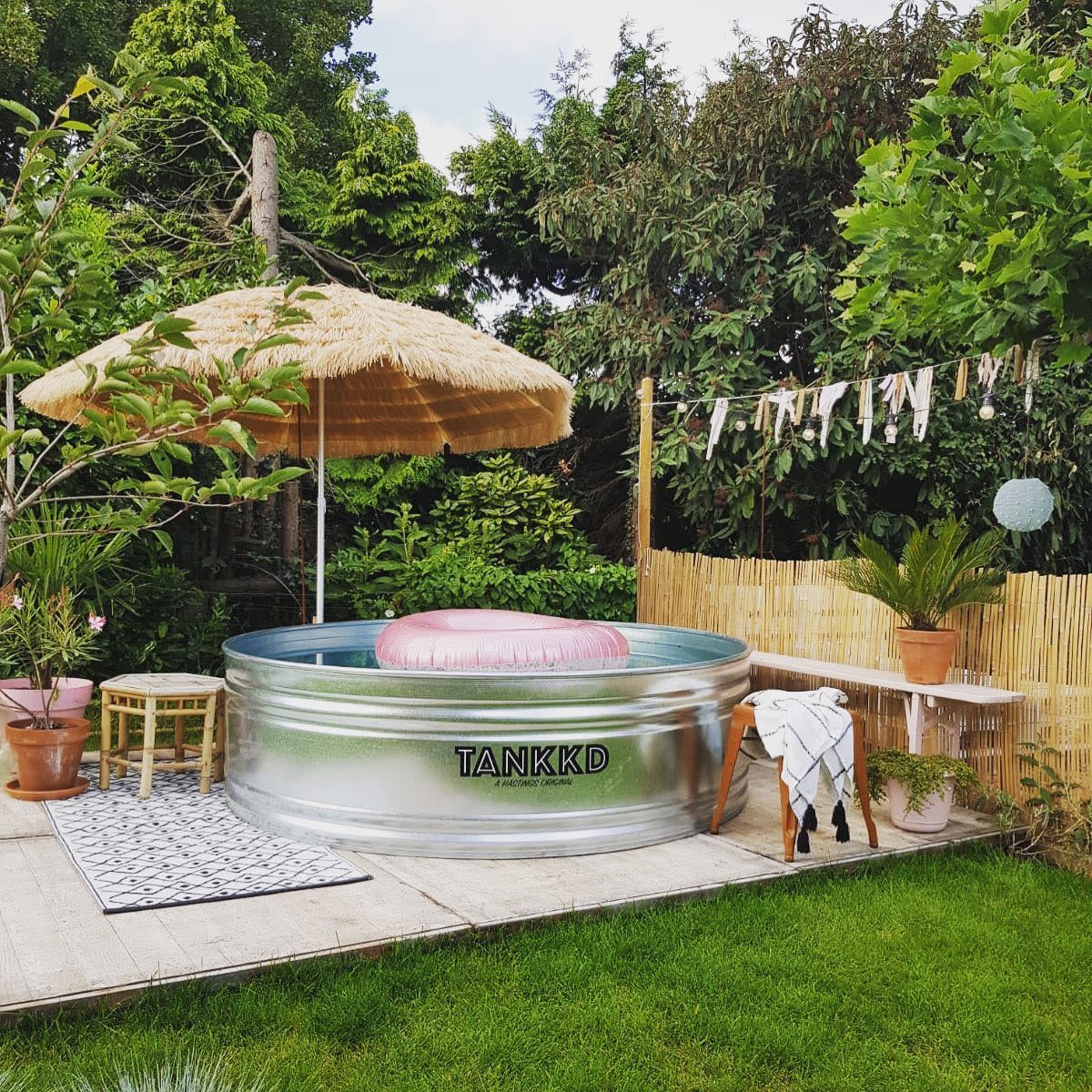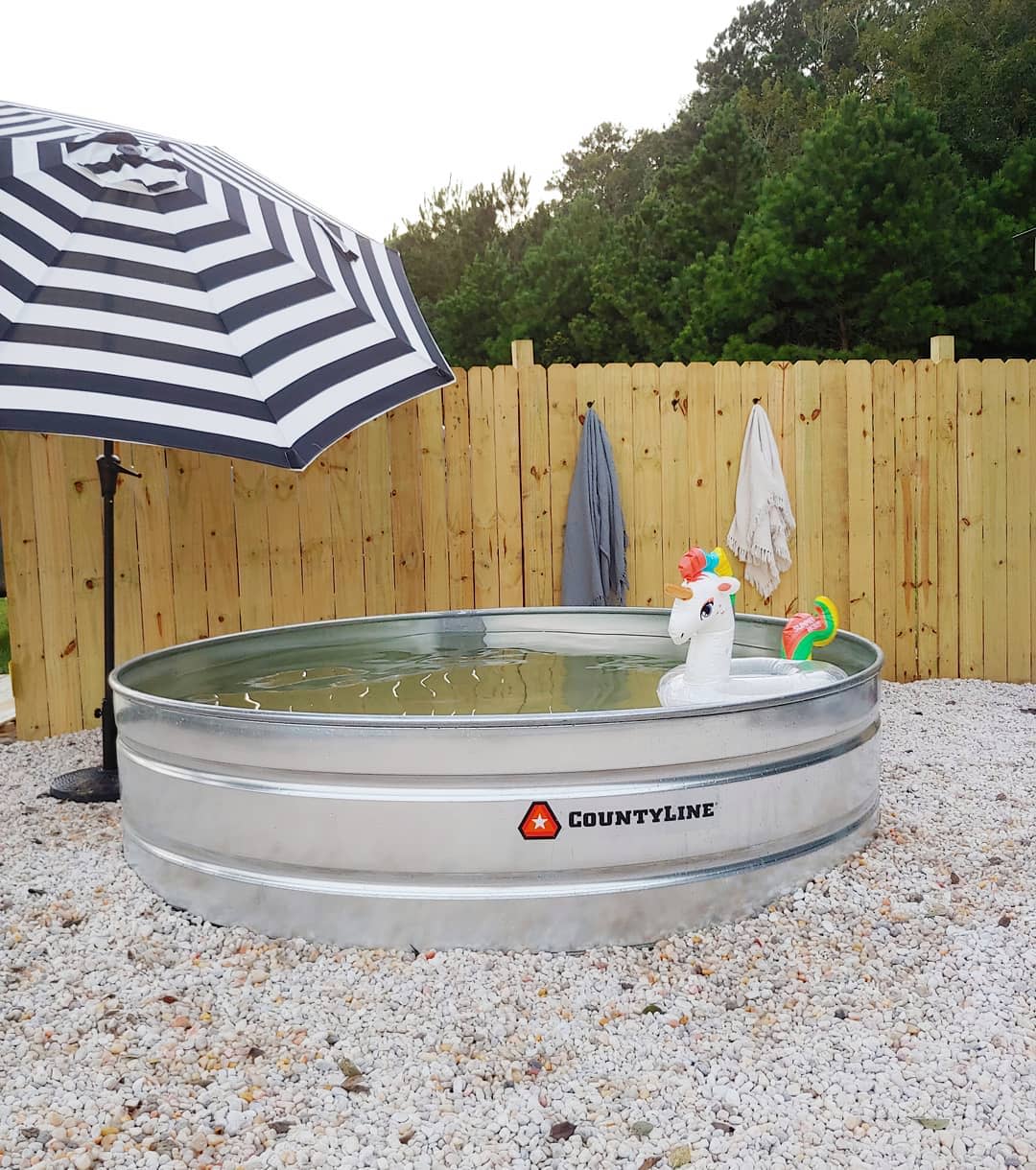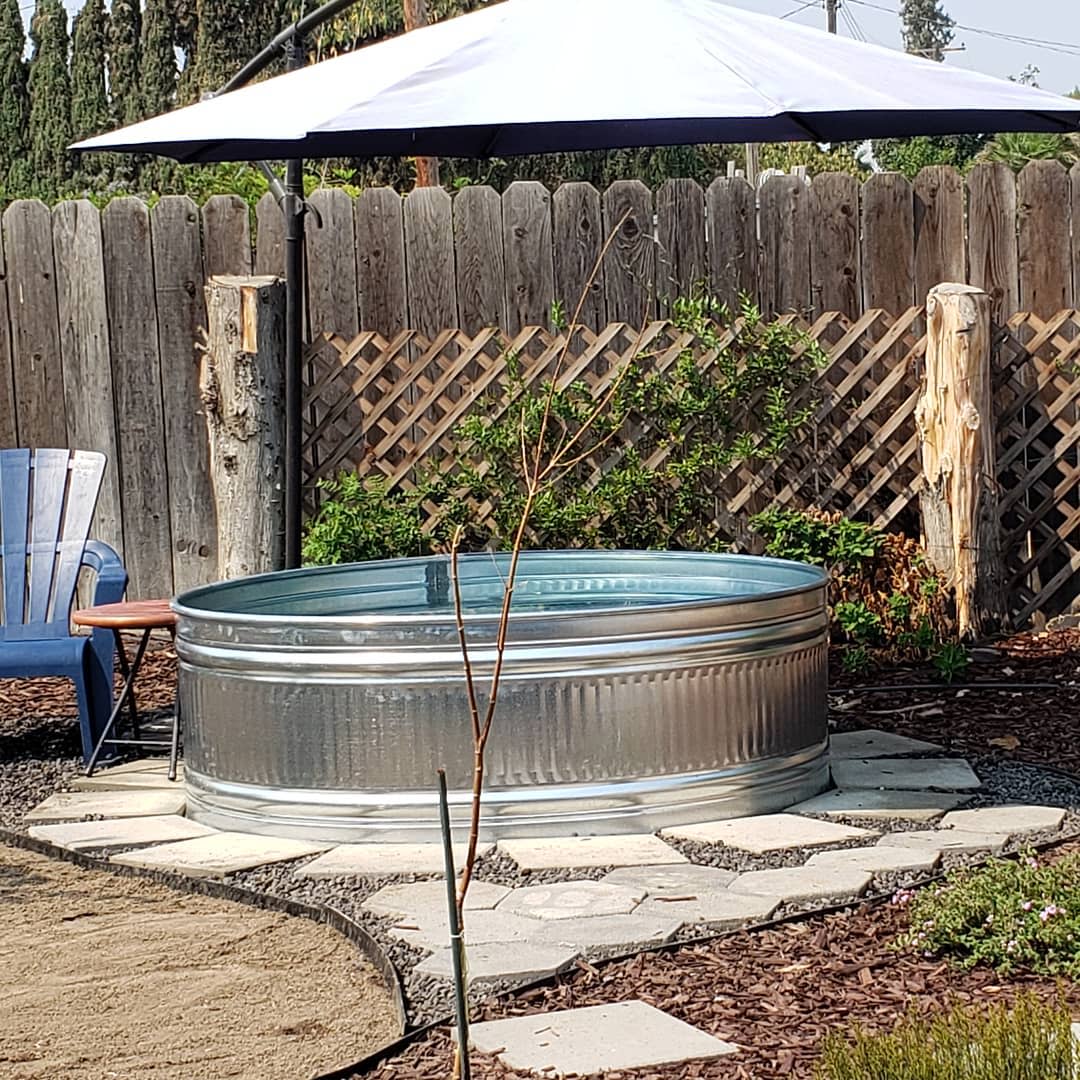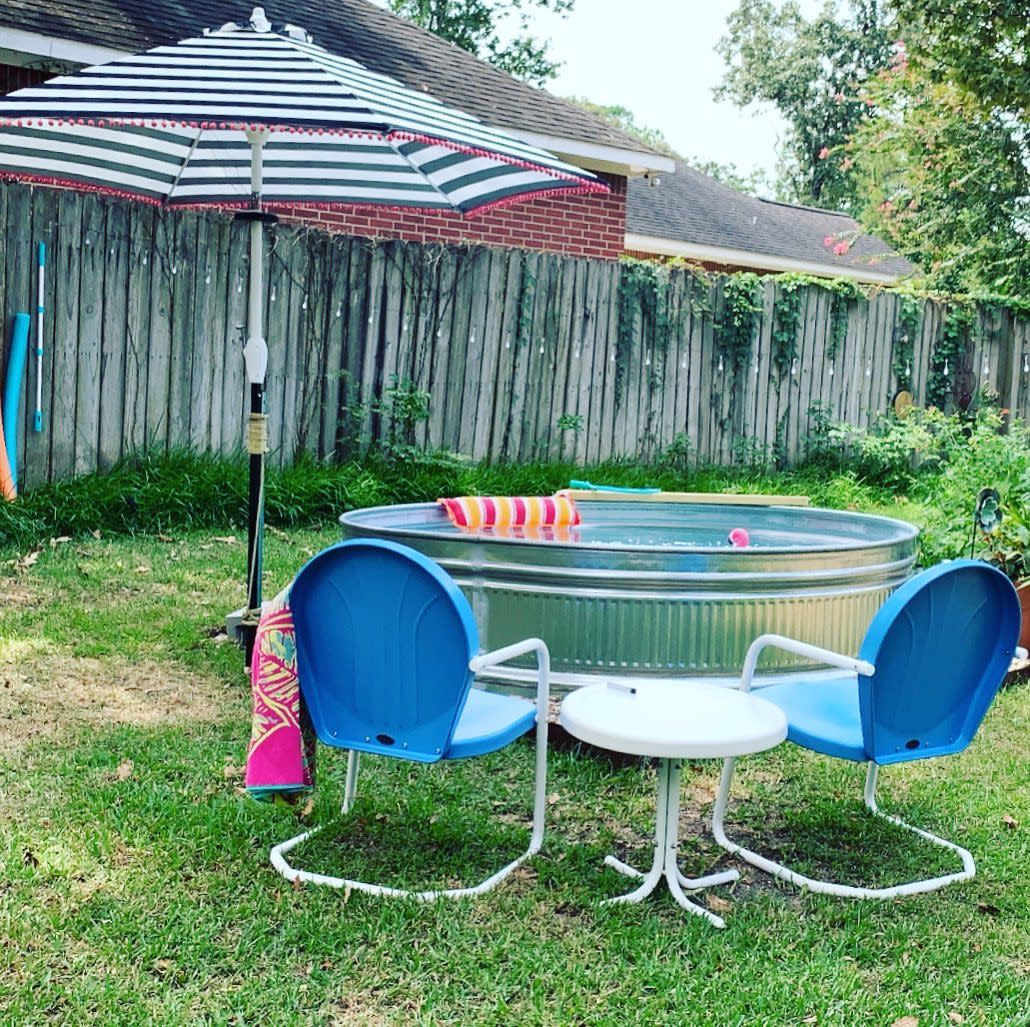 10. Stock Tank Pool On A Pre-Fabricated Patio
A stock tank pool can be a great addition to tie your outdoor space together this summer. A creative way to enjoy the space is to mount it on a pre-fabricated patio. This will provide an elevated look and the ambiance that a swimming pool would have on concrete or grass-lined ground.
Make sure to ensure the tank hasn't been painted, as the paint can contain toxins that can leach into your pool water! Incorporate stylish, comfy seating for lounging and define the area with some planters of lush foliage to add privacy and natural beauty.
Accessorizing with floats and toys will make a complete backyard oasis for all to enjoy.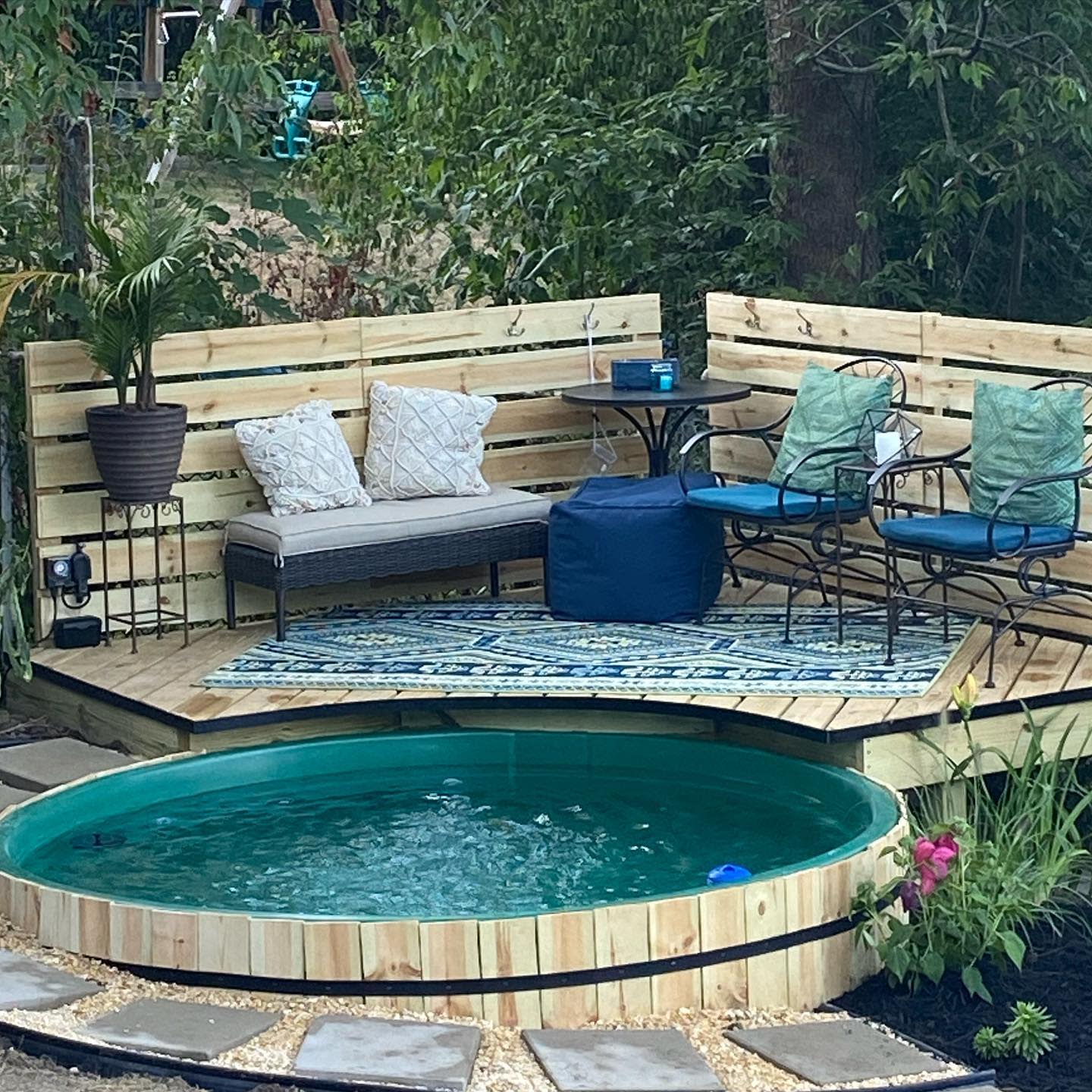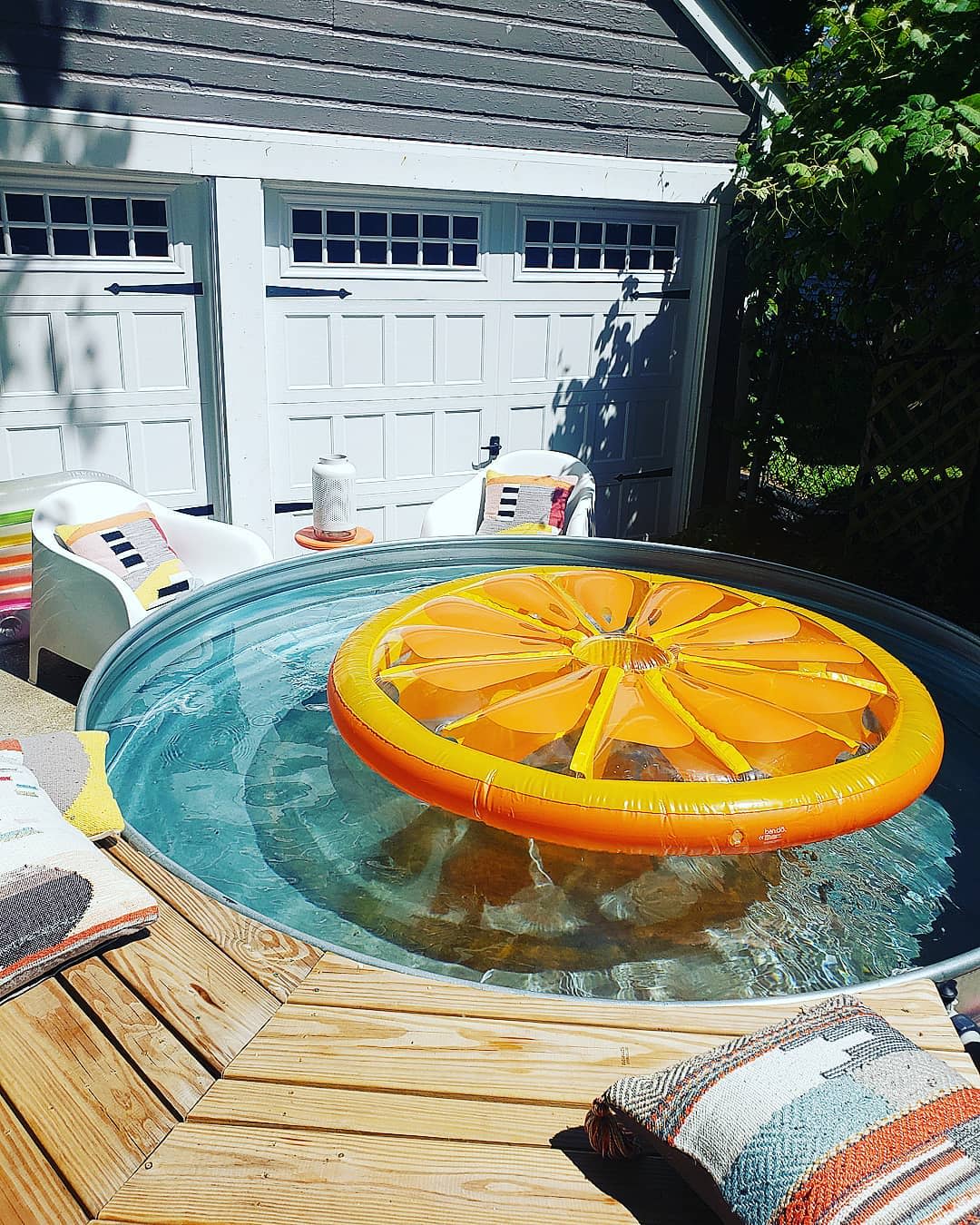 11. Surround With Plants
Surround the pool with low-maintenance native plants for an outdoor experience that's beautiful, functional, and instagrammable. With some creative thinking, these pools can be as creative as you want them to be– adding fountains or interactive art pieces to create an entertaining scene that your neighbors will surely envy.
So if you're looking for a way to cool off this summer without breaking the bank, consider bringing out the stock tank and styling it with plants!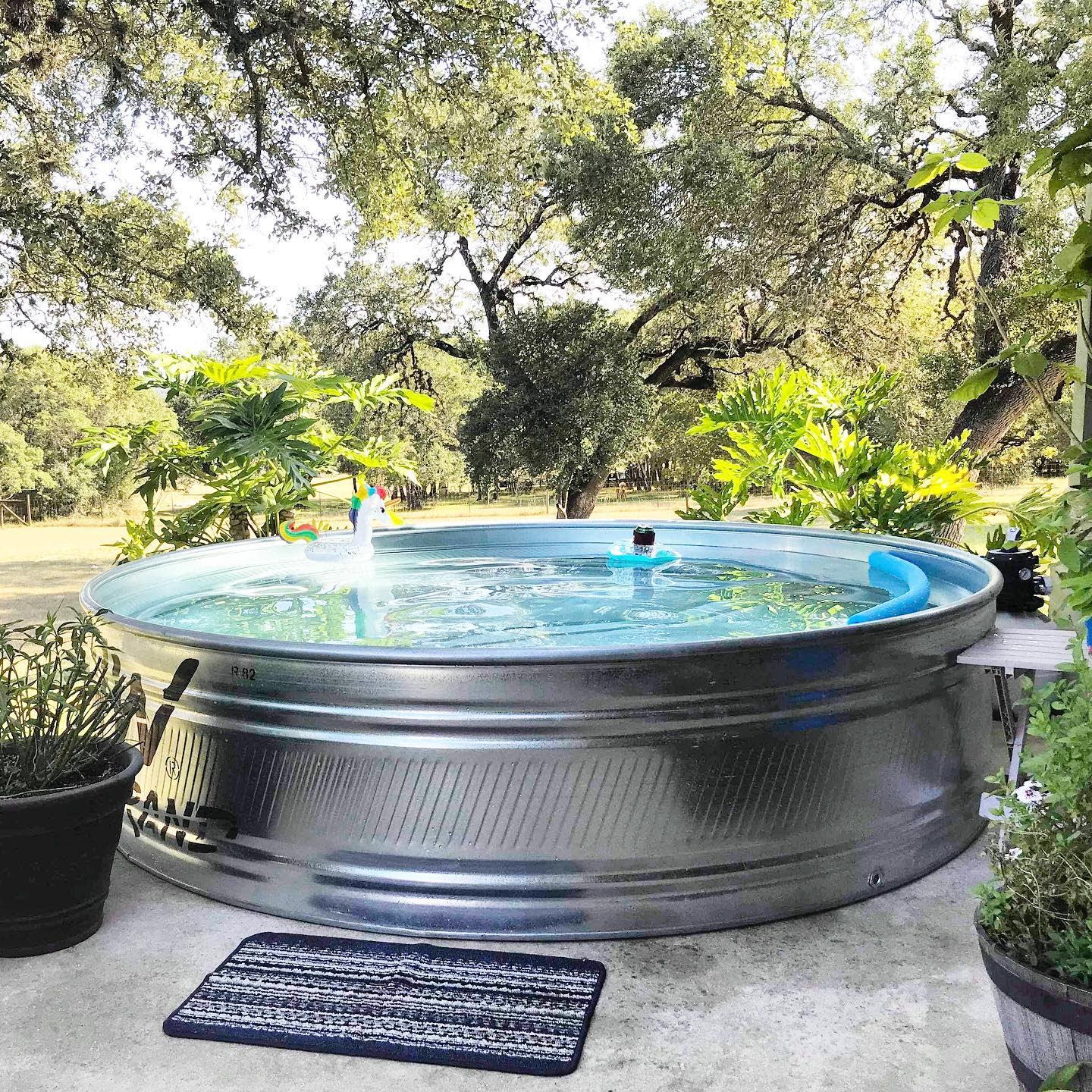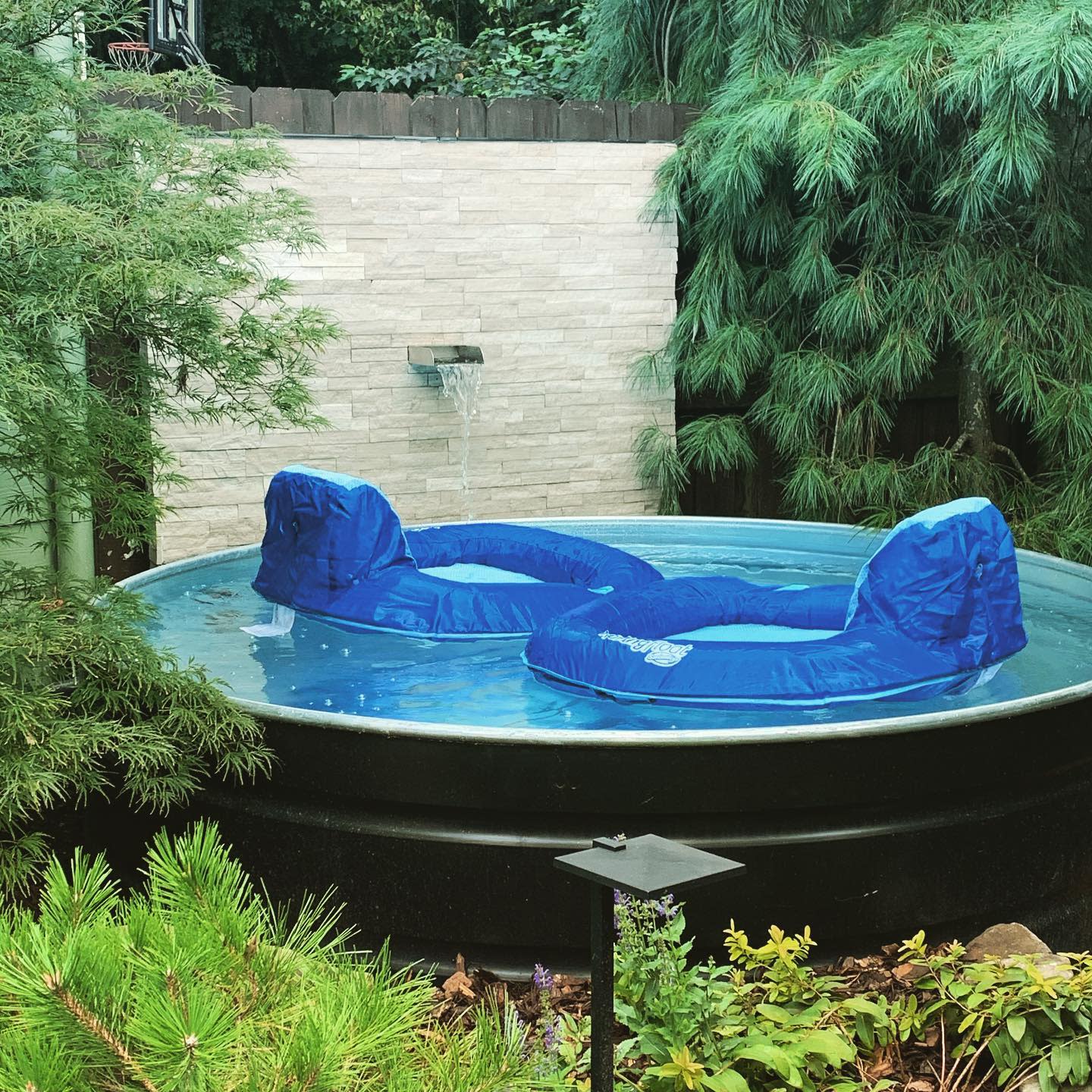 12. Choose An Oval Stock Tank
Need a quick dip this summer without the mess and fuss? Get creative and transform your outdoor space with an oval stock tank pool!
Not only does this idea offer relief from the heat, but also an atmospheric getaway for friends and family to gather. Installing an affordable stock tank in your backyard or patio is surprisingly easy and customization options are endless – designate a pool house, install colorful string lights, place chairs around it for lounging – make sure it's exactly the way you want it.
Whether you're throwing a party or just need a quick cool-down after long days of work, an oval stock tank pool is the perfect addition to keep your summer days filled with fun.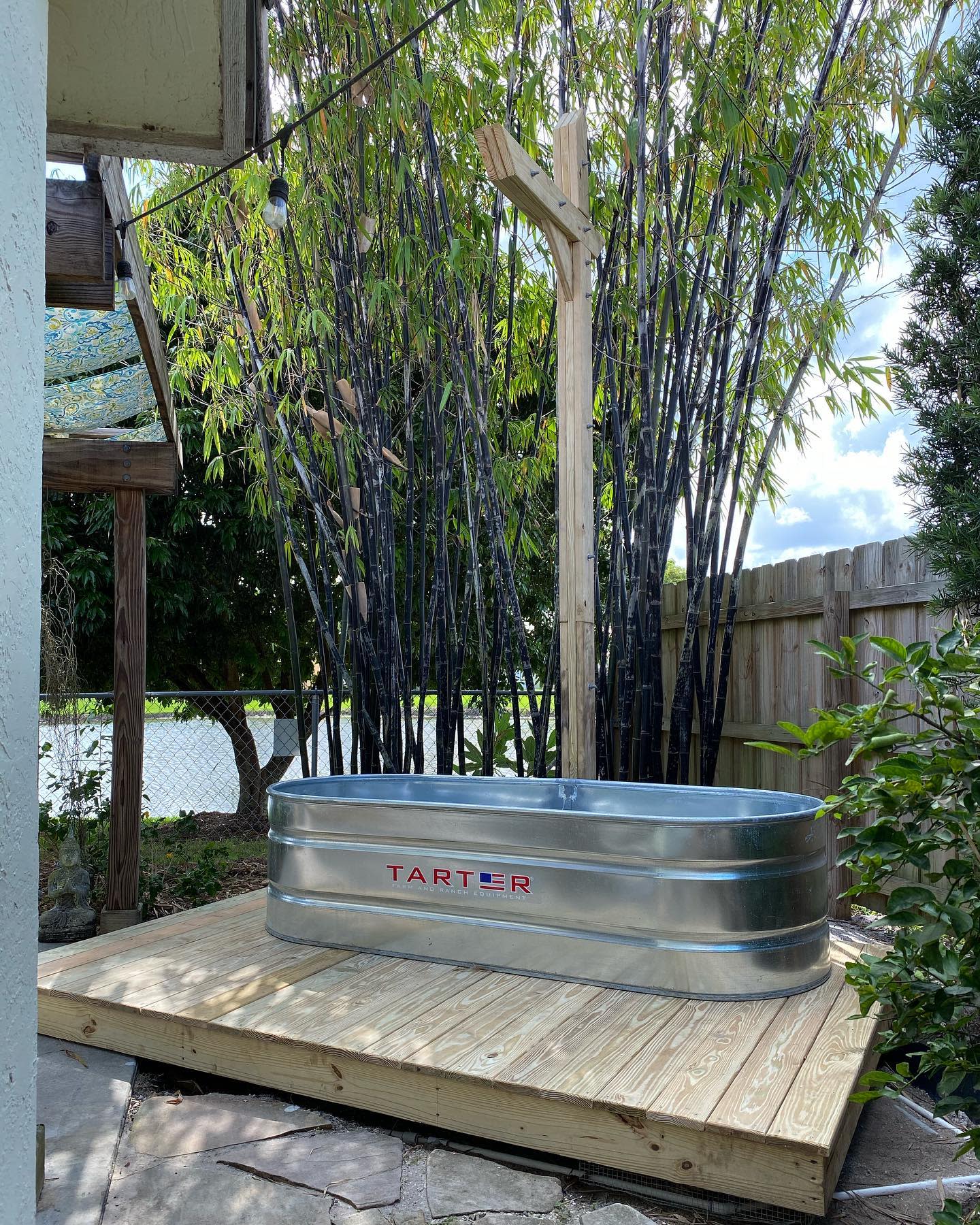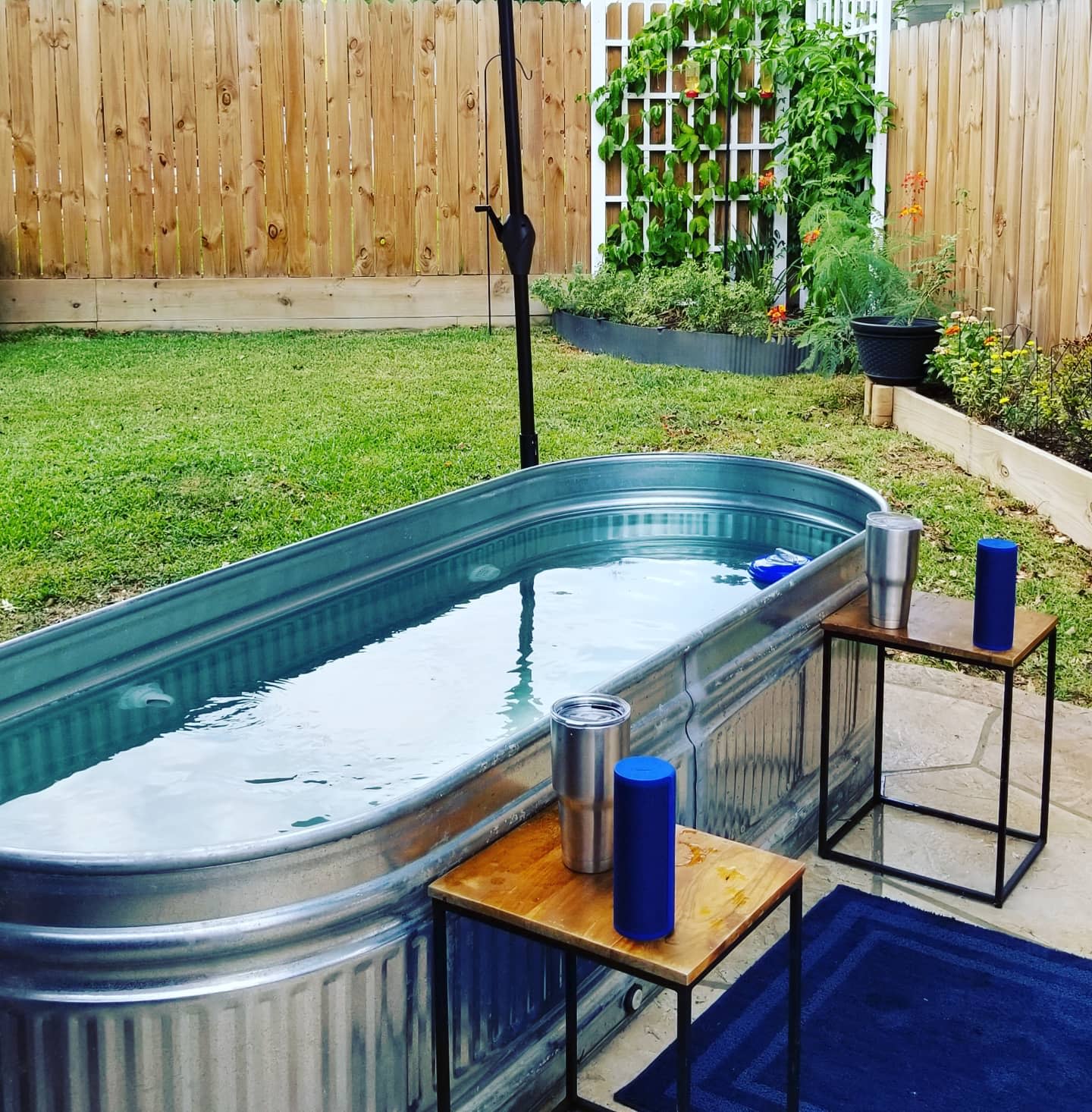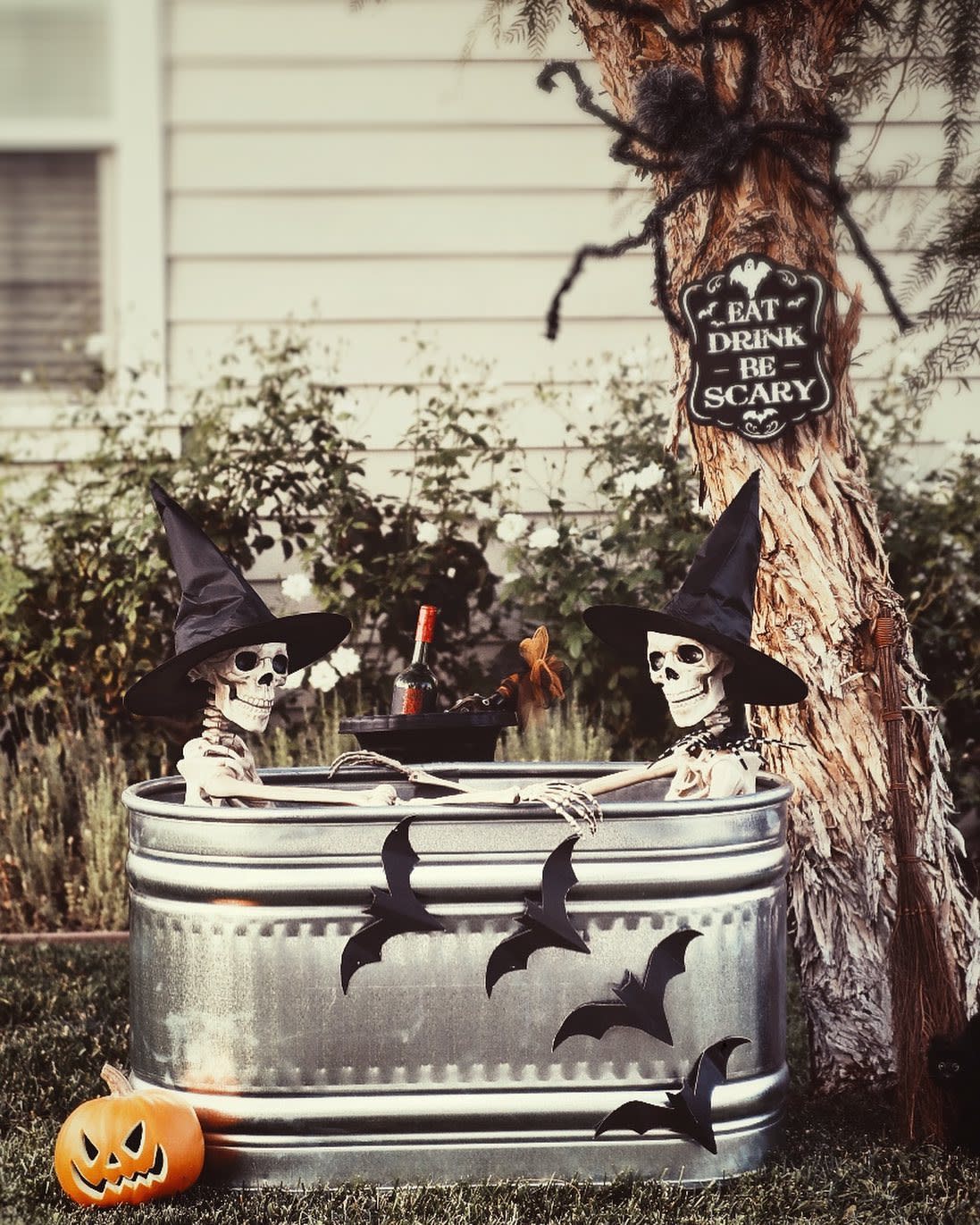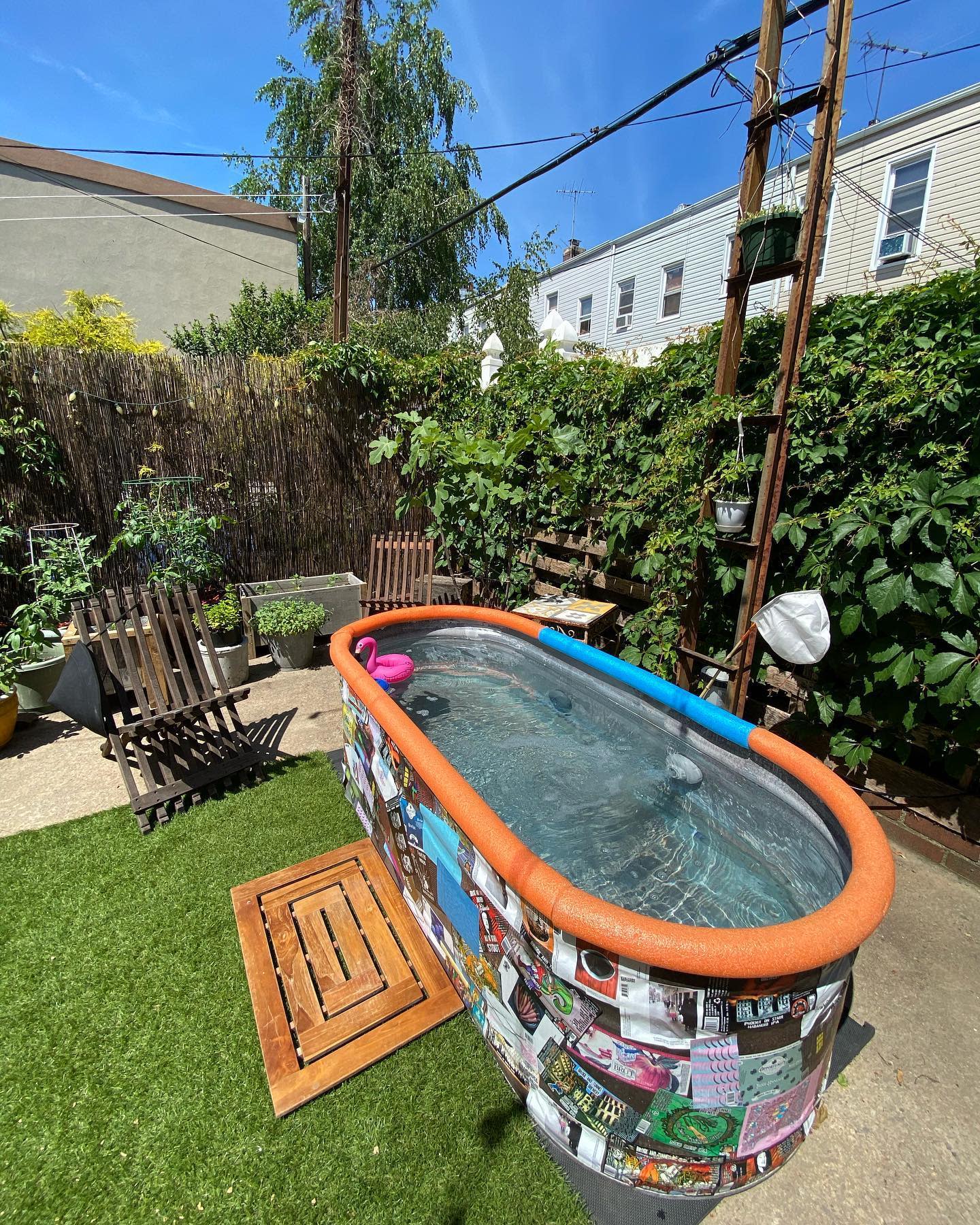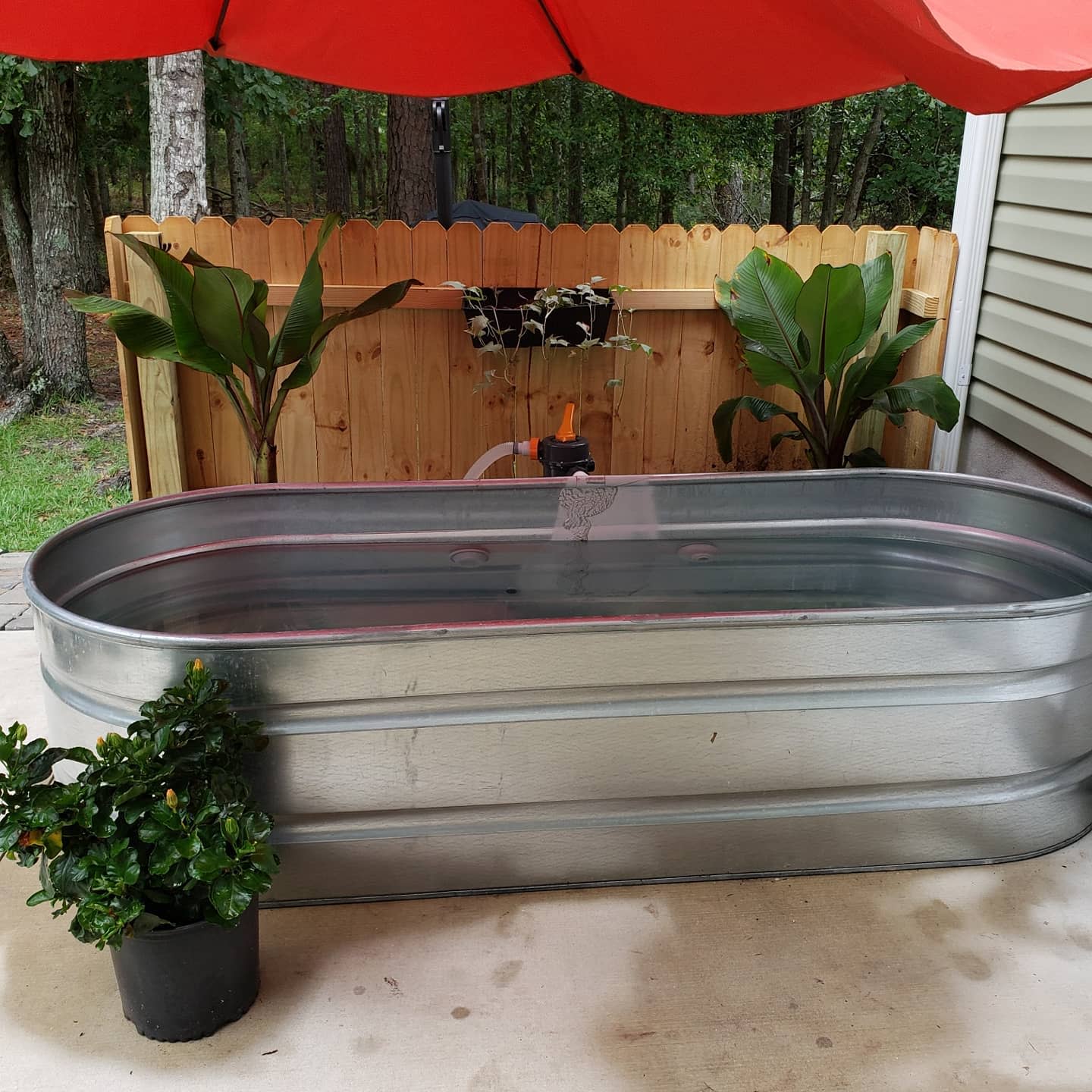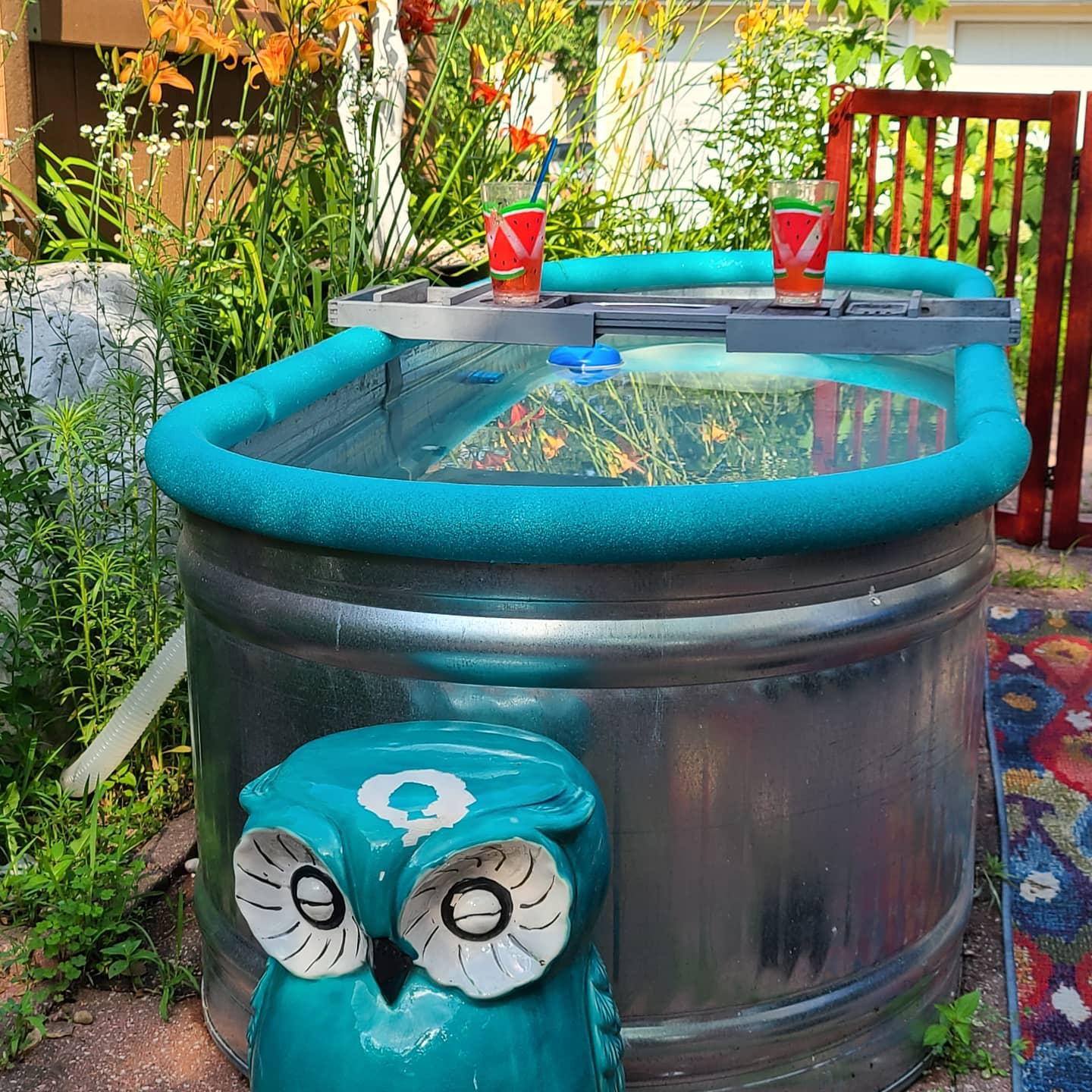 12. Be Creative With Paint
Stock tank pools have been a popular choice for those looking to find an affordable, durable water source for their backyard. An often overlooked step for setting up your own stock tank pool is the decorations!
To take it from plain galvanized metal to "Instagram-worthy", try painting your stock tank in any crazy color you can think of — this will make it stand out even more in your backyard.
After the paint is completely dry, set up all needed filters, pumps, hoses, and more before filling up your newly painted stock tank with water. Lastly, you'll want to make sure it doesn't get too hot in there during summer days; consider adding some extra shade elements like an umbrella or canvas sails to give bathers a break from the sun!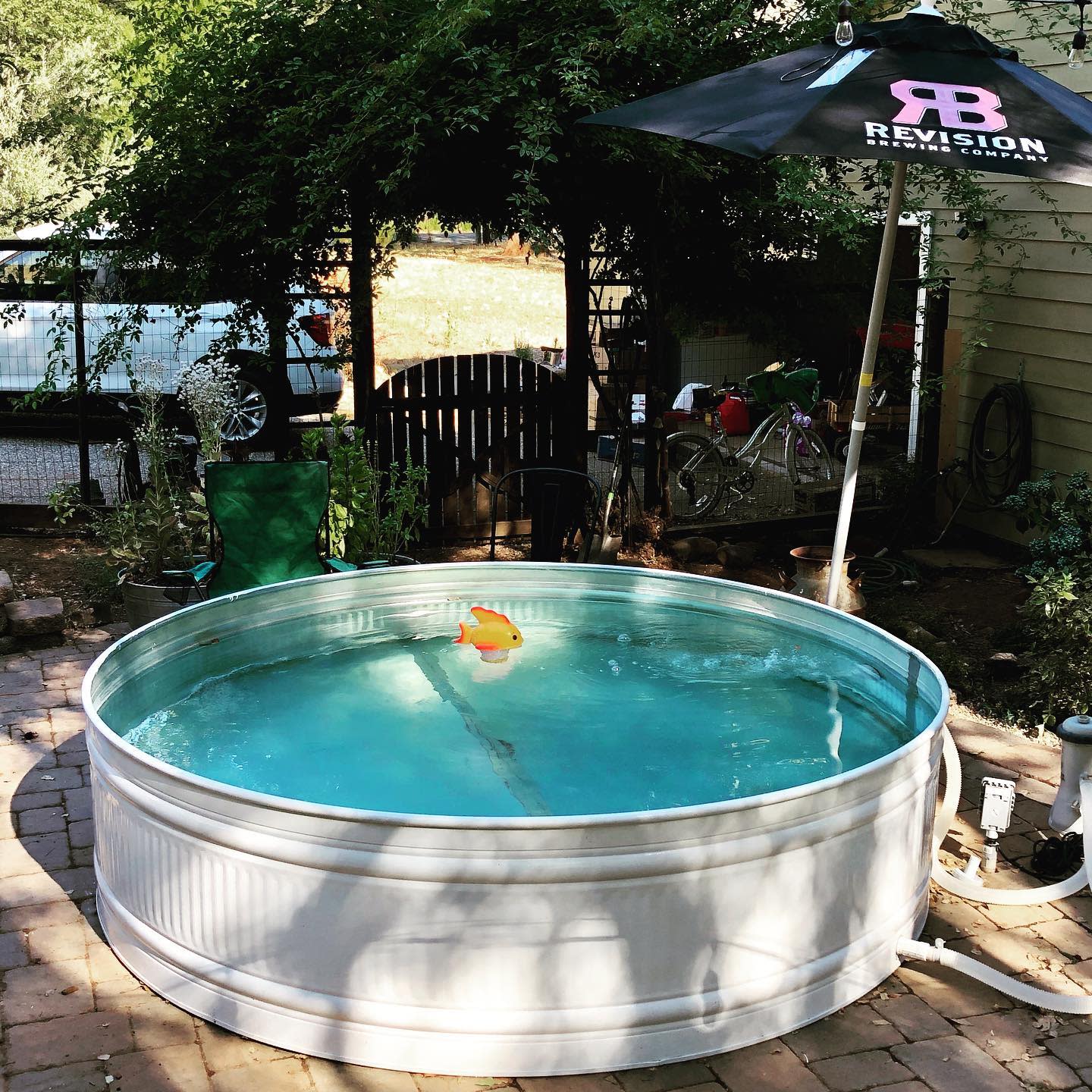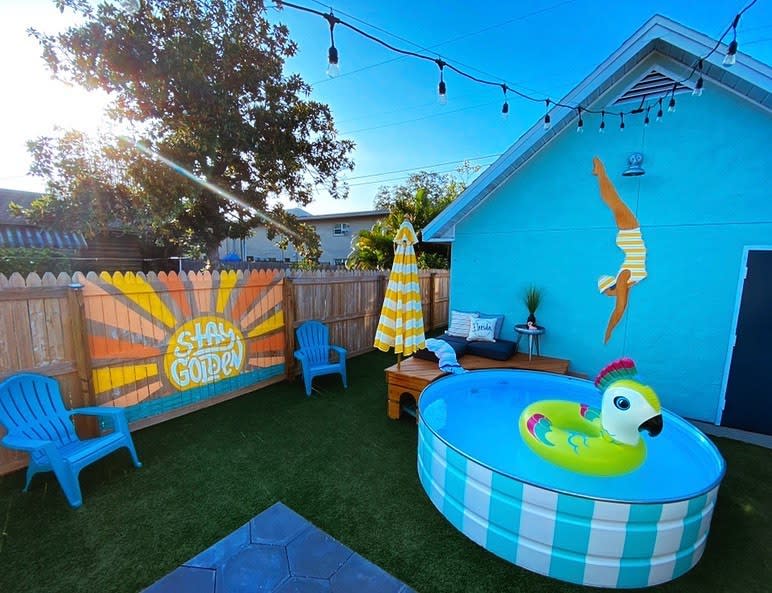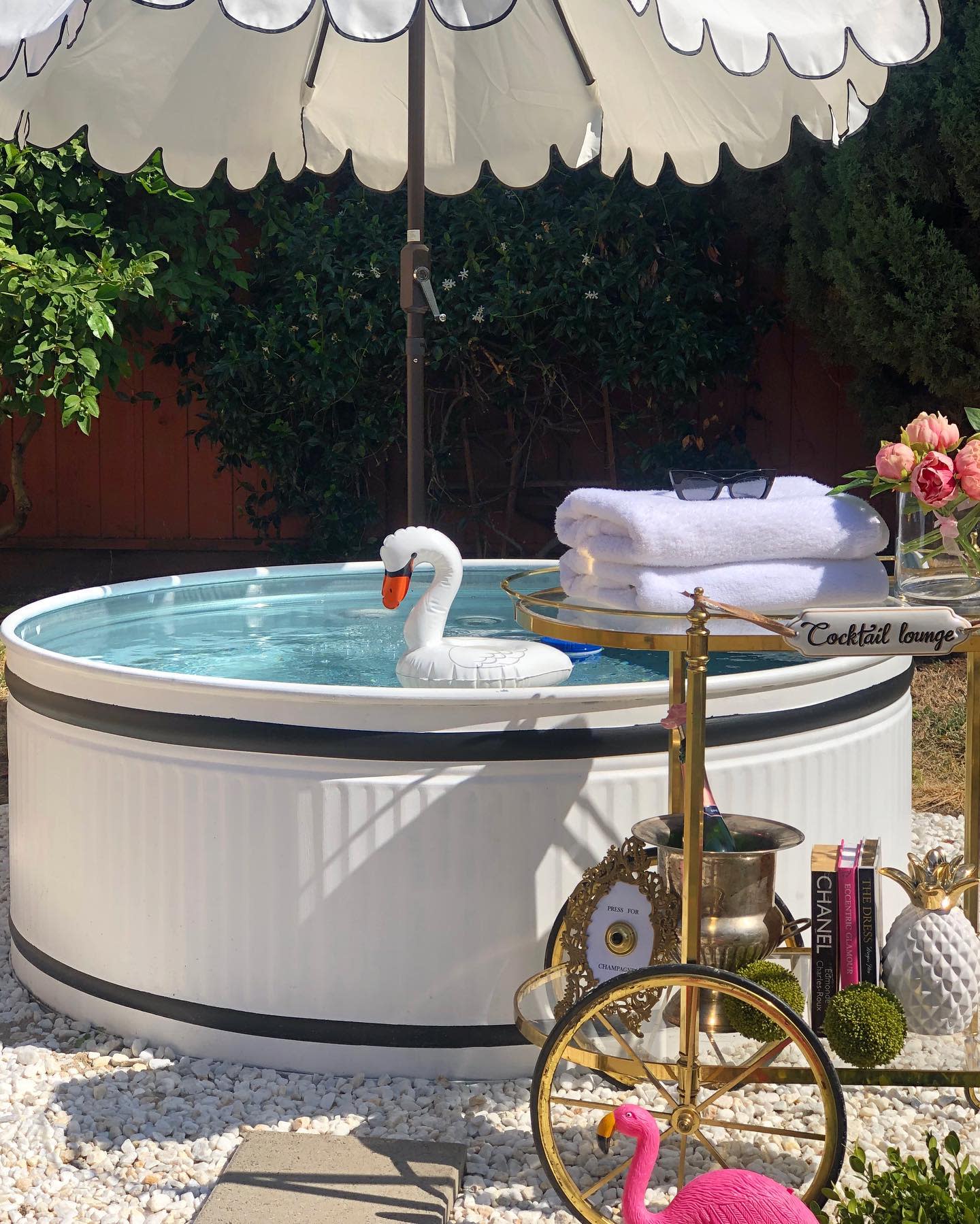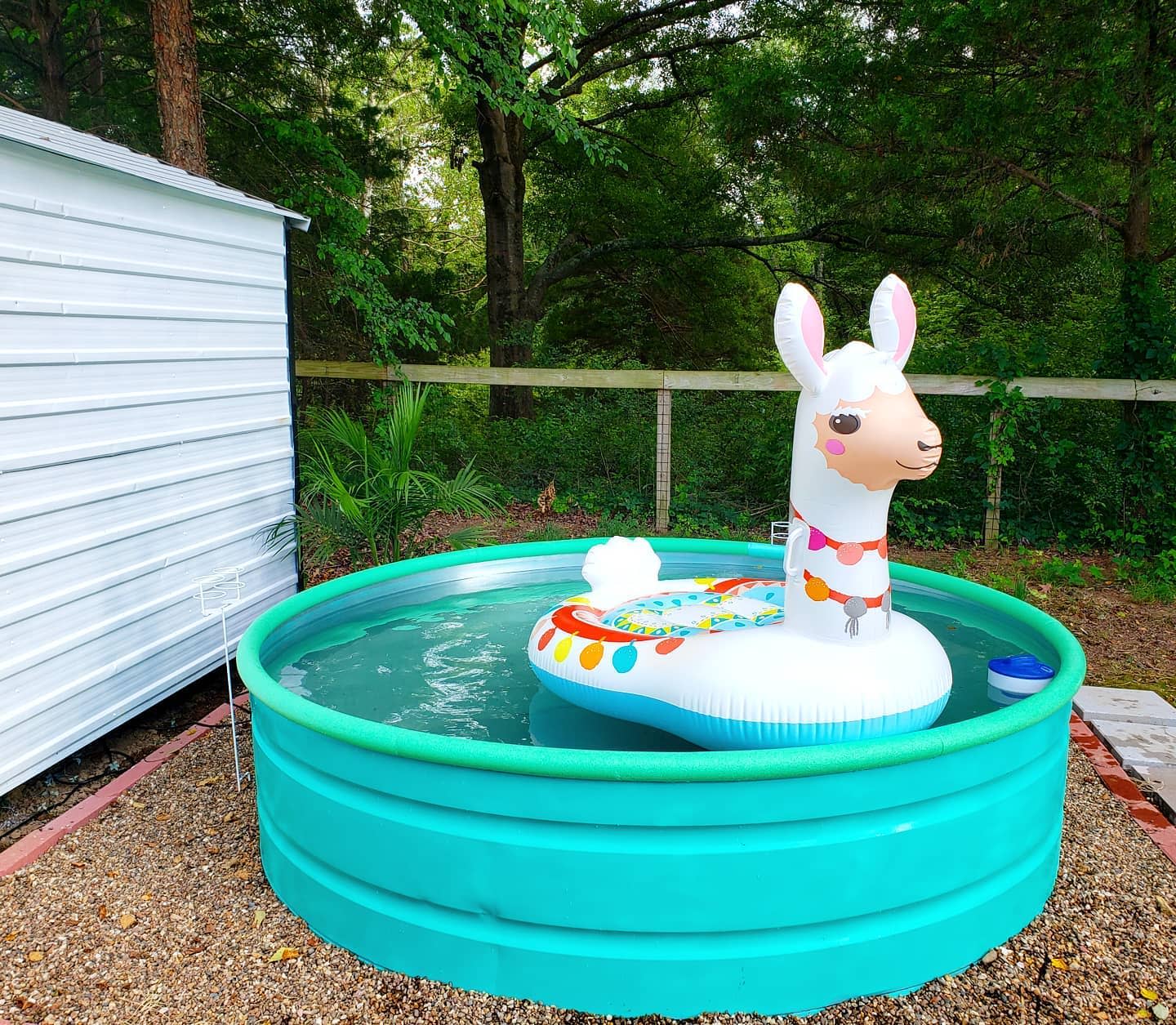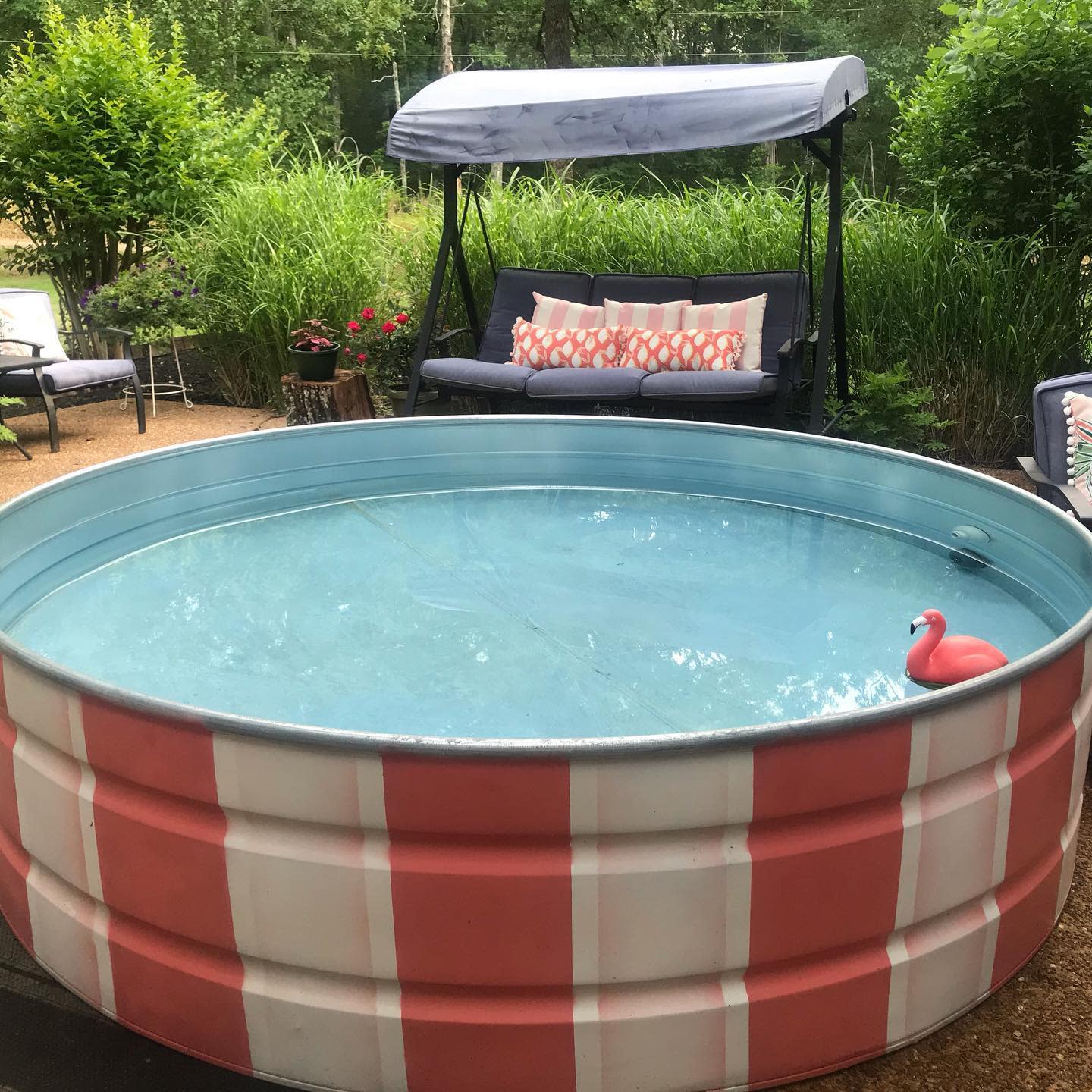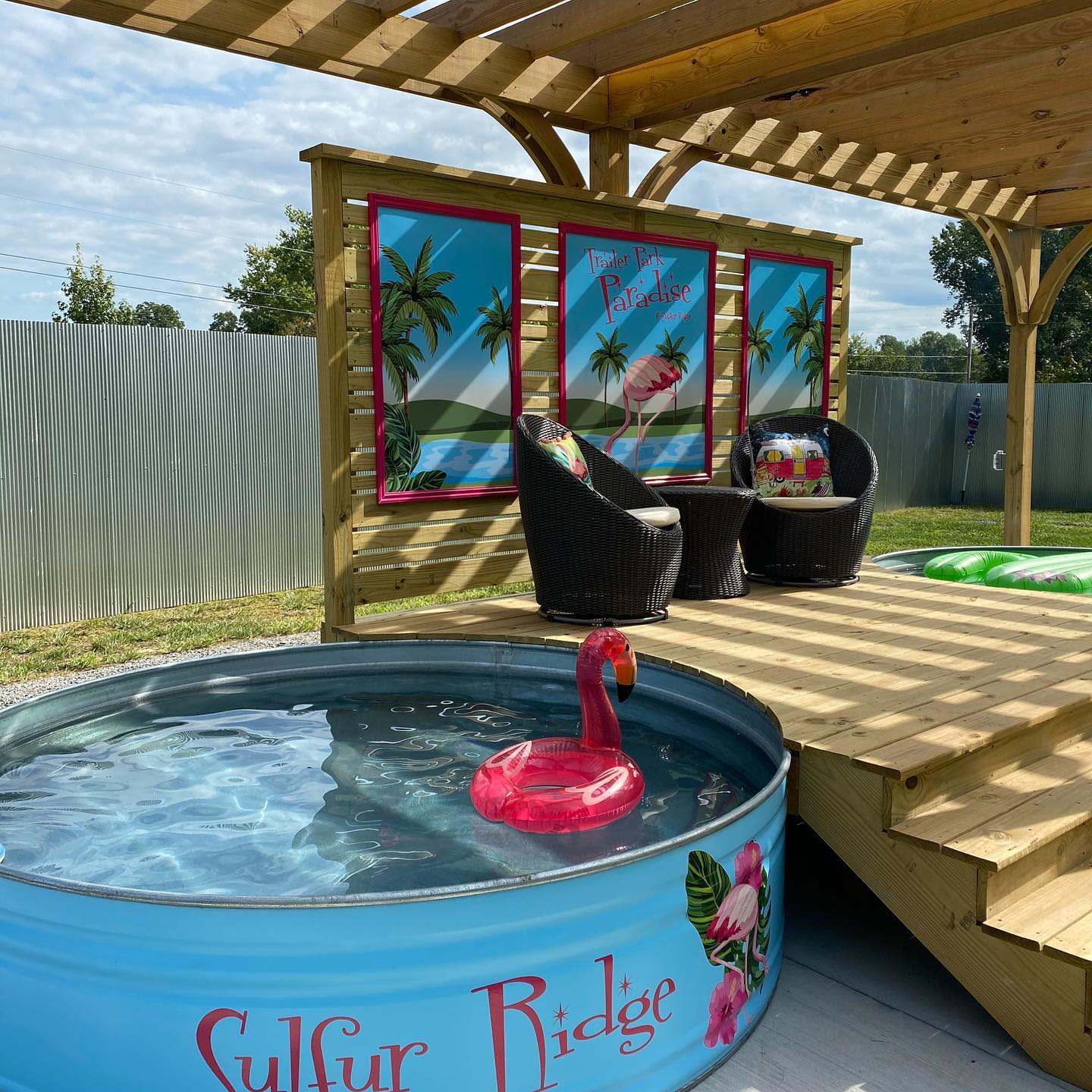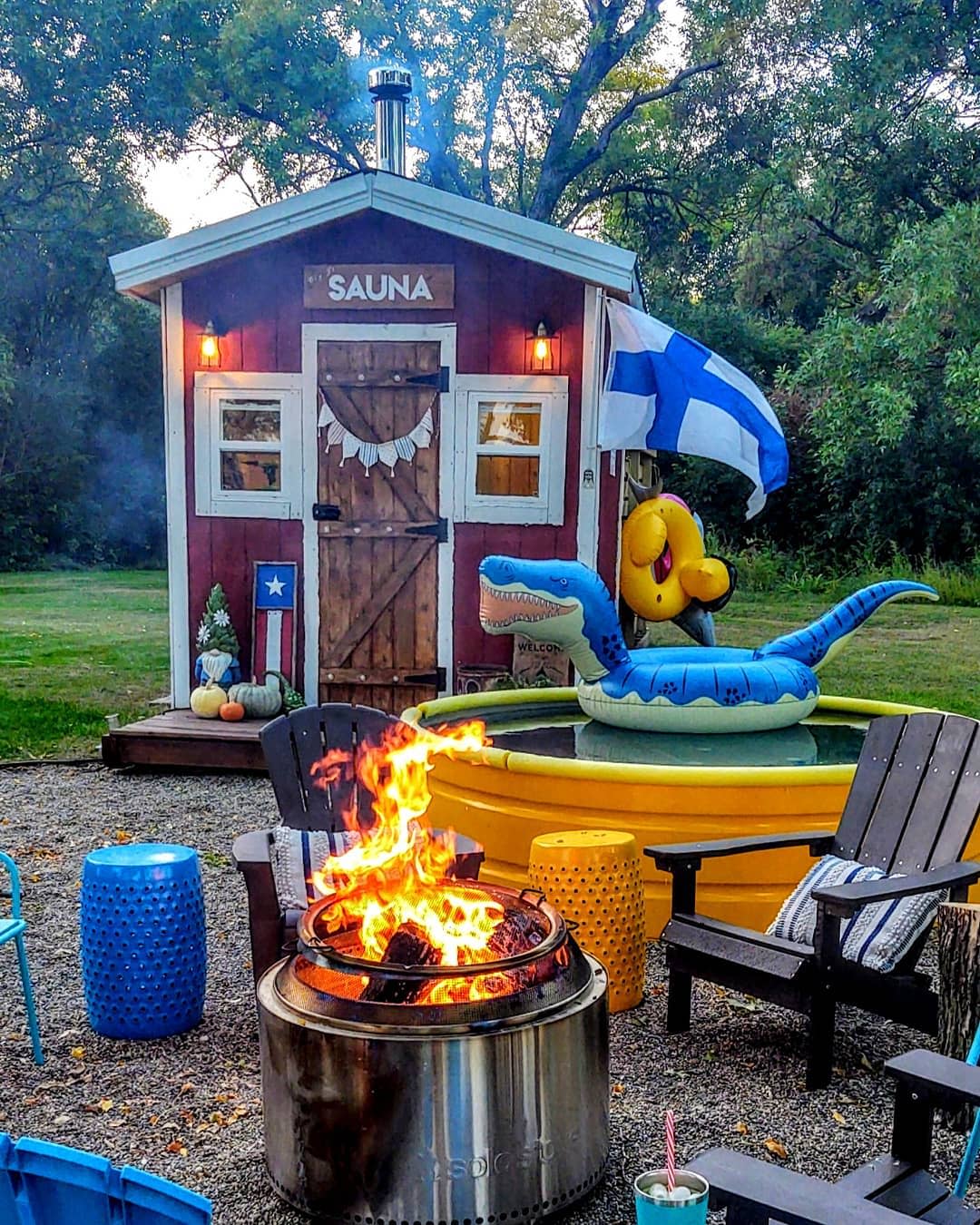 13. Surround With Rocks
Surrounding a stock tank pool with rocks is a great way to add texture and give the illusion of an infinity pool. Plus, it's still easy enough to clean and maintain – just grab your skimmer net and leaf blower and you'll have it sparkling before you know it!
And if you'd like to take it one step further, adding some unique decoration elements or opting for colorful tiling can really make your stock tank stand out. Have fun playing around with different ideas for your outdoor space. A stock tank pool is a great option for bringing a little elegance and relaxation into your backyard.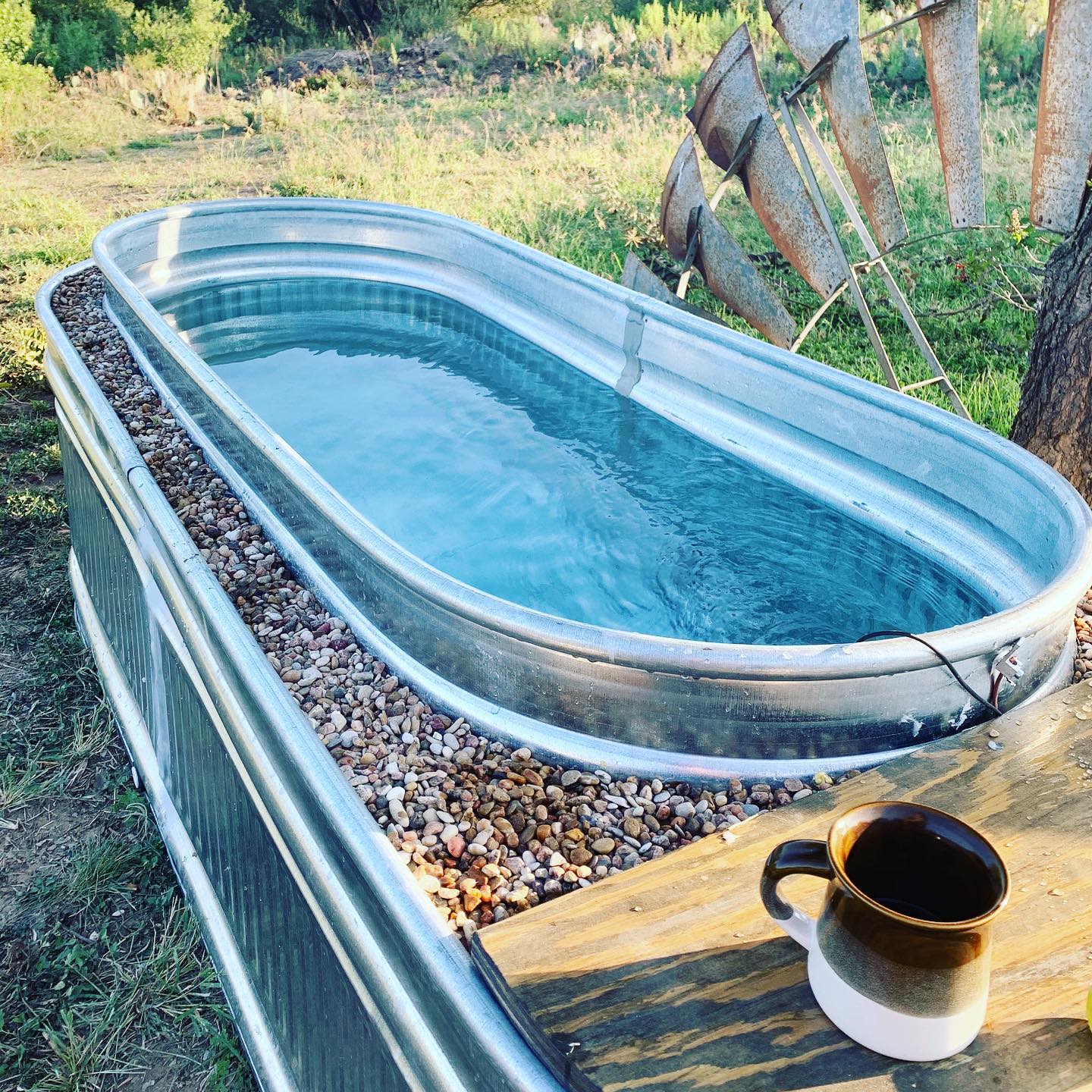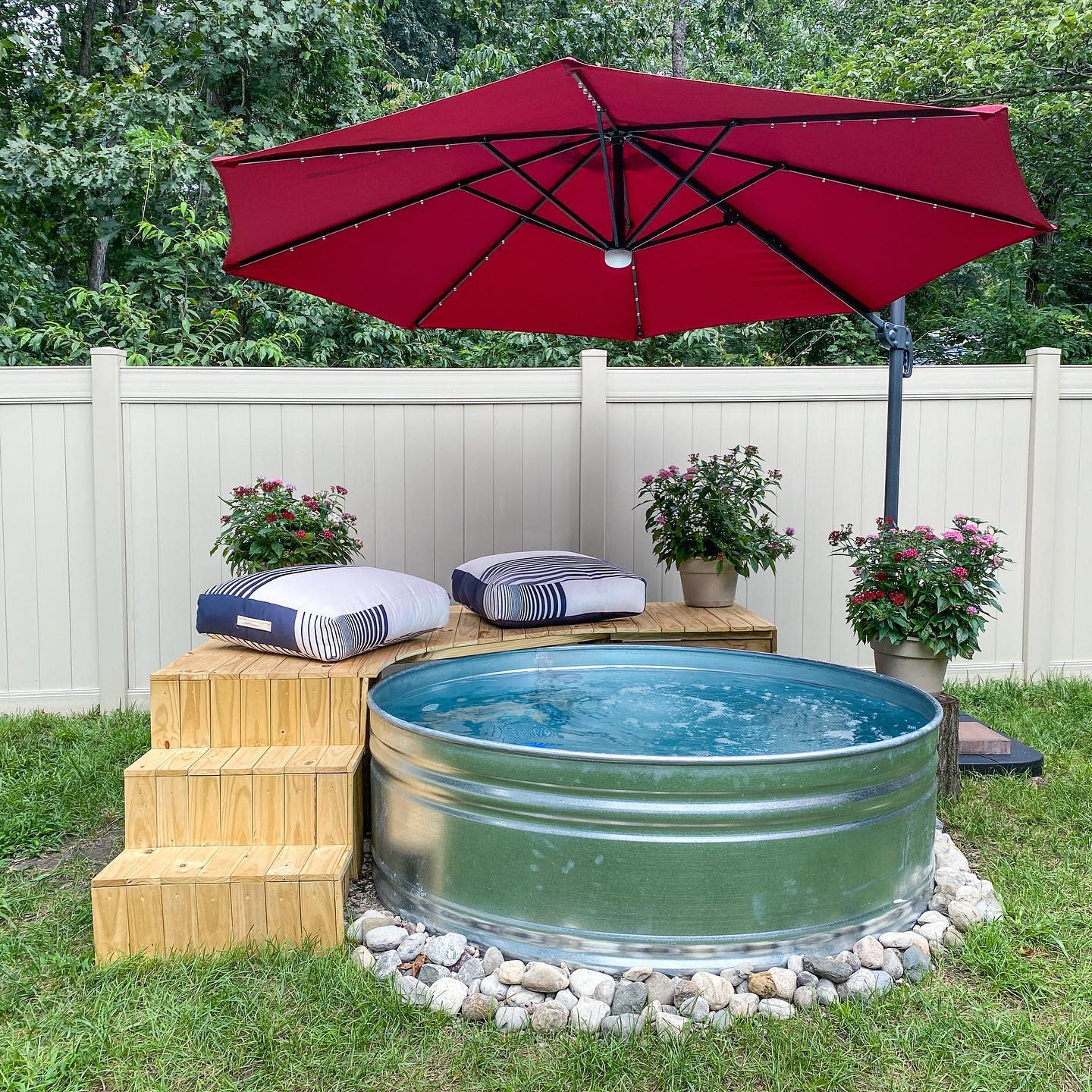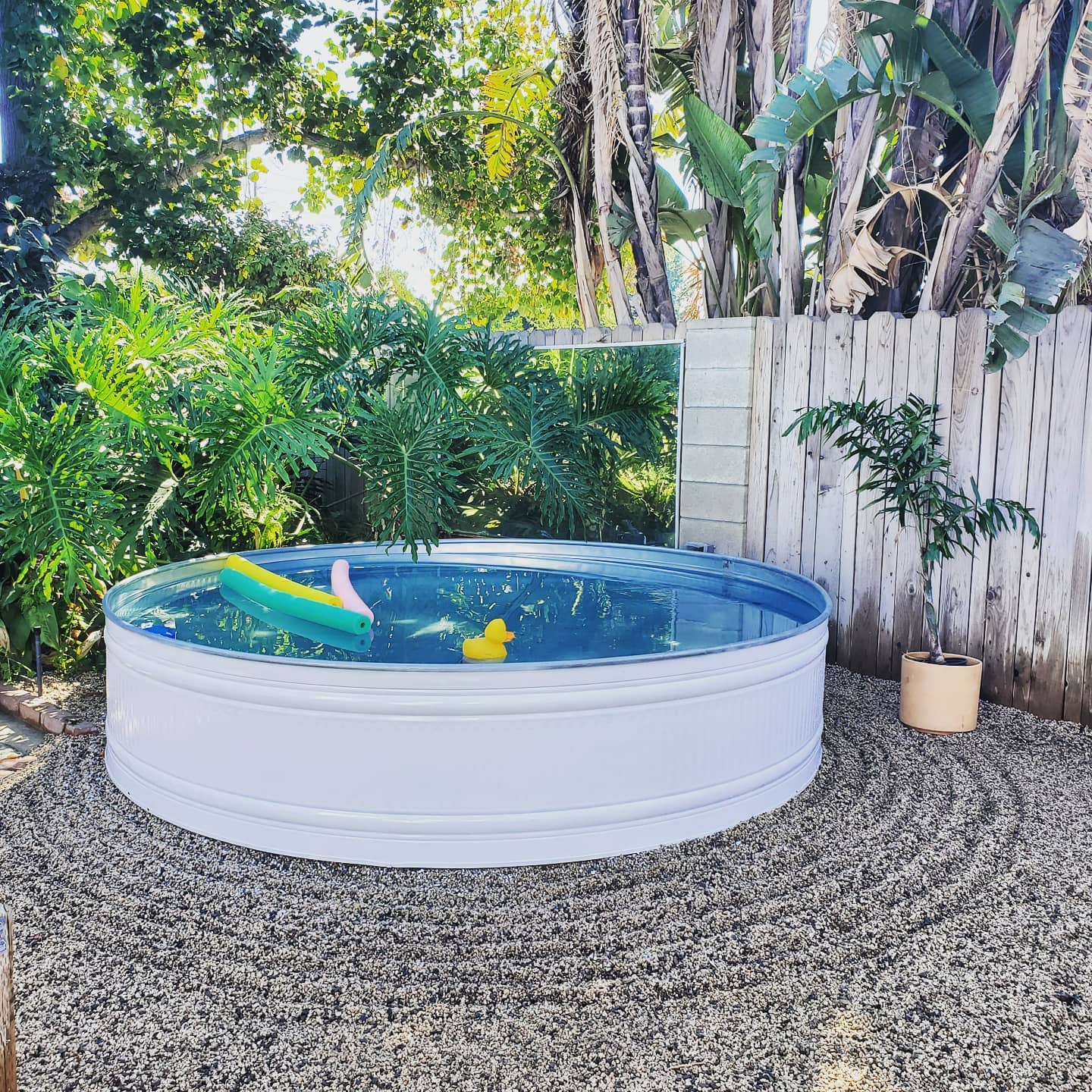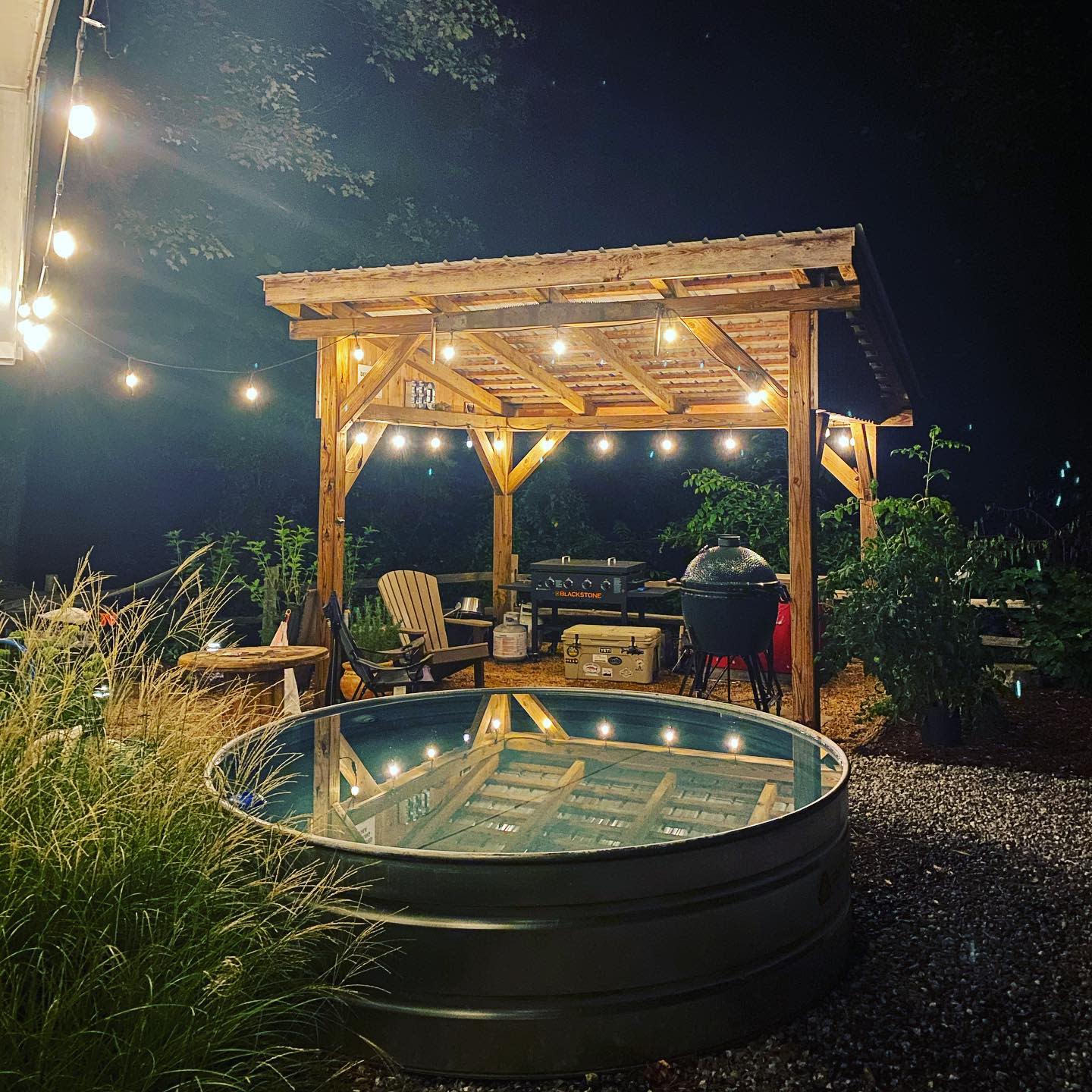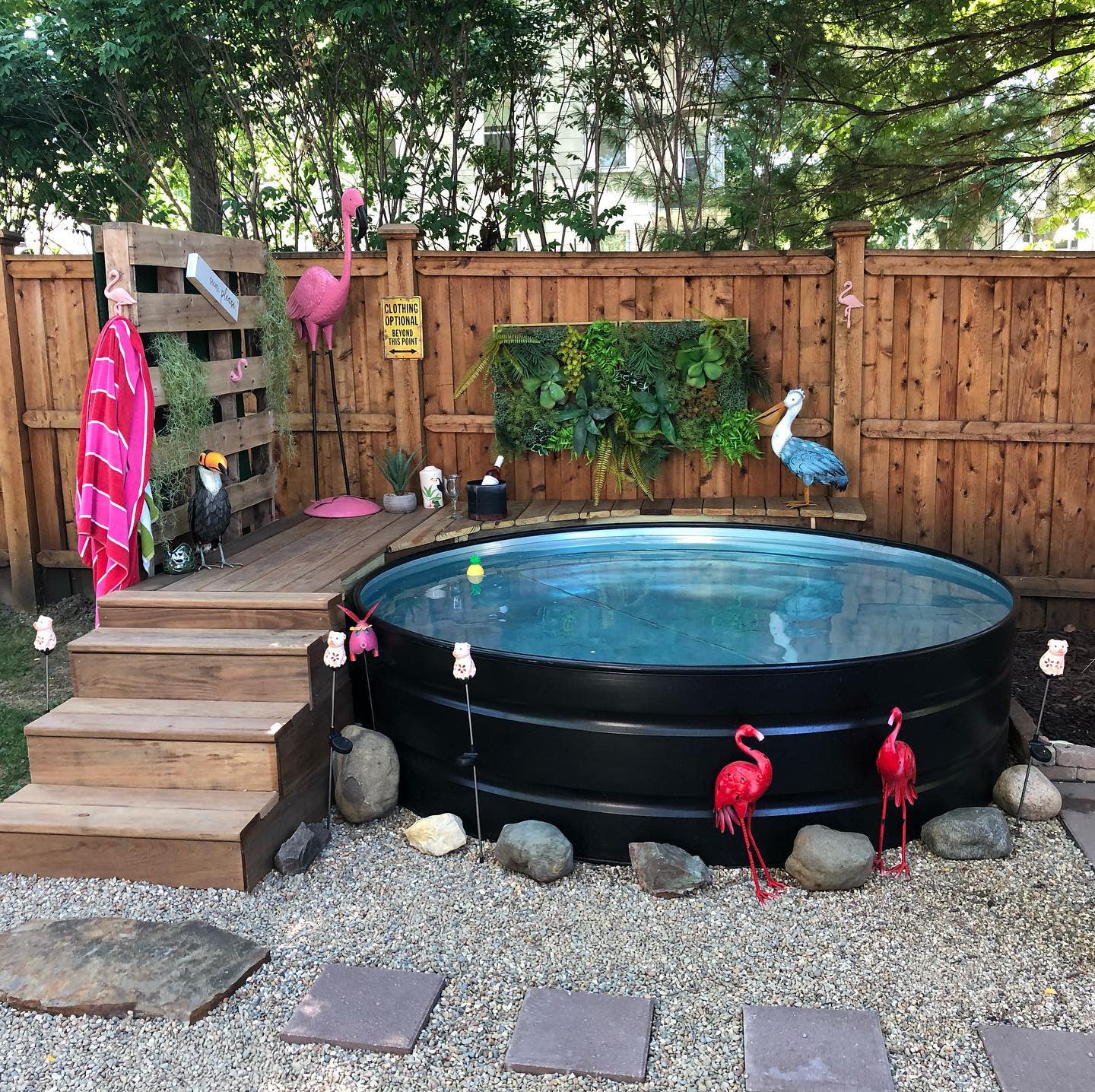 14. Plastic Stock Tank Pool
Stock tanks are a great, affordable way to cool off during the hot summer months. You don't need to break the bank to get a pool – a plastic stock tank makes a great substitute. You can get creative by adding decorations or accessories, like inflatable pool toys or lights. Use landscaping stones of different sizes and colors around the tank for an added touch of style and keep it stable.
Don't forget about safety; always make sure there is appropriate fencing around any swimming area, especially with kids running around! With just a few simple ideas and accessories, you can have an enjoyable splash pad that won't break the bank.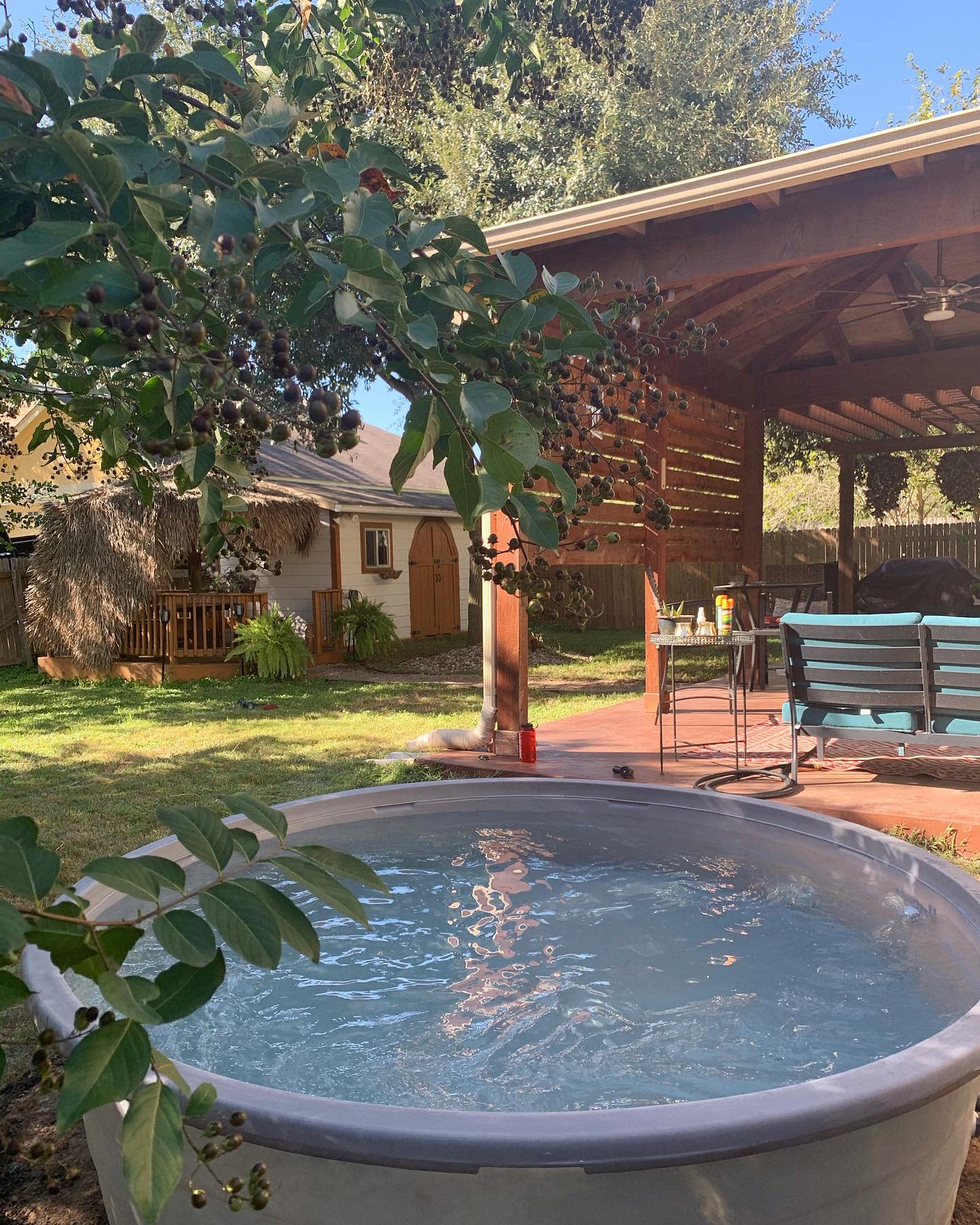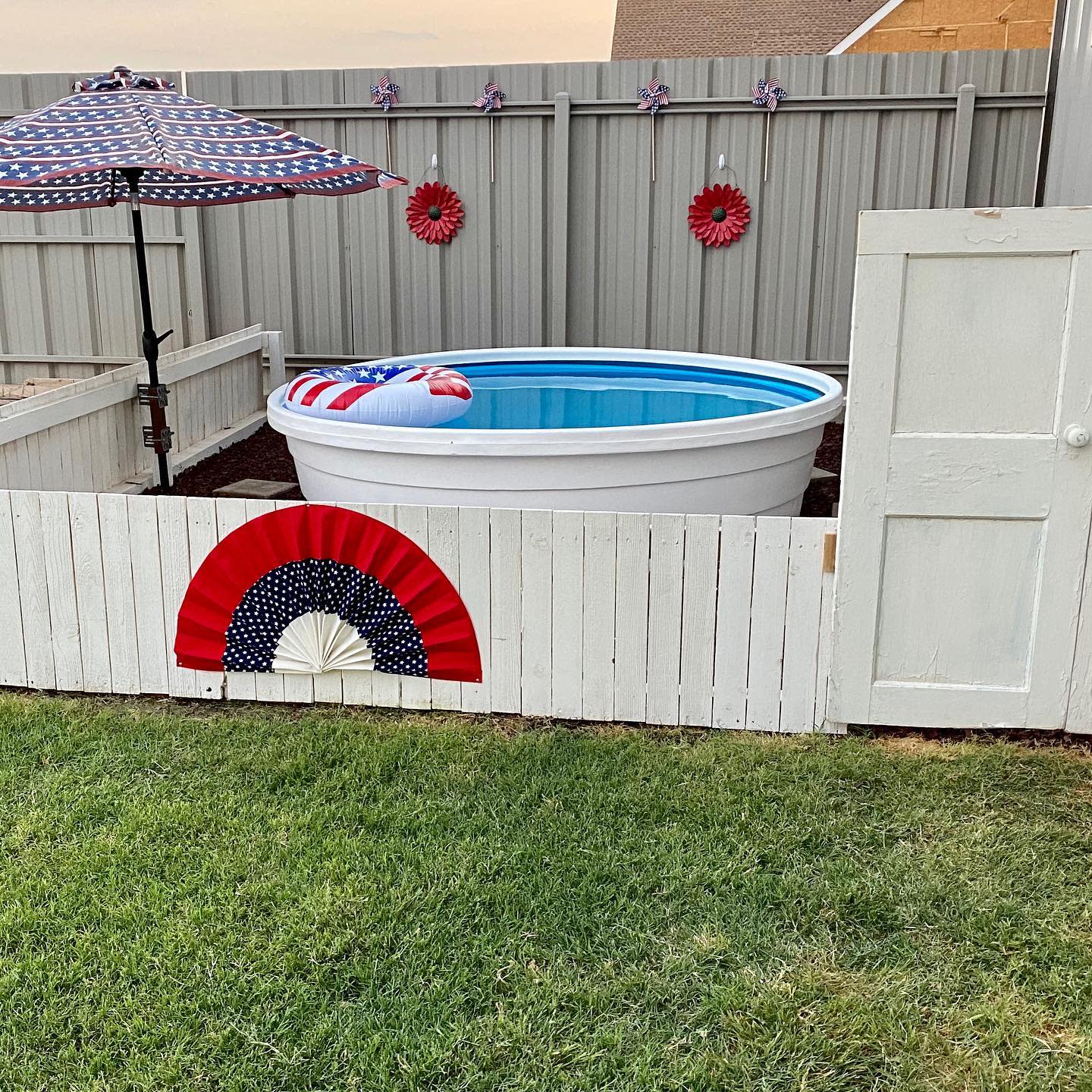 Stock Tank Pool FAQs
How much are stock tank pools?
Your cost will vary according to the stock tank's material and size. Most stock tank pools cost between $200 and $450. In comparison, an above-ground pool costs between $3,500 and $15,000. The least expensive in-ground swimming pools start around $20,000.
How long do stock tank pools last?
If you take good care of it, a stock tank pool can last up to 10 years. Note that rust can be a problem in any metal tank pool, whether you use chlorine or not.
Can a stock tank pool be heated?
Yes! Buy a propane outdoor water heater to heat up your stock tank backyard pool. It's one of the best stock tank pool ideas to keep enjoying your water feature when summer heat has faded. You can also turn your stock pool into a hot tub, but heat retention may be a problem.