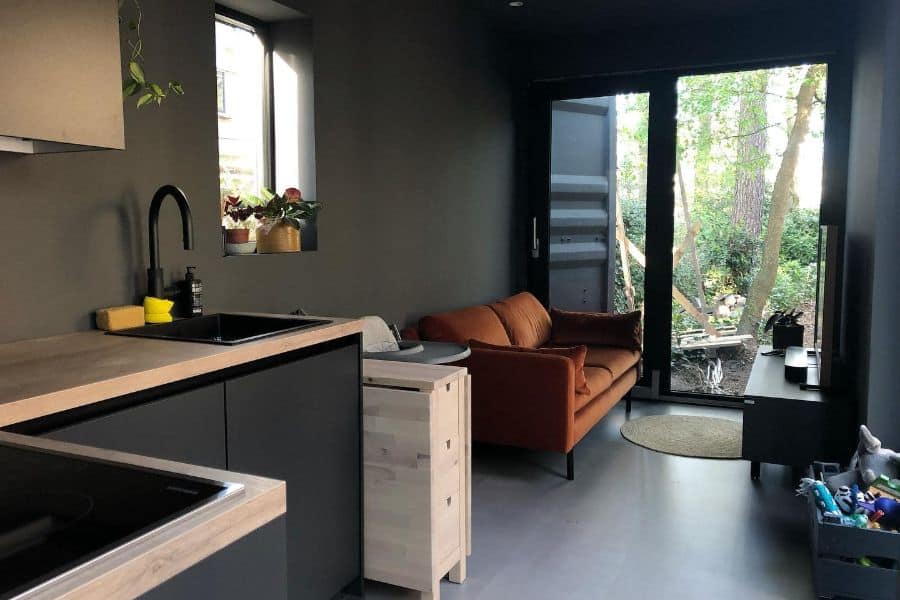 The Top 44 Tiny House Ideas
"Any intelligent fool can make things bigger, more complex…. It takes a touch of genius – and a lot of courage – to move in the opposite direction."  –  E.F. Schumacker
The average American home has 2,500 square feet of living space, while the typical tiny house rarely exceeds 500 square feet. Why would anyone volunteer to downsize so drastically?
The tiny house movement was birthed from the pursuit of a simpler lifestyle. Tiny homes are inexpensive to build and maintain, especially if they are partially (or fully) off the grid. Living in such a small house also has a positive impact on the environment.
Are you curious about which tiny house ideas work, and which are too minimalistic? Scroll through our best tiny house ideas for inspiration on becoming a tiny house owner.
1. Bathroom
A concern many have about tiny living is wondering what kind of bathroom is included. It's possible to have a tiny bathroom that includes every feature you expect in a regular-sized dwelling.
If you've been inside a camper, you're already familiar with the floor plan commonly used for tiny house bathrooms. If not, expect to see a shower, toilet, and sink tucked into the same square footage as a regular home's shower.
If you are of a larger build, your tiny bathroom may feel a little cramped. Making sure your tiny house plan has enough shower height is essential.
Install a sliding bathroom door instead of a hinged one for more floor space. Hang plenty of storage shelves to make the most of the bathroom's vertical space.
2. Bedroom
A loft is a common location for a tiny house bedroom. It makes sense to add a second story in the form of loft space, to double your square footage.
Install a ladder or stair system to climb to the loft bedroom. Tiny house stairs are a great place to integrate additional storage shelves or cabinets below each step.
Some tiny homes have a sleeping loft big enough for more than one bed. If so, divide this shared space into adult bedroom and kids' bedroom zones.
If you have mobility issues, or simply need a bedroom big enough to stand up in, you'll want to include it on the ground floor. Keep furniture simple and on scale with the bedroom's size—but decorate as boldly and beautifully as you would in any home.
3. Cottage
Because a tiny house floor plan is already cozy, going for a cottage style design is a fun way to maximize its appearance.
Whether it's an alpine-inspired A-frame or a Cape Cod beach shack, a cottage vibe is always comfortable and welcoming. Farmhouse style also translates well into a tiny house plan, and a tiny log cabin fits perfectly into mountain landscapes.
Cottages often include a front or back porch, and if your tiny space allows, try to include one.
Even if there isn't room for a couple of rocking chairs, the porch will give the illusion of more space. Hang potted plants from the eaves for a classic country cottage feeling.
4. Interior
The tiny house lifestyle works for those who replace "bigger is better" with "less is more."
The simple truth is that to enjoy living in such a small space, you must own fewer belongings, and draft creative storage space solutions for what remains. Add built-in storage drawers and cabinets in the kitchen, bedroom, bathroom, and main living area.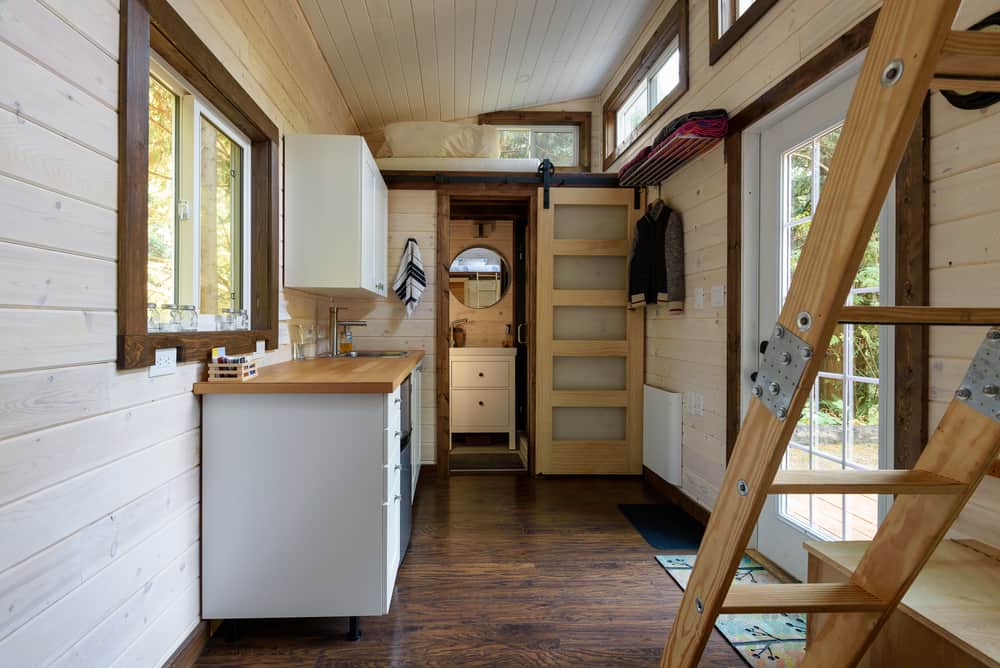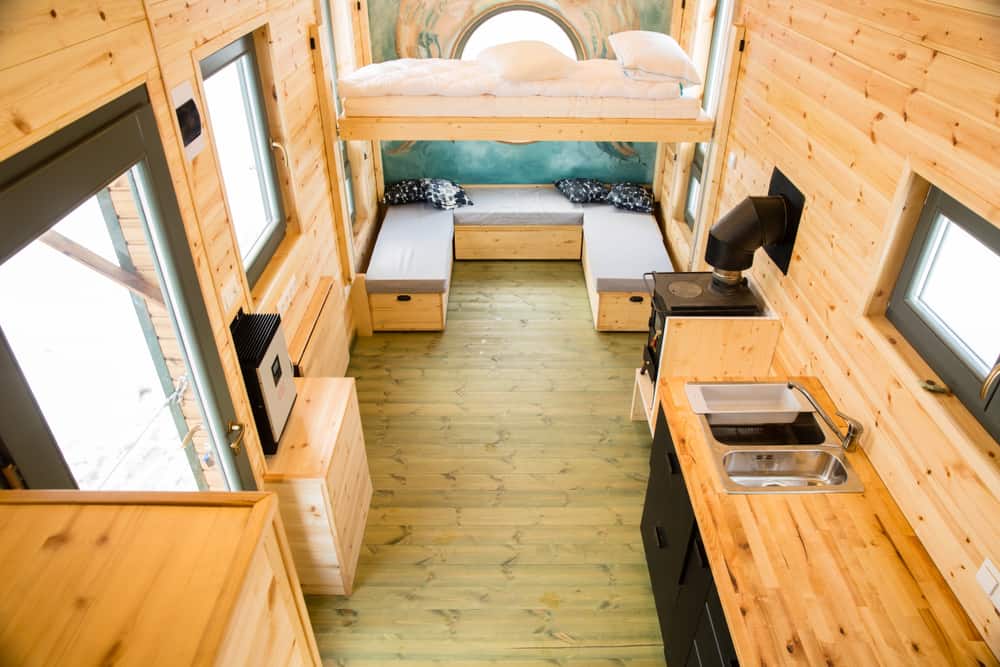 Try to use furniture that serves a dual purpose, such as a footrest that opens to reveal hidden storage. Include vintage pieces that are also functional. For instance, and old wood-burning stove adds a rustic vibe while affordably heating your entire little house.
5. Kitchen
Compact appliances work best in the tiny house kitchen, as there's rarely room for full-size pieces. Manufacturers have stepped up to the demand for compact appliances and they're much easier to find than they used to be.
Custom cabinetry is also ideal, as it can be scaled to maximize the limited space in your kitchen.
Compact furniture is also ideal in the tiny house interior. You may not have room for a standard dining table and chairs. If so, install a wall mounted table that folds down for meals and is out of the way the rest of the time.
Folding chairs can be slipped under beds or even hung on the wall when not in use.
6. Loft
A loft is a great addition to your tiny house design, especially if you have children or simply desire some extra space.
A tiny home loft uses available vertical space and maximizes each square foot on the ground floor. You can enjoy a larger bathroom, kitchen, and living room when your sleeping area is overhead.
Even if your bedroom is on the ground floor, a loft can be used for storage or a playroom for small children.
Little kids love having their own nest-like living room, but of course a sturdy staircase with a rail is required for safety. Shiplap or wood paneling makes the loft feel bigger and adds a rustic cabin or farmhouse vibe.
7. Modern
The simple, clean lines of modern design work well in tiny home decor. A large window can be the focal point of a modern tiny living room, making it easy to take in a beautiful view.
Minimalist window treatments are a must to keep the tiny home feeling bright and open.
Keep to a simple color palette in micro homes that embrace modern design. A mostly white color scheme visually expands your tiny home and creates a clean canvas for accents in dark or bright colors.
Quartz or marble countertops add elegance and can be quite affordable because such small quantities are needed.
8. Rustic
Rustic tiny houses include log cabins and mountain vacation retreats. A cob house is a time consuming, but inexpensive way to build a rustic tiny house.
Basically a mud house for grownups, cob houses have thick walls made of locally-sourced clay, sand, and straw. This type of home design is fire-resistant, long-lasting, and has interestingly curved walls.
For a perfectly round living space, consider a yurt. These ancient, tent-like structures can be built with durable walls and roofs, making a permanent dwelling with a nomadic flair.
9. Trailer
How does a tiny house trailer differ from other tiny homes? A tiny house trailer is often built on a utility trailer that can be towed wherever you decide to live next.
Consider a trailer for your tiny home if your lifestyle allows lengthy travel or frequent moves.
A renovated Airstream trailer can make a great tiny home on wheels. If you prefer a tiny house trailer that looks more like a home than a camper, you can find them in a variety of sizes and styles.
Some even come with an exterior storage area. This the perfect place to stow tools, outdoor décor and even a small fire pit between moves.
Tiny House FAQs
Why are tiny houses illegal in some states?
Tiny houses are legal in all 50 states, but some local laws and building codes make it difficult to legally dwell in such a tiny home. You must research local zoning regulations before investing in a tiny house. Six states that are exceptionally welcoming to tiny house living include California, Colorado, Maine, North Carolina, Oregon, and Texas.
Can you build a tiny house for $5,000?
Yes! DIY tiny house kits can be purchased in that price range. DIYing your own tiny house plan will save you thousands of dollars while sharpening your DIY skills.
Do you have to pay taxes on a tiny house?
Tiny house tax policies vary by state. Living in a tiny home means you might avoid the huge property tax bills that accompany traditional home ownership. However, you may have to pay an annual personal property tax on your tiny home as a trailer or RV.