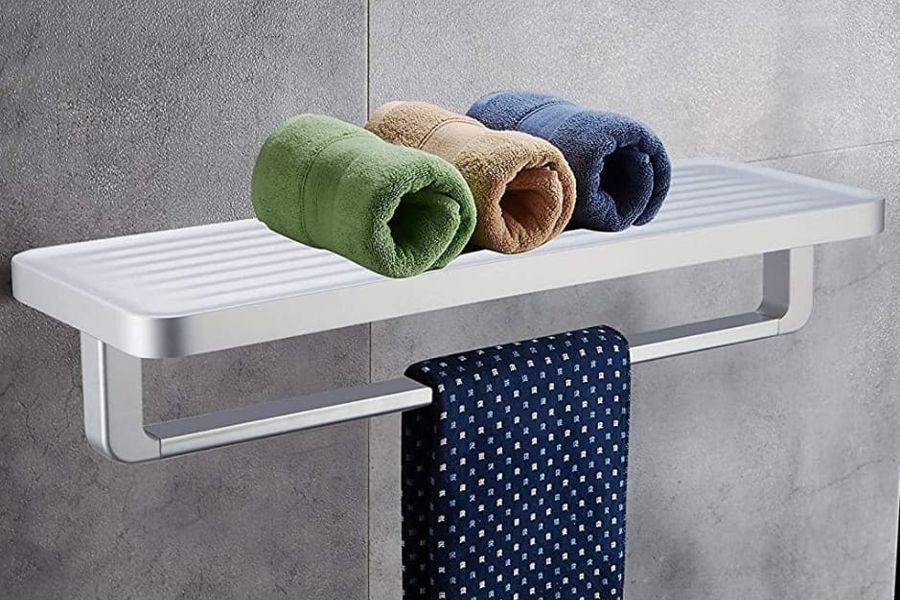 The Top 67 Towel Storage Ideas
We all know that feeling: You've wrapped up your steamy shower and are ready to get started with the day. Yet when you reach for a bath towel, you realize the rack is completely bare.
Bathroom storage is a hot commodity. So it's easy to justify storing your spare towels in a hallway closet or the laundry room. But you don't need to sacrifice storage space or room style to keep your towel collection close at hand.
Keep reading for the best towel storage ideas that will ensure you never need to make a chilly, dripping trip to the linen closet again!
1. Standalone Towel Shelf
A standalone towel shelf is a fantastic addition to any bathroom, providing a designated space to neatly display and store your towels. Opt for a sleek and contemporary design that complements your bathroom decor, or embrace a touch of nostalgia with a repurposed vintage shelf for a charming and eclectic look. To maximize organization, consider a towel shelf with dividers, allowing you to separate towels by size, color, or purpose.
This not only adds a visually appealing element to your bathroom but also makes it easier to find the towel you need without rummaging through a messy pile. With a standalone towel shelf, you can effortlessly maintain a tidy and organized bathroom while adding a touch of style and personality to the space.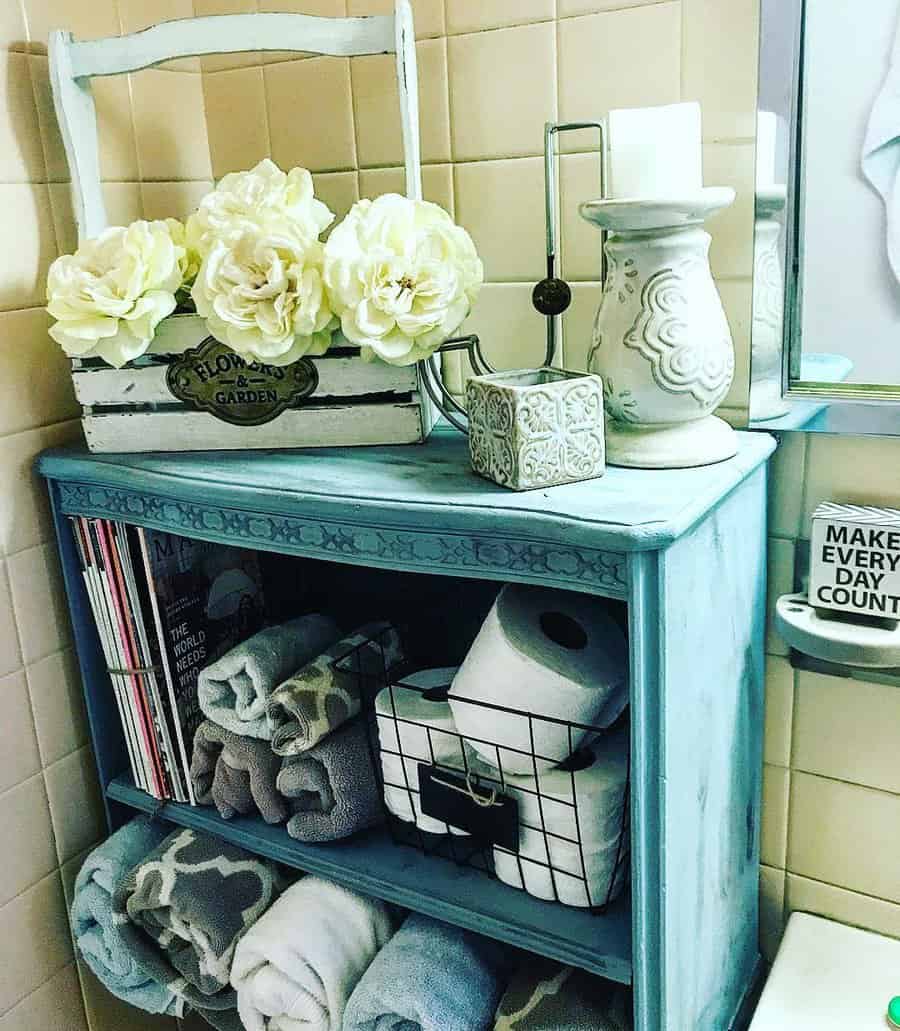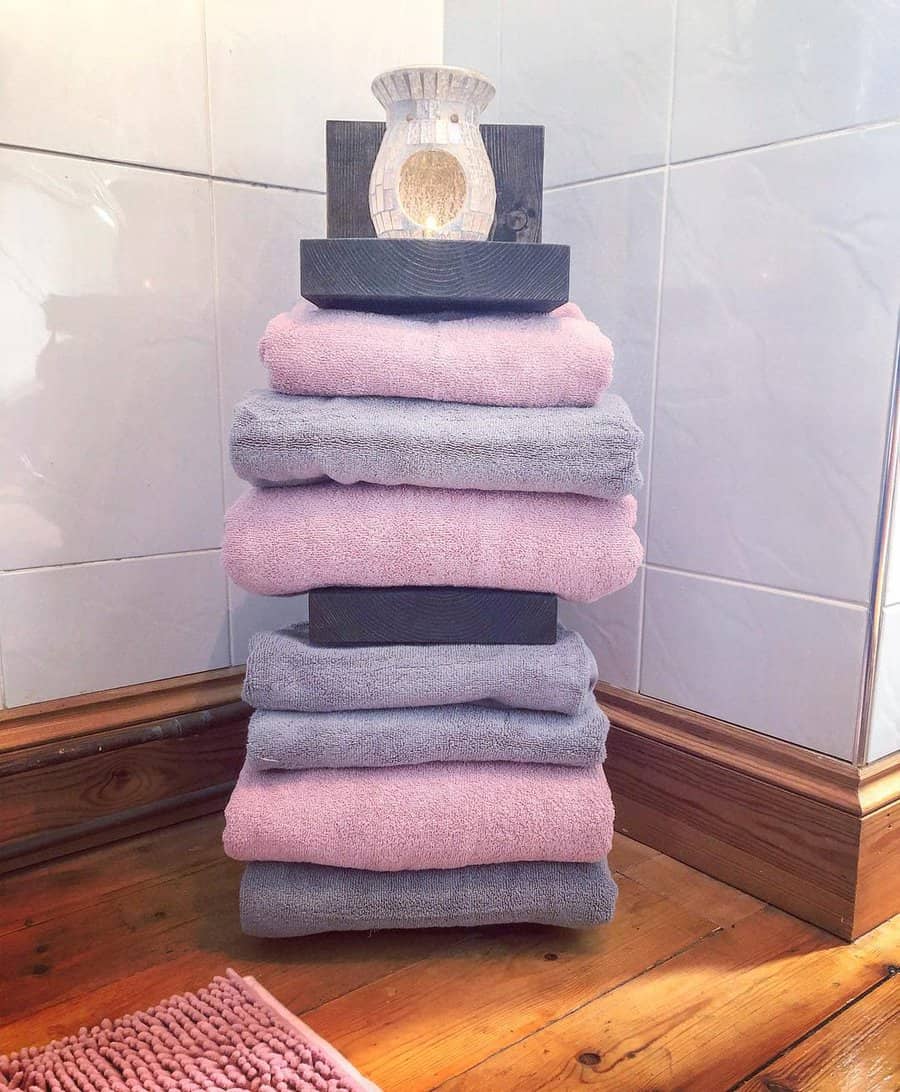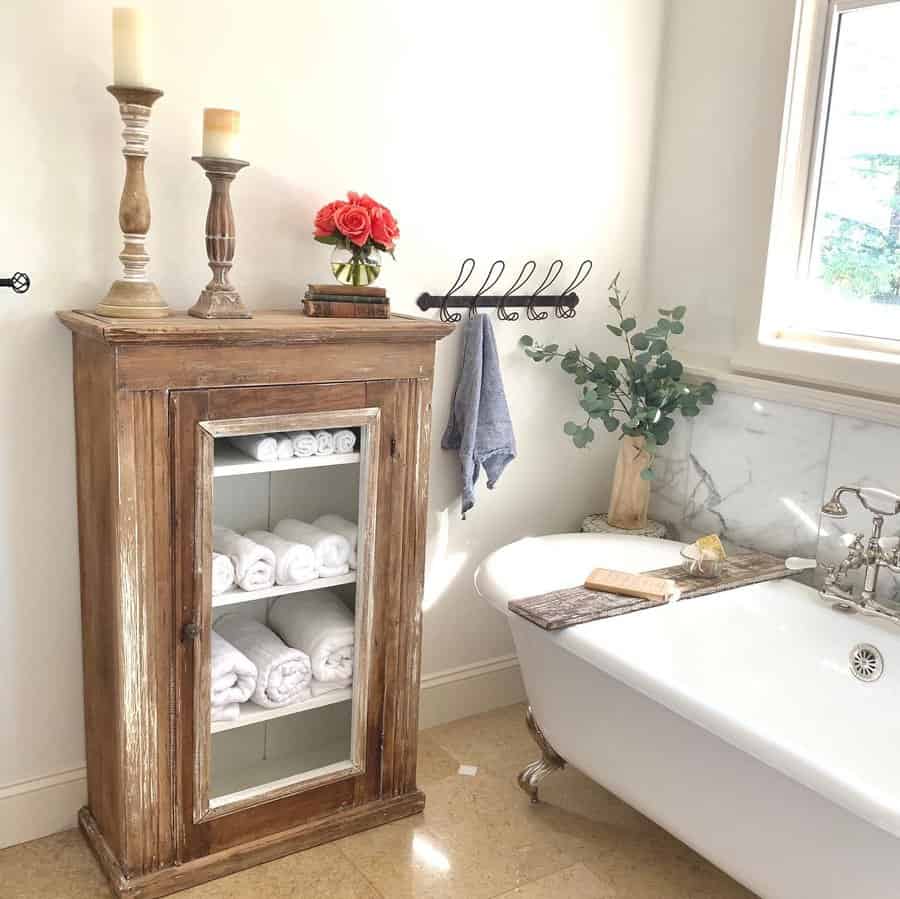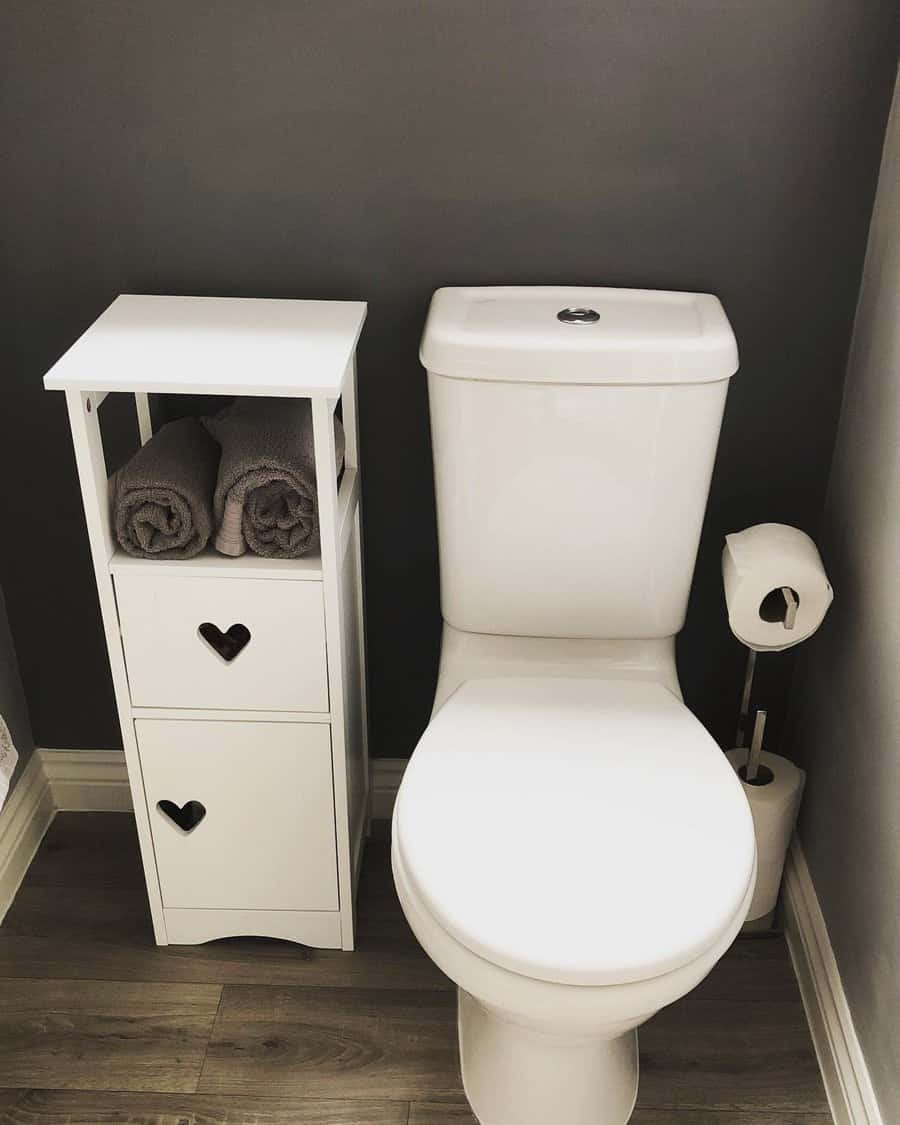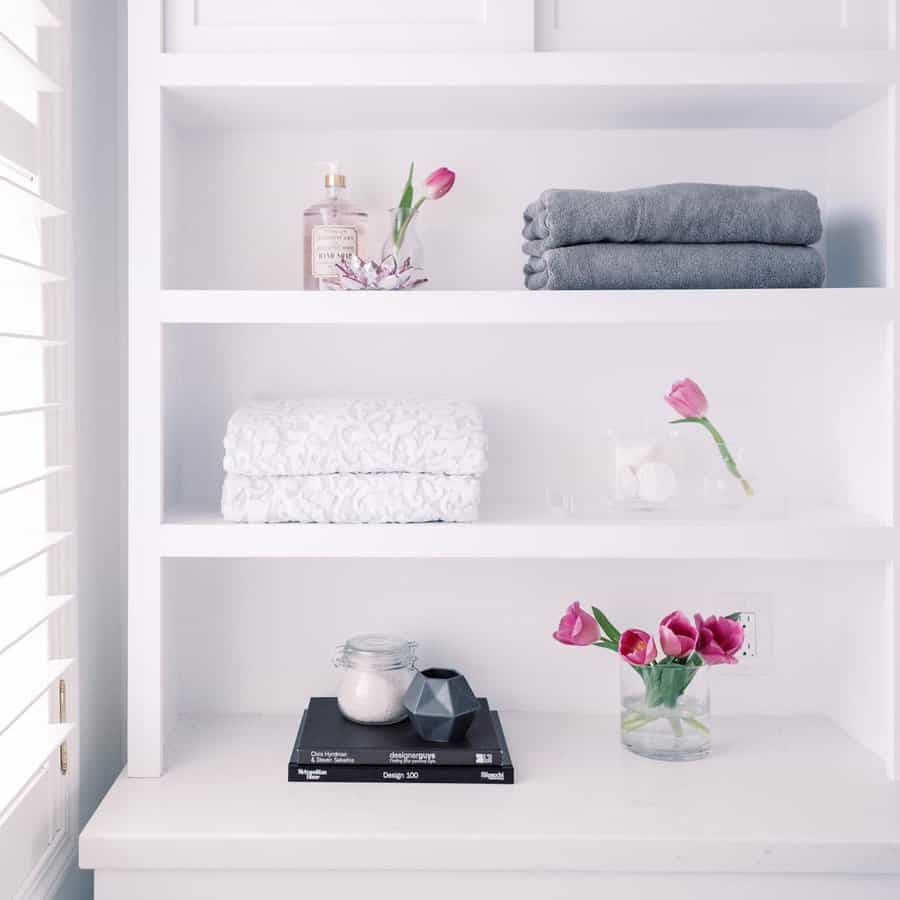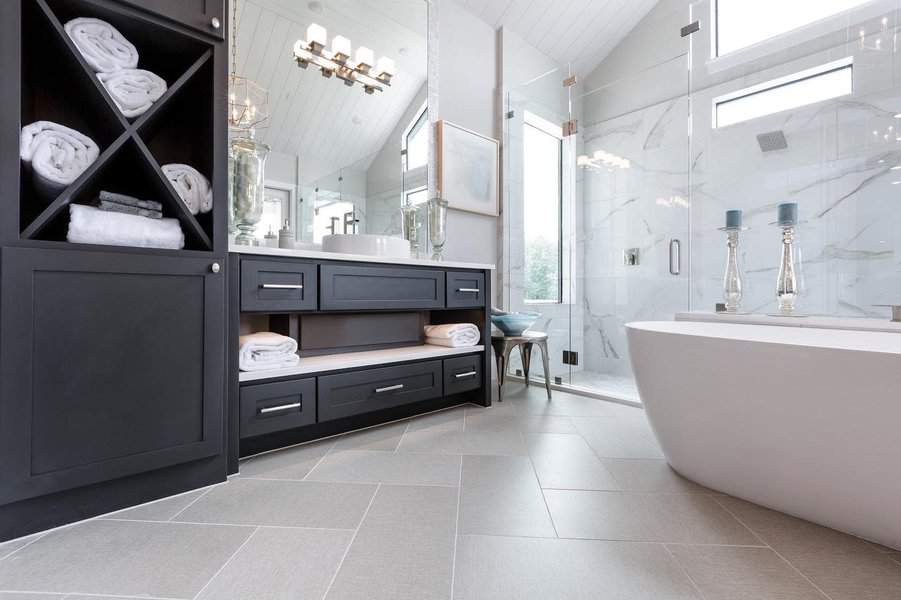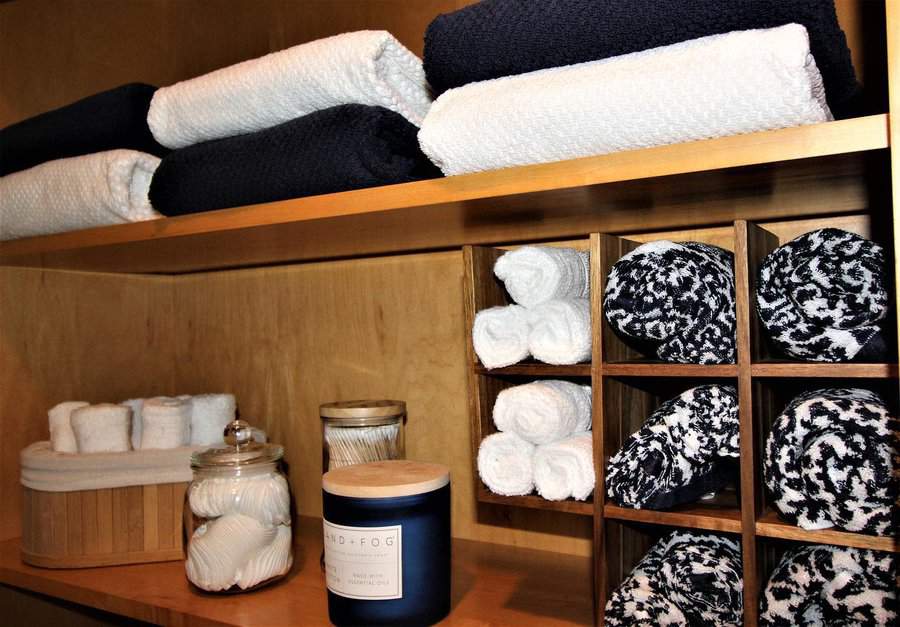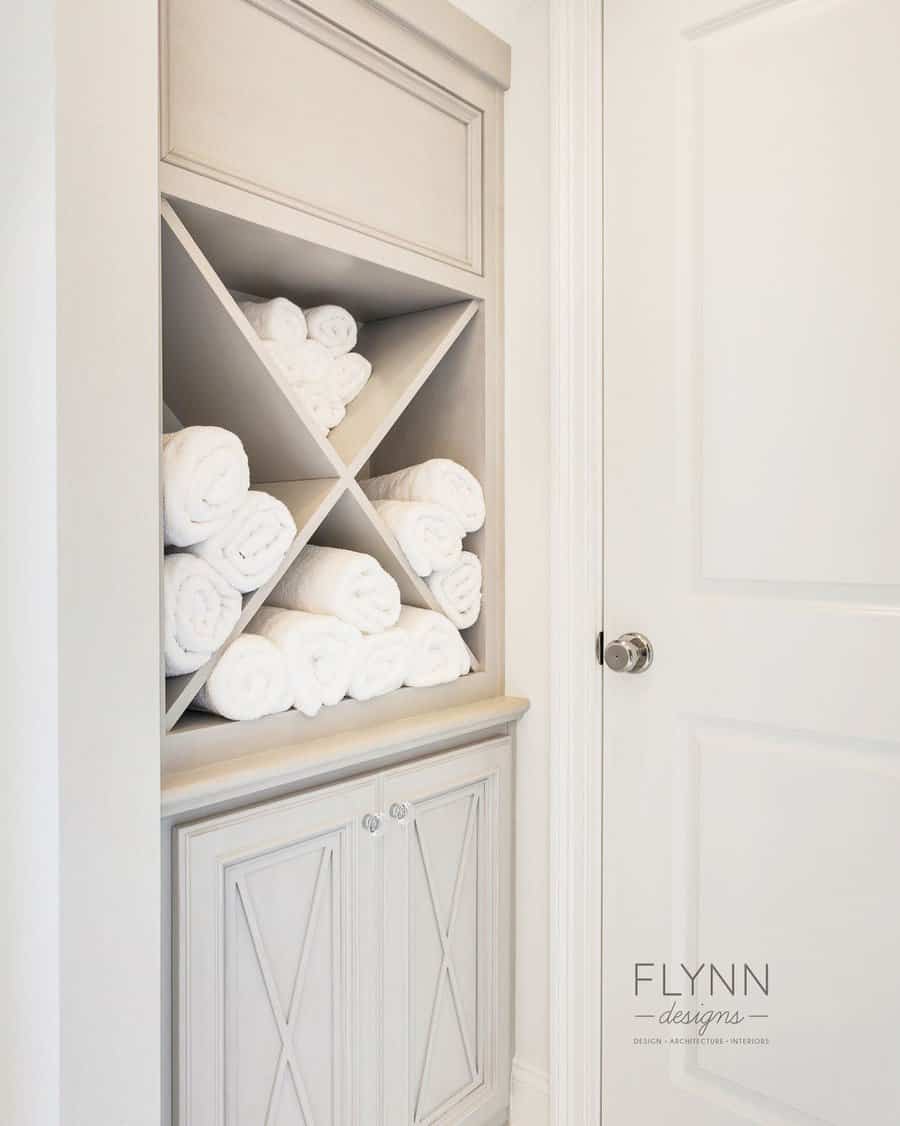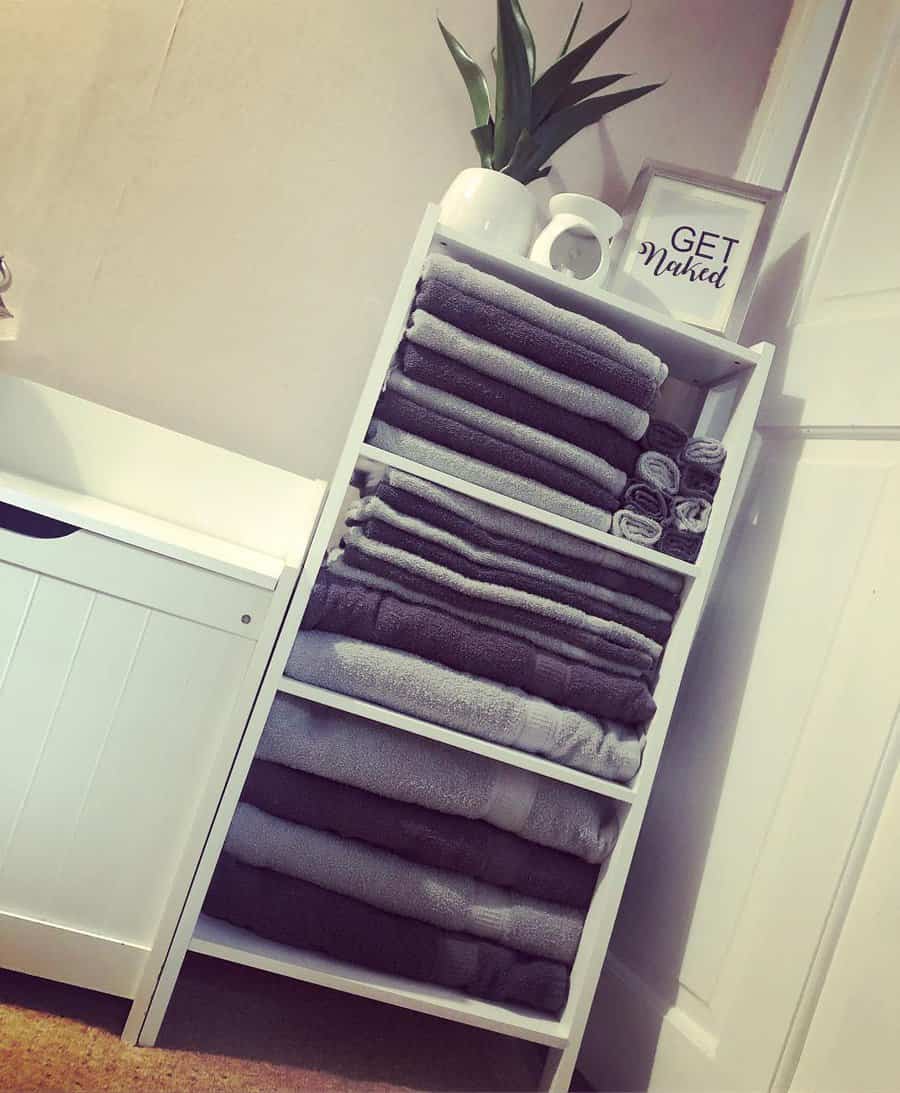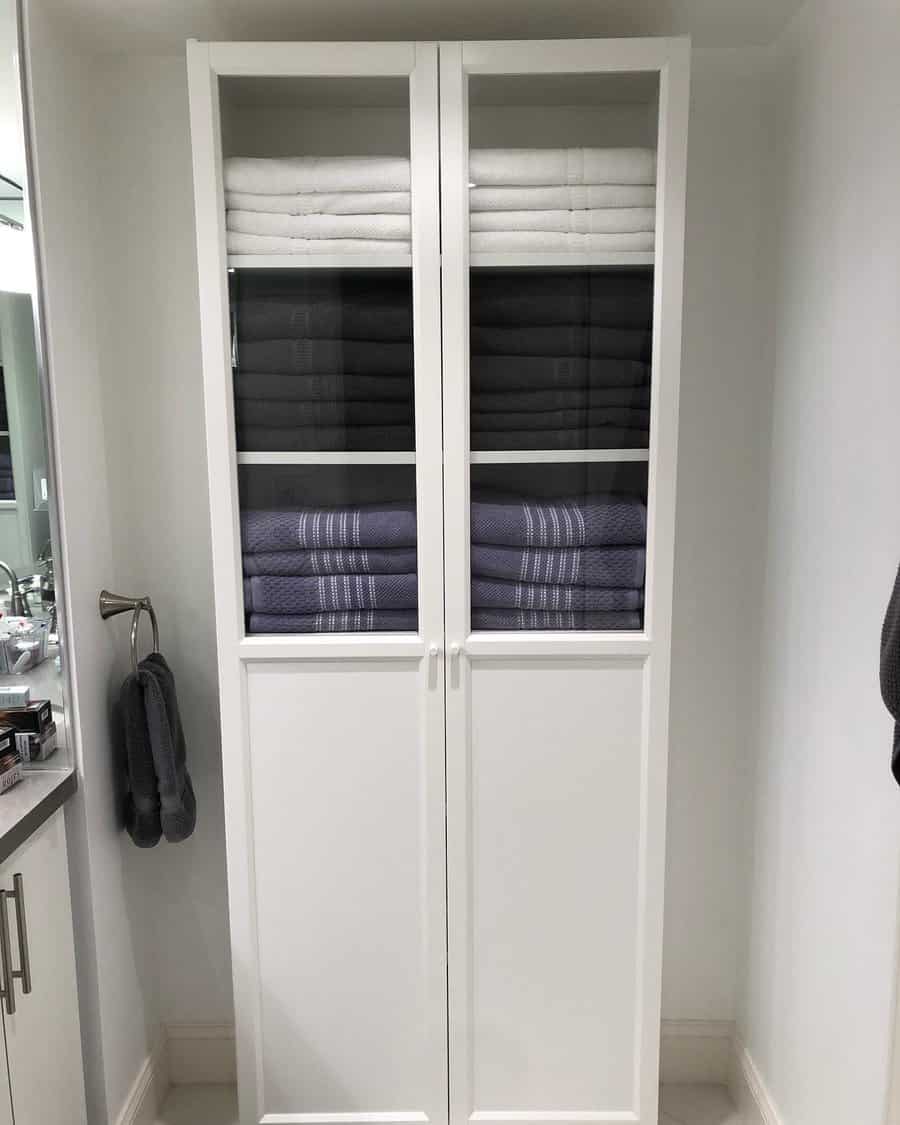 2. Recessed Towel Storage Niche
These hidden storage compartments offer a discreet and practical solution, keeping your towels within easy reach while maintaining a clean and uncluttered aesthetic. Whether you choose to install them near your shower or vanity area, recessed towel shelves seamlessly blend into the walls, giving your bathroom a polished and organized appearance.
Personalize your recessed shelves by blending them into the walls. Embrace the beauty of simplicity and elevate your bathroom's functionality with the sleek and practical design of recessed towel shelves.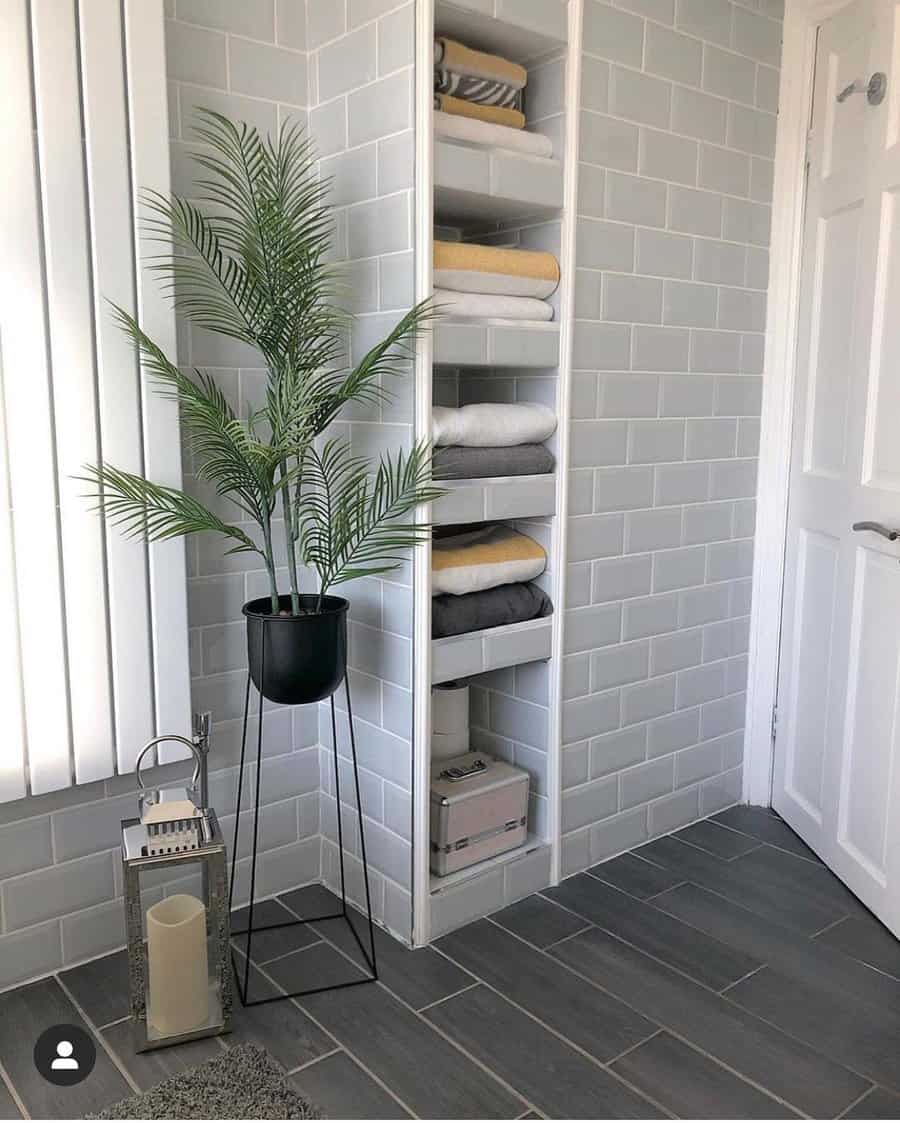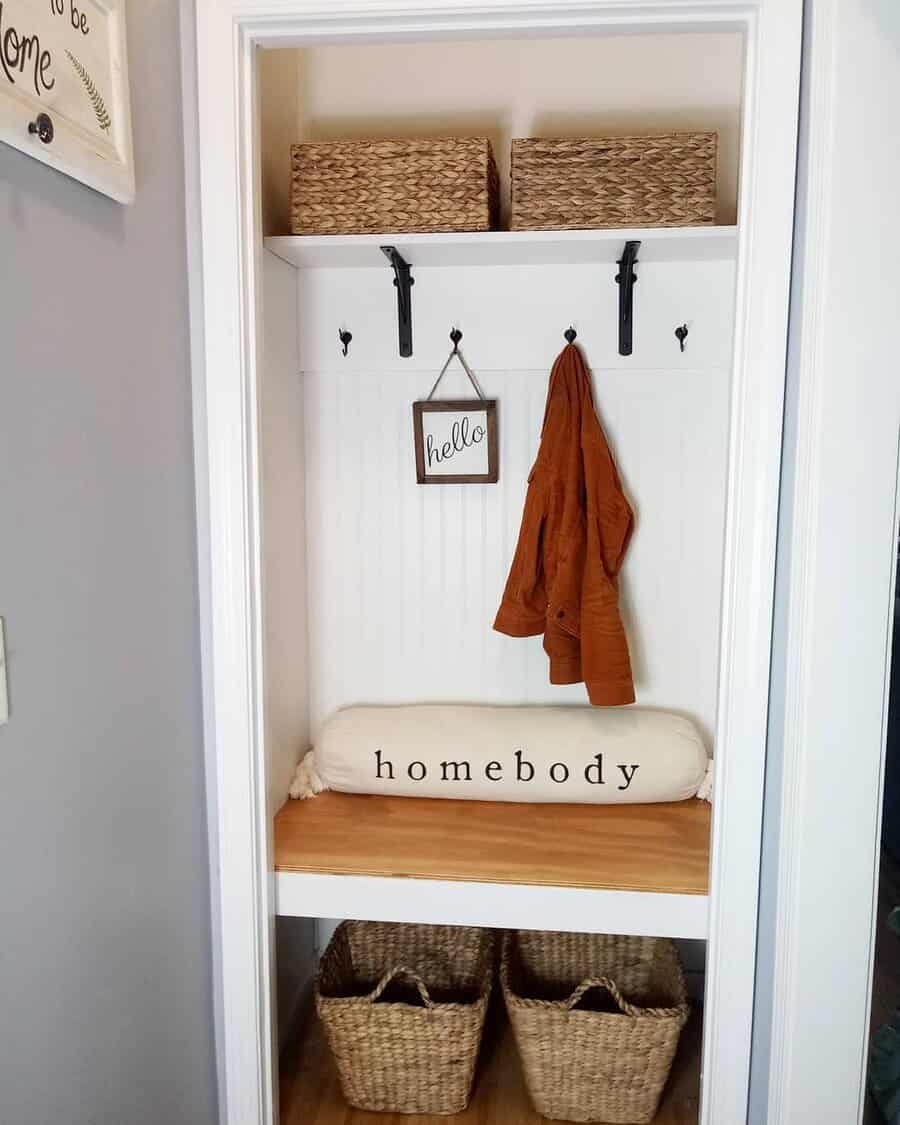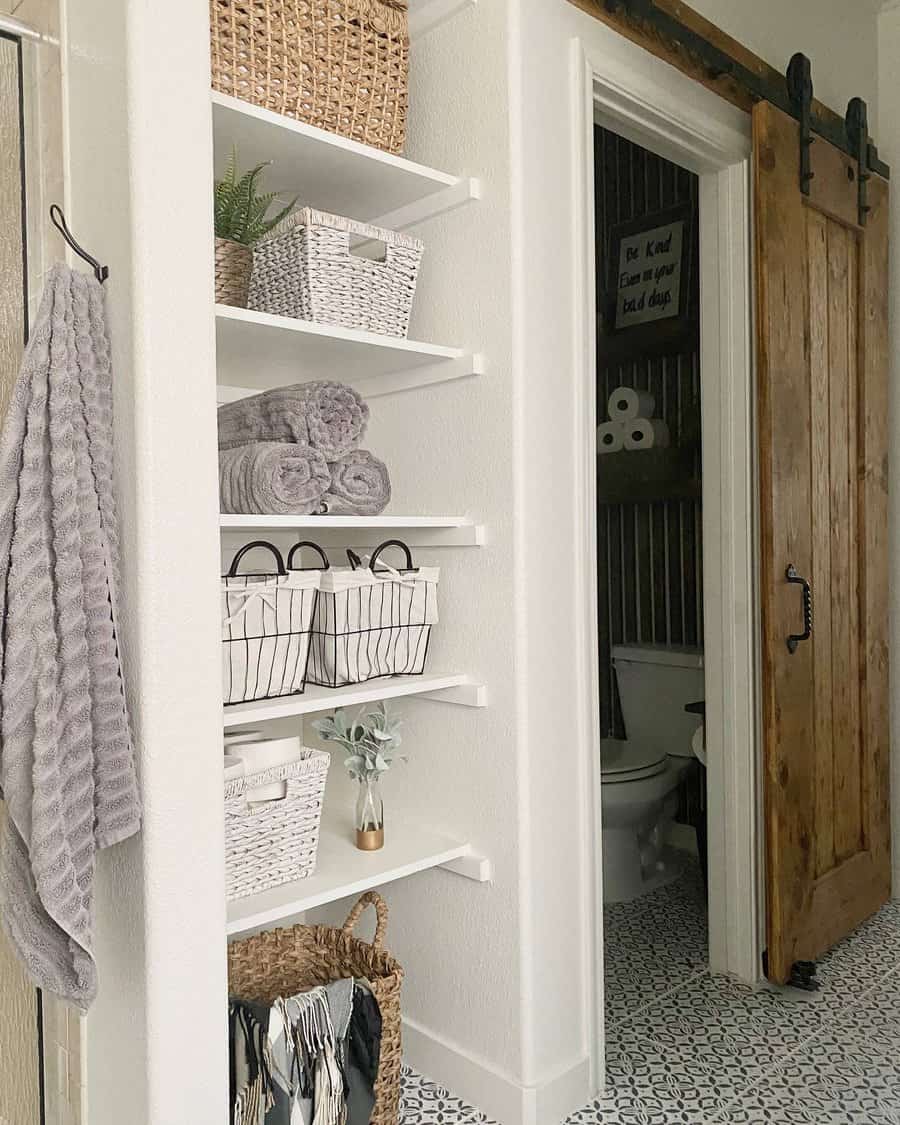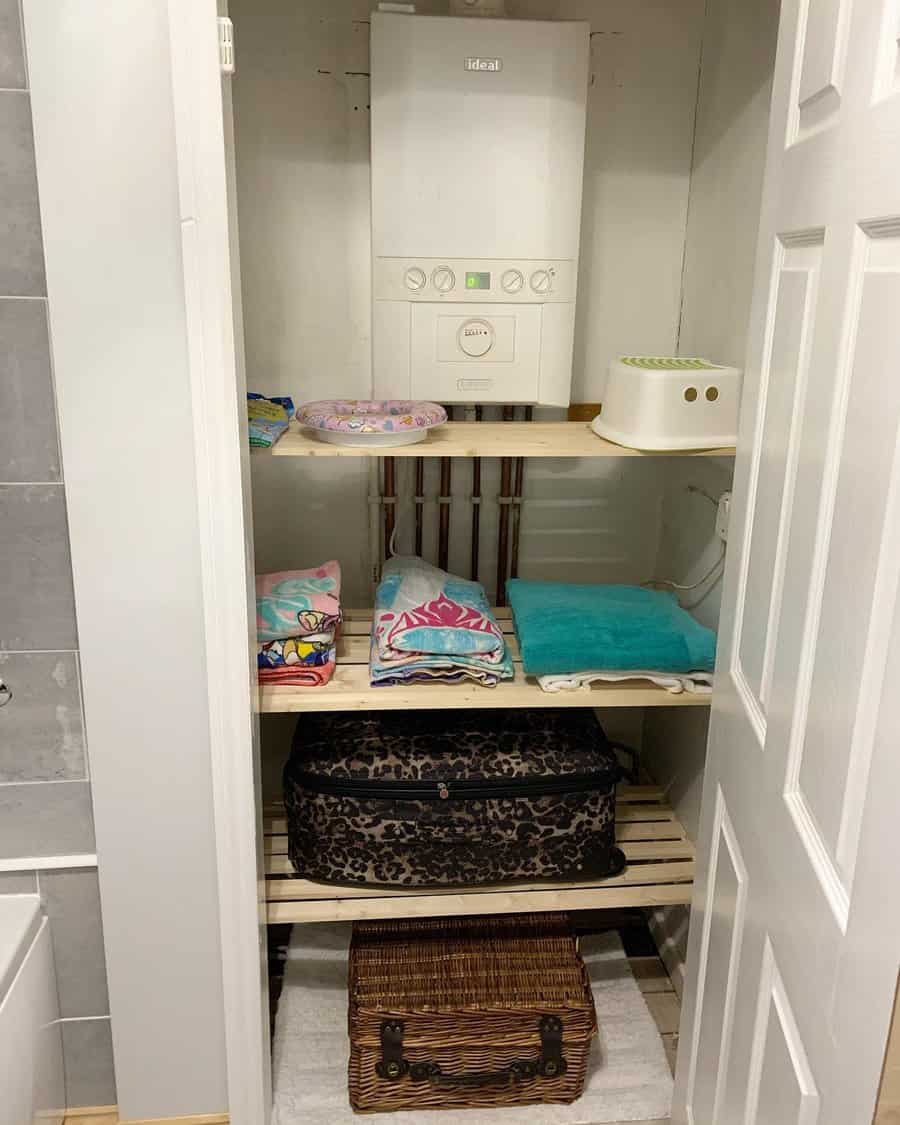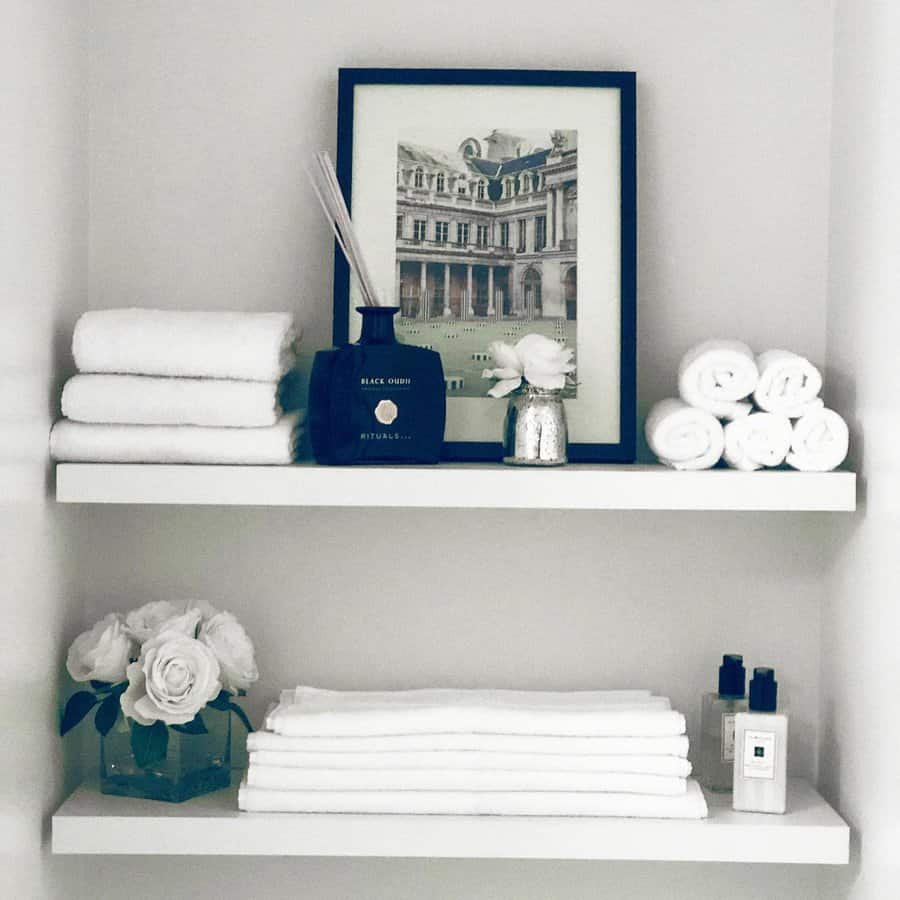 3. Floating Shelves
Utilizing vertical wall space, floating towel shelves help maximize the use of your bathroom without sacrificing style. With their sleek and minimalist design, they effortlessly blend into any aesthetic, from modern and minimalist to rustic and eclectic. Arrange the shelves in a staggered pattern to create an eye-catching display or keep them aligned for a clean and streamlined look.
The floating design gives the illusion of extra space, making your bathroom feel more open and inviting. Additionally, the open shelves allow your towels to dry quickly and showcase their beautiful textures and patterns. Whether you have a small bathroom or simply want to optimize your towel storage, floating towel shelves offer a practical and visually appealing solution that elevates both form and function.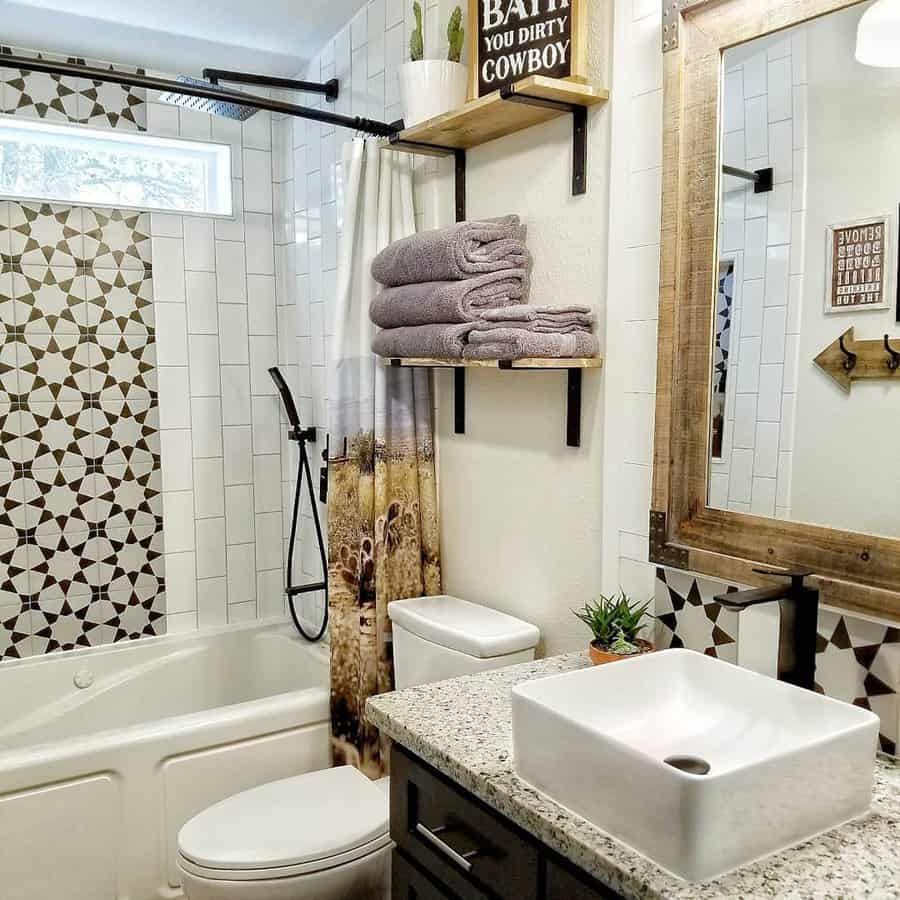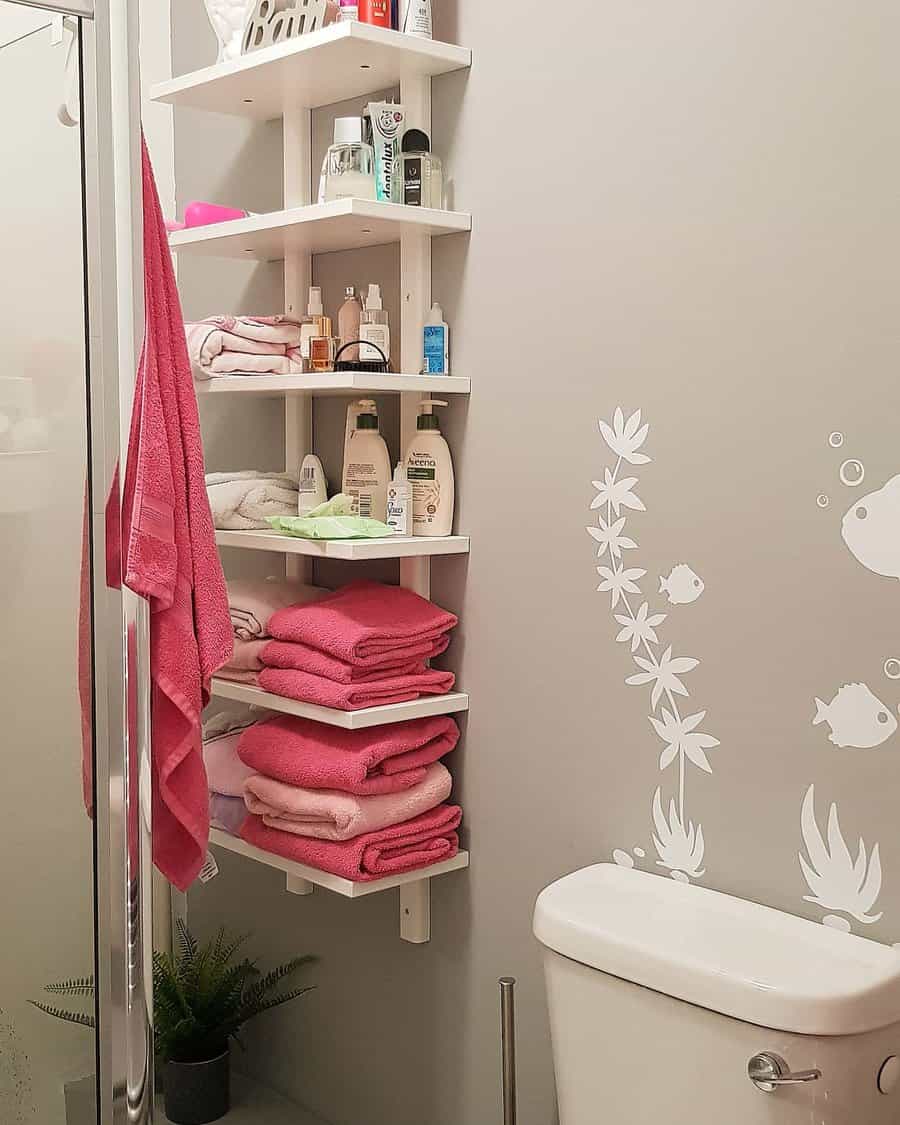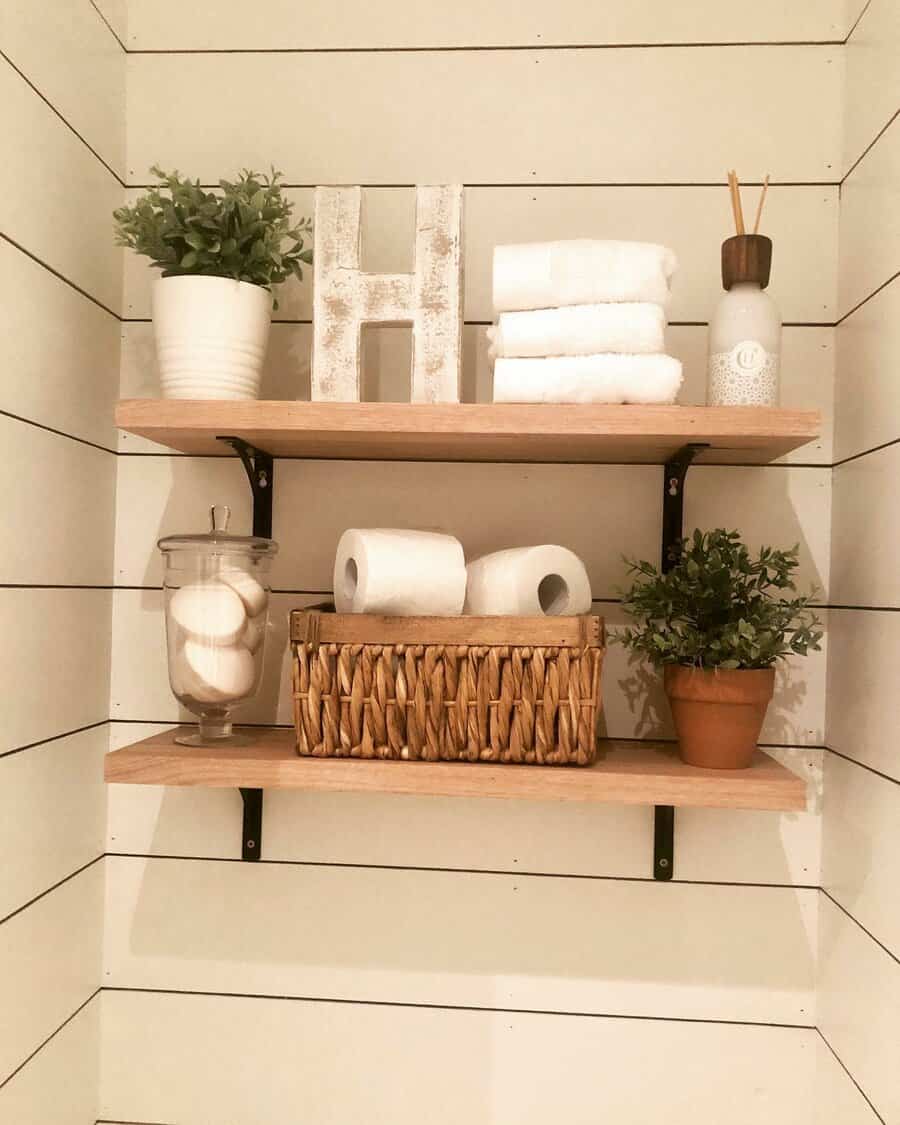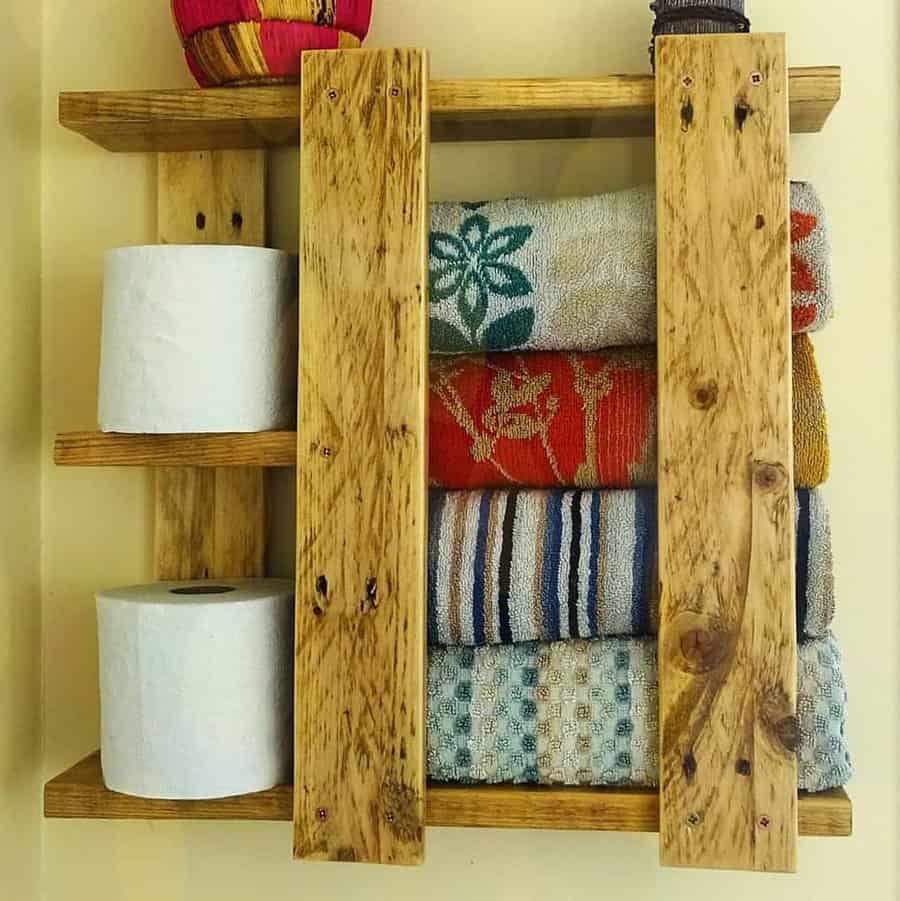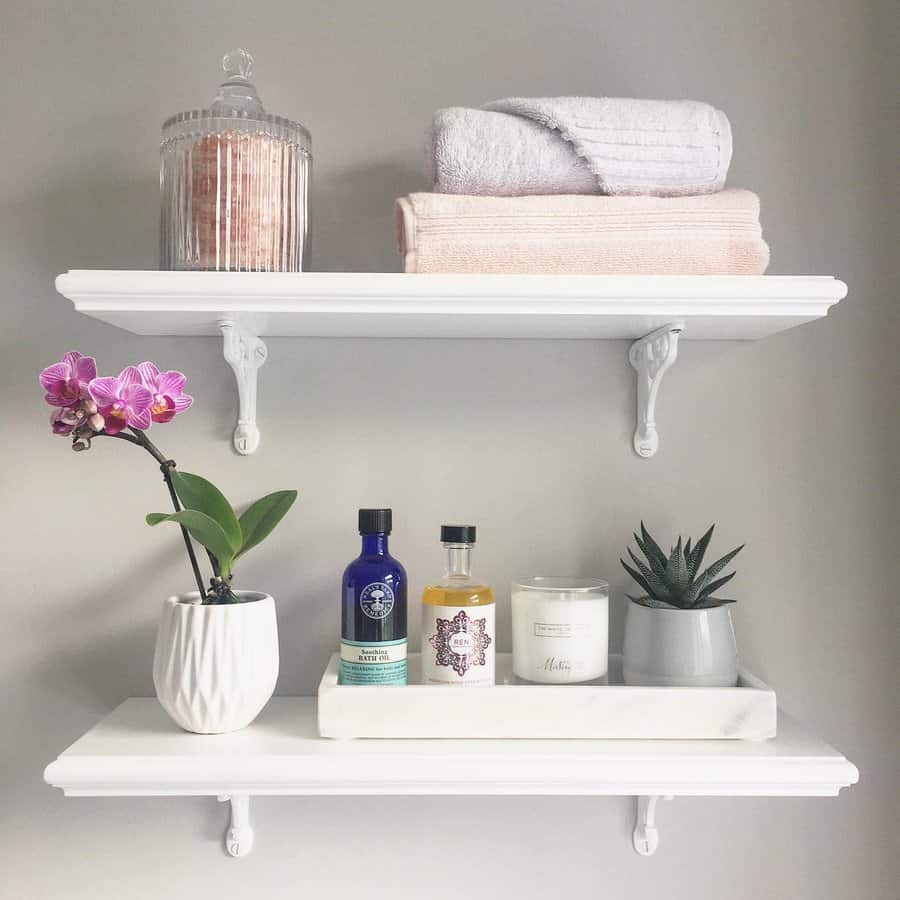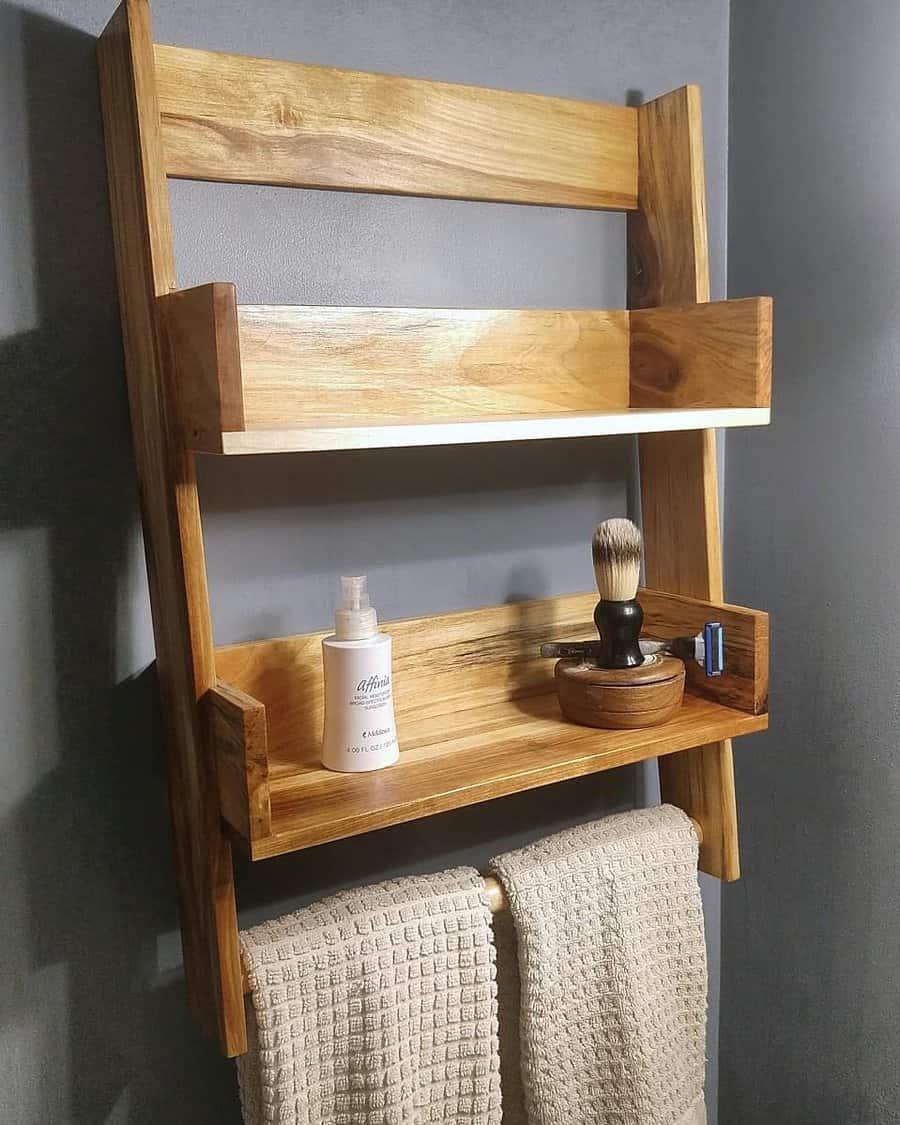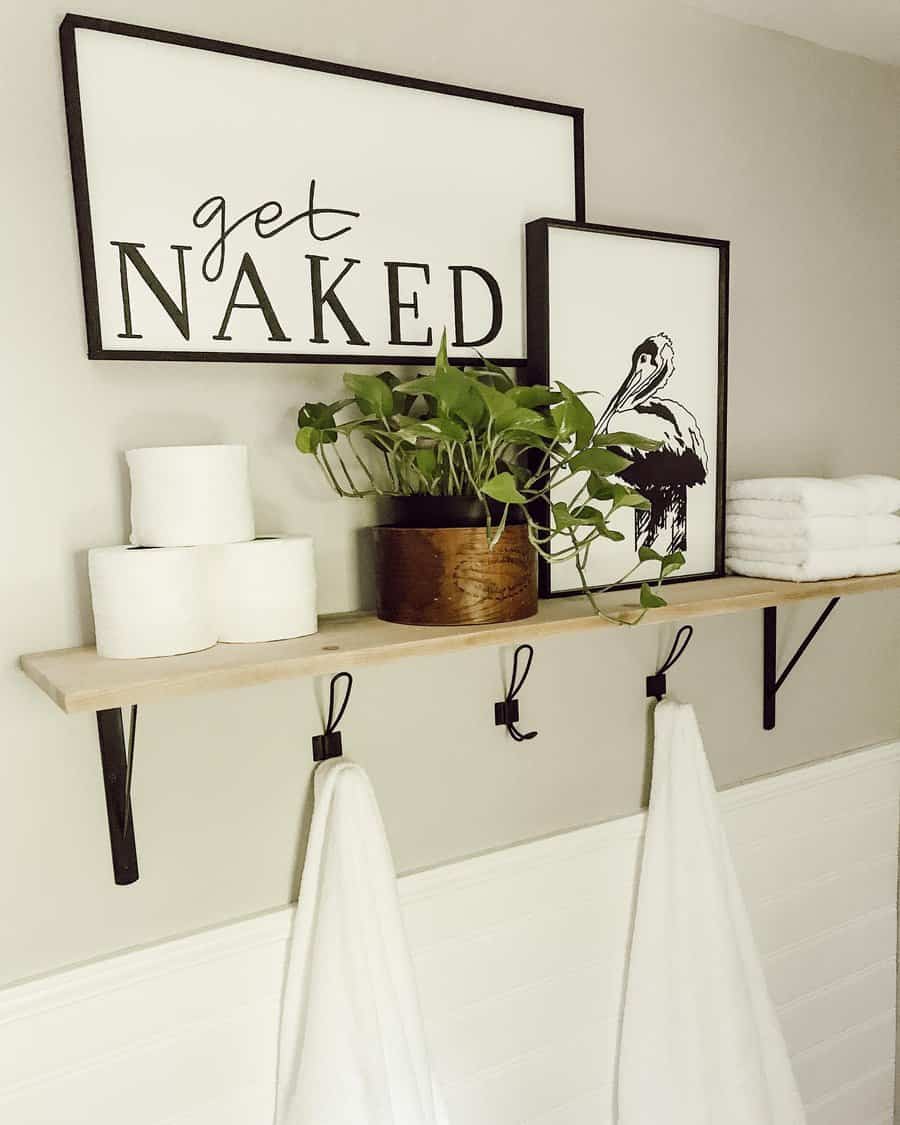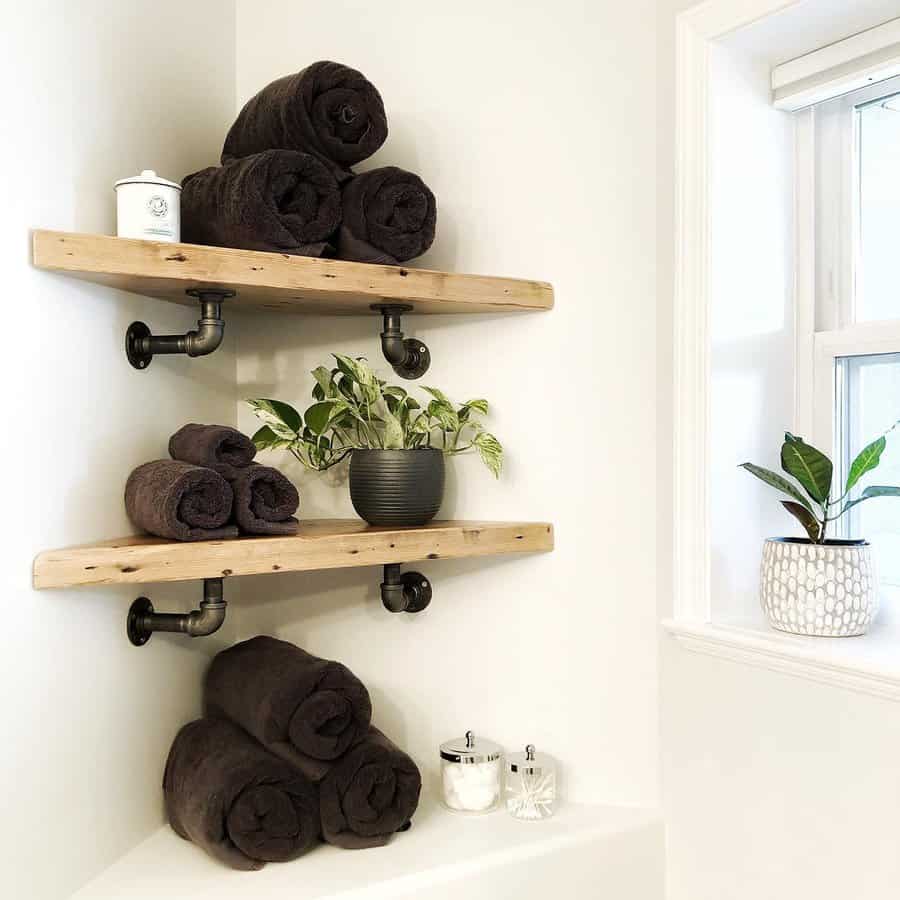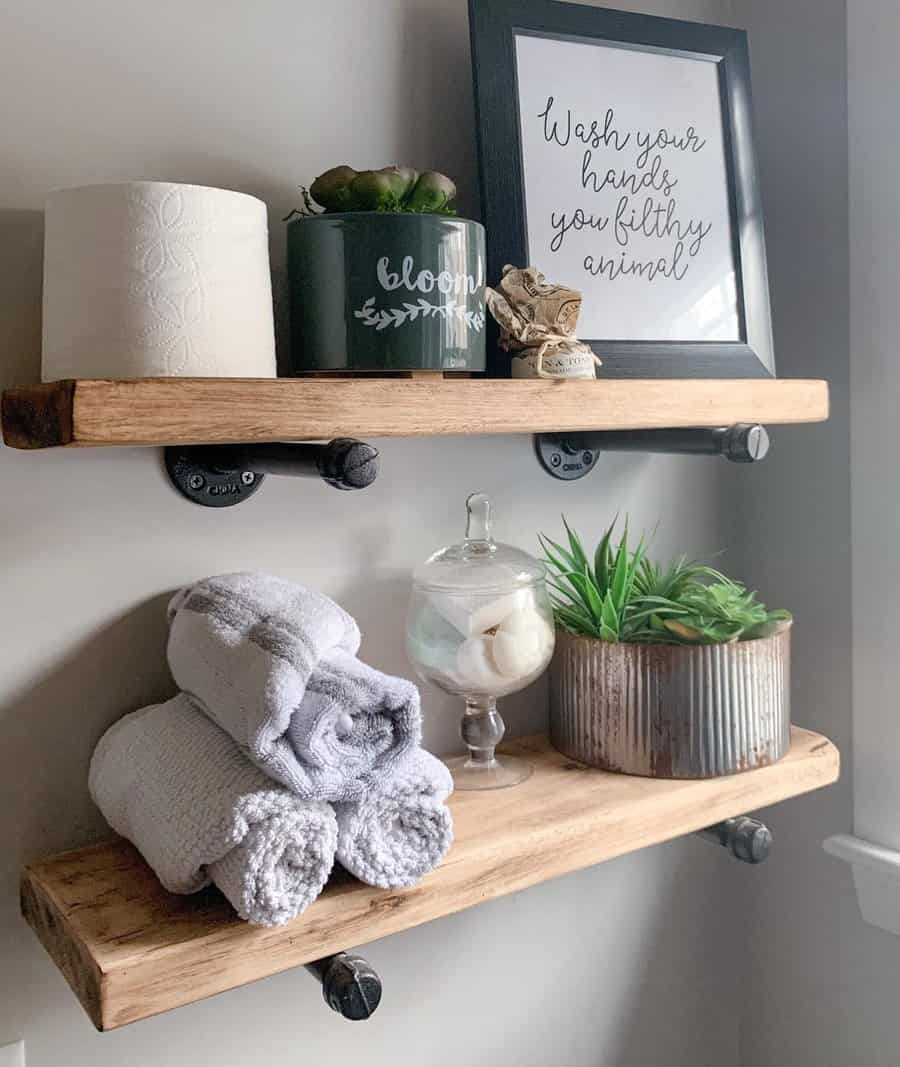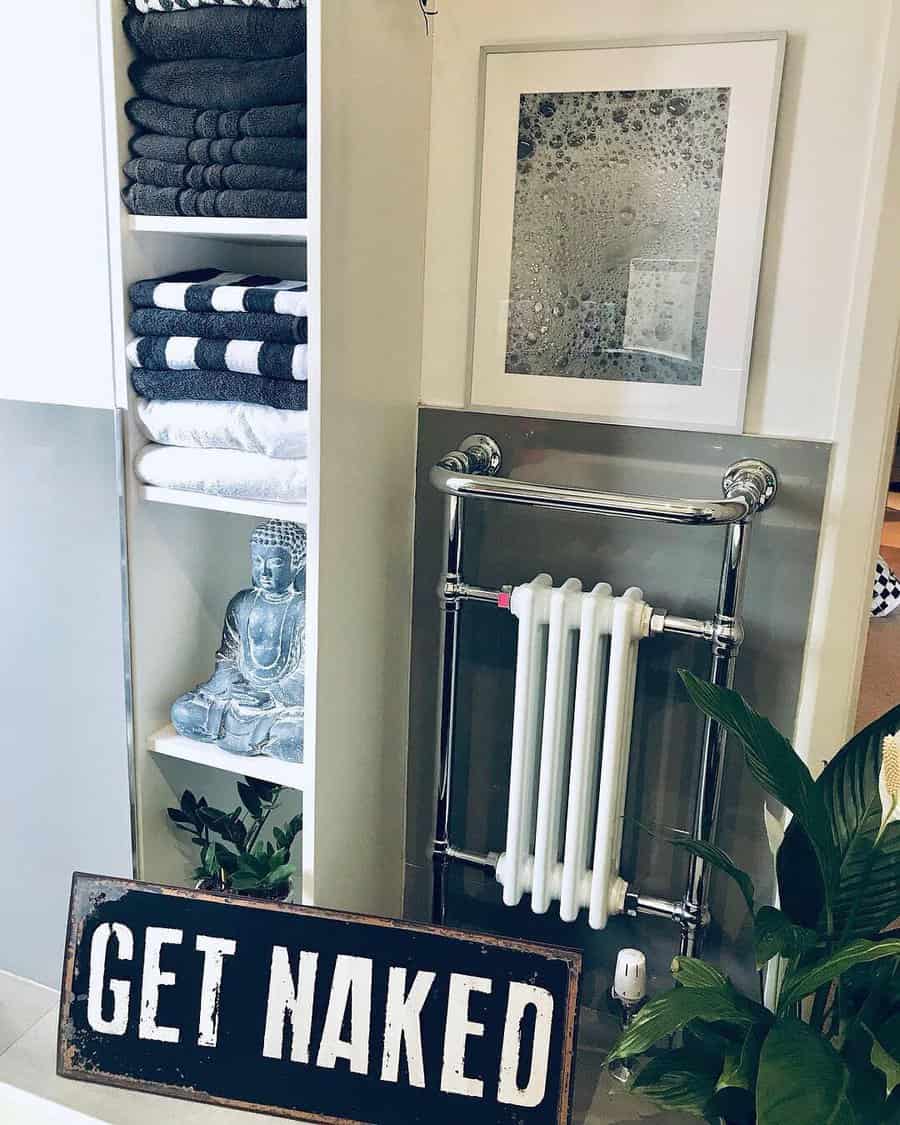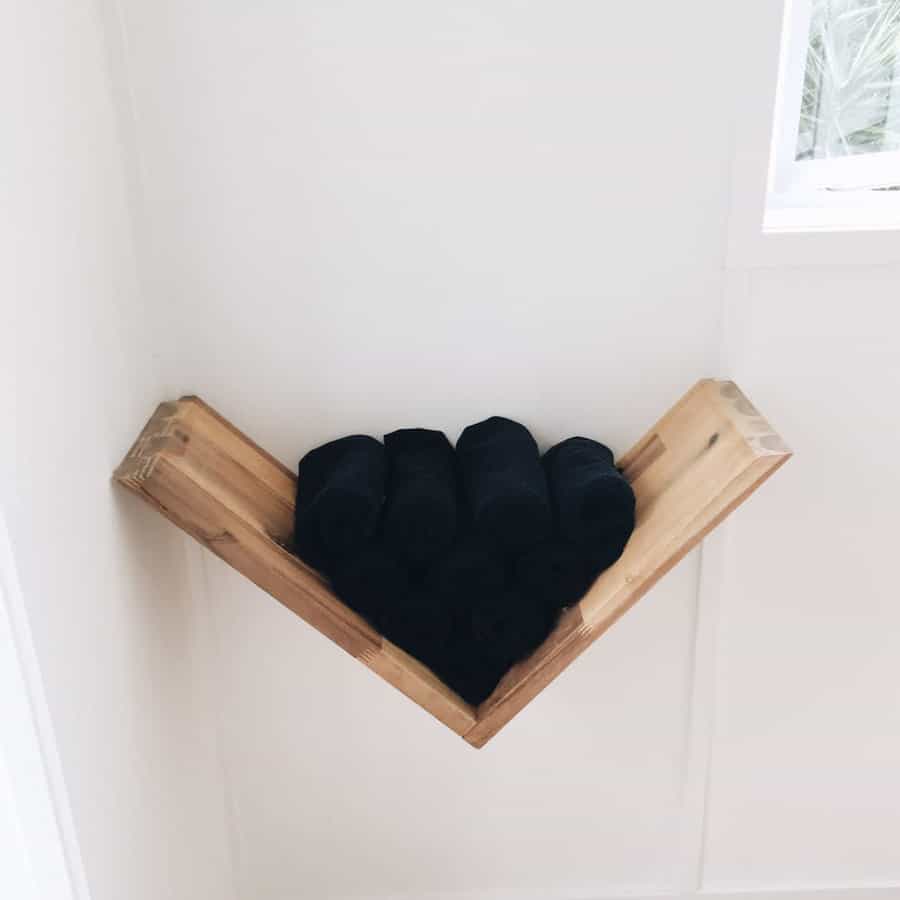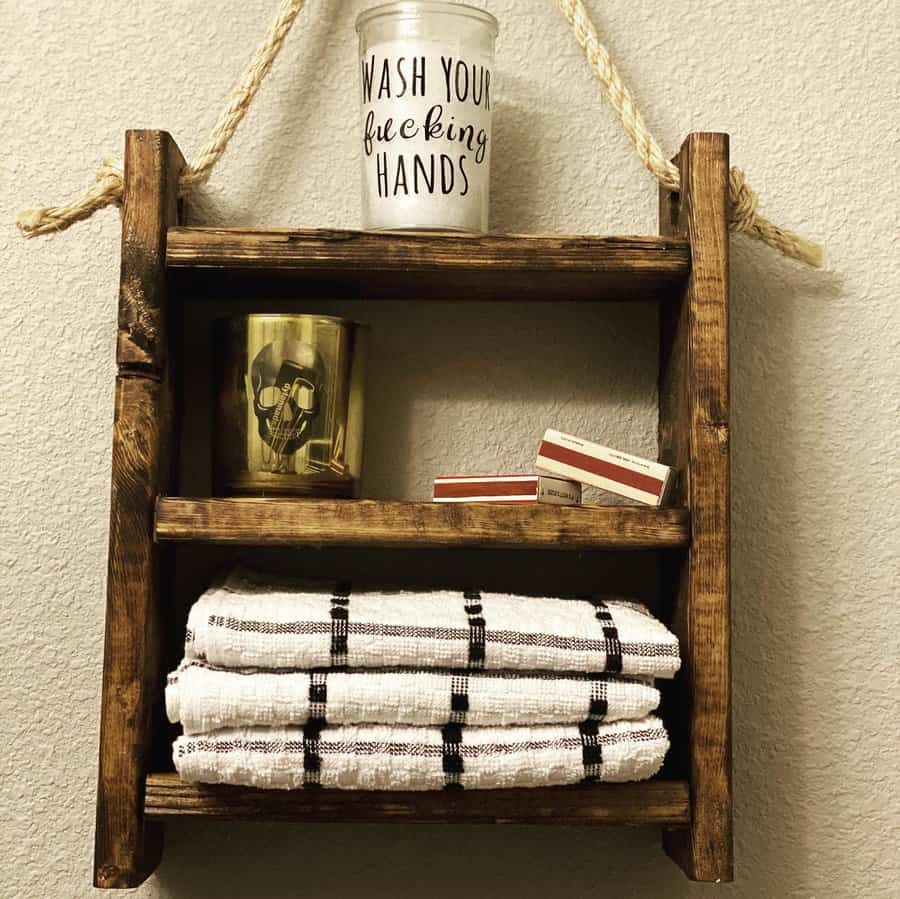 4. Woven Basket Organizers
The woven texture adds a touch of natural beauty, infusing your bathroom with warmth and character. Whether you opt for a set of matching baskets or mix and match different sizes and designs, the result is a visually pleasing display that doubles as storage. Stack the baskets on open shelves or place them underneath your vanity for a seamless and organized look.
Not only do these woven baskets provide a designated spot for your towels, but they also offer additional storage for toiletries, bath accessories, or even rolled-up magazines. The texture and earthy tones of the baskets create a relaxing and spa-like ambiance, turning your bathroom into a haven of tranquility.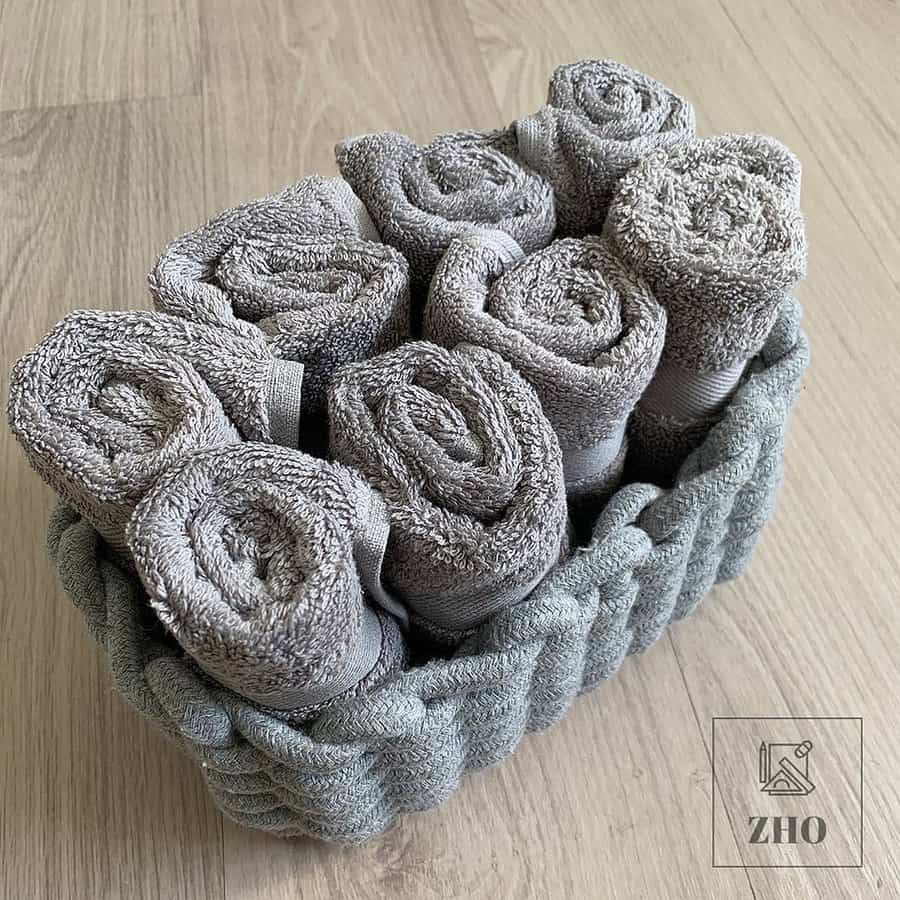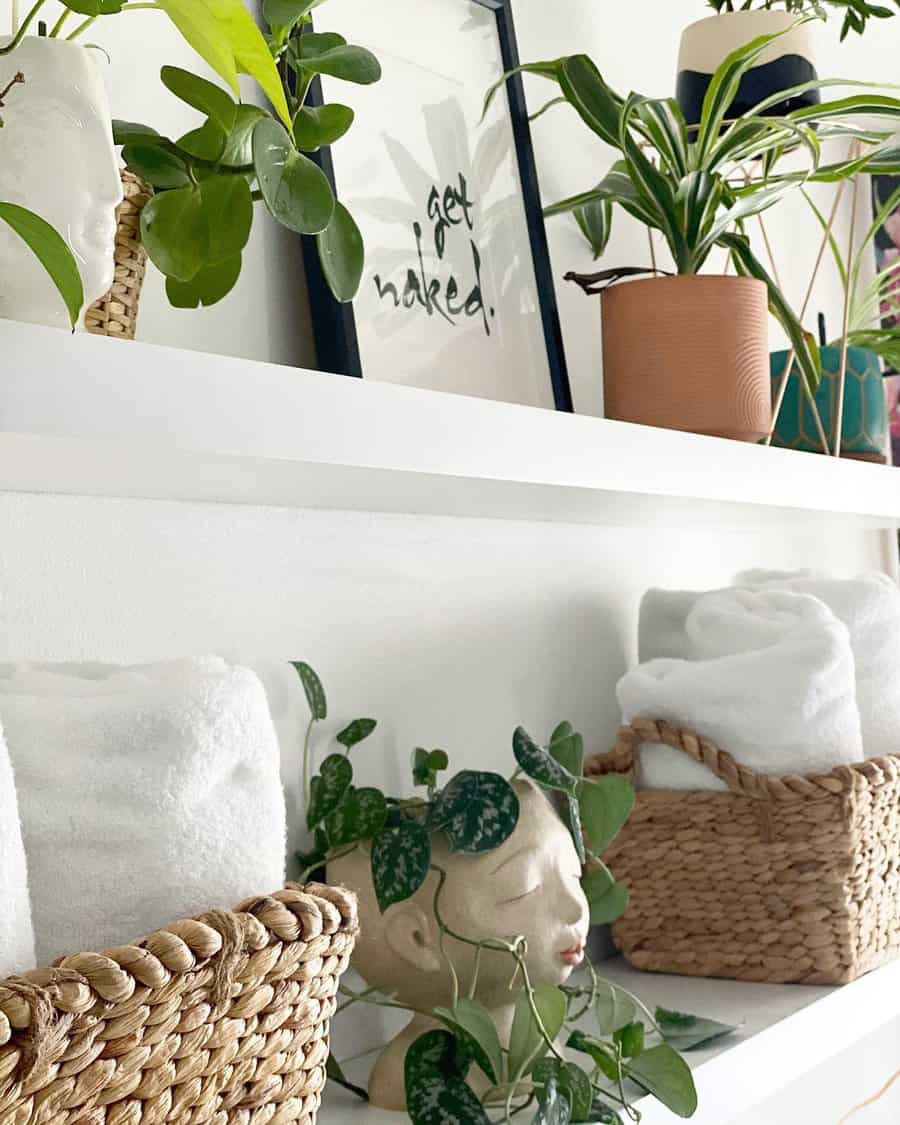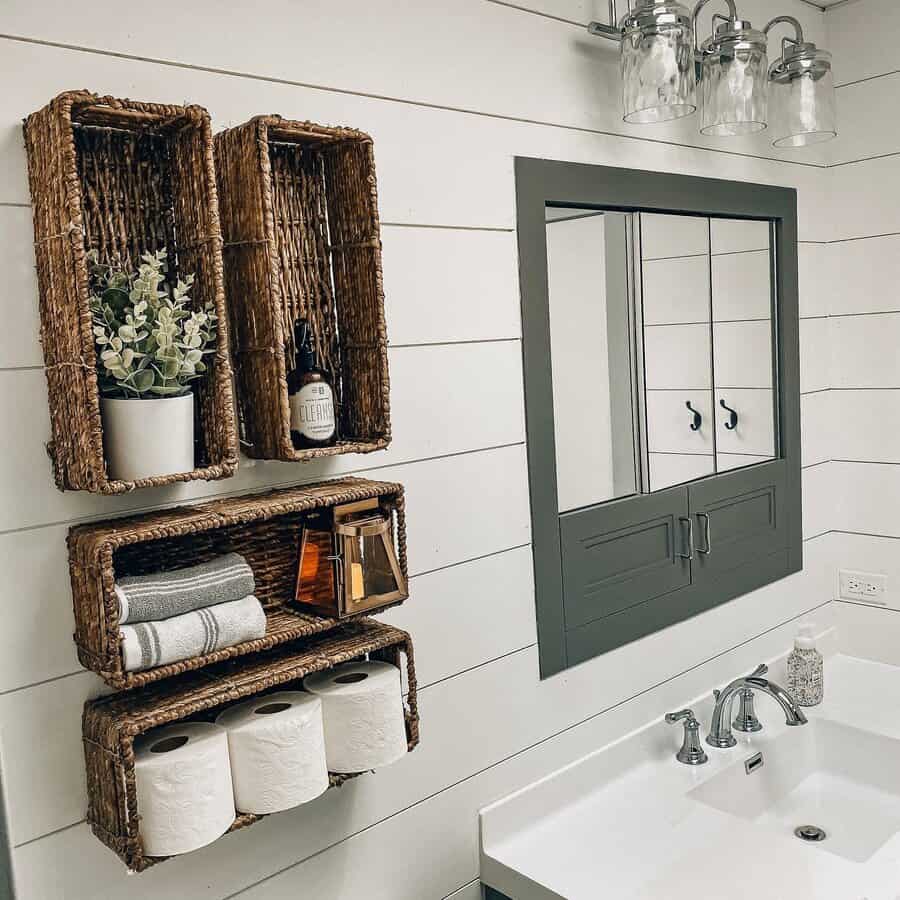 5. Wall-Mounted Hooks
Wall-mounted towel hooks offer a simple yet effective way to keep your towels neatly arranged and easily accessible. Their clean and modern design seamlessly integrates into any bathroom decor, adding a touch of functionality and sophistication. With wall-mounted towel hooks, you can say goodbye to folding and stacking towels.
Simply hang them up, allowing them to air dry and creating a spa-like ambiance. These hooks are not only practical but also serve as a stylish accessory, adding a subtle charm to your bathroom walls. Opt for a coordinated set of hooks or mix and match different designs for a playful and eclectic look.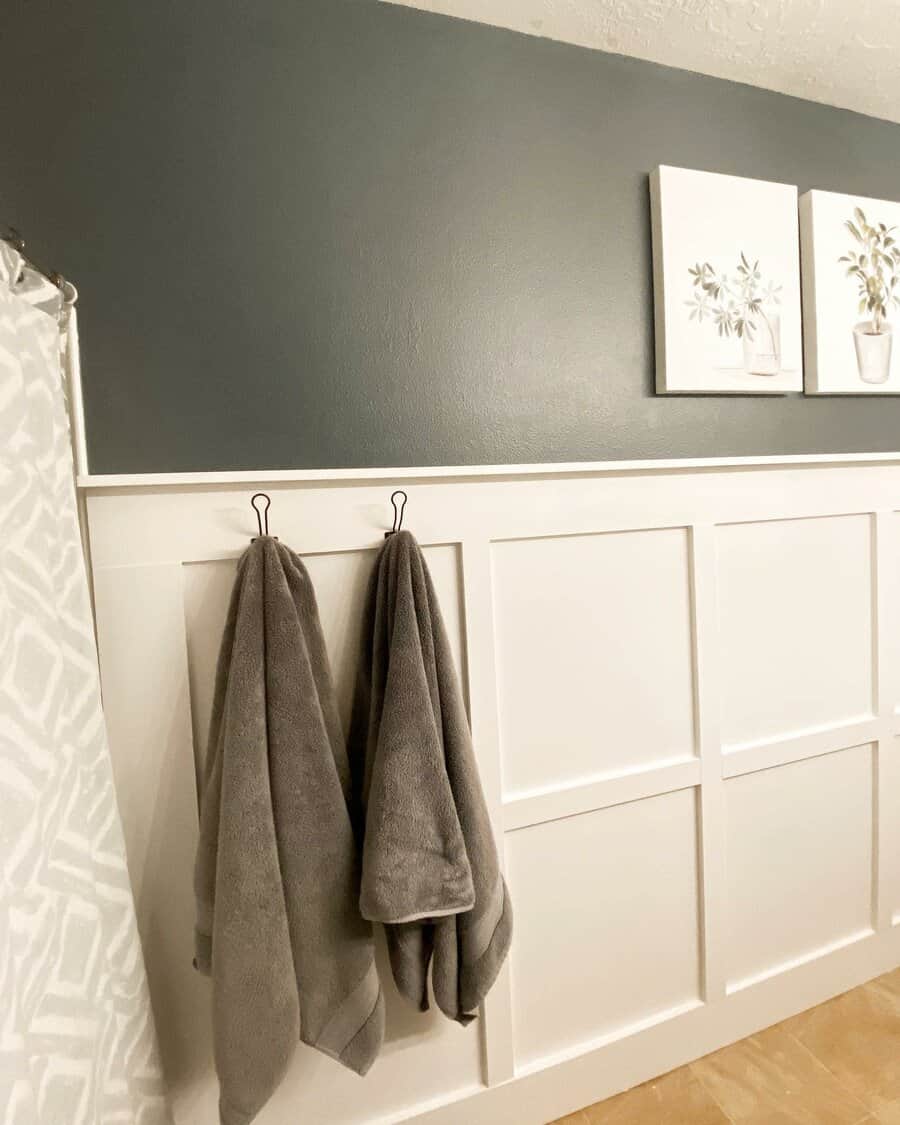 6. Towel Cabinet with Pull-Out Drawers
With a towel cabinet equipped with pull-out drawers, you can effortlessly organize and access your towels with ease. Each drawer offers a designated space for folded towels, keeping them neatly arranged and within reach. Whether you prefer a sleek and modern design or a charming rustic aesthetic, there is a towel cabinet style to complement your bathroom decor.
Choose from a variety of materials, such as wood or metal, to match your desired look and feel. The pull-out drawers provide a smooth gliding motion, allowing for seamless retrieval and placement of towels. Maximize your storage potential by utilizing multiple drawers for different towel sizes or even adding dividers to keep them neatly separated.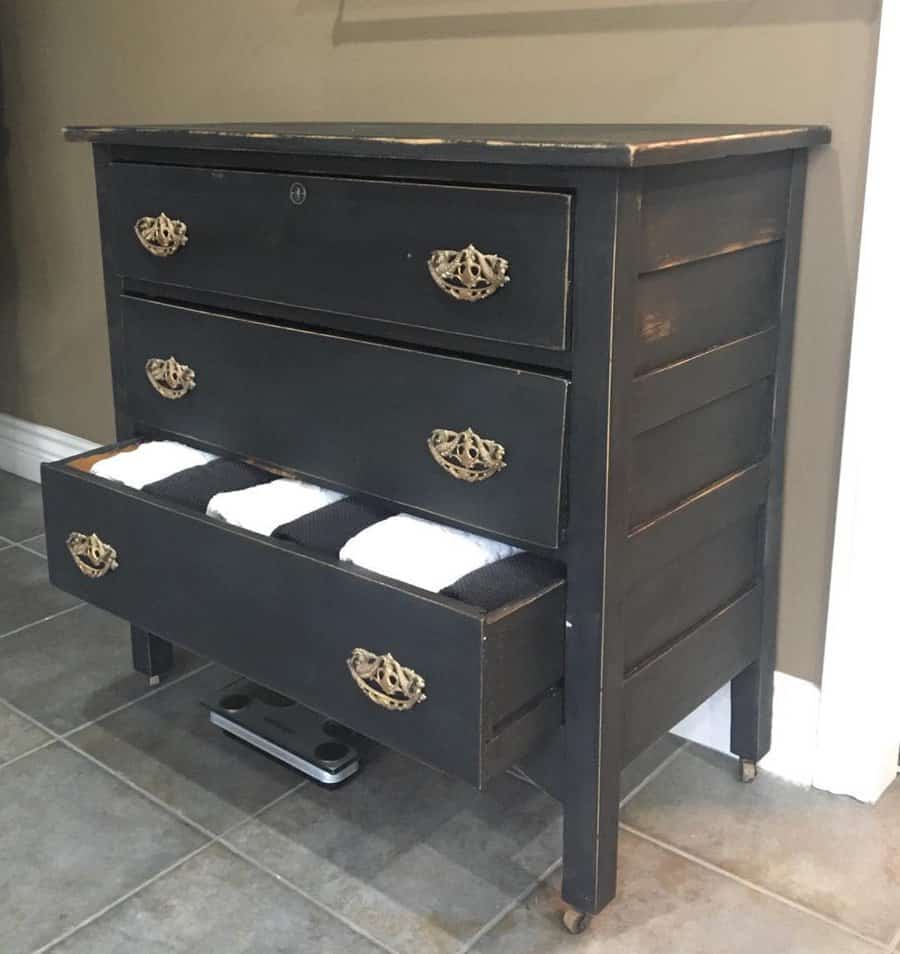 7. Ladder Towel Racks
Embracing the concept of vertical storage, ladder towel racks make the most of limited space while providing a unique and eye-catching display for your towels. Lean the ladder against the wall or mount it securely for a more permanent installation.
The rungs of the ladder serve as convenient holders for your towels, allowing them to hang neatly and be easily accessible. Whether you prefer a sleek and minimalist design or a more rustic and weathered look, ladder towel racks come in various materials and finishes to suit your style.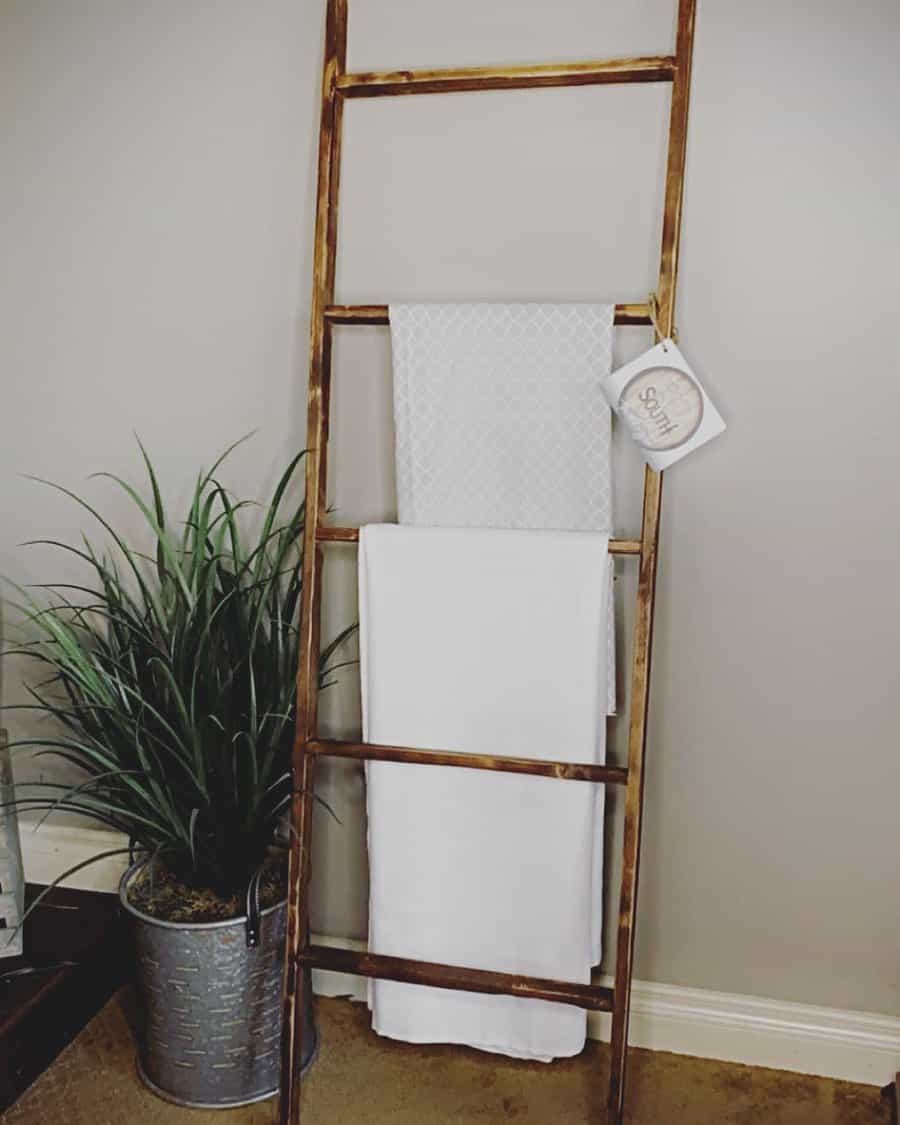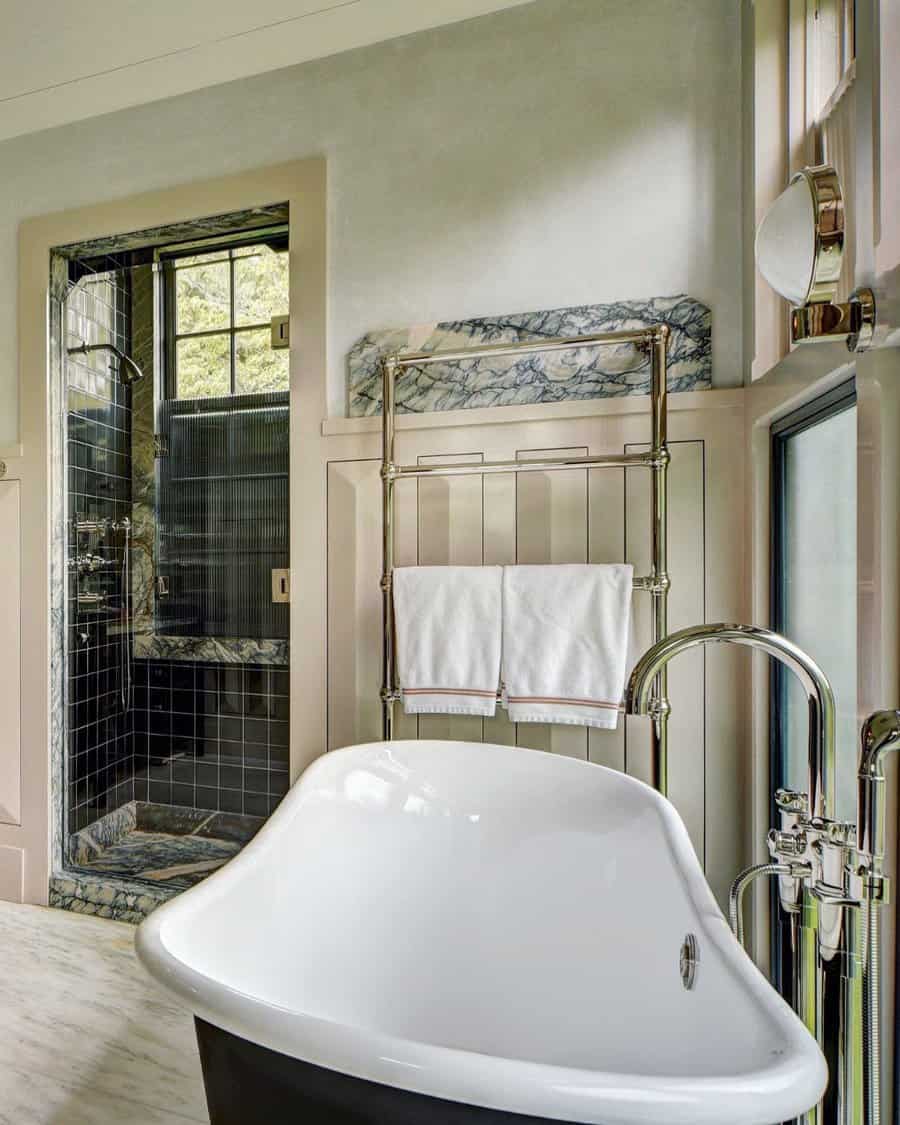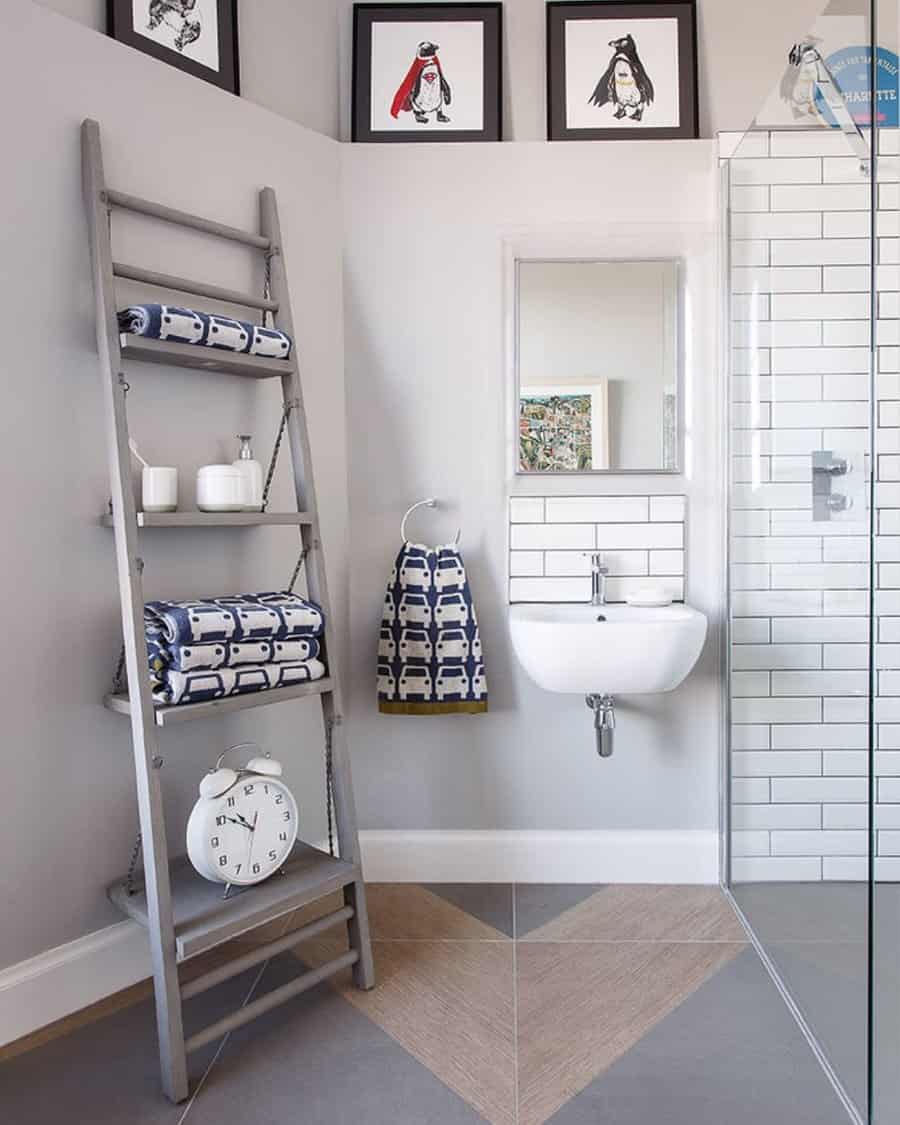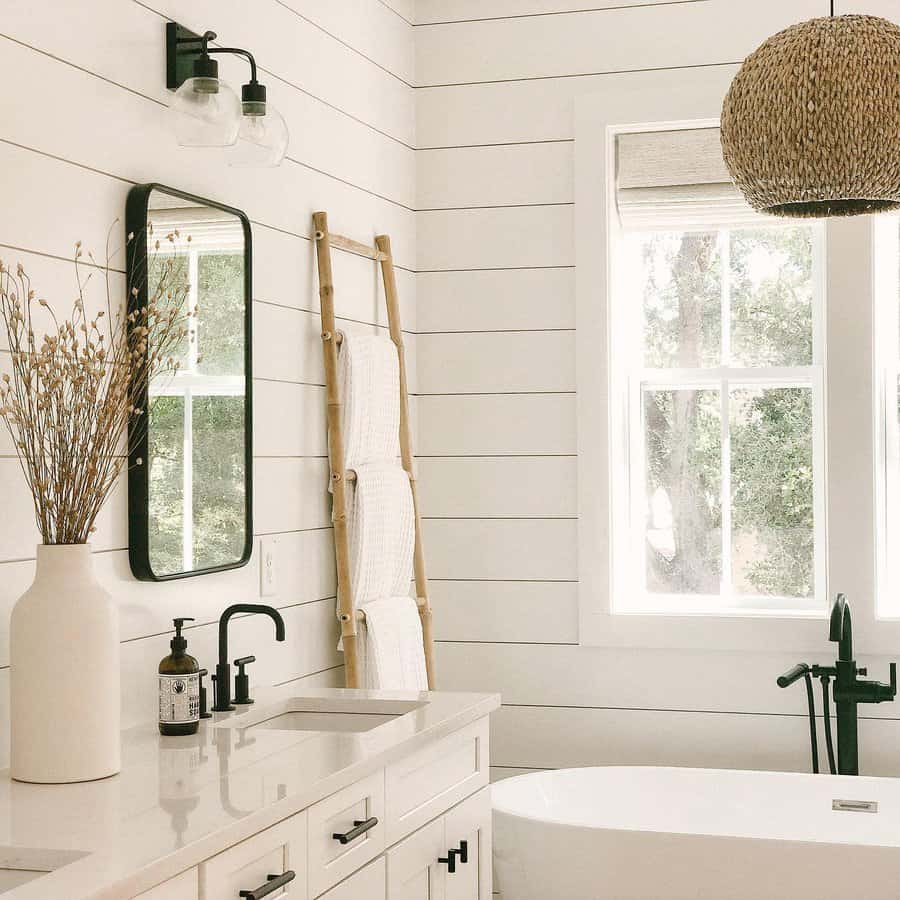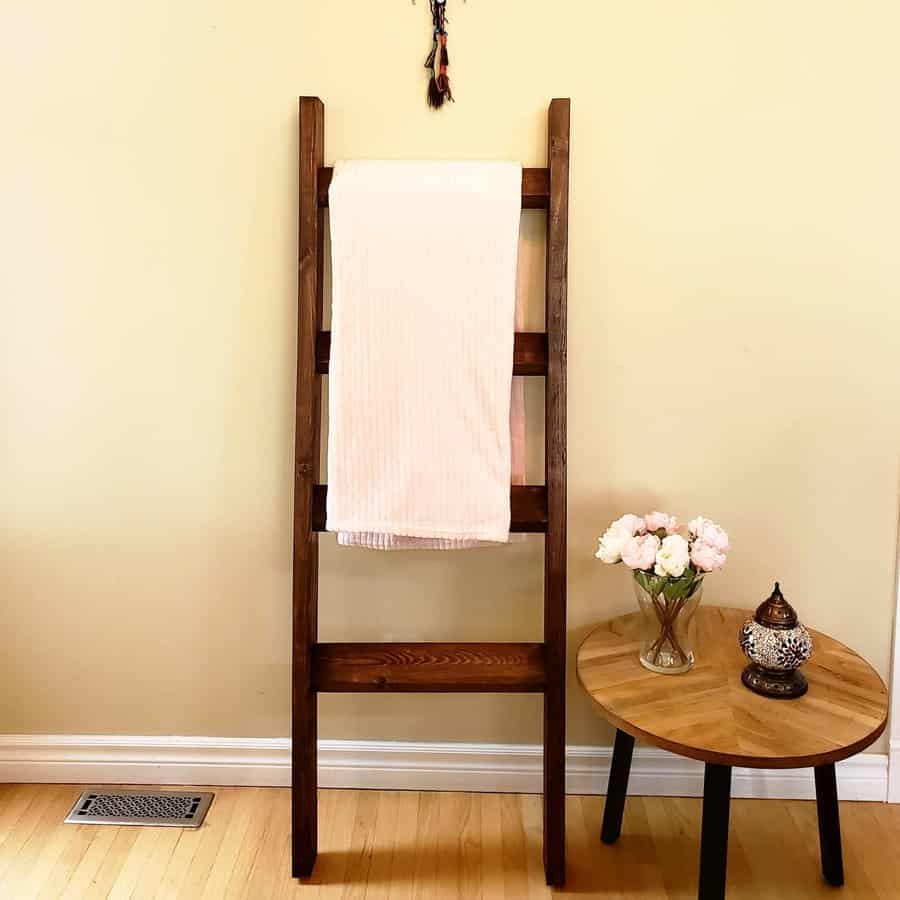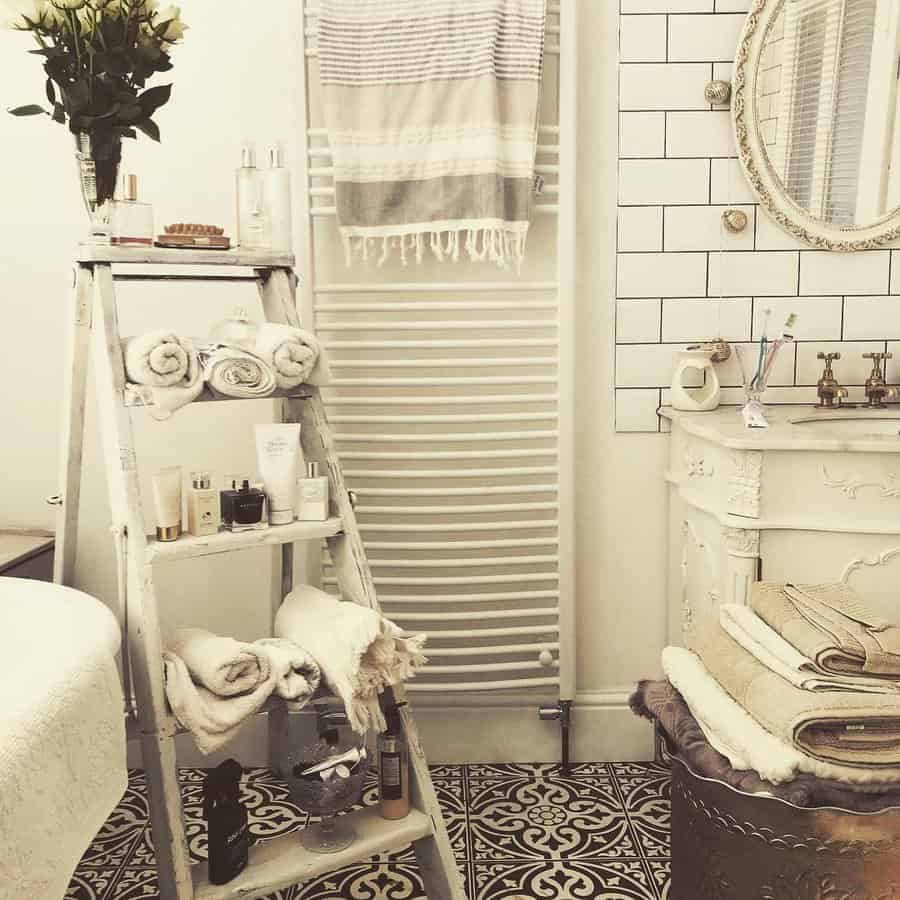 8. Backless Shelves
Maximize your towel storage in small apartments with the ingenious solution of backless towel shelves. These space-saving wonders provide a practical and stylish way to keep your towels organized and easily accessible. The absence of a traditional back allows these shelves to seamlessly blend into your bathroom, creating a sleek and streamlined look.
Their open design not only adds a modern touch to your space but also ensures proper air circulation, keeping your towels fresh and dry. With backless towel shelves, you can display your towels in a visually pleasing manner, transforming them into a decorative element of your bathroom.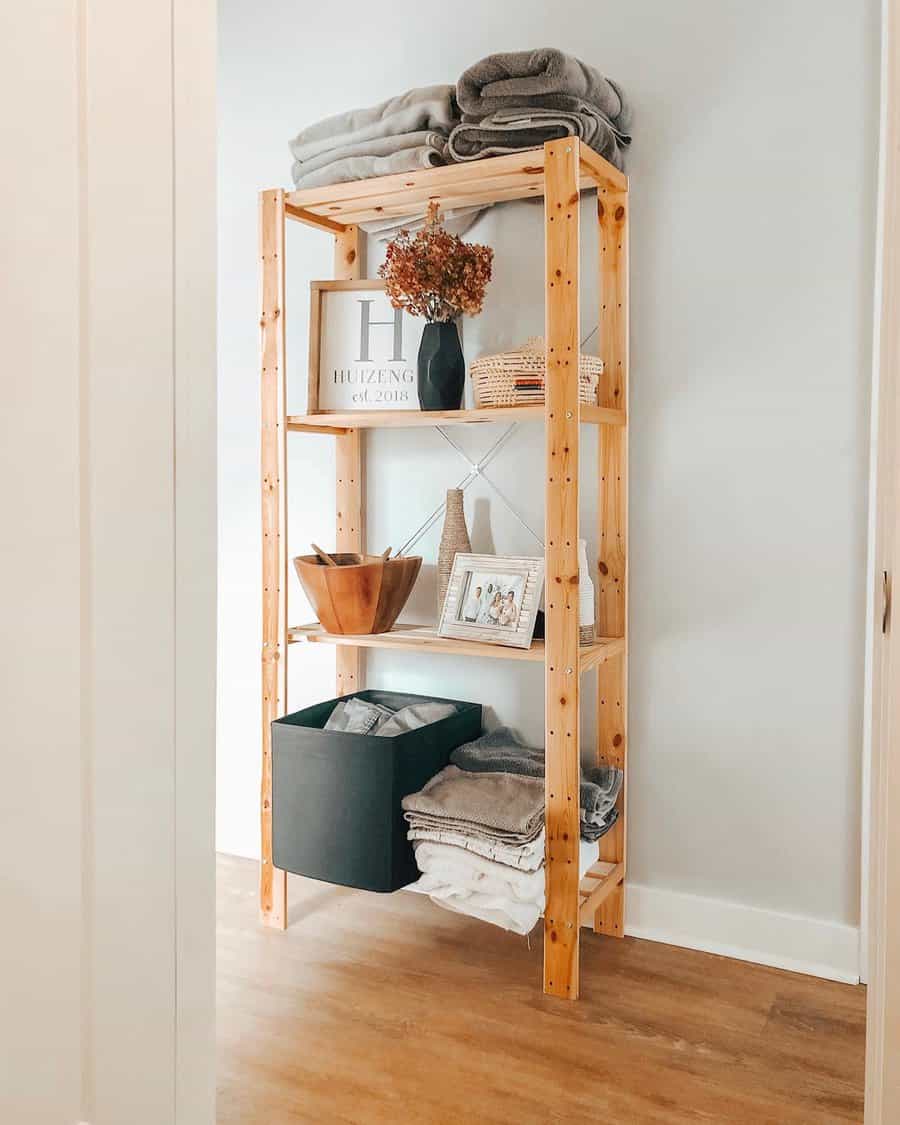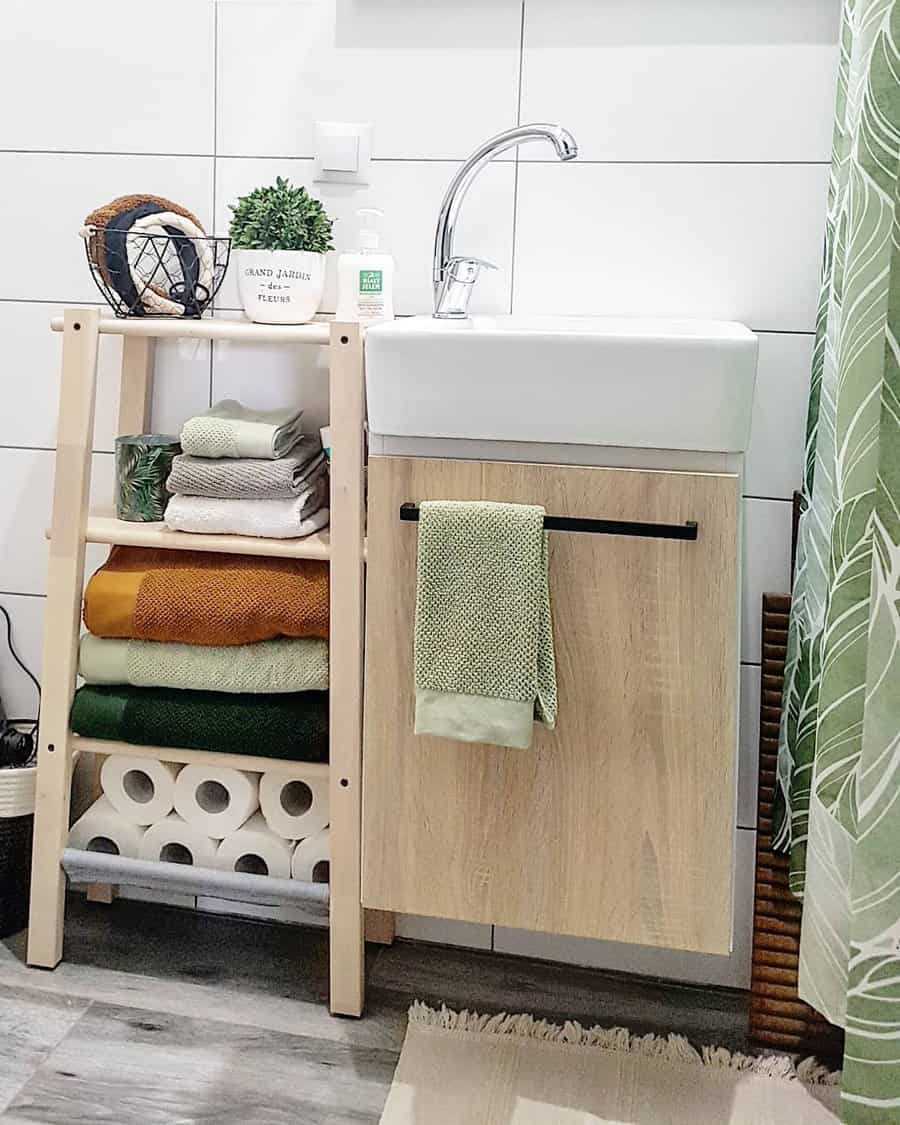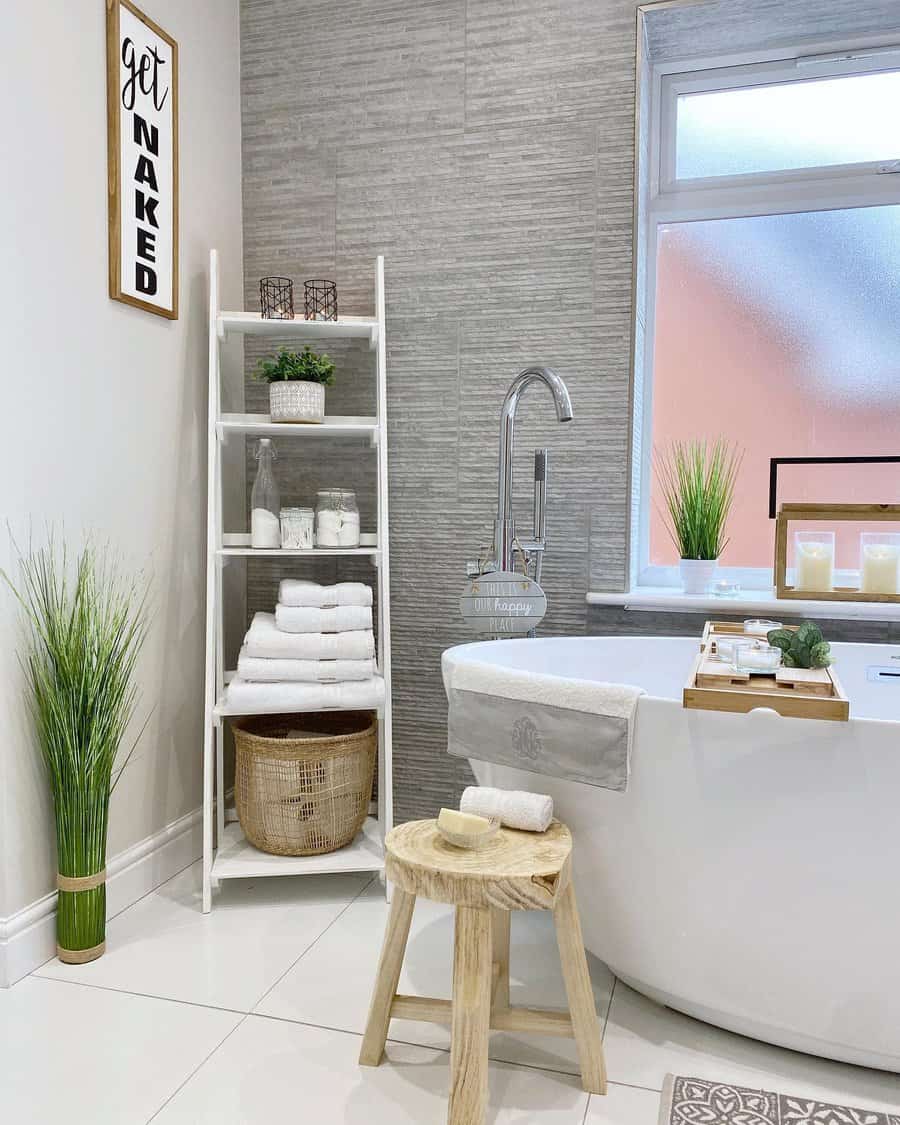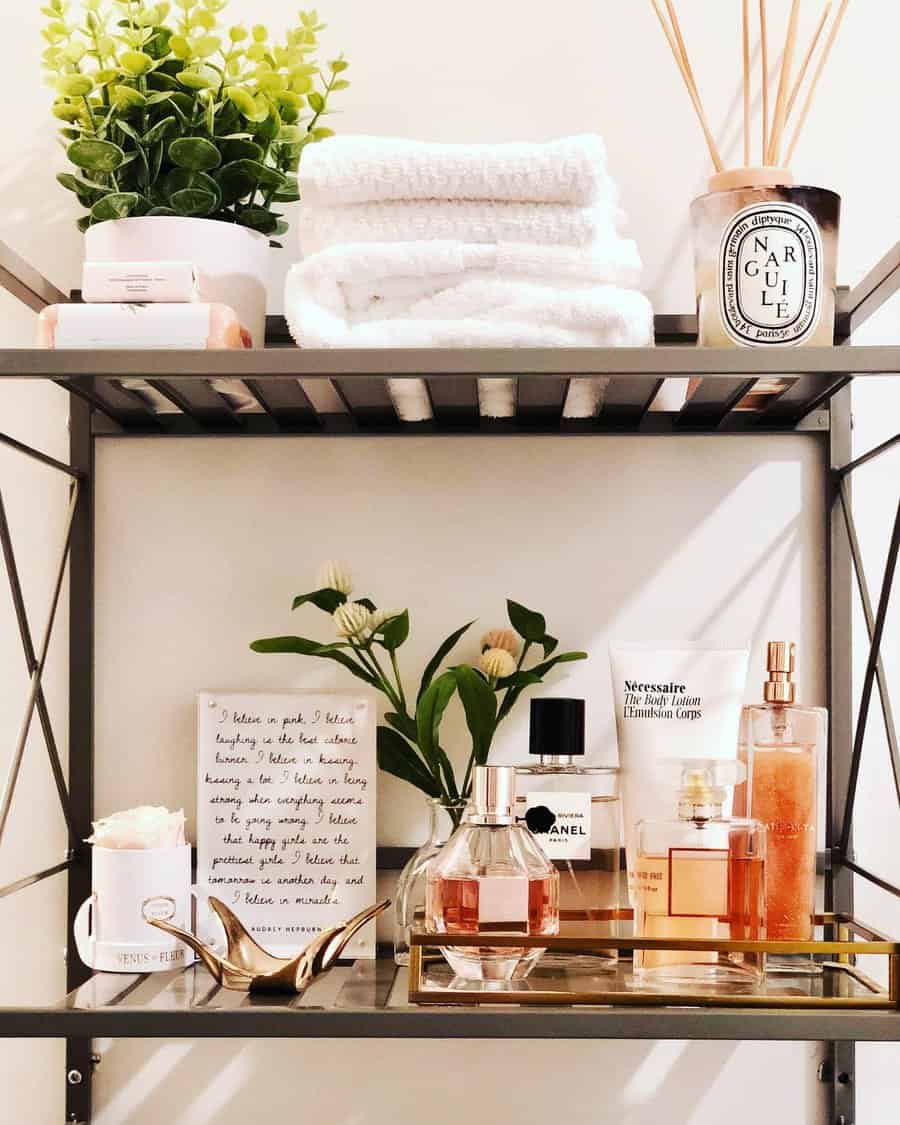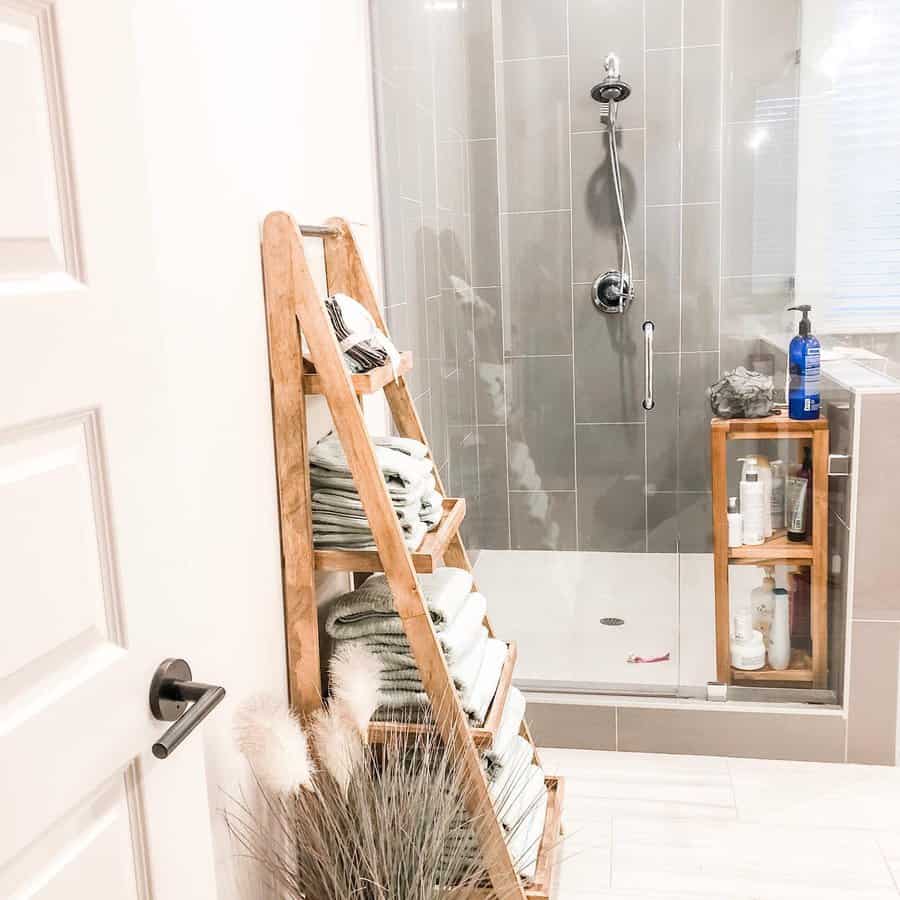 9. Wall-mounted Towel Rack
The wall-mounted towel rack not only maximizes your vertical space but also adds a touch of sophistication to your bathroom walls. It's a practical and stylish way to keep your towels within easy reach while enhancing the overall visual appeal of your space.
From sleek and modern stainless steel to rustic and charming wooden options, there's a towel rack for every style preference. Install the rack near your shower or bathtub for easy access to fresh towels, or position it near the sink for hand towel convenience. Whether you opt for a single rack or a multi-tiered design, this smart storage solution will elevate the organization and elegance of your bathroom.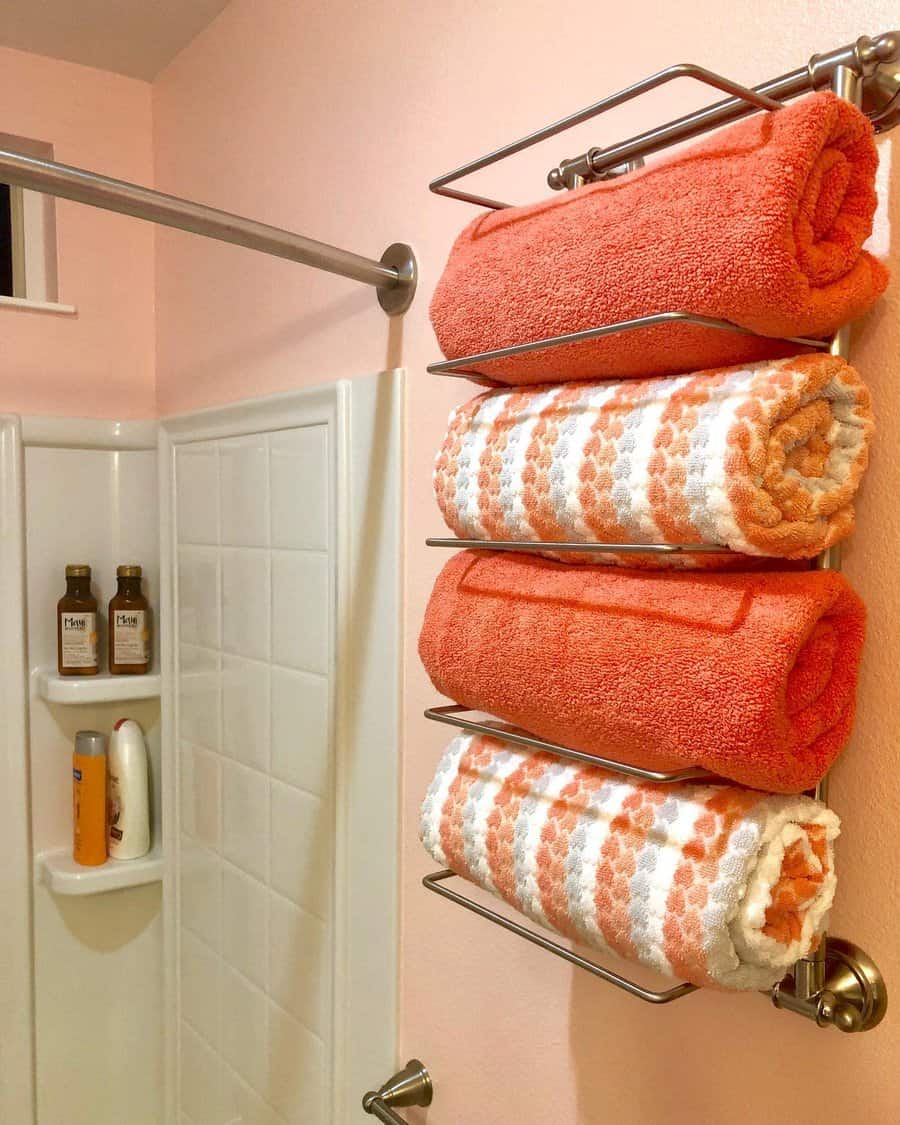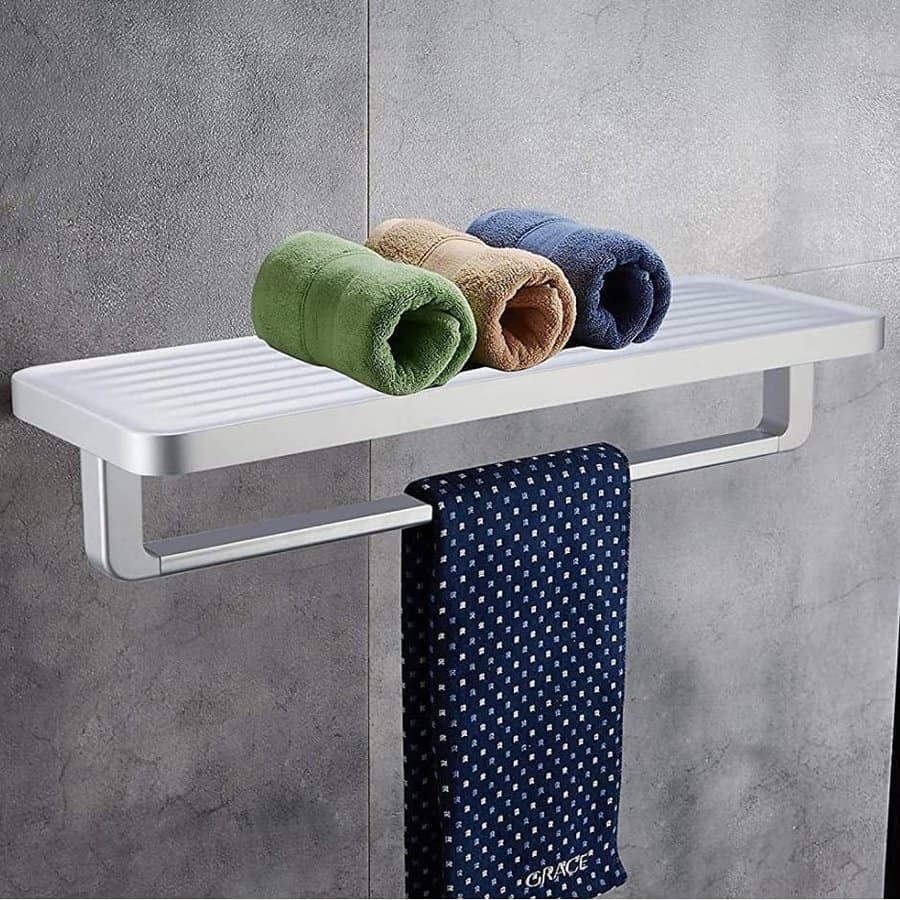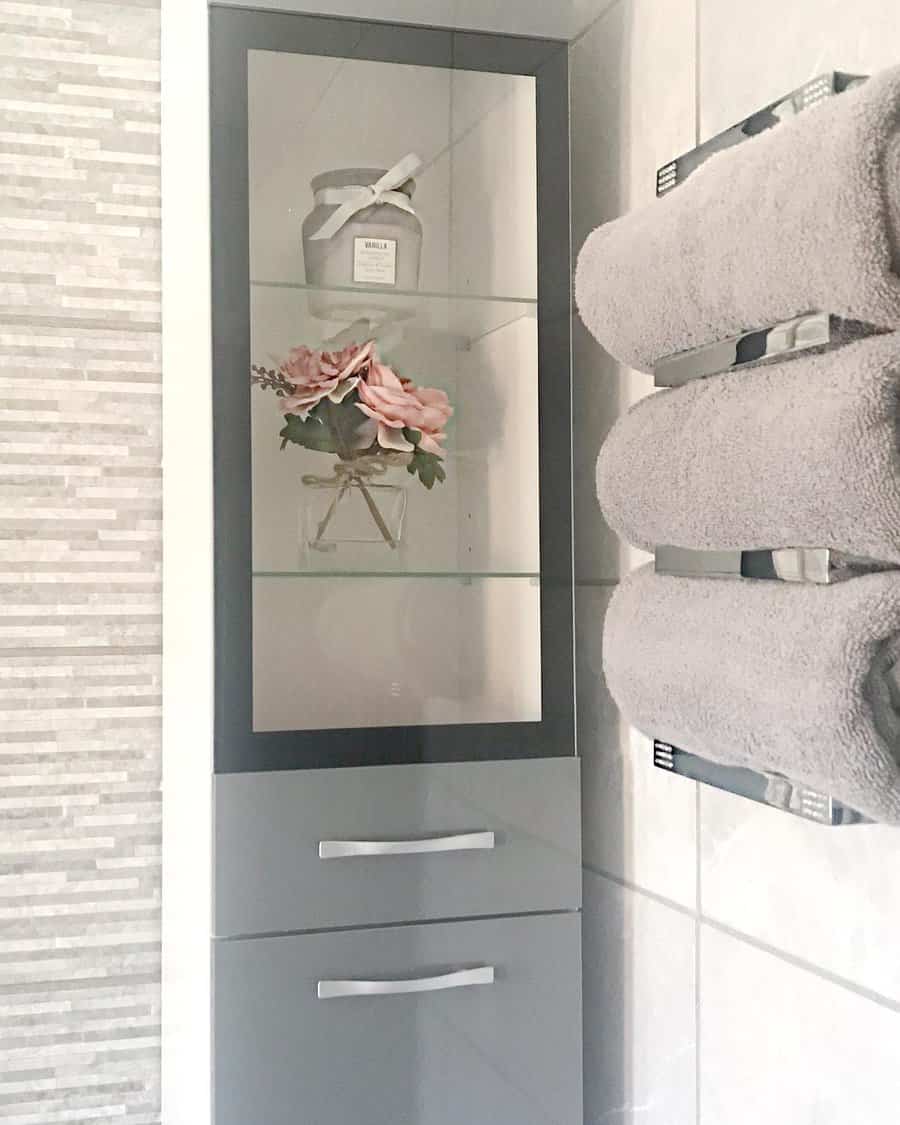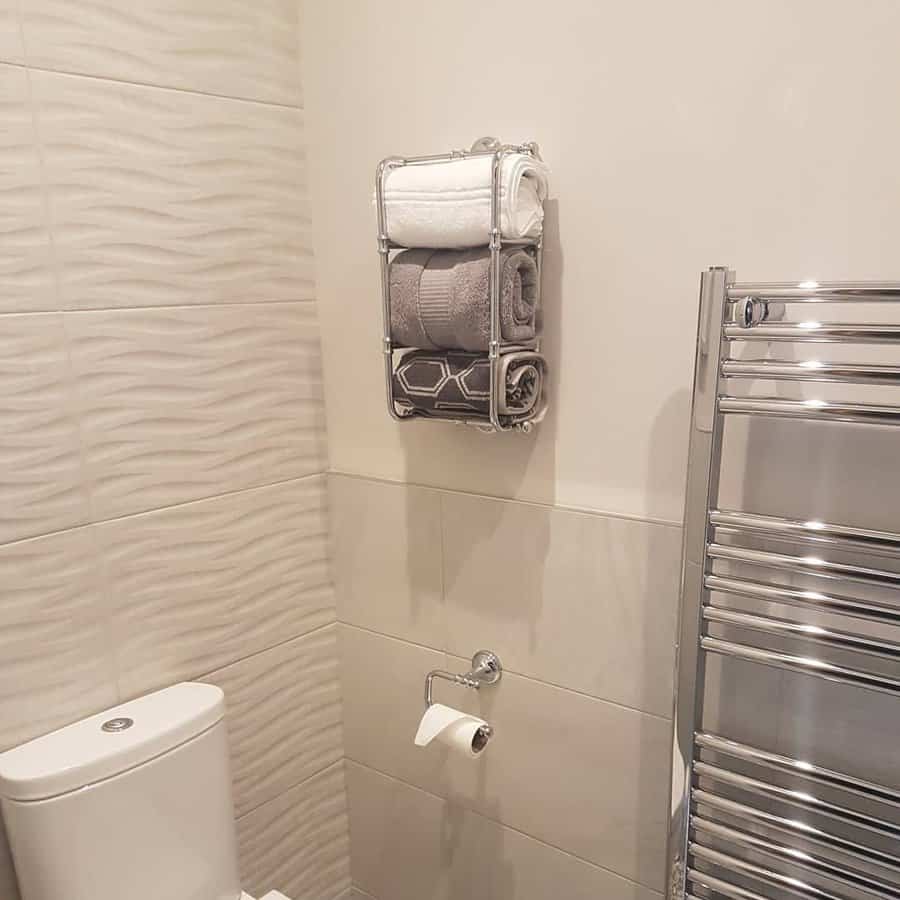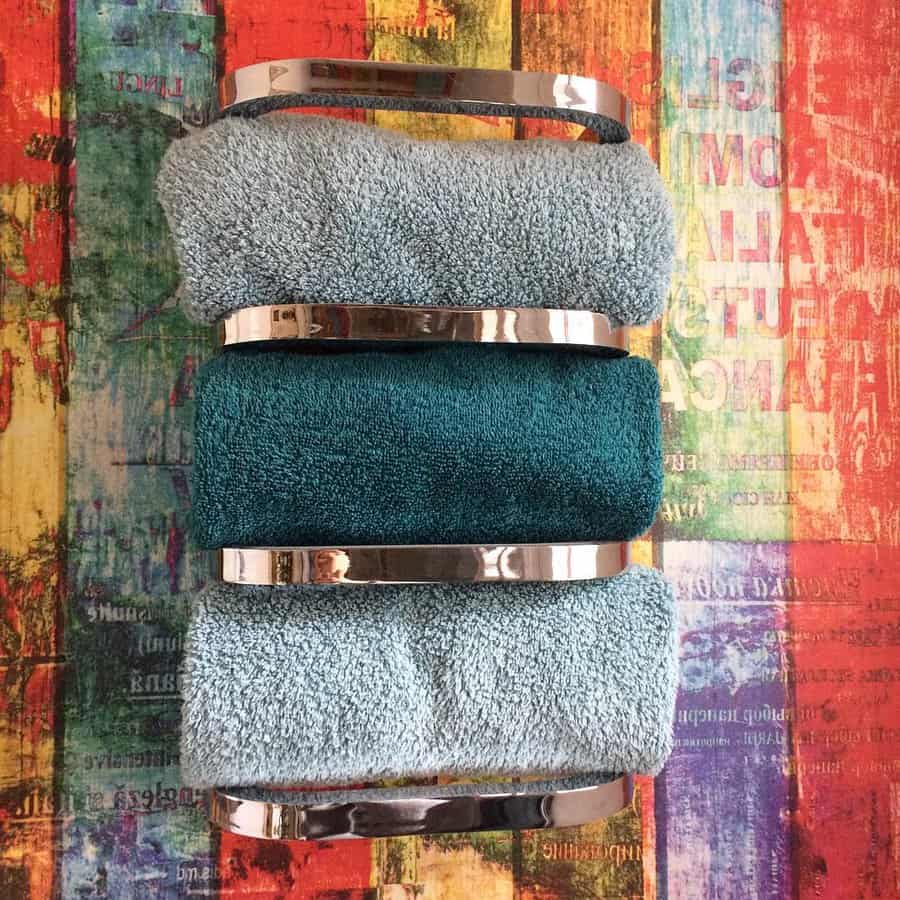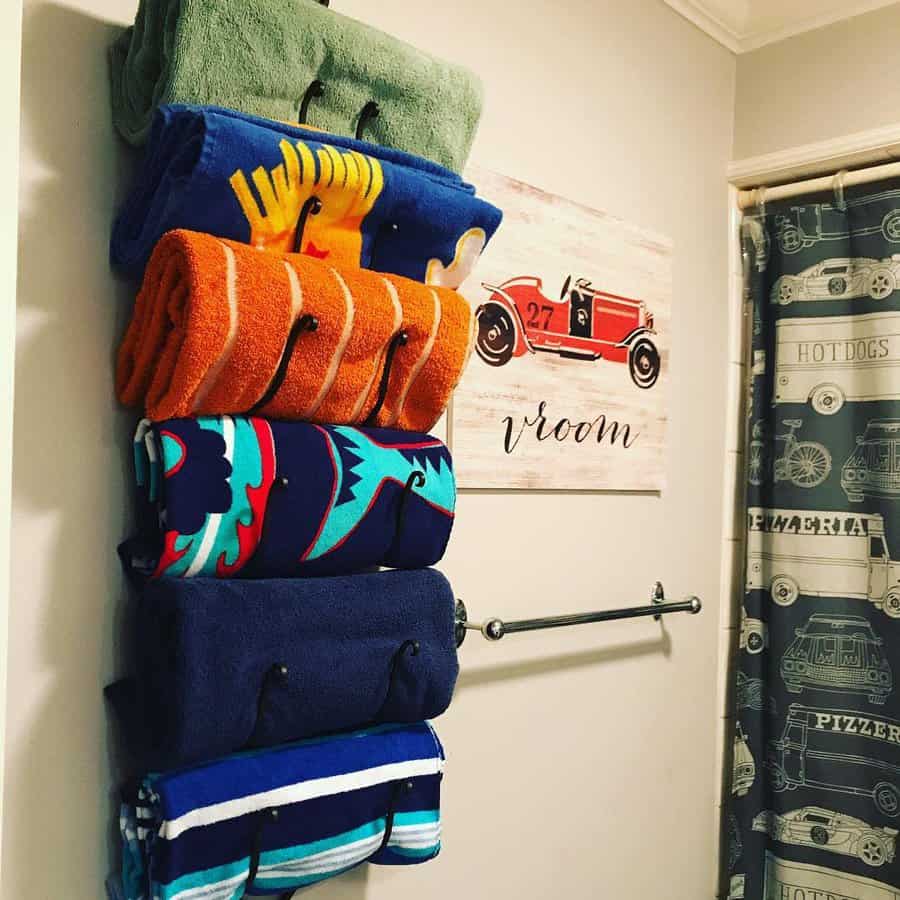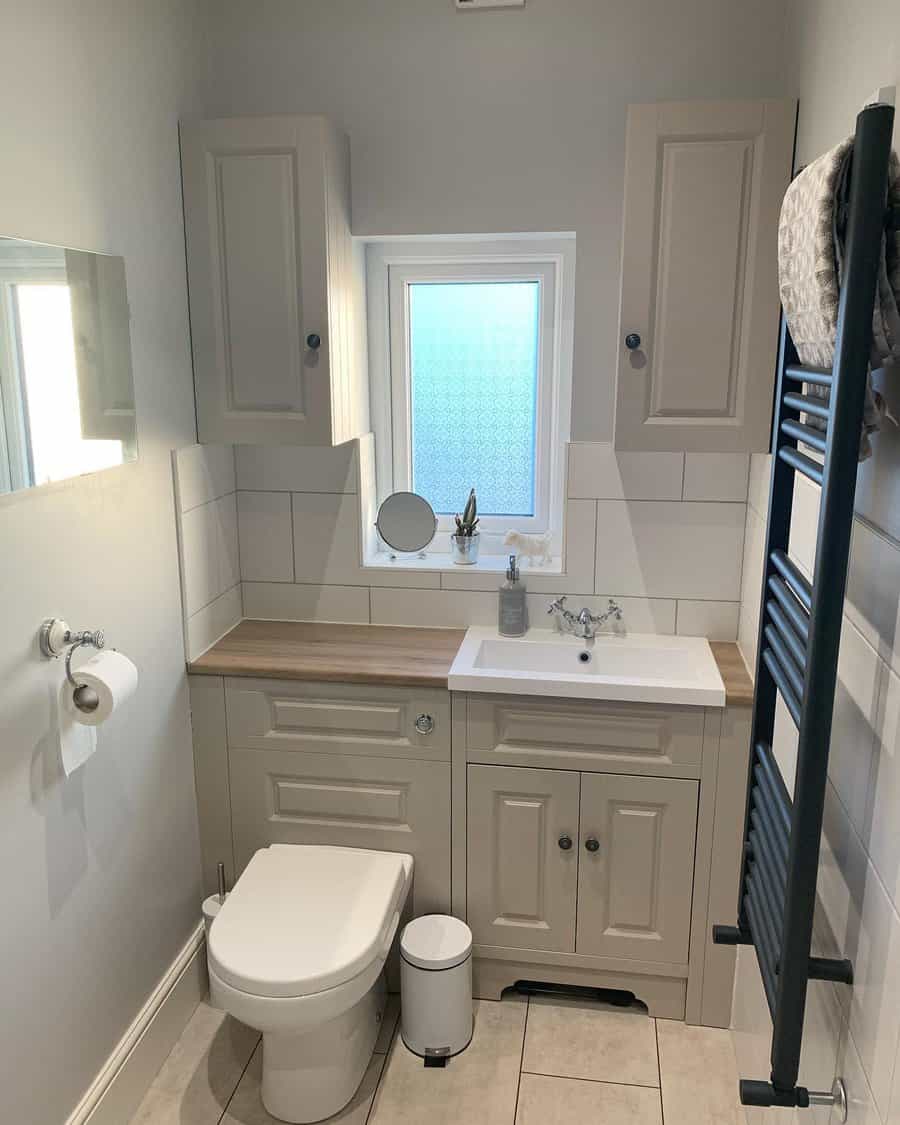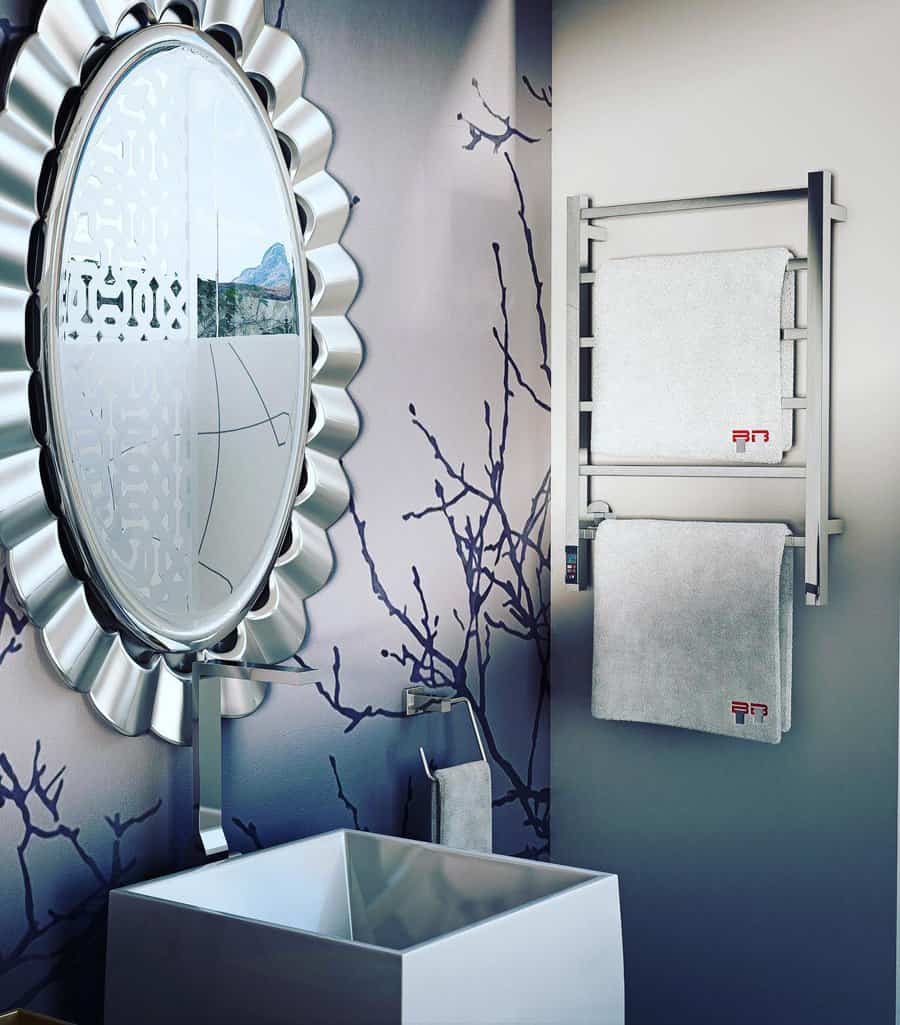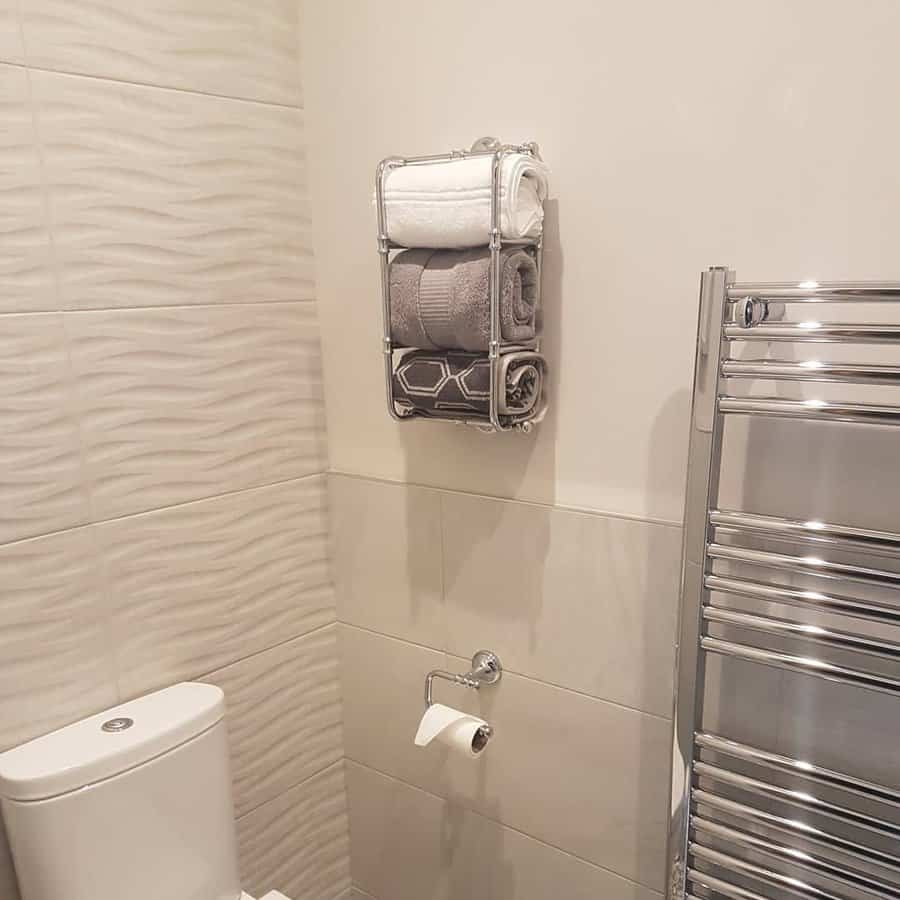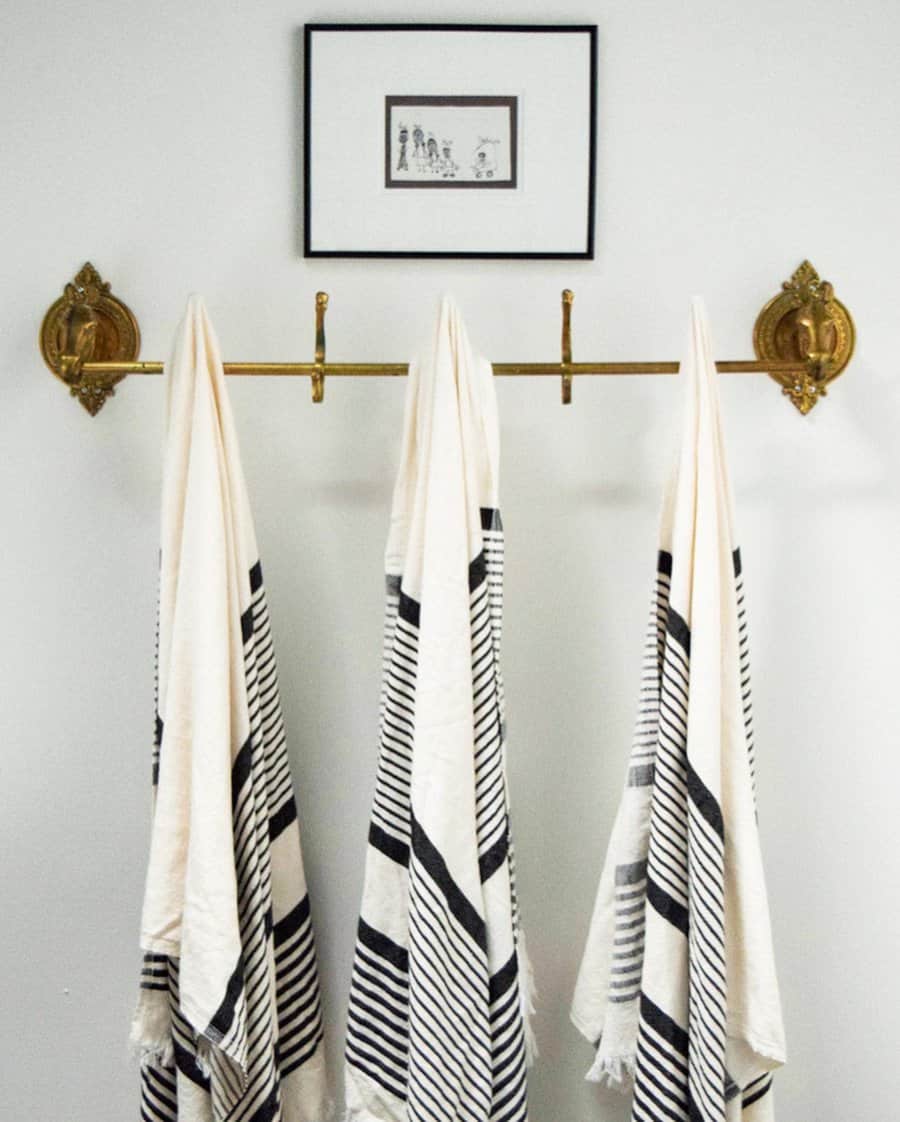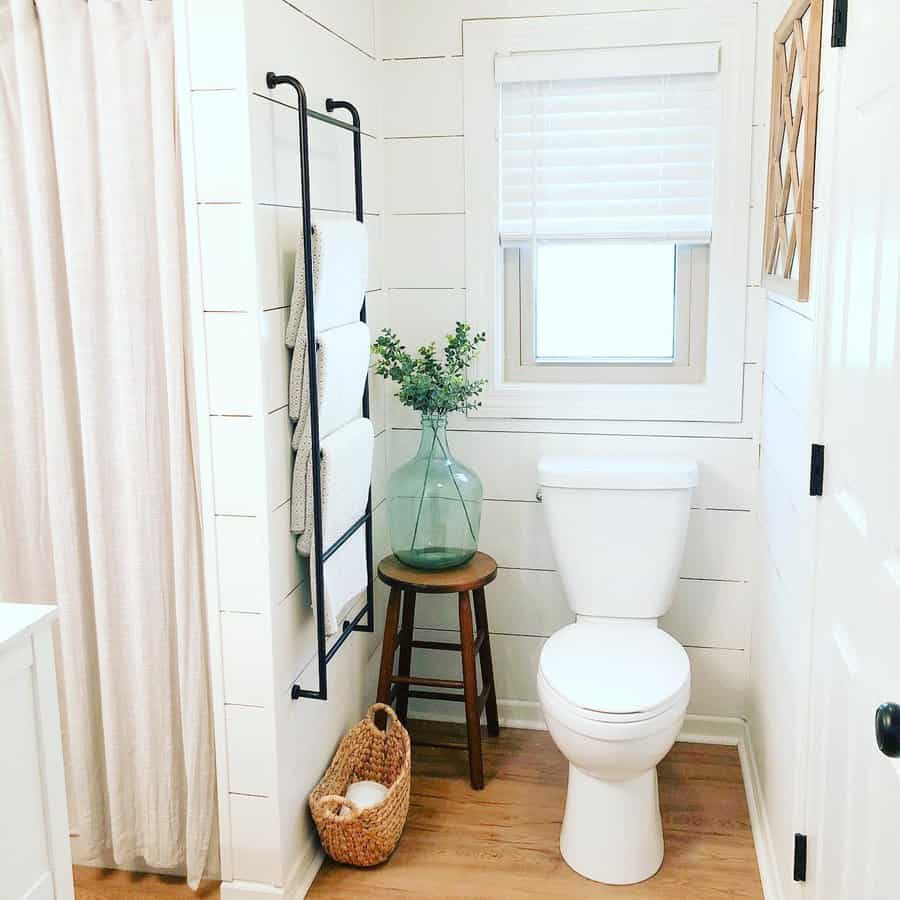 10. Standalone Metal Rack
The sleek and modern design of a metal towel rack adds a touch of contemporary elegance to your bathroom decor. With its minimalistic yet eye-catching presence, it becomes a stylish focal point that enhances the overall ambiance of the space. The open design of the rack allows for optimal air circulation, ensuring that your towels dry quickly and remain fresh.
Whether you choose a freestanding ladder-style rack or a multi-tiered design, a standalone metal towel rack offers ample storage space for towels of various sizes. Its versatile nature allows it to seamlessly blend with any bathroom style, from modern and industrial to Scandinavian and minimalist.
Showcase your fluffy bath towels and decorative hand towels in a visually appealing manner while maintaining a clutter-free and organized bathroom.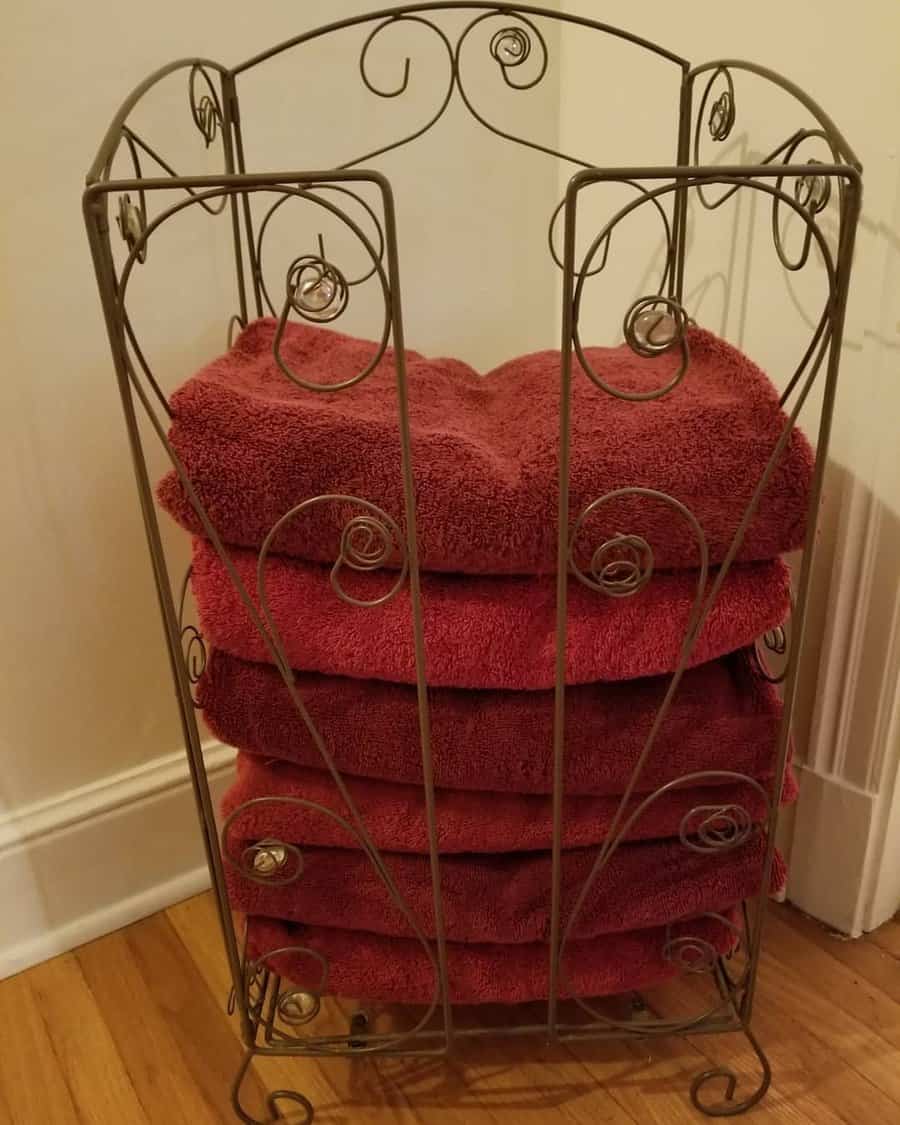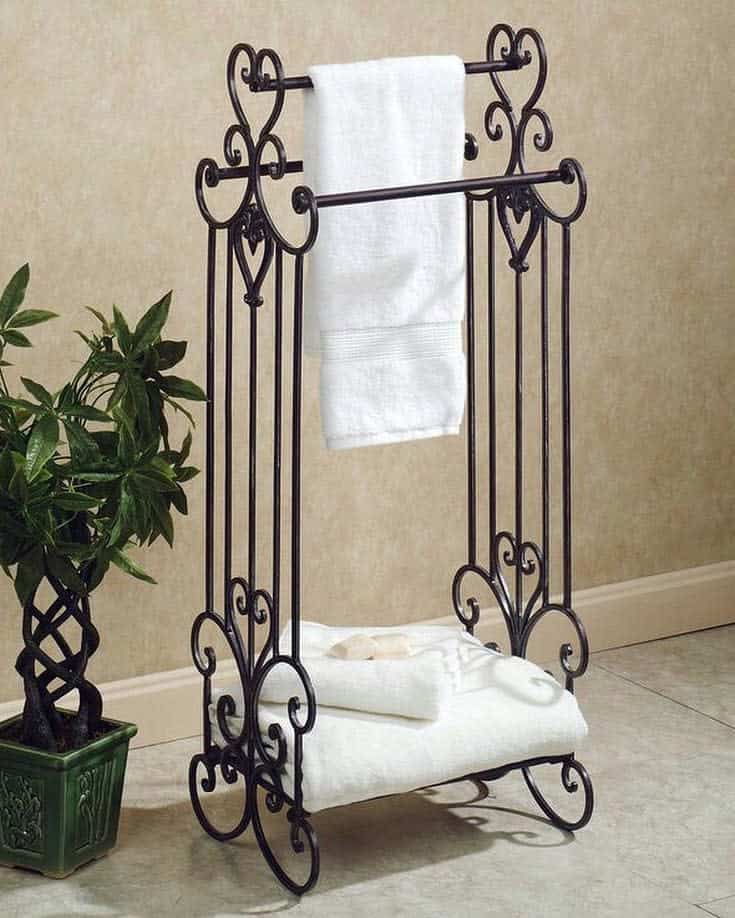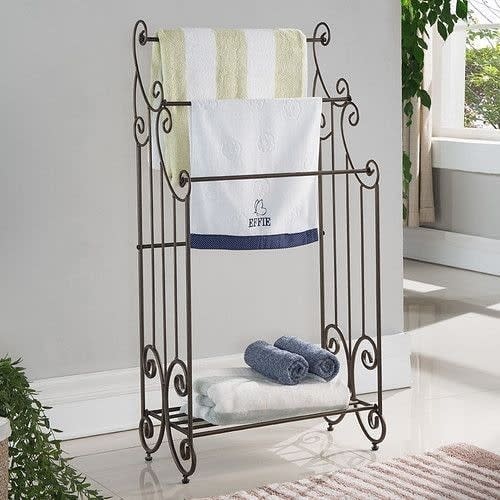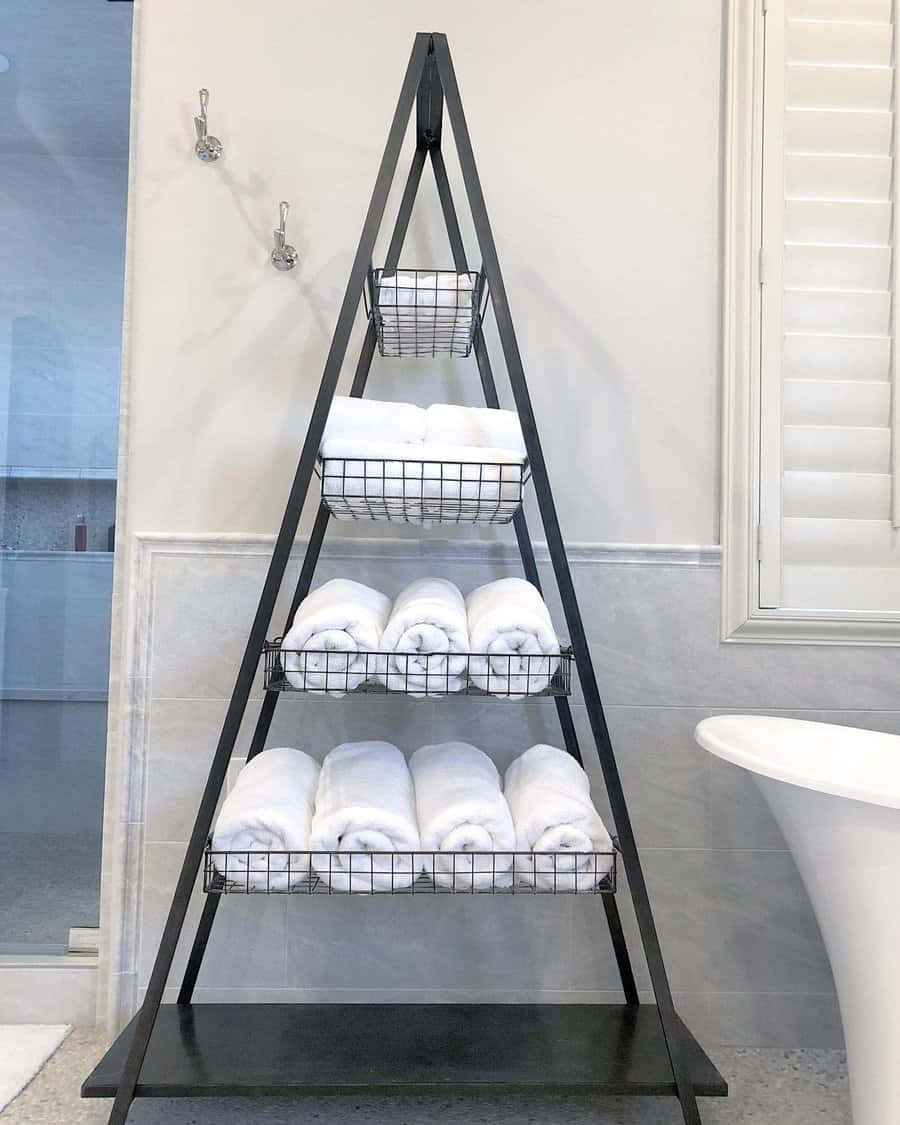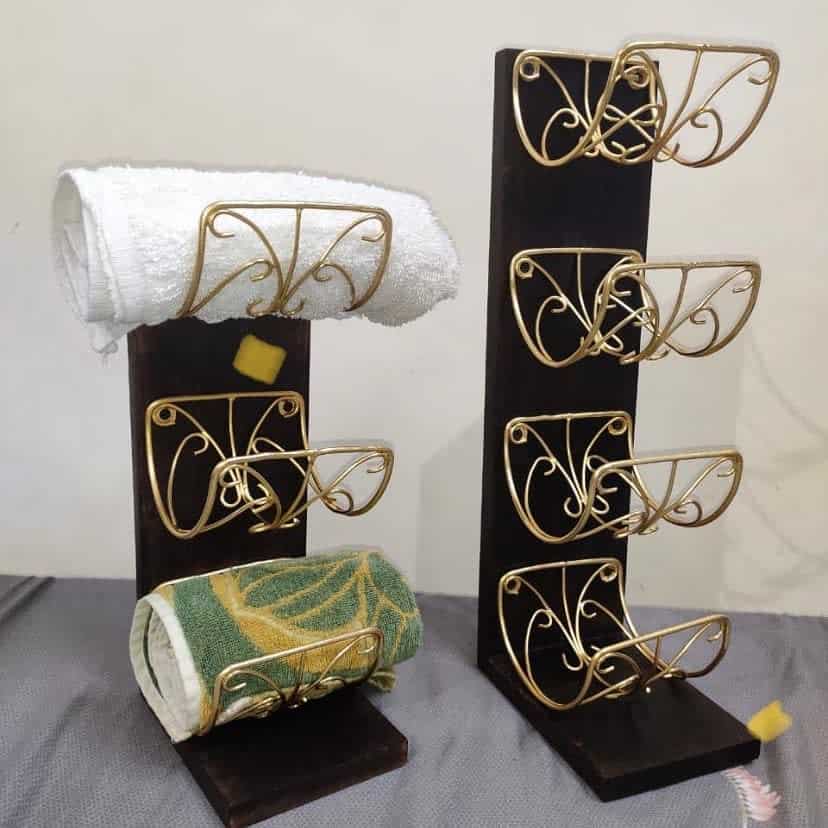 11. Vanity Shelves
The vanity towel shelf creates a dedicated spot to keep your towels neatly folded and within arm's reach, ensuring that you can grab a fresh towel effortlessly after every shower. With its strategic placement right below the vanity countertop, this storage solution optimizes unused space while maintaining a clean and organized look.
Choose a sleek and minimalist design to complement a modern bathroom or opt for a rustic-inspired shelf to add warmth and charm. The vanity towel shelf not only serves a functional purpose but also adds a stylish element to your bathroom decor.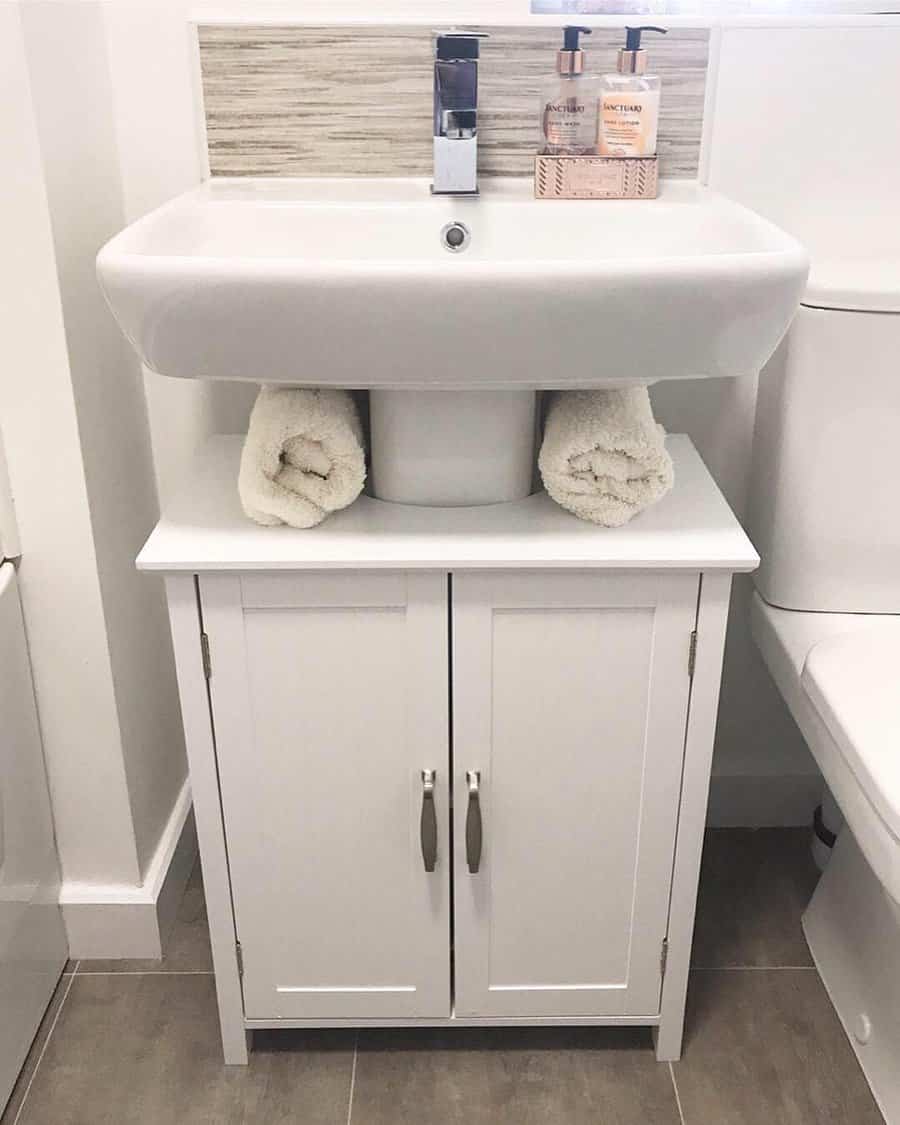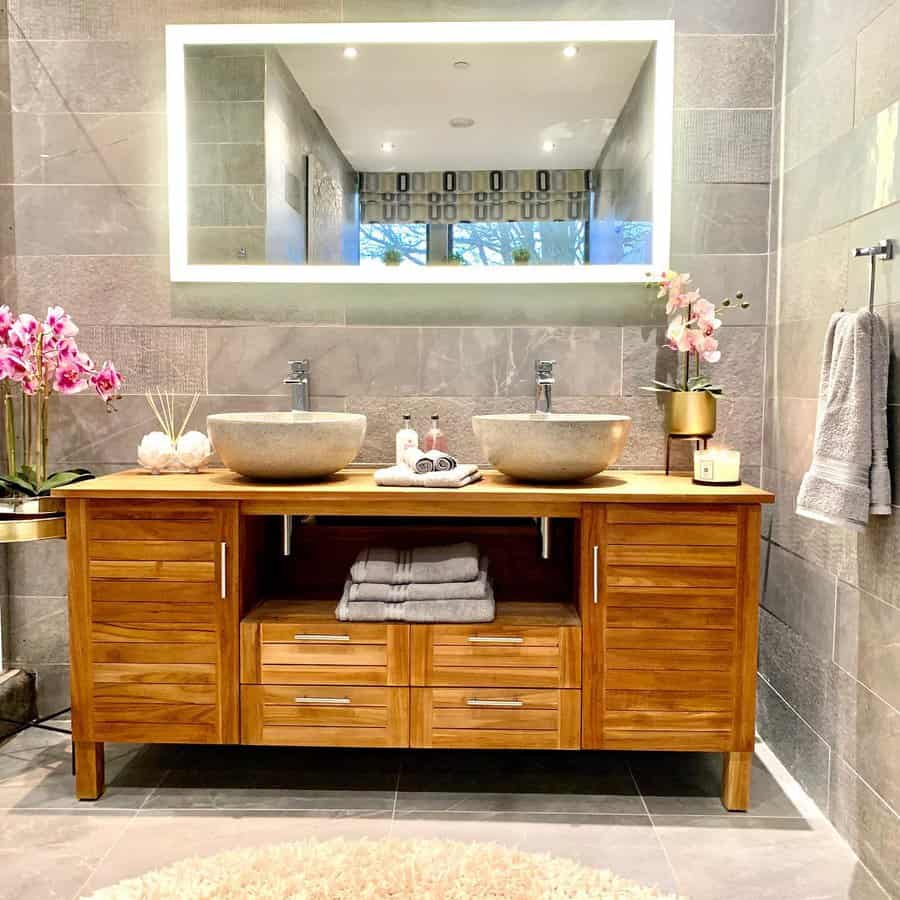 12. Organizer Crates
Consider the rustic appeal of crate towel storage, a unique idea that combines form and practicality. Mounting metal or wood crates on the wall creates a visually interesting display while keeping your towels neatly organized and within reach. Stack the crates vertically or arrange them horizontally, depending on the available space and your desired aesthetic.
The natural texture and warmth of wooden crates bring a cozy and inviting feel to your bathroom, while metal crates can lend a modern and industrial touch. Customize the storage by adding labels or tags to each crate, ensuring easy identification of towels for different family members or guest use.
Embrace this creative approach to towel storage, turning a simple necessity into a stylish and functional element of your bathroom decor.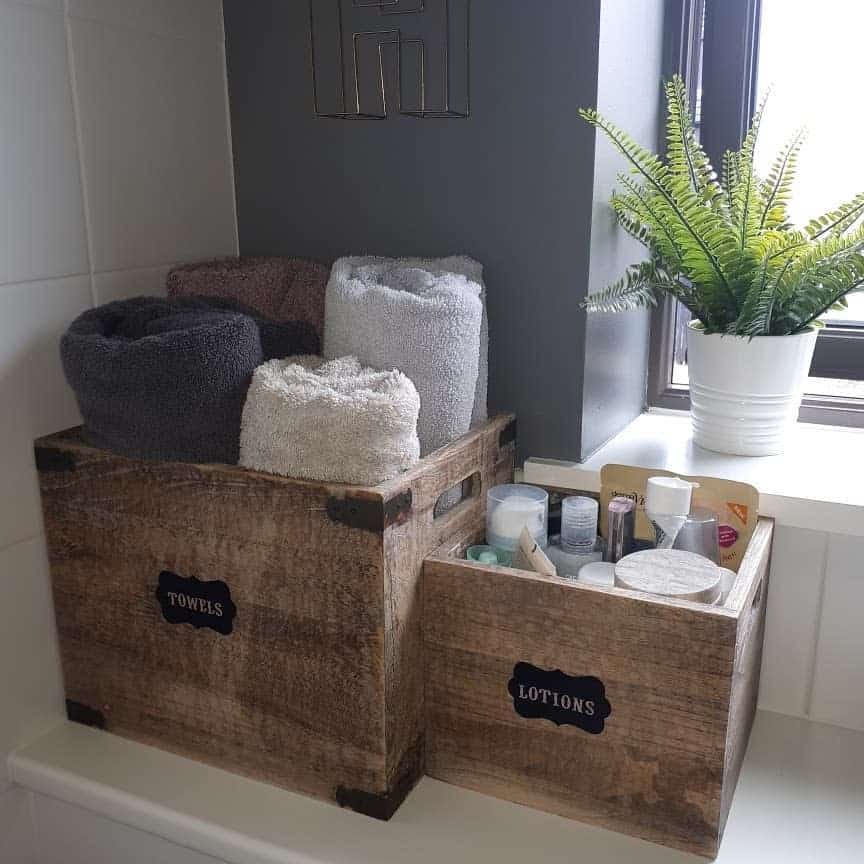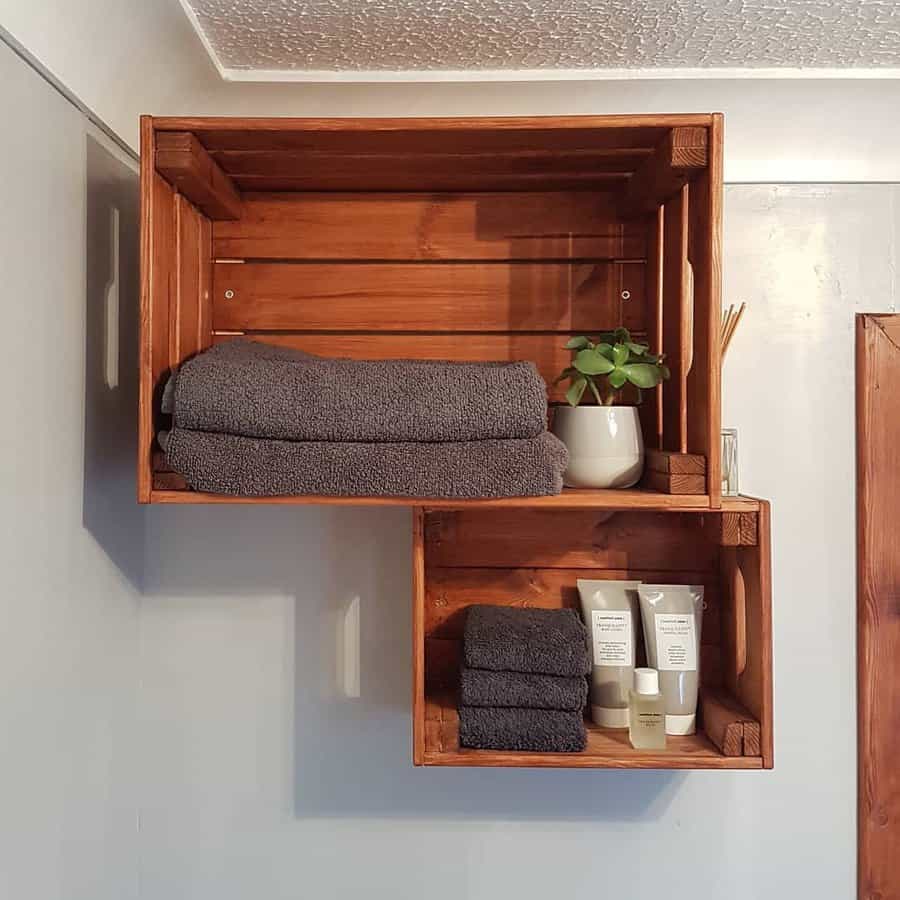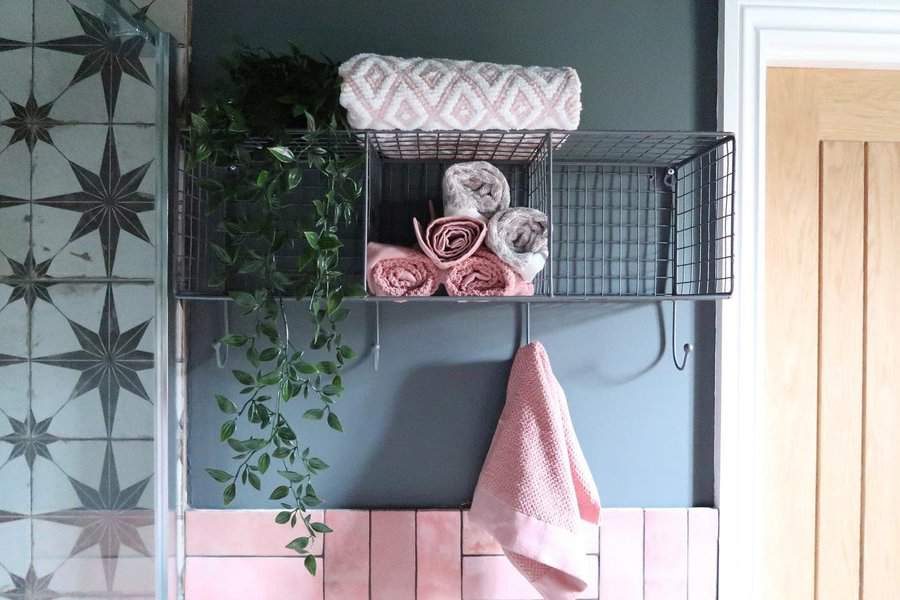 13. Collapsible Tiered Towel Organizer
With multiple tiers, it maximizes vertical space, making it perfect for small bathrooms or those who appreciate efficient storage solutions. The collapsible feature allows you to adjust the organizer's height based on your needs, accommodating different towel sizes and quantities.
Its seamless hanging design adds a sense of neatness to your bathroom, while the tiered structure adds visual interest and dimension. Whether you prefer to neatly roll your towels or fold them into pristine stacks, this organizer ensures each towel has its designated spot.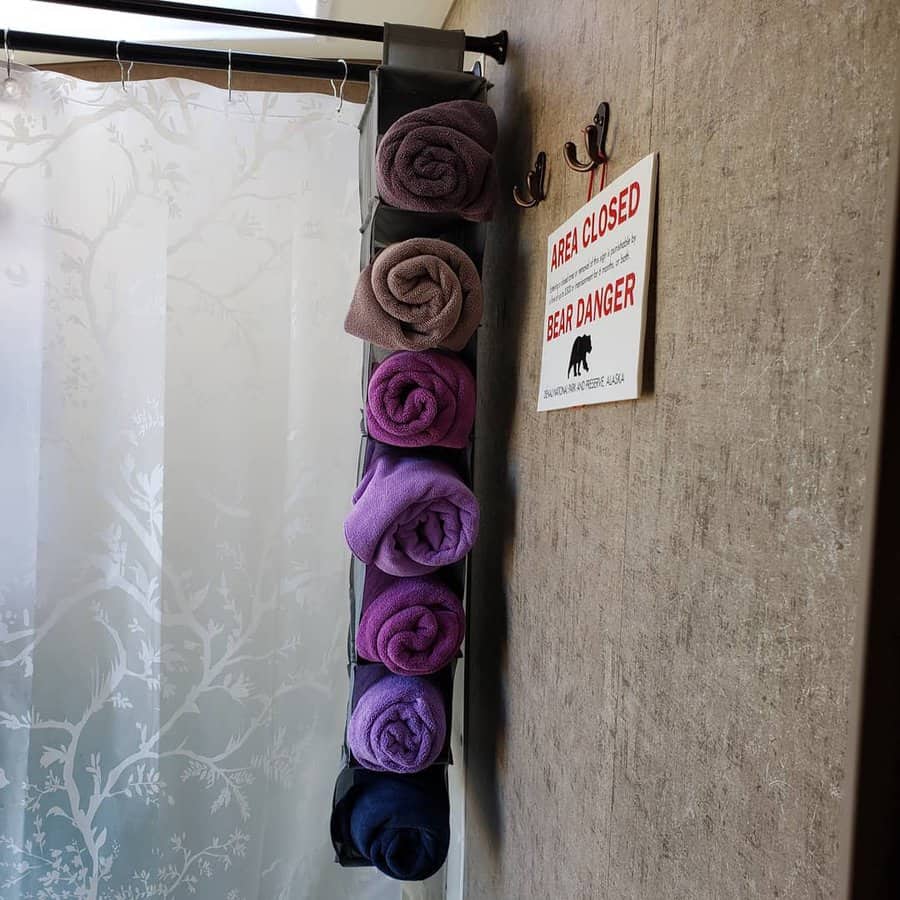 Towel Storage FAQs
How often should you wash bath towels?
A clean bath towel is the cherry on top of a relaxing shower or bath. But most people don't wash their personal towels after each and every use.
To prevent bacteria, mold, and mildew, you should wash your bathroom towels at least every three uses. Towels that become soiled or are not allowed to dry completely may need to be washed more frequently.
What is a towel warmer?
A towel warmer is a bathroom fixture found in many homes around the globe. However, these fixtures are relatively rare in some regions, including the United States.
Towel warmers are typically wall-mounted and powered by electricity. They can be used to heat towels, bathrobes, and other cloth items before use. A towel warmer can speed up the drying time of your wet bathroom towels.
The heat from a towel warmer may also slightly increase the temperature of your bathroom as a whole. If you live somewhere with cold winters, a bathroom towel warmer is invaluable!