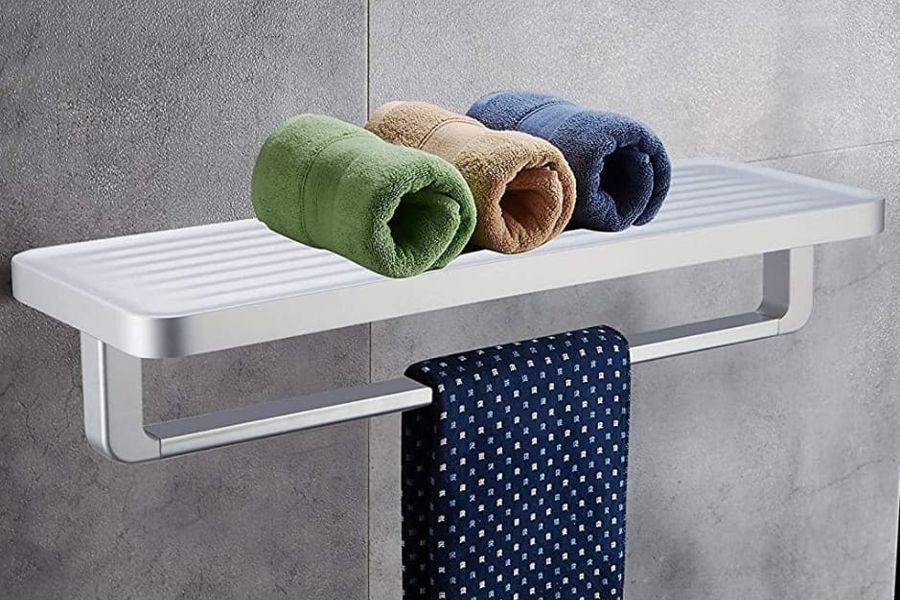 The Top 67 Towel Storage Ideas
We all know that feeling: You've wrapped up your steamy shower and are ready to get started with the day. Yet when you reach for a bath towel, you realize the rack is completely bare.
Bathroom storage is a hot commodity. So it's easy to justify storing your spare towels in a hallway closet or the laundry room. But you don't need to sacrifice storage space or room style to keep your towel collection close at hand.
Keep reading for the best towel storage ideas that will ensure you never need to make a chilly, dripping trip to the linen closet again!
1. Bathroom
Bathroom storage is essential to keeping your mornings (and your evenings) organized and stress-free. So the last thing your bathroom should be missing is adequate space to store your towels.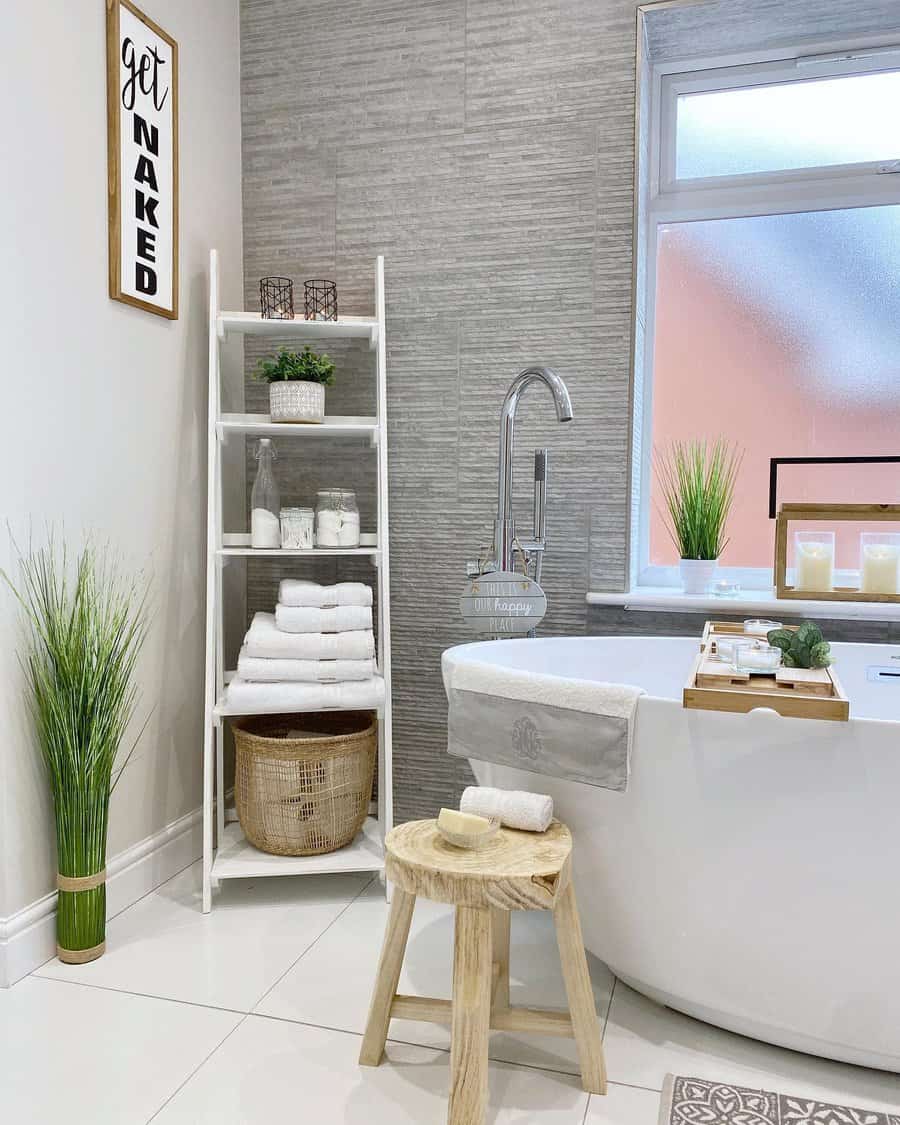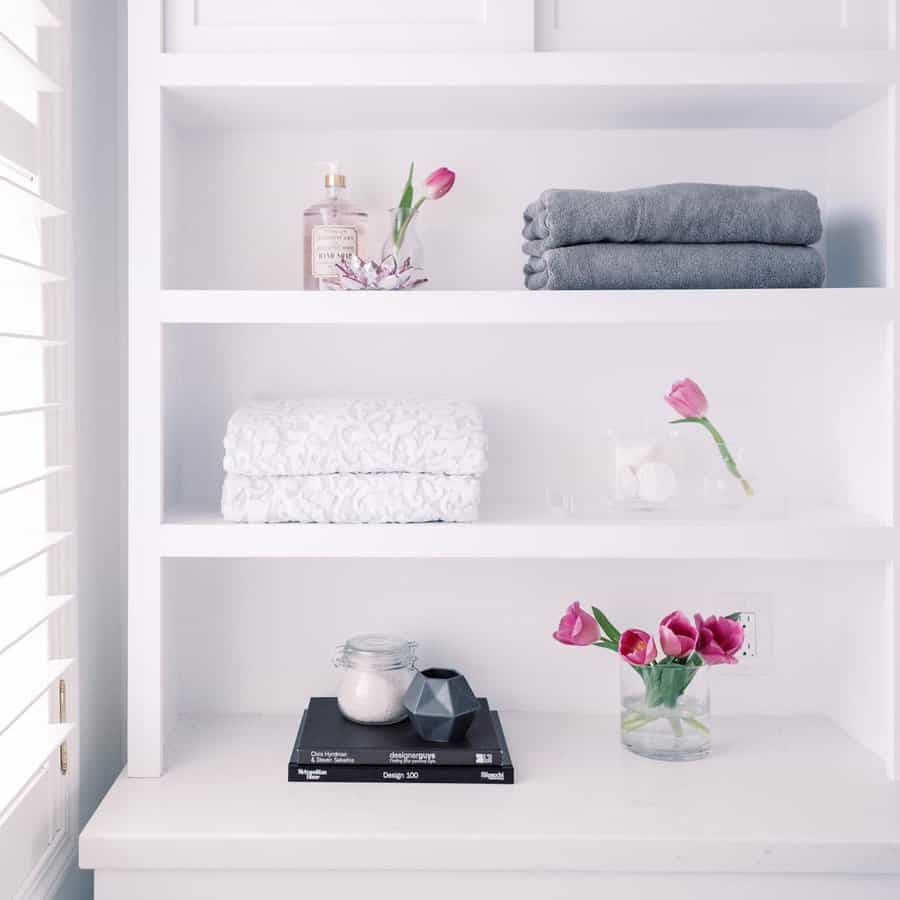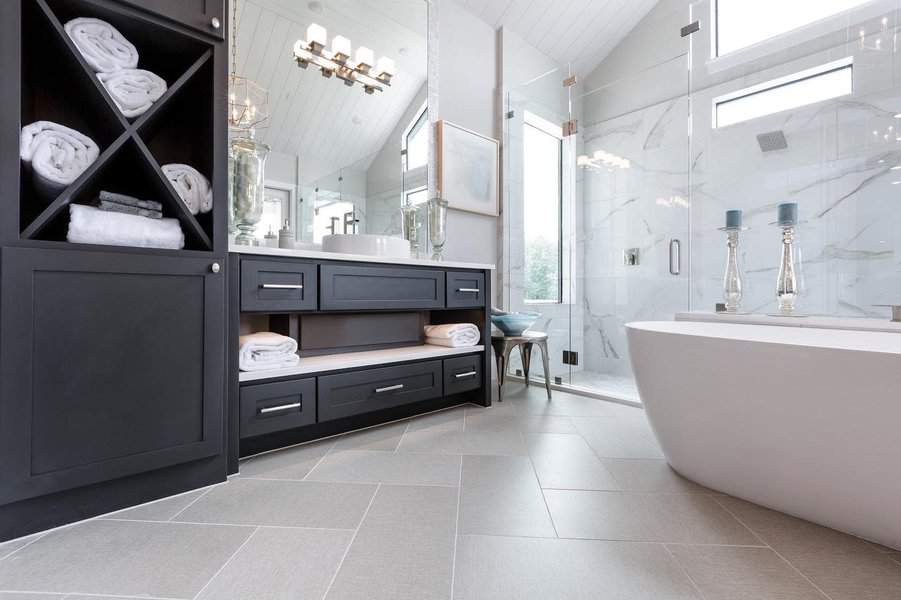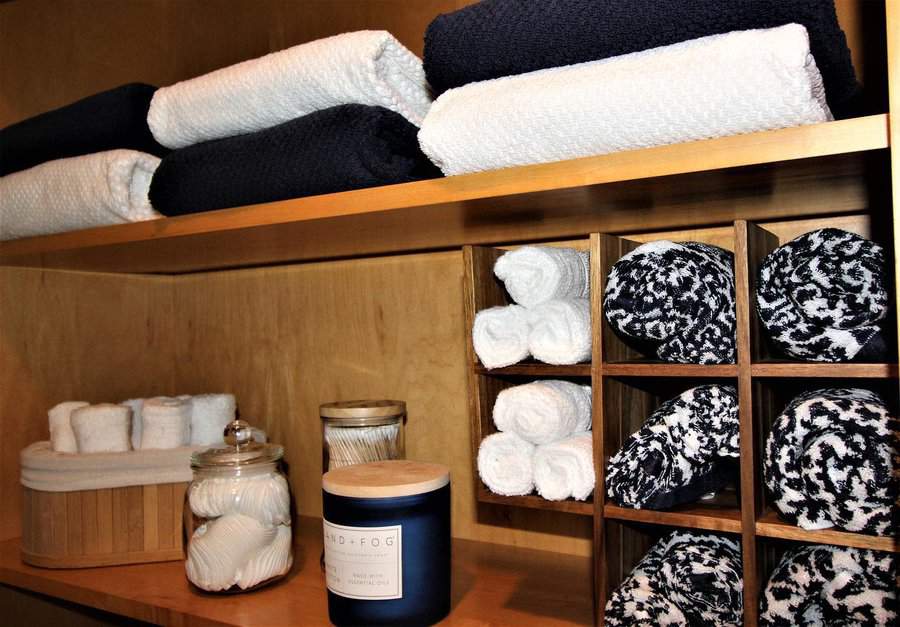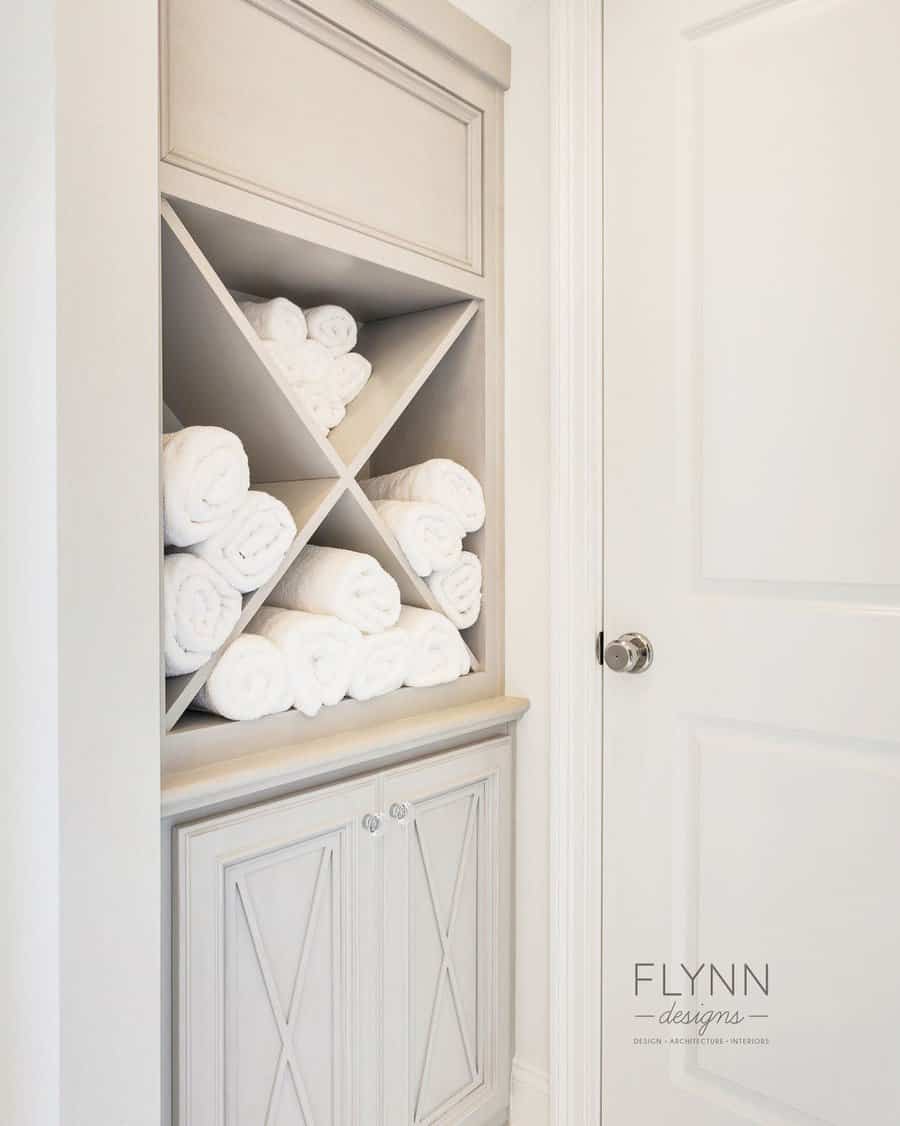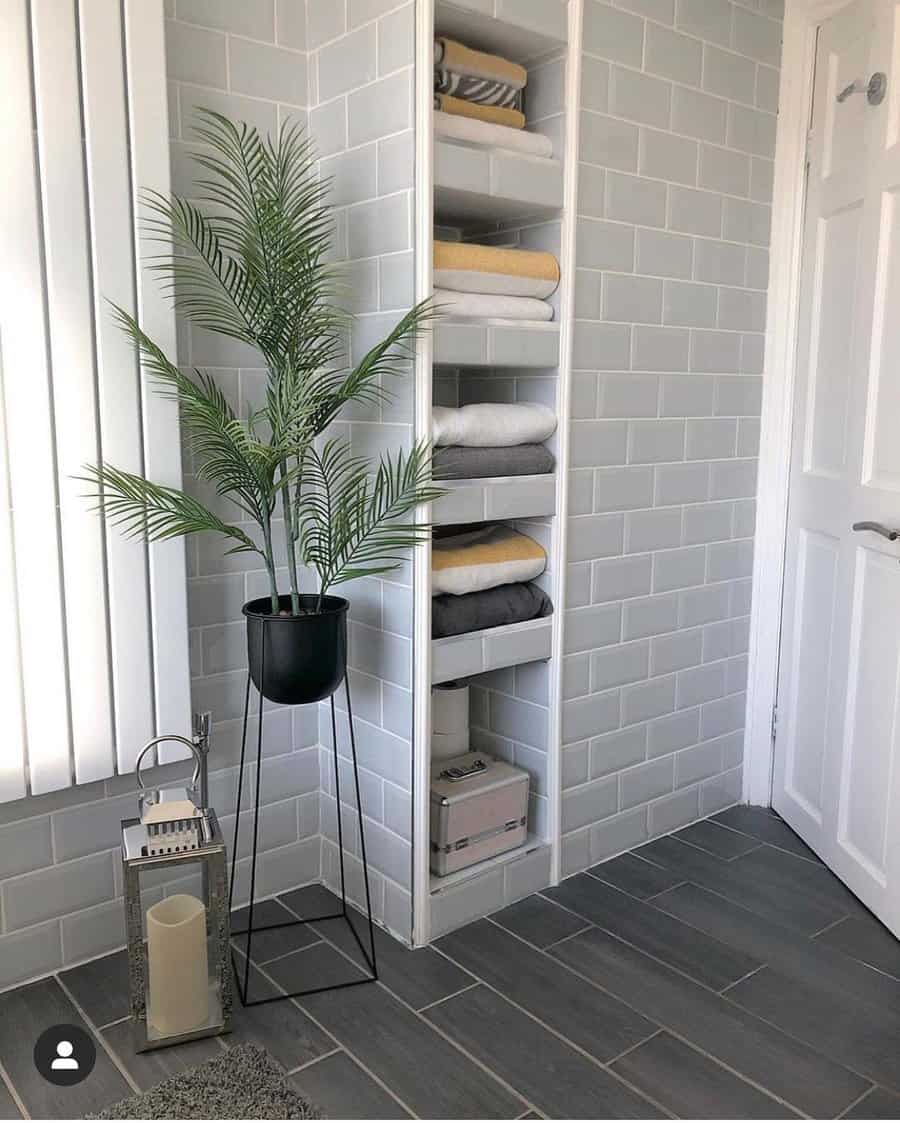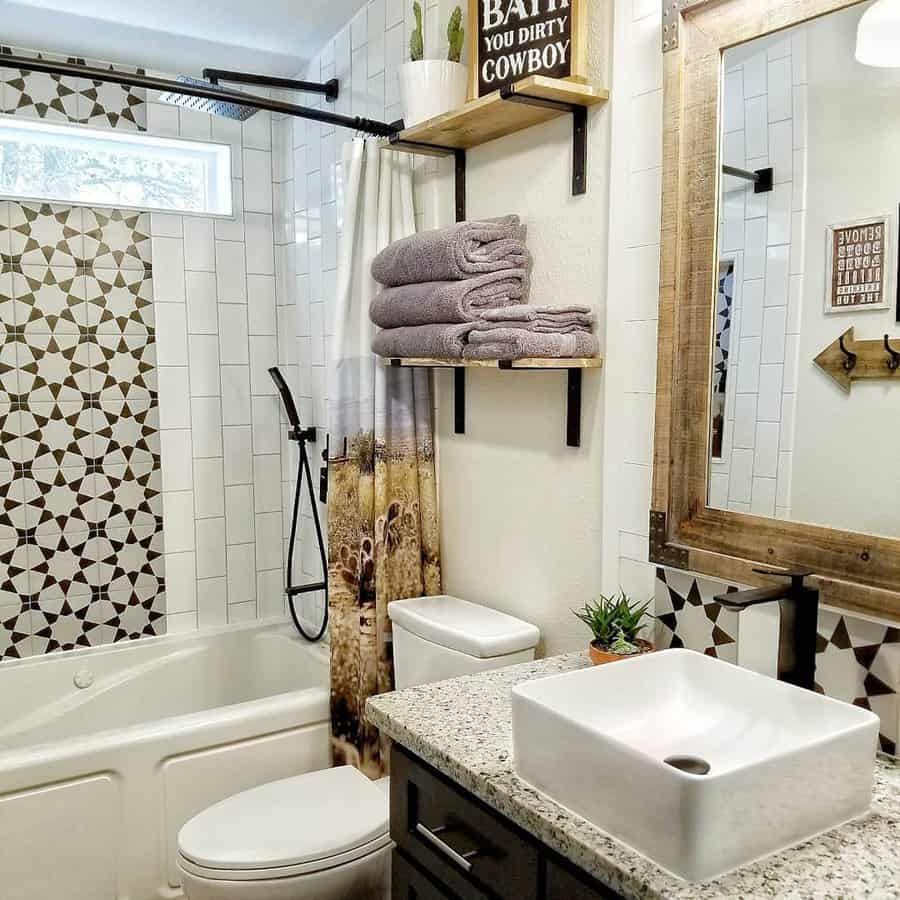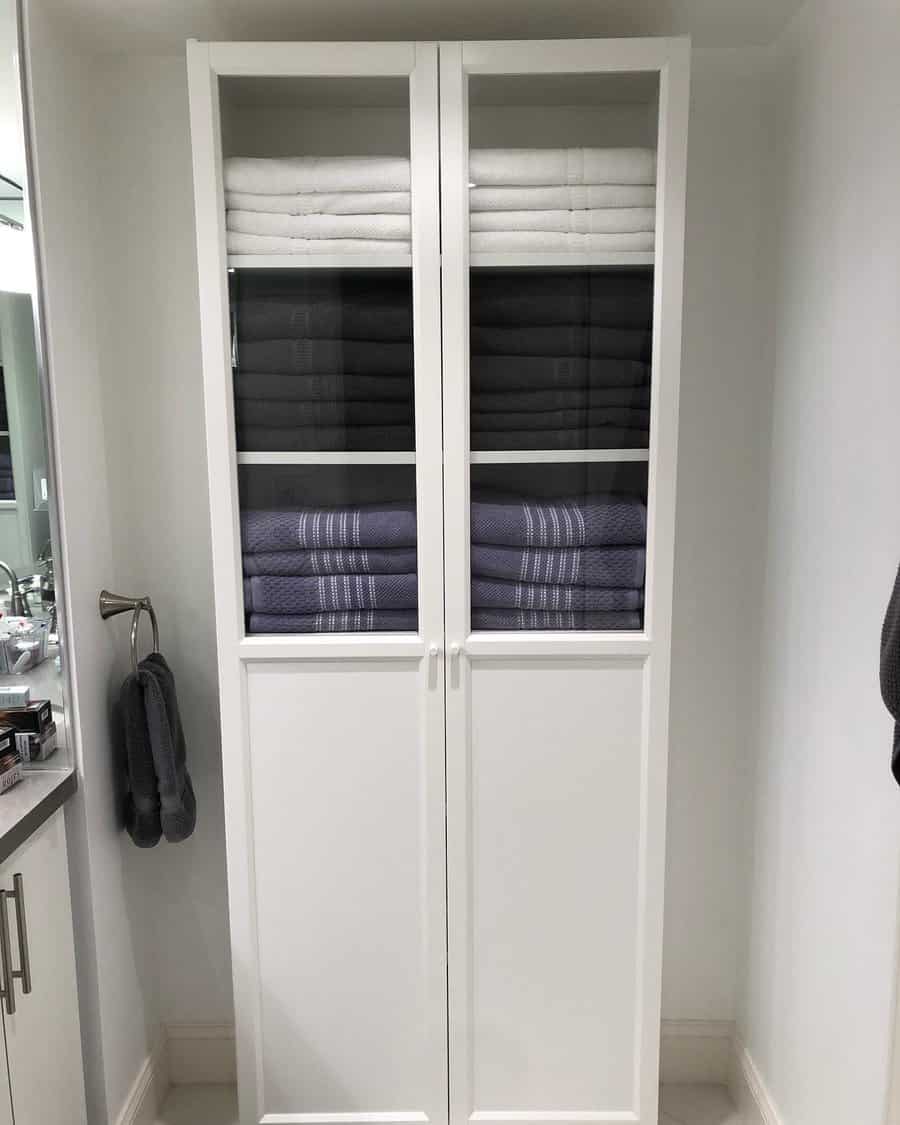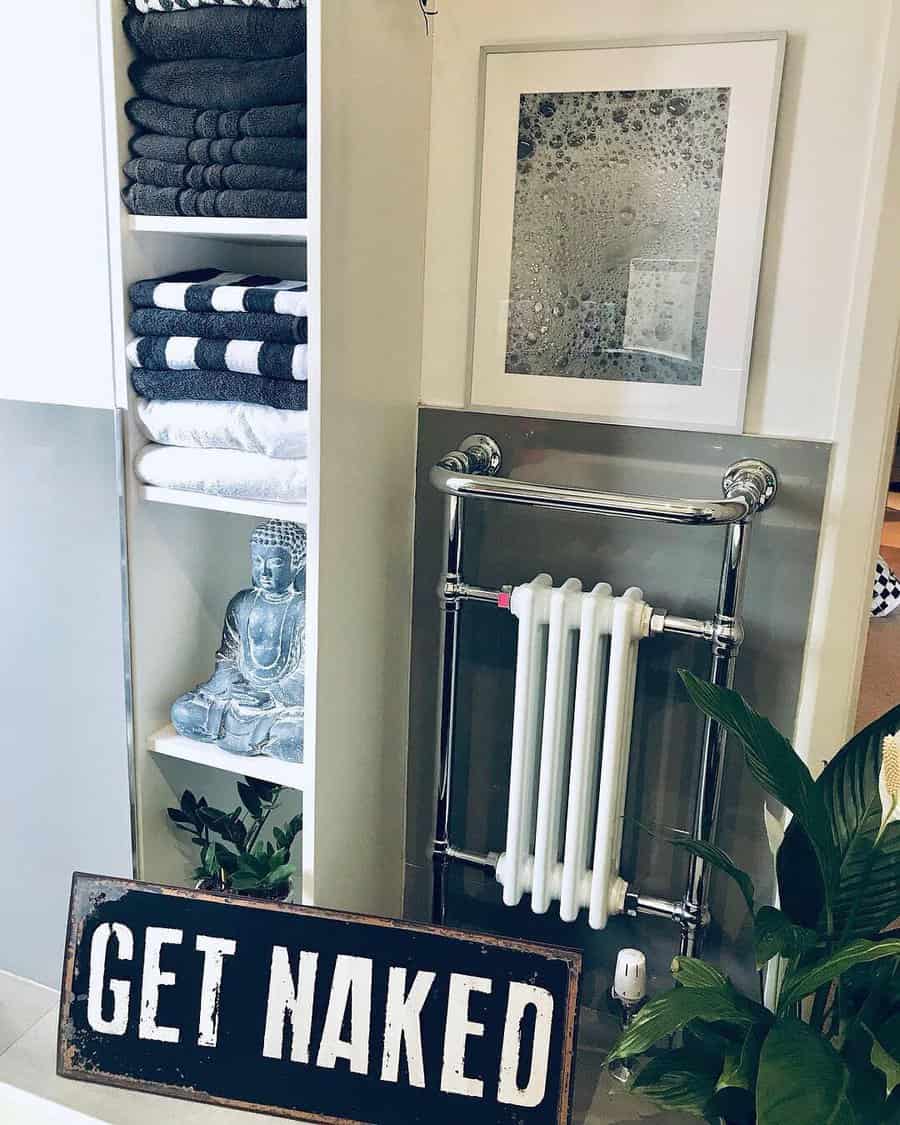 Built-in shelving tucked into a wall or underneath your bathroom vanity is the perfect place to store spare bath towels out of sight. If such a spot isn't available, then wall-mounted racks or floating shelves can easily be used instead.
Your first instinct may be to fold your towels fresh out of the laundry. However, rolled towels and washcloths can give your private bathroom the look and feel of a luxury spa or hotel.
2. DIY
Trying your hand at DIY home decor can be intimidating. But there are plenty of great towel storage ideas that can be put together with a few simple supplies and a free afternoon.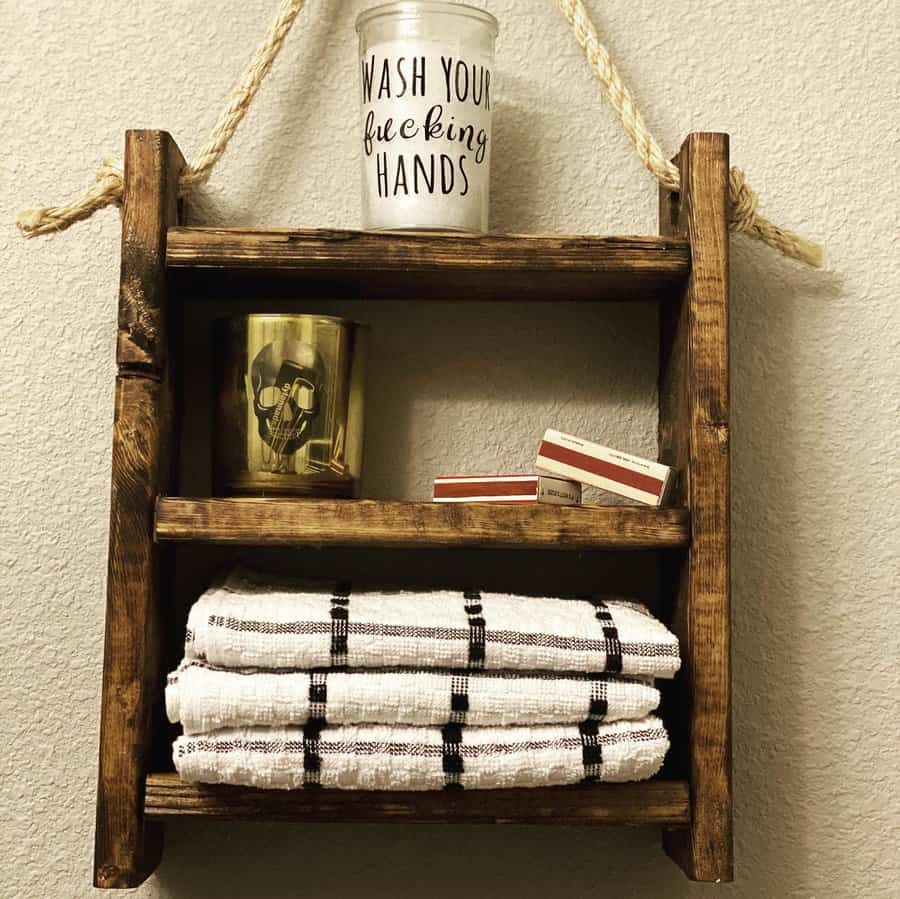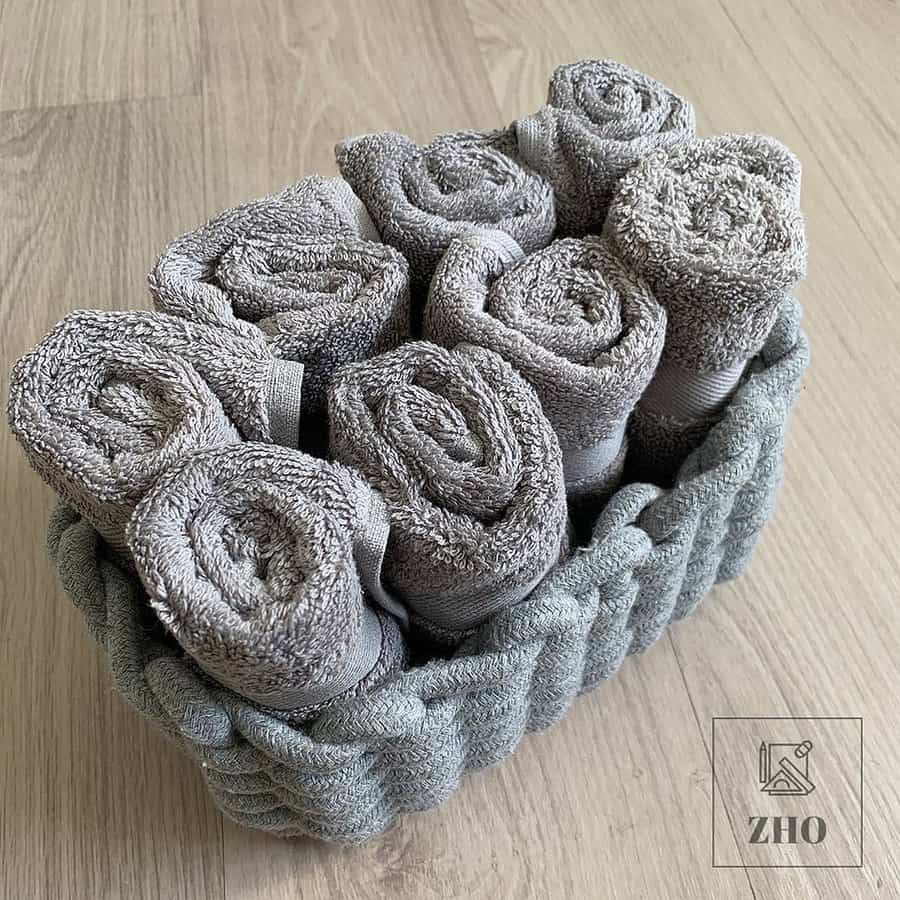 Whether you're boosting the available towel storage in your master bathroom or spare powder room, it's important to think about where your new storage solution will live.
Wall-mounted storage is perfect for a small bathroom. Baskets can be hung above the toilet or alongside your shower partition. Play around with arranging your hanging towel storage to find the best orientation for your space.
3. Hallway
Is your bathroom tight on space? In a household with multiple people per bathroom, it can be hard to fit everyone's belongings into a single room.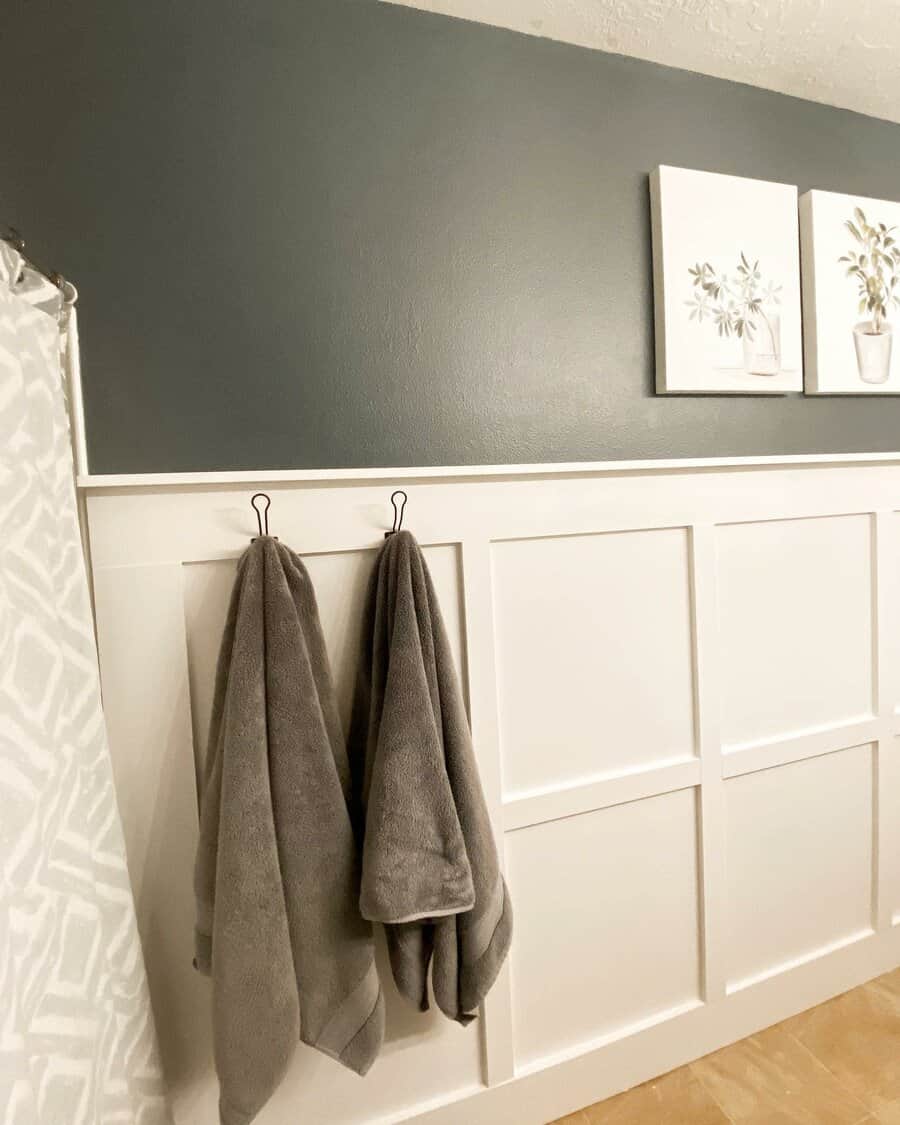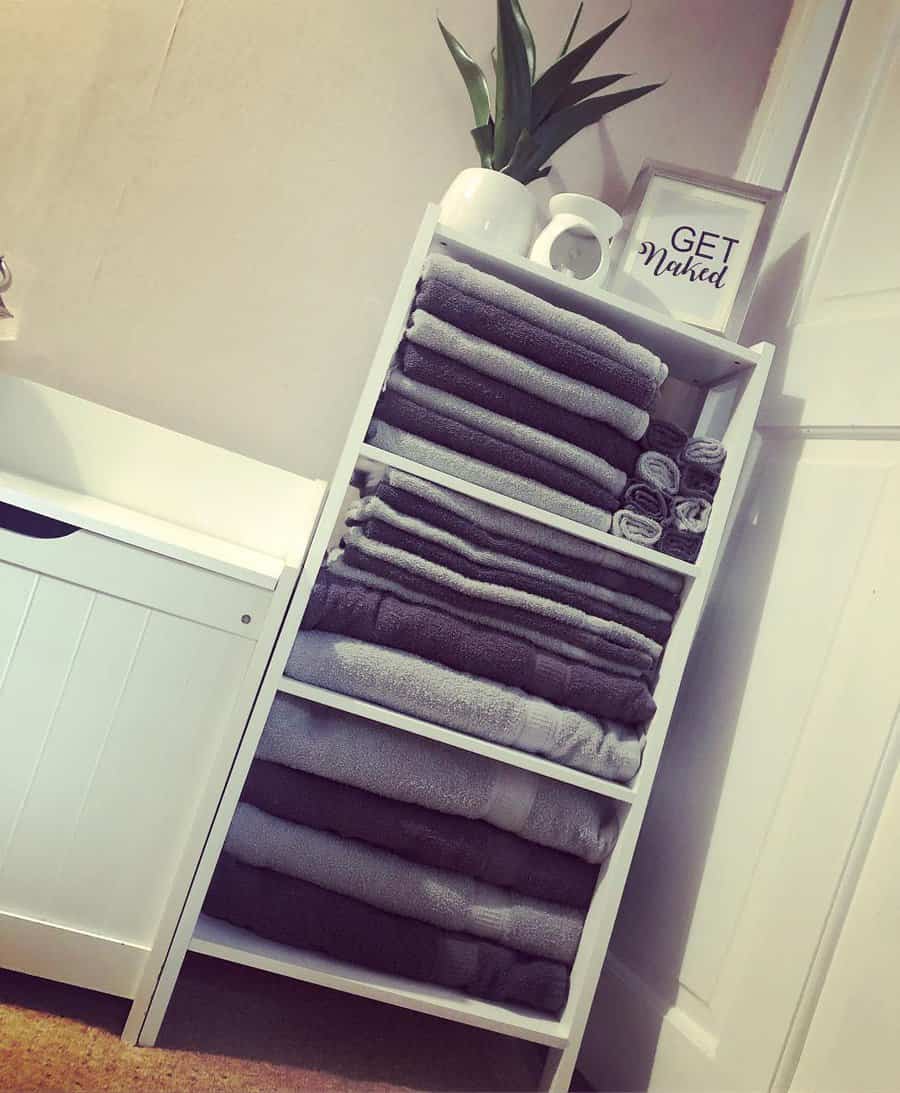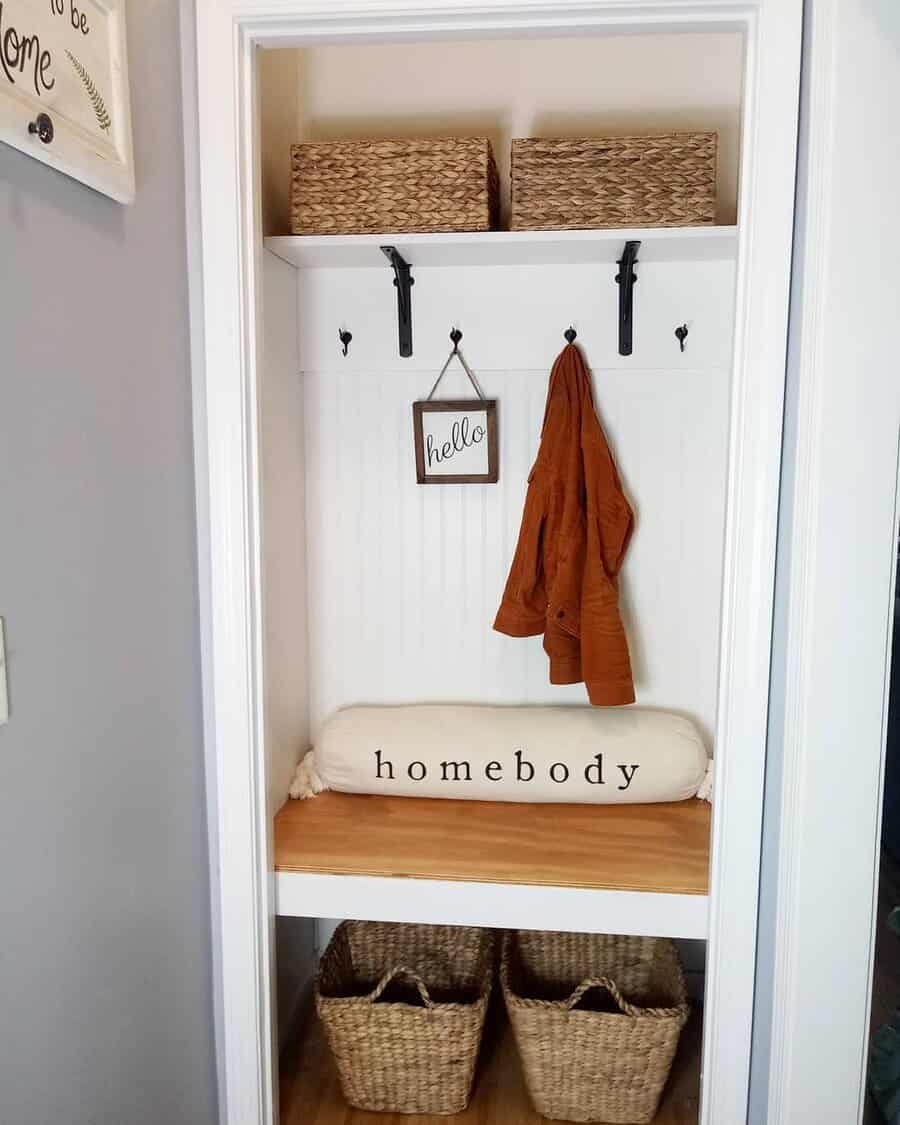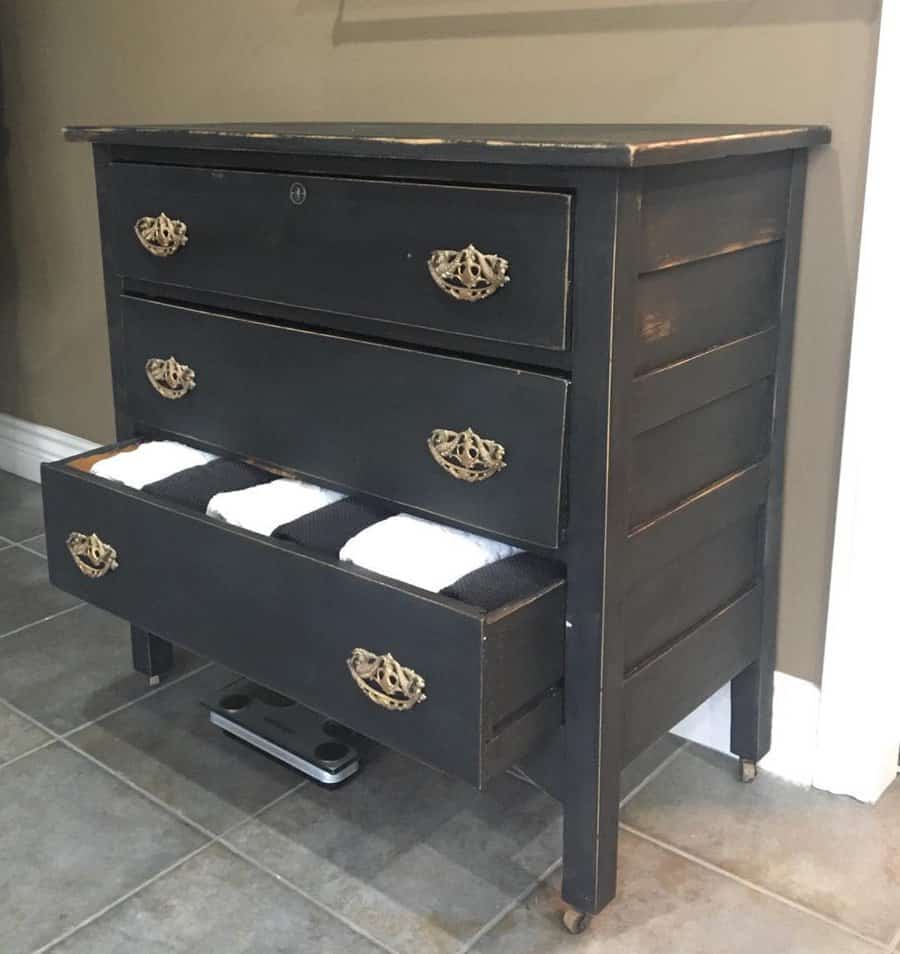 Not only does hanging extra bathroom towels outside of your actual bathroom save valuable space but it can also shorten their drying time. Labeled hooks are perfect for big families or roommates who share a single bathroom.
Hidden towel storage can be incorporated into an existing hallway closet. You can also add a small hutch to your hallway to store spare bath towels and toiletries.
4. Ladder
A ladder shelf can be used to store books, potted plants, artwork, and more. You can even use one to store and dry your family's bathroom towels.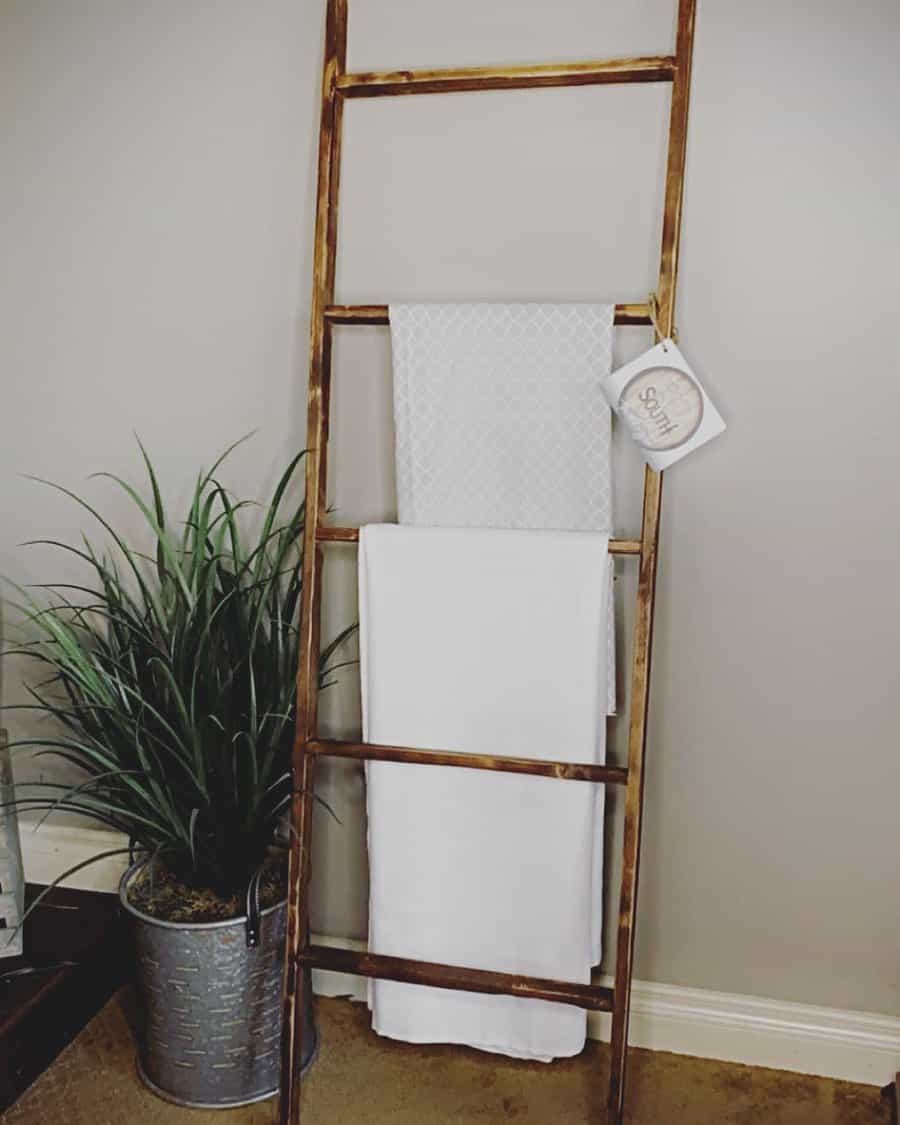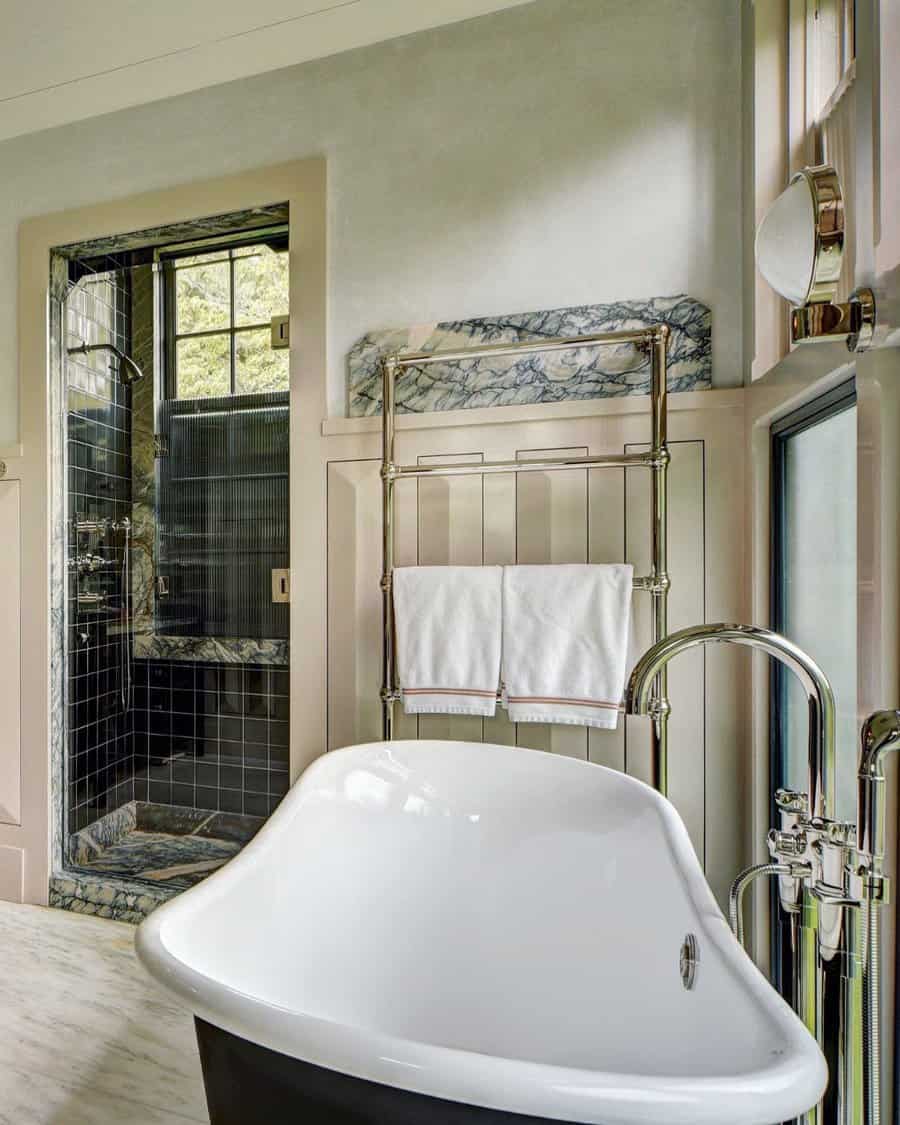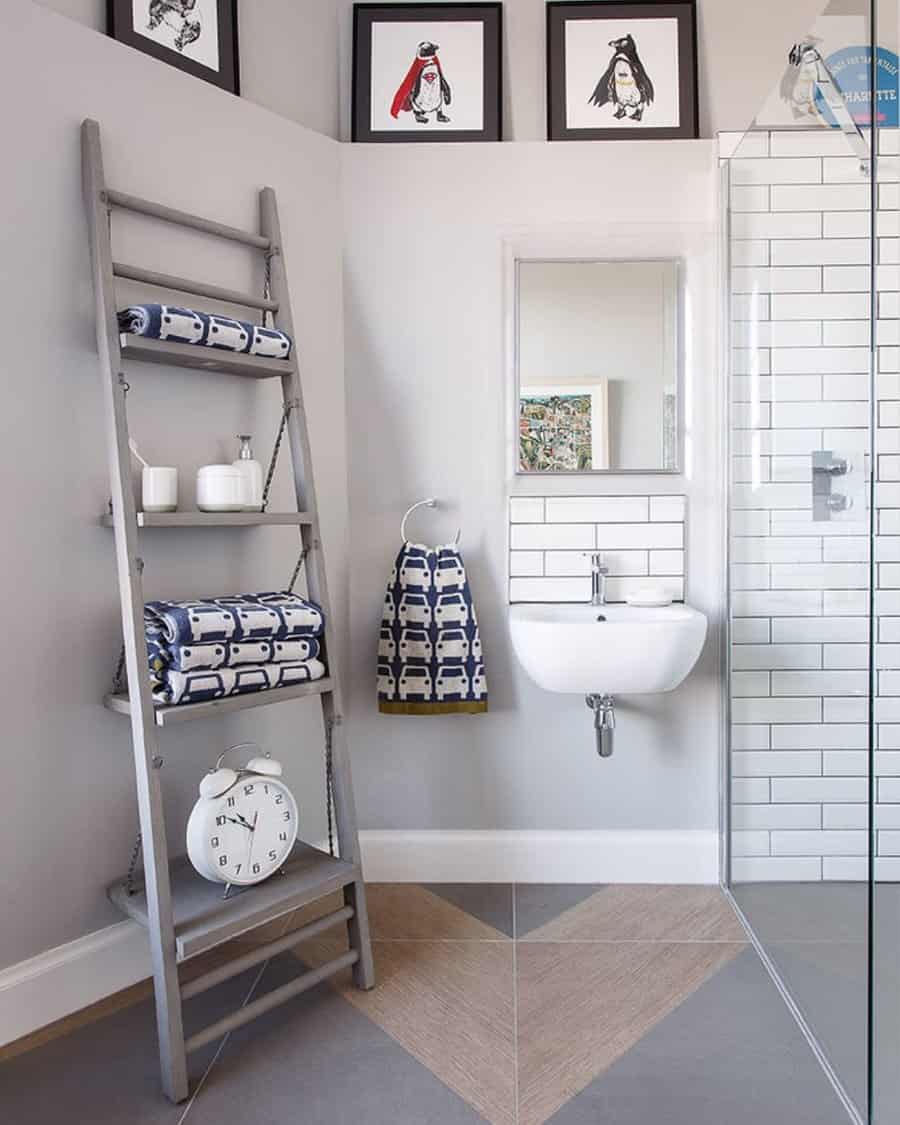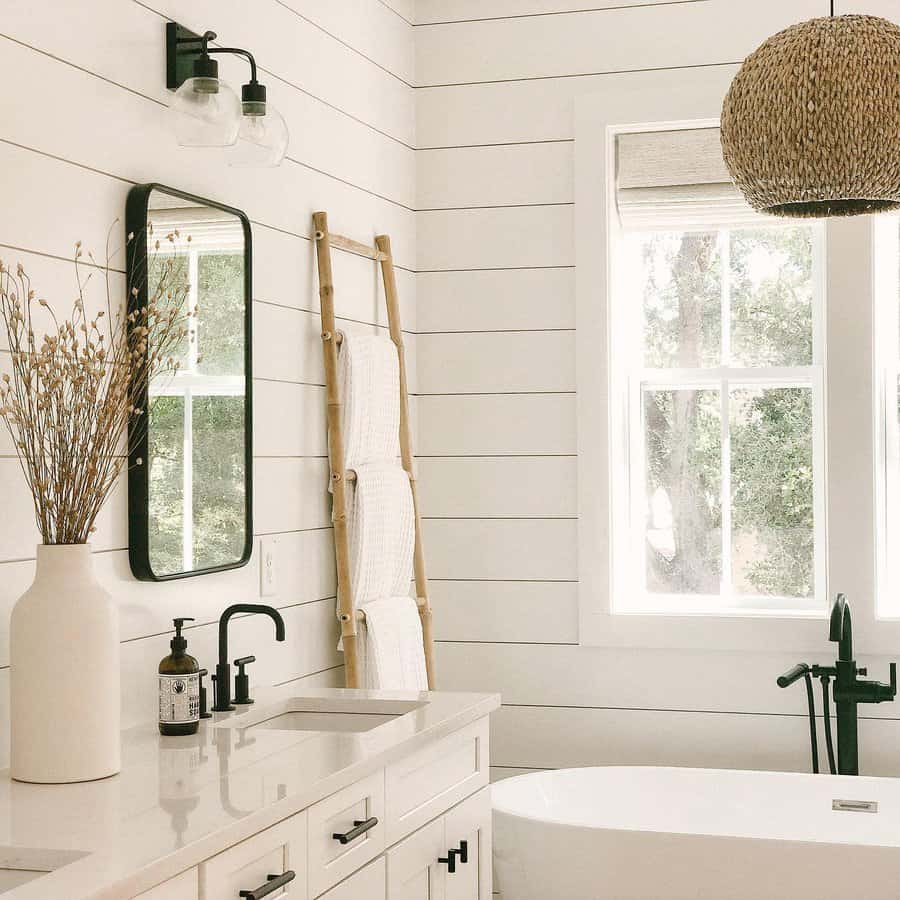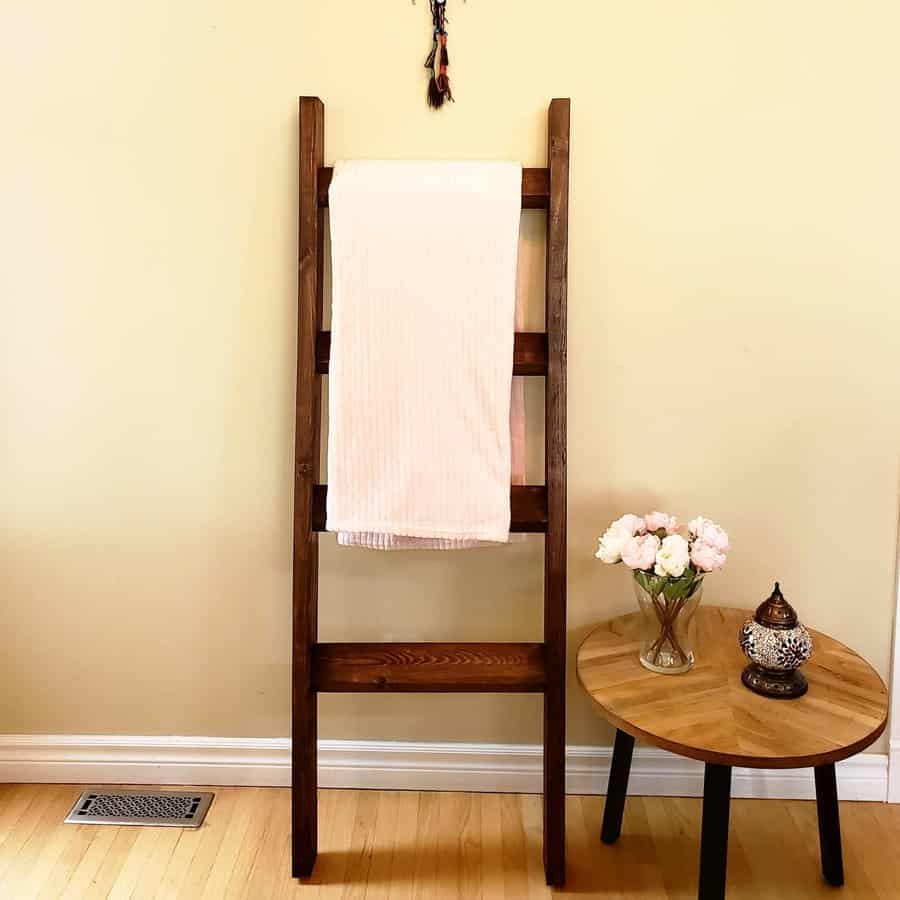 Some ladder shelves are made up entirely of rungs. Others feature full-size shelves. For the best of both worlds, look for a ladder shelf that can be amended with a platform to hold small washcloths and toiletries.
This style of shelf fits right in with rustic and traditional decor. If you prefer a sleek aesthetic, look for a ladder shelf made of polished metal or painted a funky color.
5. Rack
For the most towel storage with the tiniest footprint, you can't go wrong with a hanging towel rack. This setup is ideal for a small bathroom but can also be used for the main washroom.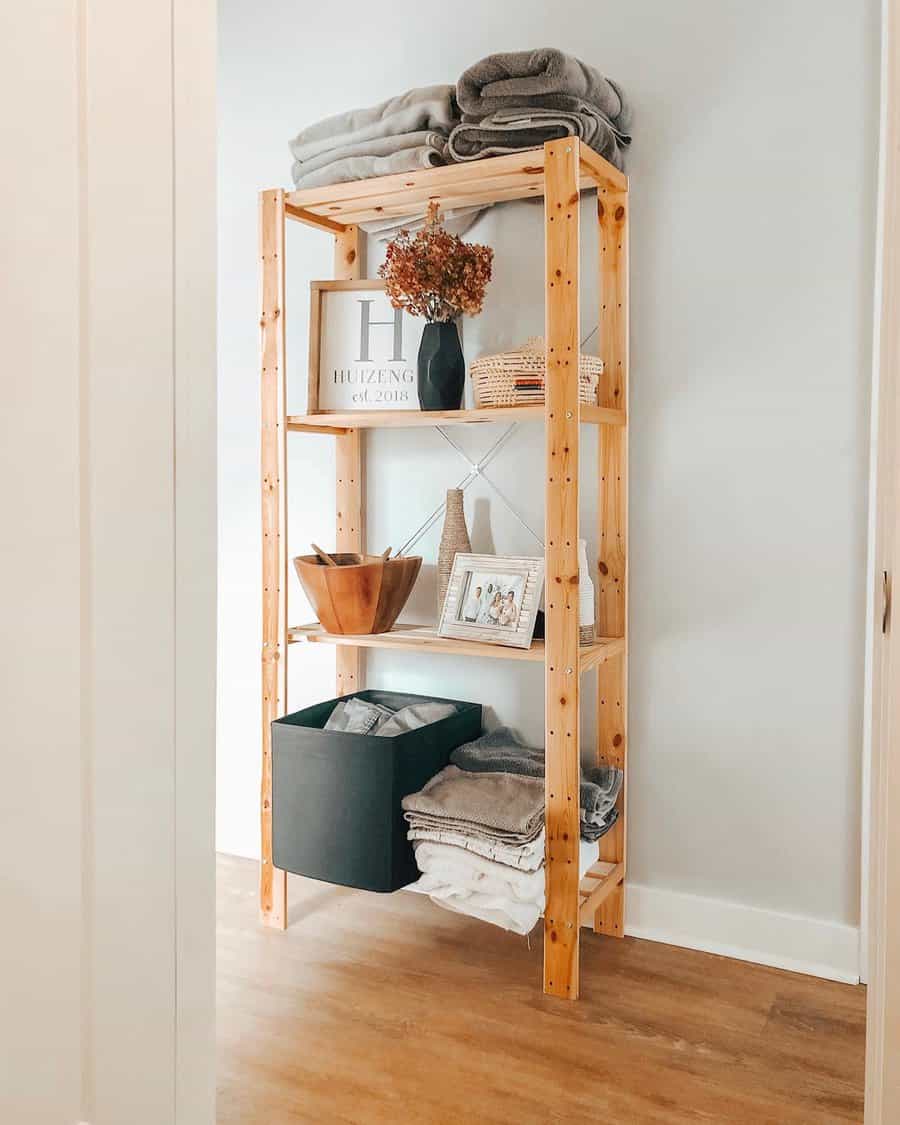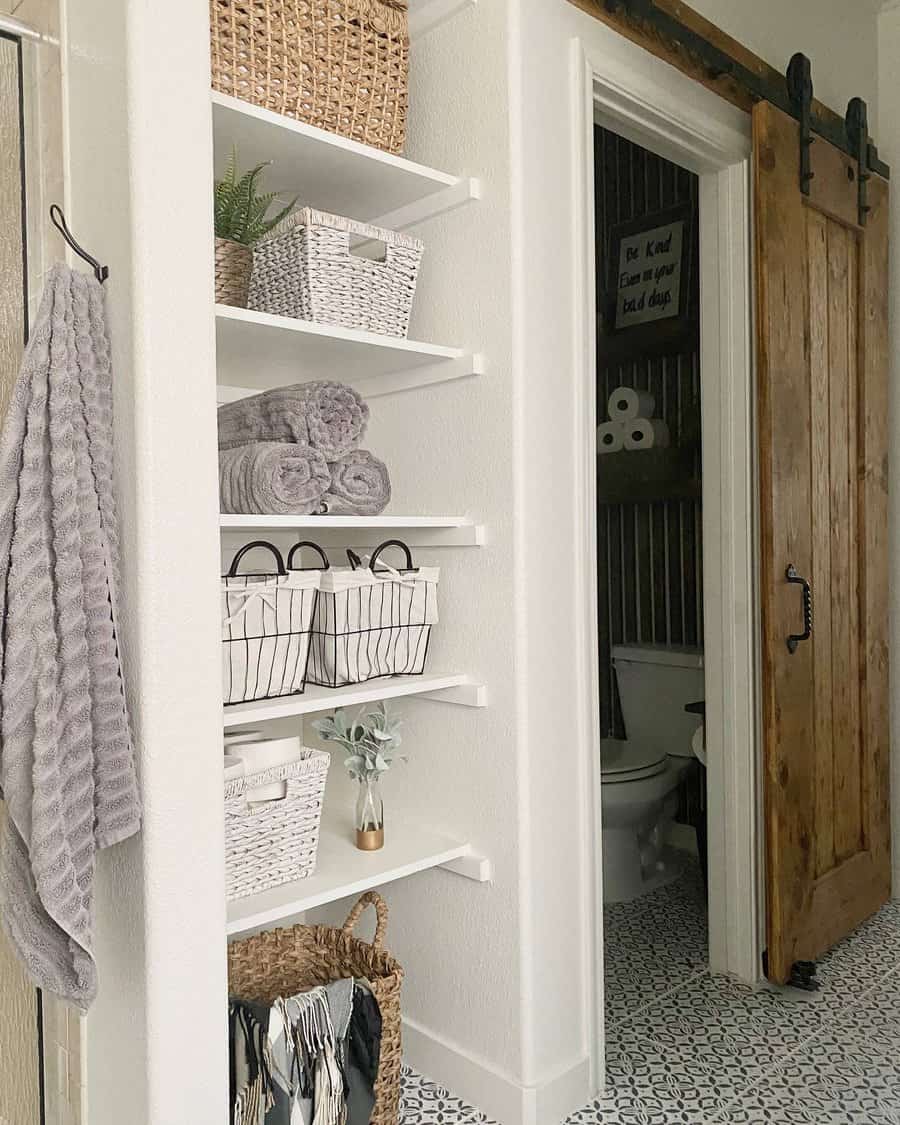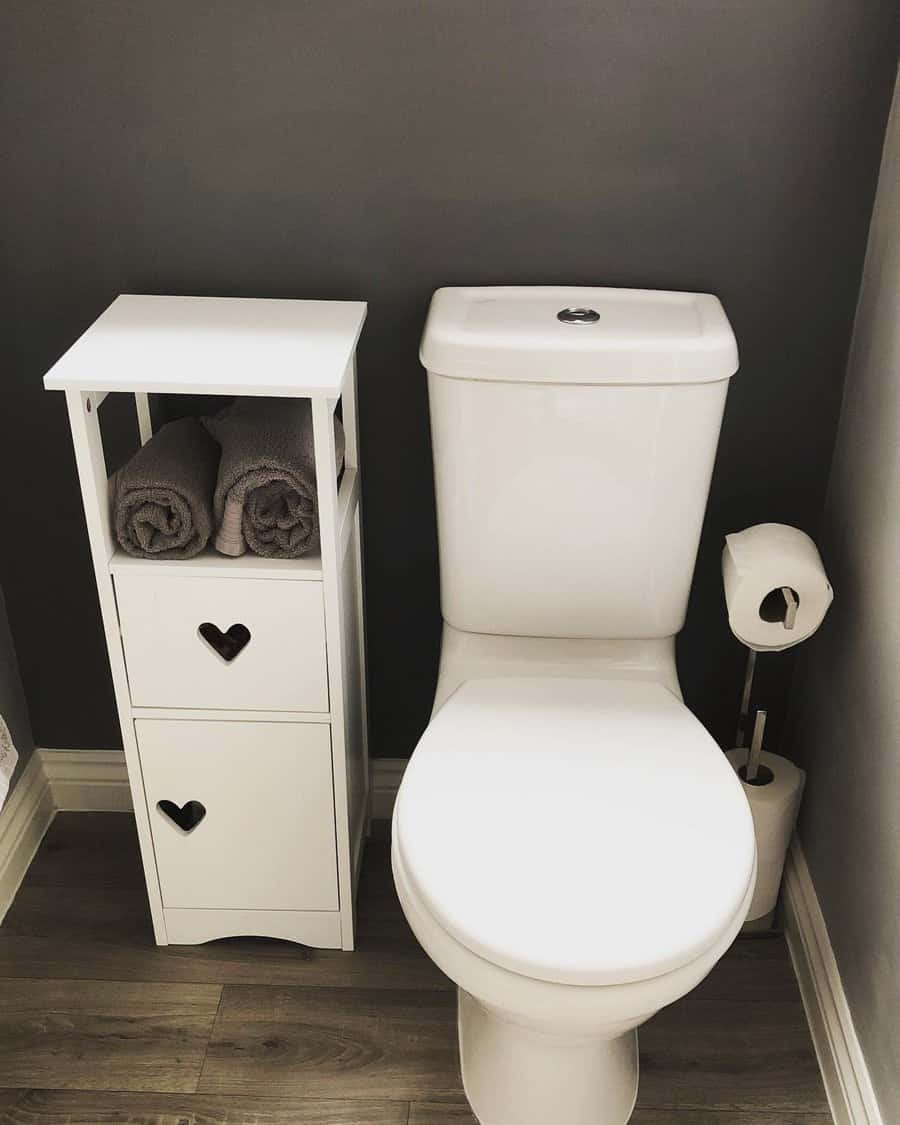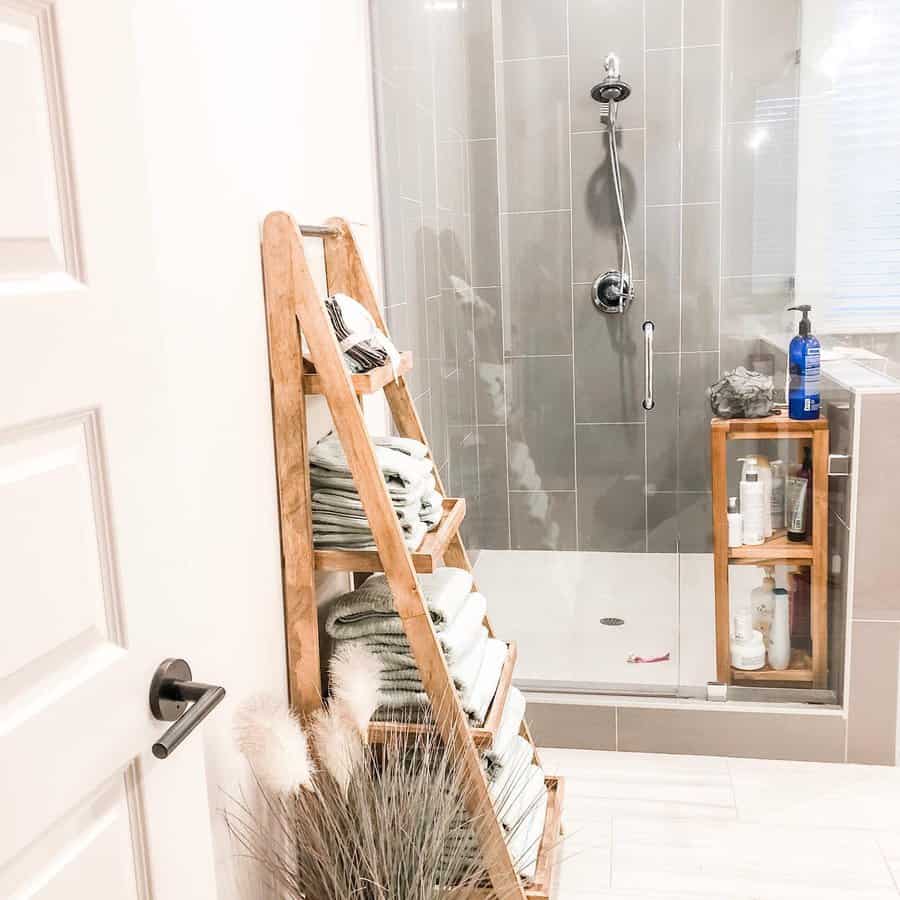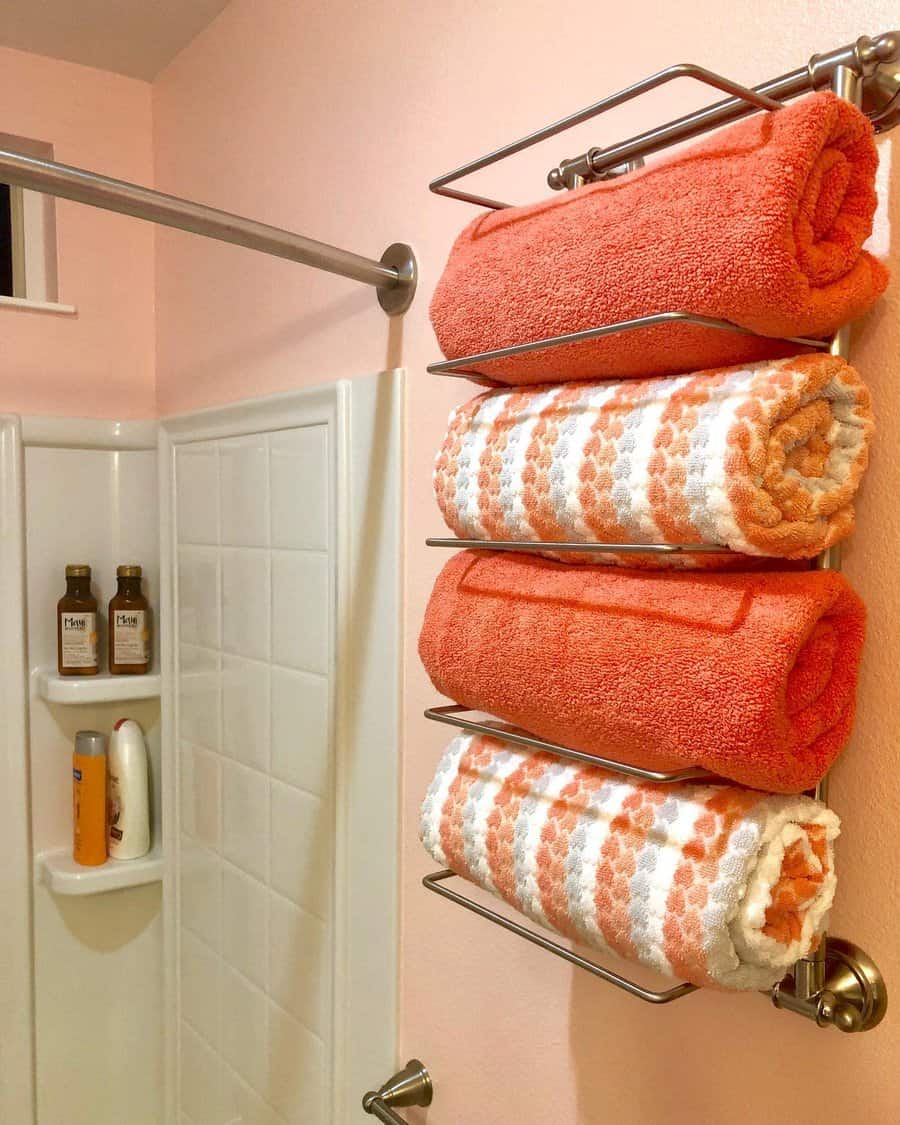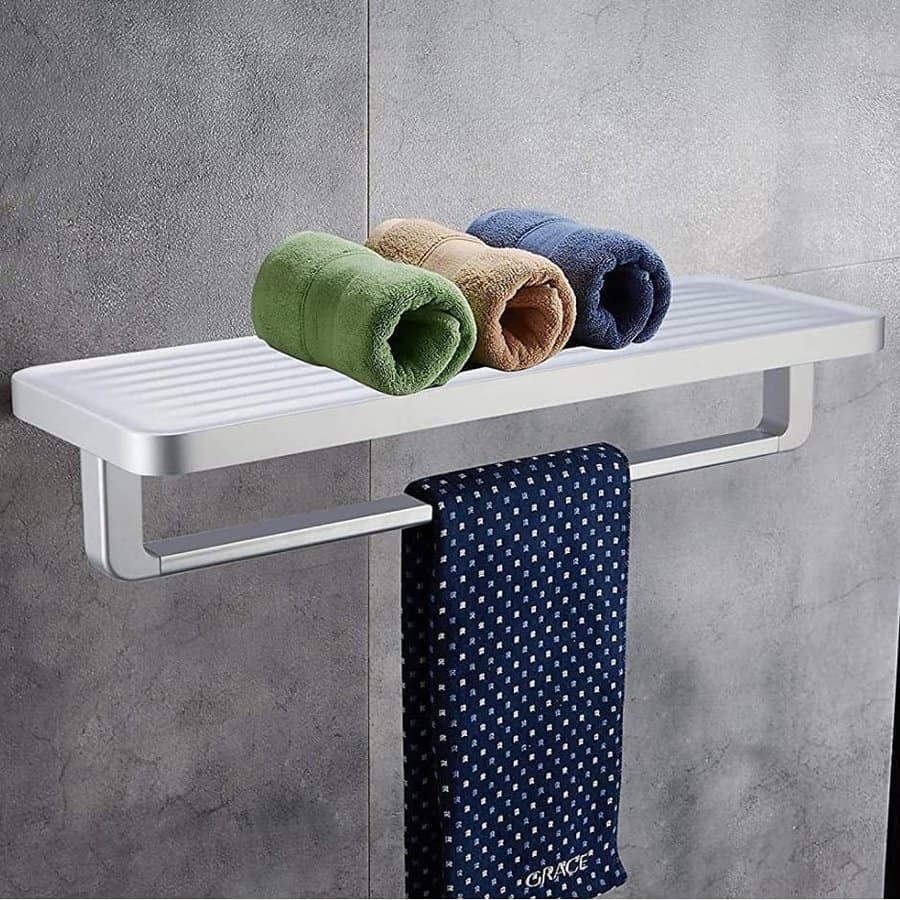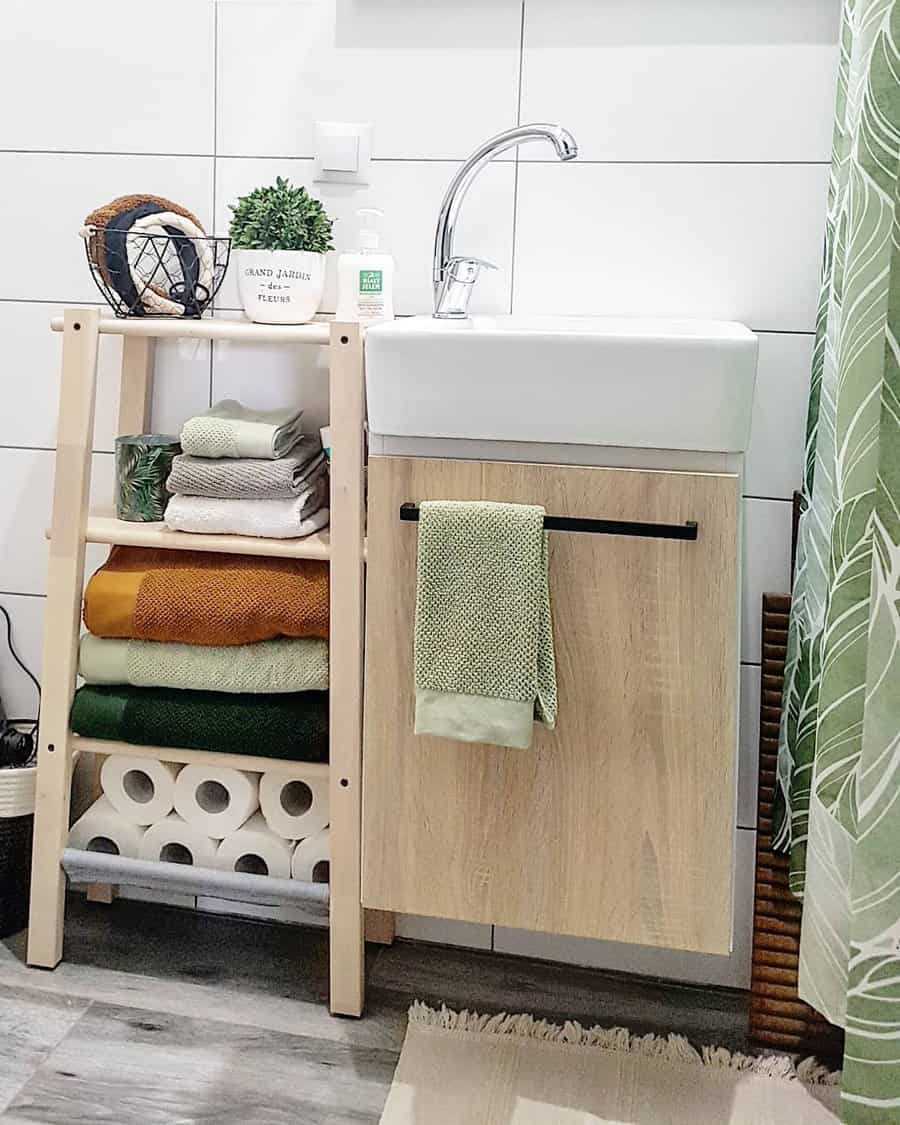 Towel racks come in all sizes. Equip your guest bath with a miniature towel rack that holds two or three items. Or ensure your family has everything they need with an extra-large bath towel rack that practically reaches from floor to ceiling.
Not all towel racks look like they came straight from a motel. Invest in a towel rack that suits the rest of your bathroom decor. Popular finishes include natural wood or brushed nickel.
6. Rustic
The best way to add rustic charm to your living space is with repurposed and vintage goods. With a little elbow grease, it's surprisingly easy to restore such items and give them new life in your home.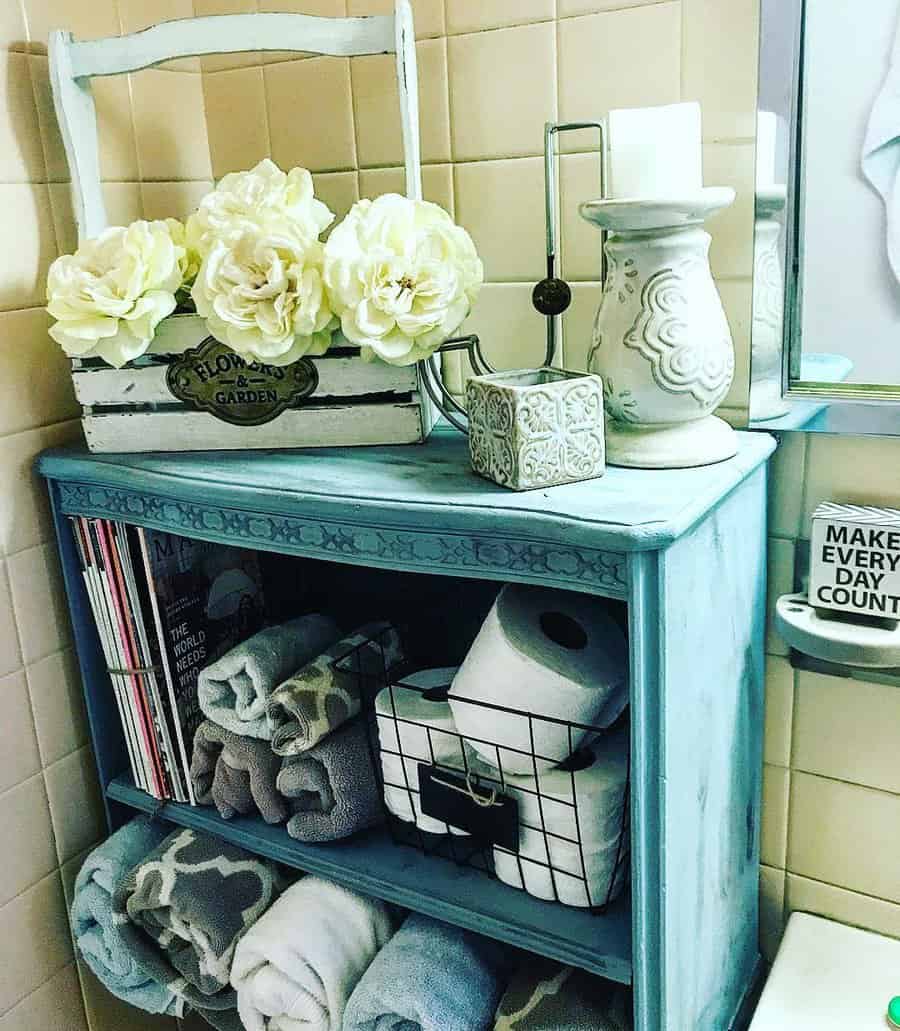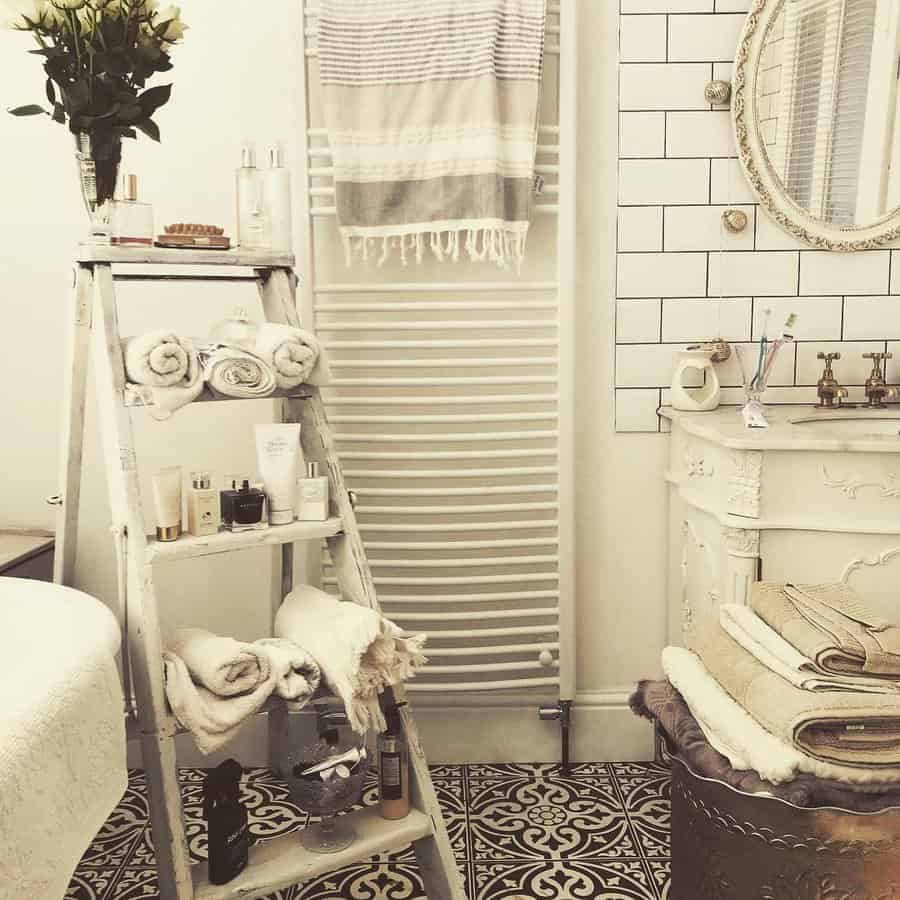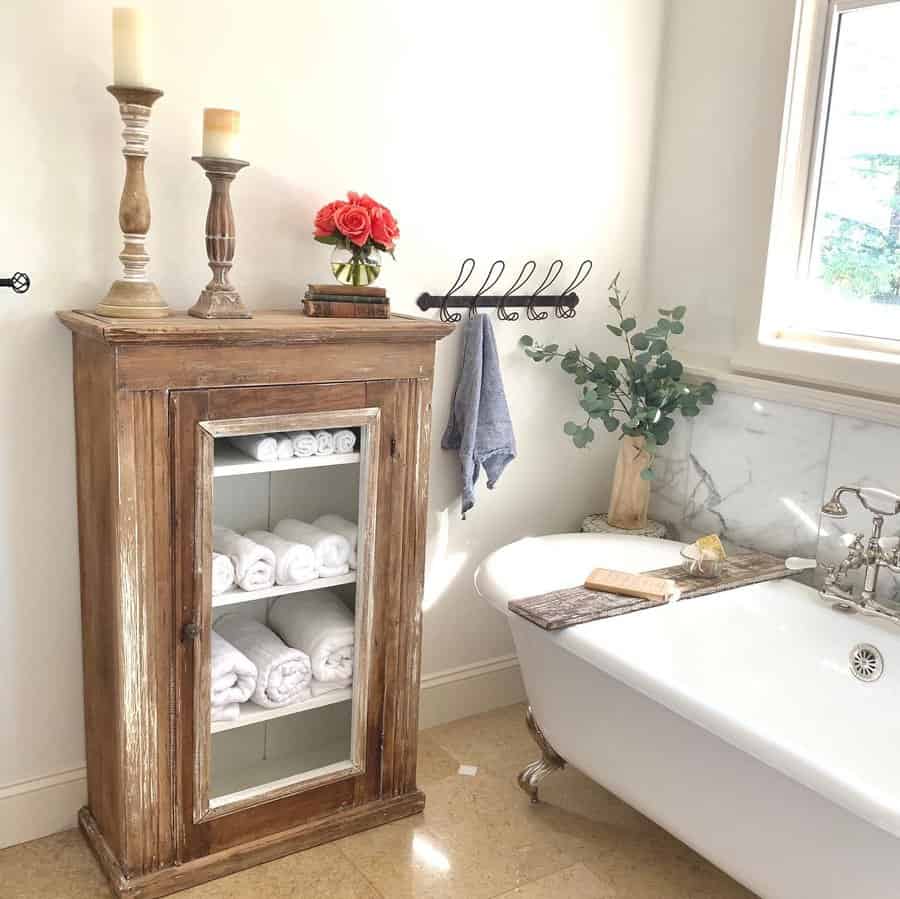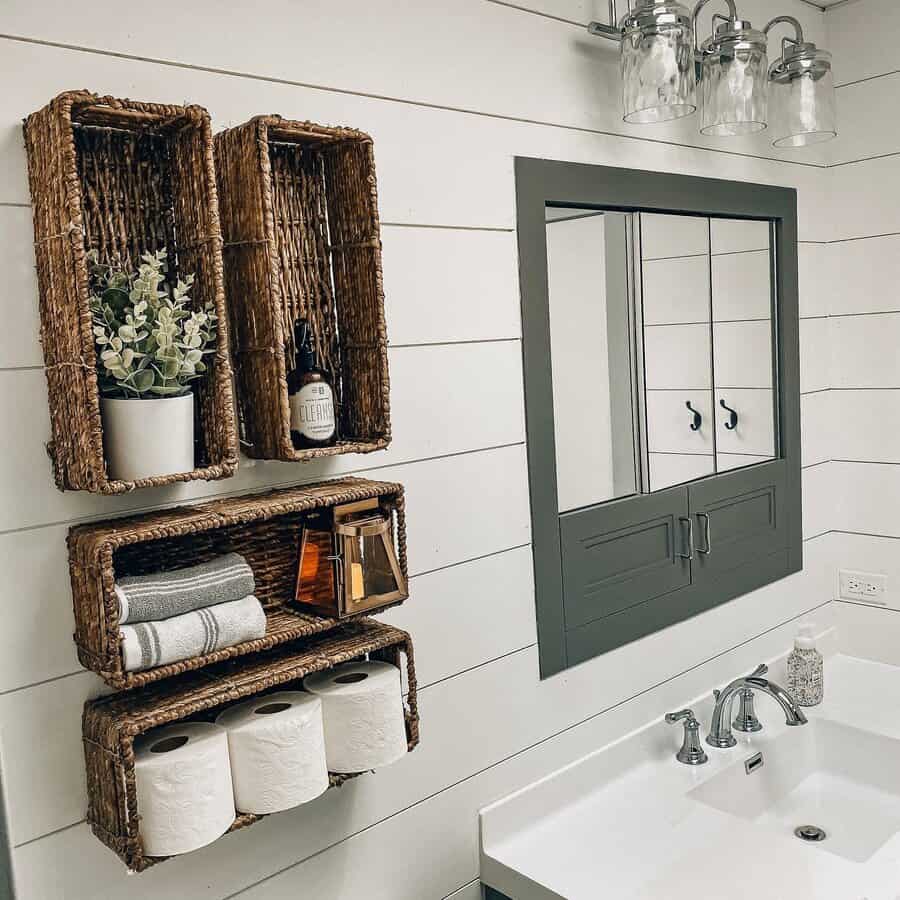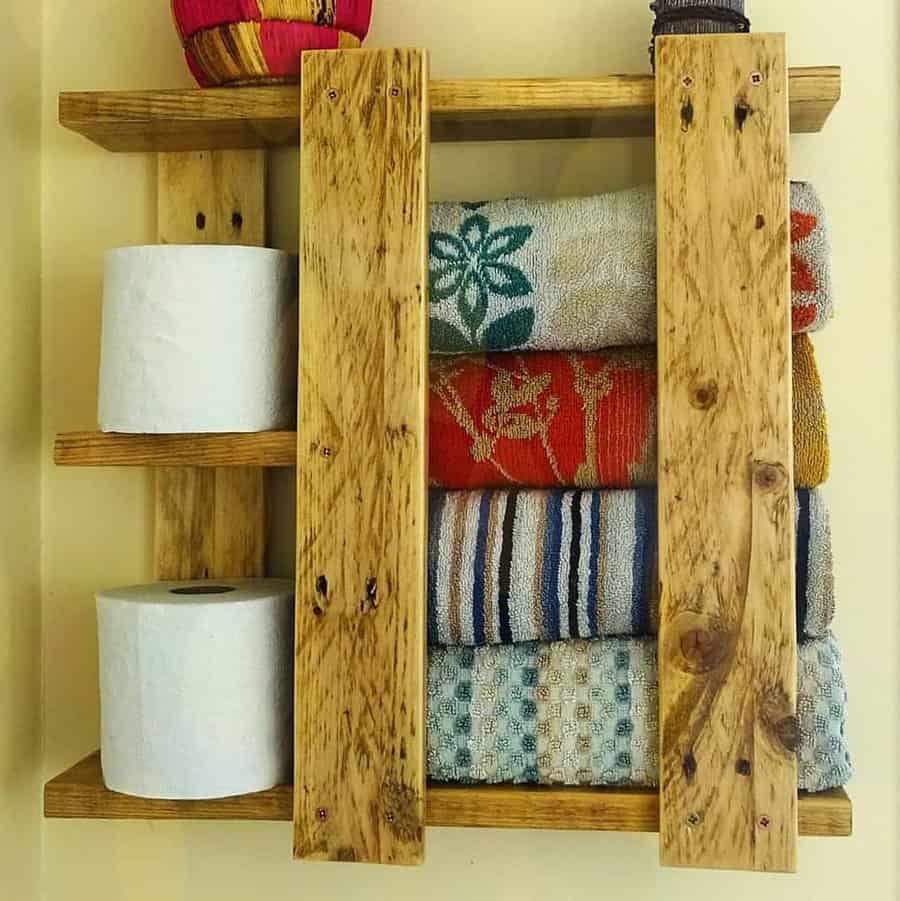 Rustic bathroom storage can take the form of reclaimed furniture or antique ladders. Be sure to use an appropriate finish for your towel storage to protect it from the heat and moisture of your bathroom.
Wood is the best material to use for rustic decor. If you're willing to take on a DIY project, consider upgrading your new towel storage with vintage details like cast irons hardware or old horseshoes.
7. Shelves
Towel storage with built-in shelving is ideal for holding miscellaneous items like extra toilet paper rolls or air fresheners. It can also help take a load off of your medicine cabinet or bathroom vanity storage.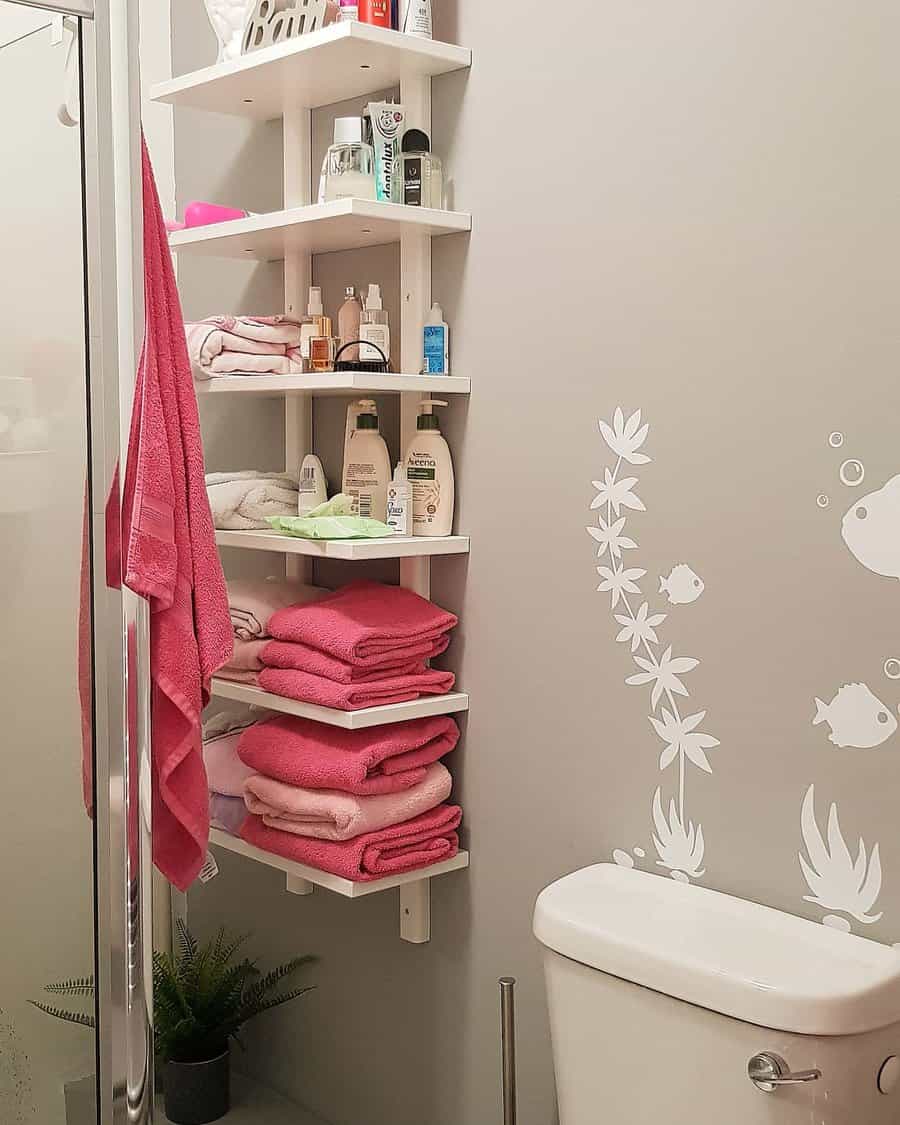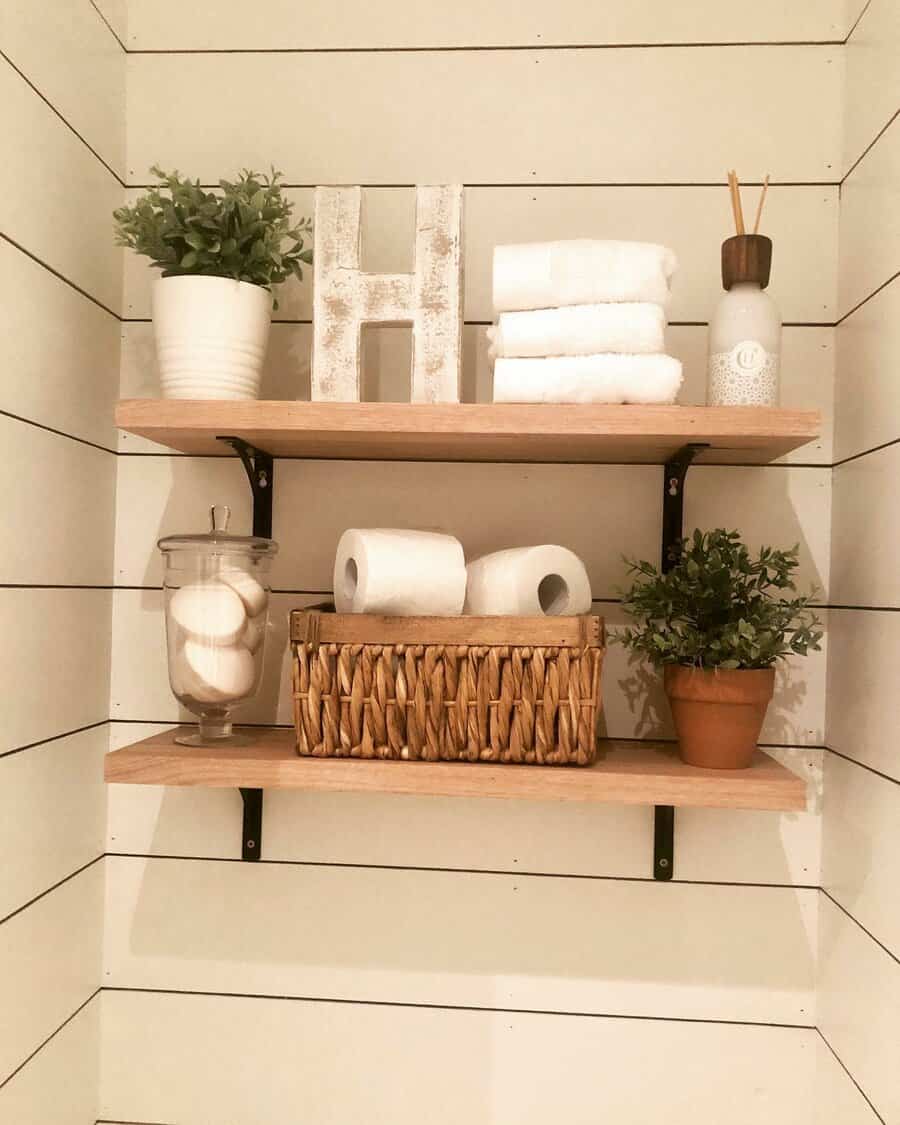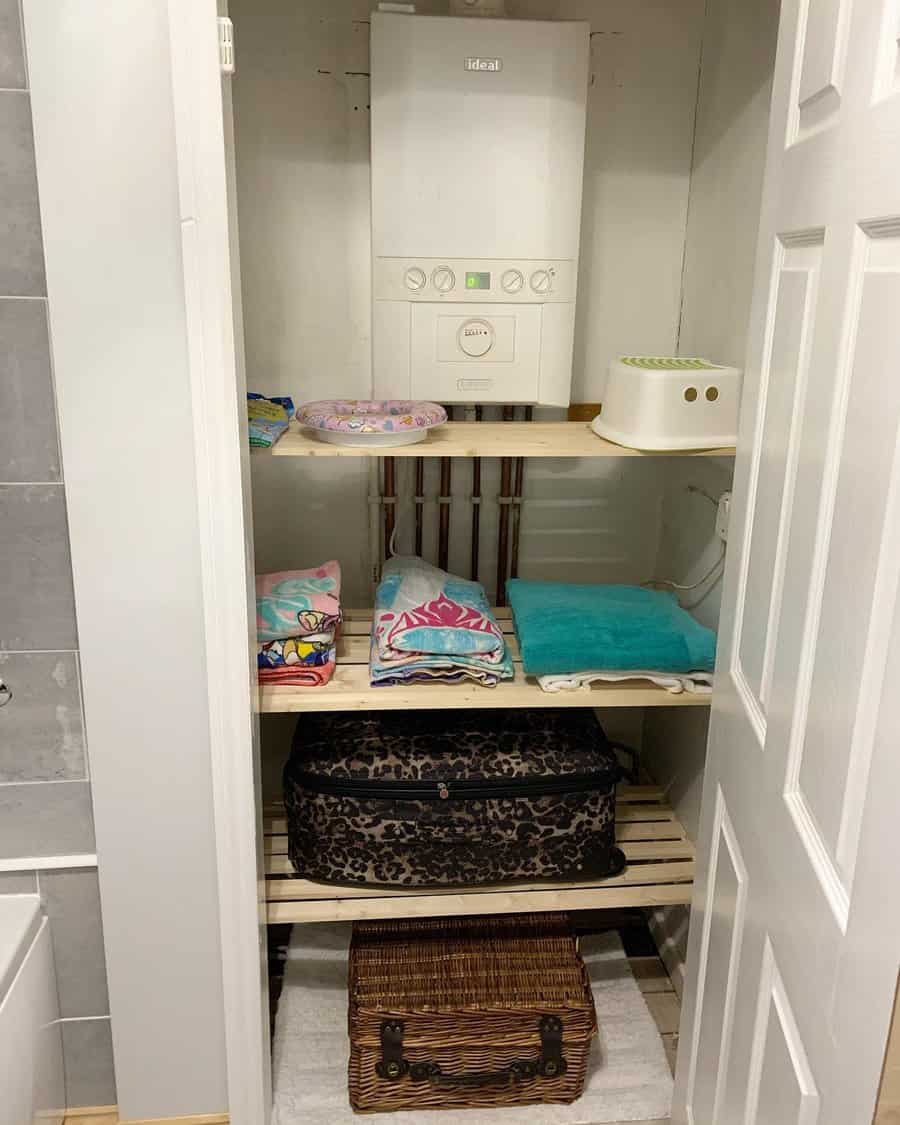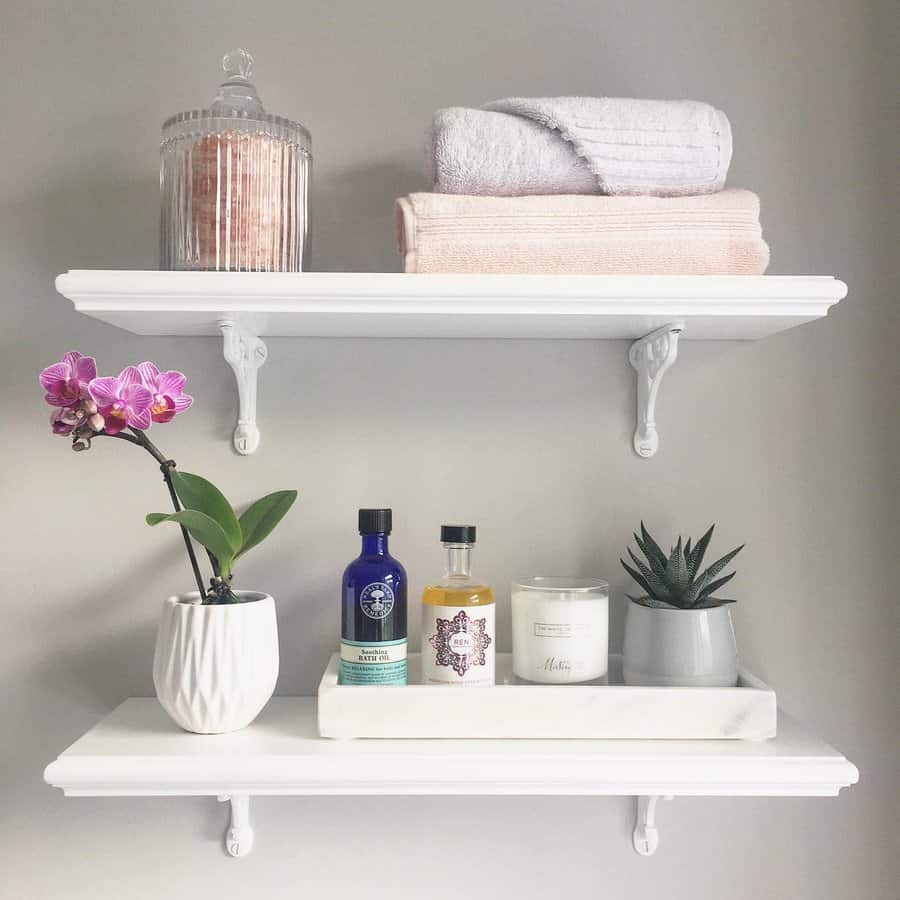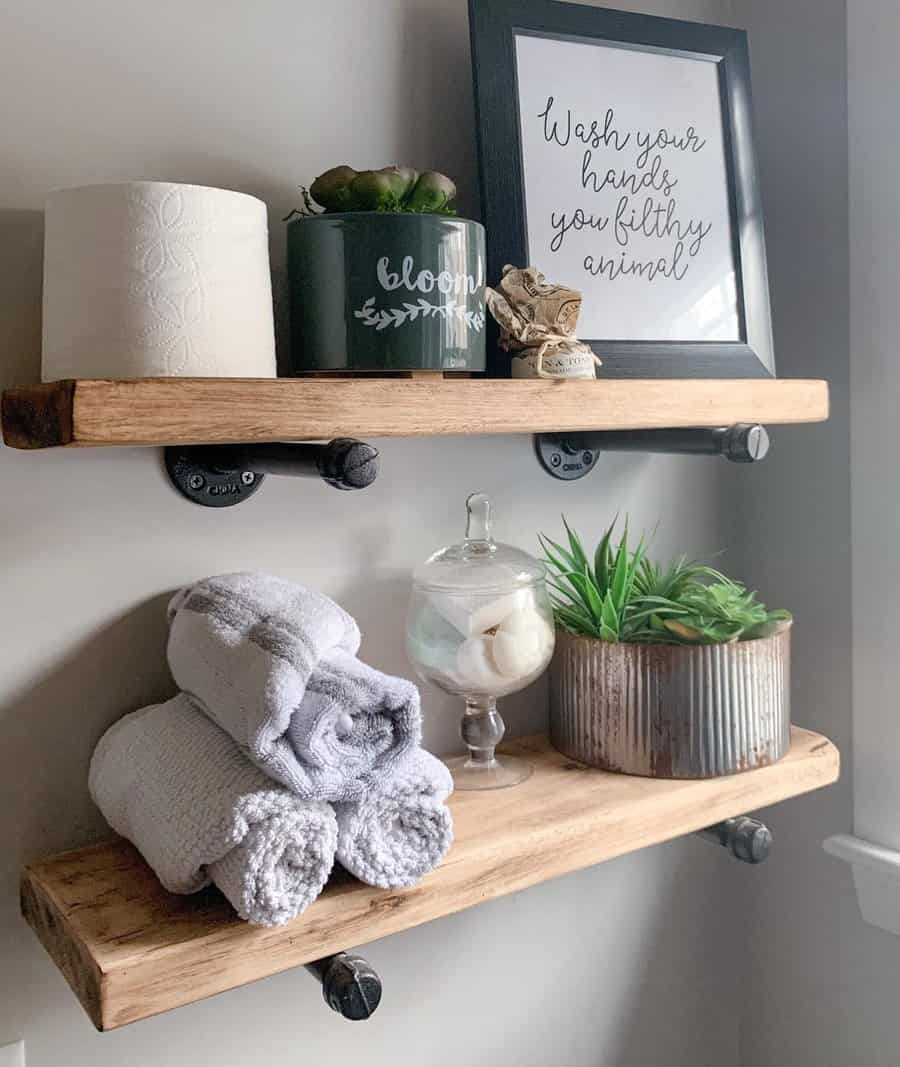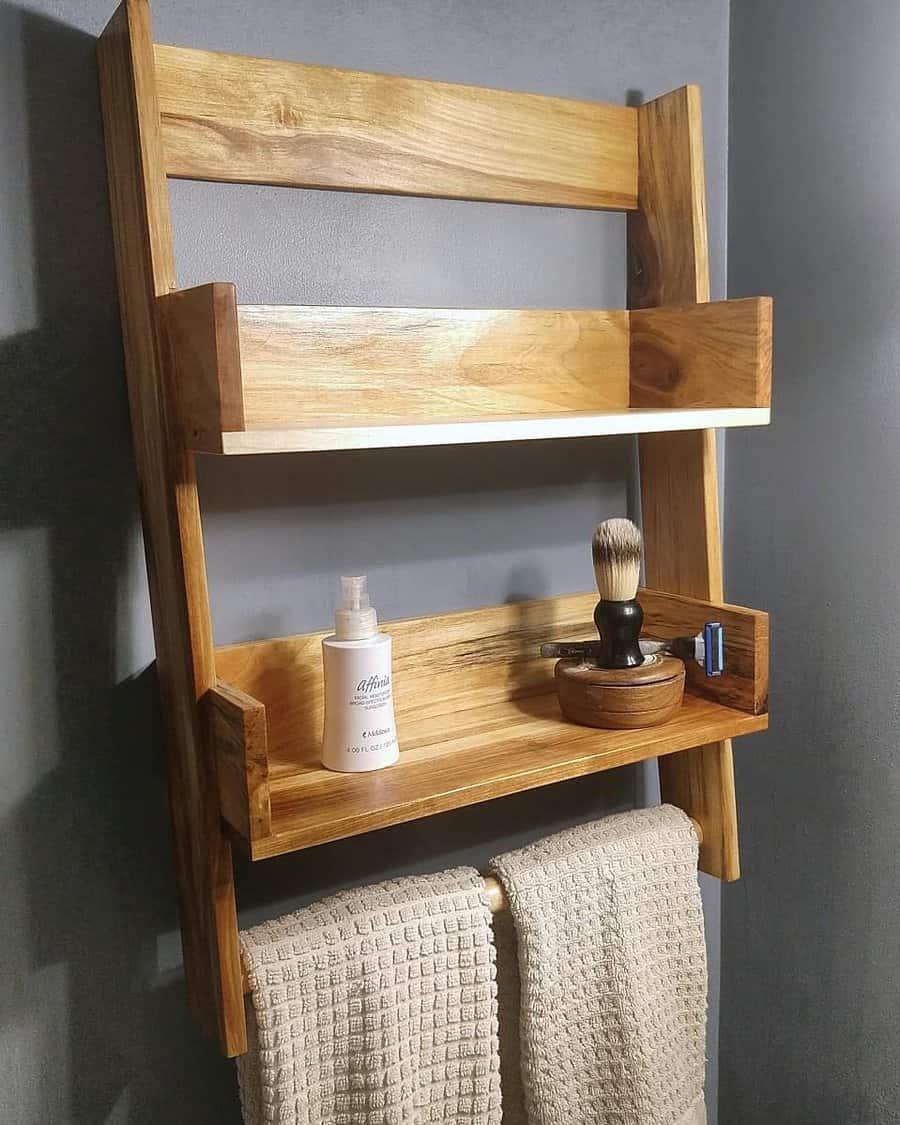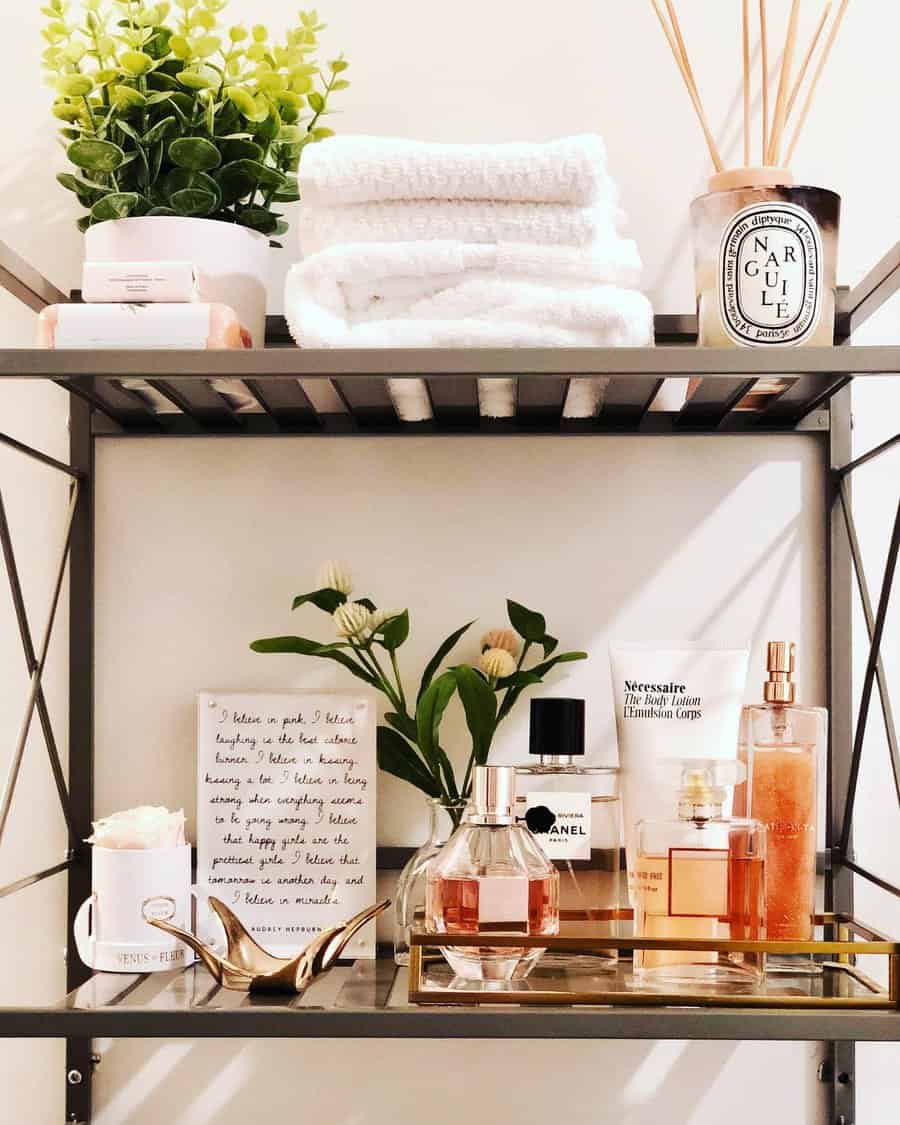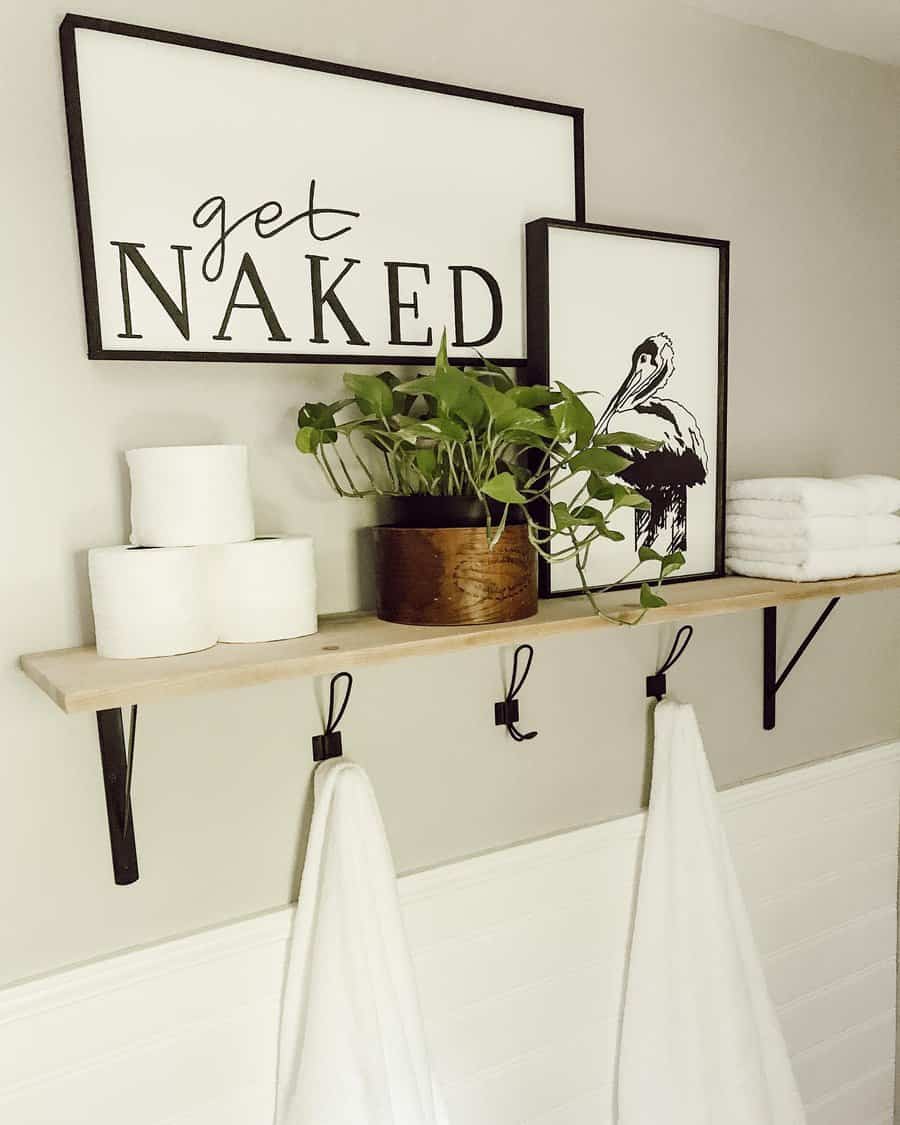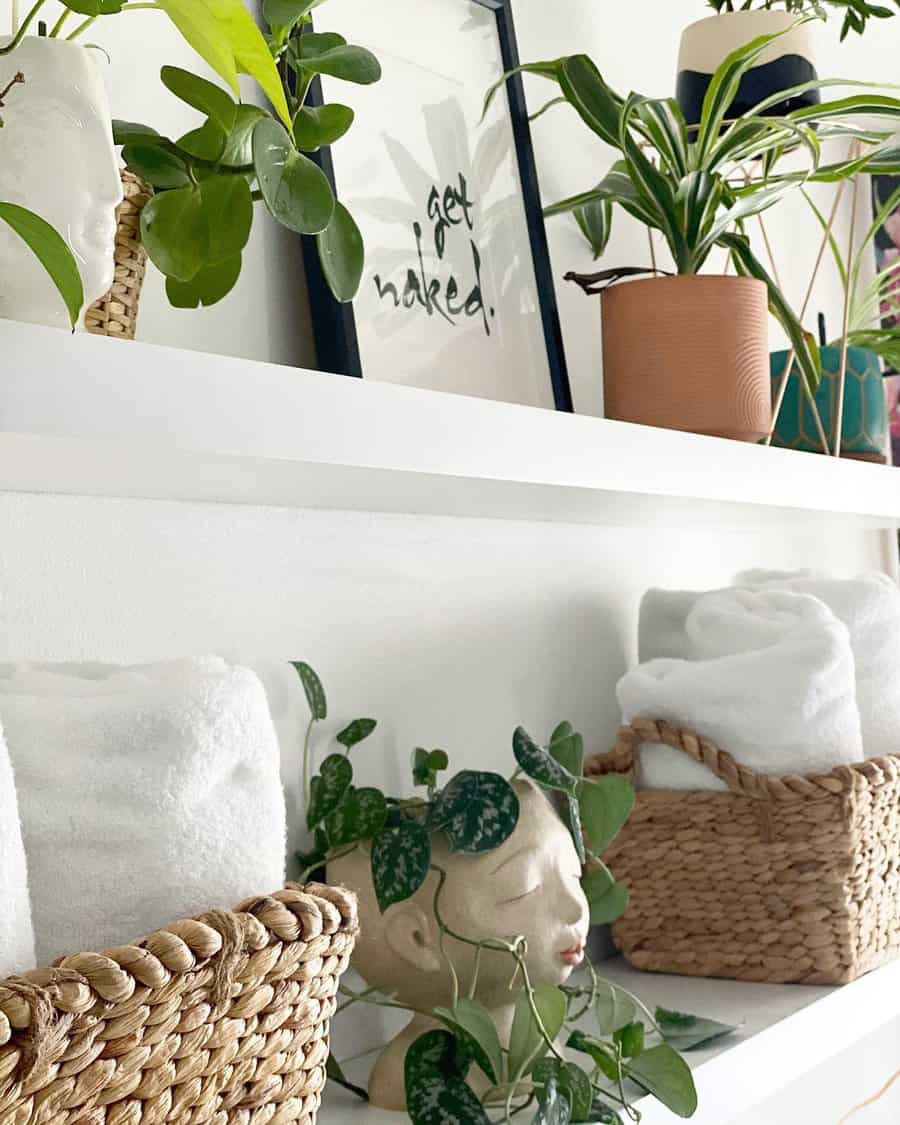 The most versatile towel storage shelf will also include a built-in hook or bar. With this setup, you can store fresh towels within easy reach while also creating a place to hang used towels as they dry.
Placing folded towels directly on your bathroom shelving isn't your only option. Storing rolled towels in a small wicker basket can help keep your bathroom clean and organized.
8. Small
If you live alone or with a partner, there's little reason to store your entire towel collection in the bathroom. A compact towel holder will ensure you always have a fresh towel on hand without overwhelming your small bathroom space.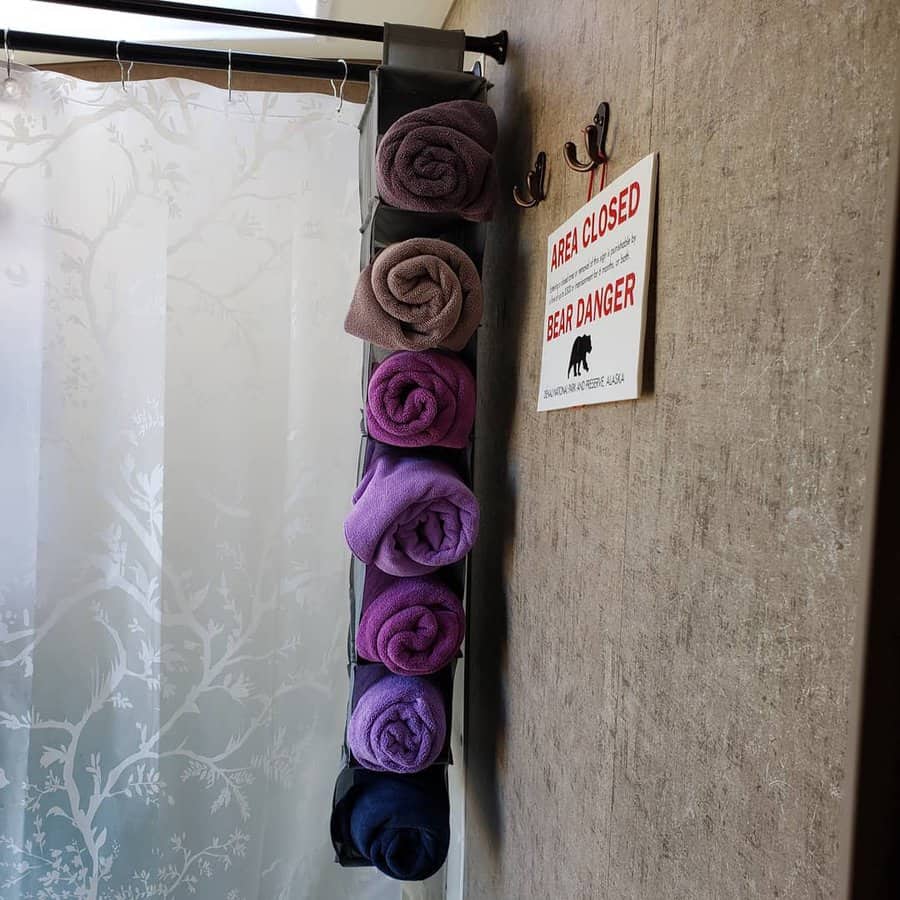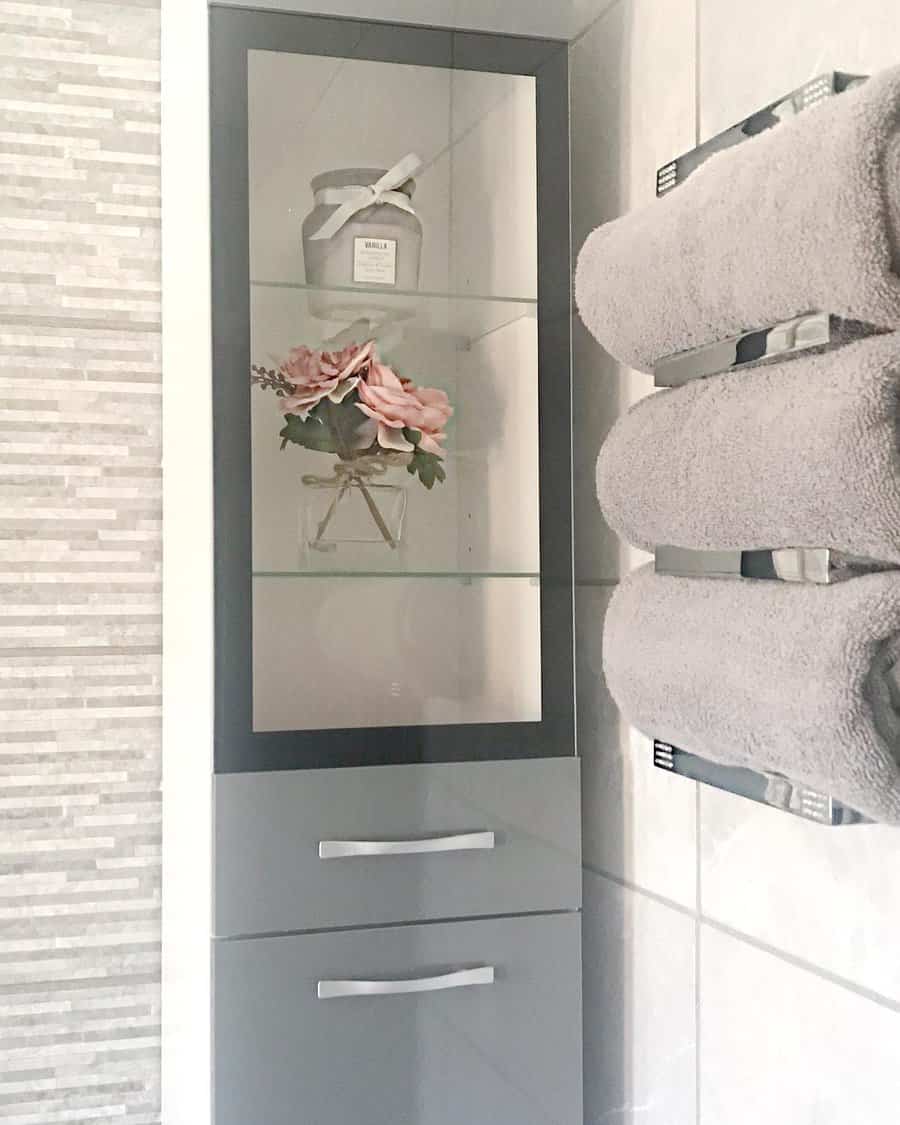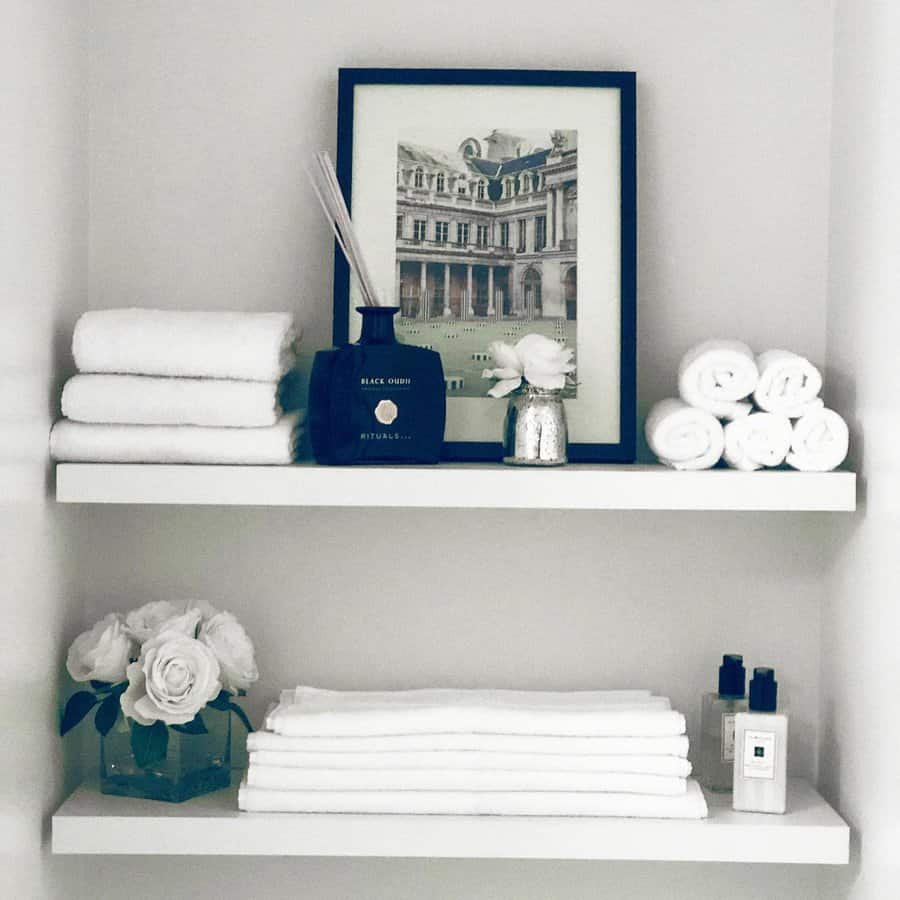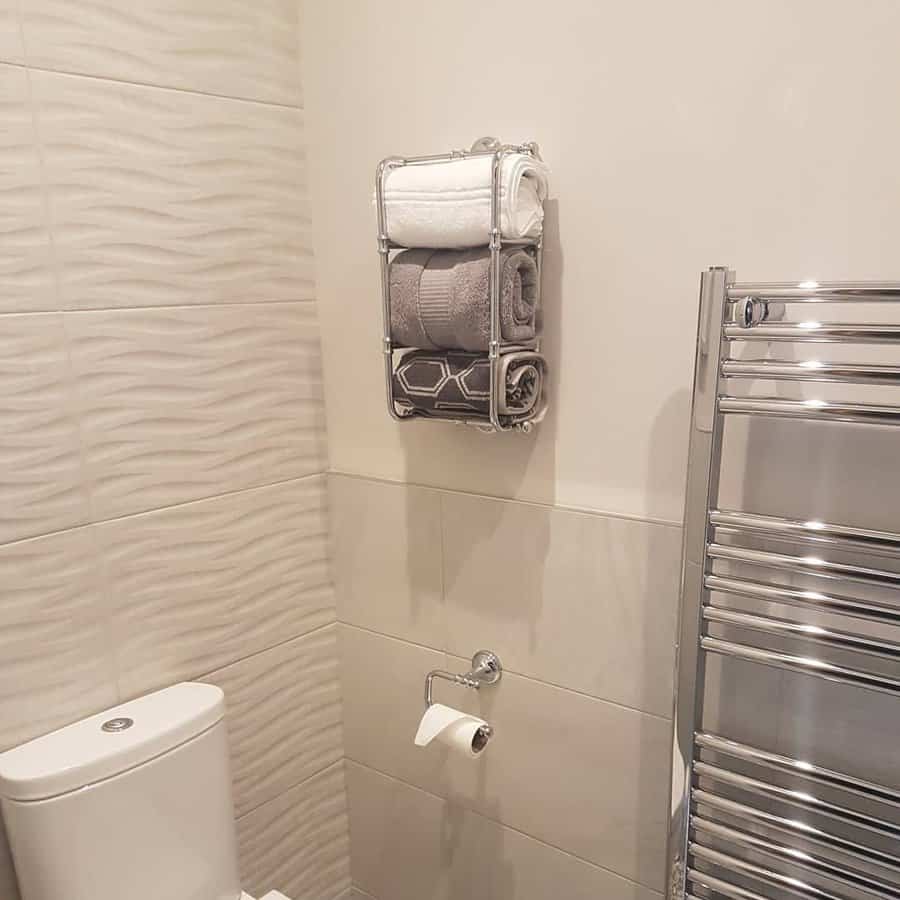 You can readily store one or two spare towels in a decorative basket or wall-mounted rack. Floating shelves are perfect for storing towels alongside other items like candles or framed artwork.
If your spare towels are going to be out on display, be sure to invest in high-quality towels that coordinate with your bathroom's color scheme. Even when not in use, your towels will still be part of your bathroom's decor!
See more small bathroom storage ideas here.
9. Stand
A simple towel stand ensures that your guests always know where to dry their hands. It's also a great way to keep towels or washcloths organized when not in use.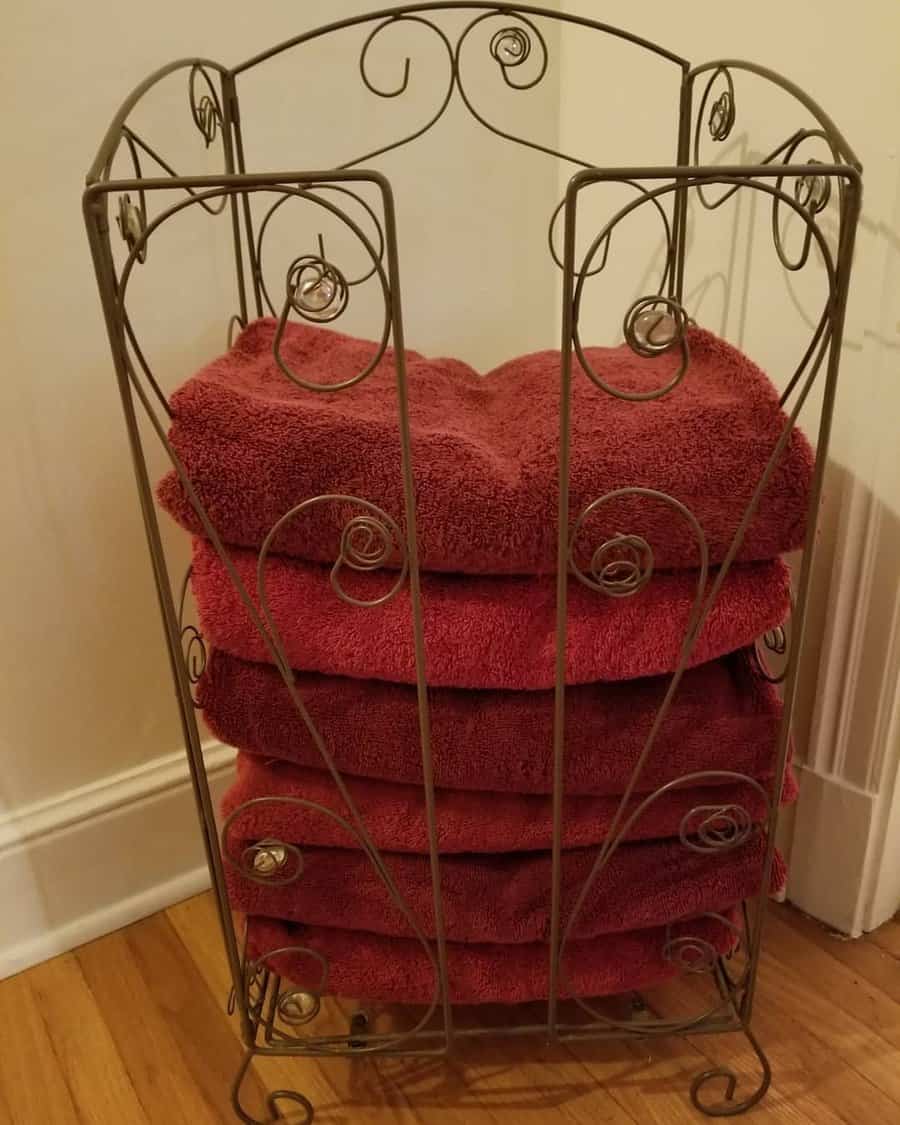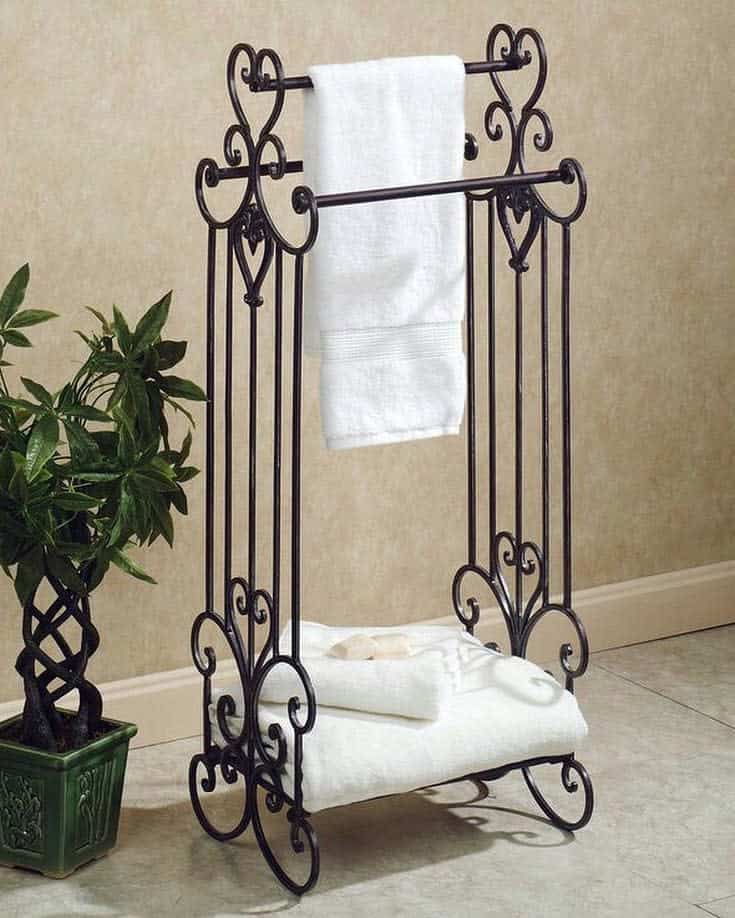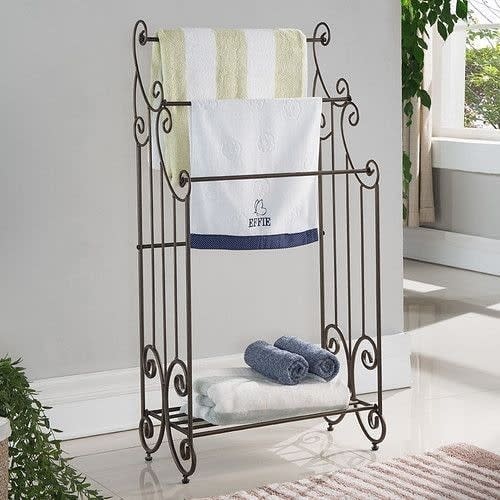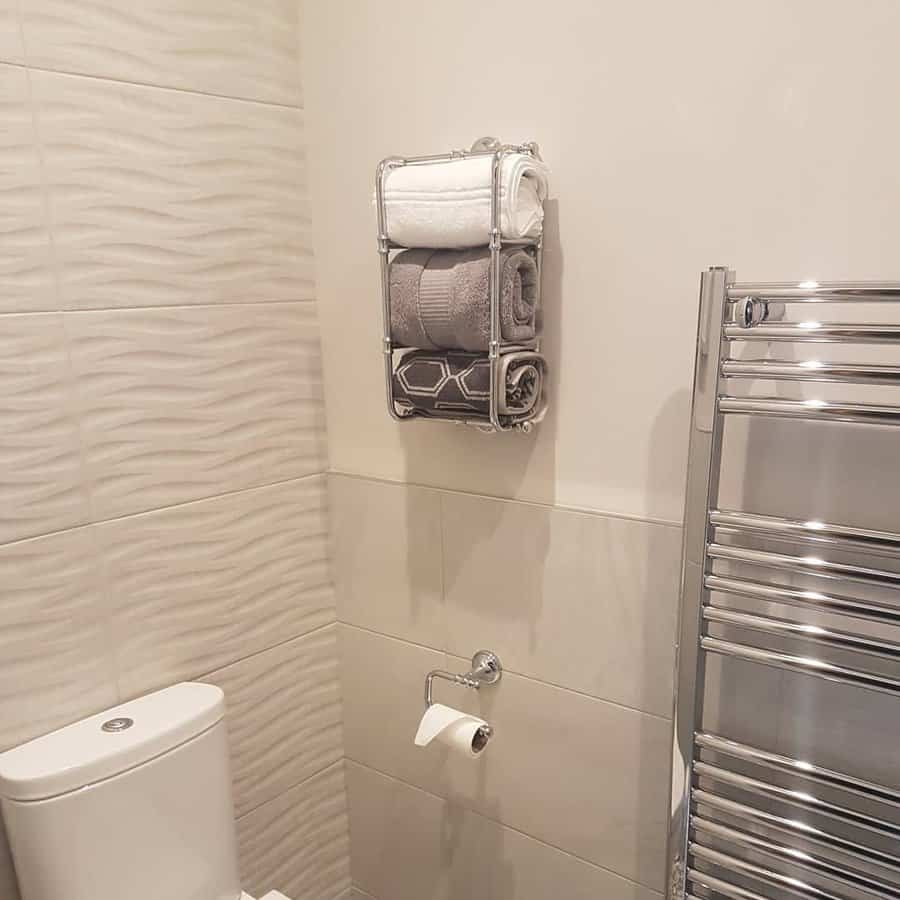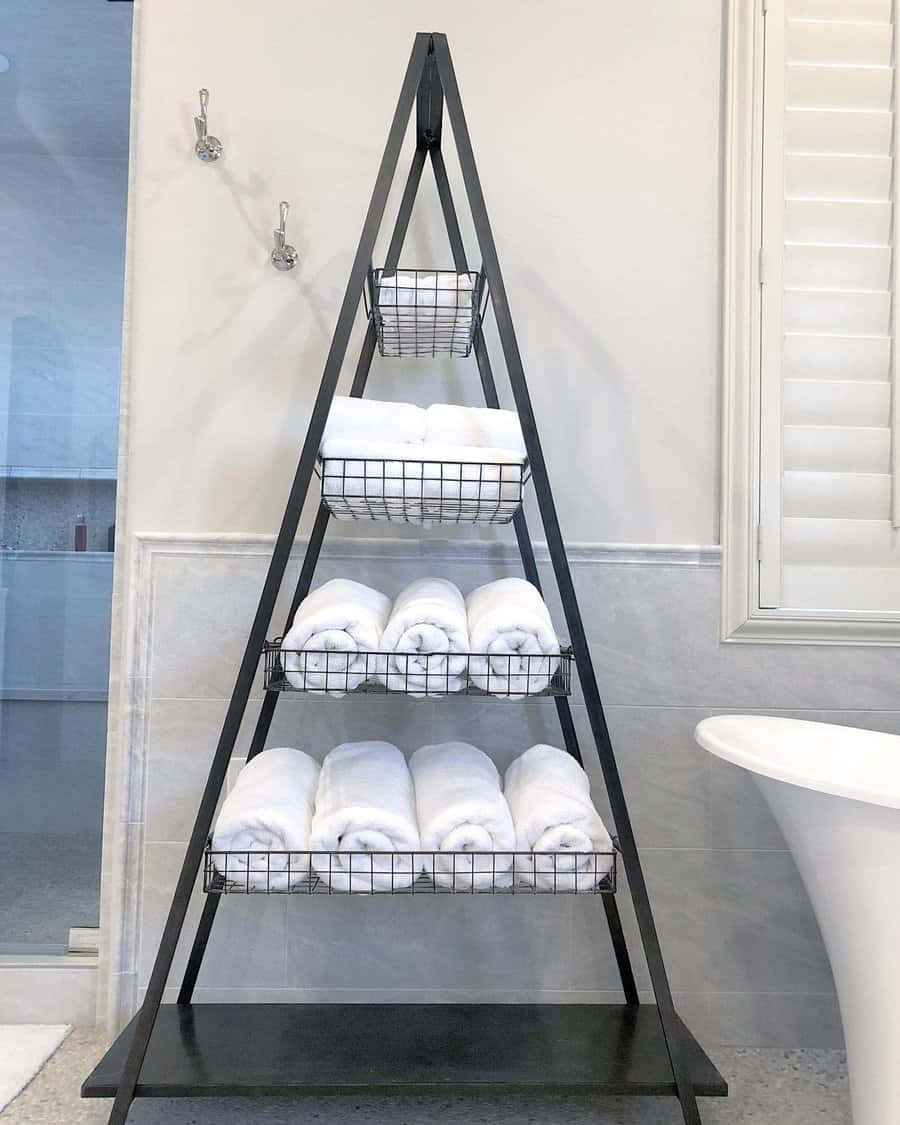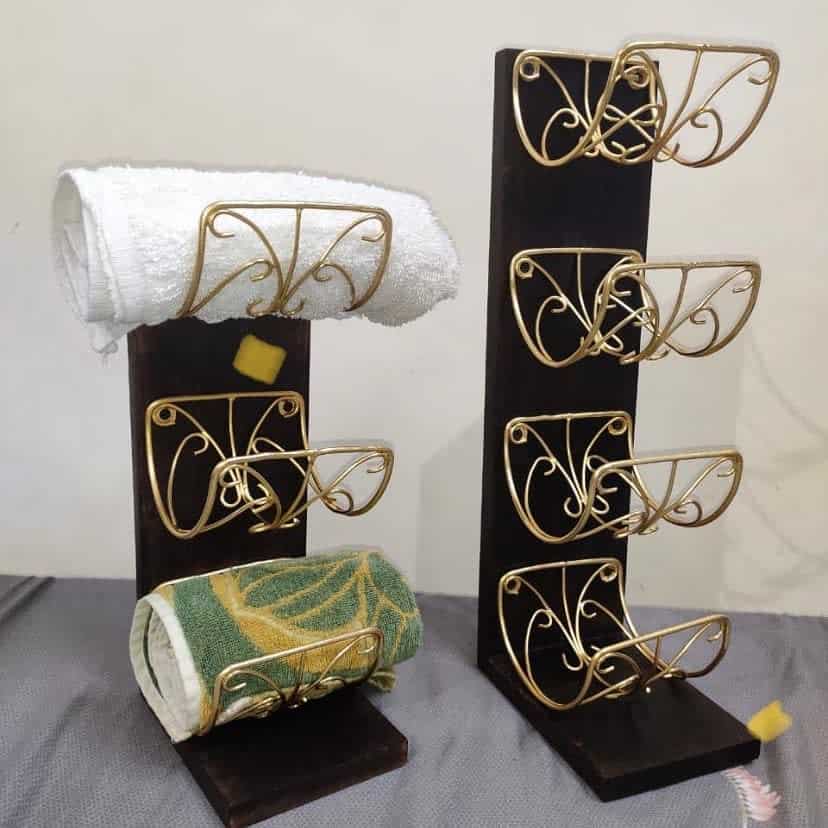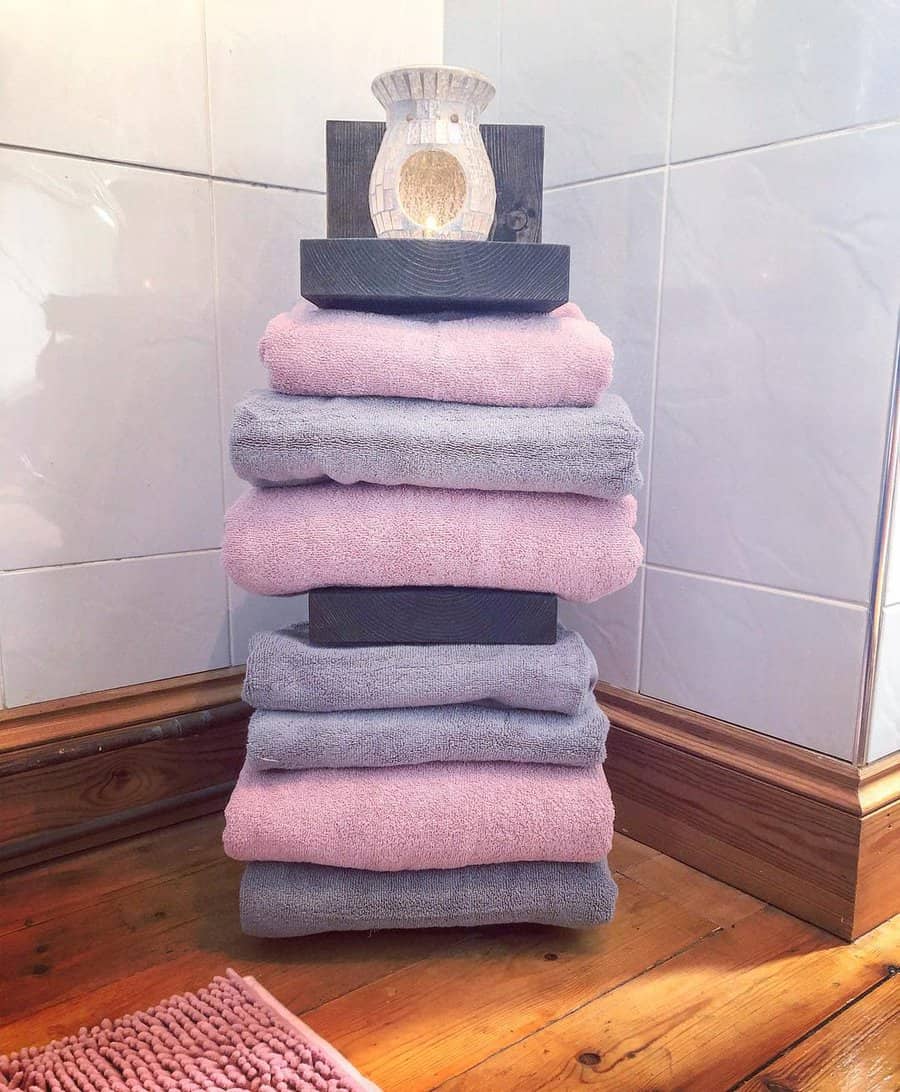 A floor stand offers plenty of space for storing extra towels without cluttering up your bathroom counter. Countertop stands are ideal for decorative hand towels.
Stands come in all different heights. You can easily tuck a small stand behind your toilet or in an empty corner. If your bathroom needs more storage space, look for a stand that can also accommodate a toilet paper holder or miscellaneous items.
10. Under Sink
The average bathroom only offers so much space to tuck items out of sight. Even if your bathroom is equipped with its own closet, you might find yourself struggling to hide all of your extra towels and shower accessories.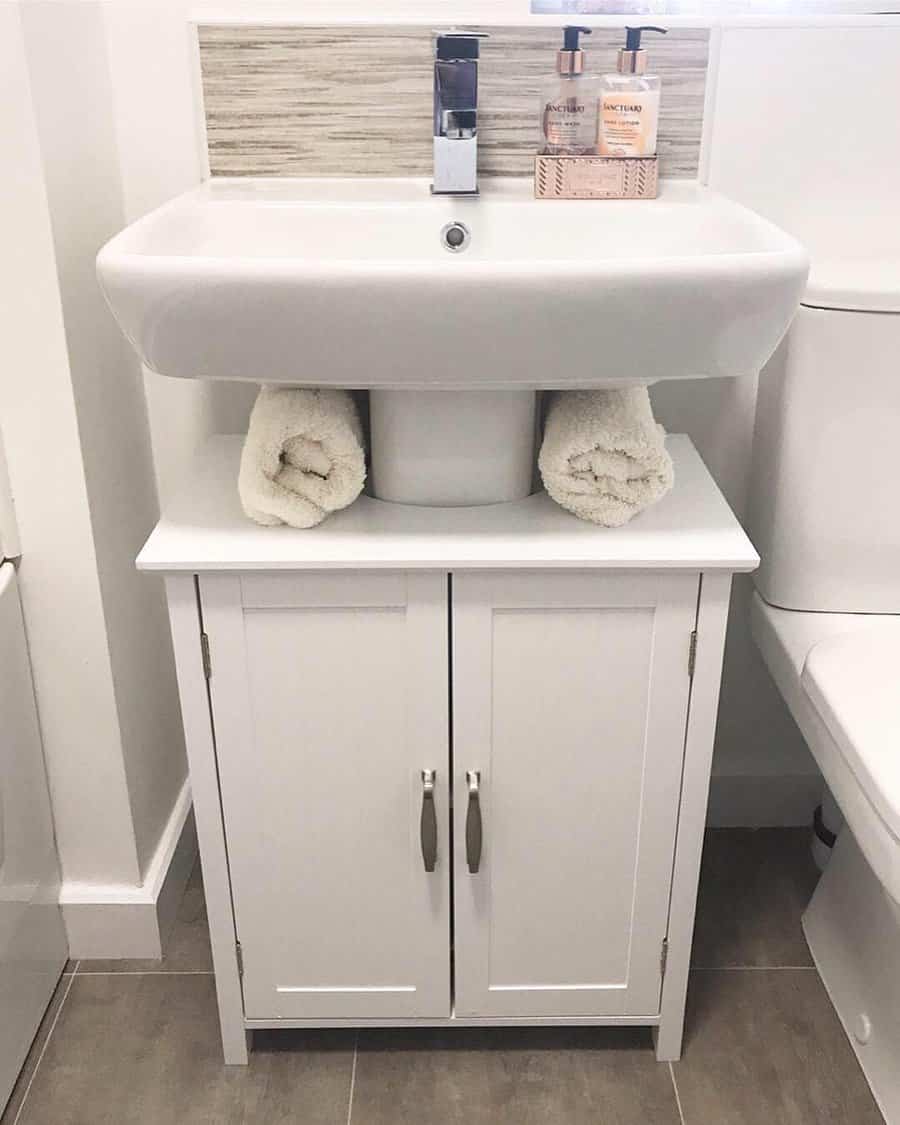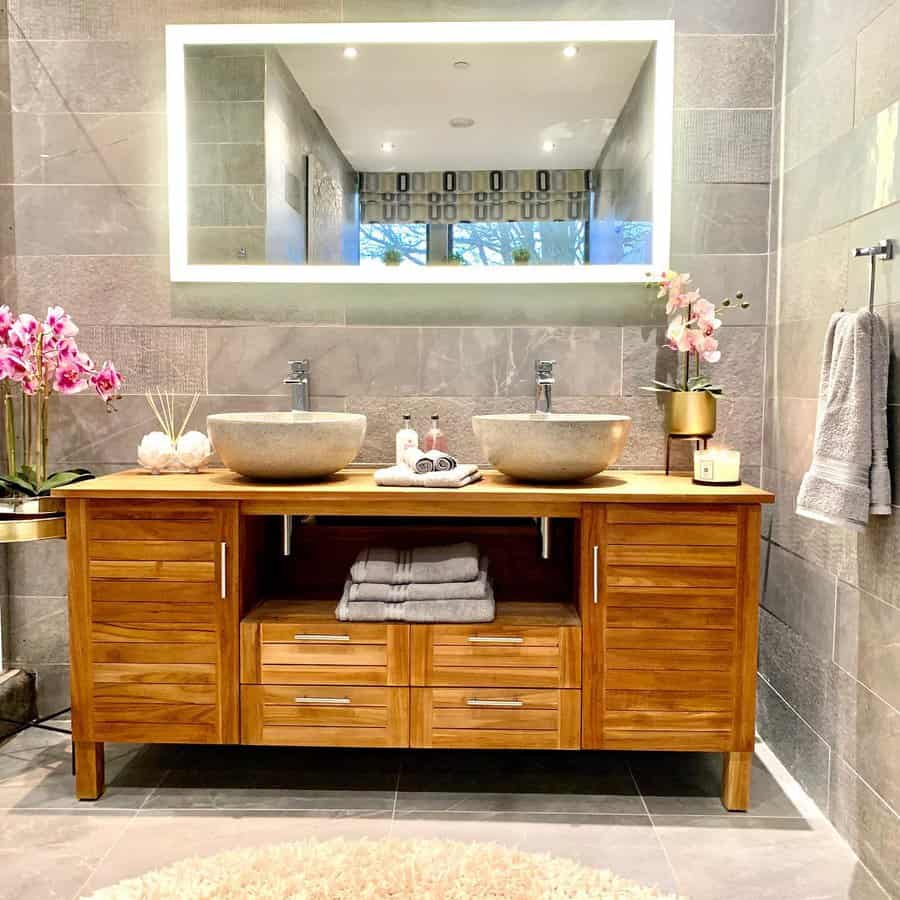 Under-sink storage is often overlooked, especially when it comes to toiletries and other items you use everyday. But it's an excellent place to stow bath towels that aren't actively being used.
Don't just toss your spare towels under your bathroom sink without a plan. Baskets, tiered shelves, and drawers can all be used to keep your towels organized and clean no matter how long they sit in storage.
11. Unique
Most homeowners would prefer their bathroom storage solutions blend into the background. But sometimes taking a bold stance is the best home design decision you can make.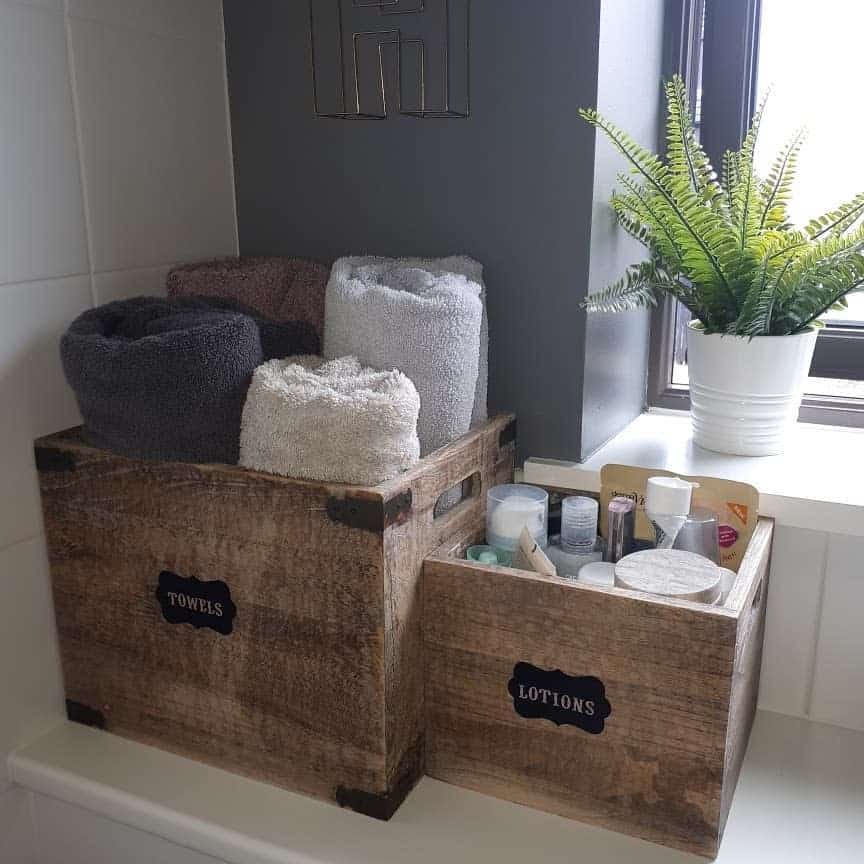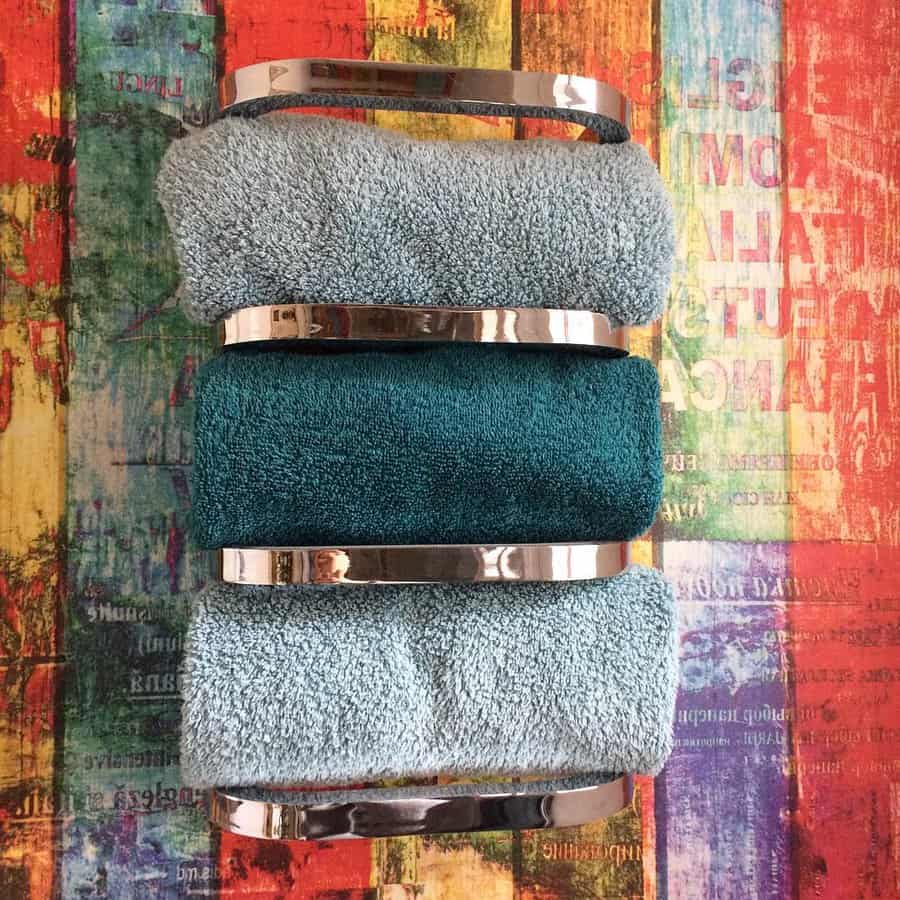 Carving out a special cubby for your bathroom storage needs is a wonderful way to ensure your counter space stays neat and tidy.
Do you know what common item is the same size and shape as a rolled towel? A wine bottle! Many unique towel holder ideas are directly inspired by wine rack designs. You may even be able to repurpose a wine rack for your own bathroom — no one will ever know the difference.
12. Unusual
Little details are what make great home design stand out from the everyday. Don't be afraid to think outside of the box when coming up with towel storage ideas for your own bathroom.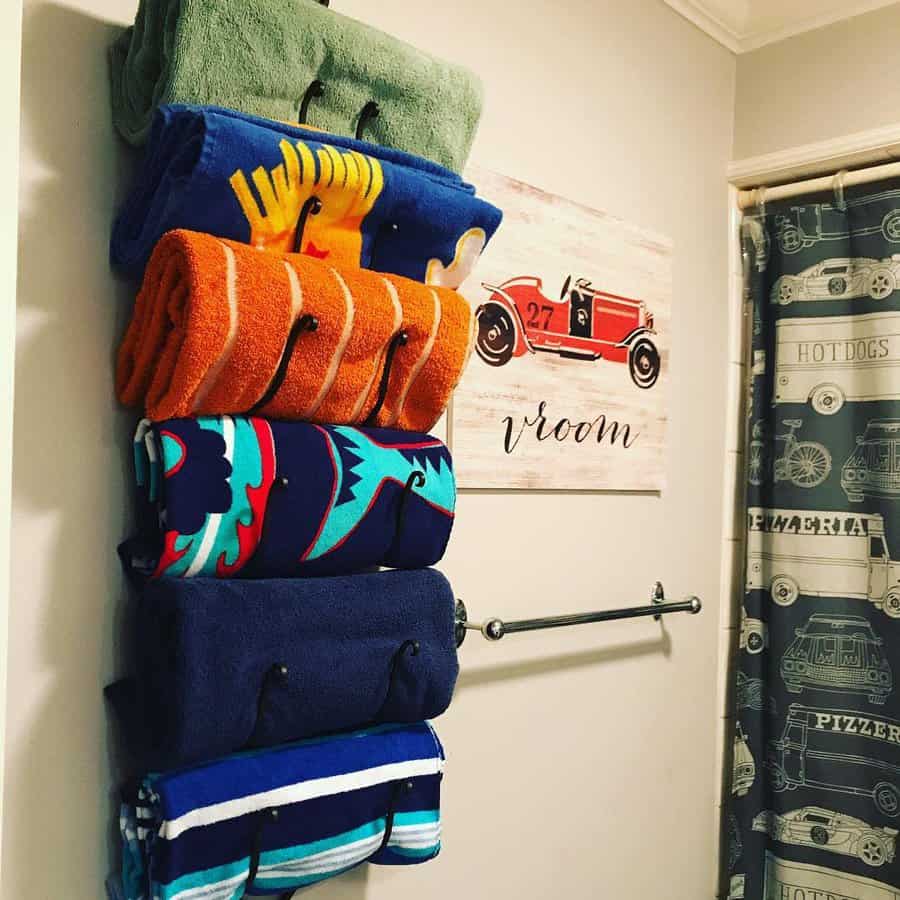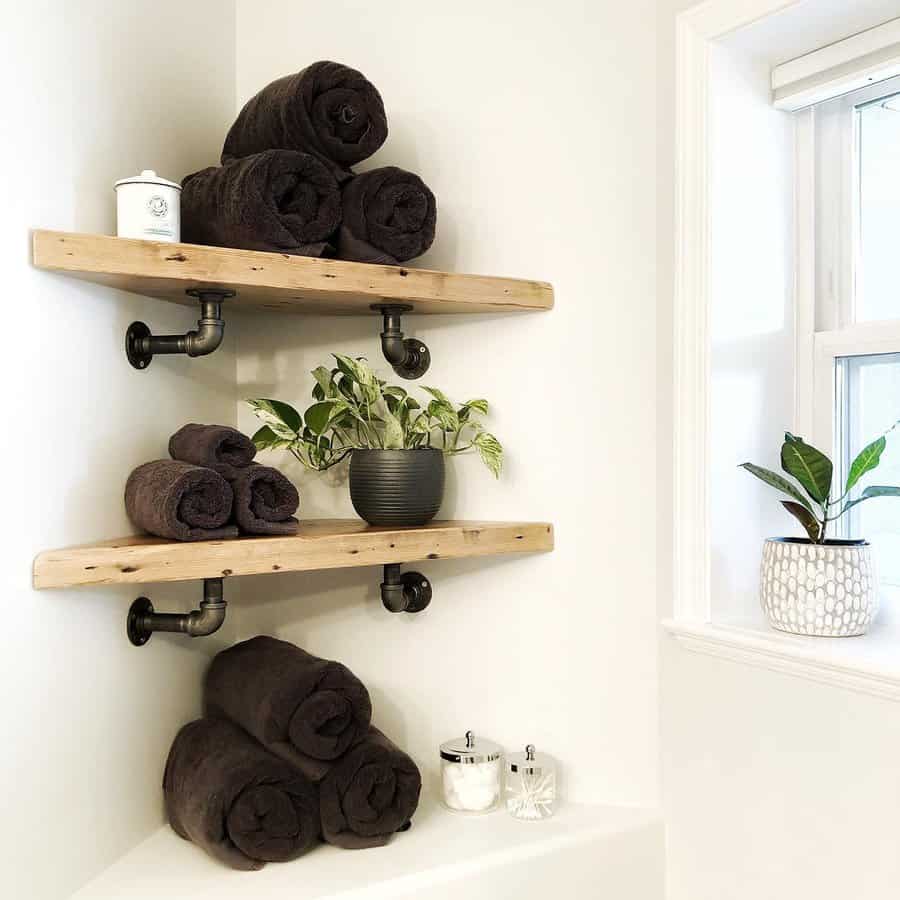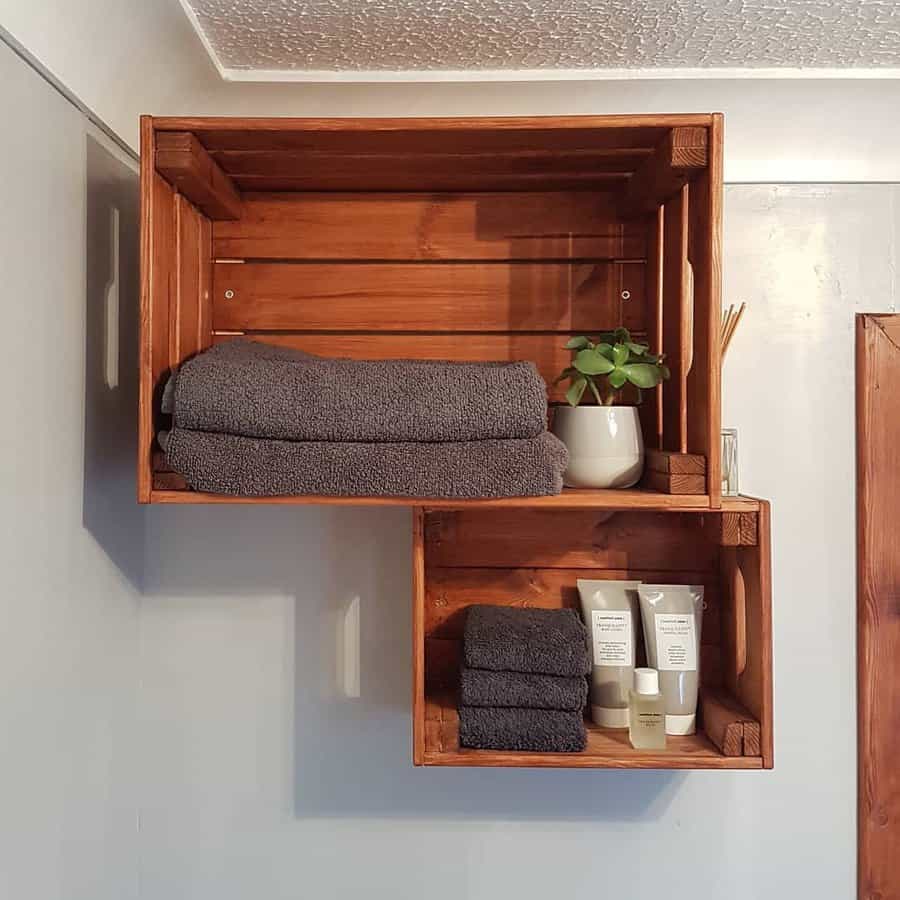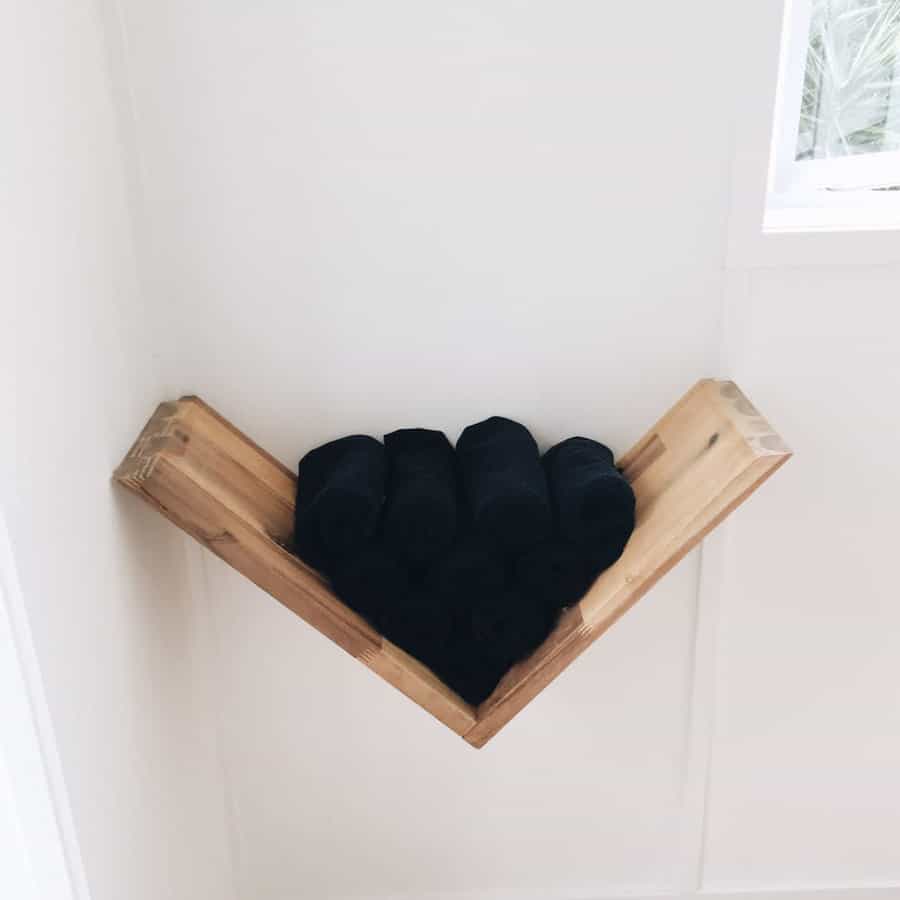 Expandable and oversized wall racks are perfect for households that go through several towels a day. You'll never find yourself running to the linen closet after a relaxing shower to grab a spare towel!
Mount a crate or shelf to your bathroom wall to hold rolled-up towels and other necessities. For an eclectic look, select shelving with unique mounting hardware. Corner shelves are an excellent solution for any bathroom where space is in short supply.
13. Wall-Mounted
Unless you launder your bath towels after every use, it's hard to get away without a wall-mounted rack. Where else will you dry your towel following your morning shower or evening bath?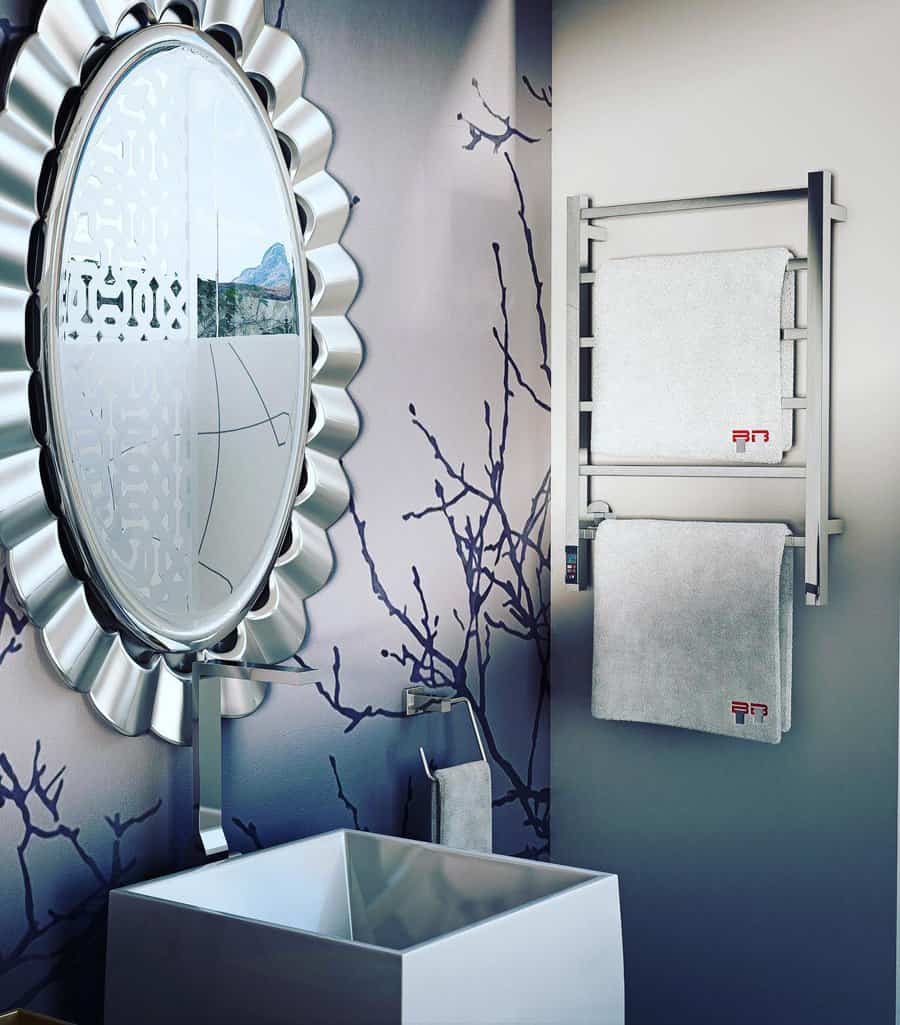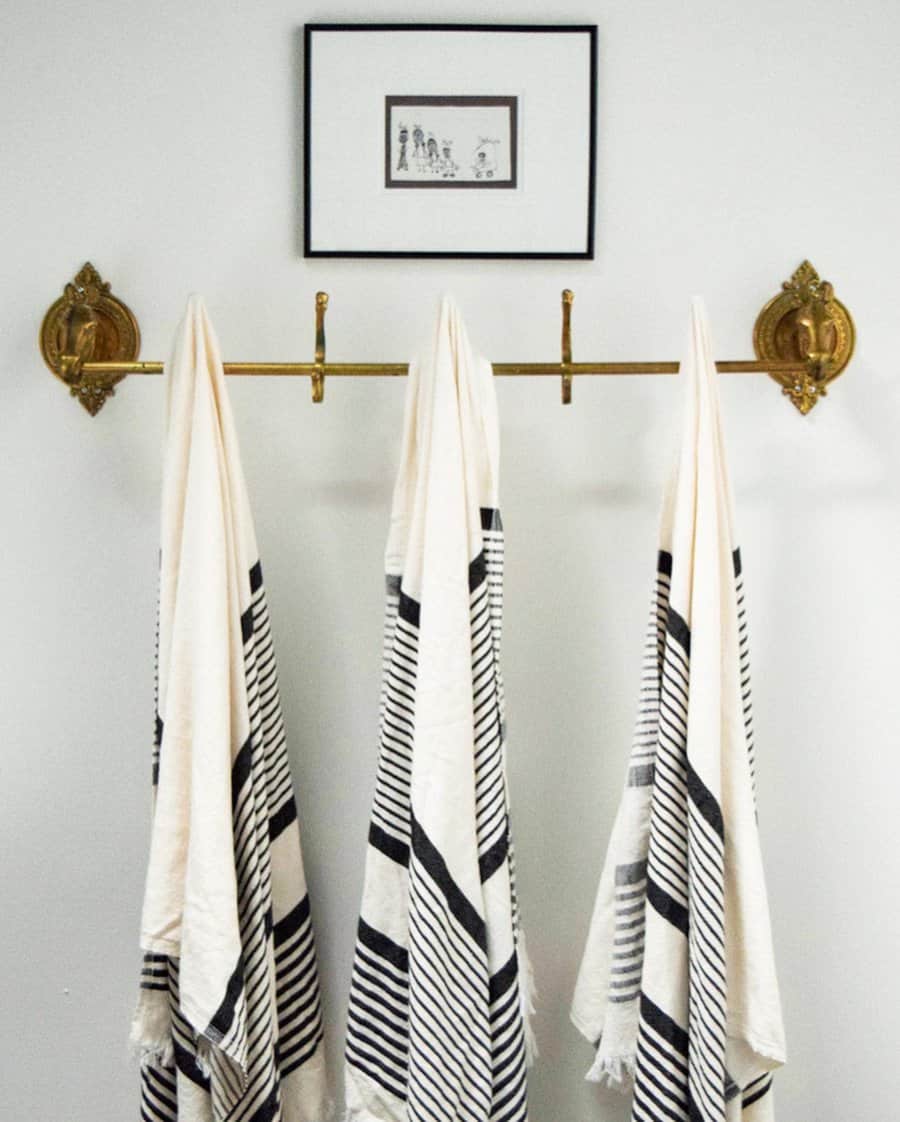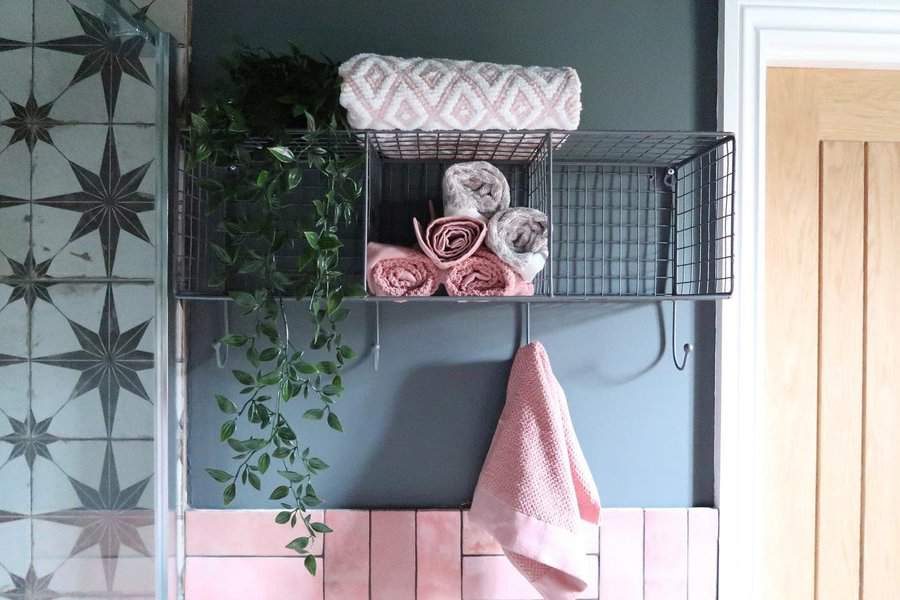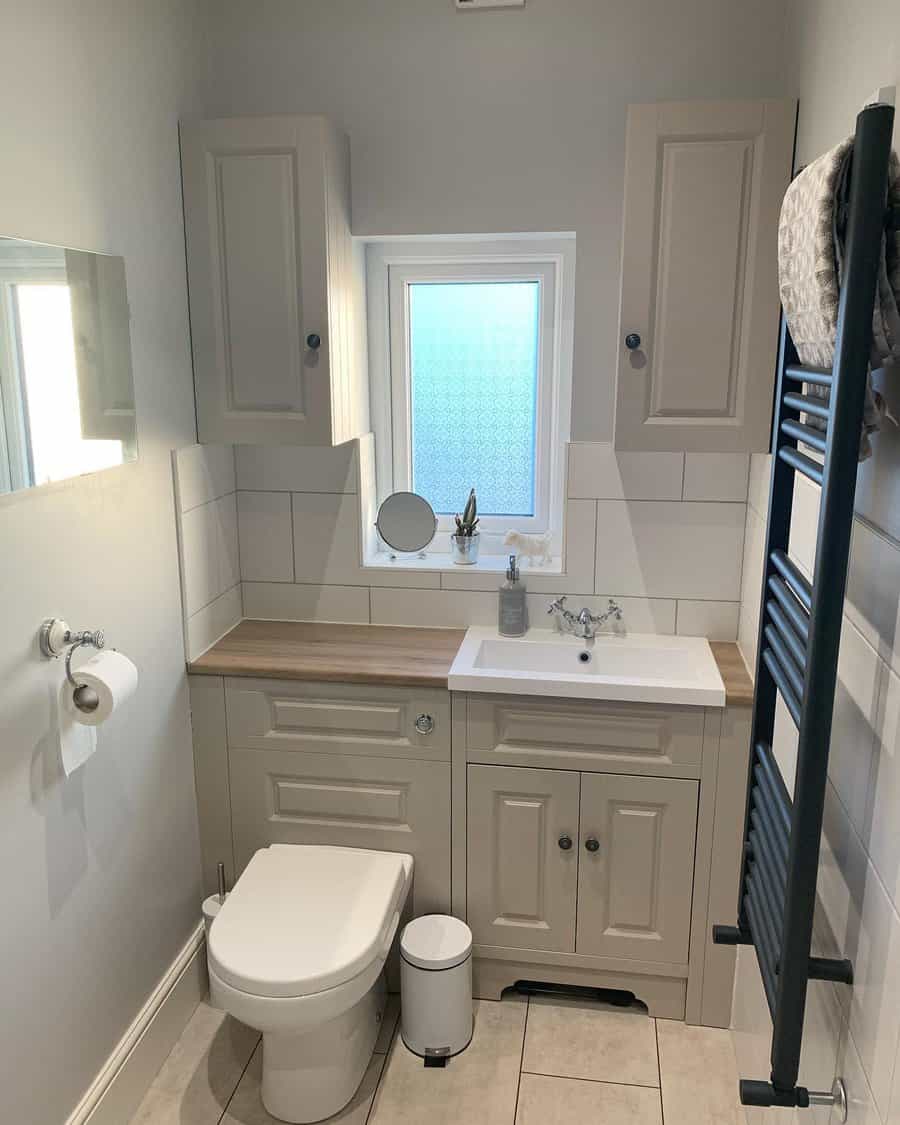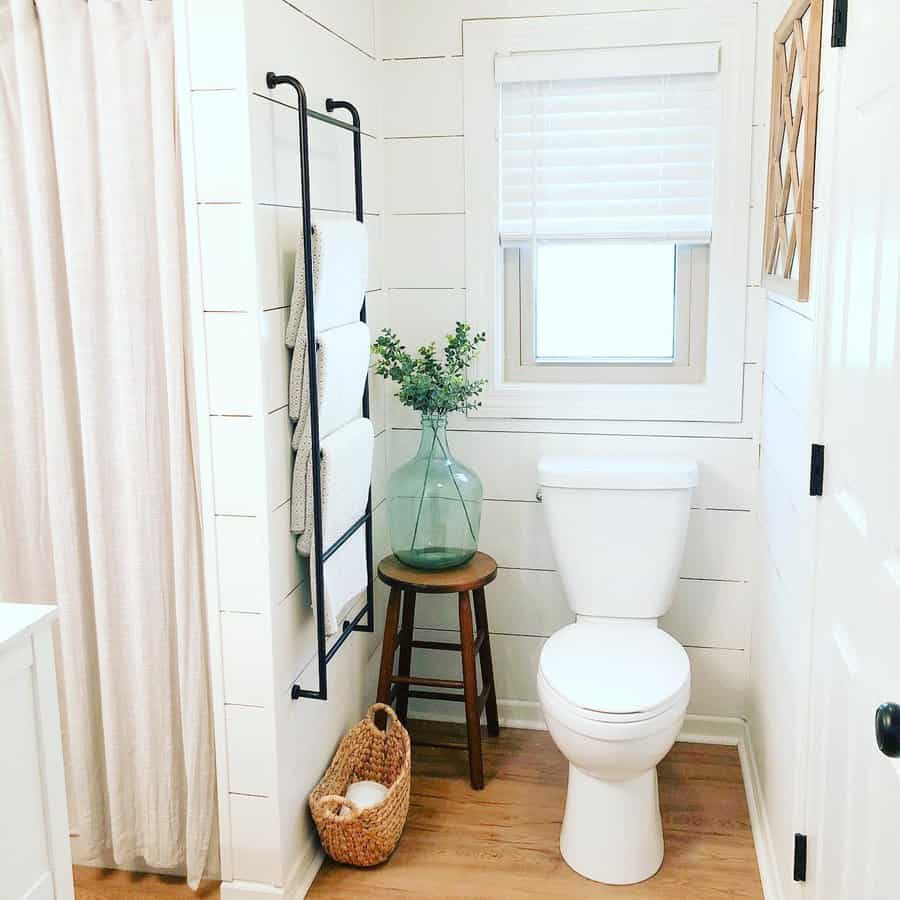 It's easy to overlook the importance of a required design element like a wall-mounted towel holder. But selecting the right shape, style, and finish will give your bathroom an elegant, spa-like aesthetic.
All wall-mounted towel storage is not created equal. Upgrade your bathroom setup with an integrated towel heater or extra storage compartments for your must-have toiletries.
Towel Storage FAQs
How often should you wash bath towels?
A clean bath towel is the cherry on top of a relaxing shower or bath. But most people don't wash their personal towels after each and every use.
To prevent bacteria, mold, and mildew, you should wash your bathroom towels at least every three uses. Towels that become soiled or are not allowed to dry completely may need to be washed more frequently.
What is a towel warmer?
A towel warmer is a bathroom fixture found in many homes around the globe. However, these fixtures are relatively rare in some regions, including the United States.
Towel warmers are typically wall-mounted and powered by electricity. They can be used to heat towels, bathrobes, and other cloth items before use. A towel warmer can speed up the drying time of your wet bathroom towels.
The heat from a towel warmer may also slightly increase the temperature of your bathroom as a whole. If you live somewhere with cold winters, a bathroom towel warmer is invaluable!