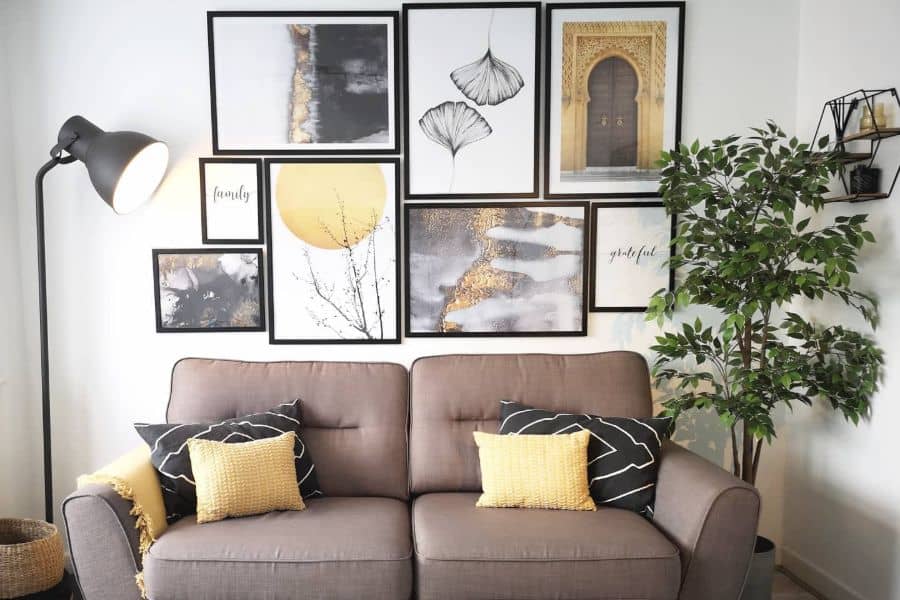 The Top 60 Wall Collage Ideas
"Life is like a collage. Its individual pieces are arranged to create harmony. Appreciate the artwork of your life." – Amy Leigh Mercree
Nothing shows off the artwork of your life better than a carefully planned gallery wall. Wall collage ideas range from a small favorite photo collection to an entire wall covered in images that illustrate your life's story.
Displaying your favorite photos, art pieces, and prints adds warmth and personality to your home. Look through our selection of favorite wall collage ideas for inspiration on layouts, techniques, and styles.
1. Art
Creative black and white photos with white mats and black frames is a classic gallery wall idea. If you prefer paintings to photos, create your gallery from paintings in various sizes, each canvas surrounded by a gilded frame.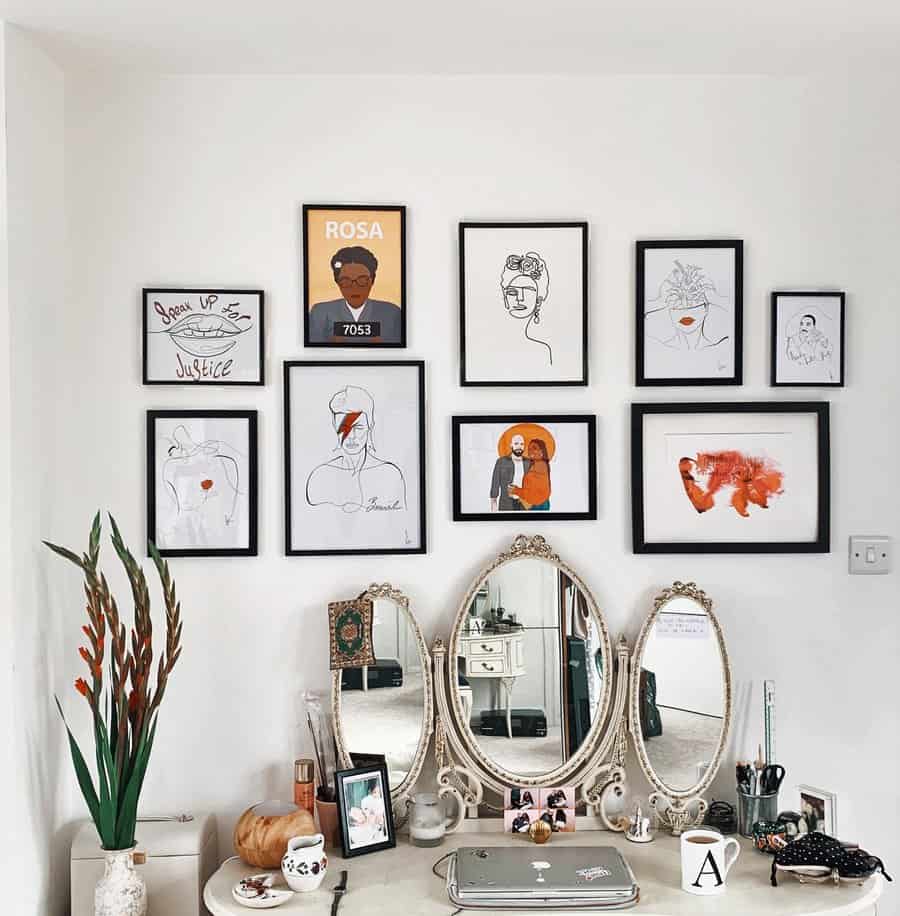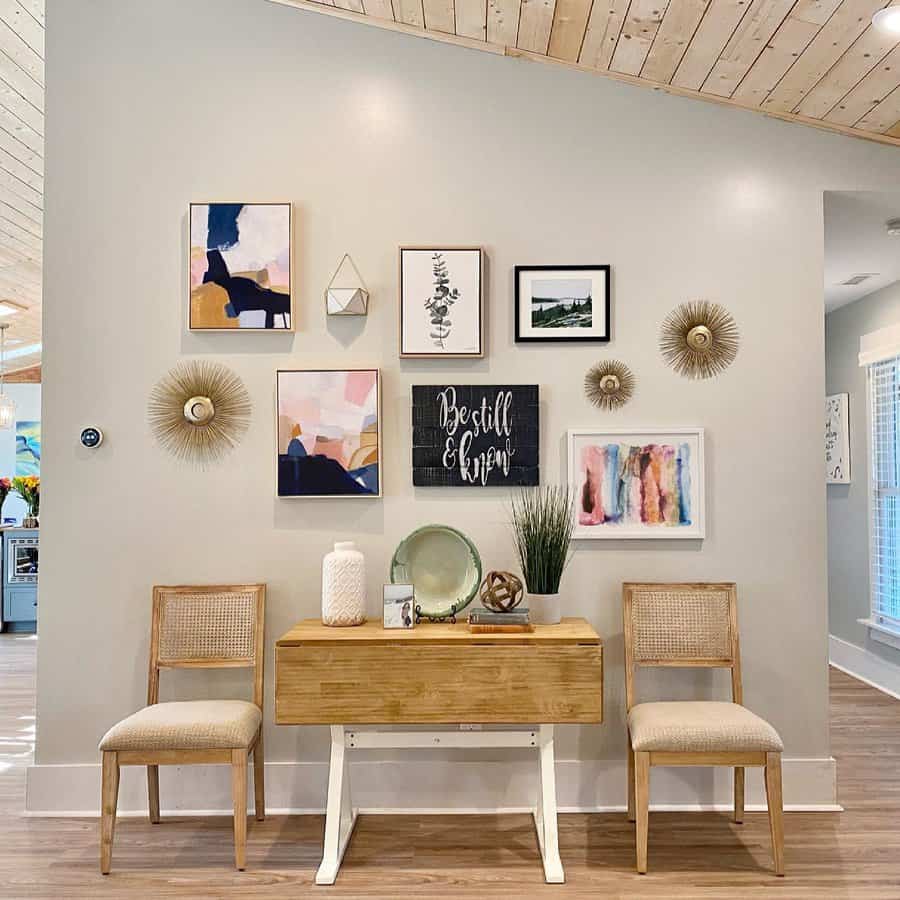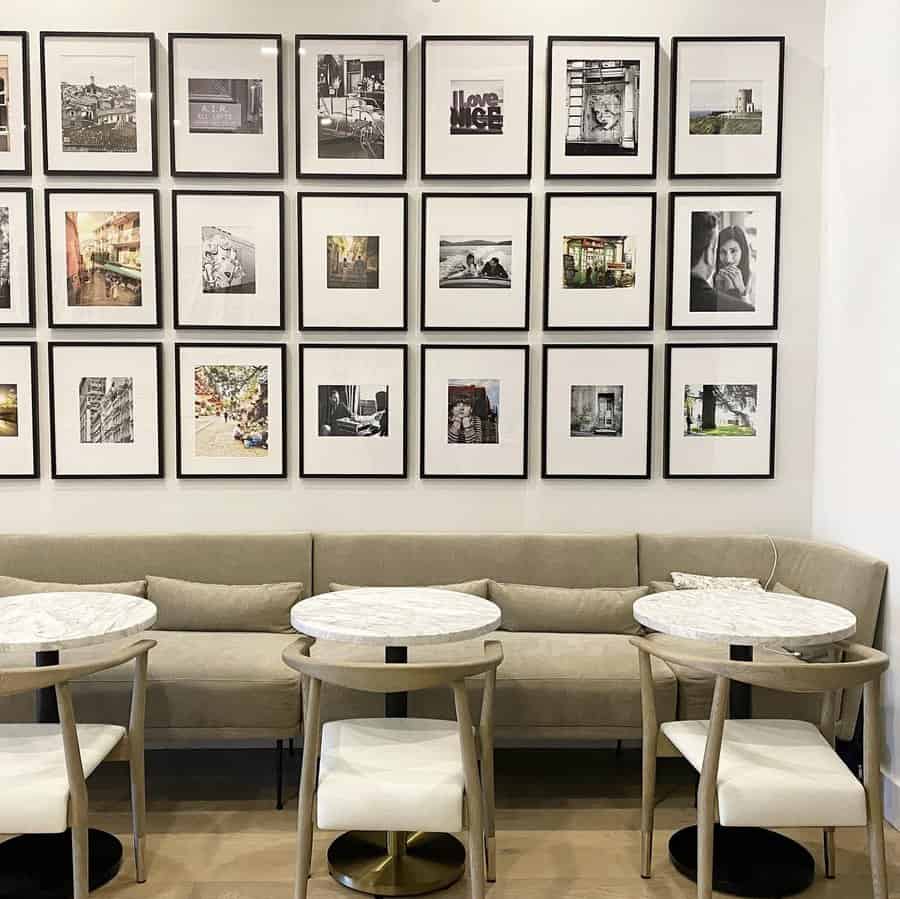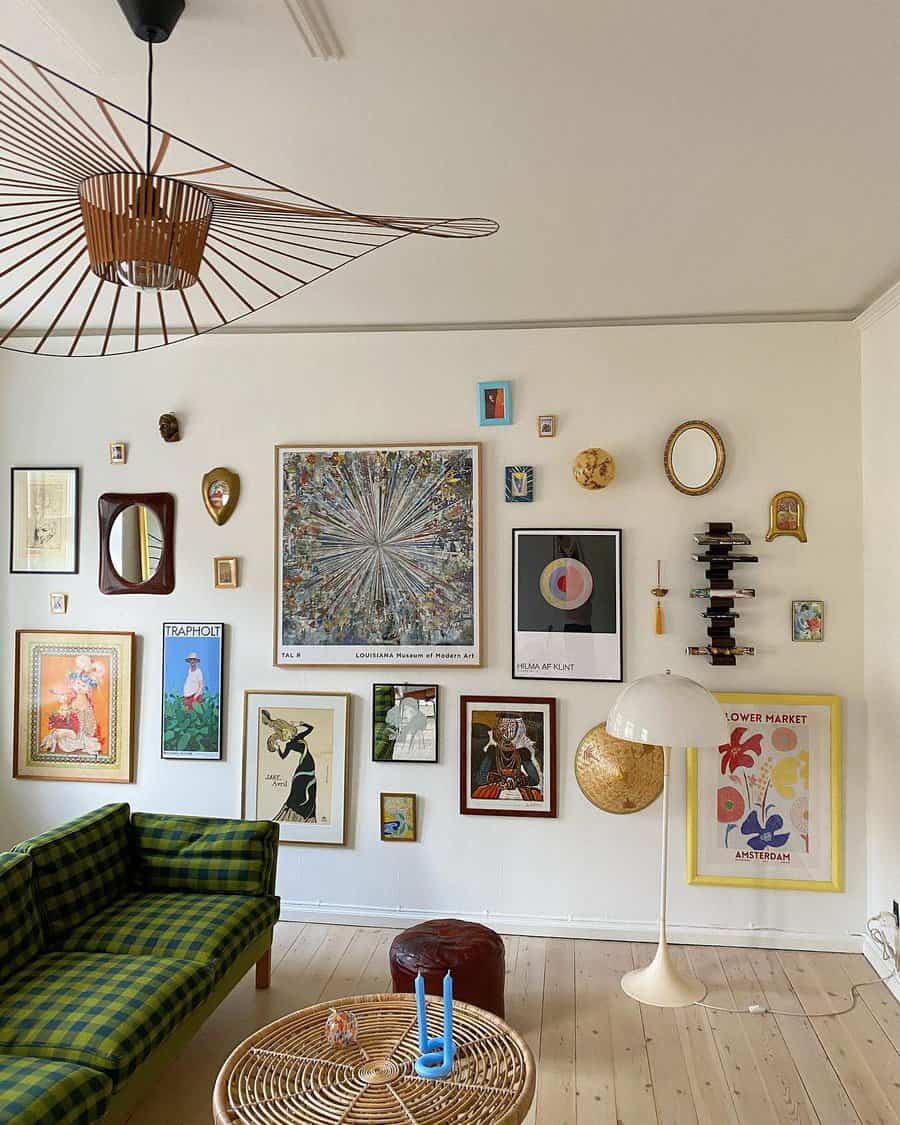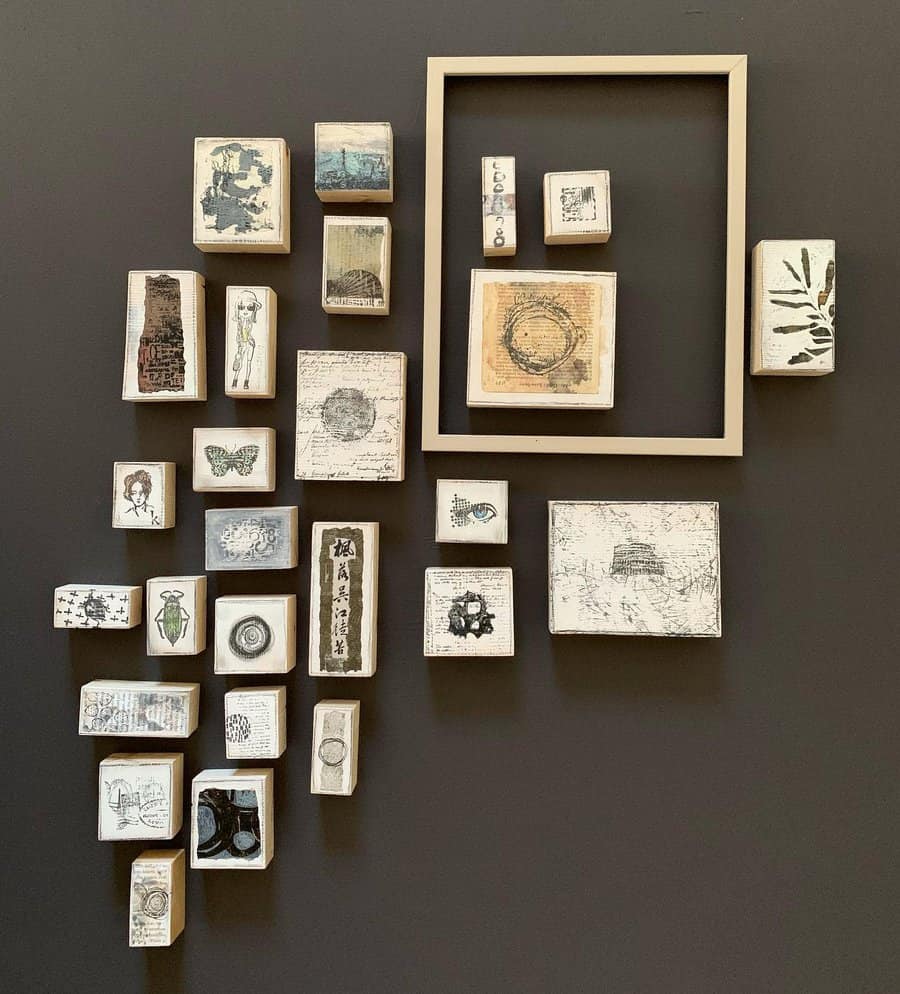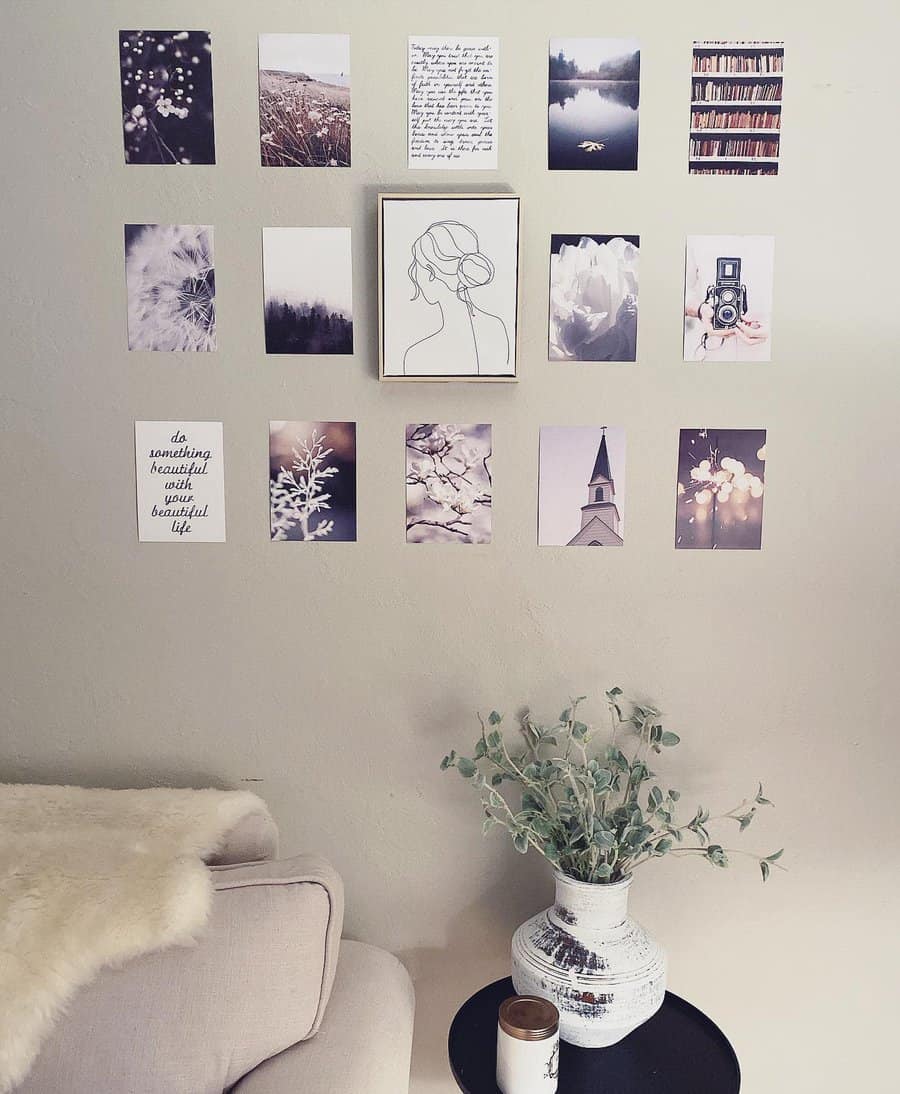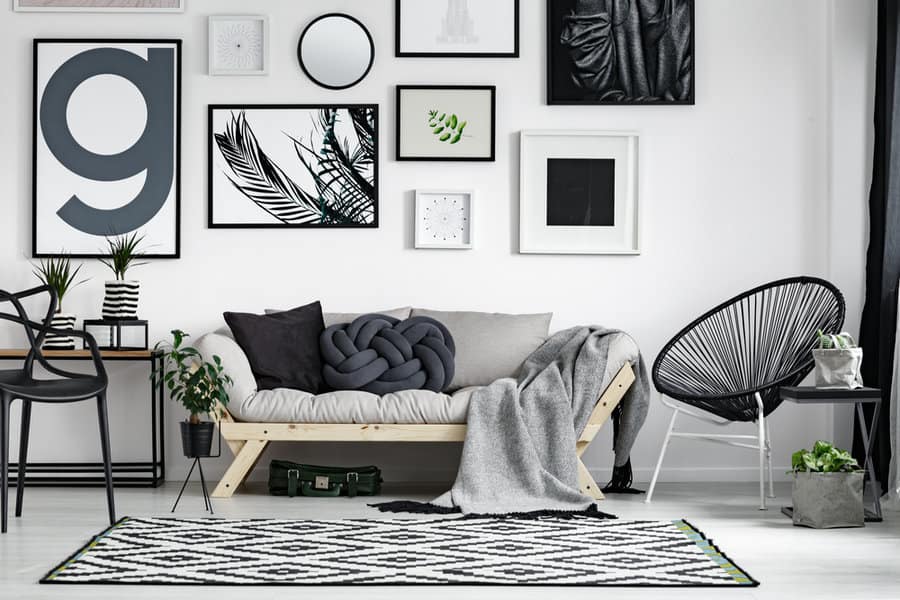 Create a museum-like art tribute at home by hanging framed prints of famous masterpieces interspersed with small mirrors and wall-mounted sculptures.
Modern art canvas prints look best without frames, hung directly on the wall in a grid-shaped pattern. You can also vary the depth of your wall collage by alternating thickly framed prints with flat, unframed pieces.
2. Bedroom
A bedroom photo wall can include more personal pictures and sentiments than you may want to display in another room. For instance, if you're a lifelong Disney fan, you may feel like your Disney photo wall collage is too juvenile for the living room but makes you perfectly happy in your bedroom.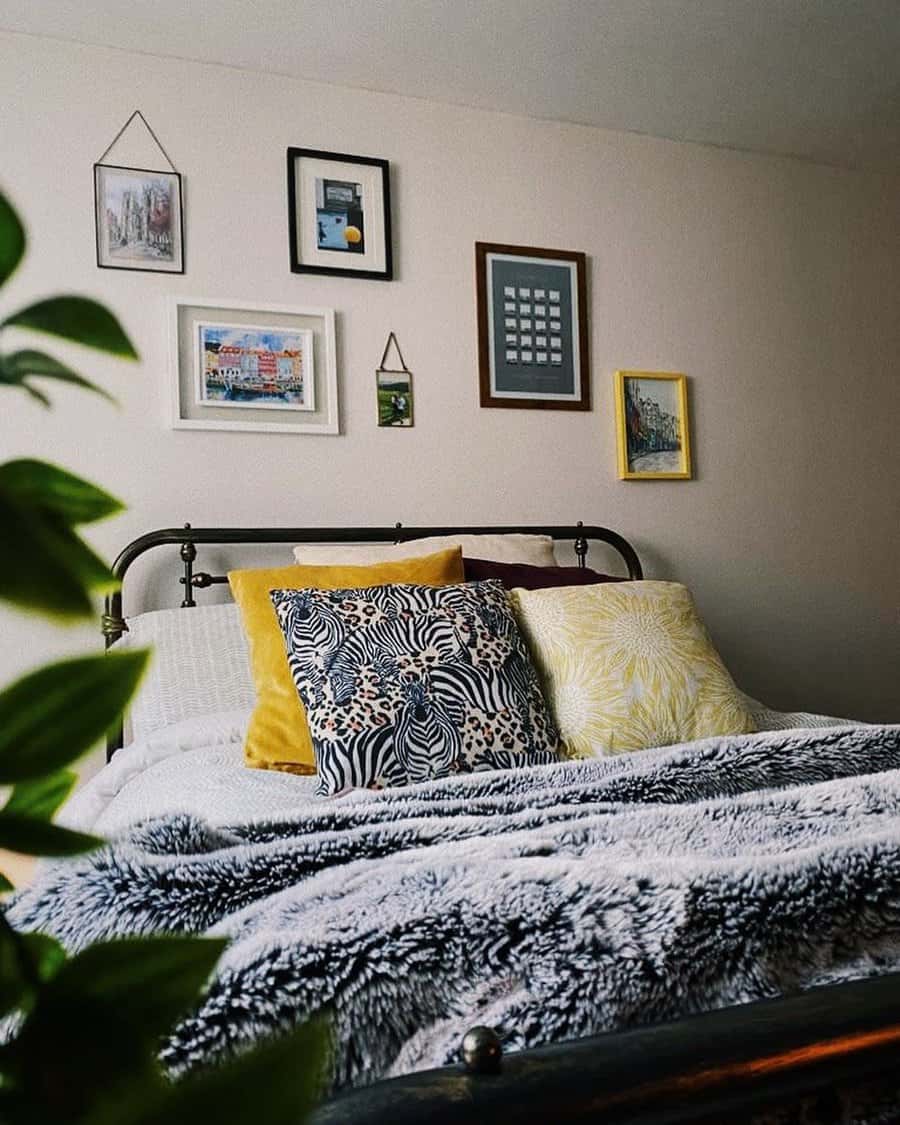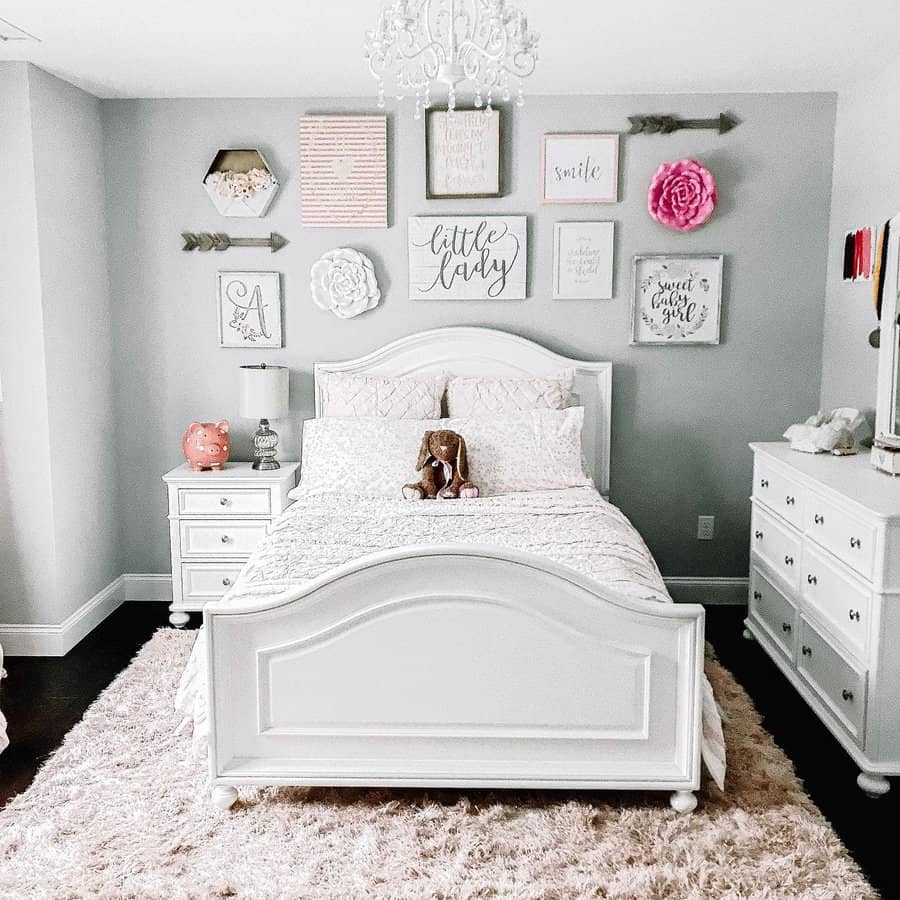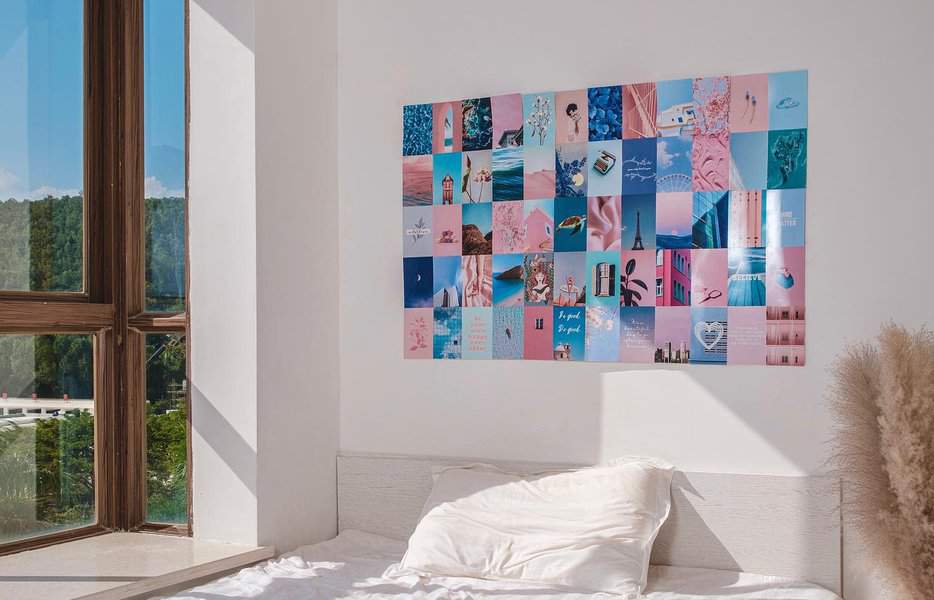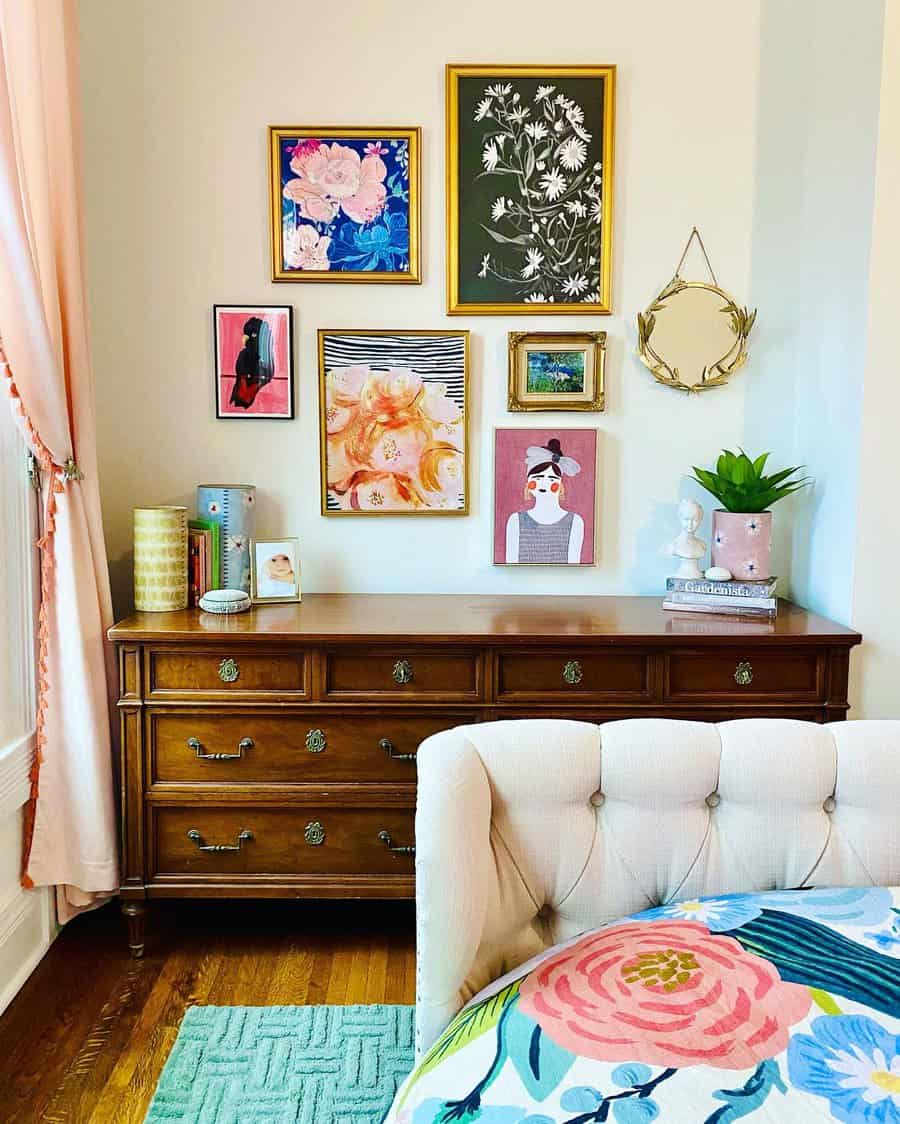 Create an entire accent wall idea by painting the wall behind your photo collage a contrasting color. Use painter's tape to add wide stripes or bands of coordinating colors behind your gallery. A bedroom photo collage can be displayed over the bed, or on another wall if you want to see your image collection when you wake up each morning.
3. DIY
When planning your gallery wall, resist the temptation to make your layout totally symmetrical. Although a perfect picture grid configuration may be ideal in certain modern settings, varying your layout usually results in much more interesting decor. Arrange your pictures in a cloud shape and it will be easy to add new photos to the grouping later on.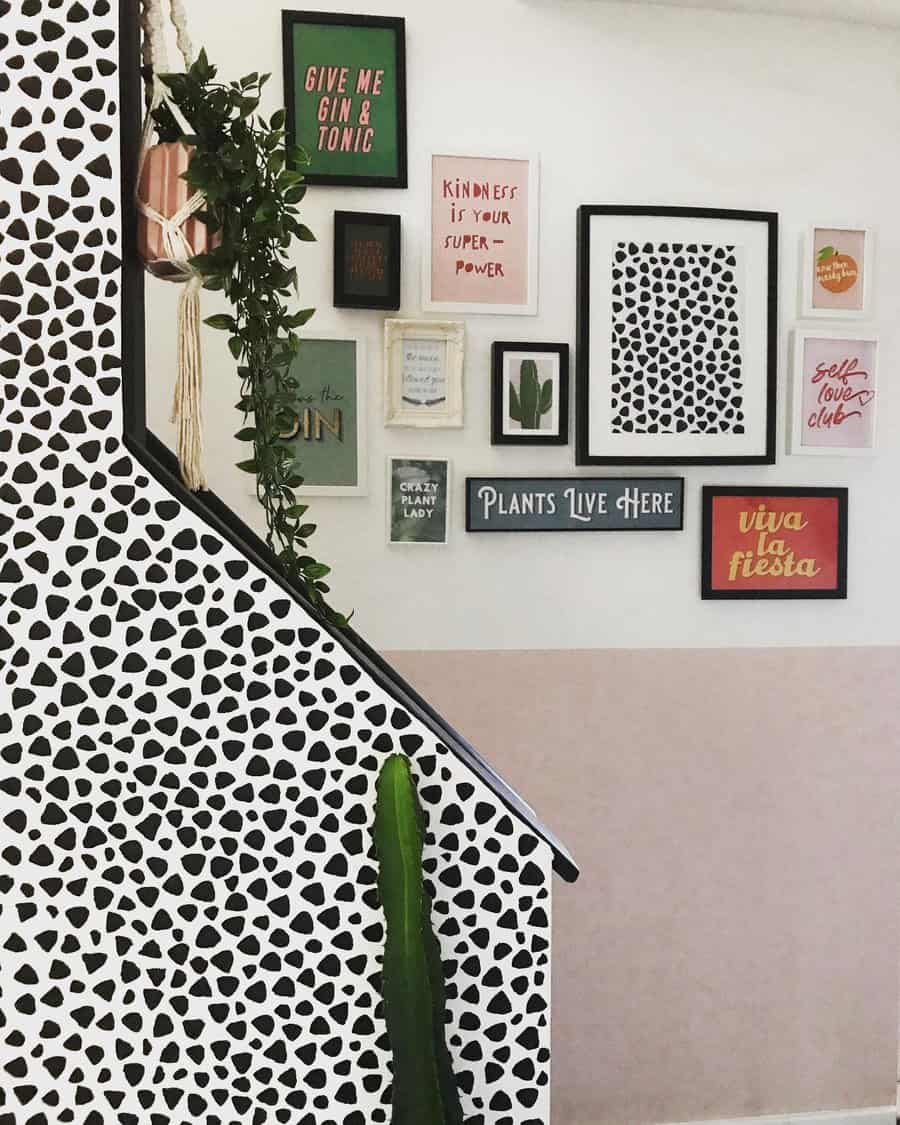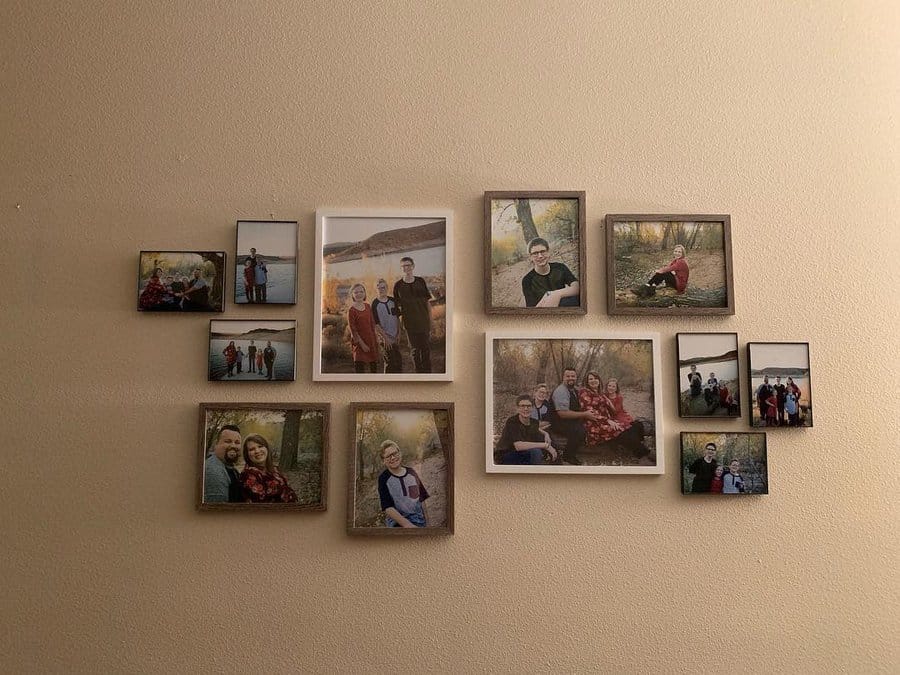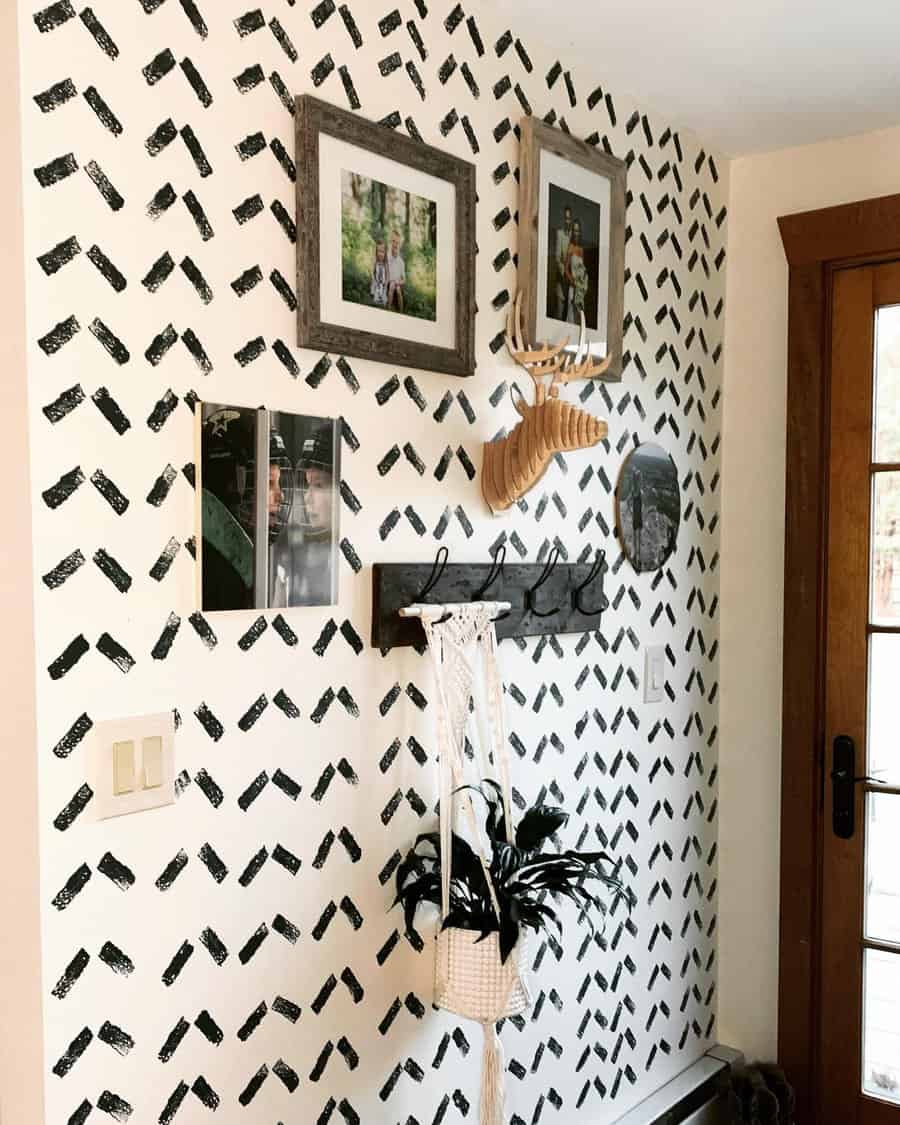 Interior designers have differing opinions on whether to build your gallery wall around a theme. While a collection of ocean-related paintings can be perfect in a beach cottage, adhering too tightly to one theme can feel forced.
If you're looking for an inexpensive way to create a photo collage, print your favorite pics on photo paper. Use washi tape to "frame" and adhere each picture to the wall.
4. Decor
A gallery wall can be a permanent or temporary part of your decor. If you cannot use nails or screws on the walls of your rental, you can still display a great photo gallery wall.
Simply use tiny clothespins to attach Polaroid or Instagram photos to a decorative ribbon hung on removable adhesive hooks. Add a string of fairy lights above to illuminate the images at night.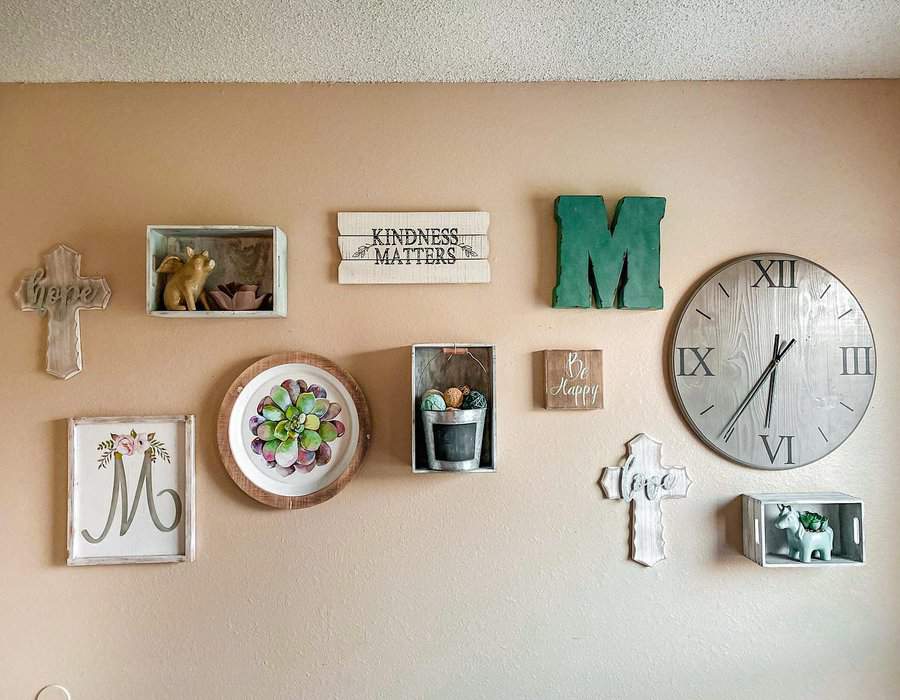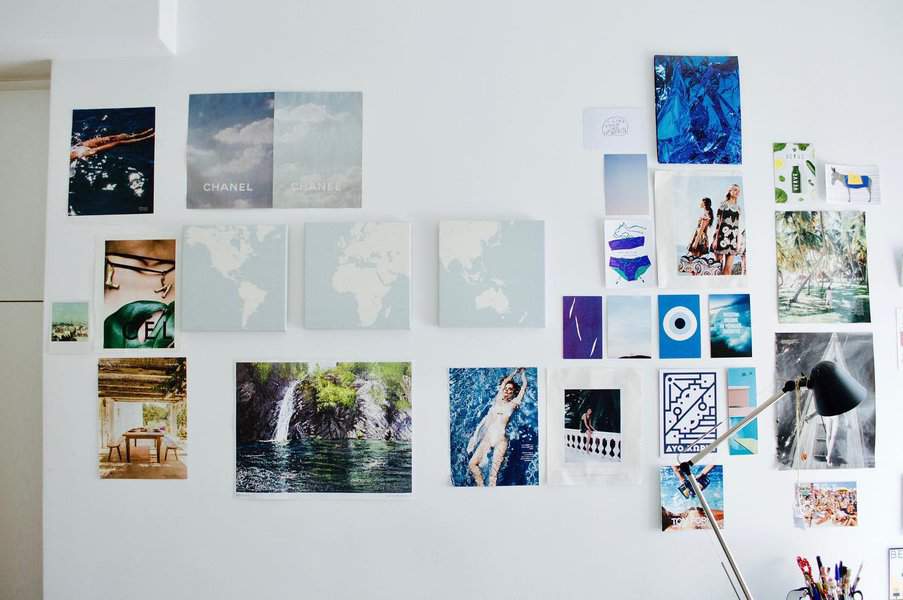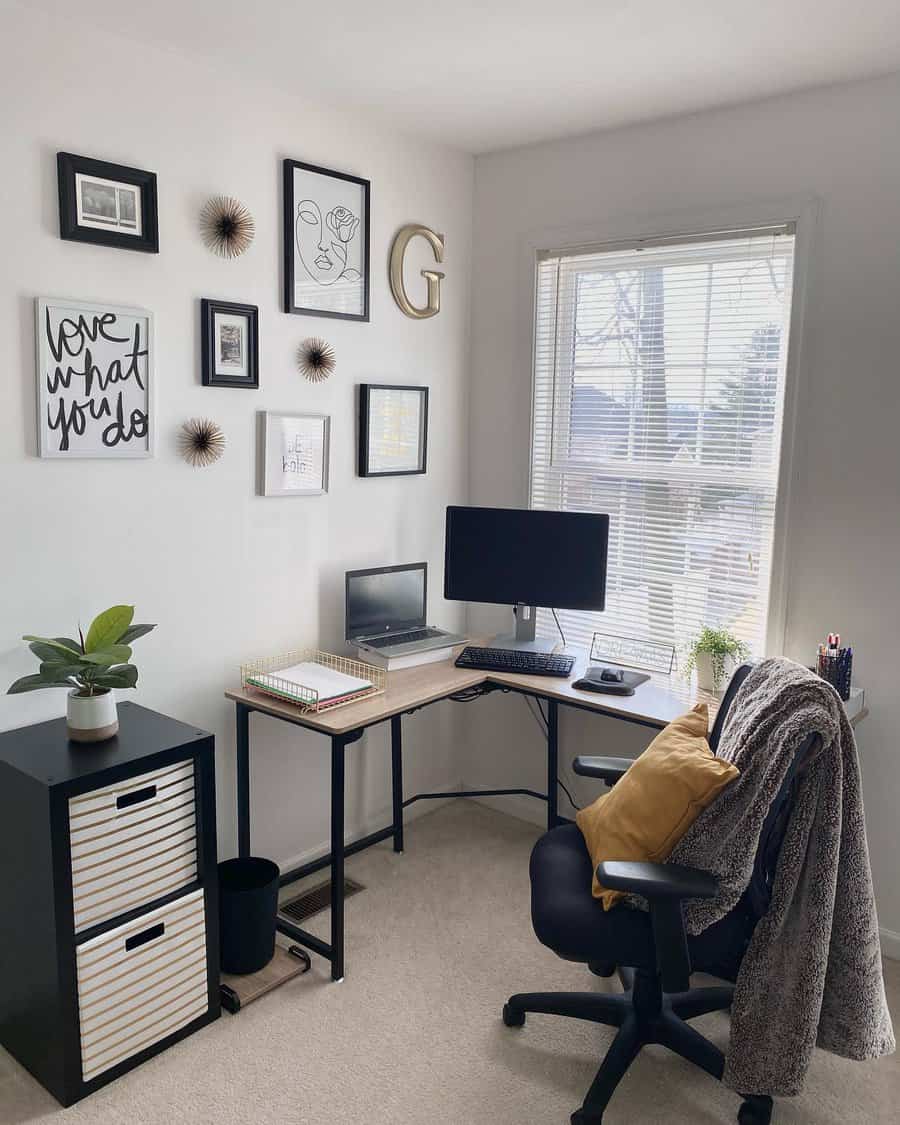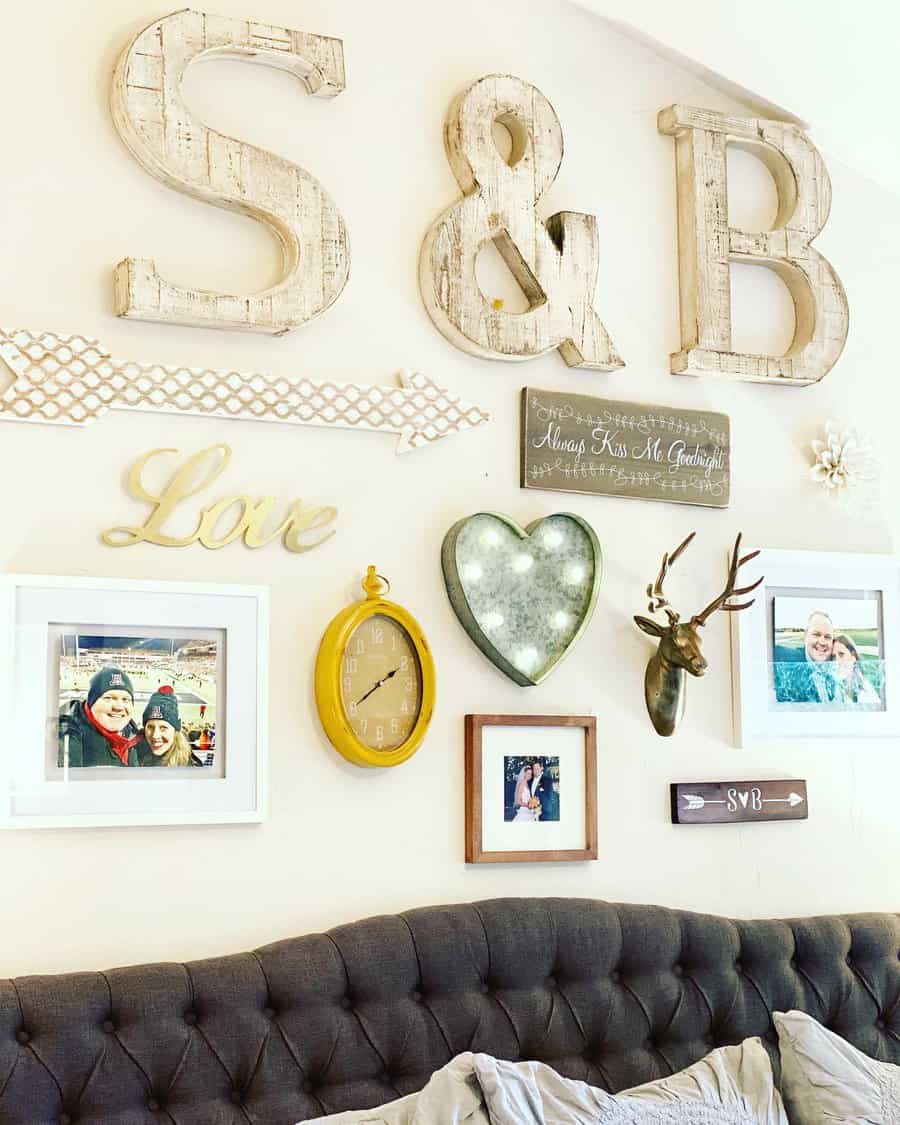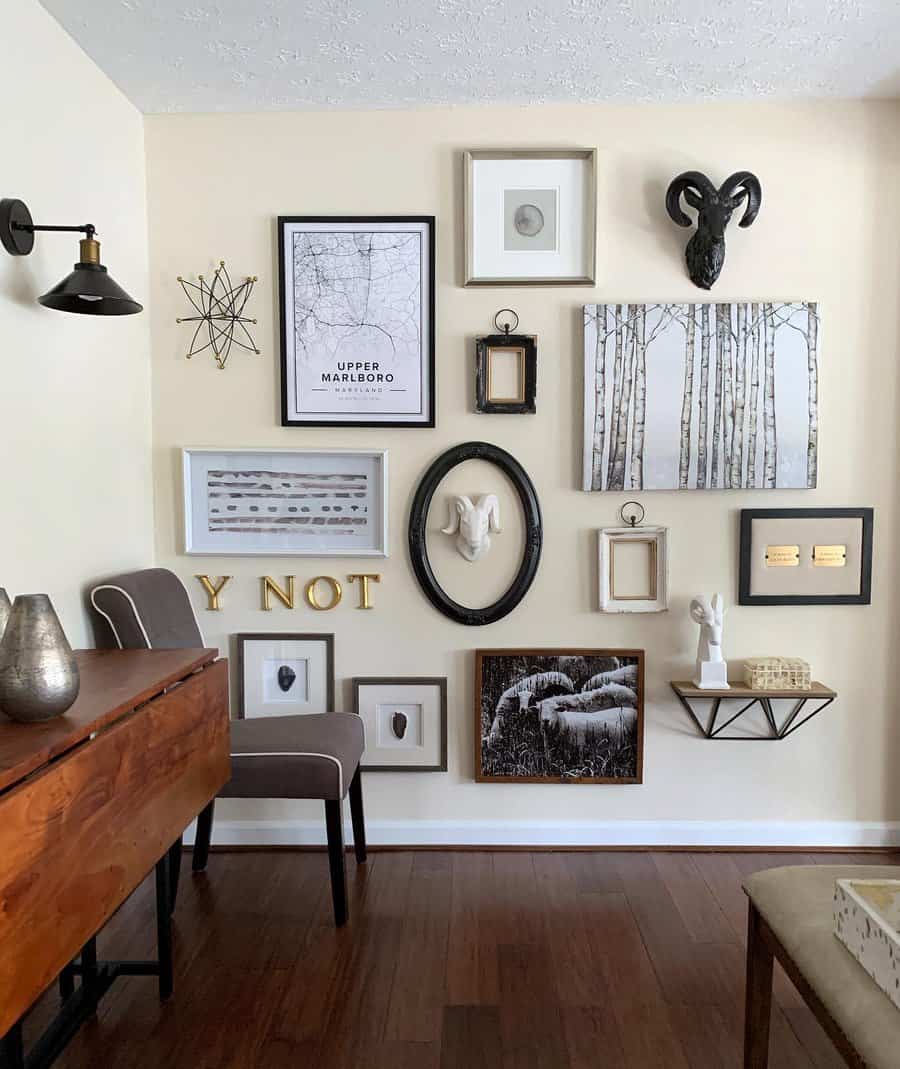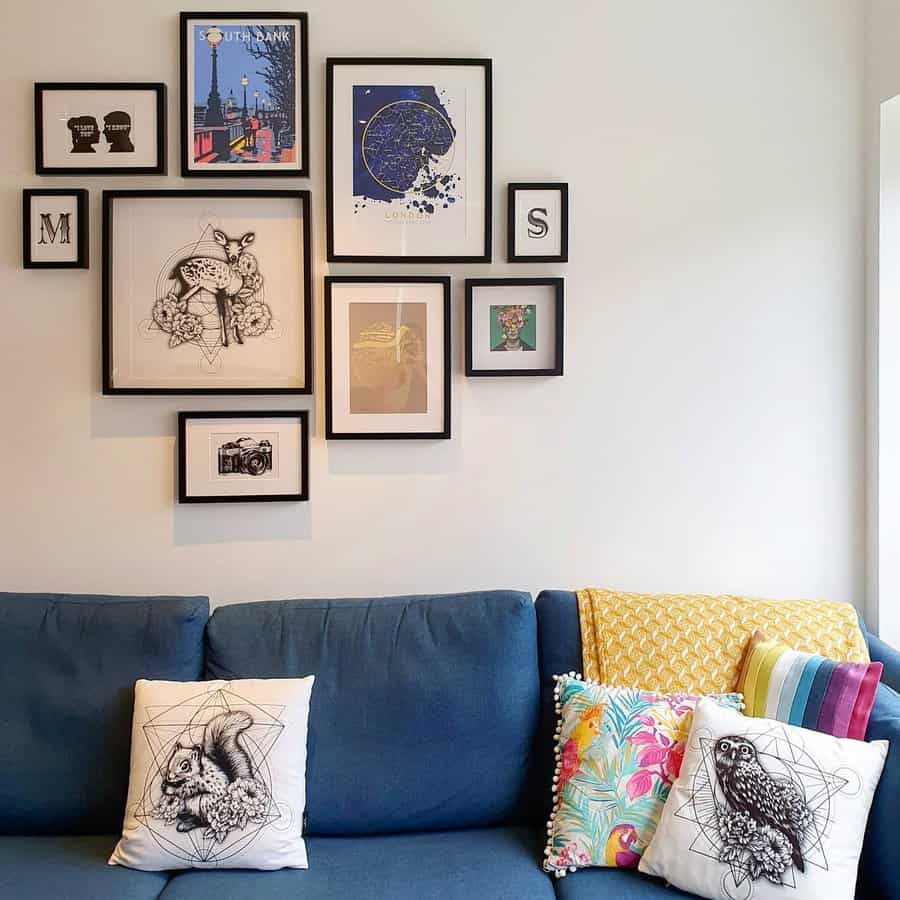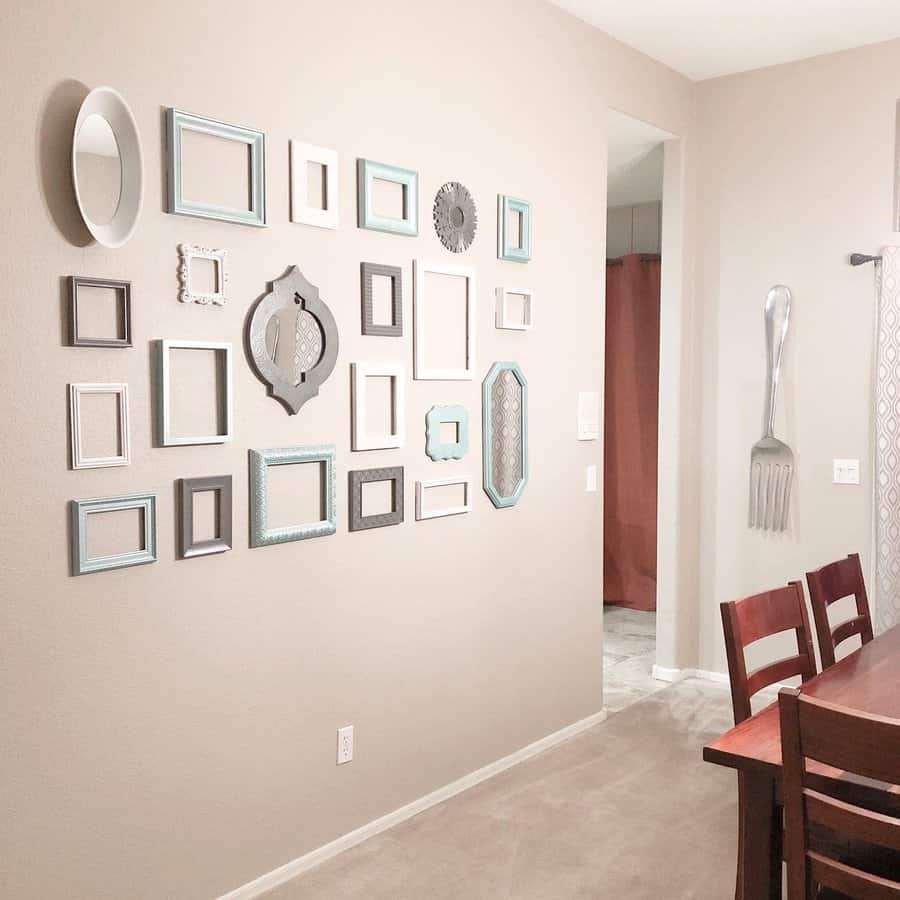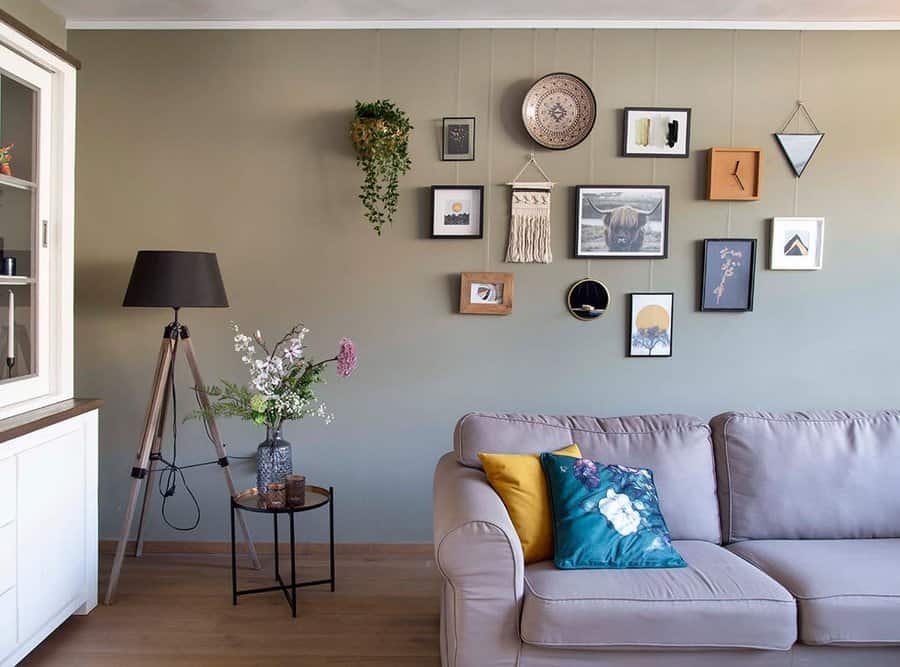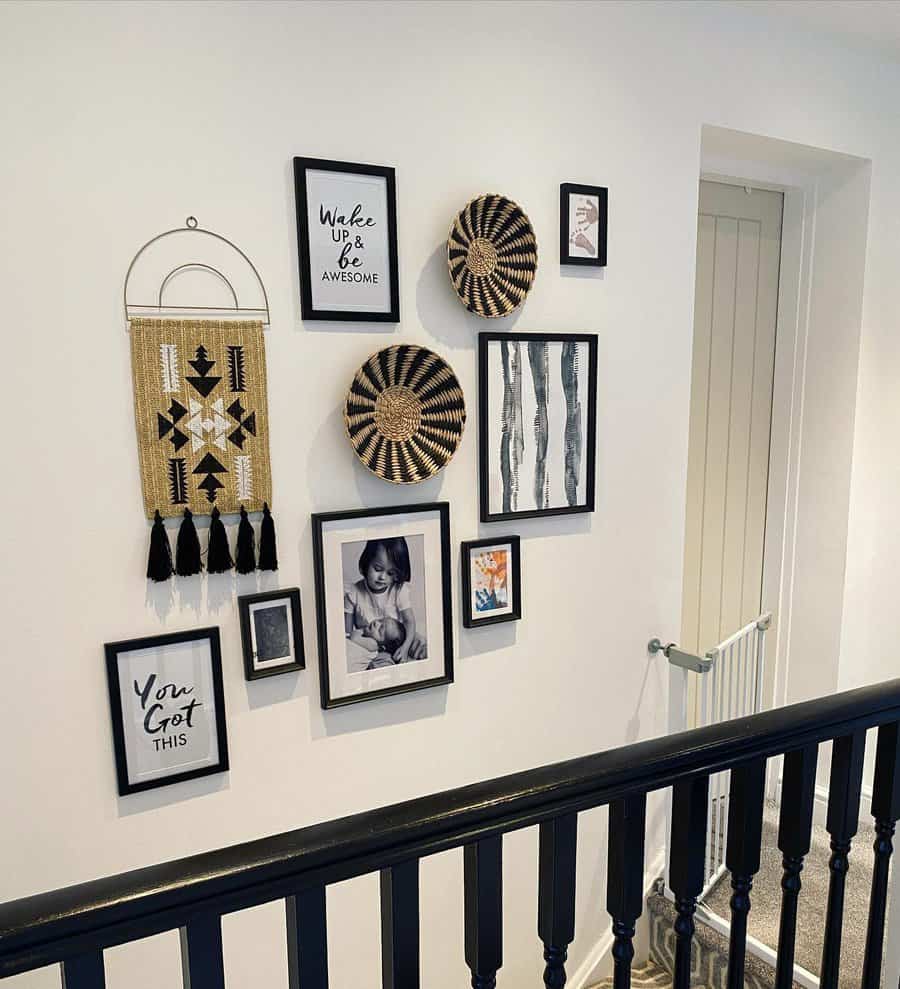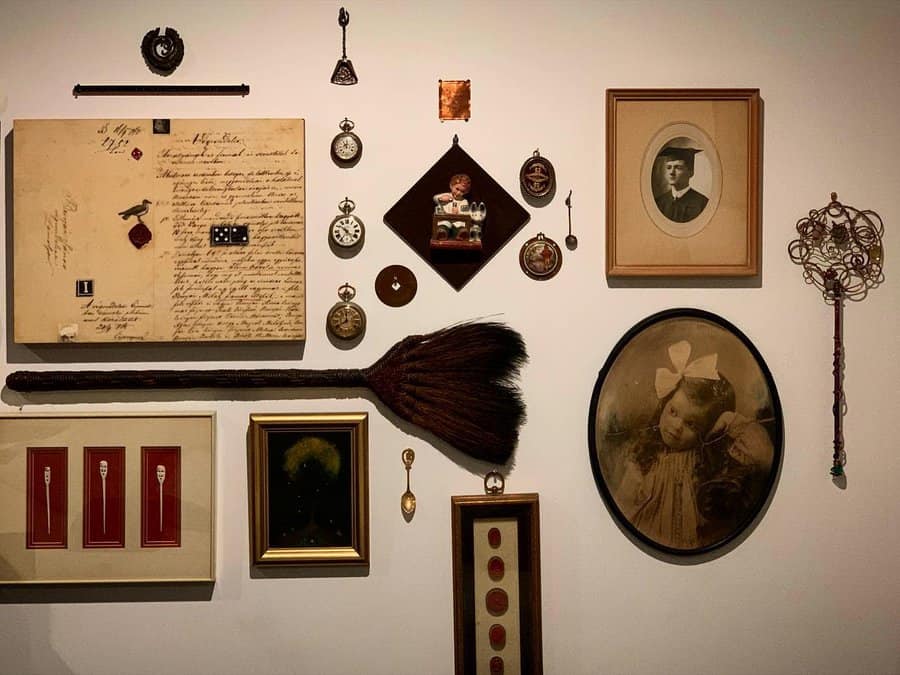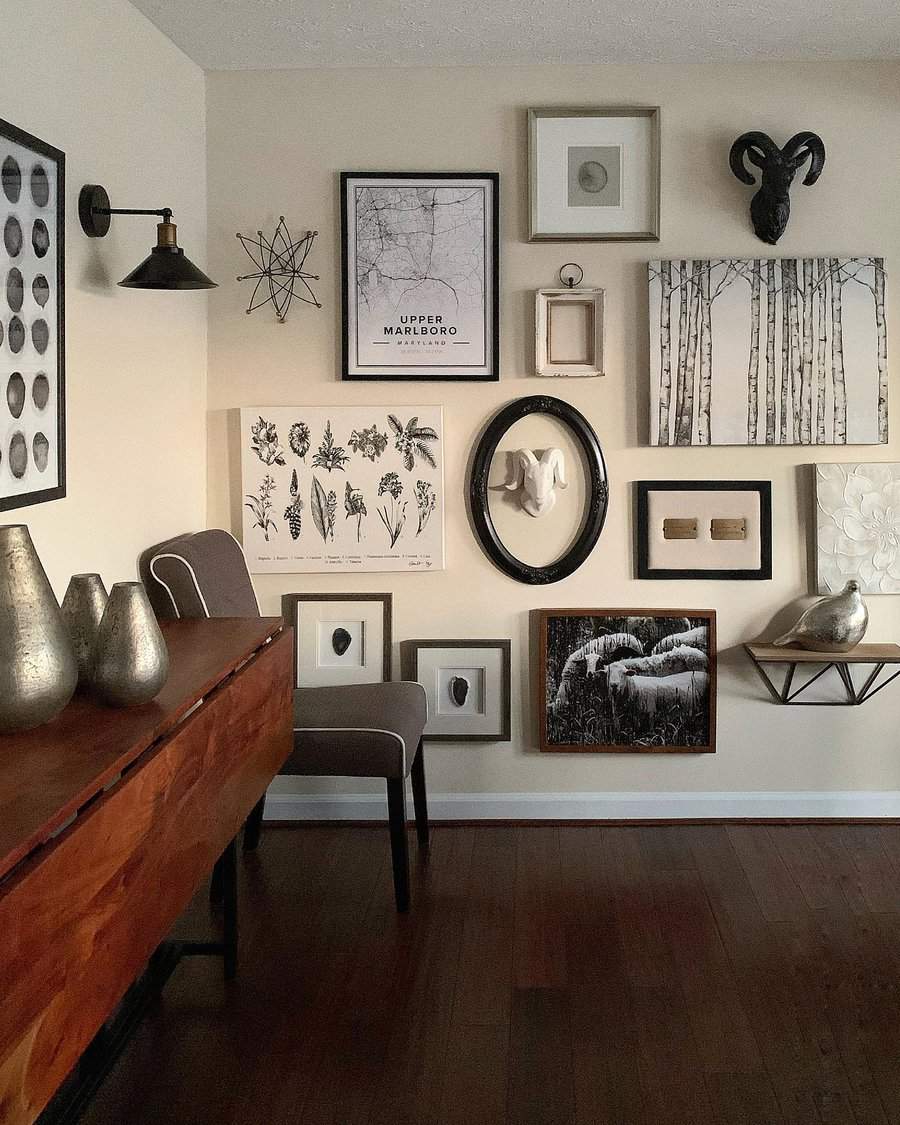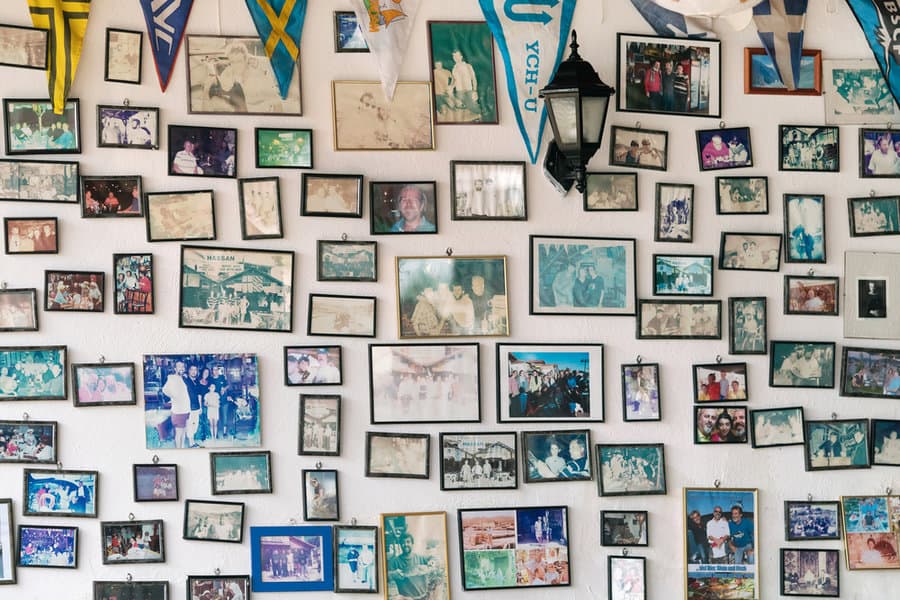 For a unique take on a gallery wall, center it around an open corner. Balance each art piece and picture frame on the two walls, perhaps including a corner shelf to anchor the display.
A gallery wall comprised of an empty picture frame collection is an interesting take on typical photo collage ideas. Choose a color palette and paint a mixture of frame sizes and shapes to group together. Include round, oval, square, plain, and ornate frames for an intriguing empty photo frame collection.
5. Family Photos
A family photo collage wall is the perfect way to showcase your family's best memories. Whether your pictures are professional portraits or ordinary snapshots, this kind of wall photo collage is the most personal type of gallery wall.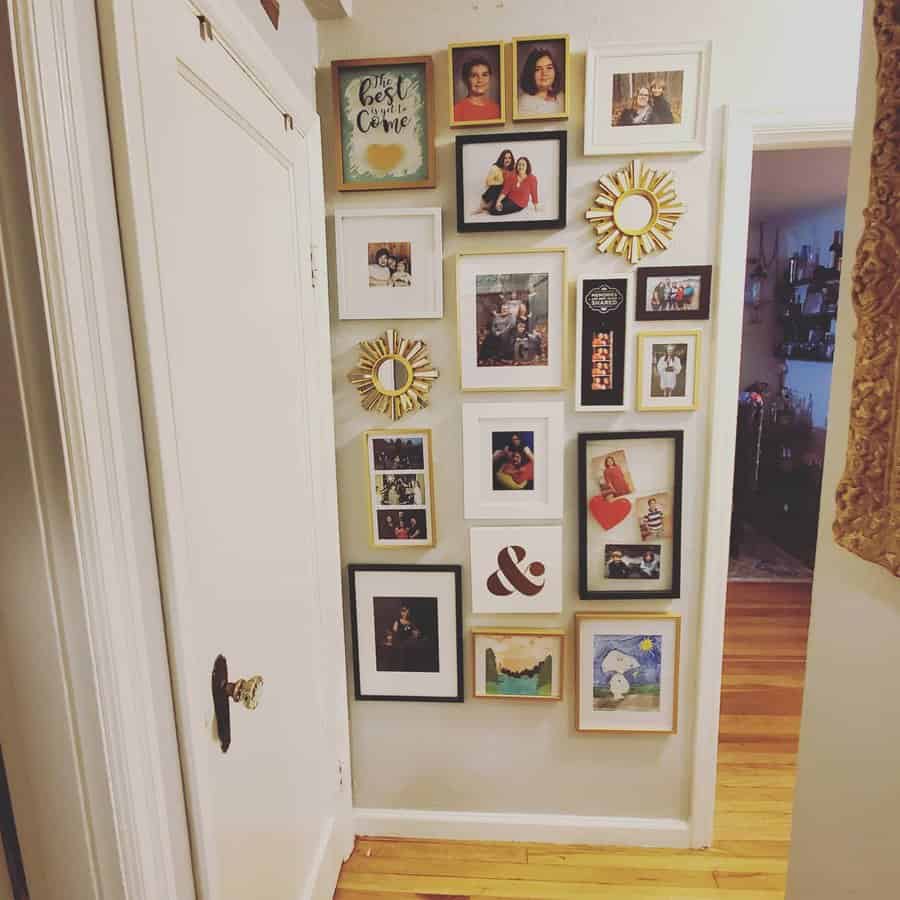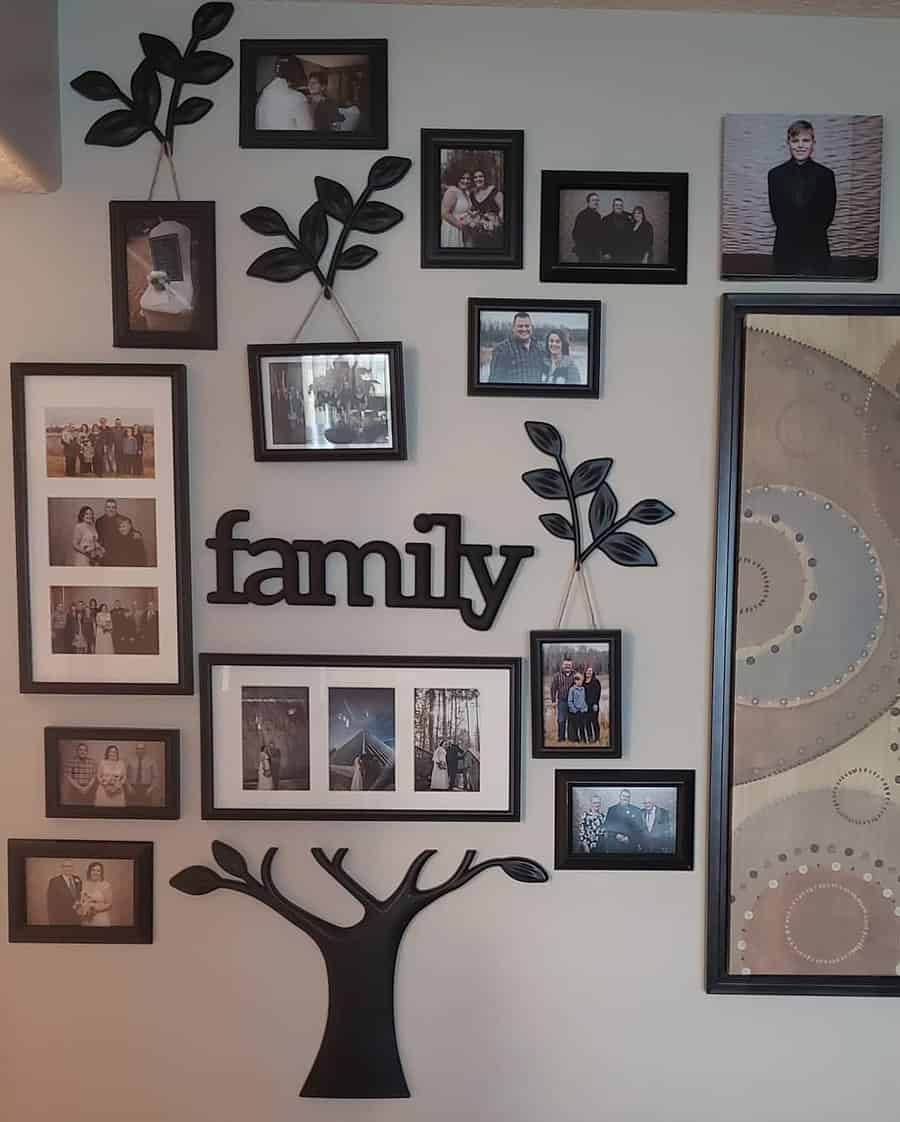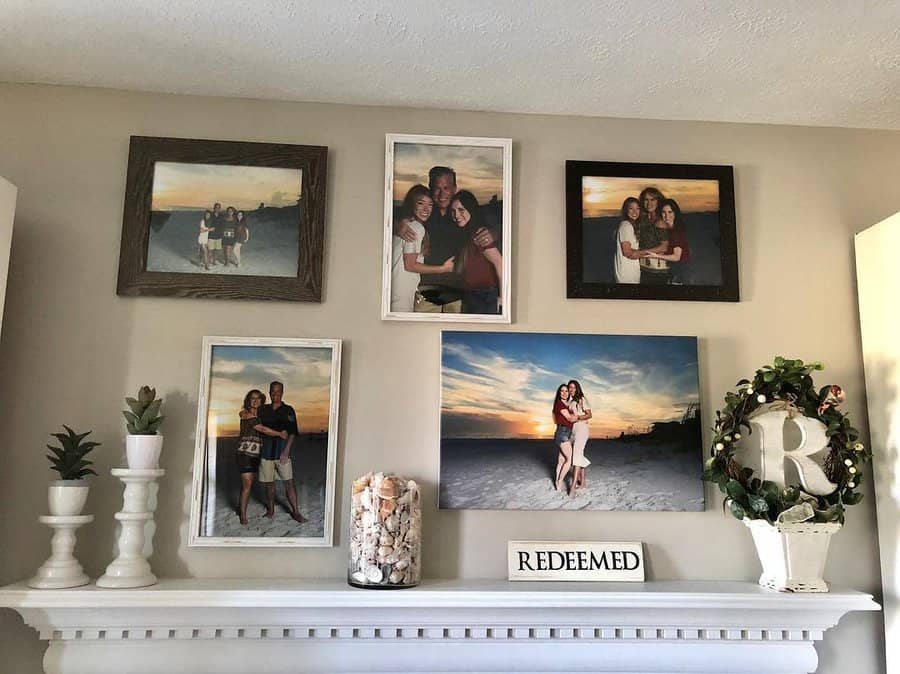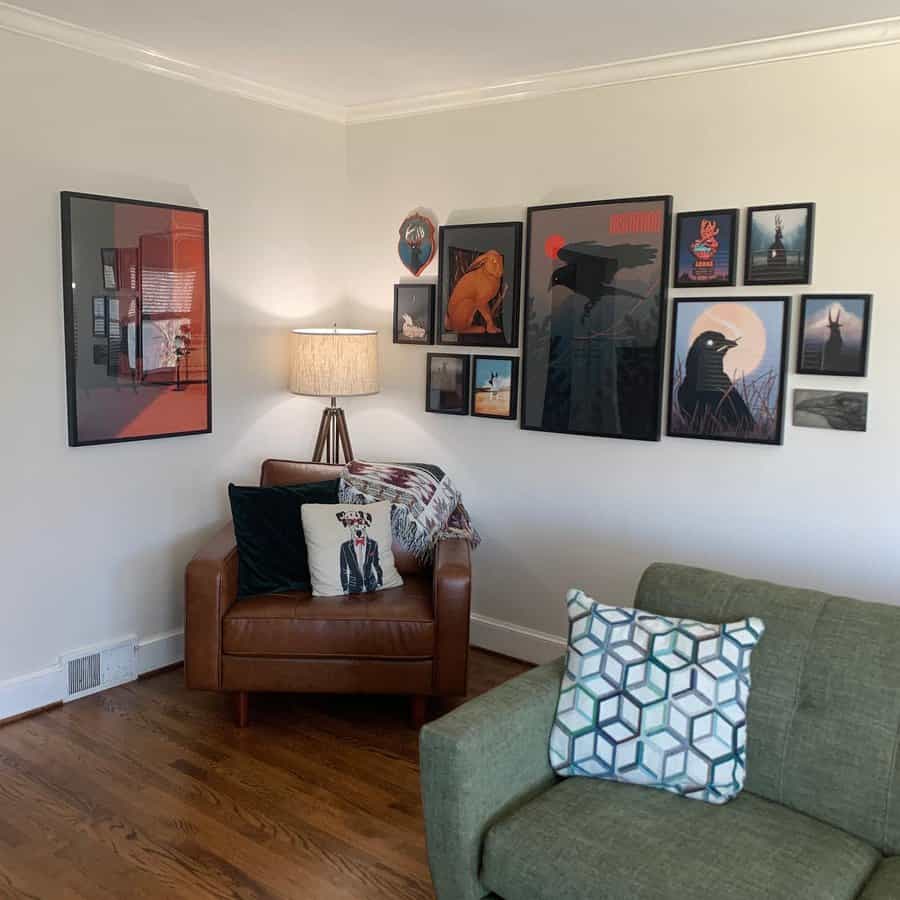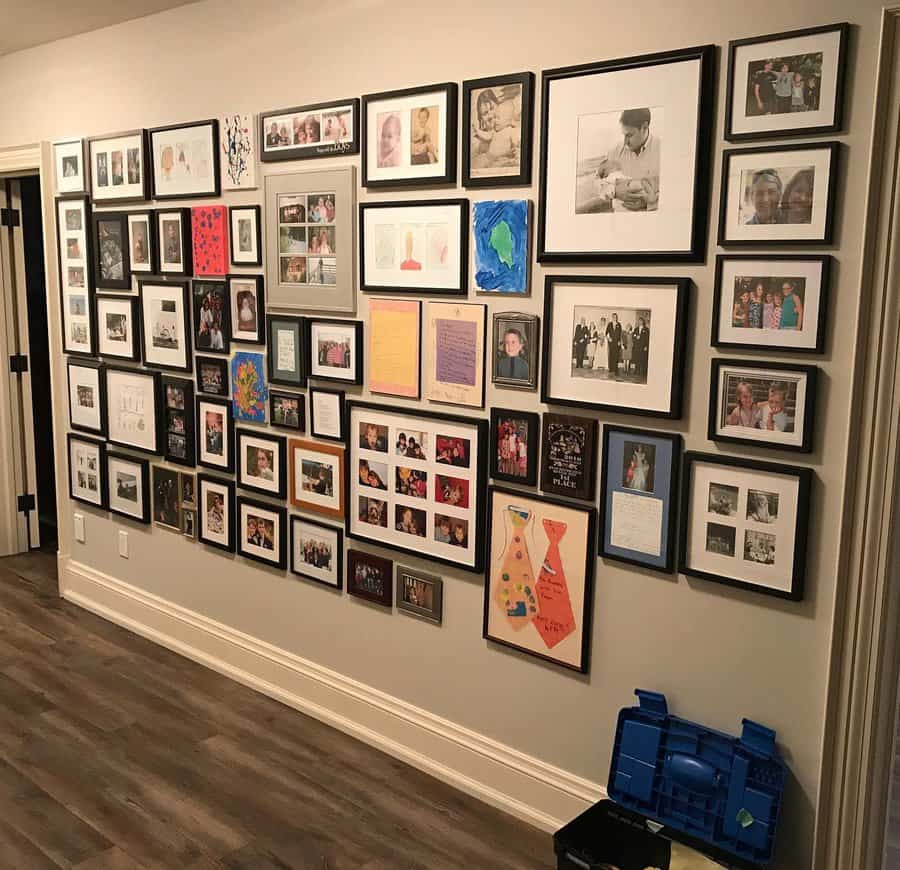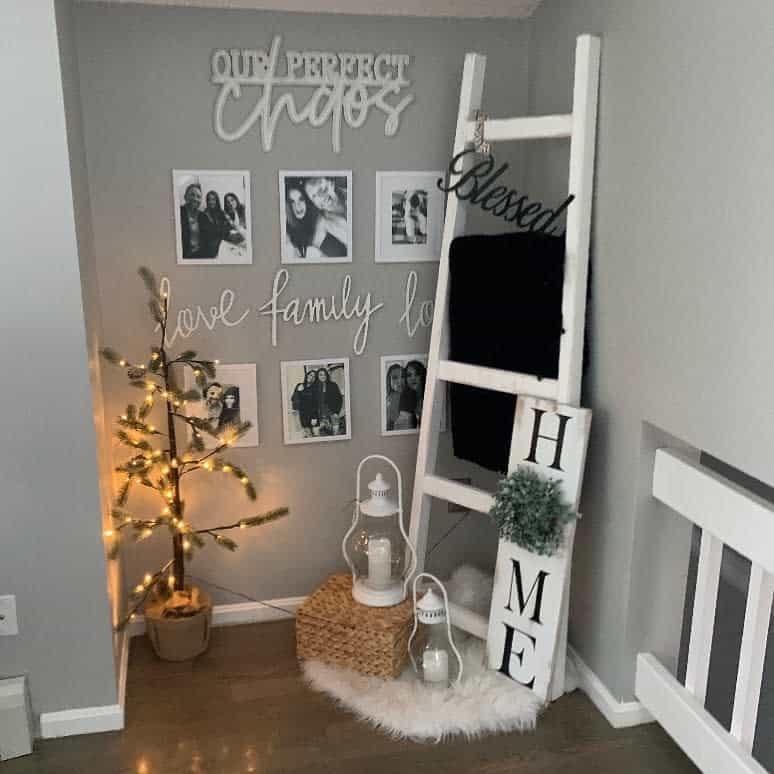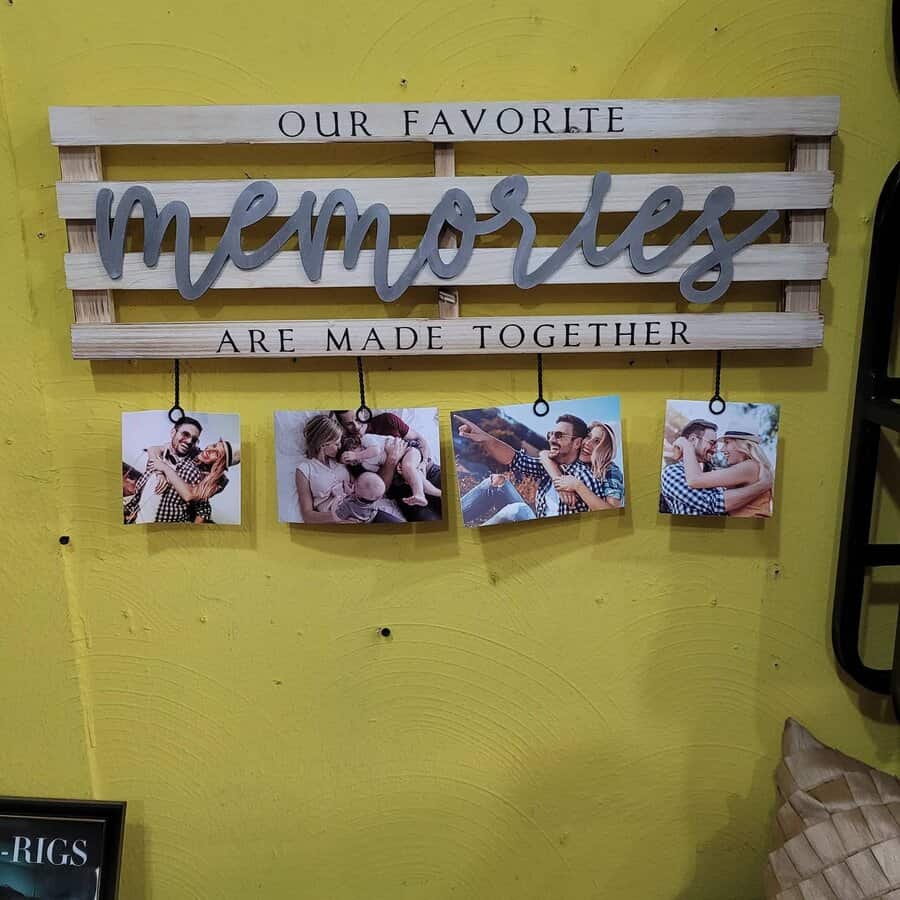 If you aren't sure where to get started on your family photo wall, look for a collage kit that includes frames and family-centric statements or lettering.
In addition to wedding photos and child portraits, include vintage pics of your parents, grandparents, and other beloved relatives. Hang a beautiful clock in the center of your family photo wall for a subtle nod toward how fast time flies.
6. Framed
Framed photos generally provide a more finished look than unframed images. Using all white frames or all black frames provides visual continuity and a balance that many find pleasing. When all your frames match, you can use a little more variety in the sizes of your images and the colors in your artwork.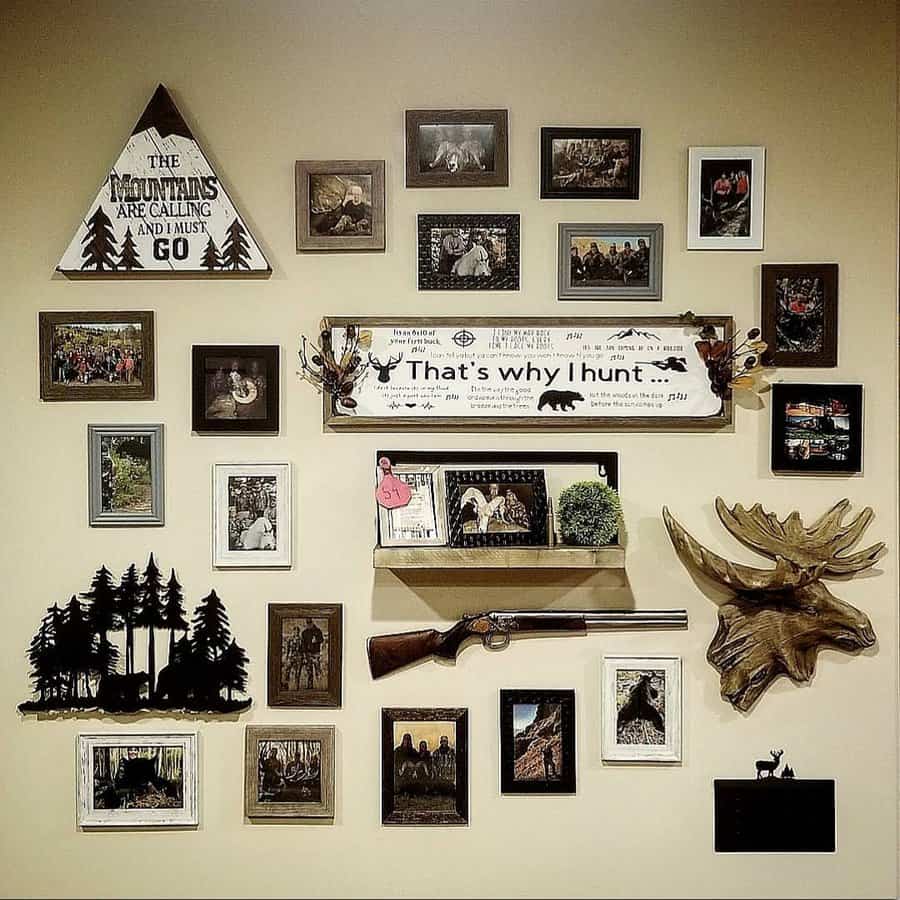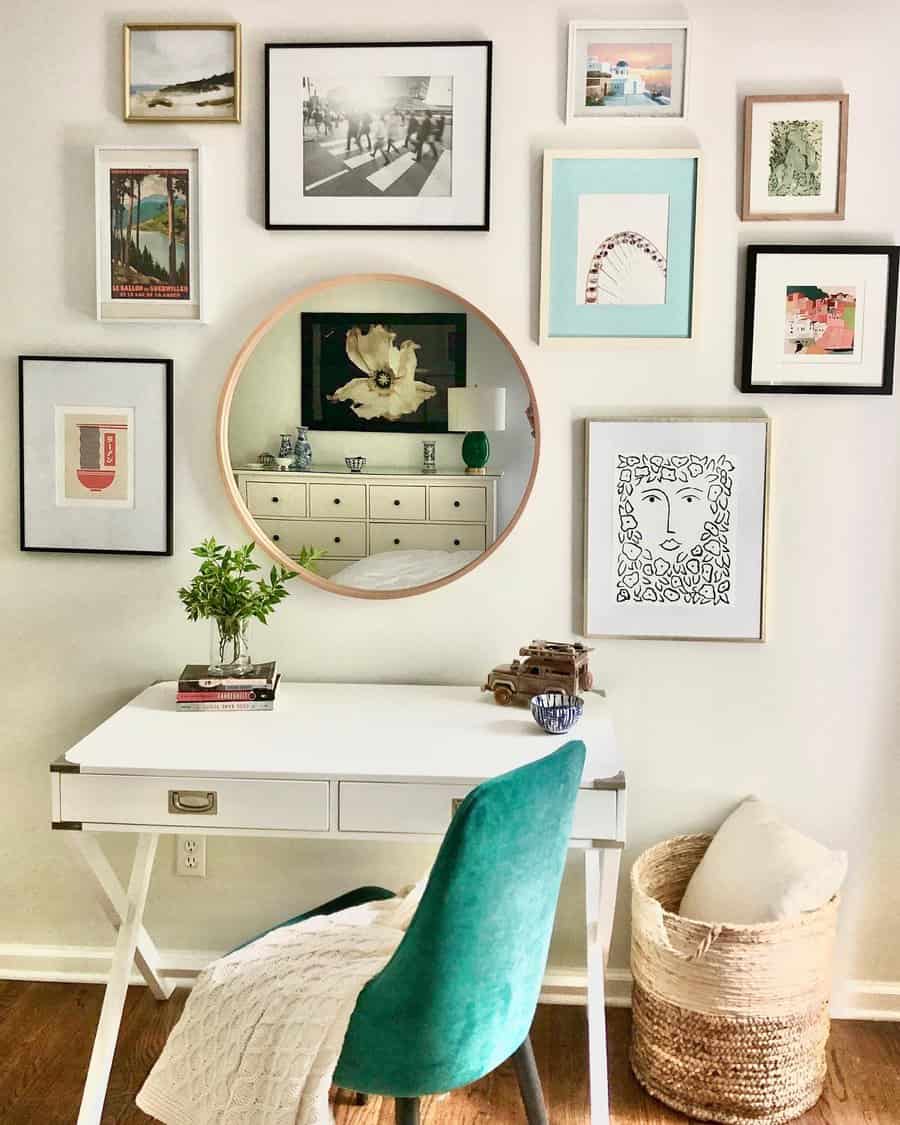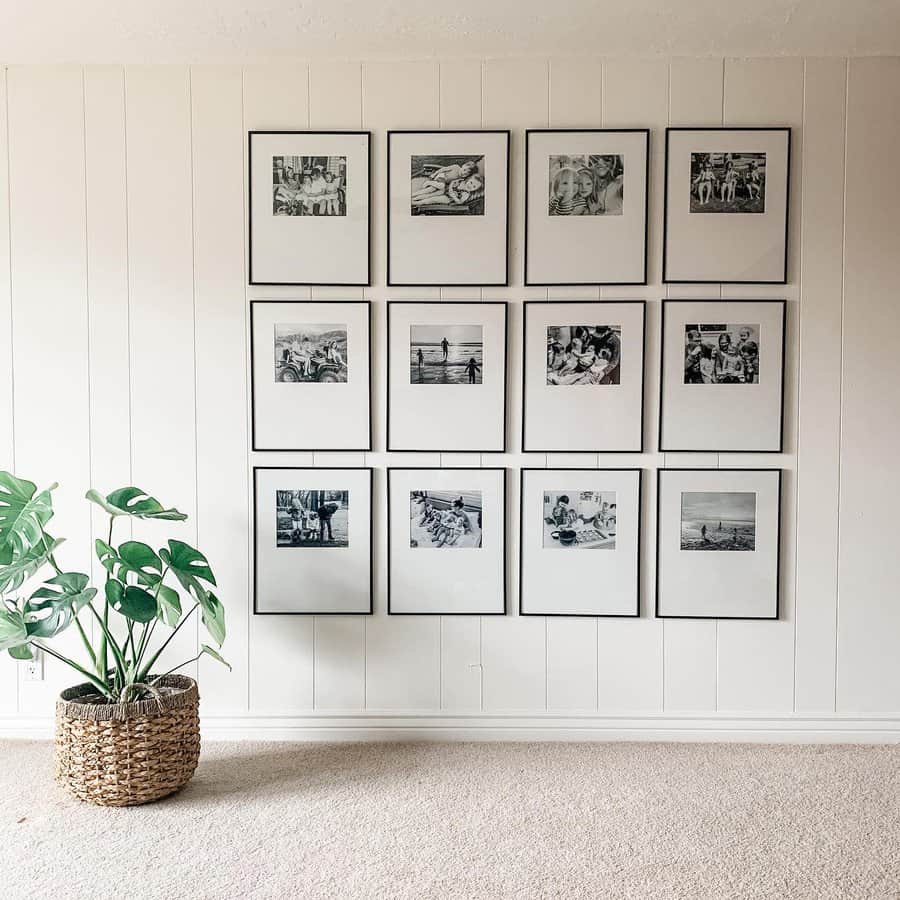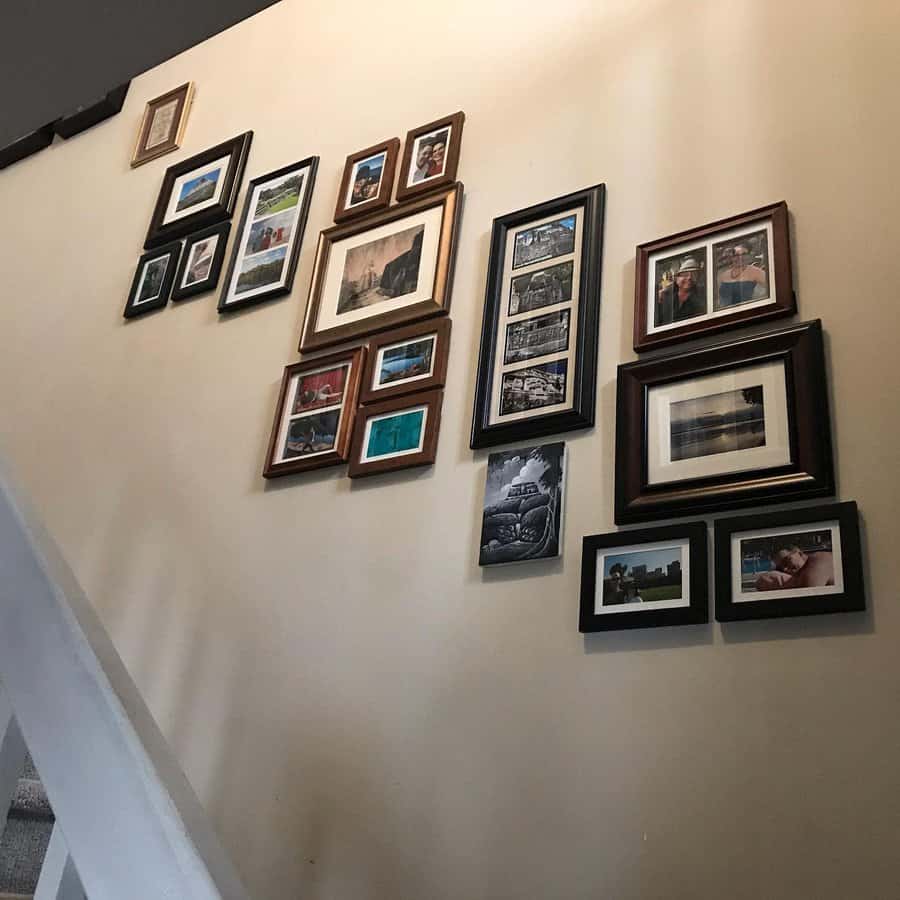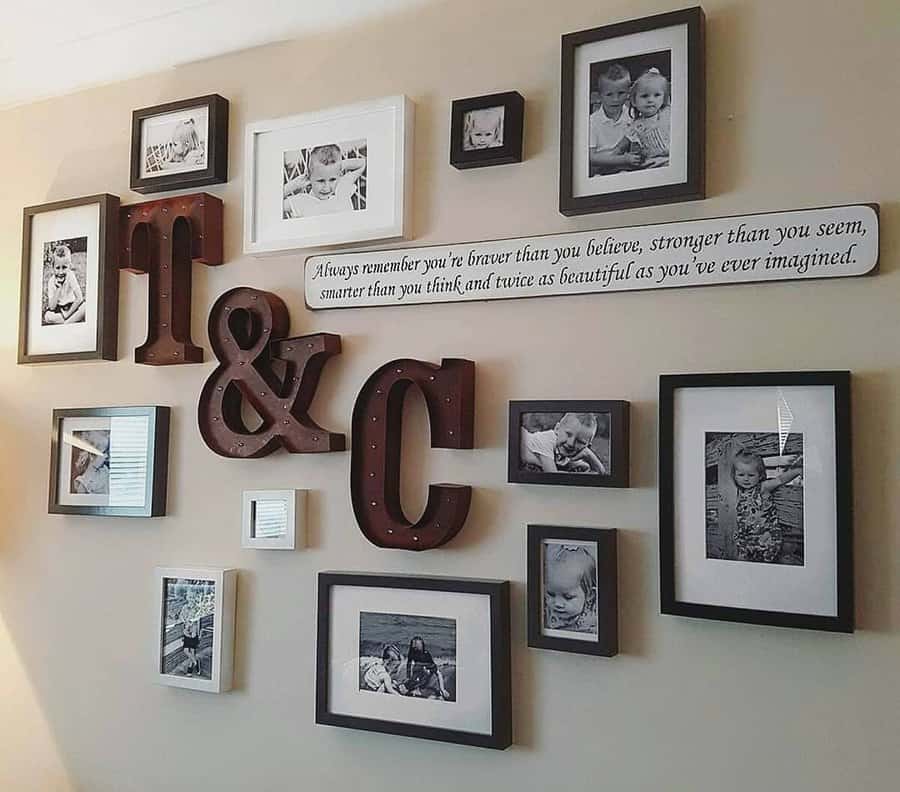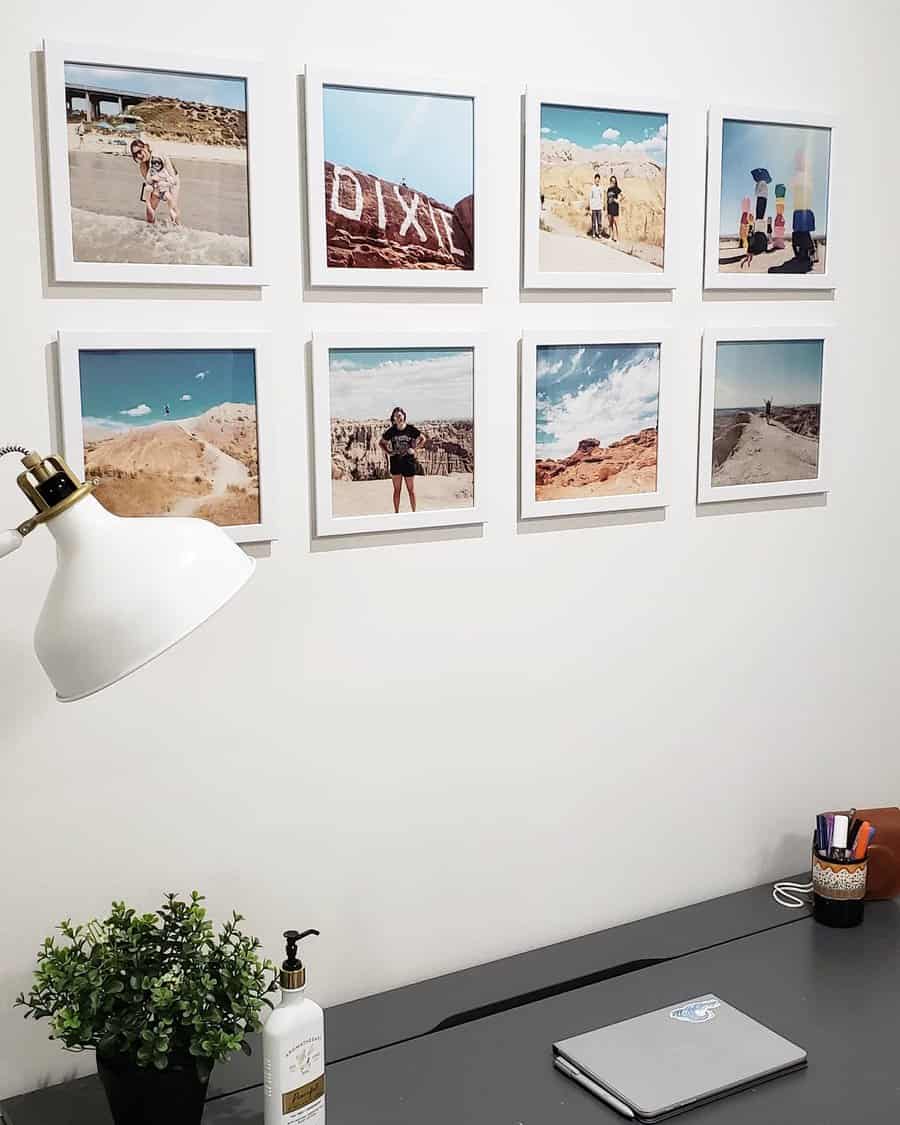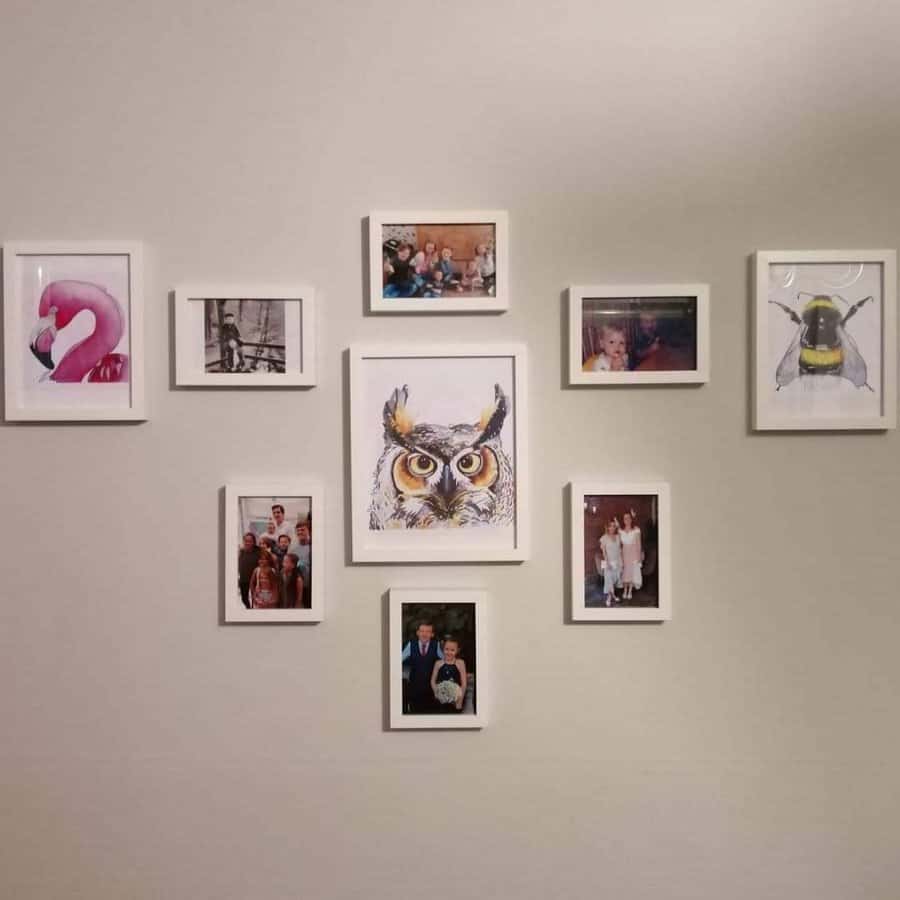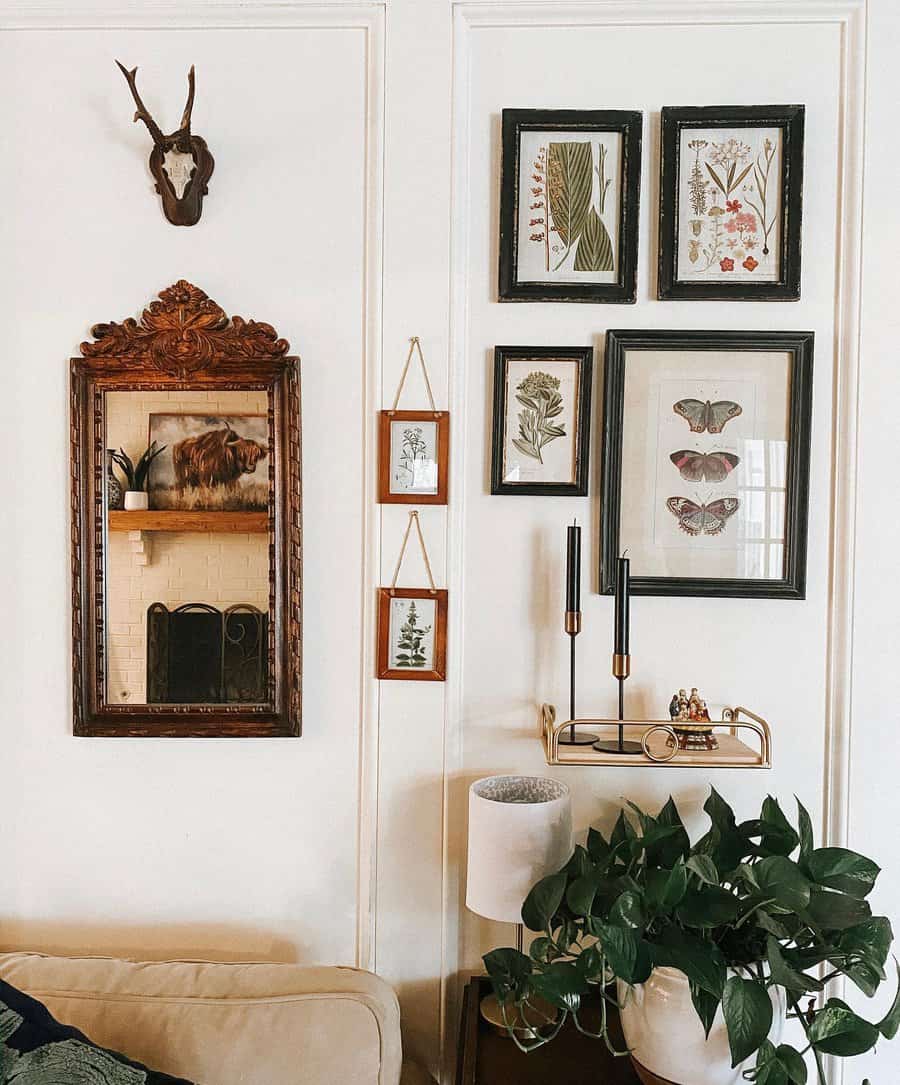 If you have a casual cottage or farmhouse, different frames can look great provided that they're within the same color palette. For example, use multiple shades of grey or brown to frame a wedding photo grouping.
With bohemian or shabby chic decor, feel free to mix and match all sorts of frame types, styles, and colors. Add metal flowers or mirrored tiles between pictures and perhaps some wall-mounted succulent planters. Don't be afraid to mix it up unless your home's interior is formal and traditional.
7. Gallery
Thinking like a museum curator can help you put together the best collection of wall art and photos. Group together images that have a unified or complementary style. Locate your gallery in a well-lit area or install light fixtures that adequately luminate your wall decor.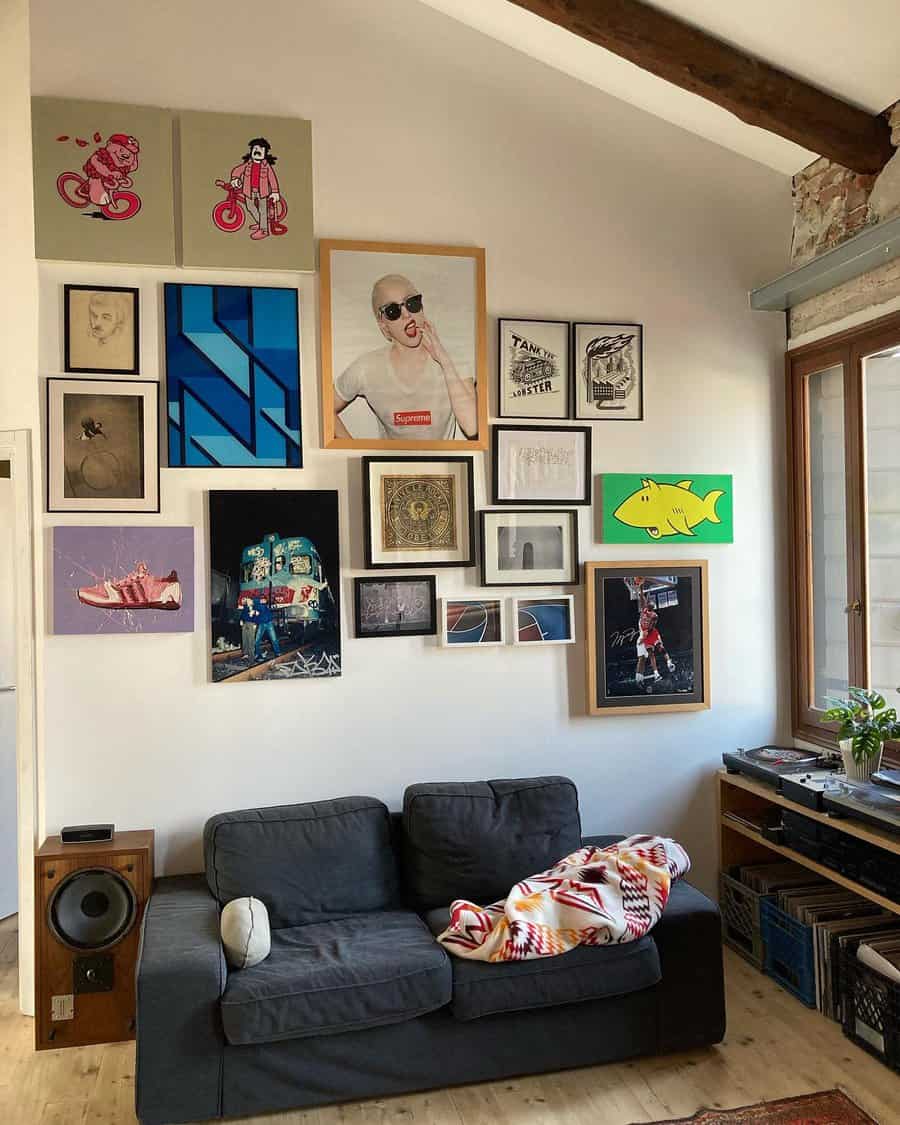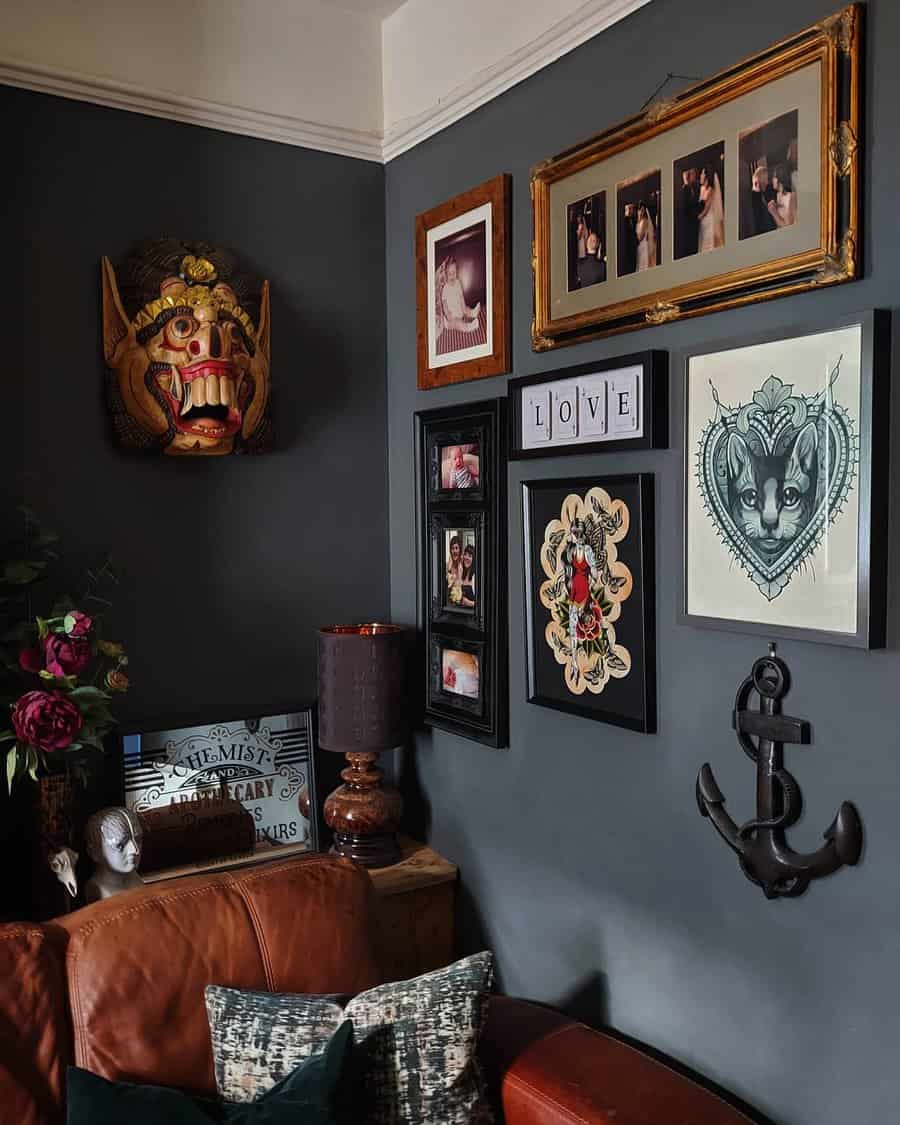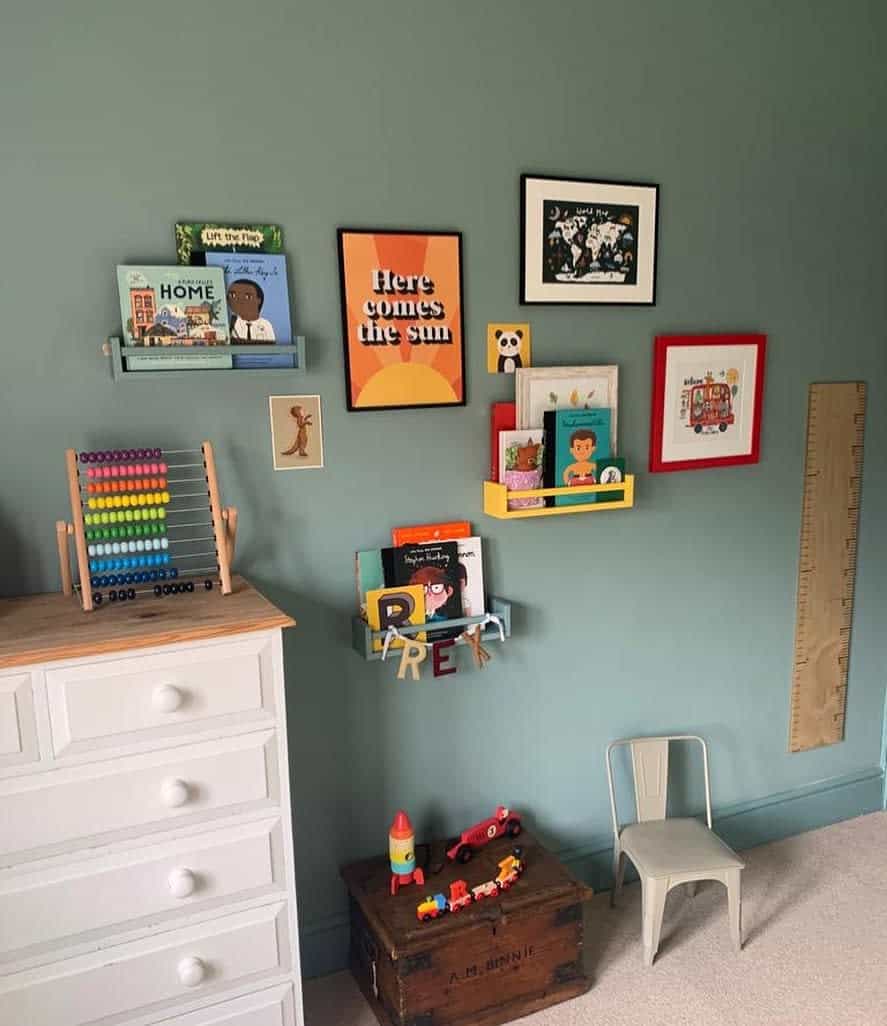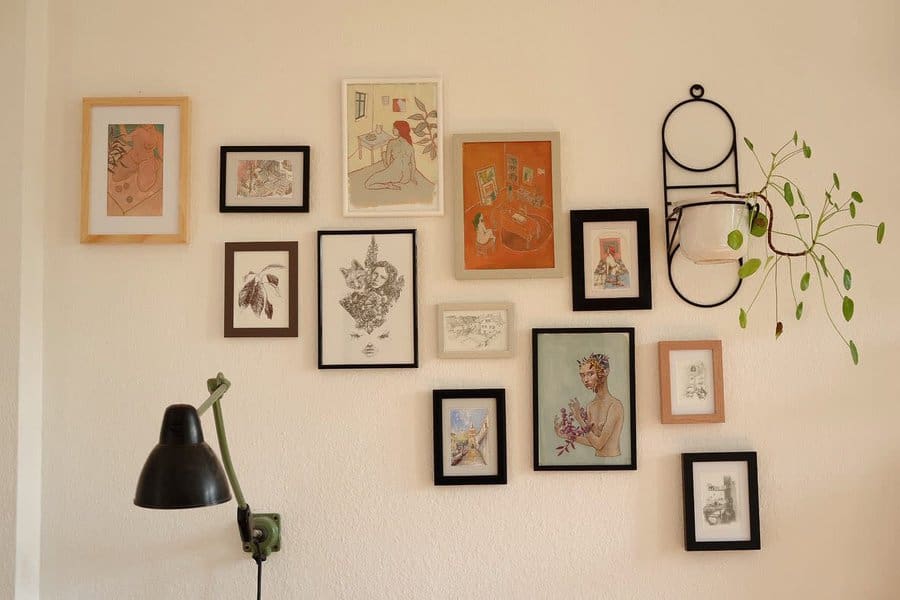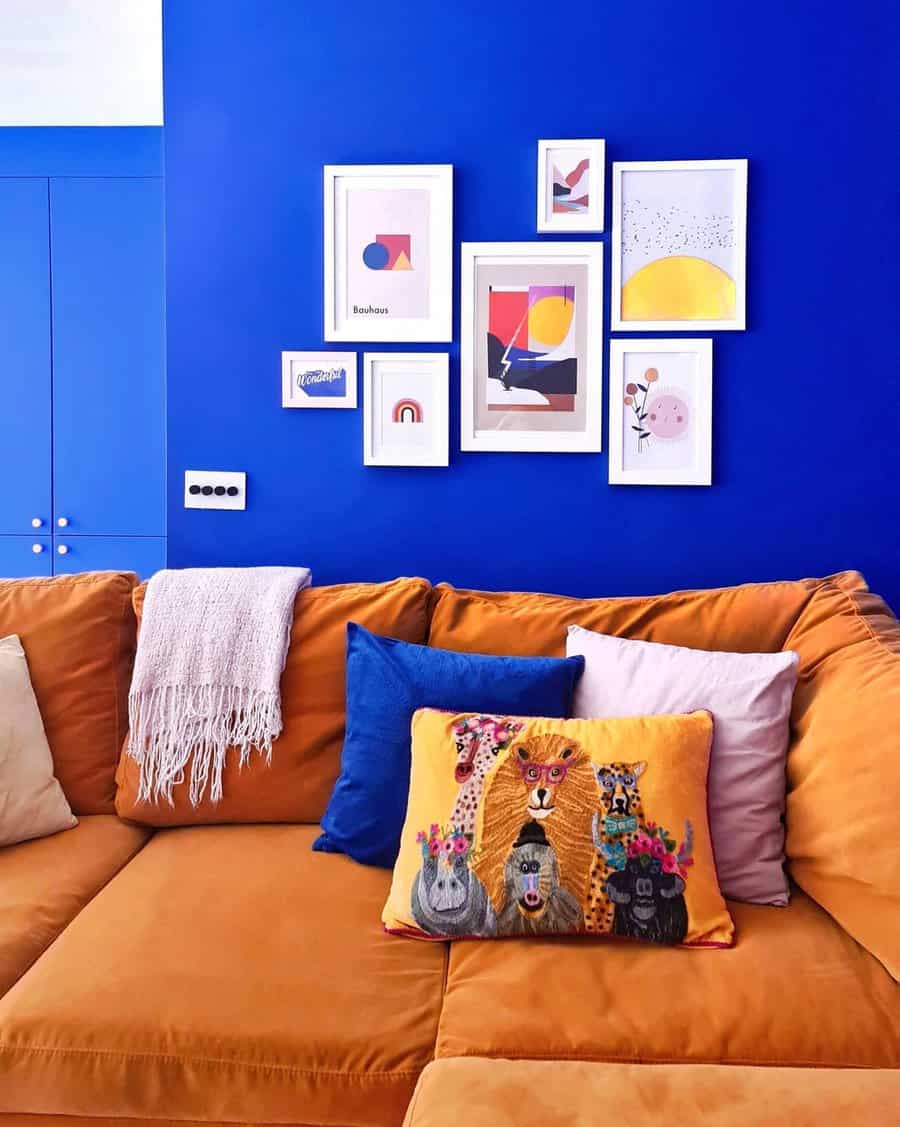 As in art galleries, hang your main images at eye level. You can always add extra pictures up, down, or to the sides of your main image collection. Pay attention to how each piece looks on the wall space, and resist the urge to clutter your display with more images than necessary.
8. Hallway
The hallway is often the longest stretch of open wall space in the home, making it an ideal place to showcase your favorite images. If your hall seems too dark, refresh it with white wall paint and hire an electrician to install new light fixtures. After all, there's little reason to spend time creating a hallway gallery if the hall is too dim to enjoy it.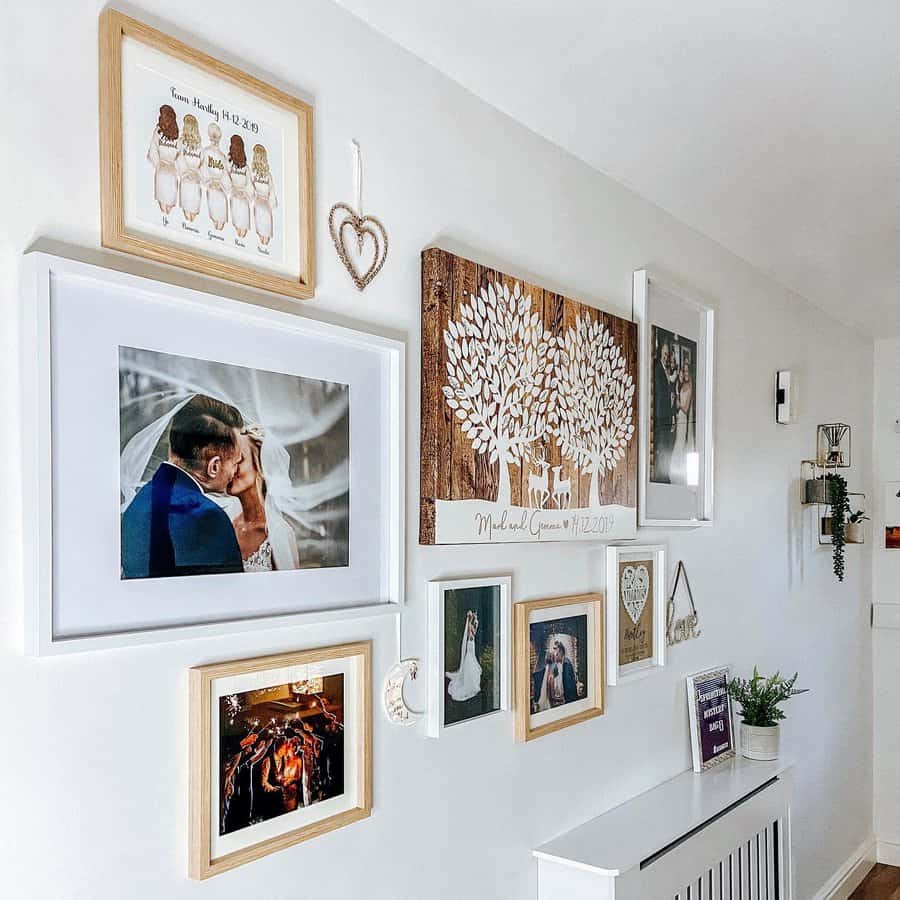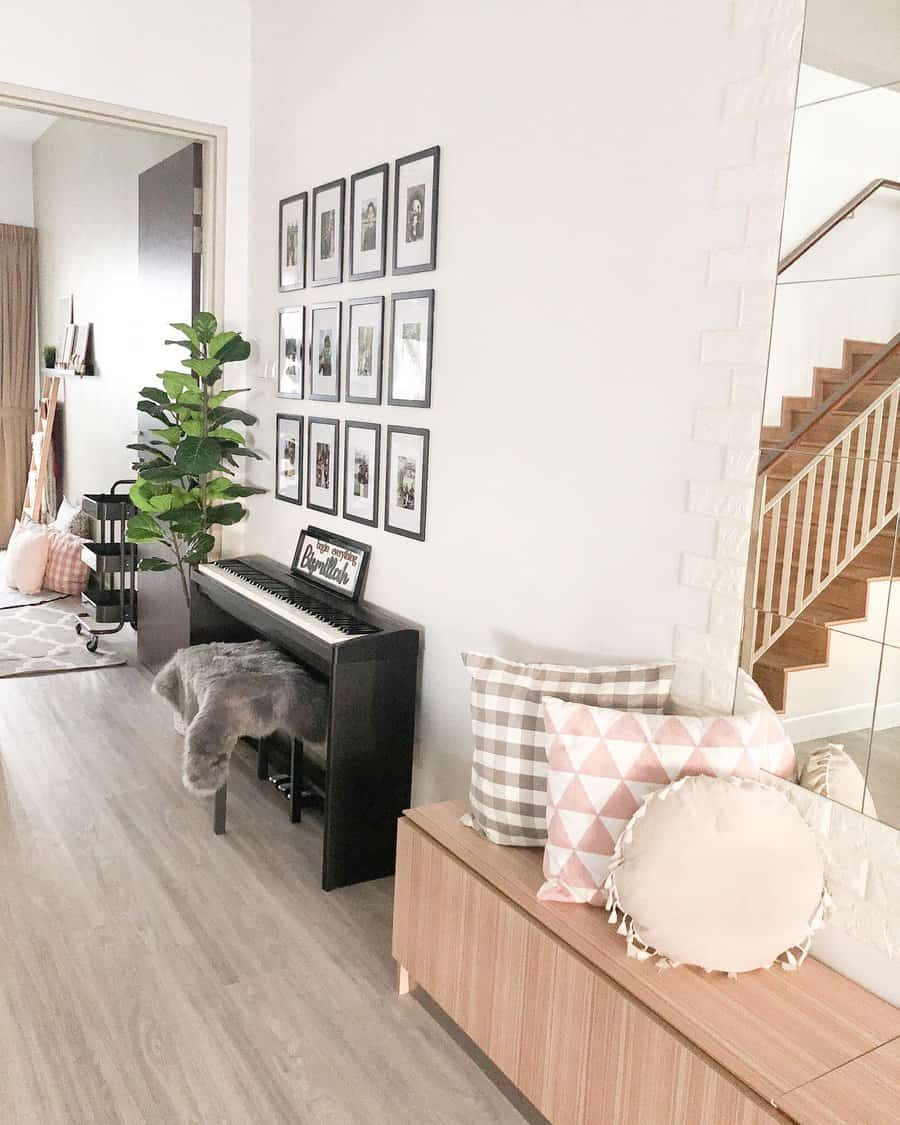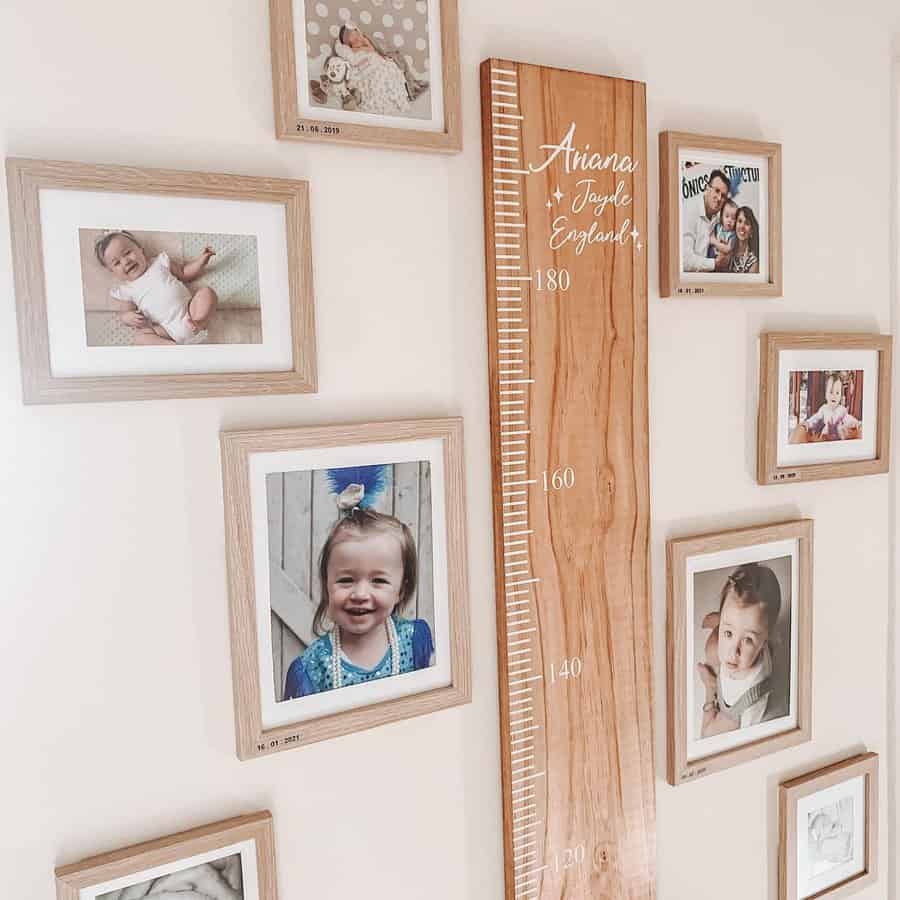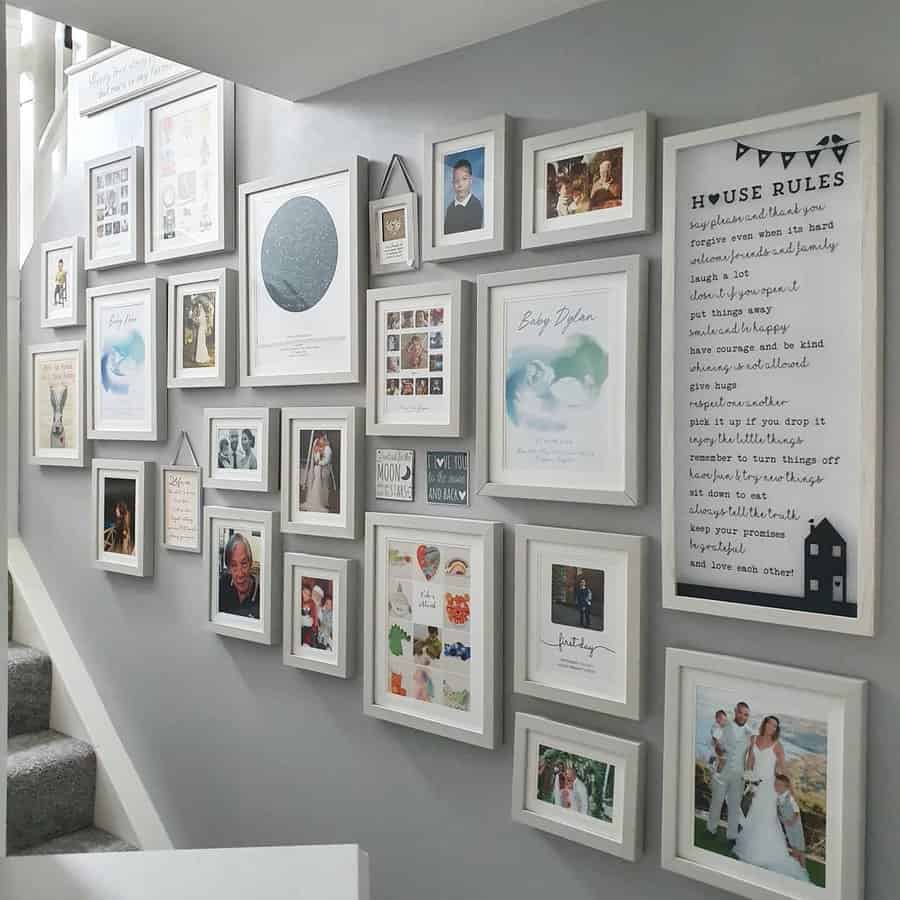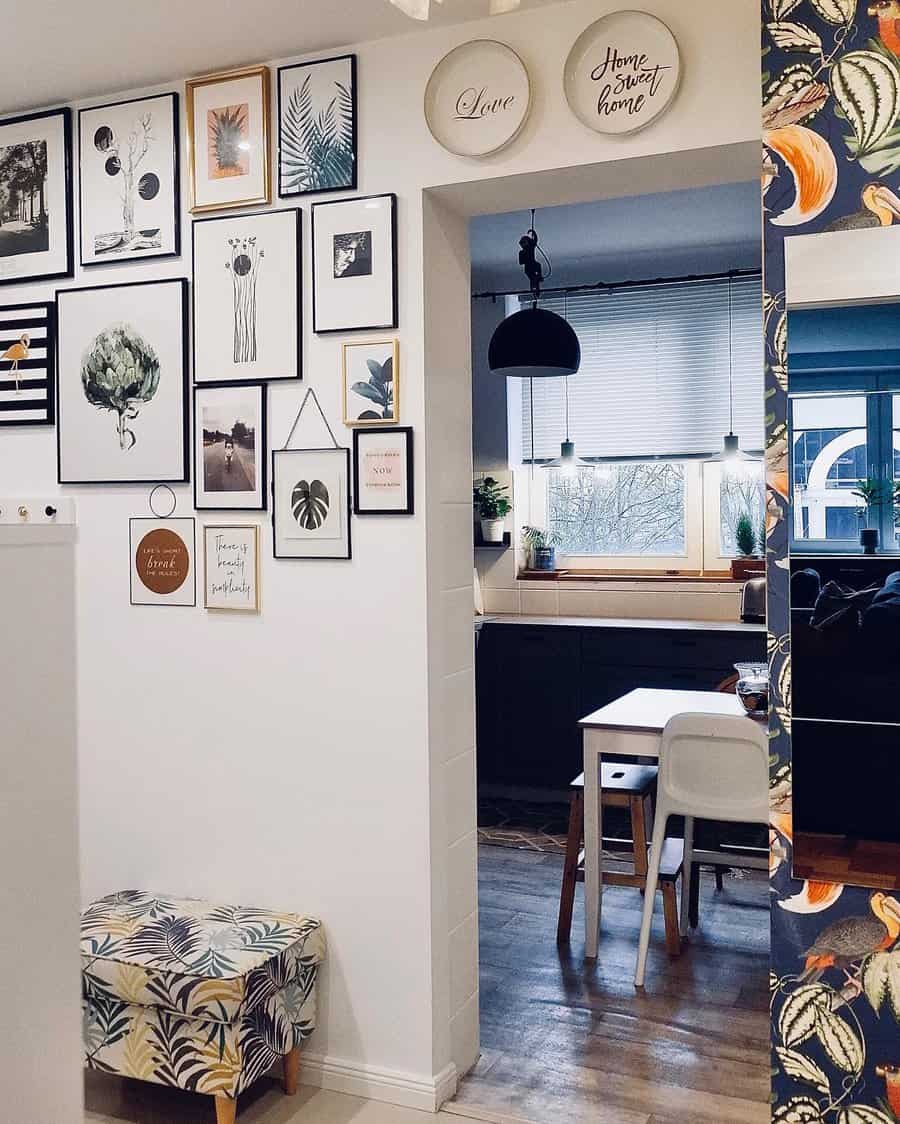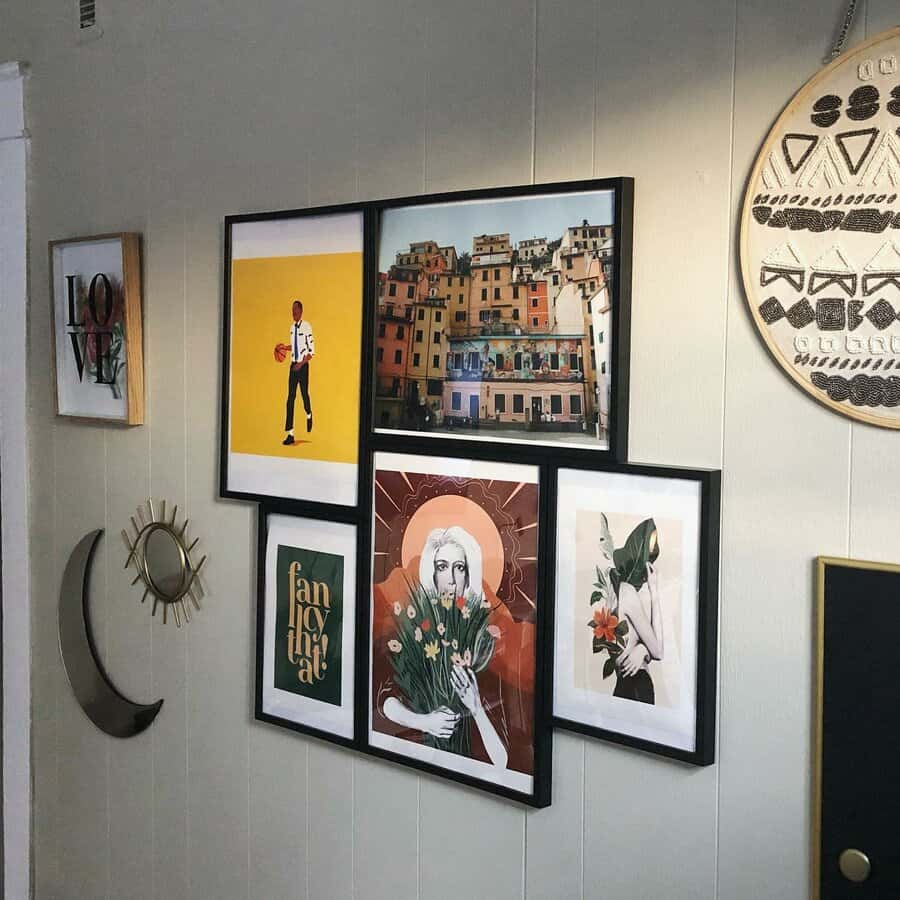 If you have children, a great idea for hallway art is to hang a row of pictures that show their age progression as you walk down the hall. Don't forget the walls along stairways when planning your wall collage ideas. Staircase walls are also a great location for age-progression photos or a collection of your favorite artwork.
9. Living Room
Over the sofa is perhaps the most popular place to create a living room gallery wall, but any open wall or corner will do. It's best to limit picture collages to one living room wall or corner to avoid a cluttered appearance.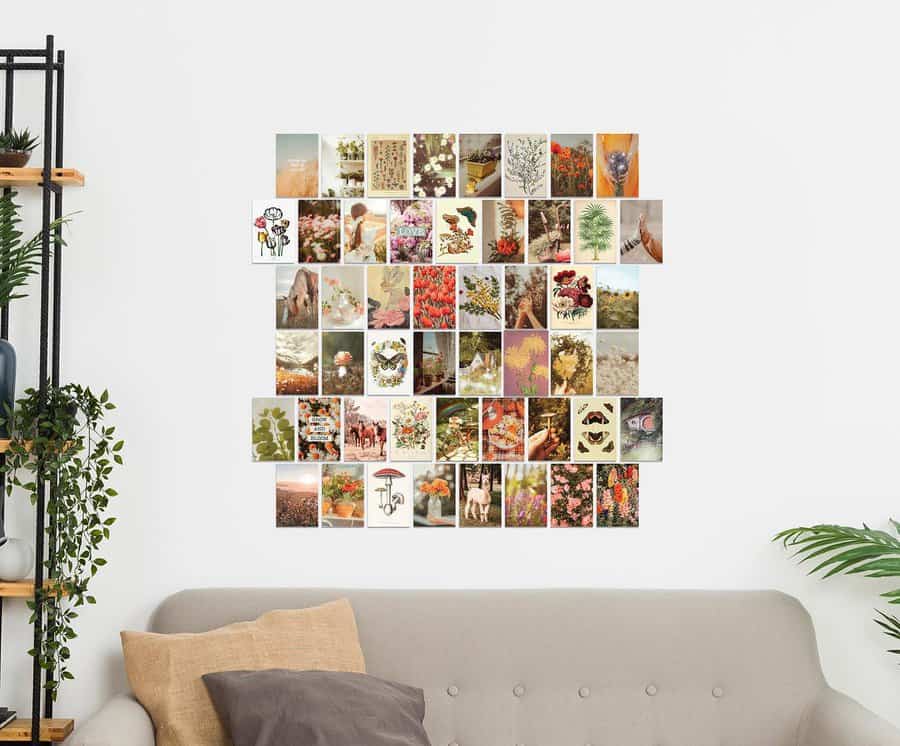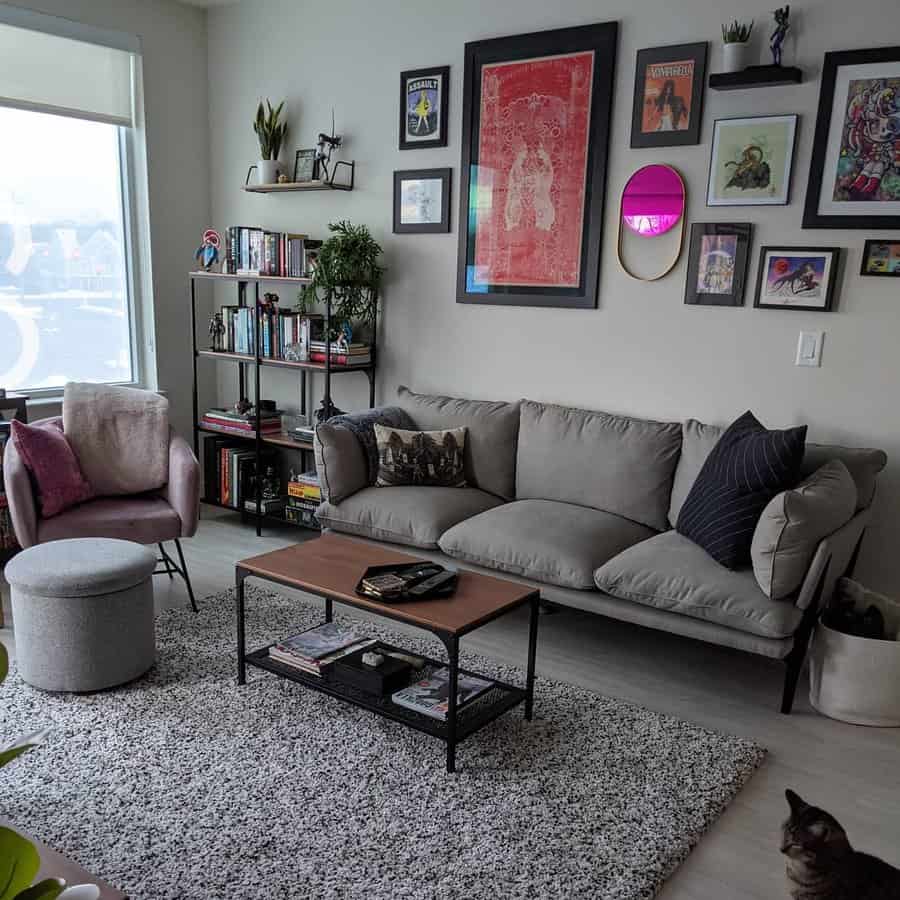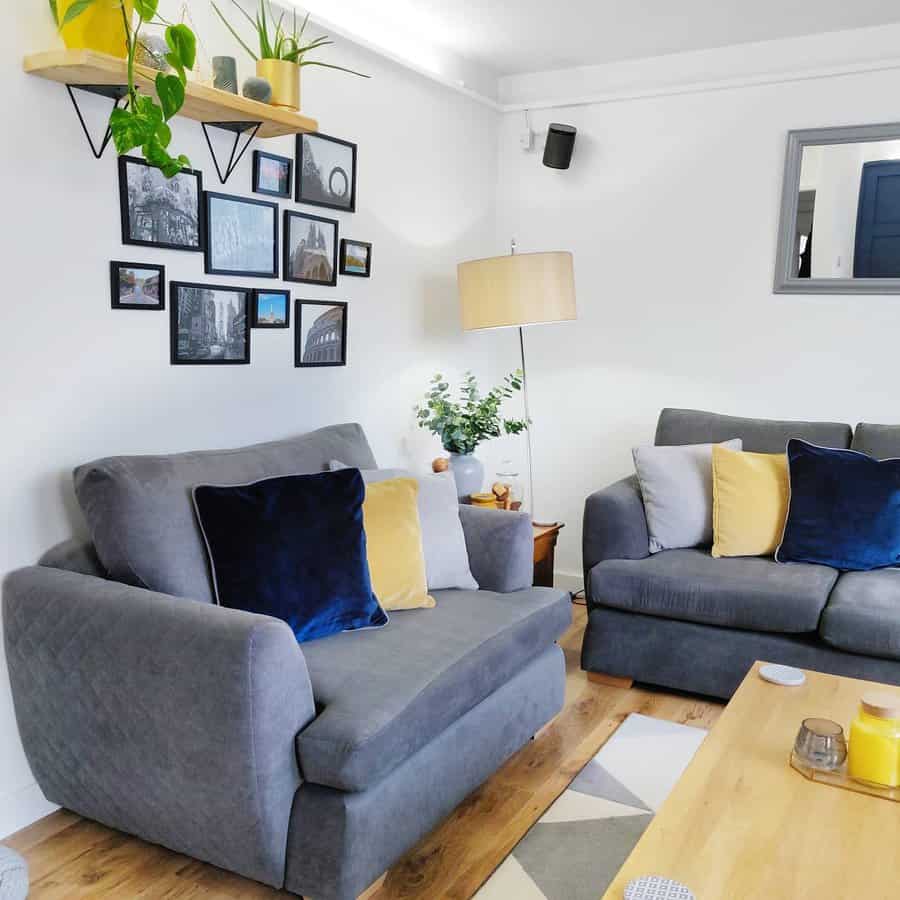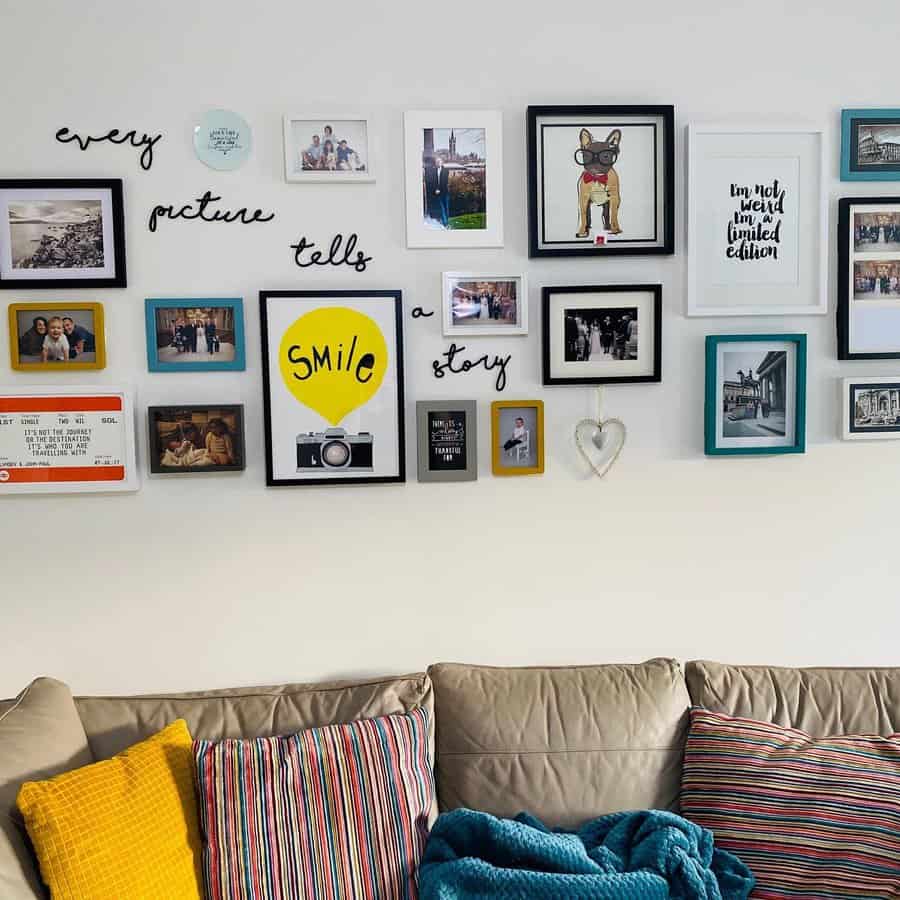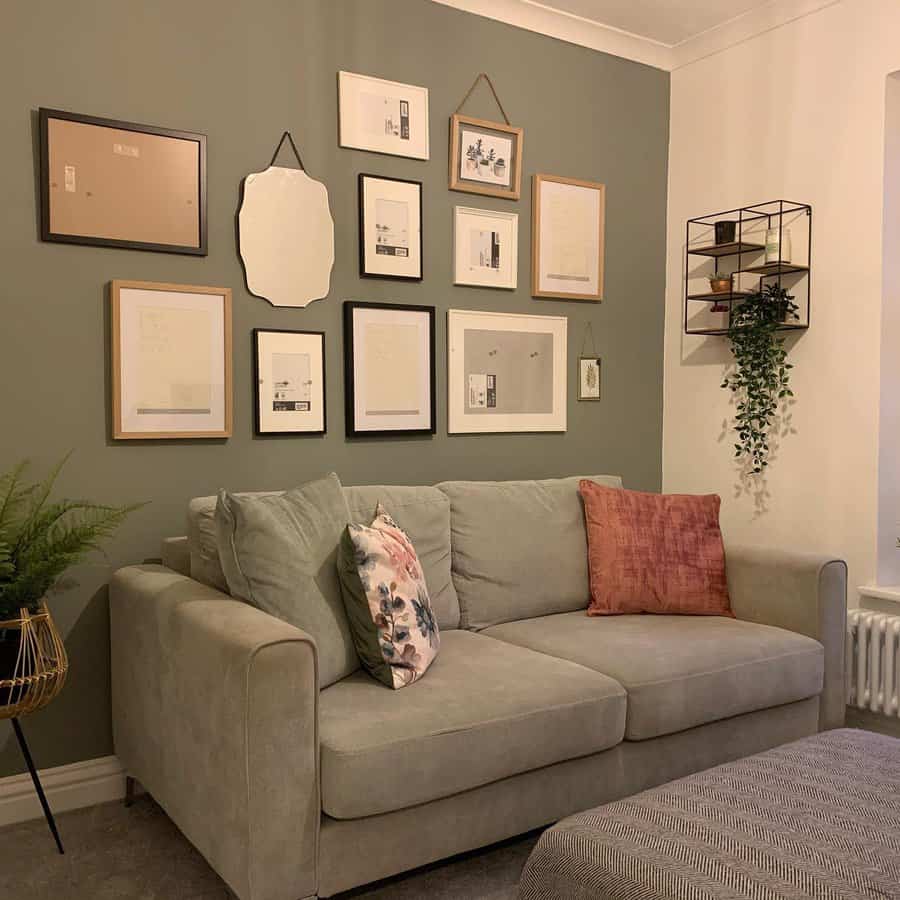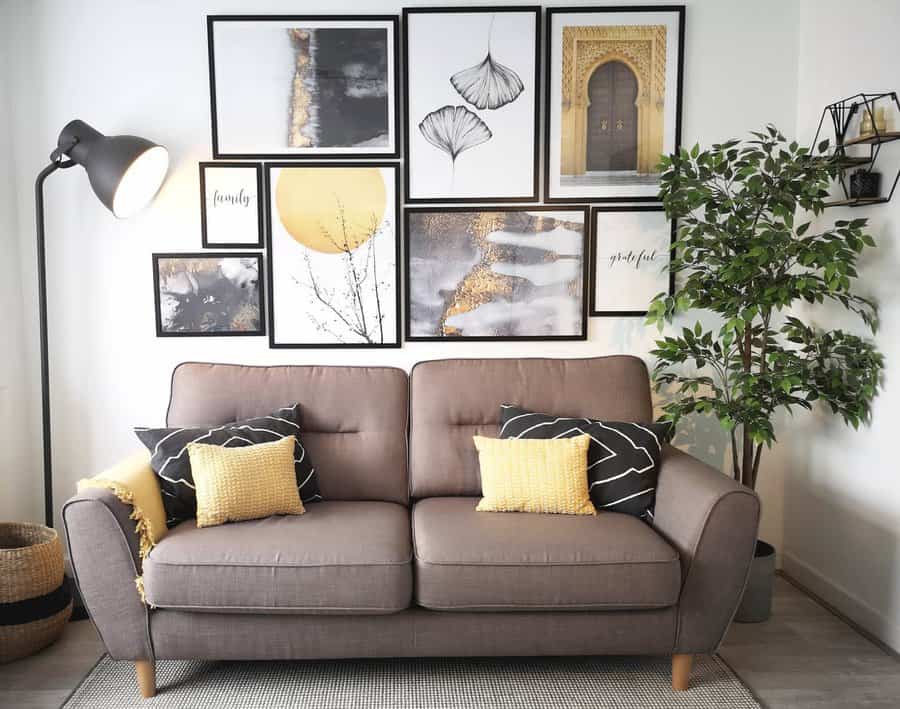 If you have a hard time settling on your favorite photos to display, install wooden photo ledges on the wall. Then you can easily change the framed pieces you display on a seasonal or monthly basis without having to nail new holes in the wall. Include a small knick-knack shelf in your display and change those on a regular basis as well.
Wall Collage FAQs
Where should I put my gallery wall?
Ideally, a large gallery wall should go on the longest wall in the room. A smaller wall collage can go anywhere that suits you: between windows, around doors, over the headboard, even in the bathroom. Because of excessive moisture, a photo gallery is better suited for a powder room than a bathroom where you frequently shower or bathe.
Should gallery wall frames match?
It depends on the look you're going for. Matching frames can add a certain elegance to your picture collage, but they aren't necessary. Different types and colors of frames can look more interesting than one singular style, and a variety of textures goes well with casual home decor.