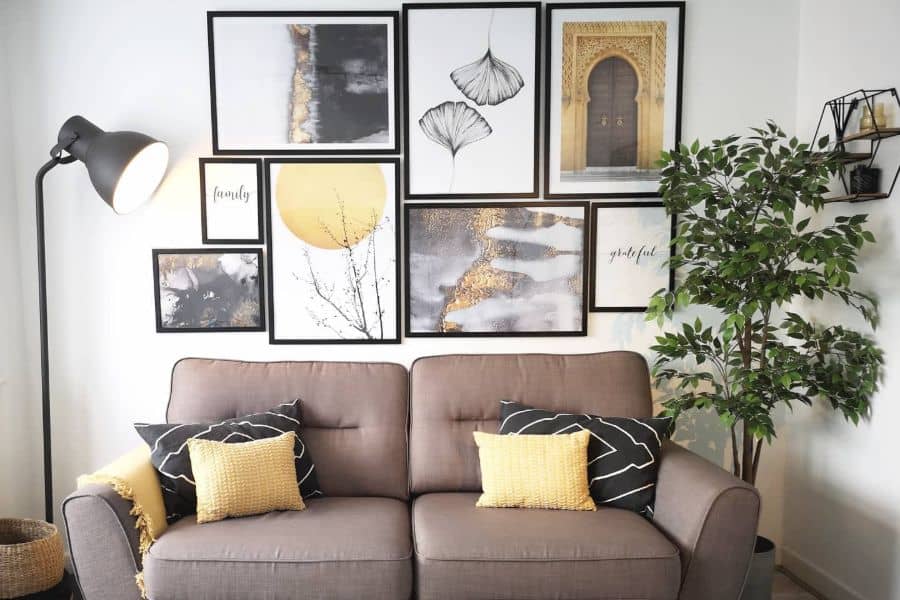 The Top 60 Wall Collage Ideas
by — Kari Apted

Published on September 16, 2021

Updated on October 20, 2023
"Life is like a collage. Its individual pieces are arranged to create harmony. Appreciate the artwork of your life." – Amy Leigh Mercree
Nothing shows off the artwork of your life better than a carefully planned gallery wall. Wall collage ideas range from a small favorite photo collection to an entire wall covered in images that illustrate your life's story.
Displaying your favorite photos, art pieces, and prints adds warmth and personality to your home. Look through our selection of favorite wall collage ideas for inspiration on layouts, techniques, and styles.
1. Modern Line Art Beckons Exploration
Modern line art offers a minimalist charm that can refine any wall collage. Select designs that resonate, whether abstract or feminine, and opt for frames that either contrast or align with your theme, like monochrome or metallic finishes. When arranging, balance between symmetrical grids and organic clusters, always ensuring harmony with the room's existing decor.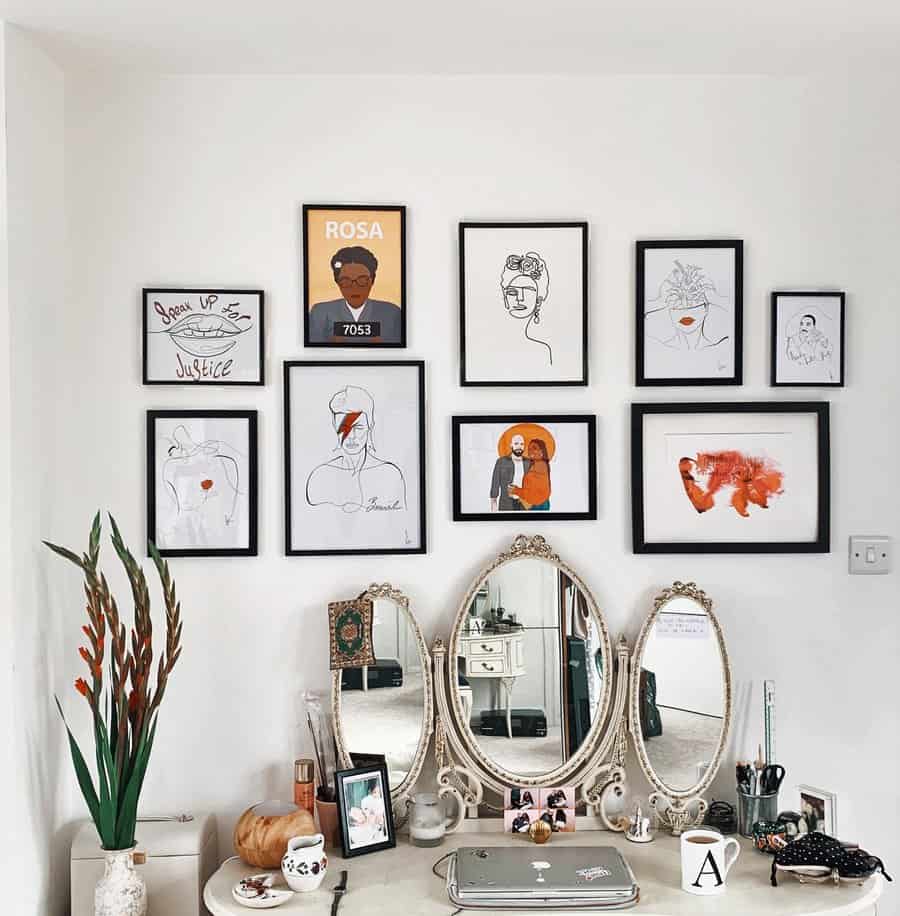 2. Dive into Vibrant Abstract Displays
Colorful abstract displays burst with personality, seamlessly blending both bold and muted tones. For a richer aesthetic, incorporate varying textures and add elements like mirrors or wall shelves. Ensure these additions complement the collage, making it a vibrant centerpiece that amplifies the room's ambiance.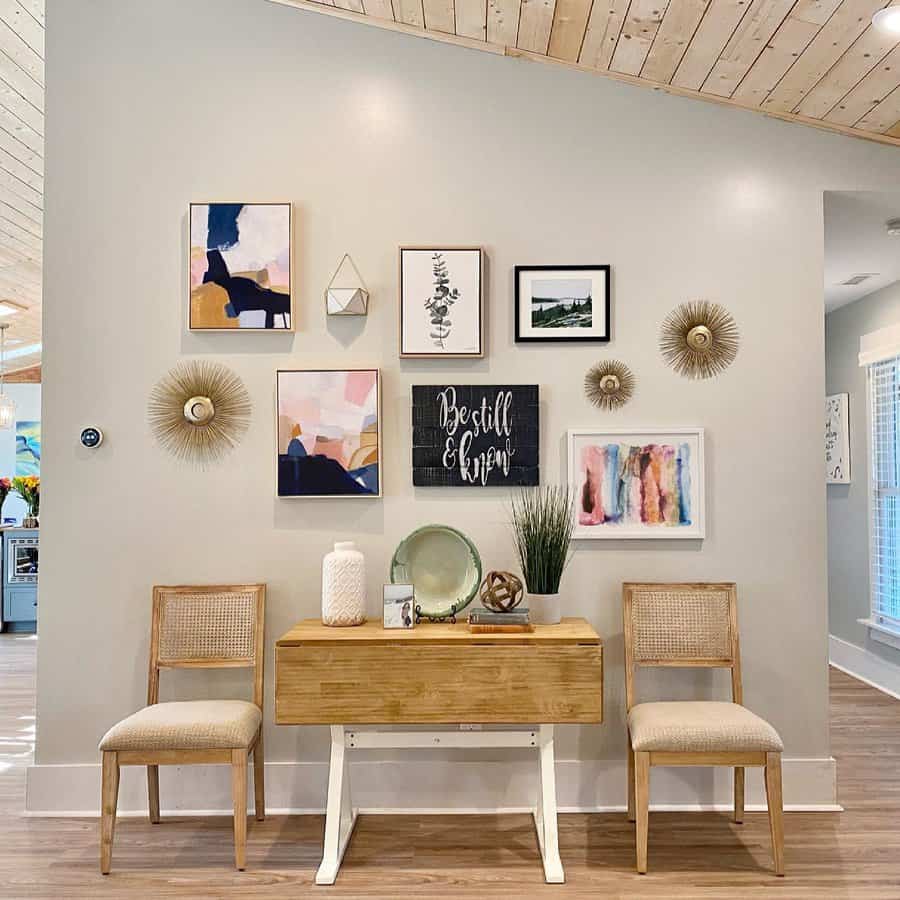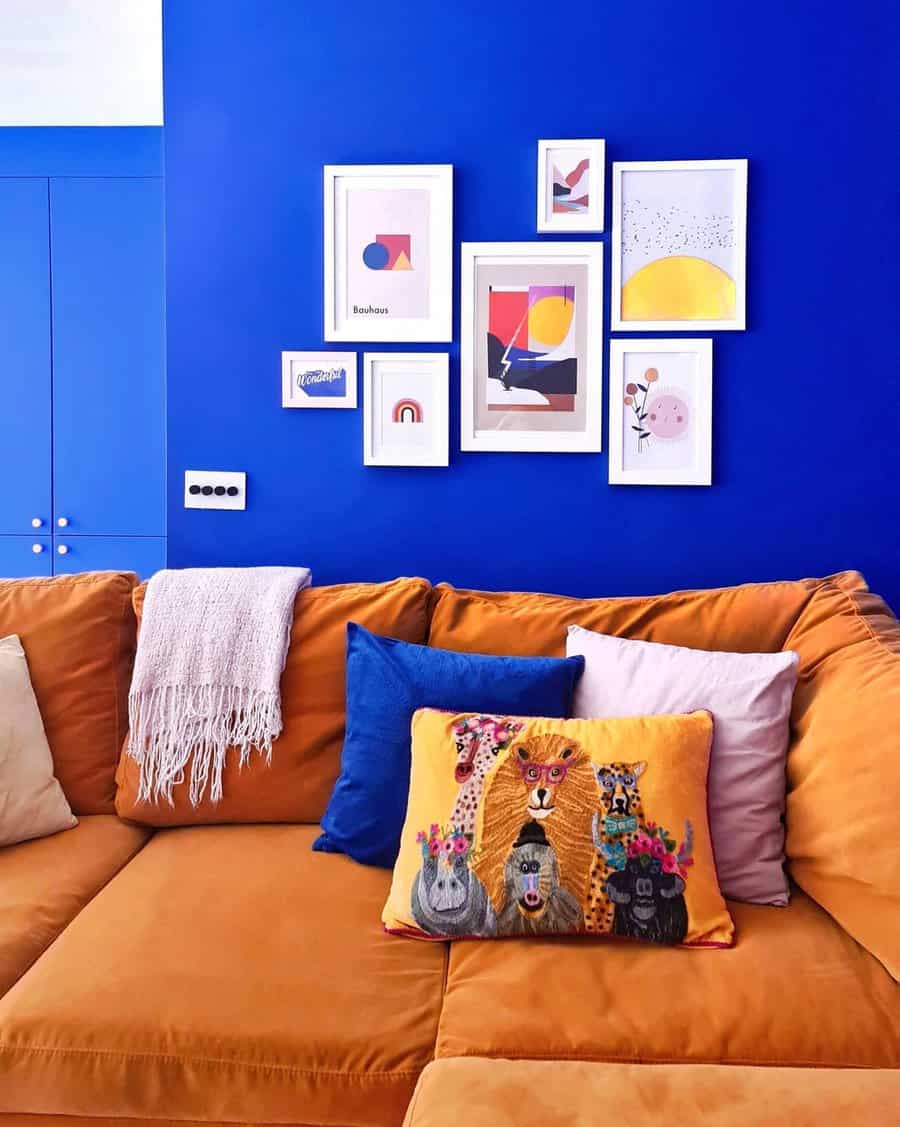 3. Unfold Stories Through Creative Photography
Photography collages capture and convey intimate tales, whether they depict urban life or serene nature. Select emotionally-charged images, mixing sizes and orientations for a captivating look. Opt for a structured grid or a layout that aligns with the room's vibe. Intertwine the narrative with personal keepsakes like handwritten notes or postcards, infusing the display with your unique touch.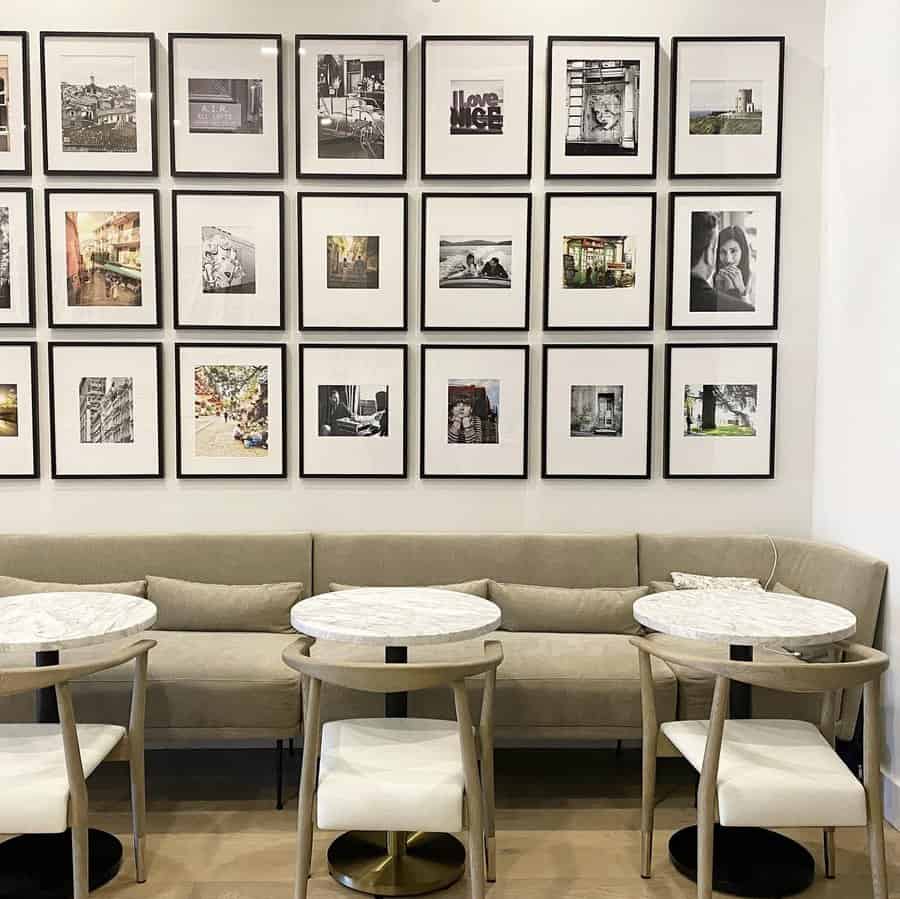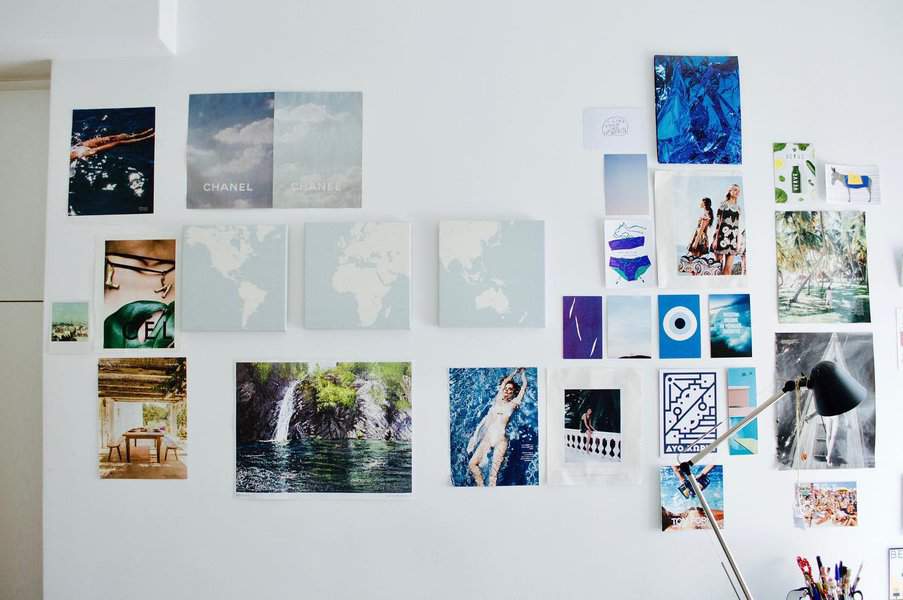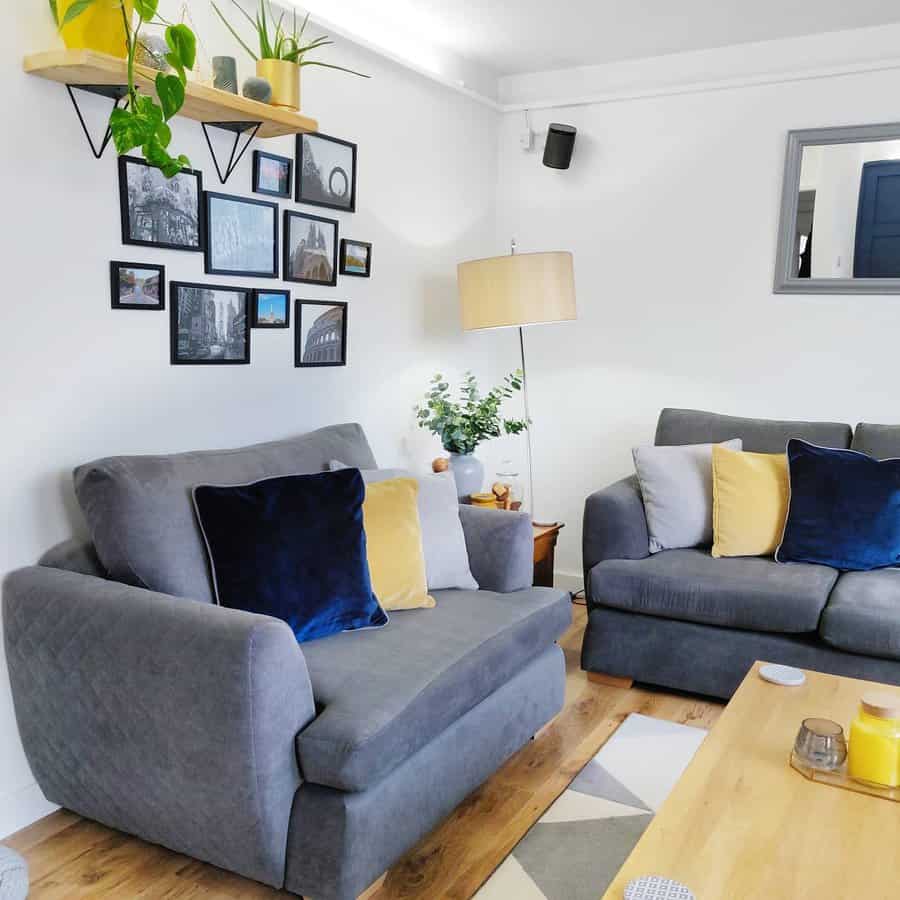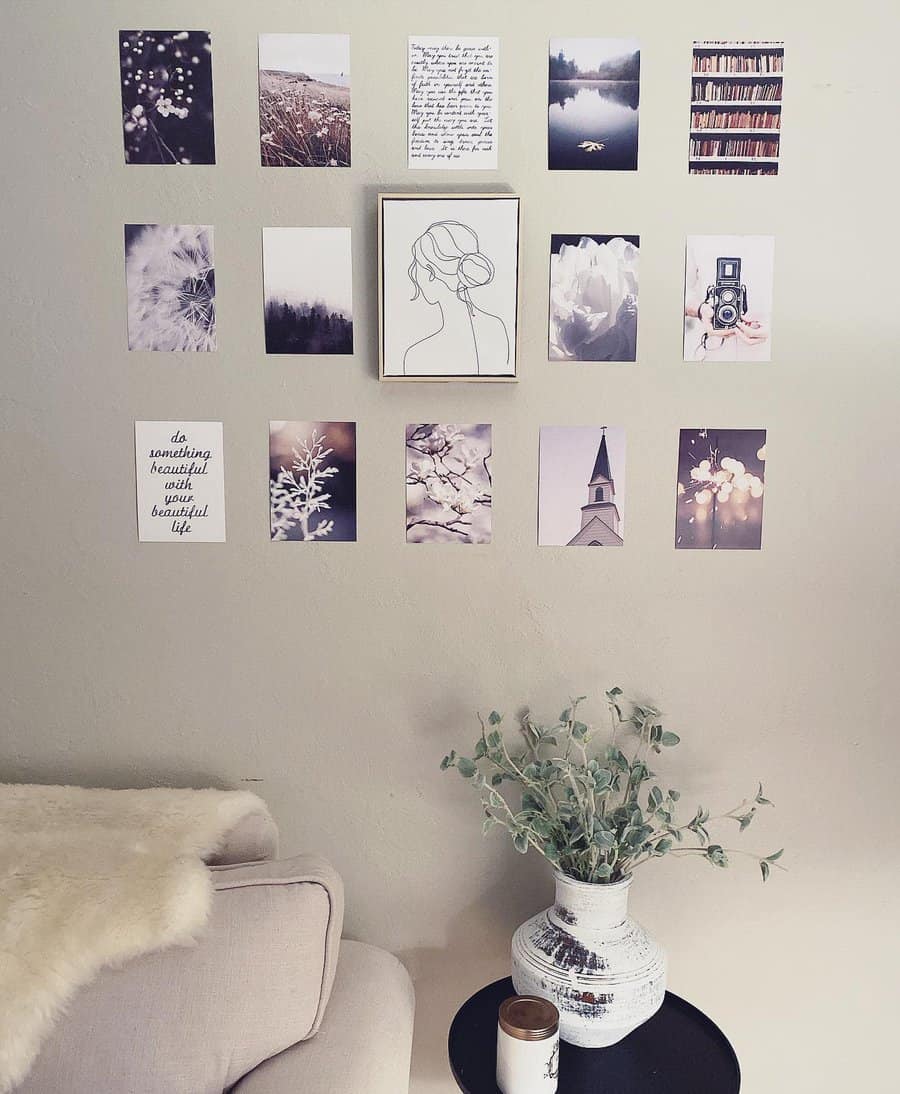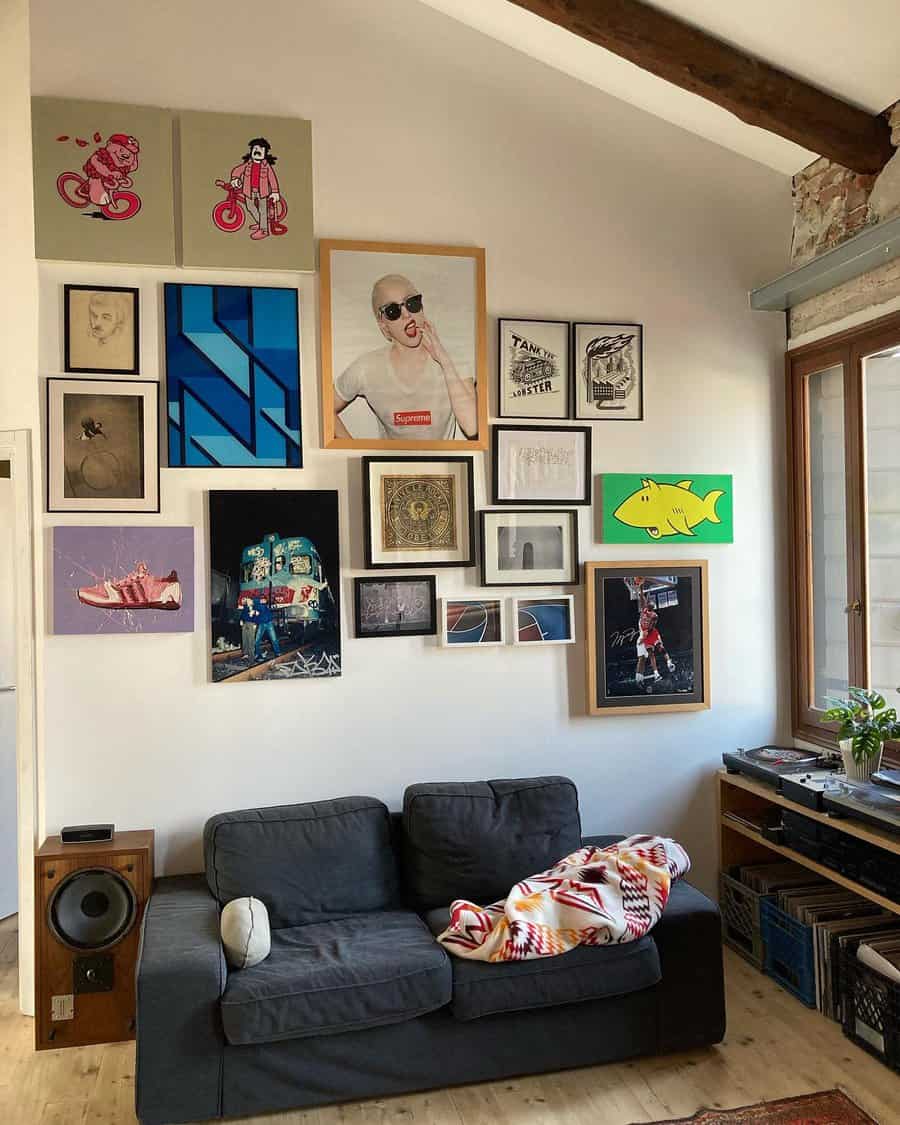 4. Bold Graphic Art Sparks Inspiration
Transform your wall into a vivid exhibit using varied graphic art. Elevate the collage by juxtaposing artwork of different sizes, shapes, and styles, highlighting contrasts for added depth. Mix photos with prints and illustrations, reflecting your unique aesthetic. Choose between a neat grid or an organic arrangement, always aiming for synergy with the room's existing decor.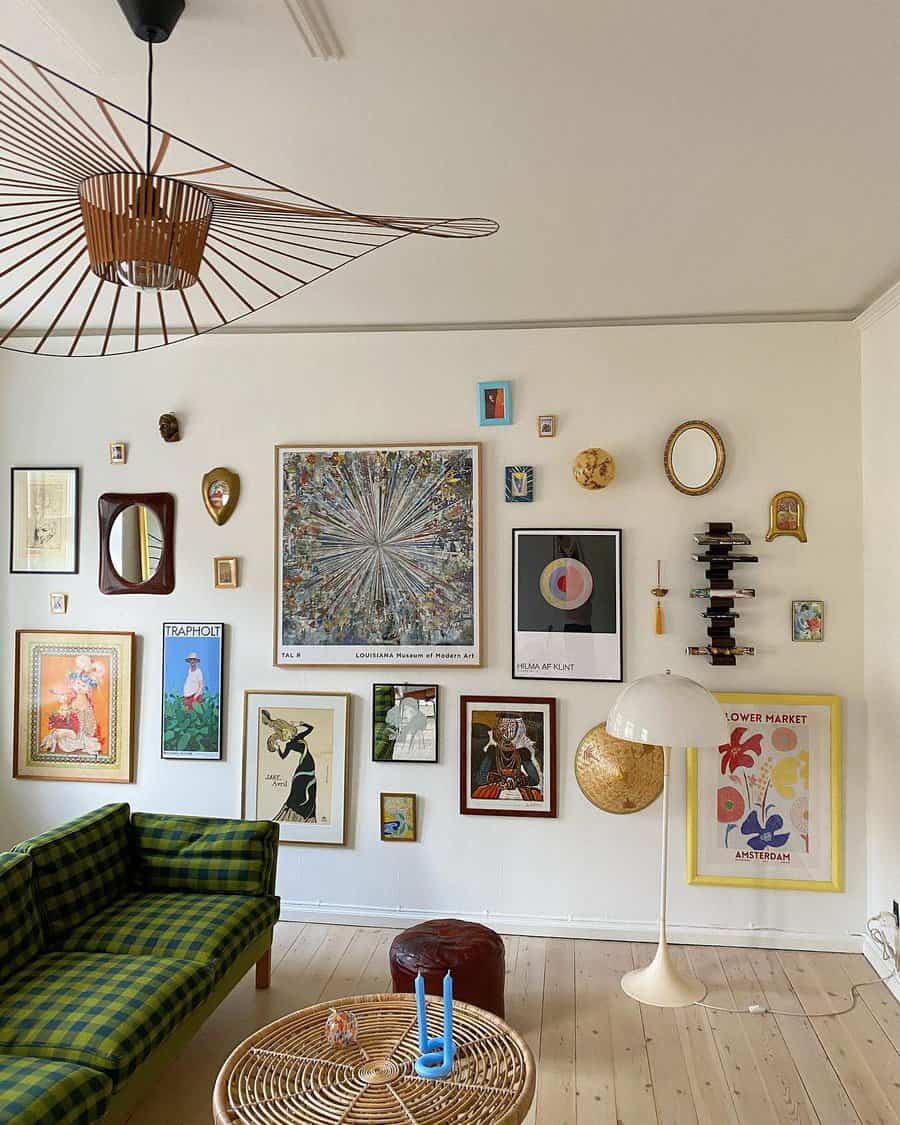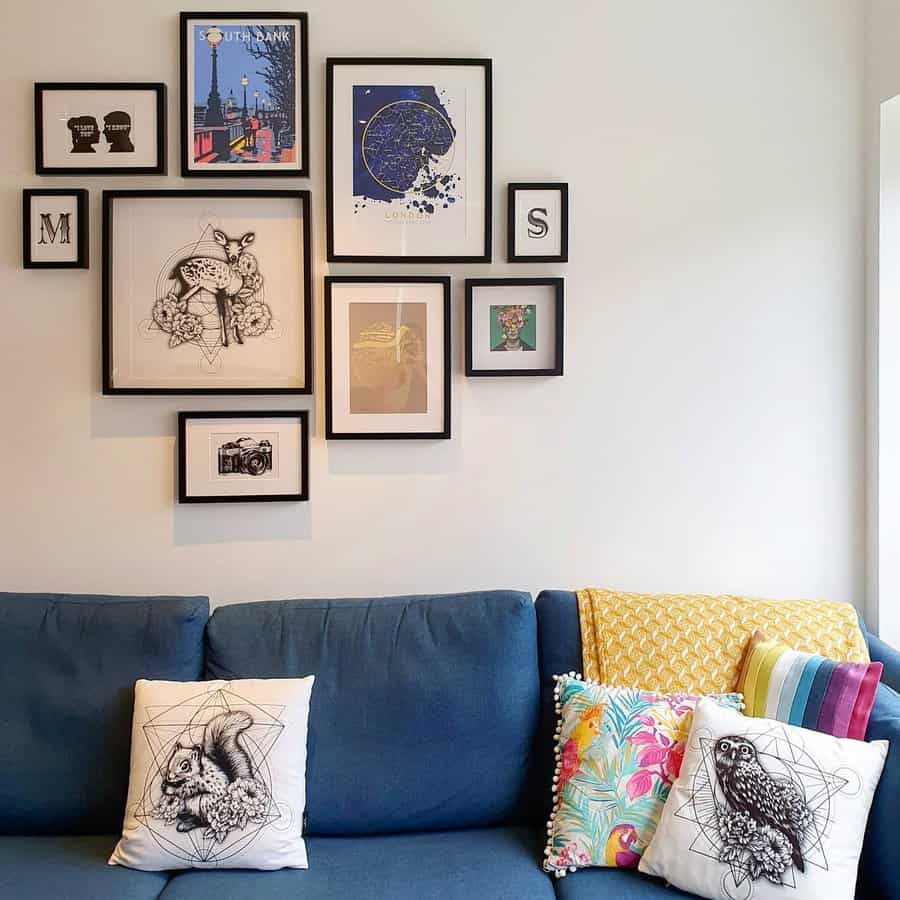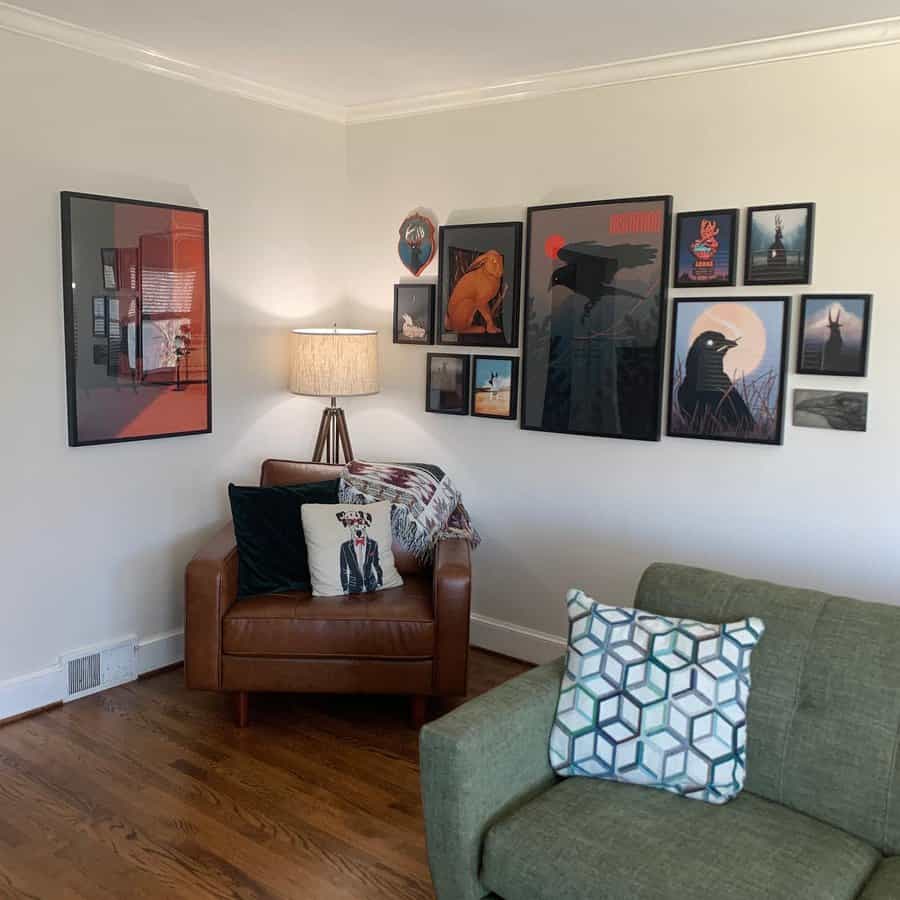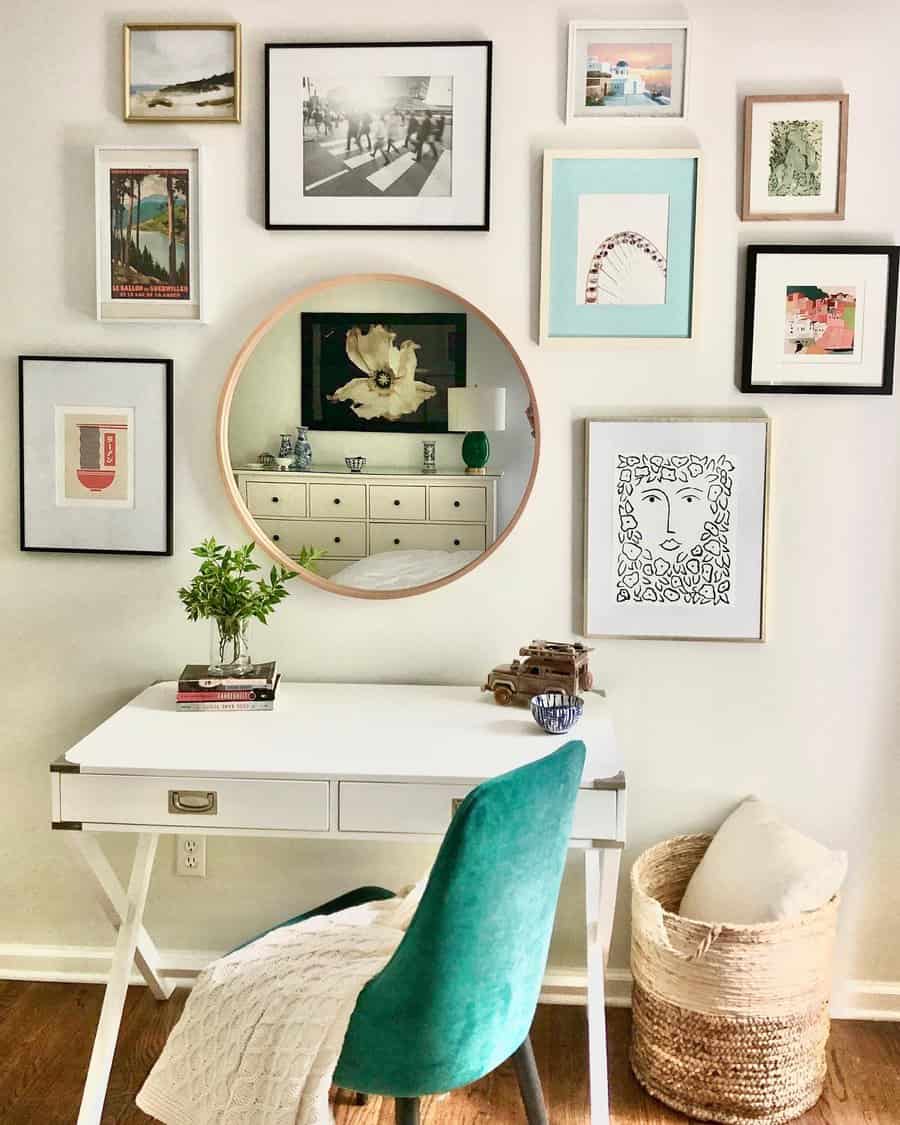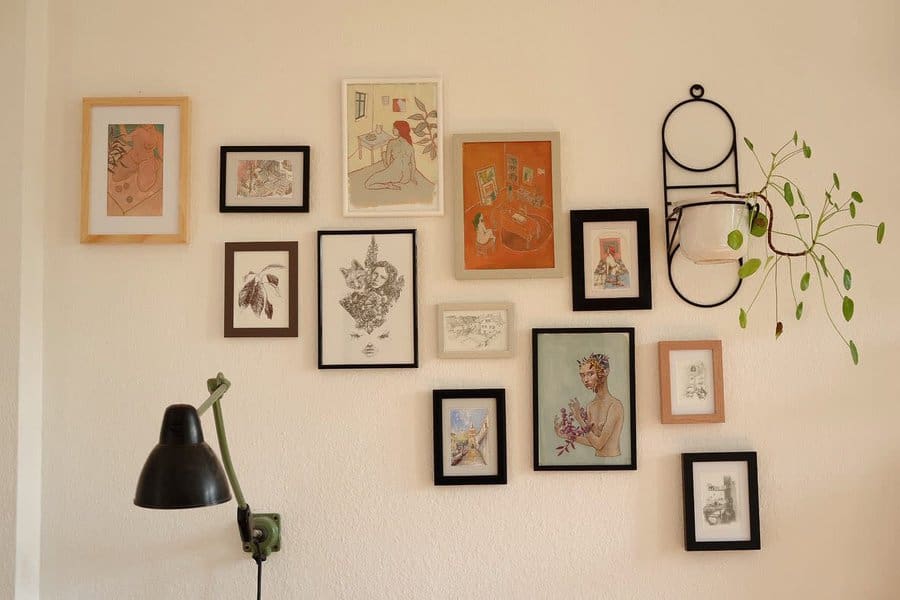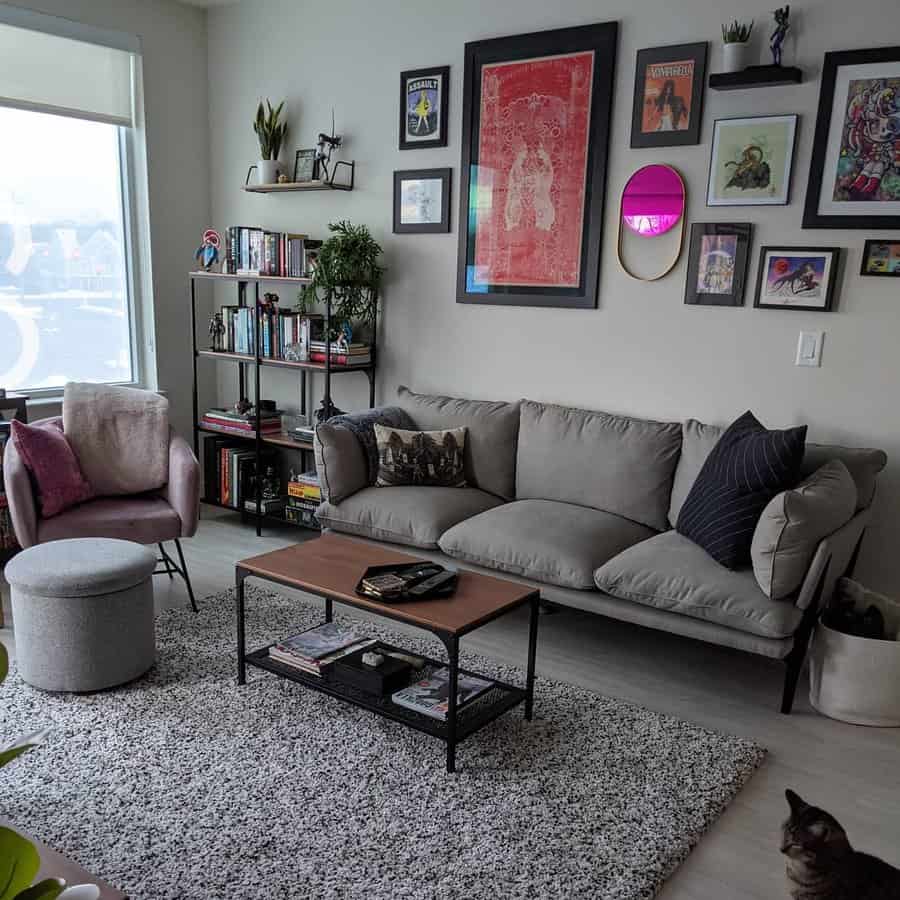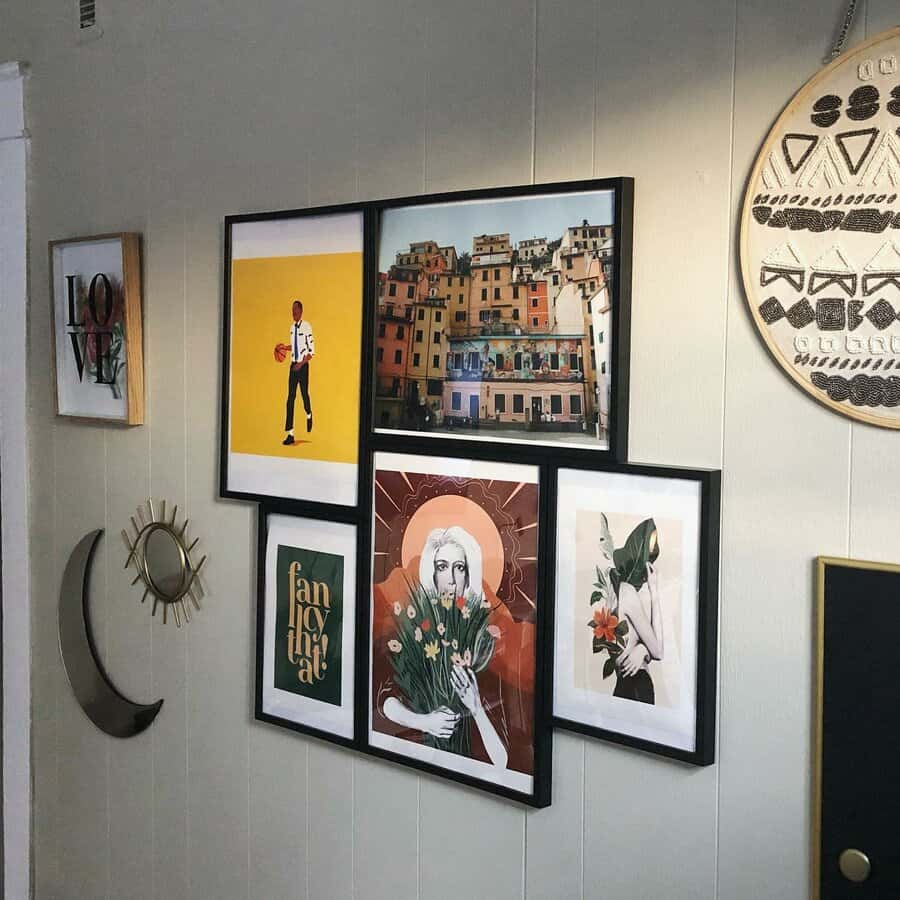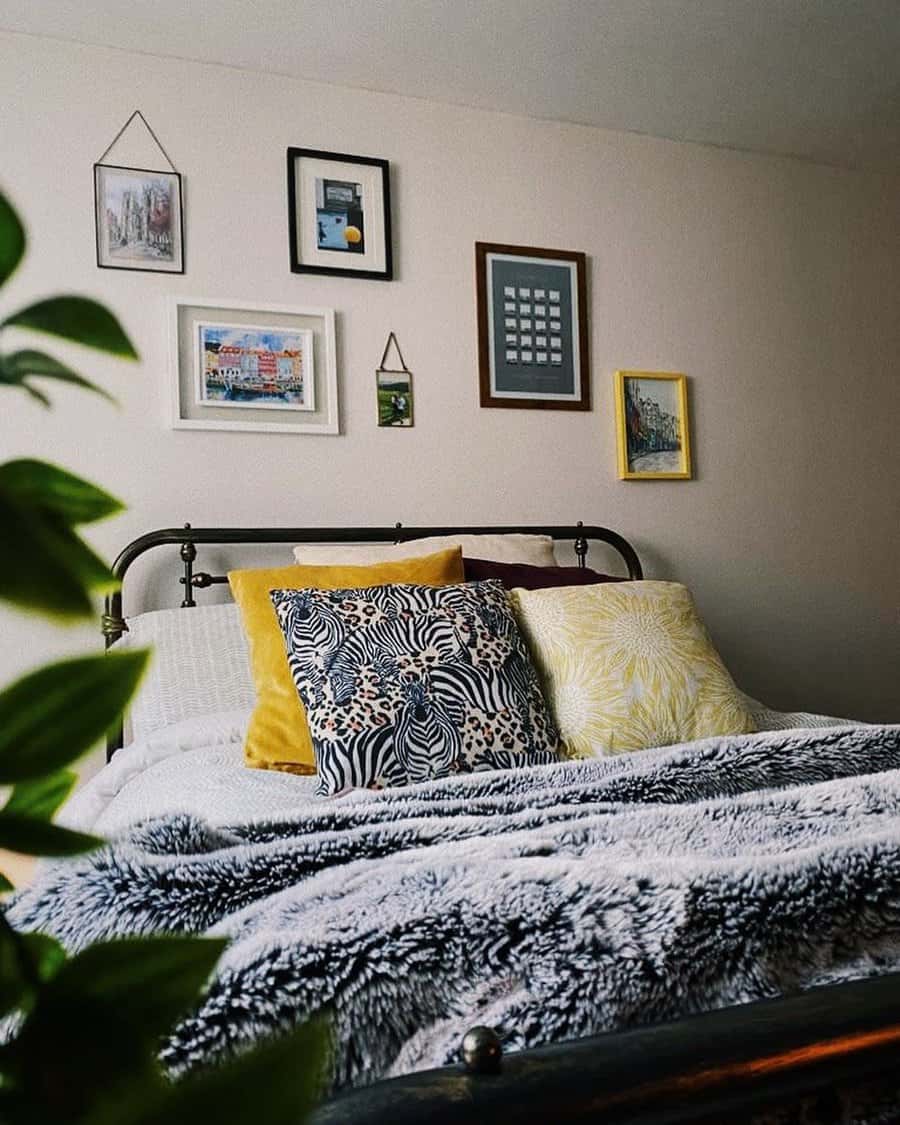 5. Mixed Media Blends Aesthetic Wonders
Mixed media collages meld diverse elements, creating tactile stories on your wall. Construct your narrative using items like journal snippets and vintage stamps, keeping a cohesive color or thematic approach. Embrace its adaptable nature by updating components as inspiration strikes. Place this captivating piece strategically, turning any space into a visual diary that captures attention.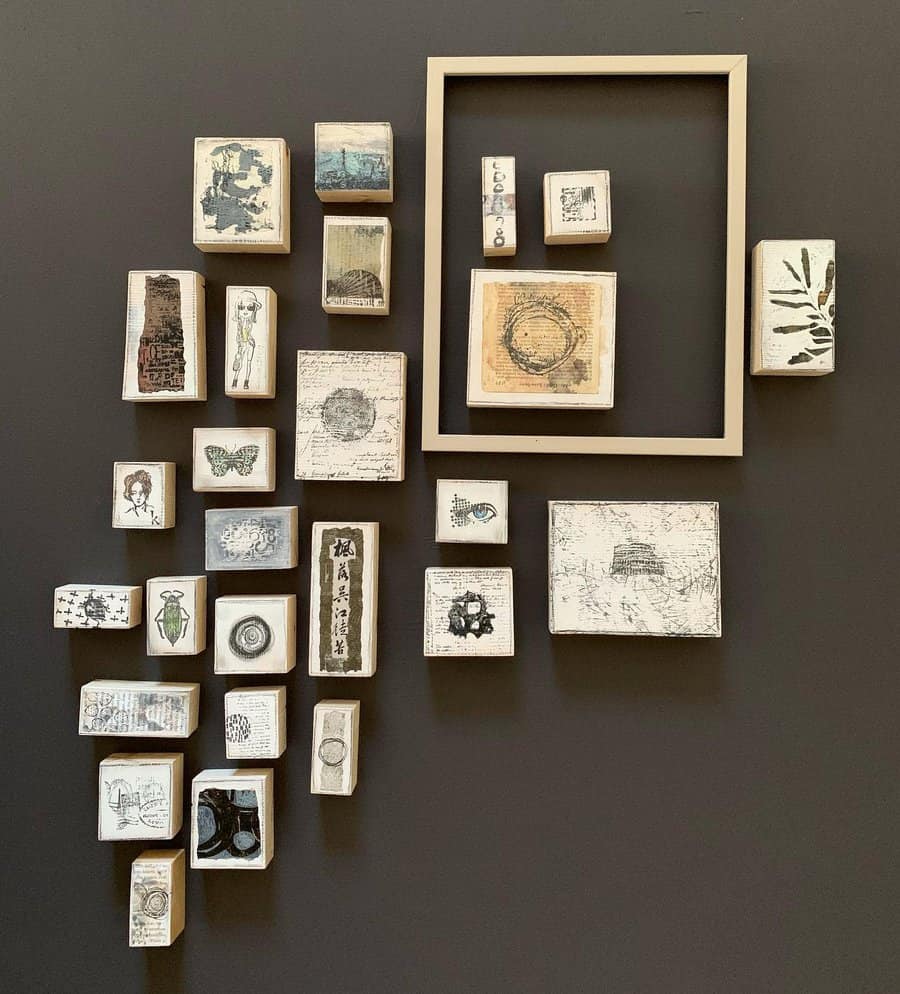 6. Monochrome Art Radiates Timeless Elegance
Monochrome art exudes a classic charm, melding black and white visuals seamlessly. Achieve balance by diversifying shapes, sizes, and textures, and consider a splash of color for striking contrast. Embrace the collage's adaptability, making occasional refreshes. Strategically design your monochromatic display to be both a visual treat and a conversation starter in your space.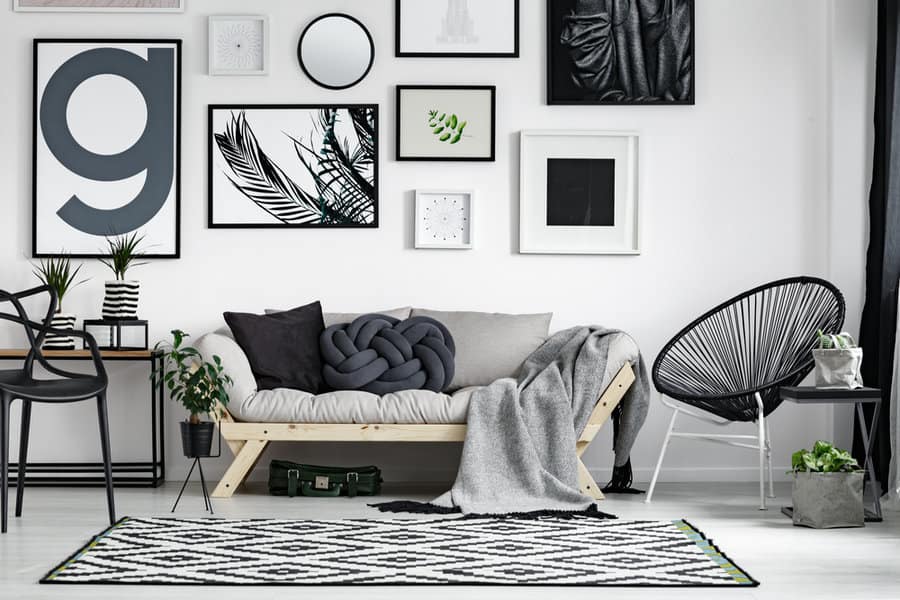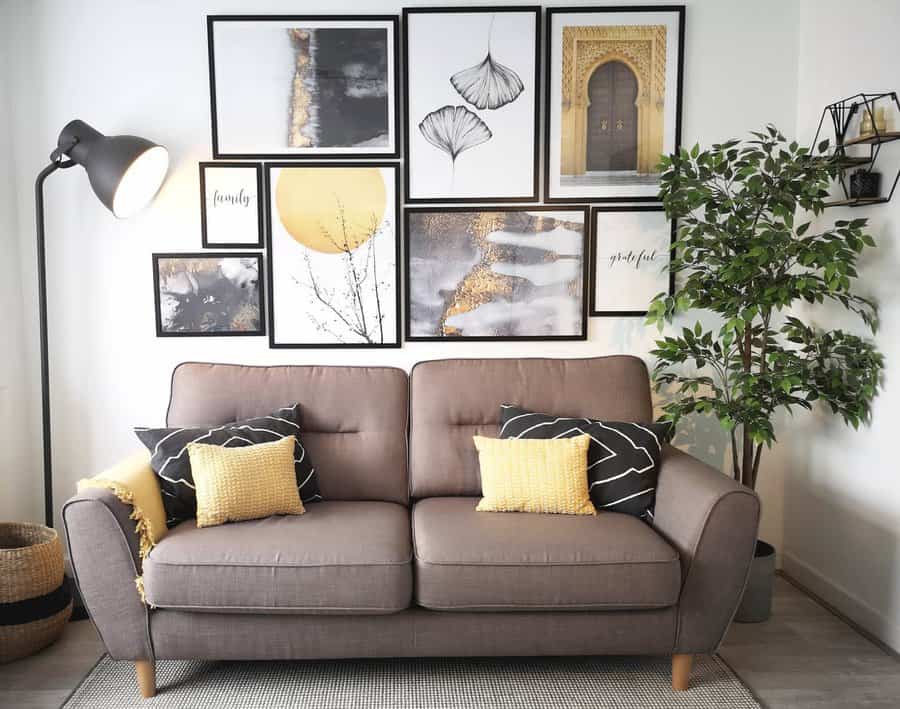 7. Typography Designs Voice Expressive Moods
Typography collages mirror personal sentiments using quotes and affirmations. Play with diverse fonts, sizes, and shades while adding depth with varied mediums like wood or metal. Choose a design, from minimalistic to eclectic, that truly embodies your personality. Such a display not only makes a statement but also encourages dialogue and inspiration.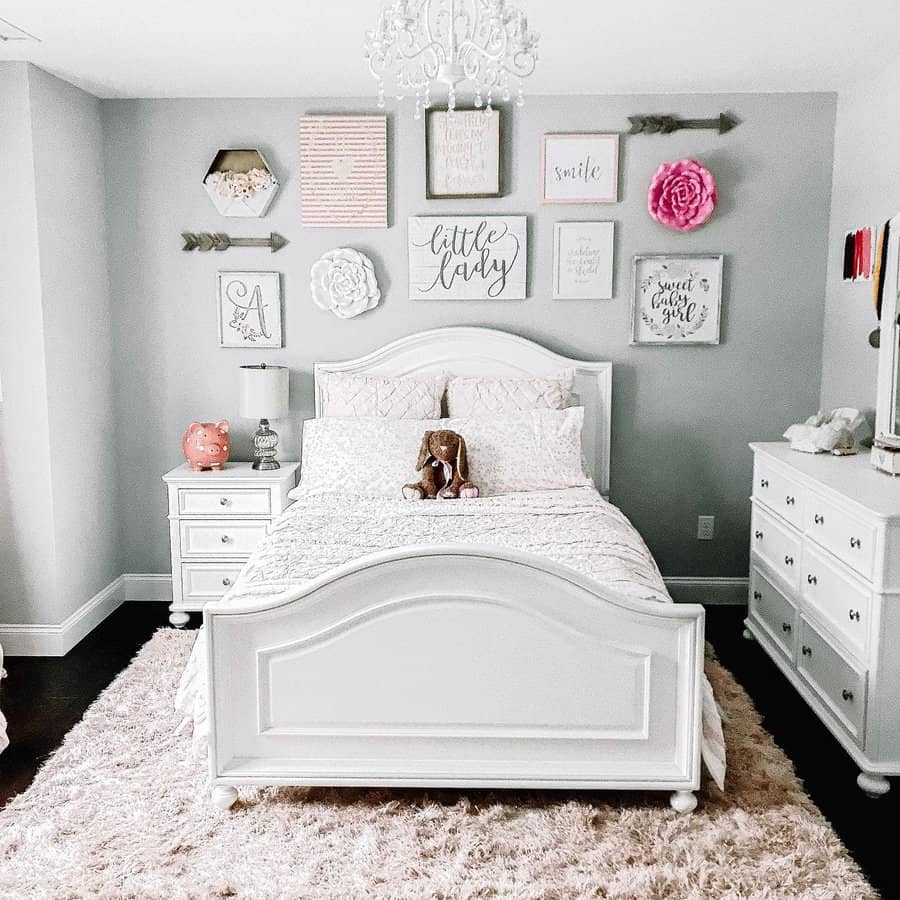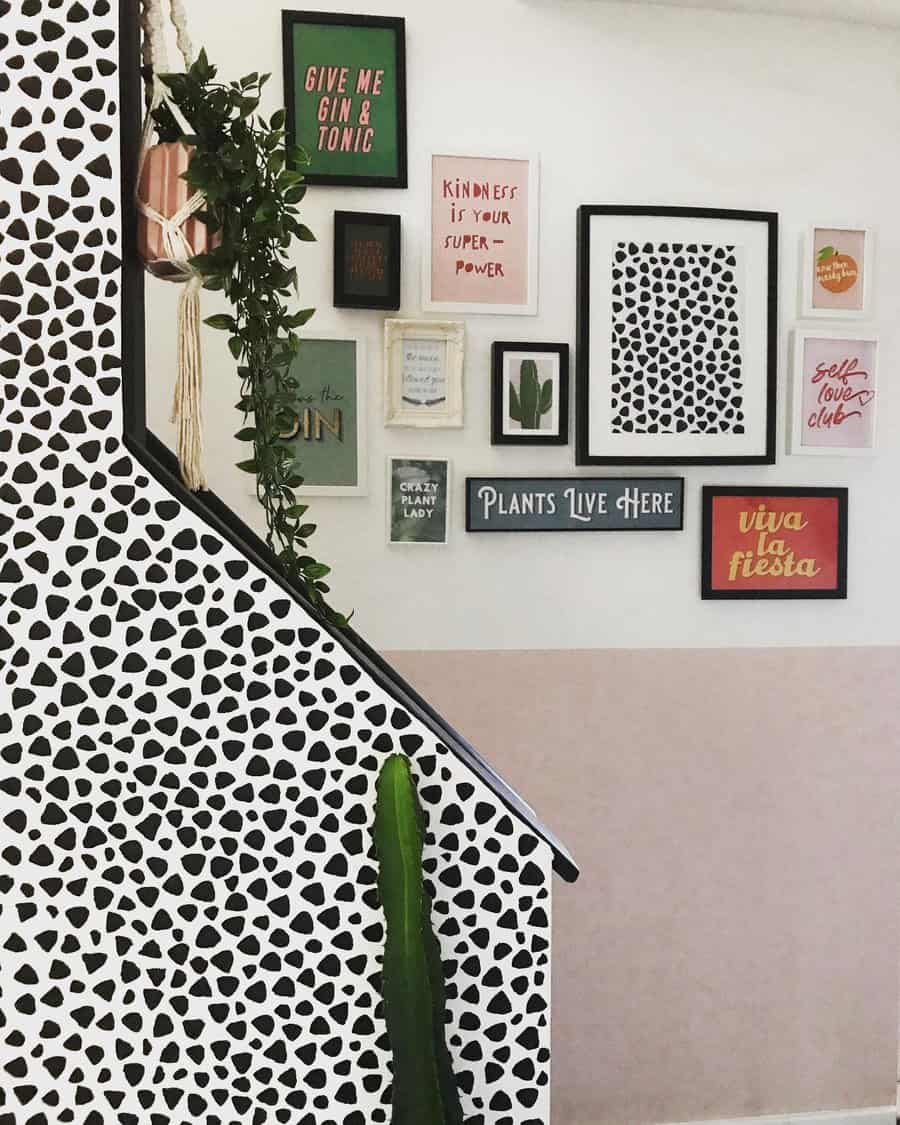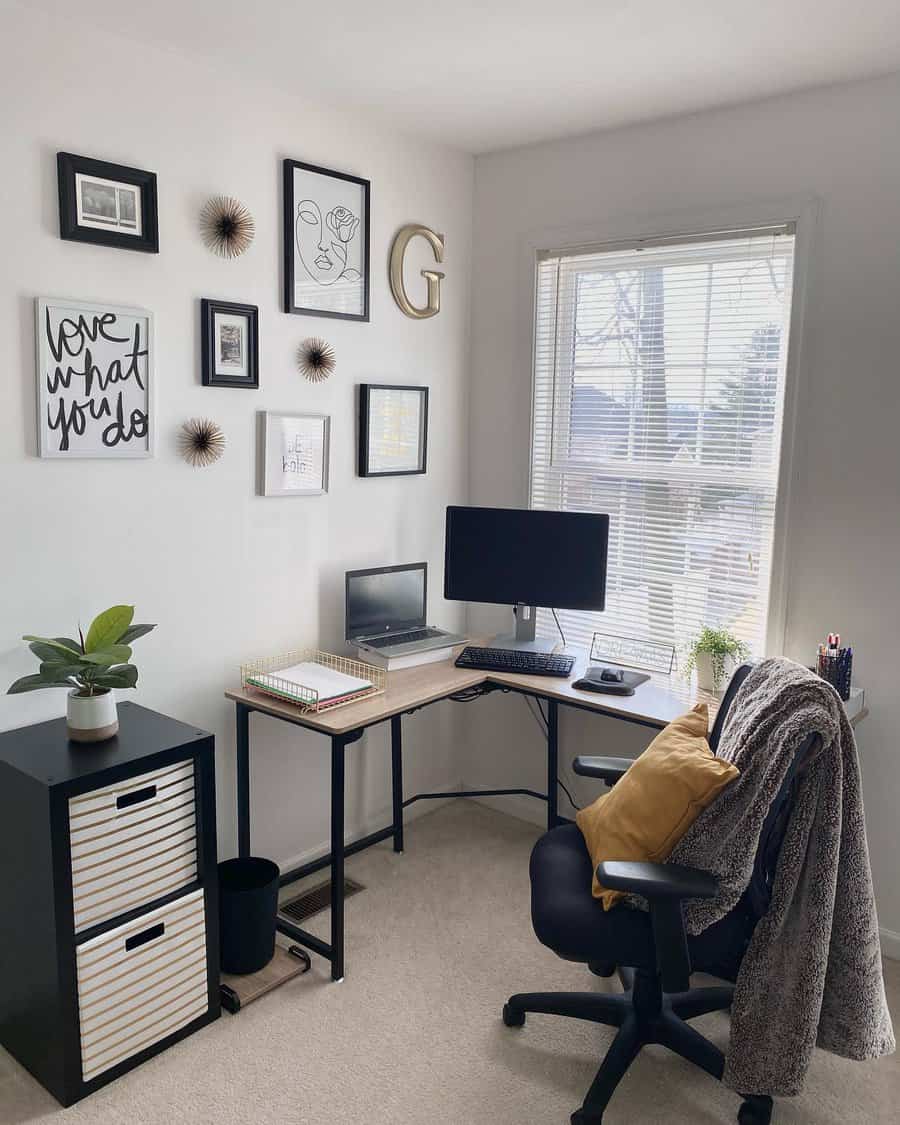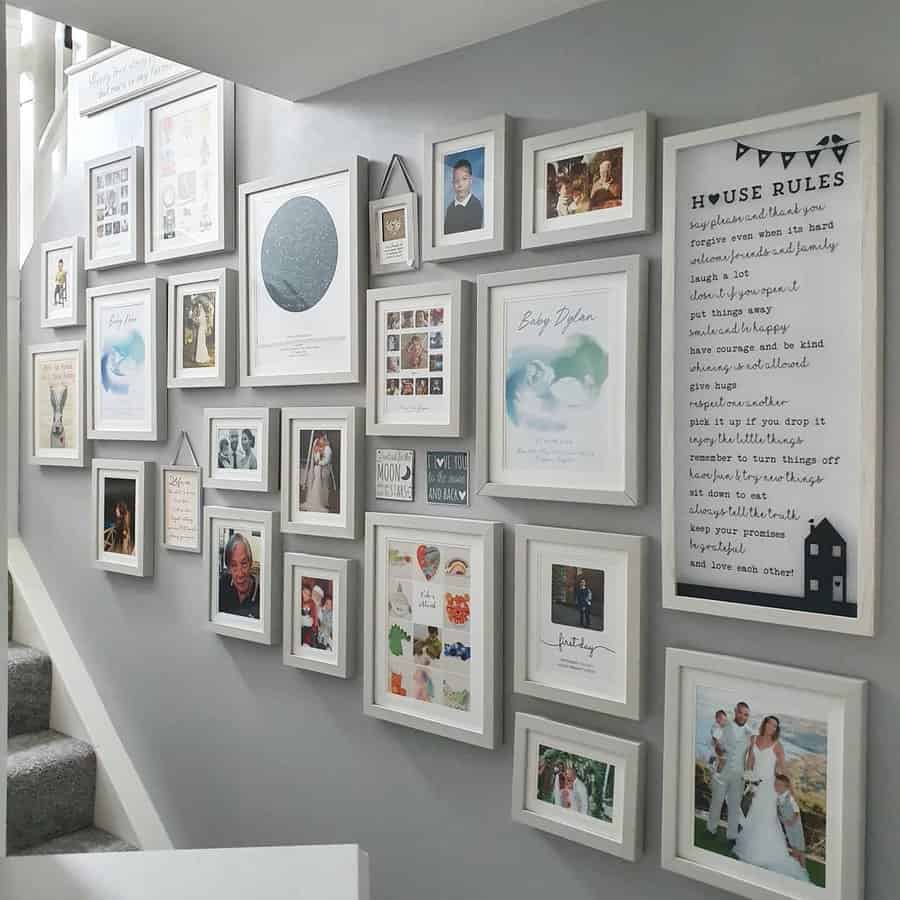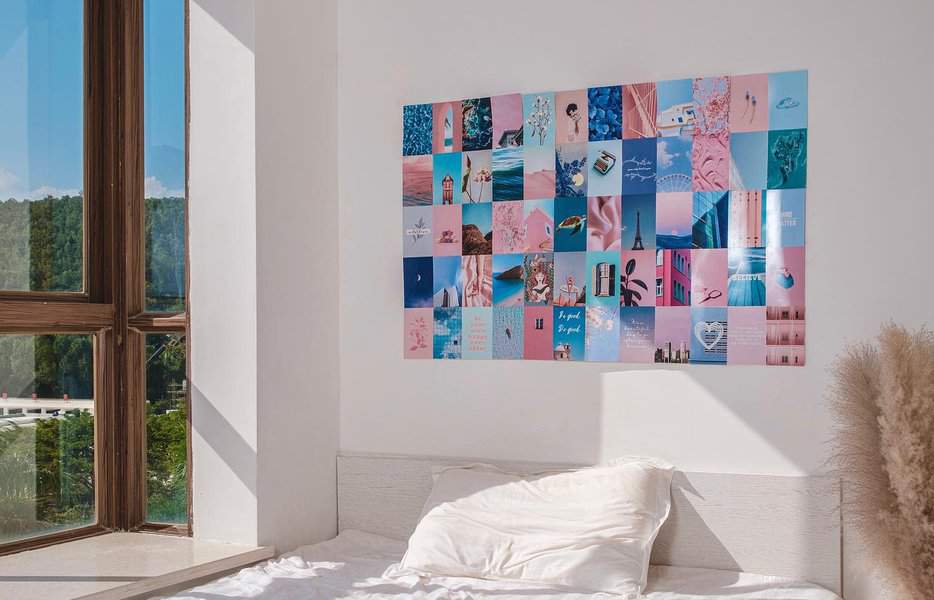 8. Gold Frames Add a Glamorous Touch
Gold frames infuse spaces with a luxurious vibe. Combine varying frame sizes and shapes, opting for symmetry for elegance or an eclectic mix to reflect individuality. Complement the golden allure with mirrored or metallic accents, perhaps a decorative vase. Design a collage that becomes a focal point, embodying your taste for refined opulence.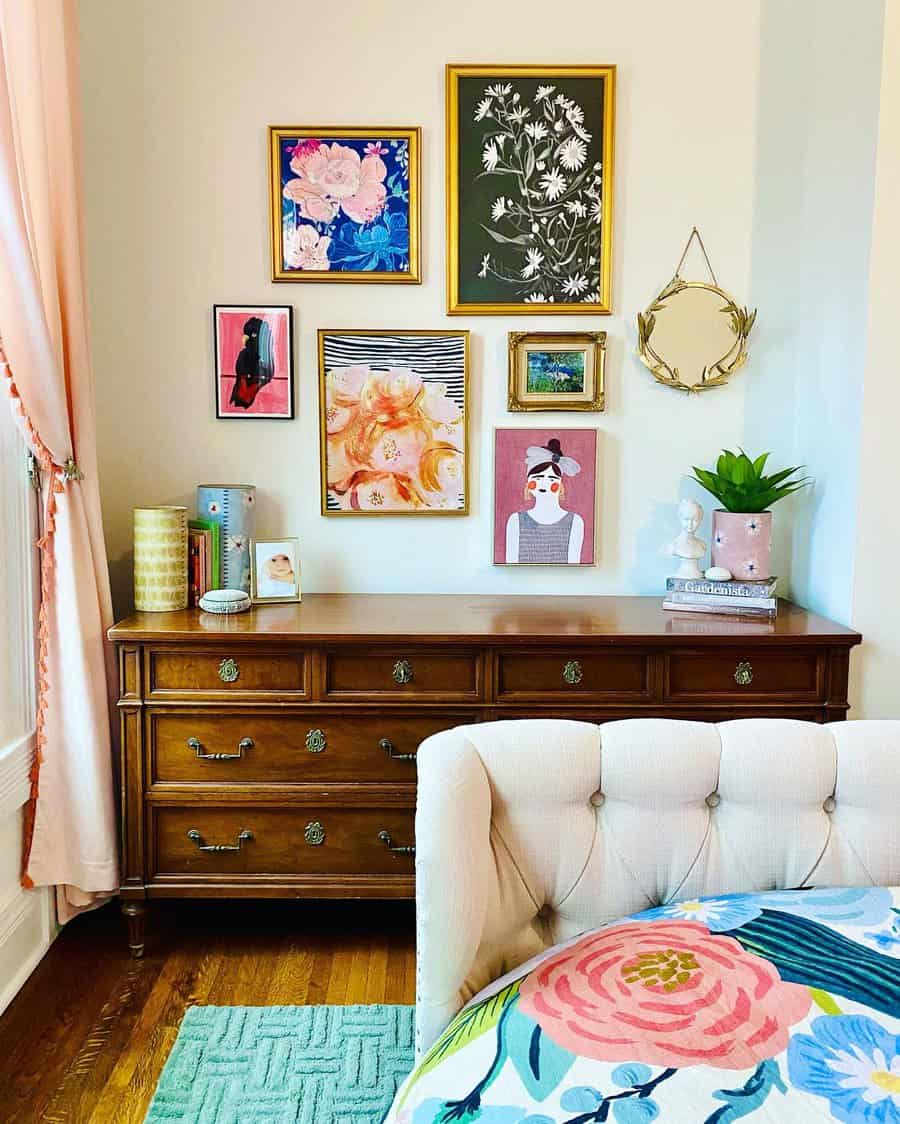 9. Family Collages Keep Memories Alive
Family collages immortalize cherished memories and bonds. Mix frame sizes and shapes, spotlighting pivotal moments alongside candid captures. Integrate personal keepsakes, from handwritten notes to favorite quotes, amplifying the collage's sentimental value. Positioned thoughtfully, it becomes a heartwarming testament to your family's shared journey and love.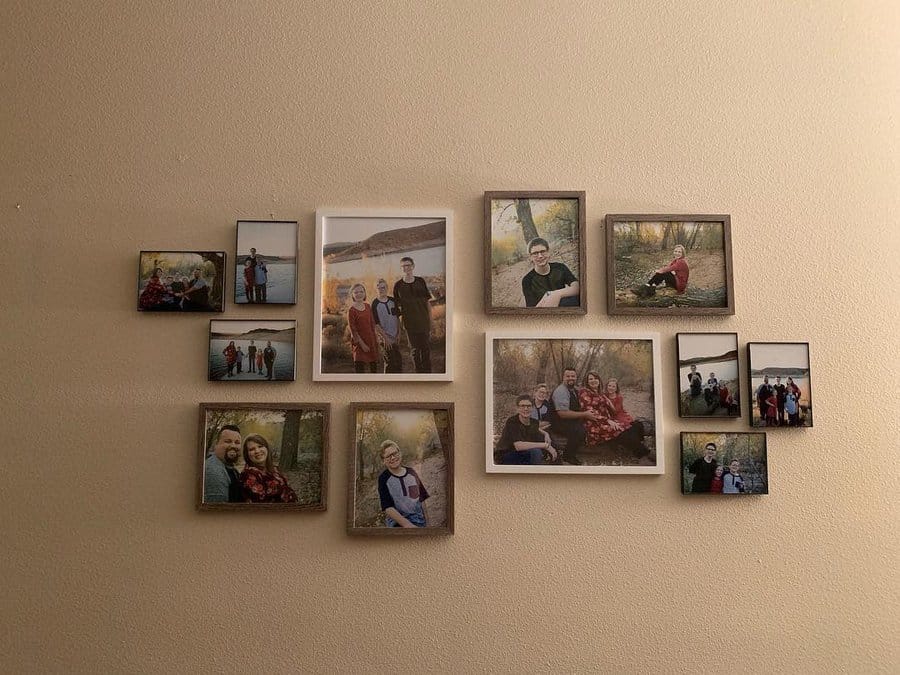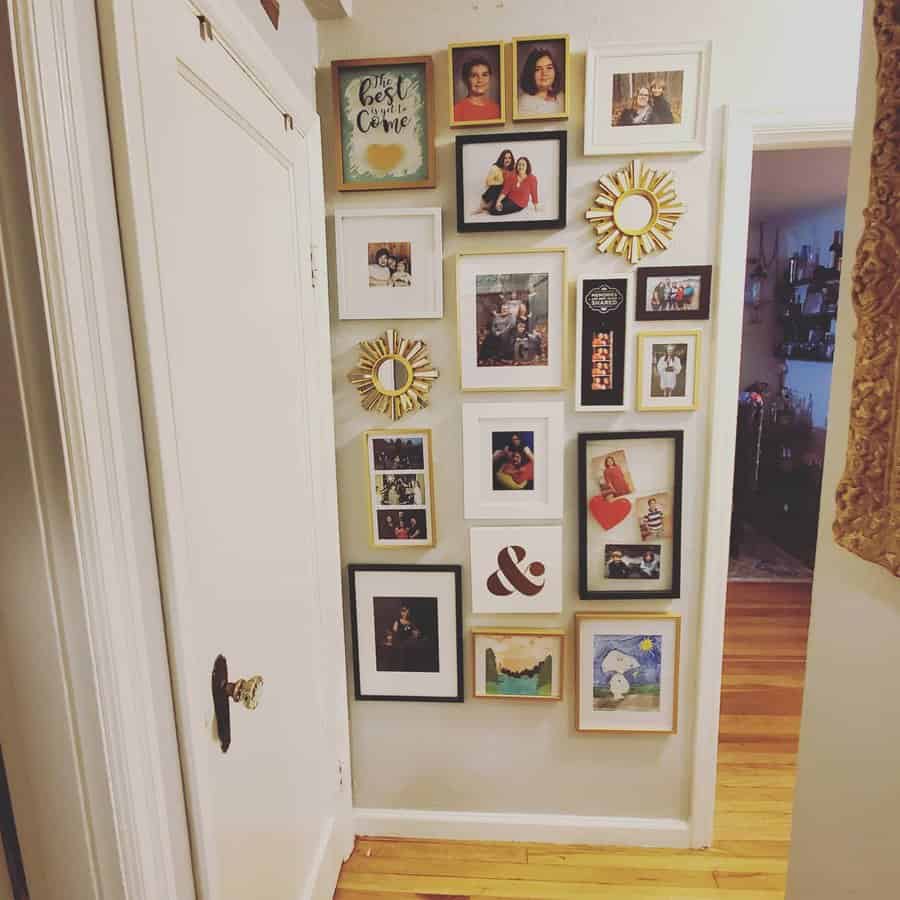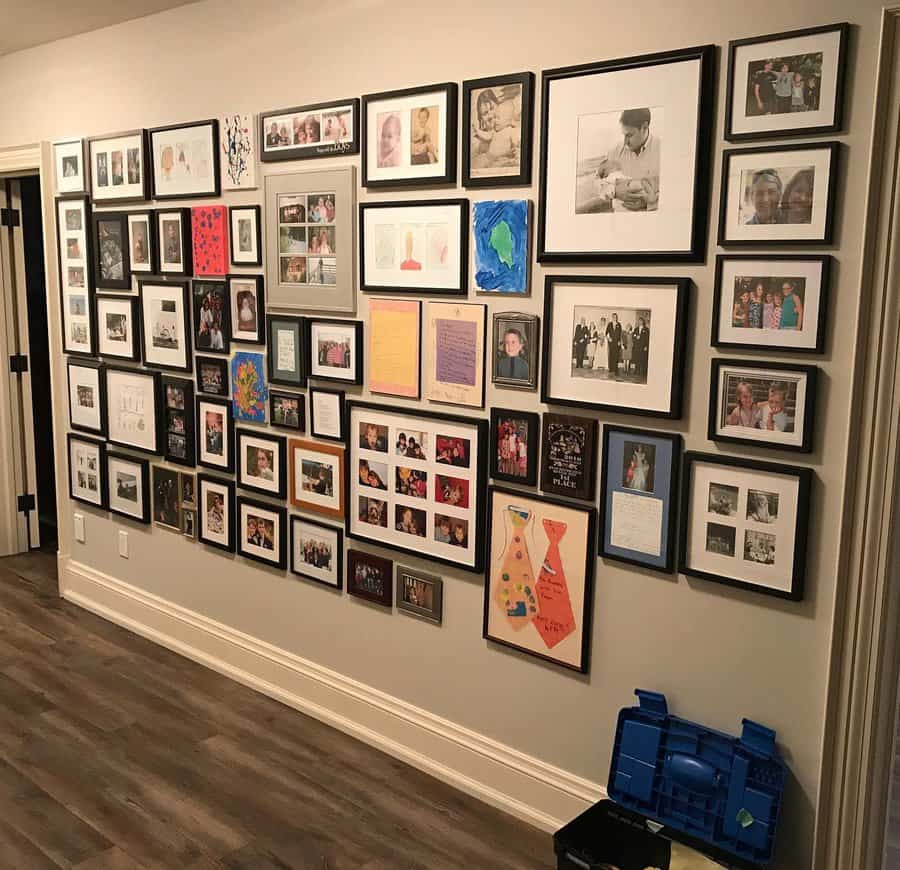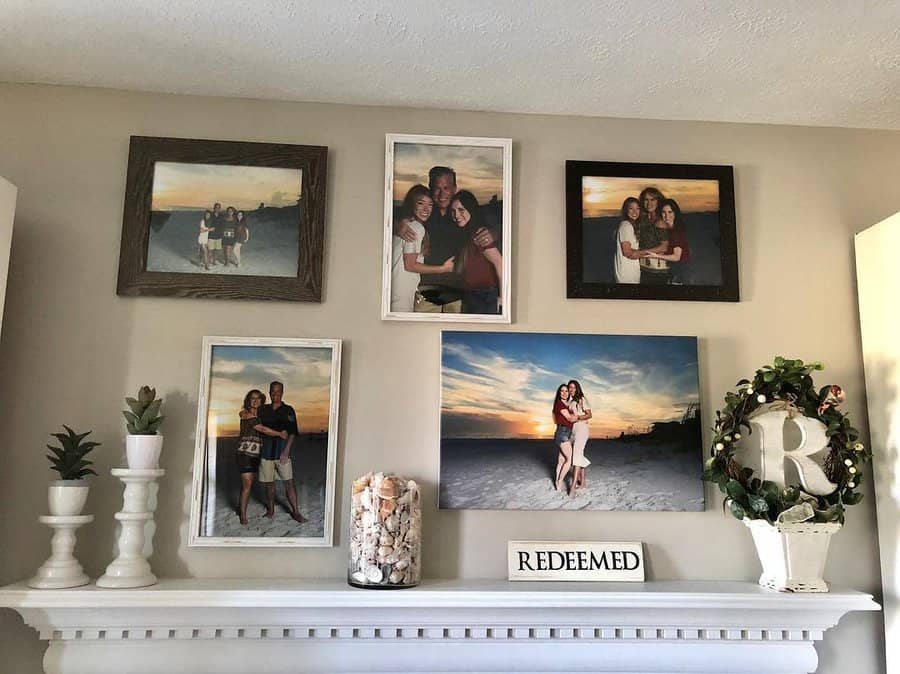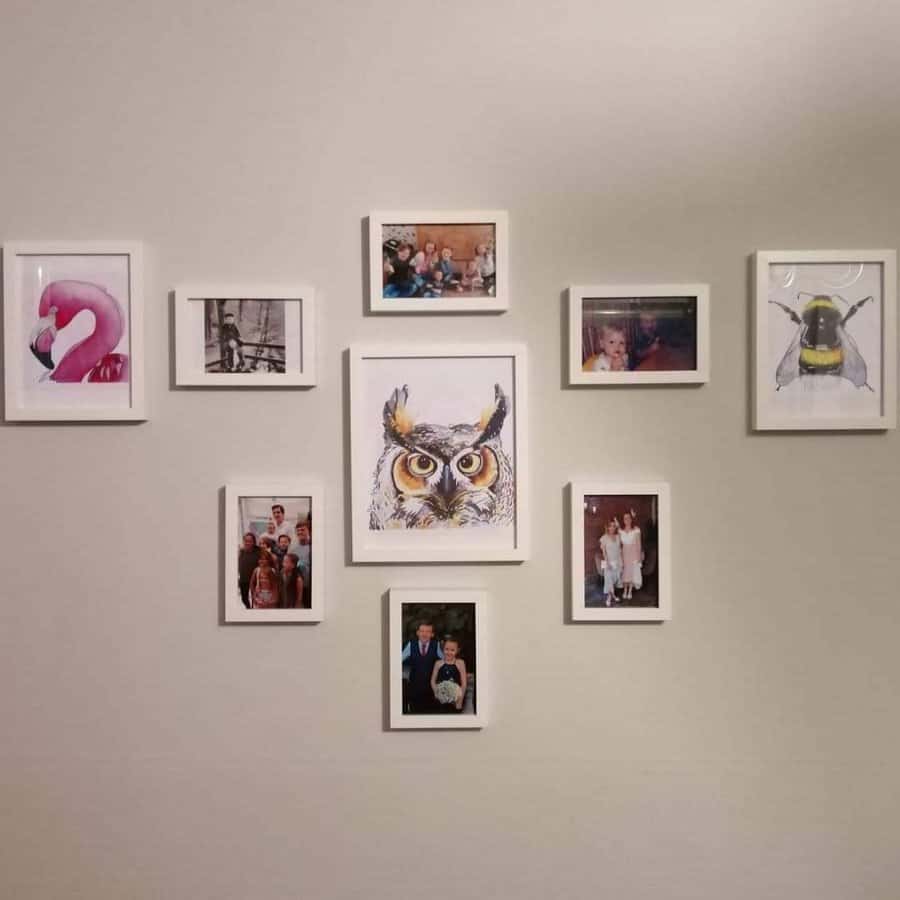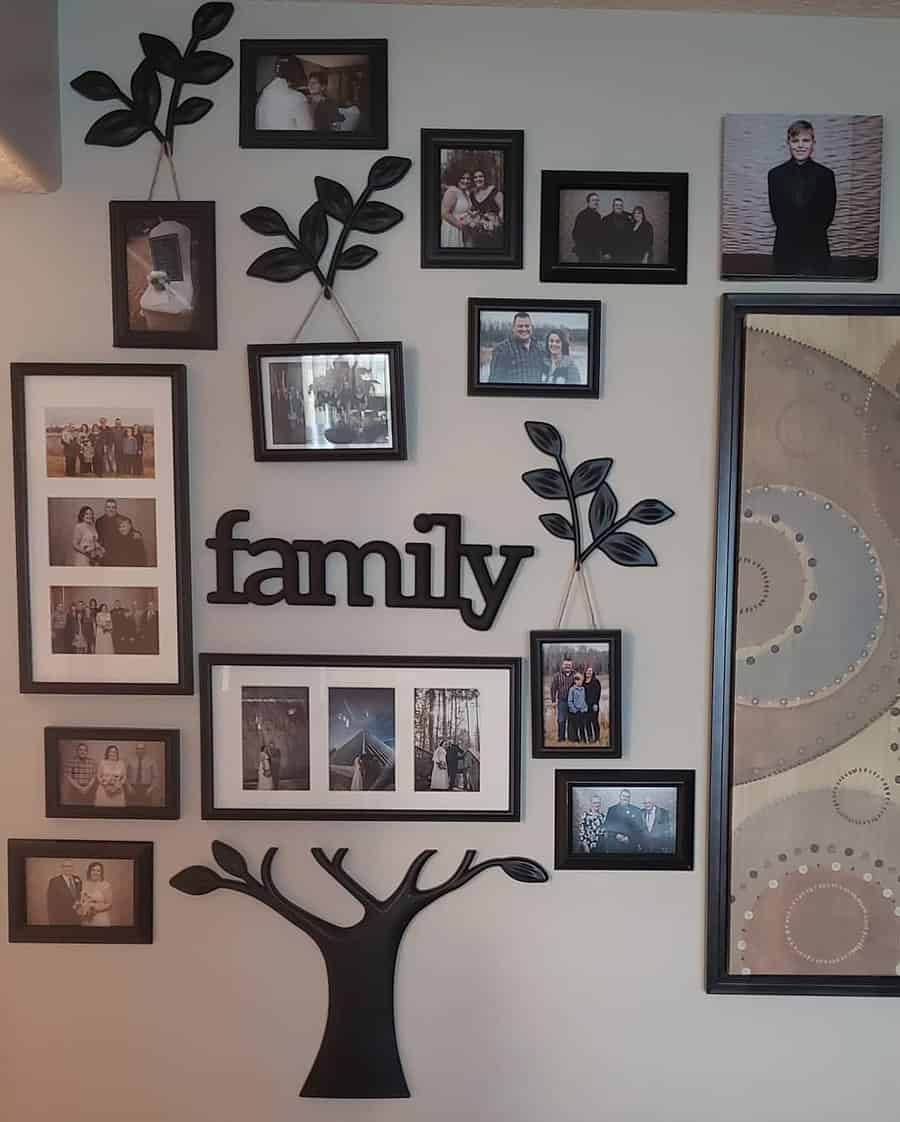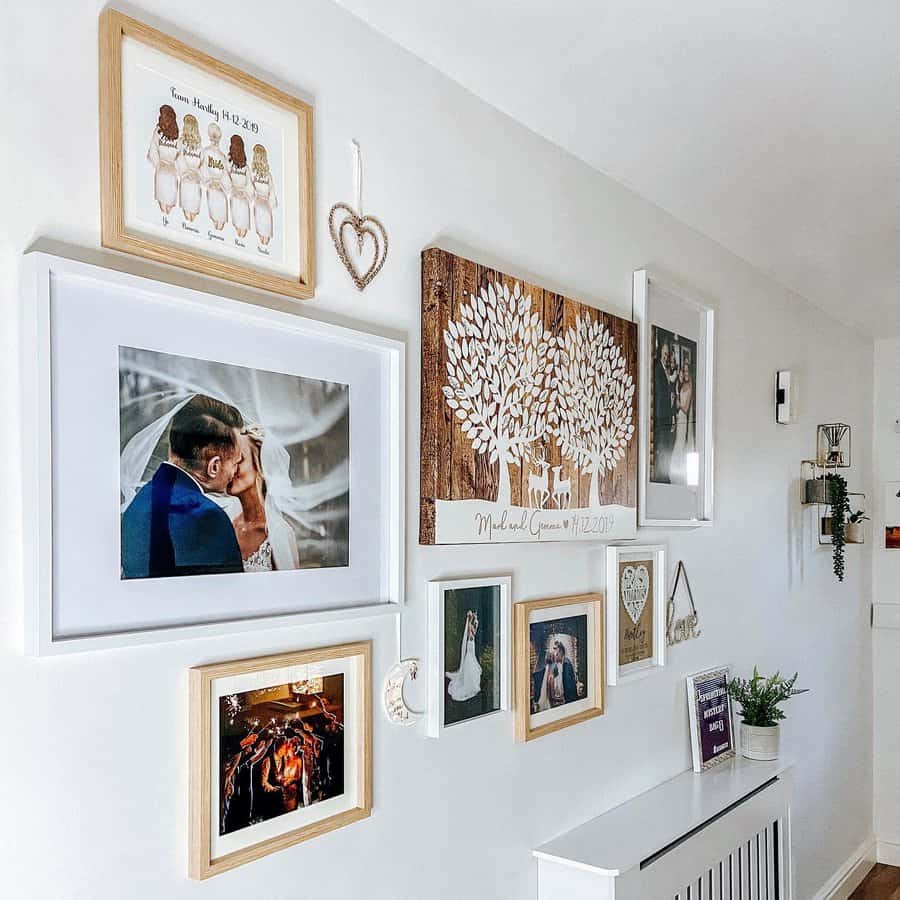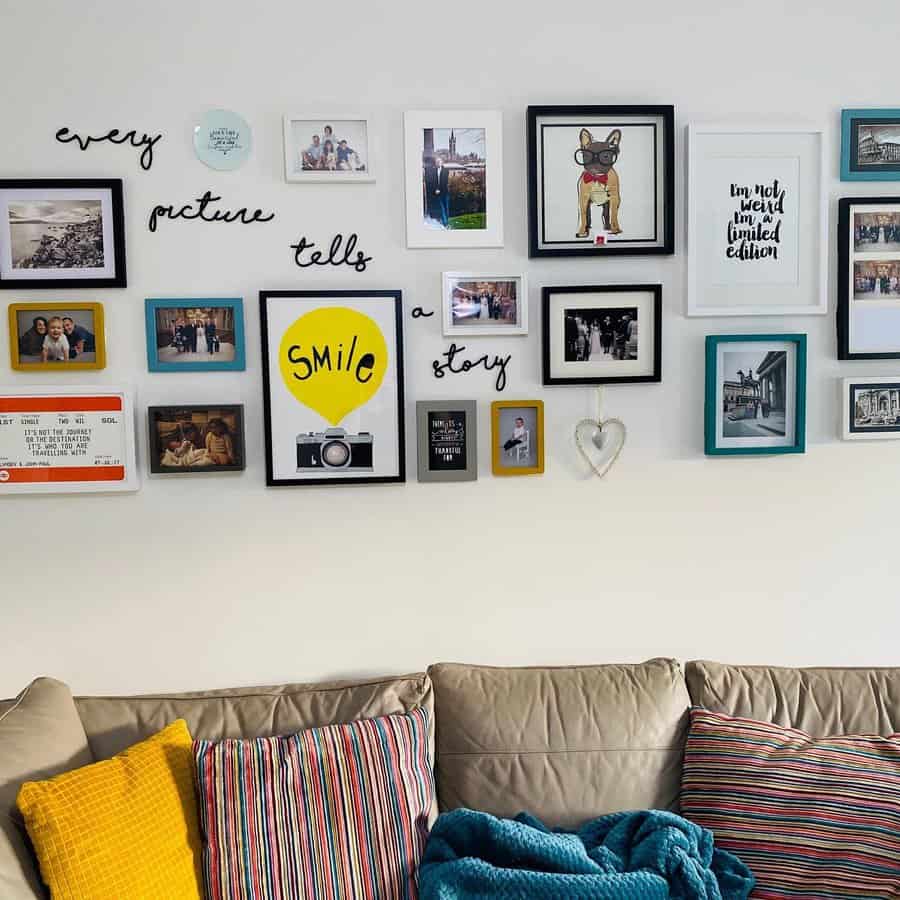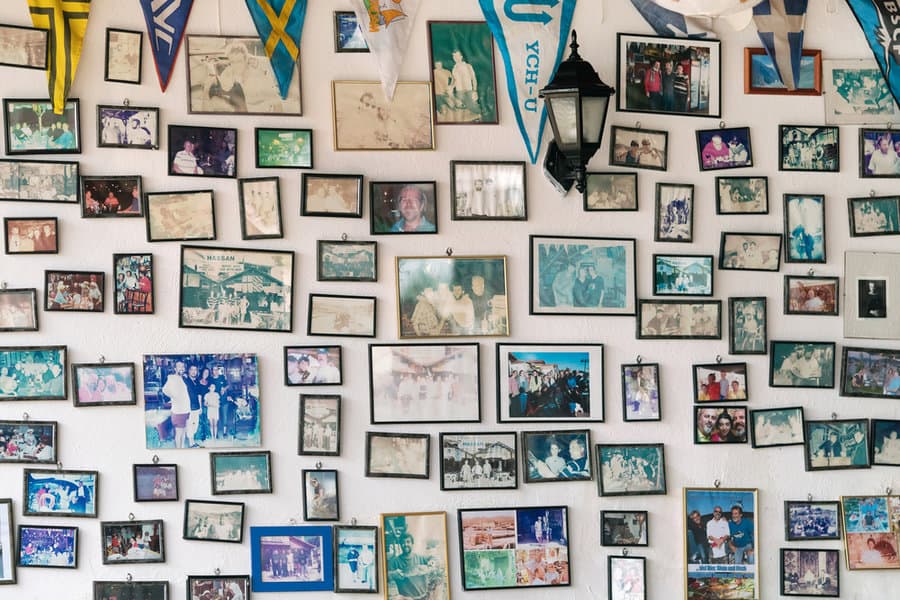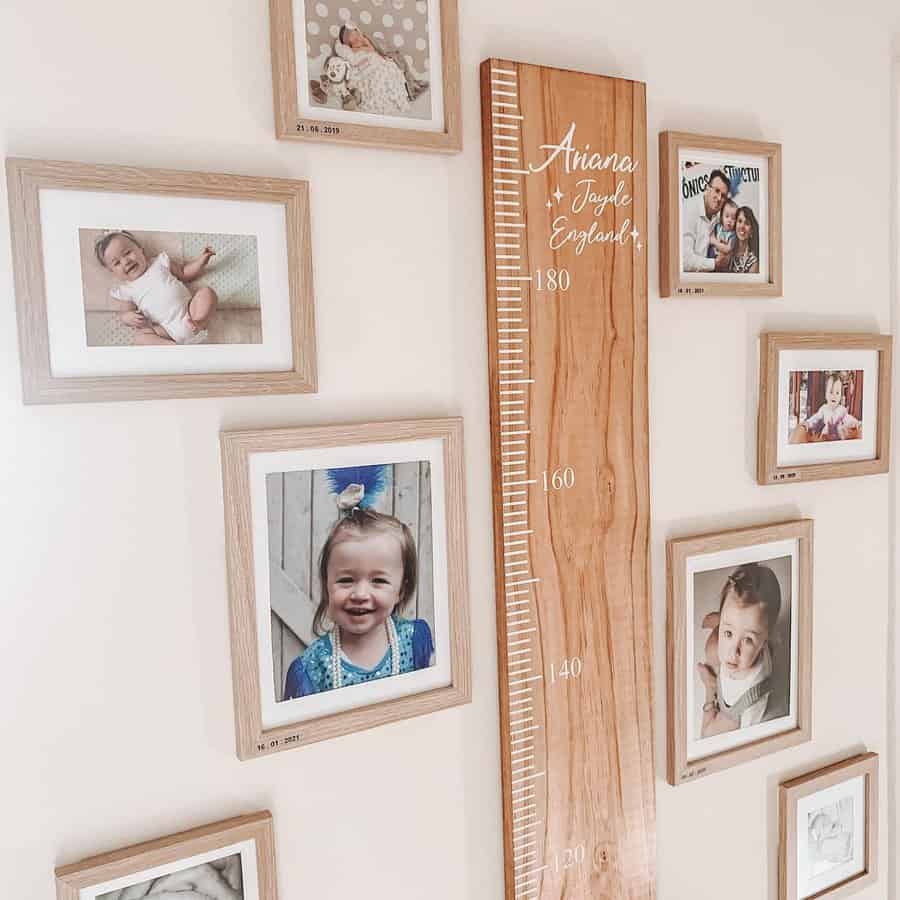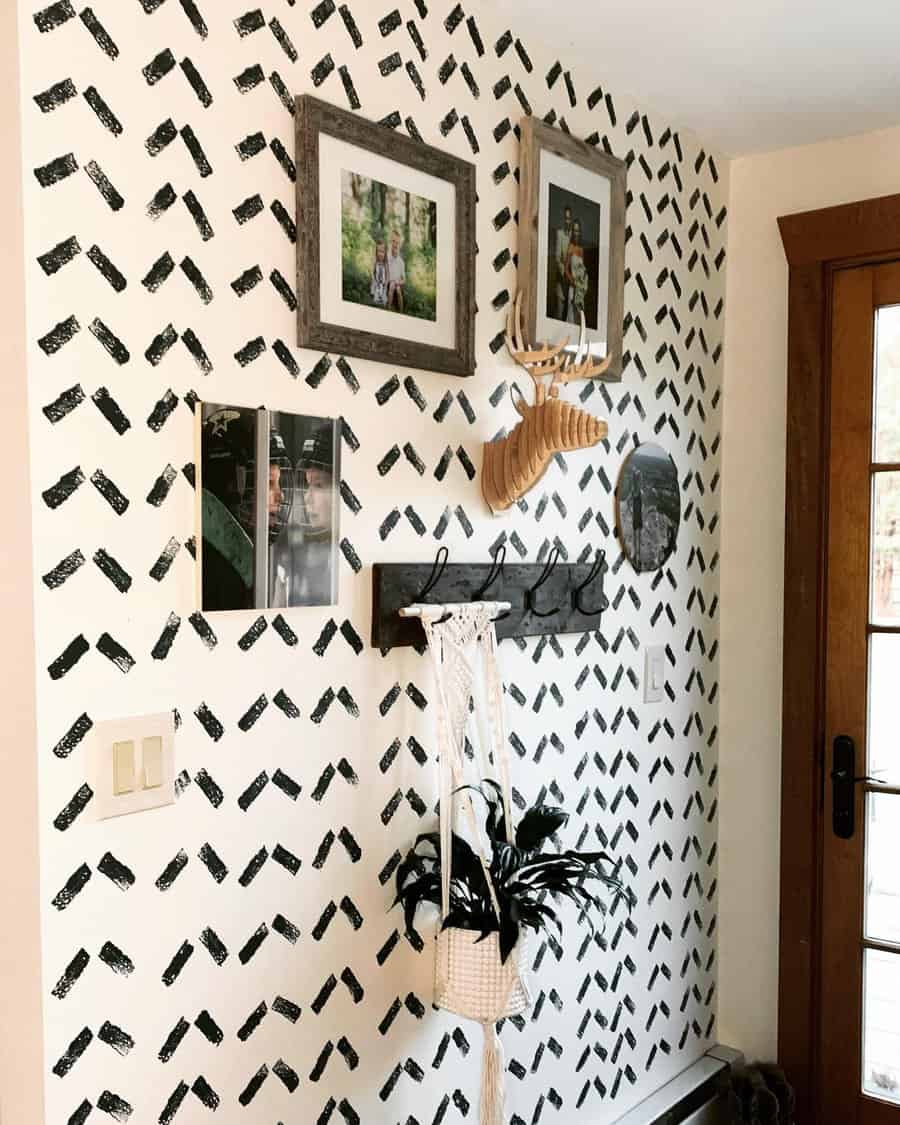 10. Wood Art Warms Up Walls
Wood art provides a rich palette of decorative options. Design a collage, starting with a standout piece and adding varied wooden elements for texture and depth. Play with different wood tones and finishes. The rustic charm of wood art imbues spaces with a comforting elegance, making any room feel both intimate and stylish.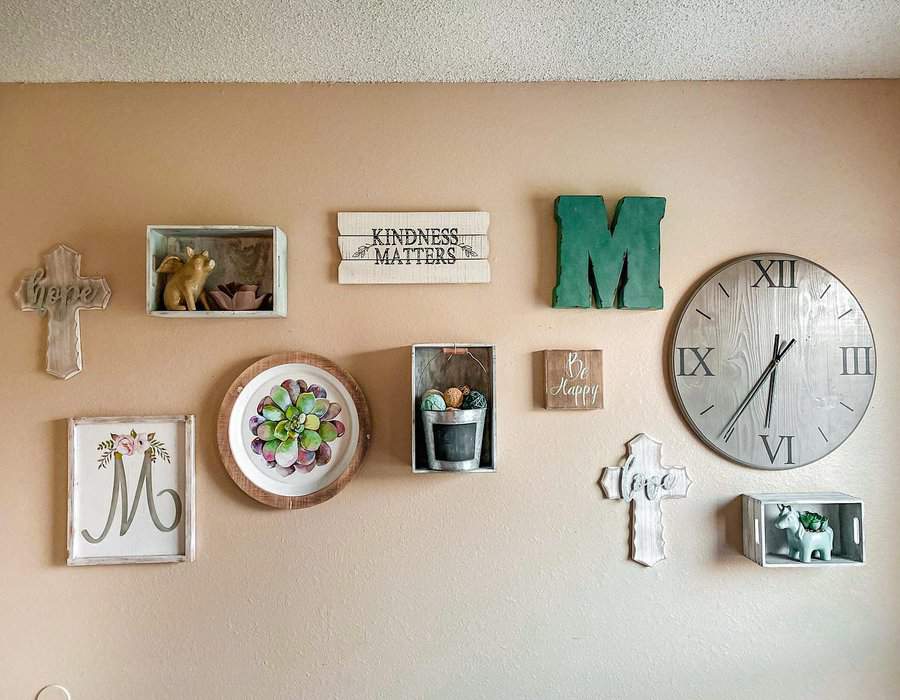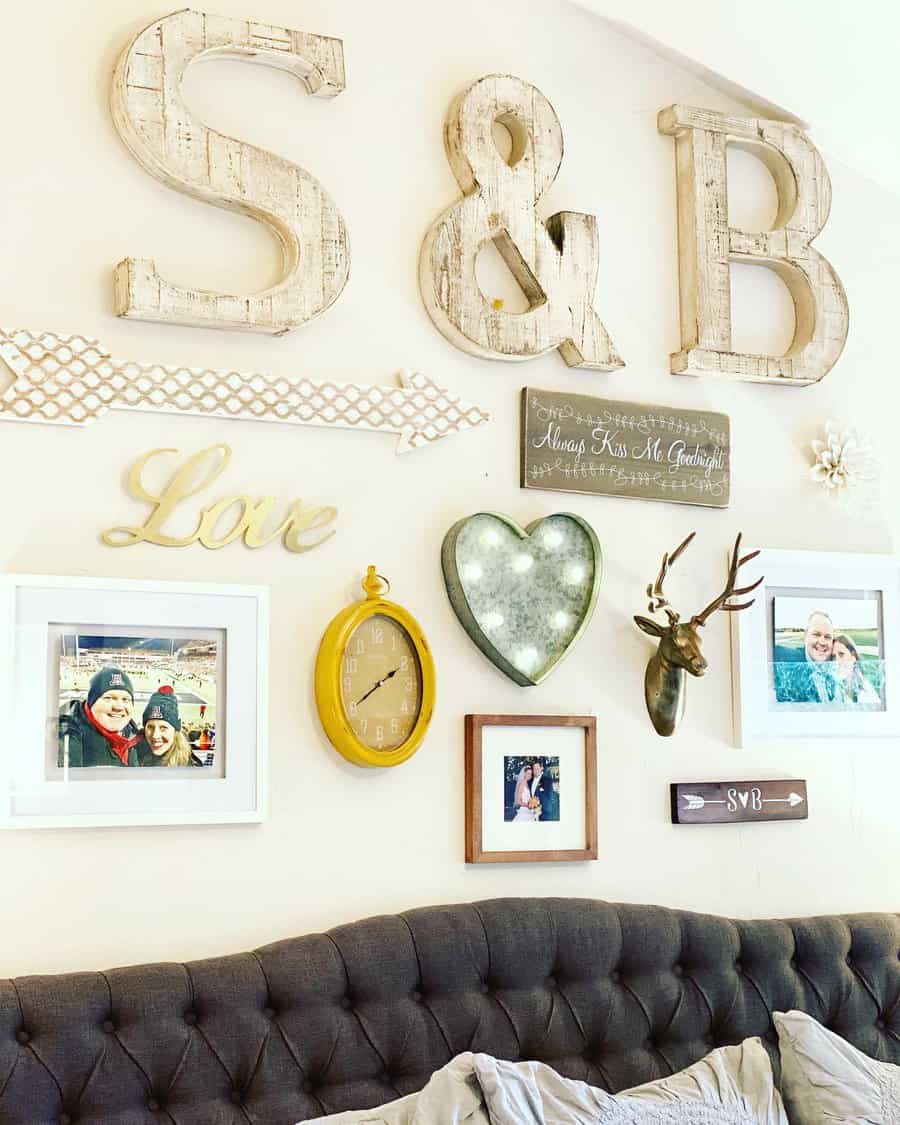 11. Empty Frames Stir Intriguing Mysteries
Using varied frames, like weathered wood or vintage designs, creates a storytelling tapestry. Embrace their empty spaces as imaginative canvases, allowing viewers to fill in their narratives. Introduce dried botanicals or decorative elements for added intrigue. This collage approach fosters a textured display that engages both the eye and imagination.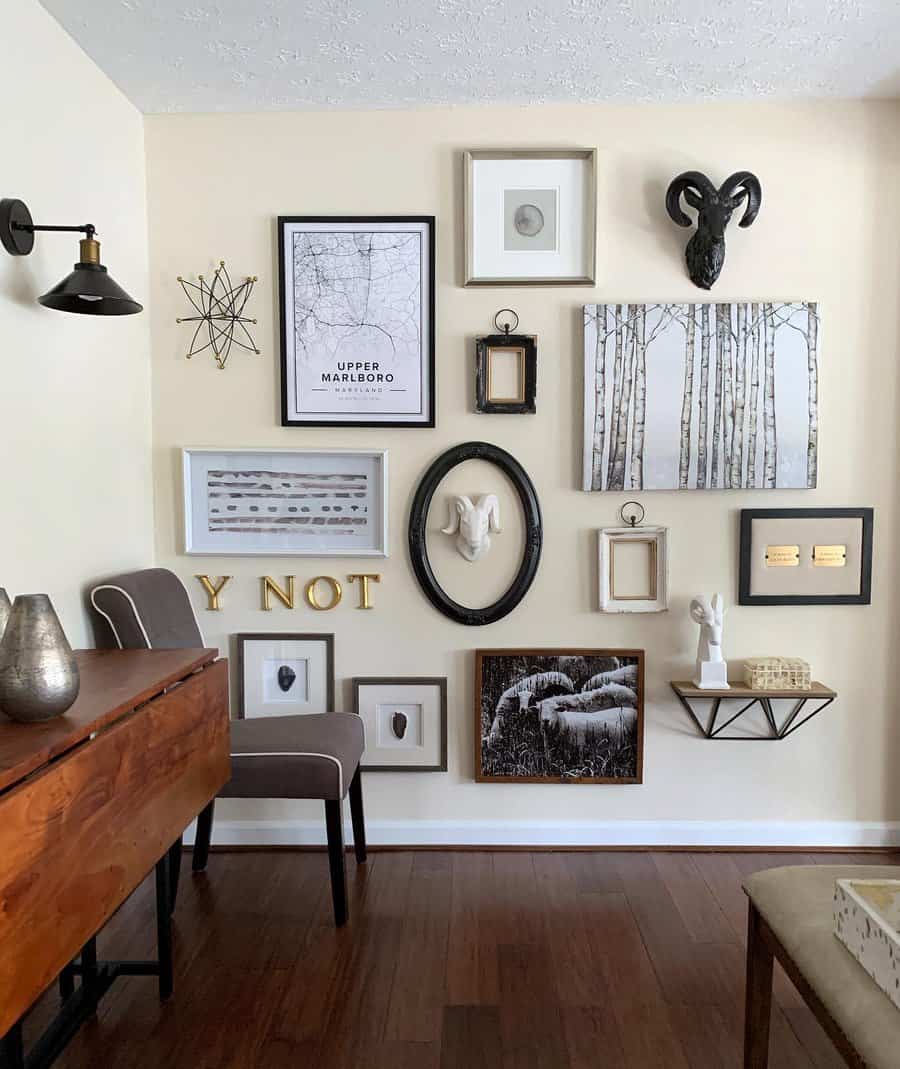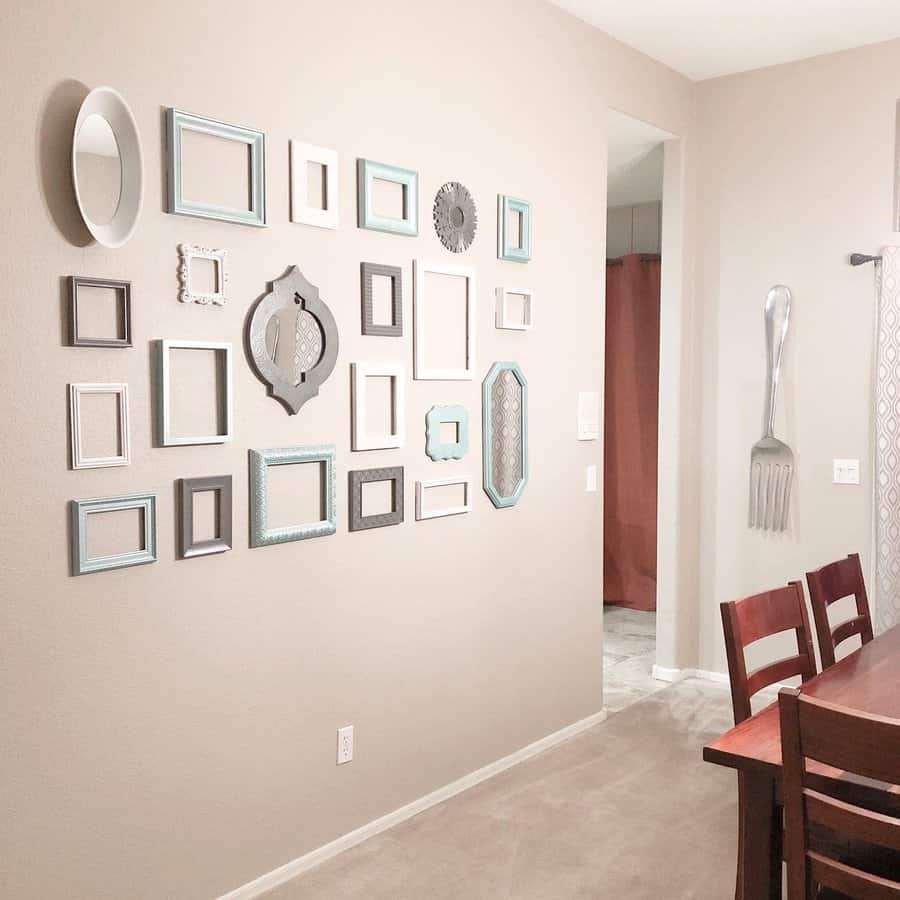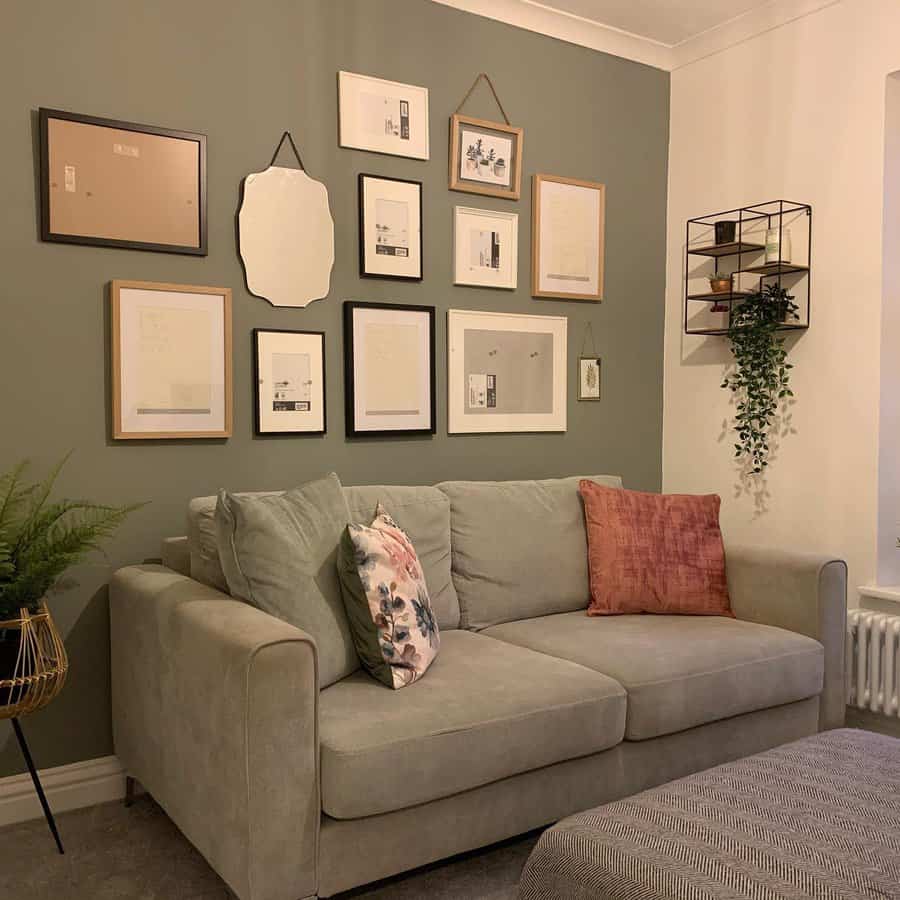 12. Weave Magic with Handcrafted Art
Handcrafted woven pieces like macramé or tapestries lend walls a tactile elegance. Mix sizes and designs while pairing with photos or mirrors for a dynamic display. Thoughtfully curated, woven art captivates and sparks dialogue, ensuring your space resonates with warmth and creativity.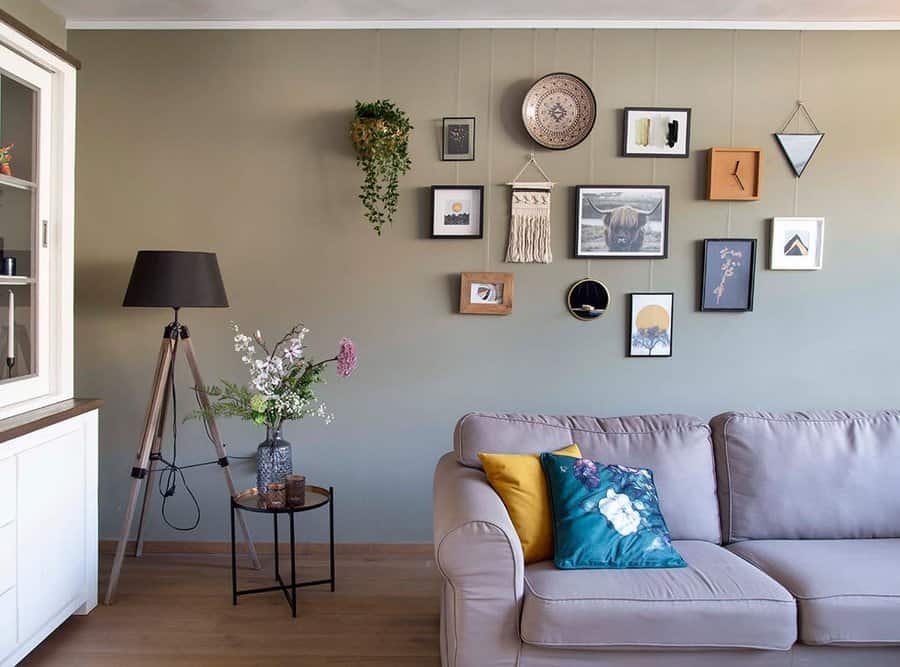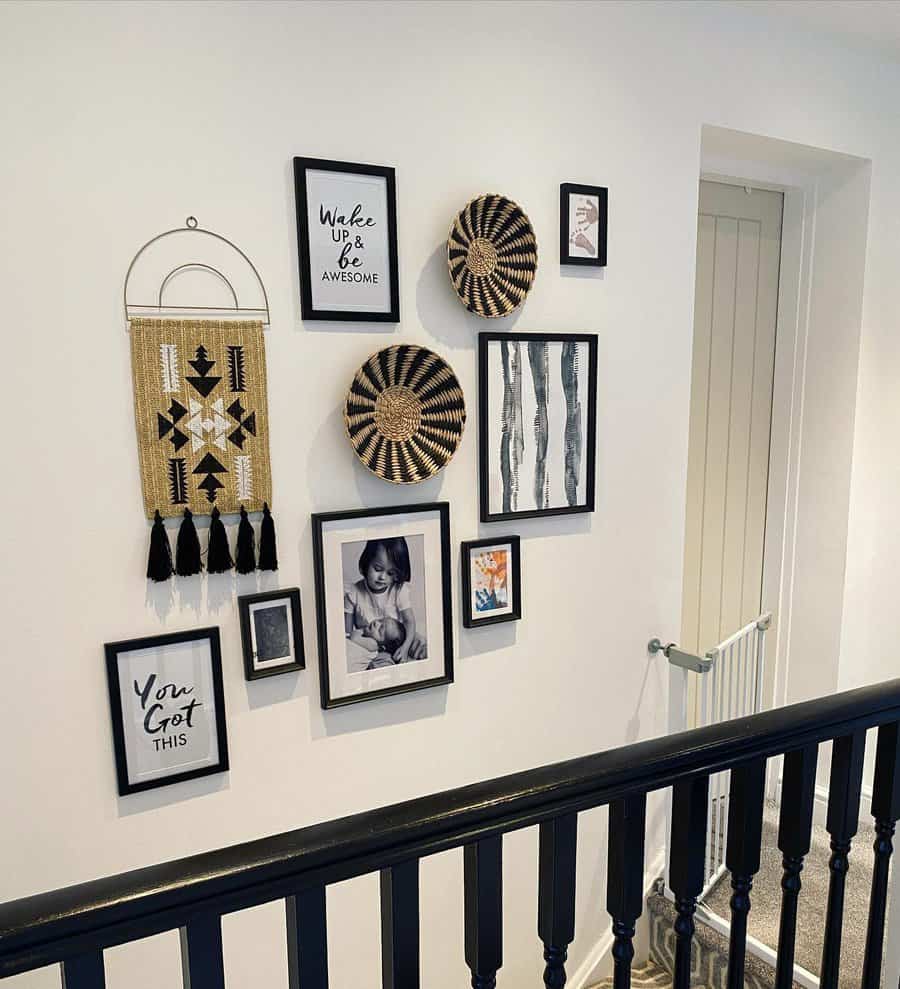 13. Vintage Keepsakes Recall Treasured Moments
Curate a wall with timeless relics, blending family photos with antique collectibles. Pair these mementos with vintage artwork, weaving a rich historical narrative. Arrange in structured grids or organic placements, creating a wall that serves as a historical gateway, exuding nostalgia and sparking rich conversations.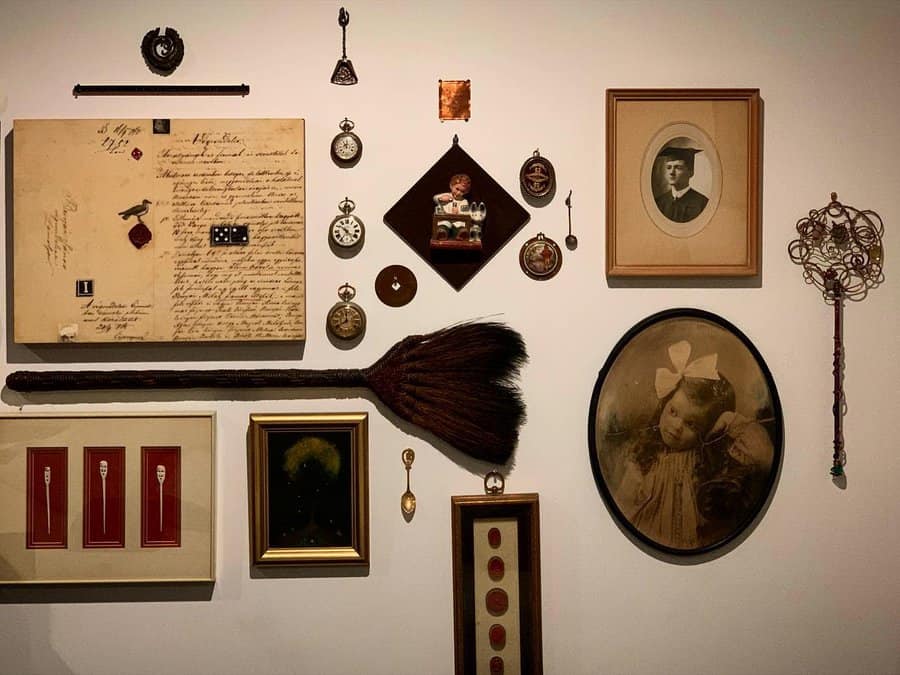 14. Monochrome Photos Capture Subtle Beauty
Black and white photographs weave memories into artful displays. Thoughtfully arrange these captures, opting for symmetry or a more organic feel. The monochrome theme elevates the imagery, blending sophistication with sentiment, ensuring the collage becomes a captivating centerpiece in any room.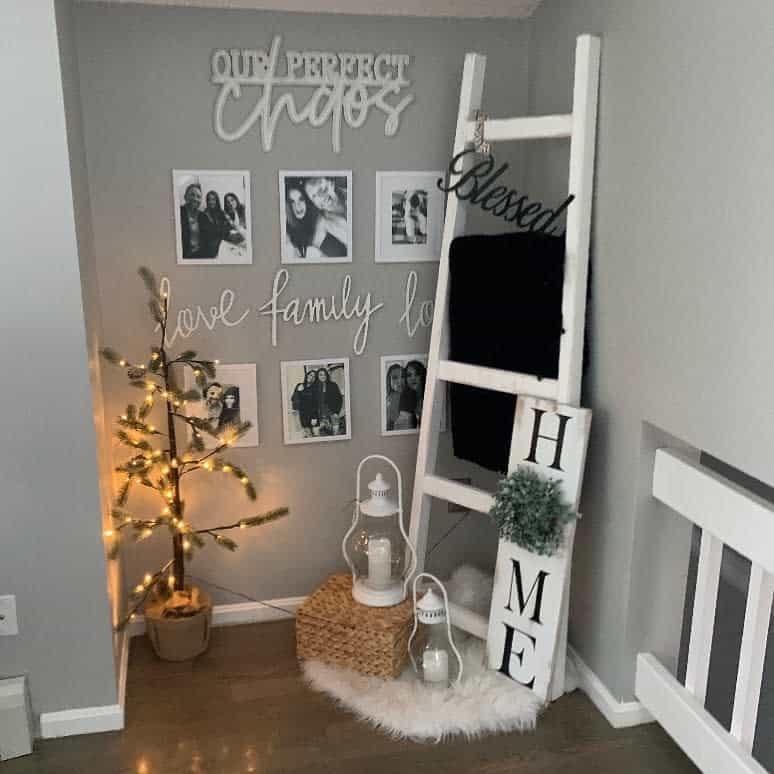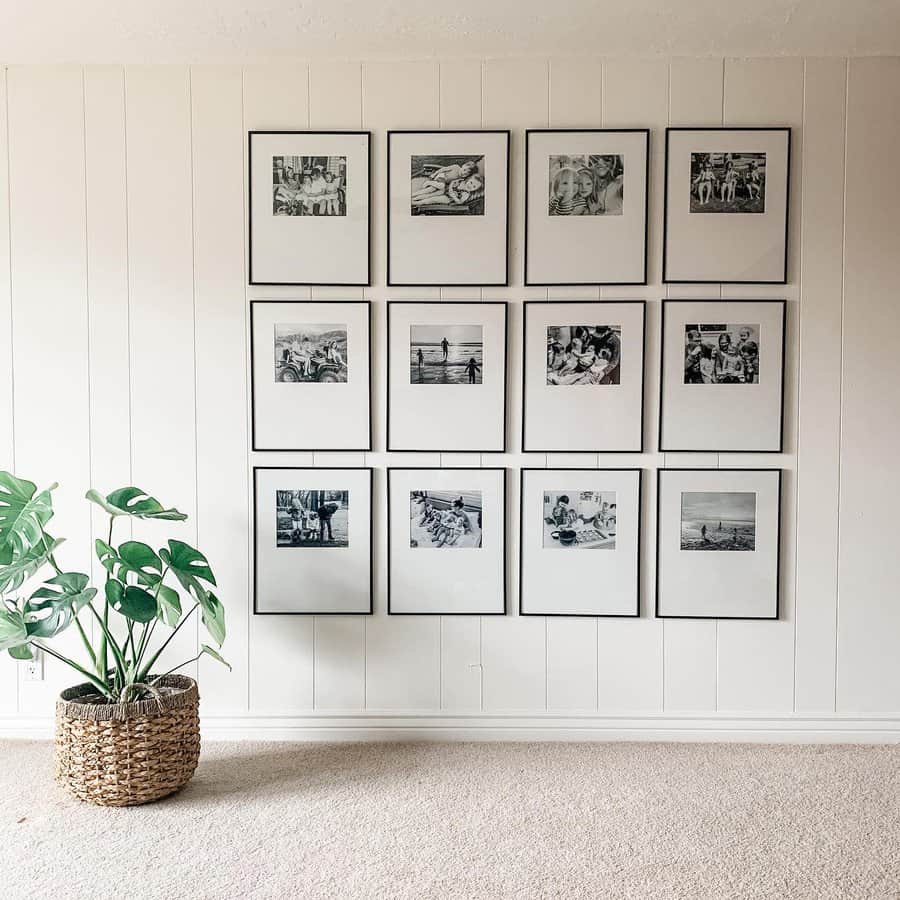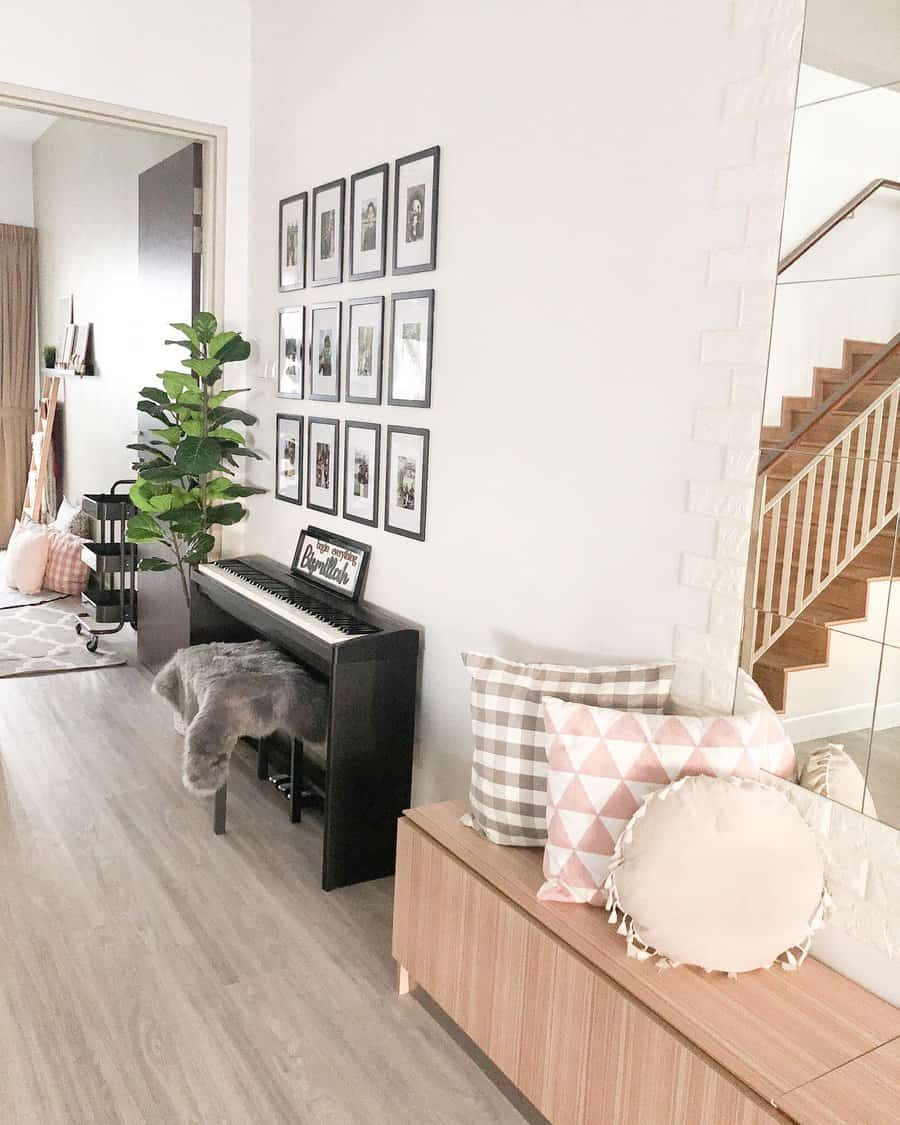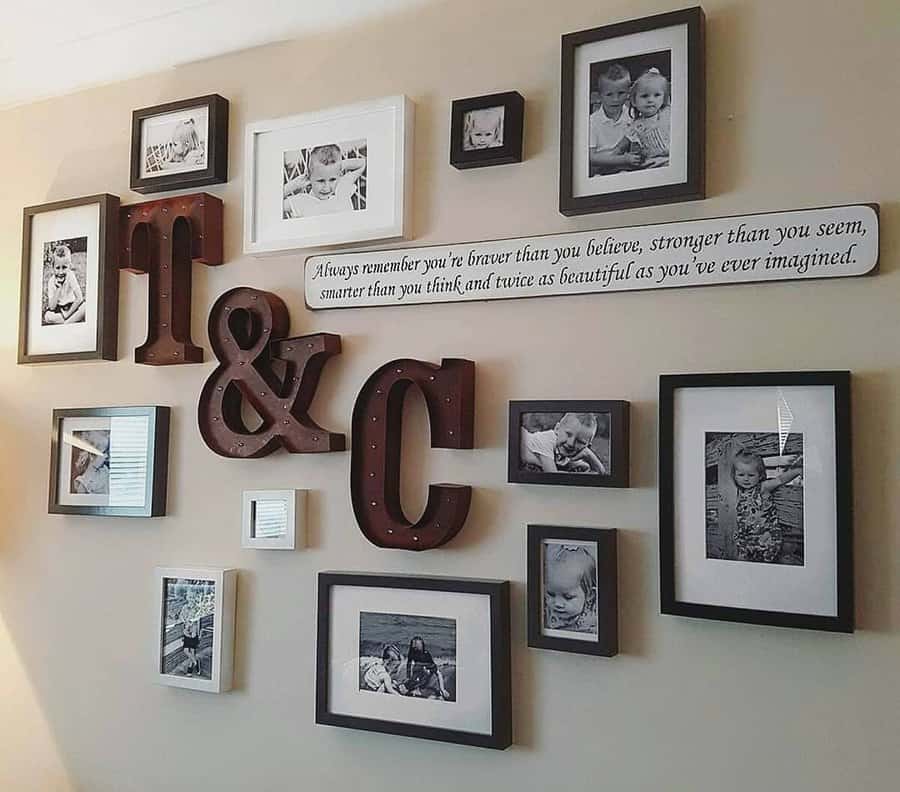 15. Wall Hangers Streamline Picture Placement
Utilize wall picture hangers for effortless and damage-minimized displays. Curate a blend of photos, art, or mementos, aligning them in structured grids or fluid layouts. Enhance the ensemble with mirrors, decals, or small shelves, introducing layers that enrich the wall's narrative and aesthetics.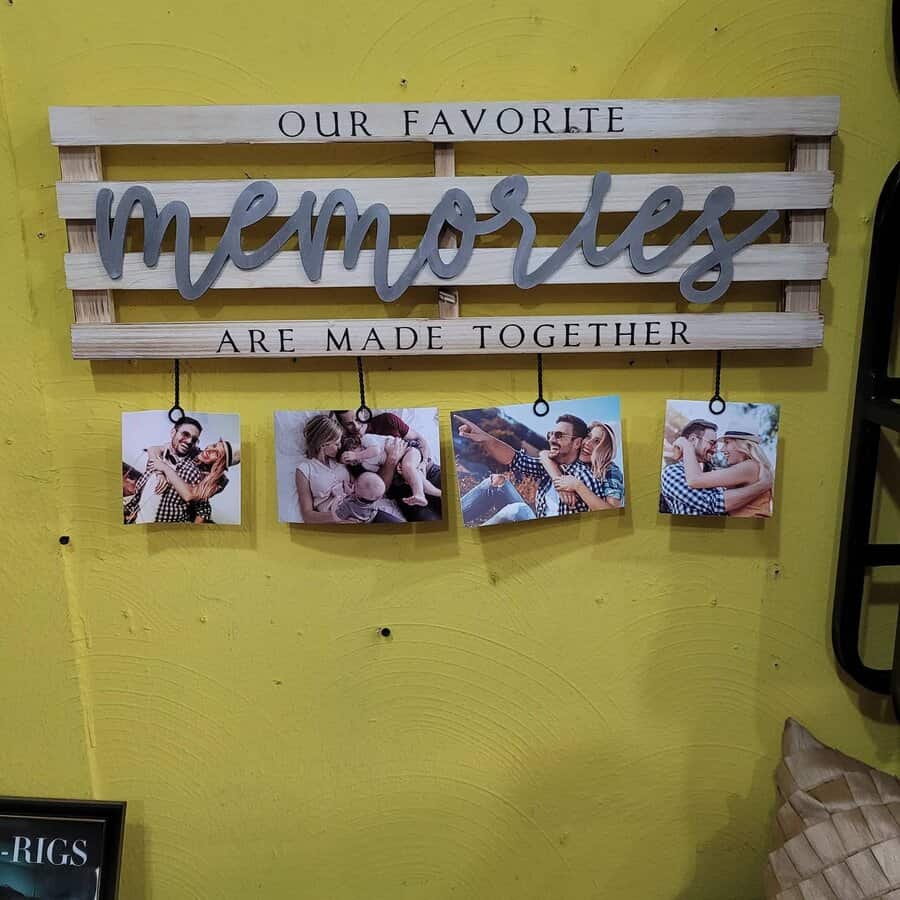 16. Hobby Walls Reflect Personal Passions
Dedicate wall space to your hobbies, showcasing memorabilia or instruments that echo your passion. Complement with action photos and hobby-centric quotes or art. This display becomes a mirror of your interests, crafting a unique centerpiece that tells a story of dedication and evokes shared interests with visitors.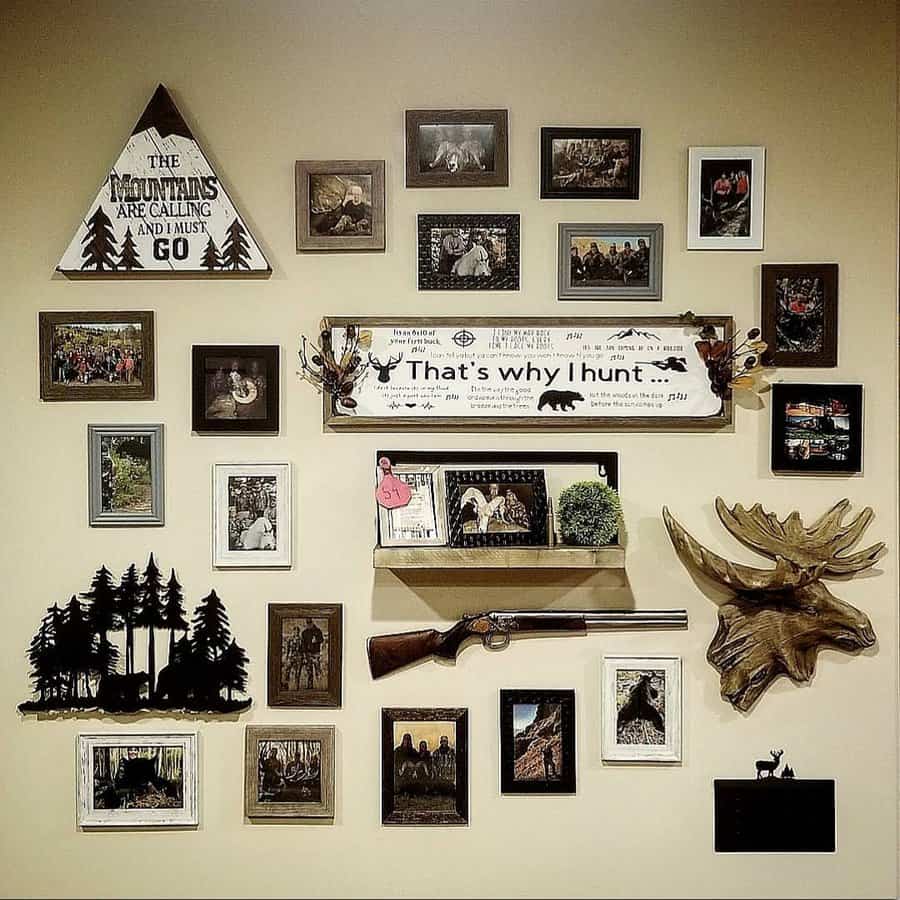 17. Staircase Collages Elevate Every Step
Make staircases captivating with a curated gallery, blending diverse frames and directions. Ensure the layout complements the staircase's rhythm, turning this often-overlooked space into an artful ascent. With each step, immerse in a narrative that's both personal and visually enchanting, merging aesthetics with everyday function.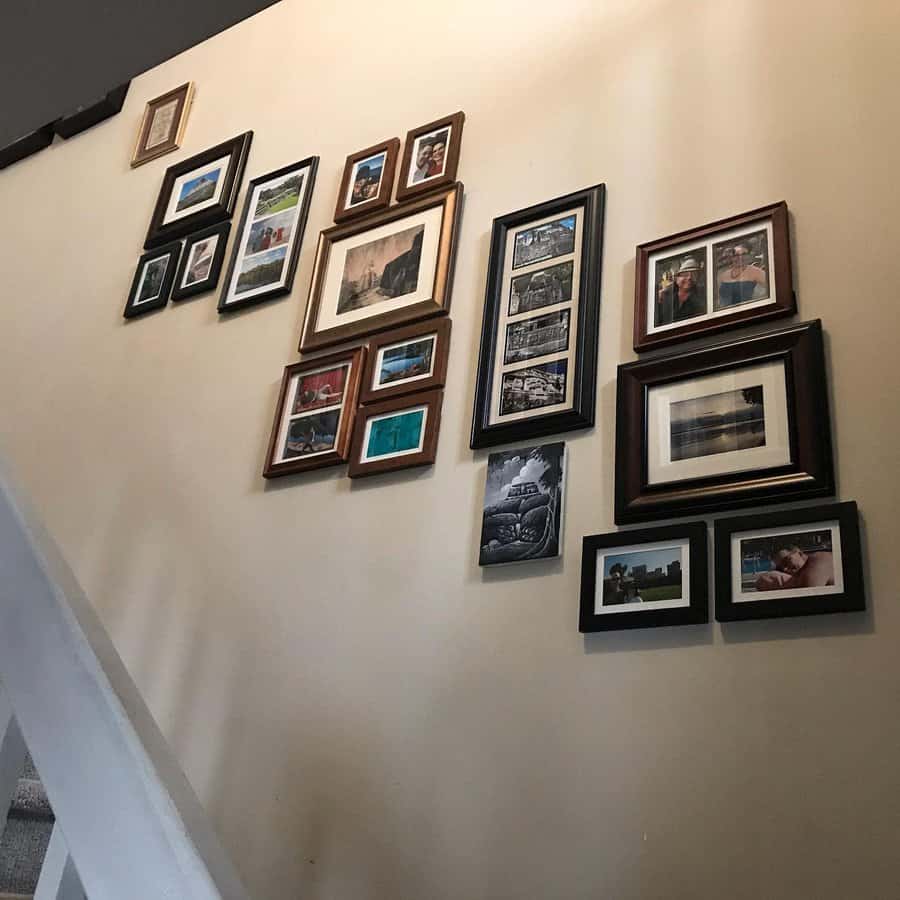 18. Travel Walls Fuel Your Wanderlust
Showcase travel adventures using photos of candid moments and breathtaking landscapes. Organize by timeline or region, and accentuate with maps, postcards, or souvenirs. Beyond mere decor, your travel wall ignites memories and stirs aspirations, standing as a testament to your exploratory spirit.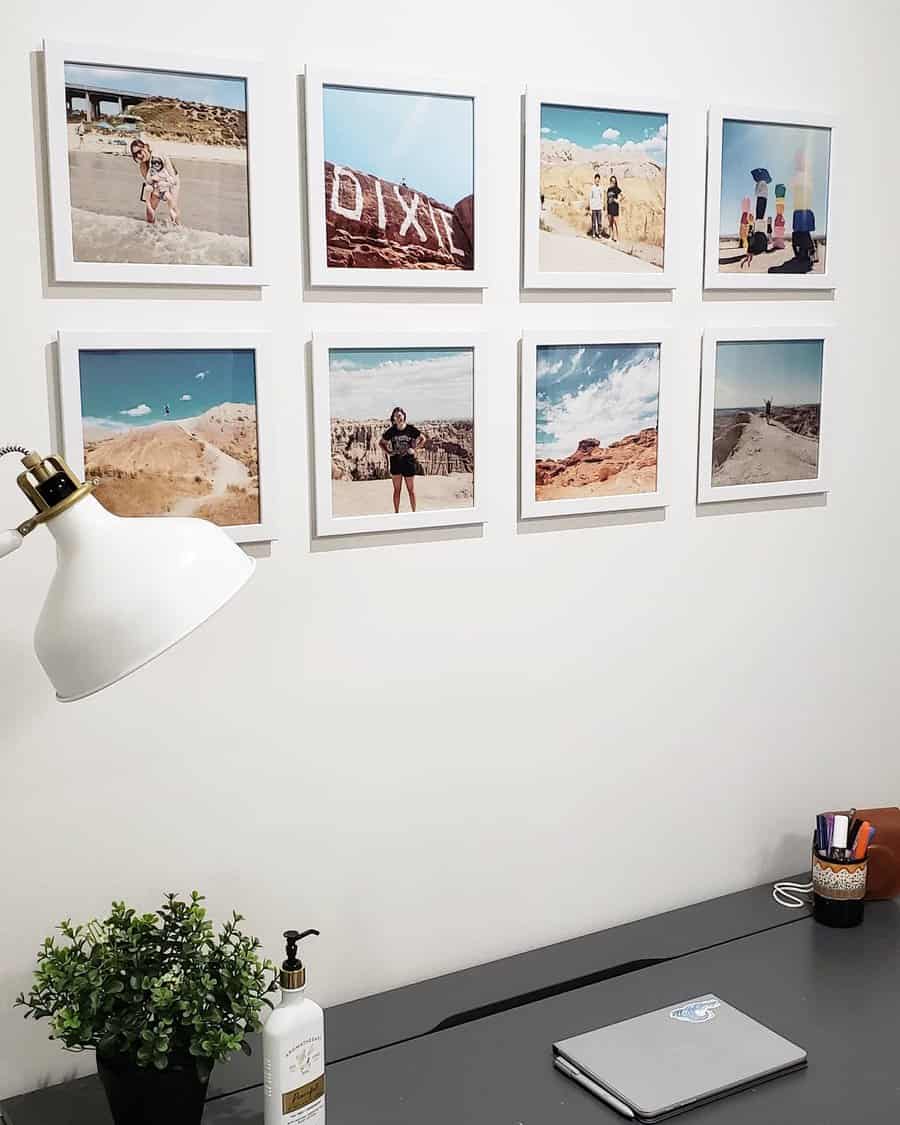 19. Botanical Art Celebrates Nature's Splendor
Blend botanical prints, from vibrant florals to detailed sketches, for a lush display. Enhance the collage with pressed flowers, botanical postcards, or even petite potted plants. Your botanical wall becomes a tranquil centerpiece, encapsulating nature's allure and bringing serenity to your space.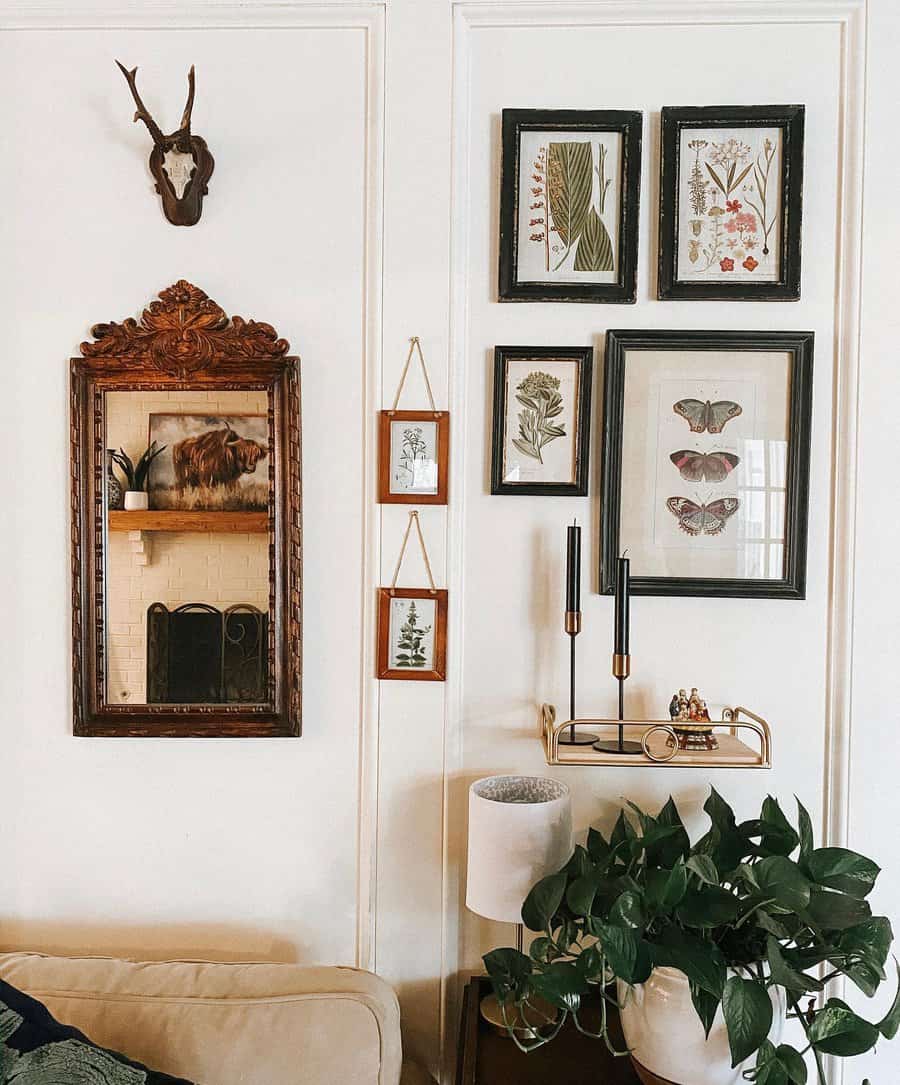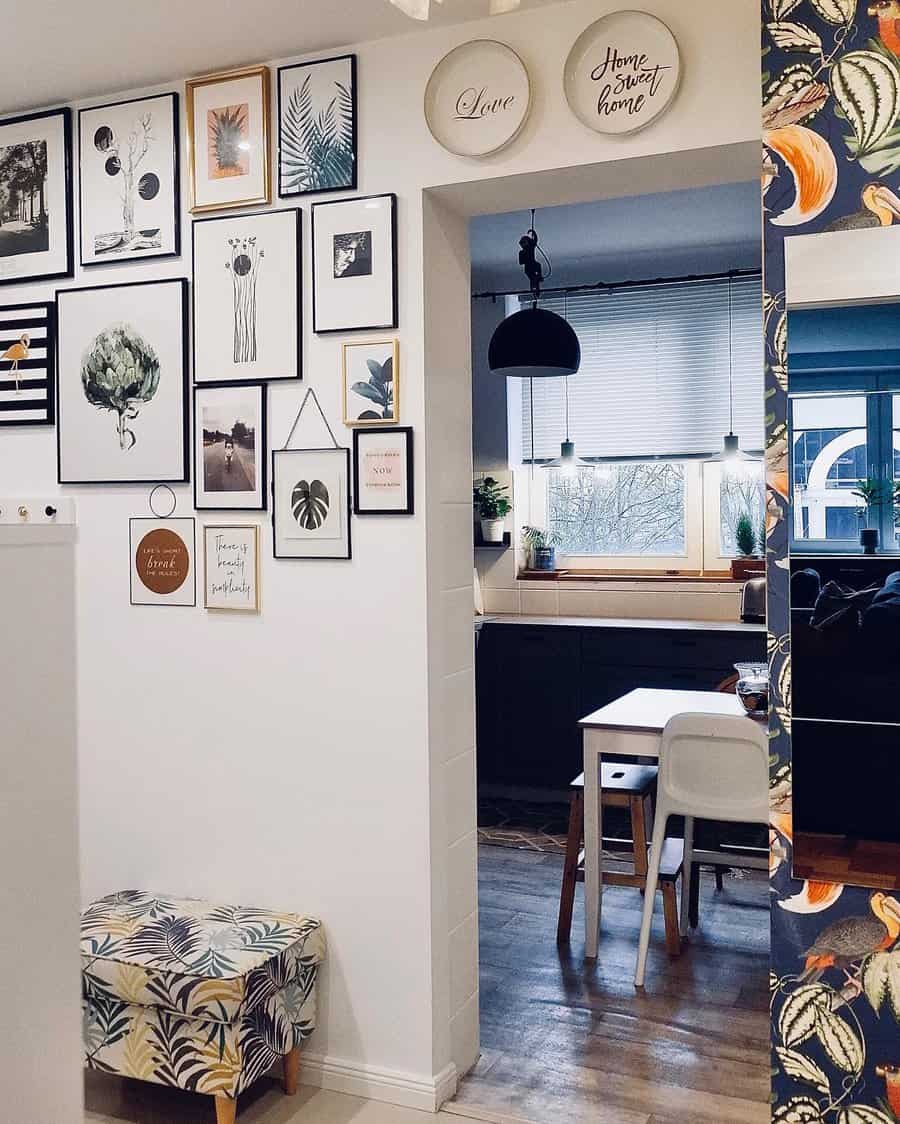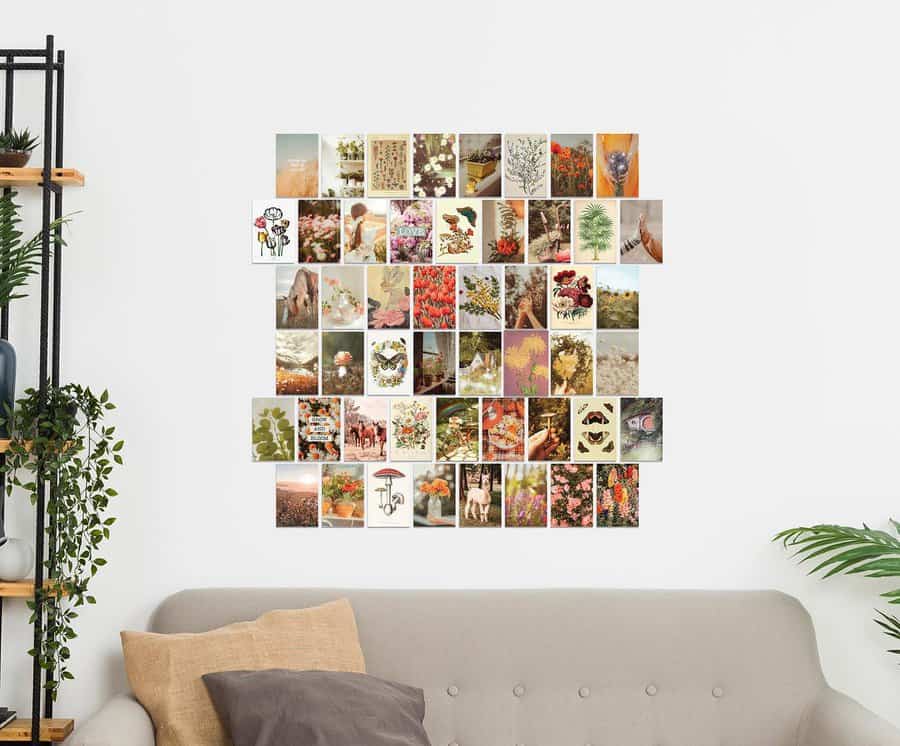 20. American Tattoo Art Channels Retro Cool
Delve into the bold world of traditional tattoo artwork, resonating with vintage vibes and iconic designs. Accentuate with varied frames, and pair with classic decor like vintage mirrors or retro signs. Personalize by featuring favorite sketches or photos of inked masterpieces. This tattoo-themed wall is a nod to heritage, adding a touch of edgy retro allure to your space.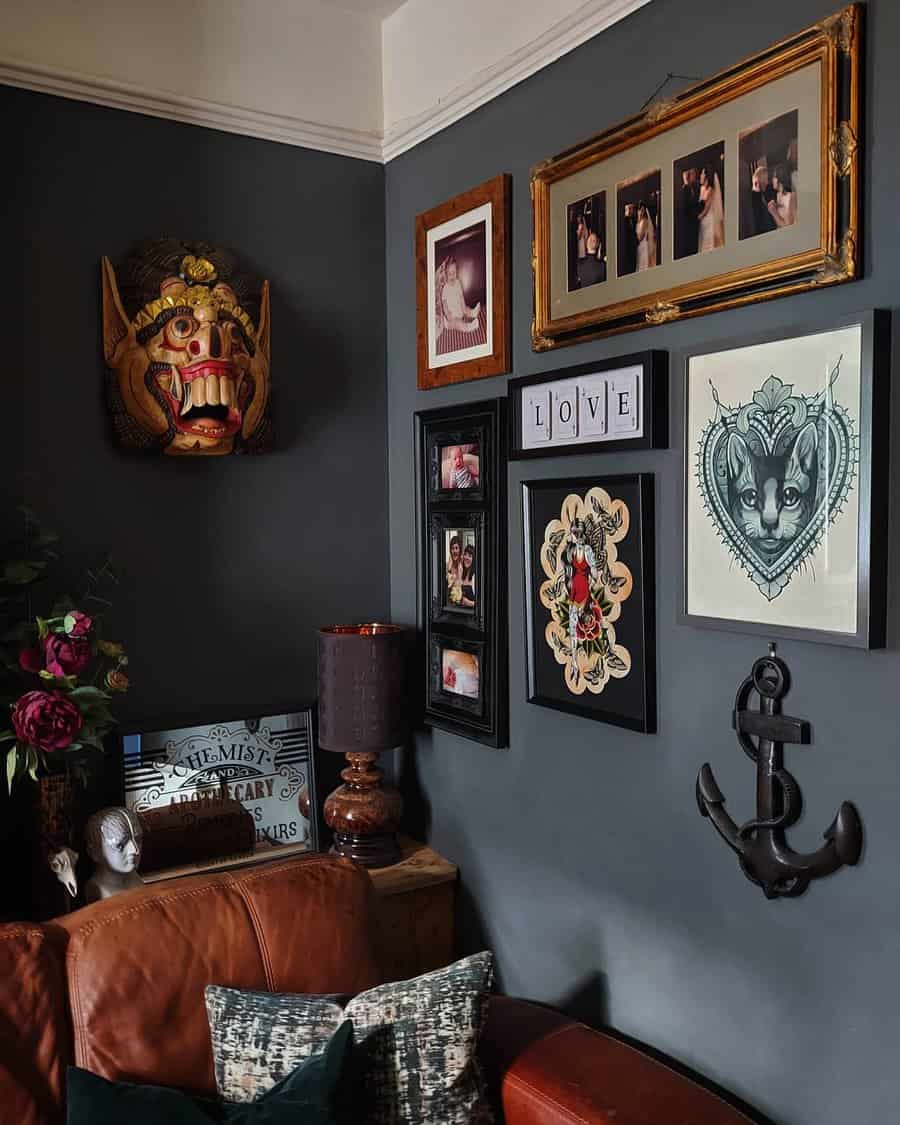 21. Floating Shelves Add Dimension and Depth
Showcase your child's creative spirit with a gallery of their art, from doodles to crafts. Elevate the display with floating shelves, offering depth and a platform for favorite books or toys. Complement the youthful essence with vibrant frames or whimsical clips. This lively arrangement not only celebrates their creativity but also becomes a room's highlight, reflecting their evolving talents and imaginative journeys.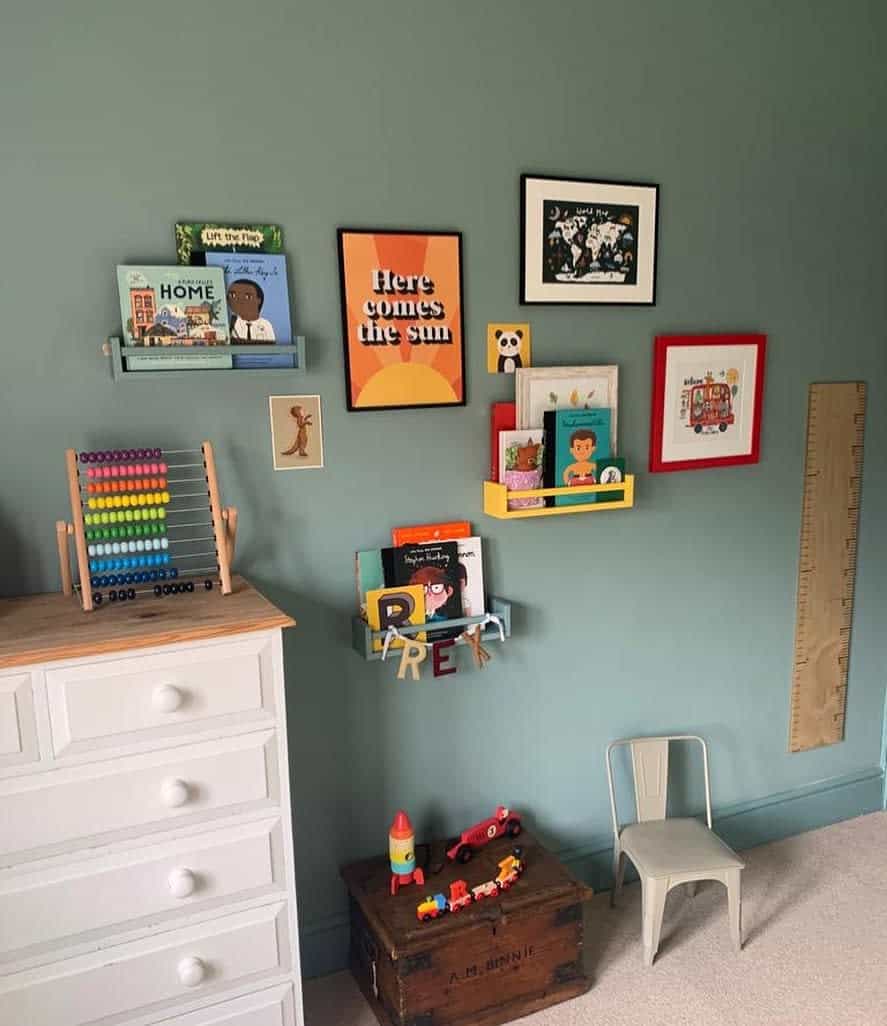 Wall Collage FAQs
Where should I put my gallery wall?
Ideally, a large gallery wall should go on the longest wall in the room. A smaller wall collage can go anywhere that suits you: between windows, around doors, over the headboard, even in the bathroom. Because of excessive moisture, a photo gallery is better suited for a powder room than a bathroom where you frequently shower or bathe.
Should gallery wall frames match?
It depends on the look you're going for. Matching frames can add a certain elegance to your picture collage, but they aren't necessary. Different types and colors of frames can look more interesting than one singular style, and a variety of textures goes well with casual home decor.