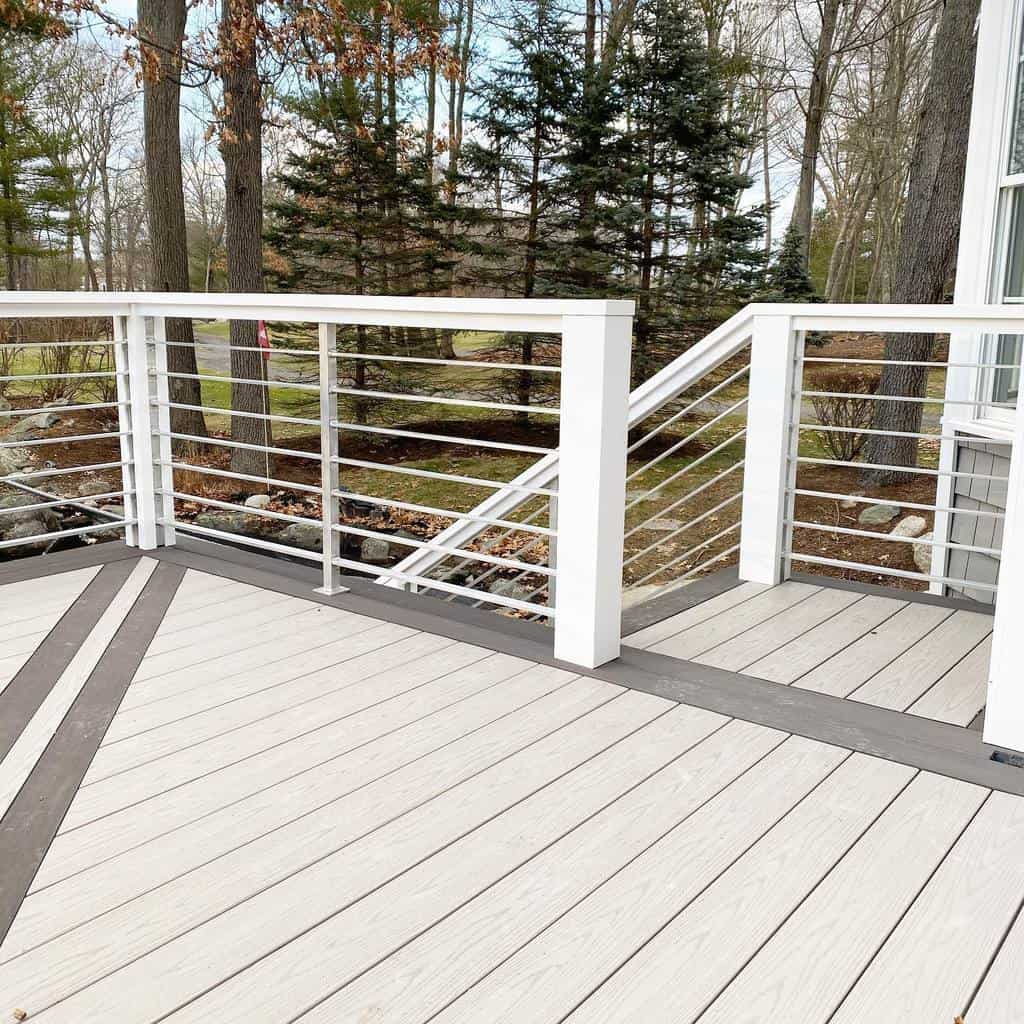 45 Wood Deck Railing Ideas and Designs
Building a deck onto the exterior of your home can give you additional living space. It makes the most of your property by giving you a place outdoors to gather and entertain. The rich color of the deck adds warmth and natural color to your home's design.
Once you've decided on the size and shape, you can get started. However, you aren't done. If your deck is elevated, you need a railing. There are plenty of deck railing designs to choose from. This makes it easy to find the perfect railing to complement the architectural design of your home.
Get creative with your deck by taking inspiration from these wood deck railing ideas.
1. Install Cable & Wood Railing
Wood decks have been a staple of outdoor living spaces for years, providing beautiful results along with versatility. What better way to bring your deck to the next level than with cable railing with metal rail or composite rail?
The strength and durability of cable railing with metal rail coupled with the low maintenance and long-lasting beauty of composite rail provides an unbeatable combination for any wood deck.
If the railing is purely decorative, you could place the cables further apart. There should be a top rail on the top of your cable deck railing. It could be made from wood or vinyl. This gives you a place to lean on, place a drink, or clearly define where the cables end. Whichever option you choose, cable railing will spruce up your wood deck without sacrificing its original aesthetic.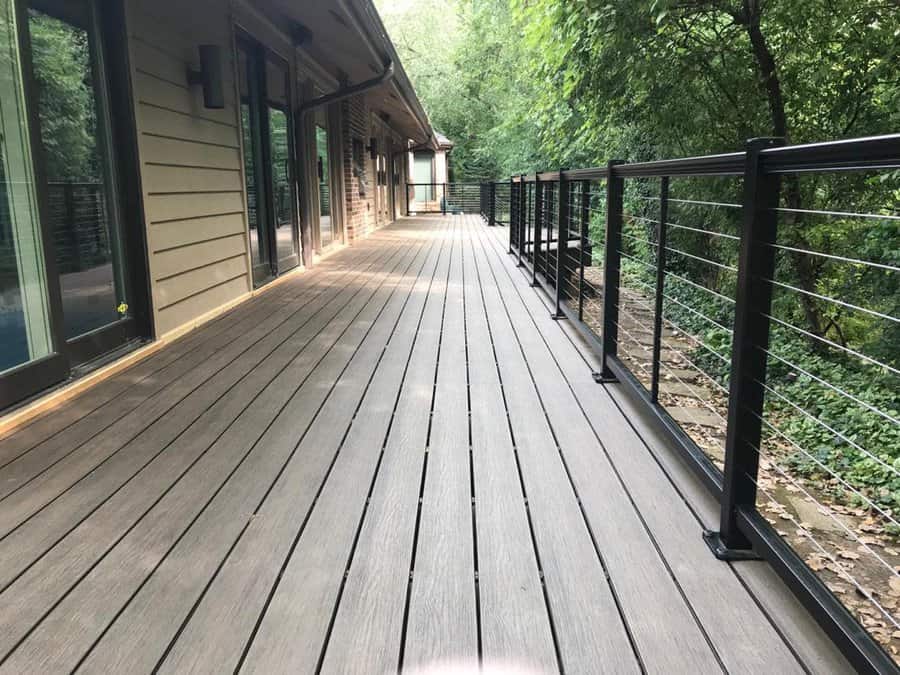 2. Incorporate Fun Cut Outs
If you're looking to spruce up your wood deck railing while keeping the warm and inviting atmosphere, metal cut-out designs can be a perfect choice. Choose animal silhouettes with a nature-themed design, such as deer, birds, and foxes for an adventurous flair, or decorate with calming elements like leafy branches or sunsets for a peaceful appeal.
It's a nature-themed option that brings both charm and function to the outside of your home. Not only will these metal cut-outs protect your family, but they'll also add an extra style element that gives off a classic yet modern vibe. Everyone will wonder where you got them!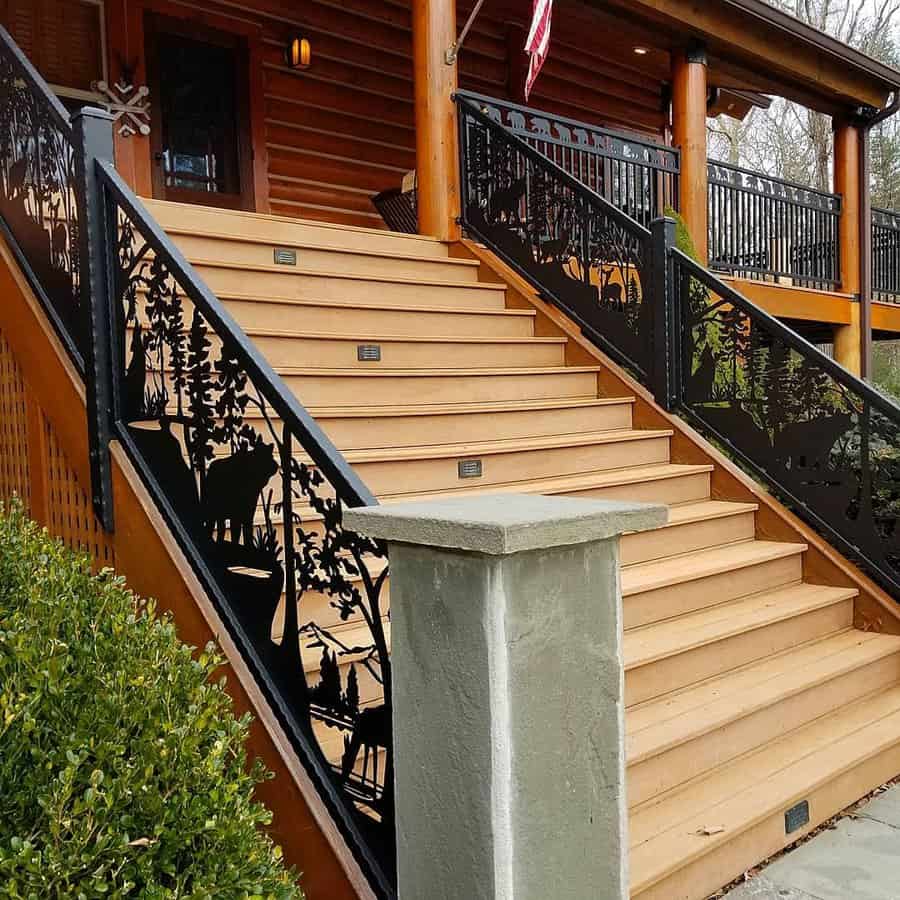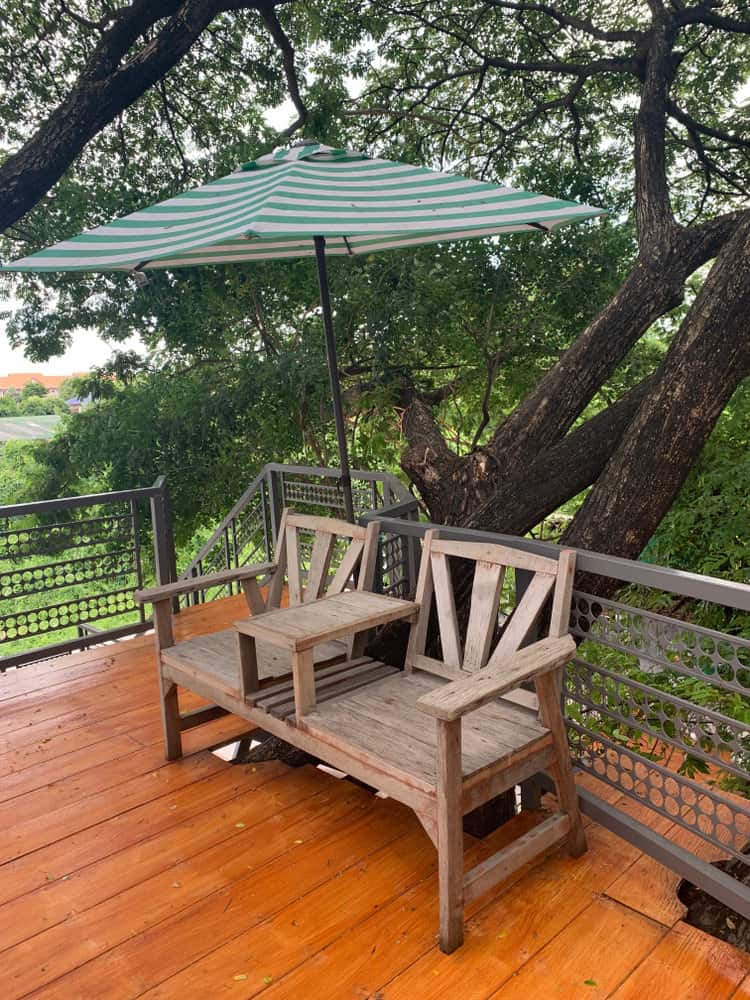 3. Build A Dainty Patio With Trellis Screening
Give your outdoor space a completely unique look and feel with a white trellis screen railing for your wood deck. This type of railing exudes beauty and elegance and is much more than a safety feature. It allows for trailing plants to wrap around the white panels for a stunning display that will leave your guests in awe.
You don't have to stick with plain white either – choose from a variety of colors to make your wood deck railing truly reflect your style.
A white trellis railing is classic and classy; it will add pizzazz to your existing deck while also making it look more sophisticated—guaranteed to become the envy of all your family, friends, or neighbors!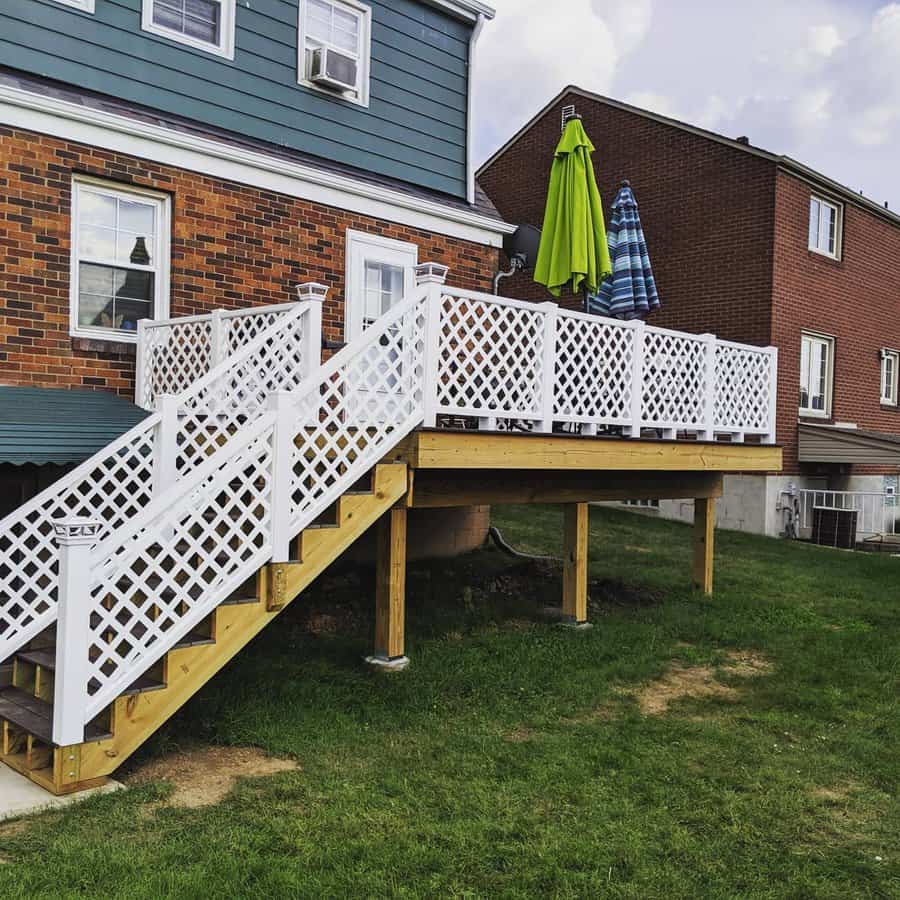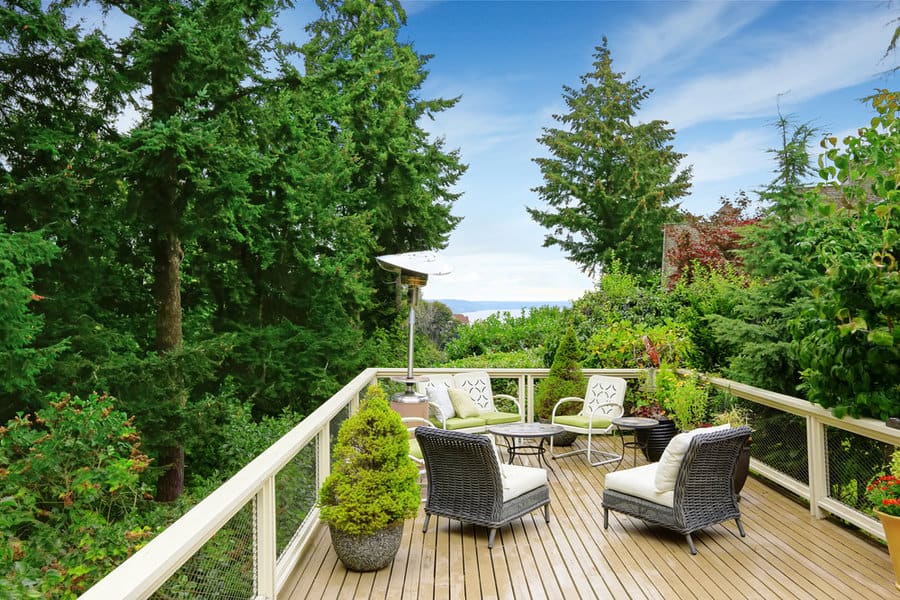 3. Repurpose Materials For A Playful Look
Bring nature to your backyard with a railing made of repurposed materials like old paddleboards and reclaimed wood. Installing a wood deck railing is an easy way to add a unique touch to your outdoor space that gives a unique perspective on your banister railing and landscape alike.
Not only does it have visually stunning appeal, but it's also highly durable and can last for years to come, not to mention its eco-friendly impact! Plus, they'll stay cooler than metal railings in direct sunlight, so your hands won't get scalded when you lean against them on hot summer days. It's time to create something one-of-a-kind and revolutionary; try out this wild railing idea!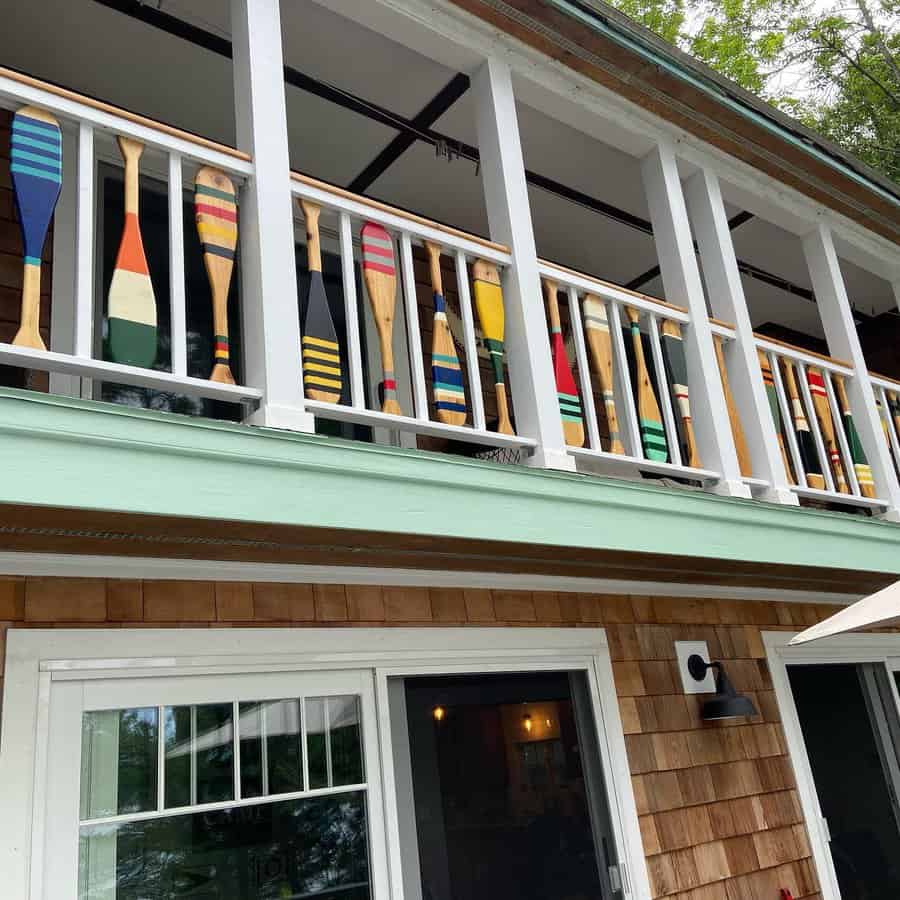 4. Go For Chippendale Style
For those wanting to add an air of sophistication or an extra touch of class to their outdoor living space, Chinese Chippendale-style wood deck railings can add timeless elegance and charm.
Whether your home is traditional or modern, you can customize the look to your desired style with the available designs for Chinese Chippendale-inspired railings. Or, you can create a unique modern look with options such as glass panels or cable railings for a contemporary feel.
Whatever style you choose, wood deck railings will provide extra protection when installed correctly and bring beauty to your outdoor living space year after year.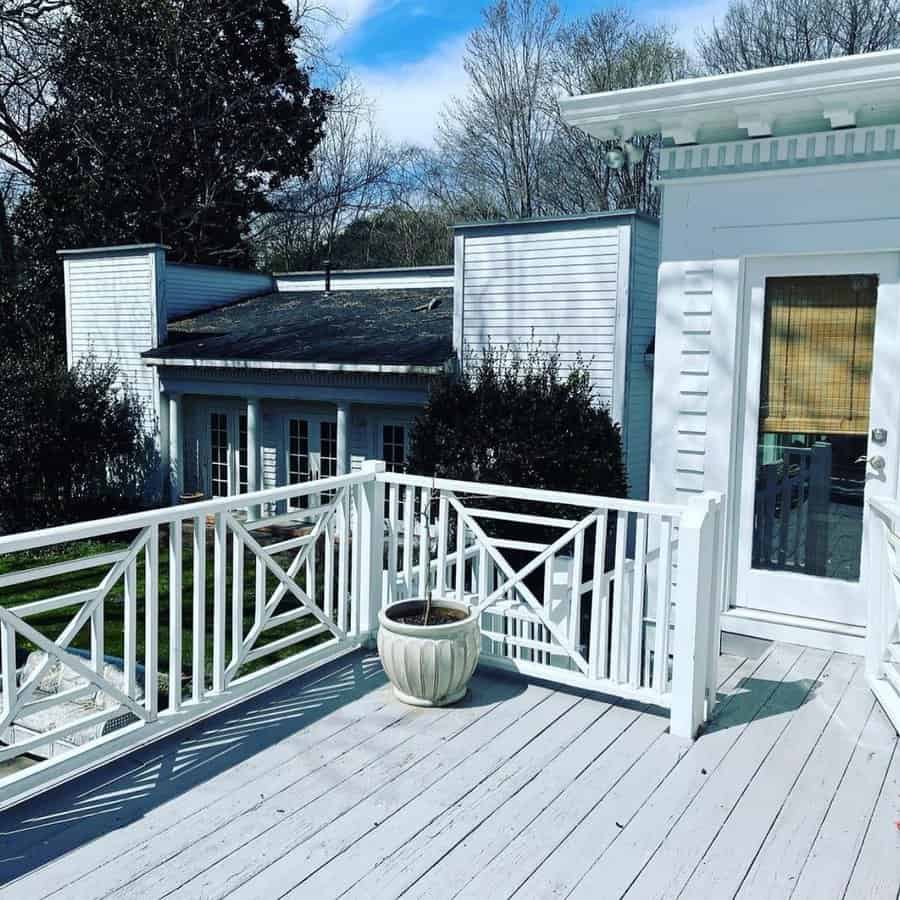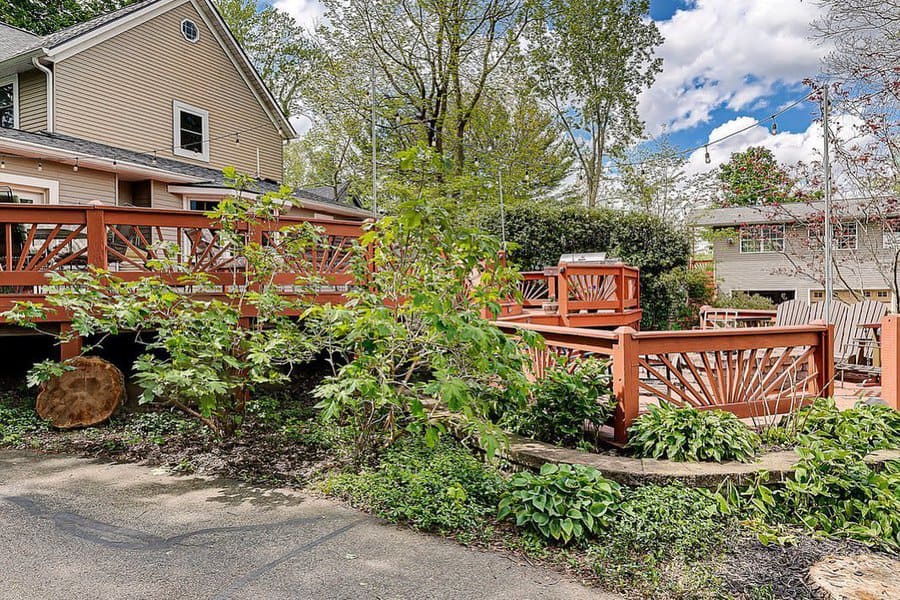 3. Make It Invisible
Give a facelift to your old wood deck with tempered glass railing! Not only does tempered glass provide a modern and seamless look, but also allows unobstructed views. There are several varieties to choose from, be it without frames or with frames designed tempered glass.
The tempered glass railing will accentuate the natural beauty of the wood deck while providing you with an elegant look. Transform your outdoor space into a bright, open area with tempered glass railings!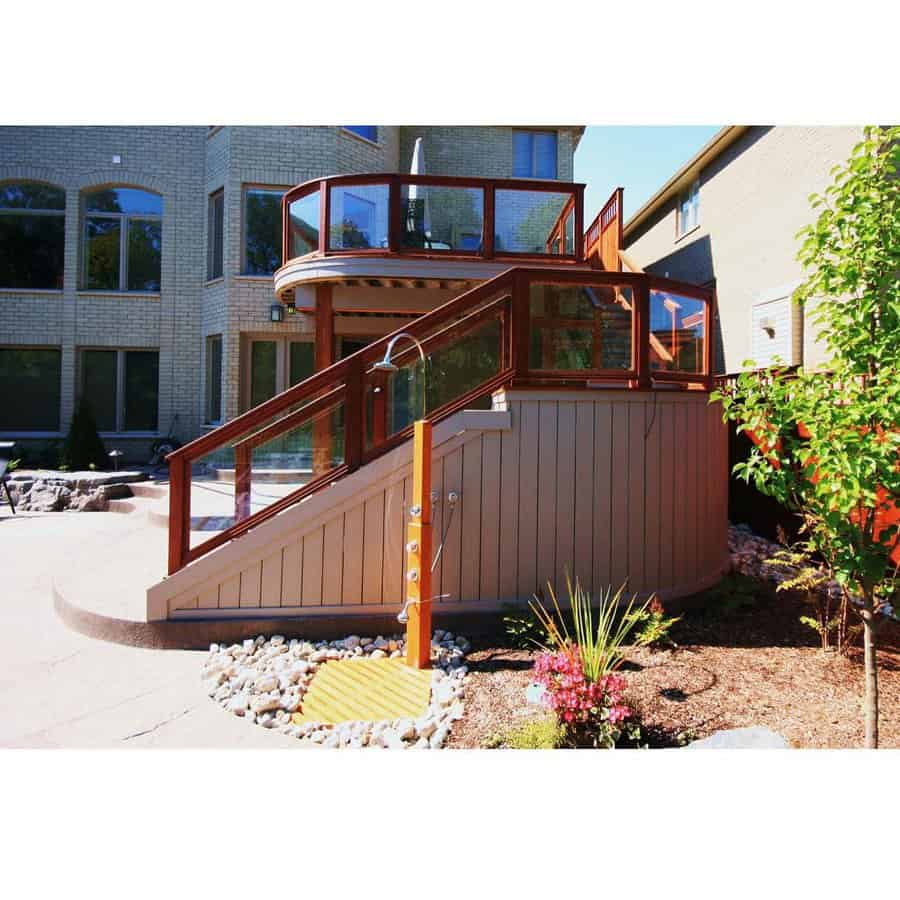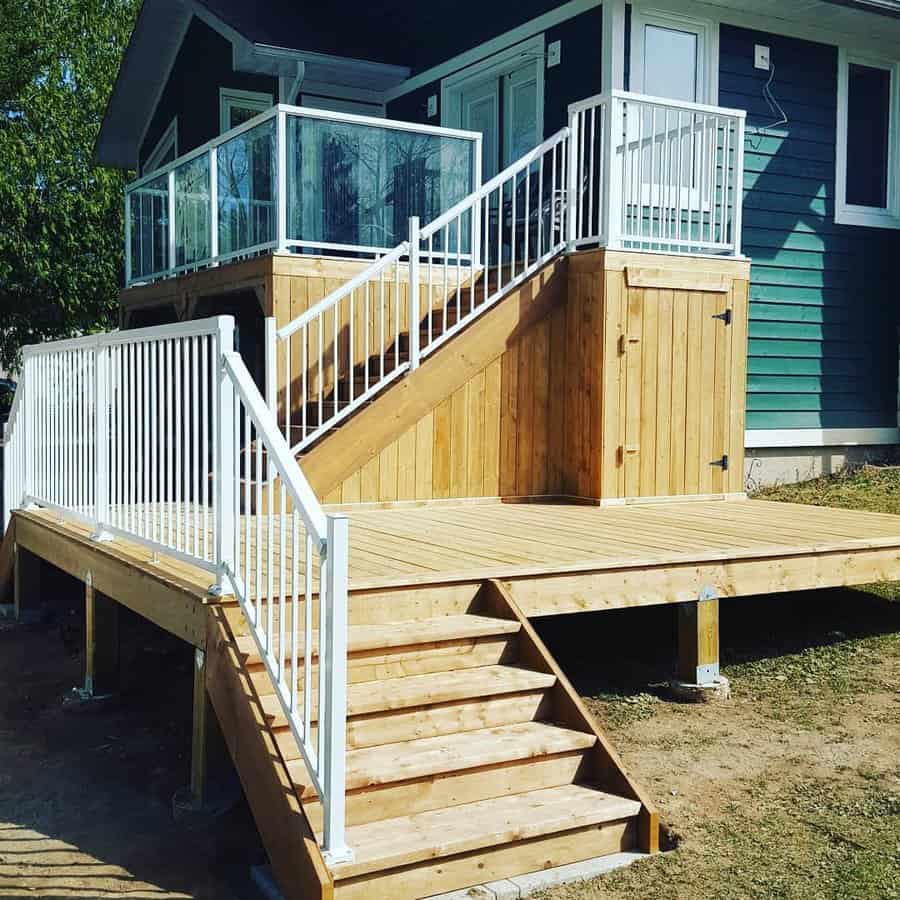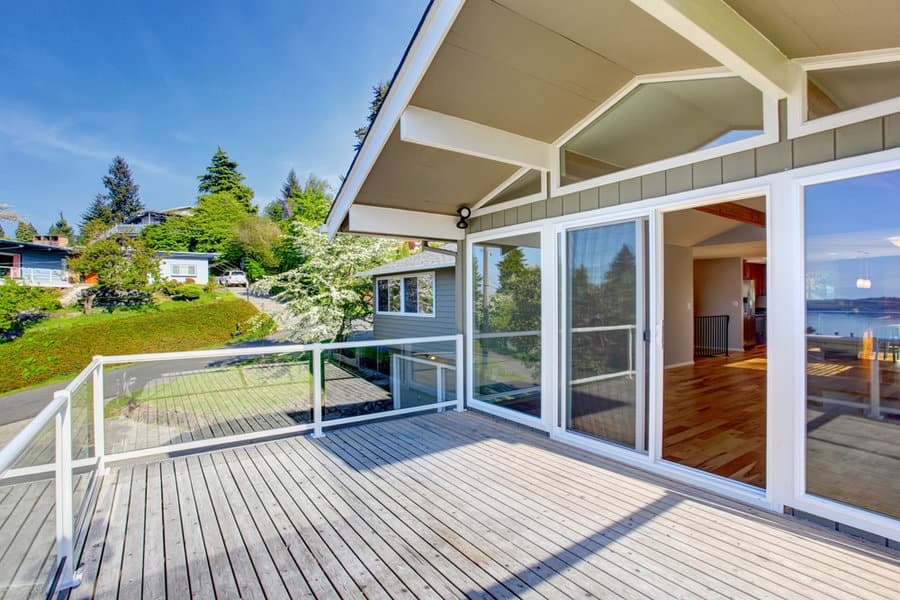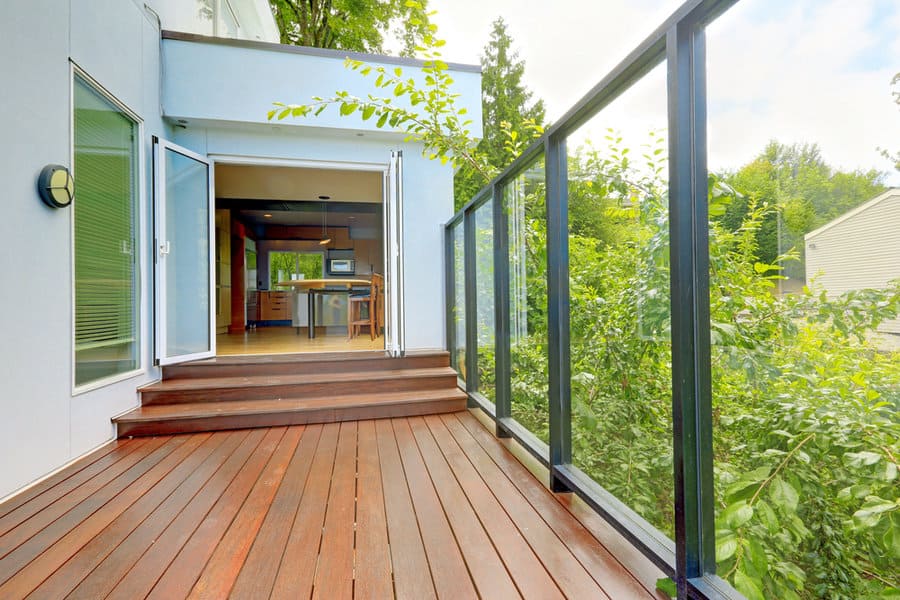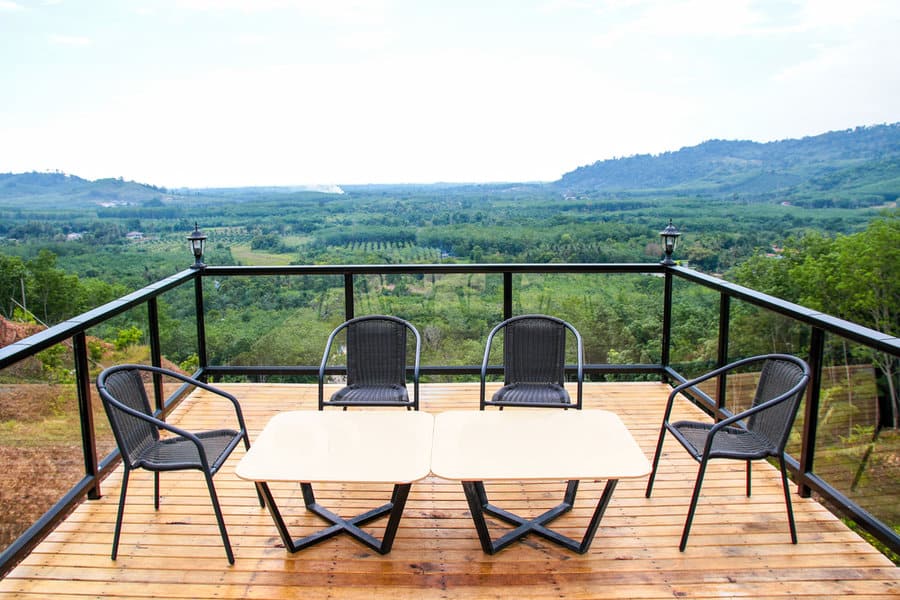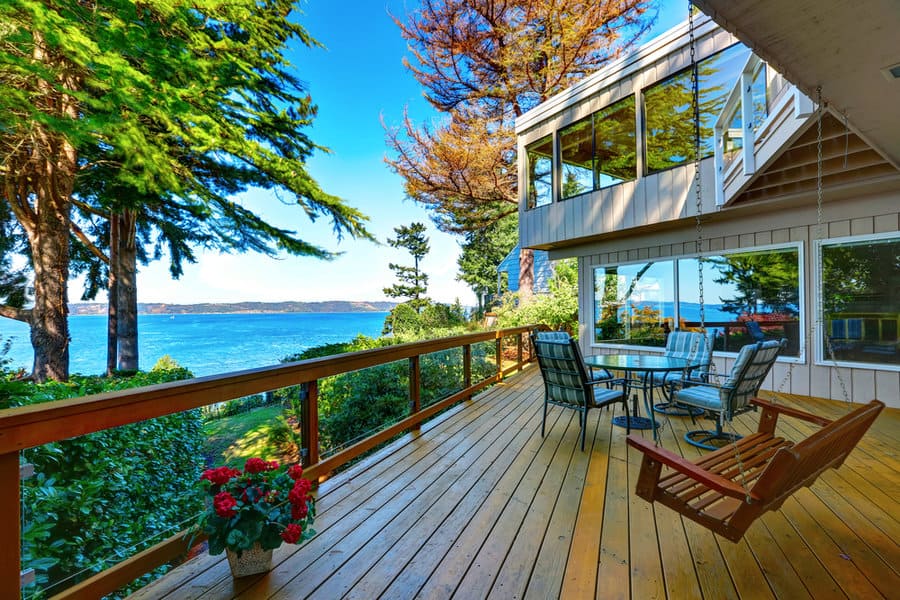 4. Opt For The Standard
A horizontal wood deck railing is a beautiful, practical choice for any outdoor space. Between standard horizontal railings made from planks of various types of wood or modern metal designs, your choice in aesthetic could range from the ultra-chic to the classic rustic approach.
Depending on the desired effect, decks can be framed with a big gap in between each slat to offer more space for airflow and afternoon light, or with a small gap to achieve a sleek and uniform look.
Whatever aesthetic best fits your outdoor living space, wood deck railings will add both beauty and safety to complete the perfect outdoor design.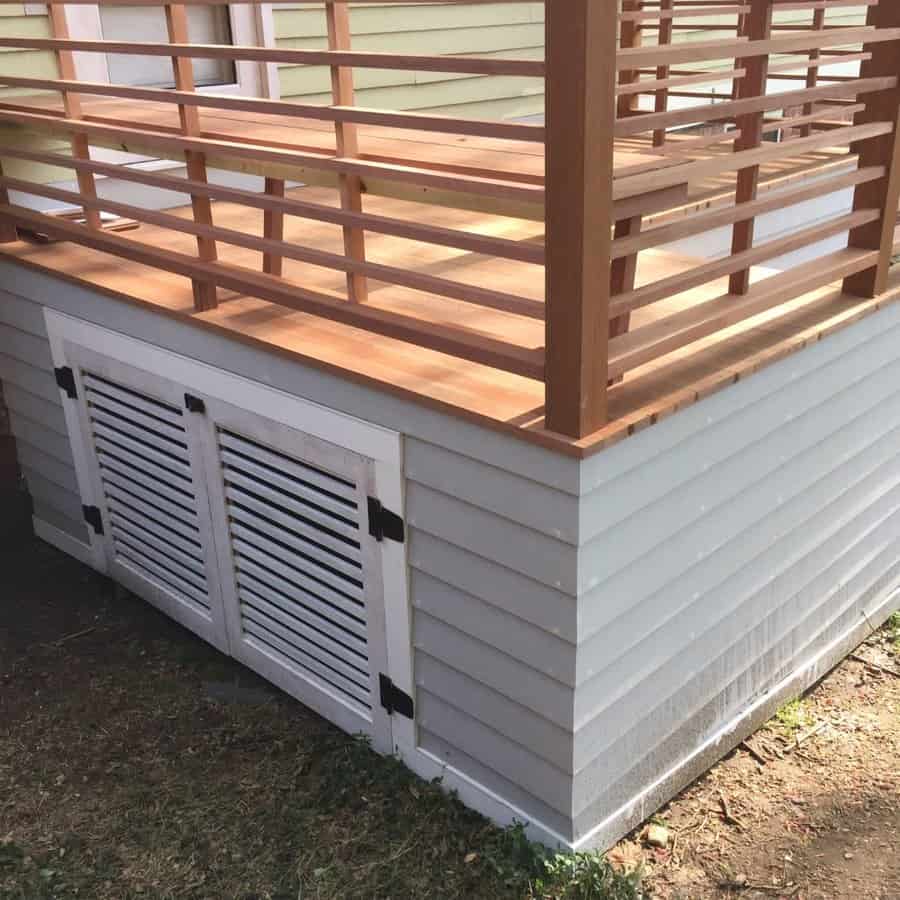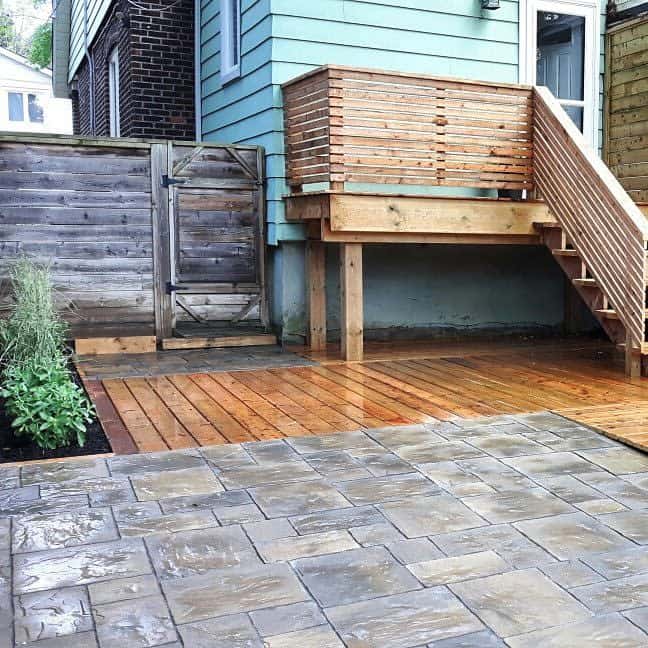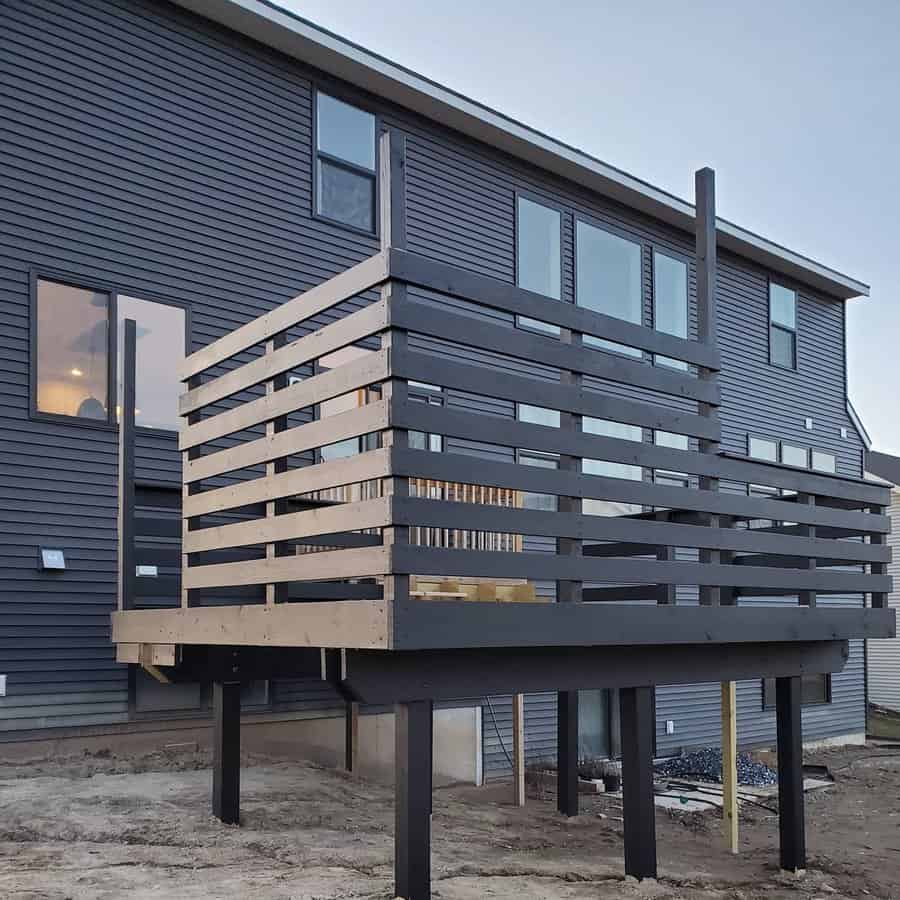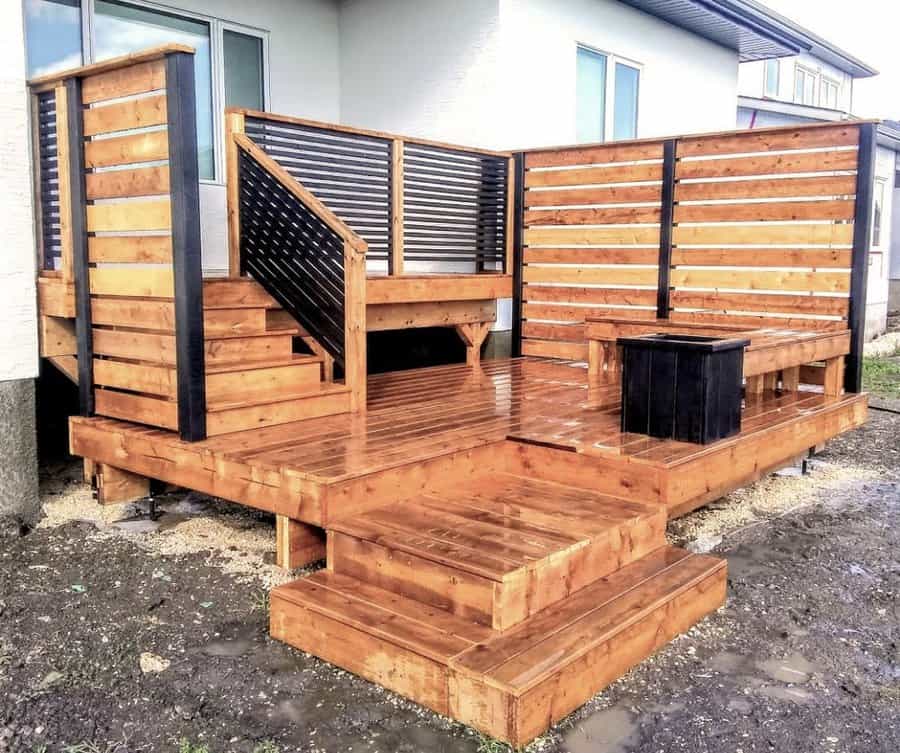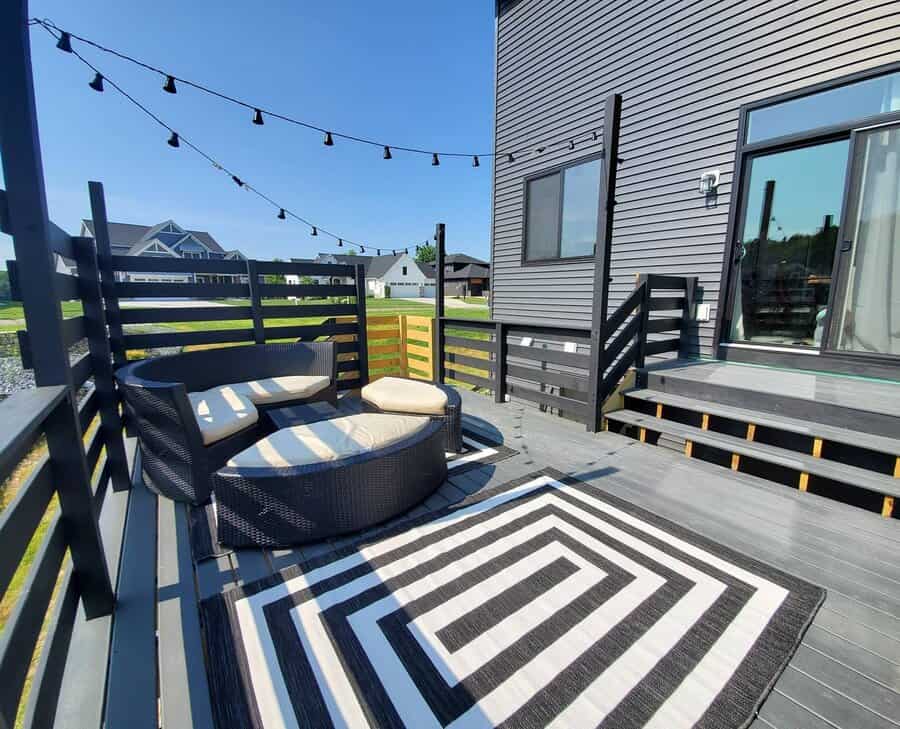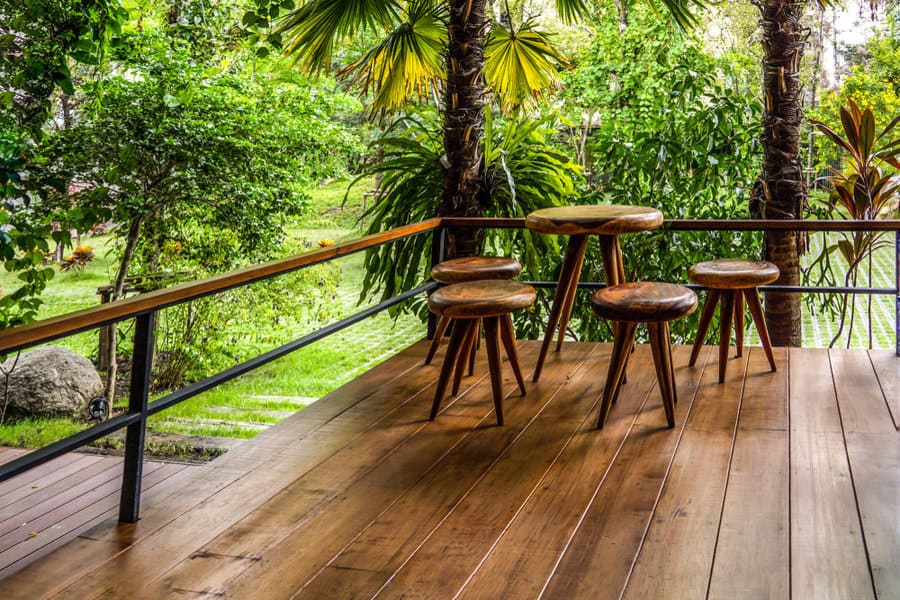 5. Add An Extended Pergola
Bring a little of the outdoors inside with a wood deck railing featuring a pergola! This will add definition and can provide a great spot for expanding your garden with lush plants.
Further creative enhancements could include string lights—this would create an easy yet stylish way to bring the outdoors to life during nighttime parties or evenings of relaxation.
Incorporating a wood deck railing with a pergola and tasteful lighting can transform your regular backyard into your own private oasis.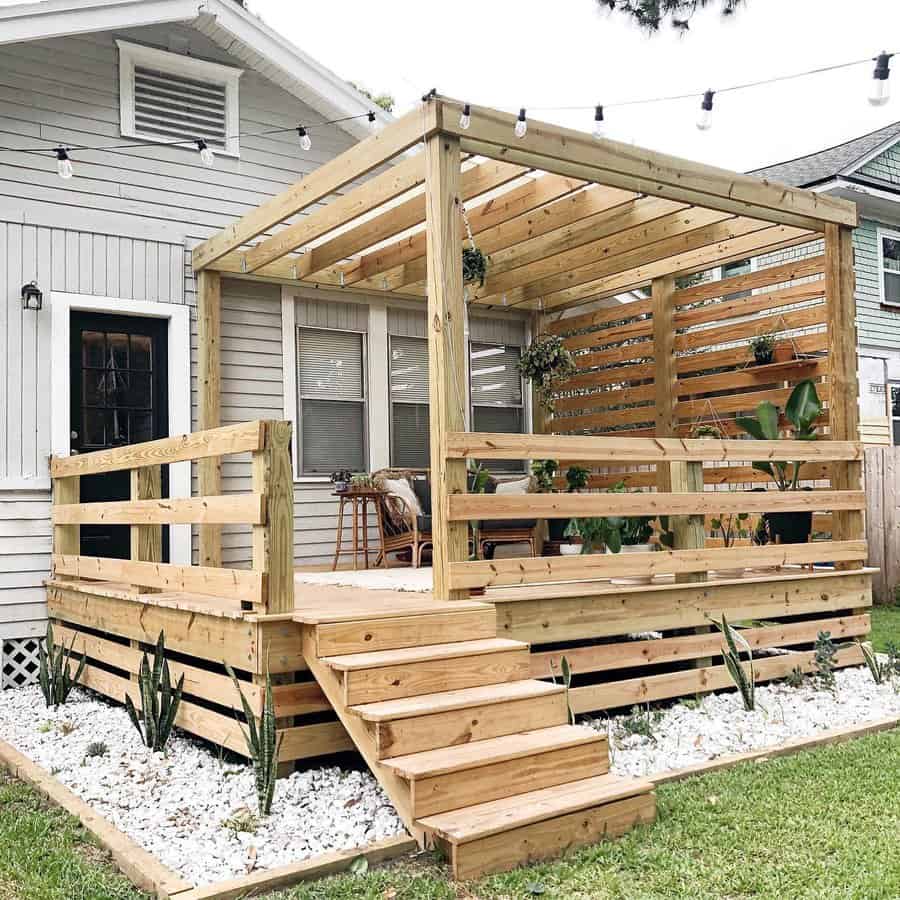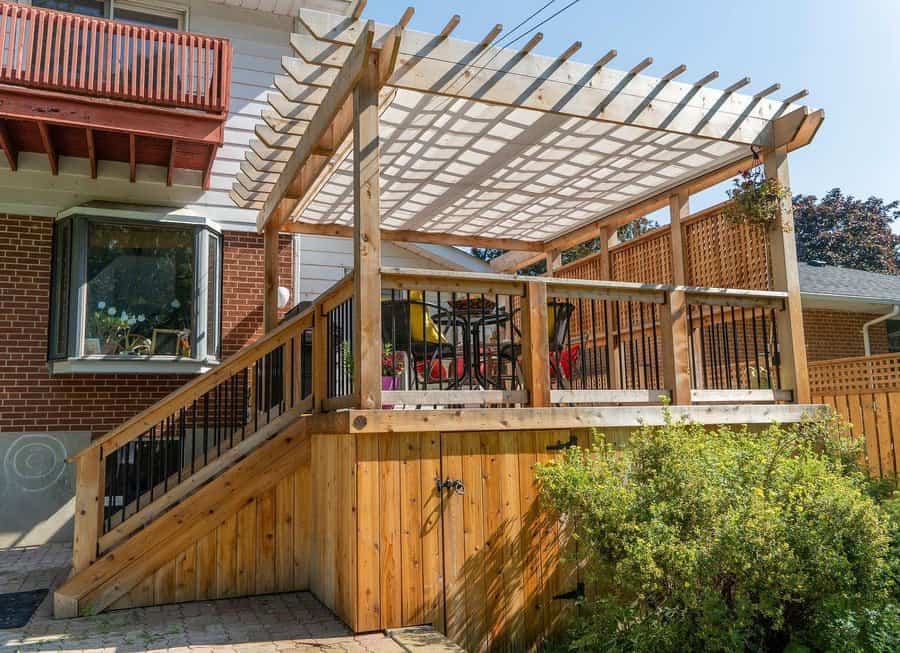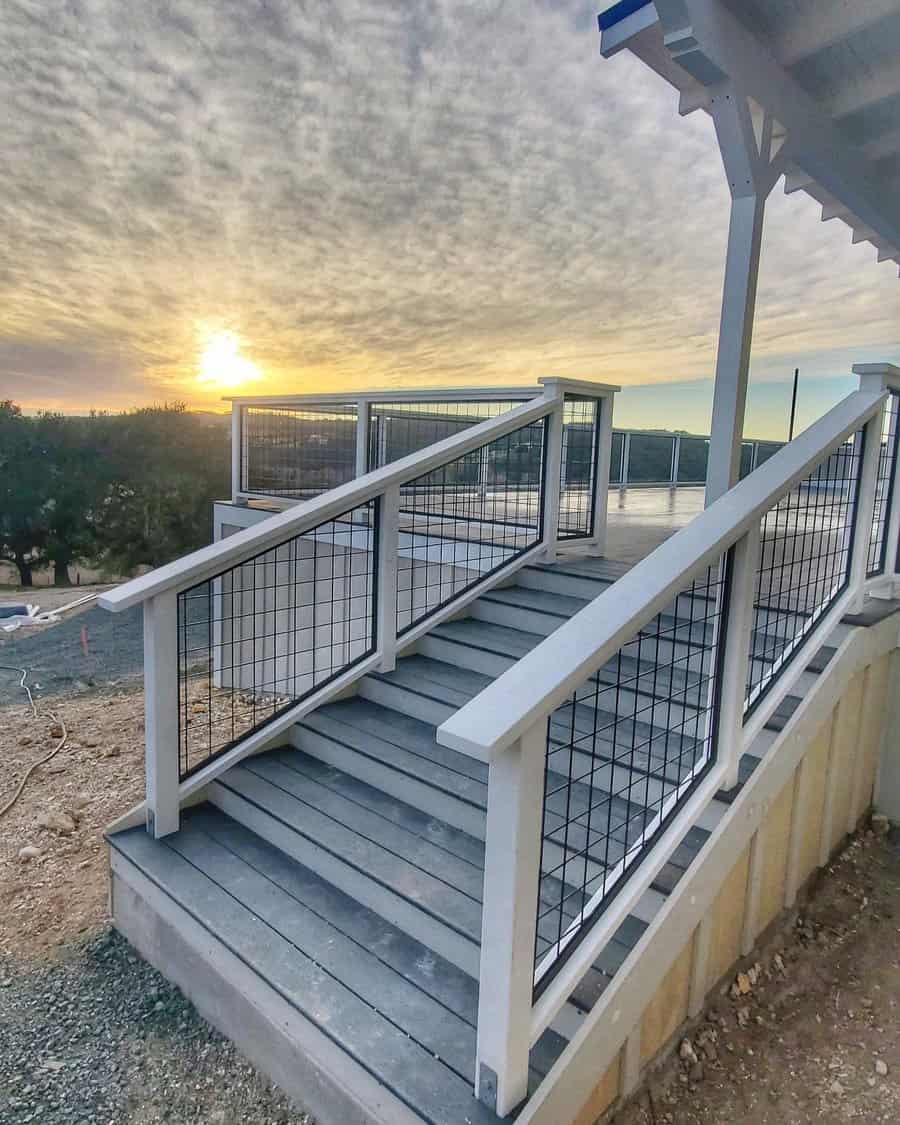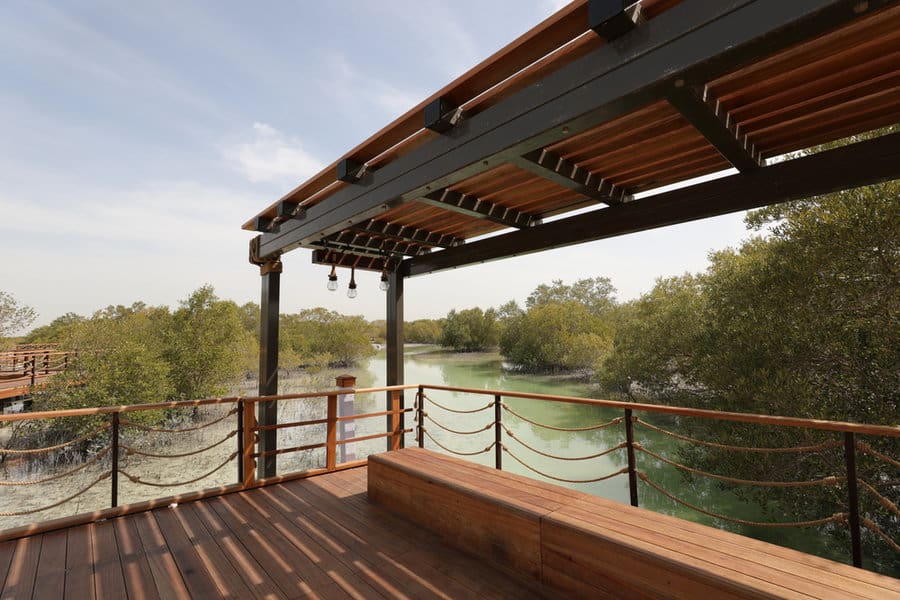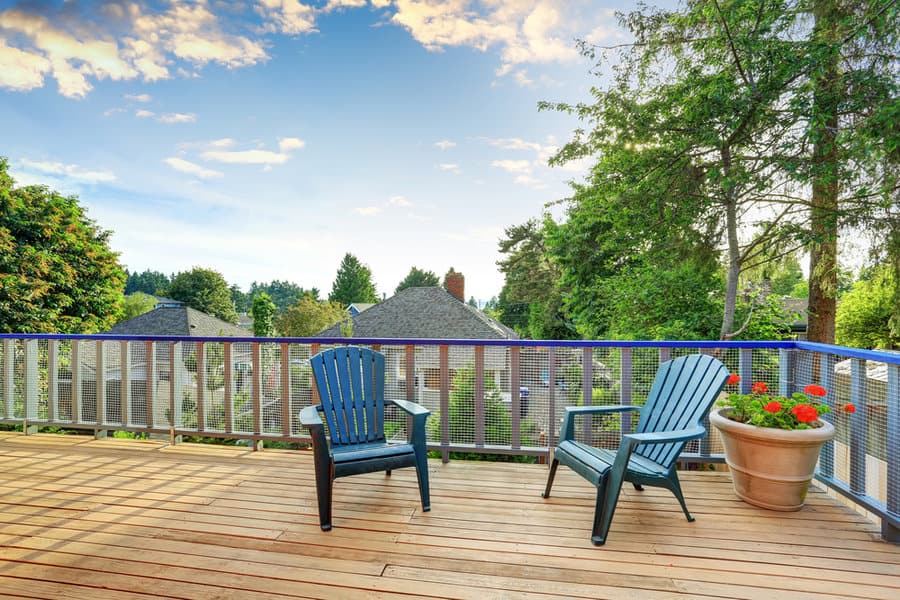 6. Make It Kid-Friendly
Installing a wood deck railing will give you the perfect way to ensure your outdoor space is aesthetically pleasing and safe for kids. With vertical metal railings that help keep it safe, as well as strong support beams, you can get all of your needs taken care of in one go.
It looks great while also filling the need for improved safety and good airflow. Once installed, you'll have the perfect piece to enjoy your outdoor leisure time with family and friends!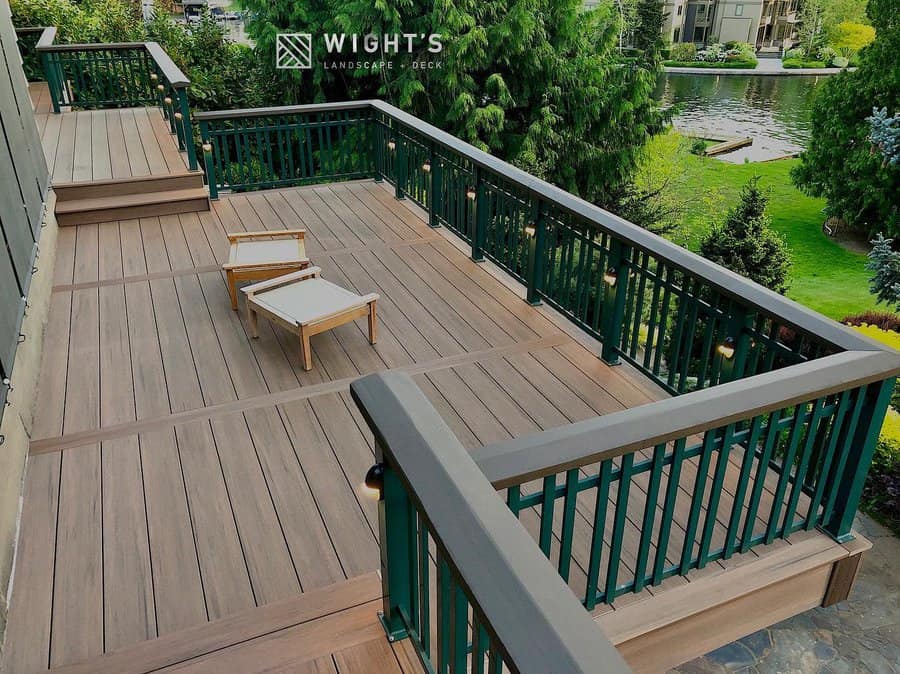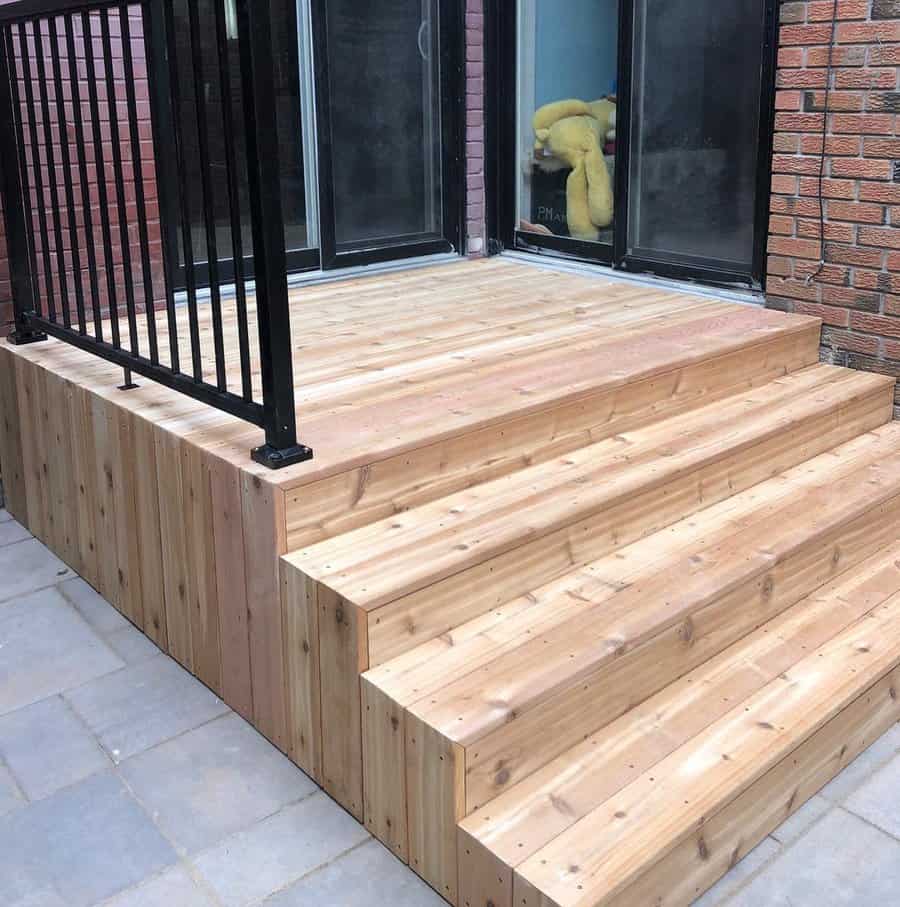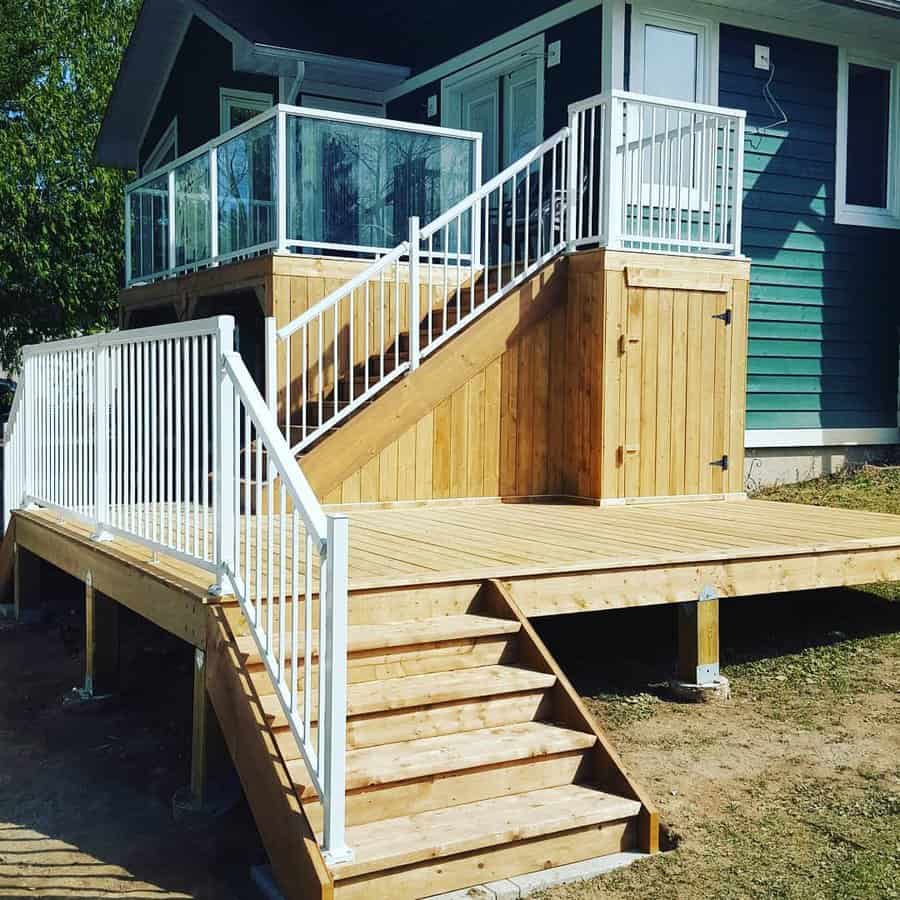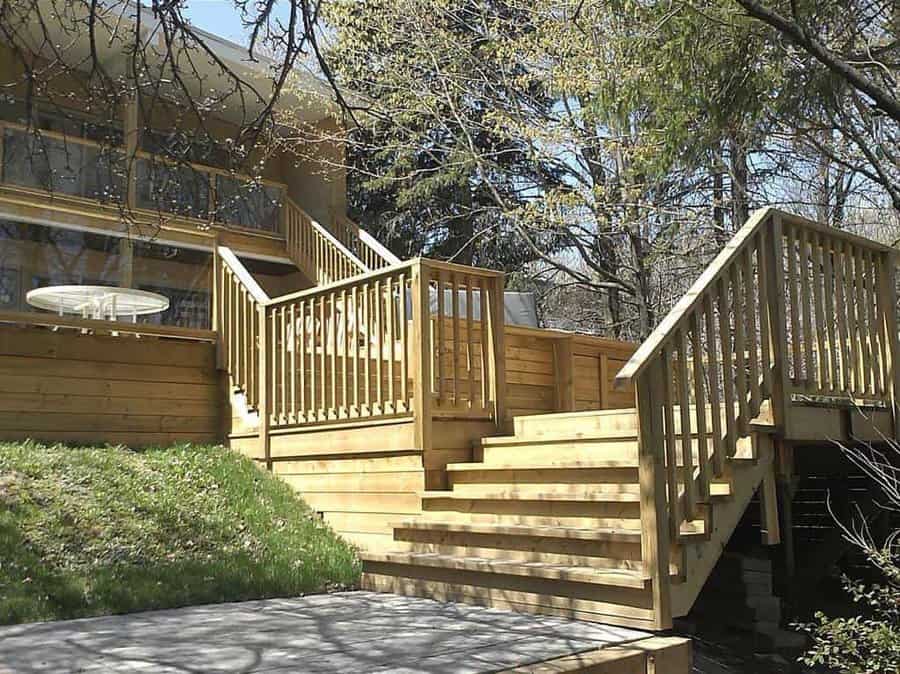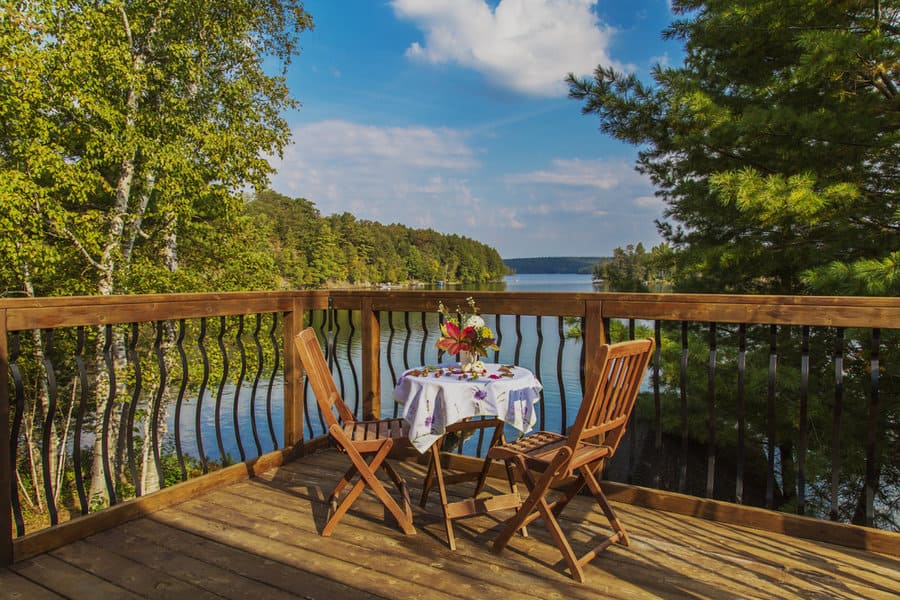 7. Add A Bench
Give your outdoors a low-key look and greater flexibility with low-rail deck rails and optional bench seating! If you're looking for more patio seating without sacrificing safety, railings, with or without benches, can provide the perfect compromise.
These low walls give you the feeling of open space and airiness, but still offer all the necessary protection for loved ones. Plus, multi-purpose low railing benches can save you a considerable amount of floor space while providing comfortable seating when dining al fresco. Low railings with bench seating let you enjoy your outdoor living areas while keeping your family safe – it's an ideal combination!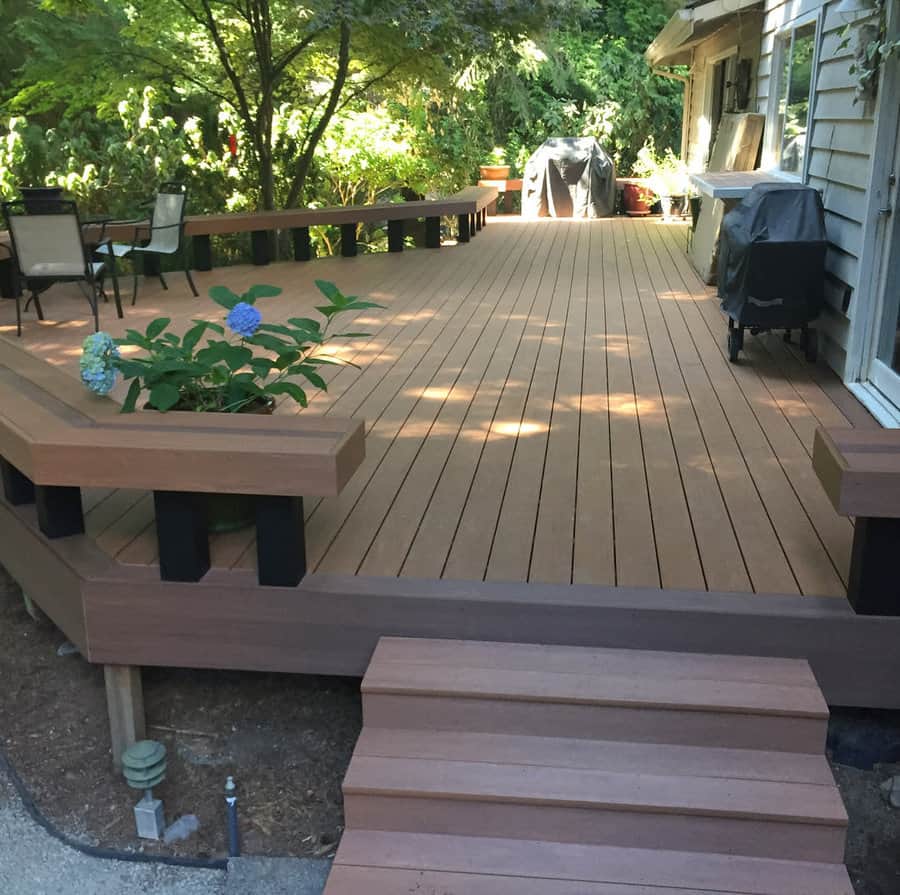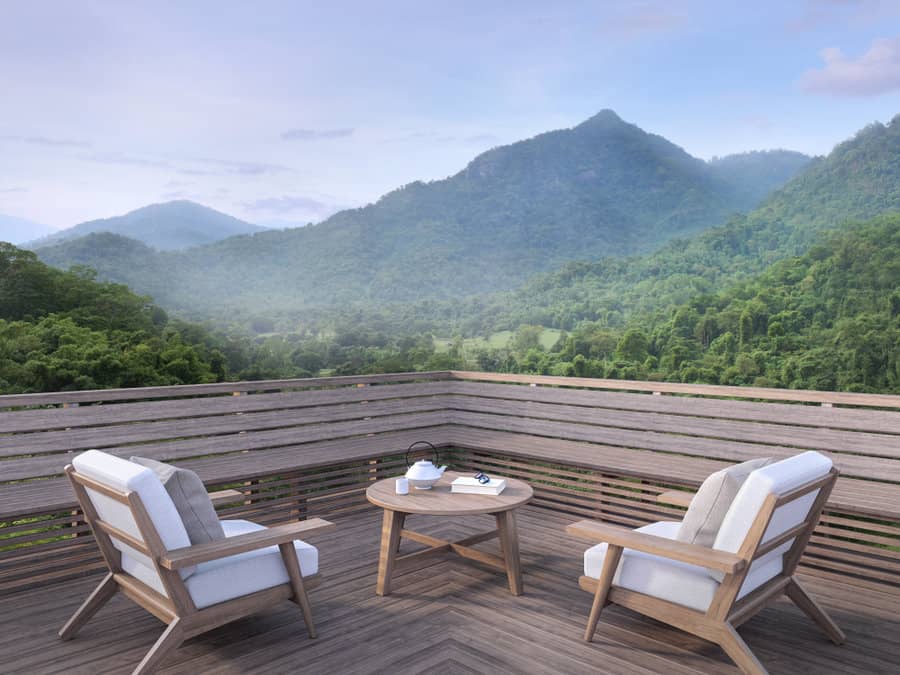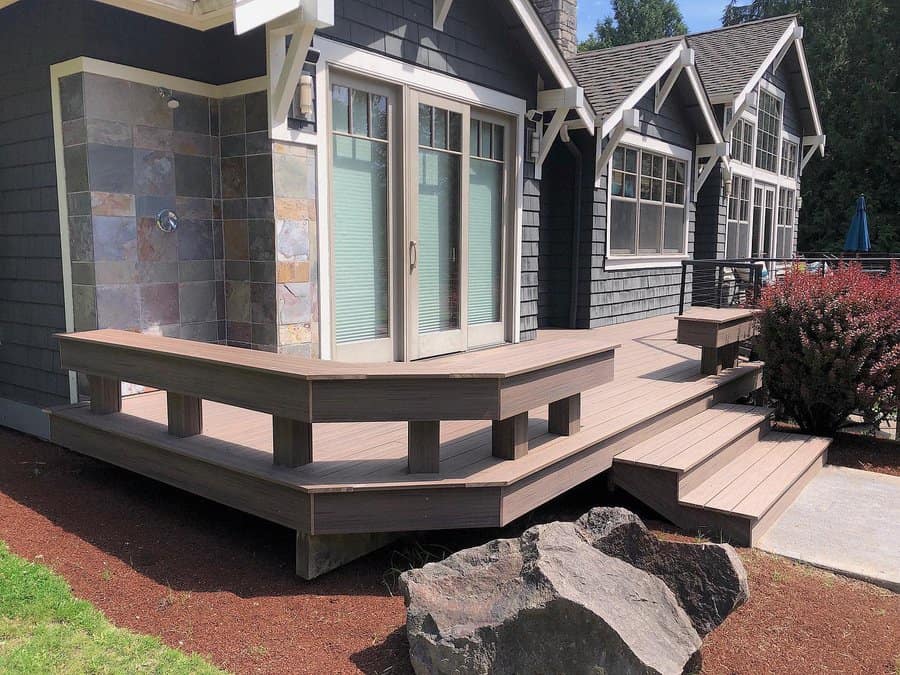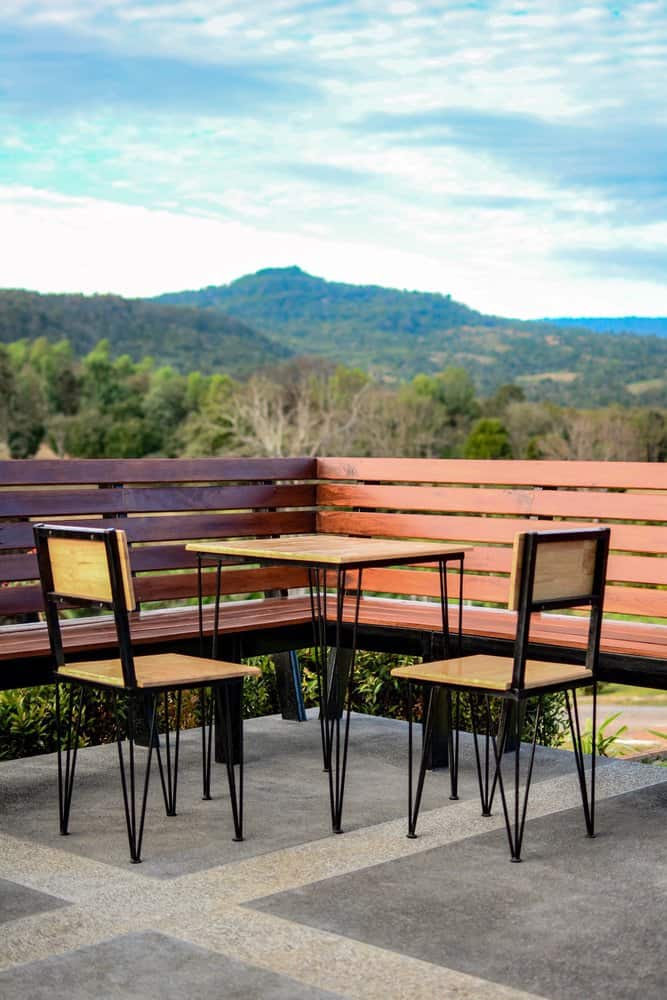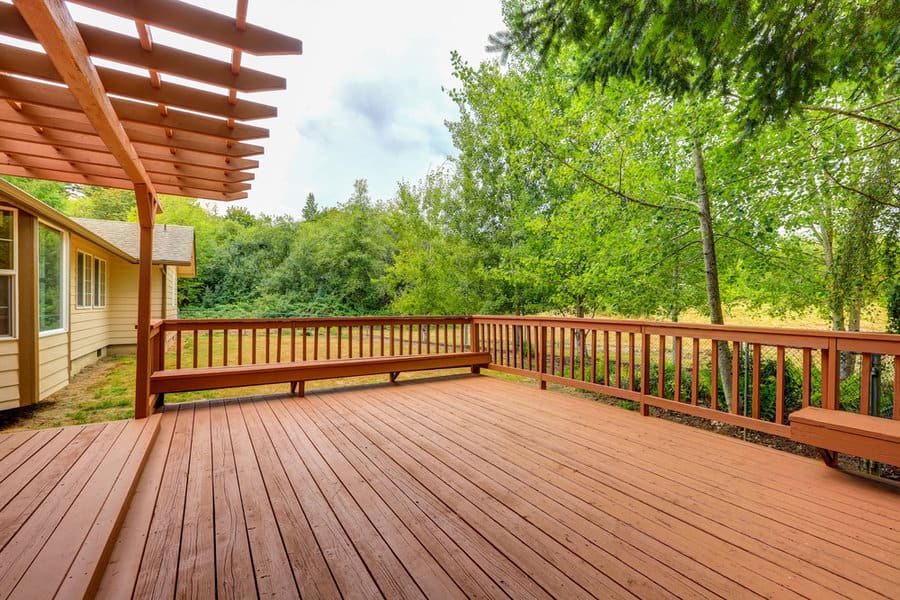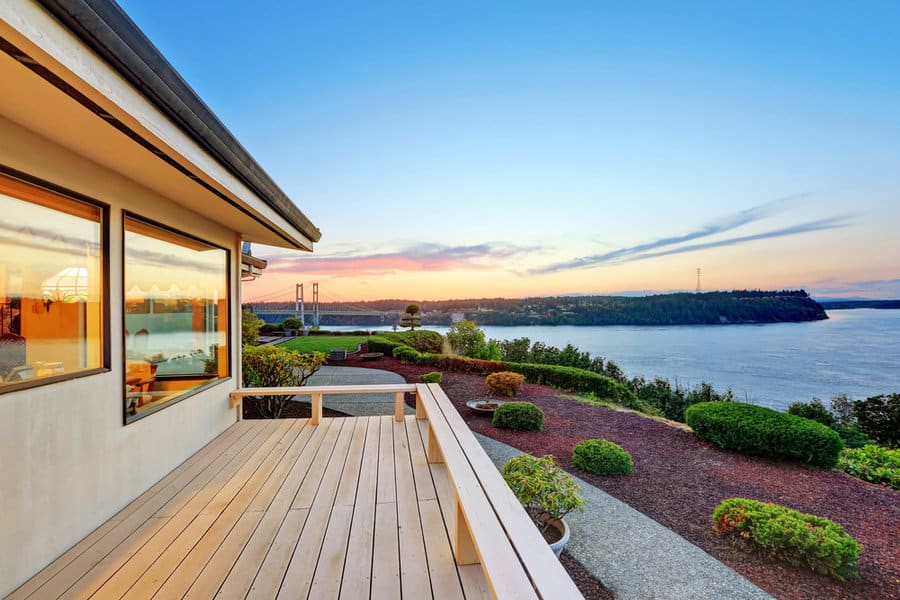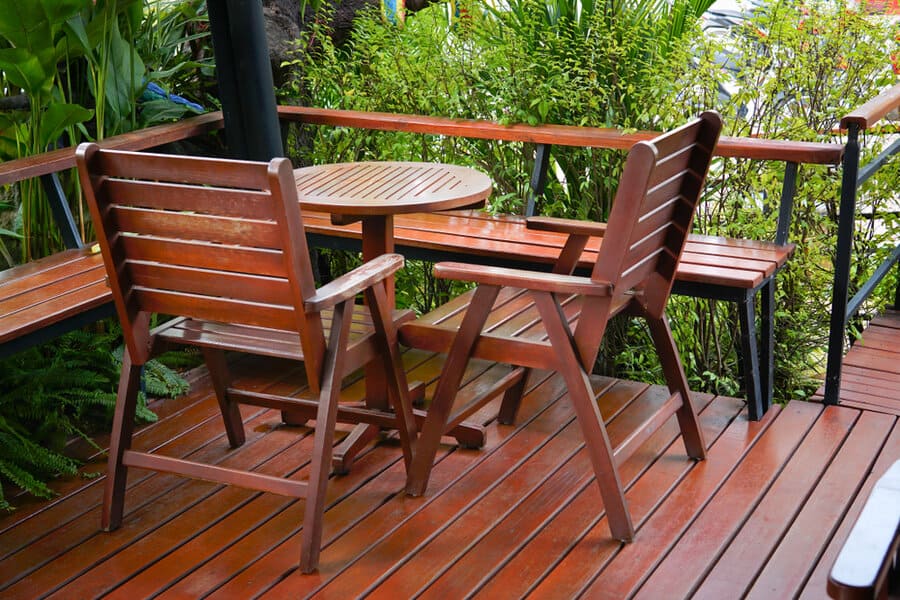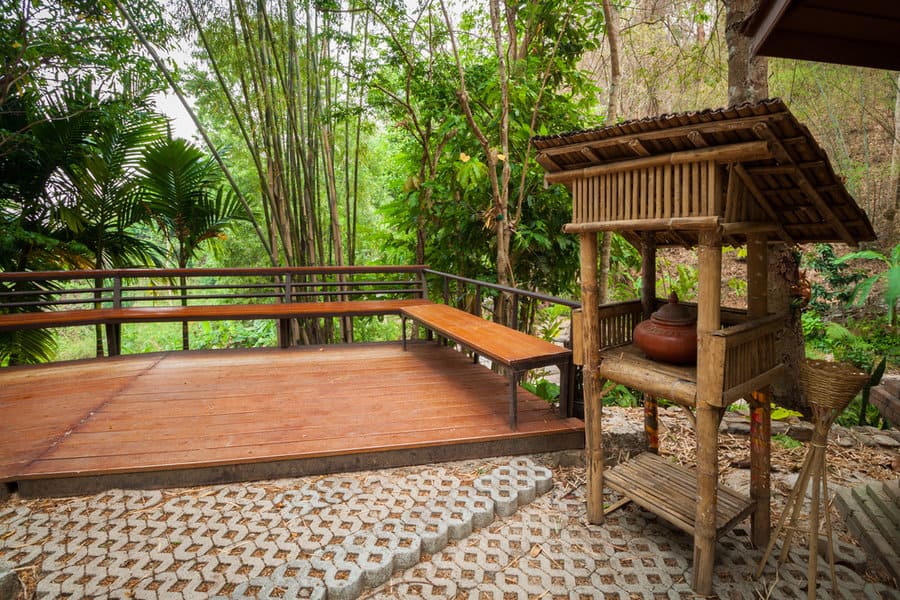 8. Create A Privacy Wall
Wood deck railings can serve many purposes, from providing an incredible view to making your space a bit more private. With railings made of wood, you can even choose railings with smaller gaps so that your space feels more secure and cozy.
If you're looking for complete privacy, opt for railings that serve as a wall; it's like having your own secluded place, surrounded by beautiful wood planks.
No matter what kind of railings you choose, they'll add a rustic chic vibe to your outdoor area, allowing it to truly stand out!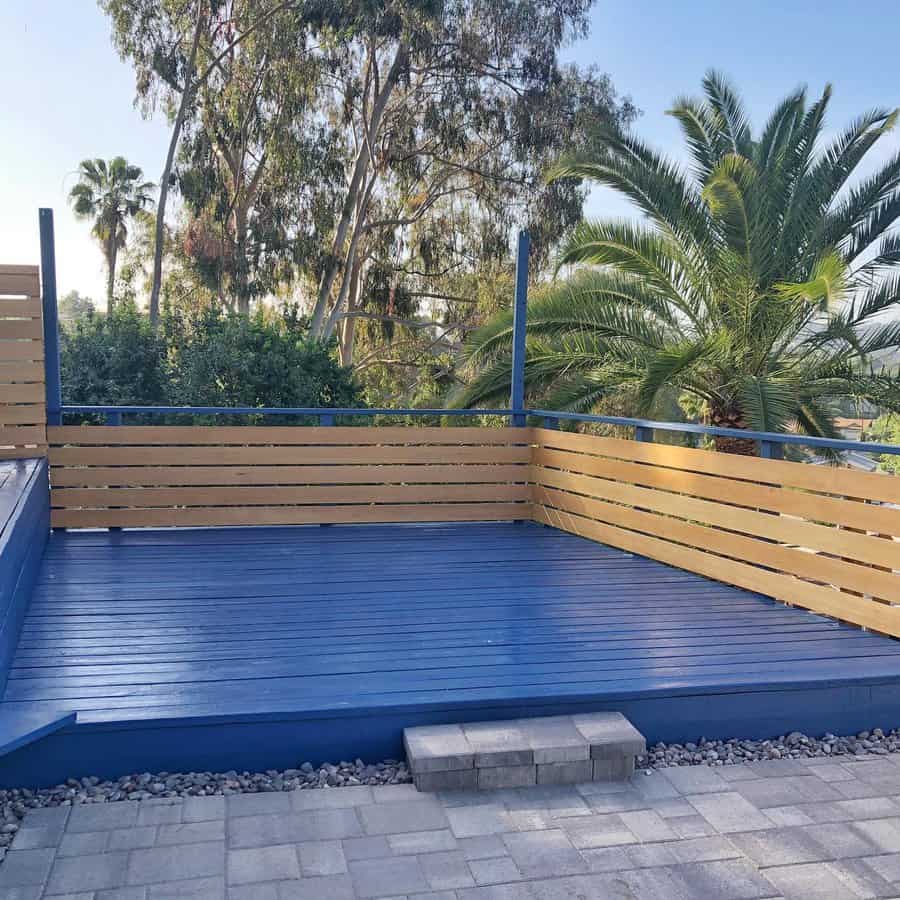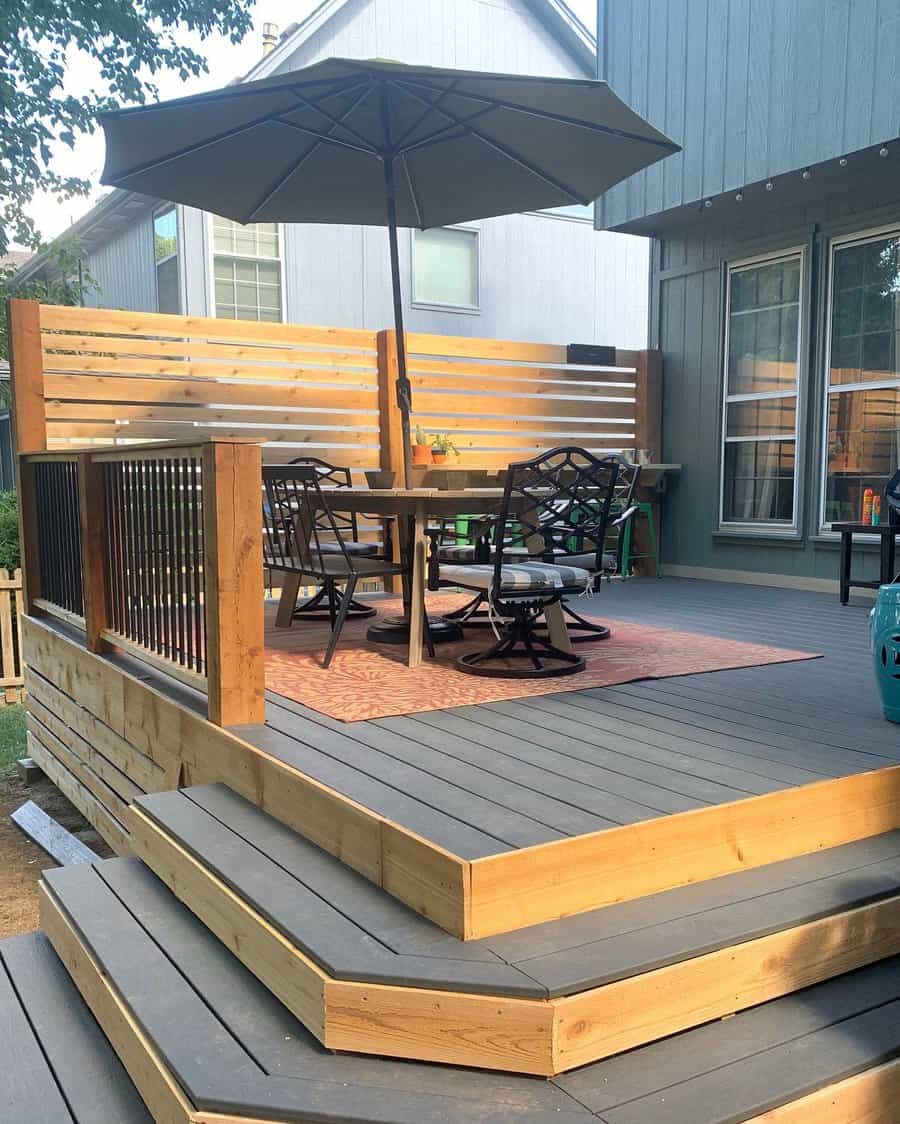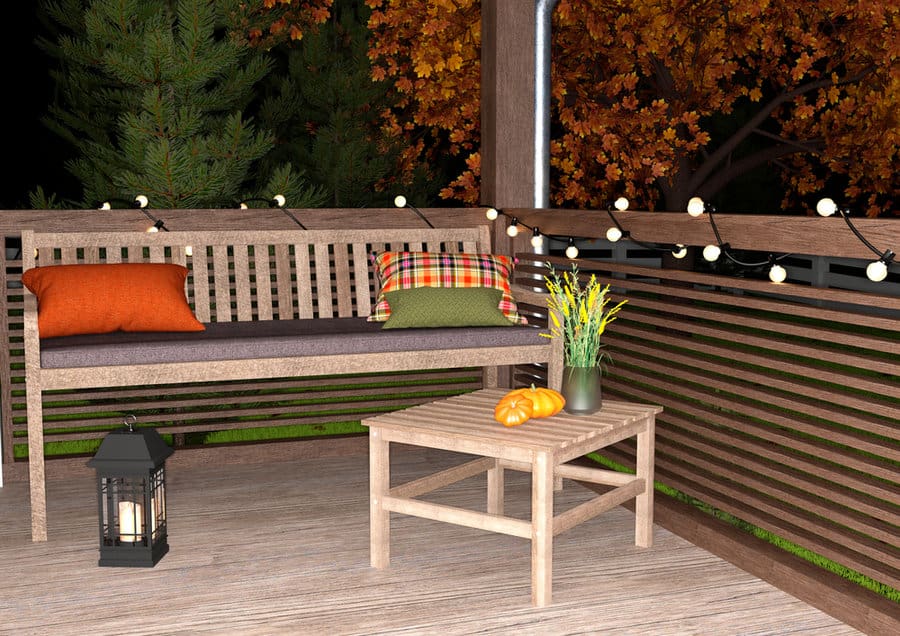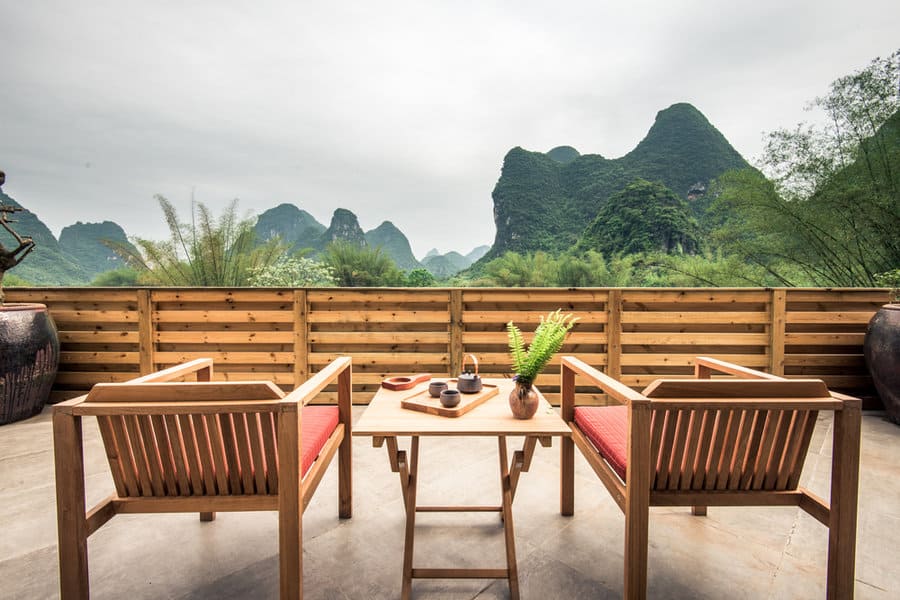 9. Rustic
Rustic wood deck railings are a creative way to add a unique touch to any outdoor space. Instead of settling for plain railings, railings made from the branches of trees or other natural materials provide a rustic and organic feel to your home.
Imagine standing outside and looking over your railings with the individual beauty of each branch smiling back at you. The natural shape of the railings adds a unique charm and bespoke design to any deck that why it's become such an enduring favorite with nature-loving homeowners who want something truly special.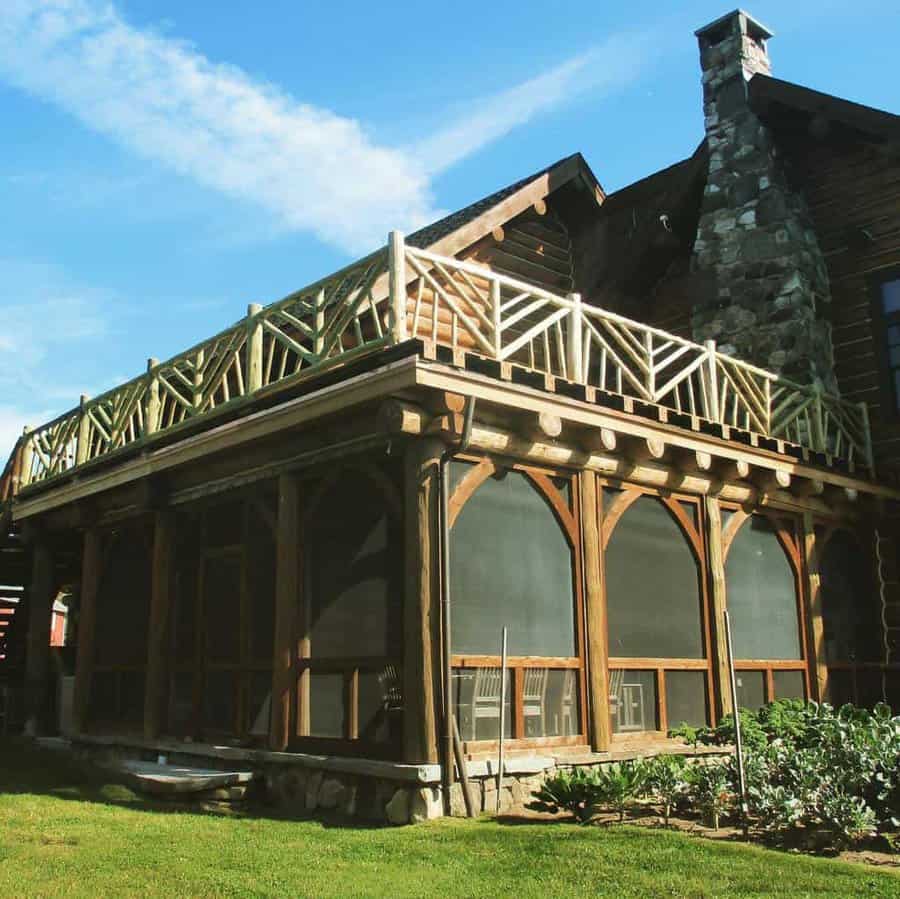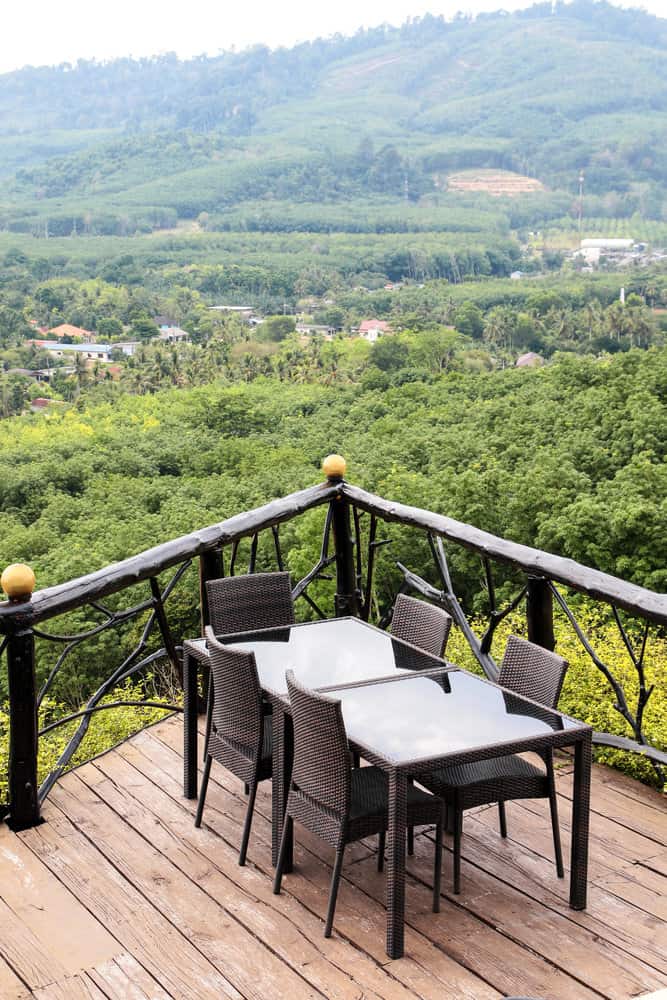 FAQs
What can I use instead of deck railing?
You have other options if you don't want to install a deck railing. You could use steel cables, metal tubes, or plants. Line potted plants or place them directly in the ground. Choose a dense bush-style plant that will grow thick to create a natural protective border around your deck.
How tall should a deck railing be?
Your deck railing should be at least 36 inches high. This makes it high enough to comply with safety and building codes. At this height, it's tall enough that someone won't accidentally fall over it.
What's the difference between a banister and a baluster?
The baluster is the spindle or other vertical piece that connects the deck to the top rail. They add support and increase the safety of your railing. The banister is the top rail or handrail that sits on the balusters.