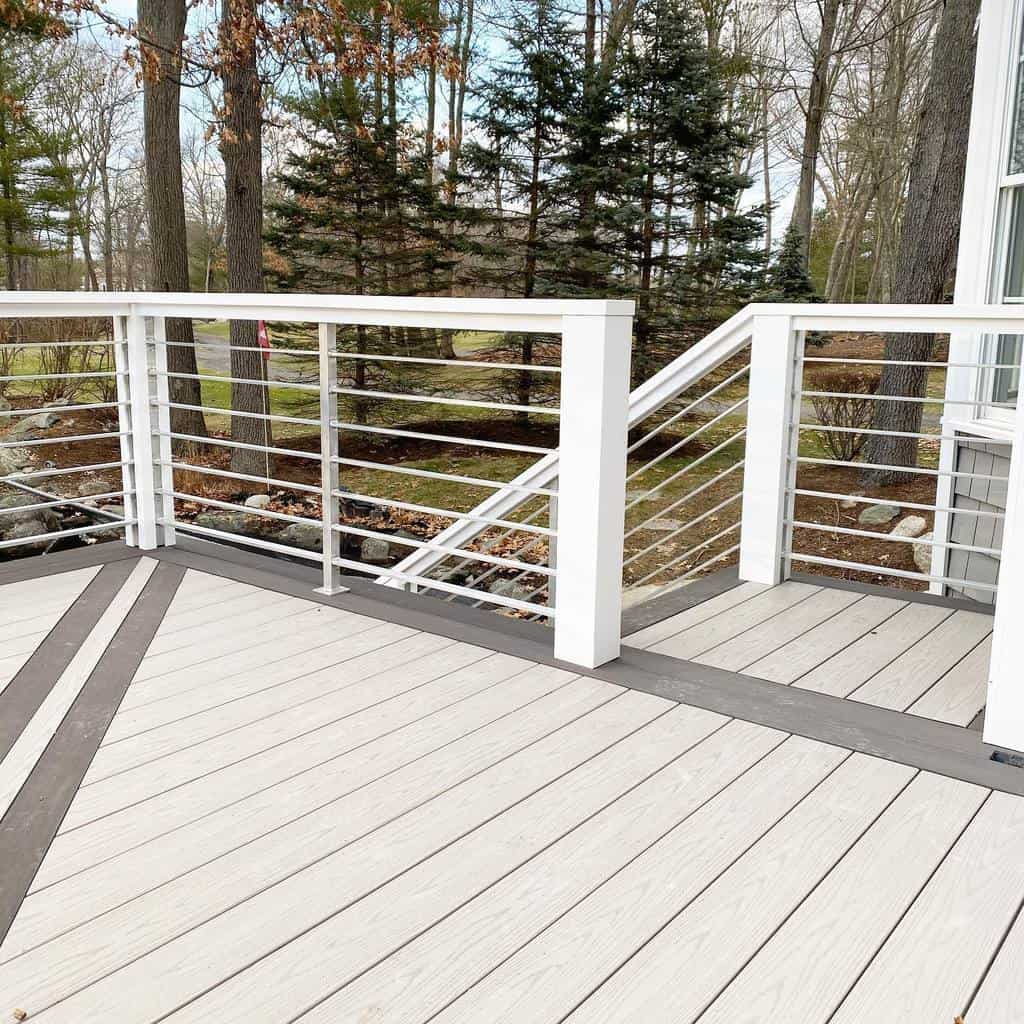 45 Wood Deck Railing Ideas and Designs
Building a deck onto the exterior of your home can give you additional living space. It makes the most of your property by giving you a place outdoors to gather and entertain. The rich color of the deck adds warmth and natural color to your home's design.
Once you've decided on the size and shape, you can get started. However, you aren't done. If your deck is elevated, you need a railing. There are plenty of deck railing designs to choose from. This makes it easy to find the perfect railing to complement the architectural design of your home.
Get creative with your deck by taking inspiration from these wood deck railing ideas.
1. Cable Wood
Cable railings use a series of cables to create a wall. The cables are typically placed several inches apart, but you can arrange them as close or as far apart as you want. A more densely packed cable system will be safer if you have children or pets using your deck.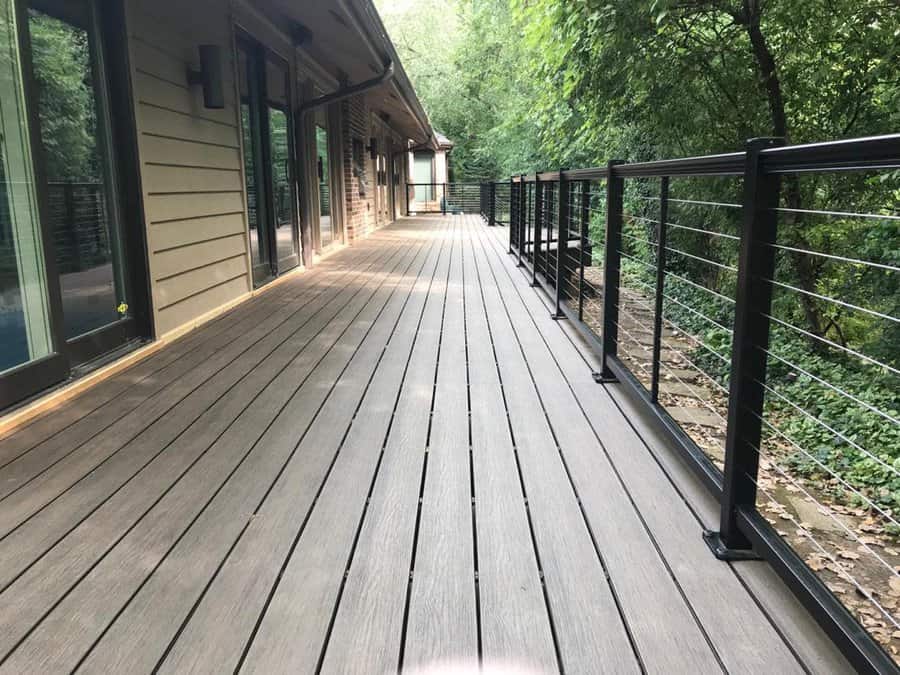 If the railing is purely decorative, you could place the cables further apart. There should be a top rail on the top of your cable deck railing. It could be made from wood or vinyl. This gives you a place to lean on, place a drink, or just clearly define where the cables end.
2. Decorative
Turn your deck railing into more than just a safety feature. Adding deck lighting can create a unique effect. Install the lights in the deck to point upward at the railing. Or you could install them on the underside of the railing to create a gentle wash of light downward.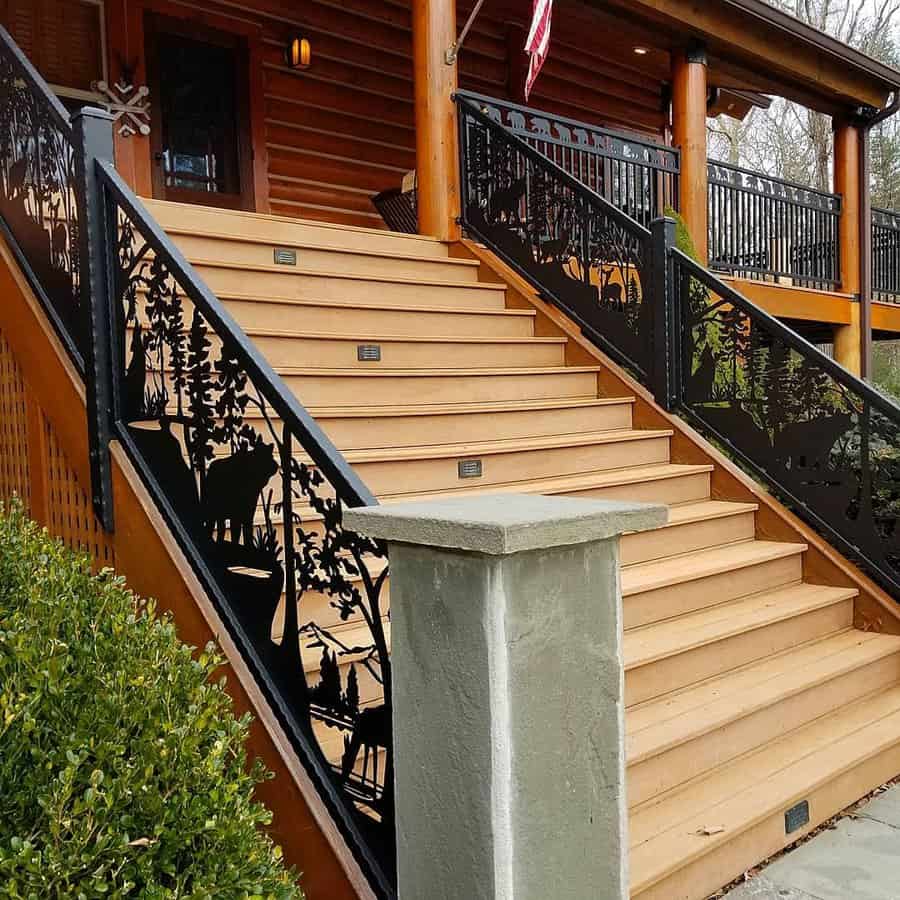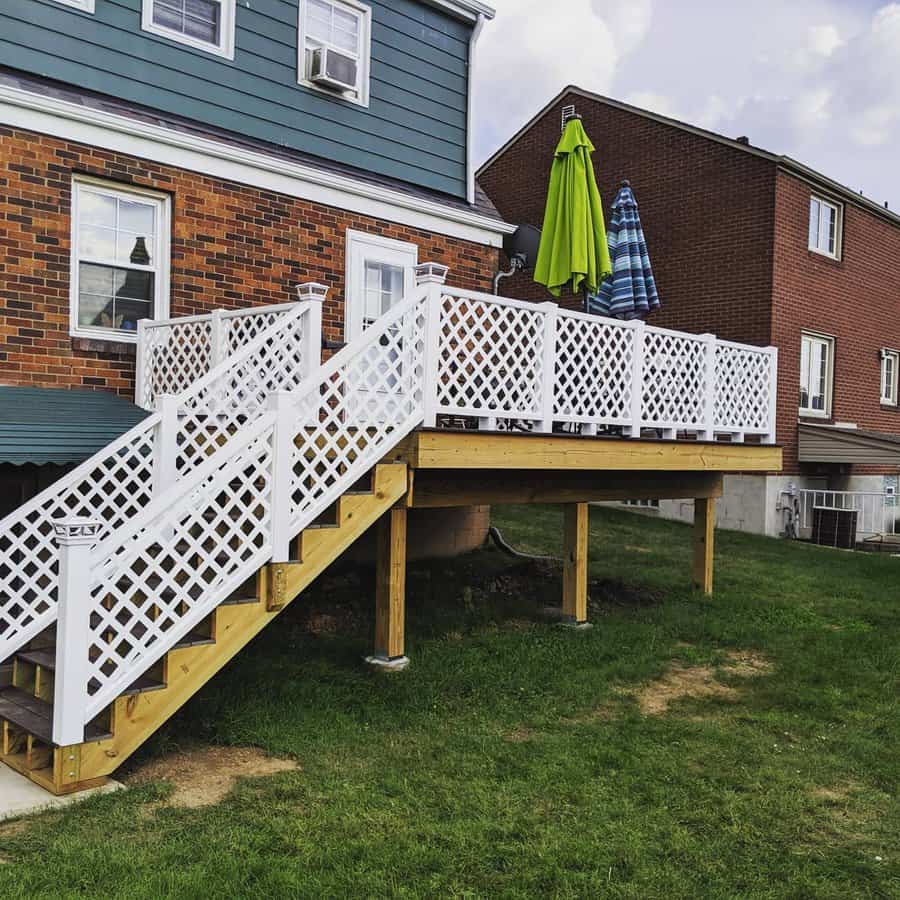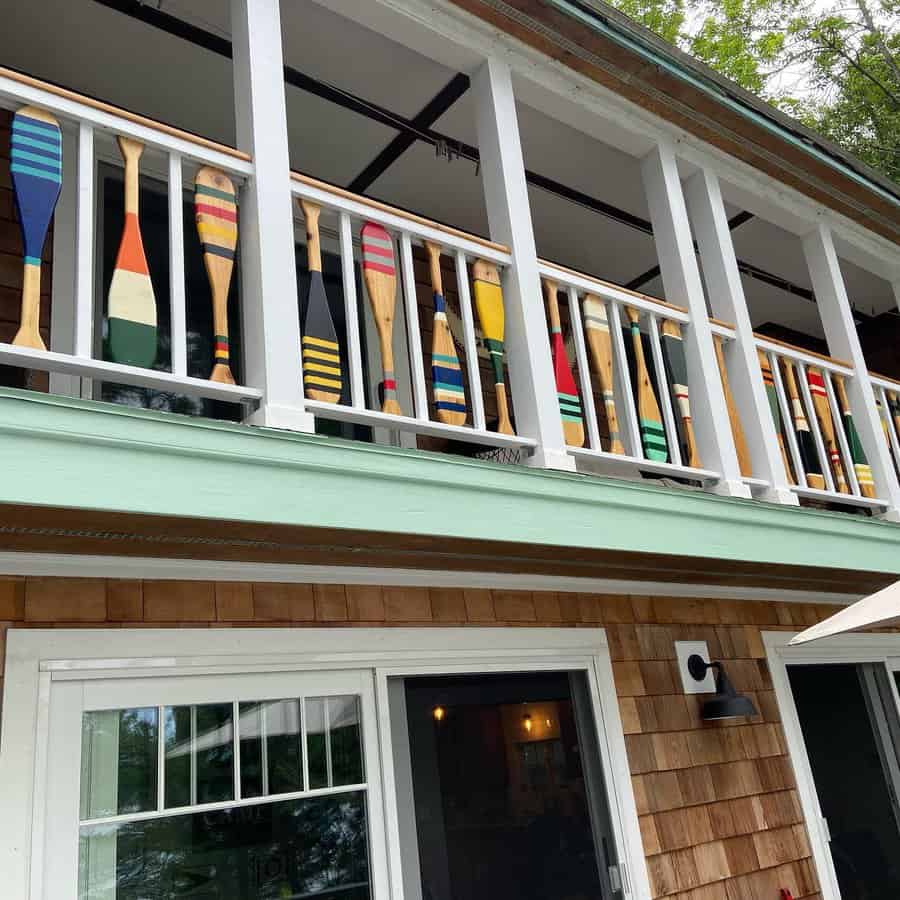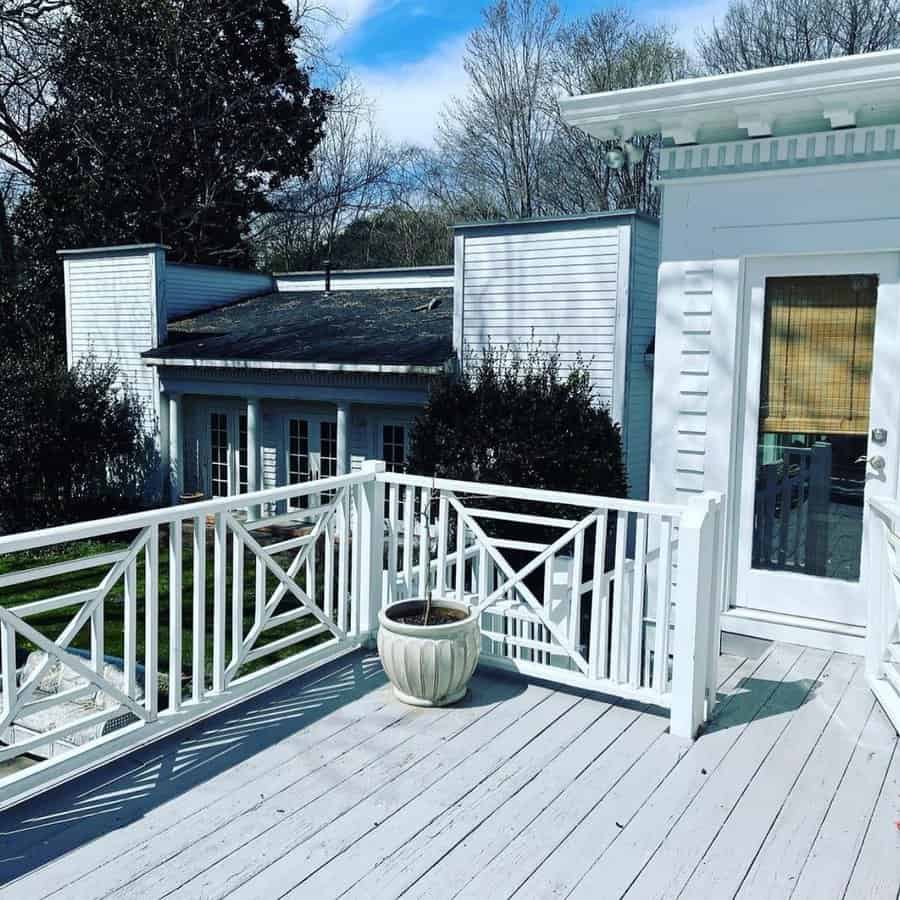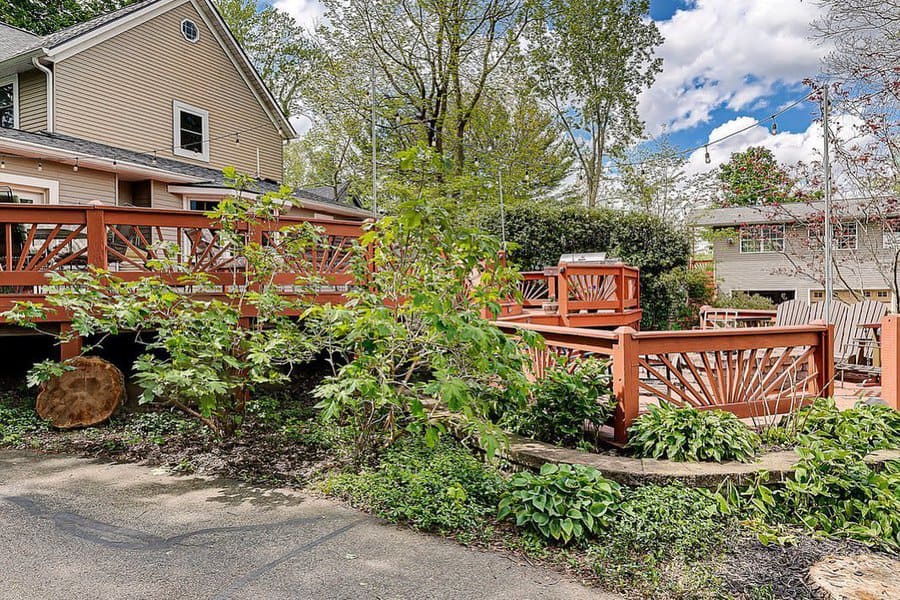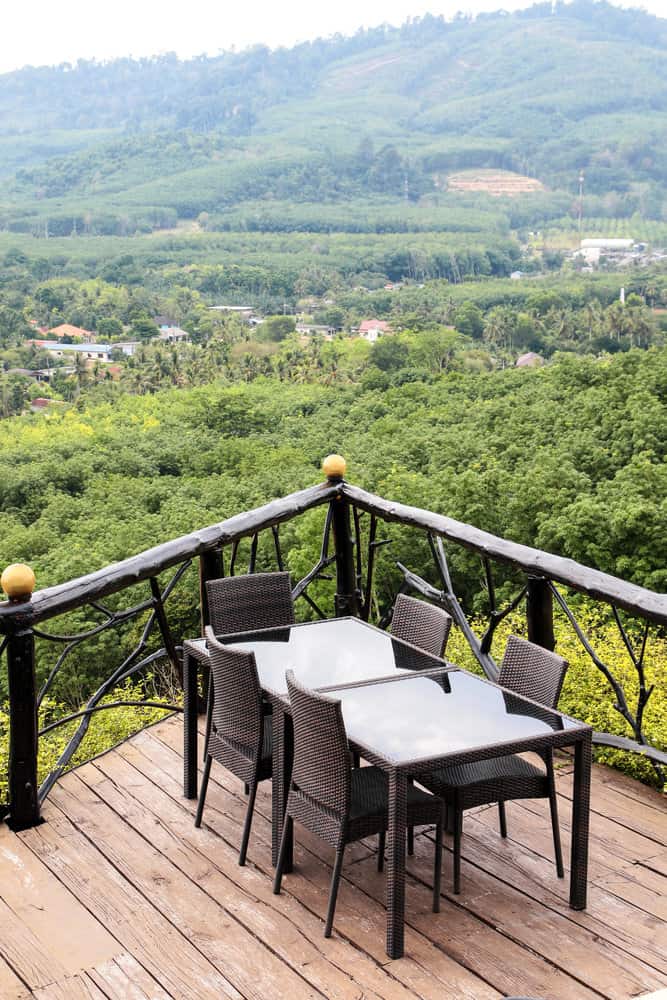 Installing them on the posts is another option for ambient light across the body of the deck. LEDs are your best option. They have a low energy consumption, are long-lasting, and come in a wide range of temperatures.
3. Glass
If your home has a beautiful view, then consider using glass panels for your railing. These vertical sheets of glass line the edge of your deck to create an invisible barrier. Most glass railings have a solid composite, wood, or vinyl top rail. This is nice because it gives the railing a finished look. However, the solid top rail could obstruct your view.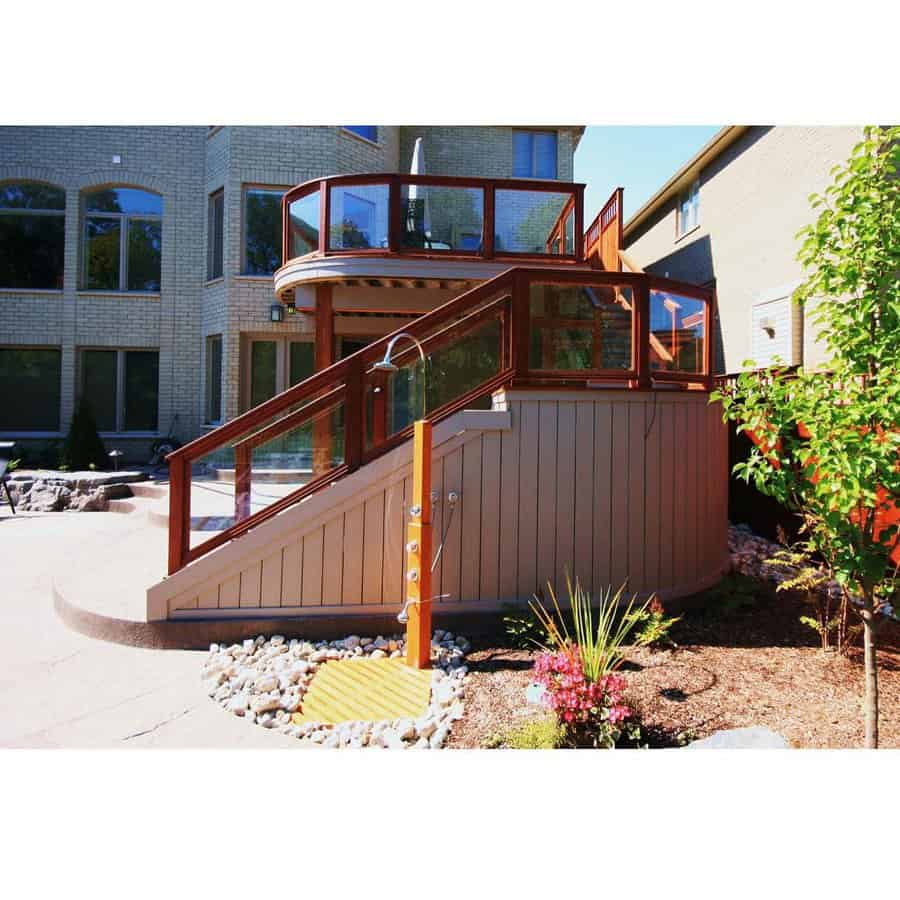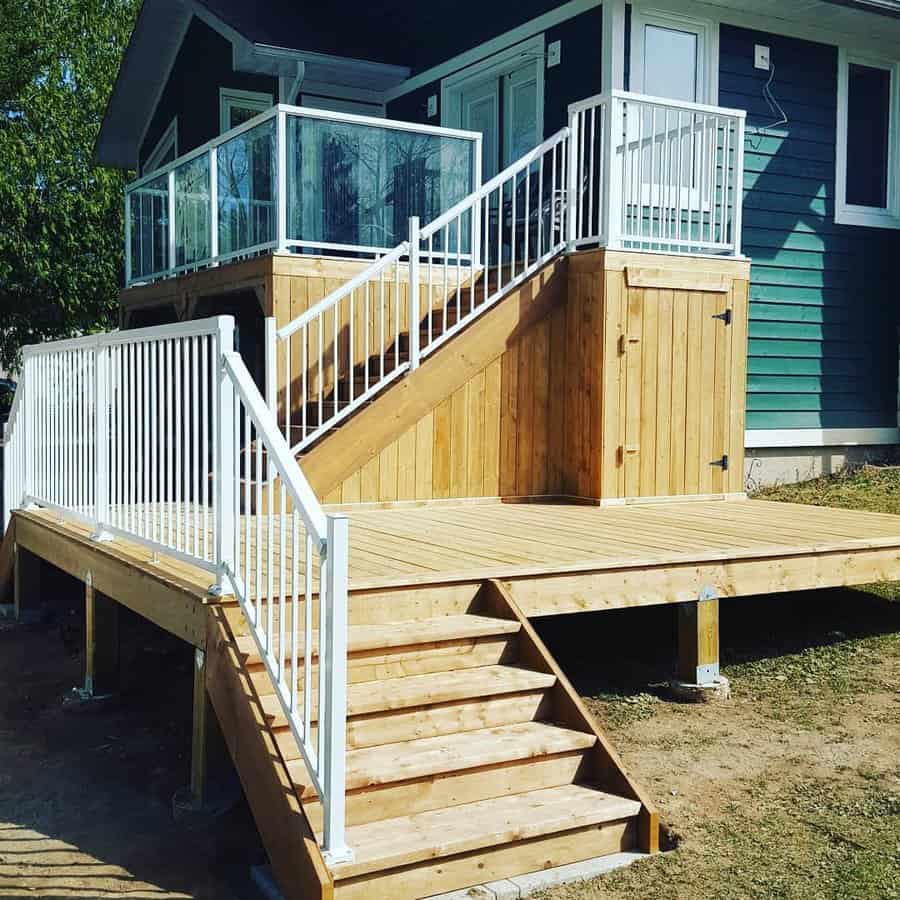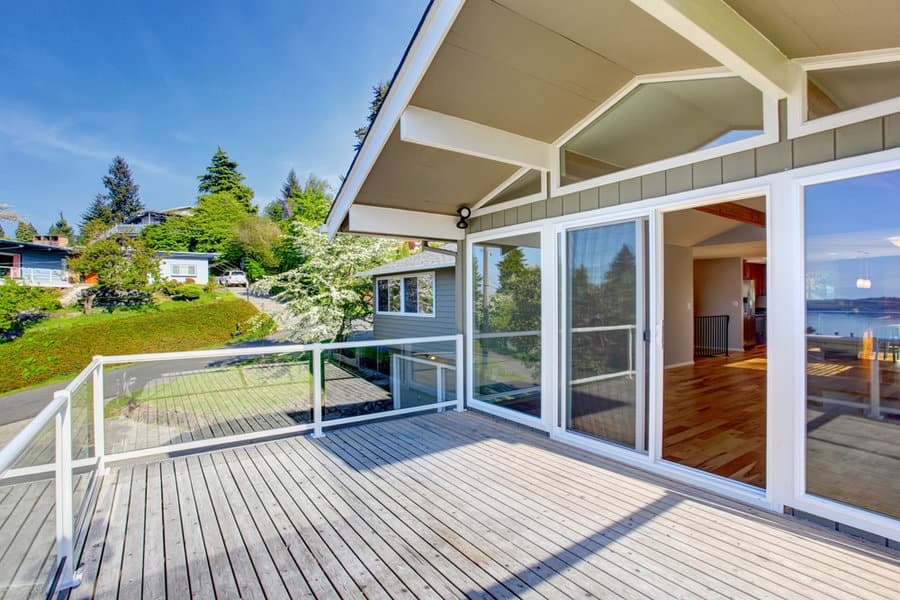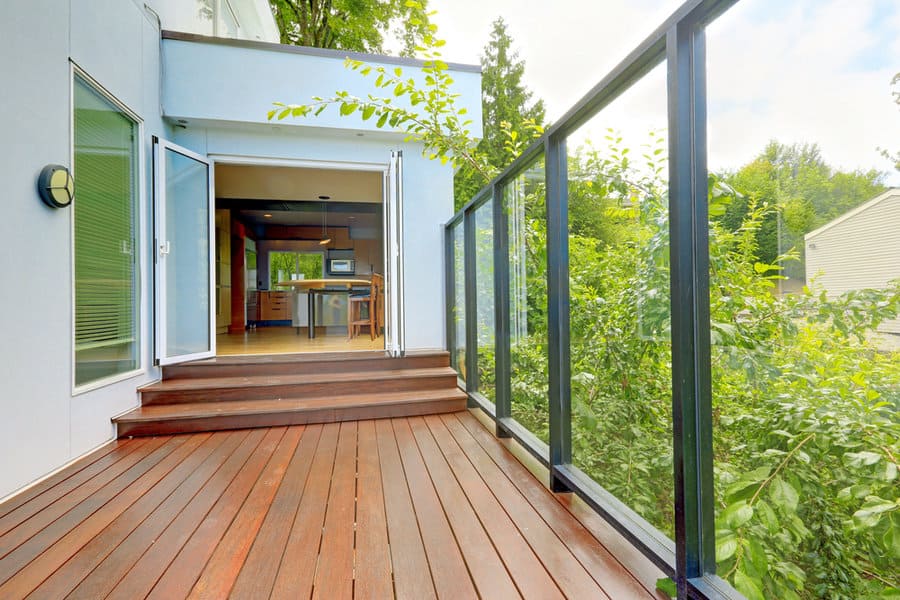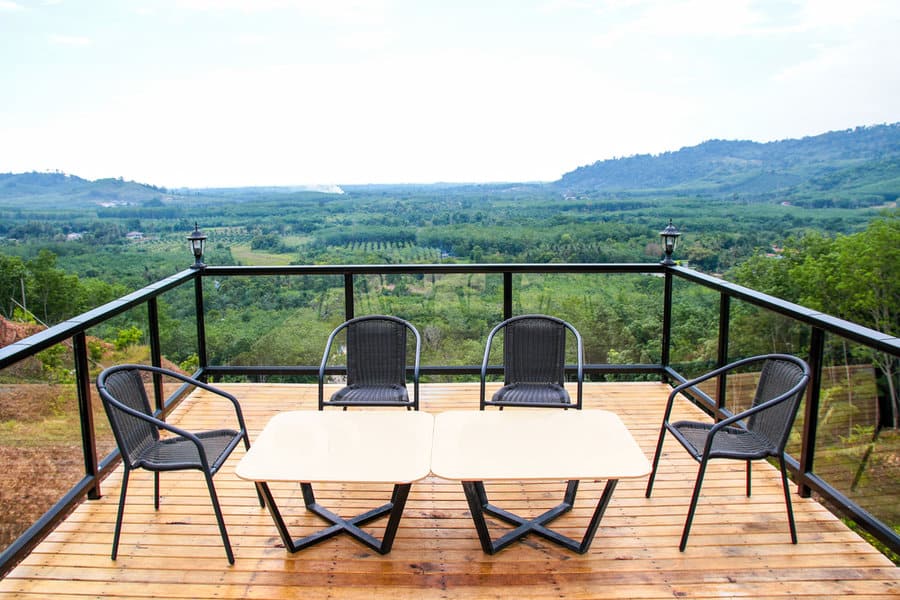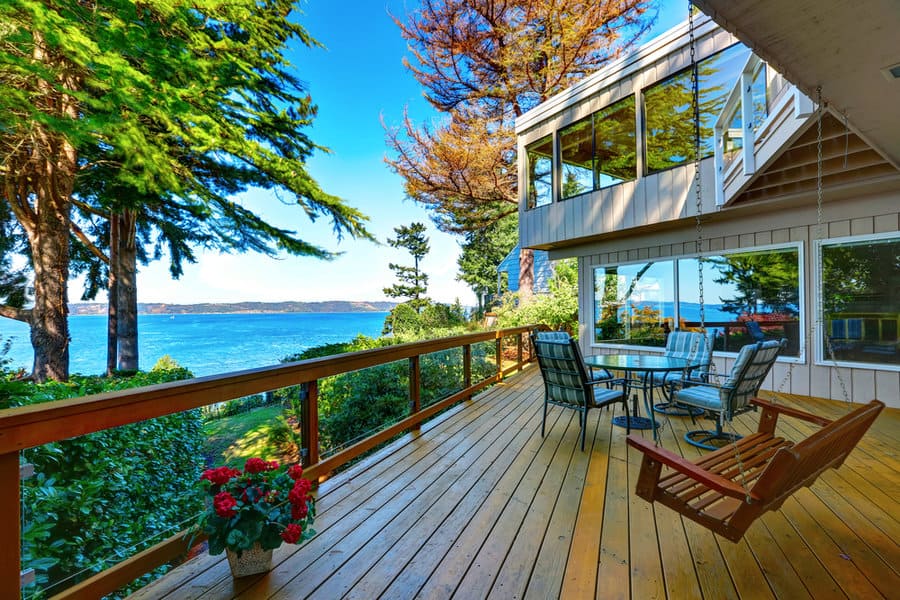 A glass deck railing does require routine upkeep. The glass will get dirty, or mildew could grow on it. This detracts from the attractiveness of the glass. This style of railing is also expensive, so while it may be a hefty investment, it can elevate the look of your home.
4. Horizontal
Instead of installing a traditional railing with vertical spindles, try a more modern approach. A horizontal deck railing uses posts and a top rail, but instead of vertical spindles, there are horizontal supports that run parallel to the top rail. Your horizontal railing system could be made entirely out of wood or vinyl.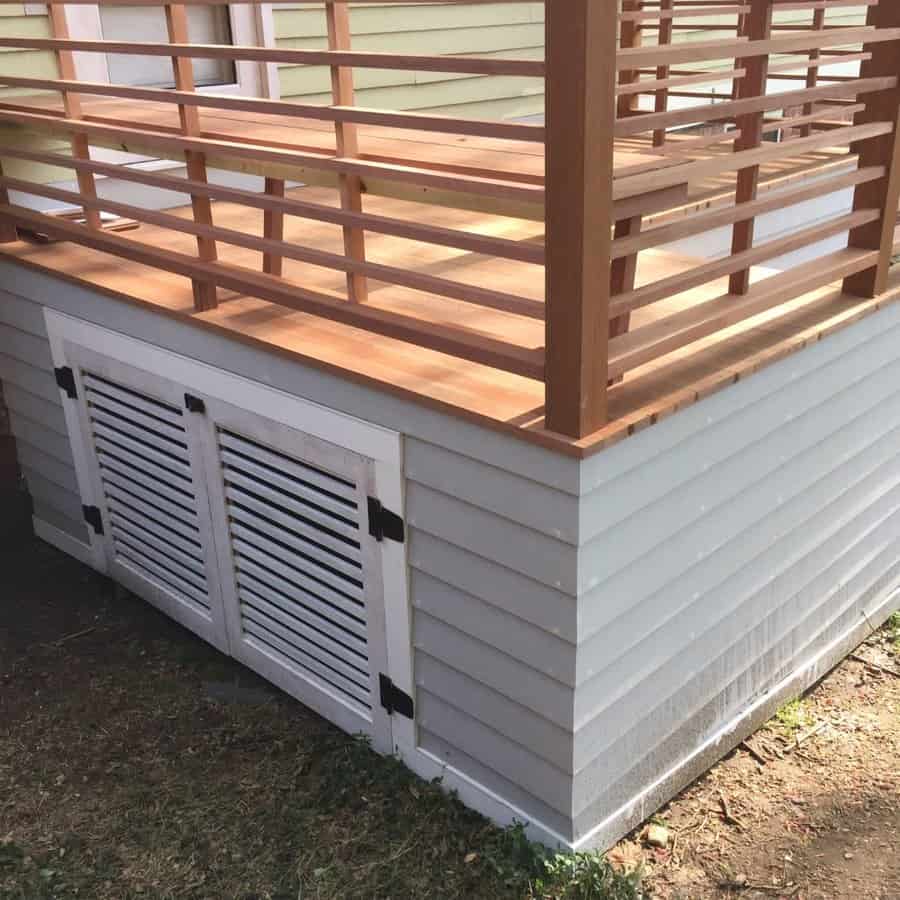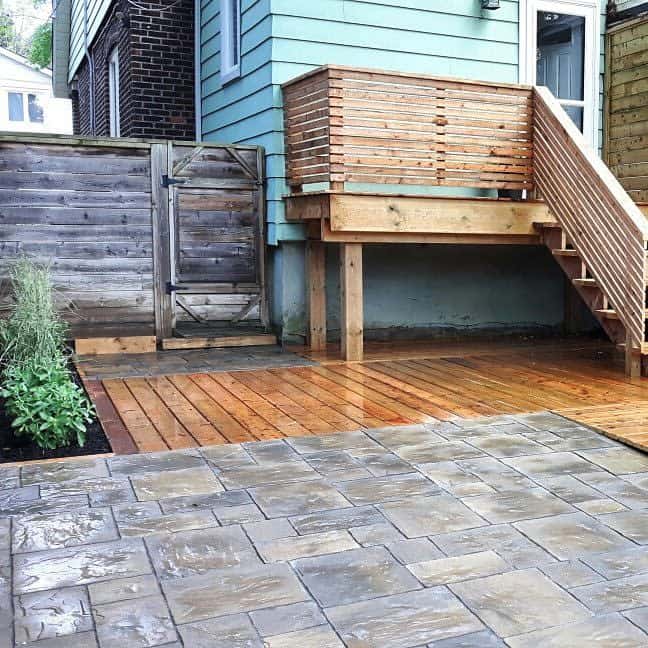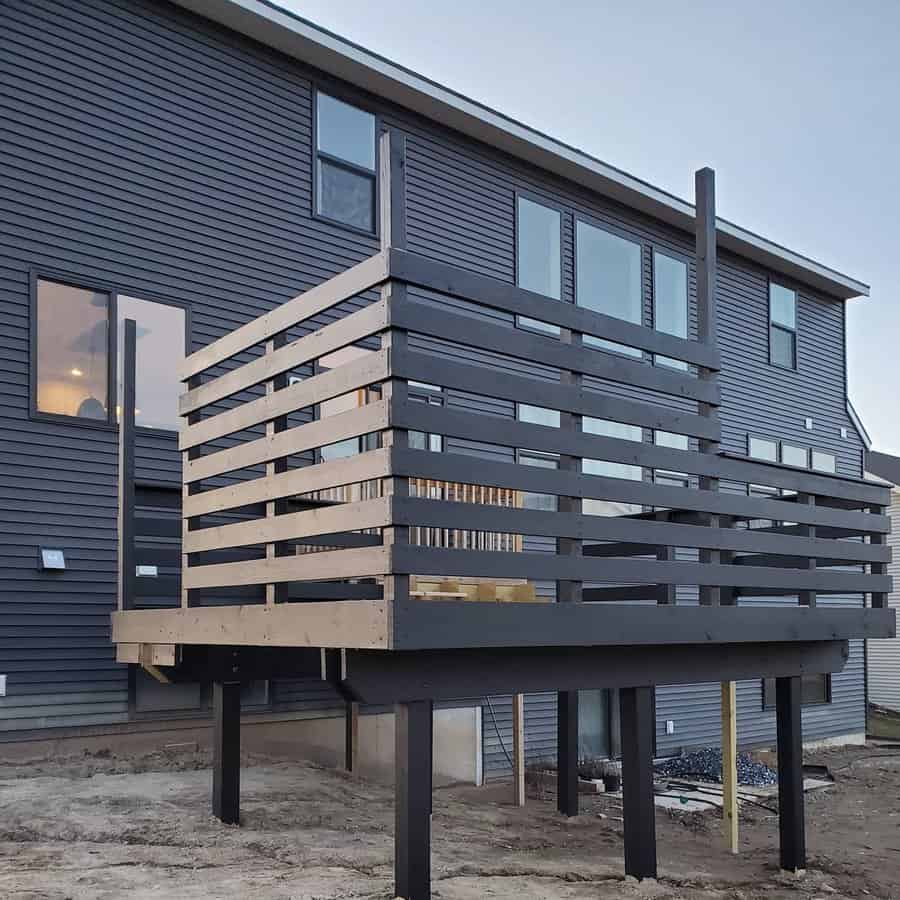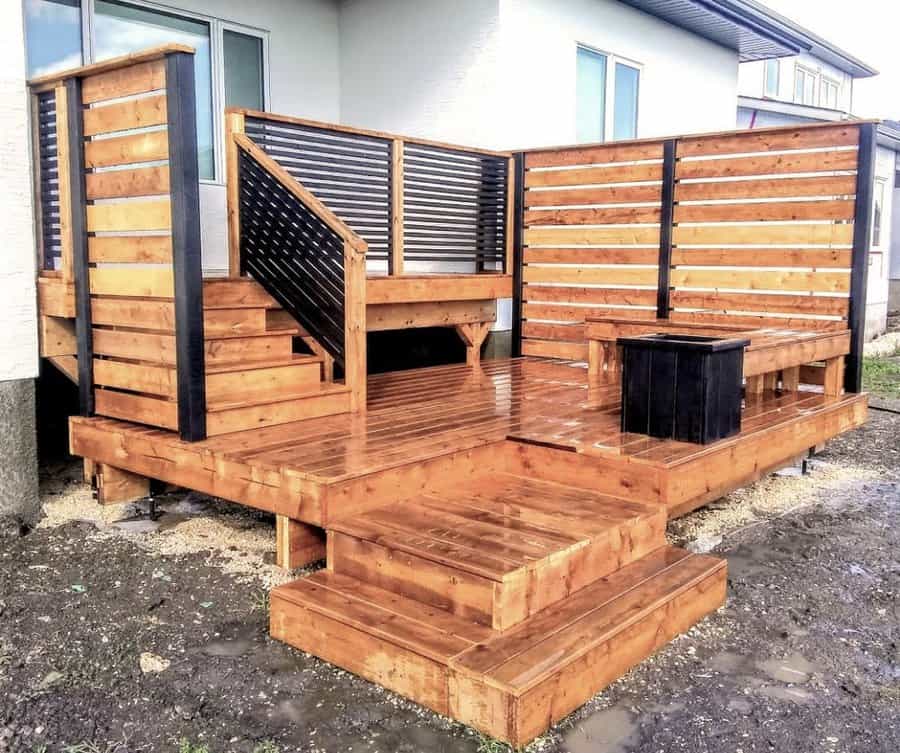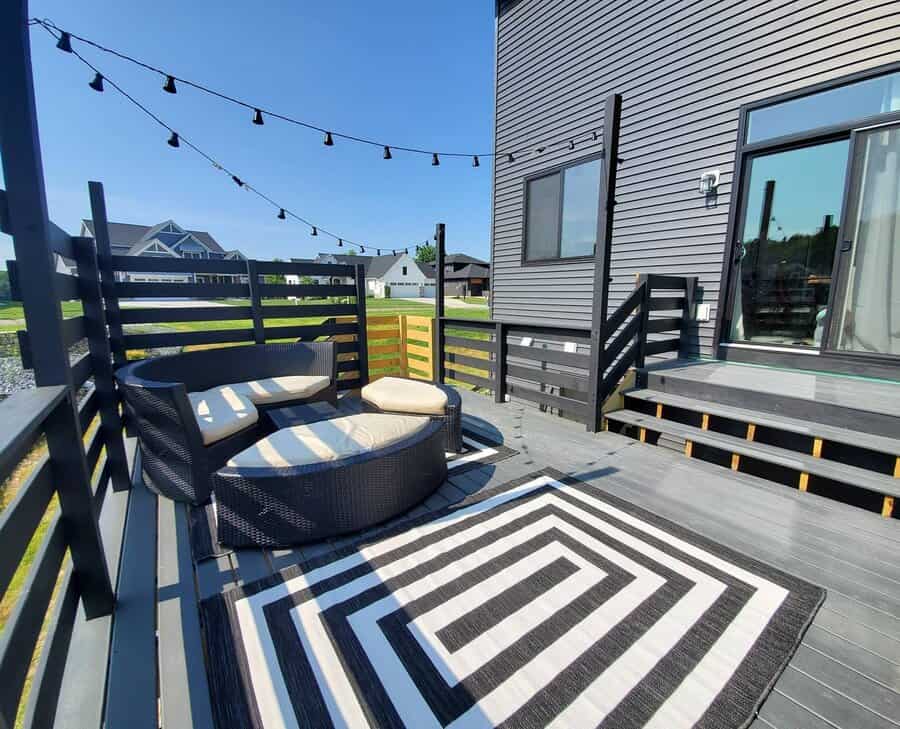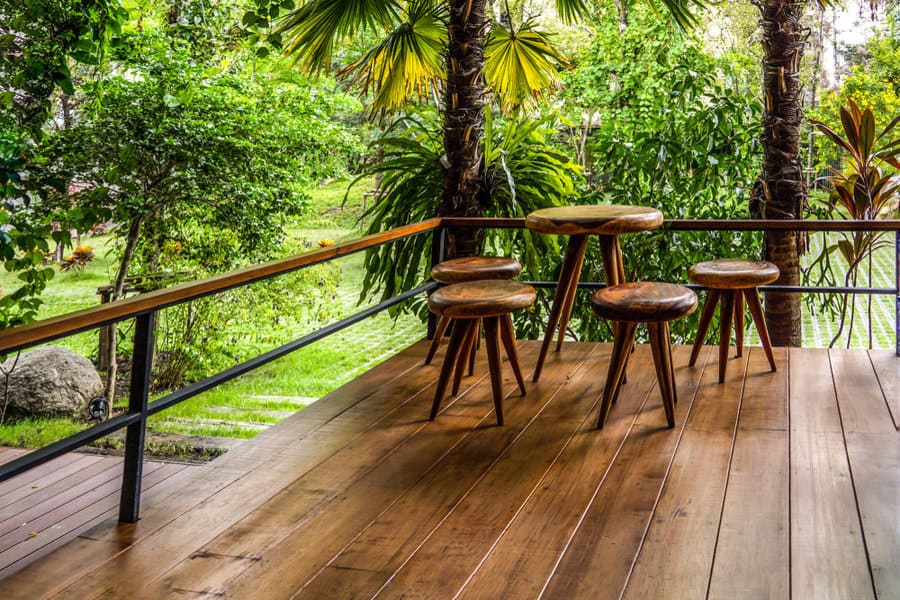 It could also use a combination of metal and wood. A simple design will have three or four horizontal supports. More intricate designs could have as many as eight or ten. You can choose from thin rails with large spaces between them or wide rails with narrow gaps in between.
5. Inexpensive
If you're looking for an inexpensive deck railing, then work with wood. You can build your own railing out of salvaged pieces of wood, such as wood pallets that you take apart. The pallet pieces are already cut to a uniform size, making them easy to work with.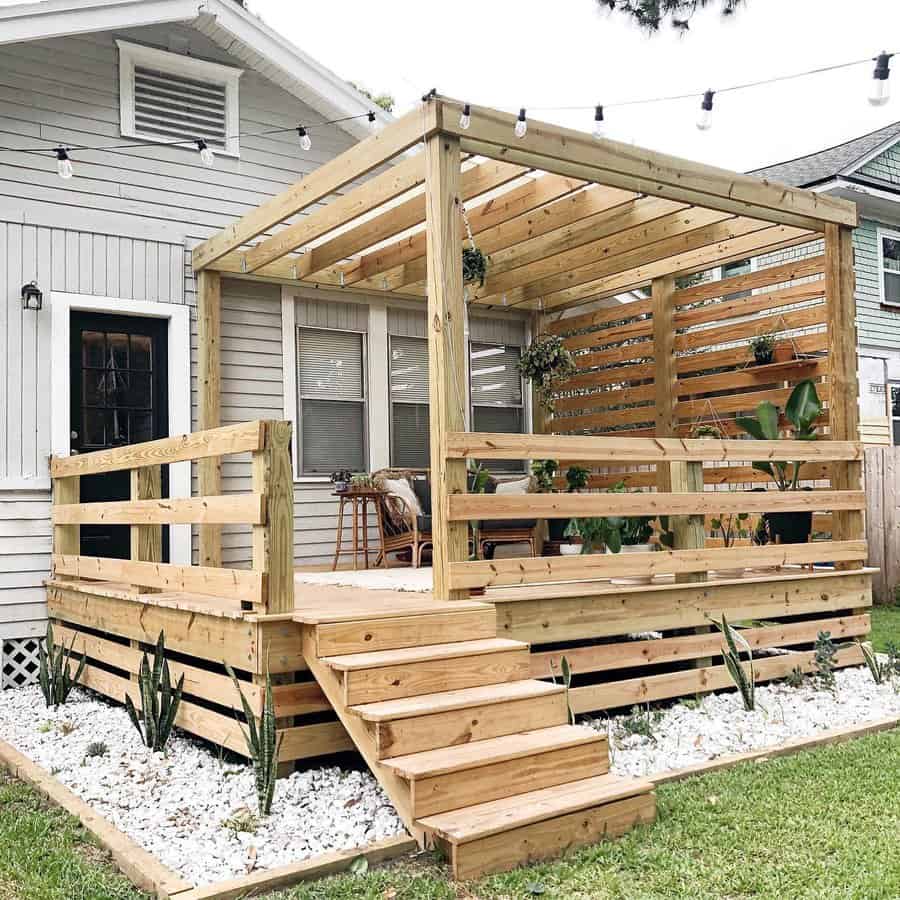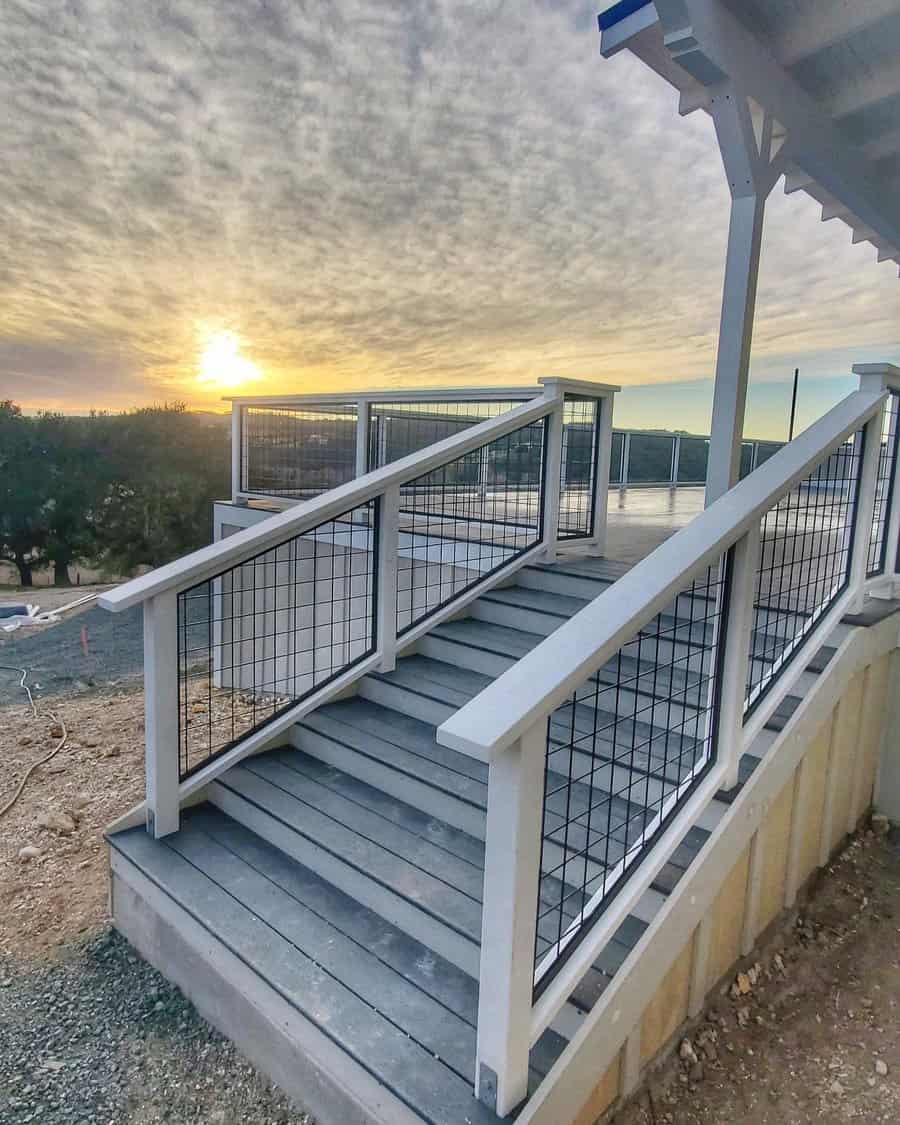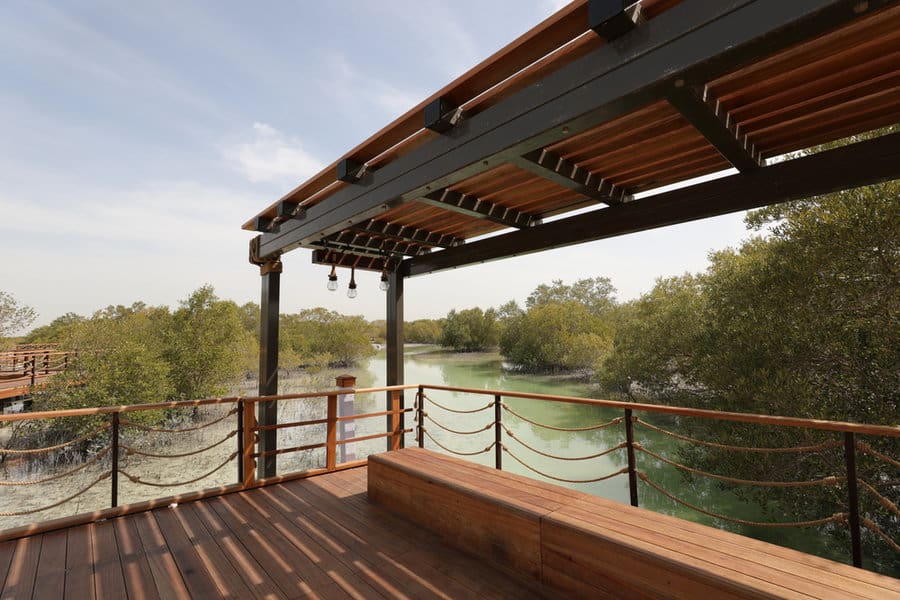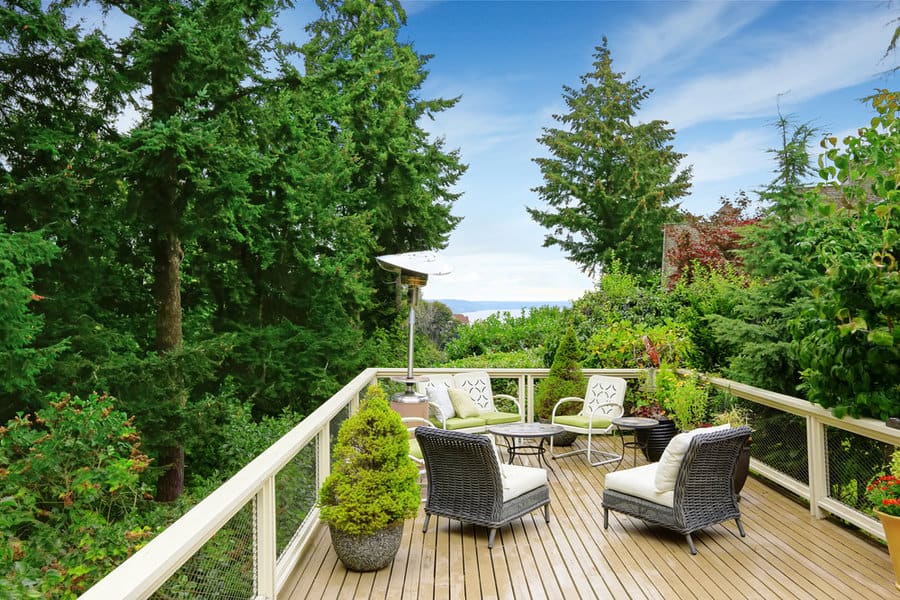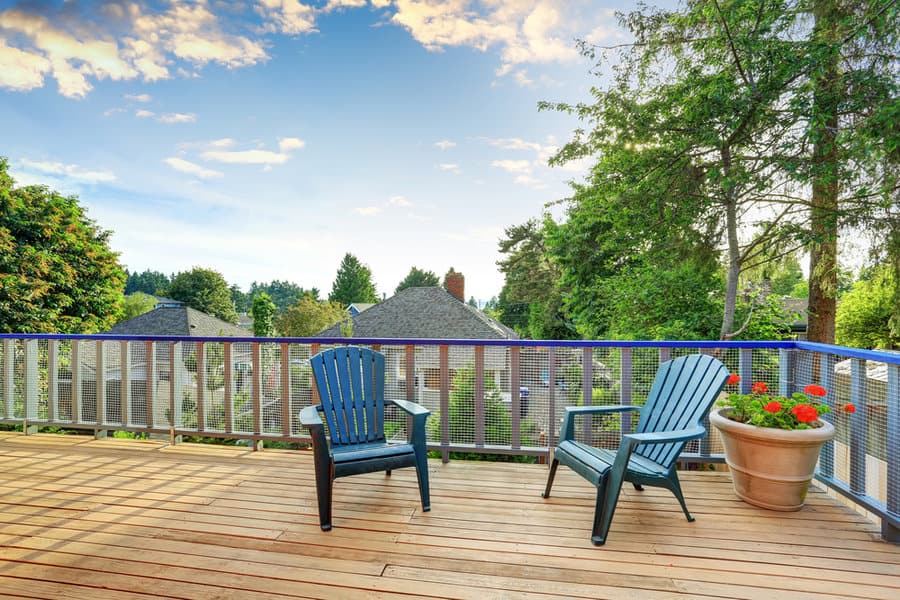 You could also buy fresh wood and cut it to size and length needed to build a custom railing. You could create a simple "X" design between each post. The intricacy of the design you build is only limited by your equipment, skills, and creativity.
6. Metal
An aluminum railing is affordable, lightweight, easy to install, and looks modern. They typically come with metal posts and top rails with cables running horizontally to connect everything. A stainless steel railing is a good option for a more traditional look. It looks similar to traditional wood railings with posts, balusters, and a top rail.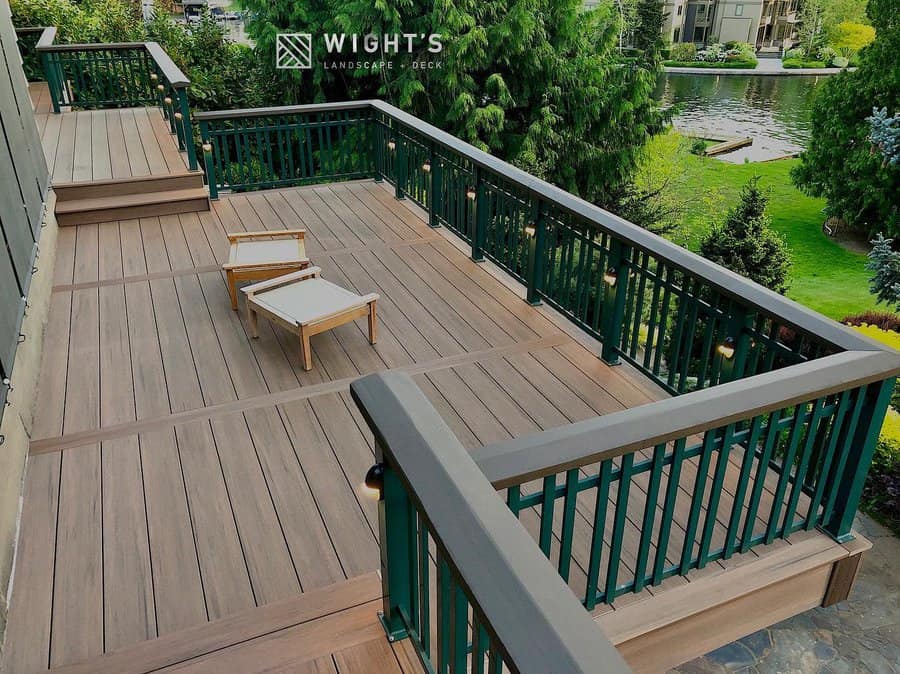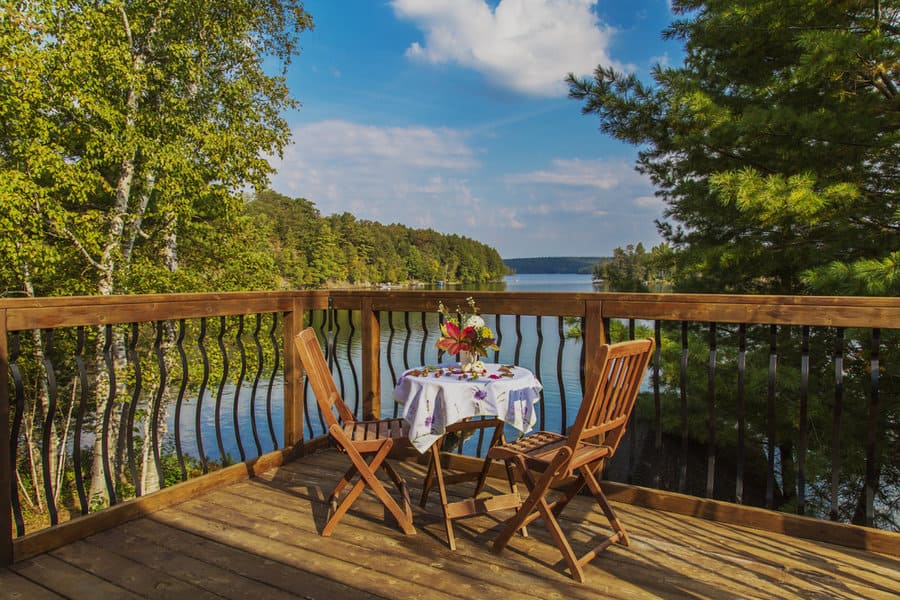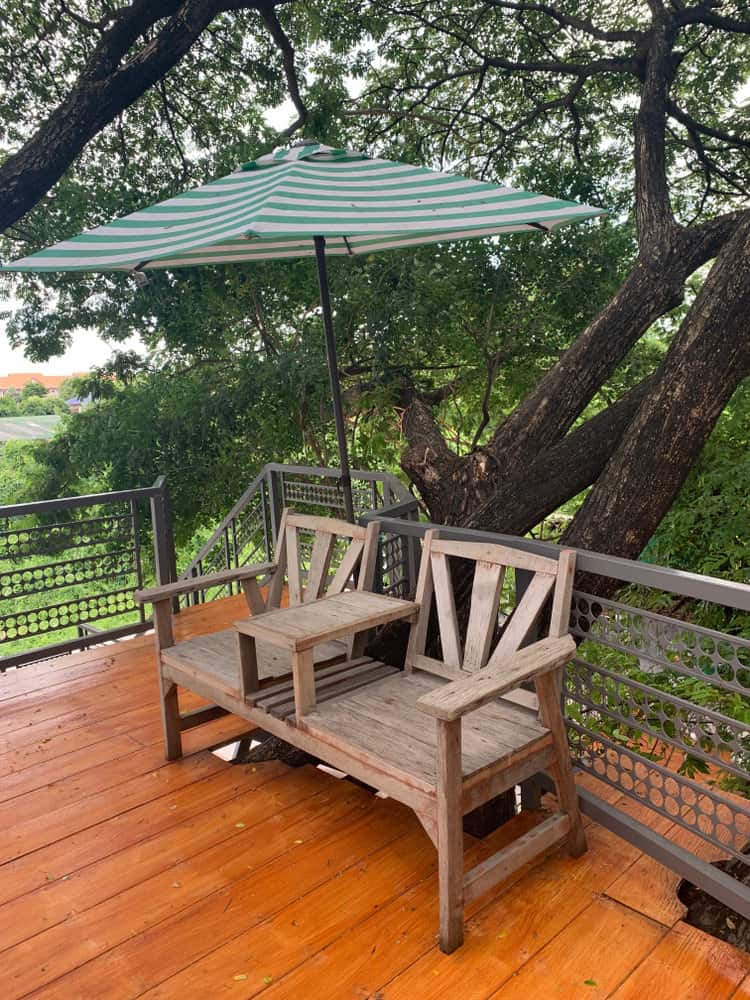 The steel is heavier than aluminum but also more durable. You will also see metal railings that use wood or vinyl. The top rail and posts are made from wood or vinyl. Then the spindles are made of metal. If you're ready to invest, an iron railing is going to last and be the most durable. This style of metal deck railing tends to be the most decorative with intricate designs.
7. Multipurpose
Your deck railing can do more than just create a boundary on the perimeter of your deck. You could have a vinyl railing with a built-in ledge. This ledge could act as a bar top edge. Then line bar stools along your vinyl deck railing for people to sit at.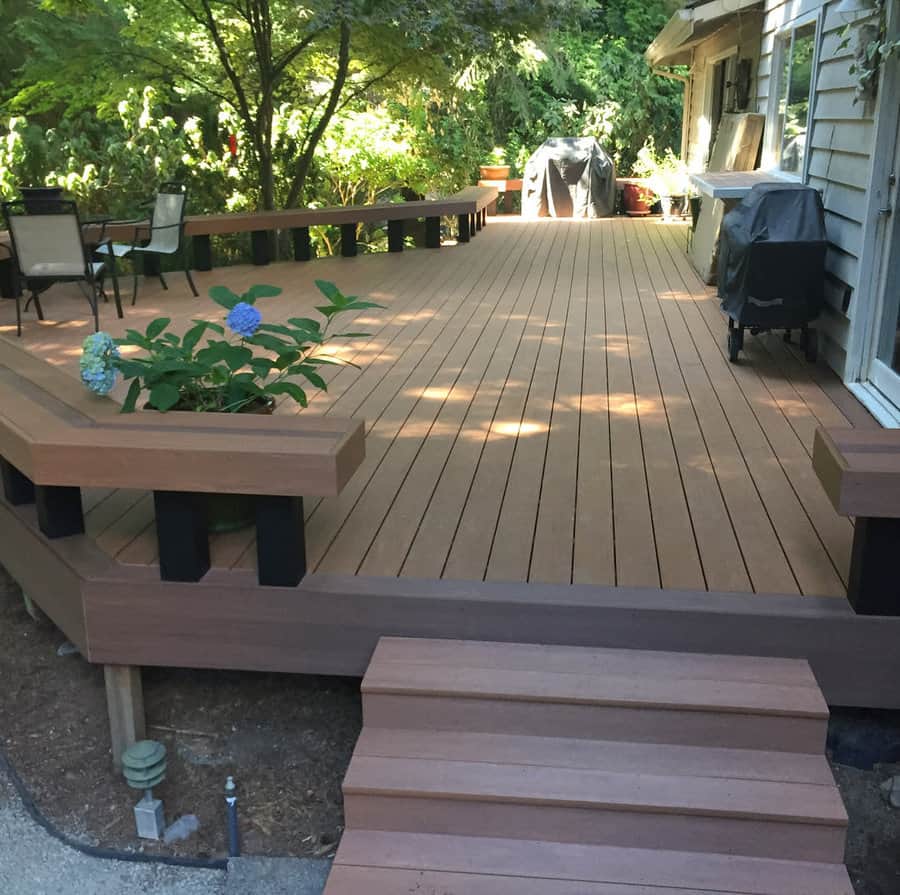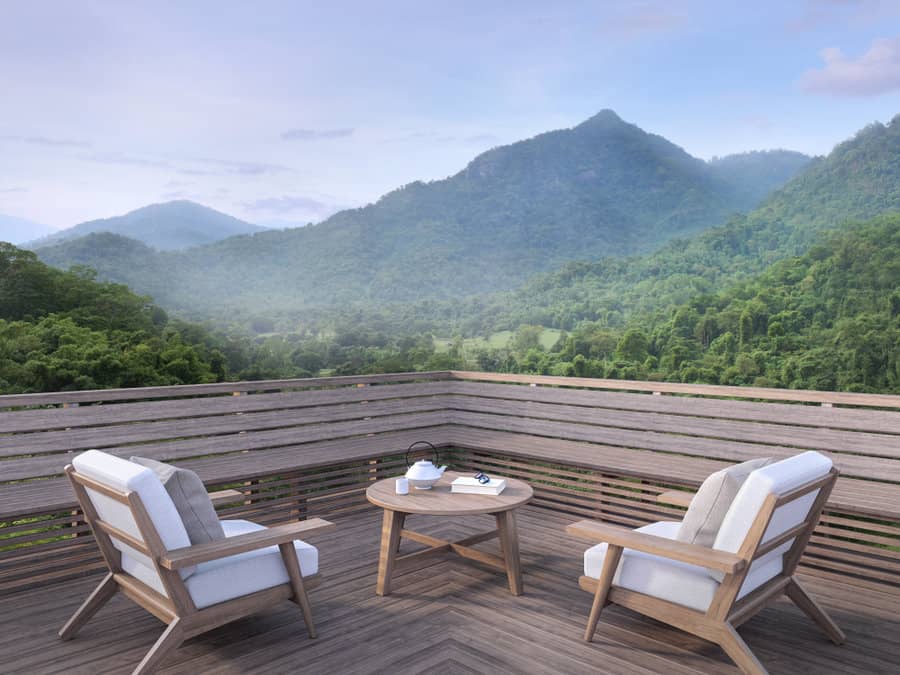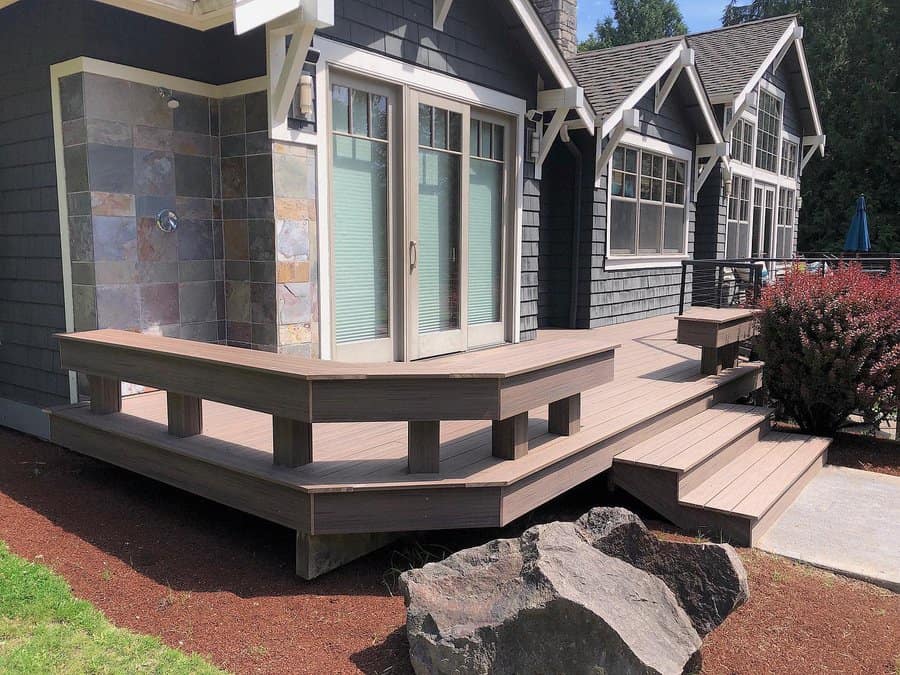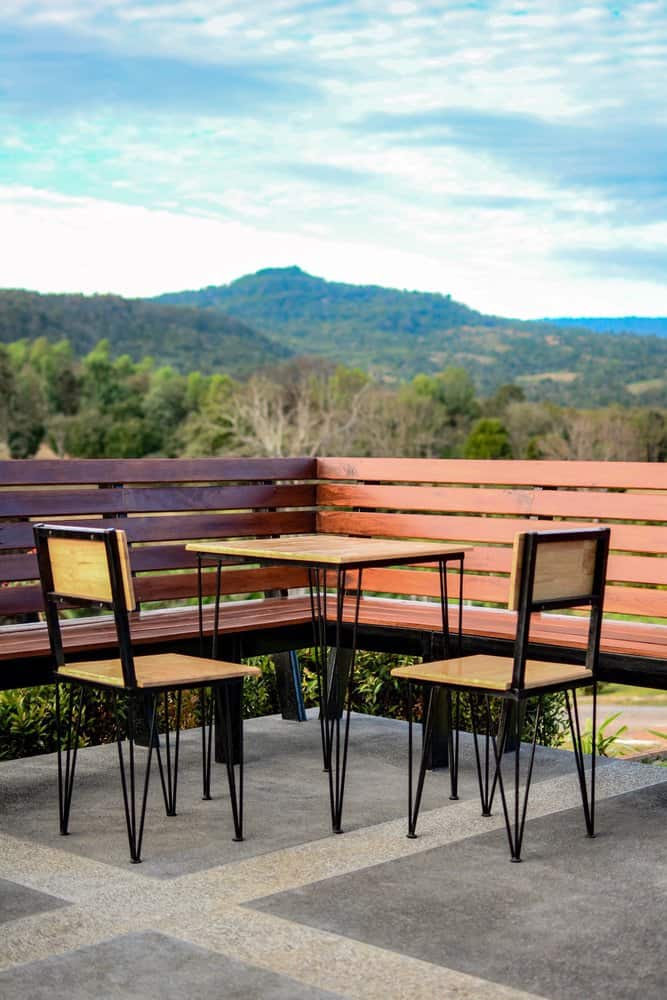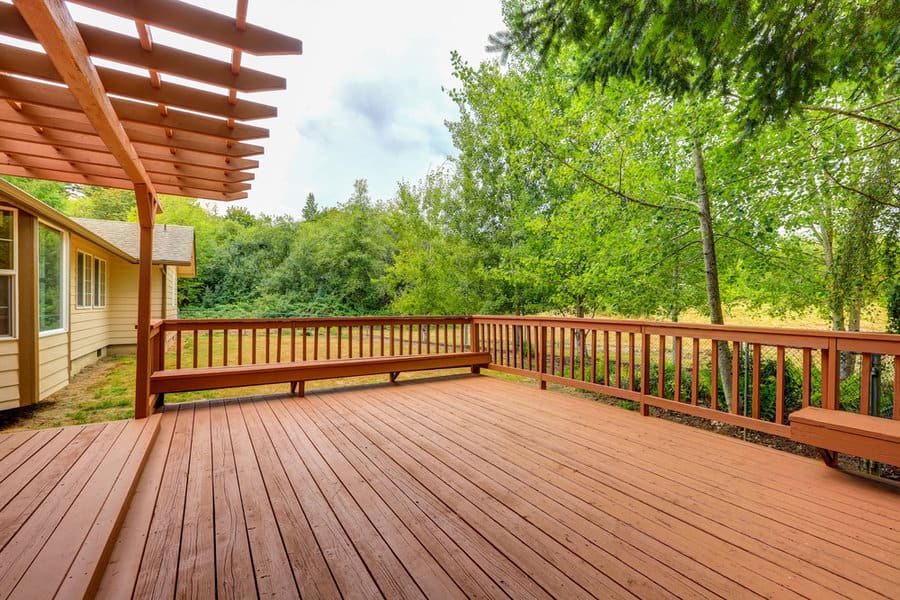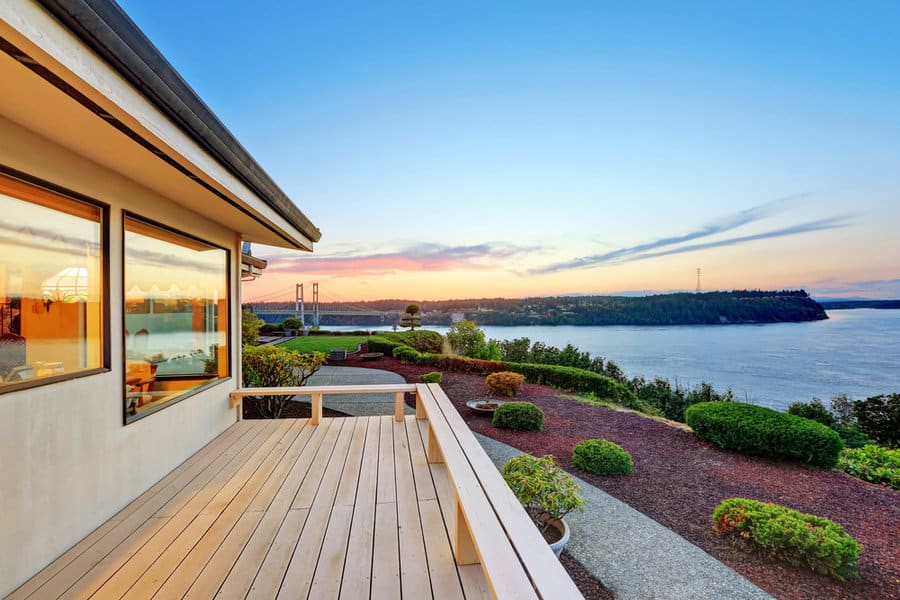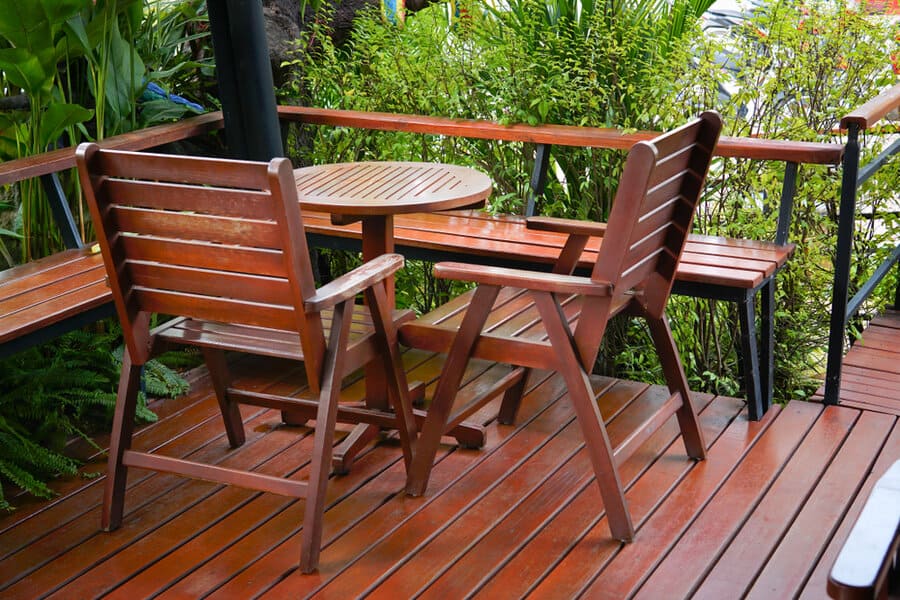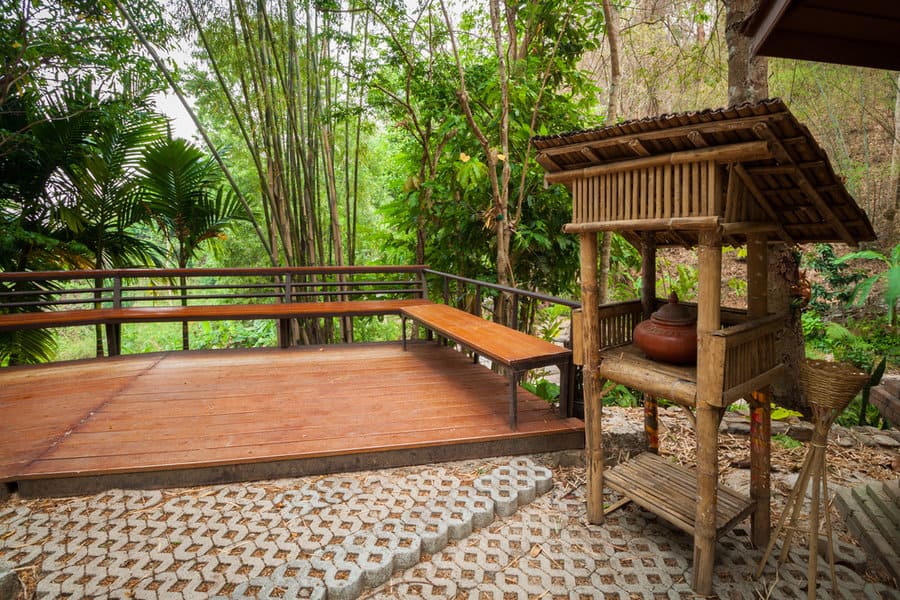 You could turn your composite railing into a planter. Now you have a convenient place for growing flowers or herbs. Don't forget that your railing should also look good and enhance the design of your overall deck. If you choose to use composite decking, it comes in several colors and designs, letting you customize the look of your railing.
8. Privacy
A composite deck railing is good for creating privacy. You can build a railing that has smaller gaps and is taller than the average. This will block the view of your deck from your neighbors or anyone else. Consider airflow when building your privacy railing. While you want to block the view, you also don't want to completely block airflow.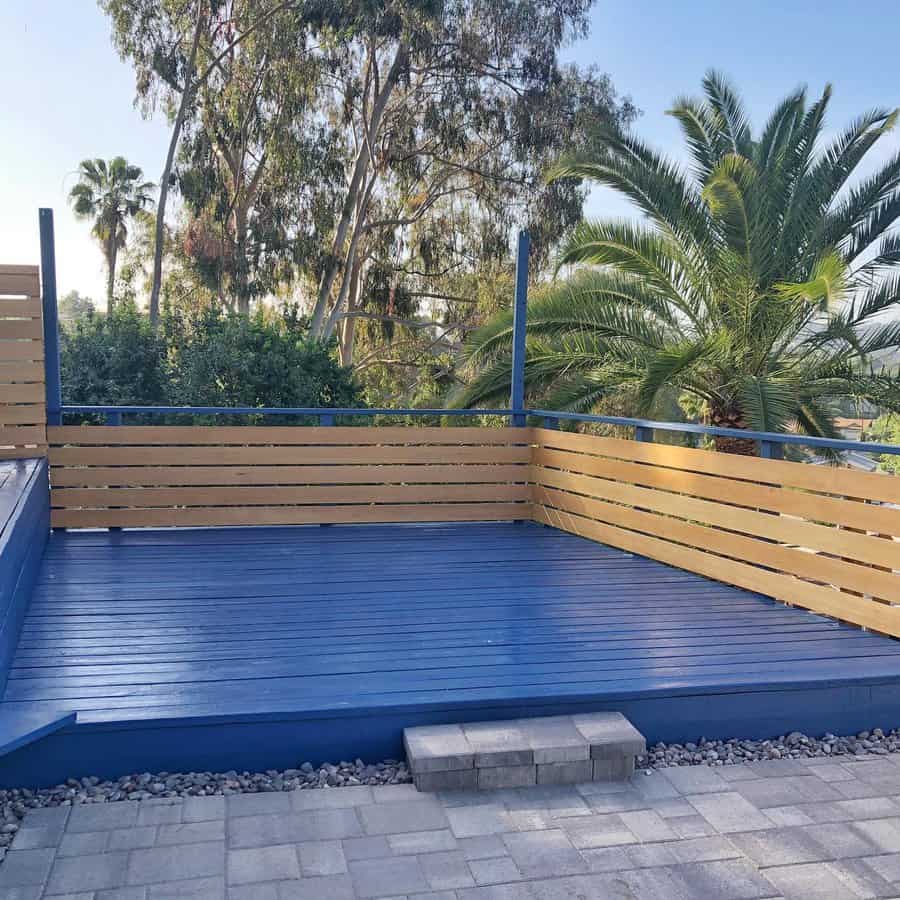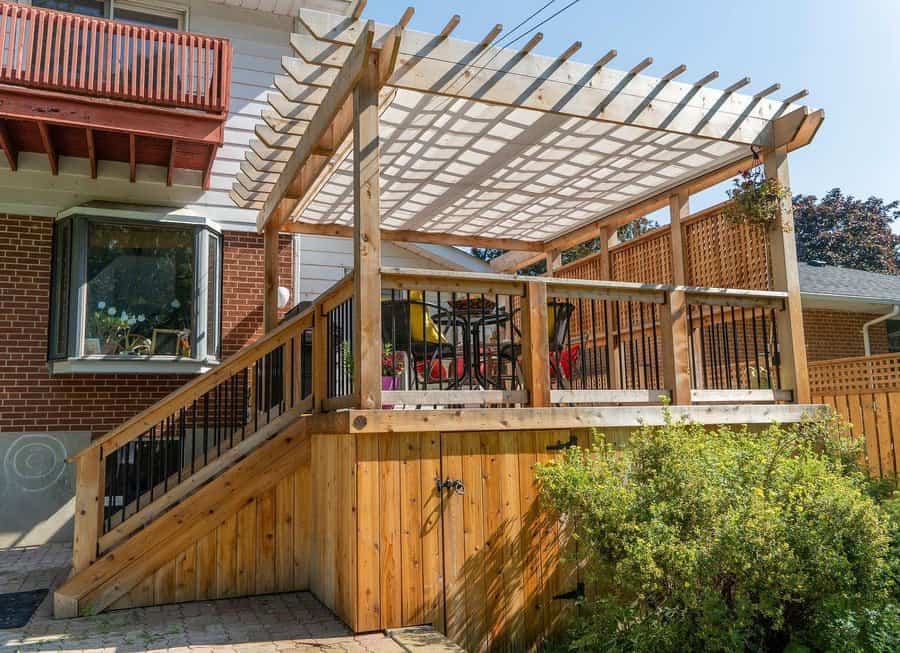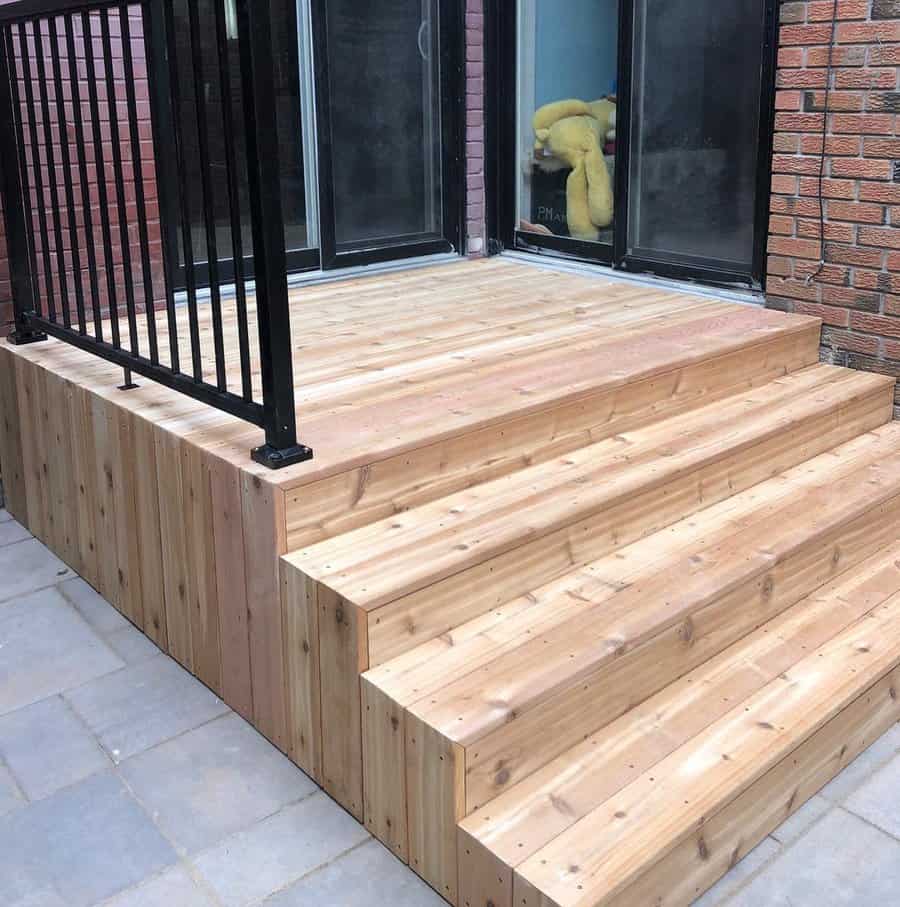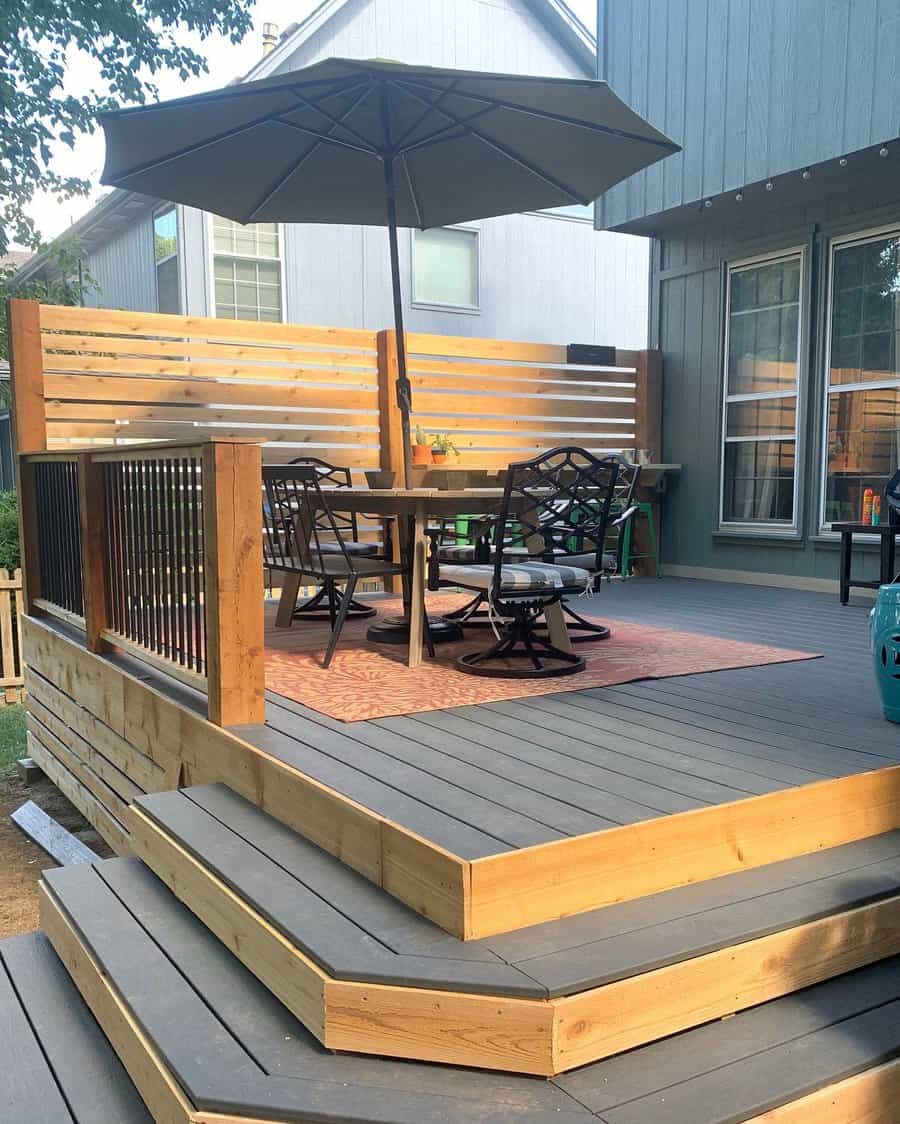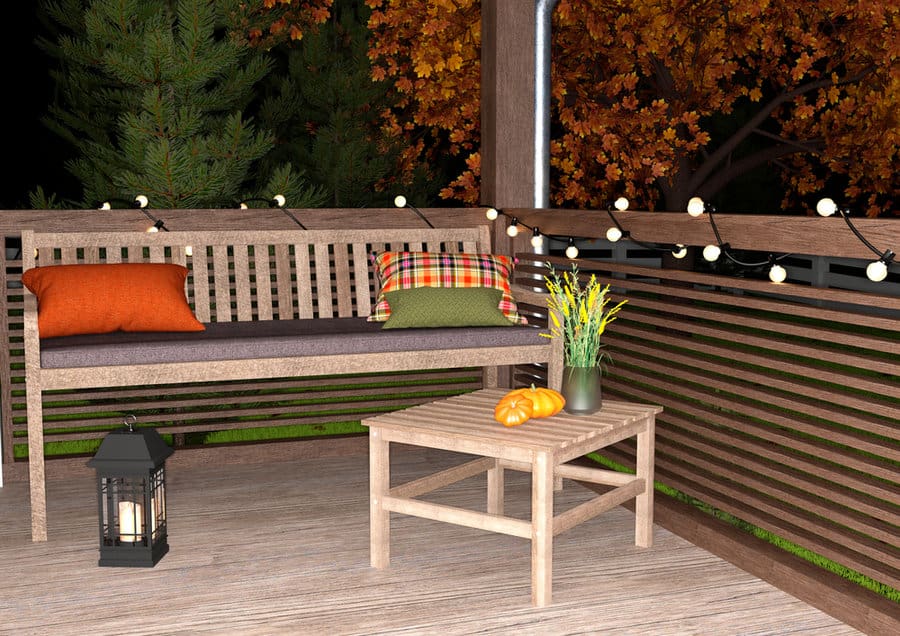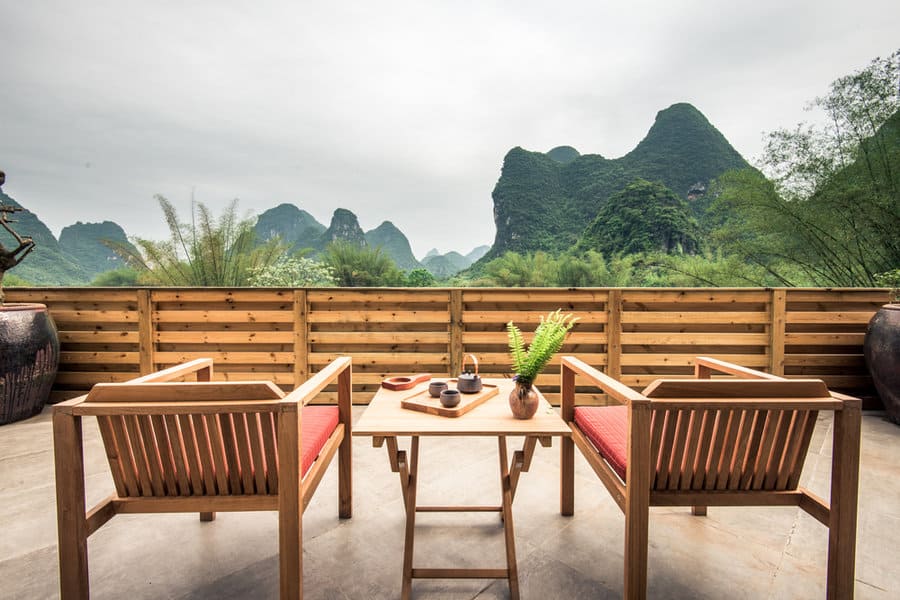 Doing this will create a hot and stagnant atmosphere on your deck, which will make it an unpleasant place to be. One way to help keep your deck cool is to use plants. Use chicken wire or lattice for the main body of your railing. Then allow plants to grow on the railing, using the lattice or wire as a support frame.
9. Rustic
Your rural, farmhouse, or country home should have a railing that reflects the home's location. Instead of using ornately designed spindles or sleek cables, why not use branches? Head out onto your property and gather branches of similar thickness. Then clean them up and cut them to the right size for the height of your railing.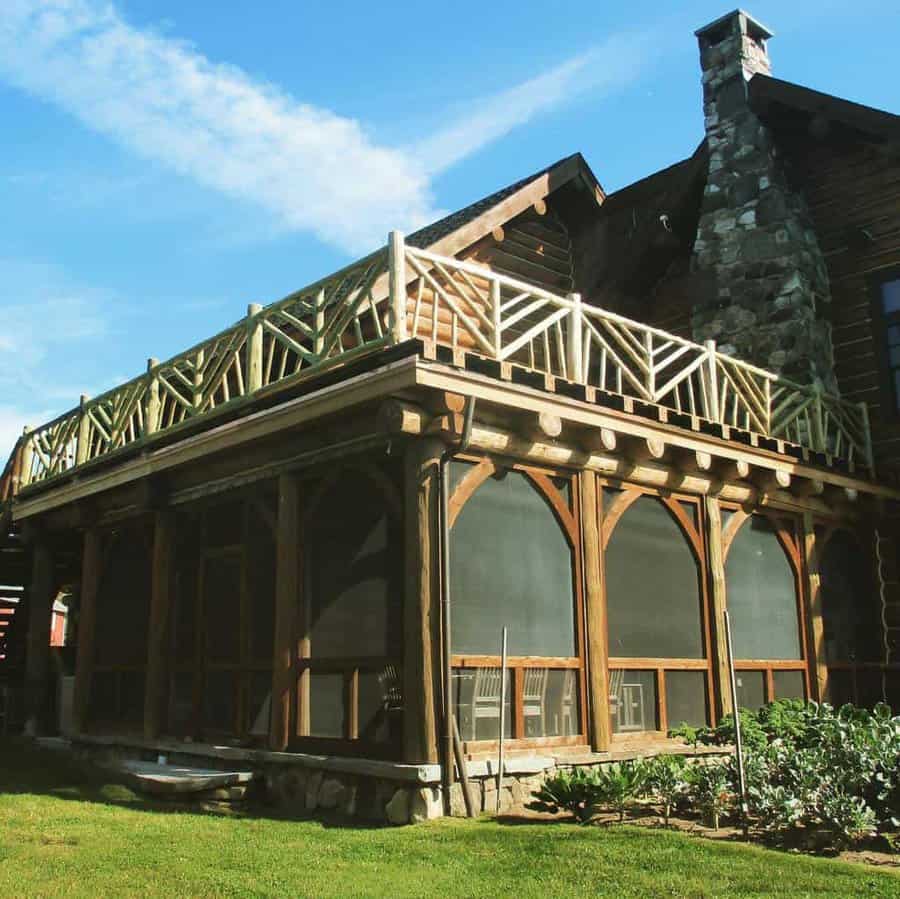 Weave the branches together to create a random design while filing in the space between each post. If you live near the water, you could embrace the coastal feel by using a nautical line. Choose a thick rope that's made from natural materials. Wrap it around the top rail and knot it together to create a woven design.
10. Vertical Railing
Vertical railings are a simple design and are popular for their ease of installation. You can buy kits where the post, top rail, and vertical balusters all come put together. You then install the segments as you need them to surround your deck.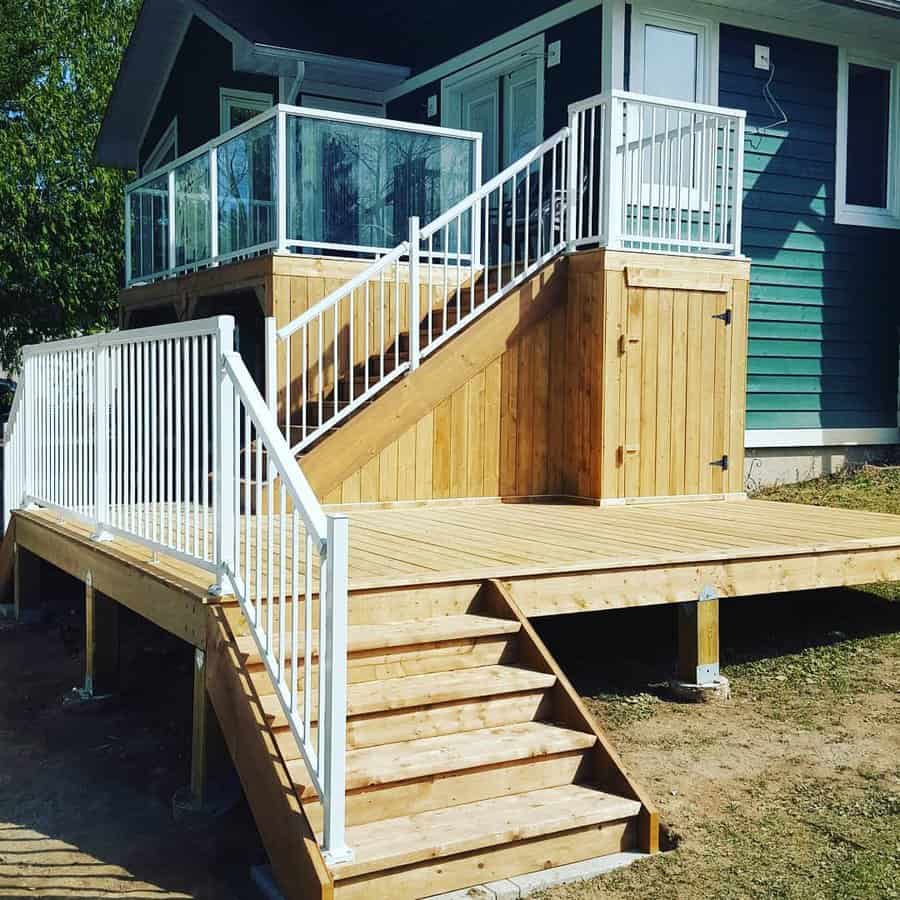 If you are concerned about being able to see your view beyond the deck, look for one with thin balusters with plenty of space between each one. This will minimize their bulk and maximize your view.
11. Wood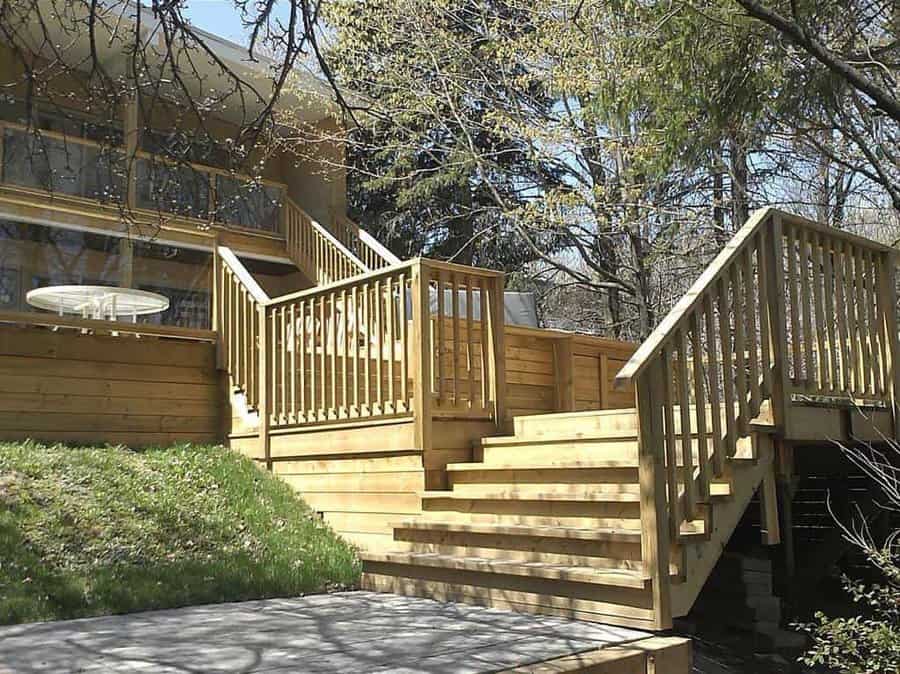 Since you already have a wood deck, adding a wood railing is a natural choice. It would create a cohesive design with the wooden railing matching the deck. Wood is also the easier of the available materials to work with, making it a great option for anyone looking to build a DIY deck. If you already have porch railings on the front of your home, it's smart to build the same railing style on the back deck. That way, the exterior of your home has a uniform look throughout.
FAQs
What can I use instead of deck railing?
You have other options if you don't want to install a deck railing. You could use steel cables, metal tubes, or plants. Line potted plants or place them directly in the ground. Choose a dense bush-style plant that will grow thick to create a natural protective border around your deck.
How tall should a deck railing be?
Your deck railing should be at least 36 inches high. This makes it high enough to comply with safety and building codes. At this height, it's tall enough that someone won't accidentally fall over it.
What's the difference between a banister and a baluster?
The baluster is the spindle or other vertical piece that connects the deck to the top rail. They add support and increase the safety of your railing. The banister is the top rail or handrail that sits on the balusters.