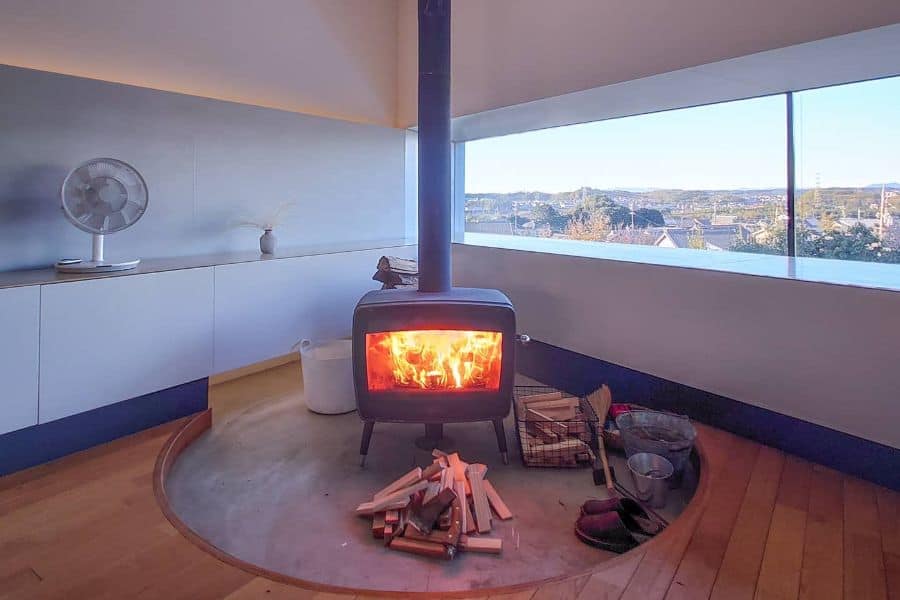 The Top 48 Wood Stove Hearth Ideas
by — Kari Apted

Published on July 28, 2021

Updated on October 13, 2023
A wood burning stove exudes a magical warmth that can make you forget about the cares of life. But to safely enjoy your wood stove, it must include a properly designed hearth.
What is a hearth? In simplest terms, it's the surface immediately surrounding a fireplace or wood stove. Hearths are made from heat and fire resistant material such as brick or stone. Think of it as a safety zone to prevent sparks and embers from catching your house on fire.
The type of hearth you choose depends on your decorating style and whether you want your hearth to stand out from or blend in with the surrounding decor. Scroll through our gallery for ideas on building a beautiful and functional wood stove hearth.
1. Explore Brick Stove Hearth Designs
A brick hearth exudes a timeless charm, adding warmth and character to any space. Its durability and fire resistance make it ideal for wood stoves. To personalize your brick hearth, consider custom sizes or even painting and whitewashing for a distinctive touch. To further enhance its appeal, complement with rustic wood beams or antique metal accents, ensuring your wood stove area remains both functional and stylish.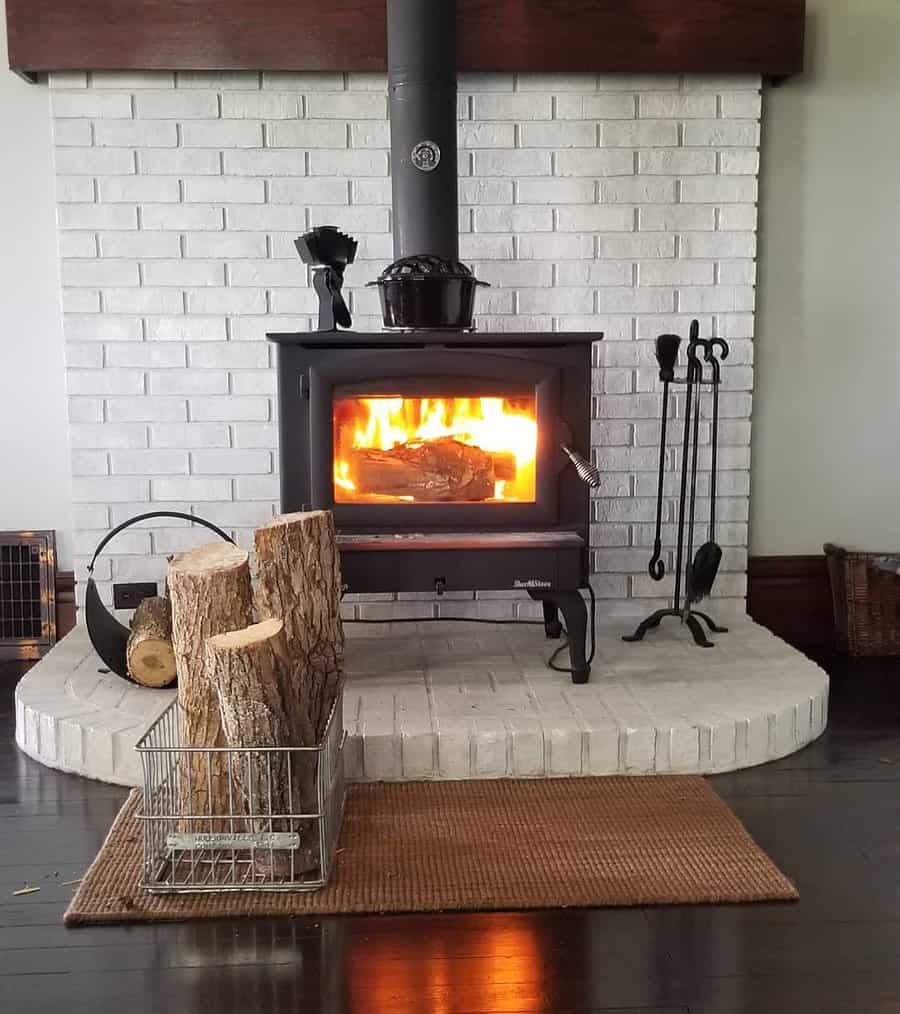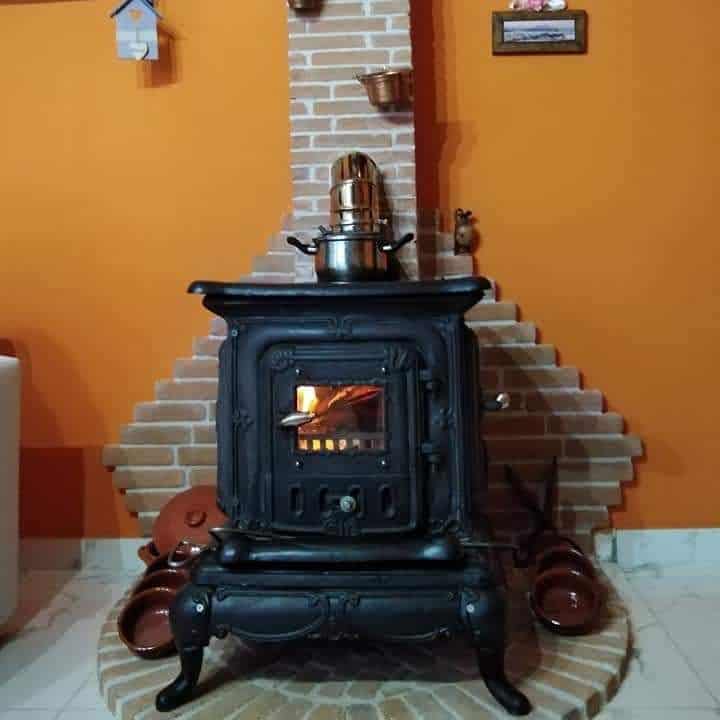 2. Dive into Recessed Hearth Styles
A recessed hearth offers a sleek solution, especially for spaces with constraints. Stone, brick, or tile can enhance its visual appeal. For added safety and a touch of design flair, consider a protruded edge. However, remember that such designs necessitate expert planning and installation to guarantee adequate ventilation and safety; always consult a professional.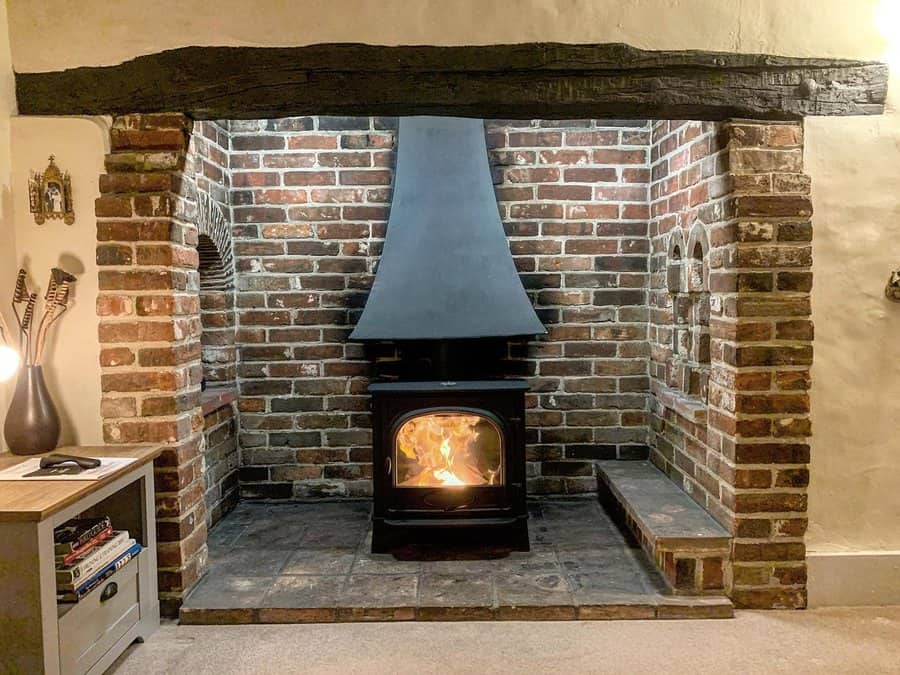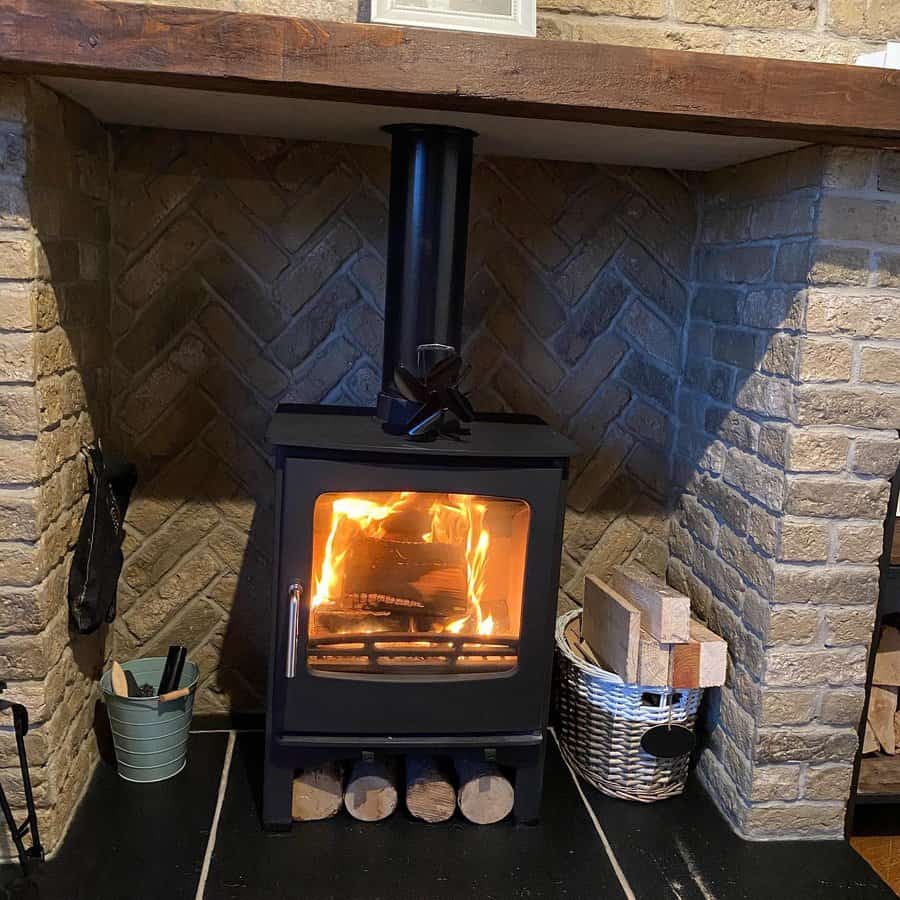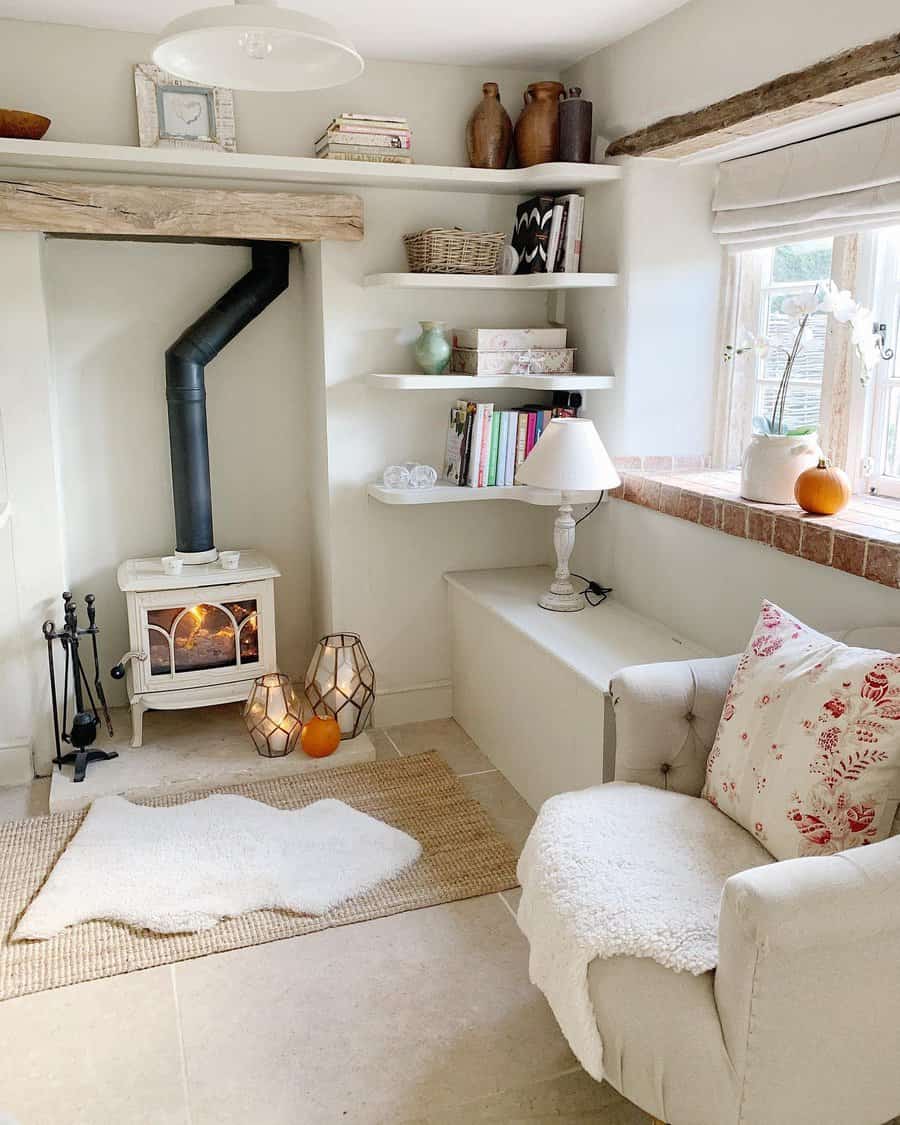 3. Corner Stove Hearth Inspirations
Corner wood stove hearths seamlessly blend warmth and space efficiency, creating a cozy relaxation nook. Enhance its look with natural elements like stone or brick or opt for decorative tiles. Consider topping the setup with a wooden mantel or shelf, offering both a design element and added storage.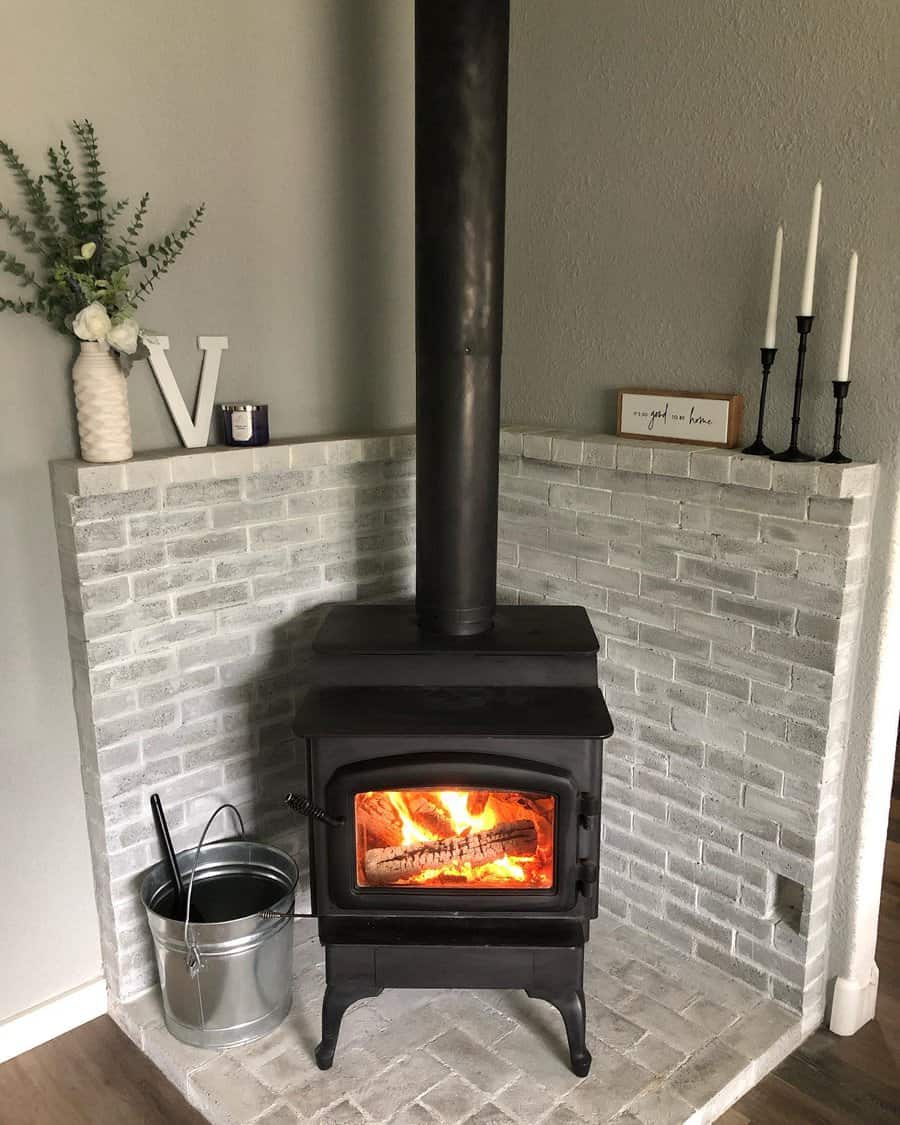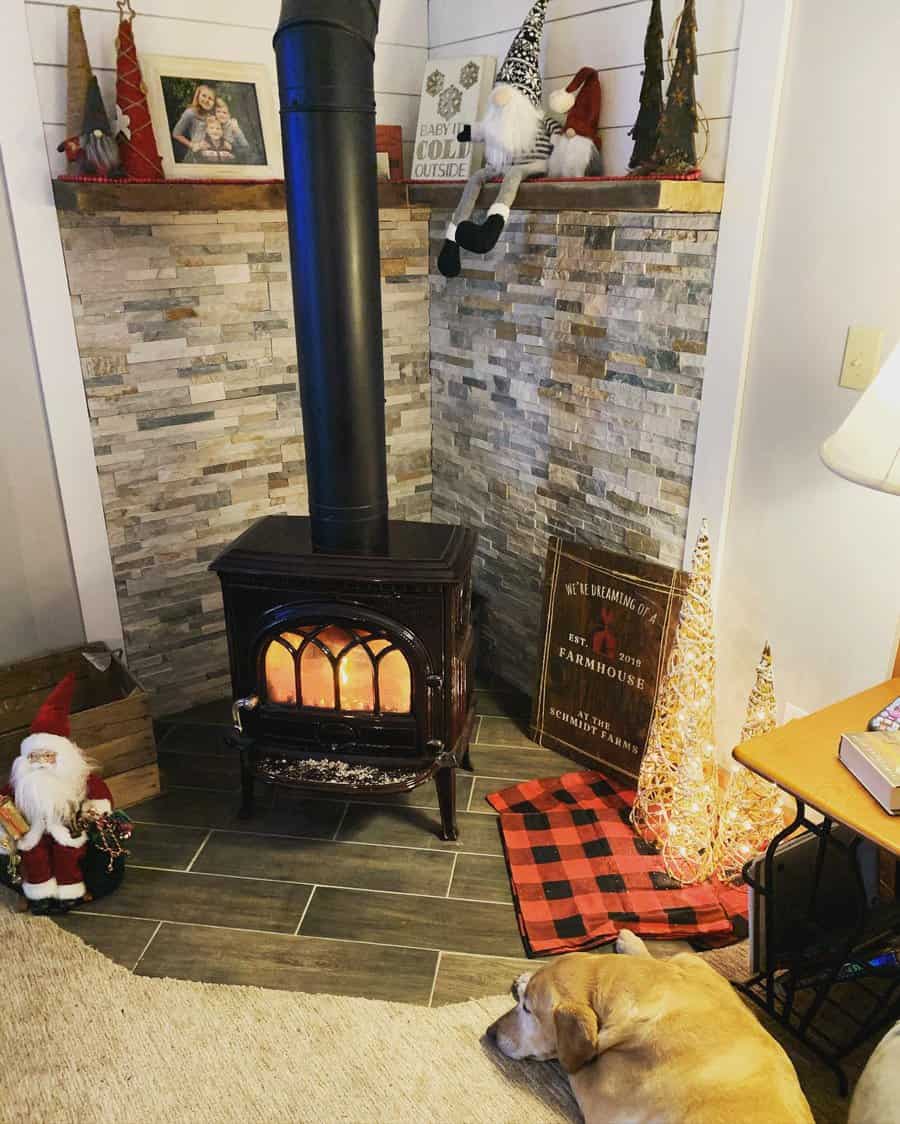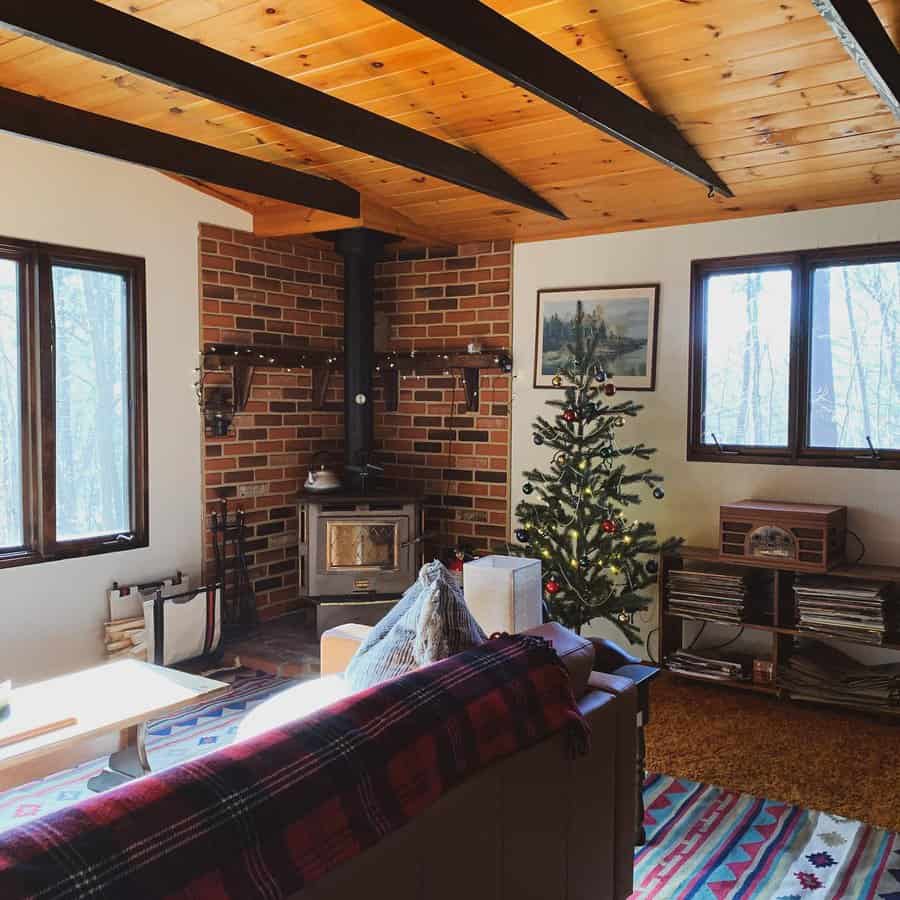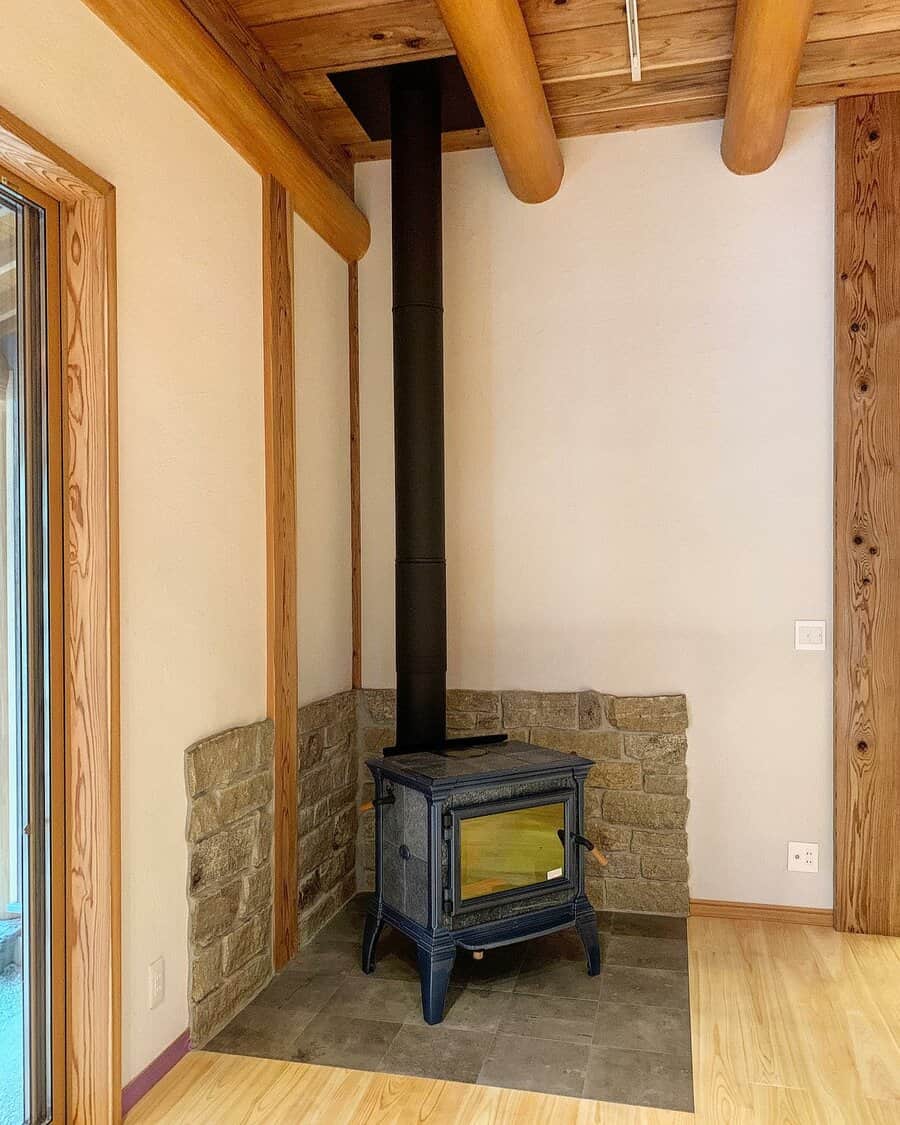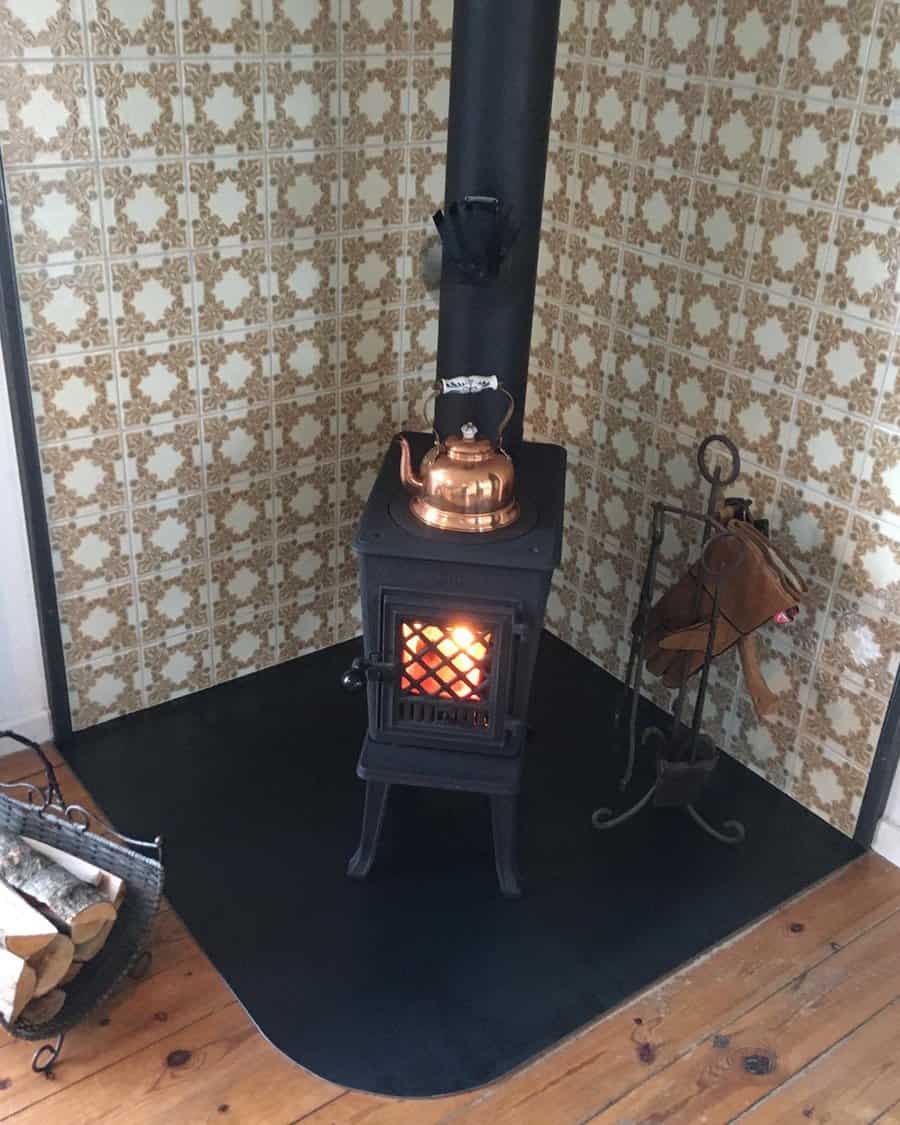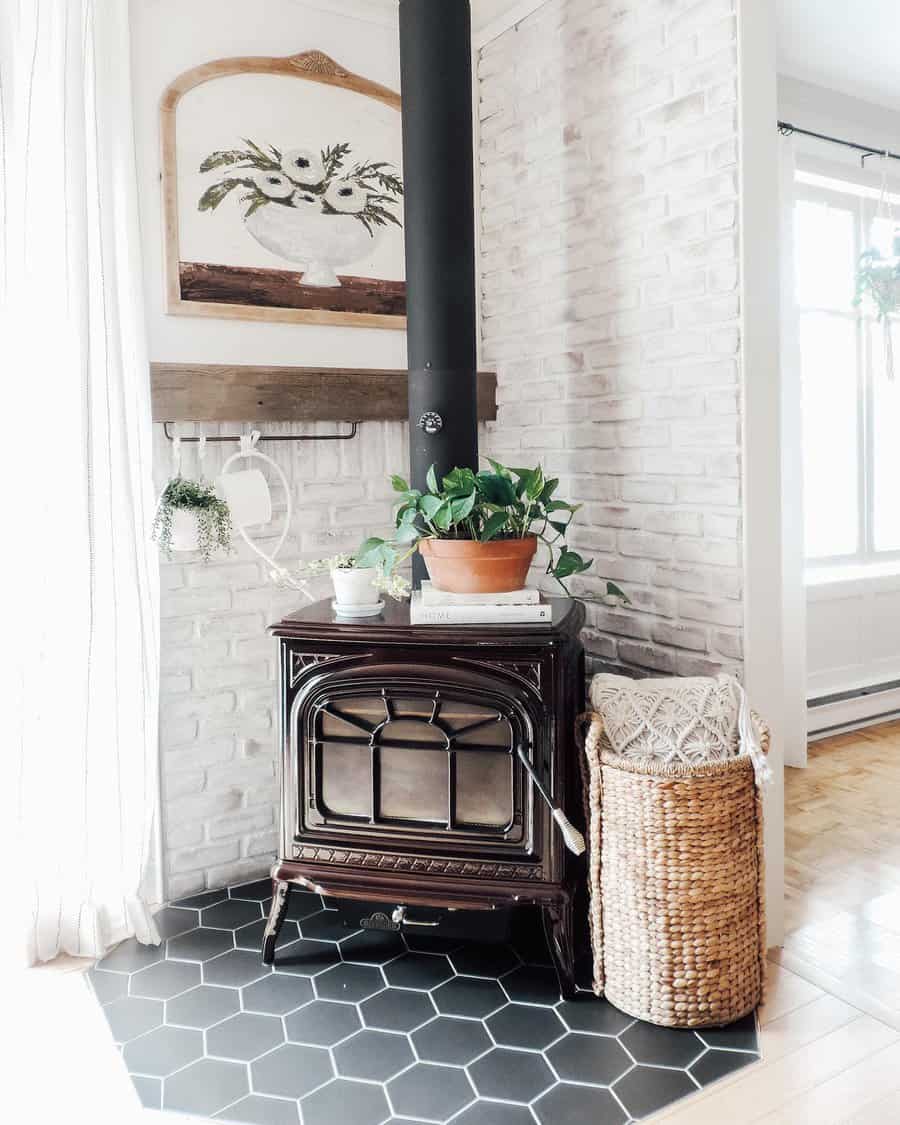 4. Discover Metal Hearth Pad Varieties
Metal hearth pads offer a modern, sleek aesthetic suitable for various decors and are especially beneficial for compact spaces. Their durability and ease of cleaning make them a practical choice for frequent wood stove users. Available in diverse colors and finishes, these pads can either blend with your decor or offer a contrasting element. Remember to customize the size and shape to fit your hearth seamlessly.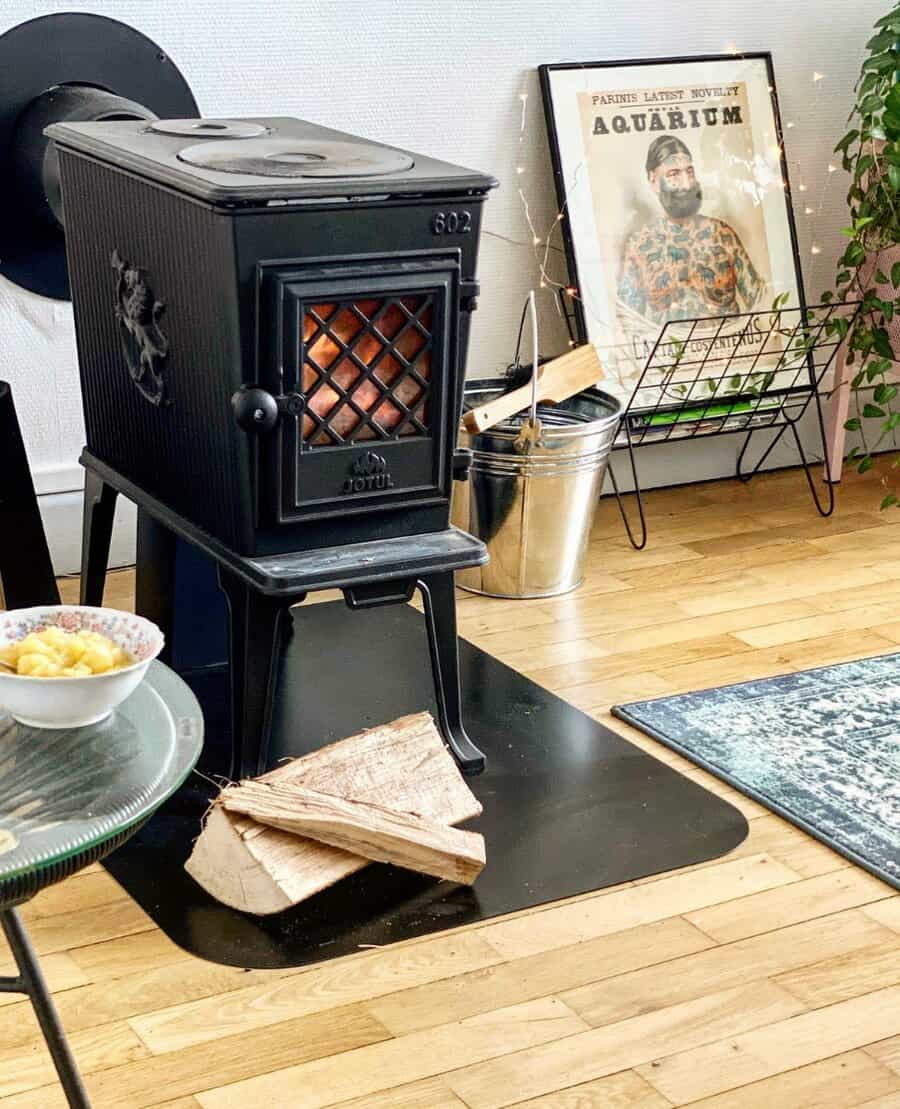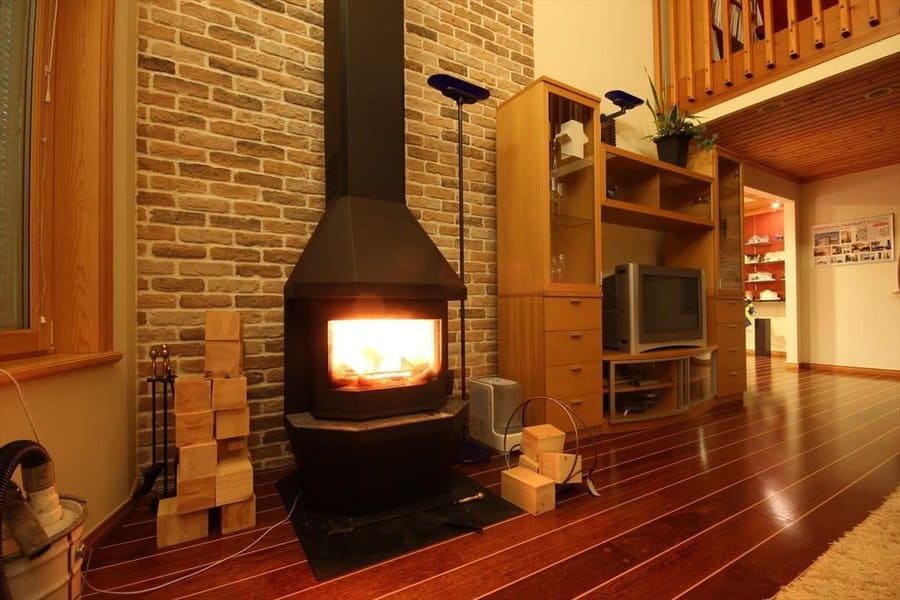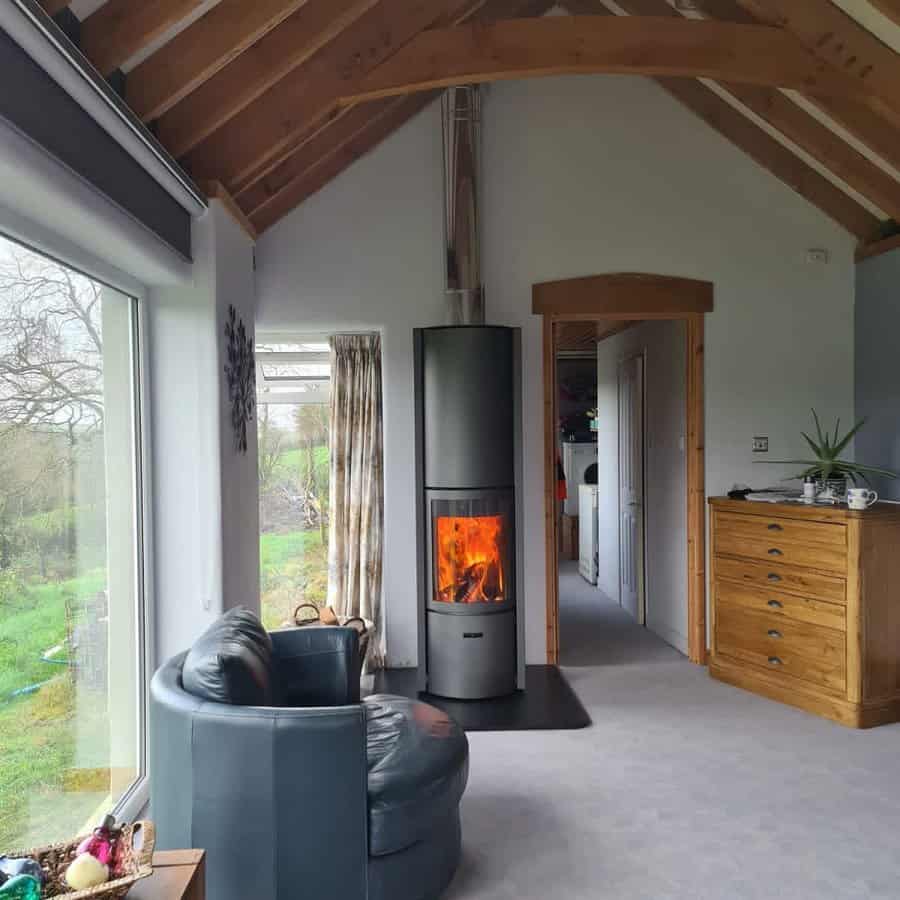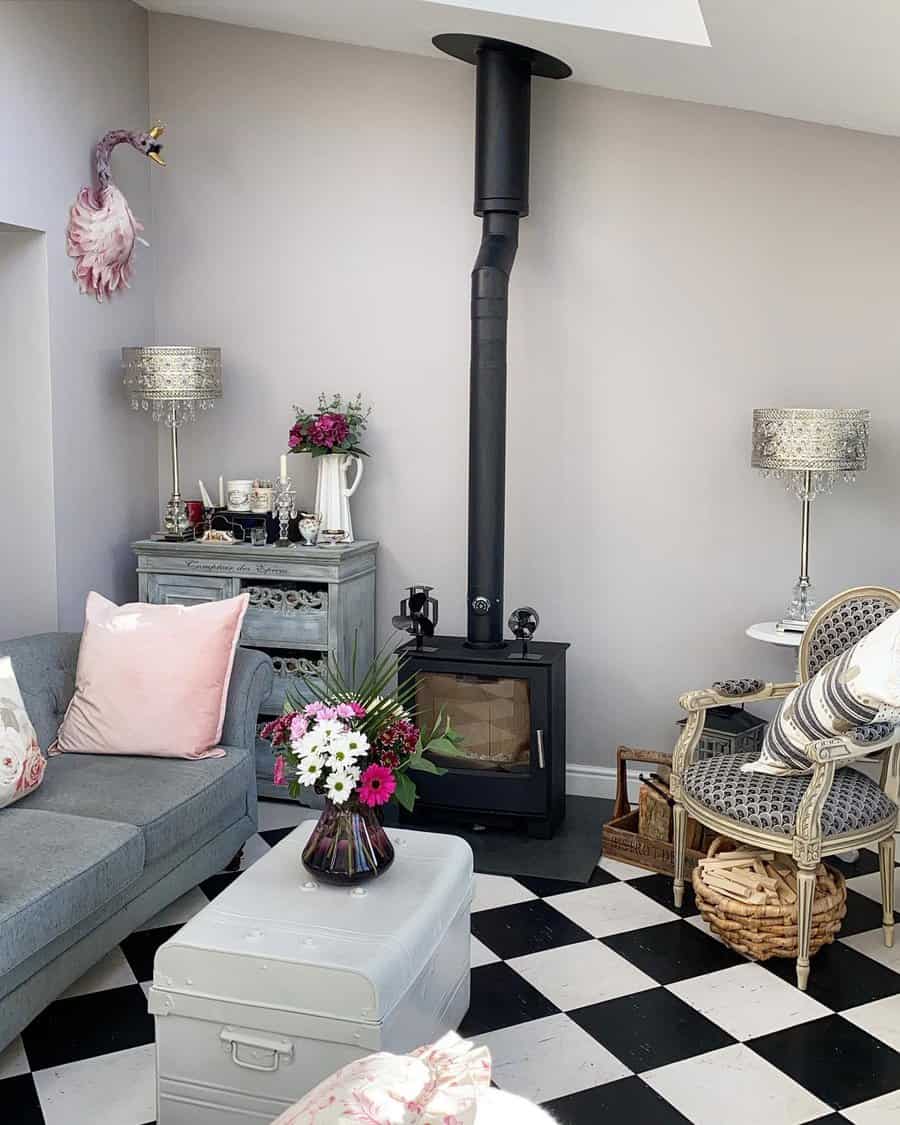 5. Concrete Hearth Pads to Adore
Concrete hearth pads, with their heat-resistant and durable nature, are a sought-after choice for wood stoves. Easily customizable in size and shape, they ensure protection for your flooring. Their range of colors and finishes allows them to fit into any decor style, whether modern or rustic. Additionally, their straightforward installation and maintenance processes make them a homeowner's favorite for a functional and stylish wood stove setup.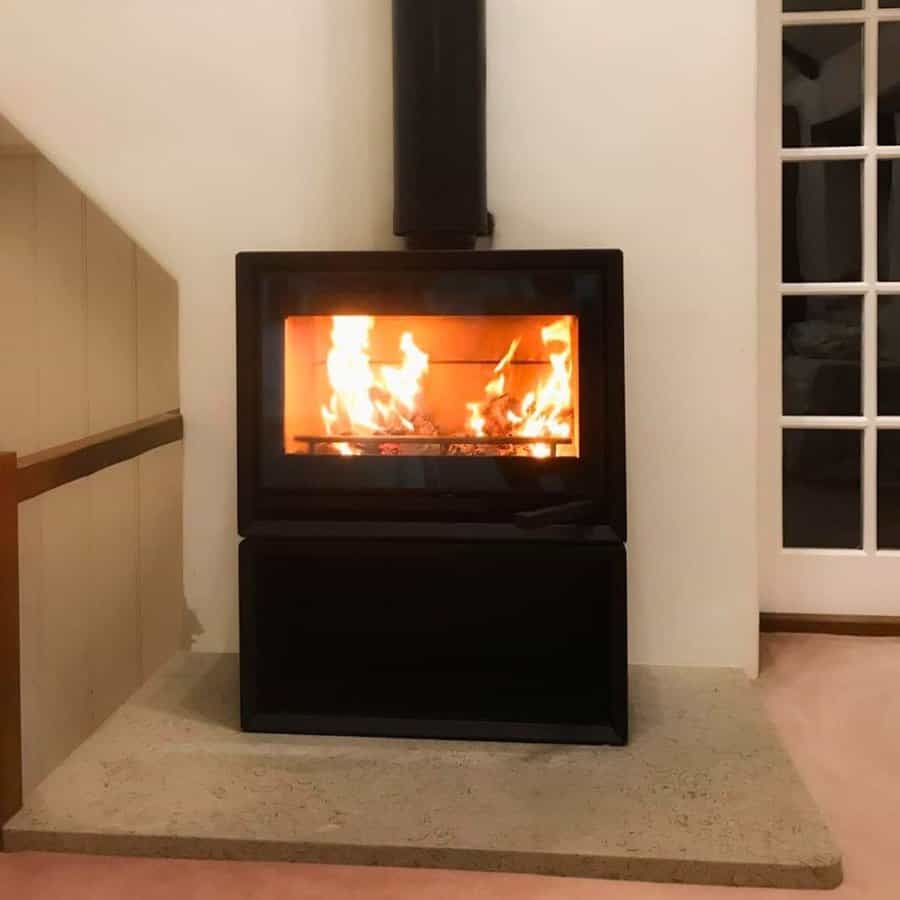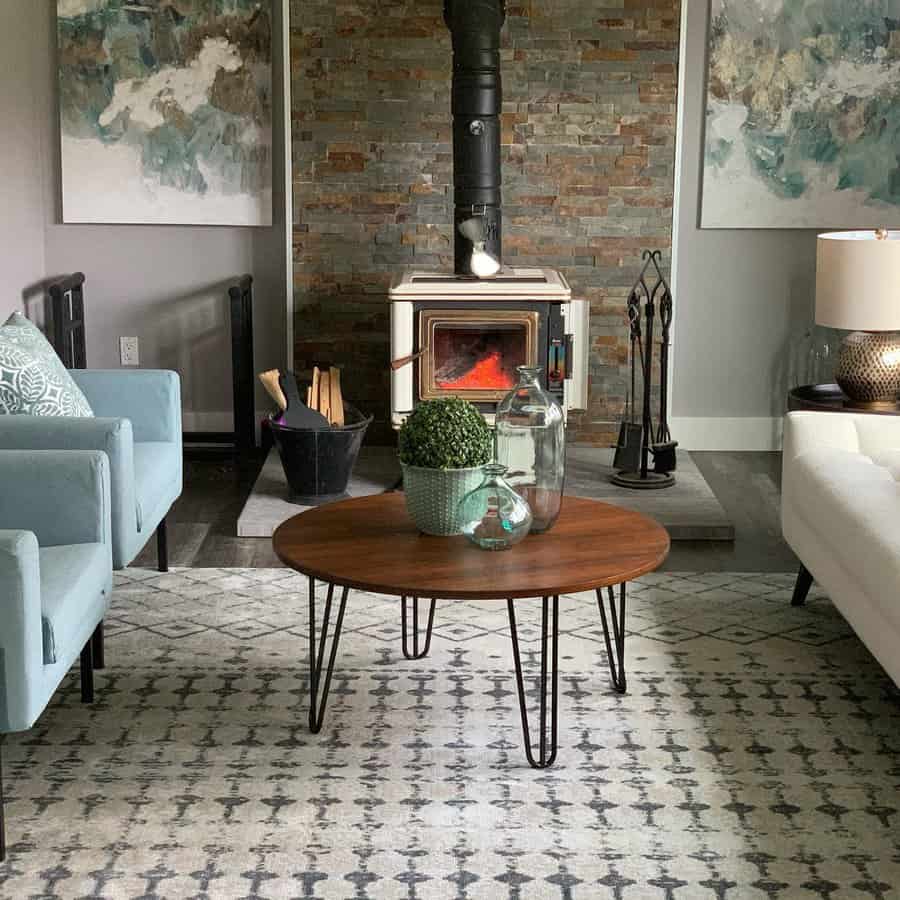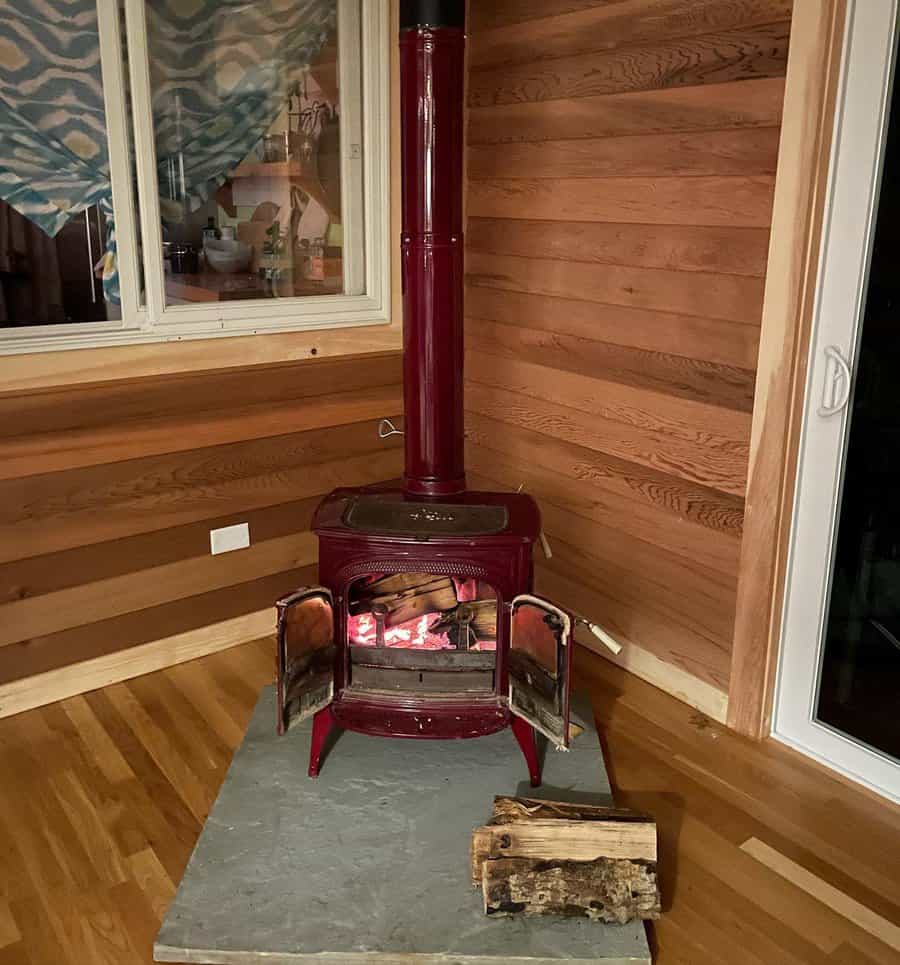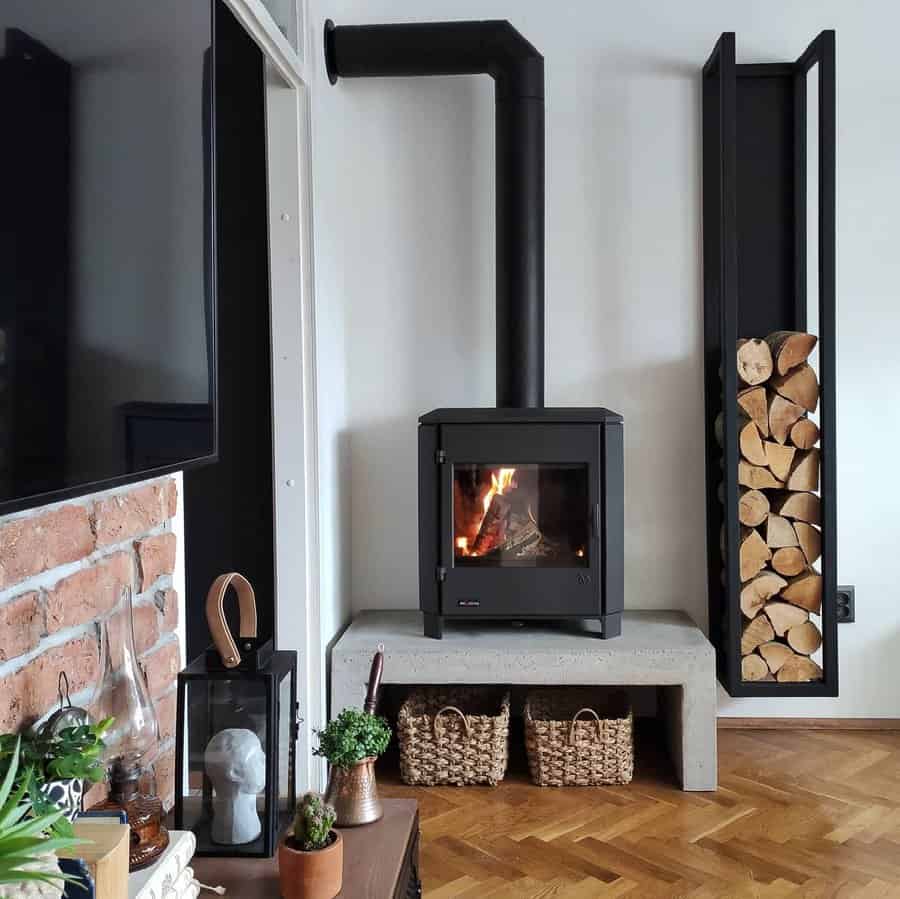 6. Enhance with a Wood Stove Wall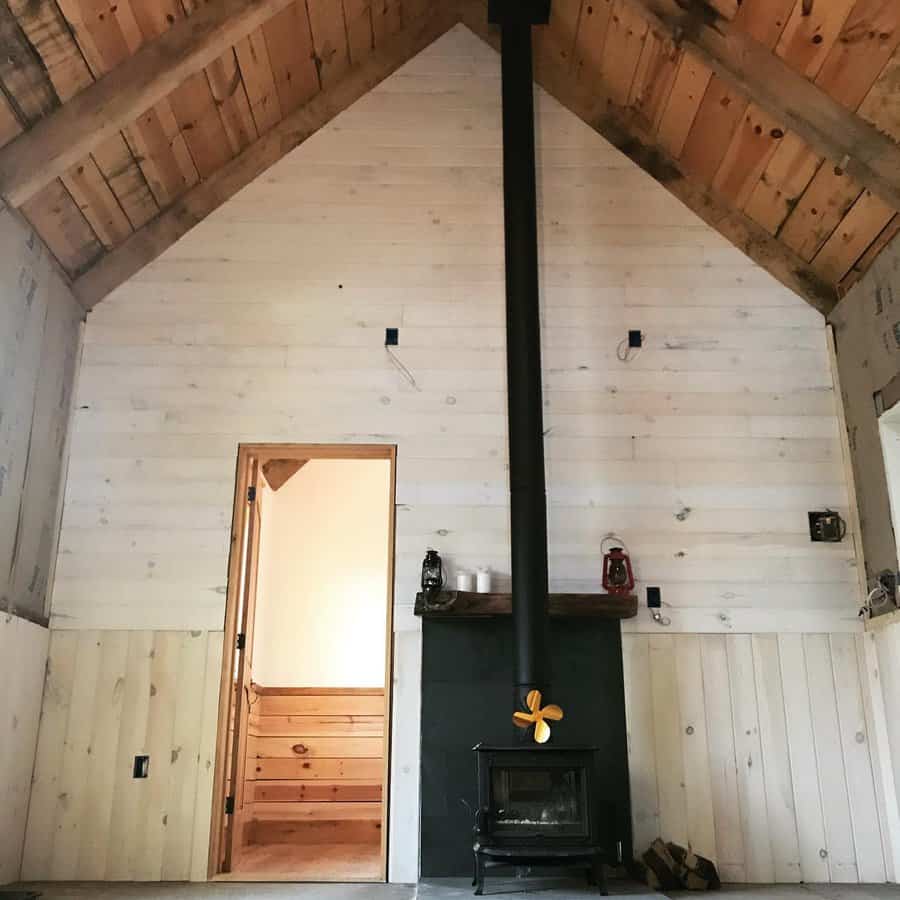 7. Embrace the Seamless Hearthpad Look
Enhance the coziness around your wood stove with an accent wall. Inject life into your space by adding a vibrant pop of color to a white wall, making the wood stove the room's focal point.
Opt for a bold hue that harmonizes with your decor, creating an inviting ambiance. Alternatively, consider using natural materials like stone or brick on your wood stove wall to introduce texture and visual interest. These materials not only offer a stunning backdrop but also contribute to improved insulation and energy efficiency in the room.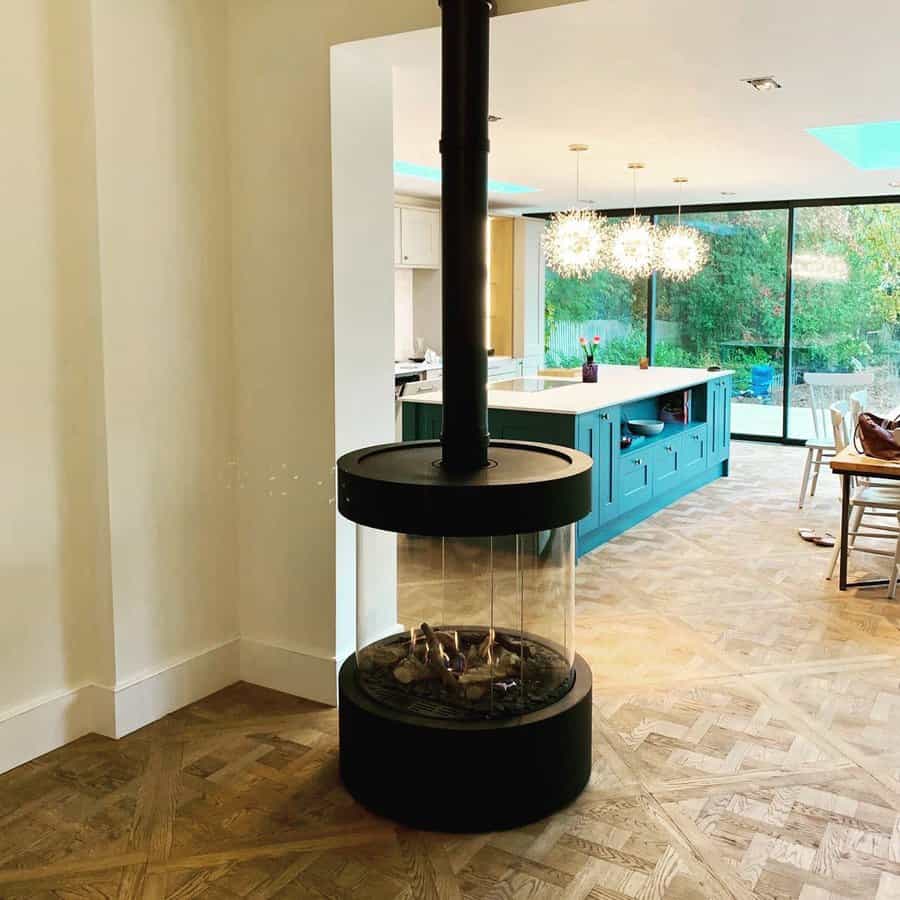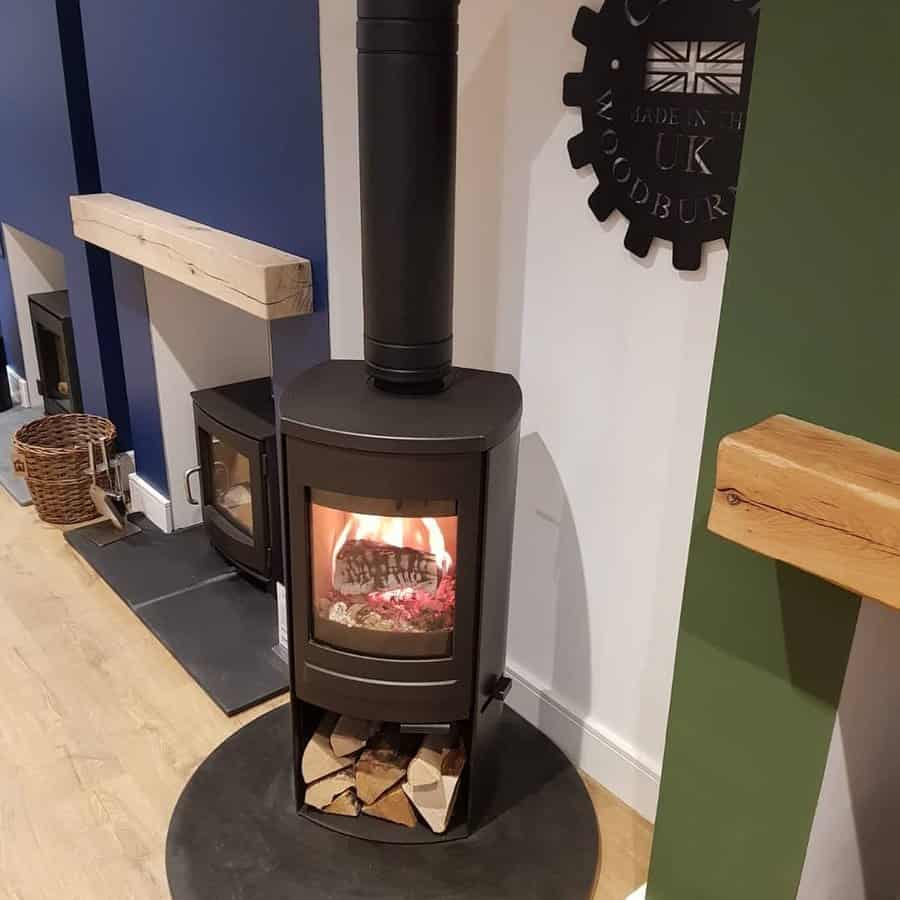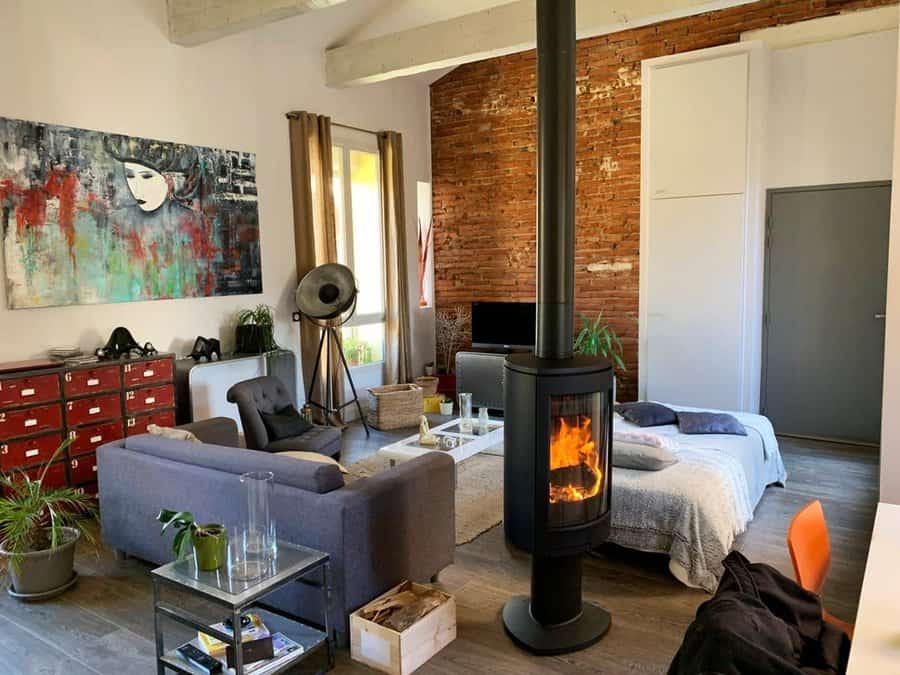 8. Smart Built-In Wood Storage Ideas
Elevate your wood stove hearth with a built-in wood storage cabinet. This practical addition seamlessly fits beneath your stove, offering easy access to firewood. Organize your wood supply efficiently, reducing home clutter and mess. These cabinets, often crafted from wood, can be customized to match your decor style, enhancing both function and aesthetics.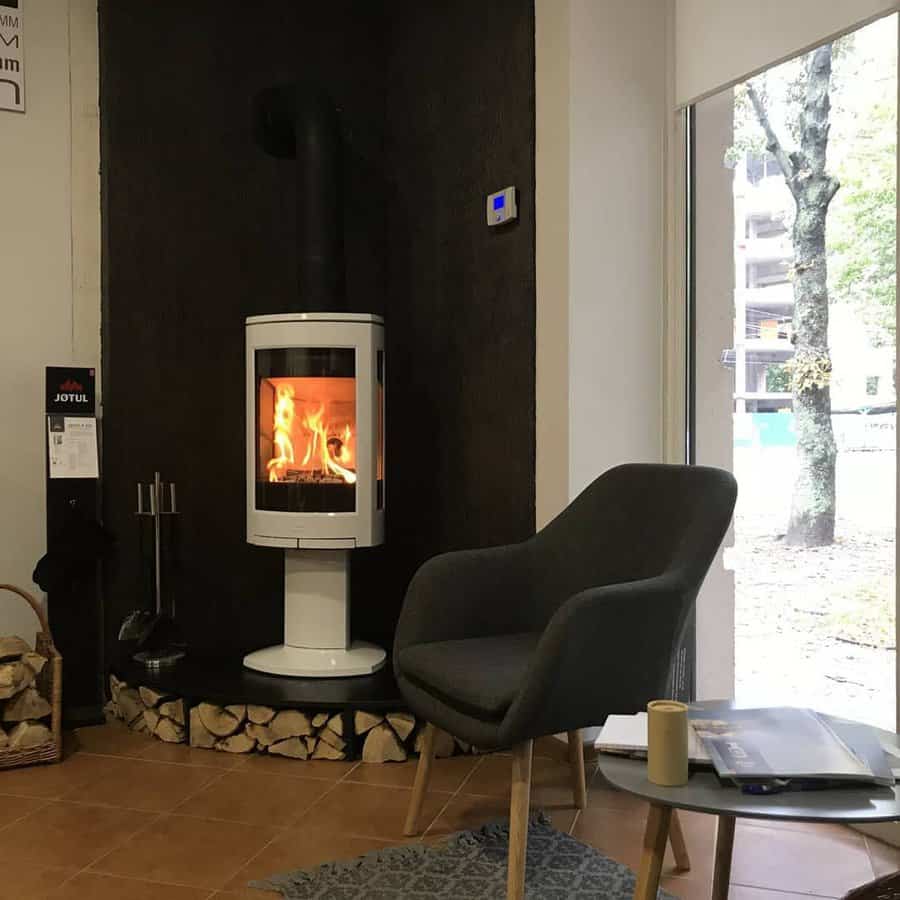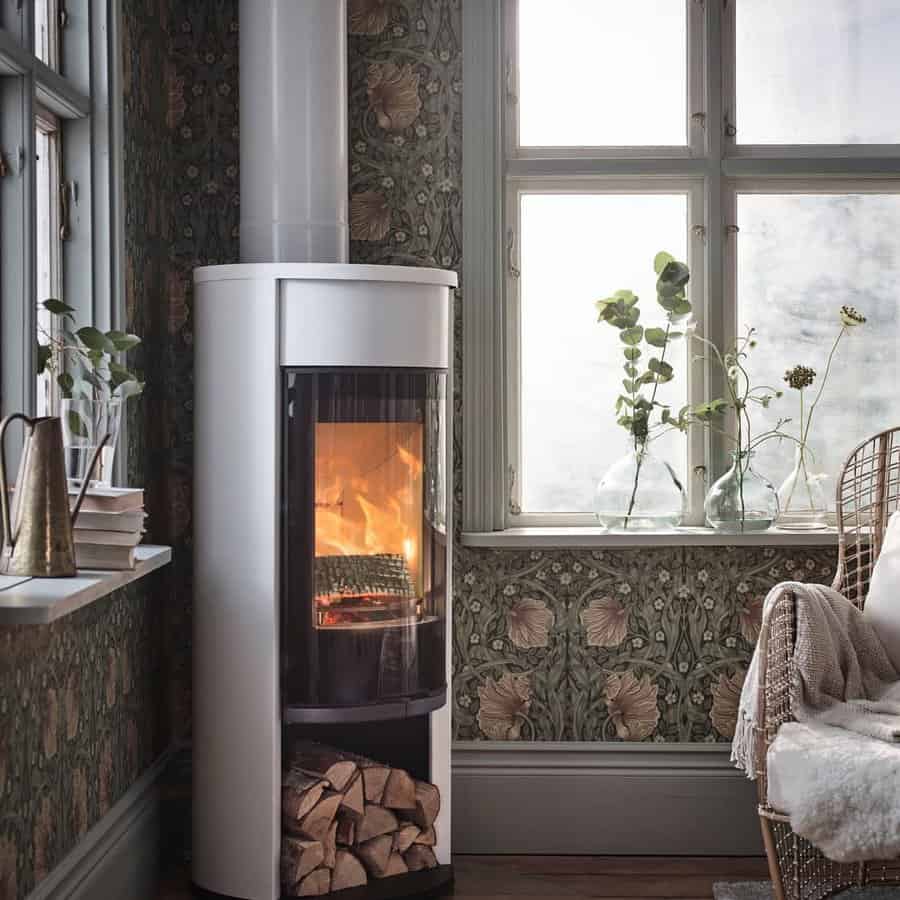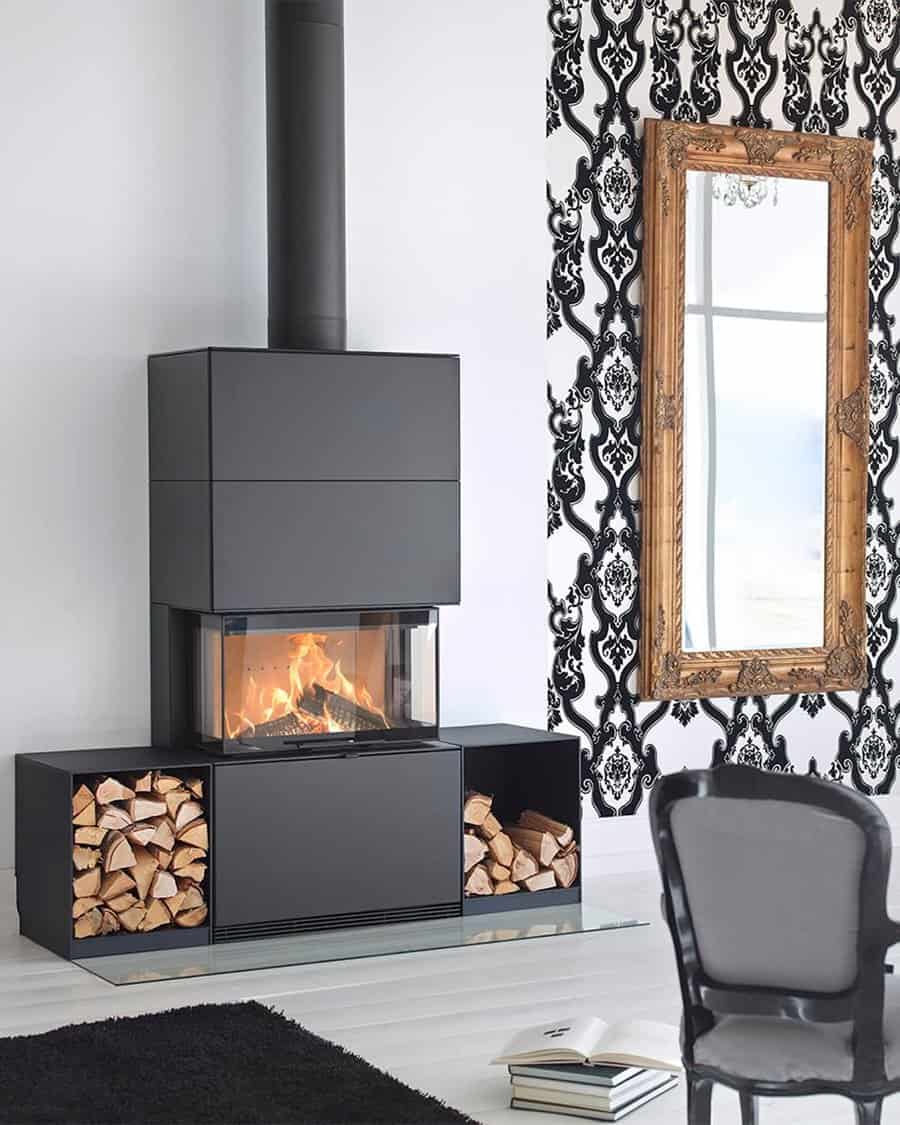 9. Benefits of an Aluminum Heat Shield
Opt for an aluminum heat shield to safeguard your floors and walls from heat damage. This efficient solution reflects wood stove heat back into the room while preventing contact with combustibles. Lightweight and durable, aluminum is easily customizable and affordable. Choose from various finishes to complement your decor effortlessly.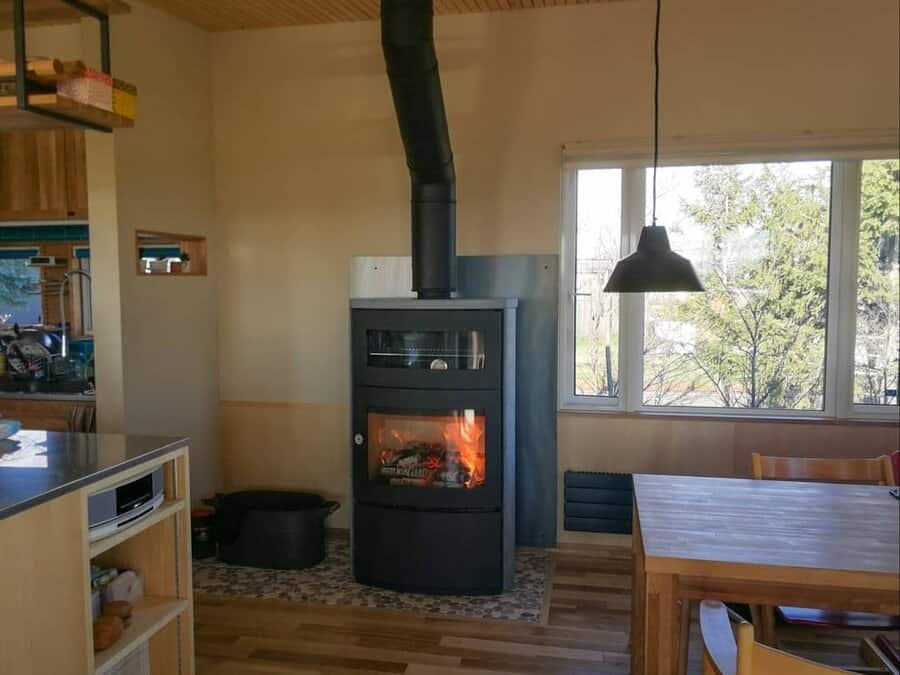 10. Classic Traditional Fireplace Designs
Incorporating a wood stove into a traditional fireplace design is a timeless choice. To provide a safe and sturdy base, consider a hearth made of brick, stone, or tile. For a classic touch, opt for a brick hearth paired with a wood mantel that you can customize with paint or stain to match your decor. Alternatively, choose natural stone like granite or slate for a rustic or modern look, depending on the stone type and finish.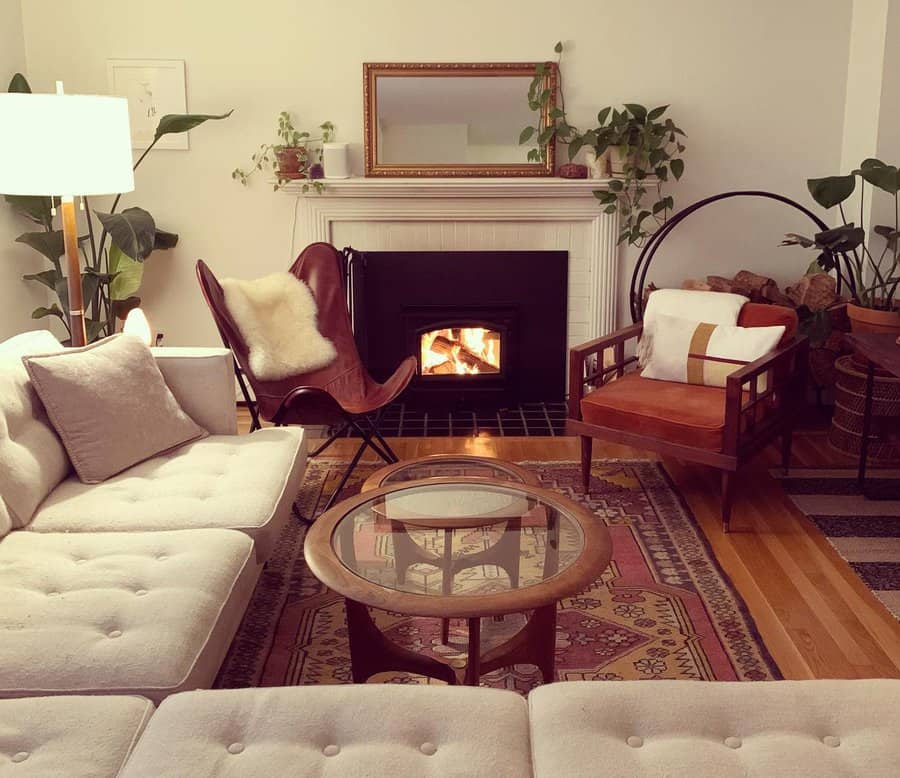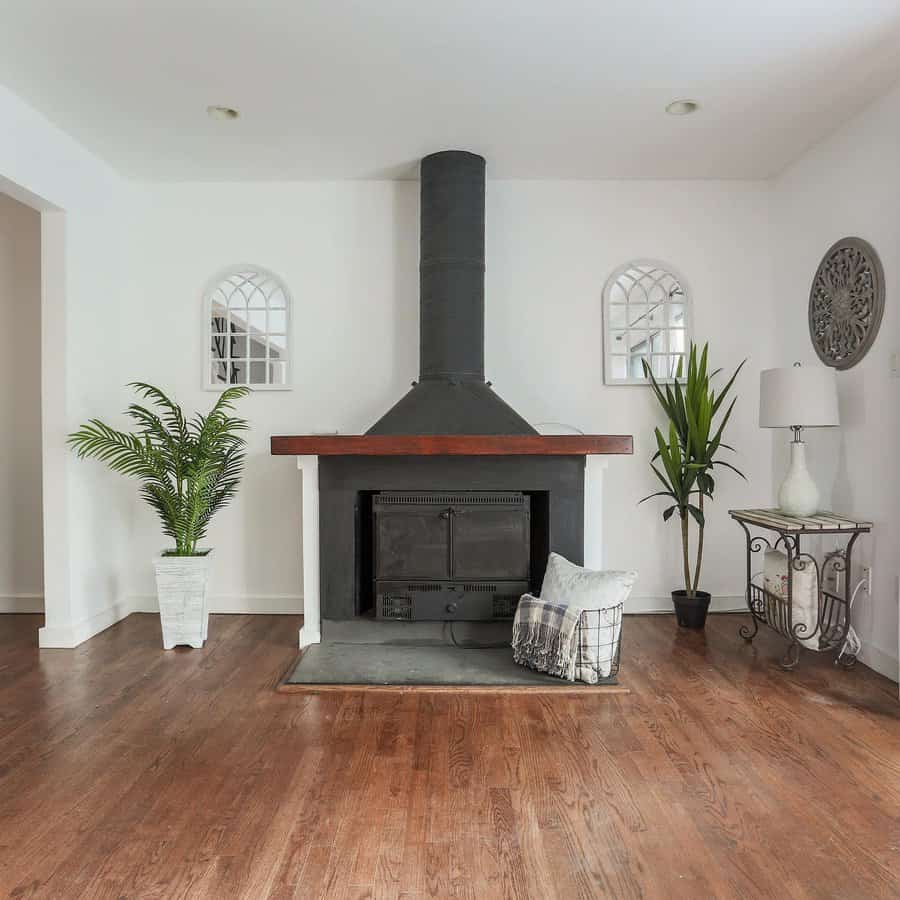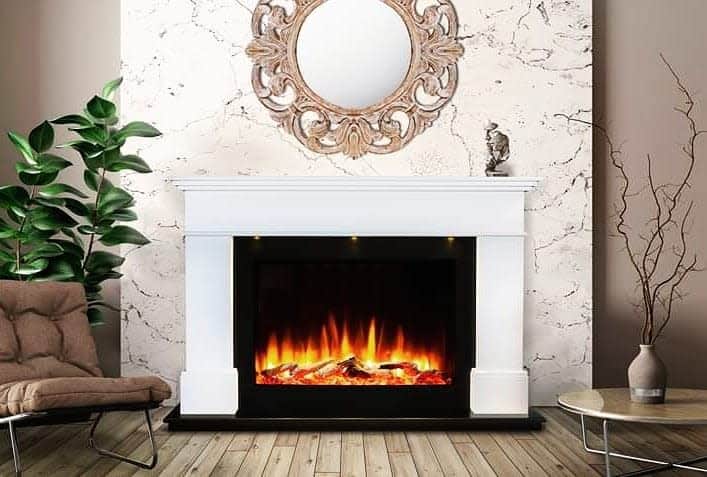 11. Elegant Granite Pad Selections
Granite, with its durability and heat resistance, brings an elegant touch to any room. Its extensive color and pattern options allow you to find a perfect match for your decor. Easy to clean and maintain, a granite pad is a practical choice for your wood stove hearth.
Moreover, granite's flexibility in customization ensures a hearth tailored to your stove's size and shape. Whether you desire a sleek, modern appearance or a rustic, traditional feel, a granite pad offers both functionality and aesthetic appeal for your home.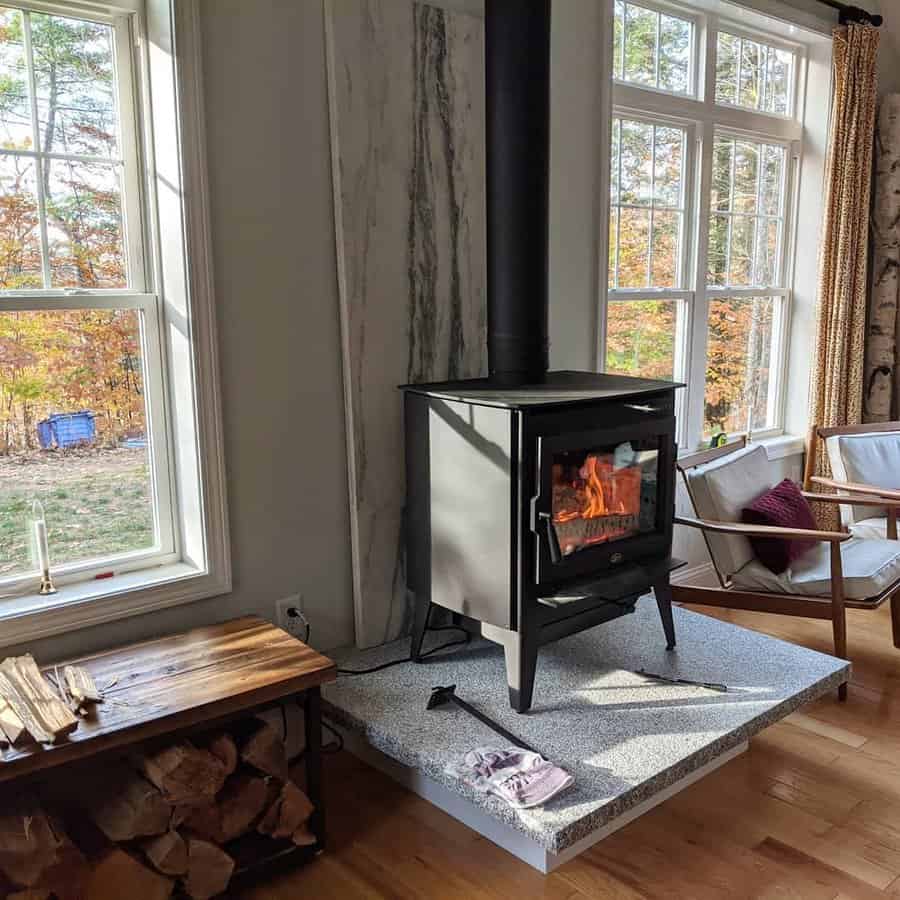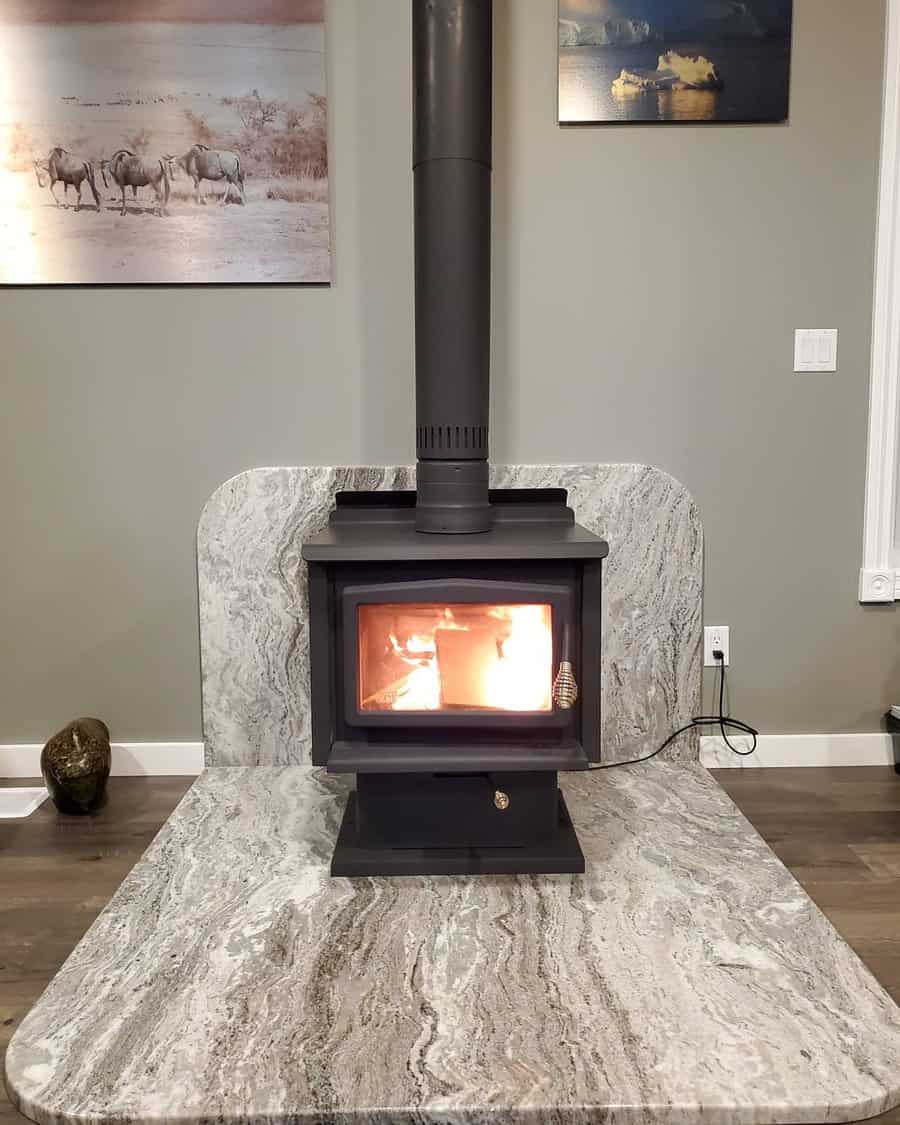 12. Circular Recessed Floor Hearth Wonders
A wood stove brings warmth and coziness to any home, making it a valuable addition. For a touch of elegance, consider a circular recessed floor hearth as your wood stove hearth idea.
This type of hearth seamlessly integrates into the floor, adding visual interest while ensuring safe heat containment. You can customize it with materials like brick, tile, or stone to match your decor. Choose the right materials and design to create a functional and beautiful focal point in your home.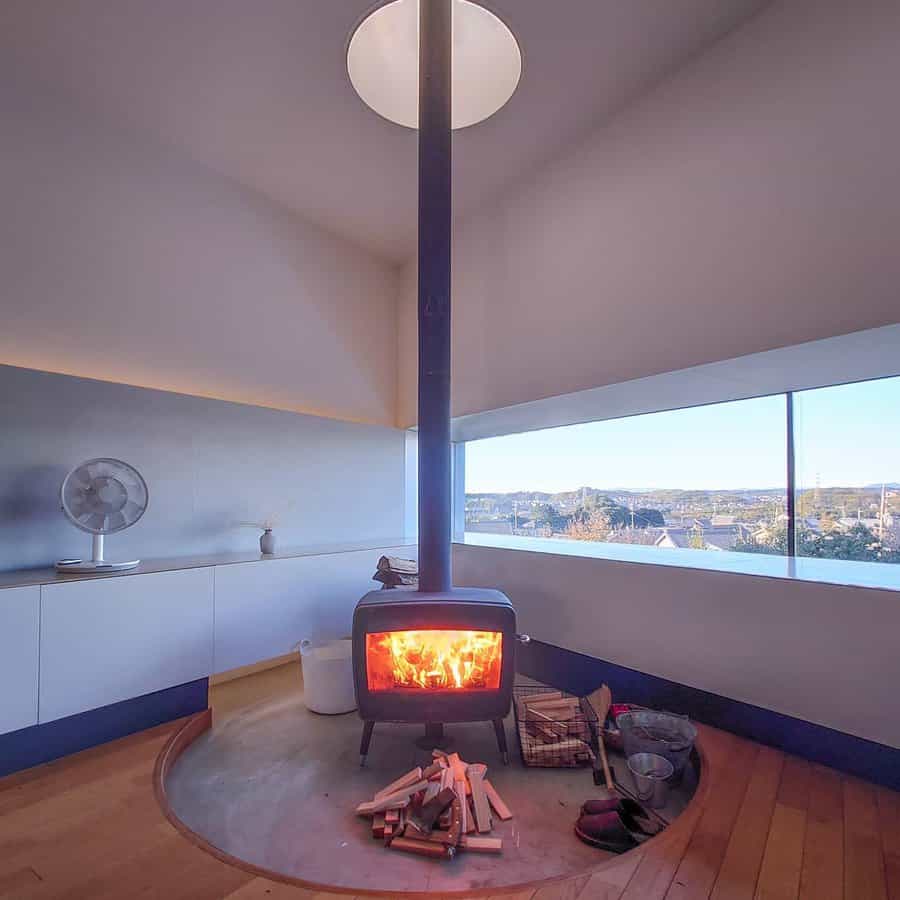 13. Unique Currogated Heating Surrounds
Corrugated aluminum is both durable and heat-resistant, maintaining its integrity even with high wood stove temperatures. It offers a range of colors and finishes to harmonize with your decor.
When combined with a matching mantel and hearth pad, a corrugated aluminum heating surround creates a striking focal point and a cozy ambiance in any space. Its distinctive texture and adaptable design make it a chic and functional choice for your home.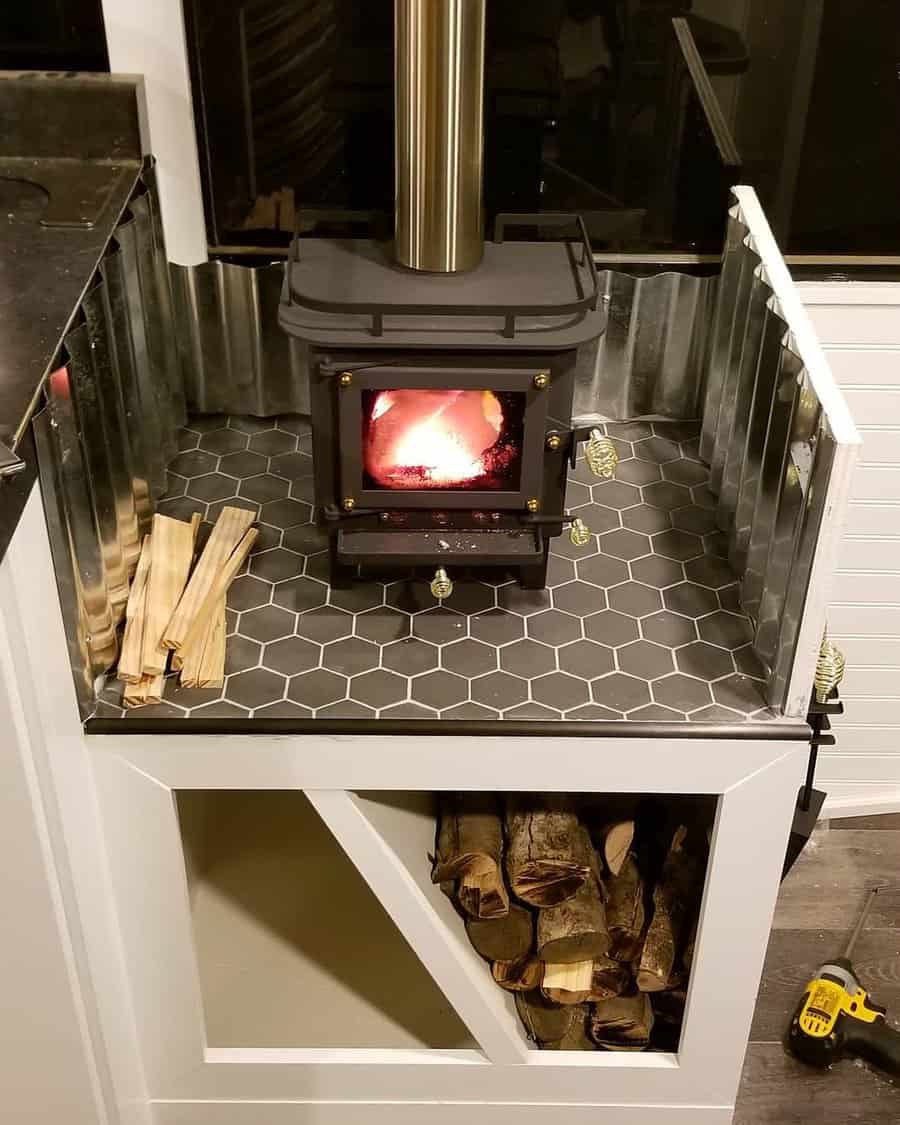 14. Flagstone Wall Surrounds to Impress
Flagstone, with its durability and natural charm, is a perfect material for hearths. A flagstone wall surround brings warmth and texture to your space, seamlessly blending with traditional and modern decor.
Beyond aesthetics, it serves as a protective barrier against heat and accidental fires. When selecting flagstone, consider stone color and size to harmonize with your decor. Whether you prefer a sleek, minimalist appearance or an intricate design, flagstone offers versatility and style for your hearth.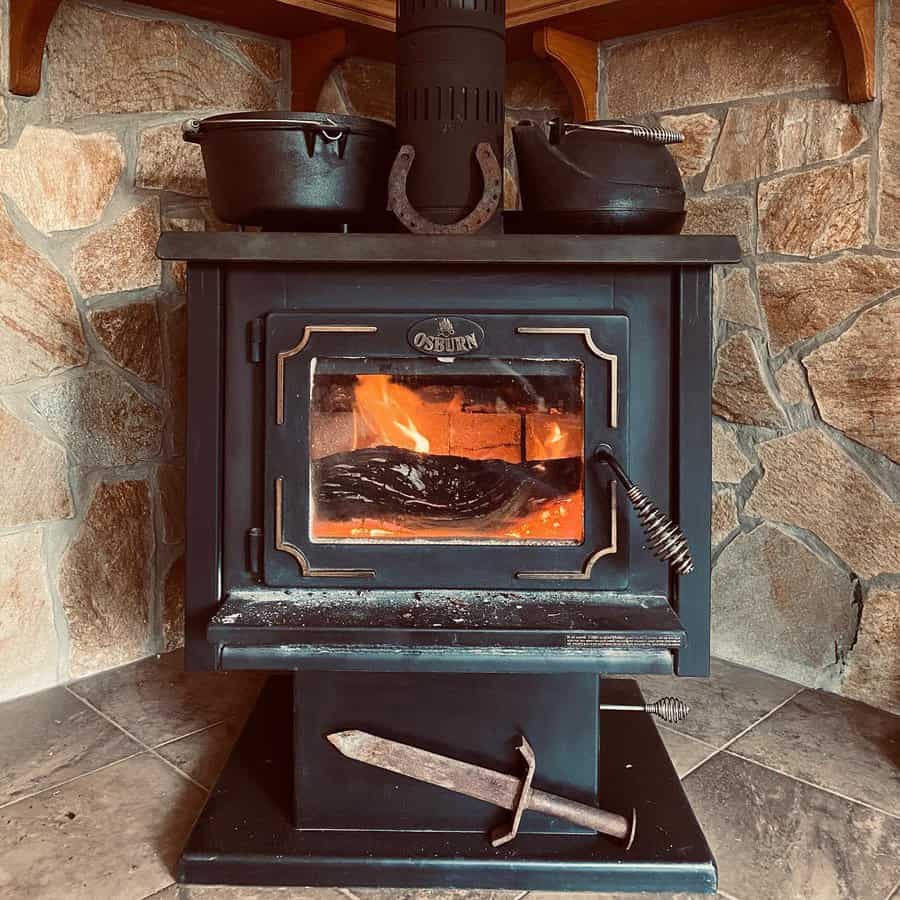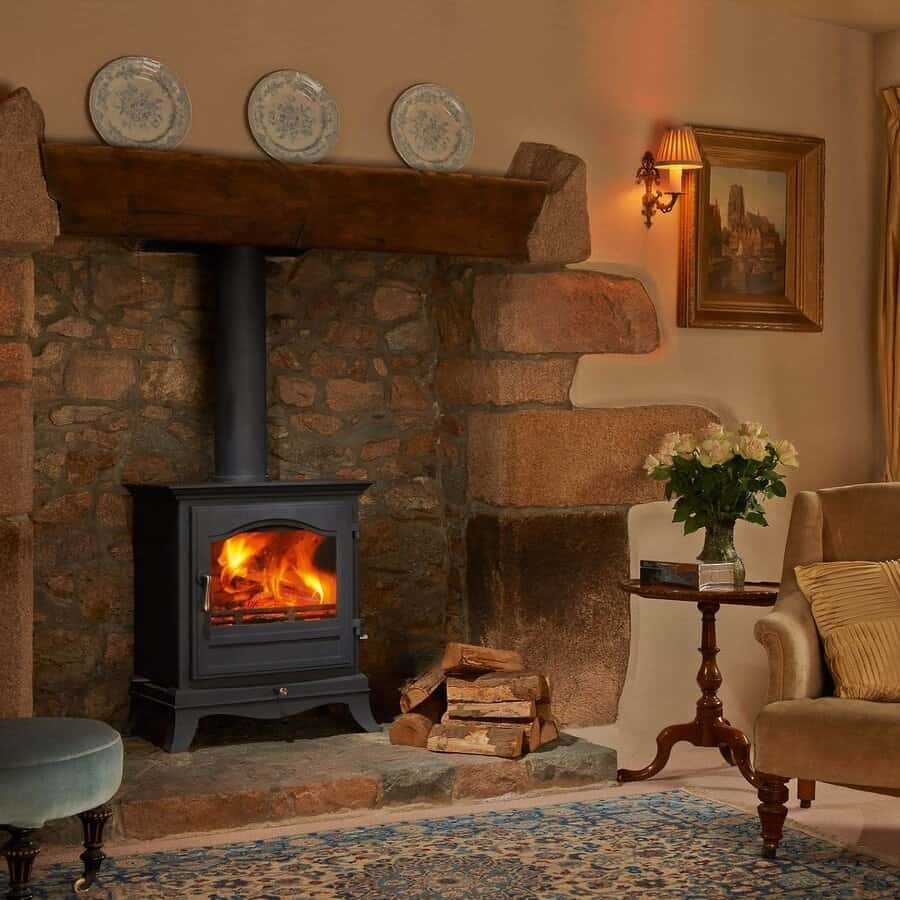 15. Nature's Touch: Wooden Slab Hearth
For a wood stove hearth that exudes rustic charm, consider a wooden slab hearth pad. This thick, solid wood piece not only safeguards your flooring from heat and sparks but also becomes a captivating focal point in your room.
The eco-friendly aspect shines when you opt for reclaimed or salvaged wood. With various wood species to choose from, customization in size and shape ensures a perfect match with your decor and space. A wooden slab hearth pad combines both aesthetics and practicality for your wood stove area.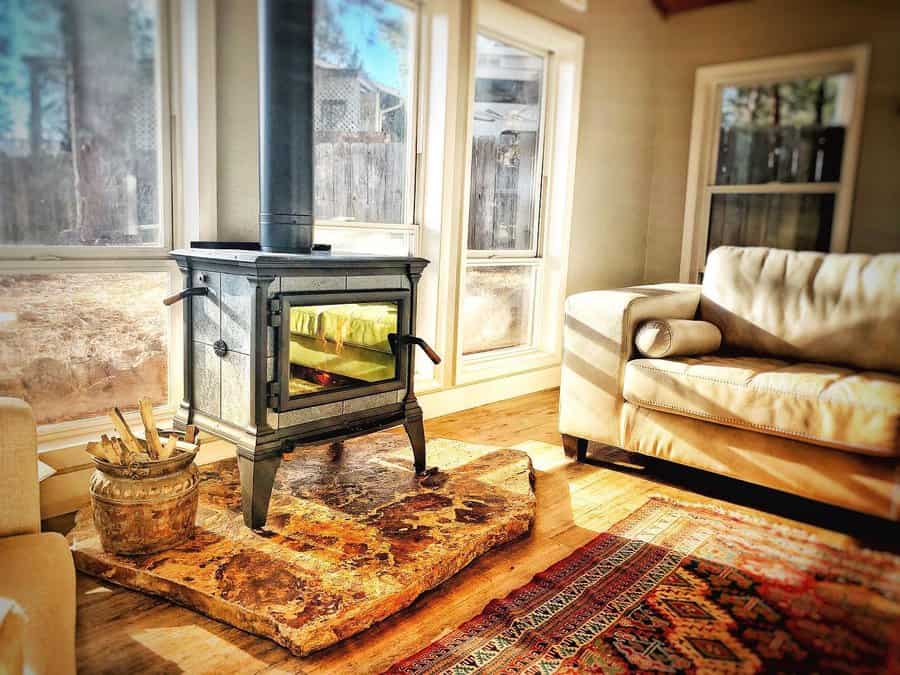 16. The Charm of Open Hearth Surrounds
Explore the appeal of an open hearth surround for your wood stove. It offers easy access to the fire while becoming a captivating room centerpiece. Crafted from materials like stone, brick, or tile, it seamlessly blends with your home decor.
Enhance the visual appeal by adding a mantel or decorative tiles to the surround. An open hearth surround not only creates a cozy atmosphere but also elevates the warmth and beauty of your wood stove, making your home inviting and stylish.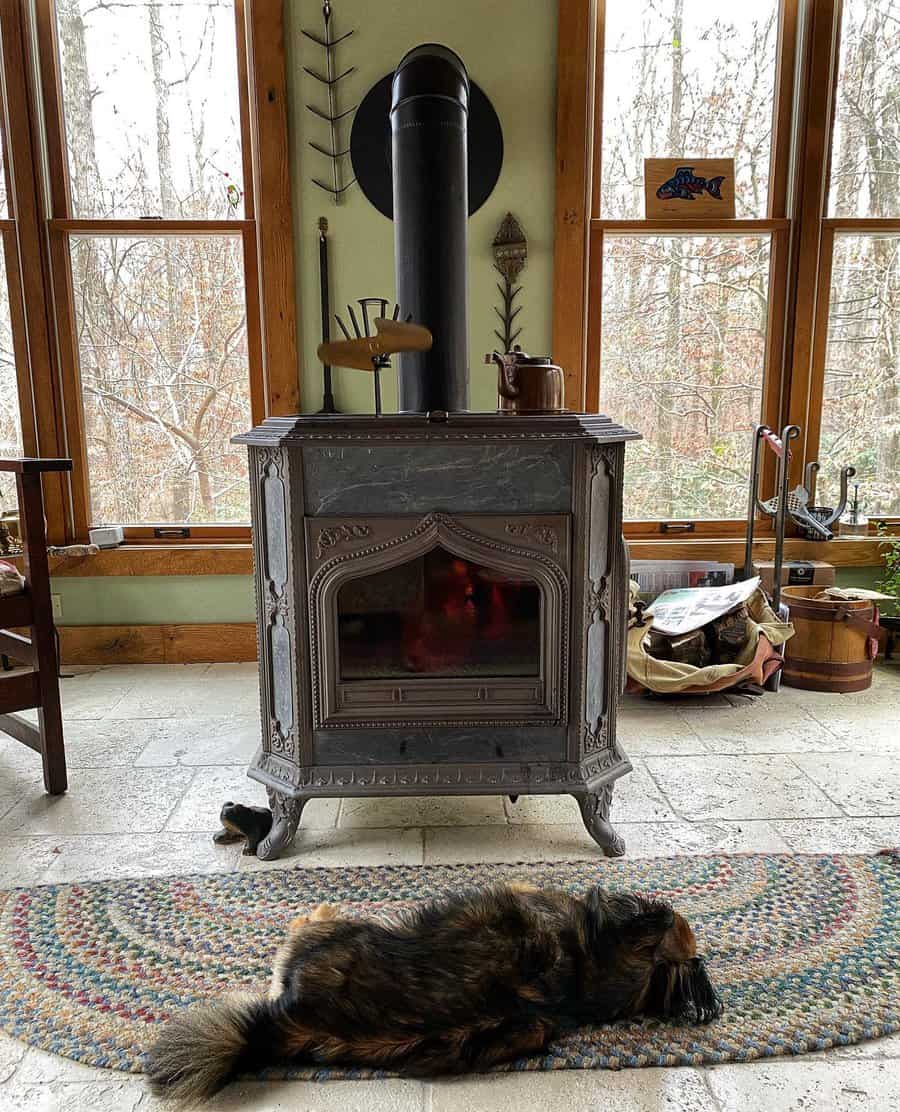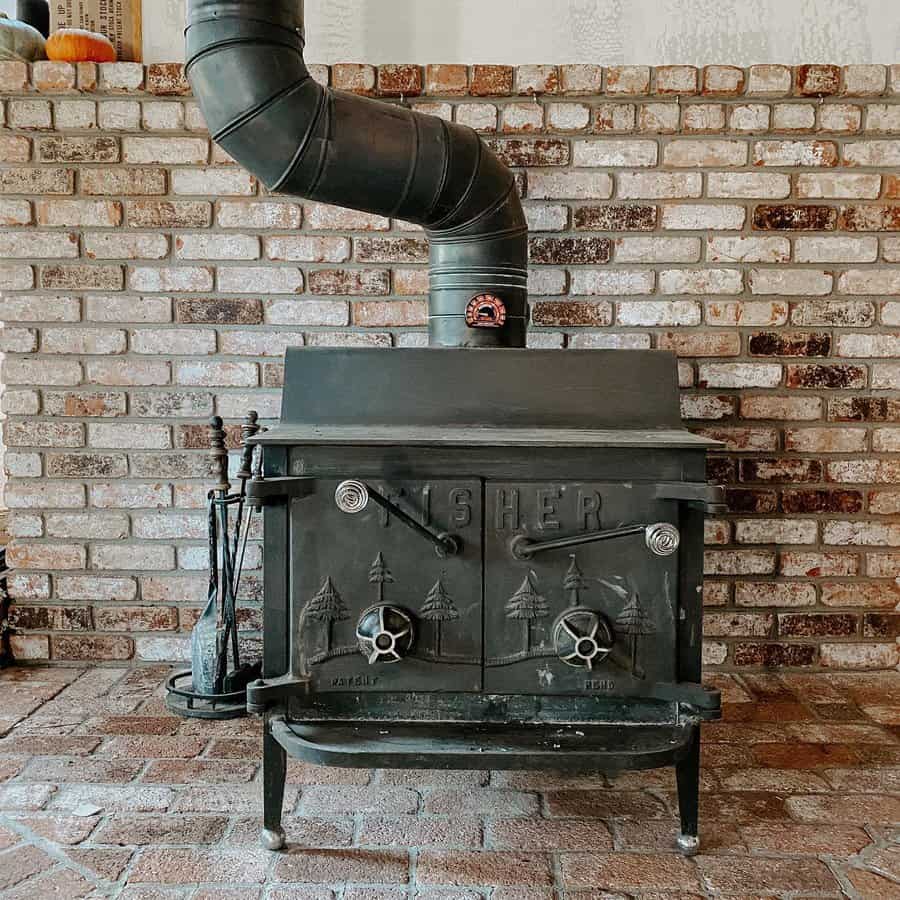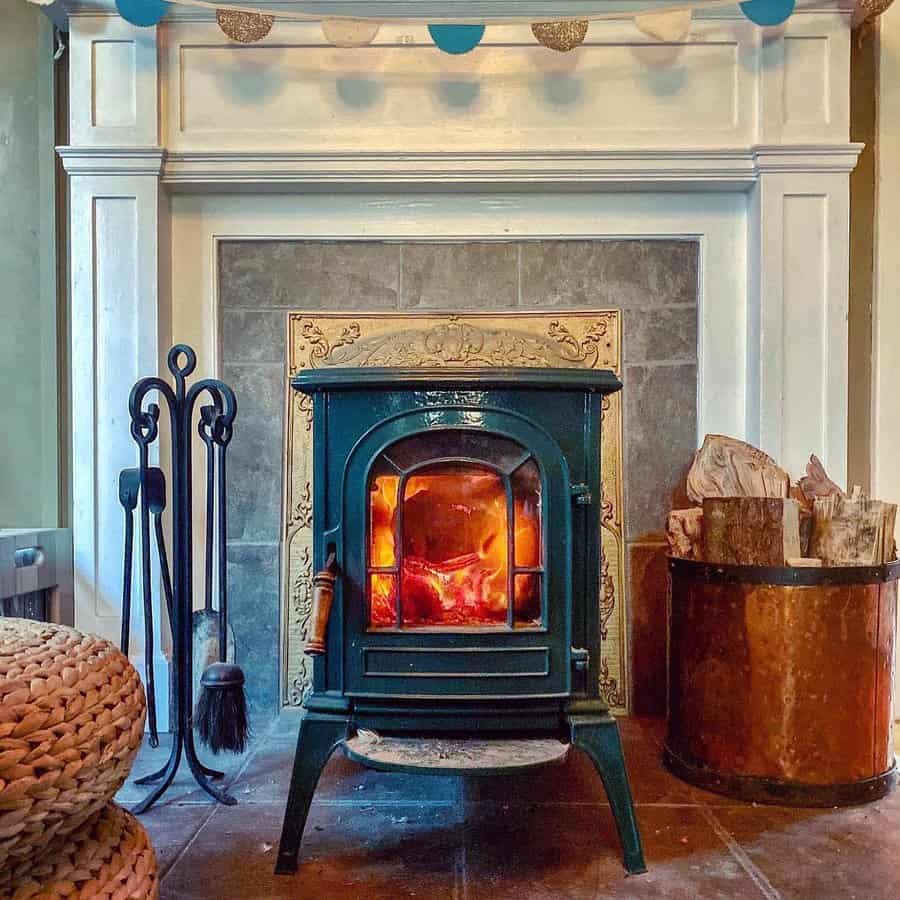 17. Dive into Rustic Stone Wall Styles
For a wood stove hearth with a cozy and inviting ambiance, explore rustic stone wall surrounds. These not only enhance the warmth of your space but also offer a robust and heat-resistant barrier.
Customize the stone arrangement with various patterns and colors to match your personal style, from traditional simplicity to intricate designs. To add extra charm, consider adding a mantle above the stove for displaying decor or creating a festive holiday display with hanging stockings.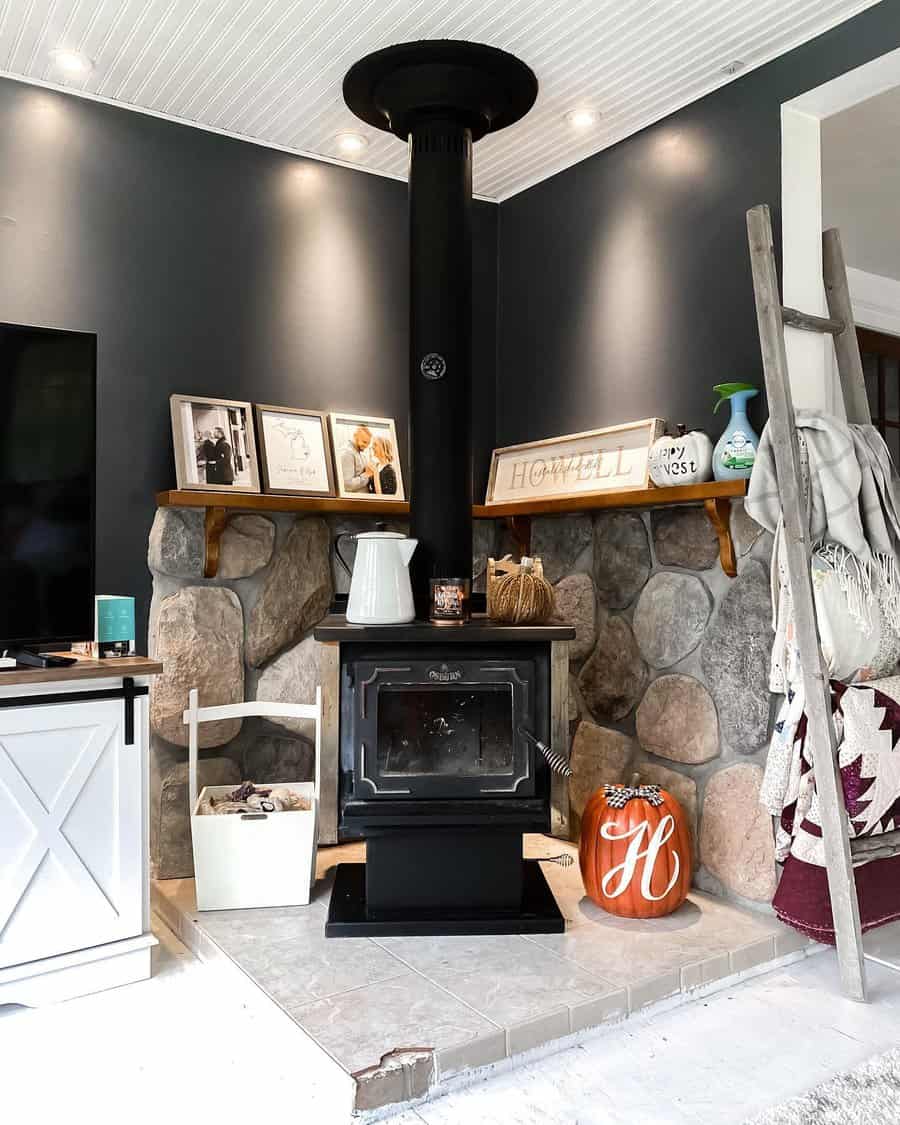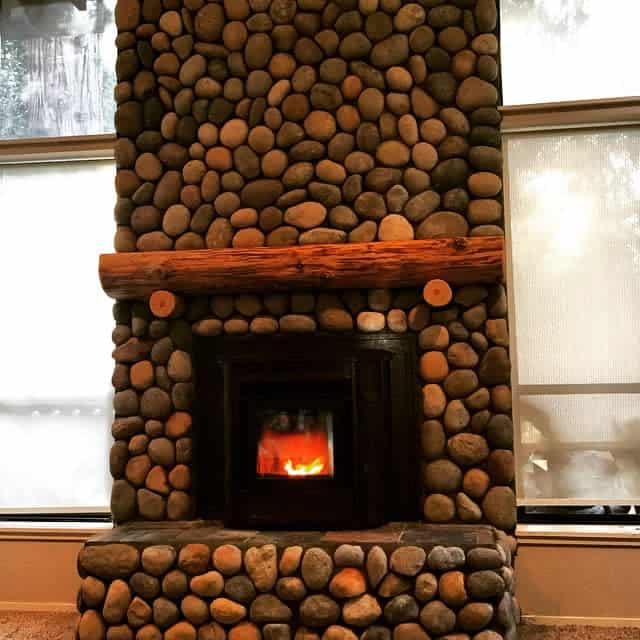 18. Tiled Hearth: A Mosaic of Beauty
Transform your wood stove hearth with the versatility of tiles, available in an array of colors and textures to match your decor. Create a unique look with patterns like herringbone or chevron, adding visual intrigue to the surround.
Beyond aesthetics, tiles offer durability and heat resistance, making them ideal for frequent use. Their easy maintenance suits busy households. Whether your style leans traditional or modern, a tiled hearth surround elevates both the appearance and functionality of your wood stove area.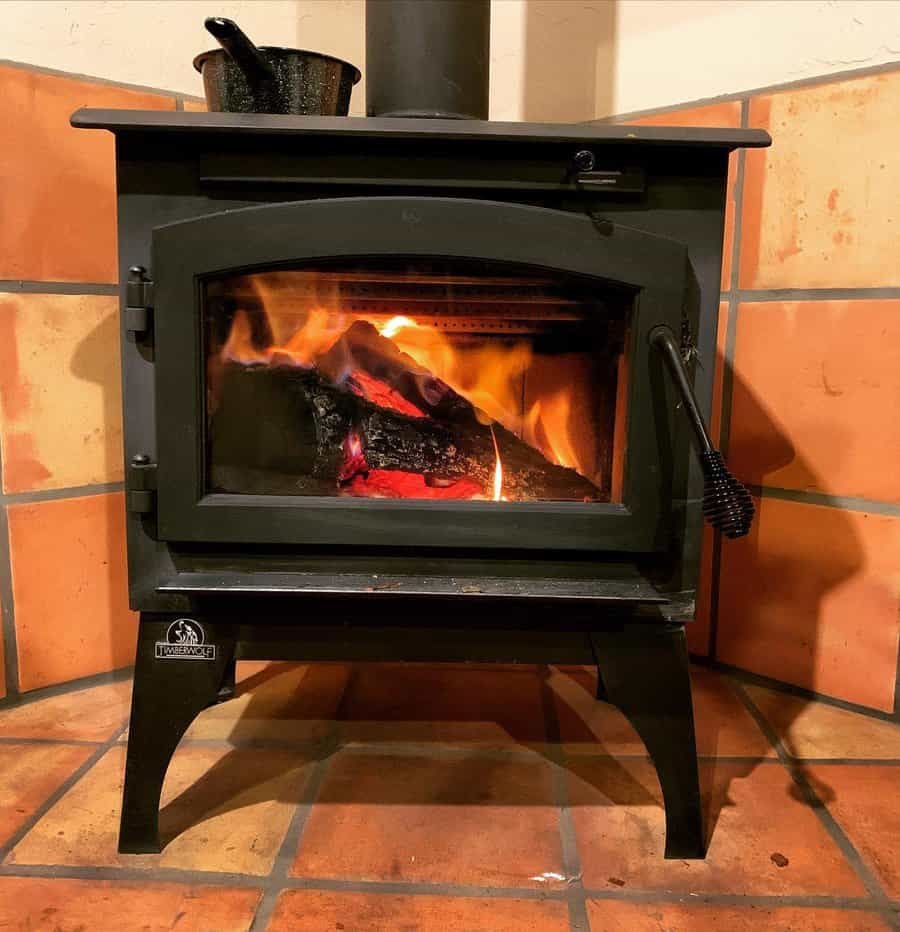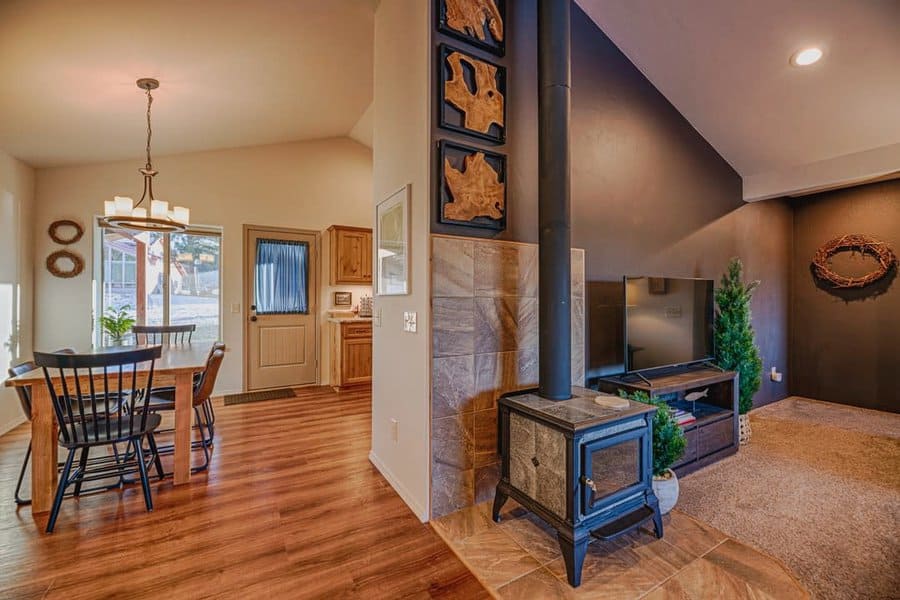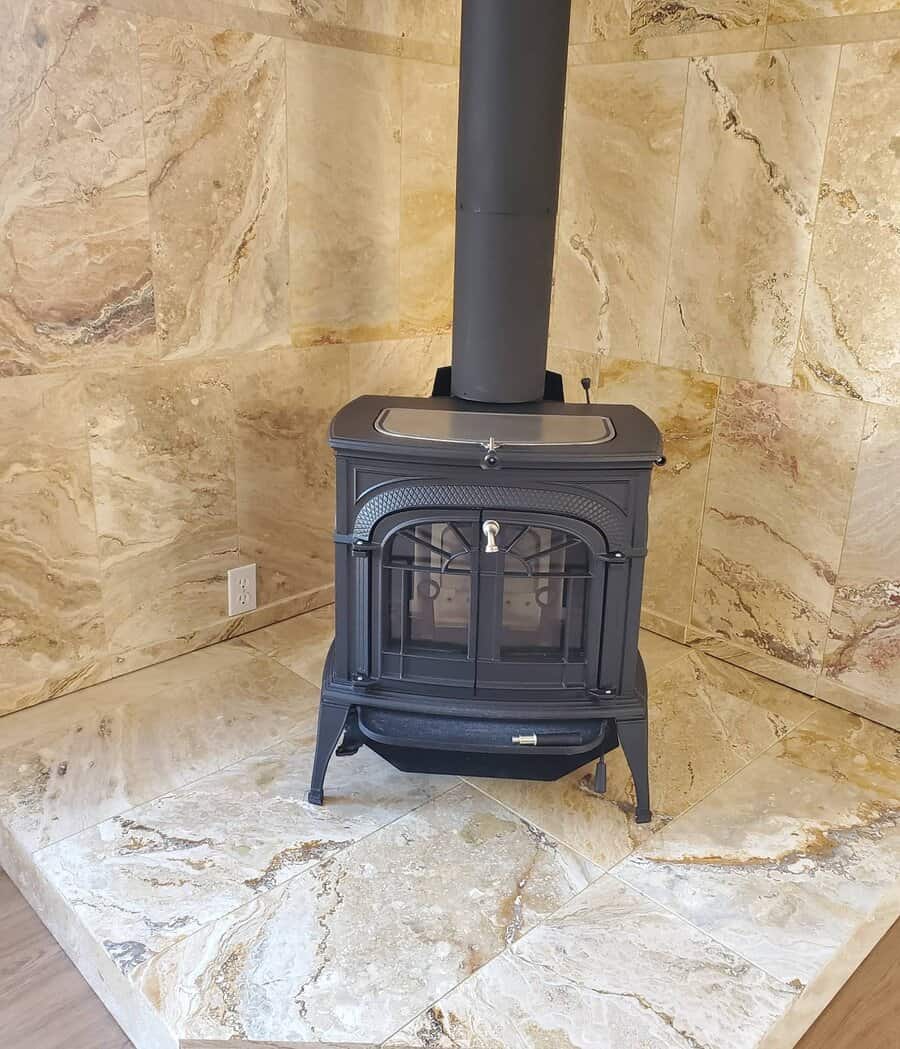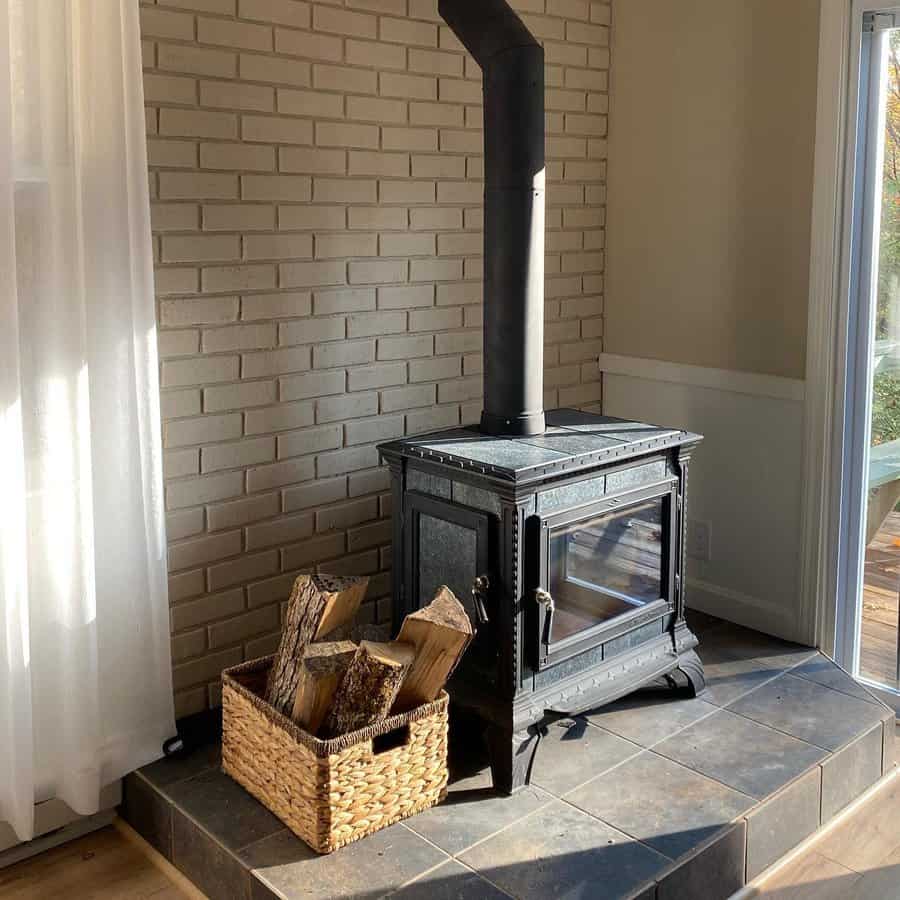 19. Sleek and Safe Glass Hearth Pads
Consider the modern elegance of a glass hearth pad for your wood stove area. Crafted from heat-resistant tempered glass, it offers a safe and stylish foundation.
With its sleek and sophisticated appearance, a glass hearth pad allows your beautiful flooring to shine through. Choose between clear or tinted glass and customize the size and shape to suit your requirements. The ease of cleaning and maintenance makes it a practical choice for any home.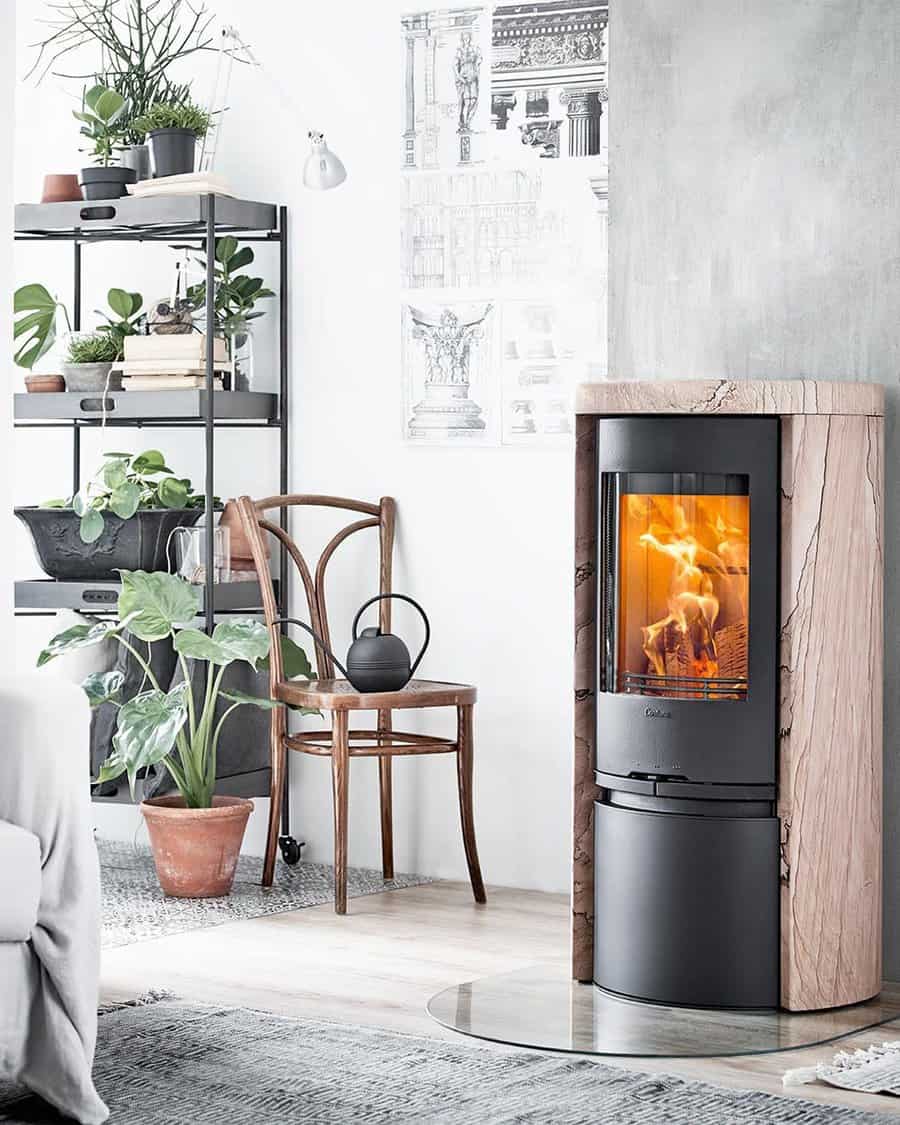 20. Embrace the Modern Gas Fireplace Era
Modern gas fireplaces offer a plethora of stylish and functional hearth options. They feature sleek, minimalist designs with glass panes that showcase dancing flames. What sets them apart is the lack of a chimney, making them perfect for those desiring a fireplace's ambiance without the wood-burning stove's hassle.
For the hearth, you have a range of material choices, from metal to concrete to wood. Some modern gas fireplaces include built-in hearths, while others seamlessly integrate into existing hearths or surrounds. This era of gas fireplaces brings both convenience and style to your home.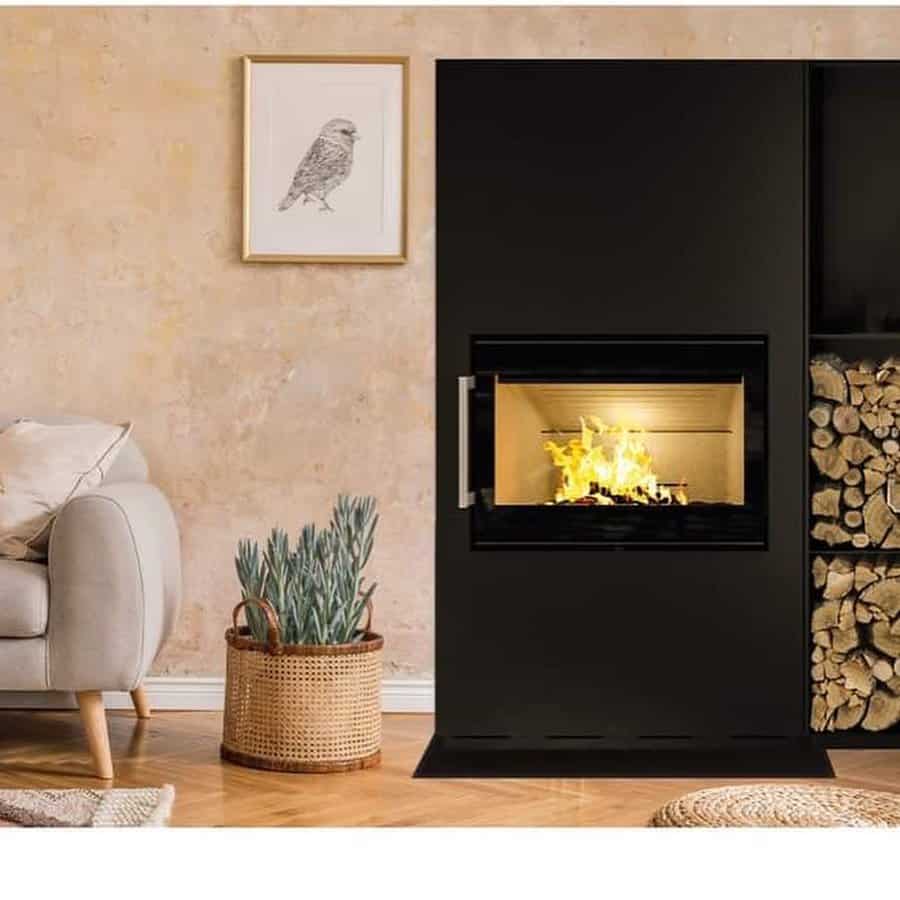 Wood Stove Hearth FAQs
What is the best material to use for a hearth?
Slabbed granite is often touted as the best hearth material for wood-burning fires. Slabbed granite has been cut into smaller pieces and mounted in concrete. This allows the granite to safely expand when exposed to heat.
How thick does a hearth pad need to be?
Building codes may vary by location, but most require a hearth pad to be at least 4 inches thick. It must also be made of a non-combustible material, such as stone, brick, or tile.
What is the difference between a pellet stove and a wood stove?
A wood pellet stove and a wood burning stove look similar but use different types of fuel. Wood pellets burn cleaner than wood logs. Additionally, a wood pellet stove requires less maintenance than a log burner stove.