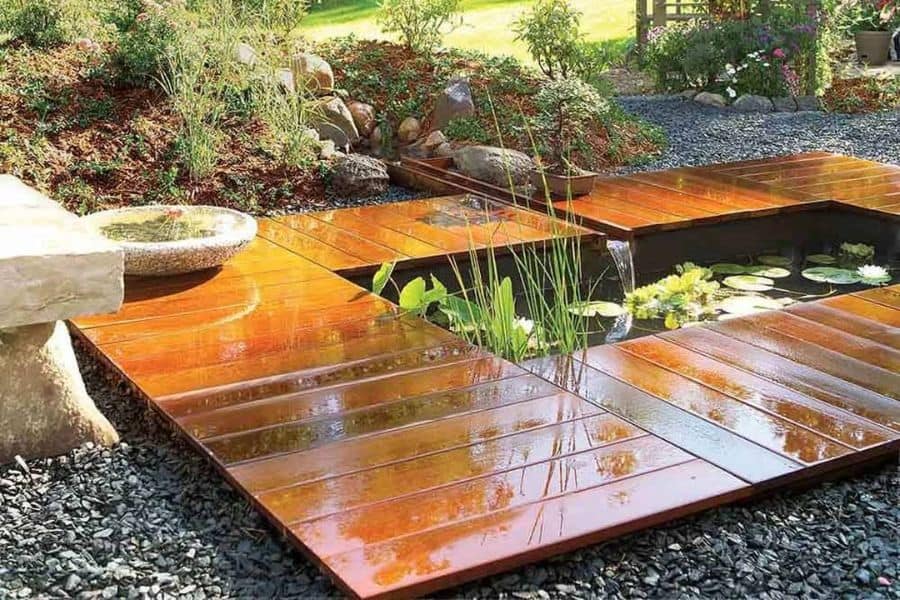 The Top 75 Backyard Pond Ideas
by — Kendrick Hulse

Published on May 24, 2021

Updated on October 26, 2023
Maybe your landscaping feels like it's missing something. Or maybe you want to increase the diversity of plants and animals living on your property. These are just two of the many reasons to install a backyard pond.
Few homeowners realize just how versatile a pond can be until they own one themselves.
A backyard pond could be purely ornamental. It could be a home for colorful koi fish. It could even be a water garden full of unique aquatic species.
No matter the reason for dreaming of a pond of your very own, you'll love the backyard pond ideas featured below!
1. Rustic Natural Stone Pond
Enhance your backyard with a rustic natural stone pond that seamlessly integrates with your outdoor space. The timeless charm of this design choice can be easily achieved by carefully selecting natural stones and arranging them in an organic shape. To complement this pond, consider adding native plants and seating areas nearby, creating a tranquil retreat in your garden. The gentle water sounds and interplay of light on the stones will turn your backyard into a captivating oasis.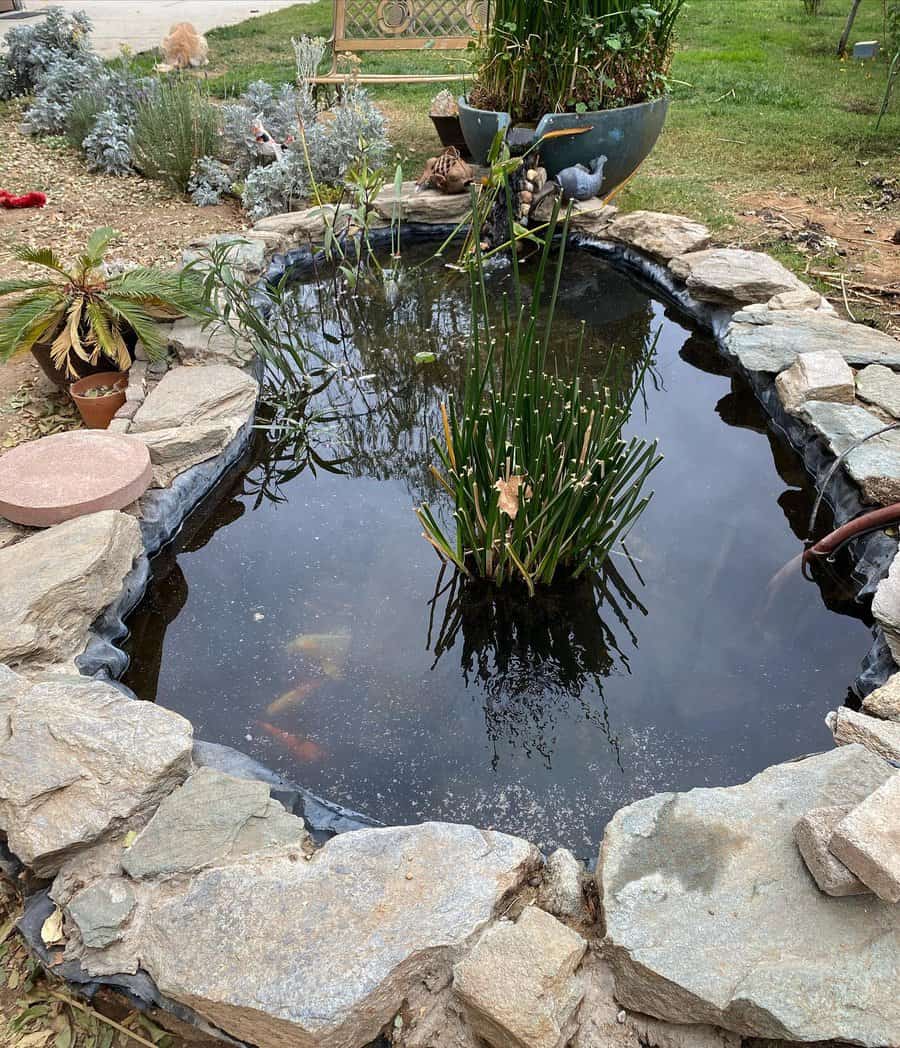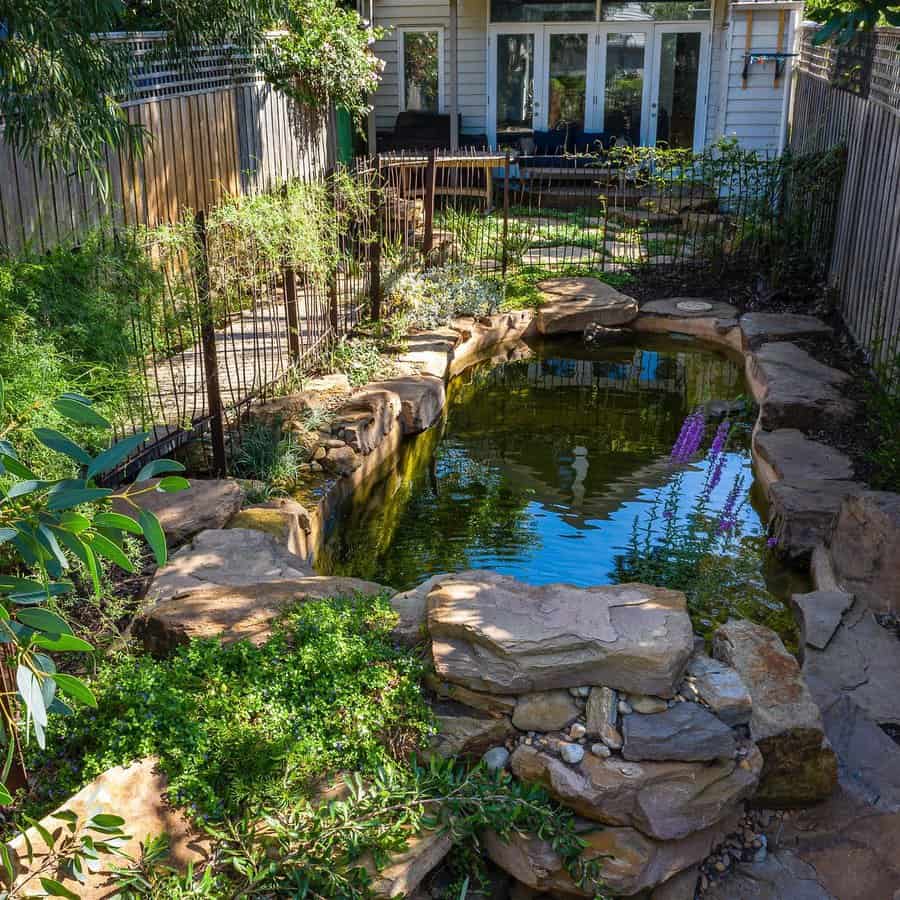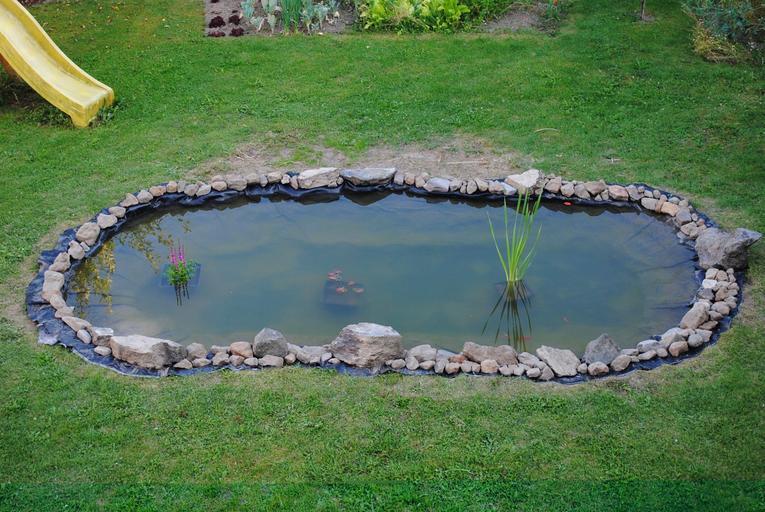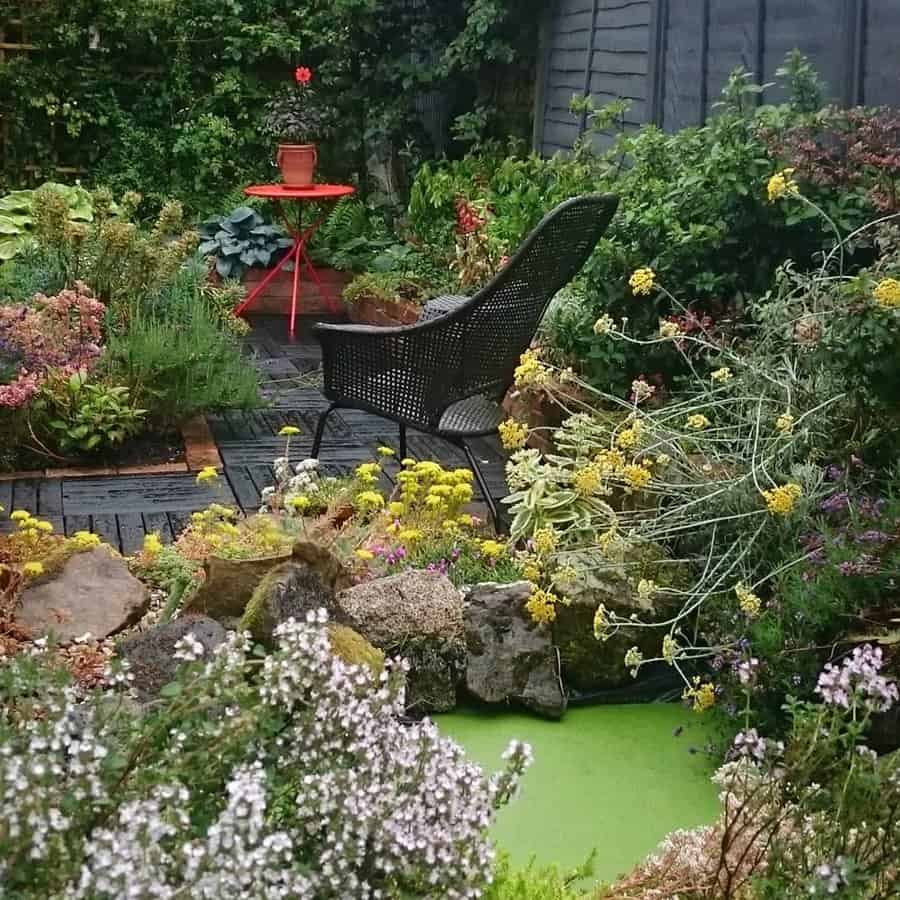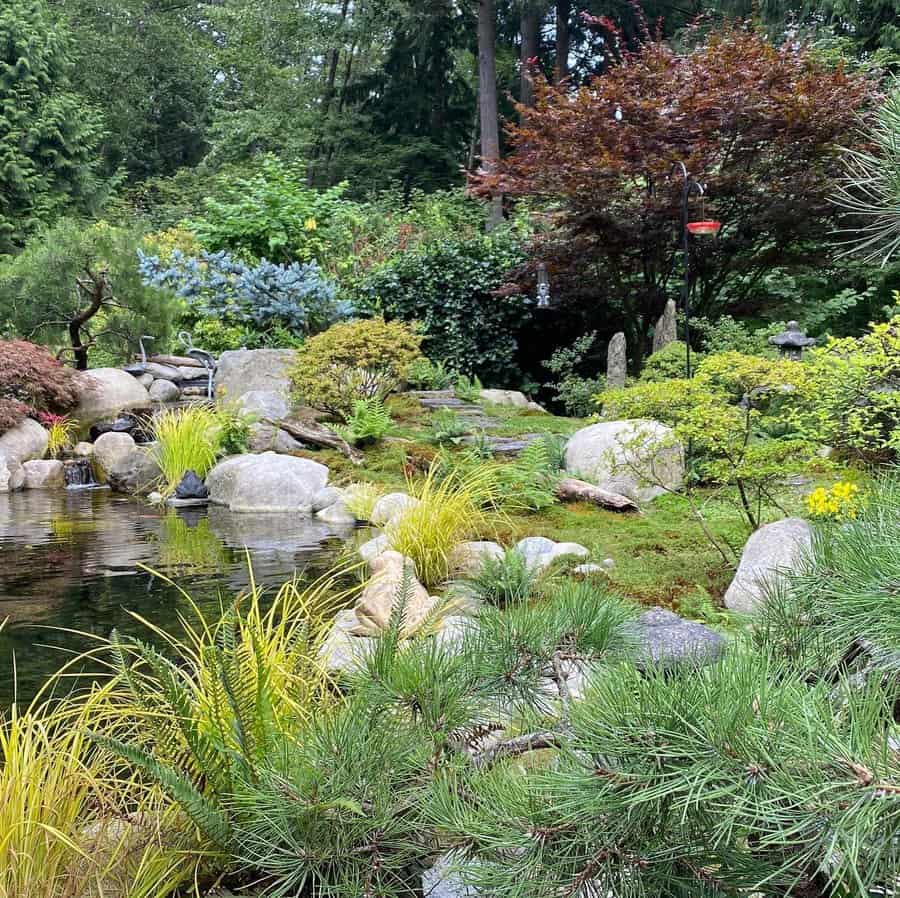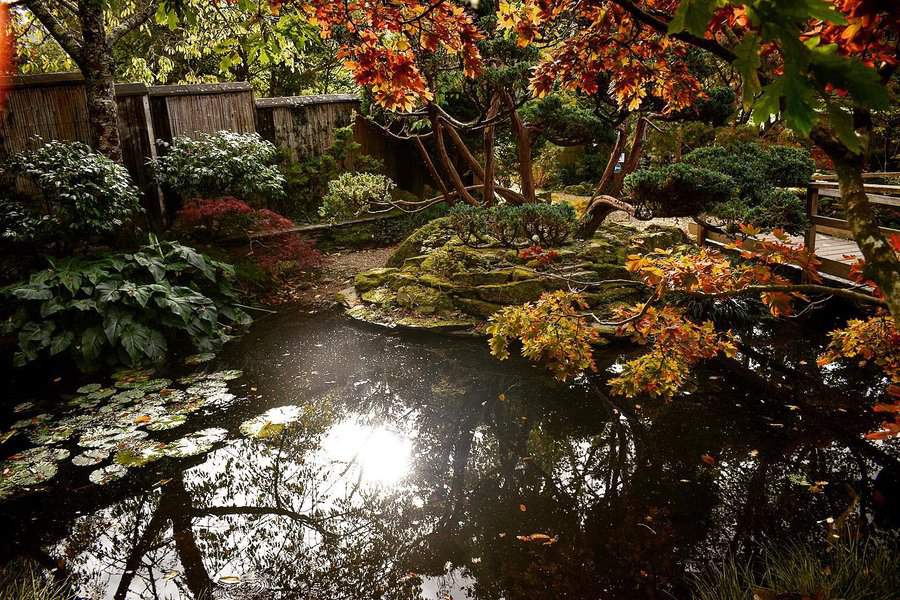 2. Versatile Plastic Pond
Consider a versatile plastic pond for your backyard, offering unmatched customization opportunities to suit any size or shape you desire. From a cozy corner hideaway to a garden centerpiece, plastic ponds adapt to your vision effortlessly.
This durable and low-maintenance material guarantees longevity while providing a safe haven for aquatic life. Elevate the experience by adding a cascading waterfall or a gentle fountain to create an inviting ambiance. Revel in the serene sounds of flowing water, the captivating play of reflections, and the harmonious connection with nature, all within your own backyard. To complement this design, think about surrounding landscaping and seating for the perfect outdoor escape.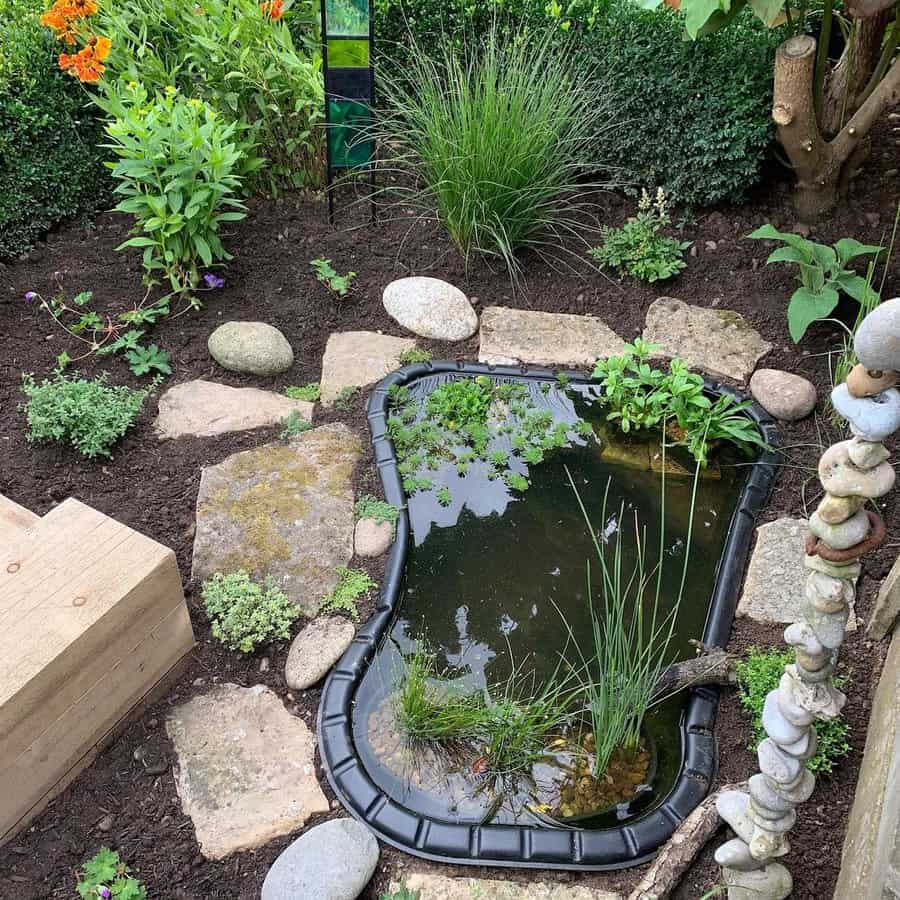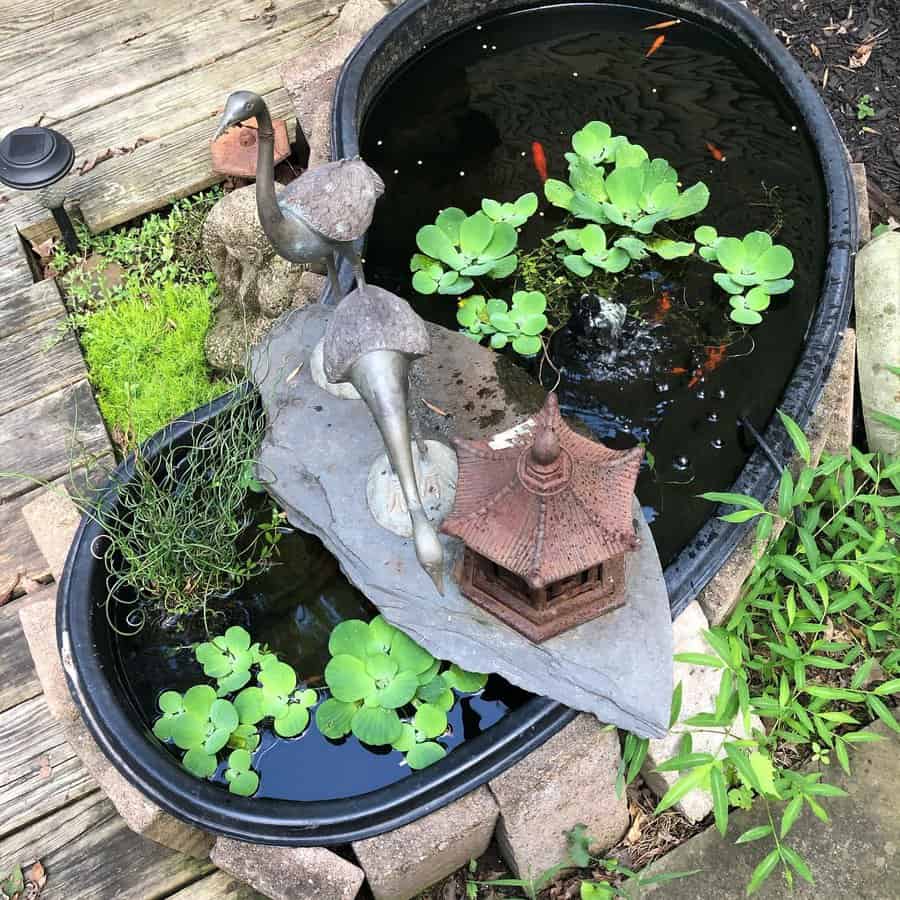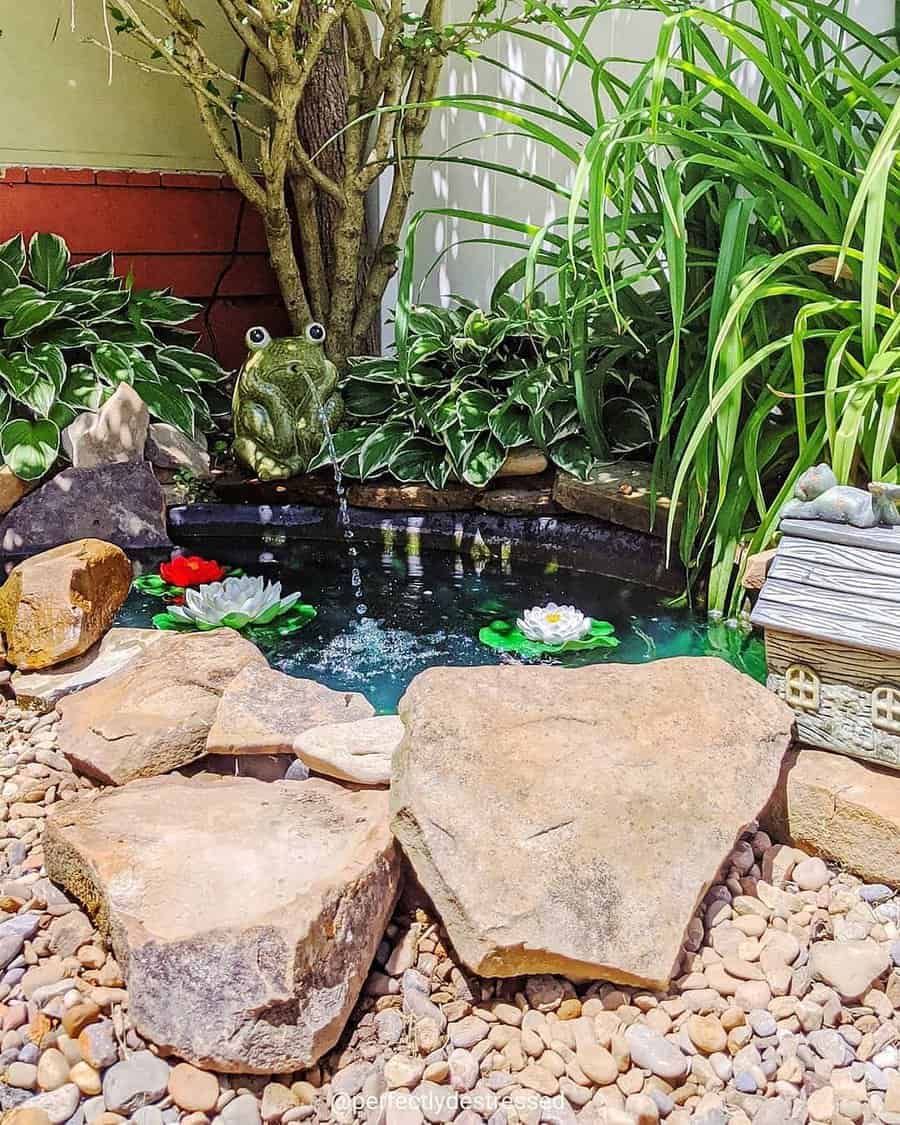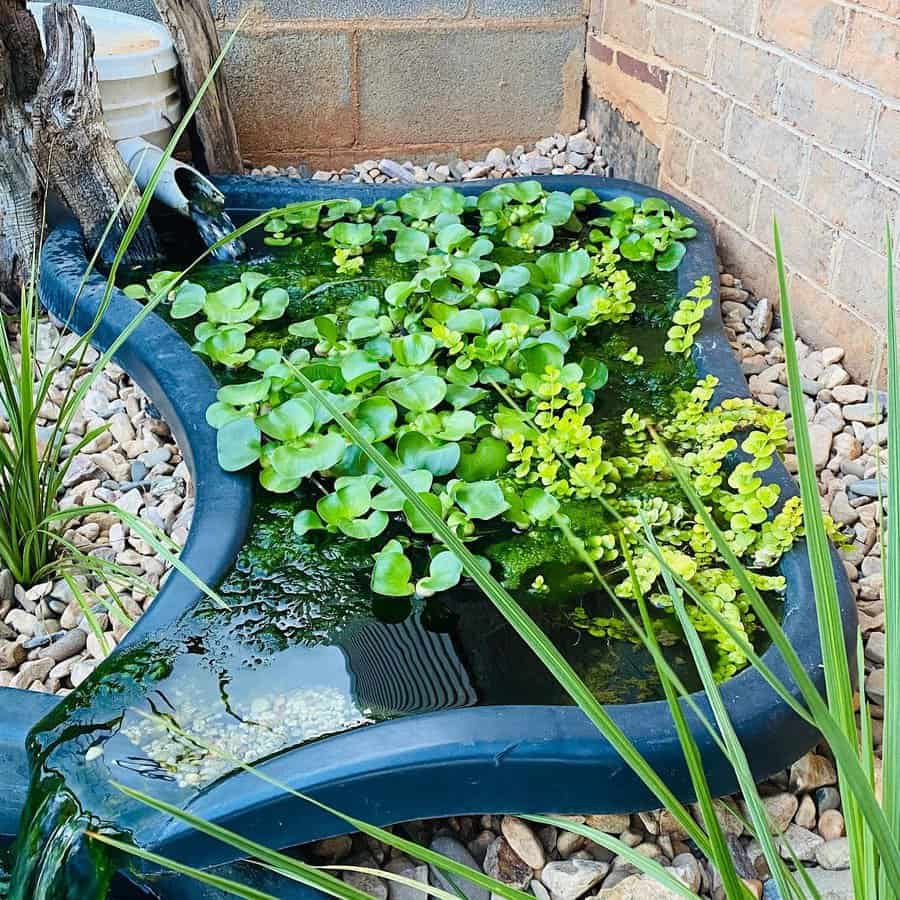 3. Surrounding Wrap-Around Pond
Elevate your outdoor space with a wrap-around pond design that seamlessly melds water and greenery. Craft a layout that encircles different corners of your yard, creating a continuous, inviting flow. This pond serves as a captivating focal point, visible from various vantage points, be it your patio or garden path.
The tranquil sounds of trickling water, combined with the graceful movement of aquatic life, transform your outdoor retreat into a soothing sanctuary. Maximize the potential of your wrap-around pond by integrating rocks, waterfalls, and lush vegetation into the landscape, amplifying the natural beauty of your surroundings. Enhance the ambiance further by adding seating areas and lighting to enjoy this enchanting feature day and night.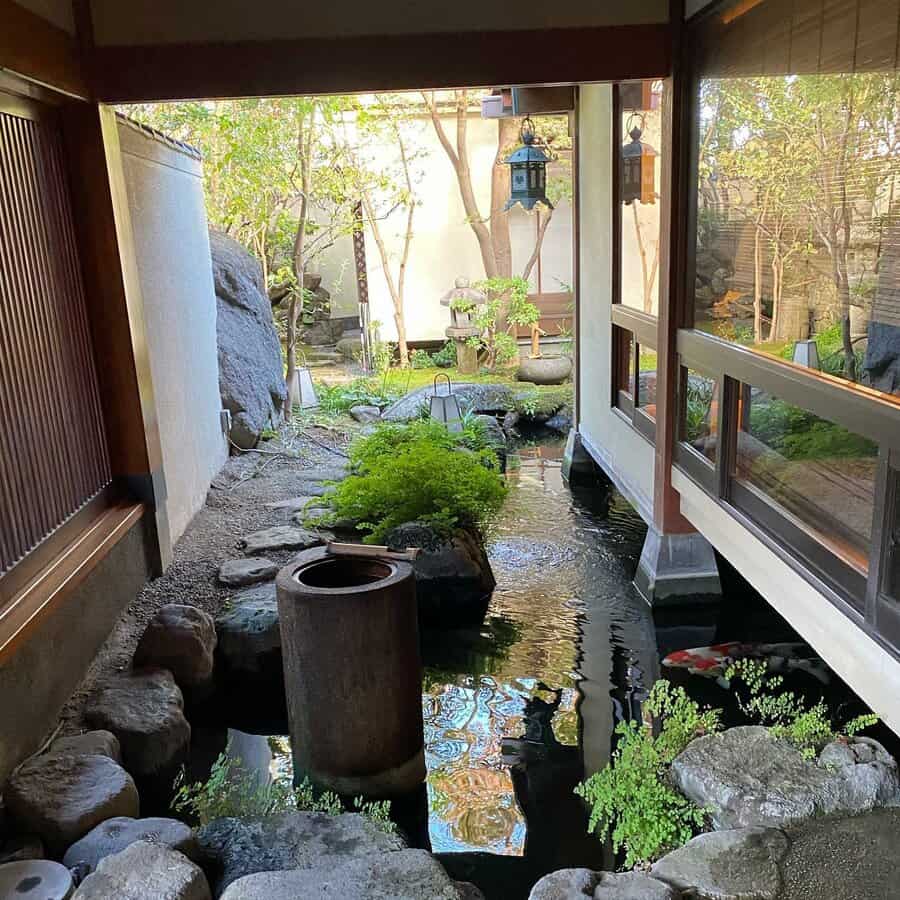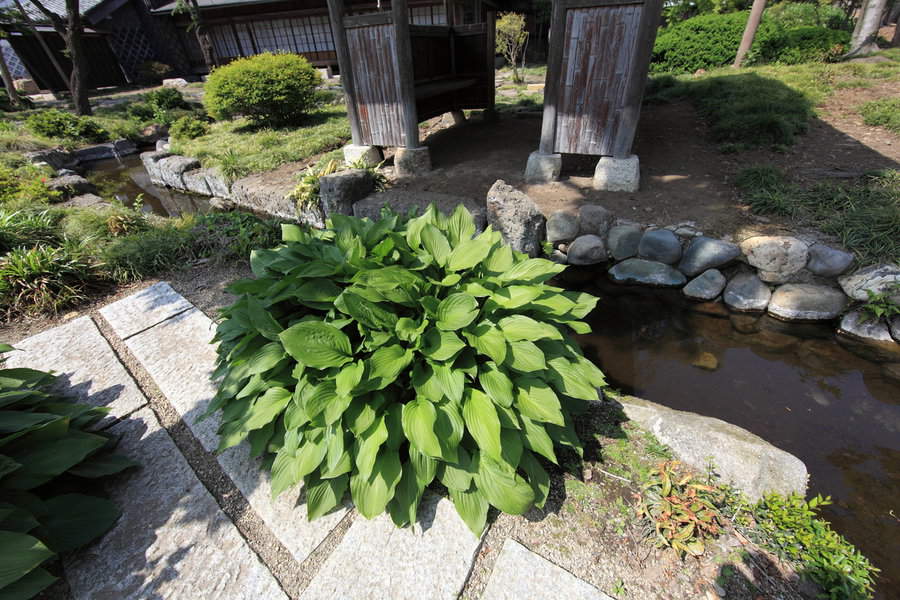 4. Pathway Pond with Stepping Stones
Envision a picturesque garden stroll, where strategically placed stepping stones gracefully traverse the tranquil waters of your pond. This clever addition not only adds charm but also elevates the pond's practicality.
Stepping stones create a delightful and functional pathway, keeping feet dry while granting easy access to various garden areas. Customize these stones to match your preferred style, whether it's rustic, contemporary, or eclectic, using natural stone, concrete pavers, or unique shapes.
The interplay of shimmering water and inviting stepping stones beckons exploration and invites you to immerse yourself in the serenity of your backyard oasis. To complement this design, consider lush landscaping and seating options, ensuring your pond becomes a focal point for relaxation and visual delight.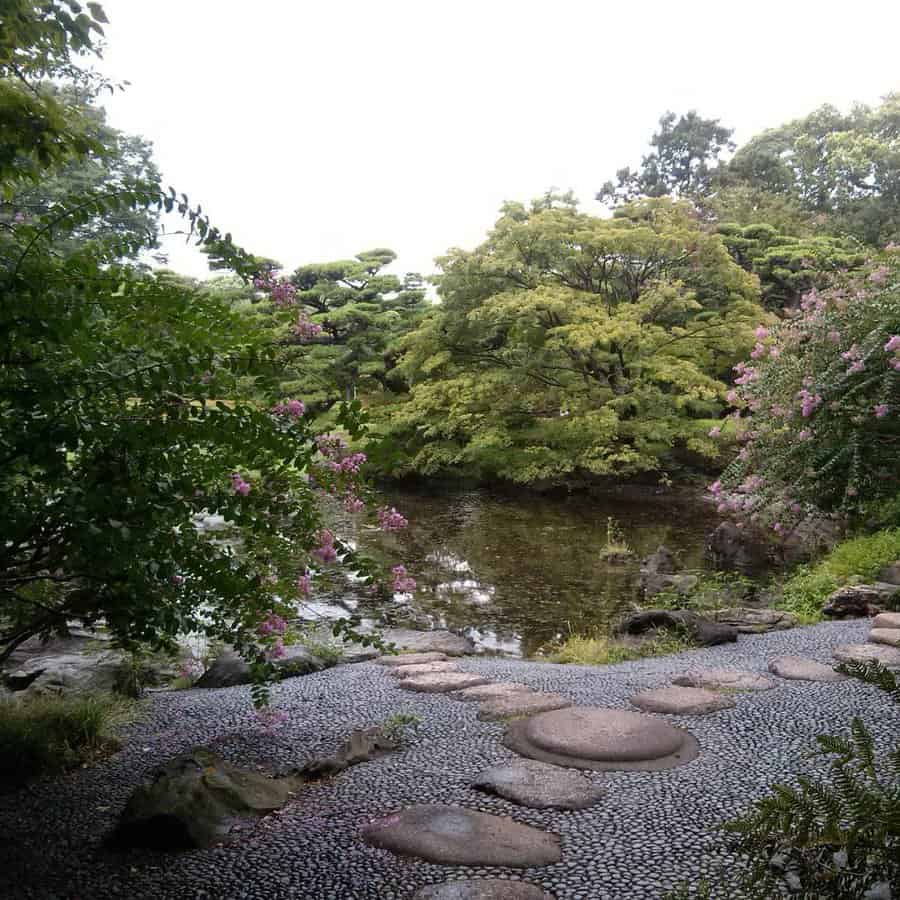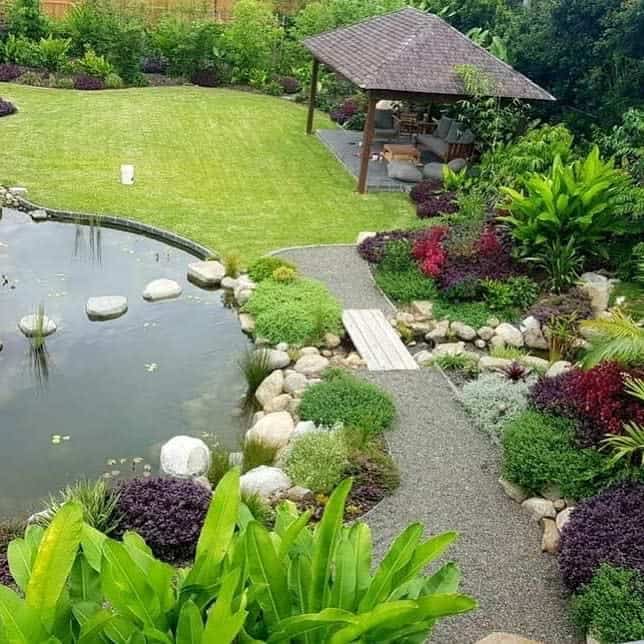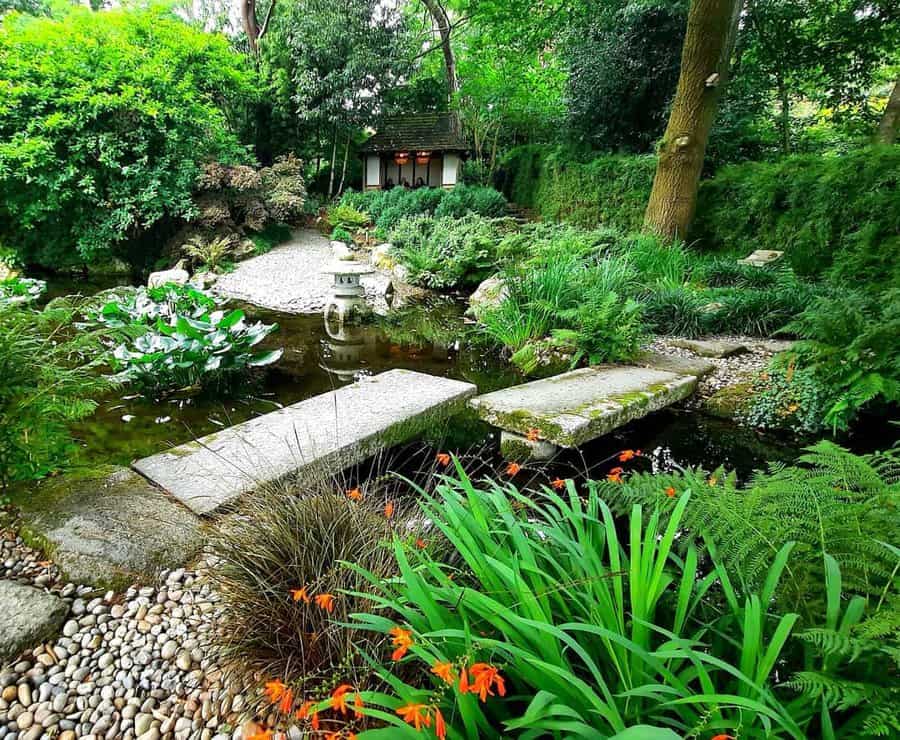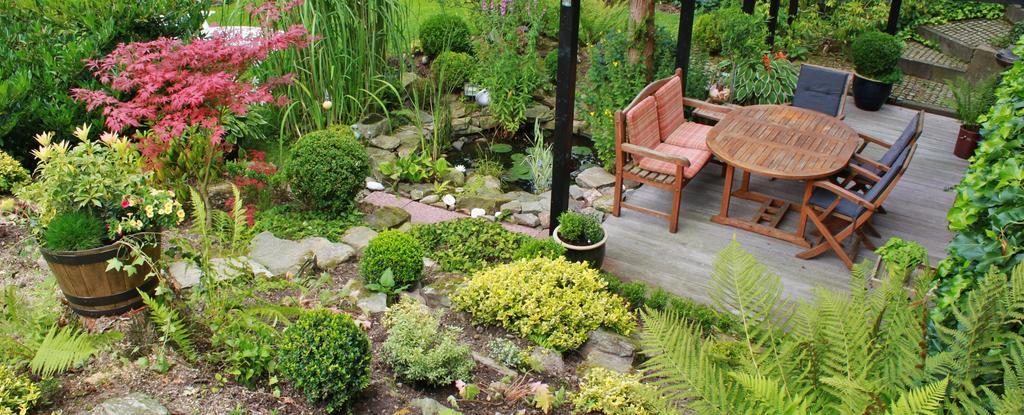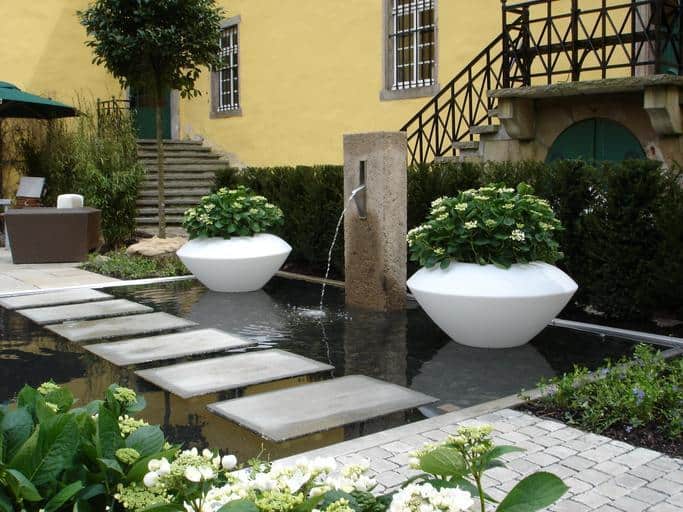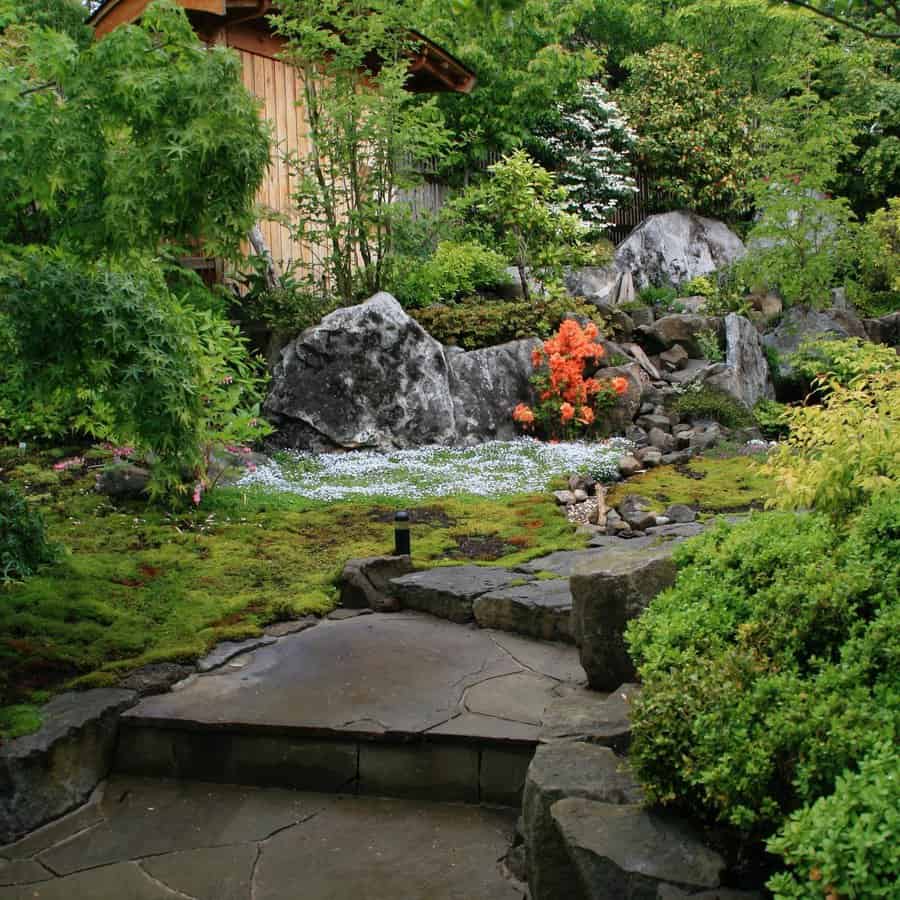 5. Tiki Lantern Oasis Pond
For an exotic and whimsical touch, consider a pond adorned with a tiki lantern, adding a unique allure to your outdoor space. As the lantern's warm glow dances upon the gentle water ripples, it conjures a captivating and enchanting atmosphere.
This pond with a tiki lantern effortlessly becomes the heart of your backyard oasis, offering a magical escape from the rigors of daily life. To enhance this mystical ambiance further, consider surrounding greenery and seating that complements the tropical vibe, creating an inviting retreat right in your own backyard.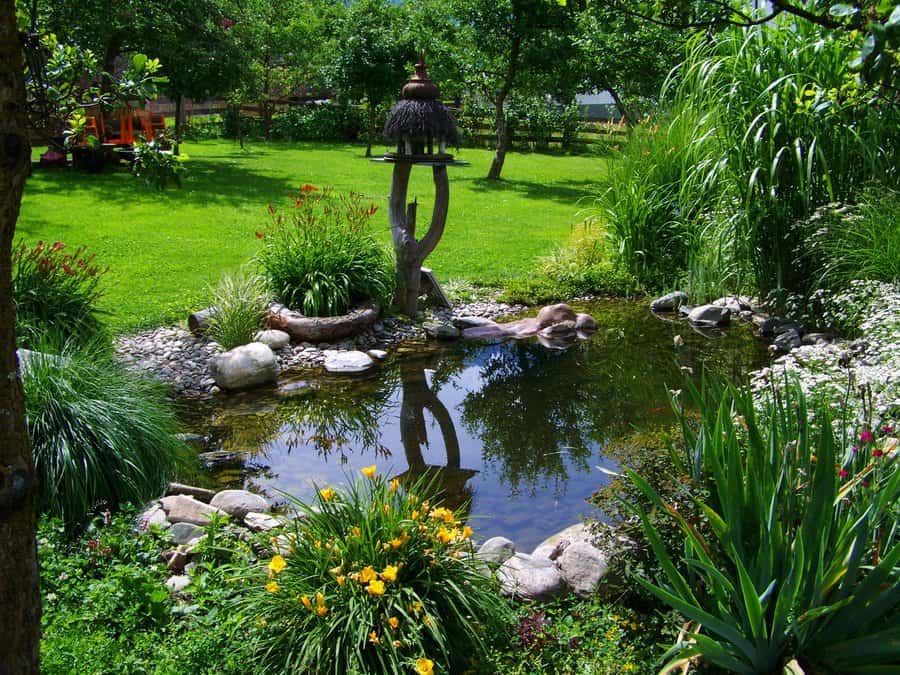 6. Serene Japanese Stone Lantern Pond
Infuse your landscape with elegance and Zen-inspired charm by placing a Japanese lantern near your pond. As dusk falls, the gentle glow from the lantern envelops the area in a magical ambiance, ideal for serene relaxation and contemplation.
The fusion of the tranquil water feature and the enduring allure of the stone lantern fosters harmony and balance in your outdoor haven. This backyard pond idea seamlessly marries nature and culture, offering a space where you can unwind, reconnect with the natural world, and discover inner peace. To complement this design, consider adding Japanese-inspired landscaping elements and seating for a complete Zen experience.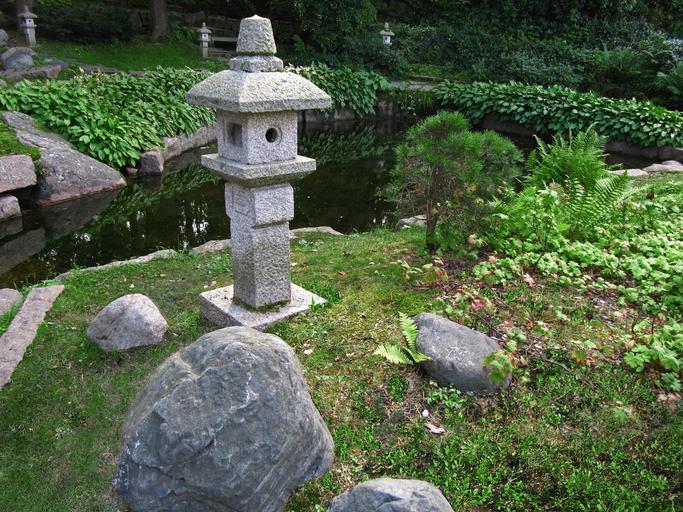 7. Charming Bridge Over Pond
Elevate your outdoor haven with a pond adorned by a charming bridge, turning your backyard into a tranquil sanctuary. Picture yourself stepping into this serene oasis, where the gentle sound of cascading water mingles with the dance of vibrant aquatic plants on the pond's surface.
This pond, coupled with a bridge, takes center stage in your garden, weaving a tapestry of serenity and allure. The bridge offers a whimsical and elegant passage, allowing you to fully immerse yourself in the beauty of your surroundings. It becomes a picturesque focal point, beckoning you to pause and bask in the natural wonders of your outdoor escape. To enhance this feature, consider landscaping and seating arrangements that harmonize with the bridge's charm, creating an inviting retreat for all to enjoy.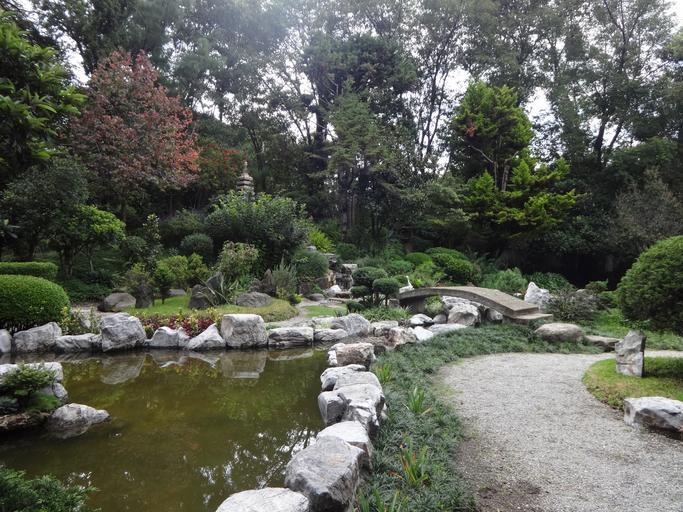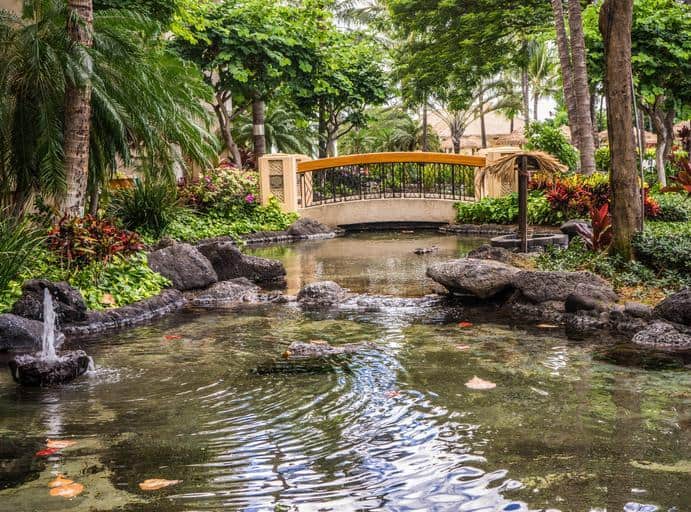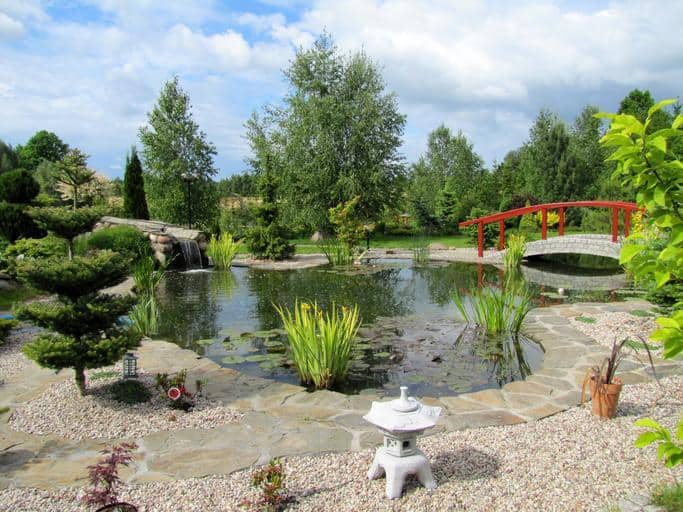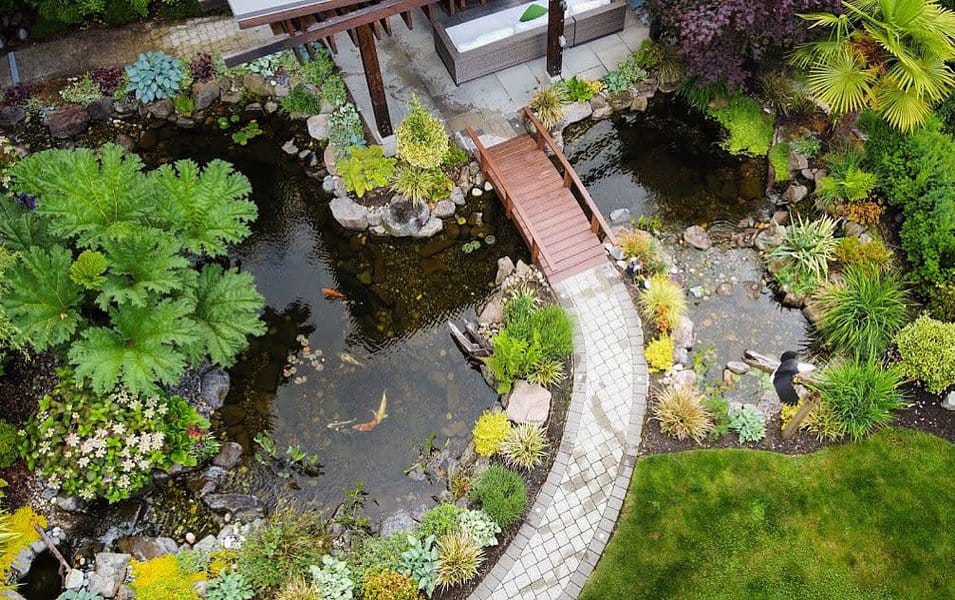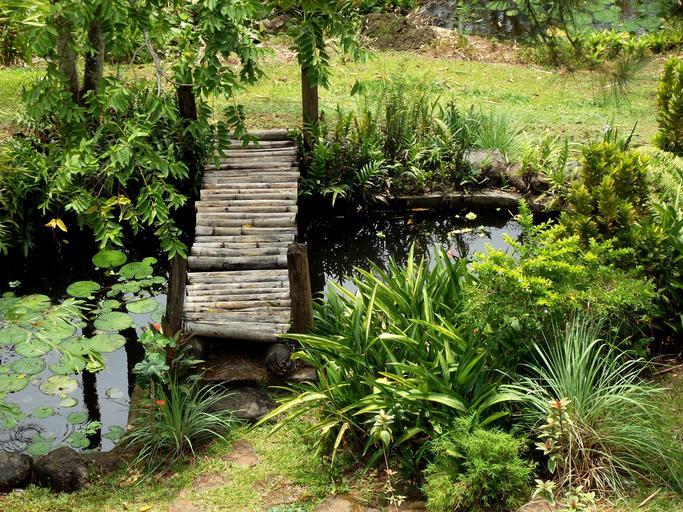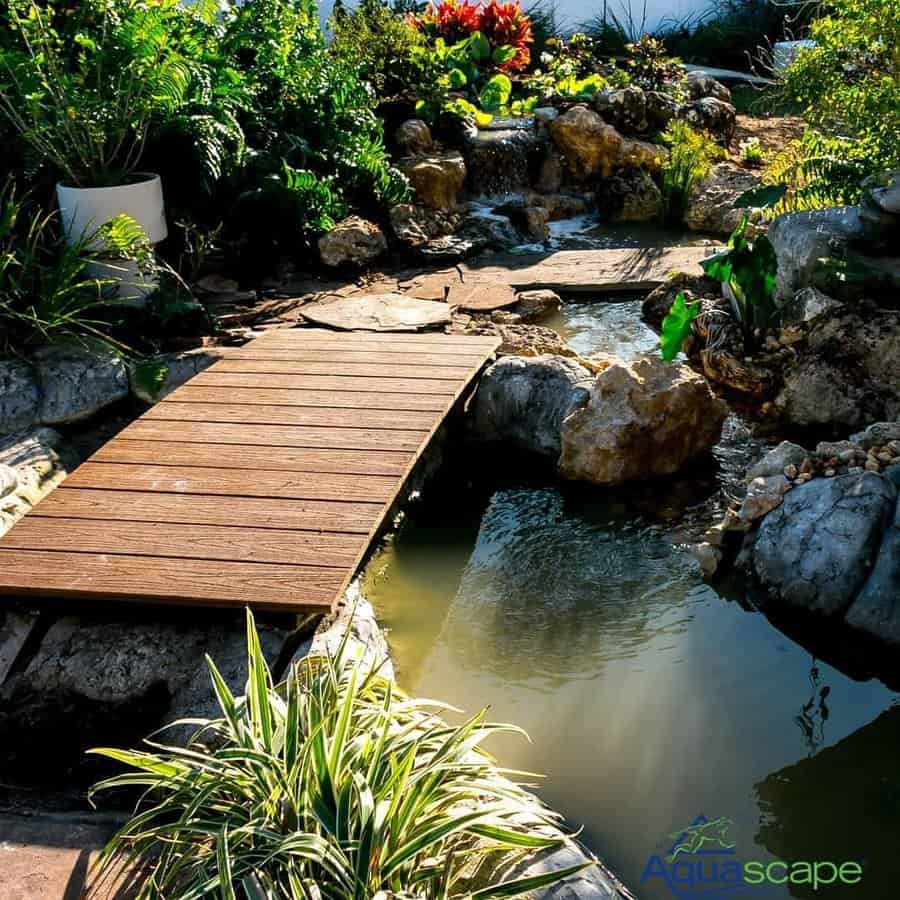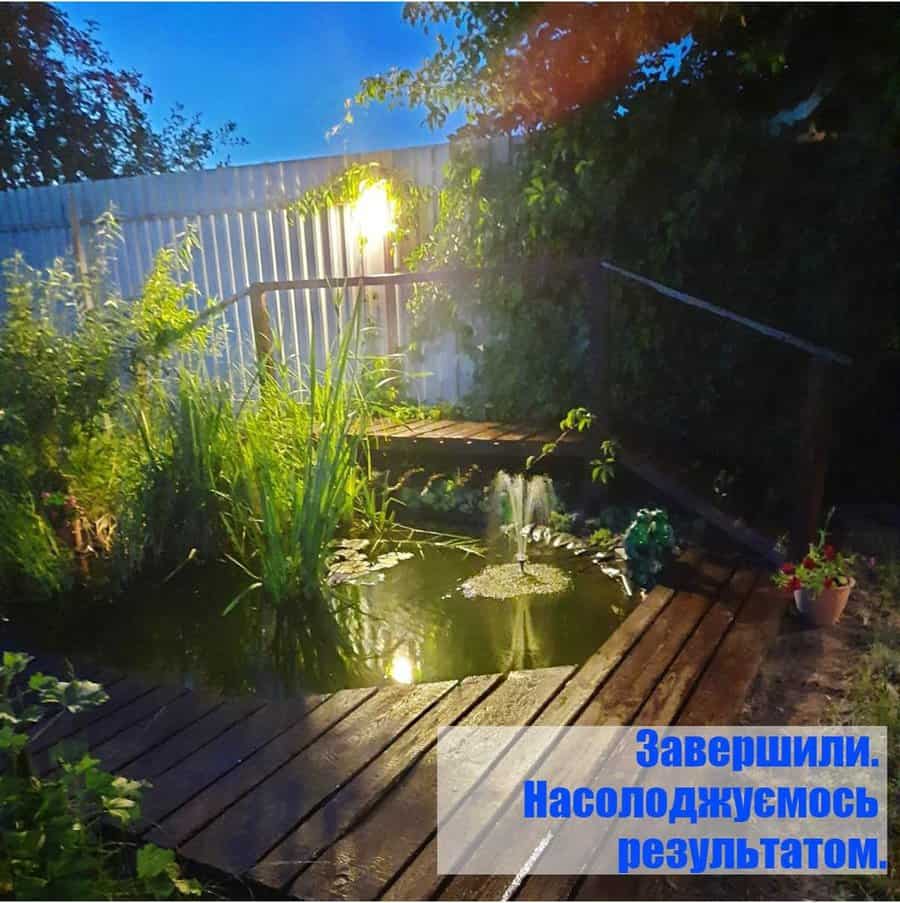 8. Shaded Koi Pond with Umbrella
Create a tranquil backyard oasis by pairing a koi pond with a vibrant umbrella, where graceful koi fish glide beneath the cooling shade. This picturesque scene offers both aesthetics and functionality.
The umbrella serves as a protective shield, safeguarding koi fish from harsh sunlight, ensuring their comfort, and maintaining water temperature. Beyond its practicality, it infuses your koi pond with a playful and whimsical atmosphere. This unique addition transforms your pond into an inviting space for relaxation and contemplation. To complete the ambiance, consider adding seating and landscaping that harmonize with the umbrella's vibrant charm.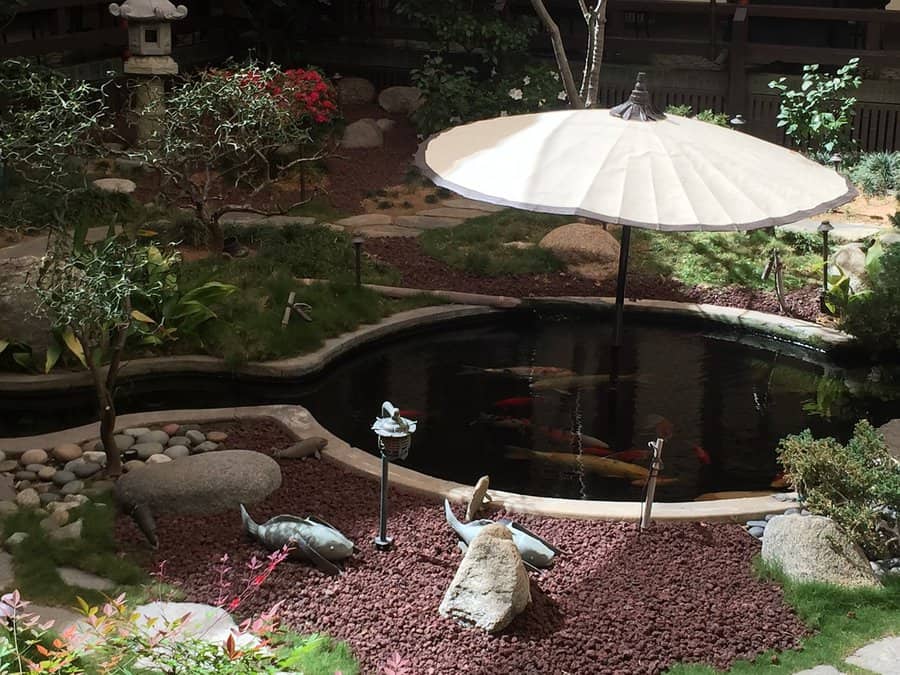 9. Landscaped Wrap-Around Pond
Create a serene retreat by harmoniously integrating a wrap-around pond with your garden's natural elements. Amidst lush foliage and vibrant flowers, this pond beckons relaxation and reconnection with nature.
To enhance its charm, consider planting water lilies and floating vegetation, offering beauty and shelter for aquatic life. Decorative rocks and stones along the pond's edge create a natural border that complements the landscape. Illuminate the pond at night with gentle lighting, transforming it into a mesmerizing, magical feature. Add comfortable seating and pathways to fully immerse yourself in this captivating outdoor escape.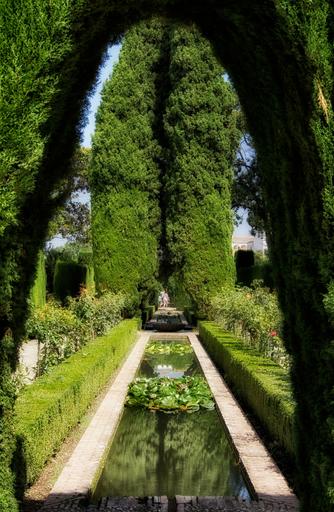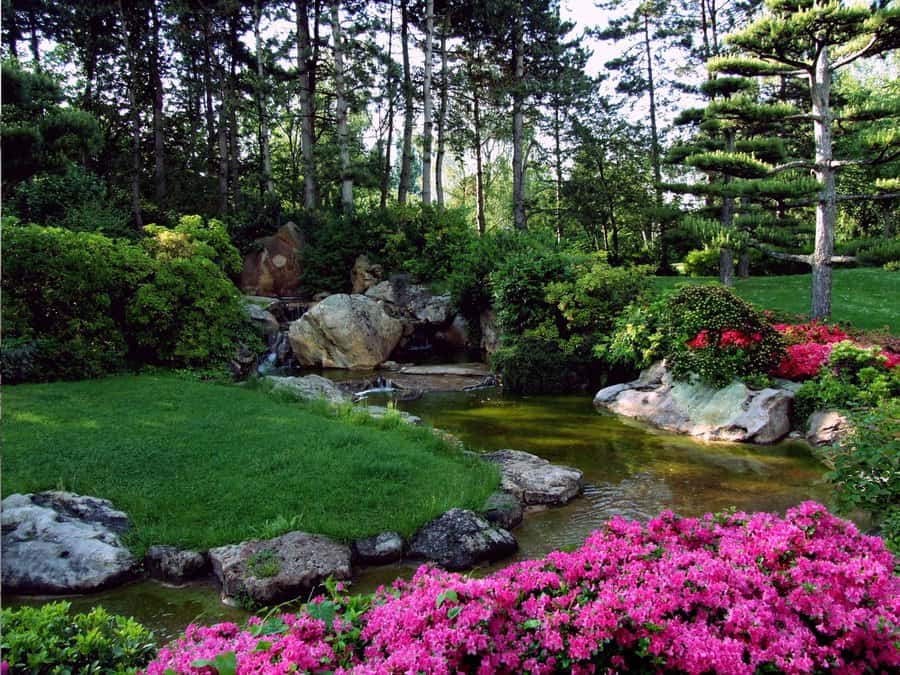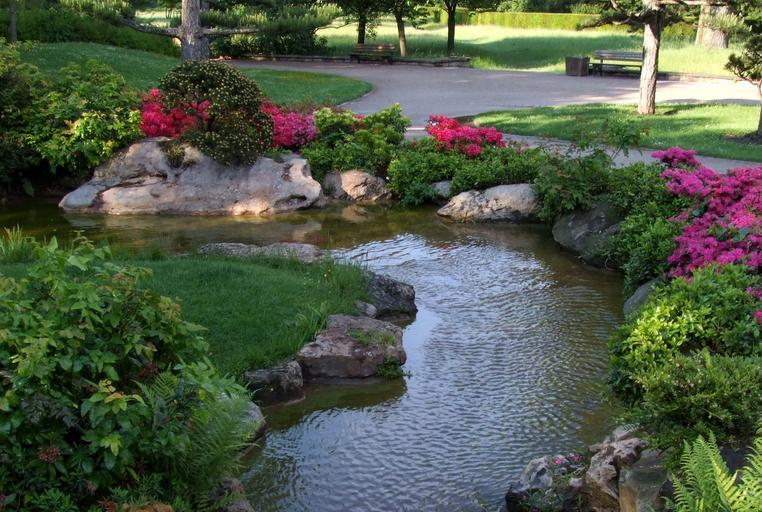 10. Elegant Flagstone Pond
Enhance your outdoor space with the timeless allure of a flagstone pond, seamlessly blending with nature's beauty. The irregular shapes and earthy tones of flagstone infuse a rustic and organic charm, elevating your pond's visual appeal.
This durable material guarantees enduring beauty, making your pond a stunning, long-lasting feature. Customize its size and shape to match your space and preferences, whether you envision a cozy corner or a grand centerpiece. To complement this elegant design, consider incorporating native plants and seating areas for a complete outdoor retreat.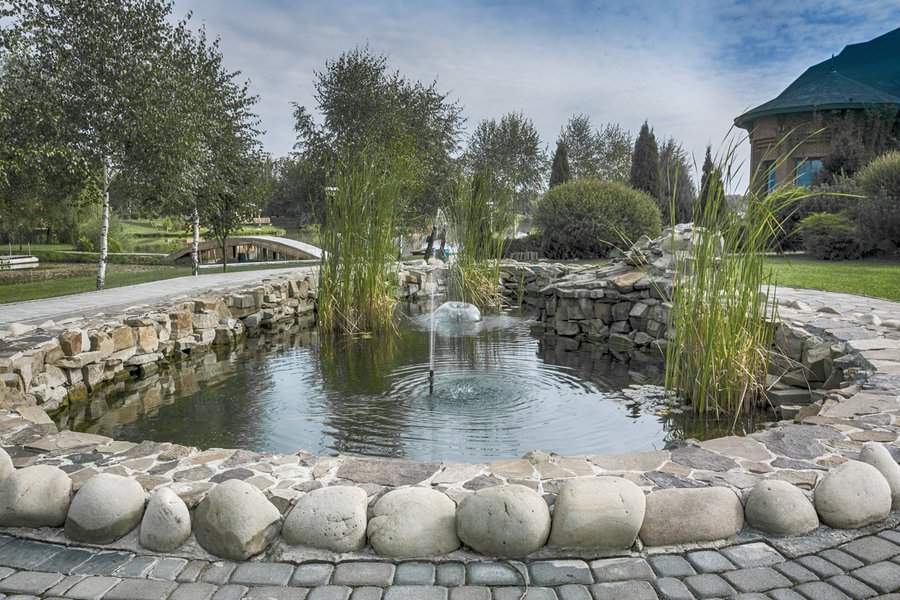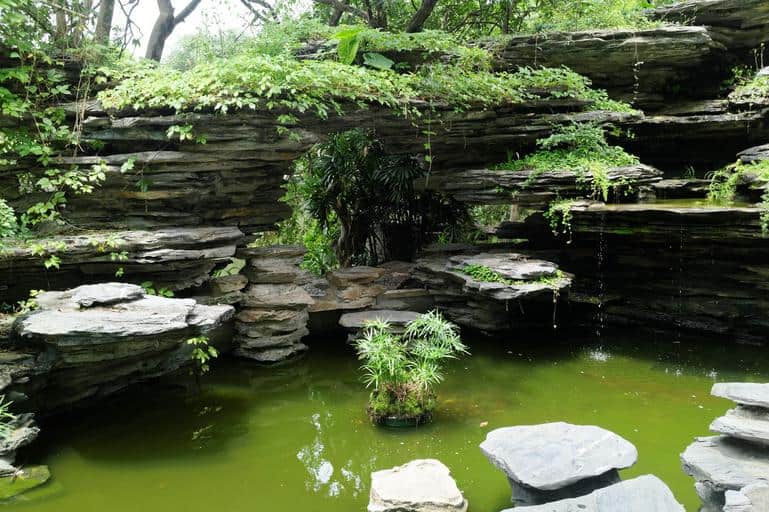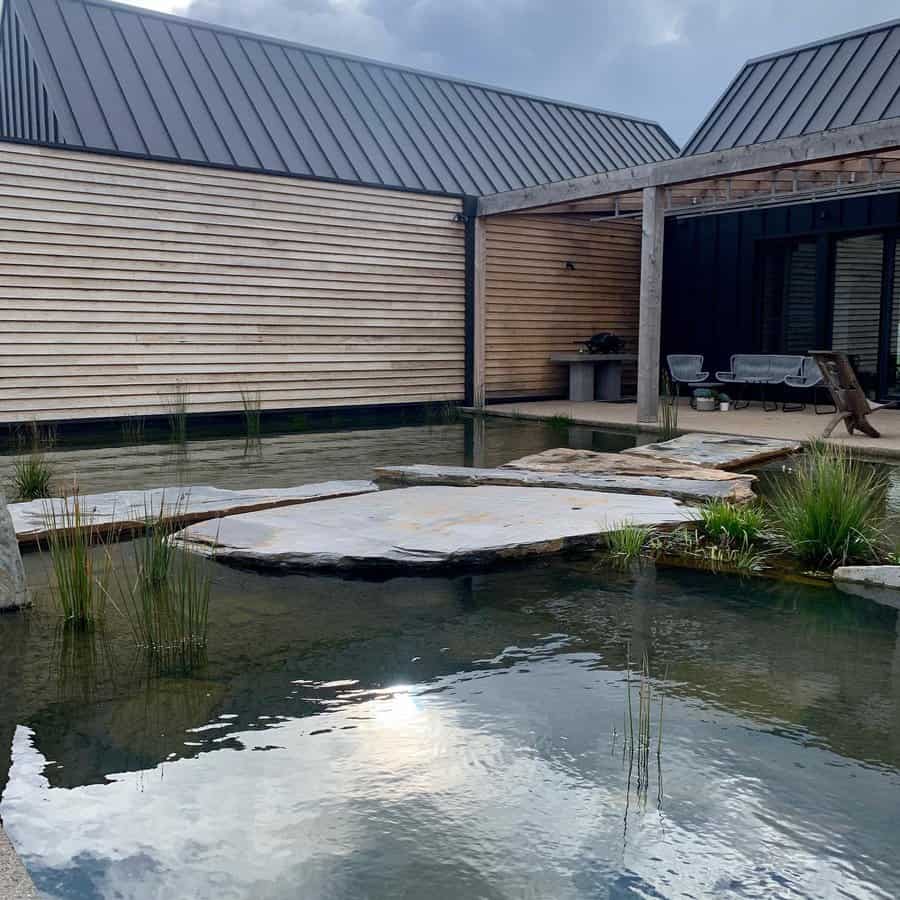 11. Durable Concrete Pond
Achieve both longevity and aesthetics with a concrete pond, creating an enduring water feature for your outdoor haven. Picture the elegance of water trickling from a graceful fountain, soothing your senses.
Enhance the experience by adding comfortable seating around the pond, transforming it into a tranquil space for relaxation and reflection. To ensure your concrete pond's longevity, commit to regular maintenance. Maintain water cleanliness by monitoring pH levels and using appropriate treatments. Keep the pond clear of debris, leaves, and branches. Consider the addition of aquatic plants for added natural beauty, providing shade and habitat for aquatic life while complementing the pond's timeless design.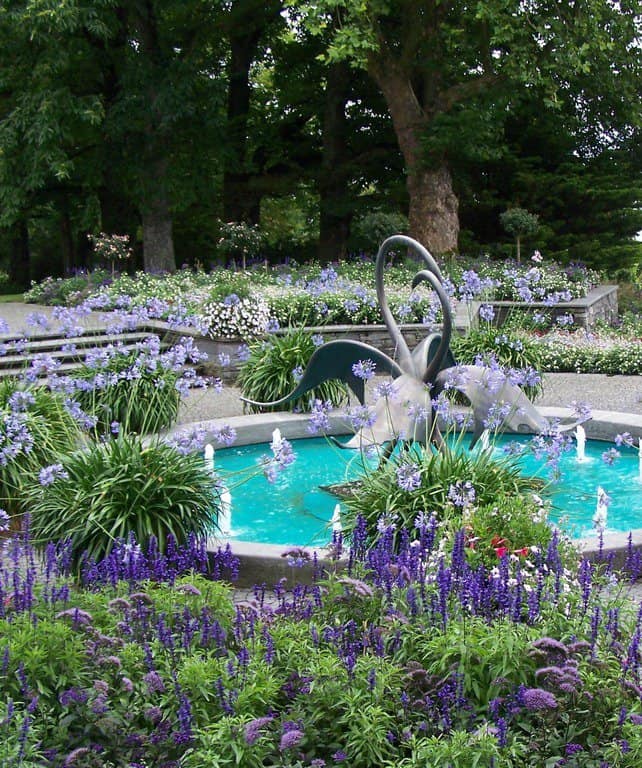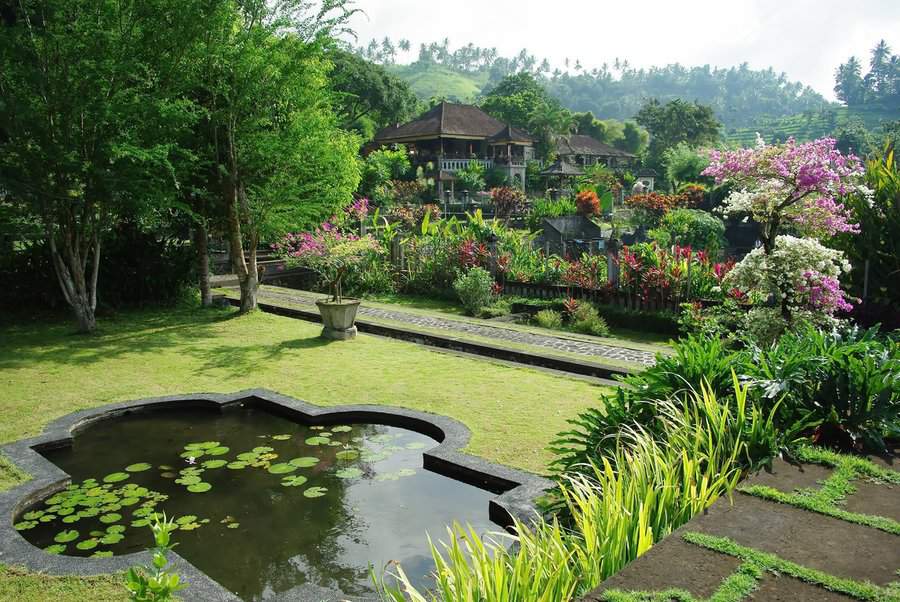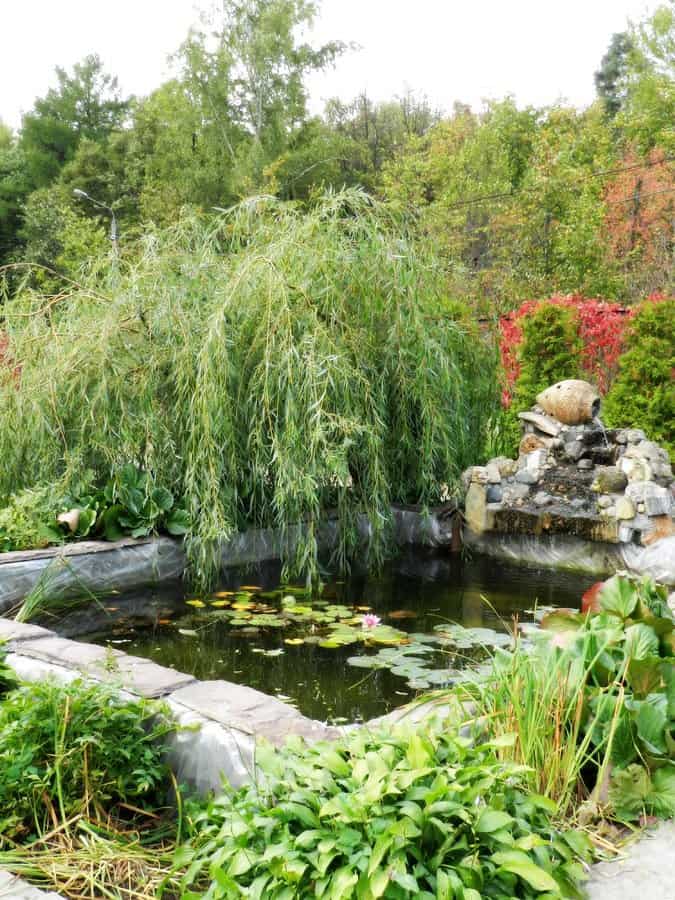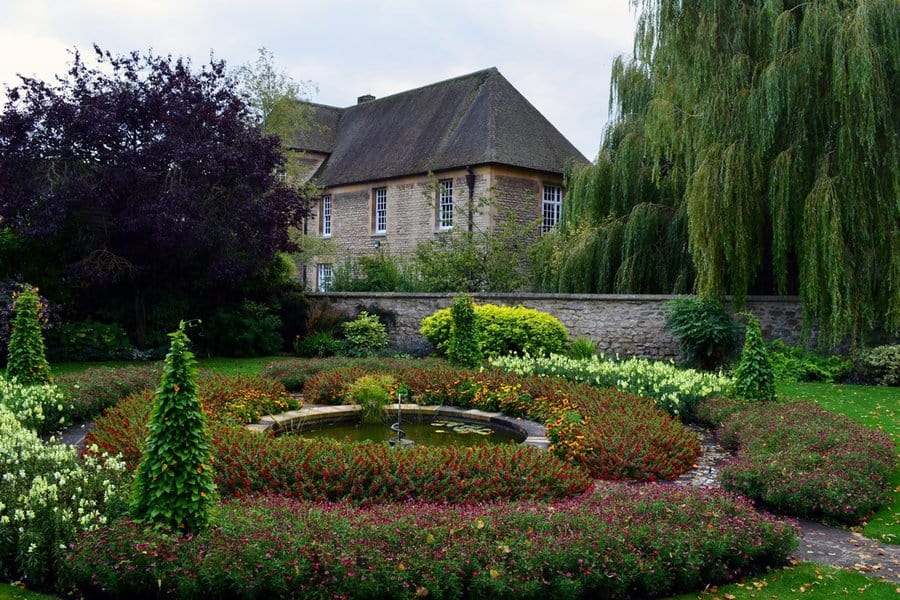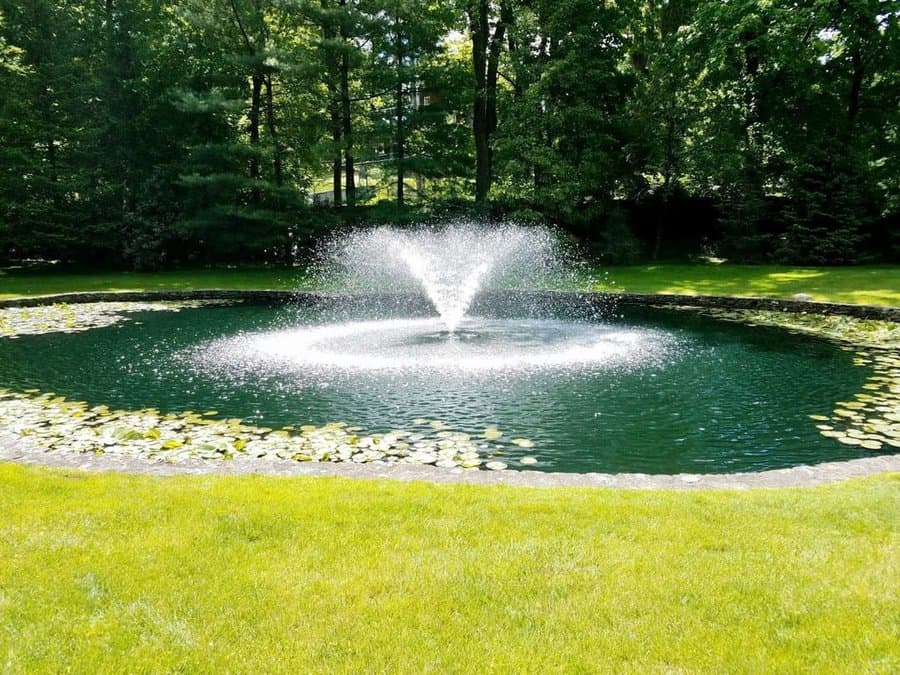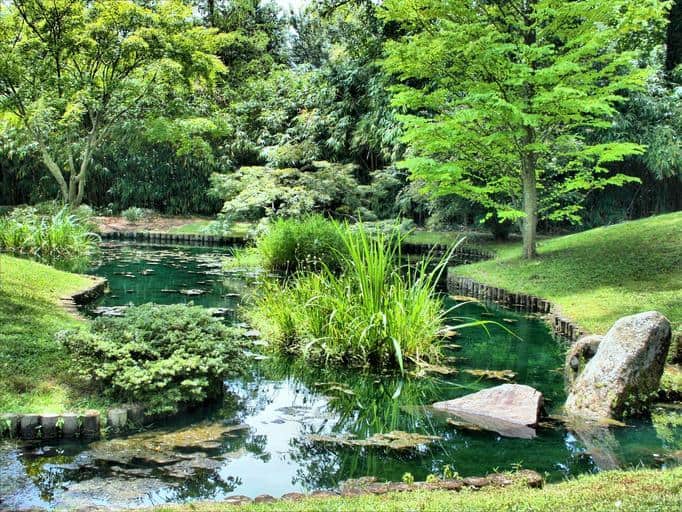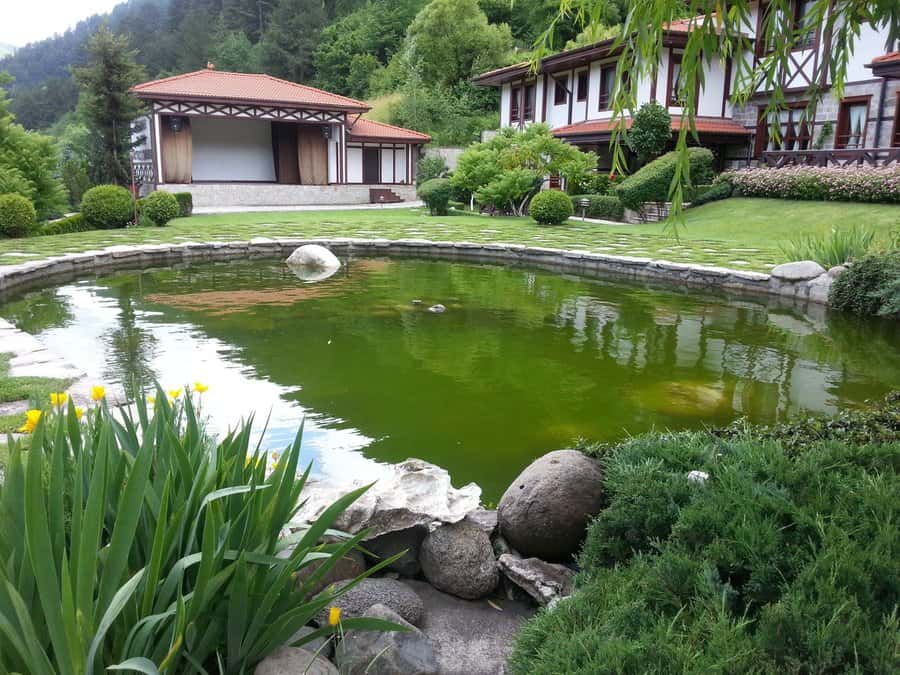 12. Inviting Wooden Pond Retreat
Embrace nature with a wooden pond that effortlessly integrates into your landscape. The rich texture and warm tones of wood establish an inviting focal point, encouraging relaxation and a deeper connection with nature.
Maintaining a wooden pond demands proper care for longevity and durability. Regularly inspect the wood for decay or damage and apply a high-quality wood sealant to shield it from moisture and UV rays. Keep the water pristine by monitoring pH levels and administering appropriate treatments to preserve a thriving ecosystem. Consider surrounding landscaping and seating for a complete retreat that harmonizes with your wooden pond's natural beauty.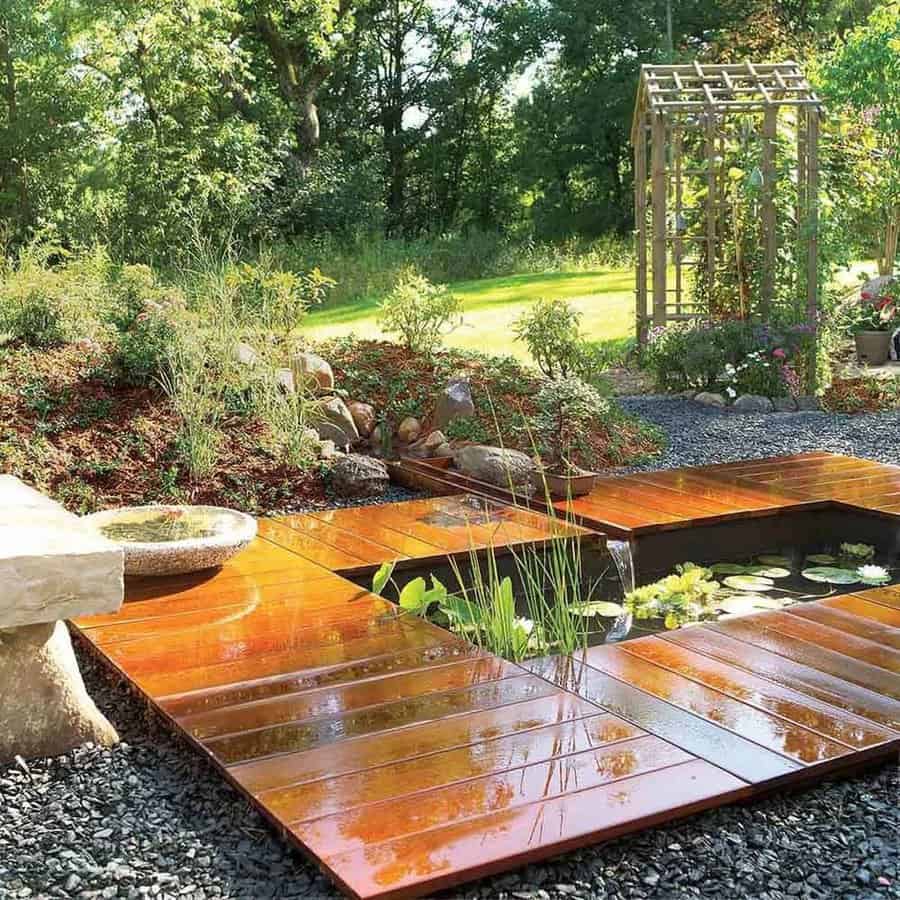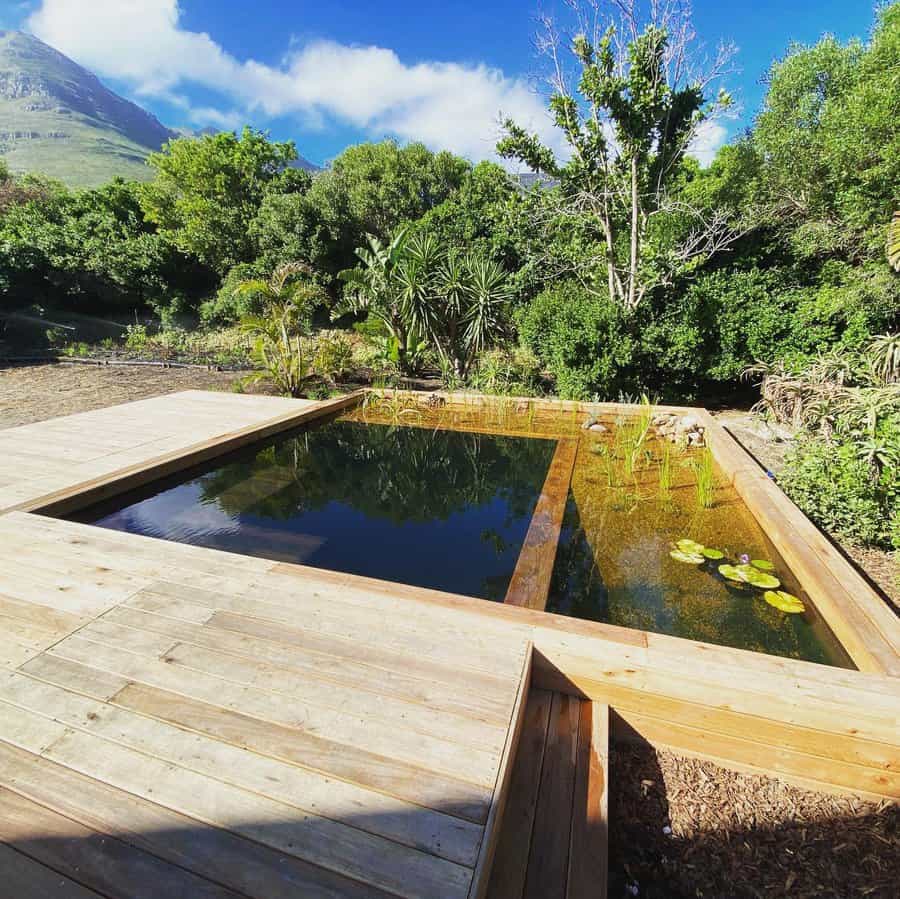 13. Artistic Tiled Pond Design
Create a serene backyard oasis with a luxurious tiled pond that exudes elegance and artistry. Picture a shimmering expanse of water adorned with intricate mosaic tiles, reflecting sunlight and painting mesmerizing colors and patterns.
This tiled pond evokes the sophistication of ancient Roman baths and the vibrancy of Moroccan riads. Mosaic tiles, carefully chosen in diverse hues, infuse depth and visual intrigue, making the pond an enchanting focal point. Whether you prefer a monochromatic design or a lively mosaic of colors, this pond elevates your backyard's beauty to a new level. It's a space where you can relax, unwind, and immerse yourself in tranquil serenity. Consider adding complementary seating and landscaping to complete the experience.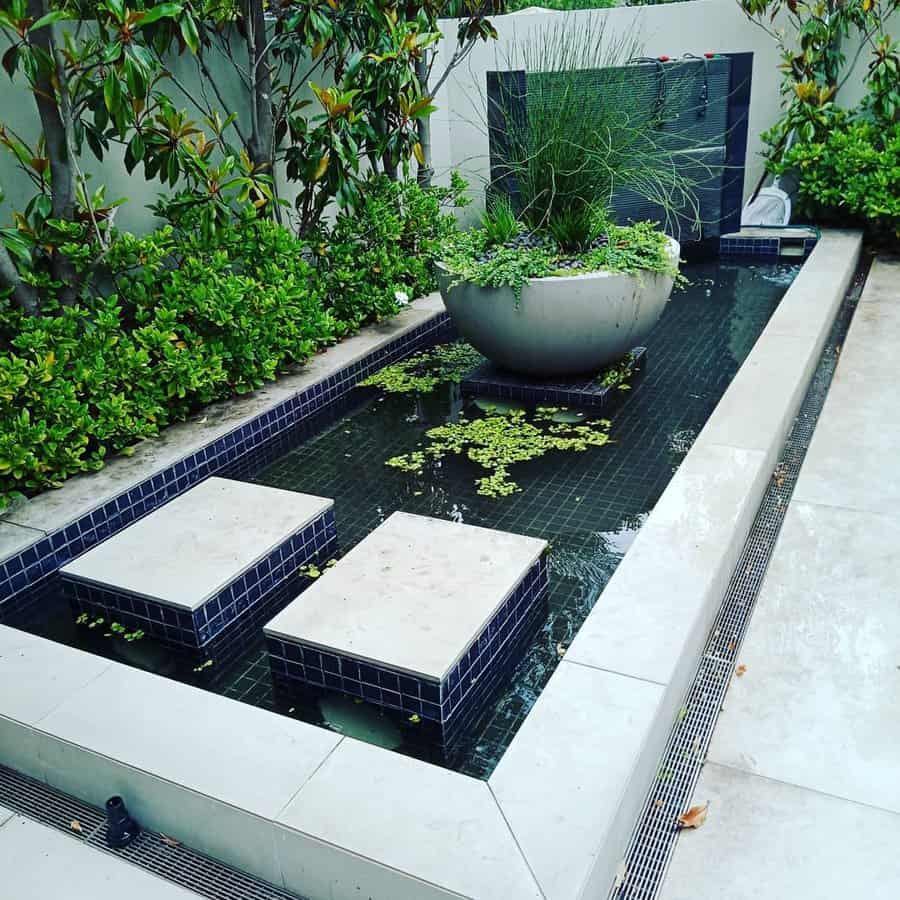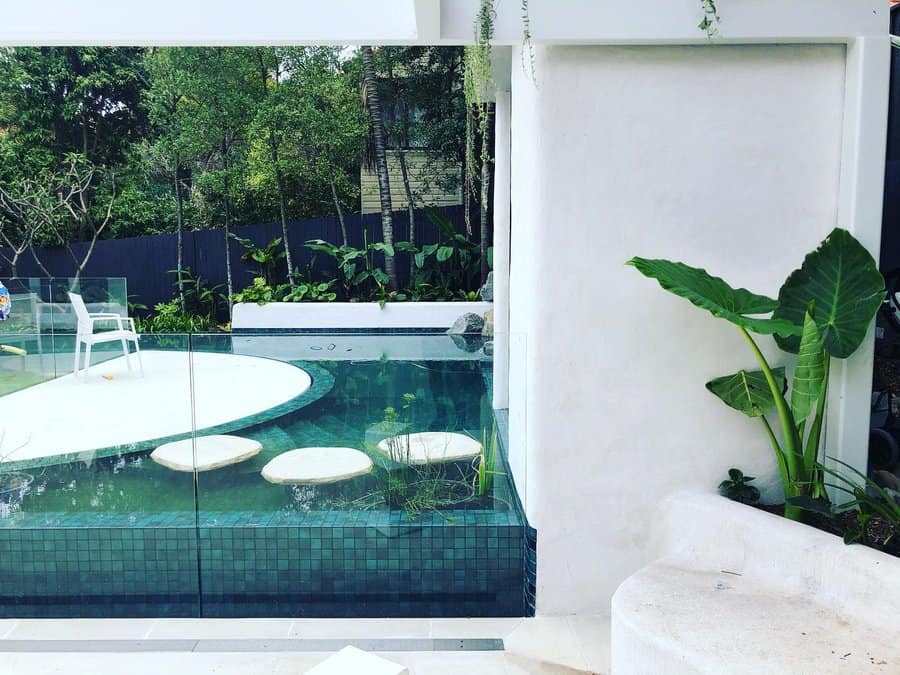 14. Vibrant Pond with Aquatic Plants
Elevate your pond's natural beauty with a variety of aquatic plants. Start with water lilies, their vibrant blooms delicately resting on the water's surface, adding bursts of color and elegance. Lotus plants will further captivate with their majestic presence and exquisite blossoms.
For vertical interest, consider submerged plants like hornwort or anacharis, offering oxygen and a captivating underwater landscape. Don't overlook floating plants like water lettuce or water hyacinth, their graceful foliage providing shade and shelter for aquatic life, while enhancing the pond's visual appeal. To fully enjoy this aquatic paradise, complement it with seating and lighting for both daytime and nighttime admiration.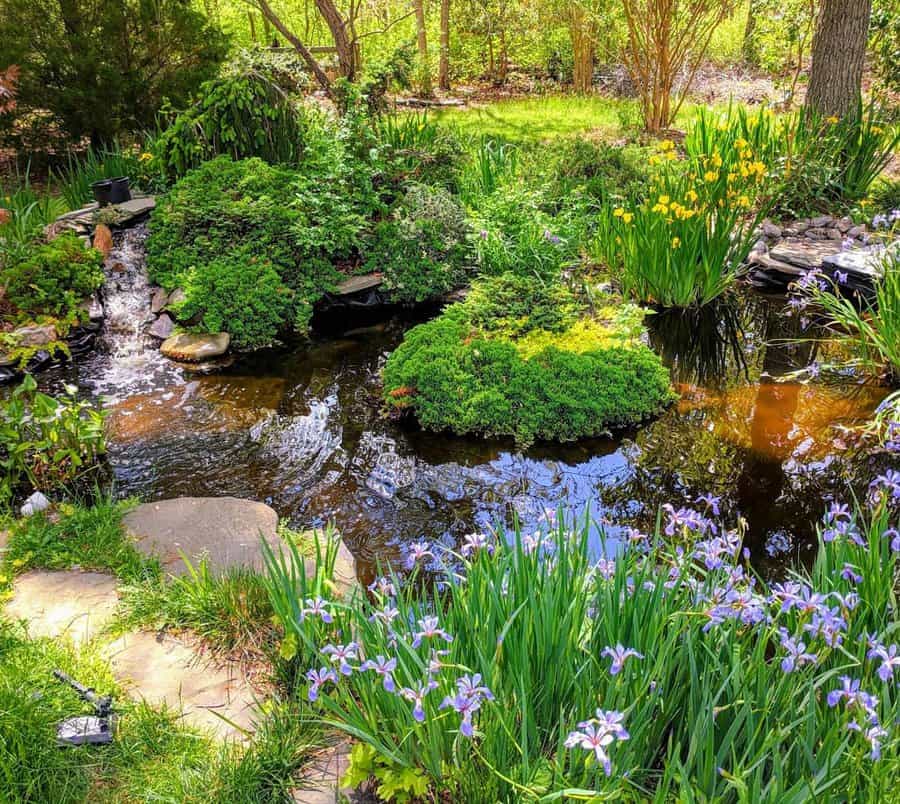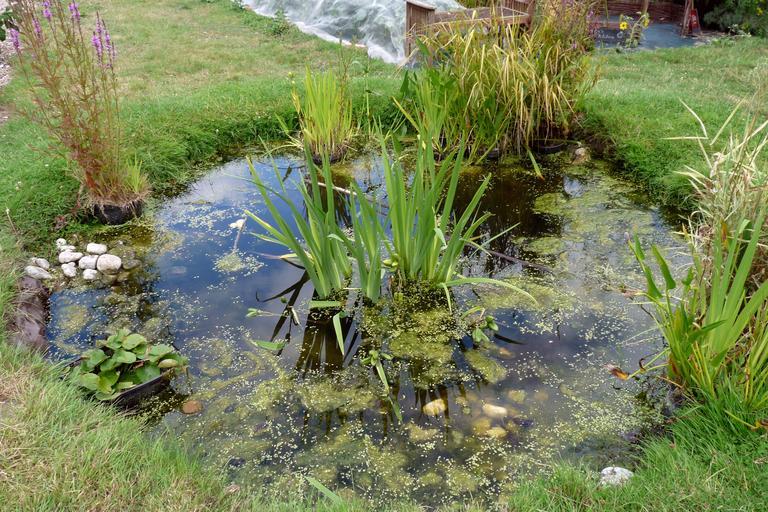 15. Cozy Backyard Dugout Pond
Introduce natural beauty and tranquility with a dugout pond, achieving a harmonious balance between water and land in your outdoor space. Its minimalist design effortlessly integrates with the surroundings, providing a seamless addition to your backyard.
The gentle ripples and sunlight reflections on the pond's surface set a soothing atmosphere, beckoning relaxation and nature connection. This simplicity in landscape design accentuates the pond's elegance, ensuring it remains the central focus of your outdoor retreat. To complete the ambiance, consider adding native vegetation, seating, and lighting, creating a cozy haven in your own backyard.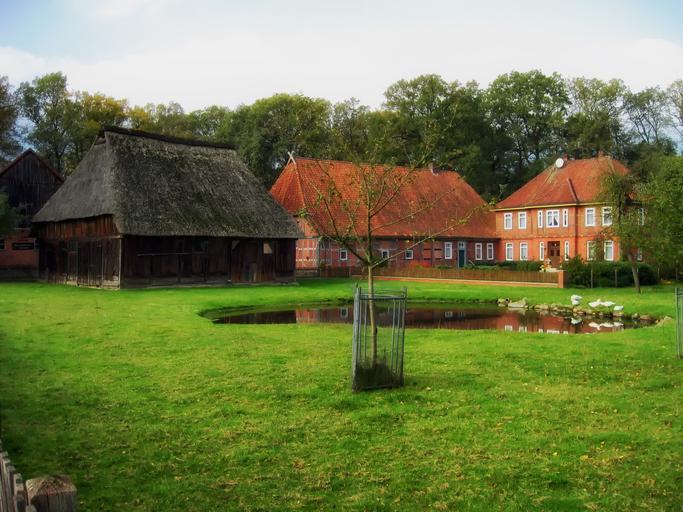 16. Enchanting Water Lily Pond
Transform your outdoor sanctuary with the enchantment of water lilies gracing the calm pond surface. These vibrant aquatic gems not only infuse color but also evoke tranquility and harmony in your garden. Gentle ripples, stirred by a soft breeze, choreograph a mesmerizing dance of light and shadow.
Complete the picture with lush greenery and strategically placed rocks, seamlessly integrating the pond with the surrounding landscape. The gentle sound of trickling water and the allure of these captivating blooms will attract a delightful array of wildlife, enhancing the enchantment of your backyard retreat. Consider seating and lighting to fully appreciate this serene oasis, both day and night.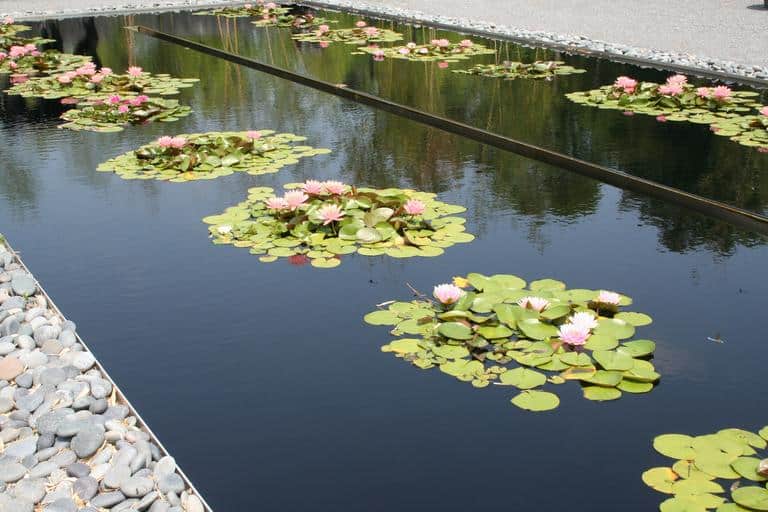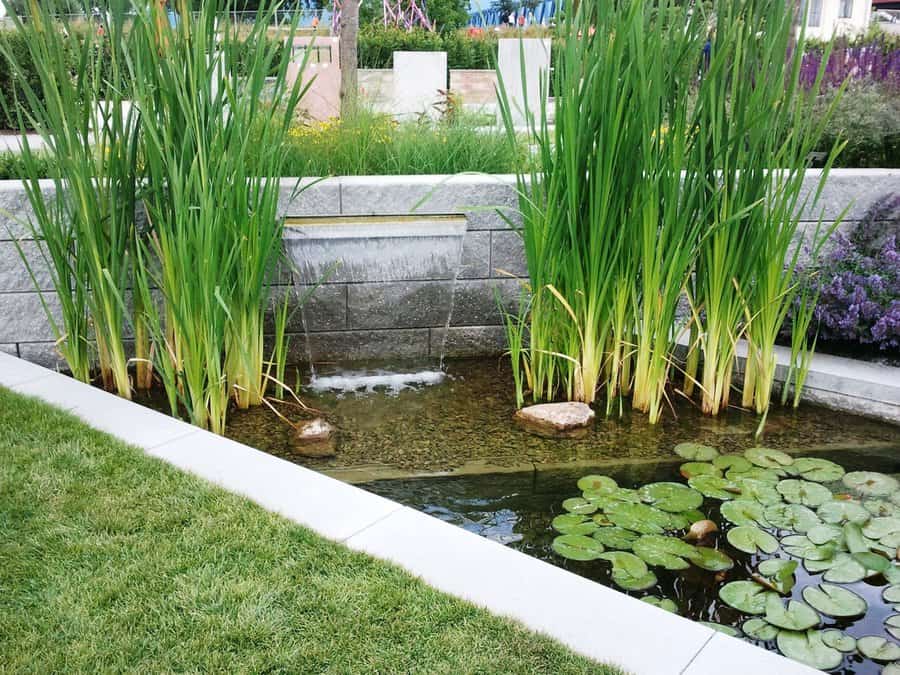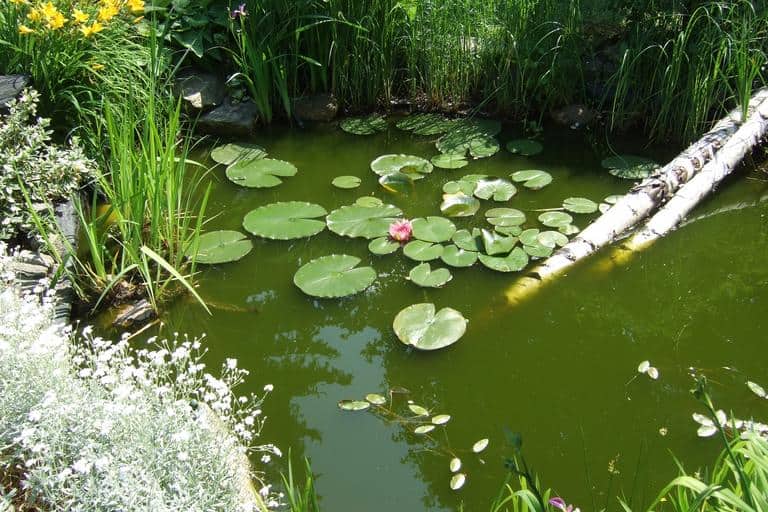 17. Tranquil Waterfall Pond
Craft a tranquil backyard sanctuary by introducing a captivating pond with a breathtaking waterfall. Picture the soothing symphony of cascading water, enveloping your outdoor space in serene tranquility.
The pond takes center stage, enticing with its shimmering surface and the graceful movement of aquatic life. The waterfall introduces a touch of drama and visual intrigue, elevating the garden's ambiance. As water gracefully flows down the rocks, it creates a mesmerizing spectacle that not only delights the eyes but also invigorates the senses. Enhance this feature with seating and lighting for a serene oasis day and night.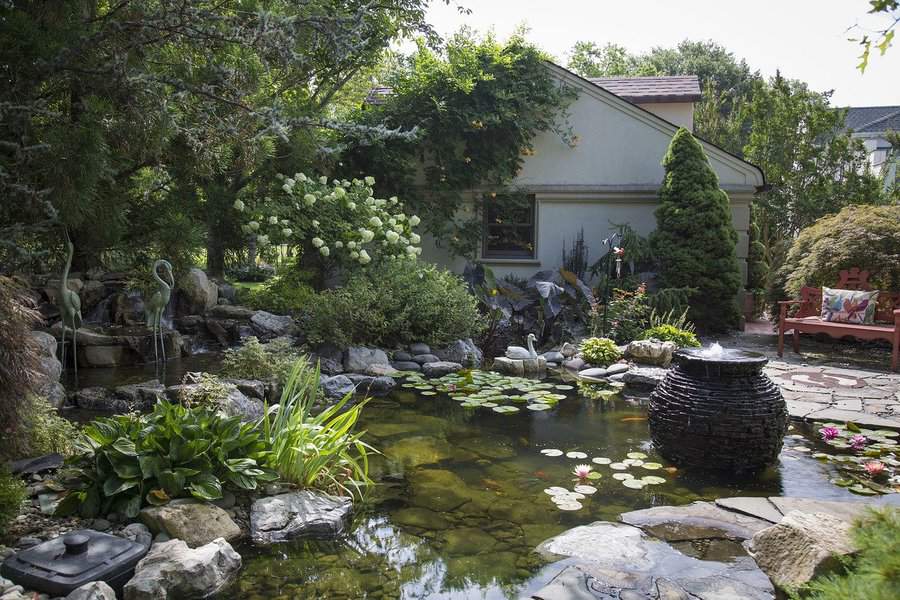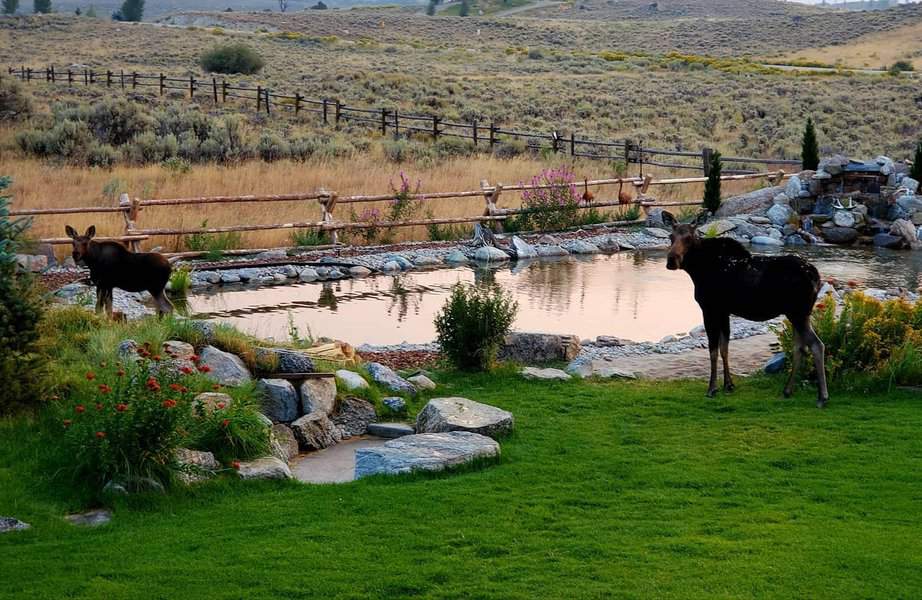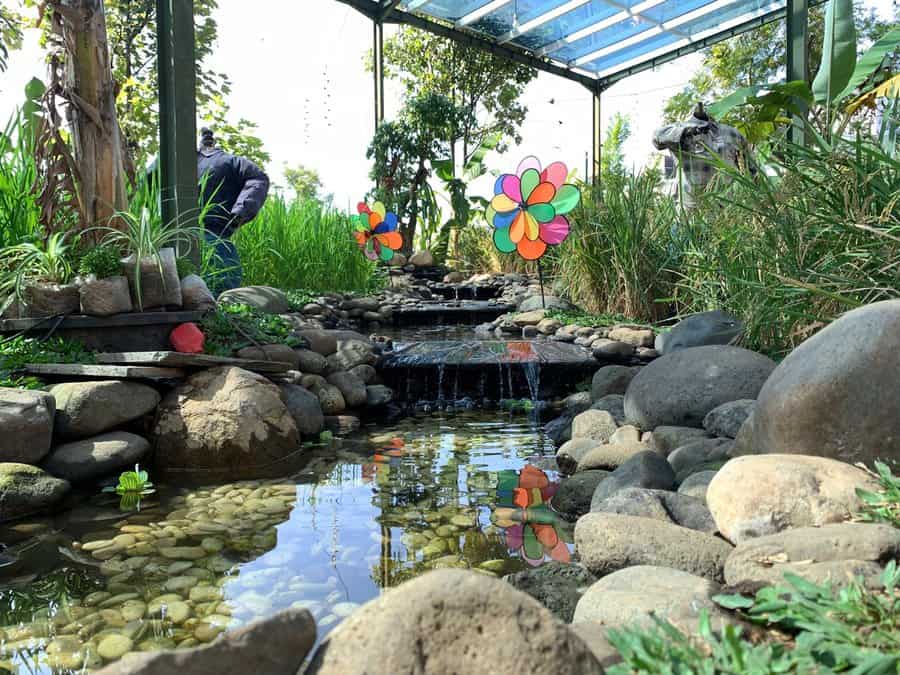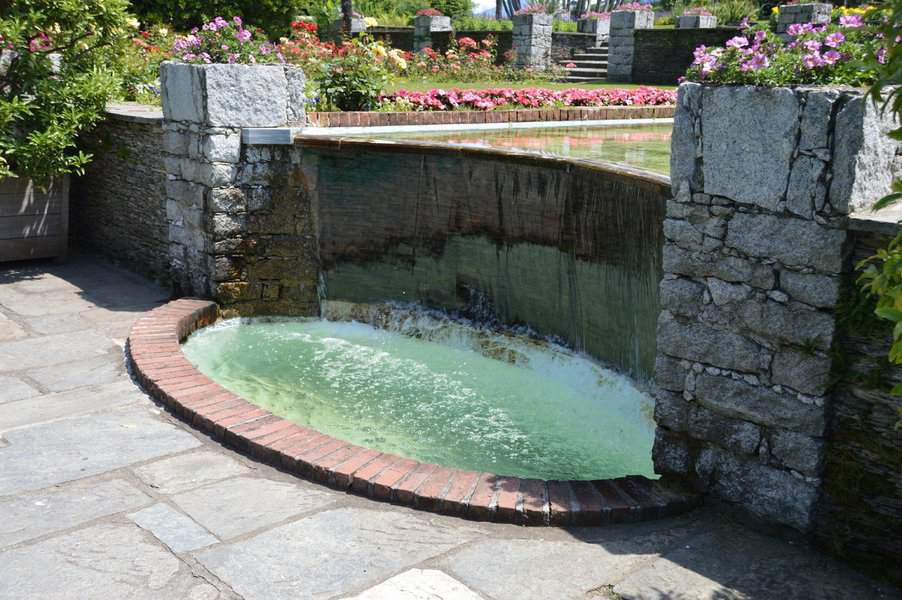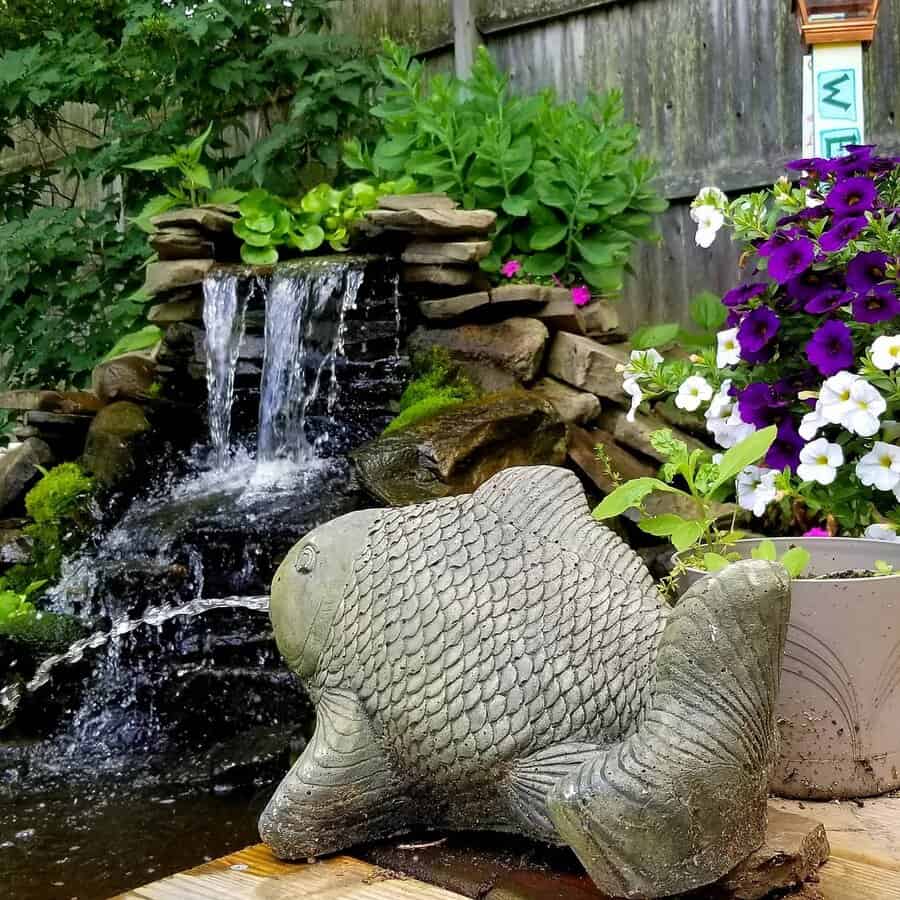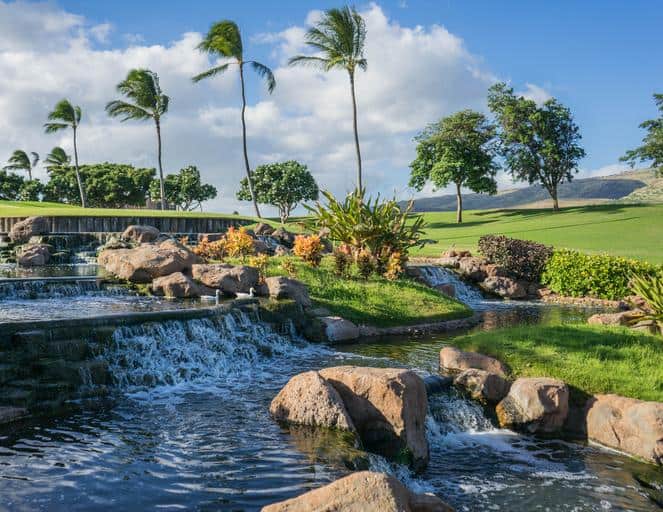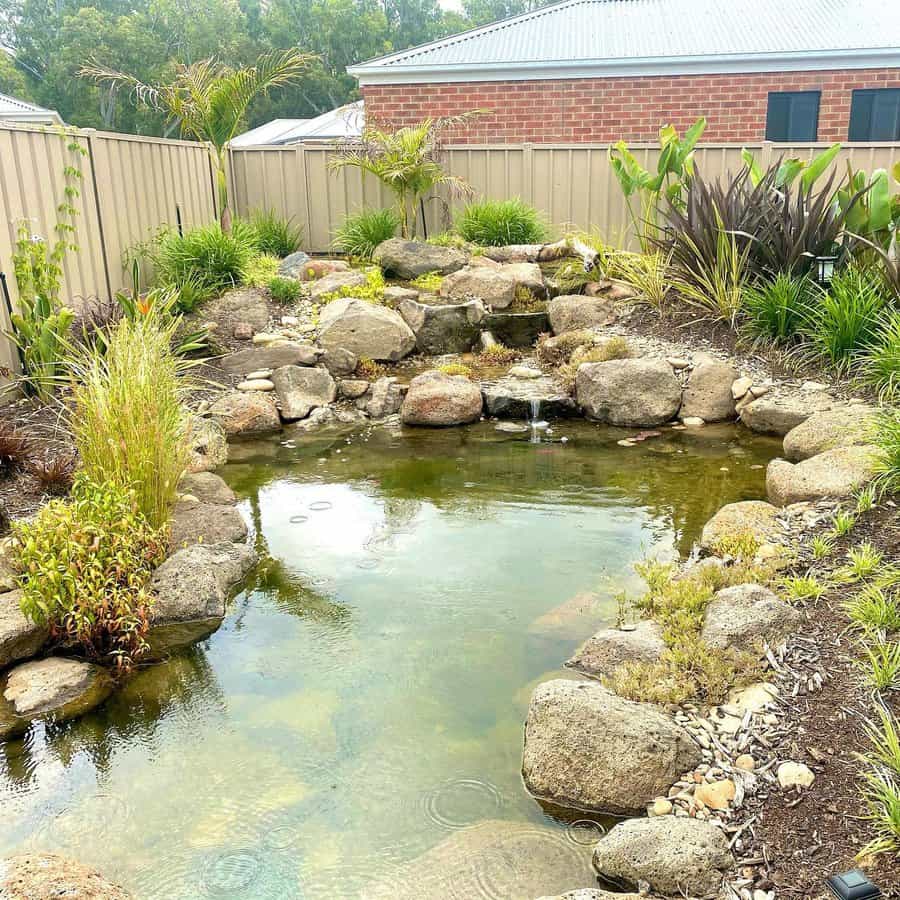 18. Elevated Above-Ground Pond
Achieve versatility and ease with an above-ground pond, effortlessly integrating this stunning water feature into your garden without extensive excavation. The secret to its allure lies in meticulous attention to detail.
Enhance the ambiance with strategically placed rocks and pebbles, creating natural contours and texturing the surrounding landscape. Introduce aquatic plants like water lilies or lotus flowers, infusing elegance and color into the scene. The gentle sound of trickling water from a small fountain or waterfall introduces a soothing element, inviting relaxation and respite from daily demands.
An above-ground pond allows you to effortlessly transform your backyard into a serene haven, a place to relax, rejuvenate, and reconnect with nature. Consider complementary seating and lighting for a complete oasis that captivates day and night.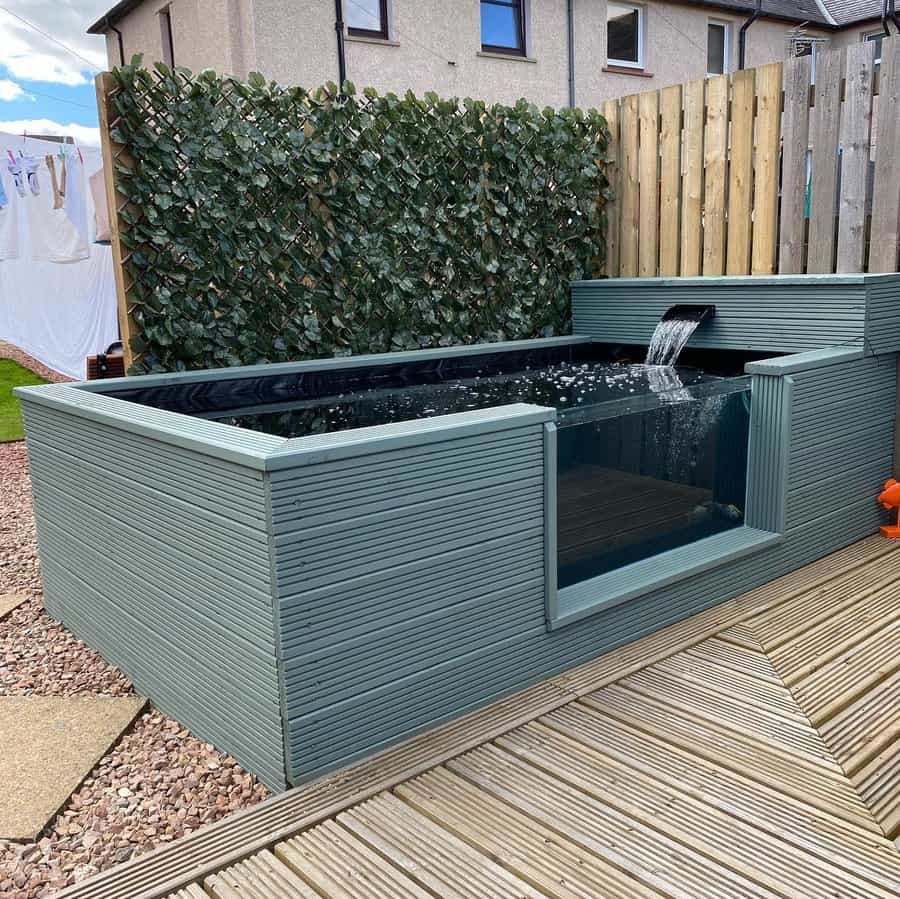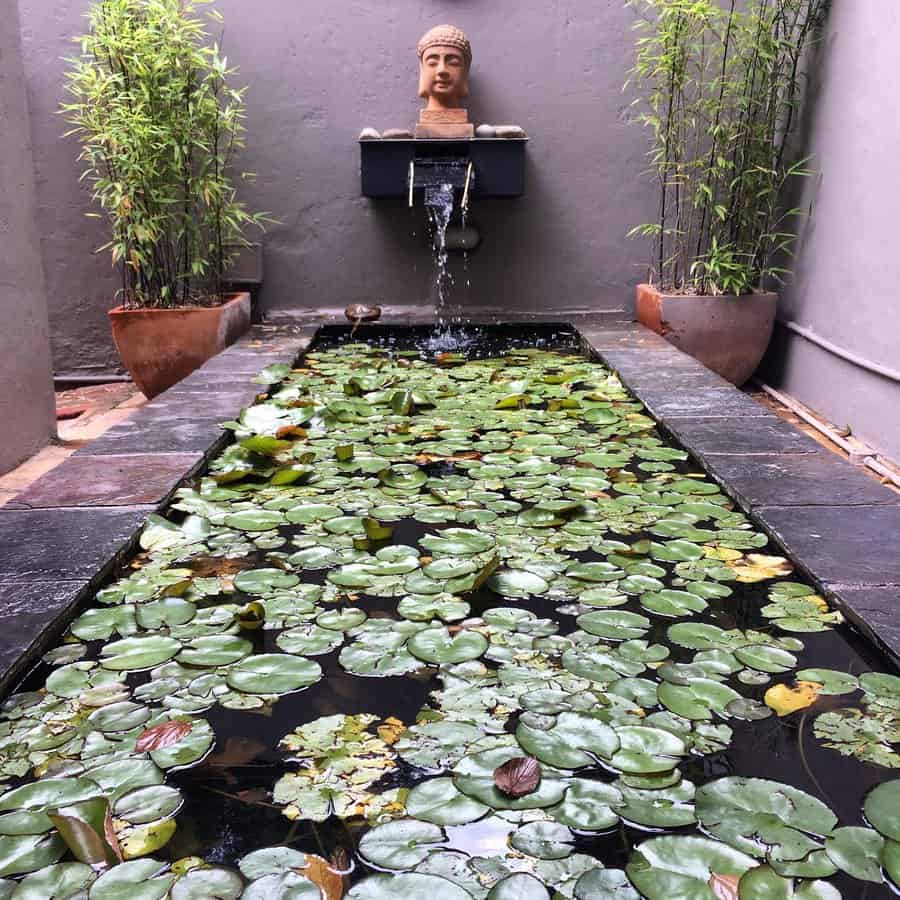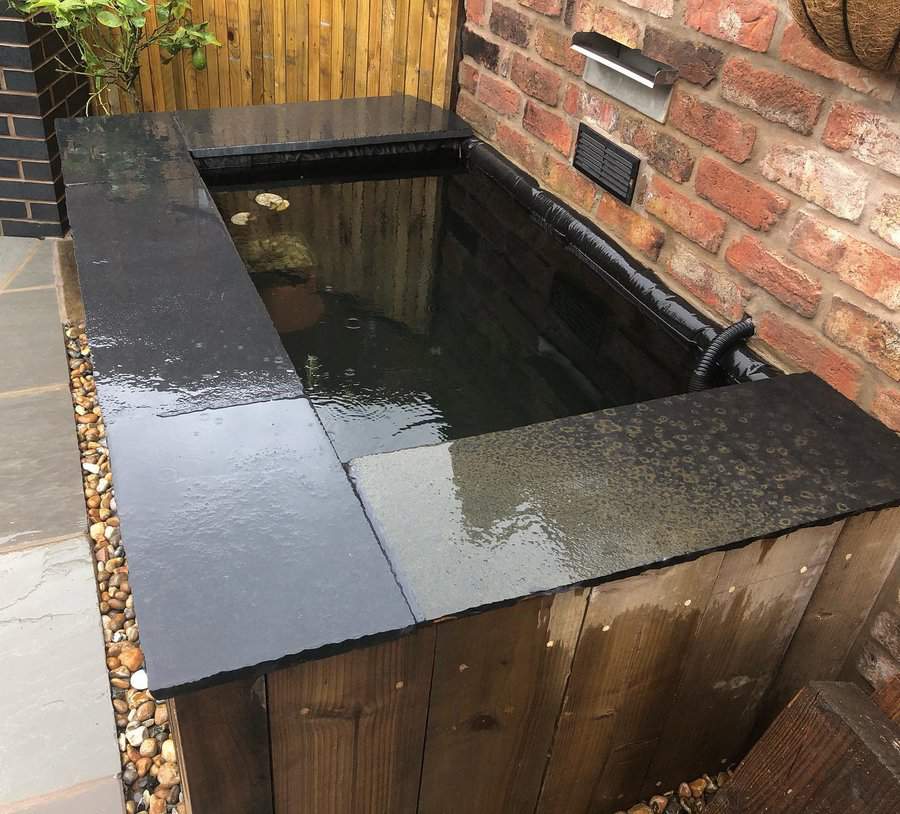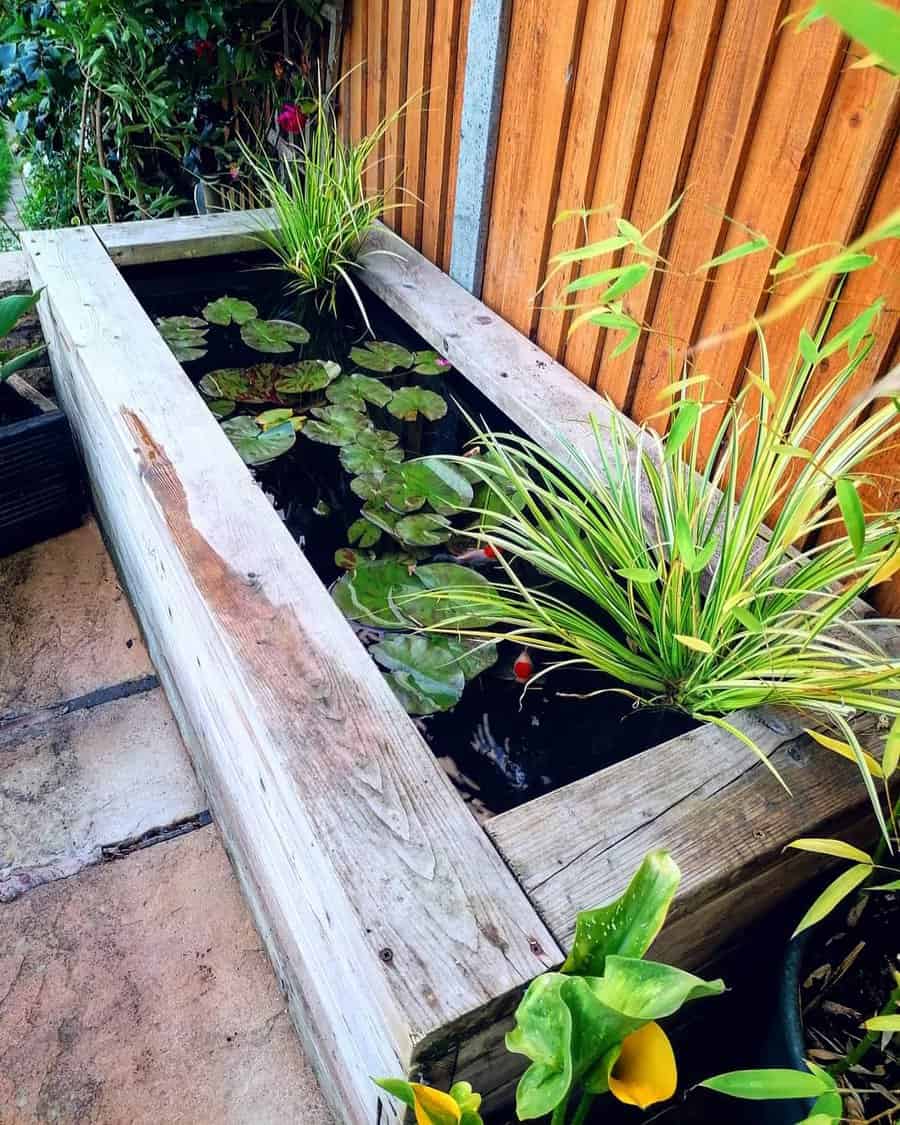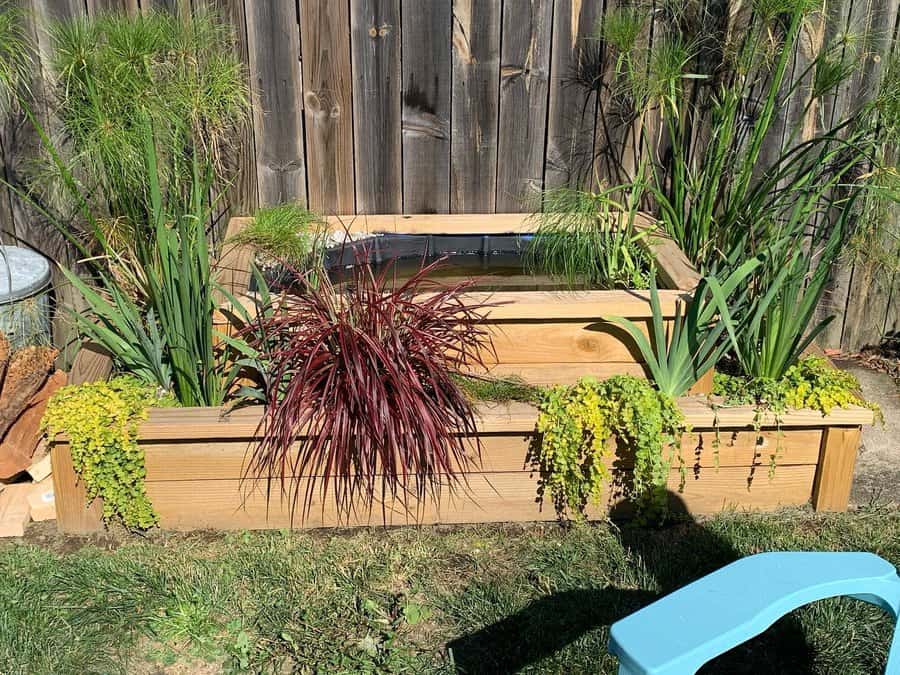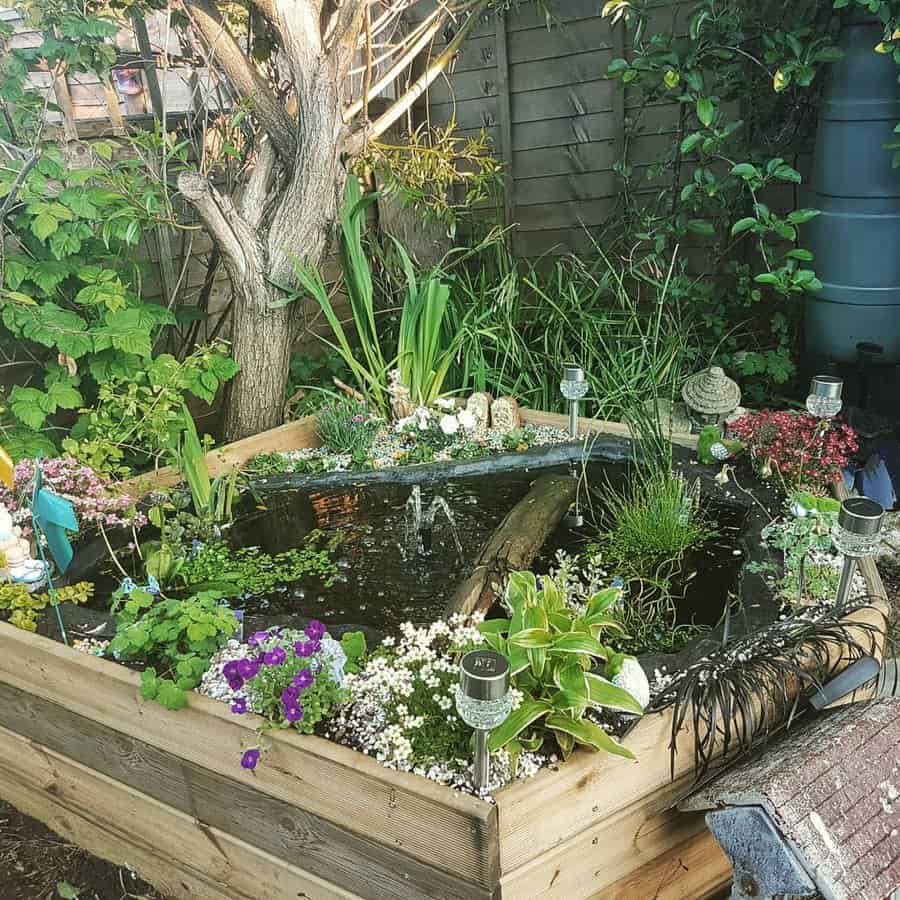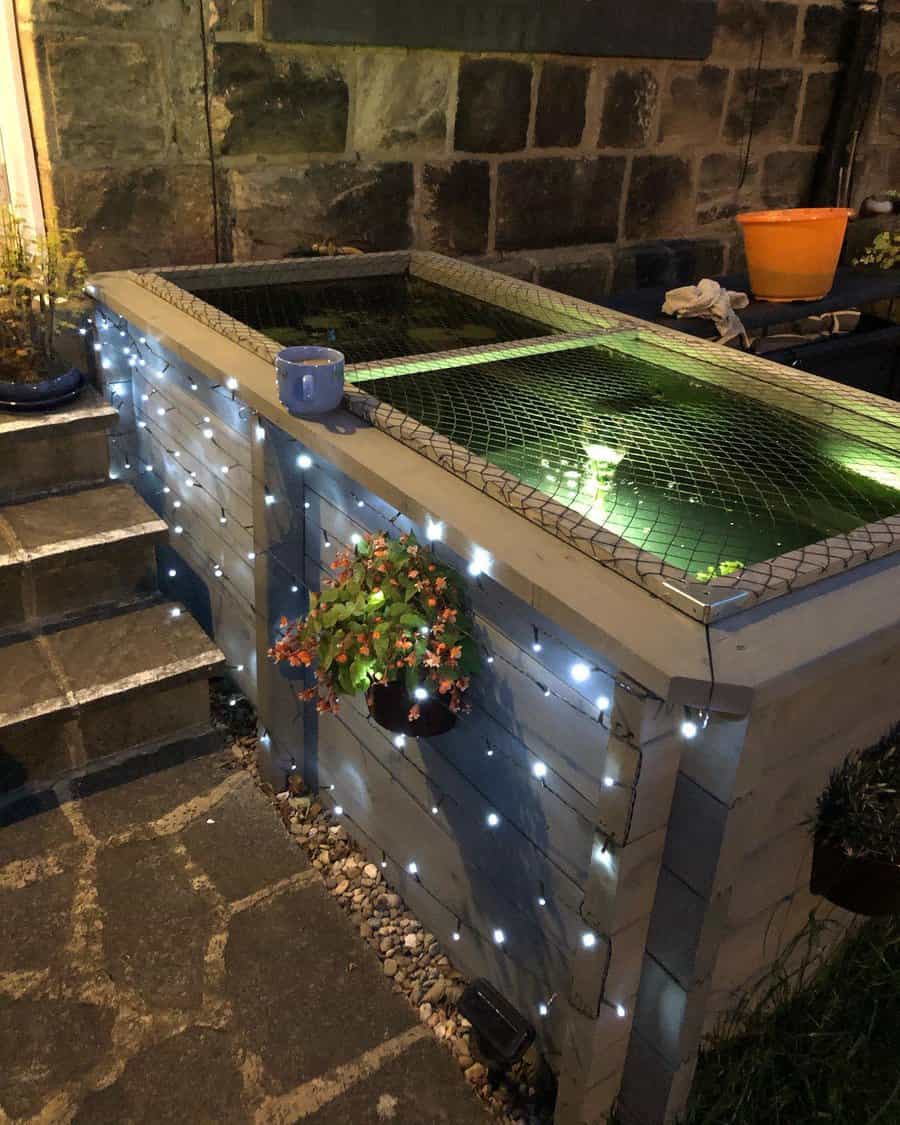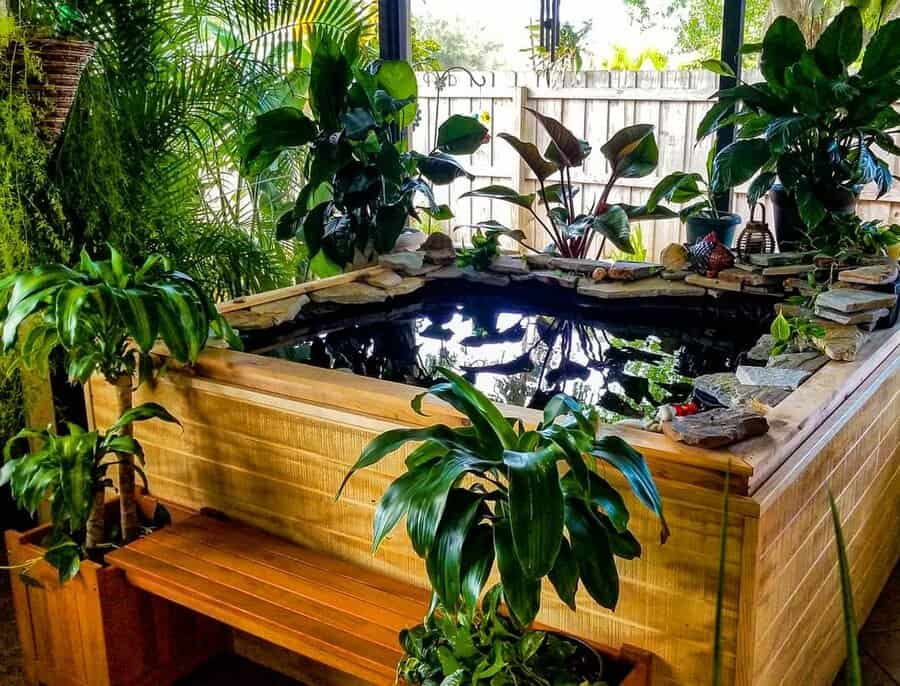 19. Graceful Fountain Pond
Transform your backyard into a serene and captivating oasis with the enchanting addition of a pond featuring a beautiful fountain. Picture the gentle sound of flowing water, shimmering reflections dancing on the surface, and the peaceful ambiance it brings to your outdoor space.
A pond with a fountain instantly becomes the focal point of your garden, infusing tranquility and elegance. The soothing fountain's sound creates a relaxing atmosphere, offering a calming retreat from the daily hustle and bustle.
The sight of water cascading from the fountain presents a mesmerizing visual display, adding a touch of enchantment to your backyard. It becomes a gathering place for birds, butterflies, and other wildlife, enhancing the natural beauty of your outdoor environment. To maximize your enjoyment, consider seating and lighting options to appreciate this serene oasis both day and night.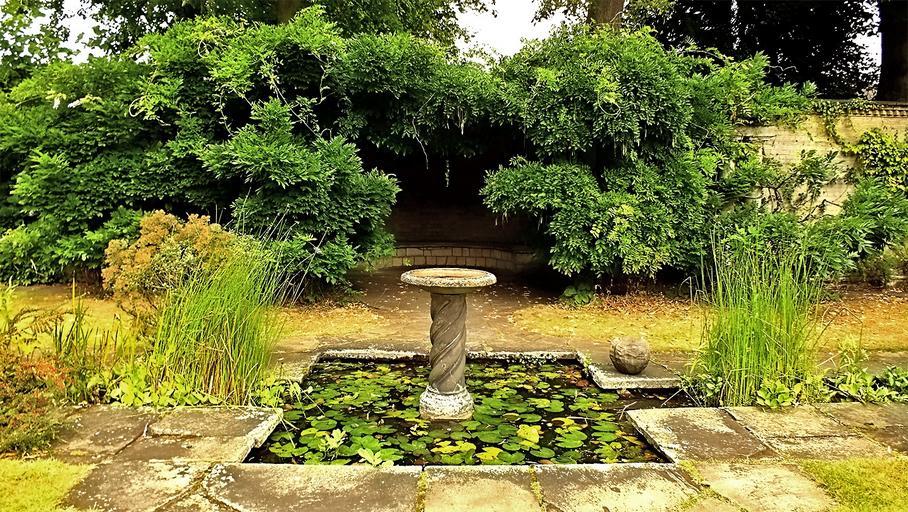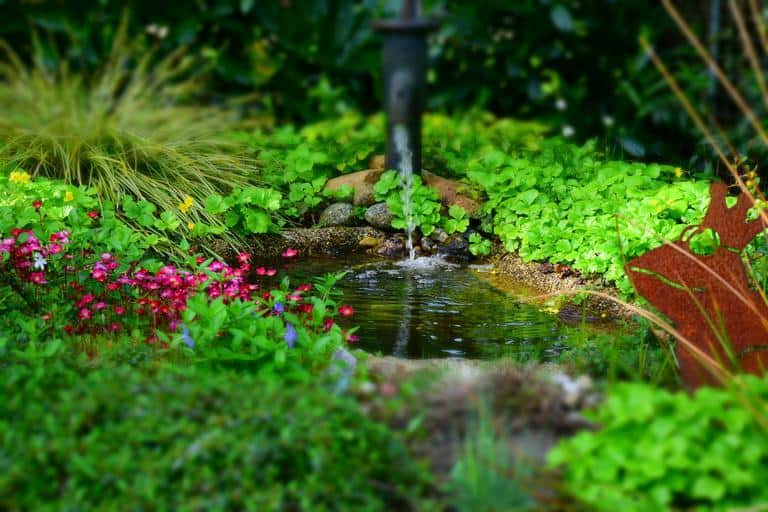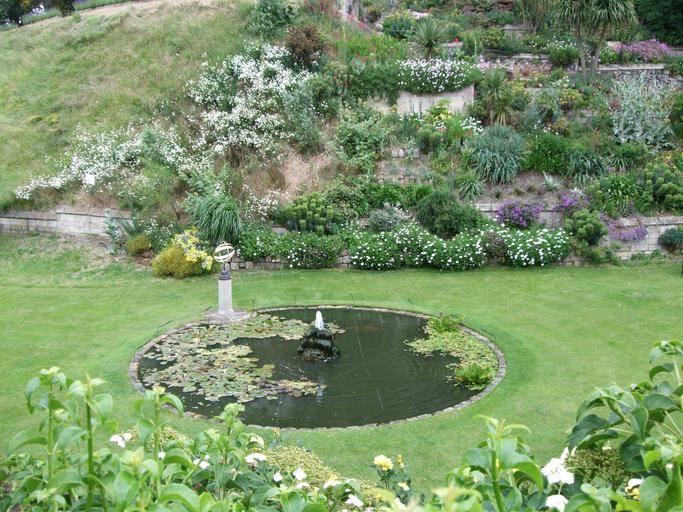 20. Deckside Pond Oasis
Experience the harmonious fusion of water and wood with a deckside pond, crafting a tranquil and inviting atmosphere for relaxation and contemplation.
The deck becomes your vantage point to savor the captivating pond views and soothing sounds. It's a versatile space where you can gather with loved ones, entertain guests, or find solitude in your outdoor sanctuary.
By selecting the right plants and landscaping elements around the pond, you can elevate its visual appeal and seamlessly connect the deck with the natural surroundings. Consider adding comfortable seating and lighting for an ideal deckside retreat that embraces both nature and leisure.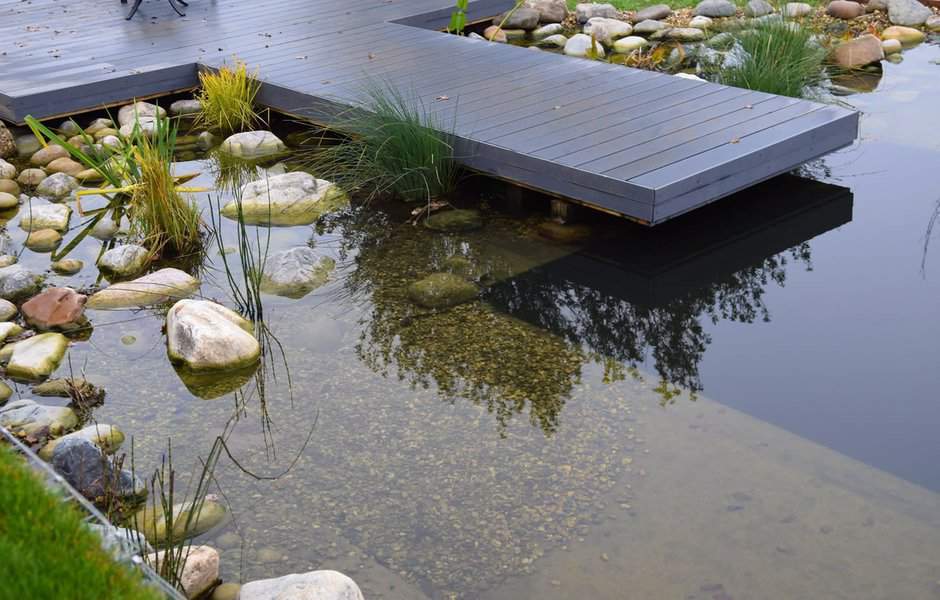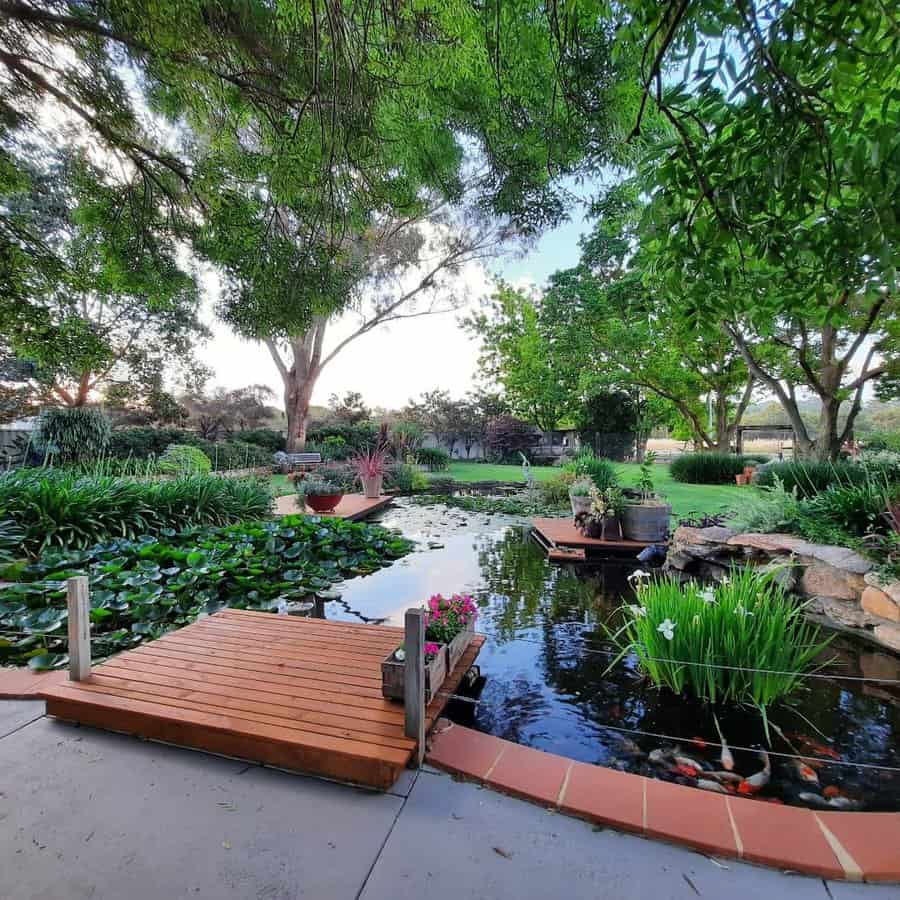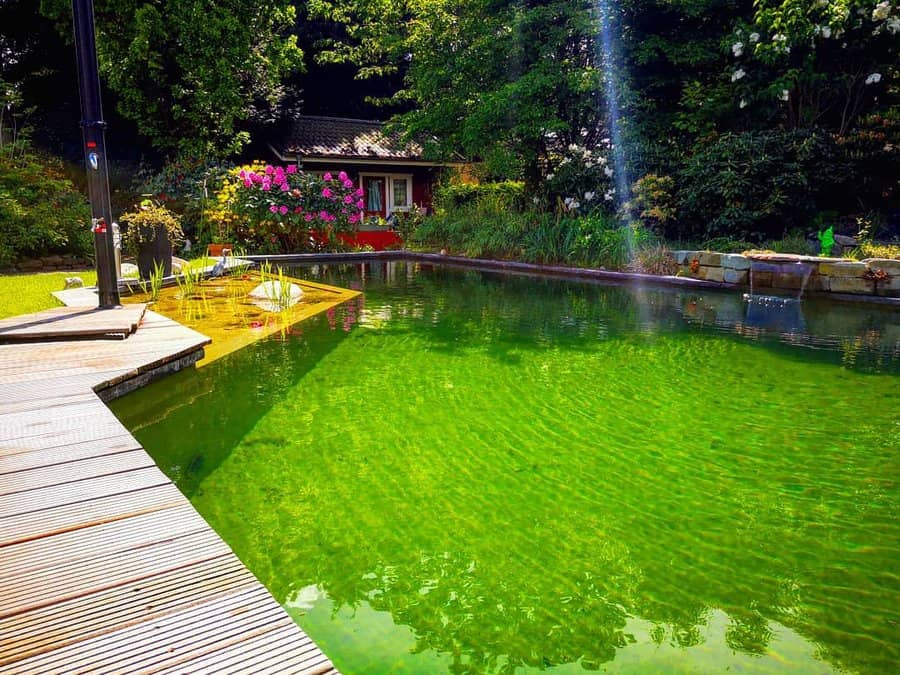 Backyard Pond FAQs
How deep should a backyard pond be?
While backyard ponds can be almost any size, a depth of at least 2 feet is recommended. Ponds that are too shallow are more likely to overheat and encourage algae growth.
If you live somewhere with cold winters or plan to keep fish in your new pond, then a minimum depth of 3 feet is required.
Which fish are best for a backyard pond?
Koi are the most popular choice for filling any ornamental fish pond. But they are not the only option.
Many goldfish species do well in outdoor ponds (goldfish are actually distant relatives of koi). Many homeowners will also fill their small backyard pond with minnows, snails, turtles, and frogs.
Remember that live fish require special care and aren't suited to all climates. Do as much research as possible before adding fish to your own backyard.
How do you keep pond water clear?
The biggest contributor to murky water is algae. While chemical cleaners do exist, you can use less-invasive solutions like a pond filter or bacterial additives instead.
Aquatic plants also naturally fight algae growth by blocking some of the sun's rays and keeping the water temperature cool.