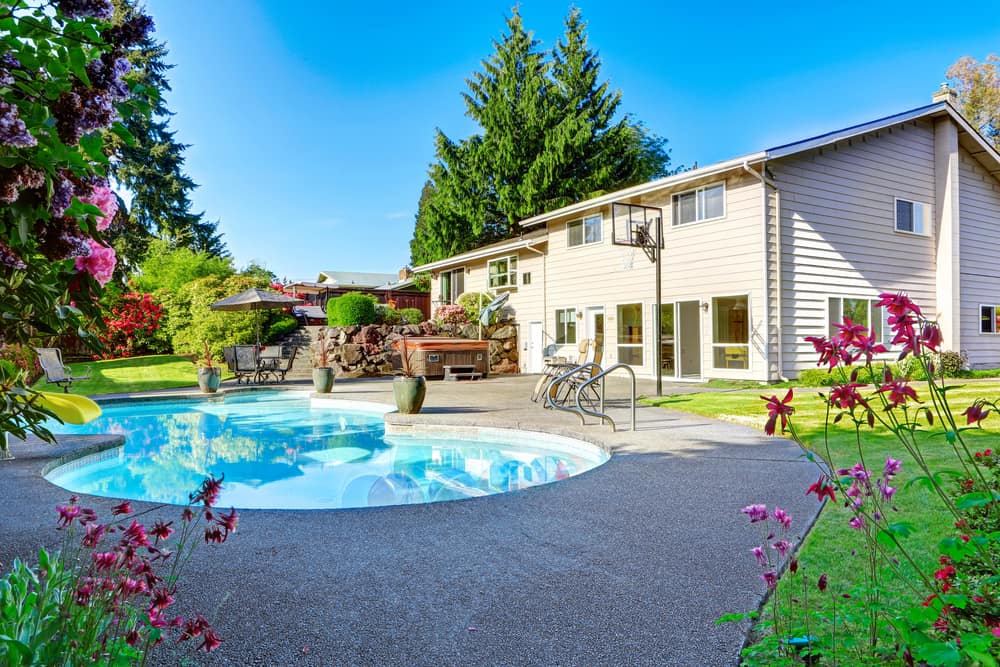 The Top 19 Pool Landscaping Ideas
Having a pool in your backyard gives you the perfect summertime escape. Lay out on the deck and soak up the sun, then take a dip when you start to get too hot. Enjoy a relaxing lunch or cocktails on the patio. Add greenery and landscaping to dress up that plain concrete or paver patio.
These pool landscaping ideas will help you turn your backyard into the ultimate place to be when the weather gets warm.
1. Desert
If you live in a climate that's hot and dry, like the American southwest, then embrace the natural landscape and create a desert scape in your backyard around your swimming pool.
Instead of having an all concrete backyard, add clay, pea gravel, or a drought-tolerant ground covering plant.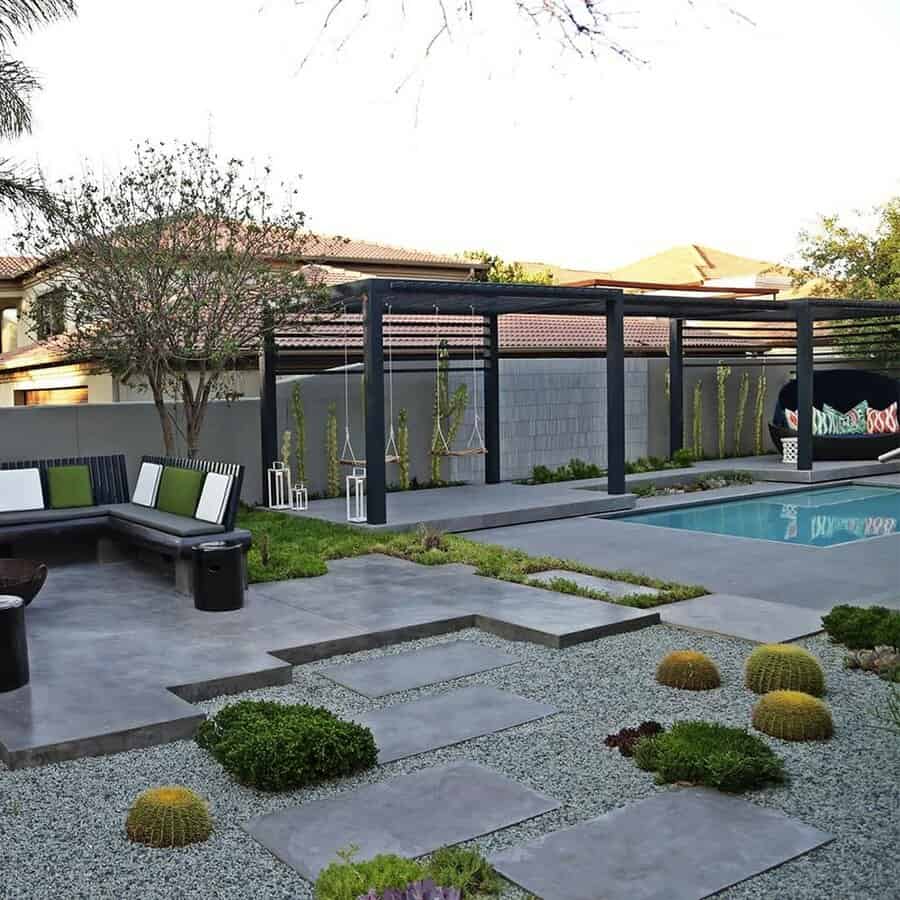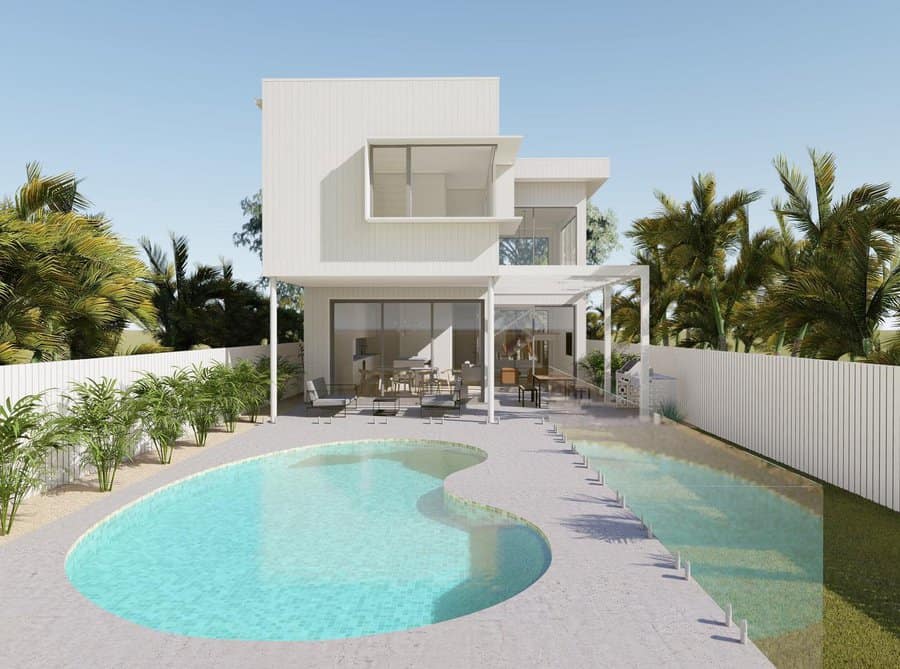 Build up your landscaping to have different levels, creating hills and valleys. They don't have to be huge, even a minor amount of variation creates visual interest.
Instead of plants, you can create a rock garden. Or you could have potted plants that you can bring inside when it gets too cold. Succulents are also a good choice for creating a desert-like design.
2. Elegant
Not all pools need to have a tropical or tiki feel. You can have an elegant pool in your backyard that gives your home a sleek and sophisticated feel. Plant large shrubs or hedges around the perimeter to create privacy. A boxwood or similar type of shrub is easy to trim into a crisp square shape.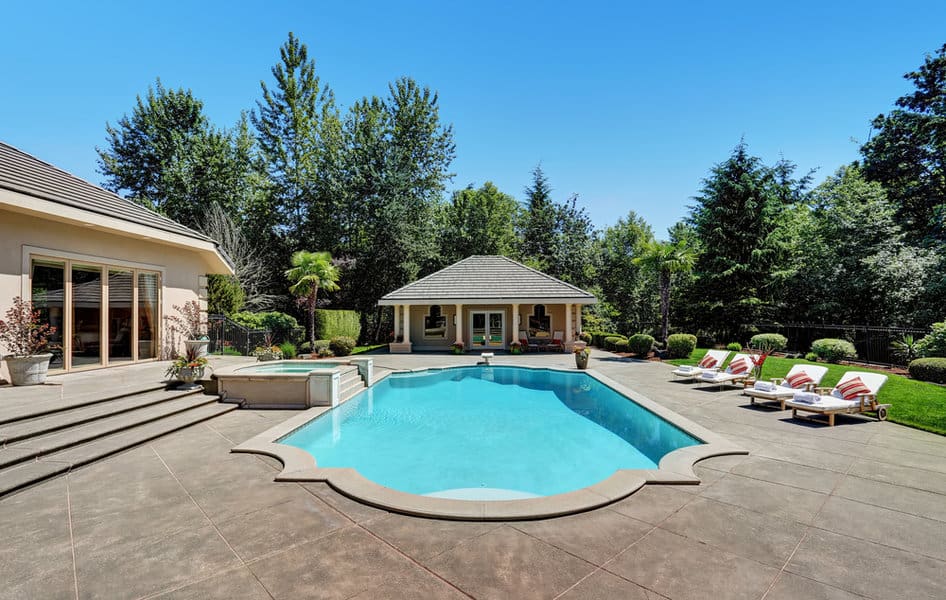 Give your pool an upscale by opting for a lap pool or an infinity pool that looks like it goes on forever. Combine other elements with your pool design. For example, you could have a sunken sitting area with a fire pit. Or you could have a fire line that separates the hot tub from the larger pool.
3. Garden
Create a country escape around your pool by adding planting beds around your backyard pool. Instead of having the typical swimming pool landscaping, turn your pool patio into a garden.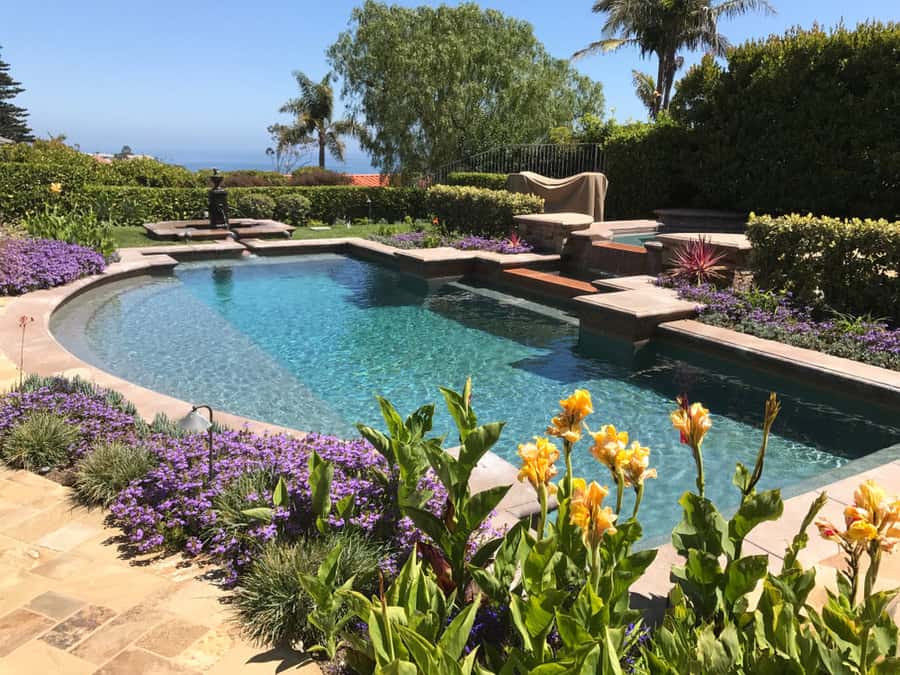 You could have raised plant beds that are full of blooms. Or you could turn it into a fruit and vegetable garden. Just be sure to not get the pool water in your garden beds as chlorine and other chemicals can harm your plants. This makes raised beds and containers a better option than planting directly in the ground.
If you aren't interested in growing produce, you can have the ultimate garden experience by turning your pool into a natural freshwater pool. You will use plants to purify the water and keep your pond pool clean.
4. Grass
Grass is an affordable and logical option for adding landscaping to your backyard pool design. Once planted, you need to water and mow it regularly to keep it looking nice.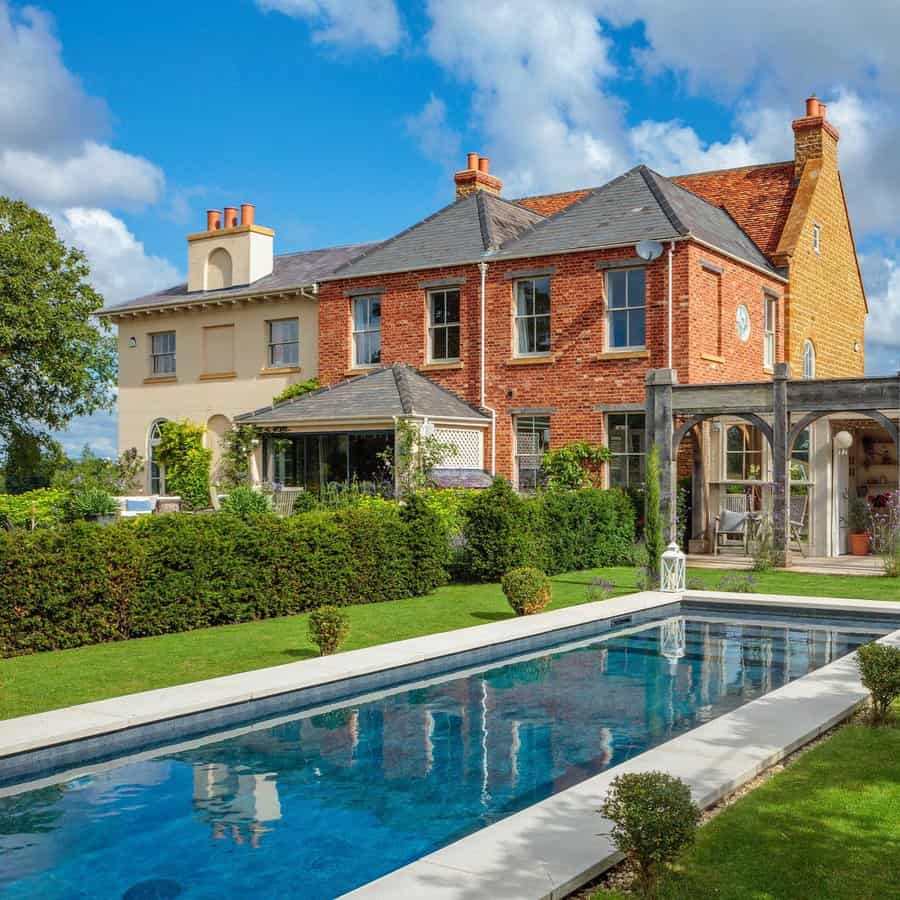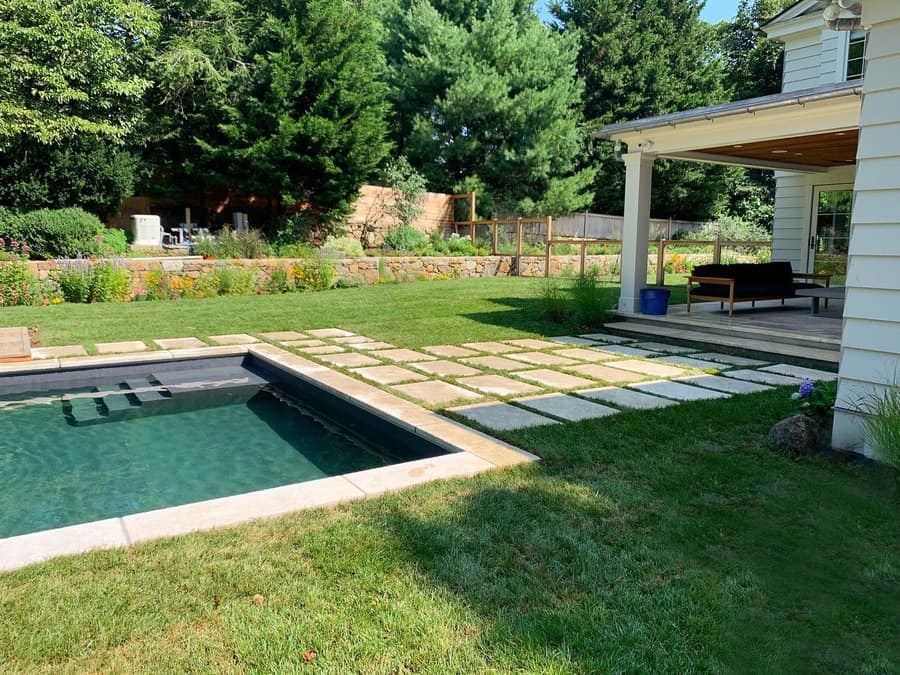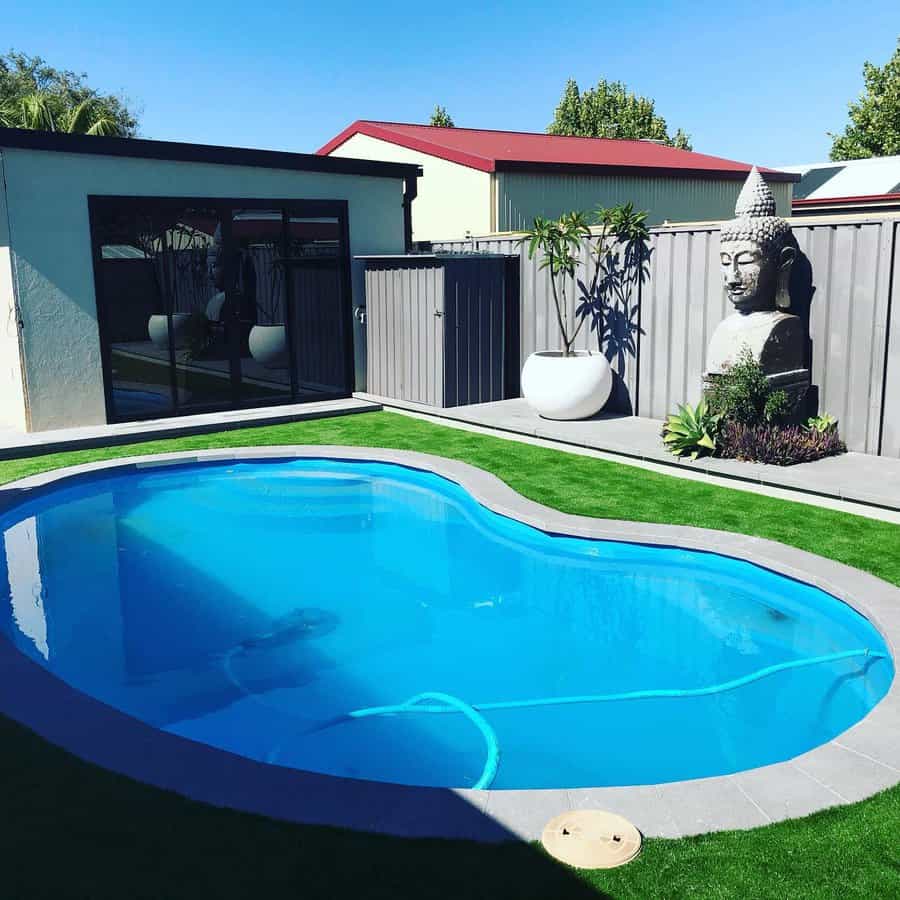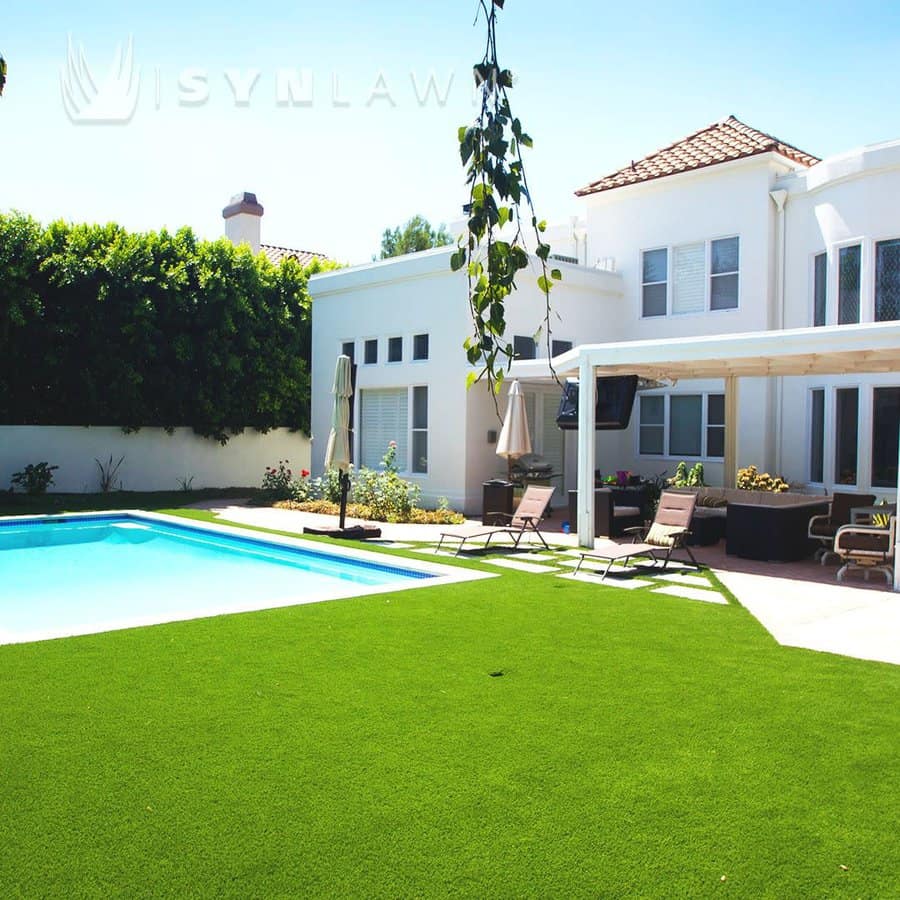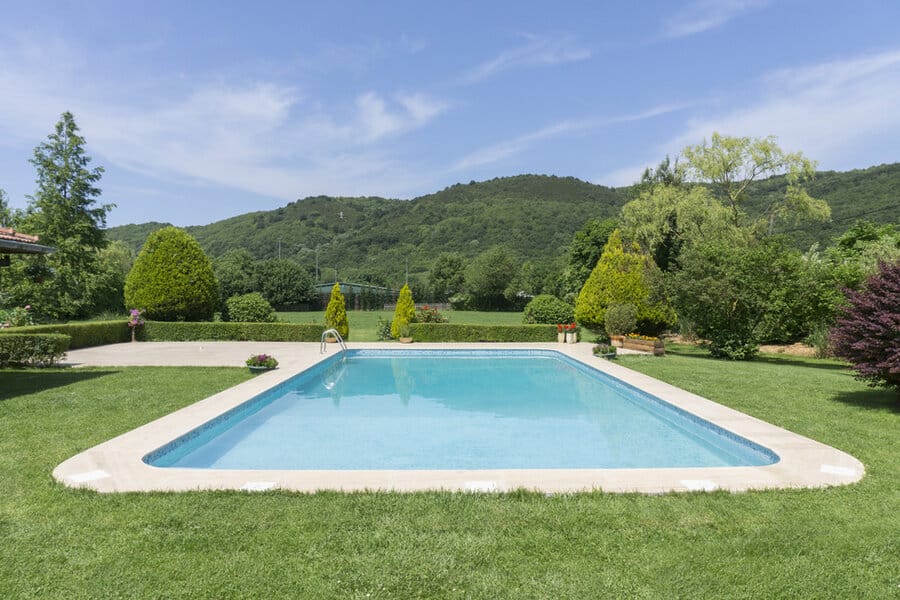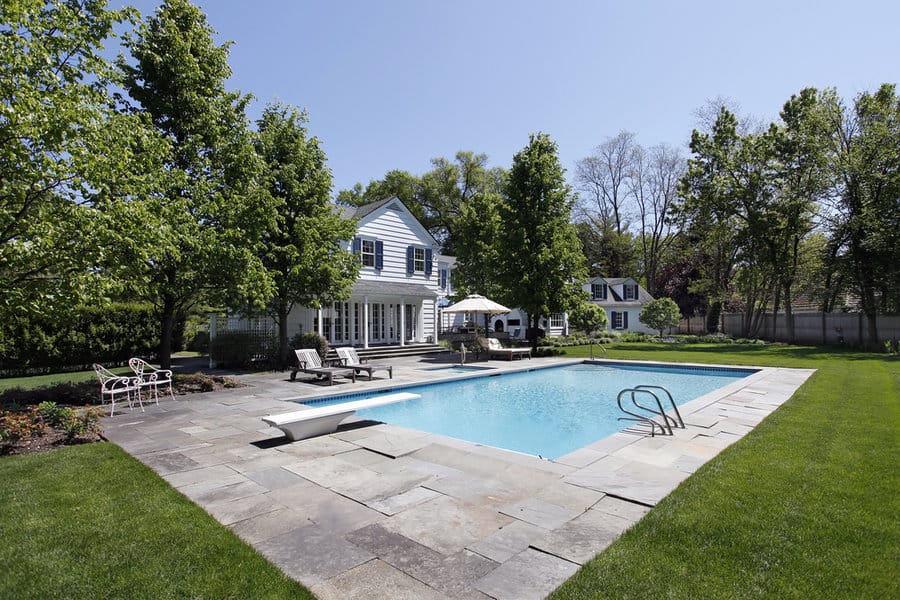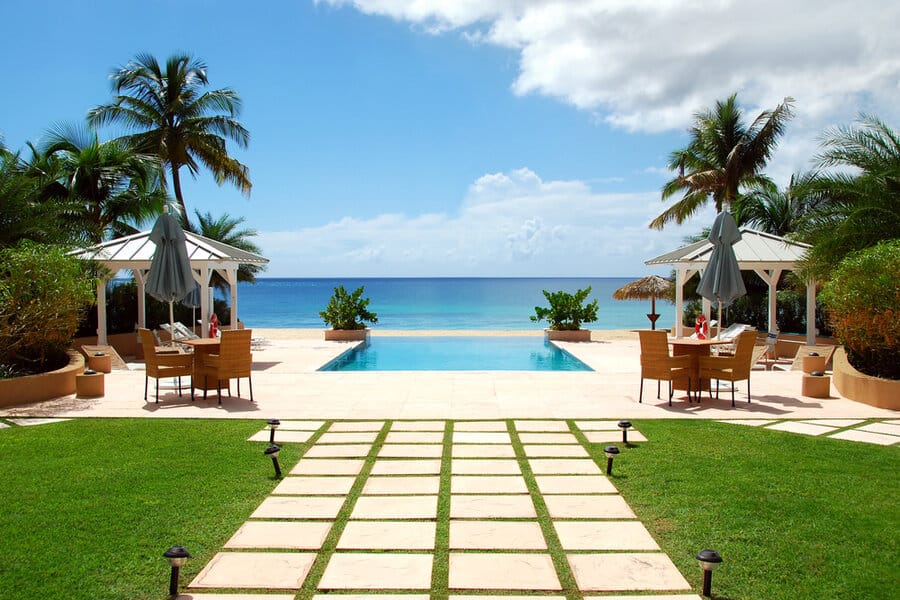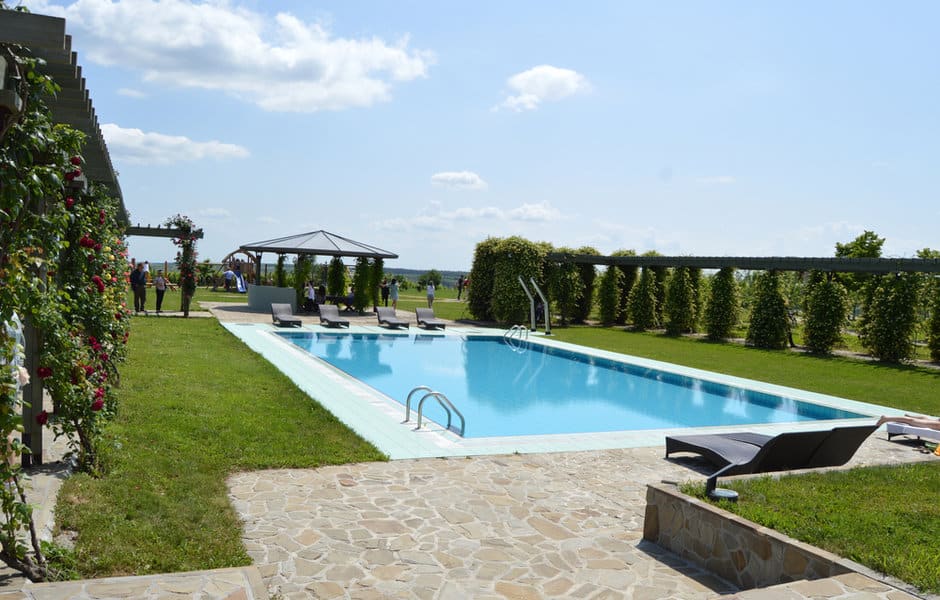 You can build a deck around your pool or have the grass grow right up to the edge of your pool. If you choose the second option, be on top of maintaining the edge. You don't want the grass growing into your pool in its quest to seek out water.
Having grass around your pool helps to keep your outdoor living space feeling cooler. Hang out on the grass, have a picnic, or add a table for more formal meals.
5. Low Maintenance
Maintaining a backyard swimming pool is a lot of work. It doesn't matter what type of pool design you have; both above-ground and inground pools require ongoing care to keep it in swimmable condition. As a pool owner, you have enough on your plate, so don't add to it by having a high-maintenance landscaping design.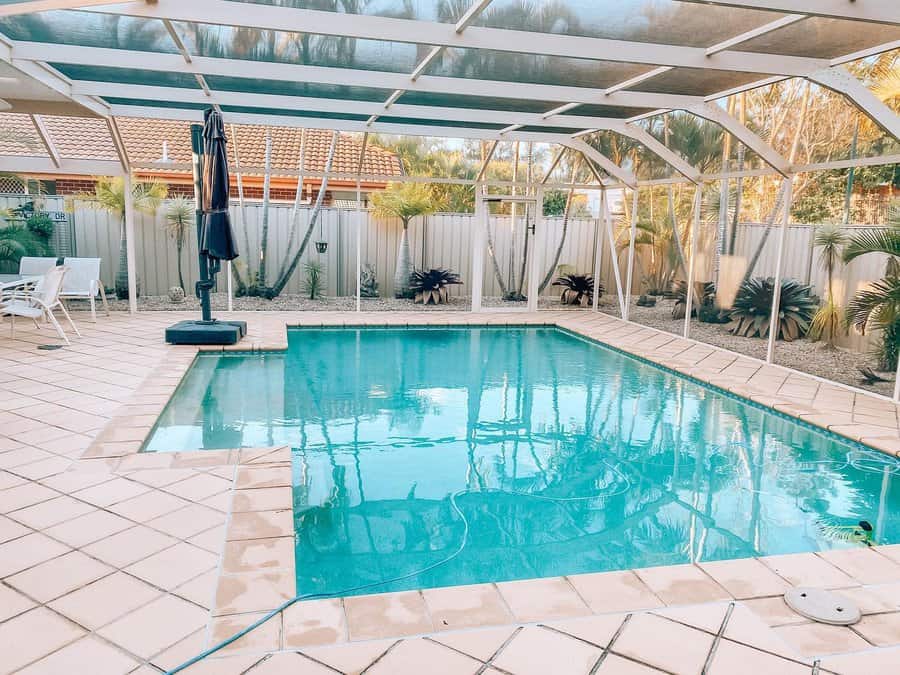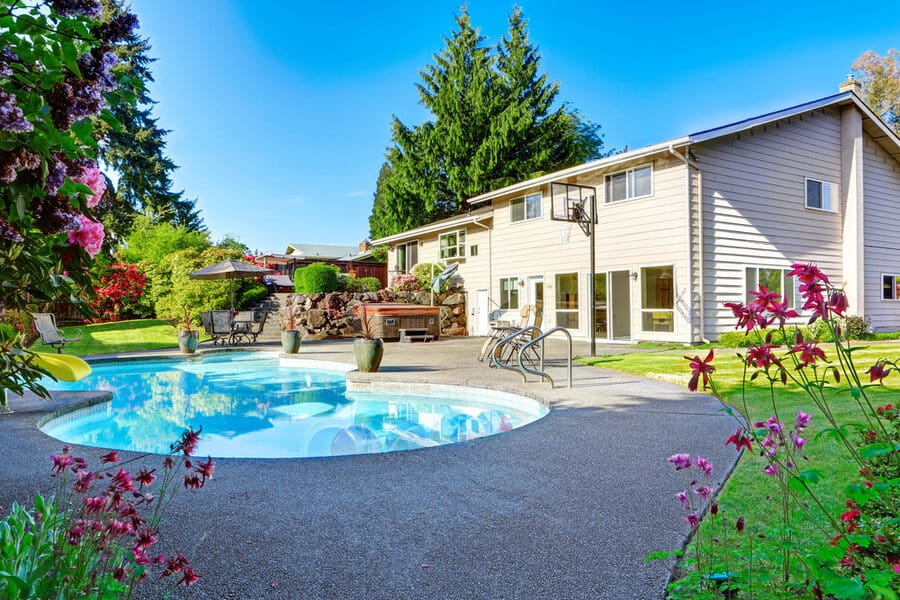 Plant a ground cover plant instead of grass. Then you don't have to mow. Choose plants that grow slowly, like boxwood, for minimal upkeep. Skip the plants entirely and have a rock garden for the least amount of work. Then you only have to wash them down every once in a while to remove dirt or mildew.
6. River Rock
River rocks are the popular modern natural stone for poolside landscaping. You'll see in landscaping ideas that it doesn't cover large areas. It's also not meant to be a replacement for your pool deck. Instead, they act as an accent material for your swimming pool area.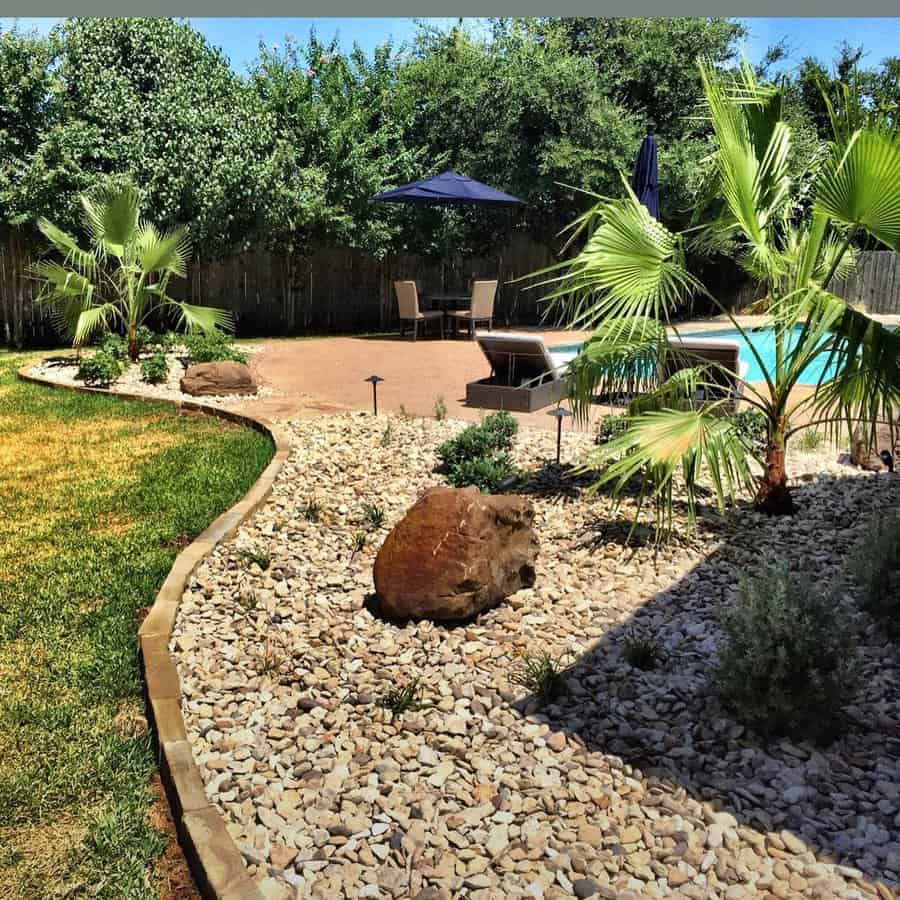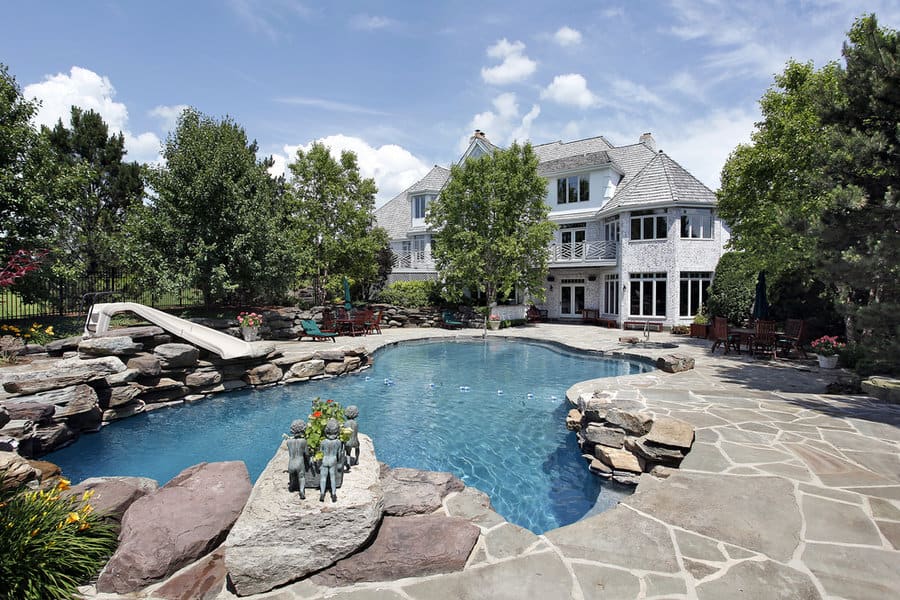 Create a shallow trench around the outside of your pool and fill it with smooth river rocks. This creates a solid barrier between your pool and grass. Use it instead of mulch in your plant beds. Use them to fill your walkways around large stepping stones. River rocks come in limited colors, typically white, grey, and black.
7. Rustic
Give your outdoor space a rustic feel to help it blend in with the surrounding nature. This starts with the pool.
Skip the rectangular pool and work with your pool builder to create a more natural shape. This looks closer to a pond or lake, which will help your pool have a more natural feel. Instead of pavers, use natural stones for the hardscape landscaping in the backyard pool area.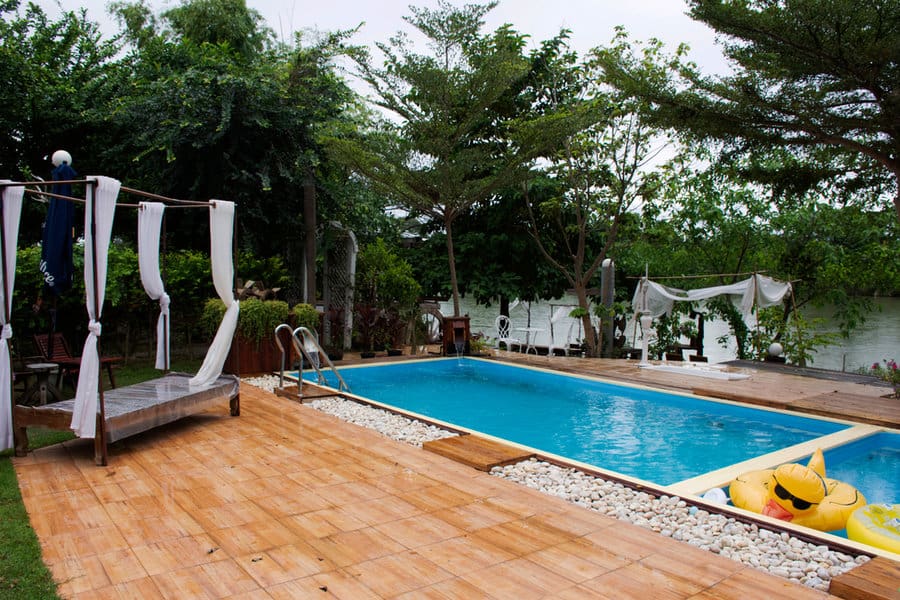 Build a retaining wall to create multiple levels for your landscape design. Use naturally shaped stones that come in various sizes. For plants, stick with greenery that doesn't require trimming.
Ornamental grass is perfect for this. Hack it down twice a year and then let it grow naturally for an organic feel.
8. Tropical
Say goodbye to plain old grass and turn your pool into a backyard oasis. You don't have to travel when you have a personal escape just steps outside of your home.
Add plenty of tropical plants to have a wall of lush greenery surrounding your pool or entire backyard. This lets you enjoy the pool water without worrying about nosy neighbors interrupting your enjoyment.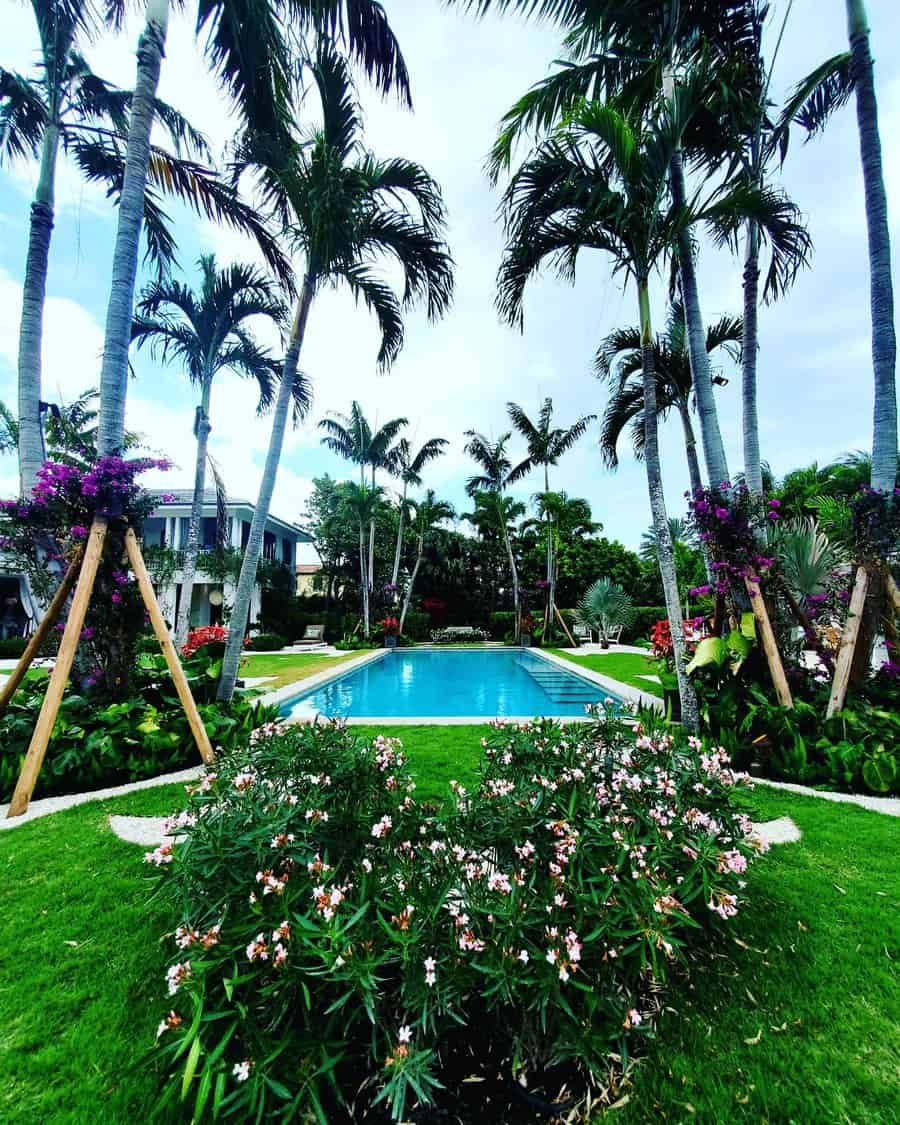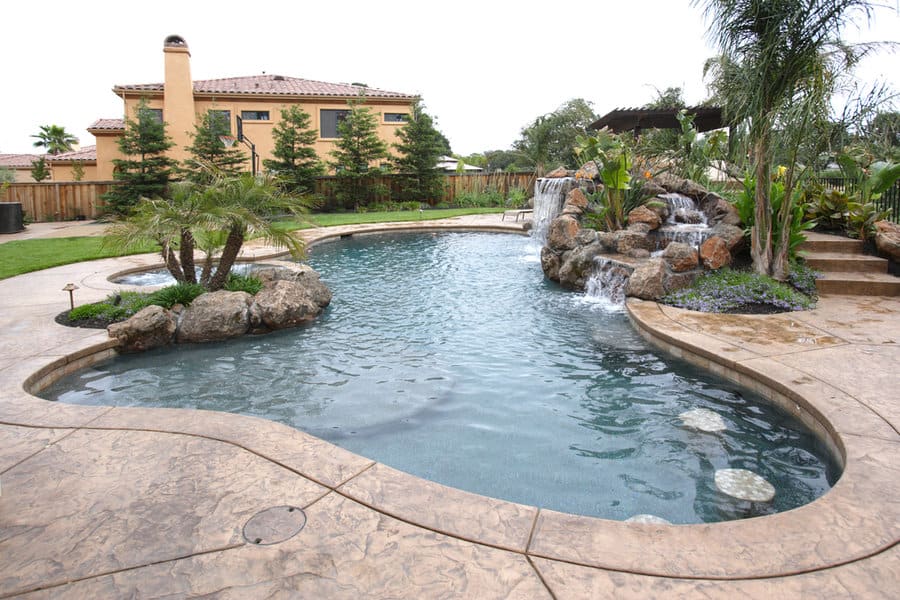 Add height and width to your landscaping. Palm trees are great for height and only require trimming once a year. Elephant leaf plants are perfect for creating width and a visual barrier.
Plumeria, lobster claws, and bird of paradise all add color. Tropical landscaping works best in warm climates with moderate to high humidity.
Pool Landscaping FAQs
Should I put mulch around my inground pool?
Mulch can help protect the plants growing around your pool. It will insulate the ground to help prevent drought, weeds, and UV damage. It can also protect your inground pool. In addition, the mulch can help contain the gardening soil and dirt. This keeps it off of the pavers and out of the pool.
What kind of stone do you put around a pool?
The best type of stone for placing around your pool is marble, limestone, granite, and bluestone. Each of these is incredibly durable, low maintenance, and comes in various styles. This lets you have a high-quality stone in a price range that you can afford and a style that suits your backyard.
Is pea gravel good for around the pool?
Pea gravel is affordable and versatile, making it an ideal material for use in your landscaping. You can use it everywhere, from the walkways to the driveway and around the pool. However, be careful when using it around your inground pool. Place a paver, concrete, or some other barrier between the pool's edge and the pea gravel. Otherwise, you risk the gravel getting in the pool.