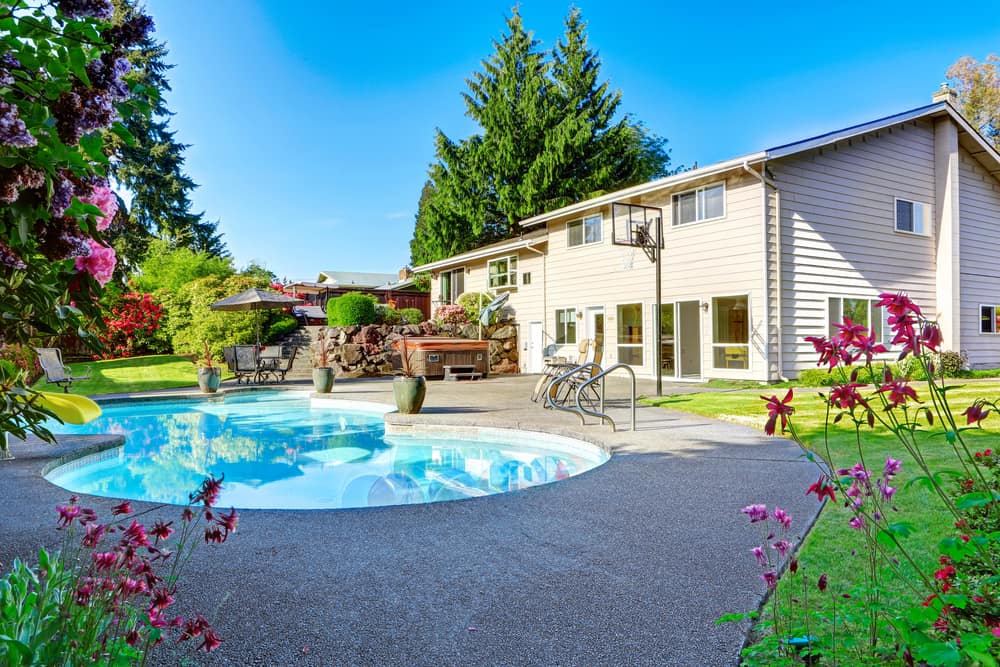 The Top 19 Pool Landscaping Ideas
by — Andra DelMonico

Published on January 25, 2022

Updated on October 1, 2023
Having a pool in your backyard gives you the perfect summertime escape. Lay out on the deck and soak up the sun, then take a dip when you start to get too hot. Enjoy a relaxing lunch or cocktails on the patio. Add greenery and landscaping to dress up that plain concrete or paver patio.
These pool landscaping ideas will help you turn your backyard into the ultimate place to be when the weather gets warm.
1. Elegant Poolside Pebble and Pavers
Enhance your poolside ambiance with Elegant Poolside Pebble and Pavers. These versatile elements offer texture and visual intrigue to your space. Explore various pebble sizes and colors to tailor the look to your taste.
For added flair, consider crafting a meandering stone pathway with interspersed rock accents. Surround the area with well-placed shrubs for a stunning poolside frame and a burst of color to elevate your outdoor paradise.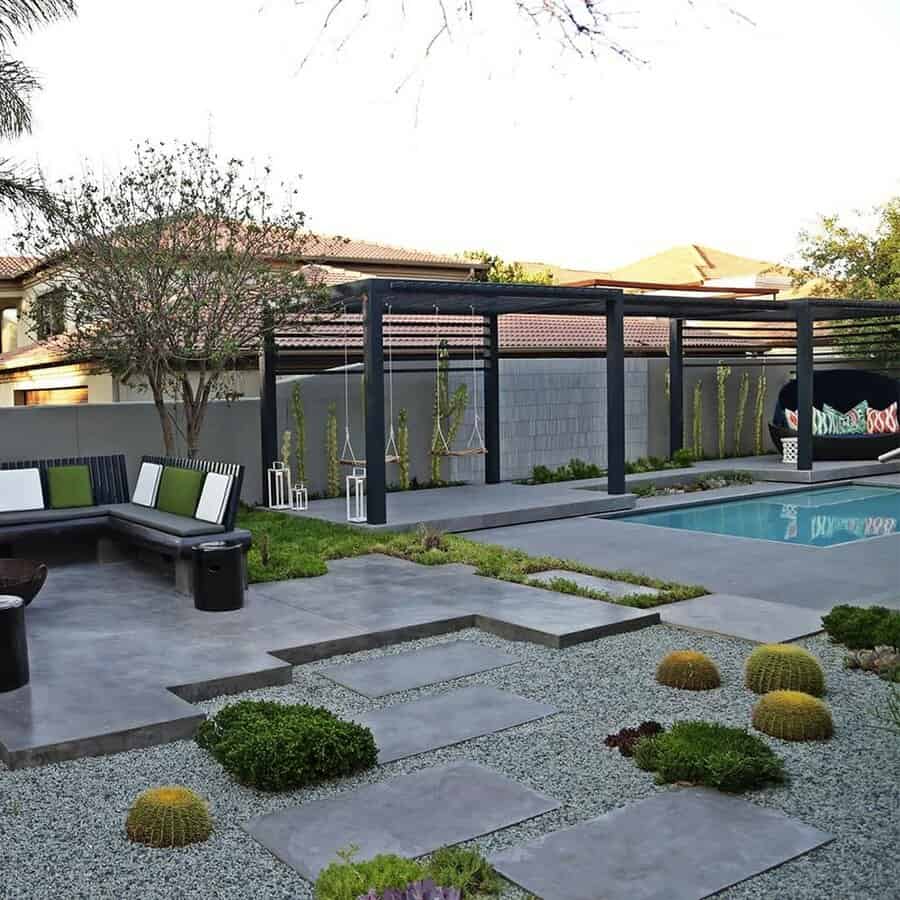 2. Lush Green Pool Surroundings
Revitalize your pool area with Lush Green Pool Surroundings. Embrace the beauty of a grassy landscape to infuse your pool space with natural charm.
For a low-maintenance option, consider artificial grass, eliminating the need for mowing and upkeep. This inviting poolside oasis can be further enhanced with comfortable seating, outdoor lighting, and vibrant planters to create an idyllic retreat in your backyard.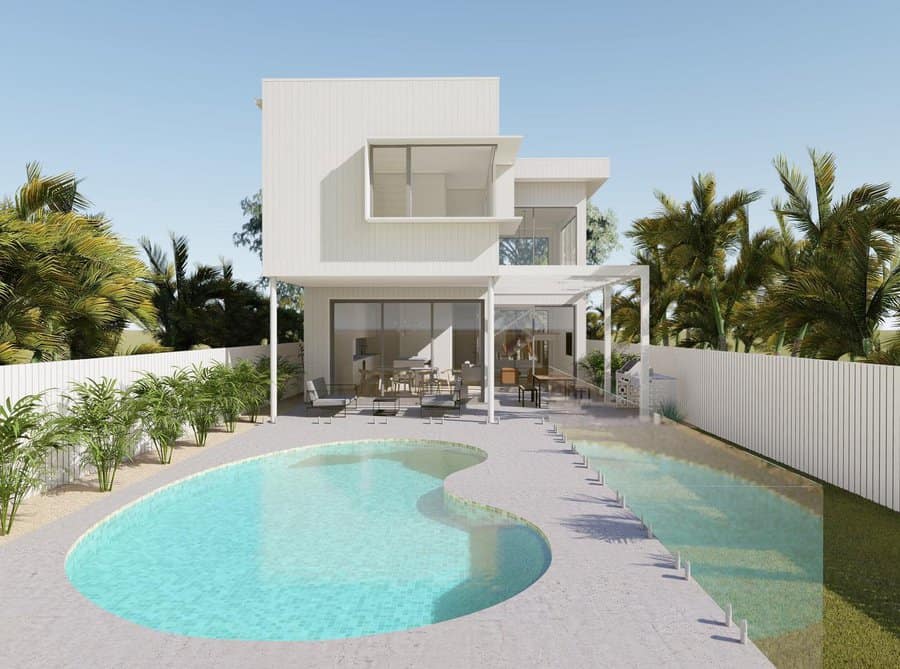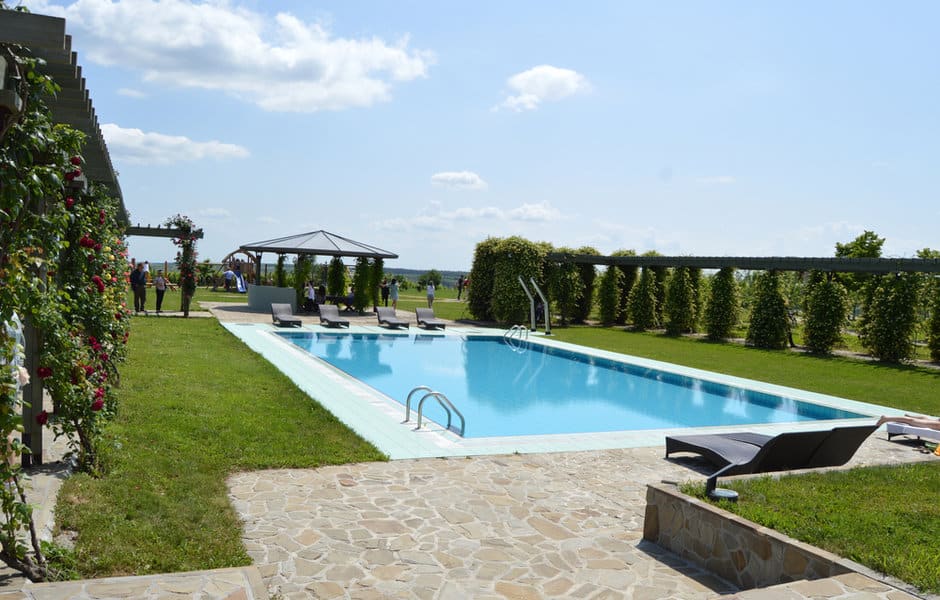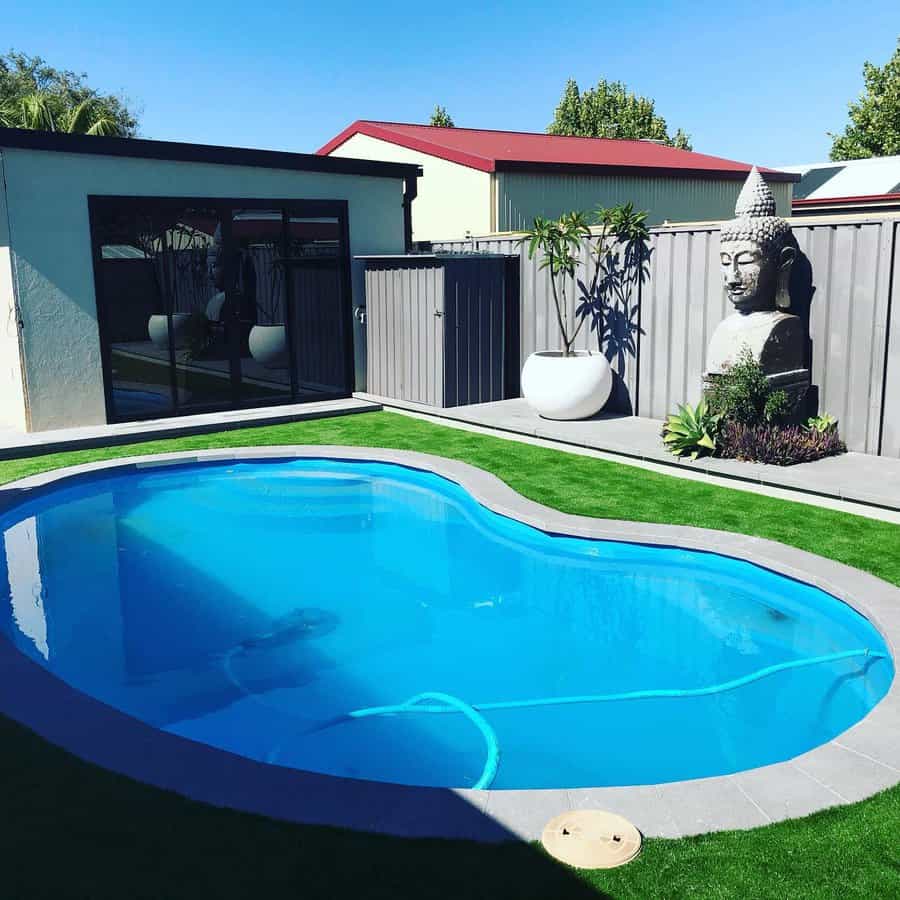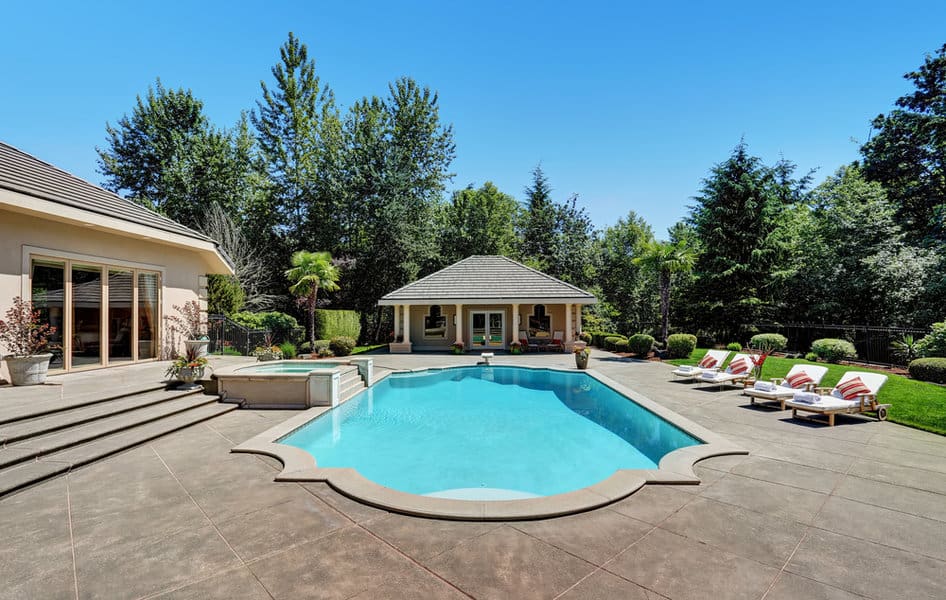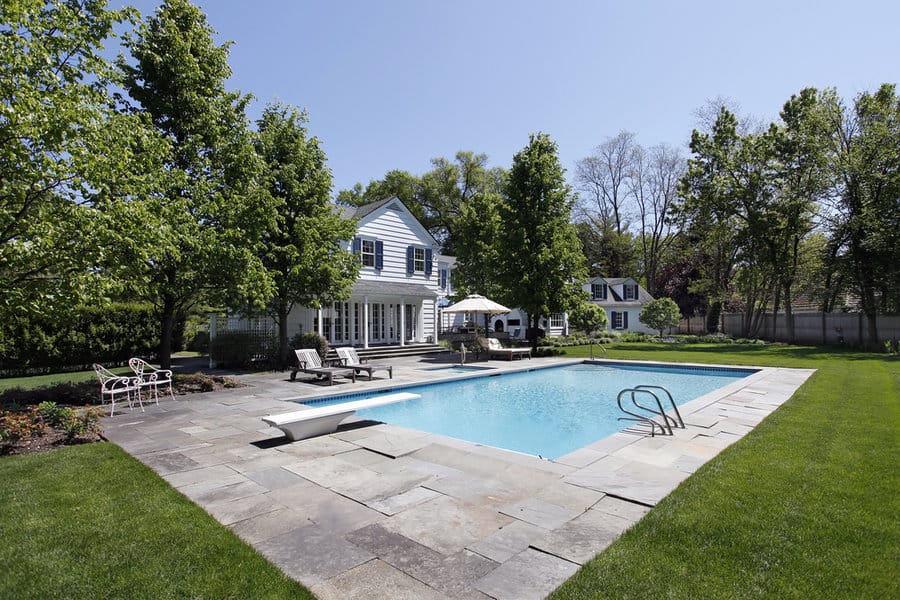 3. Vibrant Flower Beds by the Pool
Elevate your pool's visual appeal with Vibrant Flower Beds by the Pool. Create a stunning garden along your pool's edge to infuse color, texture, and fresh energy into your outdoor space.
Consider various options based on your space – from potted plants to elevated planter boxes or tiered designs using stacked stones as a backdrop for vibrant blooms. Complement this floral oasis with comfortable poolside seating and strategic lighting to make your pool area the ultimate focal point of your outdoor haven.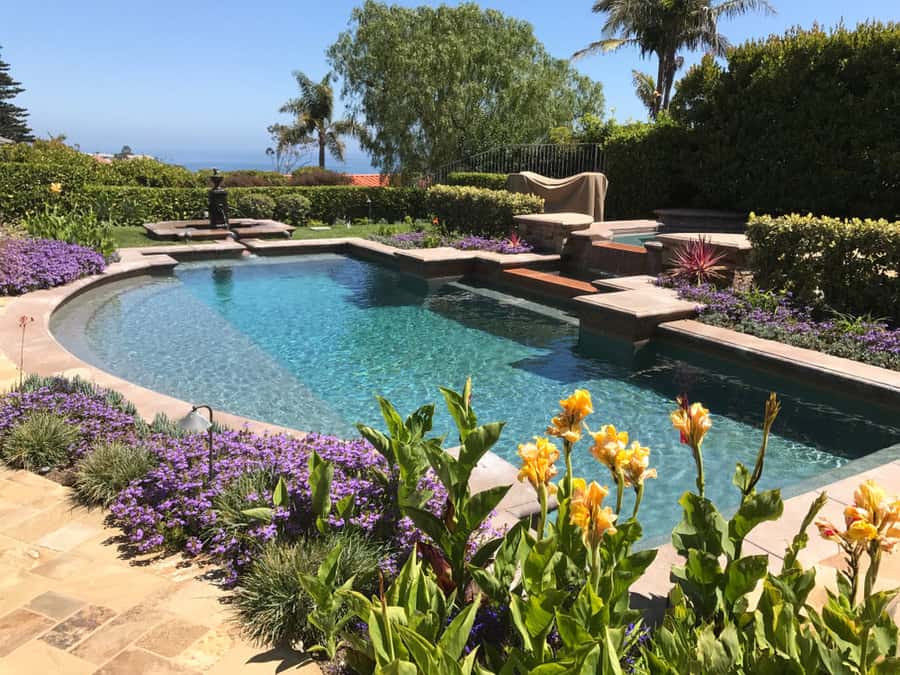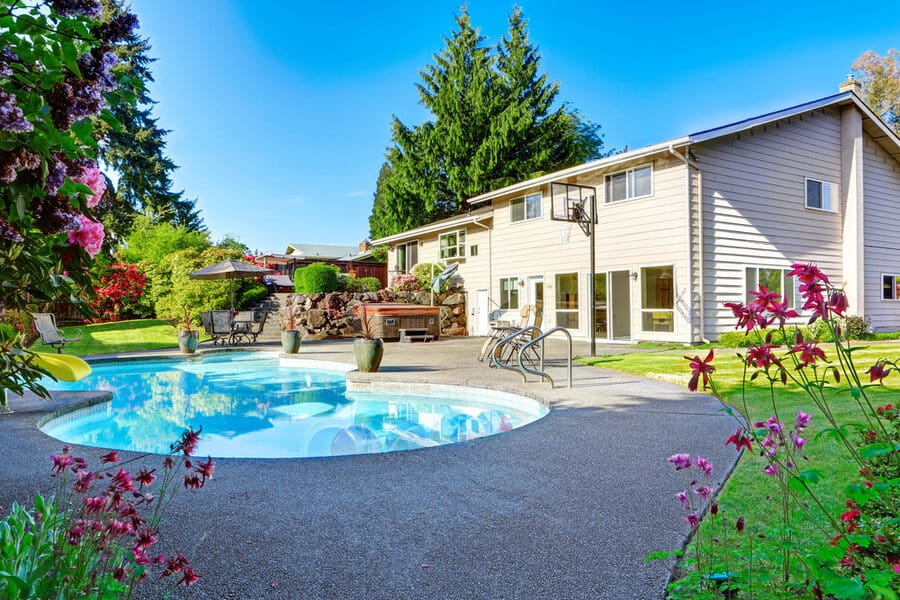 4. Stylish Poolside Hedges
Achieve poolside serenity with Stylish Poolside Hedges. Surround your pool with lush hedges and soft grass for a calming atmosphere that invites relaxation amidst nature's beauty.
Opt for native plant species to conserve water and harmonize with the local climate. Elevate your design by incorporating colorful flowers and foliage, carefully selecting plant varieties to create a one-of-a-kind poolside landscape. Consider comfortable seating, privacy screens, and outdoor decor to complete the tranquil oasis.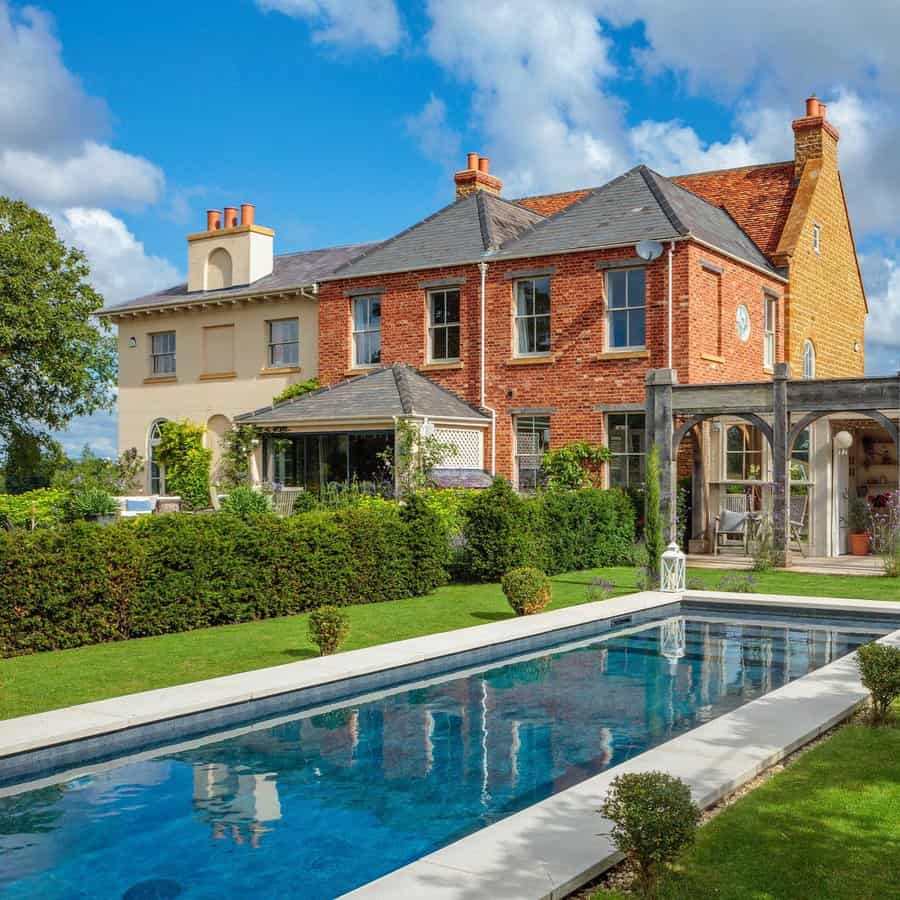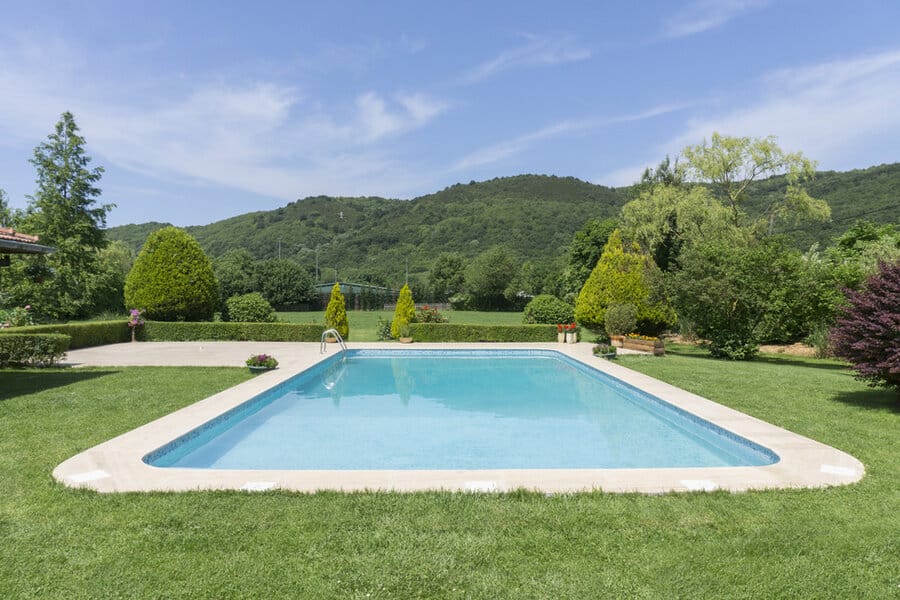 5. Harmonious Grass and Pavers Blend
Create an inviting outdoor retreat with a Harmonious Grass and Pavers Blend for your pool area. Depart from traditional tile and explore concrete pavers for a unique texture and color variation.
Integrate surrounding grass for a natural ambiance or infuse greenery with well-placed shrubs and plants. These creative pool landscaping ideas will leave a lasting impression on your guests, transforming your outdoor space into the perfect entertainment haven. Elevate the experience with cozy seating, stylish lighting, and thoughtful decor.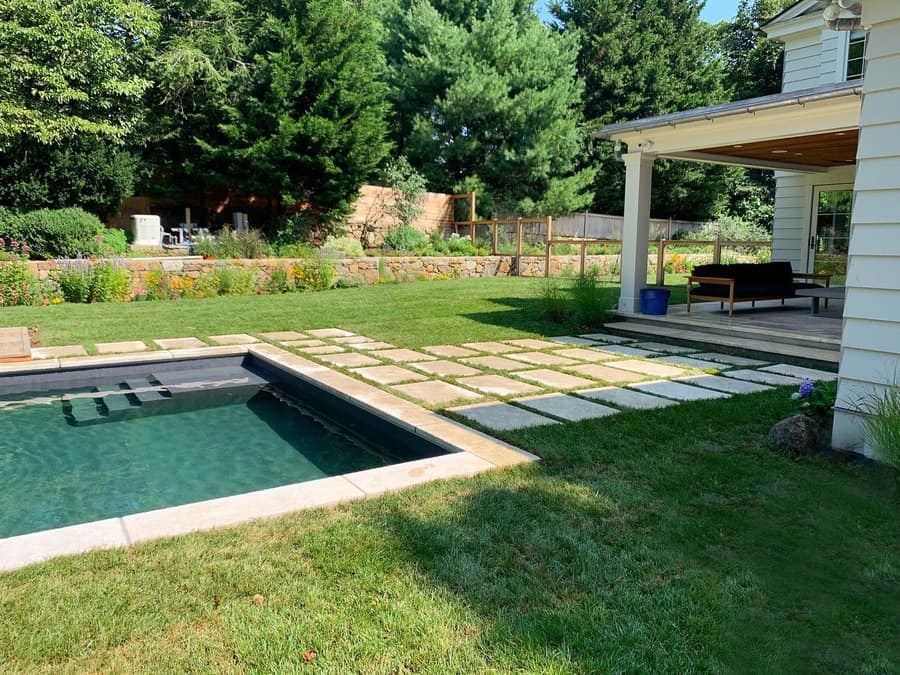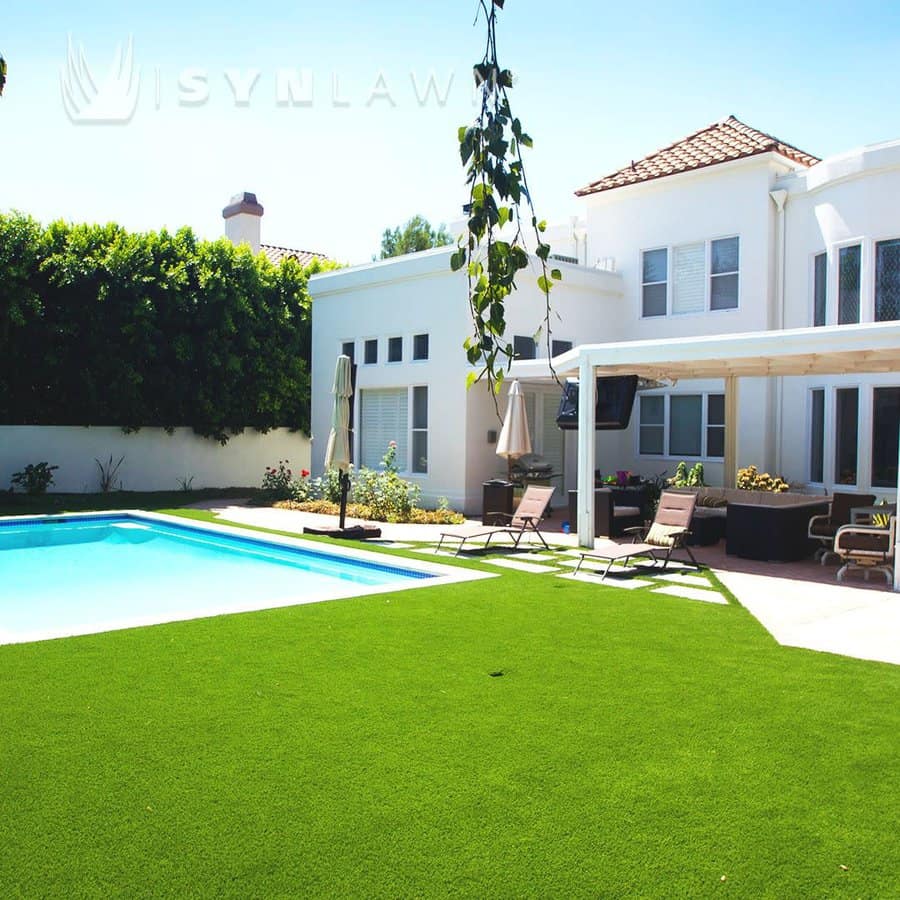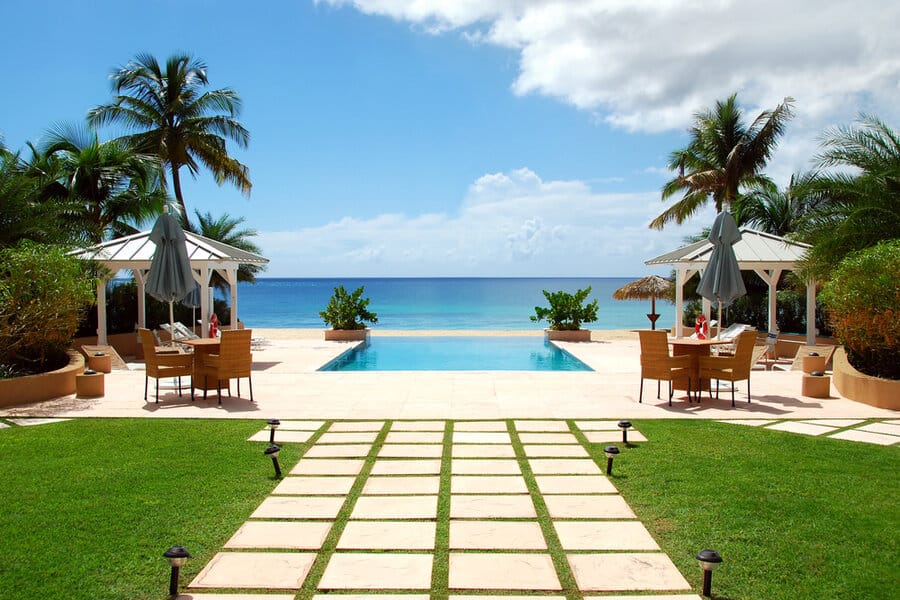 6. Poolside Paradise with Tropical Plants
Craft a Poolside Paradise with Tropical Plants for a truly exotic pool landscaping design. Embrace the beauty of various tropical plant species to create a unique and lush atmosphere.
Line your pool's edges with vibrant bushes for a natural touch and introduce pebbles to add texture and color to the ground. Be adventurous with tall palm trees and fragrant succulents to make your pool area stand out. This blend of tropical foliage and decorative stones will transform your pool into a captivating oasis. Consider adding comfortable seating, tropical-themed decor, and ambient lighting to enhance the overall ambiance.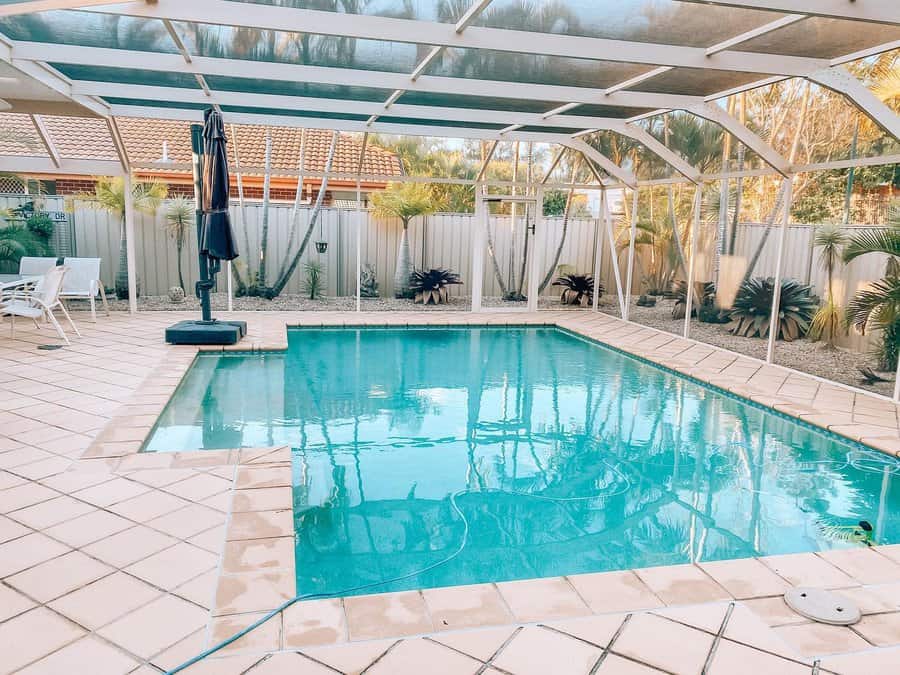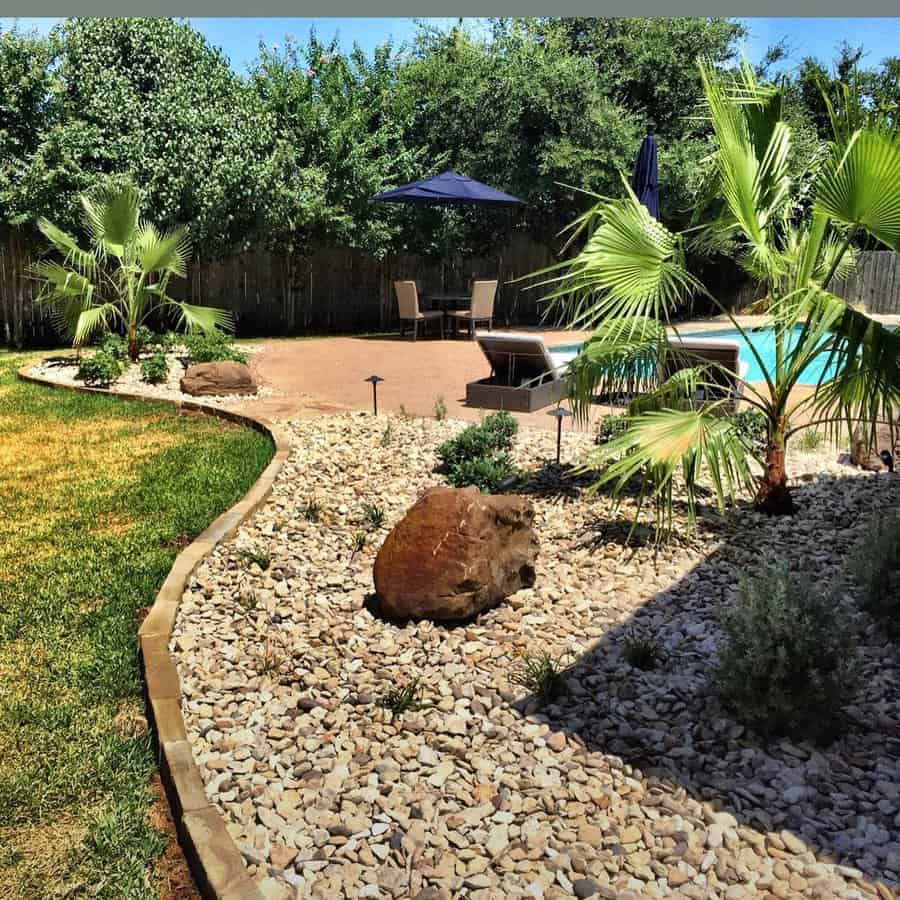 7. Tranquil Poolside Rock Gardens
Transform your pool area into a peaceful retreat with Tranquil Poolside Rock Gardens. Explore creative pool landscaping ideas to bring your vision to life, starting with a rock garden that adds captivating texture to your outdoor space.
Arrange irregular rocks in various sizes and shapes to create captivating layers, infusing character into your surroundings. The juxtaposition of rocky surfaces against the water adds visual intrigue and offers a playful space for children to explore. Experiment with diverse stone colors and types to craft one-of-a-kind pool landscaping designs that showcase your unique style. Enhance the atmosphere with cozy seating, lush greenery, and thoughtfully placed lighting for a complete oasis experience.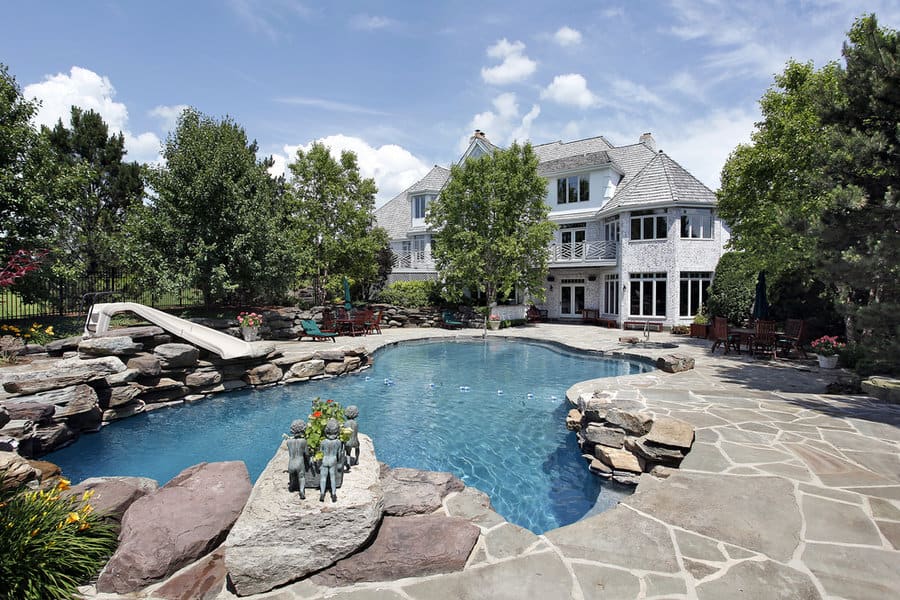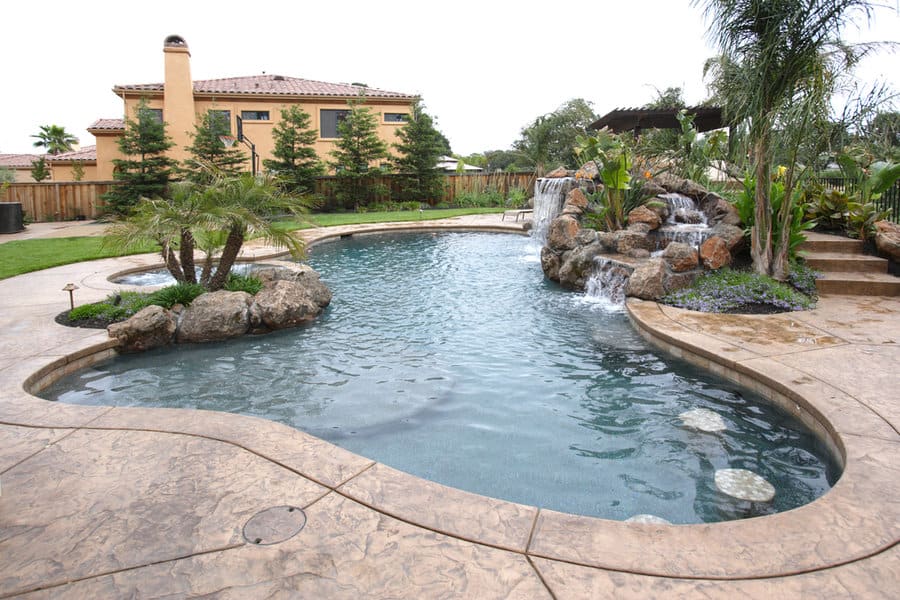 8. Charming Pebble Bridge Over Water
Enhance your pool area with a Charming Pebble Bridge Over Water, offering a distinctive touch to your outdoor space. Whether you choose a pebble bridge adorned with succulents or a wooden bridge with winding pathways, both designs infuse an exotic ambiance.
Consider water features like fountains or waterfalls and surround your pool with lush plants for a reflective and verdant touch. Illuminate the area with LED or solar lights to extend the enjoyment into the evening. Elevate the appeal of your pool landscape with these creative ideas, making your pool area a captivating retreat for all to enjoy.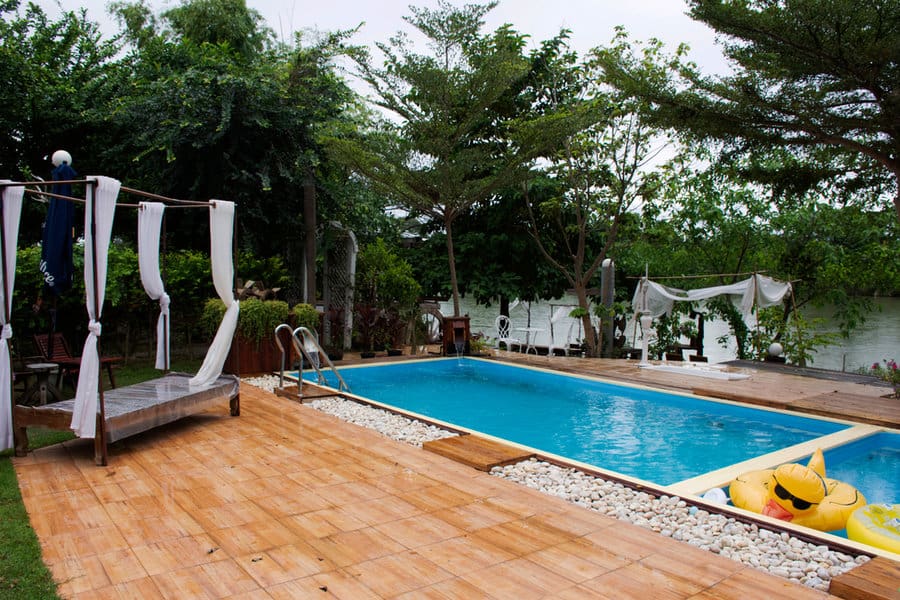 9. Exotic Poolside Coconut Palms
Transform your pool area into an Exotic Poolside Coconut Palms oasis with a unique touch. Surrounding your pool with coconut trees not only offers refreshing shade but also creates a tropical paradise.
Strategically space the trees to balance beauty and sunlight, ensuring they enhance the ambiance without overwhelming the space. Trim palm fronds as needed to add privacy. Embrace this creative landscaping idea to breathe life into your outdoor area, providing a perfect blend of relaxation and exotic beauty. Consider adding comfortable seating, tropical decor, and ambient lighting for the ultimate poolside experience.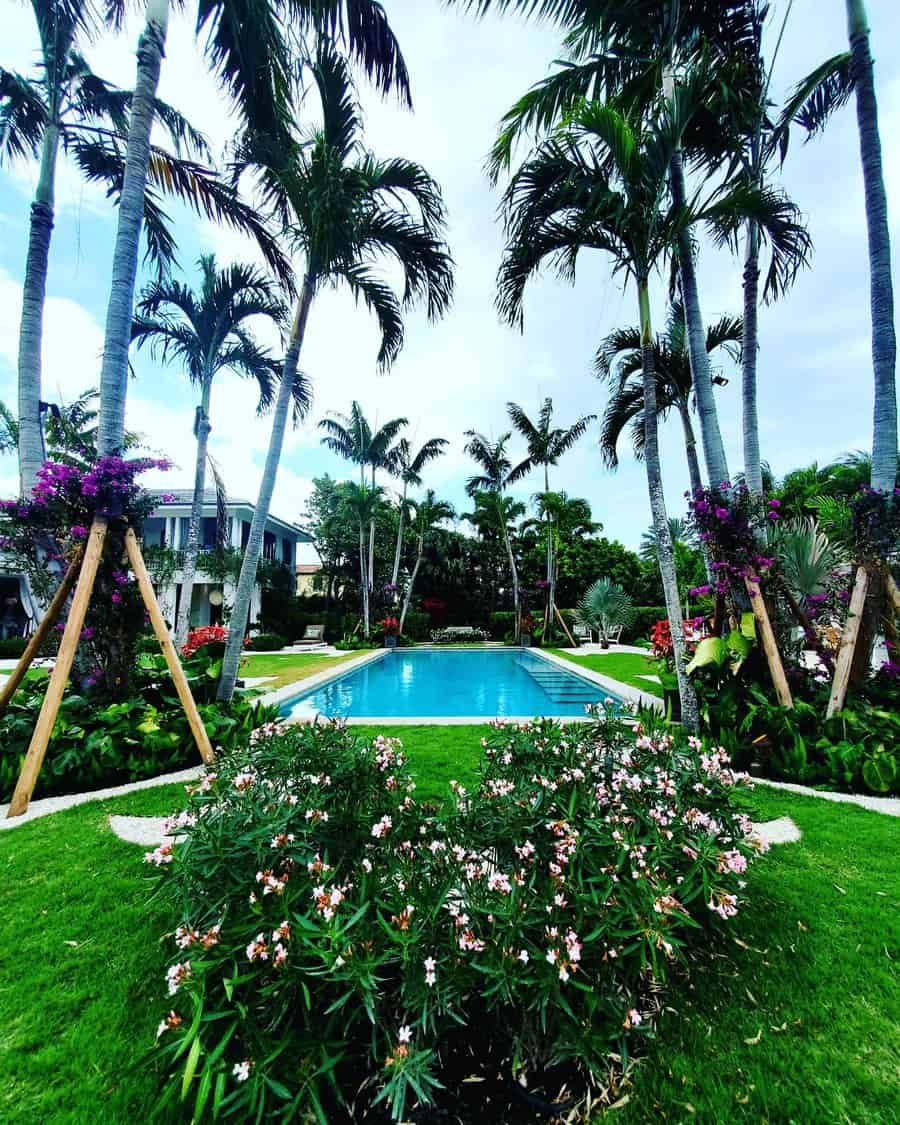 Pool Landscaping FAQs
Should I put mulch around my inground pool?
Mulch can help protect the plants growing around your pool. It will insulate the ground to help prevent drought, weeds, and UV damage. It can also protect your inground pool. In addition, the mulch can help contain the gardening soil and dirt. This keeps it off of the pavers and out of the pool.
What kind of stone do you put around a pool?
The best type of stone for placing around your pool is marble, limestone, granite, and bluestone. Each of these is incredibly durable, low maintenance, and comes in various styles. This lets you have a high-quality stone in a price range that you can afford and a style that suits your backyard.
Is pea gravel good for around the pool?
Pea gravel is affordable and versatile, making it an ideal material for use in your landscaping. You can use it everywhere, from the walkways to the driveway and around the pool. However, be careful when using it around your inground pool. Place a paver, concrete, or some other barrier between the pool's edge and the pea gravel. Otherwise, you risk the gravel getting in the pool.