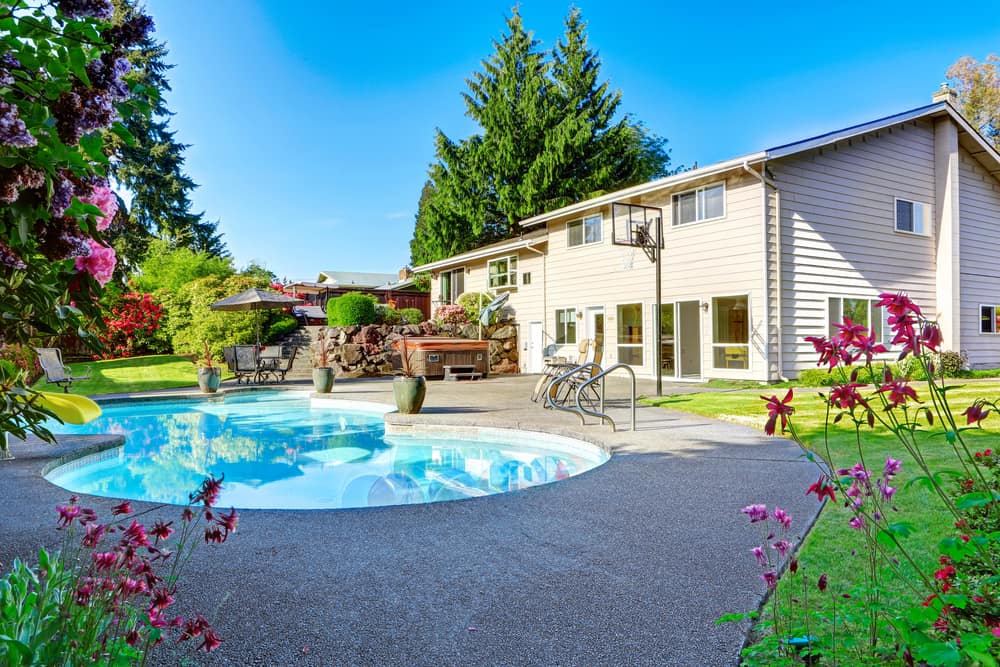 The Top 19 Pool Landscaping Ideas
Having a pool in your backyard gives you the perfect summertime escape. Lay out on the deck and soak up the sun, then take a dip when you start to get too hot. Enjoy a relaxing lunch or cocktails on the patio. Add greenery and landscaping to dress up that plain concrete or paver patio.
These pool landscaping ideas will help you turn your backyard into the ultimate place to be when the weather gets warm.
1. Pebbles & Concrete Pavers
Give your pool area personality with creative landscaping! Incorporating pebbles or concrete pavers into your pool landscape is an excellent way to add texture and visual interest to the space. Pebbles come in a huge array of sizes, and an interesting mix of colors will change the look and feel of your pool's edge.
If you're feeling especially adventurous, you could even create a pathway through the stones and intermingle them with rock accents along the way. Planting shrubs around the edge adds a beautiful frame for your pool and a pop of color to complete your outdoor oasis!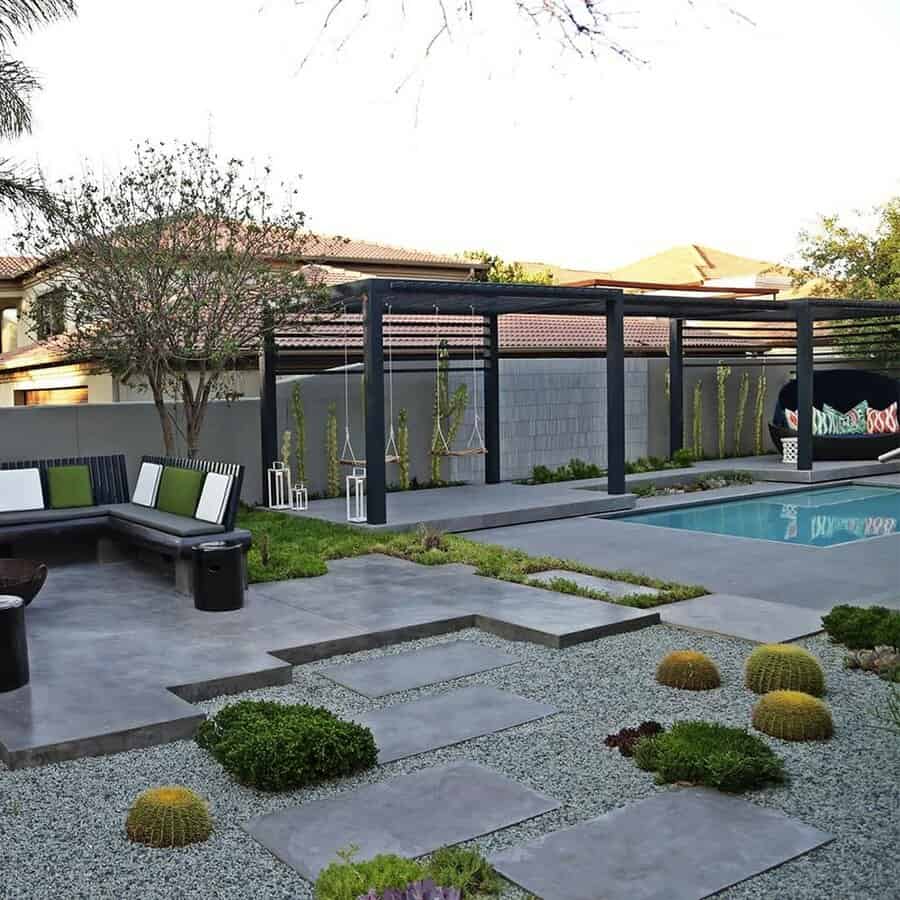 2. Grass Landscape
Looking to bring your pool area back to life? Try a fun grass pool landscape! It's the perfect way to dress up your pool and make it stand out with a touch of nature.
If you're looking for something that requires low maintenance, opt for artificial grass over natural grass – it requires no mowing or fussing about! A grassy landscape around your pool is sure to quickly become a favorite spot in your backyard.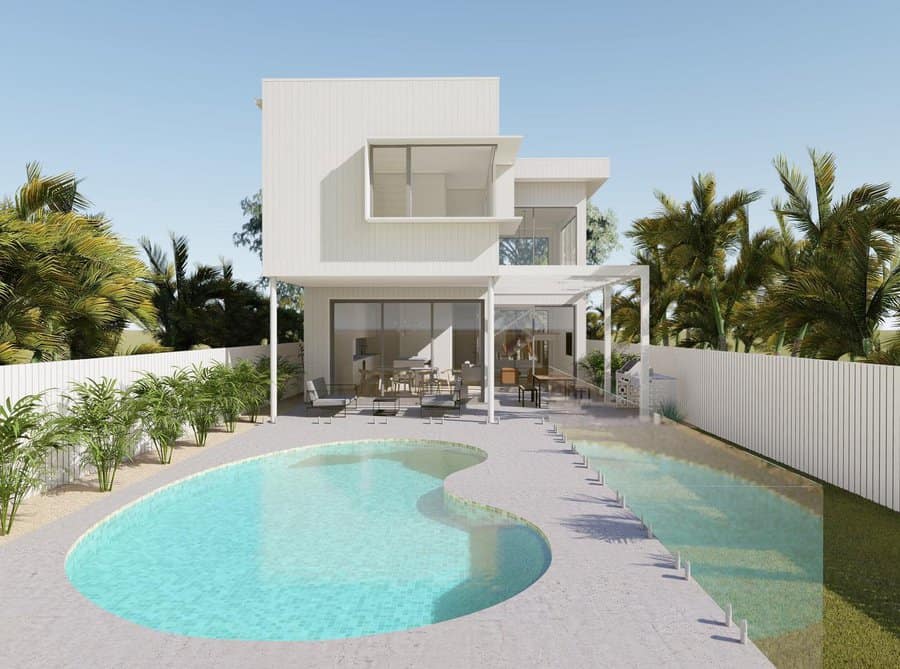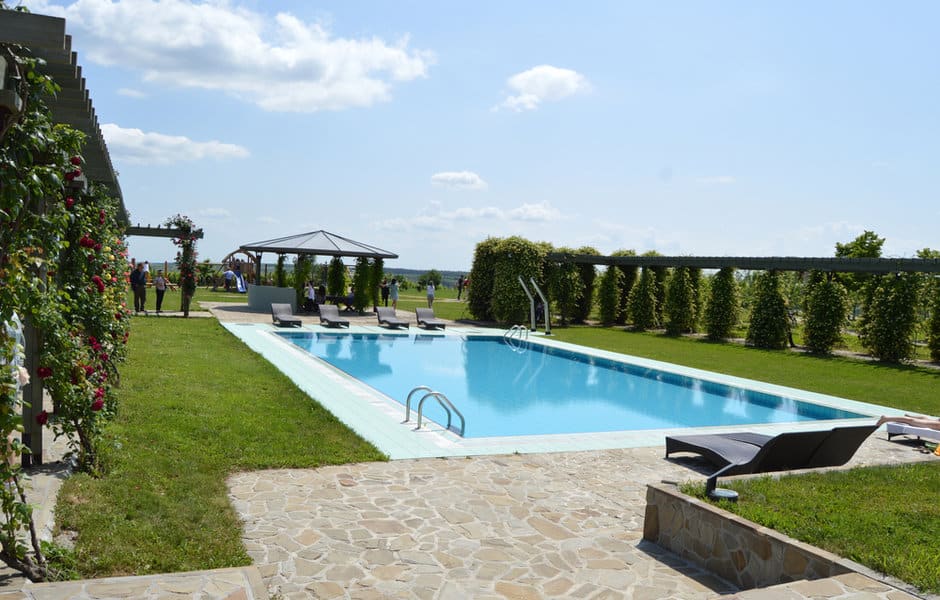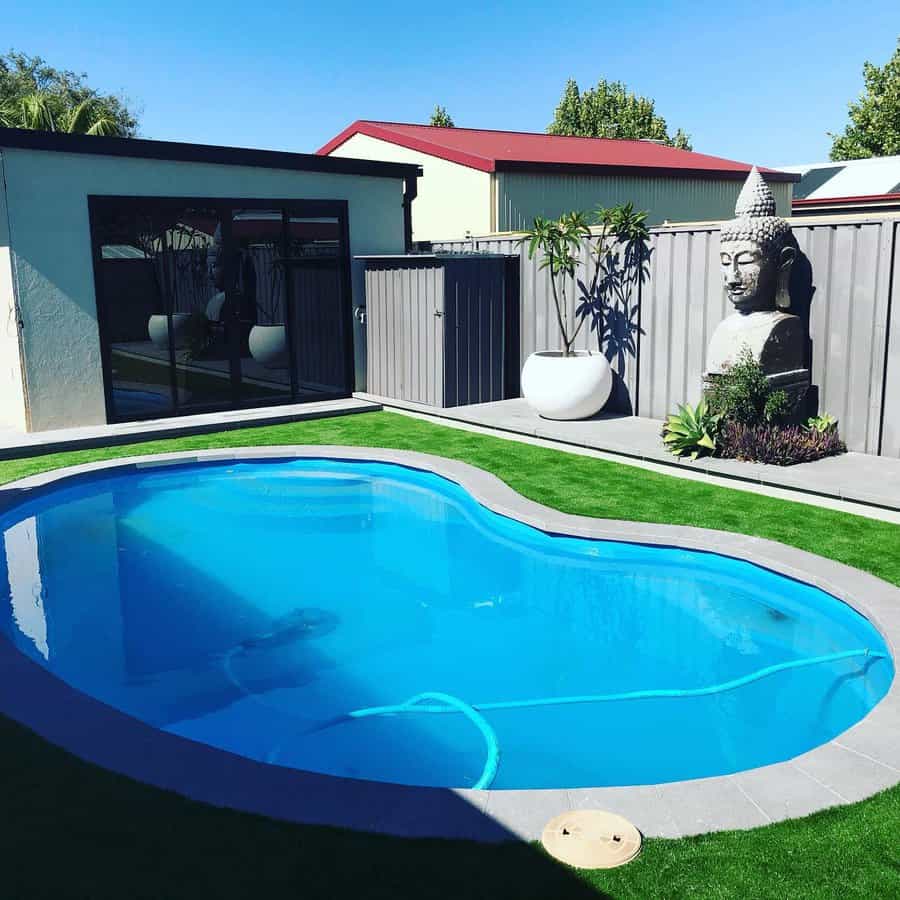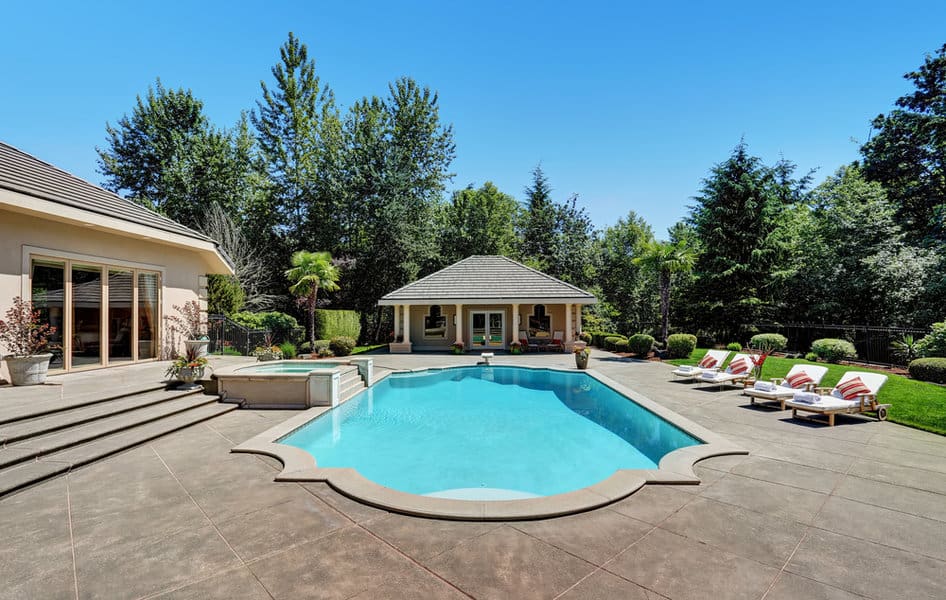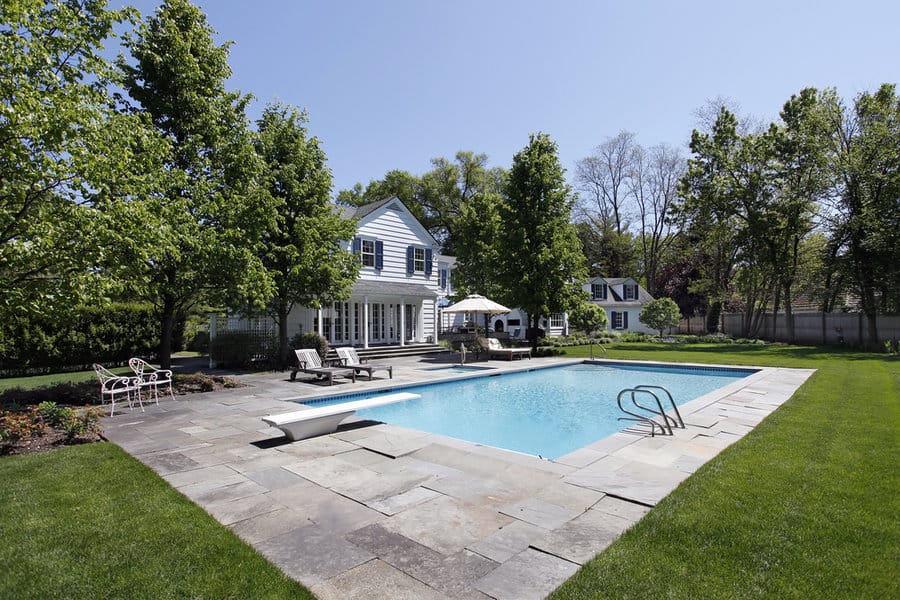 3. Flower Bed
Looking for creative ways to make your pool the center of attention? Imagine a beautiful flower garden and flower bed artfully arranged along your pool's perimeter. Not only will it add color and texture to your outdoor space, but the vibrant hues will draw the eye—and bring a boost of fresh energy to your outdoor area.
Depending on the size of your flower bed, you can easily choose a few potted plants, install an elevated planter box, or even create tiers with stacked stones as a backdrop for colorful blooms that catch the sun's rays.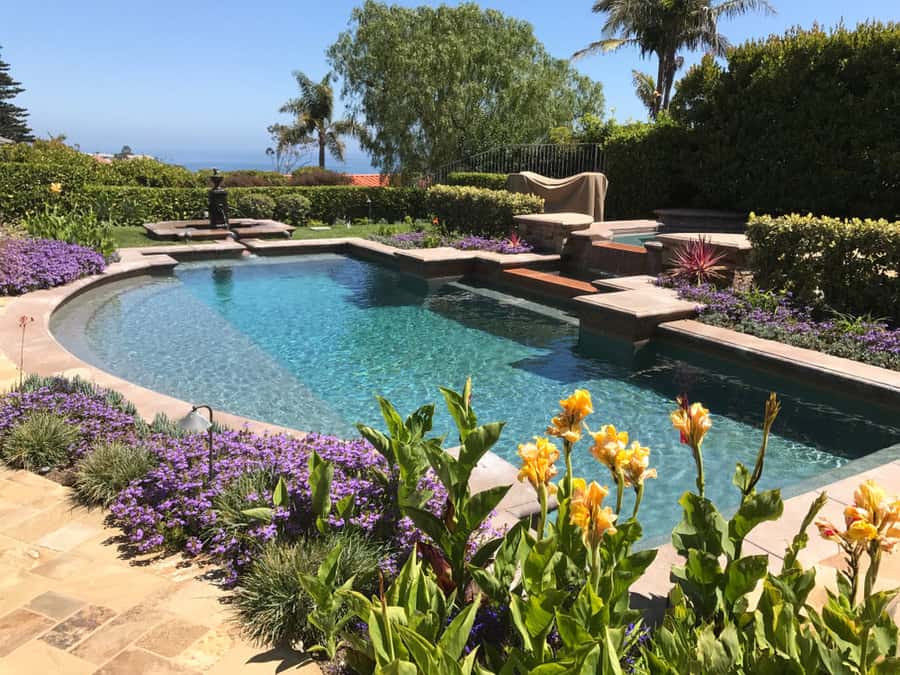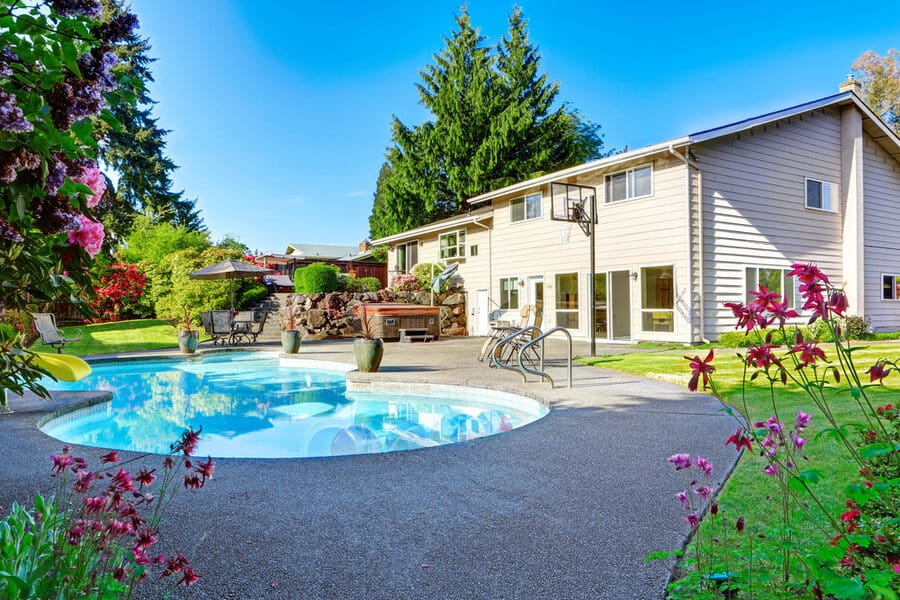 4. Hedges
If you're looking for inspiring pool landscaping ideas, consider creating a surround of lush hedges and soft grass. This creates a tranquil atmosphere around your pool, allowing you to just relax and enjoy the stunning natural landscape without distractions.
Aim to use native species of plants to reduce water usage and create a harmonious environment that will suit the ecological climate. Blending colorful flowers and foliage with carefully curated species can guarantee that your pool landscaping is truly unique.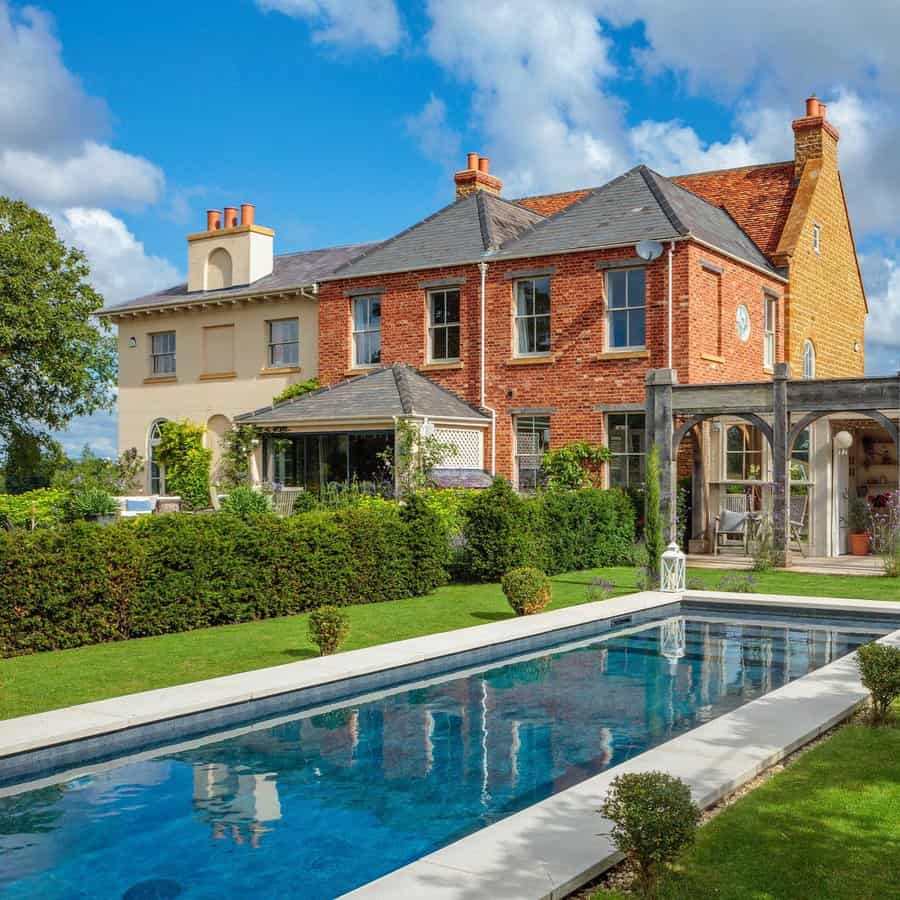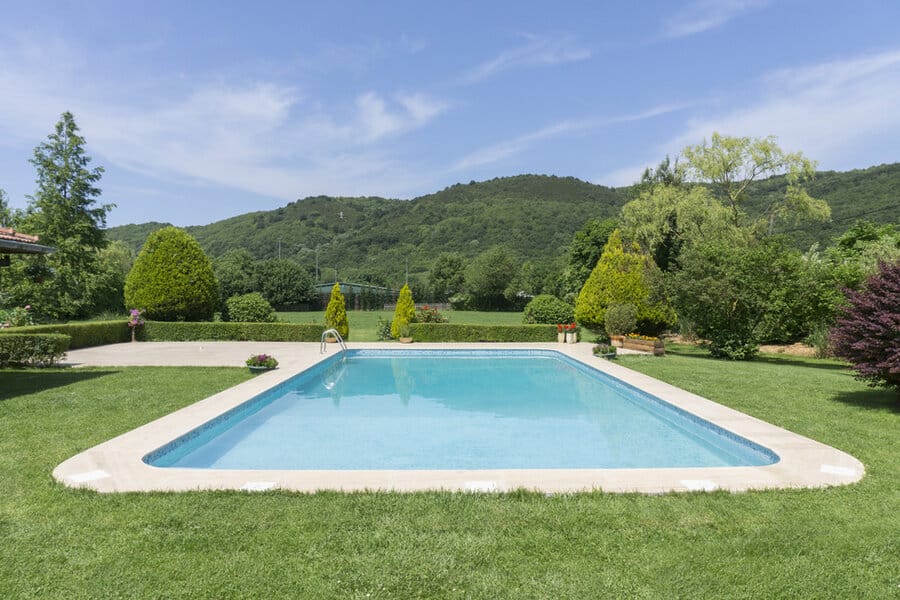 5. Grass & Pavers
If you're looking for the perfect backyard haven to entertain your friends and family, consider investing in a pool with some truly unique landscaping ideas. Instead of going for the traditional tiled look, why not try something new such as concrete pavers that are laid out like tiles but have a different texture and color?
Incorporate grass around them for a natural feel, or place some shrubs and plants in between to give your outdoor living space a fresh look. Whatever you choose, these creative pool landscaping ideas are sure to impress everyone you invite over!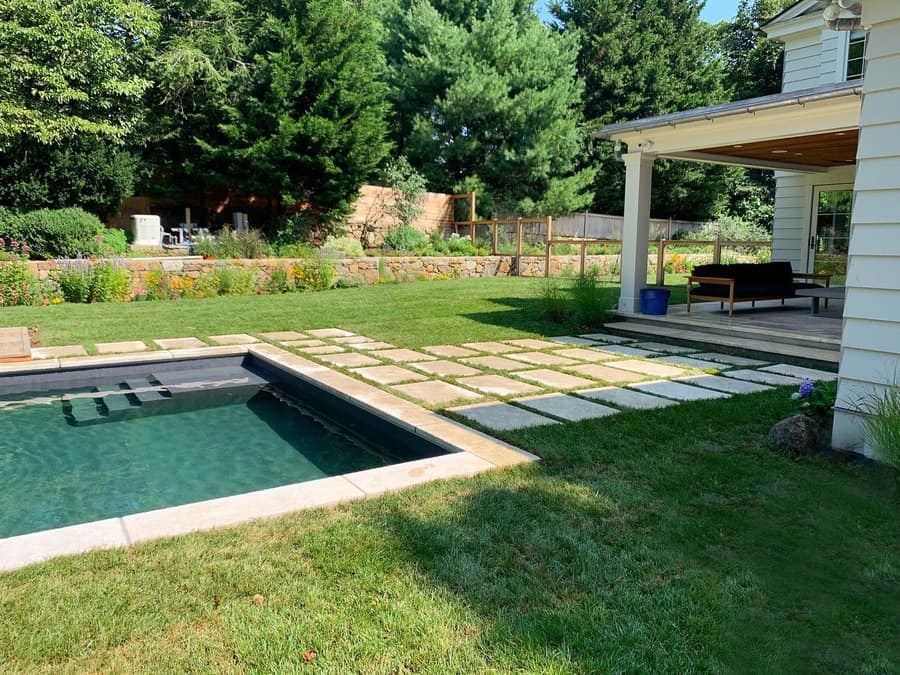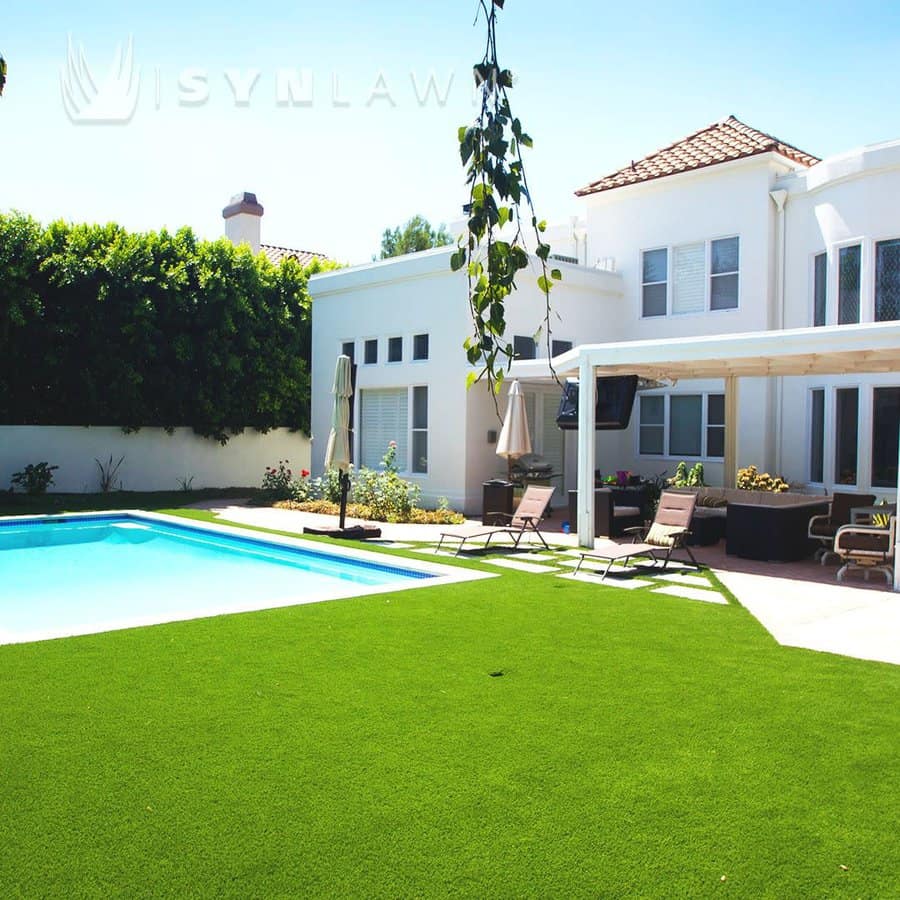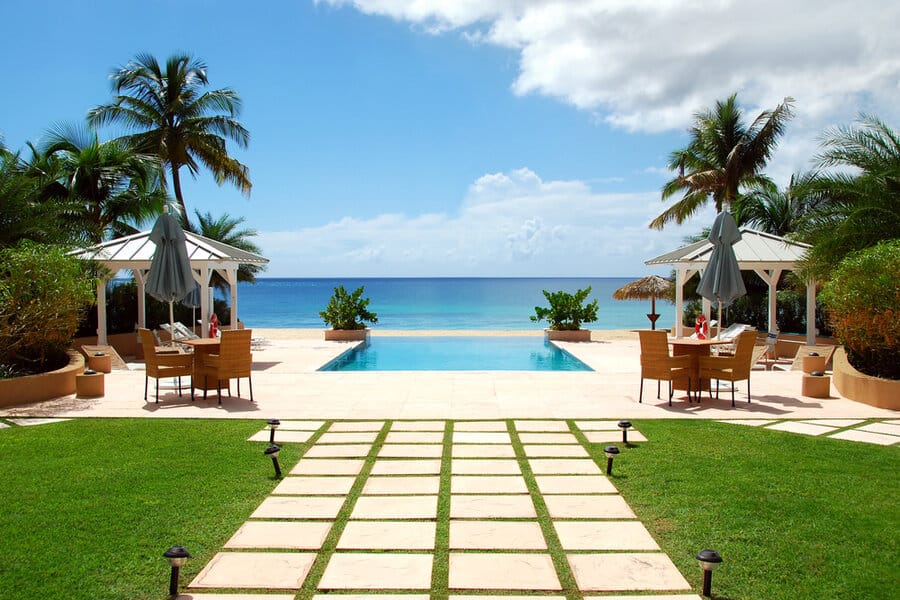 6. Tropical Plants
For creative pool landscaping ideas, look no further than tropical plants and pebbles! Depending on your backyard atmosphere, you can mix and match various types of vegetation for a unique look. Plant lush bushes along the sides of your pool for a well-rounded natural feel. Add in some nice-sized pebbles for the ground to give the area more texture and color.
To make it stand out, don't be afraid to experiment or get creative with diverse plants like tall palm trees or fragrant succulents. With this combination of tropical foliage and gentle stones, you'll create a stunning landscape that complements any pool!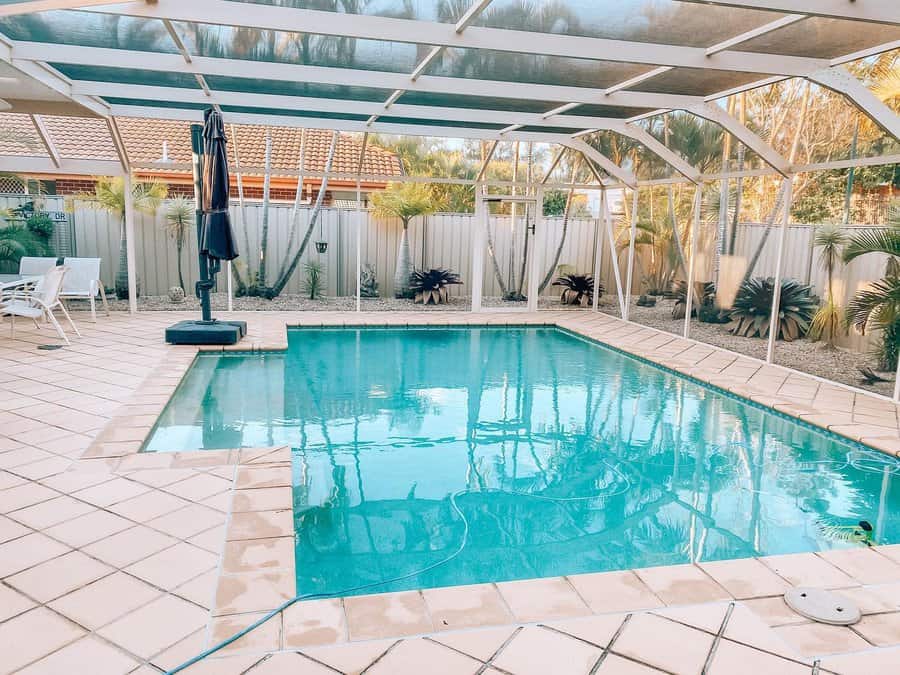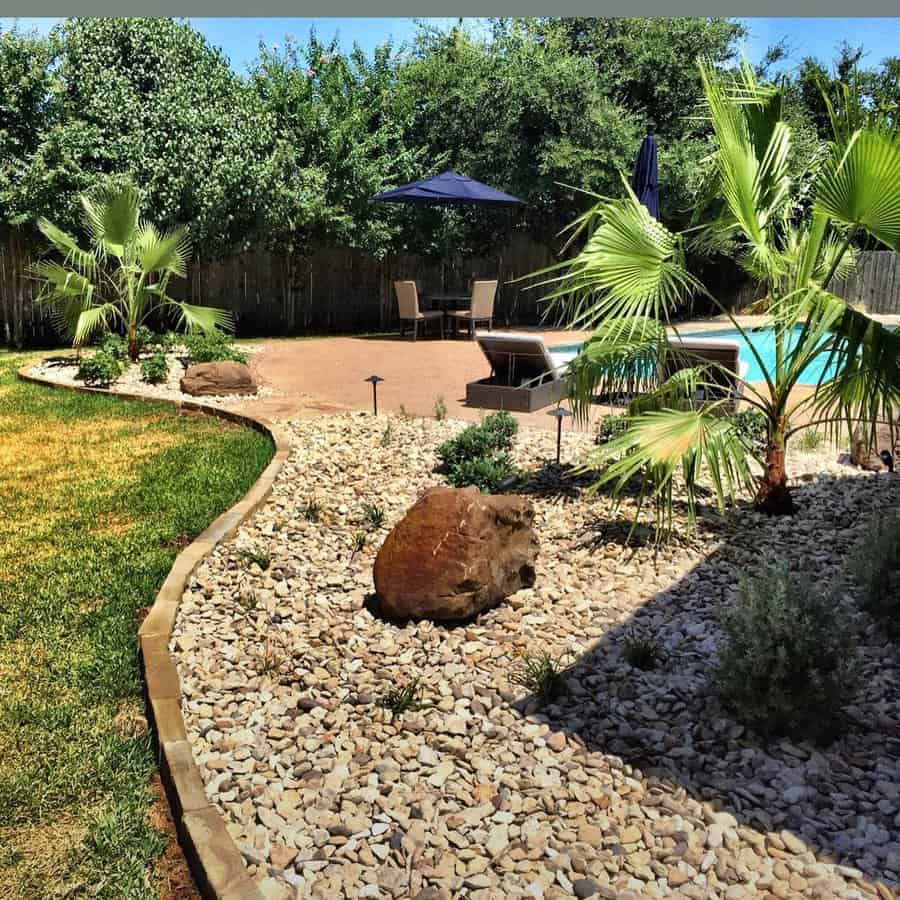 7. Rock Garden
Creating a backyard oasis can be simple and creative. A great way to start is with pool landscaping ideas. With the right design elements, you can bring your landscape vision to life! One idea is a rock garden, which can add texture to any outdoor space. Start with some irregular rocks in different sizes and shapes, and use them to create a layered effect that adds instant character.
The rocky surface makes an interesting contrast against the watery terrain of the swimming pool, while also providing a fun place for kids to explore and enjoy the outdoors. Experiment with different color variations and types of stones to come up with unique pool landscaping designs that reflect your style.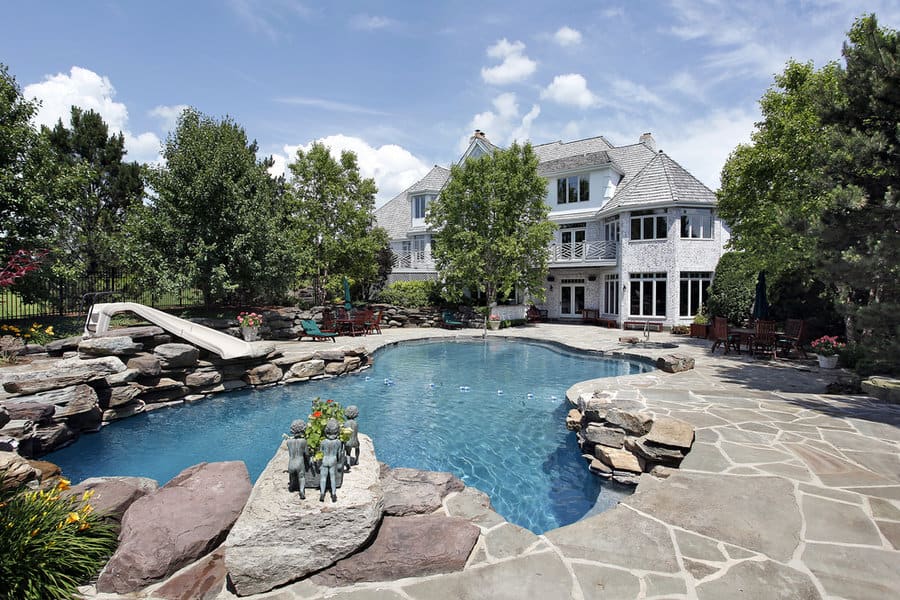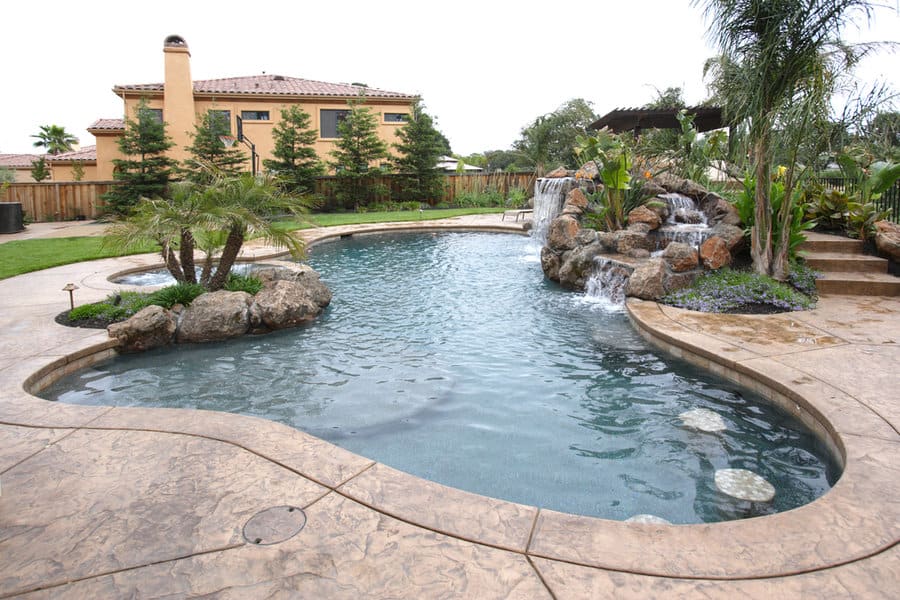 8. Pebble Bridge
Create a unique look by adding a pebble bridge that's surrounded by succulents or a wooden bridge with winding pathways – both designs will give your outdoor area an exotic feel. If you opt for a water feature, such as fountains or a waterfall, adding plants around the pool gives it a reflective touch and adds some greenery.
LED lighting or solar lights can also allow guests to enjoy the space even after dark. Whatever ideas you come up with, sprucing up your pool's landscape is sure to increase its appeal!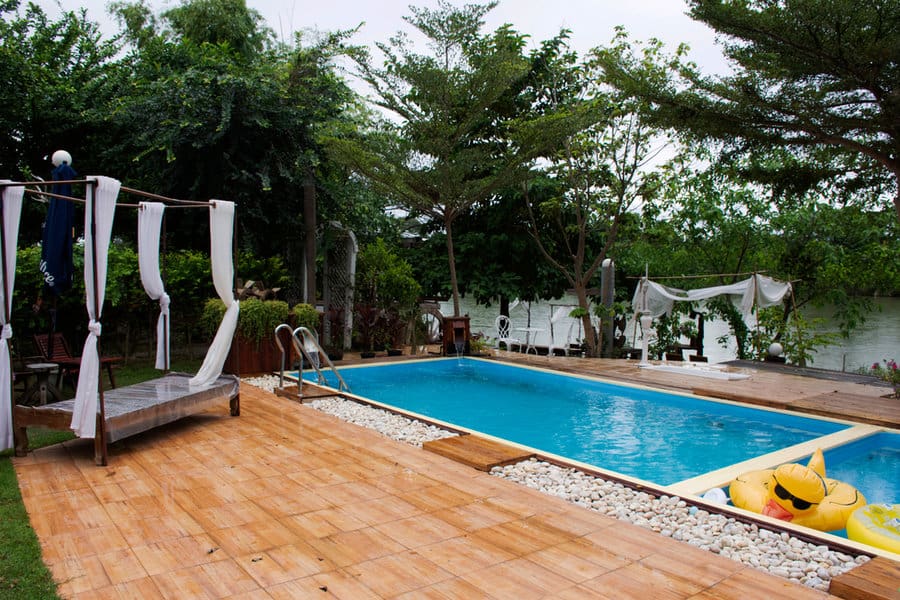 9. Coconut Trees
If you're looking for creative pool landscaping ideas, why not consider surrounding your pool with an oasis of coconut trees? This unique aesthetic will provide refreshing shade to keep guests cool in the summer while also creating a tropical ambiance.
By strategically spacing the trees, you can ensure they are beautiful but not too intrusive to block natural light flowing into your pool area. Trimming back the palm fronds of larger trees can add another layer of privacy from any nearby prying eyes. However you decide to implement them, coconut trees in a pool space are sure to bring any outdoor area to life!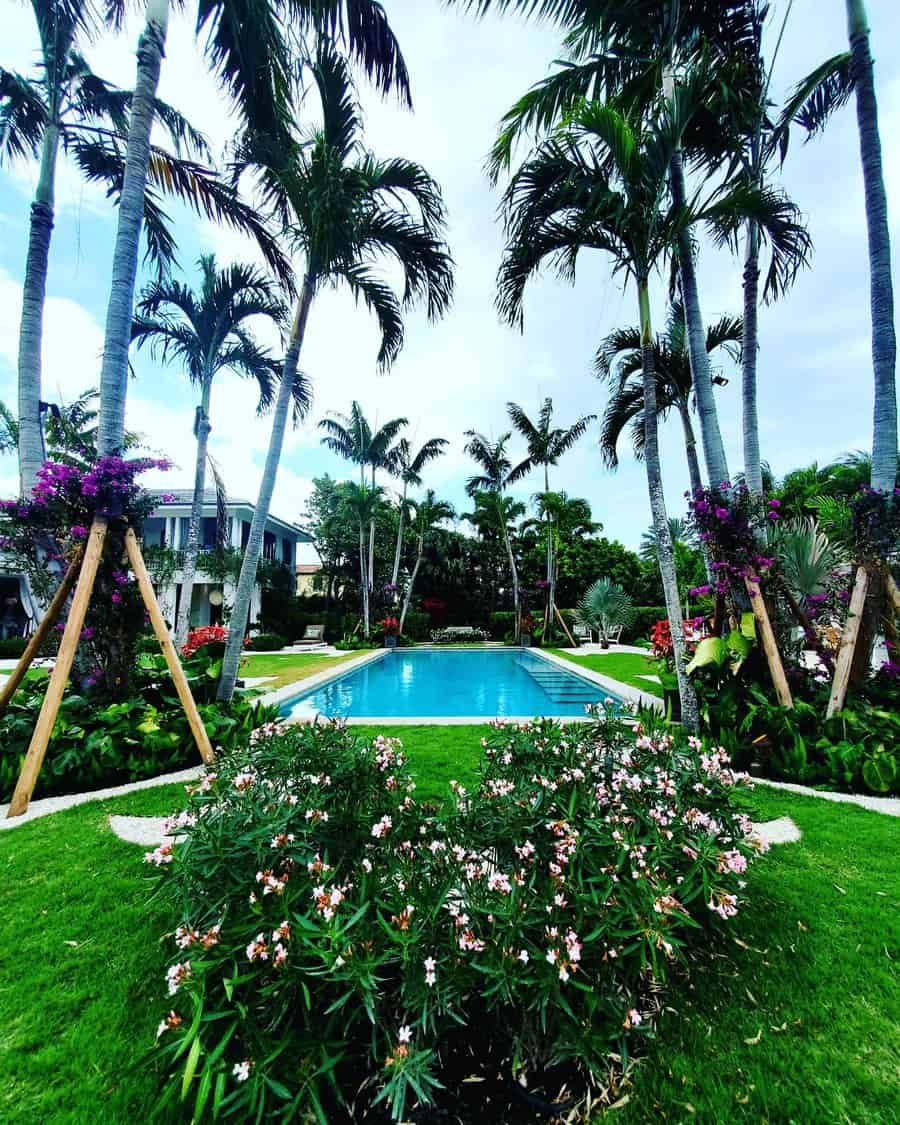 Pool Landscaping FAQs
Should I put mulch around my inground pool?
Mulch can help protect the plants growing around your pool. It will insulate the ground to help prevent drought, weeds, and UV damage. It can also protect your inground pool. In addition, the mulch can help contain the gardening soil and dirt. This keeps it off of the pavers and out of the pool.
What kind of stone do you put around a pool?
The best type of stone for placing around your pool is marble, limestone, granite, and bluestone. Each of these is incredibly durable, low maintenance, and comes in various styles. This lets you have a high-quality stone in a price range that you can afford and a style that suits your backyard.
Is pea gravel good for around the pool?
Pea gravel is affordable and versatile, making it an ideal material for use in your landscaping. You can use it everywhere, from the walkways to the driveway and around the pool. However, be careful when using it around your inground pool. Place a paver, concrete, or some other barrier between the pool's edge and the pea gravel. Otherwise, you risk the gravel getting in the pool.