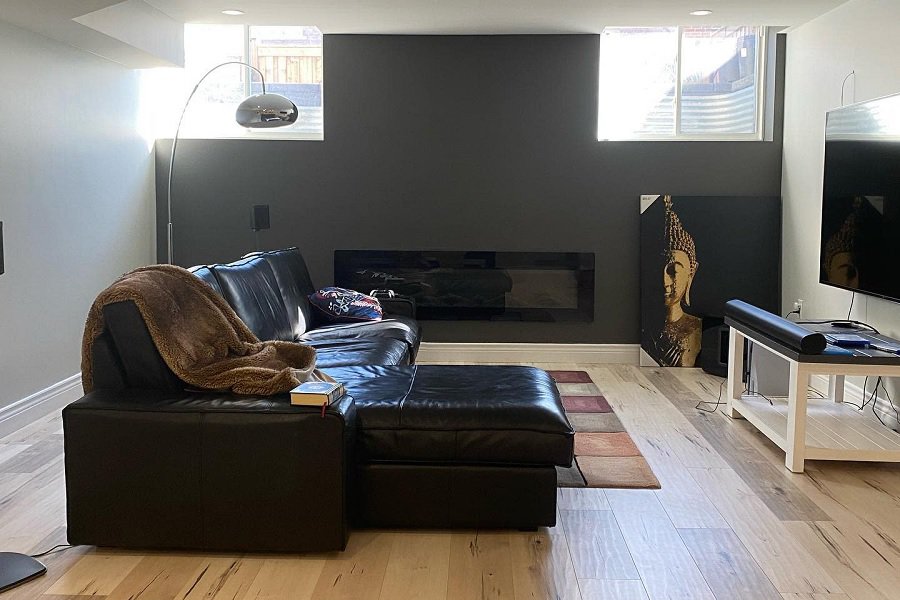 30 Basement Floor Ideas and Designs
It doesn't matter what type of furniture you buy and the amount of decor you add to your basement; if the flooring is still unfinished, it ruins the entire look and feel of your basement. In addition, the bare concrete doesn't look great and feels cold and damp on your feet. So, isn't it time you finally finish your basement by addressing them bare concrete floors?
These basement floor ideas will help you know your options and find the perfect flooring for giving your basement the finished look it needs.
1. Carpet
Carpeting isn't typically a popular flooring material for the basement. Unlike the other rooms in your home, there is no subfloor, so the carpet and pad lay directly on the concrete.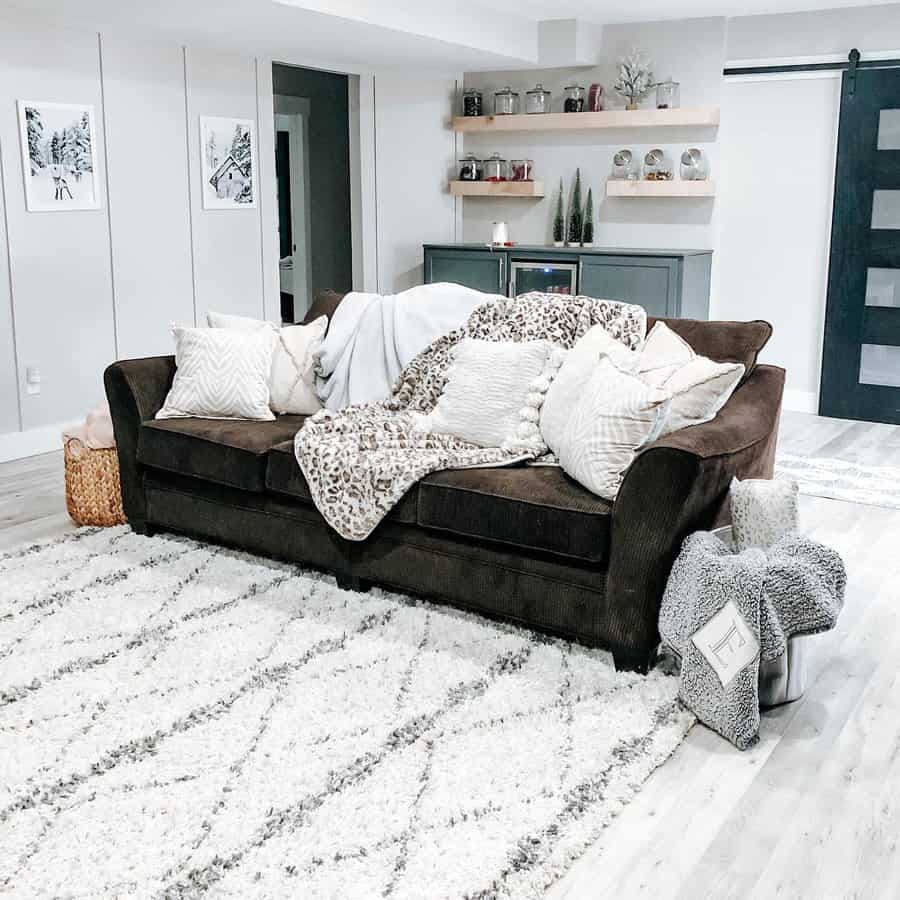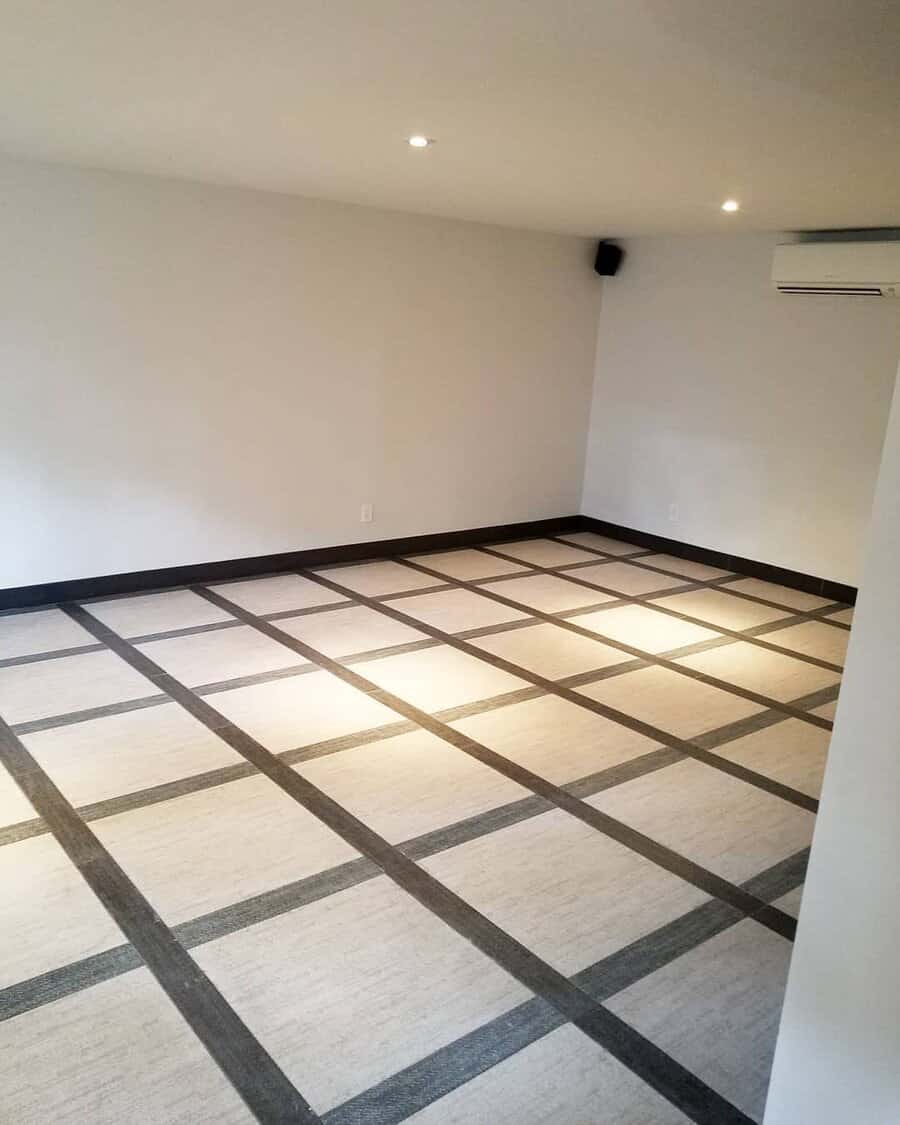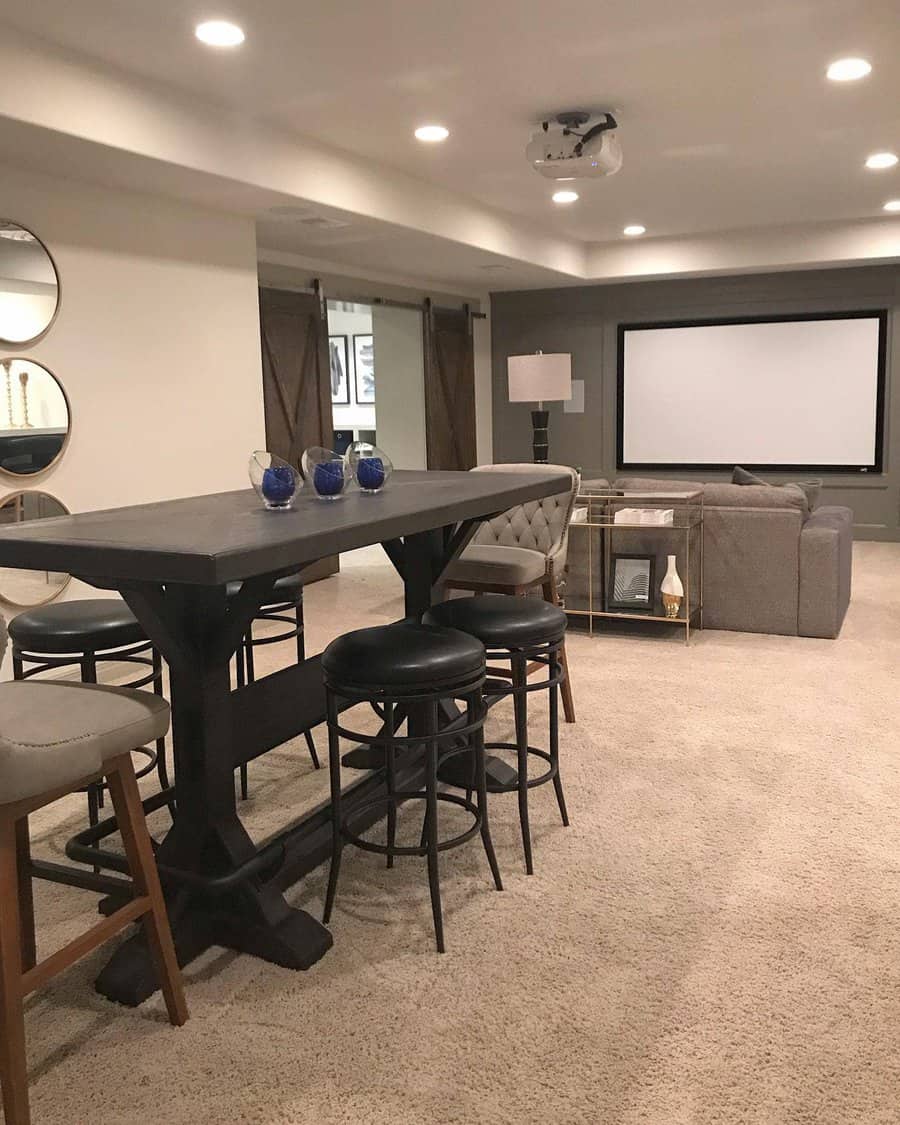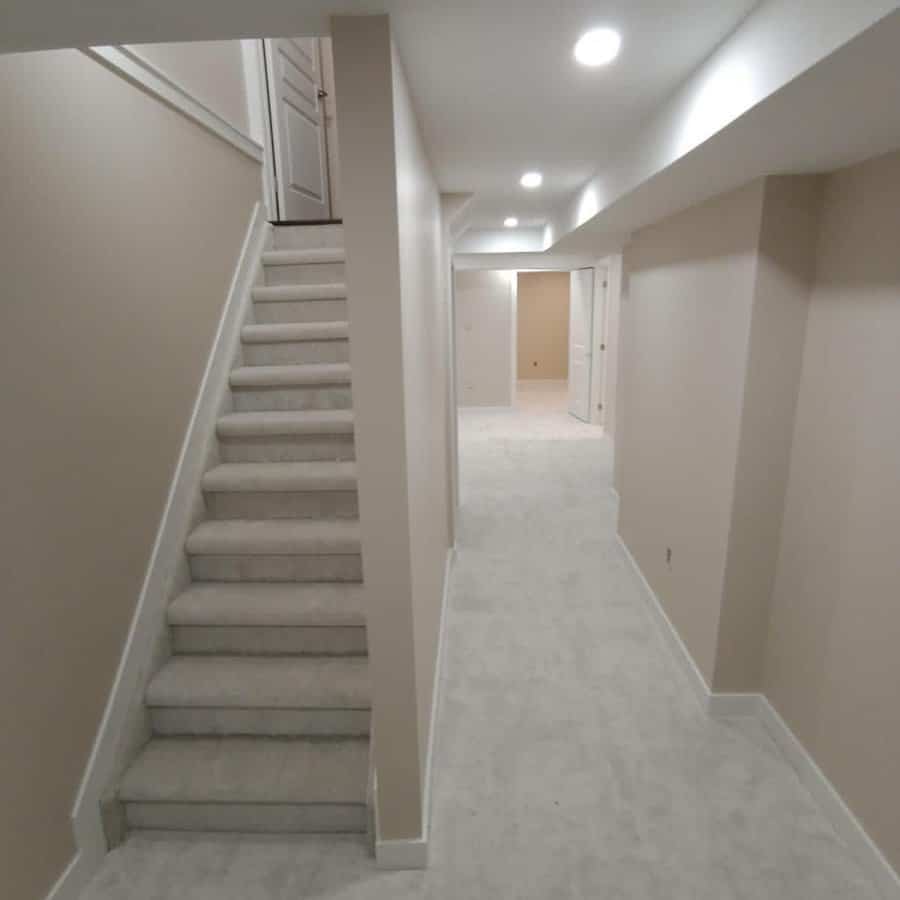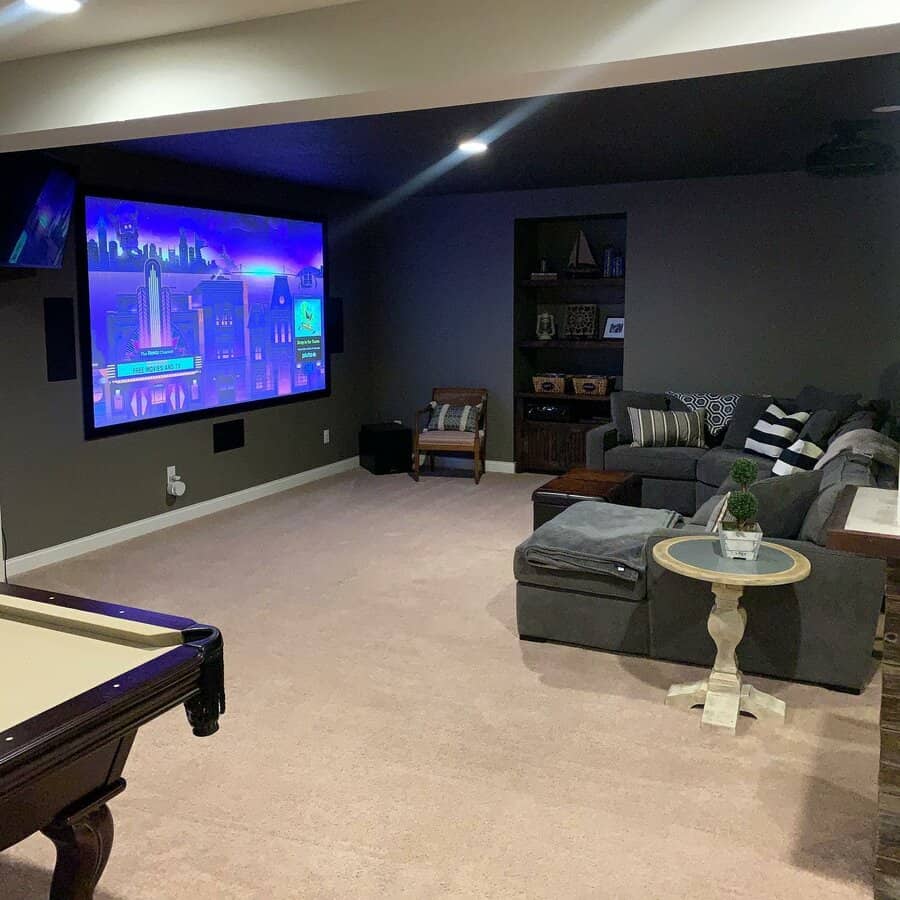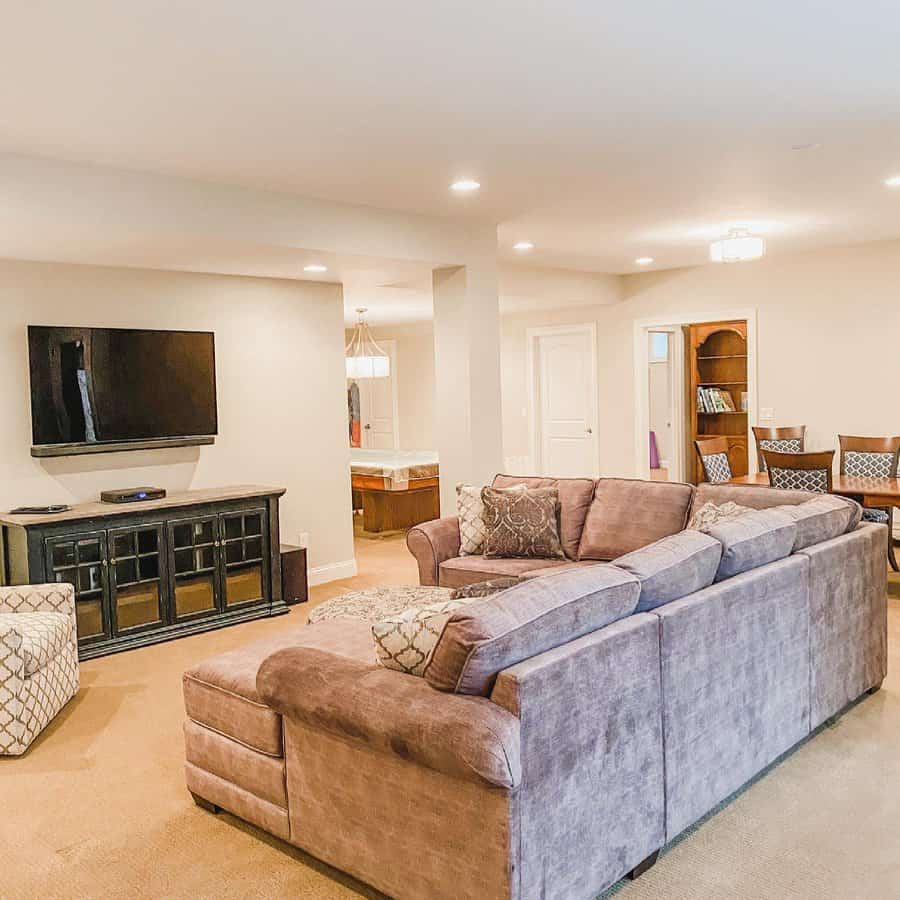 No matter how hard you try, there's no such thing as a completely waterproof basement. Moisture that comes up through the concrete can gather and set in the carpet and pad. This can lead to a damp and stagnant smell that also fosters the growth of mold or mildew.
One way around this is to use carpet tiles. These are square tiles that you lay down and adhere to the concrete floor. They are less likely to trap moisture and are easily replaced without requiring the replacement of the entire floor.
2. Concrete
Your basement probably already has concrete floors. It's one large concrete slab that covers your entire basement. Instead of looking for a concrete overlay, you can embrace the concrete and make it look beautiful.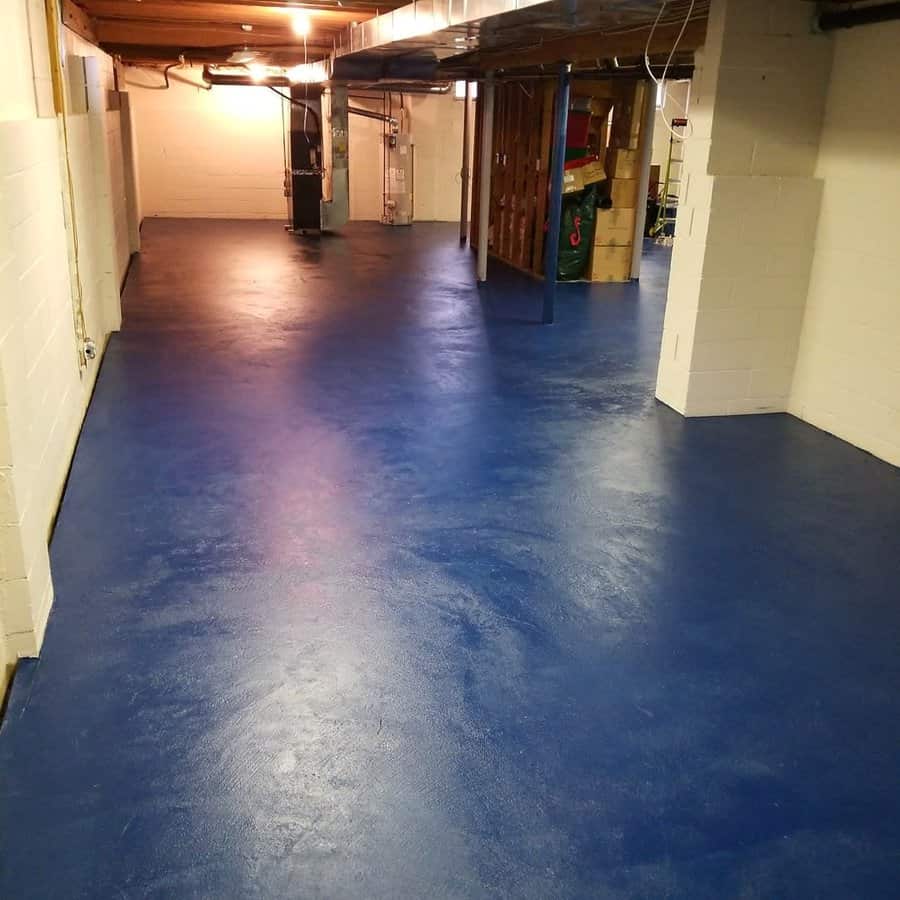 Paint or stain the concrete to elevate its look. Stained concrete can mimic the look of expensive stone when done well. Add a sealant to protect the concrete and give it a highly polished gleam. Of the basement flooring ideas, this one is simple yet can have a significant impact.
3. Epoxy
Instead of just painting your concrete floor, you can use epoxy. This is a protective and durable floor coating that is moisture resistant. This basement flooring option is good if you're ok with the limited color options.
Keep in mind that most people use epoxy for coating their concrete garage floor, so this is the type of look you'll have in your basement.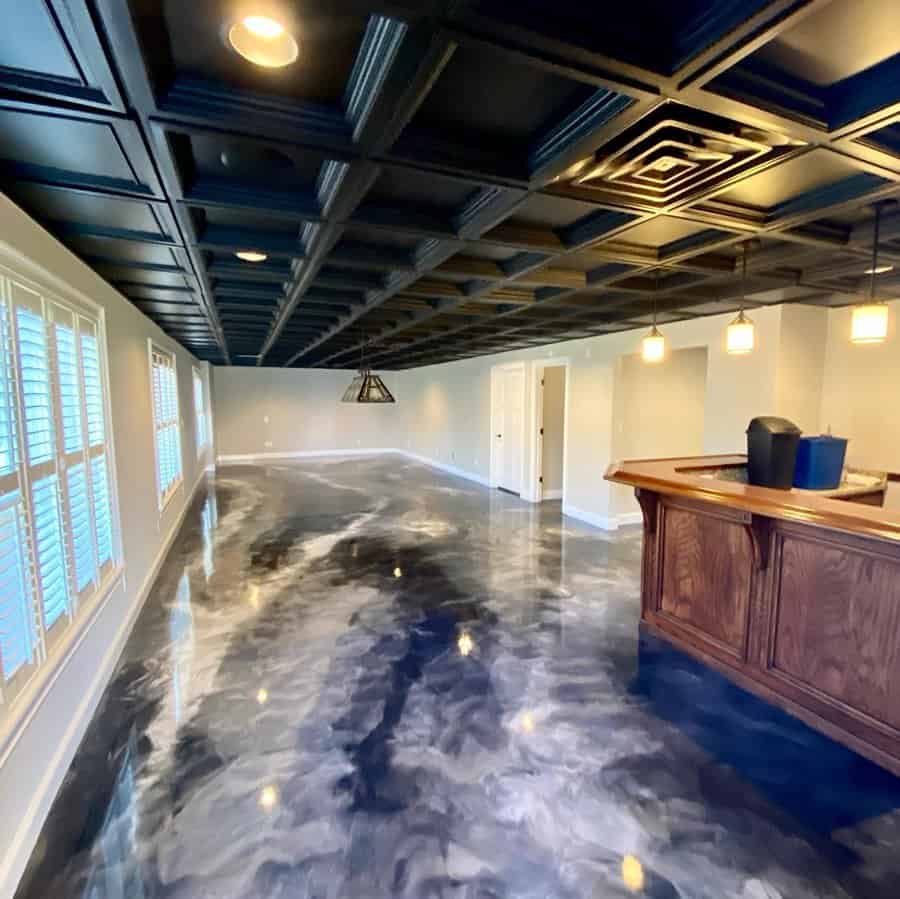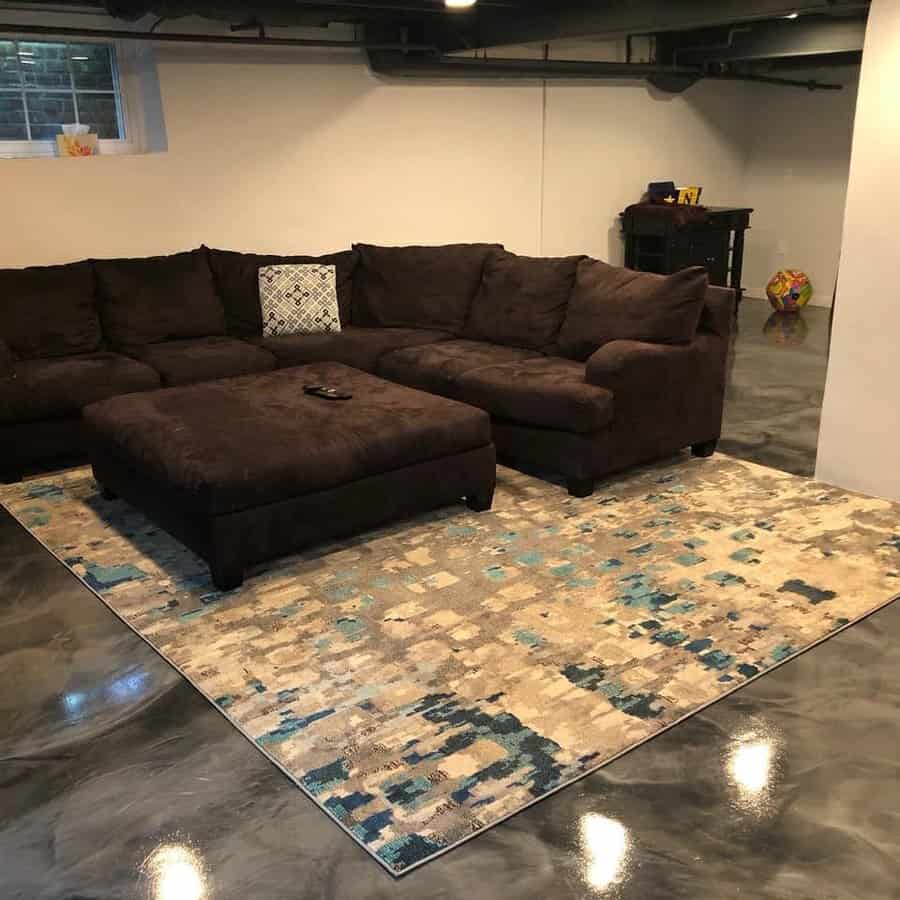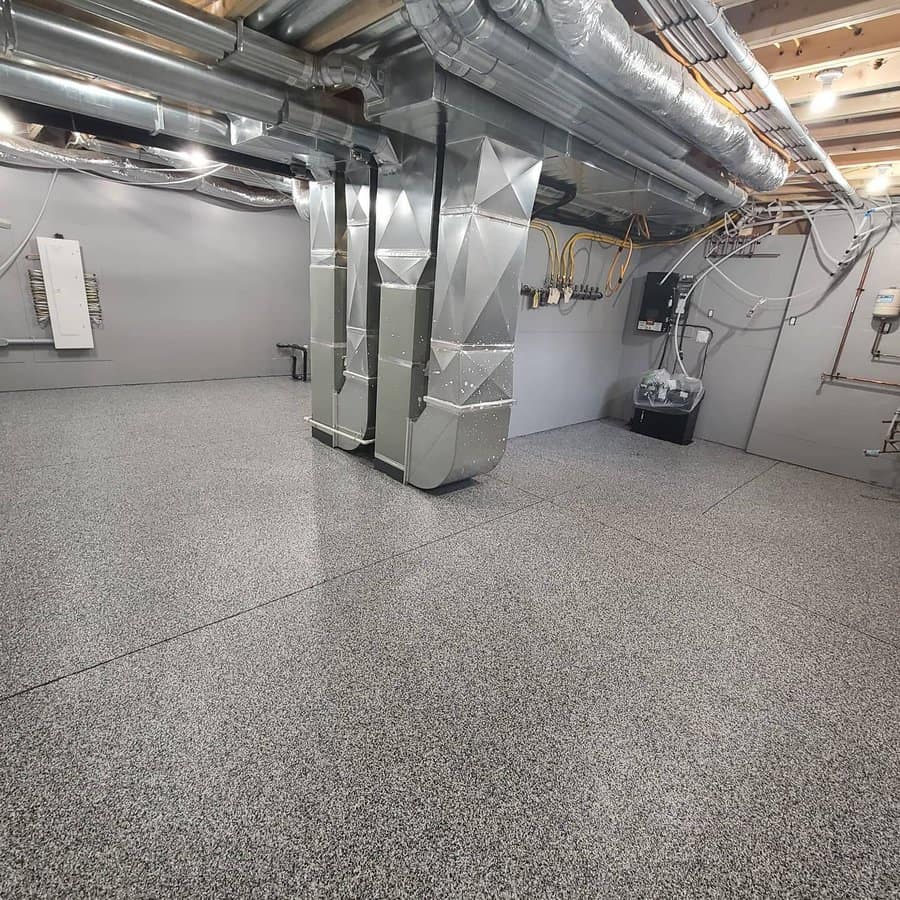 With careful preparation, you can apply the epoxy coating. You'll need to thoroughly clean the floor and work quickly to prevent it from curing before you can get it on the floor.
4. Modern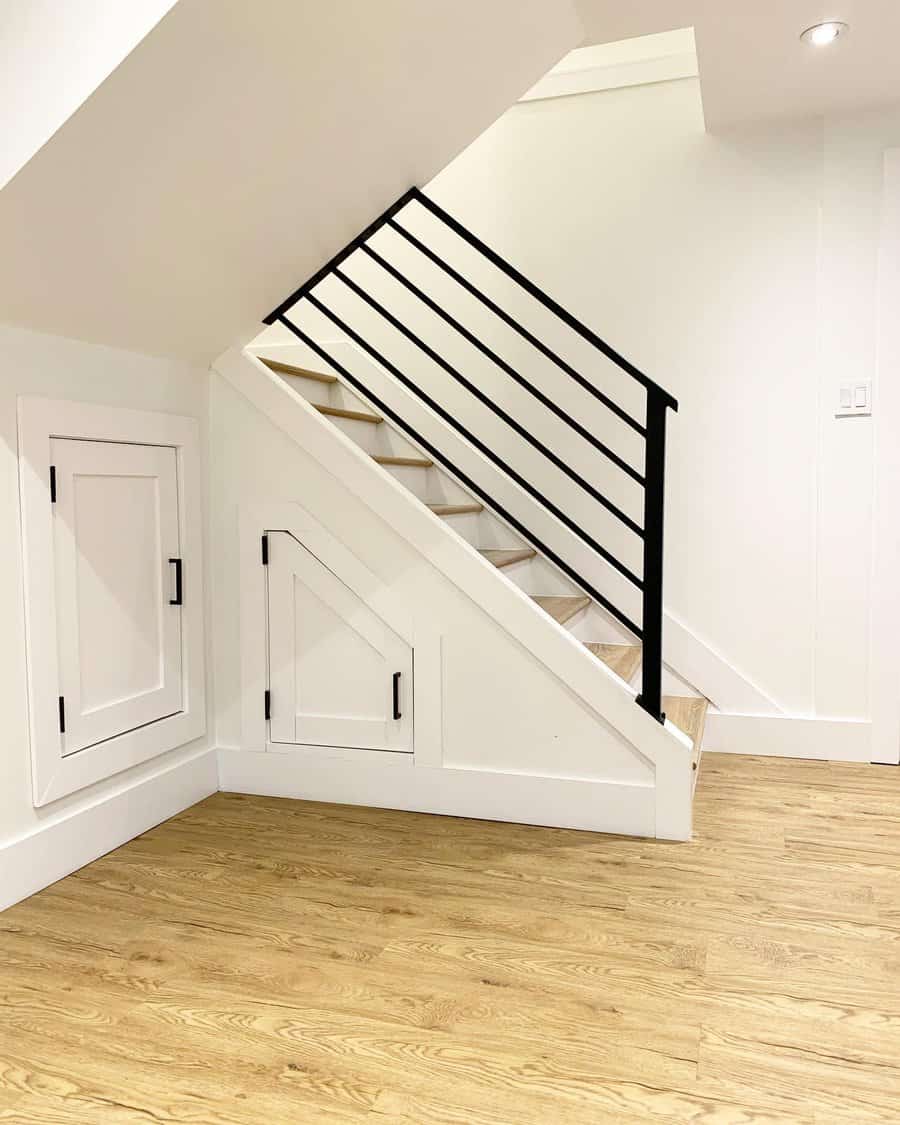 Source: @_the_woodworkers_wife via Instagram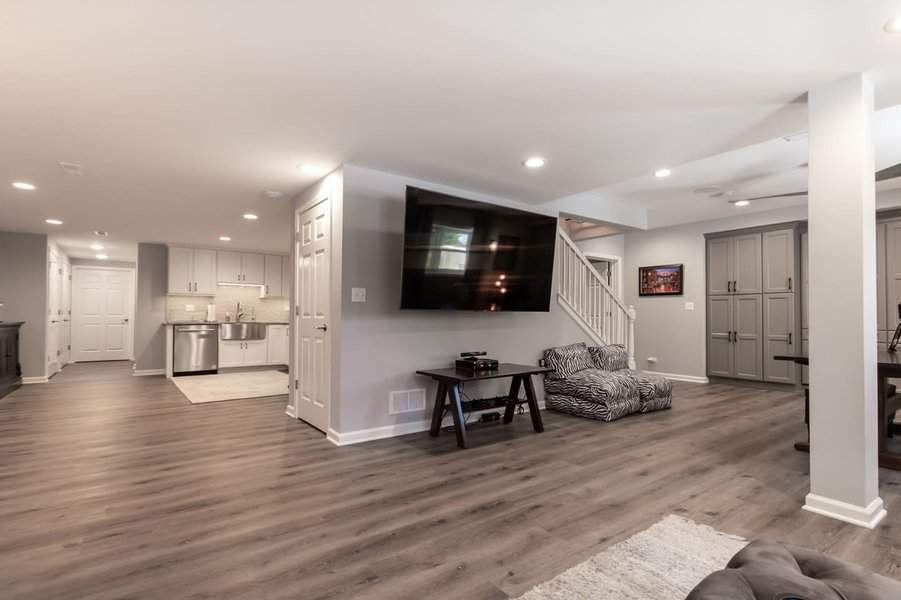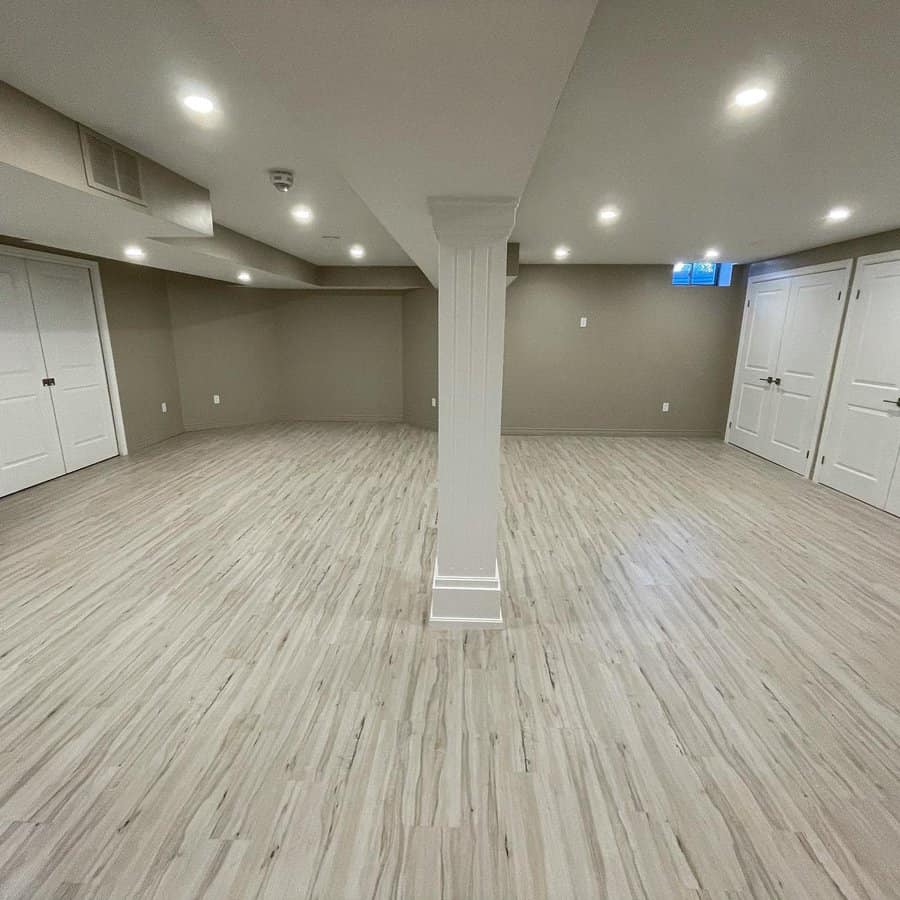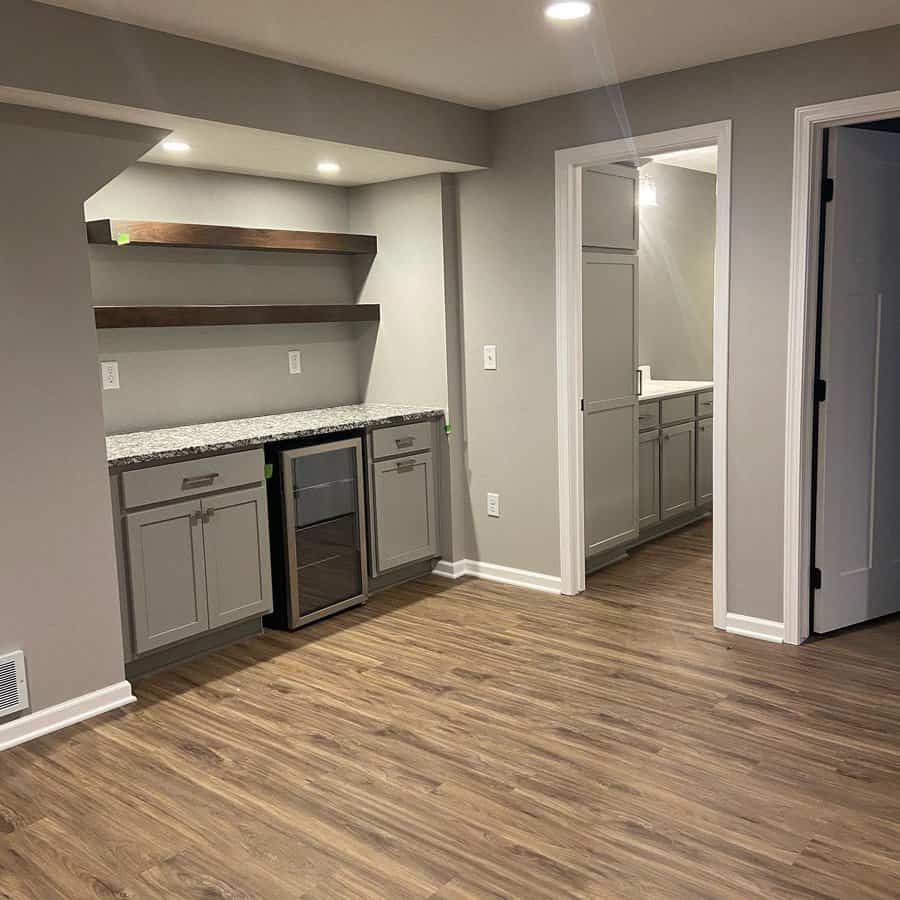 Cork is also safe for use on your basement floor because the extra moisture in the concrete won't hurt it. The drawback of cork is that it only comes in one color shade and has a specific design. If you don't like the look of cork, you won't like this type of flooring.
5. Rustic
Creating a rustic feel to your basement requires the use of natural materials like stone and wood. For your floor, you can use wood laminate flooring. Look for one with a rustic design, such as scrape and tool marks. This is more affordable and durable than using real wood.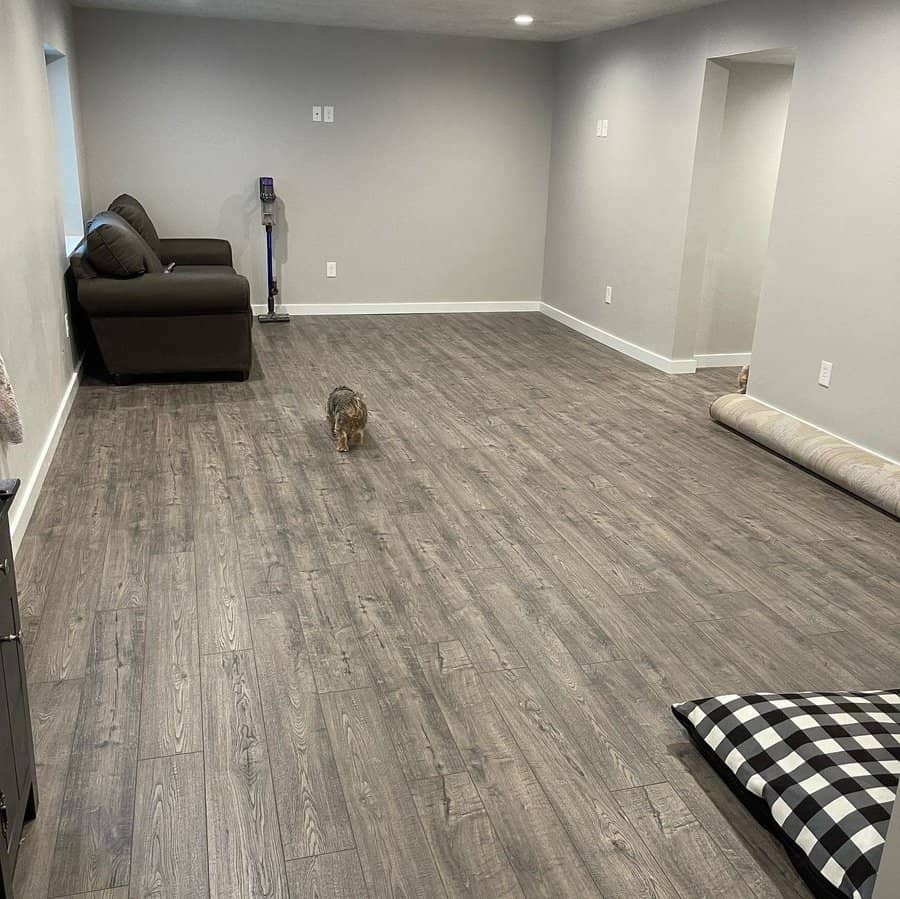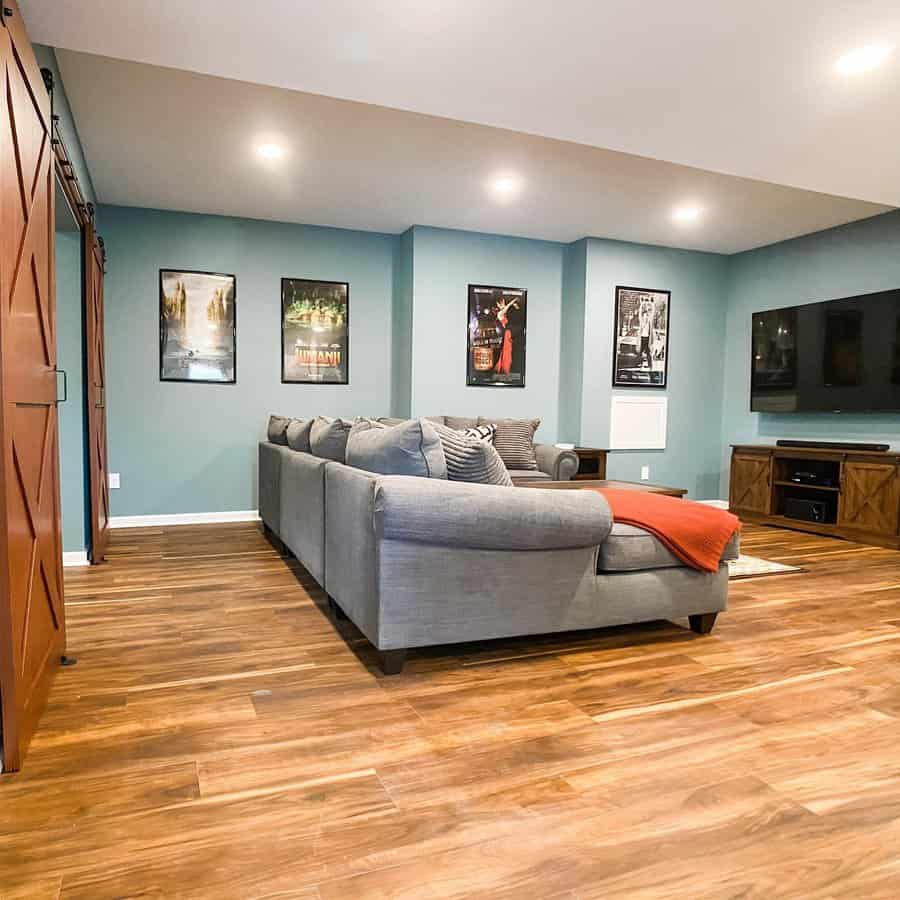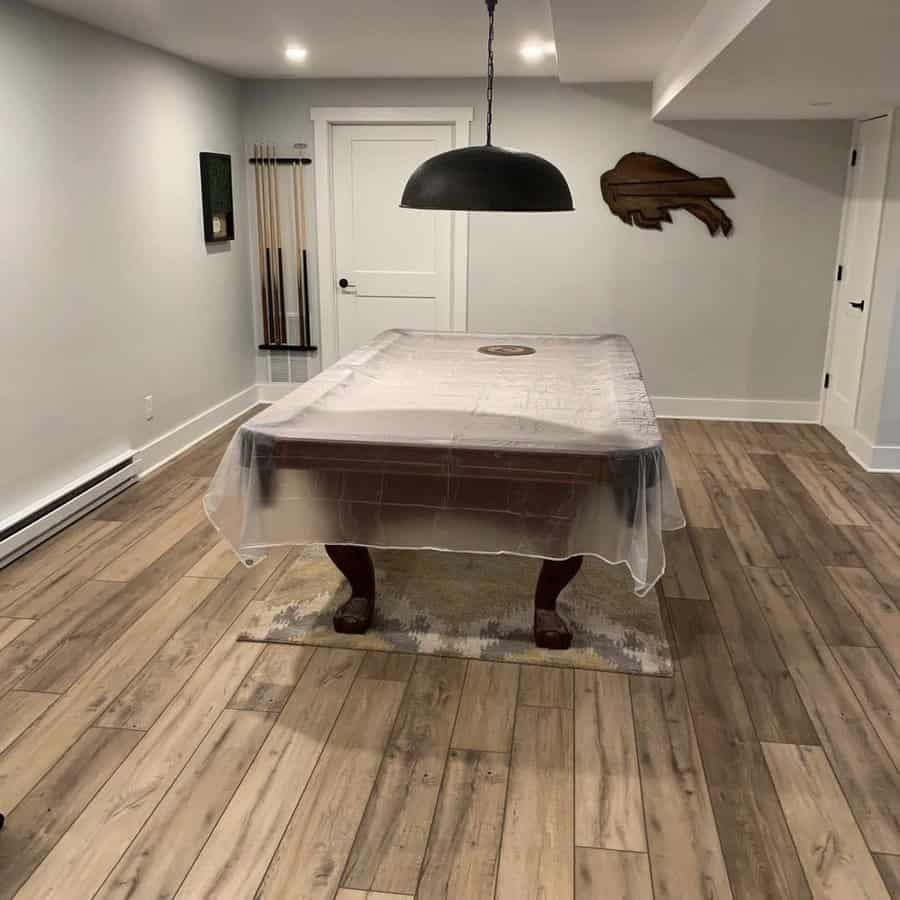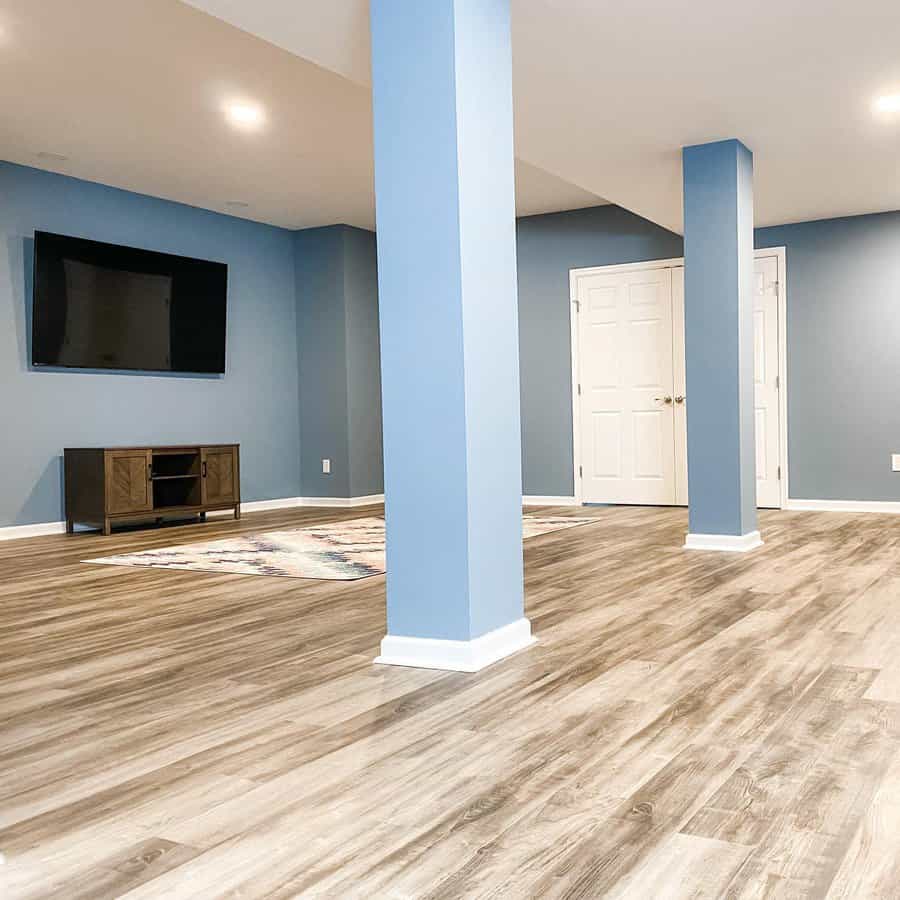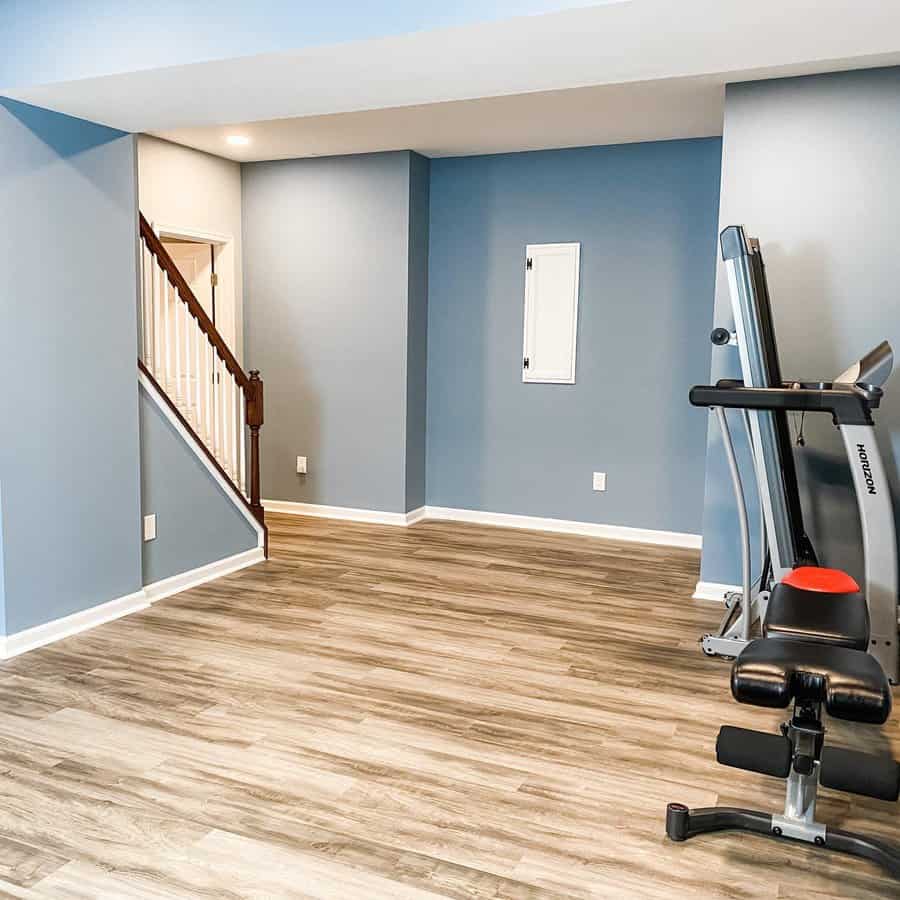 High-quality vinyl plank flooring will have waterproof features that make it good for use on a basement floor. If you don't want a wood floor, you can use concrete stain to make your concrete look like natural stone.
6. Tiles
If you're ready to make an investment in your basement, ceramic tile is beautiful and strong. It's safe for use in your basement and has the most options when it comes to size, shape, color, and design. Just be careful to choose the correct type of tile. You want to use floor tile and not wall tile. Floor tile will have more traction when it gets wet and be generally safer to walk on.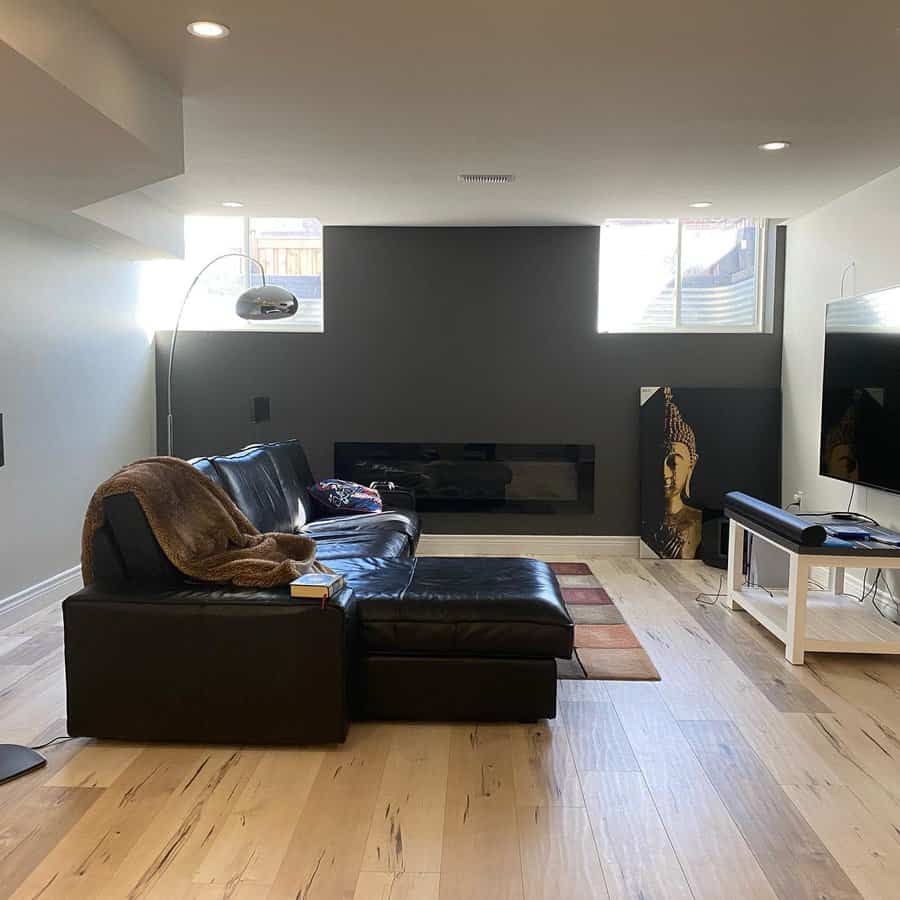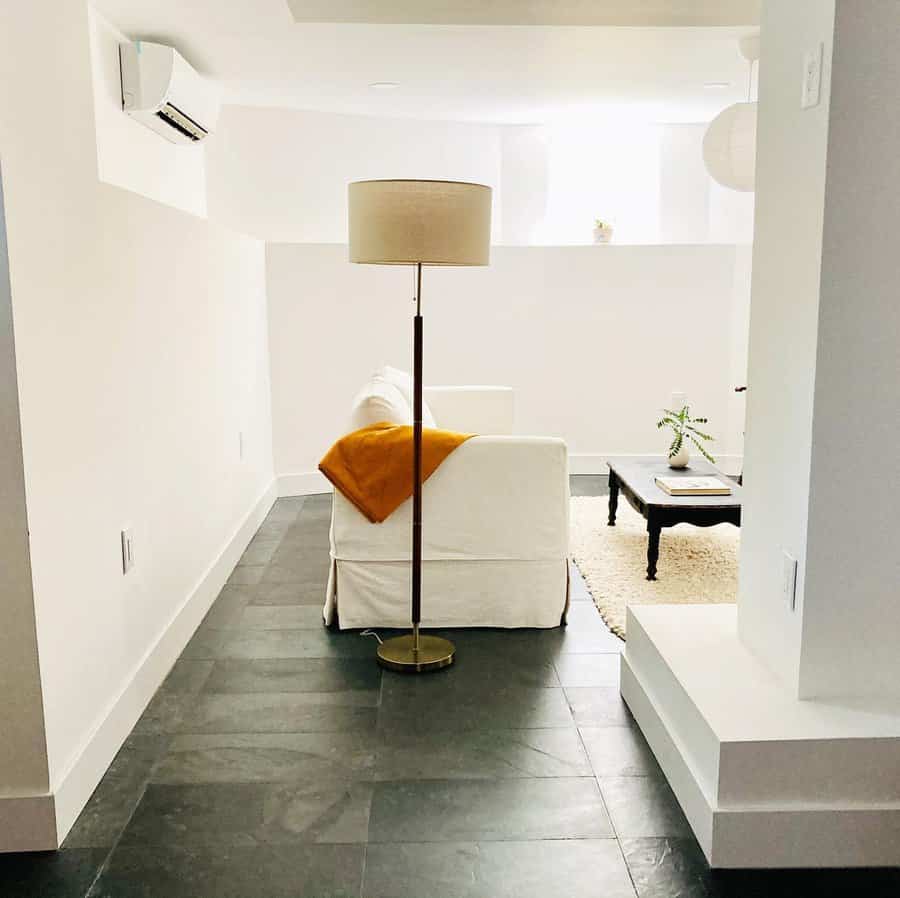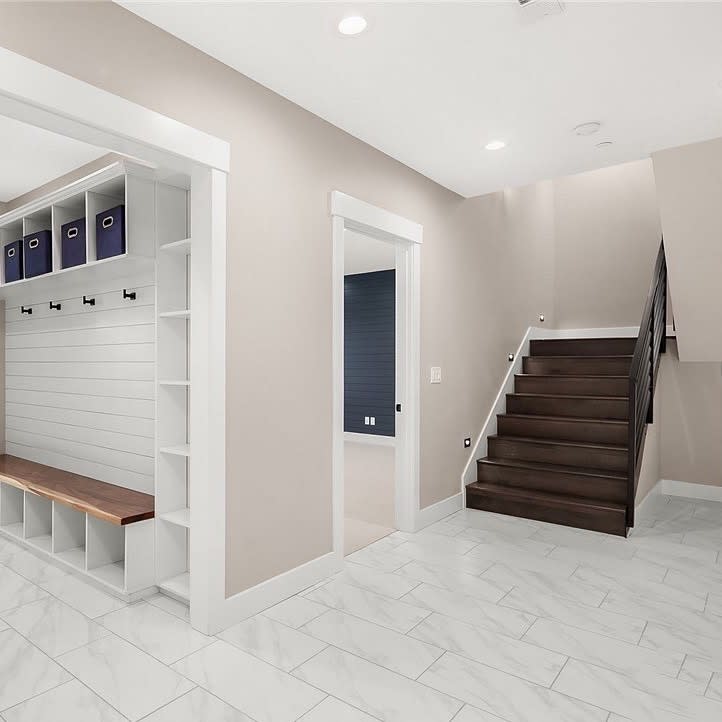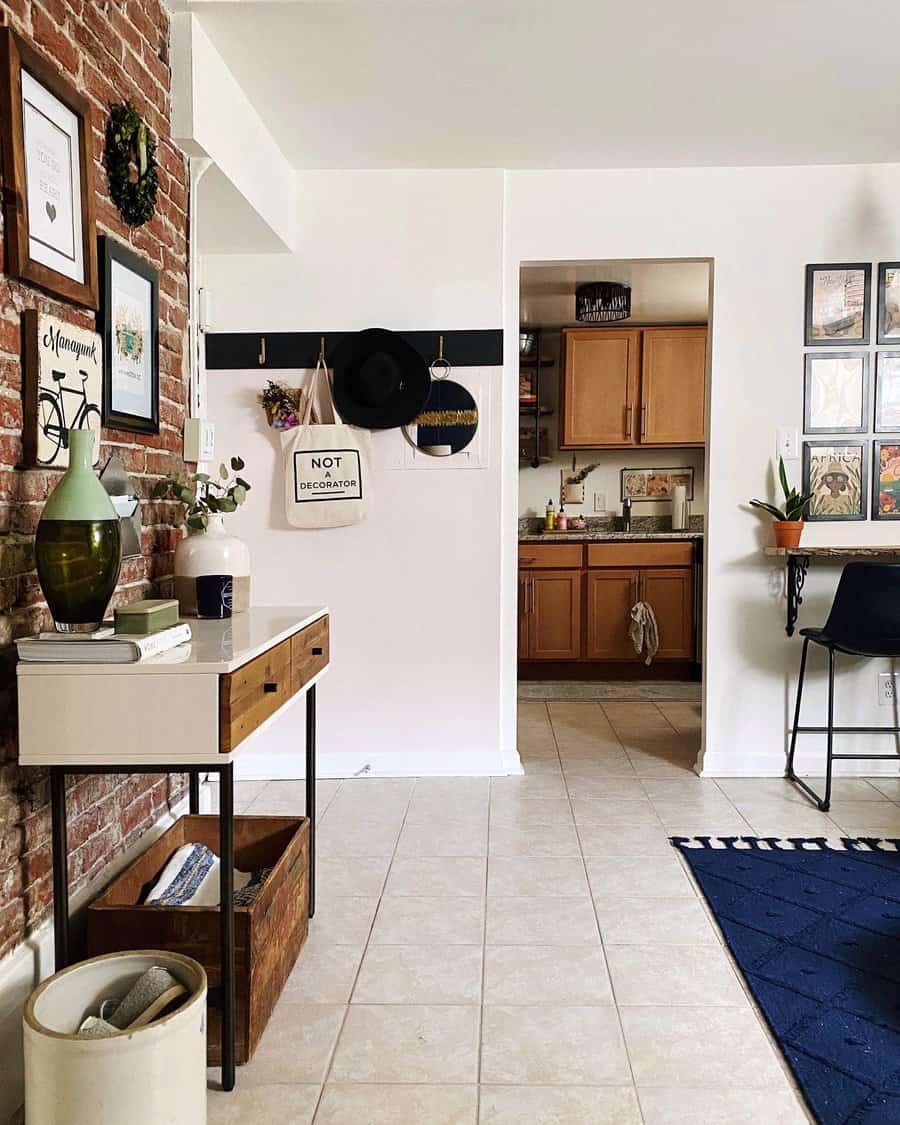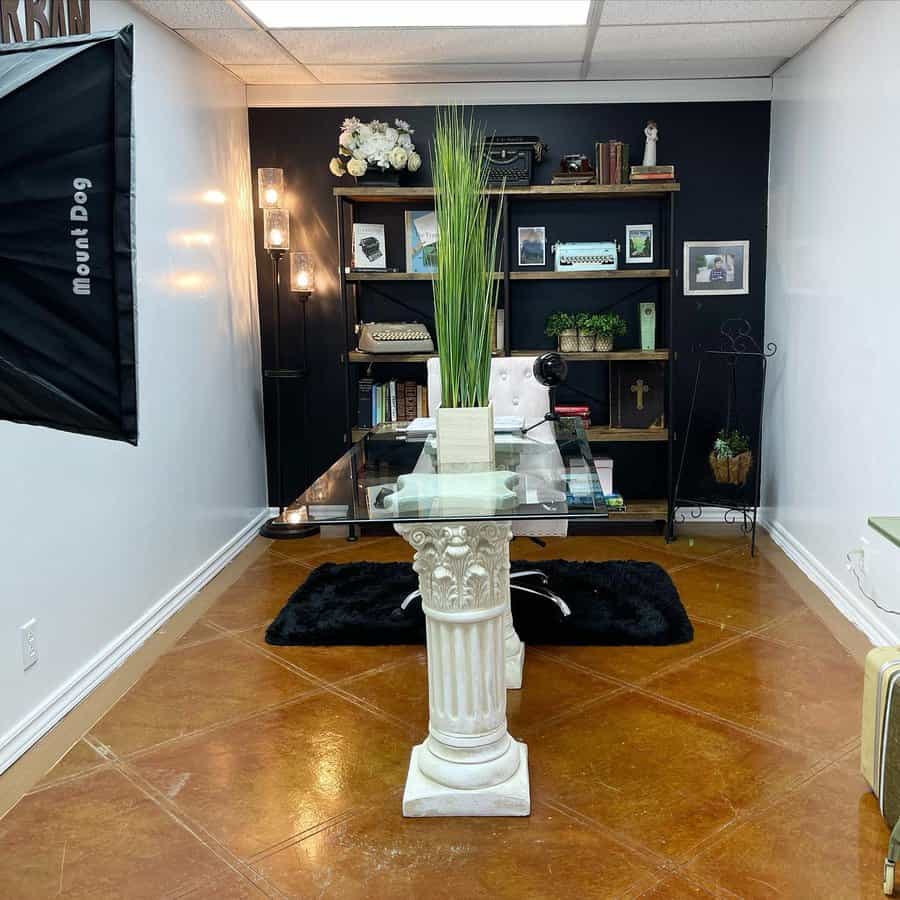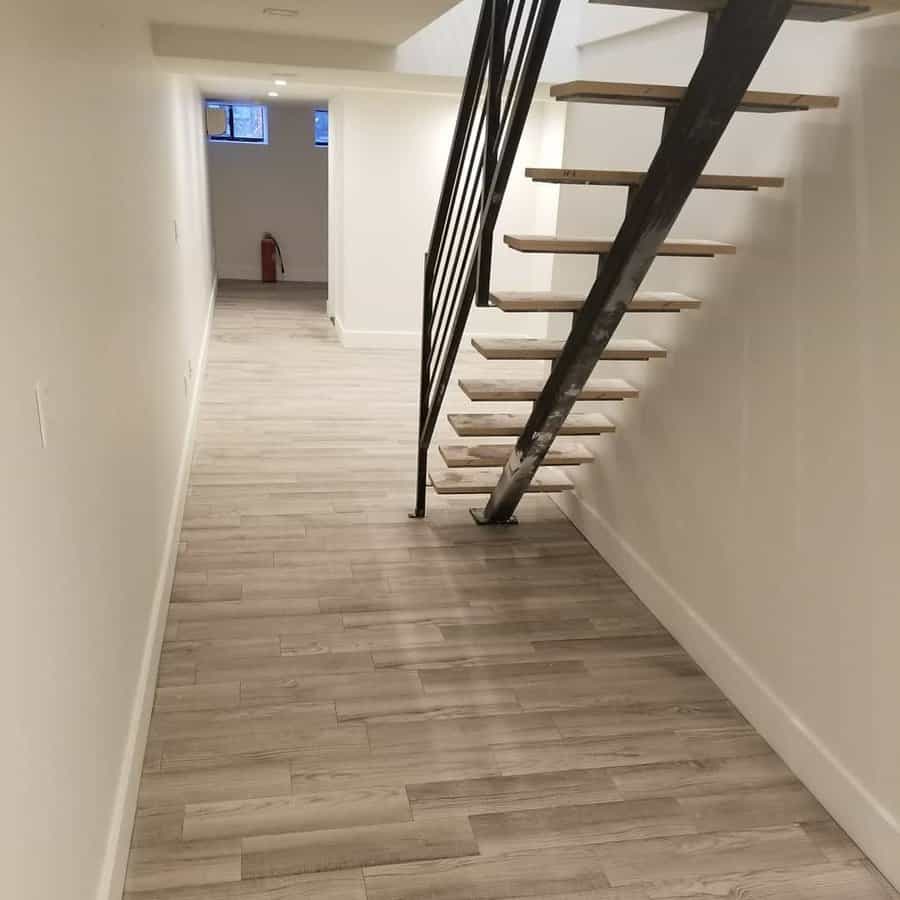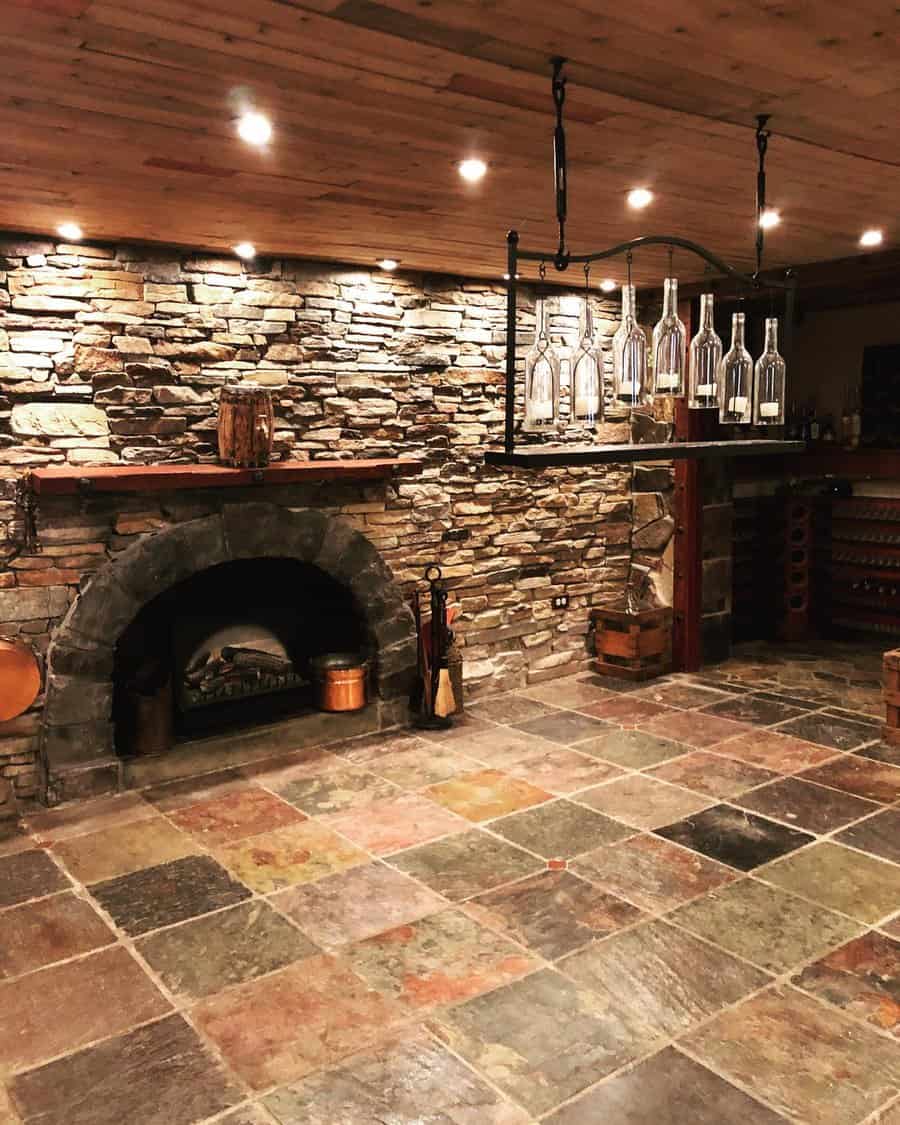 If you're not ready for the commitment of tile, you can try luxury vinyl tile or even rubber tiles. Rubber options are great if you have children. These tiles have some cushion and bounce to them, which is why you find them used as playground flooring.
7. Vinyl
Vinyl is one of the most popular flooring materials on the market. This is the old-school sheet vinyl that you see in low-end housing. Modern vinyl flooring can look exactly like real hardwood flooring. Per square foot, you can enjoy a finished basement at an affordable price. There are also countless options, giving you the ability to create any aesthetic you want.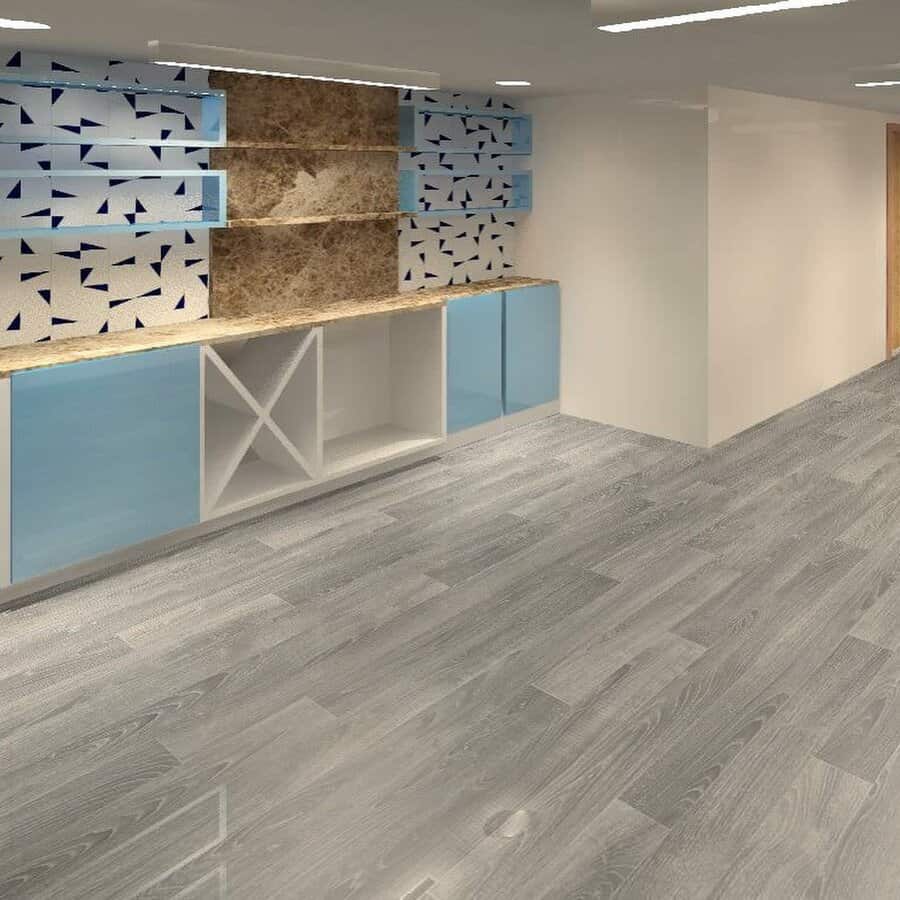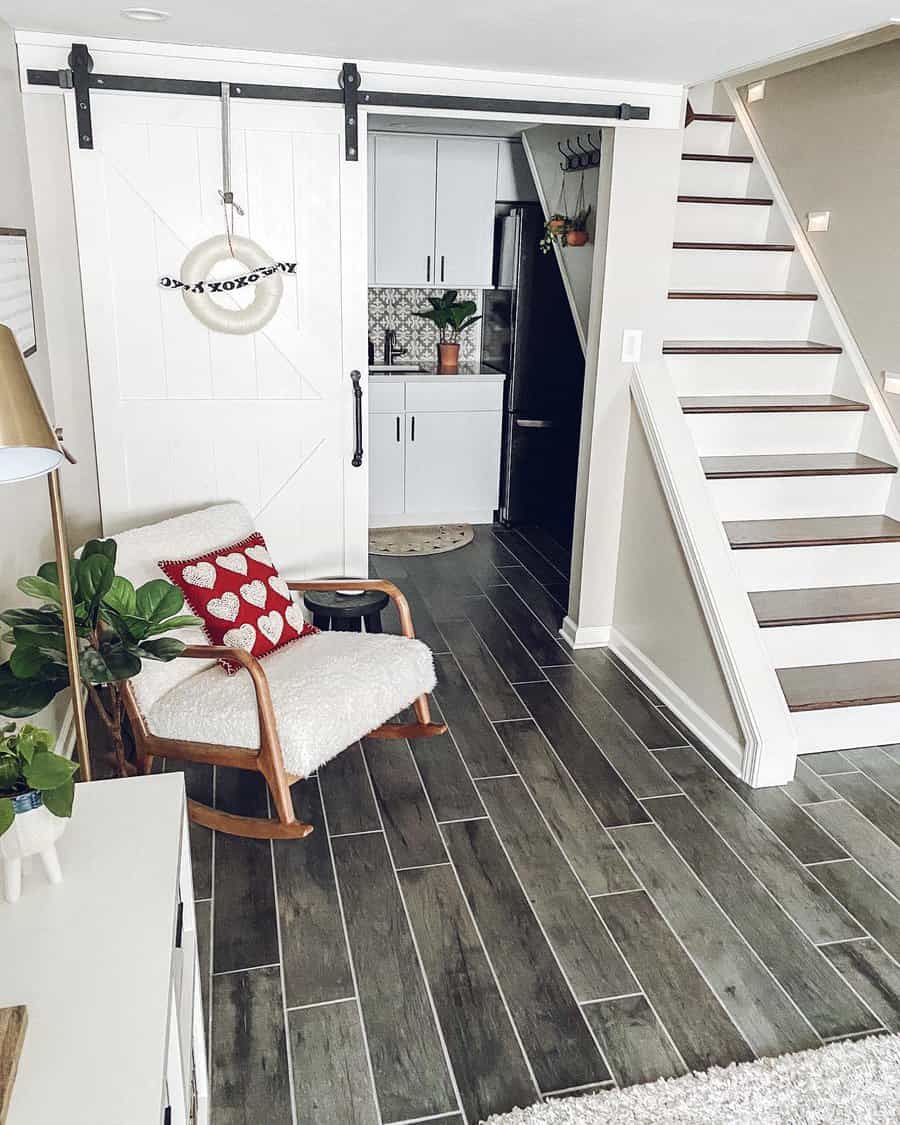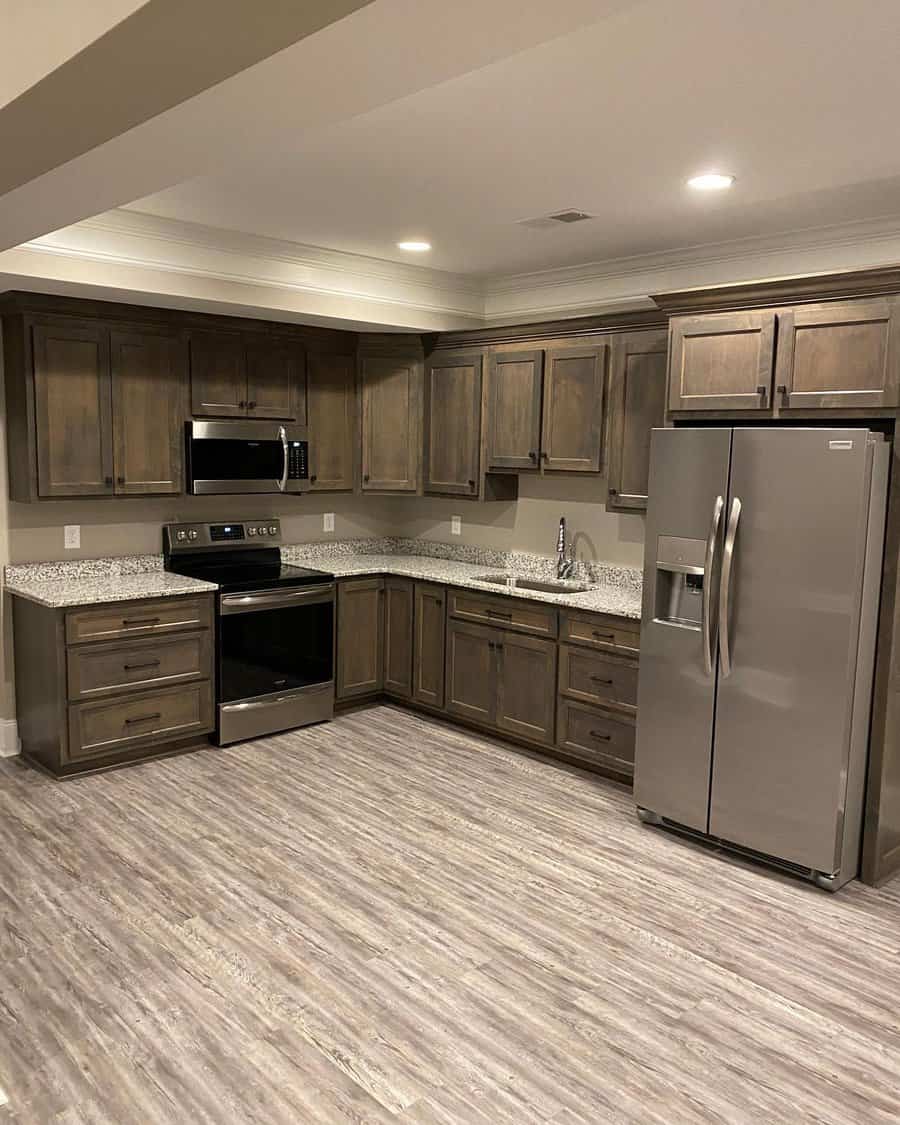 Because it's going in the basement, consider choosing a vinyl plank that's meant for the kitchen or bathroom. These have more waterproofing qualities, making them more durable for your basement.
8. Wood
Hardwood flooring is stunning and expensive. Why make this investment in the basement where the majority of visitors to your home will never see it.
Instead of real wood flooring, you can use engineered wood flooring. The engineered hardwood mimics the look of real hardwood flooring at a fraction of the price.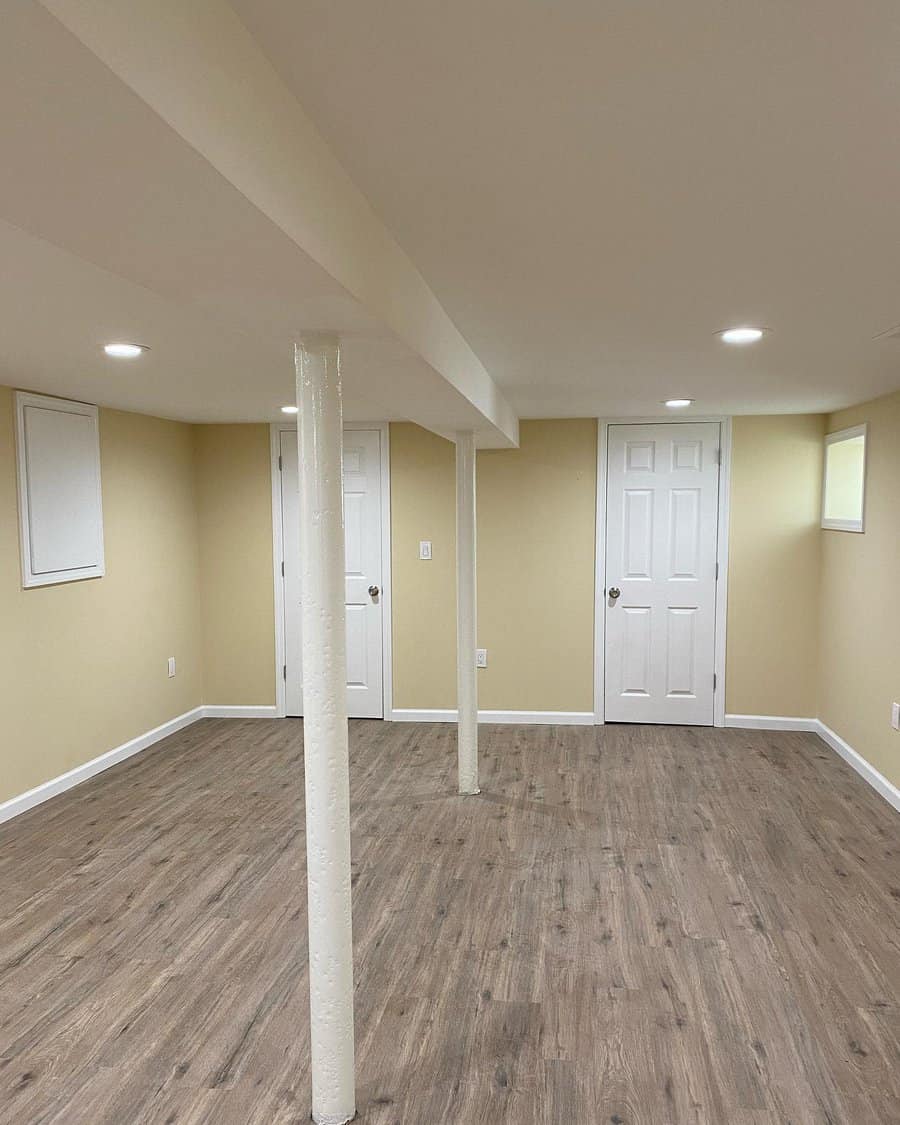 To install, the planks hook together and lay on top of the concrete. It's actually a floating floor because you don't adhere it in place. It's much easier to take the planks apart and pick up the floor than it would be with a real wood floor.
Basement Floor FAQs
What type of flooring is best for basements?
The best type of flooring for your basement is vinyl planks or tile. It looks almost exactly like stone or hardwood but is better because it's more affordable and waterproof. Vinyl flooring is made from PVC, which makes the flooring durable and resistant to the moisture that could come through the concrete.
What is the cheapest way to finish a basement floor?
If you have a tight budget, then your best option is to use epoxy or concrete floor paint. This will make your basement floor look good and be affordable. Another affordable option is to use vinyl or linoleum flooring.
Can you put peel and stick flooring on concrete?
Concrete is the preferred base material for installing peel and stick flooring in your basement. It's easy to clean the concrete's surface, and it's a flat, smooth surface. This gives the stick adhesive plenty of surface area to adhere to. This gives you a smooth and level finished floor.